9

Nov

On Trend, Real Nashville Weddings, Southern Events Products, Trends and Inspiration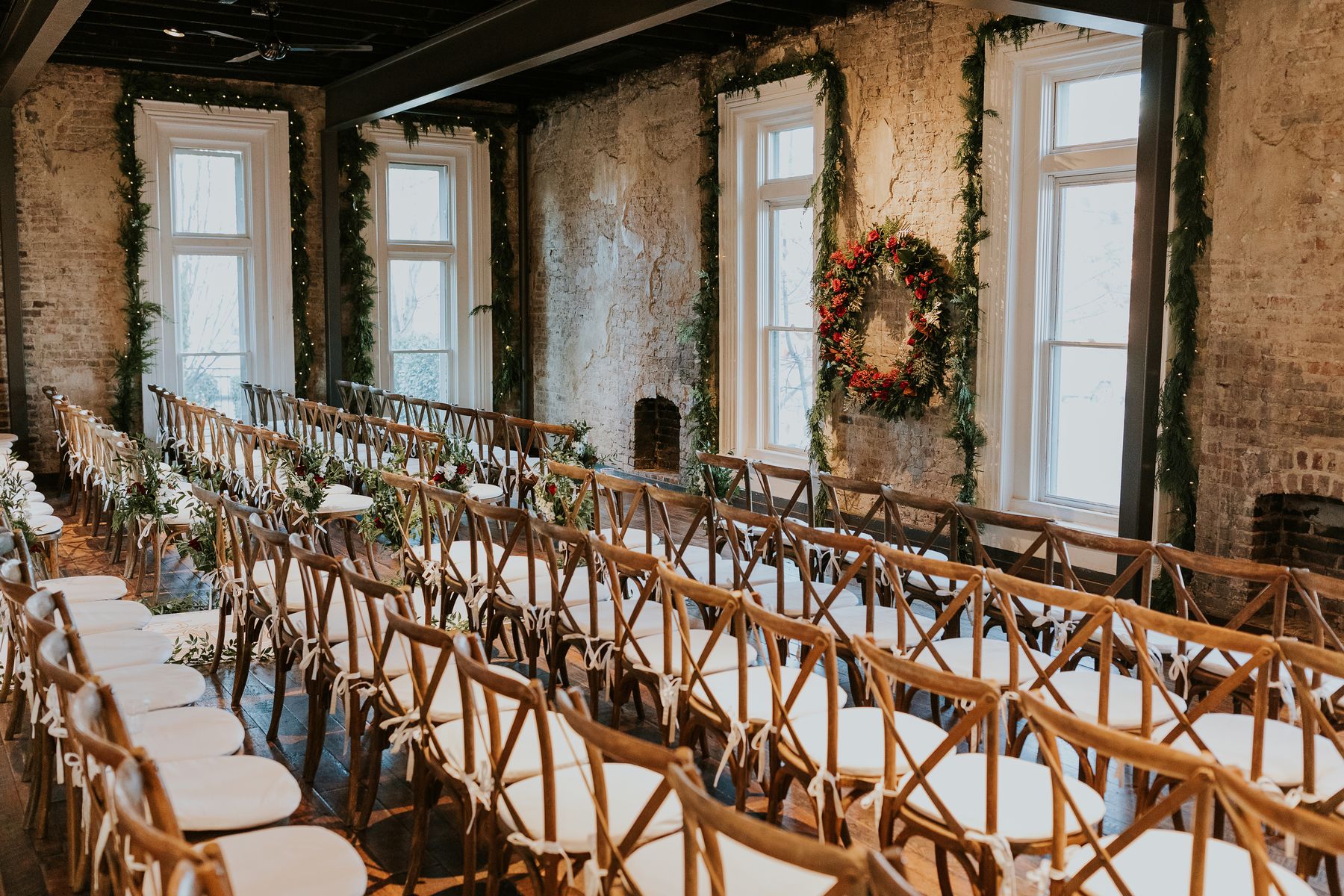 Nashville, known for its rich musical heritage and warm Southern hospitality, provides the perfect backdrop for a memorable winter celebration. If you're planning to tie the knot during the wintertime, we've got you covered with some unique and on-trend wedding themes that will leave your guests in awe. Whether you choose a look that is warm and cozy, downright luxurious, or bright and festive. Keep reading for Nashville winter wedding inspiration featuring our stylish party rentals!
Winter Luxe
This style offers an elegant look that nods to the season while maintaining a timeless appeal! To begin, arrange long banquet tables for an intimate look, elevated with sophisticated acrylic seating. Or you can infuse a touch of luxury with Gold Chiavari Chairs. These look stunning complemented by gold accent china – stack the Gold Rim Glass Chargers and Vera Floral China with Austin Gold Flatware. You can also enhance the tablescapes with lush greenery and velvet napkins in the shade Magnolia.
For an equally stunning cocktail hour, feature an ornate Christmas tree, flanked by Gold Bamboo Arm Chairs or the Fern Velvet Sofa. Just don't forget accent tables! Finally, delight your guests with classic cocktails served in our Smoke Beaded Tumblers or sleek stemless champagne flutes.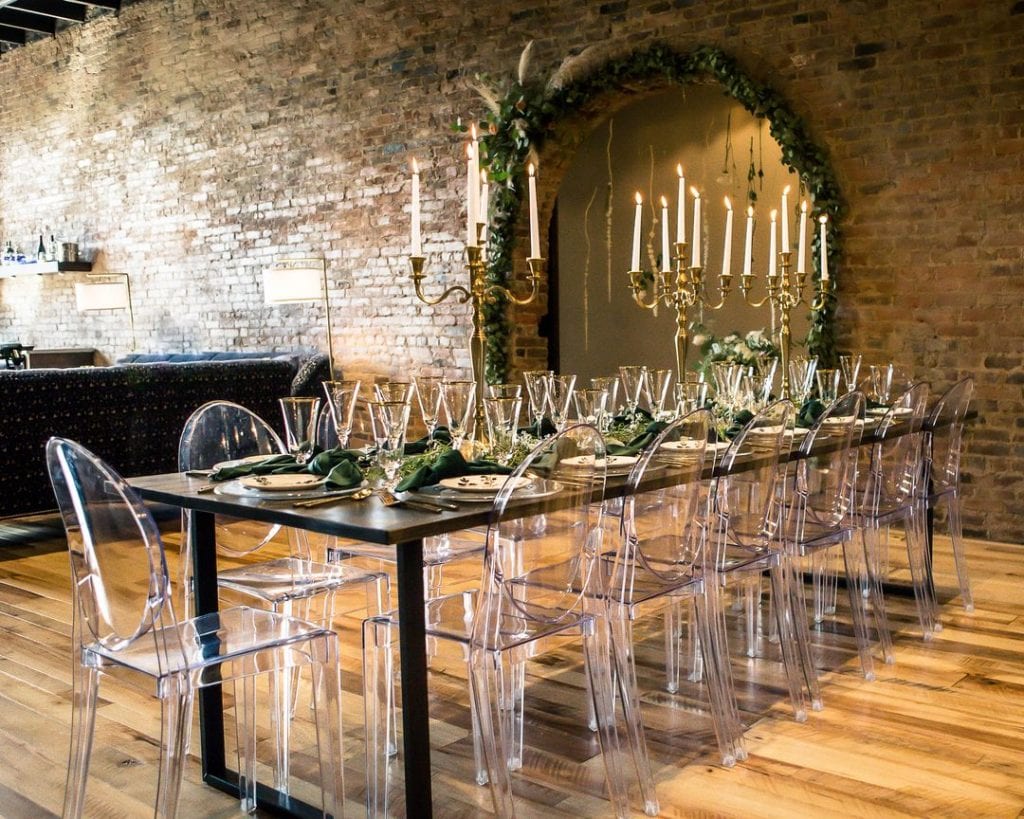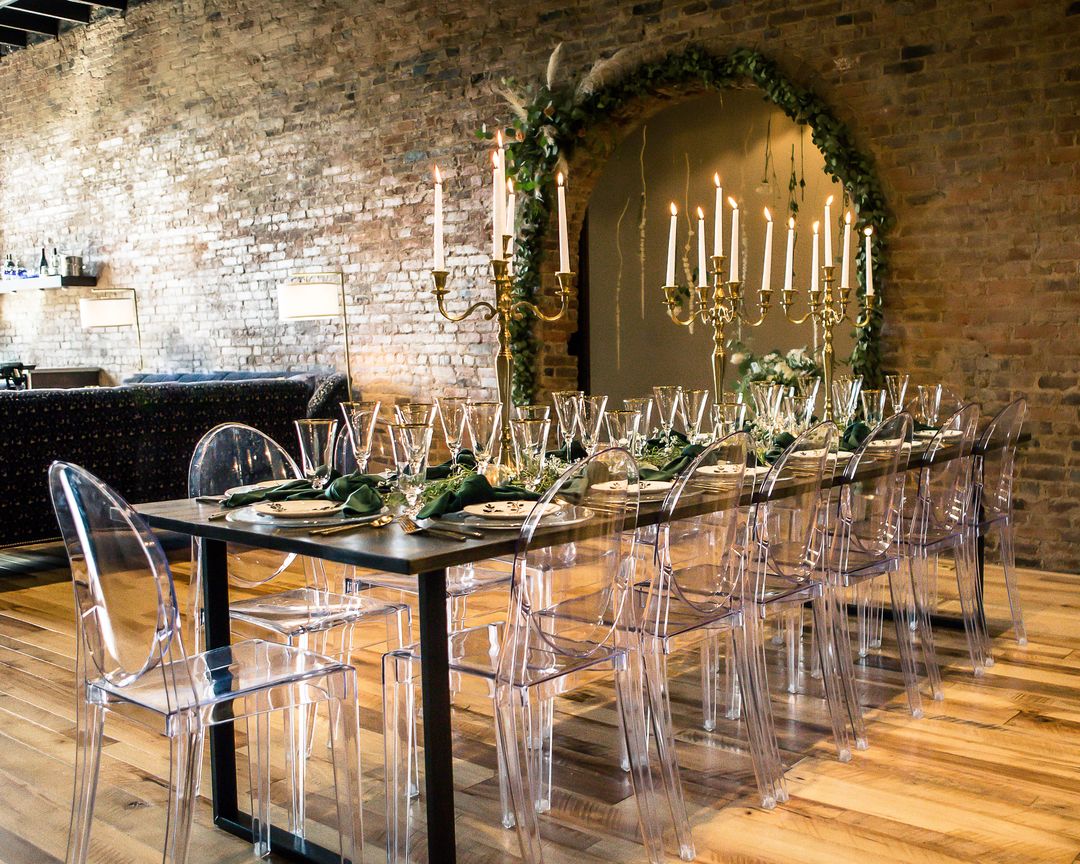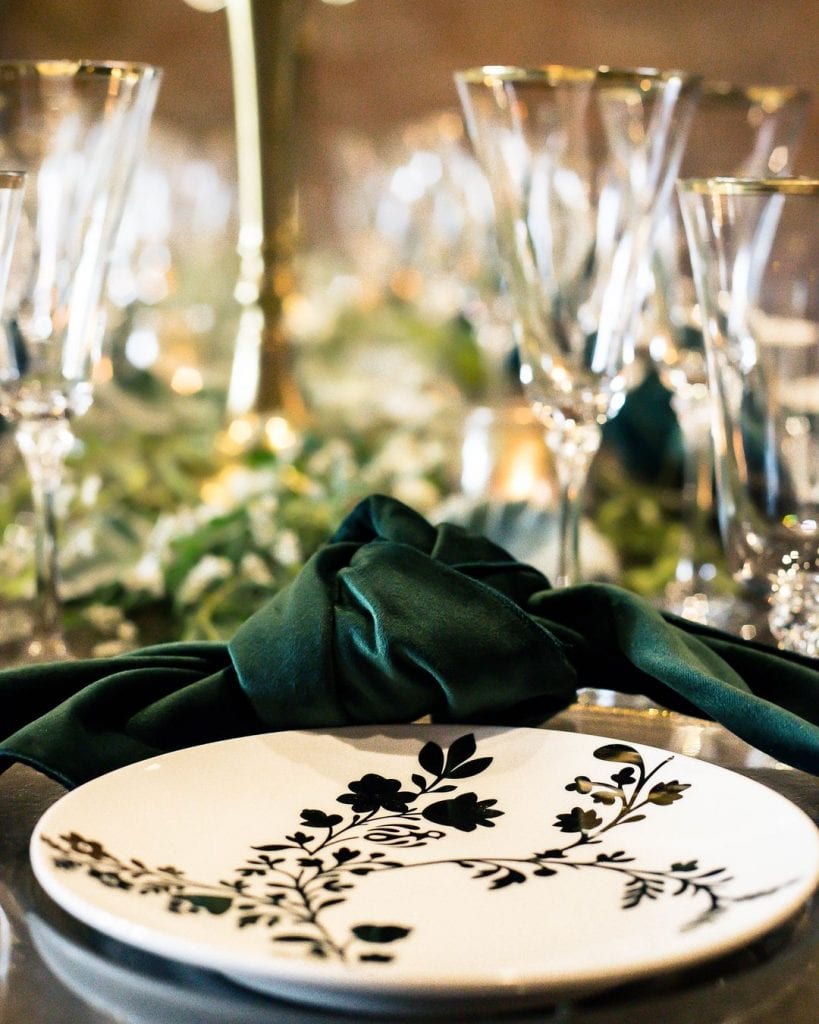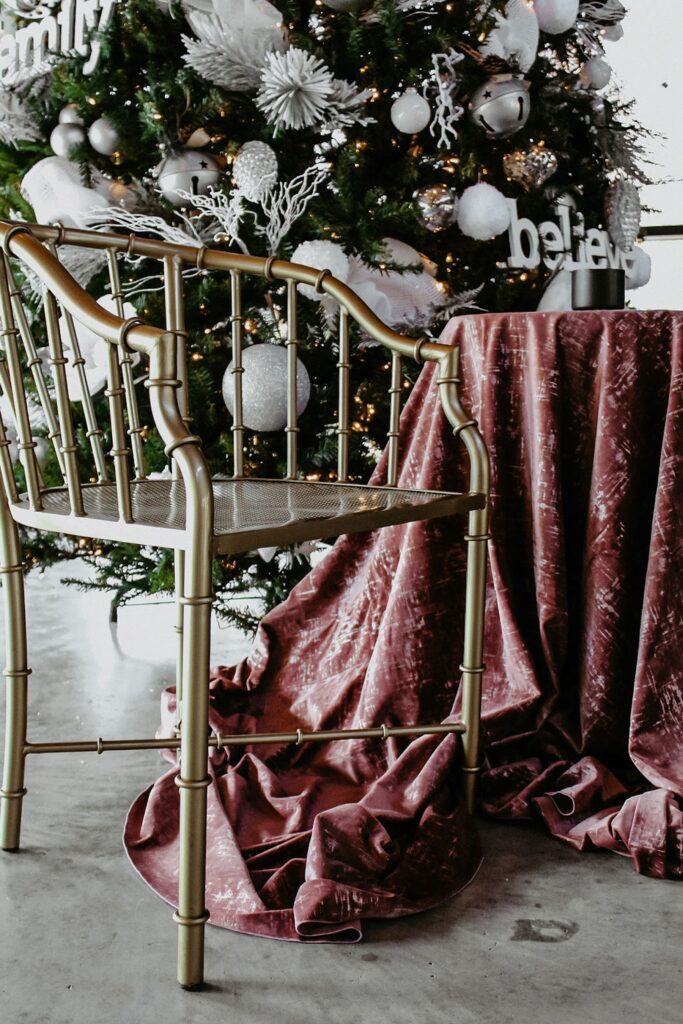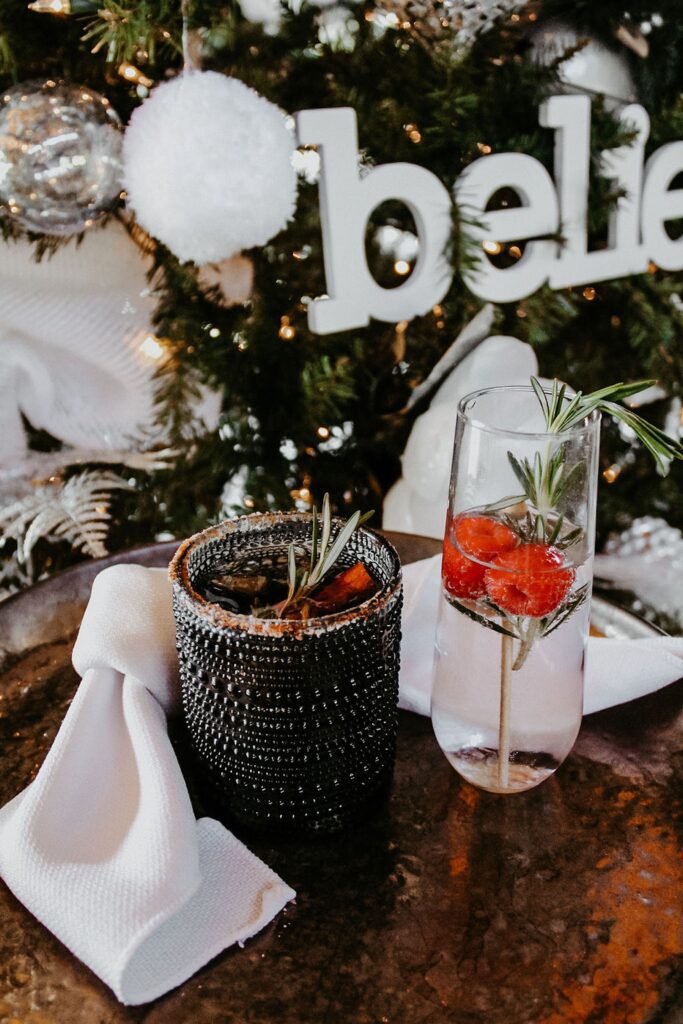 Modern Moody
Are you dreaming of a sophisticated black and white formal winter wedding? We recommend an indoor reception with minimalist acrylic seating. For example, the Acrylic Ghost Armless or Acrylic Carrigan Side Chairs. What's more, the latter stars an intricate, almost ice-like back! At the reception, create a cozy atmosphere with softly lit tables adorned with black tablecloths, crisp white napkins, and china. Such as our White Coupe China or Carerra Marble Dinner Plates.
Moving on to the cocktail hour, adorn bistro tables with the striking black and white Nova Linens. As well as Acrylic Casper Square Back Barstools. And don't forget the pièce de résistance! To be specific, espresso martinis with whipped cream, elegantly served in our Gatsby Coupe Glasses.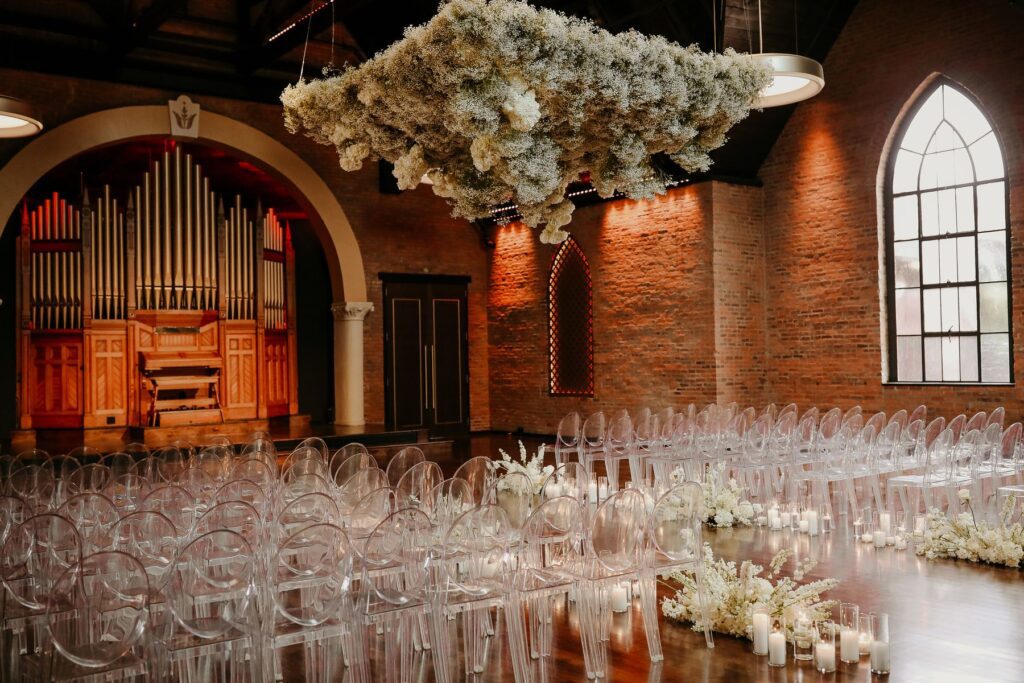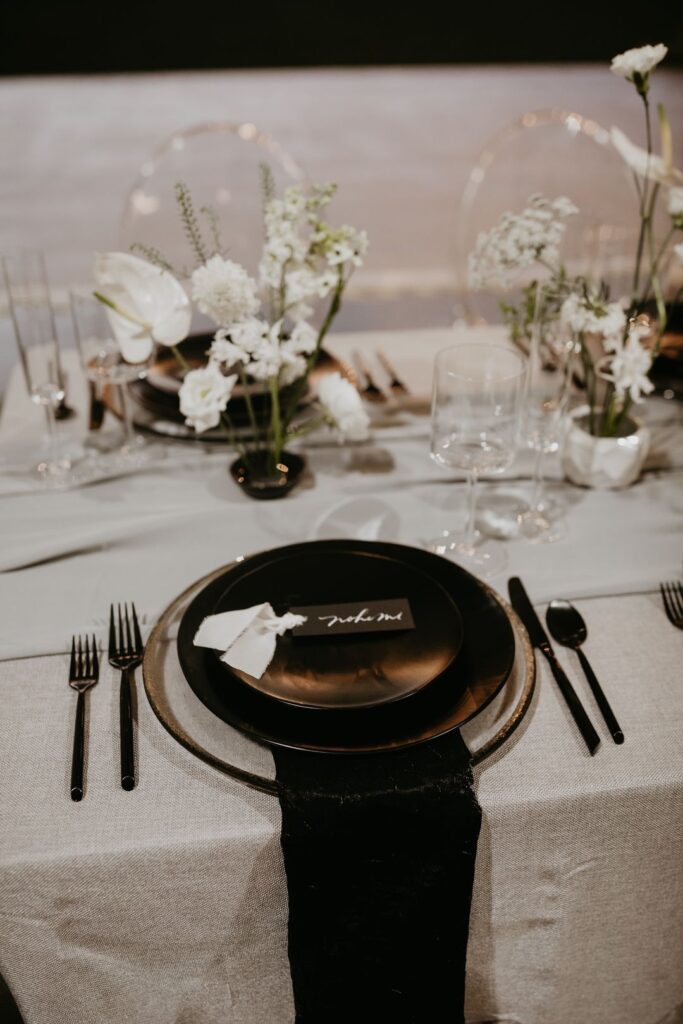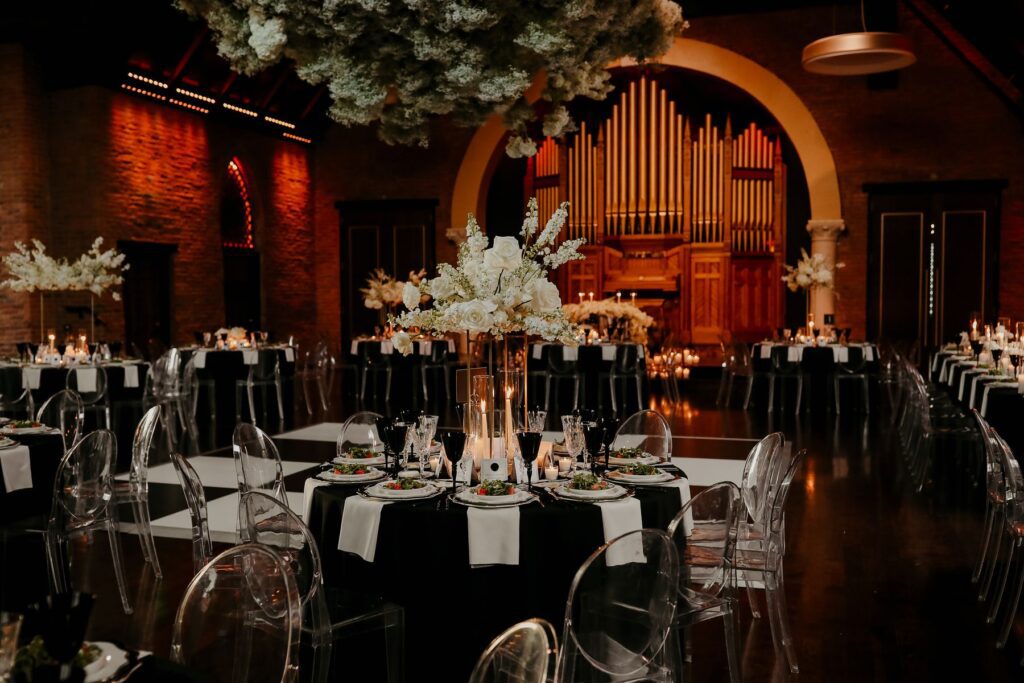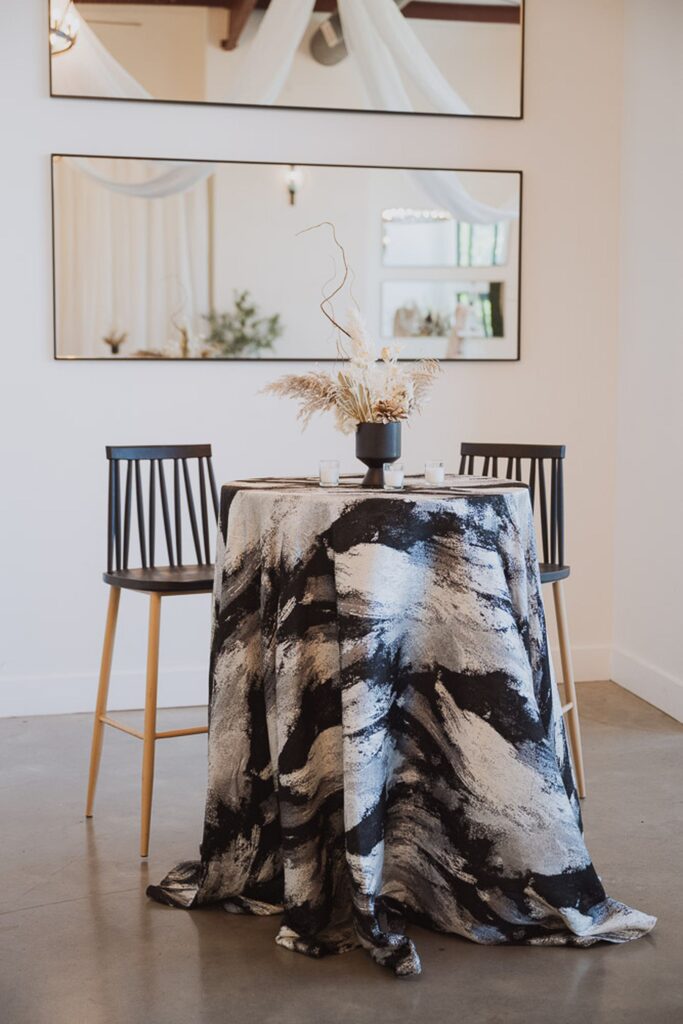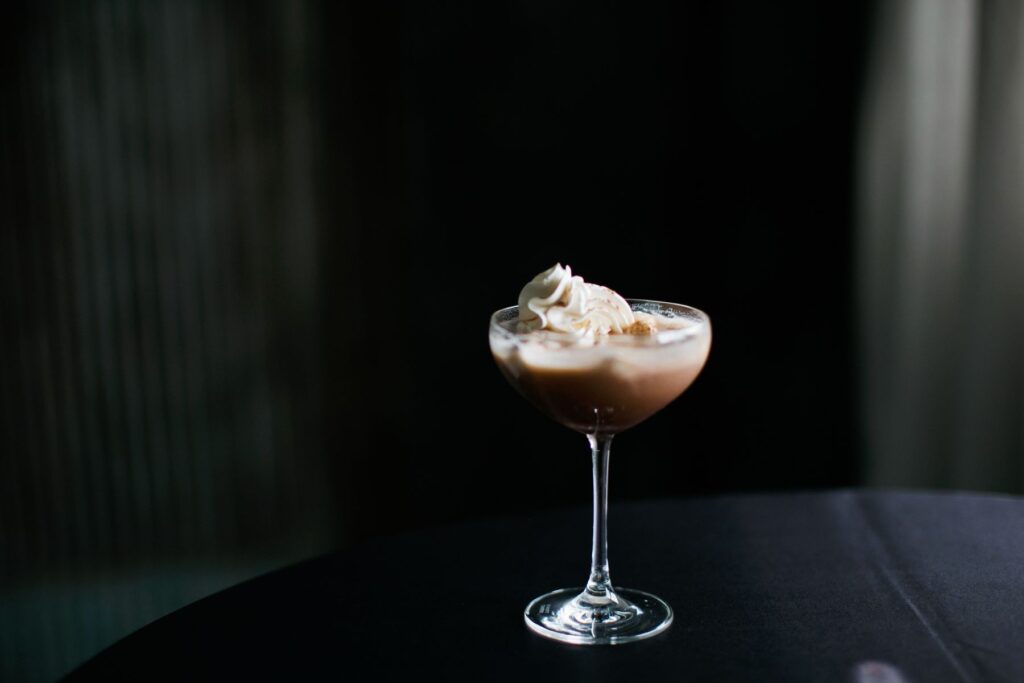 Beautiful Hues of Blue
If you favor bright and airy celebrations, incorporate beautiful shades of blue into your winter wedding. Begin with White Chiavari Chairs at your ceremony for a sophisticated look. In the same fashion, set round tables with Silver Leaf linens to infuse a hint of radiance and complete the vision with silver-accented china. For instance, our Silver Rim Glass or Belmont Beaded Chargers and Abby Flatware. Then, inject pops of blue into the design using our Heritage Light Blue or London Fog Velvet linens – fan favorites!
Lastly, craft an attention-grabbing cocktail area, featuring our Pearce Modular Lounge. Further, an interactive Champagne Shelf and Boxwood Walls will go a long way to wow your guests.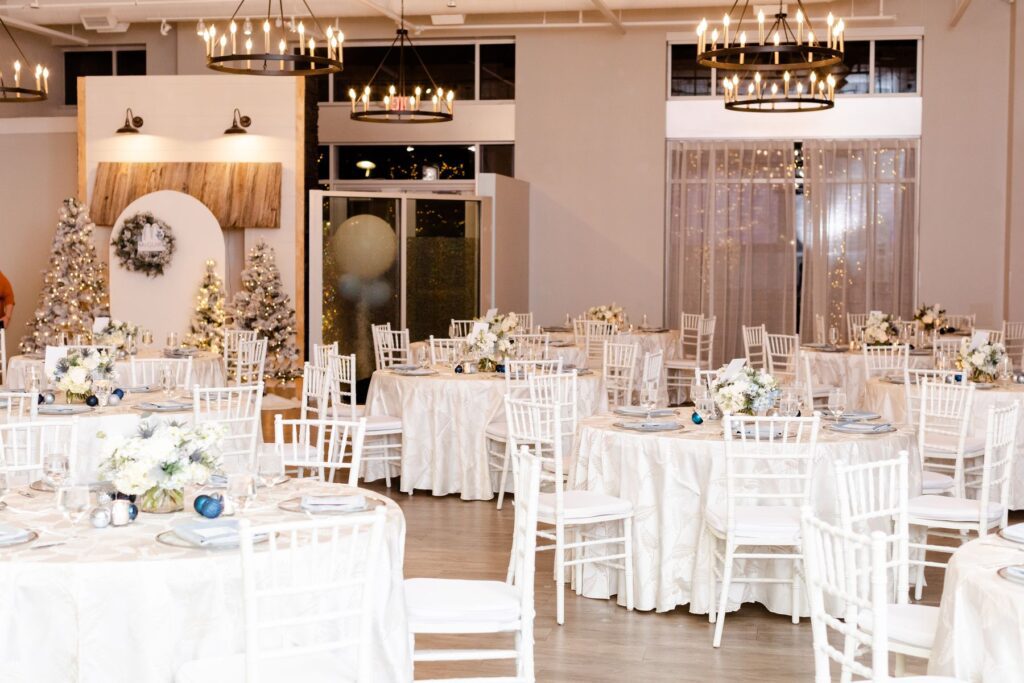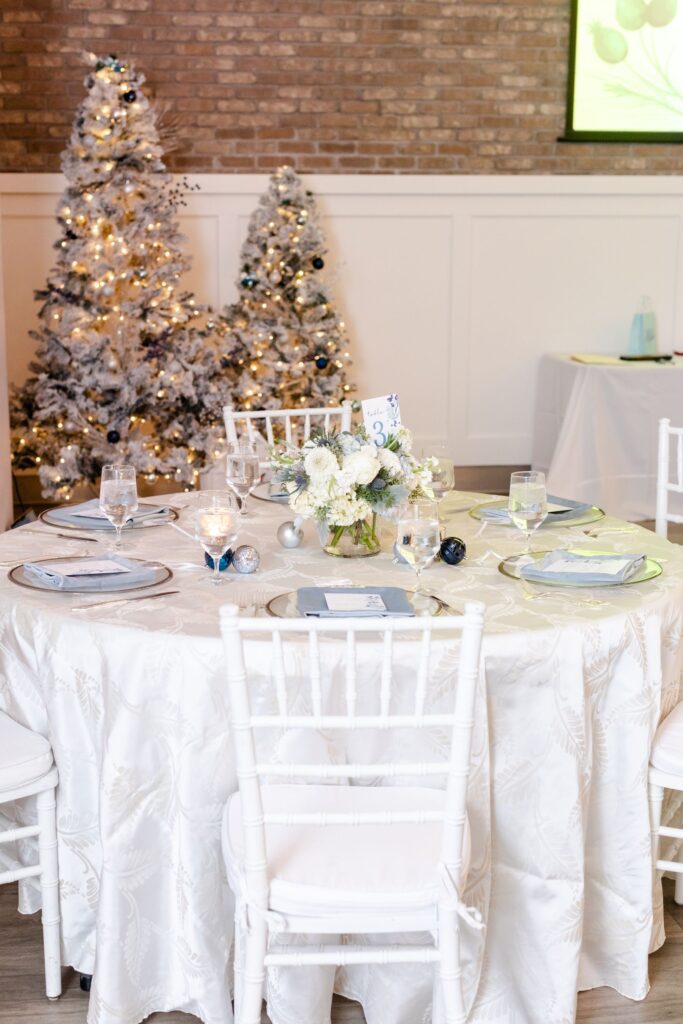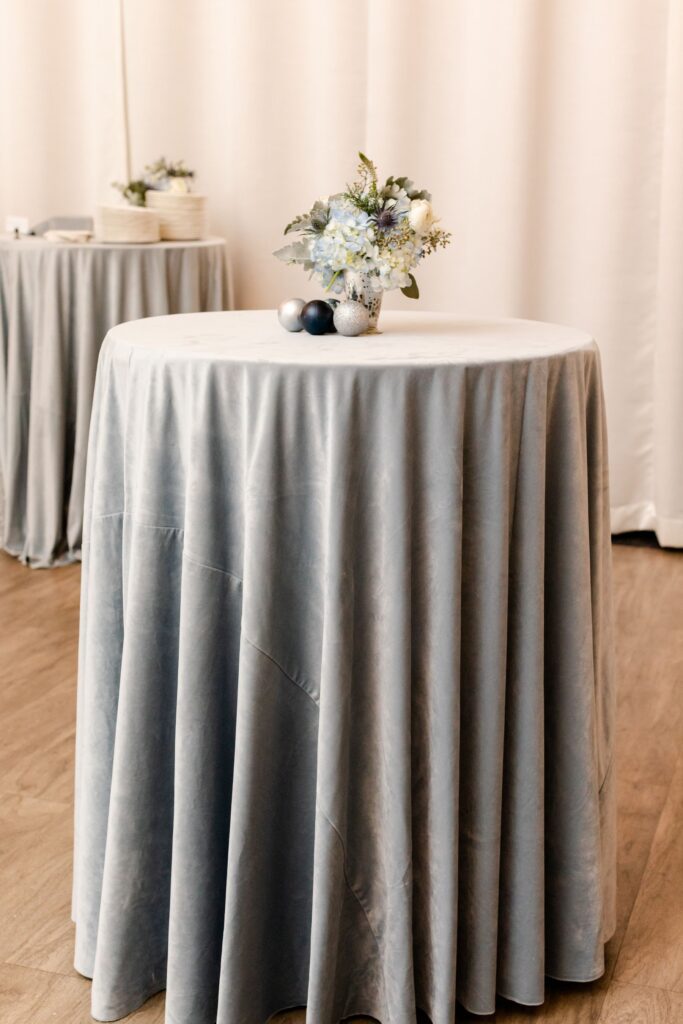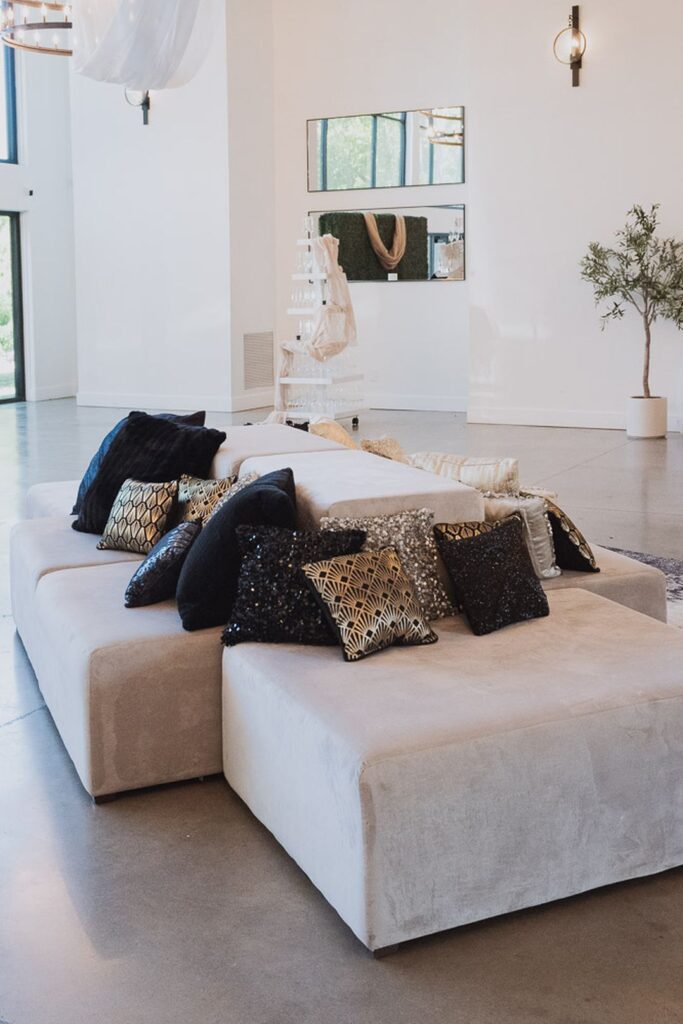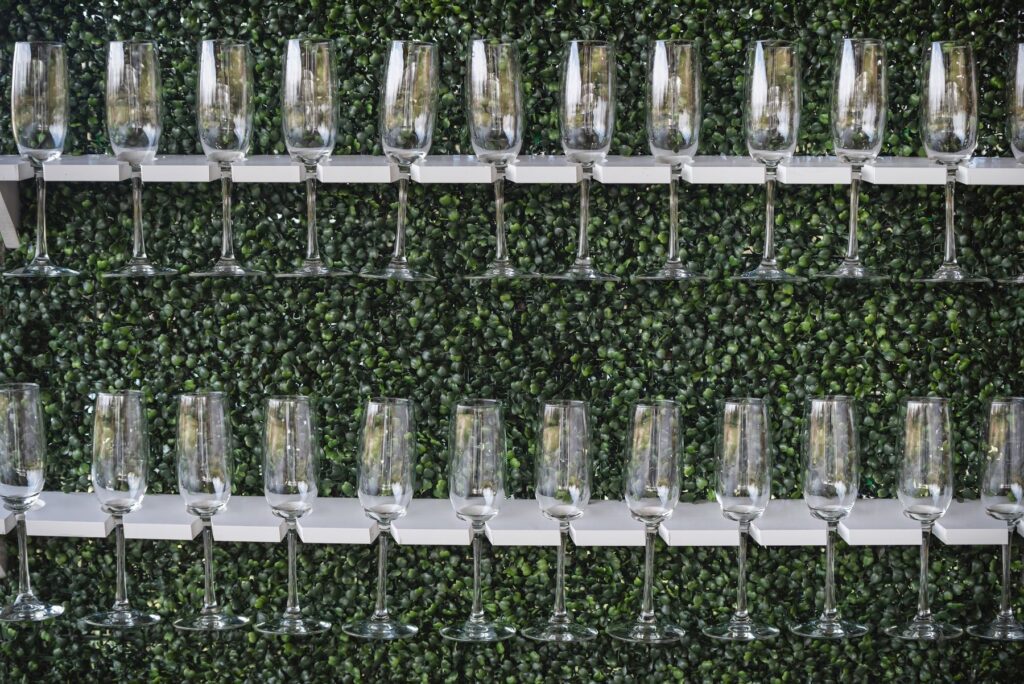 Classically Festive
Embrace the classic charm of Christmas with a warm and festive winter wedding theme! Elevate your indoor ceremony by using Cross Back Wood Chairs adorned with lush greenery. For the reception, opt for long banquet tables that encourage lively conversations. Drape them with crisp white linens and napkins in bright red and deep greens – quintessential colors of the season. Next, add a touch of luxury when you feature our Gold Round Lacquer Chargers topped with Athena China and Fresno Flatware.
For your cocktail hour, or if you are planning table service, consider our contemporary Cybil or romantic Monaco Glassware. If you want a cozy lounge area to match, we recommend the Bennett Leather Sofa and a pair of Everly Chairs.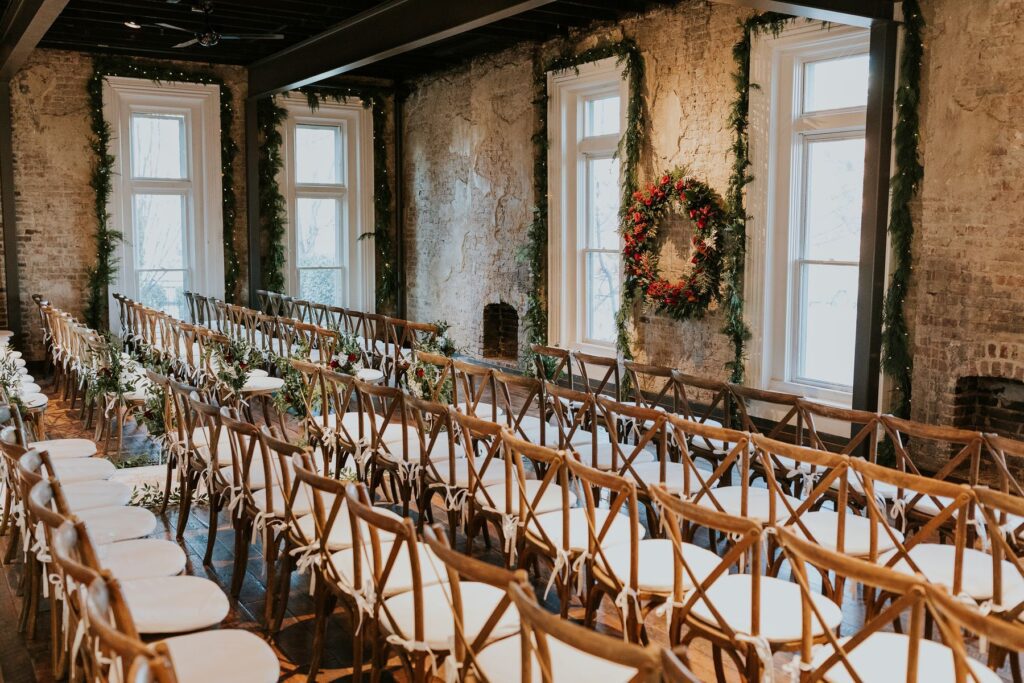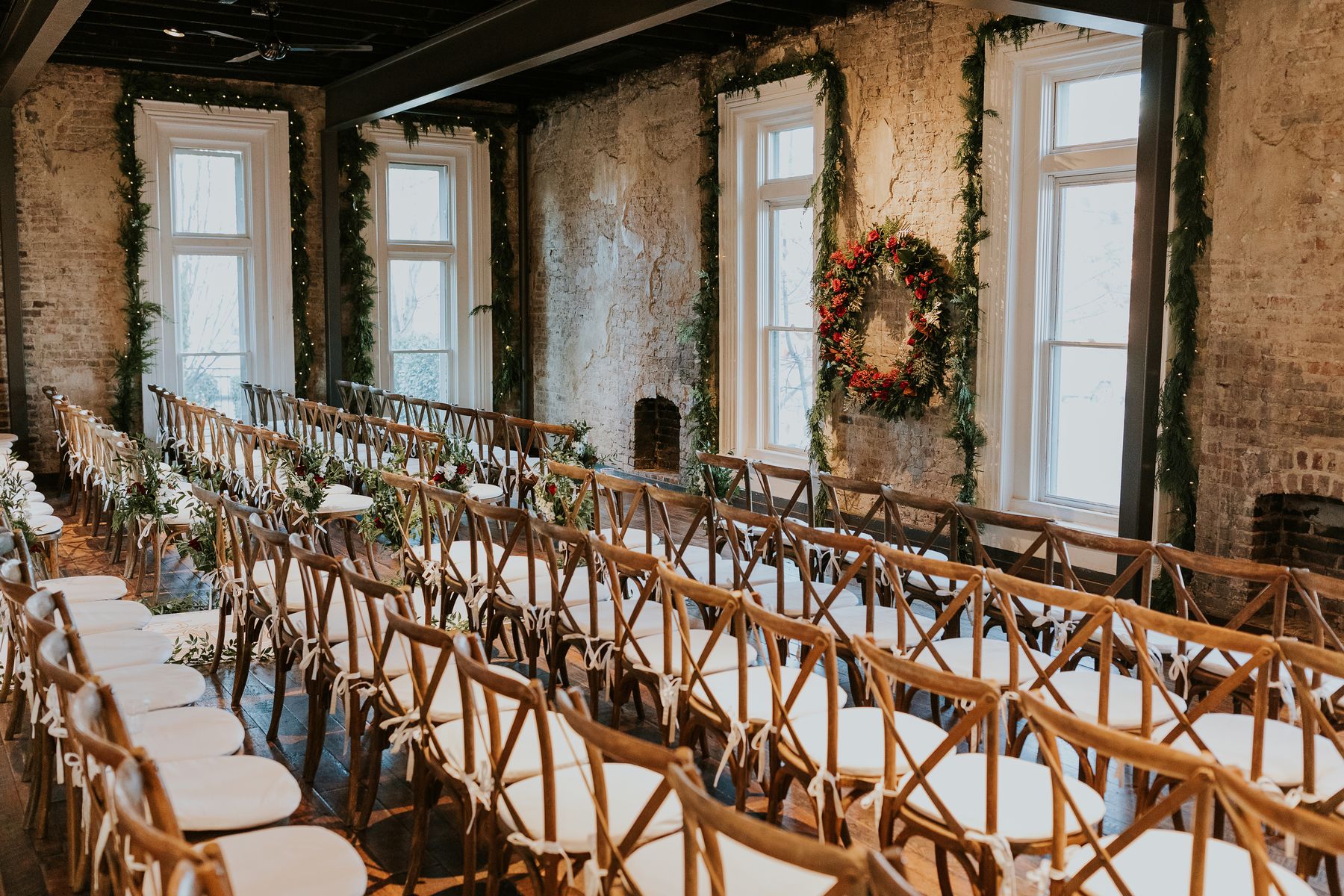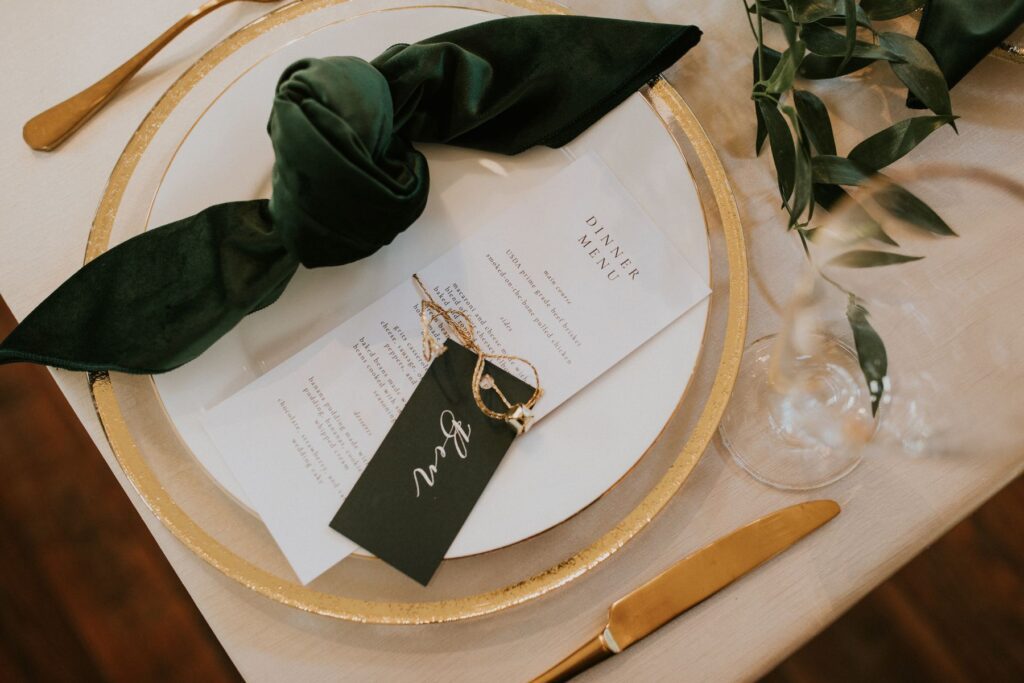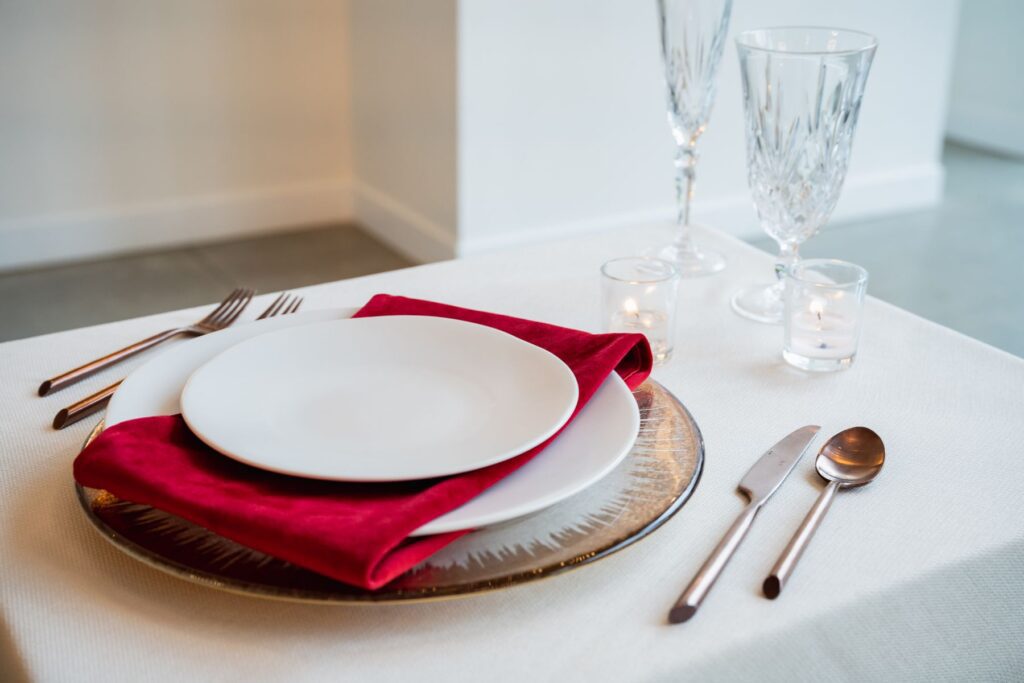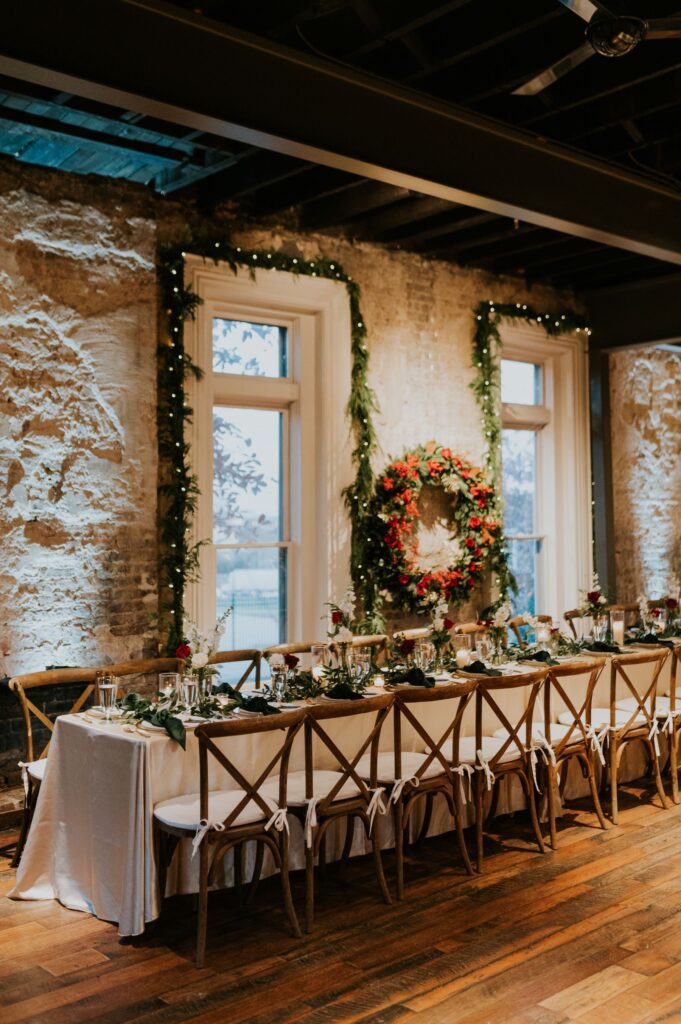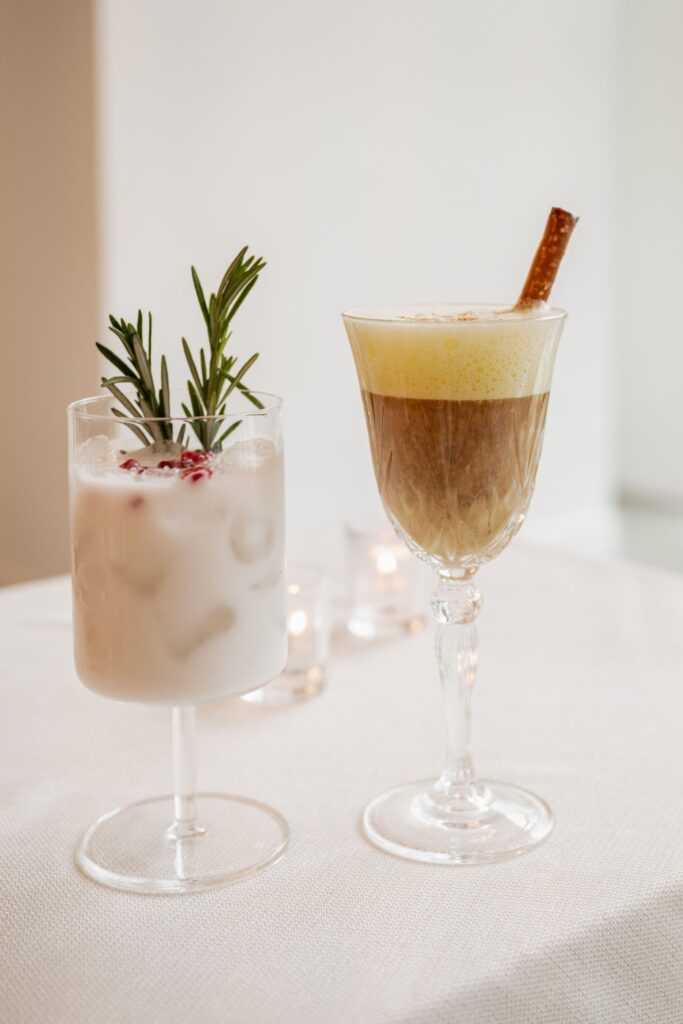 Nashville in winter offers a magical setting for your wedding and these unique themes! If you're ready to start planning a memorable Nashville winter wedding, Southern Events would love to help. Contact our team for assistance recreating one of these looks. Or to book an appointment in our showroom and create your very own!
TAGS | Unique Wedding Rentals, Wedding Rentals Nashville, blue event design, christmas wedding ideas, nashville winter wedding, on trend wedding style, upscale winter wedding, wedding inspiration, wedding reception ideas, winter wedding, winter wedding decor
FEATURED RENTALS | Gold Chiavari Chairs, Austin Gold Flatware, Vera Floral China, Gold Rim Glass chargers, Magnolia Linens, Fern Velvet Sofa, Gold Bamboo Arm Chairs, Smoke Beaded Tumblers, Acrylic Ghost Armless Chairs, Acrylic Carrigan Side Chairs, White Coupe China, Carerrea Marble Dinner Plates, Nova Linens, Gasby Coupe Glasses, Silver Leaf Linens, Silver Rim Glass Charger, White Chiavari Chairs, Belmont Beaded Chargers, Heritage Light blue Linens, Abby Flatware, London Fog Velvet Linens, Pearce Lounge, Boxwood Walls, Cross Back Wood Chairs, Athena China, Fresno Flatware, Gold Round Lacquer Chargers, Bennett Leather Sofa, Everly Chairs,
---
27

Jul

On Trend, Southern Events Products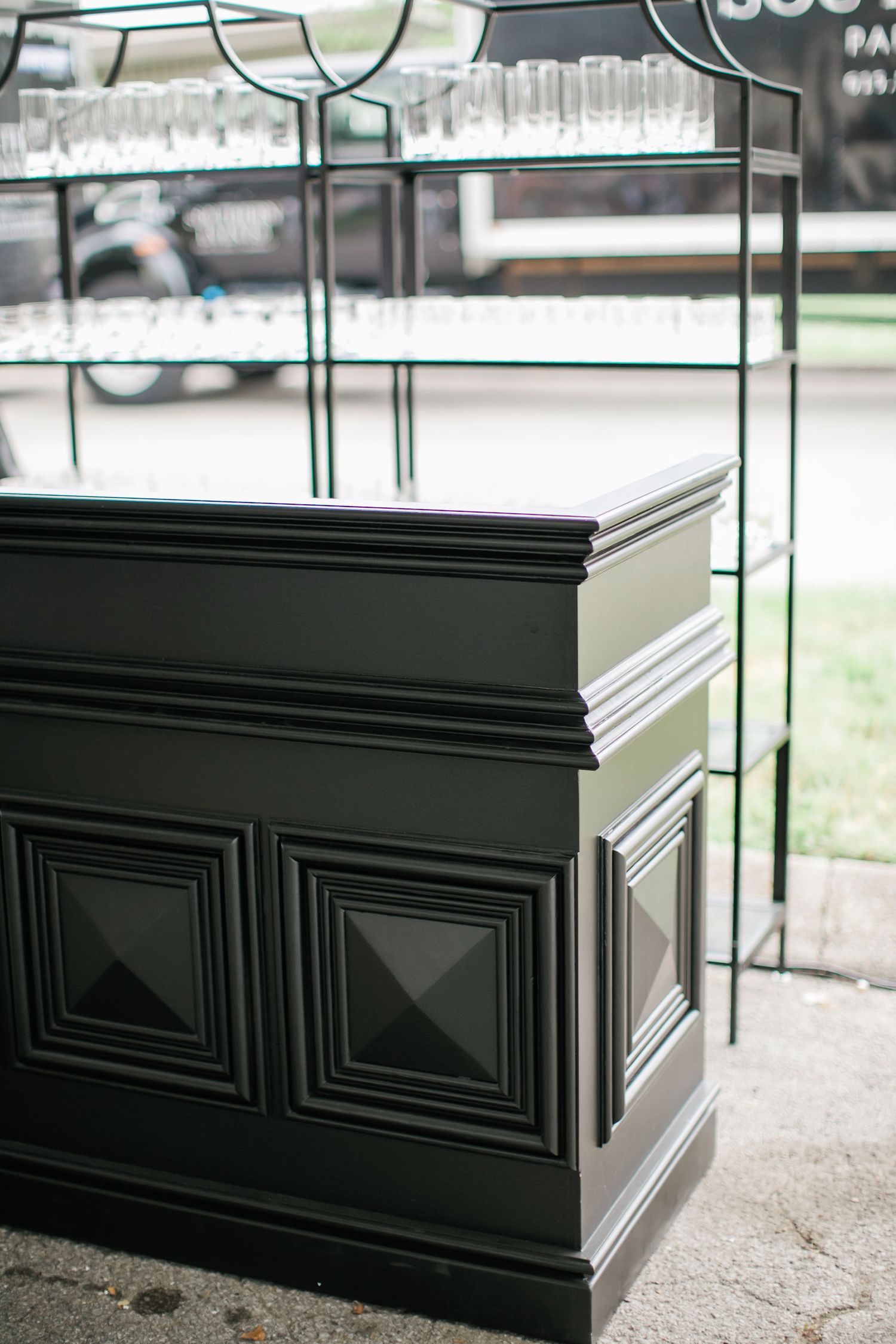 Serving alcoholic beverages, or delicious mocktails, starts with a well-stocked bar! Whether you're organizing a wedding reception, corporate gathering, or milestone celebration, Southern Events Online is your go-to destination for event bars and bar accessories for rent. Let's dive into the offerings that will transform your event into a sophisticated soirée, from bars in every shape and size to on-trend glassware and elegant backdrops.
Stylish Bars for Rent
A well-outfitted bar is the sign of a well-planned event. We offer a wide selection of stylish bars available for rent, perfect for any event theme or ambiance. For a rustic chic vibe, grab our Thompson Oak Bar. Or, a fan favorite, the Chelsea Marble Top Bar is perfect for a modern bohemian vibe! Our bars are crafted with attention to detail and are designed to create a focal point at your event. From vintage wooden bars to elegant mirrored options, you'll find the perfect match for your event aesthetic. If you are hosting an intimate event, we also carry a Gold Bar Cart, perfect for providing table service.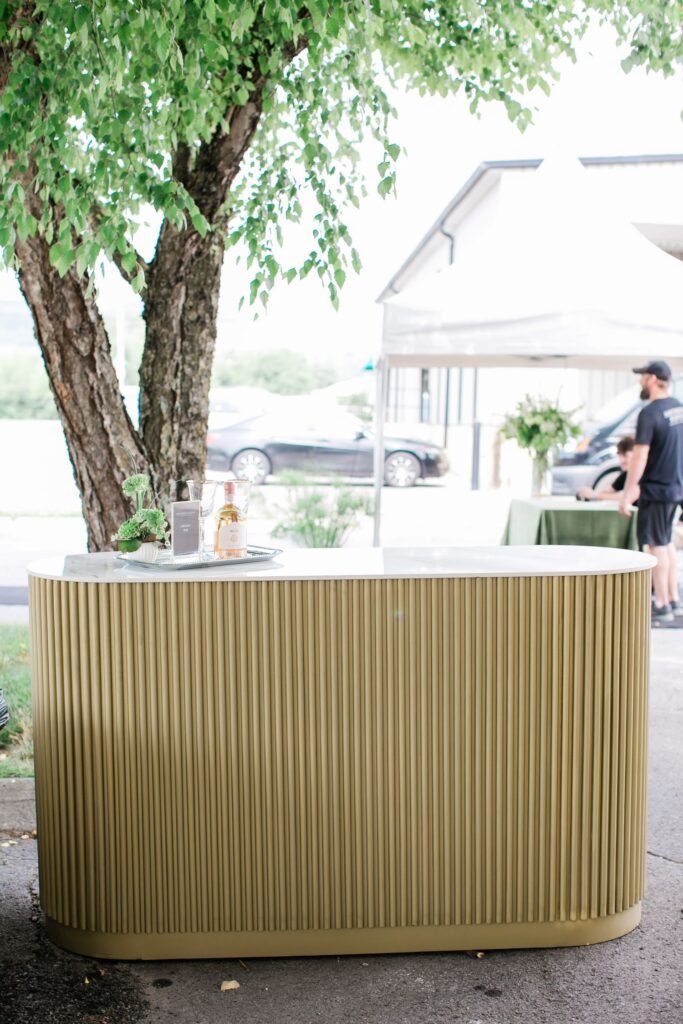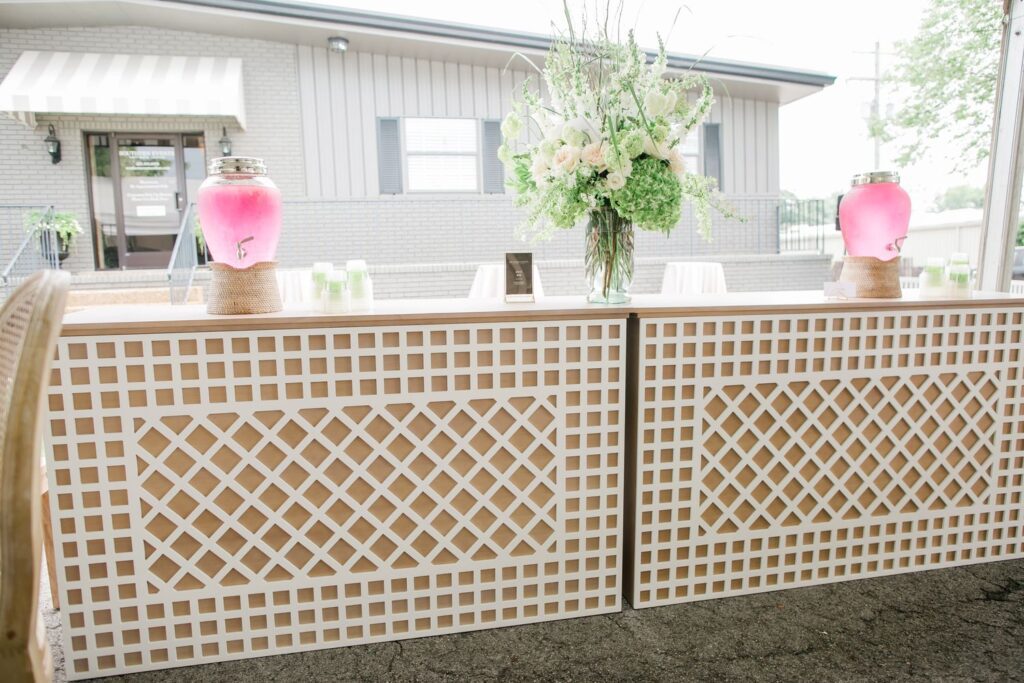 On-Trend Glassware
With an impressive bar area, you'll need glassware to match! This is why Southern is excited to stock an array of glassware options that will enhance the visual appeal of your beverages, whether it be wine or a signature cocktails, and impress your guests. In addition to the essentials, such as highball and rock glasses, we have an elegant selection for celebratory events. Including our Gatsby Champagne Coup Glasses and Cybil Champagne Flutes. If you want to infuse a splash of color into your bar setup, peruse our inventory of colored glassware. Ranging from retro shades of pink and amber, to vibrant shades of green and blue. Consider all your options when you visit our catalog!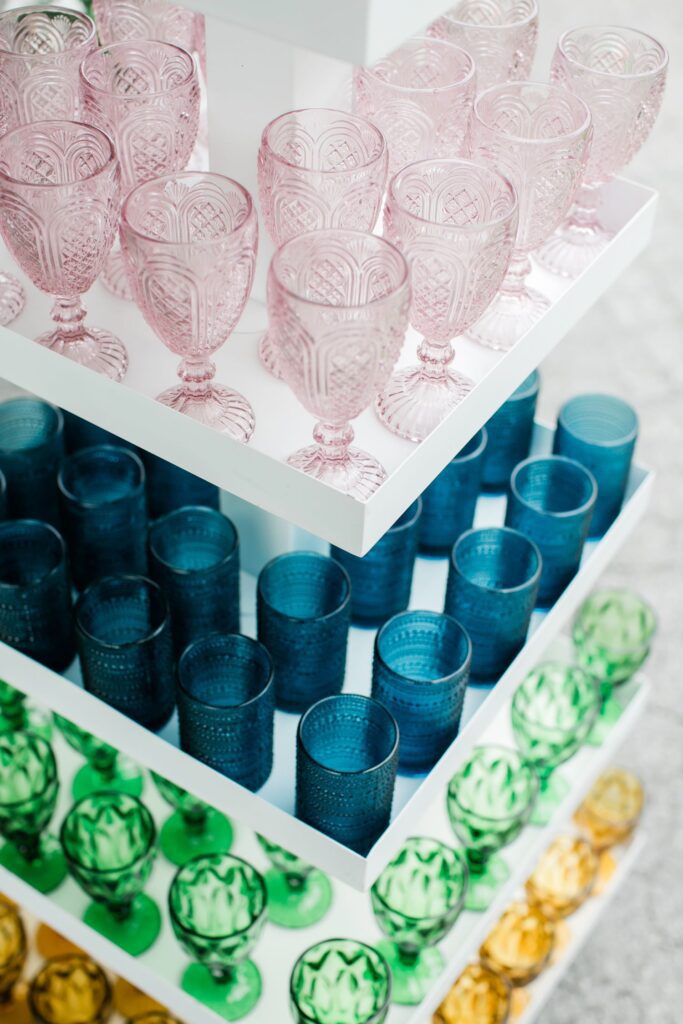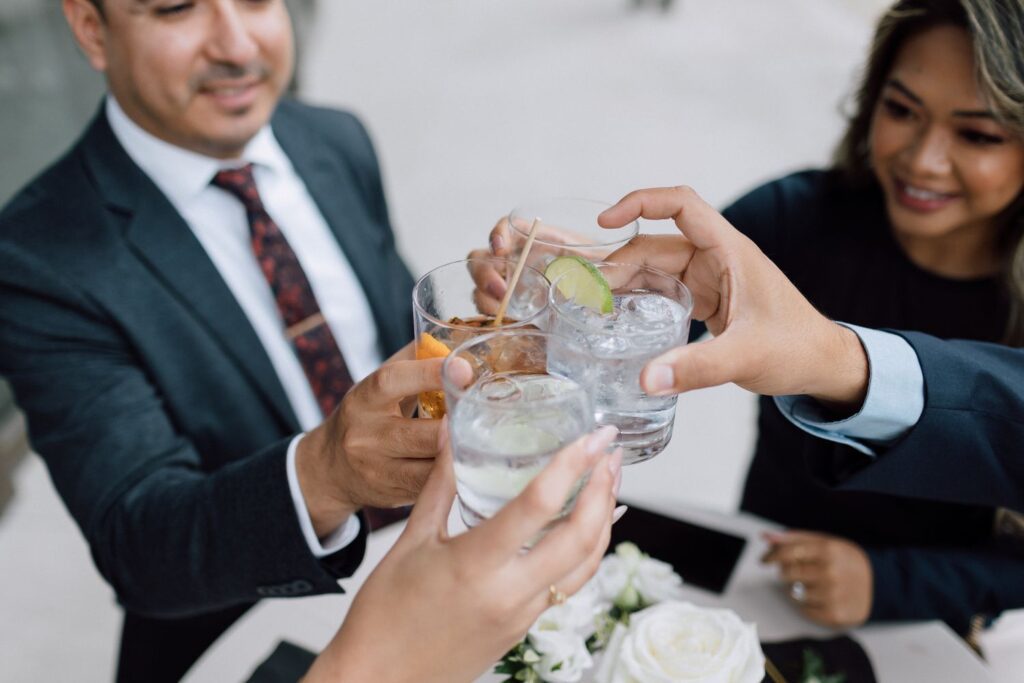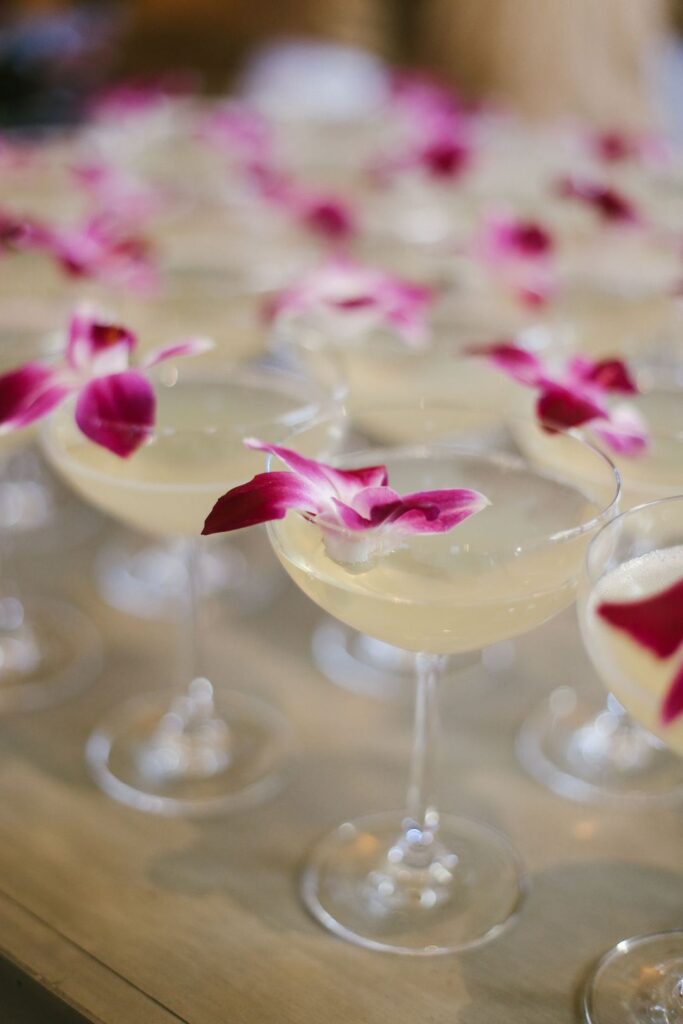 Bar Shelving + Backdrops
To create an immersive and visually appealing bar area, we stock an assortment of bar shelving and backdrops for rent. These elements will help transform a simple bar into a captivating focal point! Choose from simple shelves to display your liquor collection or glassware – such as a Black Bookcase or Gold Avenue Barback Shelf. Or, feature Boxwood Walls, elevated with custom signage starring a menu or corporate logo. With a diverse range of options, you can curate a bar setup that perfectly reflects your event theme and leaves a lasting impression.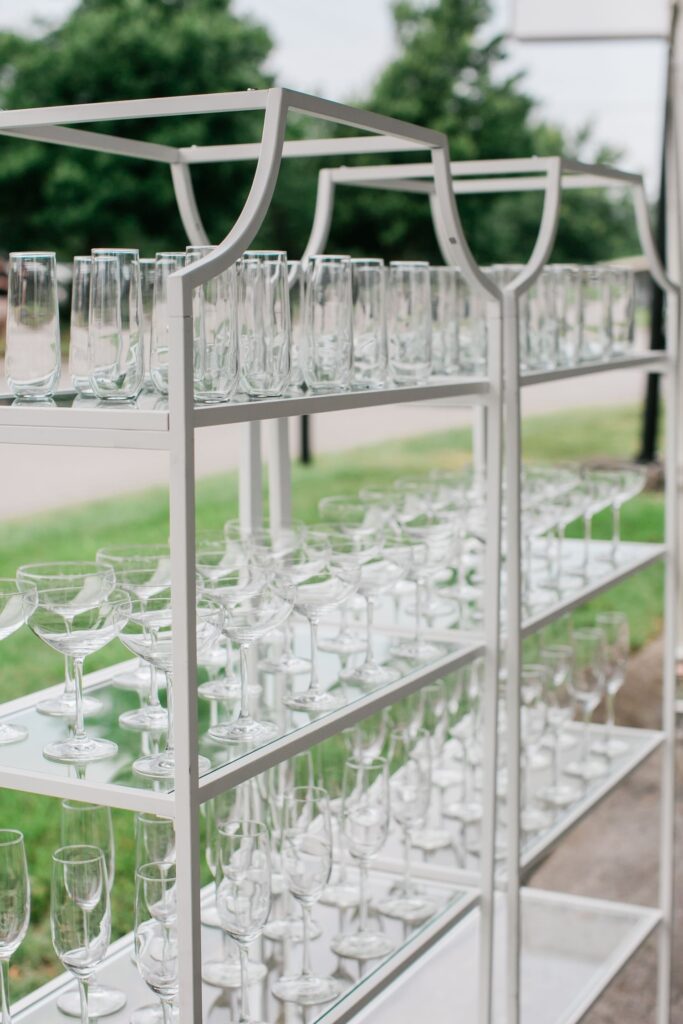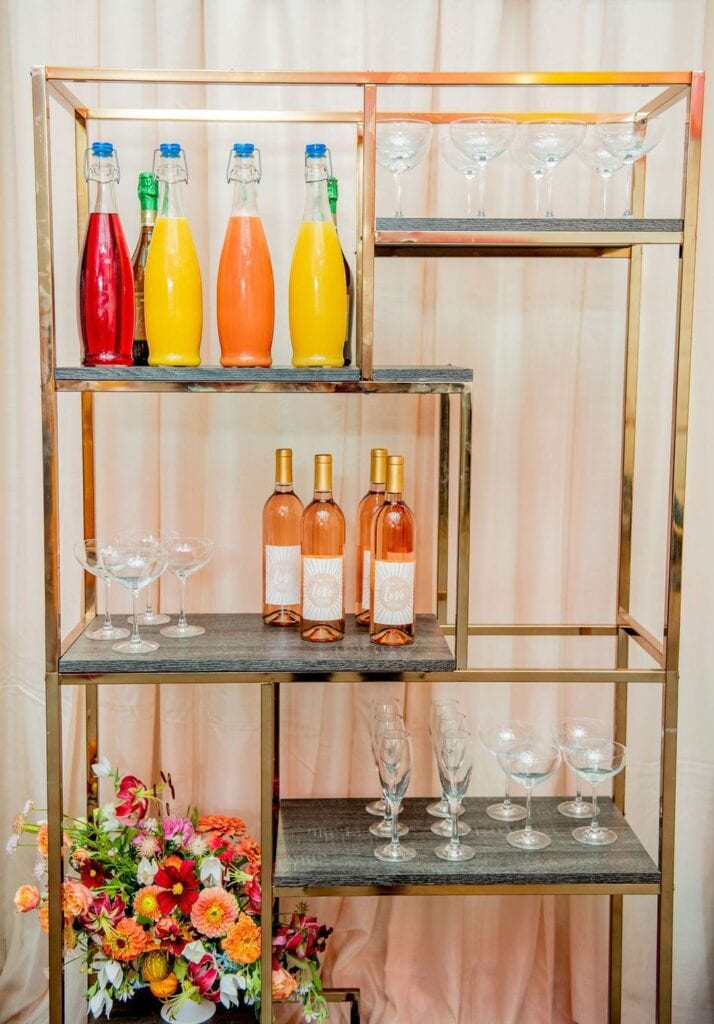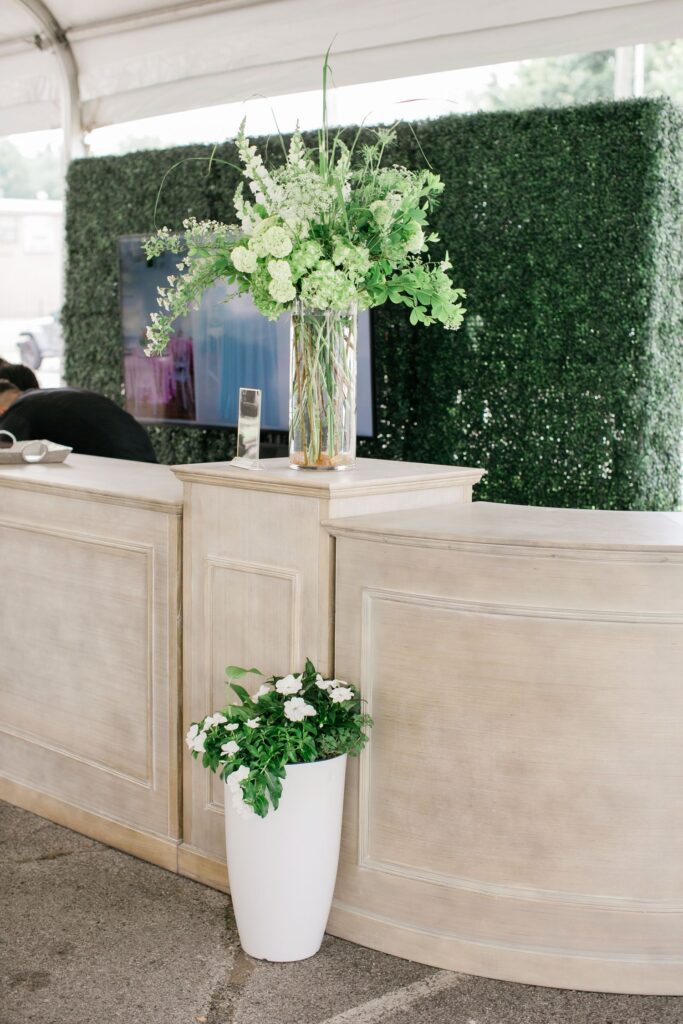 Cocktail Tables & Seating
Cocktail tables are both functional and stylish! These tables provide the perfect gathering spot for guests to enjoy their beverages and engage in conversation. For standing and mingling, combine our new Palmer Bistro Table with matching barstools, or feature a Charleston Bistro Table standalone. Or dress a cocktail table with bright linens, in a soft satin or rich velvet material, contrasted by Acrylic Ghost or Mid-Century White Barstool. Alternatively, and to create a more relaxed atmosphere, peruse our selection of curated event lounges. Complete with stylish seating, accent tables, and rugs.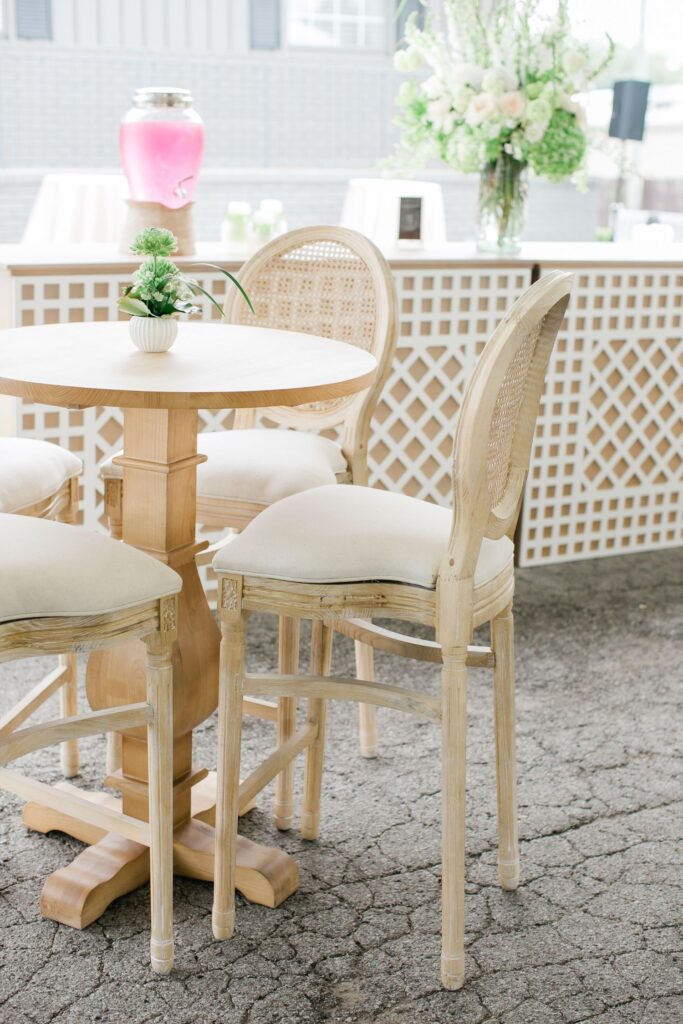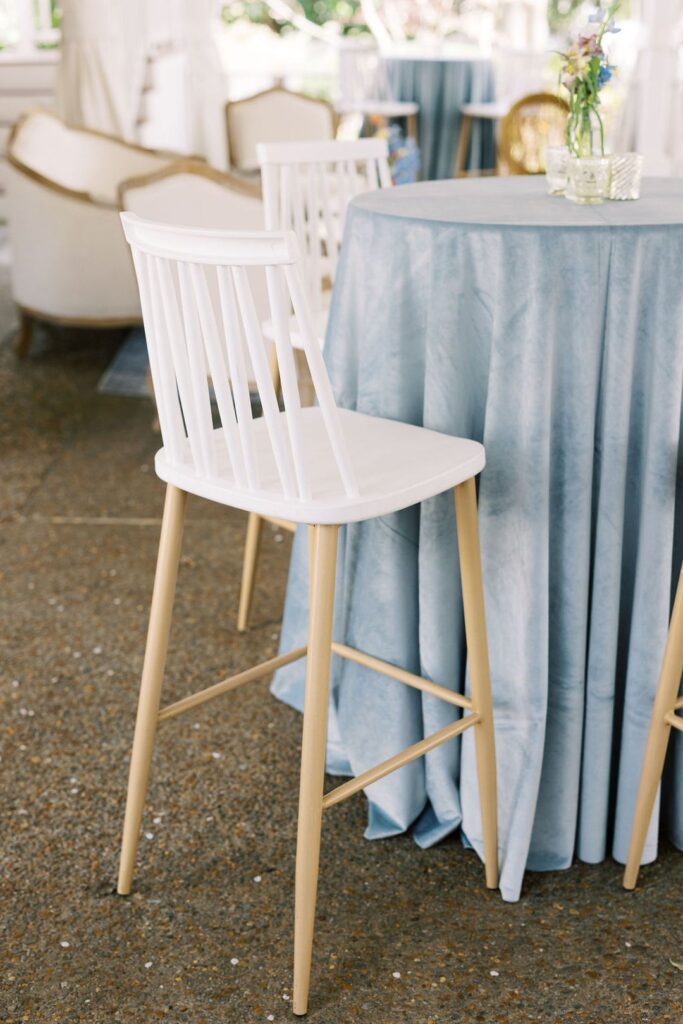 Want to feature some of these stylish bar accessories for rent at your upcoming event? Contact our team at info@southerneventsonline.com and let's start planning your best party event yet! Hosting outdoors? Explore our Unique Outdoor Party Decor & Props that will elevate your celebration.
TAGS | Glassware Collection, Nashville Event Rentals, Nashville Wedding Rentals, Nashville party rentals, Southern Events Party Rentals, Unique Wedding Rentals, backdrop ideas, bar accessories, bars for event rentals, glassware rentals Nashville
FEATURED RENTALS | Sorrento white bar, Thompson oak bar, cheese marble top bar, gold bar cart, gold bar cart, Gatsby coupe glasses, Cybil champagne flutes, black bookcase, gold avenue Barback shelf, boxwood ball, palmer bistro table, Charleston bistro table, mid century white barstool acrylic ghost barstool,
---
3

Nov

Southern Events Products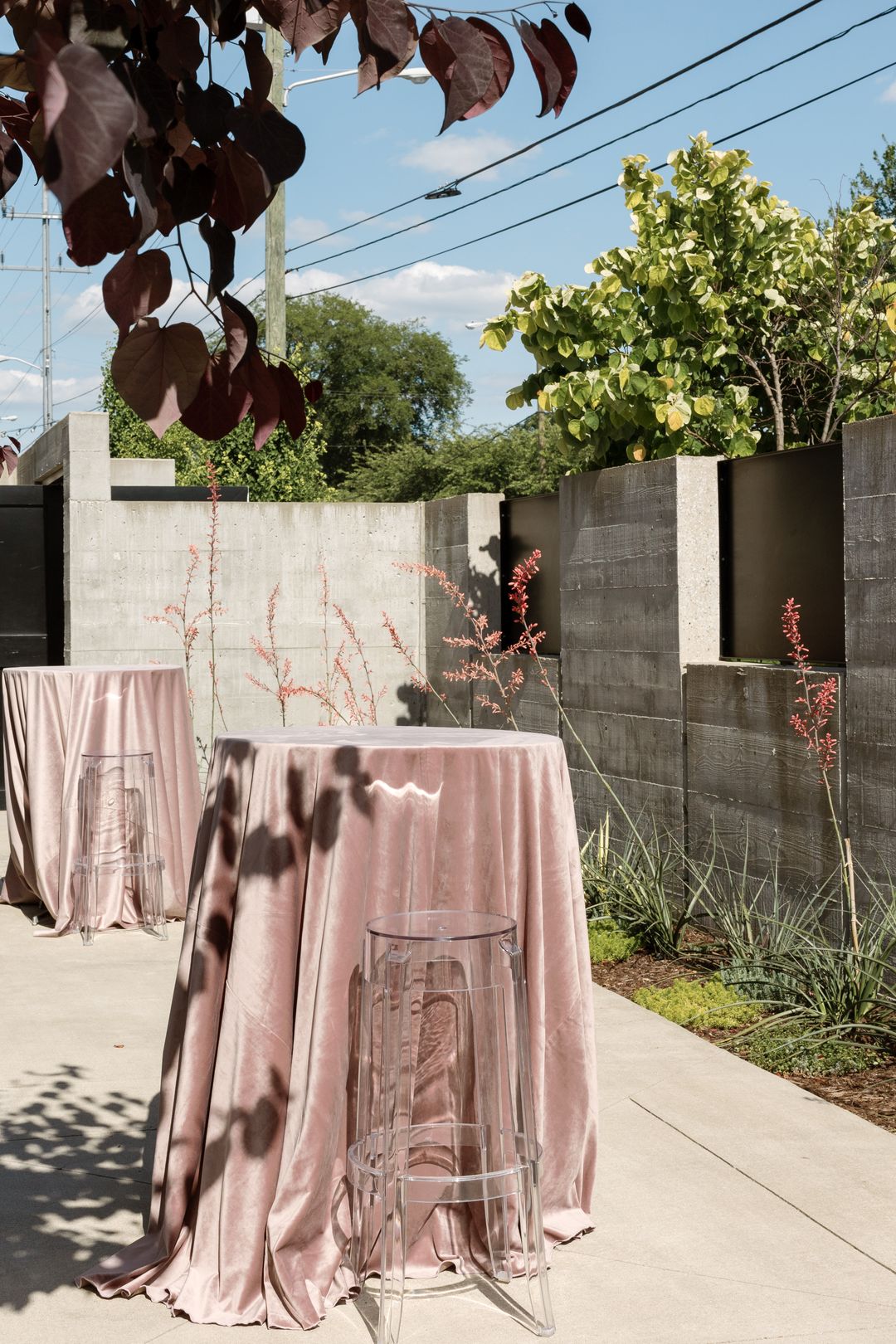 Cocktail hour on your wedding day. It's a fancy happy hour – with all of your closest family and friends. Along with planning your favorite signature drinks for your guests (and yummy hors d'oeuvres), you'll also want to create a comfortable space that's perfect for conversation. Cocktail hour is for moving around as your guests meet new people and connect with each other. With this in mind, barstools and cocktail tables are ideal when creating a setup fit for mingling! Take a look at our unique cocktail tables and bar stools that will complement your reception theme or venue.
Rustic Chic
Do you love farmhouse-inspired style? Our Farm Bistro Tables are a classic choice, available in two beautiful colors: White Wash and Fruitwood. If you prefer a more subdued rustic setup, you can top any of our classic bistro tables with luxe linens that will suit a woodsy setting. Forest Poly or Kennedy Natural will complement any rustic venue, as well as most urban backdrops. For a complete look, be sure to grab our Crossback Barstools.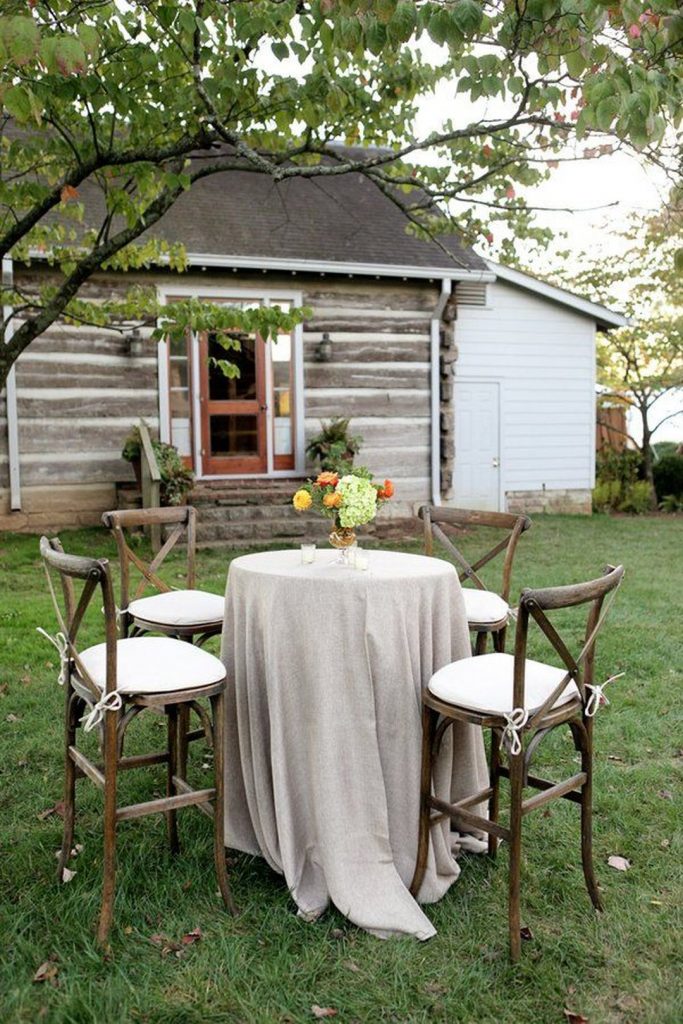 Modern Romantic
Bright colors and chic rentals are a must-have for a modern romantic celebration! Vibrant linen-dressed cocktail tables are an easy way to feature some color at the reception. And if you're into the clean lines of mid-century modern, our Mid-Century Barstools in Black or White will fit perfectly into your theme. Prefer a more luxe look? Our Charleston Bistro Table is an easy choice. It looks stunning with a set of popular Gold Chiavari Barstools.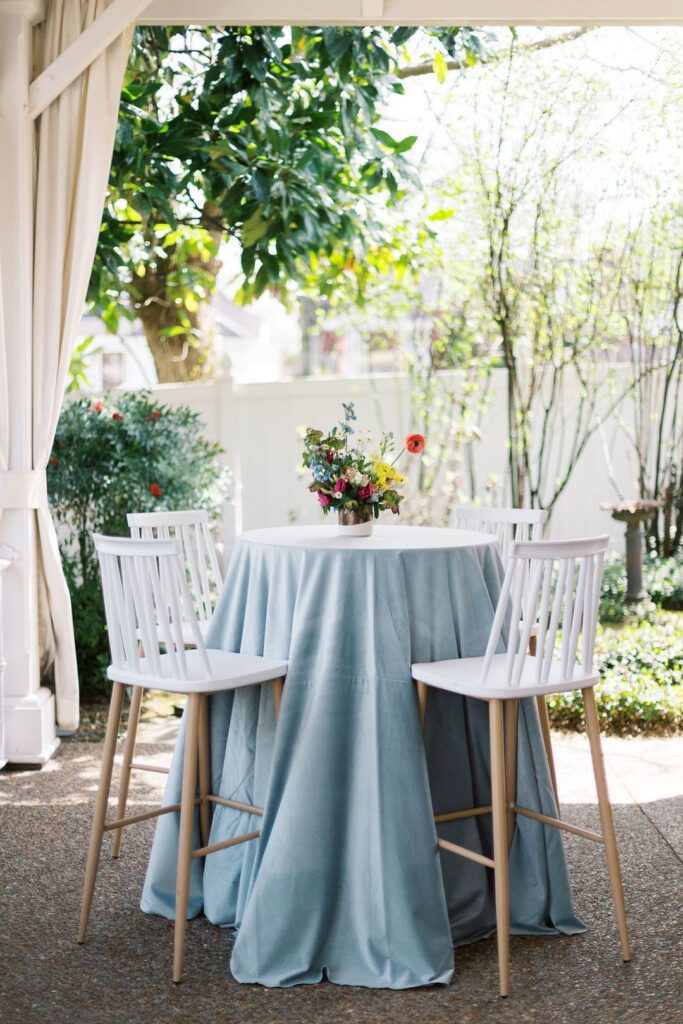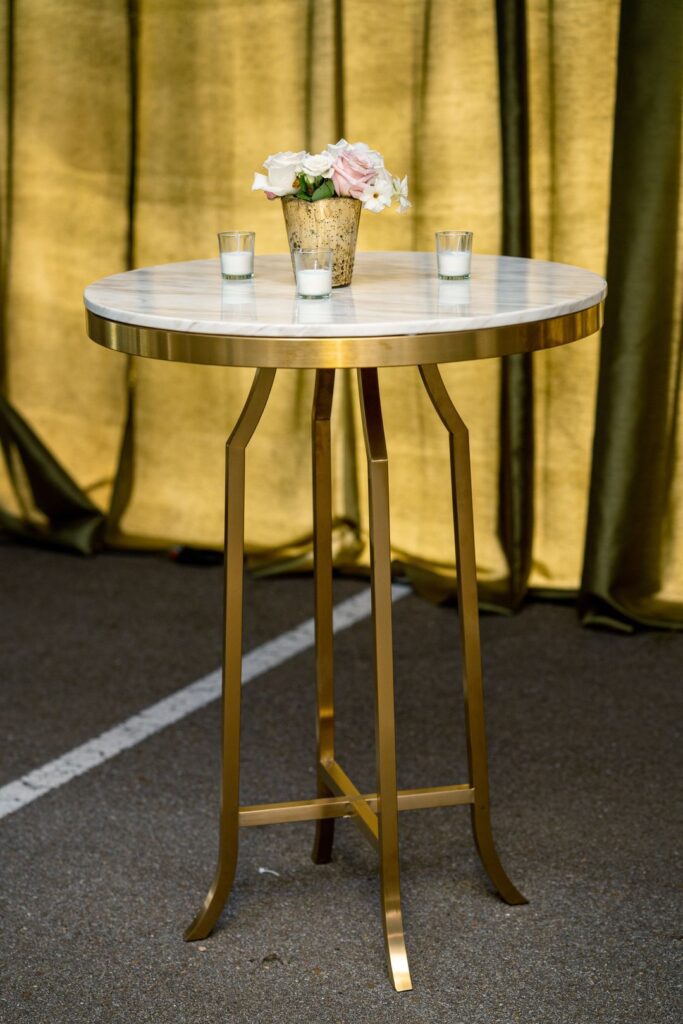 Modern Minimal
Going for a modern or minimal theme? Our Loren Gold Bistro Table and Acrylic Ghost Barstools are a darling pair, especially when set atop one of our vintage rugs. For a softer look, you might place a runner across the table, for that modern romantic look. Try a neutral color like Havana Ecru or Bloom Chiffon! To create an equally impressive but more traditional setup, opt for a simple bistro table outfitted in bold linens. Any color will look stunning with a pair of sleek Acrylic Casper Square Back Barstools – or any of our acrylic chairs for that matter.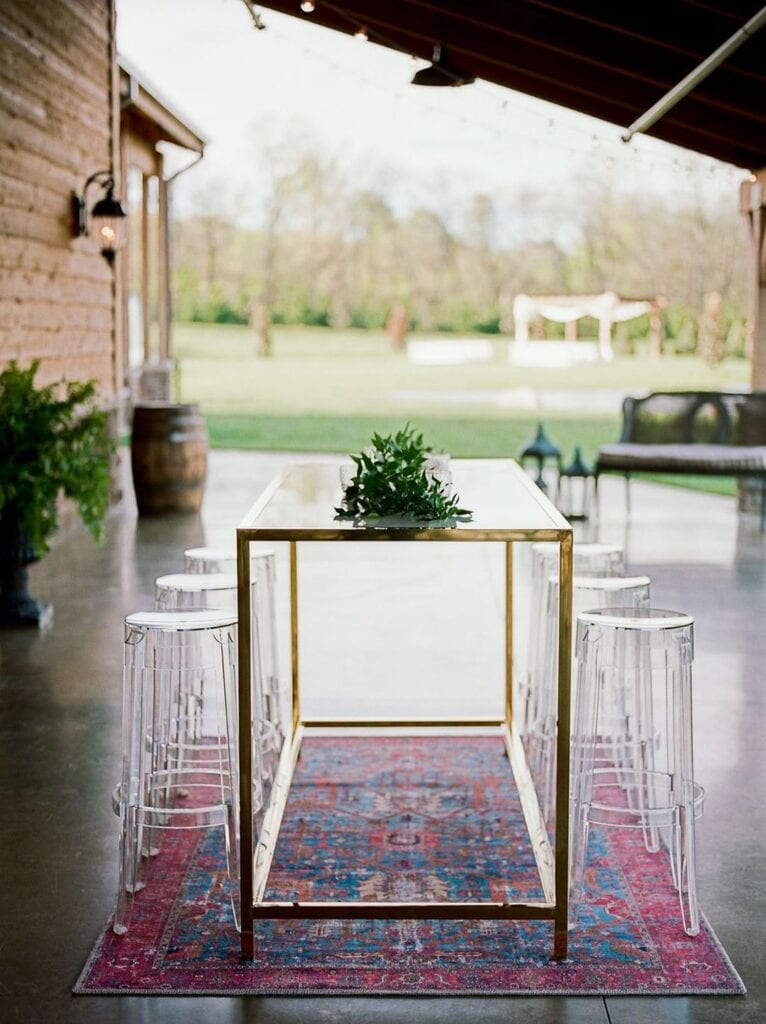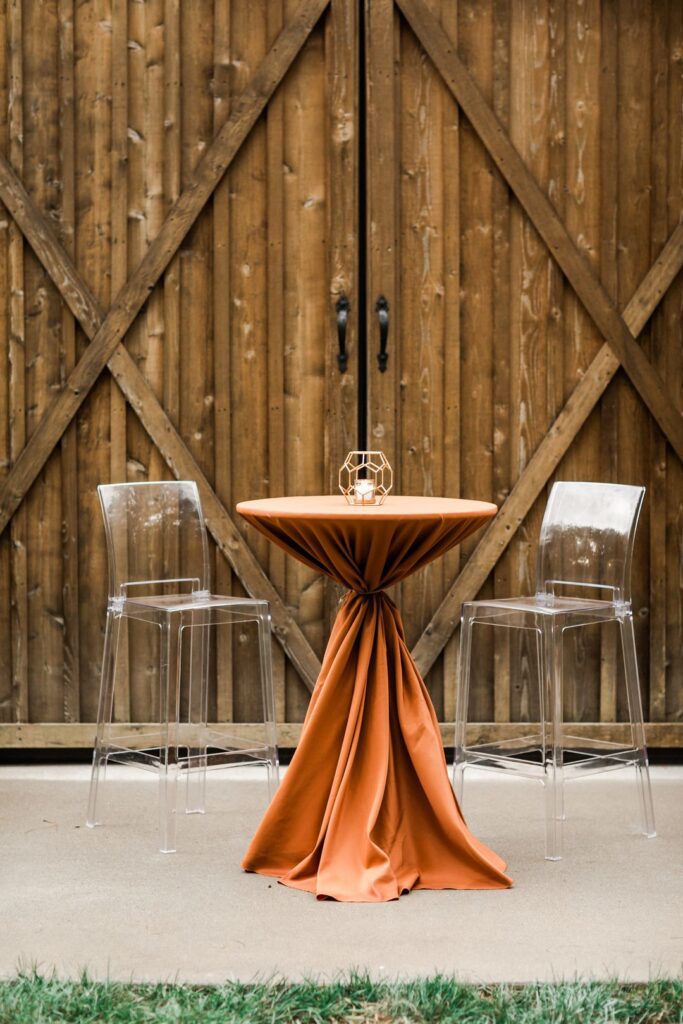 Cocktail Hour Essentials
A successful cocktail party requires some specific furnishings! Starting with a beautiful bar, where mixologists can whip up impressive beverages. To assist them in a stunning presentation, be sure to stock the bar with a selection of gorgeous, on-theme glassware. And maybe a display shelf or two! For a fun interactive element, you can't go wrong with our Boxwood Walls, complete with a champagne shelf and lots of bubbly.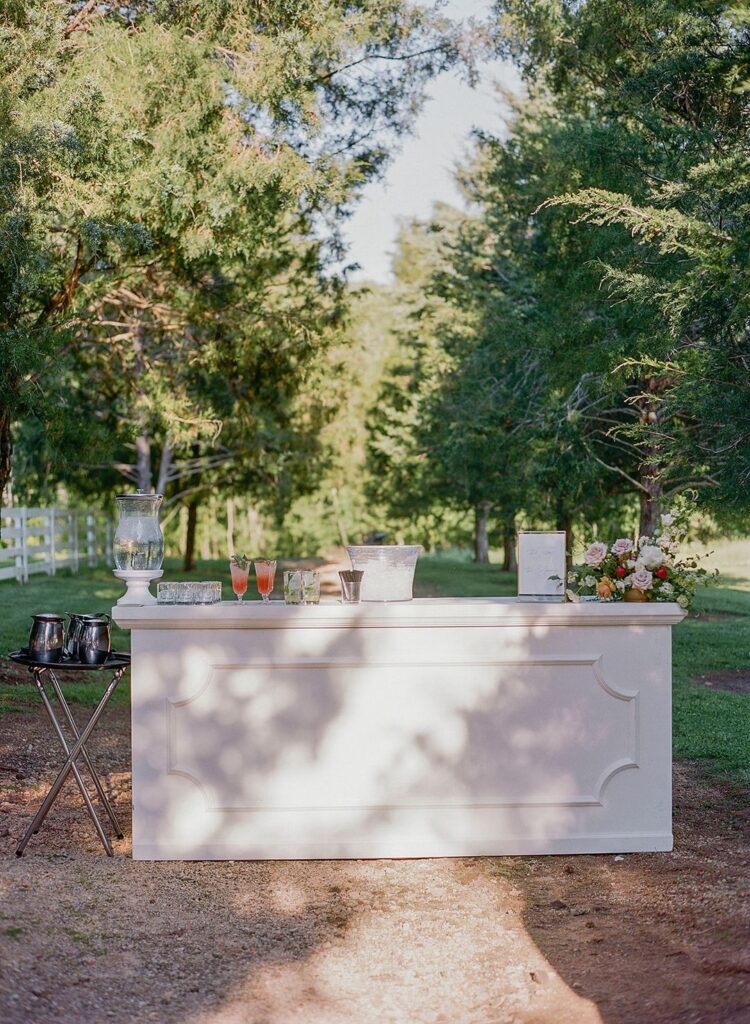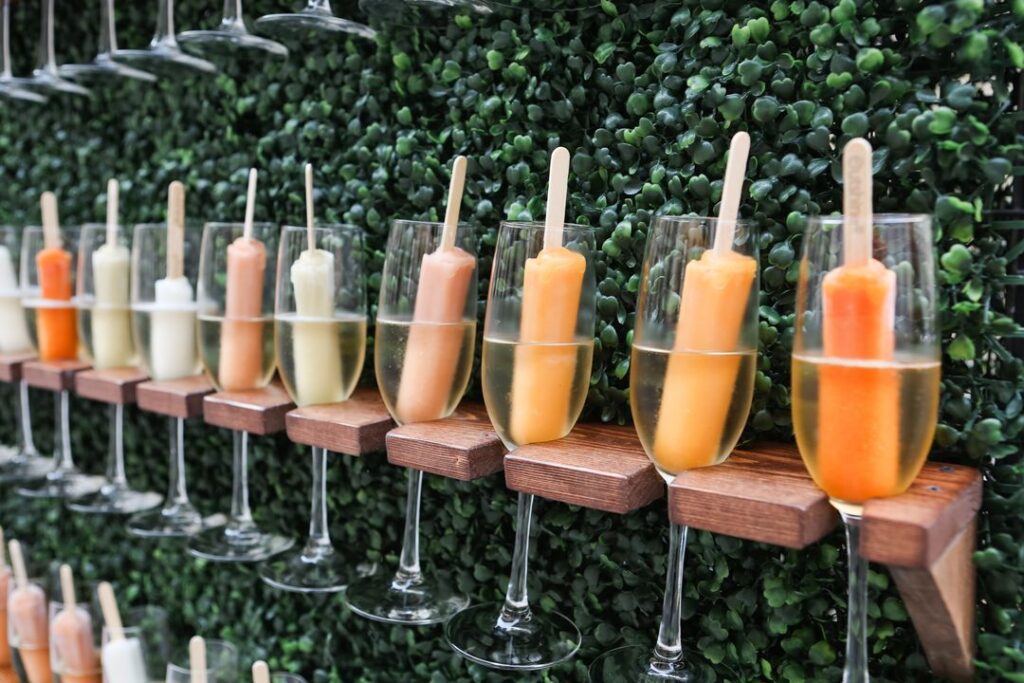 If you're ready to get started planning your upcoming cocktail hour, we'd love to help! Send us a message at info@southerneventsonline.com, or view our full range of wedding cocktail tables and barstools.
TAGS | Nashville Event Rentals, Nashville party rentals, Southern Events Party Rental, Unique Wedding Rentals, southern style events
FEATURED RENTALS | Loren Gold Bistro Table, Acrylic Ghost Barstools, Havana Ecru, Bloom Chiffon, Acrylic Casper Square Back Barstools, Mid Century Barstool, Charleston Bistro Table, Gold Chiavari Barstools, Farm Wood Table
---
1

Jul

Southern Events Products, Trends and Inspiration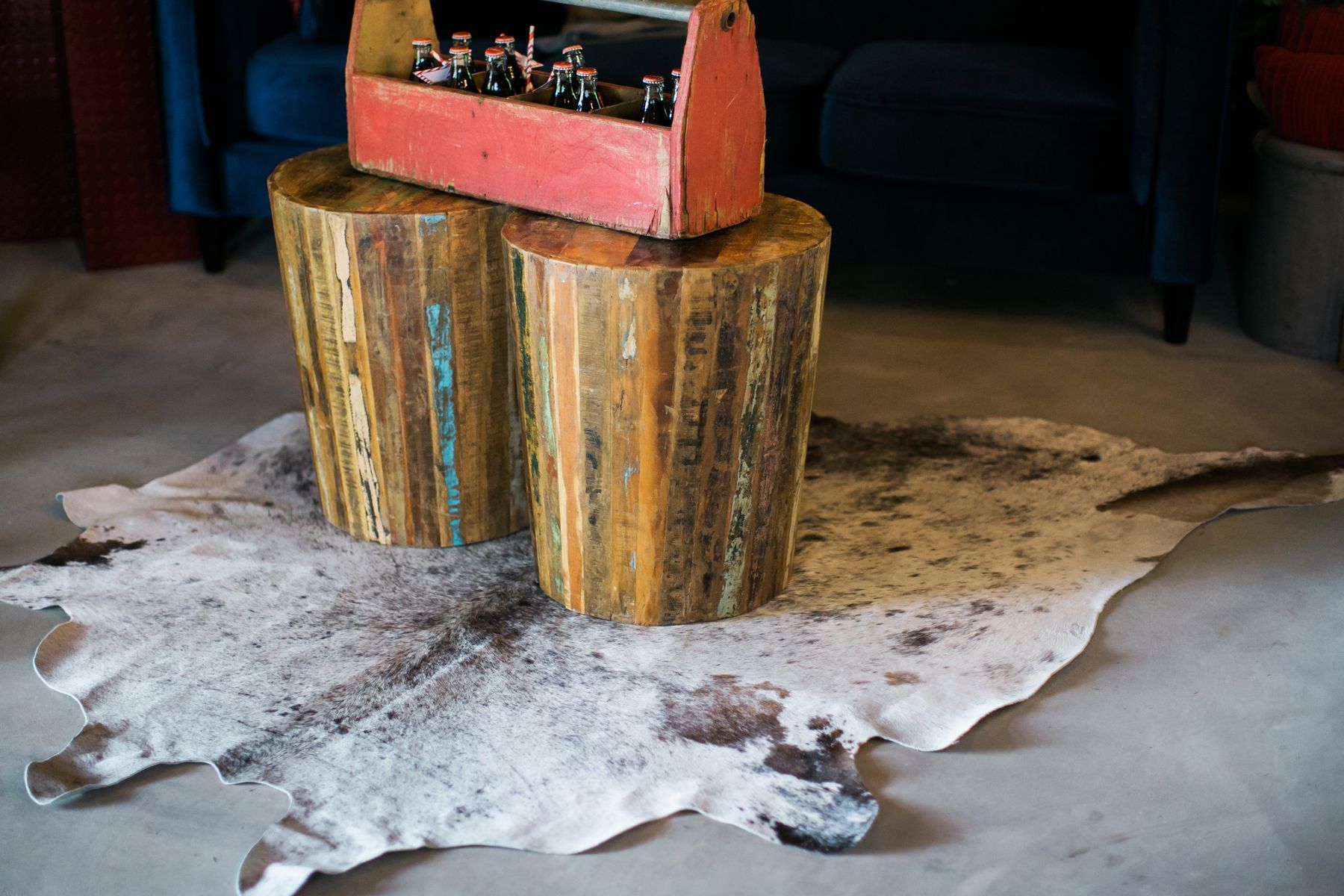 You've never heard of Americana decor? Let us introduce you! This unique style is a throwback to the industrial age, with rustic details, vintage pieces, and other nods to star-spangled pride. Nostalgic, classic, and versatile, this theme is fun and will lend a casual yet put-together look to your next event. Making it the perfect vibe for a corporate meeting or summer party on or near July 4th. Take a look at our favorite Americana event rentals, to help you achieve an iconic yet effortless setup.
Laid Back Furniture
From tables to chairs and bars, Southern Events has a multitude of in-stock Americana event rentals. Easily create a cozy lounge using our Bennett Sofa and layered Cow Hide Rugs to set the scene. Alternatively, a Blue and Red Rug bring warmth and a bit of modern style to the Americana theme. For a bistro area, use our classic Whiskey Barrels and our Remington Gunmetal Barstools. To complement your dinner tables, we also carry vintage and urban-inspired chairs.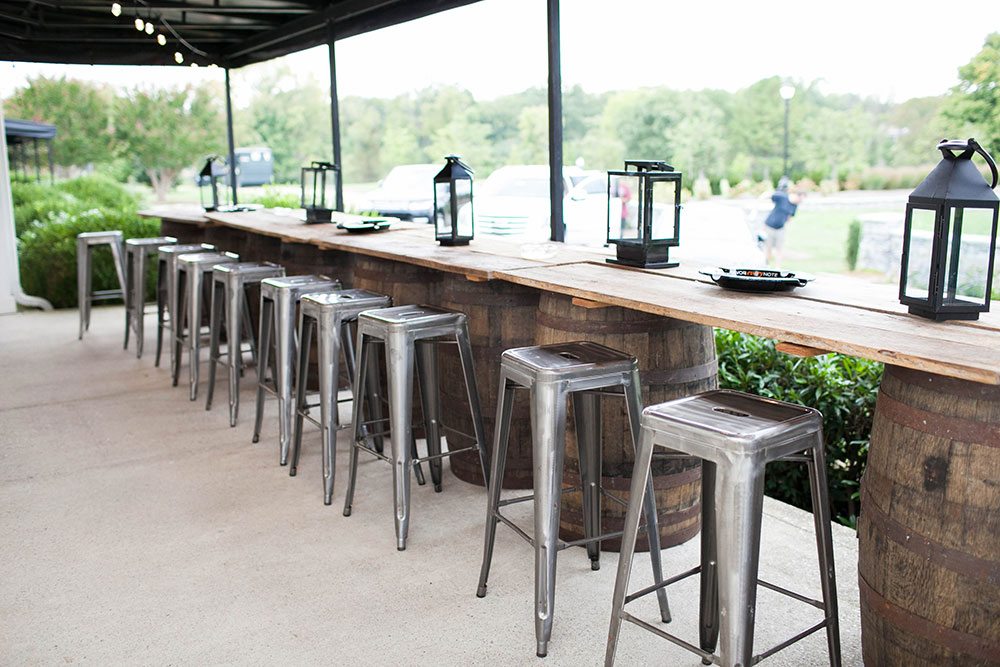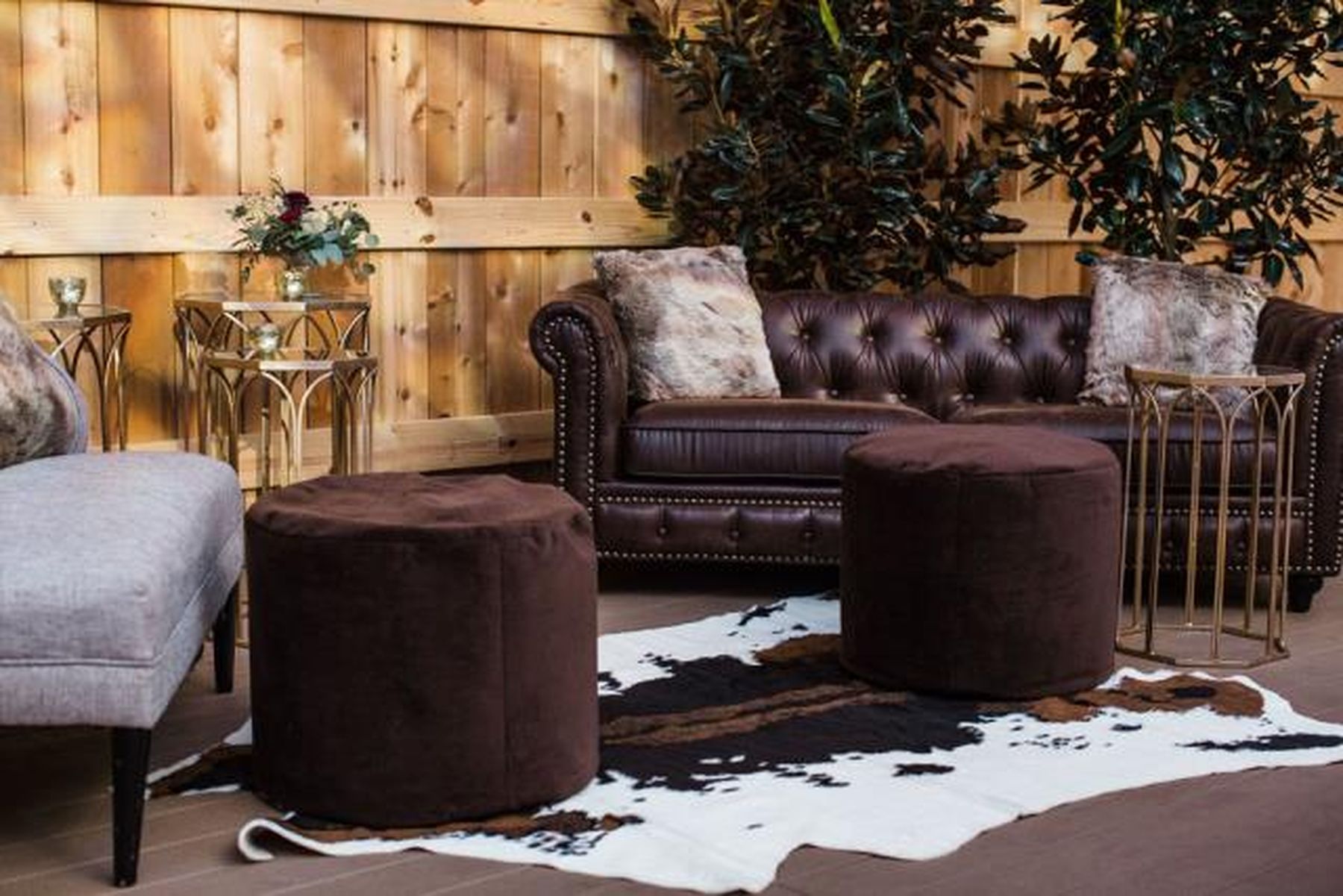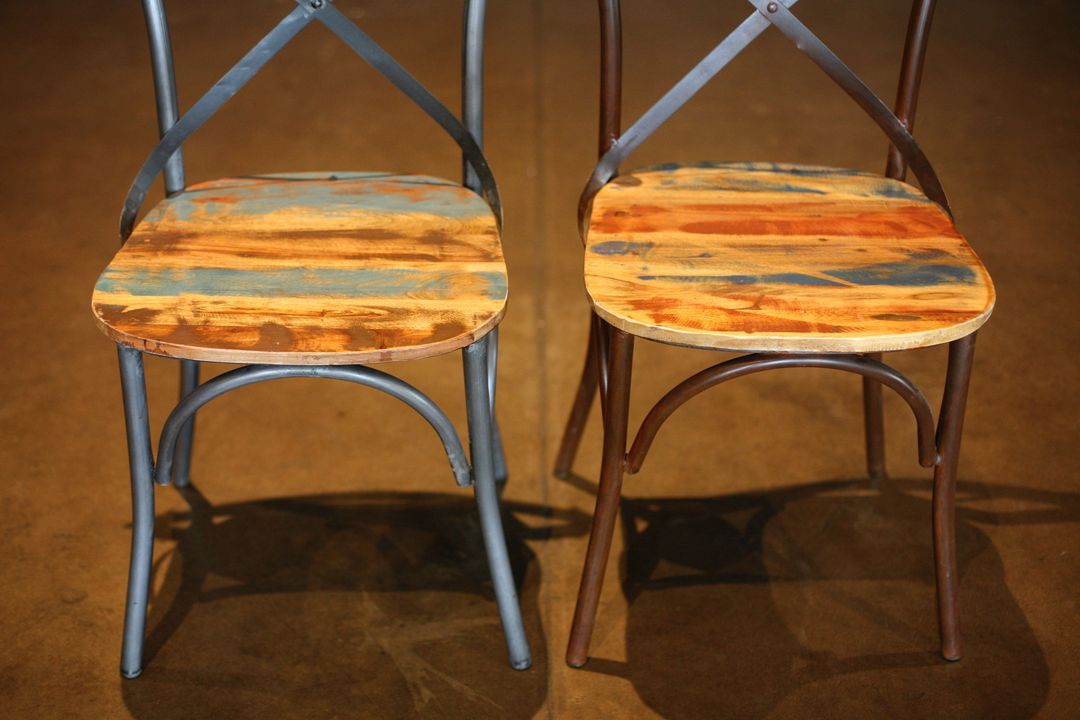 Vintage-Inspired Servingware
Is an Americana event complete without a bar for toasting and celebrating? Absolutely not! The Bond Bar is equal parts laid-back and vintage. Then there's our always popular Hob Nob Glassware which lends a touch of elegance. Of course, if you prefer a more sleek design, opt for our Recycled Glassware. To set the table, Artisan China creates a beautiful relaxed look! We also encourage you to infuse a subtle touch of color into your tablescape using our luxurious linens. Try out a natural tan or ivory, or a subtle shade of blue.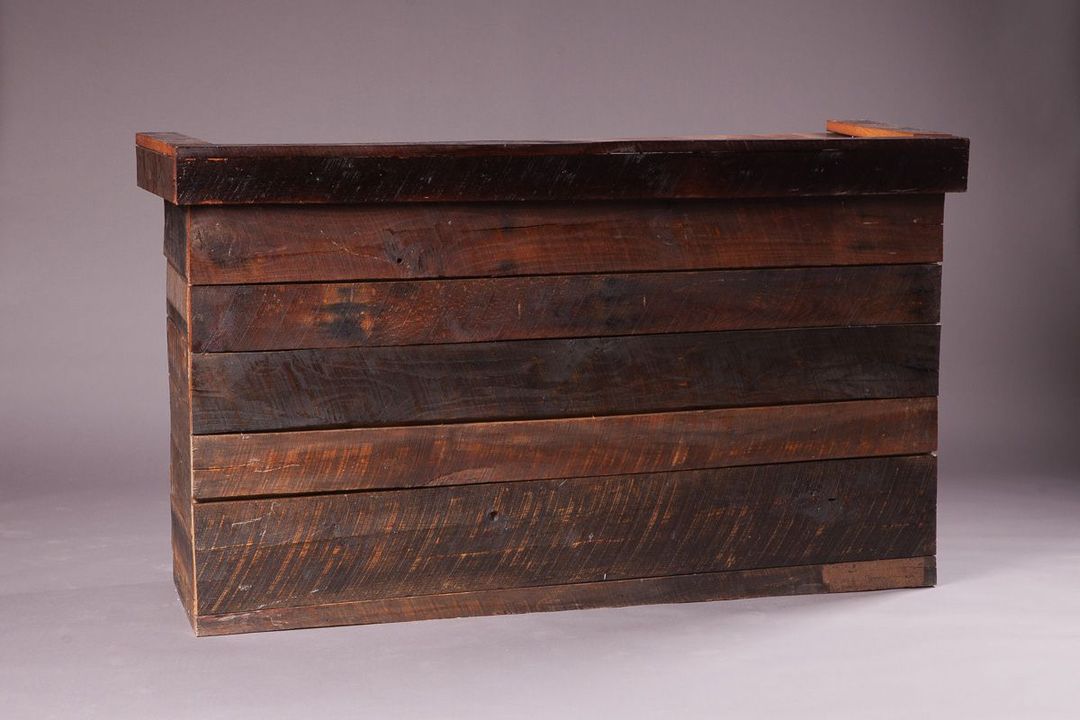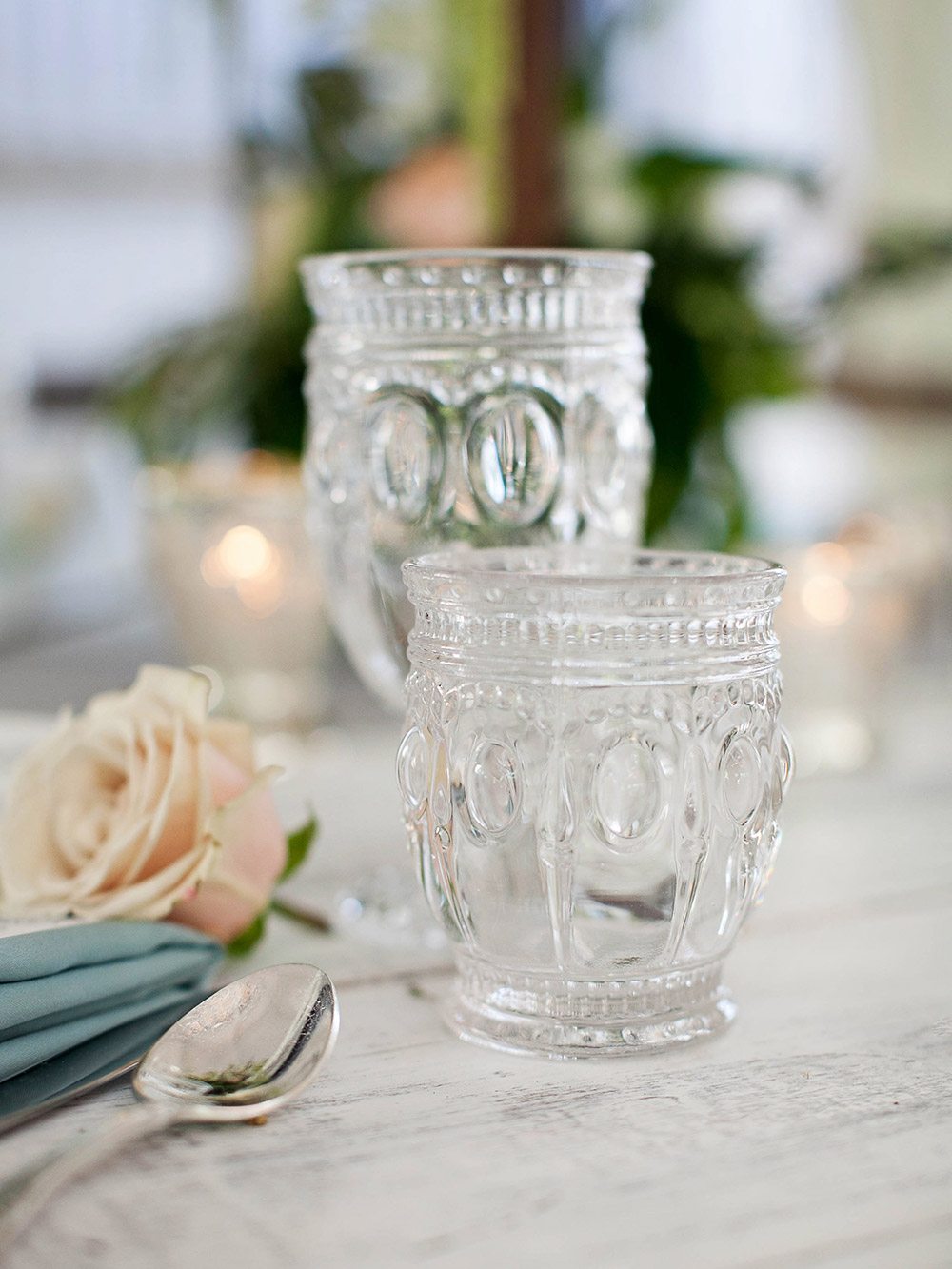 Photo by Phindy Studios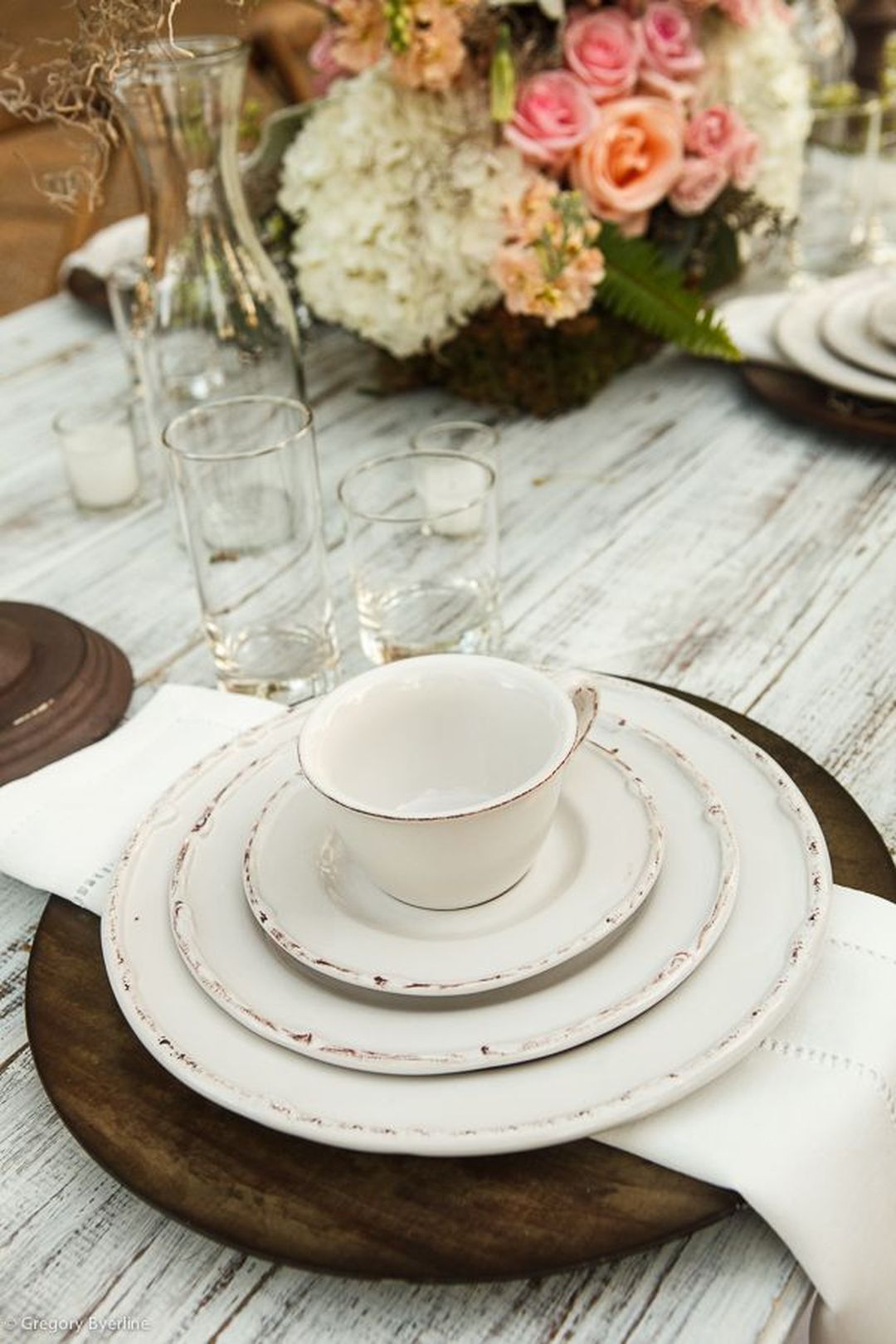 Photo by Gregory Byerline
Nostalgic Props
Both functional and decorative, we offer a variety of stylish nostalgic props to infuse even more personality into your event. It just takes the right combination of classic American colors, vintage pieces, and contemporary lines to create an Americana-inspired event that is welcoming and beautiful. For example, these Urban Wood Side Table! Or our Hungarian Baby Bath, which makes for a unique drink cooler (as do any of our vintage washtubs). Place them alongside the bar for a casual grab & go set up! And to decorate your tables or frame a space, check out our all-American fruit crates.  To see similar rentals, be sure to visit our Vintage Prop Shop!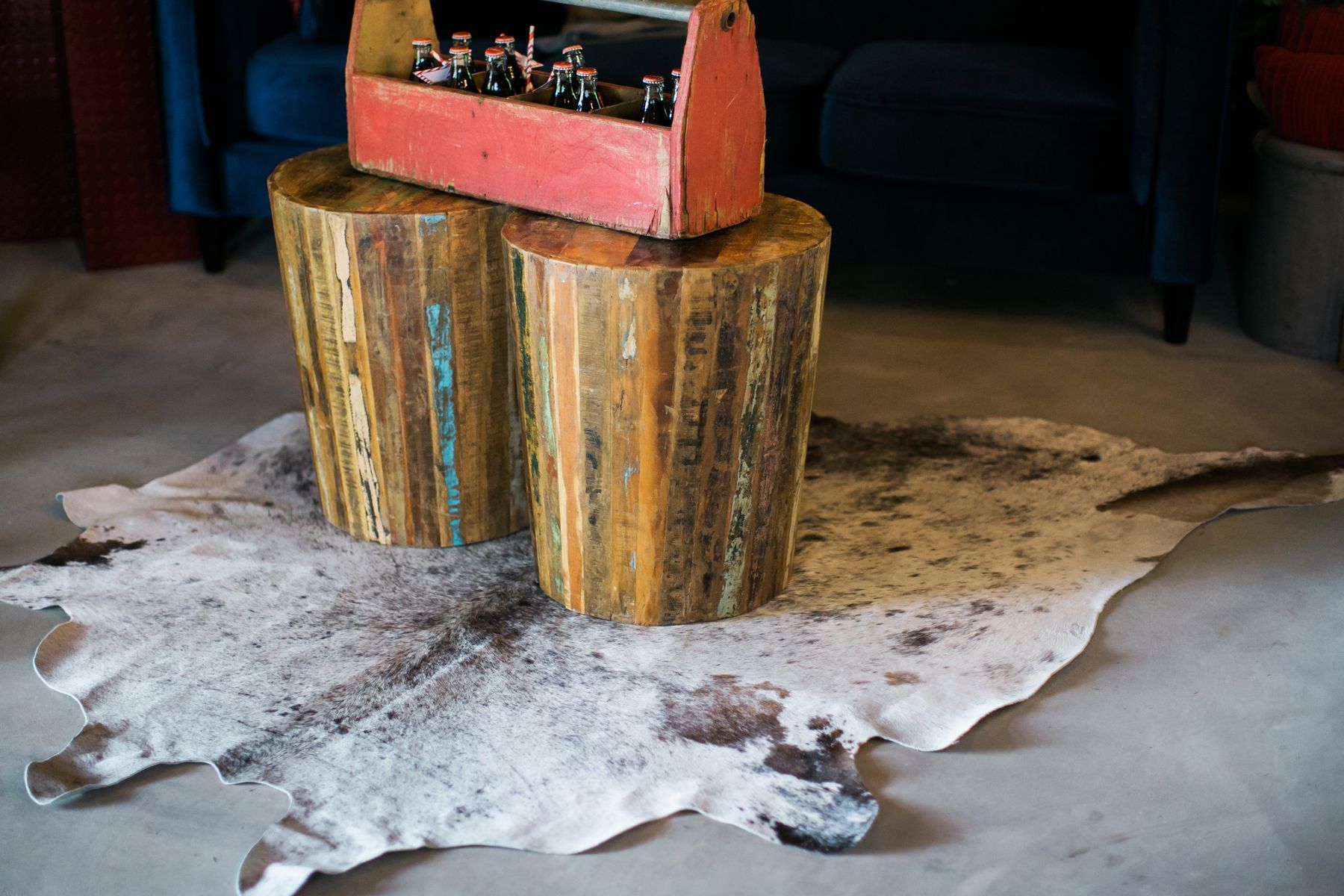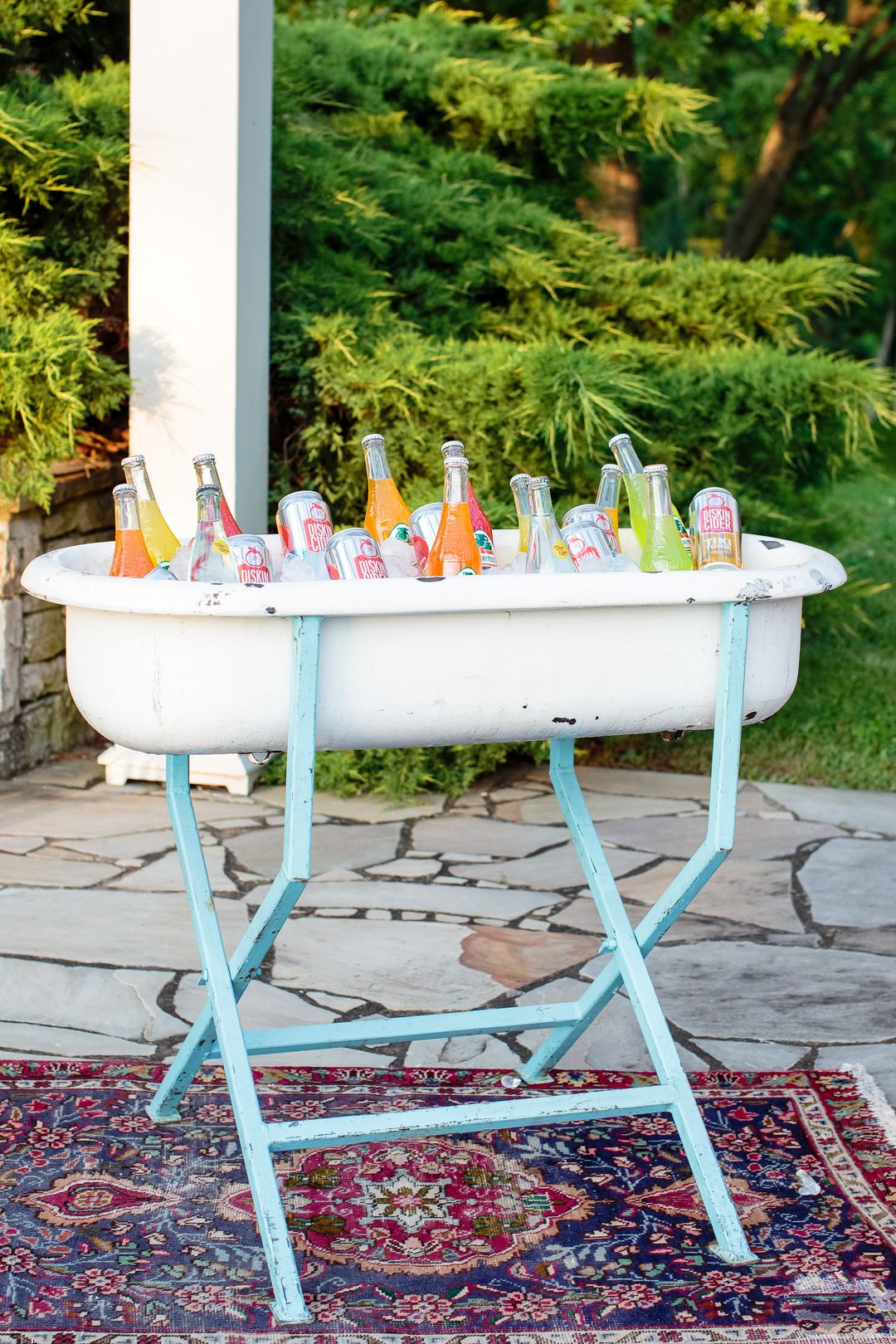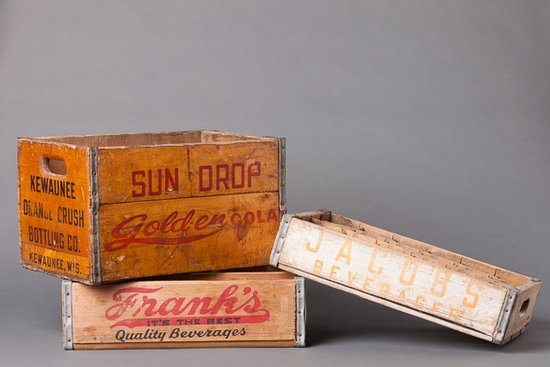 If you're wanting to create a star-spangled vibe at your next event, we'd love to help you design a layout using our Americana event rentals! Email our team to book your personal showroom tour at info@southerneventsonline.com to get started! Or for more inspiration, be sure to check out our blog on must-have rentals for small gatherings.
TAGS | Nashville Event Rentals, Nashville party rentals, Southern Events Party Rental Company, Unique Wedding Rentals, Vintage Chairs, americana event rentals, corporate event rentals, southern style events
FEATURED RENTALS | bennett sofa, cowhide rugs, blue and red rug, whiskey barrels, remington gunmetal barstools, recycled glassware, hob nob glassware, bond bar, urban wood side table, hungaarian baby bath, all american fruit crates,
---
13

May

On Trend, Southern Events Products, Trends and Inspiration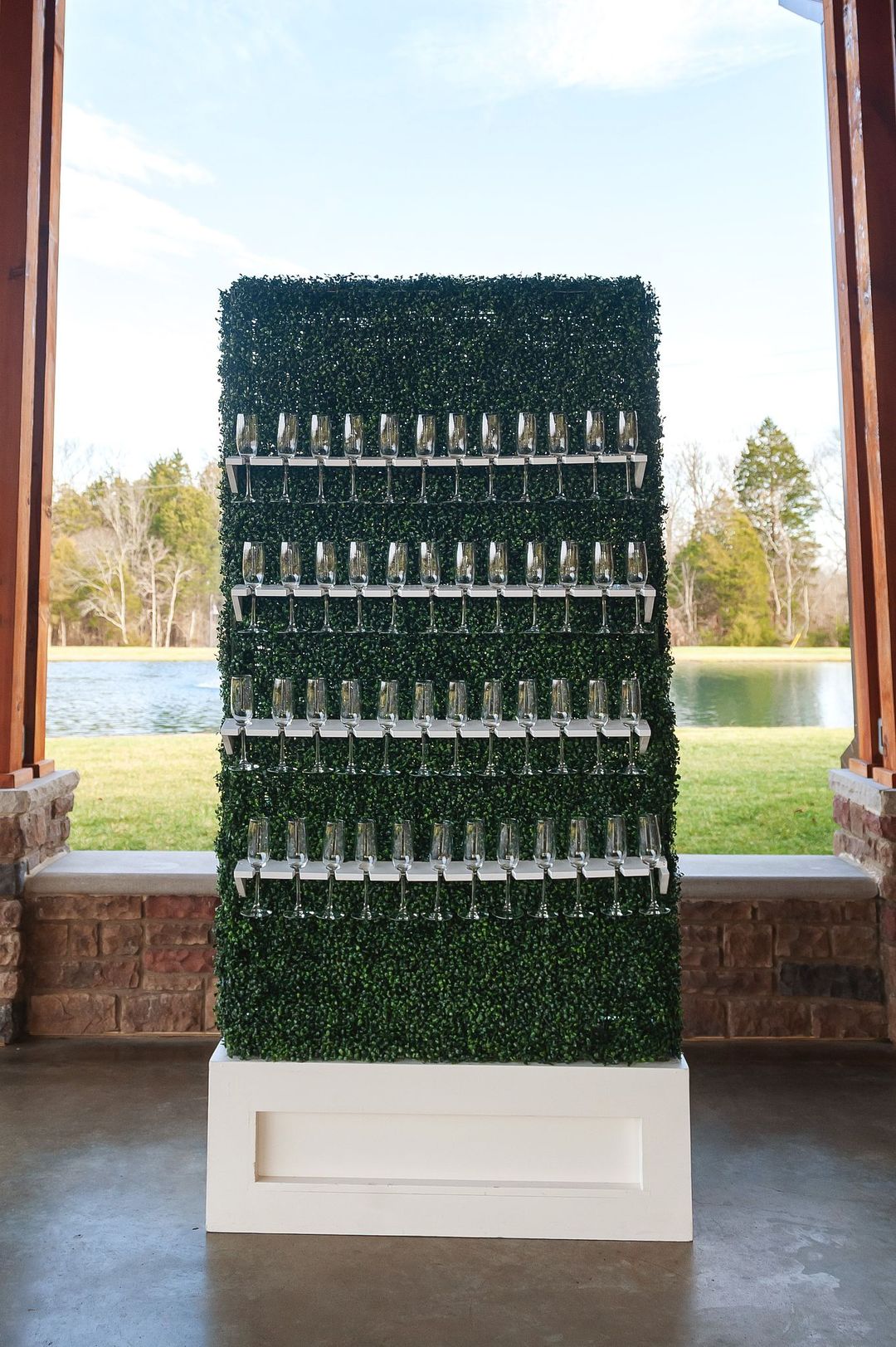 At Southern Events, we love a multi-functional rental! Our boxwood walls are available with 3 distinct bases (gold, white and ivory) and offer endless ways they can be personalized at your event. From serving champagne, snapping pics or elevating your escort cards, see how to customize this rental for your next Nashville event.
Boxwood Champagne Walls
Cocktails are a highly anticipated treat at any event, but why not take your service to the next level with an interactive champagne wall? Creative, interactive, gorgeous, and full of bubbly – we're definitely here for it! Guests will be absolutely delighted as they walk by this fun drink station, which can also double as a photo op! For the setup below, our Boxwood Wall was adorned with lush florals by the talented team at Enchanted Florist, our Fruitwood Shelves and Cybil Flutes.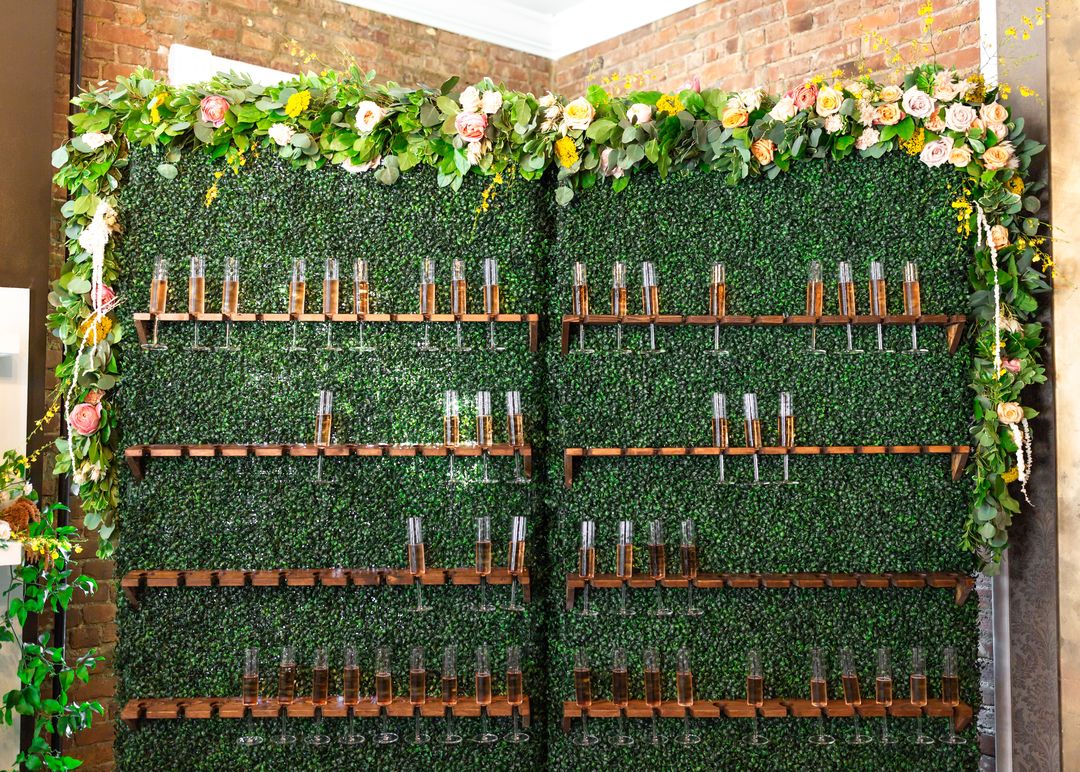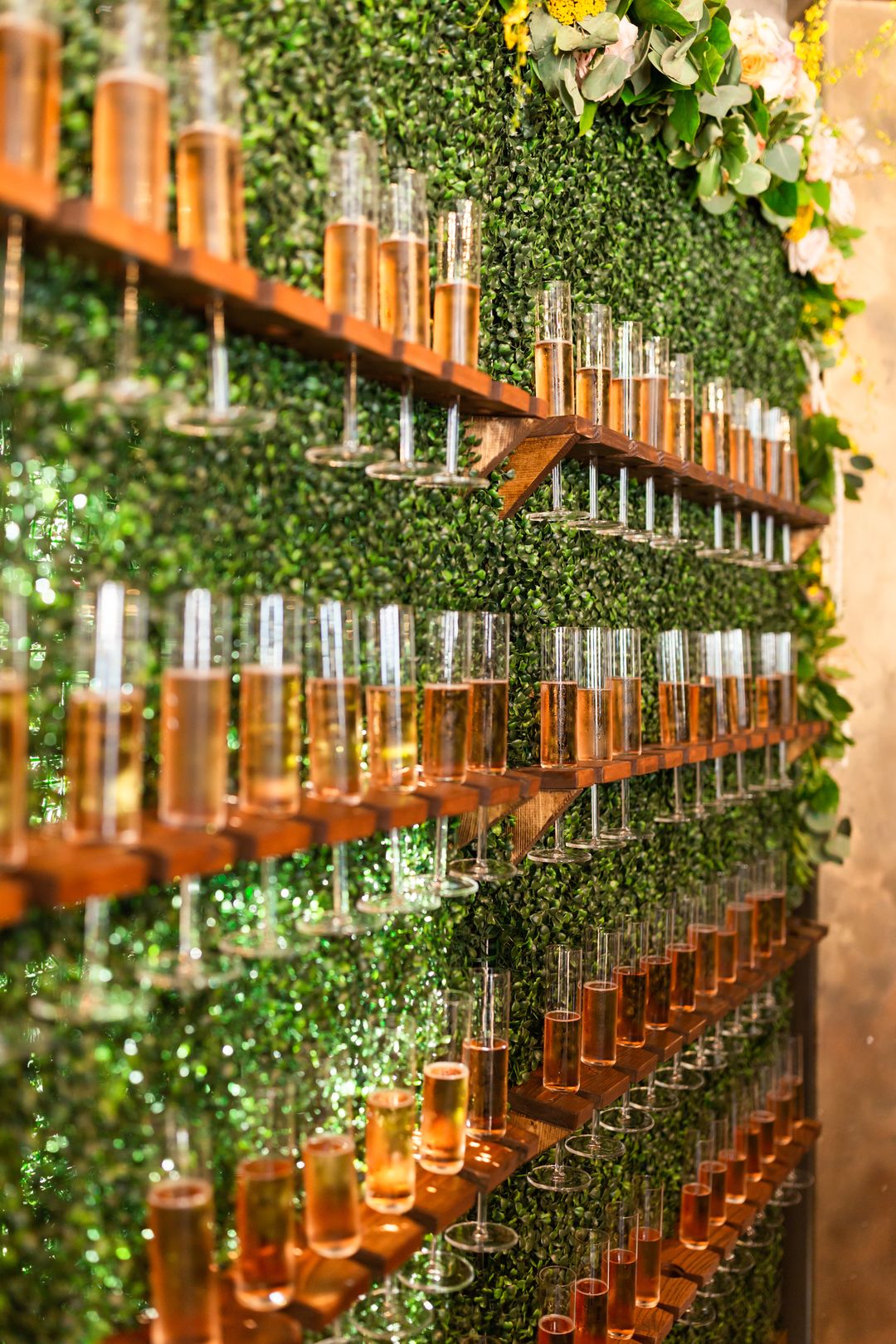 Photos via Honeysuckle & Wine.
Boxwood Wall Photo Backdrops
Entirely customizable, our boxwood walls are a must-have for a trendy photo station. Easily create a photo backdrop that complements your event, whether it's for a wedding or another social gathering. The options are truly endless, as long as you have the creativity and gusto! As shown below, a bright neon sign is always a nostalgic decoration. However, it would also look lovely with a monogram or pictures of the newlyweds. We also love it with a colorful balloon arch for a shower or birthday party.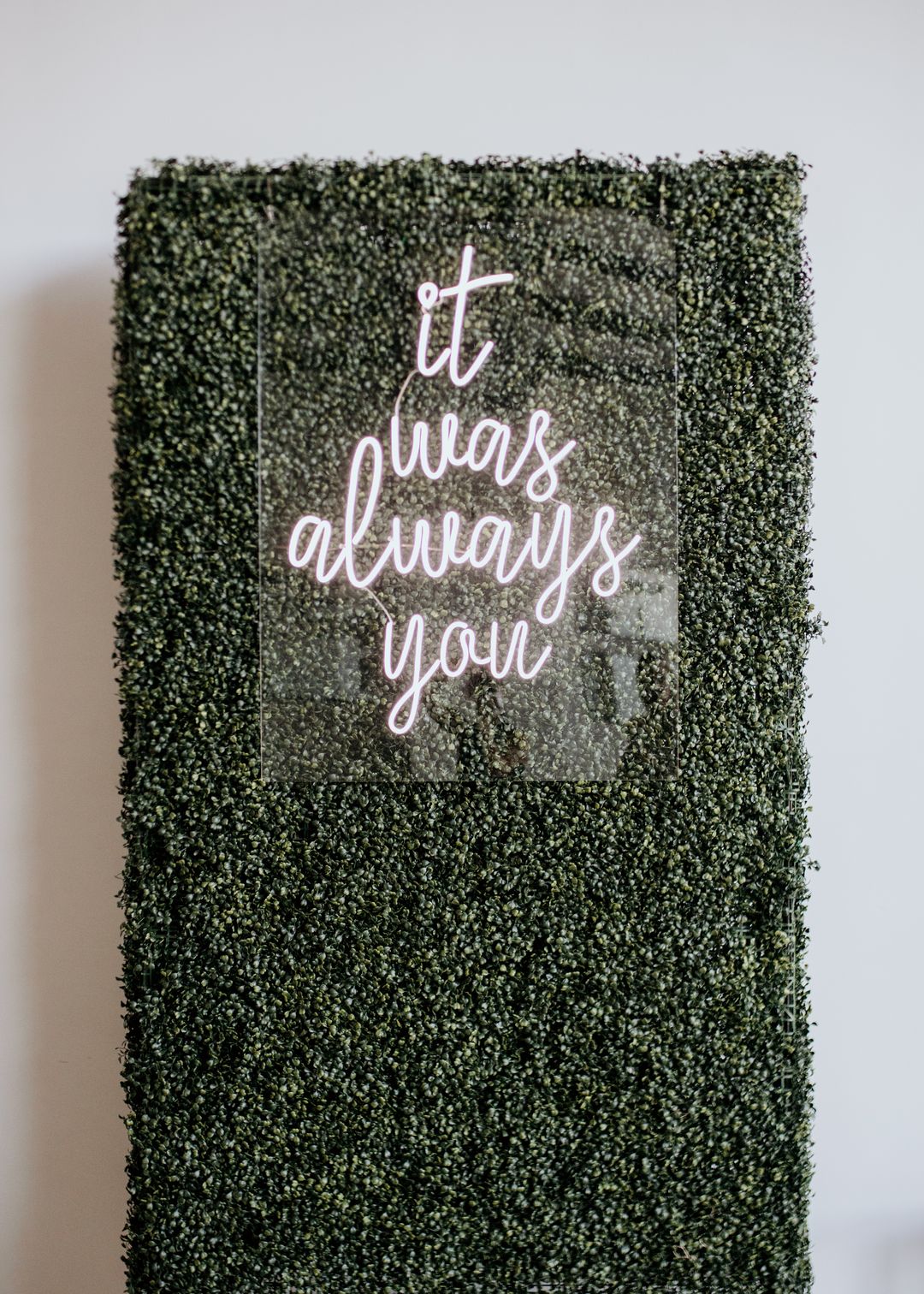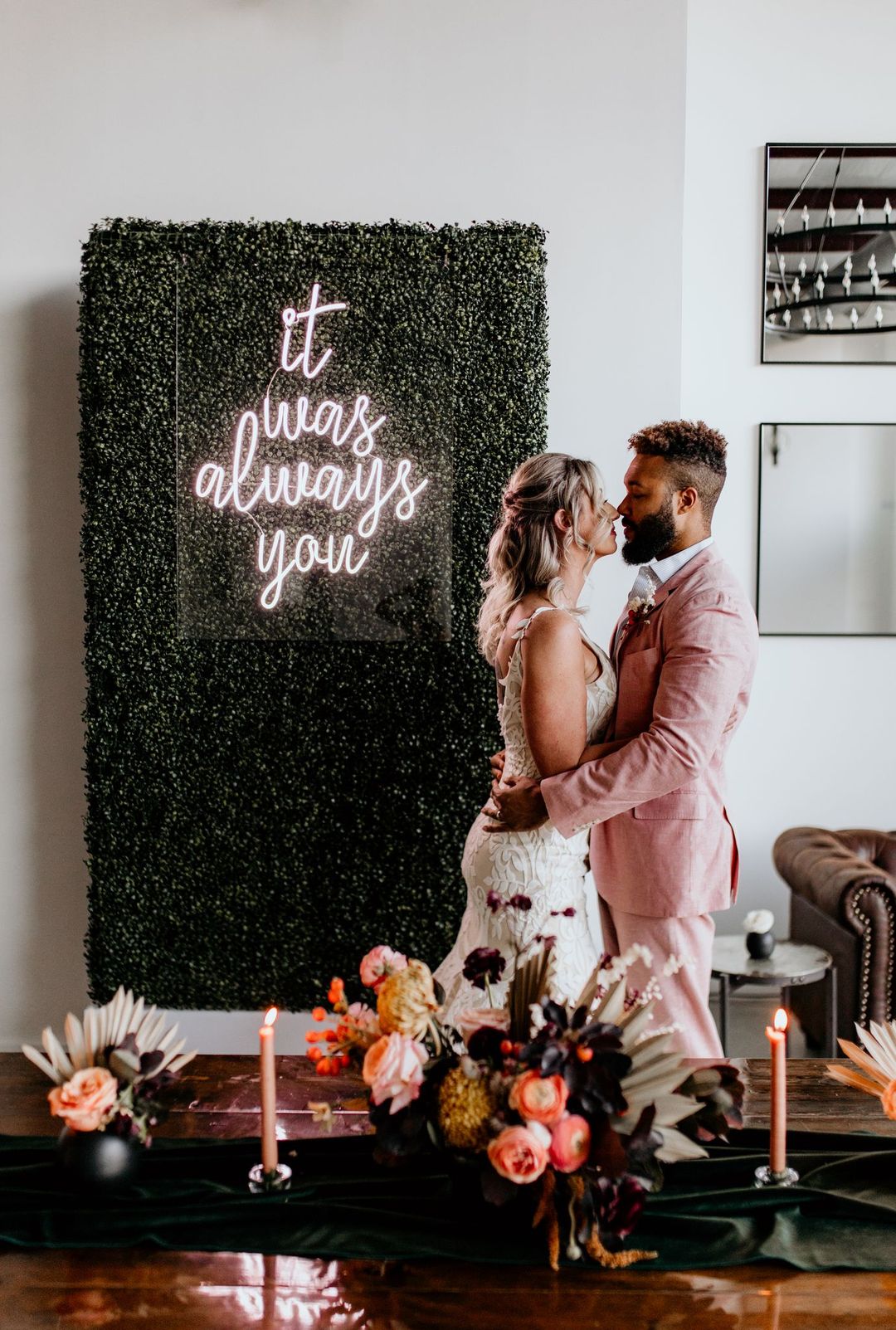 Photo by Megan Stark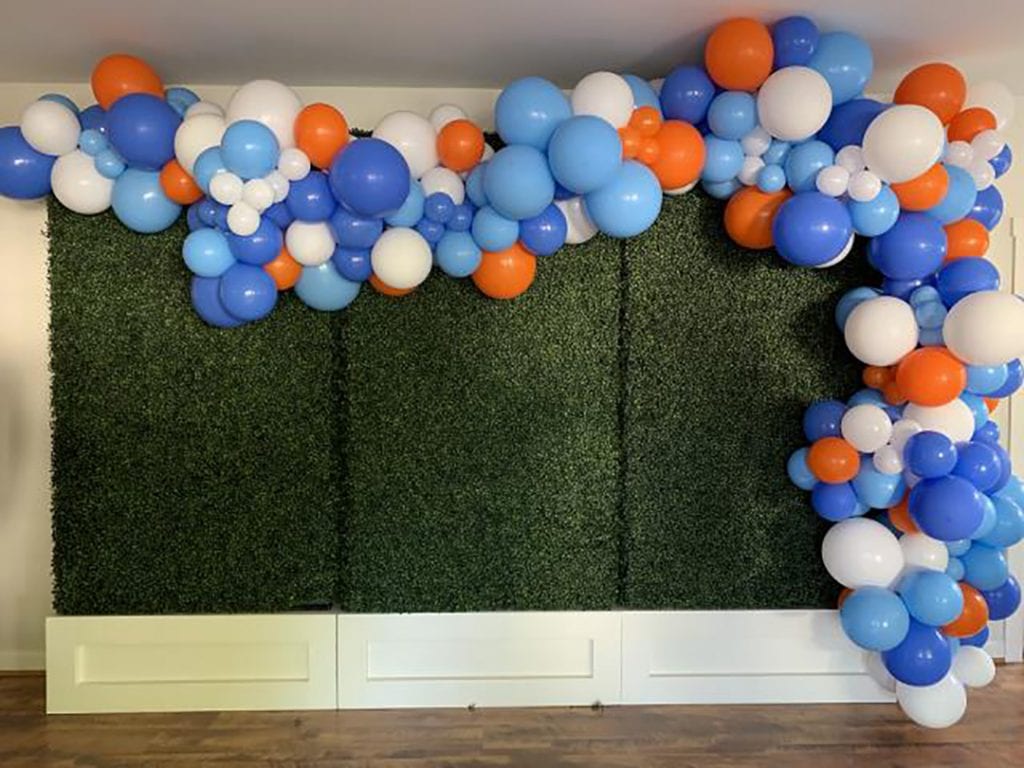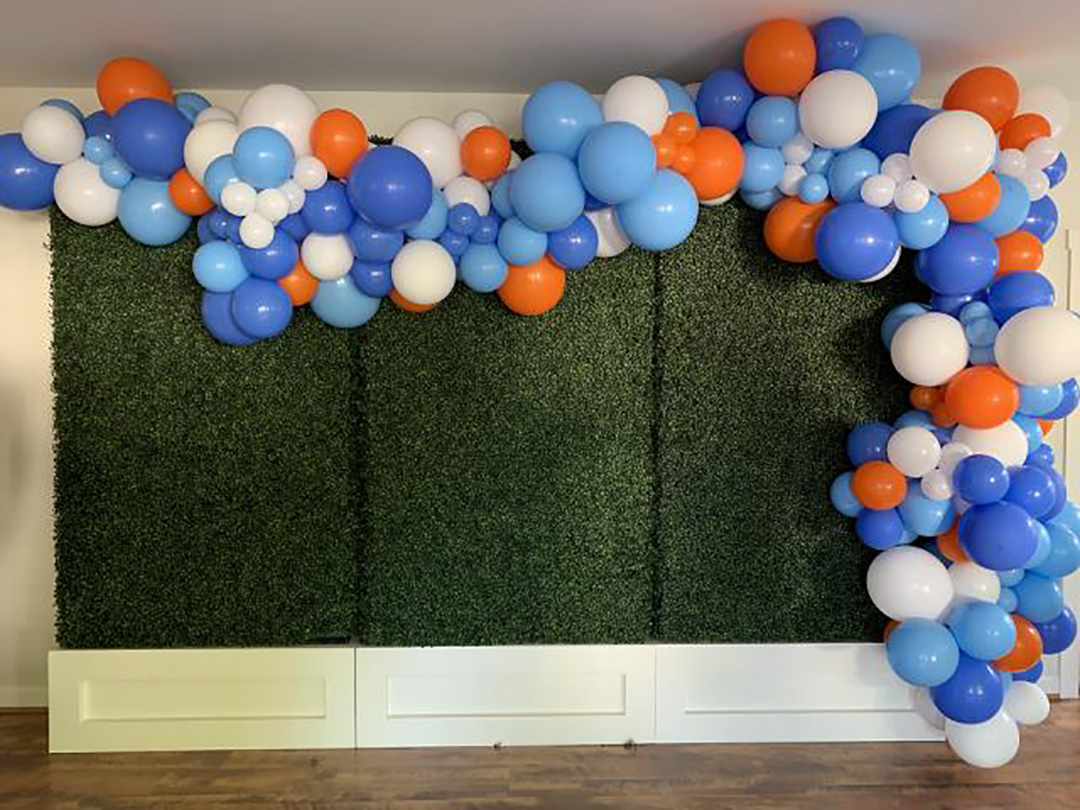 Corporate Event Backdrops and Entrances
For large corporate events, our boxwood walls are an effective way to keep your business at the forefront of guest's minds. As shown, it creates a beautiful backdrop for galas, fundraisers, or celebrations, especially those where there will be a stage or grand entrance. Show off your corporate logo in an upscale way, fitting of the elegant decor. And, if you have sponsors, feature their logos as well.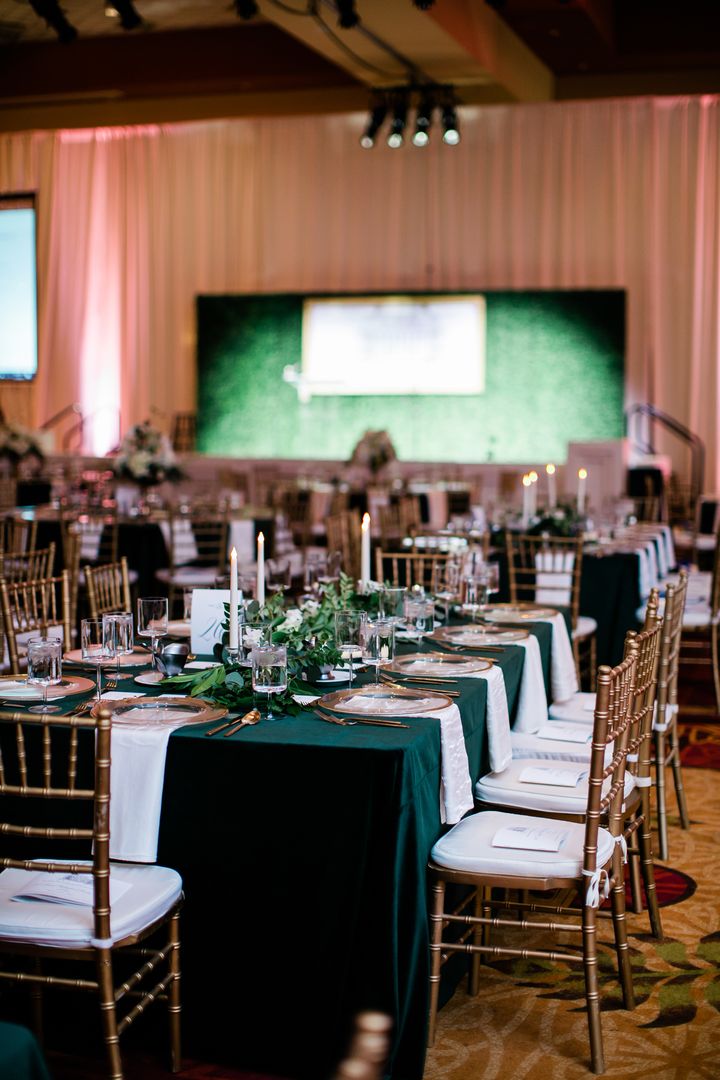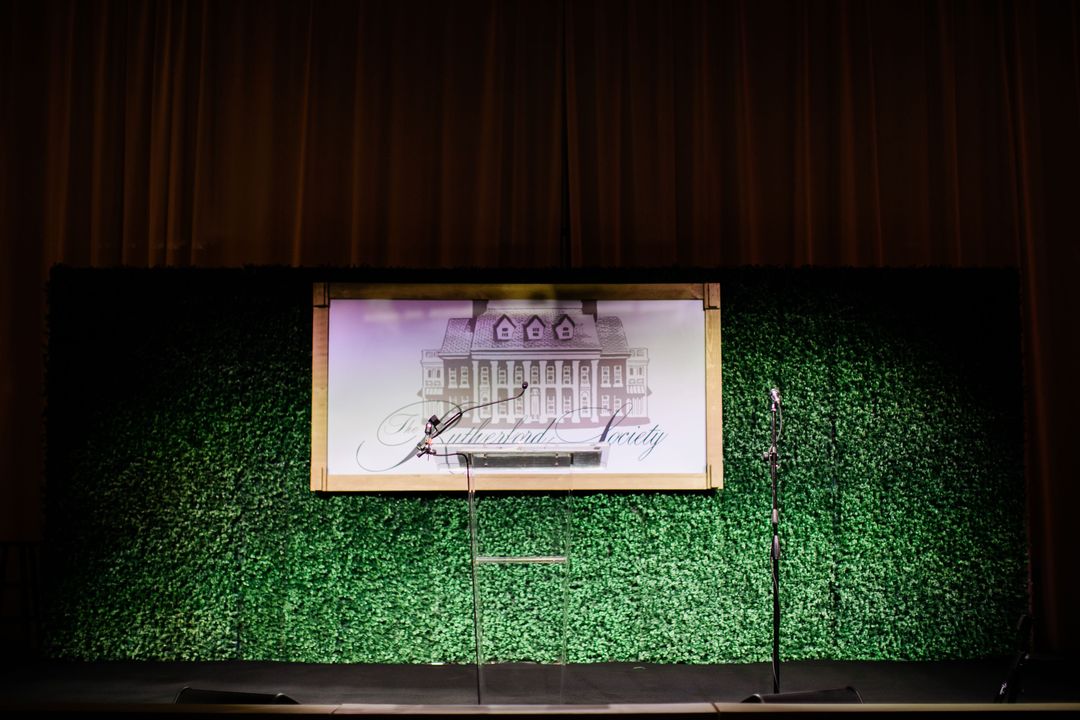 Photos by Jen & Chris Creed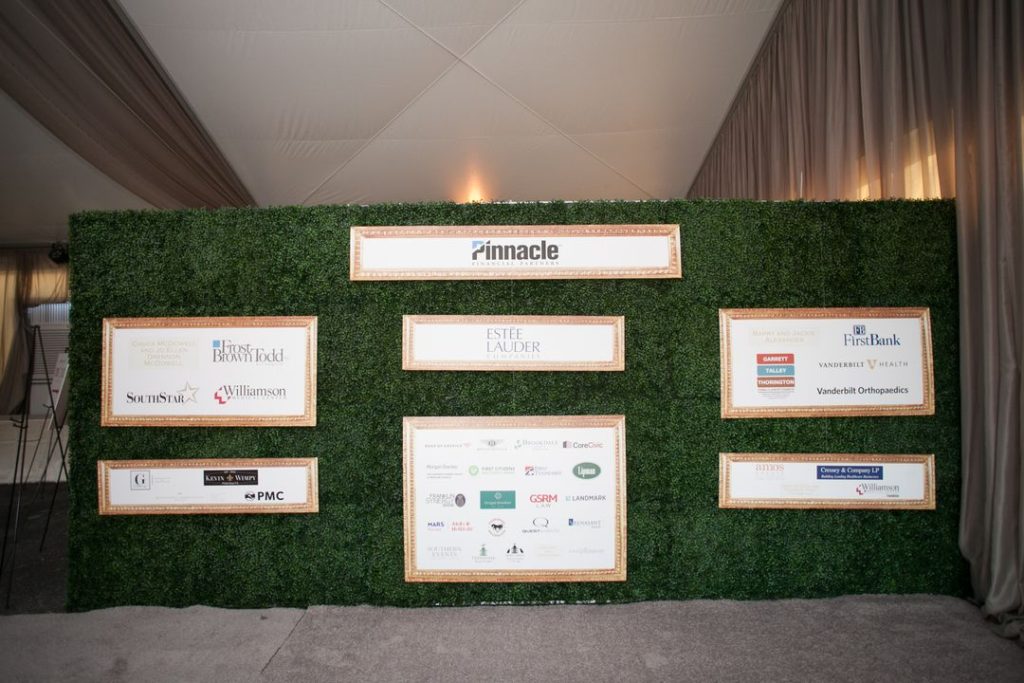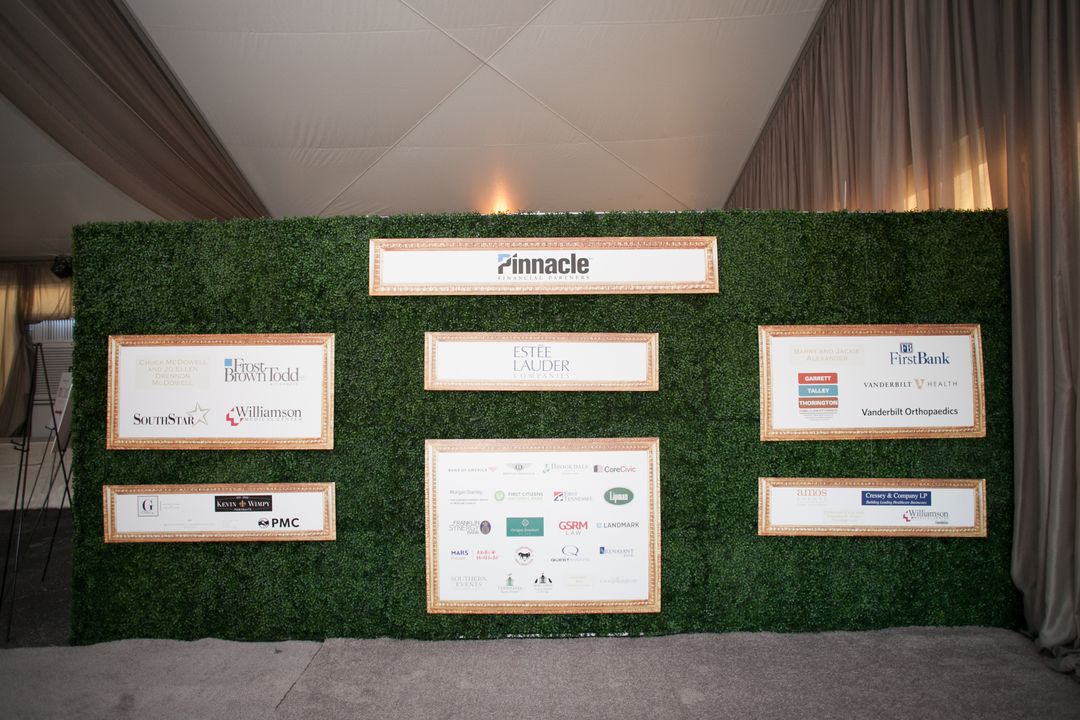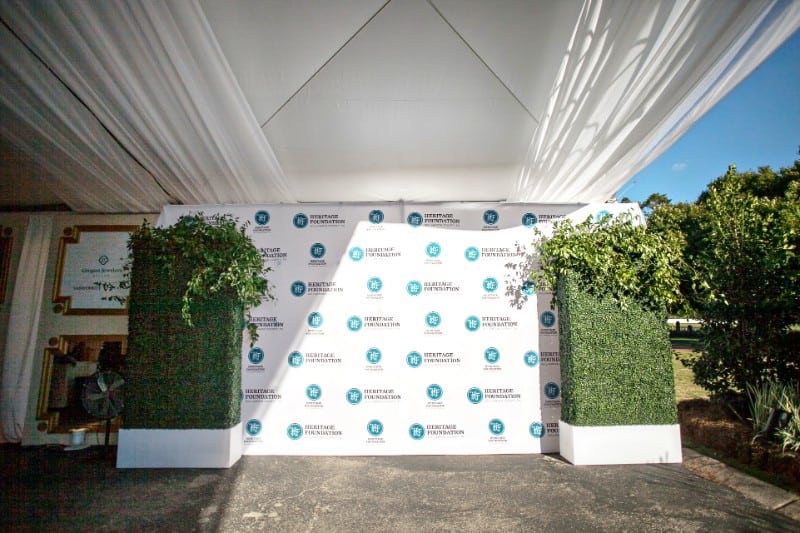 Boxwood Wall Seating Chart
At a wedding, you want to leave a lasting impression! Aside from a champagne wall, one easy method is with an interactive seating chart. Popular in recent years, a boxwood wall seating chart is a fun way to greet guests and guide them to their respective tables. You can simply list their names, like on a mirror or acrylic sign. Or you can use wedding favors that double as escort cards, like these beautiful horseshoe ornaments.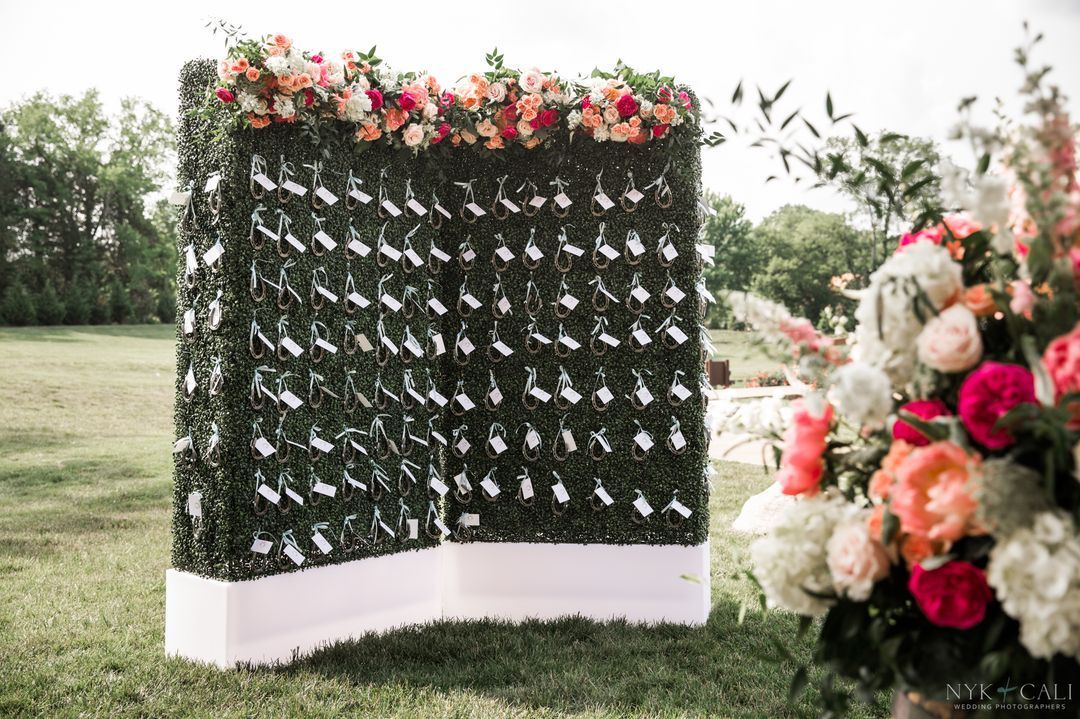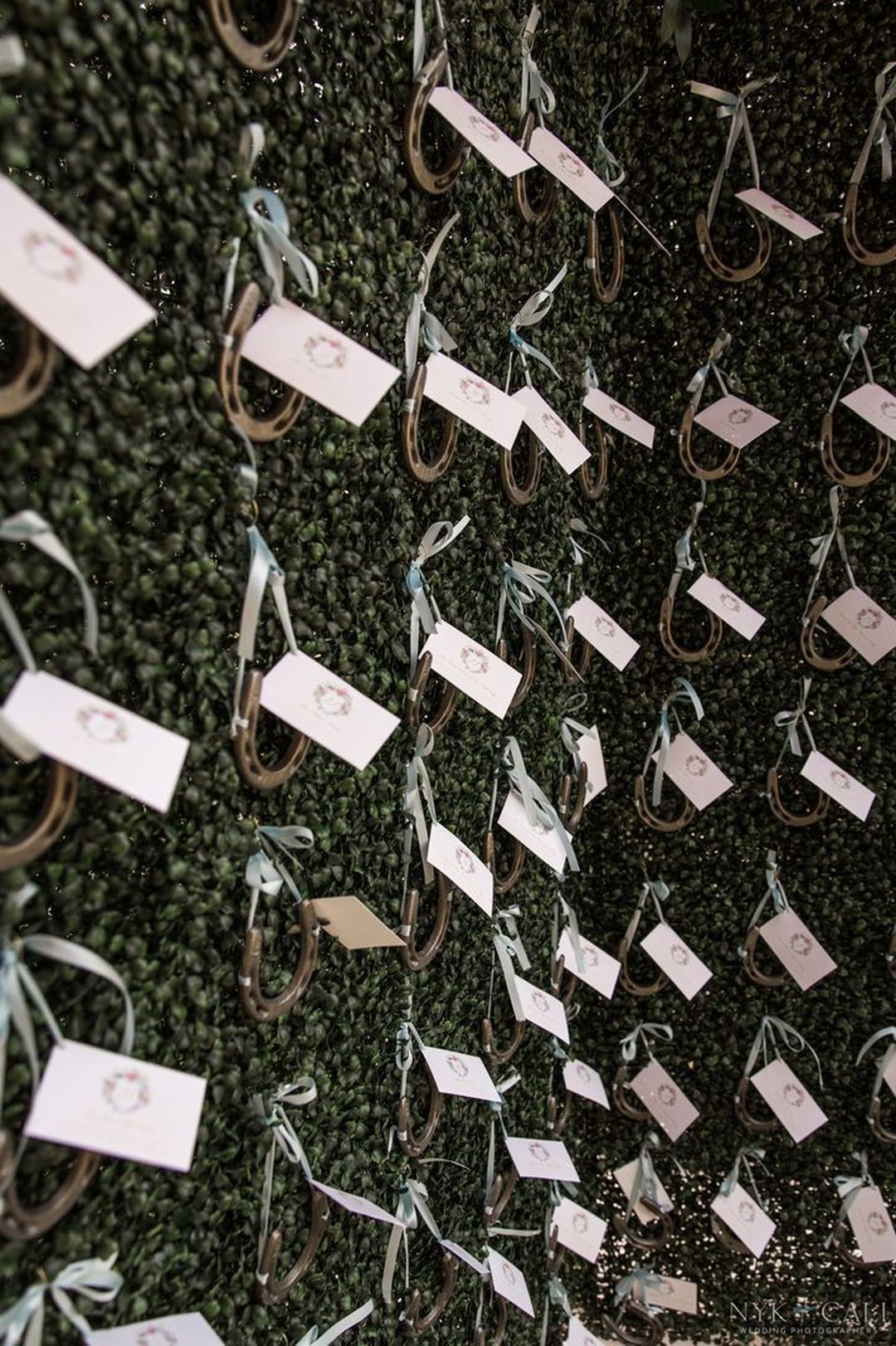 Want to feature one of our boxwood walls, as a drink station or backdrop, at your upcoming event? Let's chat! Send us an email today, at info@southerneventsonline.com.
TAGS | Boxwood Wall, Champagne Wall, Interactive Drink Station, Nashville Event Rentals, Nashville Wedding Rentals, Nashville party rentals, On Trend, Southern Events Party Rental, Southern Events Party Rental Company, Unique Wedding Rentals
FEATURED RENTALS | Boxwood wall, Cybil glassware, champagne shelf,
---
20

Feb

Trends and Inspiration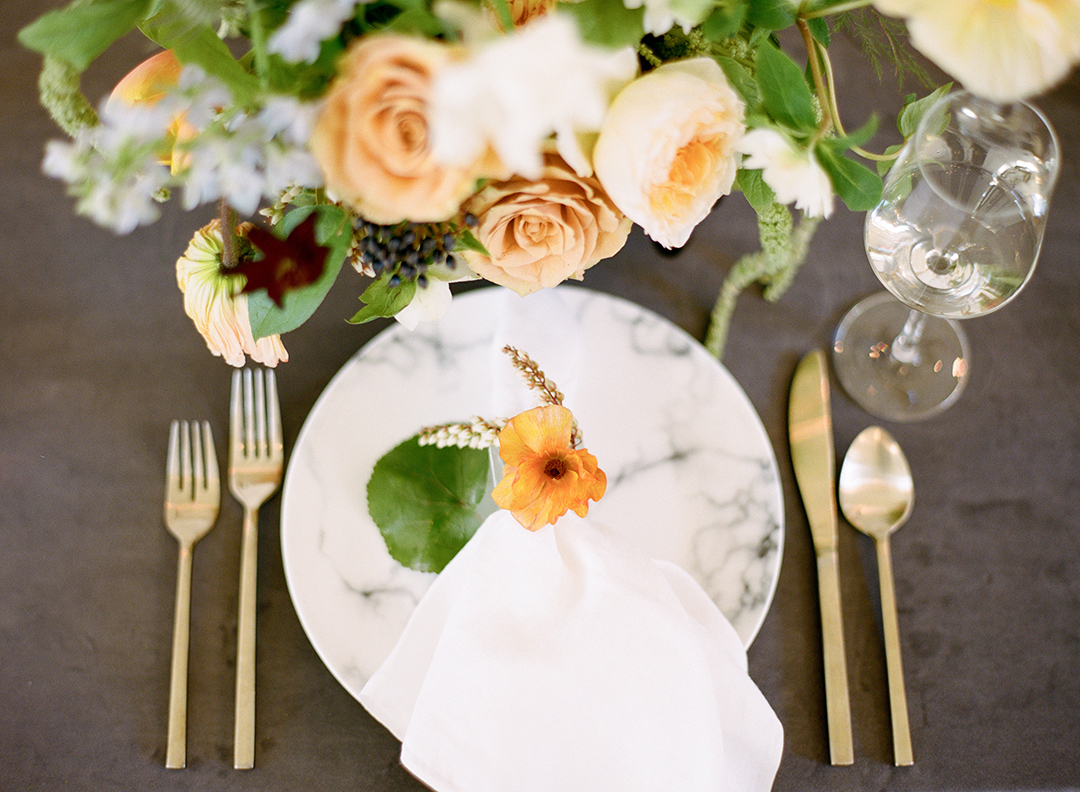 Warm tones have been trending in events and weddings over the last few years, and we are in love with this palette! Take a cue from nature with these sunset-inspired event colors and event rentals that wrap your Nashville event in warm nostalgia.
Golden Glow
Go for the gold… in event rentals other than your flatware or furniture. Try layering linens in warm neutrals with your event rentals – like the subtle yellow of our Wheat Satin Linens – or add some flair with our Midas Gold Bench.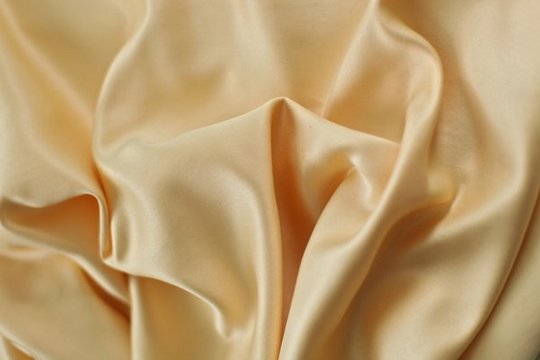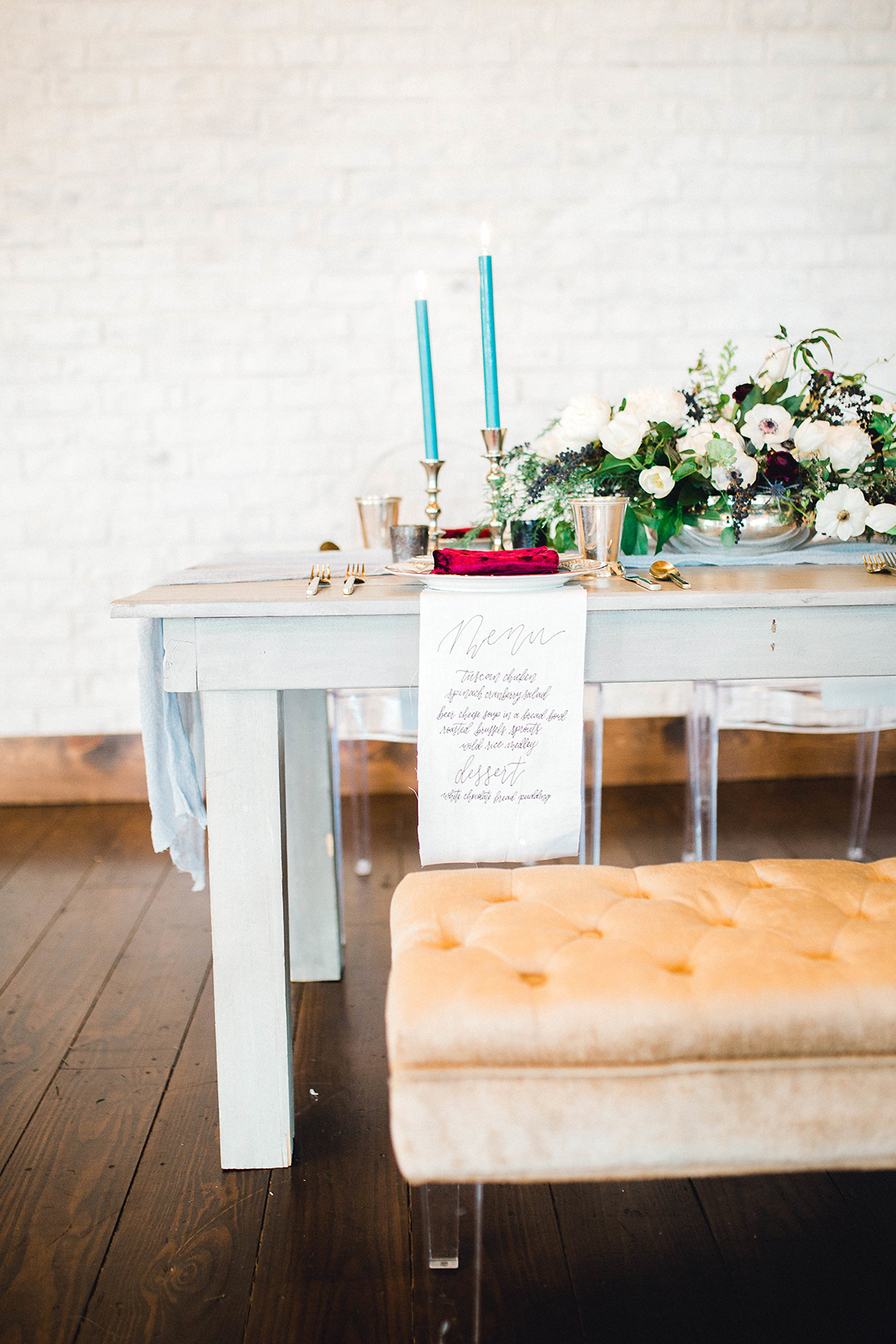 Photo from Honey and Bee Photography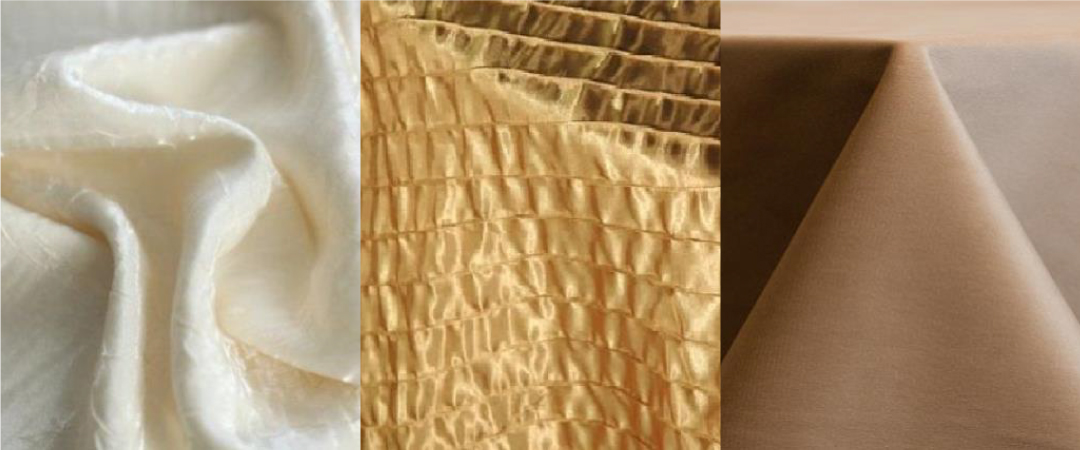 Golden Glow | Ivory Luxe, Gold French Pleat, Driftwood Velvet
Copper Cues
Copper has been popping up in event design from elegant to bohemian events – and everywhere in between. But this color chameleon isn't just a metallic. "Copper" hues offer a range of shades in Southern rentals – like our Rouge Charger or Russet Satin Linens.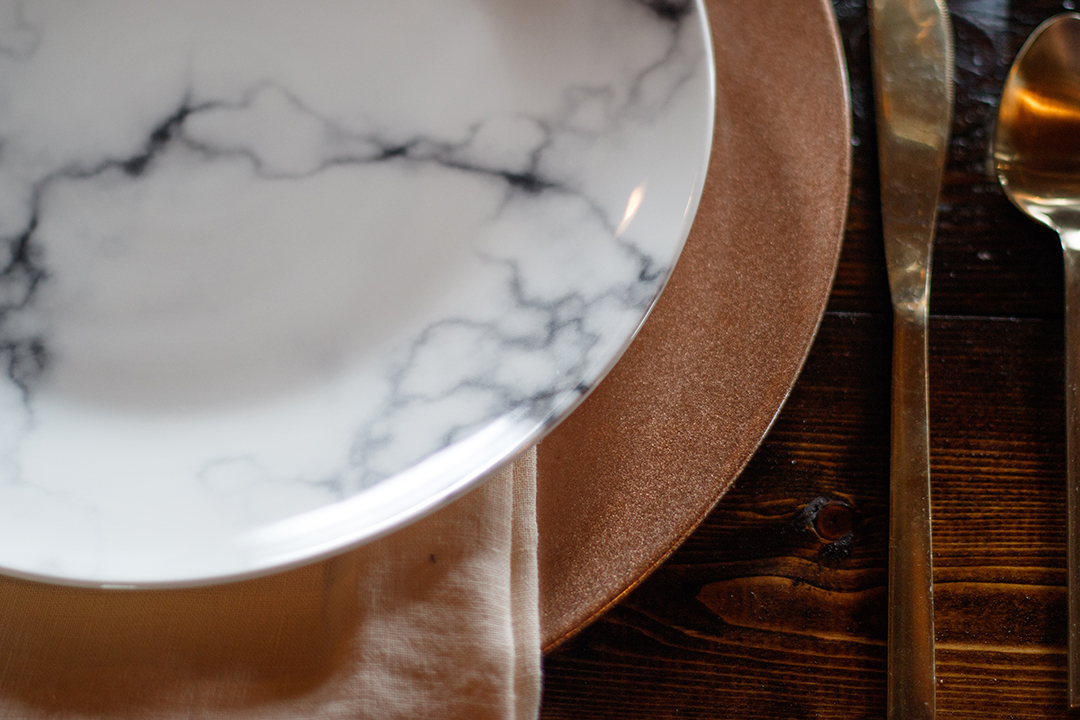 Photo from Amy Whidby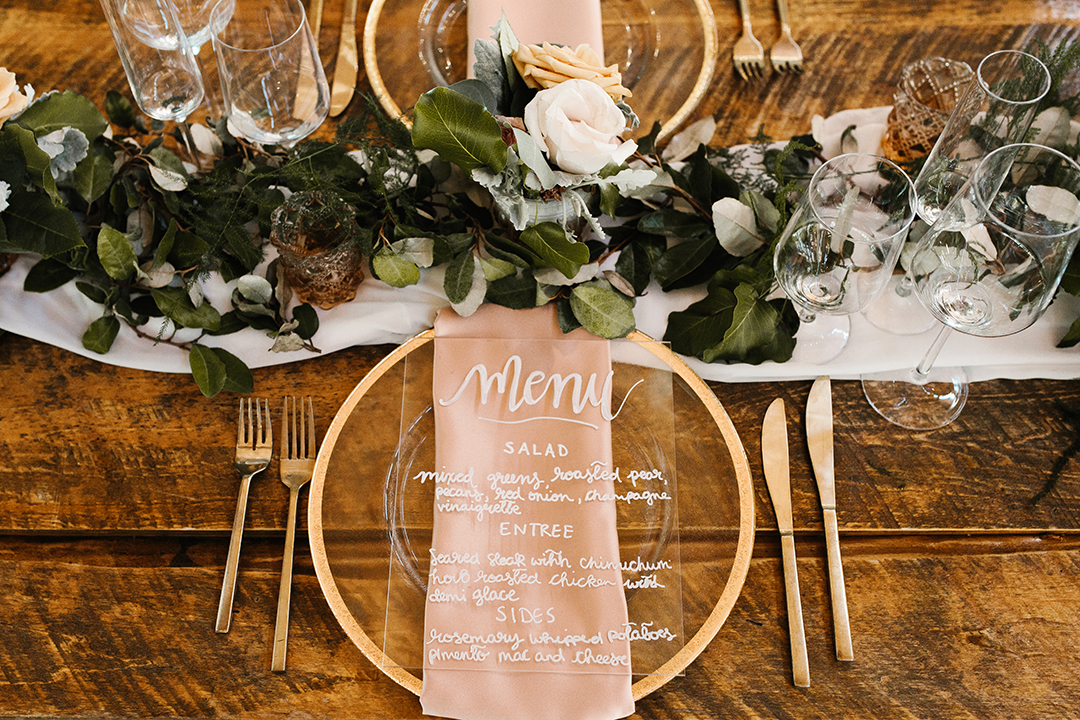 Photo from Madi Flournoy Photography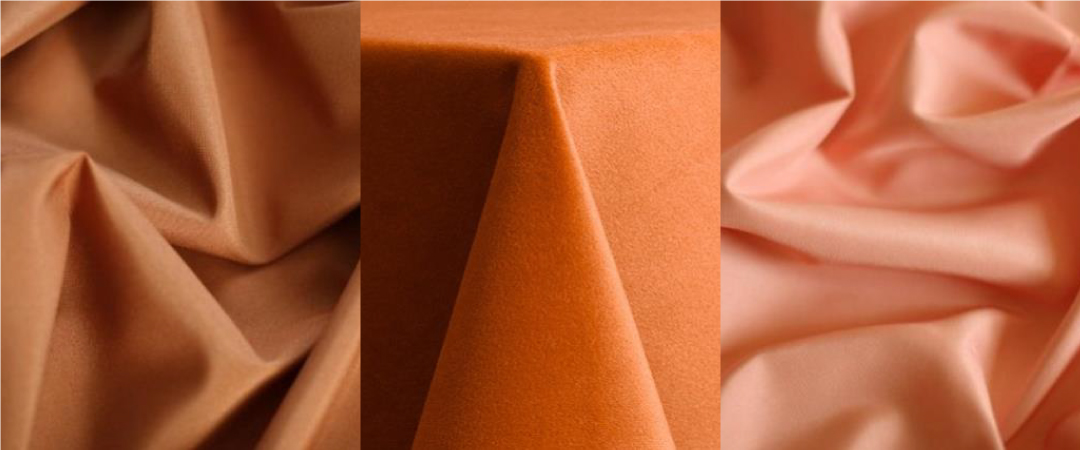 Copper Cues | Copper Poly, Spice Velvet, Coral Poly
Ruby Hues
Not just for fall, use shades of scarlet to wow at your events year-round. From brick red accented with gold to a pop of burgundy, these rich sunset-inspired event colors are sure to have depth to your Southern event.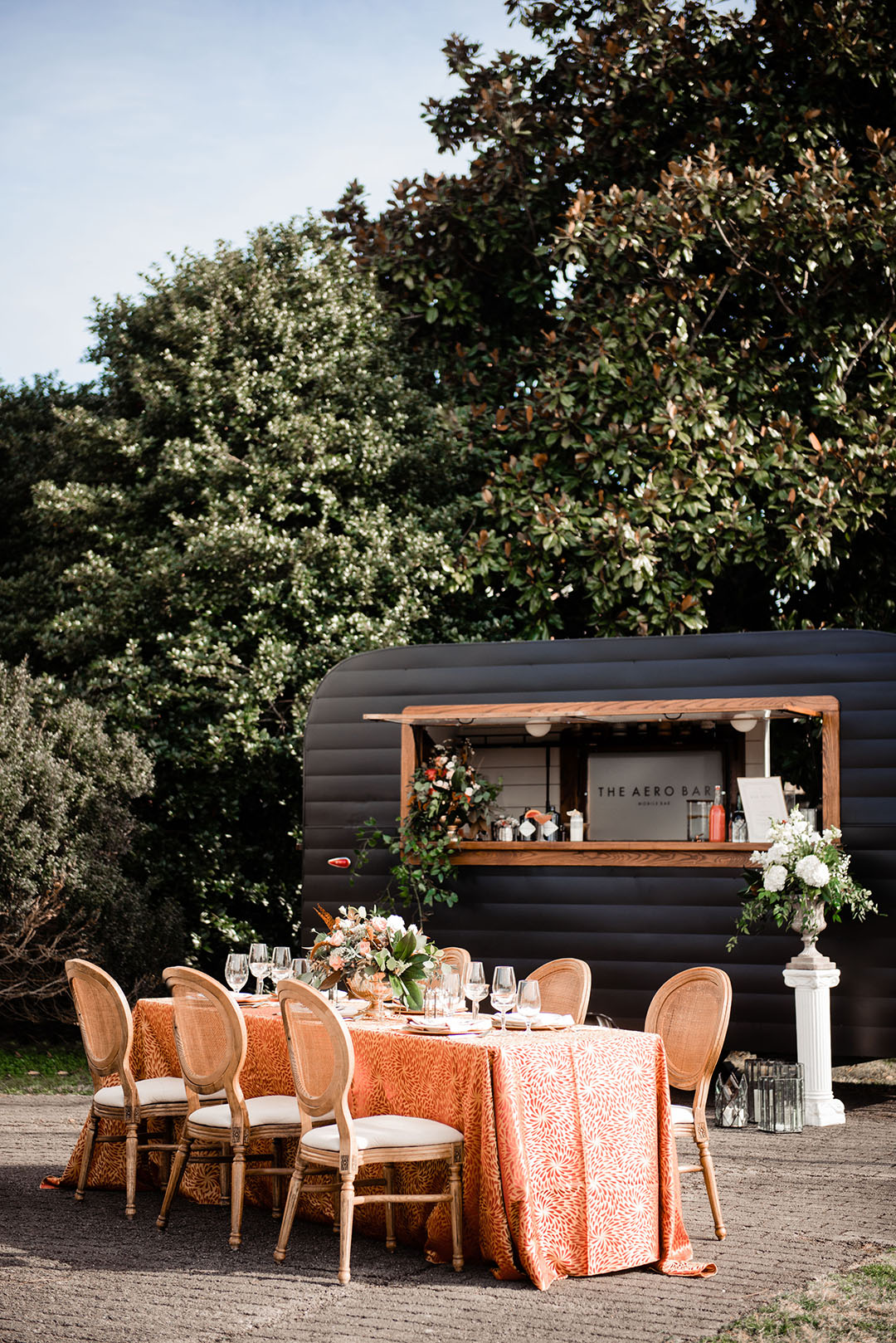 Photo from Ivory Door Studio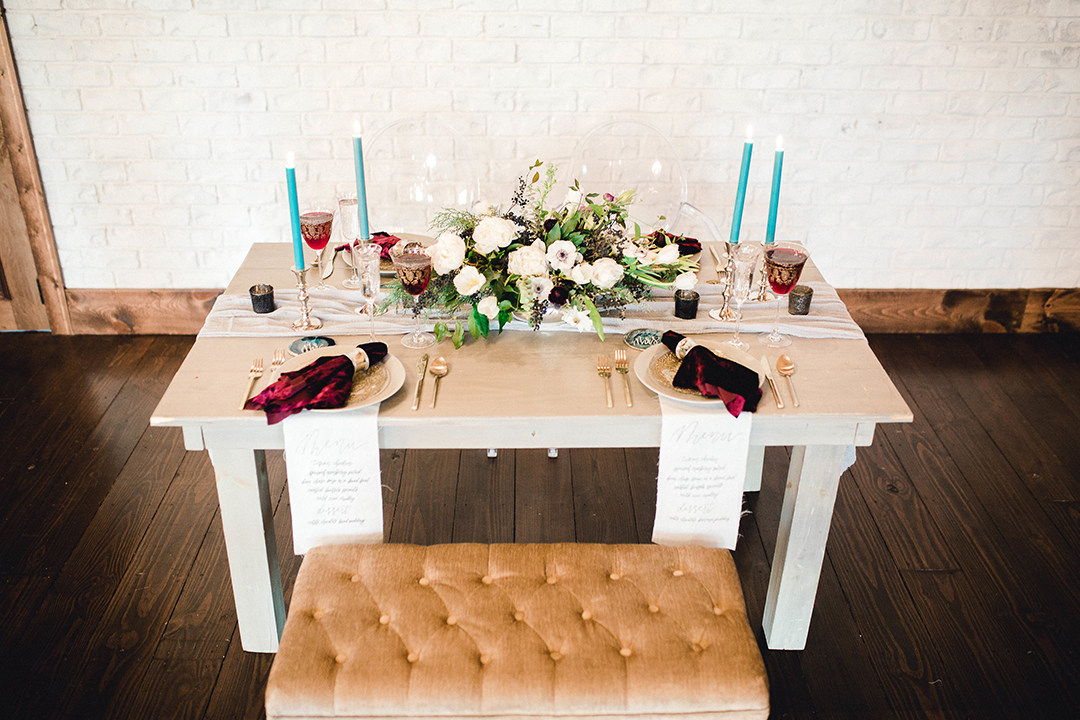 Photo from Honey and Bee Photography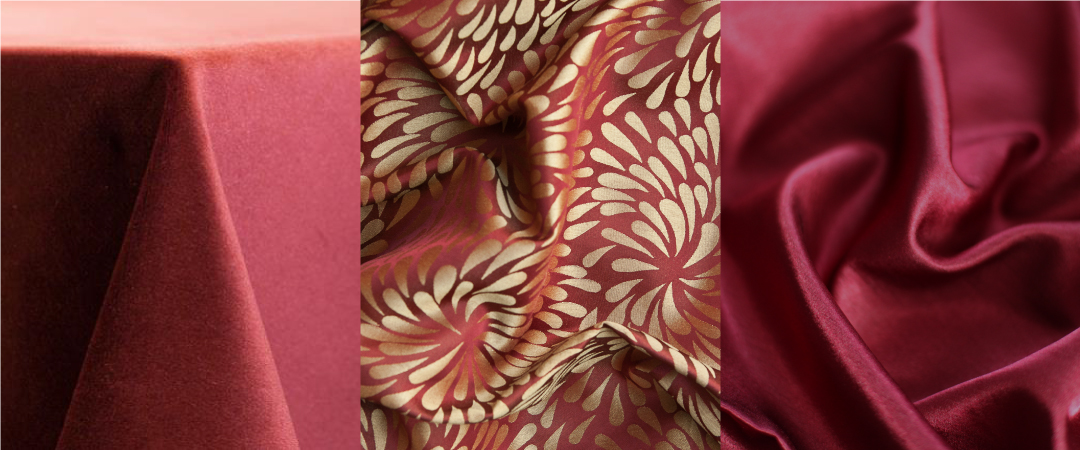 Ruby Hues | Merlot Velvet, Gold Aurora, Burgundy Dupioni
Mauve Modes
This isn't your Granny's curtains anymore. Not quite a rose pink or a chocolate brown, mauve is the perfect color to bridge between feminine & masculine in your event color palette. Layer textures like blush velvet linens with our warm wood Harlin Chairs or a dusty rose pillow on the leather Bennett Sofa.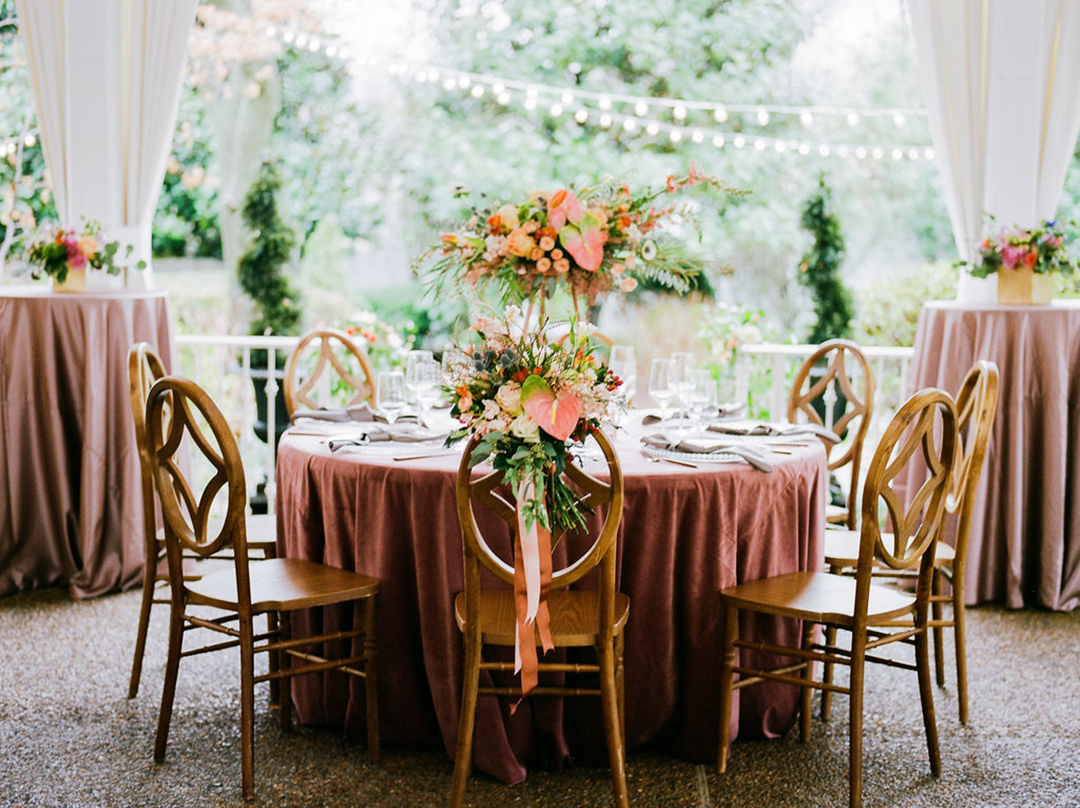 Photo from Jenna Henderson Photographer
Photo from Phindy Studios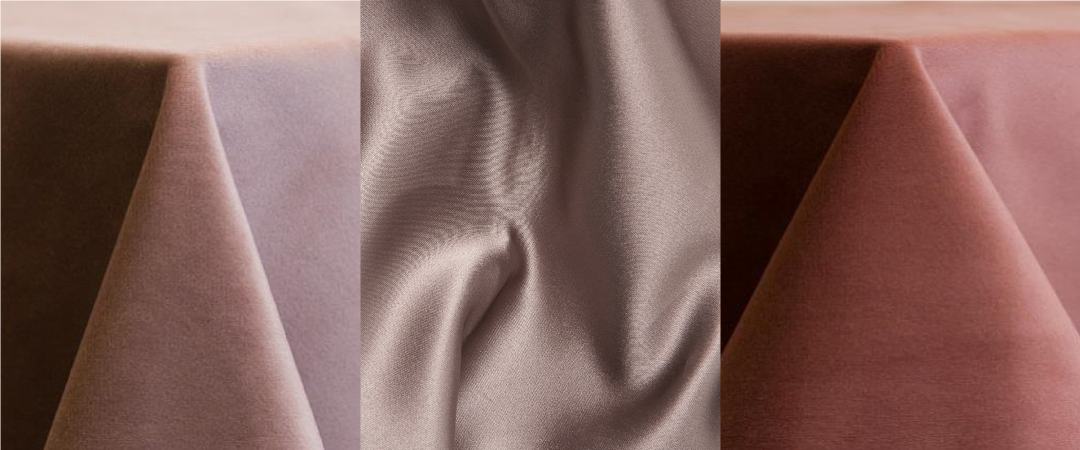 Mauve Modes | Rose Velvet, Tawny Satin, Cameo Blush Velvet
Want to add sunset-inspired event rentals to your next Nashville or Franklin event? Send us a message at info@southerneventsonline.com.
TAGS | Event Rentals, Fall Wedding Decor, Nashville Event Rentals, Nashville Wedding Rentals, Nashville party rentals, On Trend, Unique Nashville Event Rentals, Unique Wedding Rentals, copper rentals, gold decor, gold rentals, gold wedding decor, pink linen, red linen, rose linen, southern style events, southern wedding style, wedding style trends
FEATURED RENTALS | Wheat Satin, Midas Gold Bench, Ivory Luxe Linen, Gold French Pleat Linen, Driftwood Velvet, Rouge Charger, Russet Satin, Copper linen, Spice Velvet, Coral Linen, Adeline Chair, Gold Aurora Linen, Merlot Velvet, Burgundy Dupioni, Harlin Chair, Bennett Leather Sofa, Rose Velvet, Tawny Satin, Cameo Blush Velvet
---
15

Aug

Southern Events Products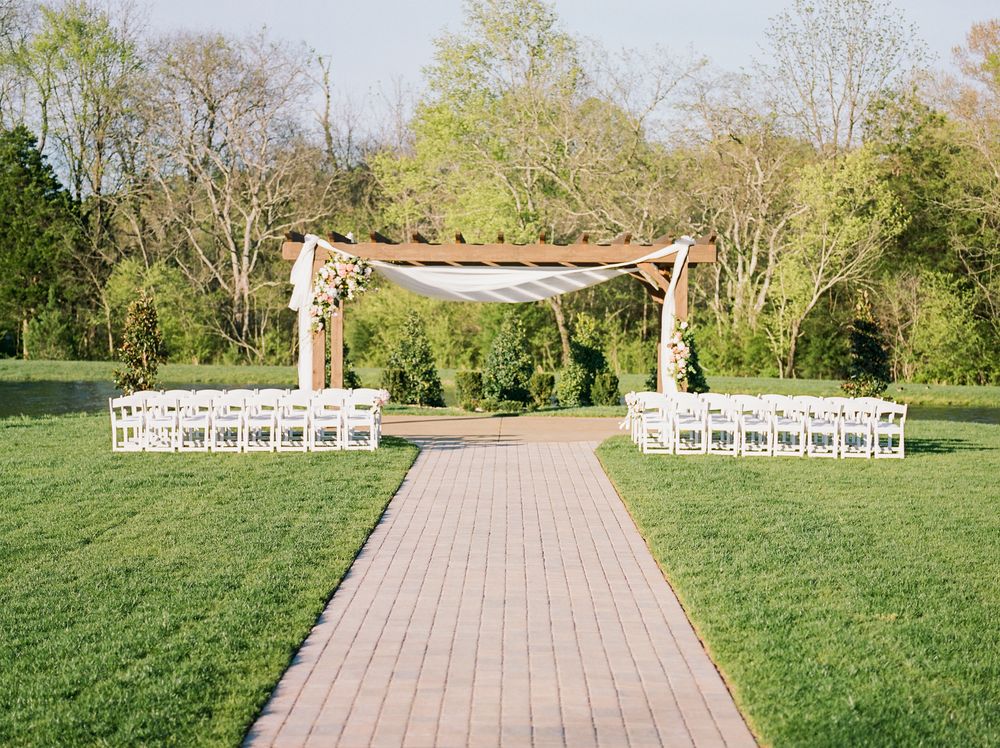 Outdoor wedding ceremonies in Nashville, TN come in all shapes and sizes. Couples may opt for an open-air feel for a variety of reasons – one being the sheer beauty and novelty of exchanging vows with Mother Earth as a front-row guest. Many brides and grooms have envisioned an outdoor wedding ceremony for as long as they can remember. We adore being part of wedding celebrations outdoors, and get giddy with excitement when we see it all come together!
An outdoor wedding ceremony does not always mean the wedding is taking place on some form of a lawn. You could use a rooftop or a venue that offers concrete area. If a couple is looking to take it to the next level, Dura-Trac Flooring is the perfect option in terms of creating flooring outdoors. Otherwise, with nature as the backdrop, the sky is certainly the limit in terms of what kind of look one can achieve for an open-air wedding ceremony. Boho, elegant, rustic, intimate, grand – we've seen it all. In order to achieve the look you desire, all that is needed is creativity, a plan, and the perfect outdoor wedding ceremony rentals.
Boho Outdoor Weddings
For a boho-themed outdoor wedding ceremony, we love using rentals such as our Rustic Bench for seating. For texture, Cowhide Rugs draped over benches and over the ground are used. This adds warmth, color, and fun!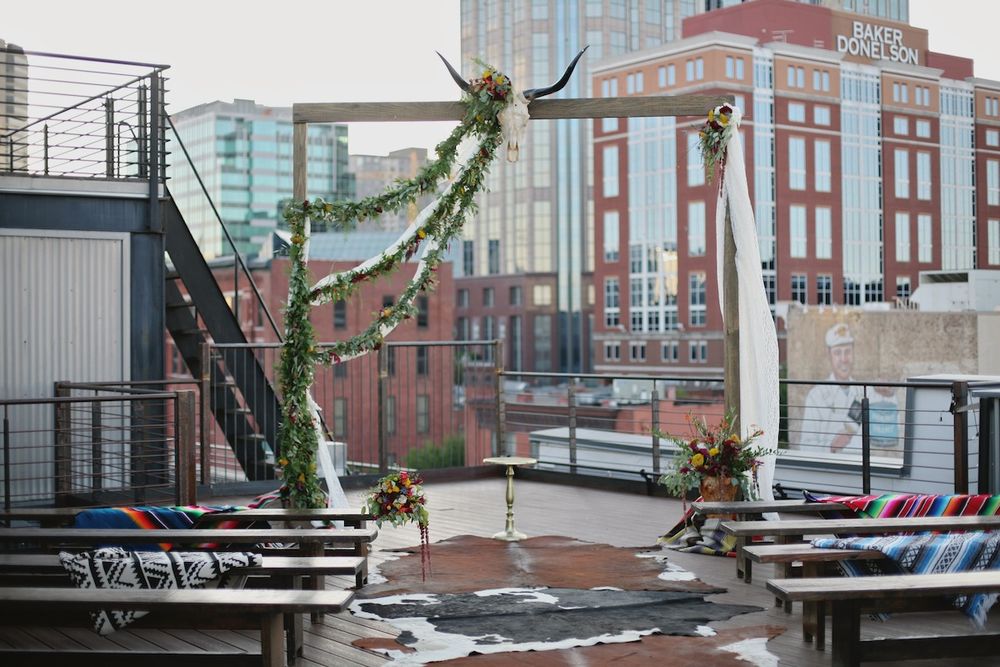 Photo by The Photographix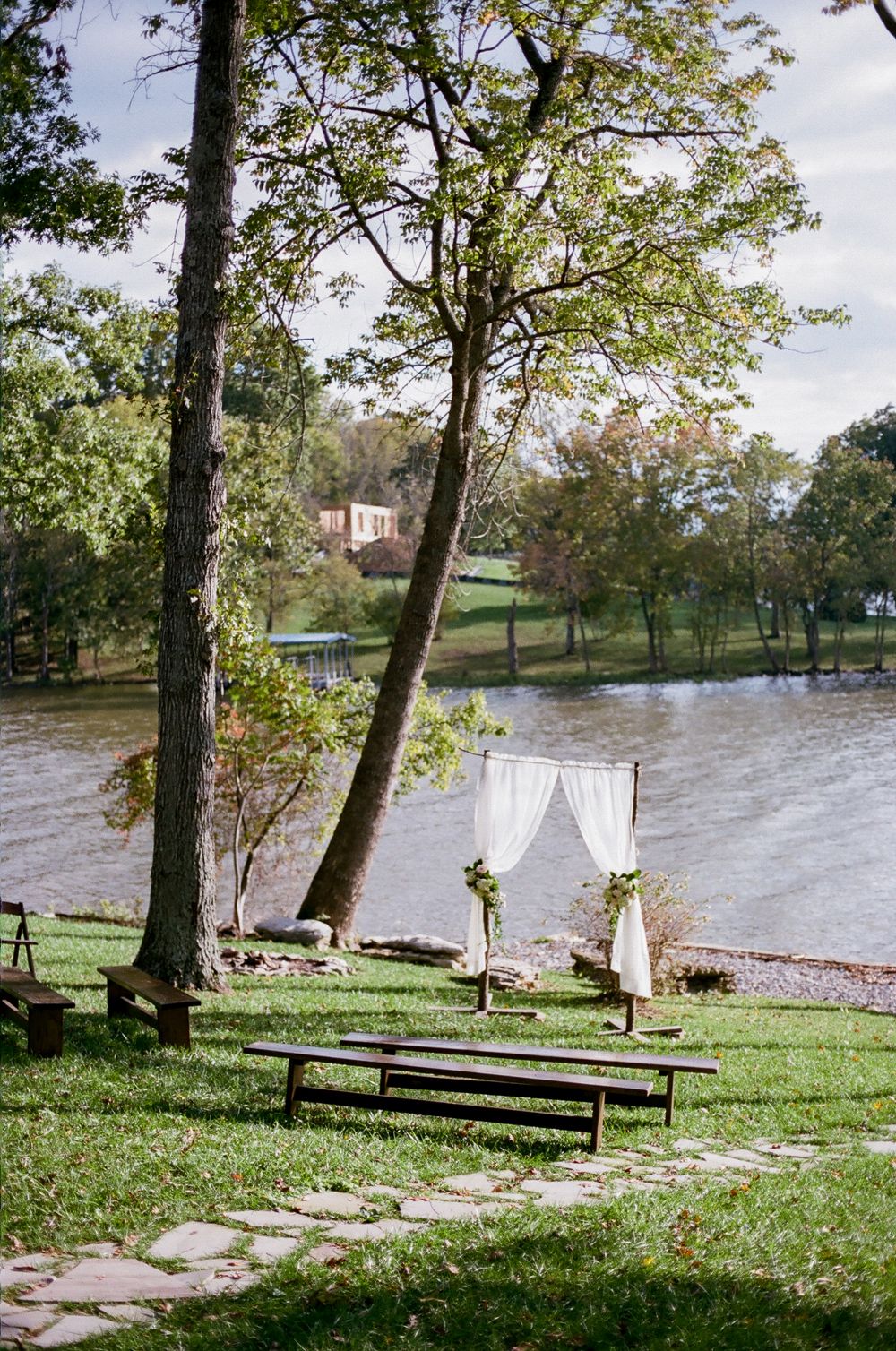 Traditional Outdoor Weddings
For a more traditional outdoor wedding ceremony, Folding Chairs in black, natural wood, or white create a streamlined, classic look. The combination of natural wood, green grass, and a blue sky come together for a memorable and gorgeous day!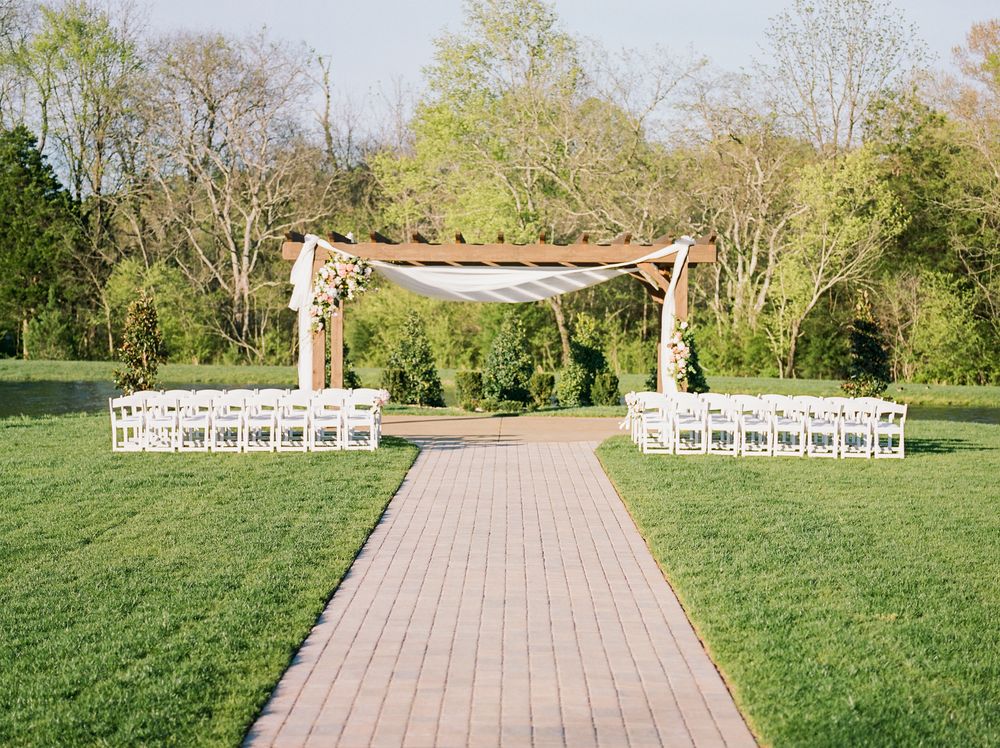 Photo by Jenna Henderson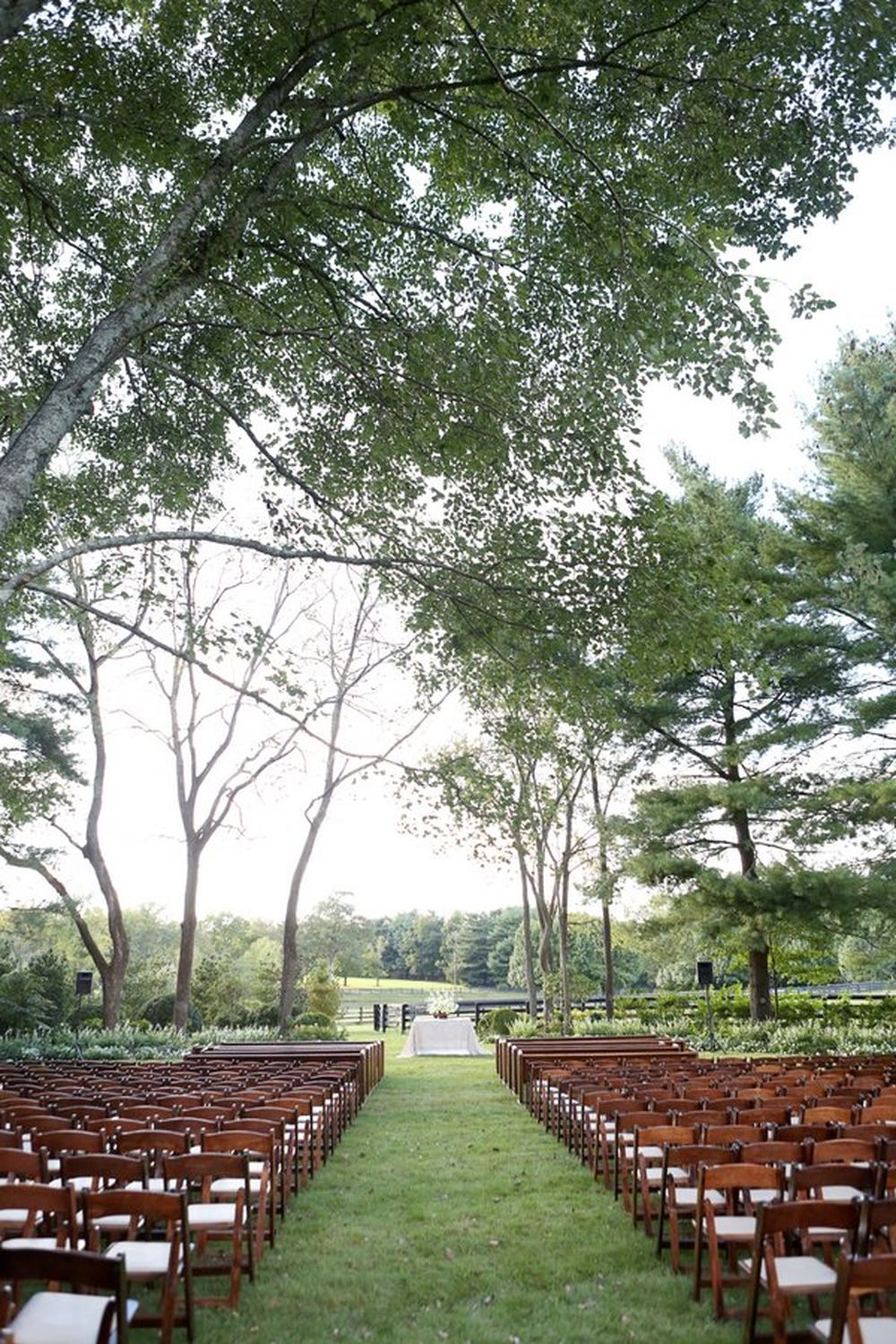 Photo by Mary Rosenbaum Photography
Modern  Outdoor Weddings
If a couple is desiring a modern vibe at their wedding ceremony, Acrylic Chairs look absolutely gorgeous – they are the perfect modern approach to seating at an outdoor wedding. Pairing an outdoor setting with modern materials creates an upscale, yet approachable feel.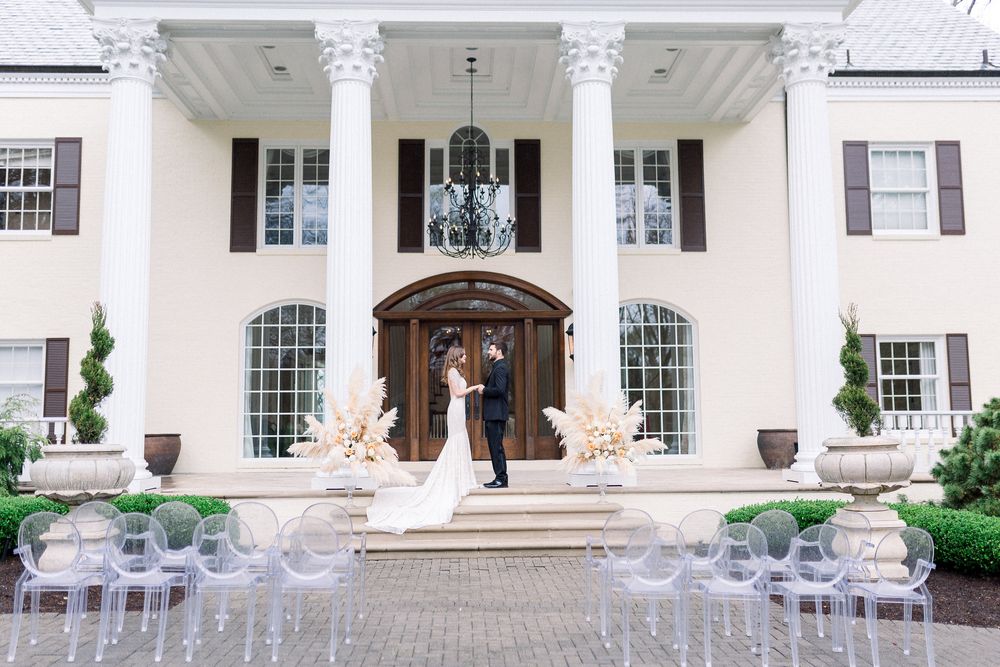 Photo by Honey and Bee Photography
If you're wanting to get hitched outdoors, we'd love to help! Send us a message at info@southerneventsonline.com.
TAGS | Ghost Chairs, Nashville Wedding Rentals, Outdoor Wedding Ceremony, Southern Events Party Rental Company, Unique Nashville Wedding Rentals, Unique Wedding Rentals, southern weddings, upscale outdoor wedding, wedding style trends
FEATURED RENTALS | Walnut Ceremony Doors, Rugs, Dura-Trac Flooring, Metal Ceremony Ring, Black Wood Folding Chairs, Acrylic Chairs, Rustic Bench, White Wood Folding Chairs, Brown Wood Folding Chairs
---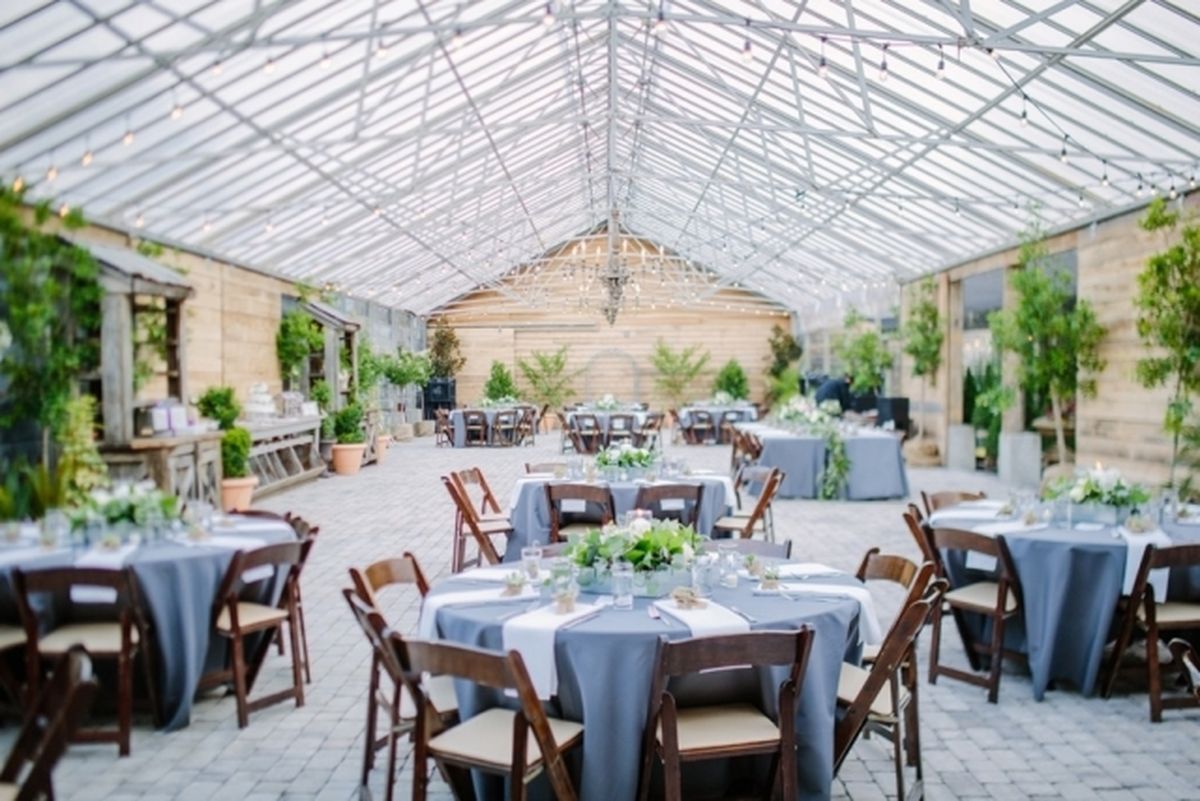 We adore dressing fabulous Nashville area venues in Southern Events rentals, and Long Hollow Gardens is one of our absolute favorites. Long Hollow Gardens is a super unique event venue. It is actually a greenhouse! Couples can achieve that "outdoor wedding" feel with all of the comfort of remaining indoors (think gorgeous summer wedding without all the heat!). Oh, and don't forget about the exquisite natural light pouring into the venue. On this 35 acre property, you'll find a vineyard, their Farmhouse Bridal Cottage, and Hearthroom Barn. With enough space for 200 guests, it's a great venue for weddings and events of all sizes.
Our neutral, natural rentals really shine at Long Hollow Gardens. The Cross-Back Chairs look tailor-made for this venue and are incredibly inviting paired with ivory linens. When outfitting the Greenhouse, we typically stick to neutral color palettes in order to let nature shine. From the Bennett Leather Sofa to the Fruitwood Farm Table, many of our rentals look as if they belong at this one-of-a-kind venue. However, we are not opposed to dreaming up a colorful look with our Saylor Velvet Furniture rentals. We are in love with how this location serves as a backdrop for pretty much any dreamy look a couple could conjure up.
Be sure to visit their website to learn more about hosting your Southern event at this greenhouse venue. Photos by Julie Paisley.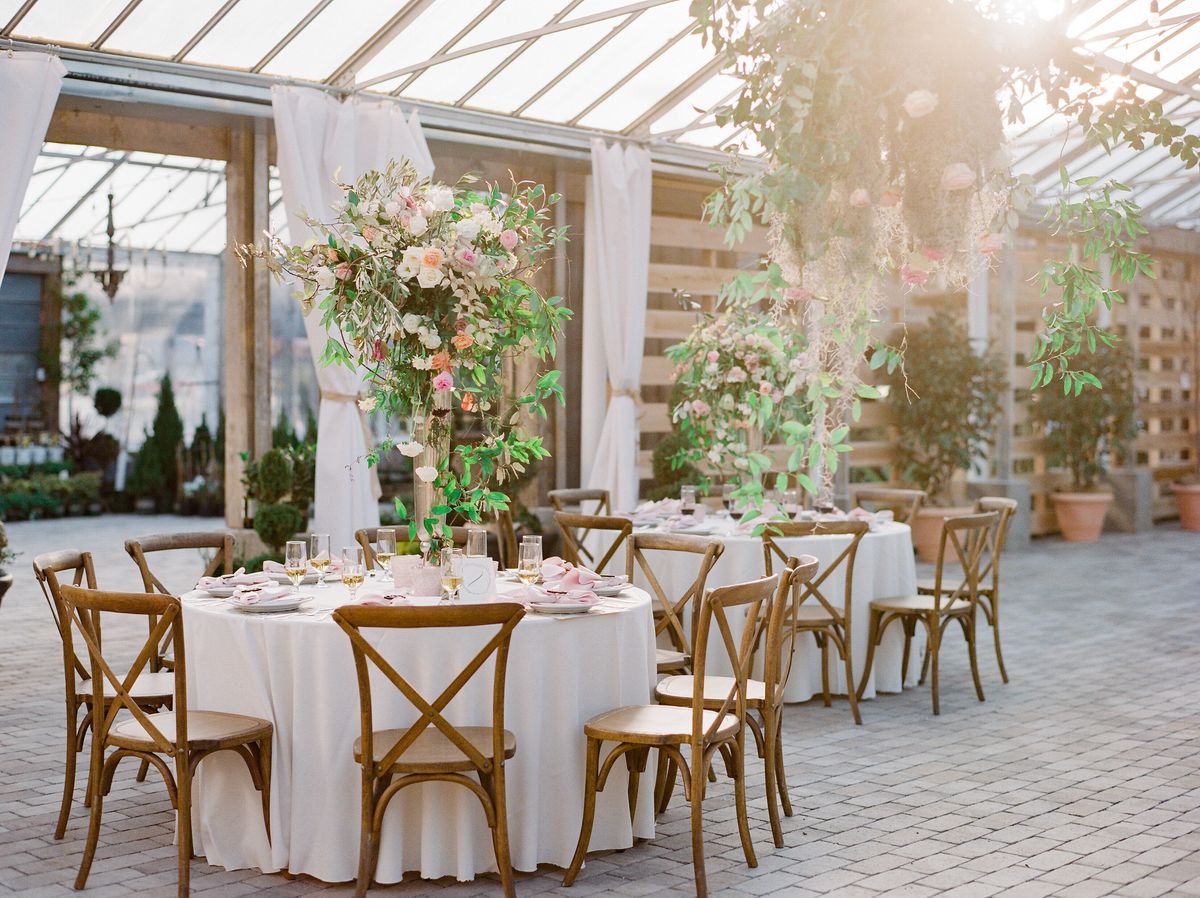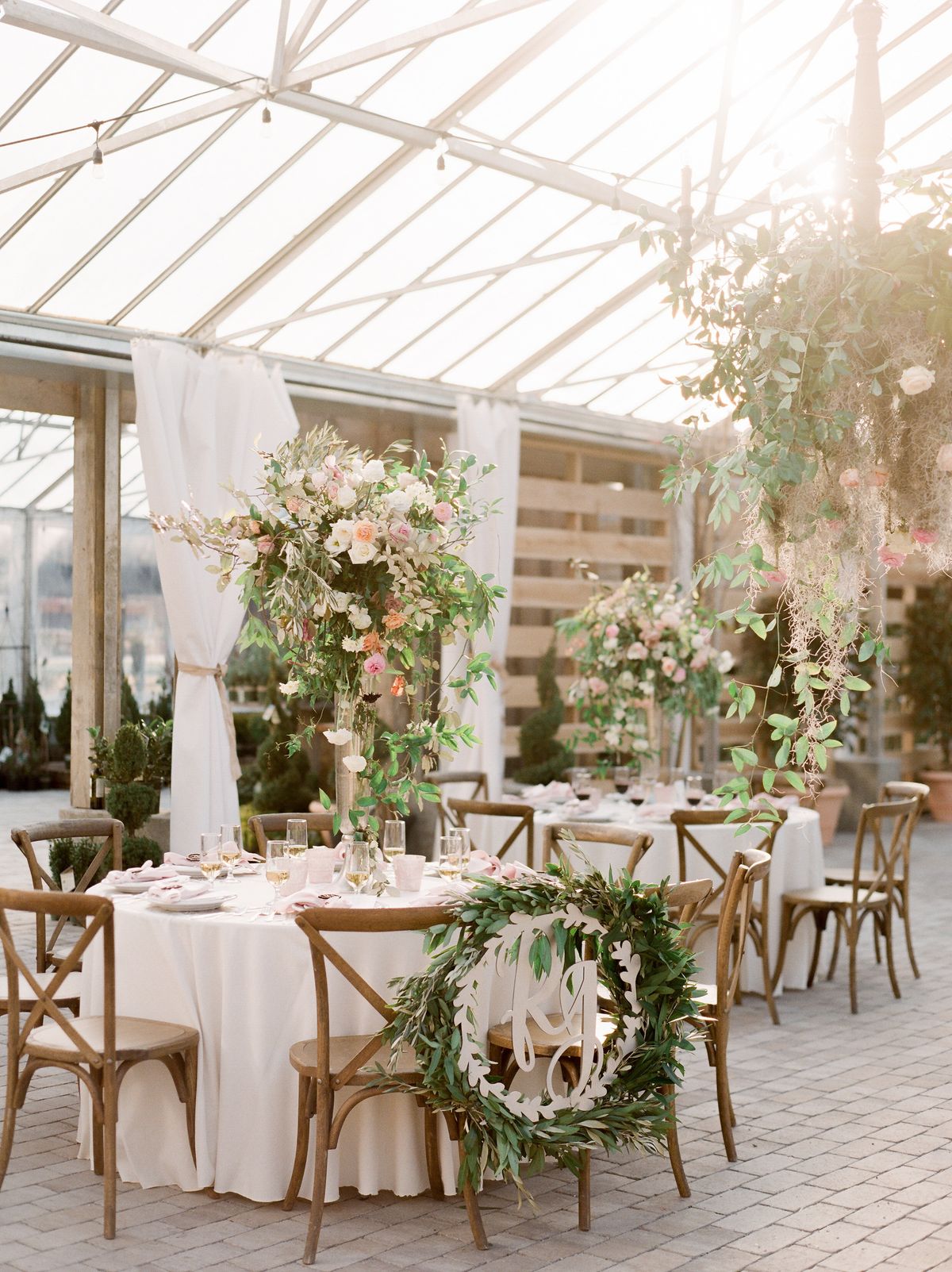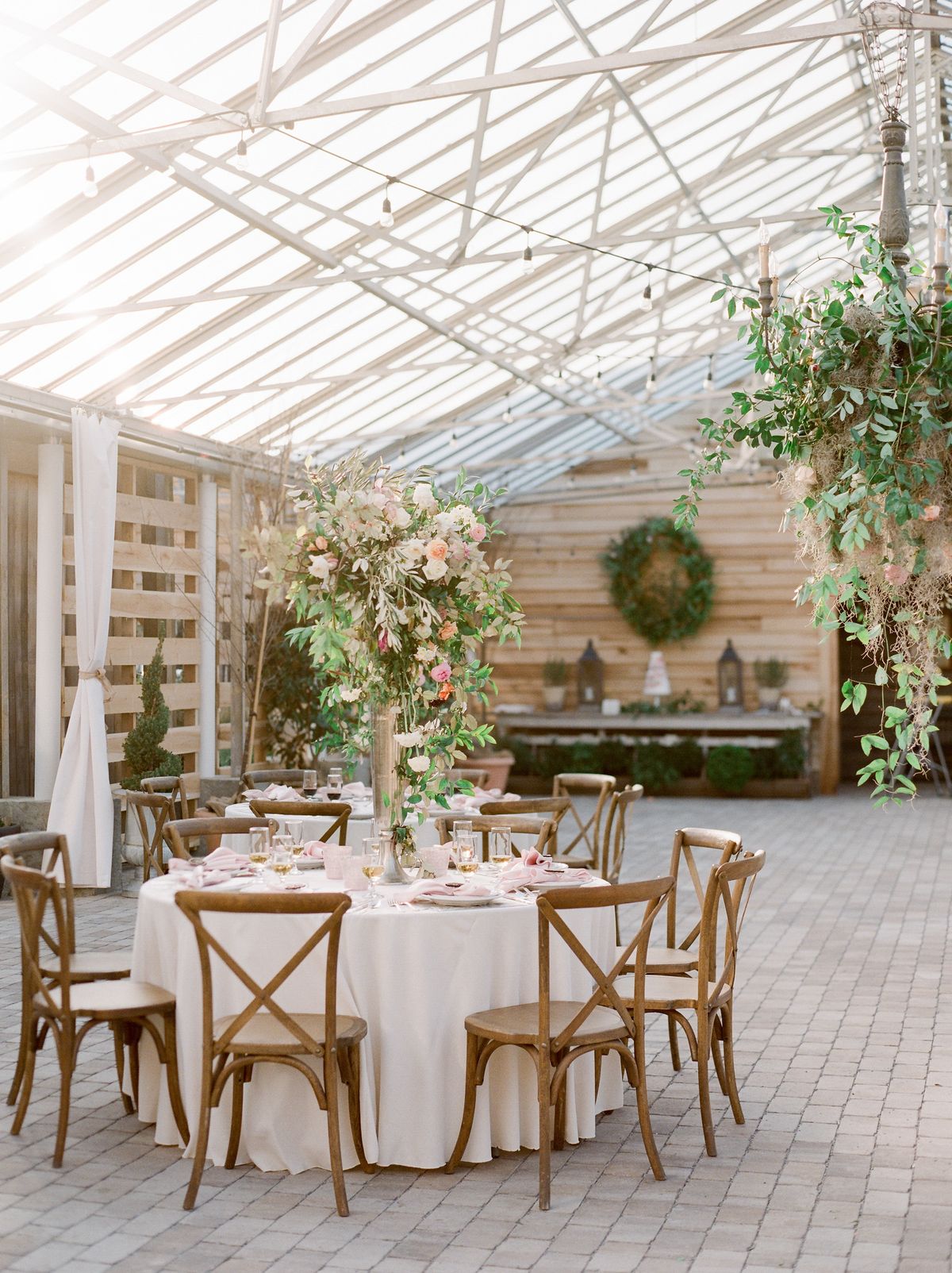 If you are hosting an event in one of Nashville's finest venues, we'd love to take the rentals off your plate. Send our team a message at info@southerneventsonline.com.
TAGS | Farm Tables, Nashville Event Rentals, Nashville Event Venue, Nashville Wedding Venue, Southern Events Party Rental, Unique Nashville Event Rentals, Unique Wedding Rentals, long hollow gardens, nashville tn, nashville venues
FEATURED RENTALS | Cross-Back Chairs, Ivory Linens, Bennett Sofa, Saylor Furniture,
---
7

Feb

Southern Events Products, Trends and Inspiration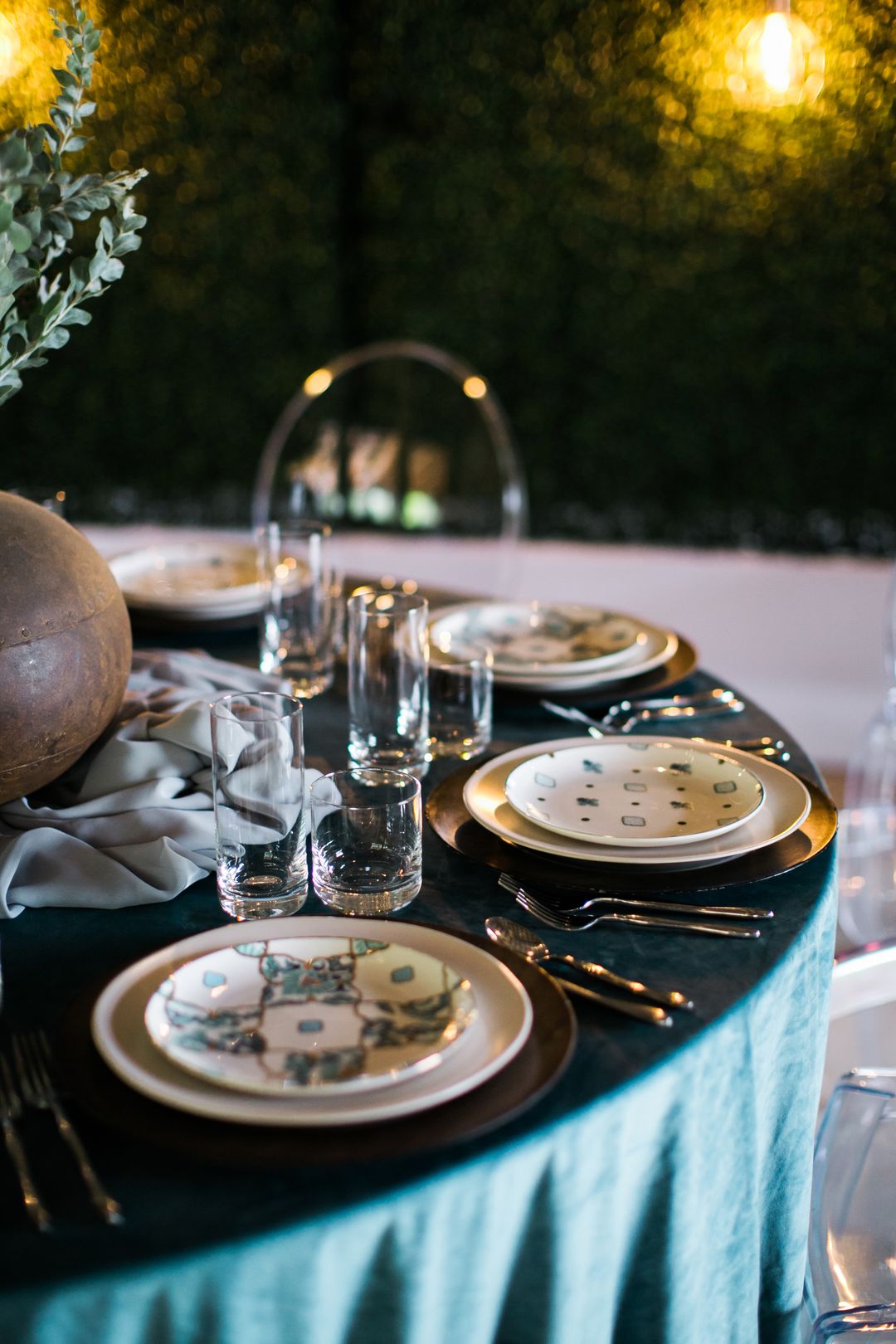 Here at Southern Events, we love a modern tablescape! While modern can sometimes mean stark or cold, your table design can have a modern feel and still be elegant and timeless.  With earthy elements, luxe fabrics, clean lines, and ghost chairs, we created three modern Southern tablescapes to inspire you.
#1 Modern Luxe Tablescape
Moody and glam, our modern luxe style features our Black Dupioni Linen, Carrera Marble Dinner Plates, Cybil Glassware, Sofia Flatware and Glass Chargers with Gold Rim. Taper candles in a sleek iron candle holder with carefully placed succulents as well as our Acrylic Armless Ghost Chairs, give this tablescape it's modern lines while remaining understated. This table design would be perfect for a black tie gala, fundraiser or chic rehearsal dinner.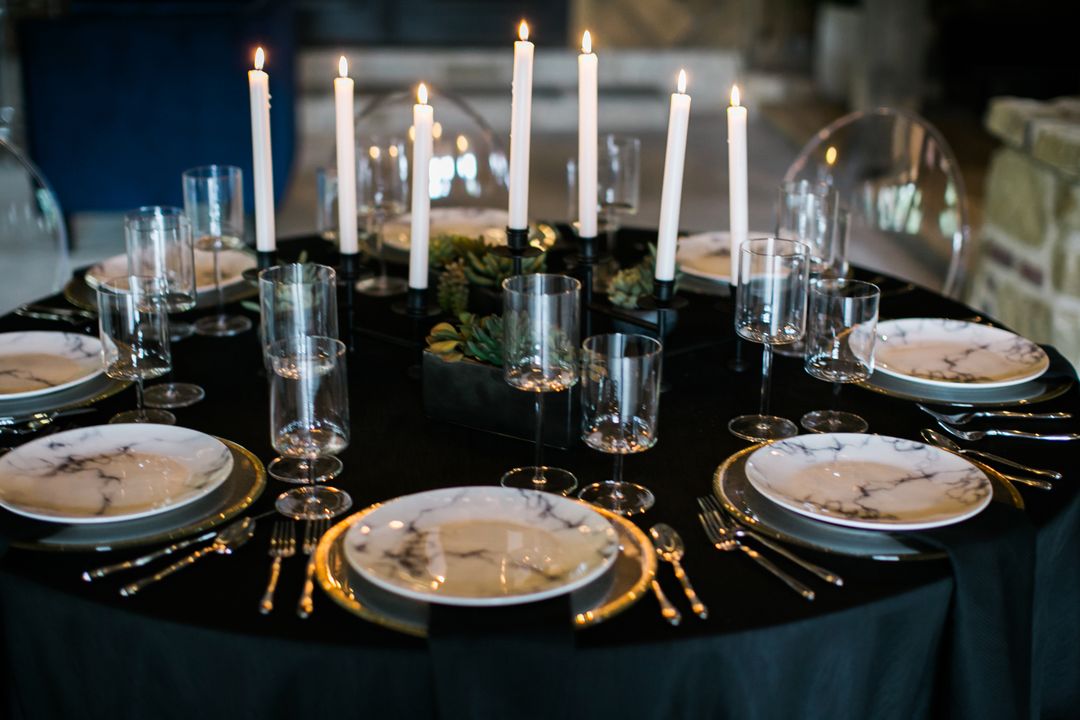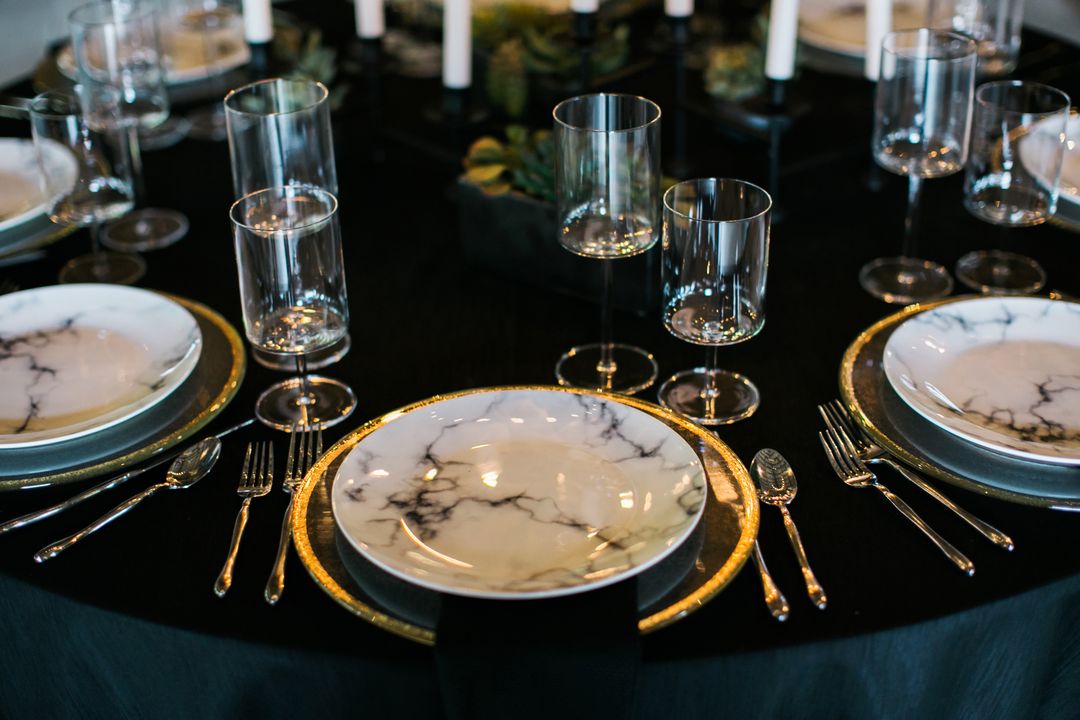 #2 Modern Seaside Southern Tablescape
Navy linens, relaxed china & glassware combine with an airy centerpiece and copper flatware to create a tablescape perfect for dining al fresco! For this modern seaside-inspired Southern tablescape, we used our Navy Blue Velvet Linens, Earthen China, Davis Glassware and Brushed Copper Flatware. Our Acrylic Armless Ghost Chairs once again keep this relaxed tablescape modern. Plus, we love using navy as a neutral, especially when it's velvet.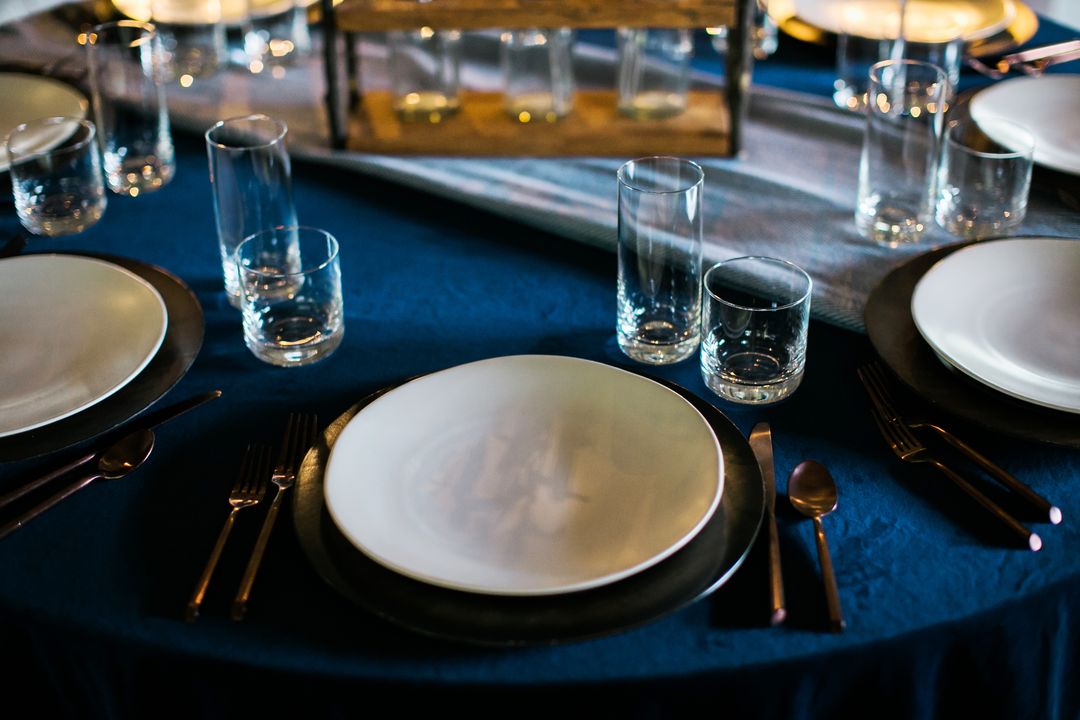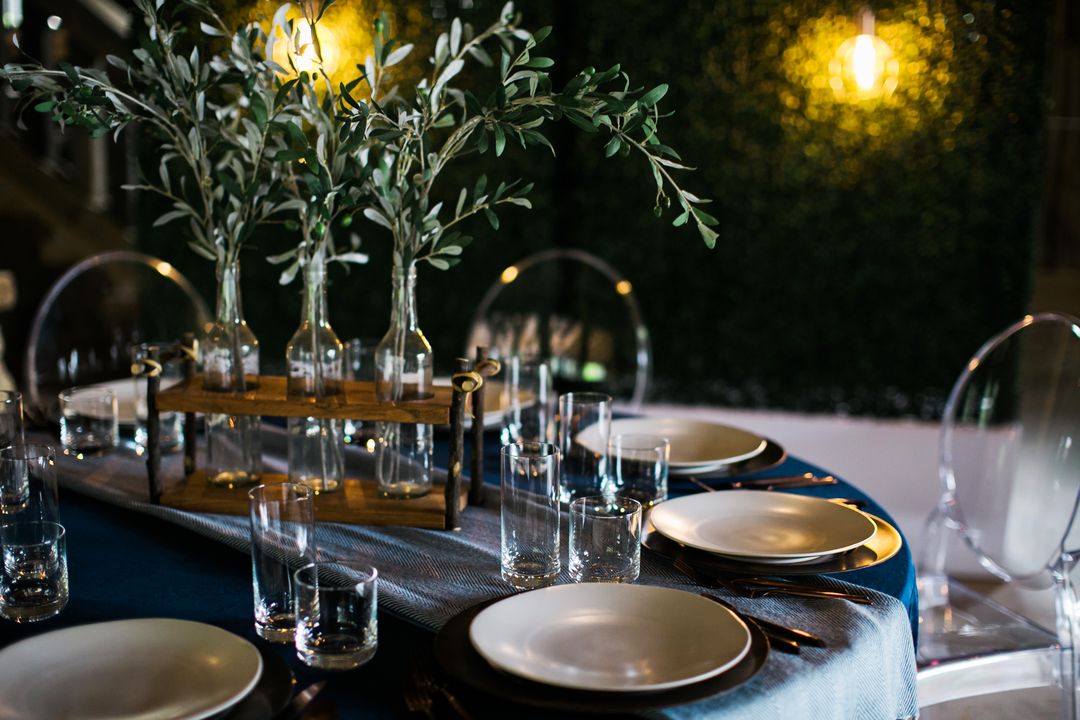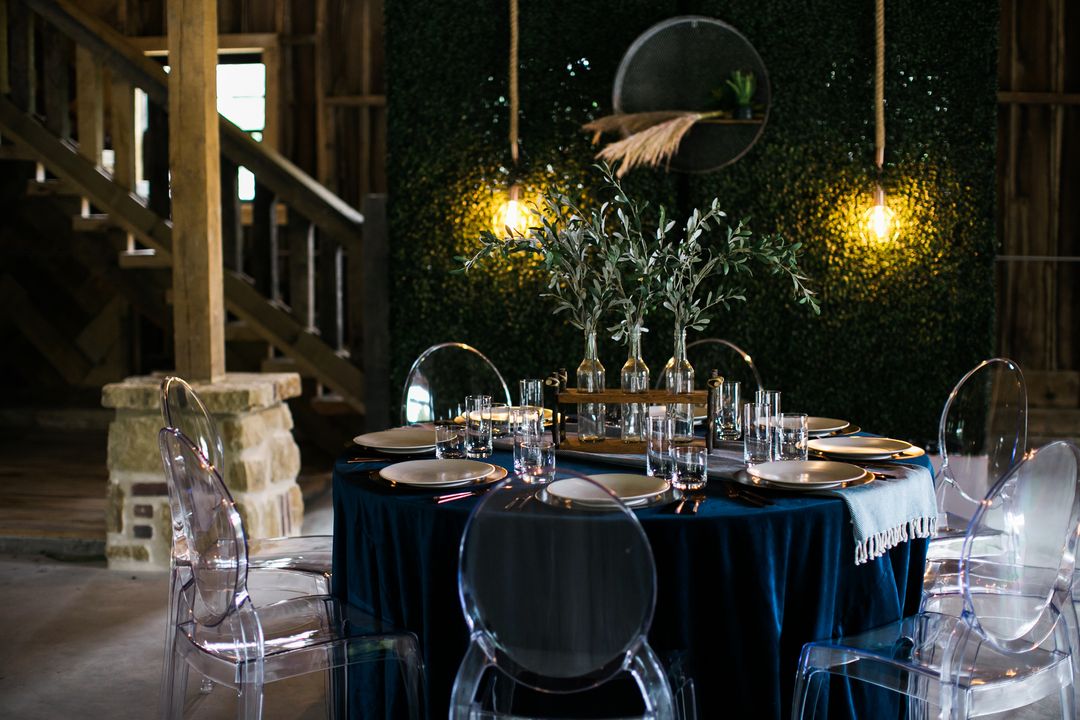 #3 Modern Tuscan Southern Tablescape
Give your event a modern Tuscan feel! With patterned dinnerware, aqua linens and an oversized, this modern southern tablescape just needs wine! Featuring our Coronado China, Earthen China, Sofia Flatware, Davis Glassware, Ocean Blue Velvet Linens, Dove Gray Chiffon Runner, and Acrylic Armless Ghost Chairs. The bold linen and coordinating china are reminiscent of Italy art and flair, while the simple centerpiece and glassware keep this modern look the perfect fit for outdoor garden events, dinner parties and springtime wedding & baby showers.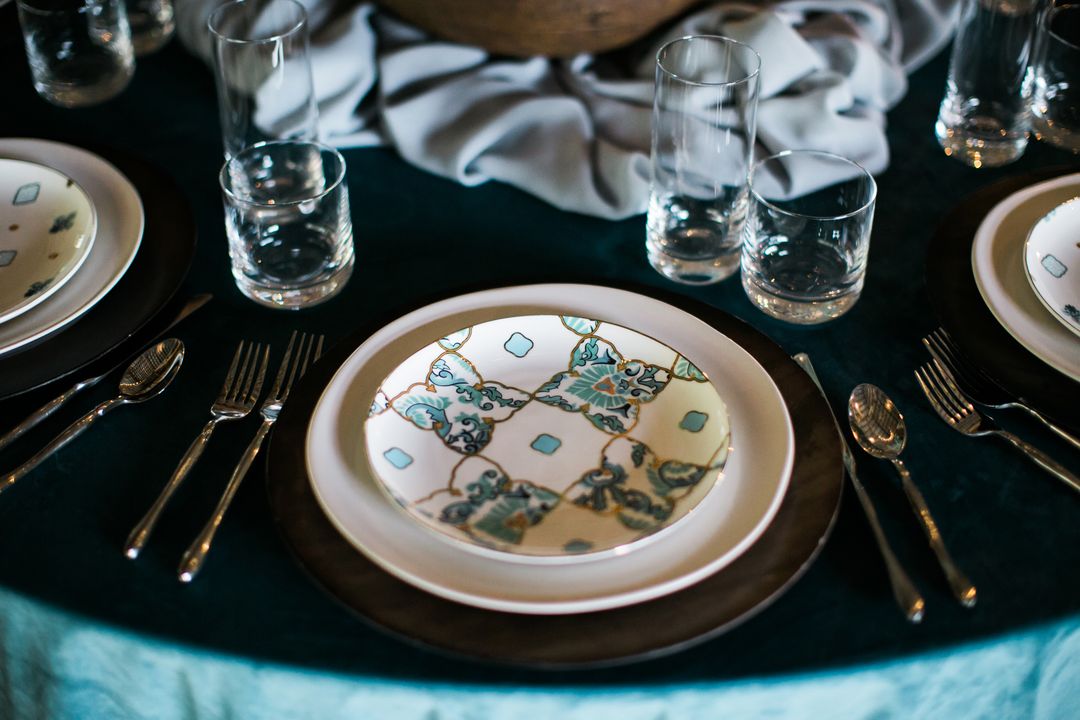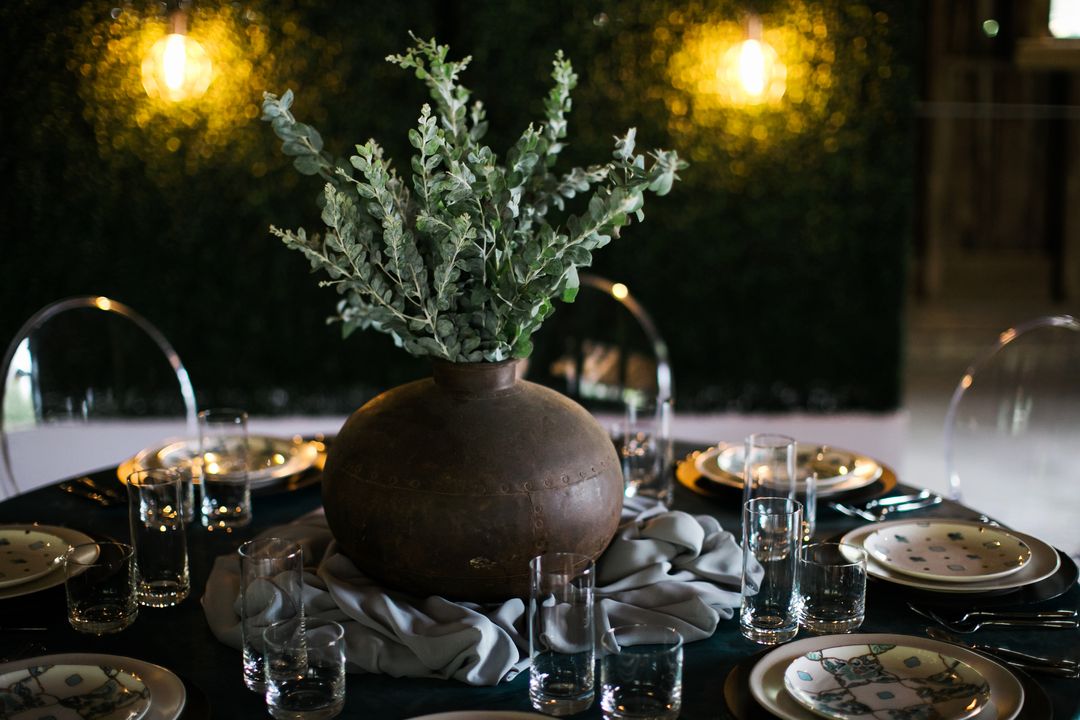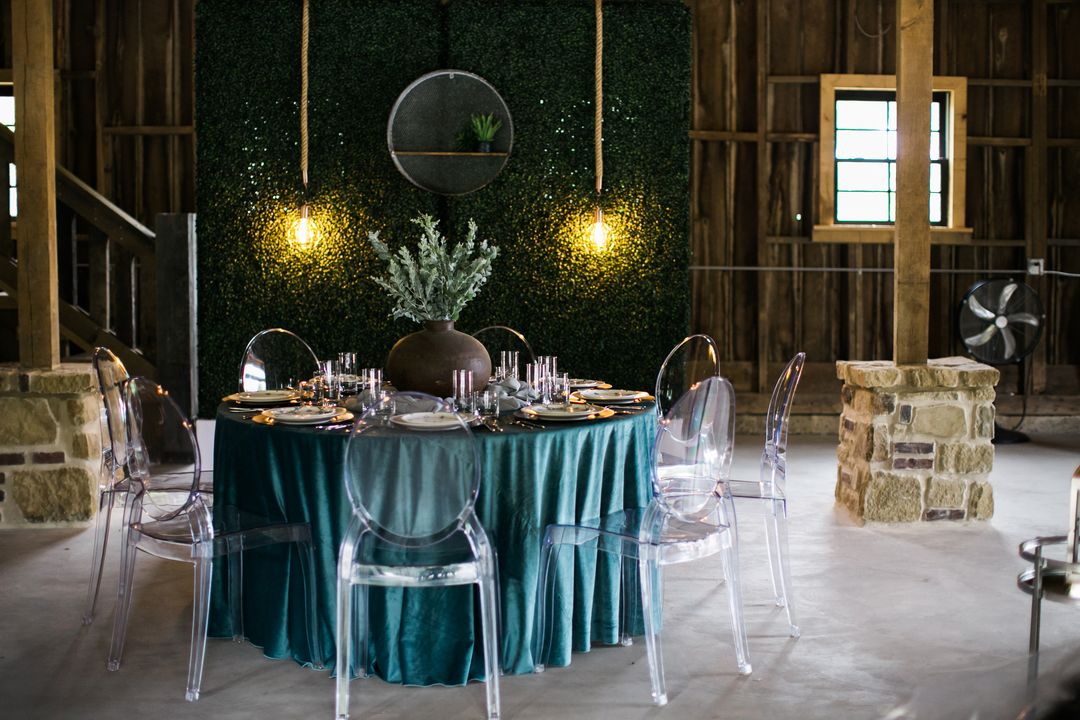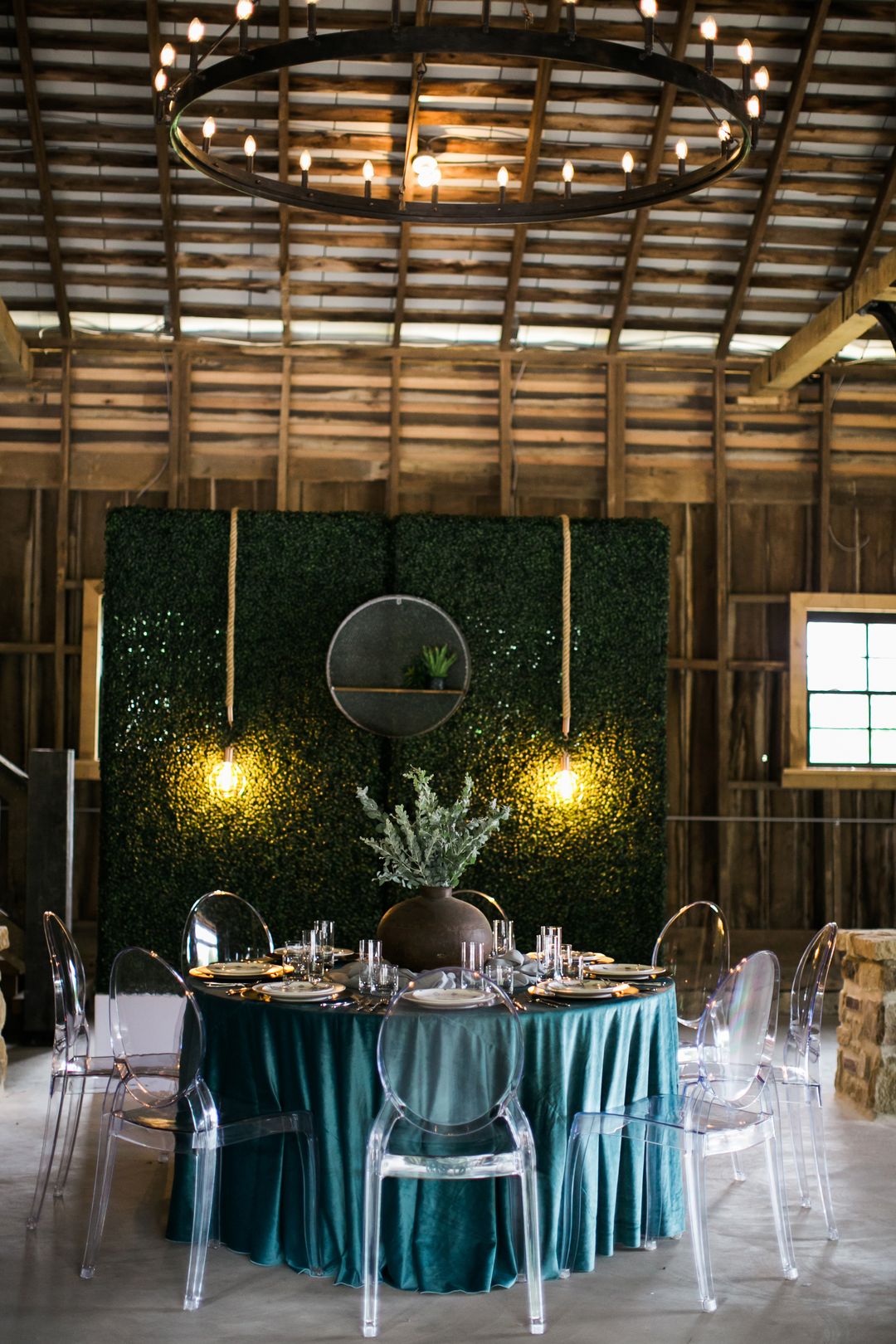 Photos by Jen and Chris Creed Photography
Looking for more style inspiration? Our galleries feature various rentals based on type and style of your event.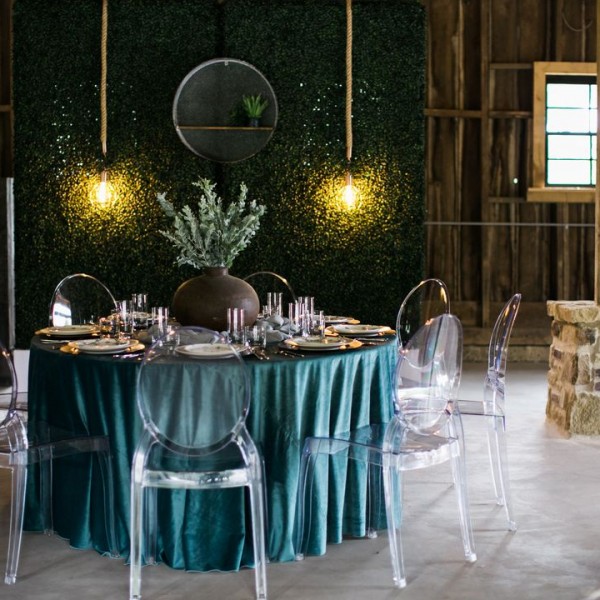 TAGS | Cybil Glassware, Darcy China, Southern Events, Southern Events Party Rentals, Unique Wedding Rentals, southern wedding style, wedding style trends
FEATURED RENTALS | Navy Blue Velvet Linens, Earthen China, Davis Glassware and Brushed Copper Flatware, Acrylic Armless Ghost Chairs, Black Dupioni Linen, Carrera Marble Dinner Plates, Cybil Glassware, Sofia Flatware, Glass Chargers with Gold Rim, Coronado China, Ocean Blue Velvet Linens, Dove Gray Chiffon Runner
---
3

Jan

On Trend, Trends and Inspiration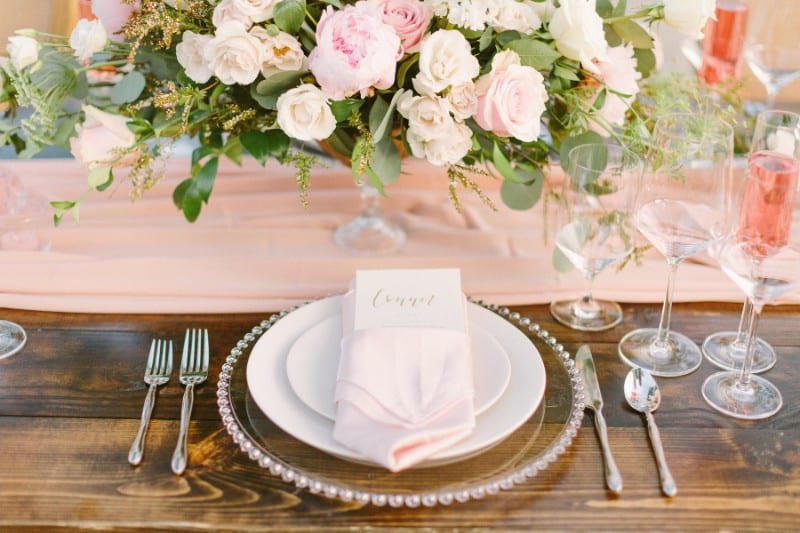 A new year always brings new event trends and we are crushing hard on the coming decor & wedding rental trends for 2019! From warm color palettes to eclectic styling to variations on gold, these wedding decor trends are a must at your 2019 wedding.
Looking for a full-service team to help style your big day? Reach out to schedule your personal tour of our Franklin showroom, info@southerneventsonline.com.
Gold Variations
Get ready for All. The. Gold. Gold accents have been a solid trend for years but we'll see more variations on the color gold – brass gold, dirty gold, rose gold, copper gold, apricot gold. Get creative by mixing these gold colors with each other and other metallics – the more sparkle on wedding day the better! We also love matching these gold variations with jewel tones, like our Magnolia Velvet Linen or our Rory & Farrah mid-century inspired chairs.
Rentals: Gold & Ivory Fresco Linen, Rouge Round Lacquer Charger, Brushed Copper Flatware, Conga Gold Side Table, Loren Gold Bistro Table, Windsor Gold Cake Stand, Champagne Draping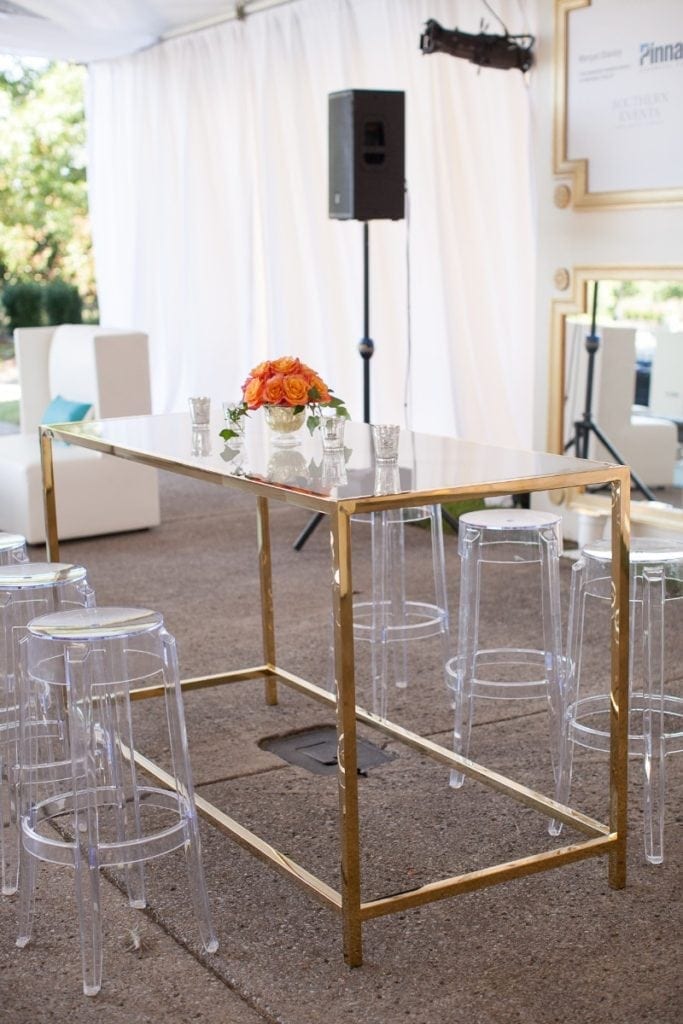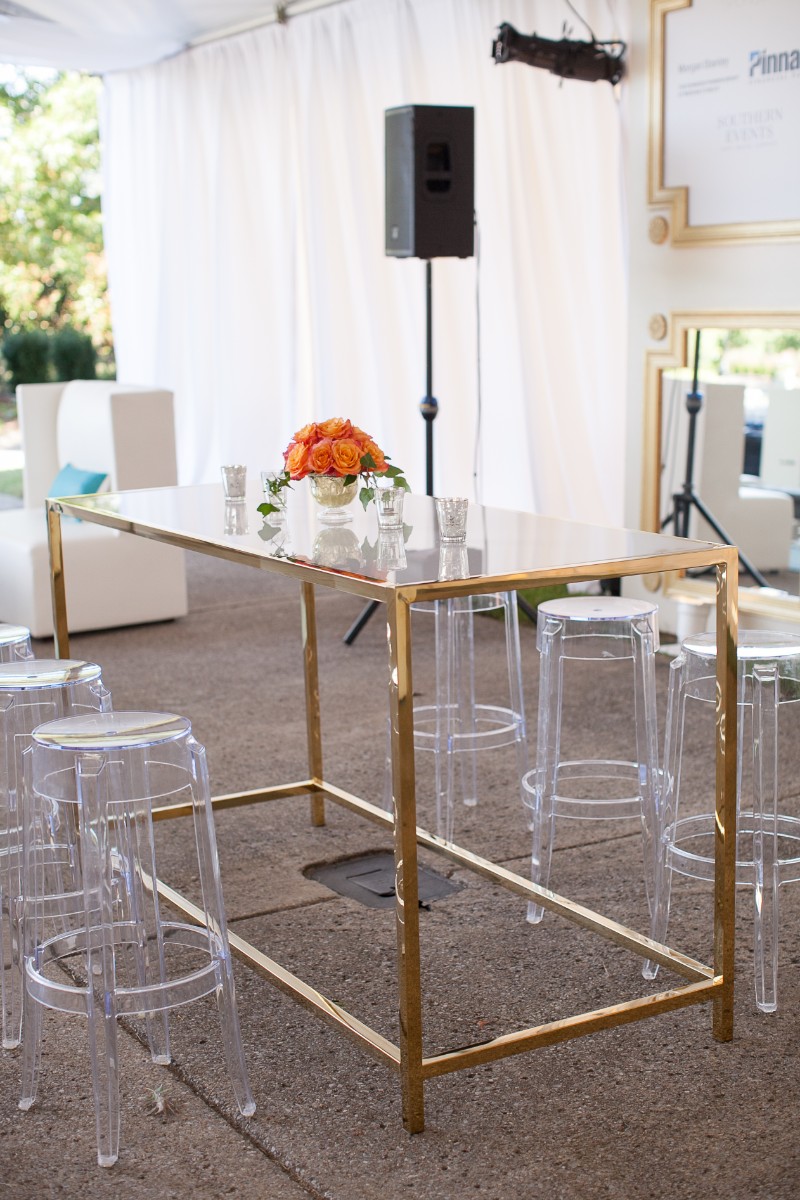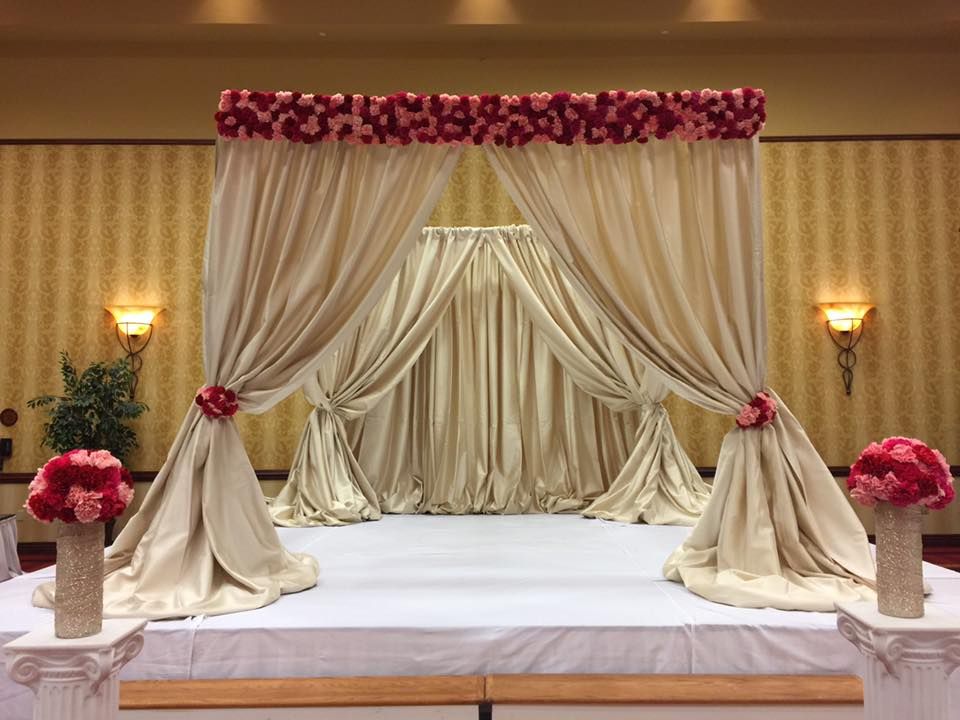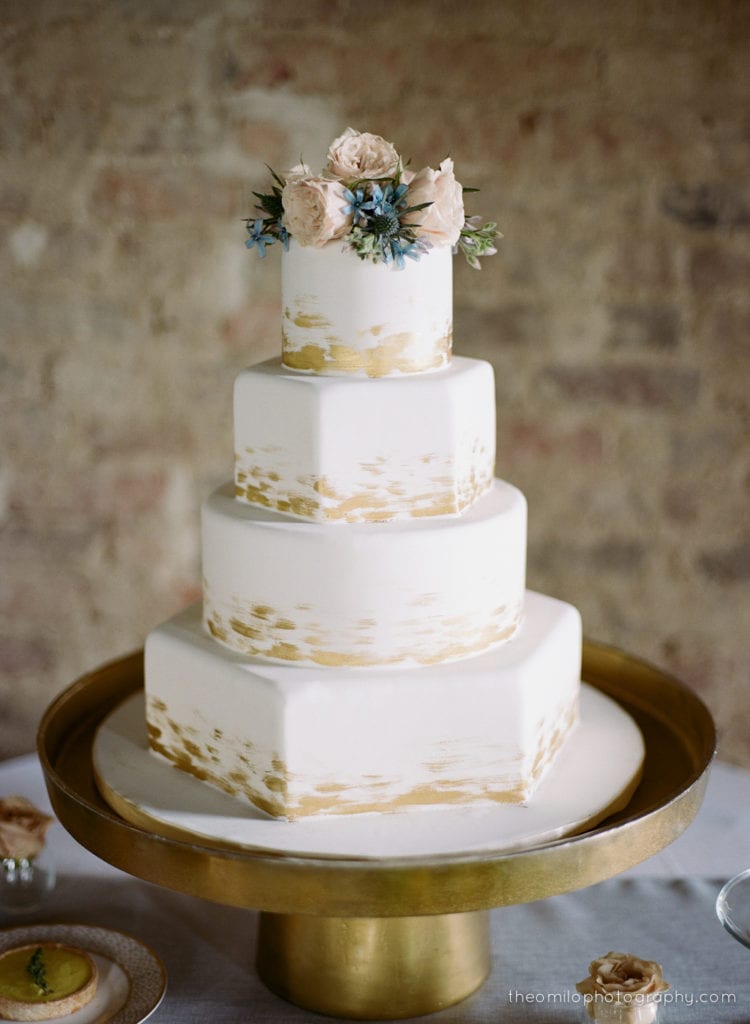 Warm Color Palettes
Pantone set the stage for this warming color trend, choosing Living Coral as their 2019 Pantone Color of the Year and we expect browns, beiges, reds, burgundy and oranges to pop up in summer and fall weddings. Consider accenting with gold variations creating a rich and luxe look for your wedding decor.
Rentals: Farm Tables, Brushed Copper Flatware, Wood Round Charger, Burgundy Dupioni Linen, Oatmeal Linen, Fruitwood Chiavari Chair, Harlin Dining Chair
Vertical Displays
Whether you're planning a doughnut wall or displaying escort cards, think vertical! Your venue's walls will now serve double duty as food, signature drinks, photos and escort cards will provide both function and vertical decor. We love how our Boxwood Walls were used recently at a Sycamore Farms Wedding – full recap coming soon to the blog!
Rentals: Boxwood Walls, Pipe & Drape, Chalkboards
Found Objects
This wedding trend mixes comfort with eclectic styling. Think the one-off items and unique that represent you as a couple – the places you have travels, your ethnic heritage and personal boho style. Nothing mass produced, items include curated collections of antique furniture, accessories, textiles, industrial objects, architectural fragments creating a wedding style as unique as you and your fiance.
Rentals:  Bennett Sofa, Chocolate Pouf, Artisan China, Cowhide Rugs, Vintage Chairs, Tables & Furniture, Casablanca Gold Tabletop Lantern, Rustic Bench, Accent Rugs, Barnwood Coffee Table, Tin Lizzie Bar,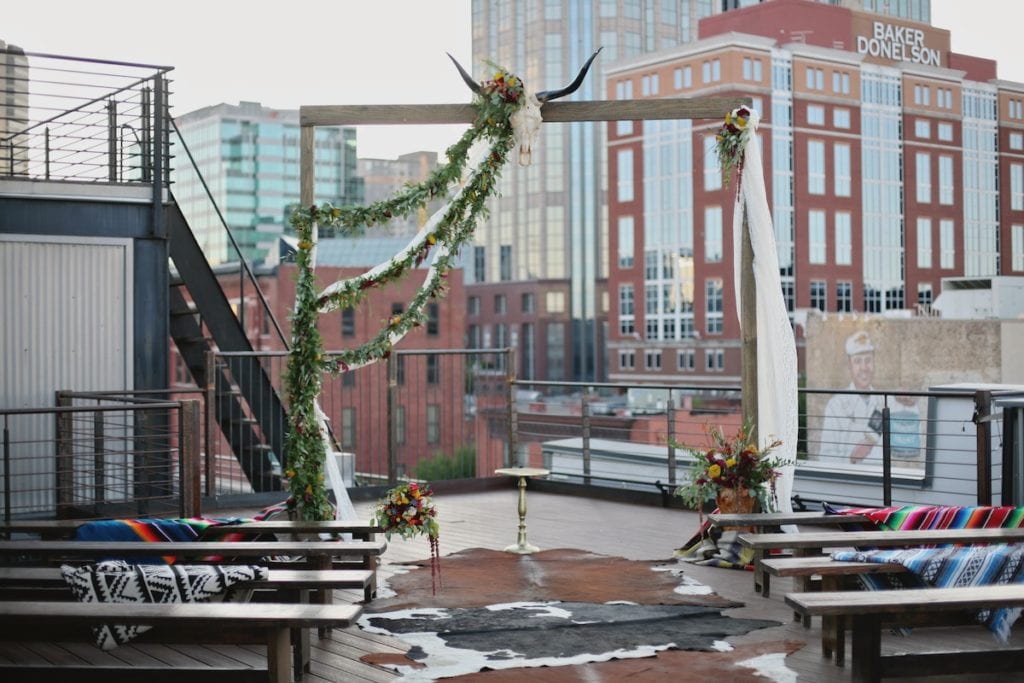 ---
Looking for a full-service team to help style your big day? Reach out to schedule your personal tour of our Franklin showroom, info@southerneventsonline.com.
TAGS | 2019 Wedding Rental Trends, 2019 Wedding Trends, Nashville Event Rentals, Nashville Wedding Rentals, Southern Events Party Rental, Southern Events Party Rental Company, Unique Nashville Wedding Rentals, Unique Wedding Rentals
FEATURED RENTALS | Gold & Ivory Fresco Linen, Rouge Round Lacquer Charger, Brushed Copper Flatware, Conga Gold Side Table, Loren Gold Bistro Table, Windsor Gold Cake Stand, Champagne Draping, Farm Tables, Brushed Copper Flatware, Wood Round Charger, Burgundy Dupioni Linen, Oatmeal Linen, Fruitwood Chiavari Chair, Harlin Dining Chair
---