3

Nov

In Stock: Unique Wedding Cocktail Tables & Barstools for Rent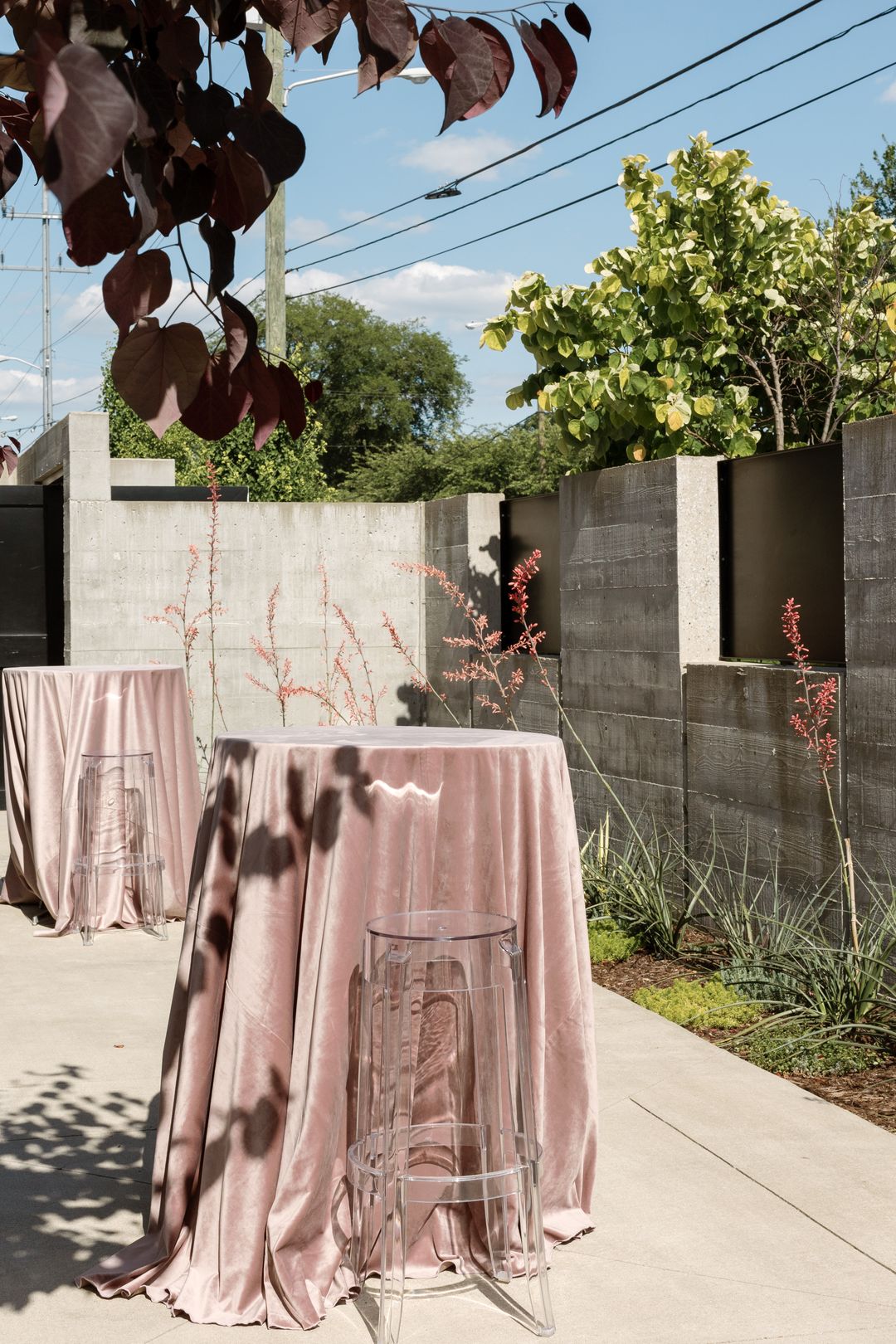 Cocktail hour on your wedding day. It's a fancy happy hour – with all of your closest family and friends. Along with planning your favorite signature drinks for your guests (and yummy hors d'oeuvres), you'll also want to create a comfortable space that's perfect for conversation. Cocktail hour is for moving around as your guests meet new people and connect with each other. With this in mind, barstools and cocktail tables are ideal when creating a setup fit for mingling! Take a look at our unique cocktail tables and bar stools that will complement your reception theme or venue.
Rustic Chic
Do you love farmhouse-inspired style? Our Farm Bistro Tables are a classic choice, available in two beautiful colors: White Wash and Fruitwood. If you prefer a more subdued rustic setup, you can top any of our classic bistro tables with luxe linens that will suit a woodsy setting. Forest Poly or Kennedy Natural will complement any rustic venue, as well as most urban backdrops. For a complete look, be sure to grab our Crossback Barstools.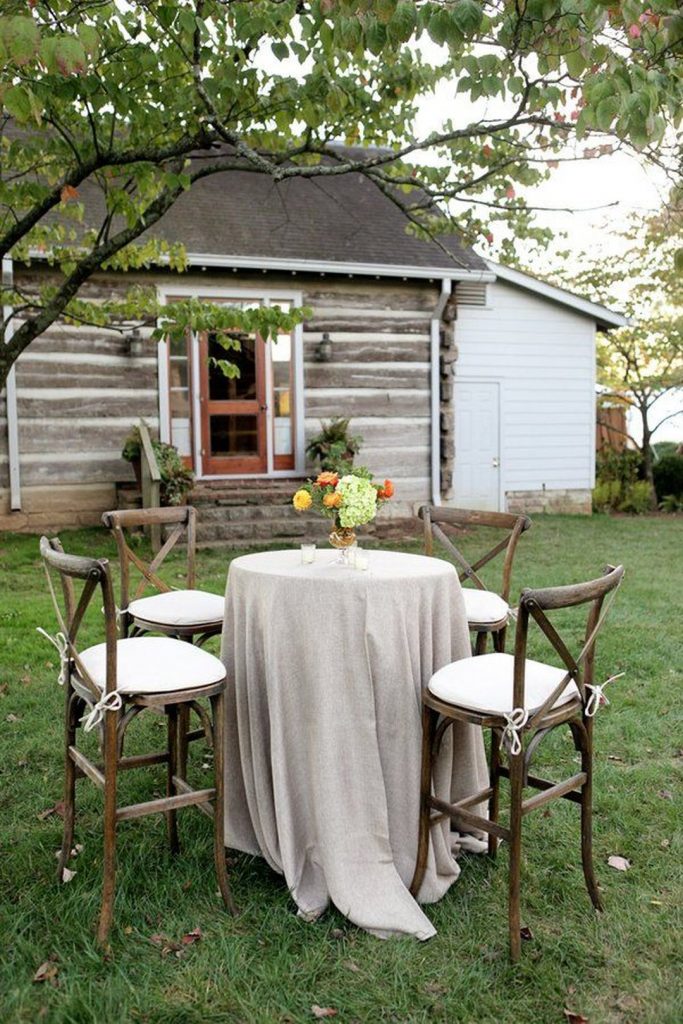 Modern Romantic
Bright colors and chic rentals are a must-have for a modern romantic celebration! Vibrant linen-dressed cocktail tables are an easy way to feature some color at the reception. And if you're into the clean lines of mid-century modern, our Mid-Century Barstools in Black or White will fit perfectly into your theme. Prefer a more luxe look? Our Charleston Bistro Table is an easy choice. It looks stunning with a set of popular Gold Chiavari Barstools.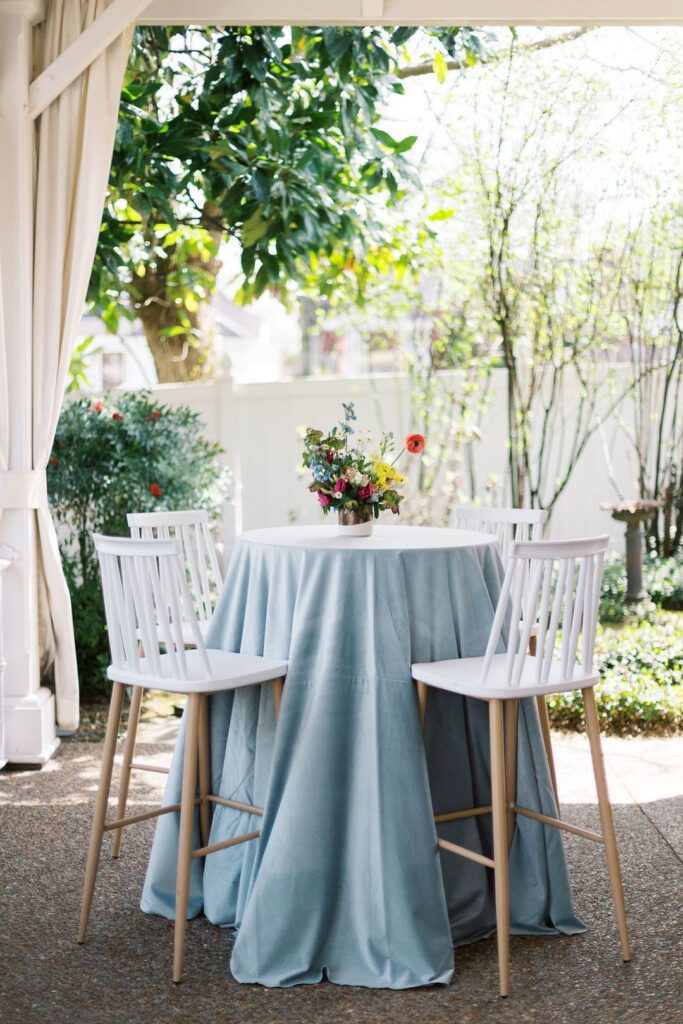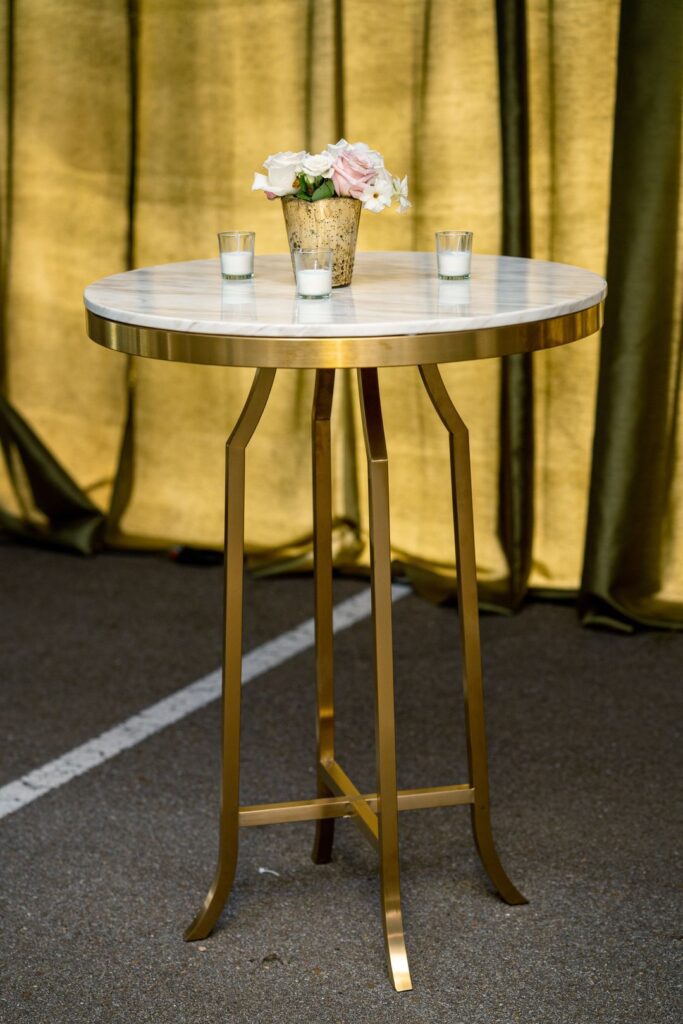 Modern Minimal
Going for a modern or minimal theme? Our Loren Gold Bistro Table and Acrylic Ghost Barstools are a darling pair, especially when set atop one of our vintage rugs. For a softer look, you might place a runner across the table, for that modern romantic look. Try a neutral color like Havana Ecru or Bloom Chiffon! To create an equally impressive but more traditional setup, opt for a simple bistro table outfitted in bold linens. Any color will look stunning with a pair of sleek Acrylic Casper Square Back Barstools – or any of our acrylic chairs for that matter.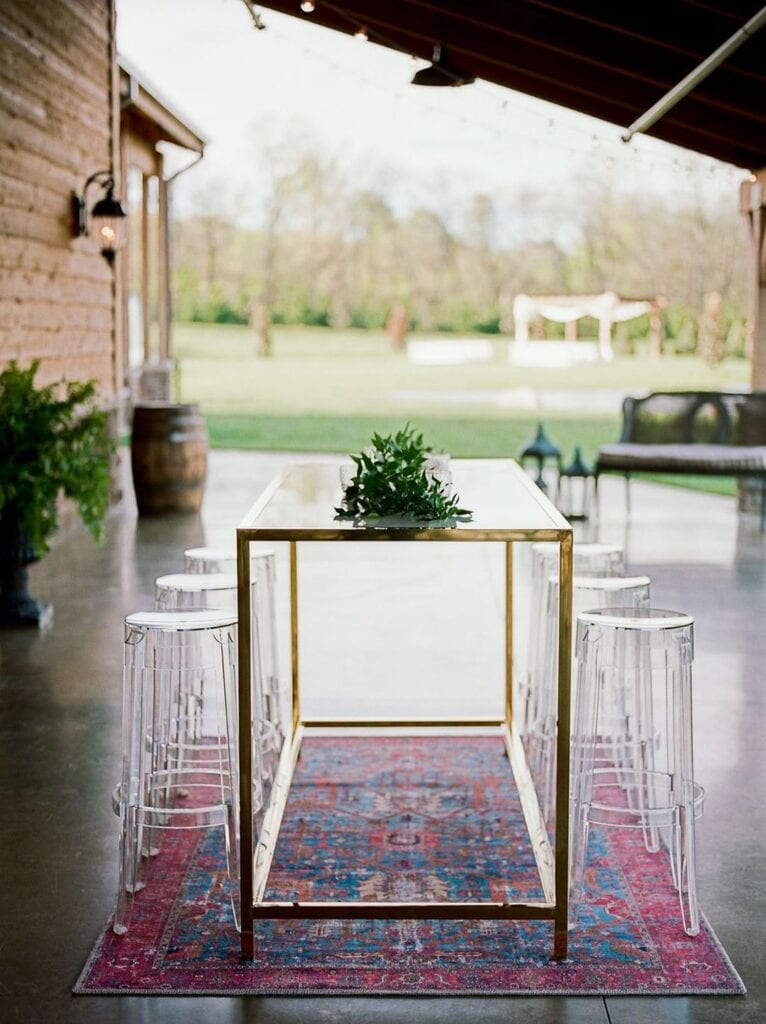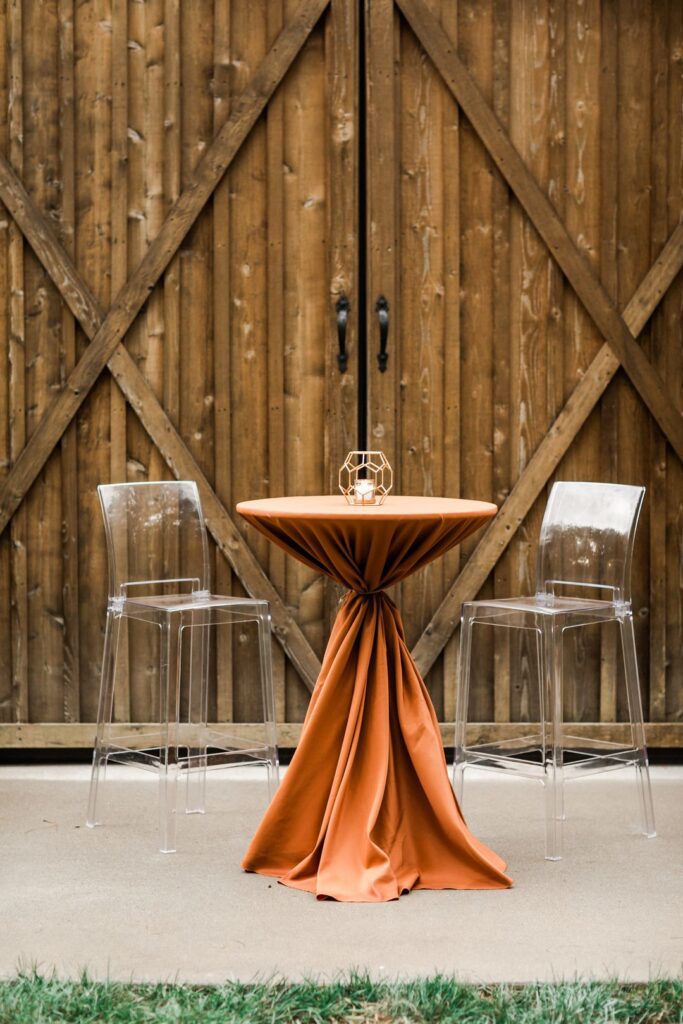 Cocktail Hour Essentials
A successful cocktail party requires some specific furnishings! Starting with a beautiful bar, where mixologists can whip up impressive beverages. To assist them in a stunning presentation, be sure to stock the bar with a selection of gorgeous, on-theme glassware. And maybe a display shelf or two! For a fun interactive element, you can't go wrong with our Boxwood Walls, complete with a champagne shelf and lots of bubbly.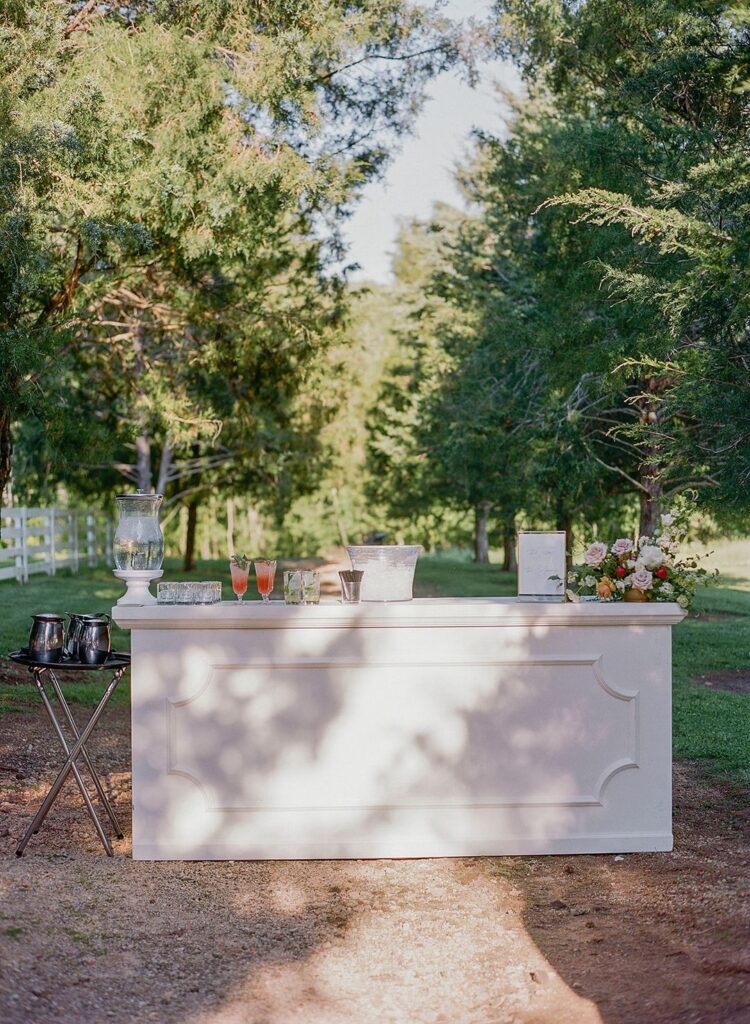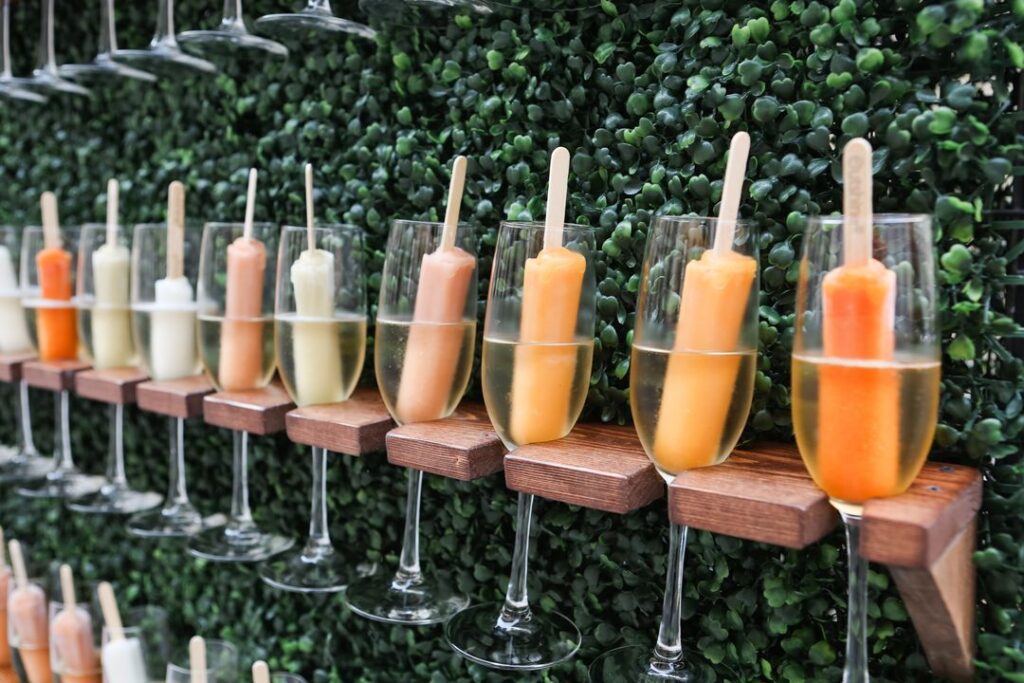 If you're ready to get started planning your upcoming cocktail hour, we'd love to help! Send us a message at info@southerneventsonline.com, or view our full range of wedding cocktail tables and barstools.
FEATURED RENTALS | Loren Gold Bistro Table, Acrylic Ghost Barstools, Havana Ecru, Bloom Chiffon, Acrylic Casper Square Back Barstools, Mid Century Barstool, Charleston Bistro Table, Gold Chiavari Barstools, Farm Wood Table
SEE MORE LIKE THIS