25

Aug

Events and Style Shoots, Southern Events Products, Trends and Inspiration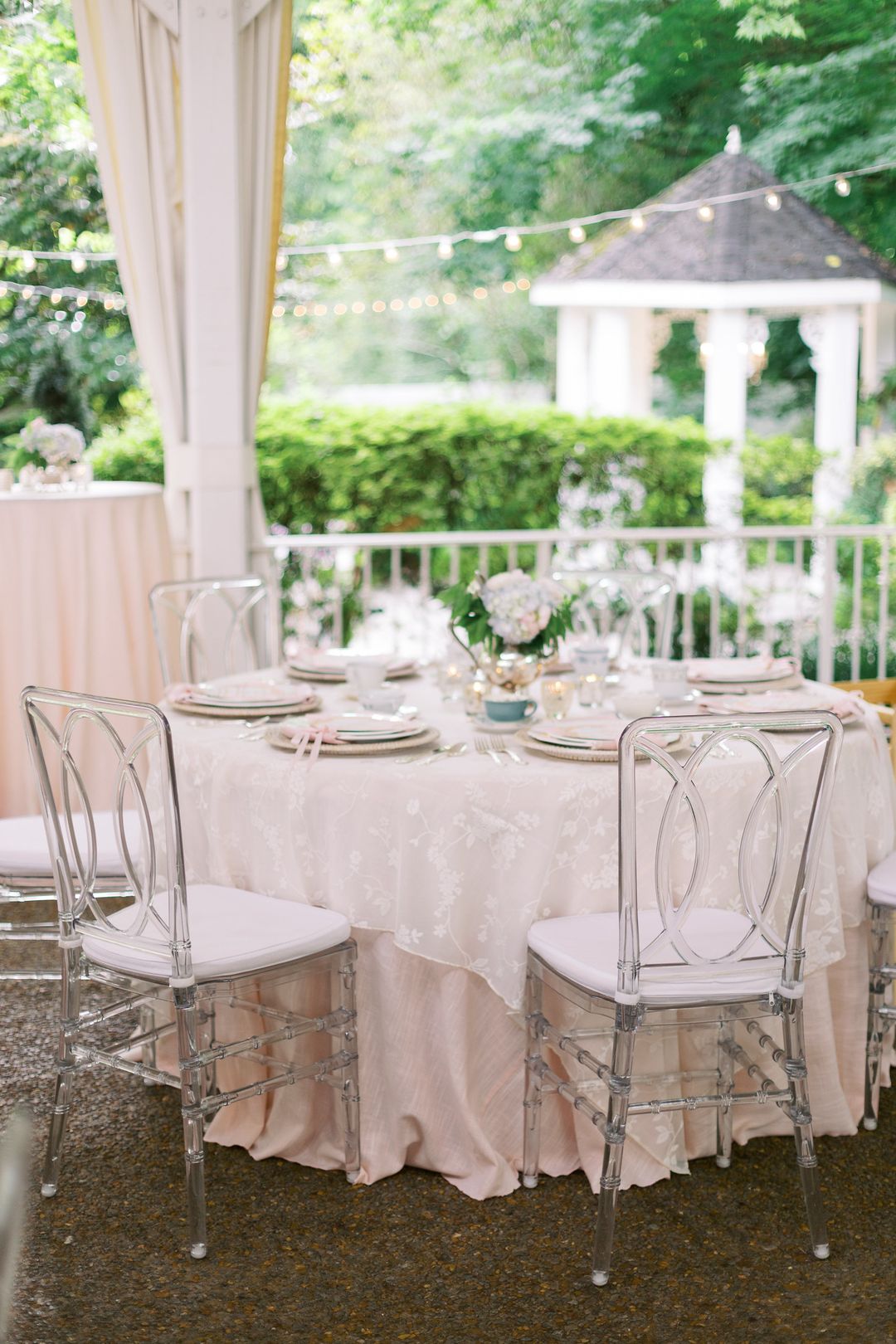 Who doesn't love a fabulous brunch?! Maybe that is why more than ever, people are centering their celebrations around this popular mealtime. From baby showers to bridal showers and weddings, brunch is a memorable way to mark a milestone. As well as a good excuse to break out the bubbles! The garden at CJ's Off the Square has all the inspiration needed for hosting a sweet southern brunch party, featuring vintage-inspired rentals and classic serving ware pieces.
Set the Scene
If you've ever enjoyed brunch then you know that the goal is to create a setting that is sophisticated yet casual. A space where people feel special, enjoying a decadent meal. With this in mind, your tablescape is key. We love starting off with tables dressed in bright linens, such as Blush Shimmer. For a fun extra layer, top it off with a textured runner or overlay. For seating, our Acrylic Carrigan Side Chair will bring a modern contemporary touch – as will any of our acrylic seating options.
For a look that is equally airy but a touch more rustic, you could also feature our Grayson Farm Table or White Wash Round Farm Table. Either of these pieces will look stunning standalone or can be decorated with a soft runner, like Bloom Chiffon or Champagne Lace. As with any brunch, fresh floral centerpieces are required! Place bright or neutral-colored blooms in our elegant Square Glass Vases. If you're hosting a large party, it doesn't hurt to throw a few bistro tables into the mix!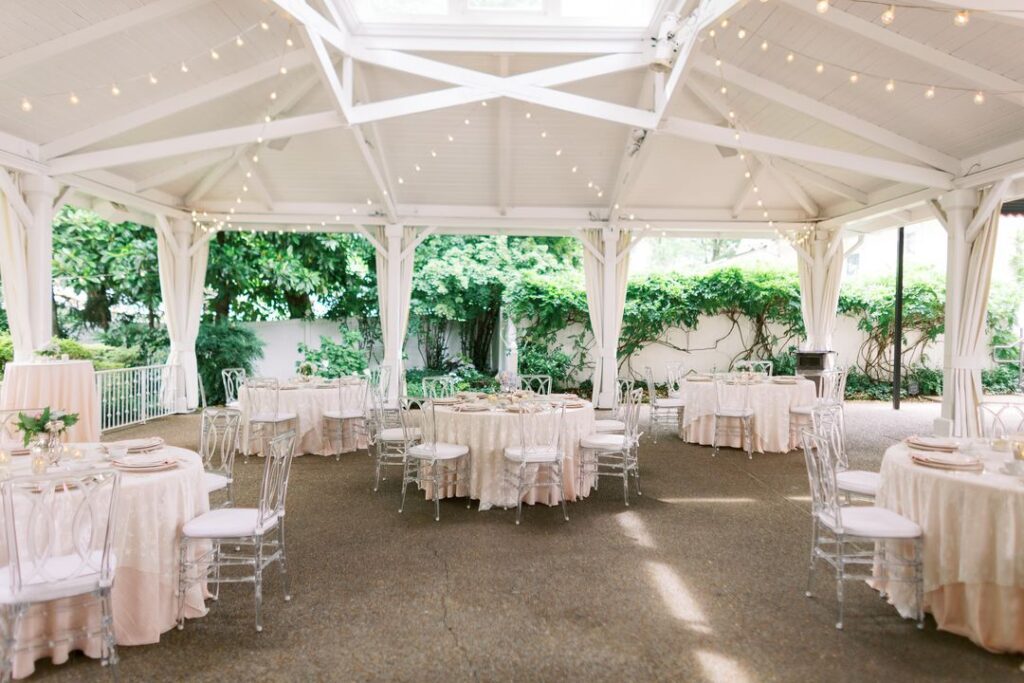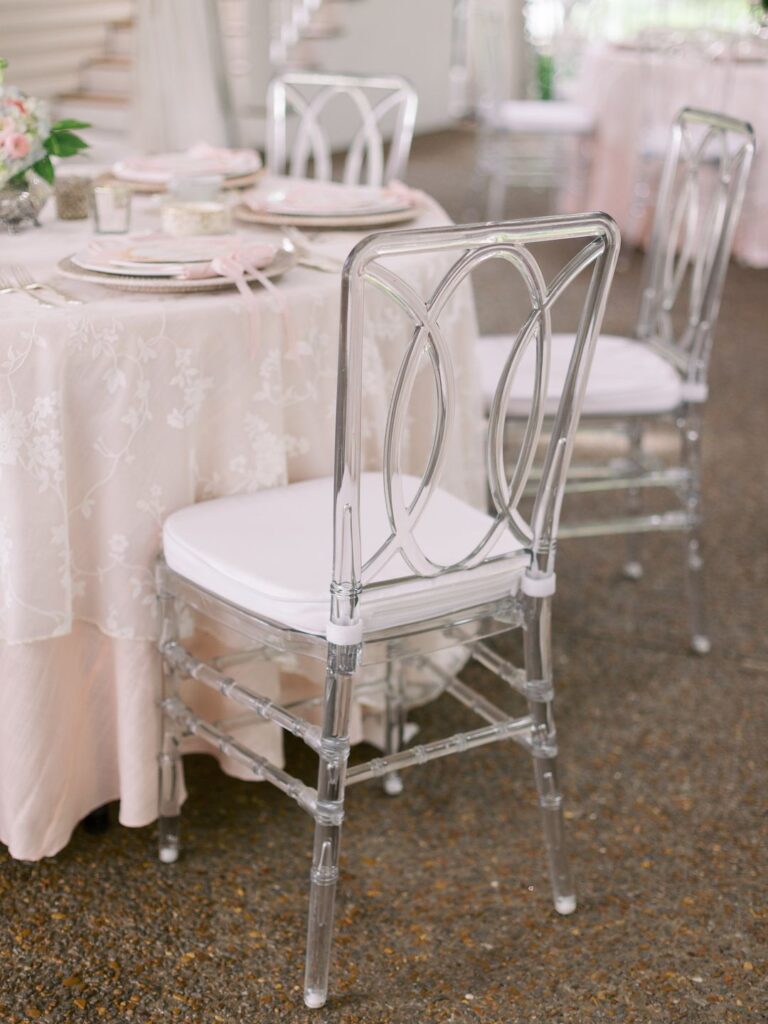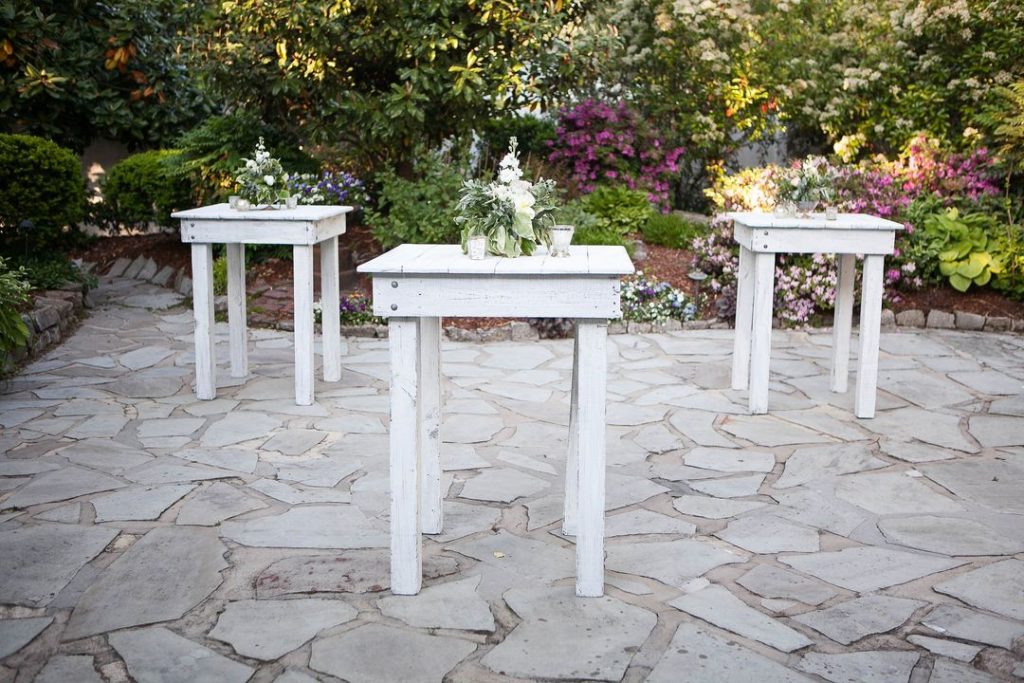 Then Set the Table!
Of course, the real star of a southern brunch party is the food! For which you'll need to create an impressive tablescape. One of our favorite ways to create a memorable table is by featuring serving ware with textures. Start with our White Wash Rattan Charger, stacked with our dainty Darcy China and Darcy Bone China Charger. These pieces are the perfect combination of old and new! Pair it with our Abby Flatware, or Austin Flateware if you prefer gold.
To complete the place setting you'll also need glassware, for a variety of popular brunch-themed beverages. A water goblet is always essential, and our Hob Nob Goblet is a stunner. It also pairs beautifully with our Heirloom Tea Cups and Saucers, for a quaint vintage touch for serving hot coffee or tea. For an especially well-thought-out table, you might also feature a Silver Coffee/Tea Server. Along with a matching Carson Silver Cream and Sugar Set, it will be a fun classically southern detail.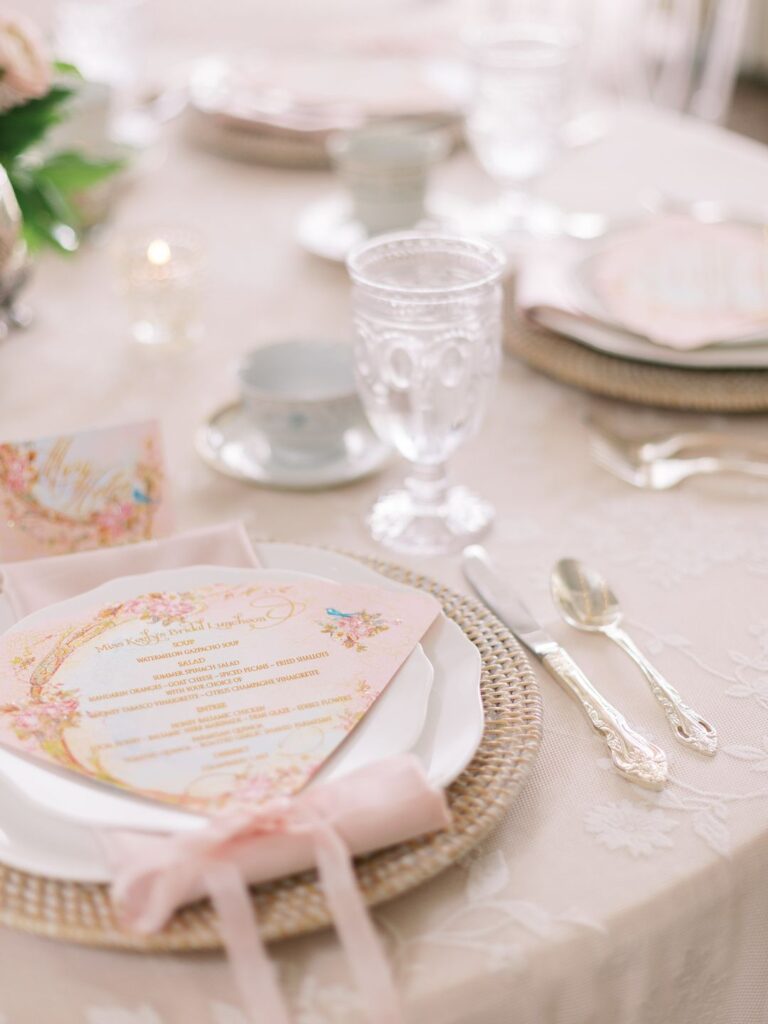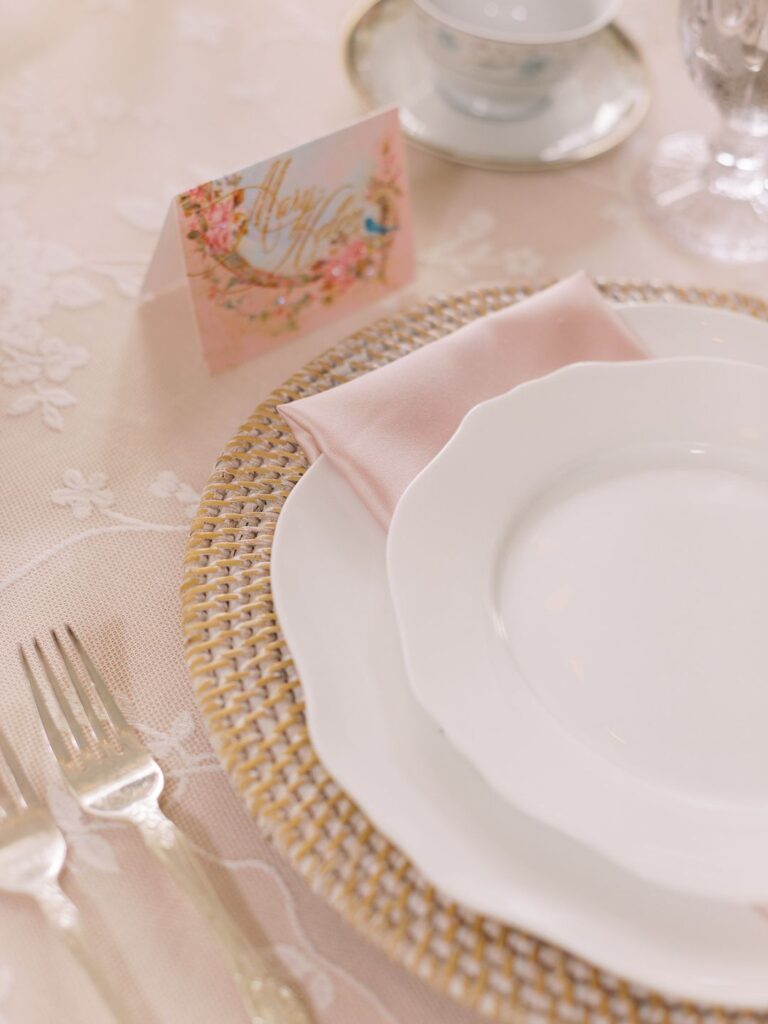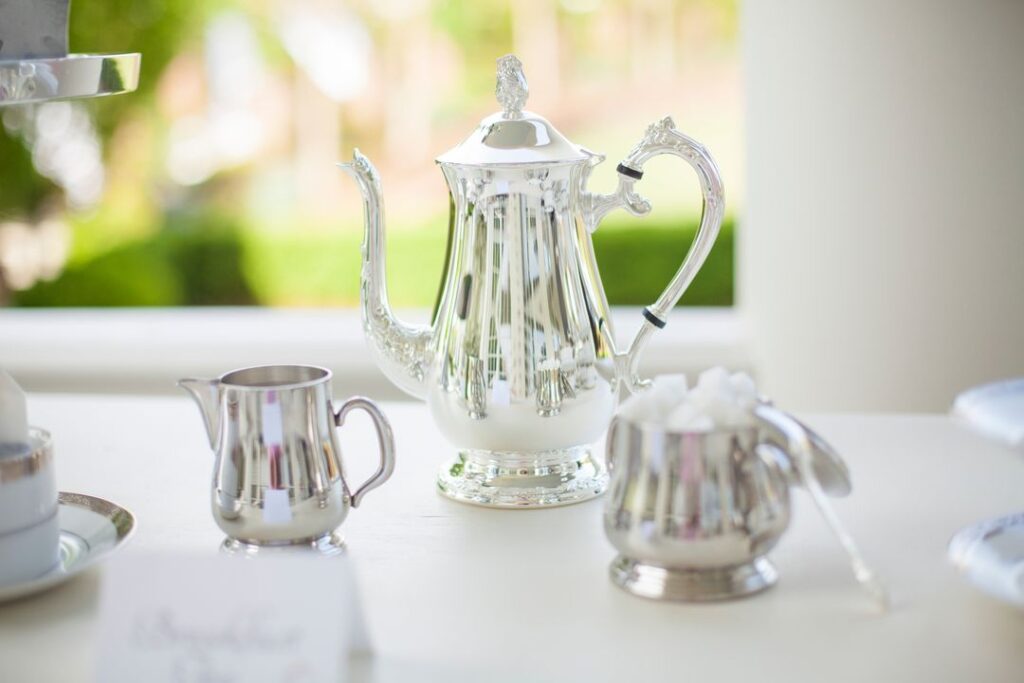 Create a Chic Lounge
It's not brunch without mimosas! Creating cozy spaces to sit and sip will ensure that they feel comfortable enough to linger and mingle. A lounge will also be a comfortable and photo-ready spot for opening gifts. Our Everly Sofa and Chair are a beautiful pair – not to mention incredibly comfy! If you need extra seating, add in our Winstead Grey Tufted Bench. You'll also want a place where people can set their drinks, like our Cheval Gold Mirror Side Table. Or our larger Blanche Coffee Table.
Speaking of drinks, another round of glassware is a must. Serve up mimosas in our Pure Champagne Flutes – placing glasses on our Boxwood Wall in Champagne Shelves, or displayed on the White Barback Shelf for stunning presentation. Provide a variety of fresh fruit juices in carafes, along with seasonal fruits and cheese on silver serving platters. Sparkling water is also a great option to have on hand for a mom-to-be, or kiddos in tow!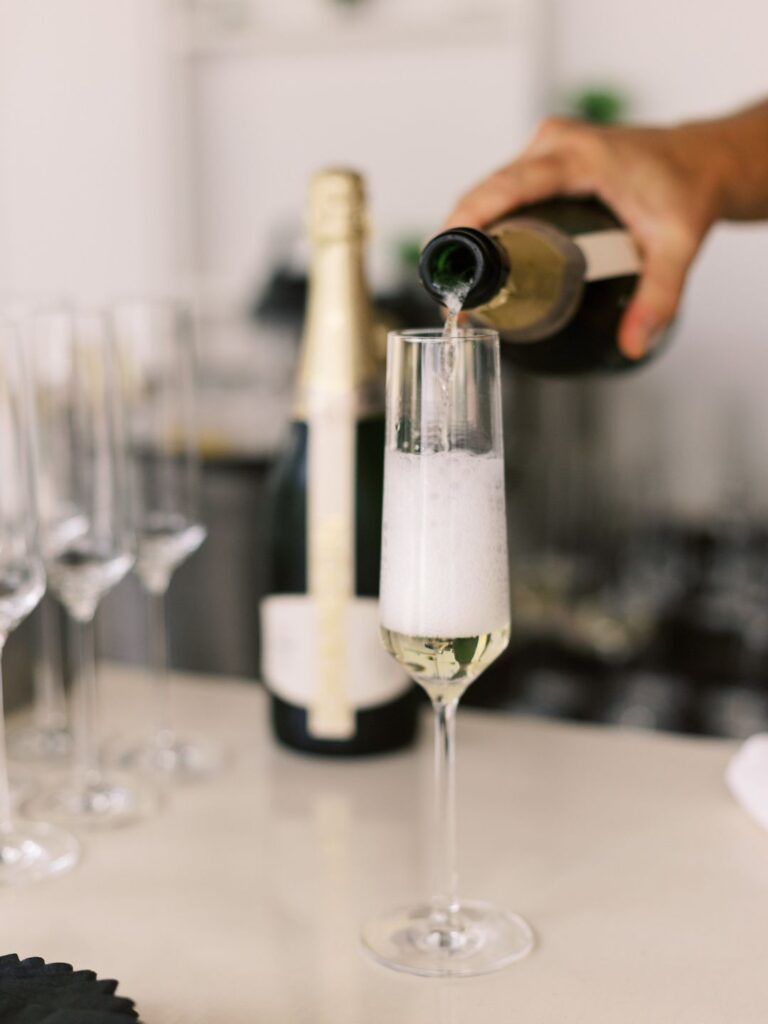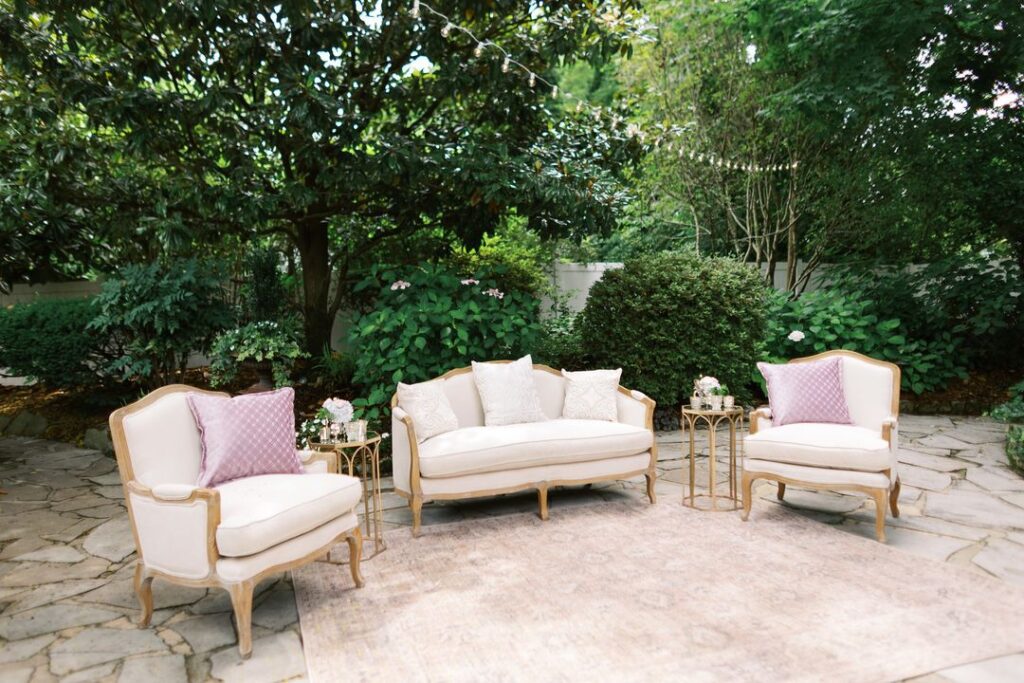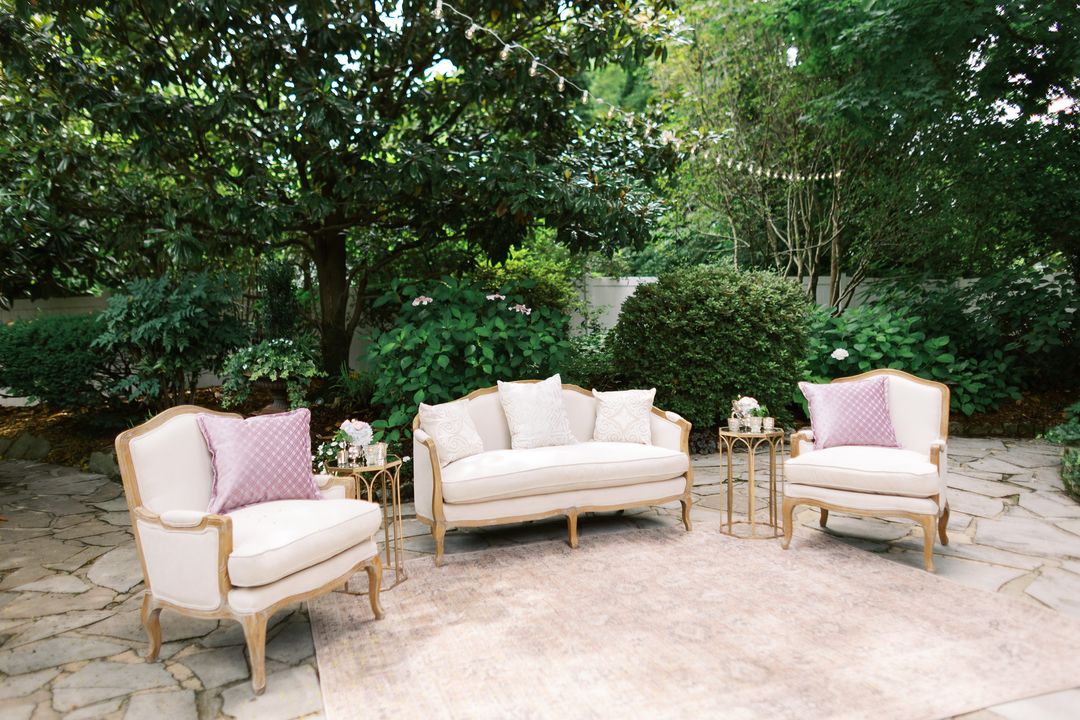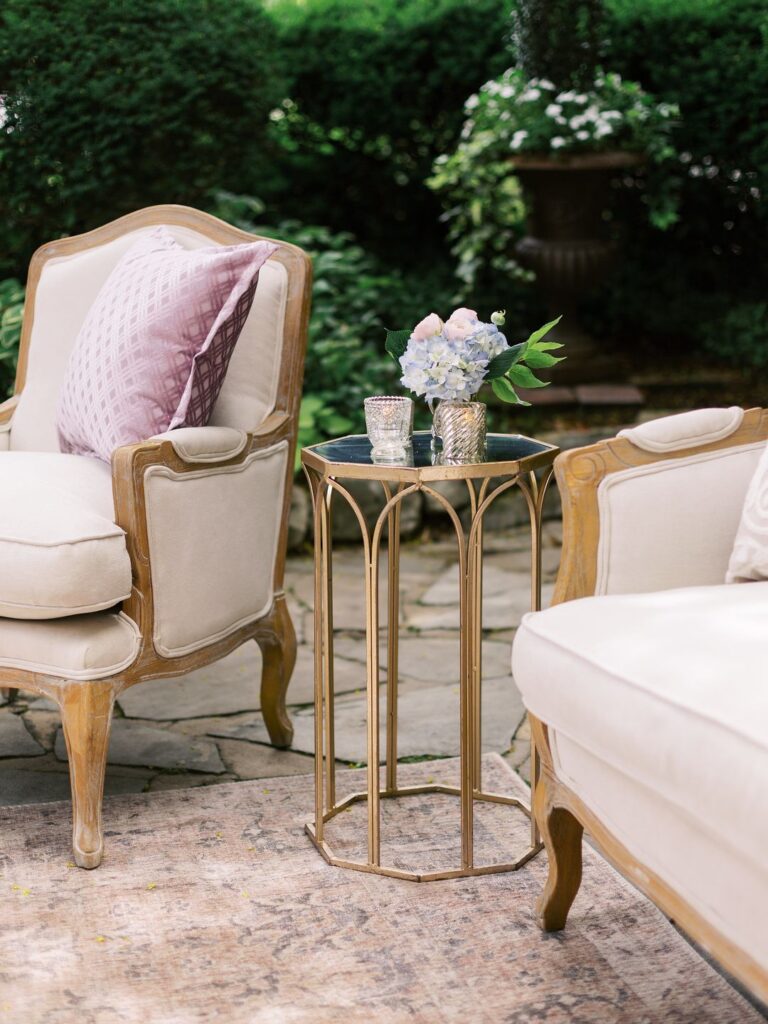 A special thank you to Jenna Henderson for sharing these event images with us!
Love the idea of hosting a southern brunch party? Send our team a message at info@southerneventsonline.com for help planning a one-of-a-kind get-together. Or for more event design inspiration, take a look at our blog to get some ideas for a black tie dinner party, perfect for hosting a formal event.
TAGS | Acrylic Chairs, CJ's Off the Square, Lounge Furniture, Nashville party rentals, Southern Events Party Rental, Tablescape, Tableware, southern brunch party
FEATURED RENTALS | Pure Champagne Flute, Everly Sofa, Everly Chair, Blush Rug, carafes, silver serving platter, carson sugar and tea set, Cheval Gold Mirror Side Table, White Wash Round Farm Table, Bloom Chiffon Runner, Champagne Lace Runner,White Barback Shelf, White Wash Rattan Charger, Darcy China, Darcy Charger, Abby Flatware, Acrylic Carrigan Side Chair,
---
11

Aug

Events and Style Shoots, On Trend, Southern Events Products, Trends and Inspiration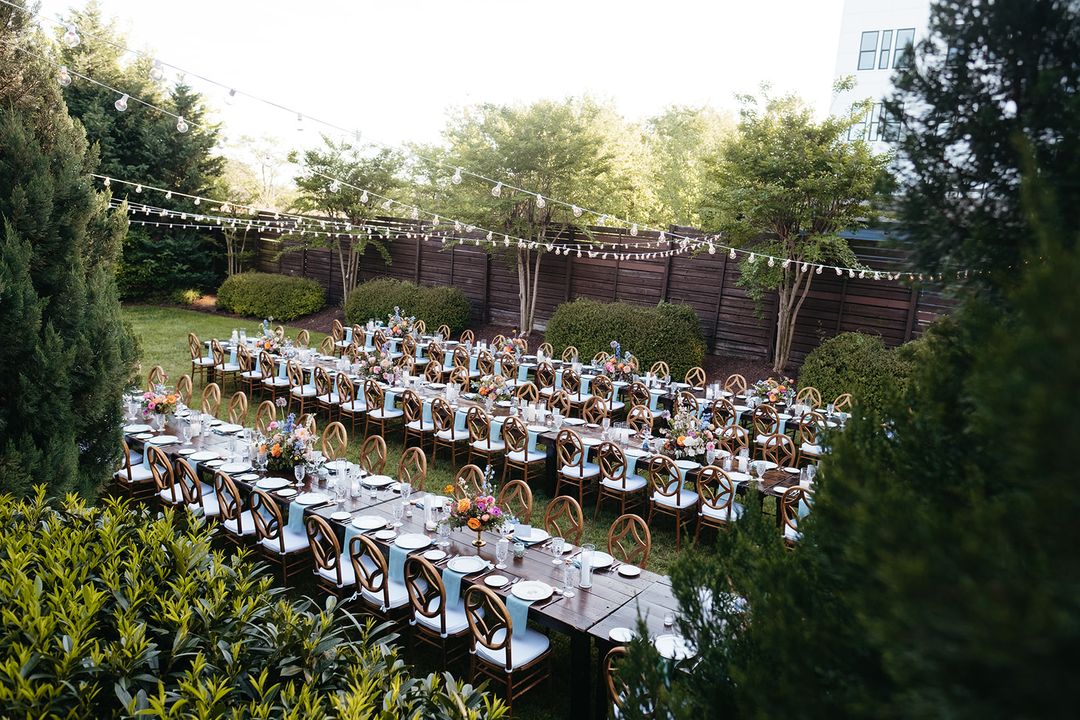 Team Southern recently had the opportunity to collaborate with local vendors on a whimsical styled shoot at The Cordelle. An event venue & garden situated in Downtown Nashville, it was a stunning backdrop for the colorful outdoor wedding. With a mix of historic and modern spaces, featuring grandeur and charm, there was no shortage of room to create a functional and on-trend wedding layout. Check out the details from this dreamy garden-inspired wedding, featuring our stylish event rentals.
Seating for a Whimsical Indoor Ceremony
The ceremony took place in The Victorian, featuring brick walls, hardwood floors, and beautiful floor-to-ceiling windows. Contrasting the urban event space, we opted for our elegant Harlin Dining Chairs. Featuring light wood and detailed backs, they were the perfect choice for the dreamy indoor ceremony. An equally gorgeous alternative would have been our Adeline Dining Chairs! While we decided to keep the aisle bare, featuring a mix of our vintage rugs would have also been a beautiful choice, lending a cozy vibe.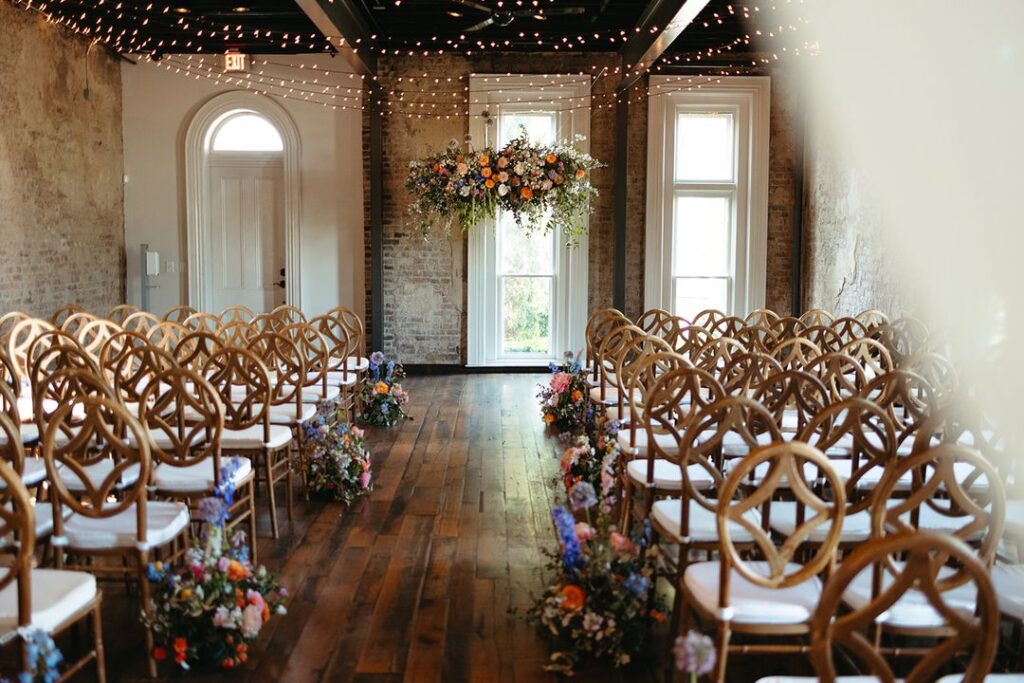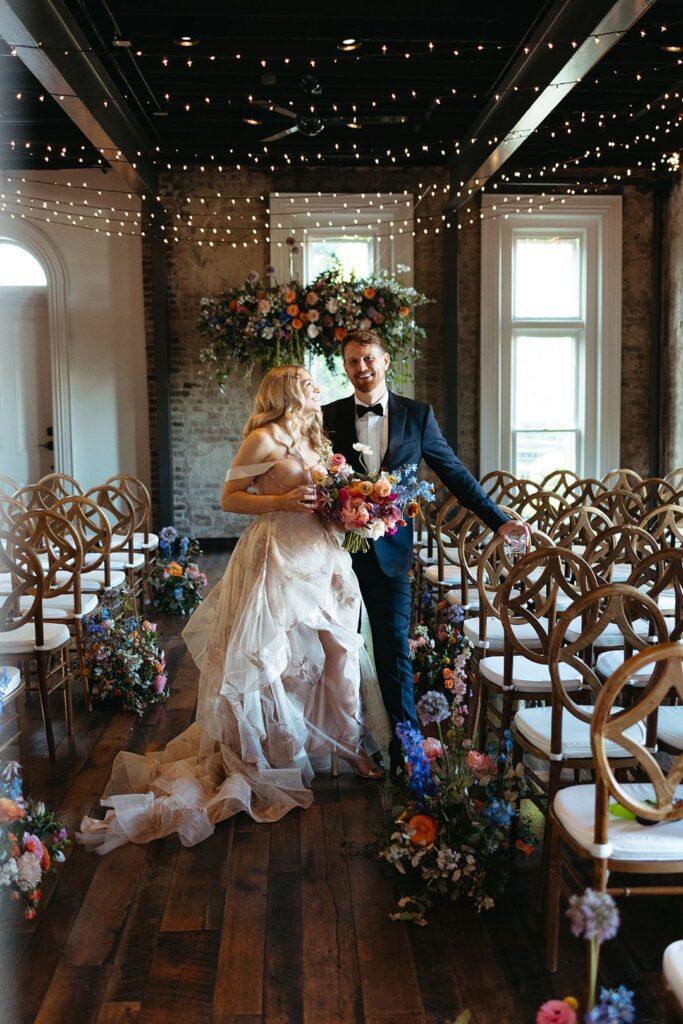 A Dreamy Outdoor Reception Set Up
Meanwhile, the 5,000-square-foot Garden Lawn created an ethereal garden reception. The manicured lawn and bistro lights overhead made for a charming outdoor setup – especially come nightfall. Our Fruitwood Farm Tables and Harlin Dining Chairs were the base for the guest tables. This banquet style is perfect if you want a more intimate feel! Set with Heirloom China, Hob Nob Glassware, and Sophia Flatware, the look was elegant and vintage-inspired. Fun fresh florals and Turqouise Poly Napkins provided a punch of color, fitting for the season! Our Davis Glass Cylinders filled in the table centerpieces.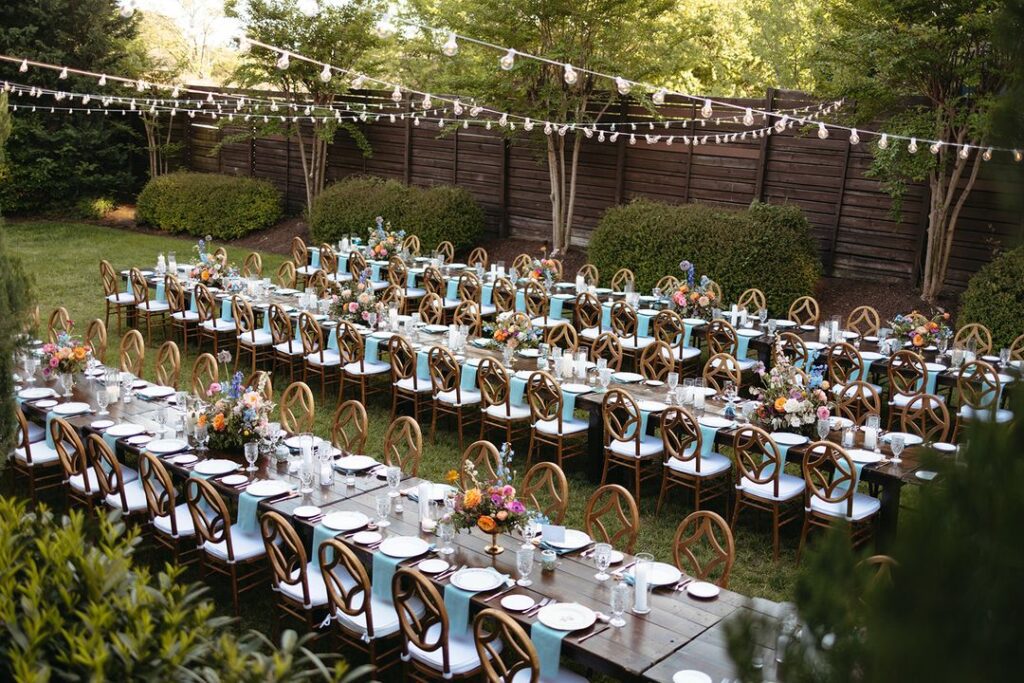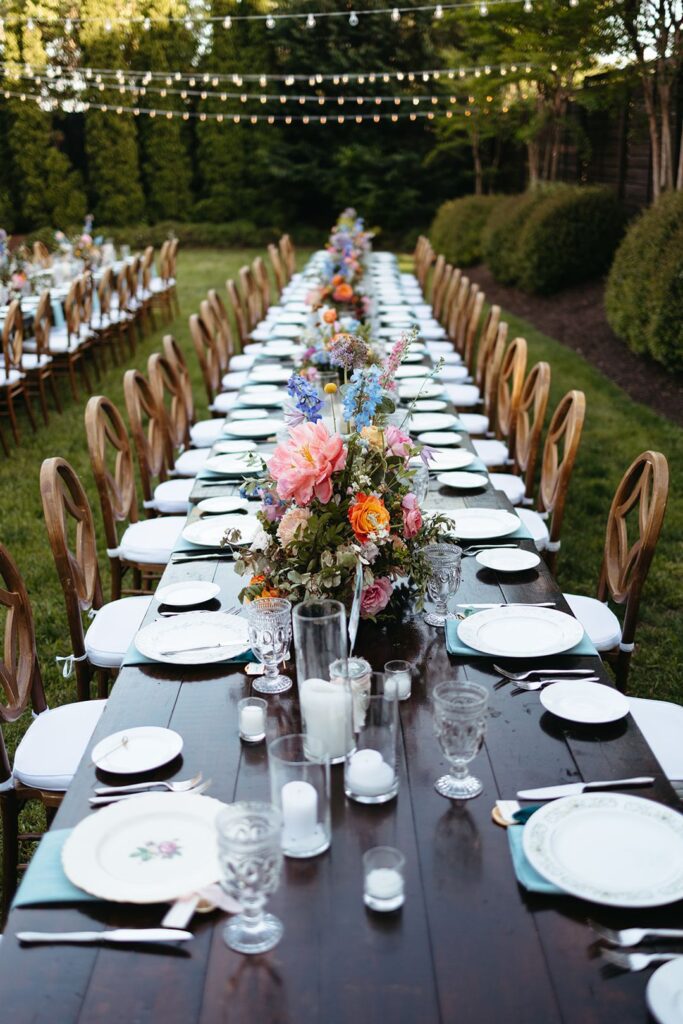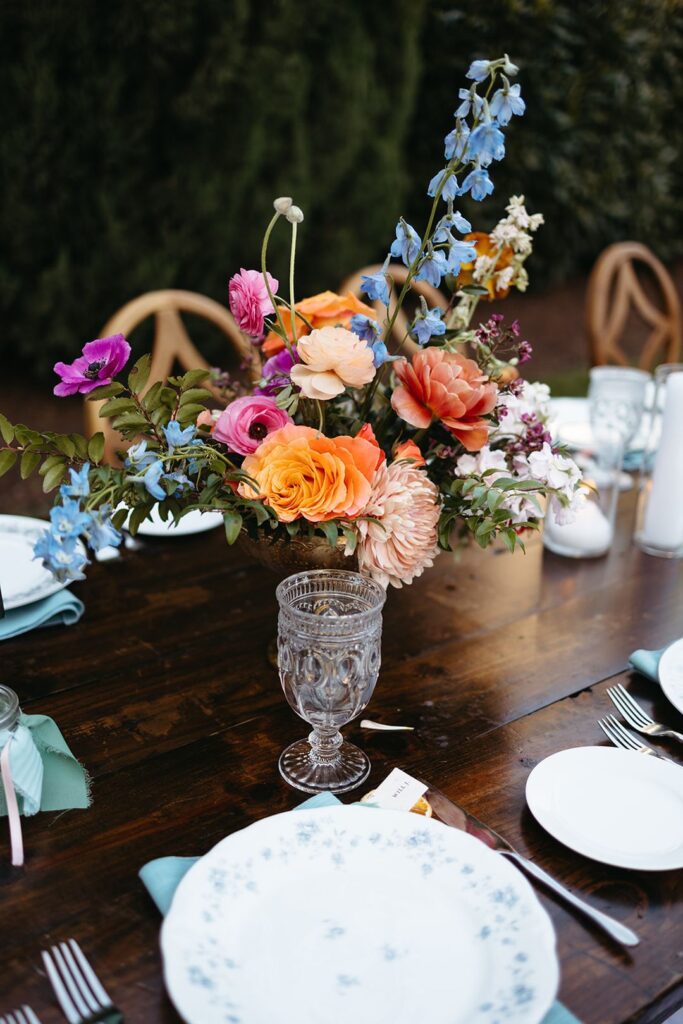 Blue-Hued Wedding Lounge
Eventually, The Victorian was flipped into a cozy cocktail area. Contrasting the warm-toned space, we chose our always popular Saylor Navy Velvet Sofa and Chair. It paired beautifully with a bright Aqua Rug and modern Rhodes Coffee Table. To optimize the space were a handful of cocktail tables – dressed up with deep black linen. Combining with the whimsical florals, it was a perfect cocktail hour set up for the colorful garden wedding.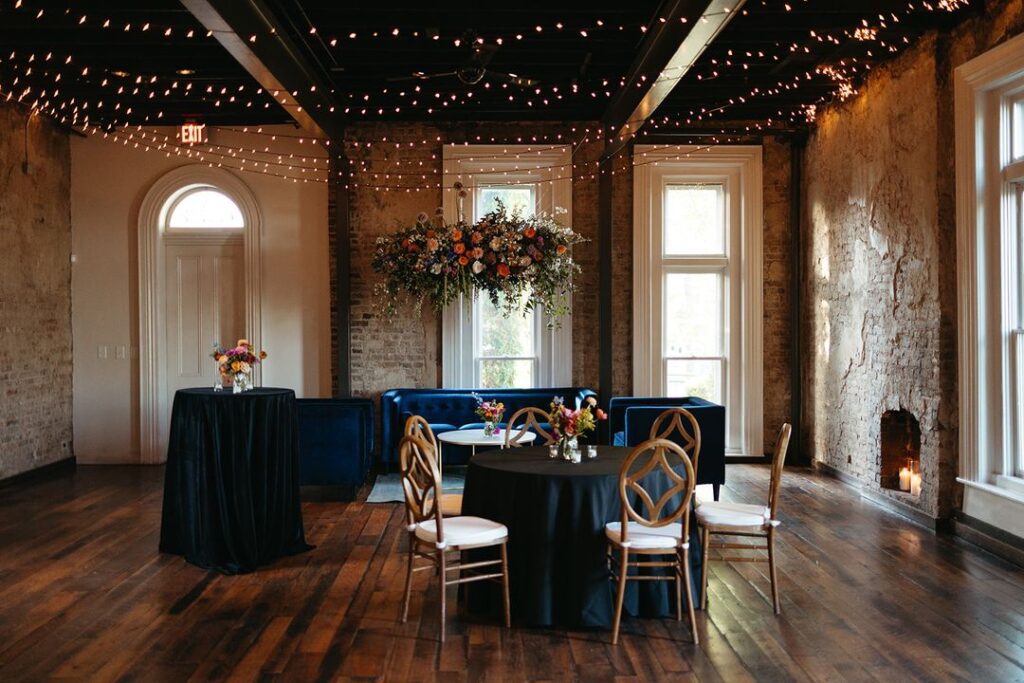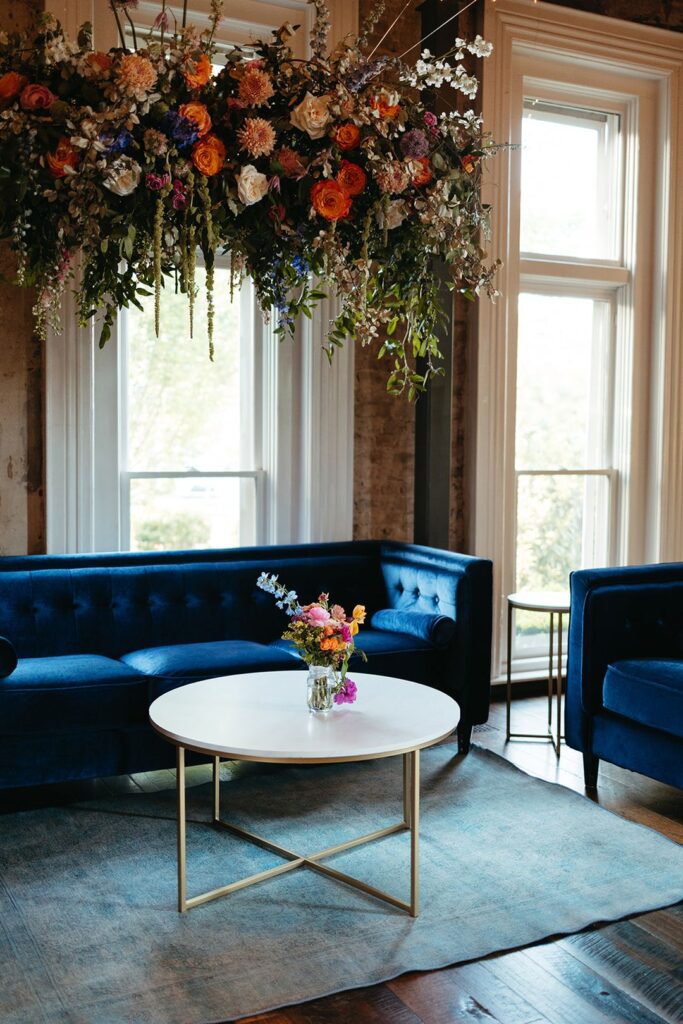 On-Theme Wedding Cocktails
To match the colorful event design, equally bold wedding cocktails were required! J Jackson Mobile Mixologist served up a variety of delicious colorful cocktails in our Davis and Coupe Glasses. We chose these pieces for their clean shape, contrasting the vintage-inspired Hob Nob Glassware used at each table. We also loved the fun colors of the beverages as well as edible florals!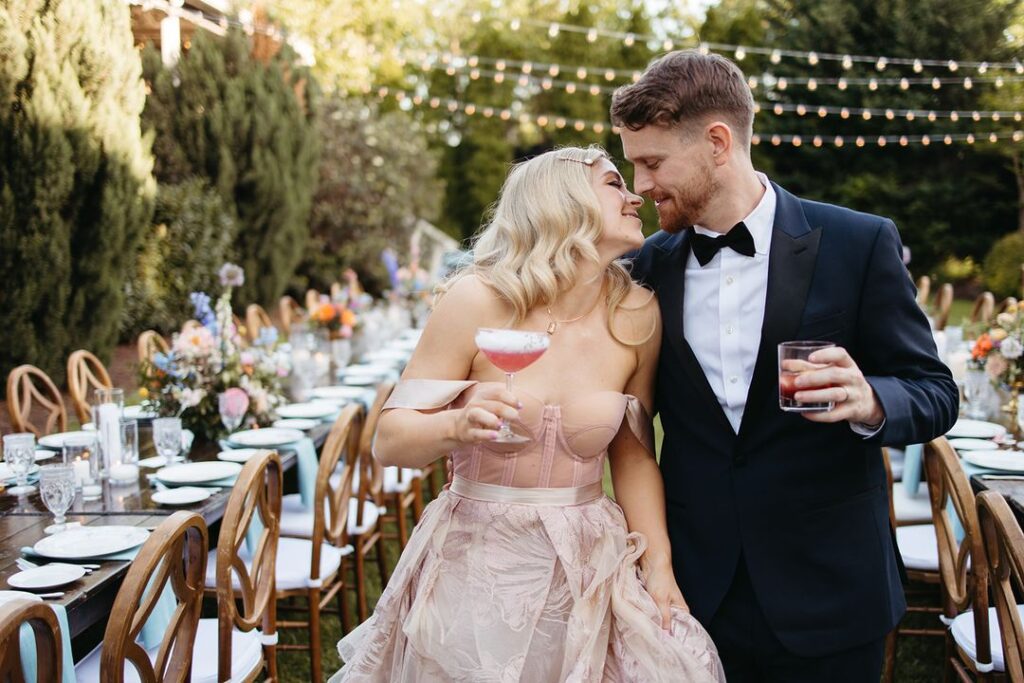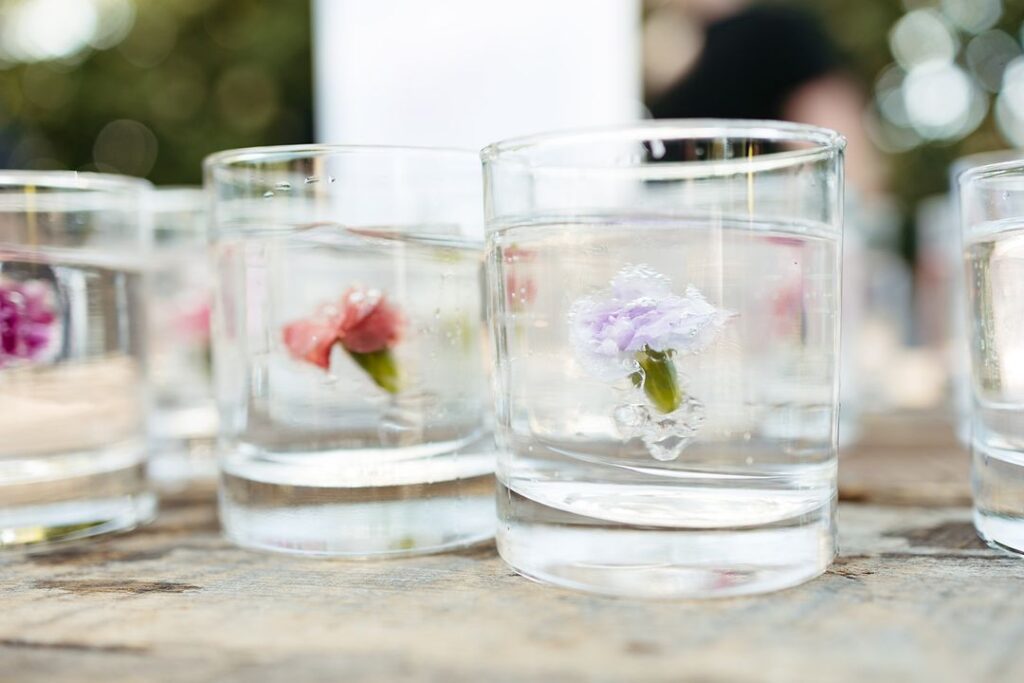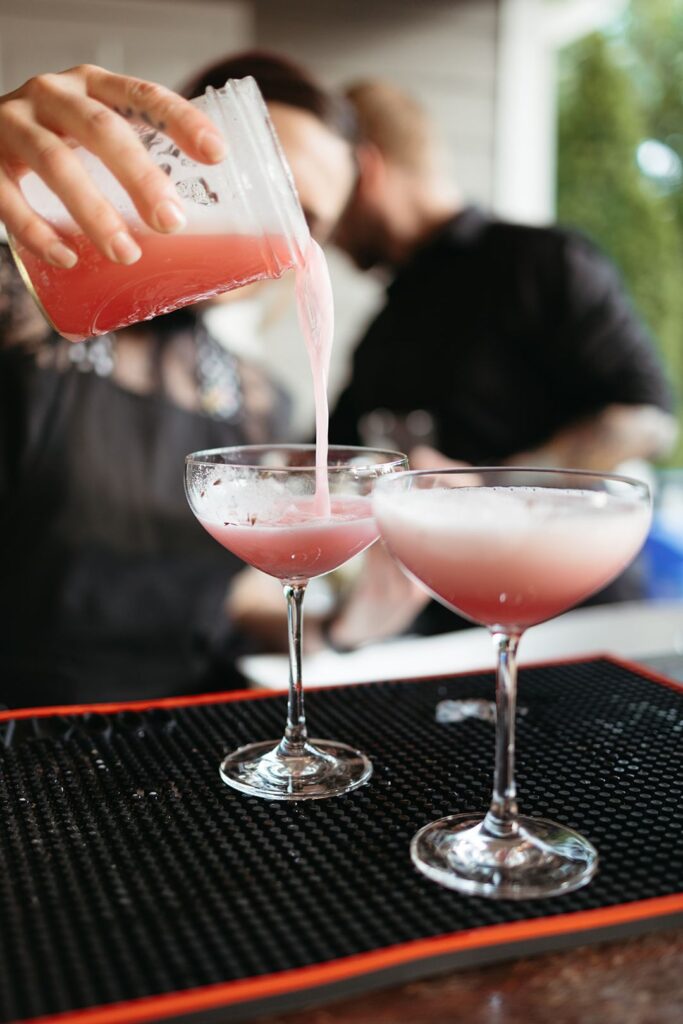 Vendors
Planning: Posh Occasions
Venue: The Cordelle
Florals: LL Floral
Photography: KT Sura Photography
Live Painter: Heather Wolfe Art
Bar: J Jackson Mobile Mixologist
Catering: South Fork Catering Co.
DJ & Sparkle Fountains: Request Premier
Lighting: Bright Event Productions
HMUA: Local Honey
Groom Attire: The Black TuxTransportation: Signature Nashville
Looking to recreate the style of this colorful garden wedding for your upcoming nuptials or an outdoor celebration? Send our team a message at info@southerneventsonline.com for help! For more colorful event design inspiration, take a look at our blog covering Colorful Summer Party Ideas.
TAGS | Colorful and Fun Outdoor Wedding, Event Seating, Glassware, Nashville Wedding Reception, bar event rentals, colorful decor, colorful event lounge, colorful event rentals, heirloom china, lounge areas, outdoor event rentals, outdoor southern weddings, wedding lounge, wedding reception ideas
FEATURED RENTALS | Harlin Dining Chairs, Fruitwood Farm Tables, Hob Nob Glassware, Abby Flatware, Heirloom China, Davis Glass Cylinders, Saylor Navy Velvet Sofa, Rhodes Coffee Table, Aqua Rug, Davis Glassware, Coupe Glass,
---
4

Aug

Events and Style Shoots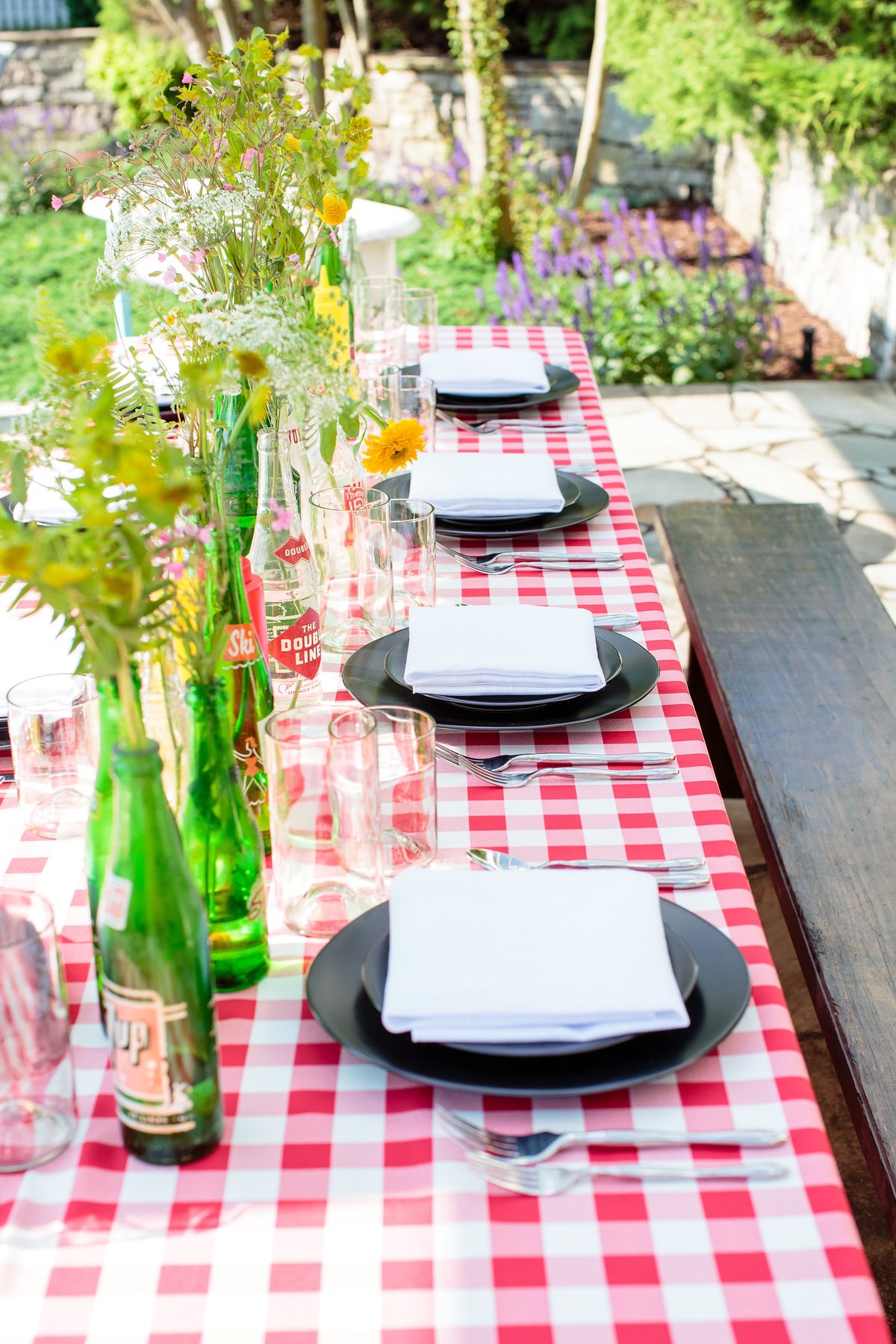 With the summer season waning and the coming cooler fall temperatures, we've been especially inspired by all things outdoors. If you're in Nashville (or anywhere in the United States), take one step outside around dinner time and you'll know why. It's outdoor cookout party season! From neighborhood block parties to back-to-school parties and corporate get-togethers and team tailgates, most events migrate outdoors to make use of the sunshine and blue skies.
Outdoor Inspired Dining
Most people love the easy-natured feel of an outdoor cookout party. Simple and comfortable textures, rustic accessories, and bright colors marry to create a fresh and fun vibe. Use our Red and White Check Linens to emphasize the nostalgic feel and bring a fun, picnic theme to the look. Of course, the best part of an outdoor cookout is the food – hot off the grill! Display food atop our White Wash Whiskey Barrel Barnwood Bar for a rustic chic look. Refreshing seasonal beverages and large batch cocktails (or mocktails) can be served from our Classic Glass Beverage Jars.
If there will be kids in tow, we recommend giving them their own little dining area! Here you can also have kid-specific activities, like coloring books or bubbles. Keep it simple and on-theme when you feature our Fruitwood Children's Farm Table and Cross-Back Children's Chairs. For an extra tasty treat, grab our Vintage Popcorn Machine!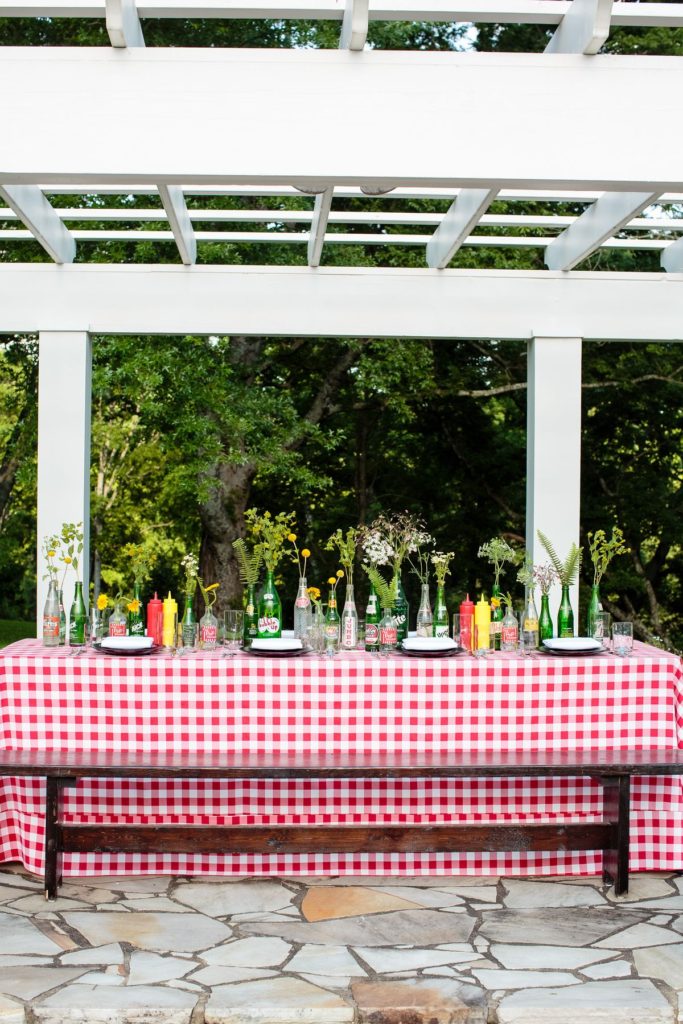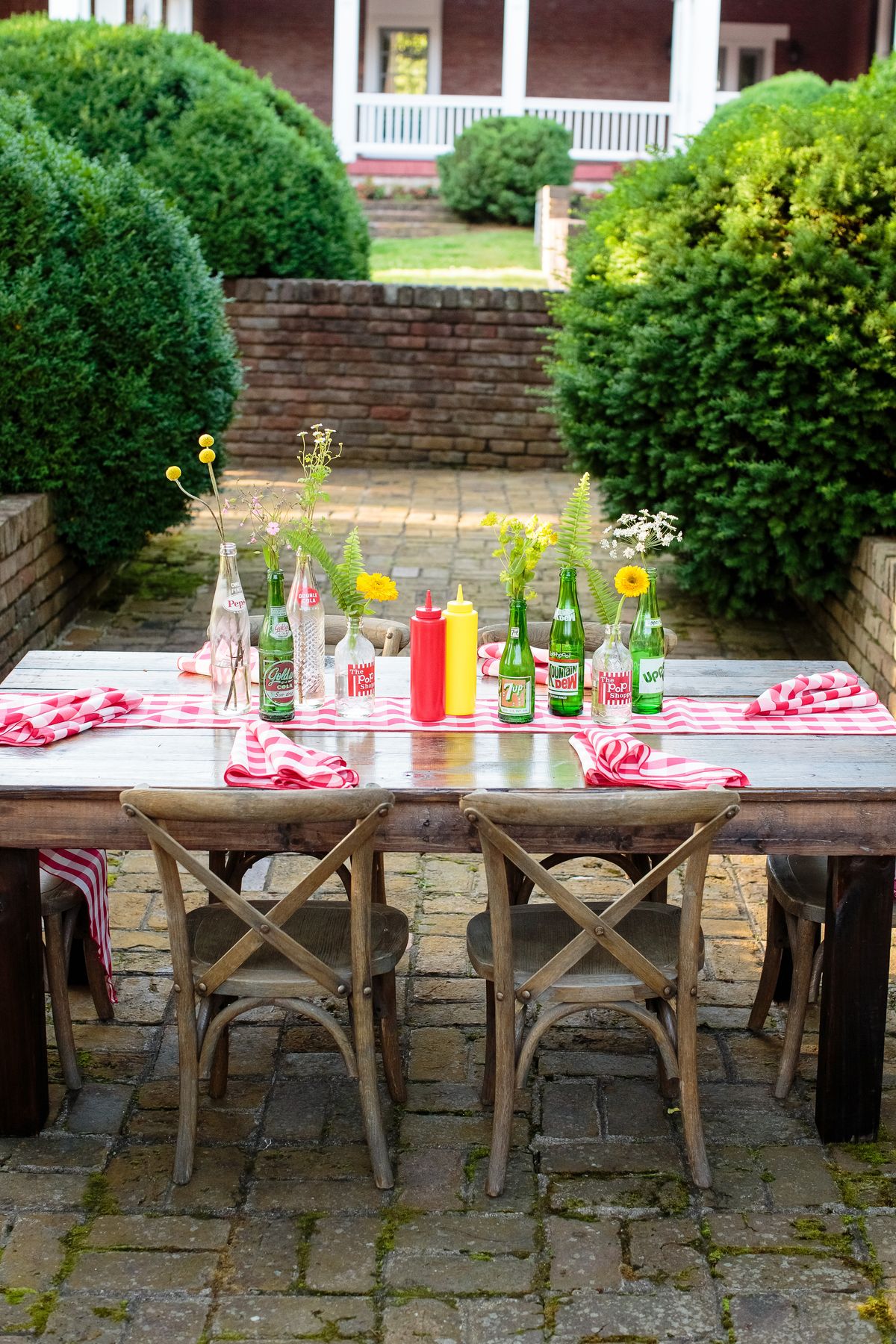 Stay for A While!
Outdoor cookouts are all about spending time with family and friends! The goal is to create a casual space where everyone can kick their feet up and hang out until the sun goes down. If you want your guests to stick around after the food (or make sure they're comfy while waiting to dig in), we recommend a lounge area. Combine our Rustic Benches, Chocolate Pouf, Stone Round Fire Pit, and plenty of pillows and blankets for texture and to help make the party feel more inviting. Our Sutton Collection is also a beautiful option for large parties.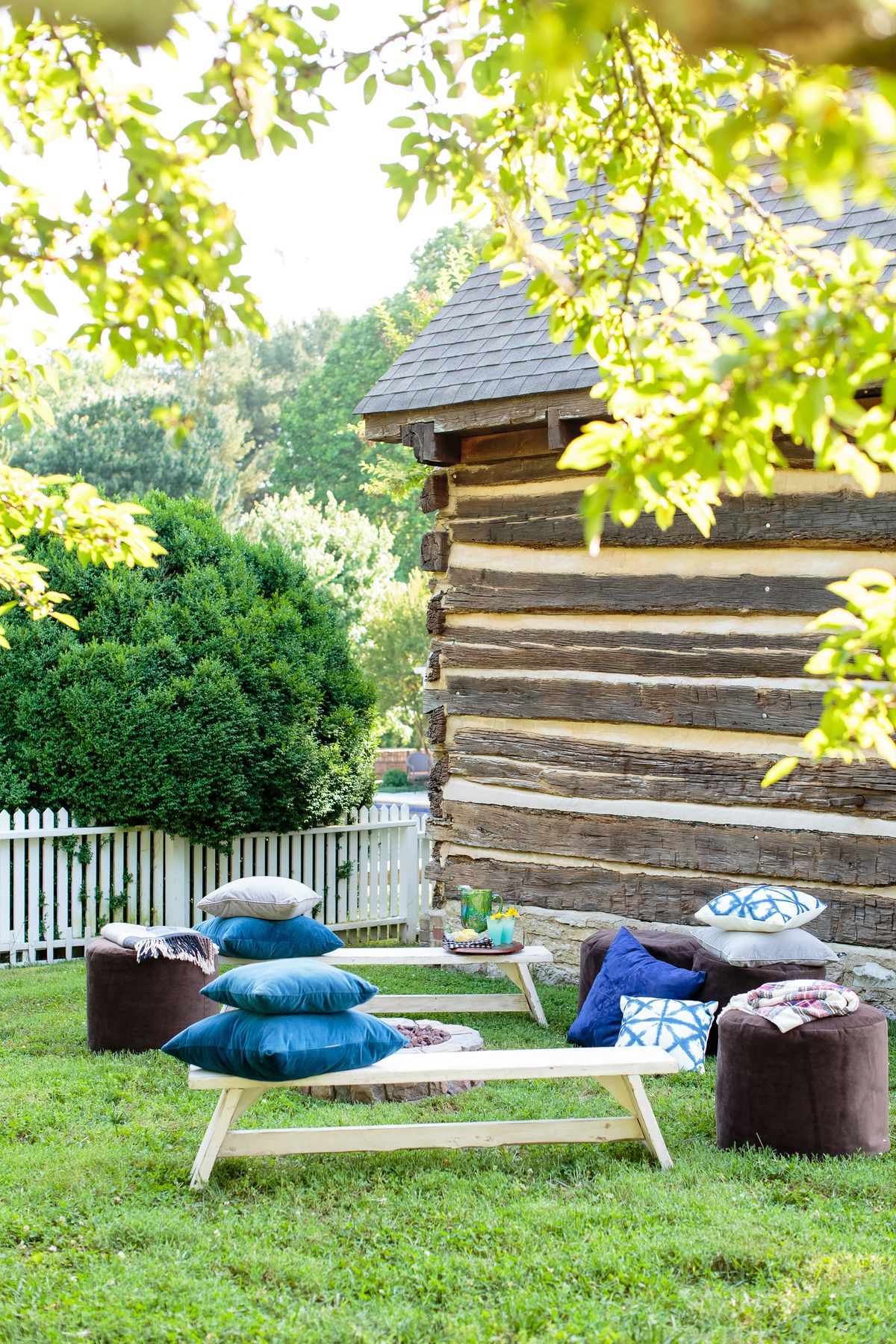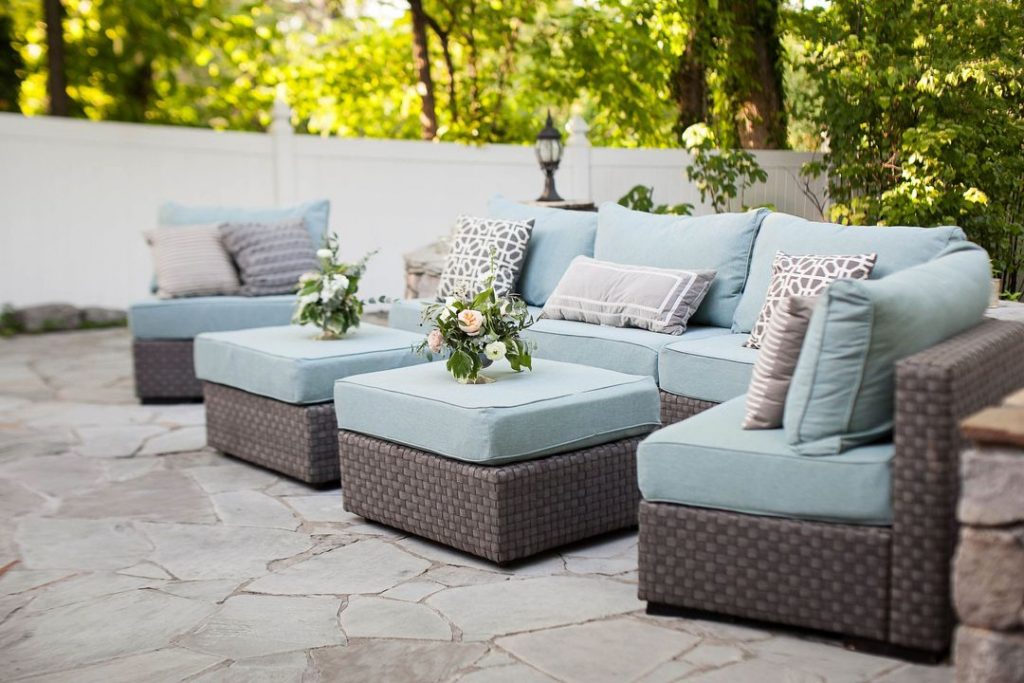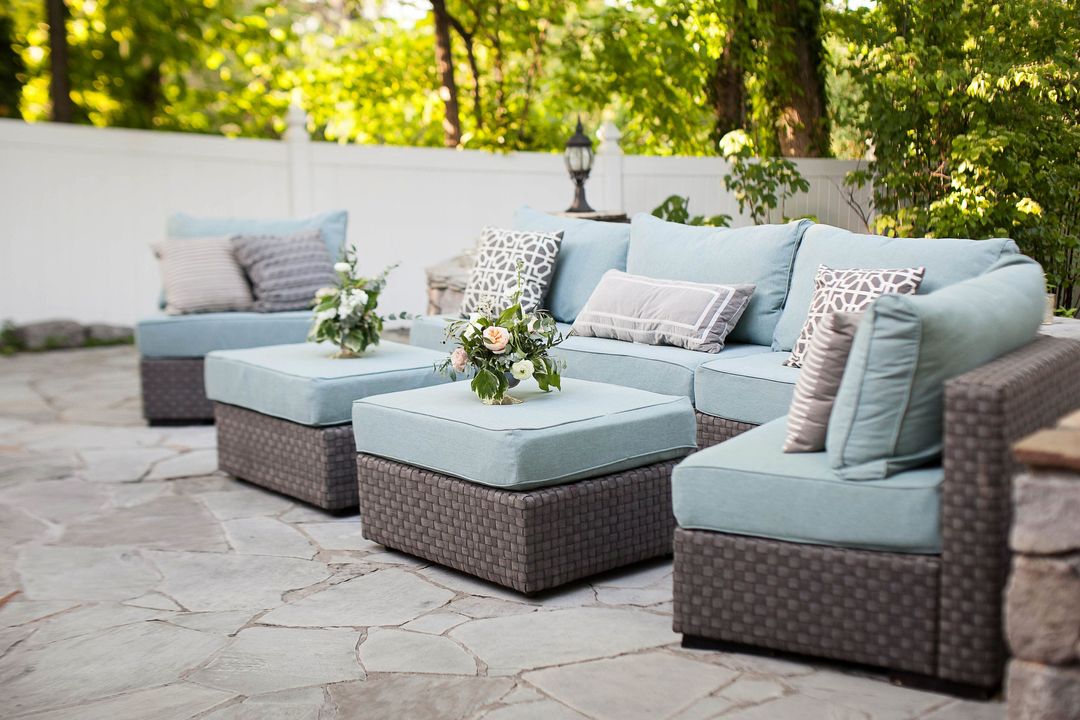 If you're planning an outdoor cookout for back-to-school or as a casual corporate get-together, we'd love to help make it stylish & Southern. Send us a message at info@southerneventsonline.com and let us help you pick the perfect rentals for your event! Prefer a more chic look? Check out our blog for Chic Garden Party Ideas.
TAGS | Nashville Event Rentals, Southern Events Party Rentals, Unique Nashville Event Rentals, bbq party rentals, franklin tn rentals, nashville tn, outdoor party rentals, picnic rentals
FEATURED RENTALS | Red and White Check Linens, White Wash Whiskey barrel Barnwood Bar, Classic Glass Beverage Jars, Fruitwood Childrens Farm Table, Cross Back Childrens Chairs, Rustic Benches, Chocolate Pouf, Stone Round Fire Fit, Sutton Collection, Vintage Popcorn Machine,
---
28

Apr

Events and Style Shoots, Nashville Venues, On Trend, Trends and Inspiration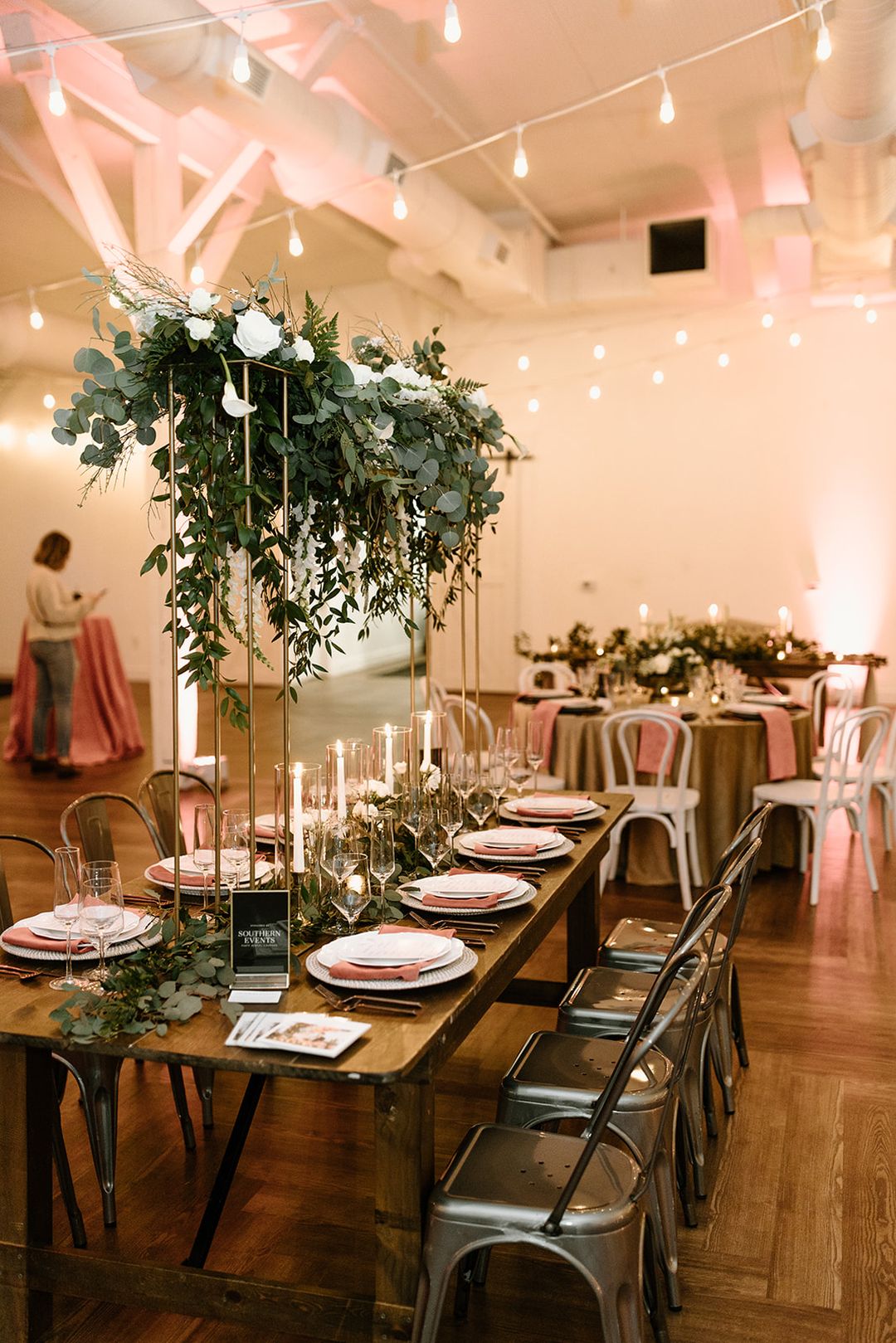 ​If you've been dreaming of an urban downtown wedding but want to create a warm & romantic space, then you can't go wrong with an urban chic wedding at 14 Tenn! Featured in the modern & airy event space, our upscale lounge furniture and velvet linens make for a beautiful event design that combines a touch of both the old and new. Keep reading to check out our on-trend rentals, perfect for an elegant urban wedding in Downtown Nashville.
Modern Industrial Reception Tables
As far as receptions go, an elegant urban design is a great option for couples who prefer a romantic yet modern space. The classic elements and rich linens in the industrial venue only need the glow of candlelight. Mixing textures and keeping the colors neutral with a few pops of color creates a timeless event design.
For this style shoot, we featured two different styles of tables and place settings, one leaning towards a more industrial look and the other more modern. The industrial table started with our Fruitwood Farm Tables, complemented with contrasting Rattan White Washed Chargers and crisp white Darcy China. Round tables were outfitted with Velvet Driftwood Tablecloths, Scalloped Wood Chargers, and Artisan China. Bold pink napkins and sleek Brushed Copper Flatware were used for both tables!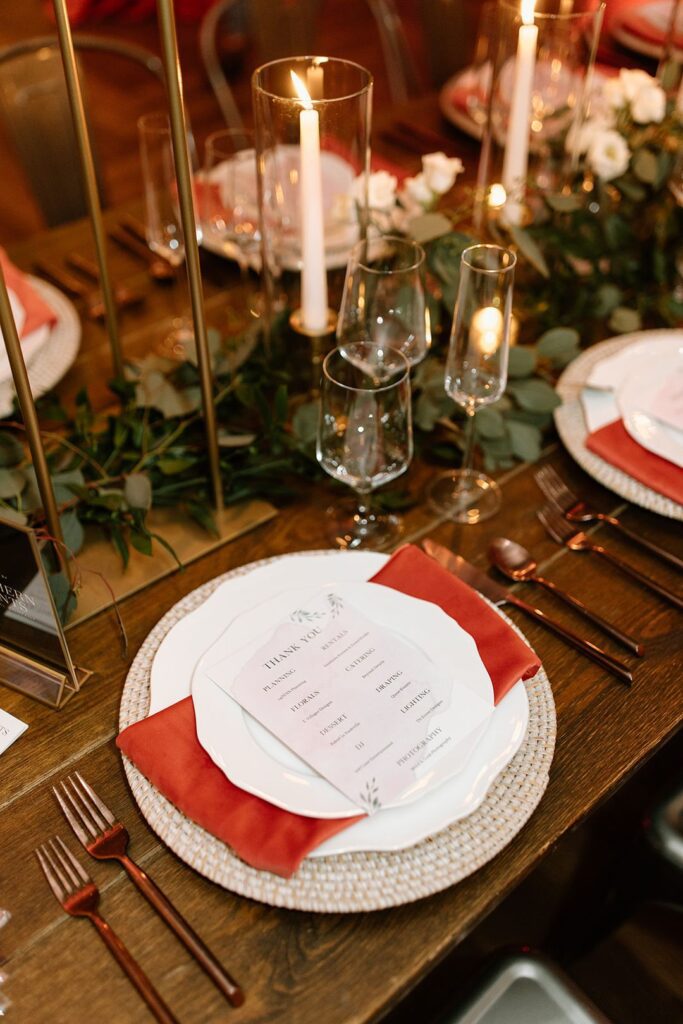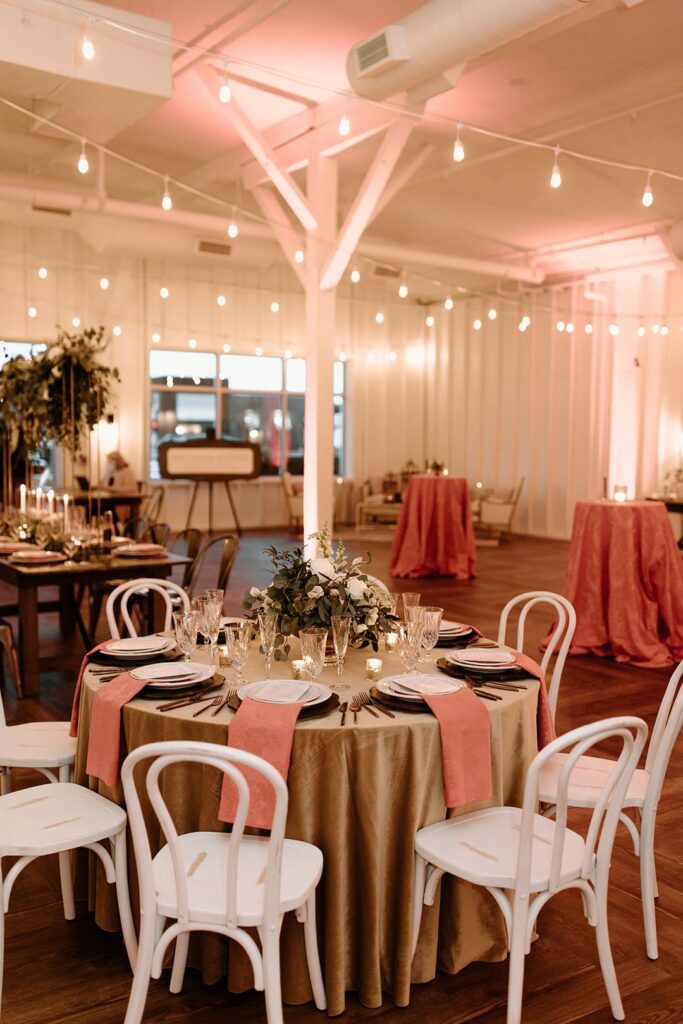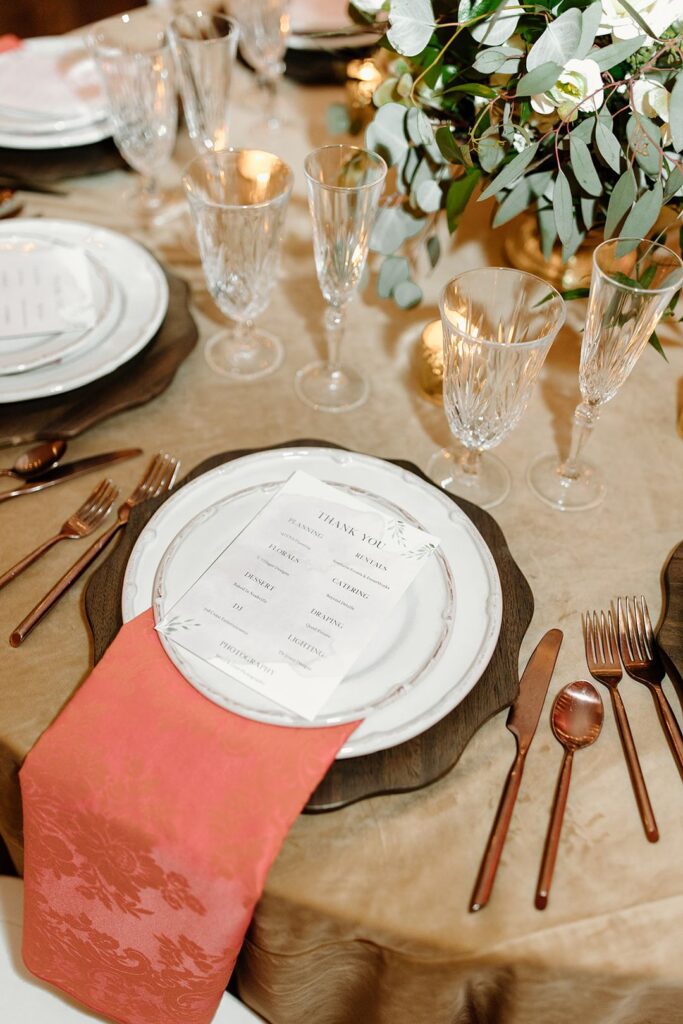 Of course, we can't forget a sweetheart table for the newlyweds, featuring especially elegant place settings. These stood out thanks to the Copper Glass Charger and Blair Geometric China. Whereas Tawny Satin Napkins and an Ivory Sahara Table Runner lent a romantic touch! The bride and groom sat comfortably on one of our most popular lounge pieces, the Tessa Tufted Linen Loveseat.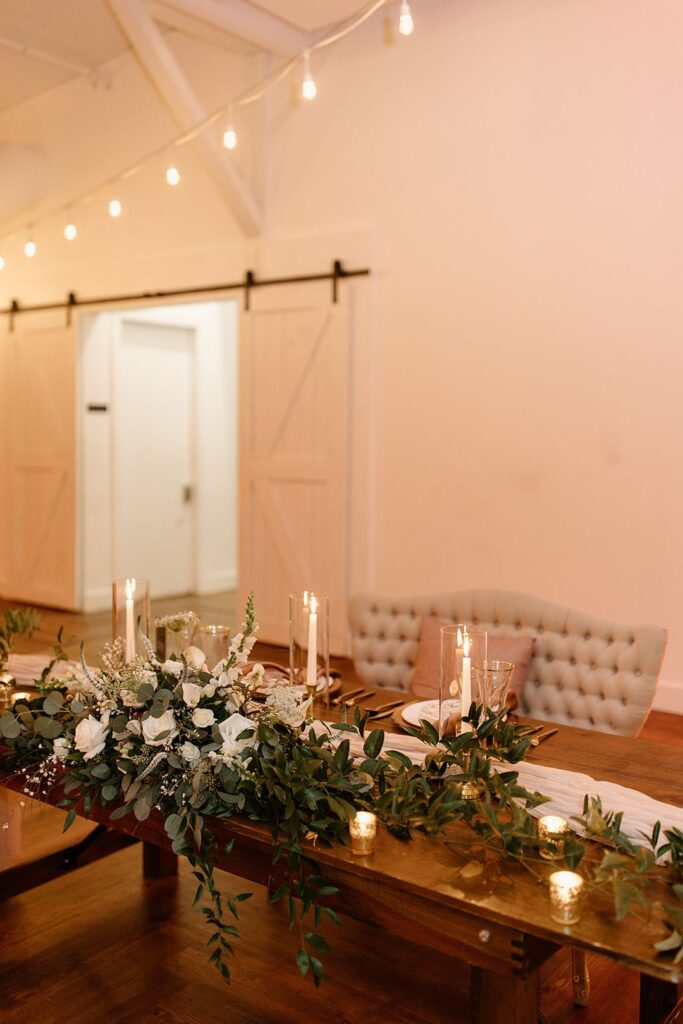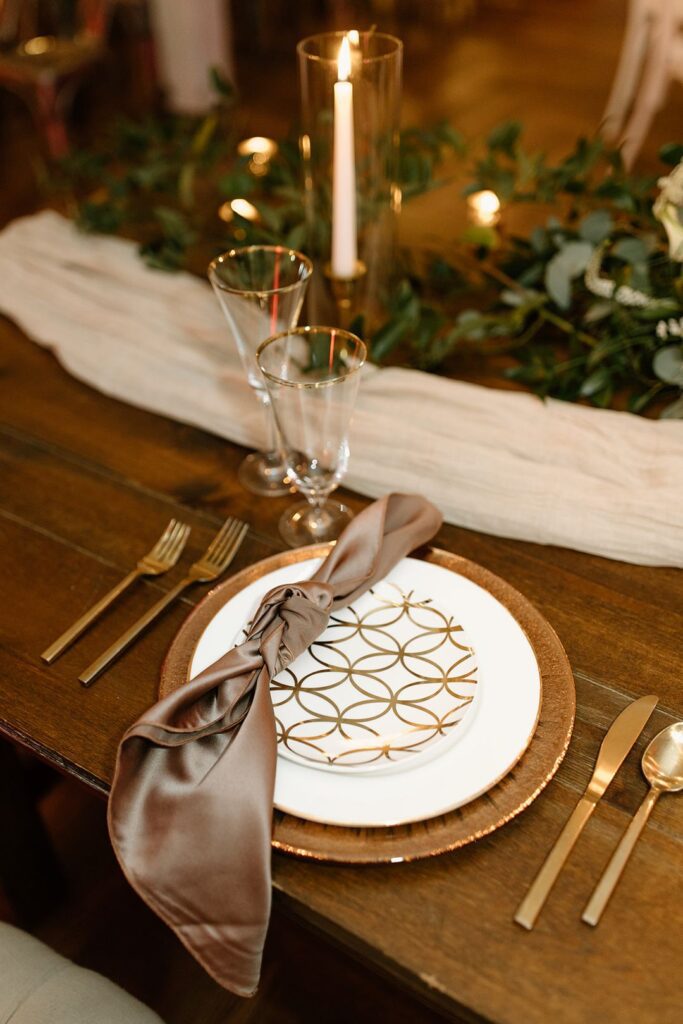 Classic + Elegant Wedding Lounge Area
With the open floor plan, there was no reason not to have a stylish lounge area for guests to convene around! This setup was elegantly modern with a timeless feel. It starred our Everly Sofa and matching chairs, along with the Blanche Coffee Table and Cheval Gold Mirror Side Tables. The metallic gold elevated this area, whereas a vintage Blush Rug kept the vibe cozy.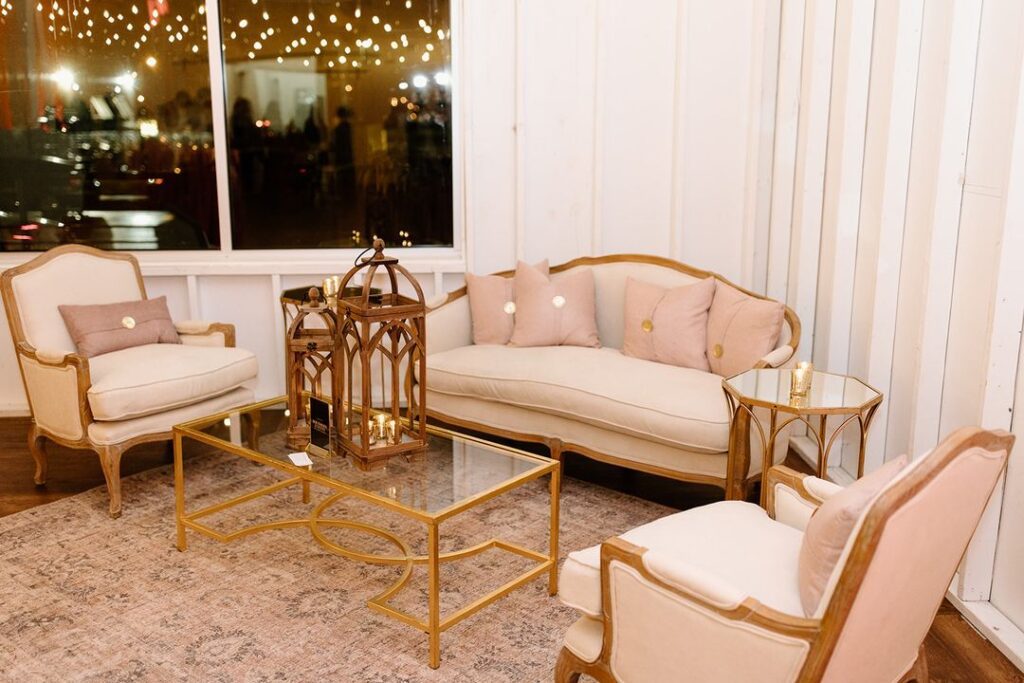 A special thank you to Wind and Gold Photography for sharing the photos from this event with us!
Love the look of this elegant urban wedding at 14 Tenn? Send our team a message at info@southerneventsonline.com for help recreating this design for your big day!
TAGS | 14Tenn, 14Tenn Nashville, Urban Dining Chairs, urban chic wedding, urban industrial furniture rentals, urban wedding decor
FEATURED RENTALS | Everly Sofa, Cheval Gold Mirror Side Tables, Blush Rug, Blanche Coffee Table, Copper Class Charger, Blair Geometric China, Tawny Satin Napkins, Rattan White Washed Chargers, Darcy China, Fruitwood Farm Tables, Velvet Driftwood Tablecloths, Scalloped Wood Chargers, Artisan China,Ivory Sahara Table Runner, Tessa Tufted Linen Loveseat,
---
18

Nov

Events and Style Shoots, On Trend, Southern Events Products, Trends and Inspiration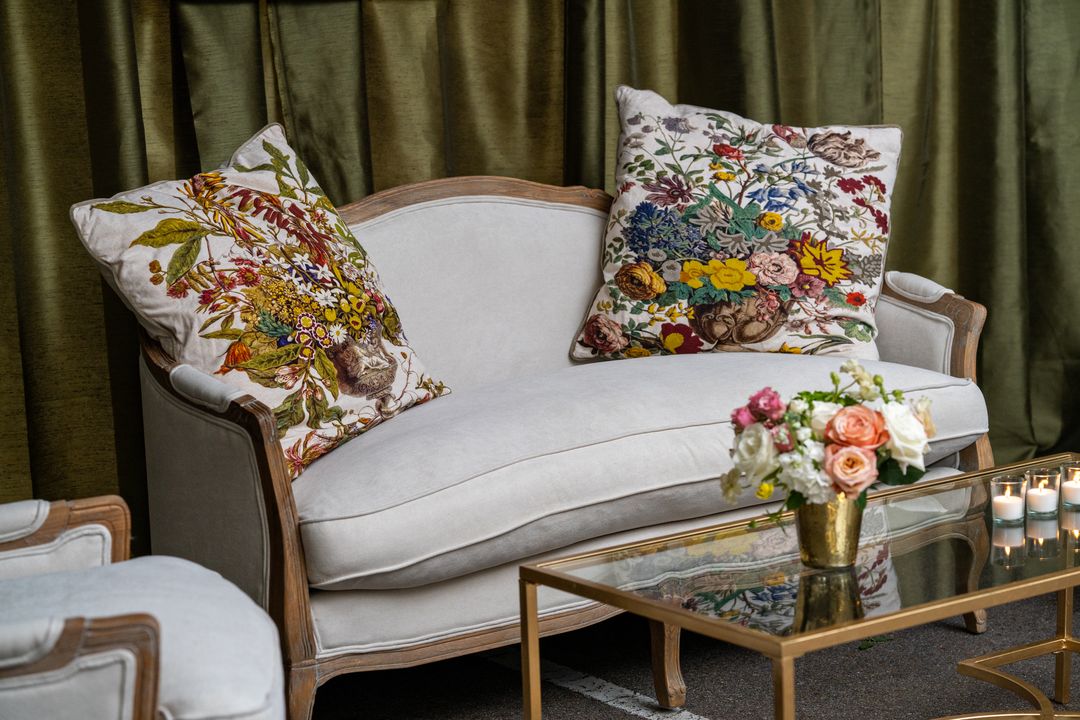 In 2021 we saw a shift towards organic event design, featuring natural yet timeless colors and vintage-inspired rentals. A theme that we hope will carry over into the new year, especially for galas, fundraisers and other formal events! If this is a trend that you favor or a style you aim to embrace, check out the details from the annual Heritage Ball for some organic luxe gala inspiration.
A Lush Grand Entrance
A great way to set the tone for an event is with a coordinated grand entrance. Guests were welcomed to the Heritage Foundation Ball with a lush Boxwood Wall Backdrop. Here, sponsors of the event were featured. However, it also doubled as a photo opportunity! The lush green wall beautifully tied into the organic luxe theme that awaited guests.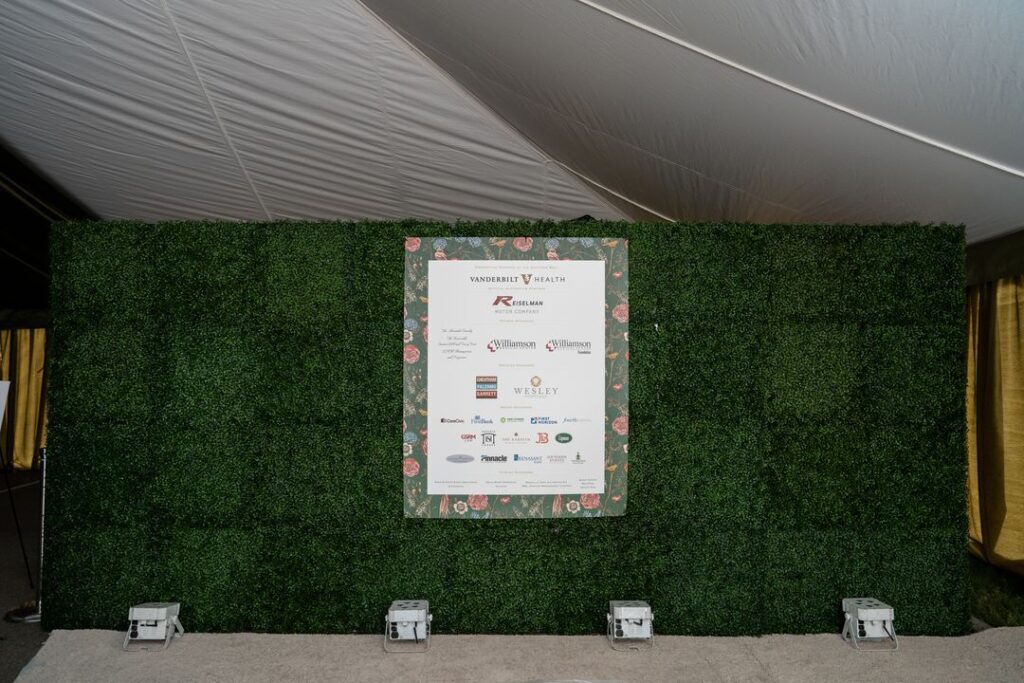 Green & Gold Tablescapes
As the Heritage Ball is based around a formal seated dinner so beautiful tablescapes are a must. To create an organic look at this event, we featured mismatched tables and place settings. Starting with both round and rectangular tables, dressed in a range of green and ivory tablecloths, as well as subtle floral patterns. A touch of velvet here and there lent a luxe look, as did our classic Chiavari dinner chairs. Each place setting consisted of a Glass Charger with a Gold Rim, Abby Flatware, Ophelia Salad Plates, and Pure Glassware.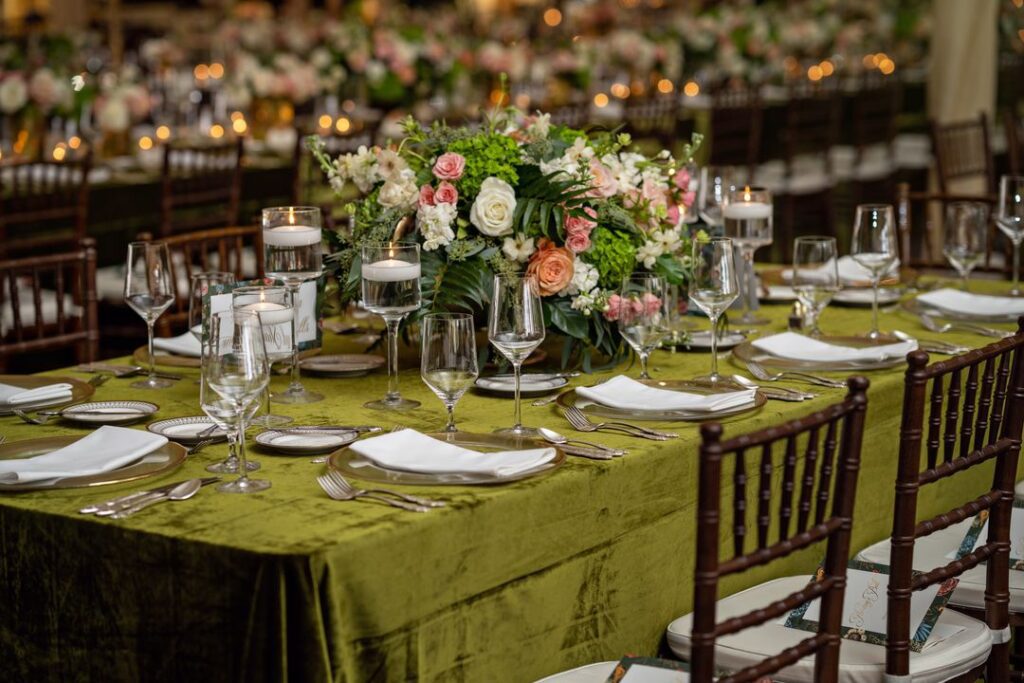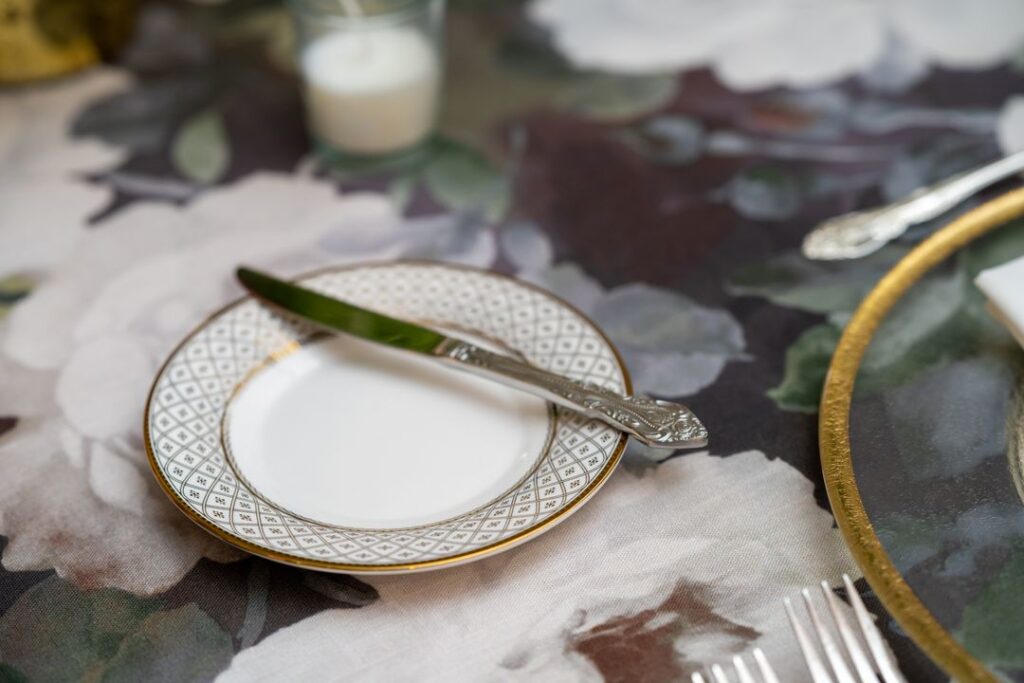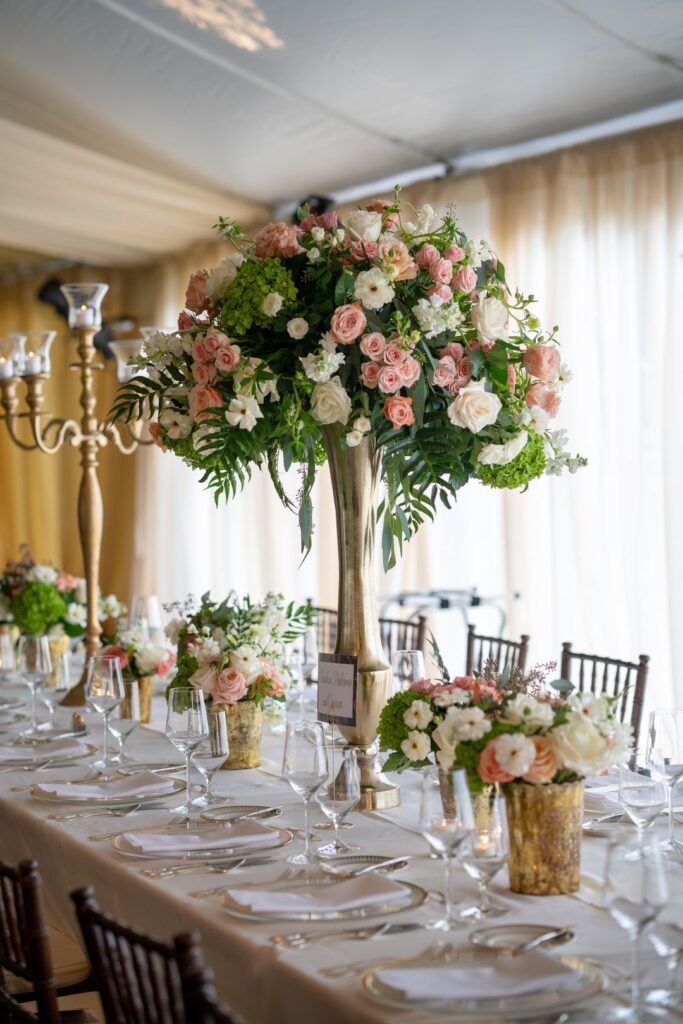 Custom Stocked Bars
Personal touches are essential to make any event memorable. And for this organic luxe gala, we featured our custom Harpeth Bar with a fun floral print across the front! To accommodate the large guest count, the bar was flanked by Franklin White Antique Bars and Franklin Black Antique Bars. And as always, each bar was well stocked with a beautiful selection of glassware, including a mix of wine glasses and our Davis Glassware.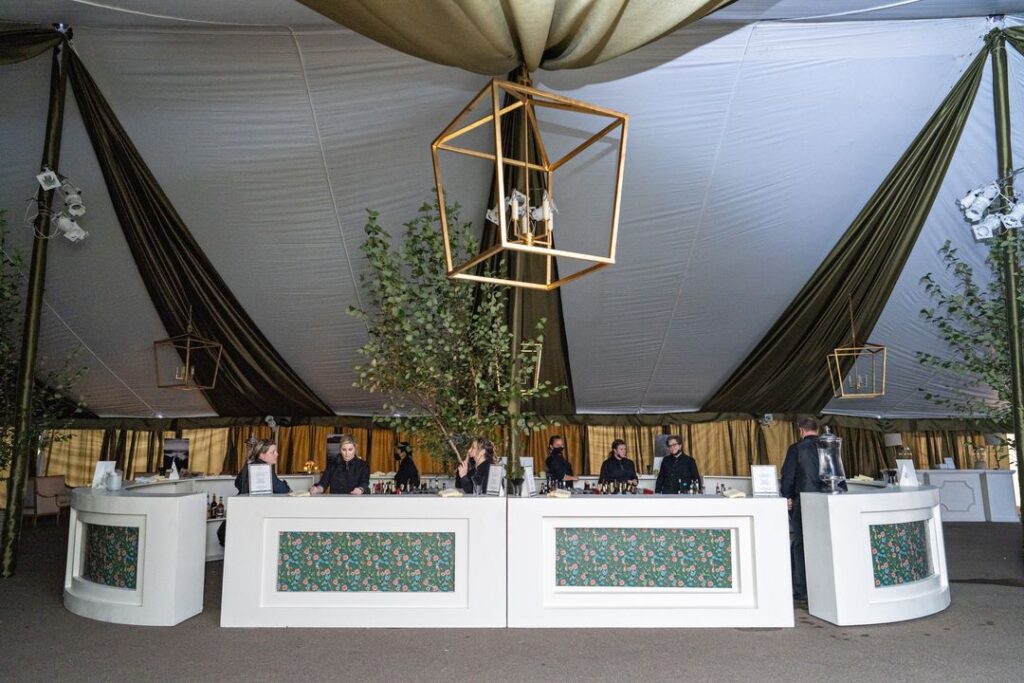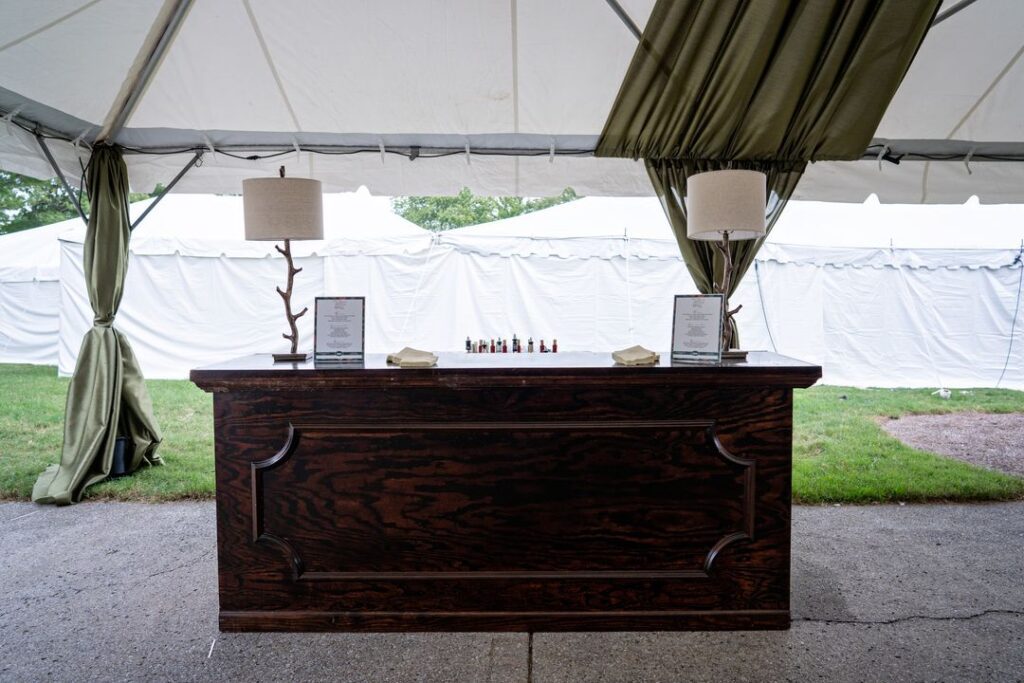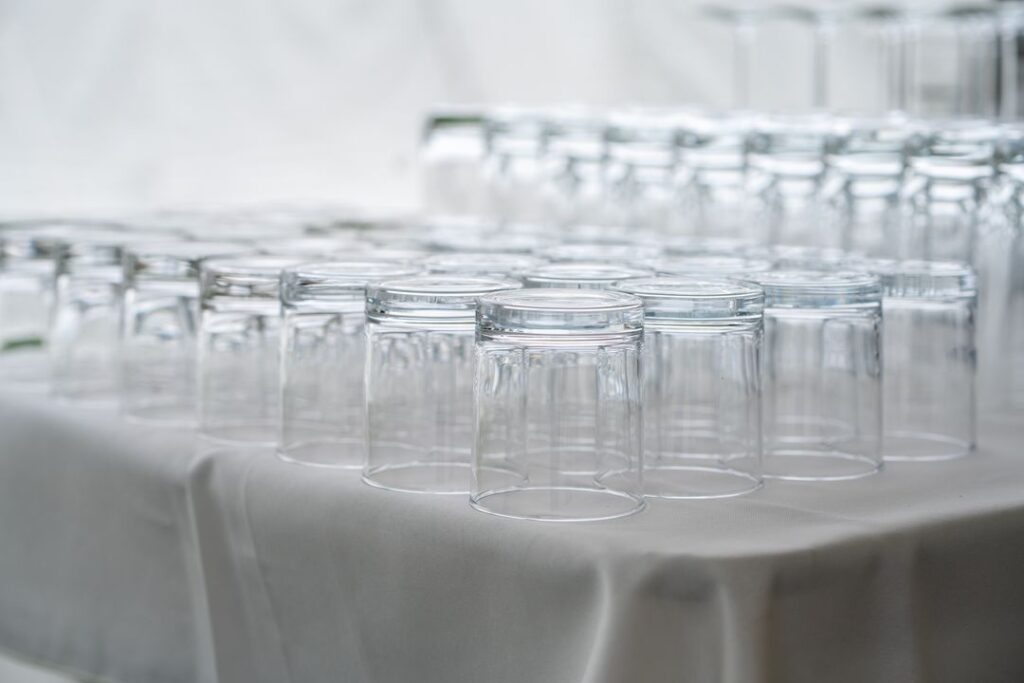 Luxe Retro Lounge Areas
Surrounding each bar was a mix of comfy luxe lounge areas. By strategically placing these throughout the event space, guests were encouraged to mingle! They starred a mix of retro and modern rentals. Including our Every Sofa and Chair, Fern Velvet Sofa, and Blanche Coffee Table. Meanwhile, our Charleston Bistro Tables with marble tops were a great option for those who preferred to remain standing.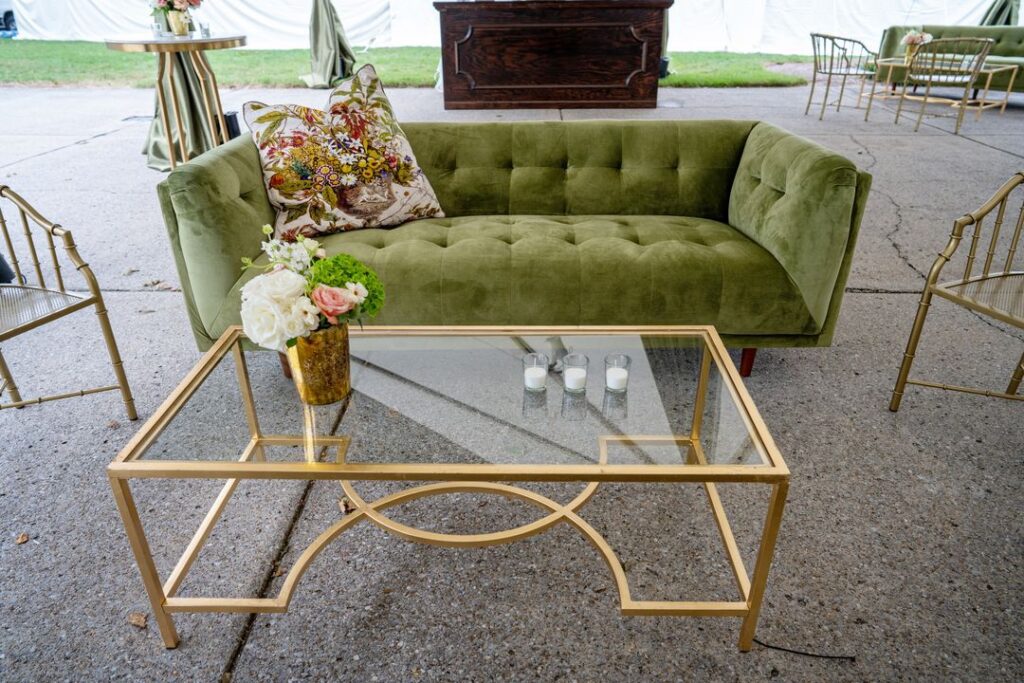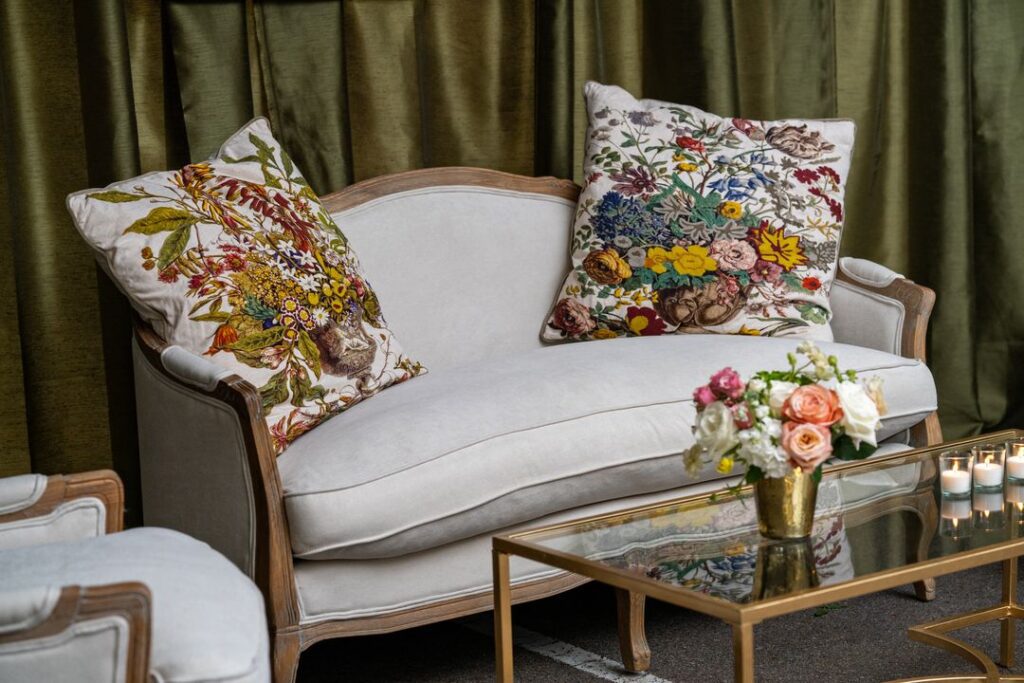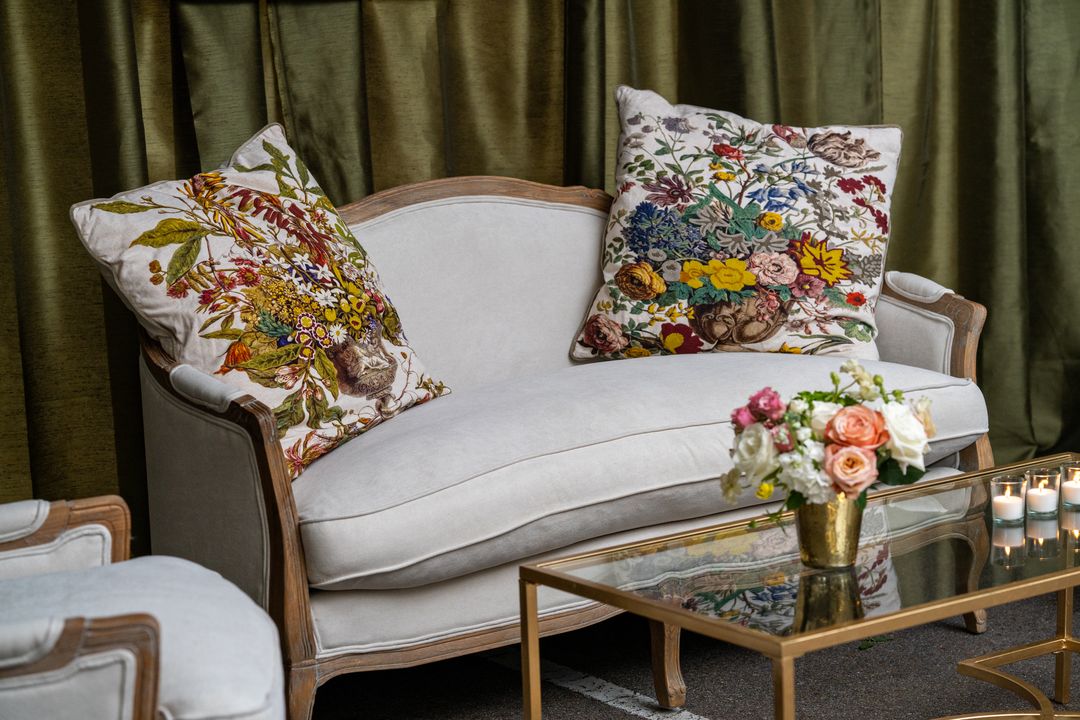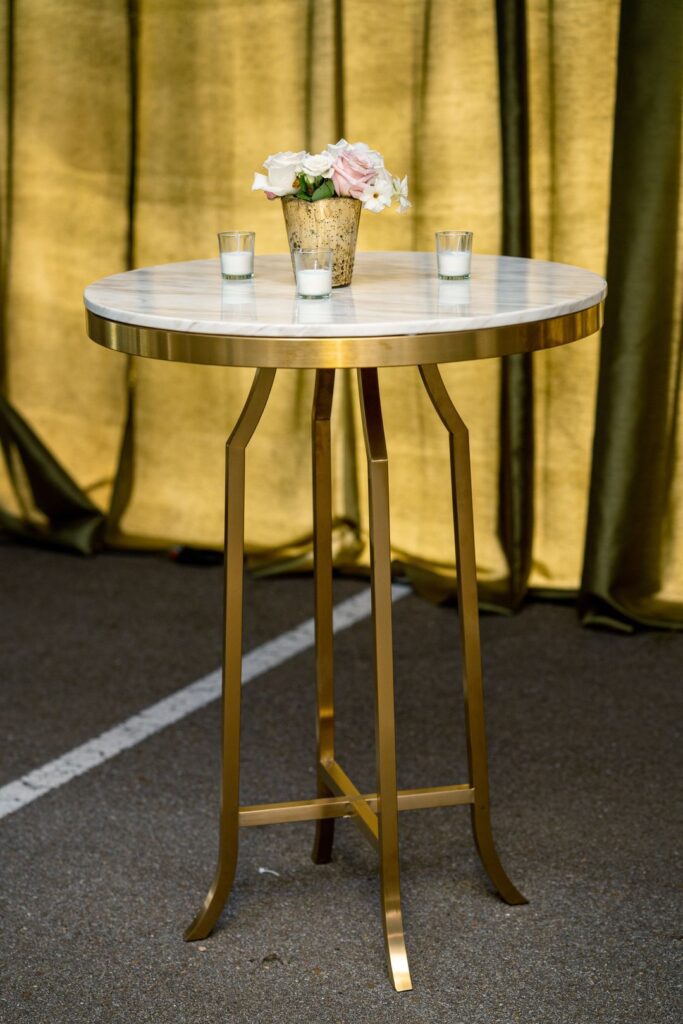 Elegant Staging for Live Entertainment
Of course, we can't forget staging, as this event had several speakers and live entertainment. A facade was created with beautiful green and gold drapery, and for the podium, we opted for a contemporary Acrylic piece. And if you have live music you have to have a dance floor! So to complement the luxe look, we decided to feature our classic Black and White Dance Floor.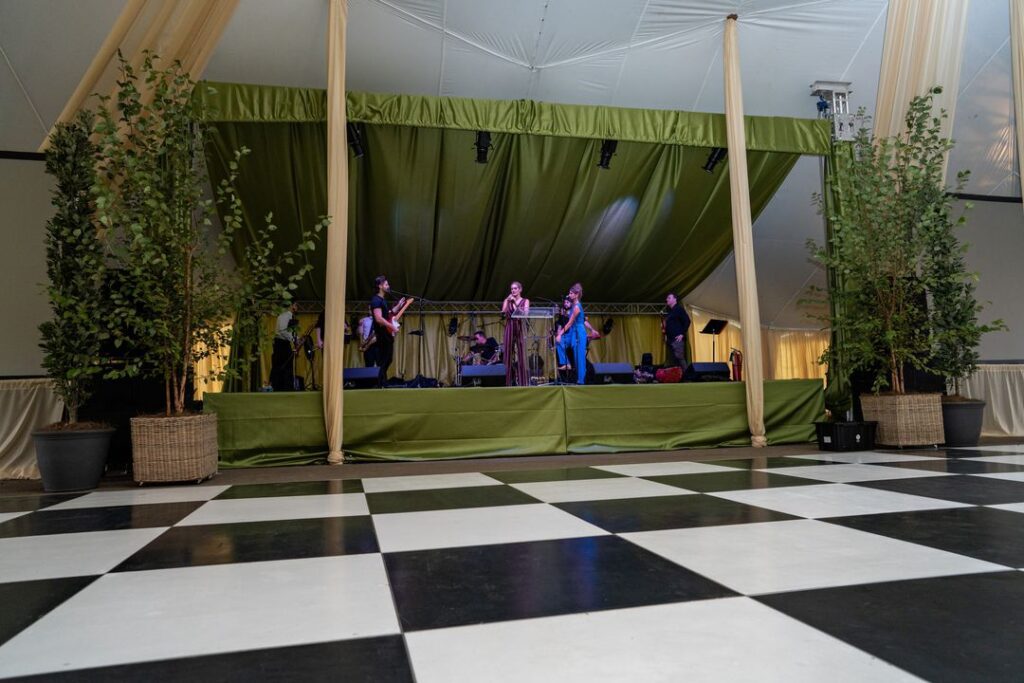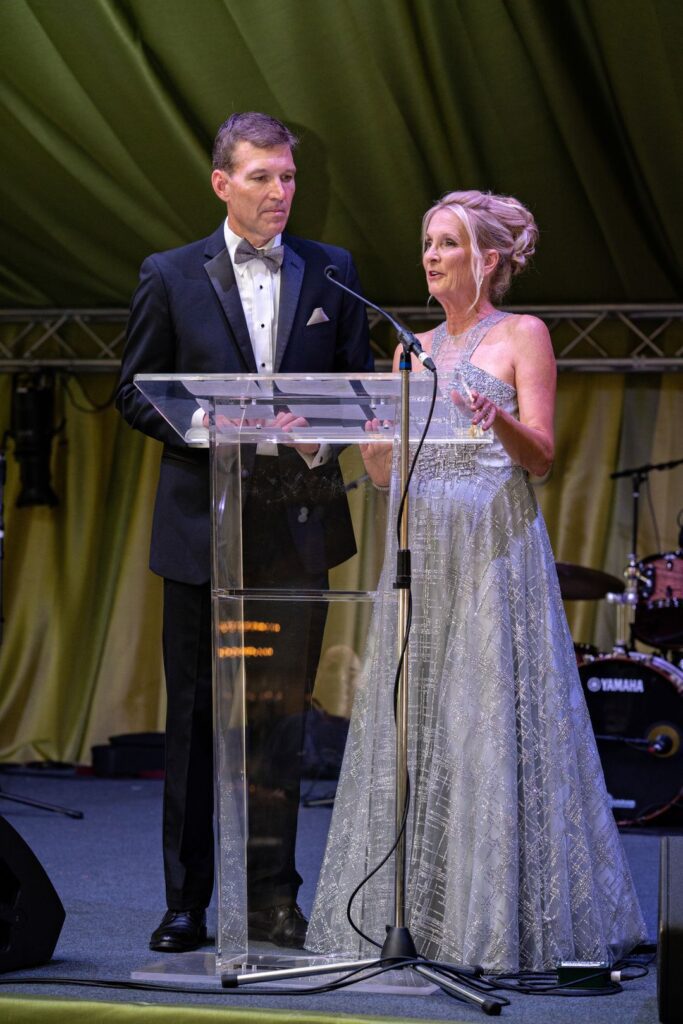 Thank you to Mindy Thornton Photography for sharing the photos from this event with us!
Love this organic luxe gala inspiration? We would love to help you recreate this look, or alter it to suit your event style. Contact us for design or layout assistance for your next event in Nashville or Franklin, TN, at info@southerneventsonline.com. Or for more formal event inspiration, check out this Gold & Ivory Gala at Cumberland University.
TAGS | Dance Floors, Event Gala, Heritage Ball, Lounge Furniture, Nashville Galas, Staging, bar event rentals, event inspiration, gala event decor, gala event design, gala event rentals, green and gold, ivory and gold, lounge areas, organic luxe
FEATURED RENTALS | Glass Charger with a Gold Rim, Abby Flatware, Ophelia Salad Plates, Pure Glassware, Boxwood Wall, Chiavari Chairs, Harpeth Bar, Black Franklin Antique Bar, White Franklin Antique Bar, Davis Glassware, Black and White Dance Floor, Acrylic Podium, Every Sofa and Chair, Fern Velvet Sofa, Blanche Coffee Table, Charleston Bistro Tables,
---
20

May

Events and Style Shoots, Nashville Venues, On Trend, Southern Events Products, Trends and Inspiration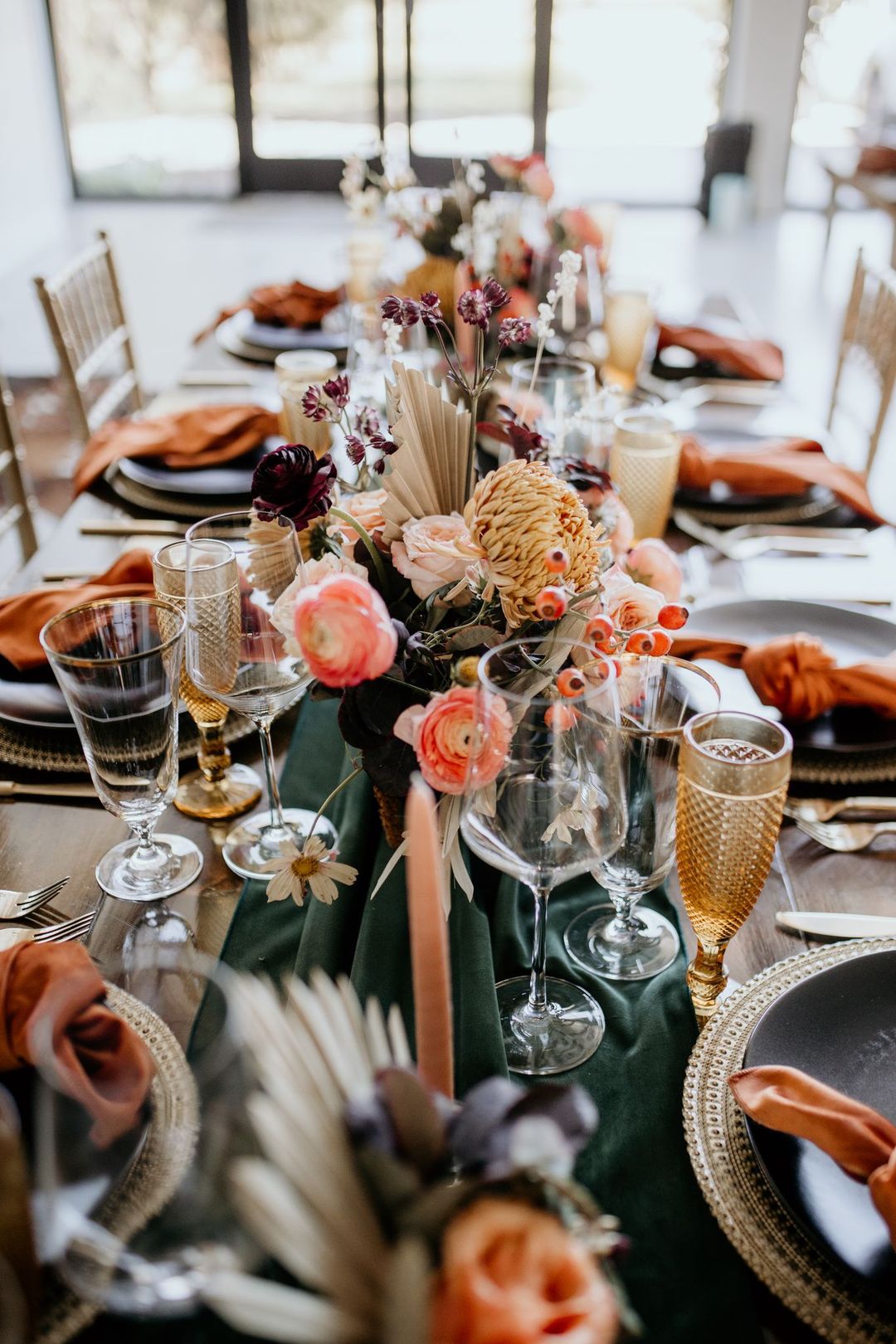 Two entirely different yet equally beautiful styles, Bohemian and Diva elements have been combined to create a new look: Boho Diva! It's the perfect balance of chic, contemporary, and moody details, for a look that is relaxed, but bold and unique! Get inspired for your upcoming event with this bold boho diva event style we created at Franklin wedding venue Southall Meadows featuring our stylish rentals.
Bold & Moody
Our first tablescape is moody but romantic, with a black, rust, and pink color palette. Situated on top of our Fruitwood Farm Table is a deep Magnolia Green Runner. To complement the warm wood of the table we opted for our Medallion Gold Glass Charger and Onyx Dinner Plate, paired with Gold Austin Flatware.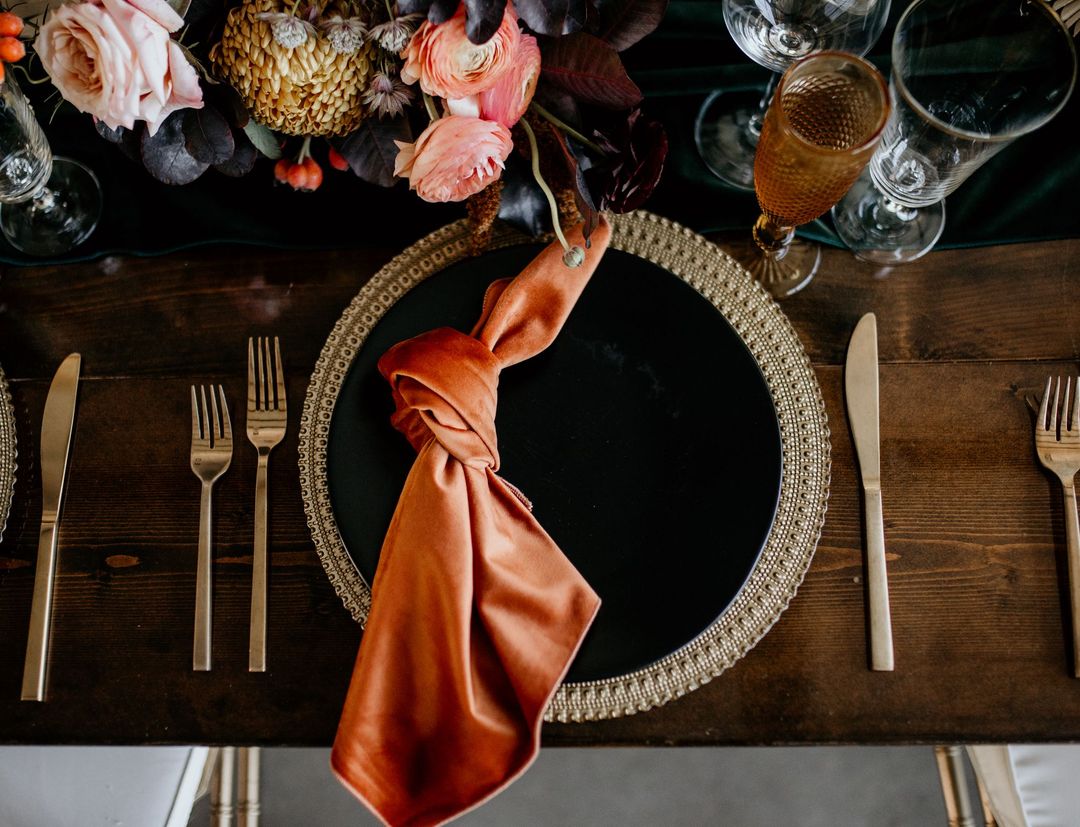 Matching the elegant serving ware, we featured our Pure and Audrey Gold Rimmed Glassware.  To spice the look up a little, our beautifully textured, vintage-inspired Amber Goblets. Gold Chiavari Chairs were an easy choice for seating, with their dainty but luxe look.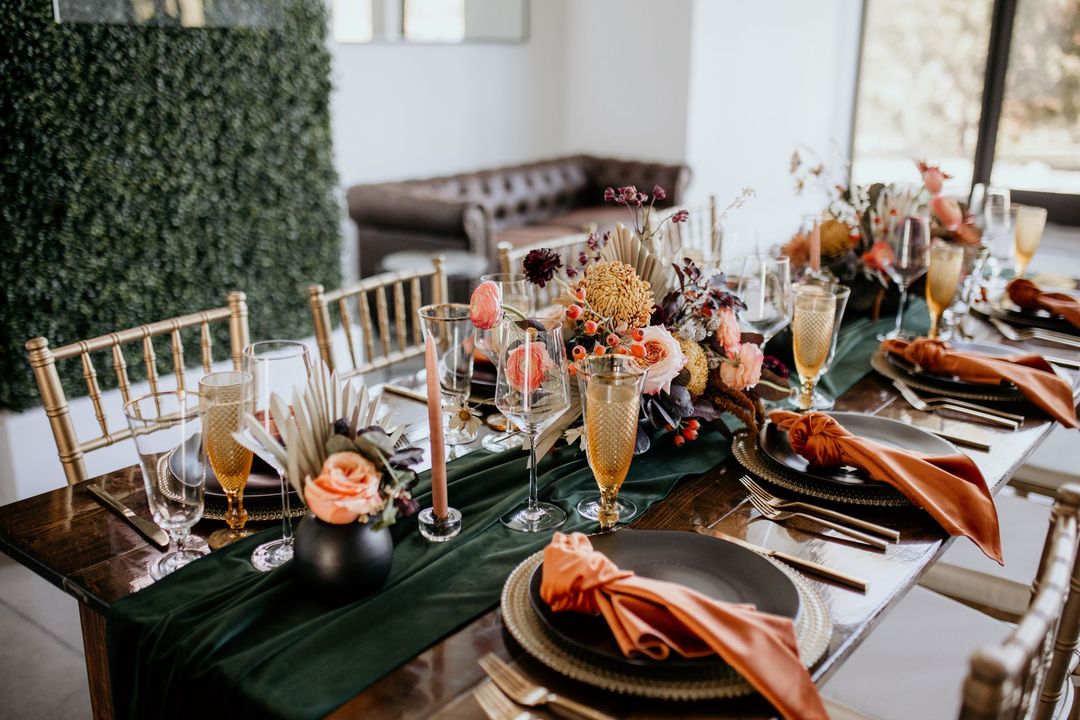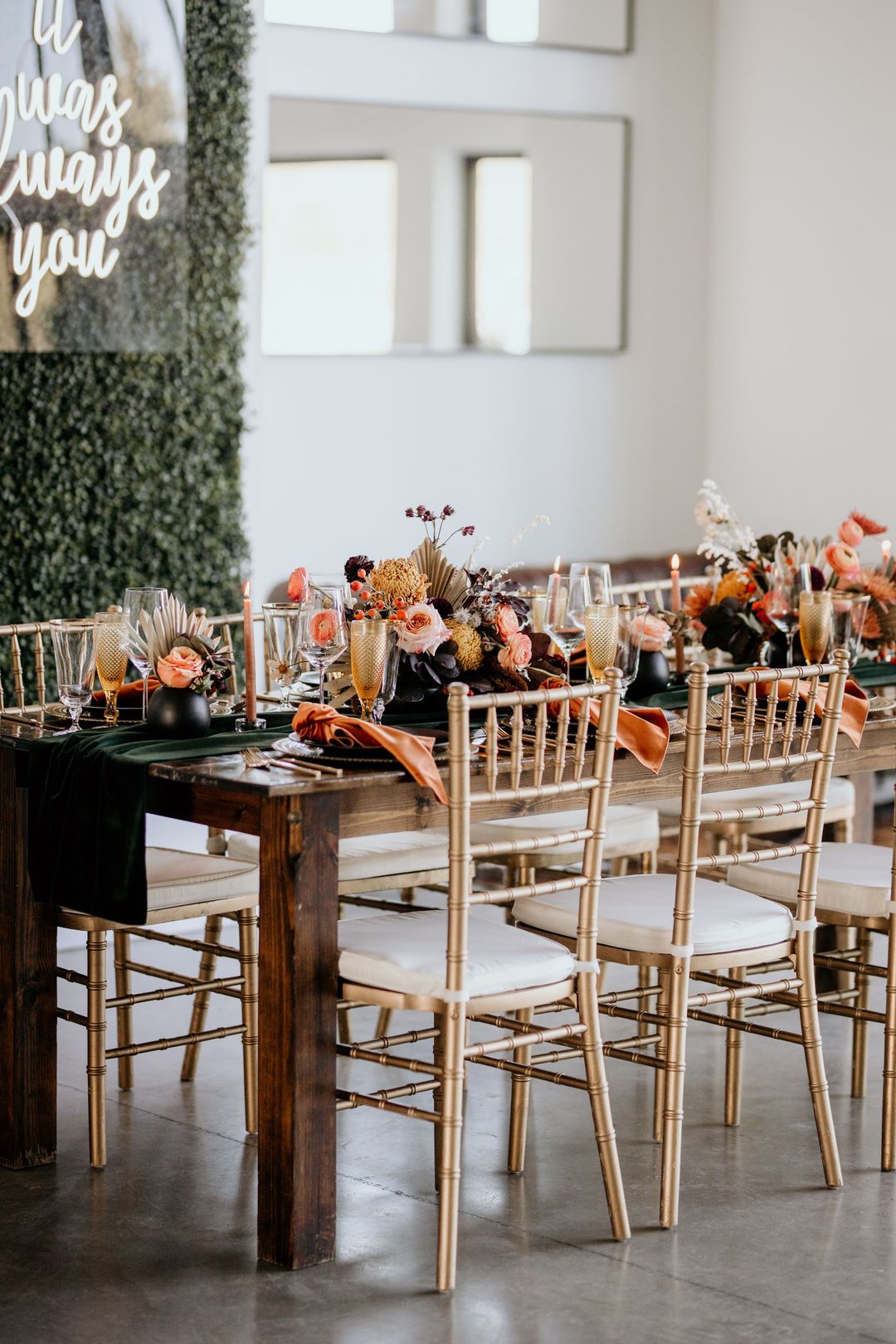 Clean & Bright
Should you prefer a neutral palette, our second tablescape combines classic colors in an elegant and striking way. Also atop our Fruitwood Farm Table, is a Driftwood Table Runner and Yarrow Velvet Napkins. This design features silver metallic details, which complement the bright white centerpieces and crisp glassware. Notice our Silver Rimmed Glass Charger and Onyx Dinner Plate. Black is a key accent that is common with a Boho Diva inspired look.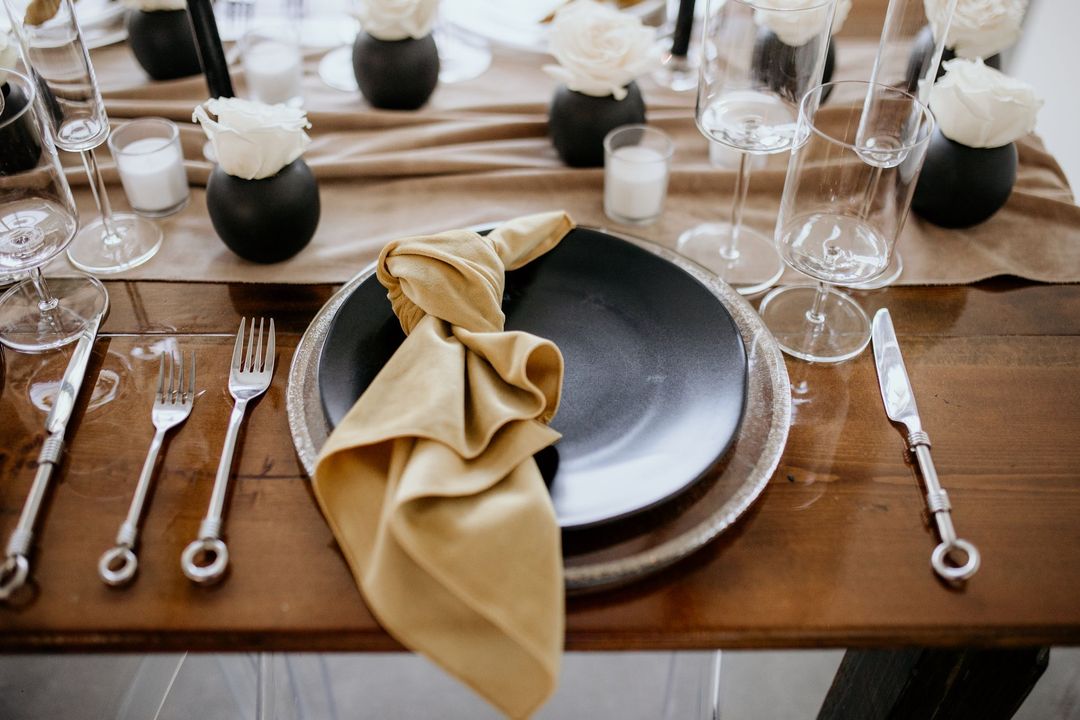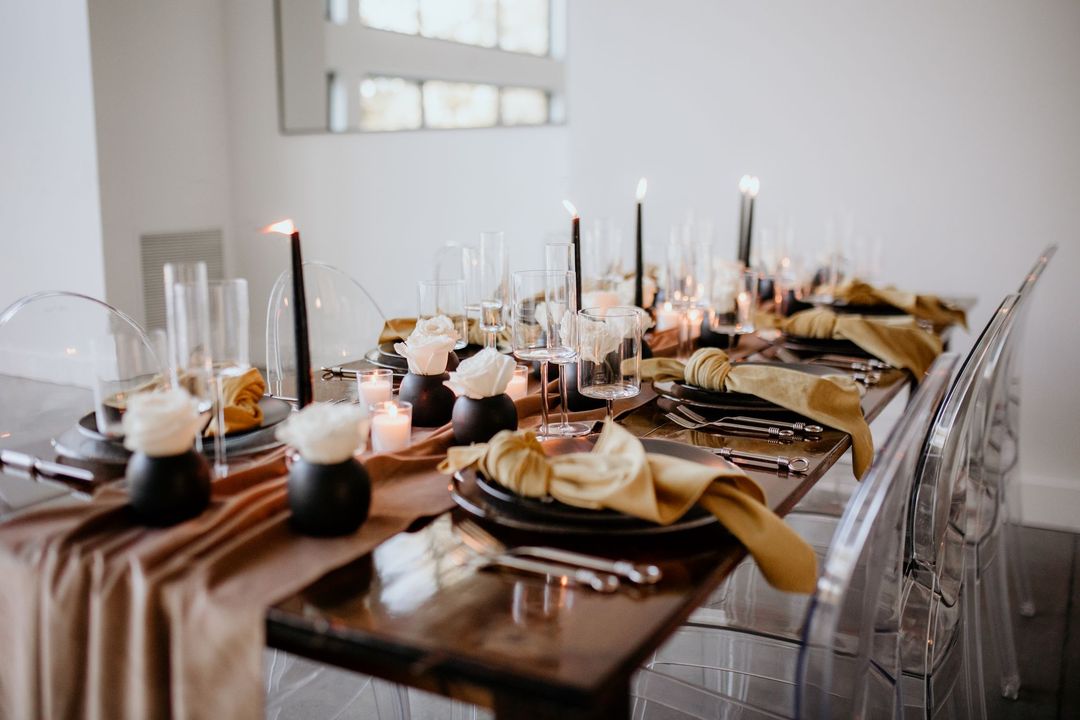 Aiming for a slightly quirky but still elegant look, we carefully selected a few of our favorite contemporary rentals. Including our Como Flatware and gorgeous Cybil Glassware. And of course, our always popular Acrylic Ghost Armless Chairs – also available with arms.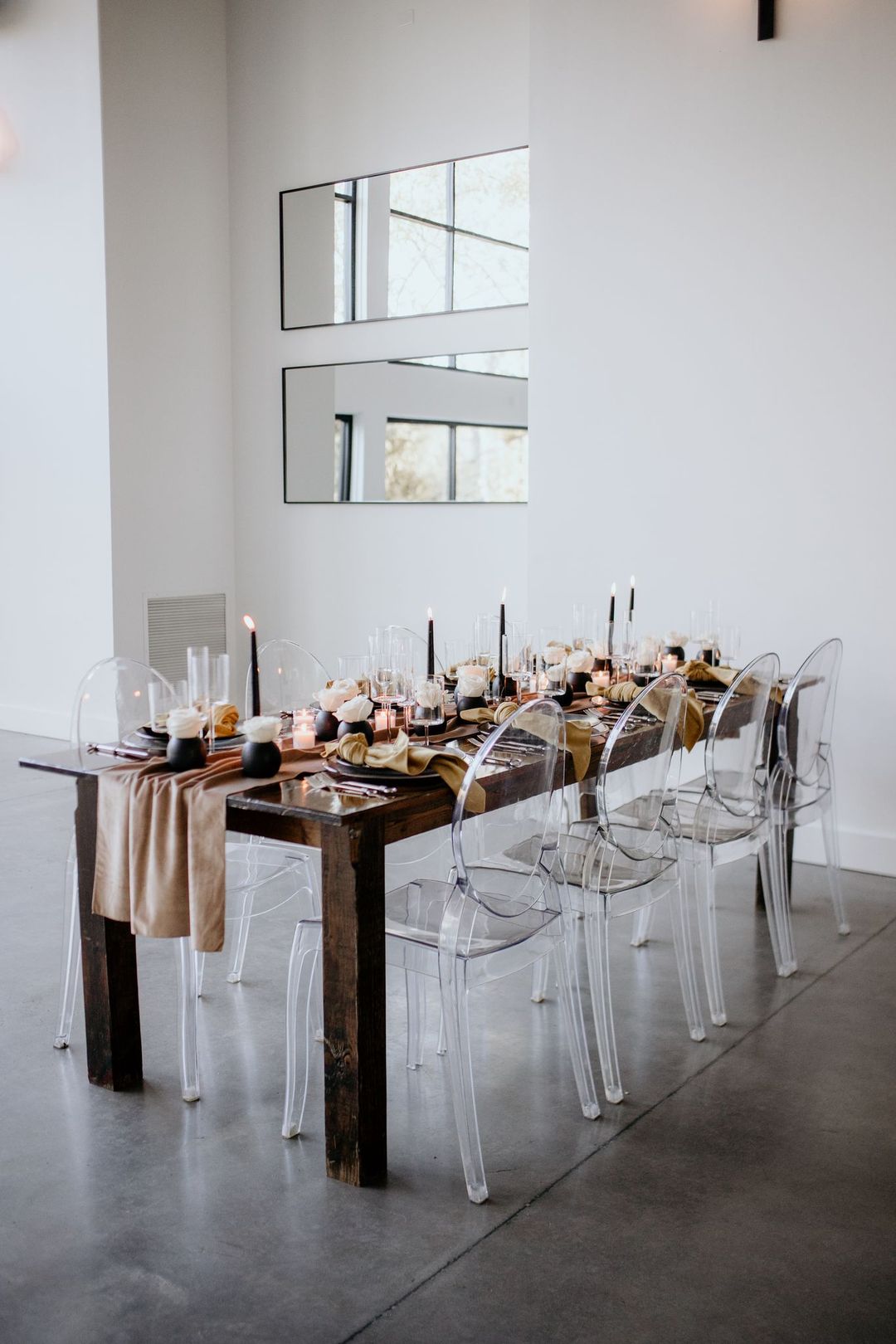 Glam Cocktail Tables
Cocktail tables, spread throughout an event space, make for the perfect opportunity to feature glam linens. Our Sequin tablecloths, shown in Gold, are available in 5 gorgeous colors. Or opt for one of our etched velvet linens, for a less over-the-top but equally elegant look.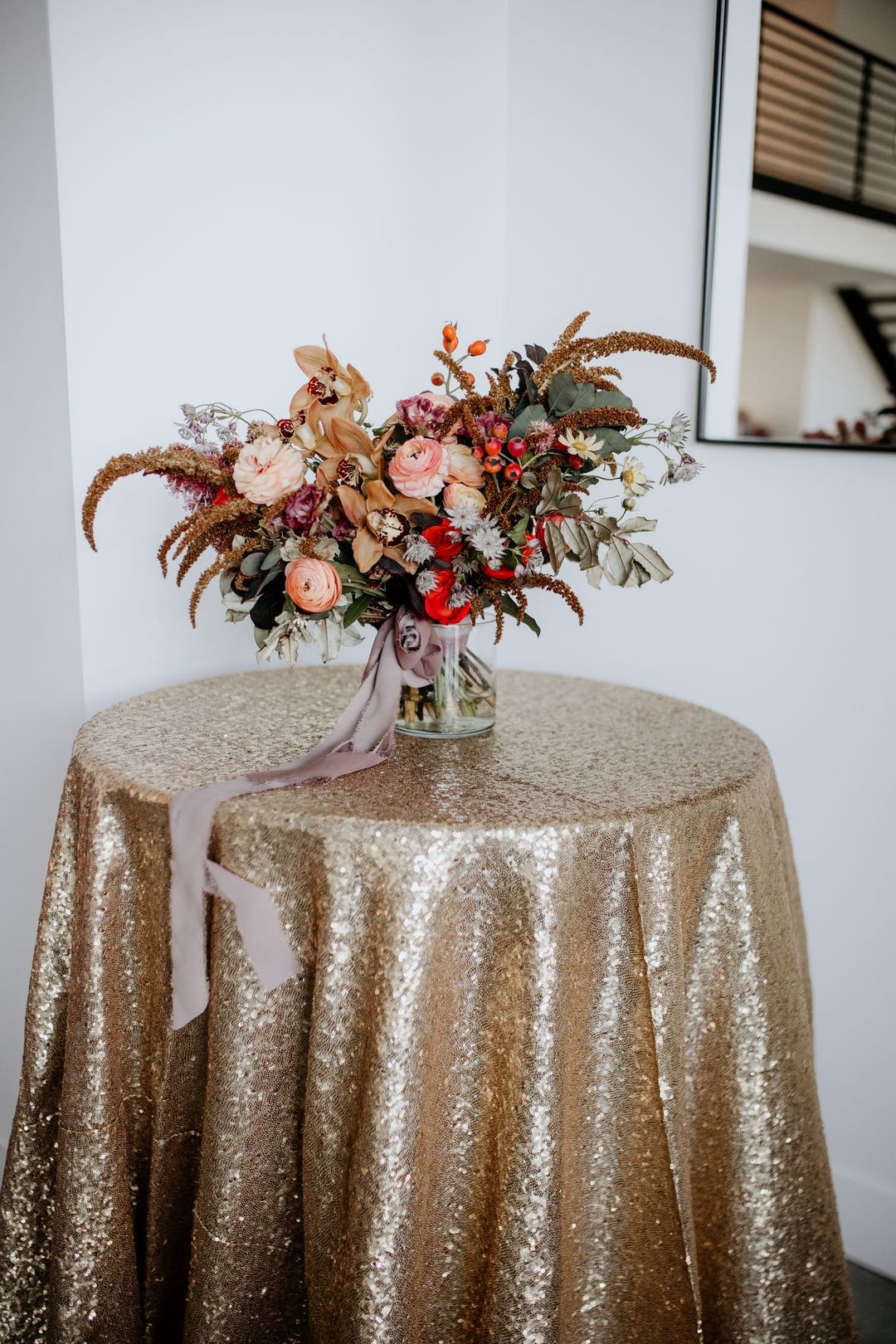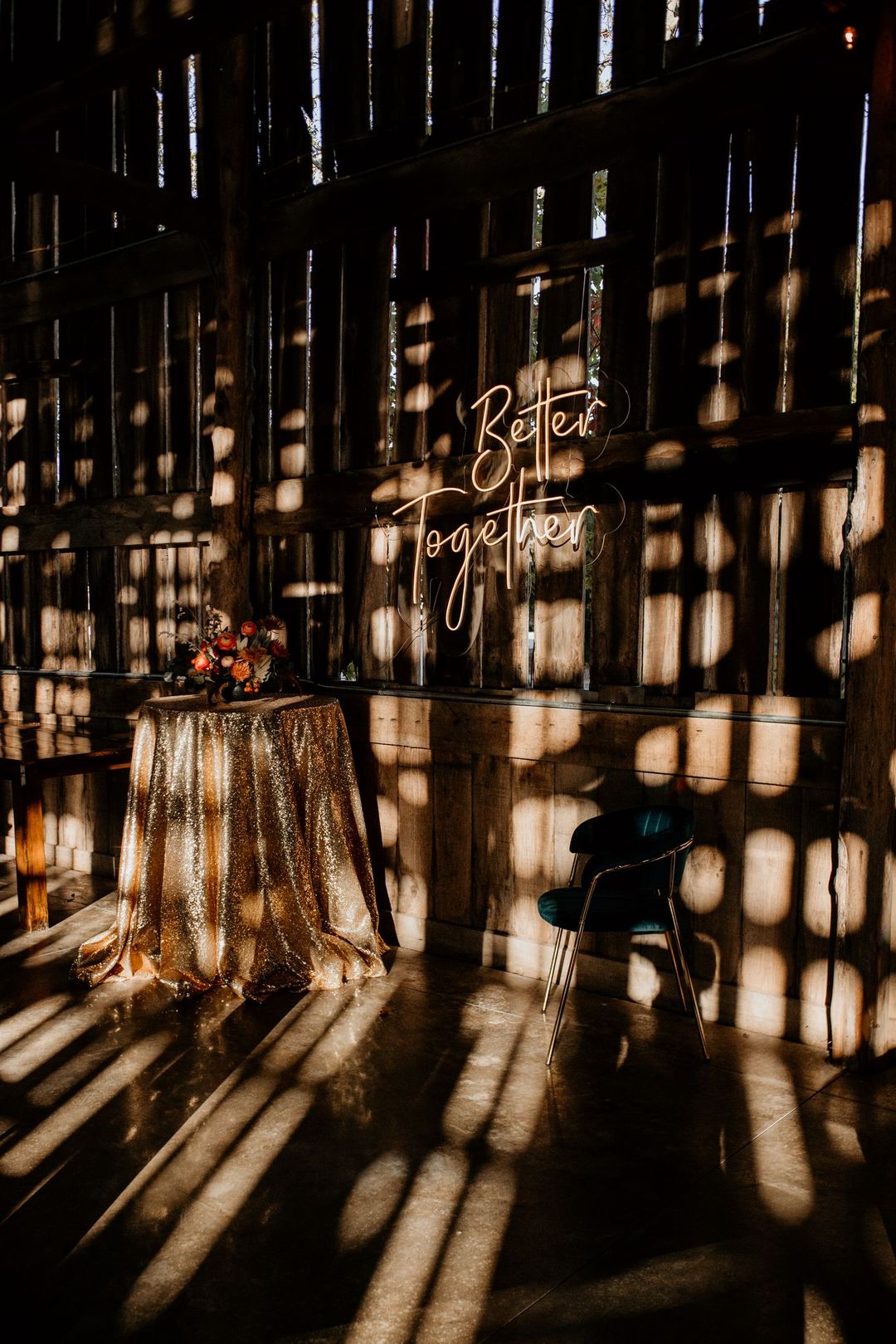 Thanks to the Nashville Vendor Team that partner with us on this look!
Planning: Erin Lynn Events
Photography: Kelsey Leigh Photo
Florals: Stella Rose Floral
Neon Light: Nash Neon
Lighting: Nashville Lighting & Production
Want to recreate this boho diva event style? Reach out to our team for help or to secure your rentals at info@southerneventsonline.com. For additional ideas and inspiration for your 2021 event, check out the latest trends featuring our in-stock rentals.
TAGS | Bohemian Wedding Trend, Boho Luxe Event Decor, Southern Boho Chic, boho glam, event style trends, nashville venue, southall meadows, southern boho style
FEATURED RENTALS | sequin, etched velvet linens, onlyx china, silver rimmes glass china, gold medallion glass charger, Como flatware, Cybil glassware, Austin gold flatware, Aubrey gold rim glassware, pure glassware, amber goblets, magnolia runner, driftwood runner, yarrow napkins, fruitwood farm table, gold Chiavari chairs, acrylic ghost arm chairs,
---
28

Jan

Events and Style Shoots, Nashville Venues, Real Nashville Weddings, Southern Events Products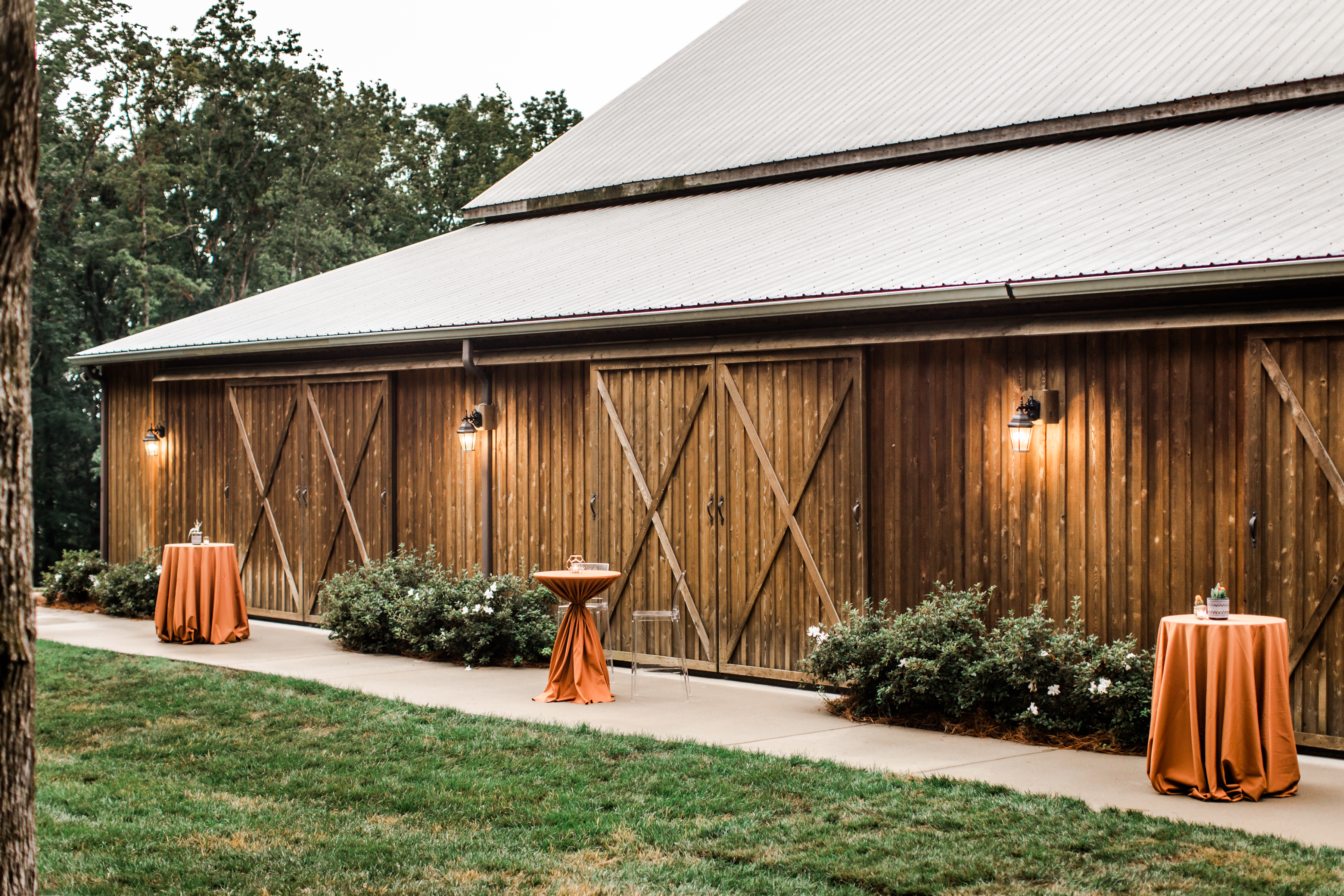 In search of a secluded country atmosphere for your future wedding? Located in Murfreesboro, Tennessee, Saddle Woods Farm is a Southern old-style cedar wood barn situated on 25 beautiful acres. To help inspire you for your event, check out a variety of ways that you can dress up this stunning Tennessee wedding venue, featuring our modern & stylish rentals.
Modern & Minimalistic Neutrals
One of our favorite wedding trends is neutral wedding palettes, which lend a timeless look to any event! This style is easy to pull off at The Barn, full of warm woods and southern charm. For this tablescapes, we featured our Glass Charger with a Gold Rim, Alabaster China, Austin Gold Flatware, Colored Glassware & Pure Glassware. The simple but luxe centerpieces were made using voluminous arrangements of pampas grass and our sleek Davis Glass Cylinders. With their large vaulted ceiling, we can't resist going big with decor!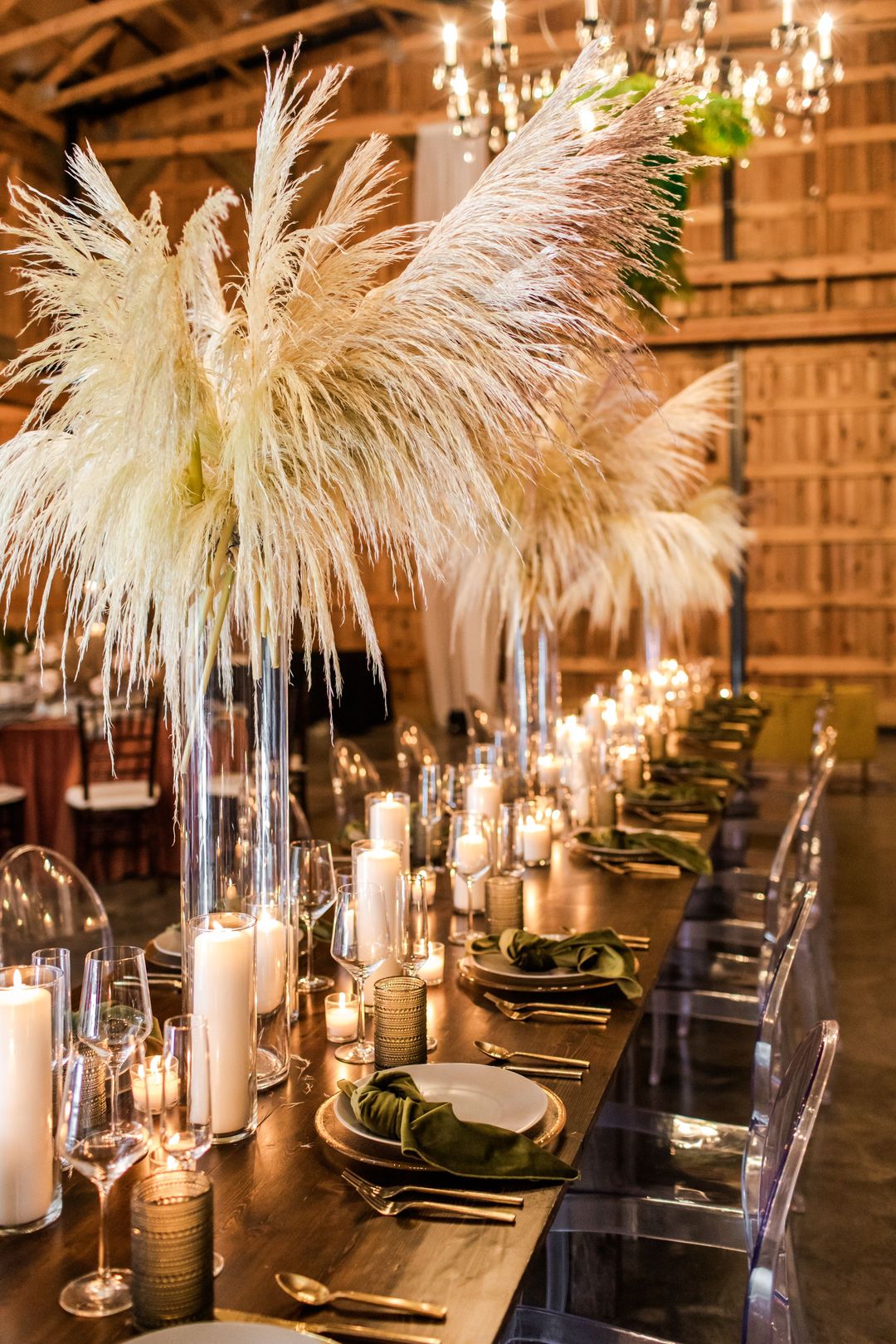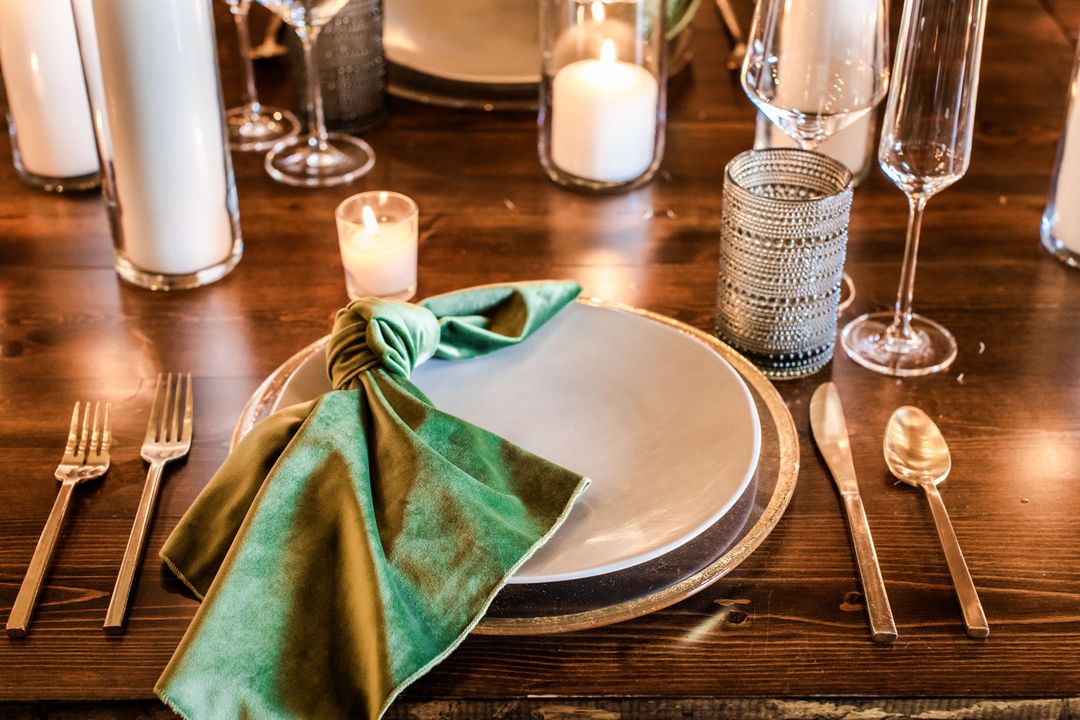 Bright & Bold
If you're a couple who wants a less traditional look, we say rock some bright and bold colors! The warm tones at Saddle Wood, provided by cedarwood and iron details, contrast beautifully with bright shades. The following boho-inspired table packs a fun punch of color via our Burnt Orange Poly Table Linen and gold metallic accents. For a chic statement lounge area, check out our Saylor Navy Velvet Chairs, paired with a set of elegant Rhodes Side Tables and trendy Gloria Velvet Ottoman. It's the perfect mix of both bold and classic colors.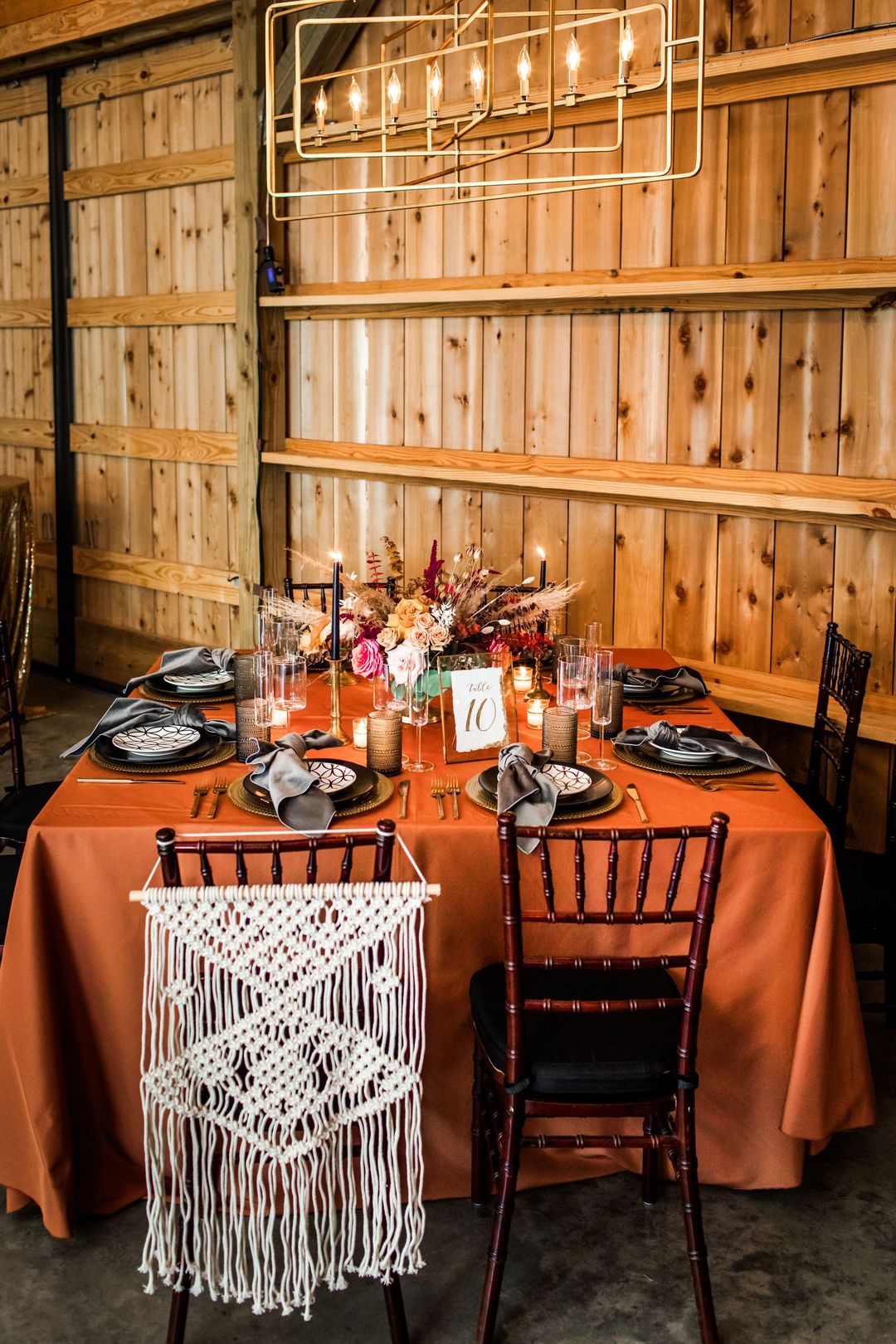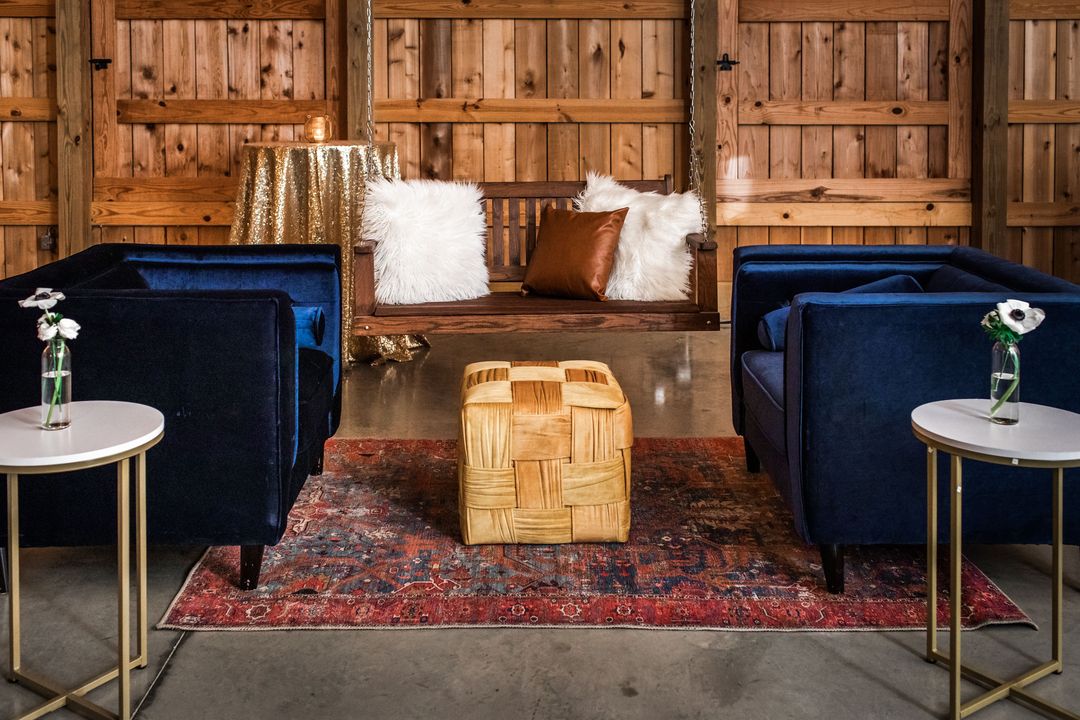 Dark, Moody & Chic
While Saddle Woods has more rustic elements, tt looks equally gorgeous when outfitted with our luxe black rentals. Although non-traditional, this color is sure to lend a moody yet chic vibe to your event and the space. Below is a luxe sweetheart table paired with our contemporary Acrylic Ghost Armchairs. Behind it, you'll notice a small lounge made with our stylish Regent Black Velvet Sofa and Echo Silver Mirror Side Tables. For the dinner table check out our Glass Charger with a Silver Rim, Onyx & Stone China, Hammered Flatware. The Black Nova Linens and a dab of pink in the centerpiece add a small touch of whimsy.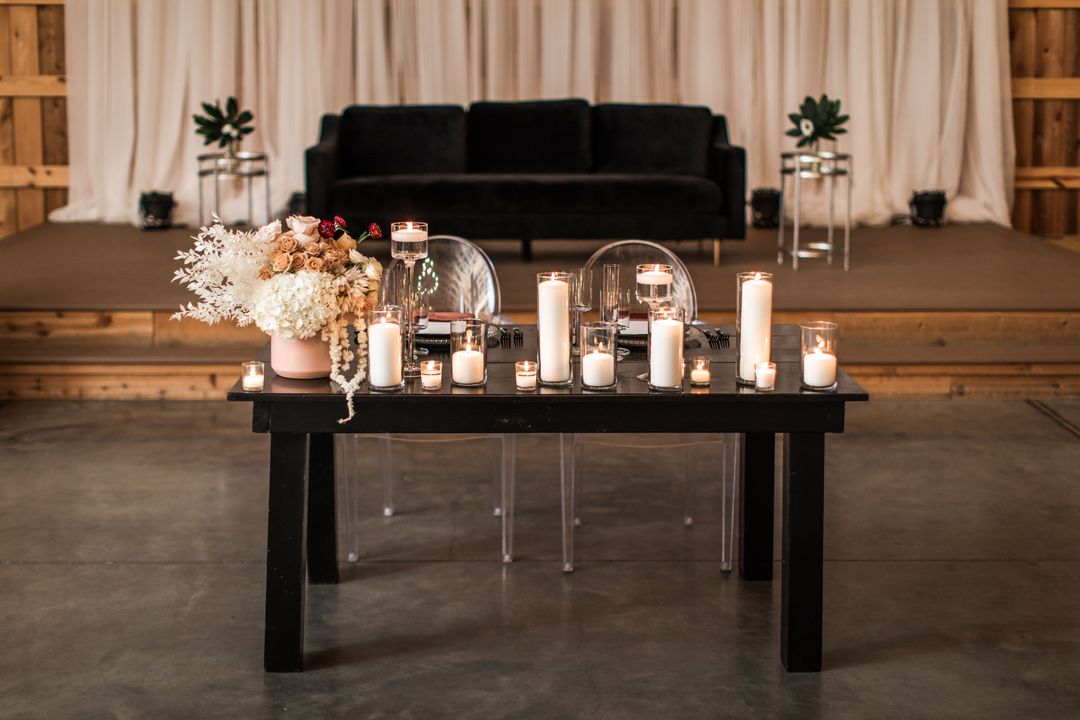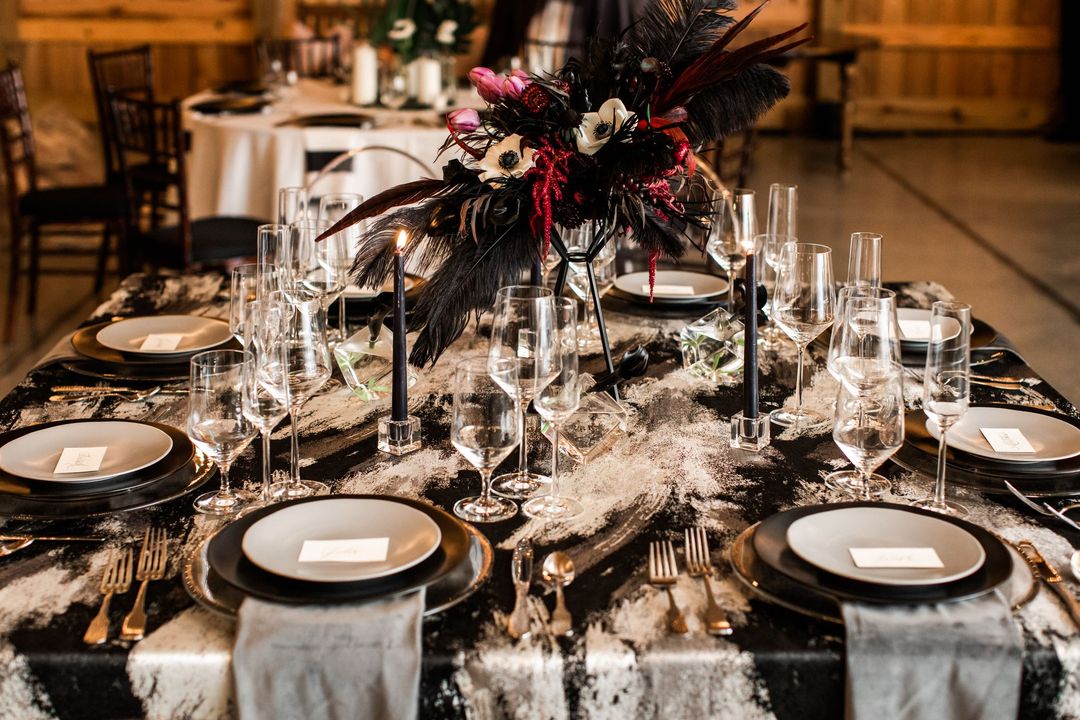 Classic Romance
Should you prefer a traditional wedding look, then you'll love this romantic set up. With the cedar rafters decorated with string lights, greenery and blush drapery, the Barn looks absolutely magical. To complement it, we dressed the reception tables in a mix of both burgundy and blush linens surrounded by cozy social areas. These areas feature our cowhide rugs and Conga Gold Drum Side Table as well as Bennett Leather Sofa, Grey London Loveseat and  Cheval Gold Side Tables.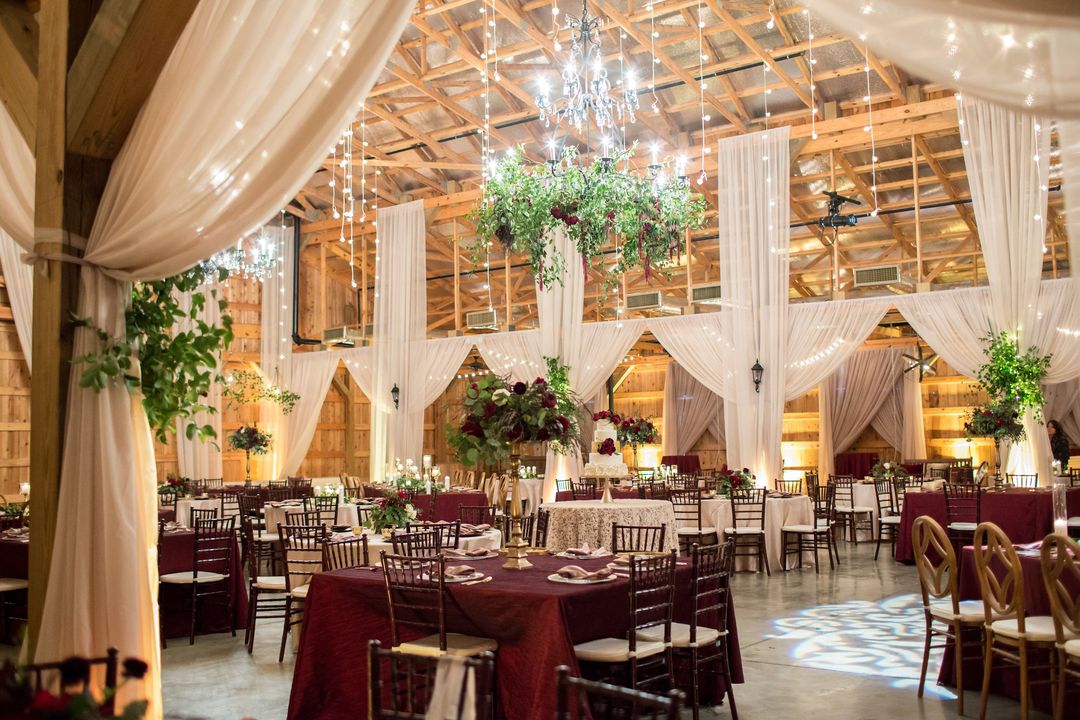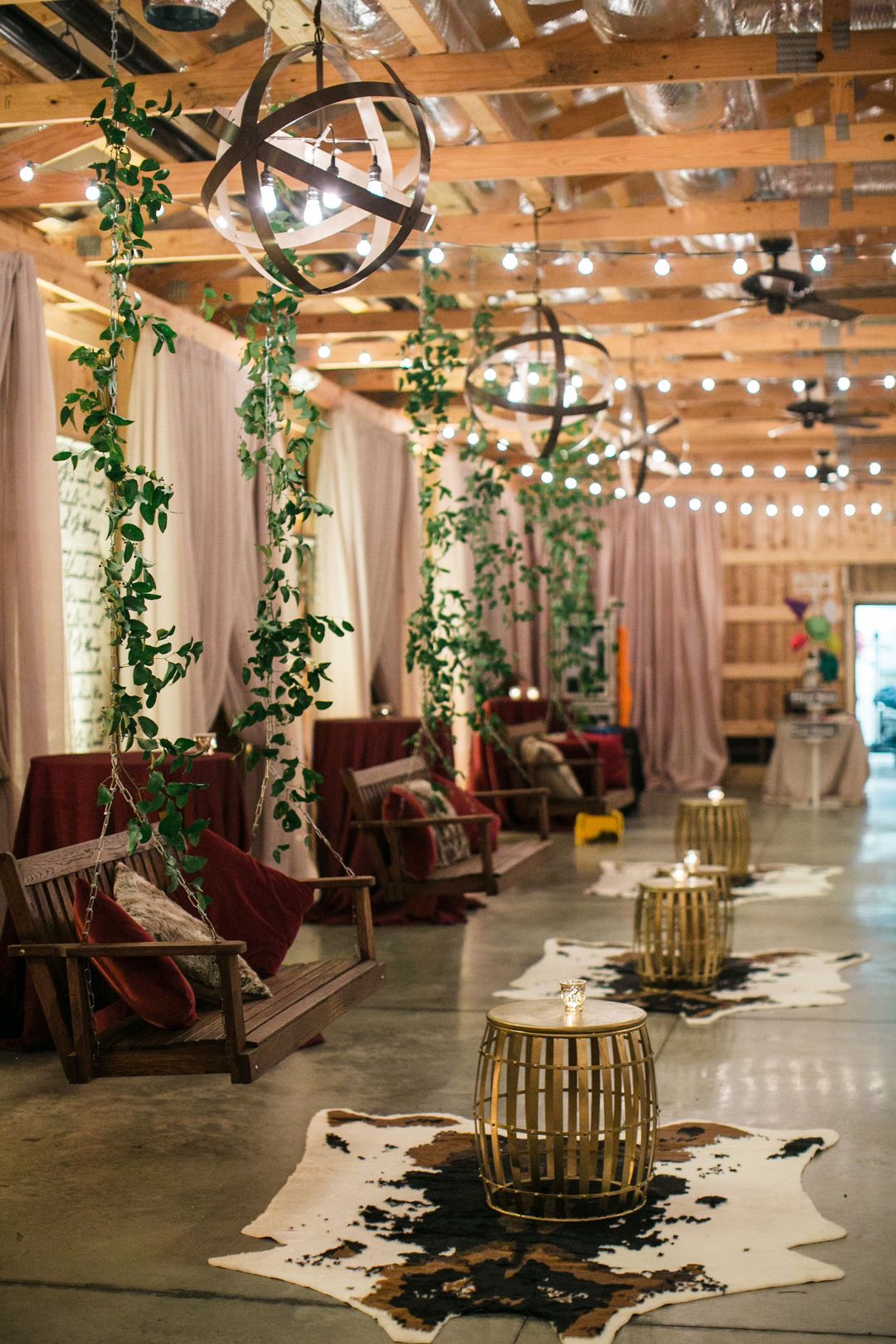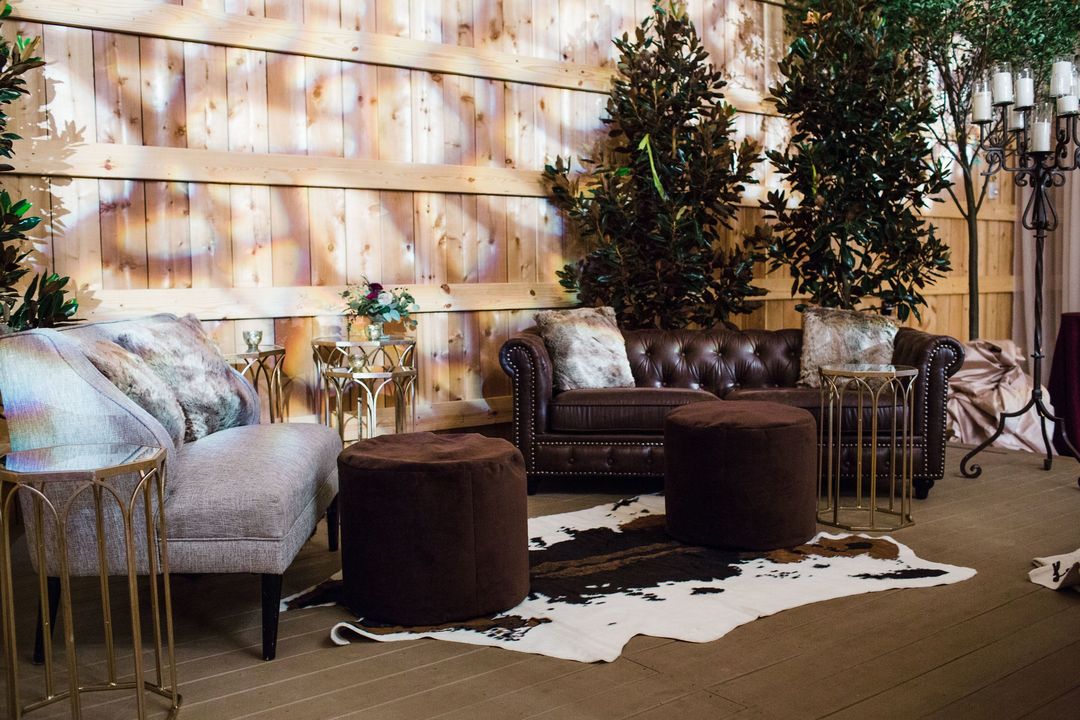 Photo by SheHeWe Photography
Luxe Outdoor Lounges
Of course, you have to take advantage of the lush landscape, which is perfect for an outdoor lounge area. Depending on the season in which you host your event, why not host a cocktail hour outside? You can easily create a variety of stylish wedding lounges, whether you want a look that is more moody, modern or chic. The following layouts include a set of our Acrylic Ghost Armchairs, Nickel Grey Bench and Regent Black Velvet Sofas.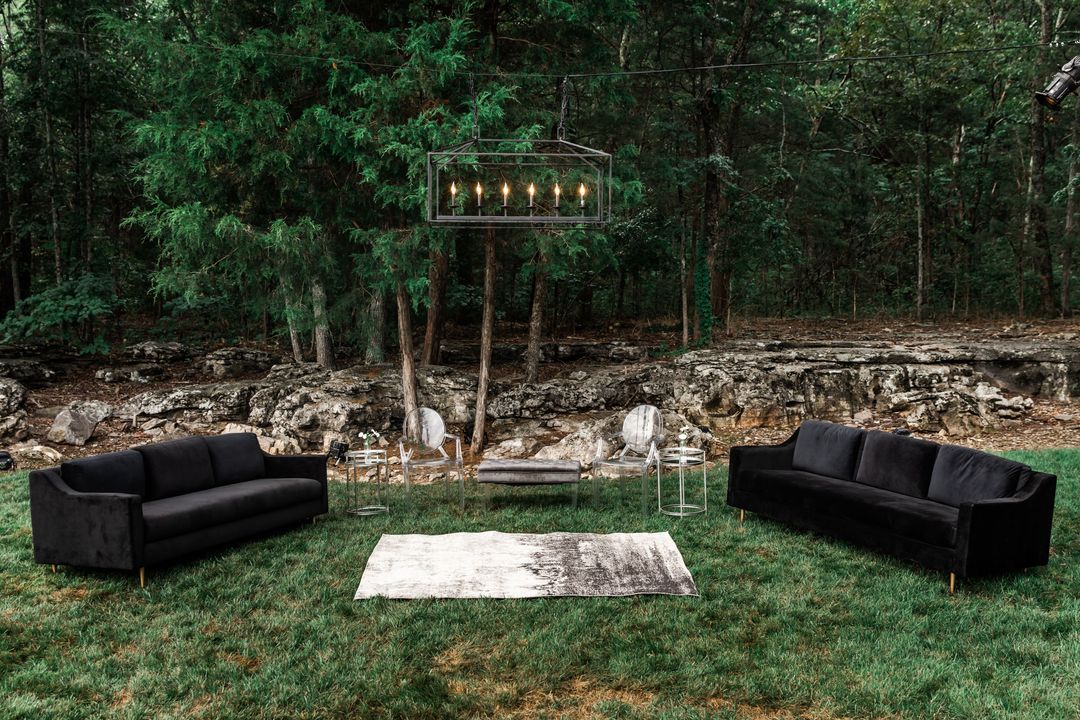 For these smaller areas, starring bistro and accent tables, seating is more minimal. See below our favorite White Eiffel Arm Chairs and Acrylic Casper Square Barstools! For additional texture, consider using our sequin table linens or etched velvet linens.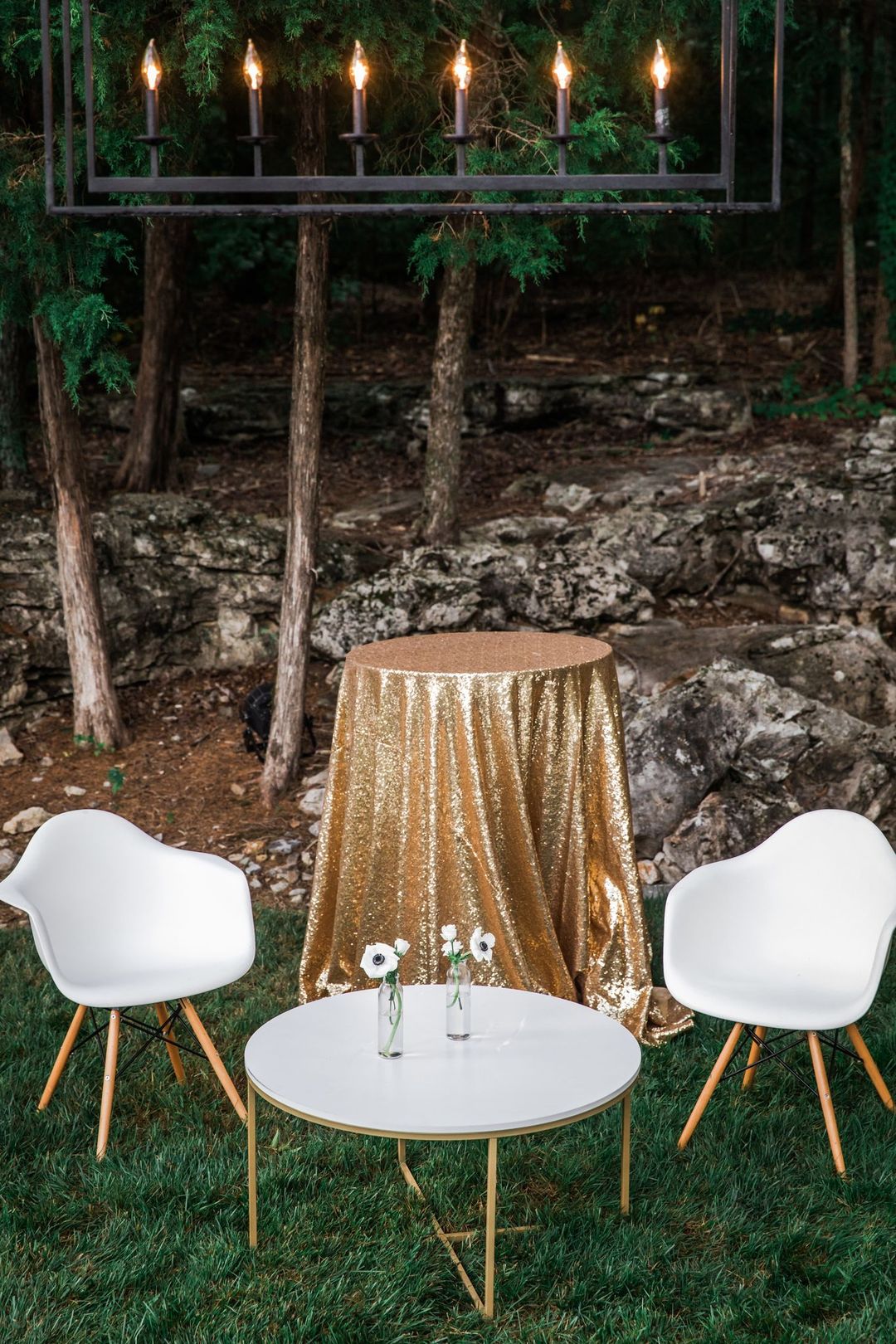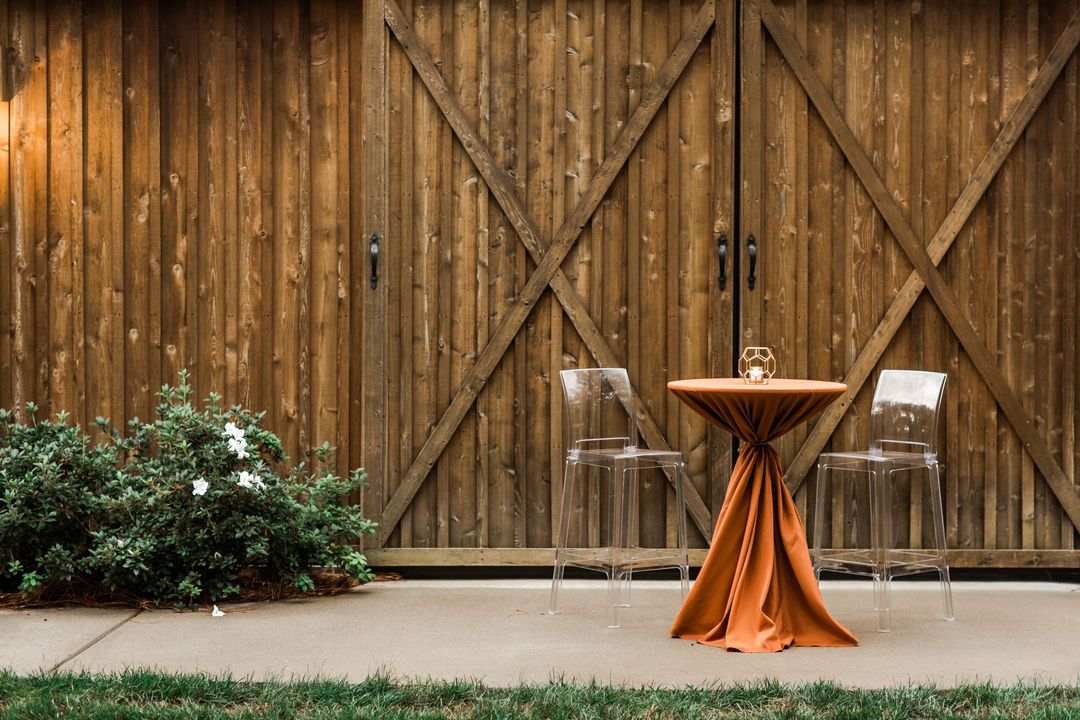 Planners: Southern Honey Events & Erin Lynn Events
Photographer: Nyk & Cali
Florals: Amy & I Designs & Larson Floral Co.
Lighting: Nashville Event Lighting
Signs: White Ink Calligraphy
Ready to plan your wedding at Saddle Woods Farm? Contact our team at info@southerneventsonline.com for help recreating one of these luxe looks, or for guidance in creating your very own!
TAGS | Nashville Real Wedding, Saddlewood Farms, Style Shoot, classic southern wedding, nashville venue
FEATURED RENTALS | Acrylic Ghost Armchairs, White Eiffel Arm Chair, Etched Velvet Linens, Sequin Linens, Glass Charger with a Gold Rim, Alabaster China, Austin Gold Flatware, Colored Glassware, Pure Glassware, Davis Glass Cylinders, Nickel Grey Bench, Burnt Orange Poly Linens, Glass Charger with a Silver Rim, Onyx & Stone China, Hammered Flatware, Black Nova Linens, Regent Black Velvet Sofas, Belmont Charger, Onyx China, Cybil Glassware, Cameron Flatware.
---
10

Dec

Events and Style Shoots, Nashville Venues, On Trend, Southern Events Products, Trends and Inspiration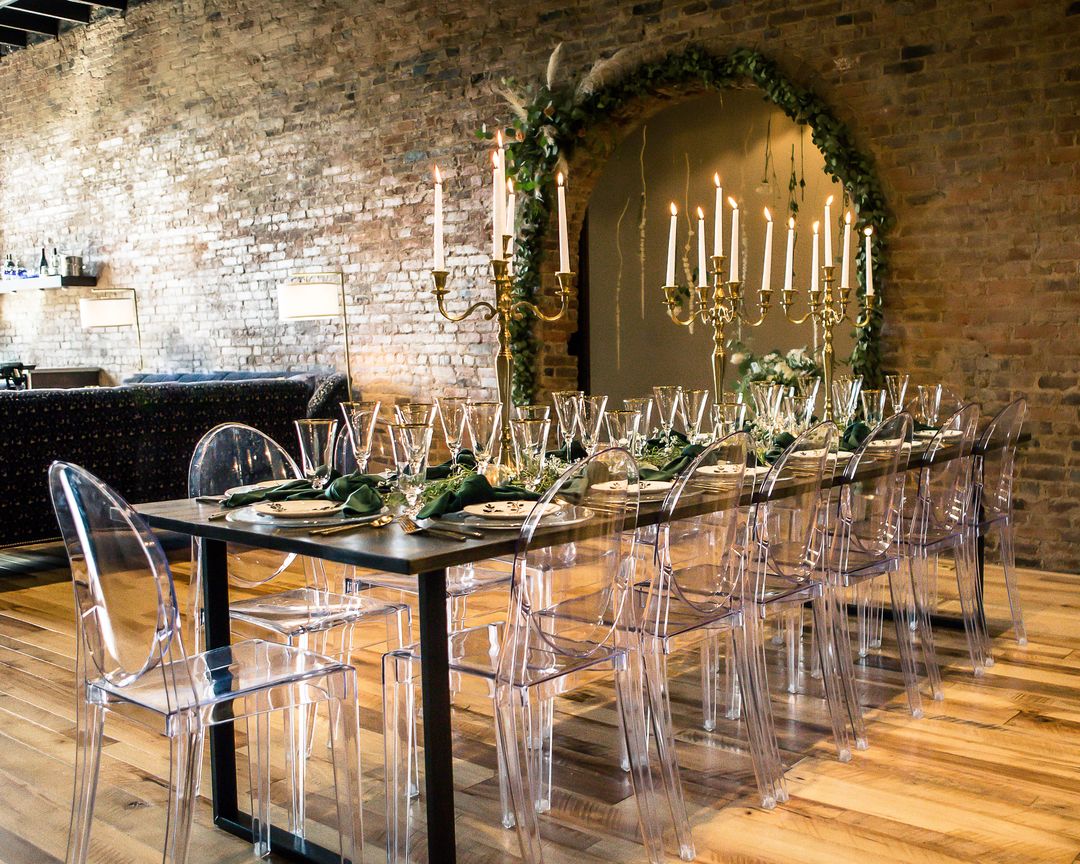 We love a good diner party and this emerald and gold styled shoot has us dreaming of luxe tablescapes for dinner parties and intimate weddings. Soiree on the Square in downtown Columbia, Tennessee was our host for the shoot and the perfect backdrop of cozy charm. Check out the details below, to get inspired for your own micro wedding reception or intimate dinner celebration!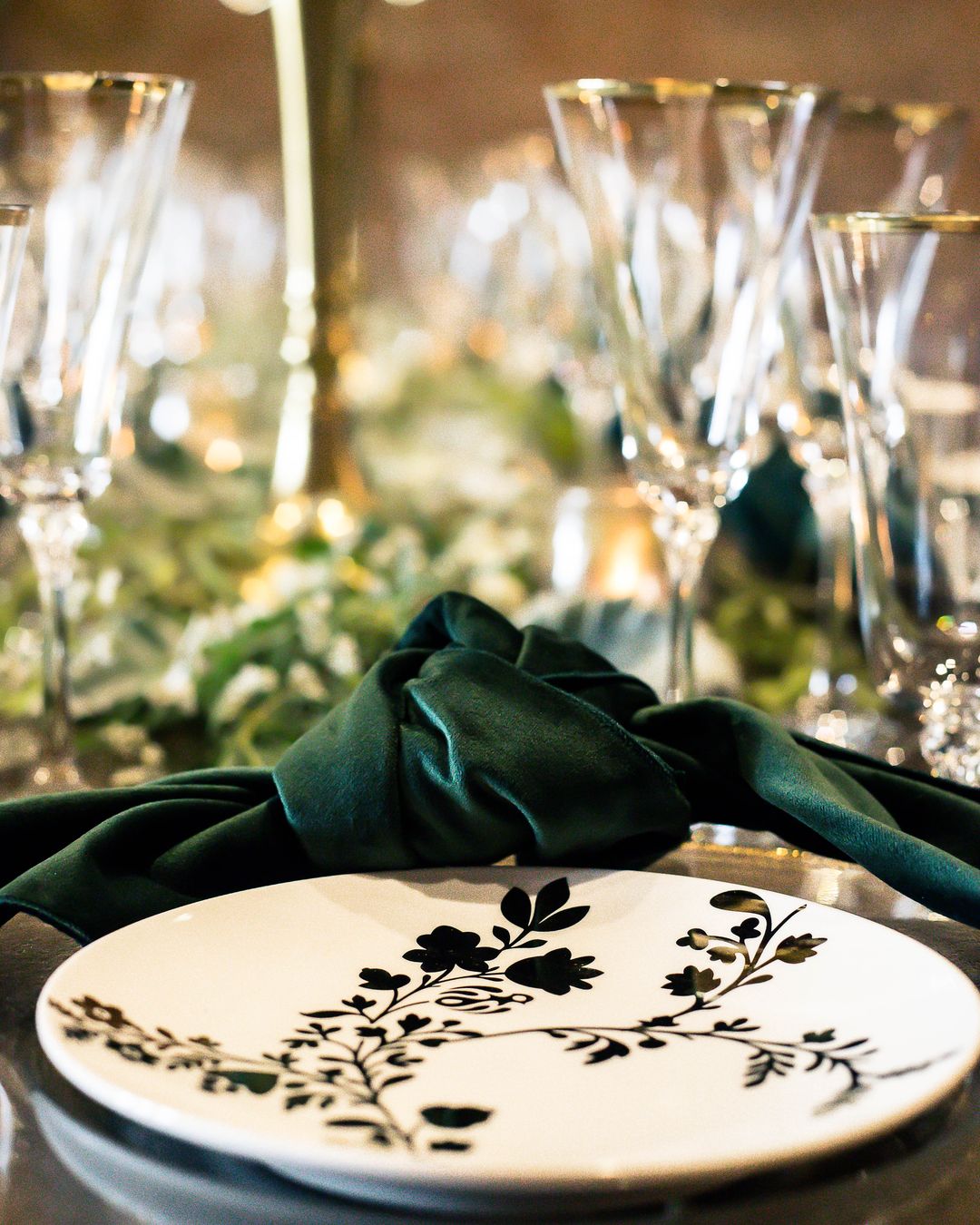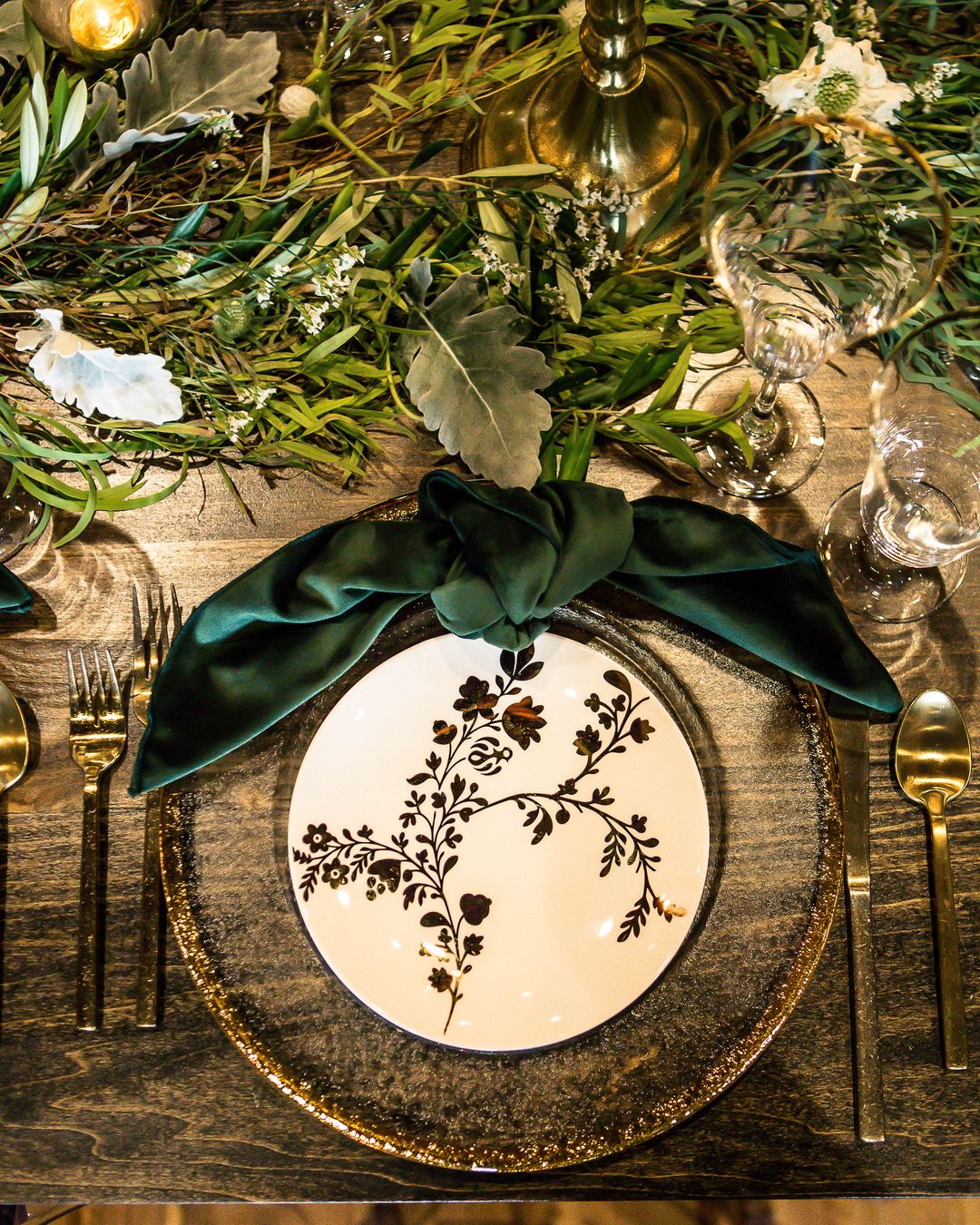 The Soiree on the Square is a gorgeous event space that mixes industrial architecture with contemporary furnishings. We contrasted the warm brick walls,  hardwood floors and industrial furniture with our modern
Acrylic Ghost Chairs
.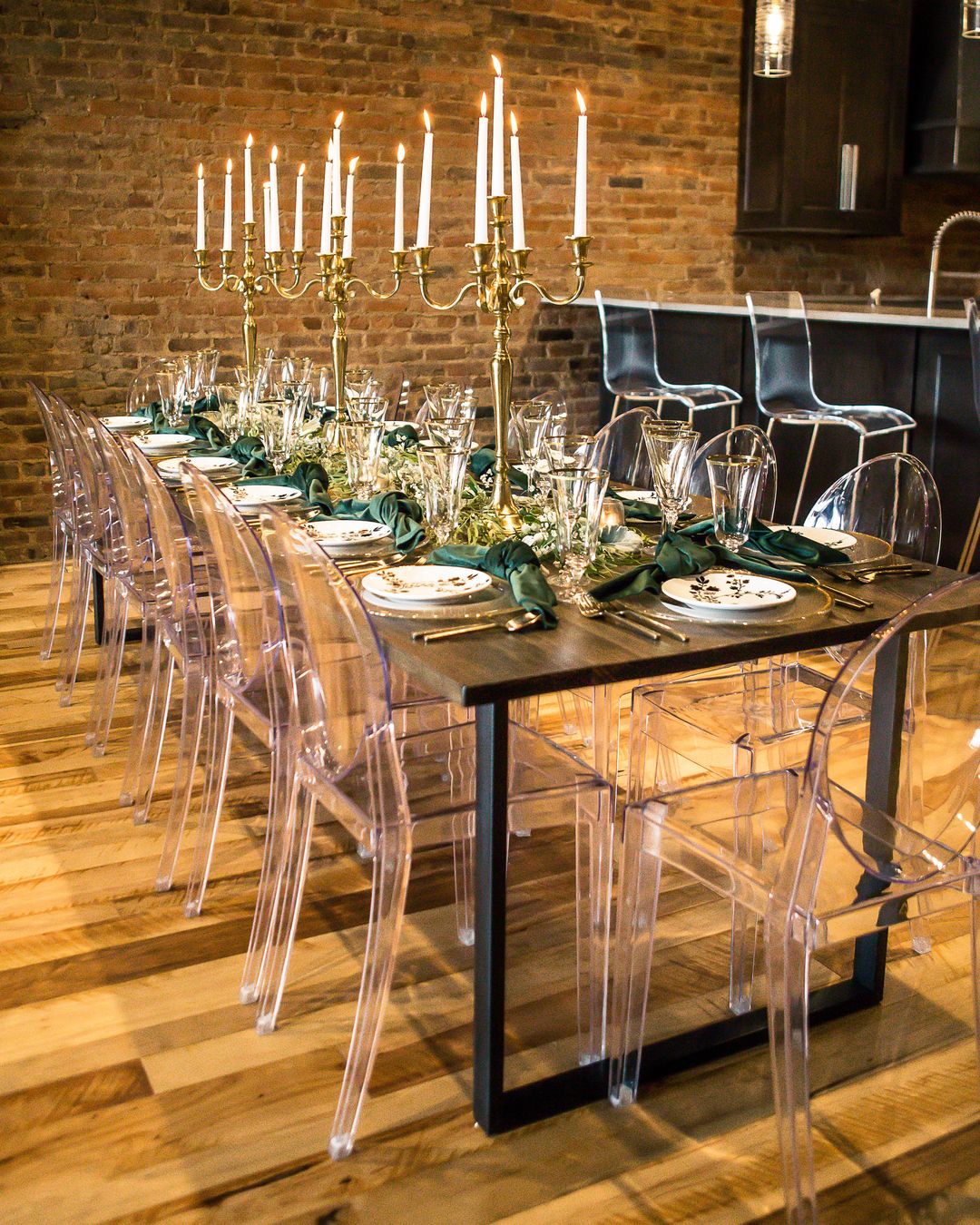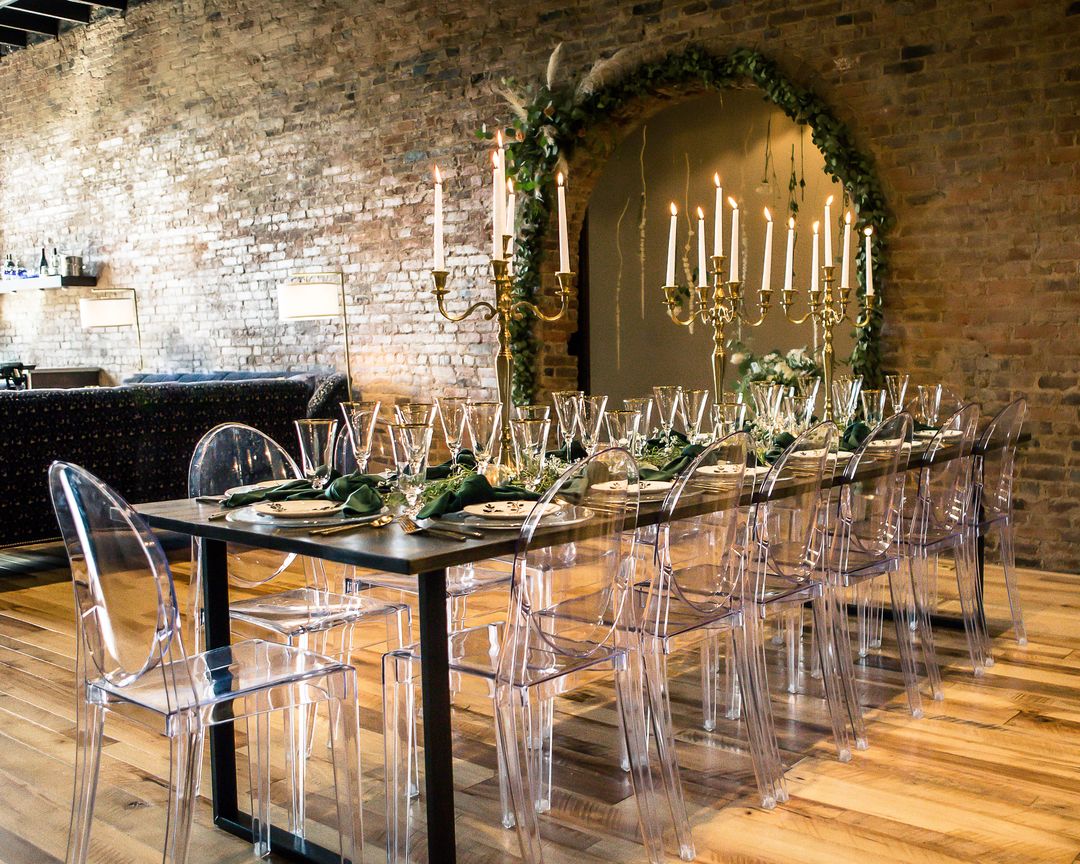 The centerpieces were simple but elegant, featuring greenery and tall gold candelabras – ideal for conversing across a table. Tall candles and votives were used throughout the space to create a romantic and intimate ambiance.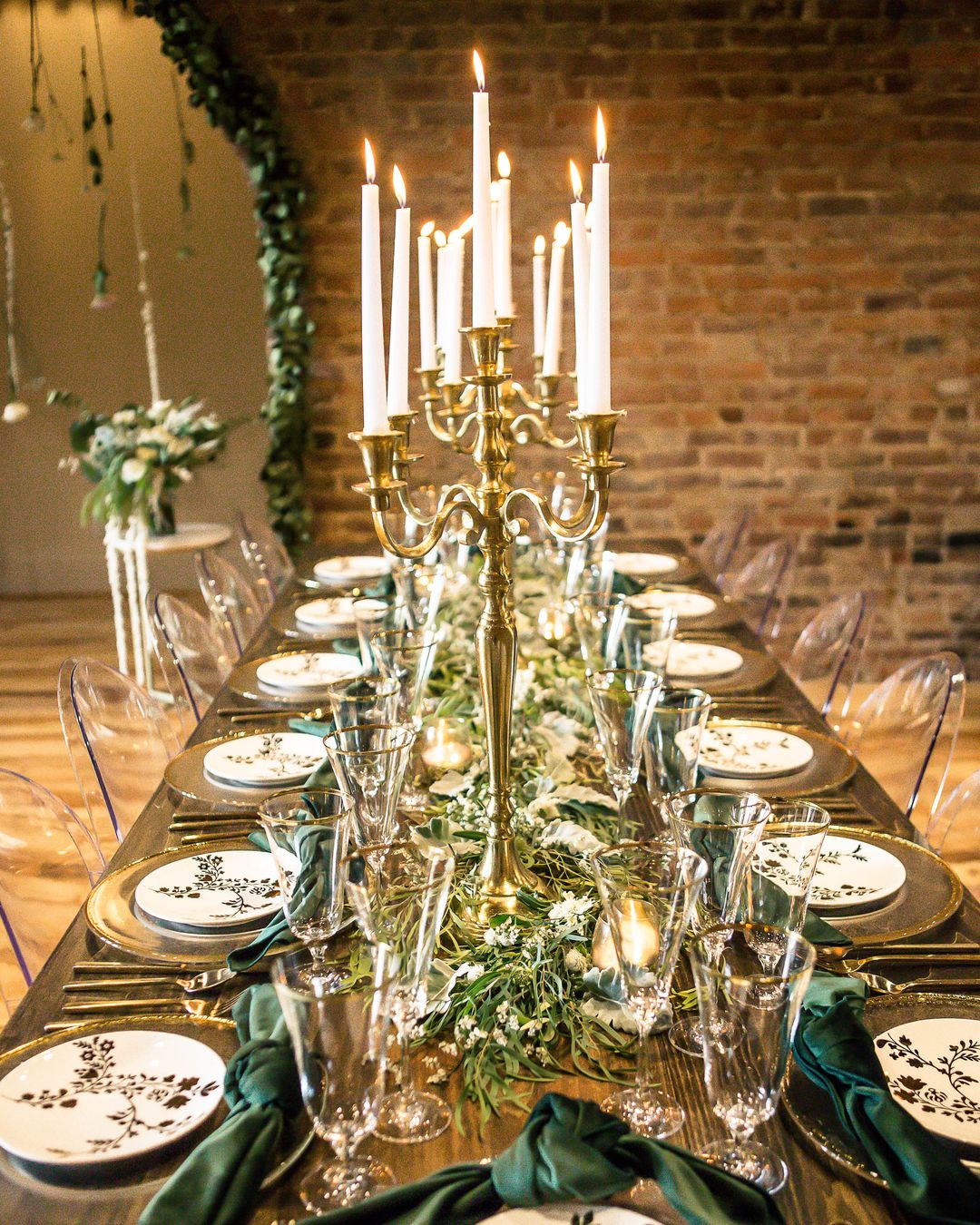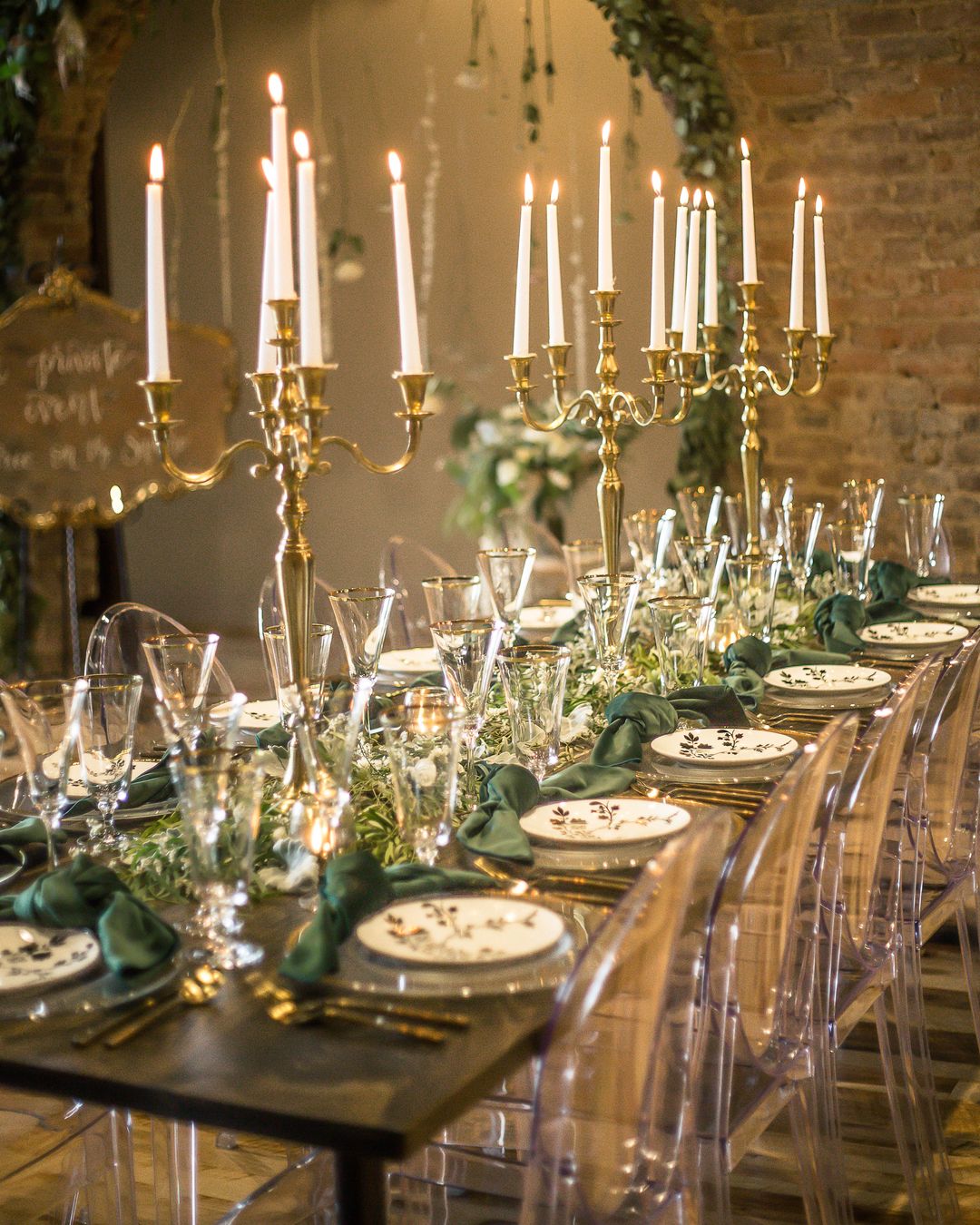 Other decorative elements include a lush garland to frame the entryway to the reception space. Eucalyptus, pampas grass and roses add volume here. A gold-framed mirror featuring a handwritten message was placed on a wrought iron stand as a stylish way to welcome guests.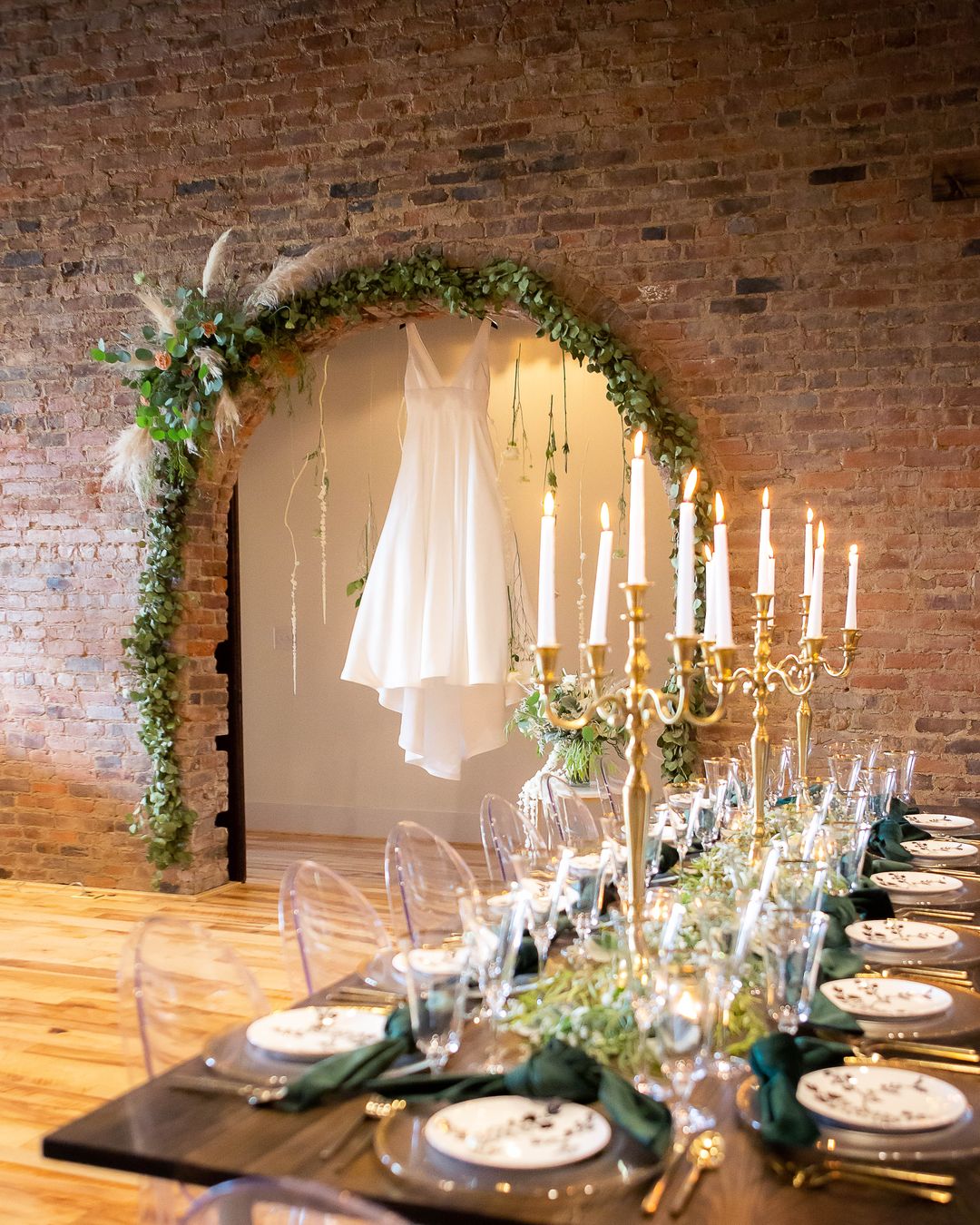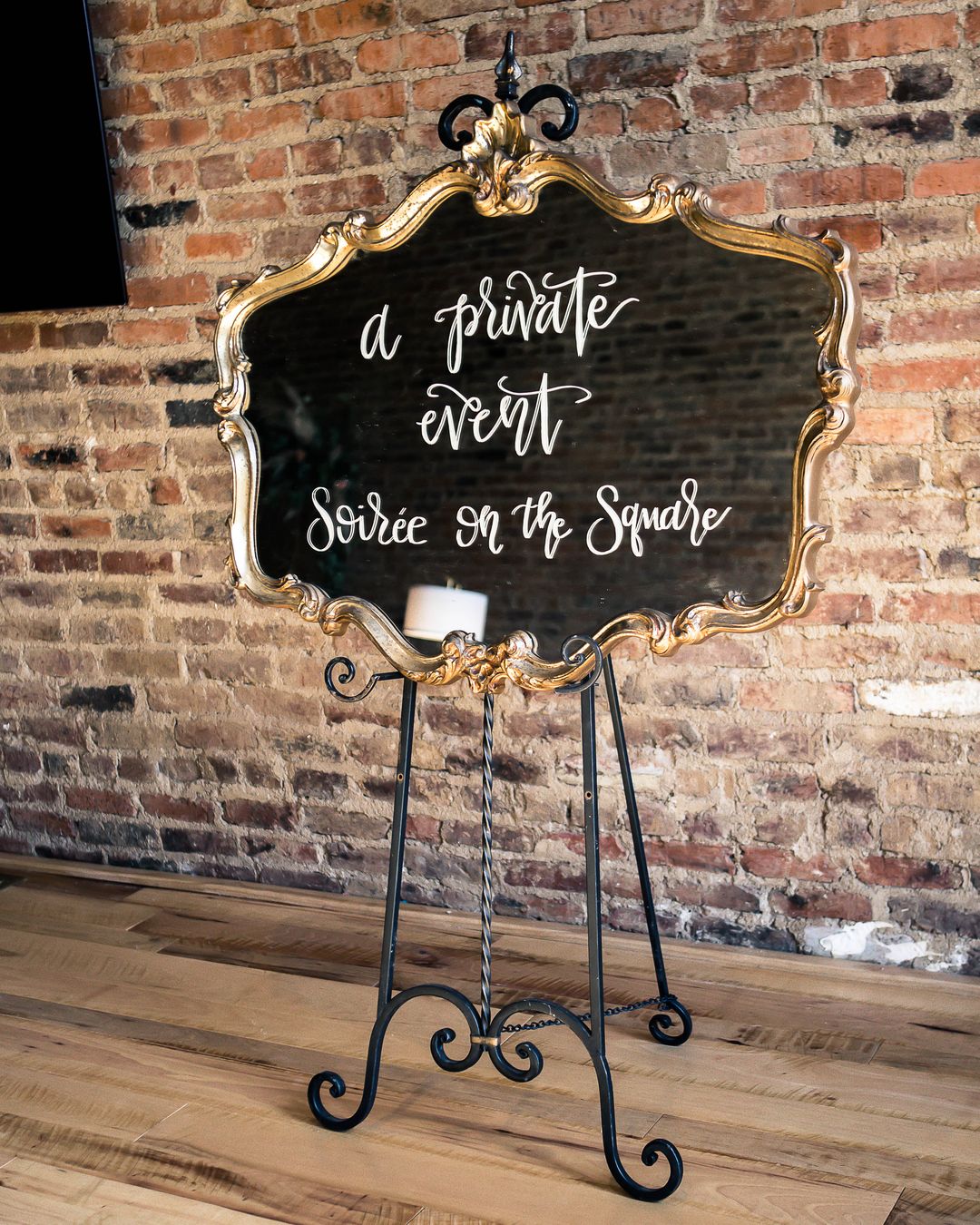 A special thank you to all of the amazing vendors who collaborated to make this stunning shoot possible!
TAGS | Nashville Event Venue, On Trend, Style Shoot, event inspiration, gold and emerald, gold event rentals, luxe event design, luxe event rentals, modern events, nashville event vendors, nashville venue
FEATURED RENTALS | Velvet Magnolia Green Linens, Glass Charger with Gold Rim, Vera Floral Desset Plate, Austin Gold Flatware, Audrey Gold Rim Goblet, Audrey Gold Rim Wine Glass
---
22

Oct

Events and Style Shoots, On Trend, Southern Events Products, Trends and Inspiration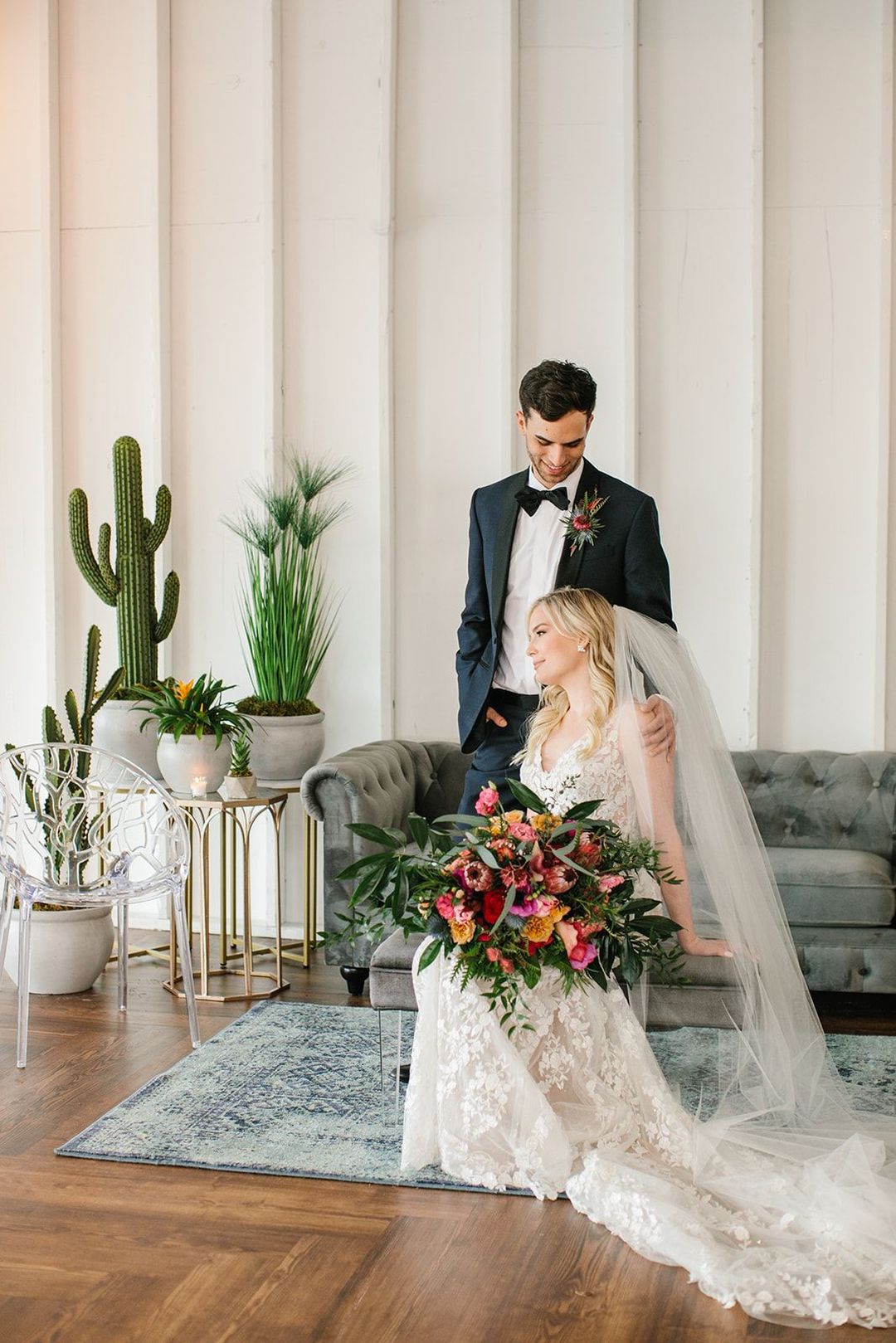 If you're looking for a bright and chic look for your upcoming wedding, look no further! Earlier this year our team at Southern Events collaborated with other local vendors for a fresh and fun desert bloom themed style shoot at 14Tenn in Nashville, Tennessee. Enjoy the breathtaking image by Gray Kammera Photography as we show off some of our featured rentals!
For the intimate indoor reception, we opted to use our modern Acrylic Ghost Armless Chairs. Meanwhile, our Davis Glass Cylinders with white pillar candles lined the aisle way, extending the airy look and creating a warm ambiance. Of course, the floral backdrop created by SS T Villager Designs stole the show! Their bright whimsical florals took this reception set up to another level, with lush greenery and bold colors.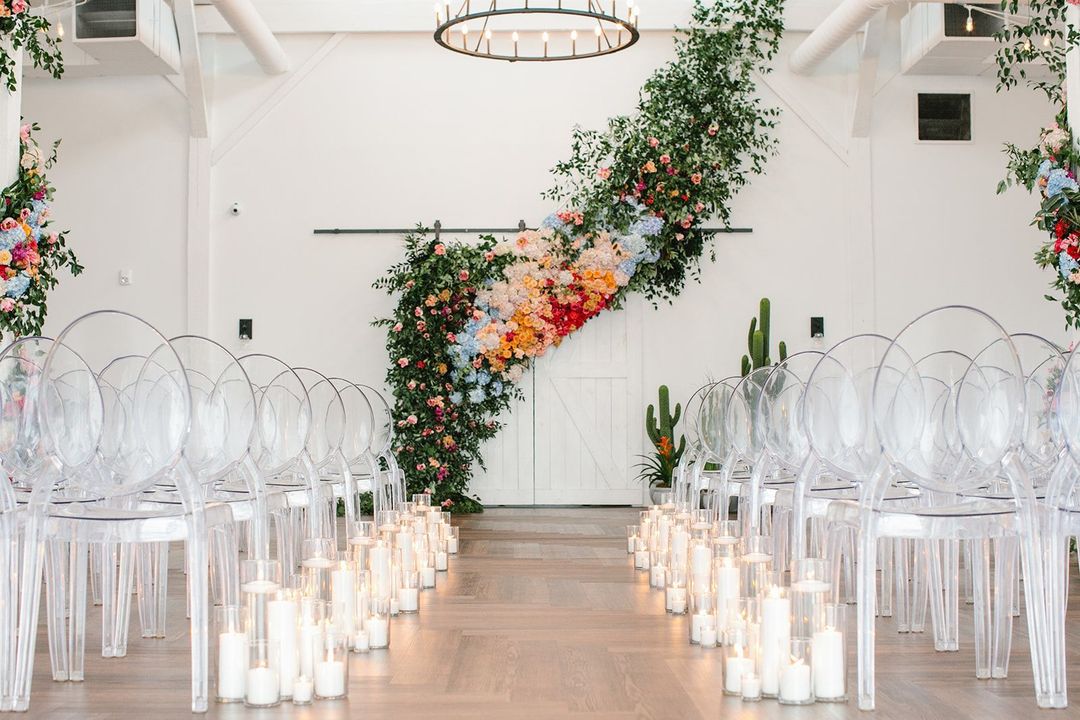 Shifting to the reception, we featured more of our popular acrylic furniture. This time our Acrylic Carrigan Side Chair. A mix of contemporary and industrial/rustic furniture makes this set-up stylish yet inviting.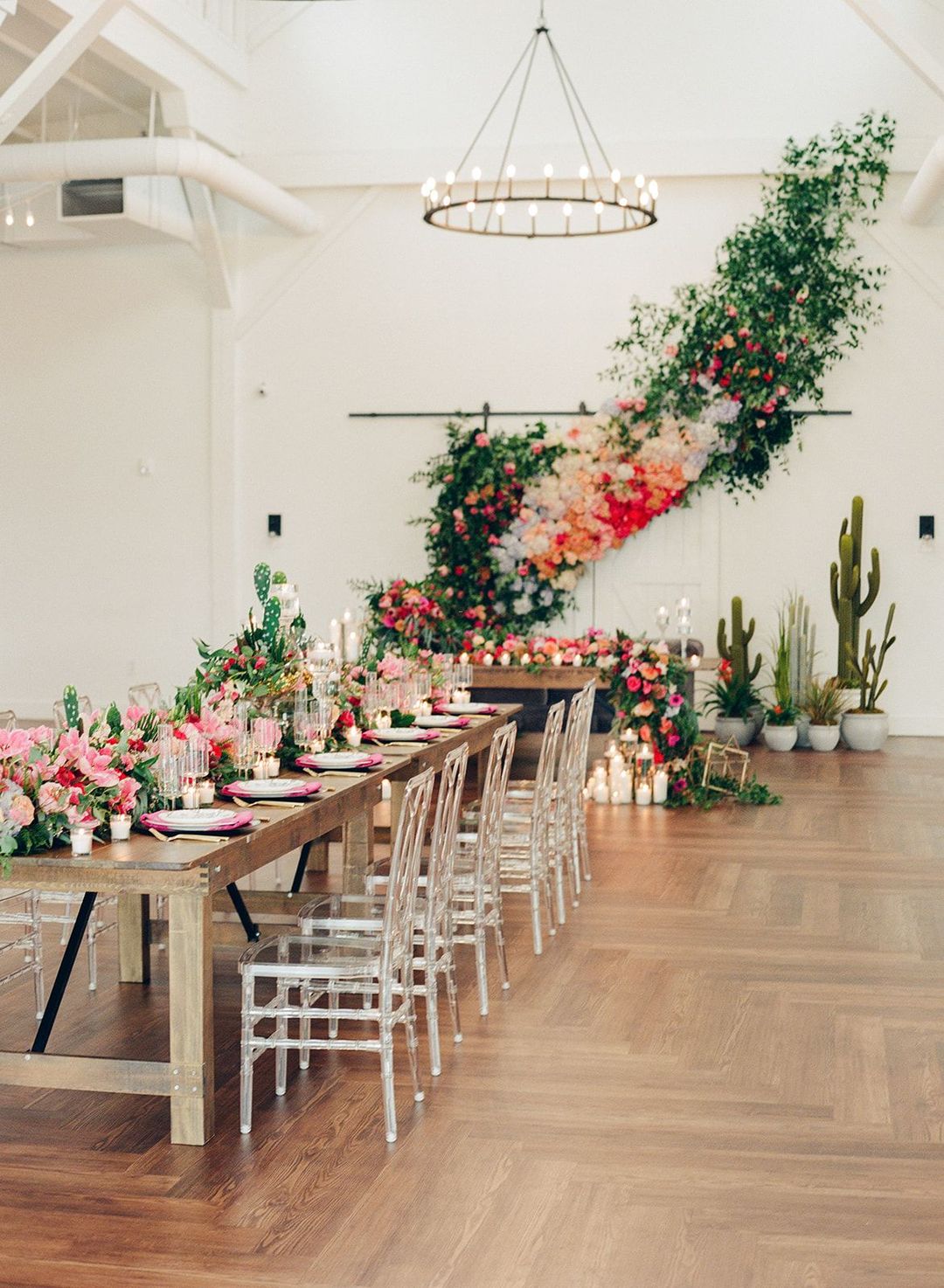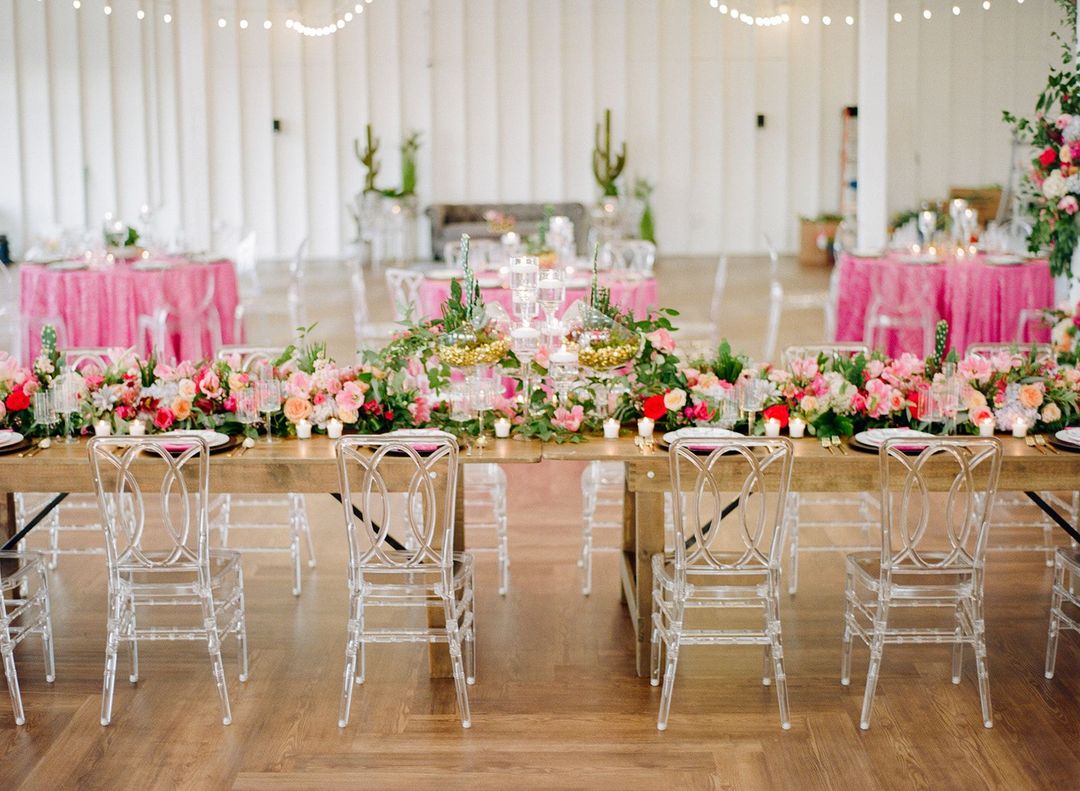 On the long dinner tables, we created place settings using our Coronado China, Athena China, Faux Wood Round Chargers, and Austin Flatware. Our Fuchsia Etched Velvet Napkins brought a POP of color that complimented the bright floral centerpieces. For drinks, we selected our classically elegant Cybil Glassware.
Also, note the beautiful calligraphy escort cards by Fanciful Ink!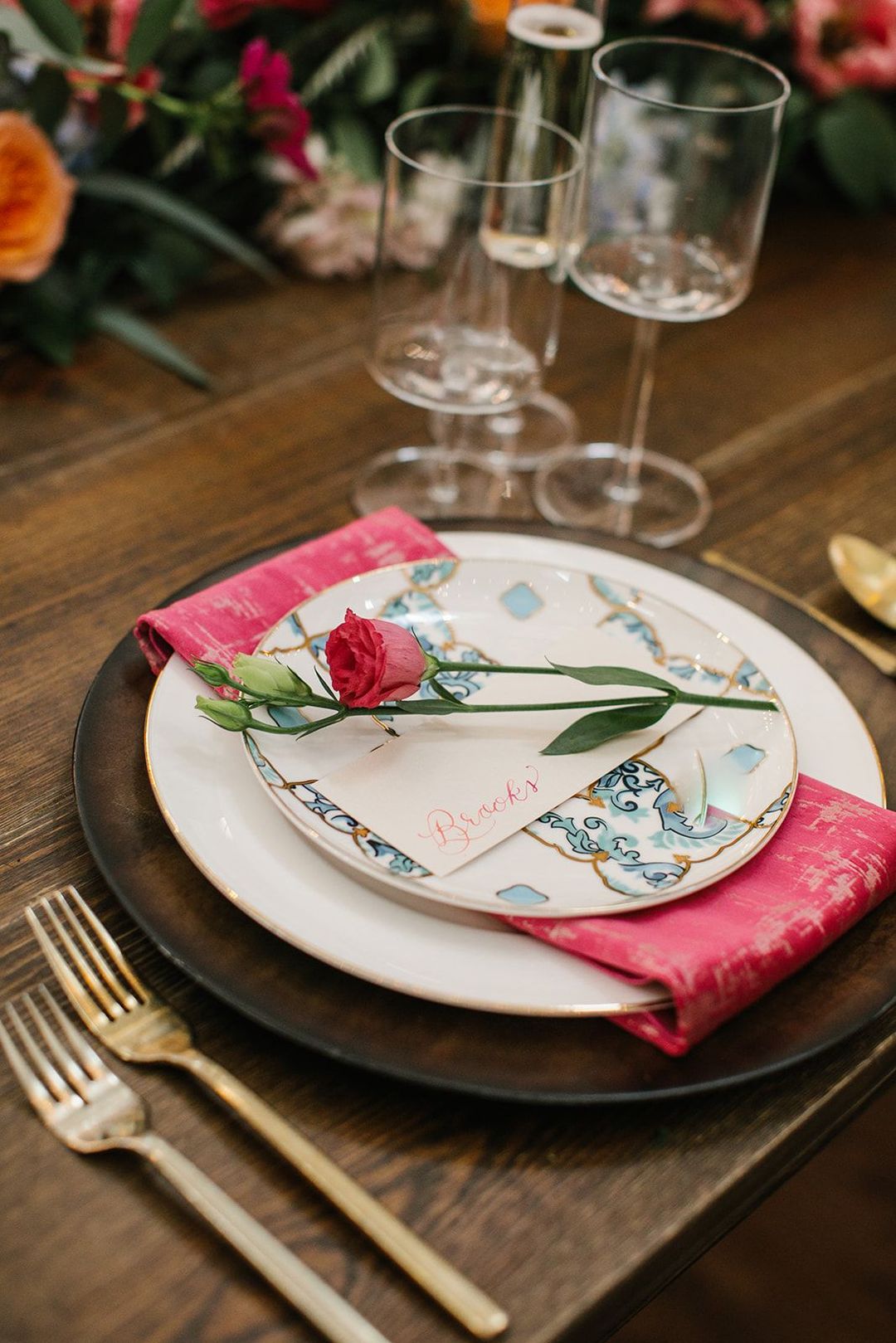 When styling the bride and groom's table, we always like a little extra drama. The bold florals dripped all the way to the floor where they met our Gold Metal Intersect Cube and Davis Glass Cylinders, for a warm and luxe look.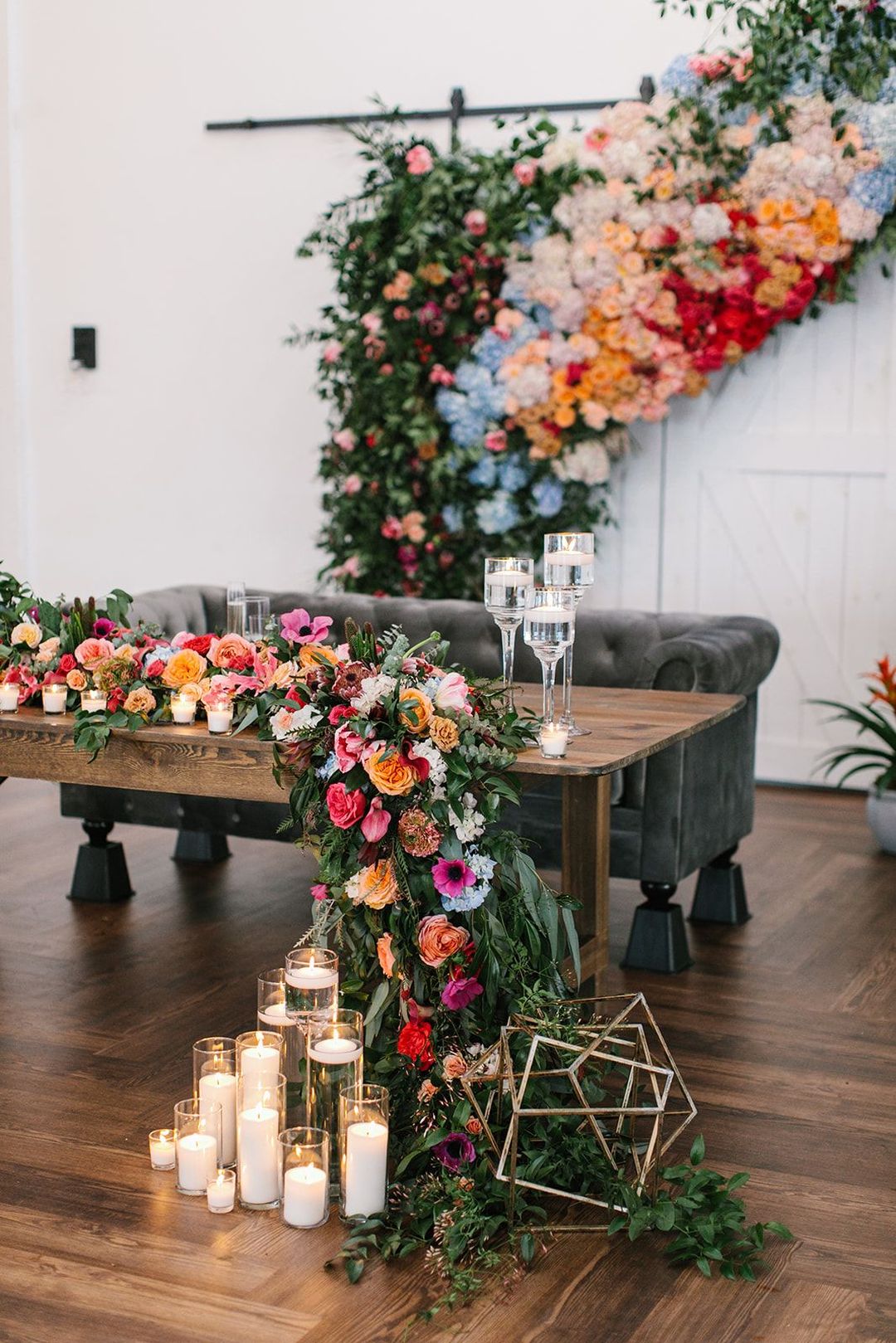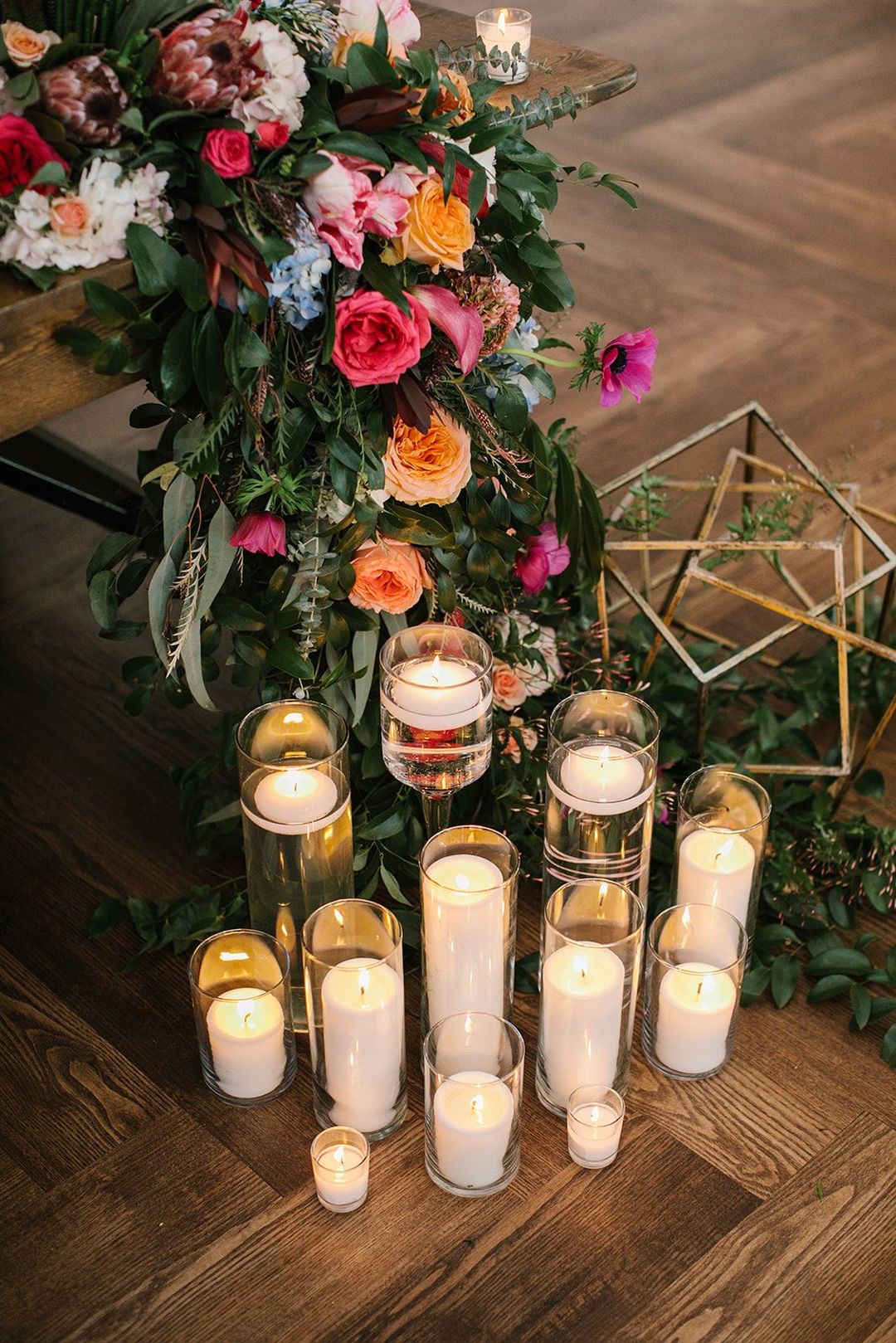 In addition to long dinner tables, we also used round tables. For these, we selected our stunning Fuchsia Etched Velvet Linens. A mix of our acrylic chairs were featured, for that popular mix and match vibe.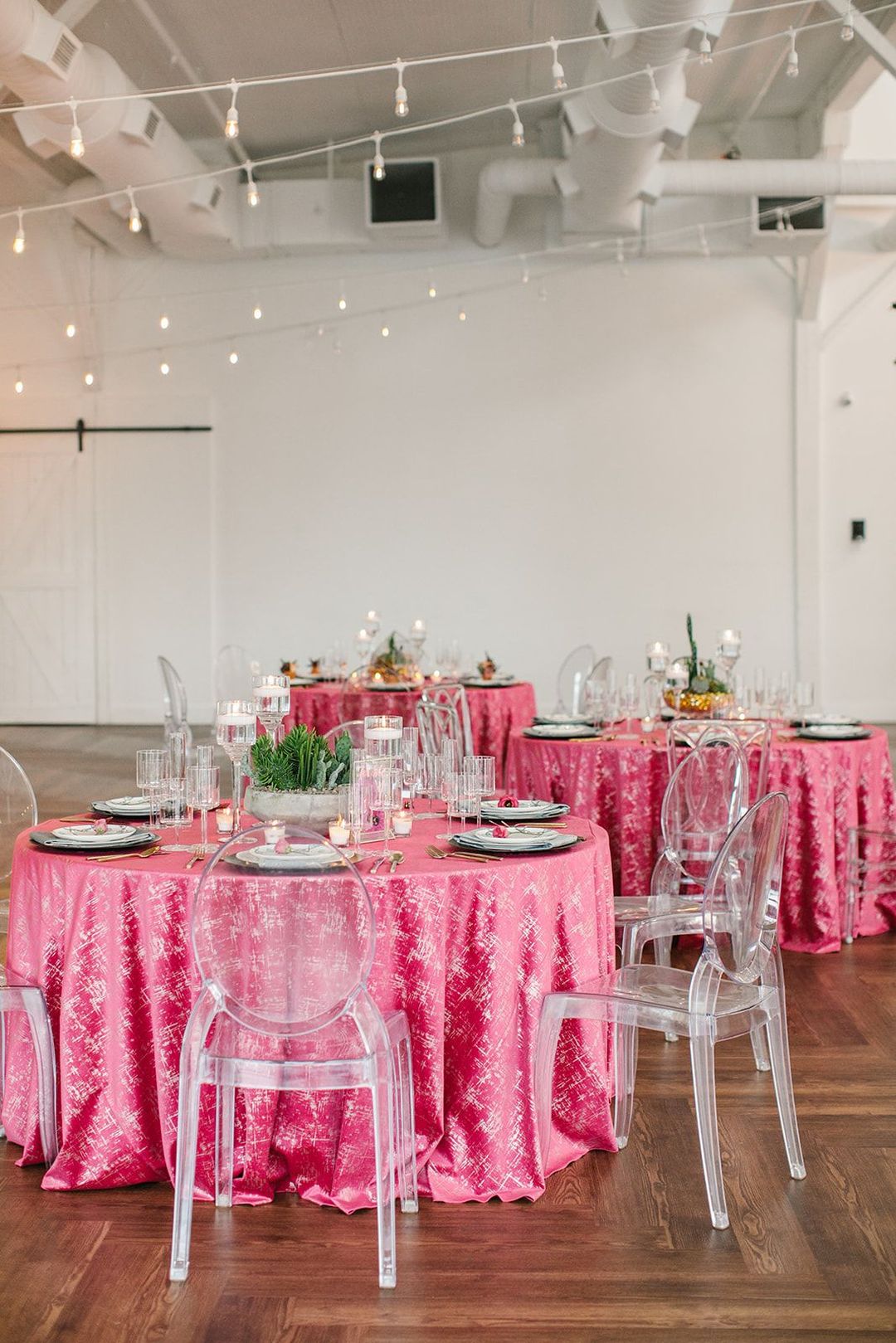 While the place setting were identical to those on the long dinner tables, we switched out the napkins. Our London Fog Etched Velvet Napkins provided a much-needed neutral contrast to the otherwise bold table. Our favorite element? The super cute potted plant wedding favors/place settings!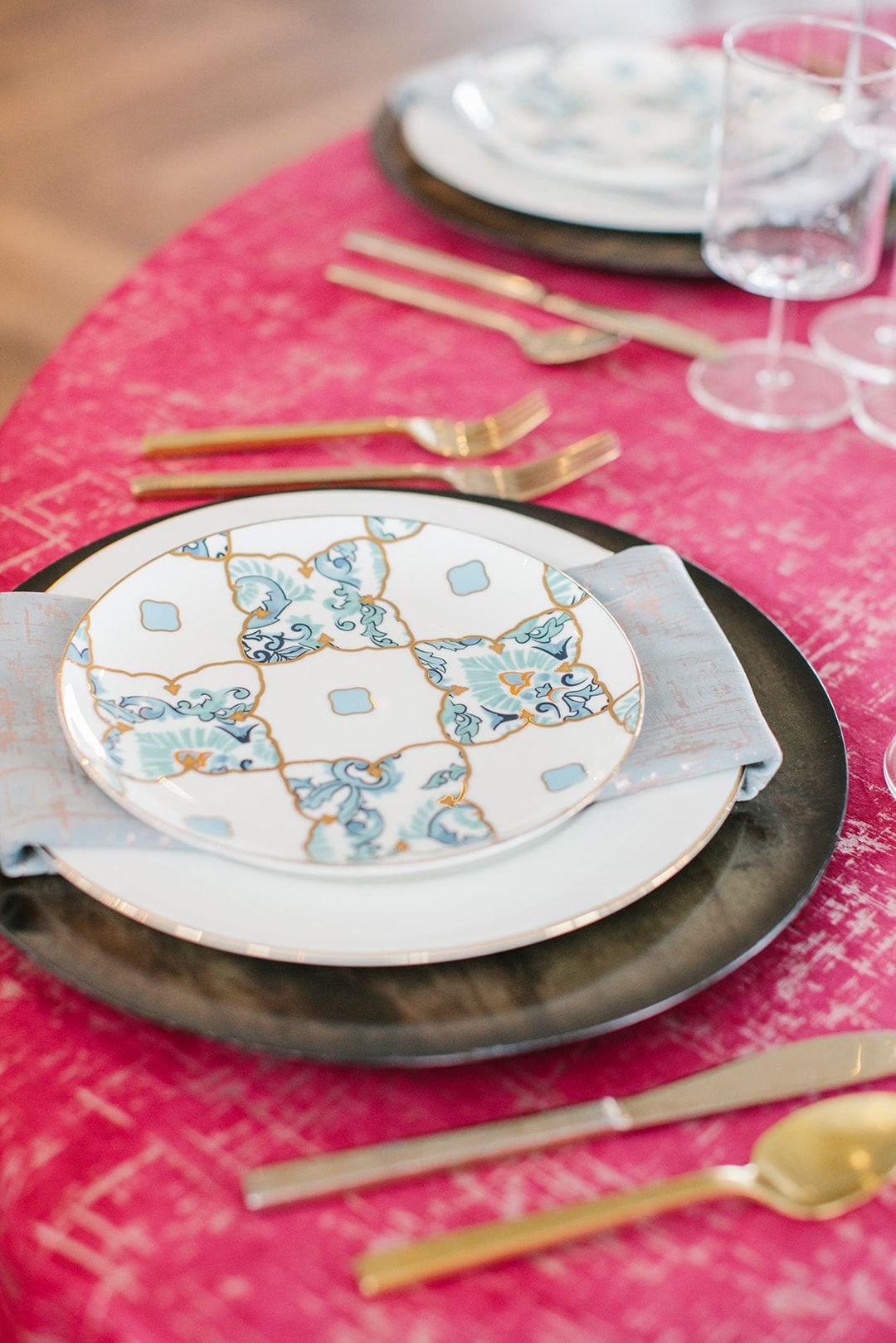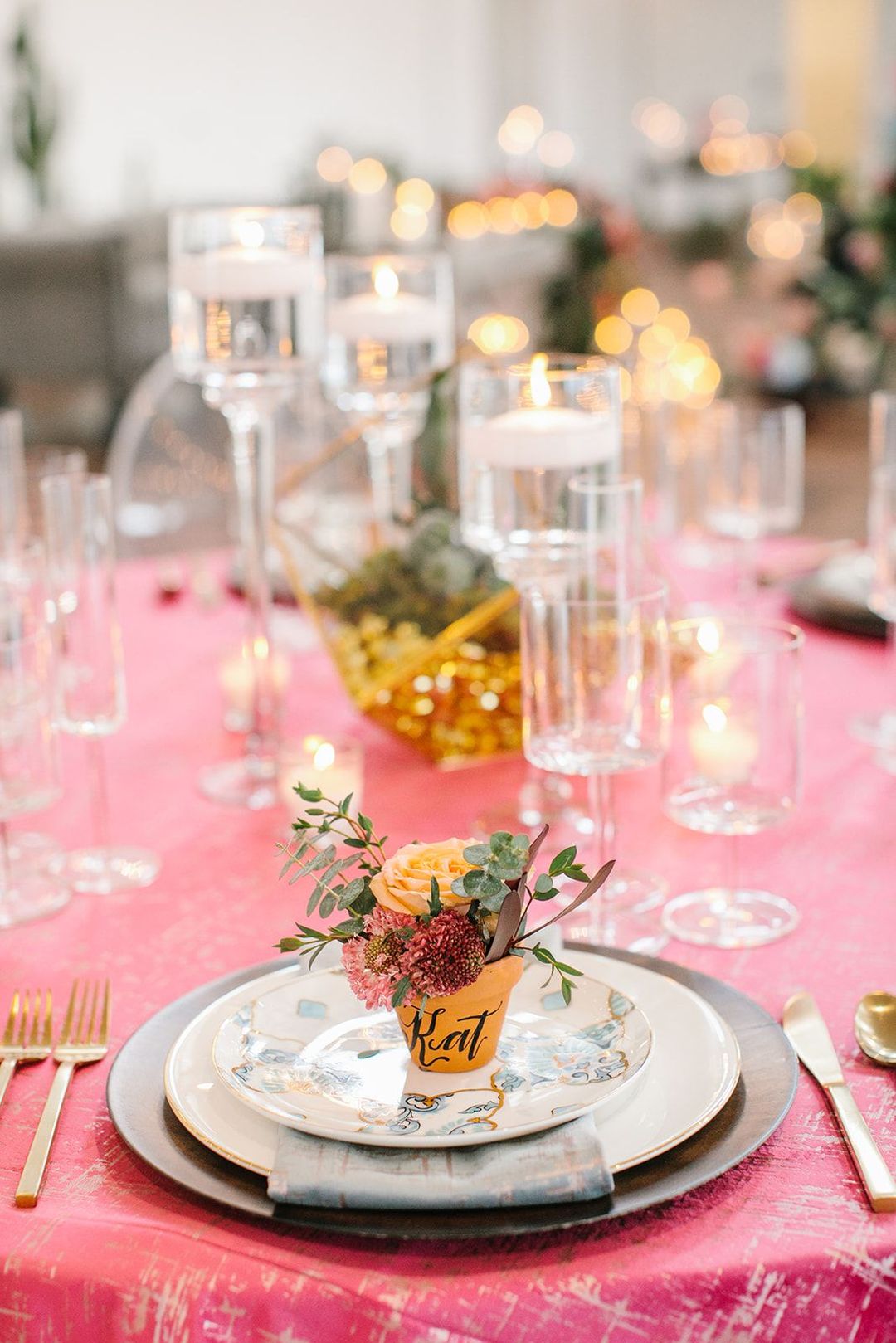 Lounge areas are a must-have for any wedding with a cocktail hour. This cozy lounge was created using our Nickel Grey Bench, Henley Grey Velvet Tufted Sofa, and Acrylic Fantasma Side Chairs.  Cheval Gold Miror Side Tables were decorated with lush plants for that chic desert vibe. Nearby, bistro tables were set up with our Ocean Blue Velvet Linens.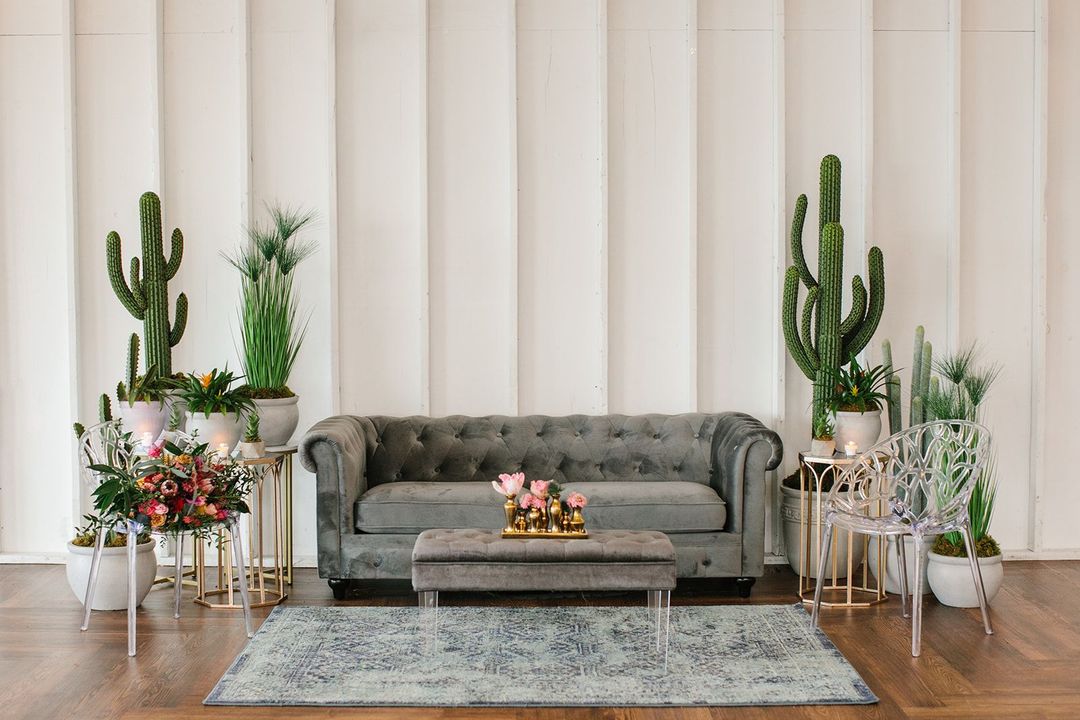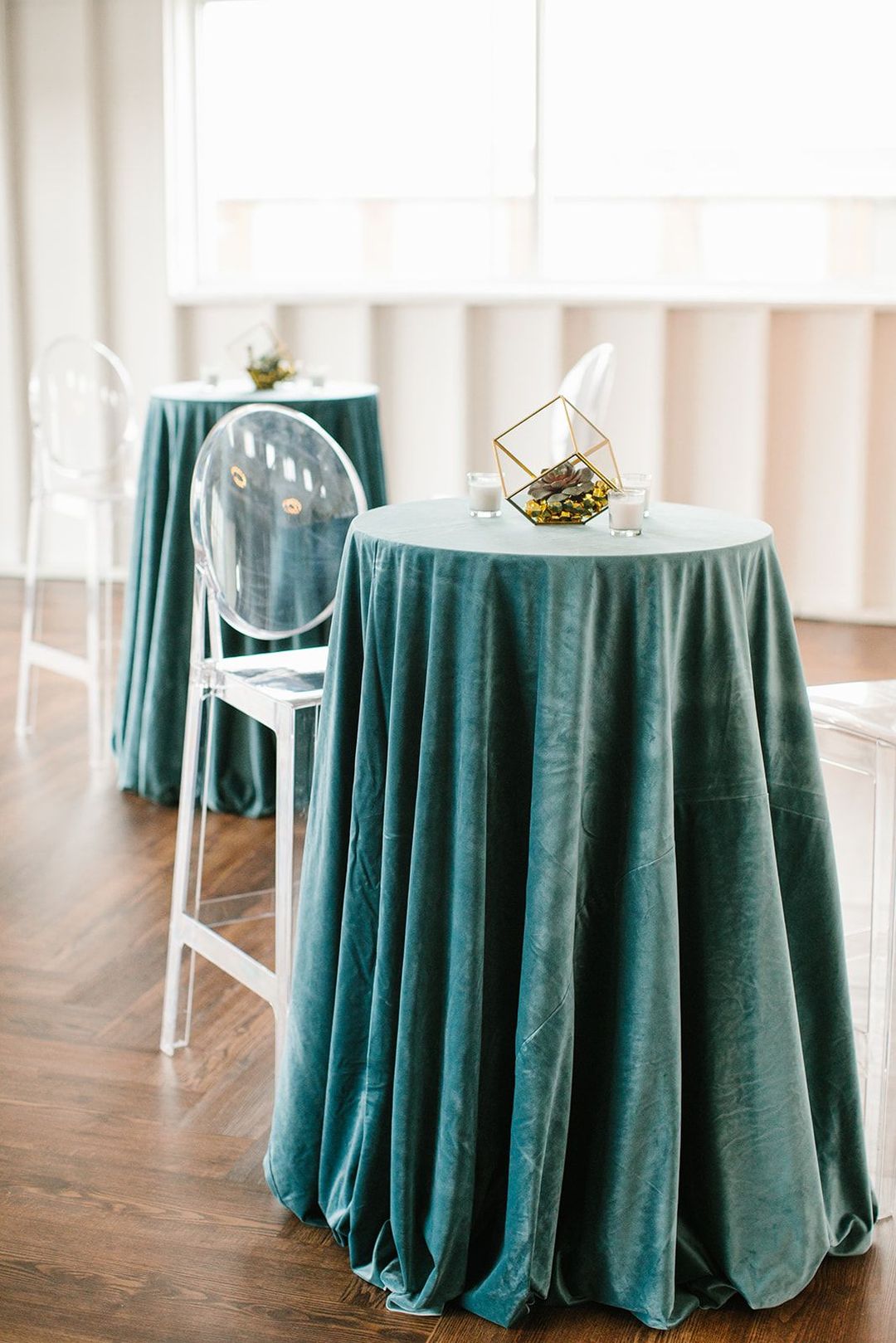 Other vendors:
Dress  Adorn Nashville
Suit The Black Tux
Want to features some of these gorgeous modern rentals at your next event or for an upcoming Nashville wedding? Contact our team to secure your rentals today!
TAGS | 14Tenn Nashville, Bright & Colorful Rentals, Chic Modern Design, Colorful Wedding Decor, Style Shoot, desert bloom style shoot, modern event decor
FEATURED RENTALS | Nickel Grey Bench, Henley Grey Velvet Tufted Sofa, Acrylic Fantasma Side Chair, Cheval Gold Miror Side Tables, Coronado China, Athena China, Faux Wood Round Charger, bistro tables, ocean blue velvet linens, Cybil Glassware, Austin Flatware, Acrylic Carrigan Chair, Acrylic Armless Ghost Chair,
---
6

Aug

Events and Style Shoots, On Trend, Southern Events Products, Trends and Inspiration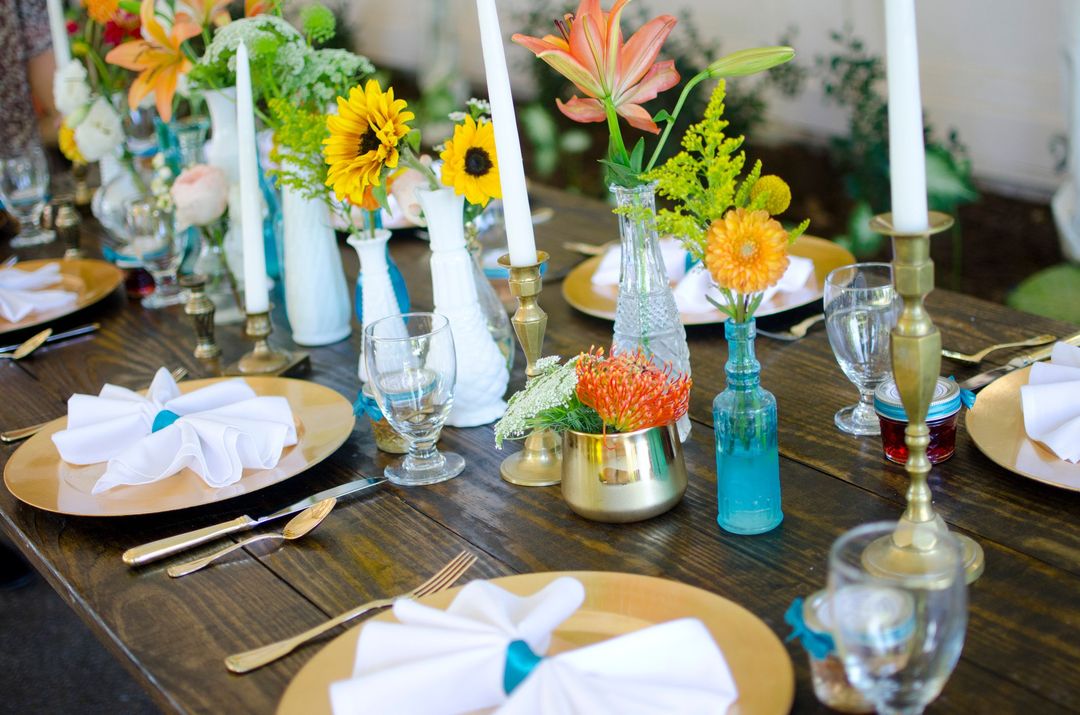 Vibrant and whimsical, these colorful backyard party ideas that are sure to bring some wonder & whimsy to your next Nashville, Tennessee event. Perfect for a kid's birthday party, fun gender reveal party or daytime wedding, check out how we use our party rentals to create a bold & colorful look that is timeless, stylish and fun!
Mix & Match Furniture
Keep your event casual yet maintain a consistent aesthetic with a mix of furniture that complements one another. By using Barnwood Furniture of a variety of shapes, you can make the most of the space and also feature some statement pieces. Take for example our beautiful Fruitwood Farm Tables. In regards to chairs, we used a mix of rustic benches and our elegant Cross-back chairs. Although simple, it creates a foundation from which to add color!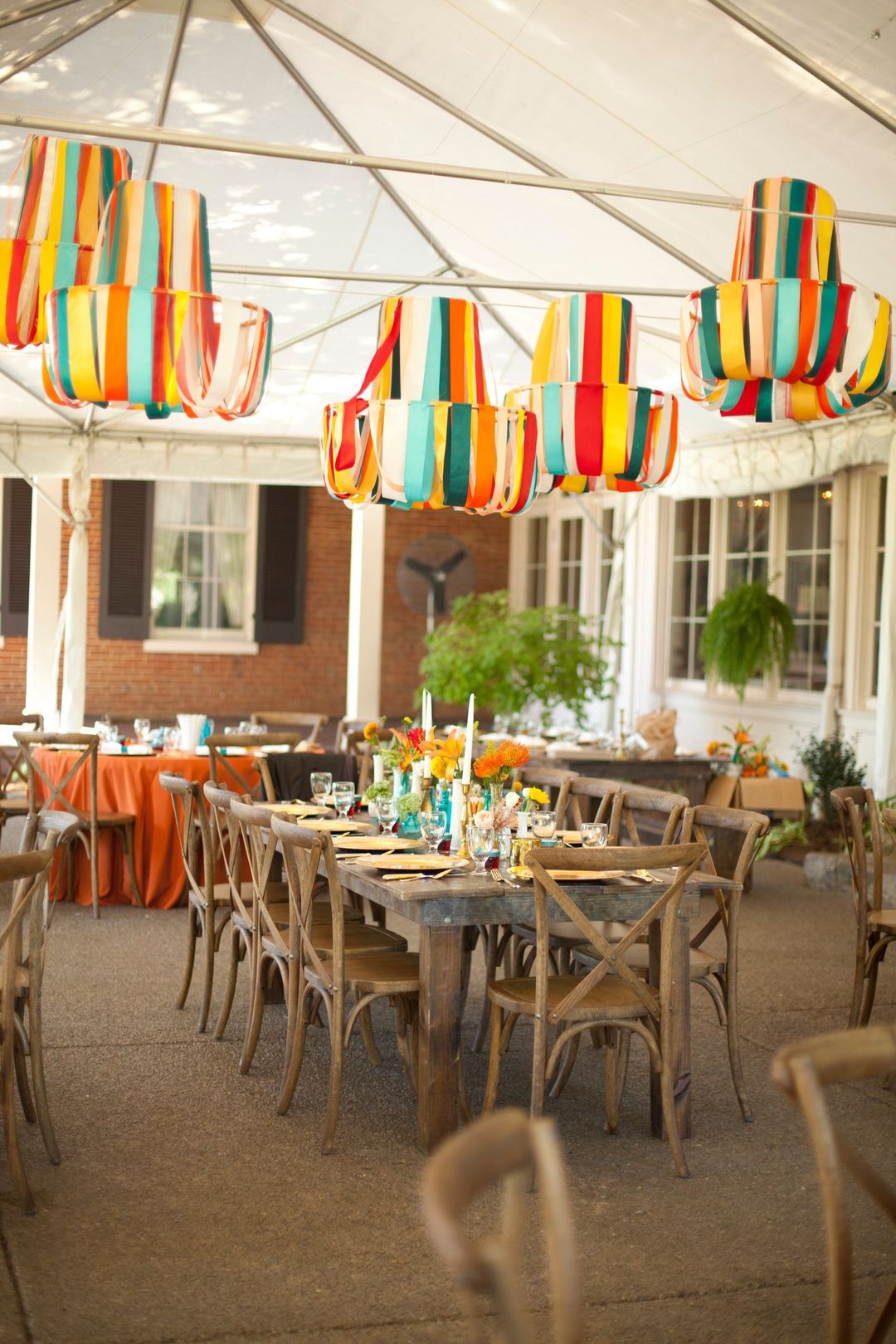 Photos by Krista Lee Photography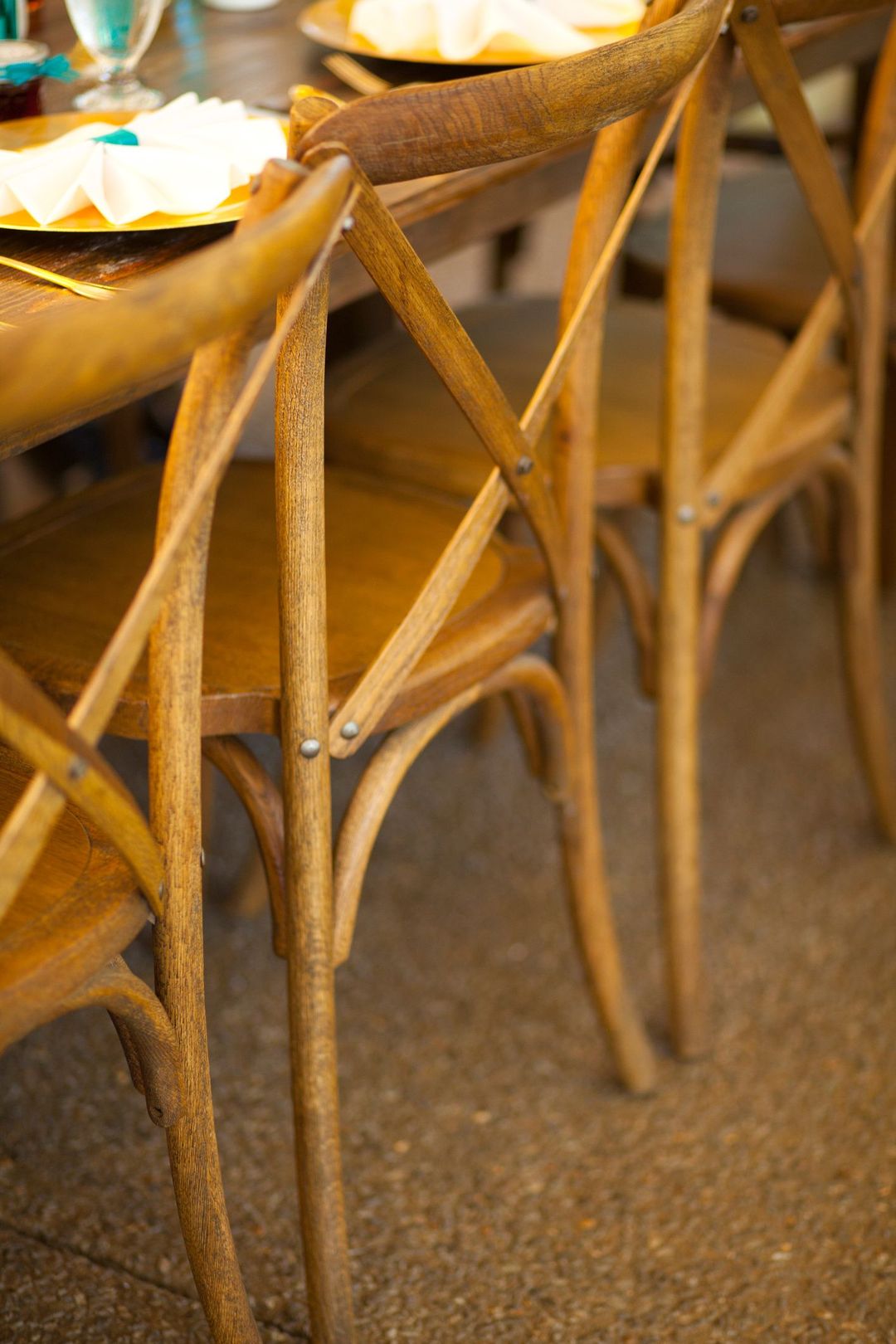 Metallic Place Settings
An easy way to add warmth to a colorful backyard event is with gold or silver accents. Featuring our Gold Round Lacquer Charger and Austin Flatware, adds a touch of metallics that contrasts beautifully against turquoise centerpieces. It also complements the golden yellows and sunset-inspired oranges throughout the event design. Don't forget to pull these accents into other parts of your events with gold-rimmed glasses on your bar or gold side tables in your lounge. This creates a more cohesive look.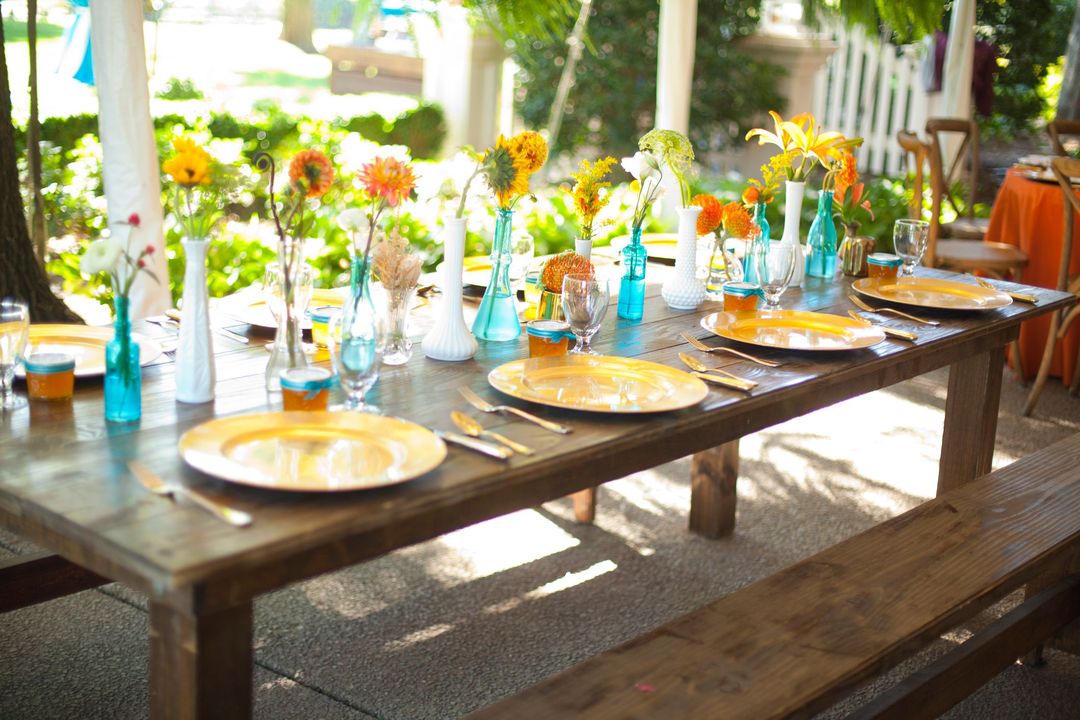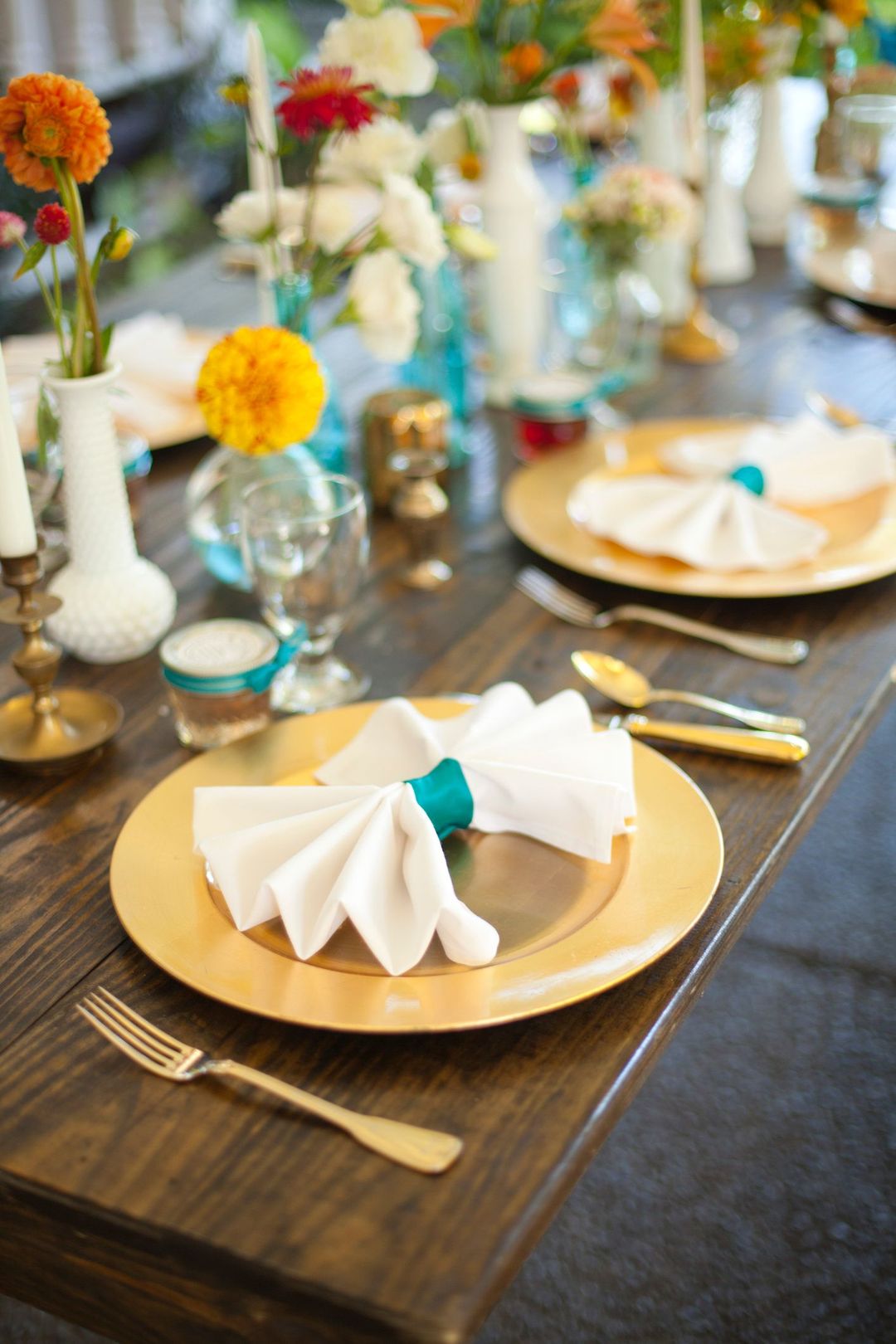 Bold Centerpieces
When it comes to table centerpieces people often feel the need to use matching pieces. A colorful backyard party is a perfect time to experiment with creative shapes and colors. This tablescape features a mix of vases, in teal, white, gold and clear glass – easy for a DIY backyard party. For candles, we suggest varying heights to add some dimension (though you can also create this with taller arrangements). As far as flowers go, consider keeping it simple but bright with a variety of wildflowers. Orange & yellow tones perfectly contrasted and popped against the teal and white glassware!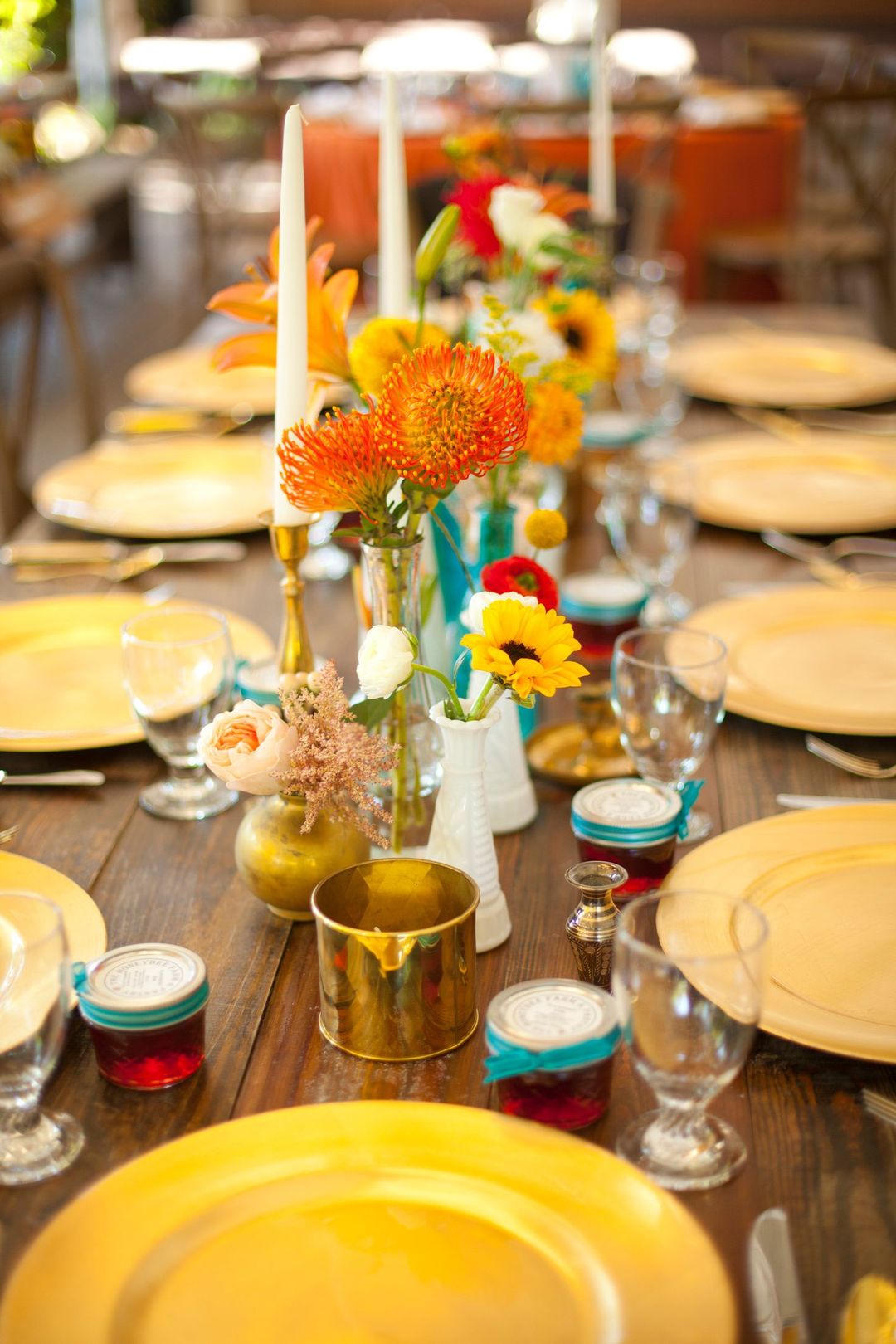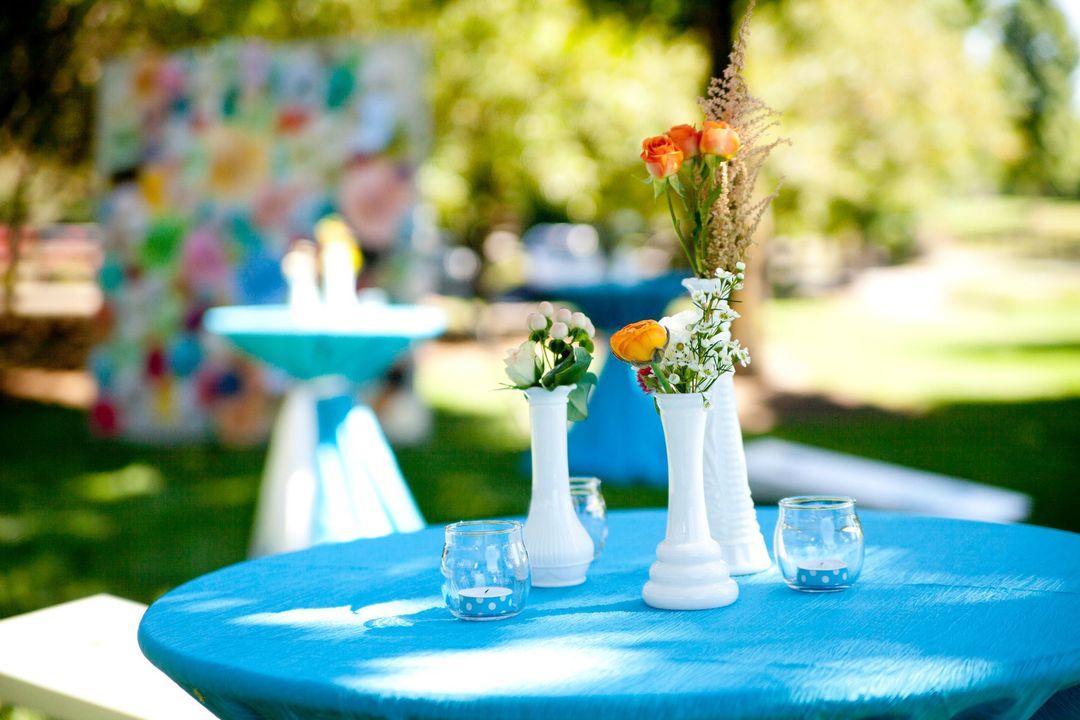 Vibrant Linens
Vibrant linens are so much fun! The use of bright colors will lend a sense of liveliness to your event, plus make your event photos pop. Don't be afraid to use different linens for each table either! Note how we were careful to switch up the color of our table centerpieces depending on the linen color. As a general rule: place lighter colored centerpieces on dark tablecloths and vice versa. Our Fuschia Etched Velvet Linens with their gold veining would be a another way to bring in a subtle metallic accent and a bold pop of color.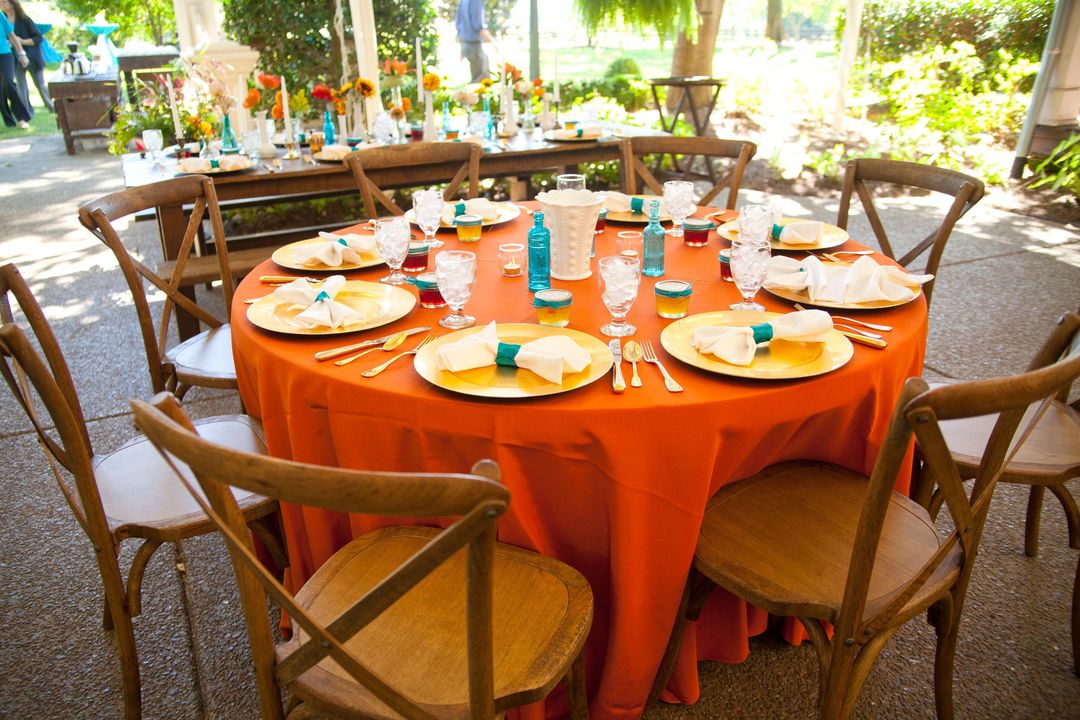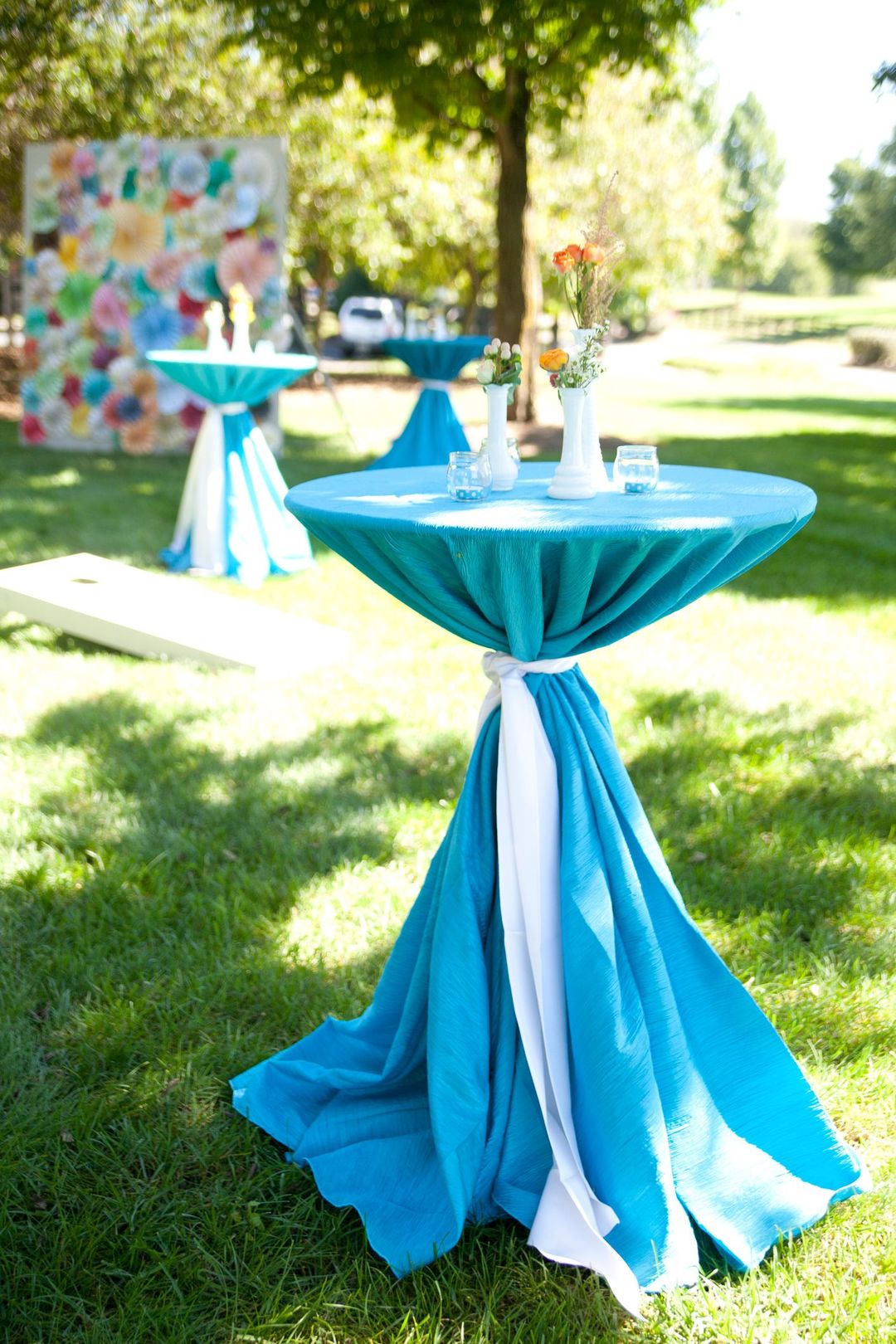 Loving these colorful backyard party design ideas? Contact our team for more inspiration and rentals for your event! Plus check out our previous blog for Season-less Event design.
TAGS | Bright & Colorful Rentals, Colorful and Fun Outdoor Wedding, Kids Parties, On Trend, backyard parties, classic event rentals, colorful decor, event inspiration, event style trends, style trends
FEATURED RENTALS | rustic bench, fruitwood farm table, cross back chairs, round gold lacquer charger, Austin flatware, colored glassware, table linens, velvet linens
---