21

Oct

On Trend, Southern Events Products, Vintage Prop Shoppe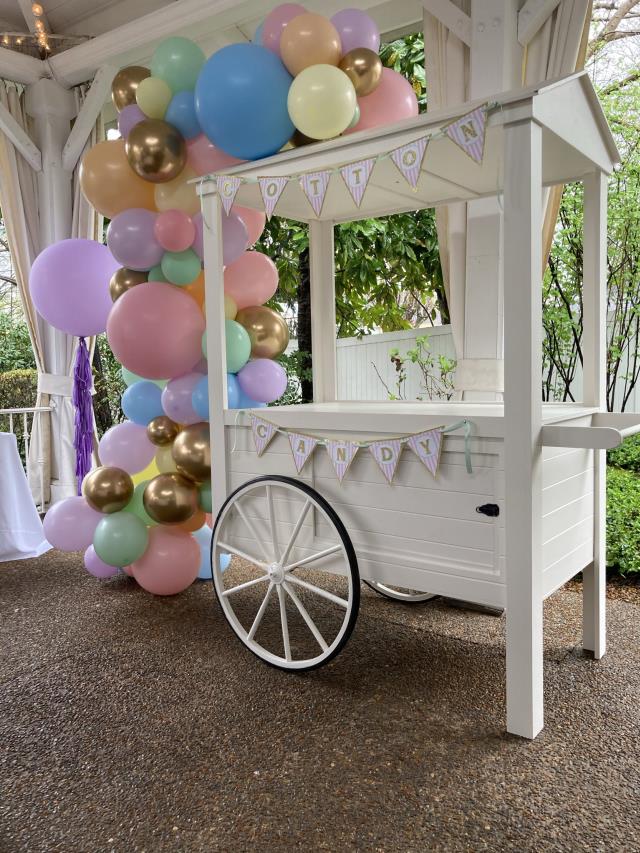 A fan-favorite for people of ages, vintage concession equipment is a fun addition that your guests will love. With an upscale feel, they are suitable for everything from a wedding reception or shower to a children's birthday party or themed corporate event. Keep reading to learn about our now in-stock vintage concession equipment rentals!
Popcorn Machine
Popcorn is a sweet treat that is also nostalgic! It reminds people of going to the movies and outdoor festivals. Not to mention you can serve up all kinds of flavors, from classic kernal corn to sour apple and more. Our vintage popcorn machine comes in a sleek black and silver and vintage lettering with large wheels that make it easy to transport.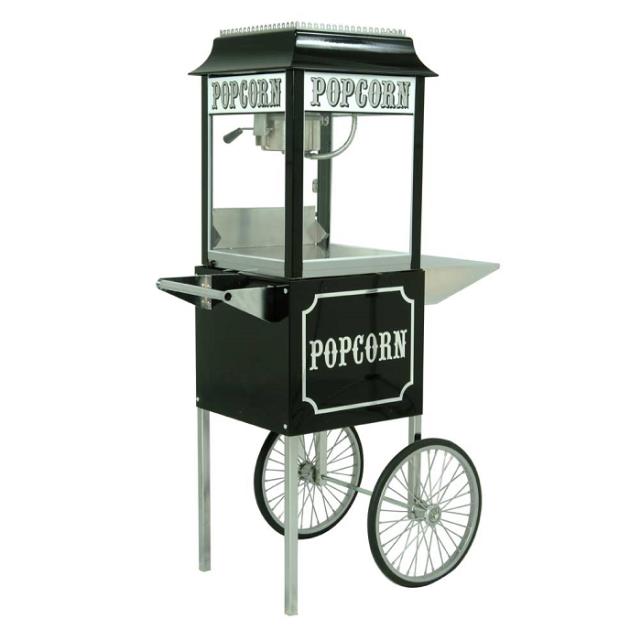 Cotton Candy Machine (Coming Soon!)
If you want to serve up a snack that is super sweet yet incredibly light, go with cotton candy. Like our vintage popcorn machine, it features an elegant vintage design and will be in stock for 2022 events. Easy to whip up on-site, our vintage cotton candsy machine doubling as entertainment for guests. You can also offer a variety of flavors, from bubblegum to watermelon. To make it adult friendly, you can even serve it on top of freshly made cocktails, in one of our elegant pieces of glassware.
Other Display Props
Prehaps your goal is an overall chic or nostalgic event theme? In that case, you'll want to check out our other display props available to rent. These elegant pieces are a fun additinon to a themed event.
Market Cart
First up is our market cart, a simple and slightly rustic white washed cart. This piece is a fan-favorite, especially for displaying food and drinks. It can easily hold treats, like your popcorn or cotton candy, as well as beverage dispensers. Making it ideal for a self-serve reception. It is also easy to decorate, whether you would like to hang banners or spruce it up with balloons or florals.

Ticket Booth
Our simple and sleek ticket booth is an incredibly versatile piece, so get creative! It can be used as it is named, to welcome geusts into your ticketed event. But it can also be used simply for show. Perhaps to hold signage or as a unique photo op at the entryway. You might also pair it with a red carpet and stanchions, for a Hollywood worthy entrance.
Ready to rent our fun vintage concession equipment or props? Our team would love to help you create an event that is sylish and memorable. Send us a message at info@southerneventsonline.com, and let's get started! Or view our product catalog and use the cart feature to request a quote.
TAGS | Modern Vintage Events, On Trend, Vintage Accessories, Vintage Prop Shoppe, event displays, vintage concession equipment
FEATURED RENTALS | popcorn machine, cotton candy machine, ticket booth, market cart,
---
26

Jul

Events and Style Shoots, Nashville Wedding Vendors, Southern Events Products, Trends and Inspiration, Vintage Prop Shoppe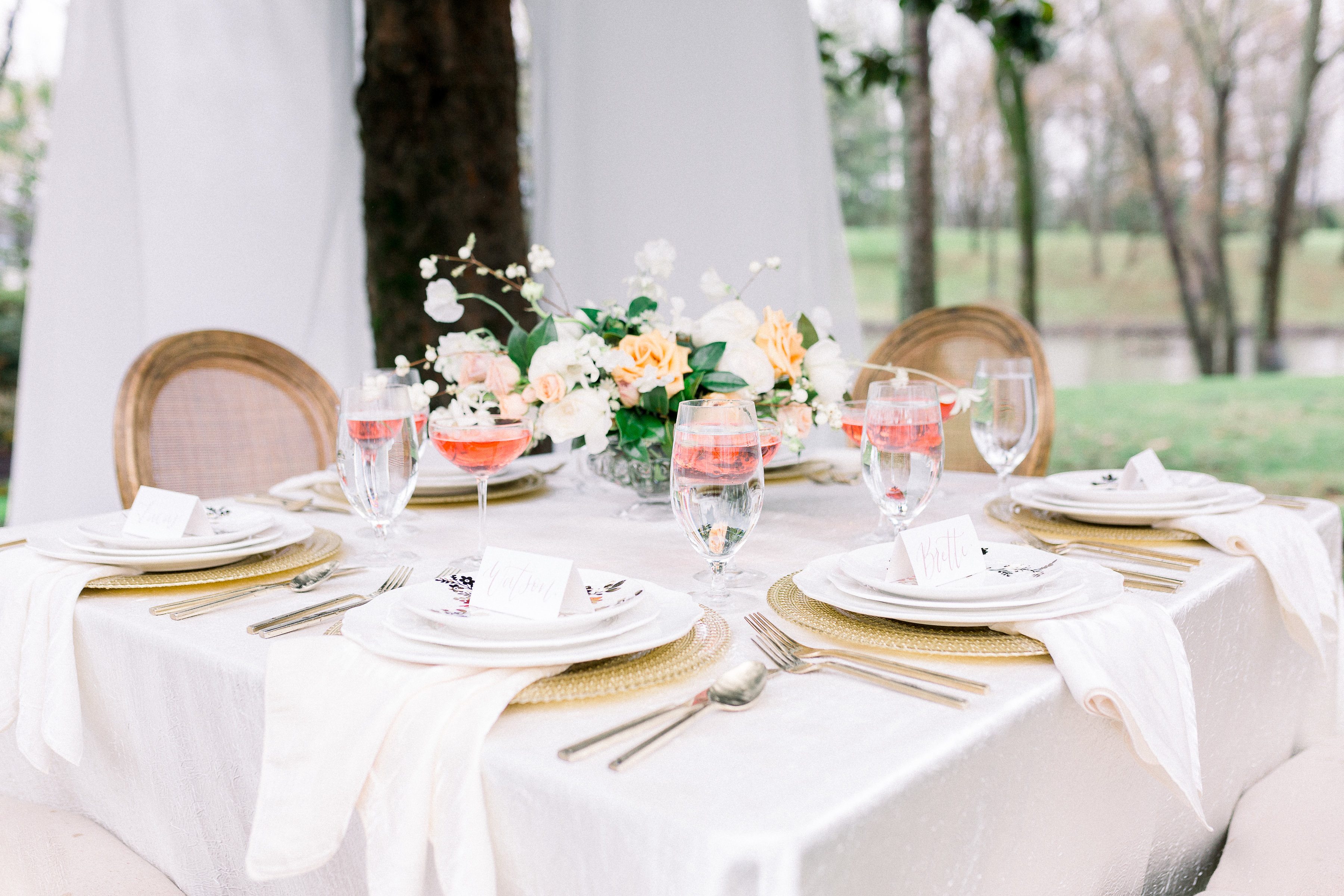 Modern romance was the vision for our inspiration style shoot at the breathtaking Estate at Cherokee Dock in Nashville, TN. The shoot featured a dreamy pink, white and gold color palette as ee partnered with the wedding planning team from It Takes Two. Pairing romantic vintage rentals with sleek, modern rentals to create this look, we're in love with the results!
White draping under a gorgeous magnolia tree on the estate provided the perfect canvas for a romantic outdoor affair. For our garden dining area, we paired vintage inspired Adeline Dining Chairs with Ivory Luxe Linens for texture and romantic style. Our table setting included our elegant Gatsby Champagne Coupe, Madison Glassware, and charming Darcy China combined with metallic modern accents. Our gold Austin Flatware, Vera Floral Gold Accent Dessert Plate, and Medallion Gold Glass Charger provided just enough sparkle while a beautiful floral centerpiece by Petals and Fields tied everything together.
For the ceremony, Acrylic Ghost Chairs provided an unexpected touch of modern style to the ceremony, completing the marriage modern and romantic. A few of our favorite vintage pieces, including our Vintage Harper Couch and Leona Coffee Table, were used to create intimate lounge area while our Acrylic Rectangle Containers tied back to the other modern touches.
The fabulous cake by Lillian Lane Bakery was displayed on an elegant White Chiffon Runner over our Isabel Oval Table, and surrounded the gorgeous confection with candlelight, set off in our Davis Glass Cylinders. So much to love!
Thank you to Kenzie Hammock of Honey Bee Tennessee for capturing every detail, and Estate at Cherokee Dock for having us! Such a magical day – if you're looking to recreate this Modern Romance style shoot with vintage and modern event rentals, reach out to info@southerneventsonline.com for more details.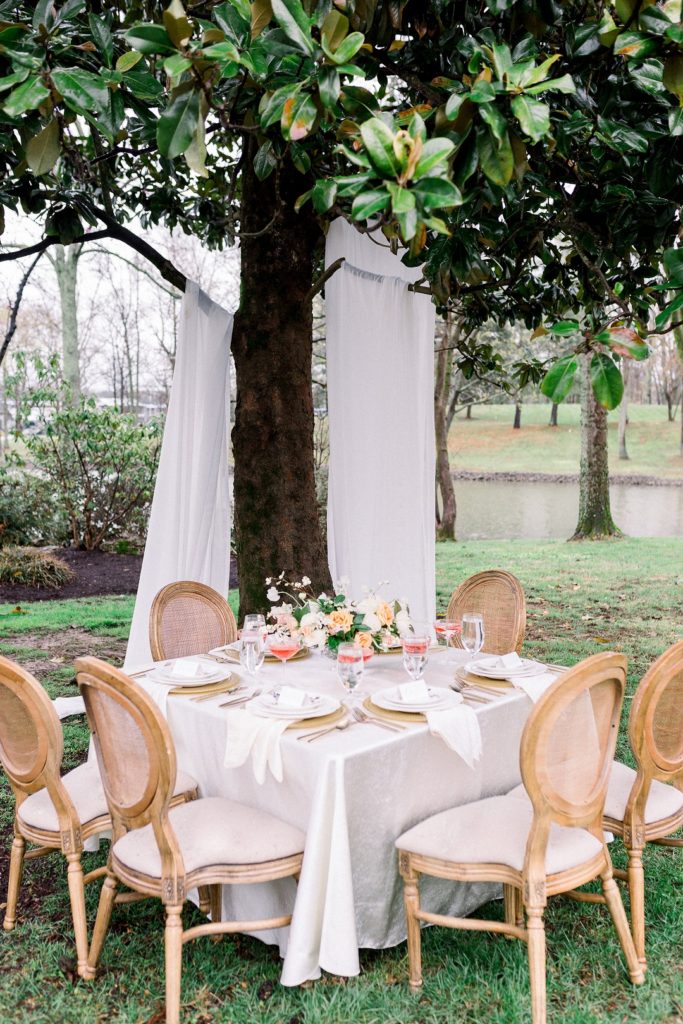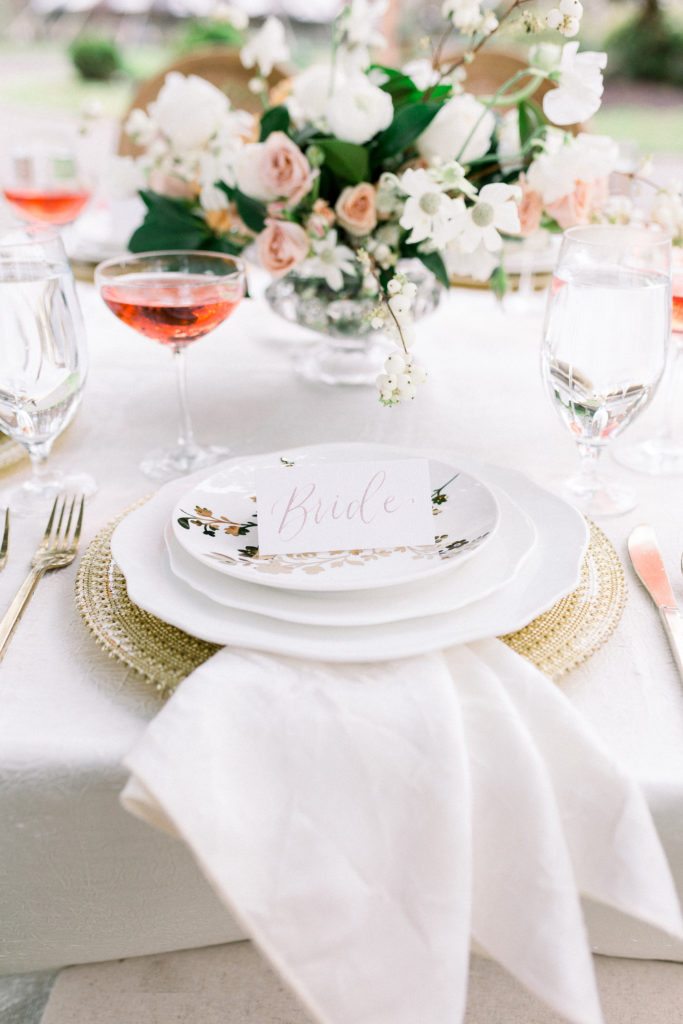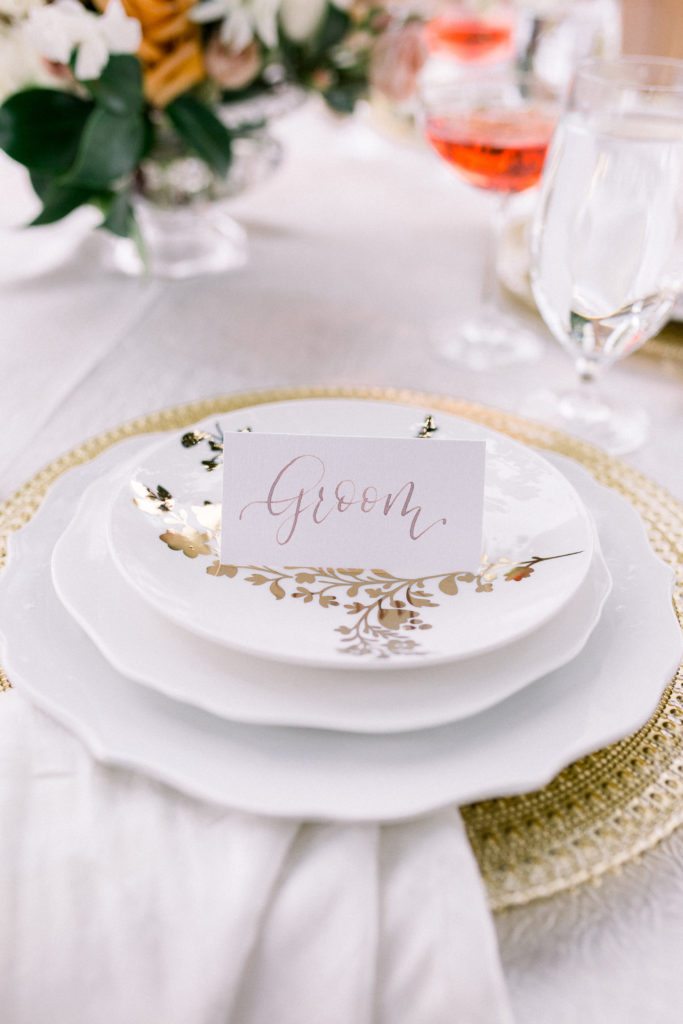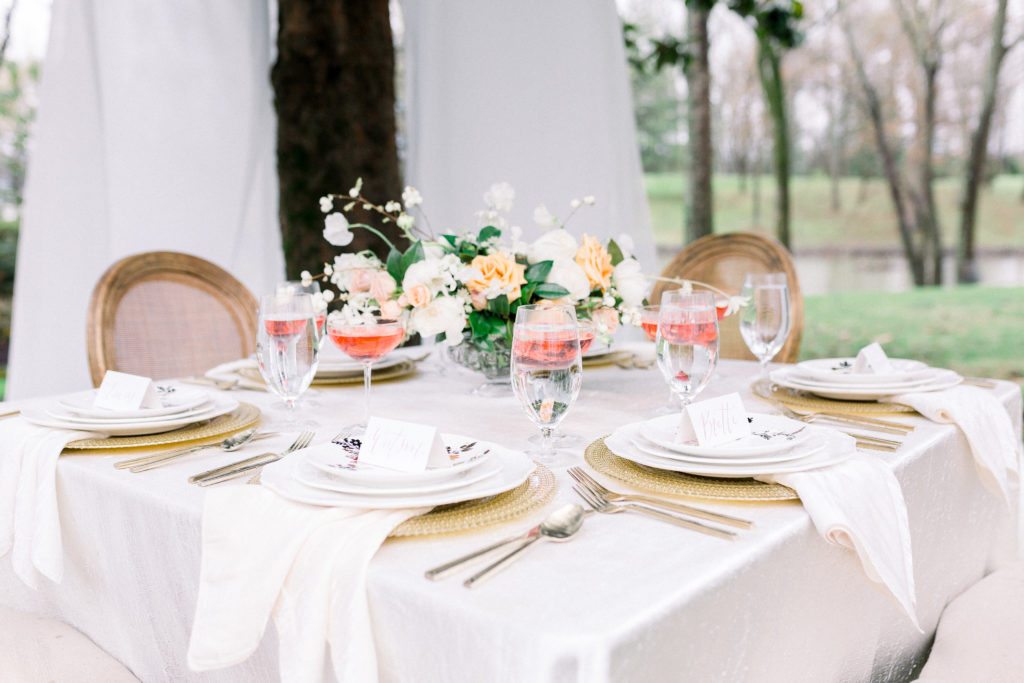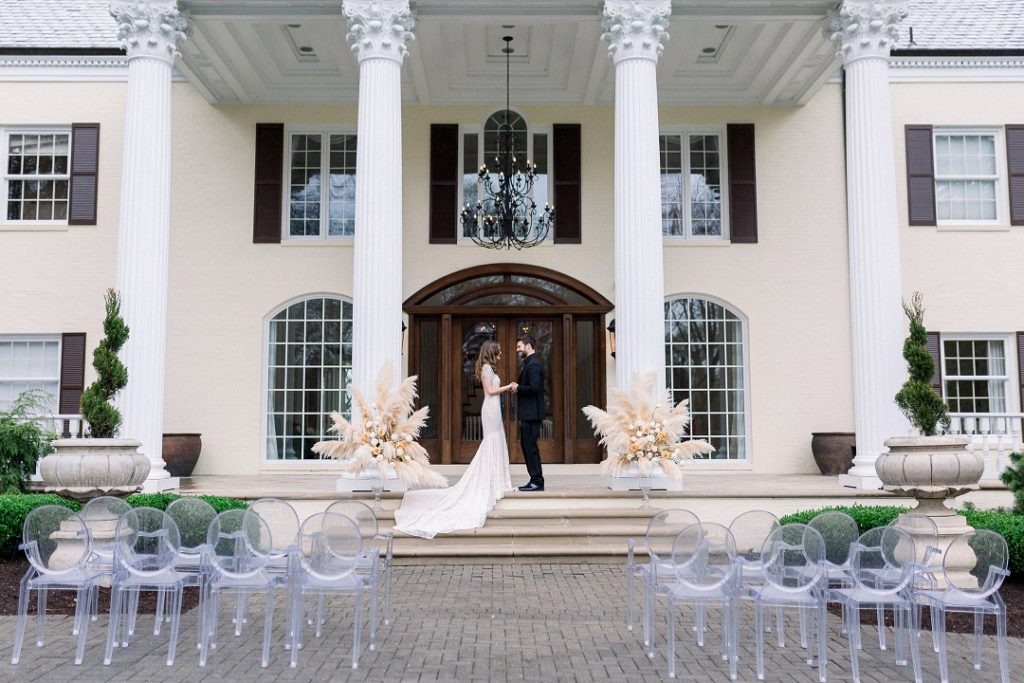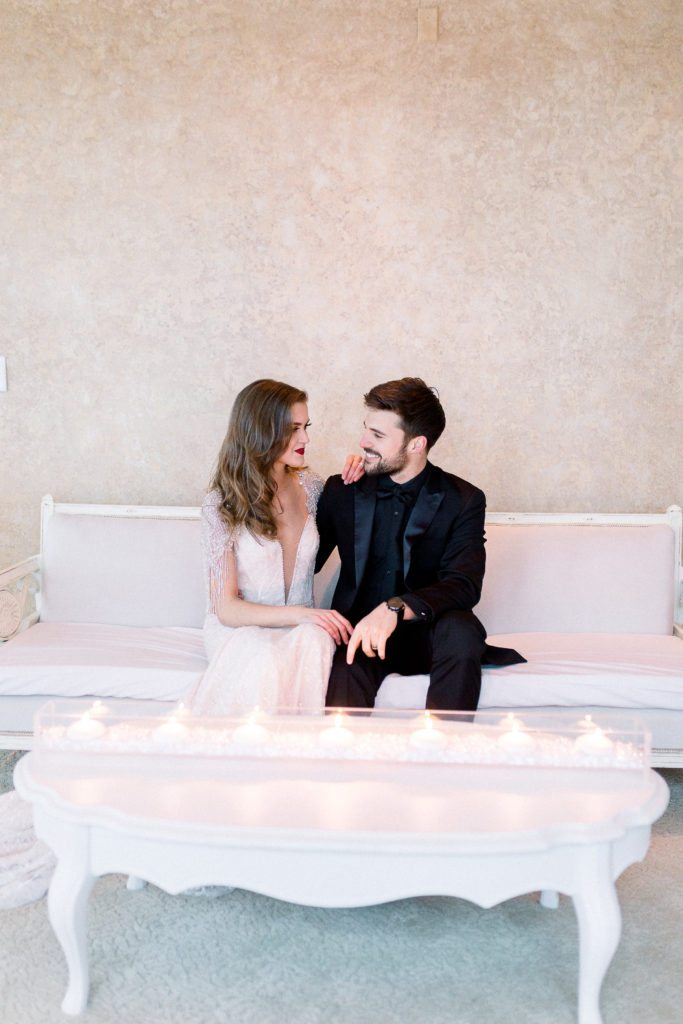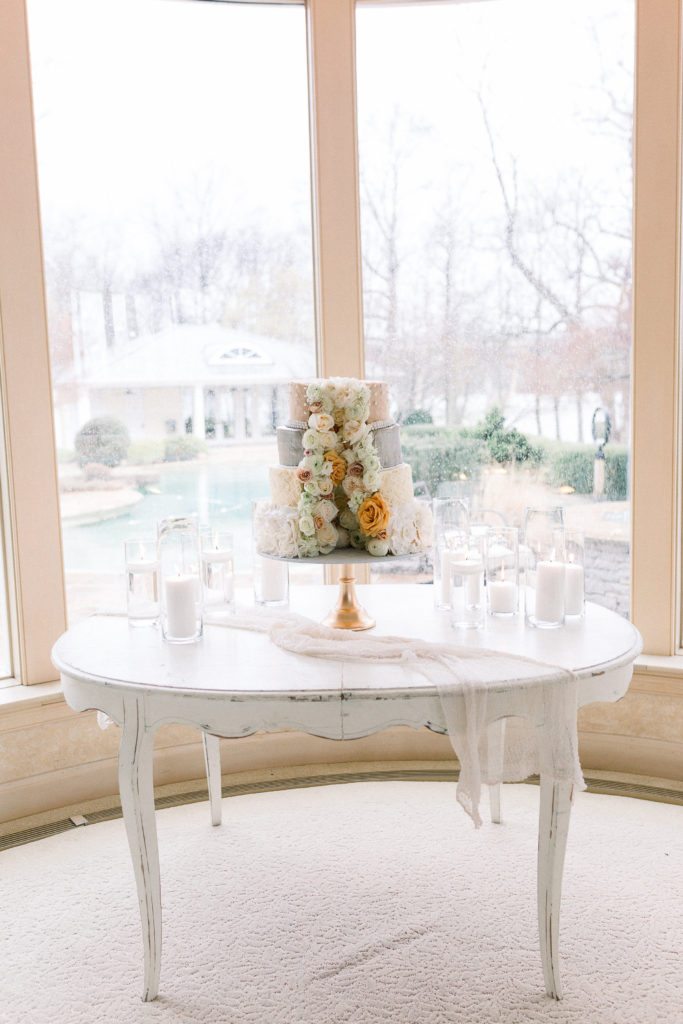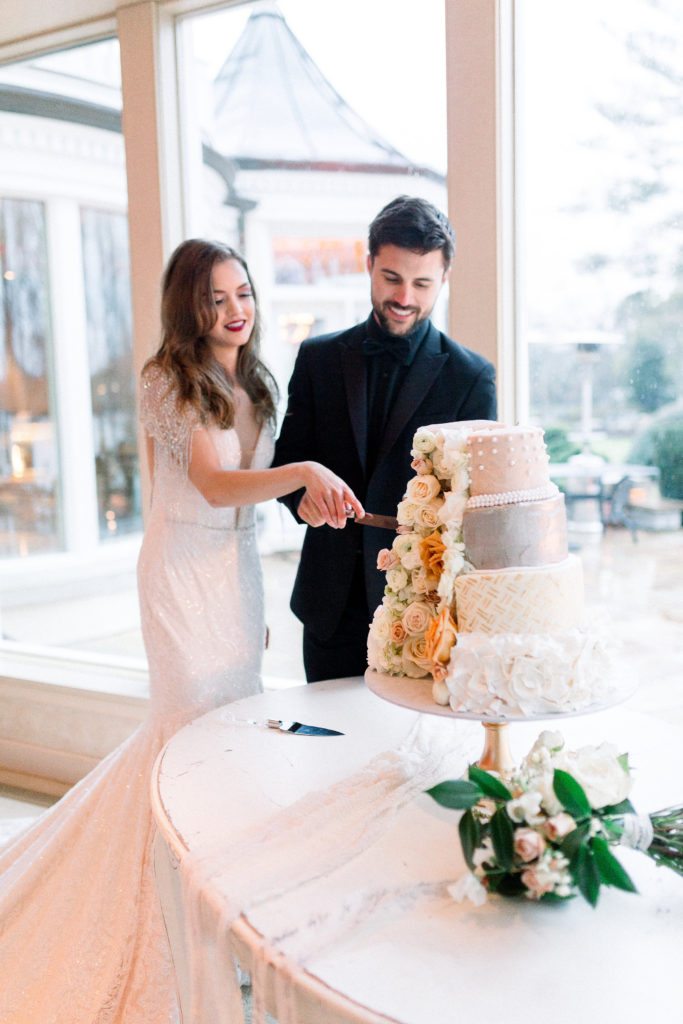 TAGS | Acrylic Ghost Chairs, Adeline Dining Chairs, Artisan China, Austin Flatware, Darcy China, Davis Glass Cylinders, Estate at Cherokee Dock, Gatsby Champagne Coupe, Isabel Oval Table, Ivory Luxe Linens, Leona Coffee Table, Madison Glassware, Medallion Gold Glass Charger, Nashville Event Rentals, Nashville Wedding Rentals, Pure Glassware, Southern Events Party Rental Company, Tablescape, Unique Wedding Rentals, Vera Floral Gold Accent Dessert Plate, White Chiffon Runner, gold place setting, modern events, modern romance, modern wedding
FEATURED RENTALS | Adeline Dining Chairs, Ivory Luxe Linens, Gatsby Champagne Coupe, Madison Glassware, Darcy China, Austin Flatware, Vera Floral Gold Accent Dessert Plate, Medallion Gold Glass Charger, Acrylic Ghost Chairs, Leona Coffee Table, White Chiffon Runner, Isabel Oval Table, Davis Glass Cylinders
---
18

Jan

Events and Style Shoots, Southern Events Products, Vintage Prop Shoppe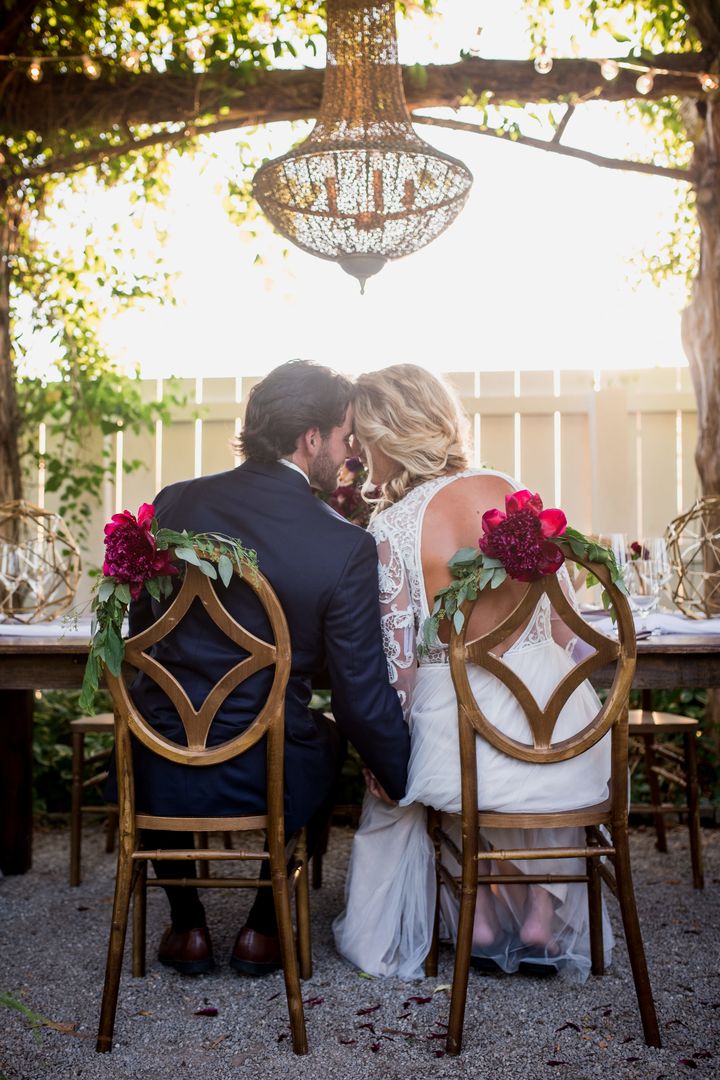 Planning your big day can be an overwhelming endeavor, but designing your big day should be genuinely fun and exciting! The overall style of a big day should reflect the couple's personalities and set the tone for a joyous occasion. No matter what design best encompasses you, adding character to your chosen wedding venue in Nashville or Franklin, TN is easily done with the right rentals.
Not sure exactly how to get started? The experts at Southern have put together different wedding styles to provide a little inspiration for your upcoming Middle Tennessee nuptials:
Wedding Style: Modern Chic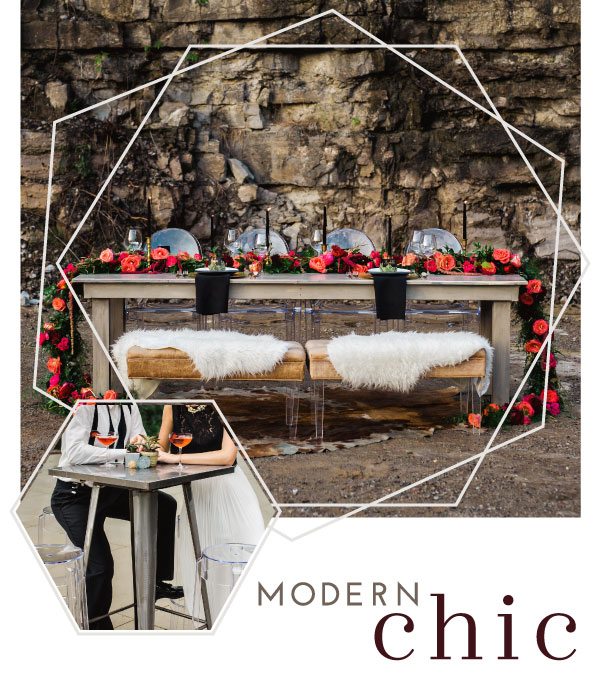 Modern Chic is a darling design that features sleek lines combined with bright colors and lots of texture. Neutral Grayson Farm Tables set the scene and a dressed to the nines with Gold Austin Flatware, Medallion Gold Chargers, and Black & White Triangle Plates. We love the acrylic Ghost Chairs on one side, and the Midas Gold Velour Bench on the other for a unique take on seated dinners.
Looking to add some vintage flair to a modern and chic event? Out Gatsby Champagne Coupes look perfect in any setting and bring the old-world glamour to any occasion.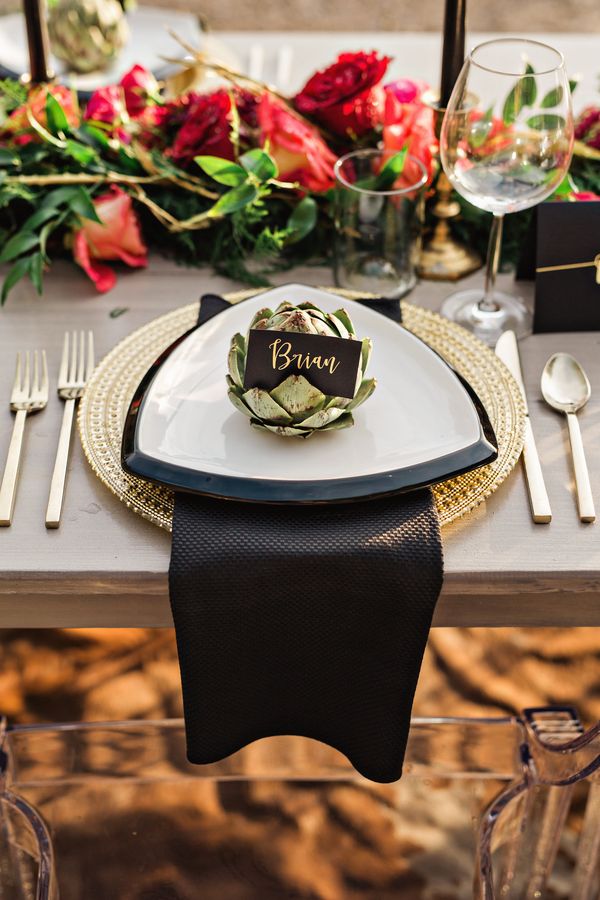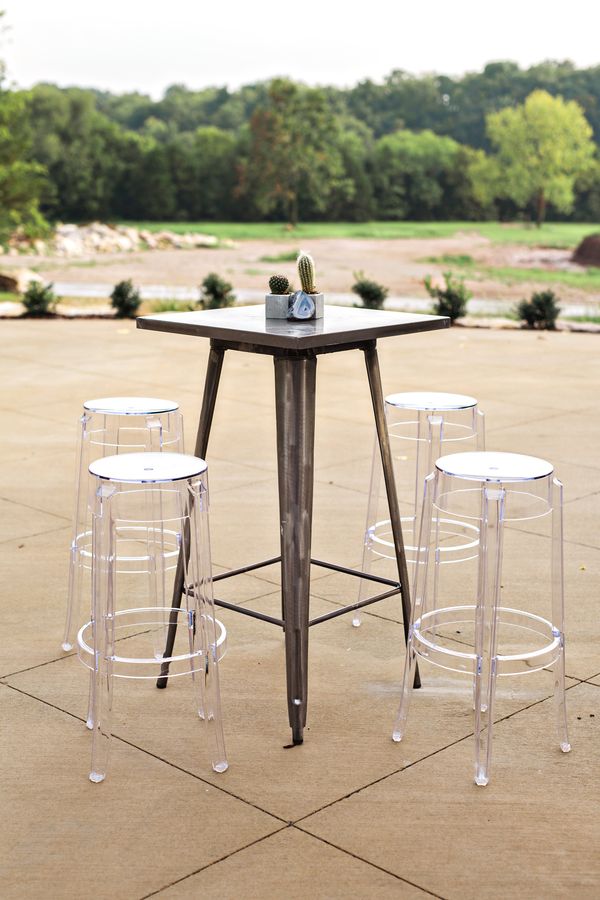 Wedding Style: Garden Romantic
A sweetly romantic garden party is a wonderful and heartfelt way to exchange vows, with a soft color palette and plenty of vintage touches. Distressed Farm Tables in white wash with natural wood Cross Back Chairs or our Harlin Dining Chairs welcome guests into a secret garden, where dreamy rentals set the scene. Tables are adorned with ornate details like our Hob Knob Glassware and Abby Fine Silver Flatware next to satin dinner napkins, or placed perfectly among Chiffon Table Runners. Lounge areas aren't left out, as our Tessa Tufted Linen Beige Loveseat with wooden legs adds natural subtle romance to any area.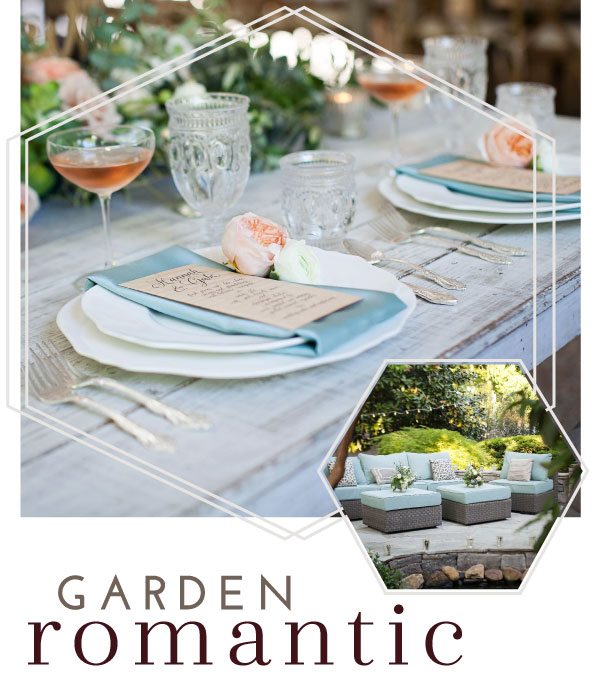 Wedding Style: Textured Boho
Couples with a genuine love of nature and vibrant colors fall perfectly in love with this Textured Boho style – a gorgeous mix of organic elements topped with vintage & metallic details. Wood Chargers, Artisan China, unique Como Flatware, and gold flourishes stun in any setting – not to mention, they are accented perfectly regardless of your chosen color palette. Painted vintage furniture is perfectly Bohemian with bright and vibrant colors – the vividly colored Charlotte Chair and vintage Basil Arm Chair are just two selections from our vast inventory of delightful vintage chairs. Natural texture continues from dinner to dessert as a delicious cake is even more beautiful served atop Barnwood Square Cake Plateaus. Free spirits, happy hearts, and a bohemian design that never disappoints.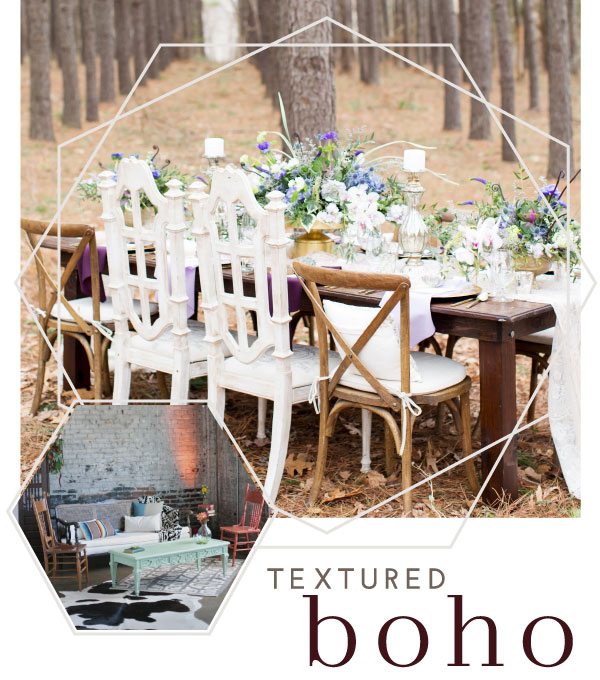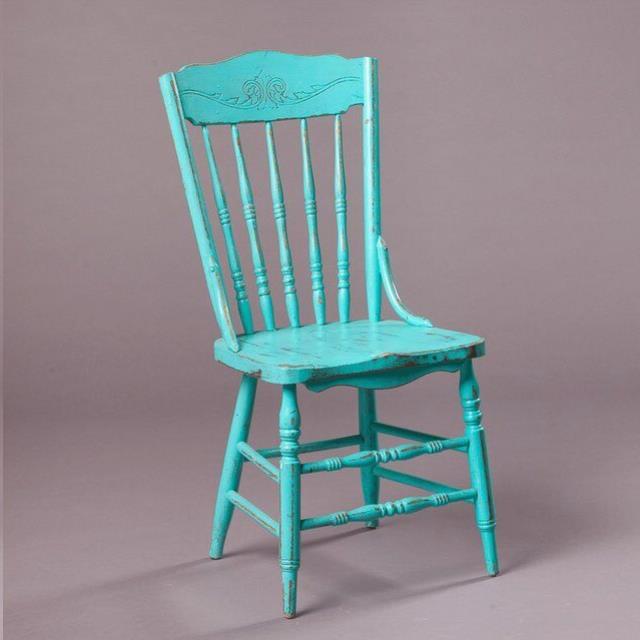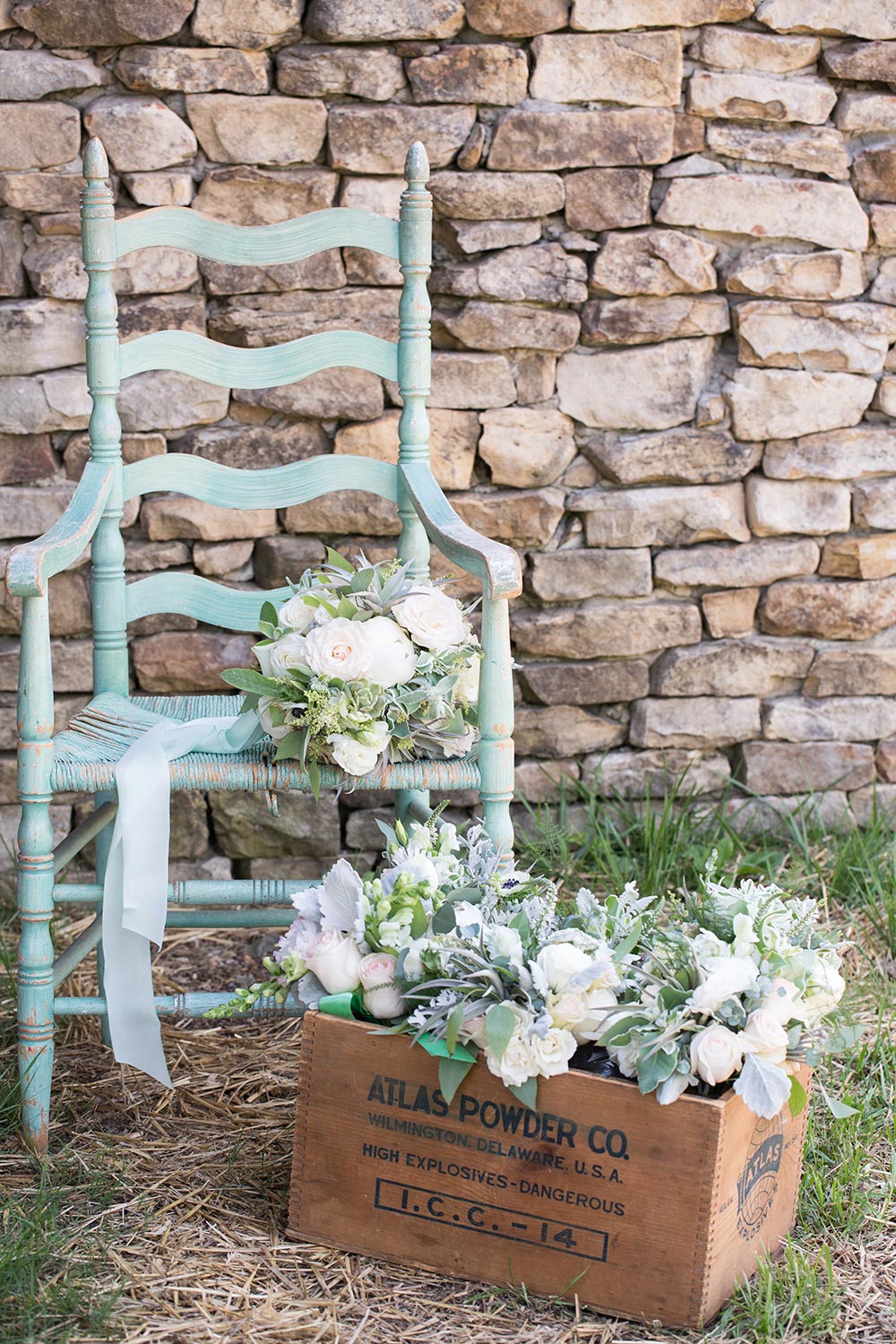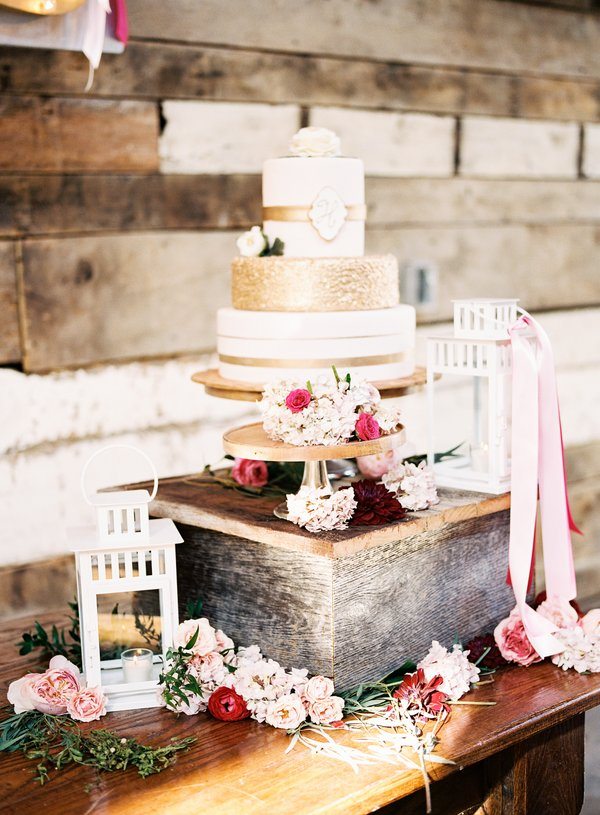 Like what you see? Contact our team to learn more about our distinct wedding rentals for your Nashville and Franklin, TN events at info@southerneventsonline.com.
TAGS | Artisan China, Chiffon Table Runners, Cross-Back Chairs, Farm Tables, Ghost Chairs, Pure Glassware, Vintage Chairs, abbey flatware, barnwood square cake plateau, como flatware, gatsby coup, ghost chair, gold medallion chargers, harlin dining chair, hob knob, tessa lovseeat, velvet bench, wooden chargers
FEATURED RENTALS | hob knob glassware, harlin dining chair, pure glassware, gatsby coup, farm tables, tessa lovseeat, abbey flatware, cross-back chairs, ghost chairs, wooden chargers, artisan china, vintage chairs, barnwood square cake plateau, chiffon table runners, ghost chair, velvet bench, gold medallion chargers
---
11

Feb

Southern Events Products, Trends and Inspiration, Vintage Prop Shoppe
Last summer, we were thrilled to partner with an AMAZING group of Nashville event professionals on a desert-inspired style shoot with an urban twist. This inspiration board shows our vision for the shoot: a wedding for couples with bold, eclectic style, inspired by the exotic textures and vivid colors of the southwest. We dug into our Vintage Prop Shoppe inventory to find a mix of colorful, vintage pieces to create a unique look, from our antique Ramona Couch to our Marjorie Coffee Table. Stay tuned for the big reveal of the final look and vendors that brought it to life, coming to the blog next week!
Product Details: Ramona Couch, Marjorie Coffee Table, Sadie Chair, Betty Chair, Marrakesh Screen, Lagoon Blue Poly Napkins, Artisan China, Fruitwood Chargers, Lace Runners, Austin Gold Flatware, and Emerald Glass Plates.
For bold, distinct rentals that suit your unique style, contact us at info@southerneventsonline.com. We'll help you design the Big Day of your dreams.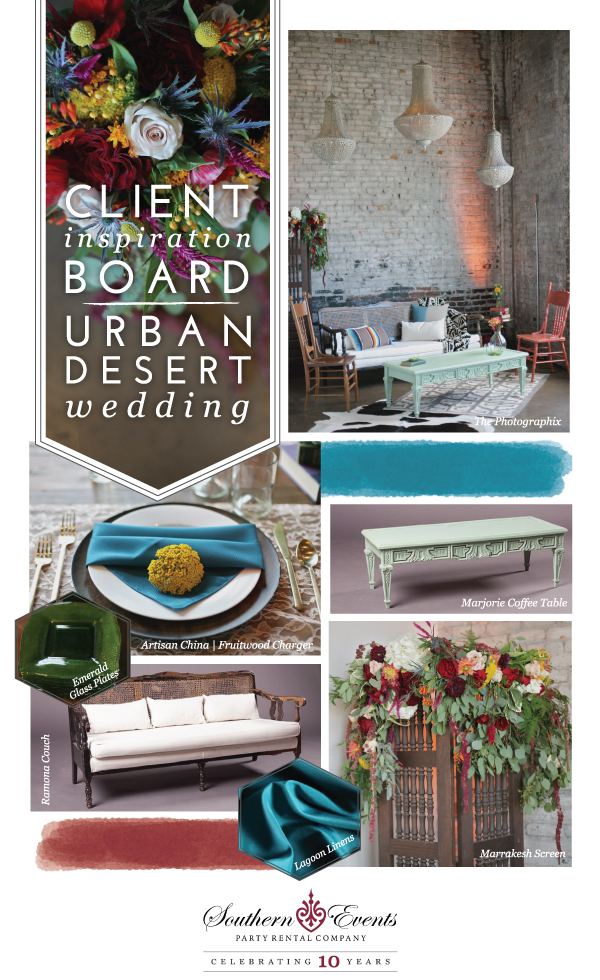 TAGS | ACME urban desert style shoot, Acme Feed & Seed, boho wedding style, eclectic urban wedding style, eclectic wedding rentals, southwest boho style, southwest boho wedding style, southwest wedding decor
FEATURED RENTALS |
---
31

Dec

Events and Style Shoots, Southern Events Products, Trends and Inspiration, Vintage Prop Shoppe
Our styled shoot at ACME Feed & Seed was a gorgeous success. It was a great example of some smart ways to personalize pieces from our Vintage Prop Shoppe, from the storybooks to the antique Marrakesh Screen.
The Marrakesh Screen looks absolutely gorgeous draped in florals from Enchanted Florist! It works well as a backdrop to the lounge, but it also make a great backdrop for a ceremony altar.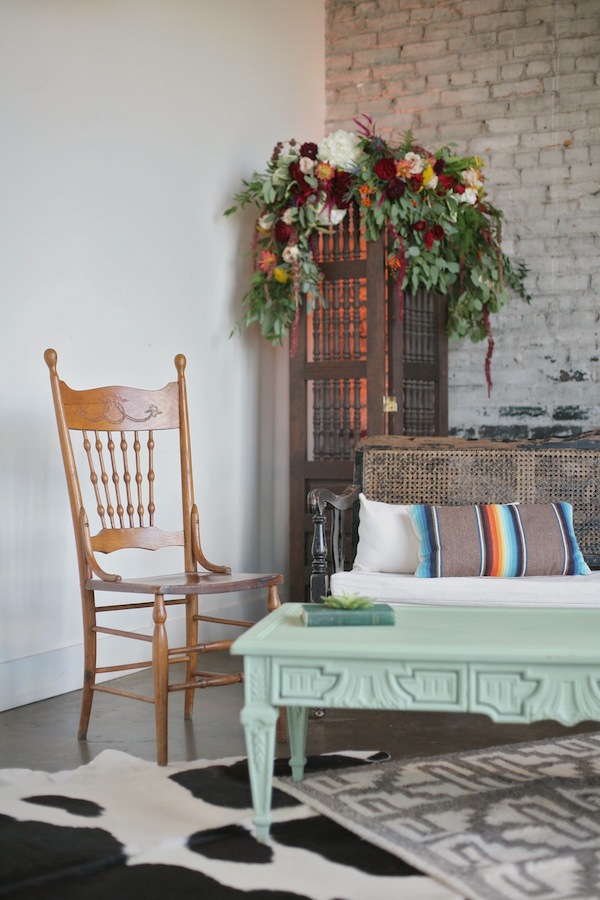 Our storybook from the Vintage Prop Shoppe can add an eclectic pop of color to your tablescape or as an accent in a lounge setting.
This macrame banner was donated to the style shoot by Castelleja Nashville, but it was a unique way to personalize our Franklin bar, which lifts at the top to hang banners or garlands for a personalized touch.
Stay tuned for a full recap of this amazing shoot, coming soon to the blog! Photos by Photographix.
TAGS | ACME urban desert style shoot, Enchanted Florist, Photographix, eclectic urban wedding style, props to personalize, southwest wedding decor, urban desert wedding decor, urban wedding decor
FEATURED RENTALS |
---
1

Oct

Real Nashville Weddings, Southern Events Products, Vintage Prop Shoppe
This sweet shabby chic barn wedding at Lilac Farms featured all of our Vintage Prop Shoppe favorites! Our Eloise Vanity Dresser made a lovely focal point for the ceremony altar, flanked by our vintage Tattered White Columns topped with baby's breath. Guests gathered in a luxe lounge scene set with our Gwendolyn couch, Prissy Loveseat, Prissy Arm Chair, Pearlie Side Chair, and Leona Coffee Table.
At the reception, happy couple Ashleigh + Drew dined in our Provence Cathedral Chairs at our Fruitwood Farm Table, while guests gathered around tables draped in our Ice Pink Poly Linens, Belmont Chargers, and Bradley Flatware. The sweet dessert display from Dulce Desserts featured four of our vintage tables: our Olga Farm Table, Gabby Farm Table, Polly Side Table, and Tasker Writing Desk.
Special thanks to Jen + Ann at Photographix for sharing these beautiful images.  Congrats to the newlyweds!
TAGS | Arrington Vineyard TN, Lilac Farms, Photographix, Vintage Wedding Decor, shabby chic barn wedding, shabby chic wedding decor, vintage barn wedding, vintage wedding rentals
FEATURED RENTALS |
---
13

Aug

Events and Style Shoots, Southern Events Products, Trends and Inspiration, Vintage Prop Shoppe
It was our pleasure to collaborate on this style shoot-turned-vow renewal with the talented folks at Wedding 101 and Jessie Holloway Photography, held at the Wren's Nest. When Wedding 101 reached out to Hayley and Matt about modeling for this boho style shoot, Matt knew it was a great opportunity to give Hayley the wedding of her dreams after they eloped a few years ago!
For the vow renewal ceremony, we lent our Vintage Auditorium Seats. For the reception, we styled our Round Fruitwood Farm Table with our Artisan China and Bradley Flatware, and an assorted mix of colored chairs from our Vintage Prop Shoppe for a little bohemian flare. An assortment of our lanterns were gathered as a chandelier over the reception tables. Our Sydney Desk made a sweet focal point for the cake display. All in all, it was a beautiful day for this beautiful couple, and we were so happy to help make this style shoot into something special for Hayley and Matt!
See more boho details on Glamour and Grace! Thanks again to Jessie Holloway for these images.
TAGS | Glamour and Grace, Jessie Holloway, The Wren's Nest, Wedding 101, boho style shoot, boho vow renewal, boho wedding style, surprise vow renewal, vintage event rentals, vintage furniture rentals
FEATURED RENTALS |
---
5

Feb

Real Nashville Weddings, Southern Events Products, Vintage Prop Shoppe
Julie & Mark's sweet southern wedding was the perfect occasion to whip out some of our best-loved items! Our Cross-Back Chairs seated guests for both the ceremony and reception, with our Farm Tables for feasting in style. Our Wood Round Chargers look so distinguished when paired with our Pink and Grey Poly Table Linens. You can also see our Whiskey Barrels, Holden Stands, and Artie Easel Chalk Board on display from our Vintage Prop Shoppe! Our Vienna White Couch made for the perfect lounging spot, too.
Props to our fellow vendors Enchanted Florist and Bright Event Productions for helping make this wedding so southern-chic! Thanks to the talented Matt Andrews Photography and wedding planner, Summer Sheldon from Social Ambitions Events for pulling all the details together!
TAGS | Bright Event Productions, Enchanted Florist, Southern Events Party Rental, Southern Events Party Rental Company, Southern Wedding Rentals
FEATURED RENTALS |
---
21

Aug

Real Nashville Weddings, Southern Events Products, Vintage Prop Shoppe
Today we're featuring an elegant vintage inspired rehearsal dinner – the couple's vision and our inventory were a match made in heaven – second only to their love for each other!  Even as this trend has evolved over the season, we still find it creates a timeless look for many of our brides.  For this couple, we paired delicate glass plates with our whimsical vintage floral handkerchiefs-turned-placements creating a romantic tablescape with a feminine vibe.  Fun and versatile,  our handkerchiefs are just lovely for use as dinner napkins, cocktail napkins, place mats, bread basket or tray liners.  And Southern Events has a large inventory to suit your needs!
Vintage books, bottles and mason jars atop our oatmeal linen runner combined for their centerpieces.  This linen is a great alternative to burlap – durable and soft, it doesn't create the mess and allergies from fraying burlap.  The creative vision of layering the mason jars and bottles creates interest and texture – further adding to the vintage feel.  And the stacked vintage books create a statement along with a conversation piece for your guests – including a  favorite book or volumes on love and romance to the display adds  personal and creative touch that are perfect for the occasion!
Of course we have to thank to Krystal Mann for the gorgeous photos – her talent is stunning as we love featuring her pictures!  Enjoy!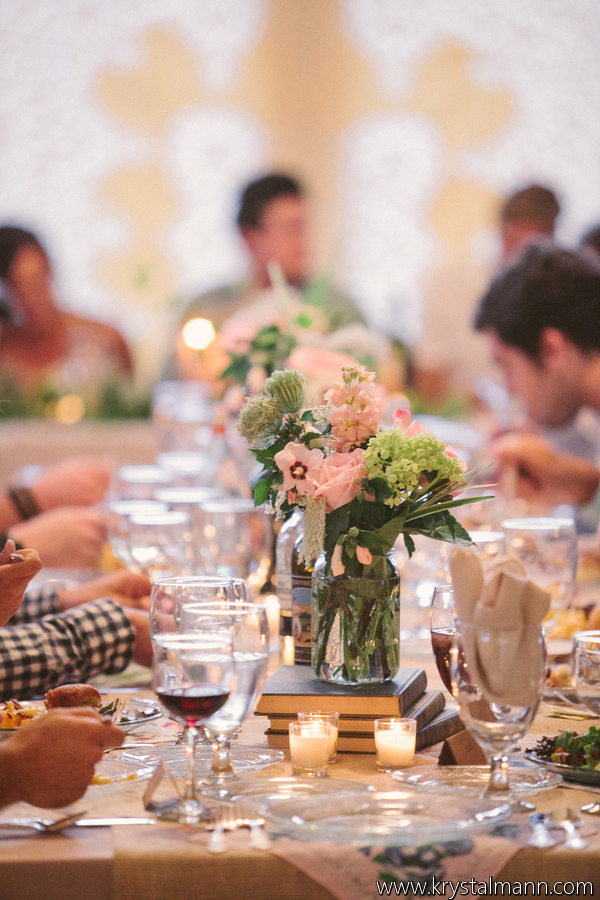 TAGS | Krystal Mann Photography, Southern Events Party Rental, Vintage Place settings, Vintage Prop Shoppe
FEATURED RENTALS |
---