29

Sep

Nashville Venues, Southern Events Products, Trends and Inspiration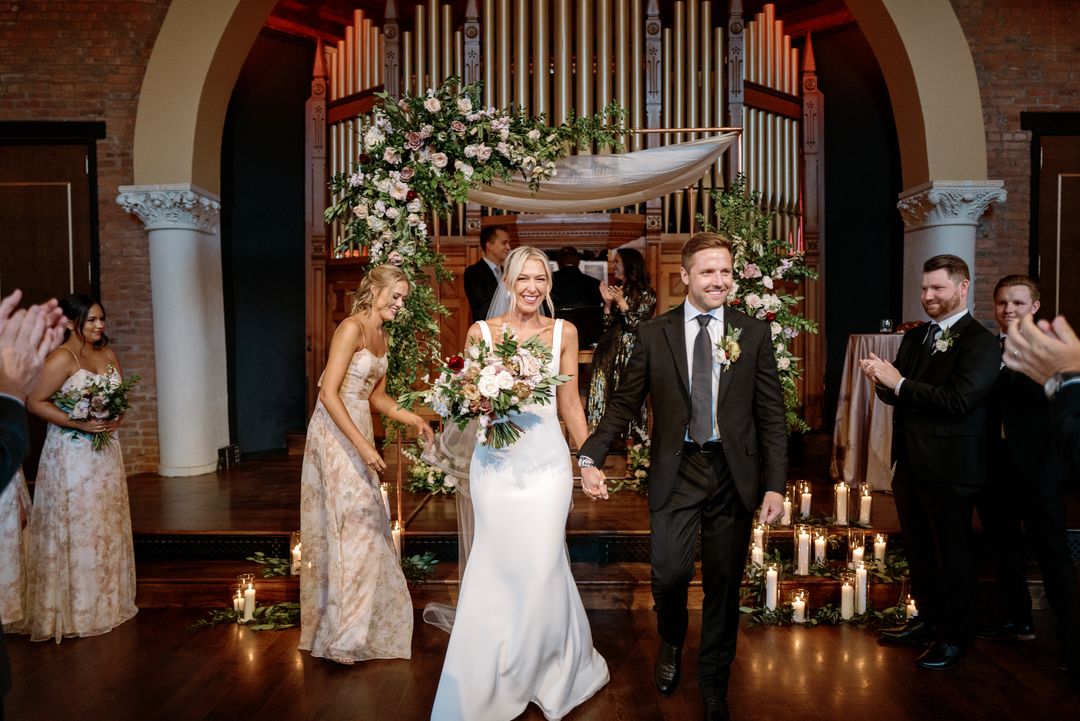 There is a certain charm to spaces where old meets new. And this style is particularly popular in Downtown Nashville, where event venues are rich with history and the original architecture is celebrated. As is the case with The Clementine! A spacious event hall, it was redesigned and rebuilt in 2018. Despite the recent renovations, however, its design remains true to its origins. Urban yet elegant, it is a versatile space in which couples can pull off the celebration of their dreams. To help you determine whether this venue aligns with your vision, we're sharing a few ideas for hosting a wedding at The Clementine, featuring our trendy event rentals.
Say "I Do" at Adelaide Hall
An original 1889 church sanctuary, Adelaide Hall is the largest of Clementine's spaces. Soaring wood beam ceilings, brick walls, hickory floors, massive mid-century chandeliers, and blown glass and steel gothic windows make a statement in this stunning space. Their famous pipe organ is perfect for a sweet ceremony. Decorate the stage with florals or a Wrought Iron Arch in front of the organ. Or use our Chuppah with drapery to soften the space. For ceremony seating, our classic Black Fruitwood Folding Chairs will offer some contrast. While our Davis Glass Cylinders will add a touch of modern elegance to the aisle. Alternatively, feature our Acrylic Ghost Armless Chairs and layered vintage or cowhide rugs to create a chic contemporary look.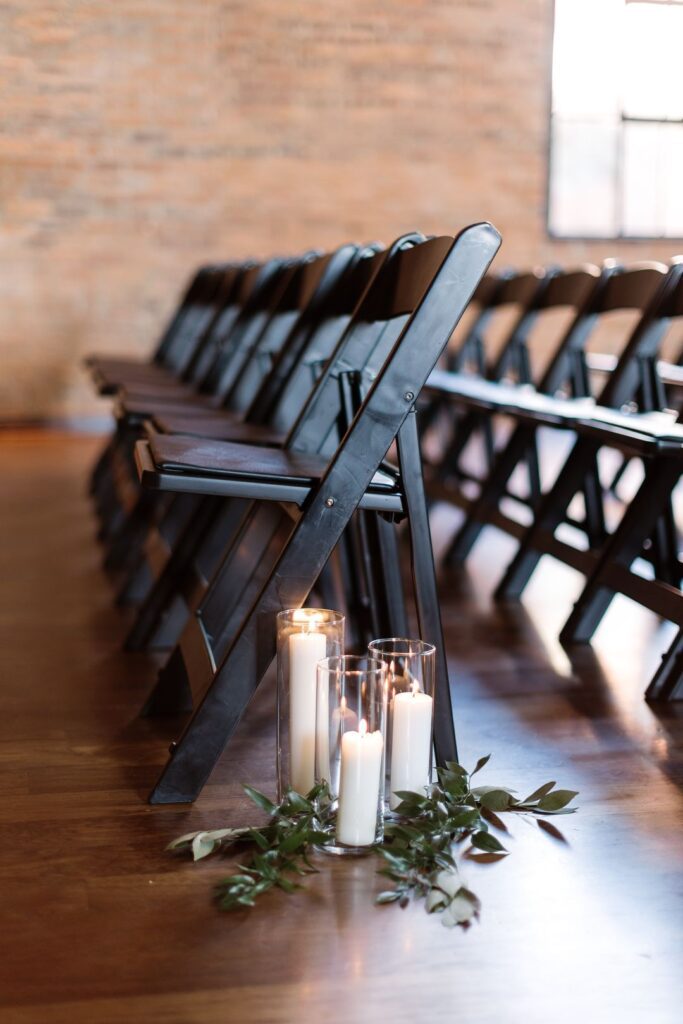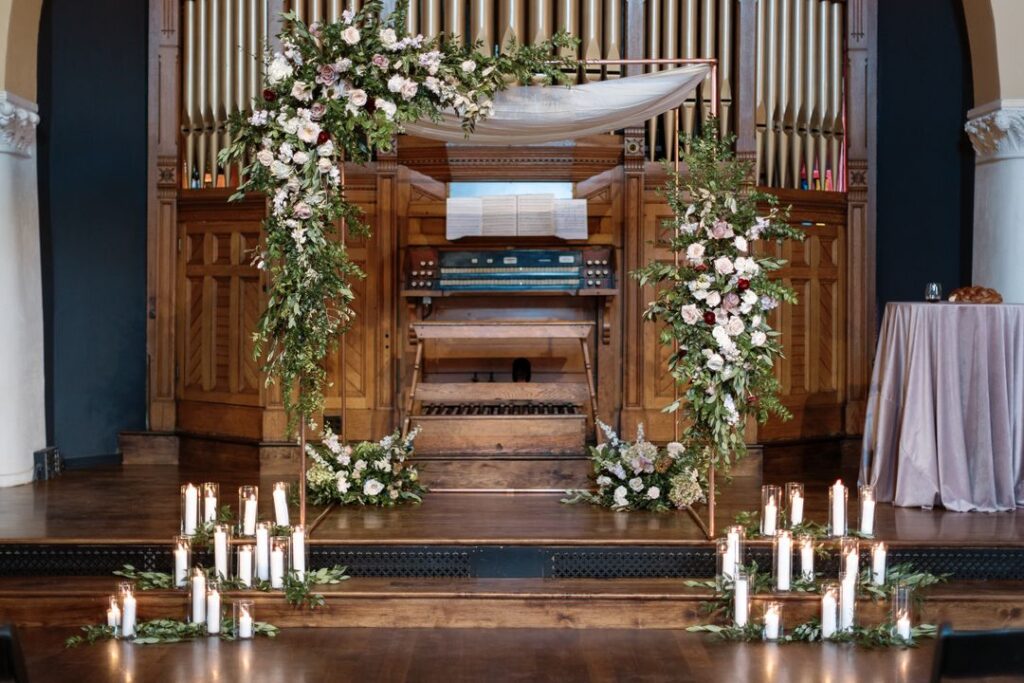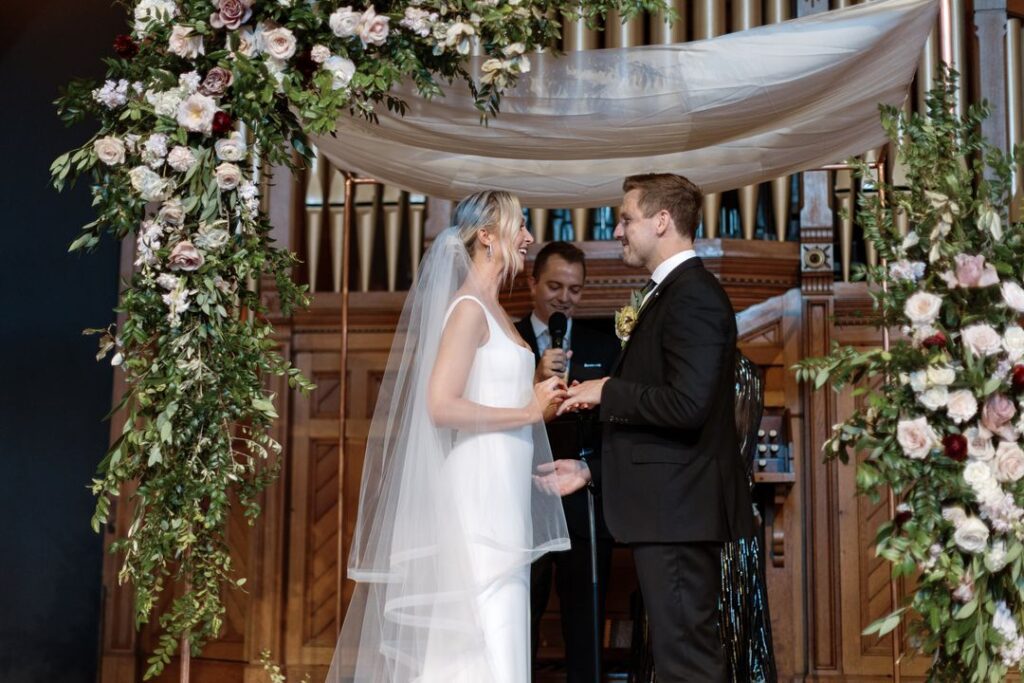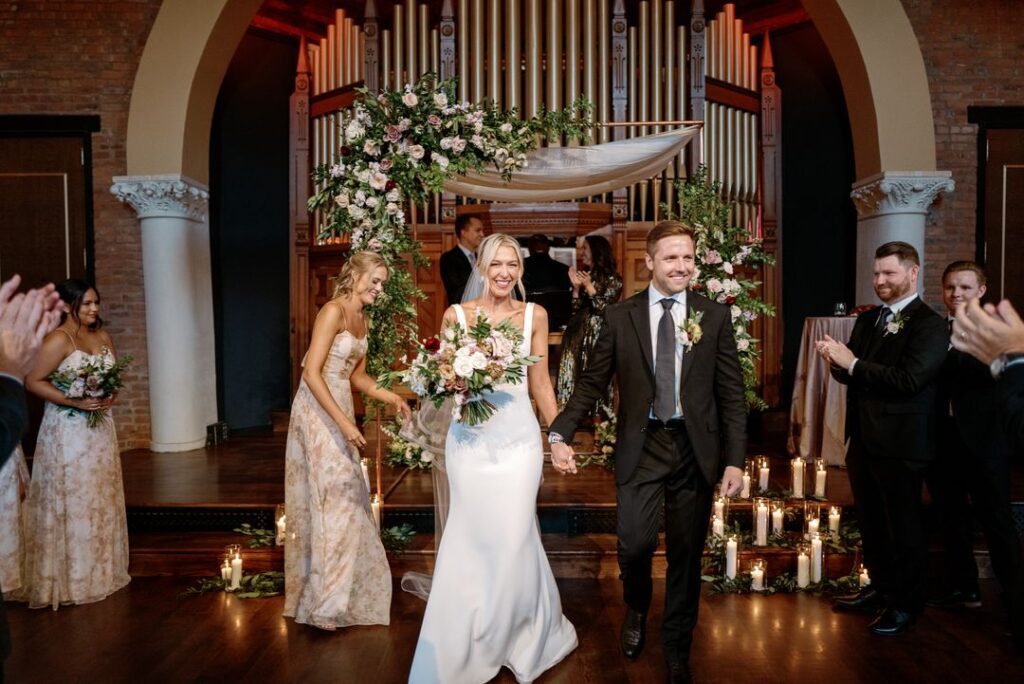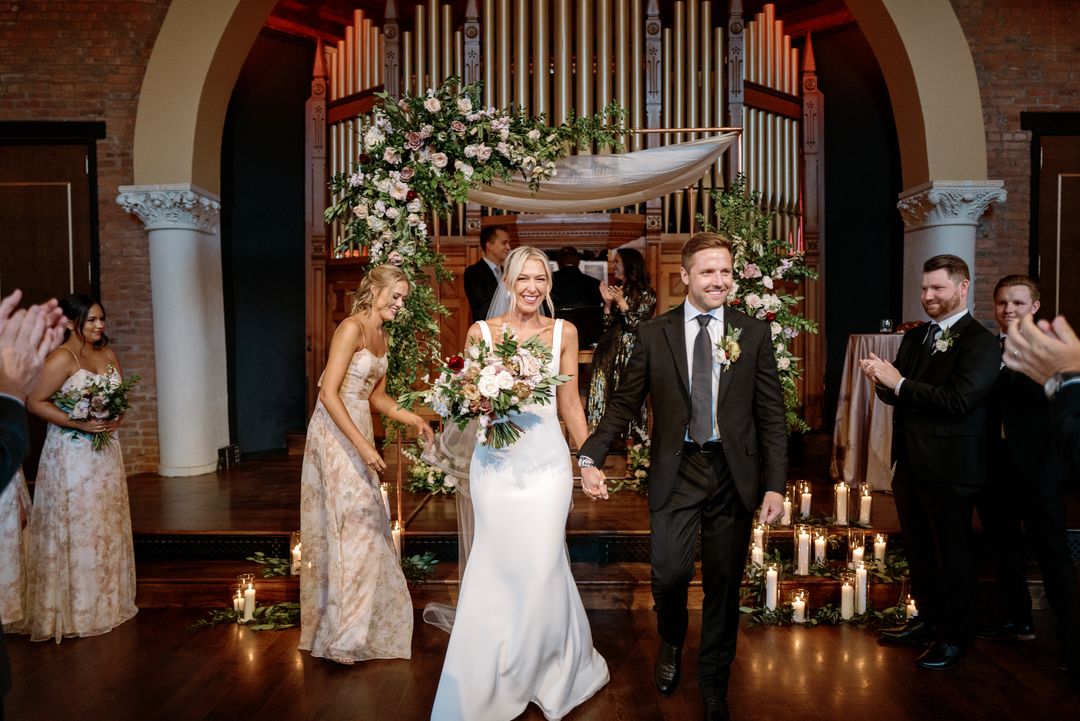 Host an Elegant Urban Reception
Following a ceremony, Adelaide Hall can be quickly flipped for an equally elegant reception. The urban event space is a gorgeous backdrop for a seated dinner. Whether you prefer to feature our round or rectangle Farm Wood Tables. Here you can pull off a timeless neutral palette, to complement the warm-toned walls and floors. Or, incorporate fun pops of color, via luxe linens and stylish serving ware.
At 2,400 square feet, there is plenty of space for catering and white dance floor (with your monogram, of course!). Unless you'd prefer to let the natural wood floors shine! In addition to the beautiful pipe organ, other key areas are the venue's two stages. Each feature concert-quality audio, video, and decorative LED lighting round things out. Making Clementine an ideal wedding venue if you have plans for live entertainment or a band.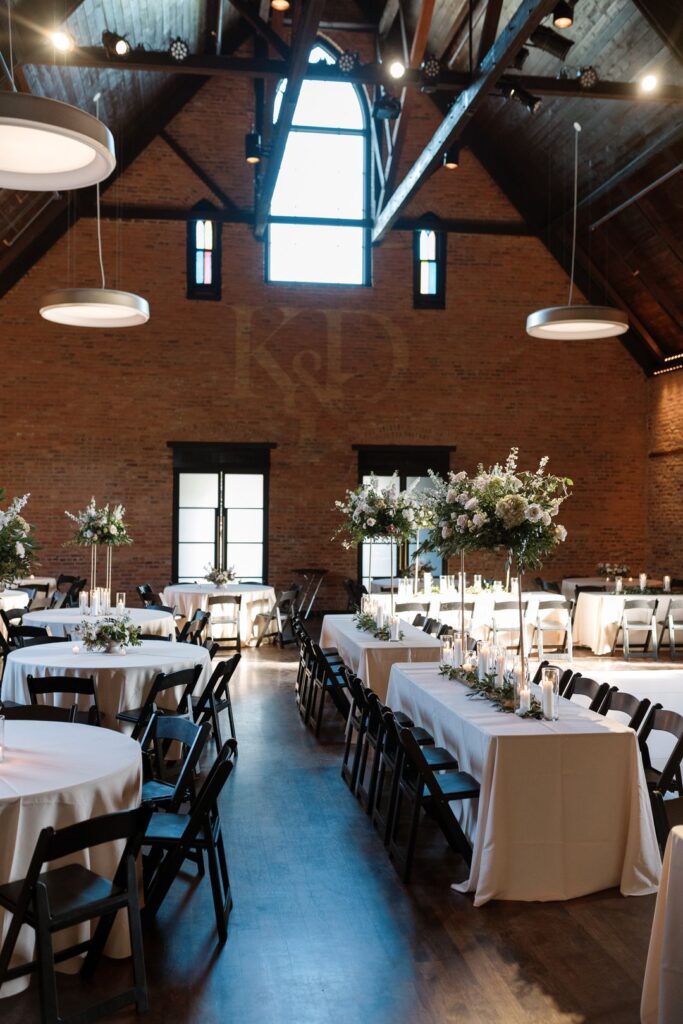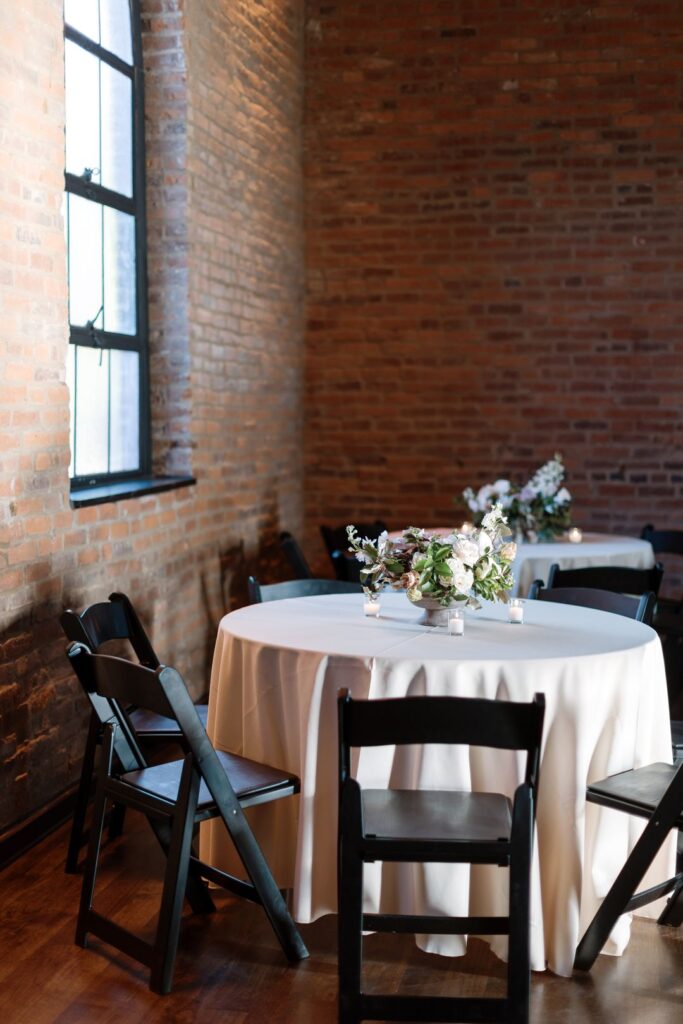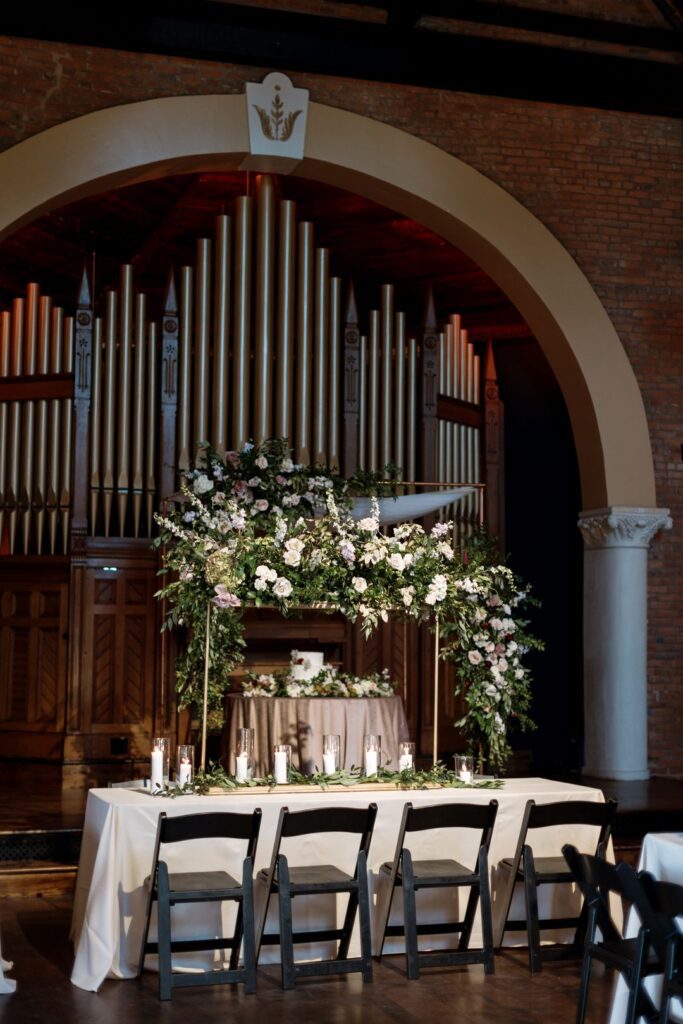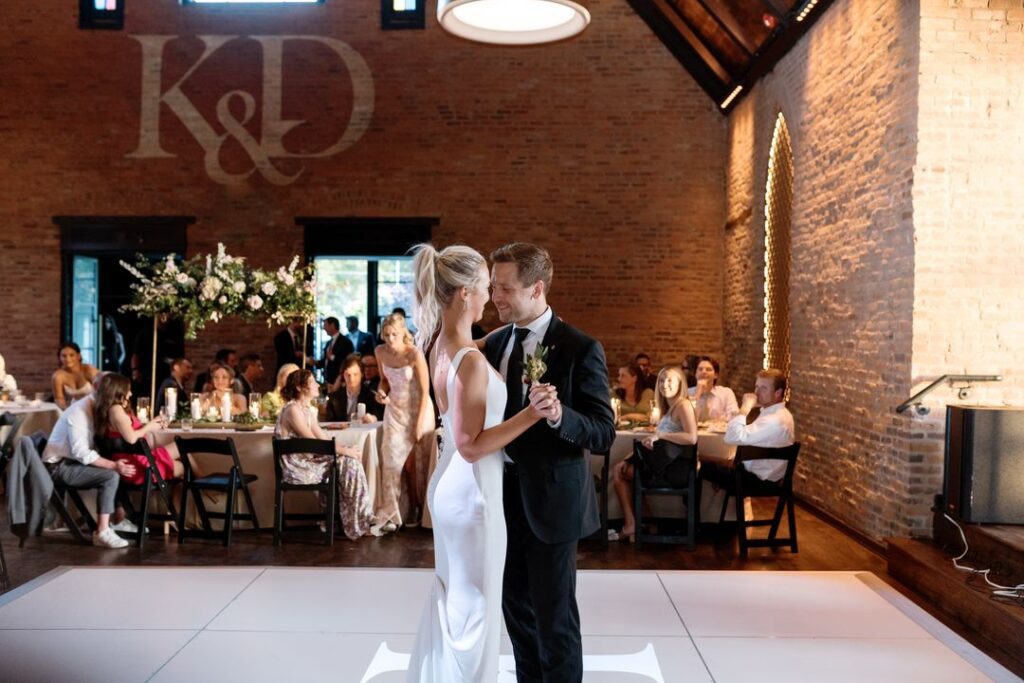 An Intimate Cocktail Hour
What's better than a venue with a dedicated social space? The Little Bird Lounge features built-in bistro tables and an elegant 20-foot marble bar. Perfect for a casual cocktail hour! An irregularly shaped room with original brickwork and arched windows, it's a memorable backdrop for a wedding lounge. More specifically, the Pearce Lounge Furniture — a modular sofa easily manipulated to fit within any space. It pairs beautifully with our Gold Hammered Coffee Table.
When the weather is nice, take advantage of their Brash Courtyard, easily accessed through the lounge. Outfit the concrete-walled patio with trendy bistro tables and chairs. Such as our Acrylic Casper Square Back Barstool or Mid Century White Barstool. For an extra luxe look, be sure to grab a set of our Velvet Linens! They look especially charming during the fall, when the surrounding foliage is at its peak.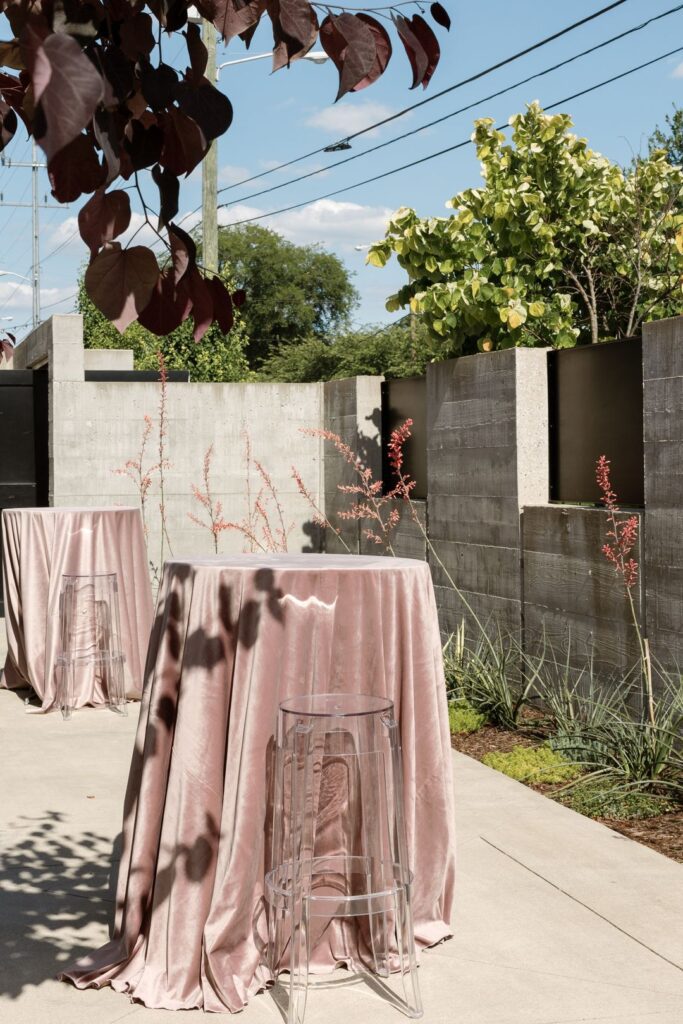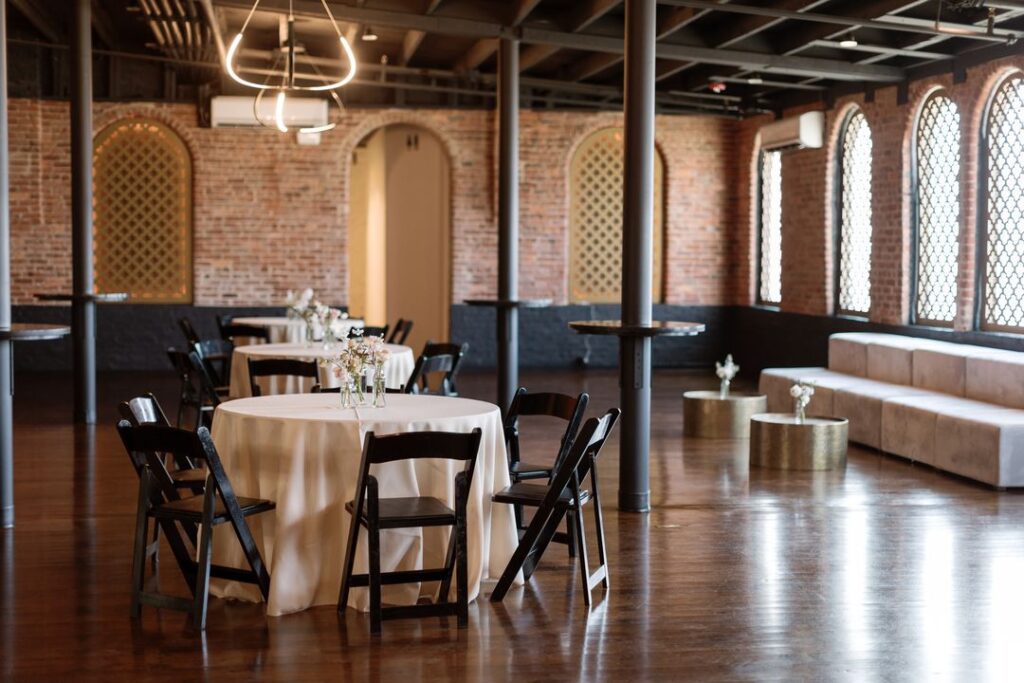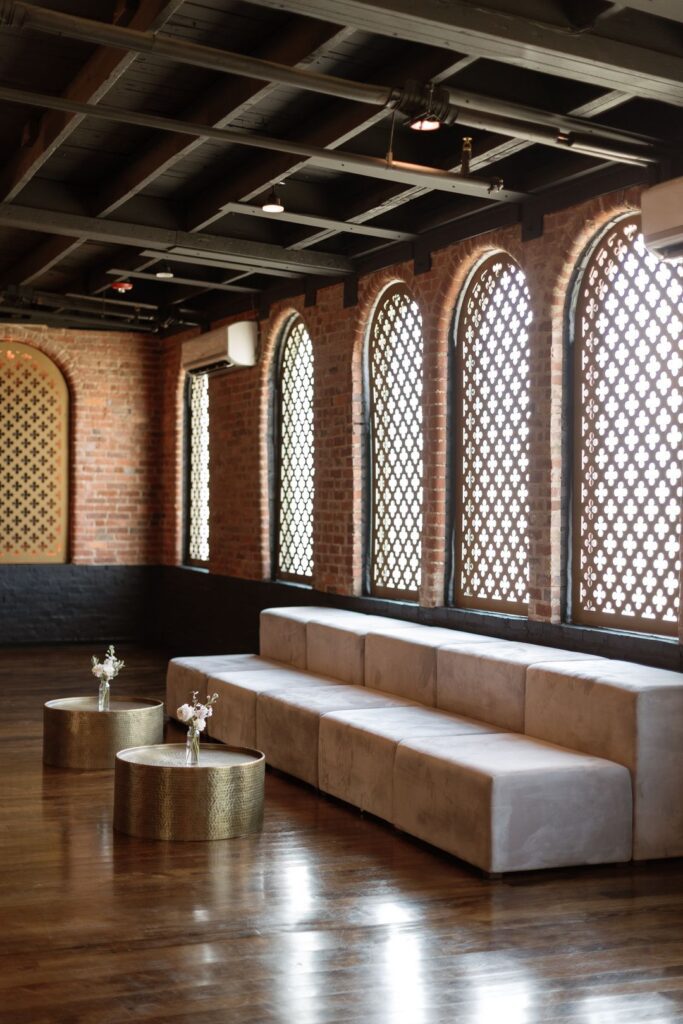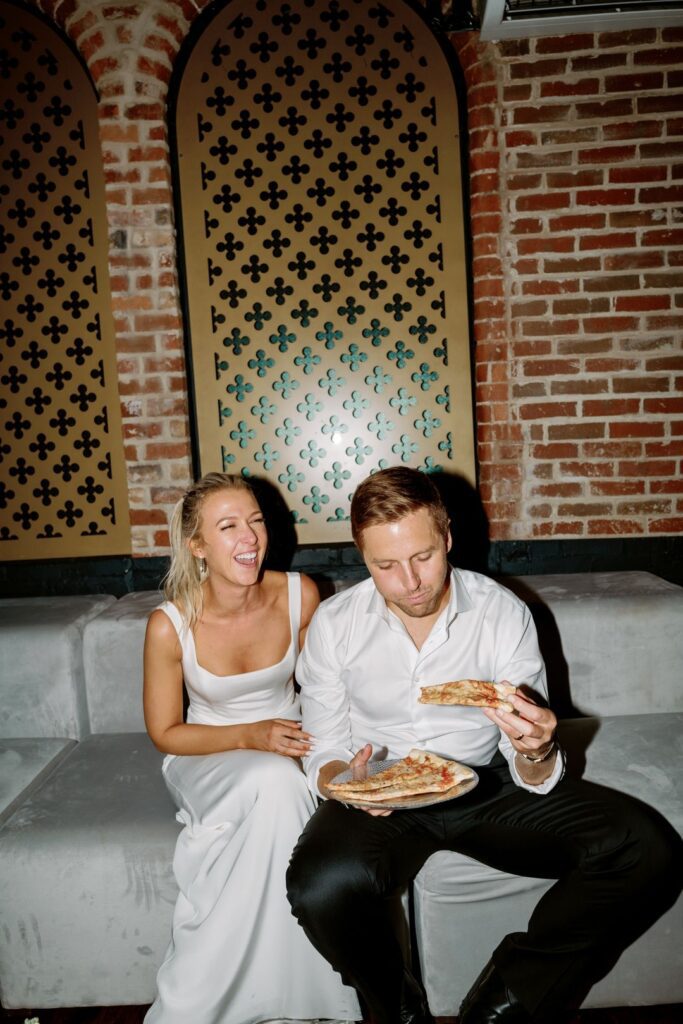 Shout out to Jordyn Smalling Photography for sharing the images from Katie and Drew's wedding with us!
Ready to plan your wedding at The Clementine in Nashville? Contact our team at info@southerneventsonline.com for help recreating this elegant urban wedding. Or, for help bringing your unique vision to life!
TAGS | Ceremony Decor, Nashville Event Venue, Nashville Wedding Rentals, Nashville Wedding Venues, Southern Events Party Rental, southern weddings, the clementine, wedding reception ideas
FEATURED RENTALS | Wrought Iron Arch, Chuppah, Black Fruitwood Folding Chairs, Davis Glass Cylinders, Acrylic Ghost Armless Chairs, vintage rugs, cowhide rugs, Pearce Lounge Furniture, Gold Hammered Coffee Table, Acrylic Casper Square Back Barstool, Mid Century White Barstool, Velvet Linens,
---
1

Sep

On Trend, Southern Events Products, Trends and Inspiration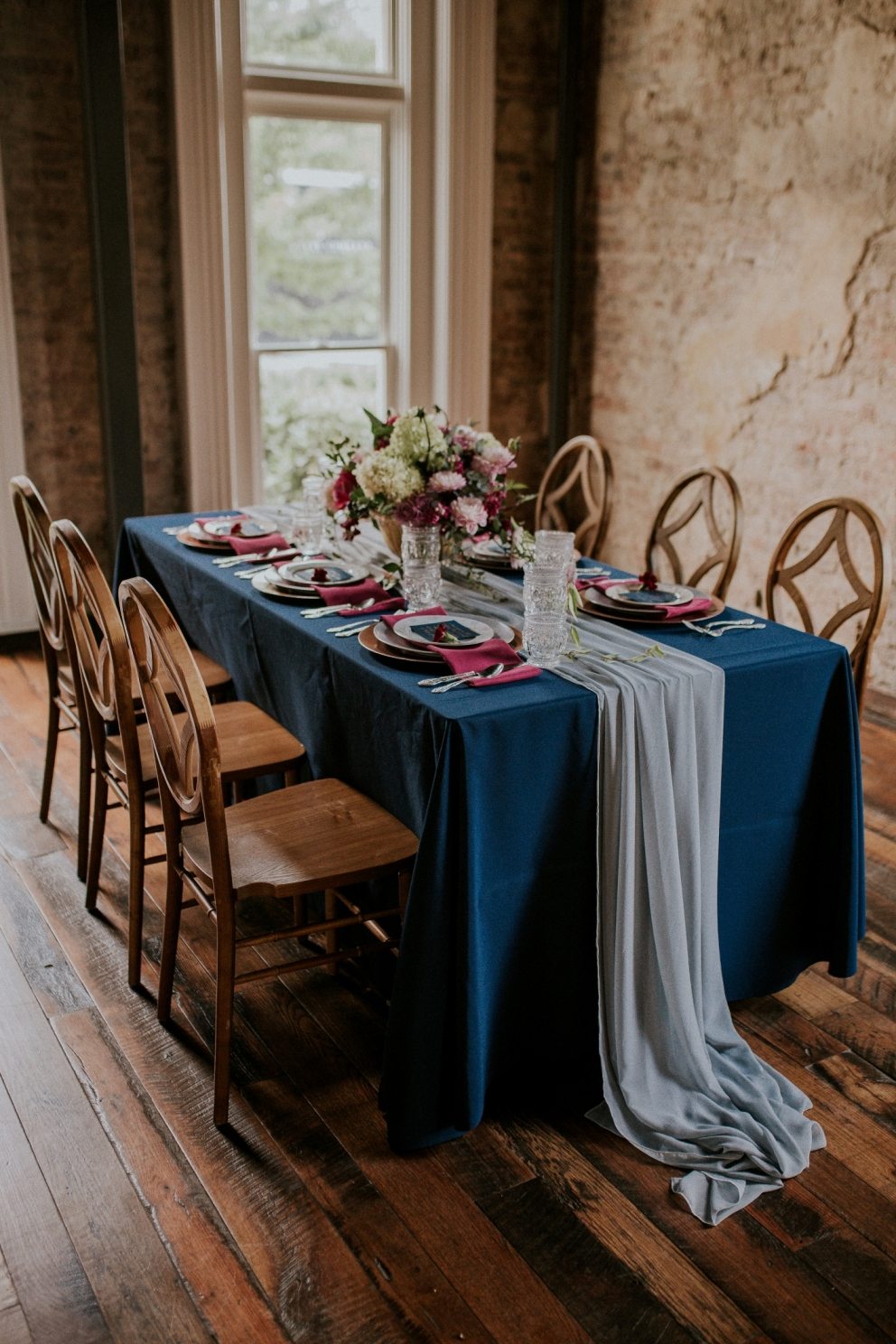 Bold and vibrant colors can be found everywhere in nature — from the burgundy mums sitting on your doorstep, to the bright orange pumpkins waiting to be carved into jack-o-lanterns, to the yellow leaves falling to the ground. The vivid and rich color palette of the great outdoors moves fall wedding trends toward more jewel-toned hues – an aesthetic we are happy to help you achieve! Grab that pumpkin spice latte, light a candle, and peruse these gorgeous, in-stock jewel-toned fall wedding rentals!
Jewel-Toned Furniture
Our Saylor Navy Sofa always makes a striking statement. We use it at many weddings and events, and it is essential for this lineup. The piece's deep and powerful hue of blue brings in warmth and vivacity. Our Jaqueline Velvet Sofa, which features a rich amber color, is just as beautiful and practically glows. But should you prefer a more muted look, opt for our Fern Velvet Sofa, paired with a set of vintage-inspired Turkish Rug Ottomans. To frame the space, and lend an extra cozy look, feature our vibrant Blue-Red Rug.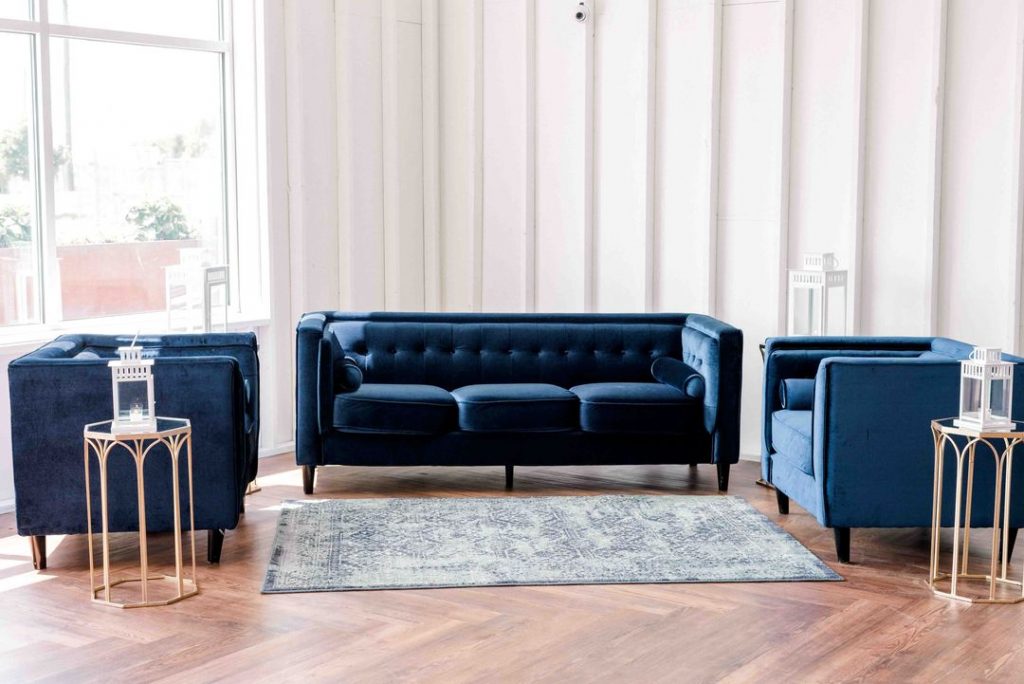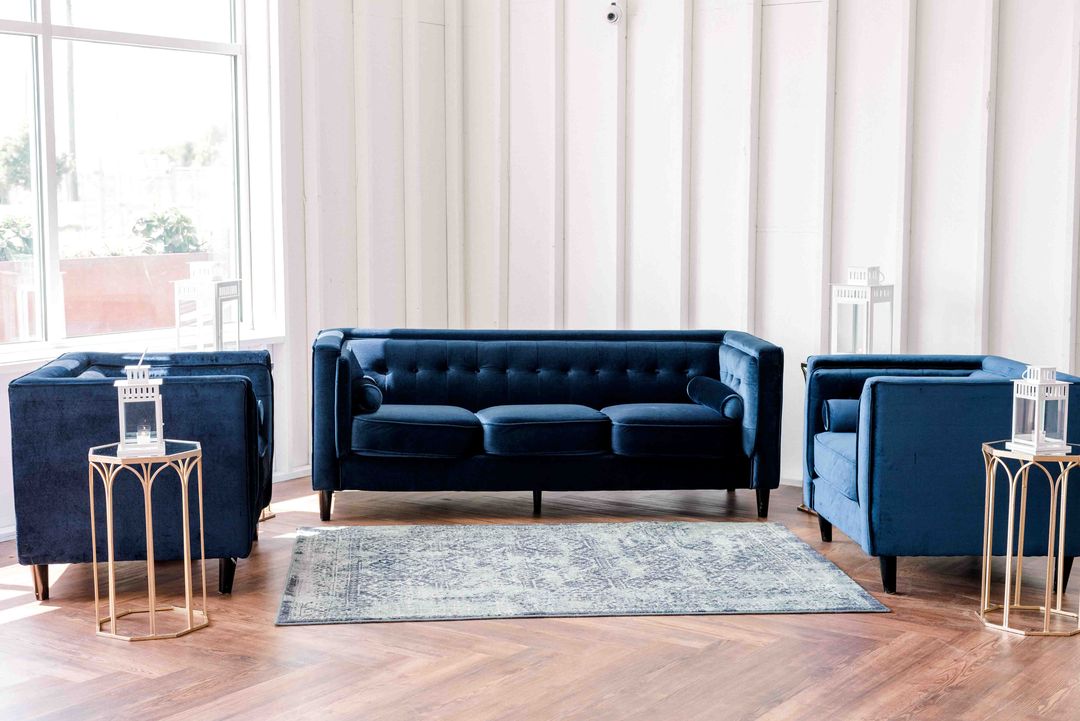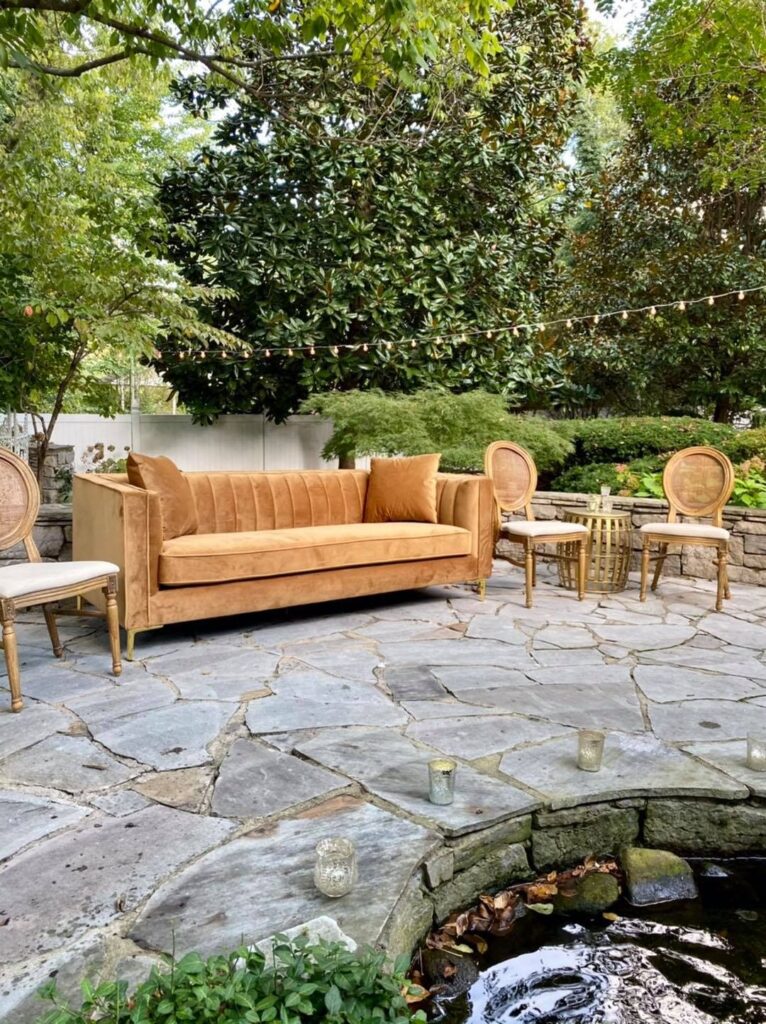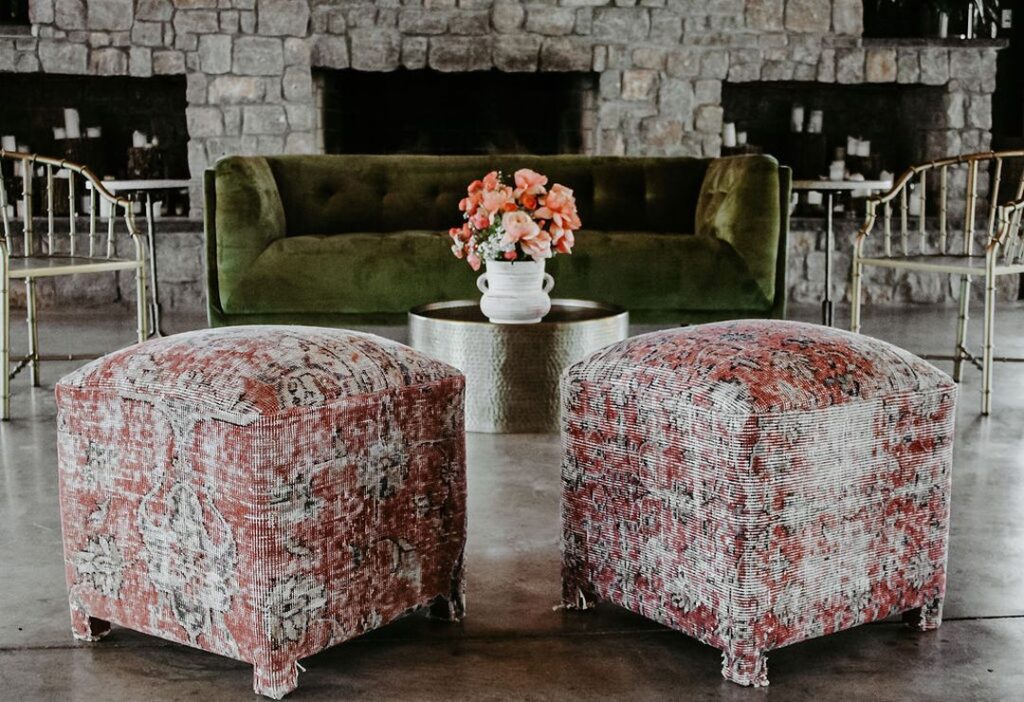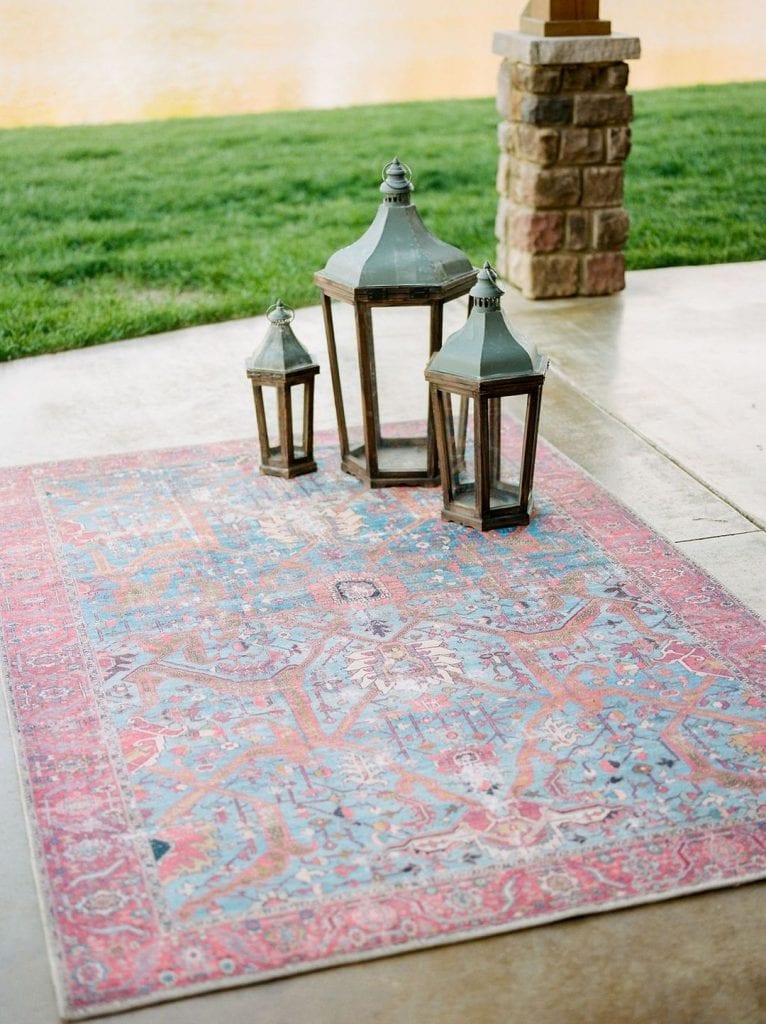 Bold Jewel-Toned Linens
We love playing with linens – layering them, draping them, and allowing them to pop in unexpected places. For the fall and a jewel-toned wedding theme, linens are a trusty sidekick. They accentuate, build up, and reinforce the vibrant color palette. The possibilities are endless. Our Burgundy Poly Linen, Gold Poly Linen, Magnolia Velvet Linen, and Raspberry Poly Linen, are our top picks for pushing this jewel-toned vision to life. For an extra luxe touch, top your place settings off with a set of velvet napkins!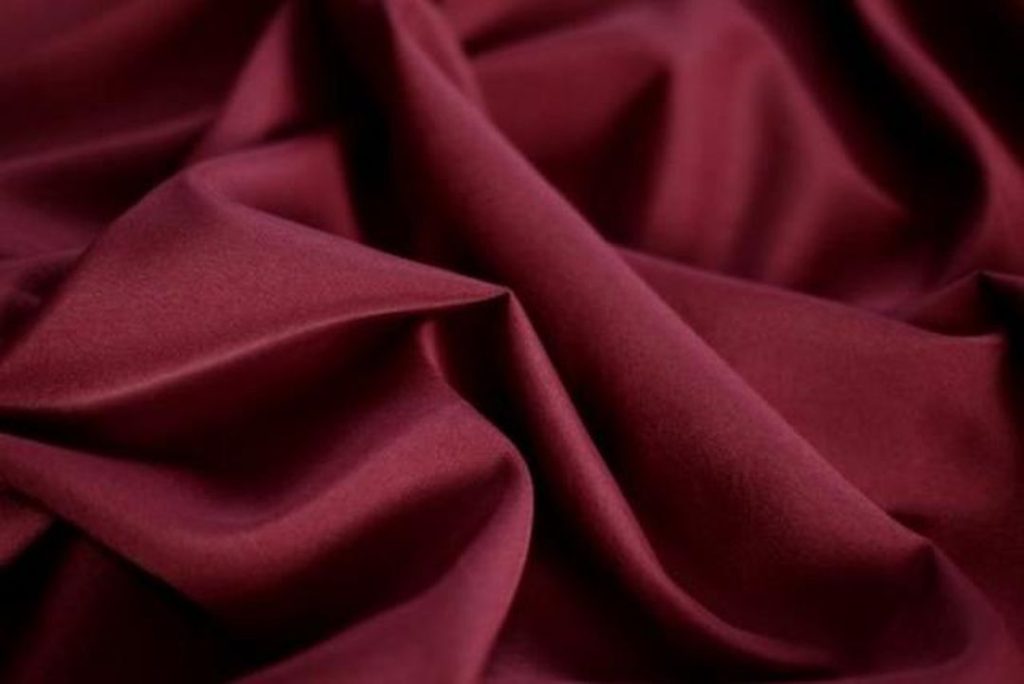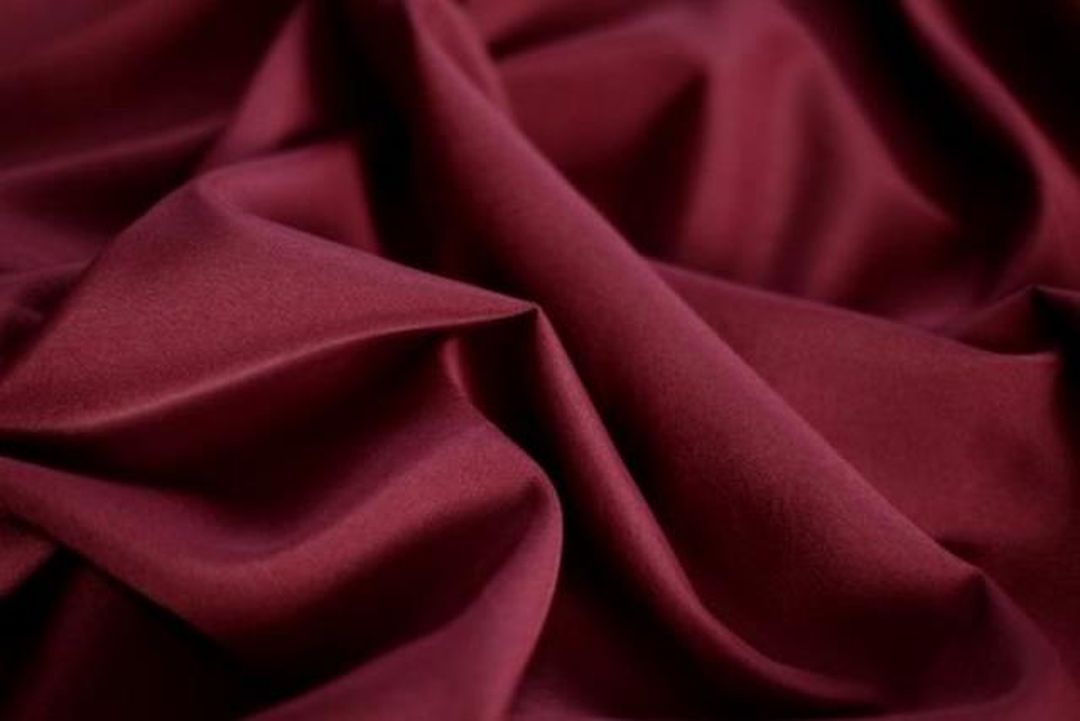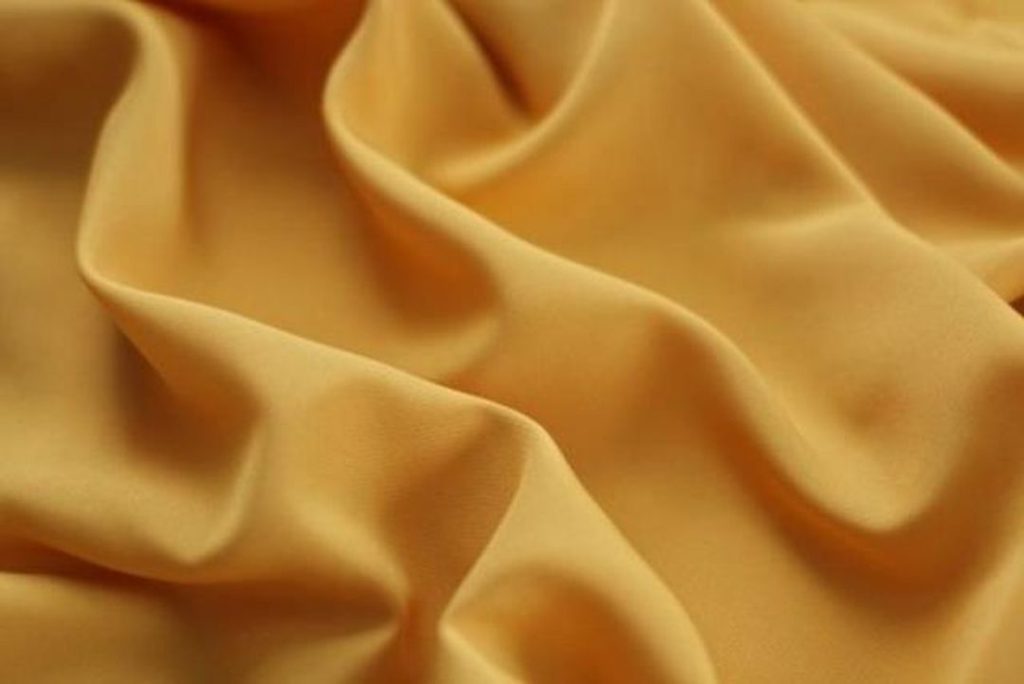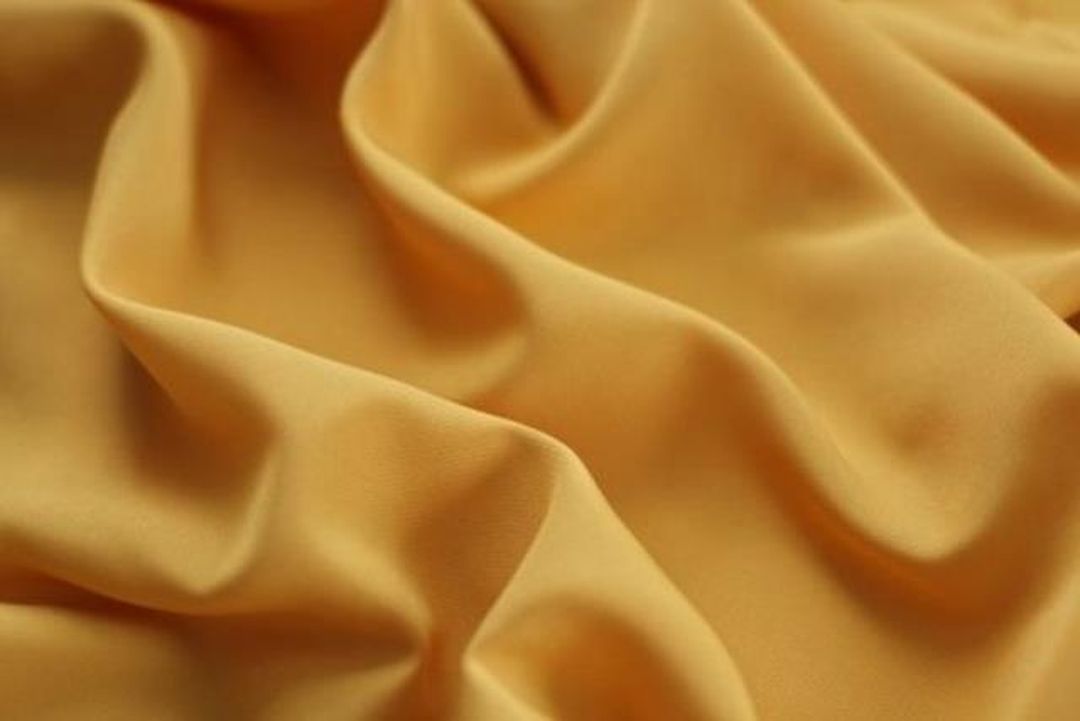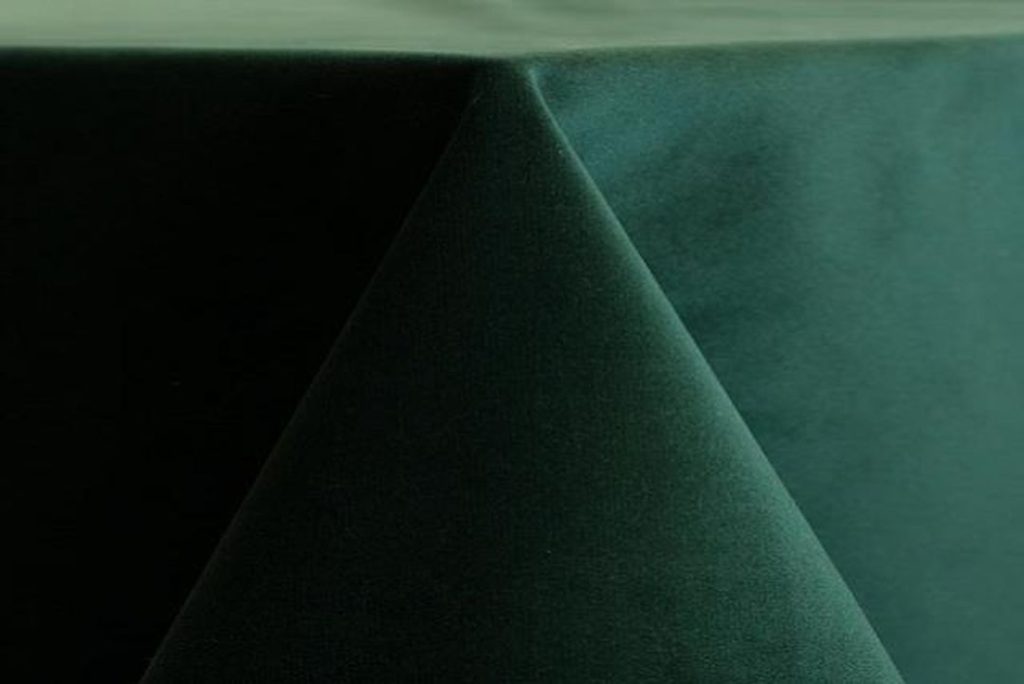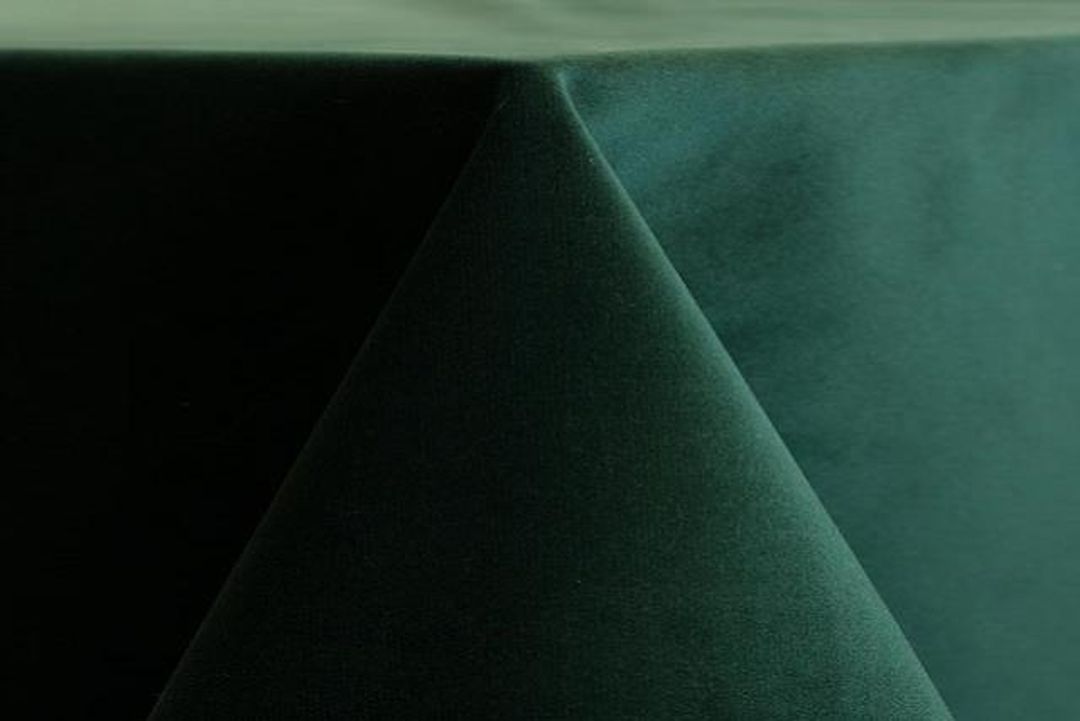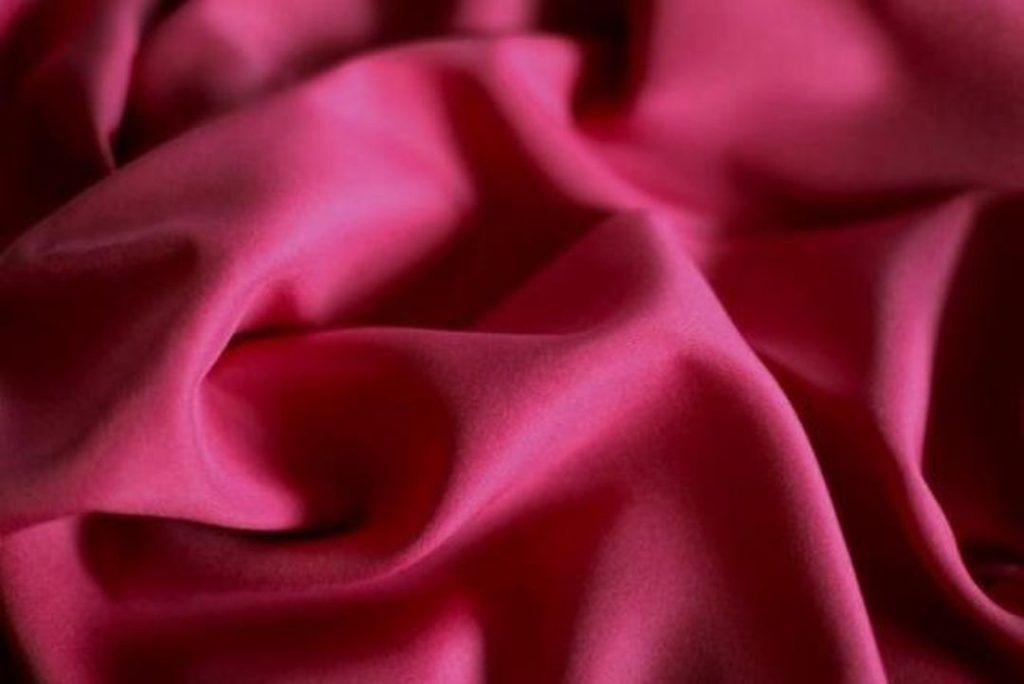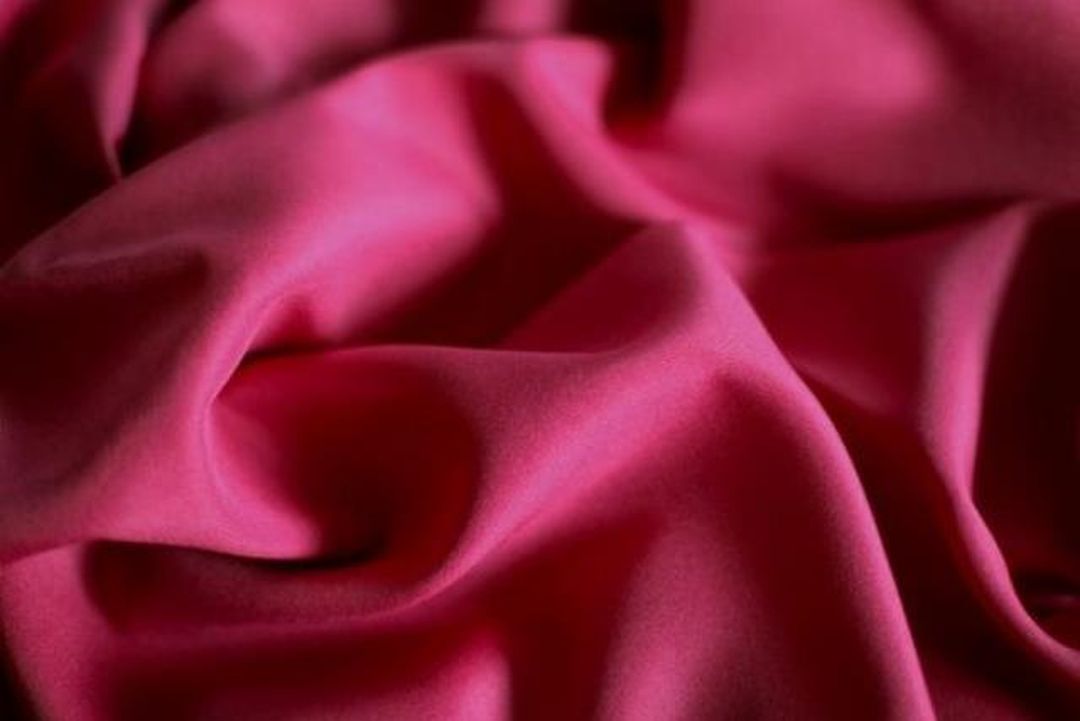 Gold Accents
Warm, rich, vivacious colors set in gold are the thing of fairy tales (and sought-after gifts). Rubies, emeralds, sapphires – they all have several things in common. One of which is that they are set in gold! Setting your jewel-toned wedding in gold is simple with our in-stock rentals, ranging from serving ware to accent furniture. Our Austin Flatware, Gold Accent China, and Audrey Gold Rim Glassware will make for an elevated fall tablescape. To match, create a centerpiece using any of our Gold Tabletop Decor. For a luxe lounge, feature a set of trendy Gold Hammered Coffee Tables. Or seat guests at the table with our always popular (and oh so comfy) Gold Chiavari Chairs.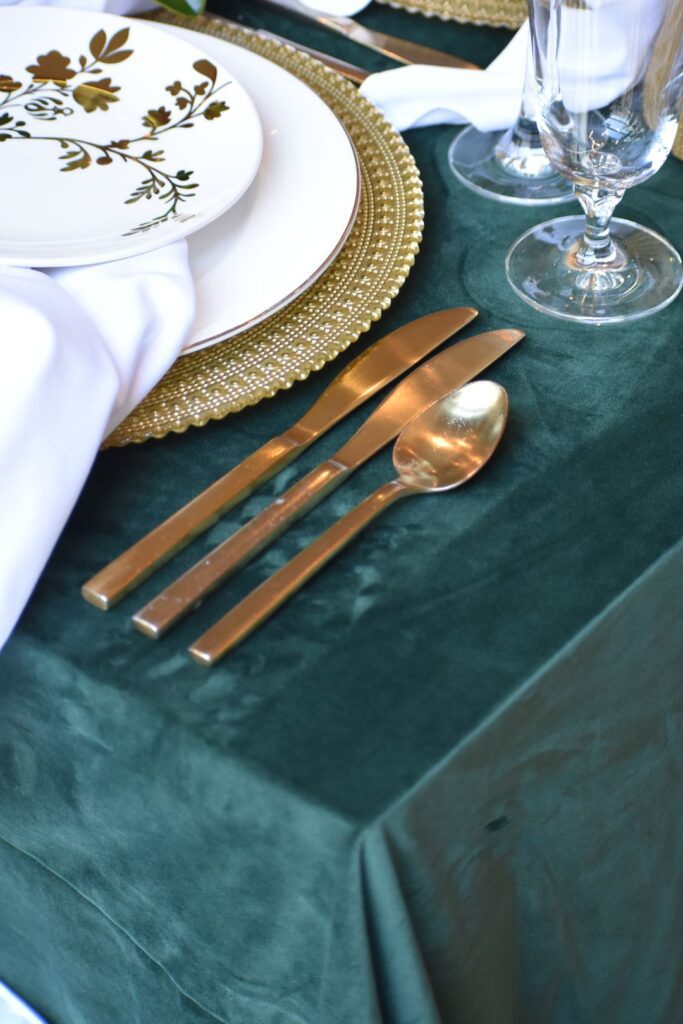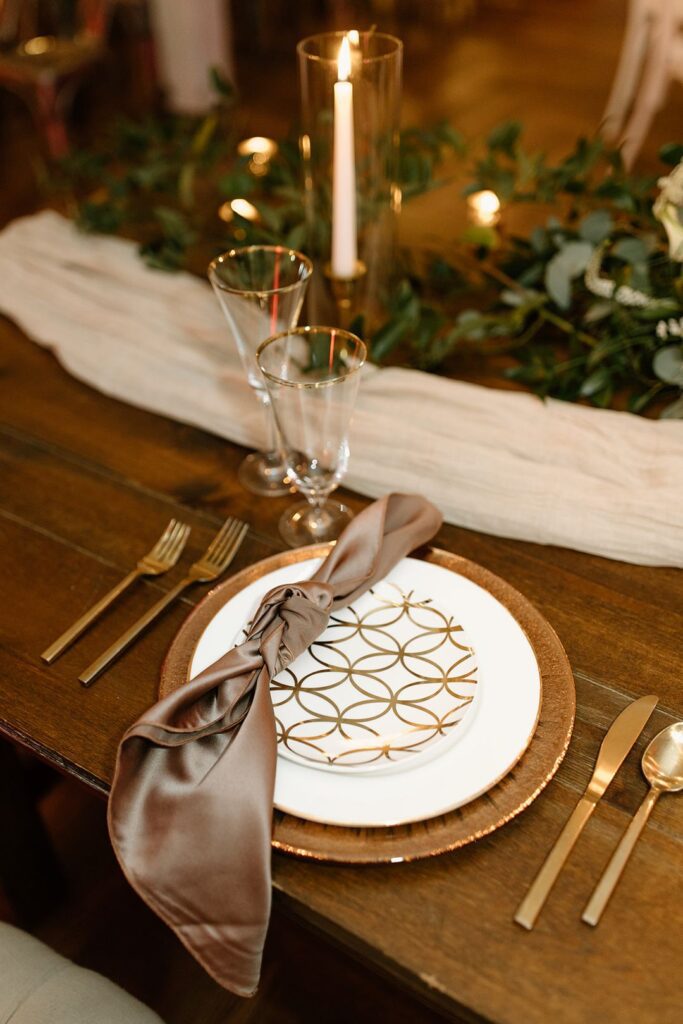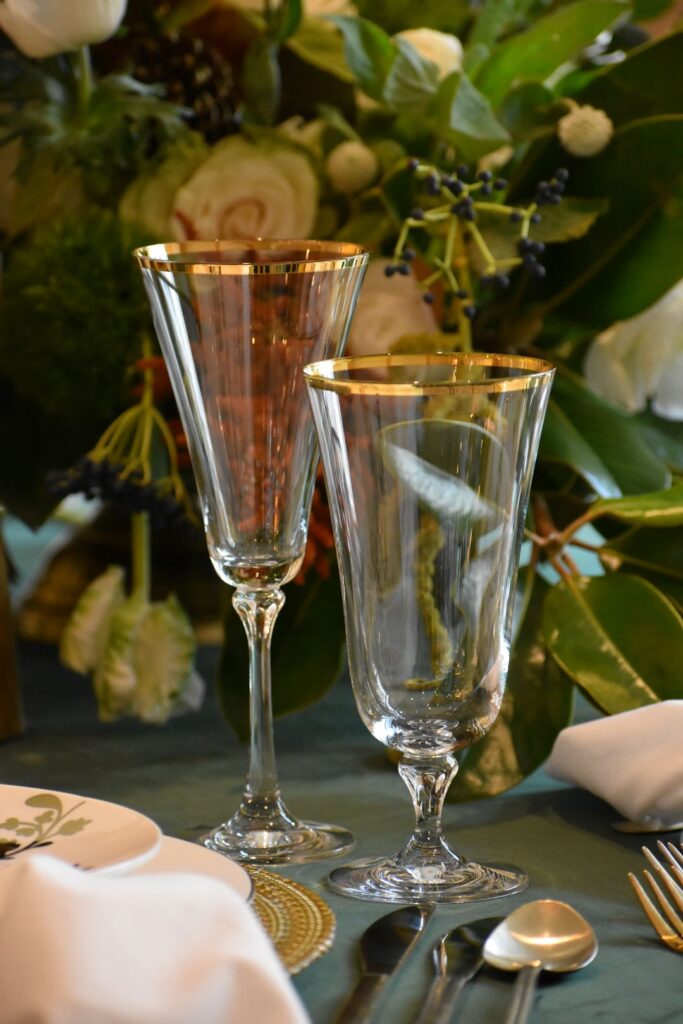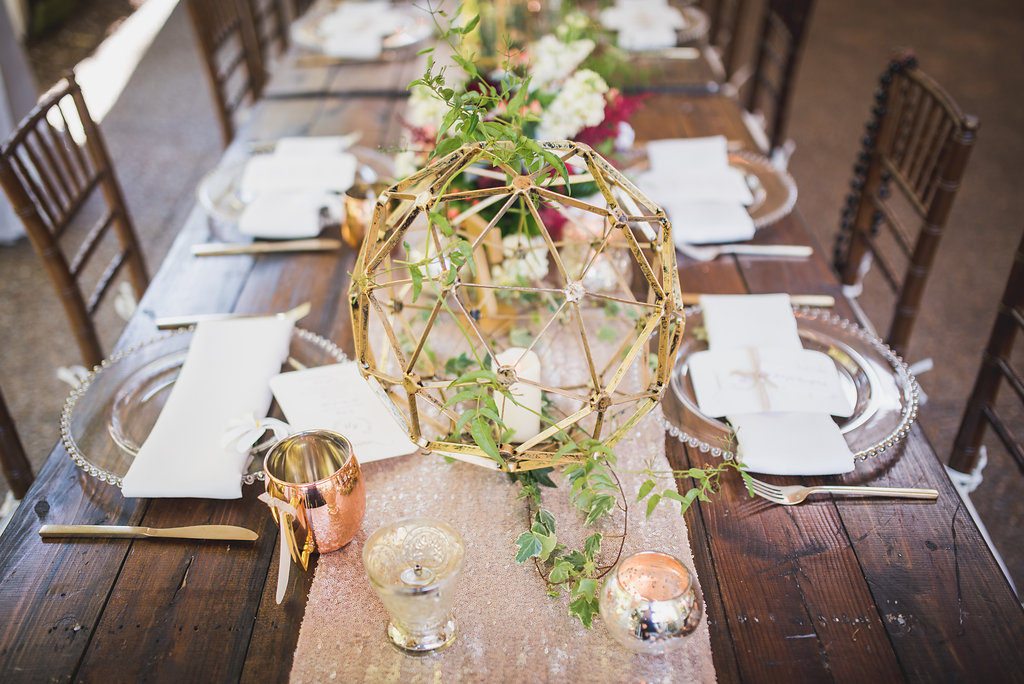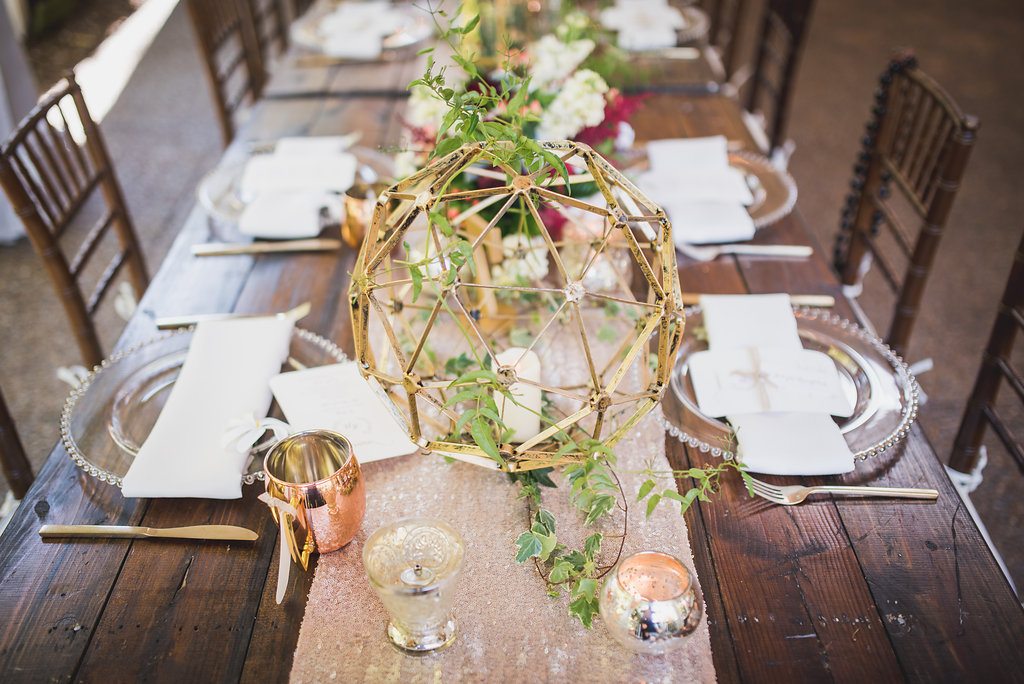 Are you catching these fall feels? We'd love to help you create the bold and vivacious day of your dreams featuring our jewel-toned fall wedding rentals. Send us a message at info@southerneventsonline.com and let's start planning! Hosting an outdoor fall wedding? Get more inspiration when you take a look at this Fall Garden Wedding at CJ's Off the Square.
TAGS | Nashville Event Rentals, Southern Events Party Rental Company, event linens, jewel-toned event, southern weddings, velvet rentals, wedding style trends
FEATURED RENTALS | Saylor Navy Sofa, Turkish Rug Ottomans, Jaqueline Velvet Sofa, Fern Velvet Sofa, Gold Hammered Coffee Tables, Austin Flatware, Gold Accent China, Gold Tabletop Decor, blue-red rug, Burgundy Poly Linen, Gold Poly Linen, Magnolia Green Velvet Linen, Raspberry Poly Linen
---
25

Aug

Events and Style Shoots, Southern Events Products, Trends and Inspiration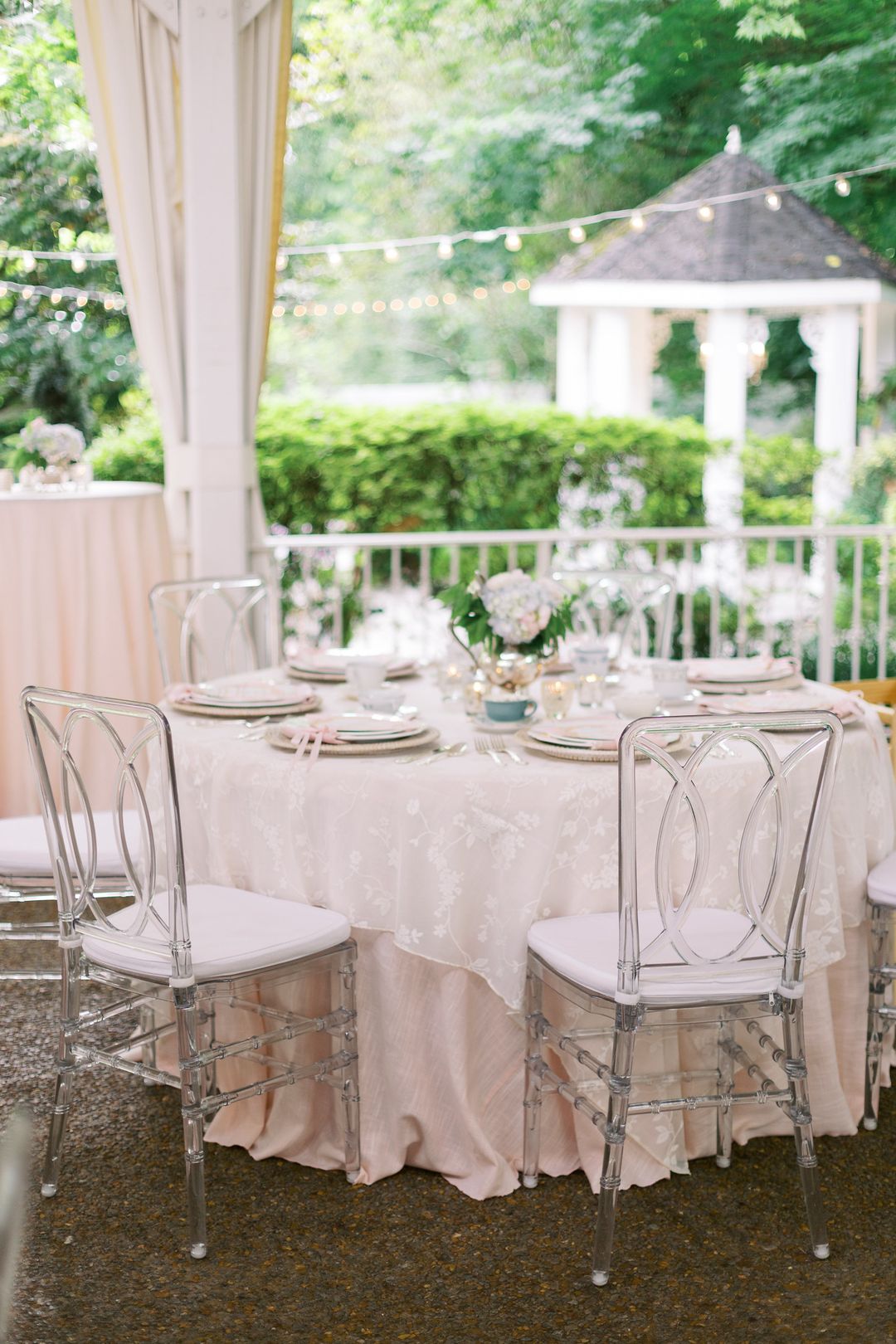 Who doesn't love a fabulous brunch?! Maybe that is why more than ever, people are centering their celebrations around this popular mealtime. From baby showers to bridal showers and weddings, brunch is a memorable way to mark a milestone. As well as a good excuse to break out the bubbles! The garden at CJ's Off the Square has all the inspiration needed for hosting a sweet southern brunch party, featuring vintage-inspired rentals and classic serving ware pieces.
Set the Scene
If you've ever enjoyed brunch then you know that the goal is to create a setting that is sophisticated yet casual. A space where people feel special, enjoying a decadent meal. With this in mind, your tablescape is key. We love starting off with tables dressed in bright linens, such as Blush Shimmer. For a fun extra layer, top it off with a textured runner or overlay. For seating, our Acrylic Carrigan Side Chair will bring a modern contemporary touch – as will any of our acrylic seating options.
For a look that is equally airy but a touch more rustic, you could also feature our Grayson Farm Table or White Wash Round Farm Table. Either of these pieces will look stunning standalone or can be decorated with a soft runner, like Bloom Chiffon or Champagne Lace. As with any brunch, fresh floral centerpieces are required! Place bright or neutral-colored blooms in our elegant Square Glass Vases. If you're hosting a large party, it doesn't hurt to throw a few bistro tables into the mix!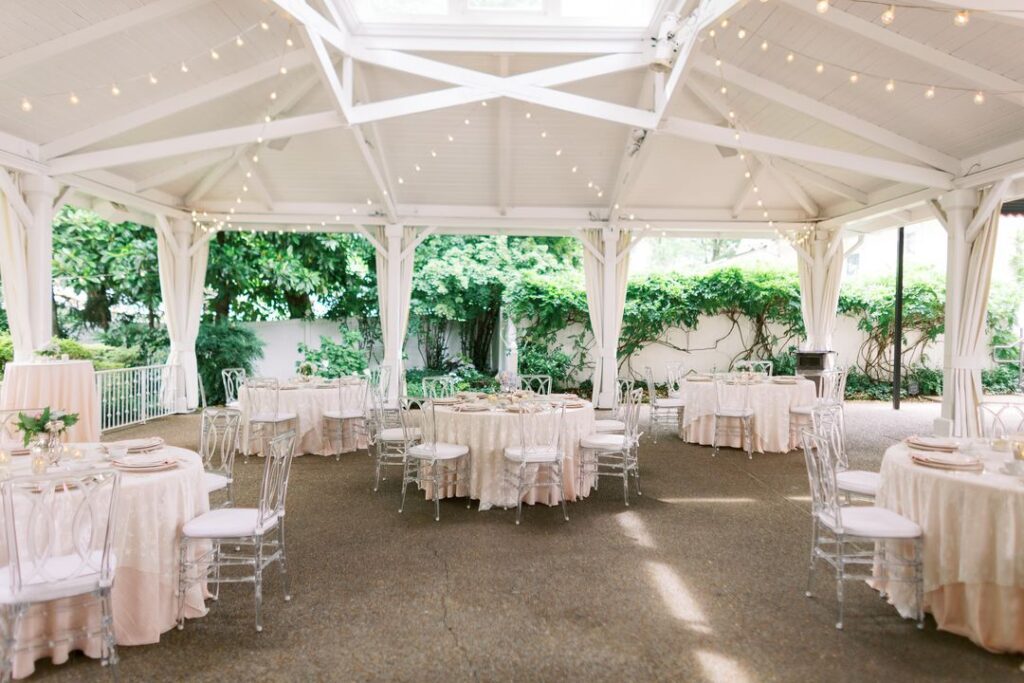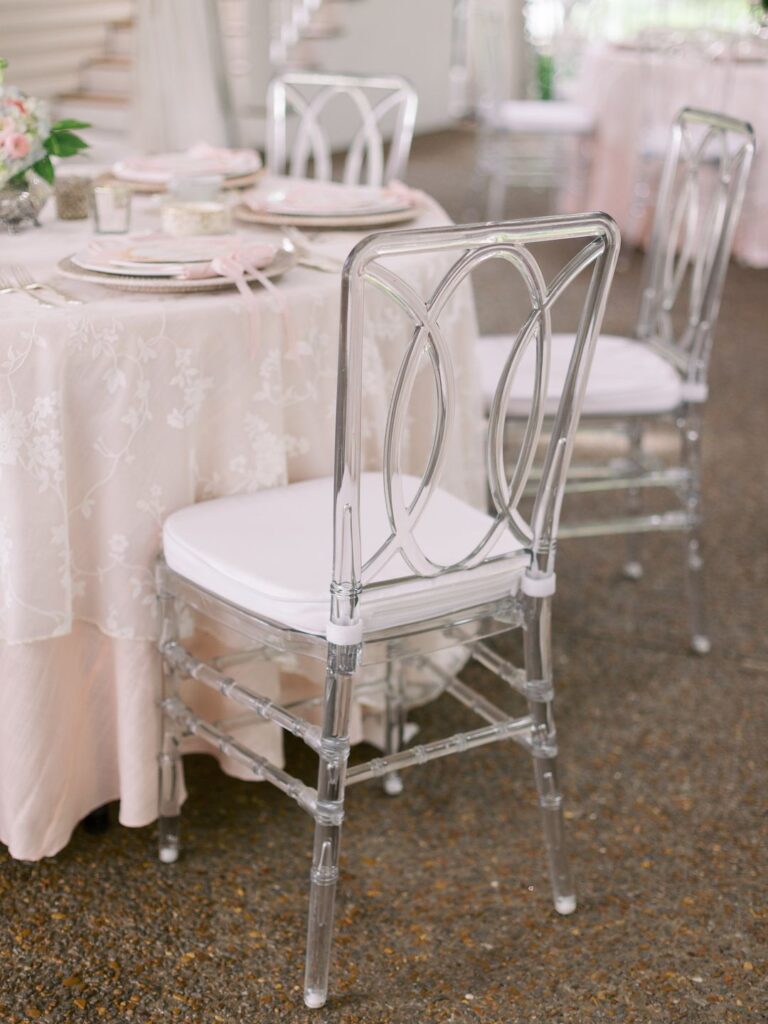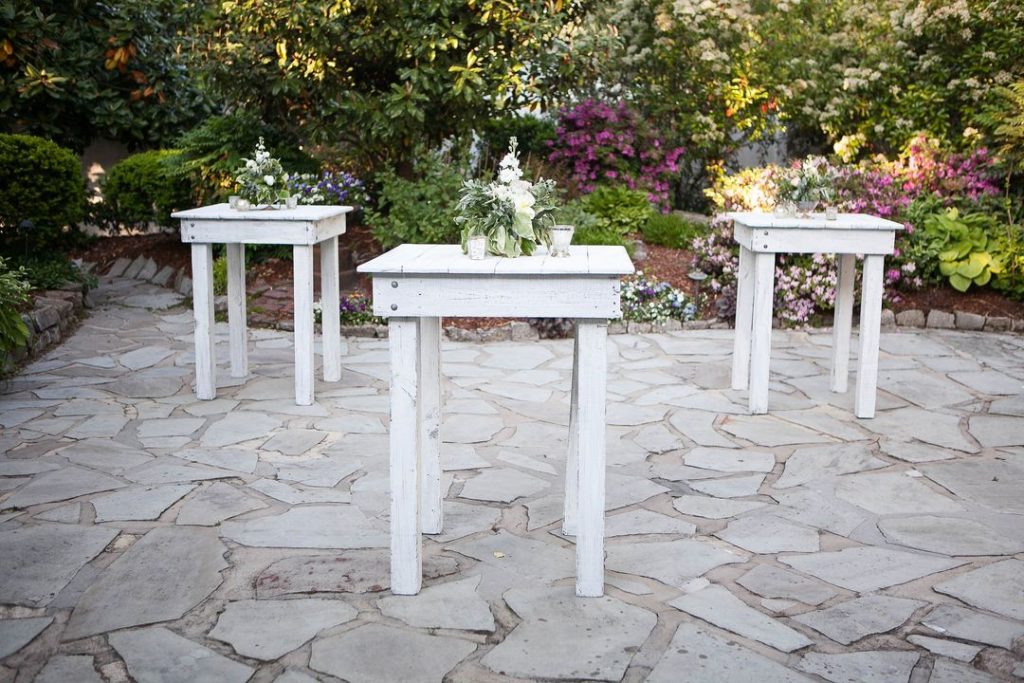 Then Set the Table!
Of course, the real star of a southern brunch party is the food! For which you'll need to create an impressive tablescape. One of our favorite ways to create a memorable table is by featuring serving ware with textures. Start with our White Wash Rattan Charger, stacked with our dainty Darcy China and Darcy Bone China Charger. These pieces are the perfect combination of old and new! Pair it with our Abby Flatware, or Austin Flateware if you prefer gold.
To complete the place setting you'll also need glassware, for a variety of popular brunch-themed beverages. A water goblet is always essential, and our Hob Nob Goblet is a stunner. It also pairs beautifully with our Heirloom Tea Cups and Saucers, for a quaint vintage touch for serving hot coffee or tea. For an especially well-thought-out table, you might also feature a Silver Coffee/Tea Server. Along with a matching Carson Silver Cream and Sugar Set, it will be a fun classically southern detail.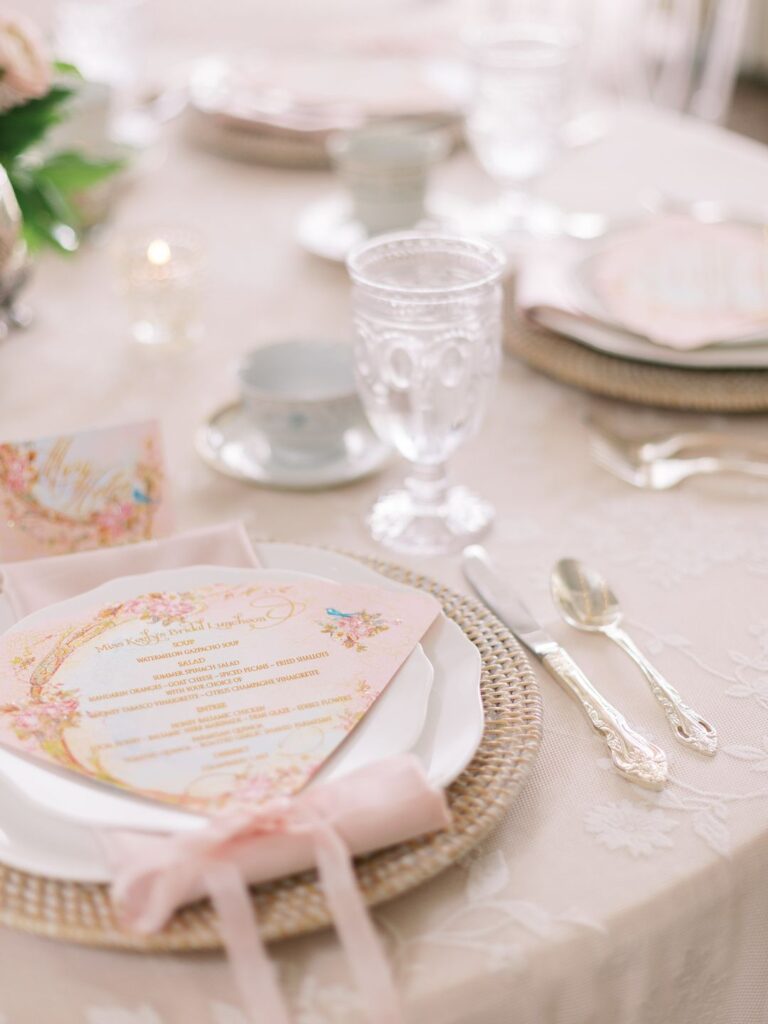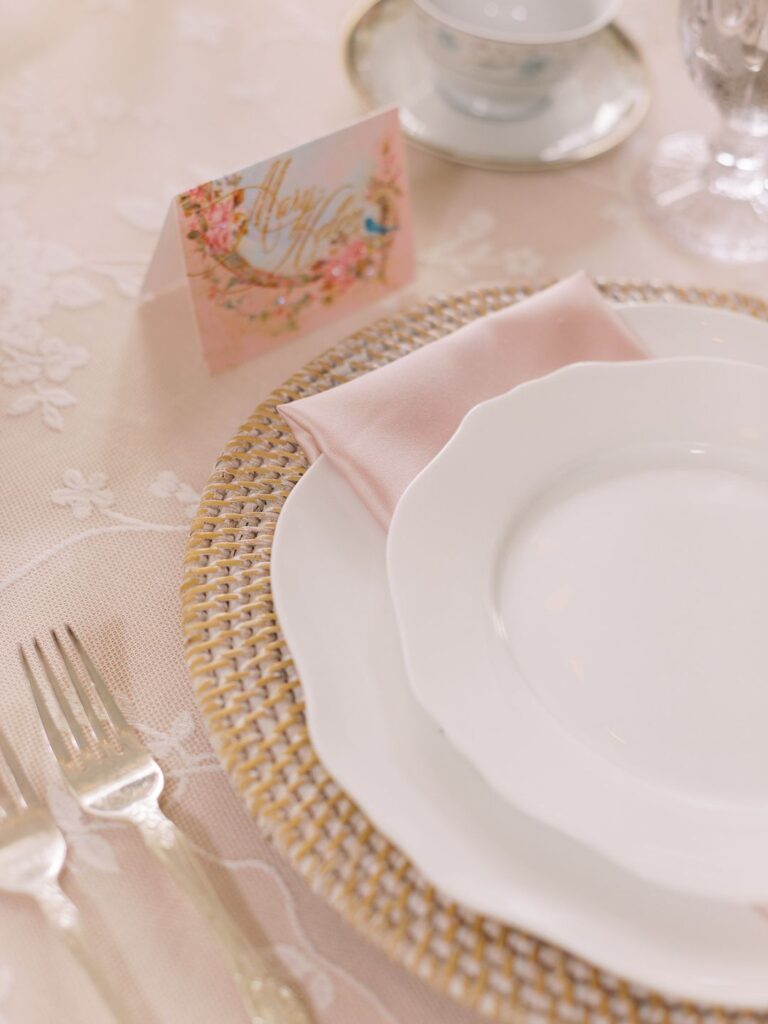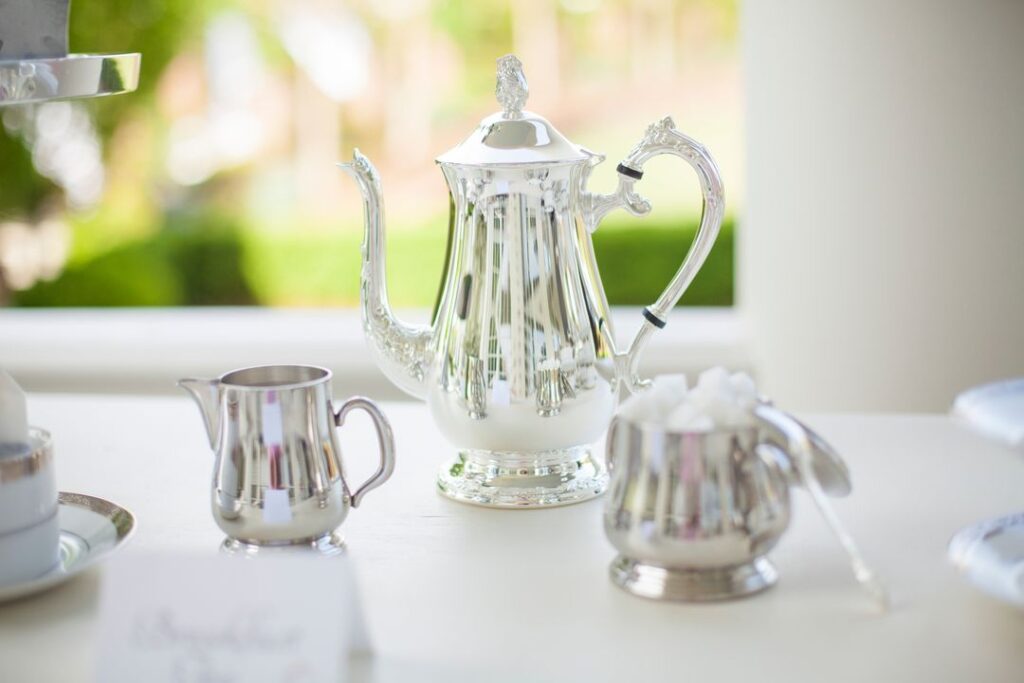 Create a Chic Lounge
It's not brunch without mimosas! Creating cozy spaces to sit and sip will ensure that they feel comfortable enough to linger and mingle. A lounge will also be a comfortable and photo-ready spot for opening gifts. Our Everly Sofa and Chair are a beautiful pair – not to mention incredibly comfy! If you need extra seating, add in our Winstead Grey Tufted Bench. You'll also want a place where people can set their drinks, like our Cheval Gold Mirror Side Table. Or our larger Blanche Coffee Table.
Speaking of drinks, another round of glassware is a must. Serve up mimosas in our Pure Champagne Flutes – placing glasses on our Boxwood Wall in Champagne Shelves, or displayed on the White Barback Shelf for stunning presentation. Provide a variety of fresh fruit juices in carafes, along with seasonal fruits and cheese on silver serving platters. Sparkling water is also a great option to have on hand for a mom-to-be, or kiddos in tow!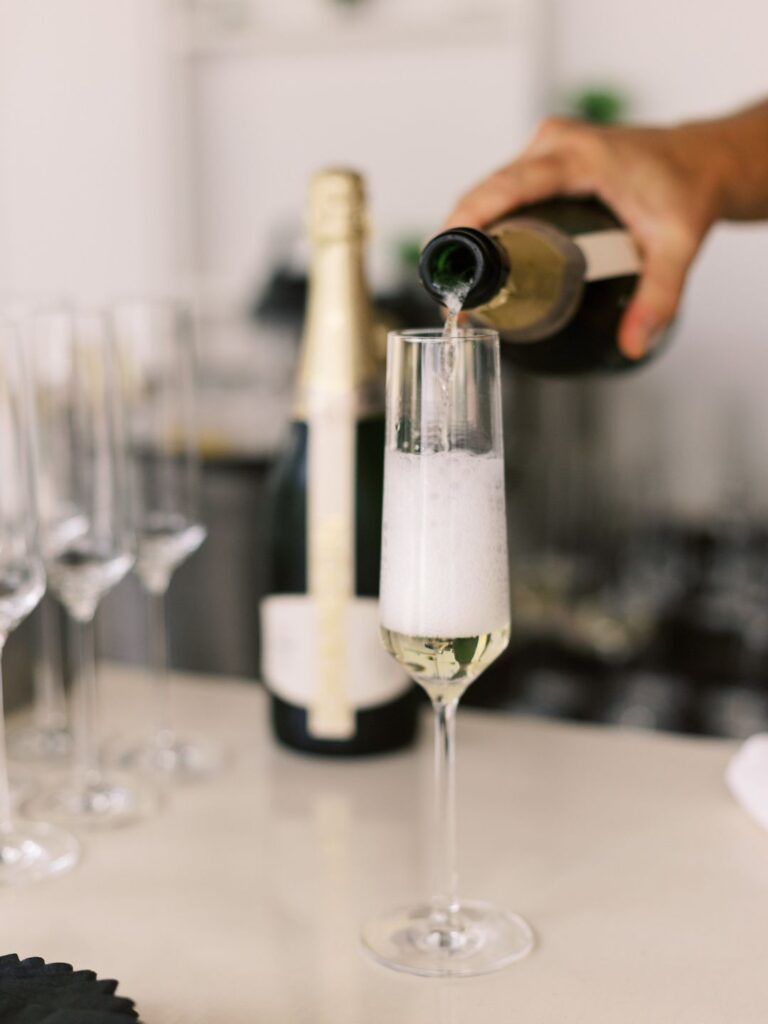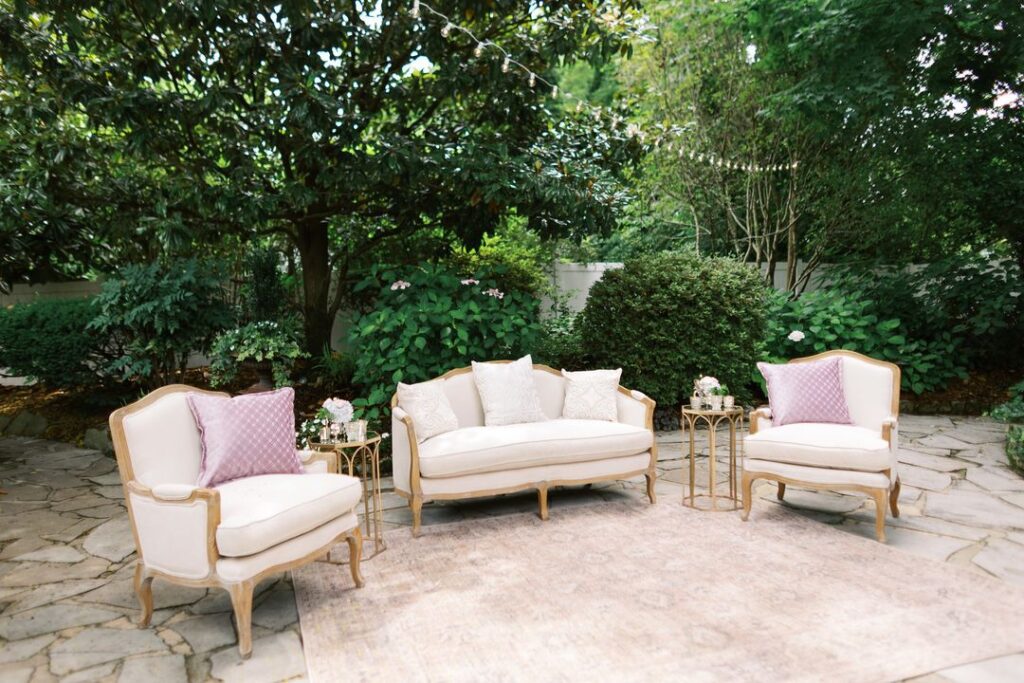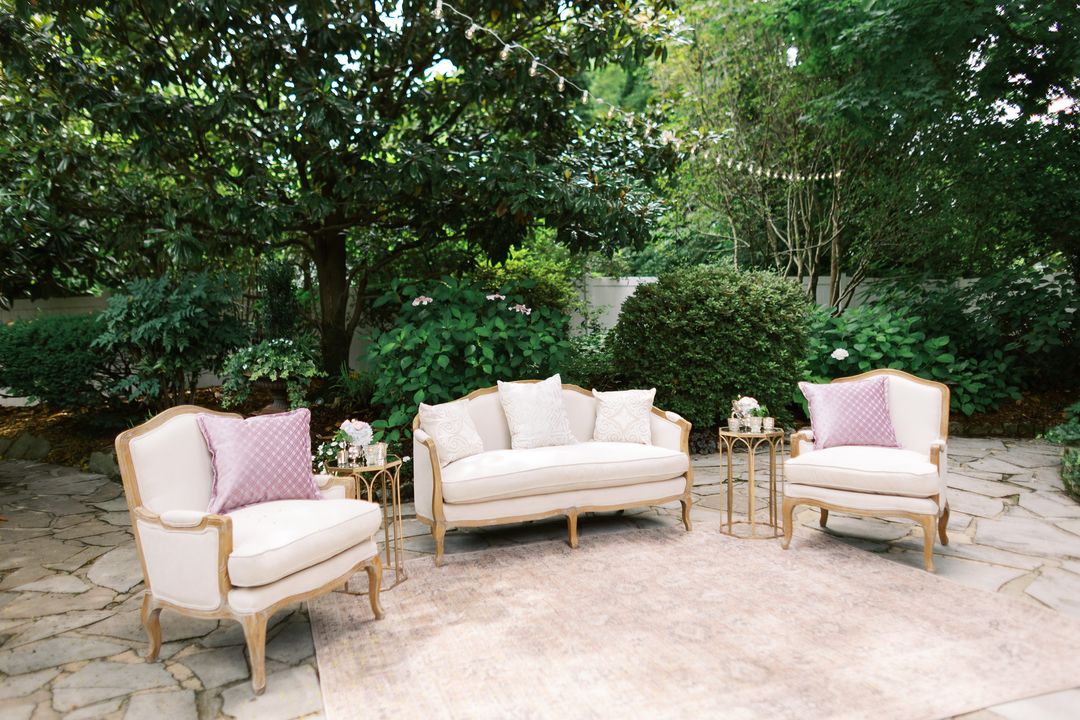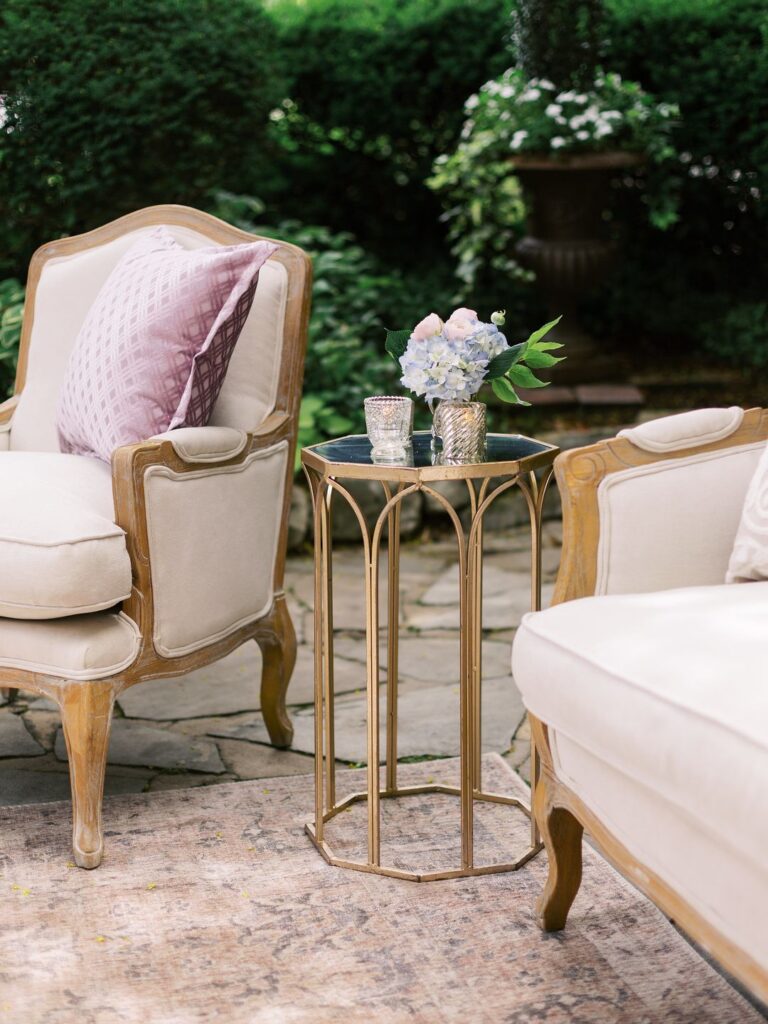 A special thank you to Jenna Henderson for sharing these event images with us!
Love the idea of hosting a southern brunch party? Send our team a message at info@southerneventsonline.com for help planning a one-of-a-kind get-together. Or for more event design inspiration, take a look at our blog to get some ideas for a black tie dinner party, perfect for hosting a formal event.
TAGS | Acrylic Chairs, CJ's Off the Square, Lounge Furniture, Nashville party rentals, Southern Events Party Rental, Tablescape, Tableware, southern brunch party
FEATURED RENTALS | Pure Champagne Flute, Everly Sofa, Everly Chair, Blush Rug, carafes, silver serving platter, carson sugar and tea set, Cheval Gold Mirror Side Table, White Wash Round Farm Table, Bloom Chiffon Runner, Champagne Lace Runner,White Barback Shelf, White Wash Rattan Charger, Darcy China, Darcy Charger, Abby Flatware, Acrylic Carrigan Side Chair,
---
11

Aug

Events and Style Shoots, On Trend, Southern Events Products, Trends and Inspiration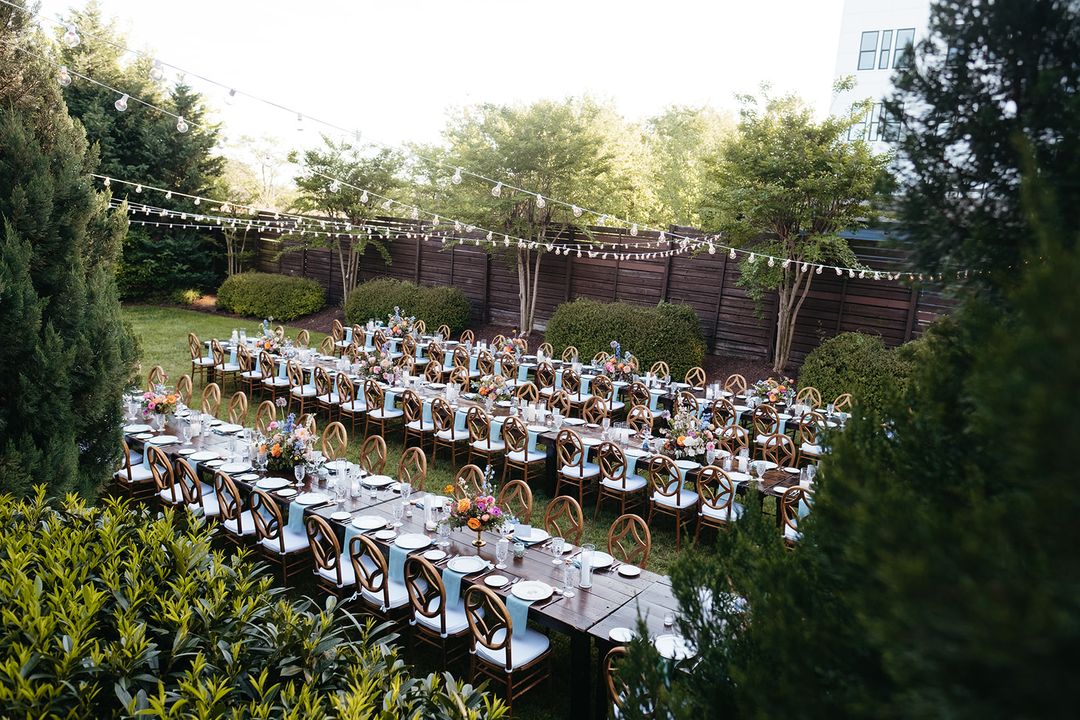 Team Southern recently had the opportunity to collaborate with local vendors on a whimsical styled shoot at The Cordelle. An event venue & garden situated in Downtown Nashville, it was a stunning backdrop for the colorful outdoor wedding. With a mix of historic and modern spaces, featuring grandeur and charm, there was no shortage of room to create a functional and on-trend wedding layout. Check out the details from this dreamy garden-inspired wedding, featuring our stylish event rentals.
Seating for a Whimsical Indoor Ceremony
The ceremony took place in The Victorian, featuring brick walls, hardwood floors, and beautiful floor-to-ceiling windows. Contrasting the urban event space, we opted for our elegant Harlin Dining Chairs. Featuring light wood and detailed backs, they were the perfect choice for the dreamy indoor ceremony. An equally gorgeous alternative would have been our Adeline Dining Chairs! While we decided to keep the aisle bare, featuring a mix of our vintage rugs would have also been a beautiful choice, lending a cozy vibe.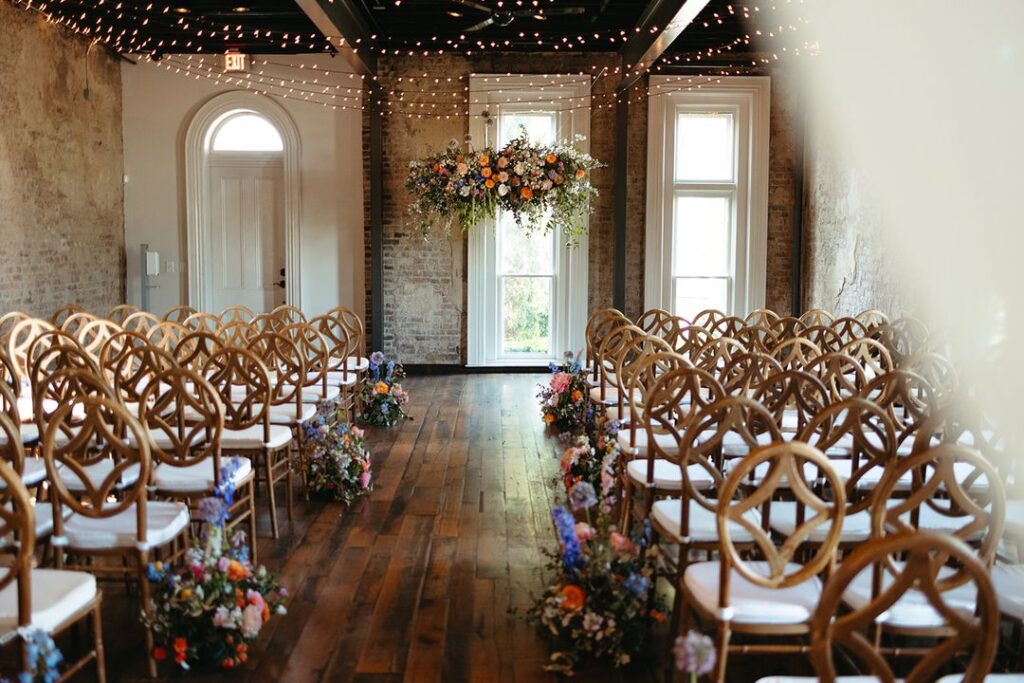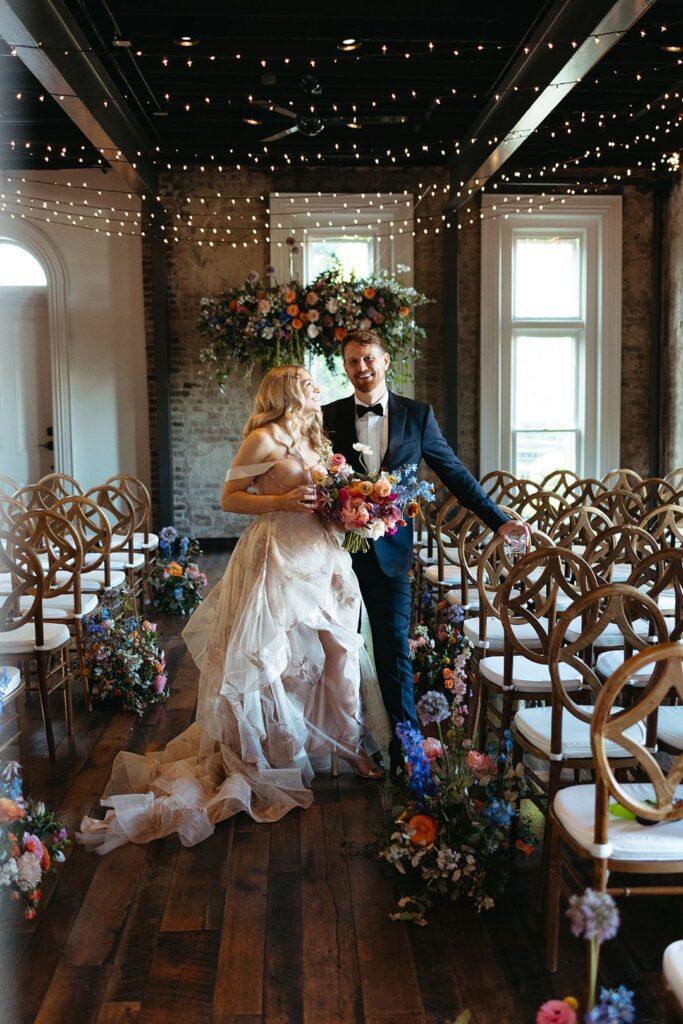 A Dreamy Outdoor Reception Set Up
Meanwhile, the 5,000-square-foot Garden Lawn created an ethereal garden reception. The manicured lawn and bistro lights overhead made for a charming outdoor setup – especially come nightfall. Our Fruitwood Farm Tables and Harlin Dining Chairs were the base for the guest tables. This banquet style is perfect if you want a more intimate feel! Set with Heirloom China, Hob Nob Glassware, and Sophia Flatware, the look was elegant and vintage-inspired. Fun fresh florals and Turqouise Poly Napkins provided a punch of color, fitting for the season! Our Davis Glass Cylinders filled in the table centerpieces.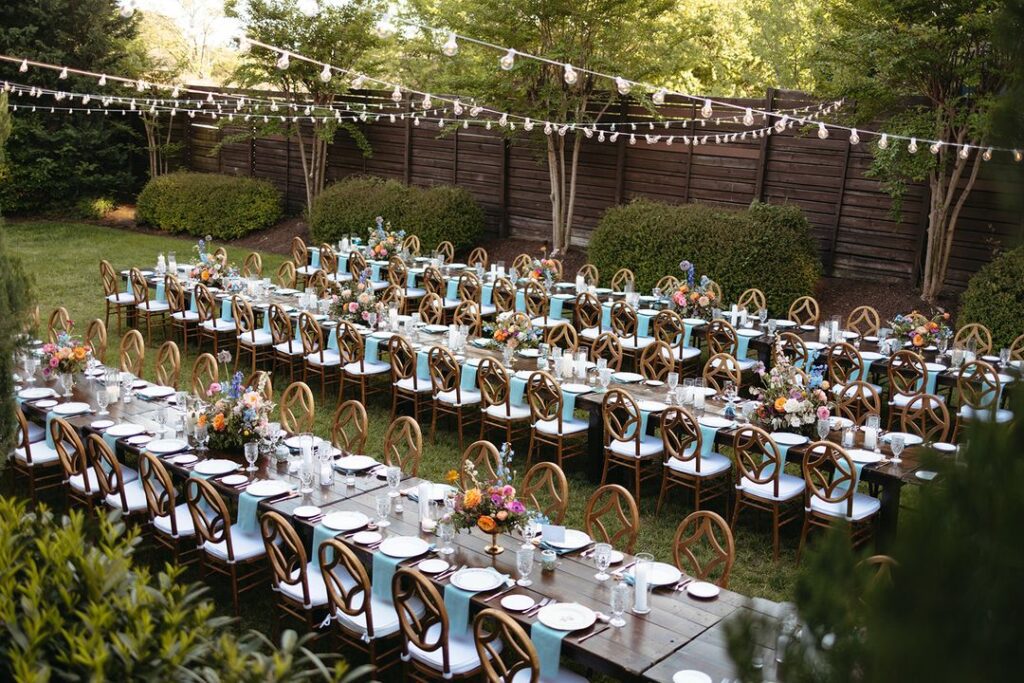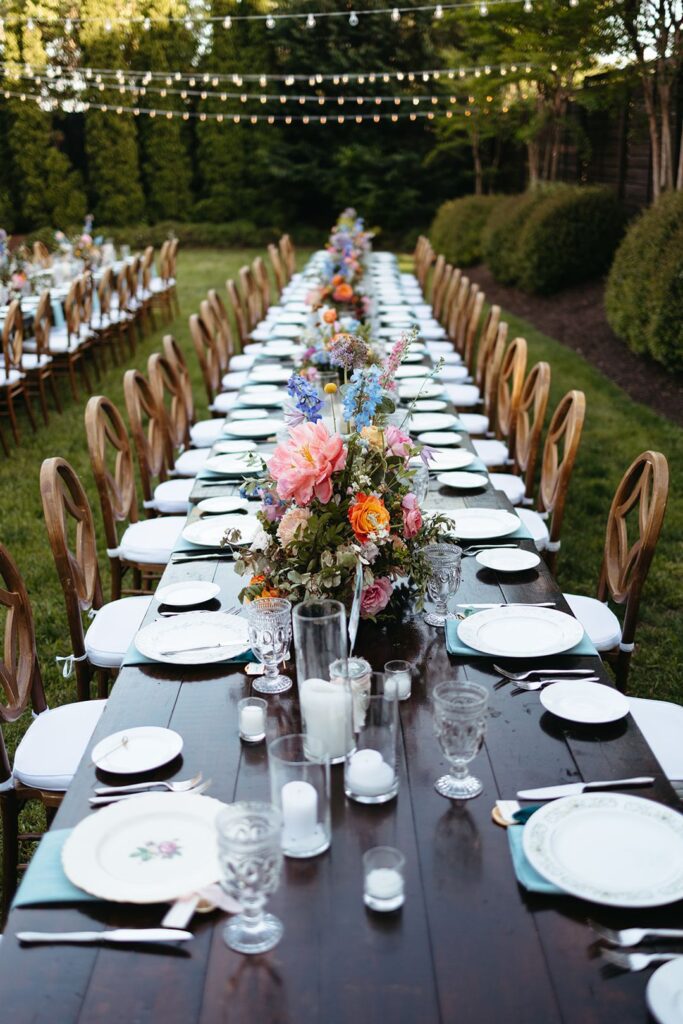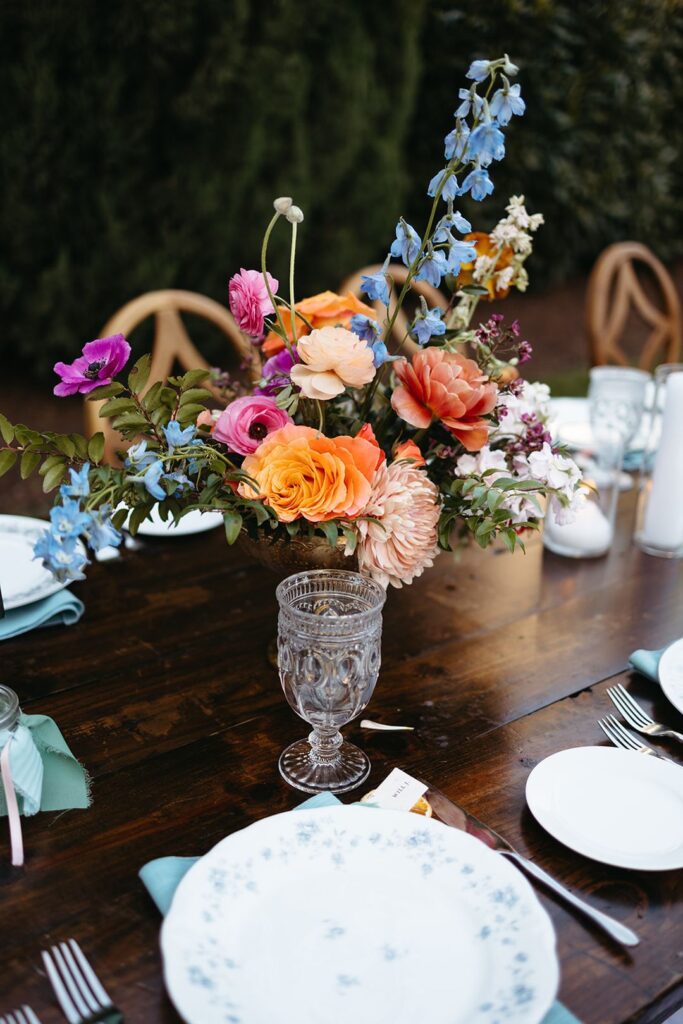 Blue-Hued Wedding Lounge
Eventually, The Victorian was flipped into a cozy cocktail area. Contrasting the warm-toned space, we chose our always popular Saylor Navy Velvet Sofa and Chair. It paired beautifully with a bright Aqua Rug and modern Rhodes Coffee Table. To optimize the space were a handful of cocktail tables – dressed up with deep black linen. Combining with the whimsical florals, it was a perfect cocktail hour set up for the colorful garden wedding.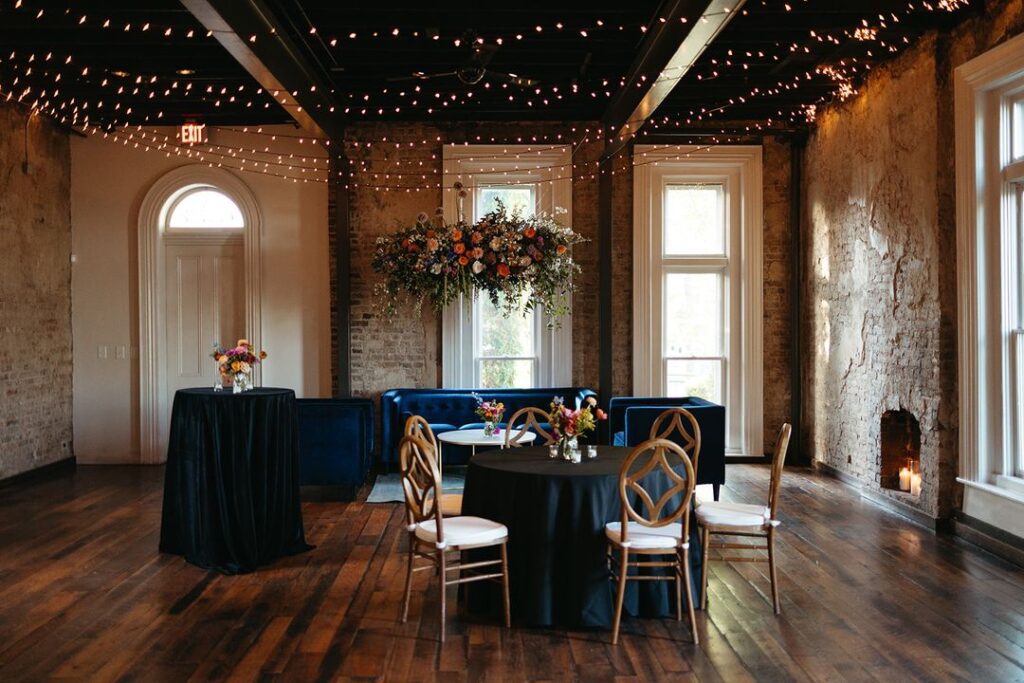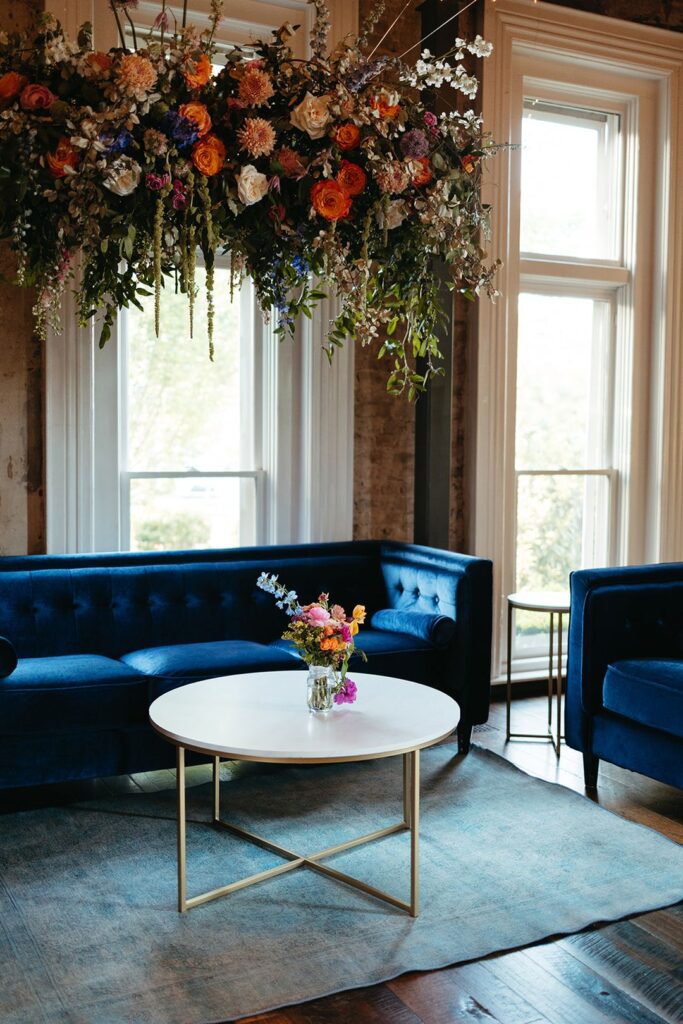 On-Theme Wedding Cocktails
To match the colorful event design, equally bold wedding cocktails were required! J Jackson Mobile Mixologist served up a variety of delicious colorful cocktails in our Davis and Coupe Glasses. We chose these pieces for their clean shape, contrasting the vintage-inspired Hob Nob Glassware used at each table. We also loved the fun colors of the beverages as well as edible florals!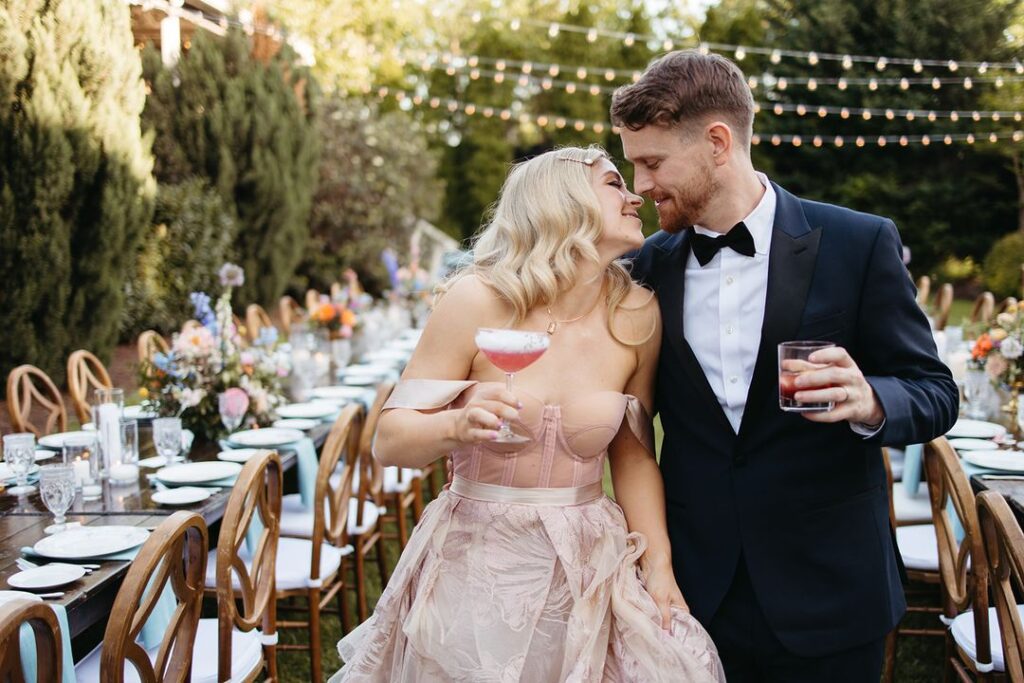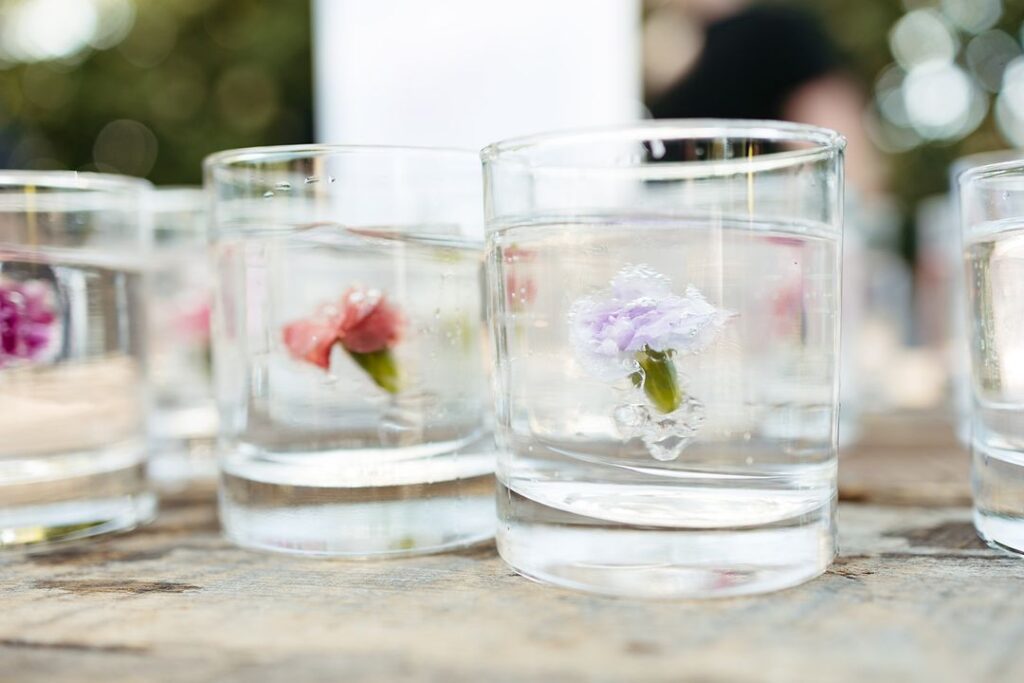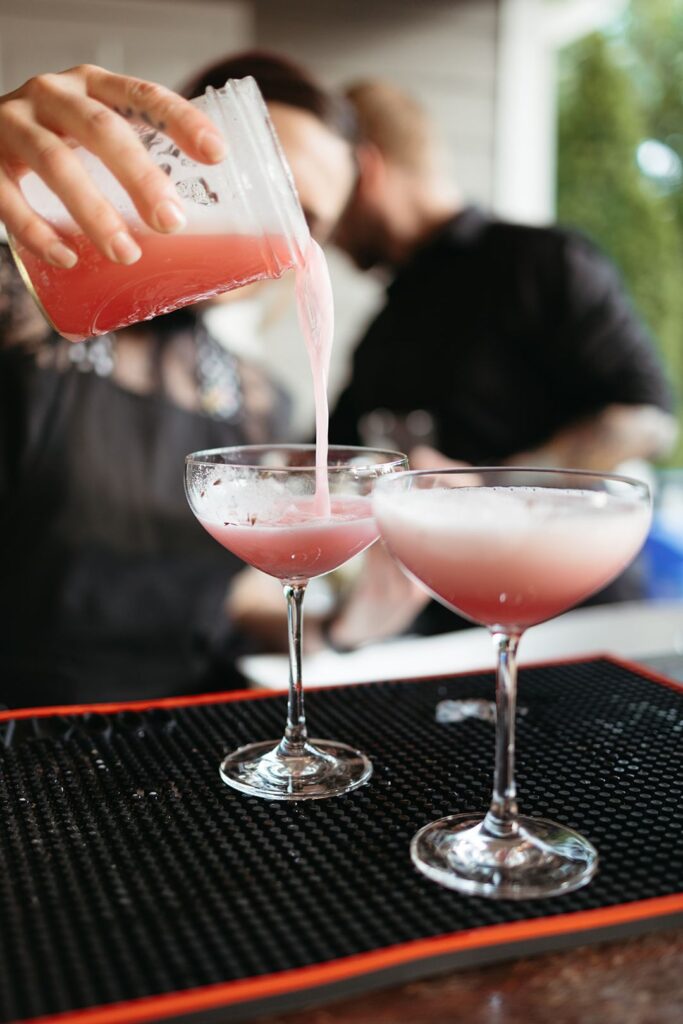 Vendors
Planning: Posh Occasions
Venue: The Cordelle
Florals: LL Floral
Photography: KT Sura Photography
Live Painter: Heather Wolfe Art
Bar: J Jackson Mobile Mixologist
Catering: South Fork Catering Co.
DJ & Sparkle Fountains: Request Premier
Lighting: Bright Event Productions
HMUA: Local Honey
Groom Attire: The Black TuxTransportation: Signature Nashville
Looking to recreate the style of this colorful garden wedding for your upcoming nuptials or an outdoor celebration? Send our team a message at info@southerneventsonline.com for help! For more colorful event design inspiration, take a look at our blog covering Colorful Summer Party Ideas.
TAGS | Colorful and Fun Outdoor Wedding, Event Seating, Glassware, Nashville Wedding Reception, bar event rentals, colorful decor, colorful event lounge, colorful event rentals, heirloom china, lounge areas, outdoor event rentals, outdoor southern weddings, wedding lounge, wedding reception ideas
FEATURED RENTALS | Harlin Dining Chairs, Fruitwood Farm Tables, Hob Nob Glassware, Abby Flatware, Heirloom China, Davis Glass Cylinders, Saylor Navy Velvet Sofa, Rhodes Coffee Table, Aqua Rug, Davis Glassware, Coupe Glass,
---
28

Jul

On Trend, Southern Events Products, Trends and Inspiration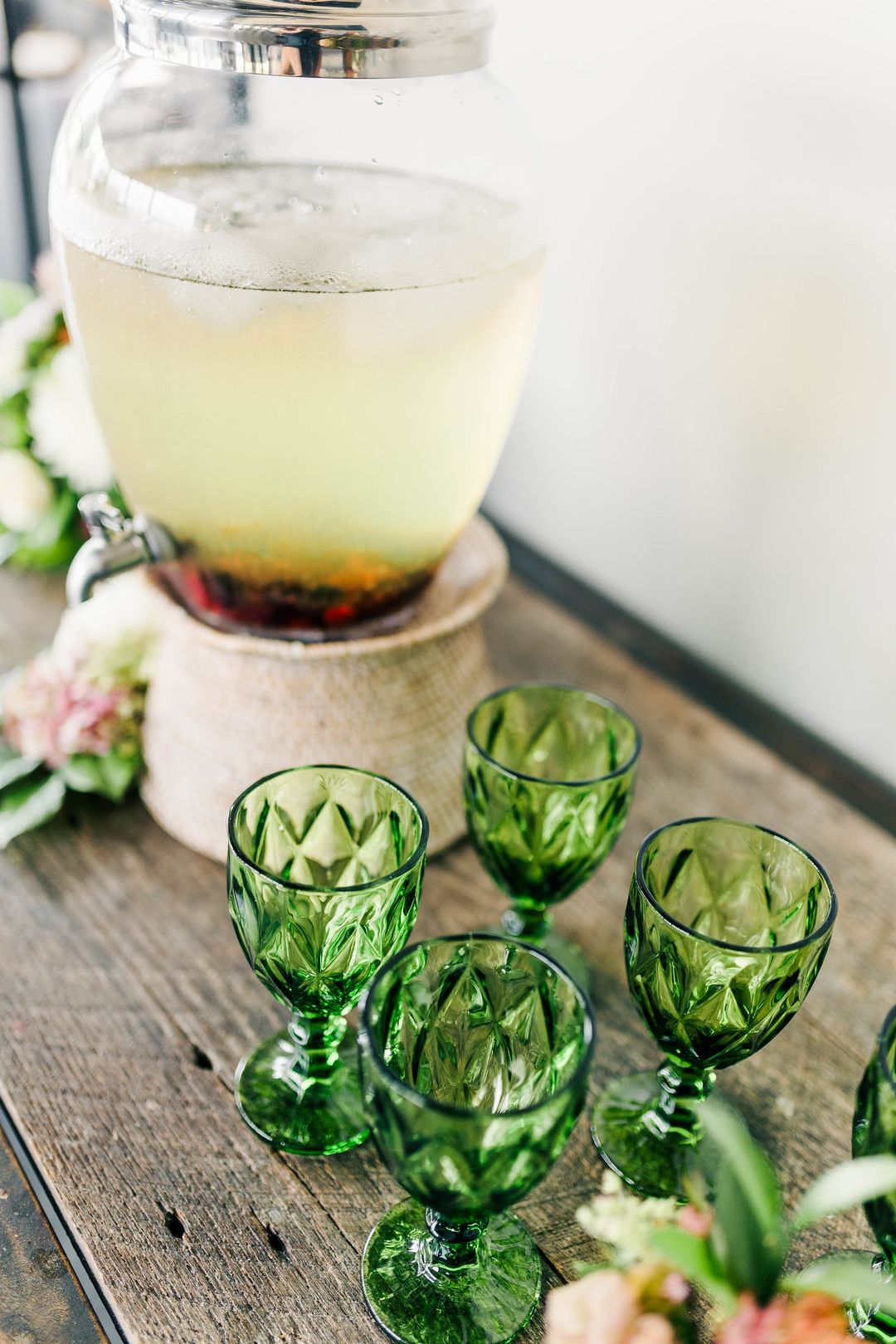 Hosting a laid-back cocktail hour? Level up your event when you serve big batch cocktails(or mocktails) in style! By featuring beautiful dispensers and fitting glassware for each type of drink, your guests are sure to be impressed. Learn about our beverage service rentals that will make it a breeze to serve up large batch cocktails at your next social event! Plus, we're sharing some easy party drinks for every type of gathering!
Easy Pour Beverage Jars
If you want easy yet elegant, our easy-pour beverage jars are a good choice! Featuring a simple pour spout and a sophisticated shape, these pieces make it easy to create big batch cocktails that guests can serve themselves. With a little rearranging of your fridge, you can even store them indoors until guests arrive.
Our Classic Glass Beverage Jar is especially impressive if you plan to serve up a colorful or fruit-infused cocktail or mocktail! Perhaps a tasty blackberry collins, basil strawberry lemonade, or a rum punch. Pair it with our Rattan Beverage Jar Stand, or a glass cake stand. Meanwhile, our Gold Beverage Jar is an equally gorgeous option for a more upscale event! To create an on-trend display, consider placing them on our Market Cart or any of our beautiful bars for rent.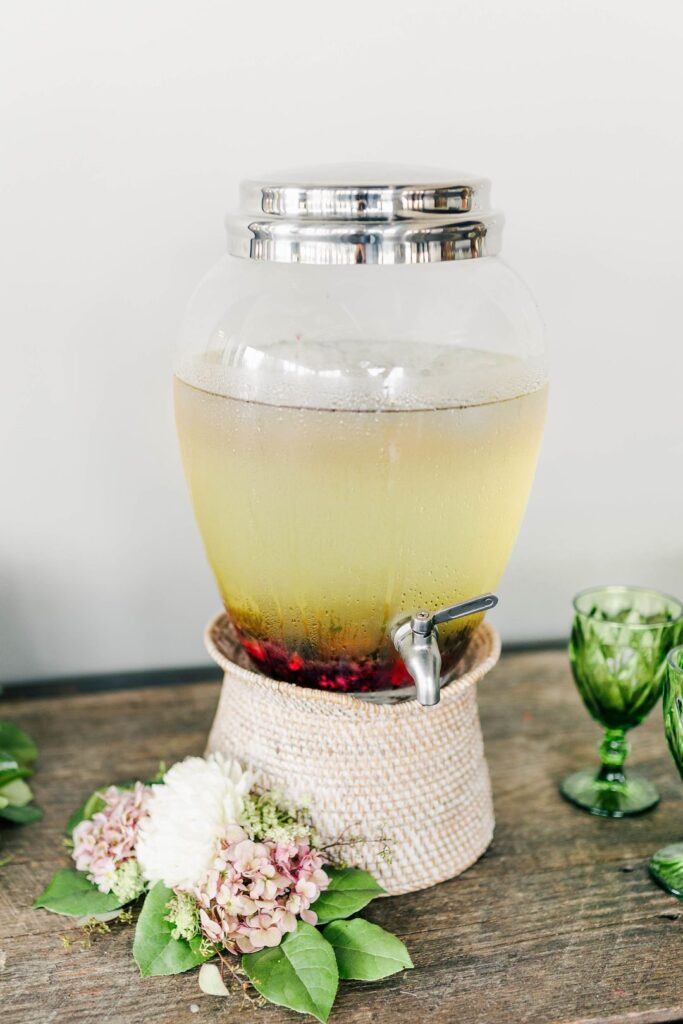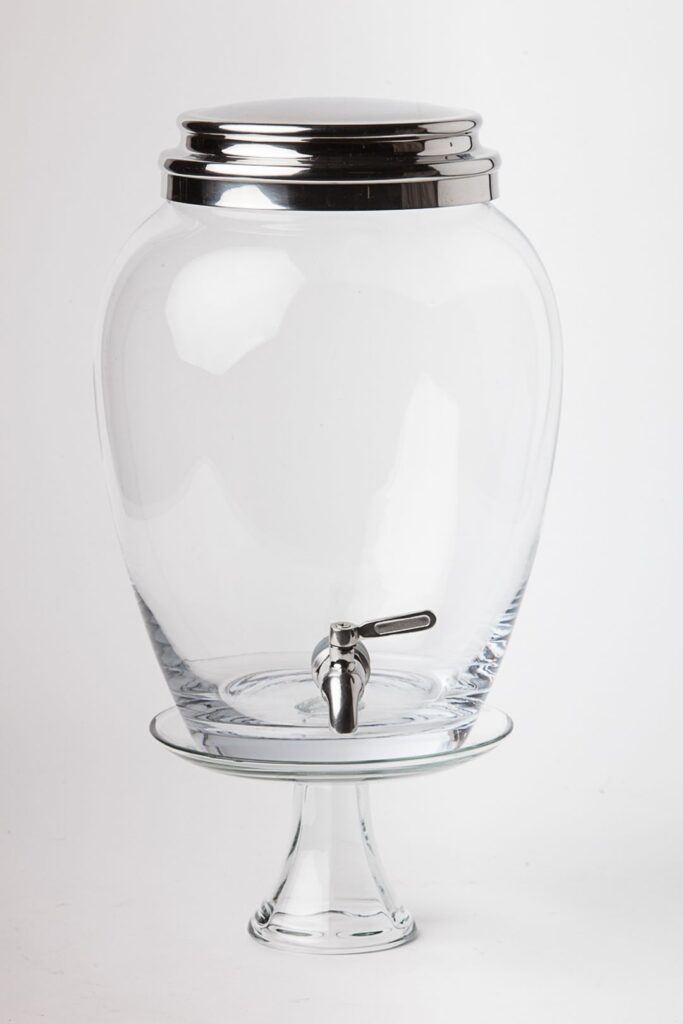 Silver Beverage Containers
If you're hosting a Southern-inspired gathering, our silver beverage containers are essential! We have a wide selection of styles available! From a beautiful Silver Beverage Pitcher – perfect for an assortment of Sangrias, fresh Margaritas, and infused waters. To options for hot drinks, like a Silver Coffee Urn – a fail-proof way to serve a delicious Mulled Wine, Coffee bars, or Hot Buttered Rum. Featuring pour-spouts, there will be no need to worry about burnt fingers!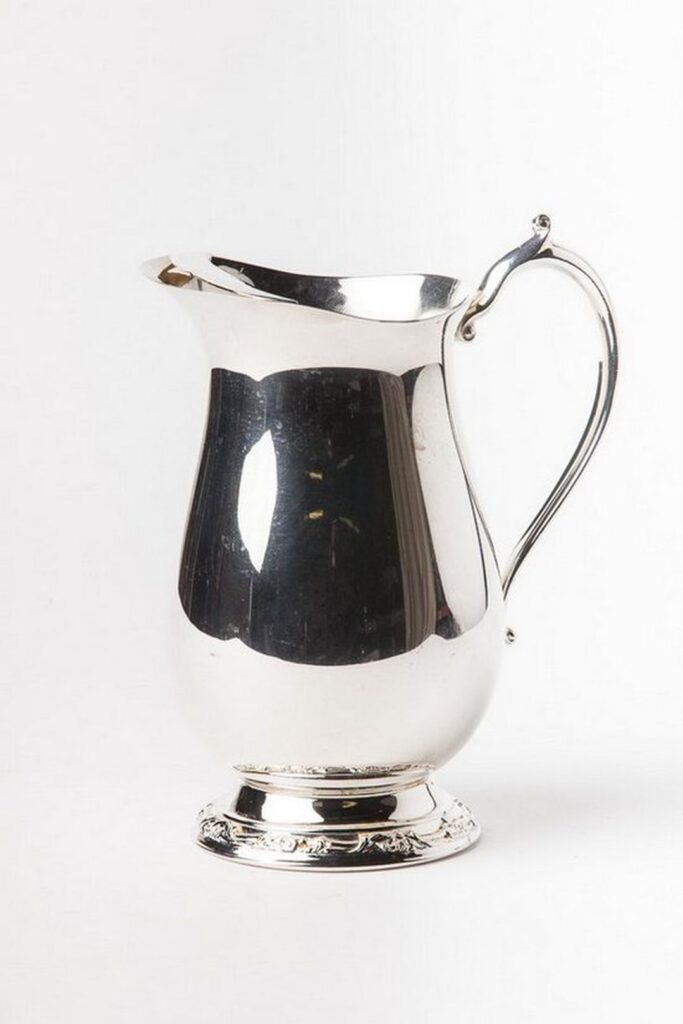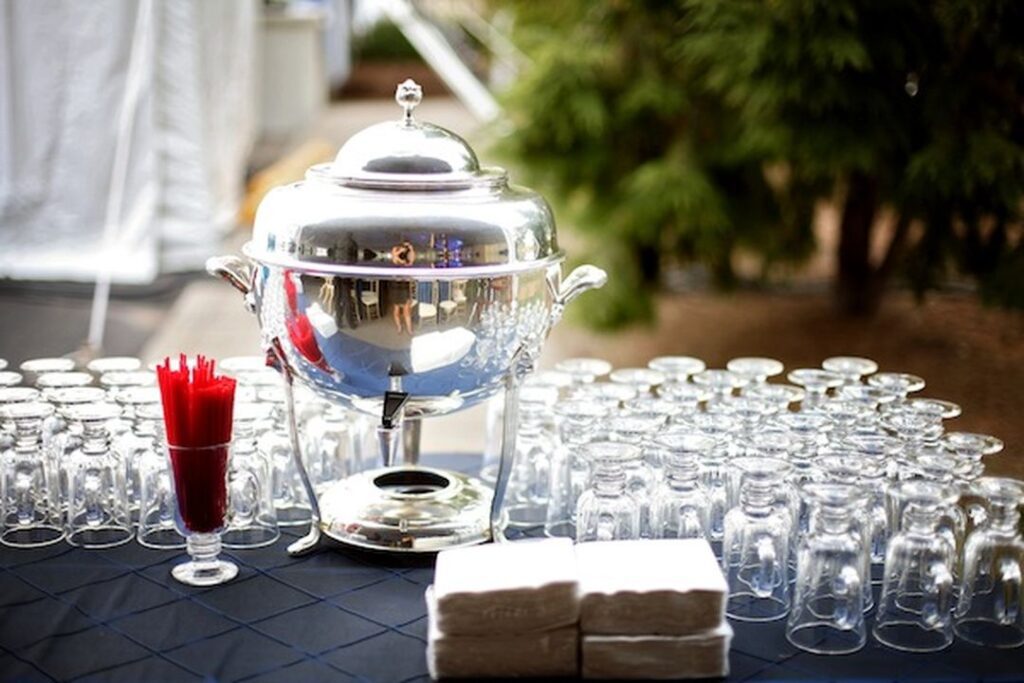 Correct Cocktail Glassware
An easy way to impress your guests is by showcasing the knowledge of the correct cocktail glassware. Southern stocks a variety of glassware, in every shape and style, so that you can display each drink as intended. Come to us with your intended menu, and we're glad to point you in the right direction – whether you plan to whip up a classic beverage or a more upscale drink. We have wine glasses for every type of Sangria. High-ball glasses for mixed drinks. Martini glasses for iceless cocktails. Or colored glassware to make mocktails feel special and much more! To store your glassware, don't forget to rent one or several of our Bar Back Shelves, available in a range of styles and colors.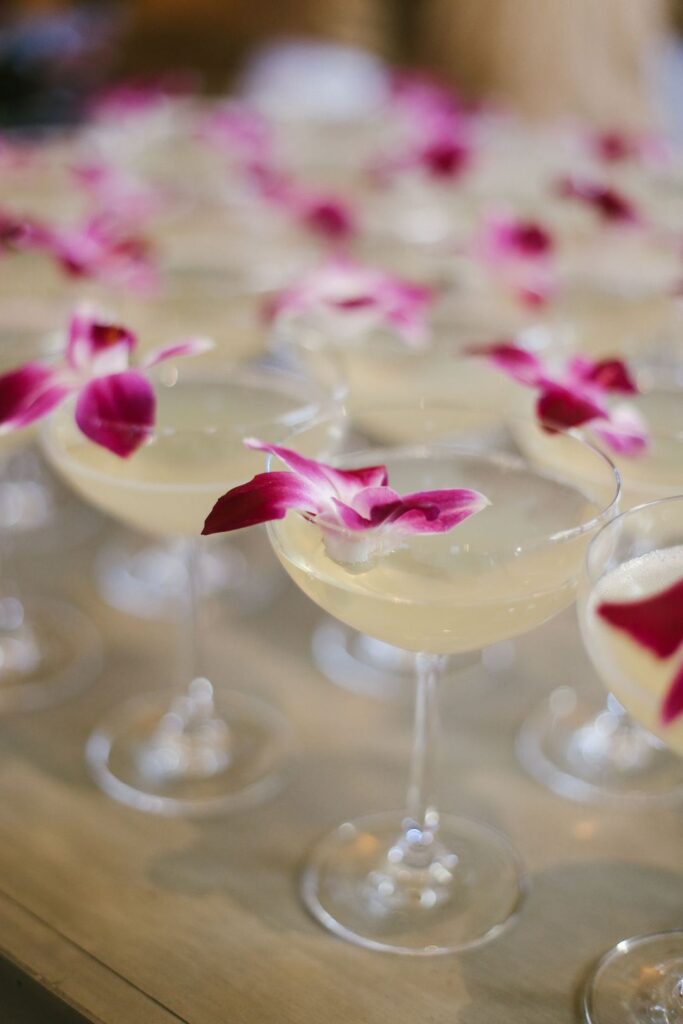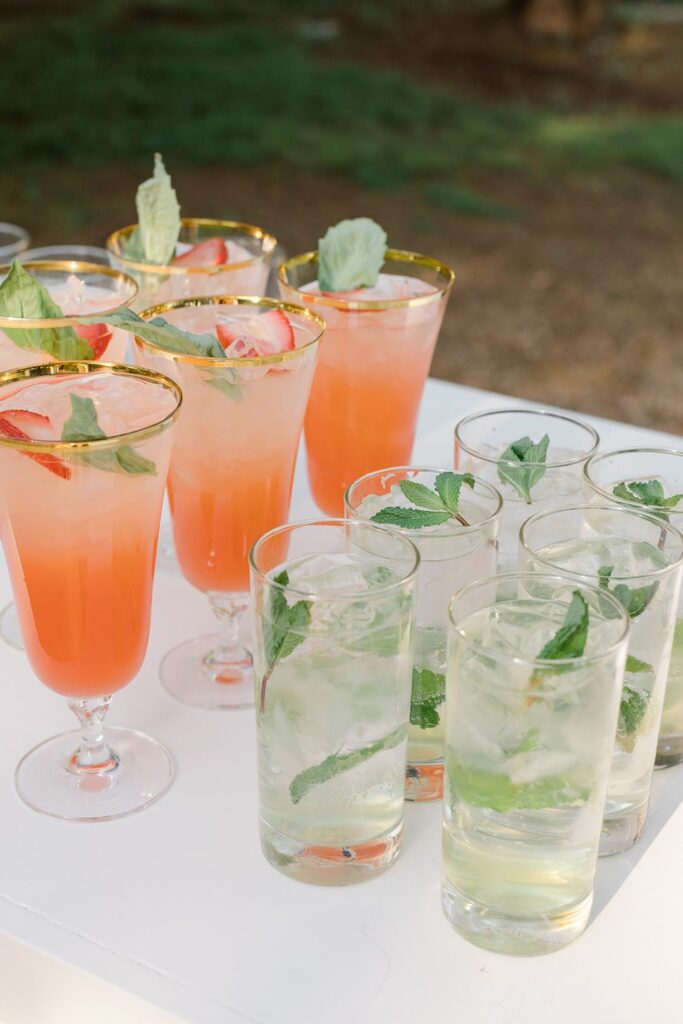 Planning to serve big batch cocktails at your upcoming celebration or party? Contact our team today for assistance choosing the best beverage service rentals for your event! Or view our catalog to see our full inventory of products, including drink dispensers, glassware, and more. Need more cocktail or mocktail hour inspiration? Check out our in-stock bars and accessories for rent.
TAGS | Beverage Service, Cocktail Party Rentals, Glassware, cocktail hour, cocktail party ideas, glassware rentals Nashville
FEATURED RENTALS | Gold Beverage Jar, Classic Glass Beverage Jar, Rattan Beverage Jar Stand, Market Cart, silver beverage pitcher, silver coffee urn, bar back shelves,
---
21

Jul

On Trend, Southern Events Products, Trends and Inspiration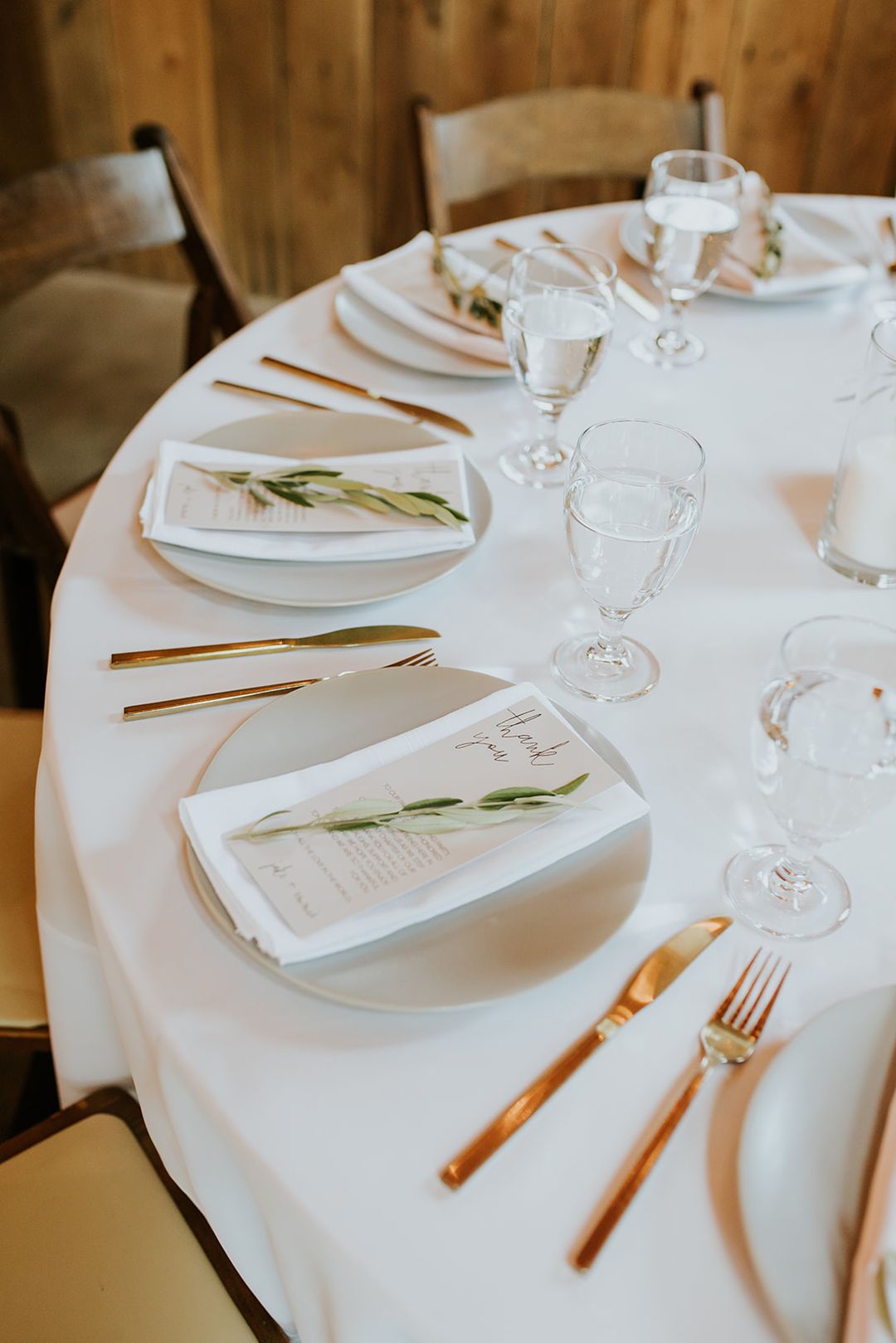 Sometimes less is more, and modern minimalist events prove just that! There is beauty to be found in simplicity, not to mention it often comes with a smaller decor budget. Less cluttered, modern minimalism can make it feel easier to breathe within your event space, without compromising style. Learn how to host a modern minimalist event when you take a look at our in-stock rentals that will lend a clean and timeless look.
Clean Tablescapes
To achieve a modern minimalist table, you'll want to keep any decor simple and maintain as much open space as possible – perhaps stick to greenery! As for serving ware, opt for pieces that are sleek. Such as our Earthen China, available in 3 neutral colors, or Plain Glass China. Easily feature an elegant pop of metallics with our simple Austin Gold or Noir Matte Black Flatware. For a romantic minimalist table, feature a touch of color in your otherwise neutral palette with a set of our poly napkins. Perhaps in Ice Pink, Slate, or Lilac! Or, grab a velvet set for subtle texture.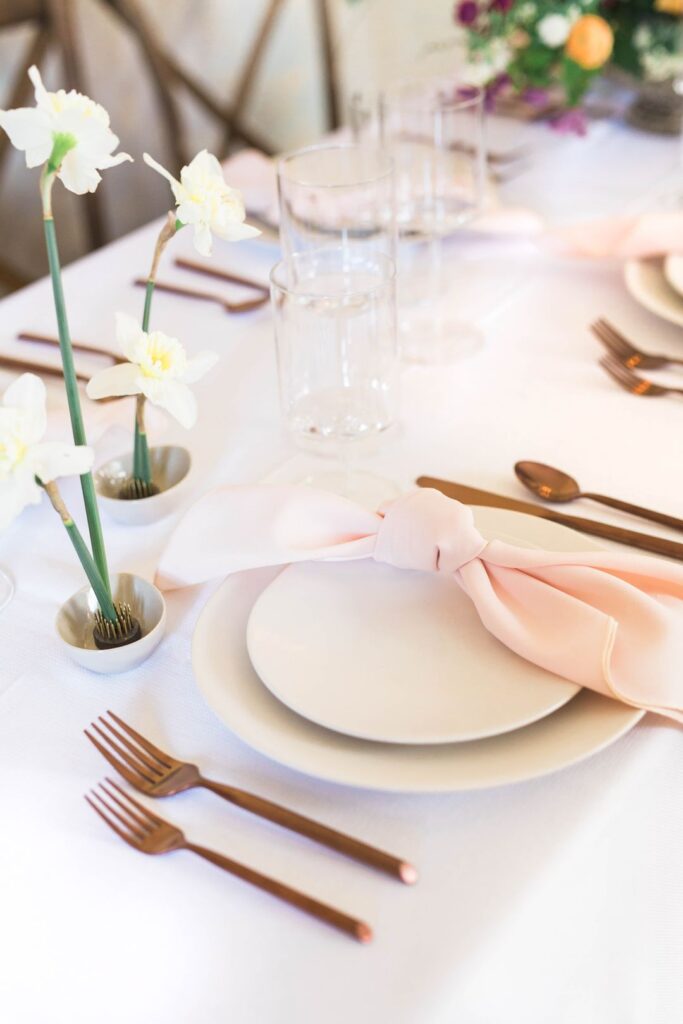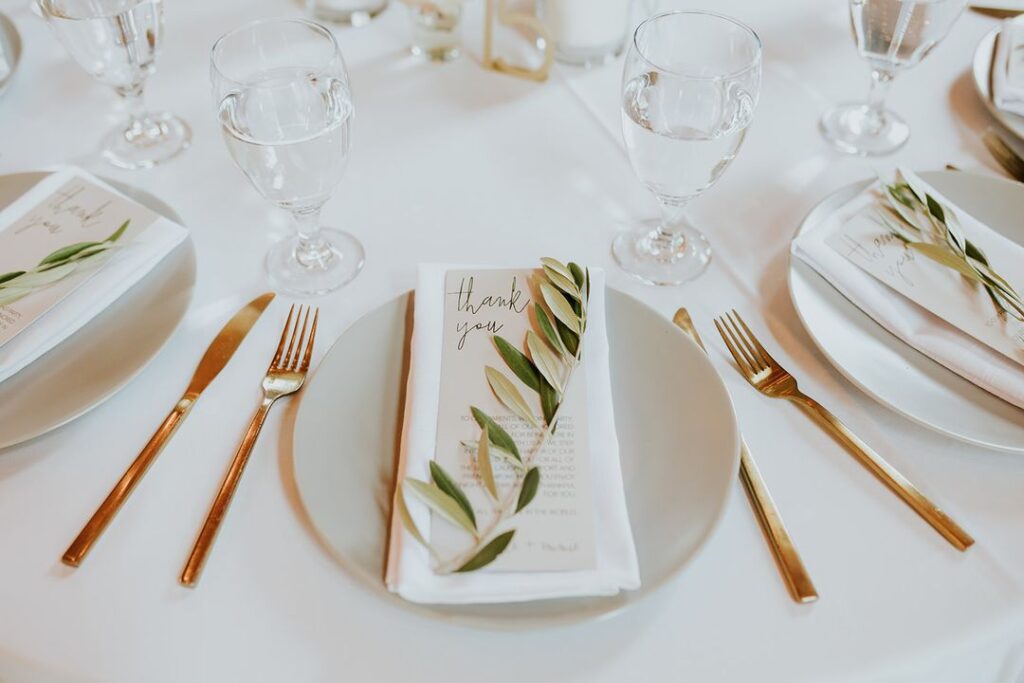 Stylish Guest Seating
Of course, your dinner tables will need chairs, of which we have many to choose from. For a modern event design, we recommend sticking to pieces that feature neutral colors and simple details. Any of our acrylic chairs are a great option, which will lend a unique contemporary look to your event. Both our Acrylic Ghost Arm Chairs and Acrylic Ghost Armless Chairs are a popular choice! For a slightly more romantic vibe, or to complement a warm-toned palette, you might opt for our Harlin Dining Chairs.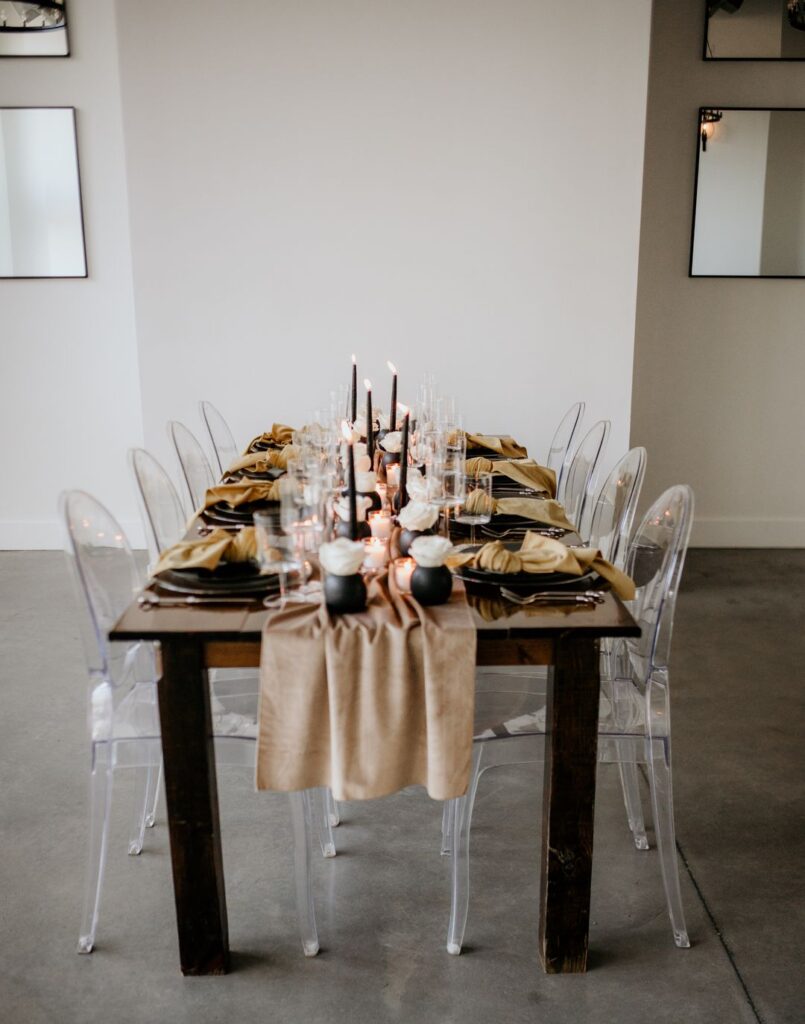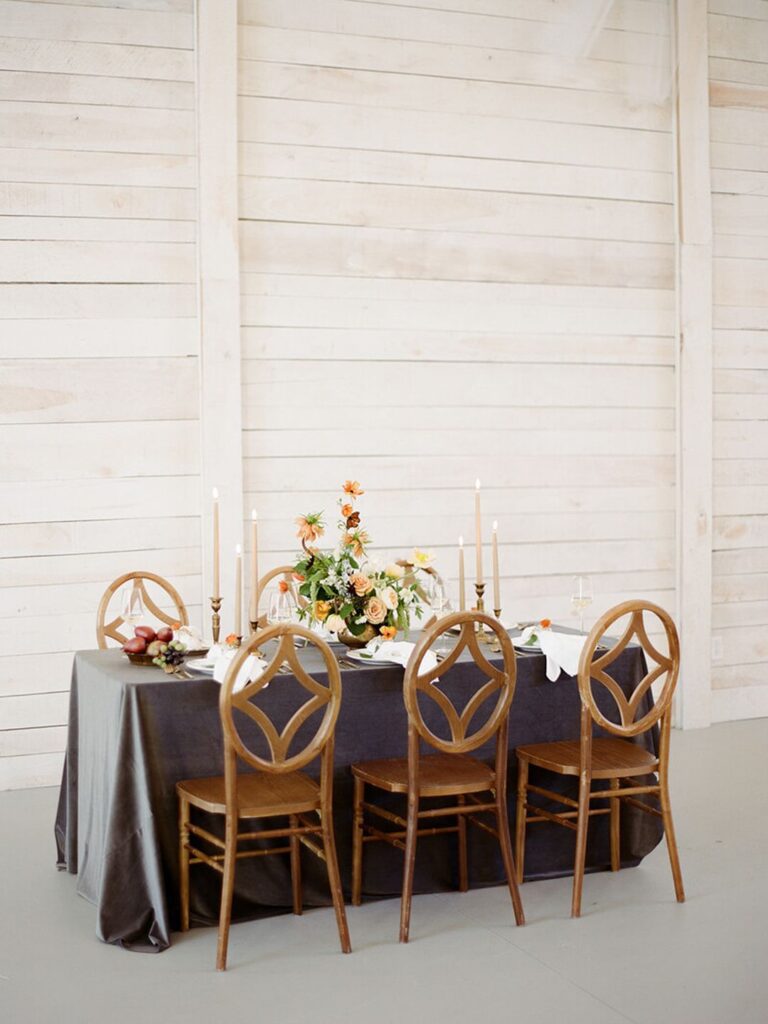 Sleek Lounge Areas
As always, every event needs a lounge to socialize. And one of our personal favorites are modern minimalist event lounges, starring clean & elegant furniture. We have a wide selection of timeless pieces that you can mix and match to create a one-of-a-kind social area. To start, choose a plush sofa, like our Regent Black Velvet Sofa – perfect for a moody minimalist lounge! Then, add-on chairs, such as one of our acrylic pieces or our unique White Eiffel Arm Chairs. And don't forget to include areas for guests to set their drinks! We're currently favoring our Rhodes, Rivet and Granger accent tables, with their sleek legs.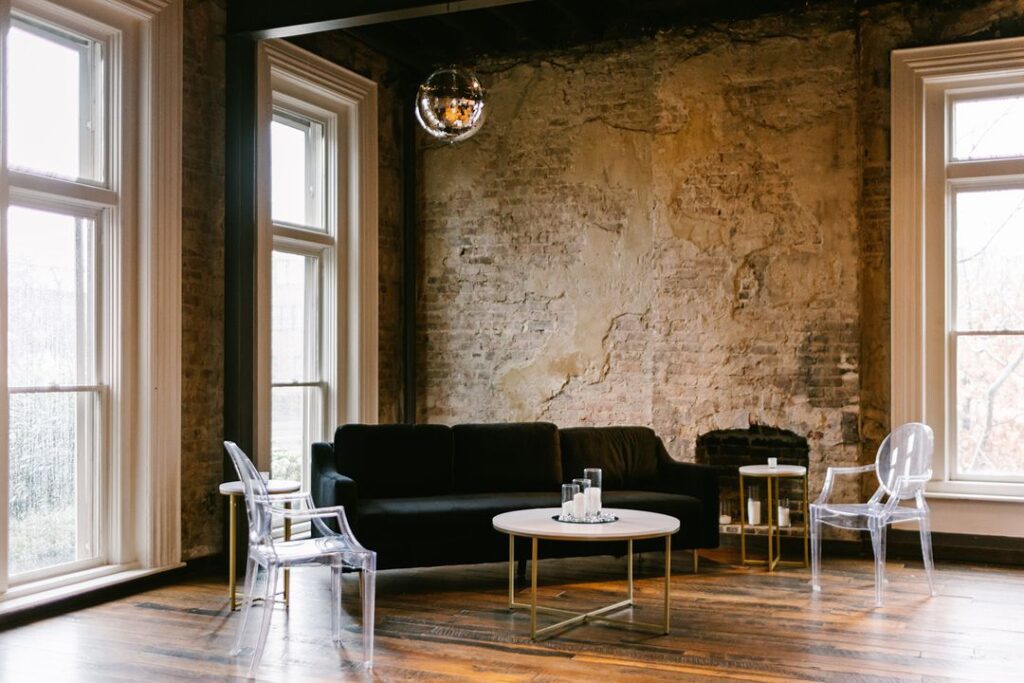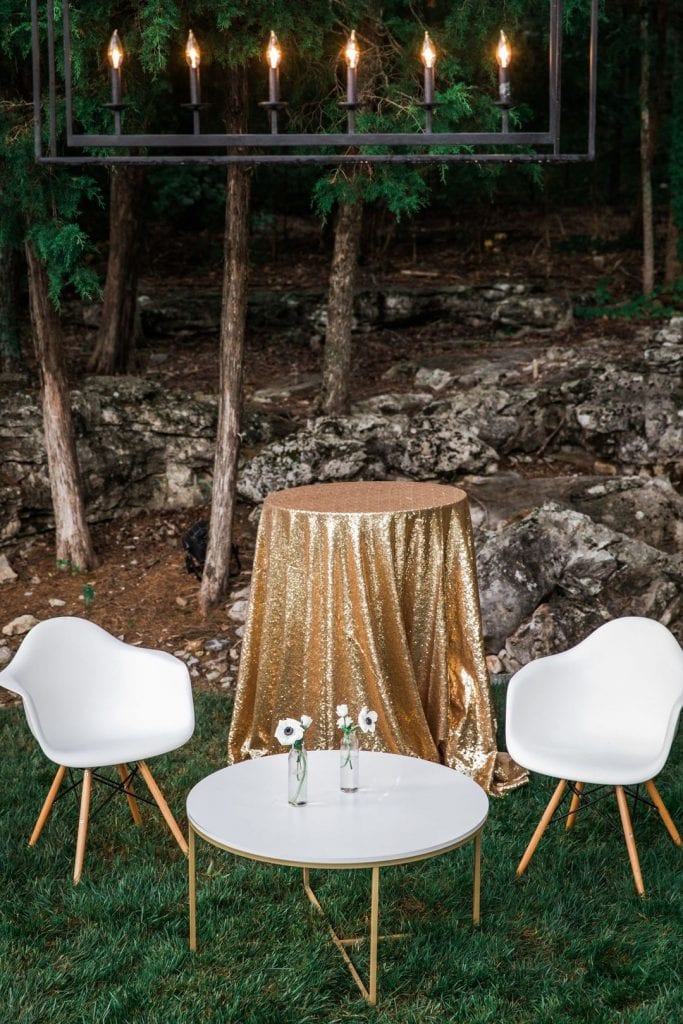 Ready to plan an on-trend modern minimalist event? Send our team a message at info@southerneventsonline.com for help selecting on-theme rentals!
TAGS | Event design, Southern Events Party Rental, luxe event design, minimalist event design, modern event decor, modern event design
FEATURED RENTALS | Earthen China, Plain Glass China, Austin Gold Flatware, Noire Matte Black flatware, poly napkins, Acrylic Ghost Arm Chairs, Acrylic Ghost Armless Chairs, Harlin Dining Chairs, Regent Black Velvet Sofa, White Eiffel Arm Chairs, Rhodes Accent Table, River Accent Table, Granger Accent Table,
---
14

Jul

On Trend, Southern Events Products, Trends and Inspiration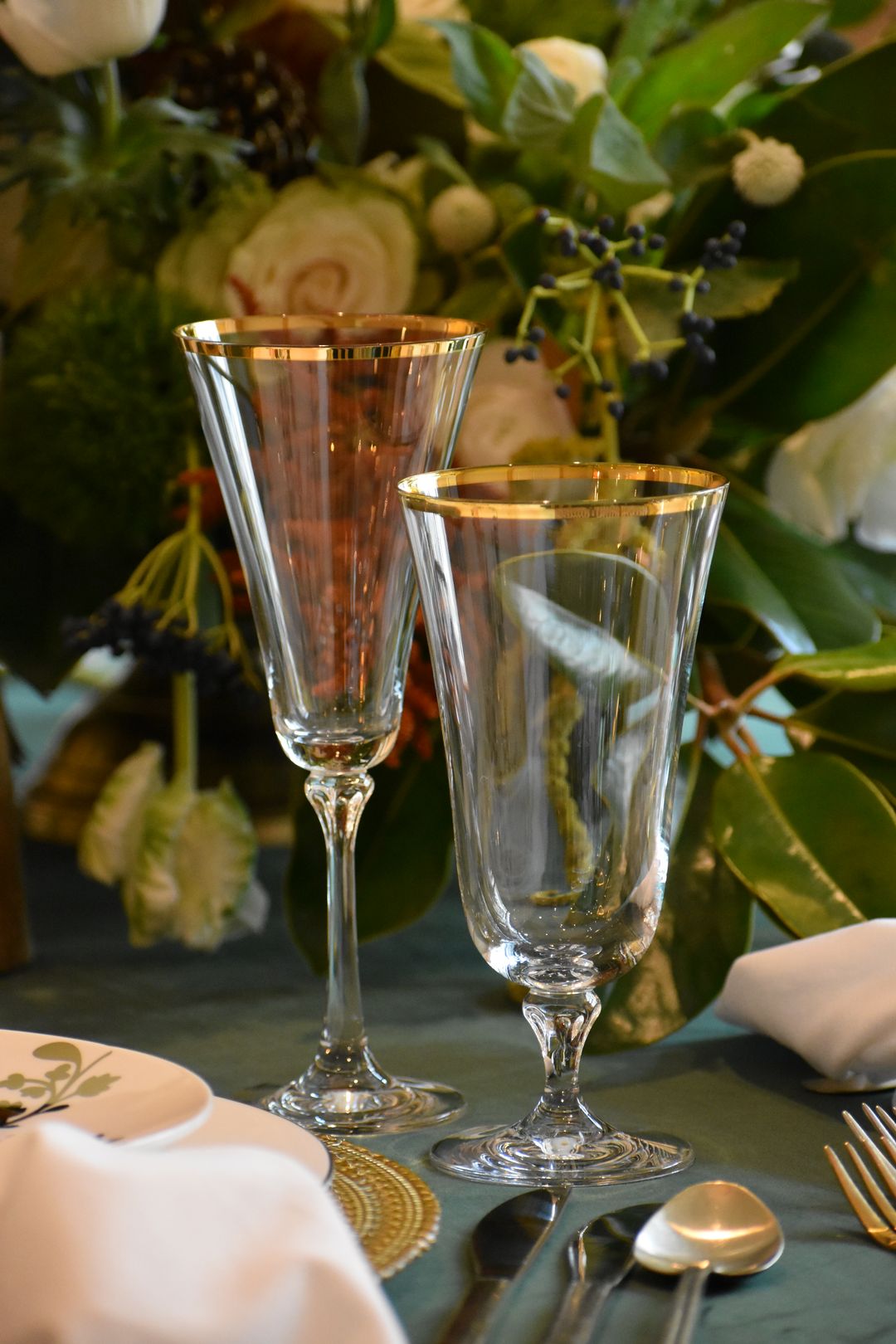 With regal and royal trending in event design, we're all about appreciating the finer things in life – including black-tie dinner parties! This theme is perfect for adding an upscale feel to any celebration, whether it be a birthday, anniversary, reunion, corporate achievement, and so on. Plus, planning a formal event is easier than ever, thanks to our elegant in-stock event rentals. Check out our serving ware, furniture, and decor that can be used to elevate your tablescape and impress your dinner guests!
Elegant Serving Ware
Black tie event design is all about luxury! For the table, we offer a range of stylish serving ware that suits any palette and style. White China is always a good start, whether you prefer Round plates or a more charming design, like Darcy. For a more moody table, opt for Earthen Onyx or Stone China. And should you prefer a more glam look, check out pieces that feature metallics. Such as our Glass Charger with a Gold Rim or Medallion Gold Glass Charger. If you want a touch of color, take a look at our gold accented Laguna or Coronado China.
Just don't forget to grab matching flatware! Our Gold Austin and Abby Flatware are always popular. Meanwhile, the Noir Matte Black and Como Flatware are edgy yet stylish.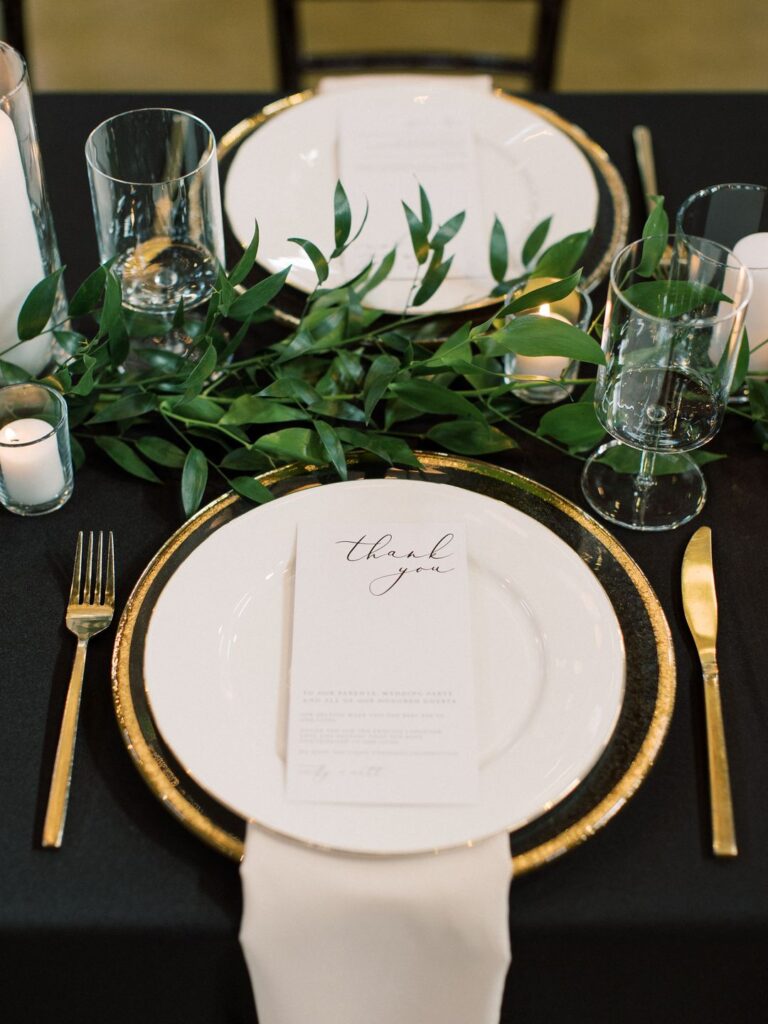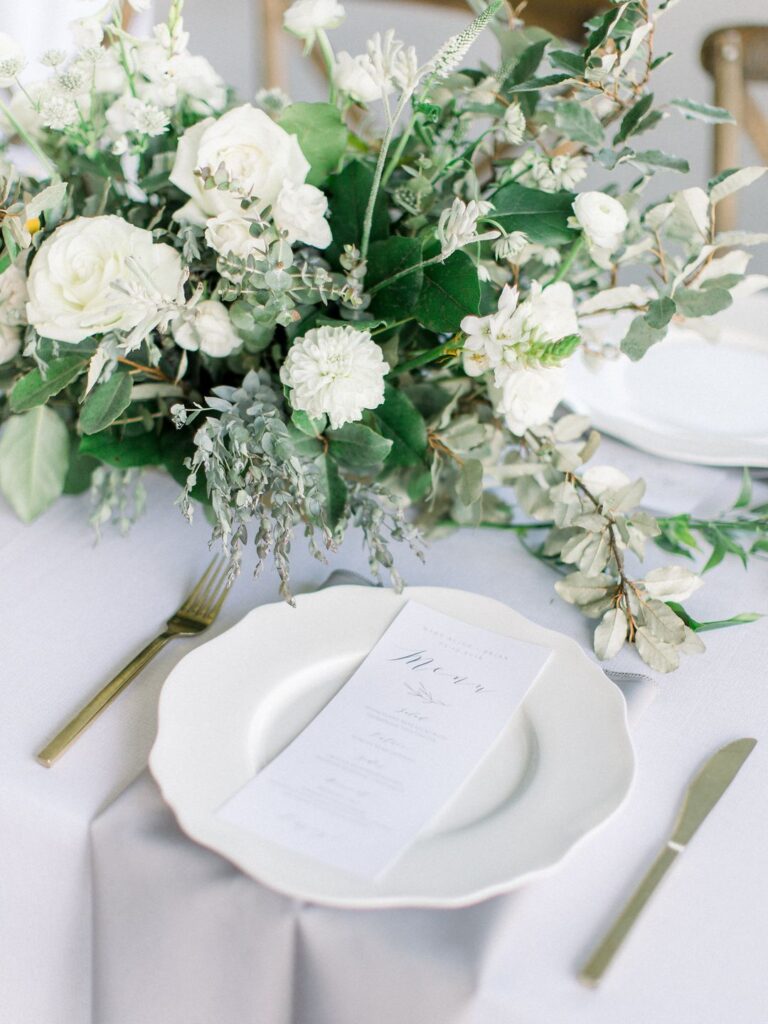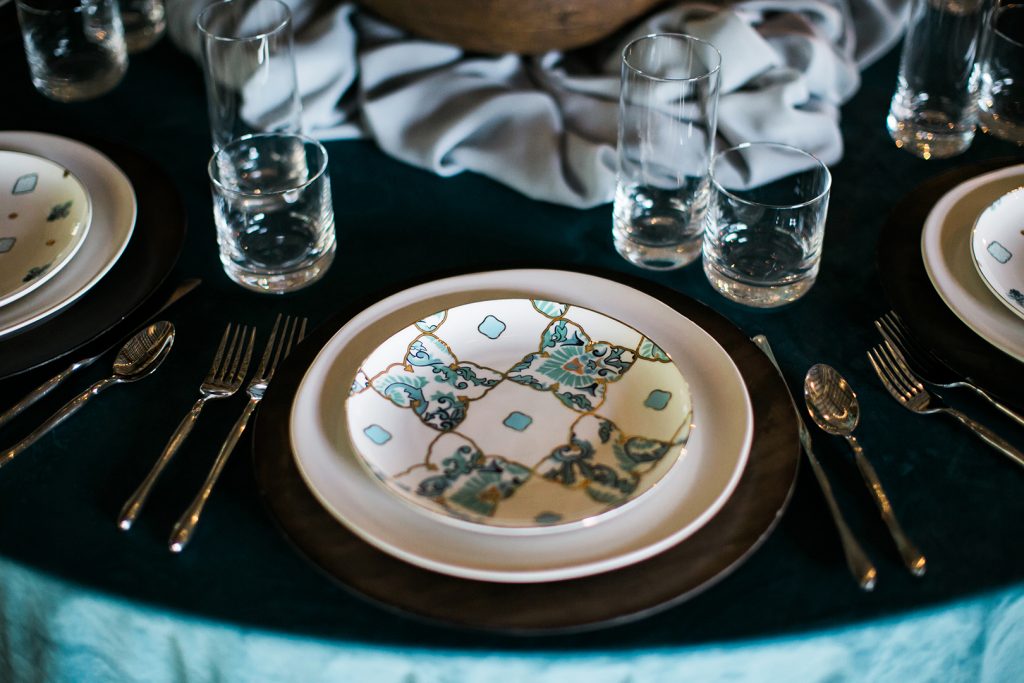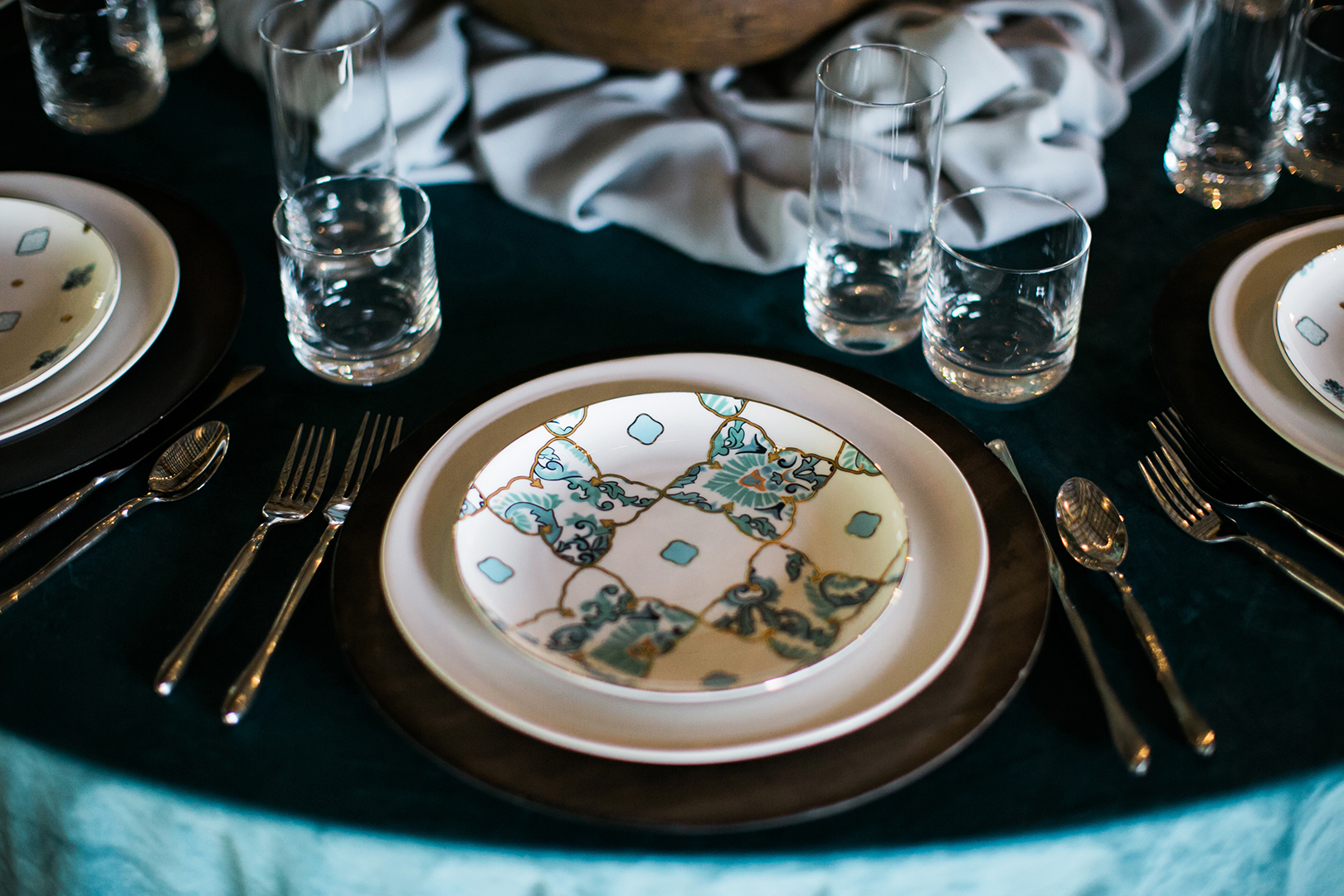 Luxe Seating
Although your own dining chairs will do just fine, swapping your seating for a special evening can make a big impact. It also makes for more cohesive black-tie dinner parties! We offer a variety of stylish seating options, from more traditional designs to unique contemporary pieces. Our Harlin Dining Chairs are ideal for luxe Southern-inspired gatherings, as our the Adeline Chairs. Whereas the Acrylic Carrigan Side Chairs offer a more modern but equally formal look! Then there is the always popular Chiavari Chairs, available in four beautiful colors, which look stunning in any setting.
Hosting a black-tie wedding or black-tie corporate event? Don't fret! We have plenty of seating in stock for small parties as well as large gatherings.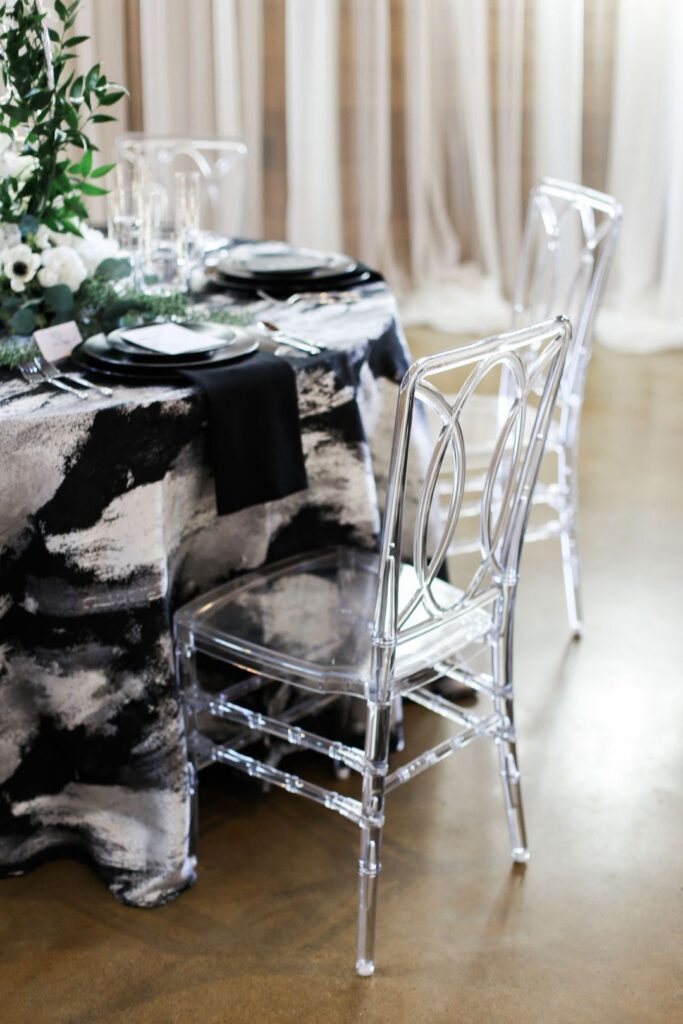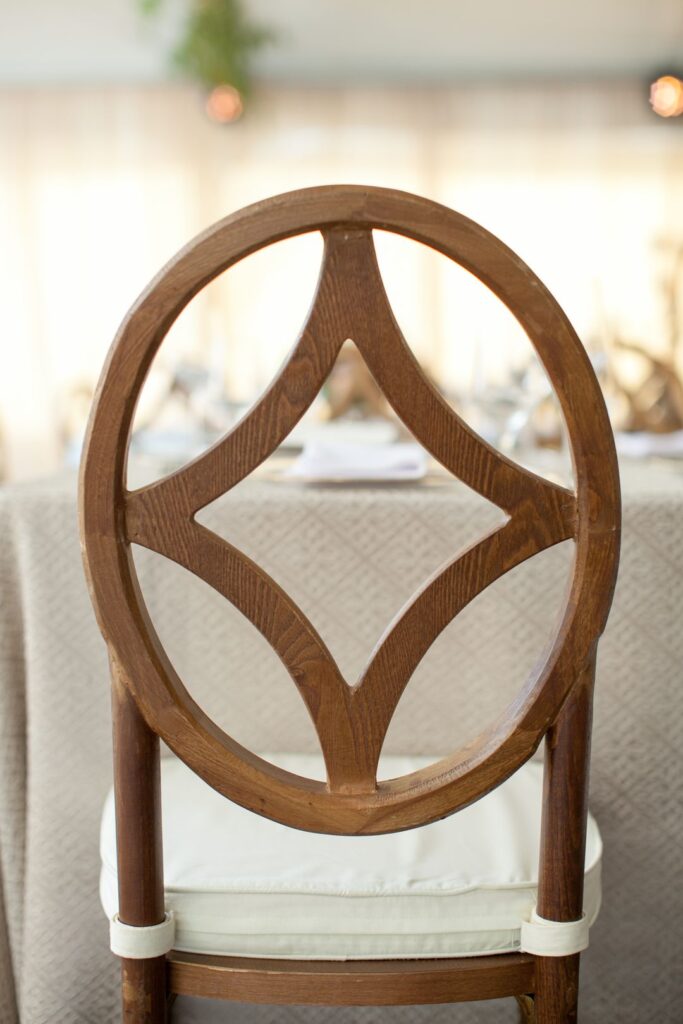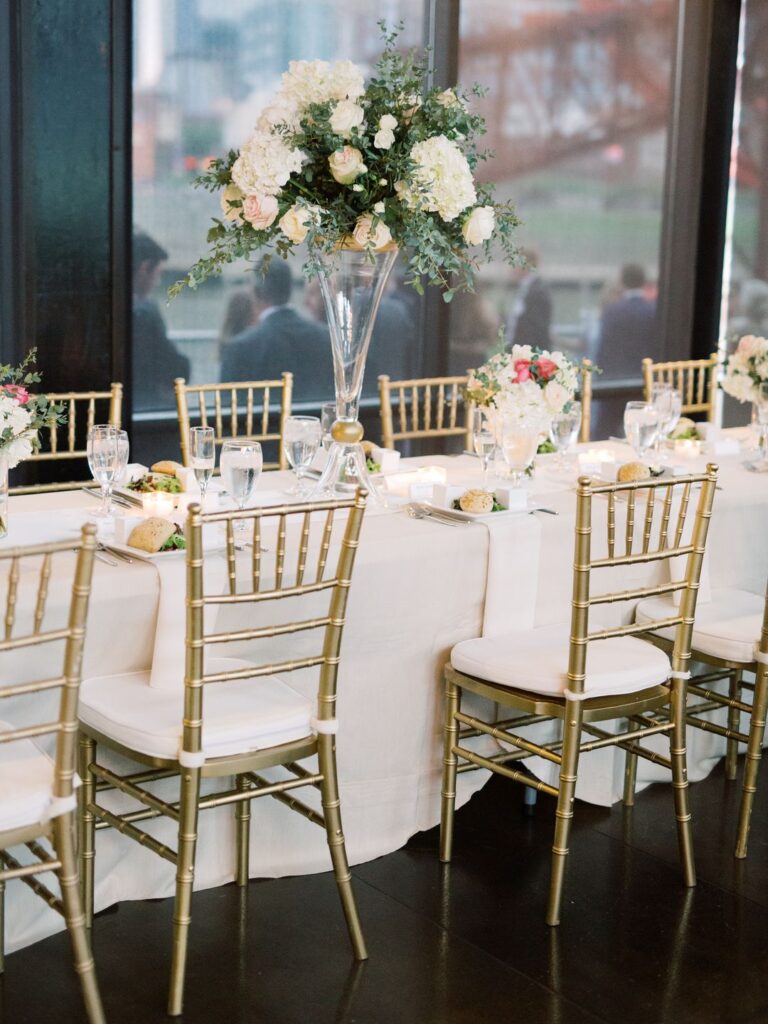 The 'Wow' Factor
While most black-tie event themes entail neutral palettes and elegant serving ware, we love a 'wow' factor. In fact, we encourage it! Little details that will have guests talking, snapping pics, and admiring the thought that went into the design. It can be as simple as quirky glassware, like our always popular Cybil Wine Glasses or Champagne Flutes. Or luxurious velvet linens, in a deep Magnolia or eye-catching Merlot – they won't be able to keep their hands off it! Another luxe addition are stylish centerpieces like our Davis Glass Cylinders, paired with greenery and candles. Or our contemporary Acrylic Rectangle Container.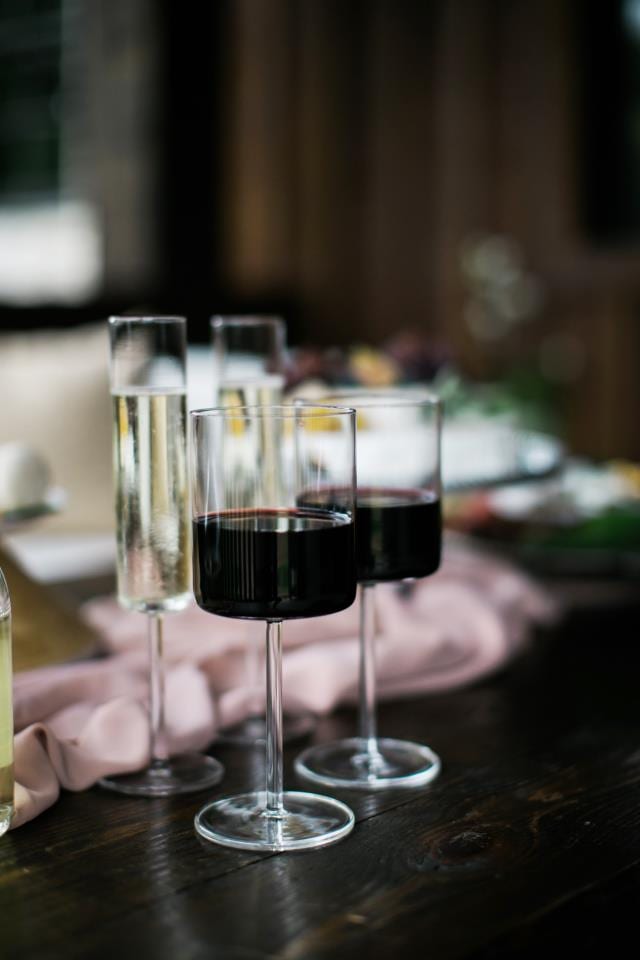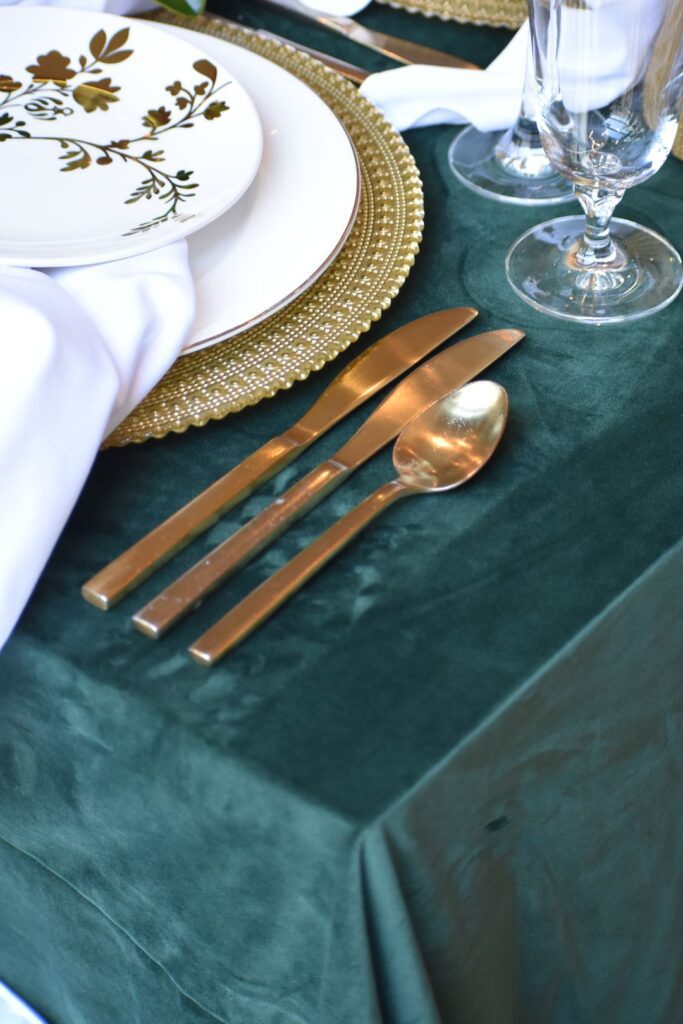 Love the idea of black-tie dinner parties? Send our team a message at info@southerneventsonline.com for help planning a one-of-a-kind event. Or for more event design inspiration, take a look at our blog on Regal Inspired Rentals for Elegant Tablescapes.
TAGS | Black and White, black tie dinner parties, event tables, event tablescapes, formal event design, luxe event design, luxe event rentals, servingware, tablescape design
FEATURED RENTALS | Magnolia Velvet Linens, Merlot Velvet Linens, Davis Glass Cylinders, Acrylic Rectangle Container, Round China, Onyx China, Stone China, Darcy China, Harlin Chairs, Adeline Chairs, Acrylic Carrigan Side Chairs, Chiavari Chairs,Glass Charger with Gold Rim, Medallion Gold Glass Charger, Laguna china, Coronado China, Gold Austin, Abby Flatware, Como Flatware, Noir Matte Black Flatware,
---
30

Jun

Nashville Venues, On Trend, Southern Events Products, Trends and Inspiration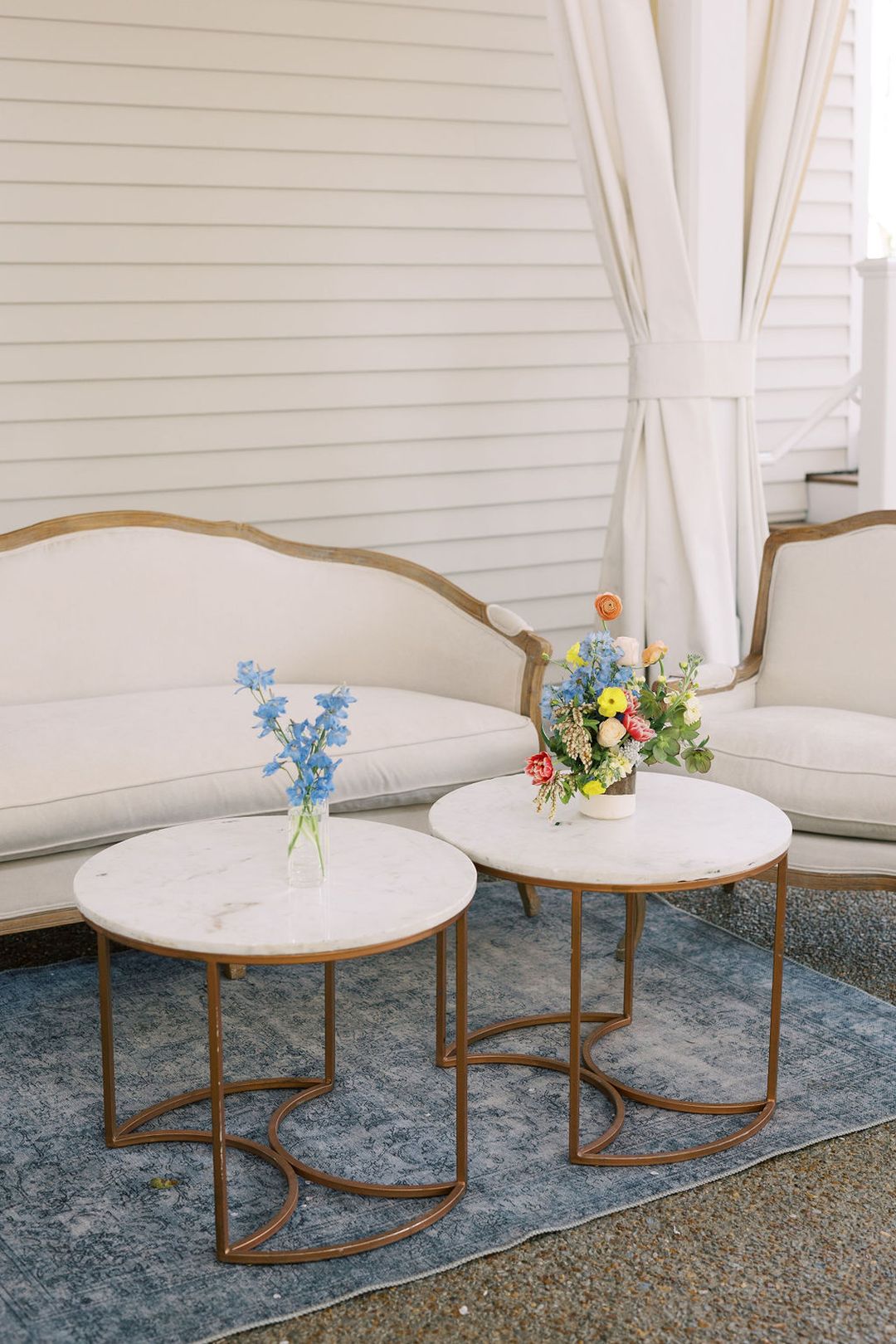 In the heat of summer, there is nothing quite like a garden party – whether you are celebrating with family, friends, or even coworkers! An intimate celebration outdoors is the perfect way to spend an afternoon, with light bites, and tasty drinks gathered around a lawn game or two. Get inspired on how to host a colorful fete when you check out this city chic garden party at CJ's Off the Square!
Summer Champagne Wall!
You don't have to host a huge celebration in order to incorporate a 'wow' factor. Our boxwood walls are a simple addition that will uplevel any event. It is a fun way to greet your guests with appetizers or a cocktail, as seen with this popsicle champagne wall. Or, they can visit it later, to find a sweet treat or dessert. Like fresh donuts and milk or coffee! And, since they are easy to customize you can incorporate elegant decorations such as a neon sign or vibrant florals.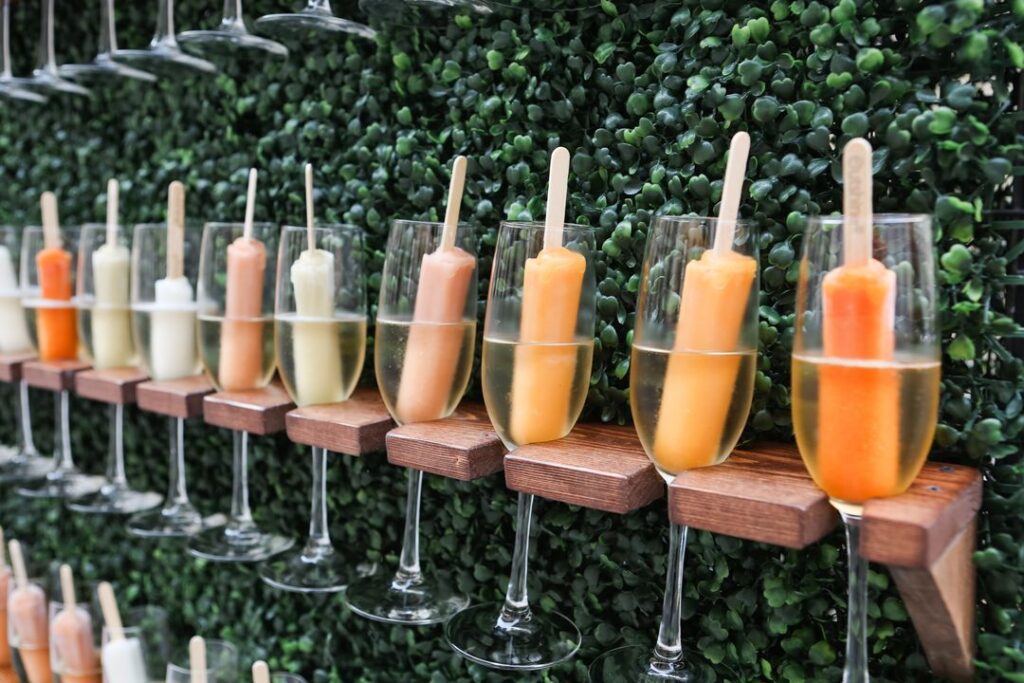 Chic Cocktail Lounges
A must-have for a cocktail hour is a social area, where guests can sit down and sip on their drinks for a while. Consider a bistro table or lounge areas, or even both! Feature a combination of our sofas, chairs, and accent tables to create a chic setup. Consider our Everly Sofa and Chairs, paired with a set of our Capriano Marble and Copper Accent Tables. We also recommend including a few of our colorful event rentals, whether you opt for a Vintage Rug or swap out the Everly Chairs for our Saylor Navy Velvet Chairs.
Don't forget to grab a selection of our beautiful glassware for rent – to serve up colorful fruit-infused cocktails! If you won't have a bar and would prefer a self-serve drink station, our Gold Beverage Jars are a stylish way to dish up big batch cocktails.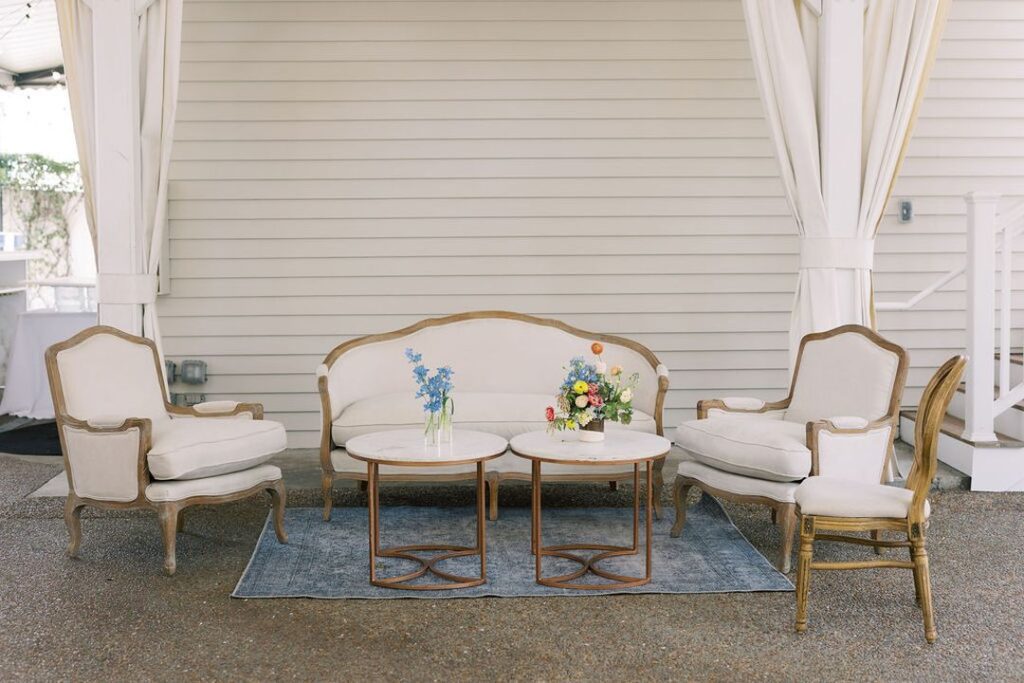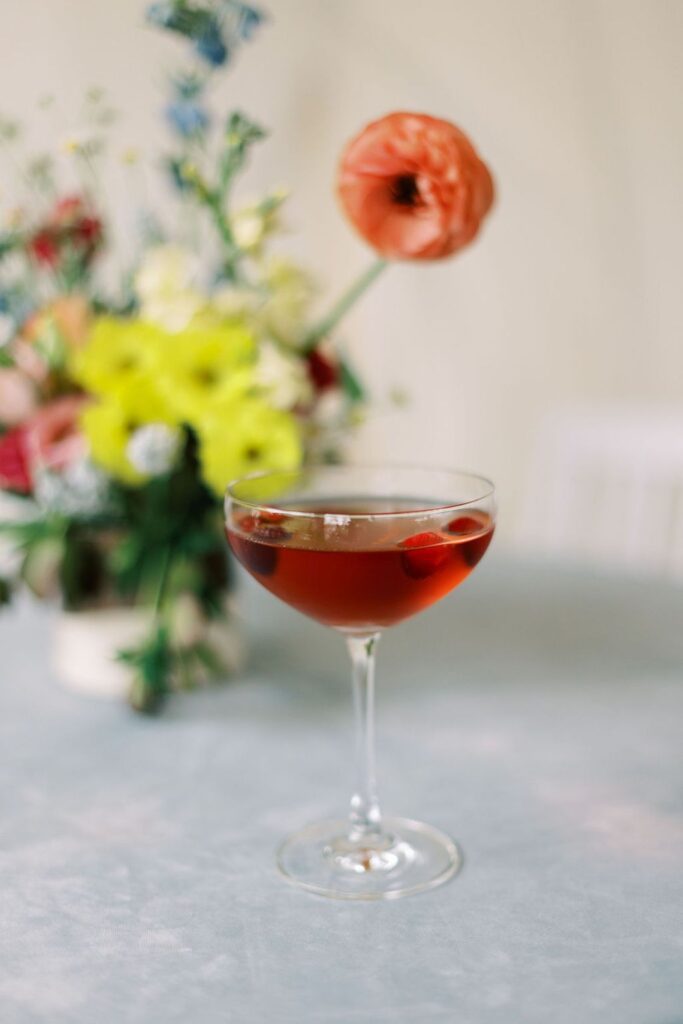 Intimate Yet Luxe Dining
If your goal is a true garden dinner party, with more than just appetizers, you'll also need some elegant tablescapes. We have a variety of beautiful tables and linens for rent, an essential foundation for colorful event design. Start with our Kennedy Fawn or Dusty Blue Etched Velvet Linens. Pastels will lend color but allow vibrant floral centerpieces to shine! If you like the look of more layers, top it off with any of our chiffon runners. For serving ware, keep it simple but don't be afraid of some texture. Check out our Rattan White Wash Chargers, which pair beautifully with any of our white china. For napkins, any of our luxe linens will do. We also recommend incorporating some pieces featuring metallic colors, whether it be our Austin Gold or Brushed Copper Flatware, for that chic touch. Maybe even our Vera Floral China!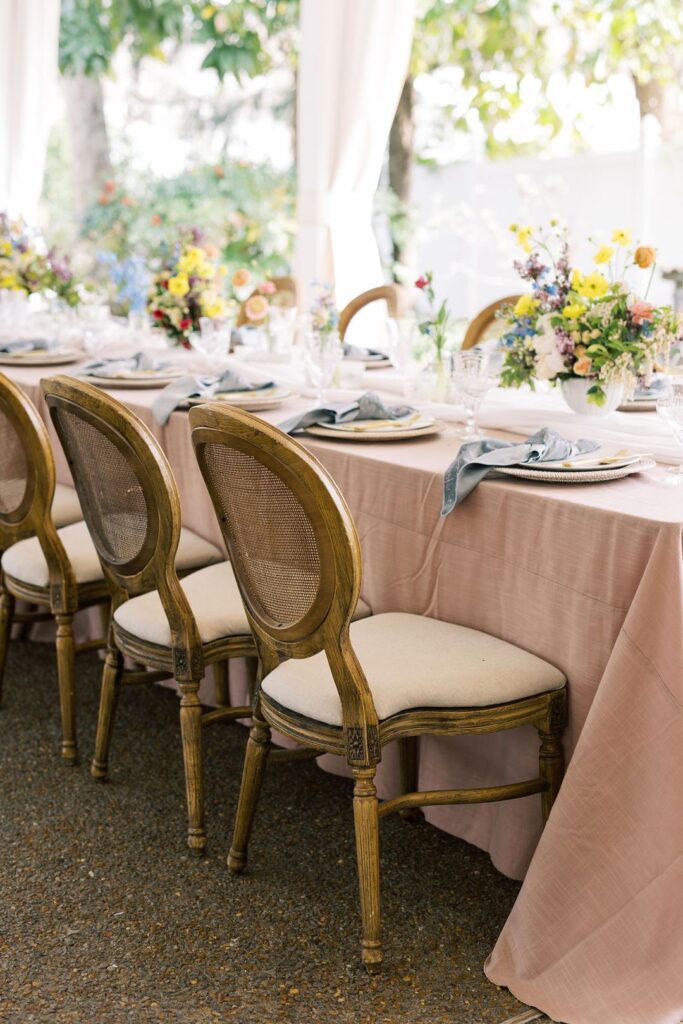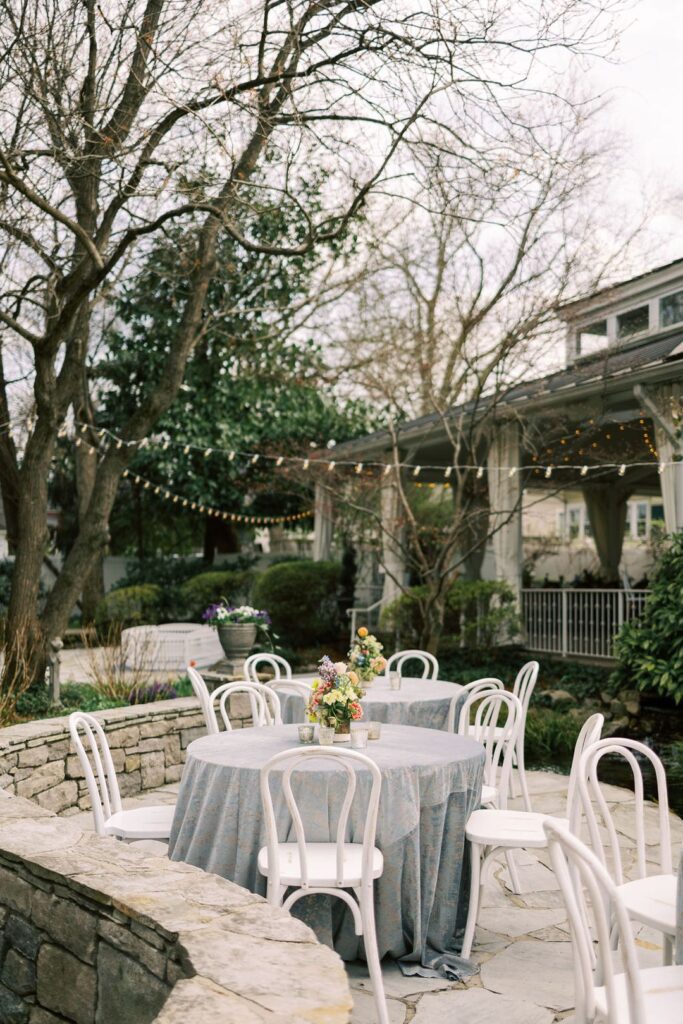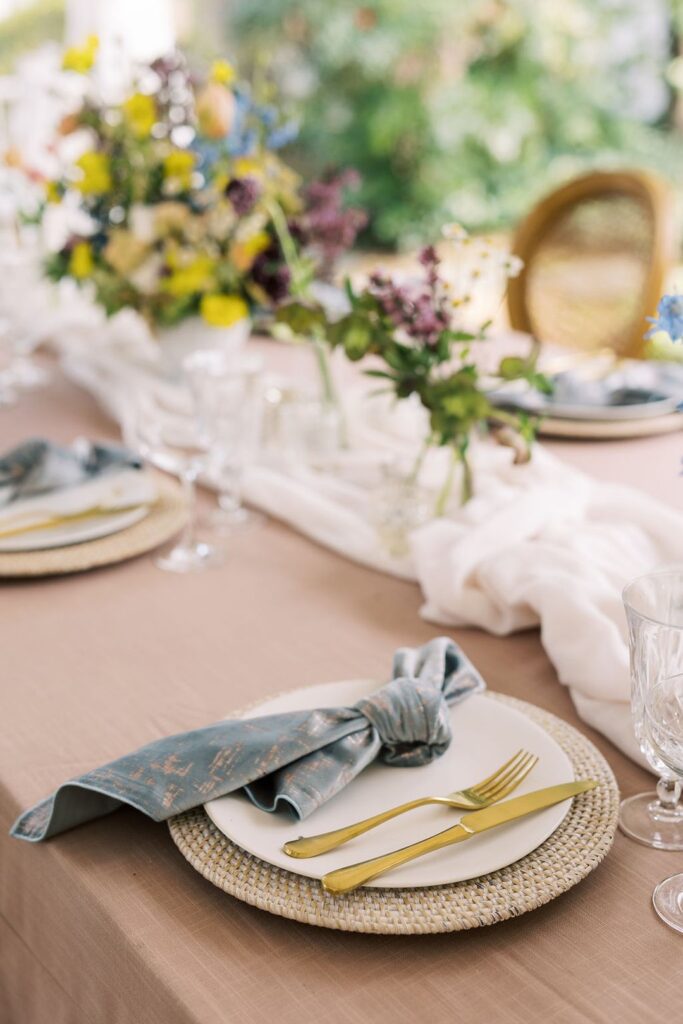 A special thank you to Jenna Henderson Photo for sharing these photos with us!
Want to host your own garden party in Tennessee? Contact our team today for assistance, or for help choosing products that align with your event design!
TAGS | Chic Modern Design, Cocktail Party Rentals, Garden Wedding, colorful decor, colorful event rentals, event lounge, outdoor event rentals, summer cocktail party decorations, summertime chic
FEATURED RENTALS | boxwood walls, champagne shelf, Beverly sofa, Beverly chairs, Cipriano marble and copper tables, saylor navy velvet chairs, Kennedy Fawn, Dusty Blue Etched Velvet, chiffon runners, rattan white wash chargers, vera floral china, austin gold flatware, brushed copper flatware,
---
23

Jun

Southern Events Products, Trends and Inspiration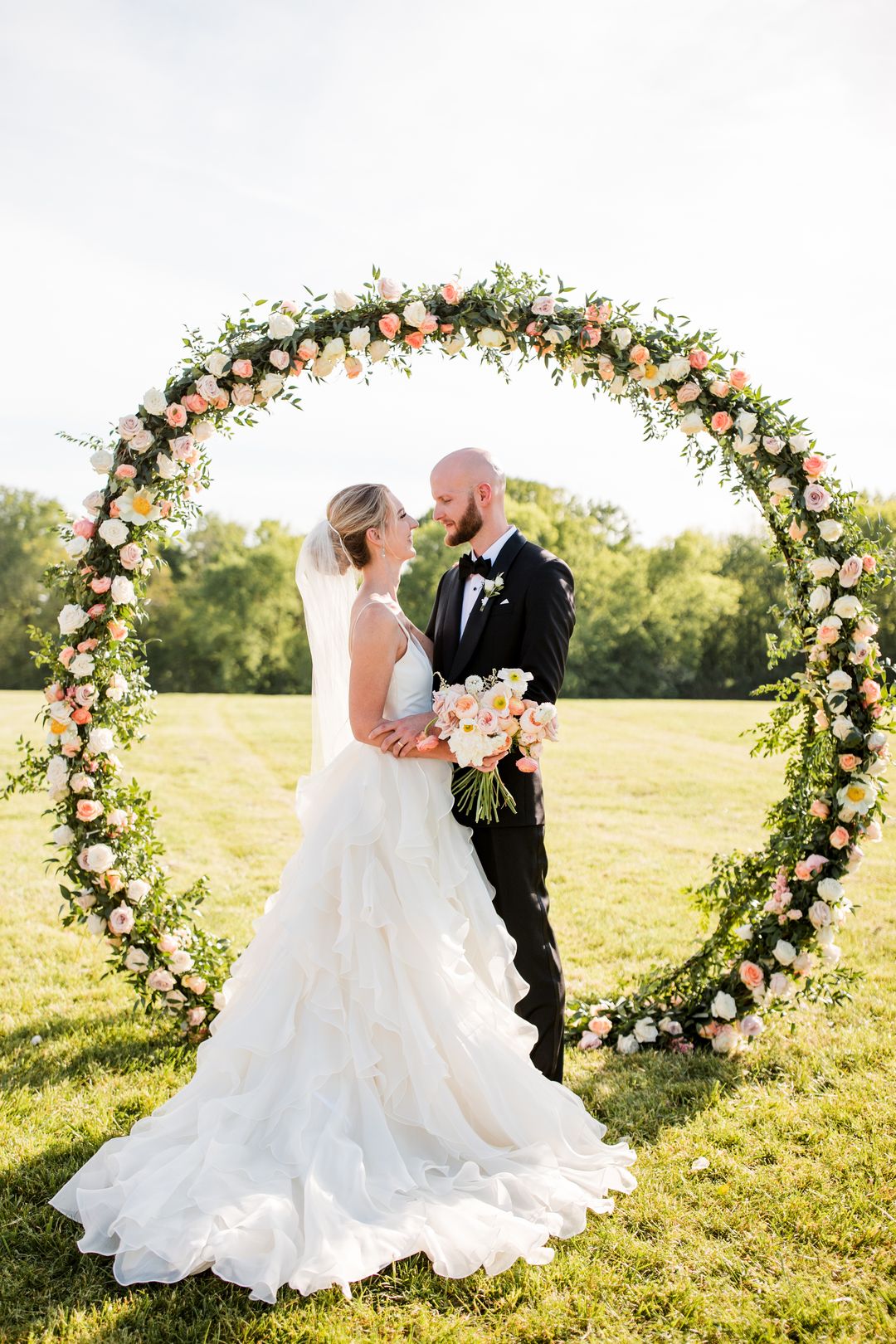 An essential piece of decor for a wedding ceremony is a backdrop! Often complimented with fresh florals and greenery, it will not only help frame the bride and groom but serve as a beautiful backdrop for photographs. Take a look at our wedding backdrop rentals, with options for every type of event style and theme! From more traditional pieces to modern options.
Fiona Ivory Mantle
A unique option for wedding ceremony decor, our Fiona Ivory Mantle is a romantic piece. With its vintage design and soft white color, it will complement most any theme. You can dress this piece up with florals, or by placing candles in our cylindrical glass vases at the base.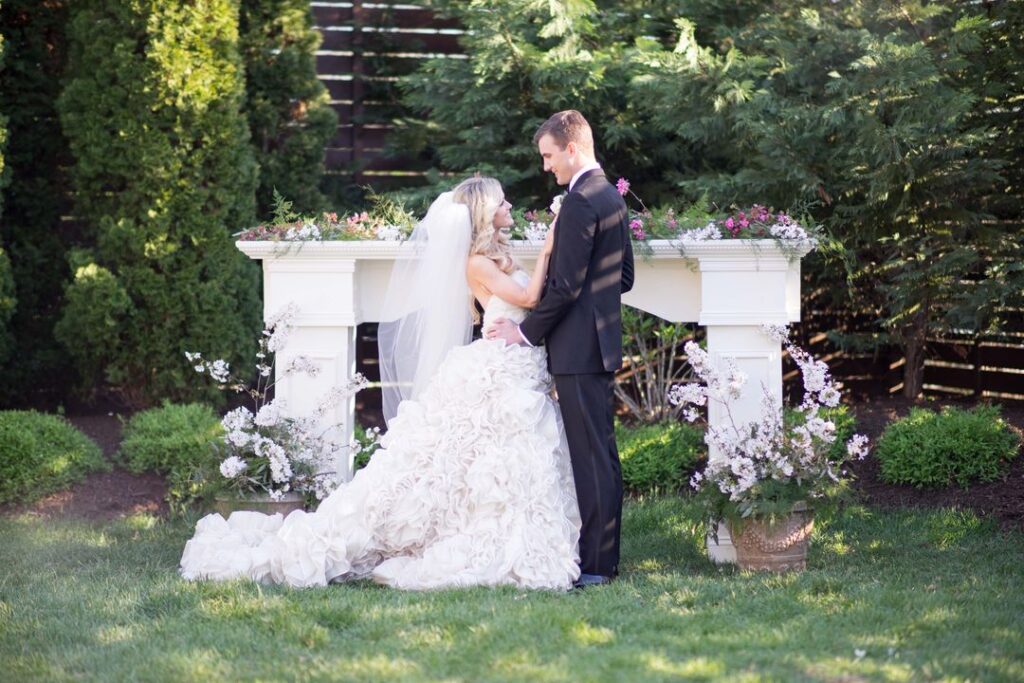 Chuppah/Wedding Canopy
At Southern, our goal is to be able to serve couples of every type and religion! Our wedding chuppah is a beautiful piece consisting of a classic square frame decorated with white drapery. It can easily be dressed up with greenery, or you might tie back the draping with smaller floral arrangements.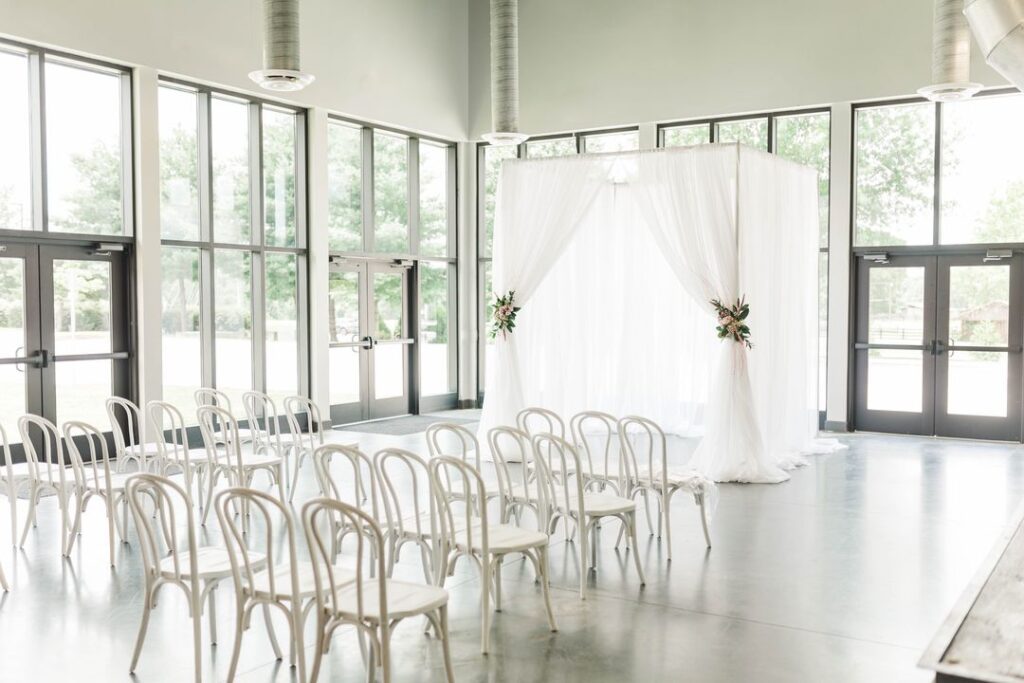 Boxwood Wall
Another popular option is our greenery backdrop rental, or a Boxwood Wall. This piece is our most versatile due to the fact that it can be easily customized with a variety of decor. Such as florals or a neon sign! We also have three different color bases available to ensure our grass wall will complement your color palette or wedding theme.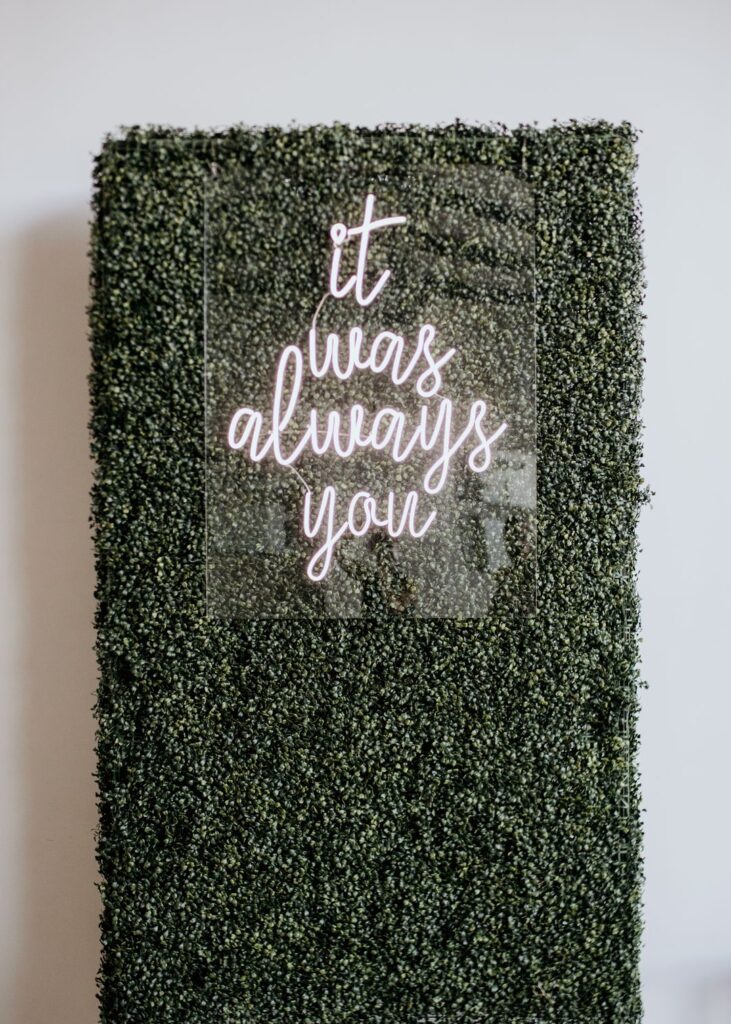 Wood Cross
For more traditional couples we had to include a Wood Cross in our inventory. This simple but elegant piece is made of a light-colored wood with a beautiful grain. Couples often choose to decorate this piece with a long piece of drapery or a floral garland.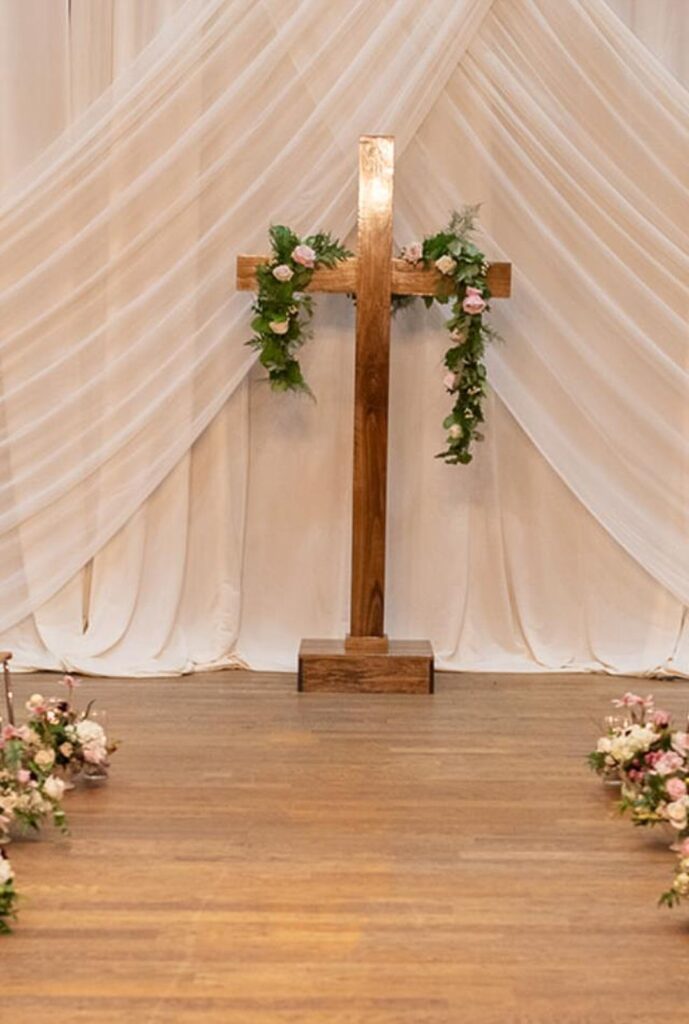 Wrought Iron Arch
Another of our wedding arch rentals, this Wrought Iron Arch is a gorgeous choice for ceremonies indoors or out. Dress is up with greenery or drapery for a sophisticated look. As with our Metal Ceremony Ring, this piece is perfect for a modern garden wedding.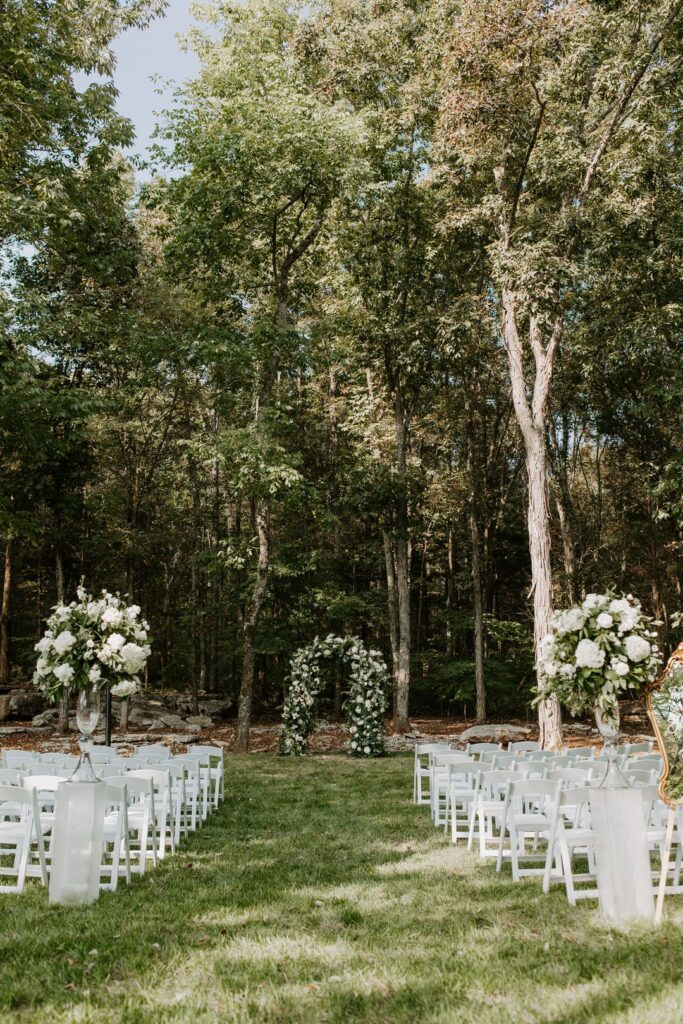 Rugs
Looking for a more modern ceremony backdrop? Consider one or several of our rugs! This is a great option if you want to show off an existing backdrop at your venue, whether it be indoors or out. A rug is a simple way to frame a space and add a little bit of color. We have a variety of options for different themes, including vintage and cowhide rugs.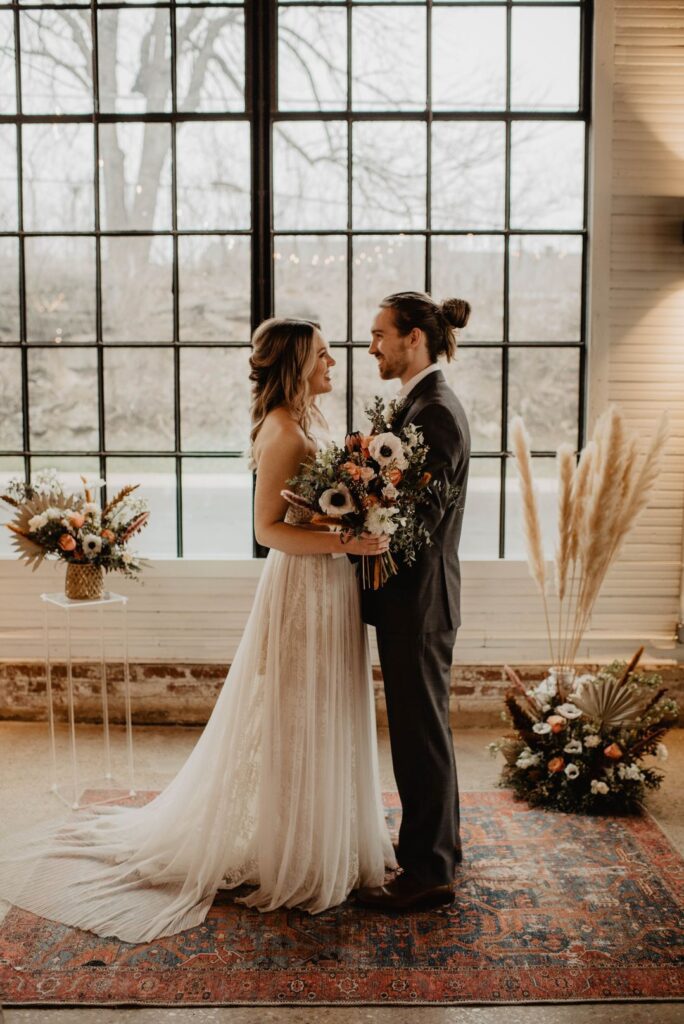 Ready to book one of our wedding backdrop rentals? Send our team a message at info@southerneventsonline.com to secure a piece for your big day!
TAGS | Nashville Wedding Rentals, Wedding Ceremonies, southern wedding style, wedding backdrop rentals, wedding backdrops, wedding ceremony decor
FEATURED RENTALS | Wood Cross, Boxwood Wall, Rug, Wrought Iron Arch, Wedding Chuppah, Fiona Ivory Mantle,
---
16

Jun

Southern Events Products, Trends and Inspiration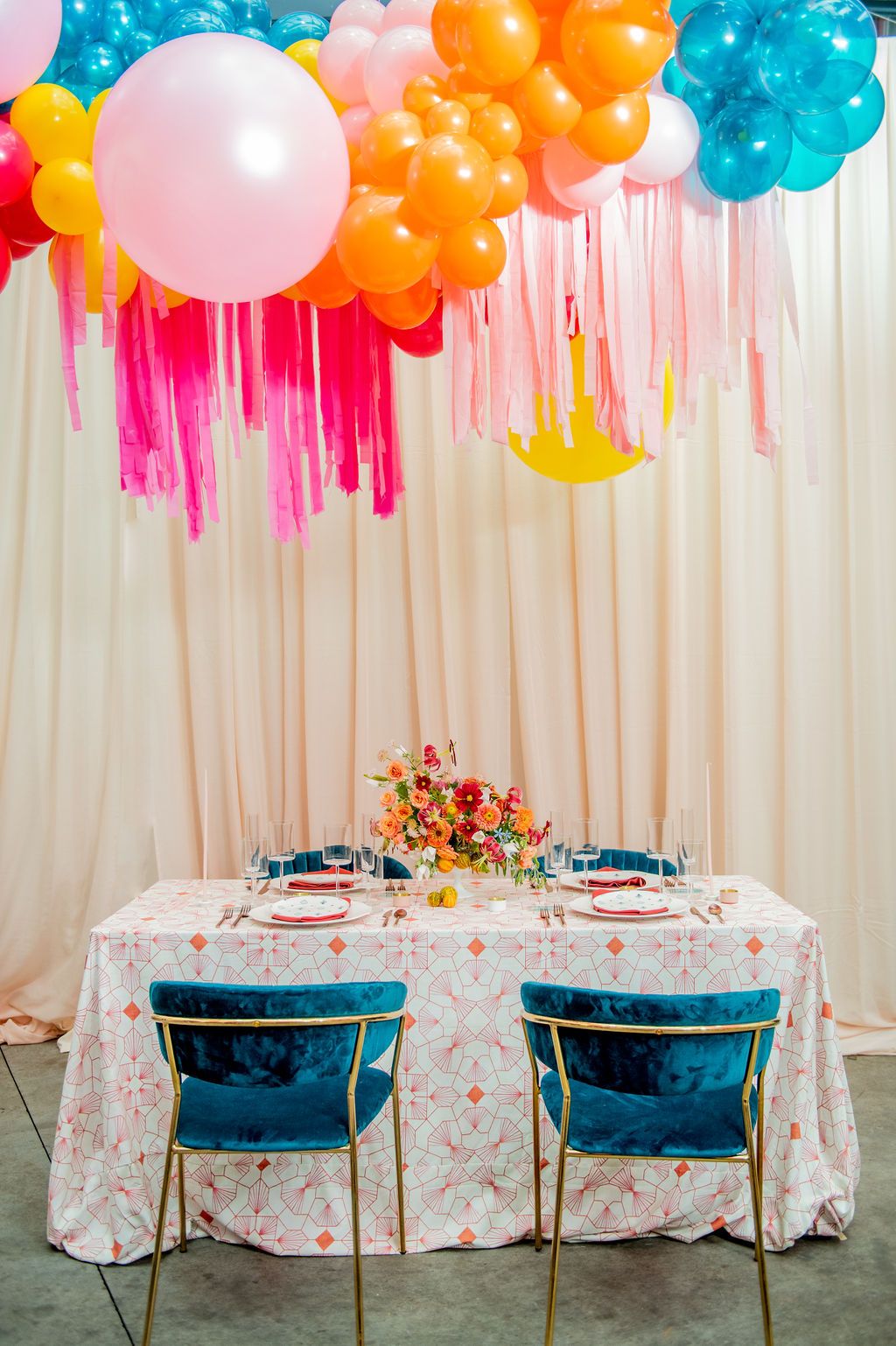 With warm weather comes the opportunity to host outdoors! And what better way than with a vibrant backyard celebration starring our colorful party rentals. From bold linens to unique glassware, we have everything you need to host a one-of-a-kind shindig. Get inspired by these colorful summer party ideas featuring our fun modern event rentals!
Bold Linens
The easiest way to infuse some color into your event set up are a combination of our bold linens. We offer tablecloths and napkins in just about every color, and a wide range of materials. So there is something for every type of summer party, whether you want a more luxe or relaxed look. Our Poly Linens offer widest selection in regards to color, including brilliant warm and cool shades. Such as a beautiful periwinkle and bright coral! If you want to feature a touch of texture, don't forget to check out our Velvet Linens! Current fan favorites include Lavender and Sea Glass. Of course if you want to go all out, you have to take a look at our Miscellaneous Linens, which include an array of fun print and color combinations. We recommend Gold Aurora!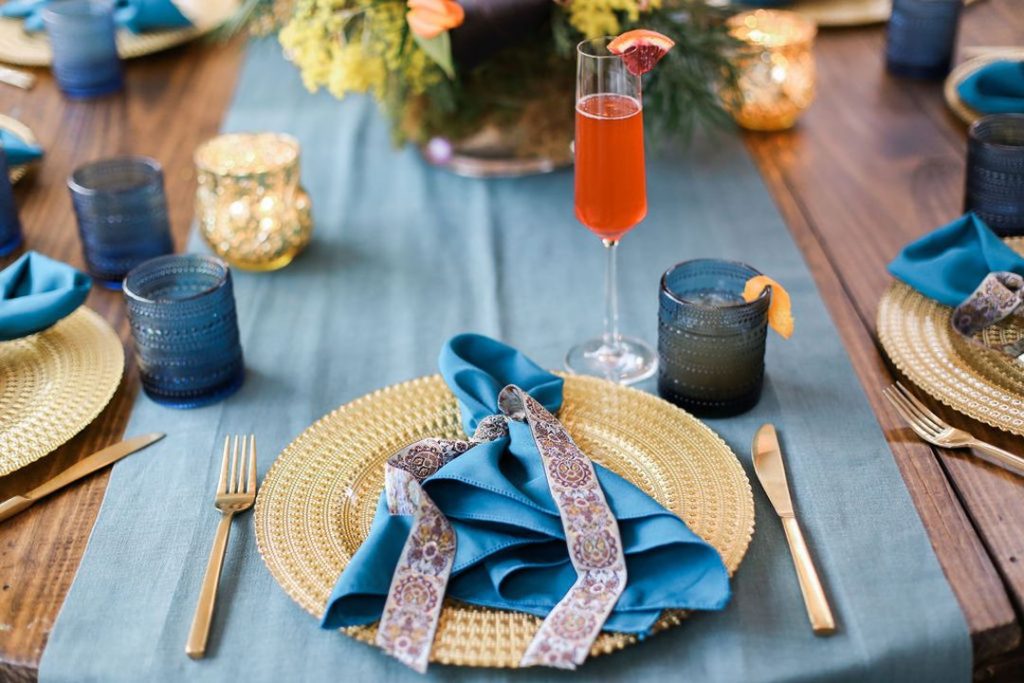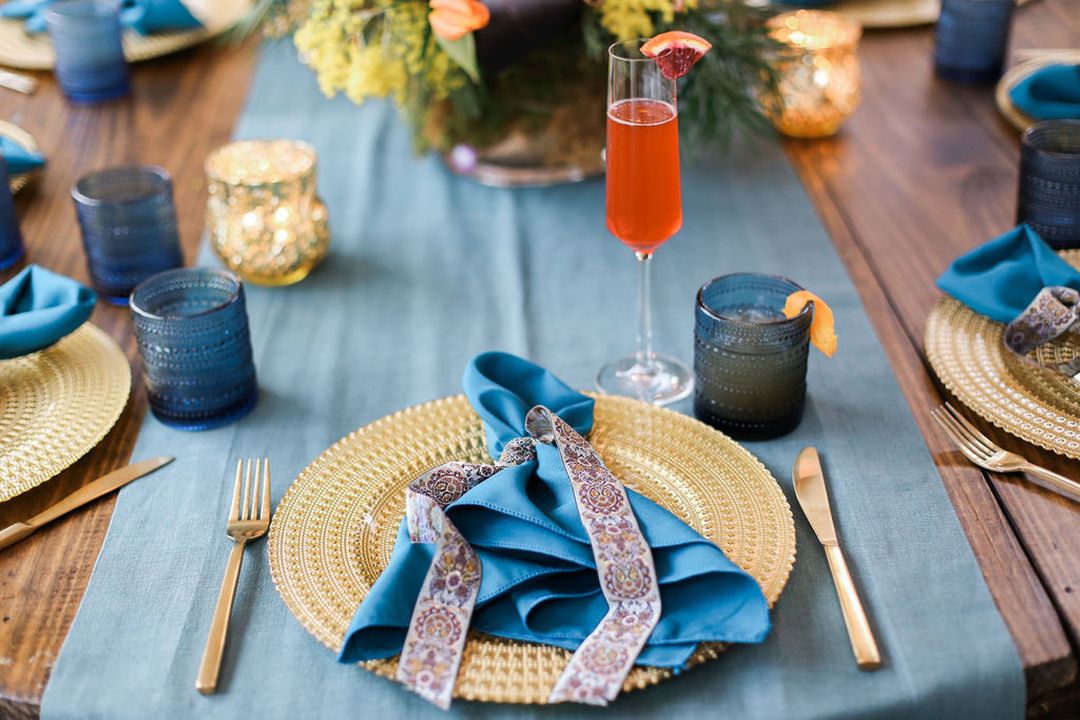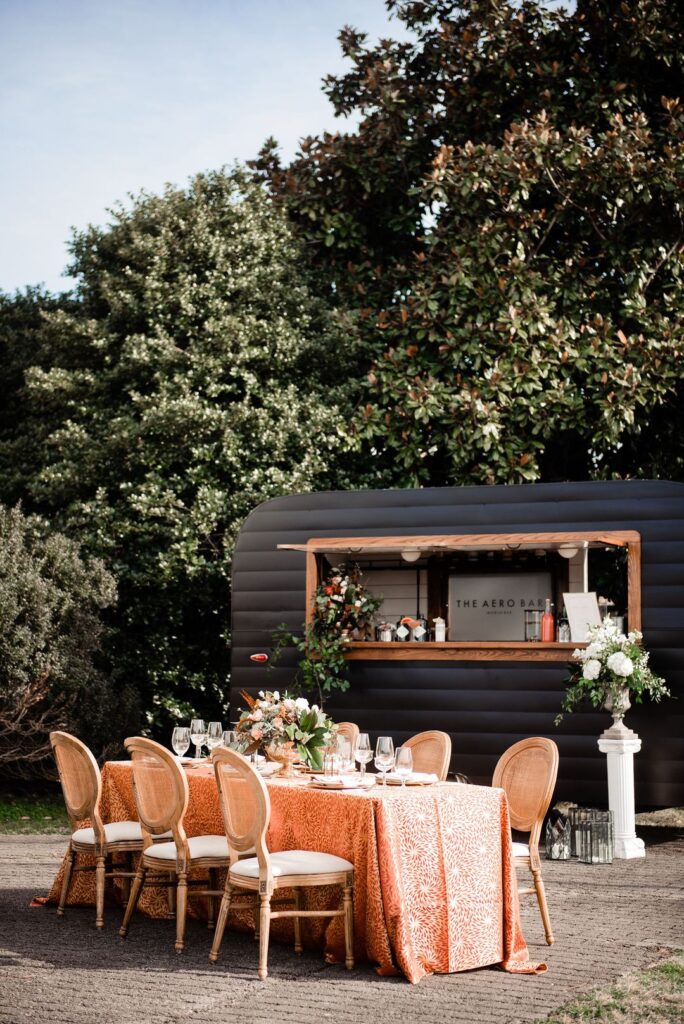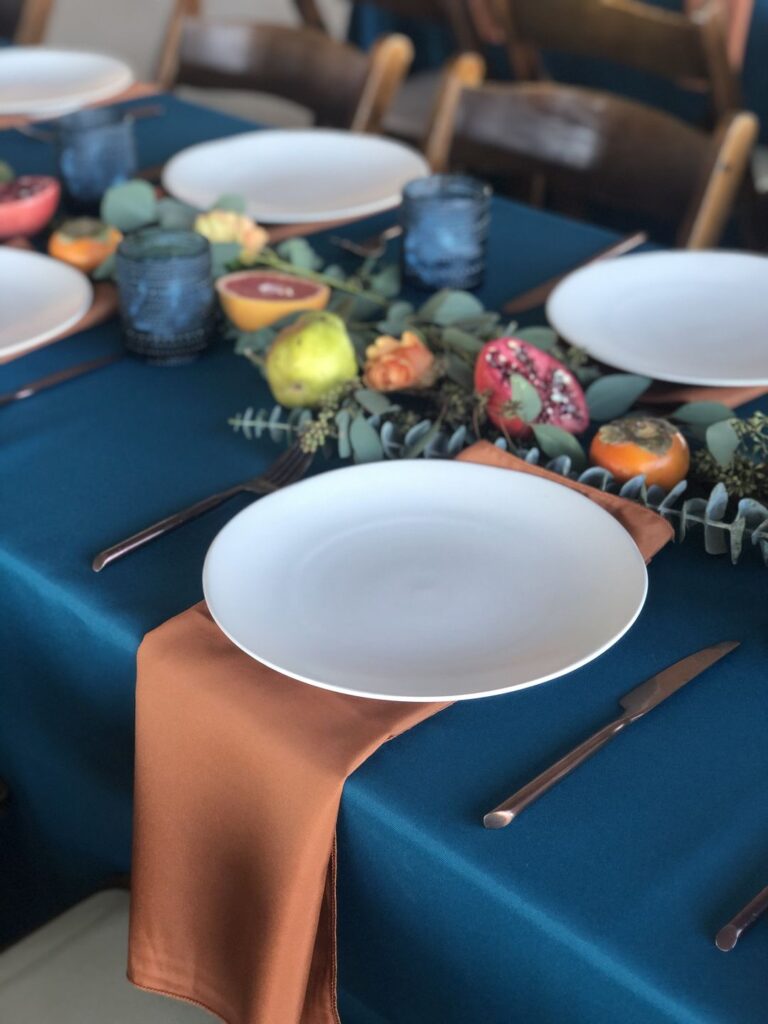 Colorful Cocktails
As with any warm weather event, refreshing beverages are a requirement. And for a colorful summer party, equally fun glassware is a must! We stock a range of on-trend glassware suitable for a variety of different beverages and cocktails. We have more sleek contemporary pieces, like Davis, as well as fun and funky designs, like Cybil. Of course, you will also want to keep guests hydrated! So check out our vintage-inspired water goblets, available in Amber and Green. If you're looking to add a fun interactive detail, you might feature our Boxwood Wall and Champagne Shelf! It's a great way to display fresh drinks, like these tasty champagne popsicles.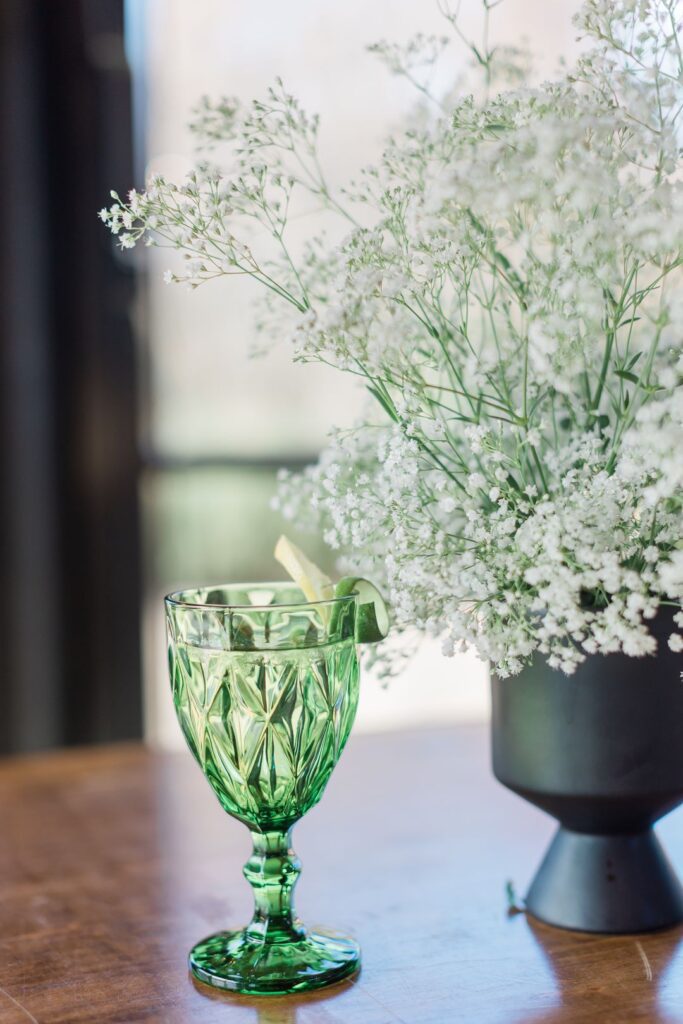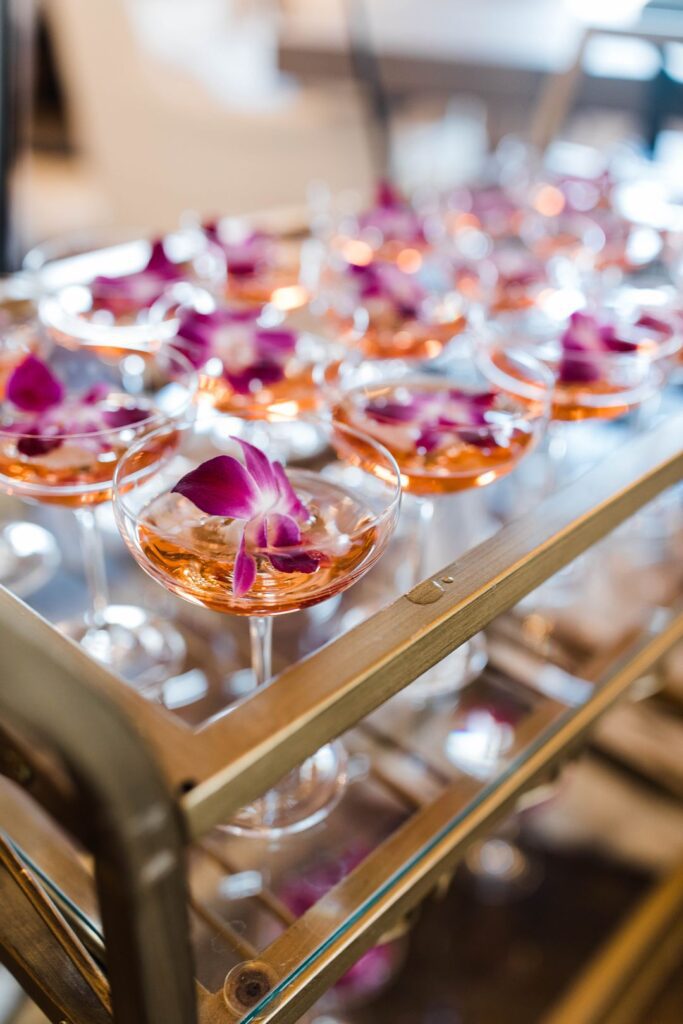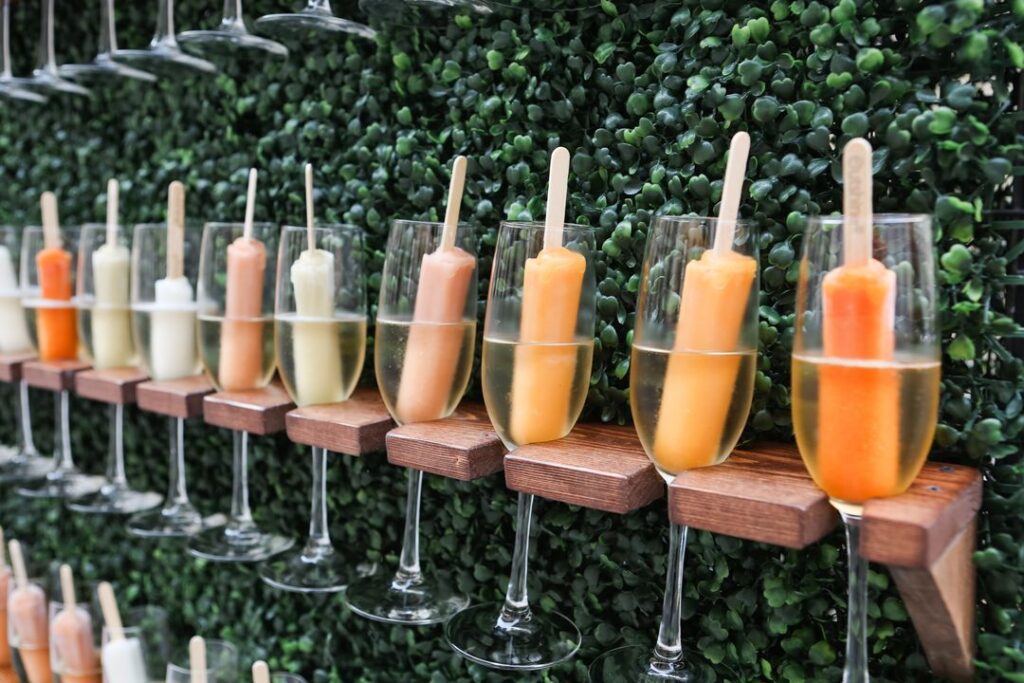 Luxe Event Lounges
To fully enjoy the outdoors, you'll need a cozy lounge area. A setup is stylish yet comfy, where guests can sit, sip and mingle. We offer a fun mix of colorful party rentals that make it easy to create a one-of-a-kind event lounge. Lately, our velvet furniture has been a hit. Especially our Saylor Navy and Jacqueline Velvet Sofa. Closely followed by Farrah Teal and Gloria Velvet Arm Chairs. You will also want to grab a set of our beautiful accent tables and a vintage rug, to help frame the space. If you prefer to keep it simple, you can also check out our curated Lounge Packages.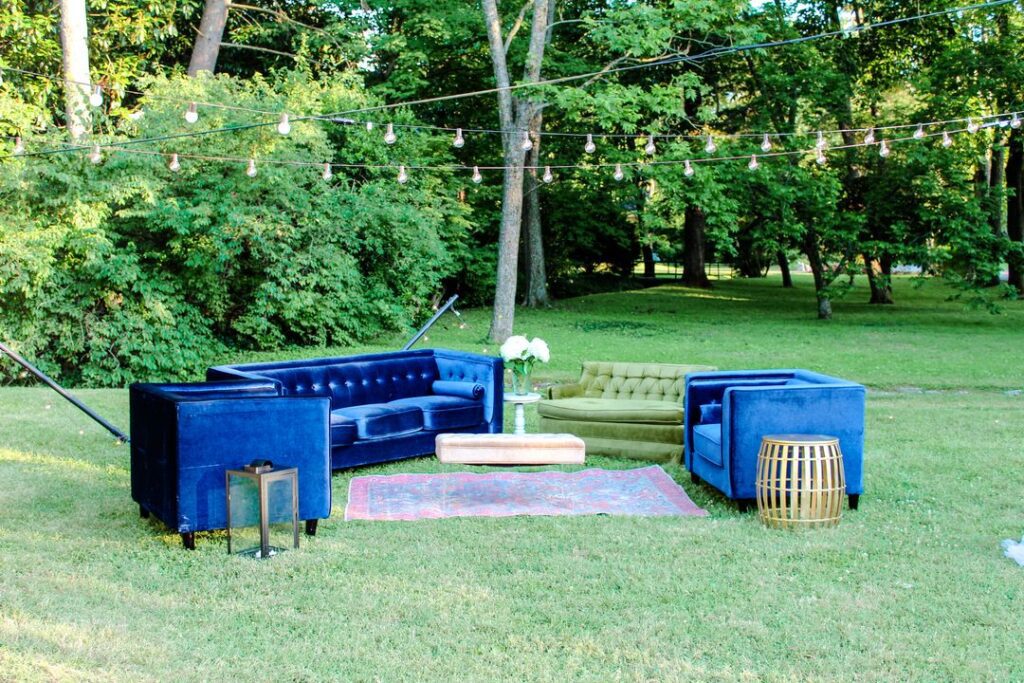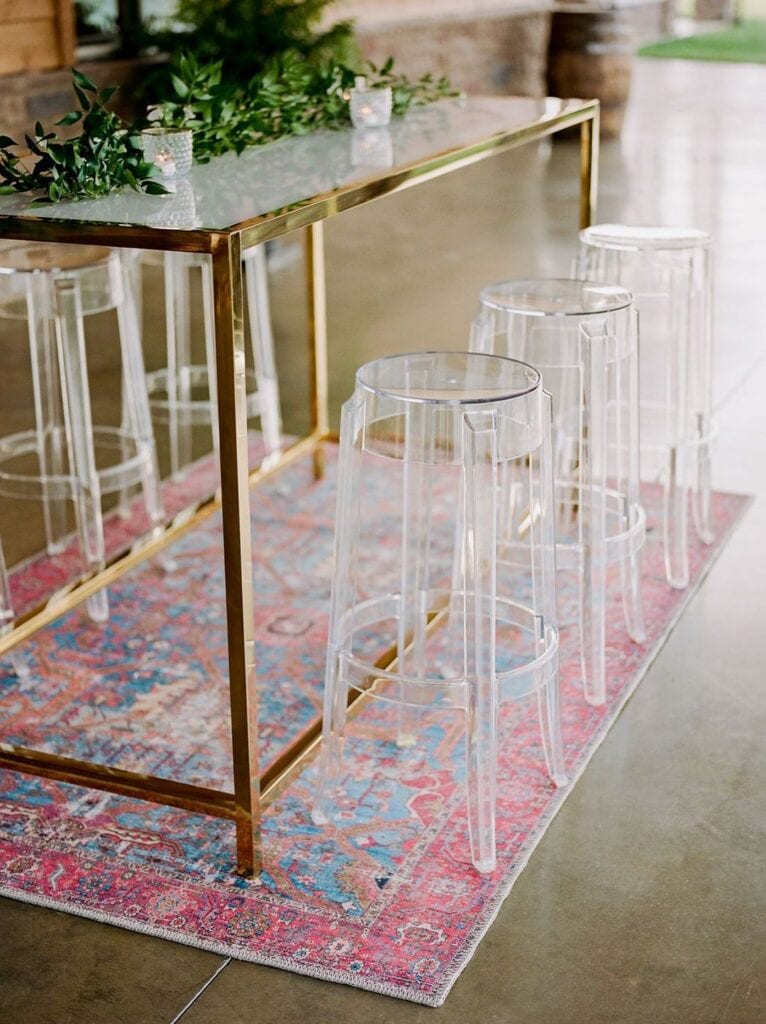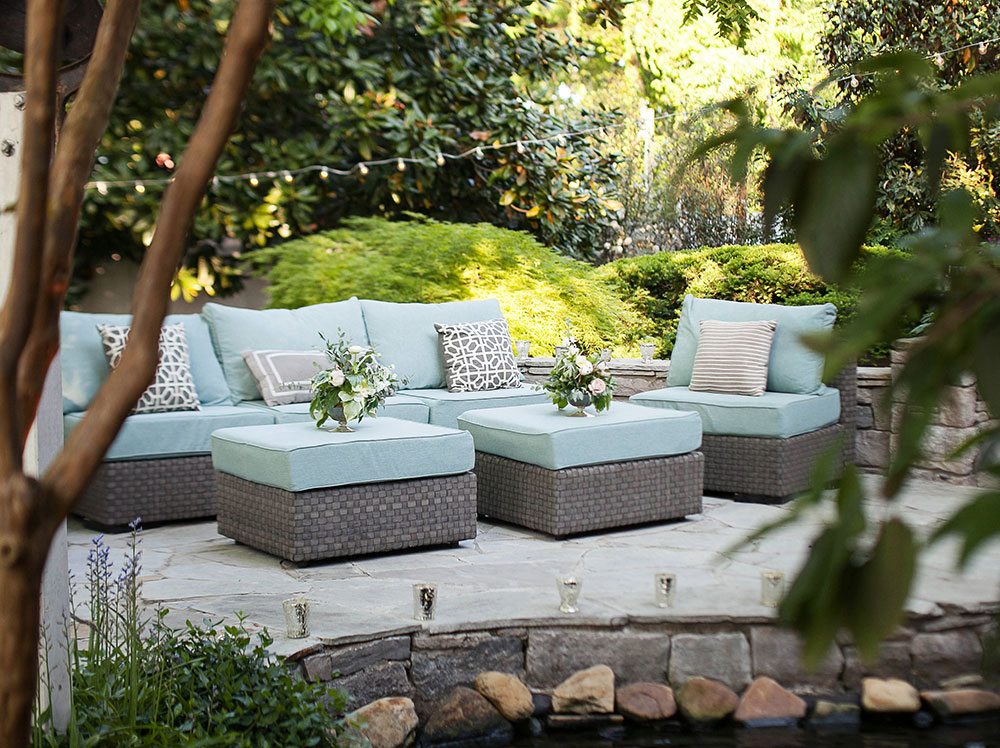 Need more colorful summer party ideas? Contact our team today and a member of our team would be more than happy to help you come up with a one-of-a-kind event design!
TAGS | colorful decor, colorful event lounge, colorful event rentals, colorful party rentals, outdoor event rentals, summer event style, summer party ideas
FEATURED RENTALS | Davis Glassware, Cybil Glassware, Water Goblets, Champagne Shelf, Boxwood Wall, Poly Linens, Velvet Linens, Miscellaneous Linens, Gold Aurora, Saylor Navy Velvet Sofa, Jaqueline Velvet Sofa, Farrah Teal Velvet Chair, Gloria Velvet Arm Chair, Accent Tables, Lounge Packages, Rugs,
---