14

Oct

Southern Events Products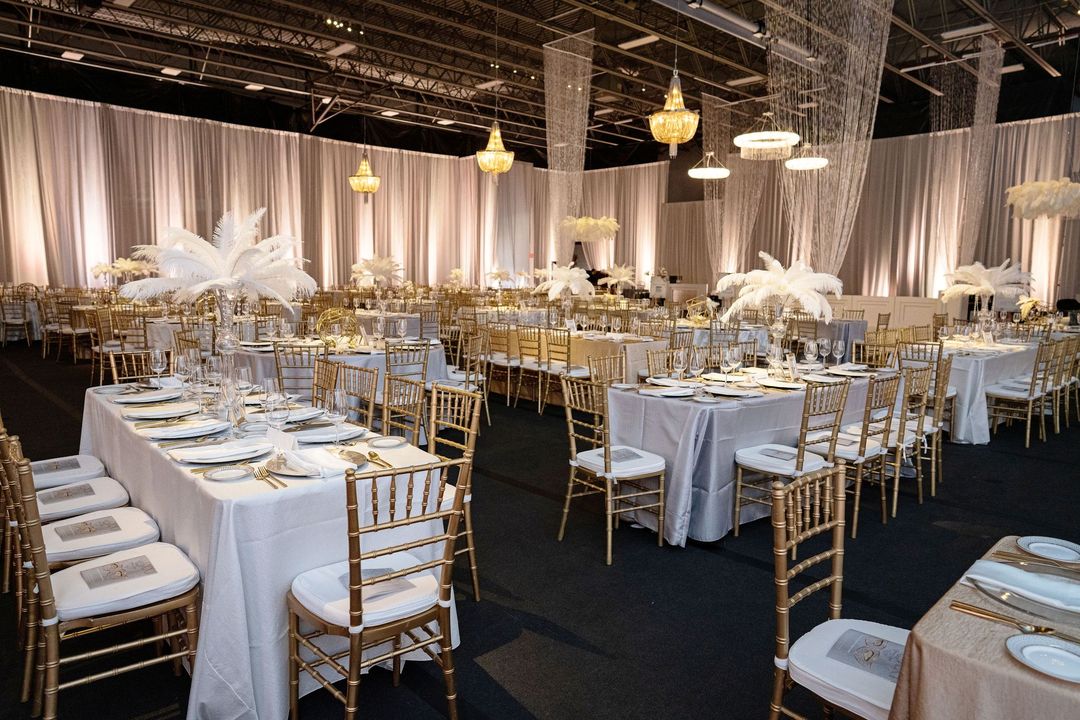 One of the premier charity events in Tennessee, the Phoenix Ball is a black tie gala benefiting Cumberland University. This year's theme was Draped In Decadence: Masked in Mystery, featuring our luxe gold & ivory gala rentals. Keep reading to get inspired for your own fundraiser or gala.
A Grand Event Entrance
Upon arriving at the venue, guests were welcomed inside via a red carpet. To create a more elegant entrance, the walls were lined with white draping. Our Loren Gold Bistro Table was set up to greet guests, along with some bubbly! The Gold Boxwood Wall was decorated with white shelving for flutes and a custom neon sign, making for a fun photo op.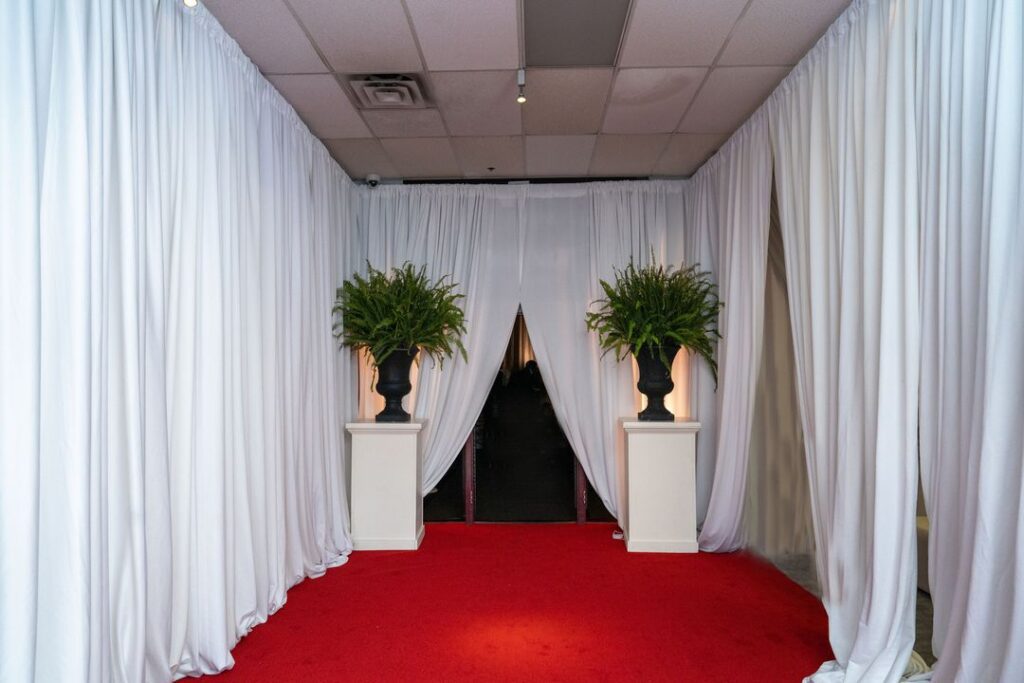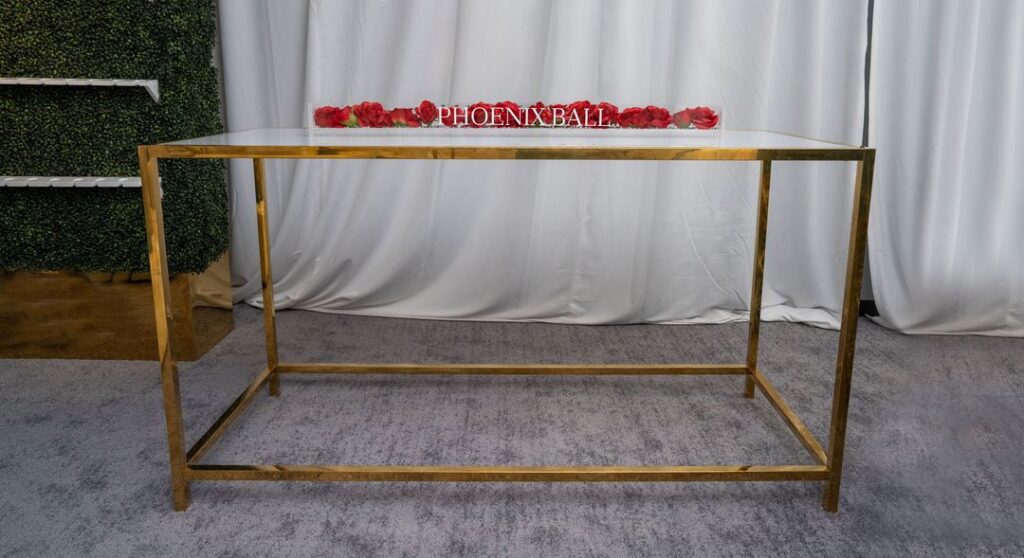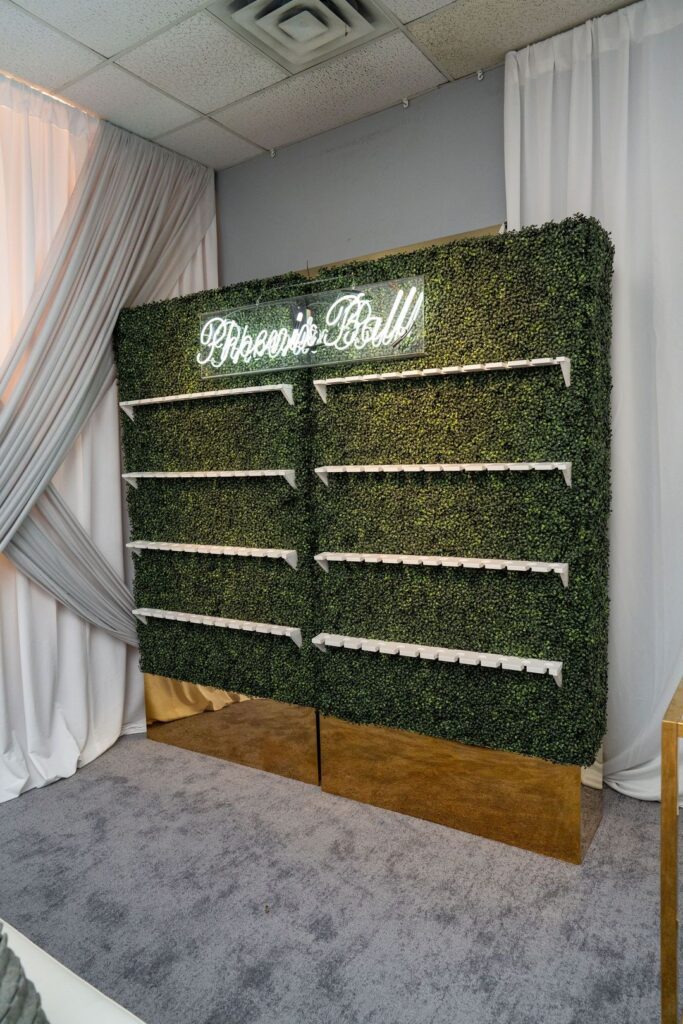 Gold & Ivory Tablescapes
Matching the theme, the dinner tables were created using gold and ivory serving ware. To make the most of the space, we used a mix of round and rectangular tables, along with our classic Gold Chiavari Chairs. They were dressed in coordinated linens, including Gold Furrow, Ivory Pearl Shalimar, and Victorian Gold Luxe. Each place setting featured a gold or silver charger, along with our stunning Ophelia or Hamlet China, and Austin Flatware.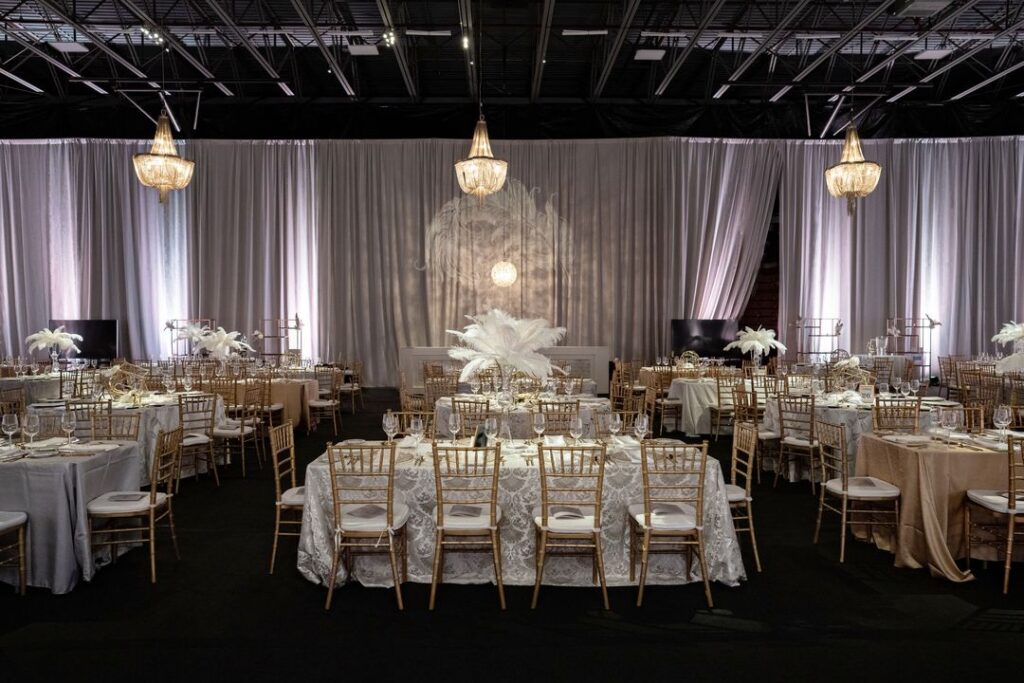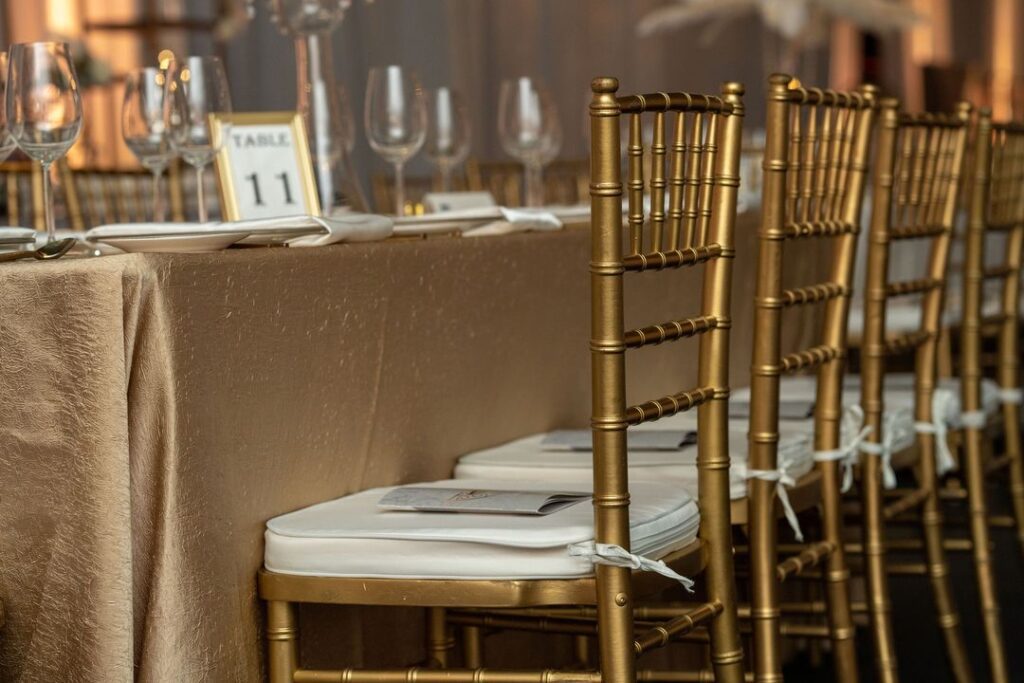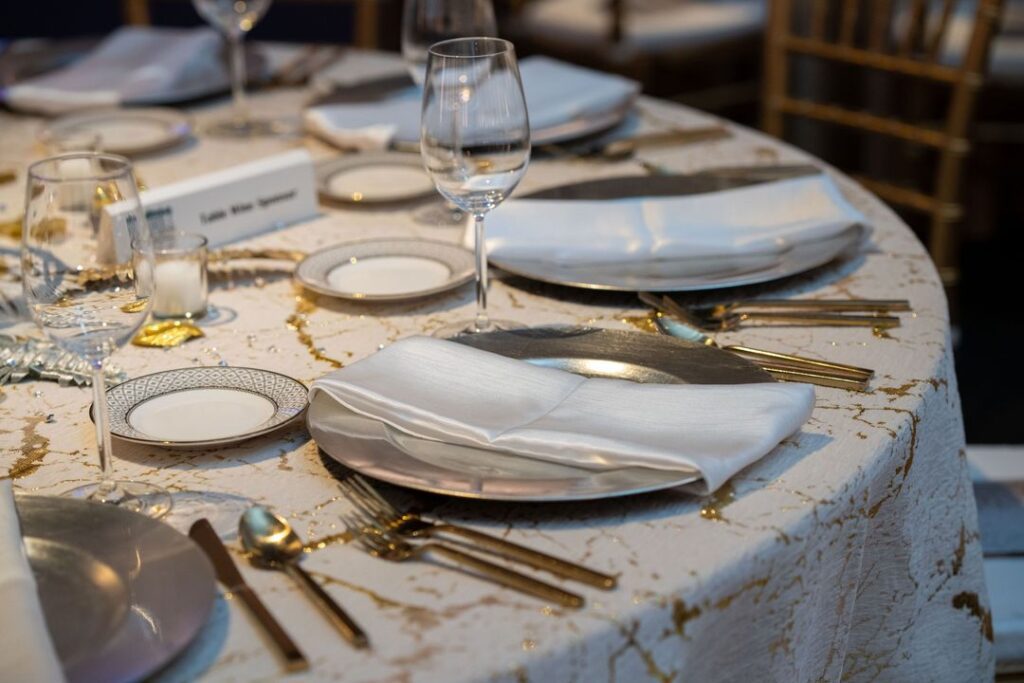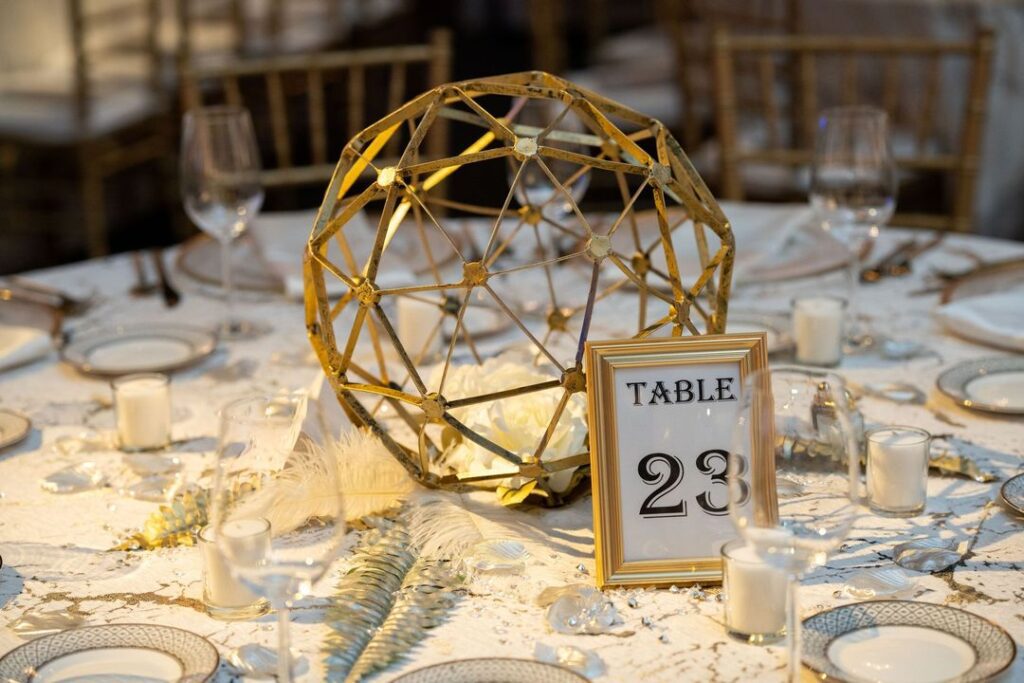 Luxe & Comfy Lounges
For any fundraiser or gala to be a success, you need comfy areas for guests to relax and converse. Throughout the event space, we created a range of small and large lounges. The largest being our neutral Pearce Lounge, complemented with the sleek Blanche Coffee Table. Smaller areas included a pair of Fantasma Acrylic Chairs and a trio of Cheval Gold Mirror Side Tables. And our always popular white leather Mercer Collection!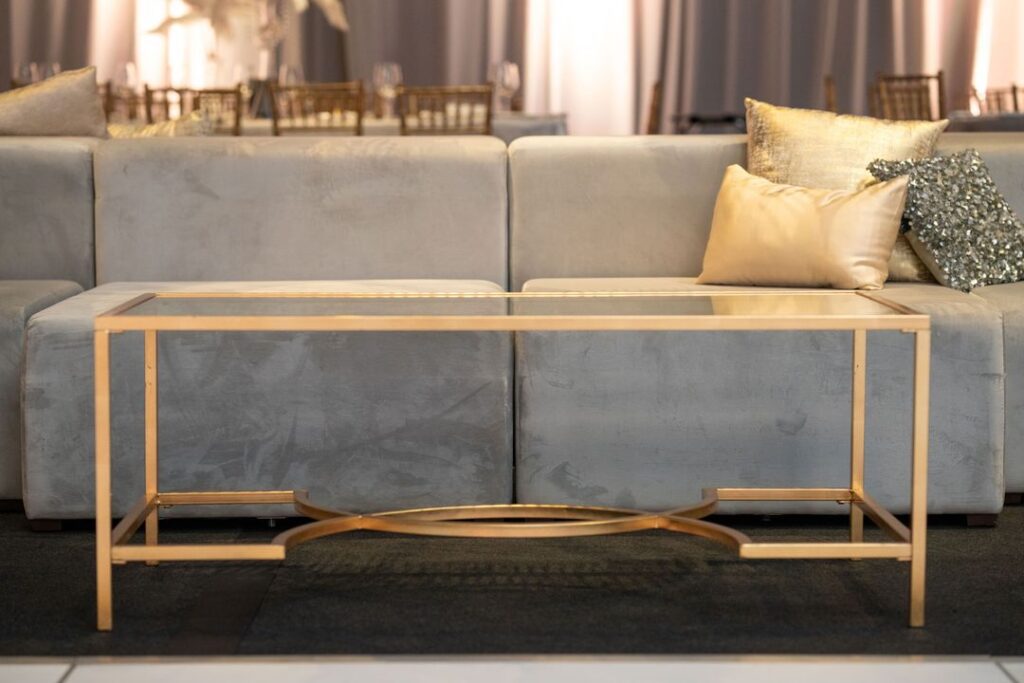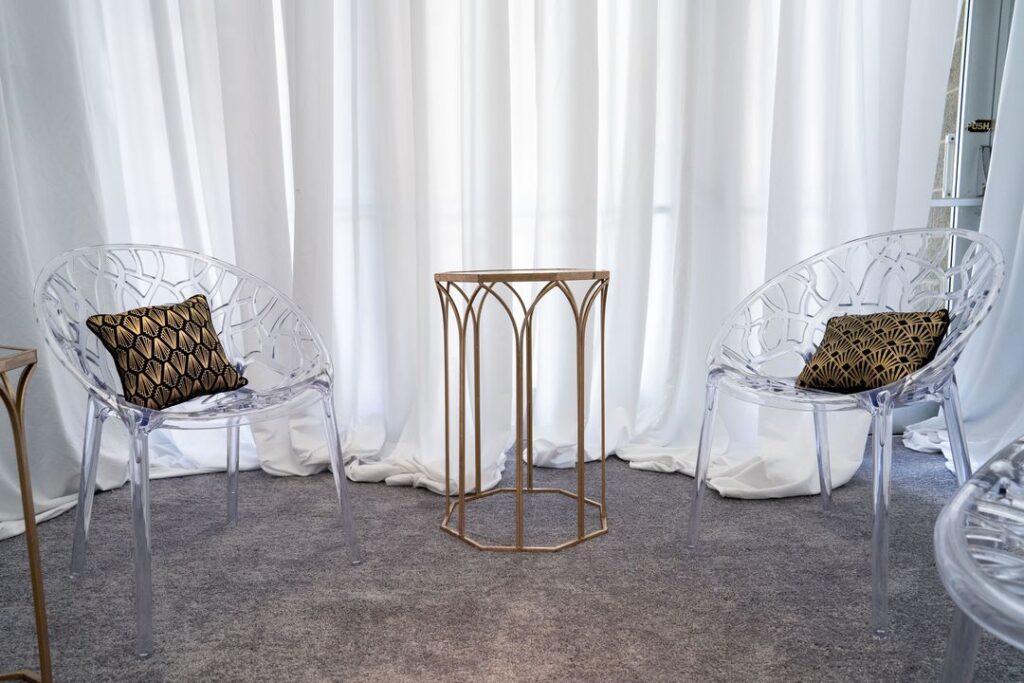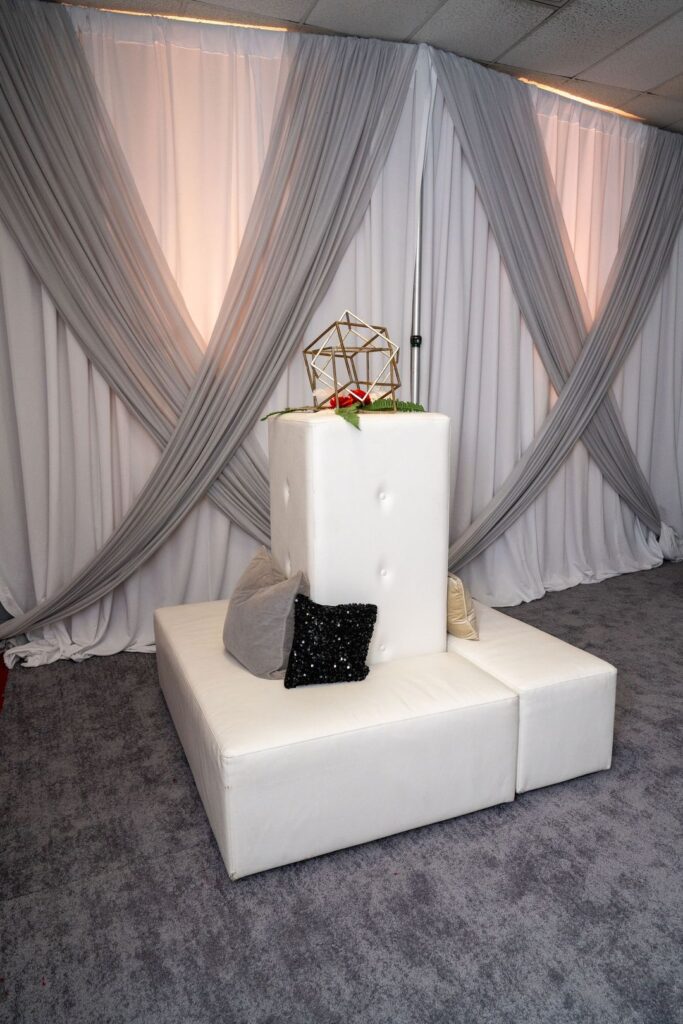 Spaces for Entertainment
The focal point of the gala was an expansive white dance floor set to our Harpeth Stage Facade. Set to the beautiful white drapery and crystal curtains, it was a stunning setting for dancing & celebrating. On either side, bars were also accessible. And they were stocked with a variety of classic glassware, including Martini and Highball Glasses, plus Champagne Flutes.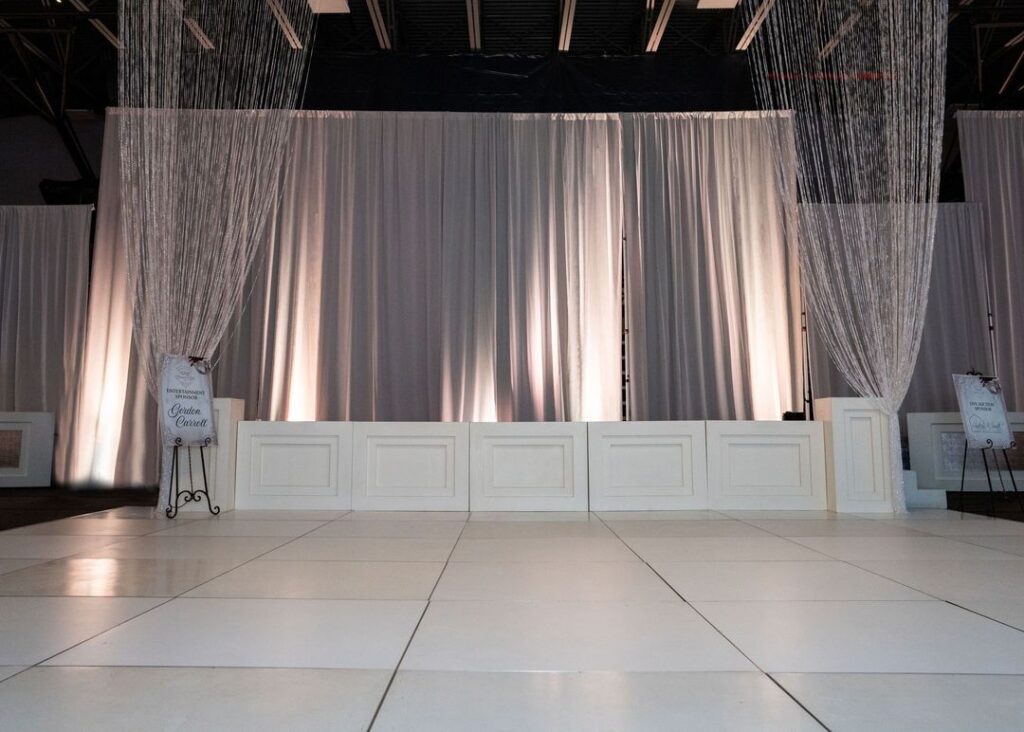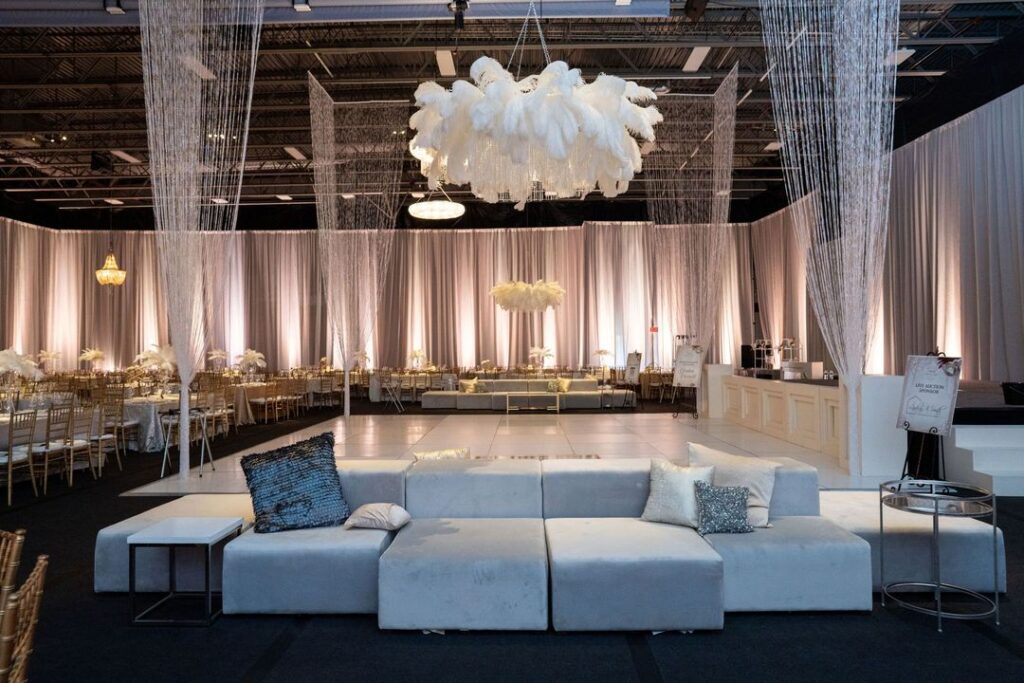 Custom Bar & Food Displays
With such a large event space, we wanted to ensure that food and drinks were easily accessible from any point. In addition to being welcomed with champagne, guests could access a bar both indoors and outdoors. Our elegant white Harpeth bars were outfitted with a custom insert to match the gold & ivory gala theme. A pair of gold bar back shelves were also used to display some sweet treats and was adjacent to a small coffee bar.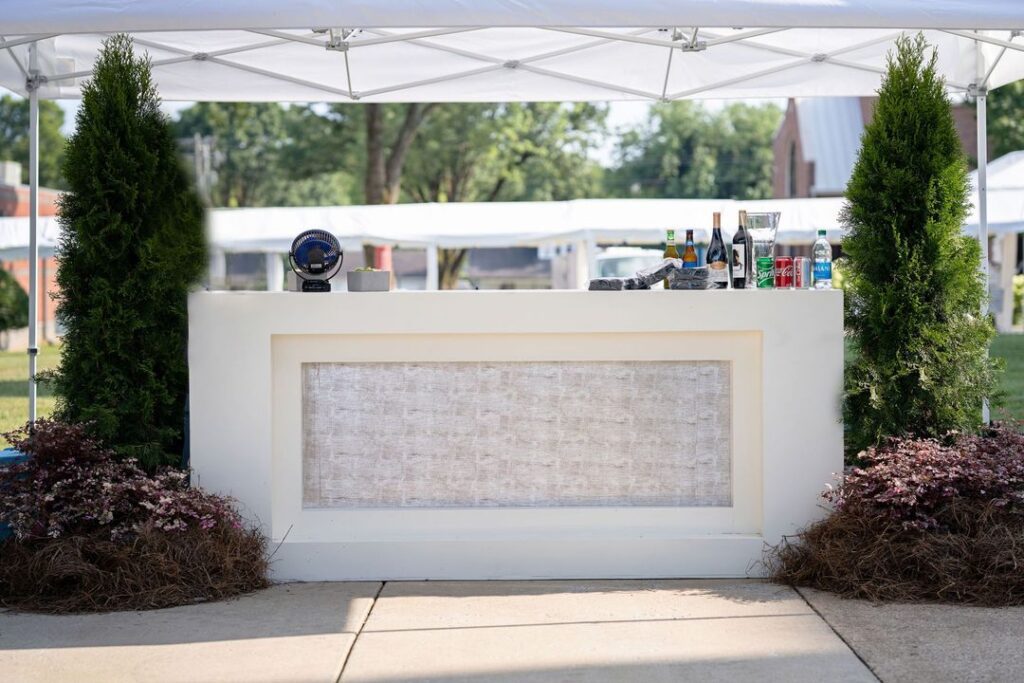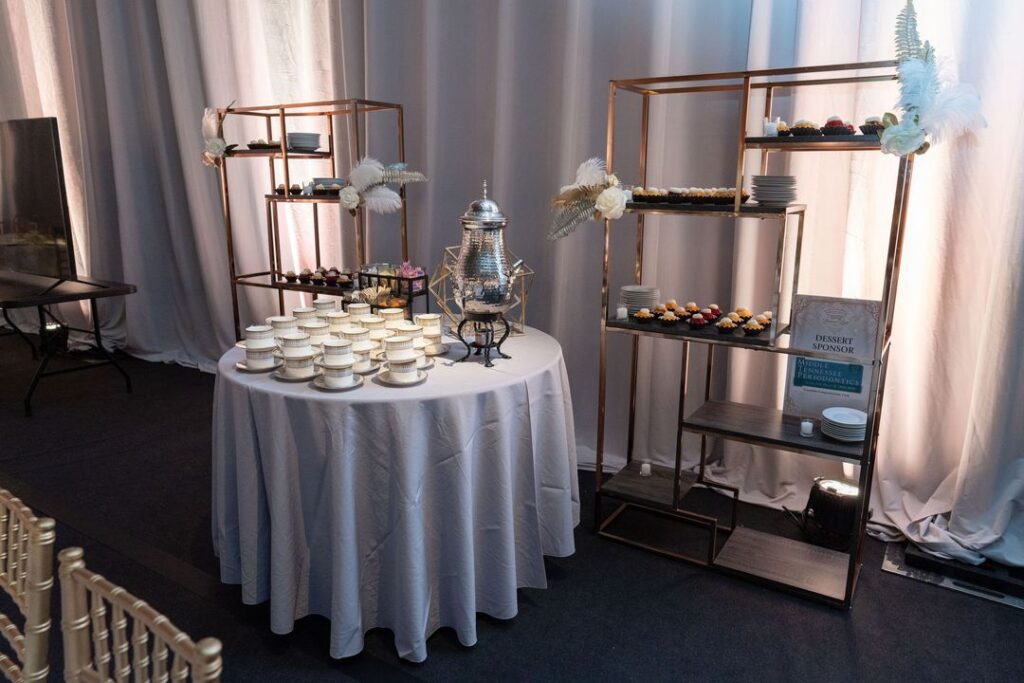 A special shout out to Phindy Studios for sharing the photos from this fabulous event!
Ready to plan your gold & ivory gala? For help planning and creating the layout for your event in Nashville or Franklin, TN, email us at info@southerneventsonline.com.
TAGS | Event Staging, Gold Chiavari Chairs, Lounge Furniture, Nashville Galas, Staging, fundraiser event, fundraiser event style, gala event design, gala event rentals, gold event rentals, gold place setting
FEATURED RENTALS | Loren Gold Bistro, Boxwood Wall, Champagne Shelves, Austin Flatware, Gold Furrow, Ivory Pearl Shalimar, Victorian Gold Luxe, Harpeth Stage Facade, white dance floor, Gold Bar Back Shelves, Ophelia China, Hamlet China, Acrylic Chairs and a trio of Cheval Gold Mirror Side Tables. And our always popular white leather Mercer Collection! Pearce Lounge, Blanche Coffee Table, Fantasma Acrylic Chairs, Cheval Gold Mirror Side Table, Mercer Collection, Gold Chiavari Chair,
---
7

Oct

On Trend, Southern Events Products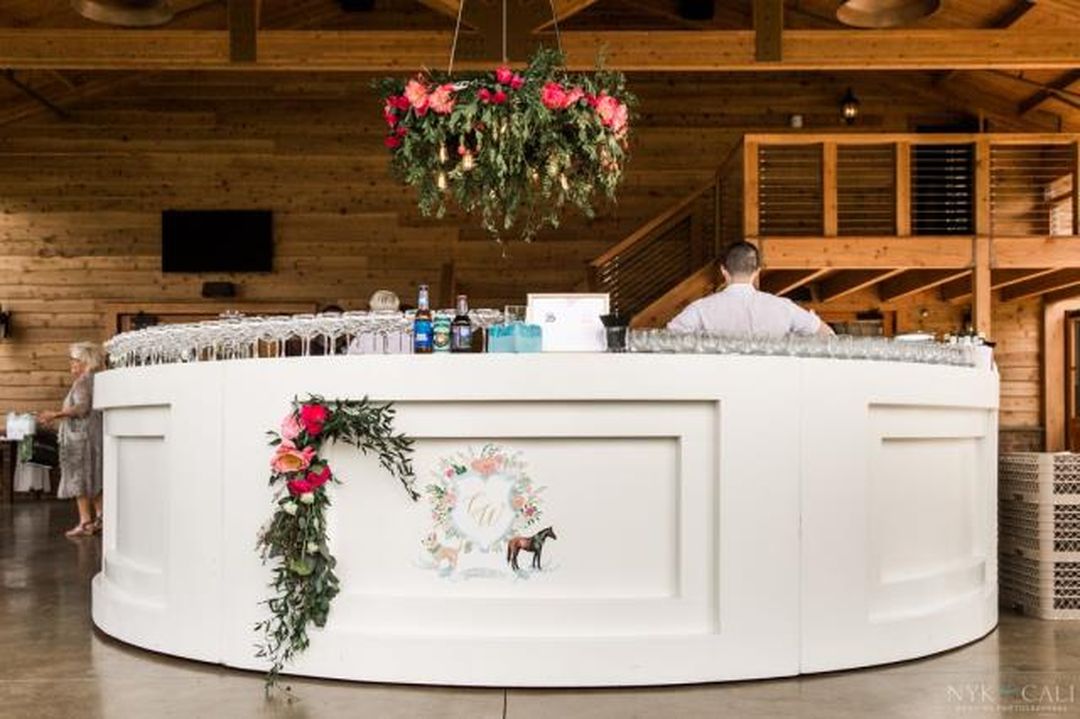 If you're having alcohol at your upcoming wedding or other events, a well-stocked bar starts with the bar and accessories. From customizable bars to on-trend glassware and elegant backdrops, Southern Events stocks it all. Keep reading to learn about our event bar and bar accessories for rent, for every type of event.
Stylish Bars for Rent
A well-outfitted bar is the sign of a well-planned event. Part of your event planning list, if you're including alcohol, will include "Get items for the bar". So let's get that item checked off. First things first – what's your theme or style? Going for a rustic or bohemian theme? Check out our beautiful Bond Bar. Or an upscale, Southern look? Try our Antique White or Black Wood Bar. How about an elegant, sophisticated look? The Harpeth Bar is always popular! If you are hosting an intimate event, we also carry a Gold Bar Cart, perfect for providing table service.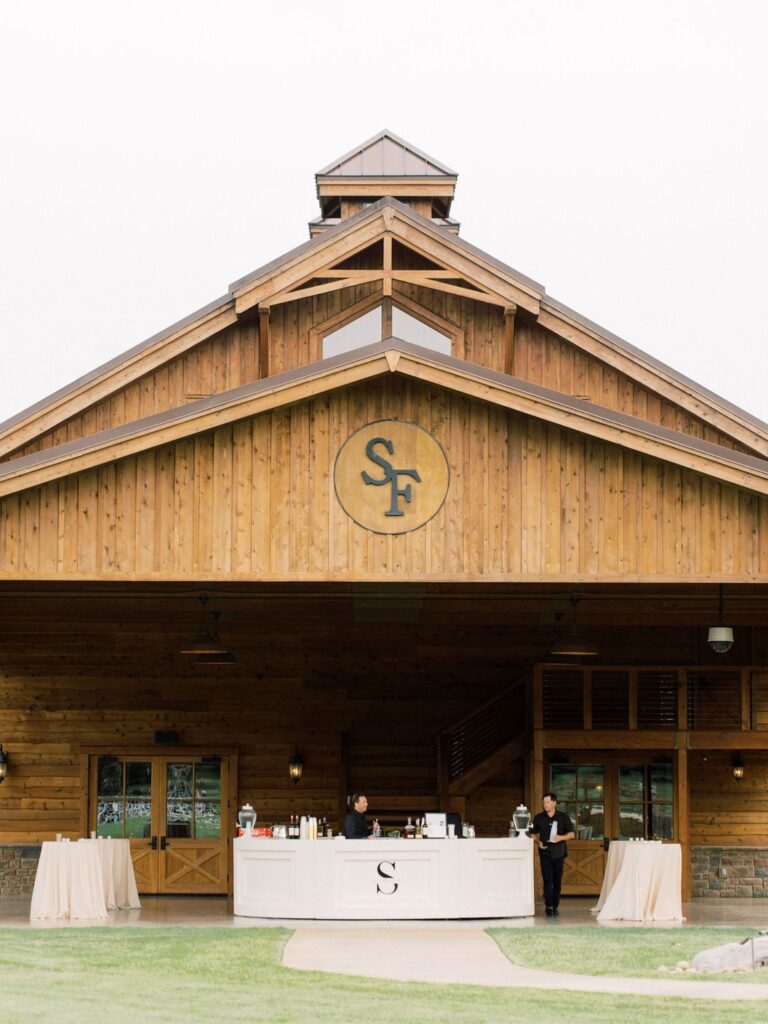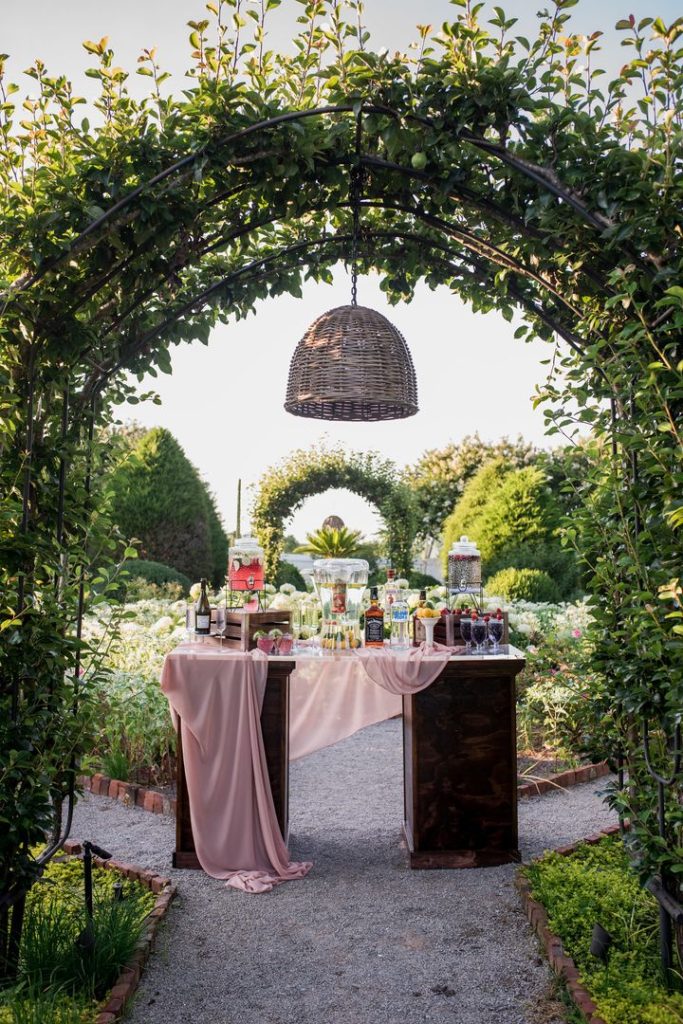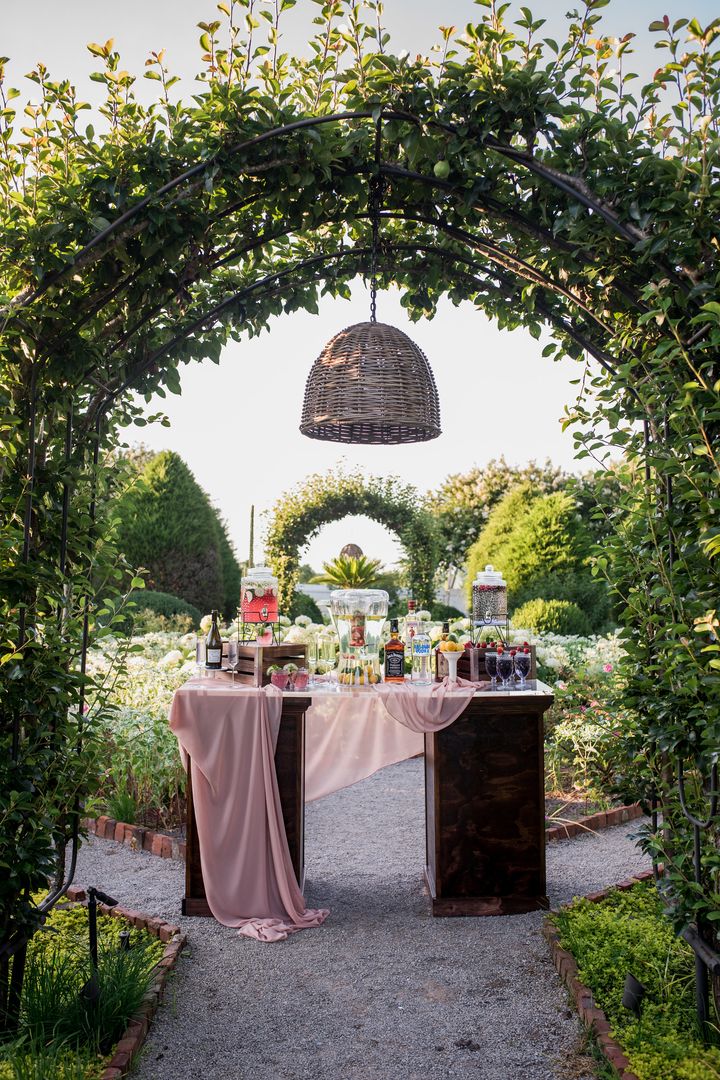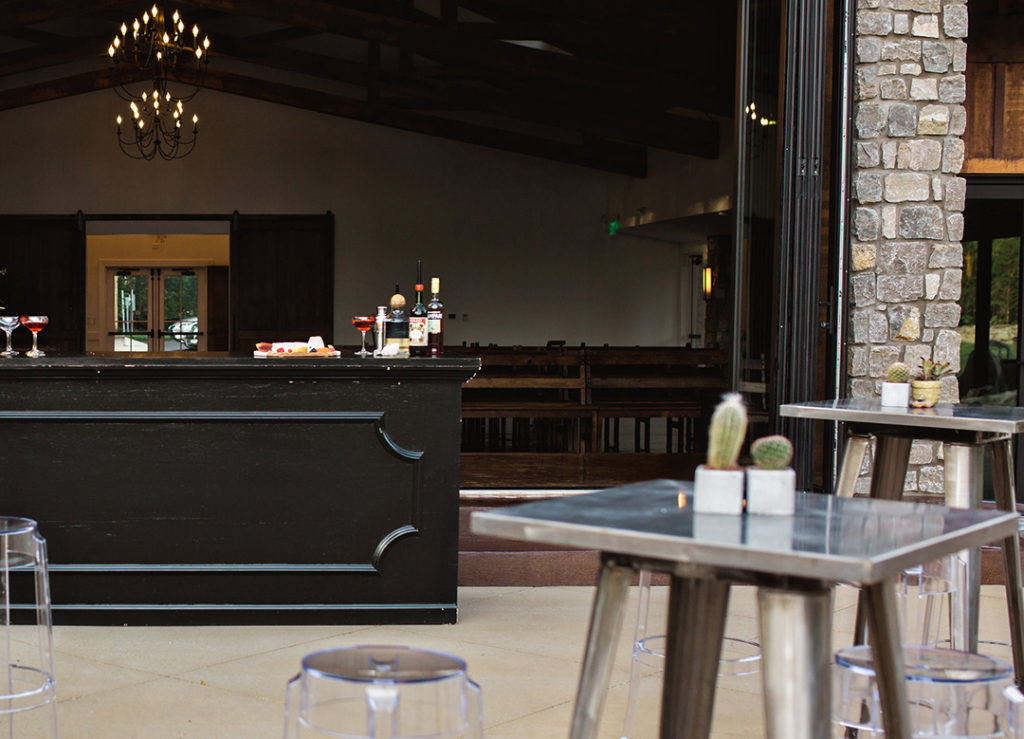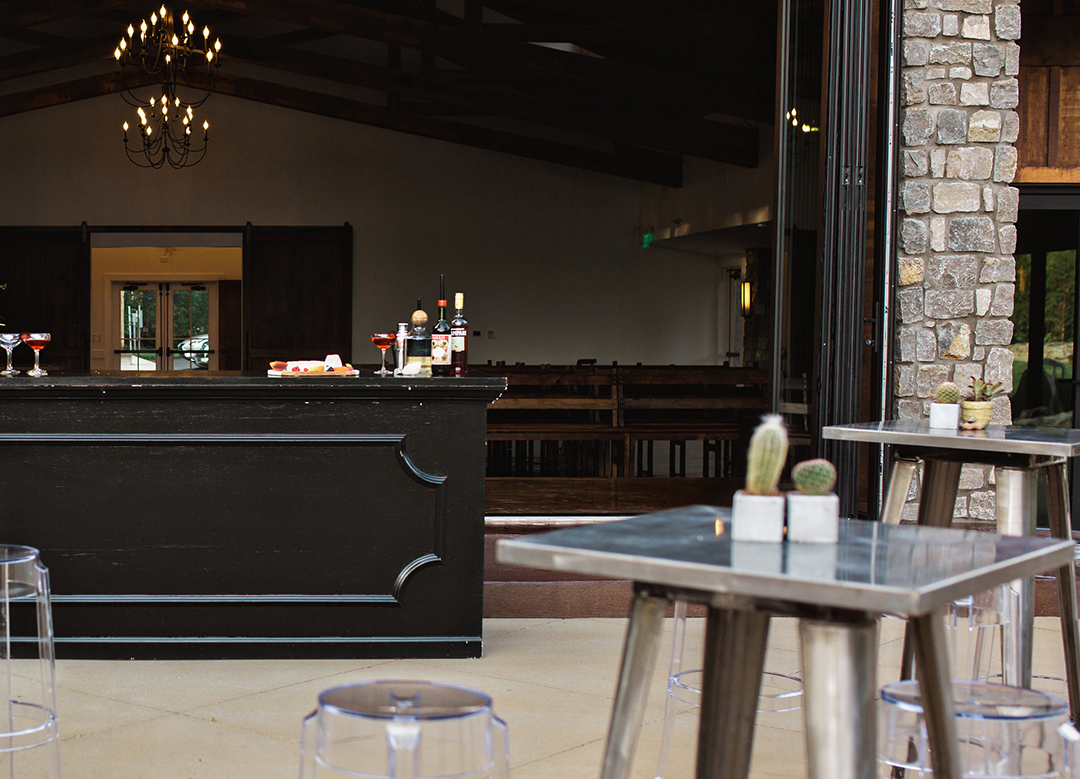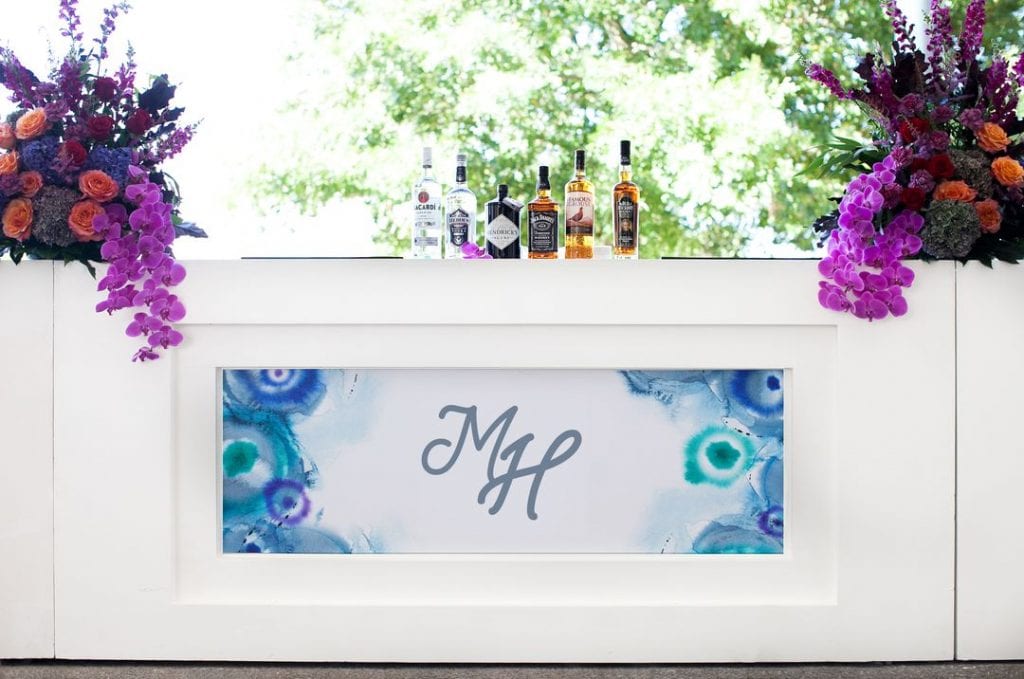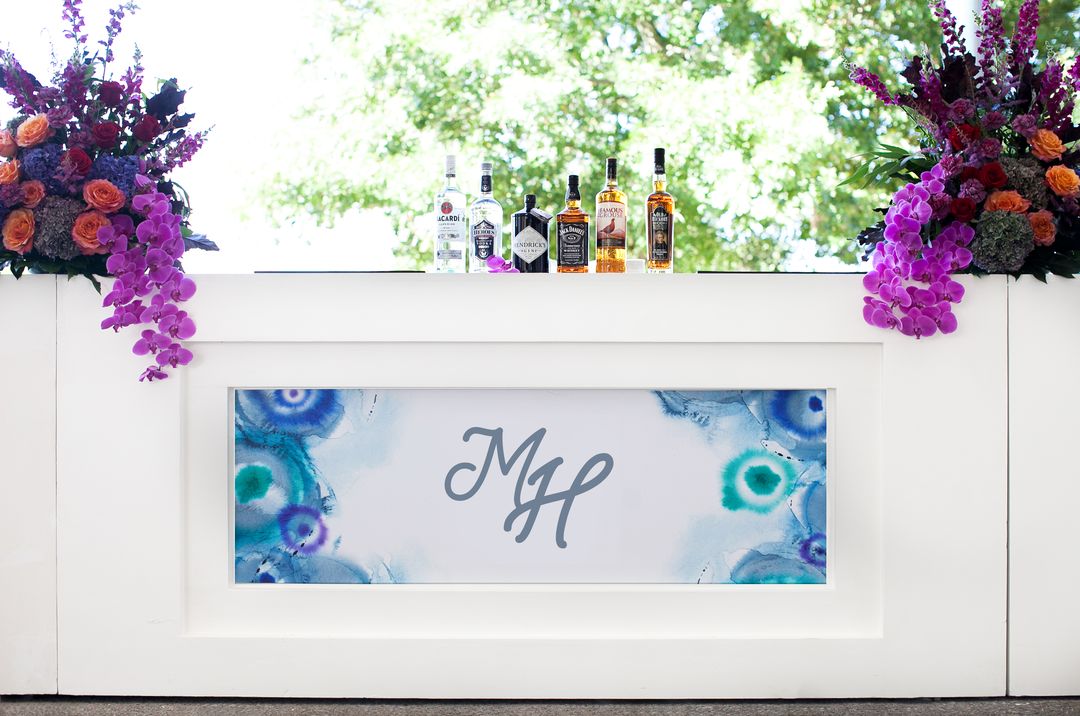 On-Trend Glassware
With an impressive bar area, you'll need glassware to match! This is why Southern is excited to stock a diverse range of on-trend glassware, suitable for a variety of different themes and event styles. As well as the different types of drinks you plan to serve, whether it be wine or signature cocktails. Our Champagne Glassware is essential for a celebratory event, but we also carry some statement pieces. Including our retro Davis Glassware and contemporary Cybil Glassware. Be sure to consider all your options, by visiting our catalog!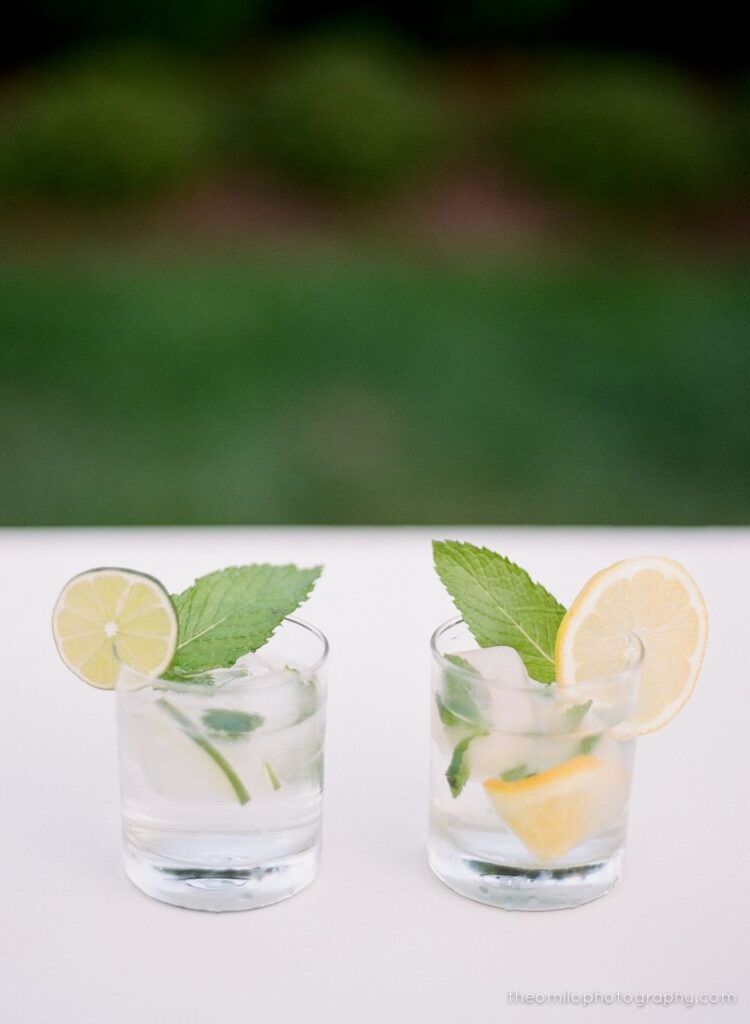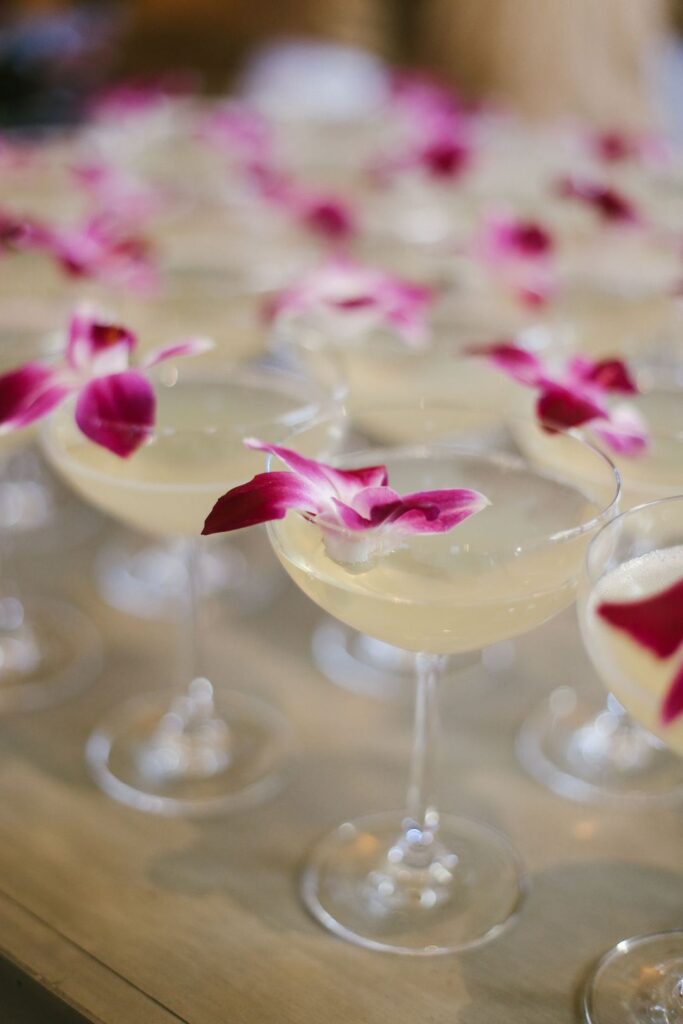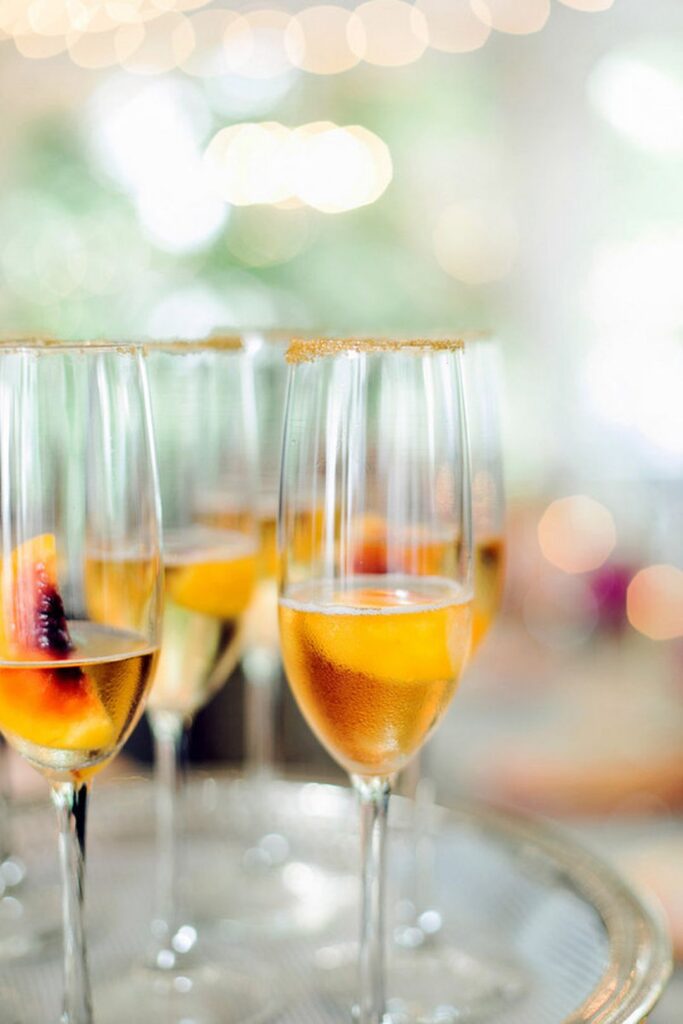 Bar Backdrops
If you want to spruce up your bar and lend a more sophisticated look, consider featuring a backdrop. We offer several styles, that range from purely aesthetic to functional. Often appreciated by the bar staff themselves, our Avenue Barback Shelf is useful for storing bottles as well as glassware. Meanwhile, our Boxwood Walls make for beautiful decor, especially when paired with custom signage.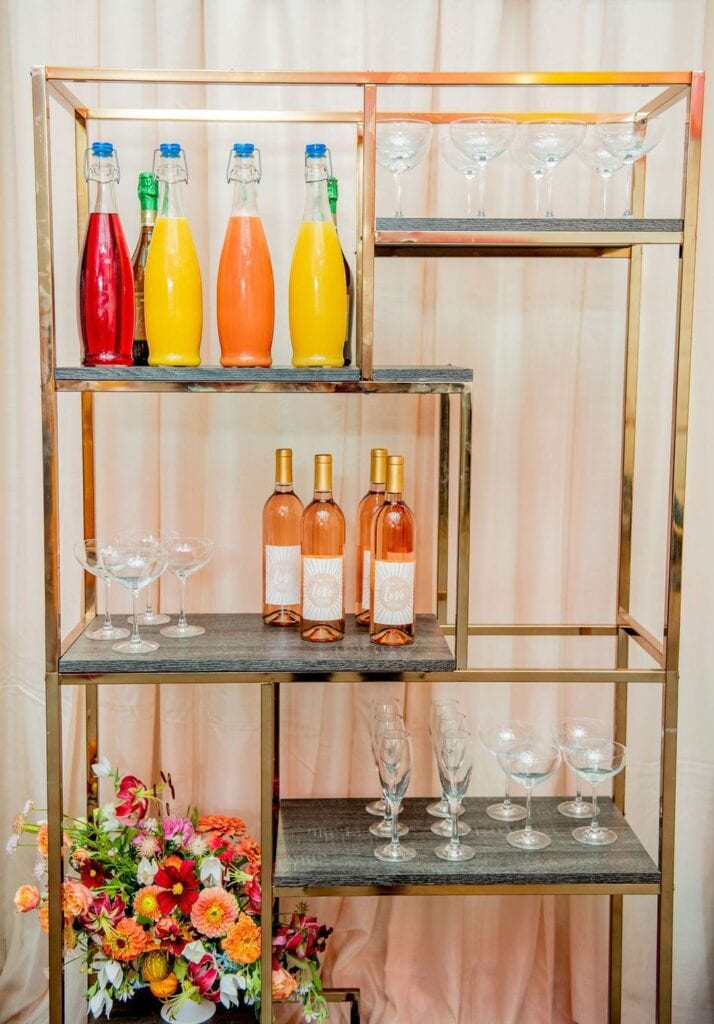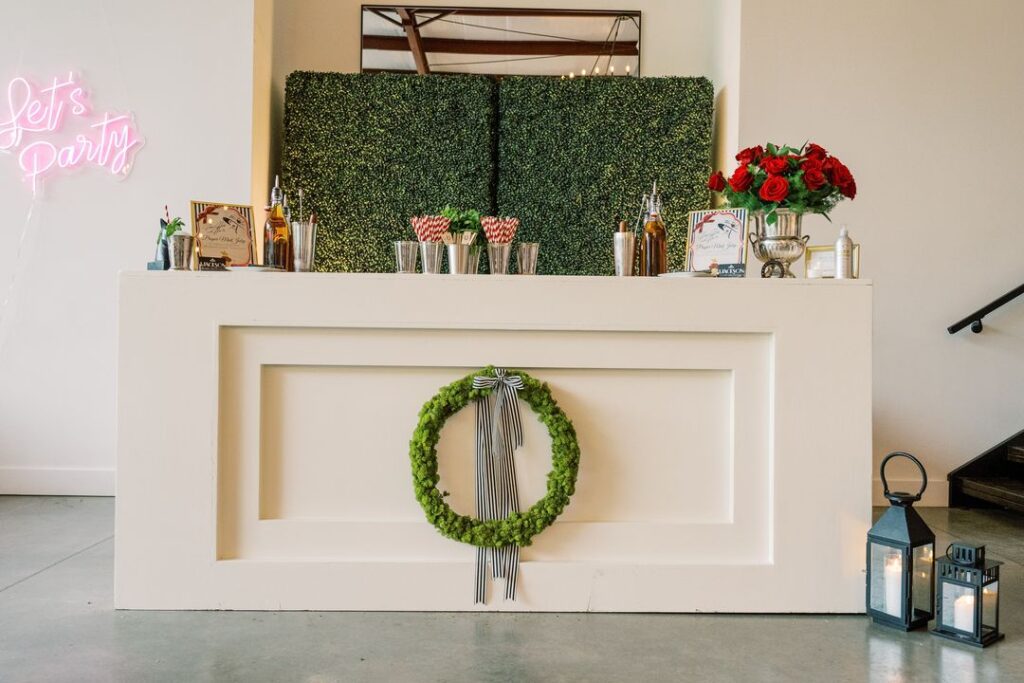 Want to feature some of our bar accessories for rent at your upcoming Nashville event? Contact our team at info@southerneventsonline.com & let's start planning! Or for more event inspiration, check out our natural-neutral or earth-toned party rentals.
TAGS | Glassware Collection, Nashville Event Rentals, Nashville Wedding Rentals, Nashville party rentals, Southern Events Party Rentals, Unique Wedding Rentals, backdrop ideas, bar accessories, bars for event rentals, glassware rentals Nashville
FEATURED RENTALS | Harpeth Bar, Franklin Bar, Ice Scoop, Beverage Tub, Caldwell Bar, Tin Lizzie Bar, Boxwood Wall, Avenue Bar Back Bookcase
---
30

Sep

Nashville Venues, On Trend, Southern Events Products, Trends and Inspiration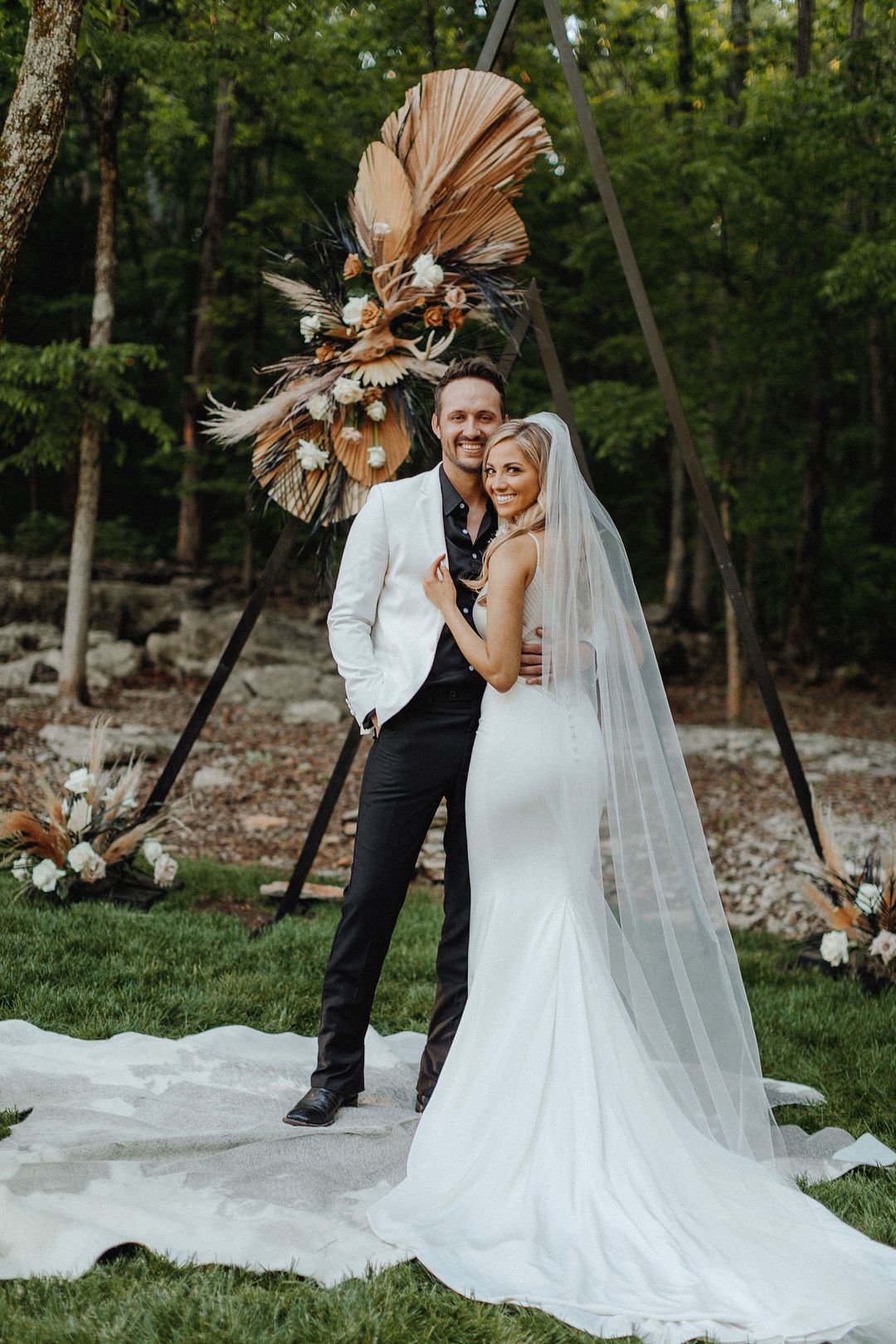 If you've been dreaming of an event that is equal parts moody and elegant, then you won't want to overlook the boho luxe style. Featuring beautifully contrasting colors and geometric details. Keep reading for some boho luxe inspiration from a recent wedding we participated in at Saddlewood Farms in Tennessee.
Hosted on the grass lawn, the wedding ceremony was a classic bohemian affair with luxe decor. Guests were seated in our simple White Folding Chairs. While the aisle was lined with Cowhide Rugs and arrangements featuring dried palms and fresh roses. For a backdrop, the two opted for a solid black Triangle Wedding Arbor. It was the perfect choice to ensure that the two stood out against the lush forest.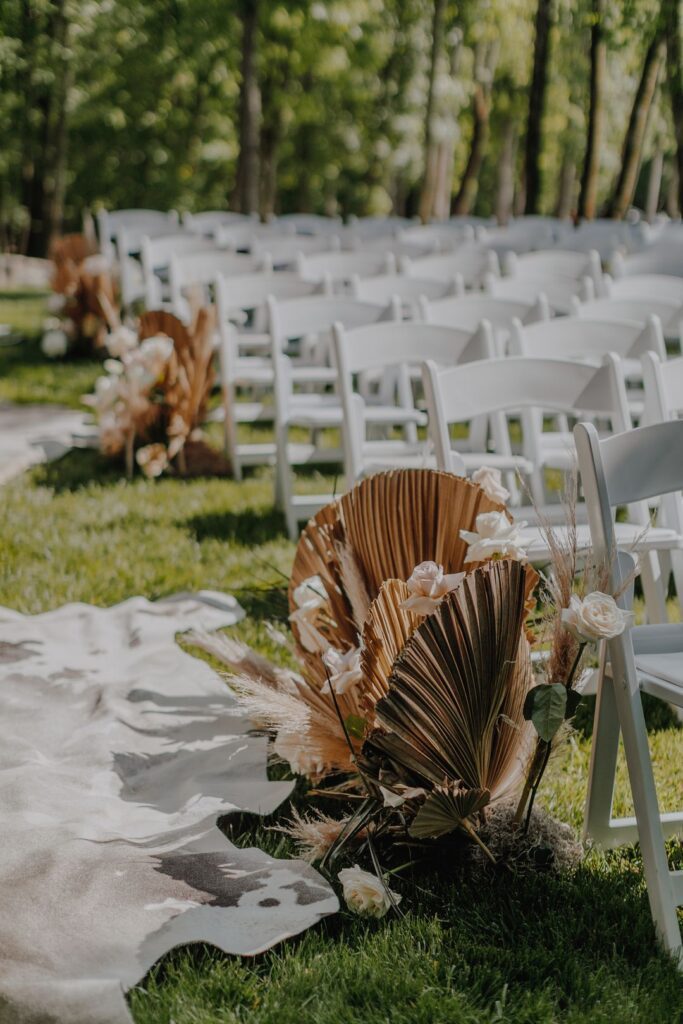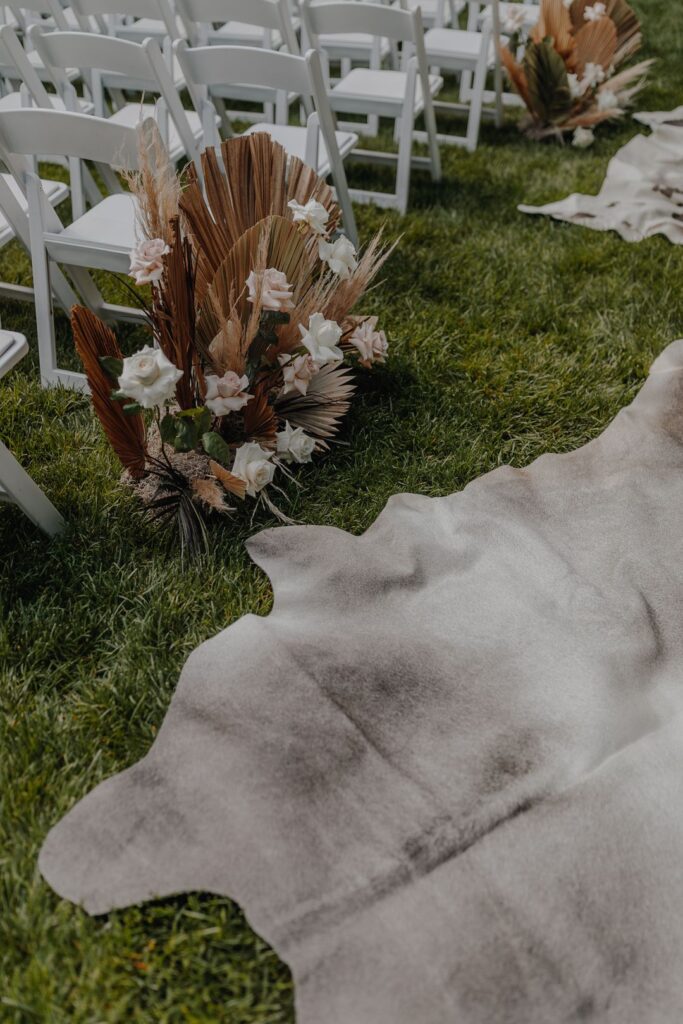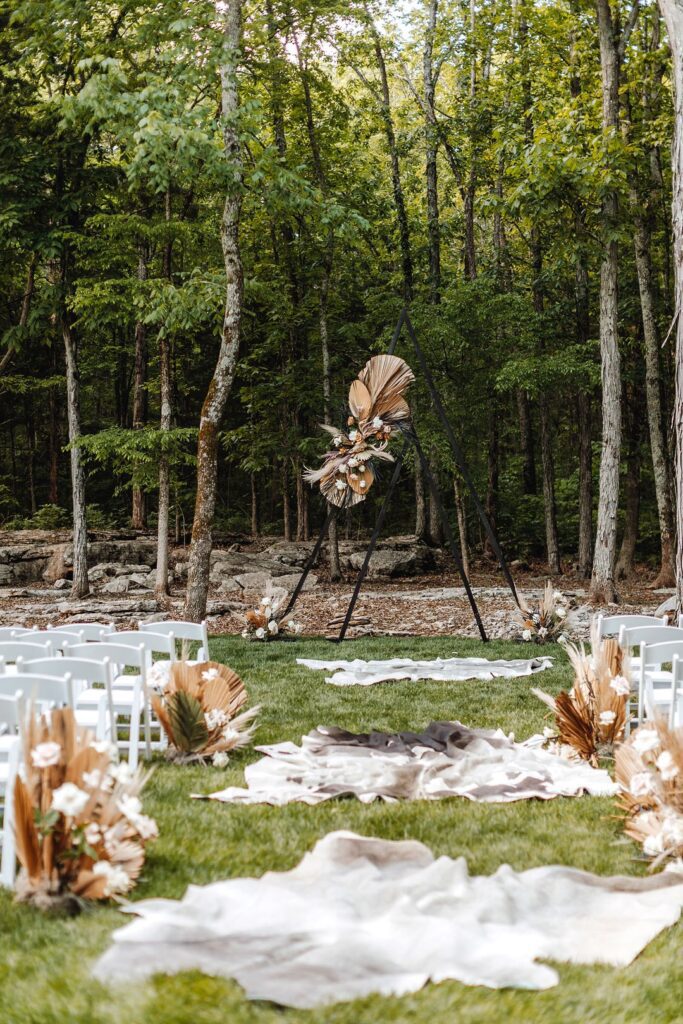 Afterward, they retired to the large reception bar, where string lights dripped from the ceiling and walls. The space was practically glowing, with the most beautiful soft light. Guests were immediately greeted by our white Harpeth Curved Bar, making it approachable from any side. For a one-of-a-kind look, don't forget to opt for a custom bar sign!
The dinner tables were outfitted in slick black linens with short floral centerpieces that lent a fun touch of texture. They were set with our Classic White Square China, Hammered Flatware, and Davis glassware. For linens, they opted for our stunning Azalea Poly, a moody yet feminine color. The couple's sweetheart table was equally luxe, featuring our Fruitwood Farm Table with Ghost Acrylic Armless Chairs. Davis Glass Cylinders sat on the floor with pillar candles, making it especially romantic.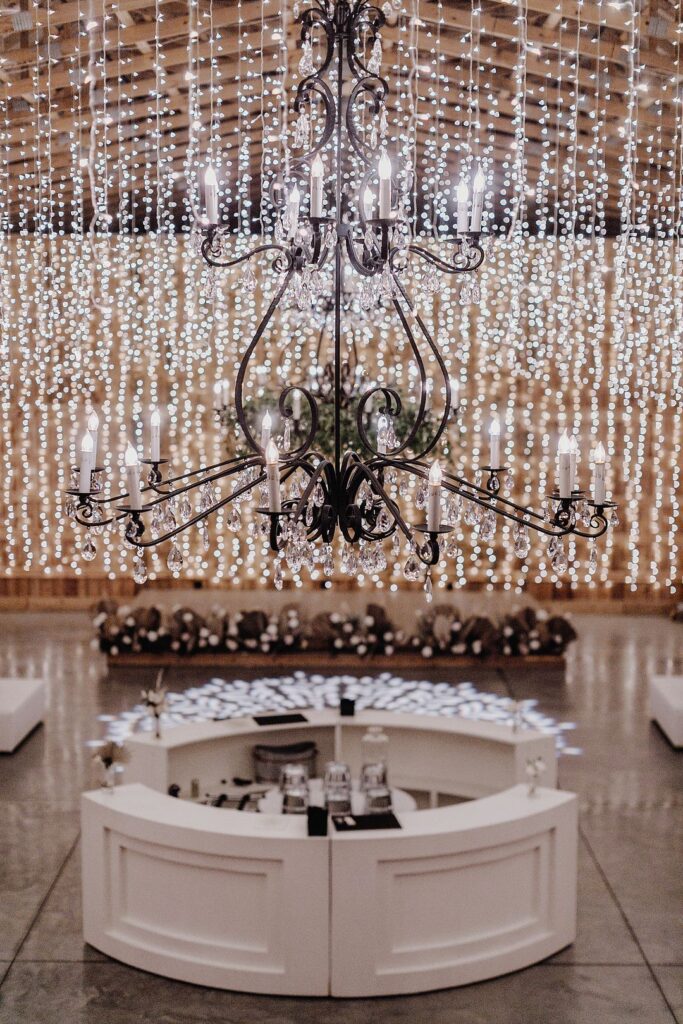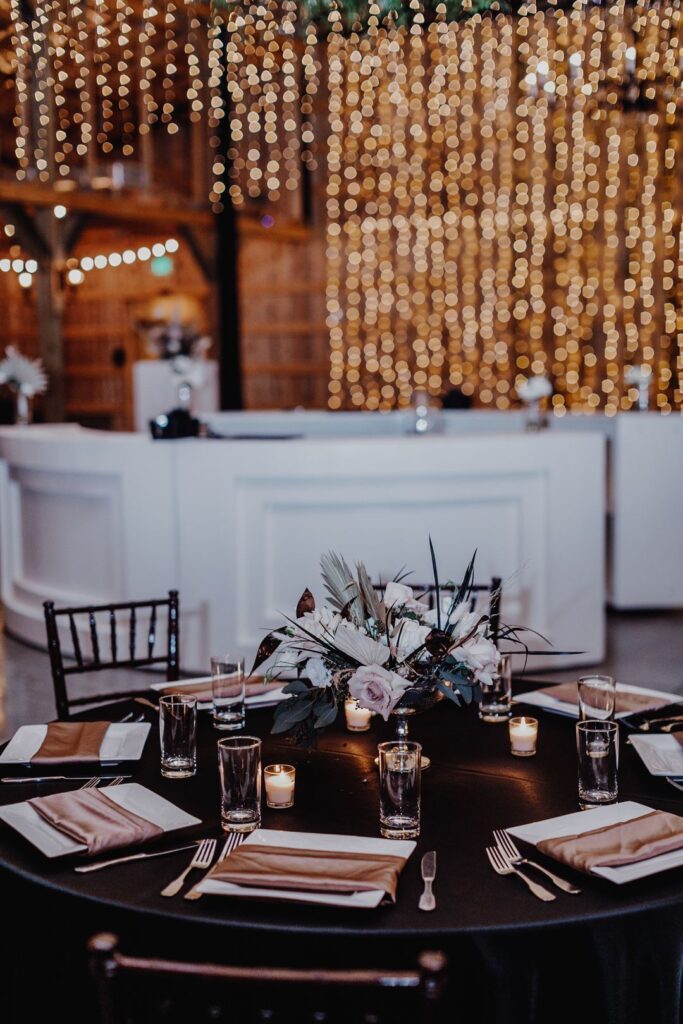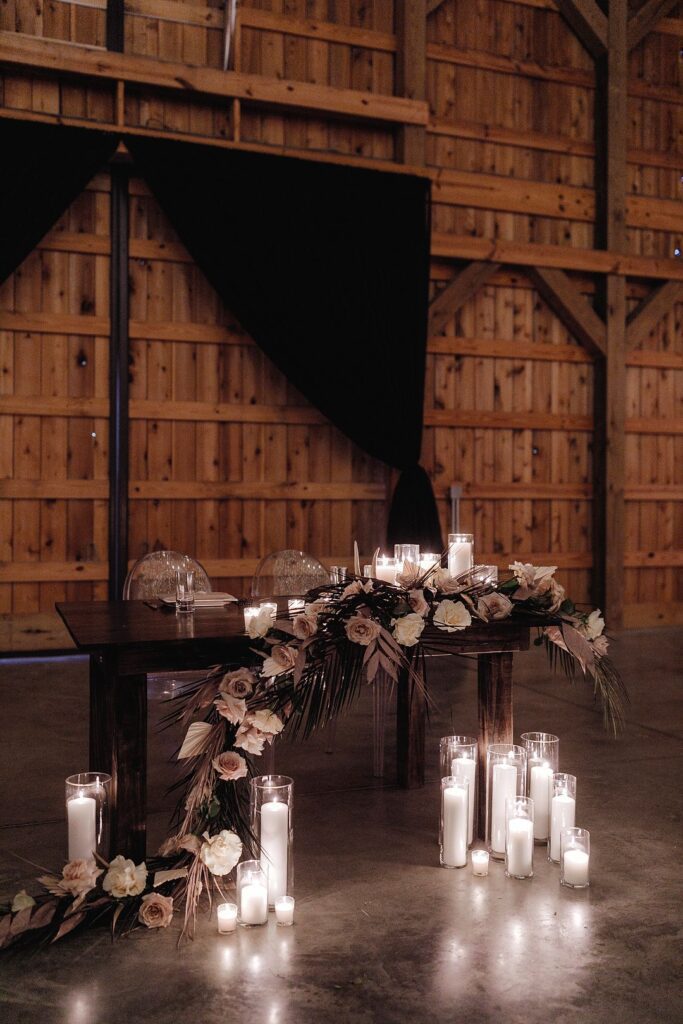 Of course, what is a wedding without designated areas for mingling? Flanking the bar was our sleek white Mercer Lounge. It was topped with matching florals and soft pillows – to make it extra cozy! To ensure guests could make full use of the lush event space, other small lounges sat just outside the barn. Including small accent tables, where people could set their food and drinks. They were decorated with pure black linens that manicured lawn.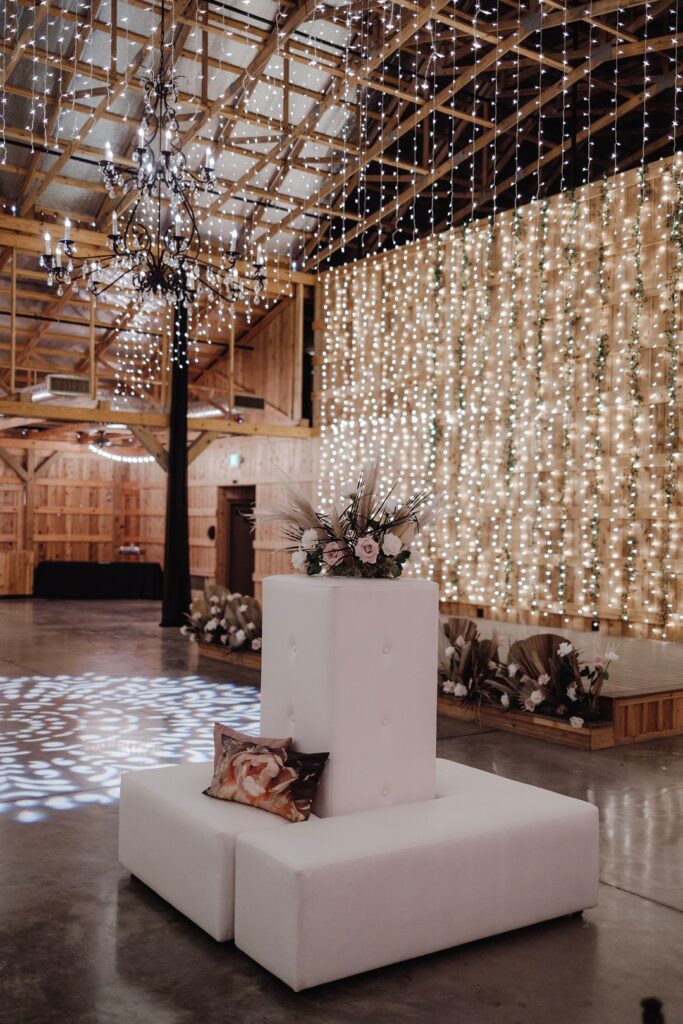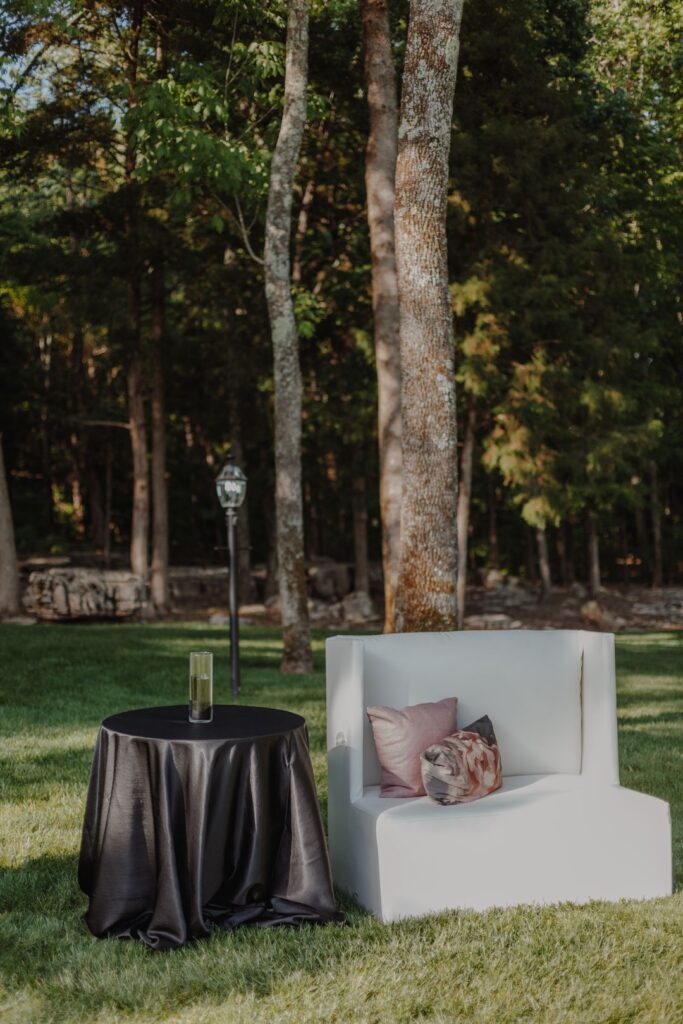 Special shoutout to Brasspenny Photography for sharing the images from this pair's day with us!
Love this boho-luxe inspiration? Contact our team at info@southerneventsonline.com & let's start planning your own event! Or for more event inspo, take a look at our blog on bold boho diva or modern retro rentals.
TAGS | Boho Luxe Event Decor, Boho Wedding Nashville, Saddlewood Farms, boho wedding style, luxe event rentals, luxe outdoor wedding, southern boho style
FEATURED RENTALS | White Folding Chair, Cowhide Rug, Triangle Wedding Arbor, Harpeth Bar, Square White China, Black Farm Table, Mercer Lounge, Acrylic Ghost Chairs, Davis Glass Cylinders, Davis Glassware, Bradley Flatware,
---
16

Sep

Southern Events Products, Trends and Inspiration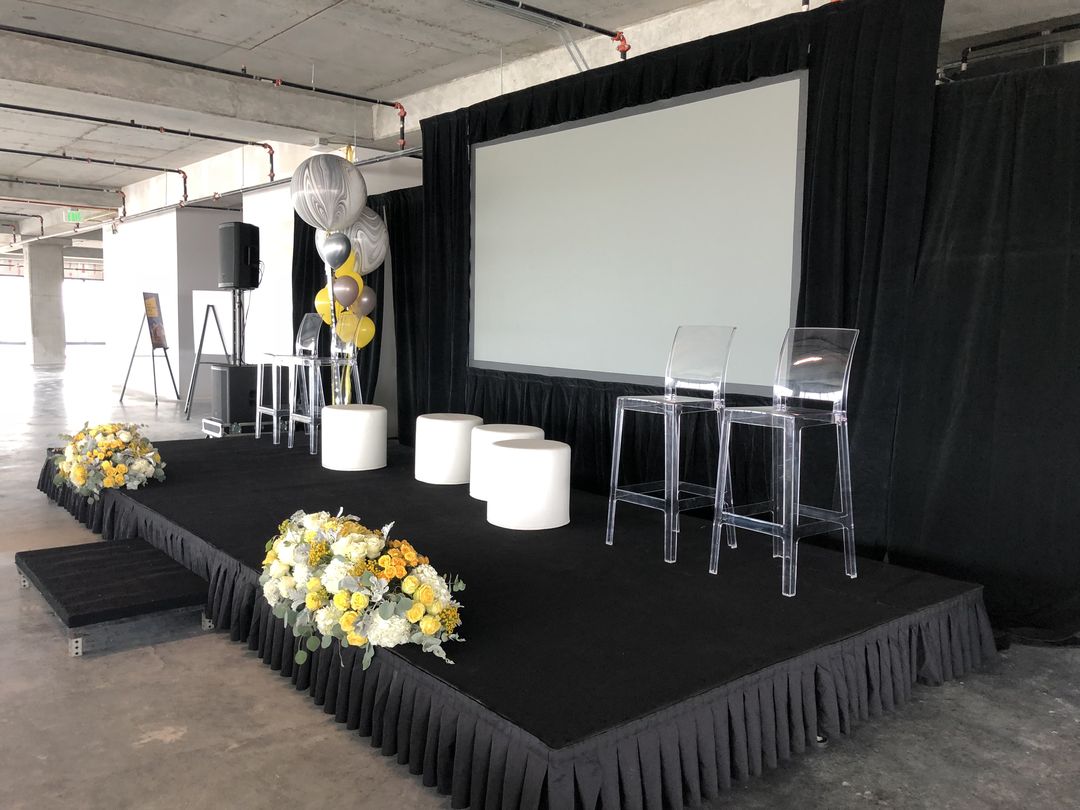 With virtual options becoming more normalized for corporate meetings & summits – but attendees still wanting in-person experiences, we expect to see more and more hybrid meeting options.  Hybrid corporate summits bring together attendees both in person as well as virtual, making for unique opportunities and challenges when setting the stage and choosing your rentals. After all, they're still meant to inform and inspire – and impress! To help you host a memorable corporate event for our new normal, check out our essential event rentals that are as functional as they are stylish. Plus! Be sure to grab a copy of our Event Essentials Guide with tips and tricks.
Camera-Ready Stage Set-Ups
It's important to create the right focal point for your event! A stage that is comfortable, stylish, and on-brand as well as virtually interesting is key.  From unique stage seating to out-of-the-box chairs, Southern Events Party Rental Company offers quite the selection to choose from. Our Bennett and Henley Sofas, Eiffel Chairs, Adeline Chairs, Rory Chairs, and Farrah Chairs offer stylish, unique, and comfortable seating for the speakers as they sit on the stage. Accent tables make for a cozy and complete look (as well as a perch for speaker notes or water). Be sure to also consider your stage backdrops – they help frame the space and create a uniform look for virtual users. We love our Boxwood Walls and Pipe & Drape for stage backdrops.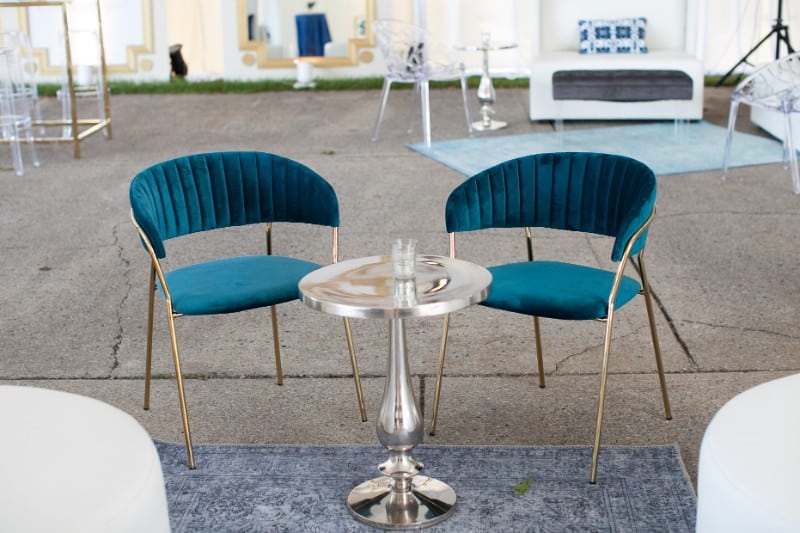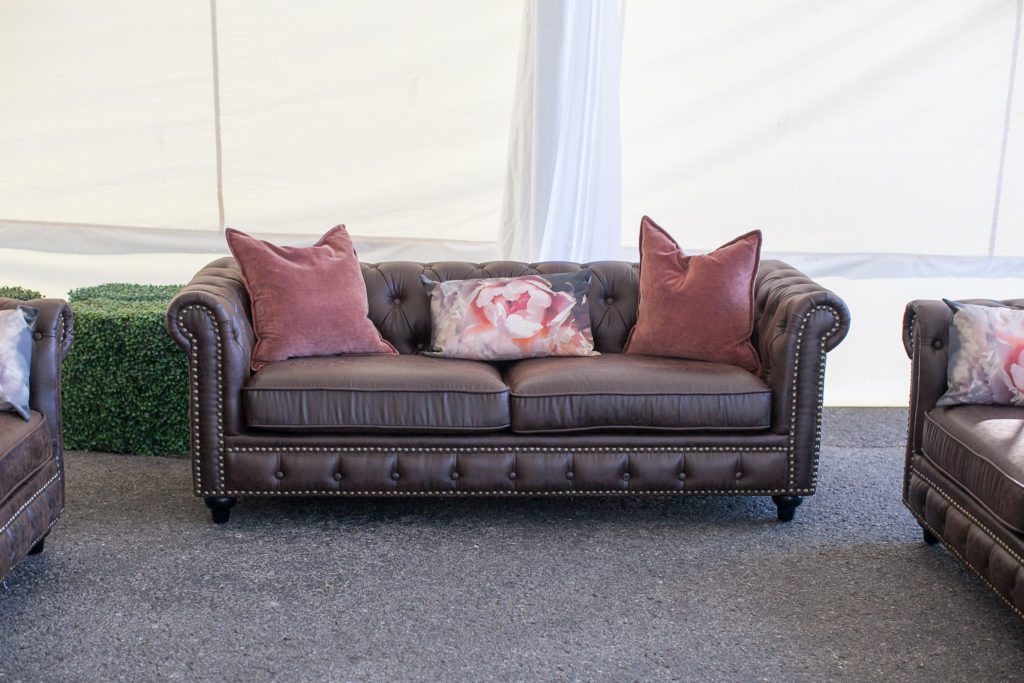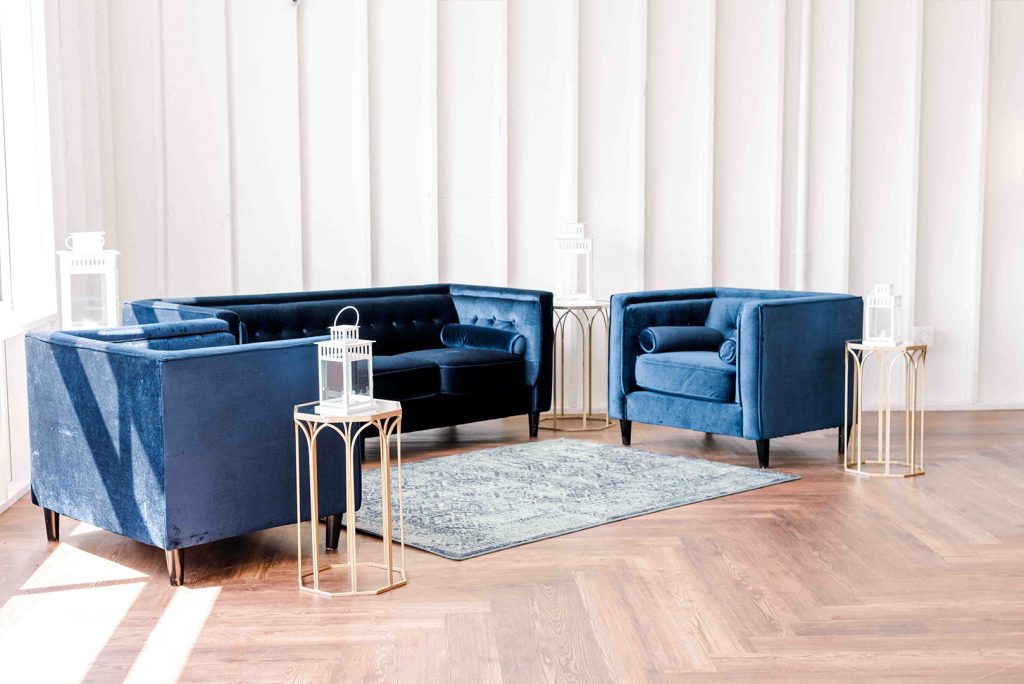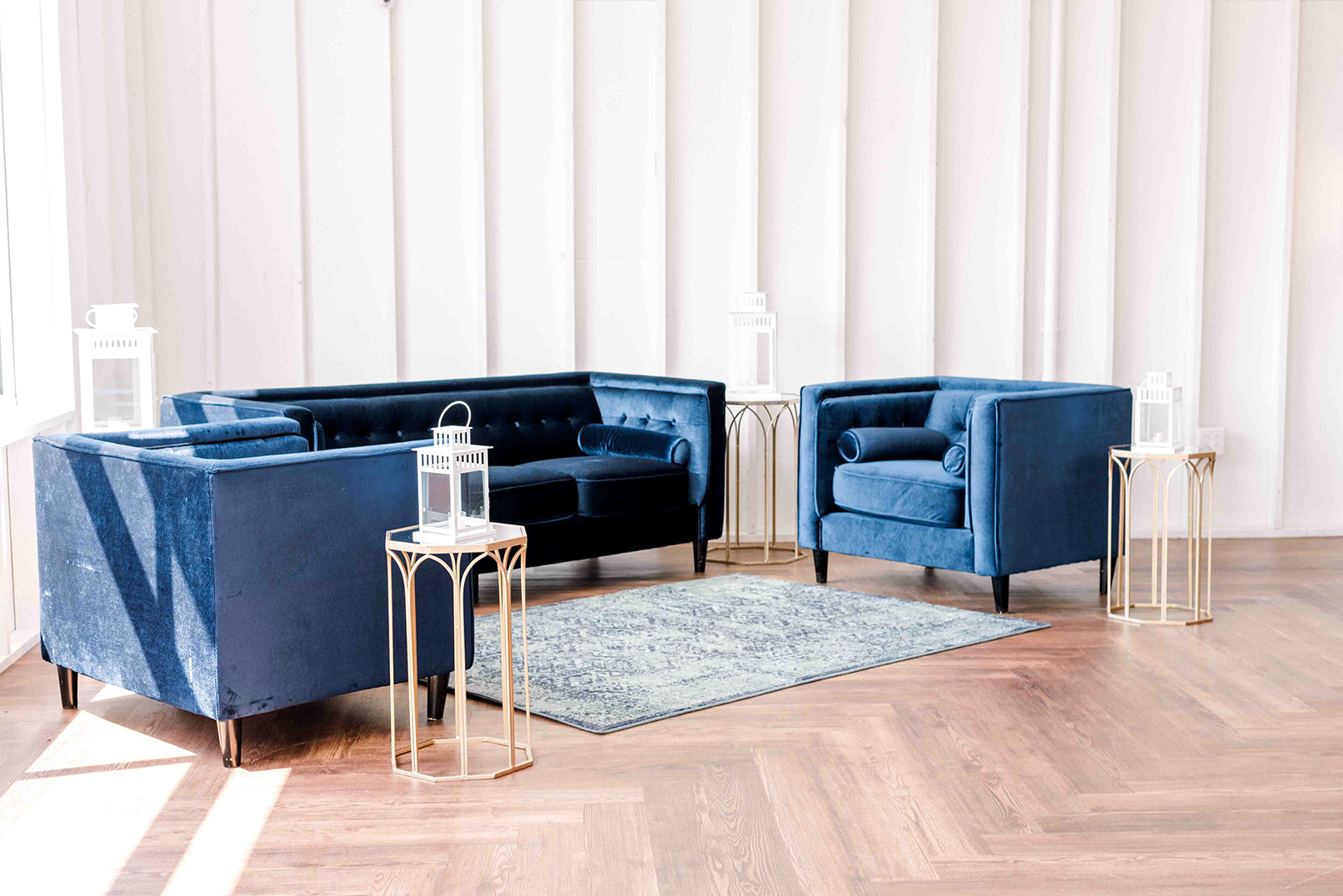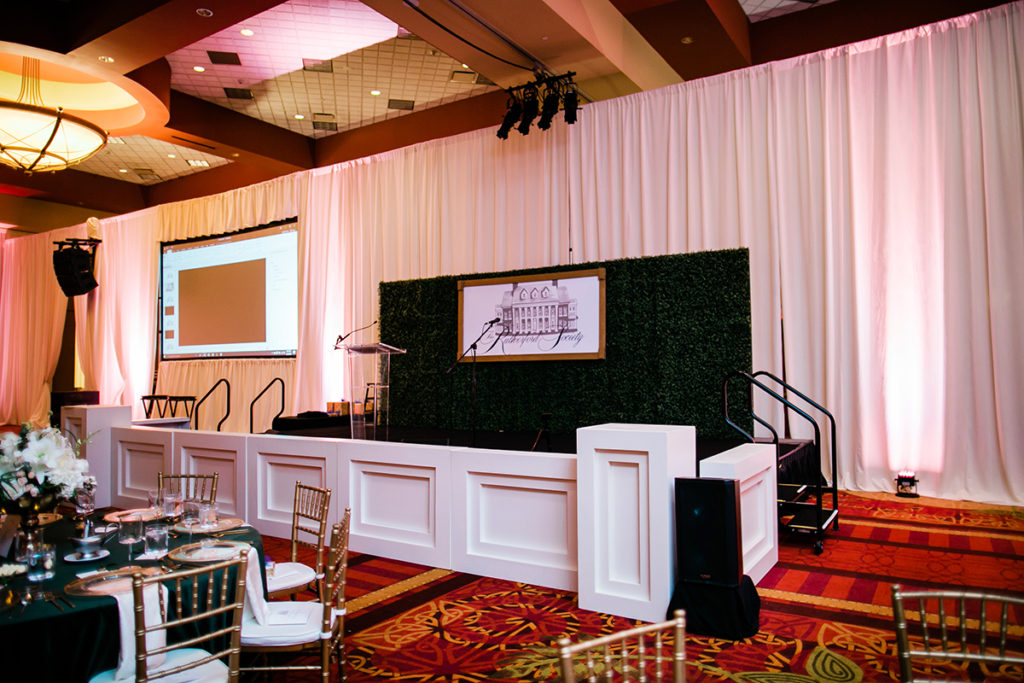 Stylish Lecterns
If you are hosting a more formal speaker or handing out awards, then you will need a lectern. Helpful for keeping your guests front and center, as well as amplifying their voice, they are a staple whether or not you have staging. It will also create a more overall organized event layout! In addition to providing a focal point for in-person guests, it will make live streaming easier for the camera crew as there is an obvious mark for people to speak from on stage. Our Acrylic Lectern is a unique contemporary (and customizable with a cling) choice, while Black Metal is a classic.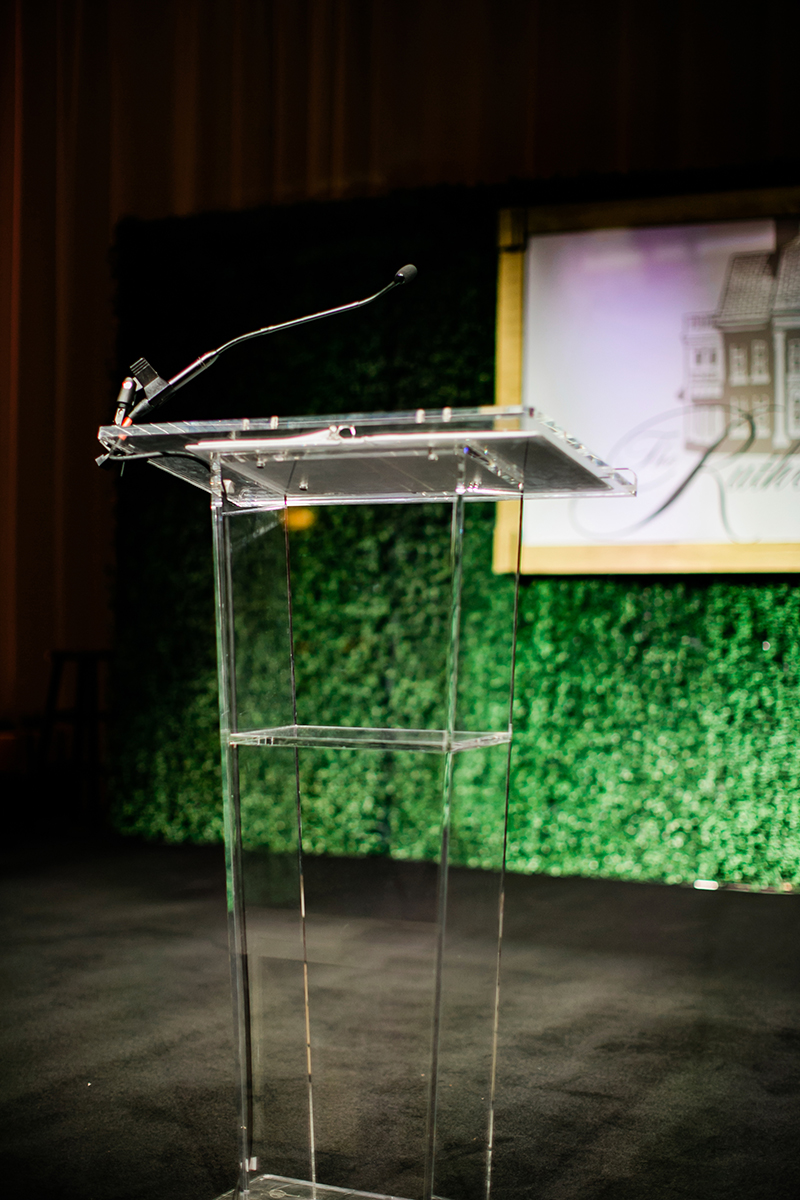 Upgrade Your Seating for In-Person Socializing
Want to uplevel your event seating? Make the space extra special for in-person attendees and opt for fun contemporary pieces, like our Acrylic Chairs. Available in a variety of styles, they make for a unique addition to any table. You'll also want cozy lounge and bistro areas. Whether they are used for breakoff sessions or breaks between speakers where people can spread out. Check out our Mercer Collection (with built-in charging ports) or Pearce Furniture. Or opt for one or two of our curated lounge packages, complete with sofas, chairs, rugs, and accent tables.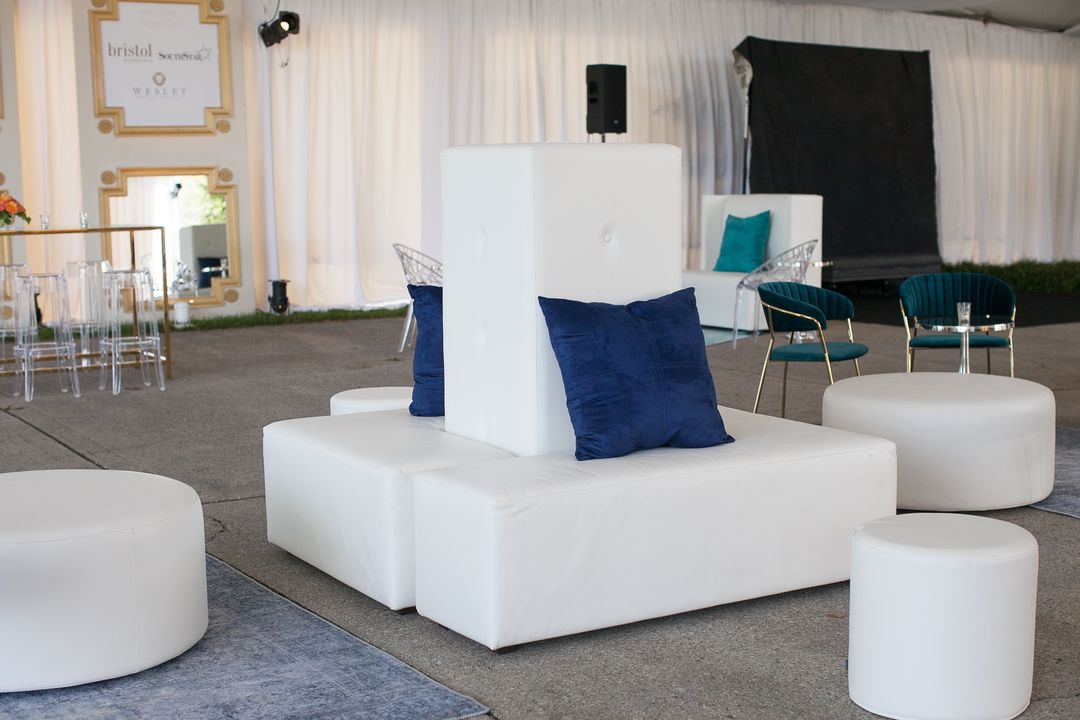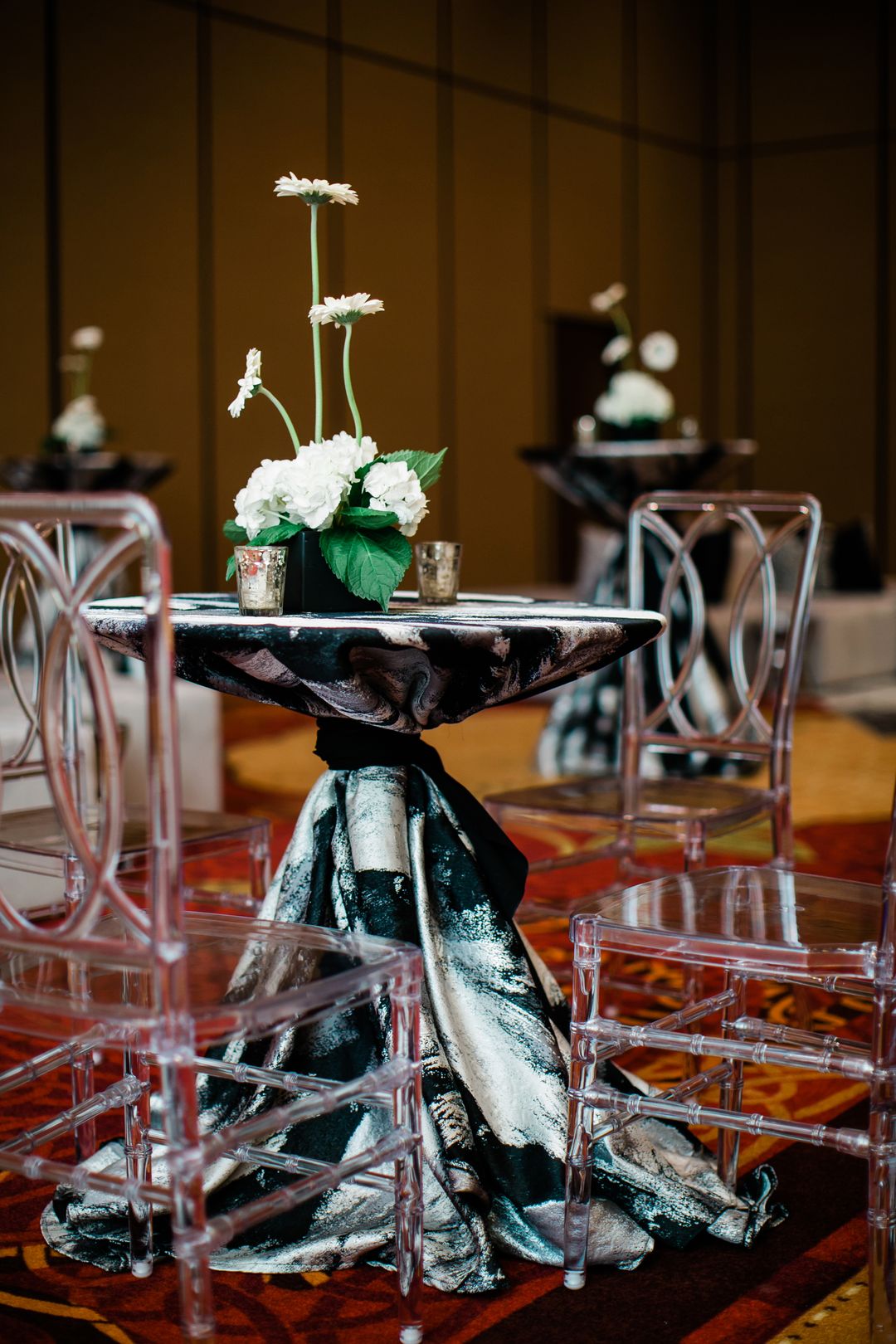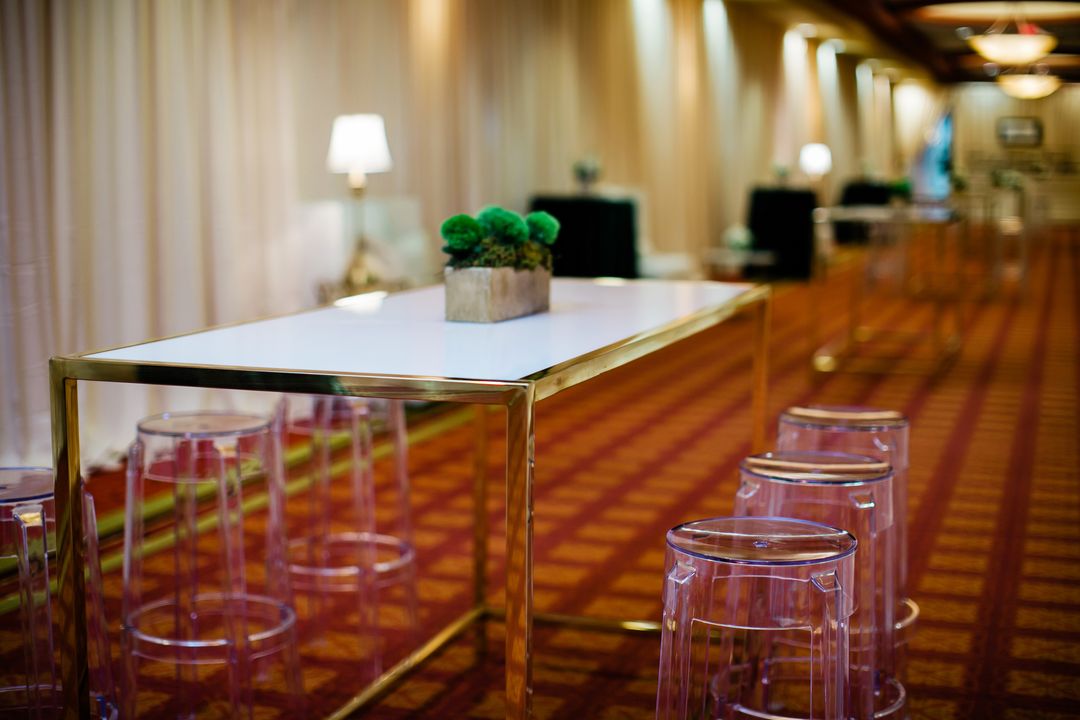 Show Off Your Brand
Because corporate summits exist to instill pride and cast vision, weaving on-brand materials and signage throughout the event is typically a strong move in the right direction. You can do this through our customizable Harpeth Bar. As well as custom pillows or colorful clings placed on the back of seating. Or opt for a memorable, photo-worthy entryway, made using our elegant Boxwood Walls.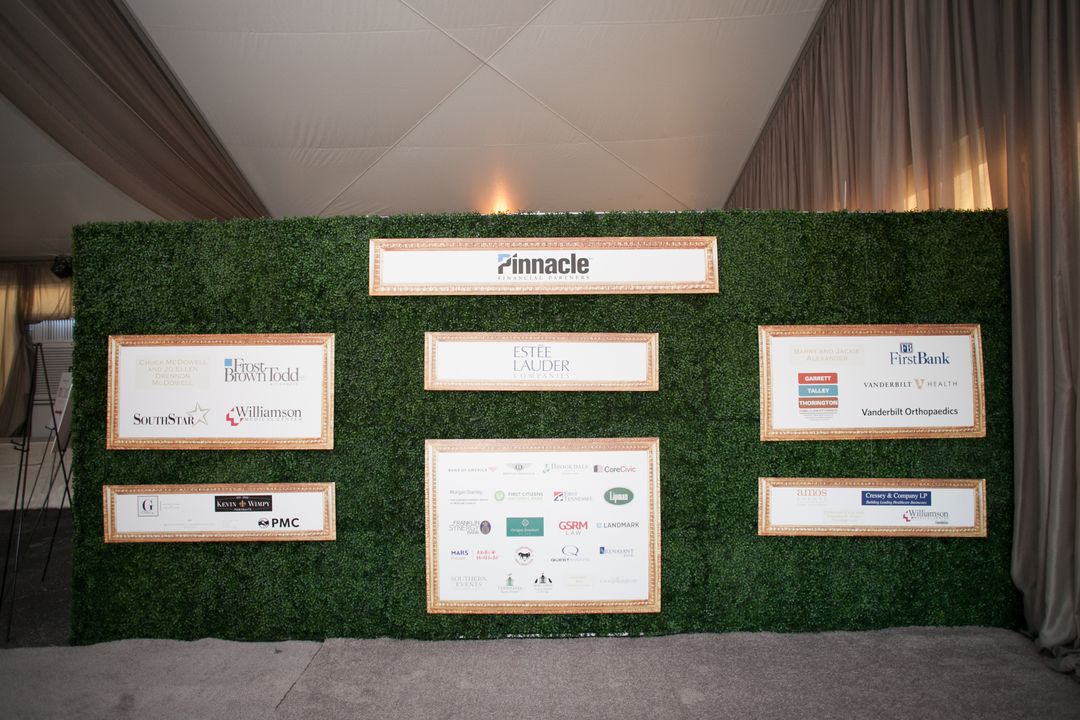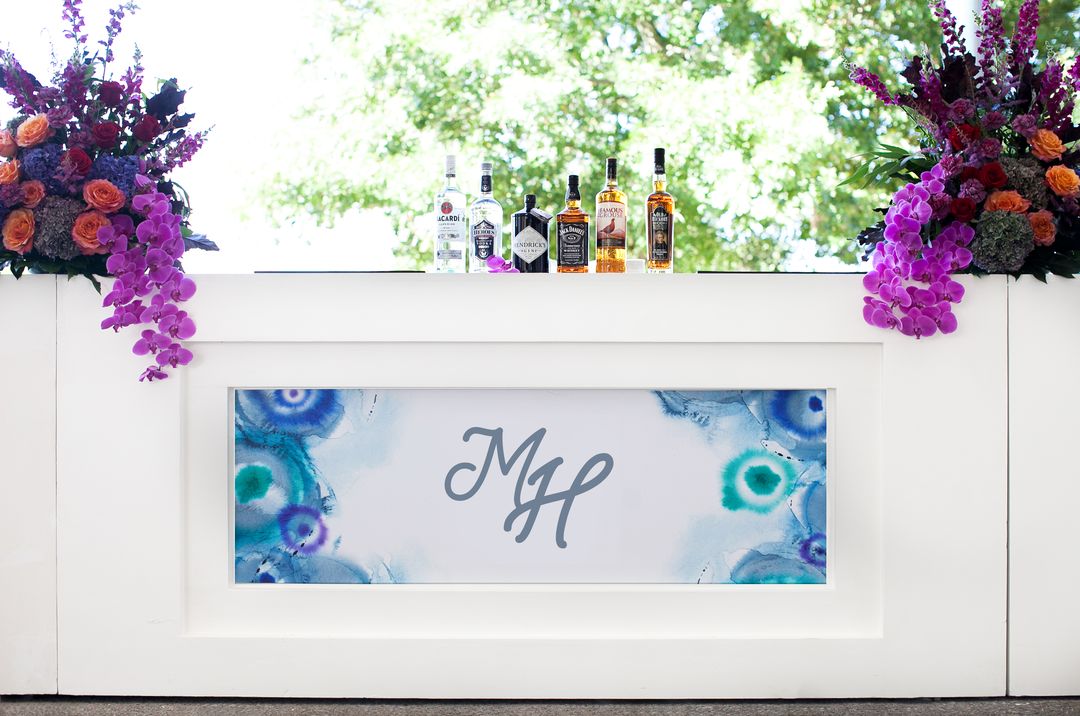 Need help planning your one-off or annual hybrid corporate summits? Our team would love to help you create an event that is stylish and functional. Send us a message at info@southerneventsonline.com, and let's get started!
TAGS | Corporate Summits, Event Seating, Event Staging, Nashville Event Rentals, Southern Events Party Rentals, Unique Nashville Event Rentals, corporate event rentals, lounge seating, unique seating
FEATURED RENTALS | Henley Sofa, Bennett Sofa, Farrah Chair, Boxwood walls, acrylic lecterns, harpeth bar, acrylic chairs, mercer collection, pearce furniture,
---
5

Aug

Southern Events Products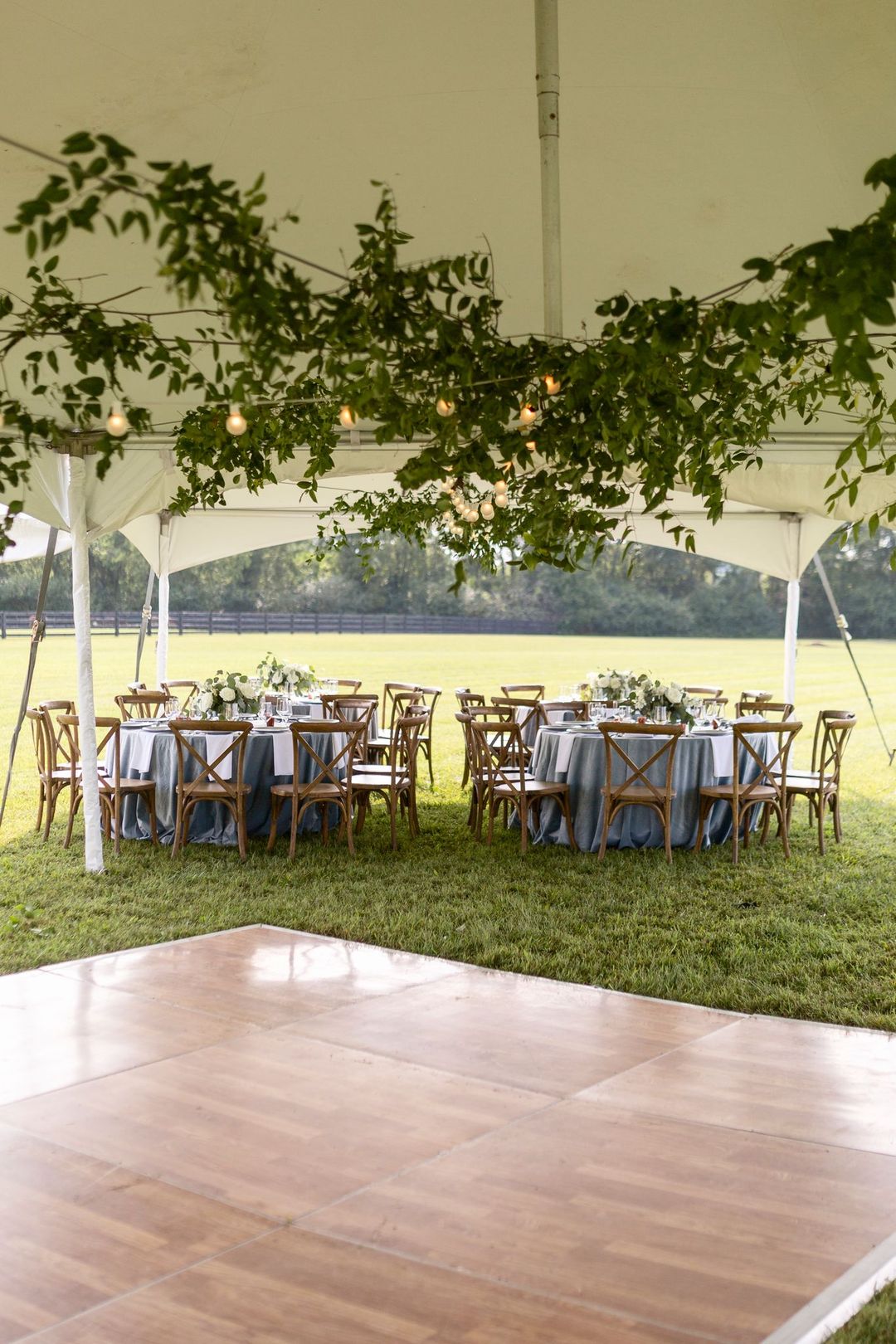 Say "Goodbye" to the days of worrying about the wear and tear of floors or grass at your event. And let us introduce you to durable and stylish event flooring! Our team understands that the floor is the foundation for your event, and will lend to a more cohesive and aesthetically pleasing look. Get inspired for your upcoming celebration in Nashville, when you check out our trendy yet functional in-stock flooring options.
Dura-Trac Flooring
Made for the event industry by special event flooring experts, Dura-Trac flooring is an easy-to-install flooring system designed to protect your existing space. The interlocking panel system is the perfect way to protect your space and your guests, making it ideal for festivals, concerts, tented parties, and more! It can be installed over a variety of surfaces, including those that are uneven. Best of all, it can be customized by placing premium vinyl flooring or carpeting over the top. To learn more about our Dura-Trac flooring, download our PDF.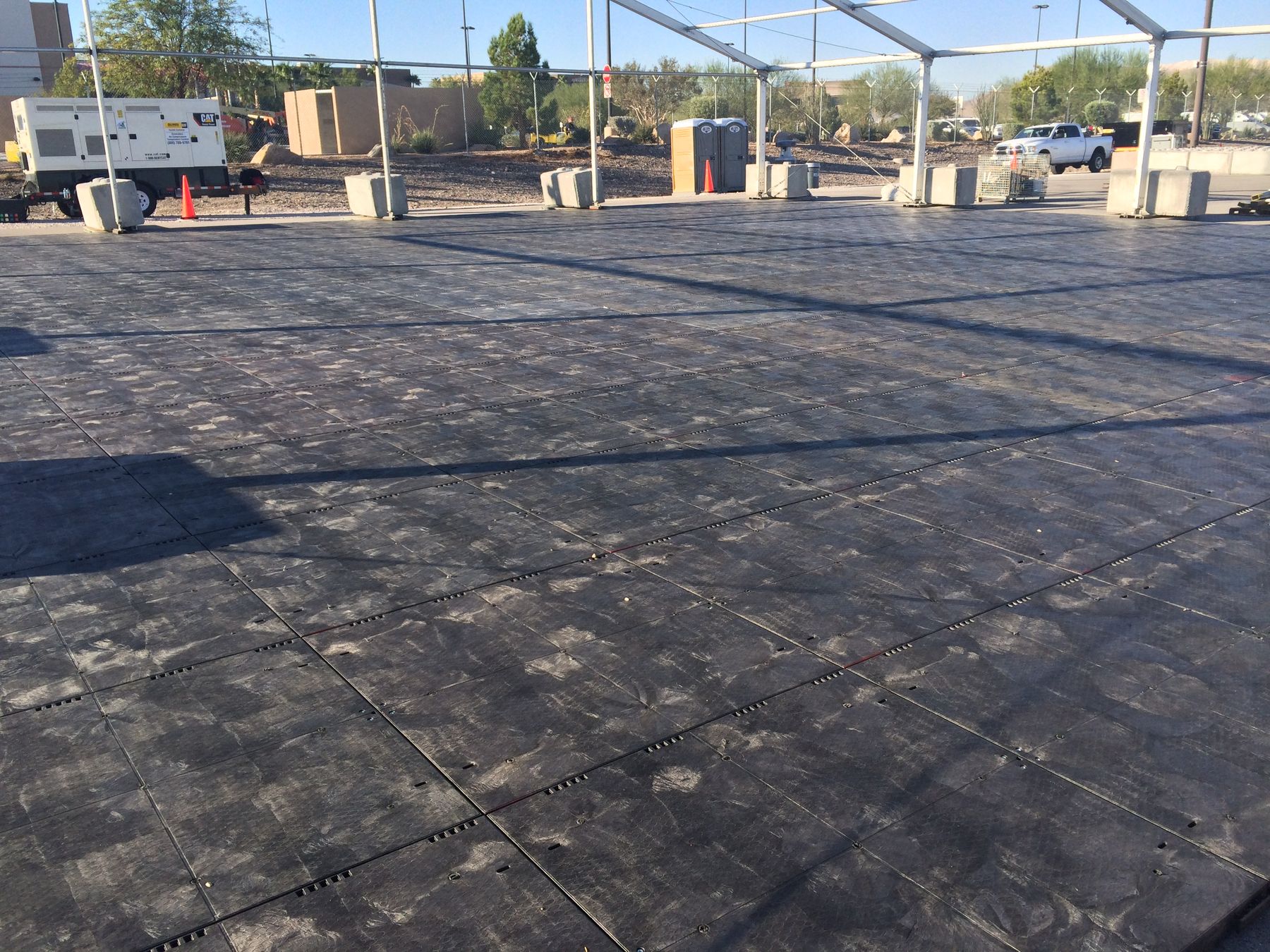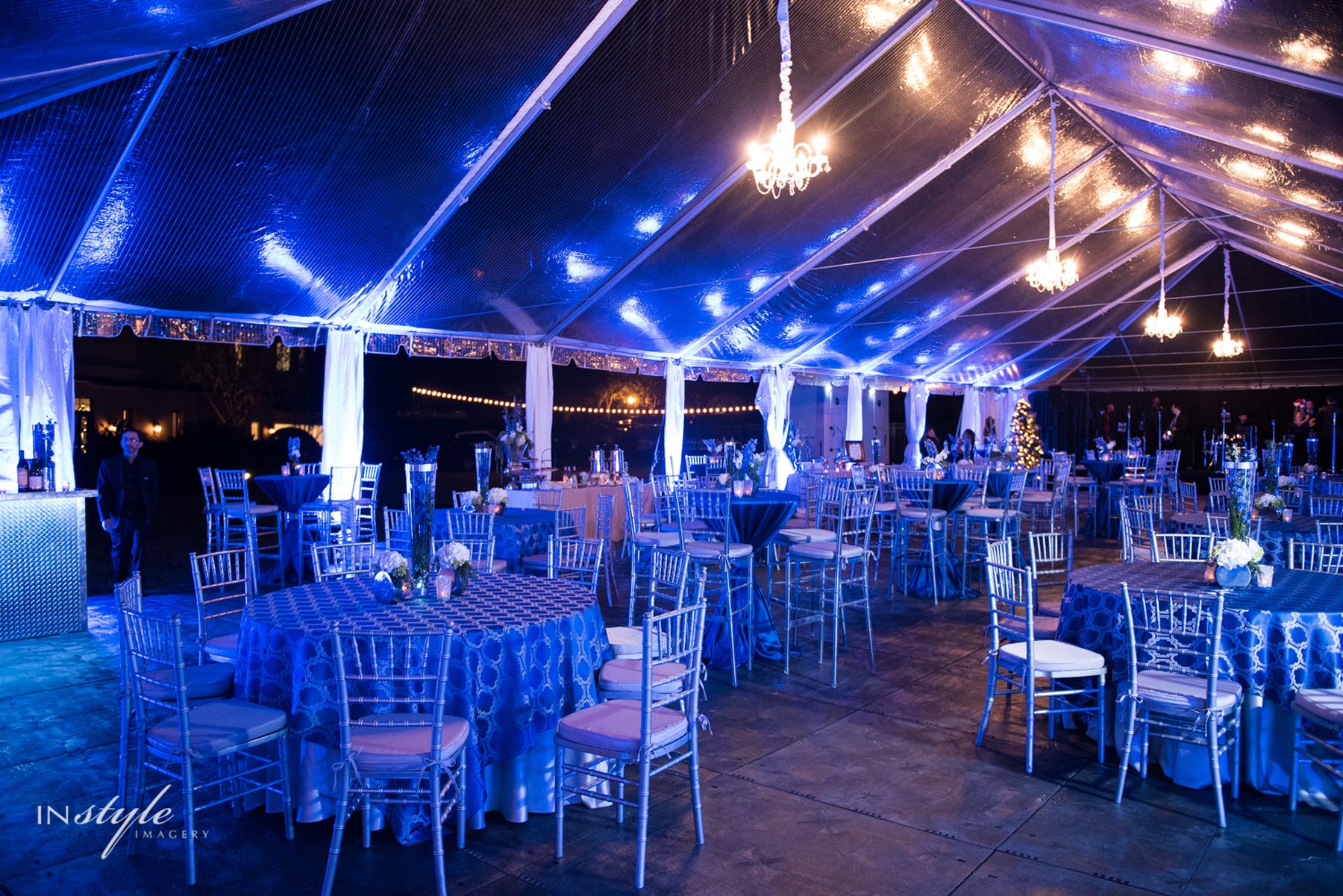 Artificial Grass
Why would you use artificial grass at your event? It's a unique option that will lend a fun touch of texture to your event. For an indoor event, it will also lend traction, making it perfect for placing on top of existing tile or vinyl flooring. For warm-weather outdoor events, it will actually offer a more natural and welcoming look. Consider renting it for your next tailgating party, trade-show exhibit, or church picnic!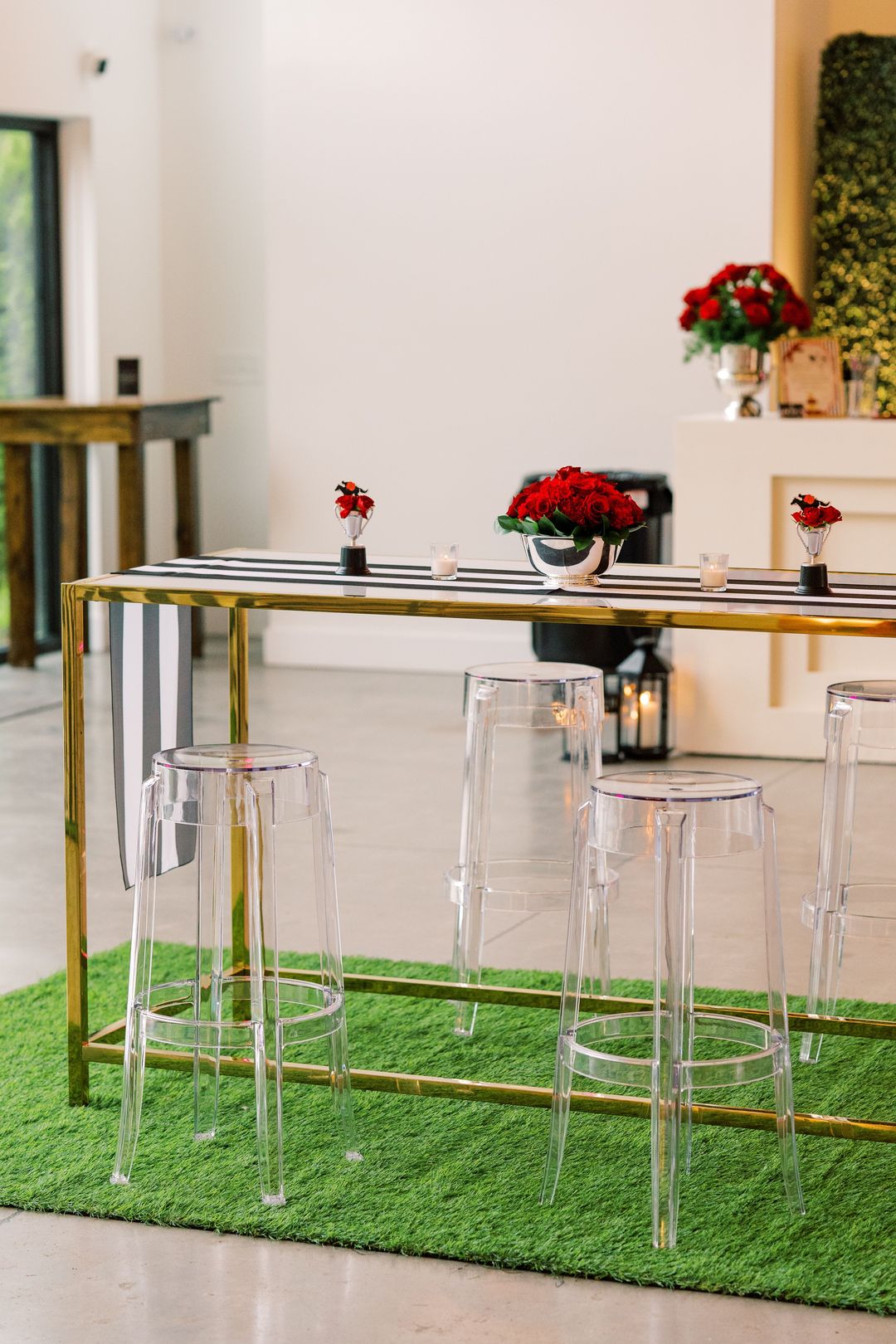 Photo by Garrett Richardson
Dance Floors
Some flooring is limited to certain areas of your event space, like dance floors. They act as a focal point within an event space, in addition to being a designated area for entertainment. We offer a selection of dance floors, for a variety of different event types and themes. Although our classic White and Black dance floor is popular, our Plank Wood dance floor will lend a modern and timeless look to your event.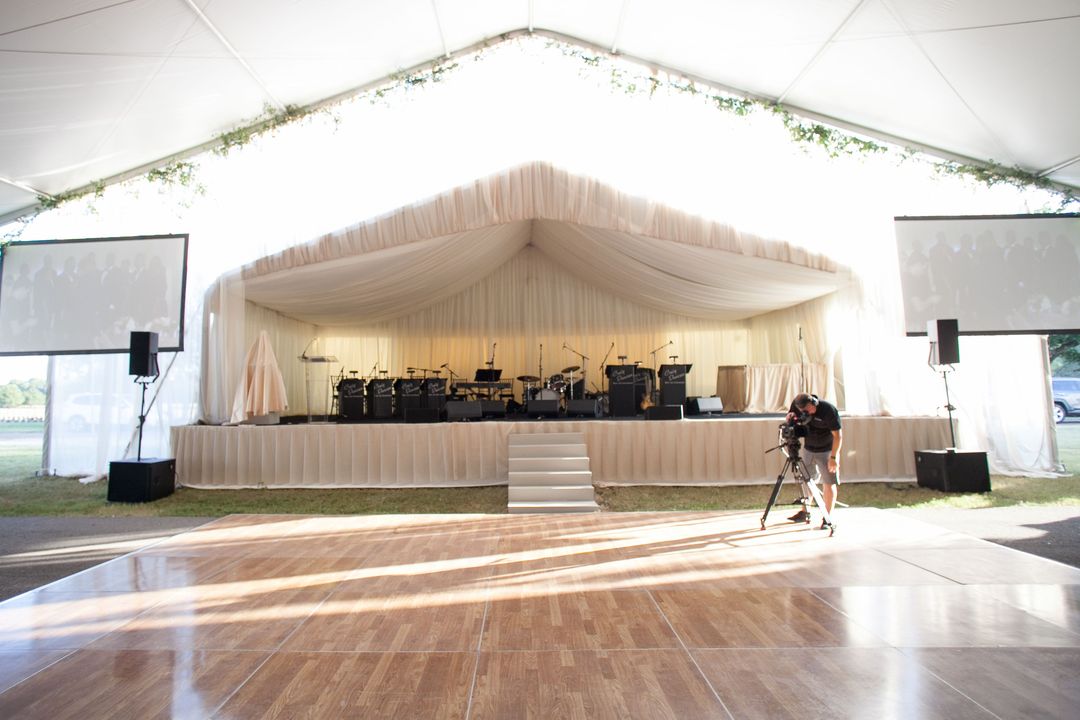 Photo by Phindy Studios
If you've been looking for event rentals that both functional and stylish, we're your people! Send us an email at info@southerneventsonline.com for help choosing the best event flooring.
TAGS | Nashville Event Rentals, Nashville Wedding Rentals, Nashville party rentals, Southern Events, Unique Nashville Event Rentals, dura flooring, southern weddings
FEATURED RENTALS | Dura-Trac Flooring, black and white dance floor, plank wood dance floor, artificial grass,
---
15

Jul

On Trend, Southern Events Products, Trends and Inspiration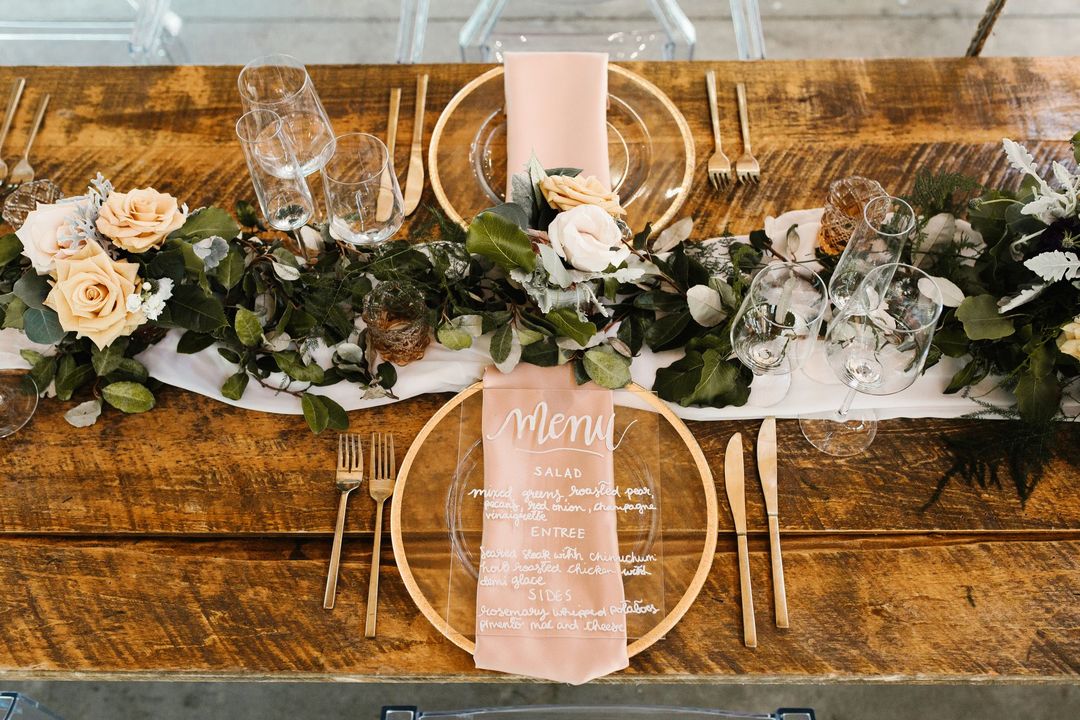 Neutral color palettes have been popular as they offer a stylish yet timeless look. However, there are both cool and warm neutral colors, which will lend a completely different vibe to an event. Today, we're doling out some inspiration featuring our natural-neutral wedding rentals! These warm-toned pieces will lend a modern yet organic theme to your event.
Natural-Neutral Place Settings
One of our favorite ways to feature natural neutrals is via an elegant tablescape. We carry a large variety of warm-toned serving ware for creating a cohesive and memorable layout. For starters, consider our Fruitwood Farm Table for the perfect warm-toned base. Alternatively, a table with light-colored linen will add a brighter base.
These elegant tables are warm and feature pink for a fun feminine flair. Both are accented with metallic gold accents, for a wonderful luxe look! We always recommend a touch of texture. For instance, using neutral velvet table linens or a wood tabletop with a table runner.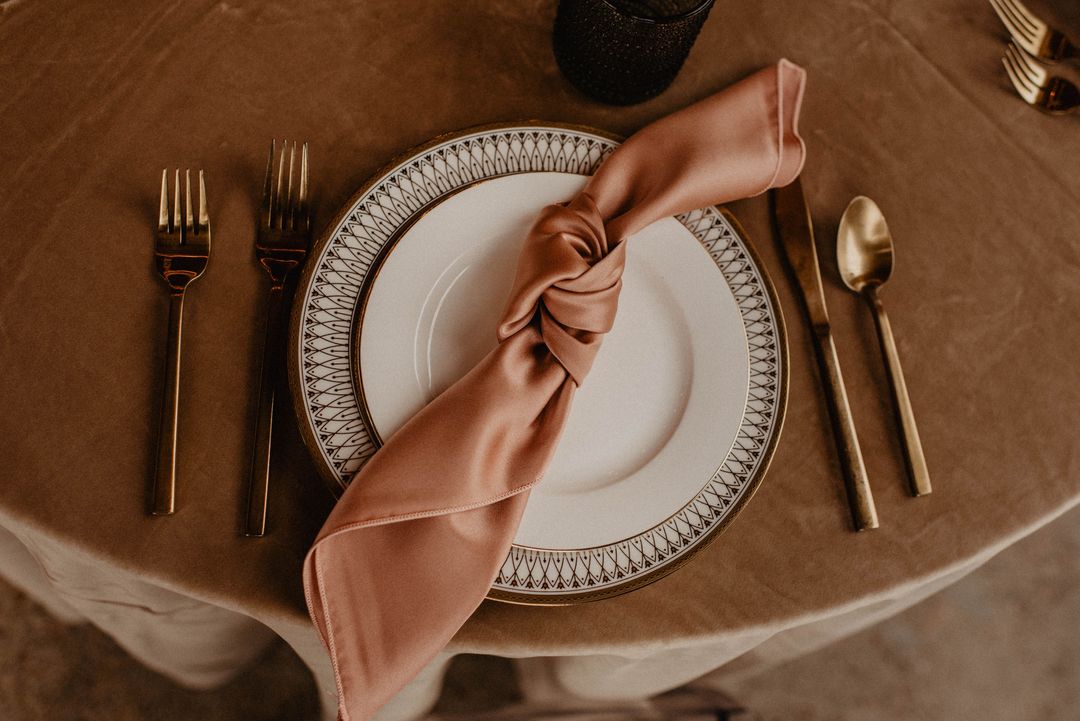 Photo by Renrose Photography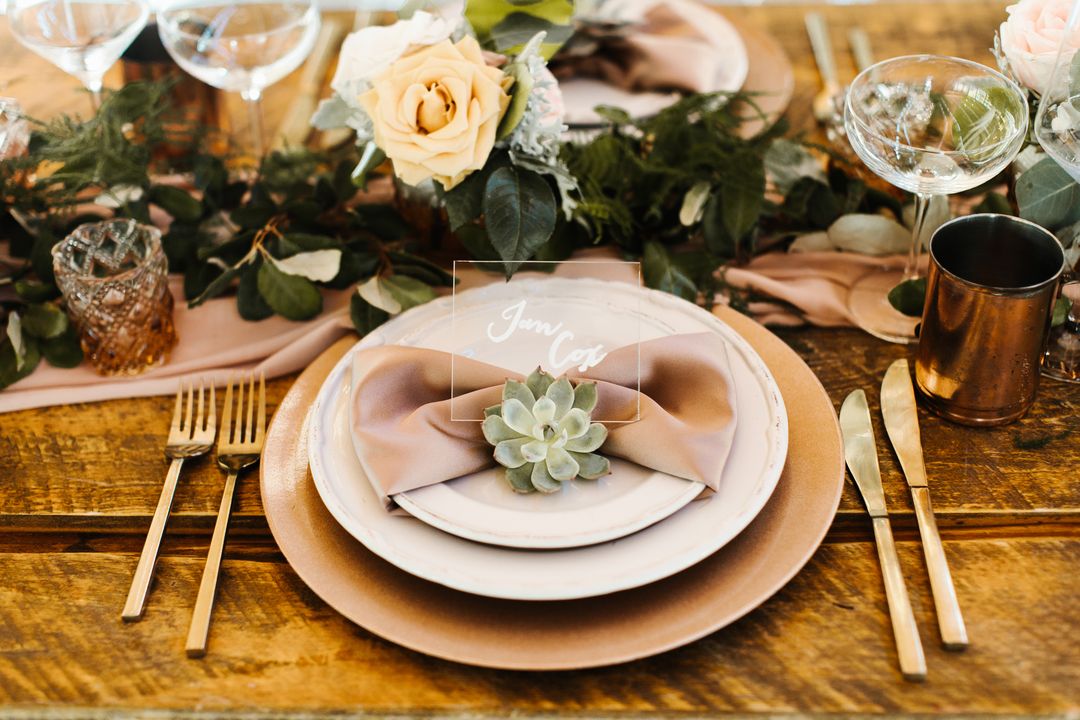 Photo by Madi Flourney
Worried that your tablescape will be overwhelmingly warm-toned? Add in a touch of cool-toned neutrals. These tables are beautifully balanced thanks to silver accents. Our Earthen Onyx or Earthen Stone China always pairs well with a warm-toned charger or napkins. Or feature silver flatware atop a neutral table or table linens.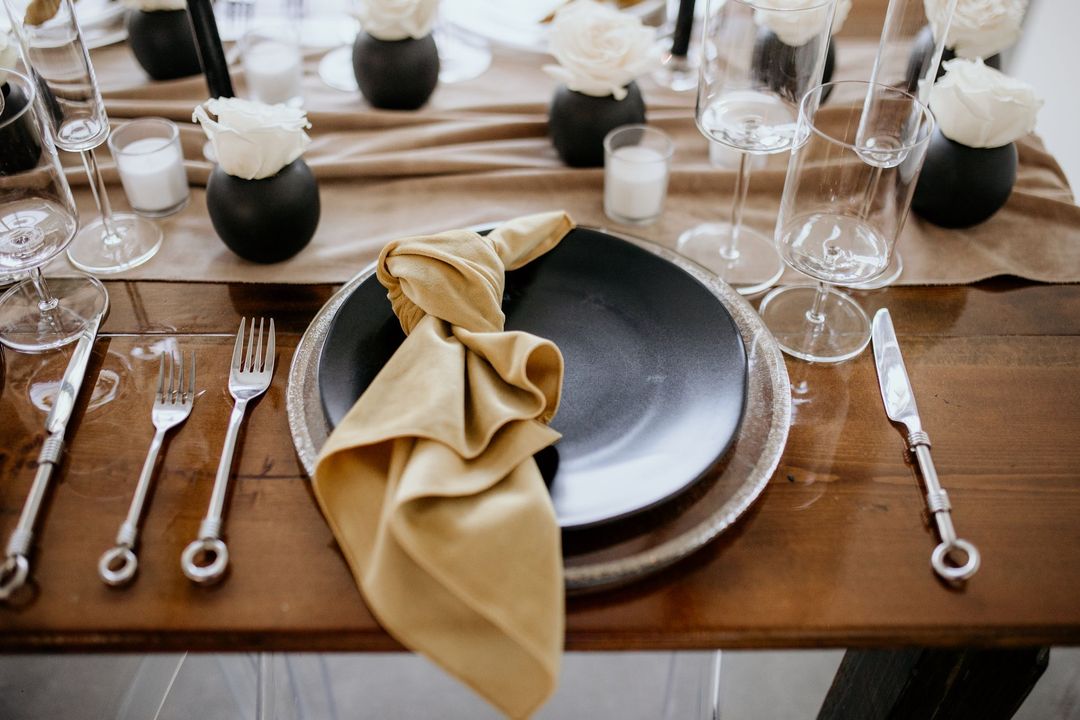 Photo by Kelsey Leigh Photography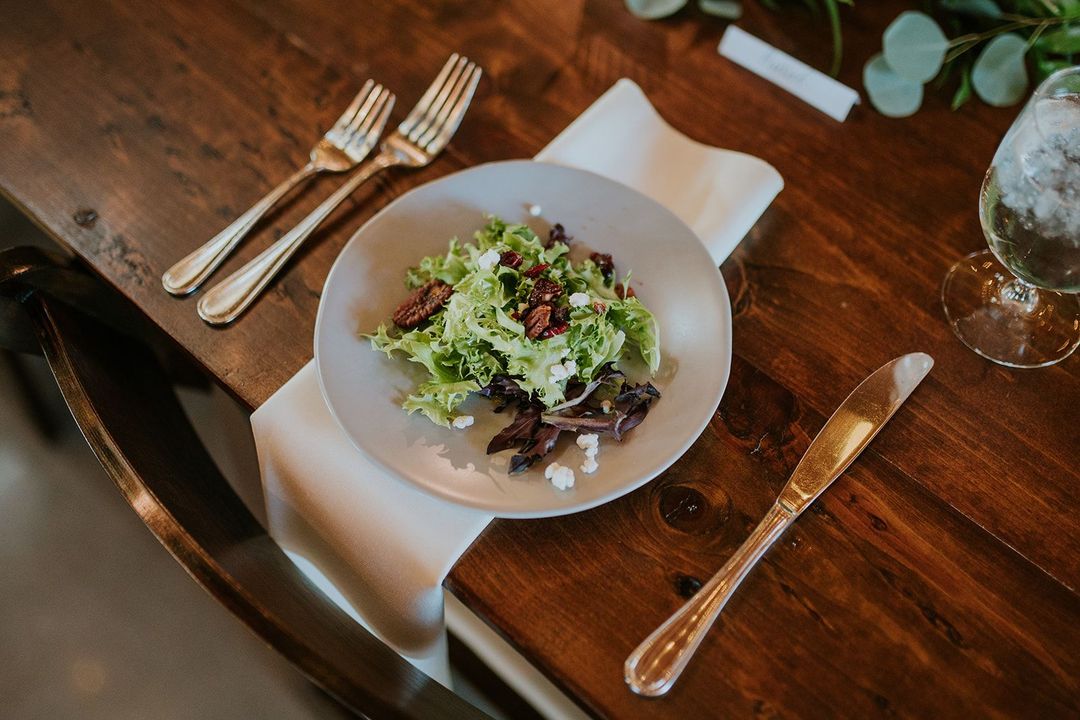 Photo by Kelsey Shea Photo
Linens
Speaking of linens, let's cover a few of our favorites. First up is our stunning Golden Velvet Linens. With a buttery texture, this piece will make a gorgeous base for a luxe tablescape. It pairs well with cream, white or brown. Next up is Kennedy Natural, with a beautiful woven texture. It will lend a touch of texture to a table and is a subtle and elegant color. Finally, there is our Ivory Sahara Runner. Place this runner atop our Fruitwood Farm table for a slightly more casual vibe.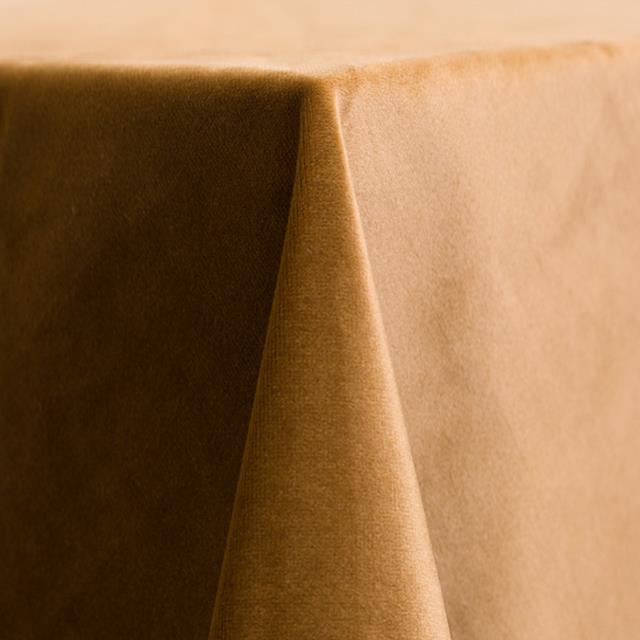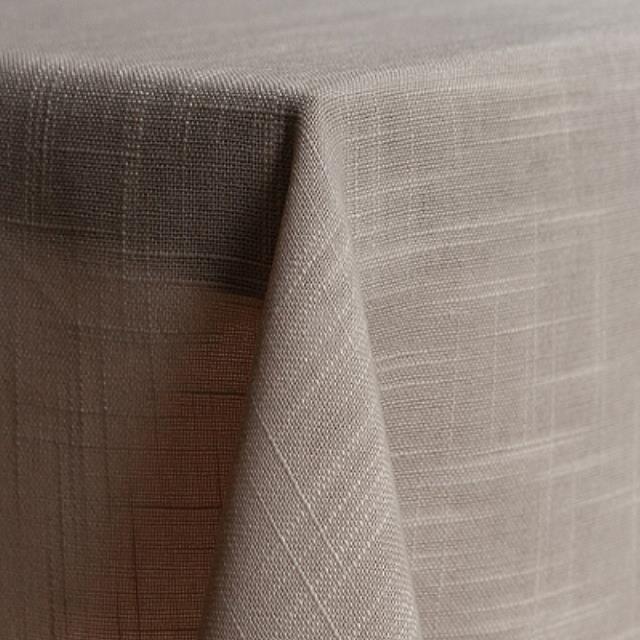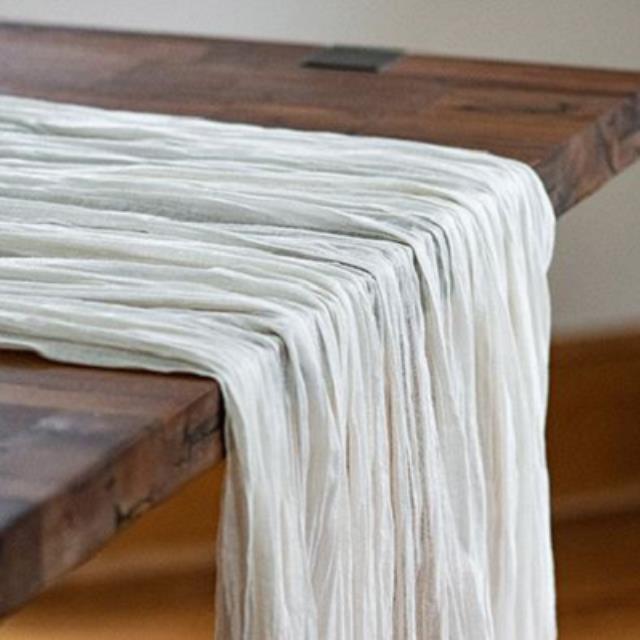 Neutral Lounge Furniture
What's a social event without a cute and cozy lounge area? We carry a range of comfortable, natural neutral furniture. First up is our Tessa Tufted Beige Linen Loveseat, which is a beautiful piece for a sweetheart table, as well as smaller lounge areas. Alternatively, our Bennett Leather Sofa is a rich brown color and the perfect size for a larger event. Lastly, be sure to check out one of the newest additions to our catalog, the Everly sofa! This cream-colored piece features an arched silhouette, pad feet, a camelback, and carved arms, plus a distressed wood frame.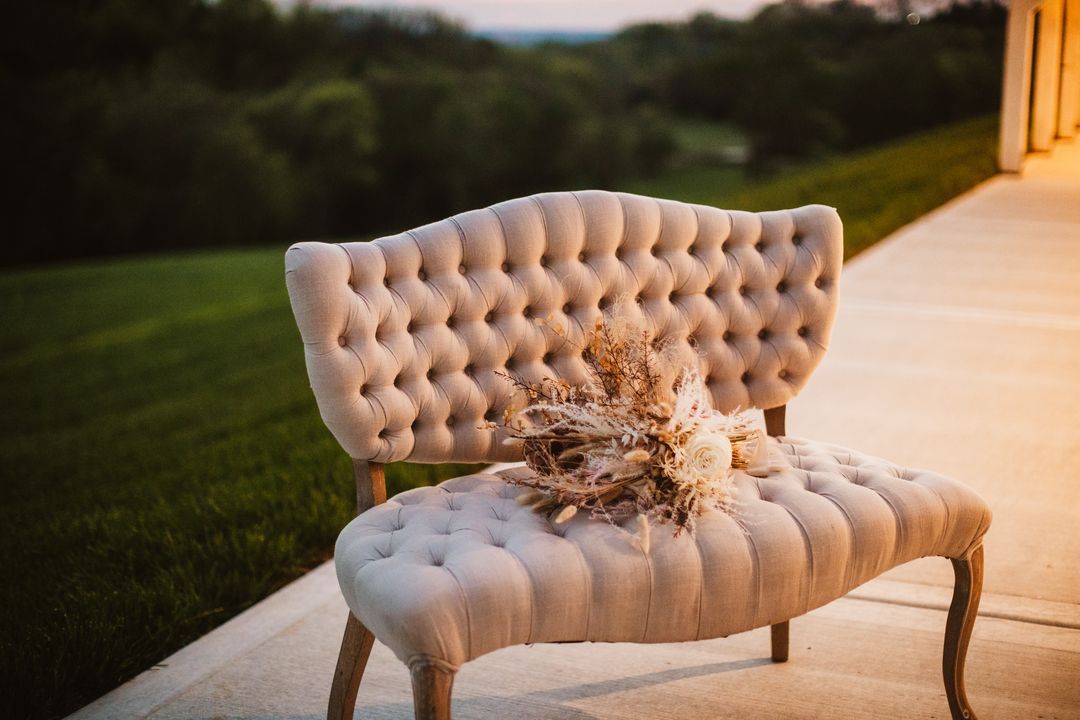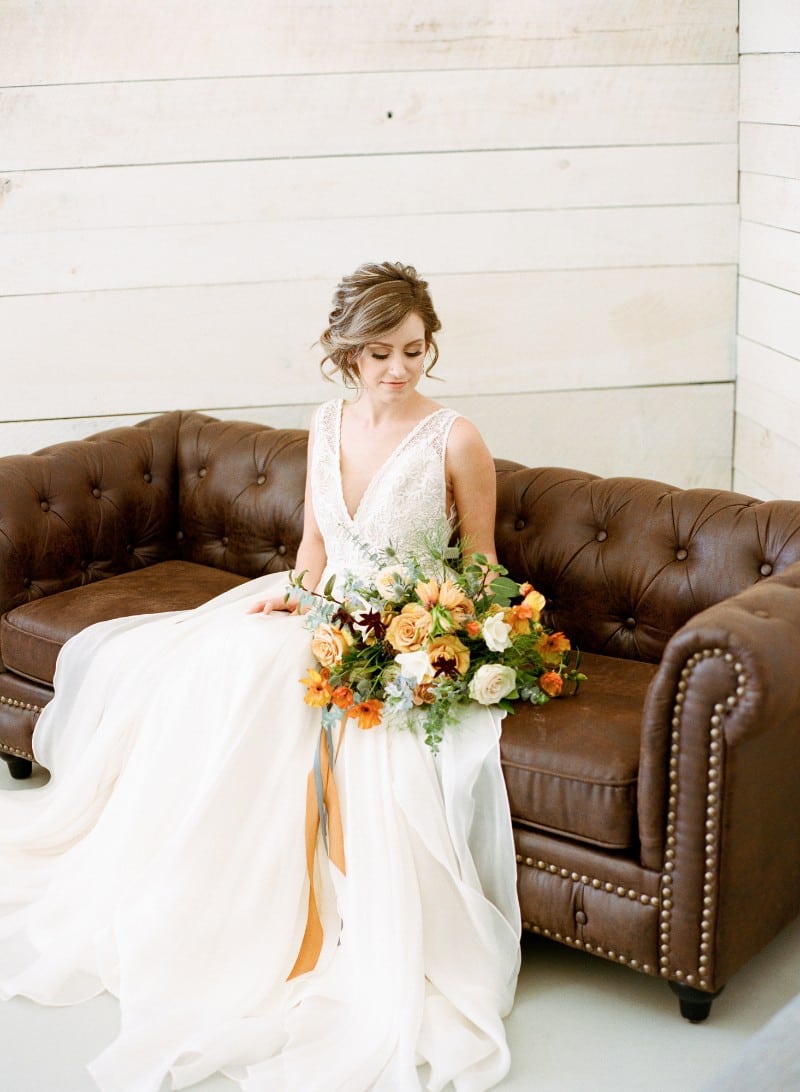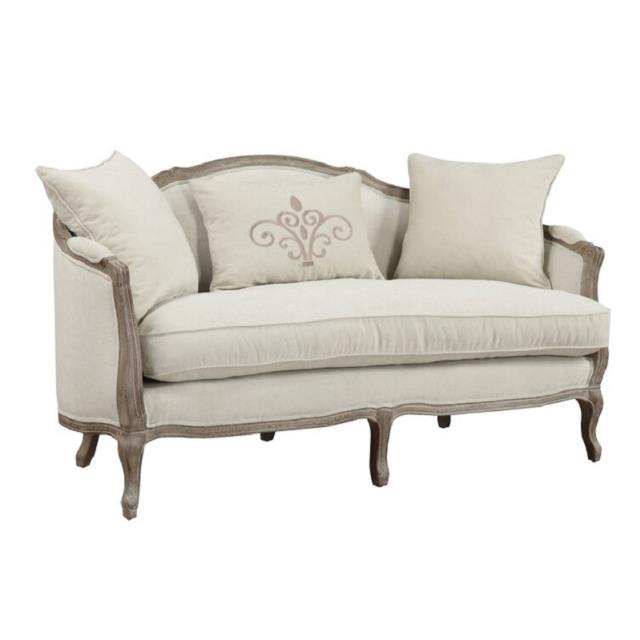 Photo by Alex Thornton Photography
Want to feature one or several of these natural neutral wedding rentals at your event? Contact our team at info@southerneventsonline.com & let's start planning! Or if you prefer a moodier vibe, take a look at our blog on earth-toned party rentals.
TAGS | classic event style, event style trends, natural colored event rentals, neutral event rentals, on trend wedding style, style trends, timeless event rentals
FEATURED RENTALS | Kennedy Natural , Ivory Sahara Runner, Everly Sofa, Bennett Leather Sofa, Tabby Tufted Beige Linen Loveseat, onyx earthen china, earthen stone china, artisan china,
---
8

Jul

On Trend, Southern Events Products, Trends and Inspiration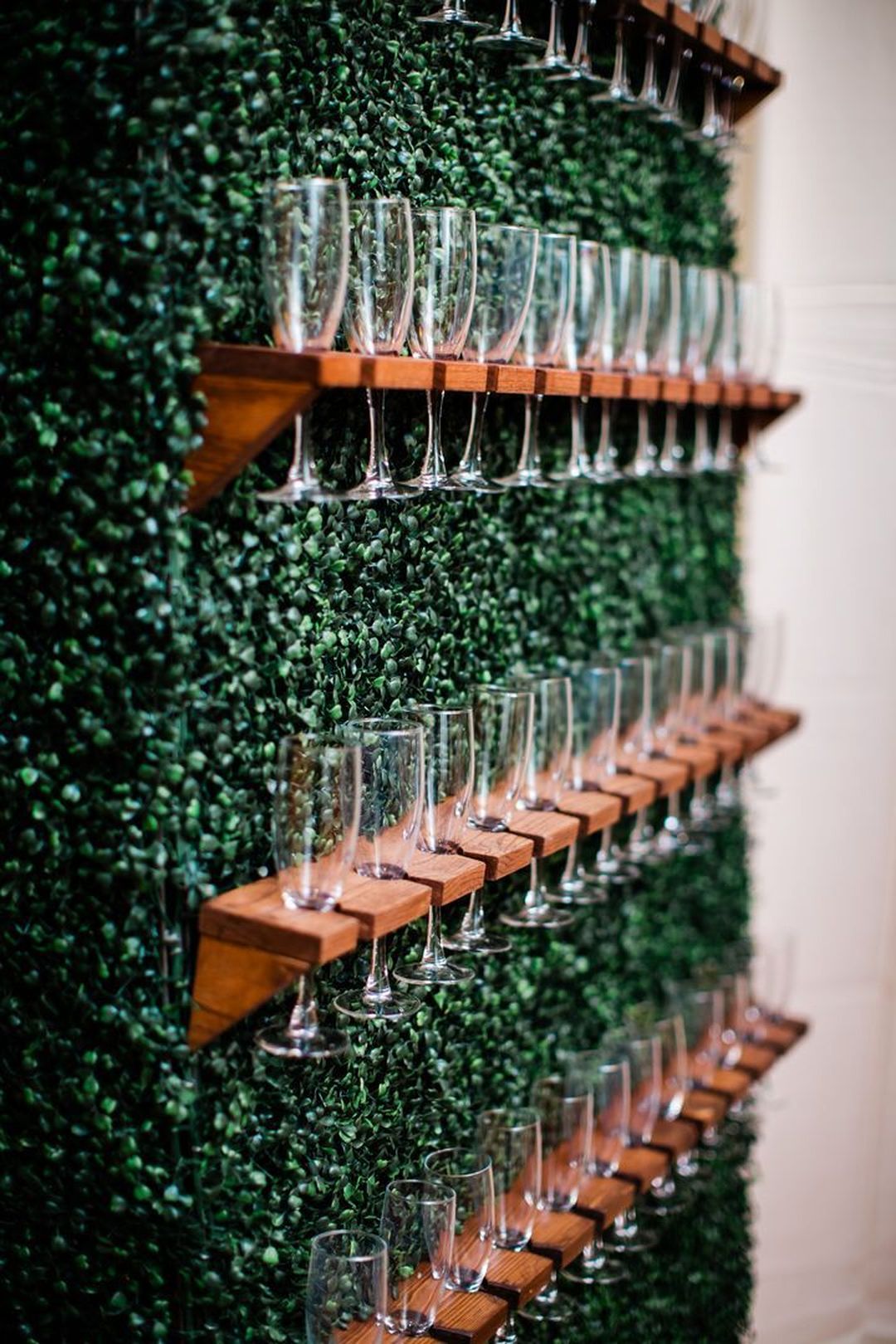 At any event, interactive elements are a must-have! It will help get guests out of their seats and socializing. Plus it will make your event more visually appealing since it doubles as a decoration. Take a look at some of our favorite rentals that can be used to create interactive party displays, from delicious donut walls to fun bubbly bars and classy carts!
Market Cart
A two-wheel cart with an awning, this charming display prop is so versatile! It can be used to display a small food selection or function as a drink station. In our personal opinion, it would make for a darling grazing station, packed with cold cuts and cheese on our vintage-inspired silver trays. You're welcome to decorate our Market Cart to your heart's desire, with fresh flowers, banners, or balloons!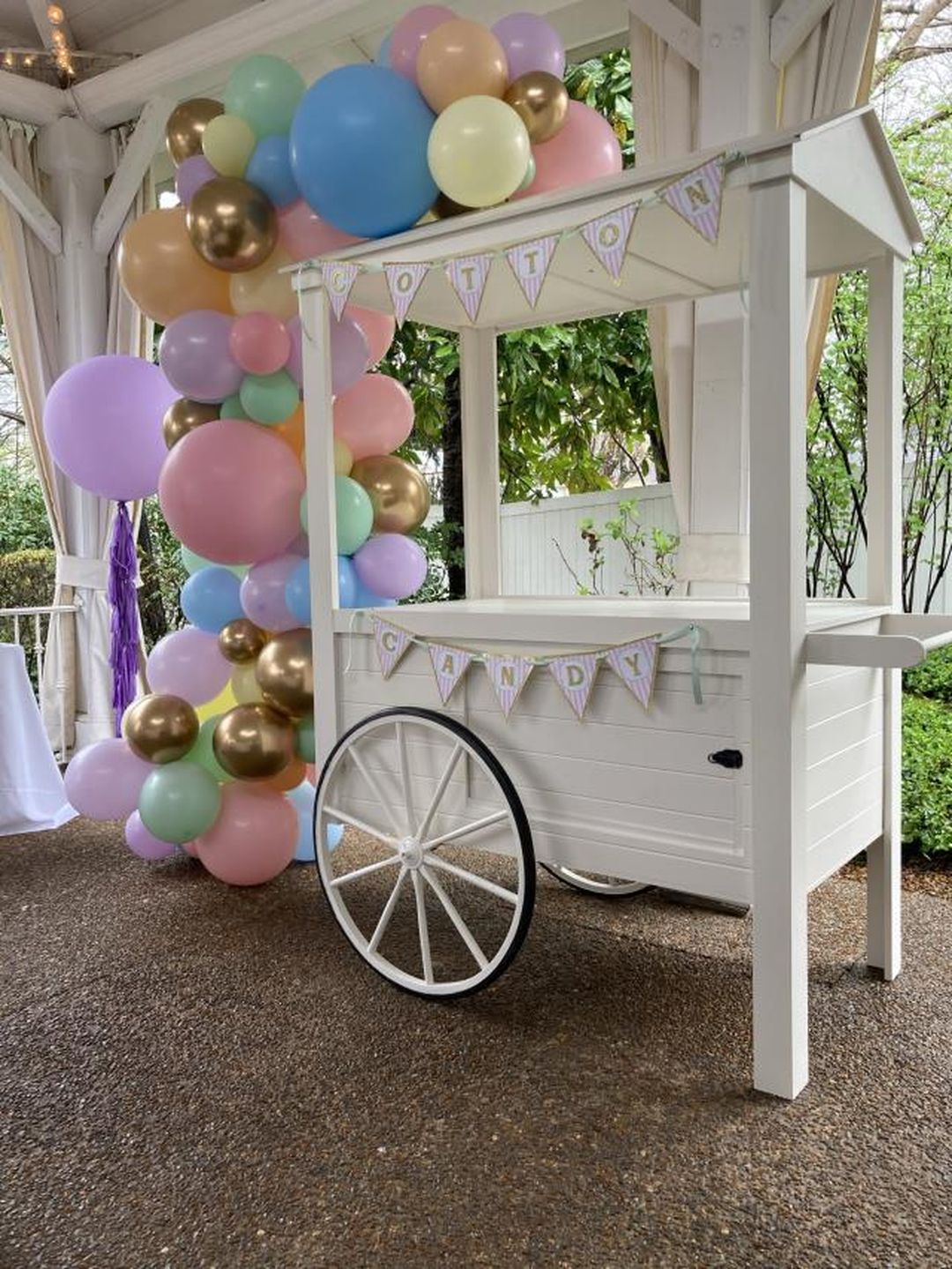 Shelving
Despite its simple appearance, our Avenue Barback Shelf is a staple at events that feature self-serve drink stations. It's a luxe gold metallic color and features brown wood veneer shelves. You can easily recreate this luxe bubbly bar when you rent a variety of our gorgeous modern glassware! Our current favorites include Cybil and Pure Glassware.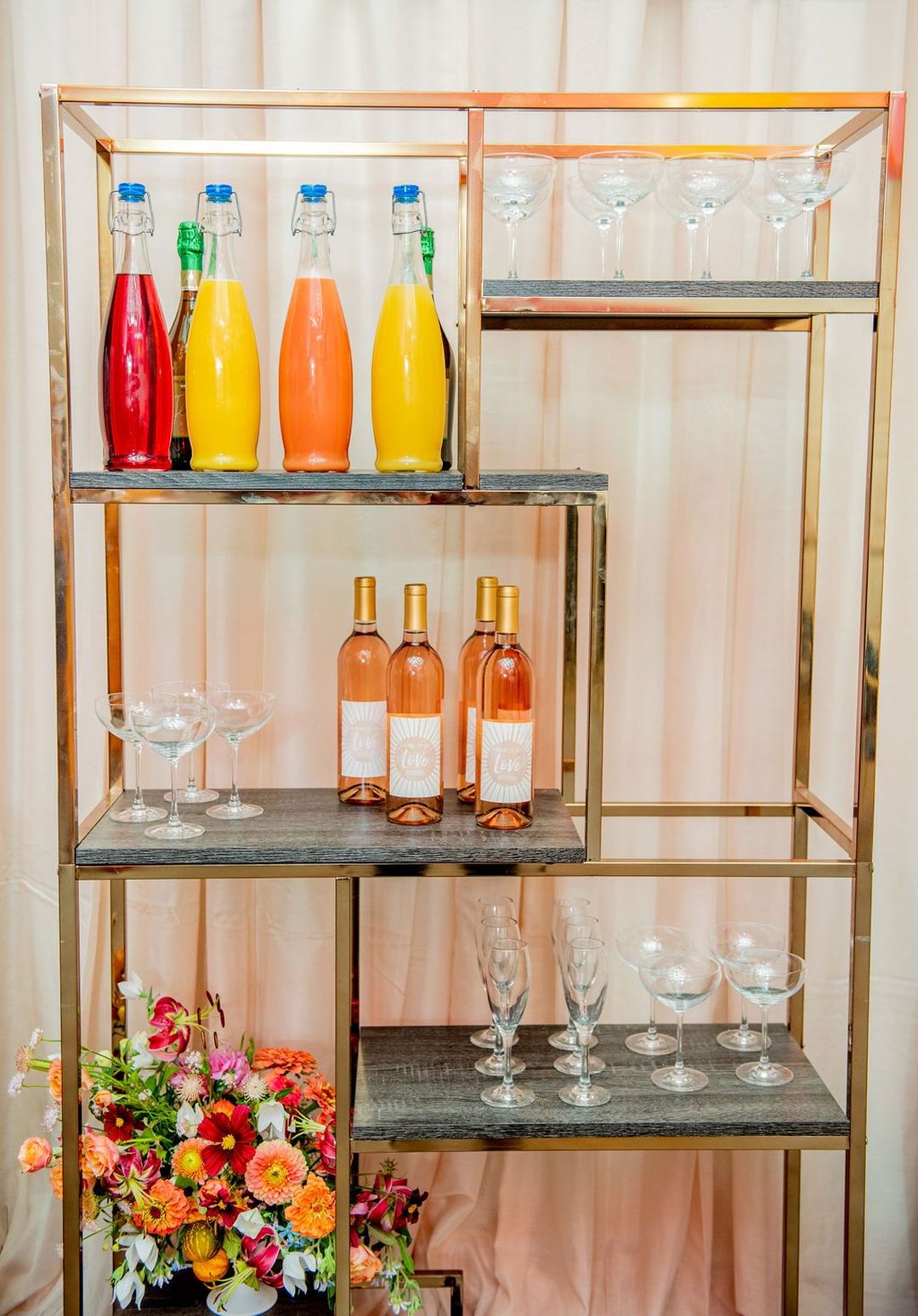 Photo by Twila's Photography
Bar Cart
Bring wine, champagne, or a drink of your choice straight to guests when you rent our Gold Bar Cart! This rental has under-shelf wine glass storage for 12 glasses, and 4 wine-bottle rings for storage. And don't worry, it features two locking wheels so your liquor won't roll away. Alternatively, plate up small appetizers or cake!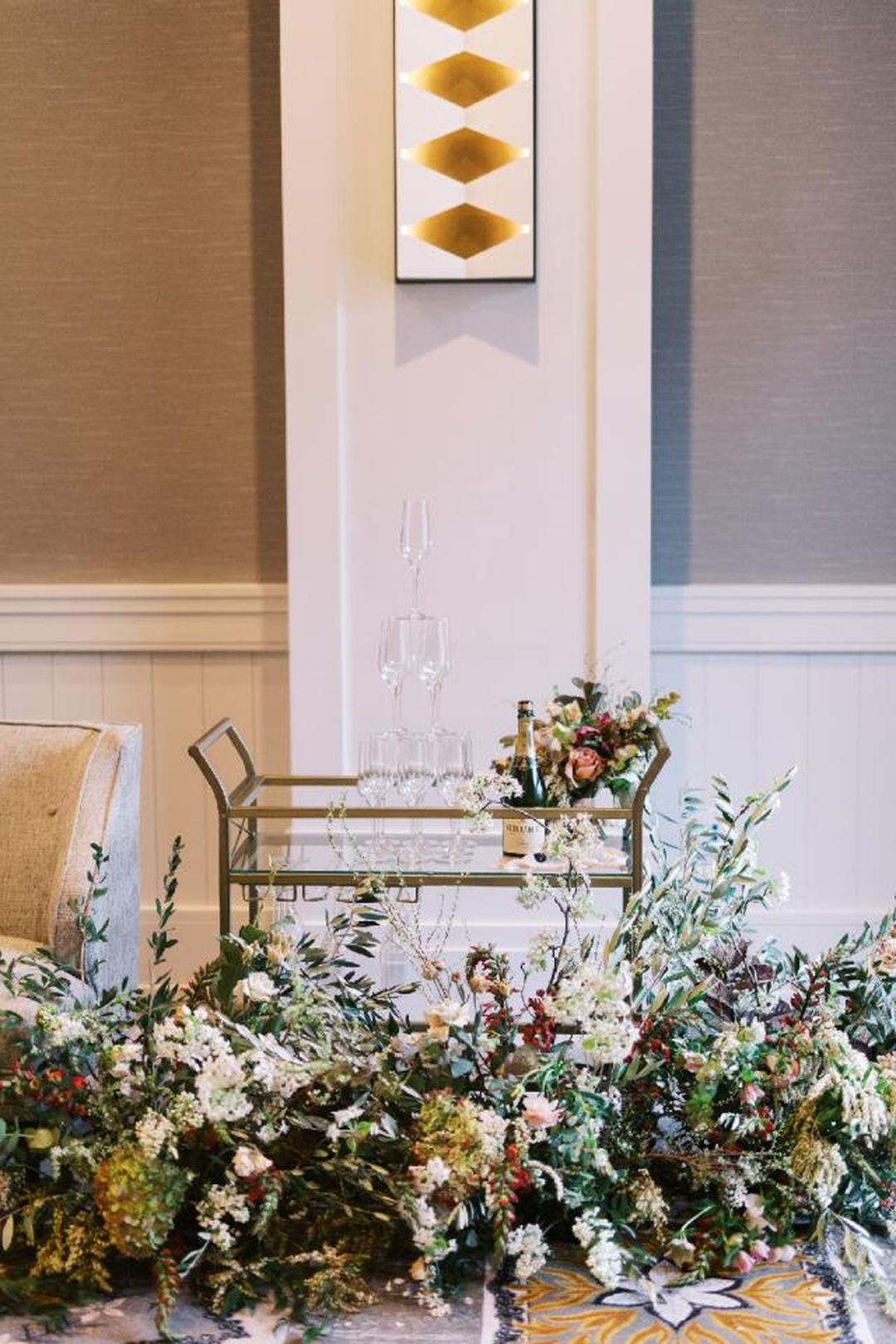 Ticket Booth
Although most events now offer tickets online, a classic booth is a fun way to welcome guests to your event! Our sturdy booth features a solid wood top and is a solid white color that will work any color palette. It also features a decal sign area so that you can easily personalize it to compliment the theme of your event.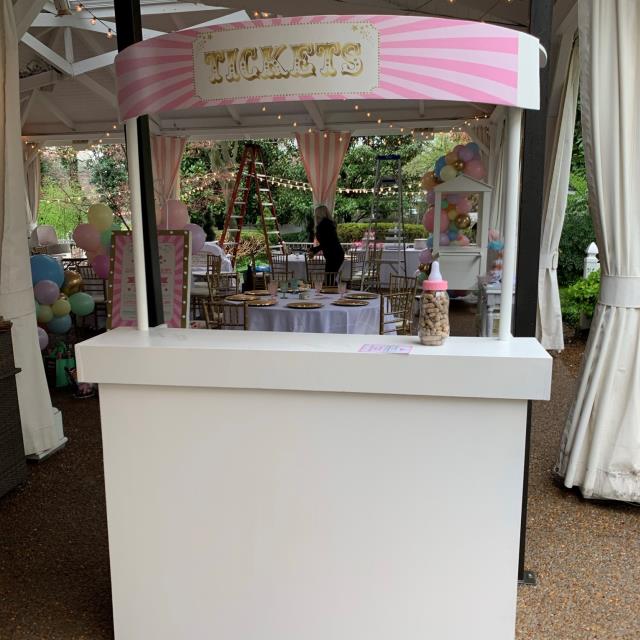 Donut Wall
Donut walls are far from a past fad. In fact, we're predicting that these delicious displays will stick around for a while – because who doesn't love a donut? Our wall is freestanding, features a beautiful dark stain, and has 48 pegs, which can hold 2-3 donuts each. The only downside is that it doesn't come with the donuts!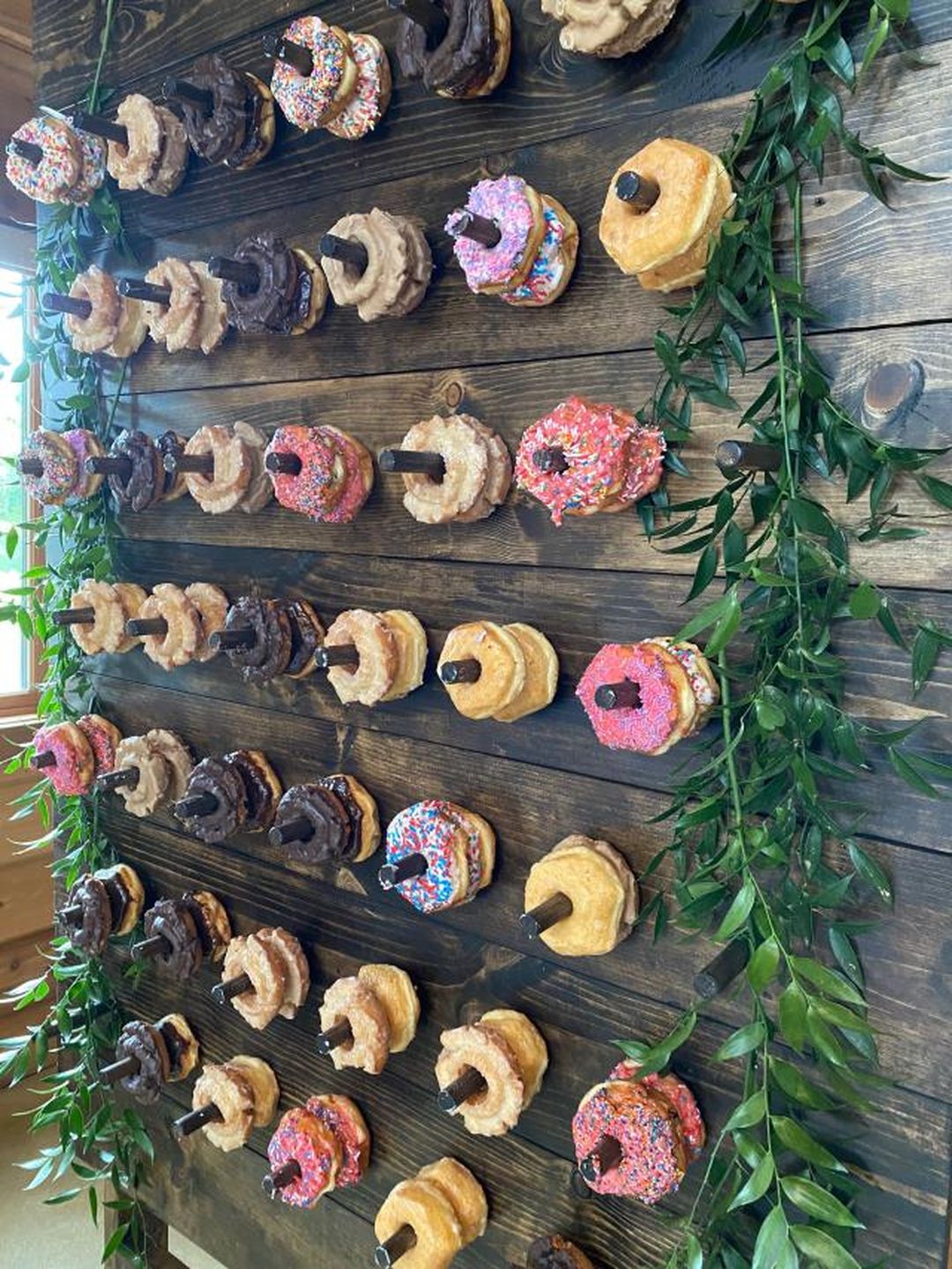 Boxwood Champagne Wall
A classic rental, our Boxwood Champagne Wall is a memorable way to welcome guests to your event. The lush green backdrop can be paired with a gold, white or ivory base. Meanwhile, the champagne shelves are available in Fruitwood or White. Our boxwood walls are also easy to customize, perfect for creating an Insta-worthy photo backdrop!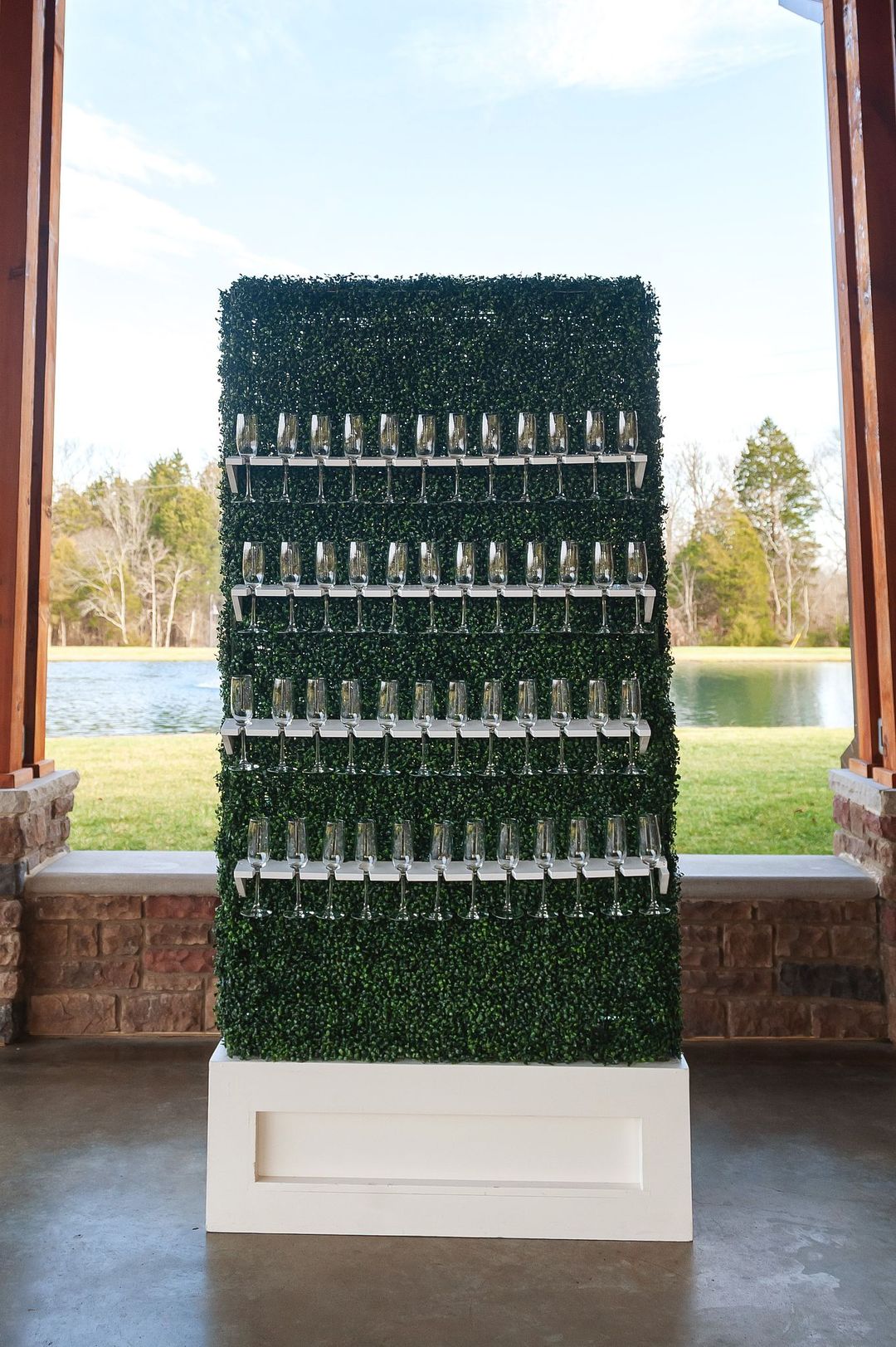 Photo by Megan Stark
Want to feature one of these trendy interactive party displays at your upcoming event? Contact our team today for help recreating one of these looks for your Tennessee wedding, social, or corporate event!
TAGS | Boxwood Wall, Champagne Wall, Interactive Drink Station, On Trend, bar cart, donut wall, event inspiration, interactive party display, shelving, ticket booth
FEATURED RENTALS | boxwood champagne wall, market cart, gold bar cart, donut wall, ticket booth, gold shelving,
---
10

Jun

On Trend, Southern Events Products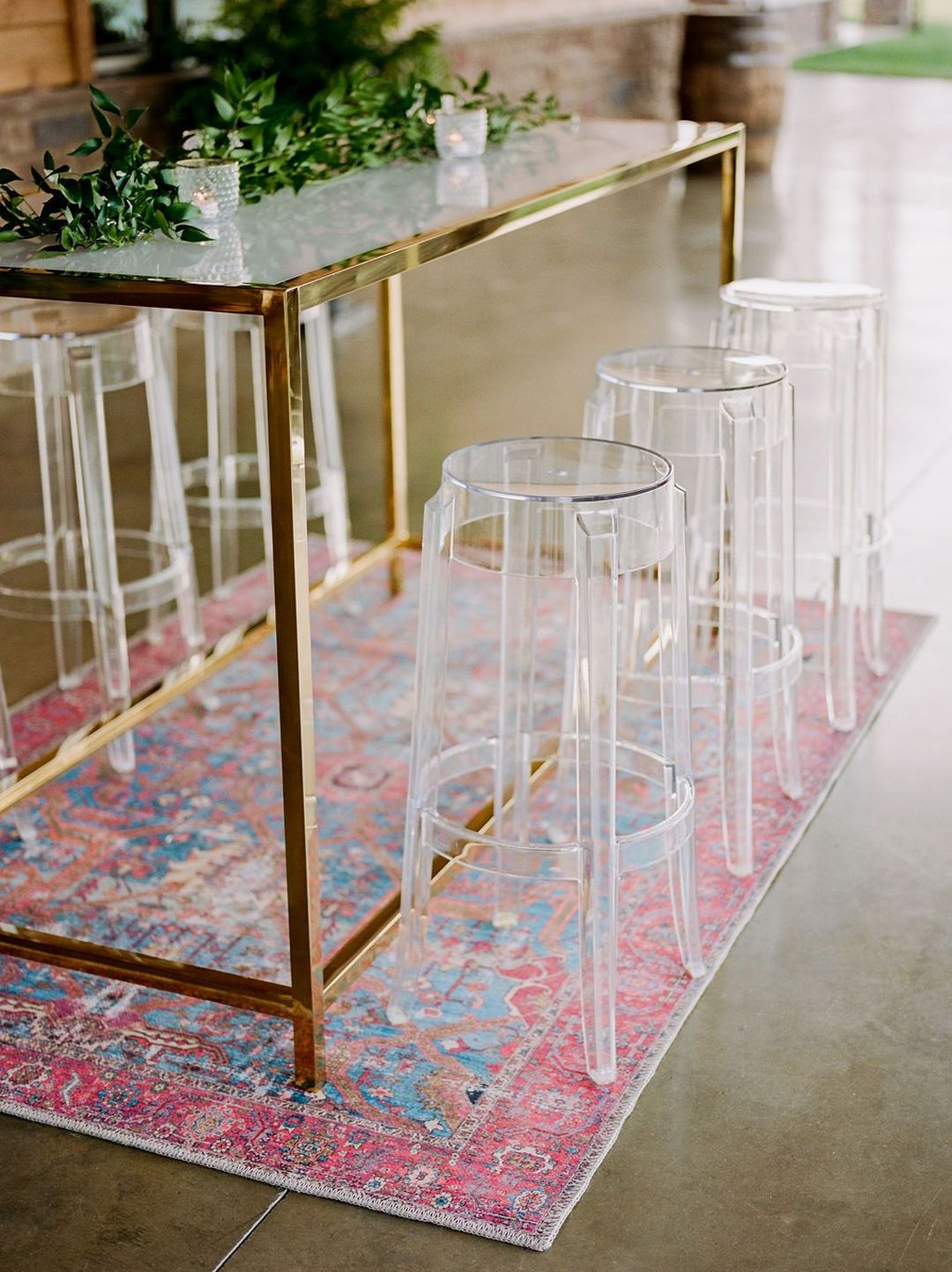 Functional and stylish rentals, Southern Events offers a range of area rugs for events & weddings. Although simple, a beautiful decorative rug will lend to an all-around cohesive event space. Whether they are used to line an aisleway or placed beneath the featured furniture. You go to major lengths to decorate and furnish the space in a way that aligns with your event, and the floor is the foundation! Take a look at our in-stock area rugs and how you can feature one or several at your upcoming Nashville event.
Tie it All Together
Area rugs are more than just decoration. Take for example the use of layered rugs as an aisle runner. Our Brown & White Cowhide Rug and Dark Brown Cowhide Rug are perfect for a trendy urban desert wedding ceremony. Meanwhile, our vintage-inspired rugs look stunning for a cozy, boho-themed affair. Feel free to layer them up or use one standalone alongside a ceremony backdrop.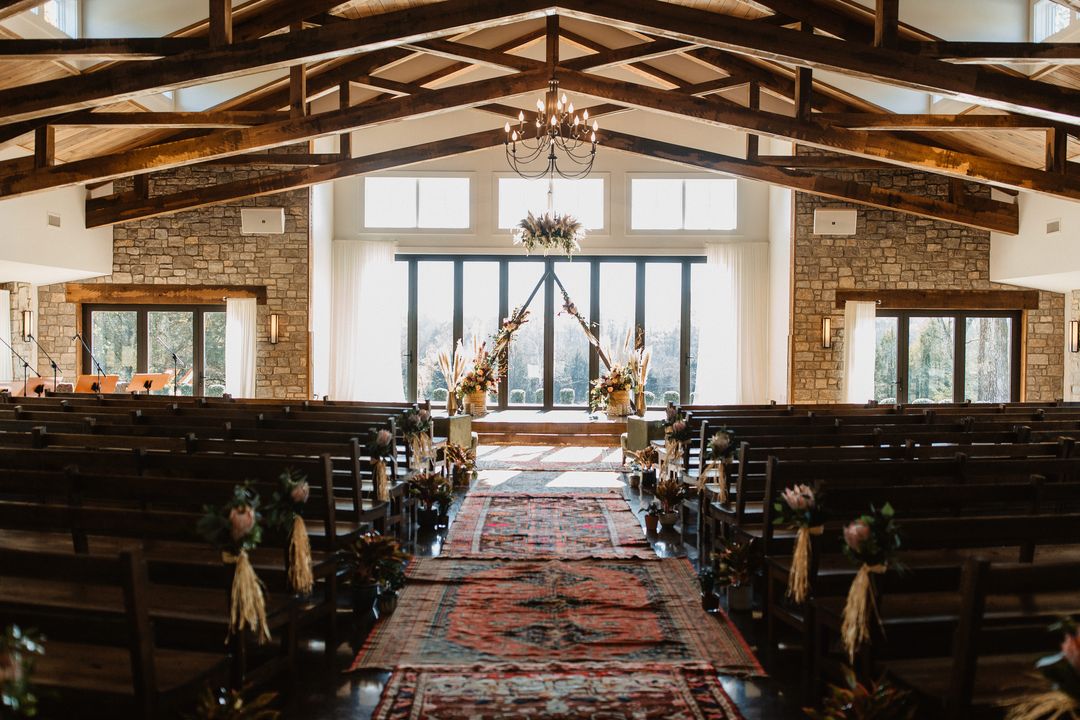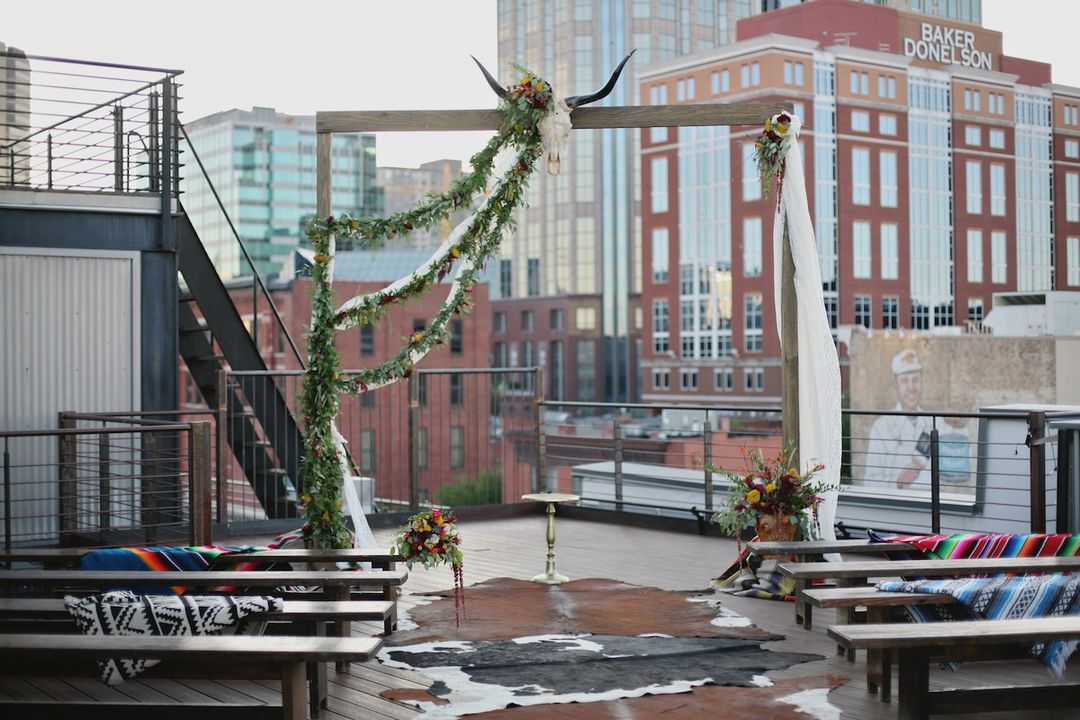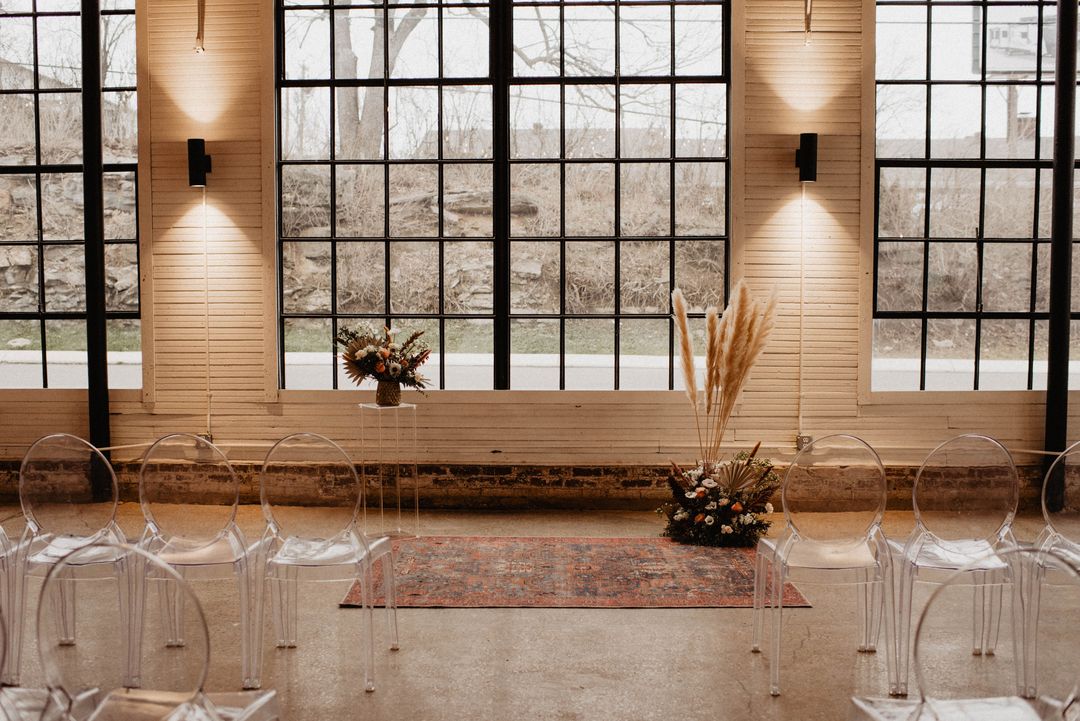 Photo by Renrose Photography
Frame a Space
Rugs assist in creating a frame in which to place the furniture. A trick that is especially useful for social areas, like a cocktail lounge. Consider using a rug to lead guests from the bar to a lounge area. It will help prevent your guests from huddling around the bar and encourage them to sit down, get comfortable, and stay for a while. See how our clients have used a range of area rugs for events & weddings, including our Navy and Aqua Rugs.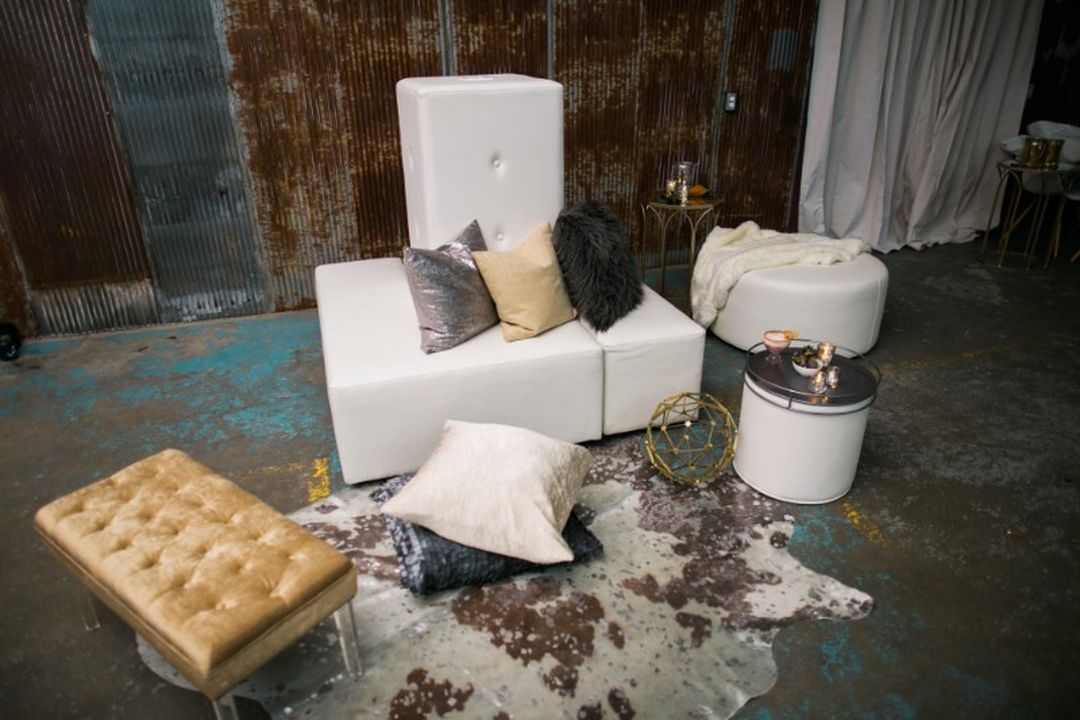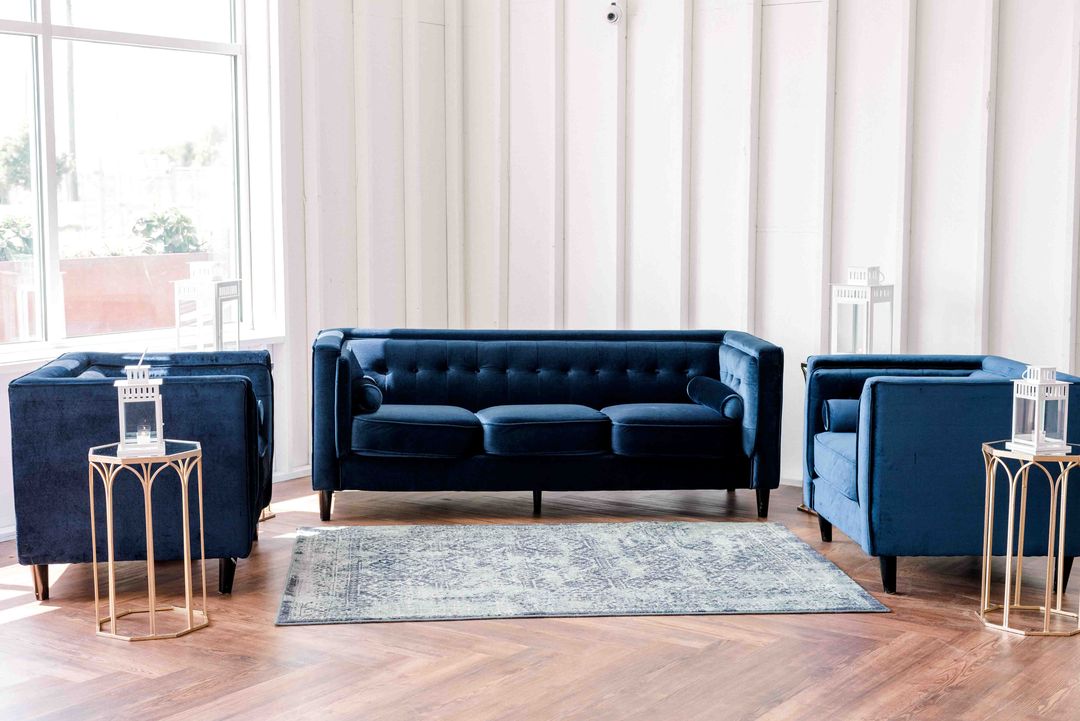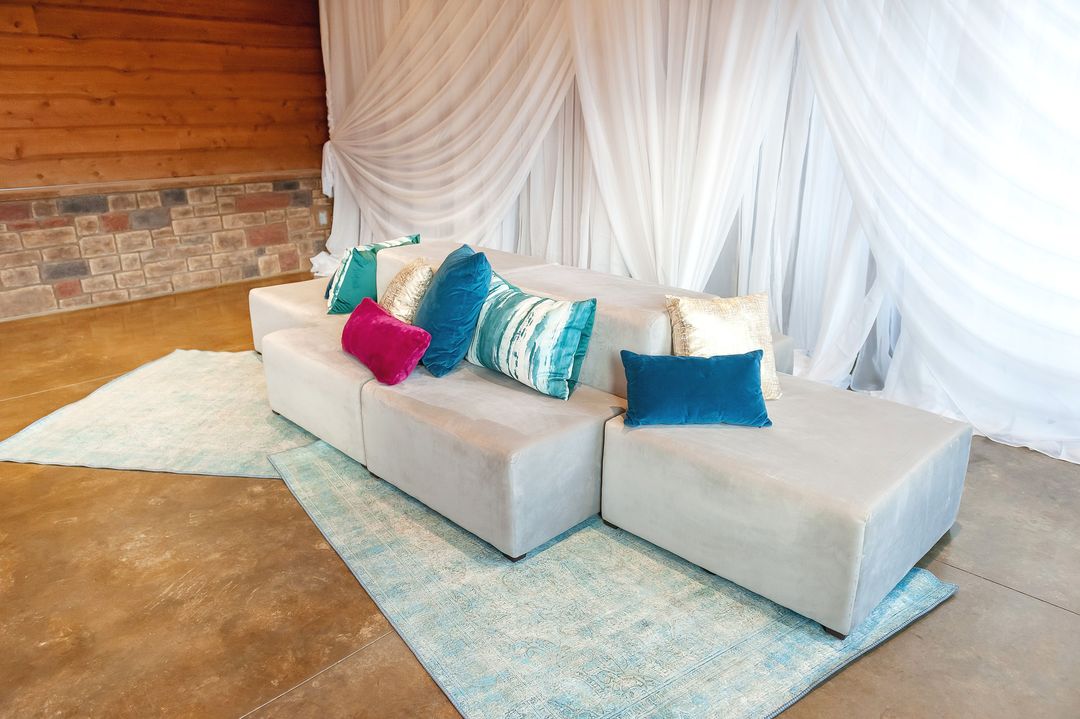 Photo by Megan Stark
A Cohesive Design
Similar to cocktail lounges, rugs can be placed beneath standalone furniture to help create a more cohesive aesthetic. Without one, it can feel as though your furniture may float away! A rug can also help tie different areas together that would otherwise look out of place. Featured below, our vintage Blue-Red Rugs were used to accent a whiskey-barrel bar and create a charming buffet area. And to create a stylish outdoor cocktail area, it was placed beneath our Loren Gold Bistro Table.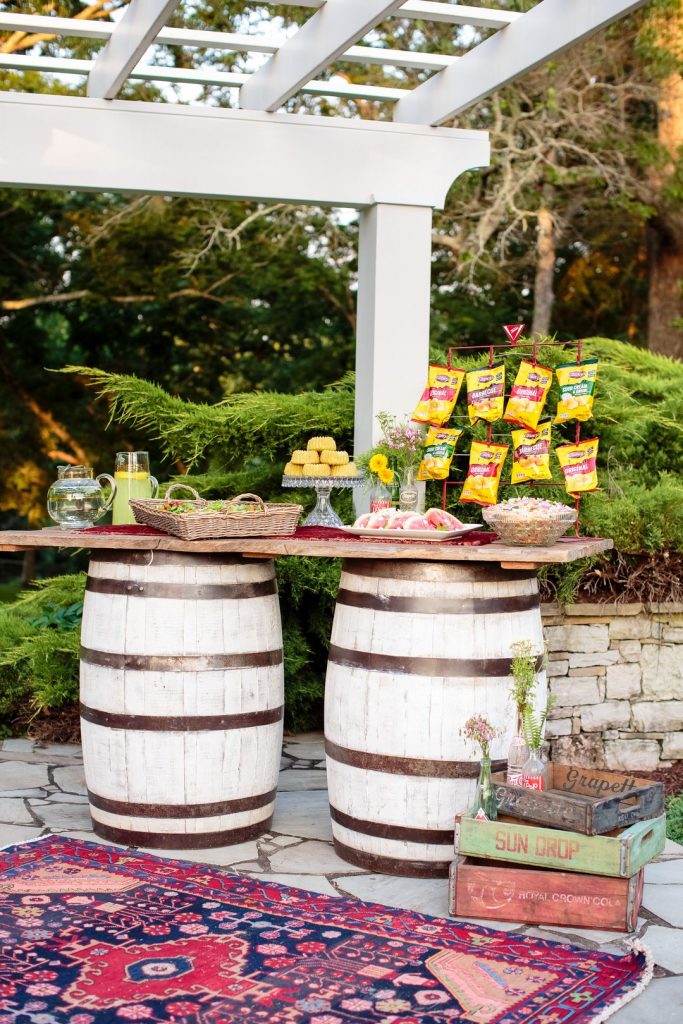 Photo by Erin Lee Allender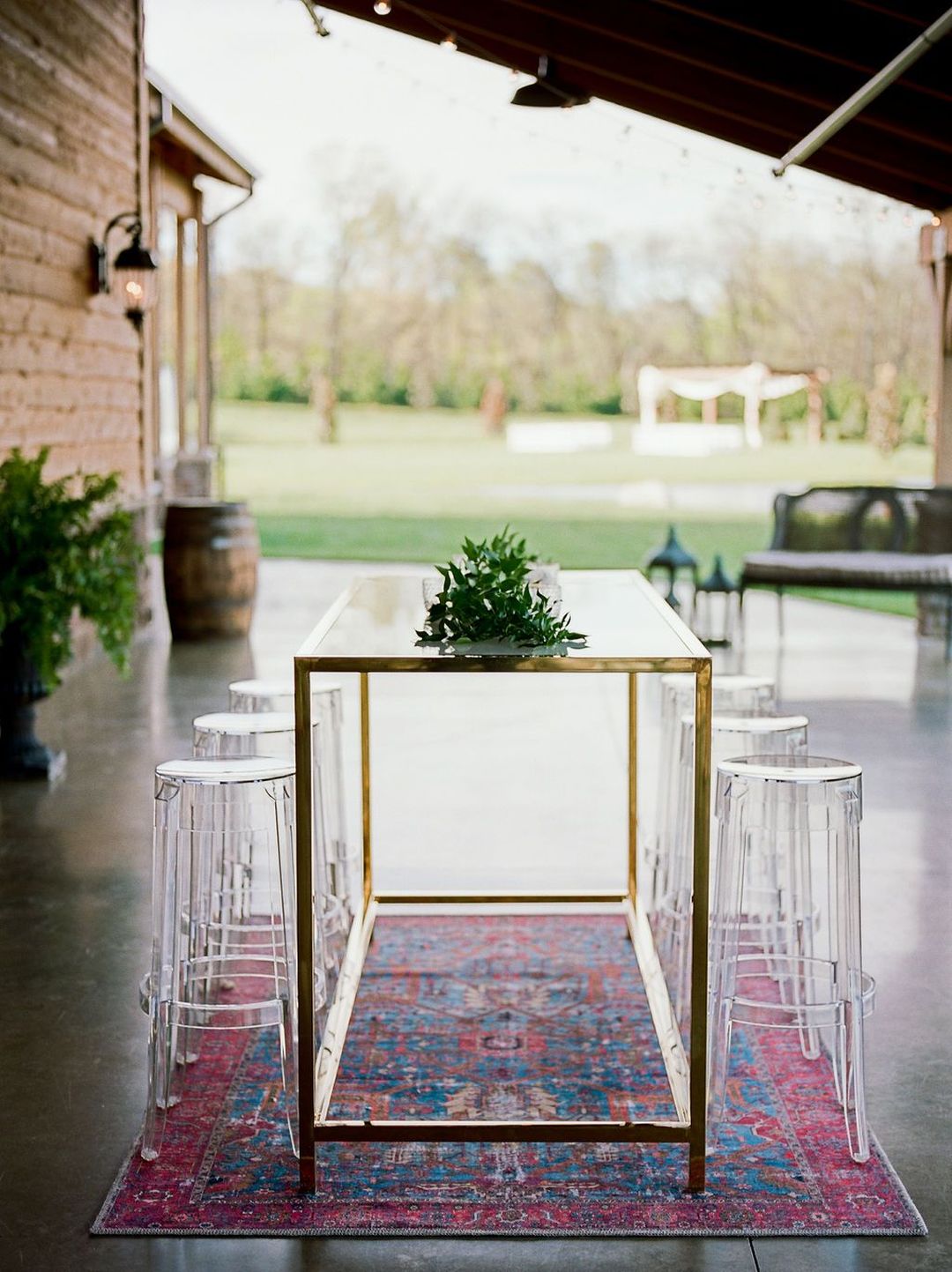 Photo by Jenna Henderson
Want something that provides more stability than a rug? Our Dura-Trac Flooring is a great option! It is made of high-quality materials and can be customized to fit any size you may need. Plus it is a safe, slip-resistant surface that can be used over a variety of terrains. Plus, you can still place one or more of our trendy area rugs on top to create a cozy atmosphere.
If you have an upcoming event and are looking to create a unique space with area rugs we'd love to chat with you! Send us a message at info@southerneventsonline.com for help or additional event inspiration!
TAGS | Area Rugs, Boho Wedding Nashville, Cocktail Party Rentals, Cow hide rug, Nashville Corporate event Rentals, Nashville Event Rentals, Nashville furniture rentals, Nashville party rentals, Vintage Rugs, cocktail hour, corporate event design, corporate event rentals, cowhide rugs, wedding event design
FEATURED RENTALS | Blue-Red Rug, Brown/White Cowhide Rug, Dark Brown Cowhide Rug, Gray Cowhide Rug, Navy Rug, Metallic Cowhide Rug, Loren Gold Bistro Table, Pearce Modular Lounge,
---
31

Dec

On Trend, Southern Events Products, Trends and Inspiration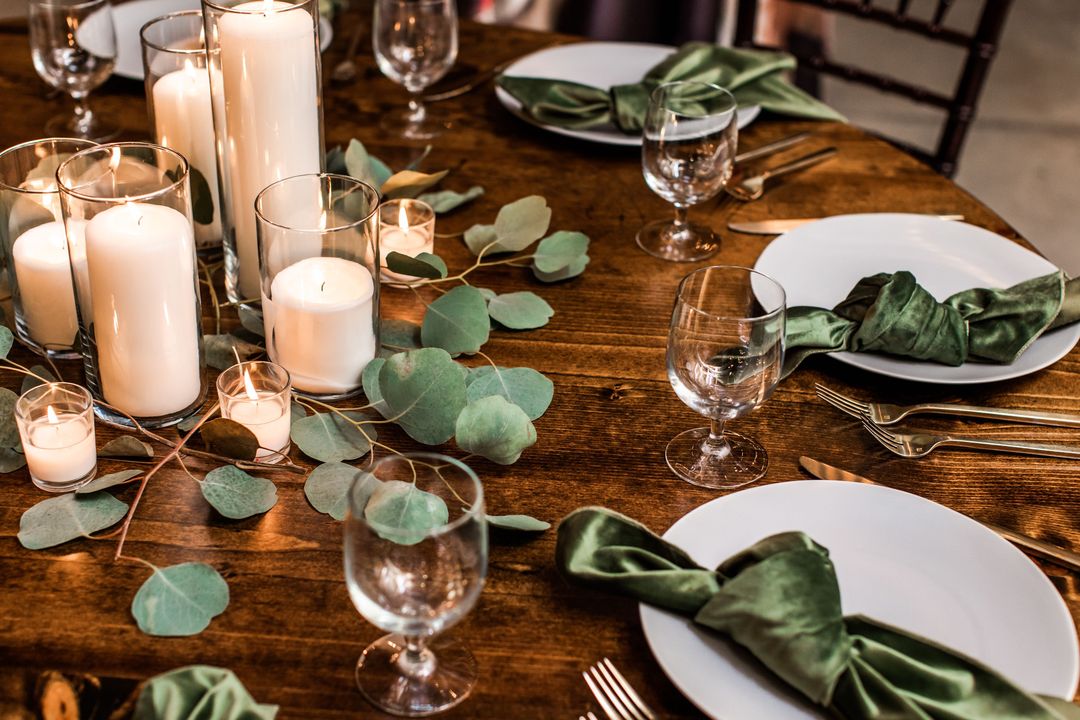 2021 is rapidly approaching and with it are new event trends! After all the challenges of 2020, our team at Southern Events is looking forward to getting creative to help you design memorable celebrations in the year ahead. Get inspired for your future events when you take a look at the 2021 trends, featuring our in-stock rentals.
Luxe But Sustainable
Luxe events aren't going anywhere but we're seeing an increased interest in sustainability. There are multiple ways to host a sustainable event via rentals. The first being reusable serving ware, including china, flatware, glassware, as well as linens. Rentals are an easy and beautiful way to reduce the waste produced by your event.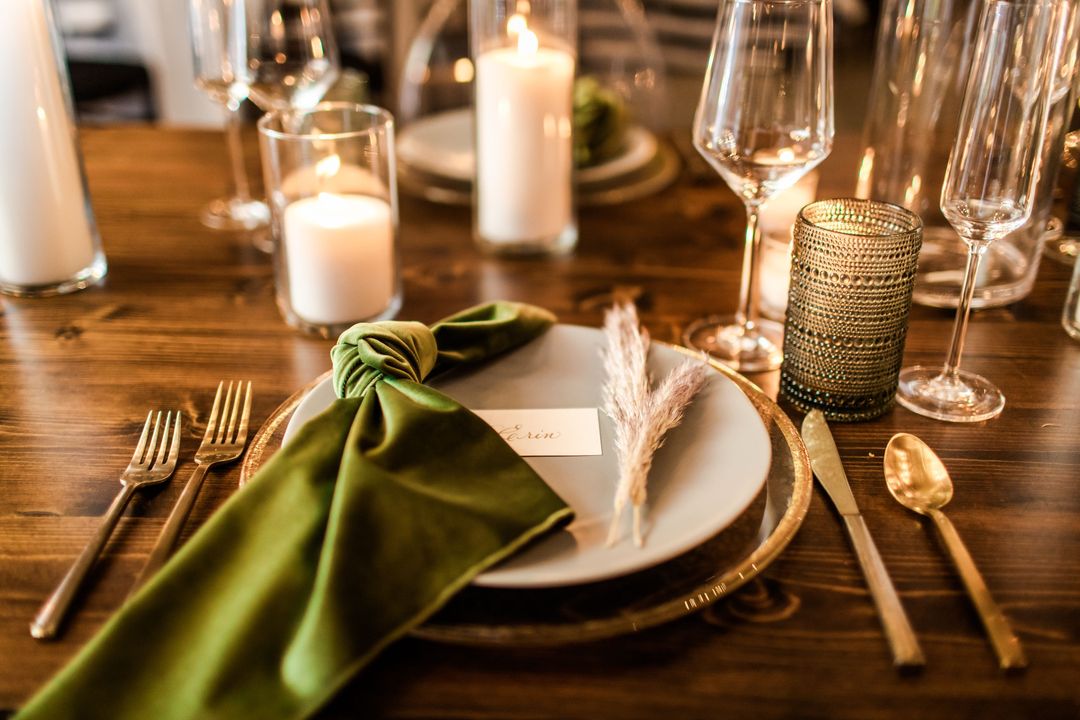 In terms of styling, expect lots of lush plants & greenery. Potted plants are especially beautiful and perfect for aisle decor and table centerpieces.  The same goes for dried plants, which lend lots of texture. Pampas grass in particular is trending, as it easily adds volume and height. Expect to see an increasing amount of dried floral bouquets and arrangements.
This emerald, cream & gold tablescape features our Gold Rim Glass Charger, Alabaster Earthenware, Gold Austin Flatware, Fern Velvet Linens, Colored Glassware & Pure Glassware.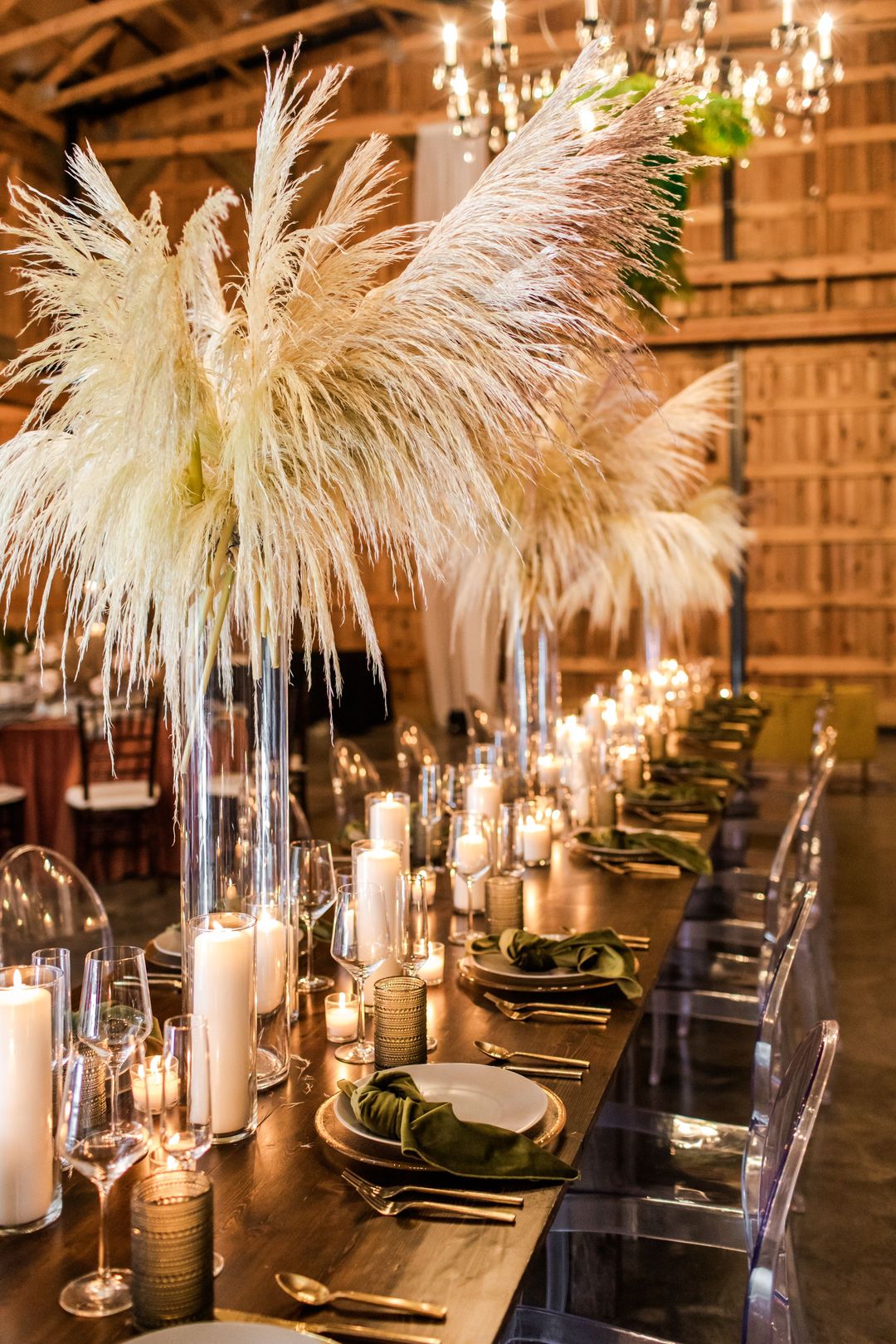 Photo by Nyk and Cali
All Out Events
Go big or go home right? One 2021 trend is events that are memorable, not necessarily in size but in the details. Diva Boho themed events are a great example. Think of bold & intricate geometric patterns, and voluminous flowers or other organic arrangements. Metallics are also here to stay, as they are a quick way to add some sparkle and shine to an event. At this type of event, you can tell that every thoughtful detail was well planned and executed.
This bright textured tablescape was created using our Medallion Gold Glass Chargers, Onyx Earthenware, Austin Flatware & Audrey Gold Rim Glassware.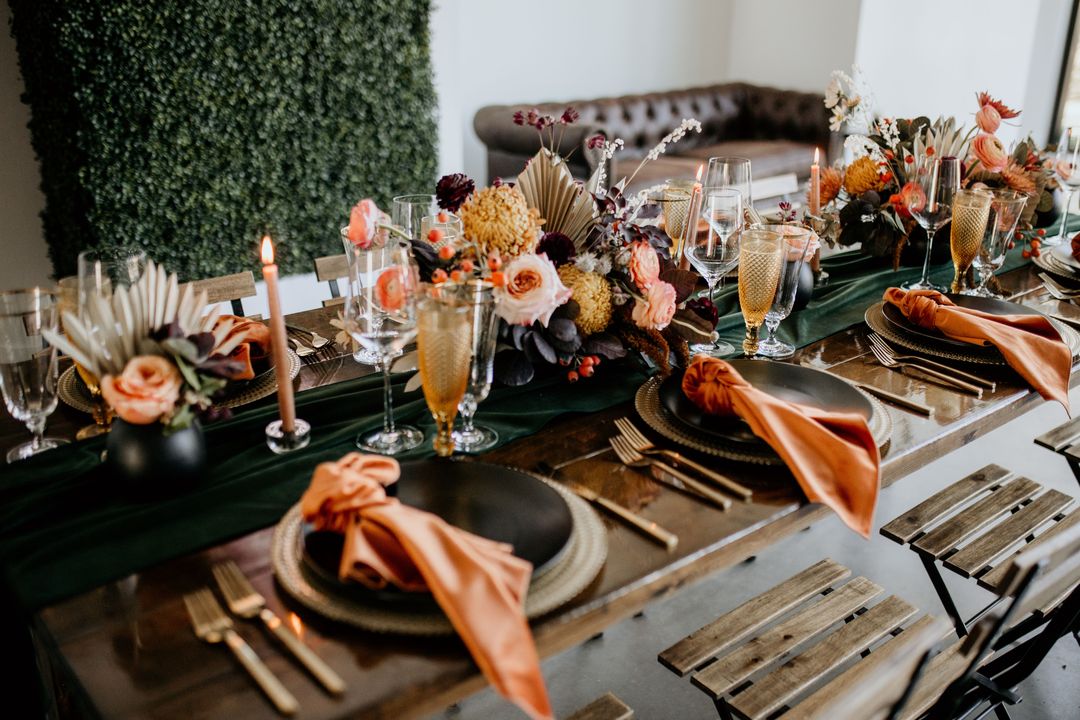 Photo by Kelsey Leigh Photography
A Focus on Sentimentality
People are gravitating towards heirlooms and the texture of various things that draw them to the past – we expect this event trend to only get bigger in 2021. Not necessarily boho theme, but colors and textures the incite a sense of nostalgia. So sustainable handmade pieces that lend texture, such as clay, jute and wicker decor. This trend also applies to attire, in the form of heirloom jewelry, clothing and accessories. For weddings, think dresses with intricate old school embroidery in an ivory or cream color. One great example are celestial-inspired events, where texture and vintage or retro items are easy to incorporate into the design.
Recreate this romantic neutral design with our Driftwood Velvet Napkins, Artisan China, Cybil Glassware, & Como Flatware.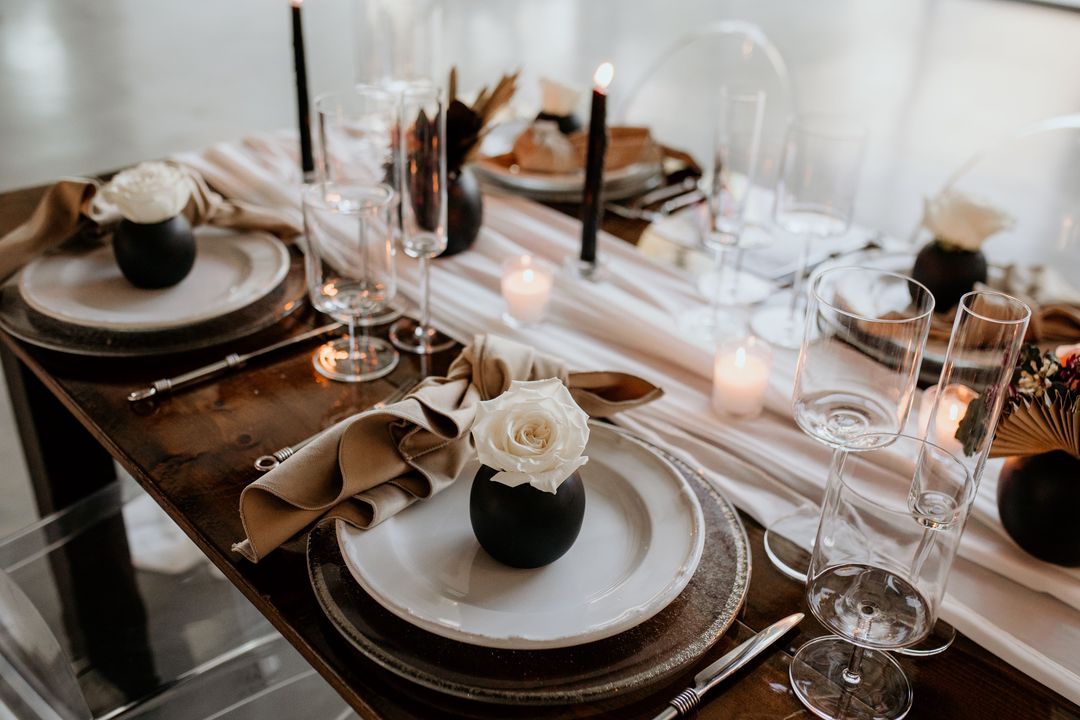 Photo by Kelsey Leigh Photography
2021 Wedding Colors
In 2021, we're expecting to see every color & combination imaginable. After a year of postponing and adjusting, why not throw out the rules a little?! While neutral-themed weddings are timeless, more and more couples are seeking to host an event that is unique and memorable. The colors you feature are one easy way to showcase your personality. Here's some 2021 color trend inspo!
Muted/Matte Jewel Tones – Mustard, Dark Plum, Hunter & Emerald green, Inky Indigo, Sapphire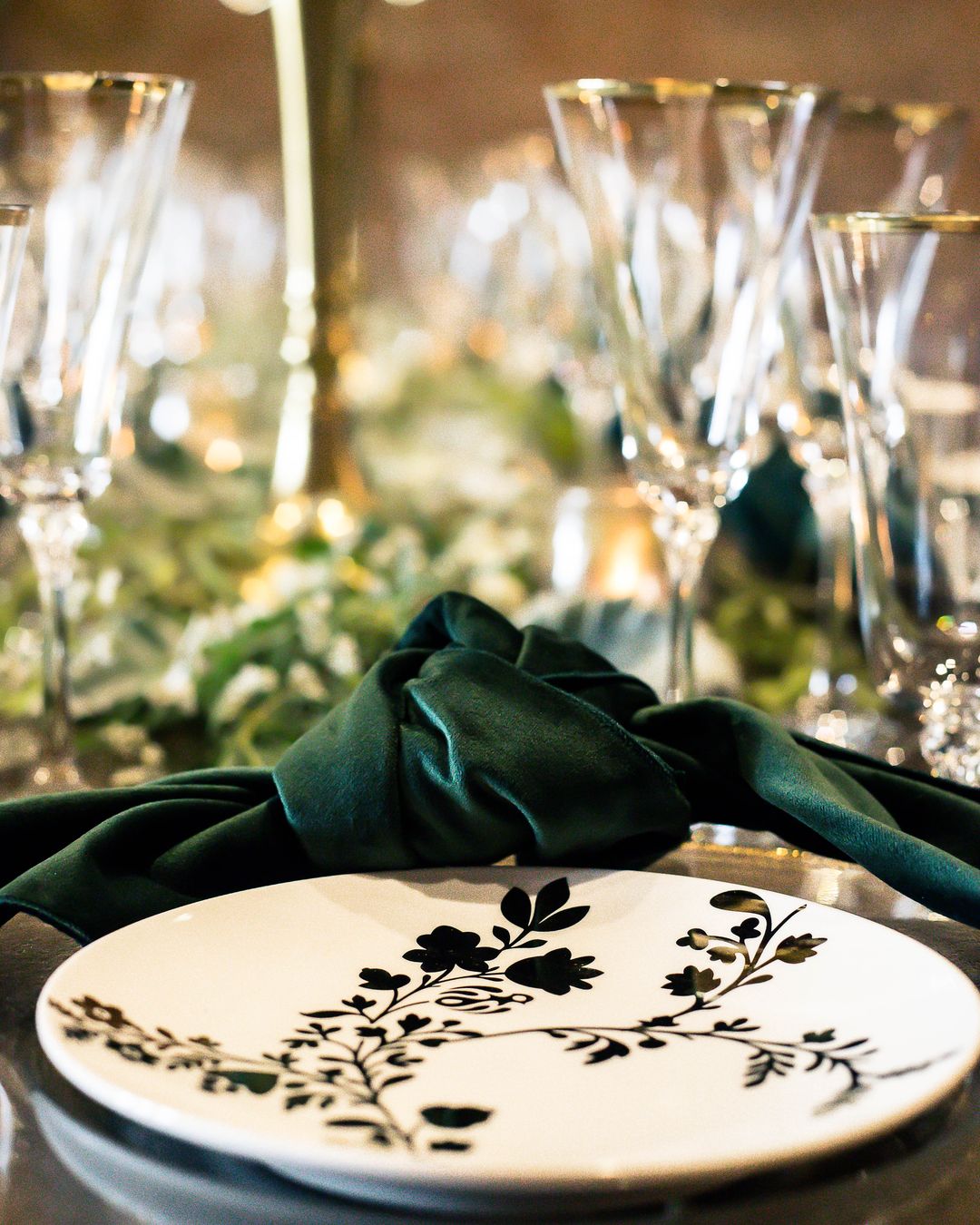 Pastel Tones – Light Aqua, Baby Pink, Peach, Cantaloupe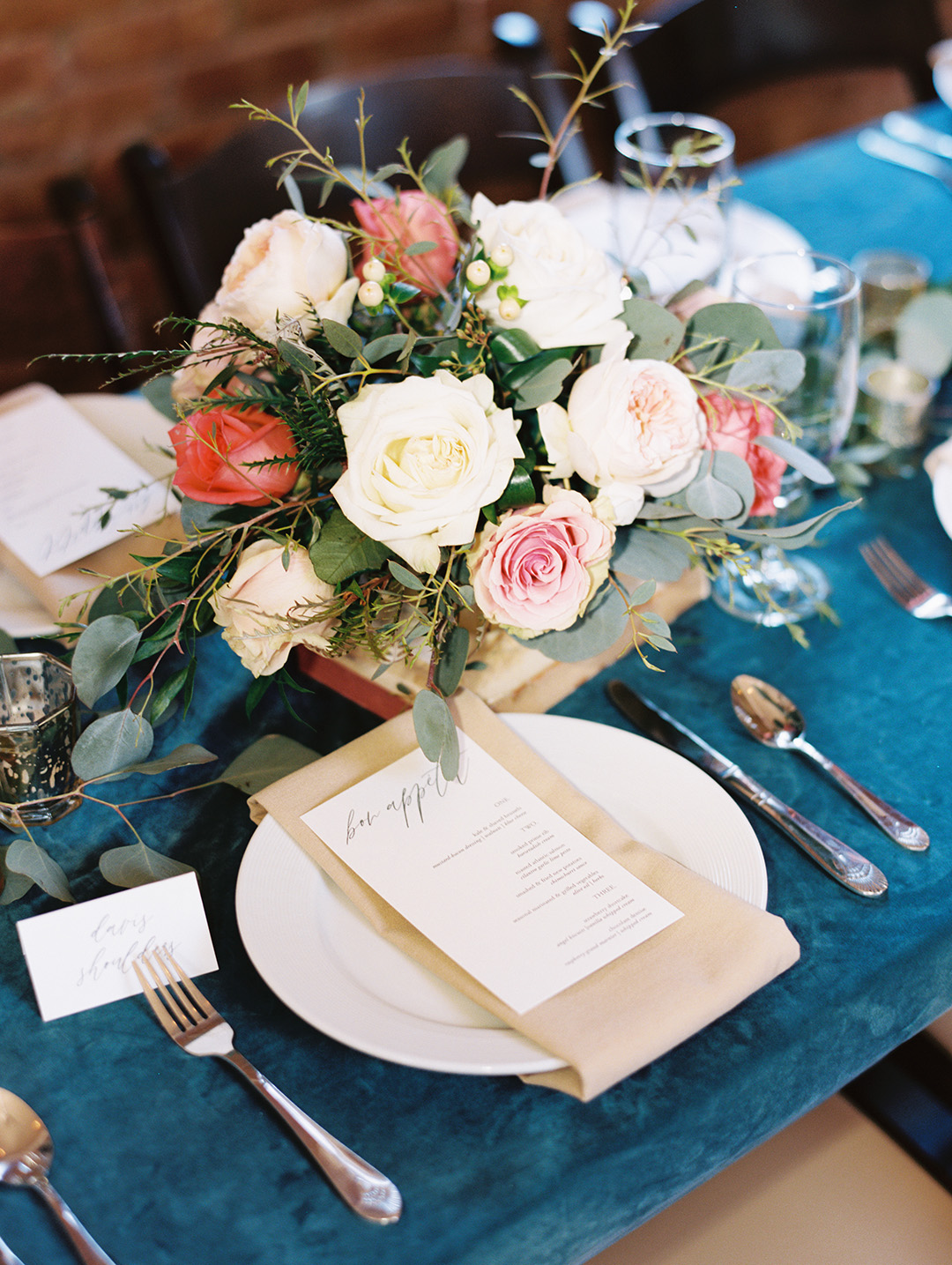 Photo by Abigail Lewis Photo
Bold & Bright – Coral, Fuschia & Sherbert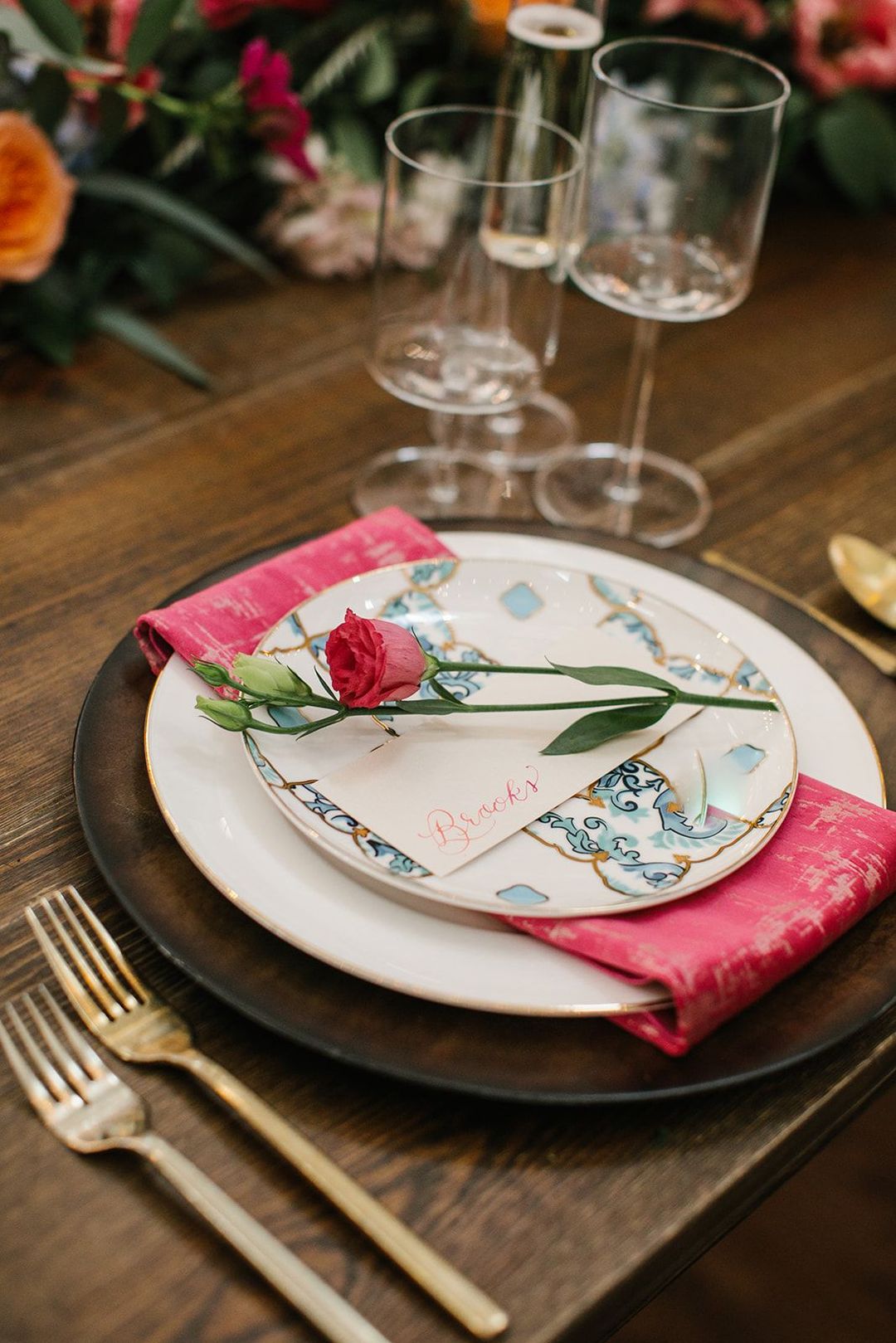 Photo by Gray Kammera
Dark & Moody + Black – Burgundy, Olive Green, Cinnamon, Crimson, Navy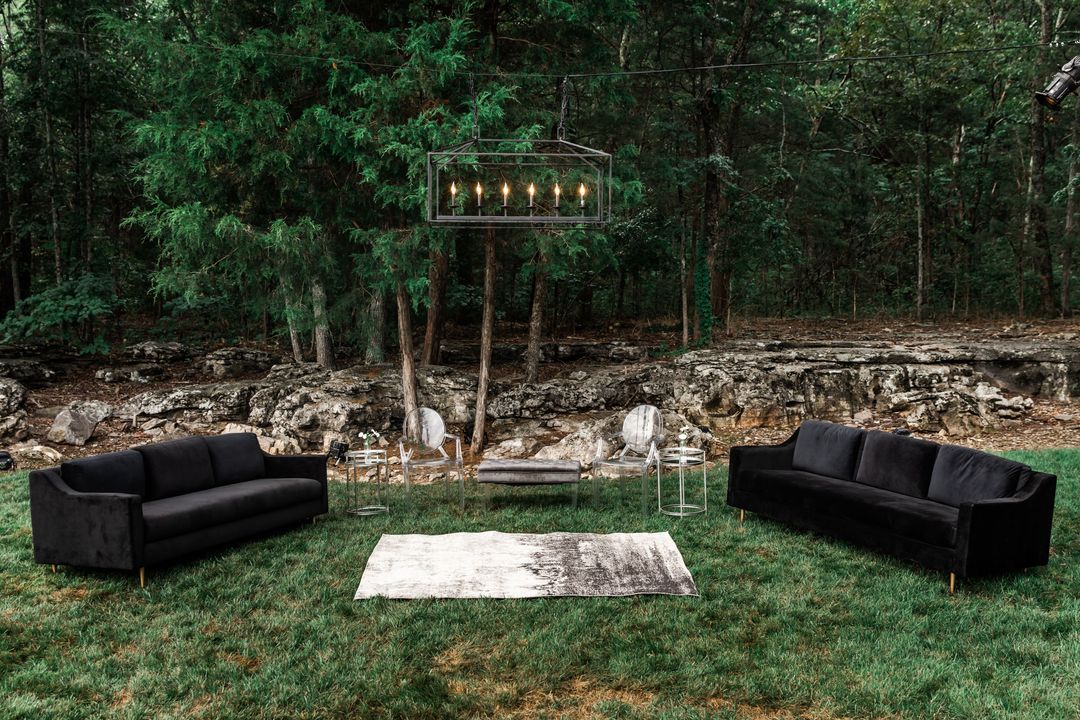 Photo by Nyk and Cali
Pantone Colors of the Year – A bright and positive combination, the Pantone Colors of the Year are Illuminating (yellow) and Ultimate Gray. We're excited to see how these colors are featured at 2021 weddings!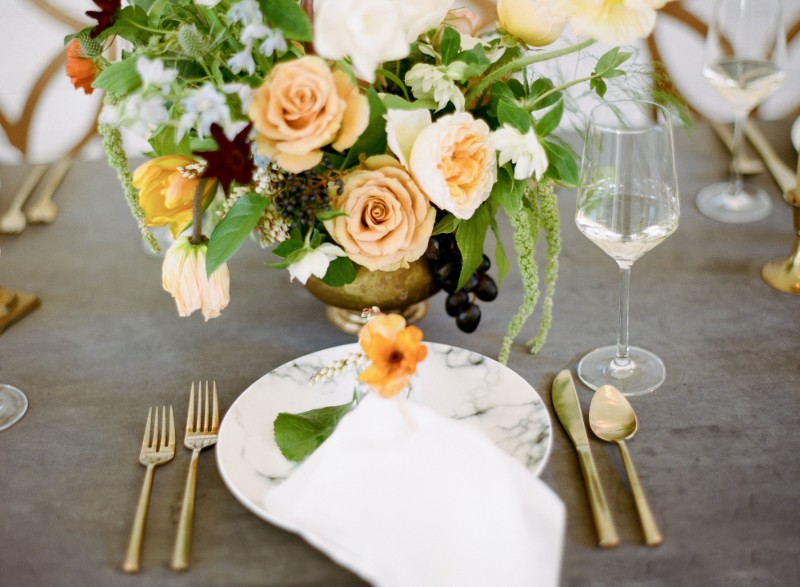 Photo by Alex Thorton Photography
Want to incorporate some of these 2021 trends into your upcoming or future Nashville or Franklin, Tennessee event? Reach out to our team for styling help or inspiration, or to secure your rentals, info@southerneventsonline.com.
TAGS | 2021 trends, On Trend, colorful decor, event inspiration, event style trends, on trend wedding style, style trends, wedding inspiration
FEATURED RENTALS | Gold Rim Glass Charger, Alabaster Earthenware, Driftwood Velvet Napkins, Artisan China, Cybil Glassware, Como Flatware, Gold Austin Flatware, Fern Velvet Linens, Colored Glassware, Pure Glassware, Medallion Gold Glass Chargers, Onyx Earthenware, Austin Flatware, Audrey Gold Rim Glassware
---
14

May

Southern Events Products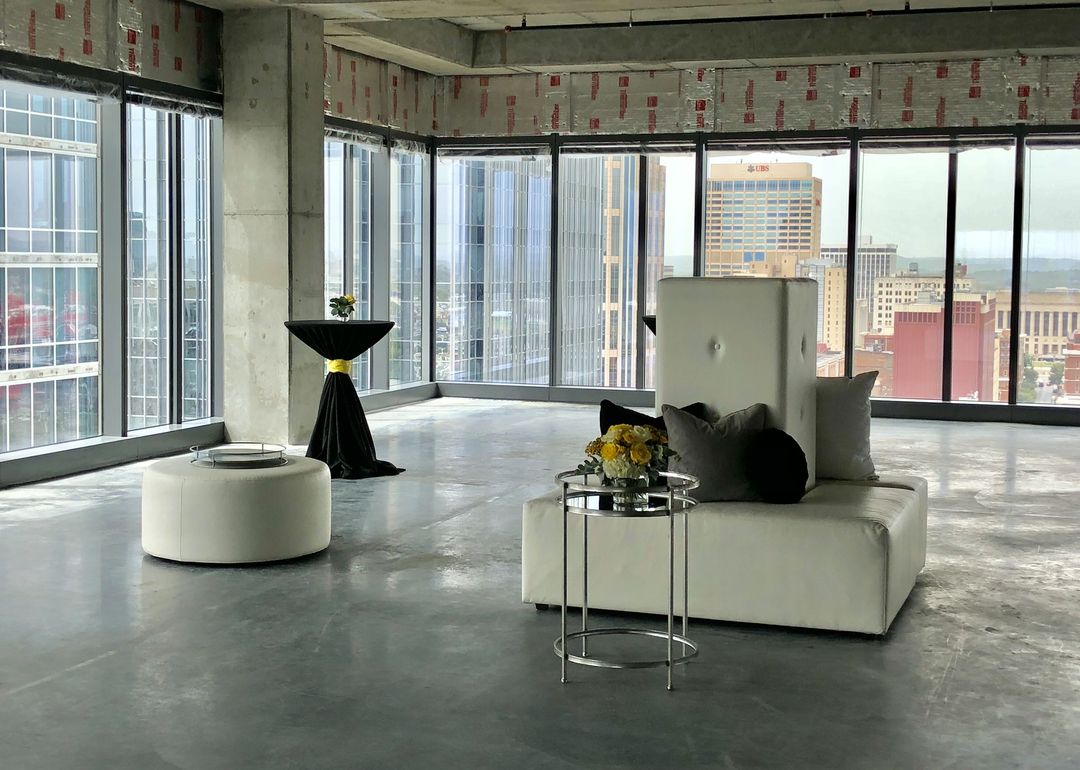 Furniture with sleek features, straight lines, and smooth and shiny surfaces – hello modern event lounges! Modern furniture design often focuses on simple geometric shapes rather than heavy or excessive ornamentation. The following event lounge packages are free of busy lines and color schemes, which lend a simple, elegant and refined look.
Chic & Sleek
White, blue velvet and gold are a gorgeous trio in this chic and sleek modern lounge package. It features our stunning Saylor Navy Velvet Sofa, with its rich color and geometric tufts. The slender legs of the Rory Navy Velvet Chair complement the Rhodes Coffee and Side Tables. The stark white tops are a beautiful contrast next to the surrounding sea of navy.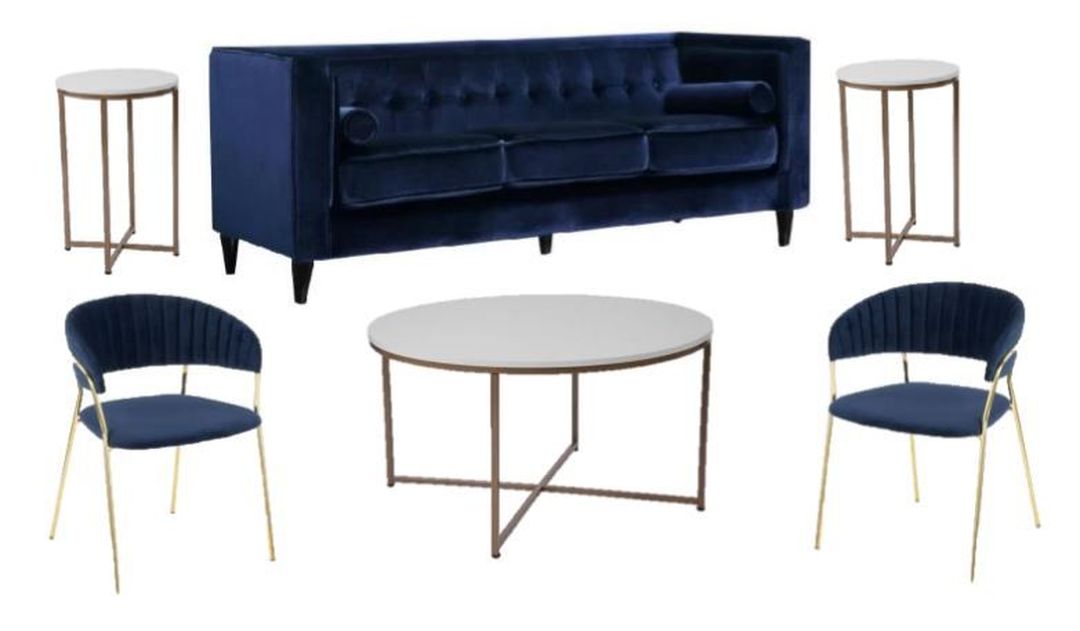 Classic Black & White
If you are looking to make a statement, this black and white event lounge is a bold choice. The sleek Black & White Stripe Cabana Benches, striking and sharp, pulls from the Regent Black Velvet Sofa. This pattern adds a unique punch of character to the otherwise plain lounge area. Meanwhile, the Rhodes Coffee Table and Rhodes Side Table add a subtle but luxe gold accent into the mix.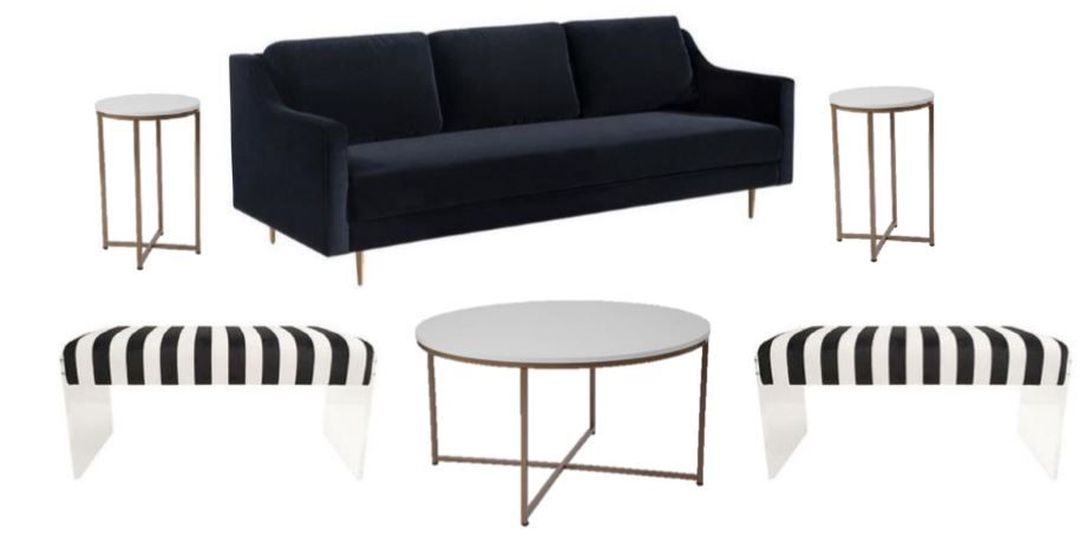 Modern Glam
Featuring black and white, this modern glam lounge is sleek and a little flashy. Blocky furniture, like the Santorini Off-White Sofa and Santorini Off-White Loveseat, appears visually sharp yet is cozy – promise.  It pairs perfectly with our white Siros Coffee Table. The cylindrical shape of the Echo Silver Mirror Side Table provides a bit of relief from the geometric dominated space, while a Black-Silver Rug ties it all together. (Learn why rugs are essential for creating a functional space!)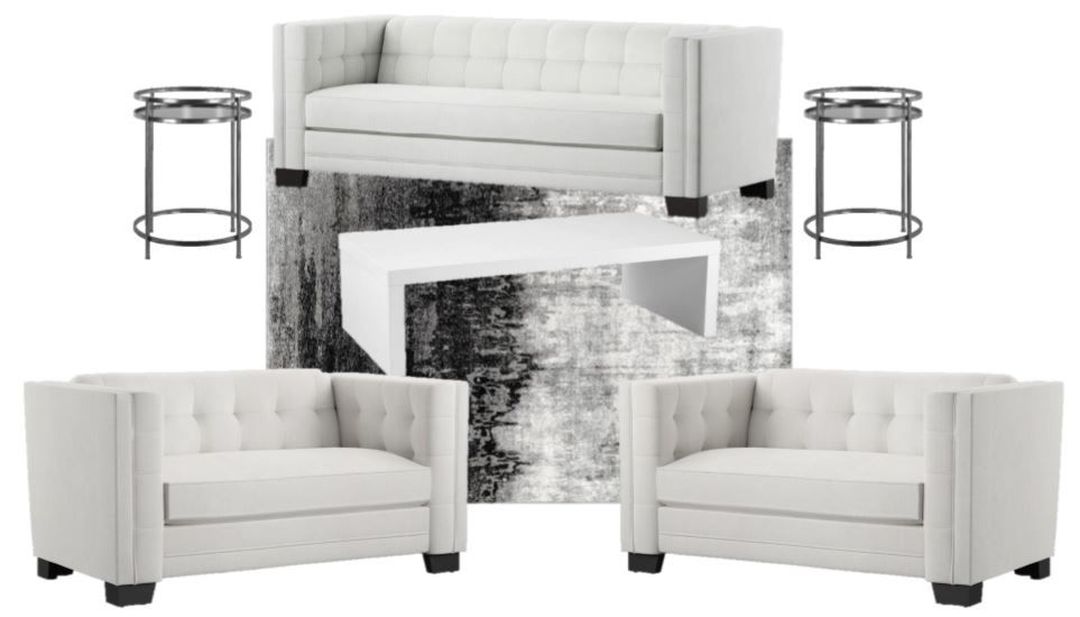 Simplistic
Primarily functional, this simplistic modern event lounge setup features neutral tones with a touch of gold. The Regent Black Velvet Sofa is clean but inviting, with its plush velvet cushions. One of the most popular modern furniture designs, the White Eiffel Arm Chair will tempt all of your guests, with its unique shape. Each piece is subtly connected, via solid colors and geometric angles, such as the legs of the Rhodes Coffee Table.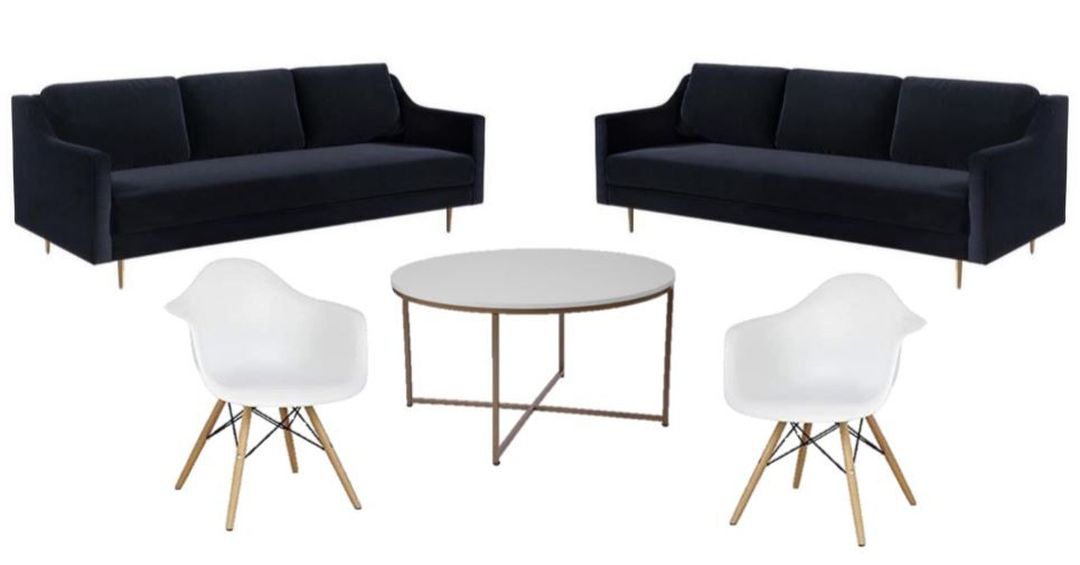 Contemporary
With a mix of unique shapes and textures, this social area will be a big draw. It consists of the Mercer White Leather Couch, Mercer White Leather Ottomans, Acrylic Ghost Arm Chairs and a Nickel Grey Bench. This package is the definition of contemporary, with simple geometric shapes and smooth surfaces. We are especially fond of acrylic elements, such as the armchairs and bench legs, which are sleek and stylish.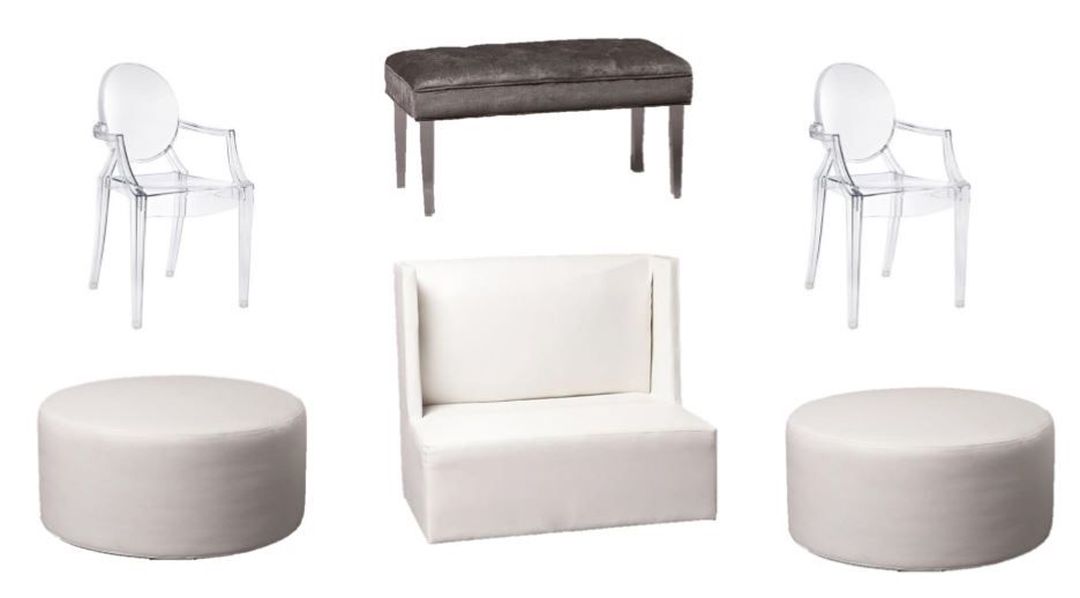 Loving these sleek and modern event lounge designs? See more options event lounge packages or contact our team today to book one for your wedding or event!
TAGS | Lounge Furniture, Lounge Furniture Packages, Modern Event Lounge, Modern Lounge Furniture, lounge, lounge areas
FEATURED RENTALS | Regent Black Velvet Sofa, Black & White Stripe Cabana Bench, Rhodes Coffee Table, Rhodes Side Table, Saylor Navy Velvet Sofa, Rory Navy Velvet Chair, Rhodes Coffee Table, Rhodes Side Table, Navy Rug, Santorini Off-White Sofa, Santorini Off-White Loveseat, Siros Coffee Table, Echo Silver Mirror Side Table, Black-Silver Rug, Regent Black Velvet Sofa, White Eiffel Arm Chair, Rhodes Coffee Table, Mercer White Leather Couch, Mercer White Leather Ottoman, Nickel Grey Bench, Acrylic Ghost Arm Chair
---