10

Aug

Southern Events Products, Trends and Inspiration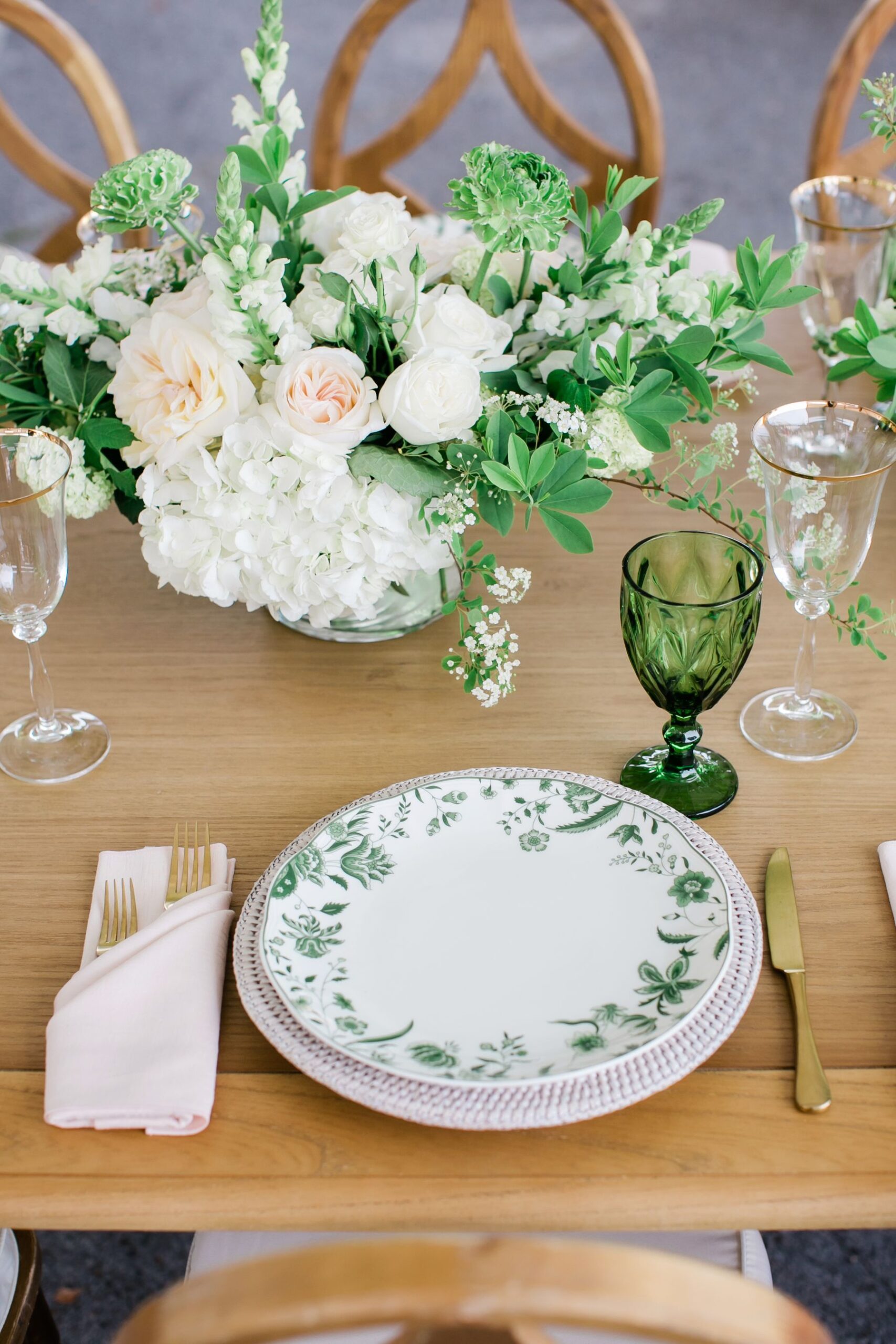 Hosting a party is a wonderful way to celebrate life's special moments with friends and family. However, in our efforts to create memorable events, we often overlook the environmental impact. From plastic disposables to excessive waste, parties can generate a considerable carbon footprint. But fear not, there is a better way! By choosing sustainable event rentals, we can reduce our ecological footprint while still throwing a stylish gathering. Explore how you can host a feel-good party by renting linens, china, and other serving pieces from Southern Events Online.
High-Quality Linens
When it comes to creating an eco-friendly tablescape, opting for sustainable linens is a fantastic choice. Instead of disposable tablecloths and paper napkins, consider renting high-quality fabric linens. Reusable tablecloths made from natural fibers like linen or cotton not only exude elegance but also reduce waste significantly. We stock a variety of options for every occasion! From whimsical pastels to bold jewel tones and sophisticated patterns. Plus, seasonally-inspired options such as Four Seasons Floral for a sunny summer soiree. Or, perhaps an Ocean Blue Velvet Tablecloth contrasted with Lavender and Hot Pink Napkins for a bold jewel-toned look.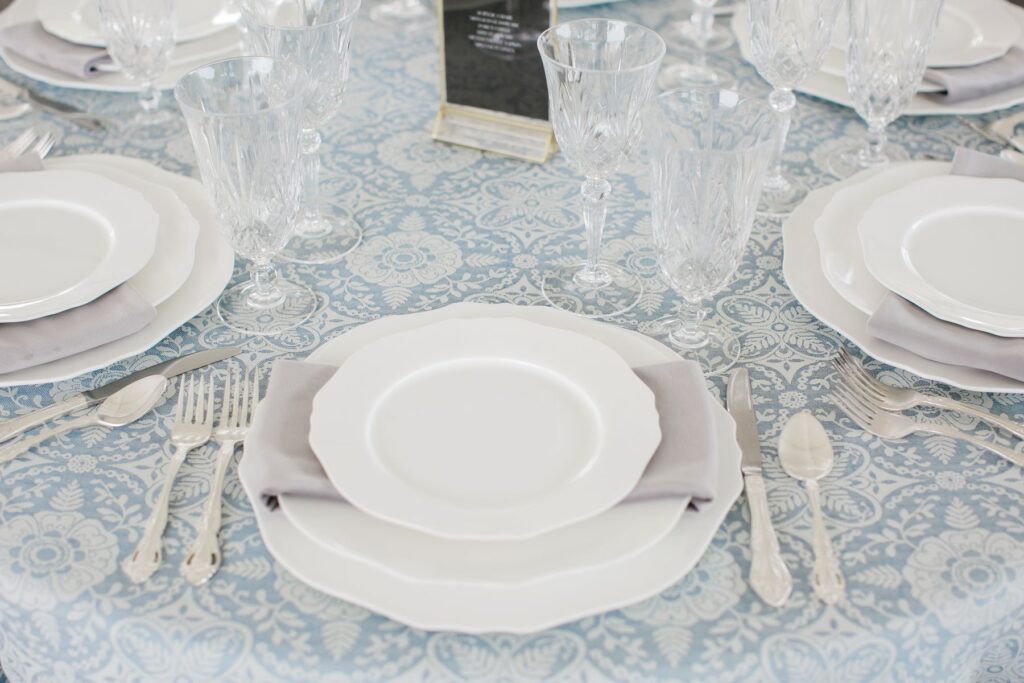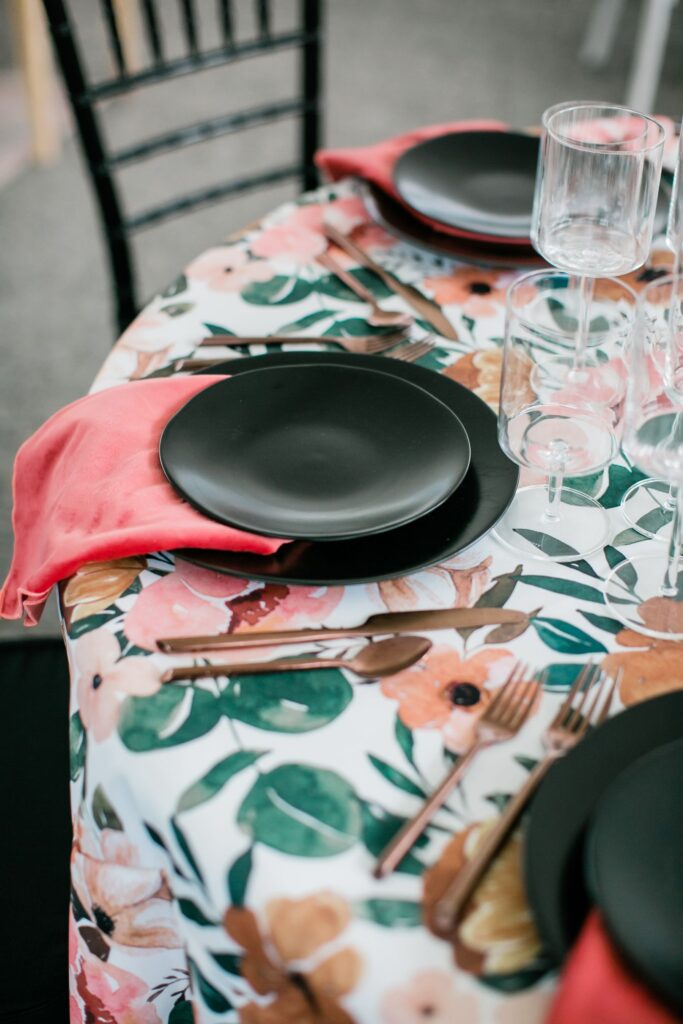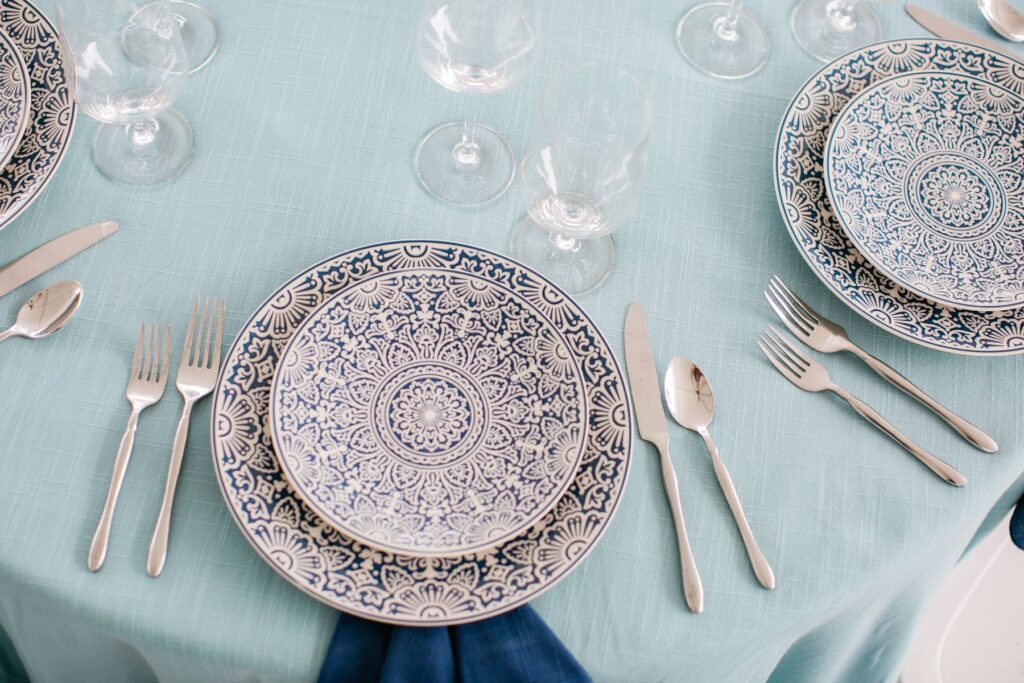 Reusable China and Flatware
Ditch the disposable plates and cutlery in exchange for timeless china and flatware. Renting ceramic or porcelain dishes not only adds sophistication to your table settings. It also helps prevent single-use plastic waste from piling up in landfills, and your garbage cans. Stack our Darcy Charger with the Liana China, along with the Abby silver flatware for a charming vintage-inspired table. Or, for a more modern vibe, complement a Glass Charger with Black Rim and Earthen Alabaster China with Austin Gold Flatware. Need a setting that oozes luxury? You can't go wrong with our Hamlet China – although the sleek Athena China is equally striking. Moreso when contrasted by the Noir Matte Black Flatware. Mix and match to your heart's desire, or take a look at some of our favorite on-trend party plates for more inspiration.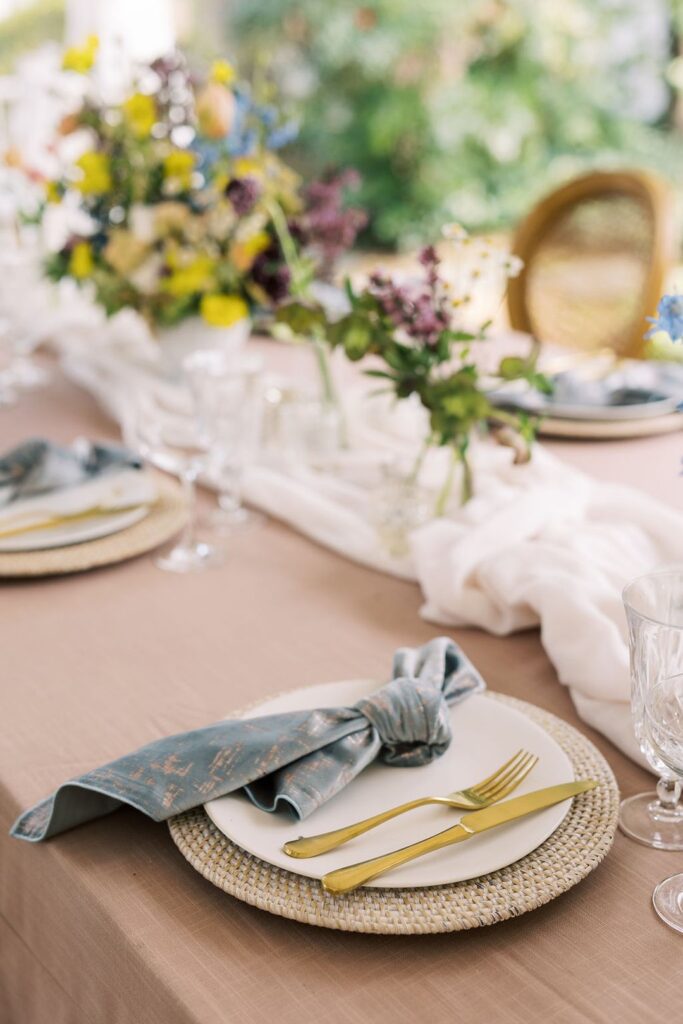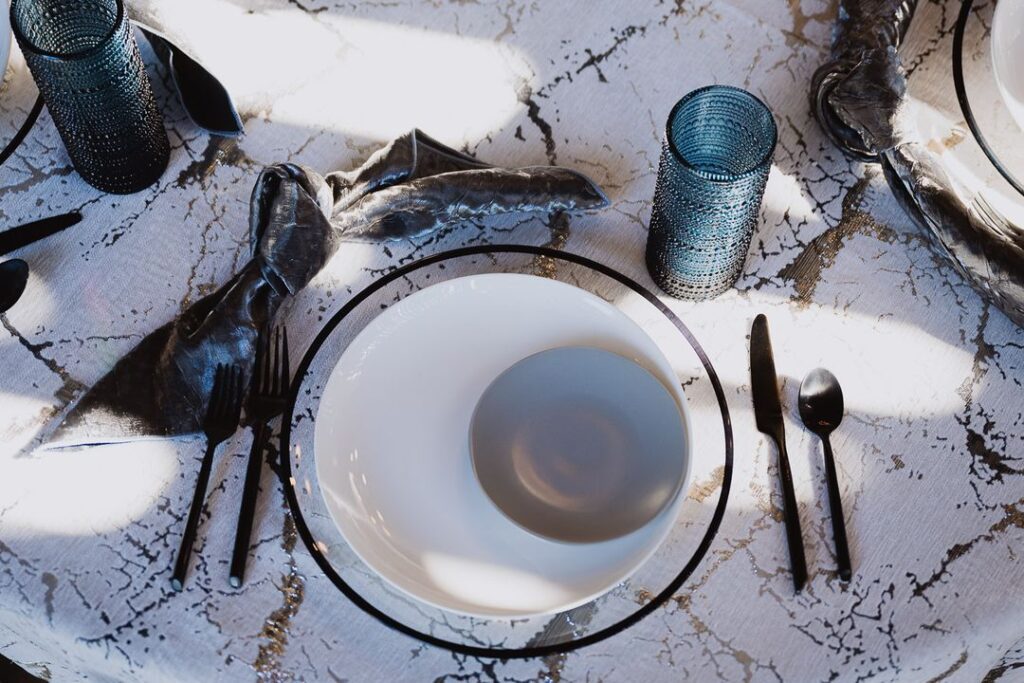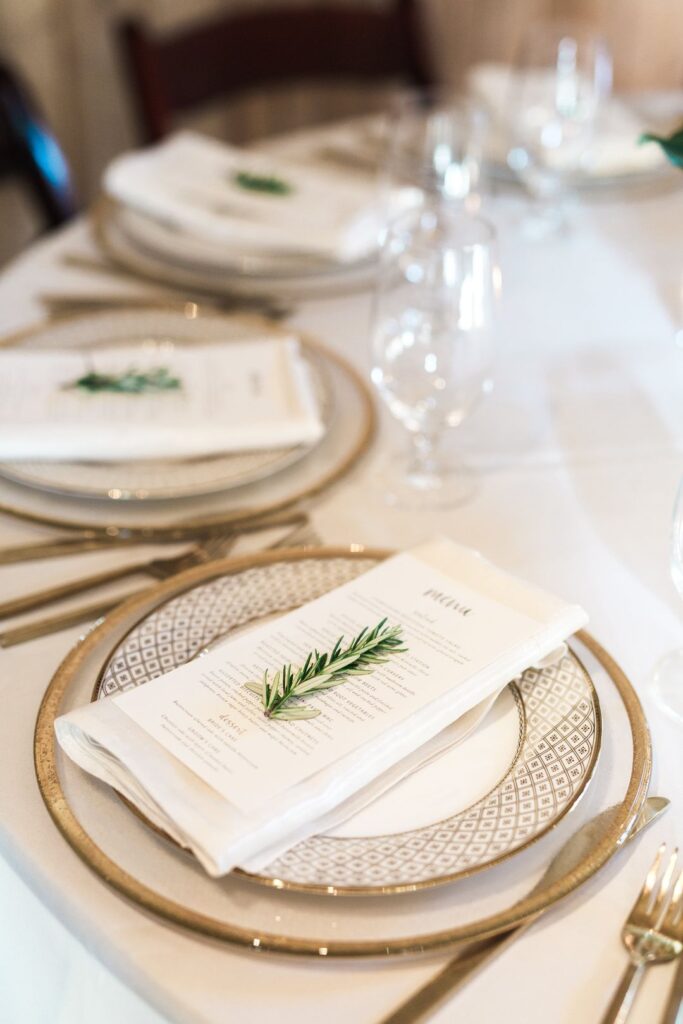 Eye-Catching Glassware
One of the biggest culprits of waste at parties is plastic cups. Eliminate this waste by renting glassware for your beverages – an eye-catching alternative! From wine glasses to tumblers and everything in between, glassware rentals add a touch of class and sustainability to your party. In addition to being an easy way to infuse an extra touch of style. Take for example our Cybil glassware, with a funky modern shape. Or our beaded glassware, oozing coastal charm. Furthermore, consider using beverage dispensers for serving drinks. Not only do they look stylish, but they also minimize the need for single-use plastic bottles and cans. Infuse water with fresh fruits or herbs to create a refreshing and visually appealing drink station.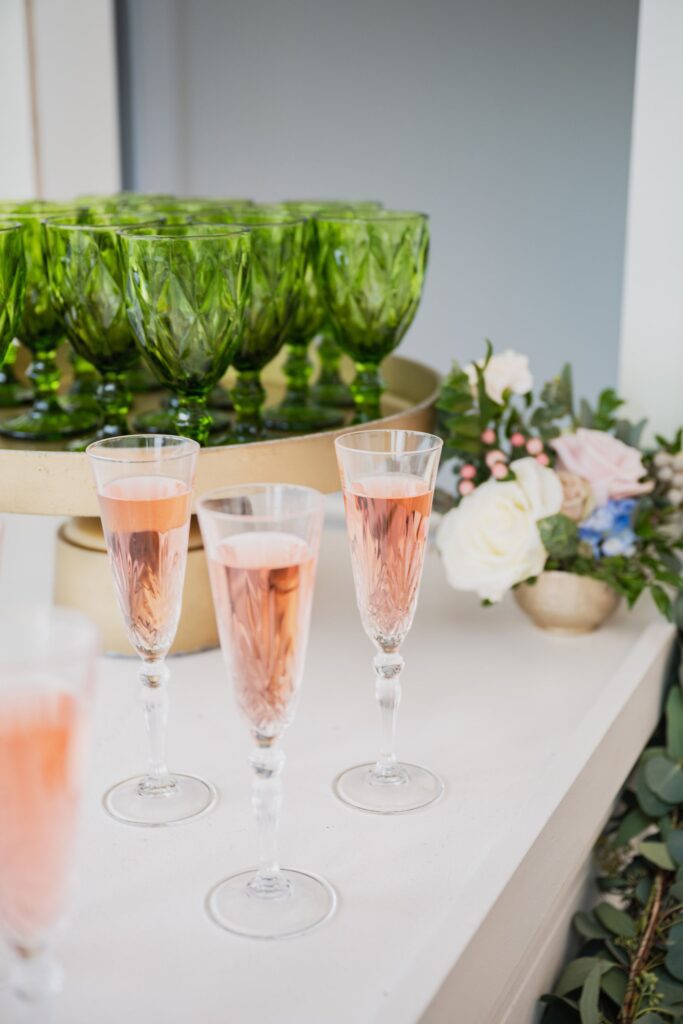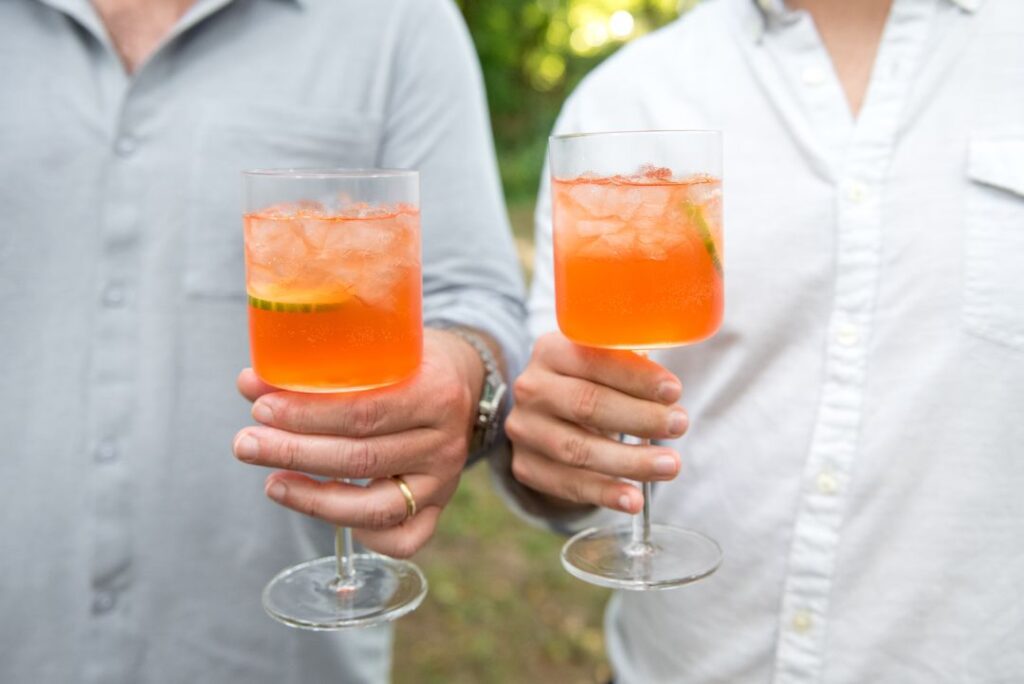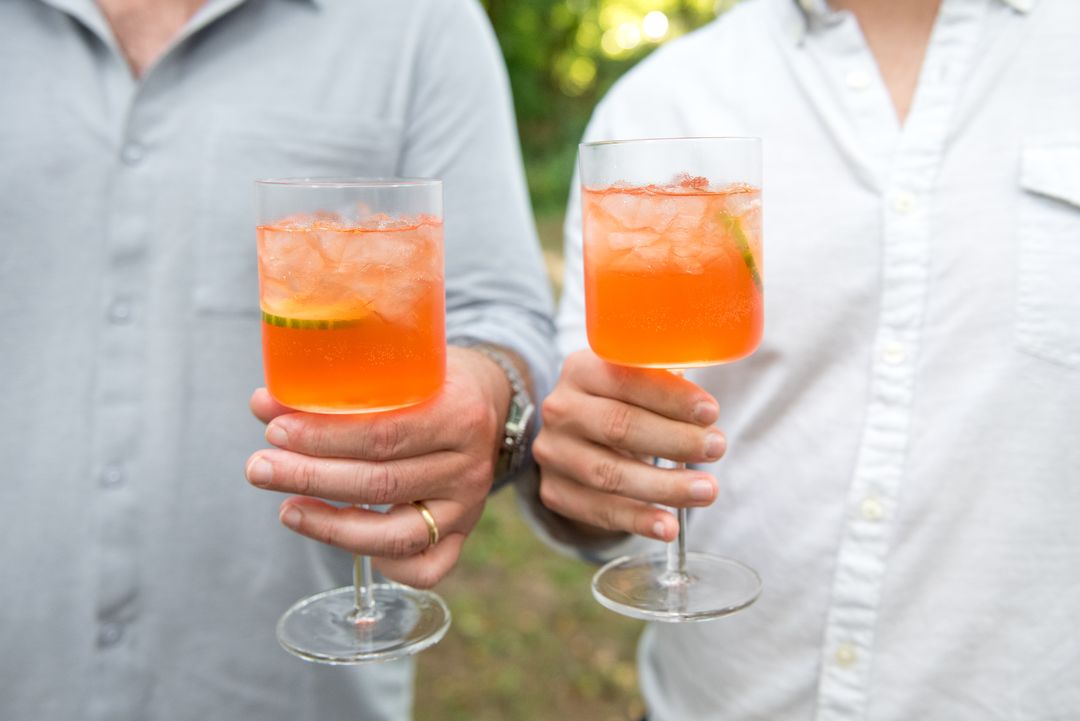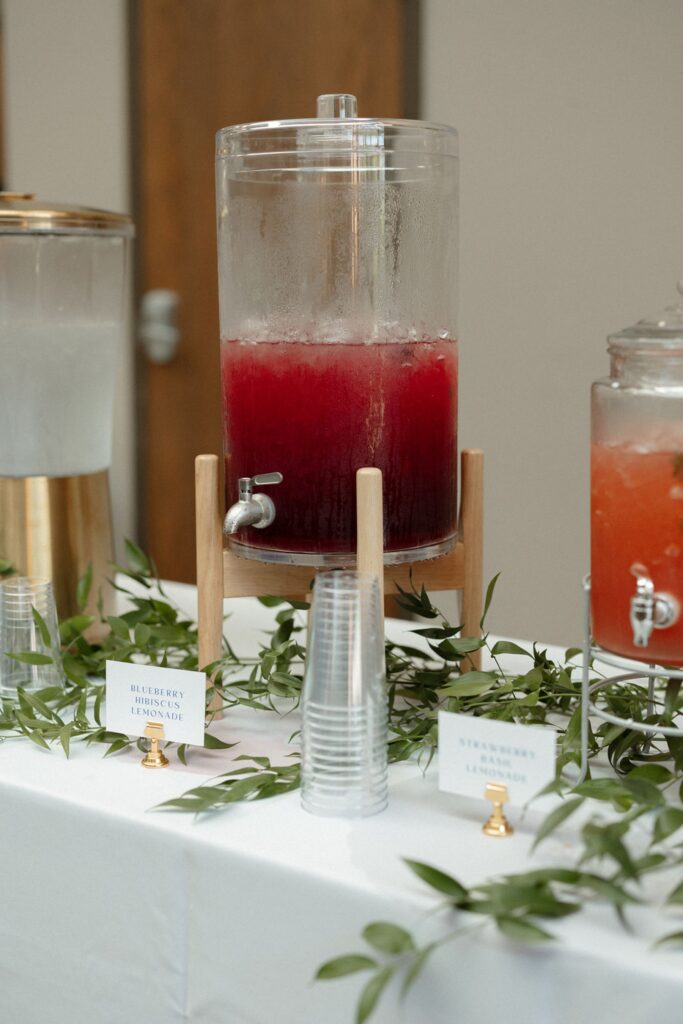 Stylish Serving Pieces
When it comes to serving food, to parties large or small, we offer a variety of options to suit your needs. Chafing dishes, which keep food warm, are excellent for buffet-style events and help reduce food waste by maintaining optimal serving temperatures. Meanwhile, family-style serving bowls encourage guests to share food, fostering a sense of community and reducing individual packaging waste. Finally, silver trays and charcuterie boards lend a touch of sophistication to your spread while avoiding disposable platters and trays.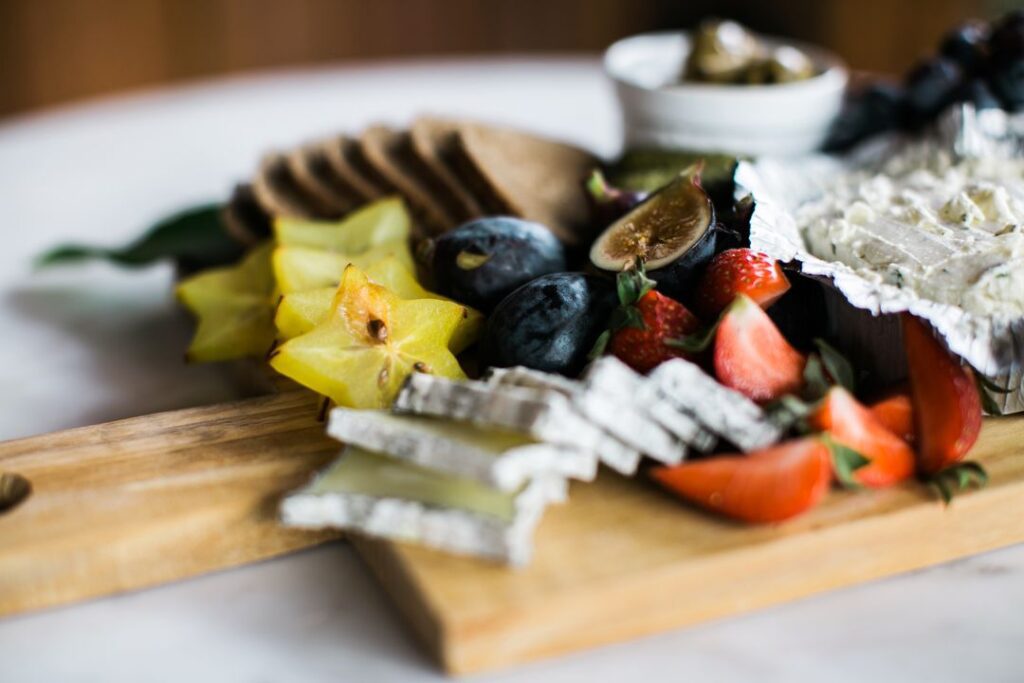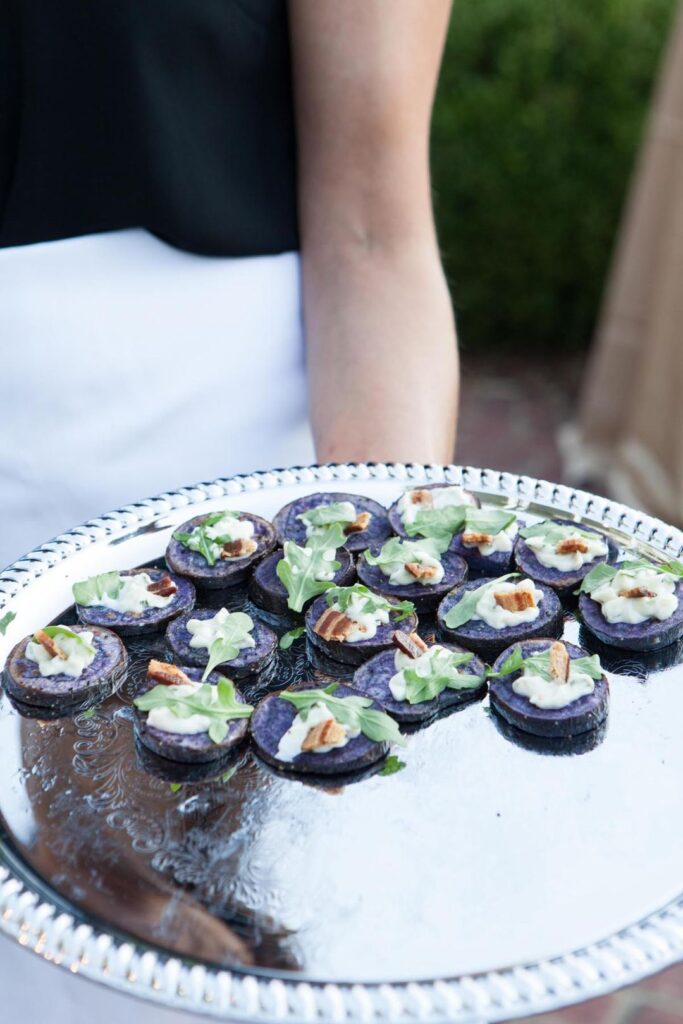 Hosting a feel-good party with sustainable event rentals will showcase your commitment to the environment. In addition to creating a warm and inviting atmosphere for your guests! Contact our team for help creating a unique tablescape, or if you need more ideas
TAGS | Event Catering Rentals, Tableware, eco-friendly event rentals, serving pieces, servingware, sustainable event rentals, tablescape rentals
FEATURED RENTALS |
---
27

Jul

On Trend, Southern Events Products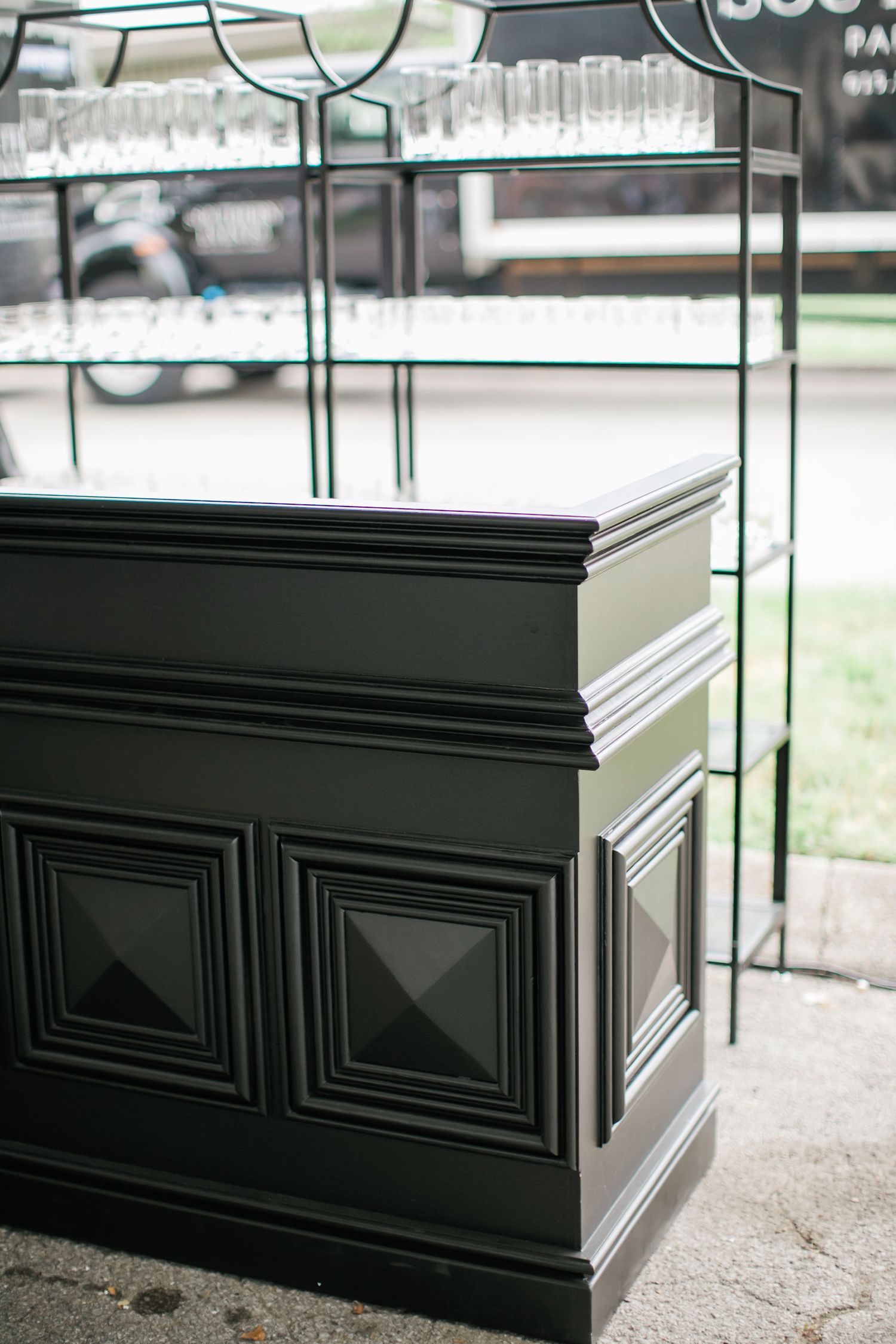 Serving alcoholic beverages, or delicious mocktails, starts with a well-stocked bar! Whether you're organizing a wedding reception, corporate gathering, or milestone celebration, Southern Events Online is your go-to destination for event bars and bar accessories for rent. Let's dive into the offerings that will transform your event into a sophisticated soirée, from bars in every shape and size to on-trend glassware and elegant backdrops.
Stylish Bars for Rent
A well-outfitted bar is the sign of a well-planned event. We offer a wide selection of stylish bars available for rent, perfect for any event theme or ambiance. For a rustic chic vibe, grab our Thompson Oak Bar. Or, a fan favorite, the Chelsea Marble Top Bar is perfect for a modern bohemian vibe! Our bars are crafted with attention to detail and are designed to create a focal point at your event. From vintage wooden bars to elegant mirrored options, you'll find the perfect match for your event aesthetic. If you are hosting an intimate event, we also carry a Gold Bar Cart, perfect for providing table service.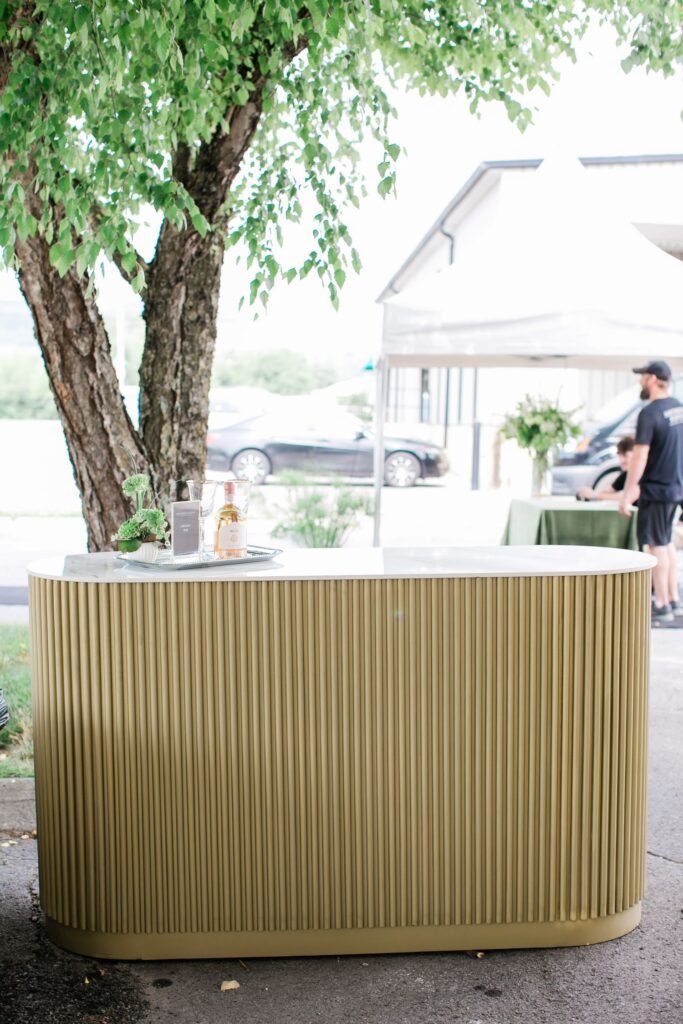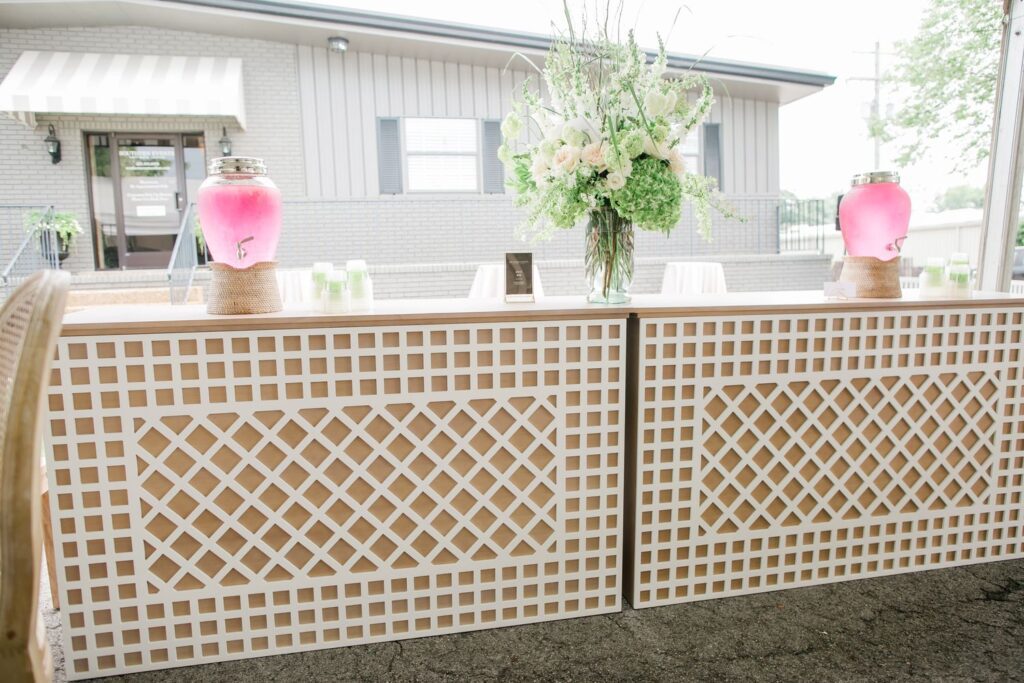 On-Trend Glassware
With an impressive bar area, you'll need glassware to match! This is why Southern is excited to stock an array of glassware options that will enhance the visual appeal of your beverages, whether it be wine or a signature cocktails, and impress your guests. In addition to the essentials, such as highball and rock glasses, we have an elegant selection for celebratory events. Including our Gatsby Champagne Coup Glasses and Cybil Champagne Flutes. If you want to infuse a splash of color into your bar setup, peruse our inventory of colored glassware. Ranging from retro shades of pink and amber, to vibrant shades of green and blue. Consider all your options when you visit our catalog!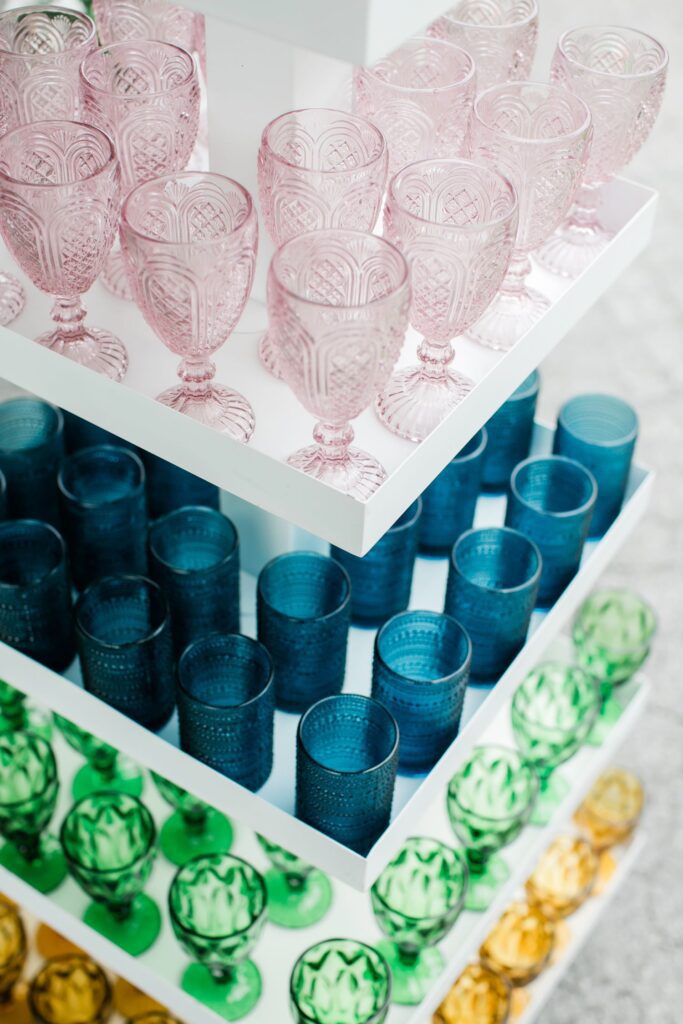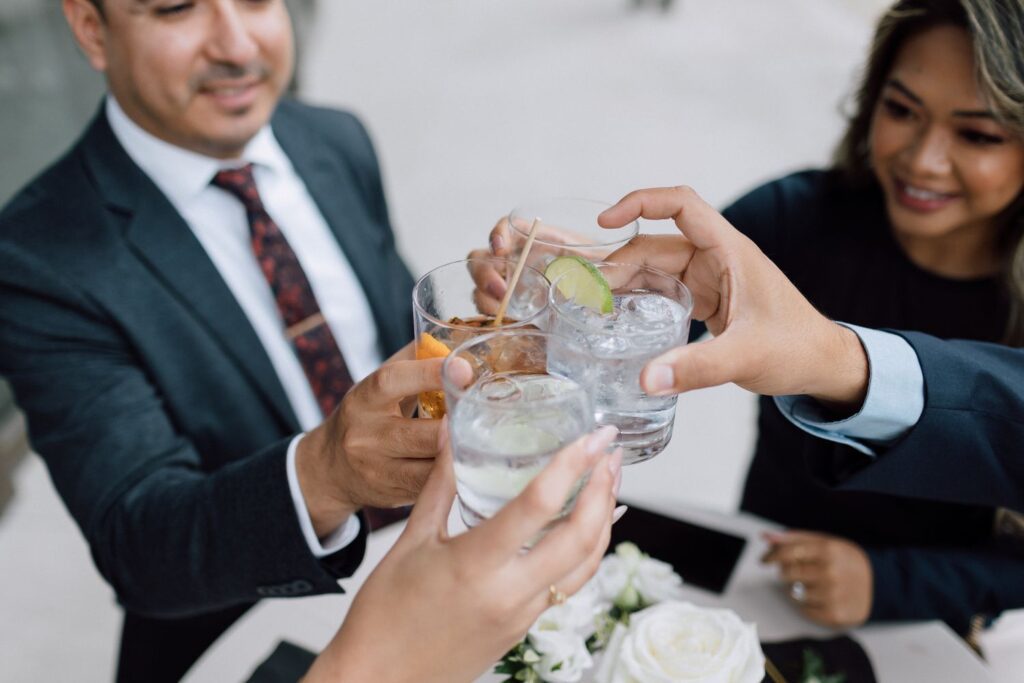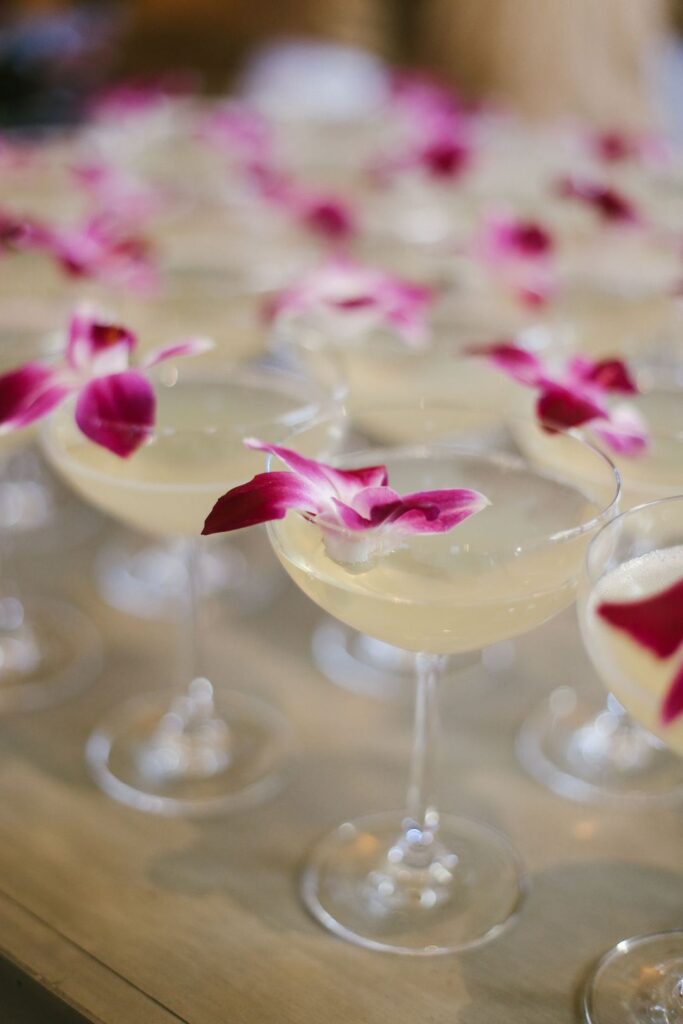 Bar Shelving + Backdrops
To create an immersive and visually appealing bar area, we stock an assortment of bar shelving and backdrops for rent. These elements will help transform a simple bar into a captivating focal point! Choose from simple shelves to display your liquor collection or glassware – such as a Black Bookcase or Gold Avenue Barback Shelf. Or, feature Boxwood Walls, elevated with custom signage starring a menu or corporate logo. With a diverse range of options, you can curate a bar setup that perfectly reflects your event theme and leaves a lasting impression.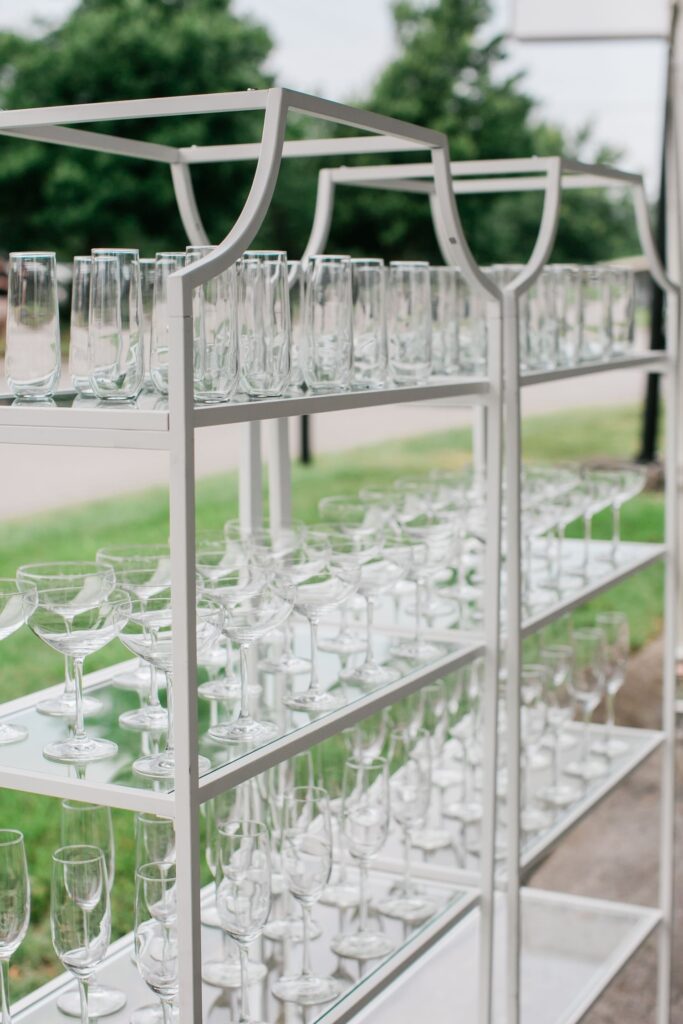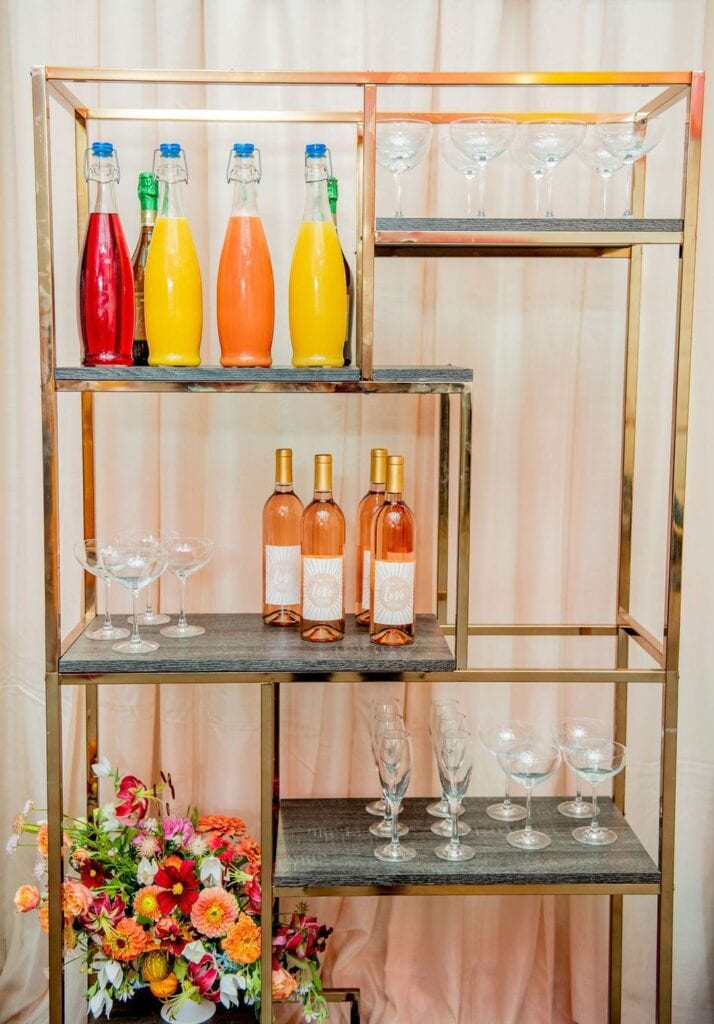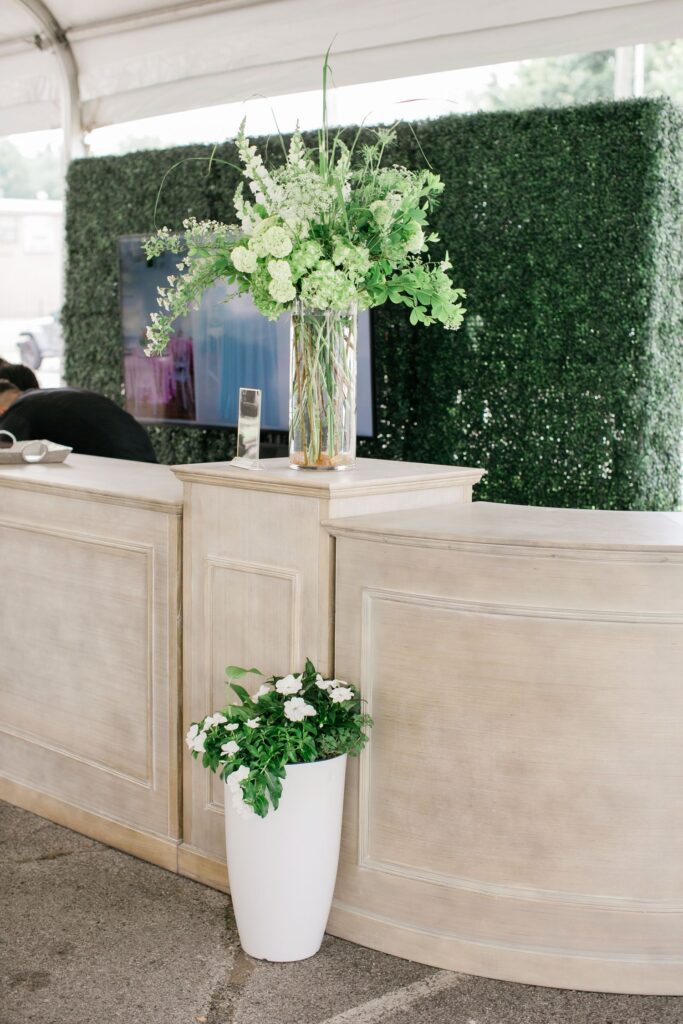 Cocktail Tables & Seating
Cocktail tables are both functional and stylish! These tables provide the perfect gathering spot for guests to enjoy their beverages and engage in conversation. For standing and mingling, combine our new Palmer Bistro Table with matching barstools, or feature a Charleston Bistro Table standalone. Or dress a cocktail table with bright linens, in a soft satin or rich velvet material, contrasted by Acrylic Ghost or Mid-Century White Barstool. Alternatively, and to create a more relaxed atmosphere, peruse our selection of curated event lounges. Complete with stylish seating, accent tables, and rugs.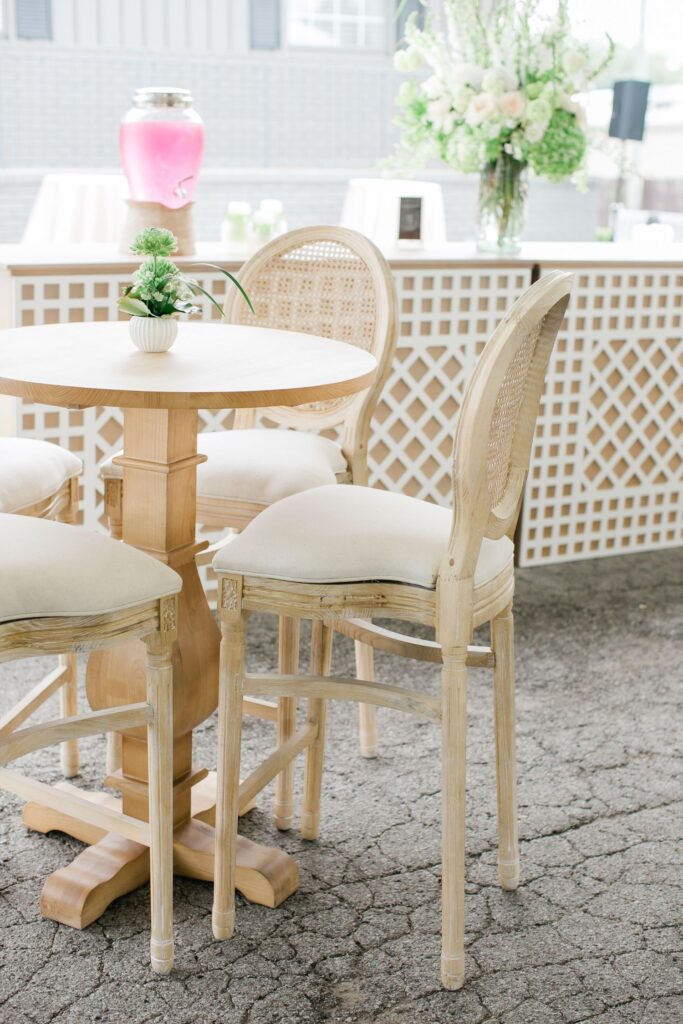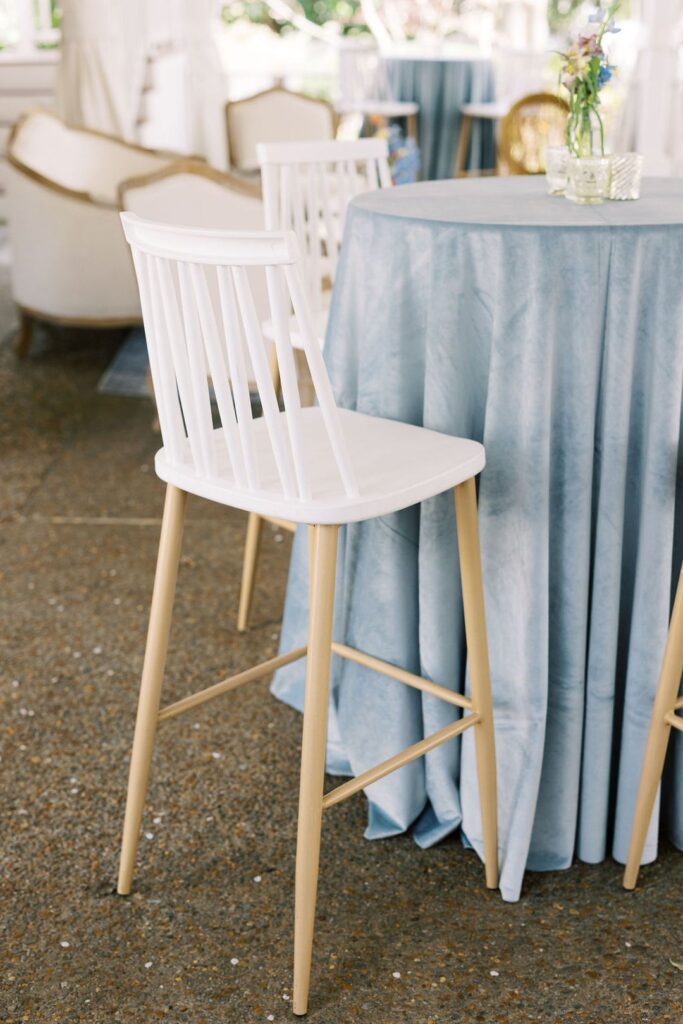 Want to feature some of these stylish bar accessories for rent at your upcoming event? Contact our team at info@southerneventsonline.com and let's start planning your best party event yet! Hosting outdoors? Explore our Unique Outdoor Party Decor & Props that will elevate your celebration.
TAGS | Glassware Collection, Nashville Event Rentals, Nashville Wedding Rentals, Nashville party rentals, Southern Events Party Rentals, Unique Wedding Rentals, backdrop ideas, bar accessories, bars for event rentals, glassware rentals Nashville
FEATURED RENTALS | Sorrento white bar, Thompson oak bar, cheese marble top bar, gold bar cart, gold bar cart, Gatsby coupe glasses, Cybil champagne flutes, black bookcase, gold avenue Barback shelf, boxwood ball, palmer bistro table, Charleston bistro table, mid century white barstool acrylic ghost barstool,
---
8

Jun

On Trend, Southern Events Products, Trends and Inspiration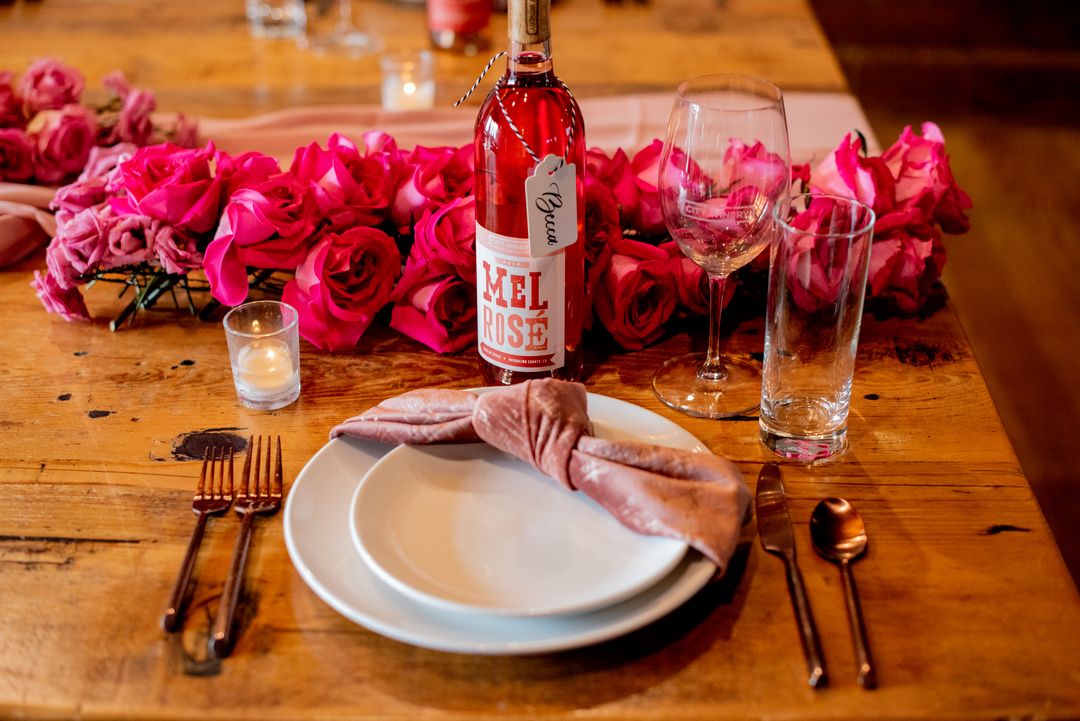 Combining energy and playful nostalgia, Barbiecore is trending! Inspired by the iconic doll, a Barbie-themed party will bring a touch of whimsy and fun to any event. Whether you're hosting a casual cocktail hour, an intimate bridal shower, an adult birthday party, or even a children's birthday bash. Southern Events Online has you covered with our beautiful collection of Barbiecore-inspired event rentals. Let's dive in and start planning your next celebration!
Take it Easy
When it comes to hosting a casual get-together, creating a stylish and vibrant space is key. To set the stage for a chic backyard cocktail hour or poolside bachelorette party, create a space adorned with pops of pink and a dash of retro charm. You can set the mood with bistro tables with Hot Pink Velvet Linens. In addition, add some chic Arylic Square Back Barstools for extra seating. Where guests can enjoy colorful cocktails, served in classic Gatsby Coupe Glasses. Alternatively, you can use our Gold Bar Cart as a self-serve drink station. With big-batch cocktails in the Hampton Beverage Dispenser. And if you plan to offer some light bites, our Coronado China will lend a fun hint of blue to party.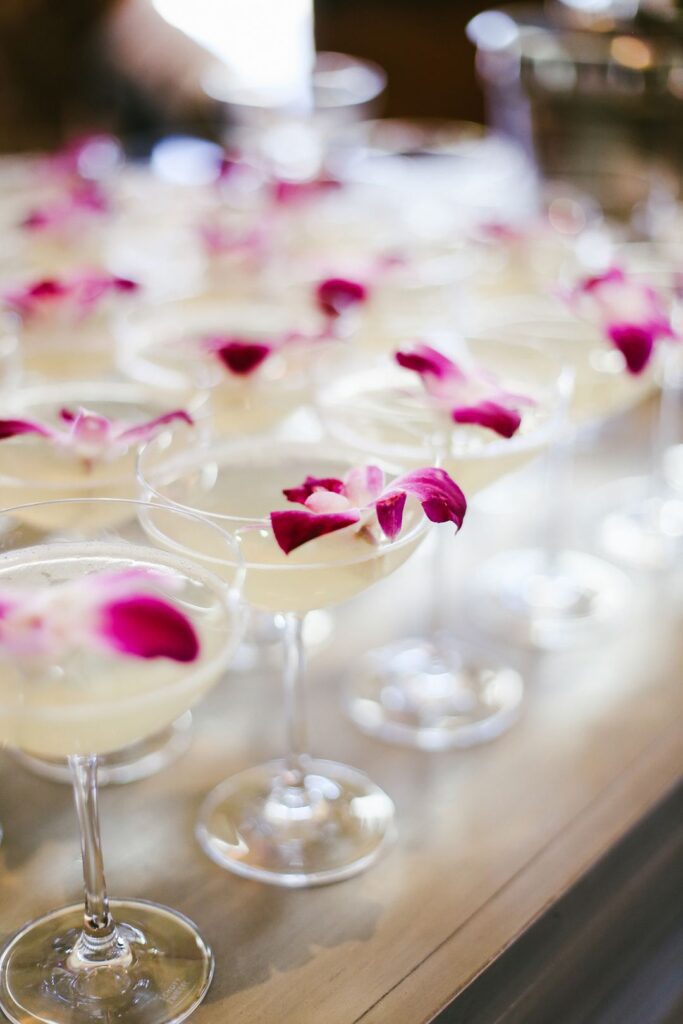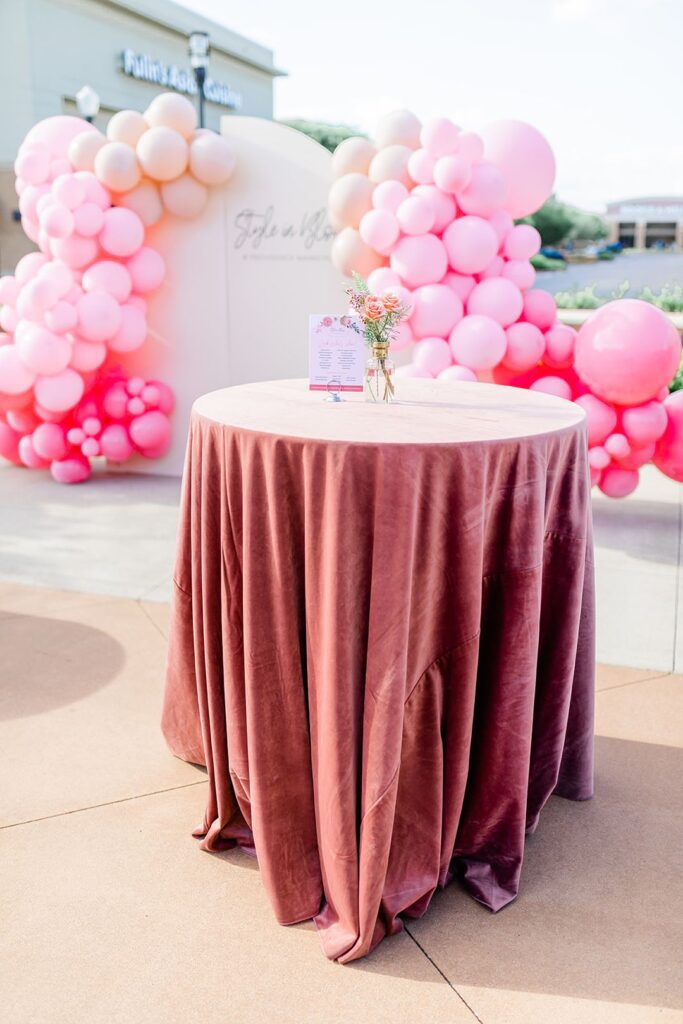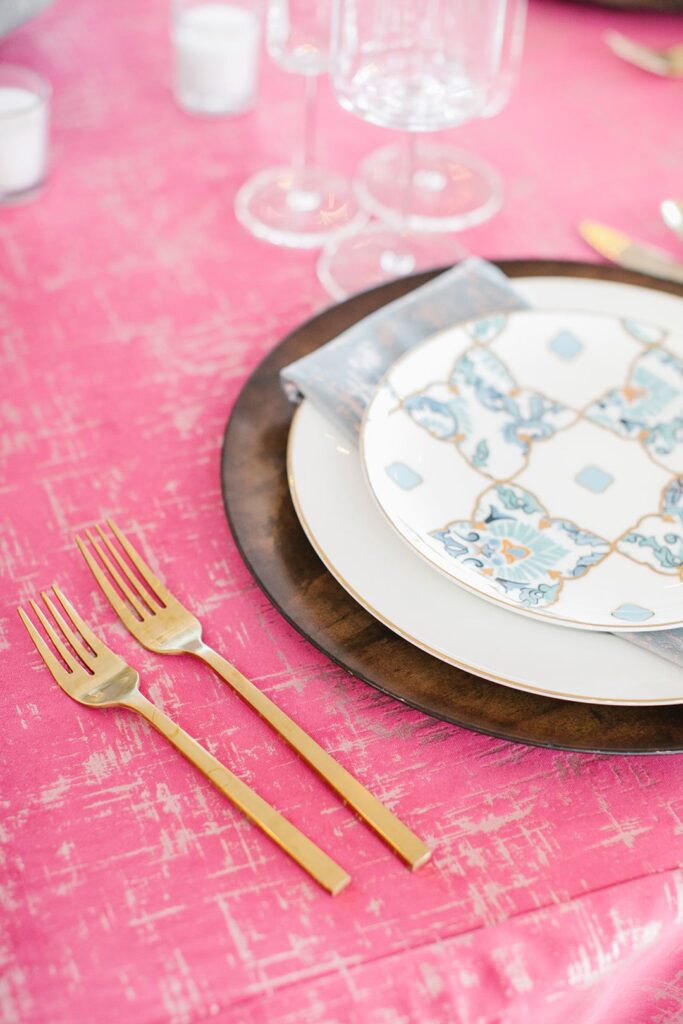 Chic in Pink
For a smaller gathering, such as a bridal shower or an adult birthday celebration, you'll want a muted look. We can help you create a chic pink setup that with our Barbie-inspired event rentals. Starting with a tablescape with a Satin Blush Matte Runner and hot pink roses. Next, feature White Coupe Dinner Plates contrasted by Rose Etched Velvet Napkins and Brushed Copper Flatware. To serve up a ròse, our Cybil Champagne or Wine Glasses will lend a fun retro touch. Complete the look with a pop of blue from our bold Farrah Teal Velvet Chairs. For additional seating, there is our cozy Pearce Lounge. Perfect for additional seating and post-dinner mingling.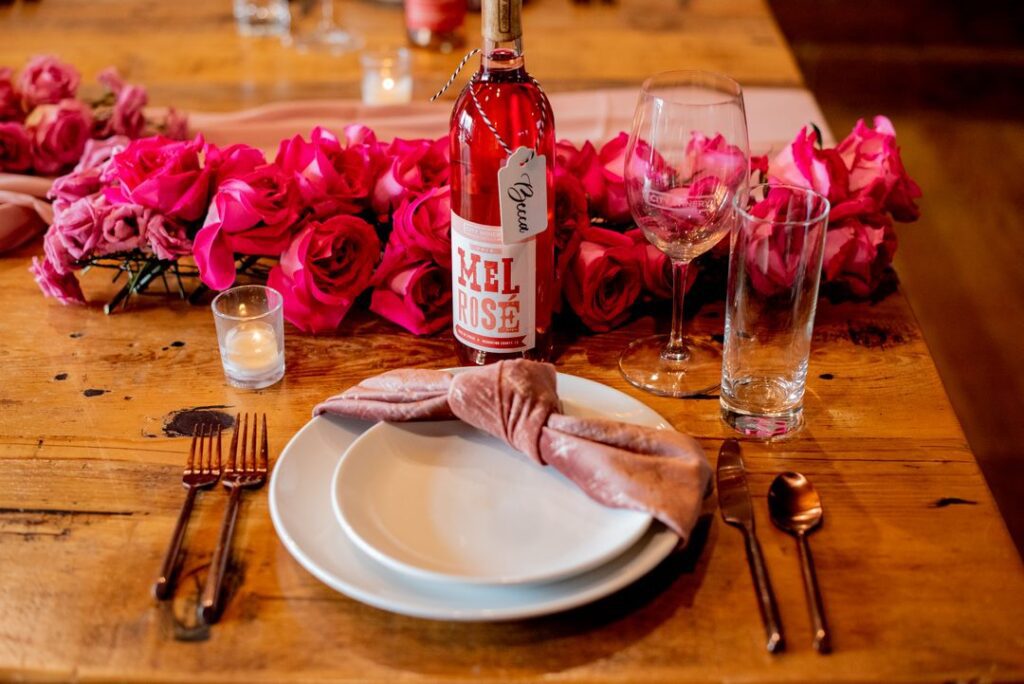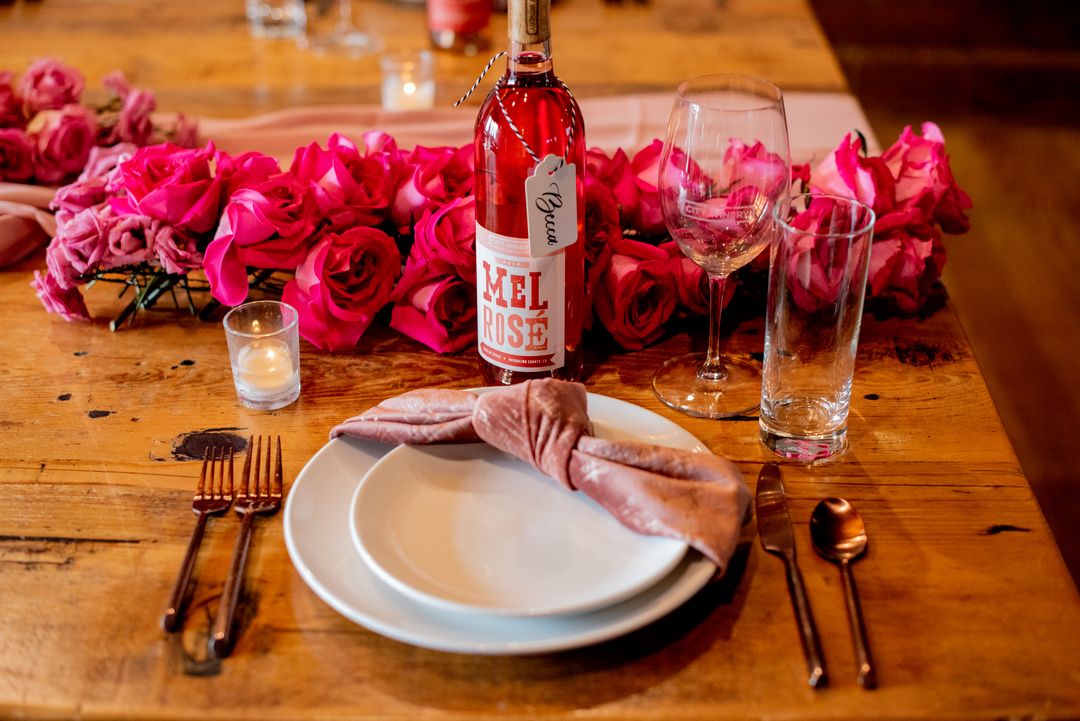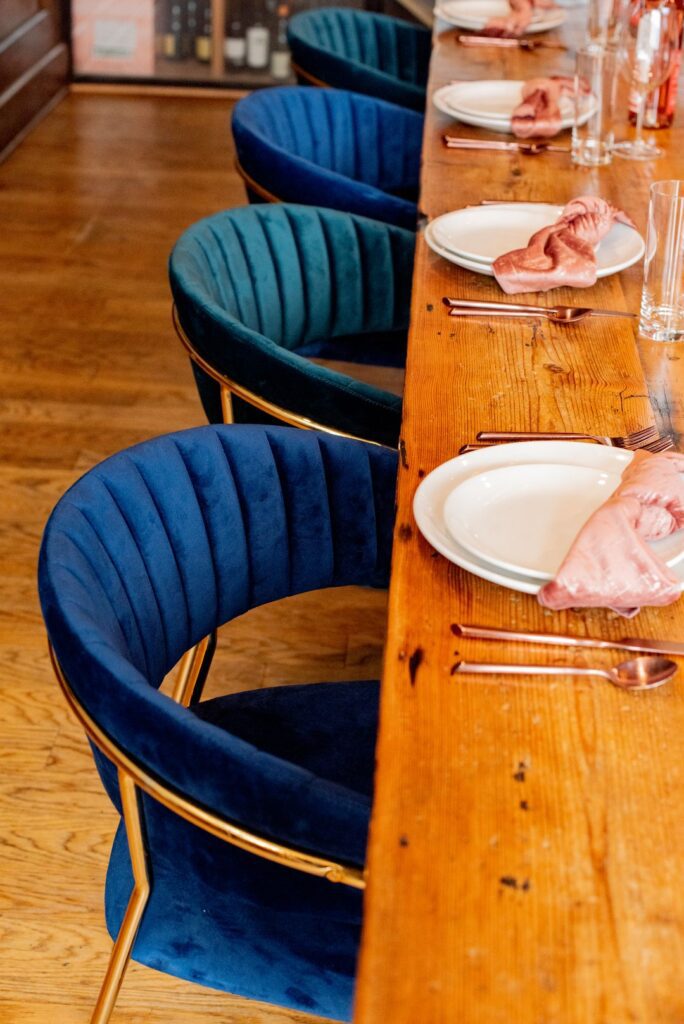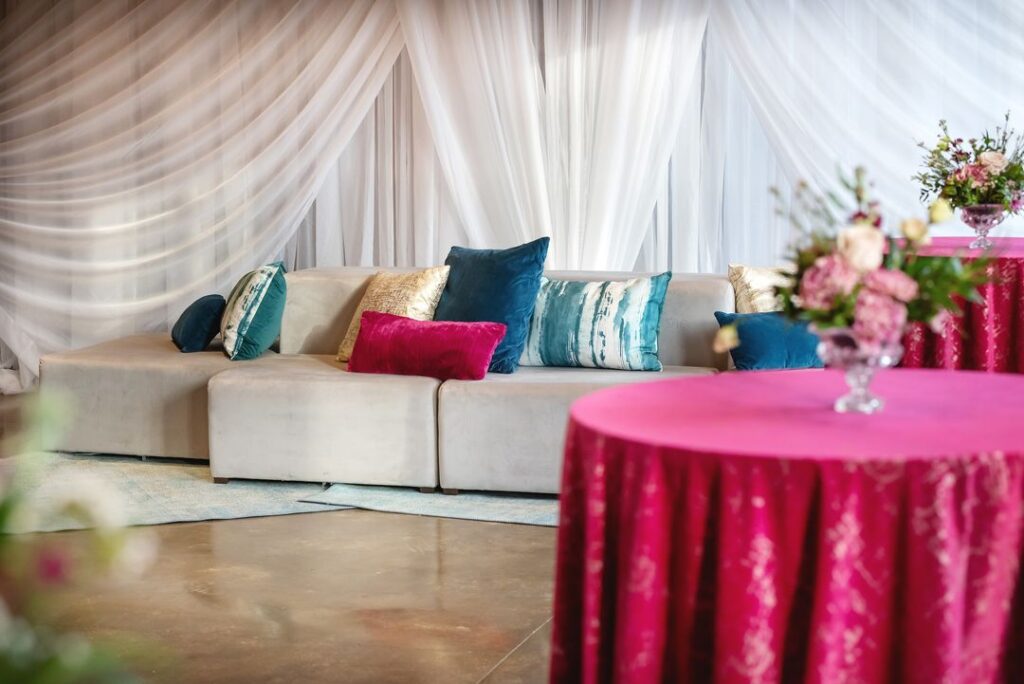 Child's Play
Planning a children's birthday party? Go big and bold with a Barbiecore theme! Our rentals will transport the little ones into a whimsical Barbie wonderland. Pair a children's table with Pink Sequin Tablecloths and matching Chiavari Children's Chairs. Create place settings with our Heirloom China and teacup sets. This is a fun detail that will make the kids feel like they're attending a real-life tea party with Barbie! To keep the energy high, we love a themed dessert table. Here you can showcase a variety of sweet treats adorned with pink frosting and edible glitter. Mix and match our cake stands to create a luxe-tiered display. Finally, incorporate a colorful pink and blue balloon arch, affixed to Boxwood Walls. This will serve as a beautiful backdrop for photos! Or, can be used to house a mirror where guests can try on party dresses.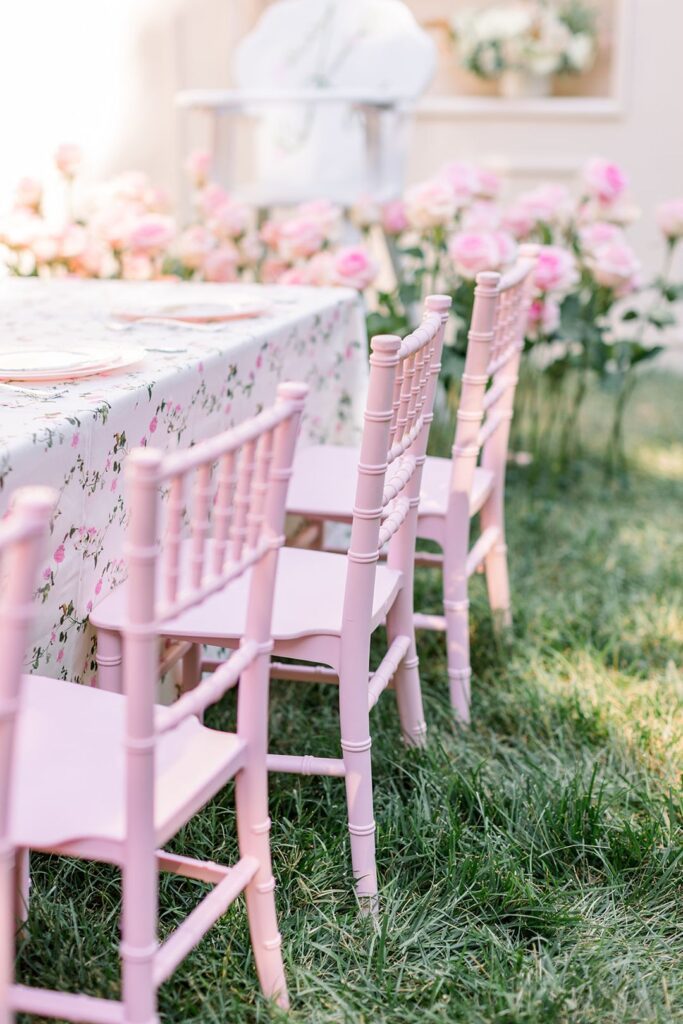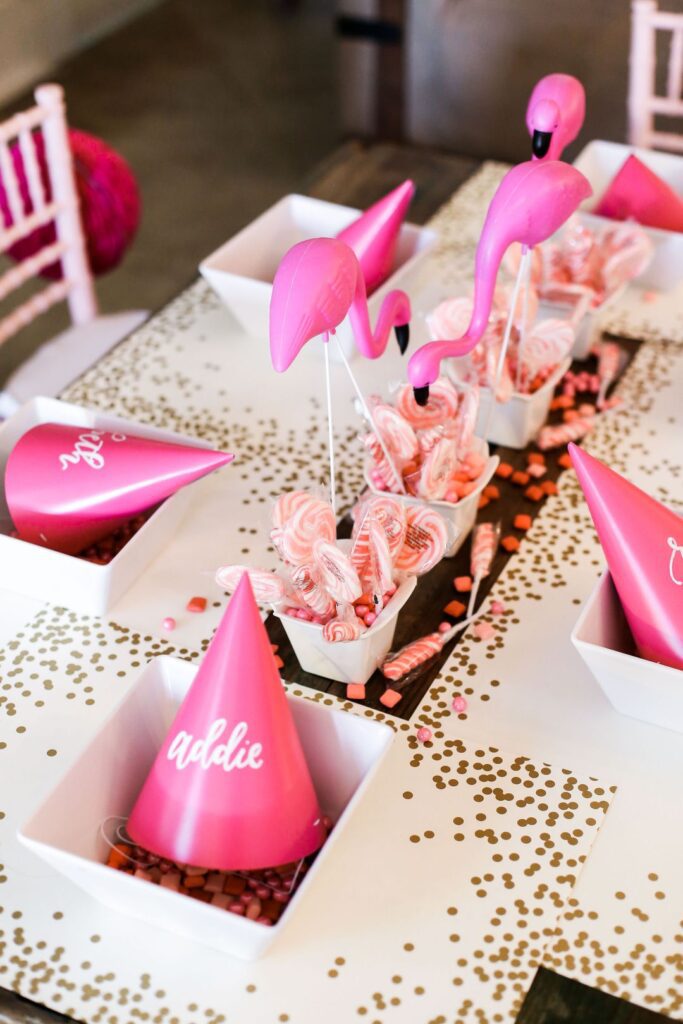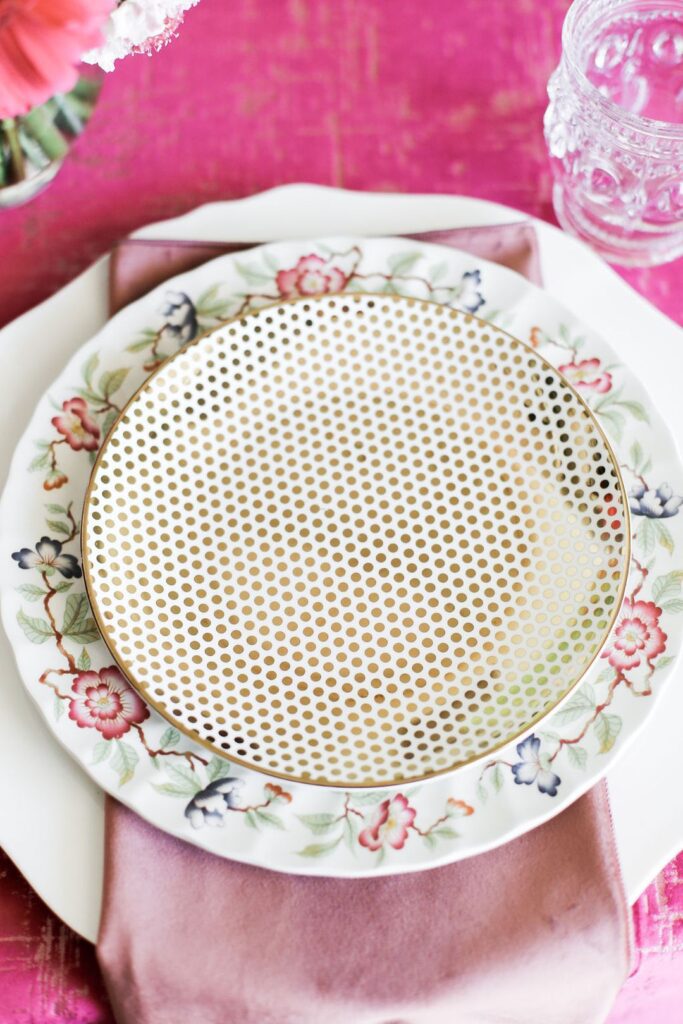 Are you ready to plan a party with our Barbiecore-inspired event rentals? Please send us a message at info@southerneventsonline.com. Or, view our full range of rentals in the catalog! Hosting your celebration outdoors? Elevate your event with our outdoor party rentals.
TAGS | Birthday party rentals, Nashville party rentals, Southern Events Party Rental, barbiecore, children's birthday party, summer event style, summer party ideas
FEATURED RENTALS | satin blush matte runner, white coupe dinner plates, rose etched velvet napkins, brushed copper flatware, cybil glassware, farrah teal velvet chairs, peace lounge, hot pink velvet linens, acrylic square back barstools, gold acrylic bar cart, hampton beverage dispenser, children's table, pink sequin tablecloths, pink chiavari children's chairs, heirloom china, cake stands, boxwood walls,
---
29

Dec

Southern Events Products, Trends and Inspiration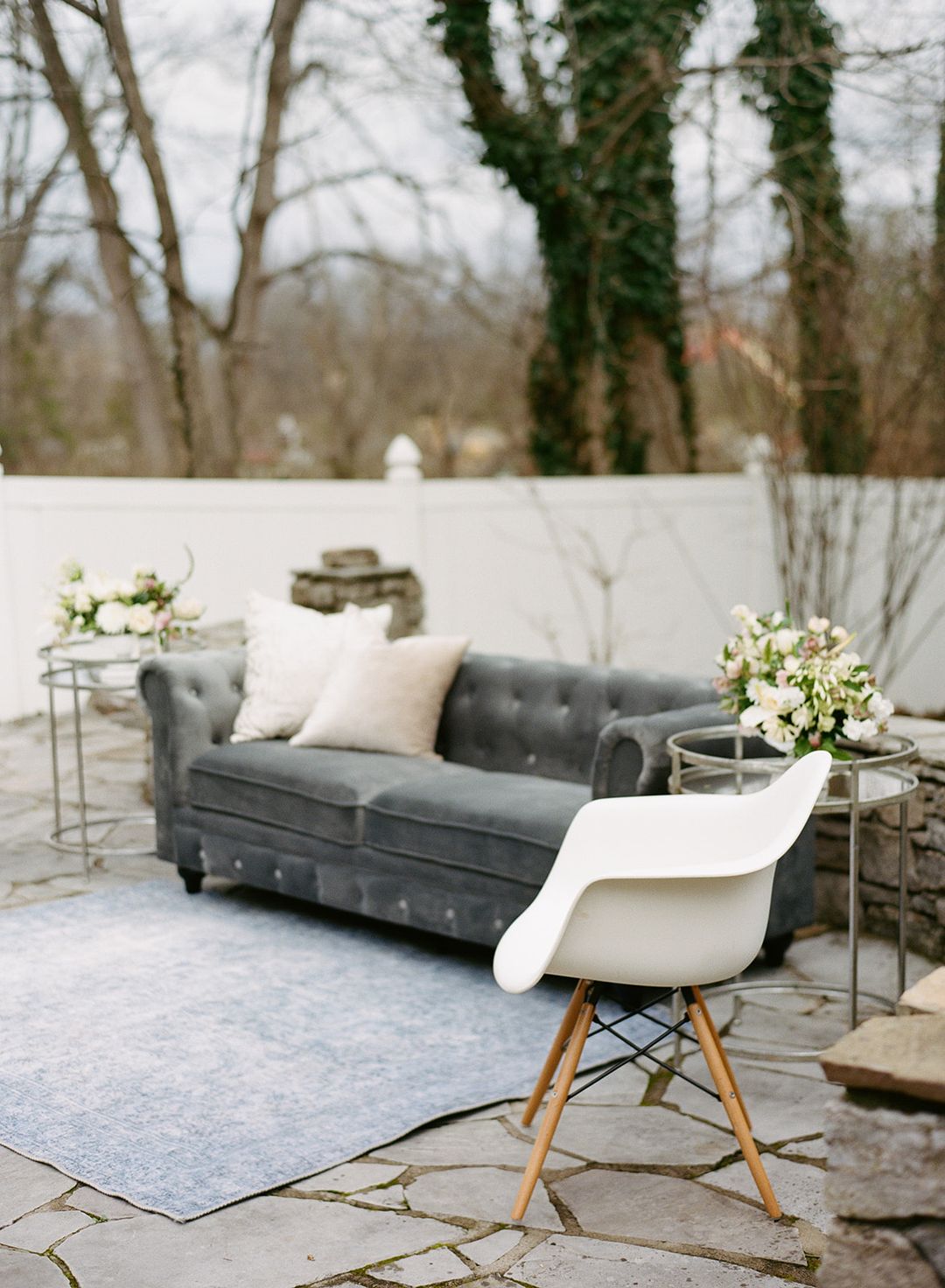 Winter wonderland parties are where it's at, with a wintry white color scheme, rows of cozy candles, and lots of twinkling lights. Bring the magic of the outdoors inside when you create a glittering wonderland that is equal parts chic and nostalgic. Learn how you can host a beautiful ice-inspired event with our blue party rentals, from luxe lounge furniture to bold velvet linens.
Elegant Ice-Inspired Serving Ware
Serving up dinner and/or drinks? We've got the perfect serving ware for a festive ice-inspired celebration! For a chilly winter vibe, we recommend sticking to silver accented serving ware. Like a Glass Charger with Silver Rim or Silver Round Lacquer Charger. On top, stack crisp White Round China or Earthen Alabaster China, for a softer look. If you prefer to spice things up, our Carrera Marble Dinner Plates are super luxe. Or, consider Onyx Earthen China and Noir Matte Black Flatware for a moody modern touch! When it comes to glassware, go simple. Choose a clear glass that aligns with your style, whether it be our quirky Cybil Champagne Flutes or vintage-inspired Monaco Water Goblets.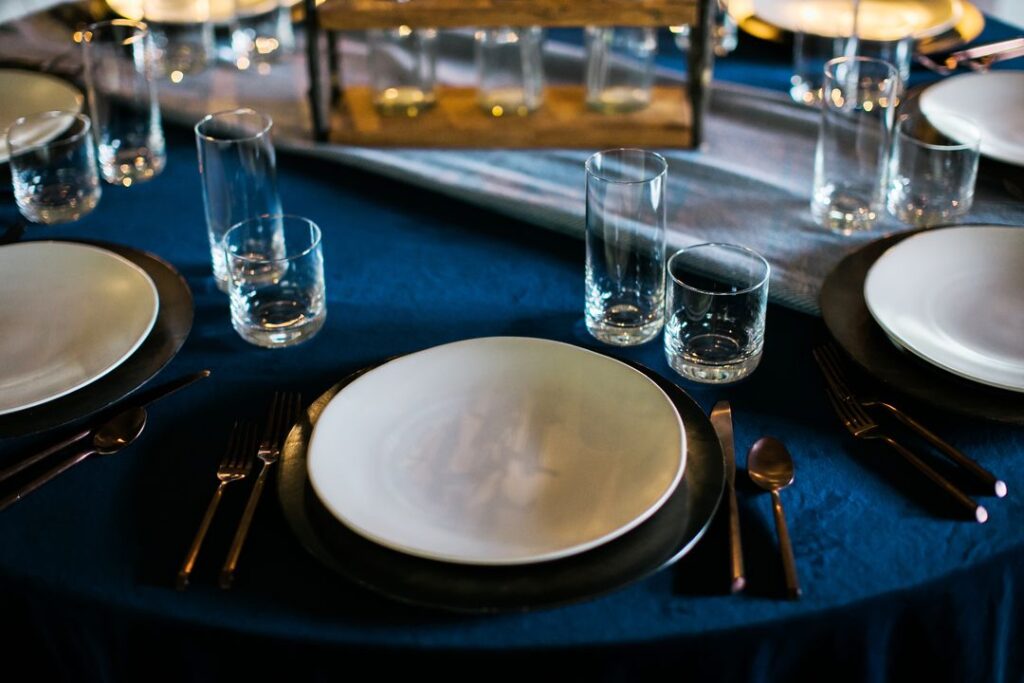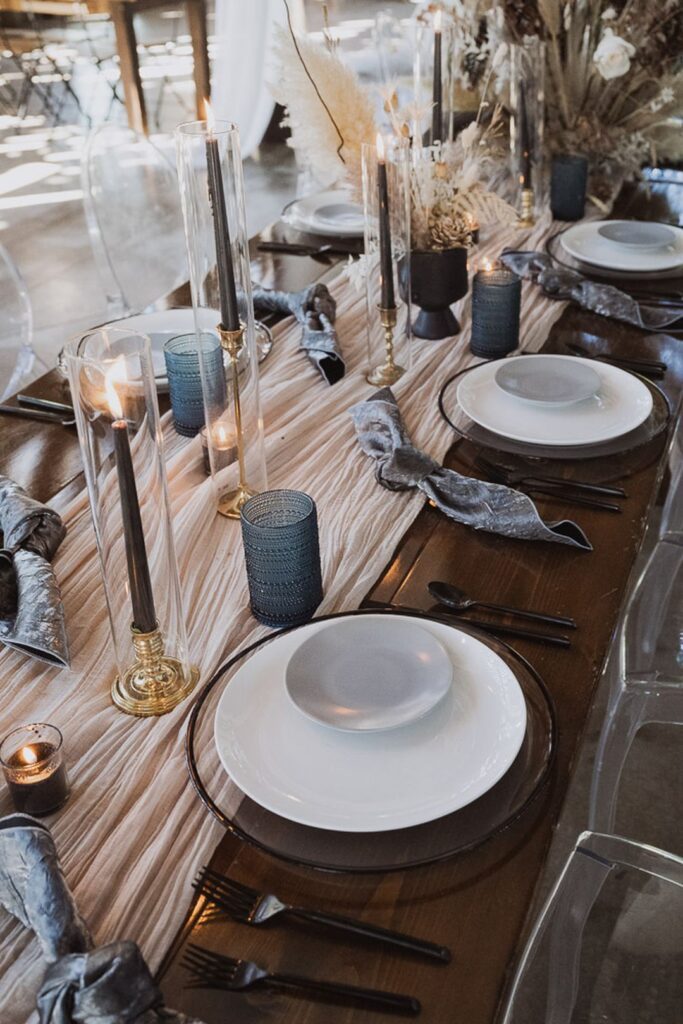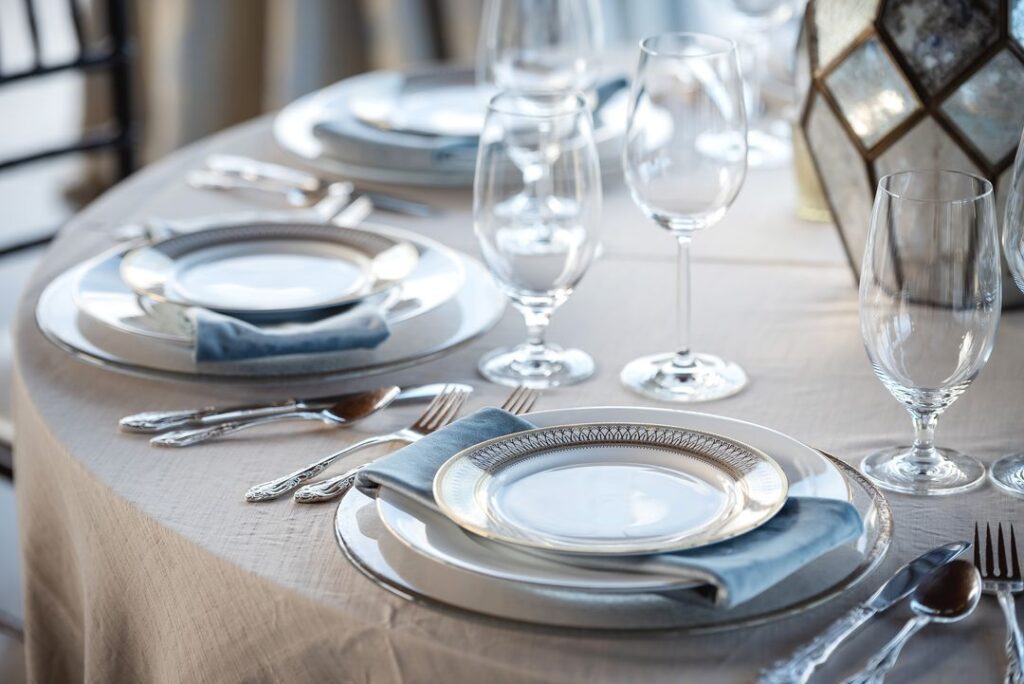 Luxe Linens & Seating
Solid foundations are essential for a stylish dinner table. We stock a variety of luxurious linens in an array of colors – blue included! For a modern luxe look, feature bright blue hues such as Ice Blue Poly or Light Blue Pindot. If you prefer a more cozy vibe, consider dark blue linens made of ultra-plush velvet – say a classic Navy Blue or cool London Fog. Just don't forget napkins! You will also need chairs, which we have a fun selection of. Pair bright fun cocktail tables with Mid-Century White Barstools, for a trendy retro accent. Or go simple and elegant, with our Antique White Bentwood Chairs. Our favorite choice is Acrylic Ghost Armless Chairs. They look like slick ice under the right lighting (don't worry, they're much more comfortable)!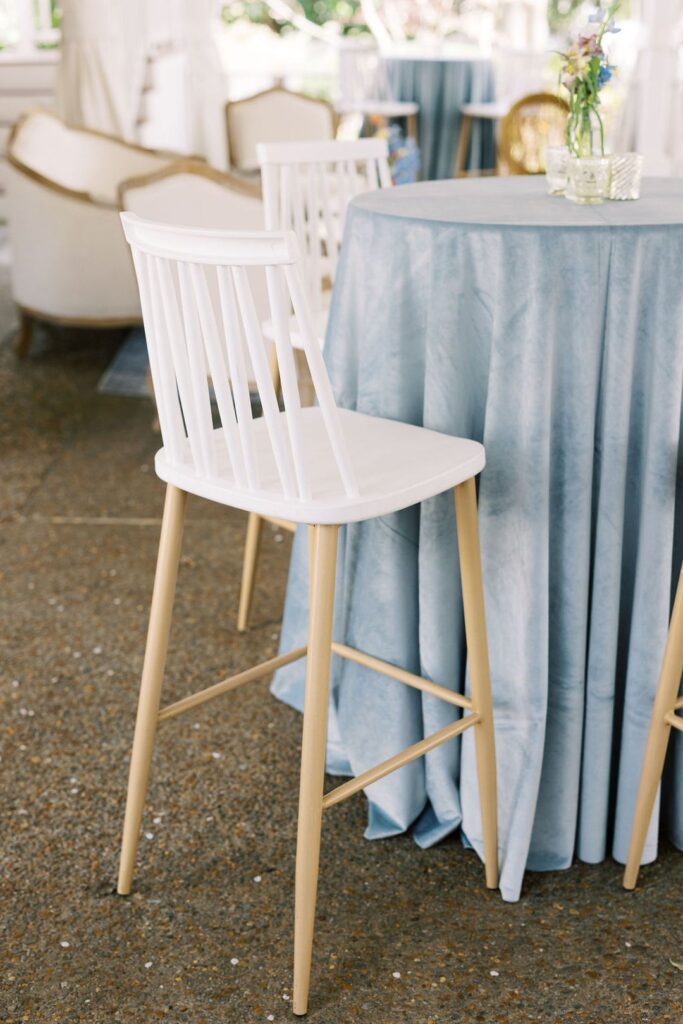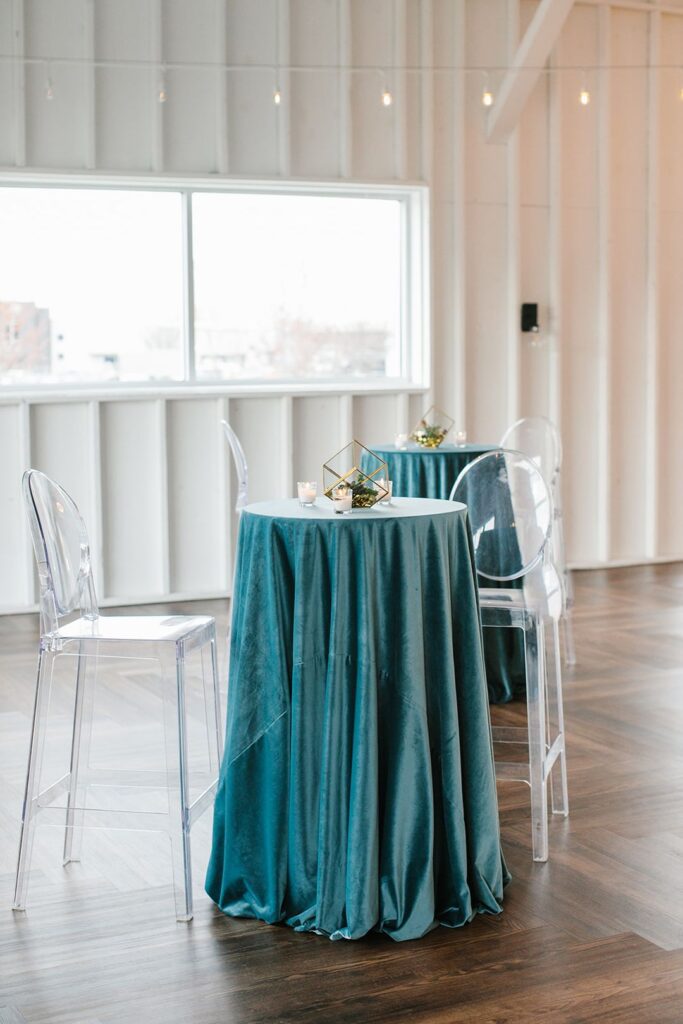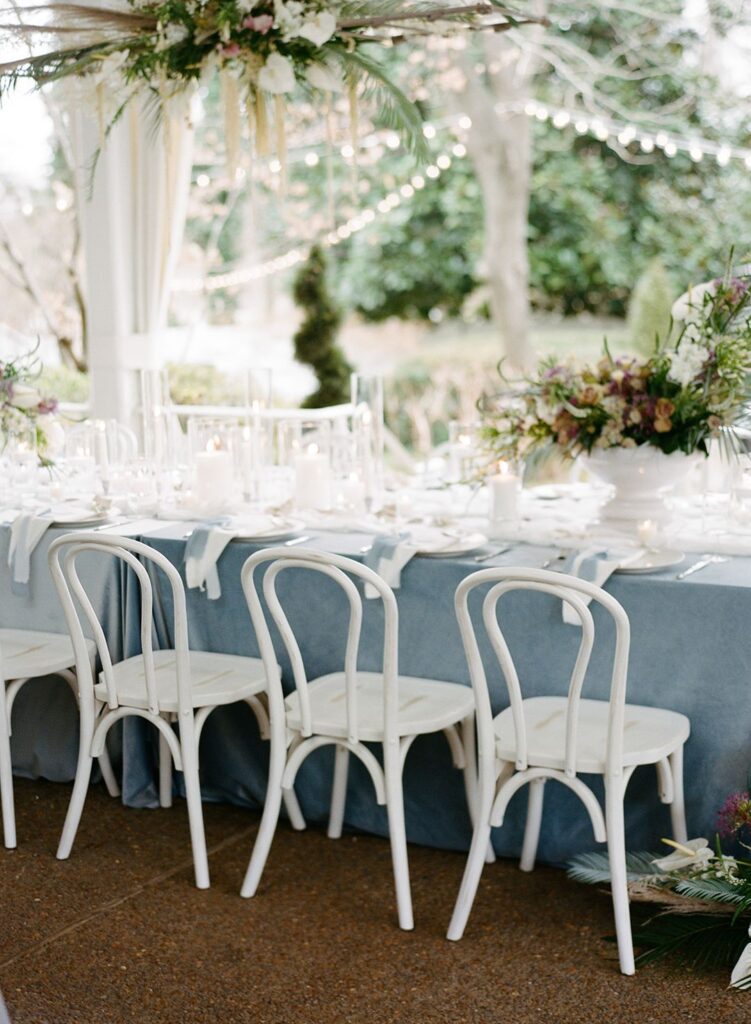 Cozy Winter Lounge Areas
Winter events can feel cold without a cozy lounge! We have everything you need to create a stylish space for guests to sit back and relax. Velvet sofas, trendy armchairs, and plush rugs! Start with a focal point, such as a large sofa or loveseat. The Saylor Navy Velvet Sofa is a fan-favorite, as is our Henley Grey Velvet Tufted Sofa. Next, grab a set of stylish chairs, such as the sleek Acrylic Fantasma Side Chairs or retro White Eiffel Arm Chair. Or the accompaniments to the mentioned sofas. You will also need a place for guests to set drinks or appetizers. The Echo Mirror Side Table features bright silver, or opt for the more down-to-earth Wood Distressed Side Table.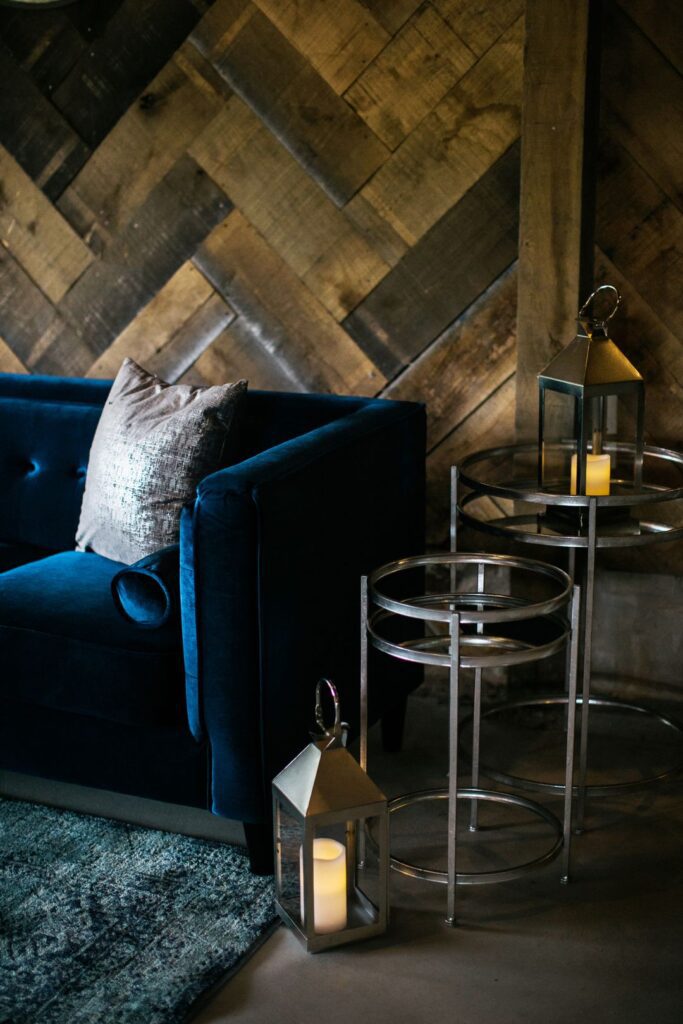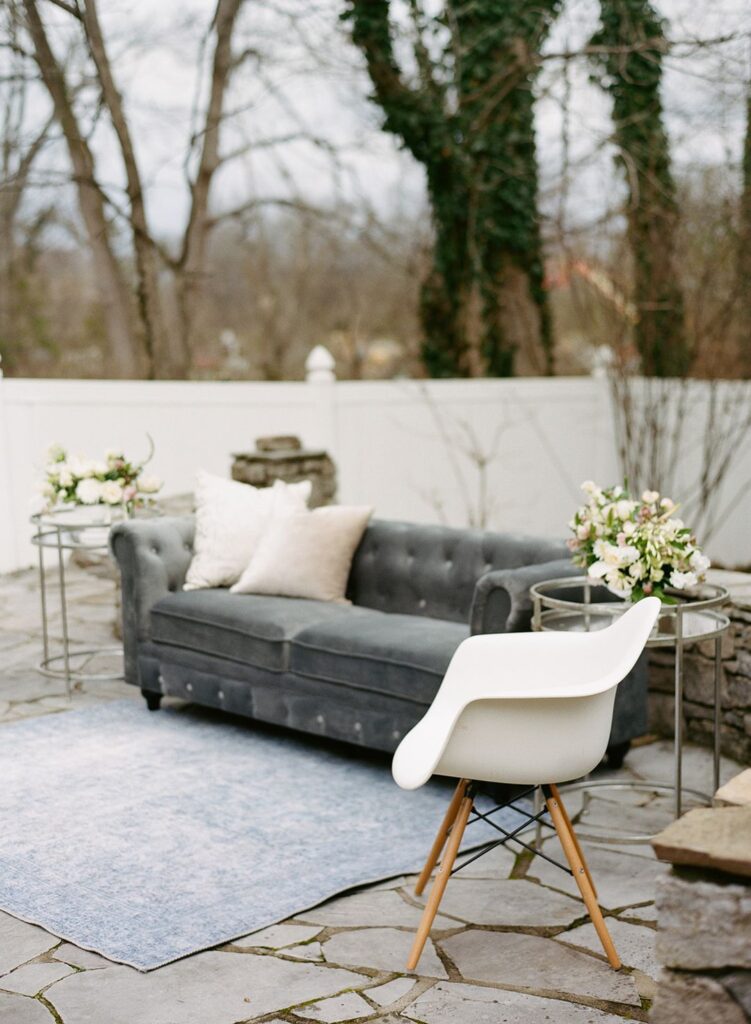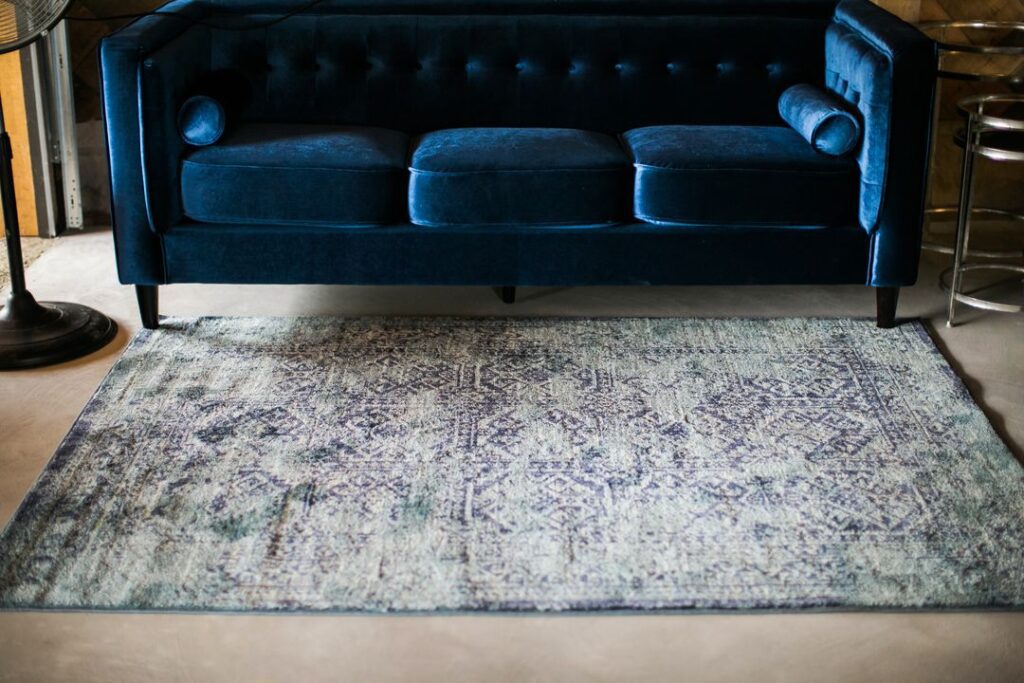 Feeling inspired by our ideas for Winter Wonderland Parties?
Send us a message at info@southerneventsonline.com for assistance designing a blue-hued seasonal get-together. Need to expand your event space or construct one in your backyard? Take a look at our tent packages.
TAGS | Holiday Party Decor, Holiday Party Ideas, Winter Event Decor, blue event decor, blue event design, holiday decor, holiday party, holiday tablescape, winter event rentals, winter events, winter wonderland parties
FEATURED RENTALS | Ice Blue Poly, Light Blue Pindot, Navy Blue Linens, London Fog Linens, Mid Century White Barstools, Antique White Bentwood Chairs, Acrylic Ghost Armless Chairs, Complete the look with the rug of your choice! Saylor Navy Velvet Sofa, Henley Grey Tufted Sofa, Acrylic Fantasma Side Chairs, White Eiffel Arm Chair, Echo Mirror Side Table, Wood Distressed Side Table, Serving up dinner and/or drinks? We've got the perfect serving ware for a festive ice-inspired celebration! For a chilly winter vibe, we recommend sticking to silver accented serving ware. Like a Glass Charger with Silver Rim or Silver Round Lacquer Charger. On top, stack crisp White Round China or Earthen Alabaster China, for a softer look. If you prefer to spice things up, our Carrera Marble Dinner Plates are super luxe. Or, consider Onyx Earthen China and Noir Matte Black Flatware for a moody modern touch! When it comes to glassware, keep it simple. Choose a clear glass that aligns with your style, whether it be our quirky Cybil Champagne Flutes or vintage-inspired Monaco Water Goblets. Glass Charger with Silver Rim, Silver Round Lacquer Charger, WHite Round China, Earthen Alabaster China, Carrera Marble Dinner Plates, Noir Matte Black Flatware, Cybil Champagne Flutes, Monaco Water Goblets
---
6

Oct

Southern Events Products, Trends and Inspiration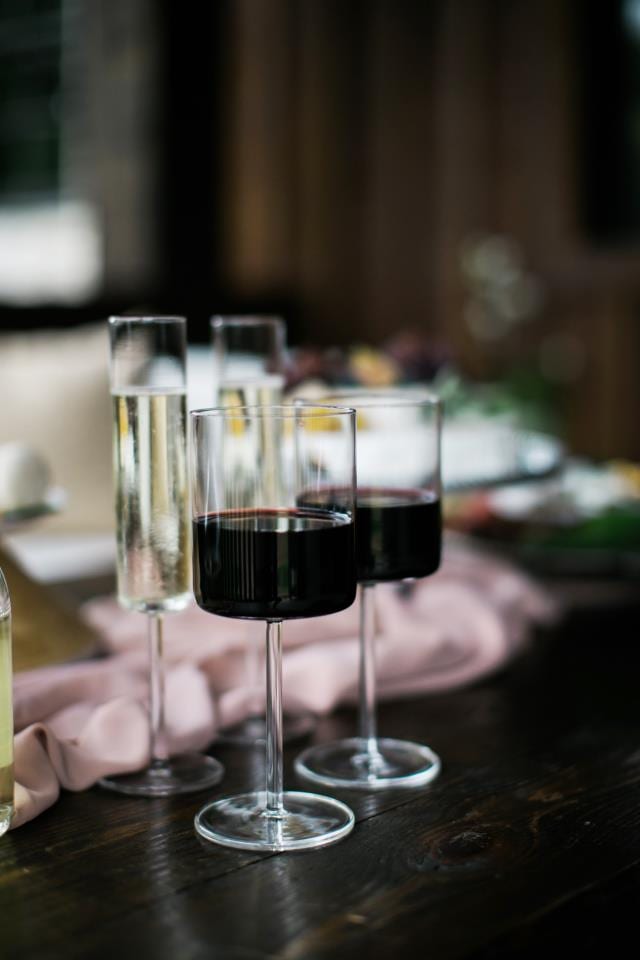 The key to throwing a successful holiday party (and not throwing your sanity out of the window) is proper preparation. If you've ever hosted a holiday party before, you understand how chaotic planning can be. Even then, you may still feel like you're scrambling trying to get things done at the last minute. This is why we want to treat you to a stress-free holiday party planning experience. Whether you're hosting an intimate holiday dinner at home or a large formal gala! Check out our tips below on holiday party must-haves, featuring our stylish rentals. Plus, grab our Holiday Party Checklist that will make it easy to execute a jolly affair!
On-Trend Holiday Office Party
Hosting a holiday party at the office can be limiting, but that doesn't mean it should be boring. Start by adding some color to the office with festive linens in a brilliant Heritage Cranberry or deep Magnolia Green. If you're serving food, even just appetizers, pass on the paper plates and opt for Gold Accent China paired with matching Gold Austin Flatware. Finally, serve up a DIY Hot Cocoa or Coffee Bar (don't forget the Baileys!), with our hot beverage dispensers. Alternatively, treat your team to a casual cocktail hour featuring a formal bar and a menu of seasonal cocktails in fancy glassware!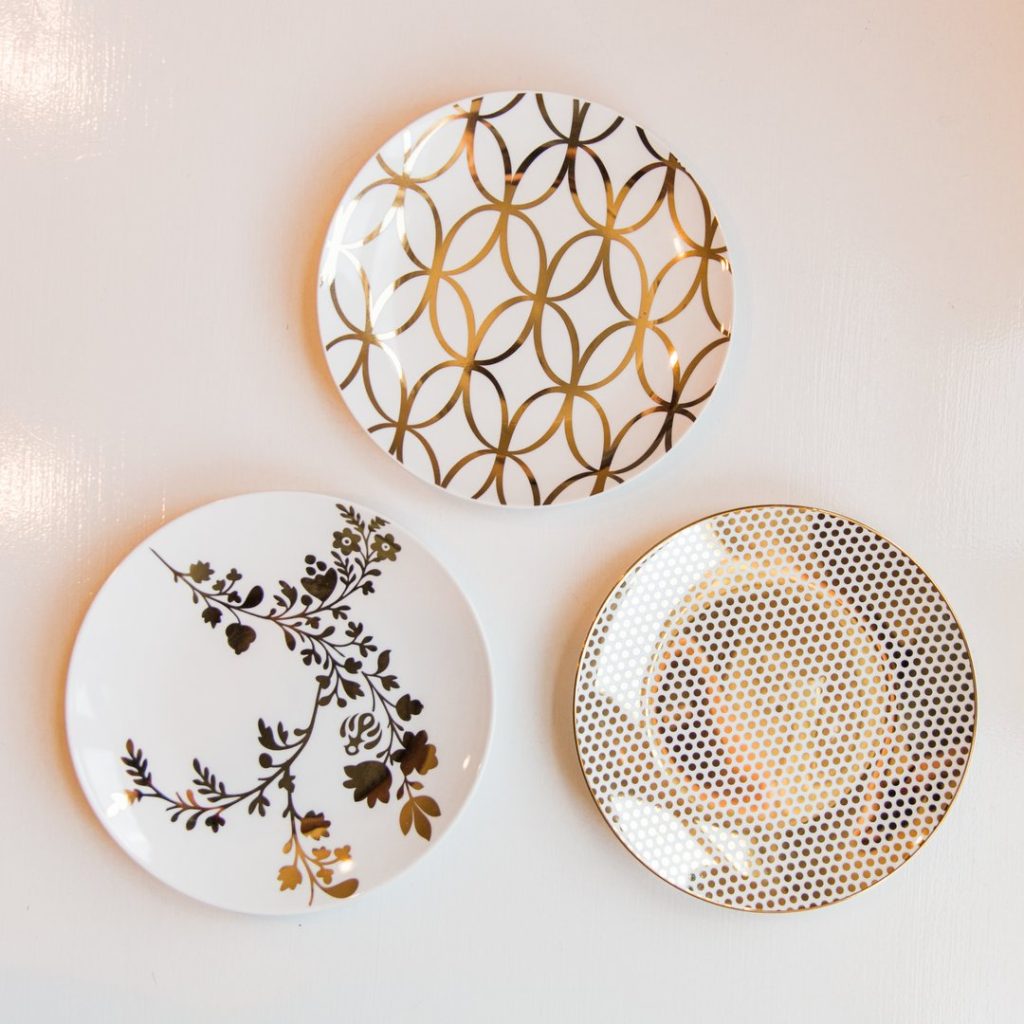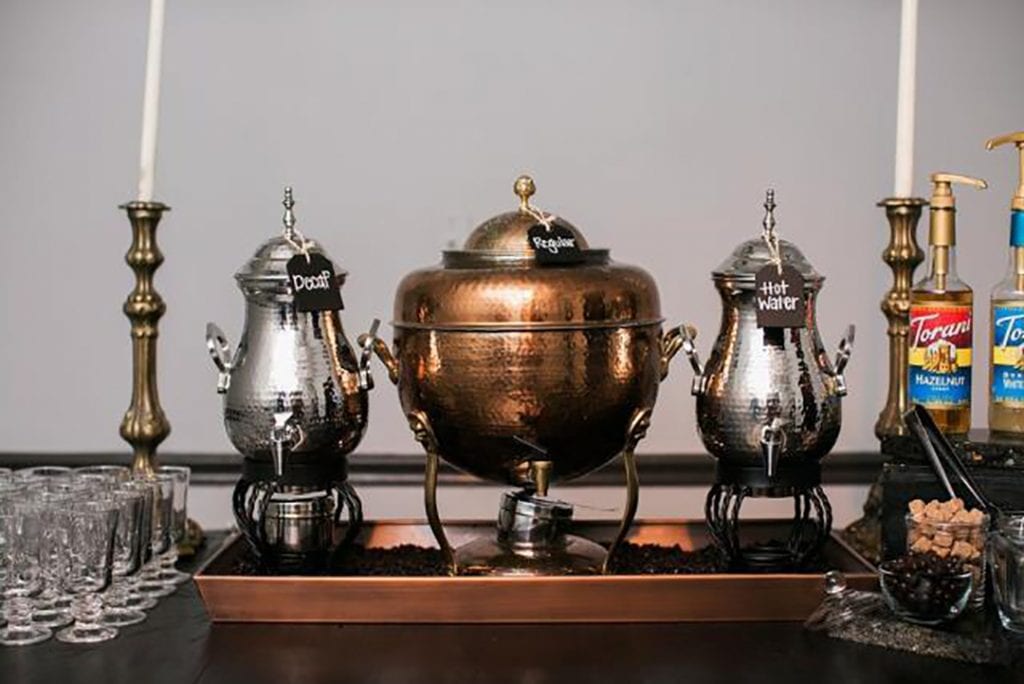 Casual Holiday Luncheon
When hosting a holiday luncheon, chances are you'll be inviting co-workers, peers, and people you may want to network with. That's why you'll want the event to feel approachable, yet still have a formal holiday vibe. In order to achieve this, you'll want to have coordinating linens such as our Champagne Sequin Linen, Chafing Dishes, and Copper Beverage Service Equipment – to give your holiday party a festive feel. To make sure guests feel welcome and encouraged to mingle, we also recommend a stylish lounge. Our Fern Velvet Sofa and Bamboo Arm Chairs are a chic set!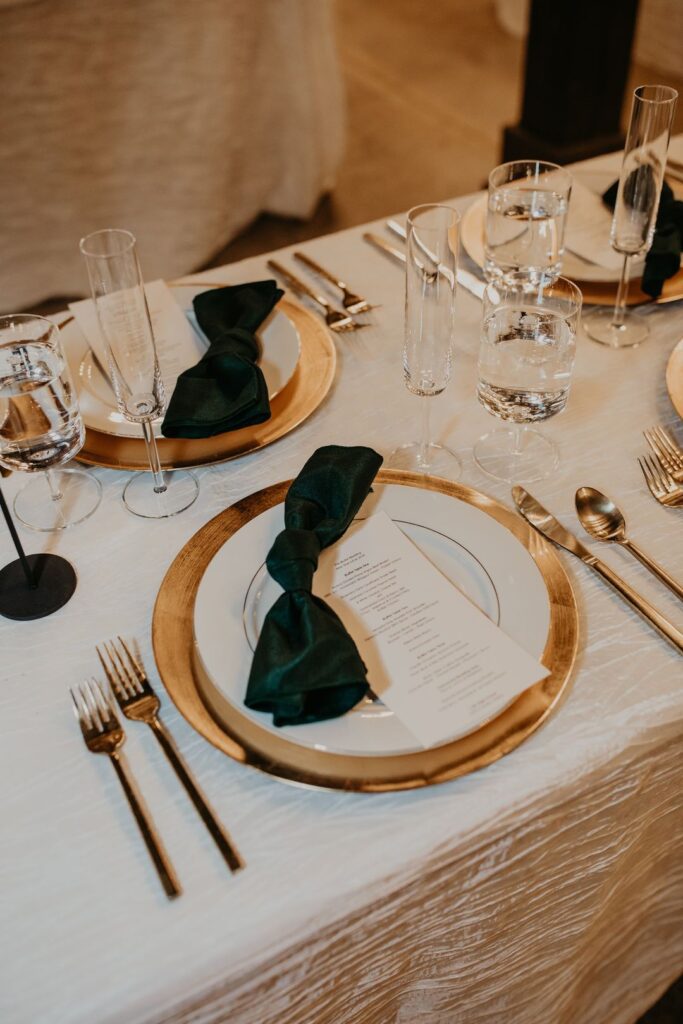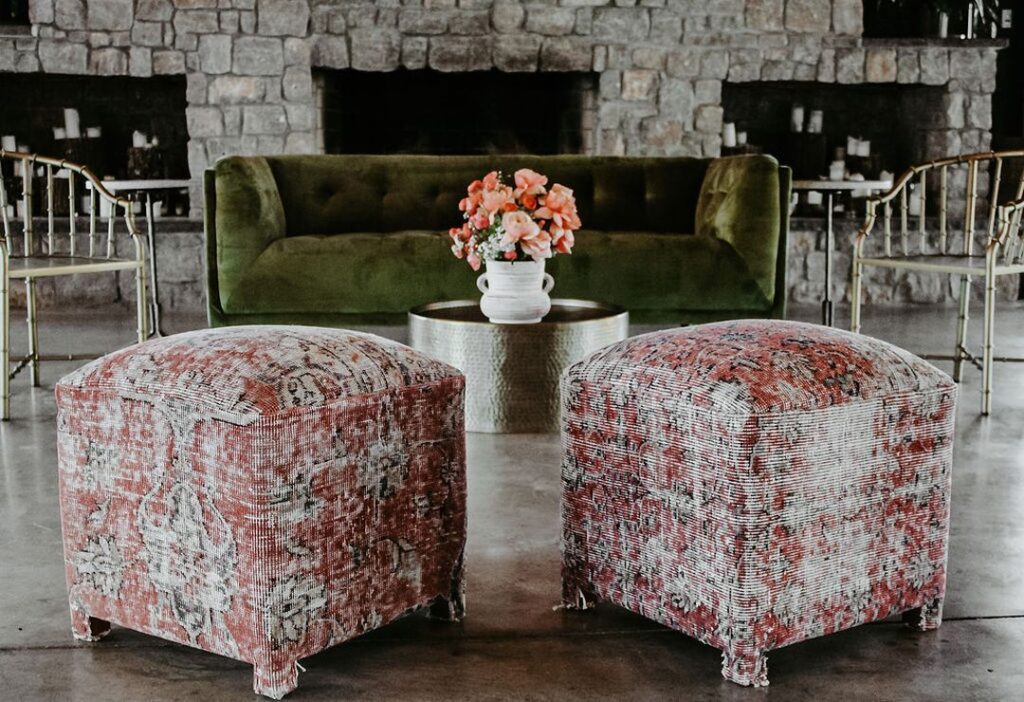 Feast at a Festive Gala
The holidays are a great time to celebrate in a big way and a grand gala is just the way to thank VIP clients or your team for all they contribute to your company's success. If you're hosting a large formal company holiday party, there are a few items you'll want to make sure you include. A red carpet entrance area sets the scene, as do our Boxwood Walls – emblazoned with your company logo or festival holiday decor. Cocktail and bistro tables are a must for mingling and should be decked out with luxe linens, say Etched Velvet or a shimmery Satin. Then there is the bar, where guests can enjoy their favorite seasonal drinks, from a Hot Toddy to spiked cocoa. We also recommend having formal place settings with china, chargers, and plenty of glassware for toasting the year past and ahead.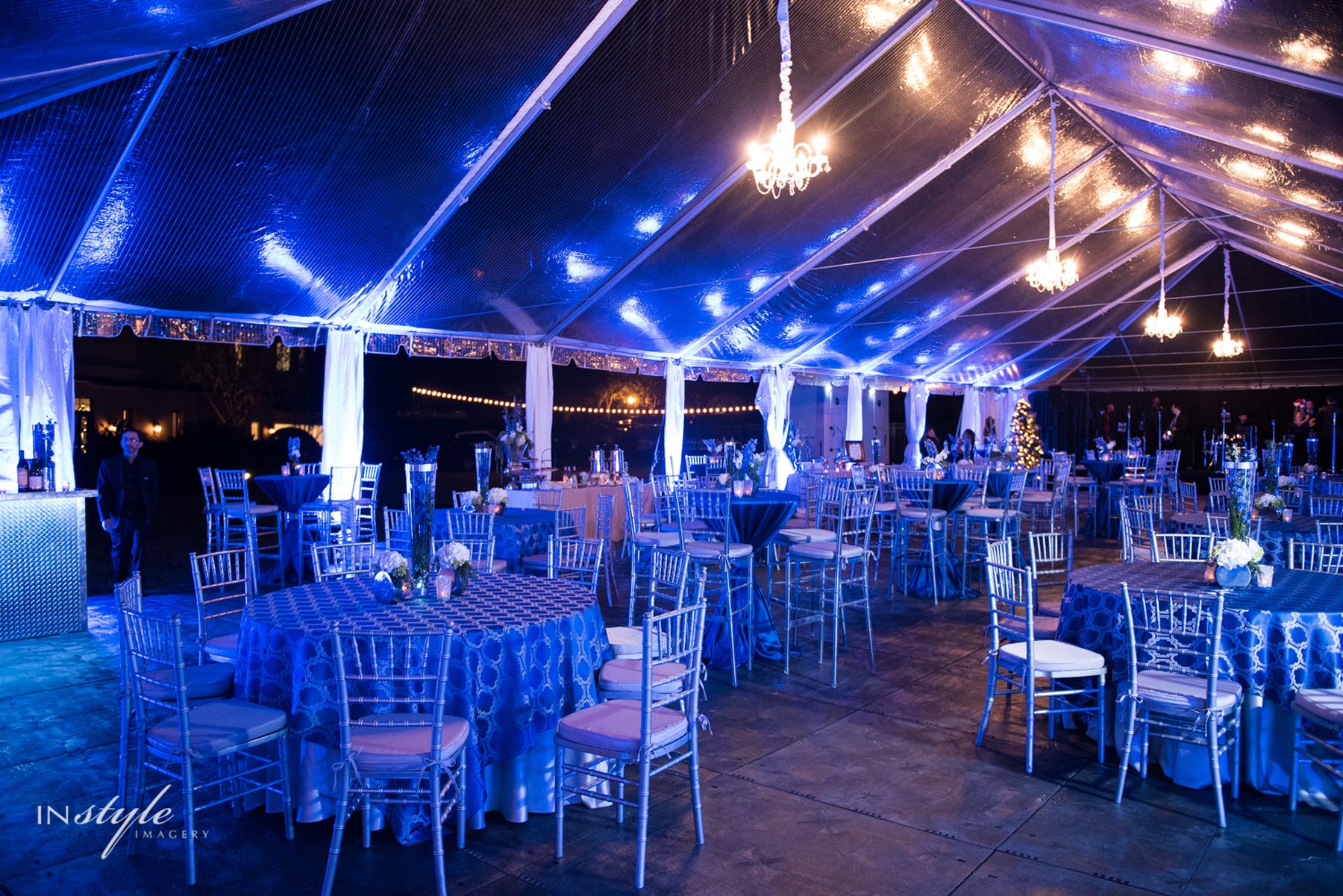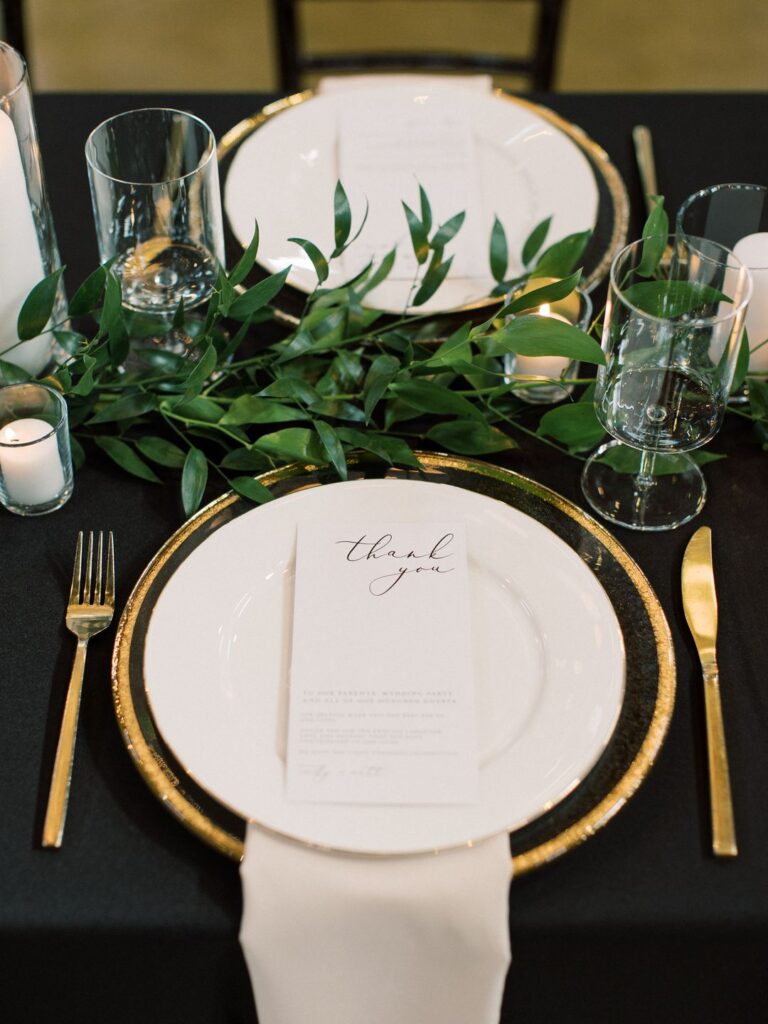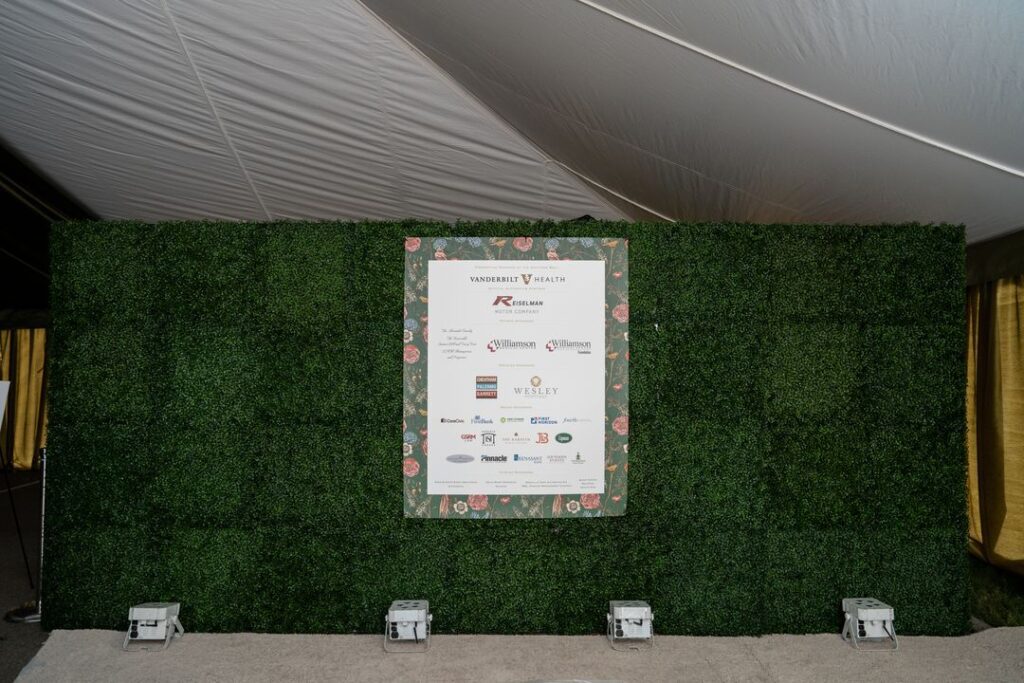 At-Home Holiday Soriee
Cozy home holiday parties are a wonderful and intimate way to share seasonal good tidings with family and friends. But these gatherings can stretch the limits of anyone's kitchen! Whether you need extra plates or forks, serving dishes and platters, or flutes for toasting, we have it all. We even offer a selection of curated rentals, Styled by Southern, packed with all the essentials for creating a stylish holiday tablescape – like the ice-inspired Silver Soiree! We can also elevate your seating, with our Adeline or Harlin Dining Chairs. For an extra luxe look, create an elegant drink display using our rolling Gold Bar Cart. As always, we're glad to schedule a delivery or pick-up at our Franklin warehouse.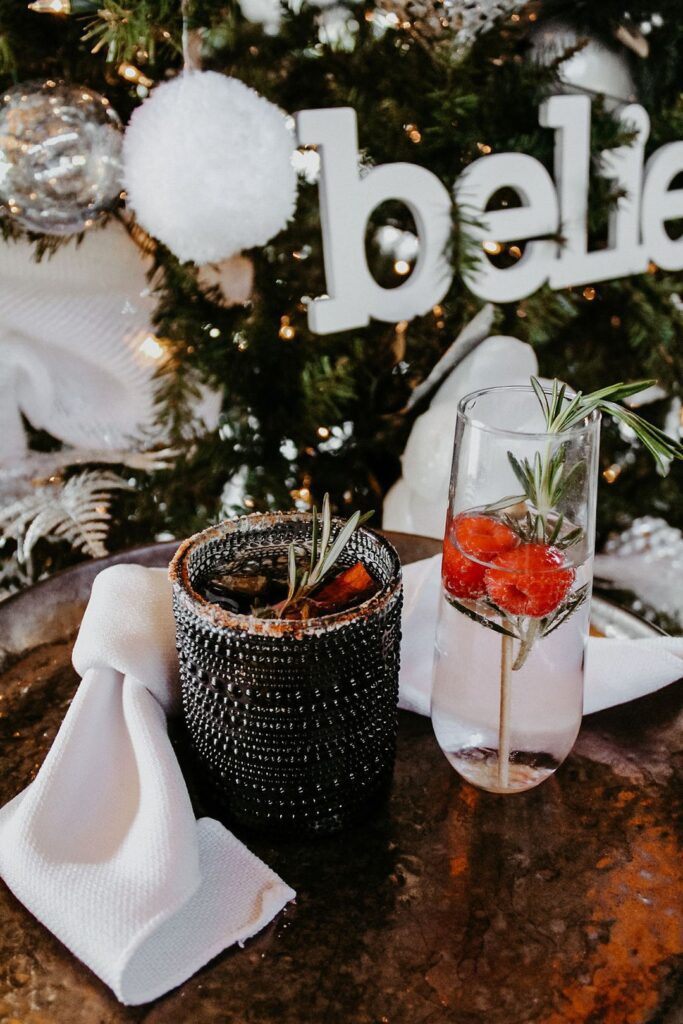 If you're hosting a holiday party, we'd love to help! Send us a message at info@southerneventsonline.com for assistance designing a seasonal get-together, big or small, that will have your guests in awe.
TAGS | Company Holiday Party, Holiday Party Ideas, Nashville Event Rentals, Southern Events Party Rental, holiday decor, holiday party, holiday party rentals, holiday tablescape, holiday tips, servingware
FEATURED RENTALS | Fern Velvet Sofa, Bamboo Arm Chairs, Chafing Dishes, Boxwood Walls, bistro tables, etched Velvet linens, satin linens, bars, holiday boxes, adeline dining chairs, harlin dining chairs, gold bar cart, Heritage Cranberry linens, magnolia green velvet linens, gold austin flatware, beverage dispensers,
---
7

Jul

On Trend, Southern Events Products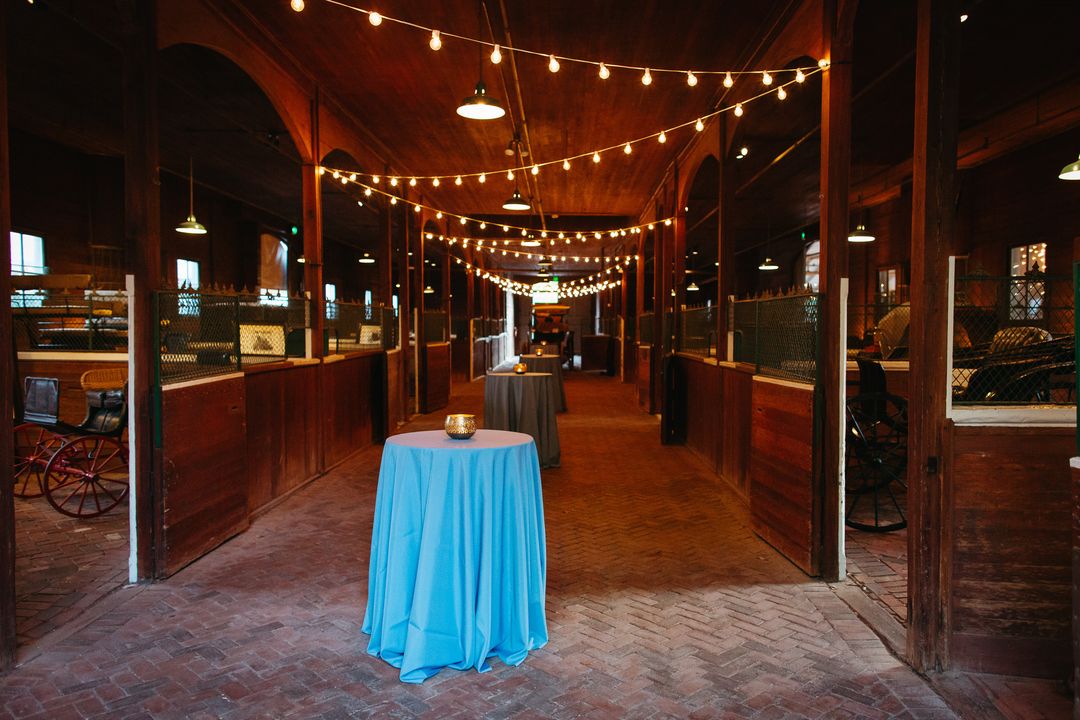 When in the South, there is no better way to celebrate than at a barn party! These historic buildings ooze southern charm and make for a gorgeous rustic backdrop – especially when complemented by our barn-inspired party rentals. Read on to get inspired by our trendy event rentals, featuring materials like wood and metal, that will make for a memorable gathering.
Whiskey Barrel Bars
One of our favorite rustic event rentals, our whiskey barrel bars are a must-have for a barn party. These classic pieces are a gorgeous choice for a bar, as well as a food display or grazing table. Choose from regular whiskey barrels or whitewash barrels, depending on your personal style. Then pick from three stylish tops: Barnwood, Galvanized, or Acrylic. Alternatively, we have a variety of traditional bars, perfect for catered events, made of rustic materials. Including our beautiful Bond Bar, Miller Bar in Wash White, and Tin Lizzie Corrugated Metal Bar.
Of course, every bar needs glassware! We have gorgeous glasses for rent, ideal for a range of classic drinks. Serve straight whiskey in our Monaco Rocks Glass. Refreshing Mint Juleps out of our classic Mint Julep Cups. And a spiked Arnold Palmer in a Recycled Hi-Ball Glass.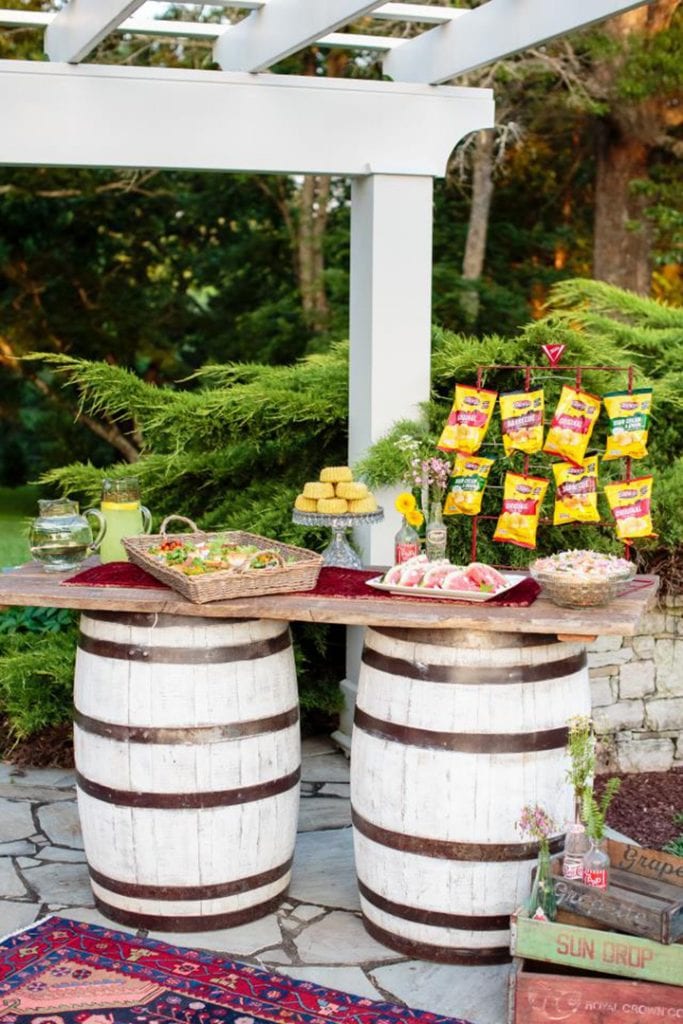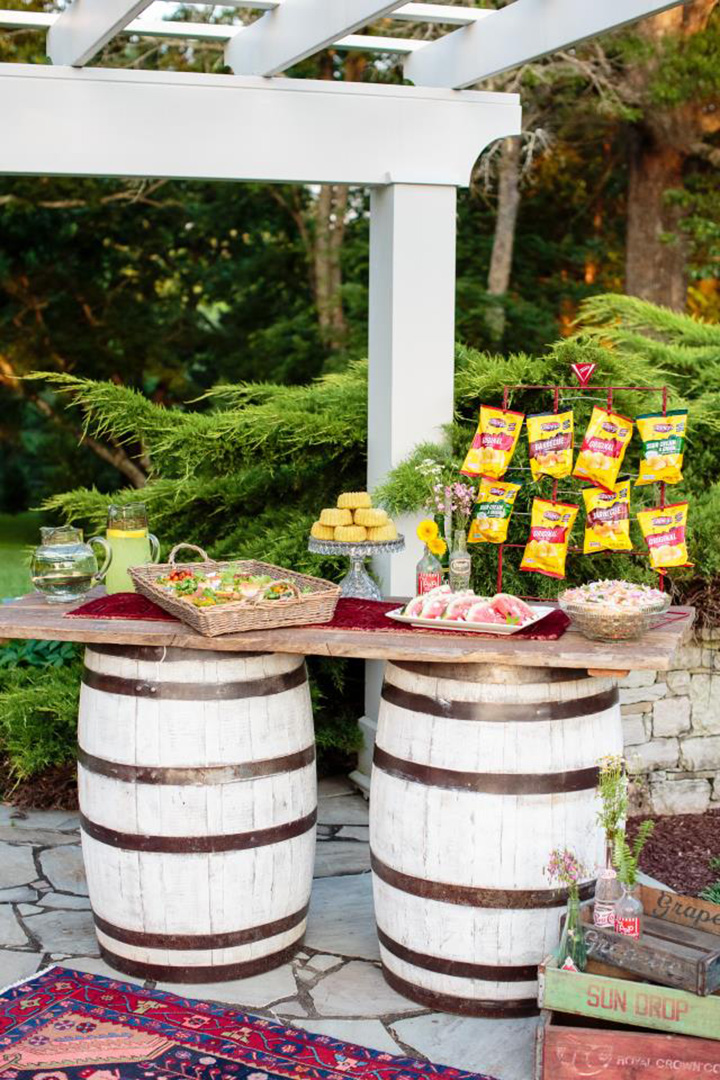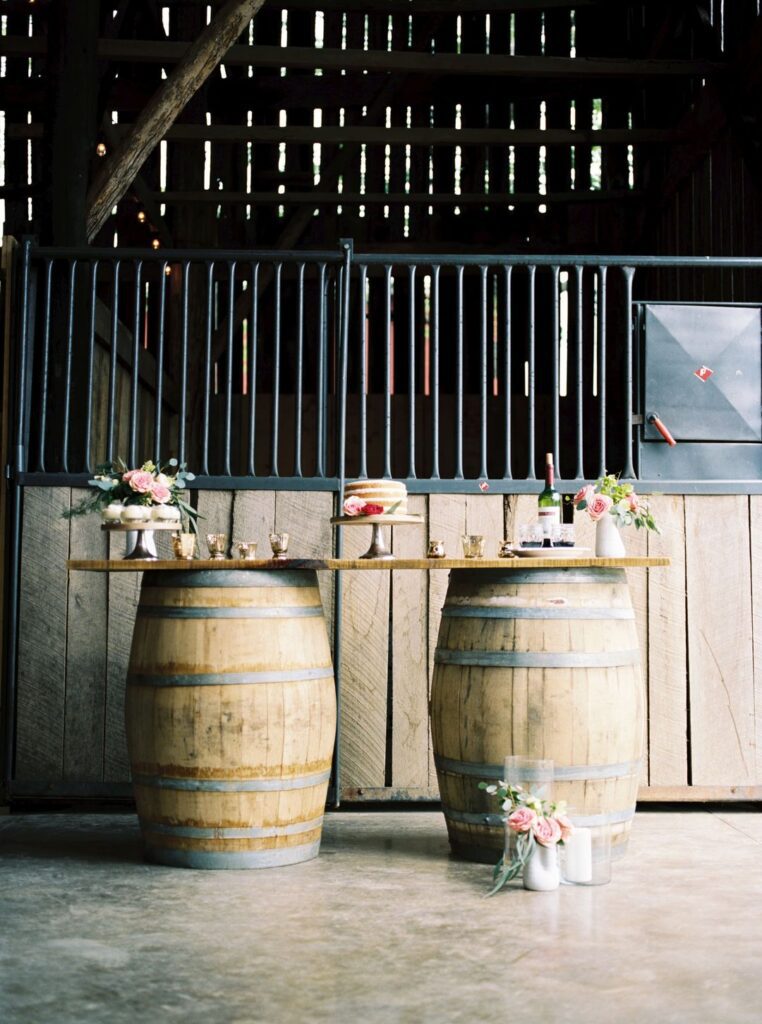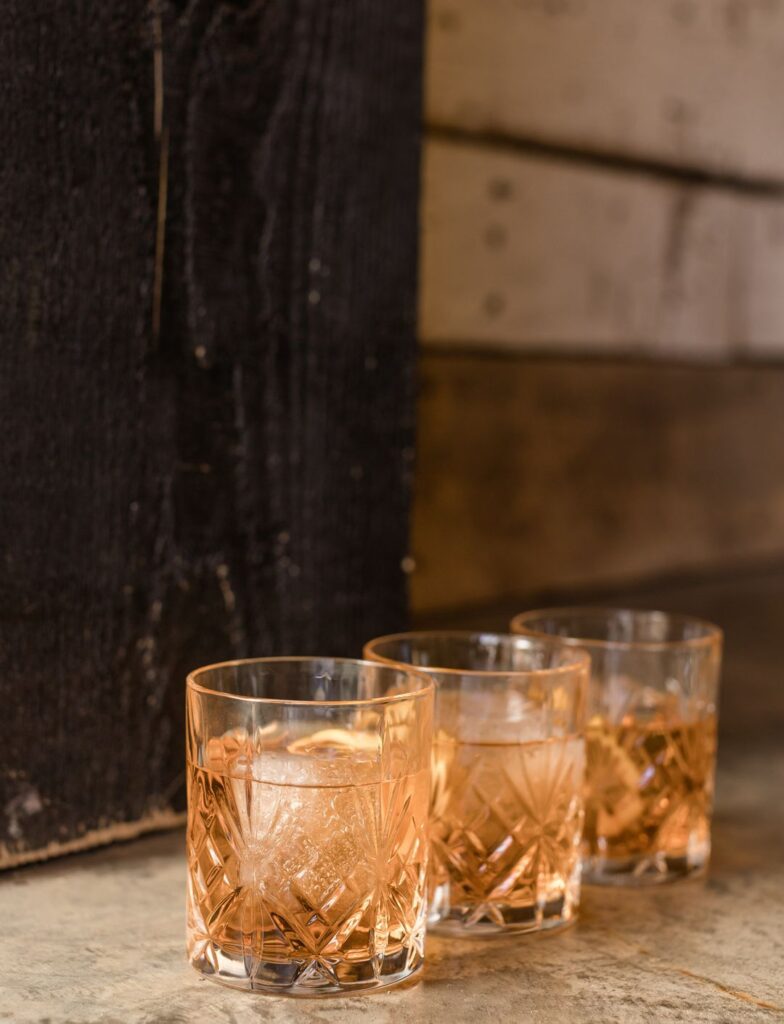 Rustic Bistro Tables
At some events lounge areas are ideal, but for a barn party, cocktail tables will do the trick! With music to dance to, save lounges for outdoor areas and opt for smaller areas where people can gather to chat and place their beverages. Another set of beautiful farm-inspired rentals, our Farm Bistro Tables pair perfectly with the more elegant Cross-Back Barstools. If you want to stick to a more rustic look, our Remington Gunmetal Bistro Tables and matching barstools are an equally great choice. For a quick and easy centerpiece, check out our Silver Square Tabletop Lanterns.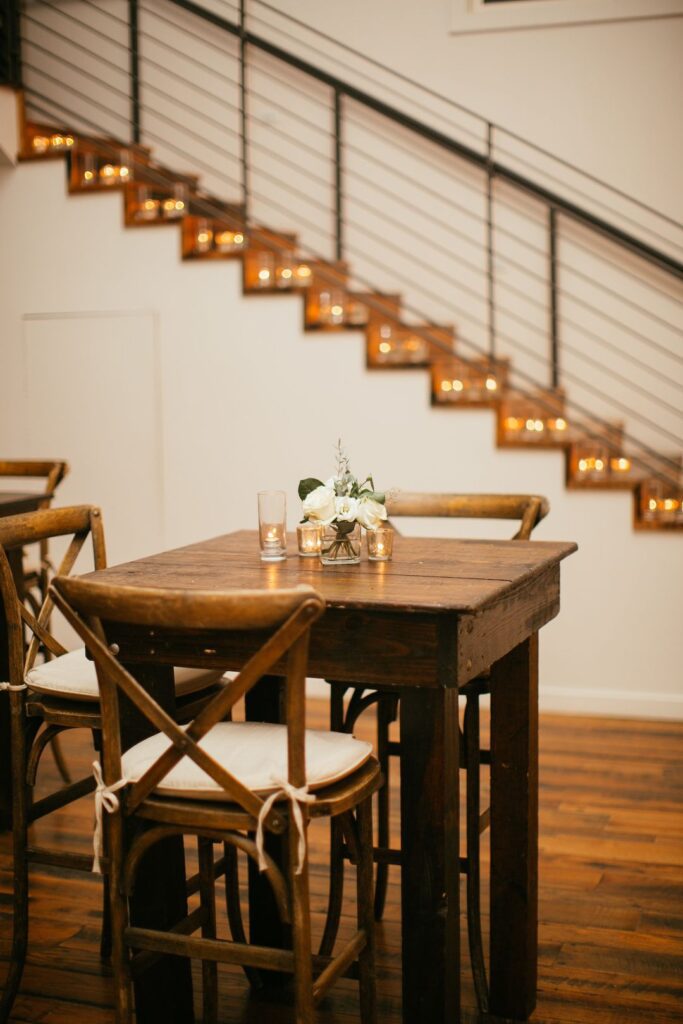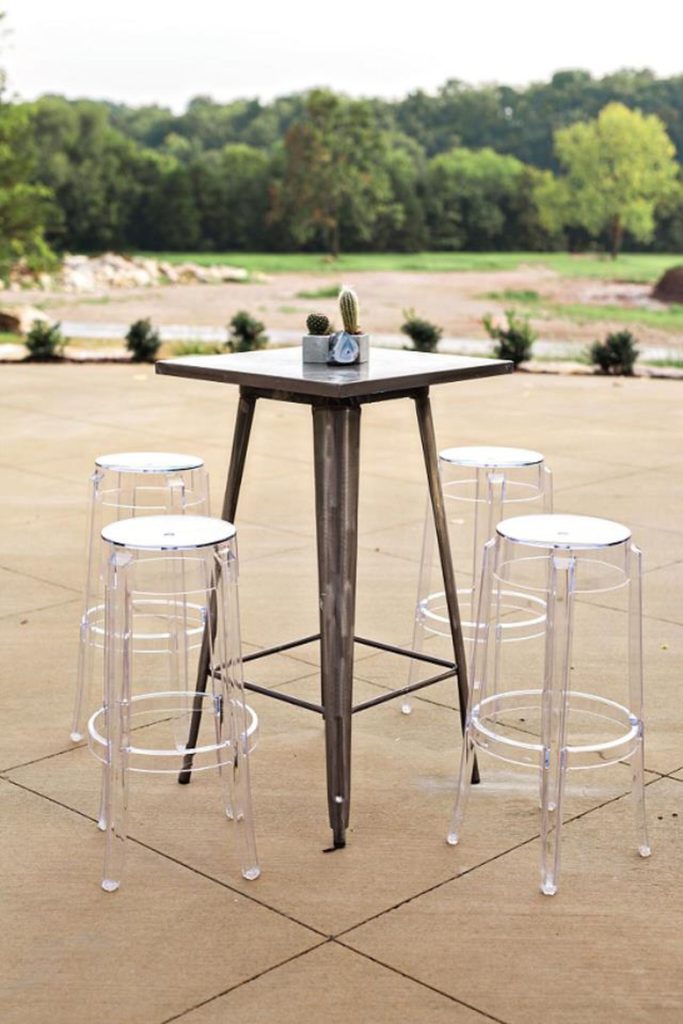 Farm-to-Table Dinner Rentals
Hoping to host an intimate dinner in place of or following a cocktail hour? A barn party is the perfect time to enjoy a farm-to-table dinner! We have plenty of serving ware that will allow you to create a memorable rustic table setting, starting with our Farm Tables in Fruitwood, Grayson, or White Wash. Soften the wood tabletop with a Havana Ecru Runner and napkins. For a clean but cozy look, feature our Artisan China along with a set of Abby or Hammered Flatware. Want to feature a pop of color? Our Smoke Tumblers will do the trick!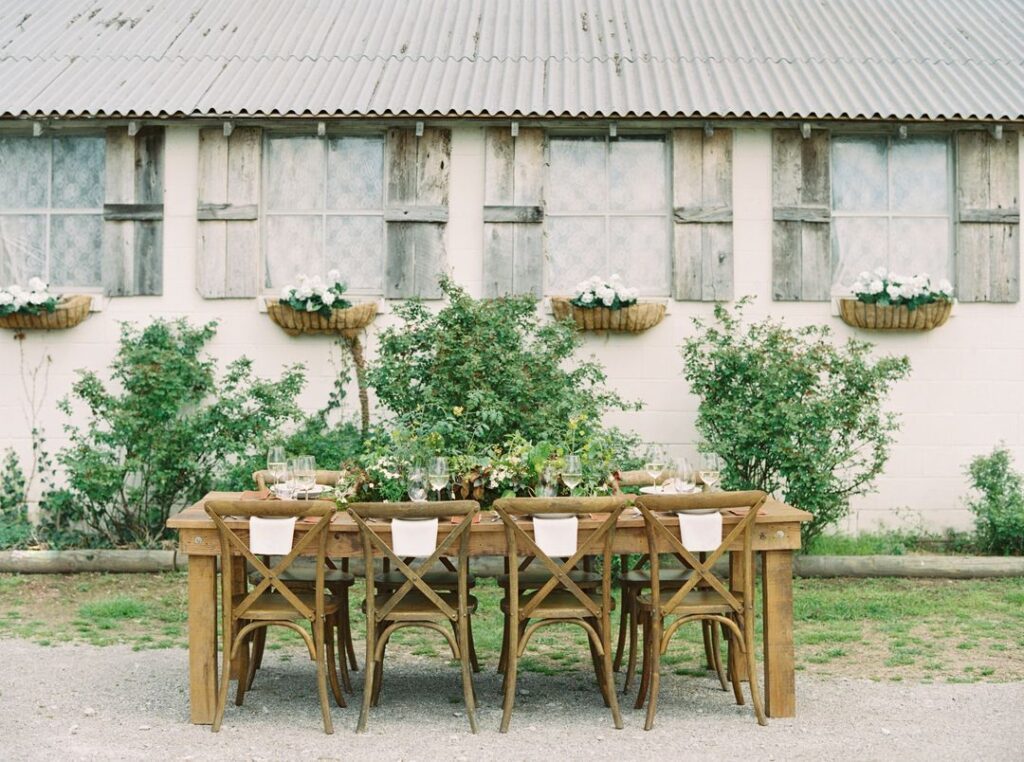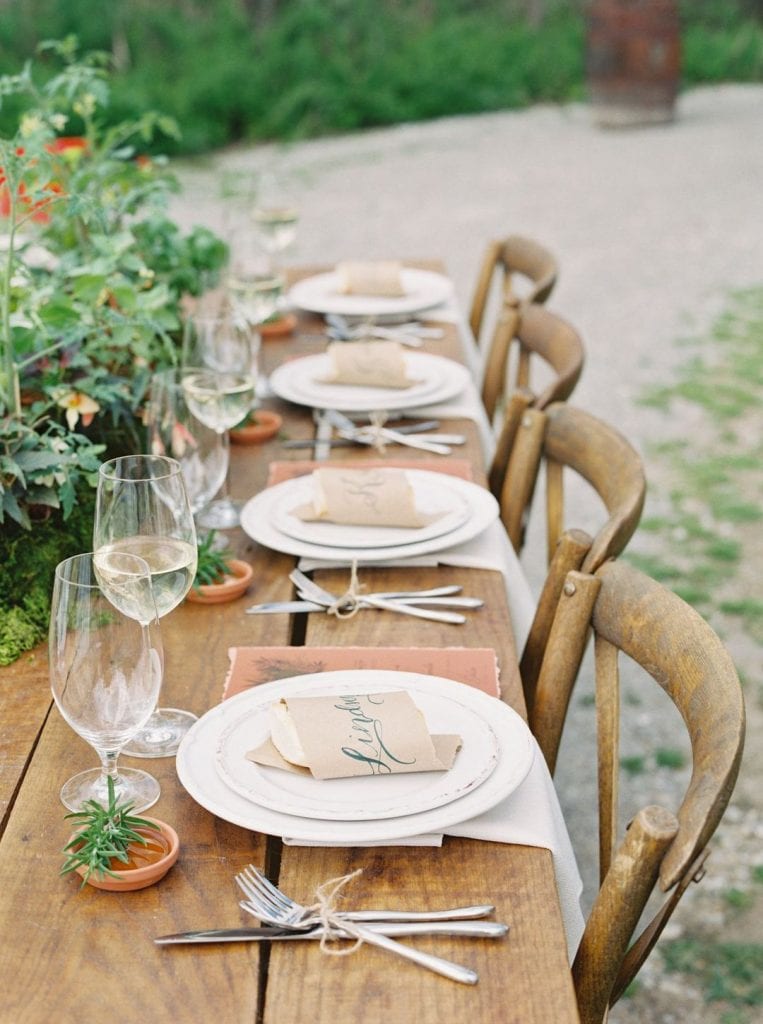 Outdoor Party Lounges
Considering most barns are situated on open land, take advantage when you make it an indoor and outdoor event. If the weather is nice, our Sutton Collection is a cozy place to settle in and chat for a while – with a drink in hand! Should you have more room, and a fire pit nearby, featuring our Rustic Benches decked out with pillows and throws. And if you need the fire itself, we've got that too! Our Hammered Rectangle Fire Pit and Stone Round Fire Pit are both gorgeous choices (that can also be used to make s'mores).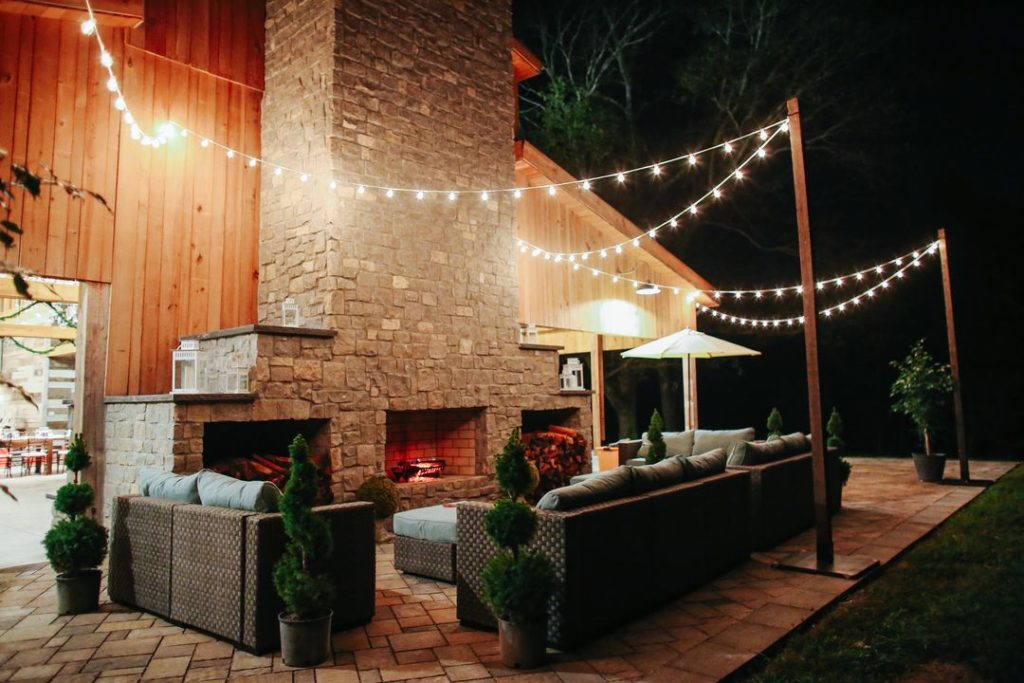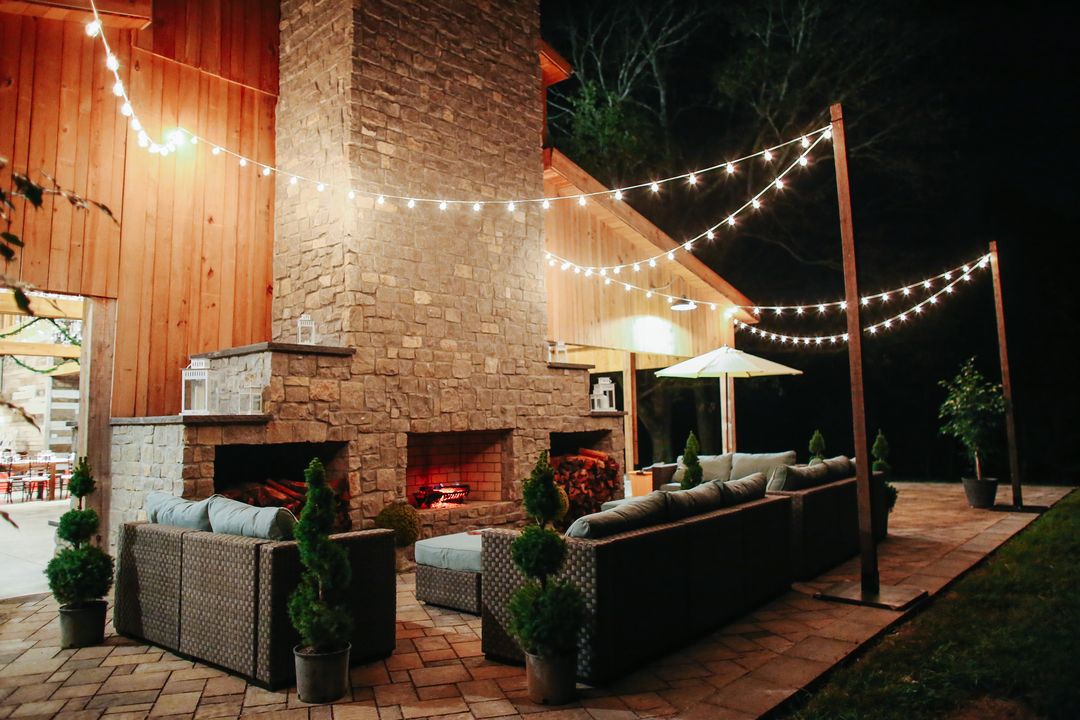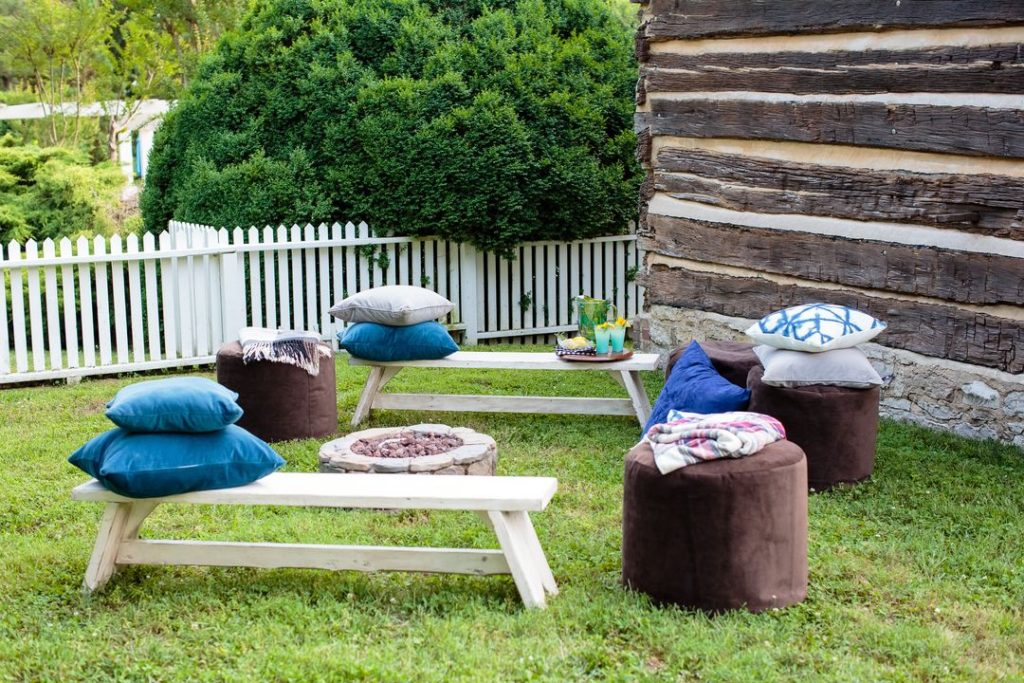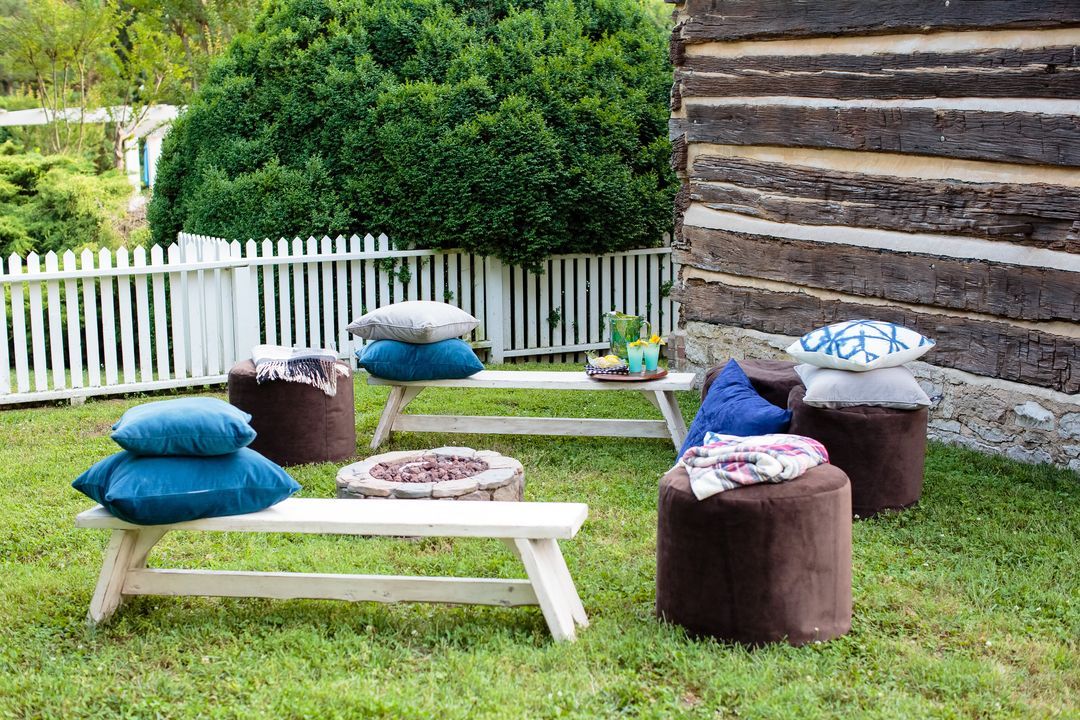 Want to feature some of our barn-inspired party rentals at your upcoming celebration? Contact our team today for assistance, or for help choosing products that align with your event design!
TAGS | Event design, Rustic event rentals, barn party, barn party rentals, event style, rustic event style, rustic events
FEATURED RENTALS | whiskey barrels, white wash whiskey barrels, bon bar, miller bar wash white, tin lizzie corrugated metal barn, Farm Tables, Havana Exru Runner, Artisan China, Abby Flatware, Hammered Flatware, Smoke Tumblers, Sutton Collection, Rustic Benches, Stone Round Fire Pit, Farm Bistro Tables, Cross-Back Barstools, Remington Gunmetal Bistro Tabless, Silver Square Tabletop Lanterns, Hammered Rectangle Fire Pit,
---
16

Jun

Southern Events Products, Trends and Inspiration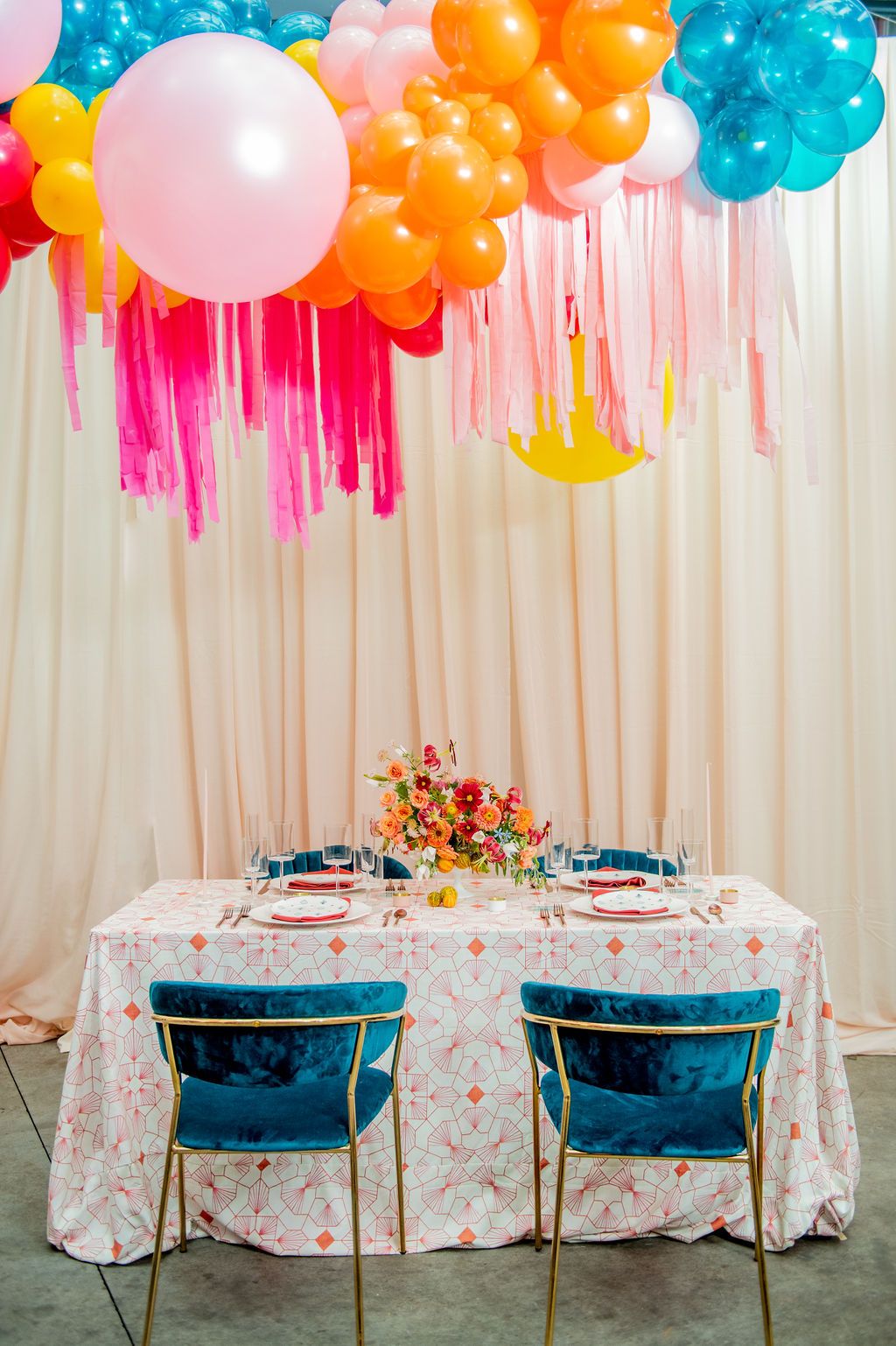 With warm weather comes the opportunity to host outdoors! And what better way than with a vibrant backyard celebration starring our colorful party rentals. From bold linens to unique glassware, we have everything you need to host a one-of-a-kind shindig. Get inspired by these colorful summer party ideas featuring our fun modern event rentals!
Bold Linens
The easiest way to infuse some color into your event set up are a combination of our bold linens. We offer tablecloths and napkins in just about every color, and a wide range of materials. So there is something for every type of summer party, whether you want a more luxe or relaxed look. Our Poly Linens offer widest selection in regards to color, including brilliant warm and cool shades. Such as a beautiful periwinkle and bright coral! If you want to feature a touch of texture, don't forget to check out our Velvet Linens! Current fan favorites include Lavender and Sea Glass. Of course if you want to go all out, you have to take a look at our Miscellaneous Linens, which include an array of fun print and color combinations. We recommend Gold Aurora!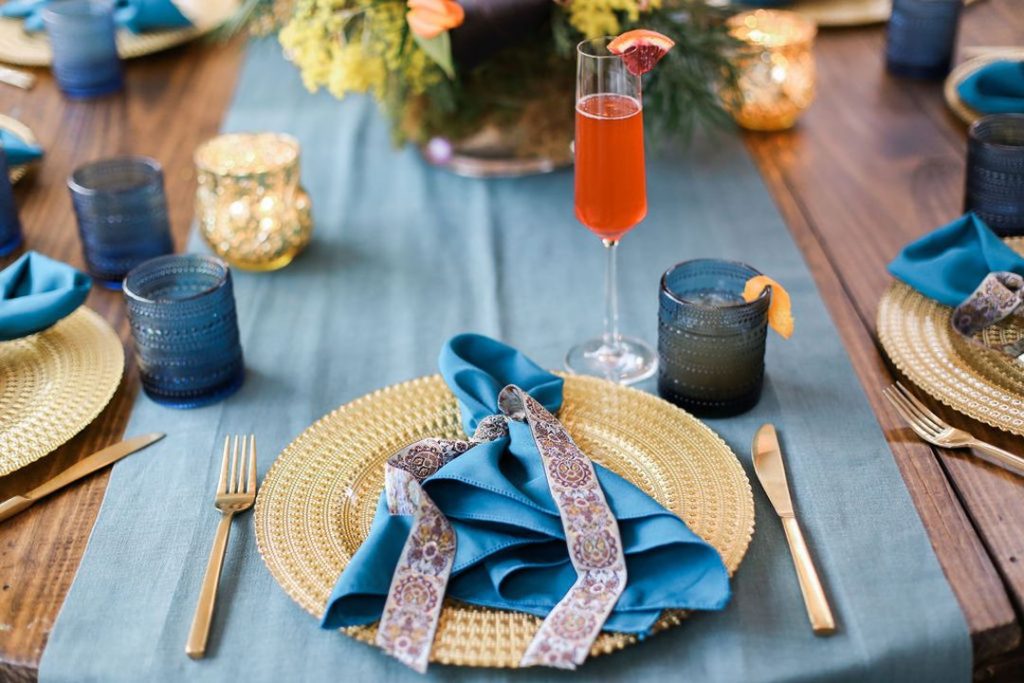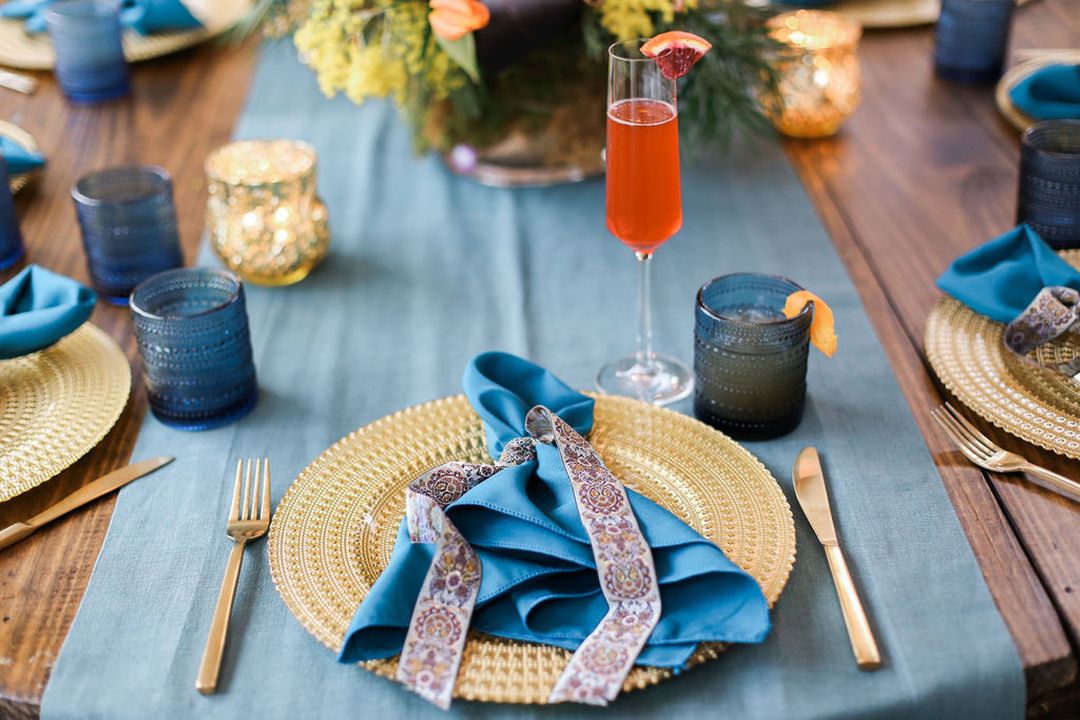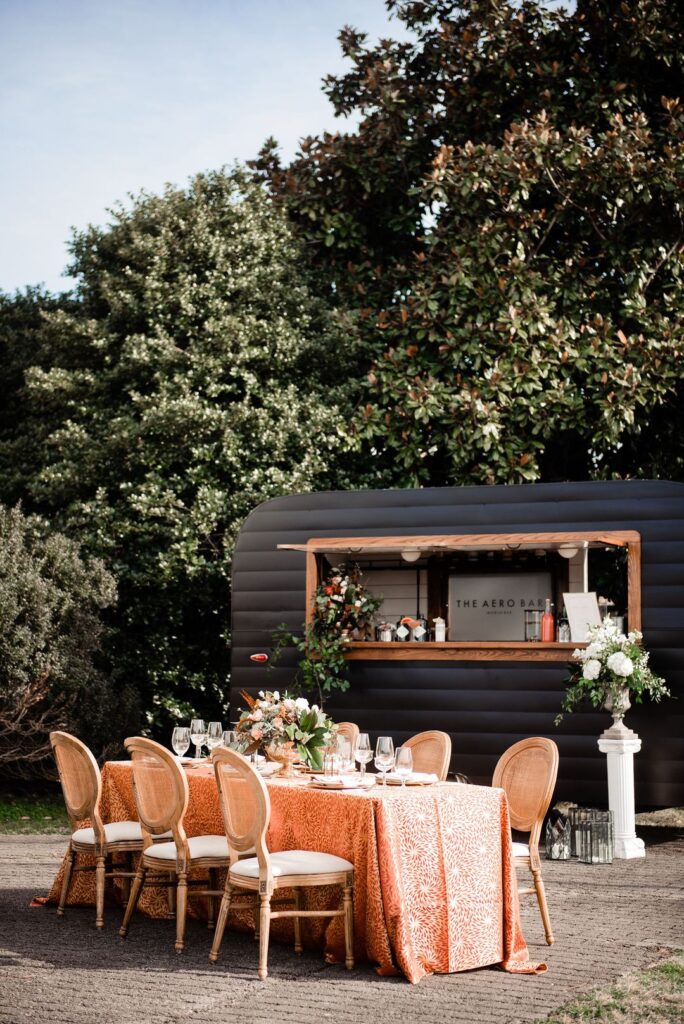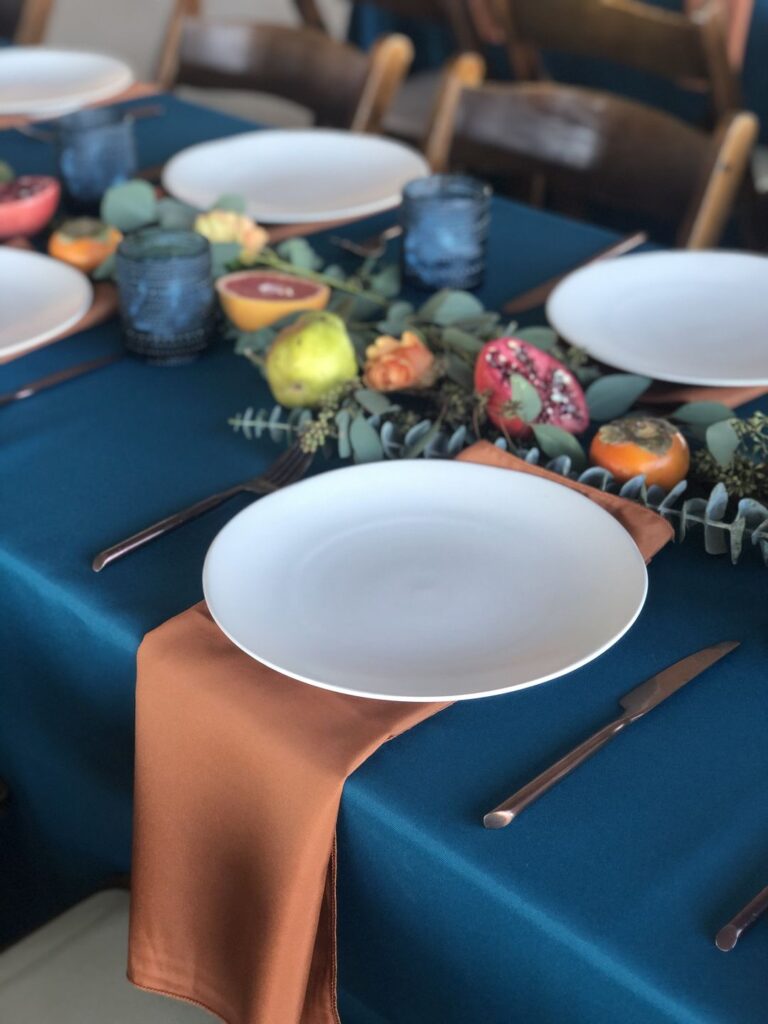 Colorful Cocktails
As with any warm weather event, refreshing beverages are a requirement. And for a colorful summer party, equally fun glassware is a must! We stock a range of on-trend glassware suitable for a variety of different beverages and cocktails. We have more sleek contemporary pieces, like Davis, as well as fun and funky designs, like Cybil. Of course, you will also want to keep guests hydrated! So check out our vintage-inspired water goblets, available in Amber and Green. If you're looking to add a fun interactive detail, you might feature our Boxwood Wall and Champagne Shelf! It's a great way to display fresh drinks, like these tasty champagne popsicles.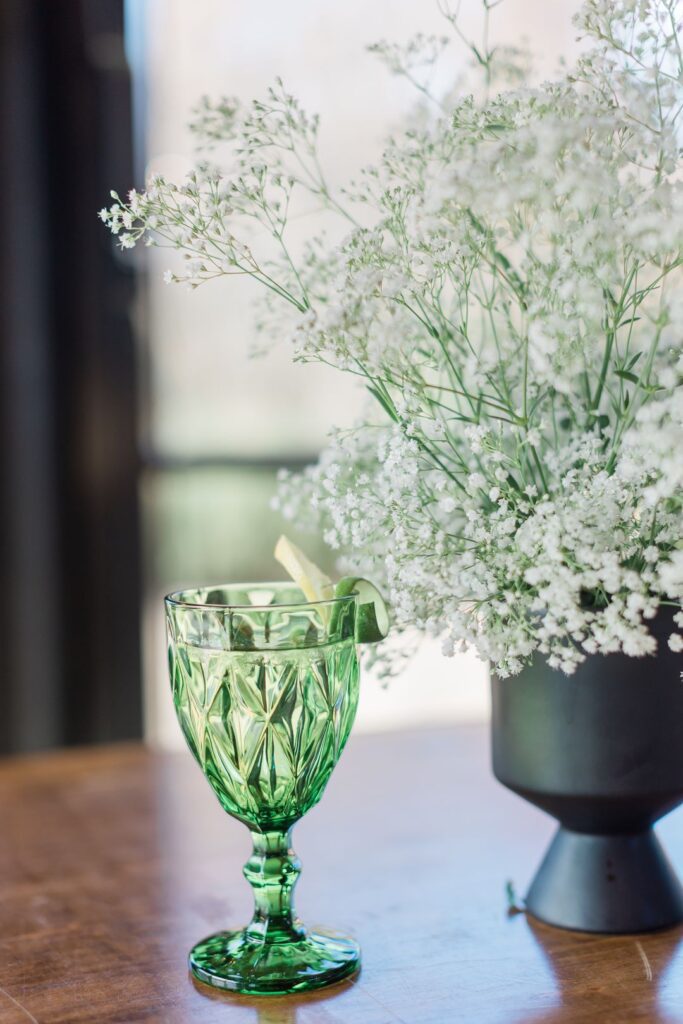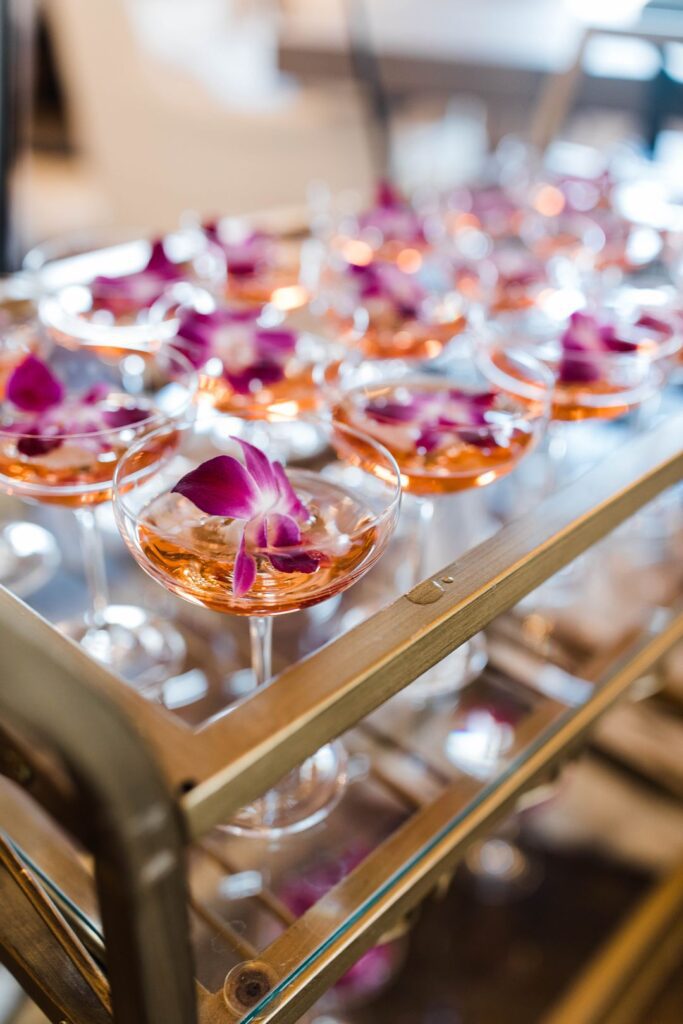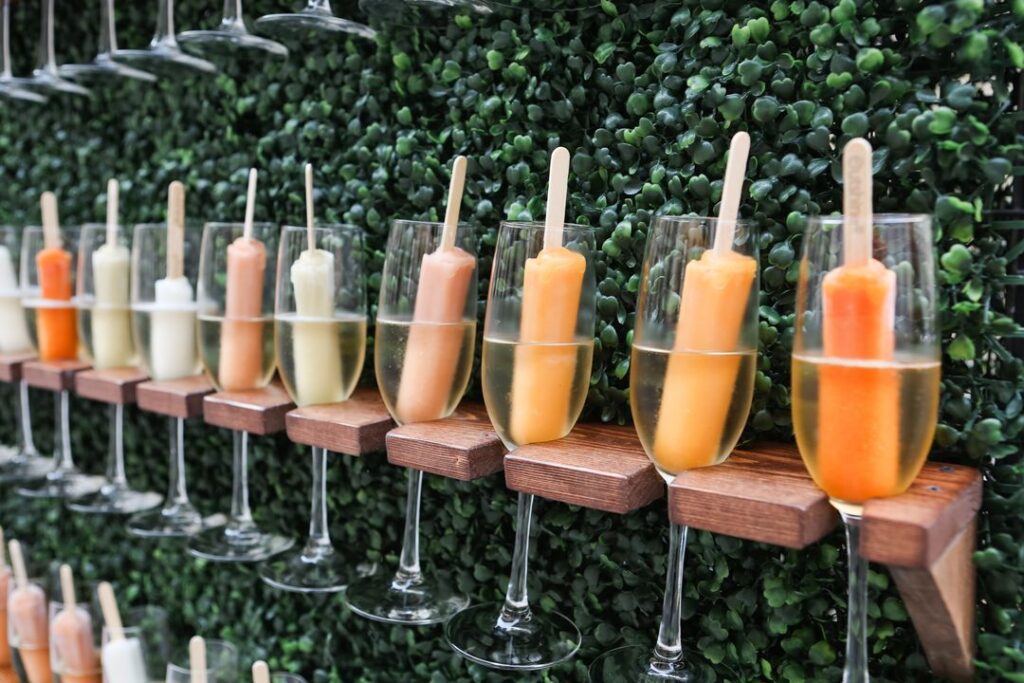 Luxe Event Lounges
To fully enjoy the outdoors, you'll need a cozy lounge area. A setup is stylish yet comfy, where guests can sit, sip and mingle. We offer a fun mix of colorful party rentals that make it easy to create a one-of-a-kind event lounge. Lately, our velvet furniture has been a hit. Especially our Saylor Navy and Jacqueline Velvet Sofa. Closely followed by Farrah Teal and Gloria Velvet Arm Chairs. You will also want to grab a set of our beautiful accent tables and a vintage rug, to help frame the space. If you prefer to keep it simple, you can also check out our curated Lounge Packages.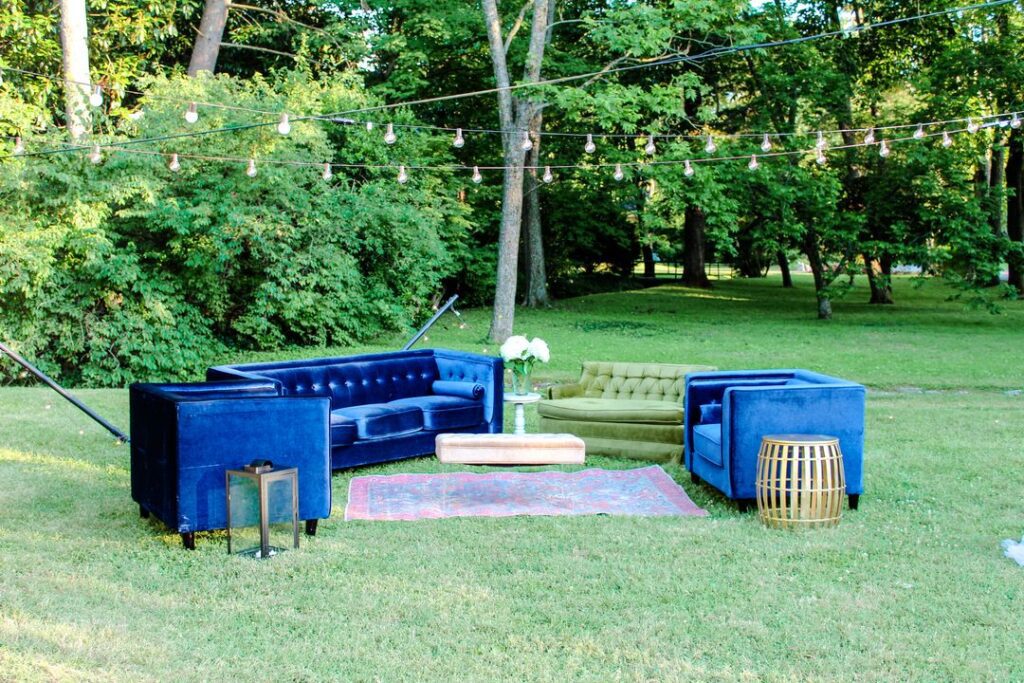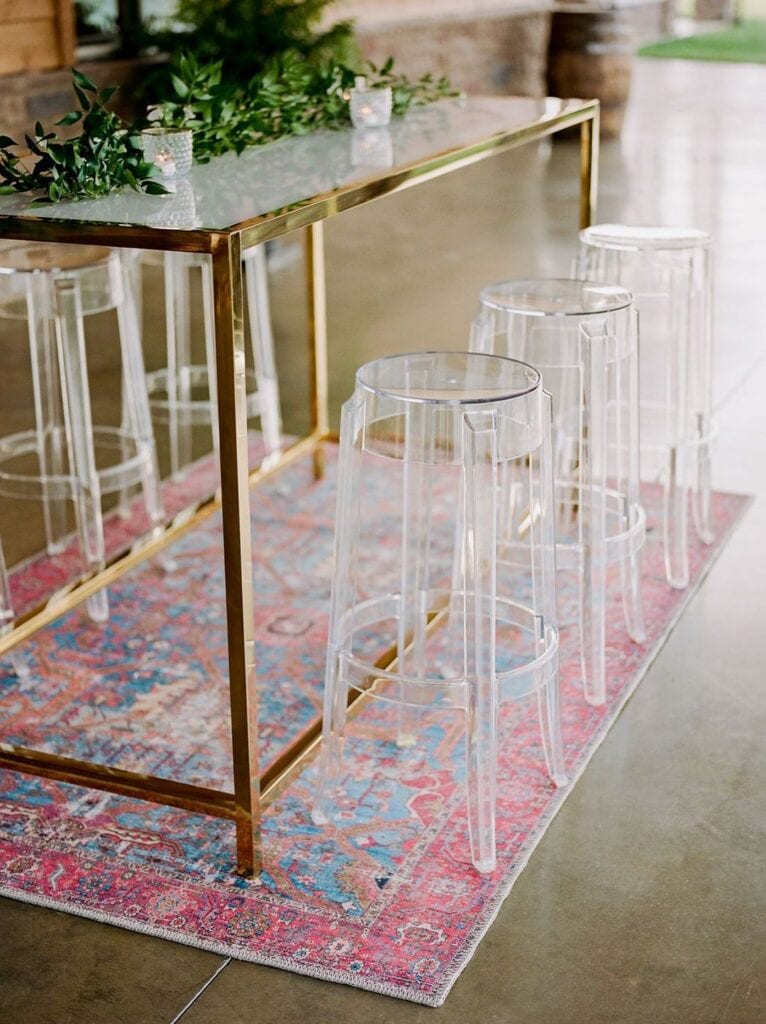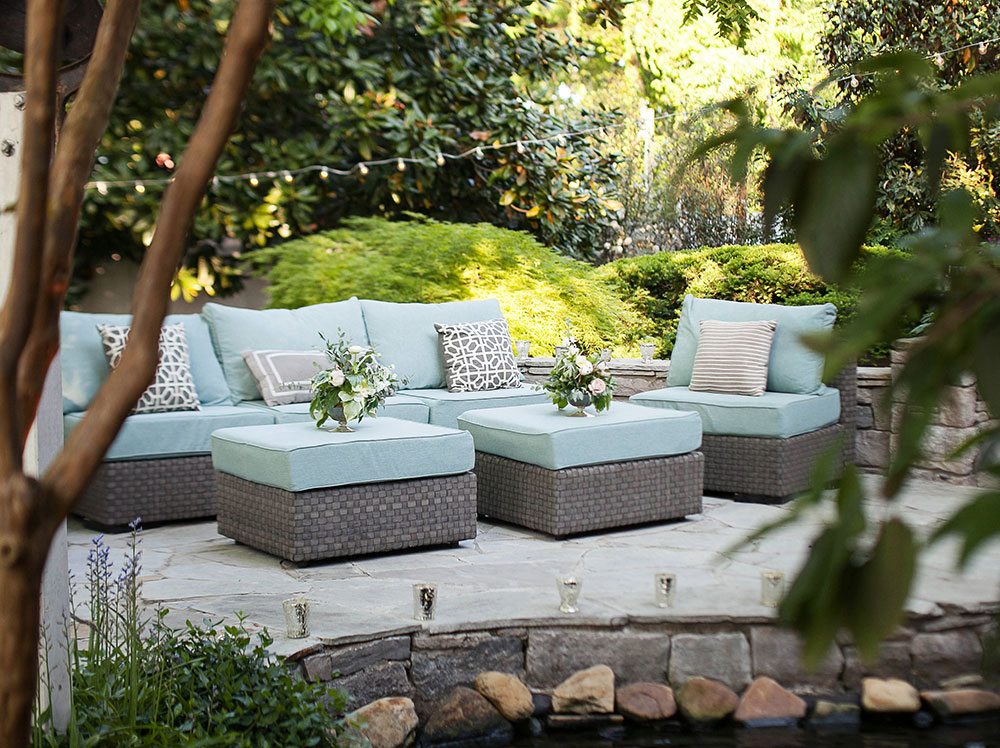 Need more colorful summer party ideas? Contact our team today and a member of our team would be more than happy to help you come up with a one-of-a-kind event design!
TAGS | colorful decor, colorful event lounge, colorful event rentals, colorful party rentals, outdoor event rentals, summer event style, summer party ideas
FEATURED RENTALS | Davis Glassware, Cybil Glassware, Water Goblets, Champagne Shelf, Boxwood Wall, Poly Linens, Velvet Linens, Miscellaneous Linens, Gold Aurora, Saylor Navy Velvet Sofa, Jaqueline Velvet Sofa, Farrah Teal Velvet Chair, Gloria Velvet Arm Chair, Accent Tables, Lounge Packages, Rugs,
---
9

Jun

Southern Events Products, Trends and Inspiration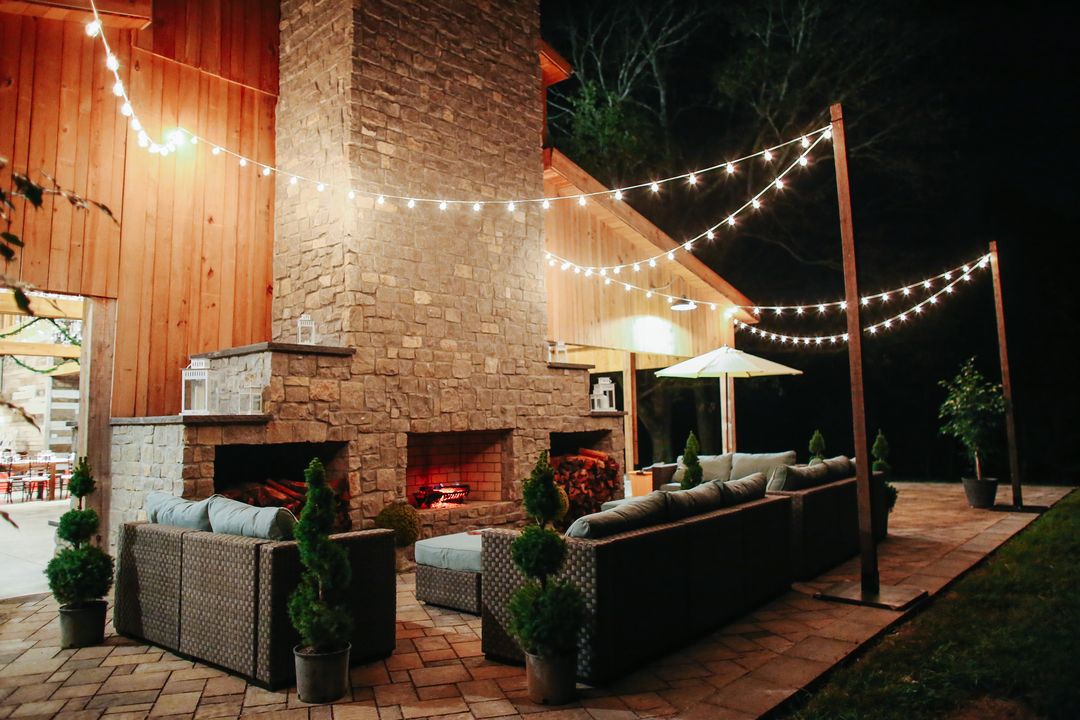 Many of us spend our days inside, hunched over a computer. Throwing outdoor parties makes for a welcome change of pace, especially when the weather is warm! Imagine an event spent under the night sky, with music in the air and a refreshing cocktail in hand. Yep, that sounds like a Nashville-themed outdoor party to us! If this has you feeling inspired, keep reading for a curated list of outdoor party rentals for your Music City gathering!
Indoor to Outdoor Spaces
Hosting a comfortable backyard party is all about knowing how to make the most of a space! Utilizing both indoor and outdoor areas will allow more room for guests to mingle. Consider setting up different social areas where guests can move to and from to interact with others. Outdoors, create a cozy space with our Sutton Lounge Collection and Navy Rug. On a patio or covered terrace, set up a handful of stylish bistro tables outfitted with any of our luxe linens linens – Kennedy looks great no matter the weather!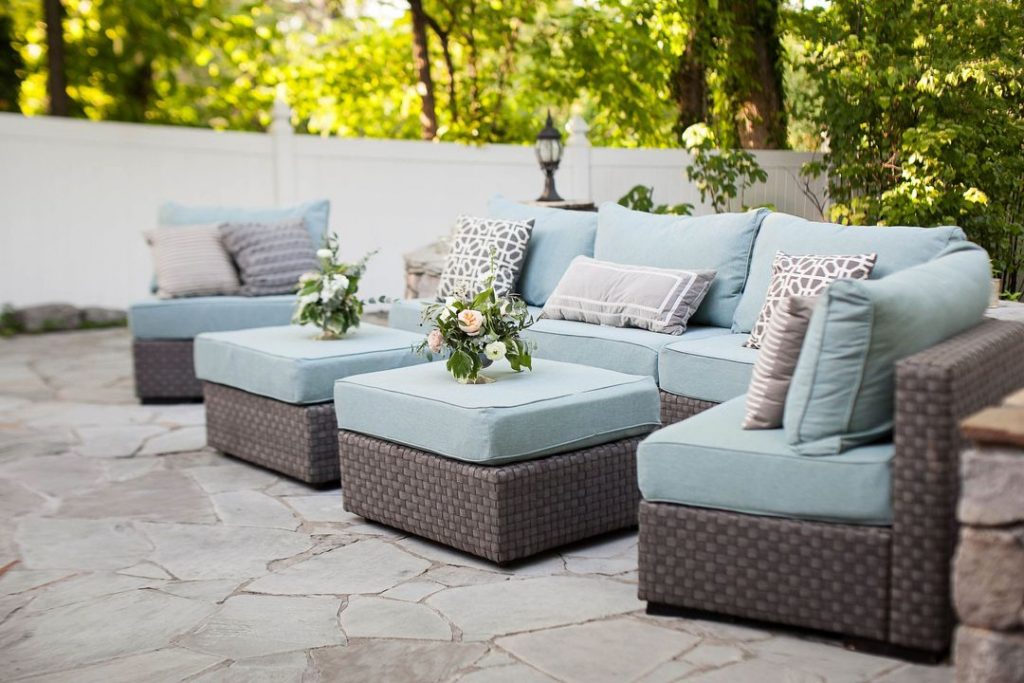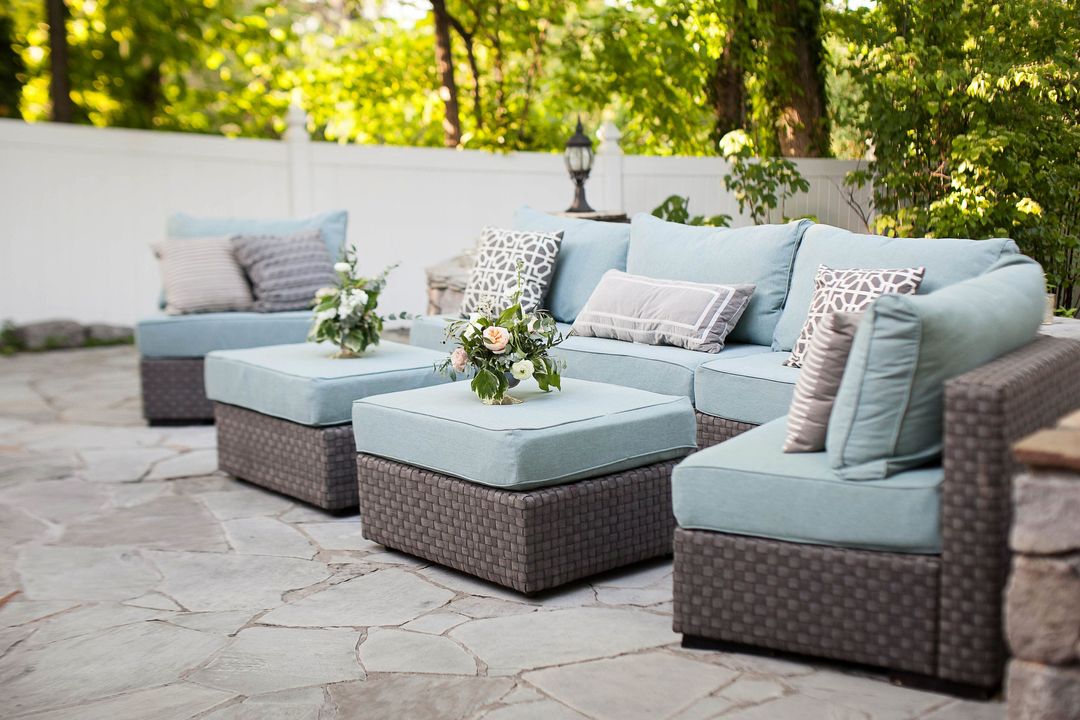 Delightful Drinks
A well-planned Nashville Themed outdoor party is likely to include refreshing cocktails. And in Nashville, you'll most definitely find bourbon! Having the right outdoor bar set up that is both functional and stylish is vital for a successful outdoor party. For a more intimate gathering or Gold Bar Cart is an elegant piece. But for a sizeable crowd, feature any of our rustic-inspired bars. Such as our Antique White Franklin Bar or Whiskey Barrel Barnwood Bar! Of course, don't forget to keep it stocked with elegant glassware, like our classic Monaco Rock Glasses.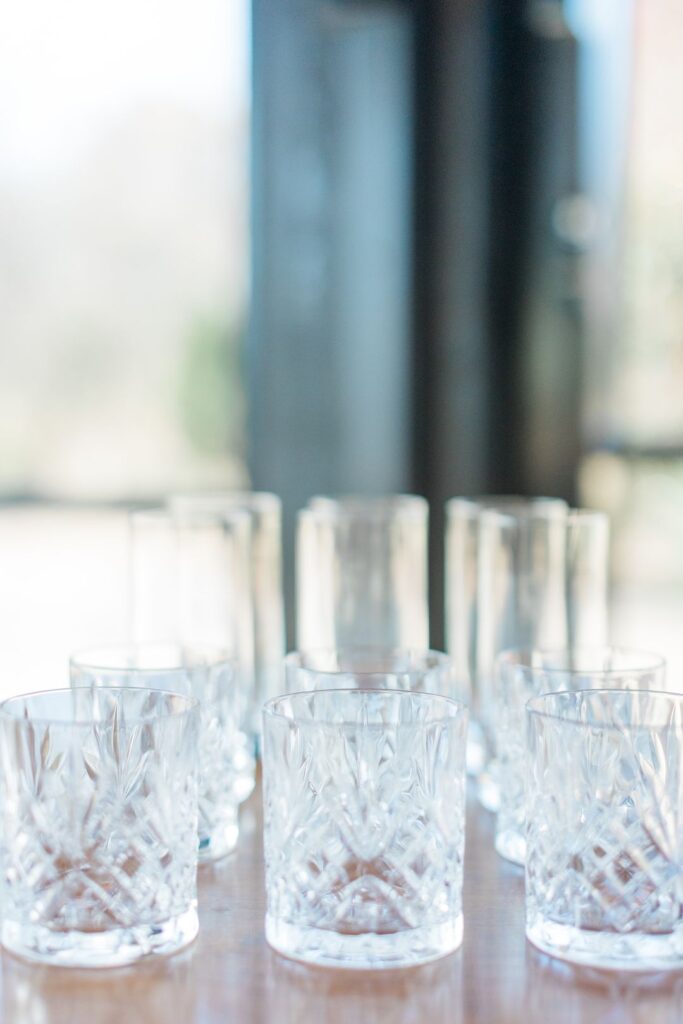 Interactive Areas
Fire pits just burn with ambiance! Guests love to gather around our Stone Round Fire Pit to perch on Rustic Benches or Chocolate Poufs. Oh, and speaking of ambiance, our Assorted Oversized Lanterns look darling placed near lounging areas and tables. All the while providing extra lights to keep guests safe. To dress up your seating, and keep guests cozy, we recommend that you feature throw pillows and blankets. Just don't forget to pack the s'mores!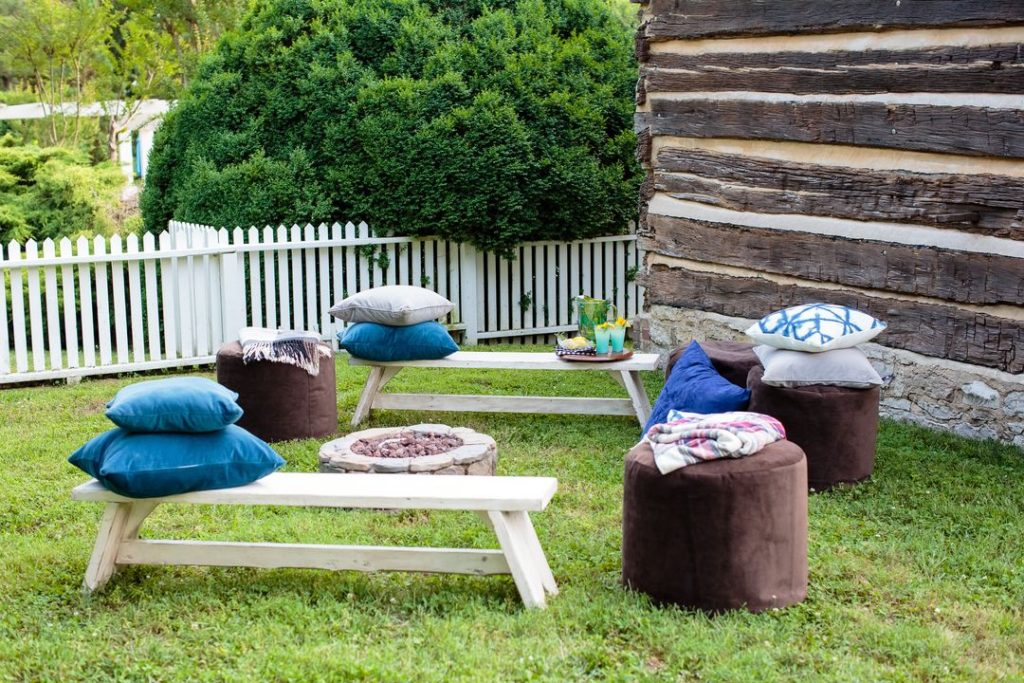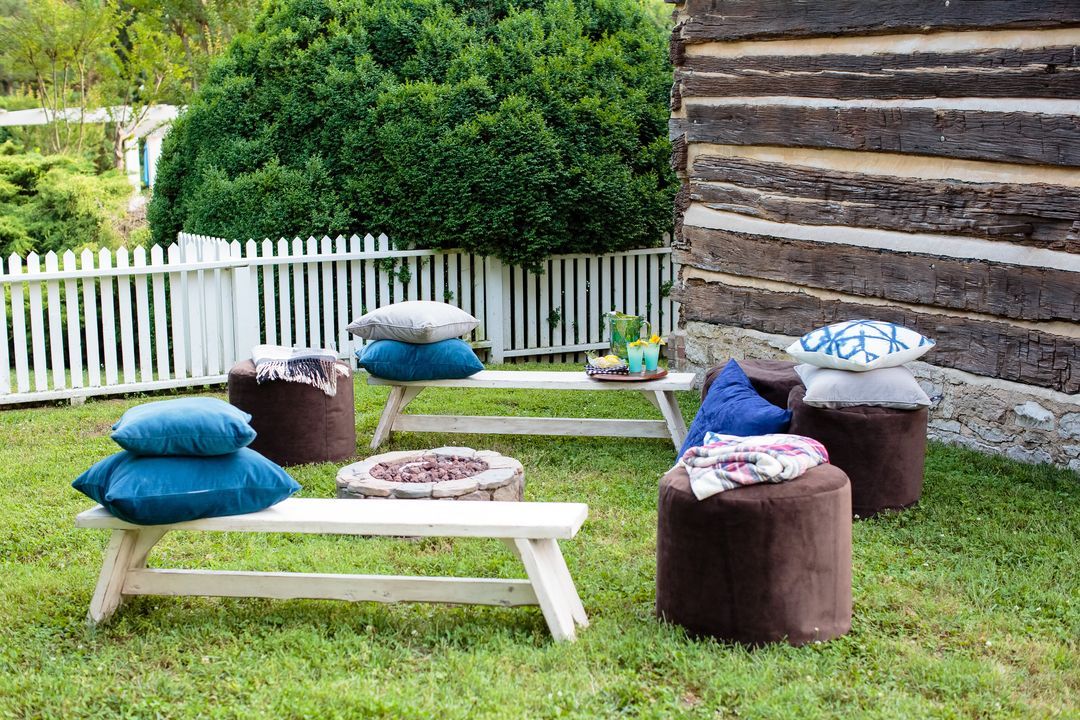 Ready to plan a Nashville-themed party under the stars? Send us a message at info@southerneventsonline.com and work with our team to host a one-of-a-kind event. Planning to enjoy dinner outdoors as well? Be sure to check out our blog on Al Fresco Dining!
TAGS | Cocktail Party Rentals, Lounge Furniture, Nashville party rentals, Southern Events Party Rentals, Unique Nashville Event Rentals, backyard parties, bar event rentals, lounge furniture rentals, outdoor event rentals
FEATURED RENTALS | Sutton Lounge Collection, Navy Rug, Stone Round Fire Pit, Chocolate Poufs, Rustic Bench, Assorted Oversized Lanterns, Antique White Franklin Bar, Whiskey Barrel Barnwood Bar, Gold Bar Cart,, Monaco Glassware,,
---
12

May

On Trend, Southern Events Products, Trends and Inspiration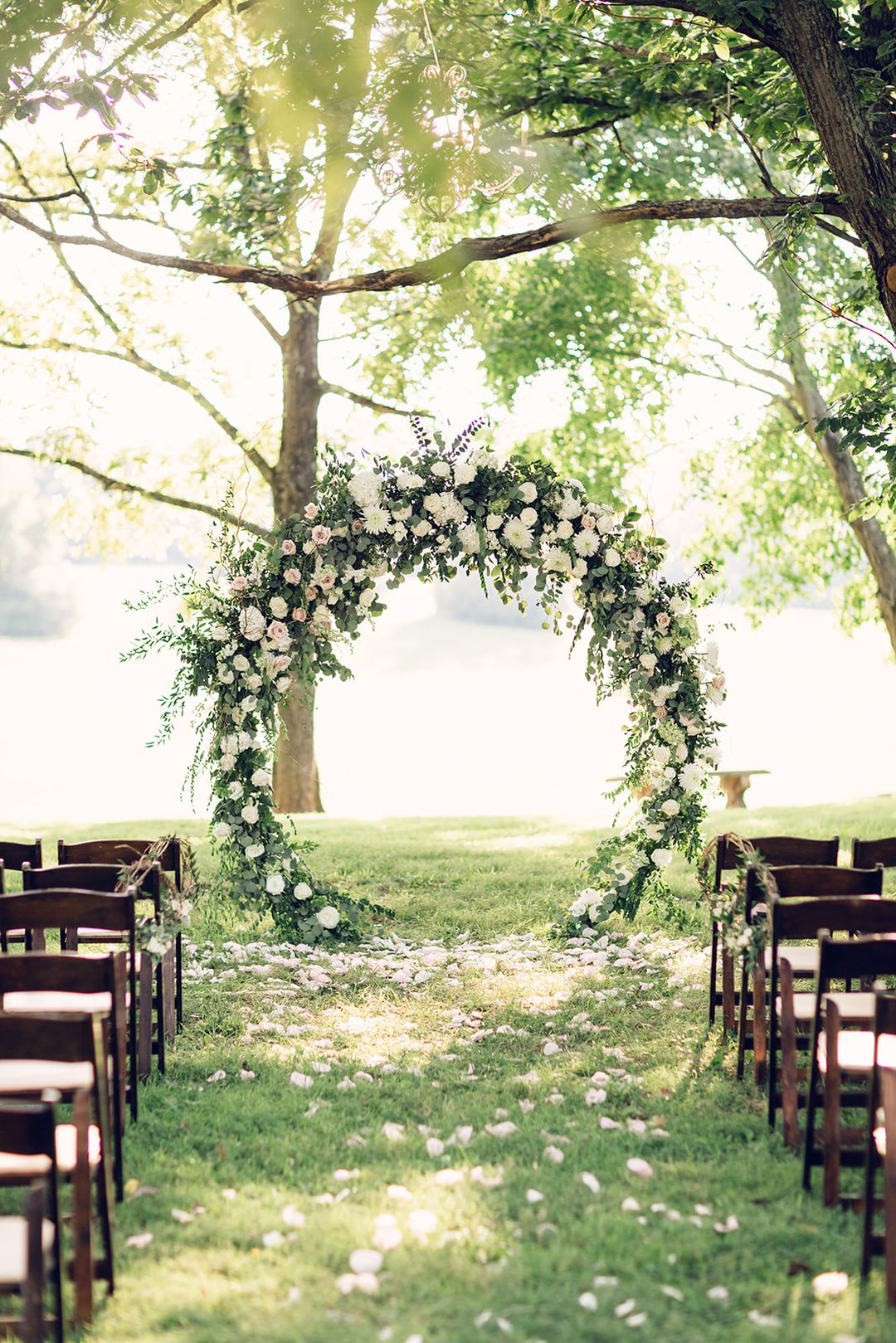 Garden weddings are popular themes, especially during the warmer months of the year. As we sit and dream with couples, we hear their love for the romantic feel this theme offers. Over the years, we've had the privilege of seeing garden weddings come together in a myriad of ways, and we have fallen head over heels for the whimsical palettes and charming event design. Keep reading to get inspired by our take on the modern garden wedding, featuring sleek and sophisticated rentals that make for an incredibly chic celebration!
Sleek and Chic Tables
This modern take on garden weddings can be achieved by bringing in bright rentals featuring geometric shapes that contrast dramatically with the freeform nature of, well, nature. Outfit your tables in colorful linens that will POP against a lush garden setting. For balance, feature our Harlin Dining Chairs or Cross-Back Chairs, made of natural wood. If you prefer an equally romantic but vintage-inspired look, consider our Antique White Bentwood Chairs.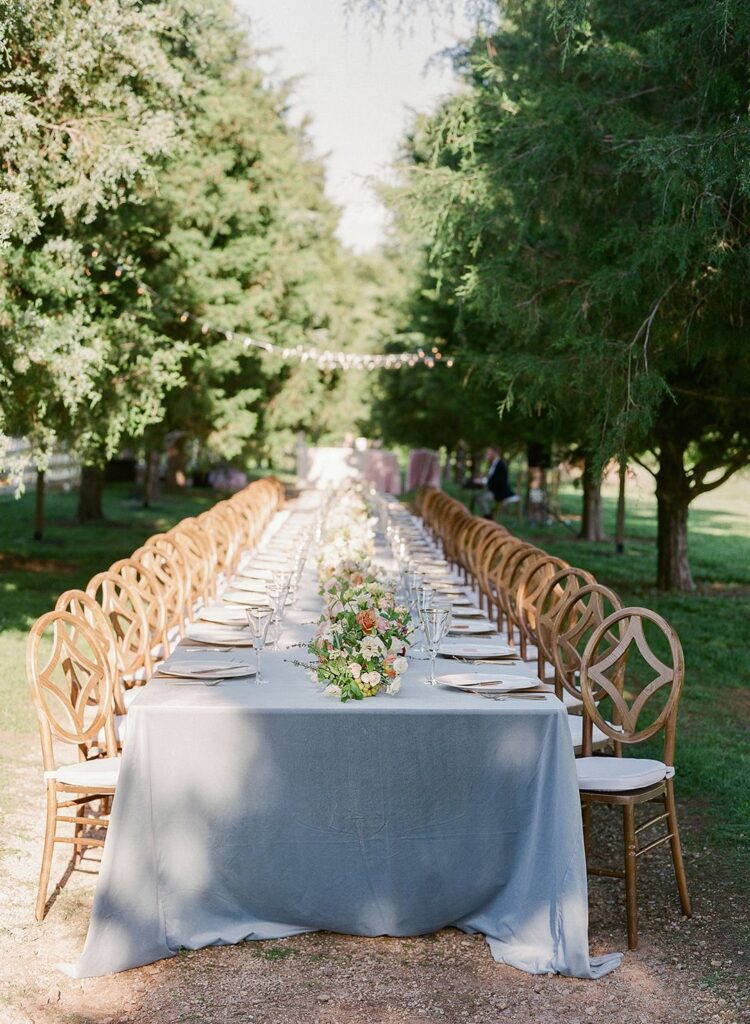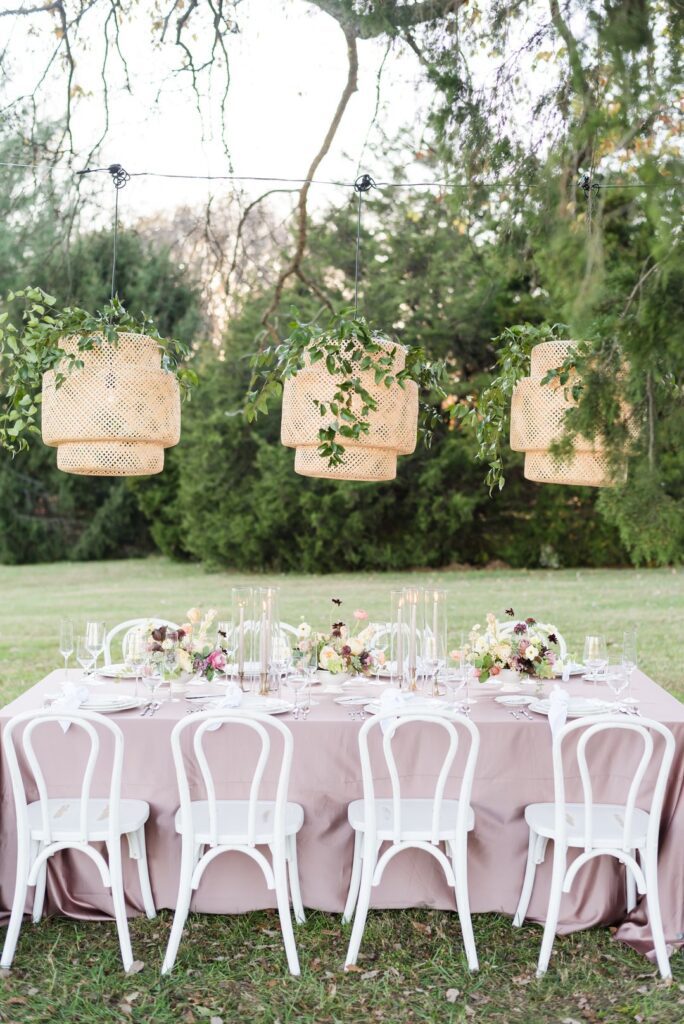 Dreamy Velvet Details
Masculine elements, such as monochromatic color schemes contrast beautifully against soft florals and greenery. All white or all black furniture against a dreamy, floral aesthetic is both masculine and modern! Although, we're still a fan of lighter palettes that complement whimsical florals. You can achieve a luxe but chic look by featuring textured details, namely in the form of velvet linens! Some of our current favorite colors include bold blue hues and romantic pinks and purples!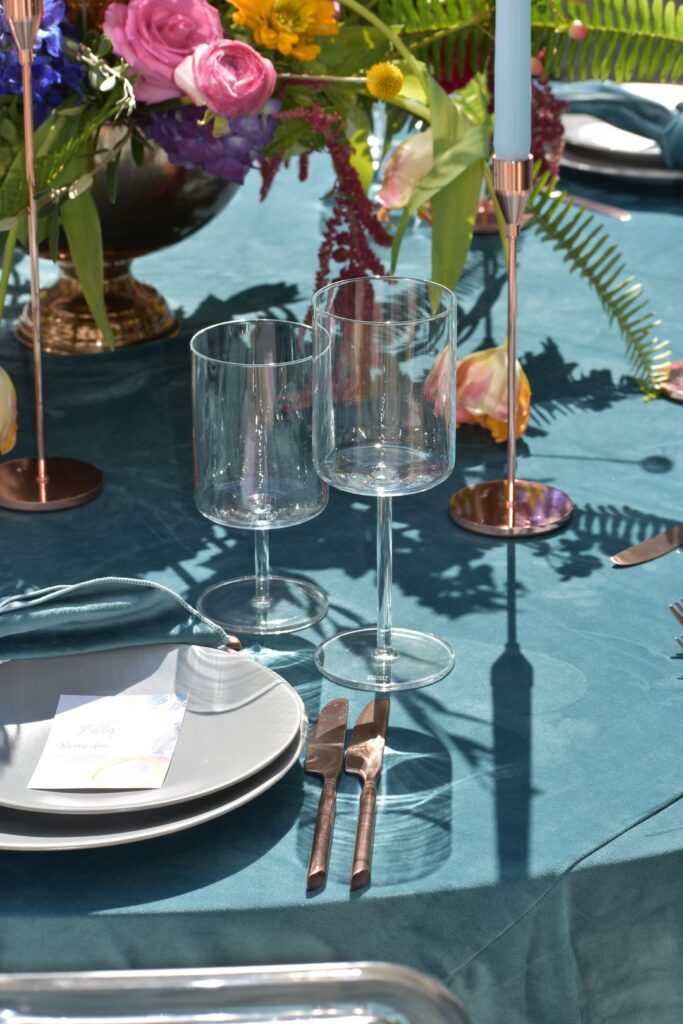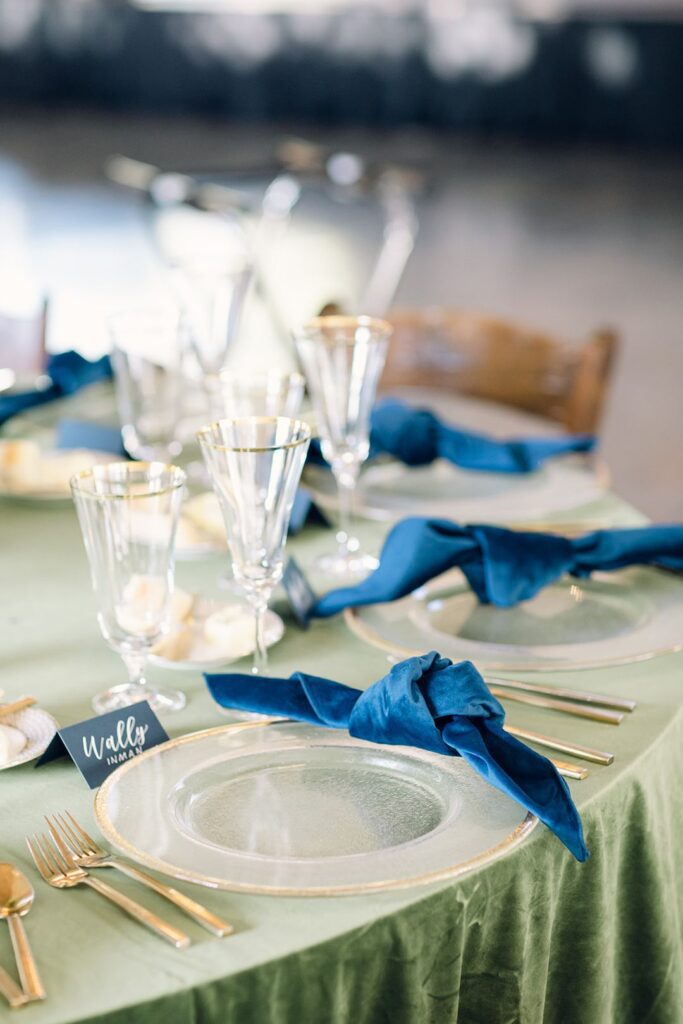 Elegant Social Areas
When hosting an event outdoors you tend to have more area to fill – in which case there is no reason not to have a cocktail lounge! Something simple yet elegant and cozy where guests can enjoy a drink and socialize. Take a look at our curated lounge packages, or mix and match our pieces to make your own. Our Bennett Leather Sofa and Adeline Dining Chairs are a fine pair, especially when complemented by a set of Chocolate Poufs and stylish accent tables. Meanwhile a rug will help frame the space!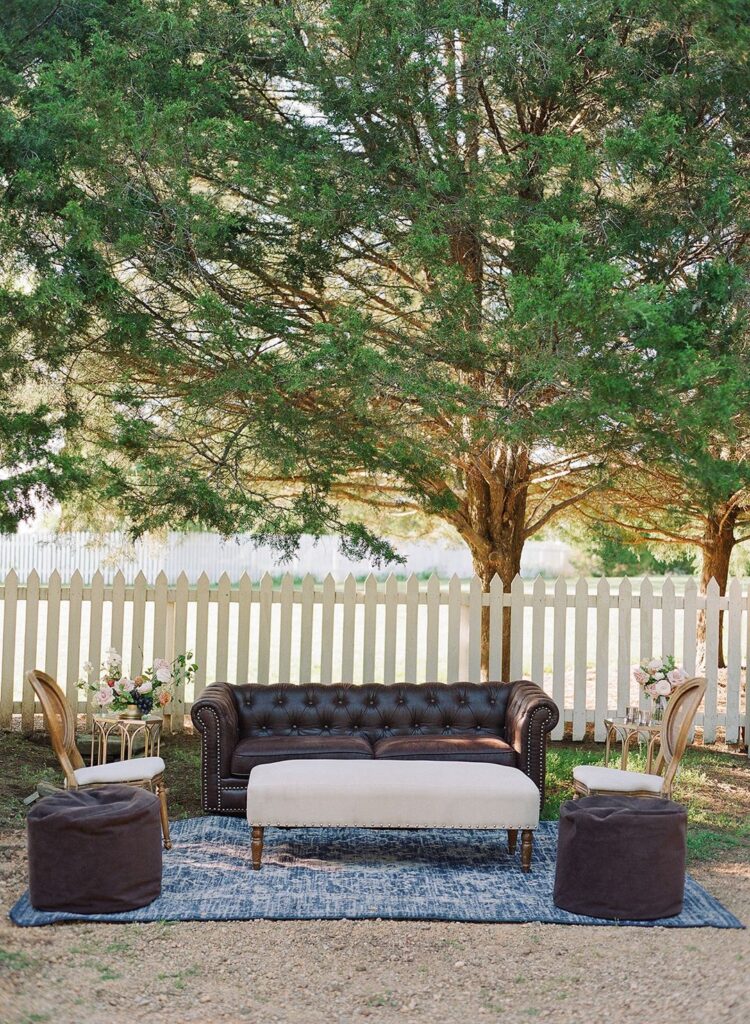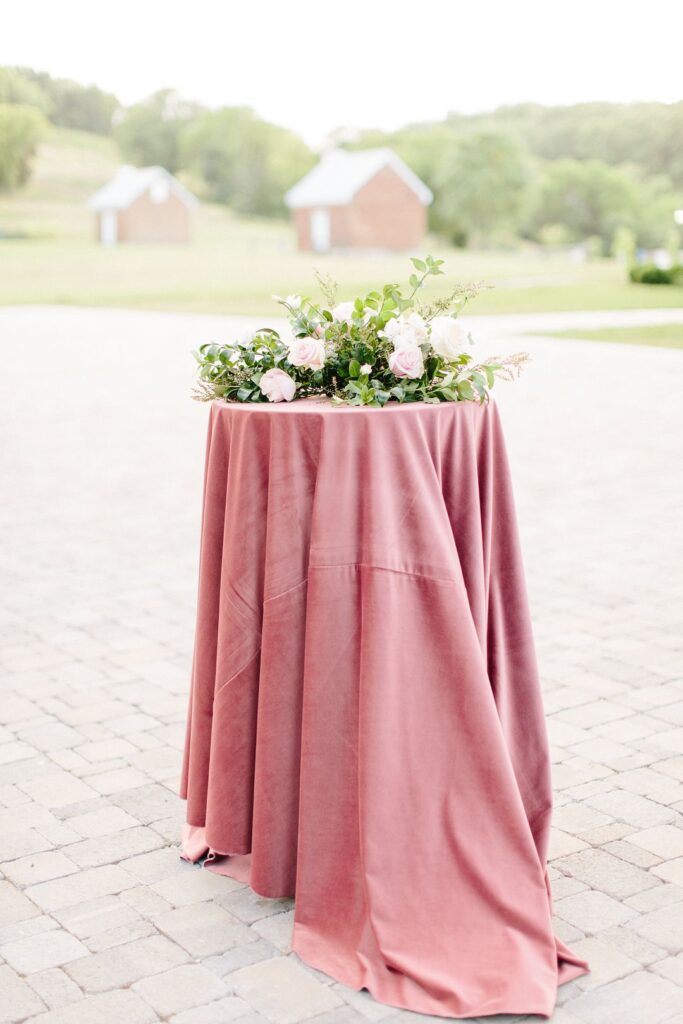 Interactive Decor
We adore taking lovely decor pieces and transforming them by creating interactive designs that deliver jaw drops from the guests and serve a purpose. In this case, our Boxwood Wall shows up to look gorgeous, with bright ice pops that also serve as a stylish backdrop for a photo-op. Alternatively, you might dish up some champagne to greet guests at the door!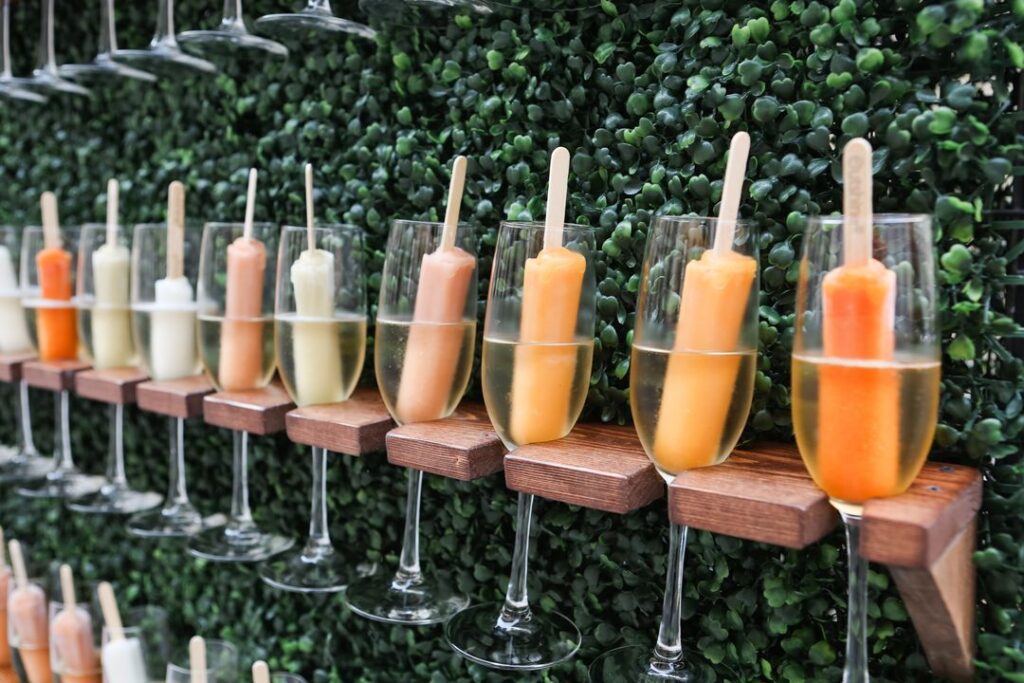 Love the idea of hosting a modern garden wedding? Send us a message at info@southerneventsonline.com and our team would be glad to help you plan a memorable outdoor event! Need a lounge for a cocktail hour? Be sure to check out our blog on Natural Luxe Lounge Furniture.
TAGS | Garden Wedding Inspiration, Garden Weddings Nashville, Modern Garden Wedding, Nashville Wedding Rentals, outdoor southern weddings, southern wedding style, southern weddings
FEATURED RENTALS | boxwood wall, champagne shelf, velvet linens, harlin dining chair, antique white bentwood chairs, cross-back chairs, lounge packages, chocolate poufs, area rug, bennett leather sofa,,
---
14

Apr

On Trend, Southern Events Products, Trends and Inspiration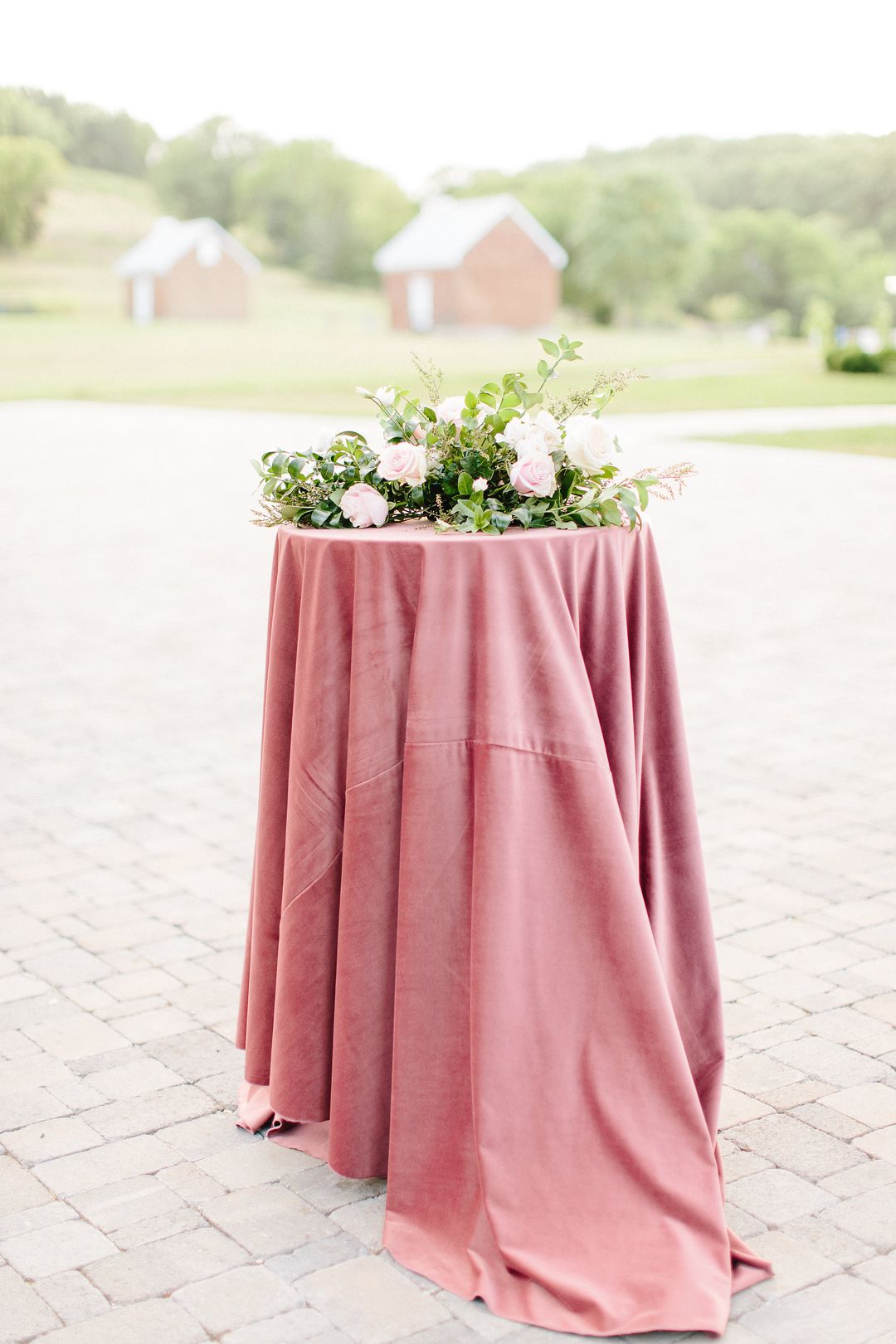 When hosting a backyard party we like to go big! And that starts with creating memorable tablescapes at which people can gather to dine and socialize. The foundation of which are your linens, which set the stage for your event design. Today we're sharing our luxe event linens that will elevate your outdoor celebrations in Nashville. Keep reading to learn about our in-stock rentals, available in a range of on-trend colors and high-end materials.
On Trend Colors
By far the easiest way to choose the best linens for your event tables is considering color. For a backyard party, we recommend one of two options. First, go bold with striking color! In the spring, we love soft pastels that pop against a lush natural setting – say pink or purple. Although dusty hues, like blue, can be equally beautiful. Second, keep it natural! Opting for colors that complement an outdoor space is an easy way to achieve a timeless look. Consider a crisp white or light shades of brown, like driftwood or taupe. More recently greens have been a hit, in sage and moss.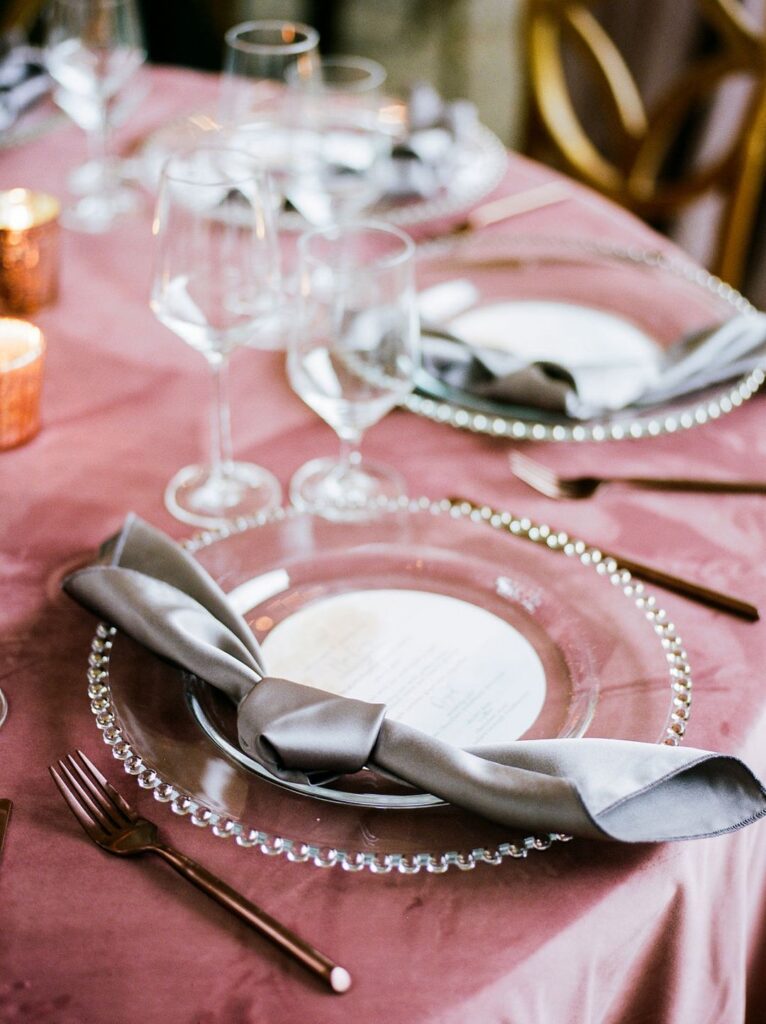 Luxurious Materials
In addition to colors, the type of materials you feature can help set the tone for your event. Our selection of luxe event linens includes a range of materials, from soft velvets to buttery satin and more! Here are just a few of our current favorites!
Velvet Event Linens
Velvet linens are the latest and greatest fad in event linen rentals. Largely because it is a simple yet effective way to feature texture at your tables. And it's available in a huge array of gorgeous colors! For a backyard gathering, we recommend bright colors like Light Pink, Sea Glass, or Fern Velvet. Or, for an especially sophisticated look, opt for one of our etched designs featuring metallic accents. Such as Dusty Blue Etched Velvet or White Etched Velvet.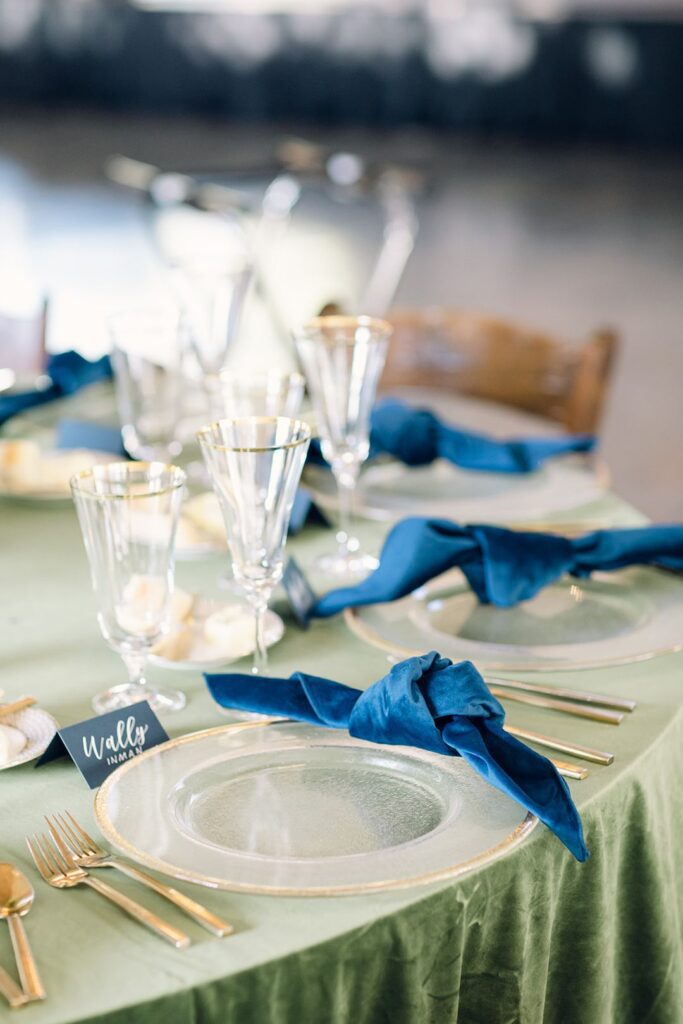 Satin Linens
Satin linens are a more classic option for tablecloths, but a modern option thanks to the wide range of colors available! The buttery material is light yet has a slight sheen that oozes luxury. During the spring, it is one of our favorite choices – and it will be yours too if you have an appreciation for pastels. Consider colors like Wisteria, Mint, Mediterranean, and Wheat.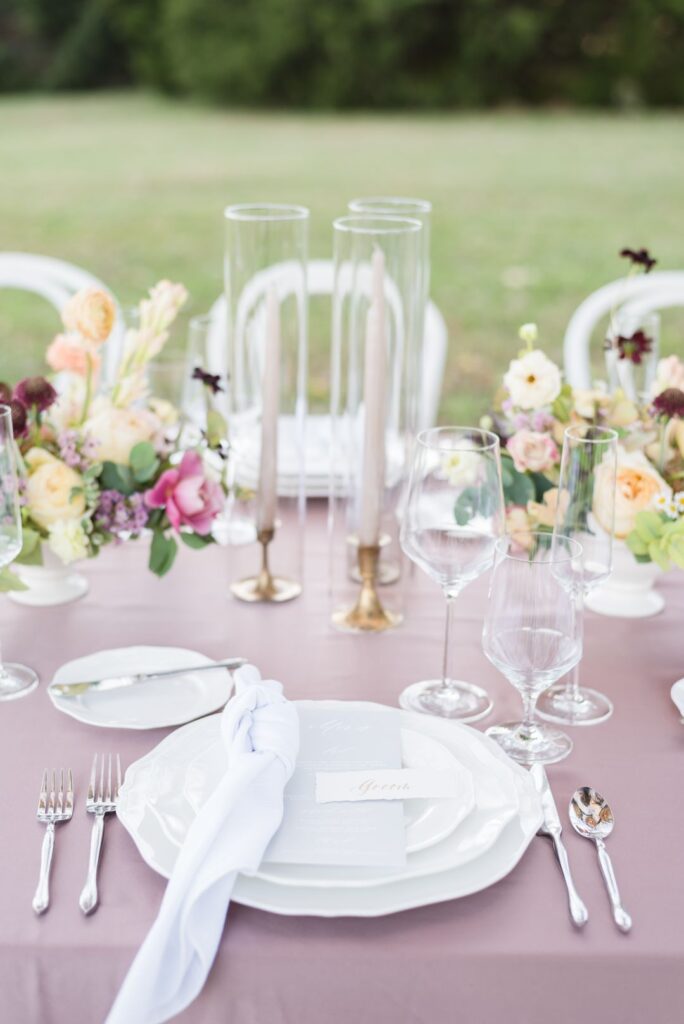 Kennedy Linens
With their gorgeous texture, Kennedy Linens are one of our favorite tablecloths for a backyard party. Lightweight and with a natural feel, it is one of the best choices if you're hosting a laid-back event with an upscale and airy vibe. It comes in a range of natural colors, including Cactus, Fawn, Topaz, and White. Make sure to grab matching napkins – but in a different color!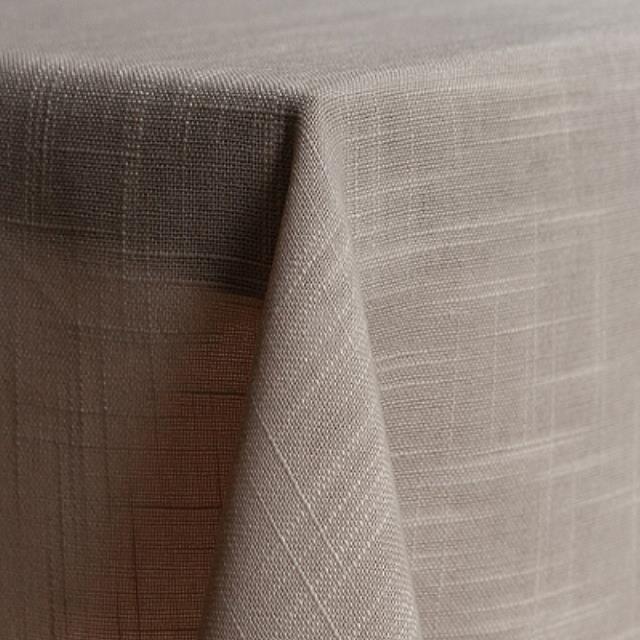 Patterns & Prints
Want a more bold yet still luxurious table? Be sure to take a look at our inventory of miscellaneous linens! There you'll find unique patterns and prints like our elegant Gold Furrow and Gold Aurora Linens.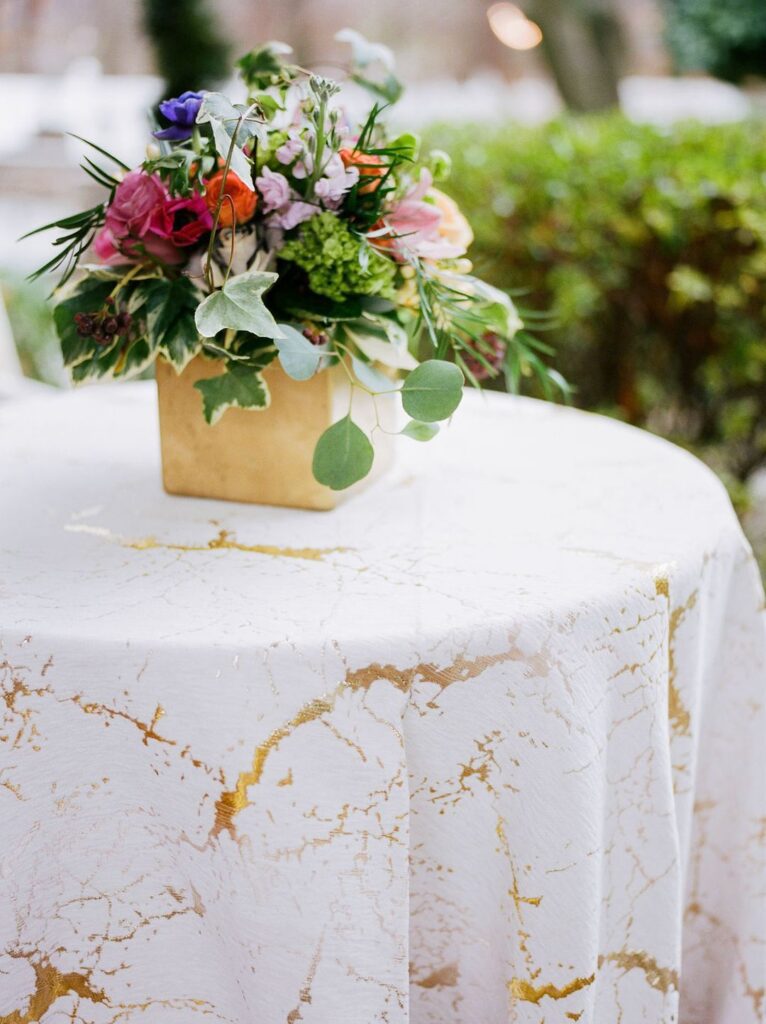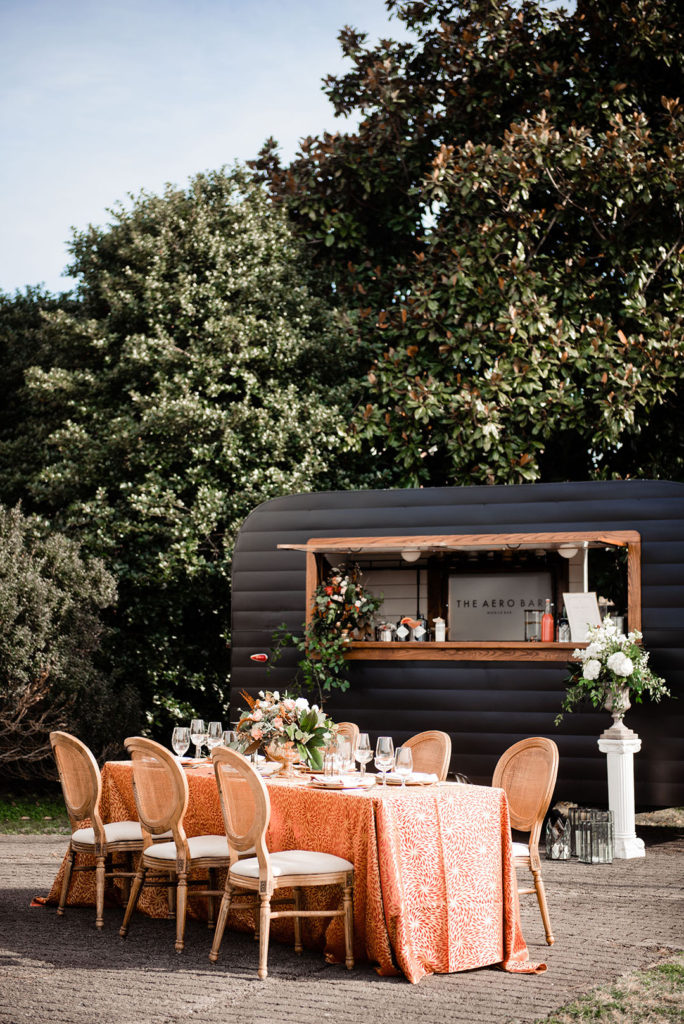 Want to feature some of these luxe event linens at your backyard party? Contact our team today for assistance! Or for more ideas, be sure to check out out our blog on Backyard Al Fresco Dining.
TAGS | Napkins, Southern Events linens, Table Runners, Tablescape, Velvet Linens, linen rentals nashville, tablescape inspiration, tablescape rentals, velvet napkins
FEATURED RENTALS | Kennedy Linens, Velvet Linens, Gold Furrow Linens, Gold Aurora Linens, Satin Linens
---