15

Jul

On Trend, Southern Events Products, Trends and Inspiration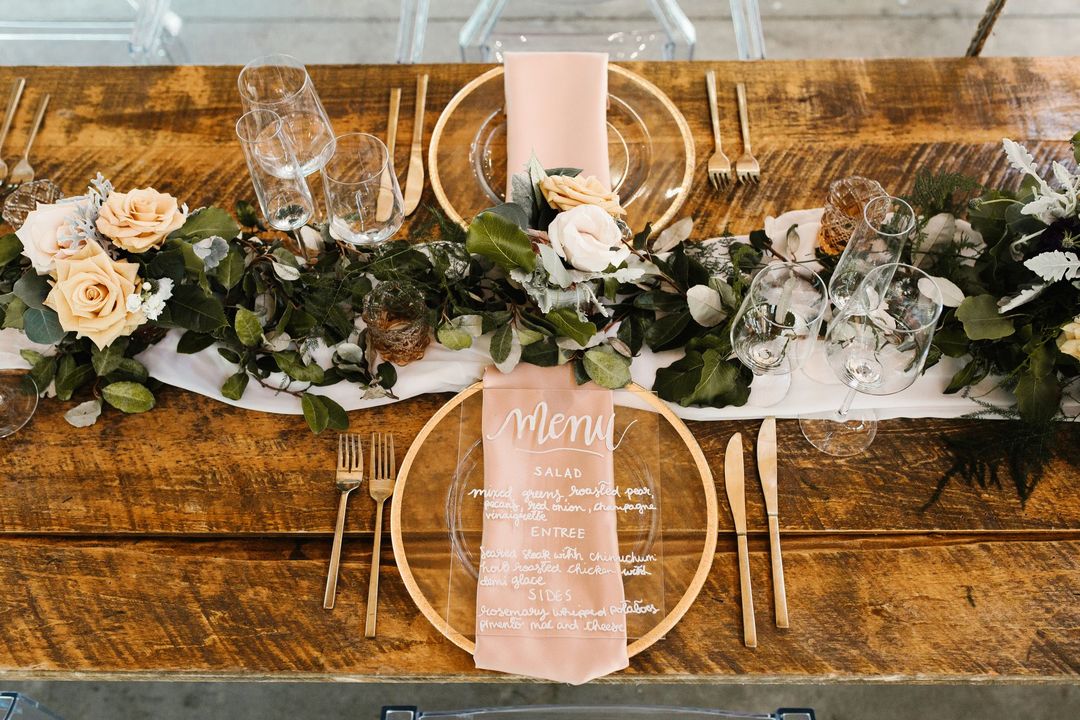 Neutral color palettes have been popular as they offer a stylish yet timeless look. However, there are both cool and warm neutral colors, which will lend a completely different vibe to an event. Today, we're doling out some inspiration featuring our natural-neutral wedding rentals! These warm-toned pieces will lend a modern yet organic theme to your event.
Natural-Neutral Place Settings
One of our favorite ways to feature natural neutrals is via an elegant tablescape. We carry a large variety of warm-toned serving ware for creating a cohesive and memorable layout. For starters, consider our Fruitwood Farm Table for the perfect warm-toned base. Alternatively, a table with light-colored linen will add a brighter base.
These elegant tables are warm and feature pink for a fun feminine flair. Both are accented with metallic gold accents, for a wonderful luxe look! We always recommend a touch of texture. For instance, using neutral velvet table linens or a wood tabletop with a table runner.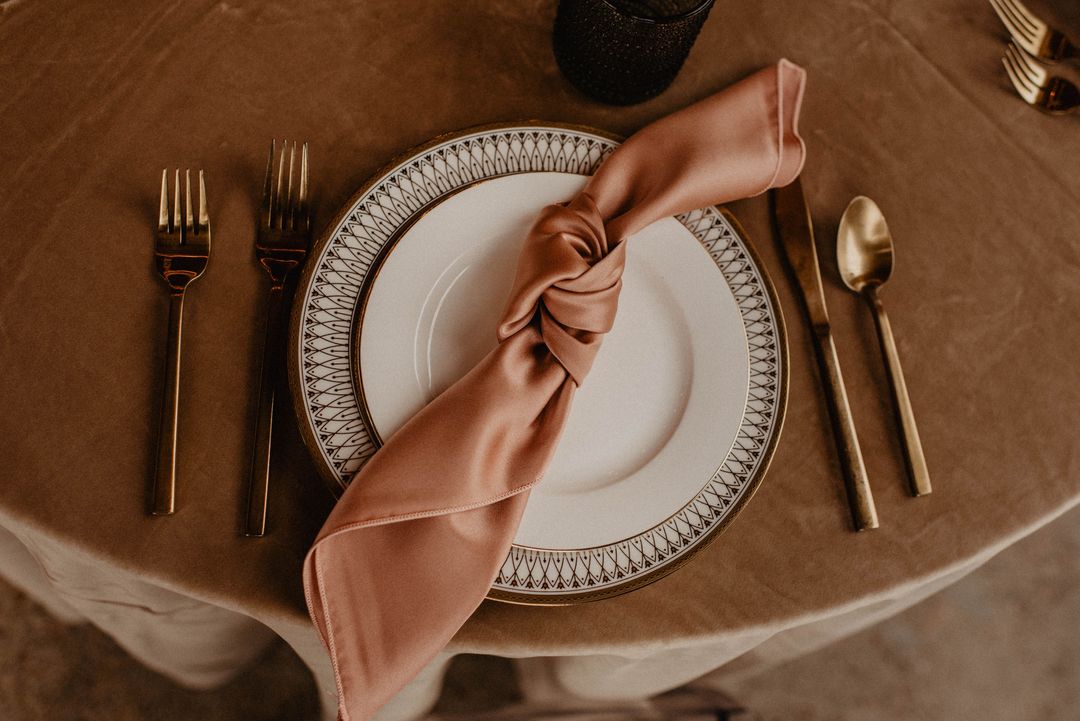 Photo by Renrose Photography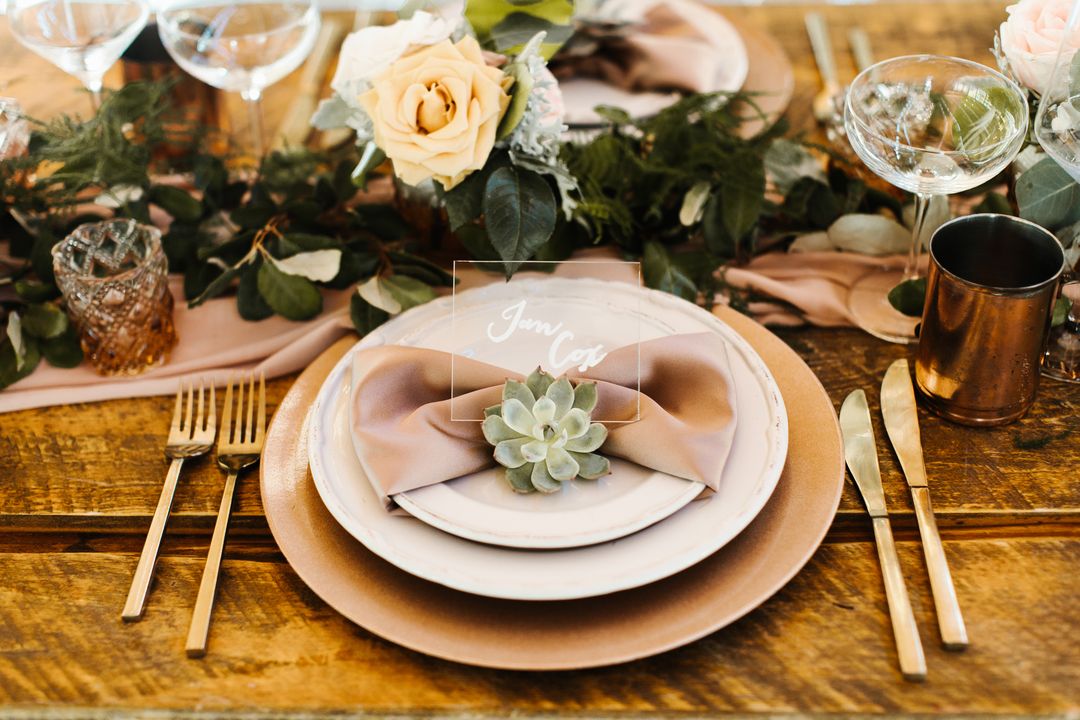 Photo by Madi Flourney
Worried that your tablescape will be overwhelmingly warm-toned? Add in a touch of cool-toned neutrals. These tables are beautifully balanced thanks to silver accents. Our Earthen Onyx or Earthen Stone China always pairs well with a warm-toned charger or napkins. Or feature silver flatware atop a neutral table or table linens.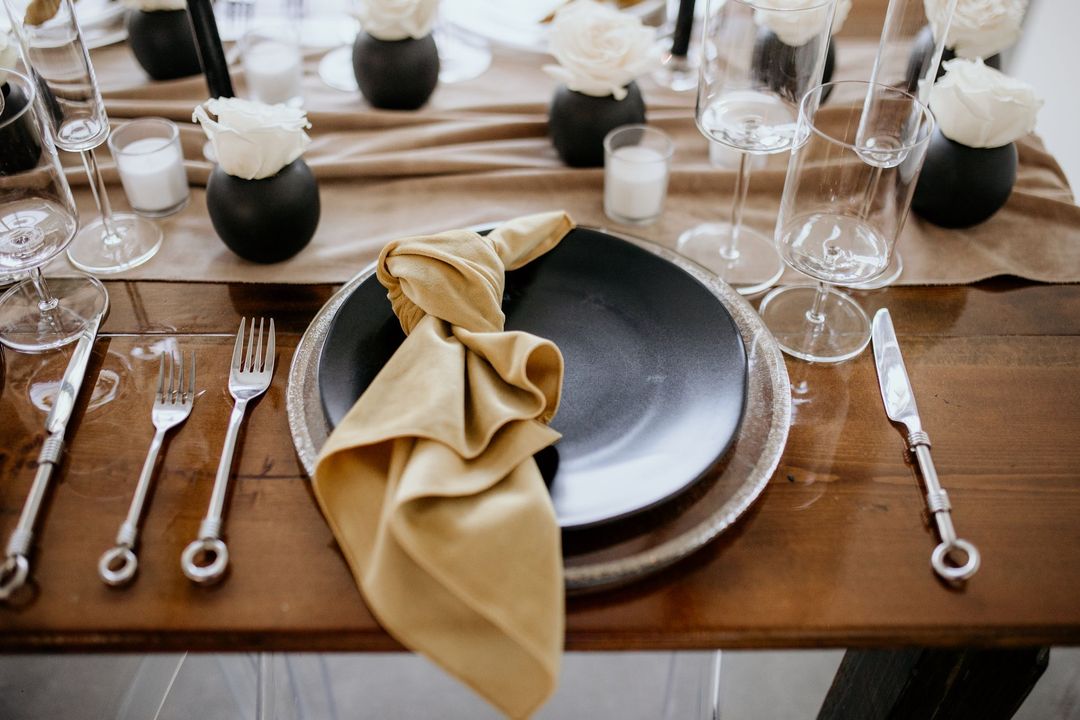 Photo by Kelsey Leigh Photography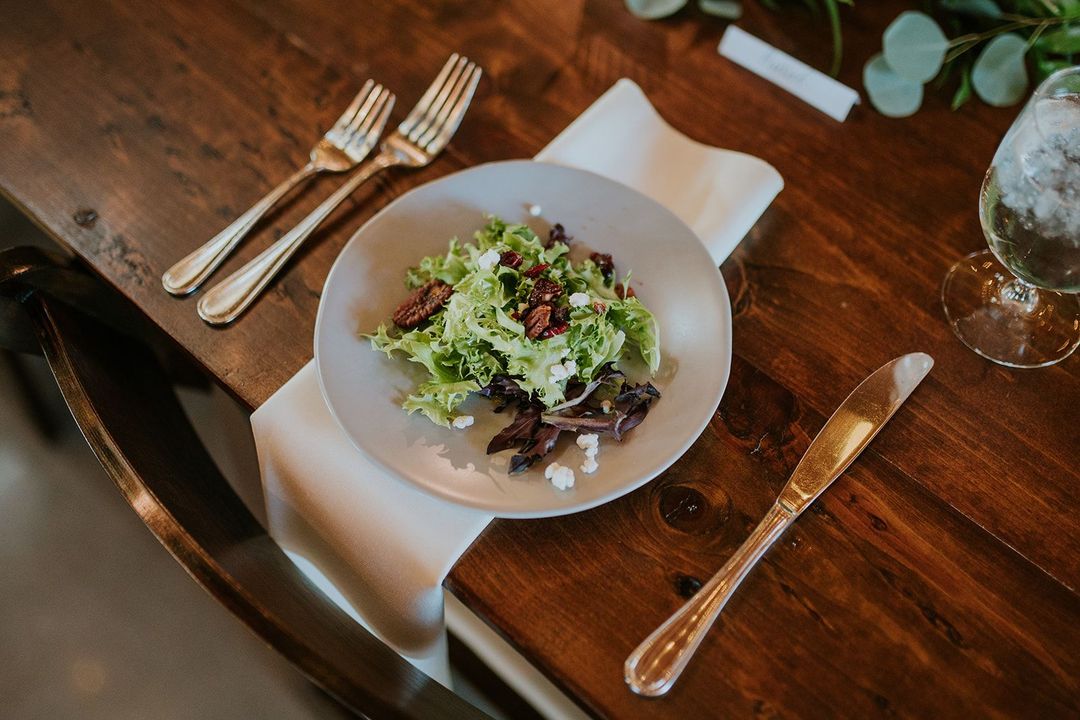 Photo by Kelsey Shea Photo
Linens
Speaking of linens, let's cover a few of our favorites. First up is our stunning Golden Velvet Linens. With a buttery texture, this piece will make a gorgeous base for a luxe tablescape. It pairs well with cream, white or brown. Next up is Kennedy Natural, with a beautiful woven texture. It will lend a touch of texture to a table and is a subtle and elegant color. Finally, there is our Ivory Sahara Runner. Place this runner atop our Fruitwood Farm table for a slightly more casual vibe.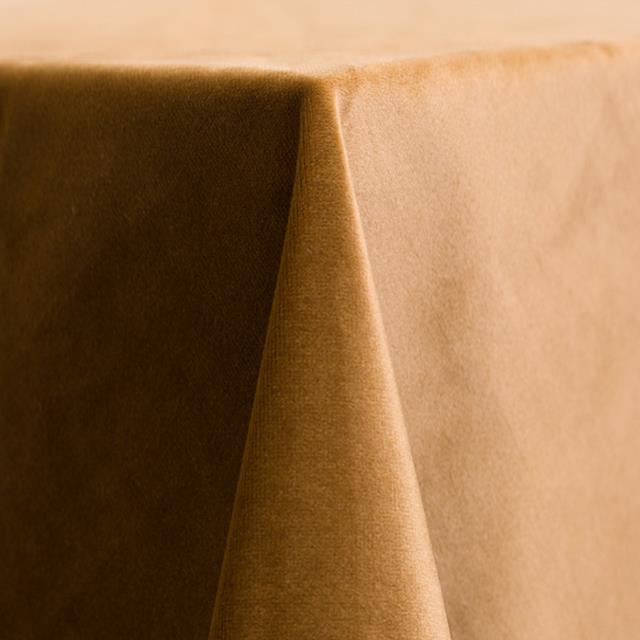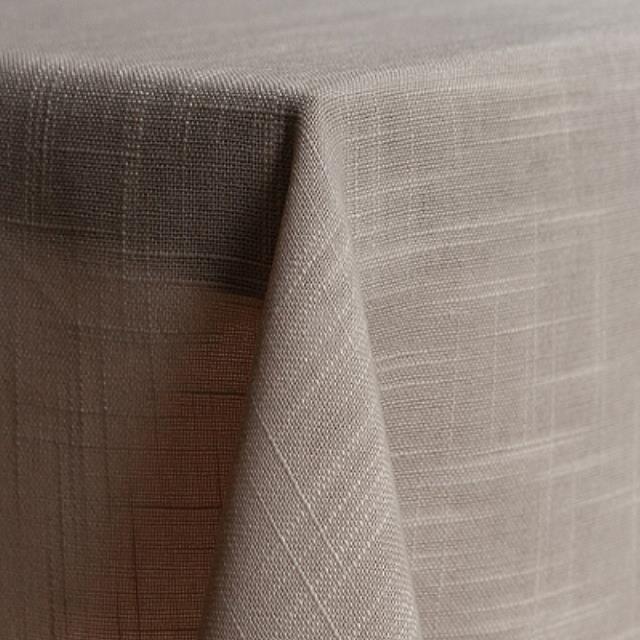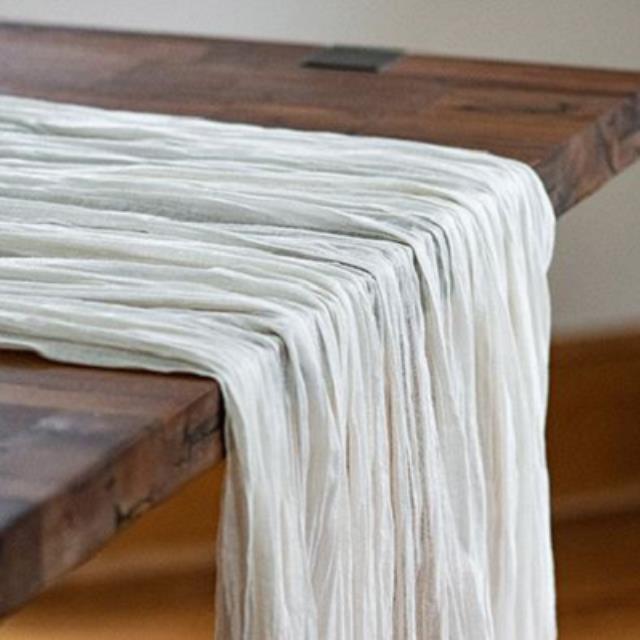 Neutral Lounge Furniture
What's a social event without a cute and cozy lounge area? We carry a range of comfortable, natural neutral furniture. First up is our Tessa Tufted Beige Linen Loveseat, which is a beautiful piece for a sweetheart table, as well as smaller lounge areas. Alternatively, our Bennett Leather Sofa is a rich brown color and the perfect size for a larger event. Lastly, be sure to check out one of the newest additions to our catalog, the Everly sofa! This cream-colored piece features an arched silhouette, pad feet, a camelback, and carved arms, plus a distressed wood frame.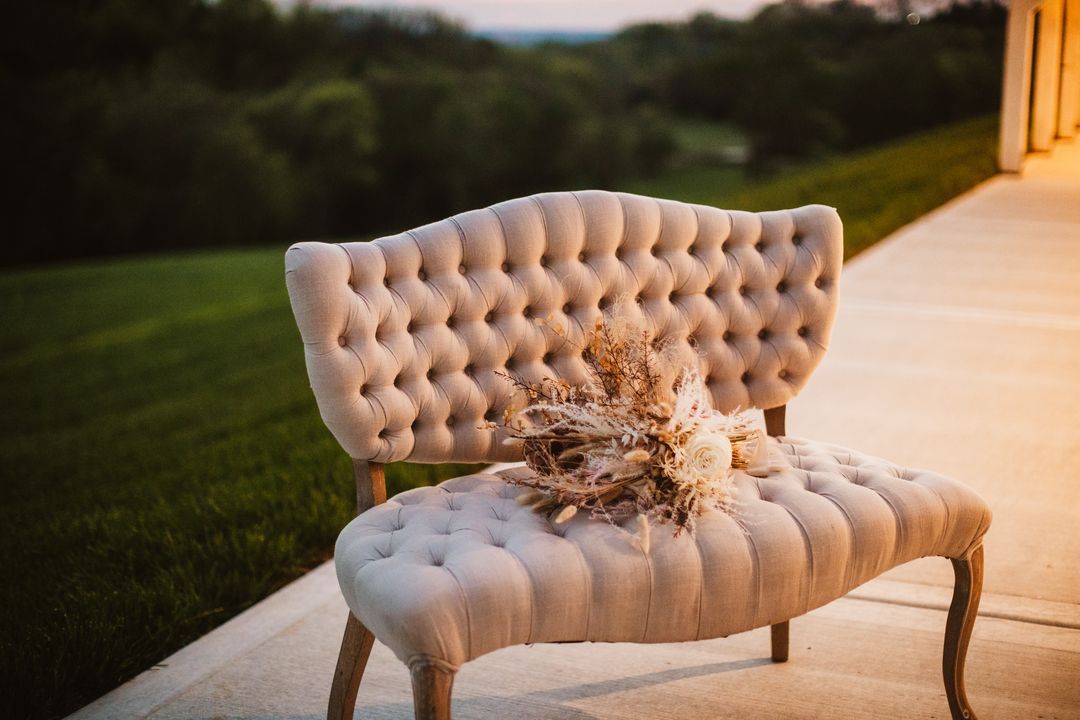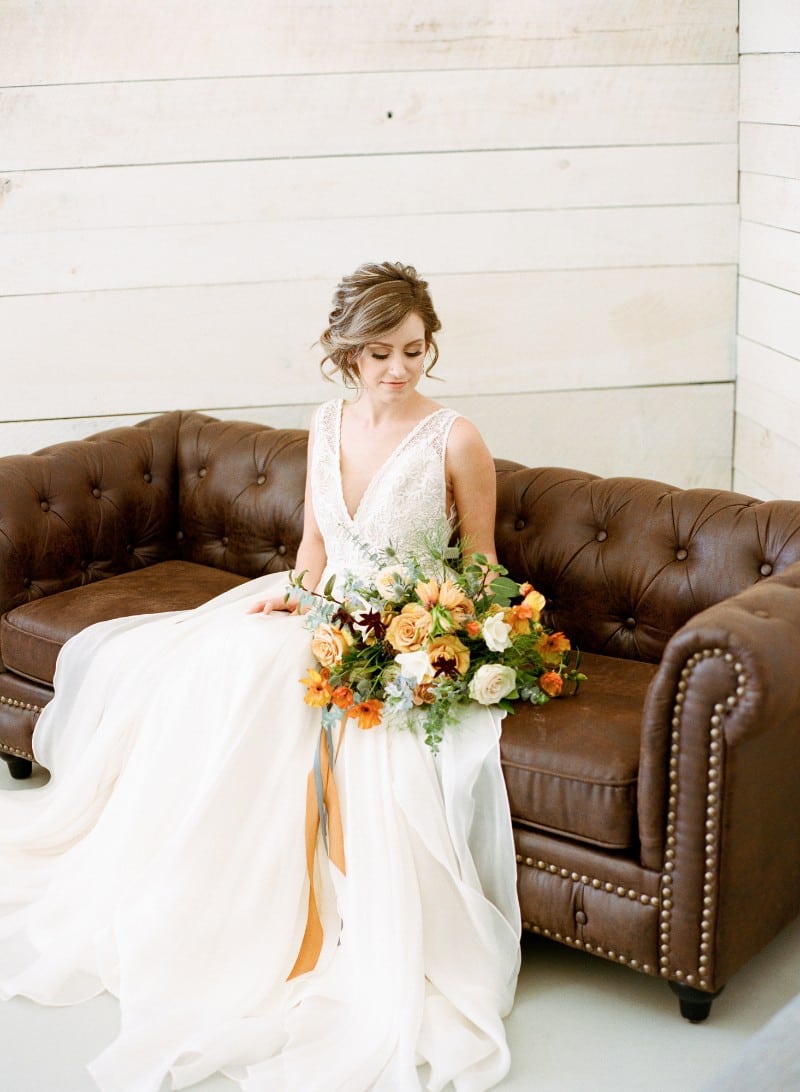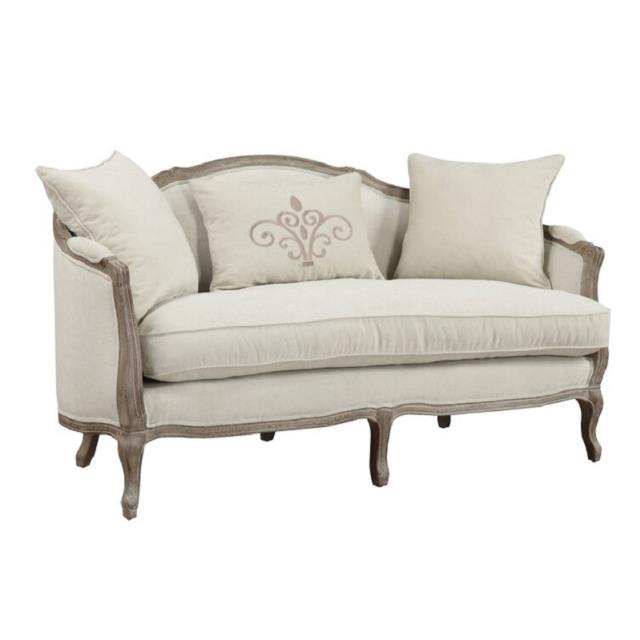 Photo by Alex Thornton Photography
Want to feature one or several of these natural neutral wedding rentals at your event? Contact our team at info@southerneventsonline.com & let's start planning! Or if you prefer a moodier vibe, take a look at our blog on earth-toned party rentals.
TAGS | classic event style, event style trends, natural colored event rentals, neutral event rentals, on trend wedding style, style trends, timeless event rentals
FEATURED RENTALS | Kennedy Natural , Ivory Sahara Runner, Everly Sofa, Bennett Leather Sofa, Tabby Tufted Beige Linen Loveseat, onyx earthen china, earthen stone china, artisan china,
---
8

Jul

On Trend, Southern Events Products, Trends and Inspiration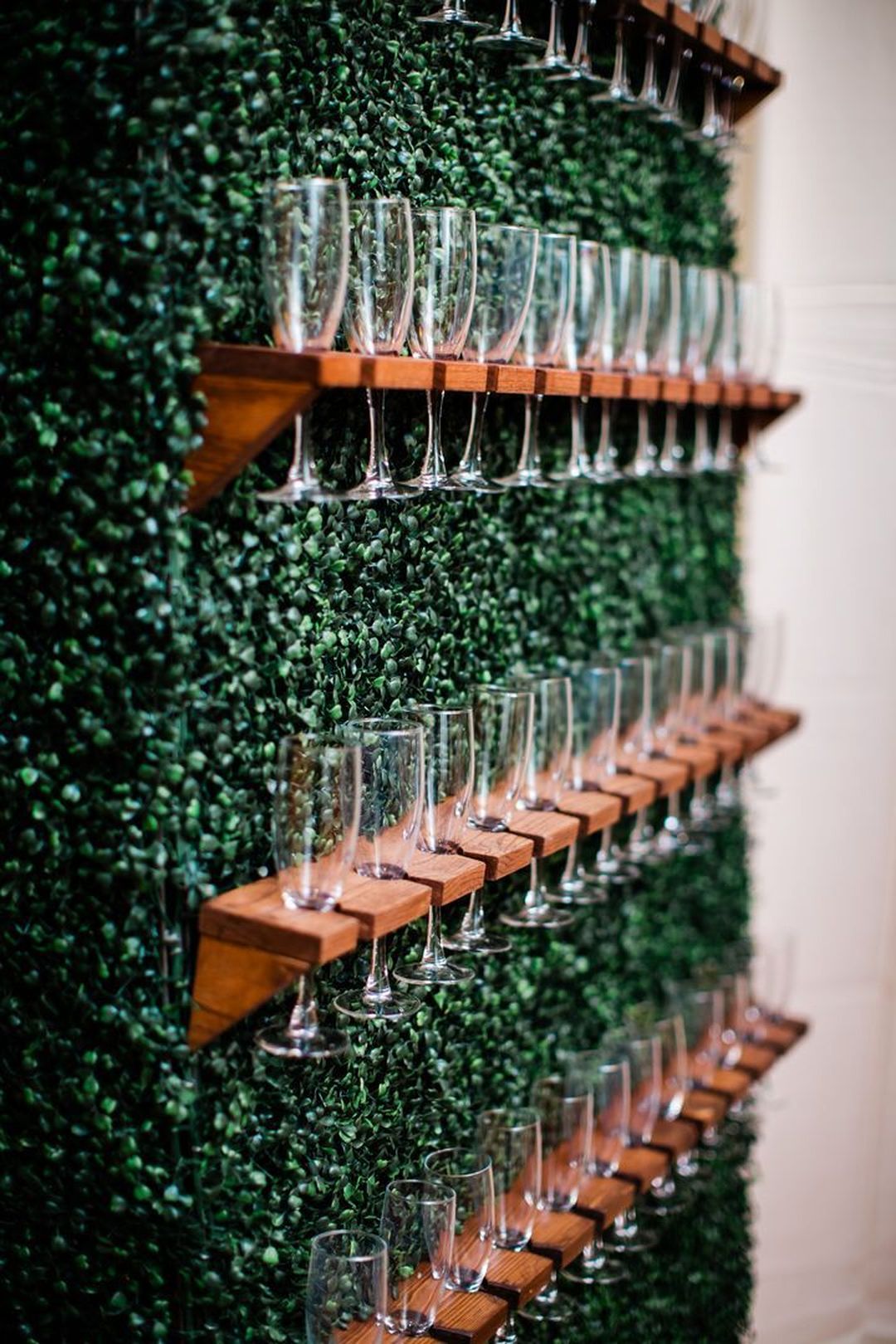 At any event, interactive elements are a must-have! It will help get guests out of their seats and socializing. Plus it will make your event more visually appealing since it doubles as a decoration. Take a look at some of our favorite rentals that can be used to create interactive party displays, from delicious donut walls to fun bubbly bars and classy carts!
Market Cart
A two-wheel cart with an awning, this charming display prop is so versatile! It can be used to display a small food selection or function as a drink station. In our personal opinion, it would make for a darling grazing station, packed with cold cuts and cheese on our vintage-inspired silver trays. You're welcome to decorate our Market Cart to your heart's desire, with fresh flowers, banners, or balloons!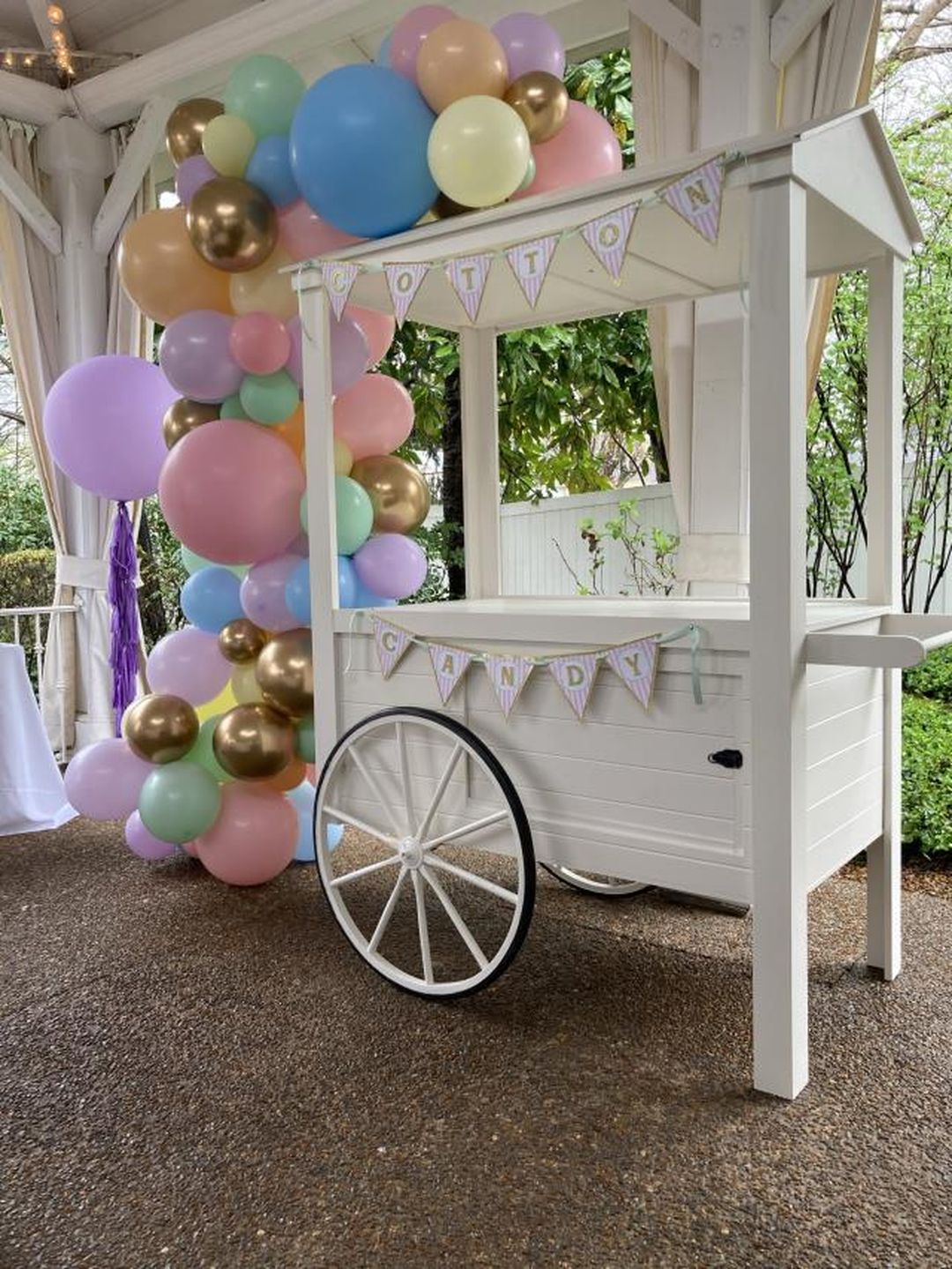 Shelving
Despite its simple appearance, our Avenue Barback Shelf is a staple at events that feature self-serve drink stations. It's a luxe gold metallic color and features brown wood veneer shelves. You can easily recreate this luxe bubbly bar when you rent a variety of our gorgeous modern glassware! Our current favorites include Cybil and Pure Glassware.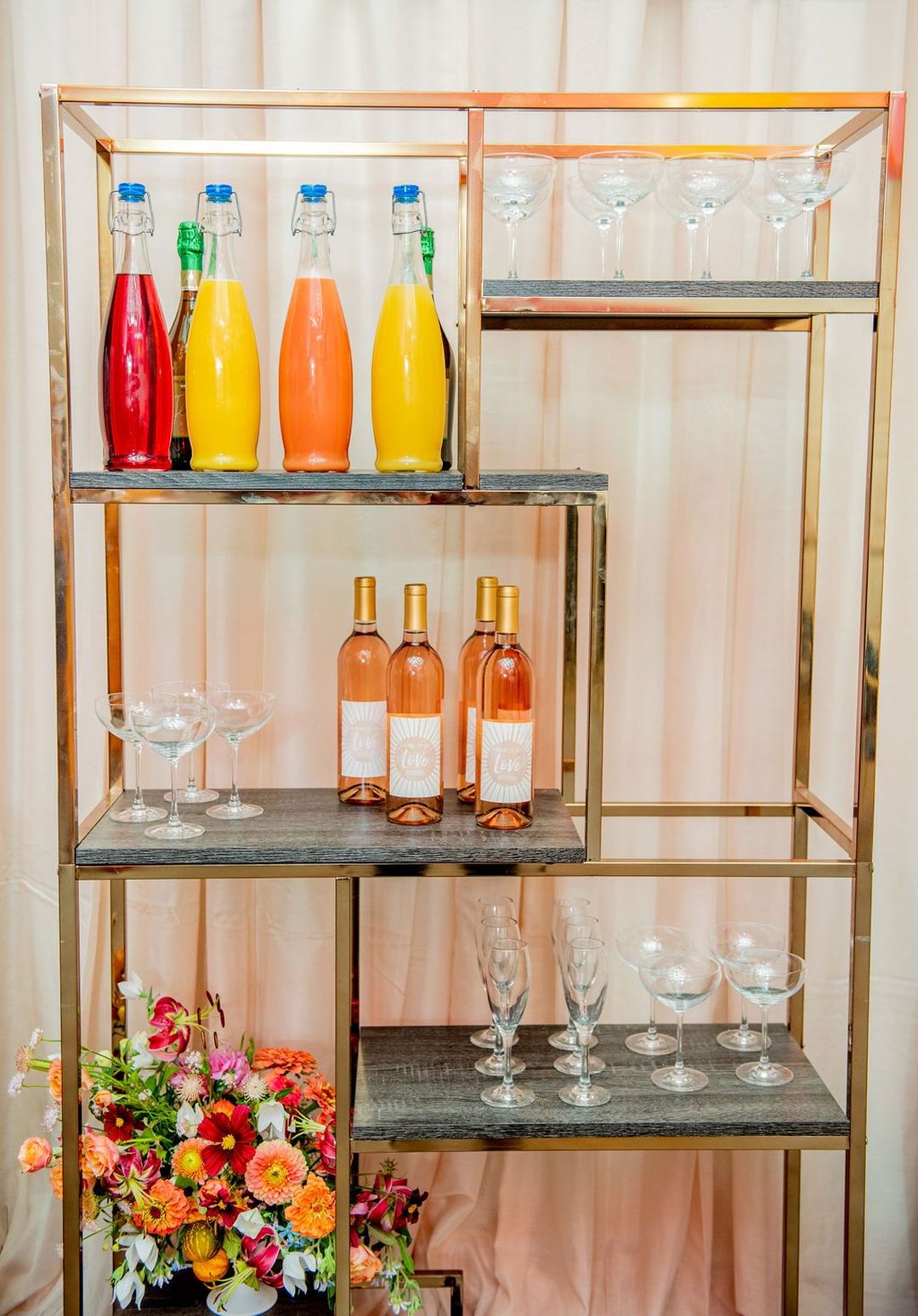 Photo by Twila's Photography
Bar Cart
Bring wine, champagne, or a drink of your choice straight to guests when you rent our Gold Bar Cart! This rental has under-shelf wine glass storage for 12 glasses, and 4 wine-bottle rings for storage. And don't worry, it features two locking wheels so your liquor won't roll away. Alternatively, plate up small appetizers or cake!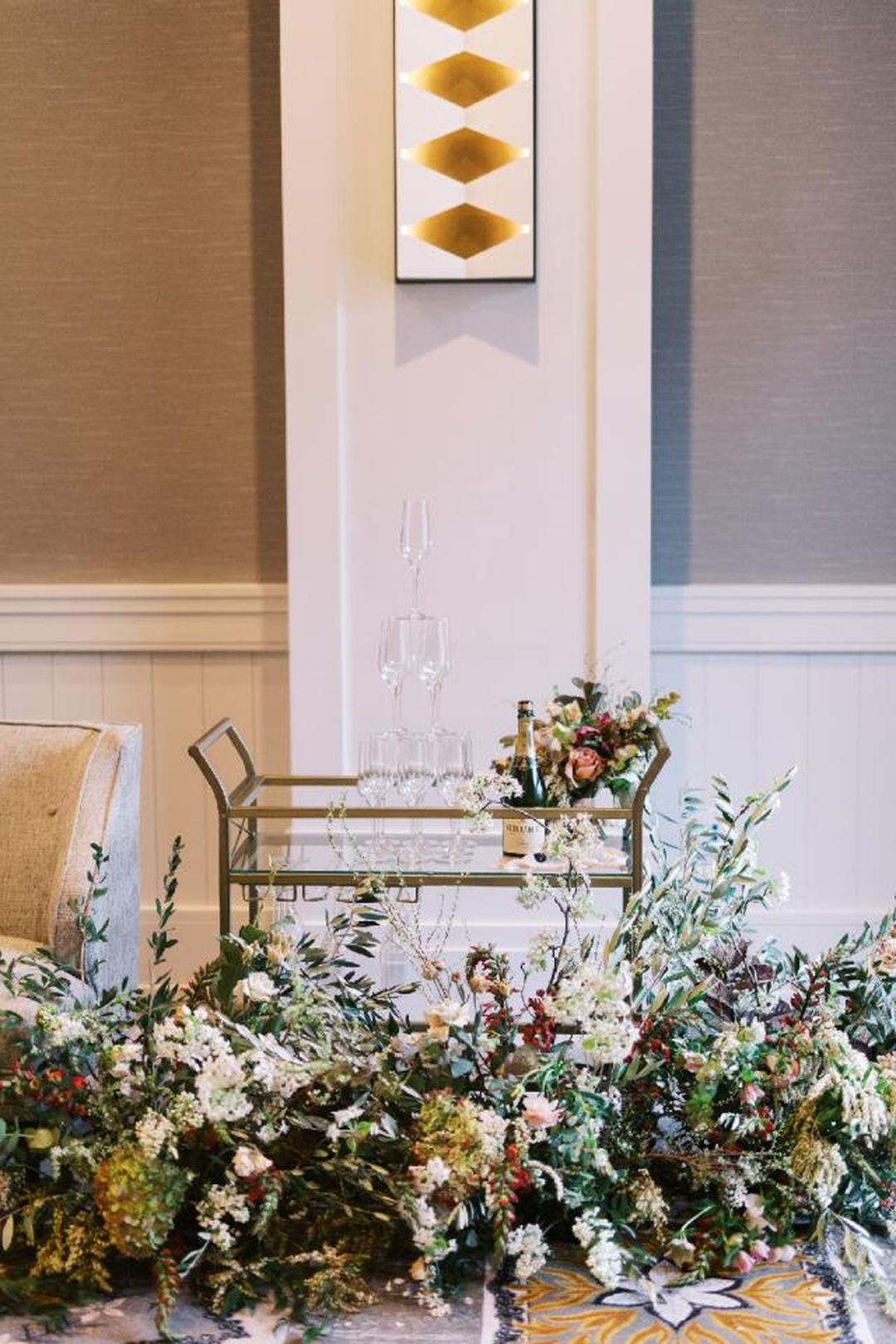 Ticket Booth
Although most events now offer tickets online, a classic booth is a fun way to welcome guests to your event! Our sturdy booth features a solid wood top and is a solid white color that will work any color palette. It also features a decal sign area so that you can easily personalize it to compliment the theme of your event.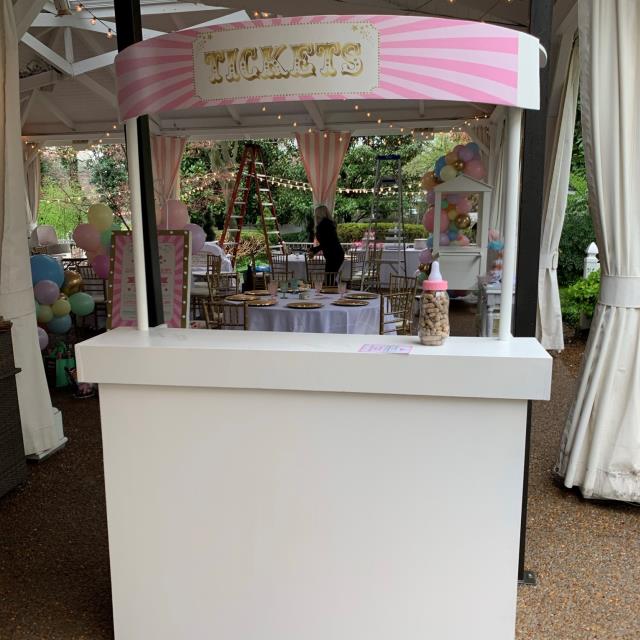 Donut Wall
Donut walls are far from a past fad. In fact, we're predicting that these delicious displays will stick around for a while – because who doesn't love a donut? Our wall is freestanding, features a beautiful dark stain, and has 48 pegs, which can hold 2-3 donuts each. The only downside is that it doesn't come with the donuts!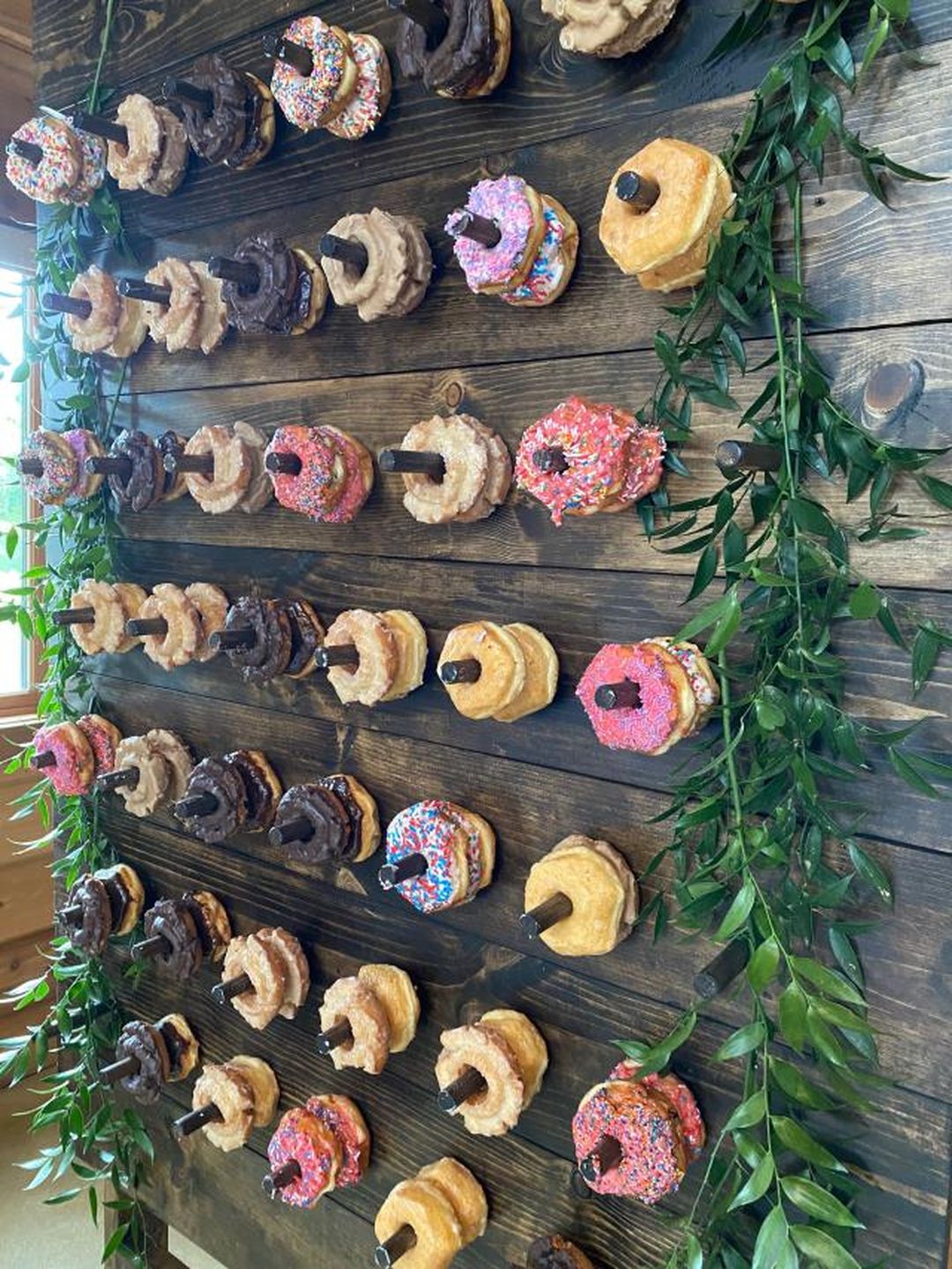 Boxwood Champagne Wall
A classic rental, our Boxwood Champagne Wall is a memorable way to welcome guests to your event. The lush green backdrop can be paired with a gold, white or ivory base. Meanwhile, the champagne shelves are available in Fruitwood or White. Our boxwood walls are also easy to customize, perfect for creating an Insta-worthy photo backdrop!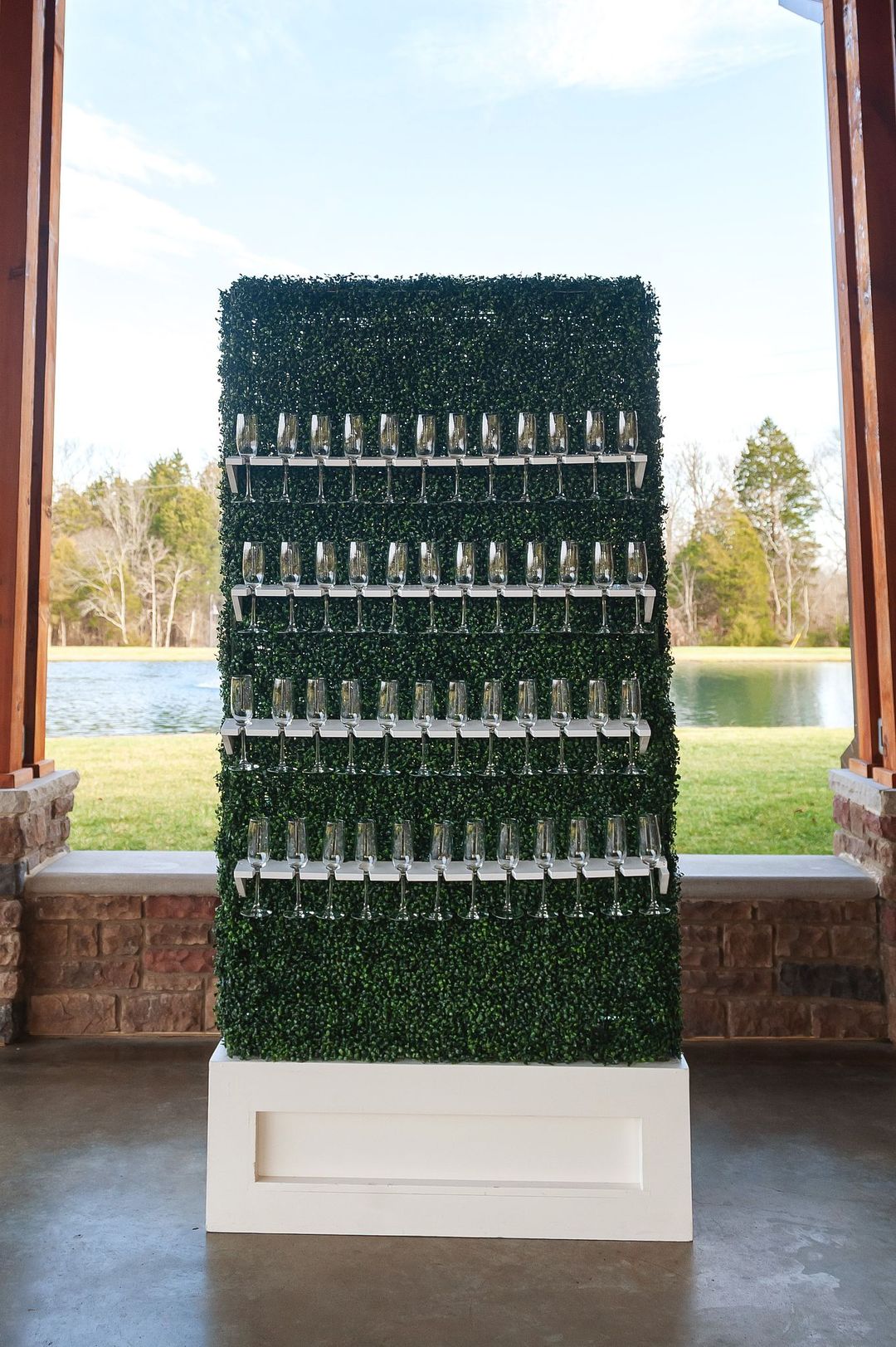 Photo by Megan Stark
Want to feature one of these trendy interactive party displays at your upcoming event? Contact our team today for help recreating one of these looks for your Tennessee wedding, social, or corporate event!
TAGS | Boxwood Wall, Champagne Wall, Interactive Drink Station, On Trend, bar cart, donut wall, event inspiration, interactive party display, shelving, ticket booth
FEATURED RENTALS | boxwood champagne wall, market cart, gold bar cart, donut wall, ticket booth, gold shelving,
---
10

Jun

On Trend, Southern Events Products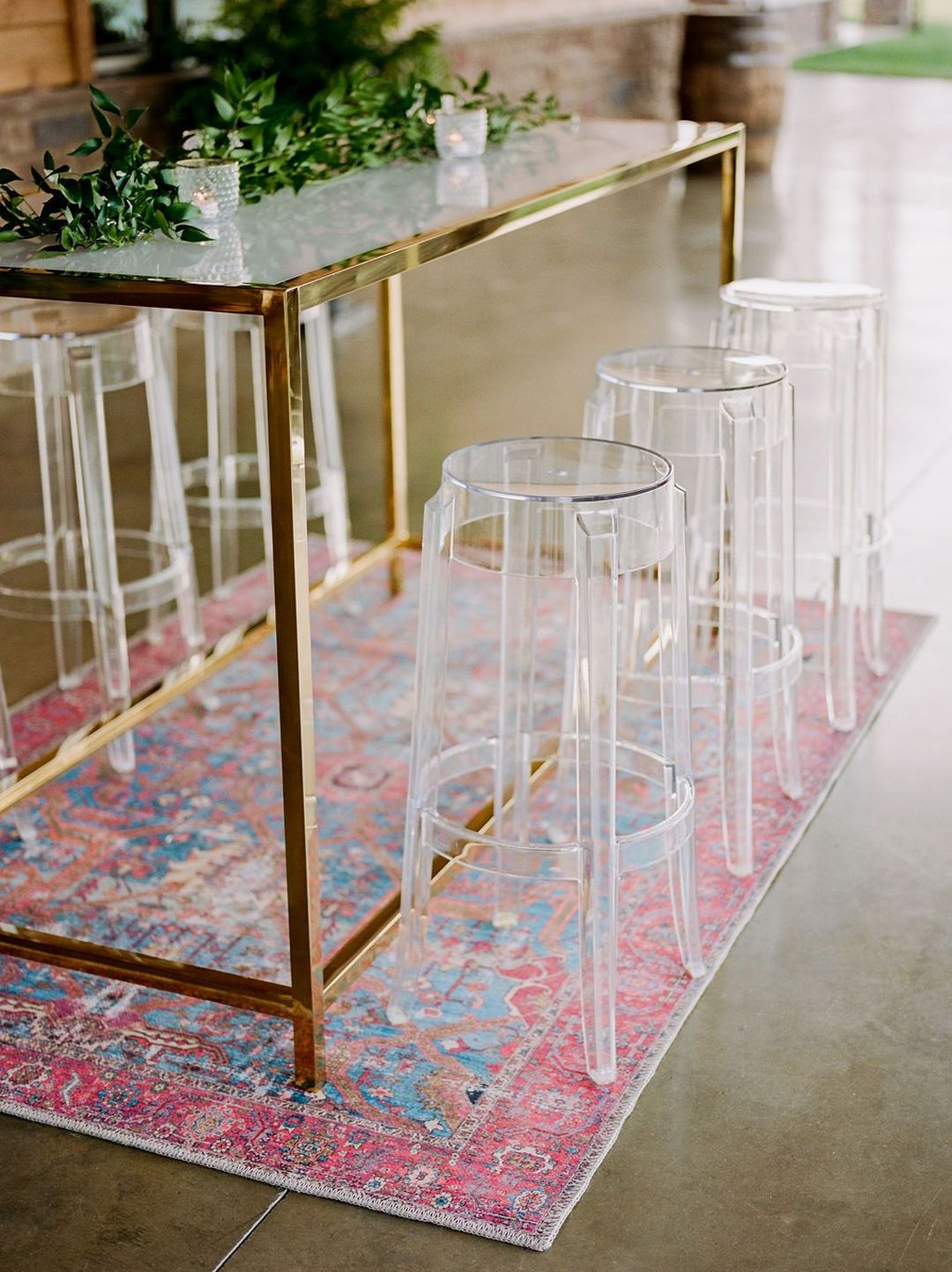 Functional and stylish rentals, Southern Events offers a range of area rugs for events & weddings. Although simple, a beautiful decorative rug will lend to an all-around cohesive event space. Whether they are used to line an aisleway or placed beneath the featured furniture. You go to major lengths to decorate and furnish the space in a way that aligns with your event, and the floor is the foundation! Take a look at our in-stock area rugs and how you can feature one or several at your upcoming Nashville event.
Tie it All Together
Area rugs are more than just decoration. Take for example the use of layered rugs as an aisle runner. Our Brown & White Cowhide Rug and Dark Brown Cowhide Rug are perfect for a trendy urban desert wedding ceremony. Meanwhile, our vintage-inspired rugs look stunning for a cozy, boho-themed affair. Feel free to layer them up or use one standalone alongside a ceremony backdrop.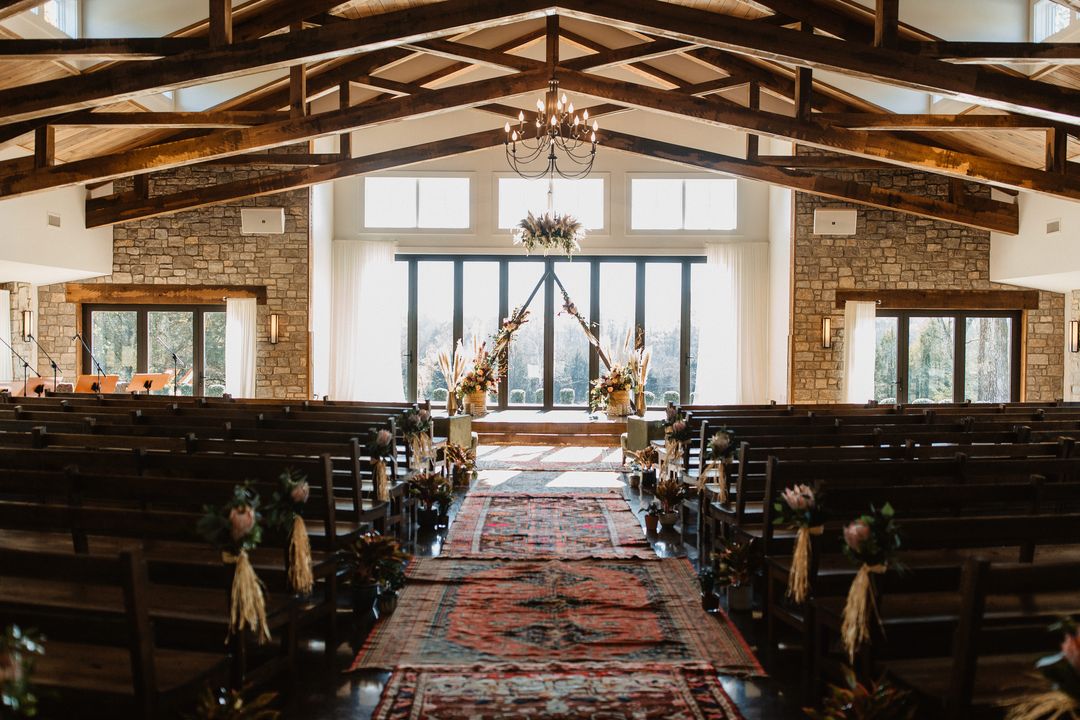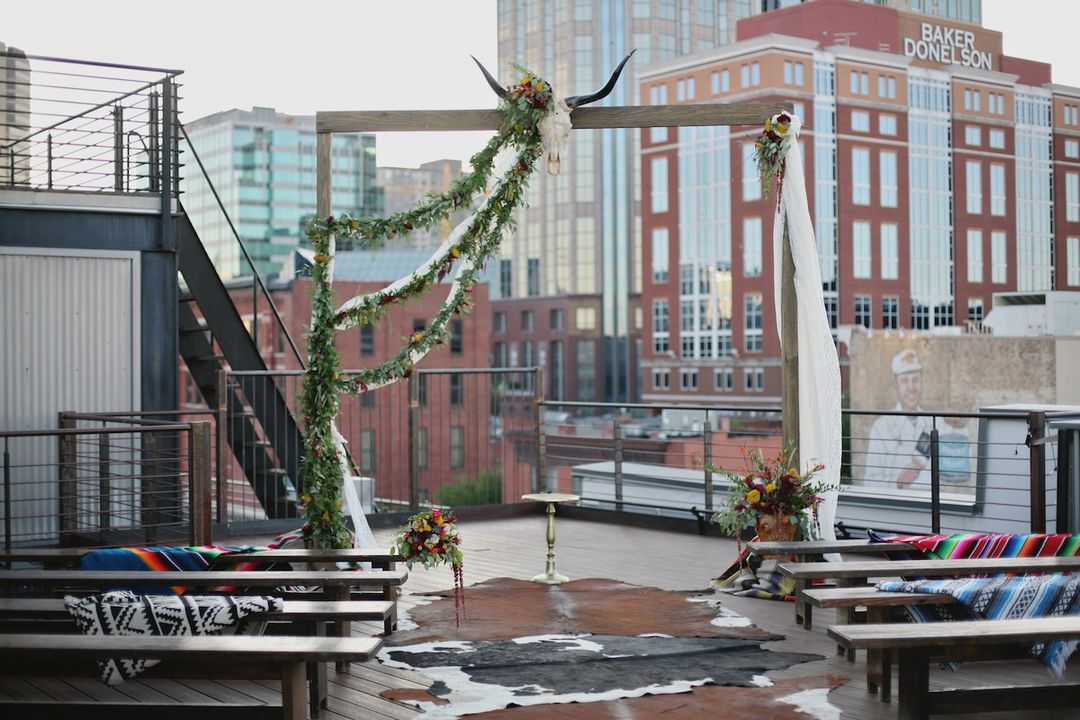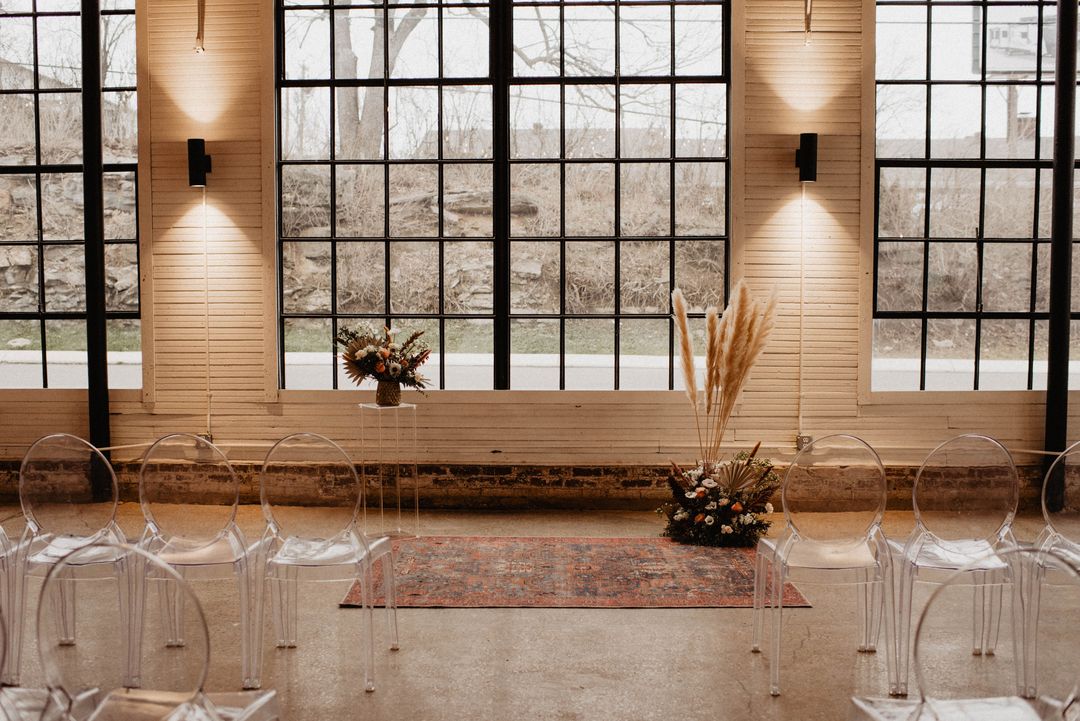 Photo by Renrose Photography
Frame a Space
Rugs assist in creating a frame in which to place the furniture. A trick that is especially useful for social areas, like a cocktail lounge. Consider using a rug to lead guests from the bar to a lounge area. It will help prevent your guests from huddling around the bar and encourage them to sit down, get comfortable, and stay for a while. See how our clients have used a range of area rugs for events & weddings, including our Navy and Aqua Rugs.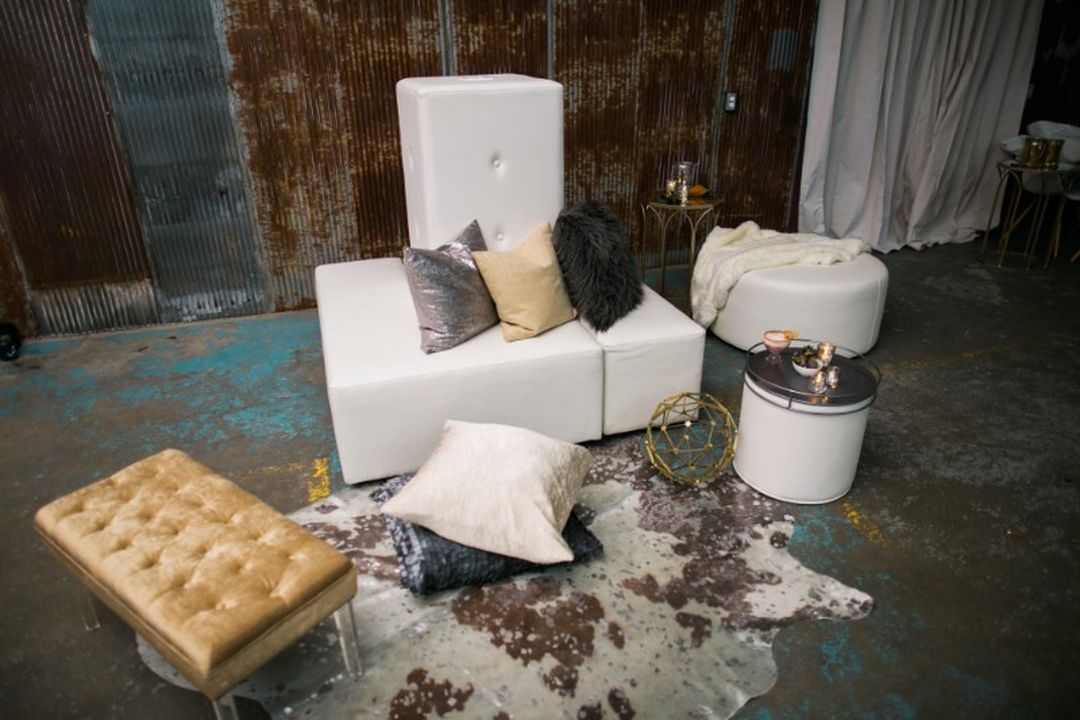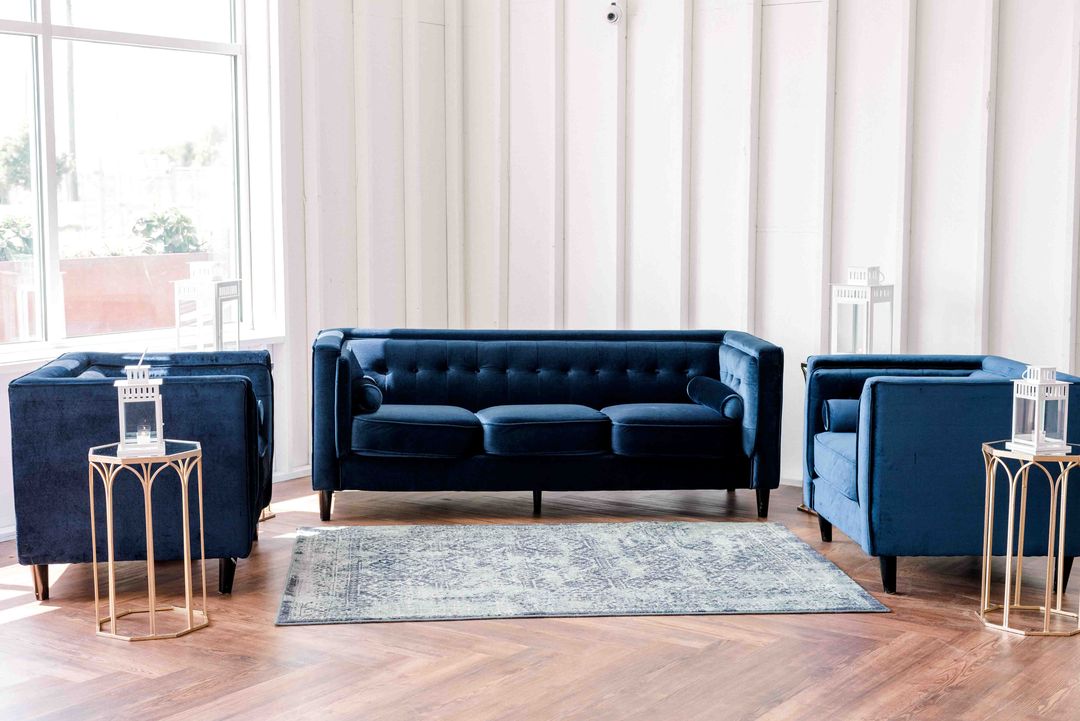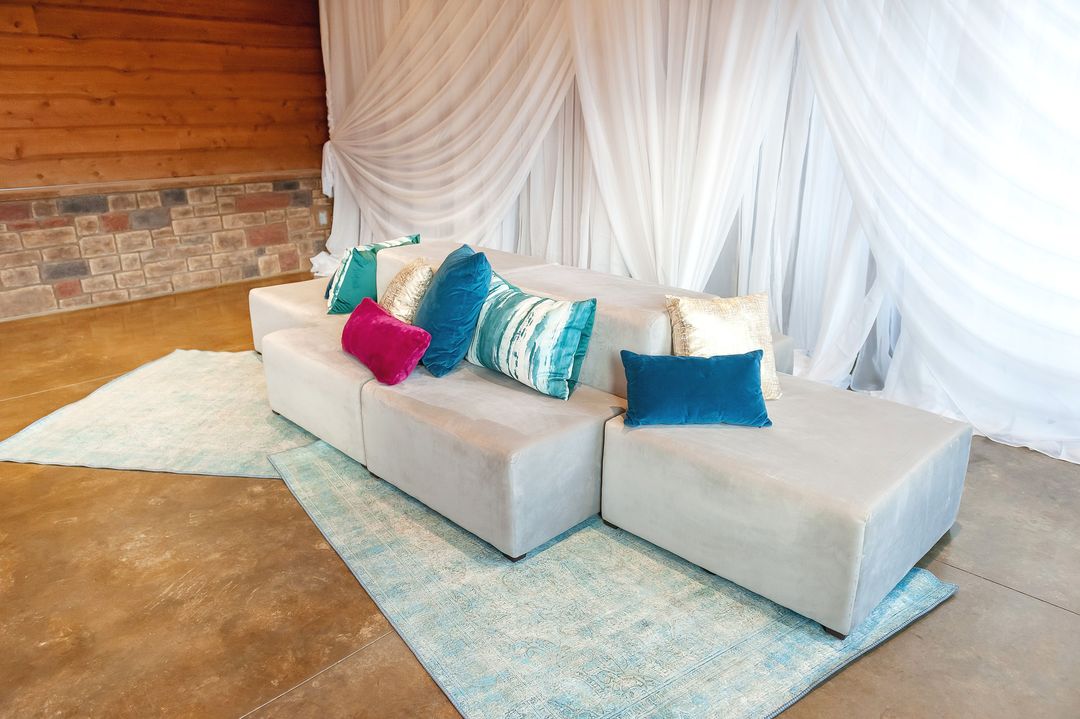 Photo by Megan Stark
A Cohesive Design
Similar to cocktail lounges, rugs can be placed beneath standalone furniture to help create a more cohesive aesthetic. Without one, it can feel as though your furniture may float away! A rug can also help tie different areas together that would otherwise look out of place. Featured below, our vintage Blue-Red Rugs were used to accent a whiskey-barrel bar and create a charming buffet area. And to create a stylish outdoor cocktail area, it was placed beneath our Loren Gold Bistro Table.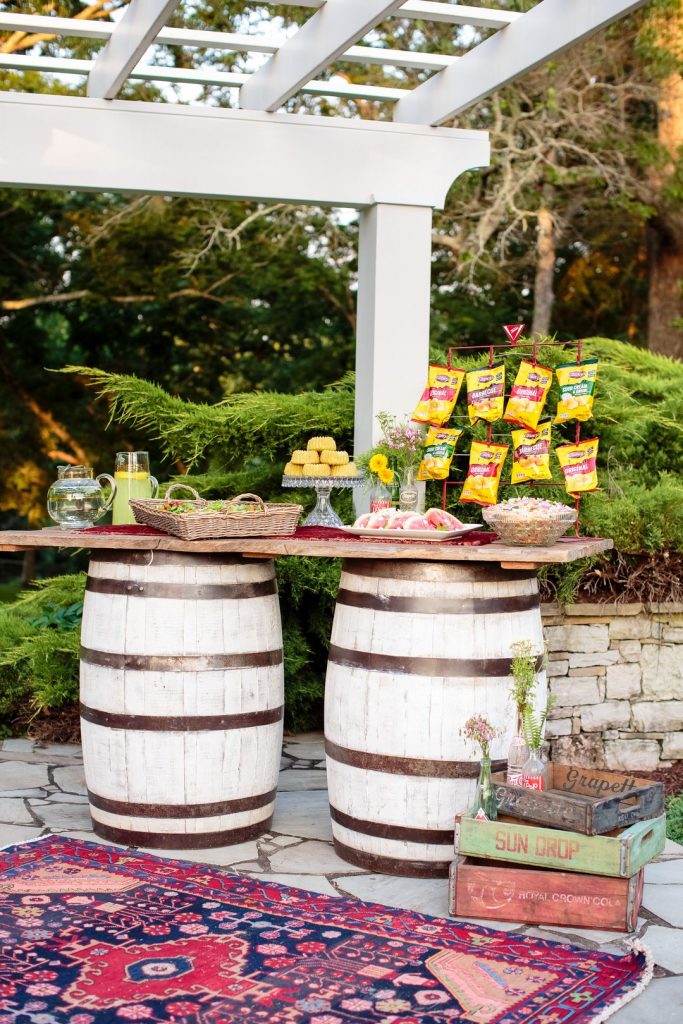 Photo by Erin Lee Allender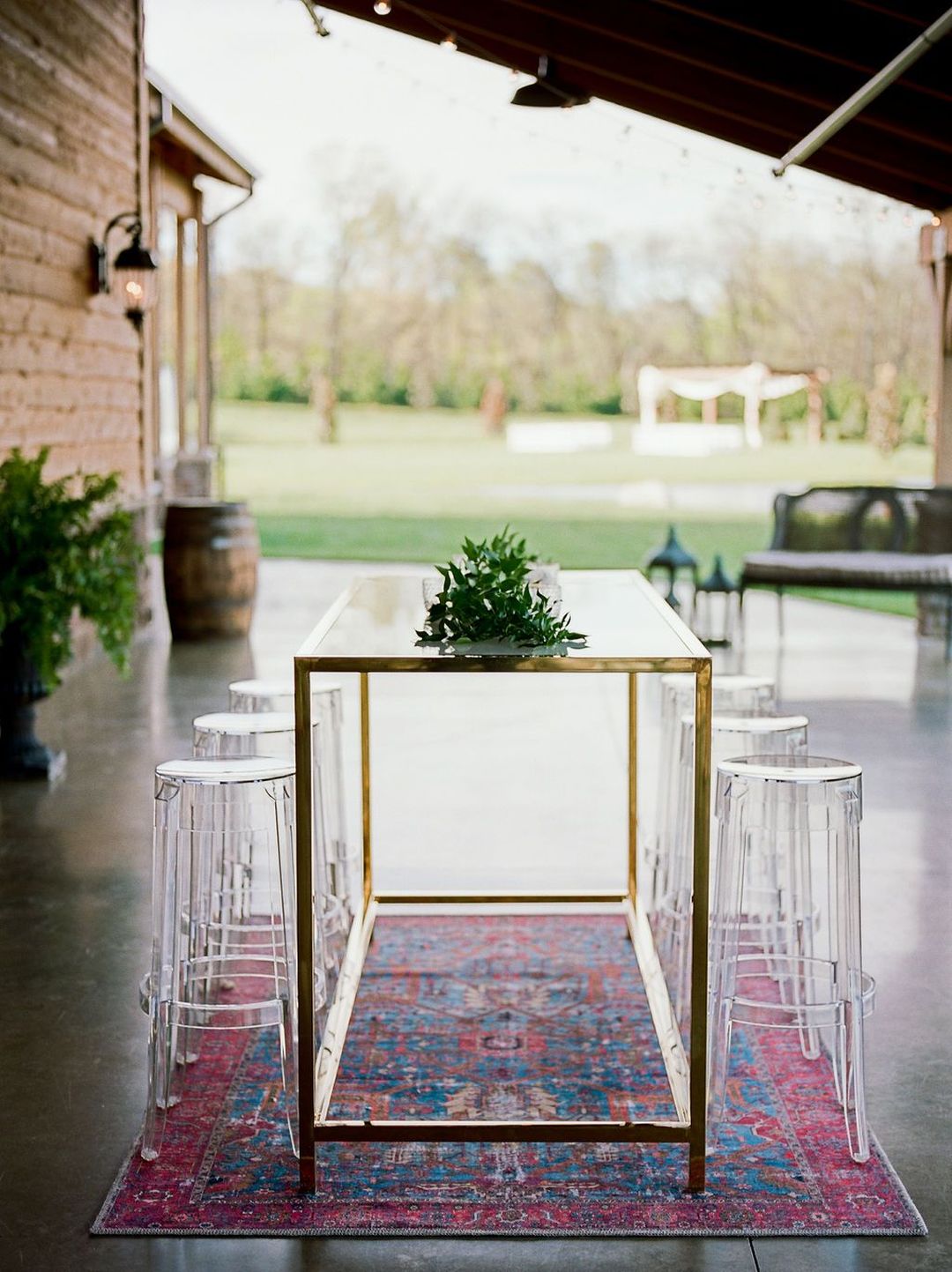 Photo by Jenna Henderson
Want something that provides more stability than a rug? Our Dura-Trac Flooring is a great option! It is made of high-quality materials and can be customized to fit any size you may need. Plus it is a safe, slip-resistant surface that can be used over a variety of terrains. Plus, you can still place one or more of our trendy area rugs on top to create a cozy atmosphere.
If you have an upcoming event and are looking to create a unique space with area rugs we'd love to chat with you! Send us a message at info@southerneventsonline.com for help or additional event inspiration!
TAGS | Area Rugs, Boho Wedding Nashville, Cocktail Party Rentals, Cow hide rug, Nashville Corporate event Rentals, Nashville Event Rentals, Nashville furniture rentals, Nashville party rentals, Vintage Rugs, cocktail hour, corporate event design, corporate event rentals, cowhide rugs, wedding event design
FEATURED RENTALS | Blue-Red Rug, Brown/White Cowhide Rug, Dark Brown Cowhide Rug, Gray Cowhide Rug, Navy Rug, Metallic Cowhide Rug, Loren Gold Bistro Table, Pearce Modular Lounge,
---
31

Dec

On Trend, Southern Events Products, Trends and Inspiration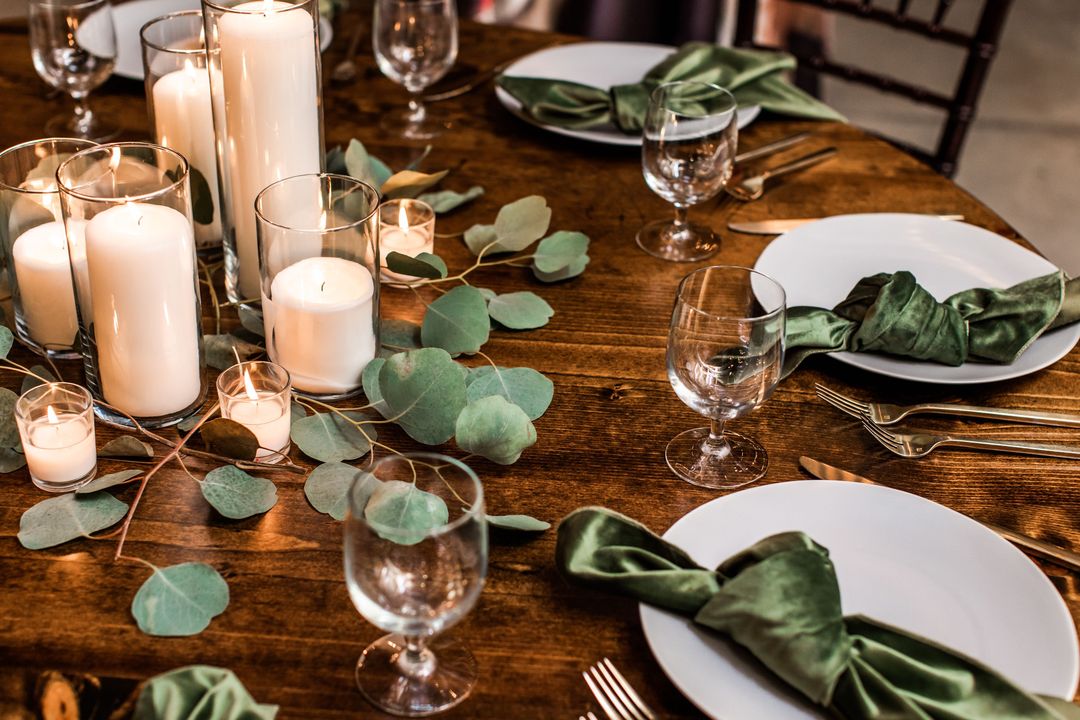 2021 is rapidly approaching and with it are new event trends! After all the challenges of 2020, our team at Southern Events is looking forward to getting creative to help you design memorable celebrations in the year ahead. Get inspired for your future events when you take a look at the 2021 trends, featuring our in-stock rentals.
Luxe But Sustainable
Luxe events aren't going anywhere but we're seeing an increased interest in sustainability. There are multiple ways to host a sustainable event via rentals. The first being reusable serving ware, including china, flatware, glassware, as well as linens. Rentals are an easy and beautiful way to reduce the waste produced by your event.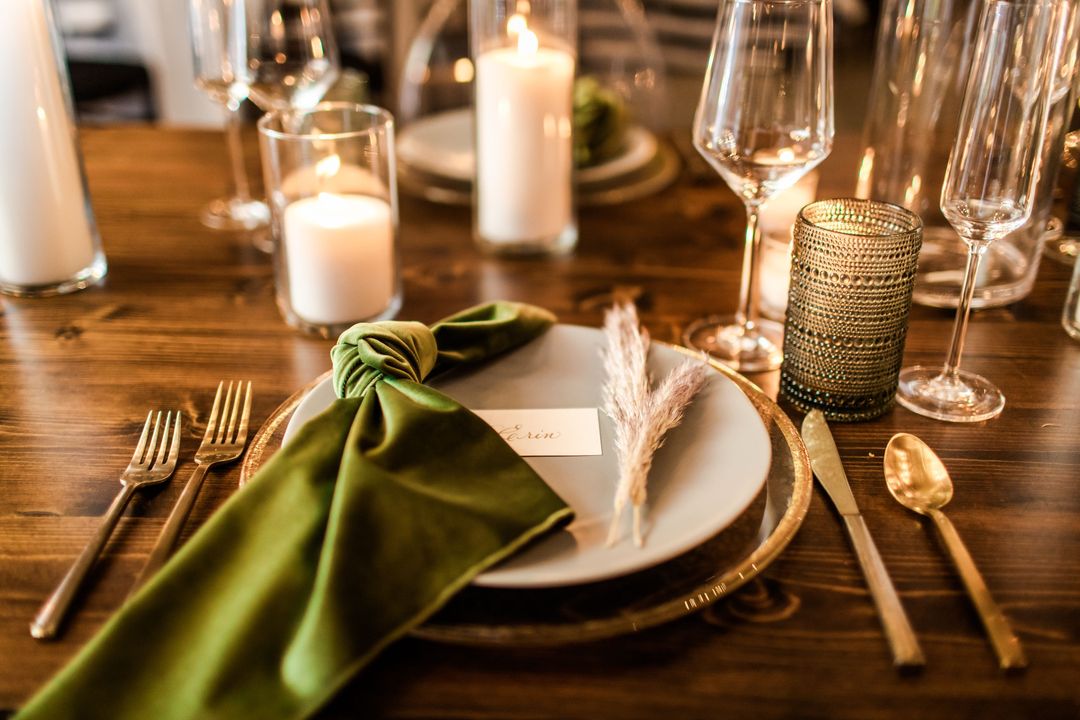 In terms of styling, expect lots of lush plants & greenery. Potted plants are especially beautiful and perfect for aisle decor and table centerpieces.  The same goes for dried plants, which lend lots of texture. Pampas grass in particular is trending, as it easily adds volume and height. Expect to see an increasing amount of dried floral bouquets and arrangements.
This emerald, cream & gold tablescape features our Gold Rim Glass Charger, Alabaster Earthenware, Gold Austin Flatware, Fern Velvet Linens, Colored Glassware & Pure Glassware.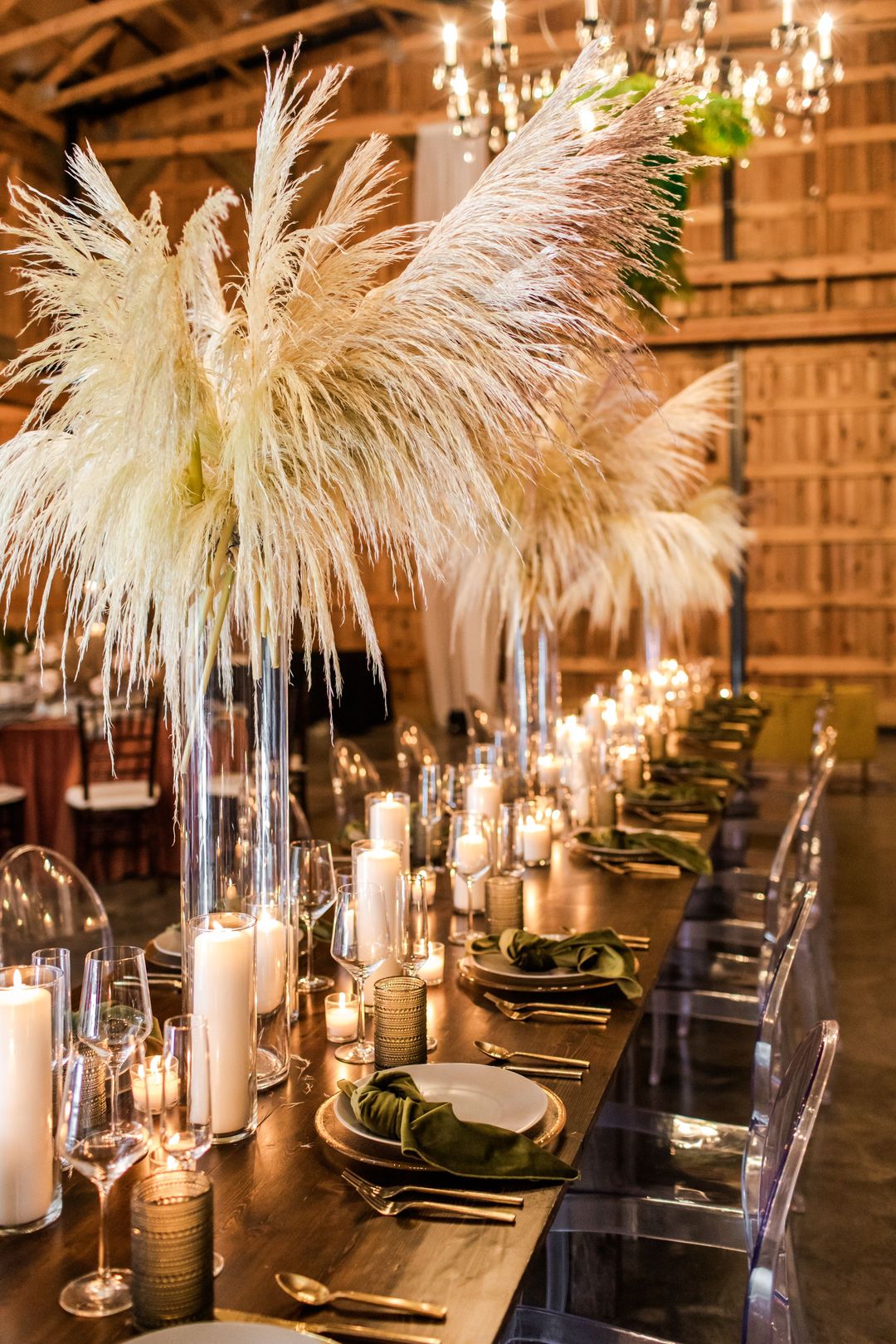 Photo by Nyk and Cali
All Out Events
Go big or go home right? One 2021 trend is events that are memorable, not necessarily in size but in the details. Diva Boho themed events are a great example. Think of bold & intricate geometric patterns, and voluminous flowers or other organic arrangements. Metallics are also here to stay, as they are a quick way to add some sparkle and shine to an event. At this type of event, you can tell that every thoughtful detail was well planned and executed.
This bright textured tablescape was created using our Medallion Gold Glass Chargers, Onyx Earthenware, Austin Flatware & Audrey Gold Rim Glassware.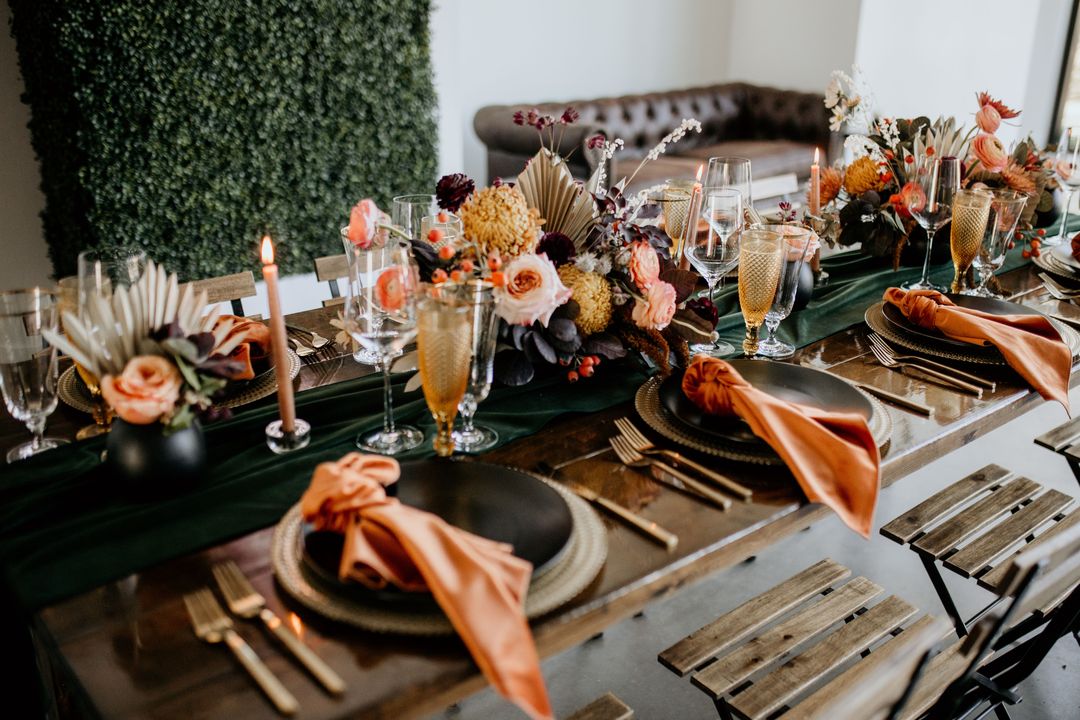 Photo by Kelsey Leigh Photography
A Focus on Sentimentality
People are gravitating towards heirlooms and the texture of various things that draw them to the past – we expect this event trend to only get bigger in 2021. Not necessarily boho theme, but colors and textures the incite a sense of nostalgia. So sustainable handmade pieces that lend texture, such as clay, jute and wicker decor. This trend also applies to attire, in the form of heirloom jewelry, clothing and accessories. For weddings, think dresses with intricate old school embroidery in an ivory or cream color. One great example are celestial-inspired events, where texture and vintage or retro items are easy to incorporate into the design.
Recreate this romantic neutral design with our Driftwood Velvet Napkins, Artisan China, Cybil Glassware, & Como Flatware.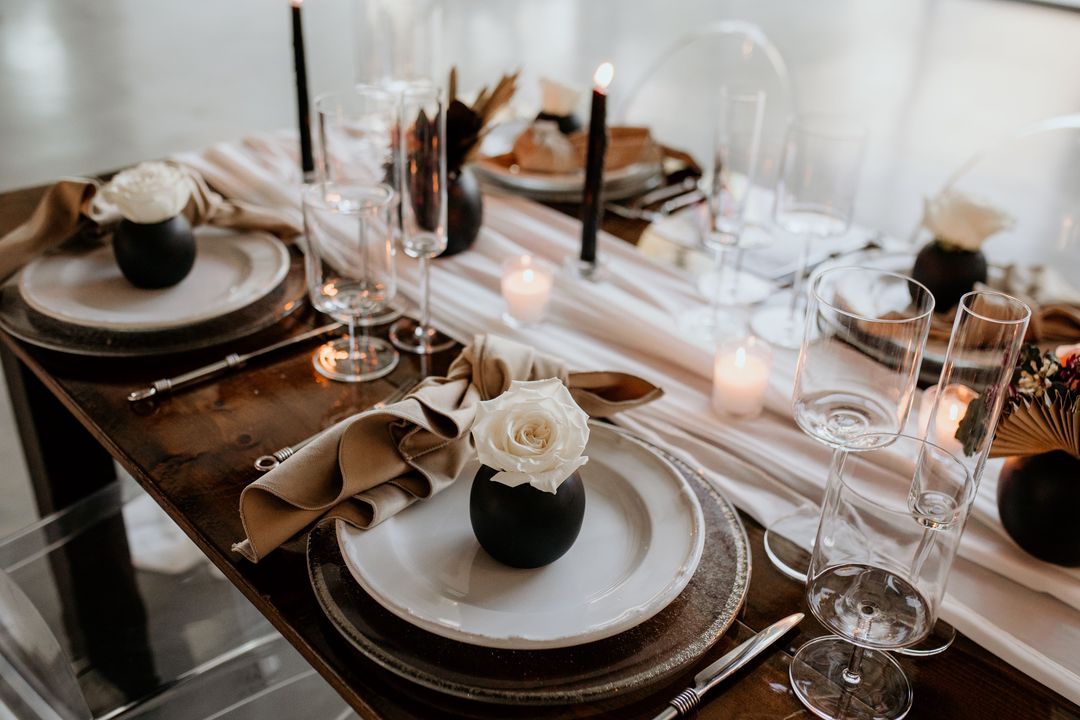 Photo by Kelsey Leigh Photography
2021 Wedding Colors
In 2021, we're expecting to see every color & combination imaginable. After a year of postponing and adjusting, why not throw out the rules a little?! While neutral-themed weddings are timeless, more and more couples are seeking to host an event that is unique and memorable. The colors you feature are one easy way to showcase your personality. Here's some 2021 color trend inspo!
Muted/Matte Jewel Tones – Mustard, Dark Plum, Hunter & Emerald green, Inky Indigo, Sapphire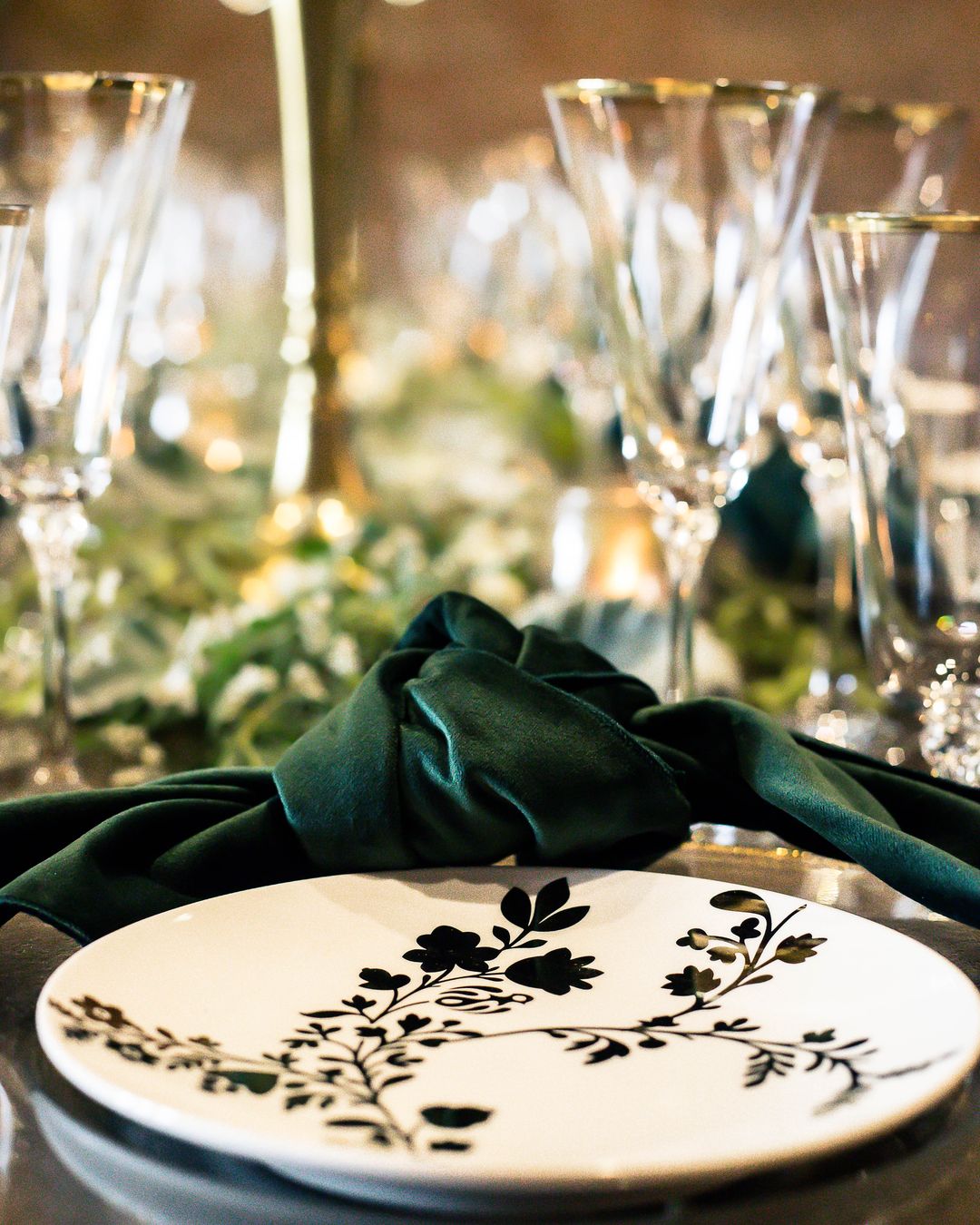 Pastel Tones – Light Aqua, Baby Pink, Peach, Cantaloupe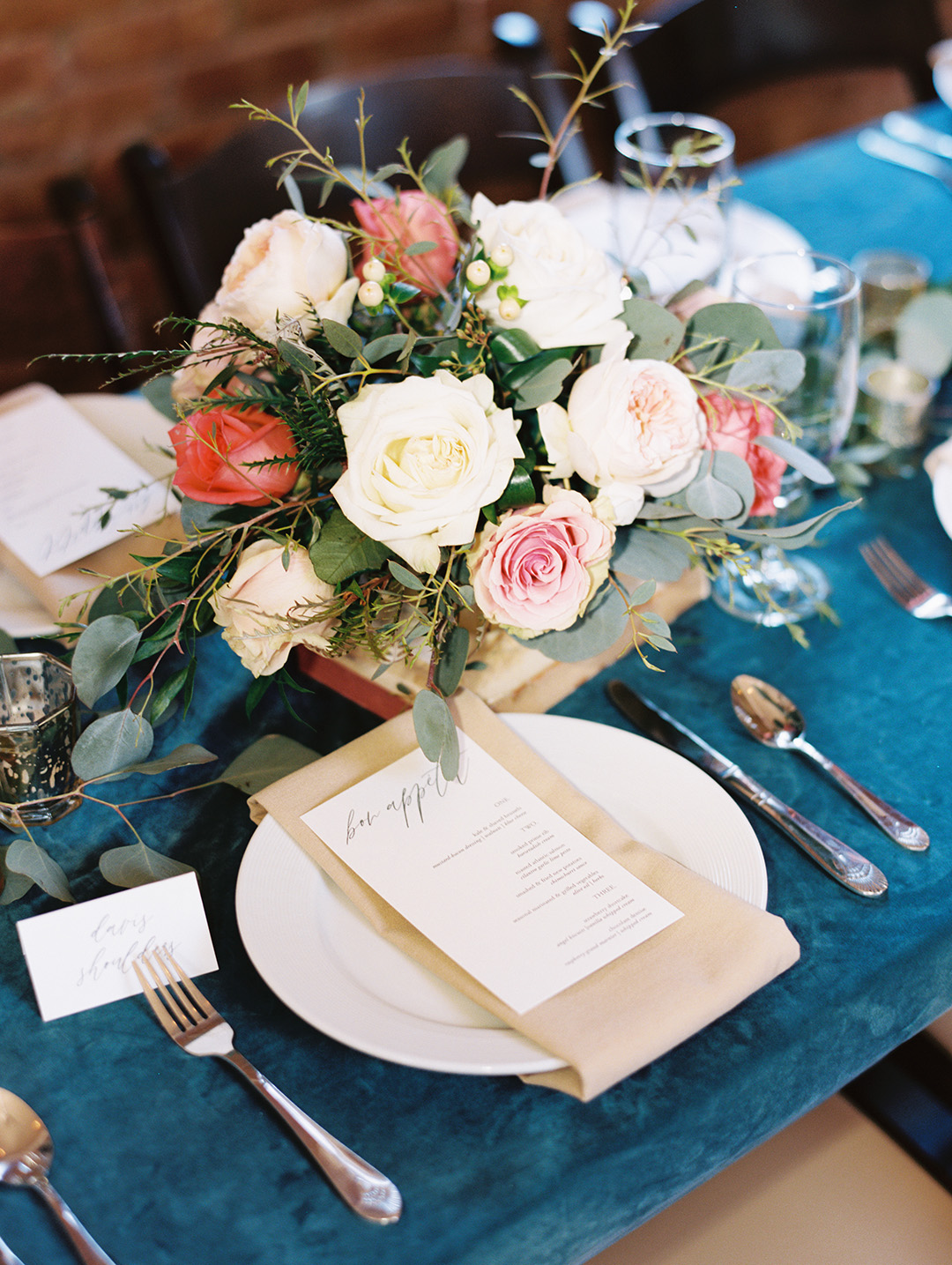 Photo by Abigail Lewis Photo
Bold & Bright – Coral, Fuschia & Sherbert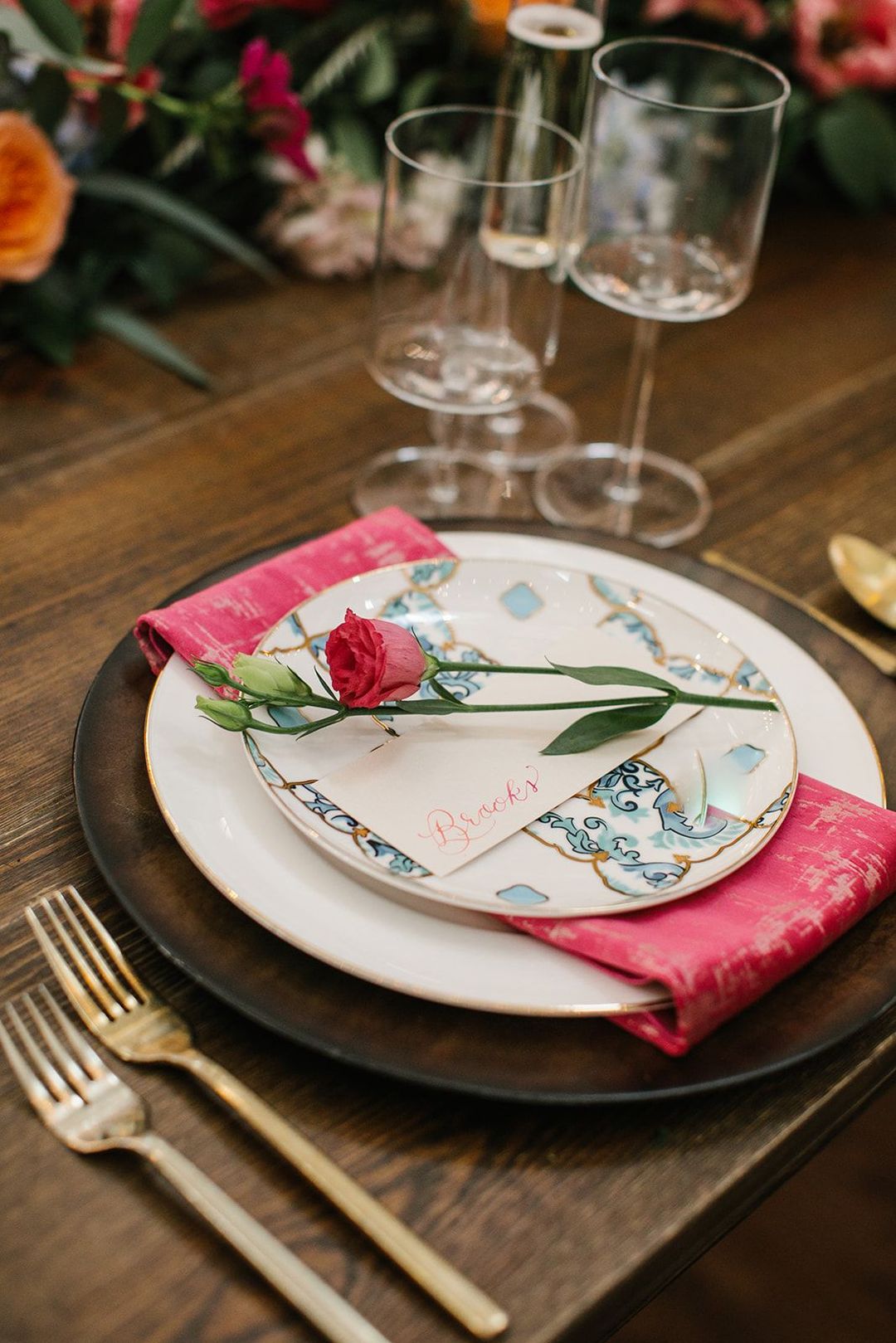 Photo by Gray Kammera
Dark & Moody + Black – Burgundy, Olive Green, Cinnamon, Crimson, Navy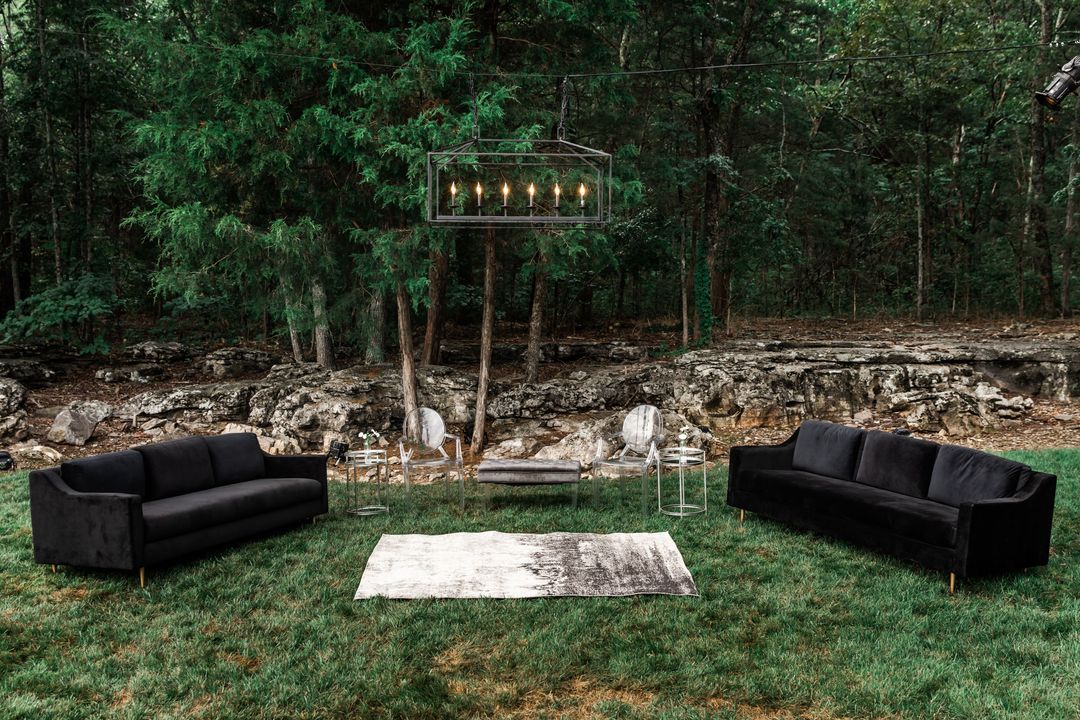 Photo by Nyk and Cali
Pantone Colors of the Year – A bright and positive combination, the Pantone Colors of the Year are Illuminating (yellow) and Ultimate Gray. We're excited to see how these colors are featured at 2021 weddings!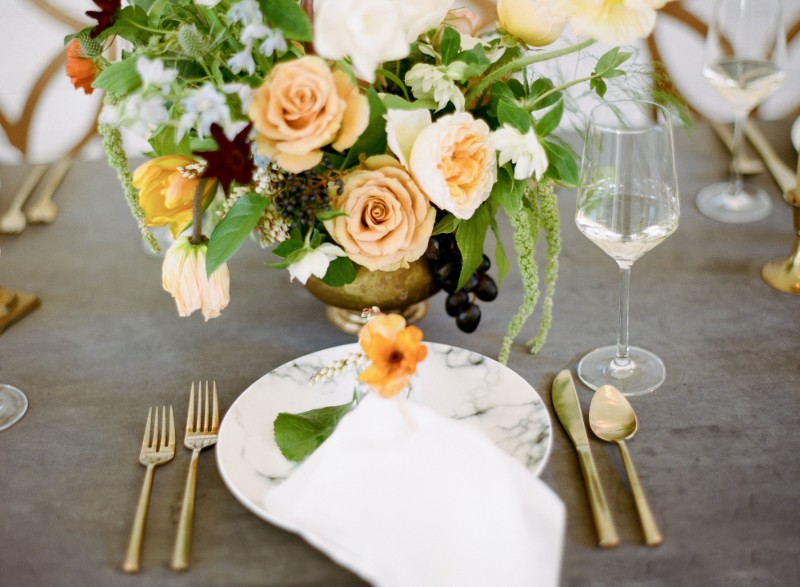 Photo by Alex Thorton Photography
Want to incorporate some of these 2021 trends into your upcoming or future Nashville or Franklin, Tennessee event? Reach out to our team for styling help or inspiration, or to secure your rentals, info@southerneventsonline.com.
TAGS | 2021 trends, On Trend, colorful decor, event inspiration, event style trends, on trend wedding style, style trends, wedding inspiration
FEATURED RENTALS | Gold Rim Glass Charger, Alabaster Earthenware, Driftwood Velvet Napkins, Artisan China, Cybil Glassware, Como Flatware, Gold Austin Flatware, Fern Velvet Linens, Colored Glassware, Pure Glassware, Medallion Gold Glass Chargers, Onyx Earthenware, Austin Flatware, Audrey Gold Rim Glassware
---
14

May

Southern Events Products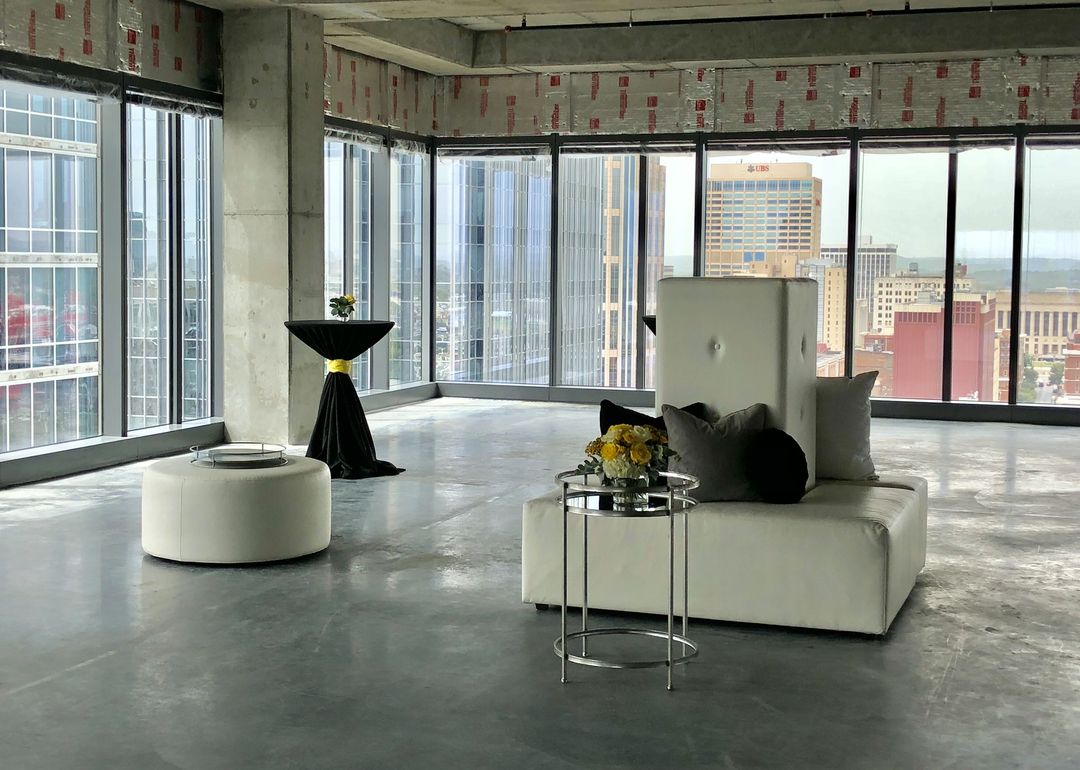 Furniture with sleek features, straight lines, and smooth and shiny surfaces – hello modern event lounges! Modern furniture design often focuses on simple geometric shapes rather than heavy or excessive ornamentation. The following event lounge packages are free of busy lines and color schemes, which lend a simple, elegant and refined look.
Chic & Sleek
White, blue velvet and gold are a gorgeous trio in this chic and sleek modern lounge package. It features our stunning Saylor Navy Velvet Sofa, with its rich color and geometric tufts. The slender legs of the Rory Navy Velvet Chair complement the Rhodes Coffee and Side Tables. The stark white tops are a beautiful contrast next to the surrounding sea of navy.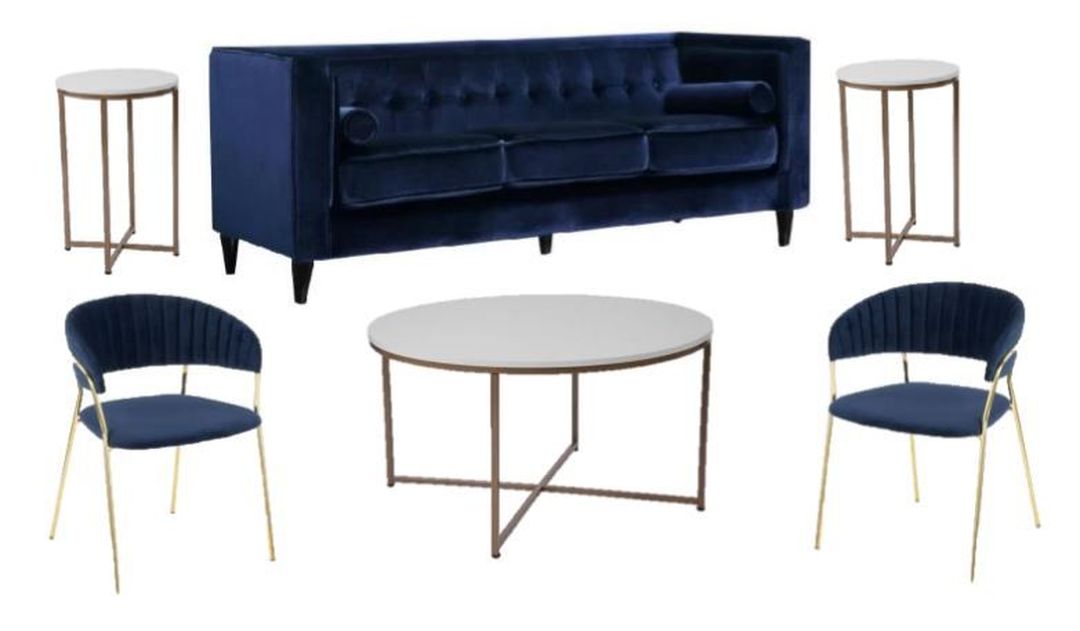 Classic Black & White
If you are looking to make a statement, this black and white event lounge is a bold choice. The sleek Black & White Stripe Cabana Benches, striking and sharp, pulls from the Regent Black Velvet Sofa. This pattern adds a unique punch of character to the otherwise plain lounge area. Meanwhile, the Rhodes Coffee Table and Rhodes Side Table add a subtle but luxe gold accent into the mix.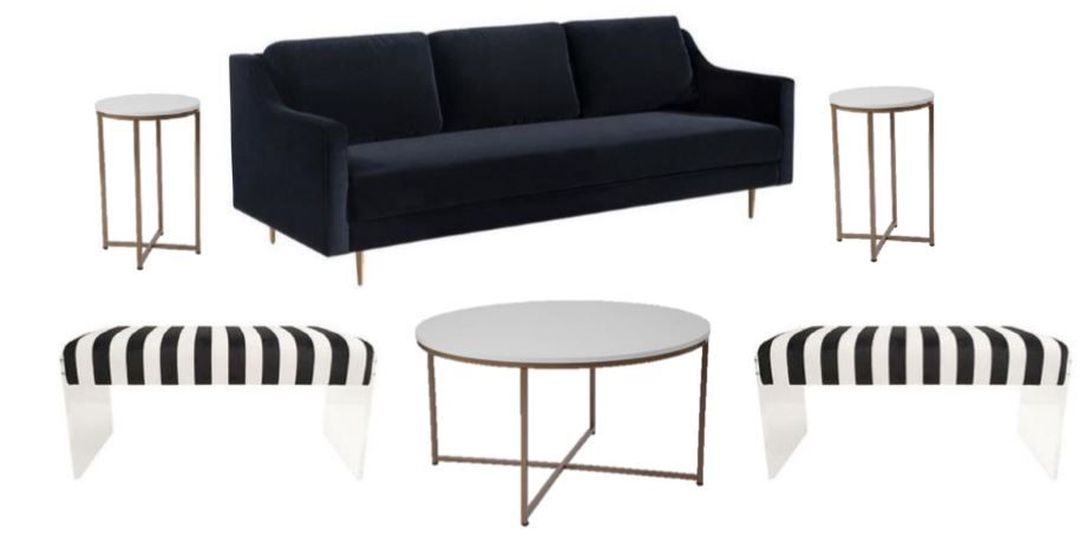 Modern Glam
Featuring black and white, this modern glam lounge is sleek and a little flashy. Blocky furniture, like the Santorini Off-White Sofa and Santorini Off-White Loveseat, appears visually sharp yet is cozy – promise.  It pairs perfectly with our white Siros Coffee Table. The cylindrical shape of the Echo Silver Mirror Side Table provides a bit of relief from the geometric dominated space, while a Black-Silver Rug ties it all together. (Learn why rugs are essential for creating a functional space!)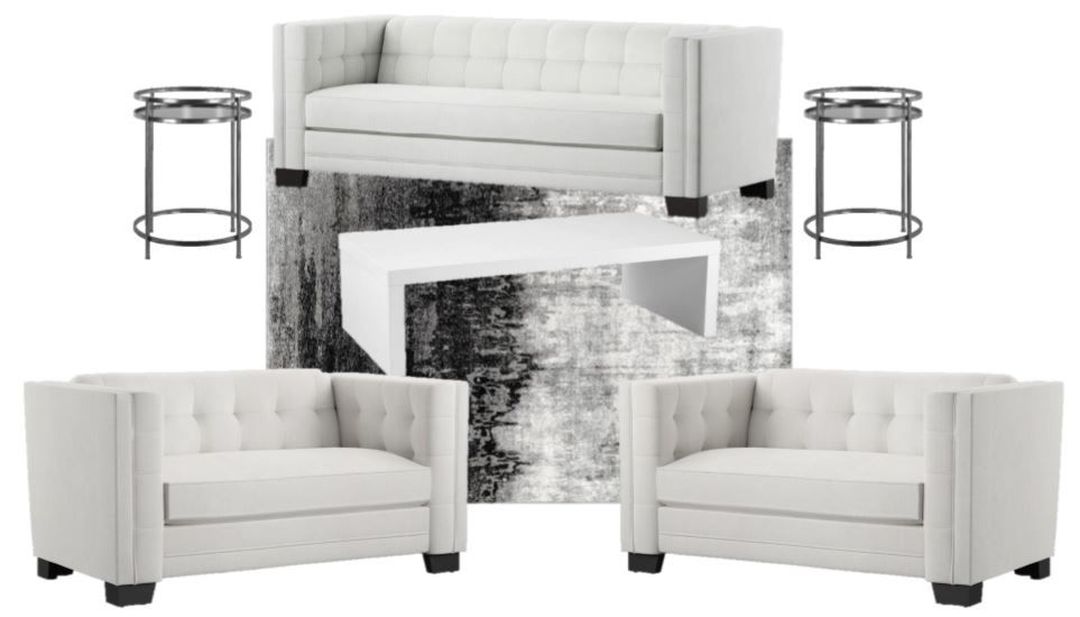 Simplistic
Primarily functional, this simplistic modern event lounge setup features neutral tones with a touch of gold. The Regent Black Velvet Sofa is clean but inviting, with its plush velvet cushions. One of the most popular modern furniture designs, the White Eiffel Arm Chair will tempt all of your guests, with its unique shape. Each piece is subtly connected, via solid colors and geometric angles, such as the legs of the Rhodes Coffee Table.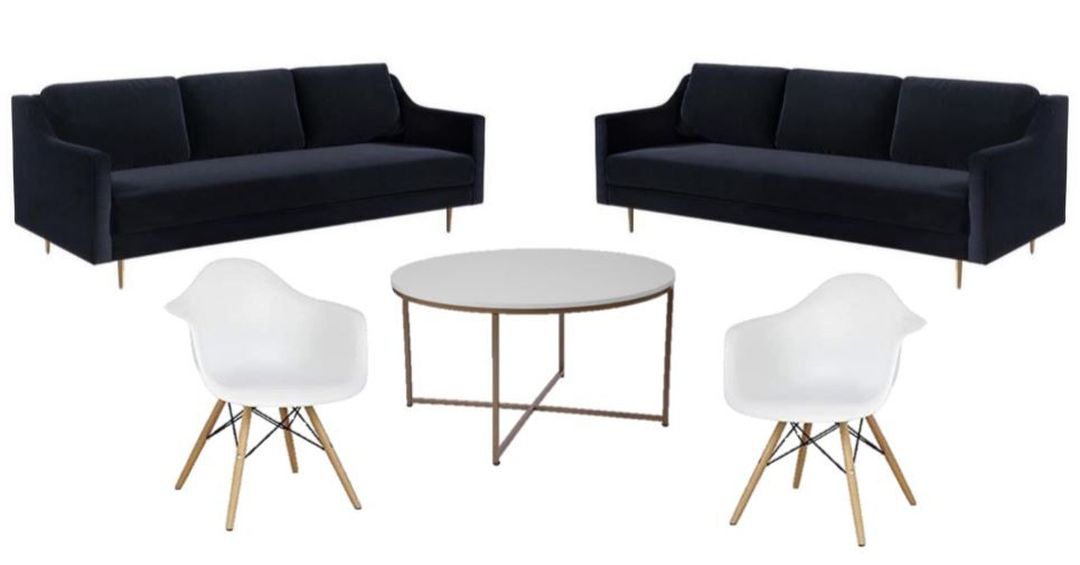 Contemporary
With a mix of unique shapes and textures, this social area will be a big draw. It consists of the Mercer White Leather Couch, Mercer White Leather Ottomans, Acrylic Ghost Arm Chairs and a Nickel Grey Bench. This package is the definition of contemporary, with simple geometric shapes and smooth surfaces. We are especially fond of acrylic elements, such as the armchairs and bench legs, which are sleek and stylish.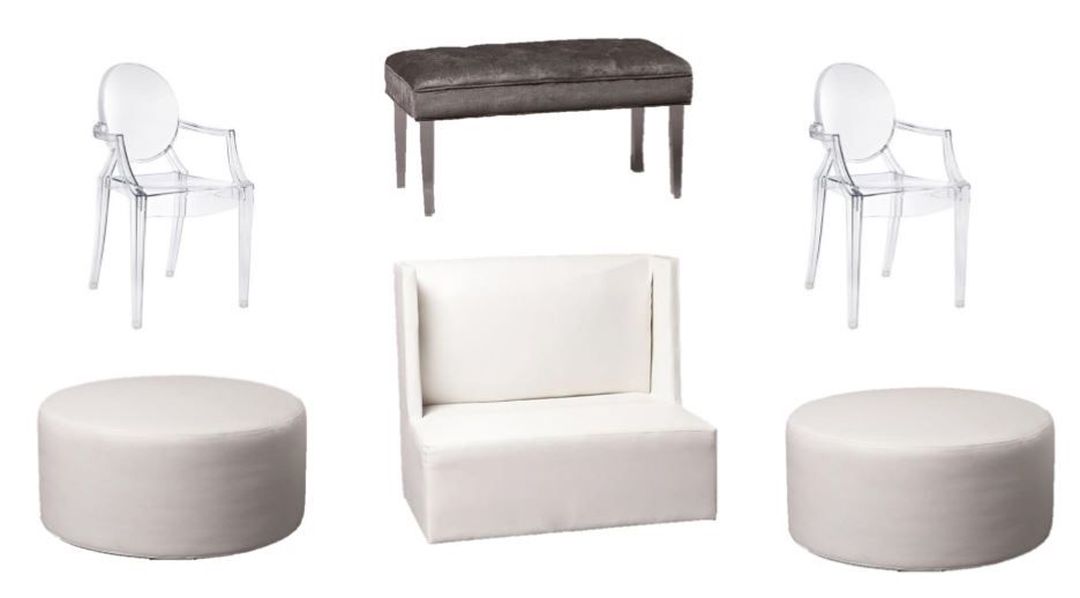 Loving these sleek and modern event lounge designs? See more options event lounge packages or contact our team today to book one for your wedding or event!
TAGS | Lounge Furniture, Lounge Furniture Packages, Modern Event Lounge, Modern Lounge Furniture, lounge, lounge areas
FEATURED RENTALS | Regent Black Velvet Sofa, Black & White Stripe Cabana Bench, Rhodes Coffee Table, Rhodes Side Table, Saylor Navy Velvet Sofa, Rory Navy Velvet Chair, Rhodes Coffee Table, Rhodes Side Table, Navy Rug, Santorini Off-White Sofa, Santorini Off-White Loveseat, Siros Coffee Table, Echo Silver Mirror Side Table, Black-Silver Rug, Regent Black Velvet Sofa, White Eiffel Arm Chair, Rhodes Coffee Table, Mercer White Leather Couch, Mercer White Leather Ottoman, Nickel Grey Bench, Acrylic Ghost Arm Chair
---
9

Apr

Southern Events Products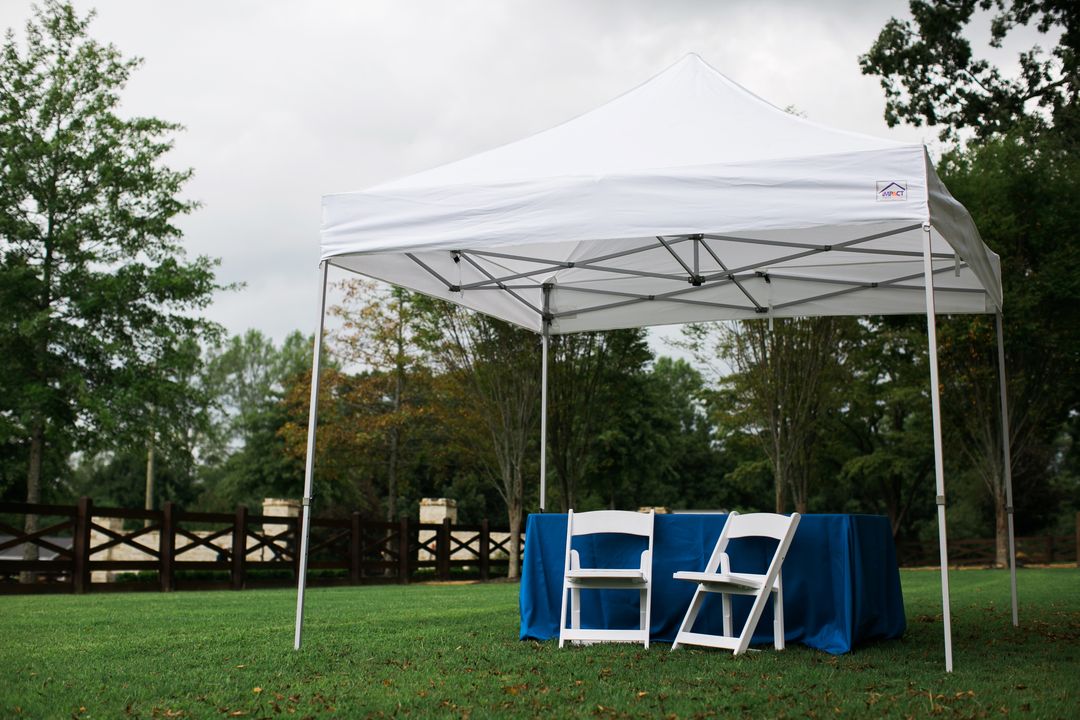 Coronavirus (COVID-19) has presented a challenging situation for people physically, mentally, and financially, and we know many of you are reeling. We are, too. For a business based on gathering people together to celebrate, this time has been especially challenging. We also feel called to support the community that has long support us and are now offering emergency services rentals for testing centers, temporary triage, storage, drive-thru and pick-up locations, and emergency shelters.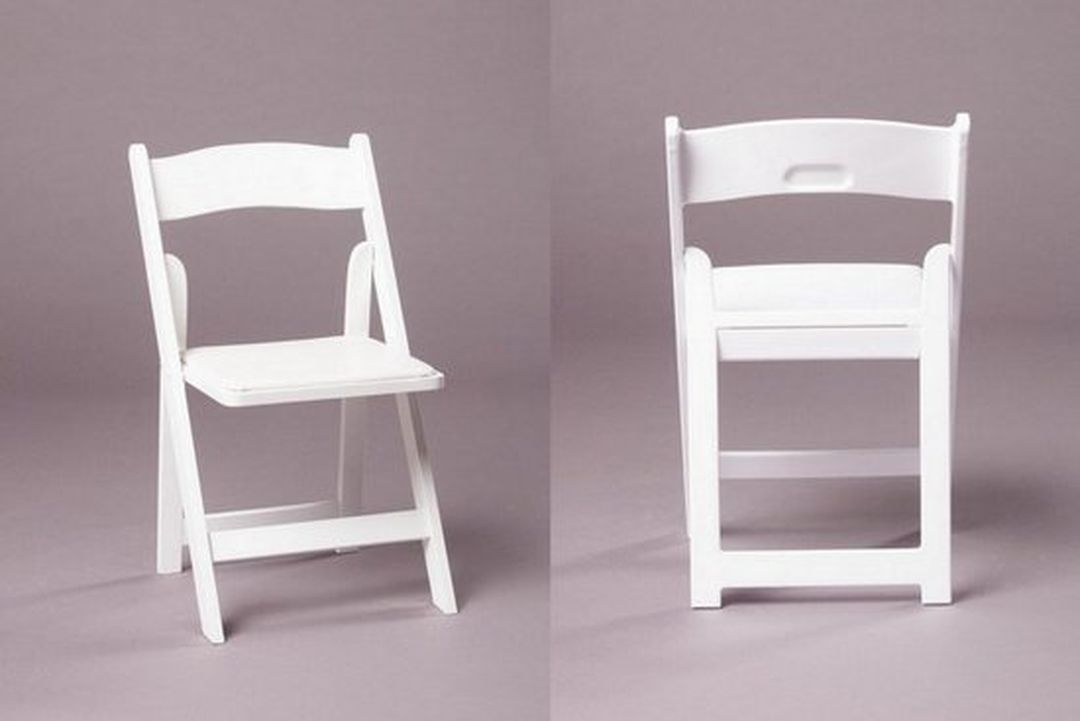 Tables and Chairs
We have a variety of easy to carry, folding chairs and folding tables to choose from. Our chair selection includes options that are plastic, wood, and resin, all of which are easy to wipe down and transport. The folding tables available are rectangular and round. Colored tablecloths are also available to help distinguish your set-up and make it easier to locate.
Tents
Keep your staff and/or equipment safe from the elements with our frame tents and high peak tents. Our team can set up a tent wherever necessary. For example, adjacent to a building for quick access to storage or to accommodate overflow.

Flooring
Slip-resistant and with a high weight capacity, our Dura Flooring is ideal for creating a safe set-up. It is suitable for a variety of surfaces, including turf, soil, sand, gravel, tarmac, and concrete. It can be customized to fit any space or used to create a space that suits the size of your needs. We also have a Dura Ramp available to meet accessibility needs.
Portable Fencing
As the CDC recommends a distance of six feet between people at all times, our portable fencing can assist efforts to maintain safe queues. They may also be used to effectively direct traffic or create barriers to off-limit areas of your setup.
As the Coronavirus (COVID-19) begins to have a greater impact on our community, we are here to support our local government and businesses in providing easier access to these emergency services rentals. To help provide the highest level of care to people within our community, and maintain the safety of healthcare professionals working on the frontlines.
Please reach out to our team at info@southerneventsonline.com or 615-595-8508 with your needs, questions, or connections that we can help. Our team is available for immediate delivery and rental set-up.
TAGS | Folding Chair, Folding Chairs, Heaters for Tents, High Frame Tent, In Stock, Outdoor Heaters, Small Tent, Tent Rental, dura flooring, rectangle table, southern events products
FEATURED RENTALS | Folding Chairs, Rectangle Table, Round Table, Dura Flooring, Frame Tent, High Peak Tent, Round Drum Fan, Blowing-Style Heater, Portable Fence,
---
5

Mar

Southern Events Products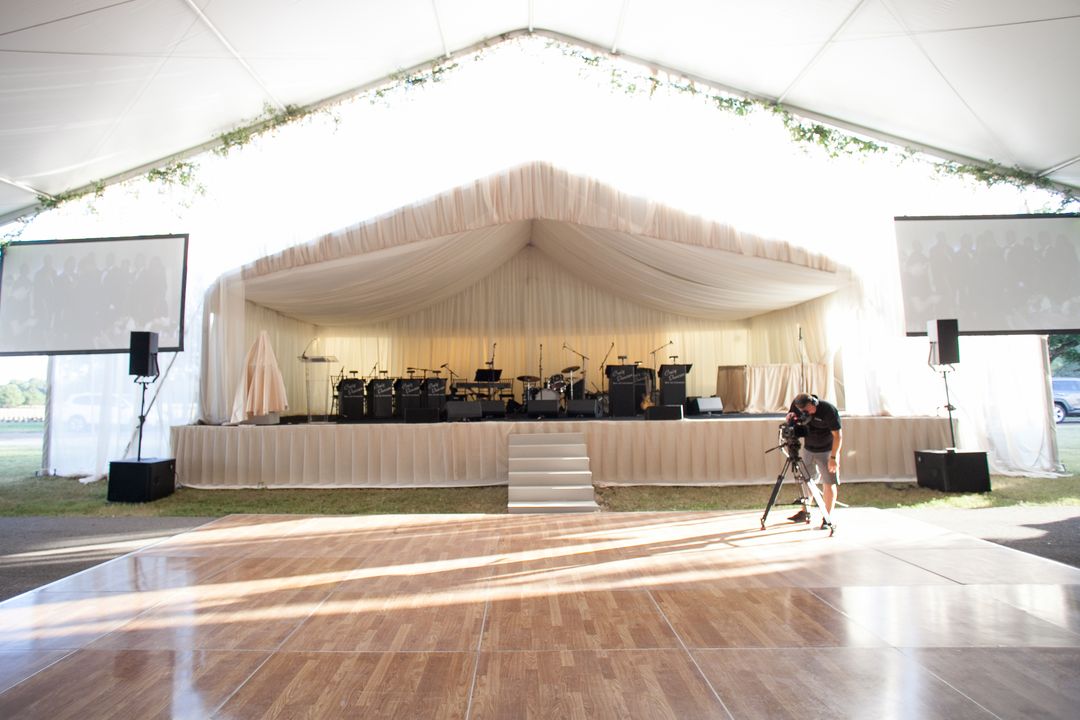 Sporting events, weddings, corporate events, concerts… these (and so much more) are all events that need event staging. And whether you're looking for a finished look, complete with a dance floor, or simple stage – Southern Events Party Rental Company has a myriad of in-stock event rentals and event staging to choose from.
Event Staging Basics
From staging platforms (with and without carpet), steps and staircases, we have the event staging basics to build a simple platform for speakers to a full stage for your favorite band.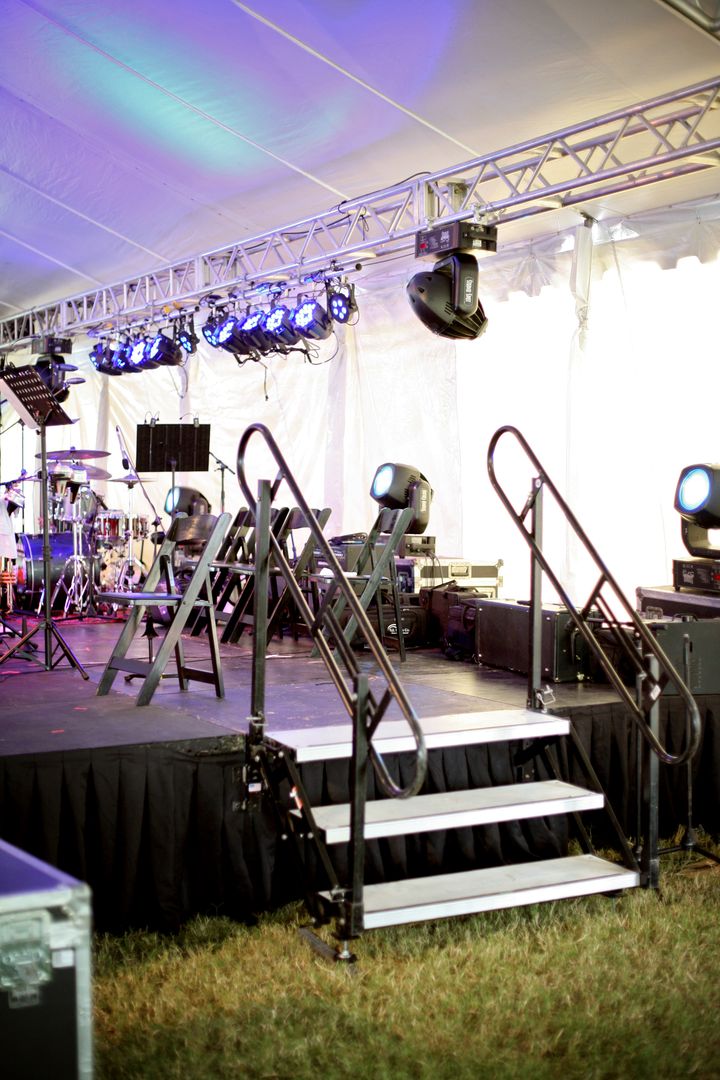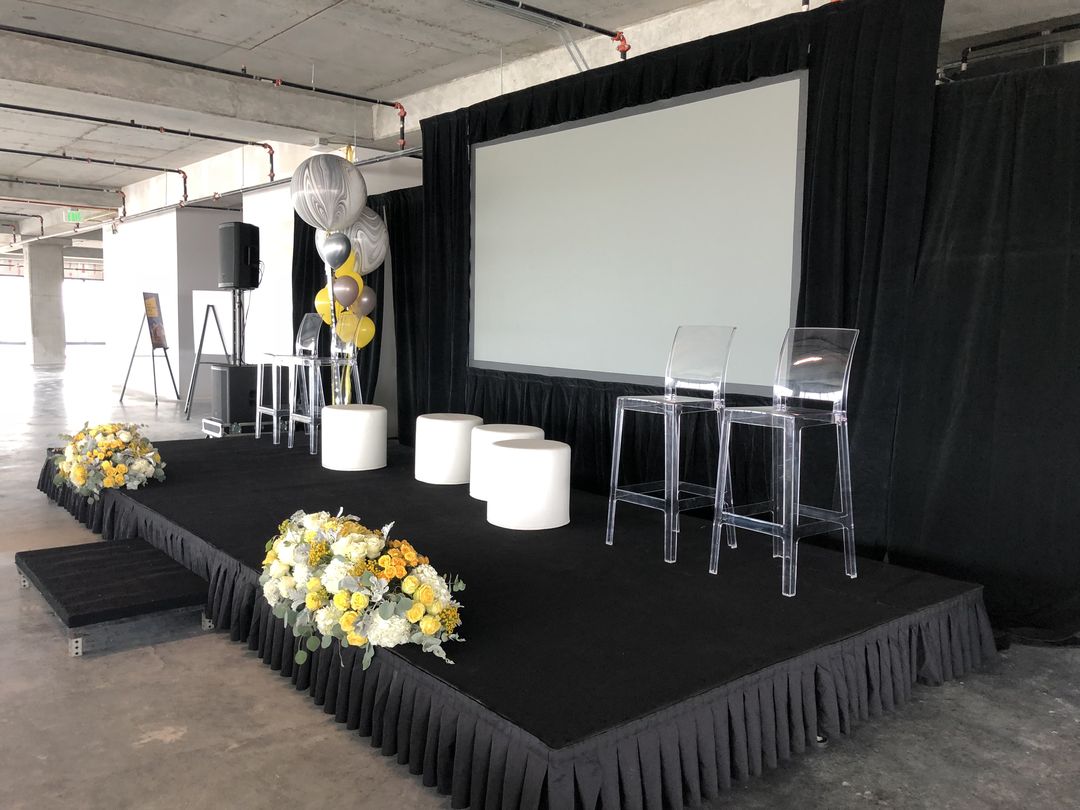 Custom Stage Looks
Our Harpeth stage facade and columns are the perfect options if you're searching for a polished look for your basic stage. They are customizable, allowing for different combinations and personalized insets. Stage Skirting is another way to finish the look of your event stage, hiding cords and such below – now in stock in natural or black.
Bonus Tip! Add our Dura Floors with endless floor options and create a completely custom dance space for your event.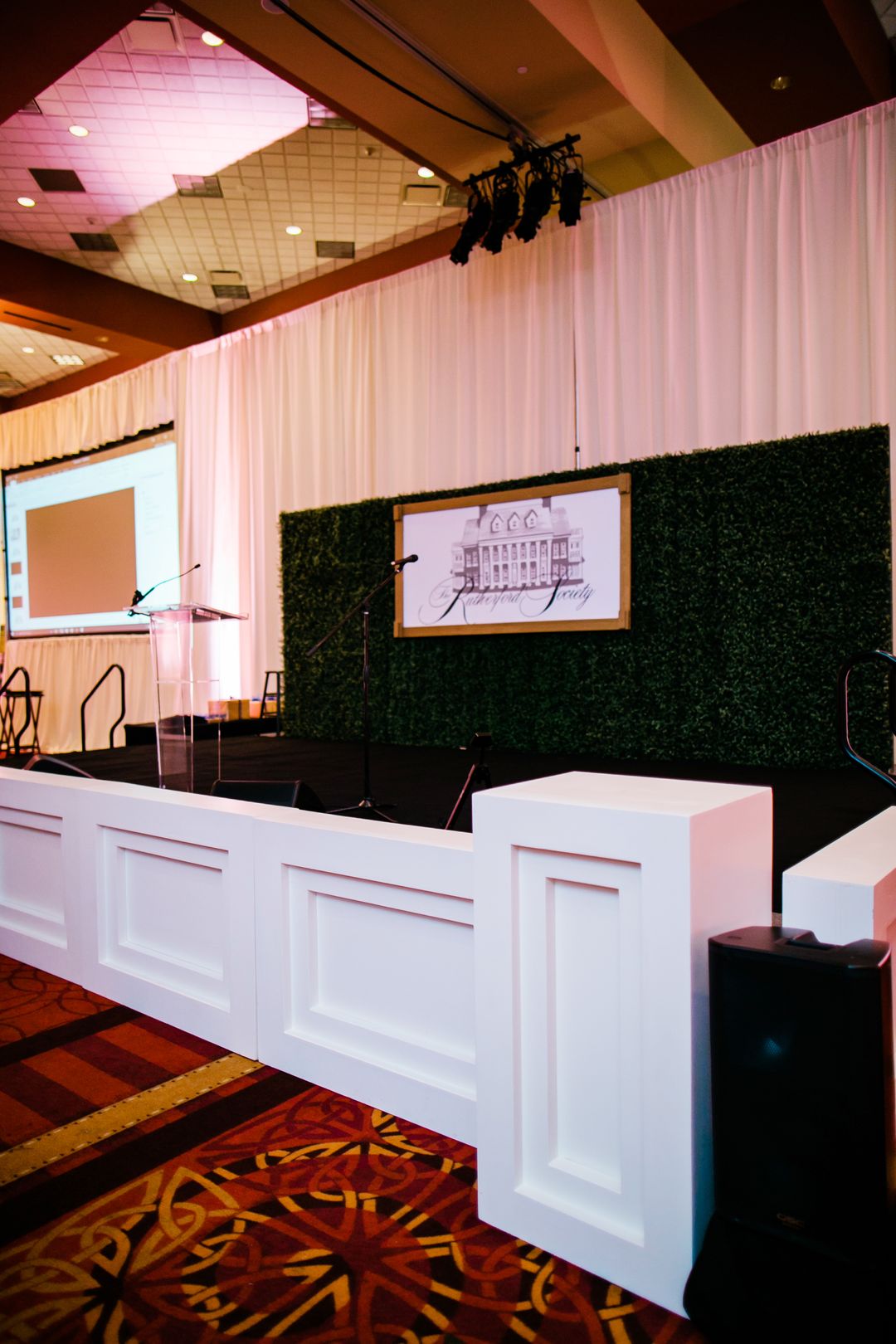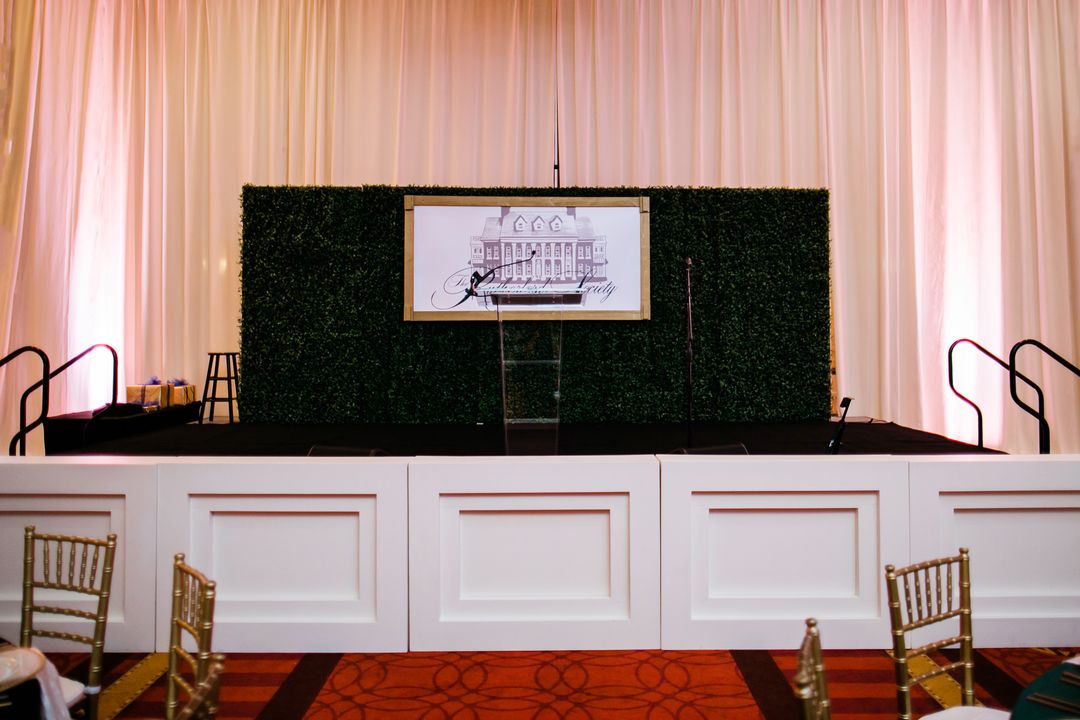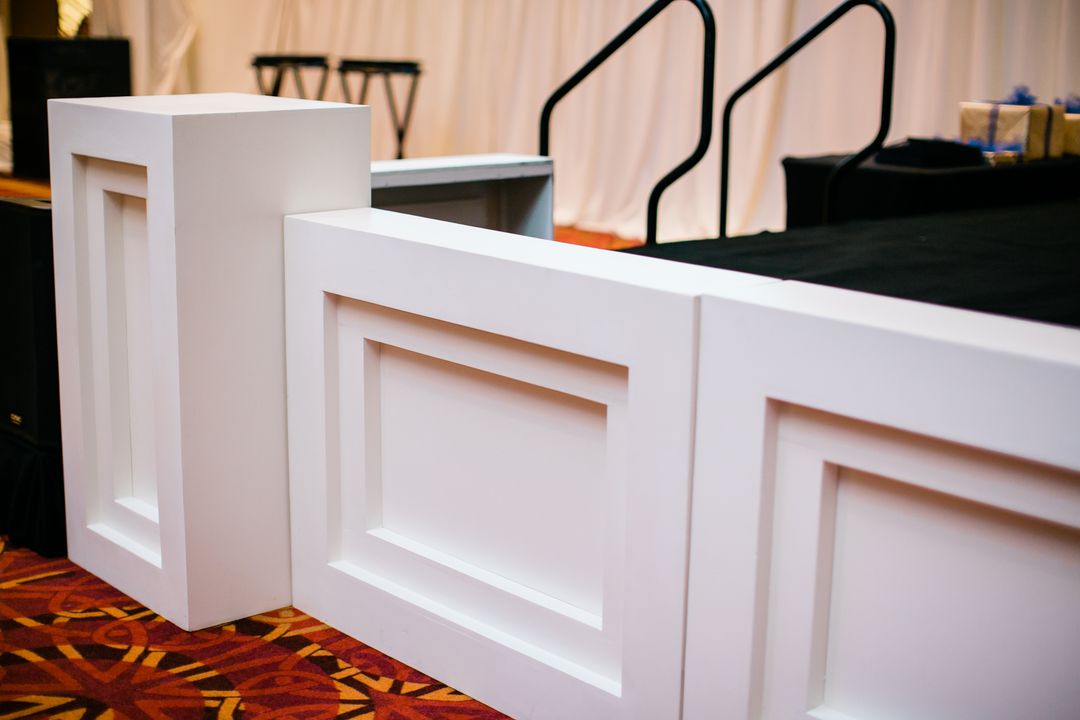 Photo by Jen and Chris Creed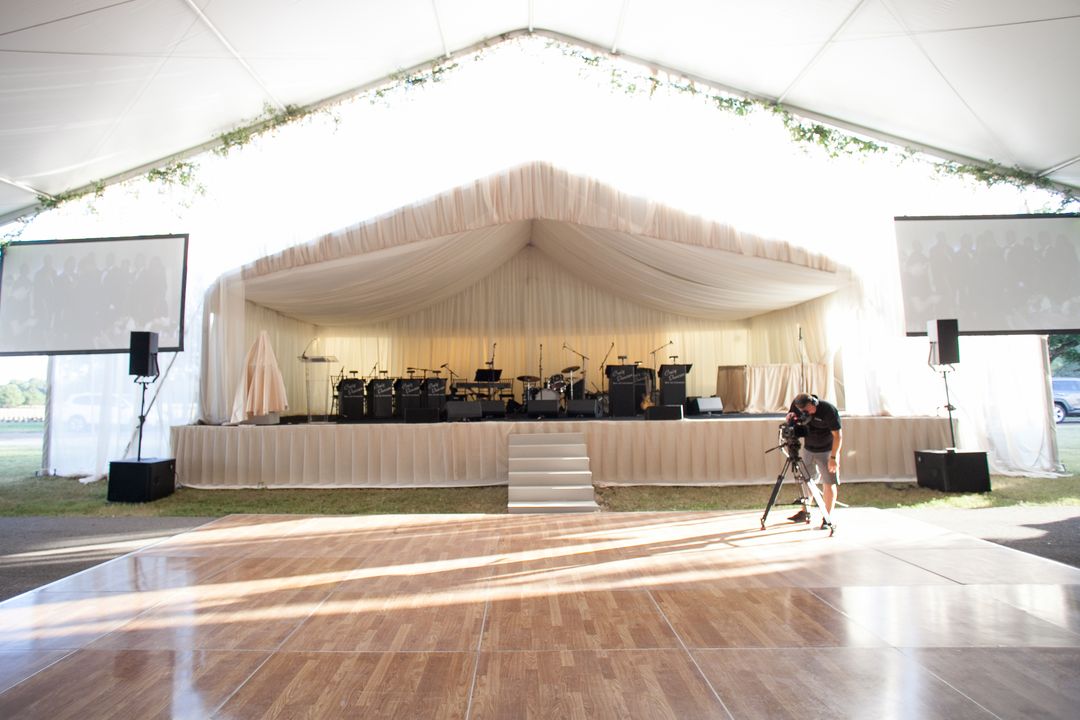 Photo by Phindy Studios
Pipe and Drape
If you're wanting to create a backdrop (and backstage area), check out our Pipe and Drape options.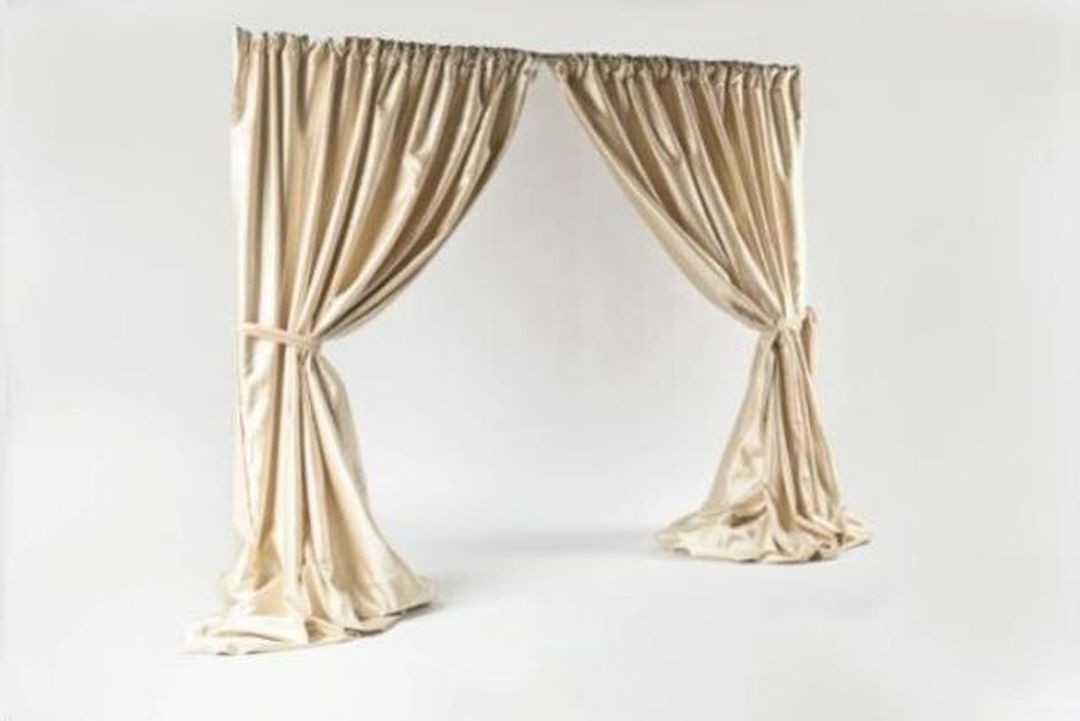 Backstage Area
Speaking of a backstage area – we have tons of fun rentals that help you keep whoever is performing at your event comfy and happy! From sofas to chairs to rugs (and maybe a bar cart!), we've got you covered!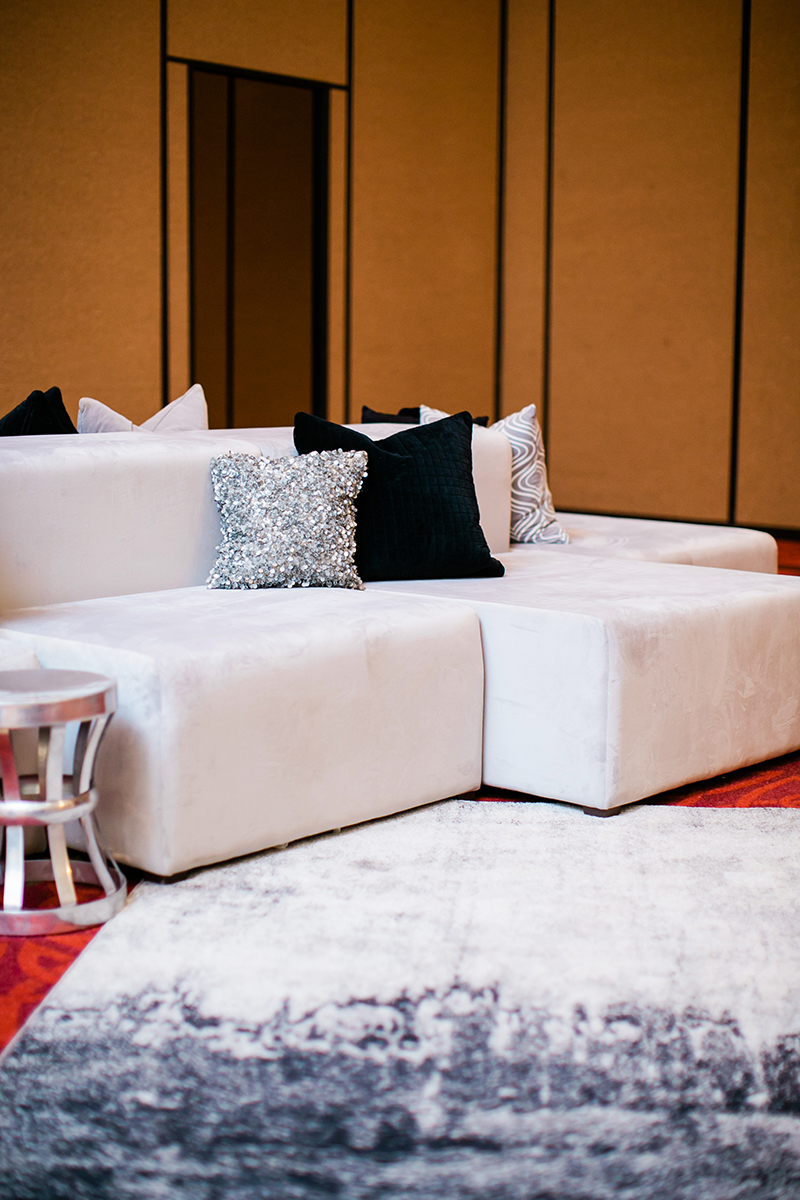 Photo by Jen and Chris Creed
Rope and Stanchion
Rope and stanchion are also great additions that keep guests safe and give the performers a bit of space! These are great for red carpet events, or a live band at a wedding!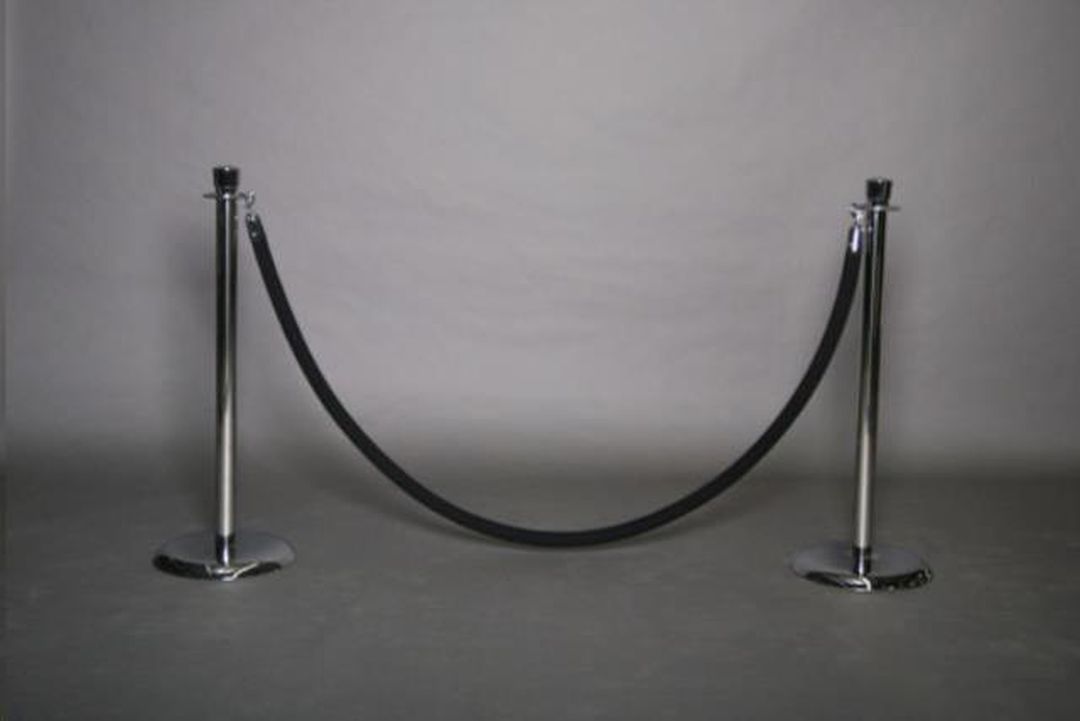 If you'd like help with your stage set-up at your next event, send us a message at info@southerneventsonline.com.
TAGS | Event Rentals, Nashville Event Rentals, Nashville Wedding Rentals, Nashville party rentals, Southern Events, Unique Nashville Event Rentals
FEATURED RENTALS | Pipe and Drape, Harpeth Staging, Dura Track Flooring, Rope and Stanchion
---
16

Jan

Southern Events Products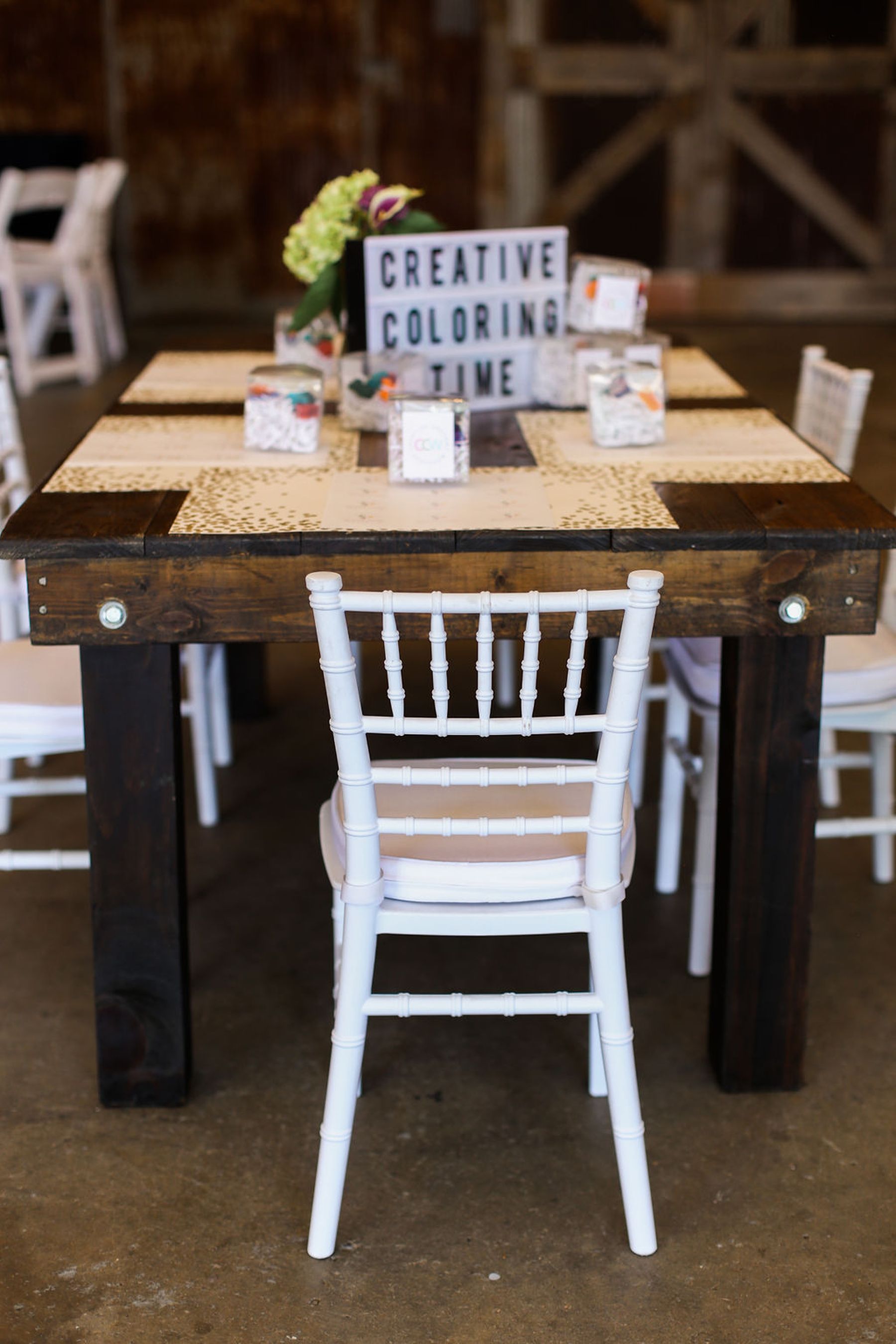 A child's first birthday party is just as much a celebration for the adult as it is the child.  It's a fabulous time for a parent to pat themselves on the back for making it a year with their sweet little one.
Southern Events Party Rental Company has adorable child-sized rentals to help you achieve a first birthday party that delivers those sought-after photo-ops from every corner. From children's tables and chairs, cake stands, and beverage tubs – there are plenty of ways to design an event that will have kids delighted and adults impressed.
Miniature Dining
It's simply a fact that child-sized versions of adult furniture are one hundred times cuter, as evidenced by the first birthday party rentals below. Our Fruitwood Children's Farm Table and Chiavari Children's Chairs are the most charming options for seating! Add coordinating linens, and it's downright cute. Adults can mingle grown-up style with our Mid Century White Bistro Table and Bar Stools.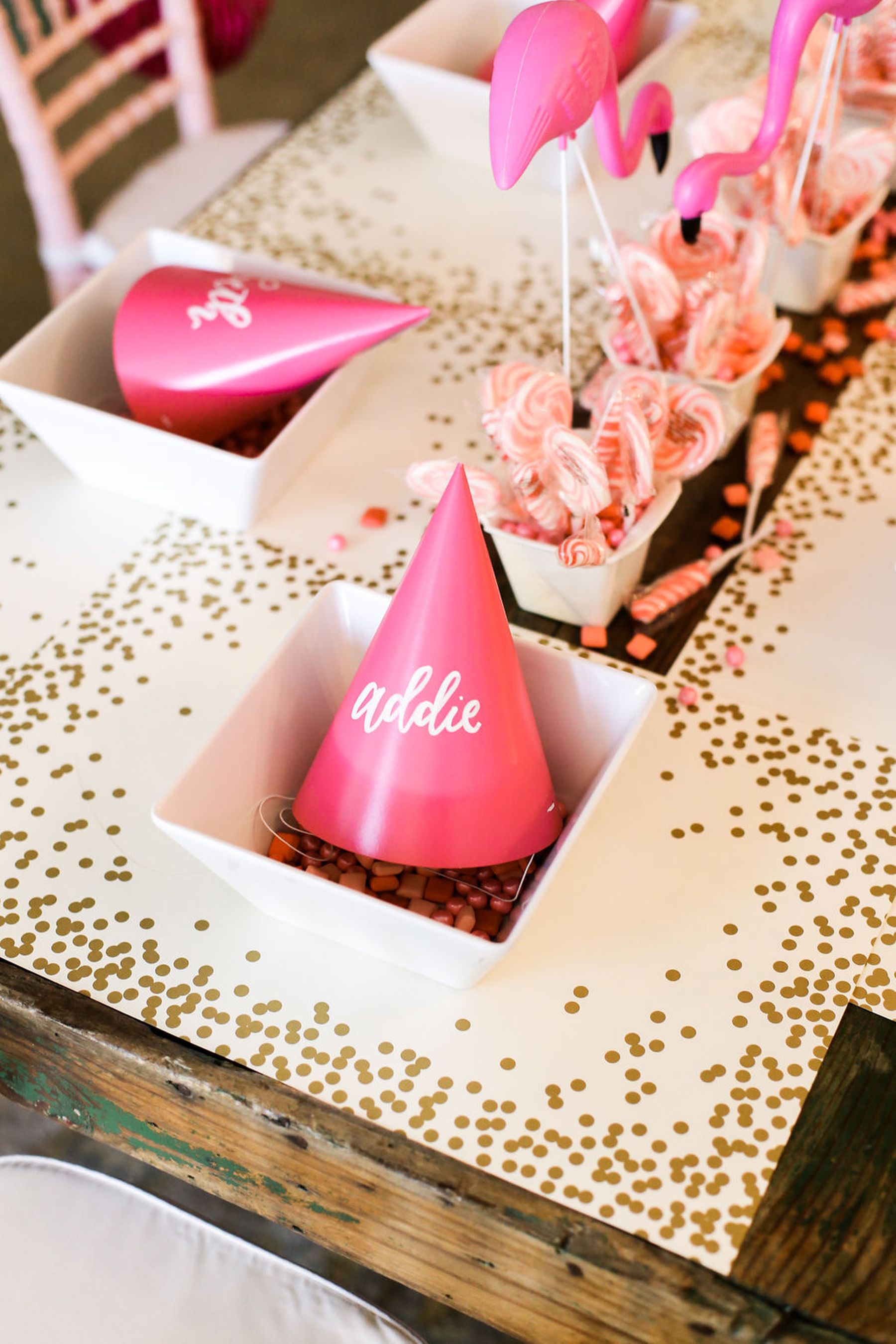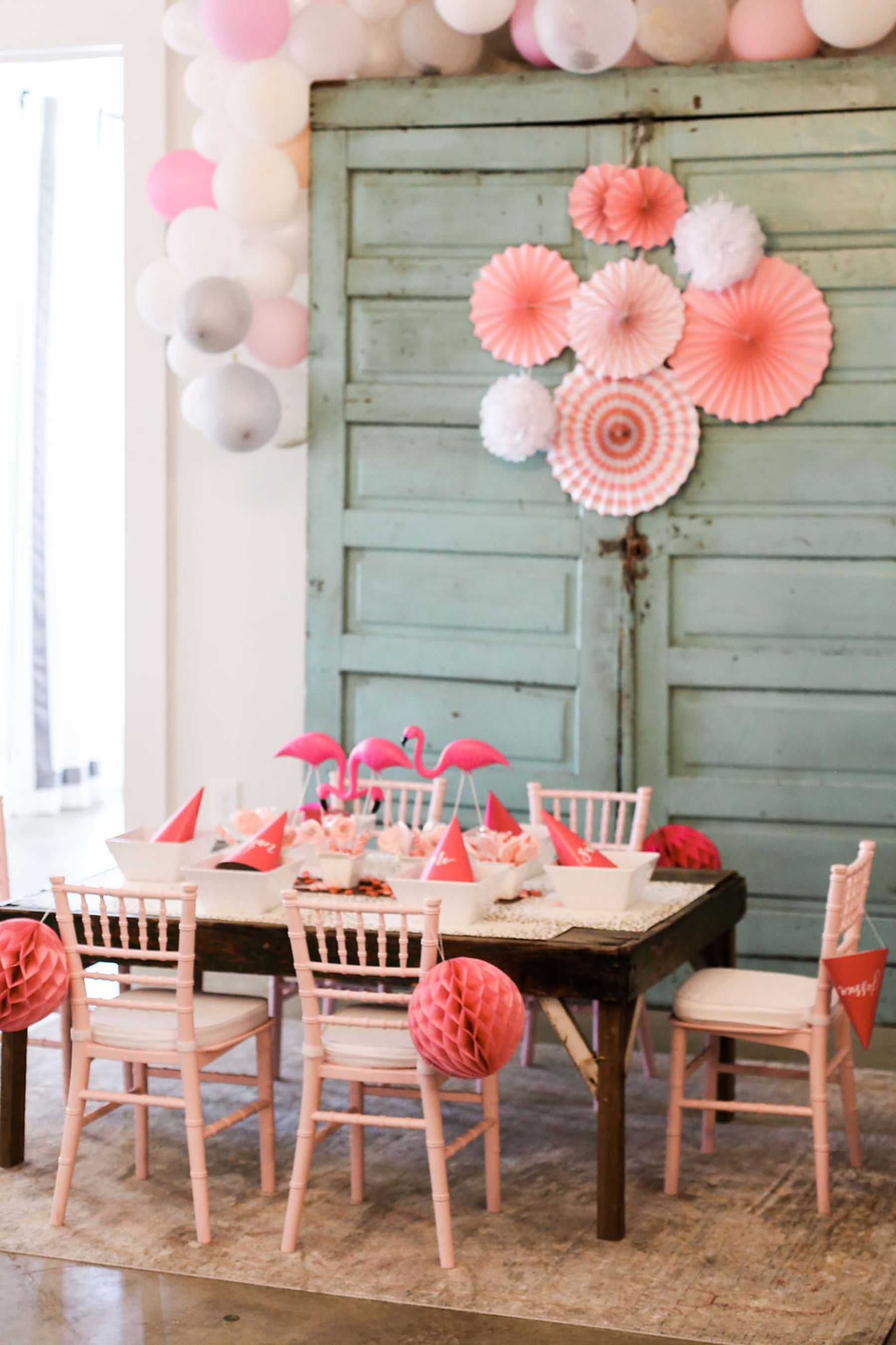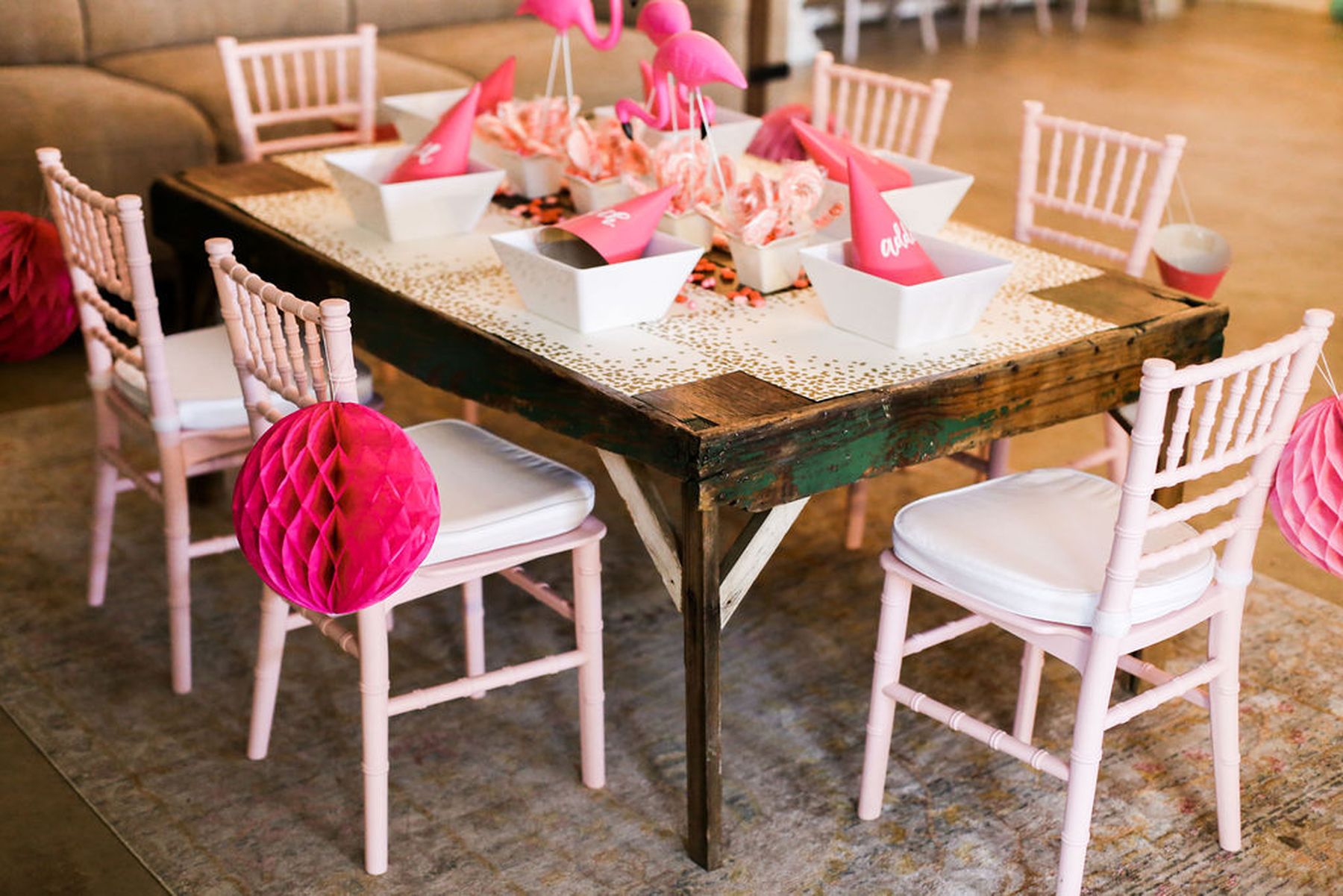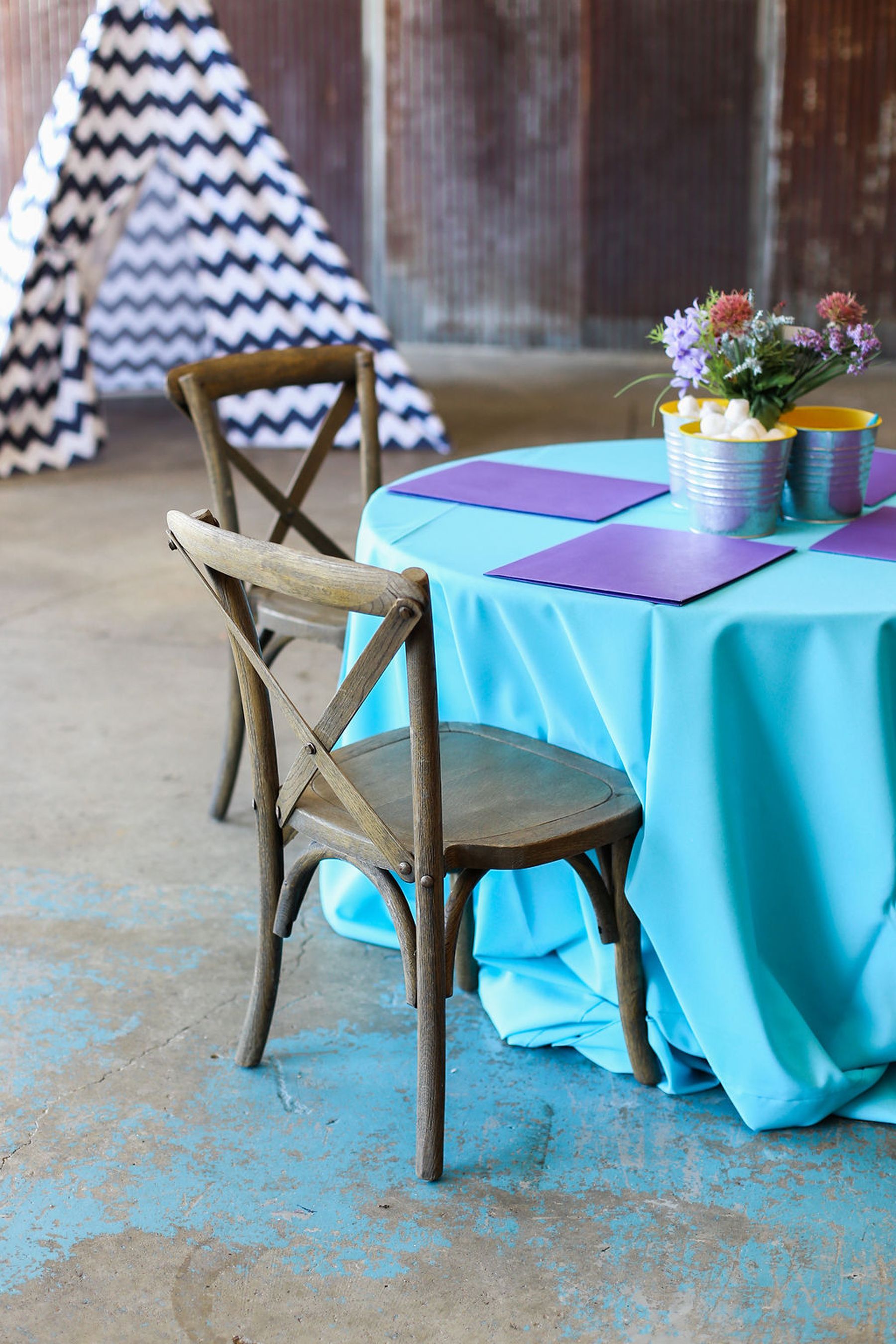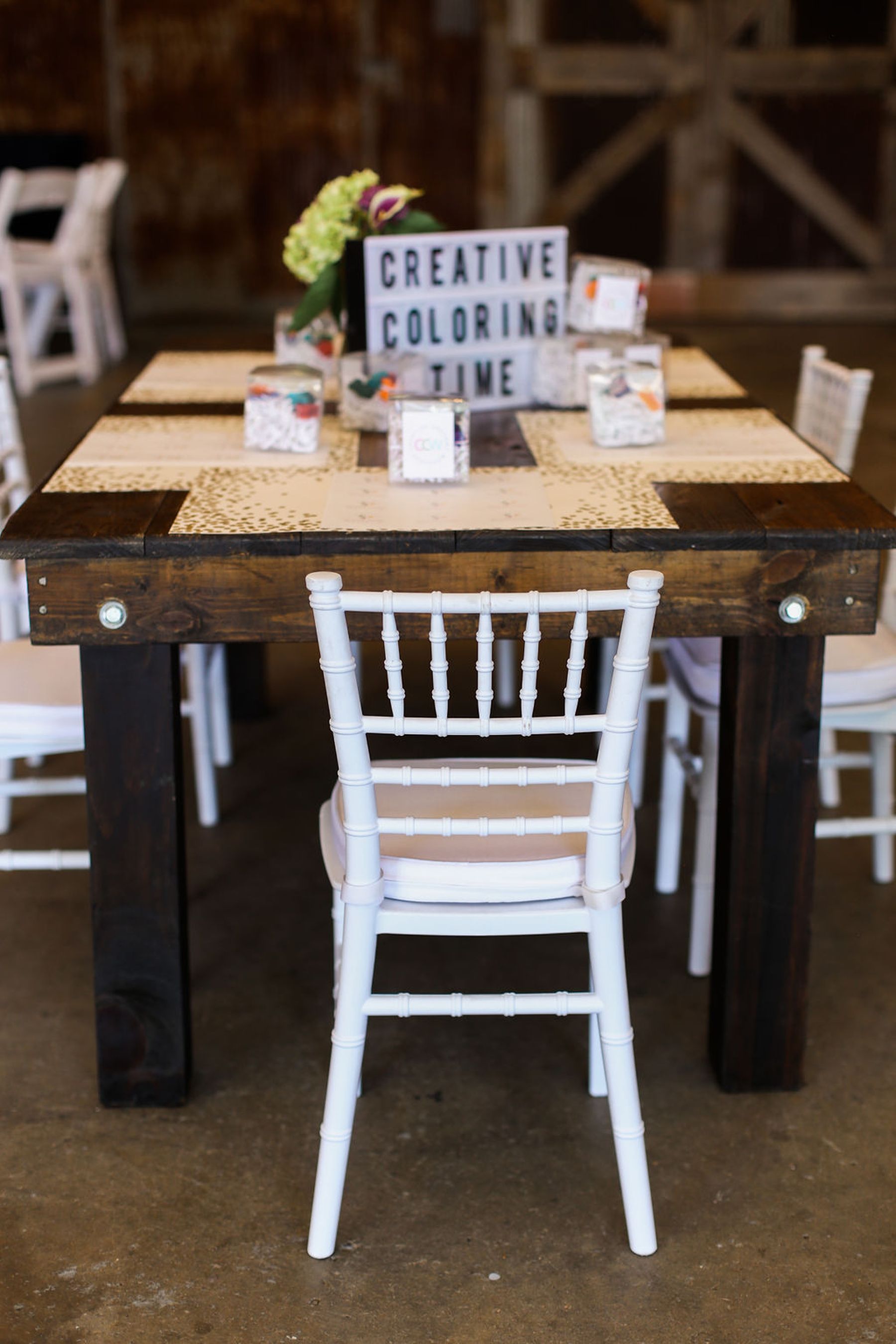 Photos above by Jenna Henderson Photography.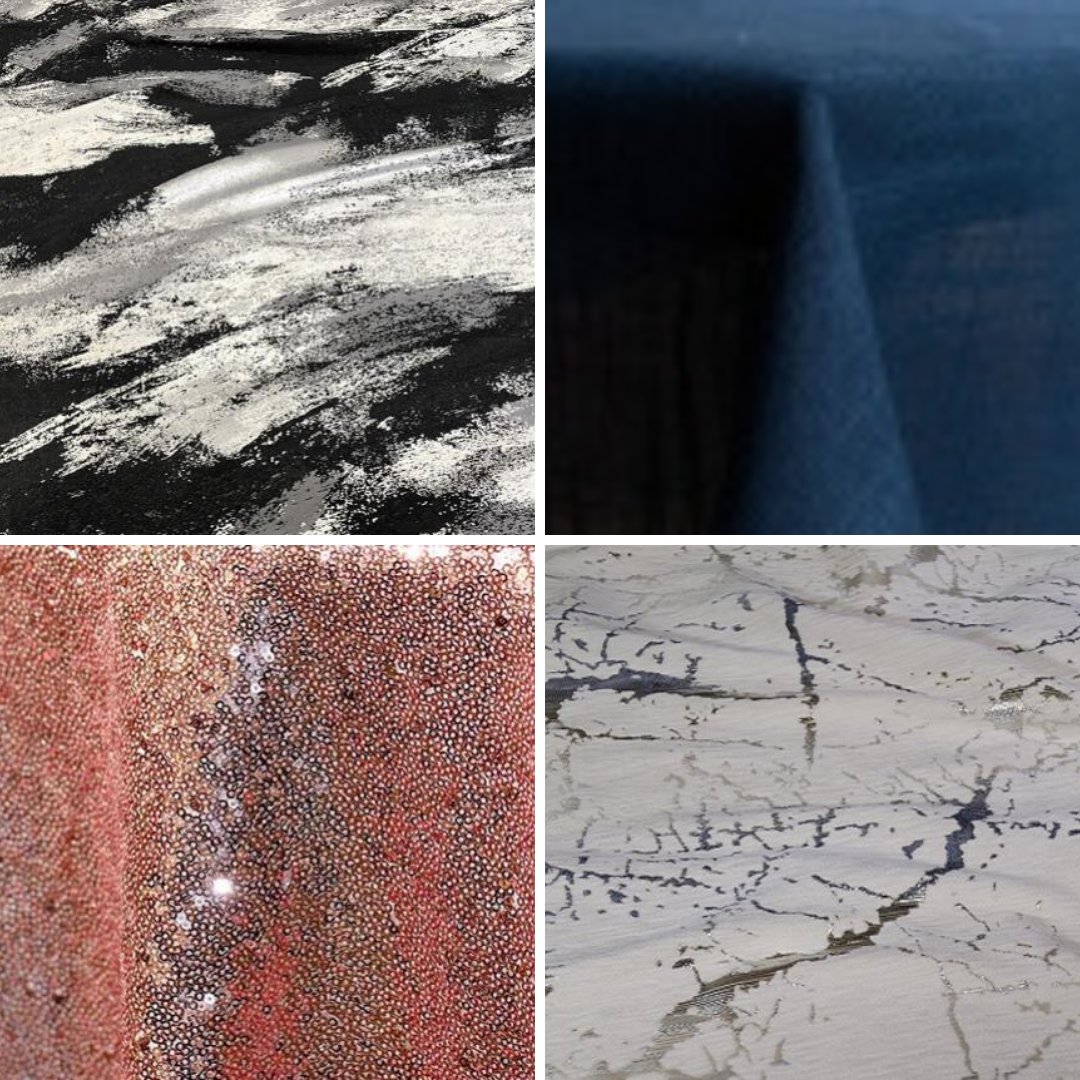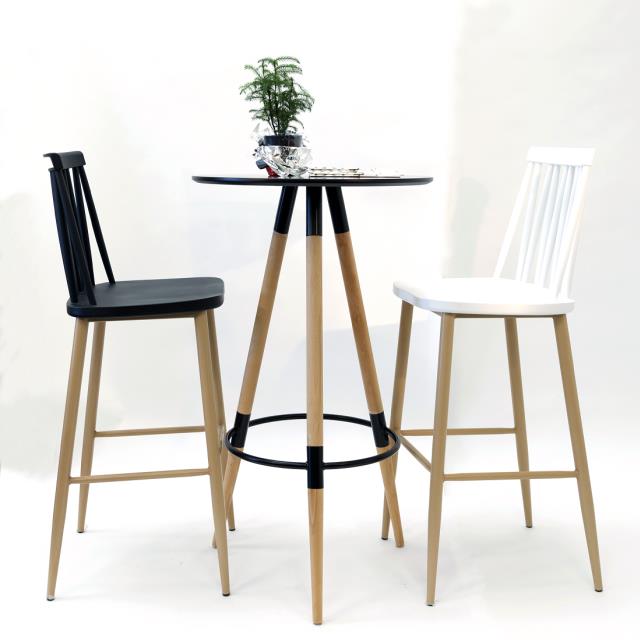 Little Bites (and a cake!)
We'd be remiss not to include a couple of cake stand options – this is a kid's birthday party after all! We adore these whimsical cake stands for a charming event – Ellie Gold Cake Stand and the Windsor Gold Cake Stand. Grownups can enjoy their cake on these Kate Gold Polka Dot Dessert Plates!
Keep food warm while all of the fun birthday party activities take place by using our Chafing Dishes, and keep that lemonade and water fresh and cold in our Beverage Tubs and Davidson Beverage Jar.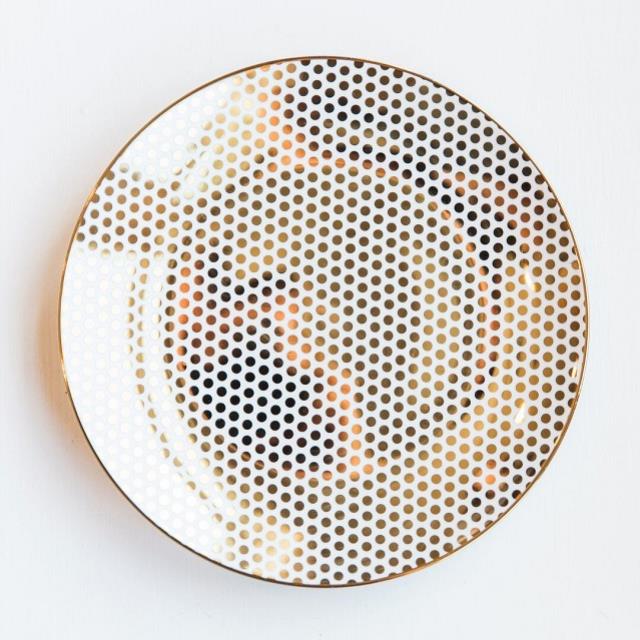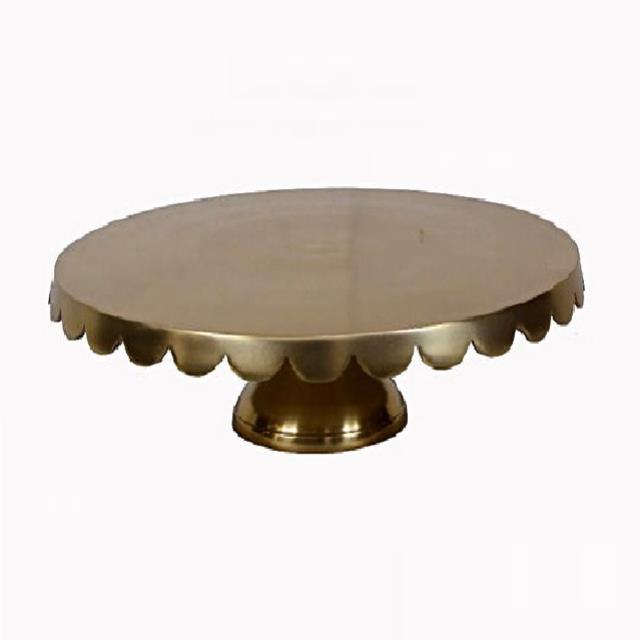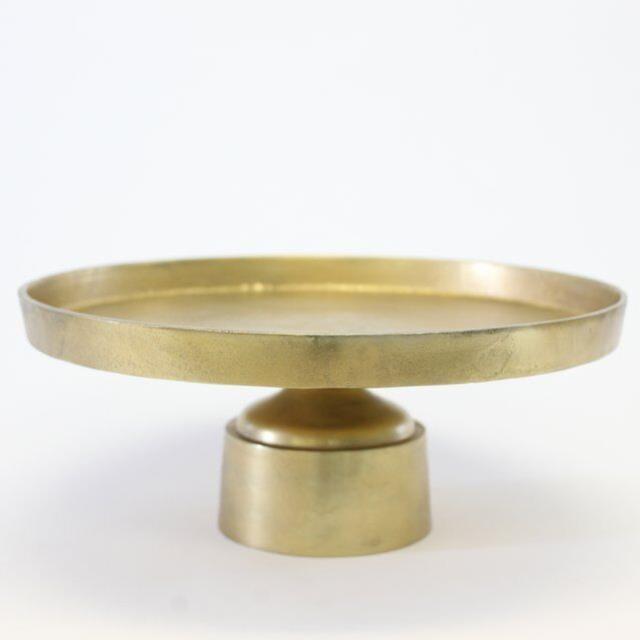 If you're celebrating an upcoming first birthday, we'd love to chat with you! Send us a message at info@southerneventsonline.com.
TAGS | Birthday party rentals, Kids Parties, Nashville Event Rentals, Nashville party rentals, Southern Events Party Rentals, childrens rentals, first birthday party, rentals for children birthday party
FEATURED RENTALS | Children's Fruitwood Farm Table, Children's Chiavari Chairs, Mid Century Bistro Table, Ellie Gold Cake Stand, Windsor Gold Cake Stand, Kate Gold Polka Dot Dessert Plates
---
9

Jan

Southern Events Products, Trends and Inspiration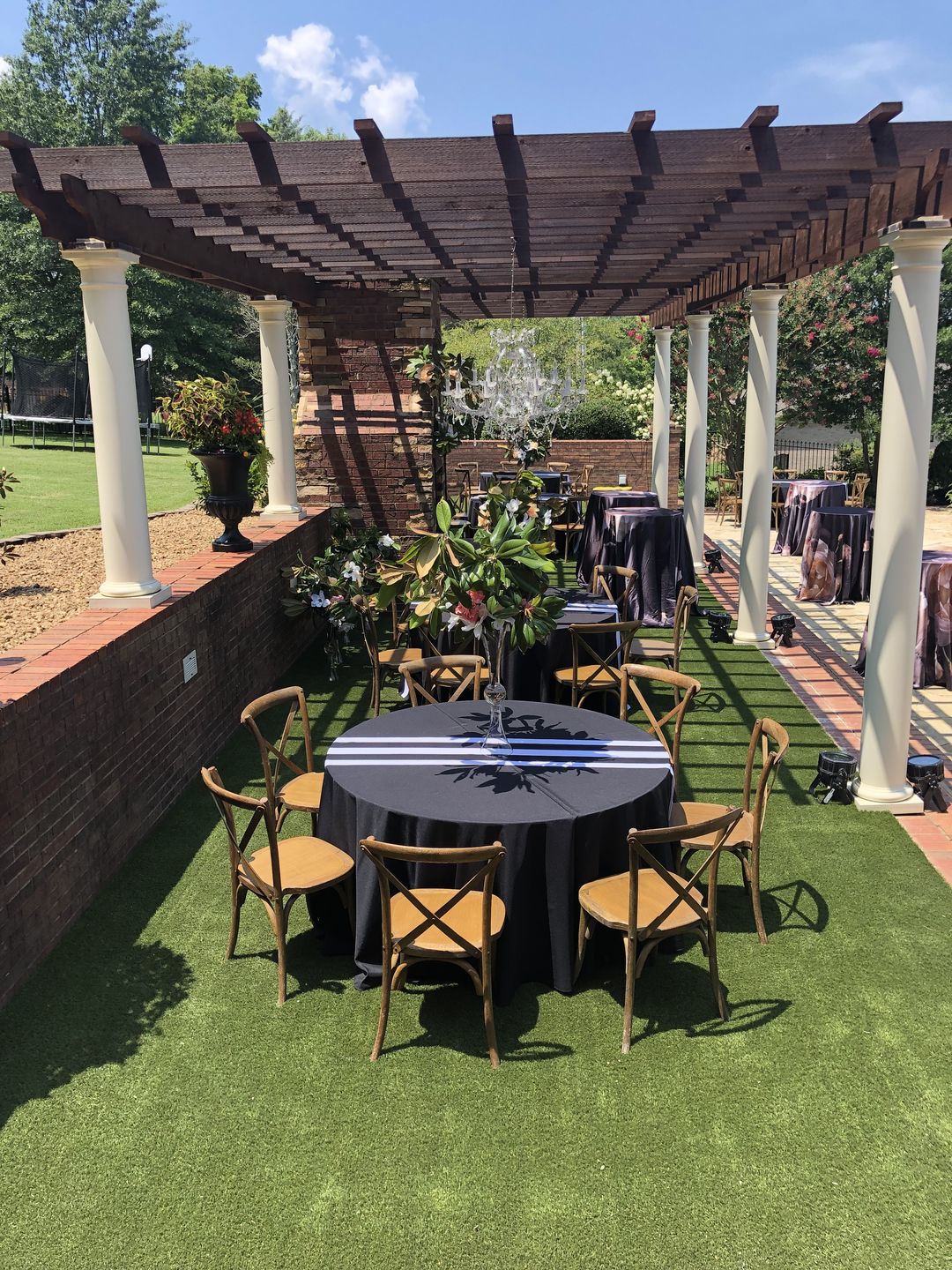 When we lose a loved one we want to create a celebration that represents them. Celebrations of life are similar to memorial services but often take place after a funeral – or sometimes in place of a funeral altogether. This gives you more time to create a personalized celebration that truly represents your lost loved one. Get inspired by a recent regal celebration of life party in Nashville, Tennessee.
Bistro Tables
Celebrations of life are a time for people to come together or reconnect with loved ones. Bistro tables make for a great place for people to gather and chat, especially if drinks or appetizers are being served. Keep the centerpieces for these tables simple with small floral arrangements or a handful of votive candles and choose linens in a favorite color of your passed love one.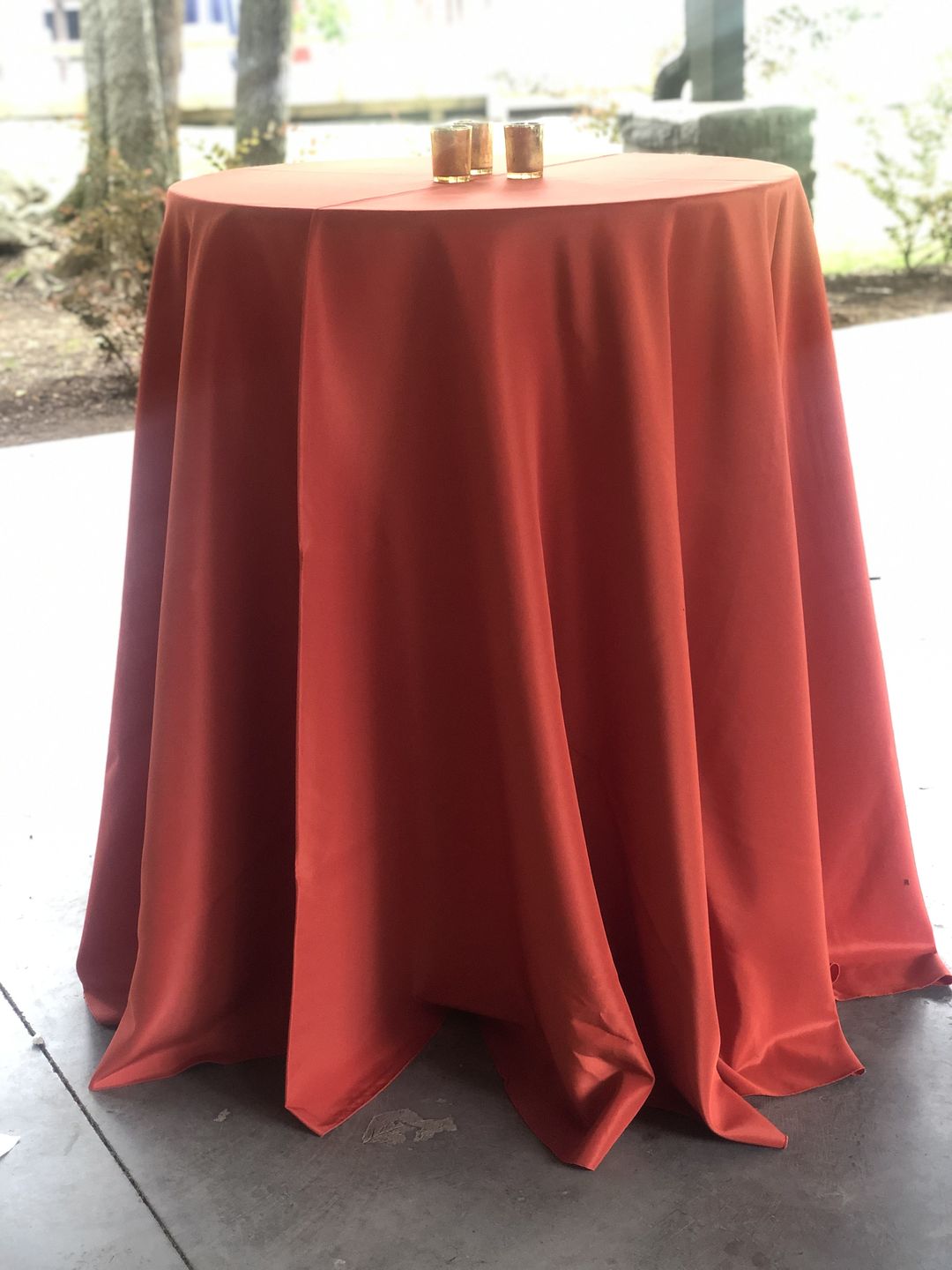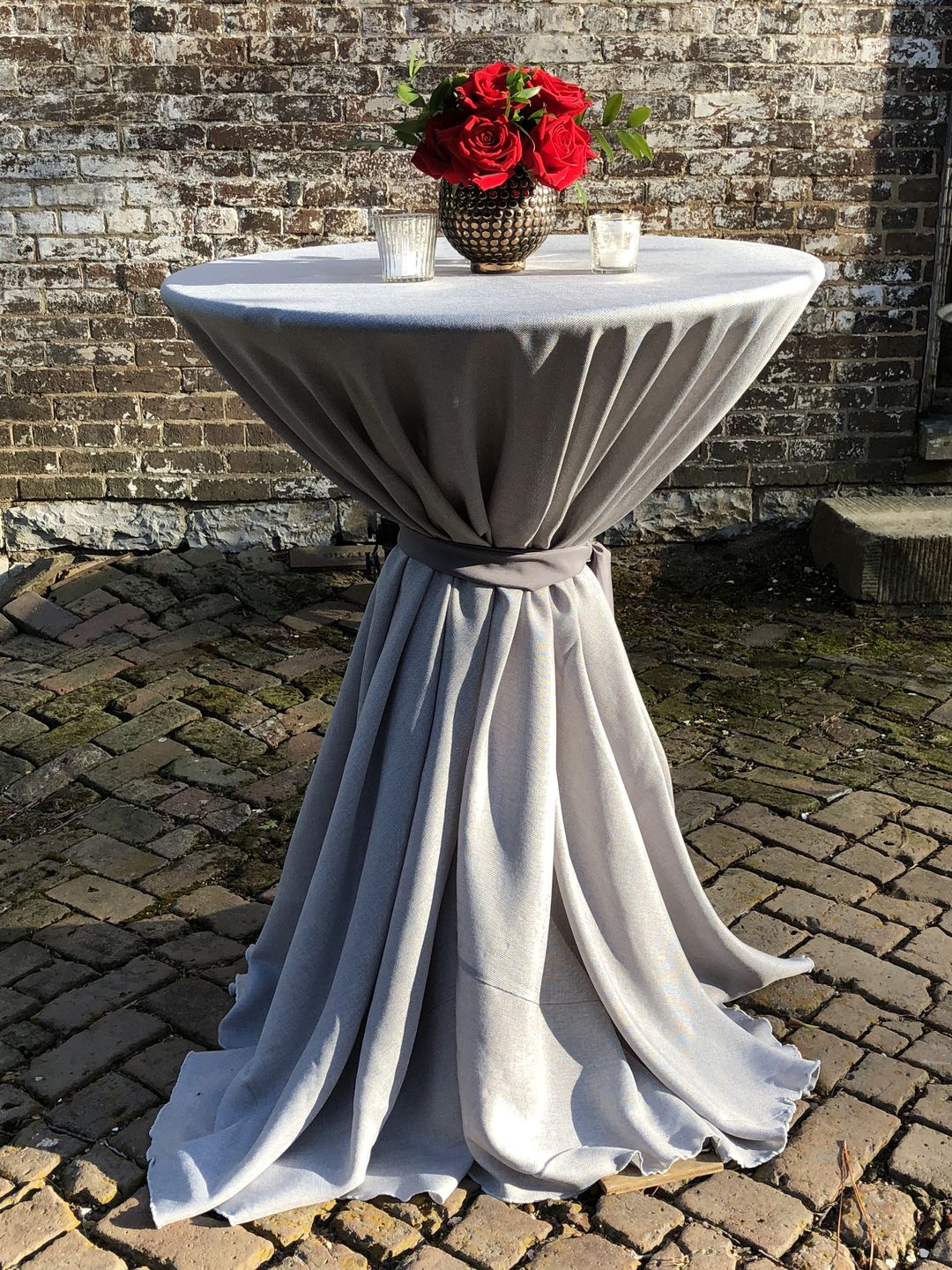 Dinner Service
As with a funeral, you may choose to serve lunch or dinner. Keep things simple, with round or rectangle guests tables and elevated centerpieces (so guests can easily chat across the table). You choice of chairs can be another way to personalize the event – Cross-back Chairs or Folding Chairs work great for a relaxed feel. Ghost or Chiavari Chairs create a more elegant feel – as do our beautiful velvet linens. We offer our velvet linens and napkins in a wide range of popular colors, including Sterling Grey, Silver and London Fog.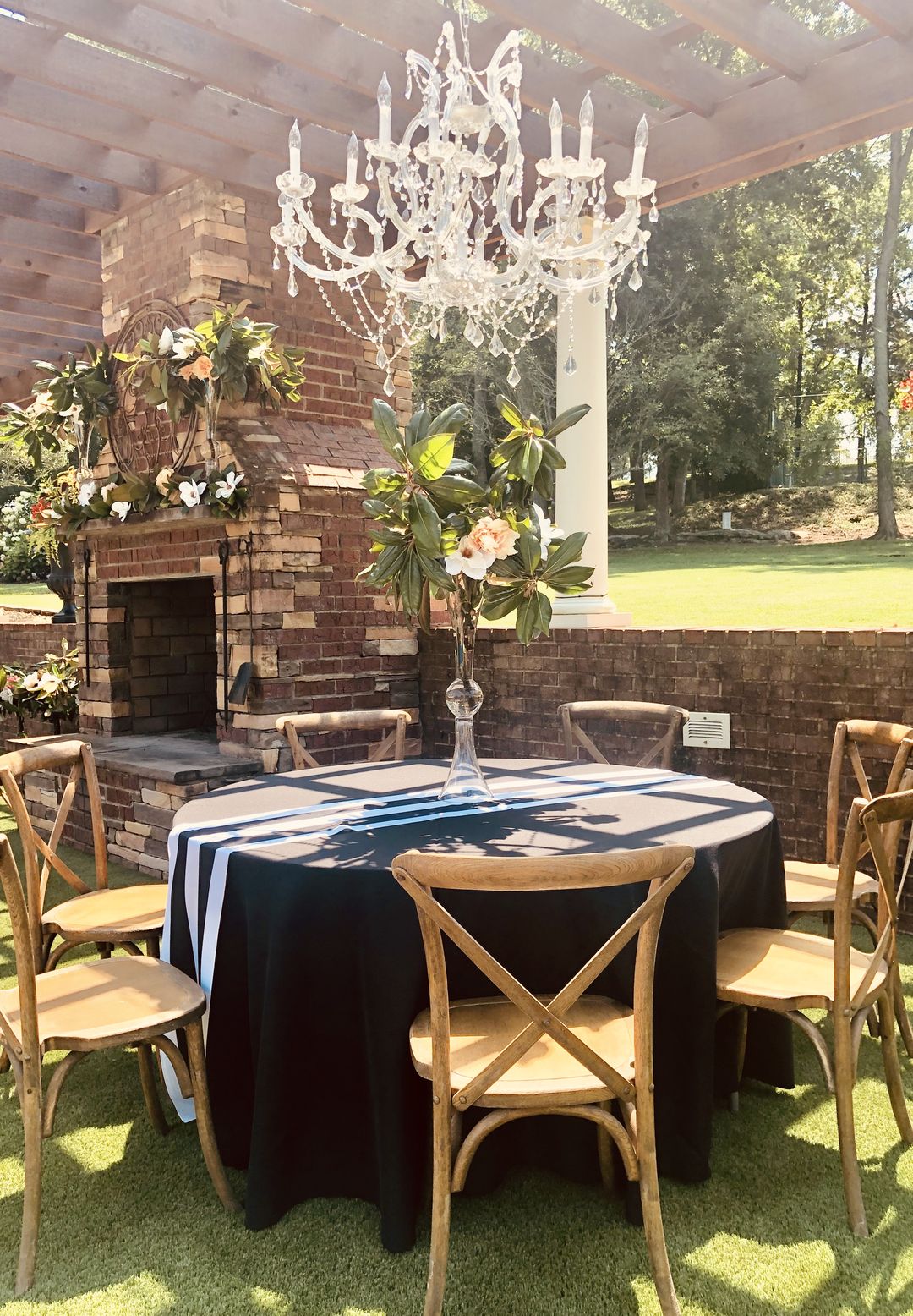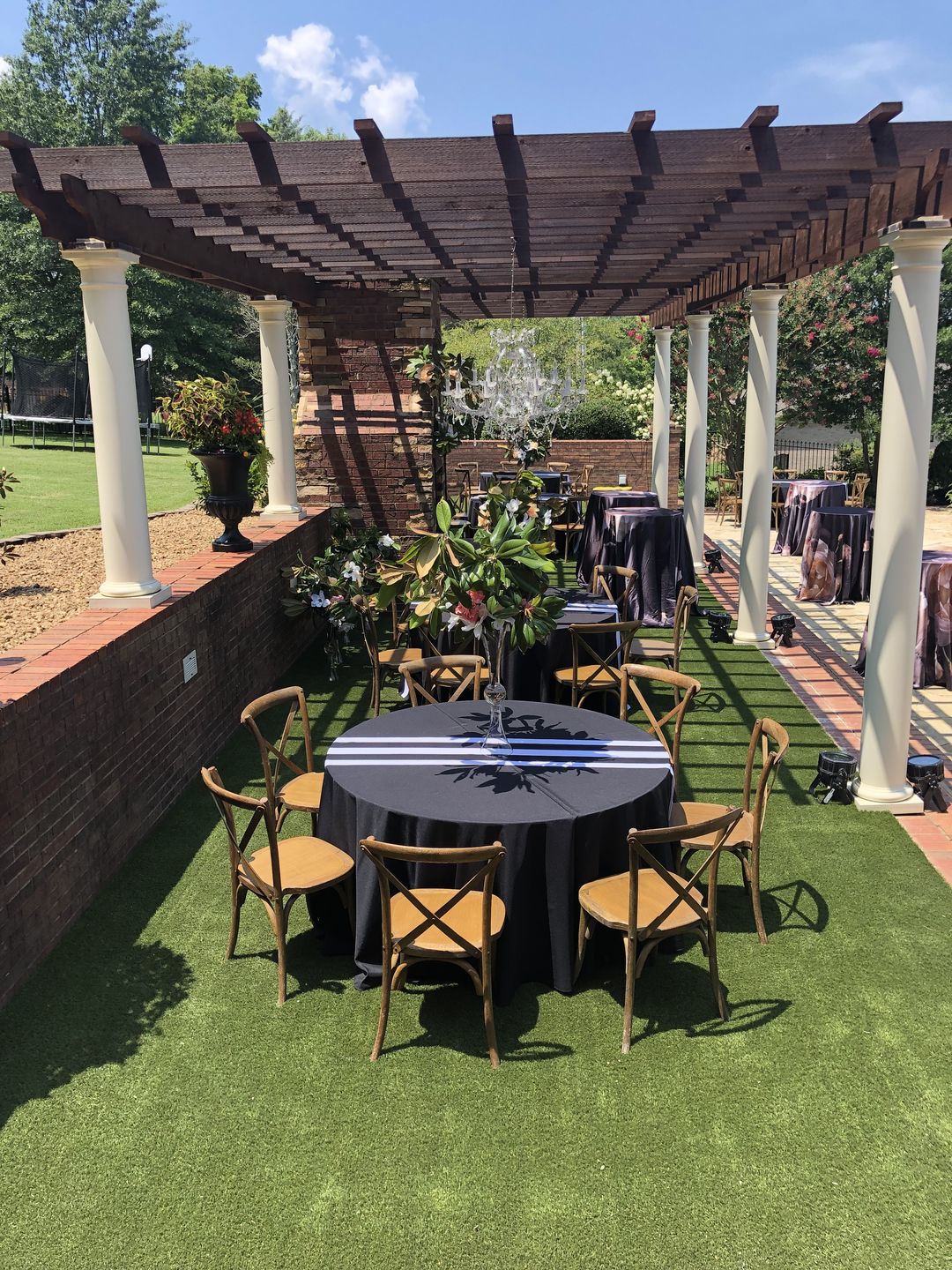 Table Centerpieces
In addition or as an alternative to florals, lanterns and candles make for beautiful table centerpieces – you might also consider a special candle-lighting ceremony. We offer a wide variety of tabletop lanterns, perfect for an elegant celebration of life. Such as our Vintage Gold or Silver Burnished Square Tabletop Lantern. We also love the use of floating candles in our Davis Glass Cylinders.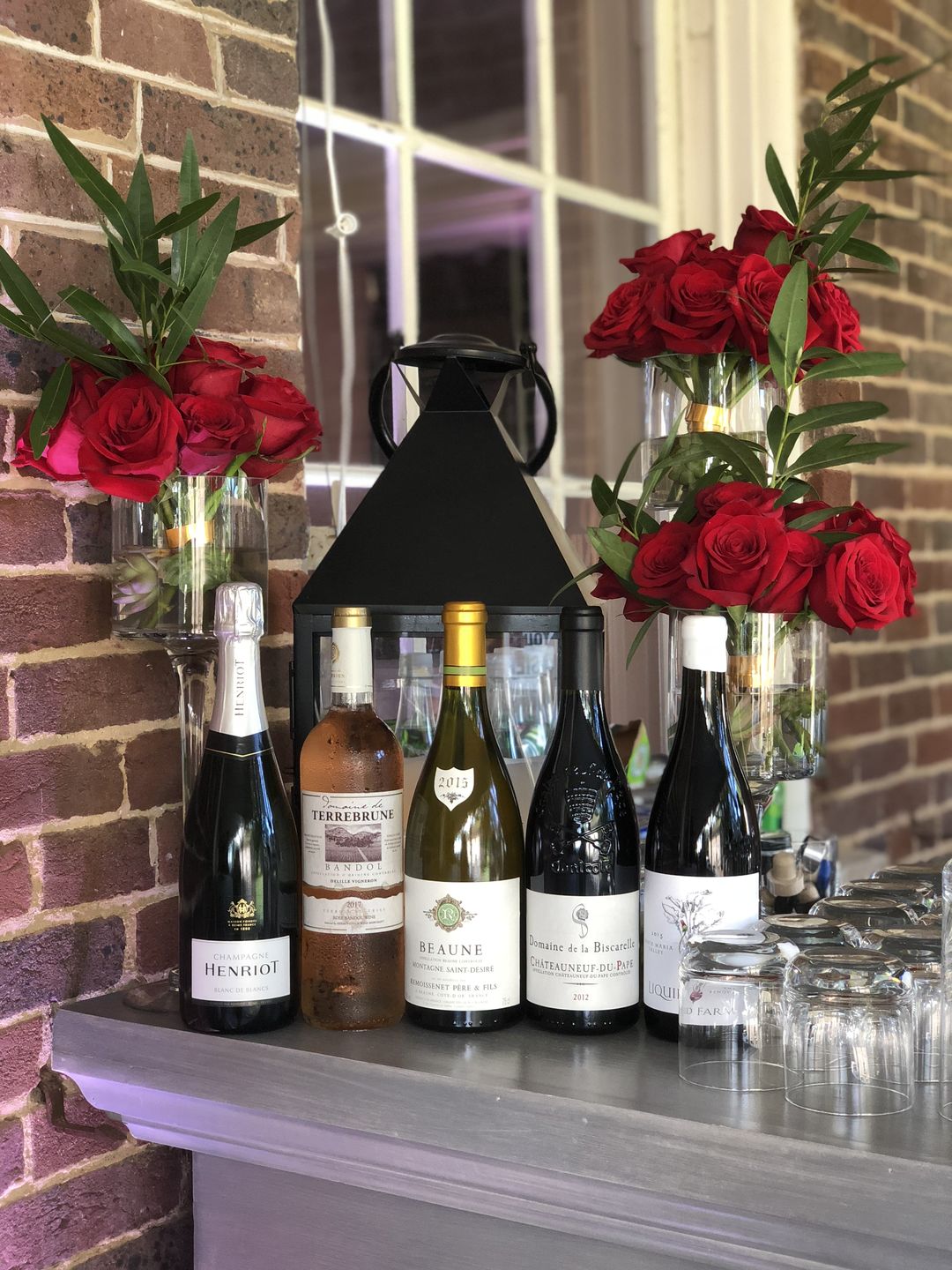 Lounge Areas
A frequently overlooked element are lounge areas, which your guests will appreciate for events where catching up and talking with other guests is expected. We currently offer a number of different lounge packages, ranging from modern to rustic and regal. These packages include a mix of complementary furniture, such as sofas, chairs, side tables, coffee tables, and as well as a rugs.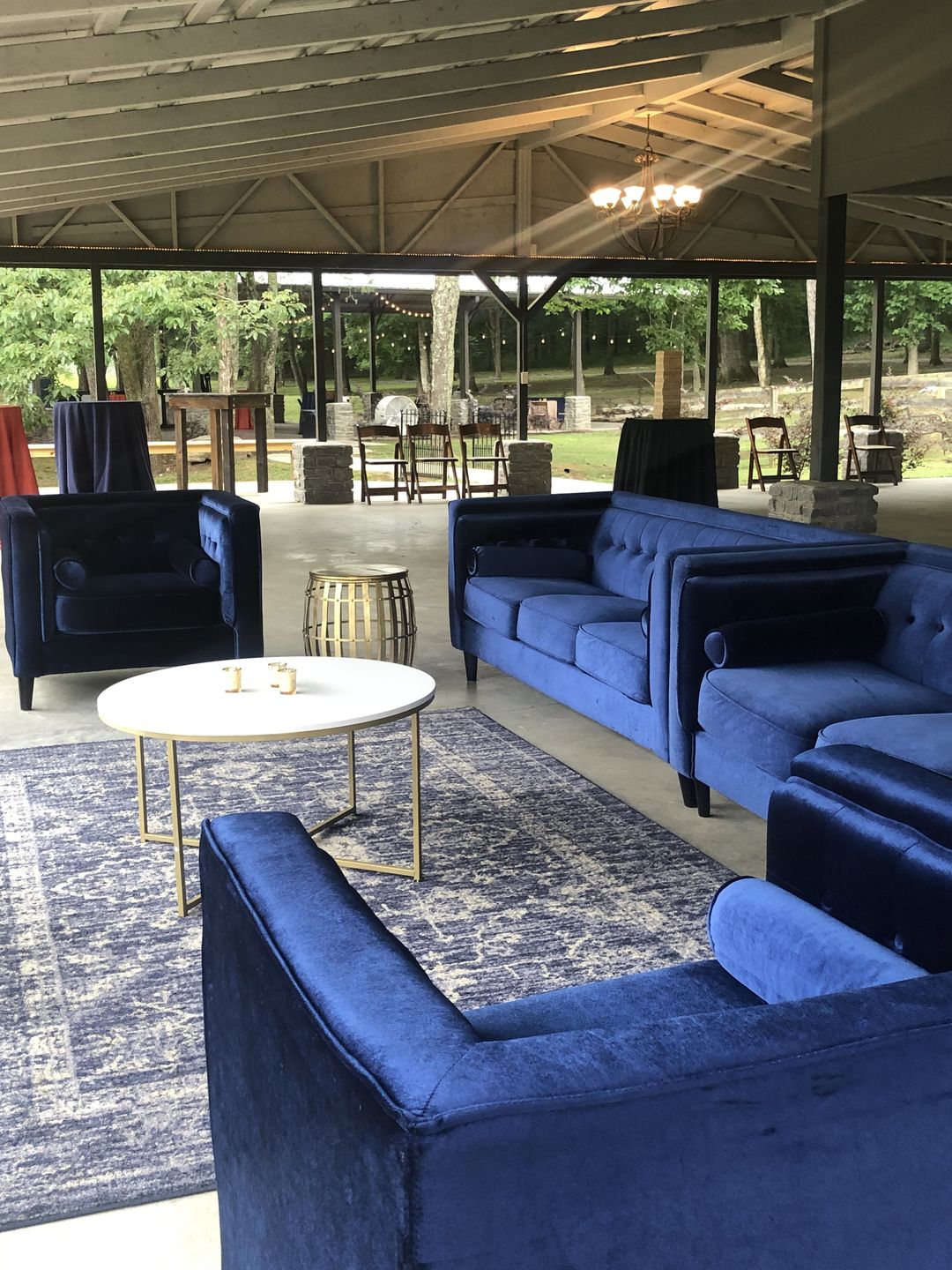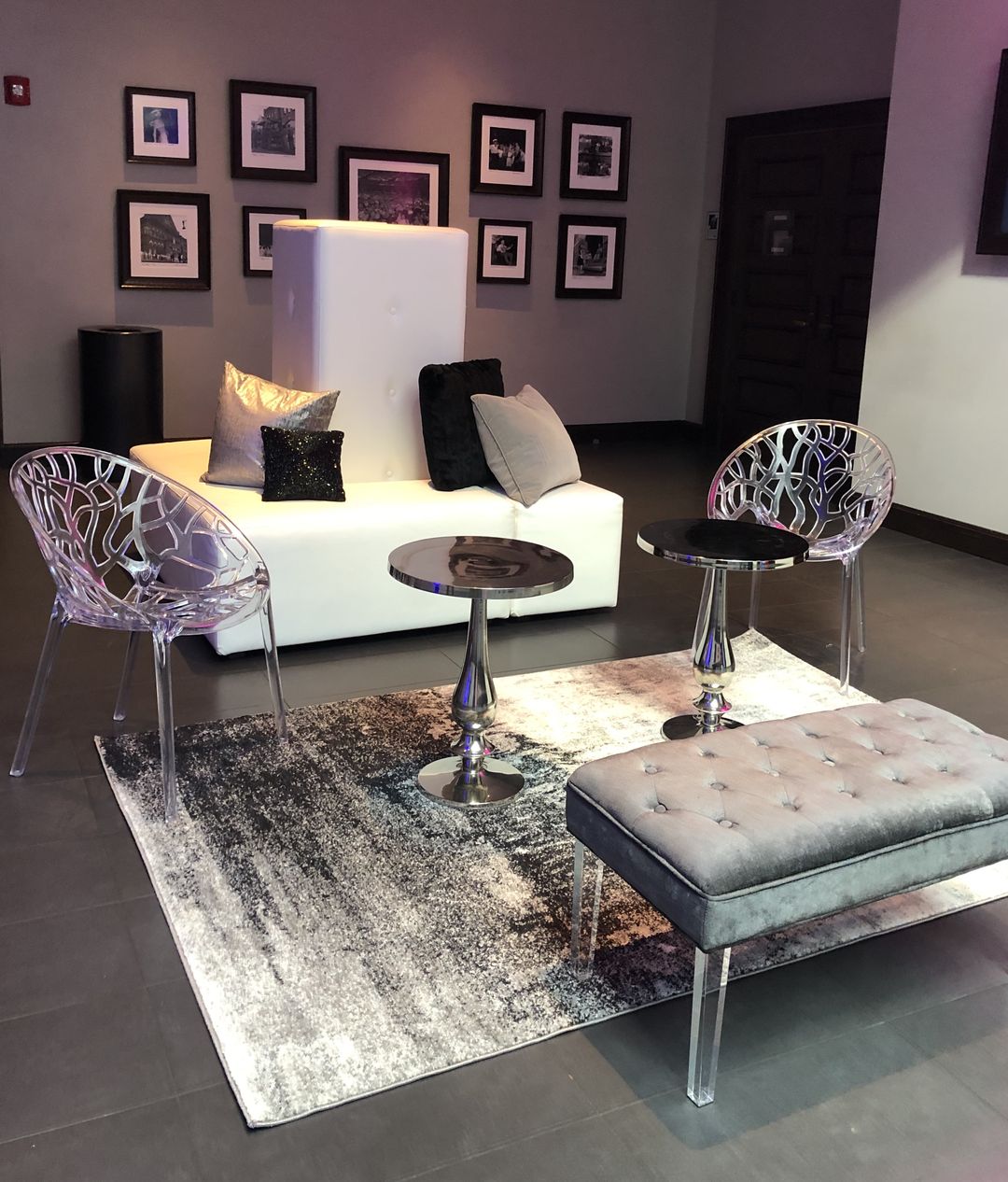 Classic Tents
Some people opt to host celebrations of life at home or in their backyard. Keeping this type of even close to home can make guests feel more connected or comfortable. For this type of event, we offer classic tents, available in a variety of packages to suit any guest count. For any of our services, our team is glad to offer contactless pick-up or set-up, too.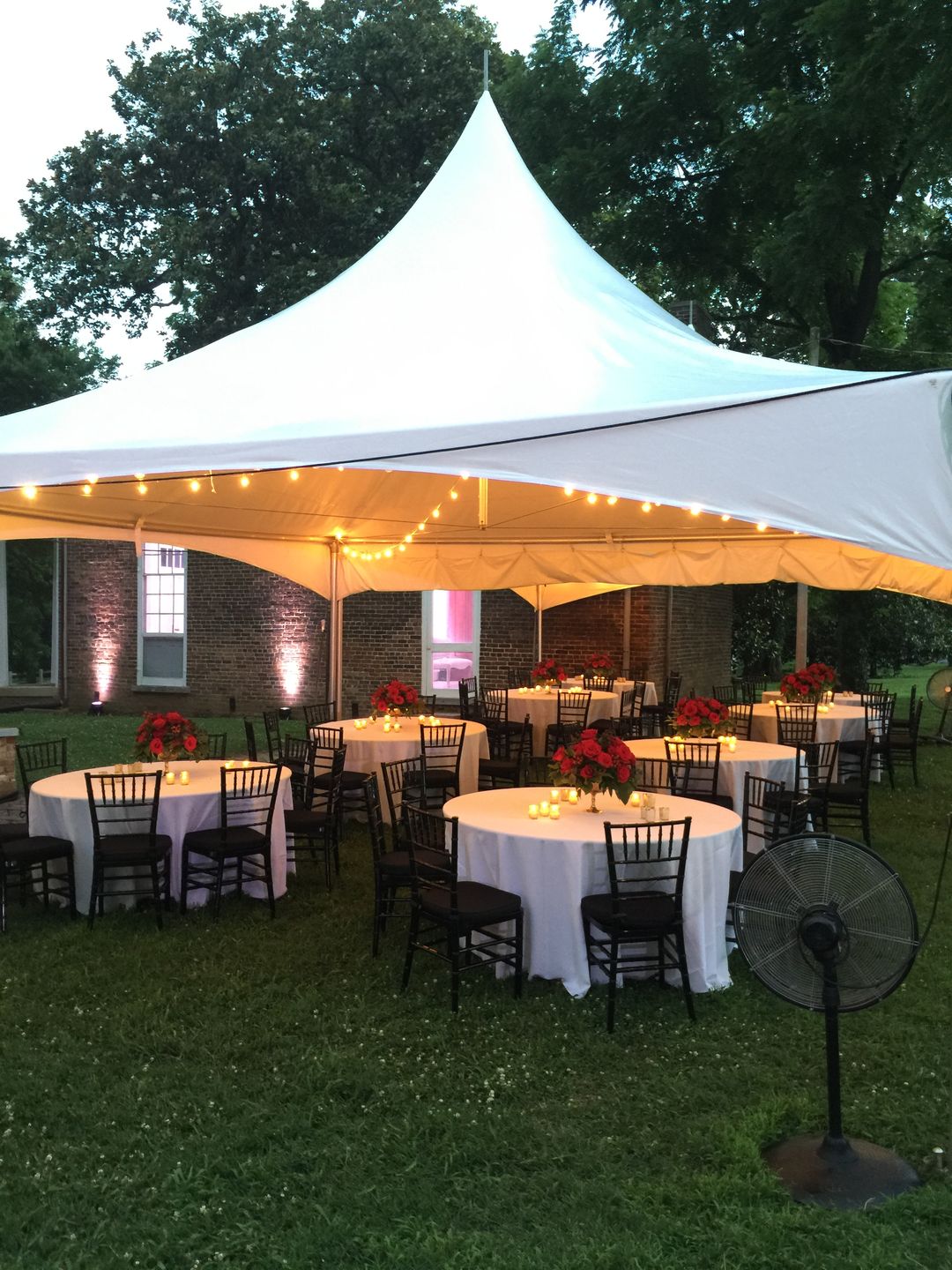 Personal Touches
Celebrate your loved ones' hobbies, interests, and passions with personalized touches throughout the event design. For the avid sports fan, consider our Harpeth Bar inset with the logo of their favorite team, like this one shown as a example below. Or feature linens in their team colors. These small elements make a big statement that makes your celebration of life personal and unique.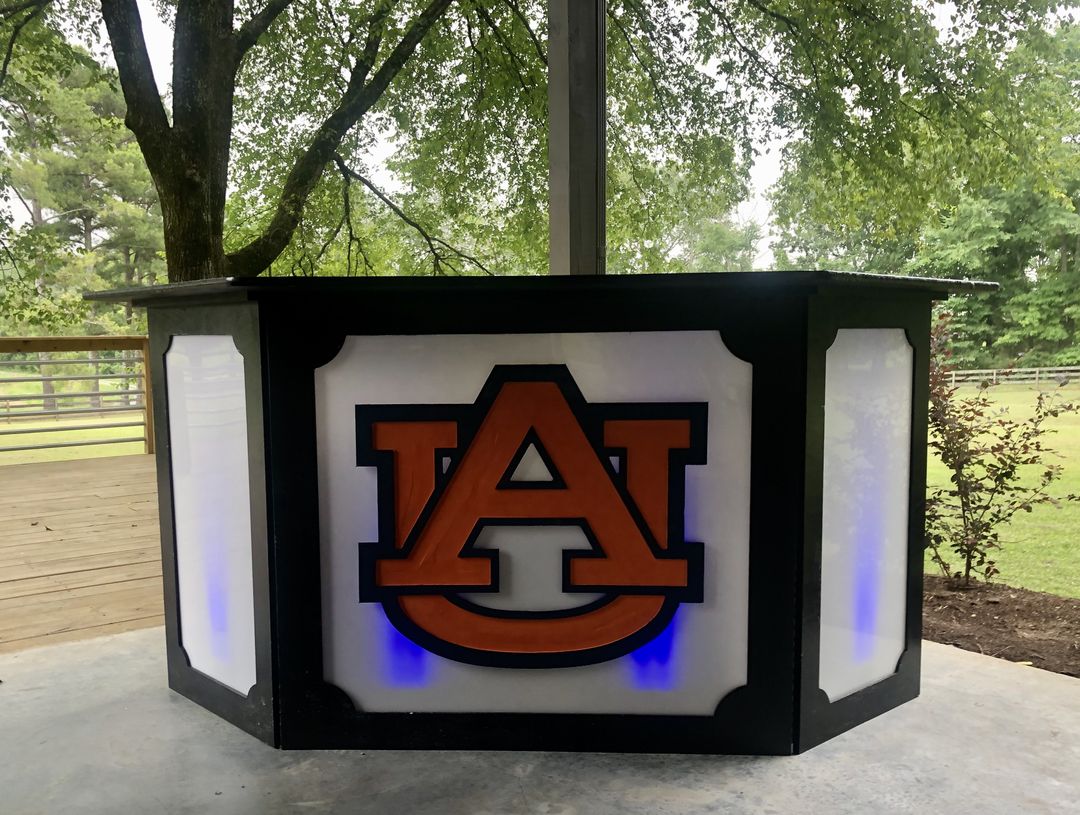 Need assistance planning a celebration of life party? Contact our team at info@southerneventsonline.com today. With thoughtful event and rental packages, our team is here to support & guide you through planning and organizing a meaningful and personal end of life celebration.
TAGS | Nashville Event Rentals, celebration of life, celebration of life rentals, franklin tn event rentals
FEATURED RENTALS | bistro tables, lounge packages, Davis cylinder glasses, tabletop lanterns, tent packages, velvet linens, votive candles, cross-back chairs, folding chairs,
---
21

Nov

Southern Events Products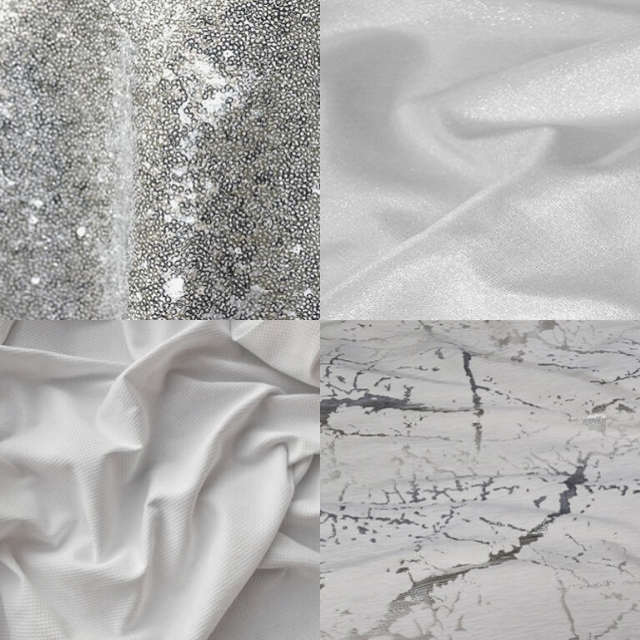 A snow-and-ice-inspired winter party has us reminiscing over the annual glitzy winter galas we've all seen the Kardashians put together. While John Legend may not be performing at your fancy holiday affair, we can guarantee you'll find plenty of gorgeous in-stock rentals at Southern Events to create a memorable and elegant evening.
White foundation pieces such as our Mercer Collection provide cool coziness, while accent rugs like our Metallic Cow Hide Rug bring in that glamorous flair that is a must-have for a snow-and-ice-inspired winter party. And to have your guests lounging like true Kardashians, Mercury Votives set out on our Siros Coffee Table bring both ambiance and elegance.
For dinner, set out fancy Darcy China and Abby Flatware on tables dressed in White Shimmer Linen, Silver Sequin Linen, Silver Furrow Linen, or White Panama Pindot Linens. Our Acrylic Chairs are the ideal icy elegant pieces for a snow-inspired celebration. Round out your snow-inspired winter gala with our Silver Avenue Bar Back Shelf where you'll store delicious ingredients for icy cocktails.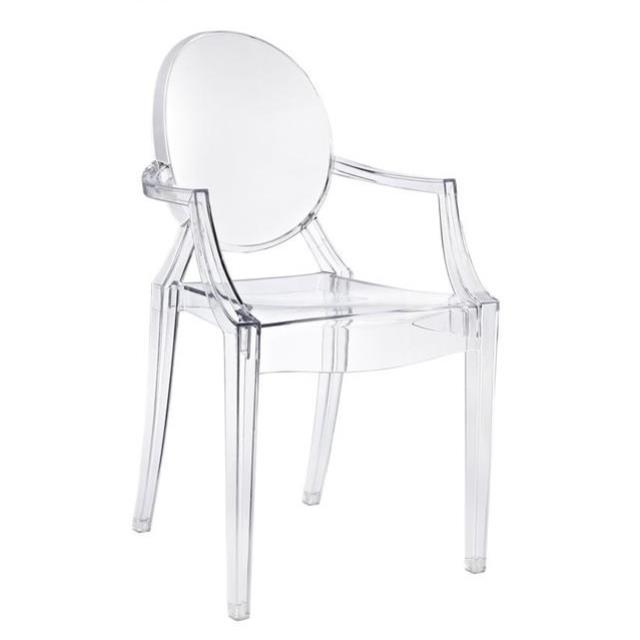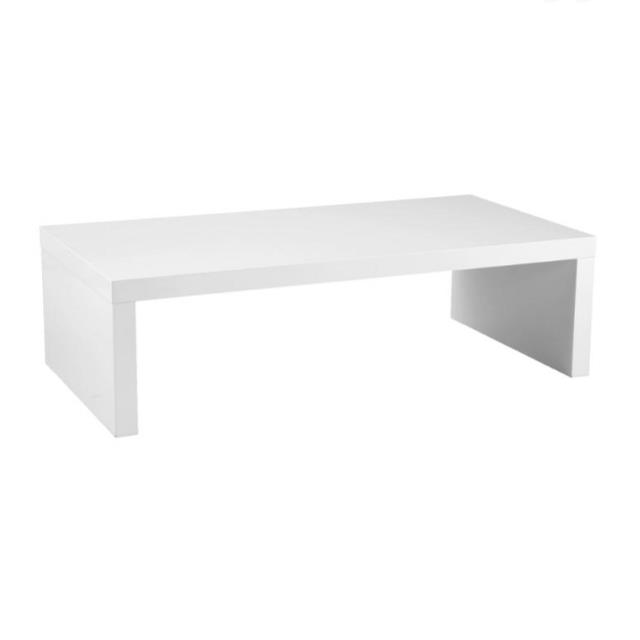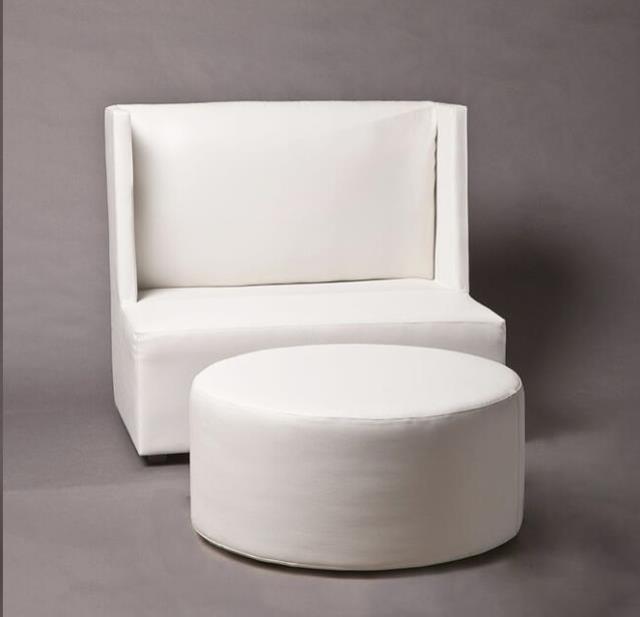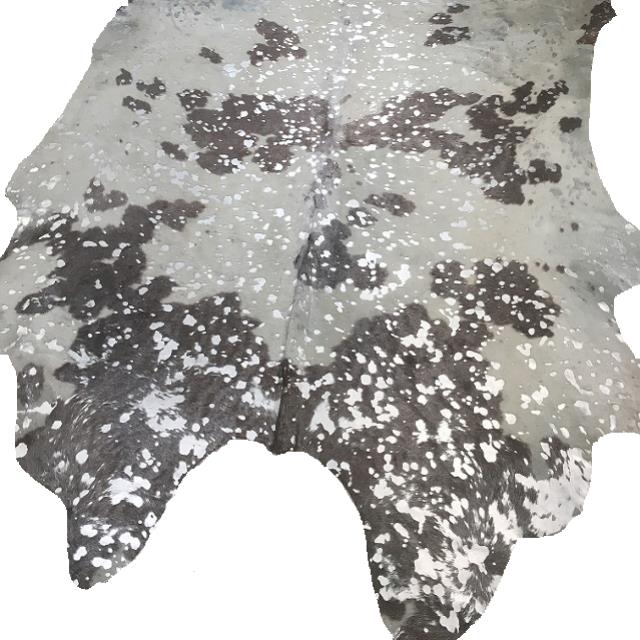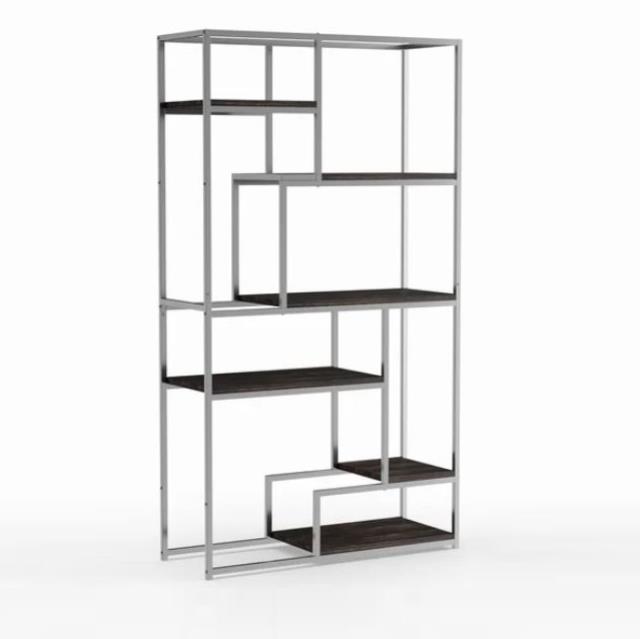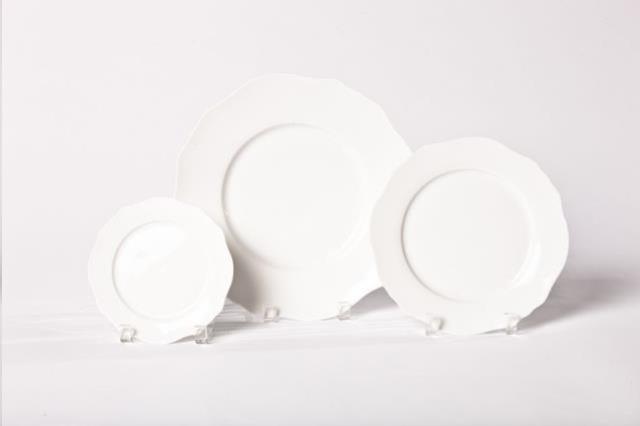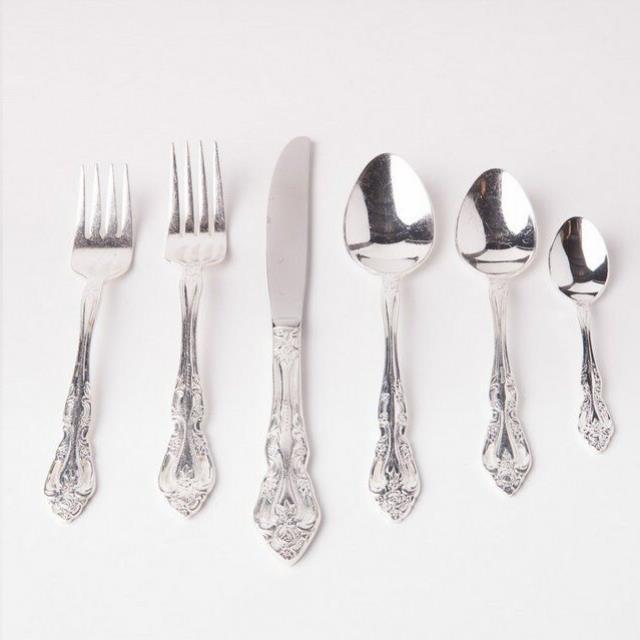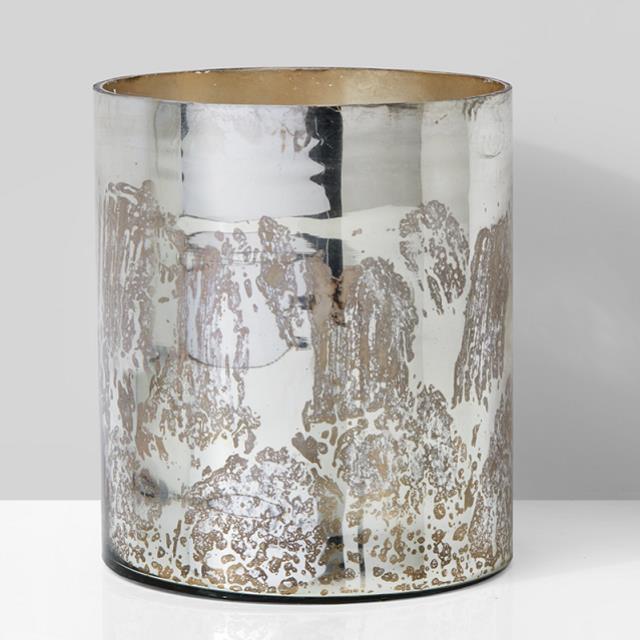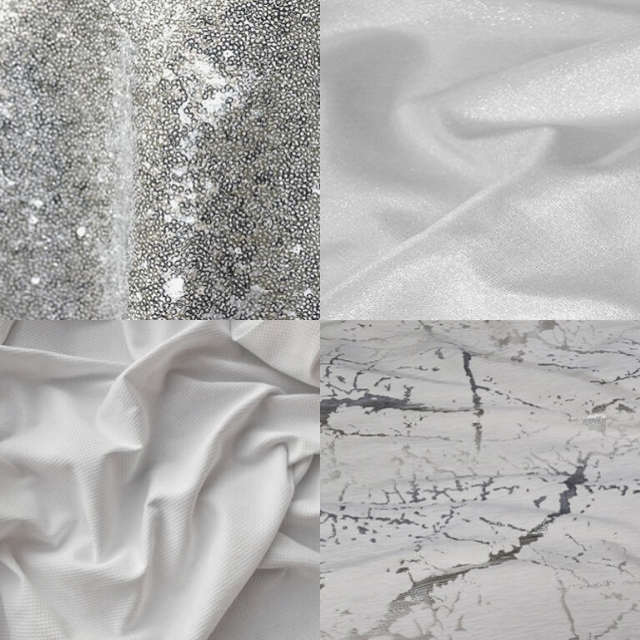 If these glamorous ice & snow winter party rentals have you inspired, send us a message at info@southerneventsonline.com.
TAGS | Nashville Event Rentals, Nashville party rentals, On Trend, Southern Events Party Rental, Southern Events Party Rentals, snow inspired party, winter party
FEATURED RENTALS | Silver Avenue Bar Back Bookcase, Metallic Cow Hide Rug, Darcy China, Abby Flatware, Mercury Votives, Abby Flatware, Acrylic Chairs
---