26

Jan

On Trend, Southern Events Products, Trends and Inspiration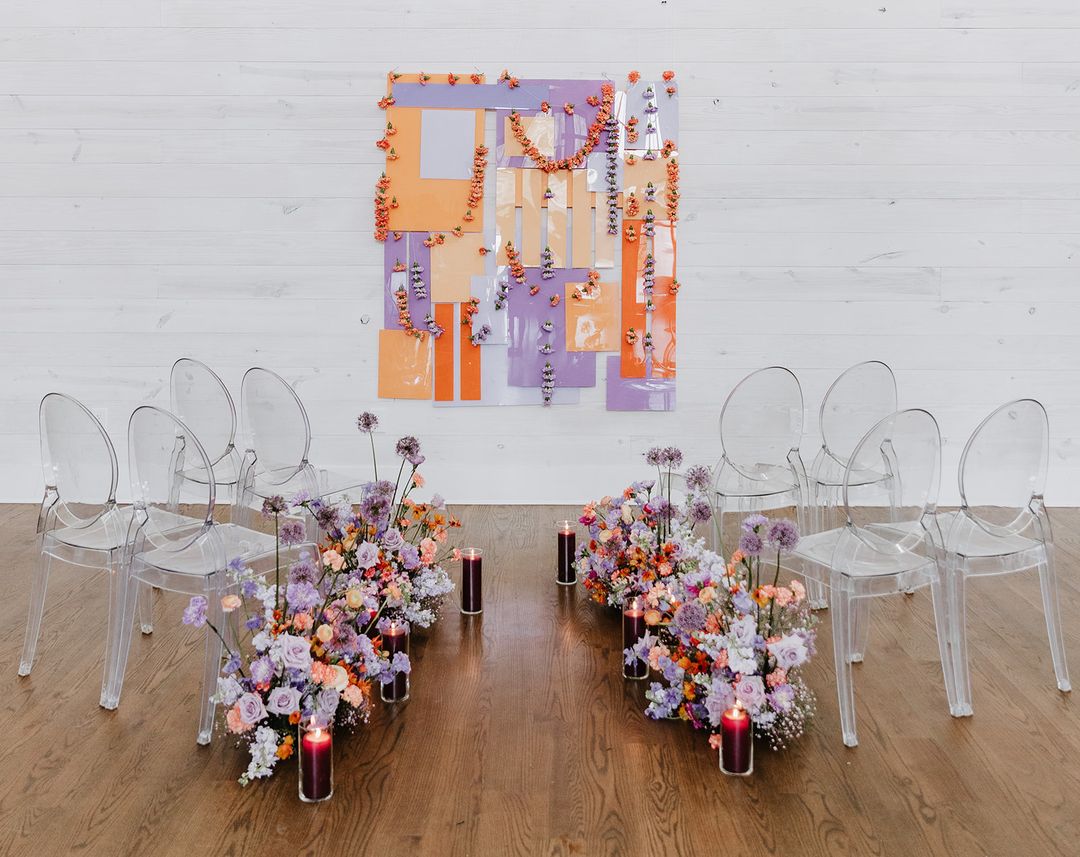 Retro event design is getting lots of love, especially among brides and grooms. And what's not to love about the vibrant color schemes, modern retro furniture, and nostalgia-inducing decorations? Even better, this theme can encompass a variety of styles. Whether you prefer a minimalist look, a bright whimsical vibe, or a dark and moody design. Check out some ceremony and reception ideas that can be used to host a colorful retro wedding, featuring our stylish event rentals.
Retro-Inspired Wedding Ceremony
Planning a retro-inspired wedding ceremony is easy with our on-trend seating and decor. Pick from a variety of chairs, such as our Acrylic Ghost Armless Chairs or Acrylic Ghost Arm Chairs. Our Black Resin Folding Chairs are a classic choice for a moody retro vibe. If you need a backdrop, customize a Boxwood Wall with a neon or acrylic sign. With three bases to choose from, we can complement any color scheme! One of our favorite retro wedding ideas is the use of layered rugs to decorate the aisle way. Use a mix of cowhide or vintage rugs, depending on whether your theme leans toward modern or bohemian.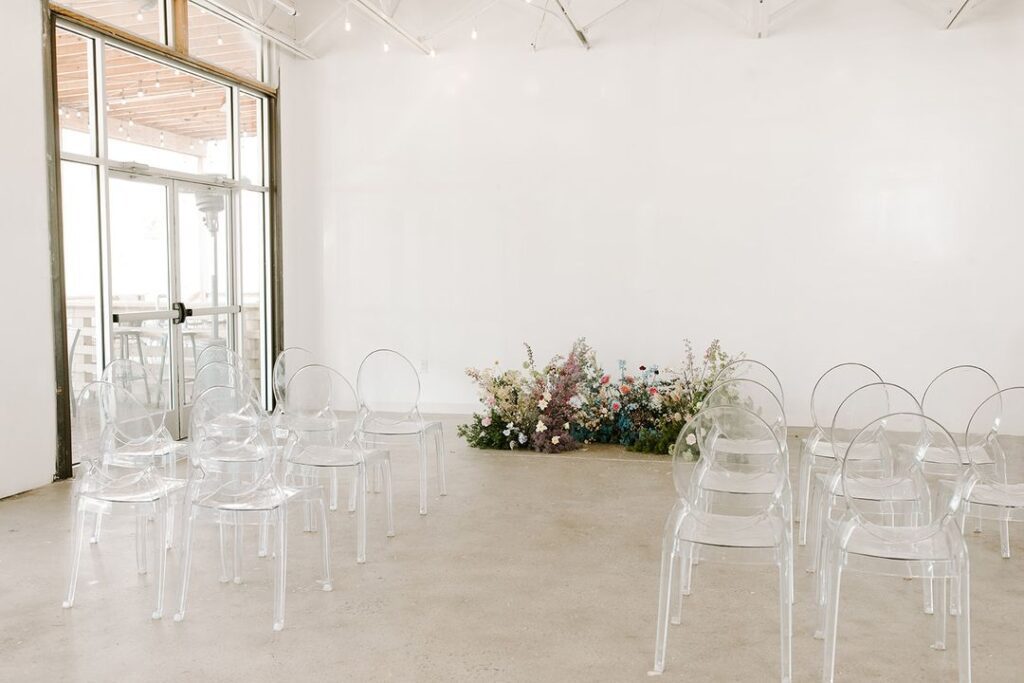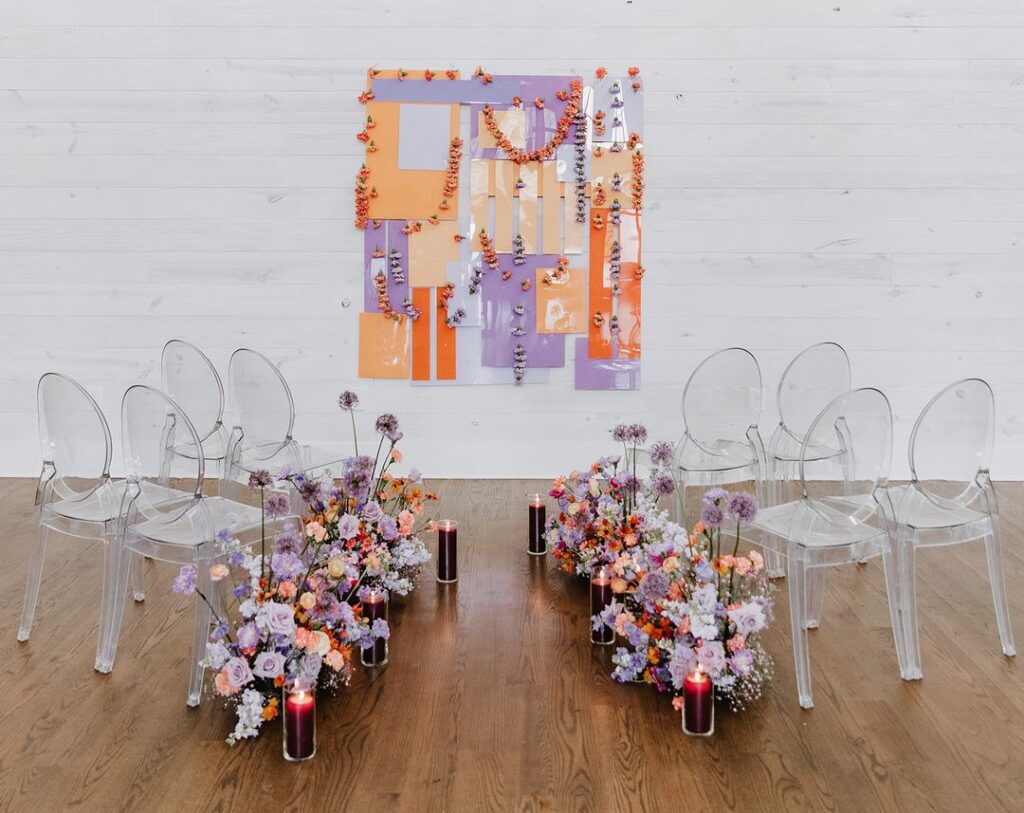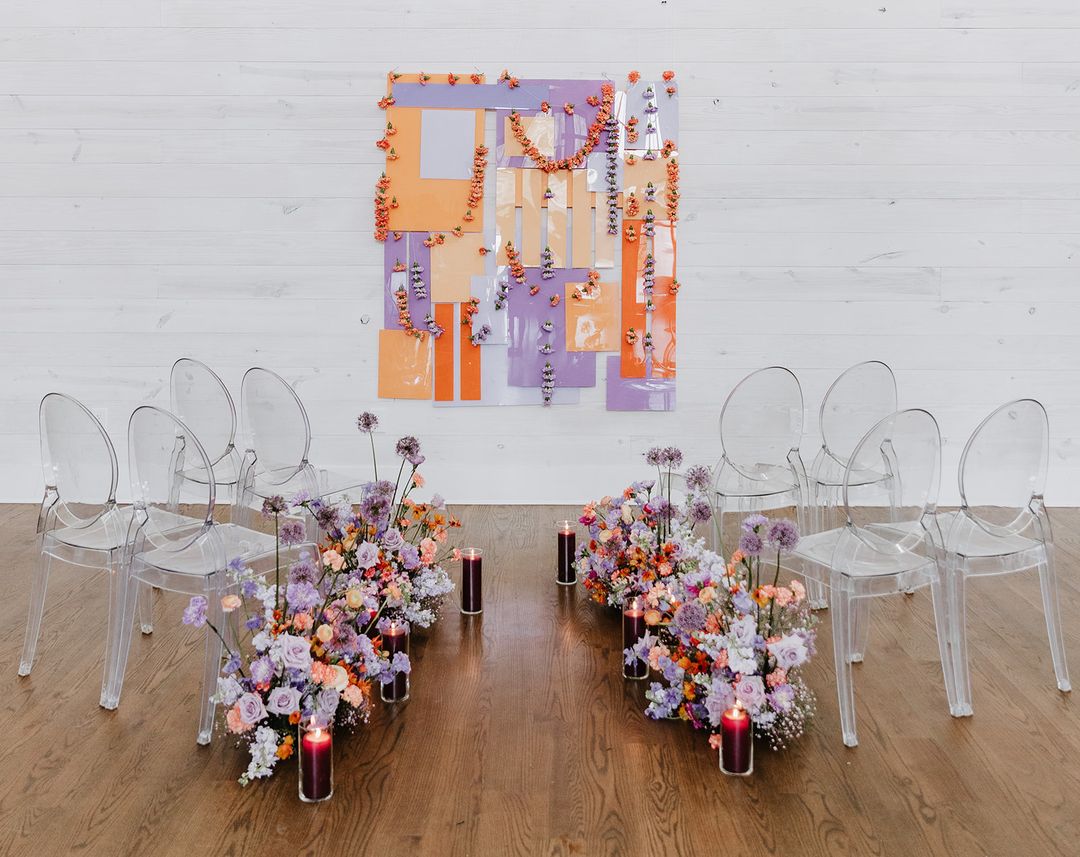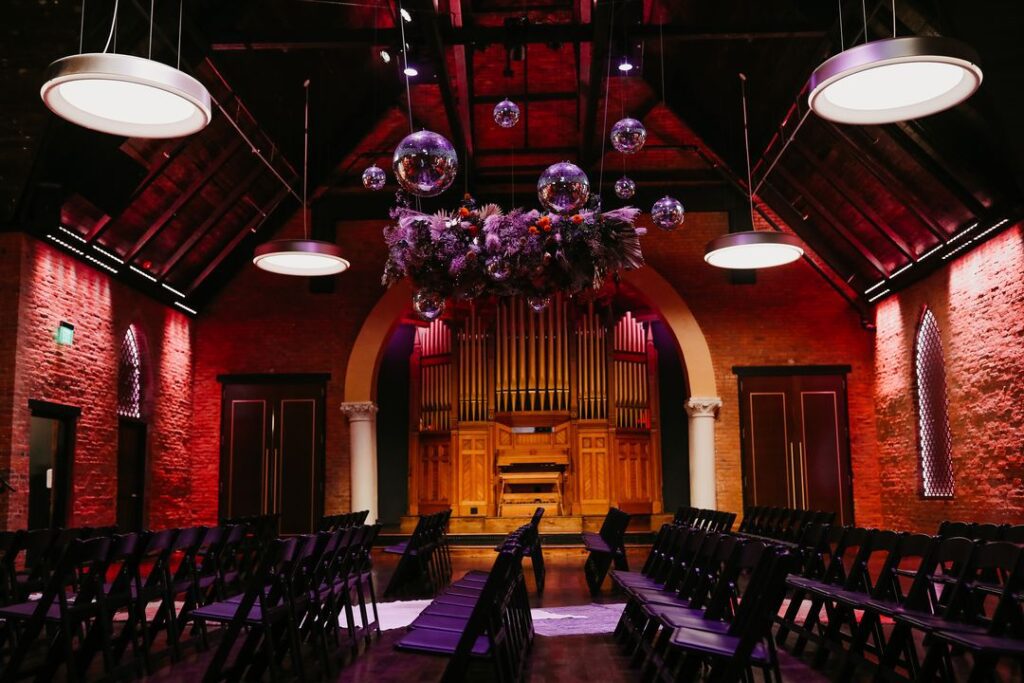 Colorful Retro Reception Tables
A retro wedding calls for bold trendy tablescapes! We have countless pieces of serving ware and luxe linens that can be used to create colorful retro reception tables. Whether you are running with a cool or warm-toned palette, or a minimalist or maximalist design. Should you prefer a bold luxe look, start with a vibrant tablecloth in a rich Magnolia or Coral. Pull off an alternative look by stacking colorful serving ware on top of Black Velvet Linens. For a warm metallic table, stack our Darcy China and Kate Polka Dot China. Pair it with Amber Goblets and Austin Flatware to round out the look. Use runners for a layered maximalist design, or keep the look simple yet luxe with vibrant napkins. Or use mismatched napkins in retro tones, placed atop Earthen Alabaster China, for a whimsical touch!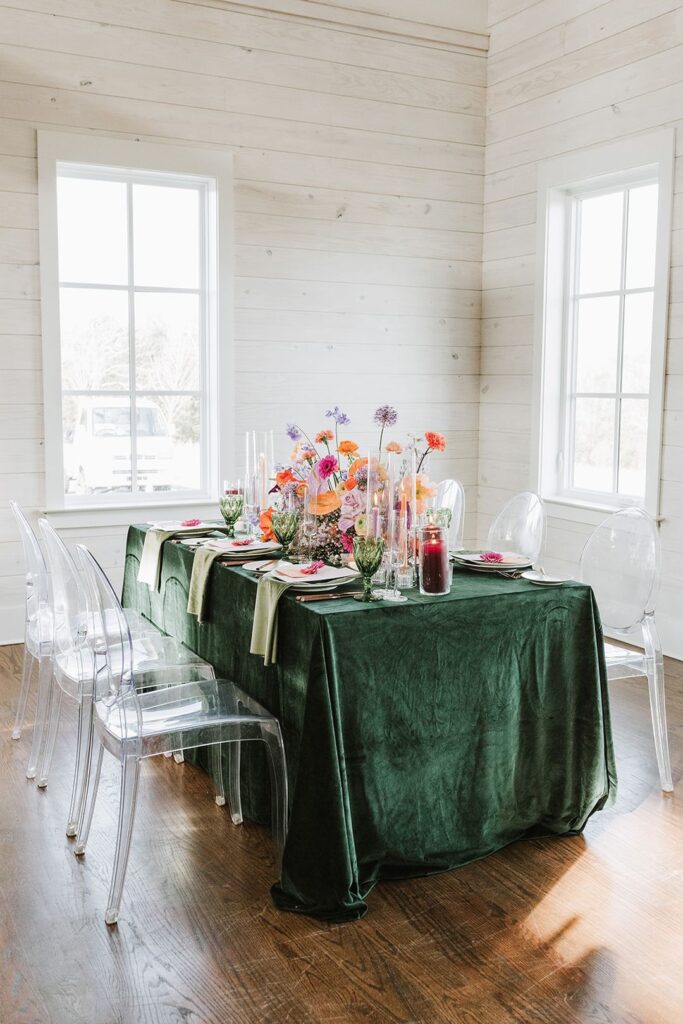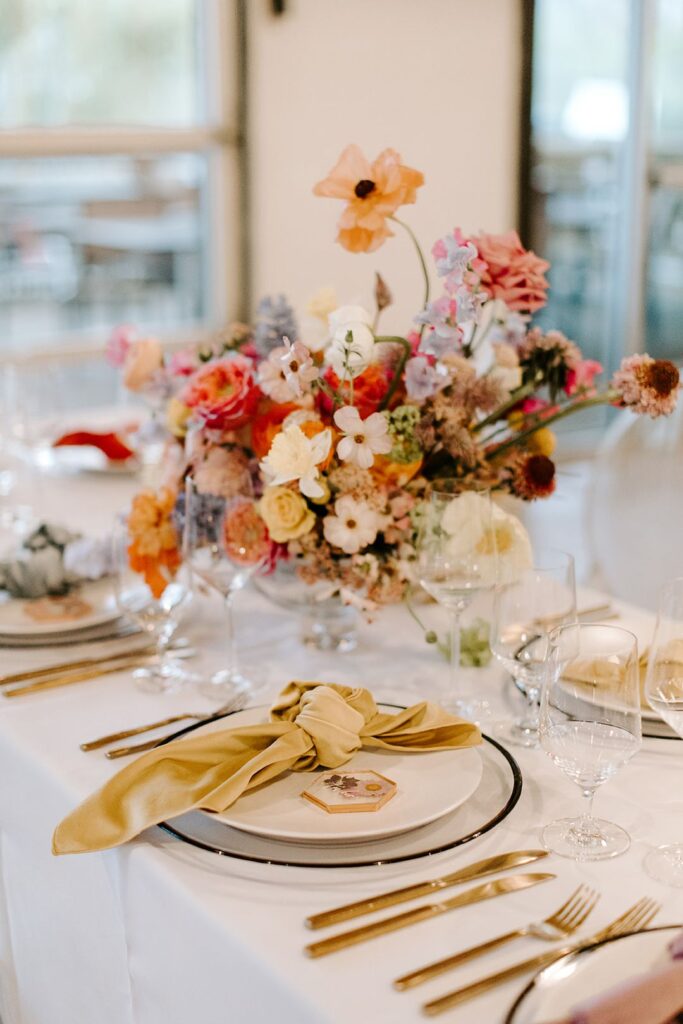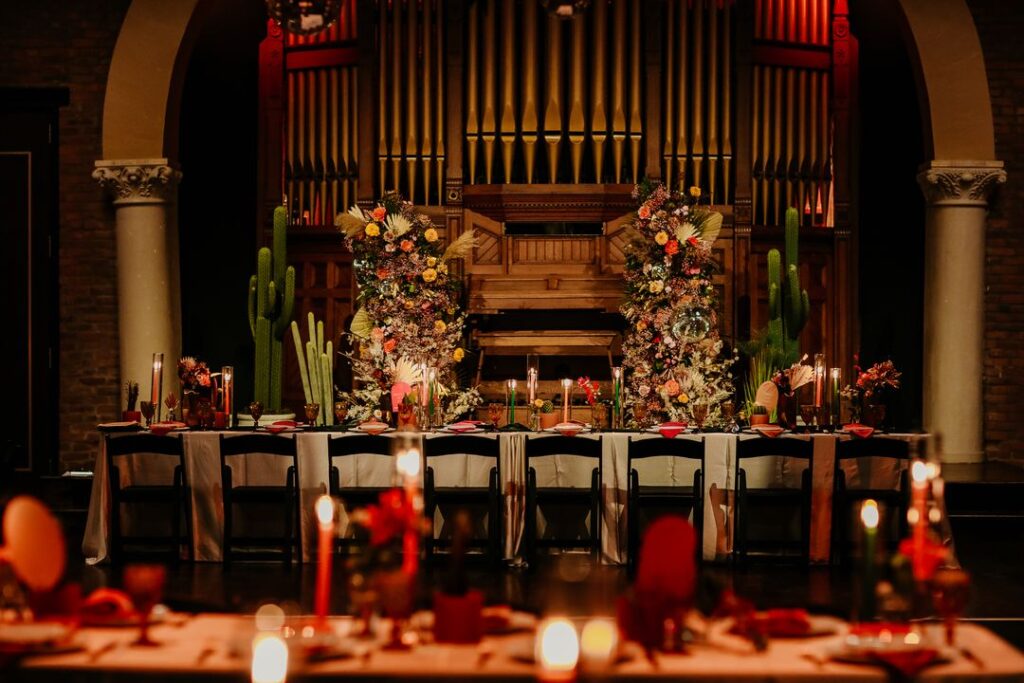 A Retro Chic-Cocktail Hour
Planning to host a cocktail hour on the big day? Colorful wedding rentals are our favorite, and that's exactly what a retro-chic cocktail hour calls for! Check out our cozy sofas, such as the Fern Velvet Sofa, Jacqueline Sofa, and Saylor Navy Velvet Sofa. Pair them with a set of trendy armchairs or ottomans, like the Gloria Velvet Armchair or a Turkish Rug Ottoman. Especially popular are the White Eiffel Arm Chairs – a design straight from the '50s. Or grab the Regent Black Velvet Sofa and a set of acrylic chairs for a moody look. If you need more social areas, set up cocktail tables outfitted with bright linens and our Midcentury Barstools in White or Black.
P.S. Be sure to stock your bar to match! Rent a selection of trendy glassware, including our Cybil Champagne Flutes, Gatsby Champagne Coupes, and Davis Hi-Ball Glasses.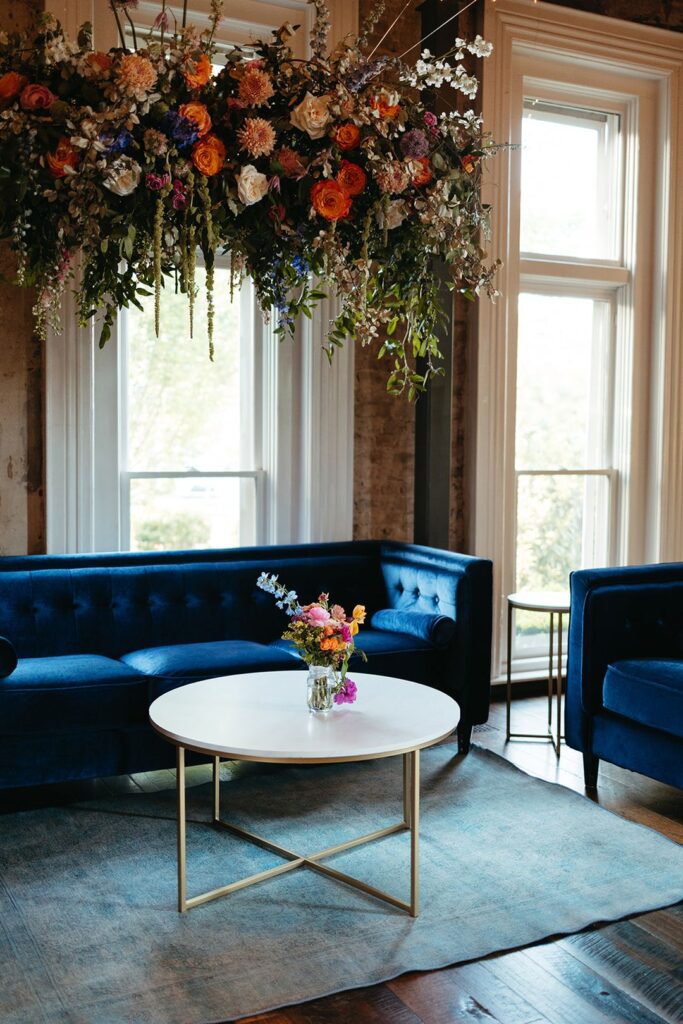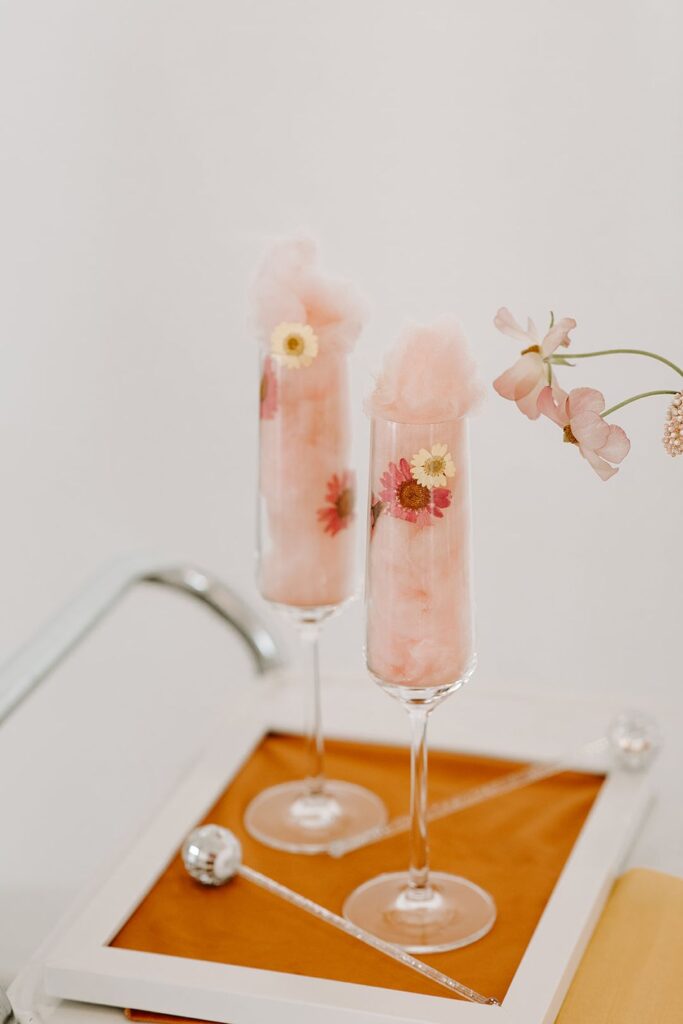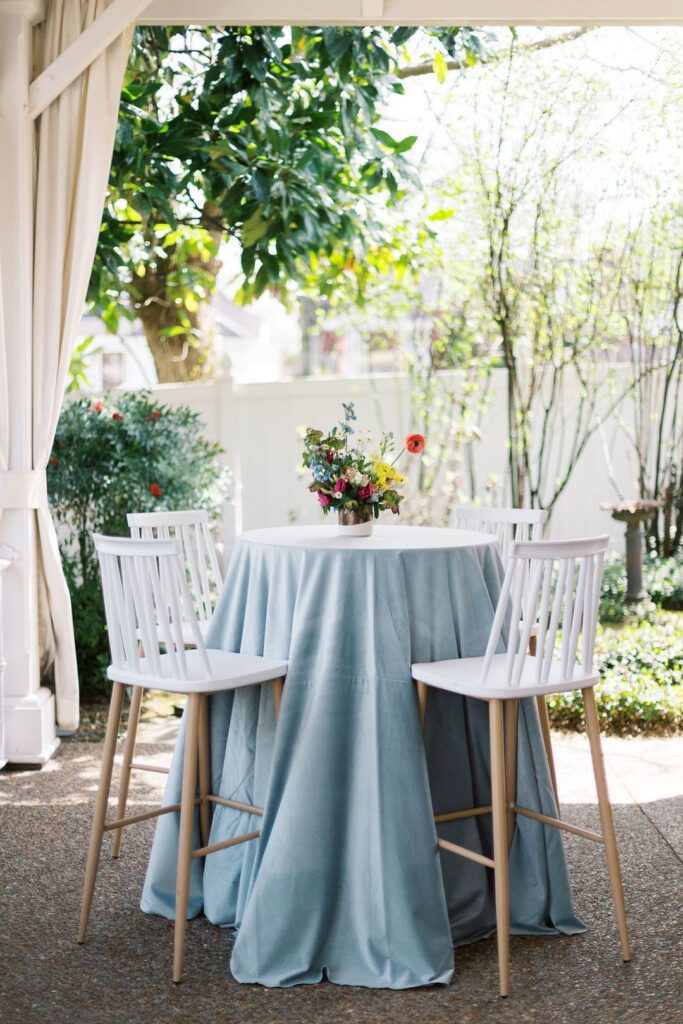 Let our team help you plan a colorful retro wedding that will be the envy of every bride! Send us a message at info@southerneventsonline.com, or view our full range of rentals in the catalog. Dreaming of a more low-key, modern rustic event design? Take a look at this Sweet & Simple Garden Wedding at the Cordelle.
TAGS | Colorful Wedding Decor, Southern Events linens, colorful event design, colorful event rentals, disco wedding, modern retro, retro-inspired, wedding event design, wedding style trends
FEATURED RENTALS | Cybil Champagne Flutes, Gatsby Champagne Coupes, Davis Hi-Ball Glasses, Black Velvet Linens, Darcy China, Kate polka dot china, amber goblets, austin flatware, runners, earthen alabaster china, acrylic ghost armless chairs, acrylic ghost arm chairs, black resin folding chairs, boxwood walls, cowhide rug, vintage rug, Fern Velvet Sofa, Jacqueline Sofa, Saylor Navy Velvet Sofa, White Eiffel Arm Chairs, Gloria Velvet Armchair, Turkish Rug Ottoman, Regent Black Velvet Sofa, White Midcentury barstool, Black Midcentury Barstool,
---
20

Oct

On Trend, Southern Events Products, Trends and Inspiration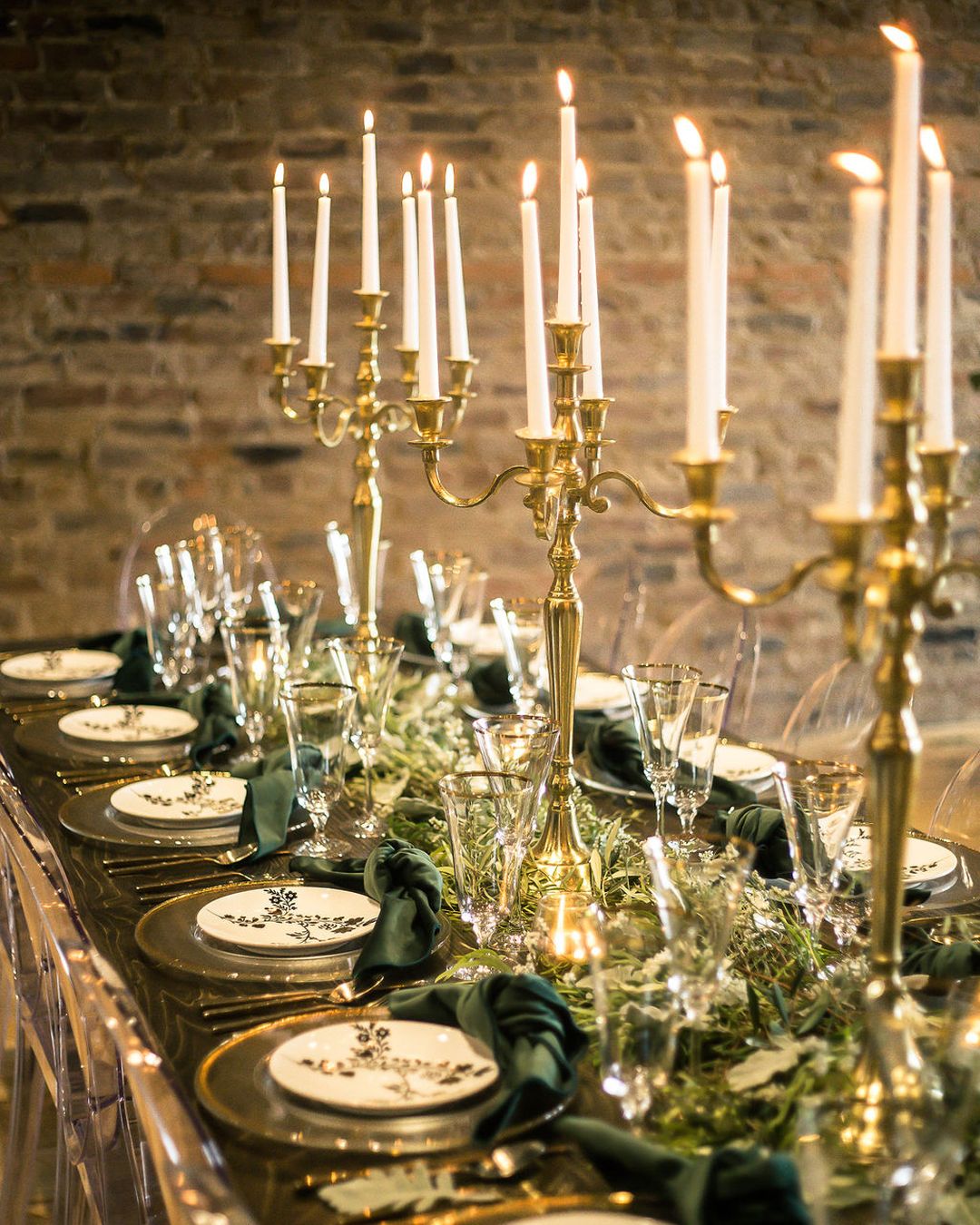 The holidays always come with a heavy dose of nostalgia, so why not carry this feeling over in your event design? Featuring a mix of the old and new, a modern vintage event is a beautiful balance. The perfect theme when you consider that we are celebrating both the end and beginning of yet another year. Check out our modern vintage rentals below and how they can be used to host a charming holiday party. For more help, take a look at our Holiday Party Planning Tips!
Luxe Linens in Every Shade
Linens are undoubtedly our favorite way to feature color at a holiday event. And for the holidays the options are endless! If you're looking for linens to complement your modern vintage rentals, consider those that feature a subtle pattern. Our Ivory Pearl Shalimar and Victoria Gold Luxe Linens ooze luxury and would complement any neutral-colored place setting. Meanwhile, a solid shade will look gorgeous with more intricate serving ware. Such as our Scarlet Red Velvet or Magnolia Green Velvet Linens. As always, don't forget napkins! Contrast a bold or patterned tablecloth with classic white or ivory napkins.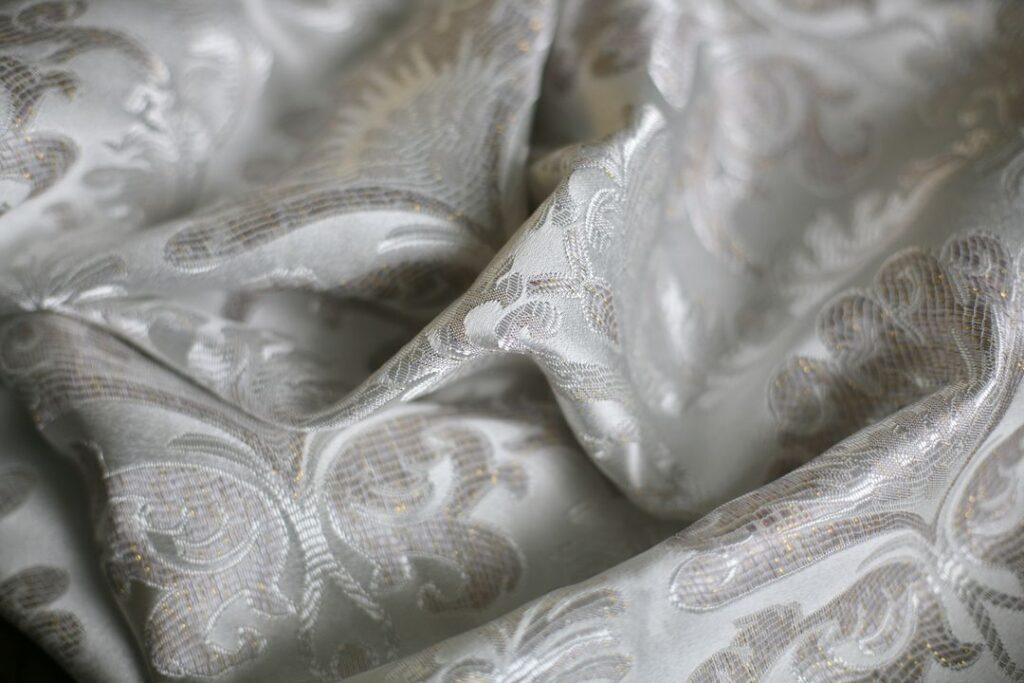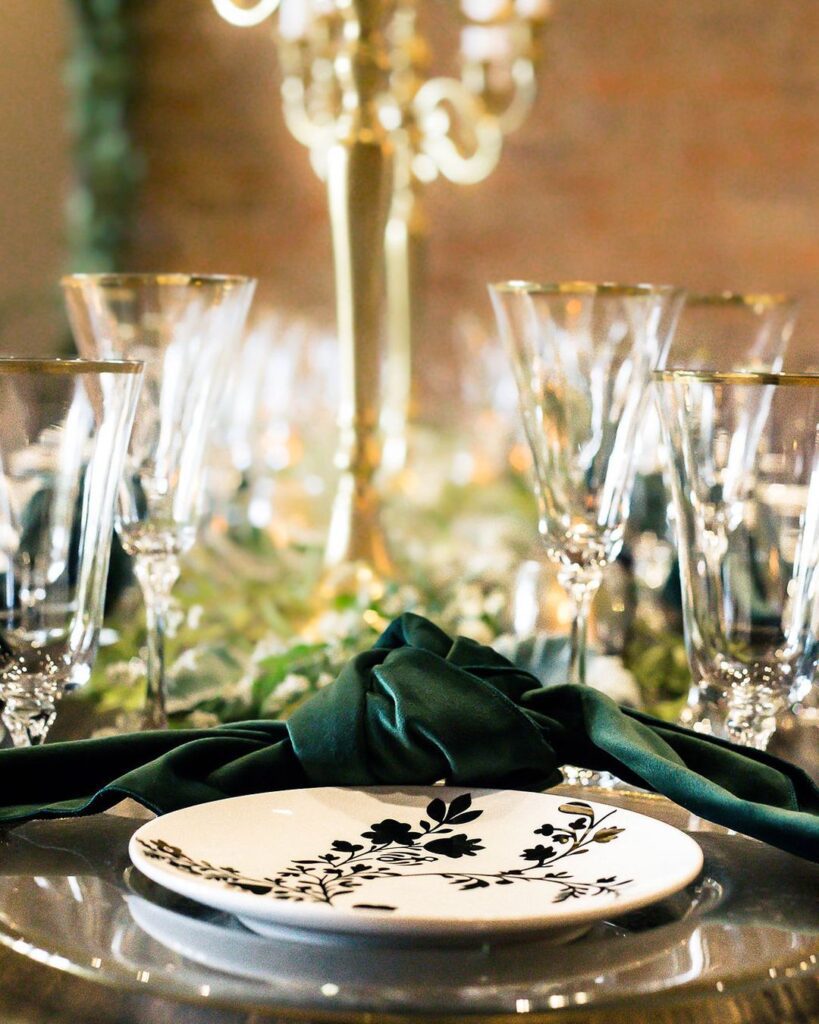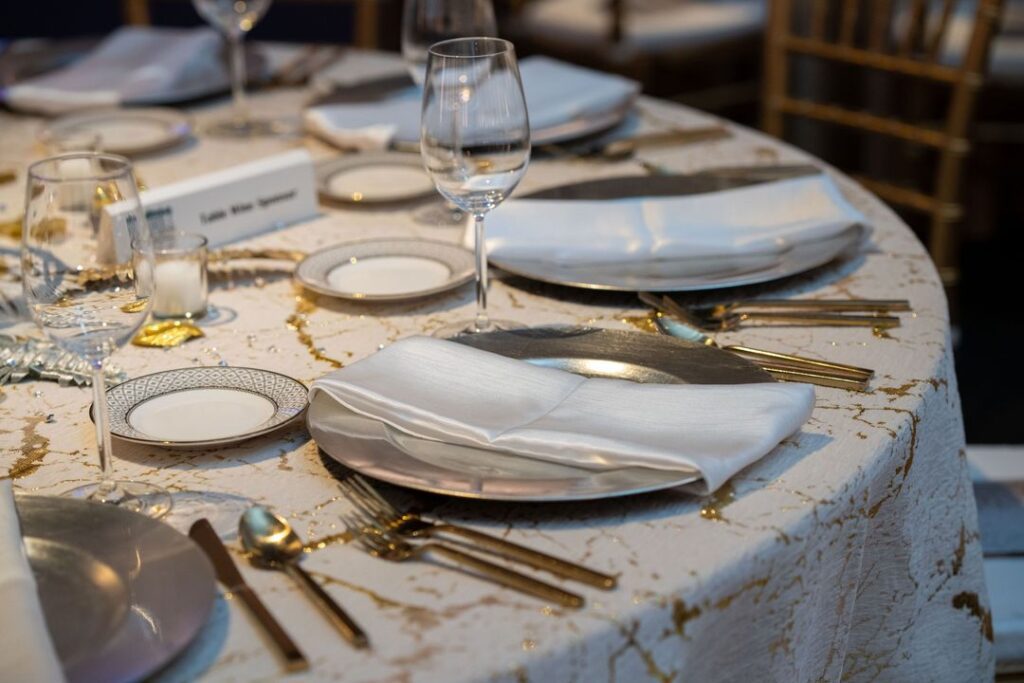 Vintage-Inspired Servingware
There is a charm to vintage-inspired serving ware that is perfect for the holidays! It lends a subtle sense of nostalgia that also happens to perfectly suit a modern vintage theme. Our inventory of servingware includes a range of pieces that can be used to create a stylish holiday tablescape. Either for a casual at-home soiree or for a formal corporate gathering.
To achieve this look you want to find a balance between simple pieces and those with ornate details. For example, pair plain White Round China with a Gold Rim Glass Charger and Abby Flatware. Or, feature a White Round Porcelain Charger with our ornate Ophelia China and modern Gold Austin Flatware. Choosing glassware is especially fun, with options like our Audrey Gold Rim, Monaco, and Pure Glassware.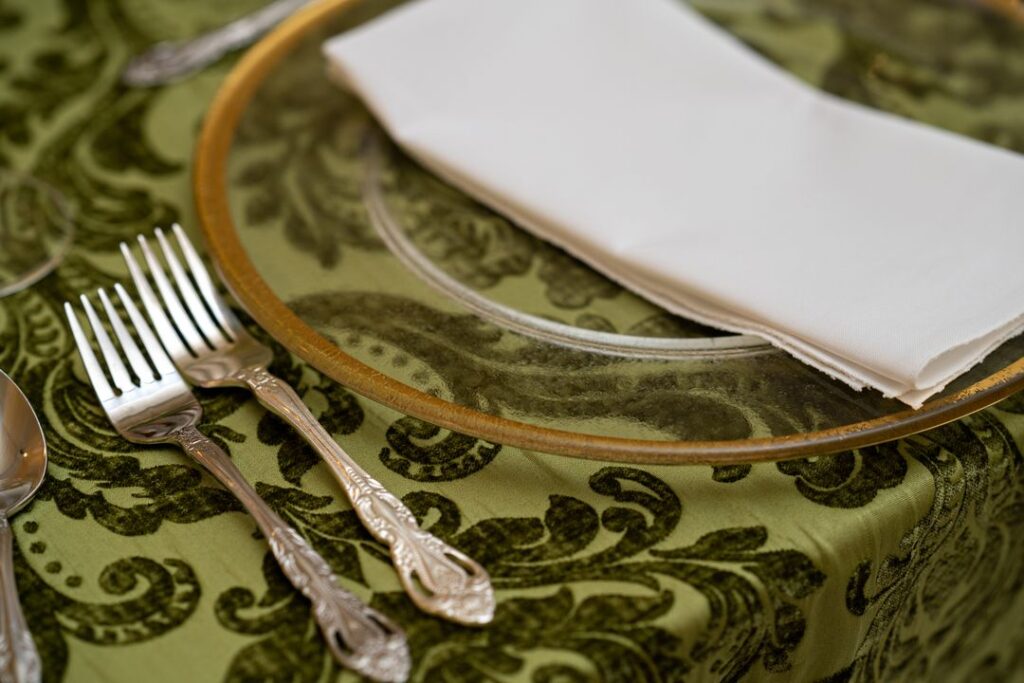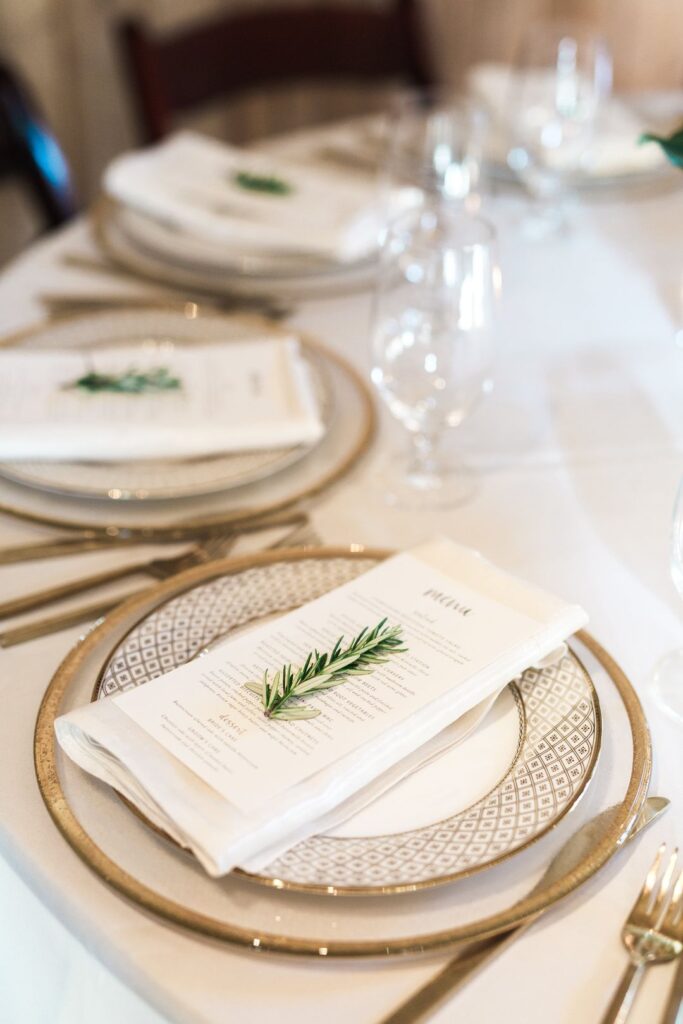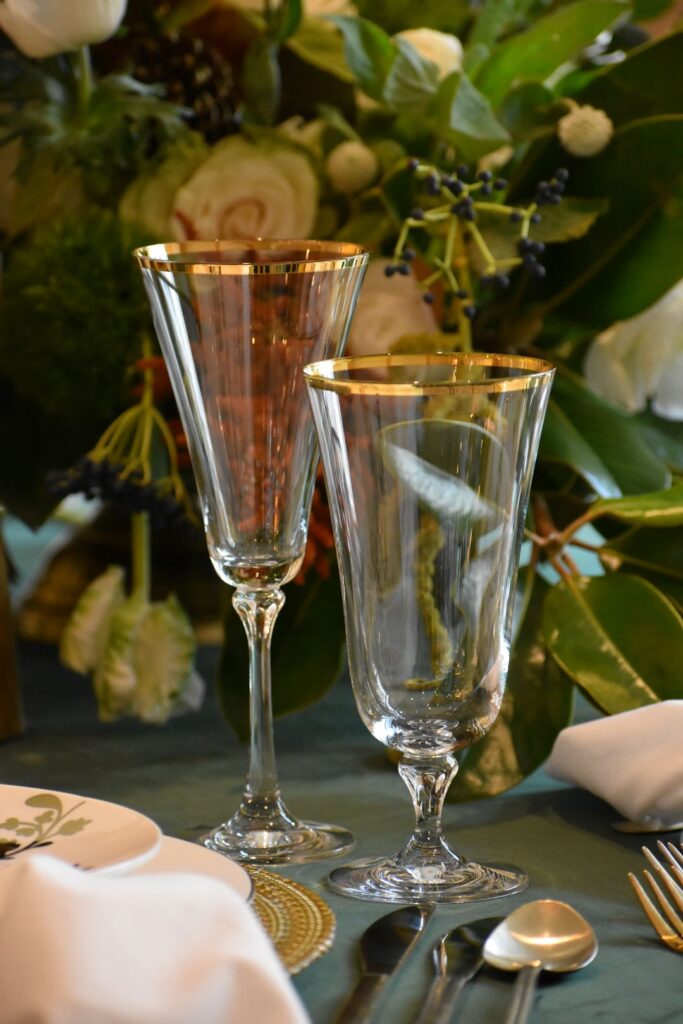 Cozy Holiday Lounge Areas
Lounging is what you do at holiday parties. Whether you're in a post-feast coma or simply need somewhere to sit and sip on a tasty seasonal cocktail. We have the perfect modern vintage rentals to create a stunning seating setup, whether you prefer a set of sofas or an armchair or two. Start with a rug featuring a vintage design to frame the space, adding a touch of warmth. Then choose your seating, such as our Fern Velvet and Bennett Leather Sofa. Either of these are stunning with our Bamboo Arm Chairs or White Eiffel Arm Chairs. Finish the look with a set of Gold Hammered Coffee Tables, where guests can set their drinks and appetizers.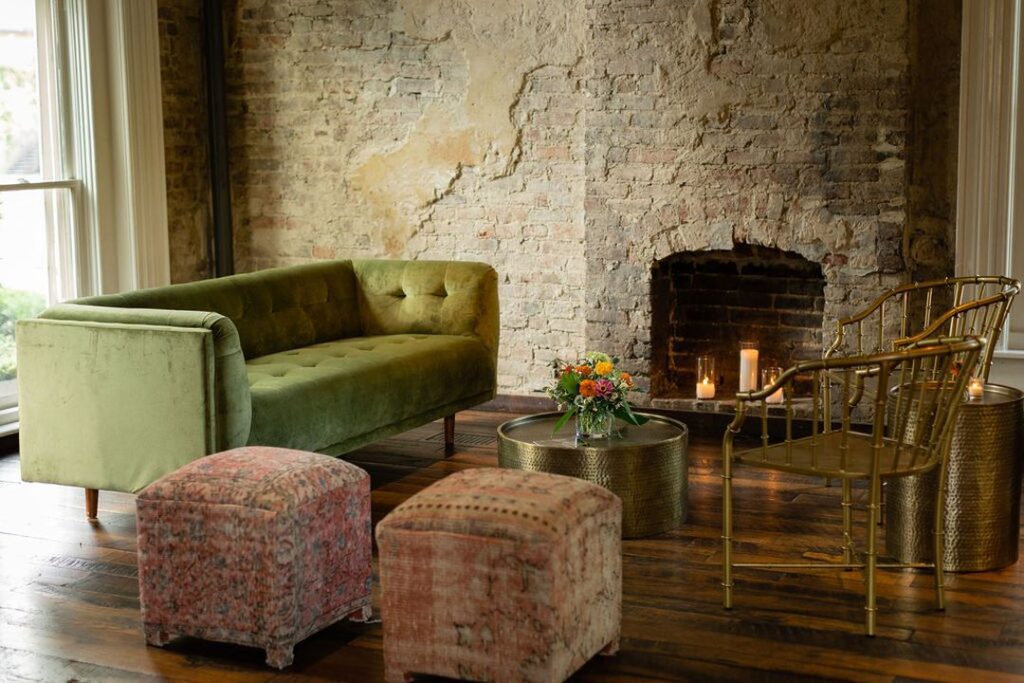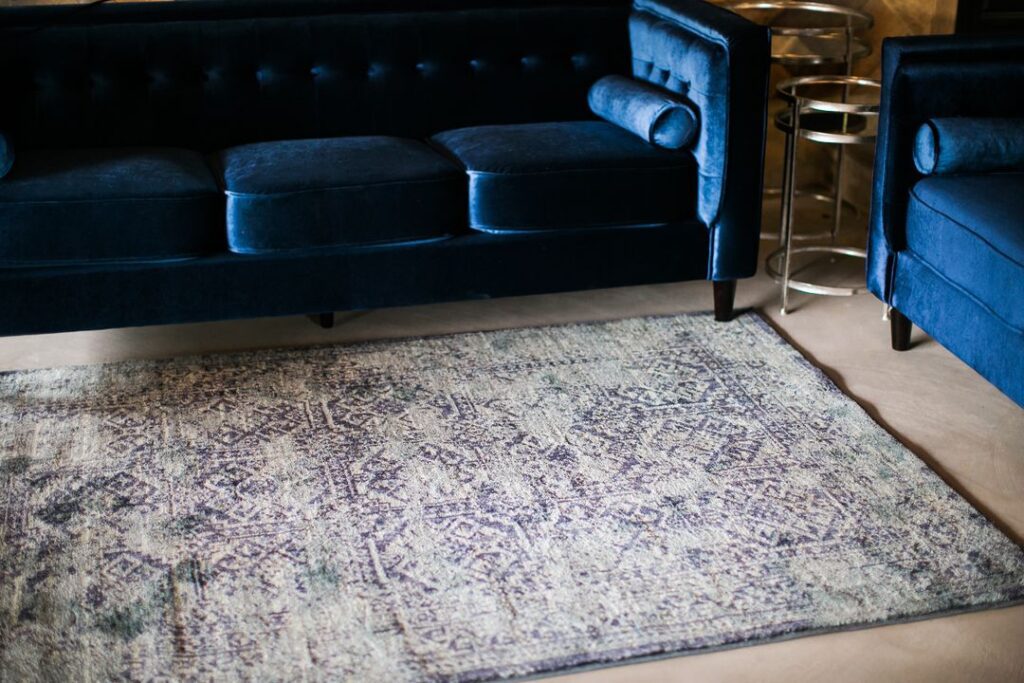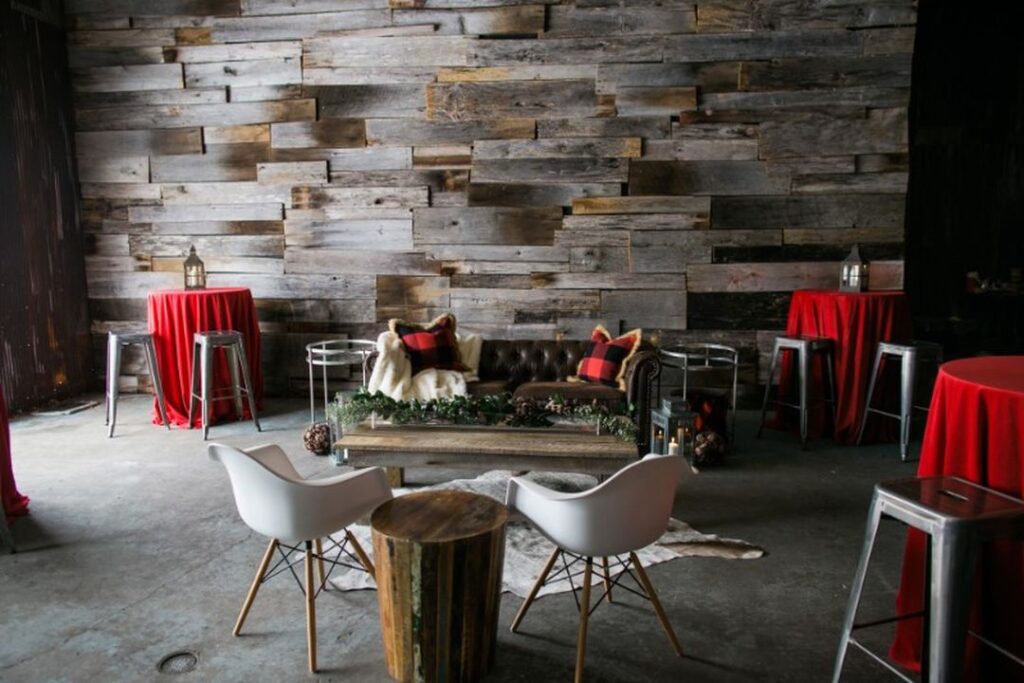 Want to feature these modern vintage rentals at your holiday party in Nashville? Send our team a message at info@southerneventsonline.com for help selecting the perfect pieces for your gathering, big or small!
TAGS | Holiday Parties, Holiday Party Ideas, Nashville Holiday Parties, Southern Events Party Rental, holiday tablescape, modern vintage rentals
FEATURED RENTALS | White Round CHina, Gold Rim Glass Charger, Abby Flatware, White Round Porcelain Charger, Ophelia China, Gold Austin Flatware, Ivory Pearl Shalimar, Victoria Gold Luxe Linens, Scarlet Red Velvet, Magnolia Gren Velvet Linens, napkins, audrey gold rim glassware, vintage rug, bamboo arm chair, white eiffel arm chair, gold hammered coffee table, monaco glassware, pure glassware,
---
1

Sep

On Trend, Southern Events Products, Trends and Inspiration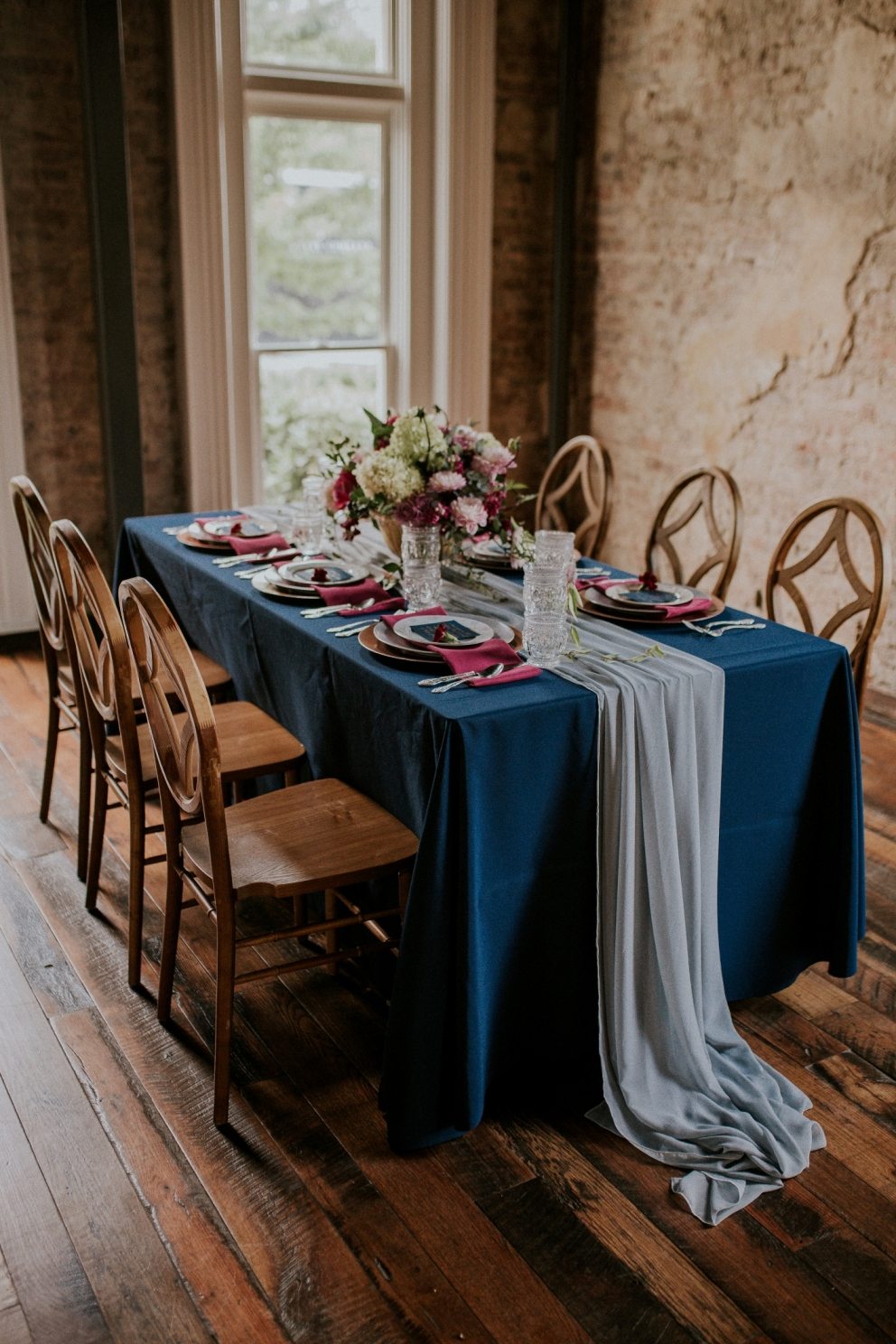 Bold and vibrant colors can be found everywhere in nature — from the burgundy mums sitting on your doorstep, to the bright orange pumpkins waiting to be carved into jack-o-lanterns, to the yellow leaves falling to the ground. The vivid and rich color palette of the great outdoors moves fall wedding trends toward more jewel-toned hues – an aesthetic we are happy to help you achieve! Grab that pumpkin spice latte, light a candle, and peruse these gorgeous, in-stock jewel-toned fall wedding rentals!
Jewel-Toned Furniture
Our Saylor Navy Sofa always makes a striking statement. We use it at many weddings and events, and it is essential for this lineup. The piece's deep and powerful hue of blue brings in warmth and vivacity. Our Jaqueline Velvet Sofa, which features a rich amber color, is just as beautiful and practically glows. But should you prefer a more muted look, opt for our Fern Velvet Sofa, paired with a set of vintage-inspired Turkish Rug Ottomans. To frame the space, and lend an extra cozy look, feature our vibrant Blue-Red Rug.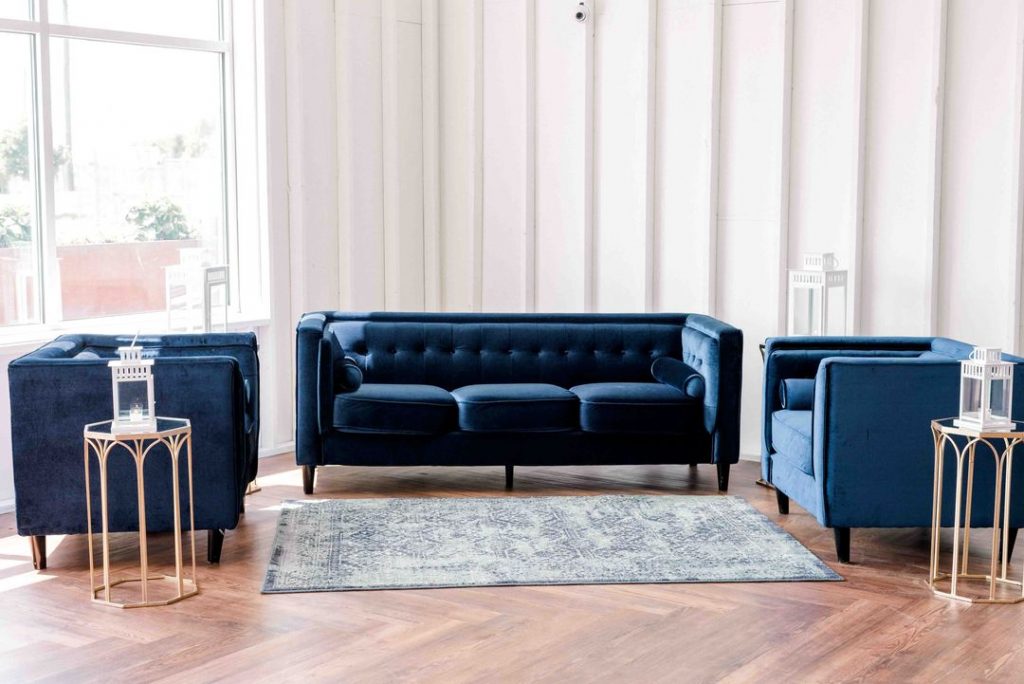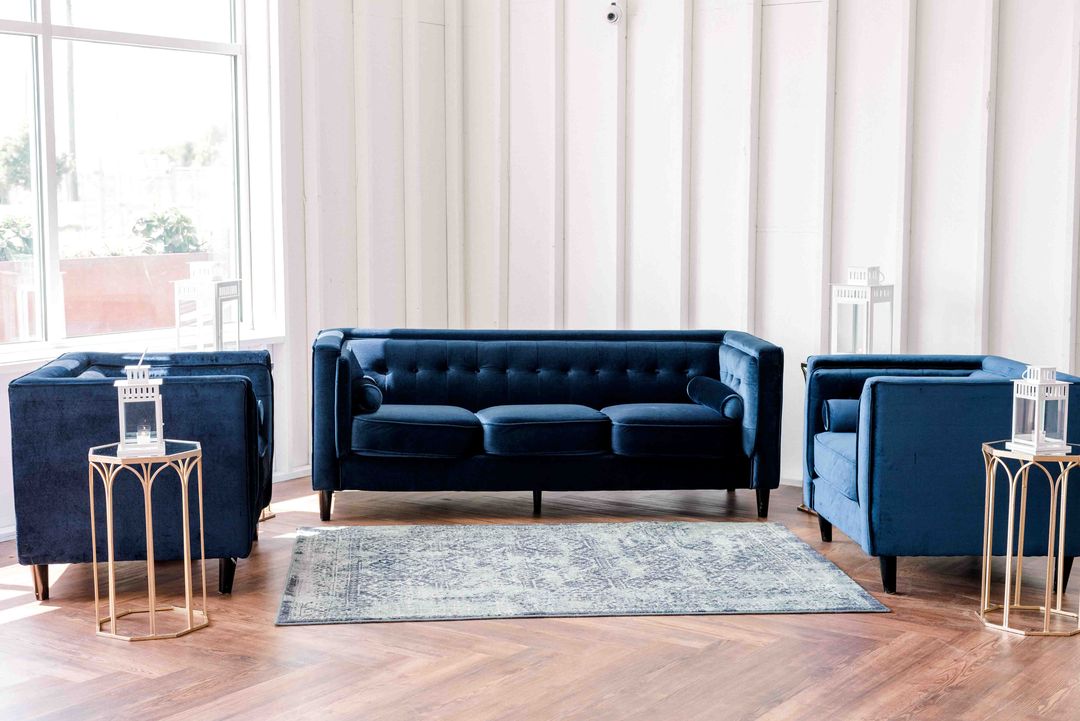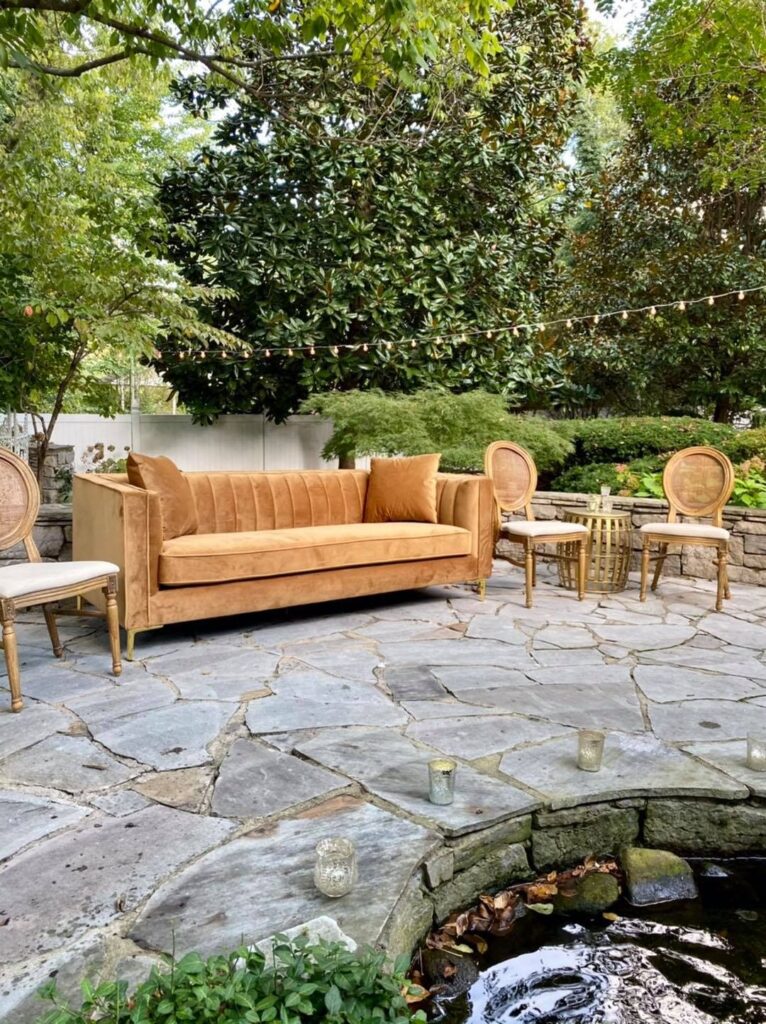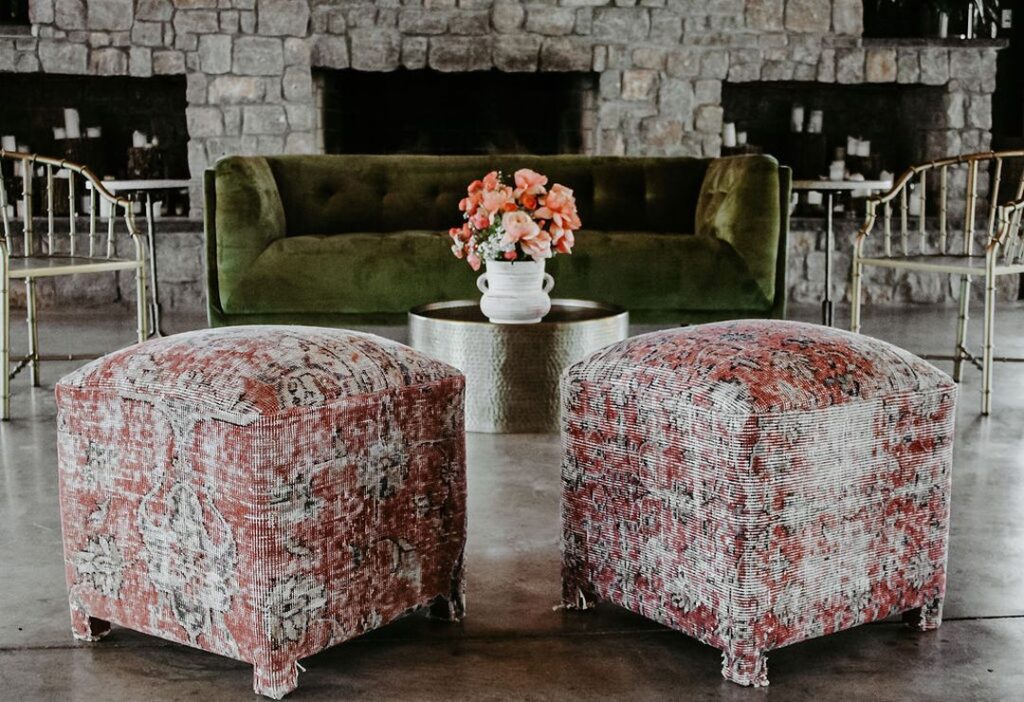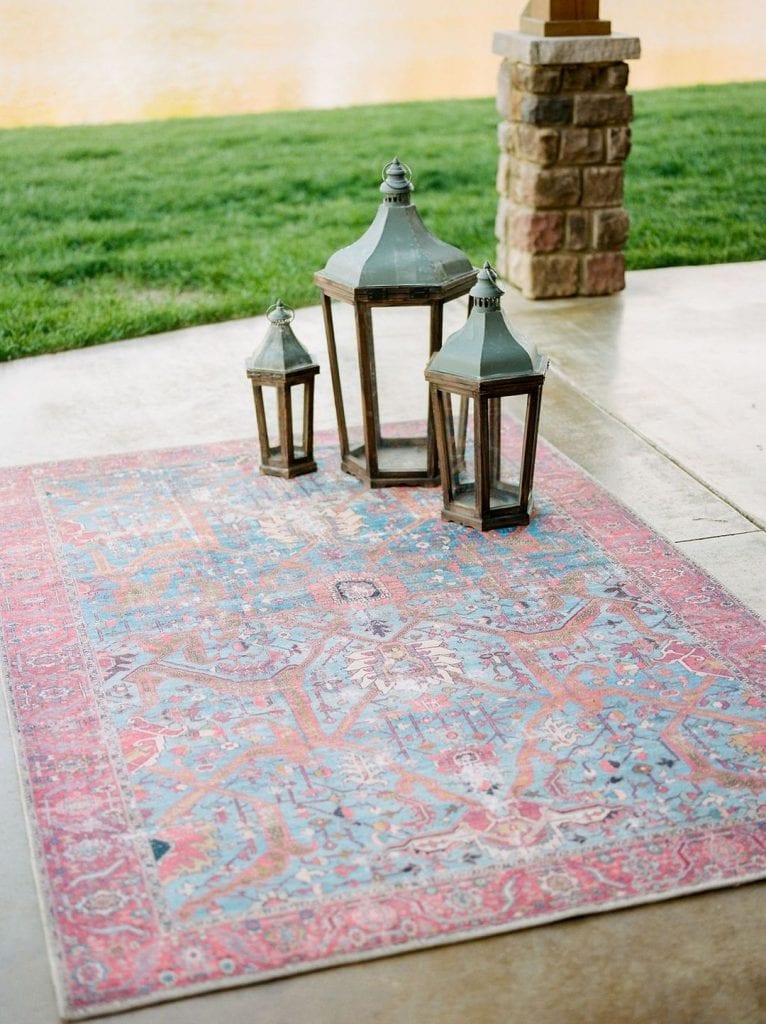 Bold Jewel-Toned Linens
We love playing with linens – layering them, draping them, and allowing them to pop in unexpected places. For the fall and a jewel-toned wedding theme, linens are a trusty sidekick. They accentuate, build up, and reinforce the vibrant color palette. The possibilities are endless. Our Burgundy Poly Linen, Gold Poly Linen, Magnolia Velvet Linen, and Raspberry Poly Linen, are our top picks for pushing this jewel-toned vision to life. For an extra luxe touch, top your place settings off with a set of velvet napkins!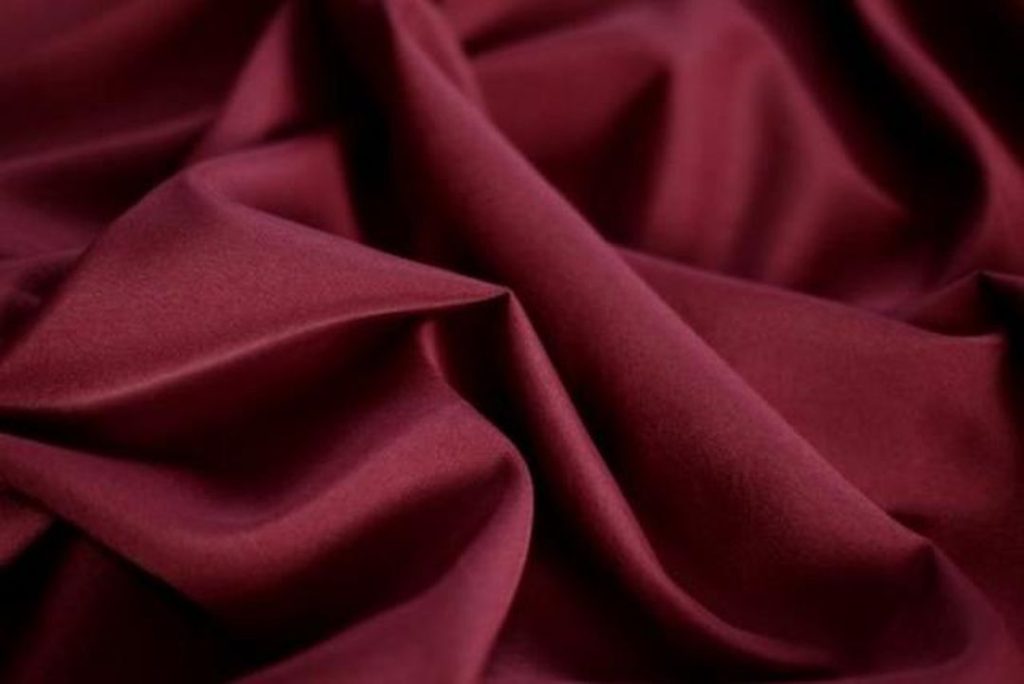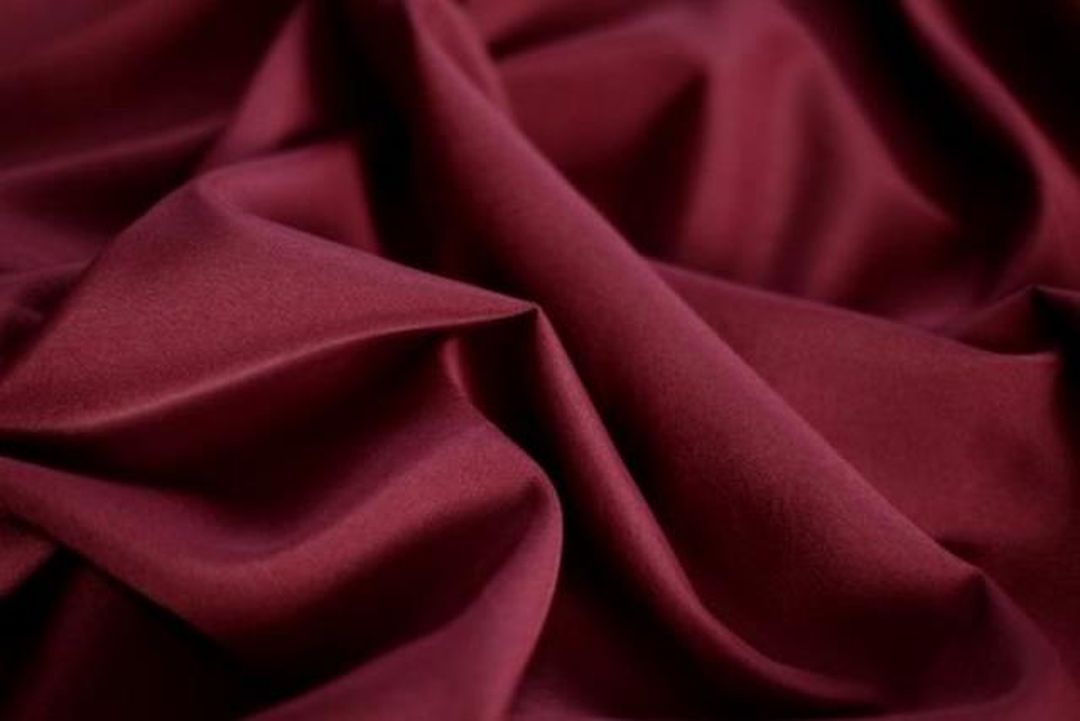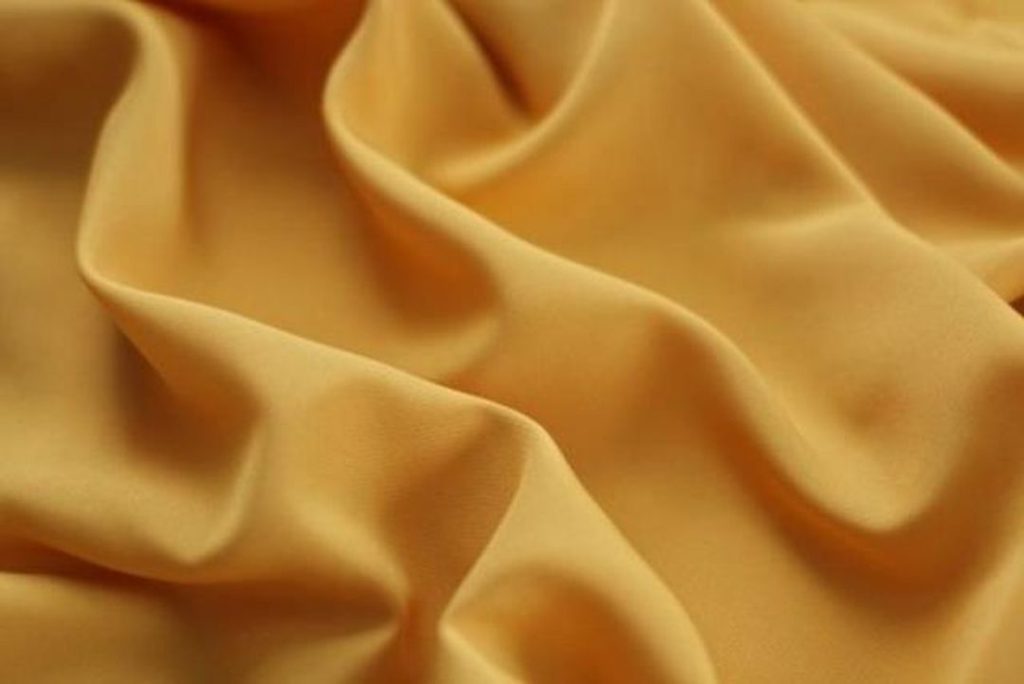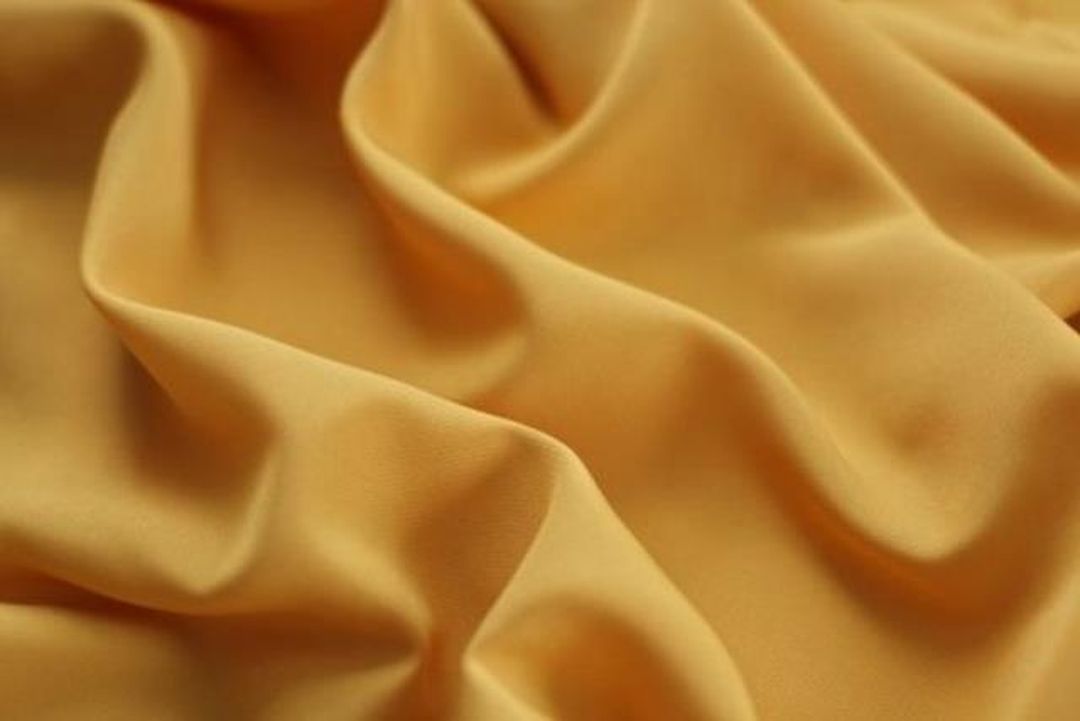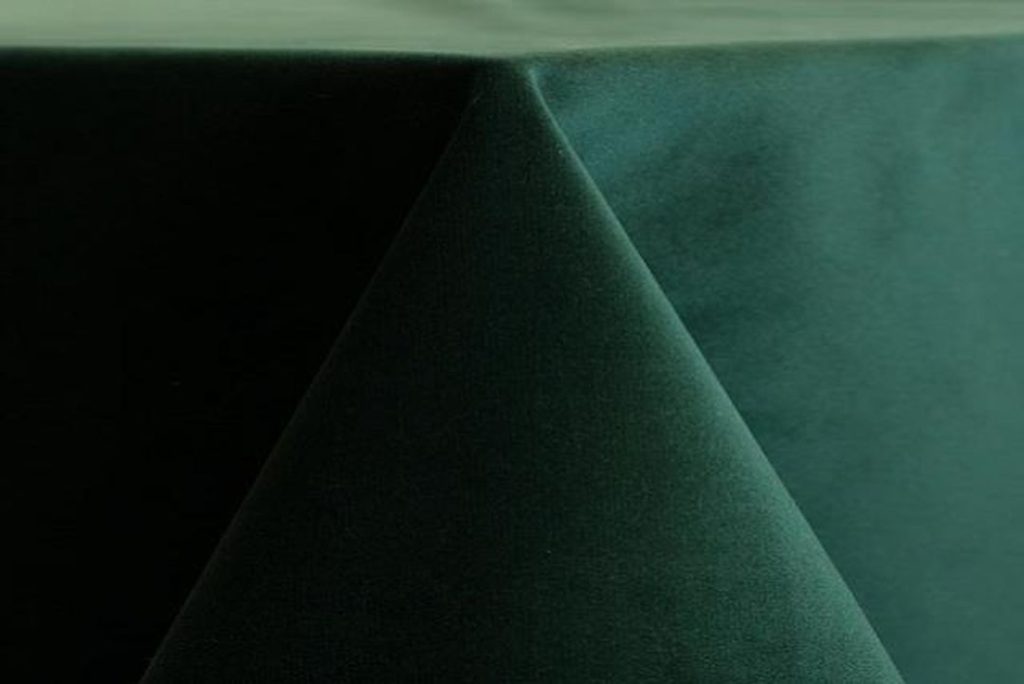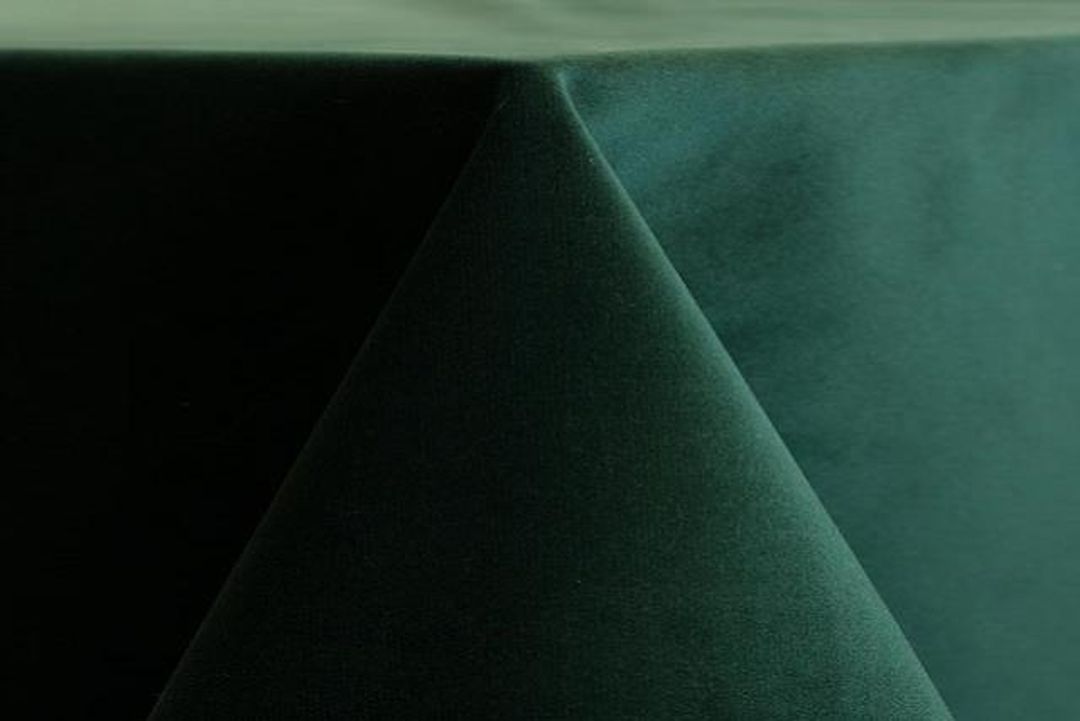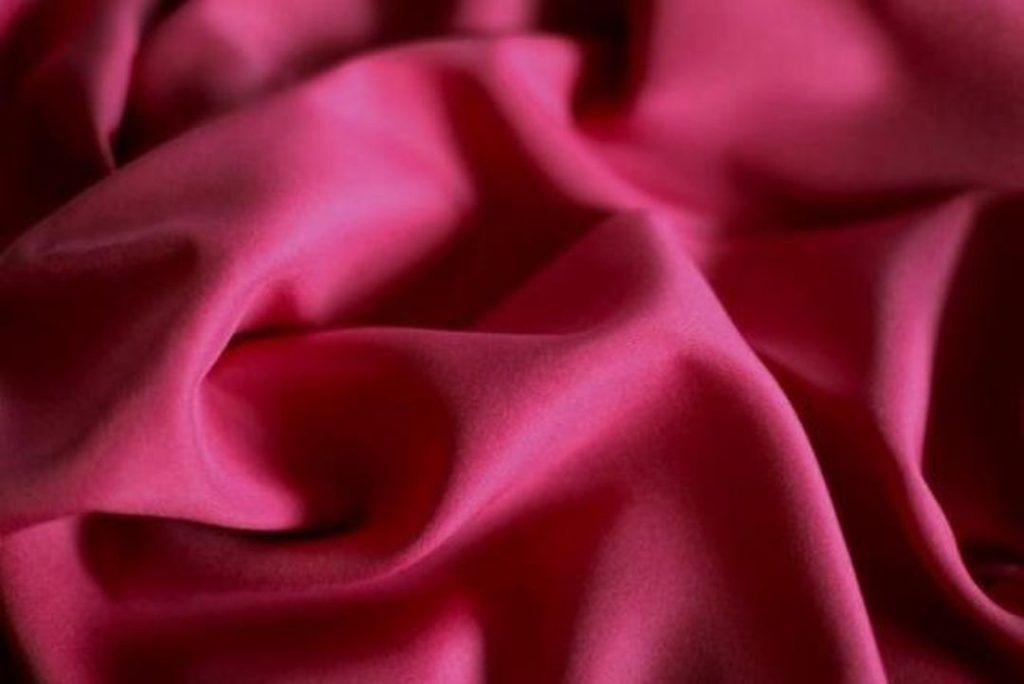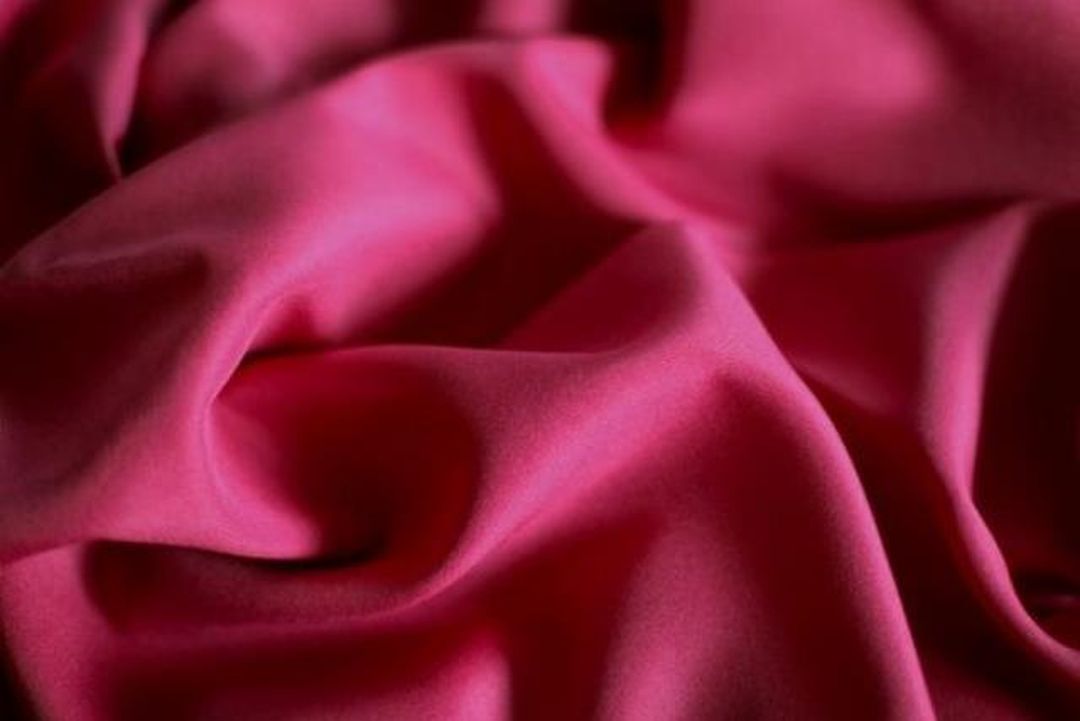 Gold Accents
Warm, rich, vivacious colors set in gold are the thing of fairy tales (and sought-after gifts). Rubies, emeralds, sapphires – they all have several things in common. One of which is that they are set in gold! Setting your jewel-toned wedding in gold is simple with our in-stock rentals, ranging from serving ware to accent furniture. Our Austin Flatware, Gold Accent China, and Audrey Gold Rim Glassware will make for an elevated fall tablescape. To match, create a centerpiece using any of our Gold Tabletop Decor. For a luxe lounge, feature a set of trendy Gold Hammered Coffee Tables. Or seat guests at the table with our always popular (and oh so comfy) Gold Chiavari Chairs.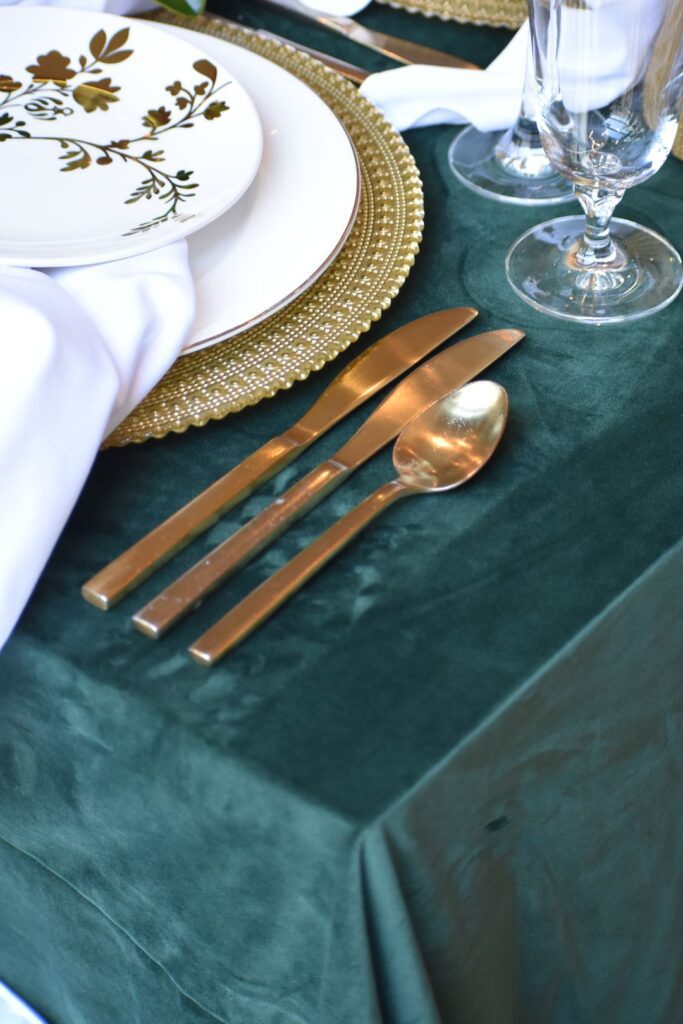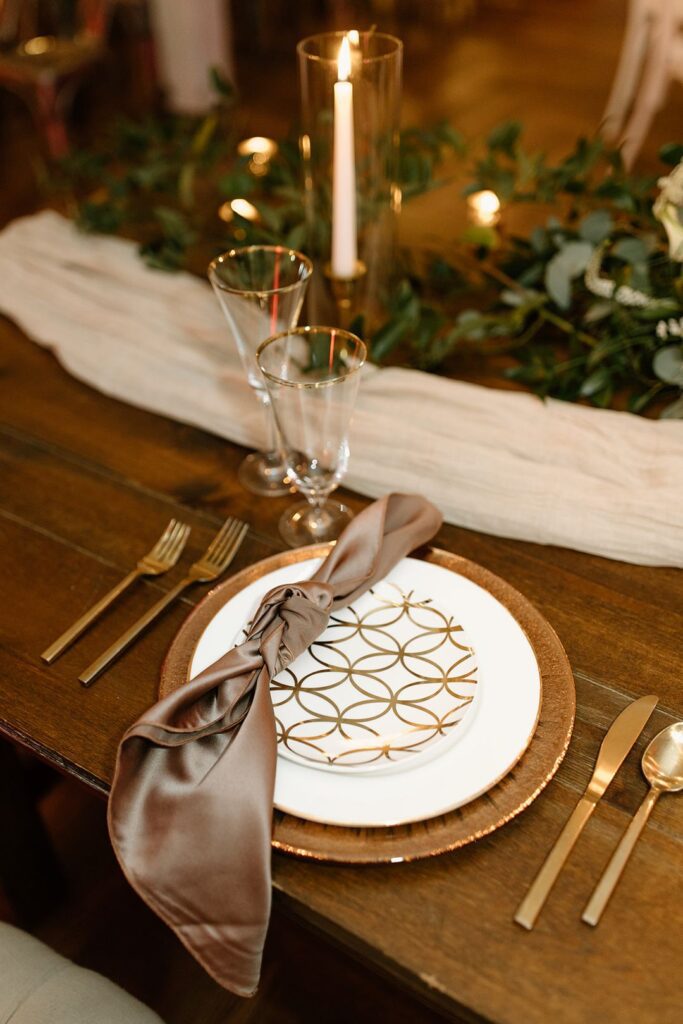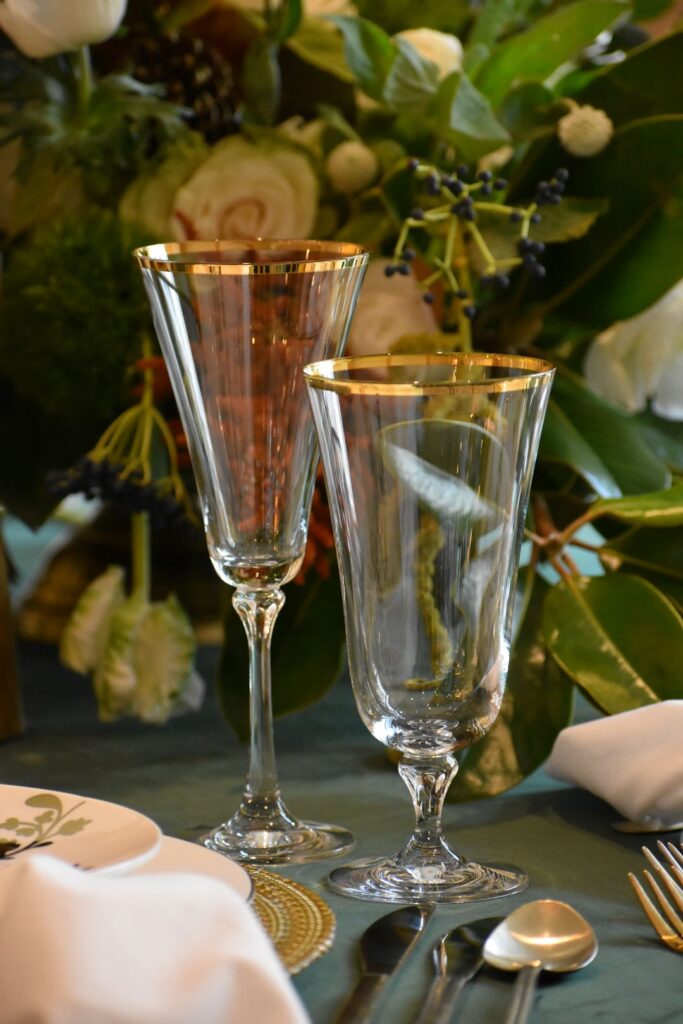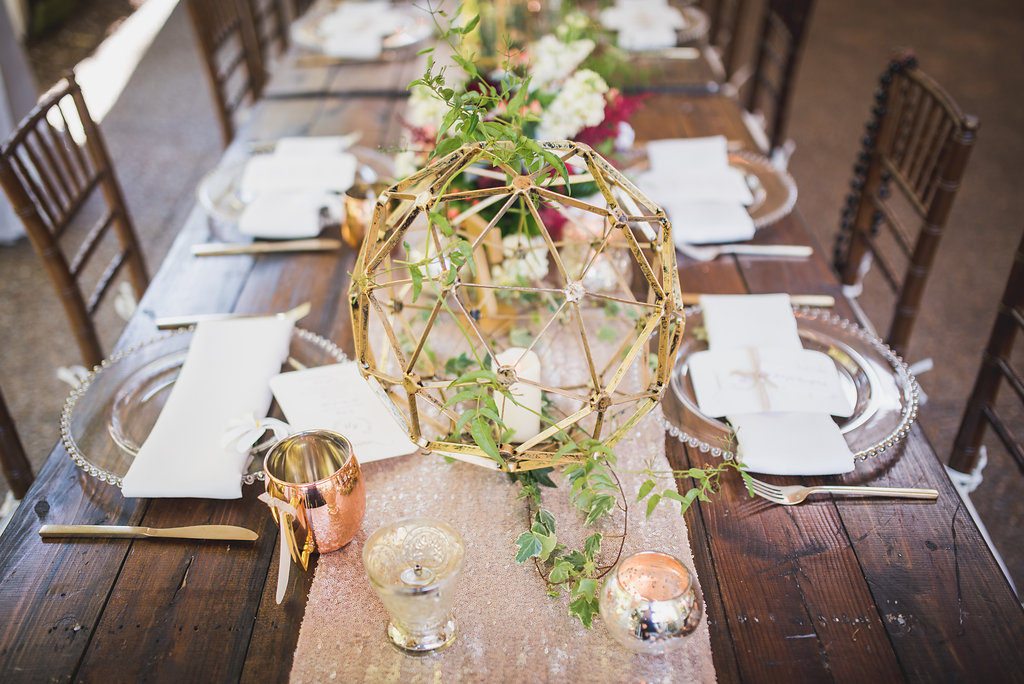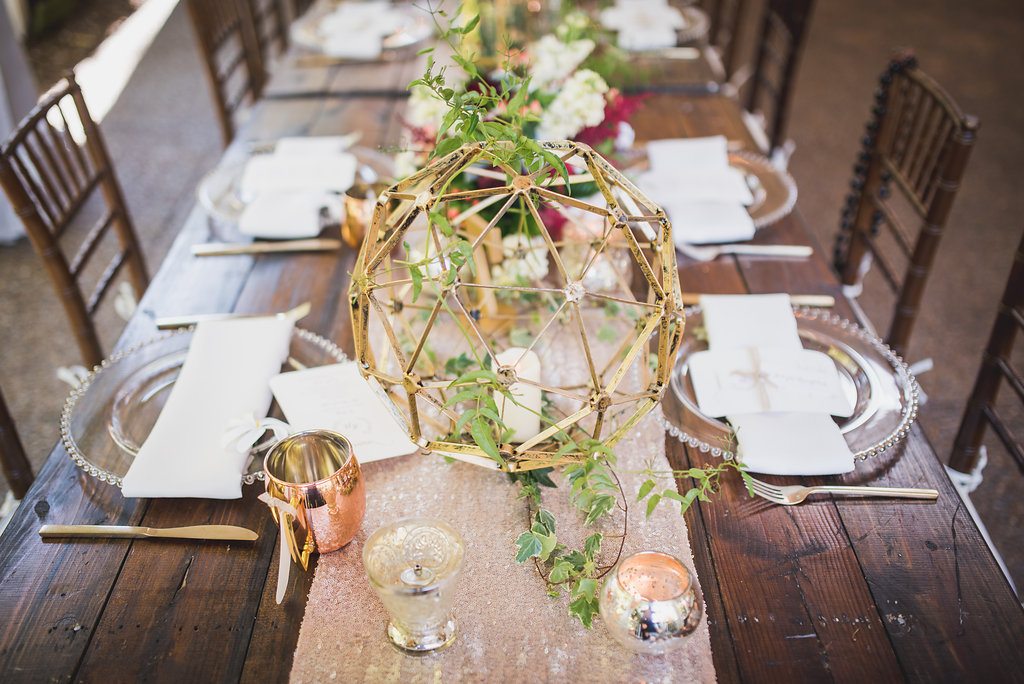 Are you catching these fall feels? We'd love to help you create the bold and vivacious day of your dreams featuring our jewel-toned fall wedding rentals. Send us a message at info@southerneventsonline.com and let's start planning! Hosting an outdoor fall wedding? Get more inspiration when you take a look at this Fall Garden Wedding at CJ's Off the Square.
TAGS | Nashville Event Rentals, Southern Events Party Rental Company, event linens, jewel-toned event, southern weddings, velvet rentals, wedding style trends
FEATURED RENTALS | Saylor Navy Sofa, Turkish Rug Ottomans, Jaqueline Velvet Sofa, Fern Velvet Sofa, Gold Hammered Coffee Tables, Austin Flatware, Gold Accent China, Gold Tabletop Decor, blue-red rug, Burgundy Poly Linen, Gold Poly Linen, Magnolia Green Velvet Linen, Raspberry Poly Linen
---
18

Aug

On Trend, Southern Events Products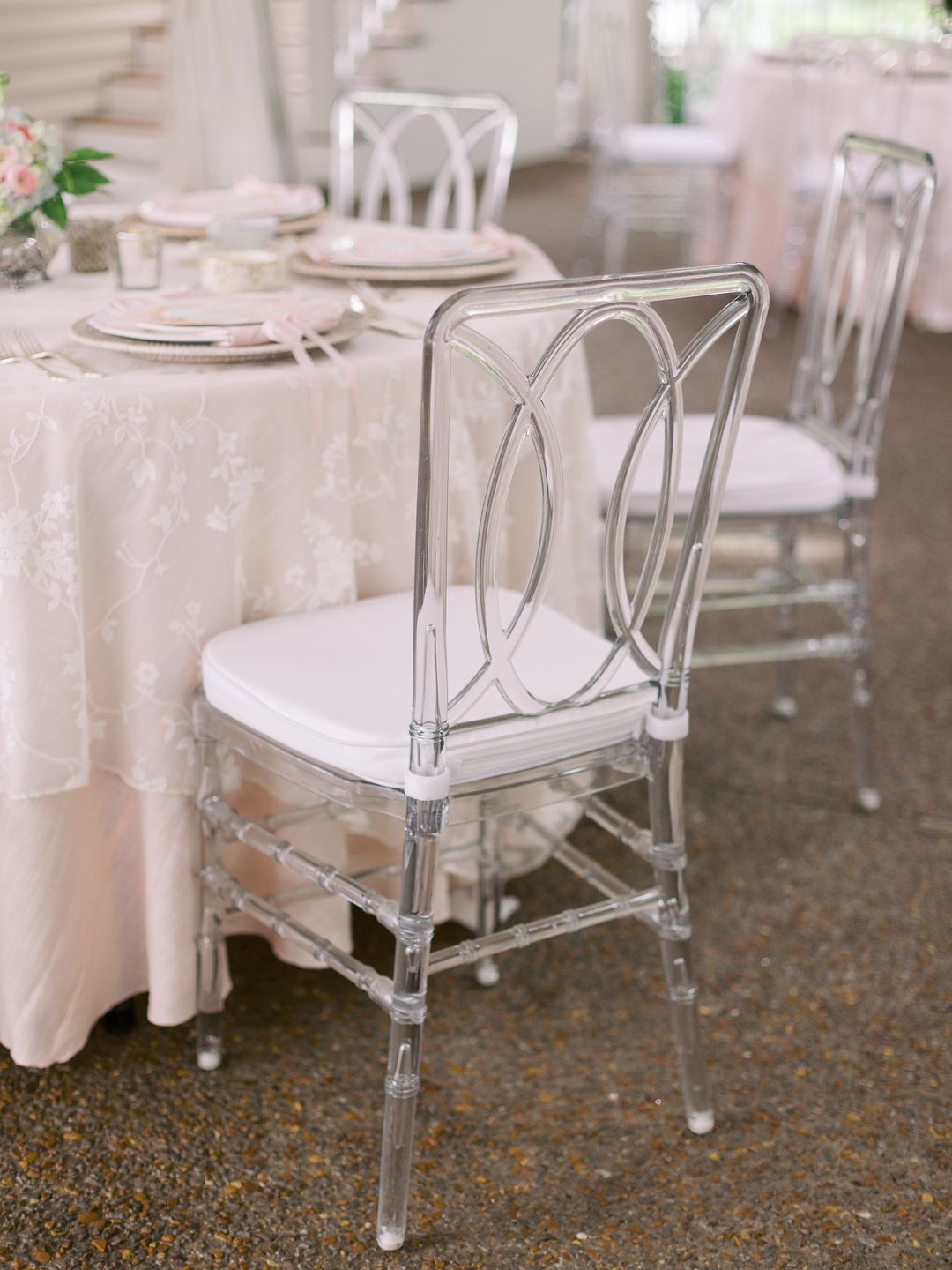 Associated with contemporary art, acrylic is making its way into modern event design. Now used in an array of furniture designs, it is a unique addition to any event. The most popular use, however, is in chairs! Typically referred to as 'ghost chairs', this style is a fun modern twist that can be pulled off year-round. Keep reading to check out our in-stock acrylic chairs. Plus, learn how to feature these pieces at your upcoming event.
On-Trend Ceremony Seating
If you want to wow guests from the moment they enter your wedding event space, then go with acrylic chairs! Acrylic seating is a simple way to elevate your event, regardless of your style or theme. Our most popular chairs for wedding ceremonies are our Acrylic Ghost Arm Chair and Acrylic Ghost Armless Chair. The oval shape of the back of these chairs will lend a sophisticated look that will complement any venue, modern, urban or outdoor. This style is also easy to decorate with ribbon or vinyl applique across the back.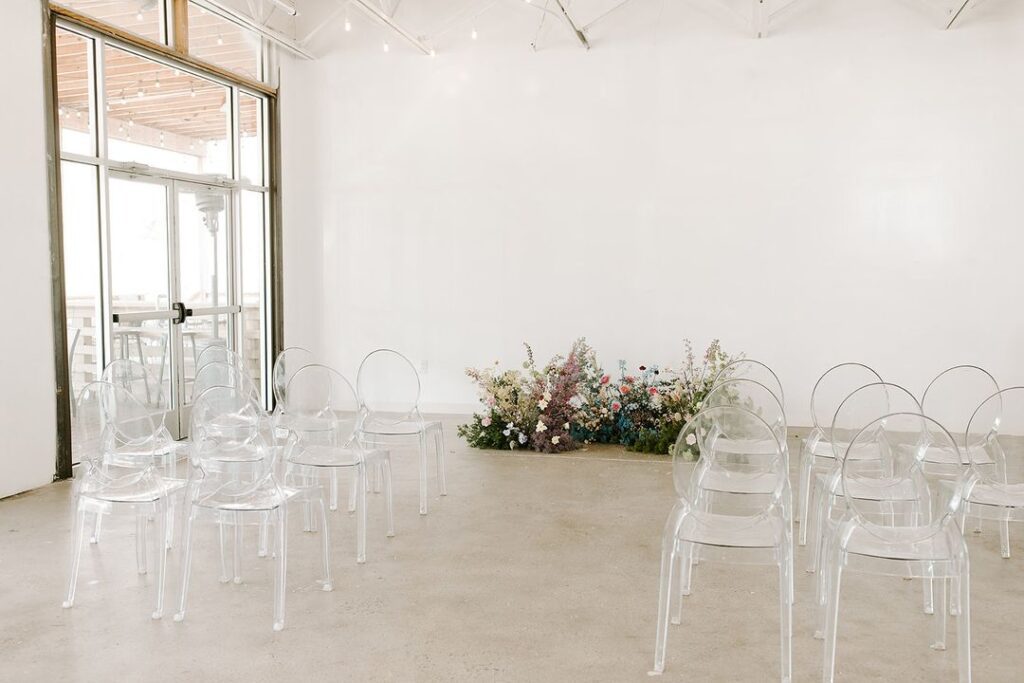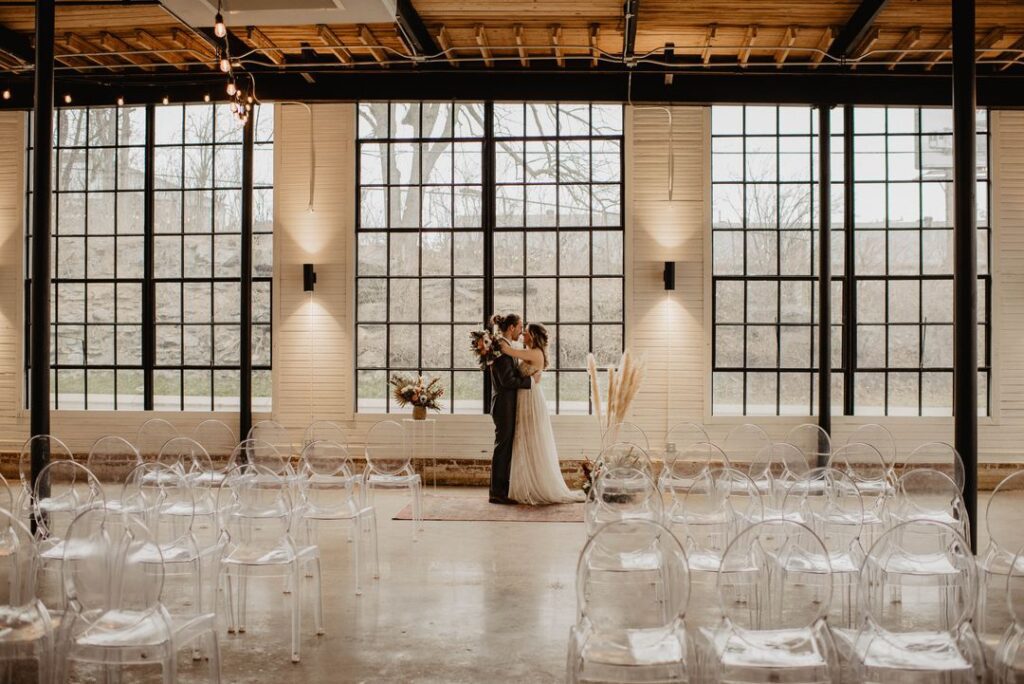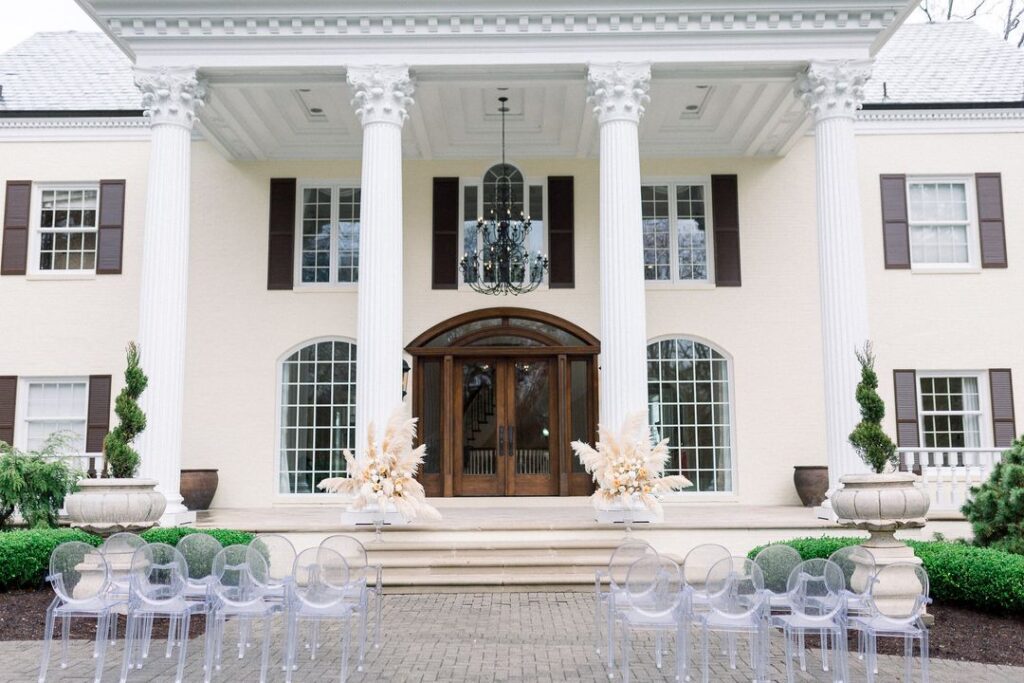 Timeless Reception Tables
Our favorite way to feature acrylic chairs is at receptions, whether it be a wedding, corporate event, or personal gathering. This style of chair will complement any table, such as our Fruitwood Farm Tables, or linens. When choosing the style of seating, we recommend considering your event theme. If you are hosting a minimalist or modern event, either of our Ghost Chairs will do the job. For a more romantic or whimsical theme, we prefer the Acrylic Carrigan Side Chair, due to the intricate back. If you want something otherworldly or ethereal, the Acrylic Fantasma Side Chair is an easy choice.
Pro Tip: Planning to have designated tables for children? Be sure to grab a handful of our Acrylic Chiavari Children's Chairs.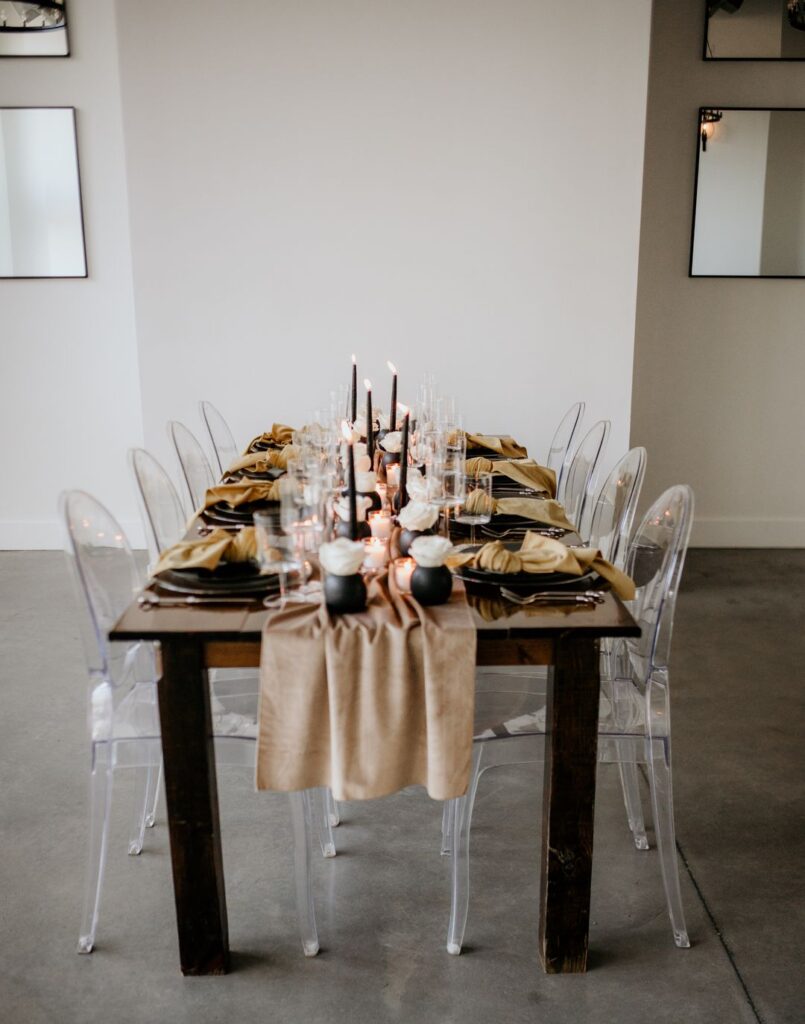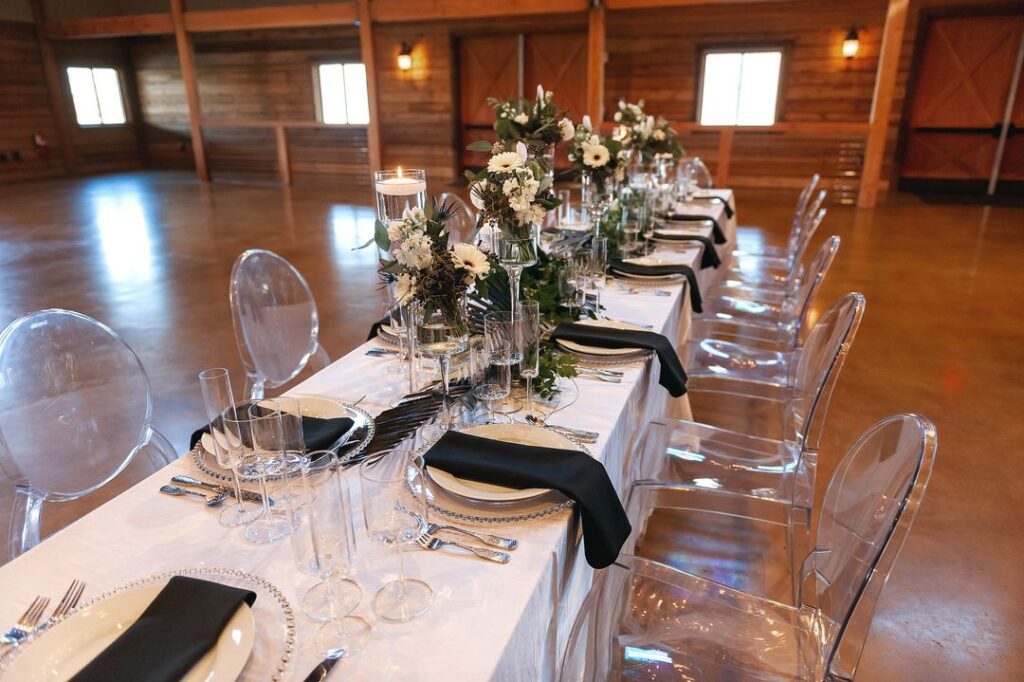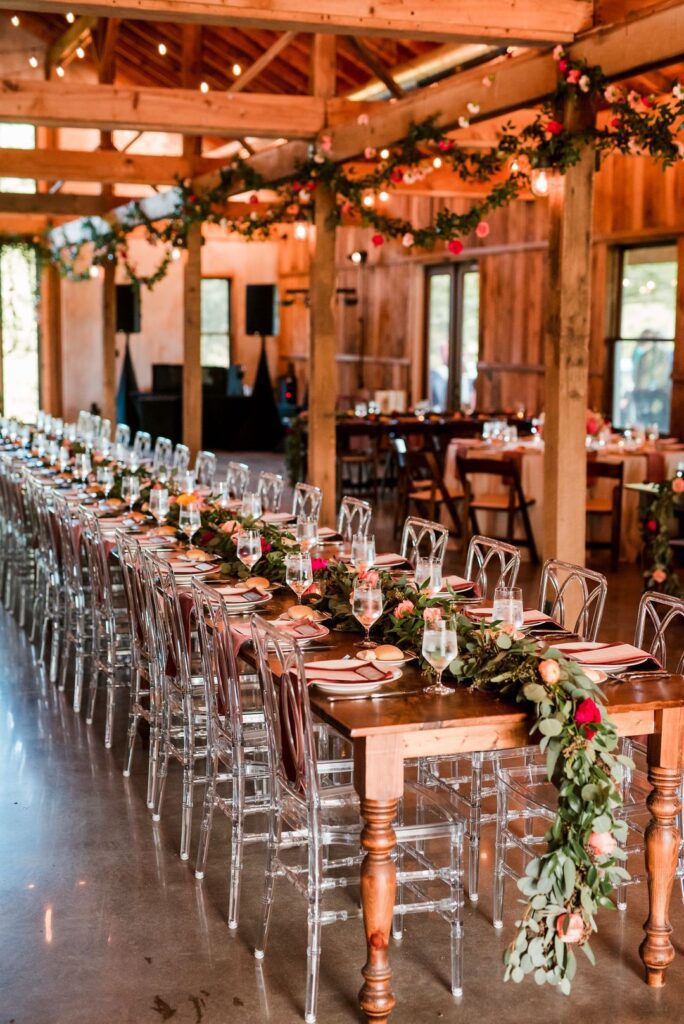 Modern Cocktail Hours
We can't forget the cocktail hour setup! Big or small, a memorable cocktail hour calls for stylish and comfortable seating, with ample space for guests to sit and mingle. If you are planning to feature a lounge, any of our acrylic chairs make for beautiful add-ons. And these chairs are extremely comfortable, too! For a lounge, we recommend seating with arms. Whereas at cocktail tables or bar tables, arms aren't necessary. These areas will work well with our armless, or backless, styles. Such as the Acrylic Ghost Barstool, Acrylic Casper Oval Back Barstool, or Acrylic Casper Square Back Barstool.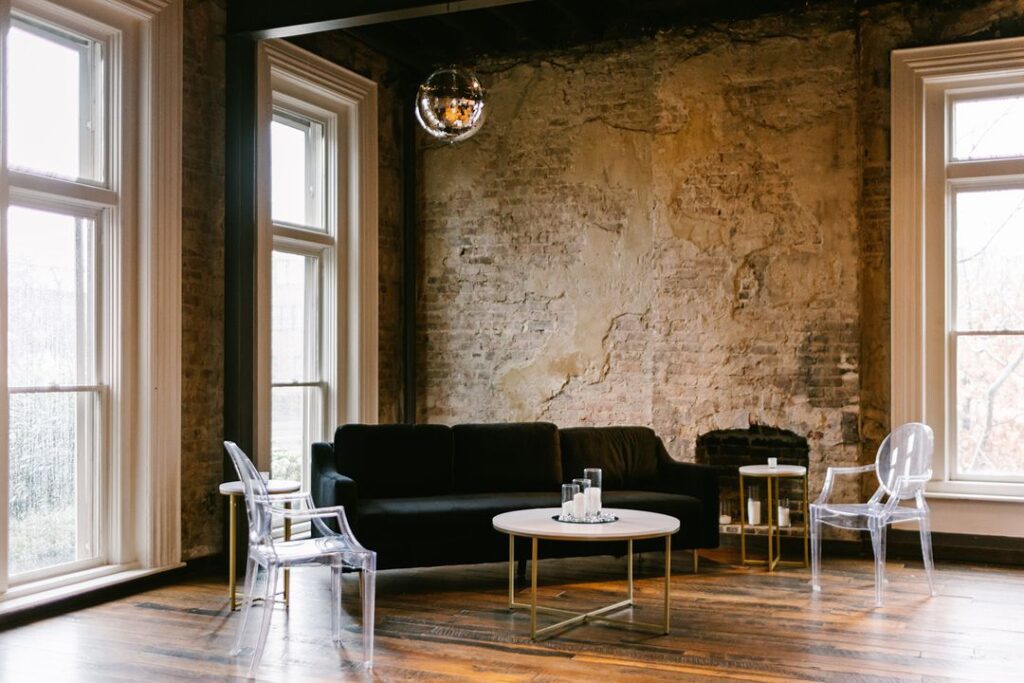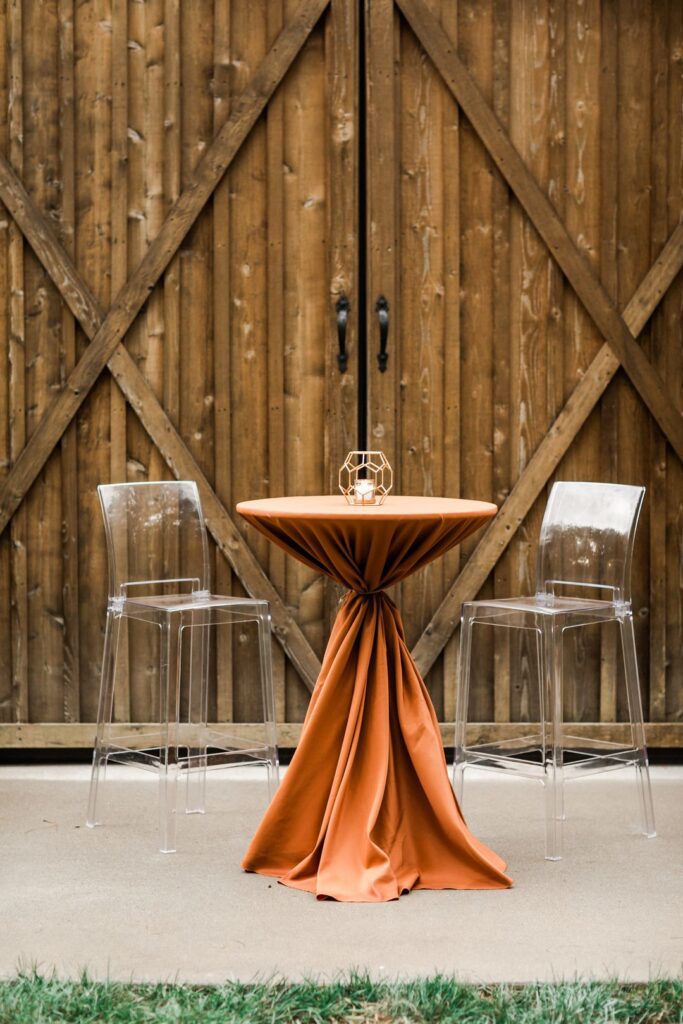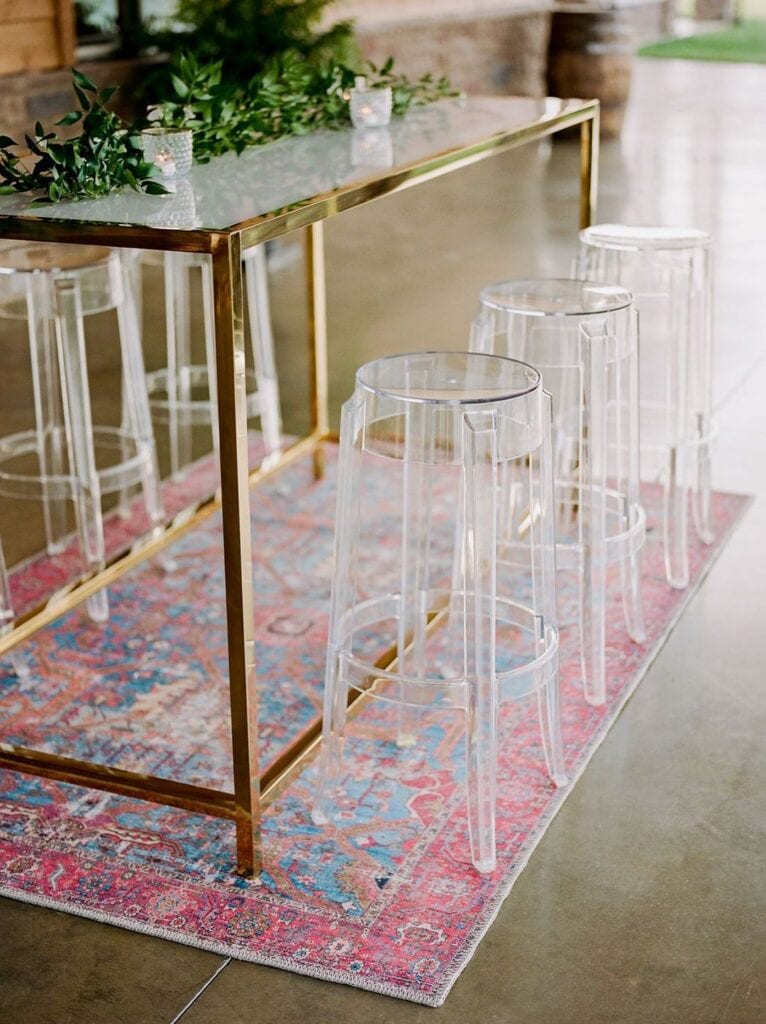 Our acrylic chairs book up fast! To feature any of these pieces at an upcoming event, send our team a message at info@southerneventsonline.com. For more modern event design inspiration, check out our blog on Modern Minimalist Event Design.
TAGS | Acrylic Chairs, Acrylic Ghost Chairs
FEATURED RENTALS | Acrylic Ghost Arm Chair, Acrylic Ghost Armless Chair, Acrylic Chiavari Childrens Chairs, Fruitwood Farm Tables, Acrylic Carrigan Side Chair, Acrylic Ghost Barstool, Acrylic Casper Oval Back Barstool, Acrylic Casper Square Back Barstool, Acrylic Fantasma Side Chair,
---
11

Aug

Events and Style Shoots, On Trend, Southern Events Products, Trends and Inspiration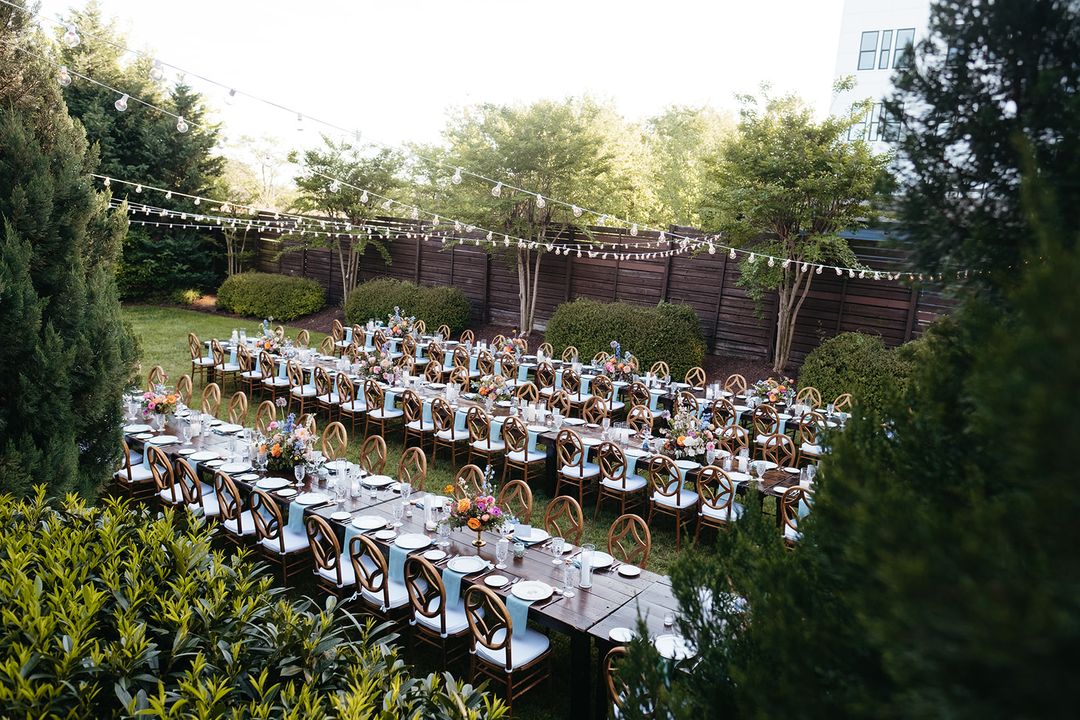 Team Southern recently had the opportunity to collaborate with local vendors on a whimsical styled shoot at The Cordelle. An event venue & garden situated in Downtown Nashville, it was a stunning backdrop for the colorful outdoor wedding. With a mix of historic and modern spaces, featuring grandeur and charm, there was no shortage of room to create a functional and on-trend wedding layout. Check out the details from this dreamy garden-inspired wedding, featuring our stylish event rentals.
Seating for a Whimsical Indoor Ceremony
The ceremony took place in The Victorian, featuring brick walls, hardwood floors, and beautiful floor-to-ceiling windows. Contrasting the urban event space, we opted for our elegant Harlin Dining Chairs. Featuring light wood and detailed backs, they were the perfect choice for the dreamy indoor ceremony. An equally gorgeous alternative would have been our Adeline Dining Chairs! While we decided to keep the aisle bare, featuring a mix of our vintage rugs would have also been a beautiful choice, lending a cozy vibe.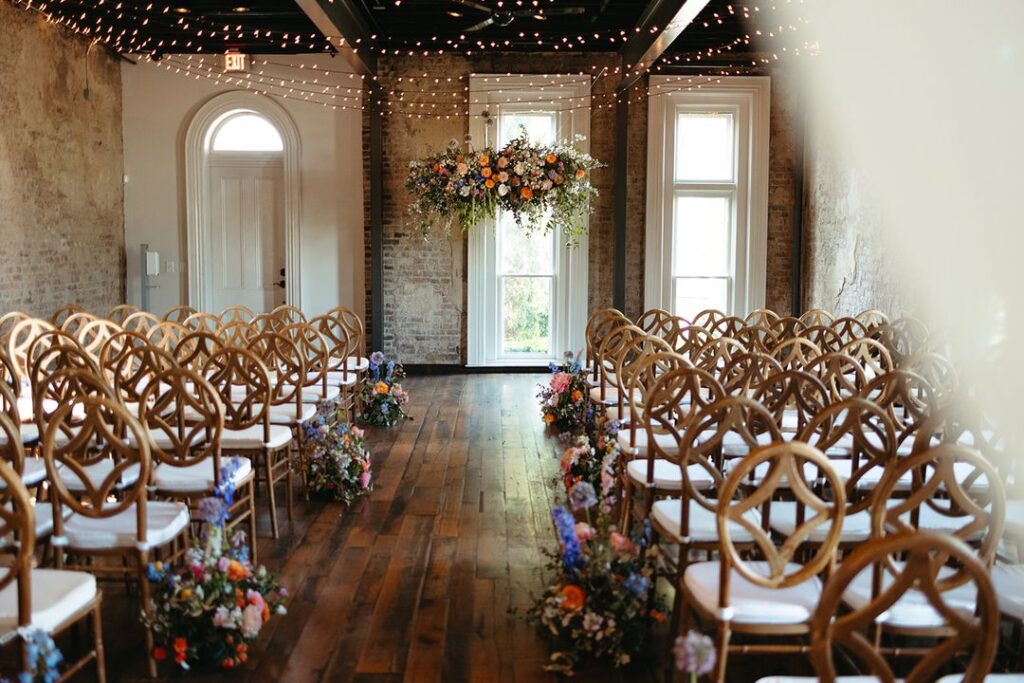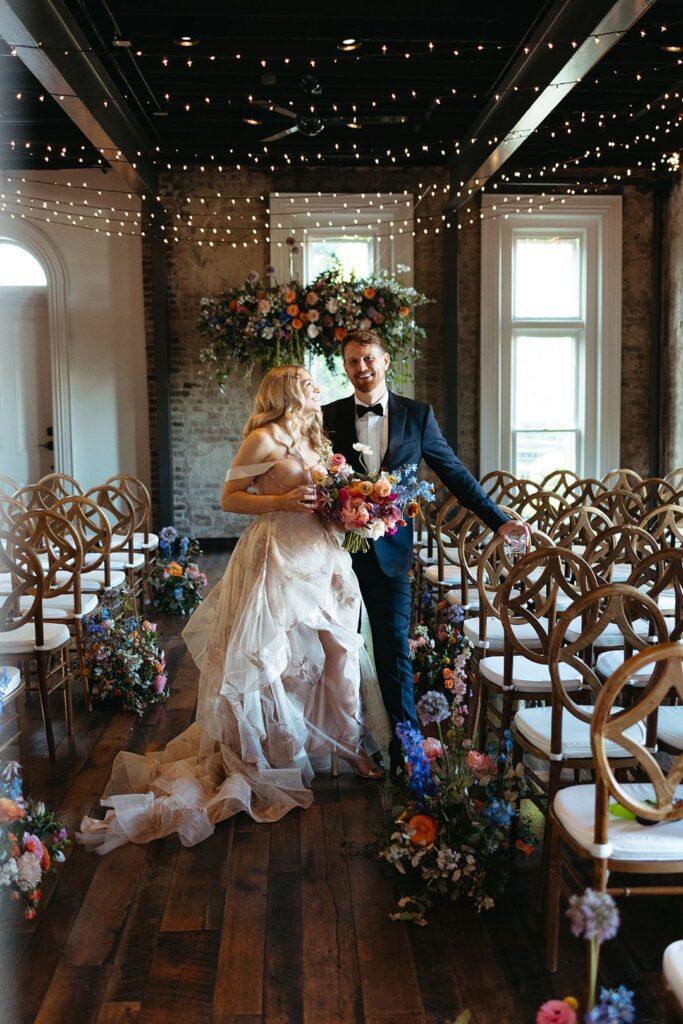 A Dreamy Outdoor Reception Set Up
Meanwhile, the 5,000-square-foot Garden Lawn created an ethereal garden reception. The manicured lawn and bistro lights overhead made for a charming outdoor setup – especially come nightfall. Our Fruitwood Farm Tables and Harlin Dining Chairs were the base for the guest tables. This banquet style is perfect if you want a more intimate feel! Set with Heirloom China, Hob Nob Glassware, and Sophia Flatware, the look was elegant and vintage-inspired. Fun fresh florals and Turqouise Poly Napkins provided a punch of color, fitting for the season! Our Davis Glass Cylinders filled in the table centerpieces.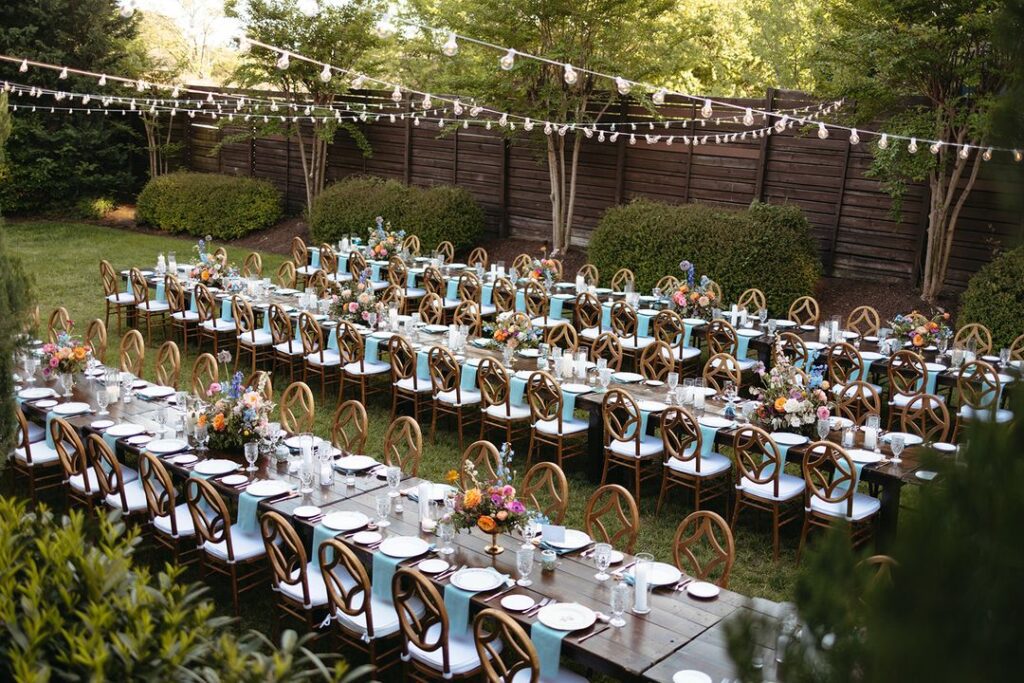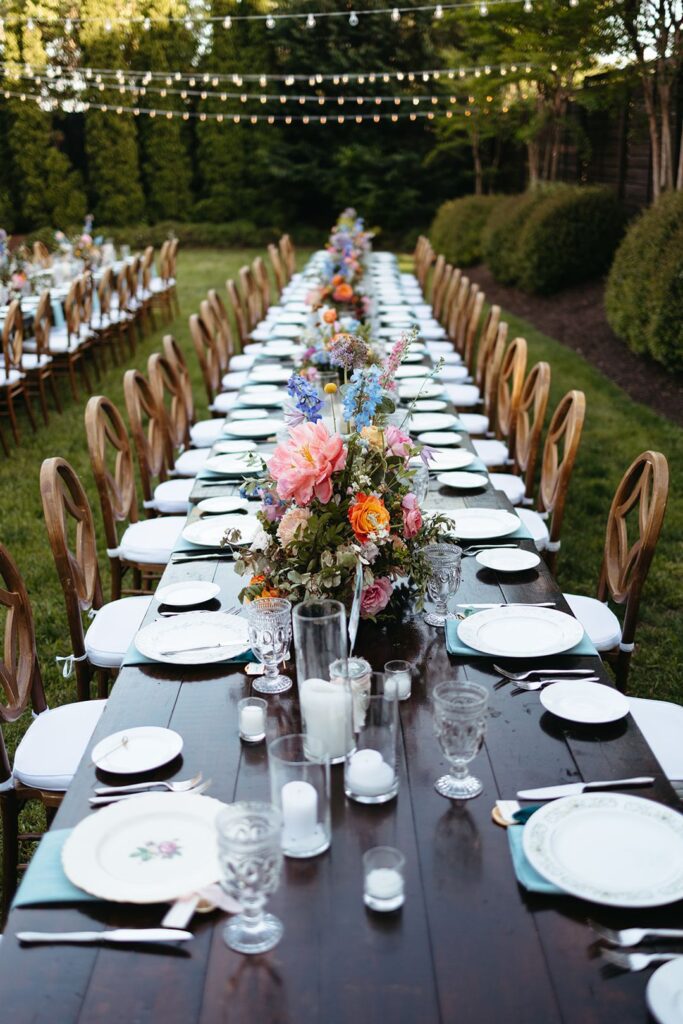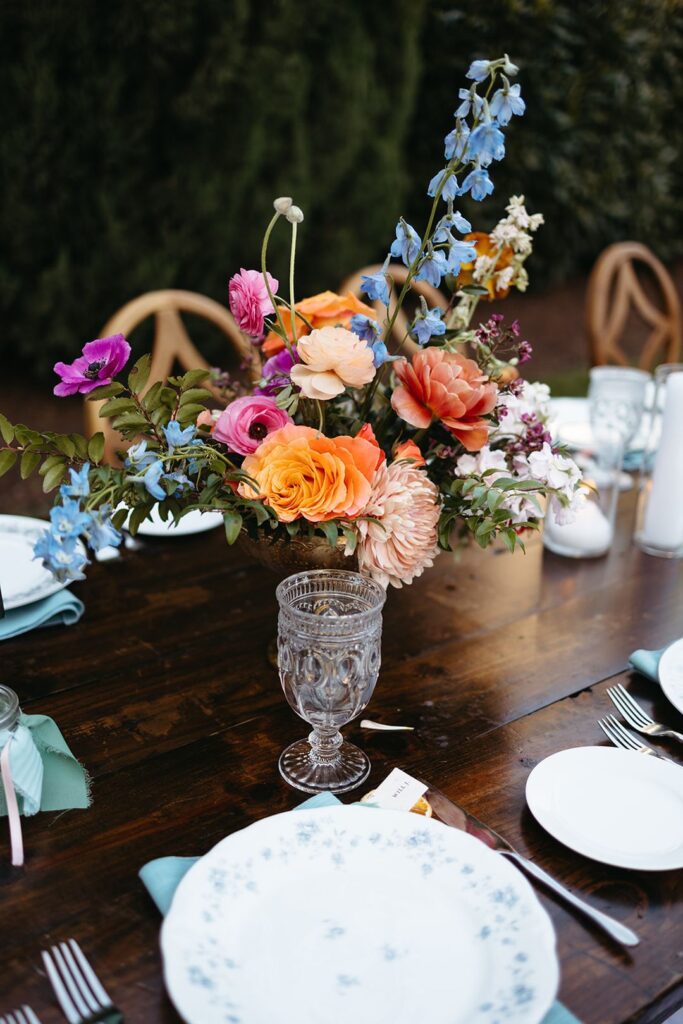 Blue-Hued Wedding Lounge
Eventually, The Victorian was flipped into a cozy cocktail area. Contrasting the warm-toned space, we chose our always popular Saylor Navy Velvet Sofa and Chair. It paired beautifully with a bright Aqua Rug and modern Rhodes Coffee Table. To optimize the space were a handful of cocktail tables – dressed up with deep black linen. Combining with the whimsical florals, it was a perfect cocktail hour set up for the colorful garden wedding.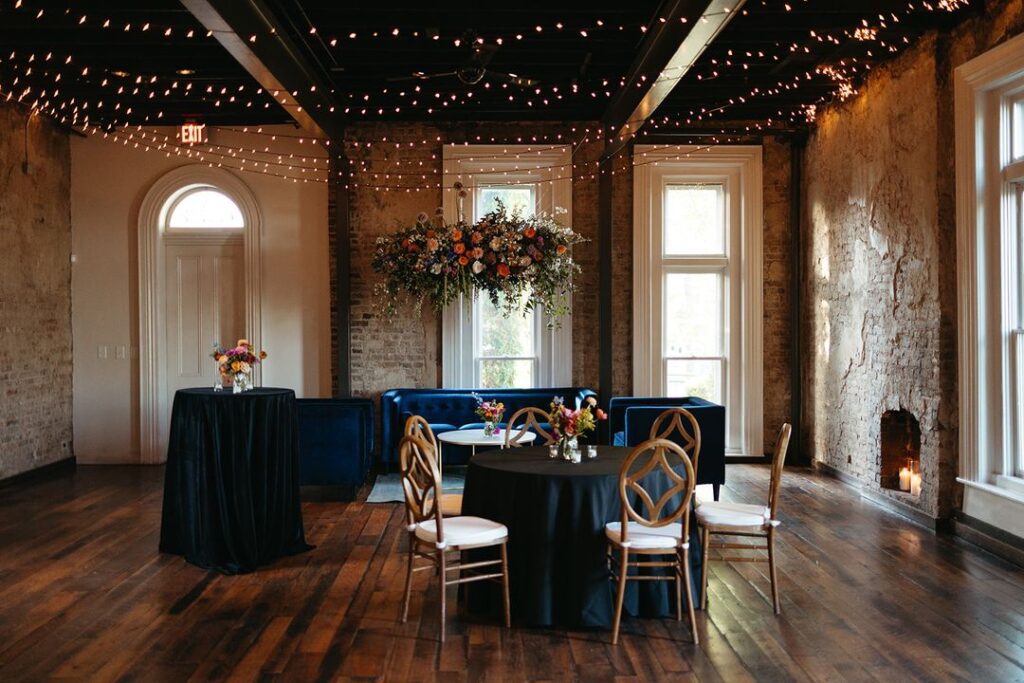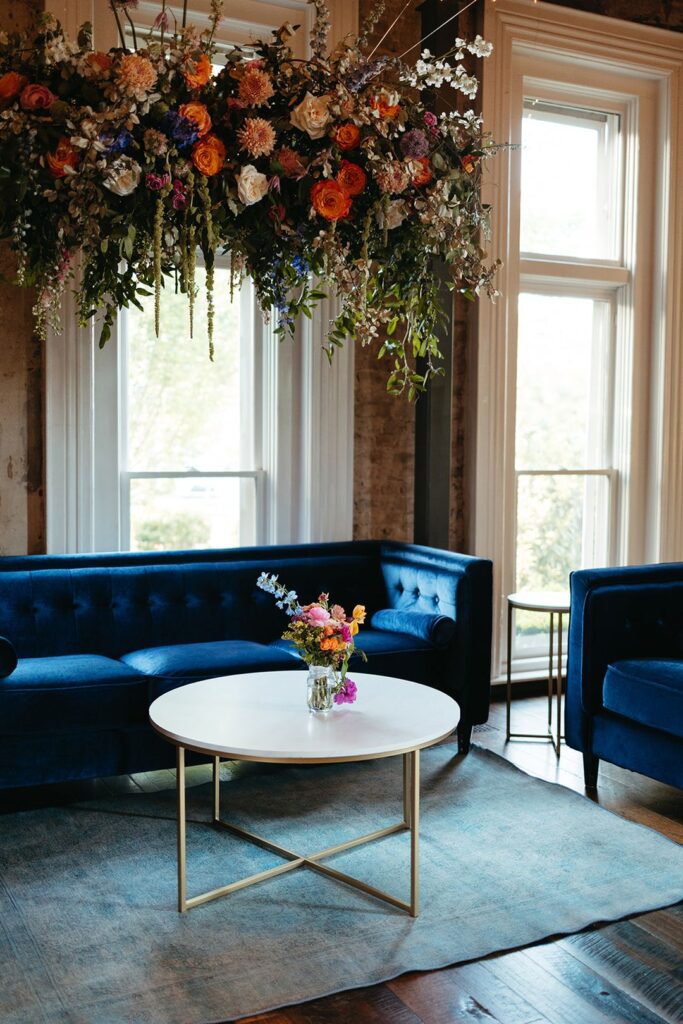 On-Theme Wedding Cocktails
To match the colorful event design, equally bold wedding cocktails were required! J Jackson Mobile Mixologist served up a variety of delicious colorful cocktails in our Davis and Coupe Glasses. We chose these pieces for their clean shape, contrasting the vintage-inspired Hob Nob Glassware used at each table. We also loved the fun colors of the beverages as well as edible florals!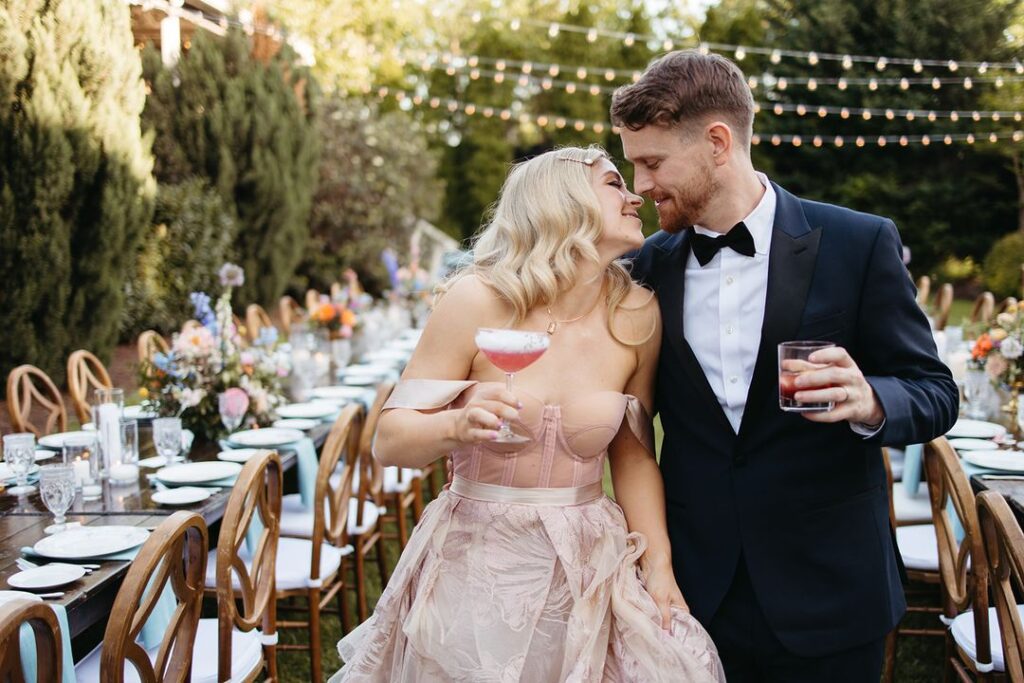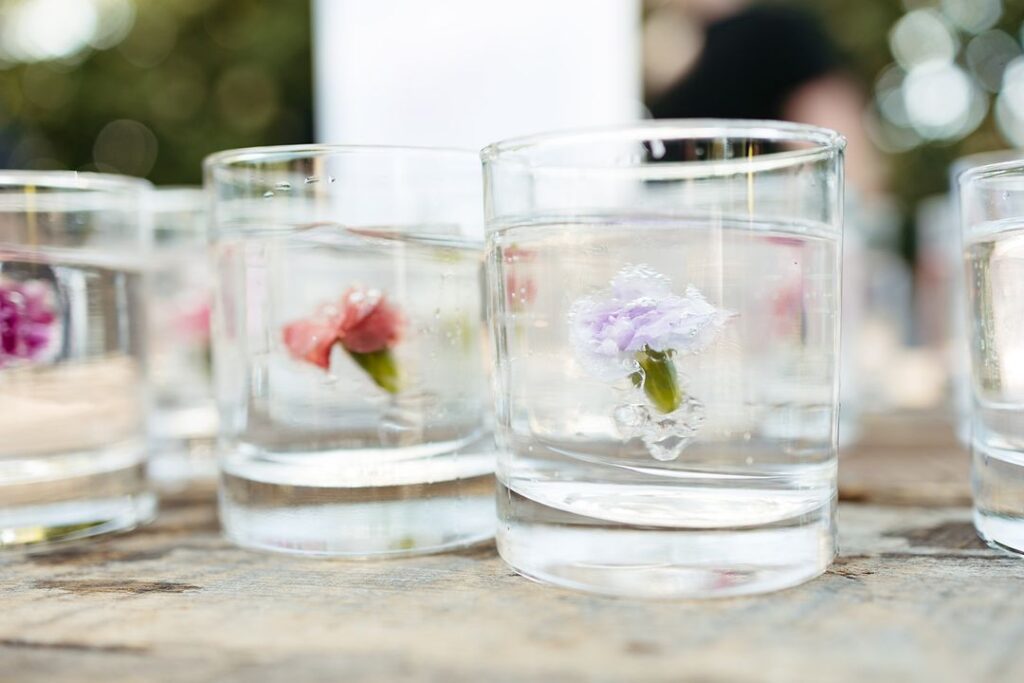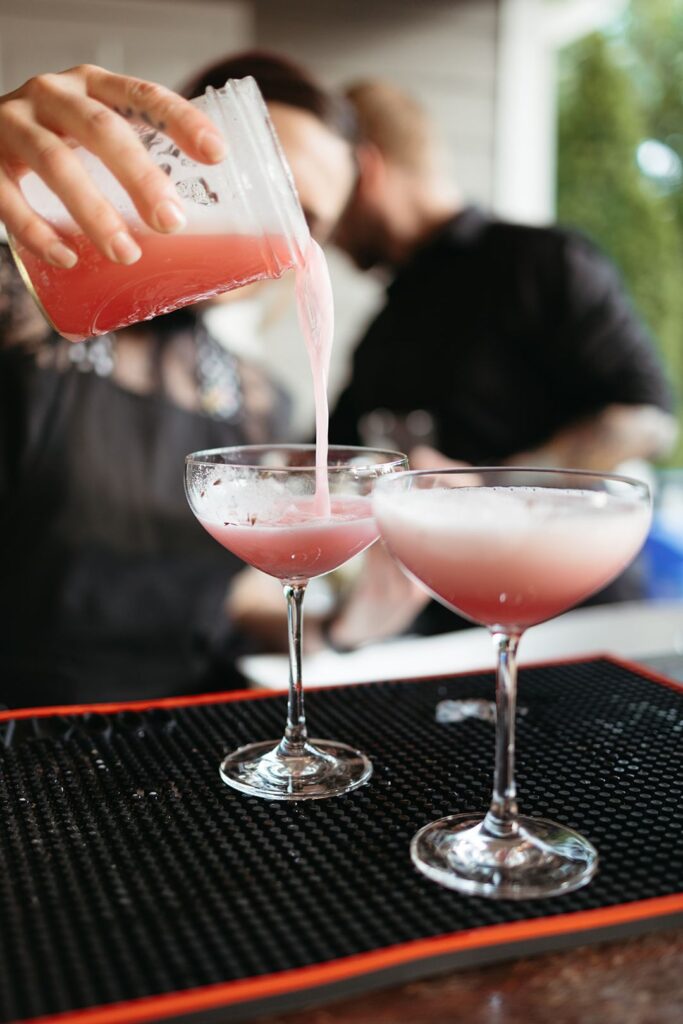 Vendors
Planning: Posh Occasions
Venue: The Cordelle
Florals: LL Floral
Photography: KT Sura Photography
Live Painter: Heather Wolfe Art
Bar: J Jackson Mobile Mixologist
Catering: South Fork Catering Co.
DJ & Sparkle Fountains: Request Premier
Lighting: Bright Event Productions
HMUA: Local Honey
Groom Attire: The Black TuxTransportation: Signature Nashville
Looking to recreate the style of this colorful garden wedding for your upcoming nuptials or an outdoor celebration? Send our team a message at info@southerneventsonline.com for help! For more colorful event design inspiration, take a look at our blog covering Colorful Summer Party Ideas.
TAGS | Colorful and Fun Outdoor Wedding, Event Seating, Glassware, Nashville Wedding Reception, bar event rentals, colorful decor, colorful event lounge, colorful event rentals, heirloom china, lounge areas, outdoor event rentals, outdoor southern weddings, wedding lounge, wedding reception ideas
FEATURED RENTALS | Harlin Dining Chairs, Fruitwood Farm Tables, Hob Nob Glassware, Abby Flatware, Heirloom China, Davis Glass Cylinders, Saylor Navy Velvet Sofa, Rhodes Coffee Table, Aqua Rug, Davis Glassware, Coupe Glass,
---
28

Jul

On Trend, Southern Events Products, Trends and Inspiration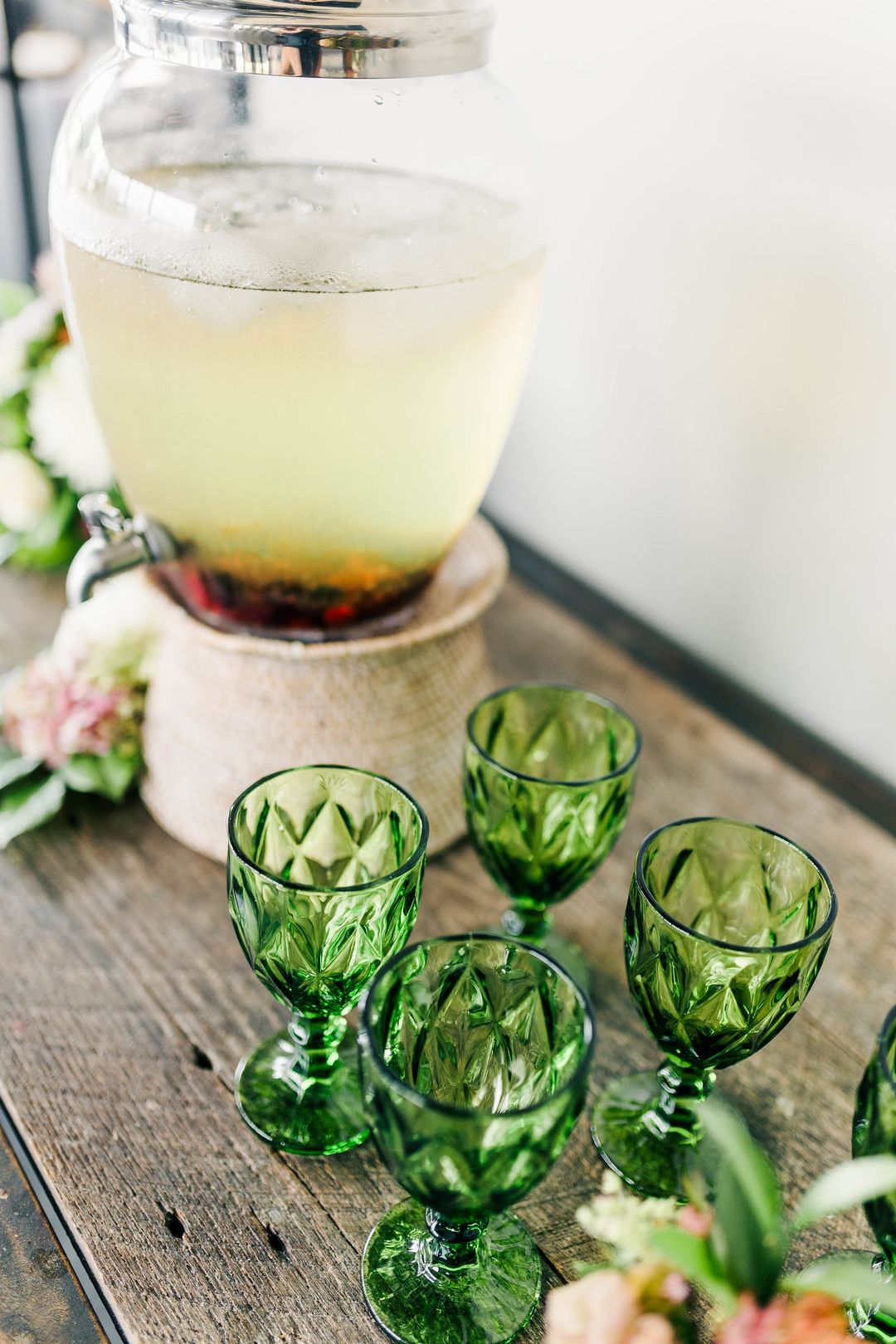 Hosting a laid-back cocktail hour? Level up your event when you serve big batch cocktails(or mocktails) in style! By featuring beautiful dispensers and fitting glassware for each type of drink, your guests are sure to be impressed. Learn about our beverage service rentals that will make it a breeze to serve up large batch cocktails at your next social event! Plus, we're sharing some easy party drinks for every type of gathering!
Easy Pour Beverage Jars
If you want easy yet elegant, our easy-pour beverage jars are a good choice! Featuring a simple pour spout and a sophisticated shape, these pieces make it easy to create big batch cocktails that guests can serve themselves. With a little rearranging of your fridge, you can even store them indoors until guests arrive.
Our Classic Glass Beverage Jar is especially impressive if you plan to serve up a colorful or fruit-infused cocktail or mocktail! Perhaps a tasty blackberry collins, basil strawberry lemonade, or a rum punch. Pair it with our Rattan Beverage Jar Stand, or a glass cake stand. Meanwhile, our Gold Beverage Jar is an equally gorgeous option for a more upscale event! To create an on-trend display, consider placing them on our Market Cart or any of our beautiful bars for rent.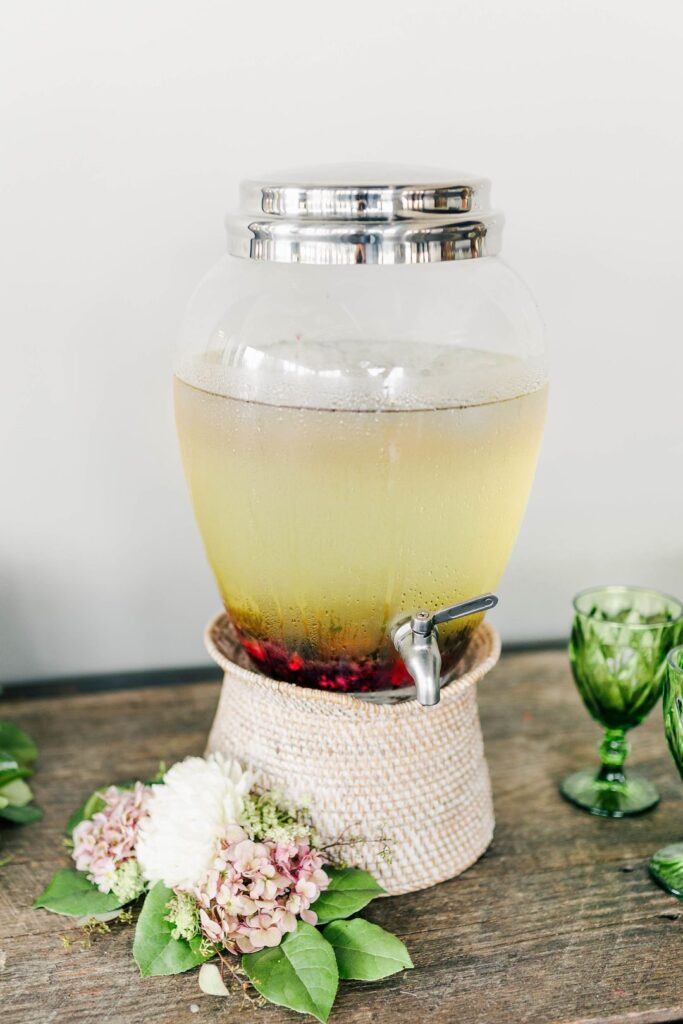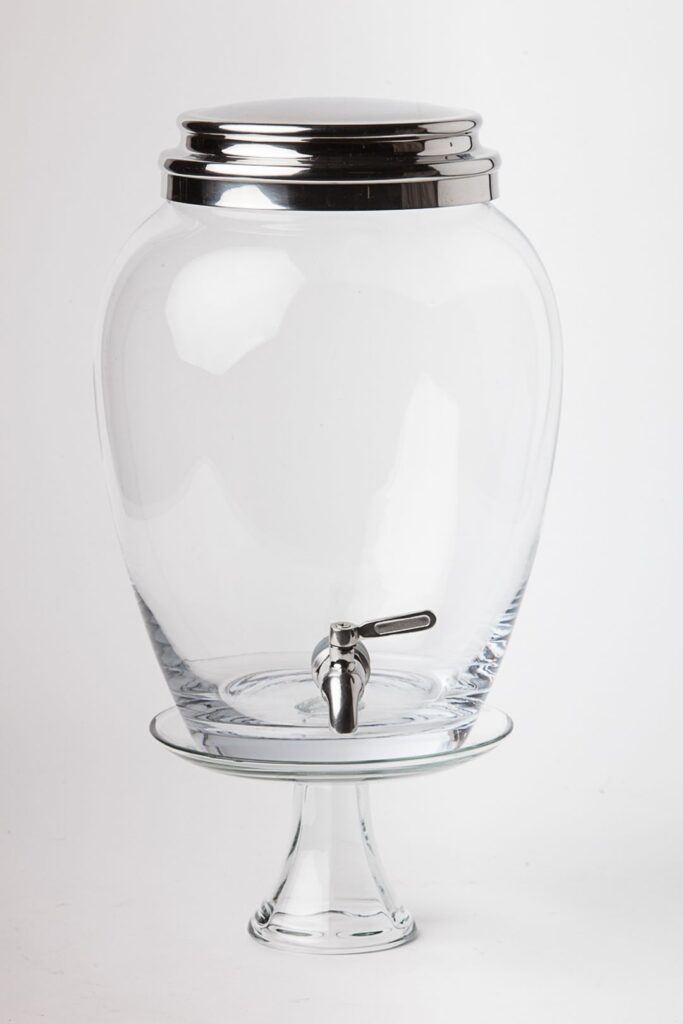 Silver Beverage Containers
If you're hosting a Southern-inspired gathering, our silver beverage containers are essential! We have a wide selection of styles available! From a beautiful Silver Beverage Pitcher – perfect for an assortment of Sangrias, fresh Margaritas, and infused waters. To options for hot drinks, like a Silver Coffee Urn – a fail-proof way to serve a delicious Mulled Wine, Coffee bars, or Hot Buttered Rum. Featuring pour-spouts, there will be no need to worry about burnt fingers!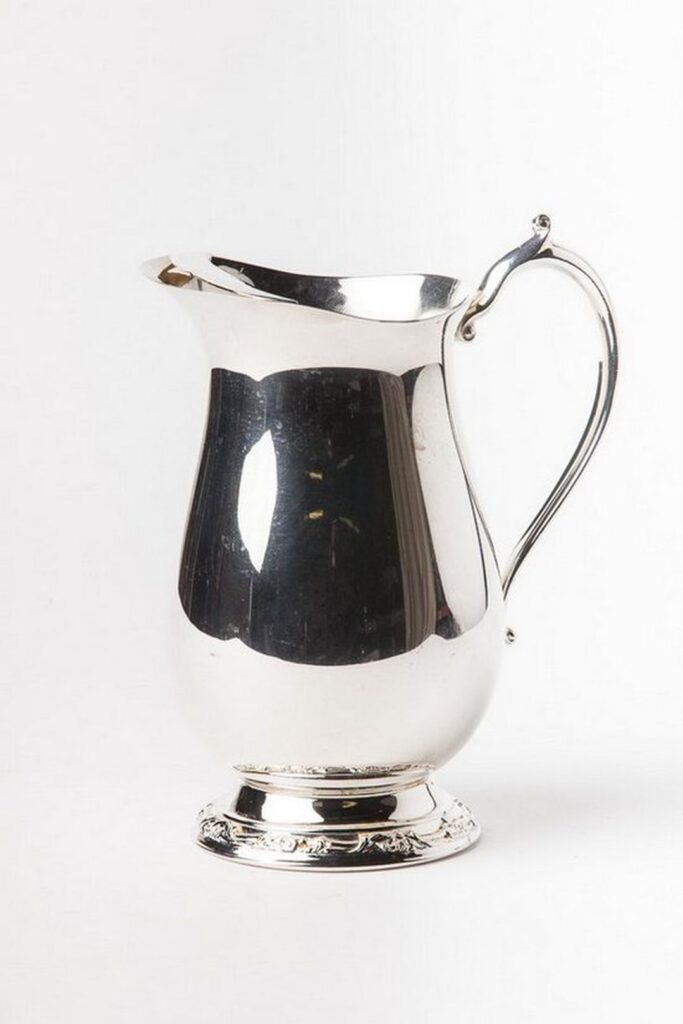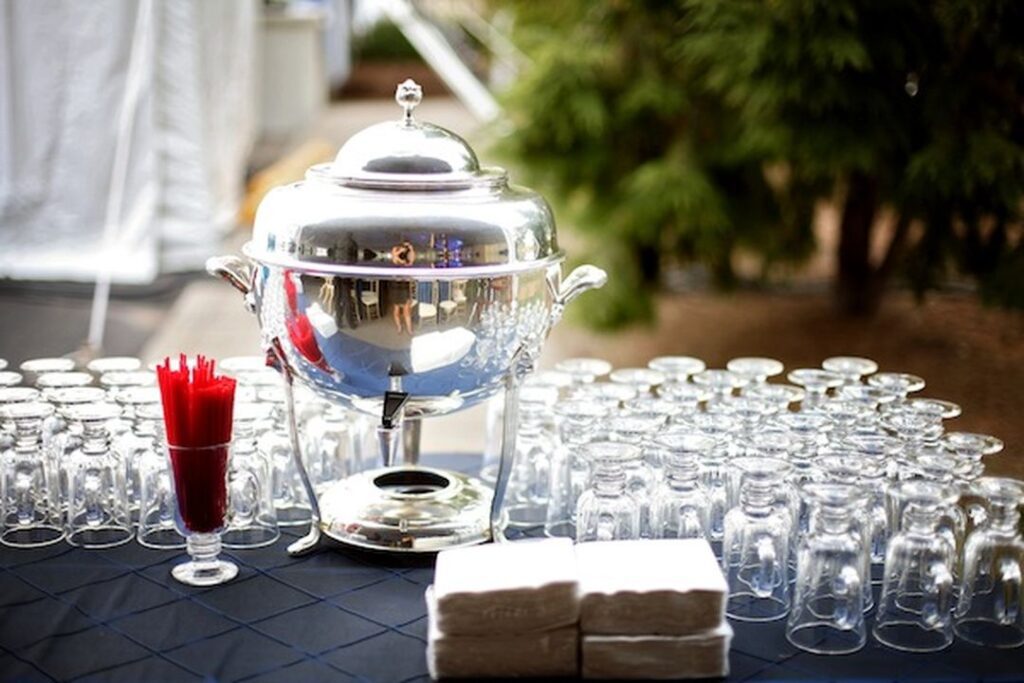 Correct Cocktail Glassware
An easy way to impress your guests is by showcasing the knowledge of the correct cocktail glassware. Southern stocks a variety of glassware, in every shape and style, so that you can display each drink as intended. Come to us with your intended menu, and we're glad to point you in the right direction – whether you plan to whip up a classic beverage or a more upscale drink. We have wine glasses for every type of Sangria. High-ball glasses for mixed drinks. Martini glasses for iceless cocktails. Or colored glassware to make mocktails feel special and much more! To store your glassware, don't forget to rent one or several of our Bar Back Shelves, available in a range of styles and colors.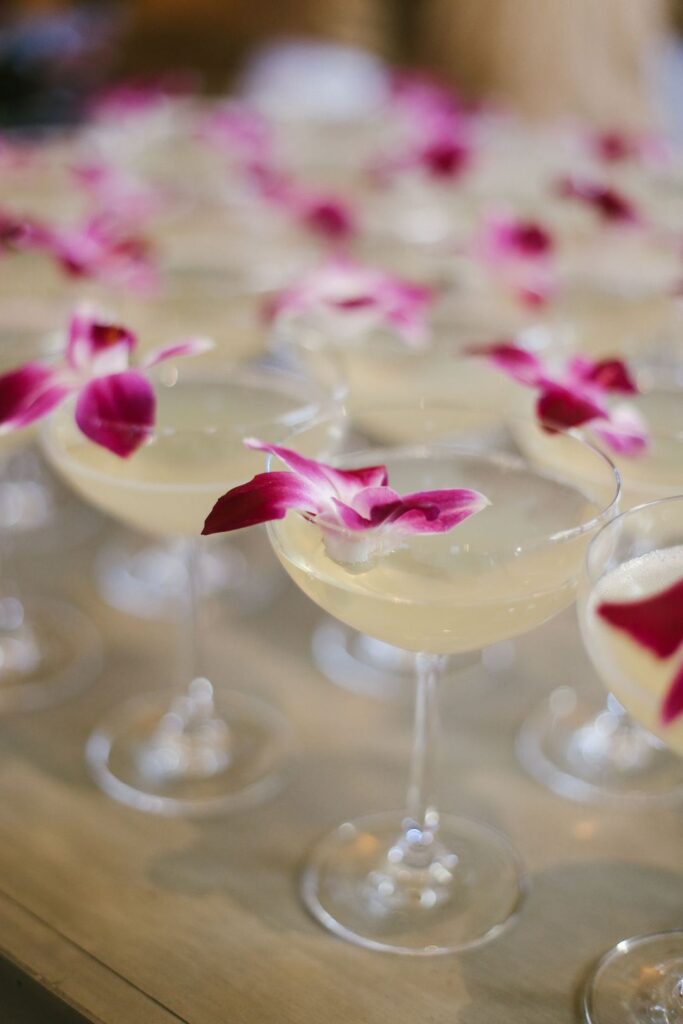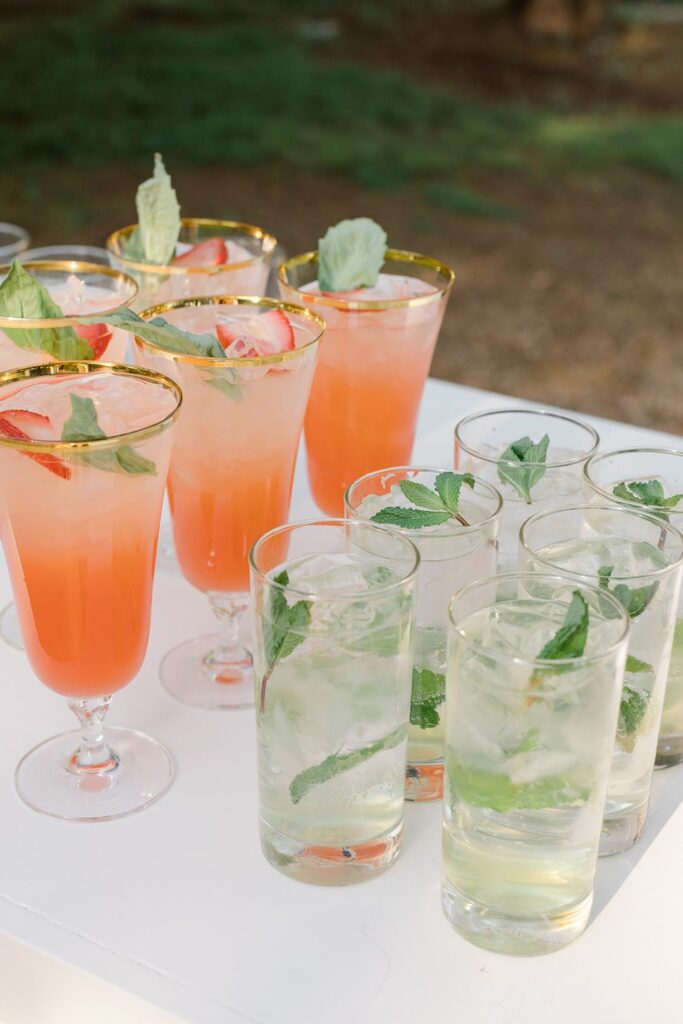 Planning to serve big batch cocktails at your upcoming celebration or party? Contact our team today for assistance choosing the best beverage service rentals for your event! Or view our catalog to see our full inventory of products, including drink dispensers, glassware, and more. Need more cocktail or mocktail hour inspiration? Check out our in-stock bars and accessories for rent.
TAGS | Beverage Service, Cocktail Party Rentals, Glassware, cocktail hour, cocktail party ideas, glassware rentals Nashville
FEATURED RENTALS | Gold Beverage Jar, Classic Glass Beverage Jar, Rattan Beverage Jar Stand, Market Cart, silver beverage pitcher, silver coffee urn, bar back shelves,
---
21

Jul

On Trend, Southern Events Products, Trends and Inspiration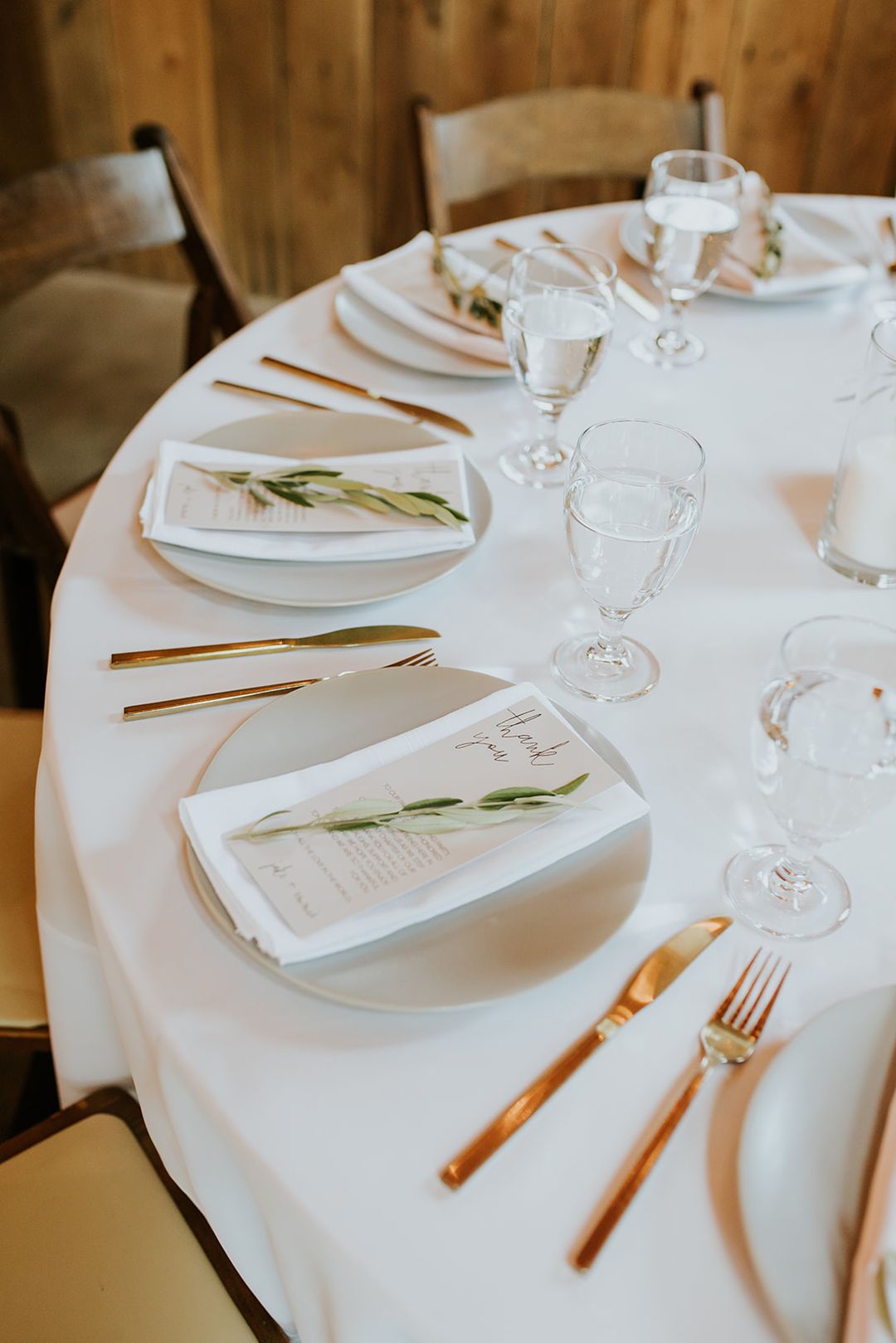 Sometimes less is more, and modern minimalist events prove just that! There is beauty to be found in simplicity, not to mention it often comes with a smaller decor budget. Less cluttered, modern minimalism can make it feel easier to breathe within your event space, without compromising style. Learn how to host a modern minimalist event when you take a look at our in-stock rentals that will lend a clean and timeless look.
Clean Tablescapes
To achieve a modern minimalist table, you'll want to keep any decor simple and maintain as much open space as possible – perhaps stick to greenery! As for serving ware, opt for pieces that are sleek. Such as our Earthen China, available in 3 neutral colors, or Plain Glass China. Easily feature an elegant pop of metallics with our simple Austin Gold or Noir Matte Black Flatware. For a romantic minimalist table, feature a touch of color in your otherwise neutral palette with a set of our poly napkins. Perhaps in Ice Pink, Slate, or Lilac! Or, grab a velvet set for subtle texture.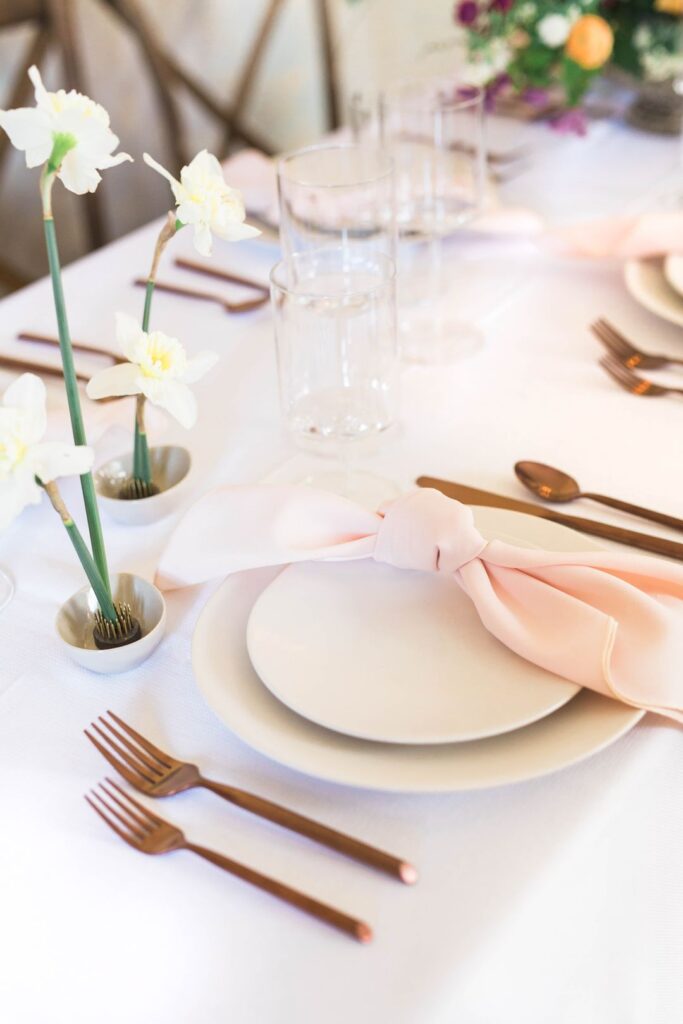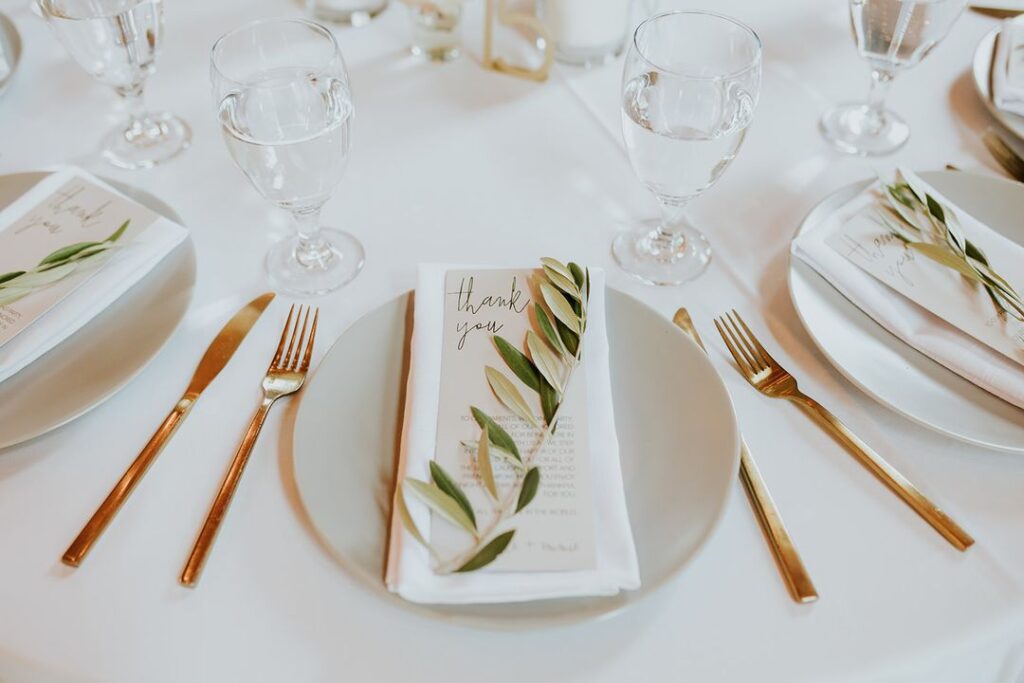 Stylish Guest Seating
Of course, your dinner tables will need chairs, of which we have many to choose from. For a modern event design, we recommend sticking to pieces that feature neutral colors and simple details. Any of our acrylic chairs are a great option, which will lend a unique contemporary look to your event. Both our Acrylic Ghost Arm Chairs and Acrylic Ghost Armless Chairs are a popular choice! For a slightly more romantic vibe, or to complement a warm-toned palette, you might opt for our Harlin Dining Chairs.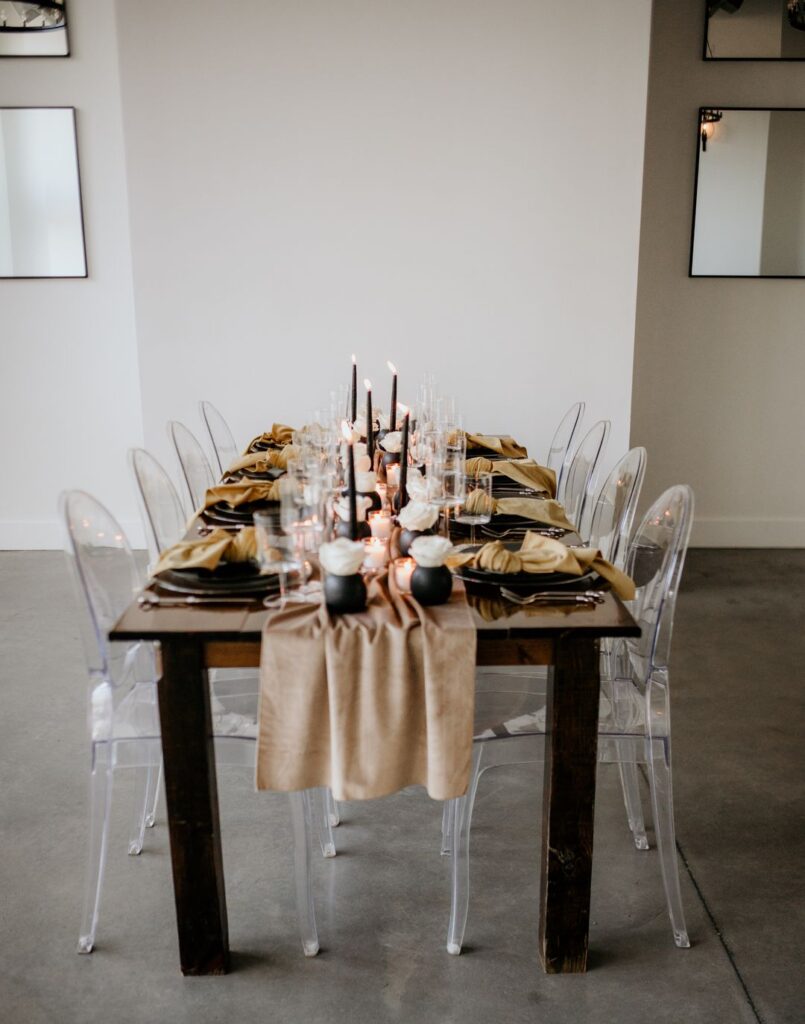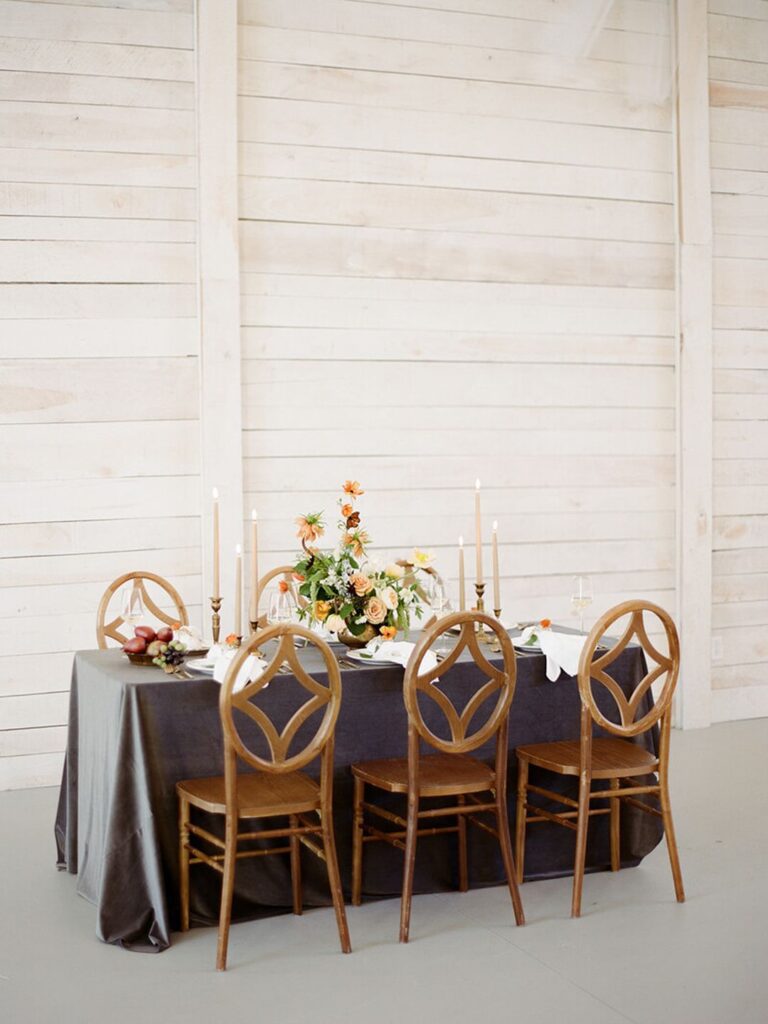 Sleek Lounge Areas
As always, every event needs a lounge to socialize. And one of our personal favorites are modern minimalist event lounges, starring clean & elegant furniture. We have a wide selection of timeless pieces that you can mix and match to create a one-of-a-kind social area. To start, choose a plush sofa, like our Regent Black Velvet Sofa – perfect for a moody minimalist lounge! Then, add-on chairs, such as one of our acrylic pieces or our unique White Eiffel Arm Chairs. And don't forget to include areas for guests to set their drinks! We're currently favoring our Rhodes, Rivet and Granger accent tables, with their sleek legs.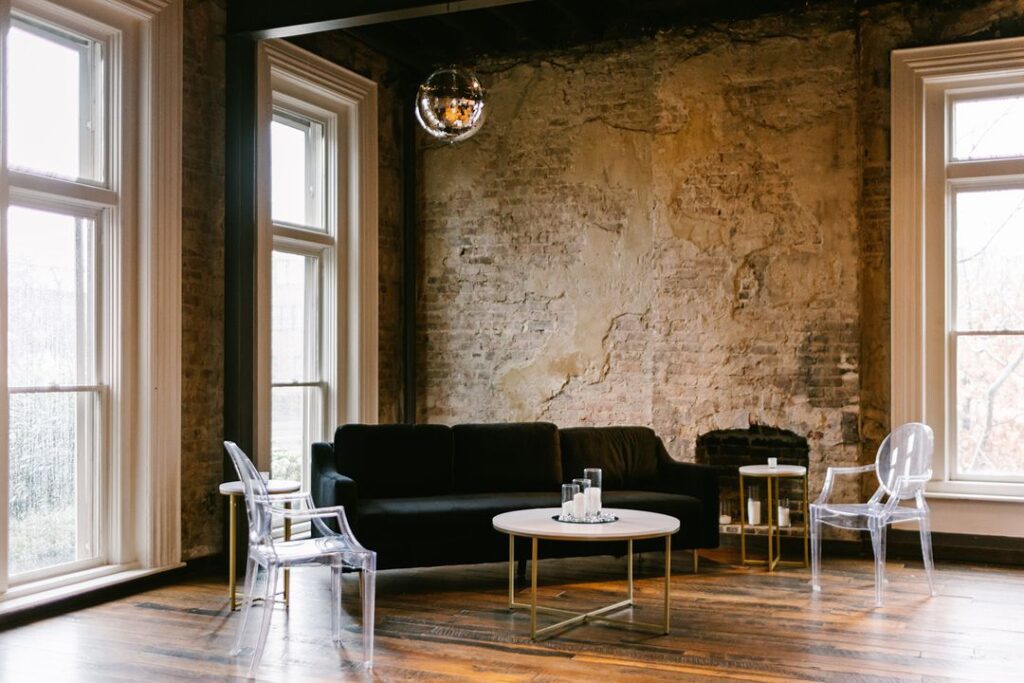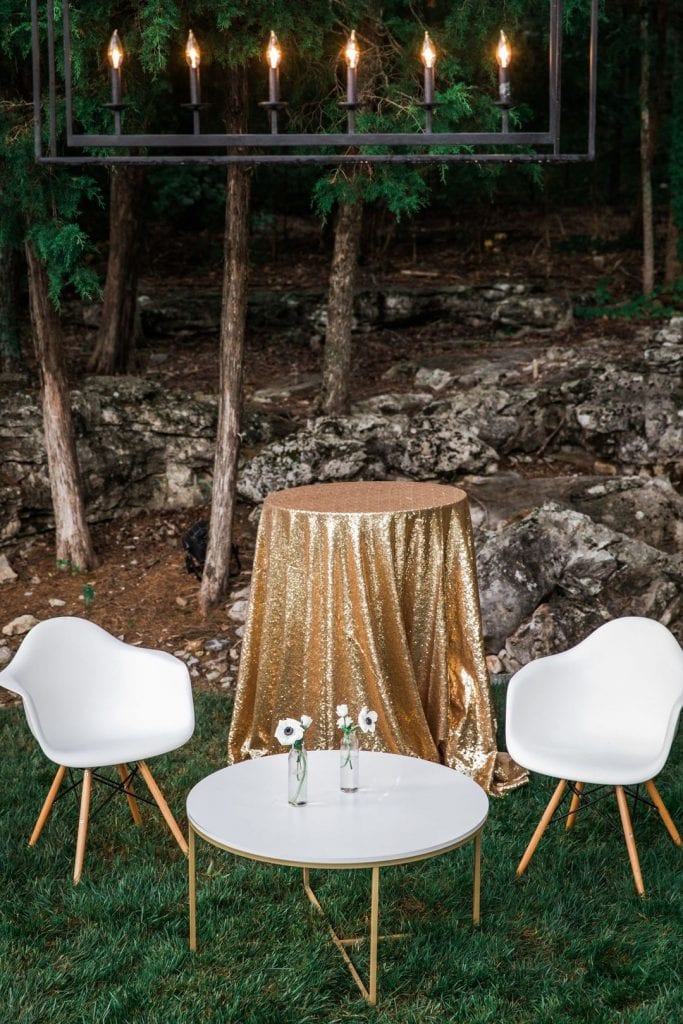 Ready to plan an on-trend modern minimalist event? Send our team a message at info@southerneventsonline.com for help selecting on-theme rentals!
TAGS | Event design, Southern Events Party Rental, luxe event design, minimalist event design, modern event decor, modern event design
FEATURED RENTALS | Earthen China, Plain Glass China, Austin Gold Flatware, Noire Matte Black flatware, poly napkins, Acrylic Ghost Arm Chairs, Acrylic Ghost Armless Chairs, Harlin Dining Chairs, Regent Black Velvet Sofa, White Eiffel Arm Chairs, Rhodes Accent Table, River Accent Table, Granger Accent Table,
---
14

Jul

On Trend, Southern Events Products, Trends and Inspiration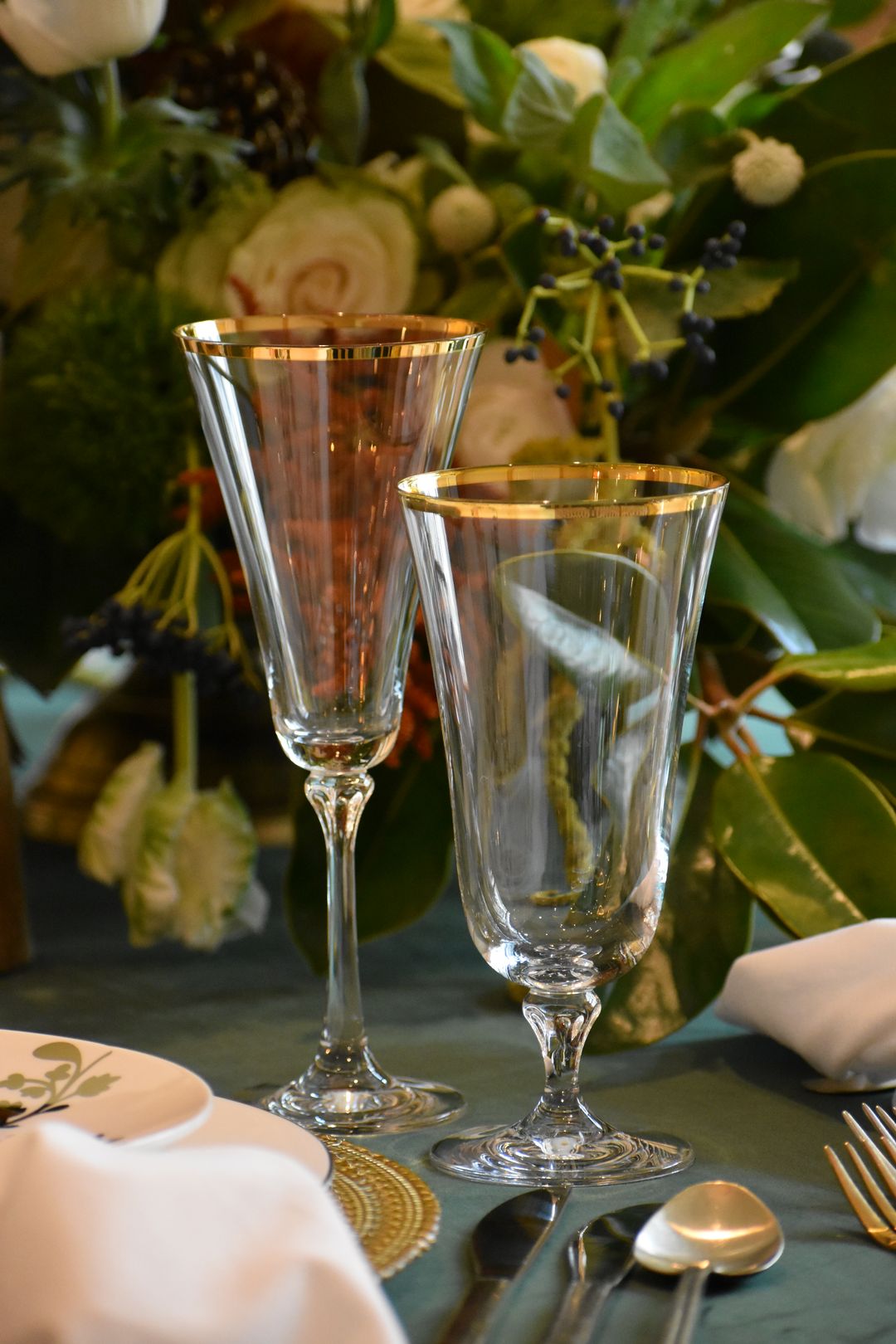 With regal and royal trending in event design, we're all about appreciating the finer things in life – including black-tie dinner parties! This theme is perfect for adding an upscale feel to any celebration, whether it be a birthday, anniversary, reunion, corporate achievement, and so on. Plus, planning a formal event is easier than ever, thanks to our elegant in-stock event rentals. Check out our serving ware, furniture, and decor that can be used to elevate your tablescape and impress your dinner guests!
Elegant Serving Ware
Black tie event design is all about luxury! For the table, we offer a range of stylish serving ware that suits any palette and style. White China is always a good start, whether you prefer Round plates or a more charming design, like Darcy. For a more moody table, opt for Earthen Onyx or Stone China. And should you prefer a more glam look, check out pieces that feature metallics. Such as our Glass Charger with a Gold Rim or Medallion Gold Glass Charger. If you want a touch of color, take a look at our gold accented Laguna or Coronado China.
Just don't forget to grab matching flatware! Our Gold Austin and Abby Flatware are always popular. Meanwhile, the Noir Matte Black and Como Flatware are edgy yet stylish.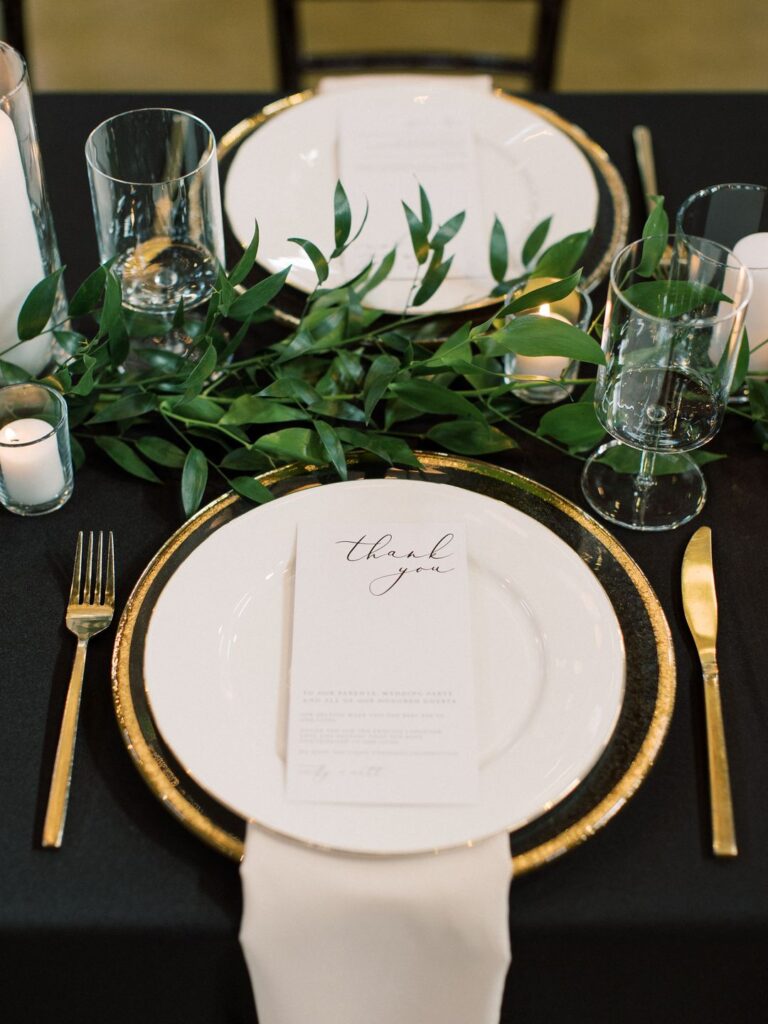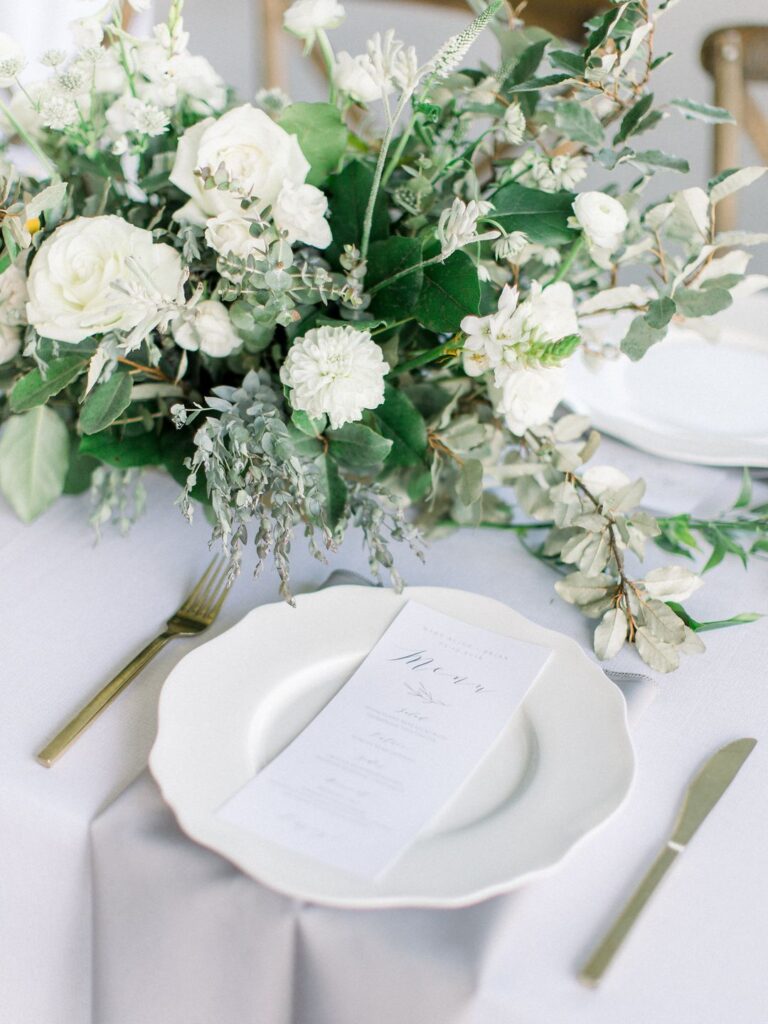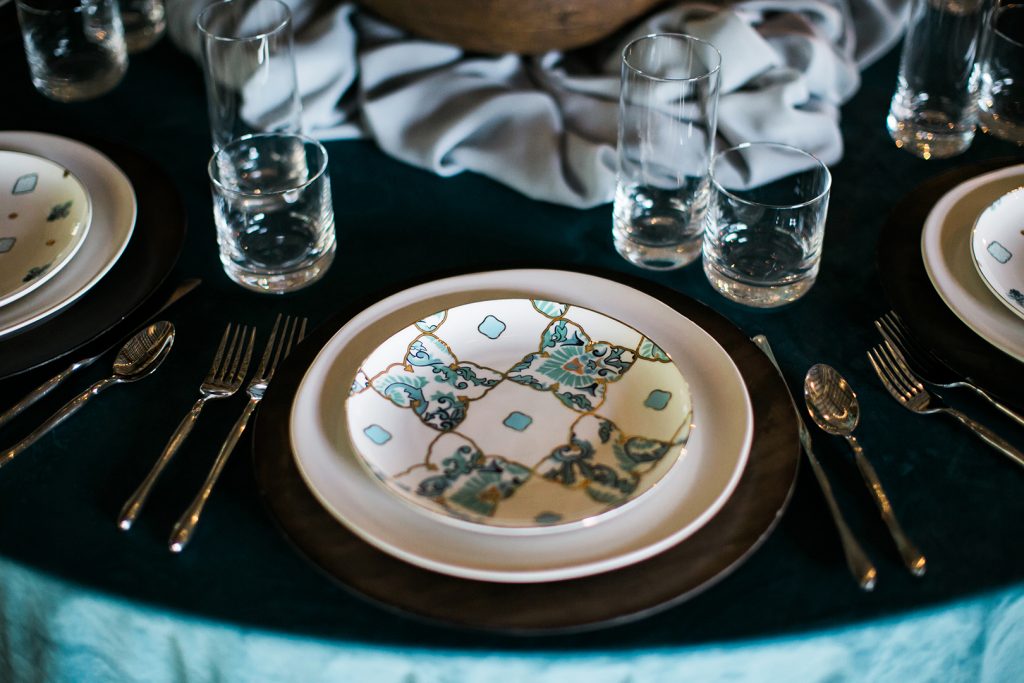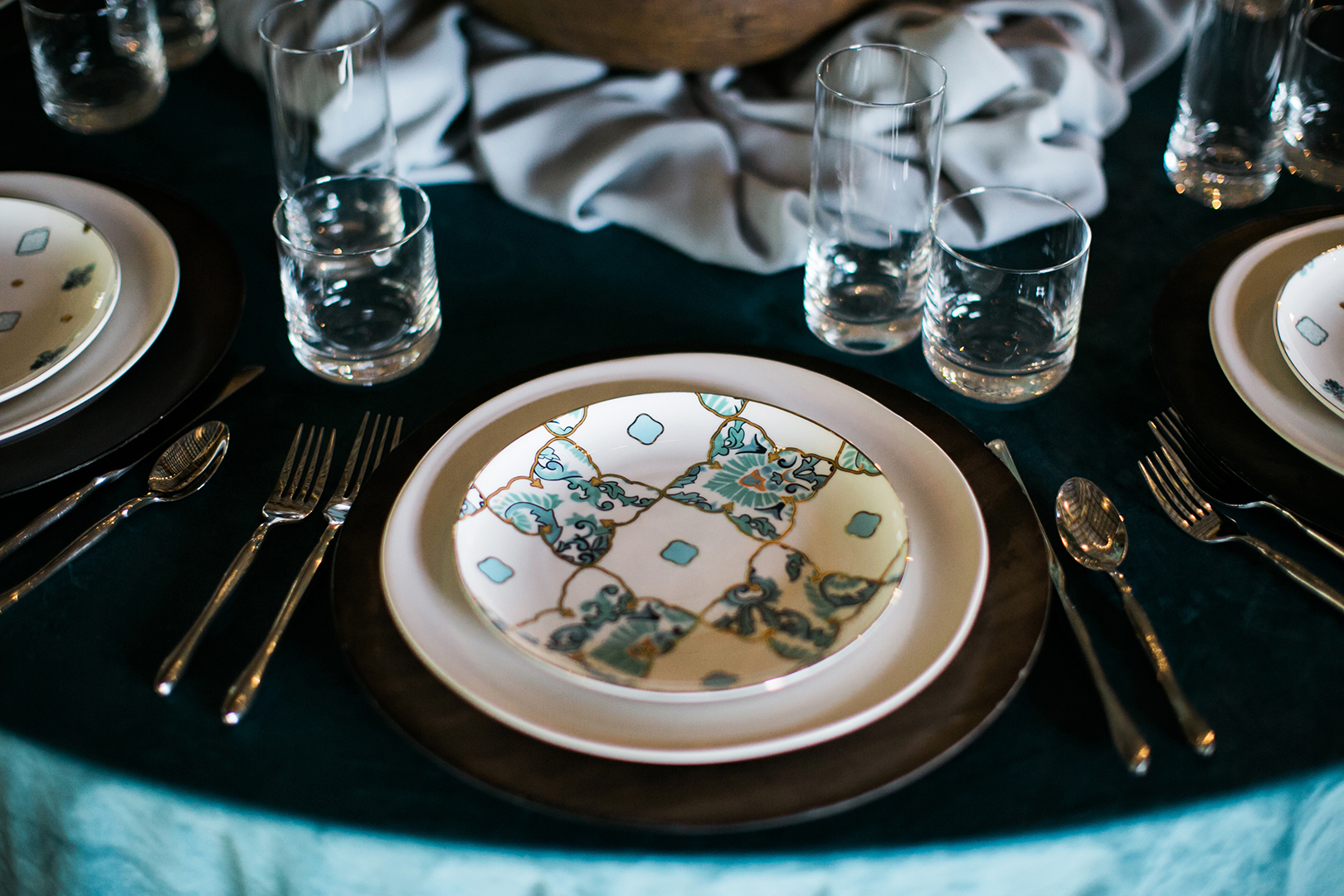 Luxe Seating
Although your own dining chairs will do just fine, swapping your seating for a special evening can make a big impact. It also makes for more cohesive black-tie dinner parties! We offer a variety of stylish seating options, from more traditional designs to unique contemporary pieces. Our Harlin Dining Chairs are ideal for luxe Southern-inspired gatherings, as our the Adeline Chairs. Whereas the Acrylic Carrigan Side Chairs offer a more modern but equally formal look! Then there is the always popular Chiavari Chairs, available in four beautiful colors, which look stunning in any setting.
Hosting a black-tie wedding or black-tie corporate event? Don't fret! We have plenty of seating in stock for small parties as well as large gatherings.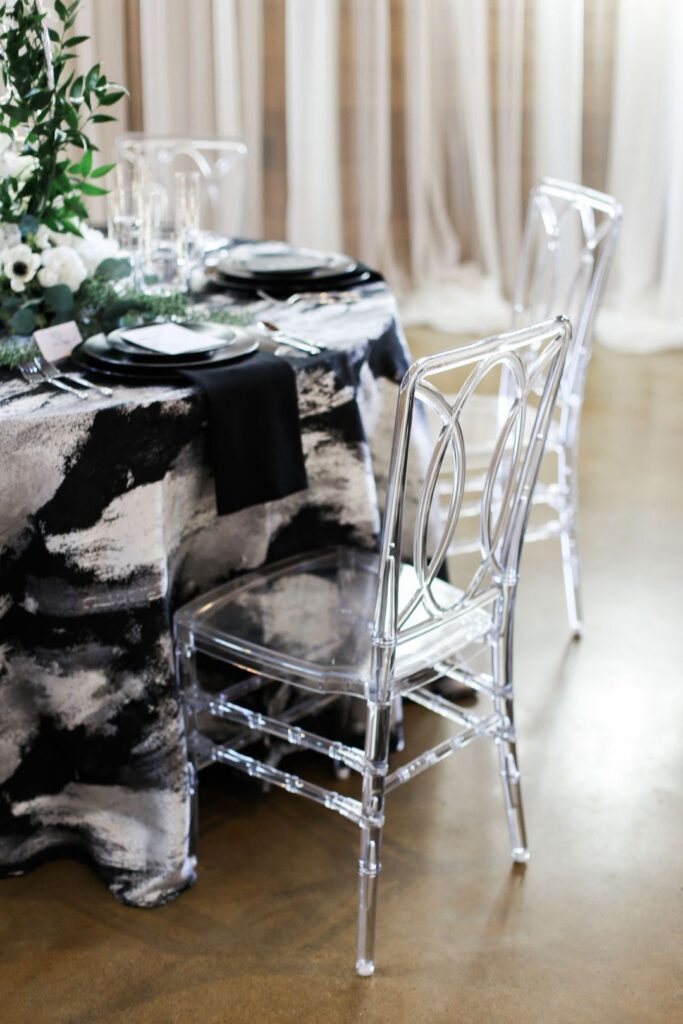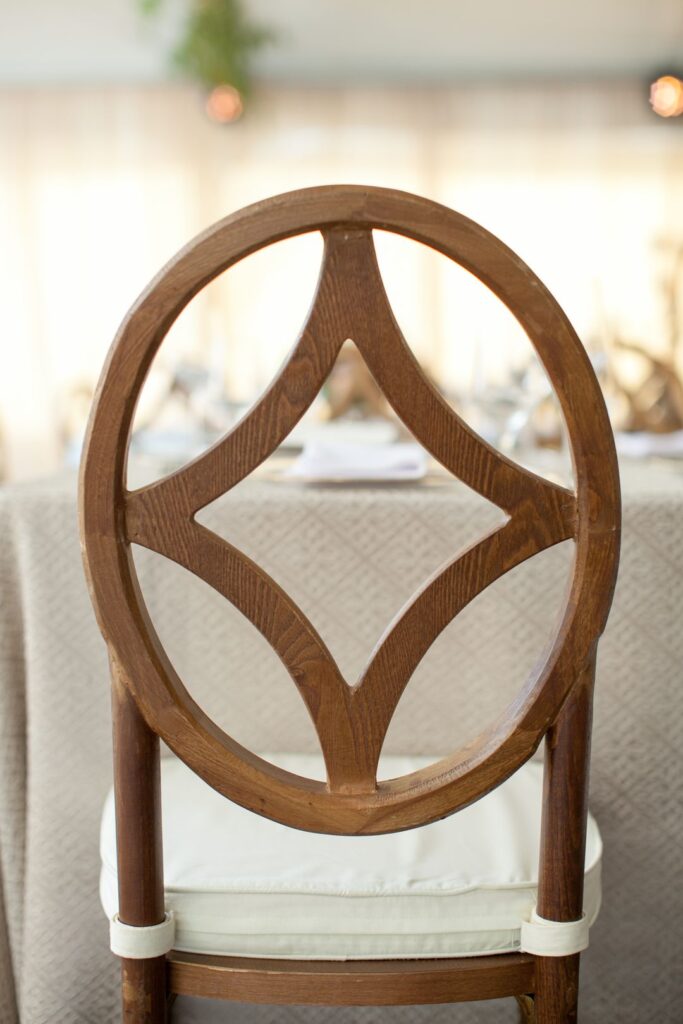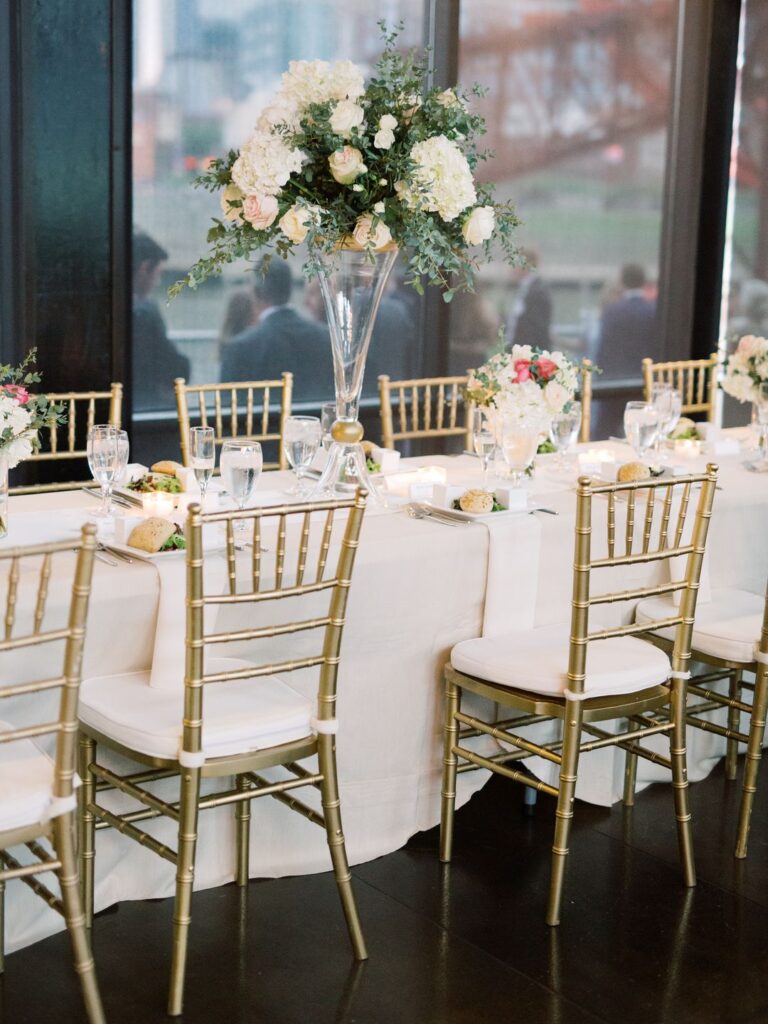 The 'Wow' Factor
While most black-tie event themes entail neutral palettes and elegant serving ware, we love a 'wow' factor. In fact, we encourage it! Little details that will have guests talking, snapping pics, and admiring the thought that went into the design. It can be as simple as quirky glassware, like our always popular Cybil Wine Glasses or Champagne Flutes. Or luxurious velvet linens, in a deep Magnolia or eye-catching Merlot – they won't be able to keep their hands off it! Another luxe addition are stylish centerpieces like our Davis Glass Cylinders, paired with greenery and candles. Or our contemporary Acrylic Rectangle Container.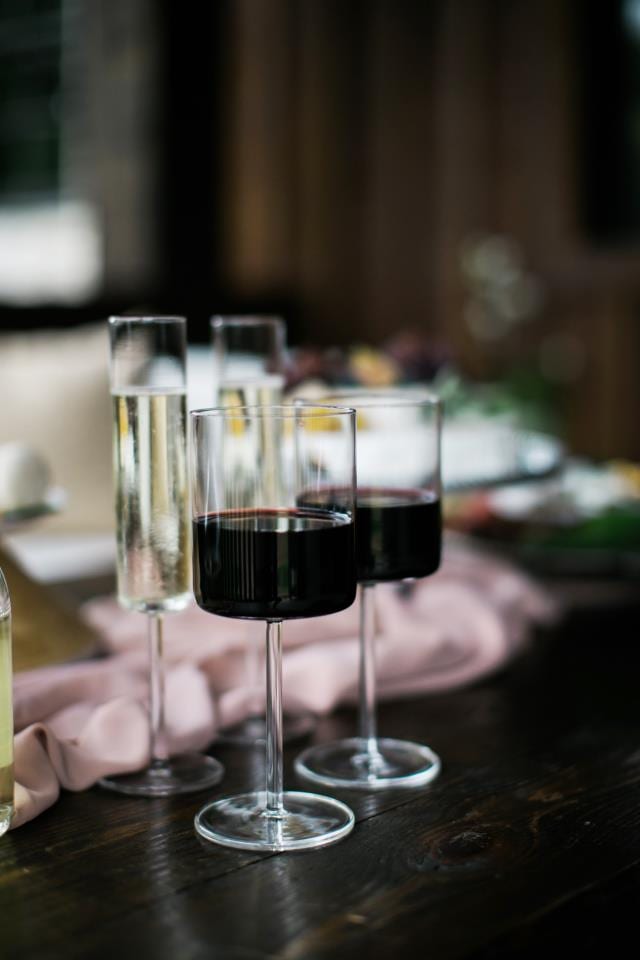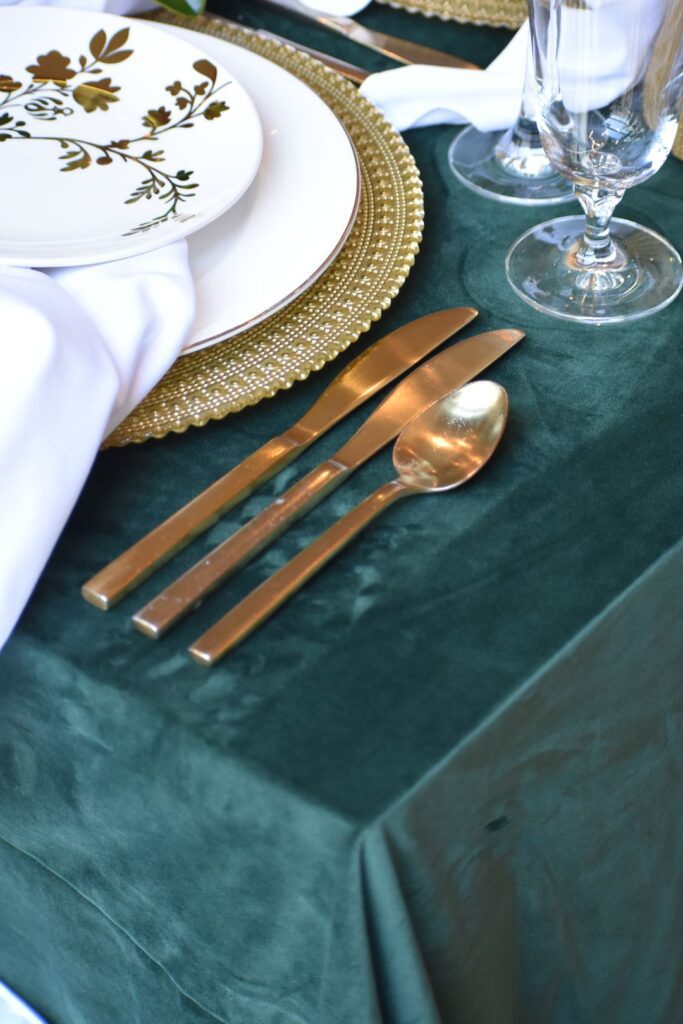 Love the idea of black-tie dinner parties? Send our team a message at info@southerneventsonline.com for help planning a one-of-a-kind event. Or for more event design inspiration, take a look at our blog on Regal Inspired Rentals for Elegant Tablescapes.
TAGS | Black and White, black tie dinner parties, event tables, event tablescapes, formal event design, luxe event design, luxe event rentals, servingware, tablescape design
FEATURED RENTALS | Magnolia Velvet Linens, Merlot Velvet Linens, Davis Glass Cylinders, Acrylic Rectangle Container, Round China, Onyx China, Stone China, Darcy China, Harlin Chairs, Adeline Chairs, Acrylic Carrigan Side Chairs, Chiavari Chairs,Glass Charger with Gold Rim, Medallion Gold Glass Charger, Laguna china, Coronado China, Gold Austin, Abby Flatware, Como Flatware, Noir Matte Black Flatware,
---
7

Jul

On Trend, Southern Events Products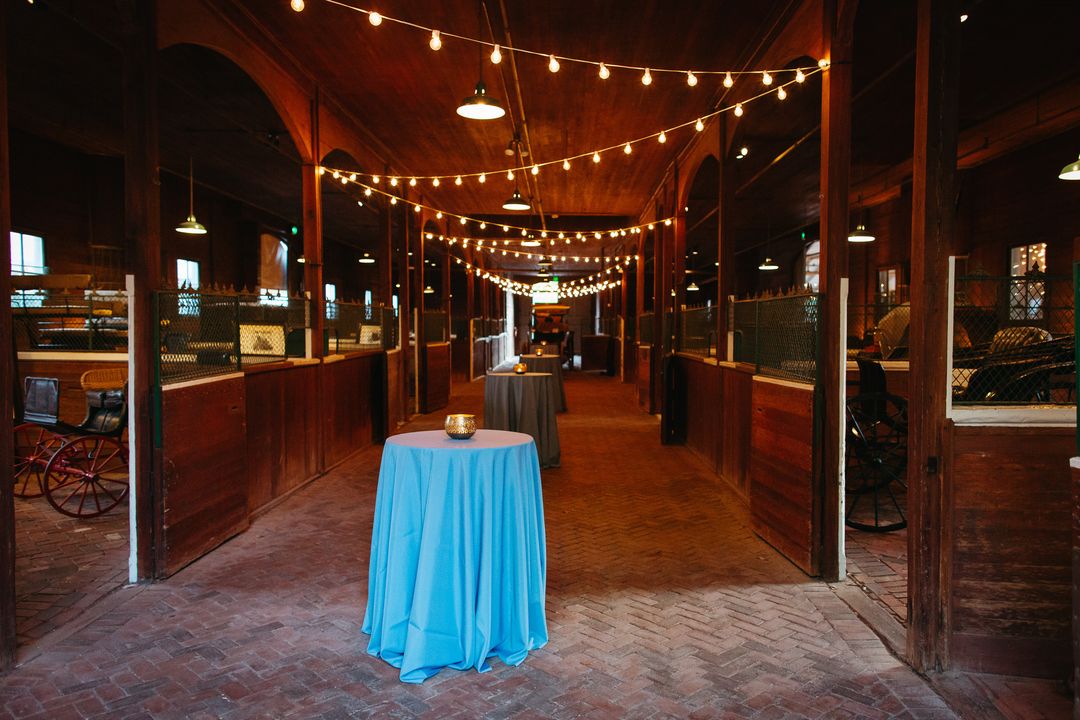 When in the South, there is no better way to celebrate than at a barn party! These historic buildings ooze southern charm and make for a gorgeous rustic backdrop – especially when complemented by our barn-inspired party rentals. Read on to get inspired by our trendy event rentals, featuring materials like wood and metal, that will make for a memorable gathering.
Whiskey Barrel Bars
One of our favorite rustic event rentals, our whiskey barrel bars are a must-have for a barn party. These classic pieces are a gorgeous choice for a bar, as well as a food display or grazing table. Choose from regular whiskey barrels or whitewash barrels, depending on your personal style. Then pick from three stylish tops: Barnwood, Galvanized, or Acrylic. Alternatively, we have a variety of traditional bars, perfect for catered events, made of rustic materials. Including our beautiful Bond Bar, Miller Bar in Wash White, and Tin Lizzie Corrugated Metal Bar.
Of course, every bar needs glassware! We have gorgeous glasses for rent, ideal for a range of classic drinks. Serve straight whiskey in our Monaco Rocks Glass. Refreshing Mint Juleps out of our classic Mint Julep Cups. And a spiked Arnold Palmer in a Recycled Hi-Ball Glass.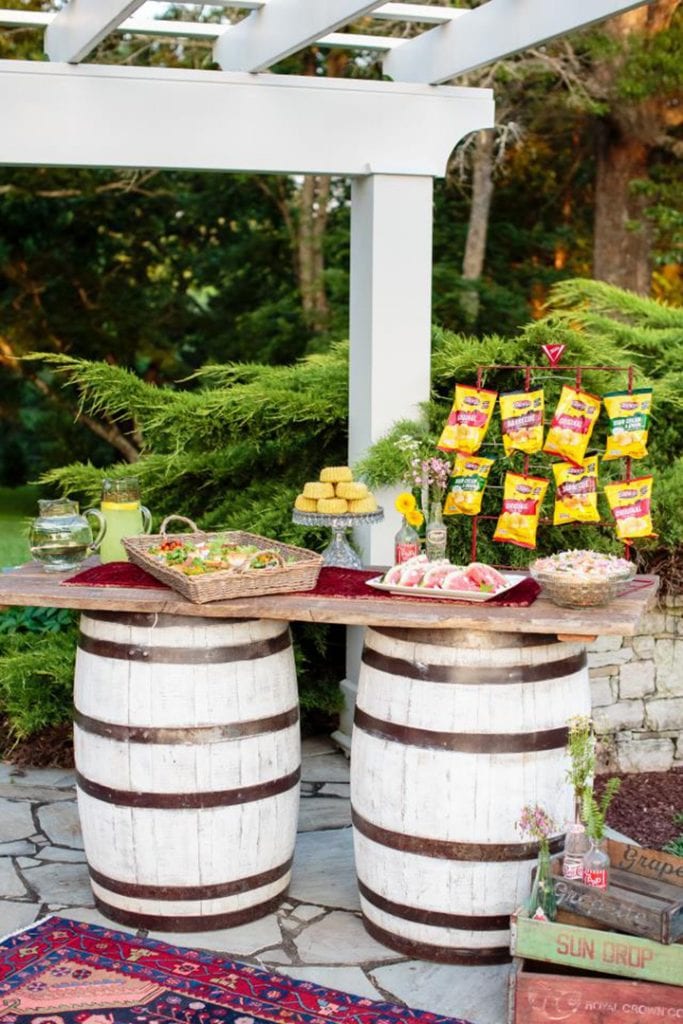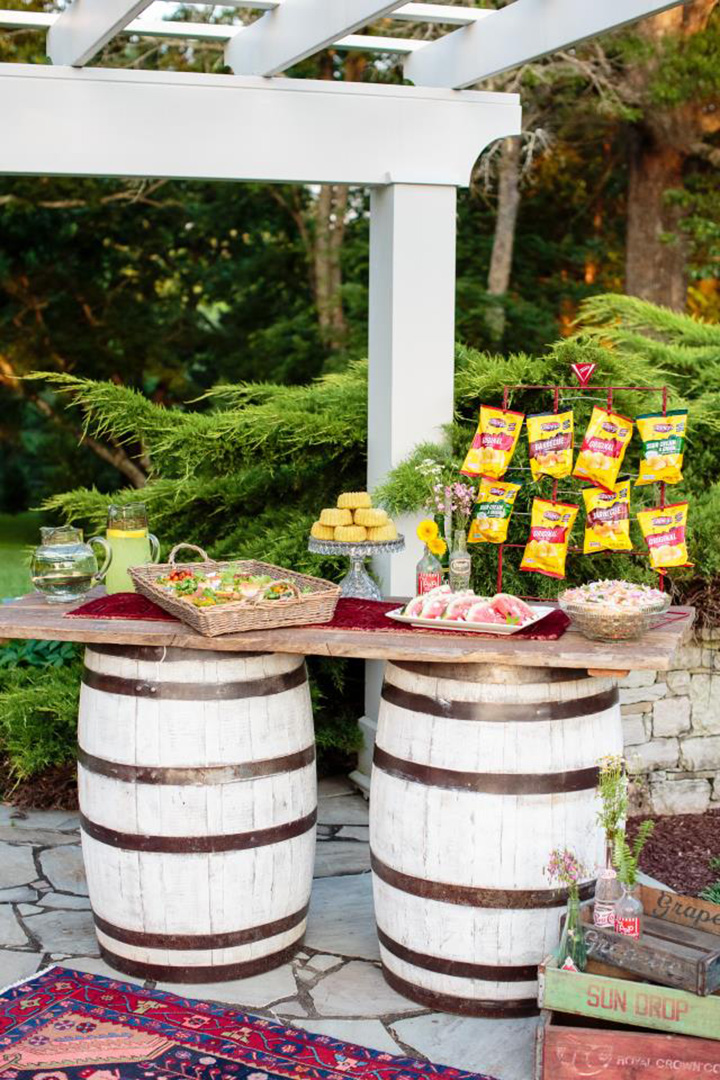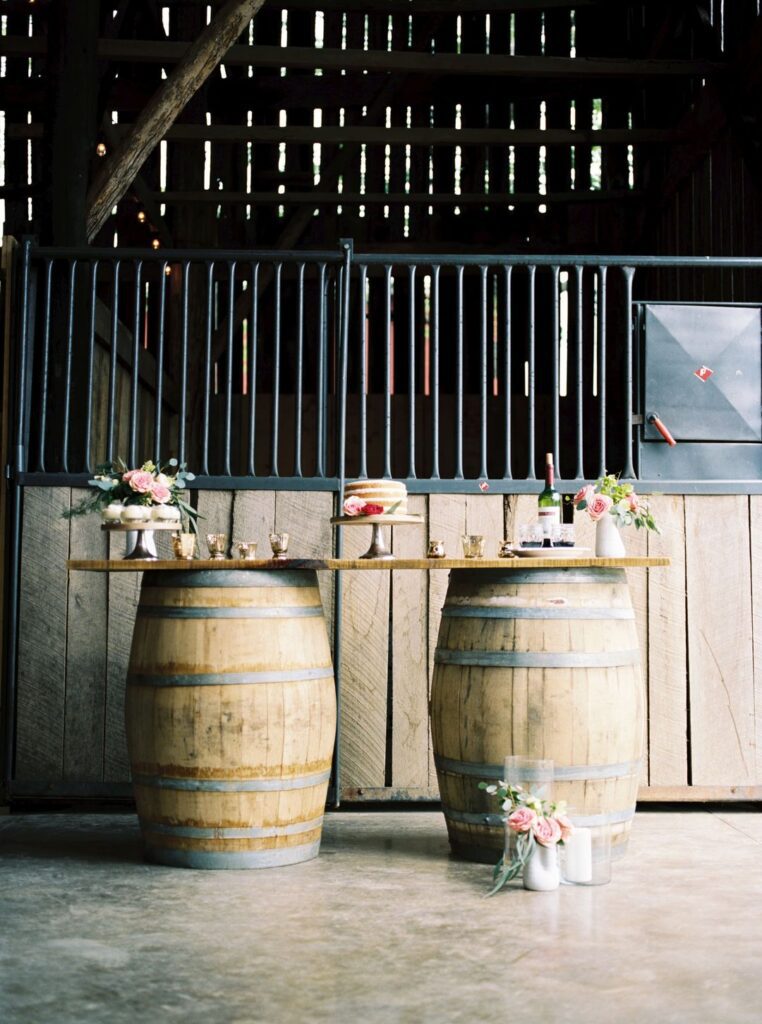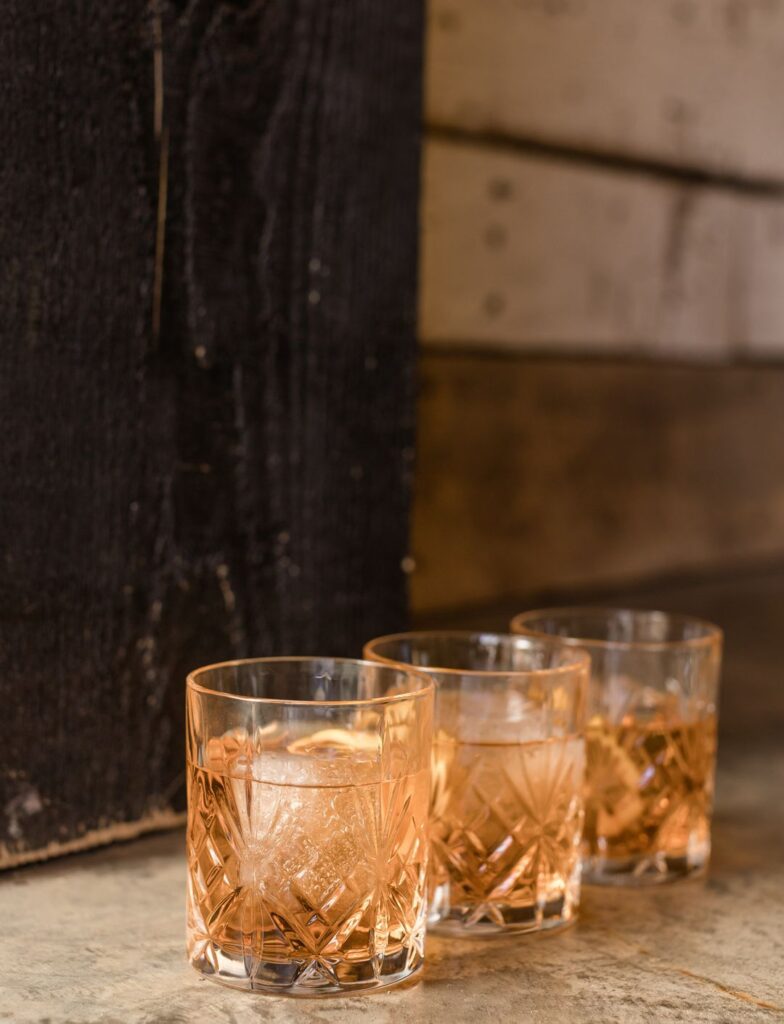 Rustic Bistro Tables
At some events lounge areas are ideal, but for a barn party, cocktail tables will do the trick! With music to dance to, save lounges for outdoor areas and opt for smaller areas where people can gather to chat and place their beverages. Another set of beautiful farm-inspired rentals, our Farm Bistro Tables pair perfectly with the more elegant Cross-Back Barstools. If you want to stick to a more rustic look, our Remington Gunmetal Bistro Tables and matching barstools are an equally great choice. For a quick and easy centerpiece, check out our Silver Square Tabletop Lanterns.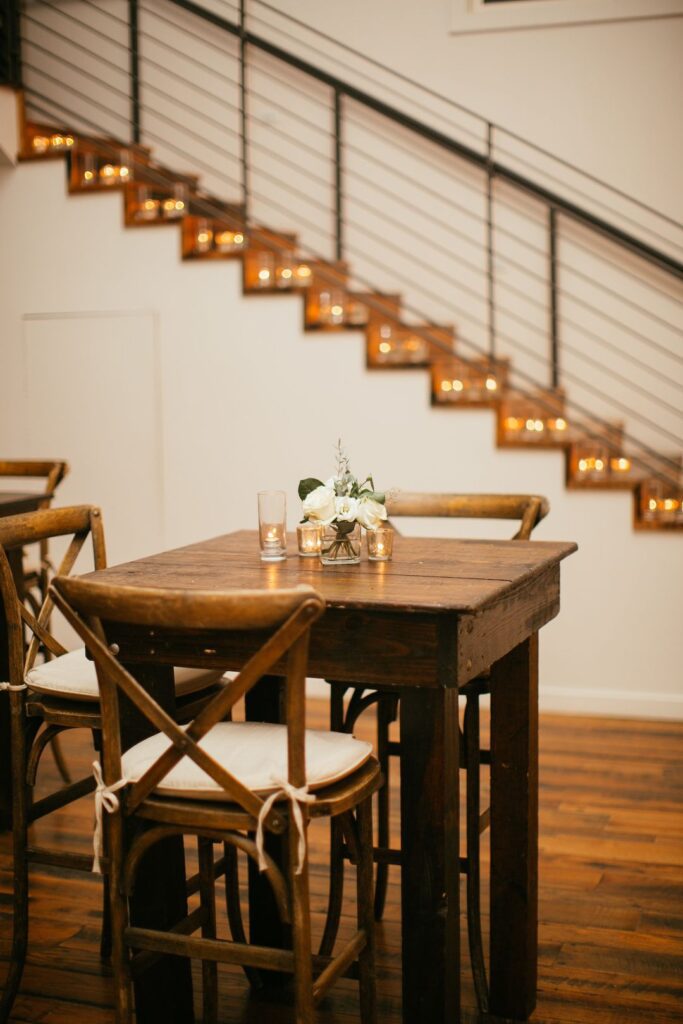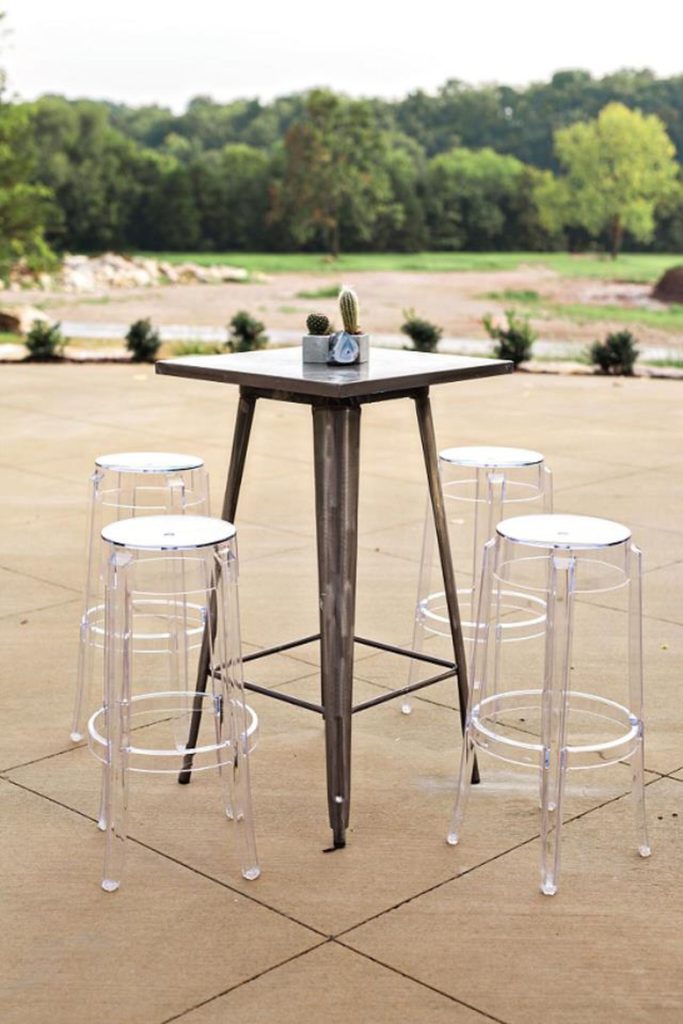 Farm-to-Table Dinner Rentals
Hoping to host an intimate dinner in place of or following a cocktail hour? A barn party is the perfect time to enjoy a farm-to-table dinner! We have plenty of serving ware that will allow you to create a memorable rustic table setting, starting with our Farm Tables in Fruitwood, Grayson, or White Wash. Soften the wood tabletop with a Havana Ecru Runner and napkins. For a clean but cozy look, feature our Artisan China along with a set of Abby or Hammered Flatware. Want to feature a pop of color? Our Smoke Tumblers will do the trick!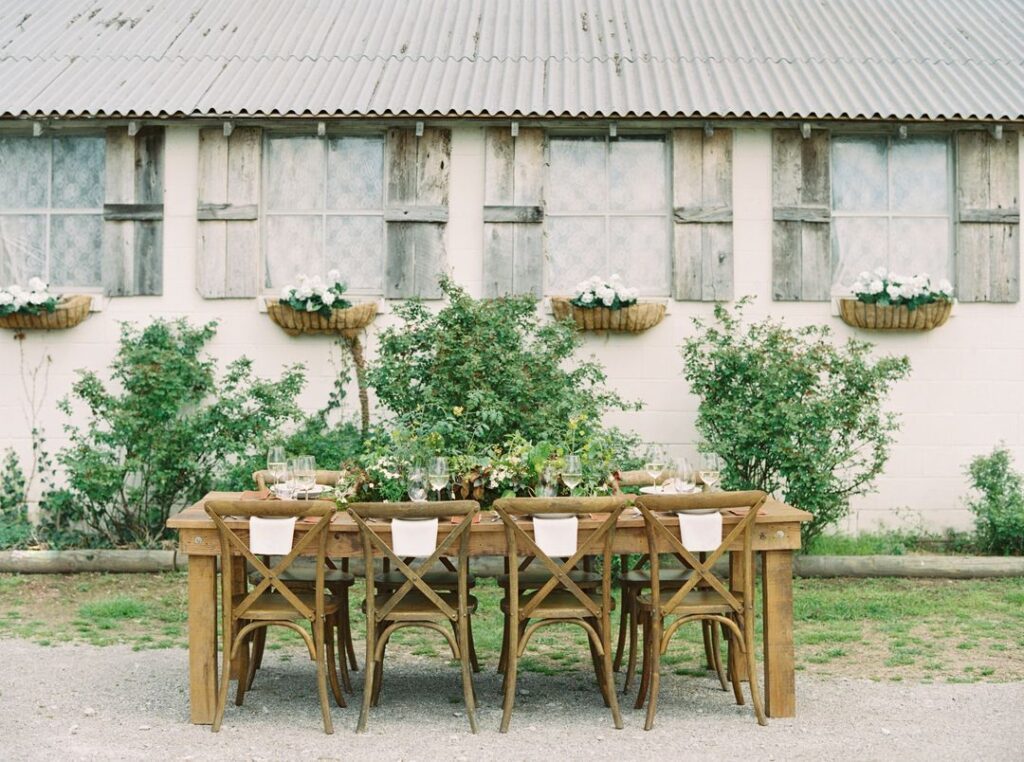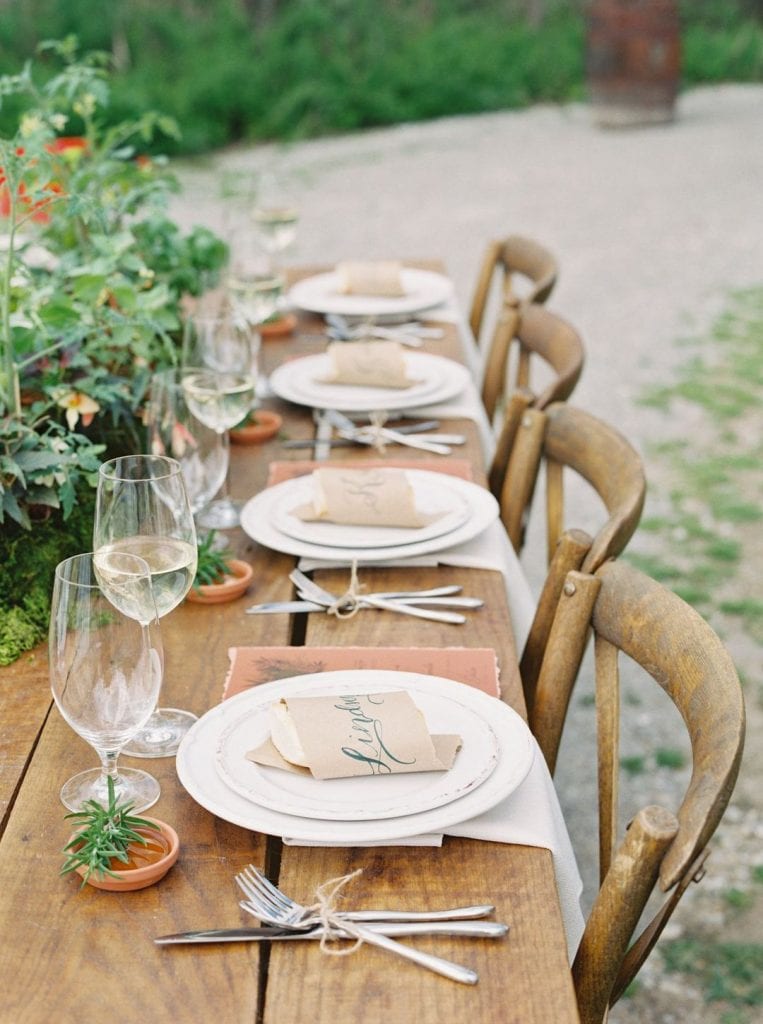 Outdoor Party Lounges
Considering most barns are situated on open land, take advantage when you make it an indoor and outdoor event. If the weather is nice, our Sutton Collection is a cozy place to settle in and chat for a while – with a drink in hand! Should you have more room, and a fire pit nearby, featuring our Rustic Benches decked out with pillows and throws. And if you need the fire itself, we've got that too! Our Hammered Rectangle Fire Pit and Stone Round Fire Pit are both gorgeous choices (that can also be used to make s'mores).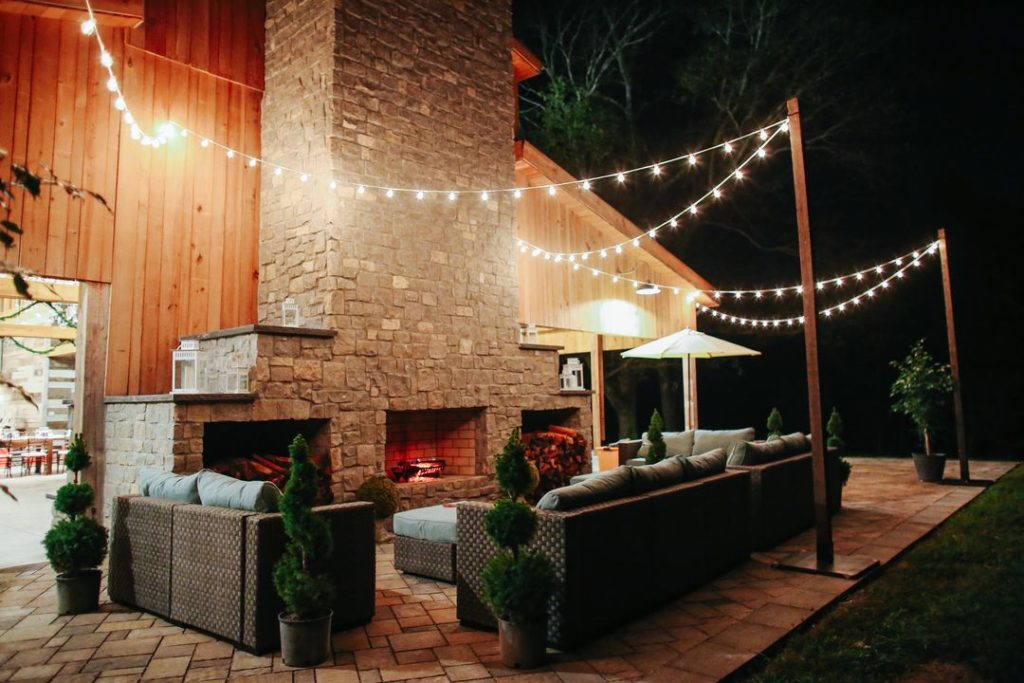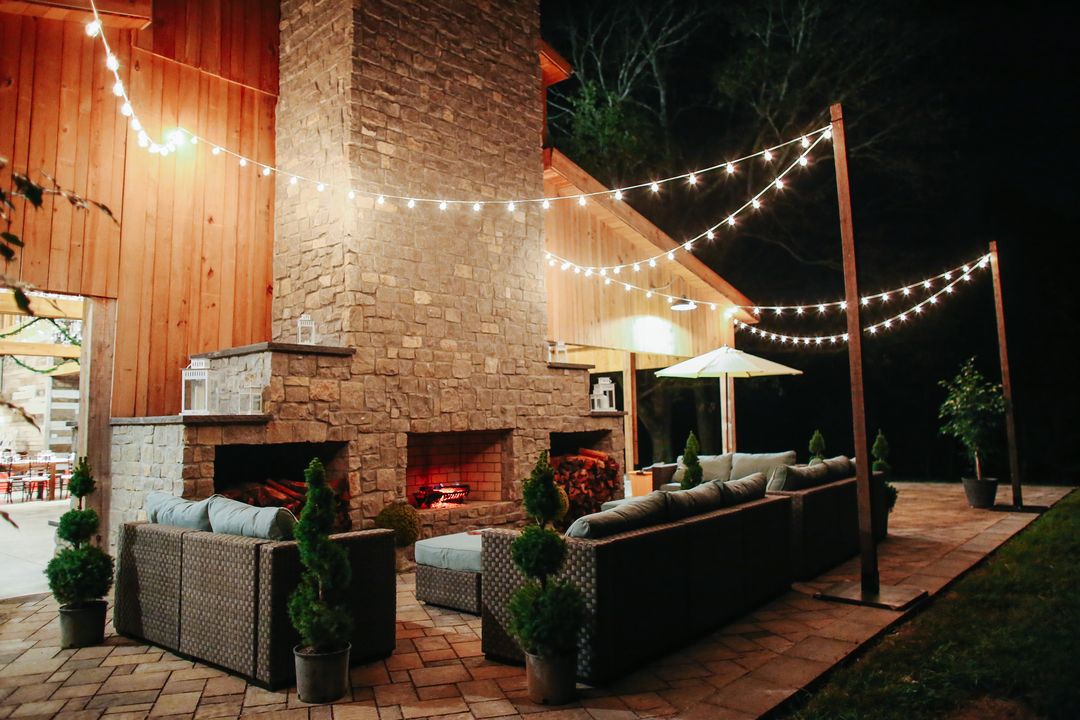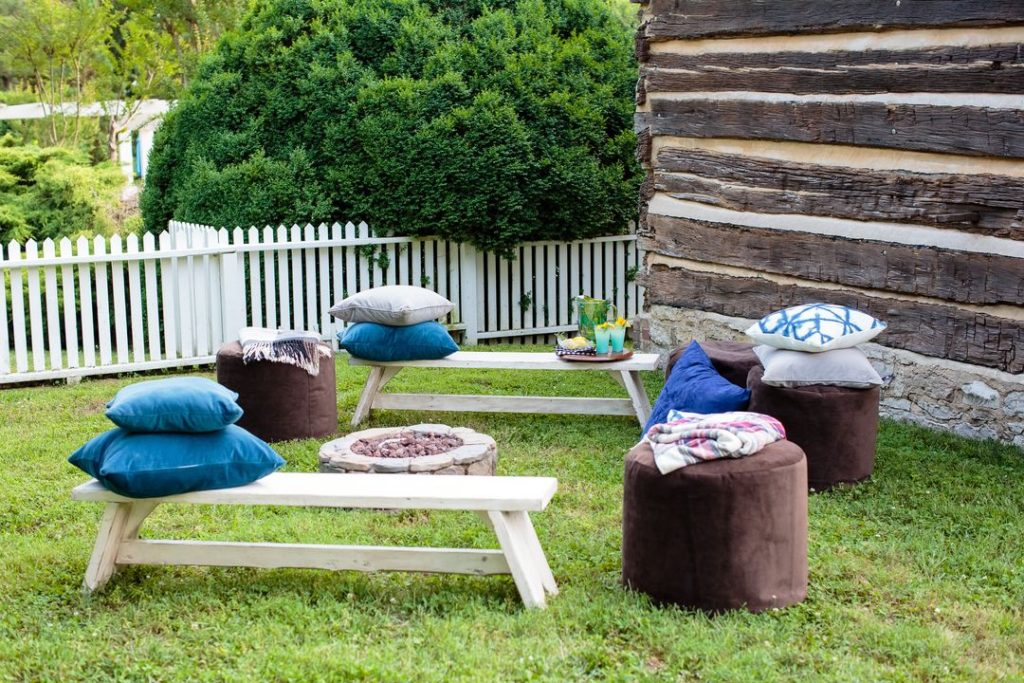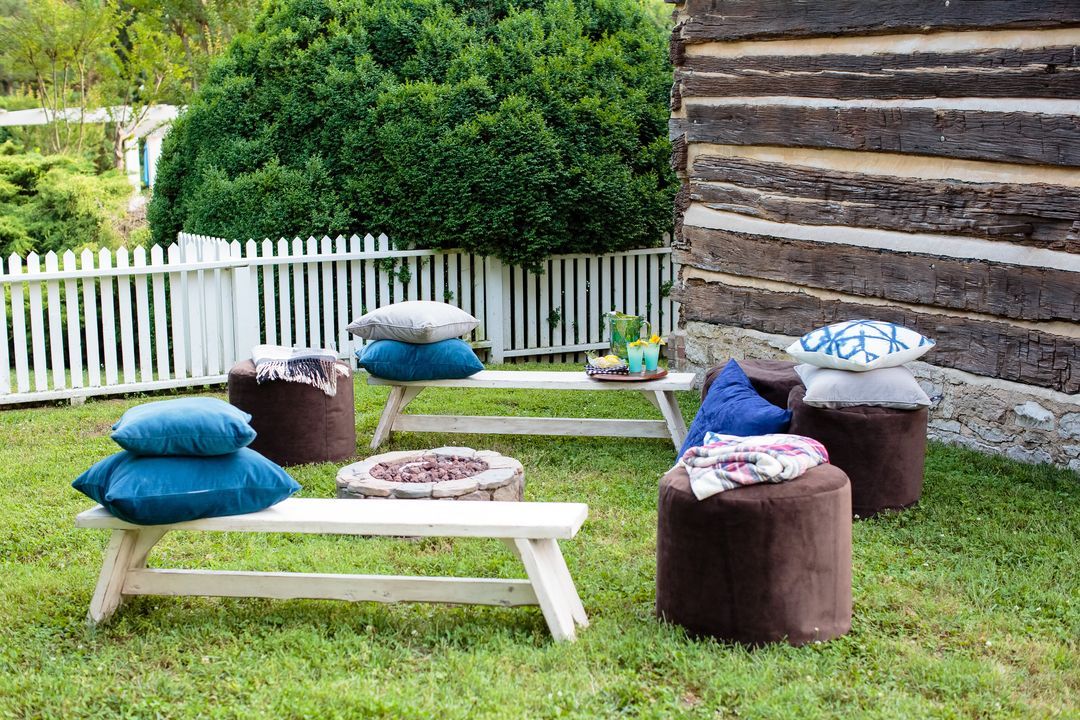 Want to feature some of our barn-inspired party rentals at your upcoming celebration? Contact our team today for assistance, or for help choosing products that align with your event design!
TAGS | Event design, Rustic event rentals, barn party, barn party rentals, event style, rustic event style, rustic events
FEATURED RENTALS | whiskey barrels, white wash whiskey barrels, bon bar, miller bar wash white, tin lizzie corrugated metal barn, Farm Tables, Havana Exru Runner, Artisan China, Abby Flatware, Hammered Flatware, Smoke Tumblers, Sutton Collection, Rustic Benches, Stone Round Fire Pit, Farm Bistro Tables, Cross-Back Barstools, Remington Gunmetal Bistro Tabless, Silver Square Tabletop Lanterns, Hammered Rectangle Fire Pit,
---
30

Jun

Nashville Venues, On Trend, Southern Events Products, Trends and Inspiration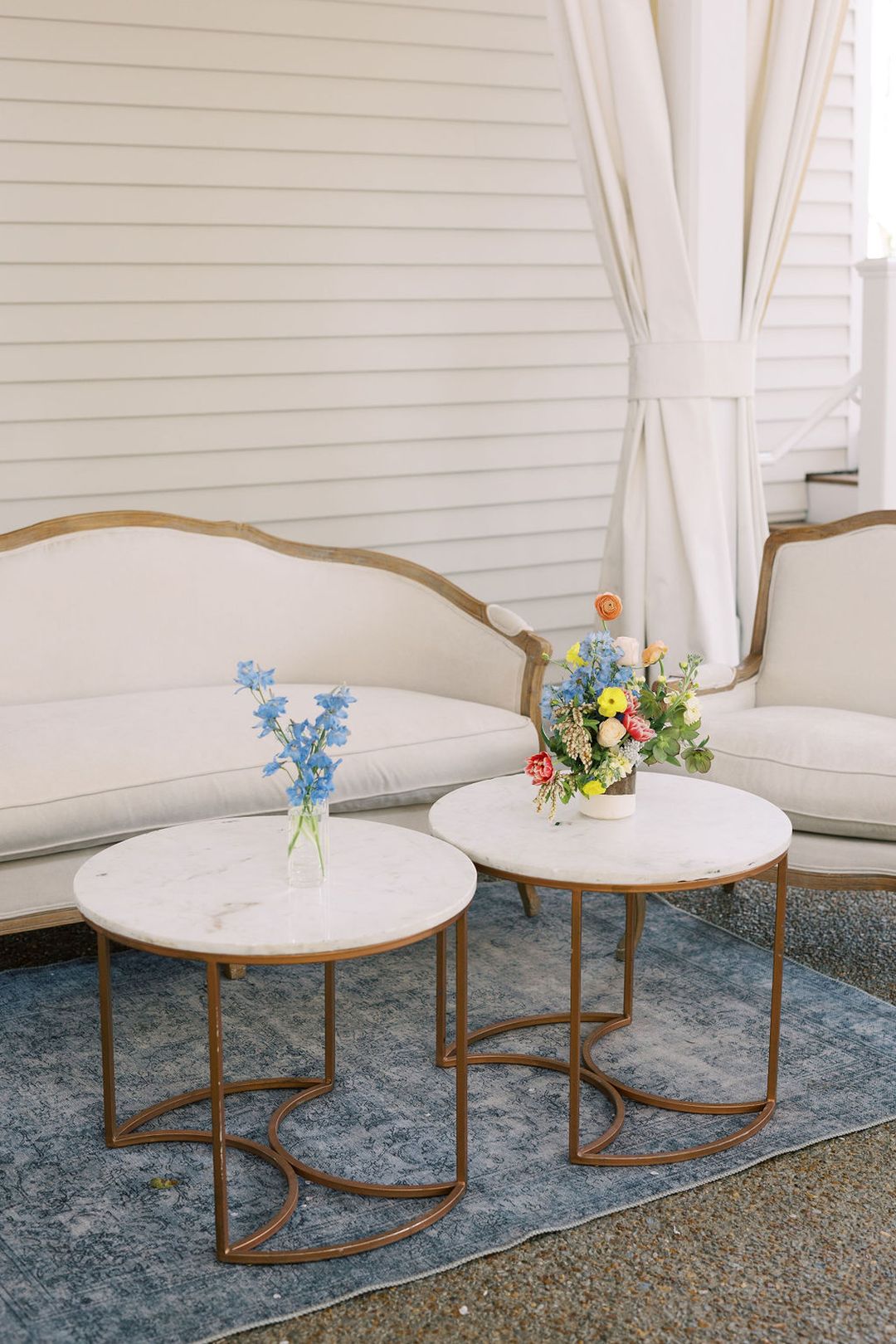 In the heat of summer, there is nothing quite like a garden party – whether you are celebrating with family, friends, or even coworkers! An intimate celebration outdoors is the perfect way to spend an afternoon, with light bites, and tasty drinks gathered around a lawn game or two. Get inspired on how to host a colorful fete when you check out this city chic garden party at CJ's Off the Square!
Summer Champagne Wall!
You don't have to host a huge celebration in order to incorporate a 'wow' factor. Our boxwood walls are a simple addition that will uplevel any event. It is a fun way to greet your guests with appetizers or a cocktail, as seen with this popsicle champagne wall. Or, they can visit it later, to find a sweet treat or dessert. Like fresh donuts and milk or coffee! And, since they are easy to customize you can incorporate elegant decorations such as a neon sign or vibrant florals.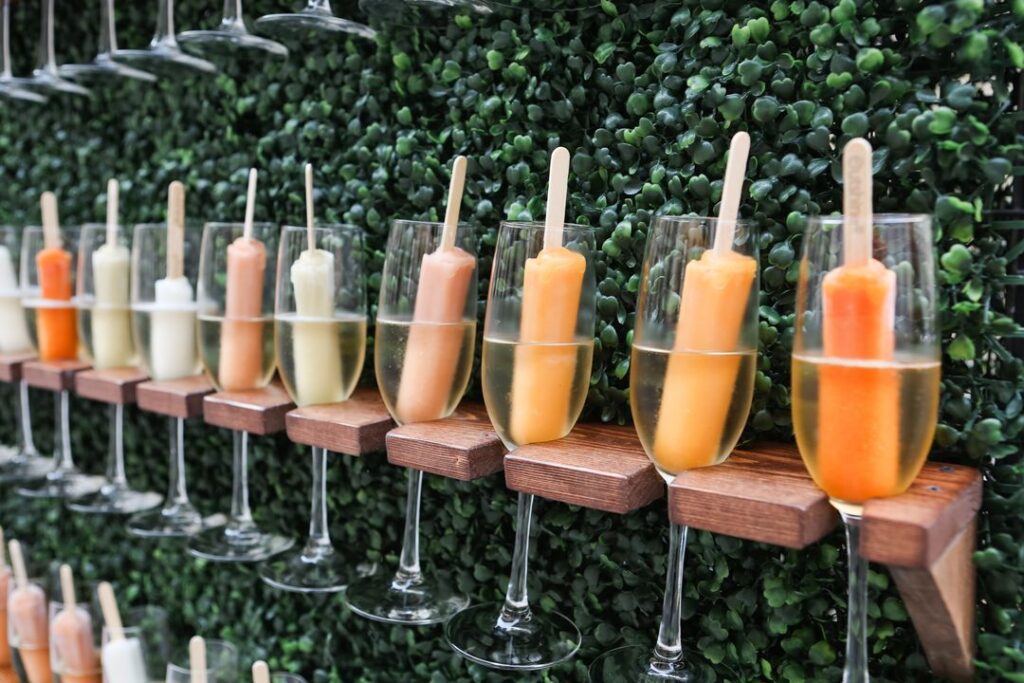 Chic Cocktail Lounges
A must-have for a cocktail hour is a social area, where guests can sit down and sip on their drinks for a while. Consider a bistro table or lounge areas, or even both! Feature a combination of our sofas, chairs, and accent tables to create a chic setup. Consider our Everly Sofa and Chairs, paired with a set of our Capriano Marble and Copper Accent Tables. We also recommend including a few of our colorful event rentals, whether you opt for a Vintage Rug or swap out the Everly Chairs for our Saylor Navy Velvet Chairs.
Don't forget to grab a selection of our beautiful glassware for rent – to serve up colorful fruit-infused cocktails! If you won't have a bar and would prefer a self-serve drink station, our Gold Beverage Jars are a stylish way to dish up big batch cocktails.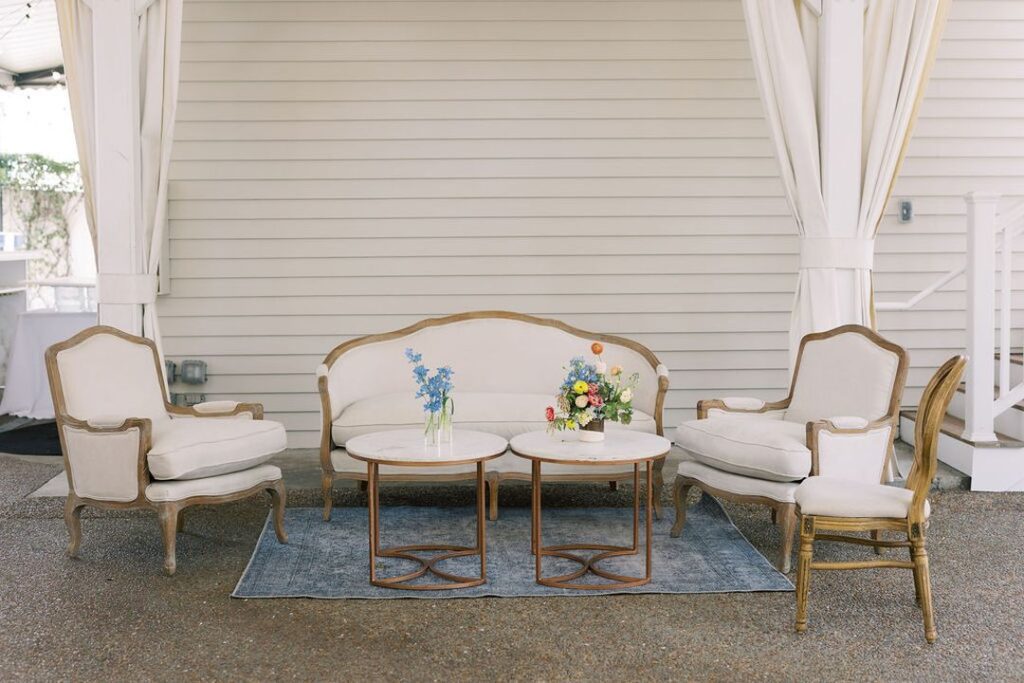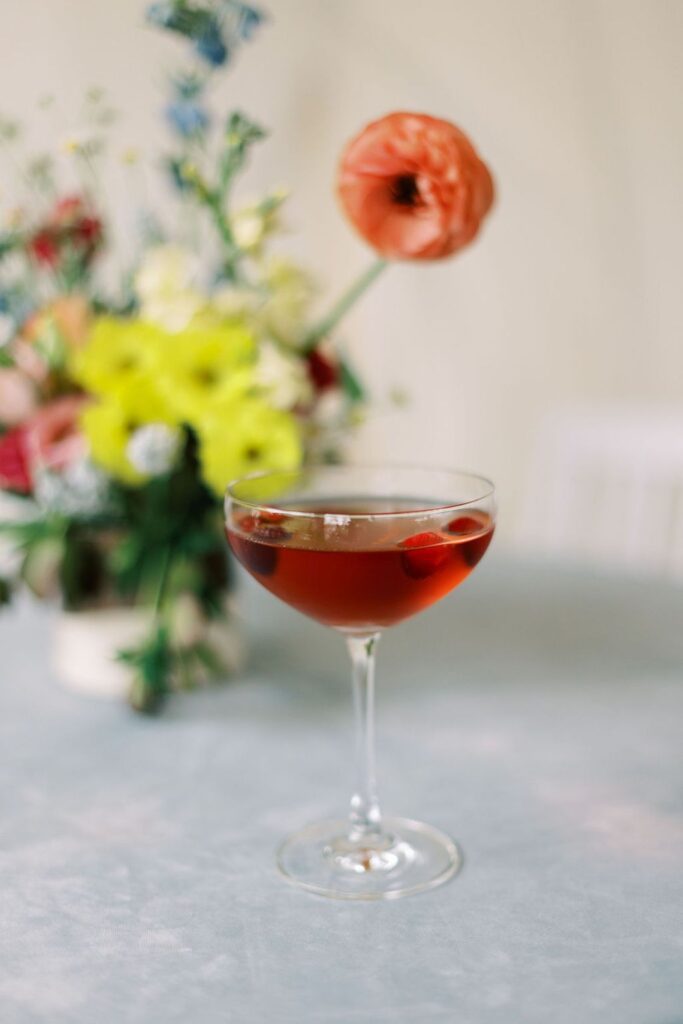 Intimate Yet Luxe Dining
If your goal is a true garden dinner party, with more than just appetizers, you'll also need some elegant tablescapes. We have a variety of beautiful tables and linens for rent, an essential foundation for colorful event design. Start with our Kennedy Fawn or Dusty Blue Etched Velvet Linens. Pastels will lend color but allow vibrant floral centerpieces to shine! If you like the look of more layers, top it off with any of our chiffon runners. For serving ware, keep it simple but don't be afraid of some texture. Check out our Rattan White Wash Chargers, which pair beautifully with any of our white china. For napkins, any of our luxe linens will do. We also recommend incorporating some pieces featuring metallic colors, whether it be our Austin Gold or Brushed Copper Flatware, for that chic touch. Maybe even our Vera Floral China!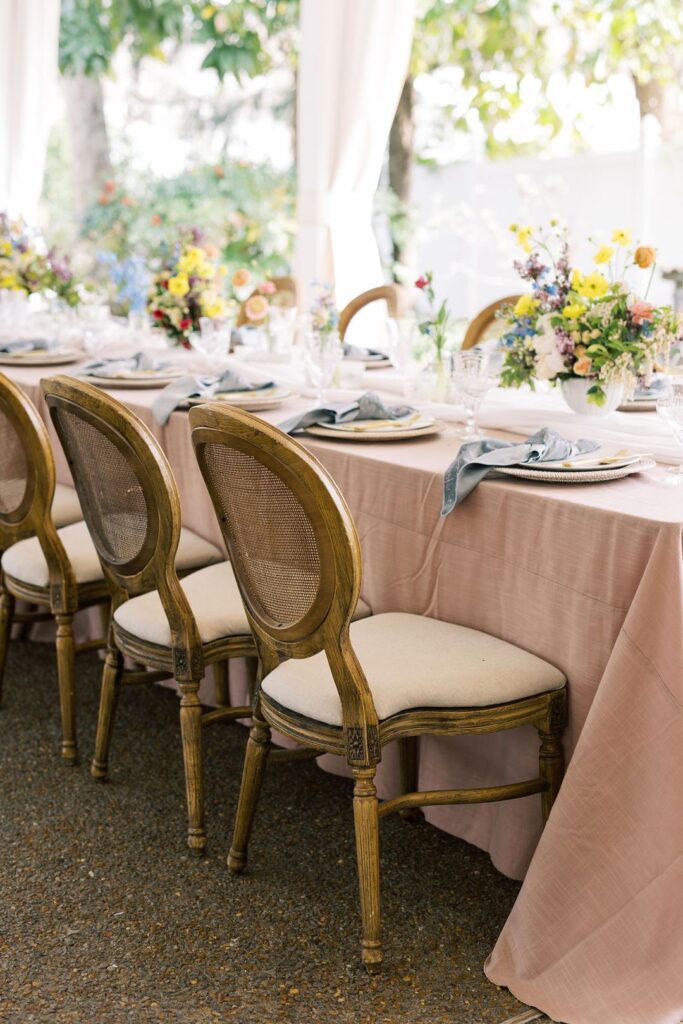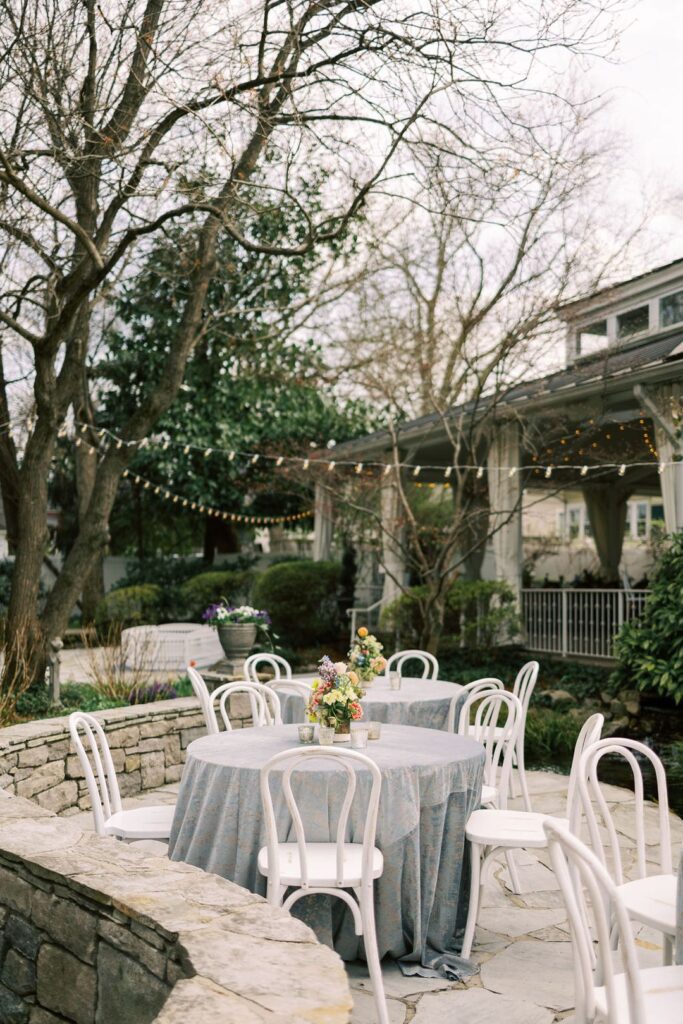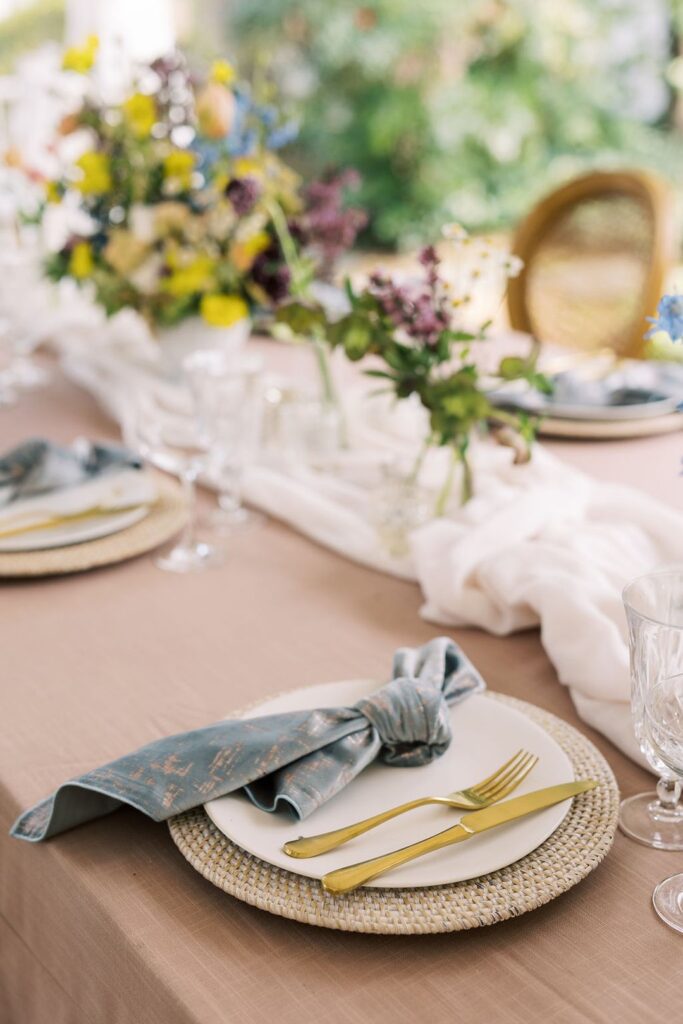 A special thank you to Jenna Henderson Photo for sharing these photos with us!
Want to host your own garden party in Tennessee? Contact our team today for assistance, or for help choosing products that align with your event design!
TAGS | Chic Modern Design, Cocktail Party Rentals, Garden Wedding, colorful decor, colorful event rentals, event lounge, outdoor event rentals, summer cocktail party decorations, summertime chic
FEATURED RENTALS | boxwood walls, champagne shelf, Beverly sofa, Beverly chairs, Cipriano marble and copper tables, saylor navy velvet chairs, Kennedy Fawn, Dusty Blue Etched Velvet, chiffon runners, rattan white wash chargers, vera floral china, austin gold flatware, brushed copper flatware,
---