21

Sep

Southern Events Products, Trends and Inspiration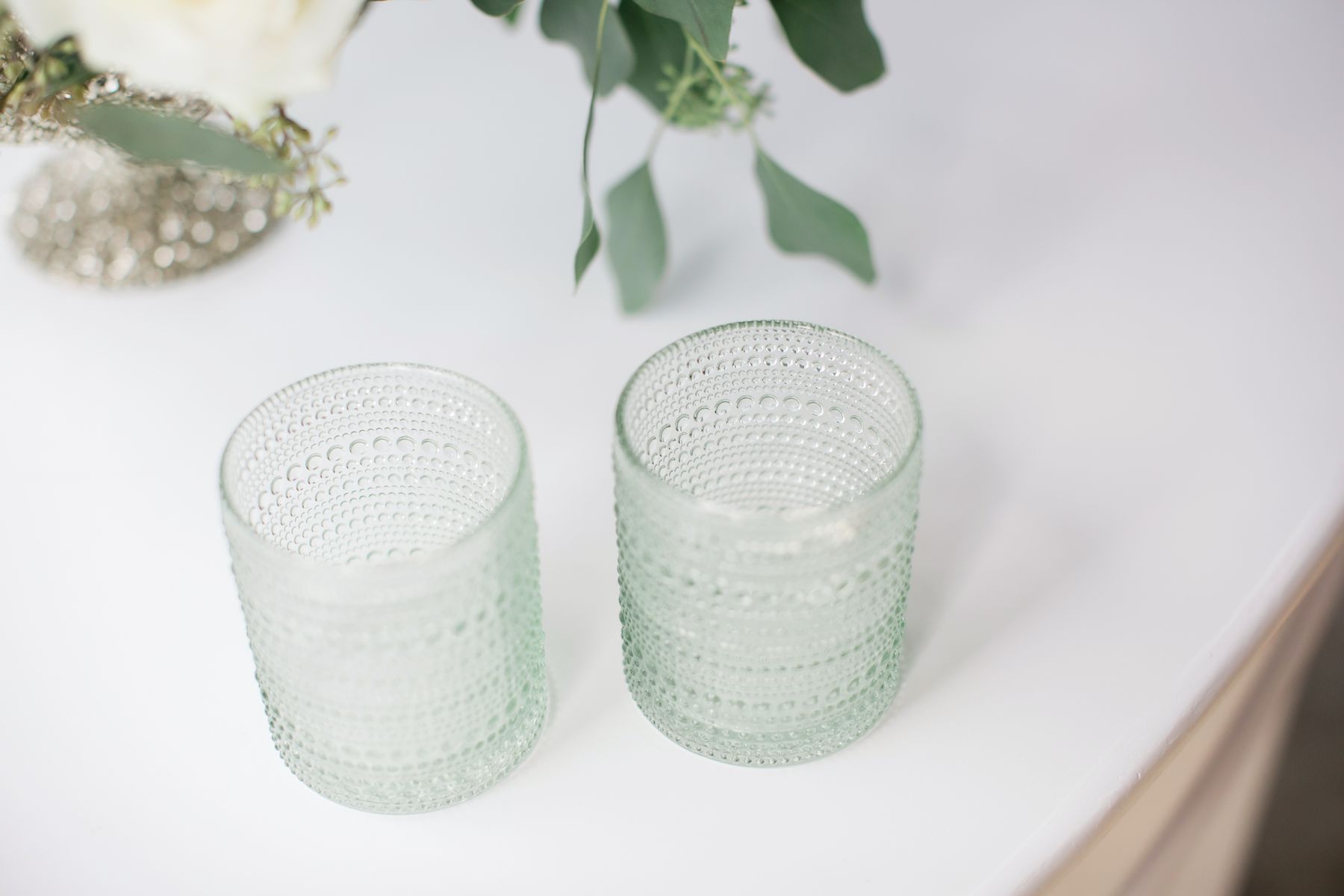 When it comes to creating a memorable wedding reception table every detail counts! One often overlooked element that can make a large impact on your wedding tables is glassware. Colored glassware has become increasingly popular in the wedding world, and for good reason. That is to say, it's a simple way to a touch of elegance and individuality to your event! Keep reading to explore our colorful glassware for weddings. Featuring our new collections with a range of brilliant shades and styles that cater to every type of celebration.
Chic Art Deco Glassware
Capturing the glamour and sophistication of the Art Deco era, our Deco Glassware is a versatile choice. Perfect for couples seeking a touch of vintage opulence. These tumblers radiate a warm, inviting glow that complements a variety of wedding themes. For example, the Amber hue adds a sense of richness to your tables. Pairing beautifully with our Navy Blue Velvet or Ivory Satin Linens. Or, opt for a delicate Peony Pink. These tumblers effortlessly blend into your design. Infusing a soft and romantic ambiance. A fun way to contrast bold linens such as Ocean Blue Velvet or Wheat Satin. Regardless of whether you're aiming for a Gatsby-inspired soiree or a modern wedding with a nod to the past.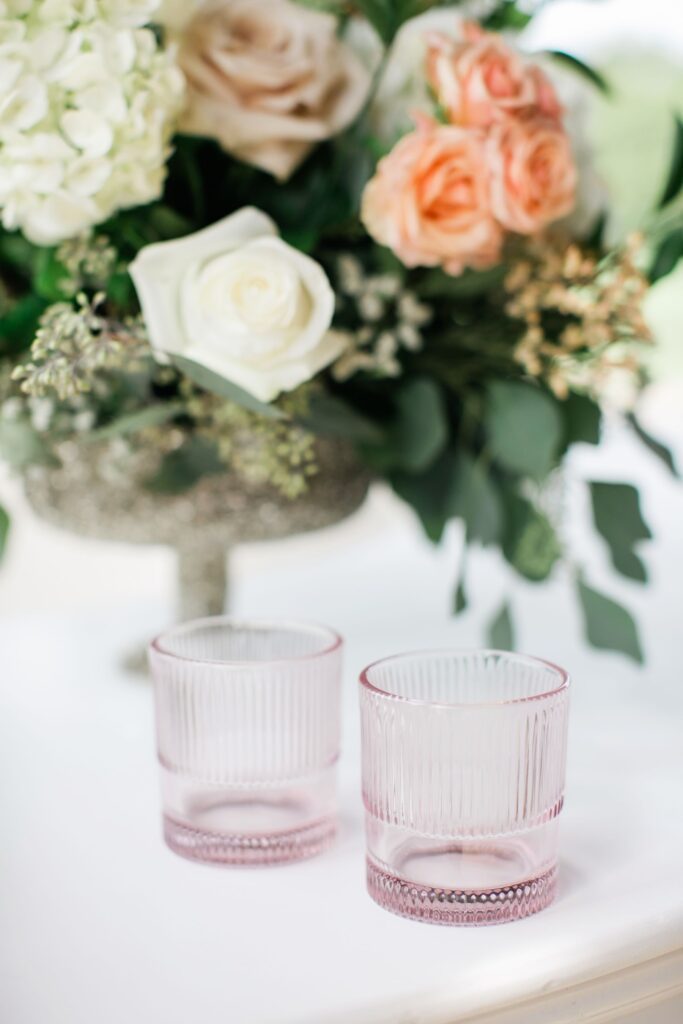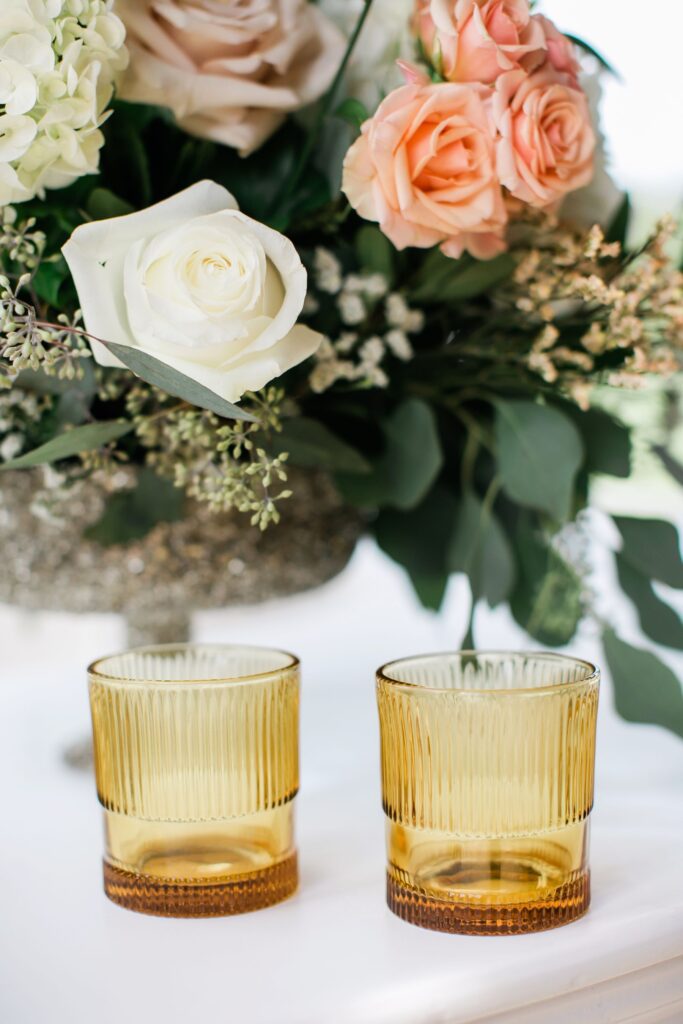 Blue-Hued Beaded Tumblers
If you're dreaming of a coastal or beach-themed wedding, our Beaded Glassware is the perfect choice to bring the tranquility of the sea to your tables. These tumblers are available in three captivating shades – Meridian Blue, Sea Salt, and Smoke. For example, a range of blue hues that mimic the depths of the ocean and the play of sunlight on water. The beaded texture of the glassware adds a tactile element to your table settings. Creating a visual delight for your guests. Regardless of whether they are used as water glasses or for signature cocktails. Complement any of these glasses with solid white linens and blue napkins – Ice Blue, Slate, Navy. Or, add a splash of metallics with our elegant Gold Furrow Linens.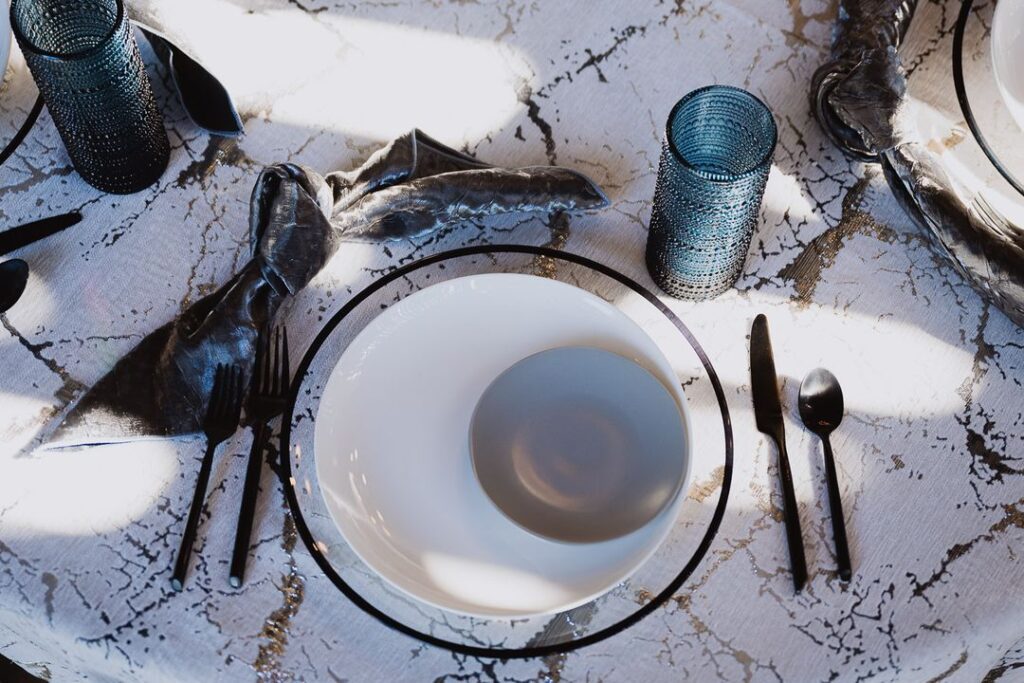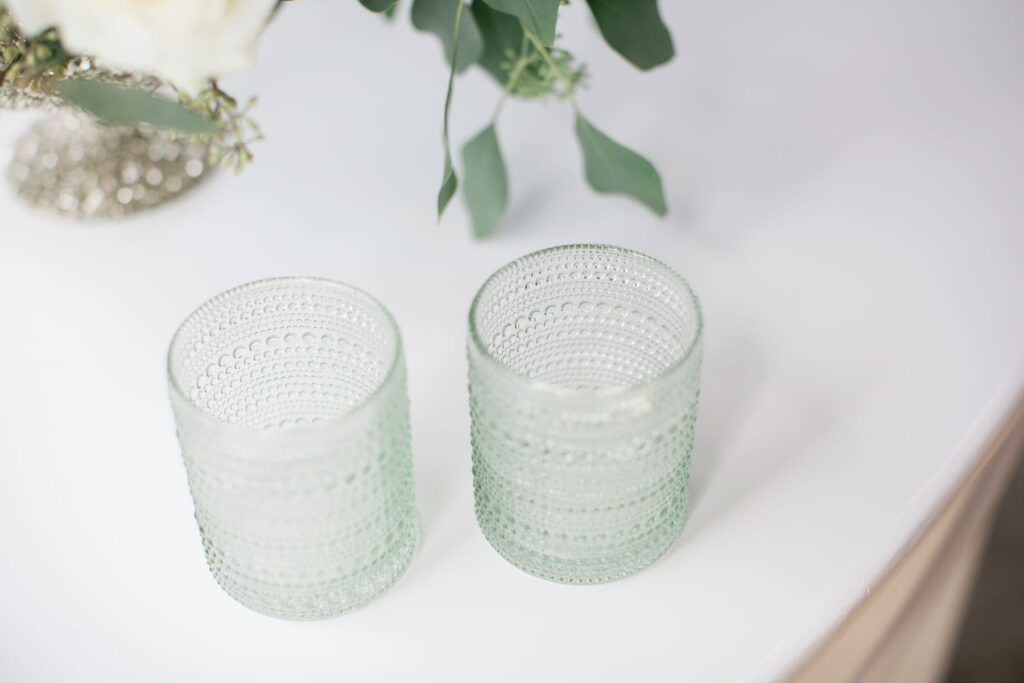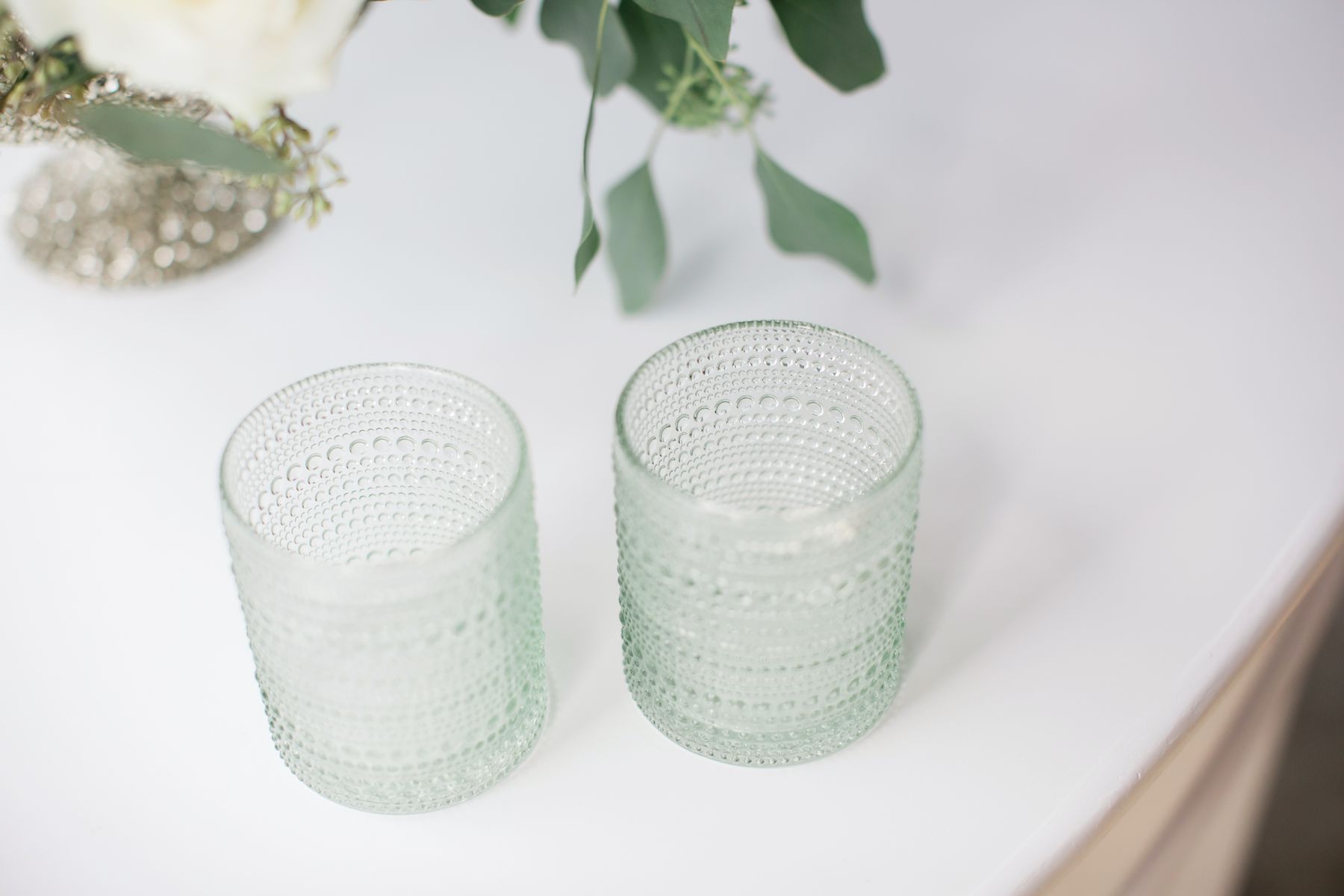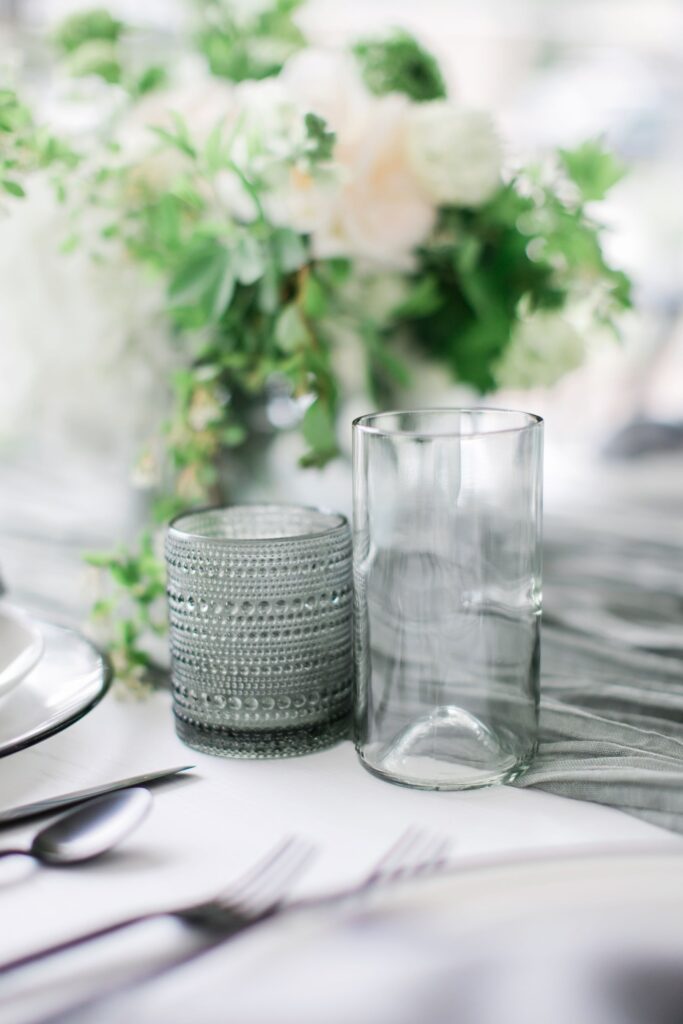 Antique-Inspired Goblets
For those who appreciate the charm of bygone eras, our antique-inspired goblets are a timeless choice. Available in brilliant shades, our Savoy Glassware goblets evoke a sense of nostalgia and elegance. Likewise, Deep Amber looks stunning atop modern rustic tables, contrasted by stark white china and bold velvet napkins. For a more airy look, pair the Sage green glassware with White Washed Rattan Chargers and our Liana China. Alternatively, the muted tones of the Amalia Glassware complement a variety of color palettes. For instance, place the Light Pink glass alongside Heirloom China and Abby Flatware. This will lend to a table that is romantic and whimsical; fitting for a modern garden party. Or, for a more modern tablescape, feature the subtle Sage shade next to our Vera Floral China atop Scalloped Wood Chargers.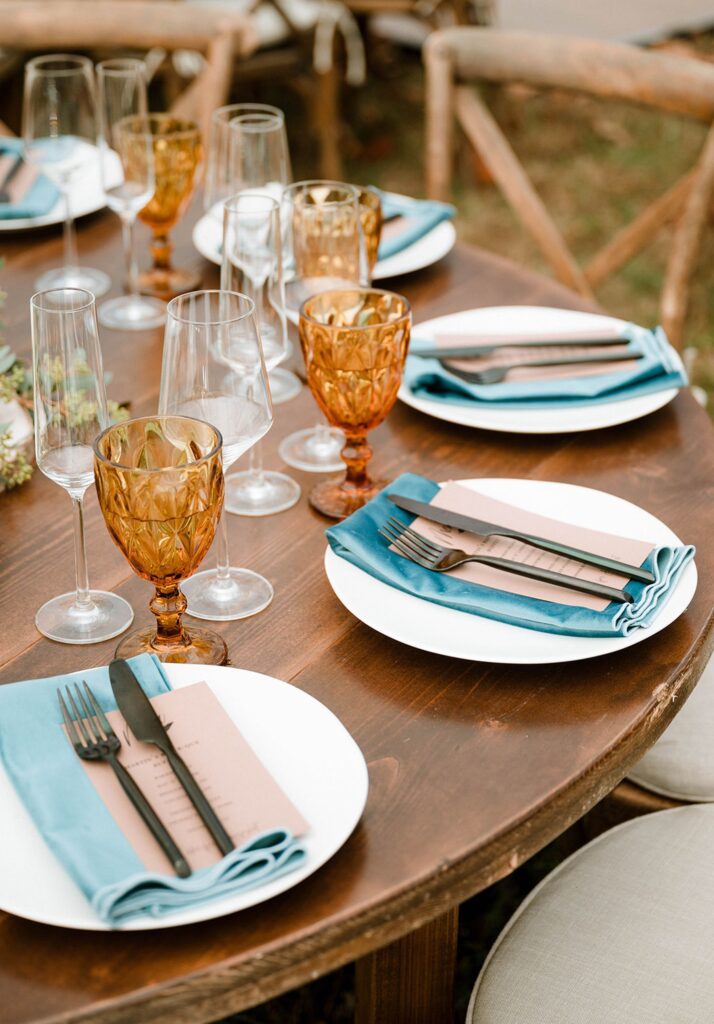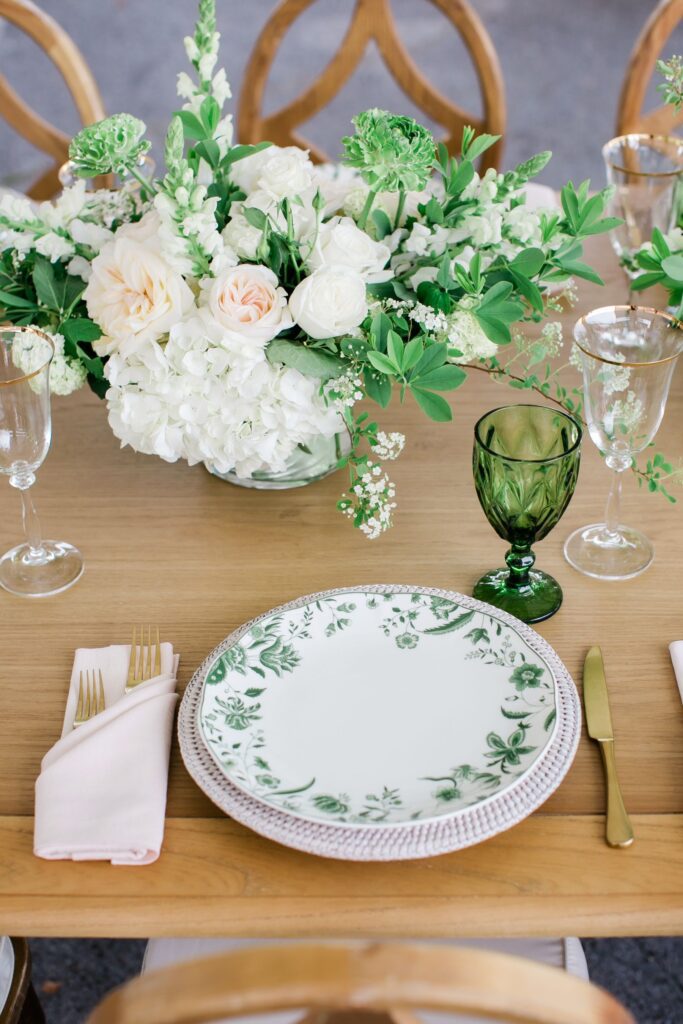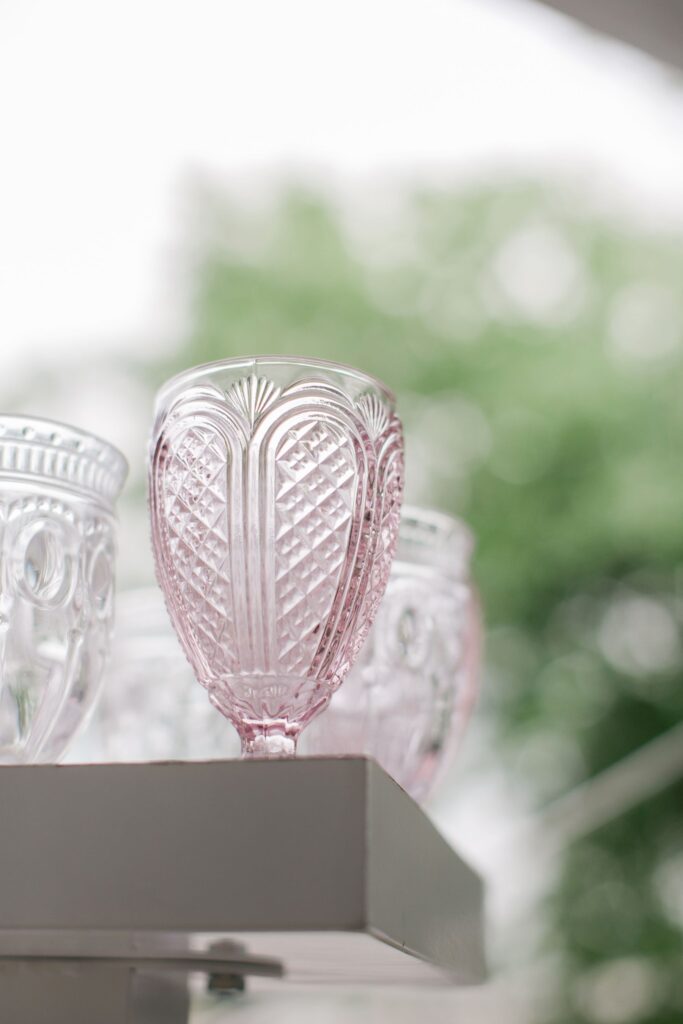 Do you love the idea of colorful glassware for weddings? Our new selection of glassware is a simple way to elevate your reception tables. With an array of stunning styles and colors up for grabs. Contact our team today for help choosing the perfect glassware. Or to book an appointment at our showroom to design a tablescape unique to you.
TAGS | Colorful Wedding Decor, Glassware, Glassware Collections, Tableware, colorful decor, colorful event rentals, colorful glassware, tablescape inspiration, tablescape rentals
FEATURED RENTALS | Deco Glassware, Navy Blue Velvet Linens, Ivory Satin Linens, Ocean Blue Velvet, Wheat Satin Linens, Savoy Glassware, White Washed Rattan Chargers, Liana China, Amalia Glassware, Heirloom China, Abby Flatware, Vera Floral China, Scalloped Wood Charger, Beaded Glassware, Gold Furrow Linens,
---
7

Sep

On Trend, Southern Events Products, Trends and Inspiration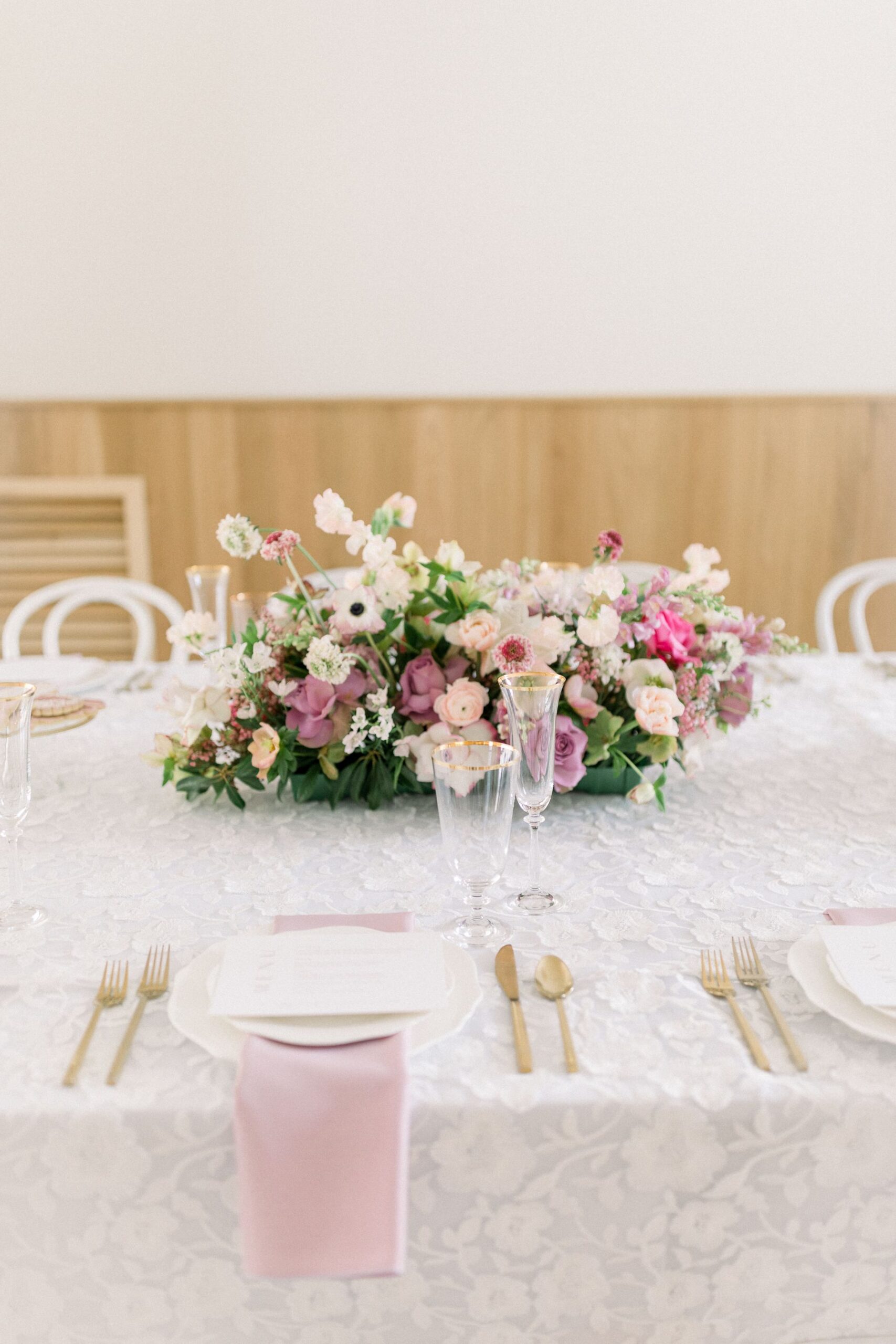 At-home baby showers offer an intimate and personalized way to celebrate the upcoming arrival of a little one. And at Southern Events, we believe that even the smallest moments deserve grandeur! That's why we're here to guide you on how to host an elegant baby sprinkle that will impress your guests or the mom-to-be. From curated furniture and vibrant event linens to charming dinnerware and trendy props. Our expertise in event rentals will make it easy to bring your baby shower or sprinkle vision to life.
What is a Baby Sprinkle?
A smaller version of a traditional baby shower, a baby sprinkle is typically held for parents who are expecting their second or subsequent child. The term "sprinkle" conveys the idea that the event is more about a show of support, rather than showering them with extensive gifts and attention – often associated with a first-time baby shower. Largely because parents already have many of the essential baby items from their previous child. Instead, the focus is on gathering with close friends and family in a casual setting. Making it the perfect occasion to celebrate with an intimate informal dinner at home!
Stylish Dining Tables & Chairs
Transform your home into a haven of sophistication with our beautiful event furniture. Choose from a range of rentals that exude Southern charm, featuring warm woodsy tones and soft antique details. For a modern rustic vibe, consider the Aged Oak Table paired with the Harlin Dining or Cross-Back Chairs. If you're leaning towards a brighter look, the White Antique Dining Table and Antique White Bentwood Chairs are a fantastic choice. With these curated pieces, you can easily create an unforgettable setting. Or the foundation for an elegant baby sprinkle theme.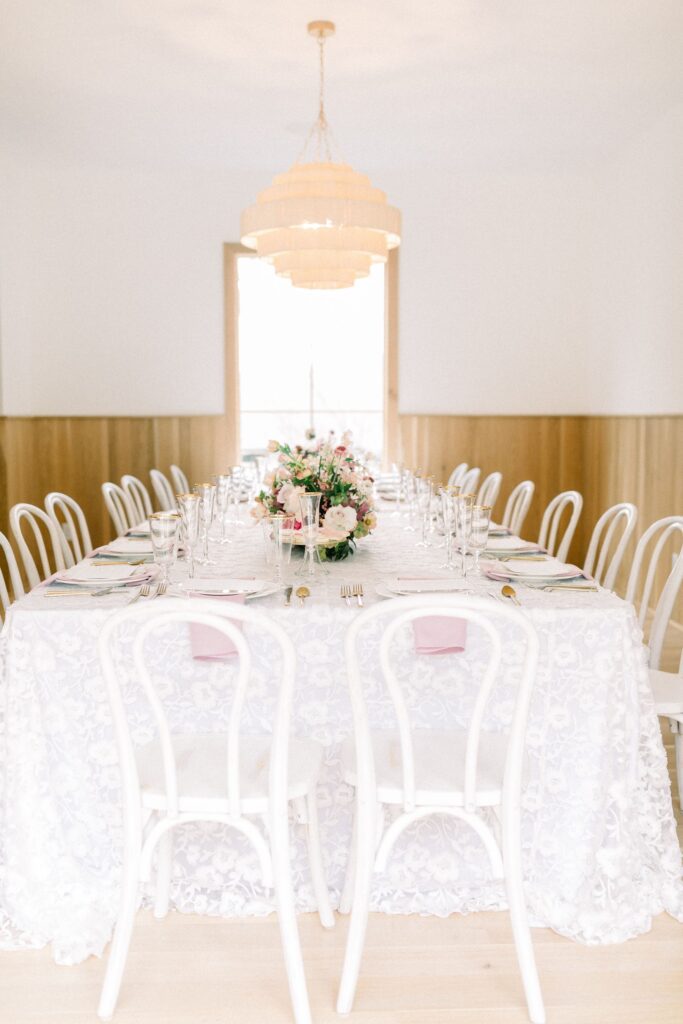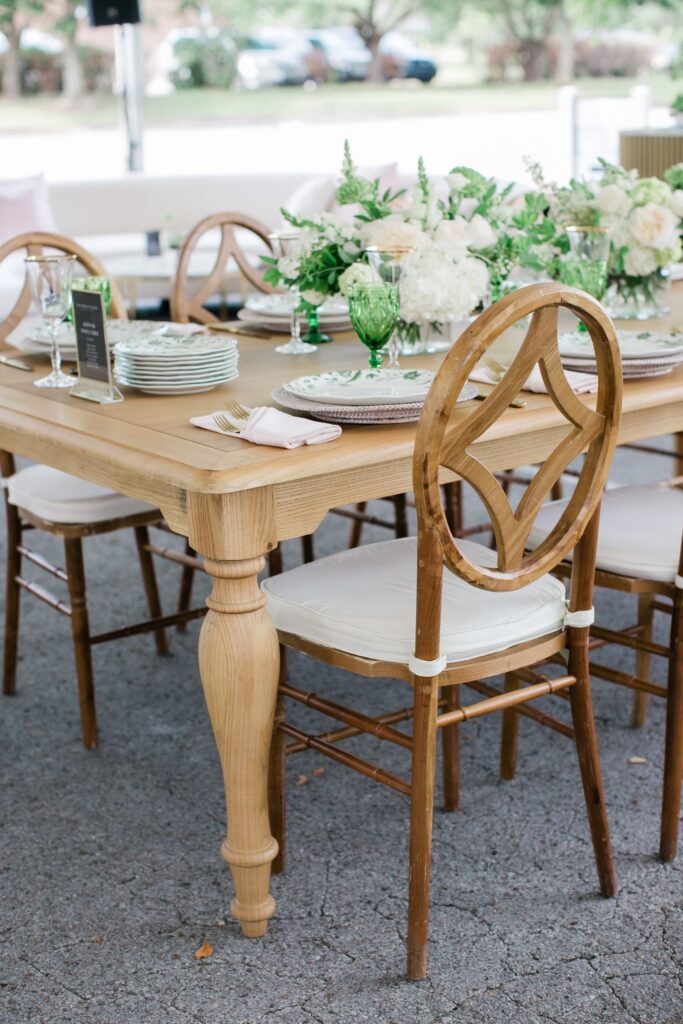 Brightly Colored Event Linens
Set the tone for your baby sprinkle with event linens that exude charm and anticipation. Hint at the baby's gender with bold or pastel shades. Like the Heritage Light Blue and Navy Blue Velvet for a boy. Or, the Kennedy Pink and Lilac Poly for a girl. Alternatively, embrace beautiful neutral tones! With colors like Golden Velvet or the classic Sage Poly. To infuse an extra touch of elegance, explore unique materials. Such as buttery satin, soft velvet, or lightweight linen. These will not only serve as a backdrop for your celebration but lend depth and dimension to the table.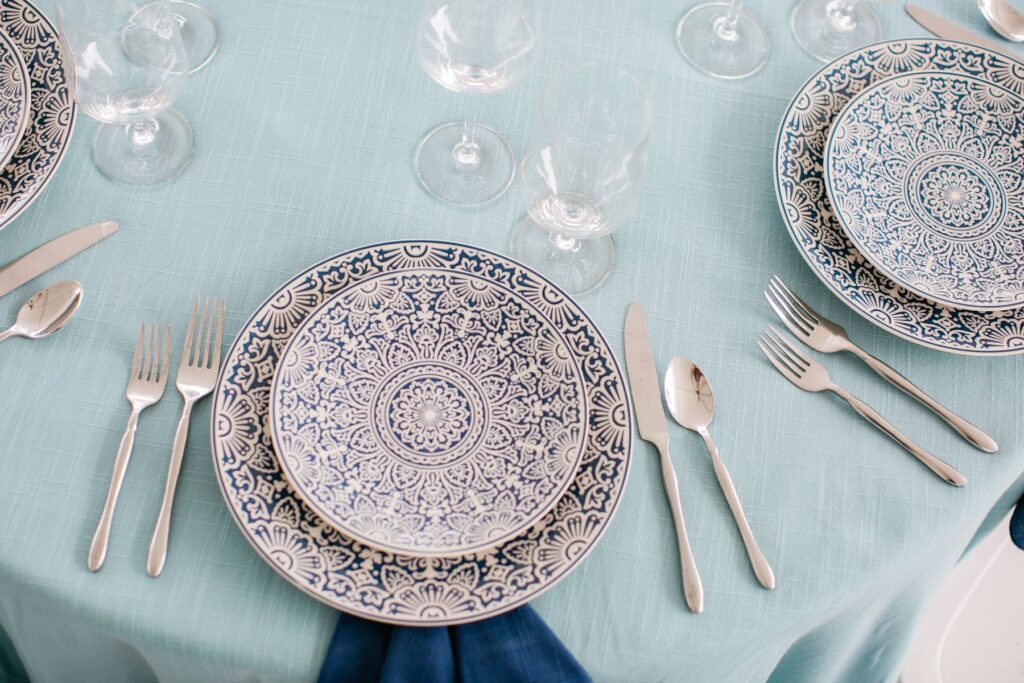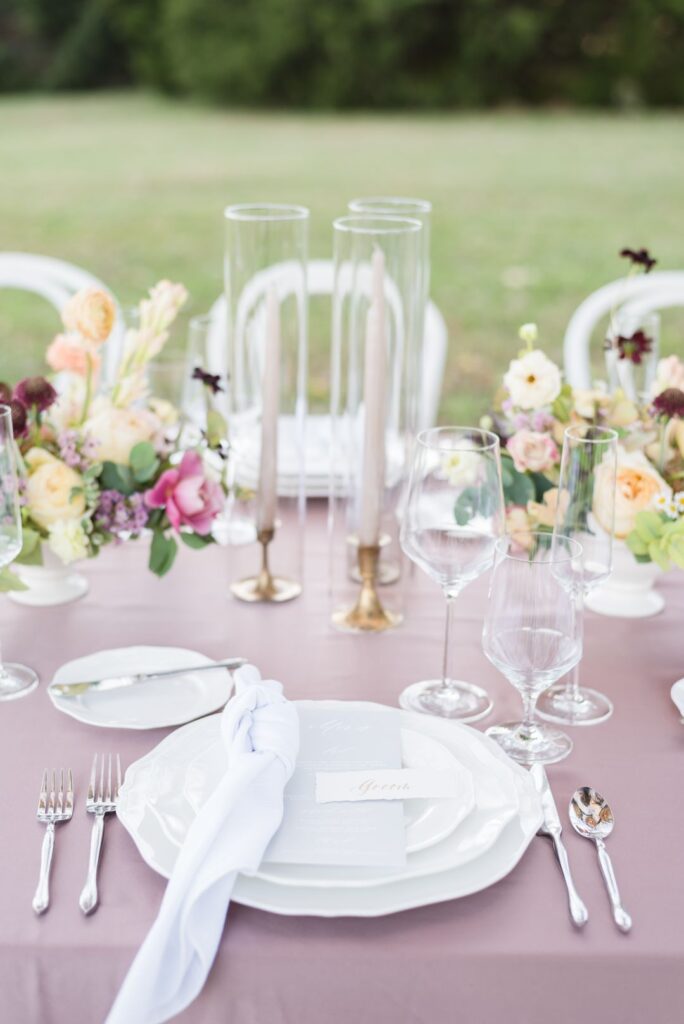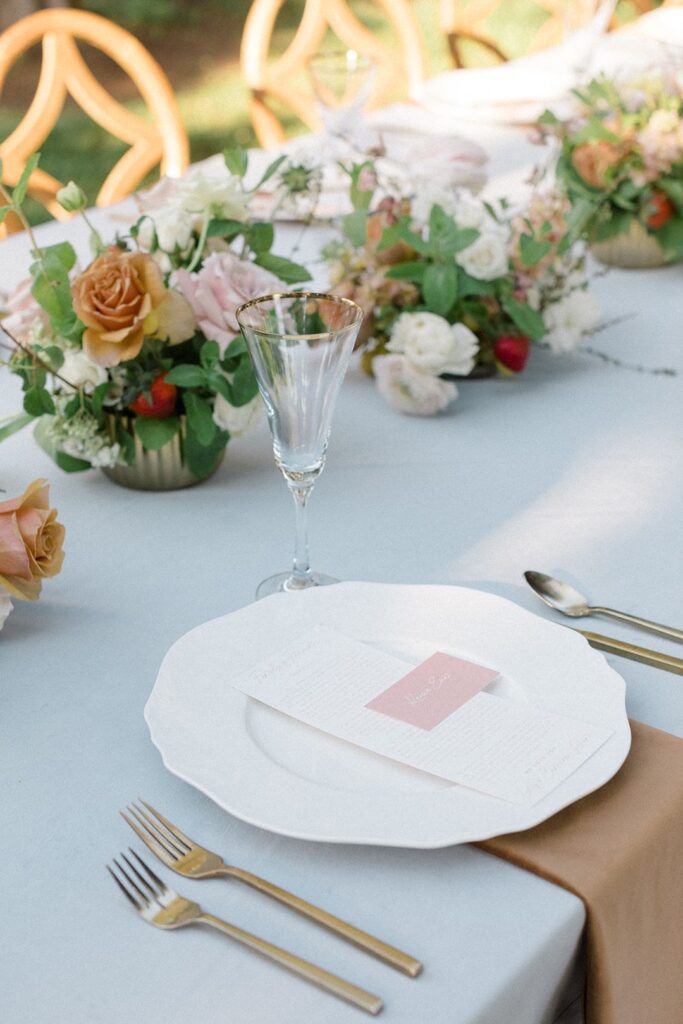 Darling Dinner Ware
The dinner table is where memories are made and conversations flow. Make a lasting impression with our elegant and bright china. Achieve a modern look with the White Coupe China and Rattan White Wash Charger. Or opt for a softer look with the Alabaster Earthen China. Paired with charming Darcy Chargers, featuring a delicate scalloped edge. Add a hint of luxury with gold accents like the Vera Floral China. Or the Coronado pattern for a subtle pop of color. To complete your place setting, all of these pieces harmonize seamlessly with our Celia Gold Rim Glassware and Austin Flatware.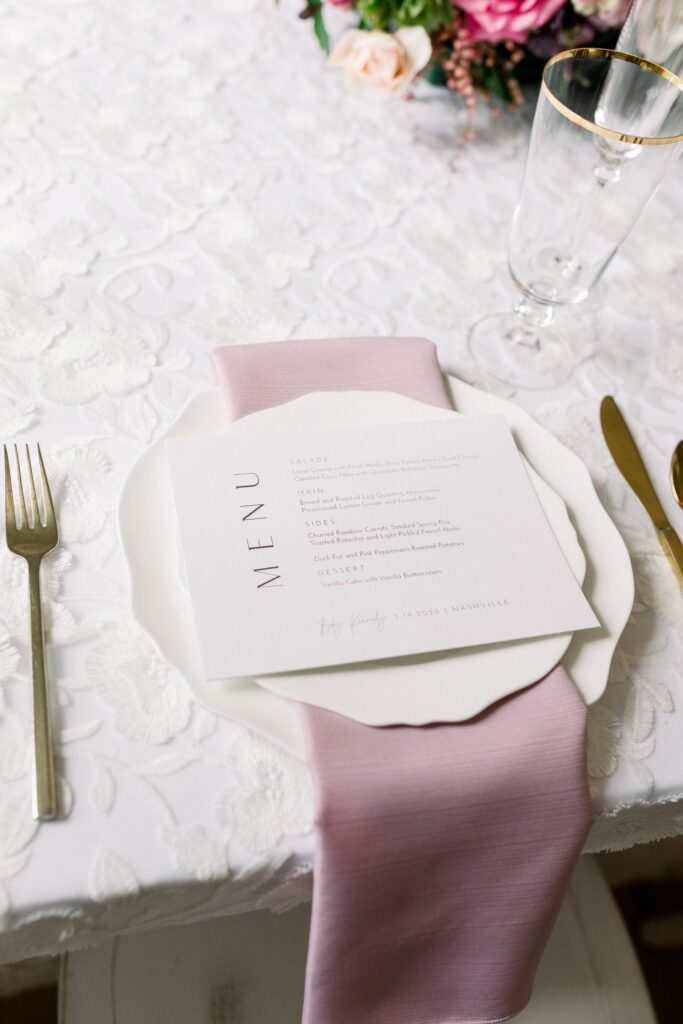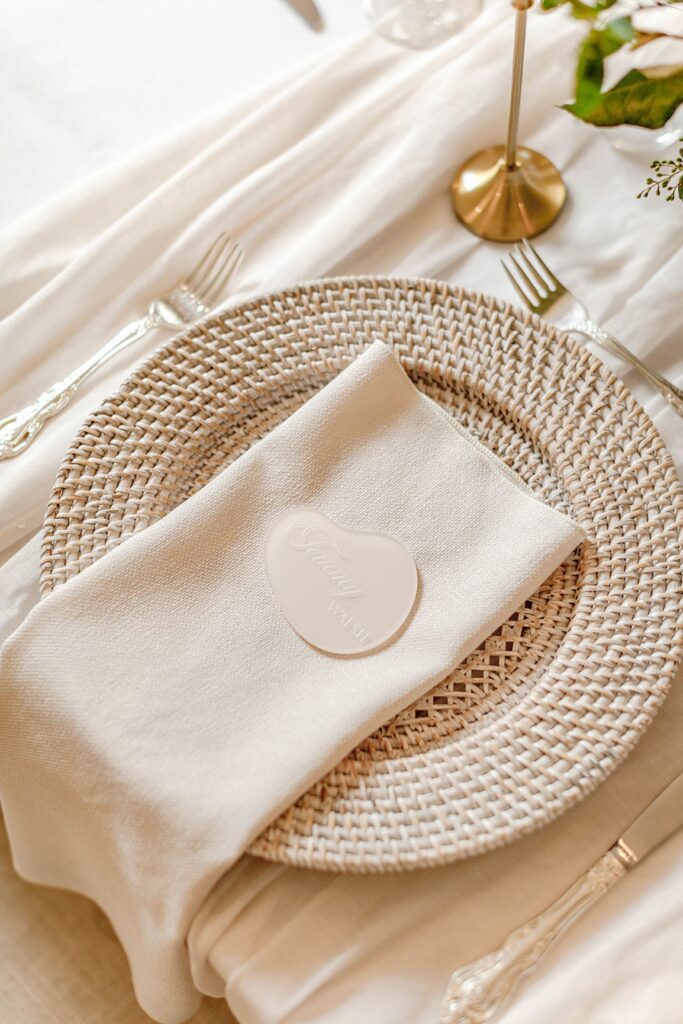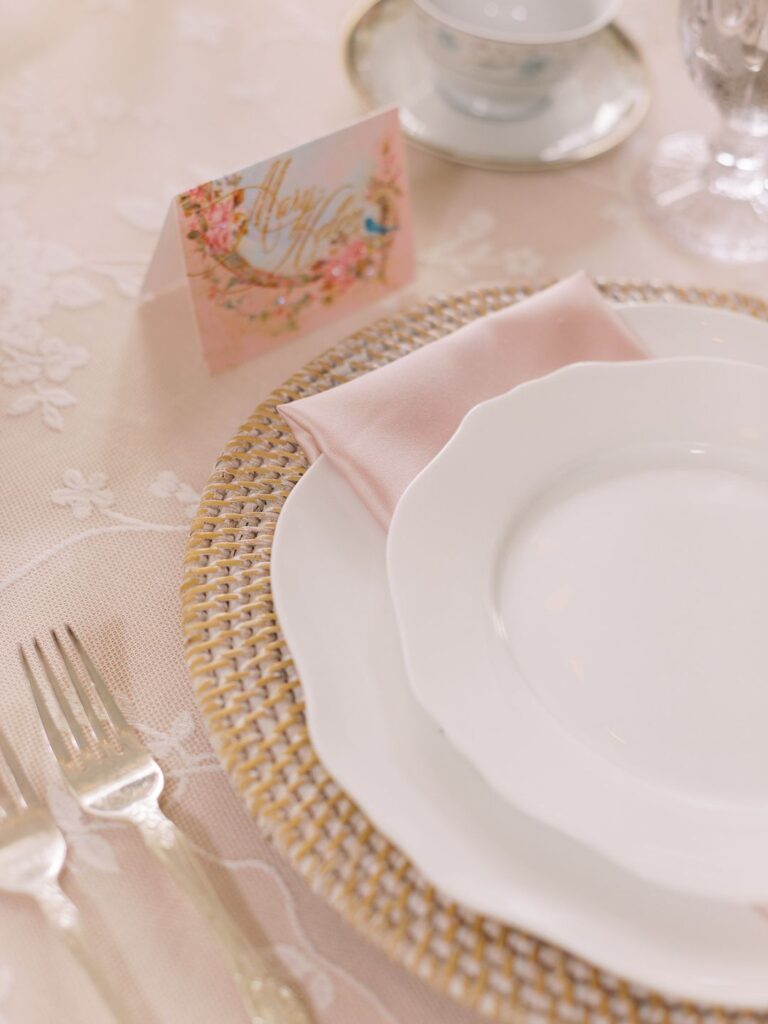 Focal Points That Delight
Create focal points that spark conversations and double as stylish props. Our bars are not only perfect for serving drinks but make for eye-catching displays. Perfect for desserts like gender reveal cakes! The Alice Bar exudes elegance. While the Chelsea Marble Top Bar adds a modern retro touch to your setup. Looking for something more playful? Our Market Cart can be easily customized with colorful balloons and signage. Adding a whimsical element to the ambiance. If you're aligning with a specific baby shower theme, our Boxwood Wall serves as a charming backdrop. Consider pairing it with the Vintage Popcorn Machine that playfully declares "She's About to Pop!"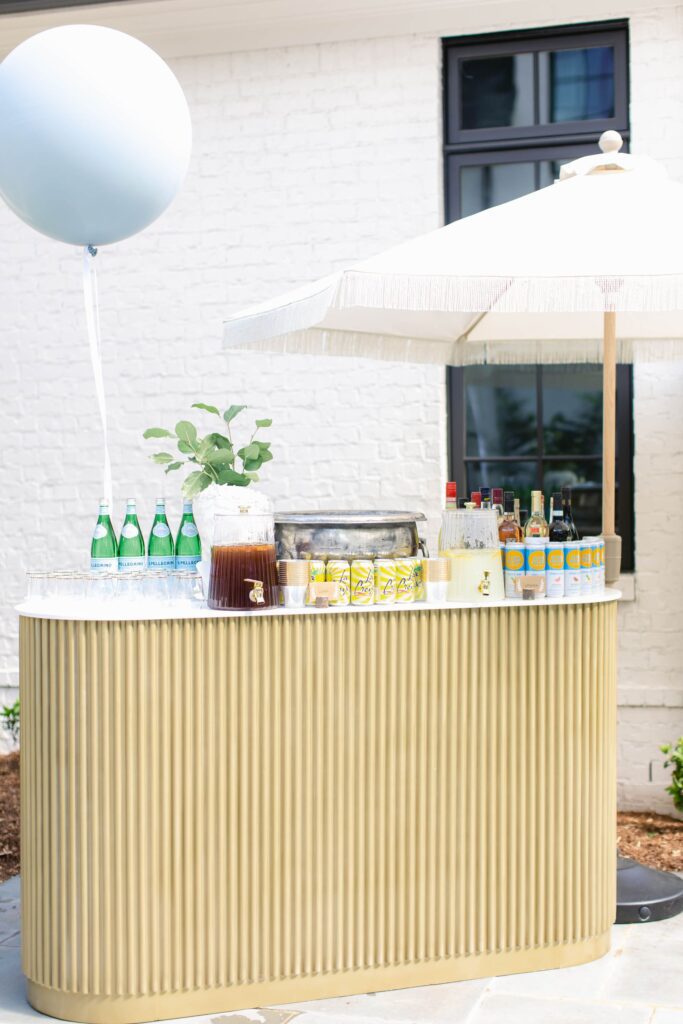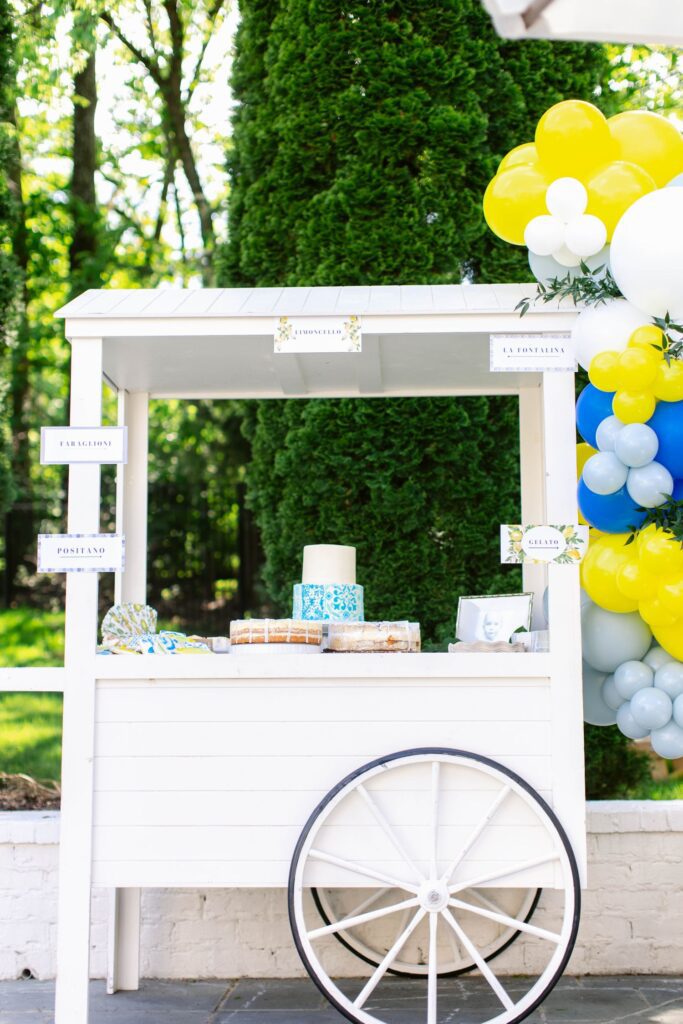 Southern Events offers a curated selection of furnishings, linens, dinnerware, and props that help you craft an elegant baby sprinkle. Celebrate this special moment with sophistication, and let Southern style elevate every detail. Contact our team for help selecting the perfect event rentals or if you need more ideas!
TAGS | at home baby shower, at home party, baby shower ideas, baby shower rentals, elegant event design, furniture rentals, servingware
FEATURED RENTALS | Alice bar, Chelsea Marble Top Bar, Vintage Popcorn Machine, Market Cart, Boxwood Wall, White Coupe China, Rattan White Wash Charger, Alabaster Earthen China, Vera Floral China, Darcy Chargers, Celia Gold Rim Glassware, Austin Flatware, Coronado China,Aged Oak Table, Harling Dining Chairs, Cross Back Chairs, White Antique Dining Table, Antique White Bentwood Chairs, Heritage Light Blue, Navy Blue Velvet, Kennedy Pink, Lilac Poly, Golden Velvet, Sage Poly,
---
24

Aug

Southern Events Products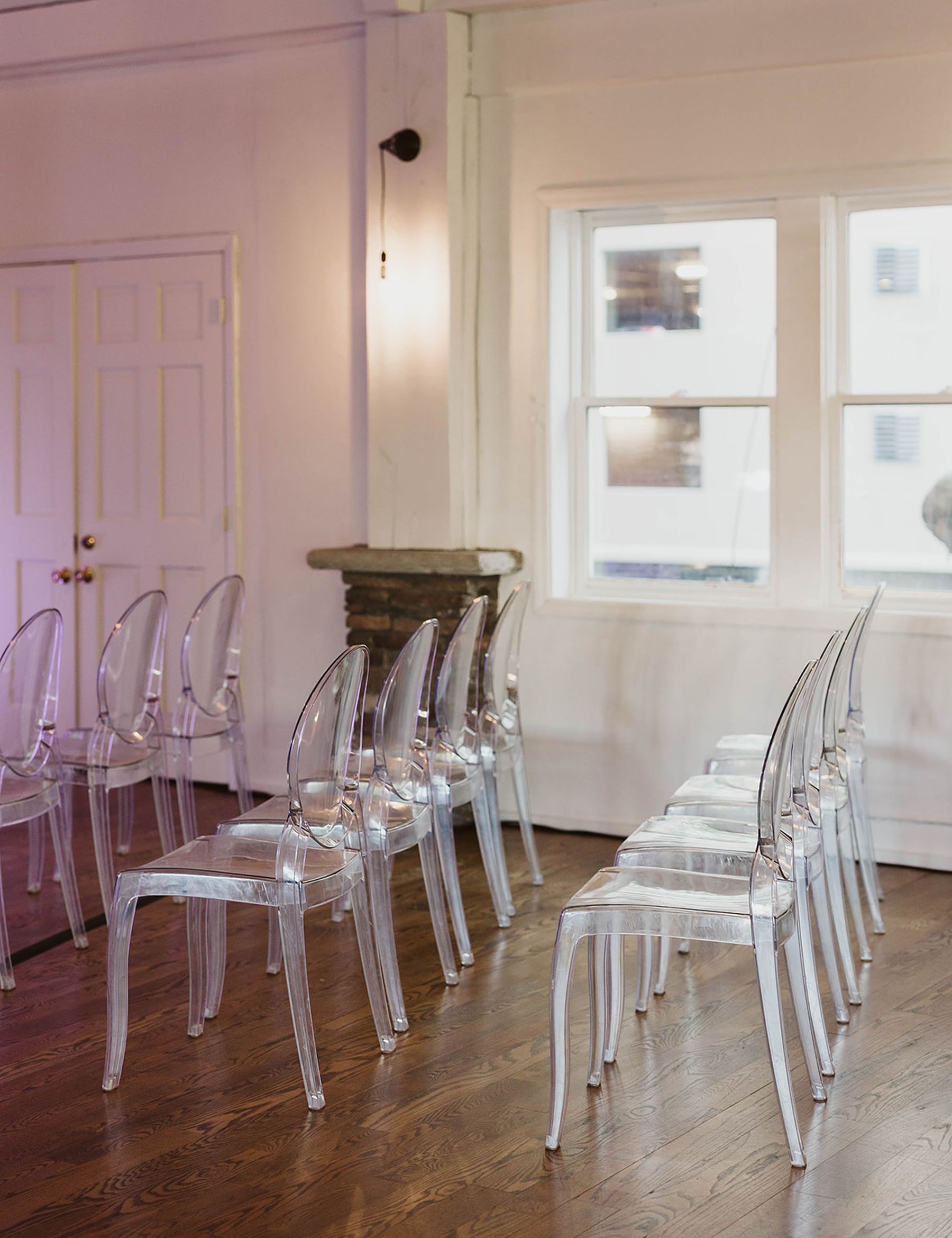 Are you planning a conference or convention and want to make sure your event stands out as both professional and stylish? Look no further than Southern Events for on-trend event furniture! Whether it's comfortable seating, stylish staging, lounge areas for networking, or cocktail hour essentials, we have everything you need to create a memorable and successful event. Let's dive into the must-have event furniture for conferences and conventions that will make a lasting impression on your guests and boost attendance in the years to come.
Comfortable Seating
Comfort is a crucial aspect of any conference or convention. Attendees can spend hours seated, listening to speakers or presentations. Ensure they have a pleasant experience with our extensive range of comfortable seating options. From ergonomic Acrylic Ghost Arm Chairs to simple Folding Chairs with padding, we have a variety of seating solutions to suit your event's needs and theme. If your conference includes workshops or requires attendees to take notes, don't forget about the importance of providing sturdy and spacious tables. Our inventory boasts a diverse selection of event tables, including classic rectangular ones and contemporary round tables, perfect for taking notes and supporting laptops or other materials. Hosting a sizeable convention? Not to worry! We stock plenty of furniture rentals for large events.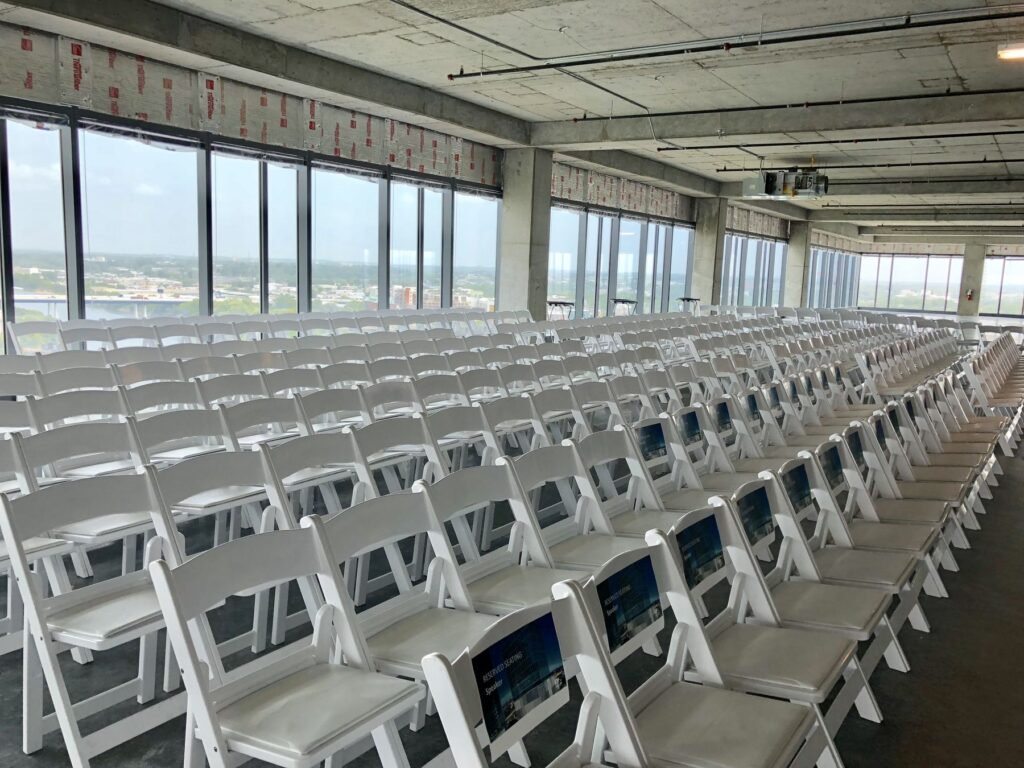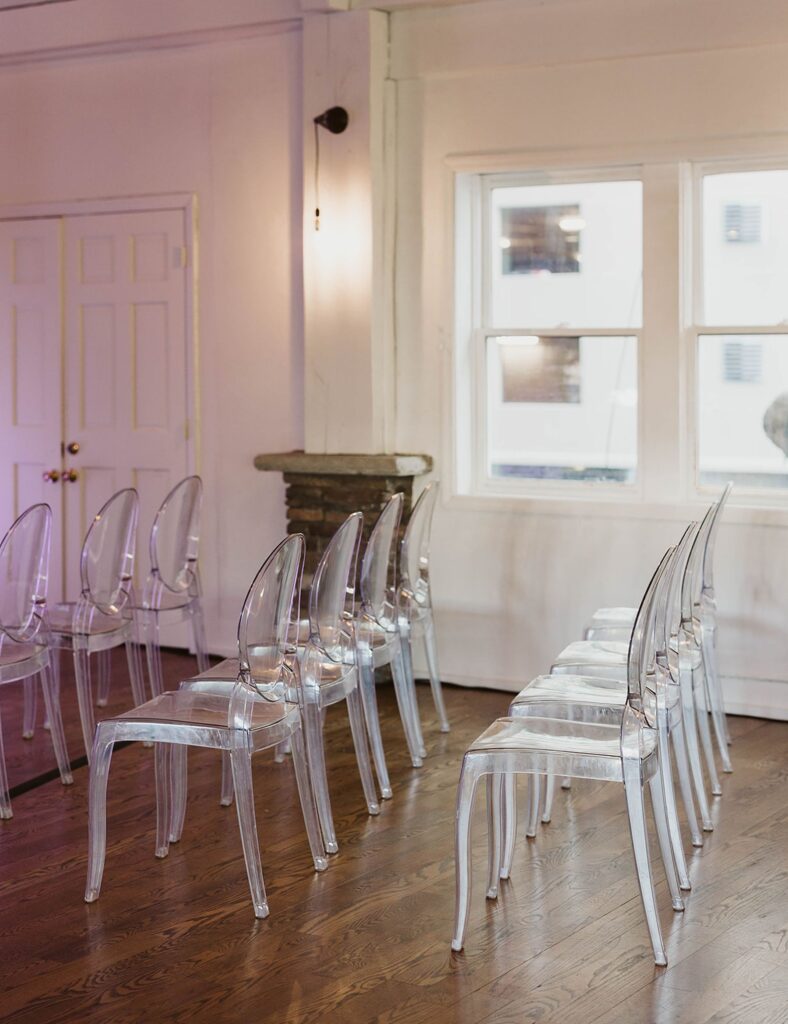 Stylish Staging & Podiums
Impress your attendees and elevate the overall look of your event with our stylish staging and podium options. A well-designed stage not only provides a focal point for speakers and presentations but also adds a touch of professionalism. Especially our Acrylic Podium! We can also provide skirts, for a more cohesive look. And to make the stage even more captivating, consider using our Boxwood Walls as backdrops. These versatile walls will add a touch of greenery and elegance – to avoid the mundane corporate vibe. However, they can also be customized to feature event sponsors or display important branding elements. As well as serve as a photo opportunity!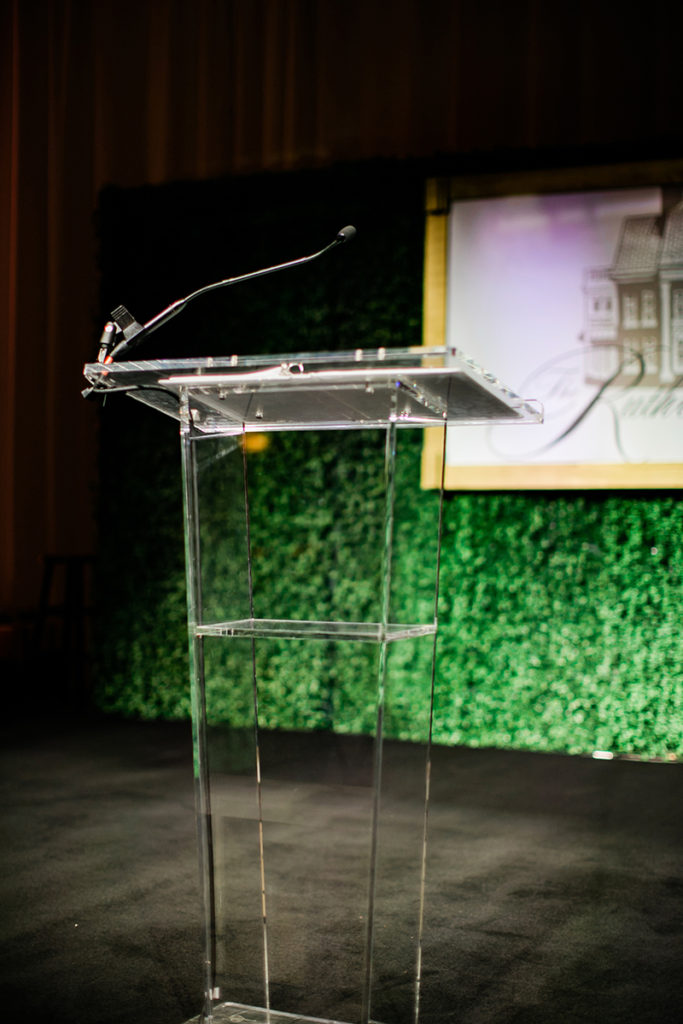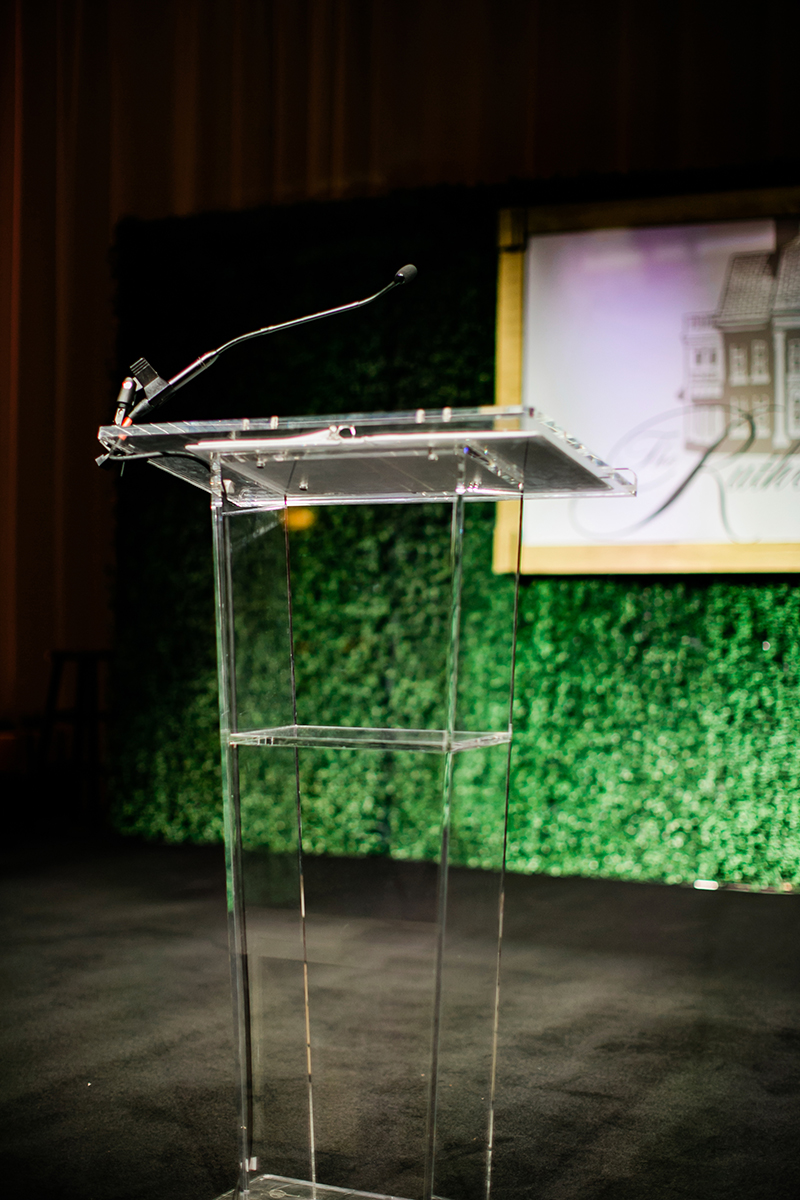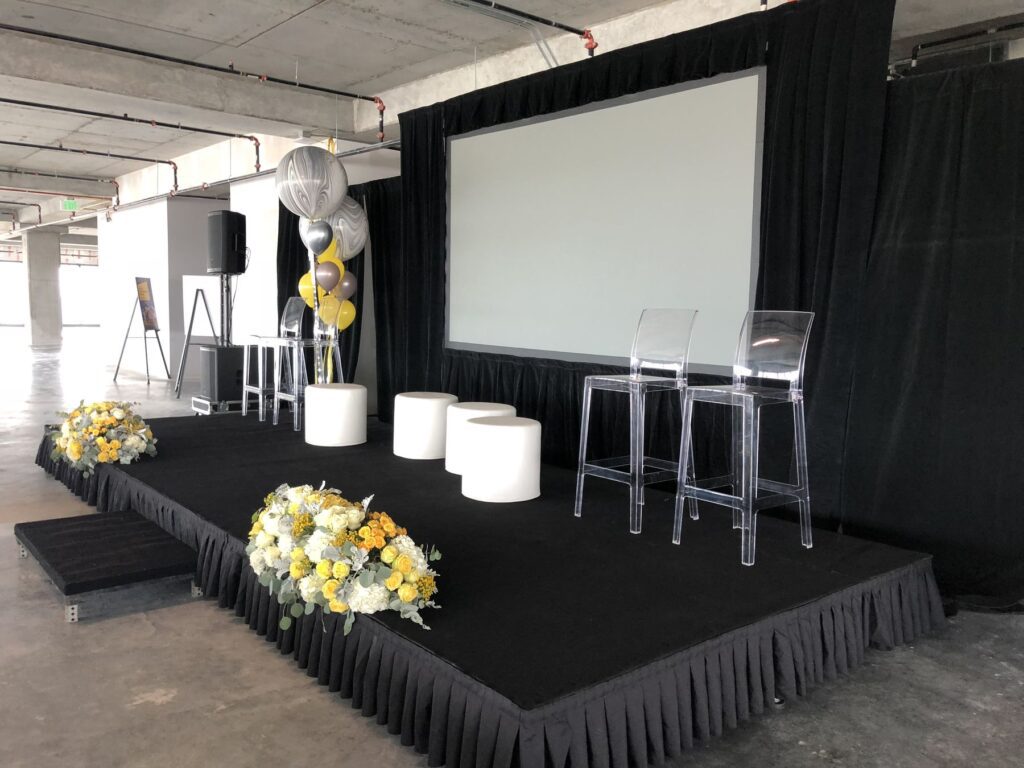 Lounge Areas for Networking
Networking is one of the primary benefits of attending a professional conference or convention. To give your attendees ample opportunity to foster connections, encourage mingling in lounge areas. Our event furniture includes plush sofas, cozy armchairs, and elegant accent tables. Perfect for attendees to unwind or mingle and network between sessions or during multi-day events. These pieces will allow them to take a break and recharge before diving back into the conference. Take a look at our curated Lounge Packages, or mix and match pieces to create a one-of-a-kind lounge. Just don't forget to complete the look with a rug!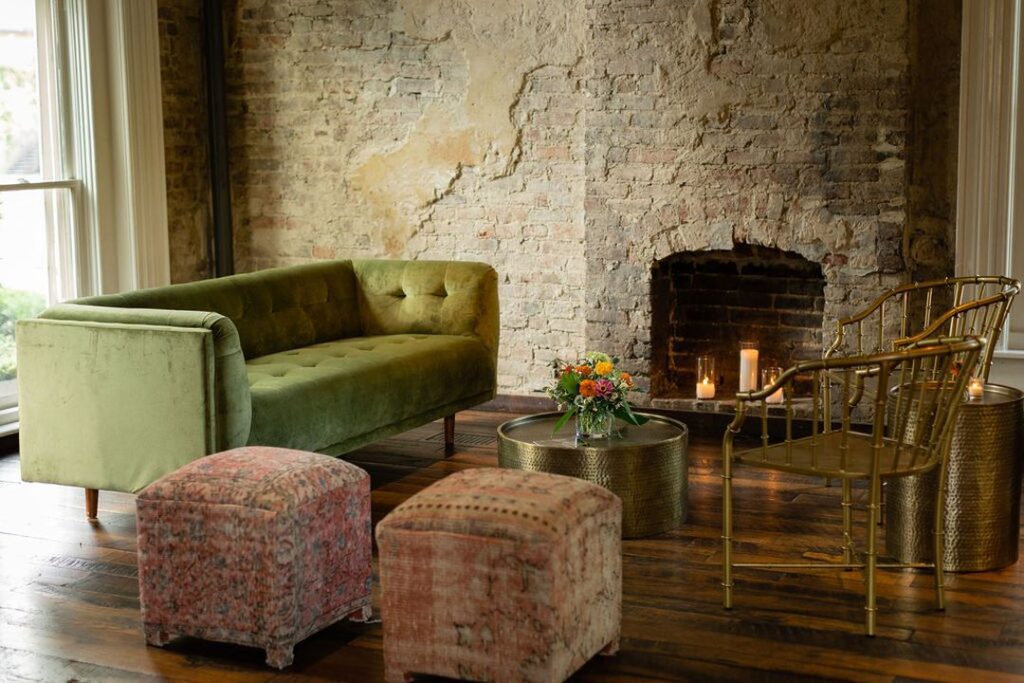 Cocktail Hour Essentials
End your conference on a high note with a stylish cocktail hour! Our event furniture for conferences includes bars and storage that are functional and will add a touch of sophistication to your gathering. Consider our contemporary Sorrento White Bar or the elegant Collins Black Wood Bar. Either of which paired beautifully with the Black Barback Shelf or Gold Bookcase. To complement the event bar, ensure you have on-trend glassware that suits your menu. From modern wine glasses to bold beaded tumblers, we have a wide selection to choose from. If needed, add on a set of cocktail tables where guests can comfortably enjoy their drinks.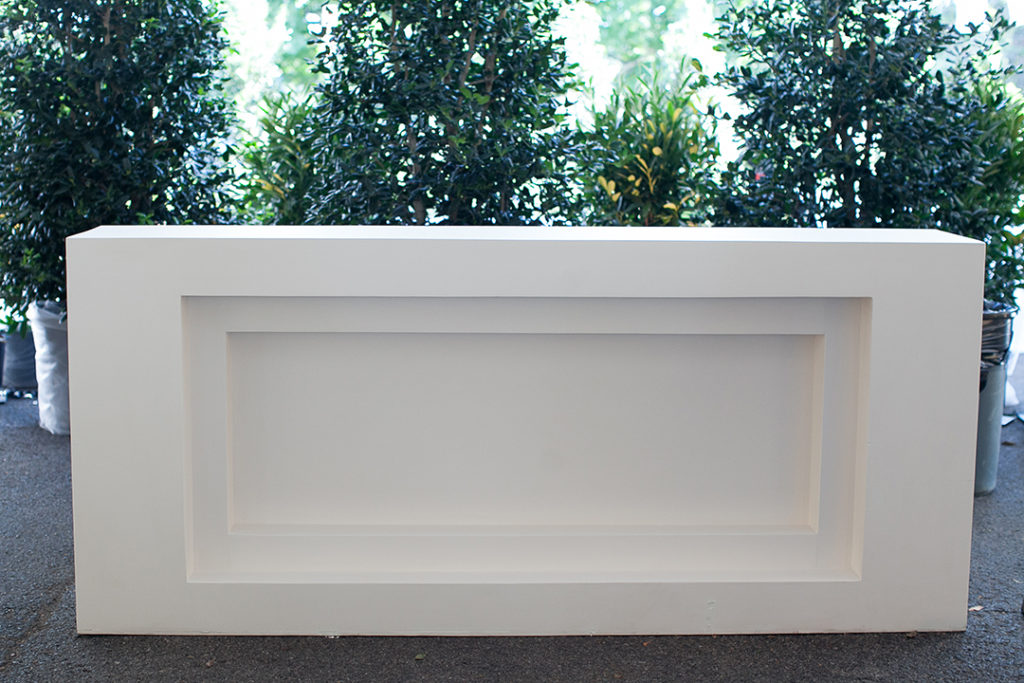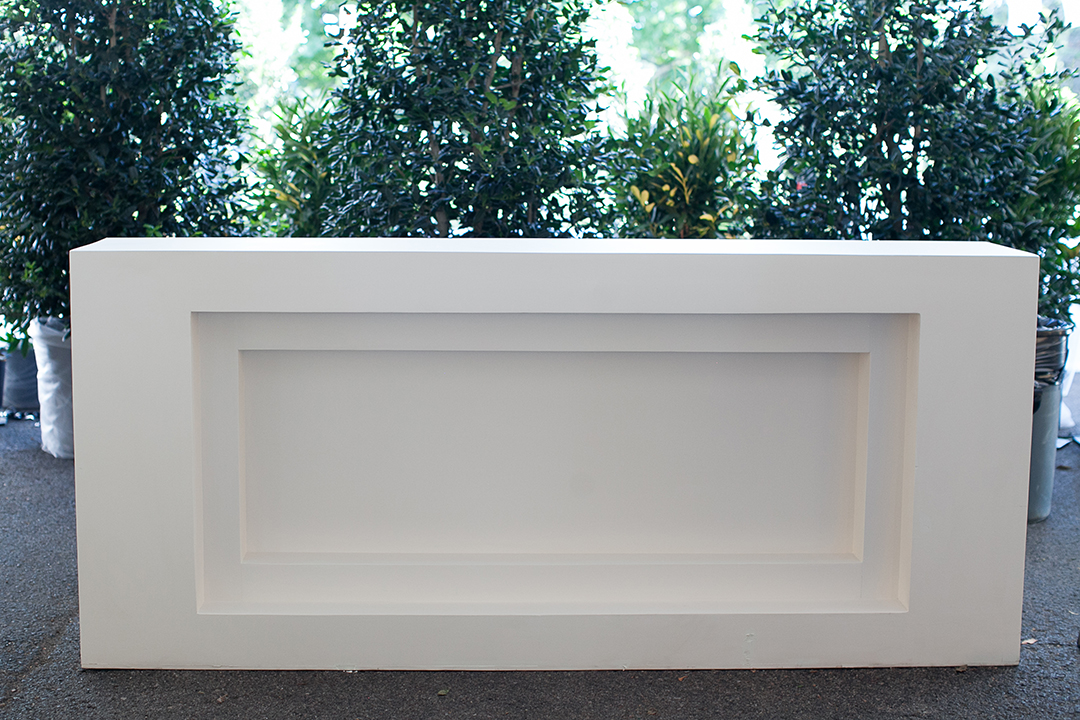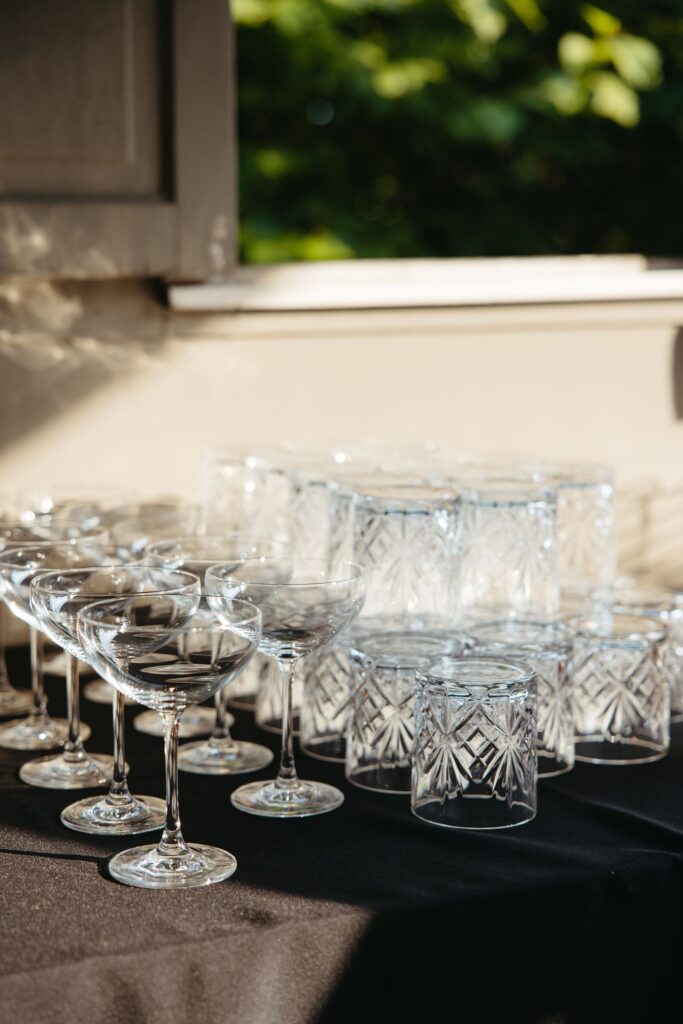 Planning a successful convention requires attention to detail, and event furniture for conferences can make all the difference! From seating to staging and cocktail hour essentials, Southern Events has everything you need. Contact our team to start planning or for additional event ideas and inspiration.
TAGS | Event Seating, Lounge Furniture, Staging, conference rentals, corporate event, corporate event design, corporate event rentals
FEATURED RENTALS | Acrylic ghost arm chairs, folding chairs, event tables, staging, acrylic podium, boxwood walls, sofa, armchairs, lounge packages, accent tables, rugs, collins Blackwood bar, black barrack shelf, gold bookcase, Sorrento white bar, cocktail tables,
---
17

Aug

On Trend, Southern Events Products, Trends and Inspiration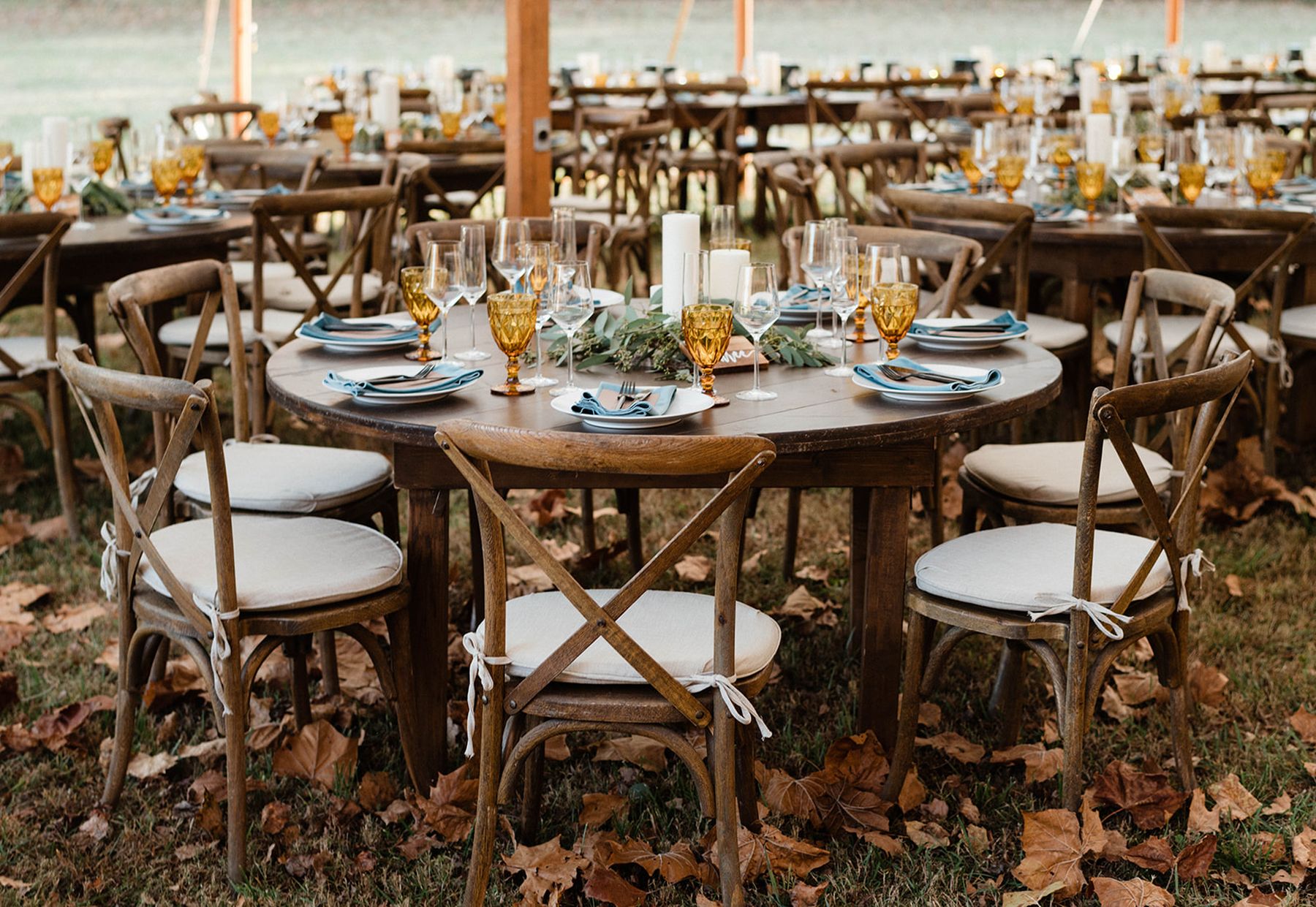 As the rich colors of autumn grace the countryside and the air turns crisp, Tennessee becomes a charming setting for a fall wedding. Regardless of whether you choose to host indoors or out! To create a magical feel, Southern Events offers a selection of rentals that capture the essence of the season. Explore our must-have party rentals for Tennessee fall weddings, from bold linens and artisan serving ware to modern rustic furniture. All of which will elevate your celebration.
Whiskey Barrels & Wood Bars
Set the stage for your wedding with the rustic charm of whiskey barrels and wood bars. These rentals blend seamlessly into nature and offer warmth and elegance. The whiskey barrels can be used as cocktail tables. While the wood bars serve as a focal point. Perfect for a stylish beverage station or cocktail hour. Whether you're hosting your wedding in a vineyard or a rustic barn, these rentals will add a touch of Southern charm to your celebration.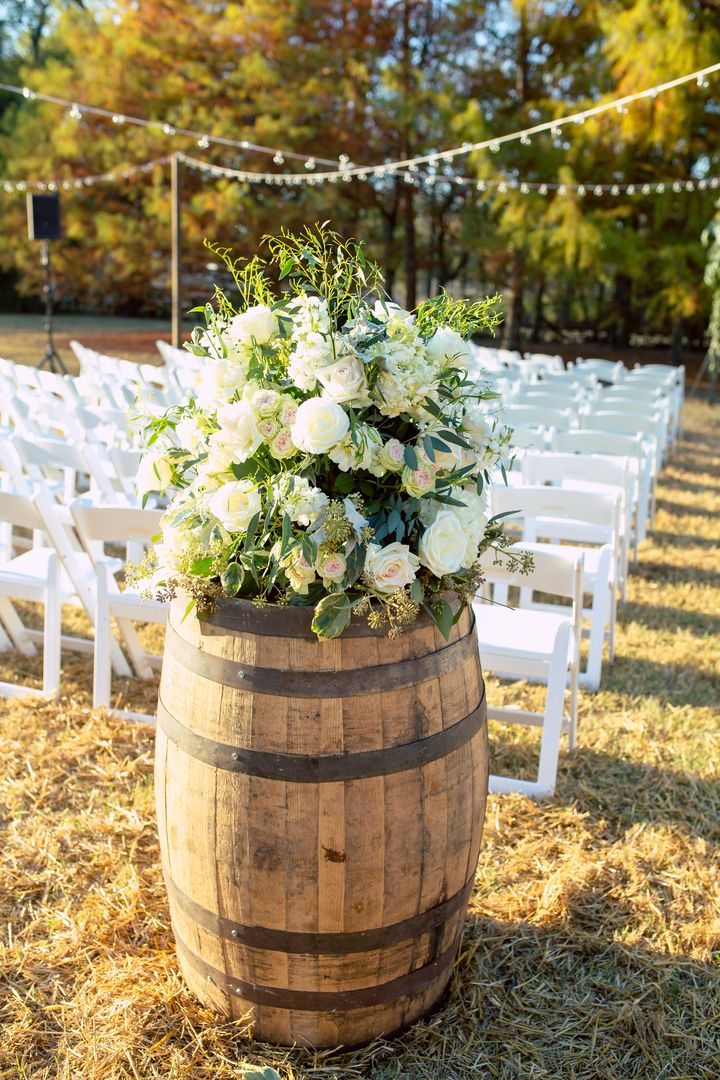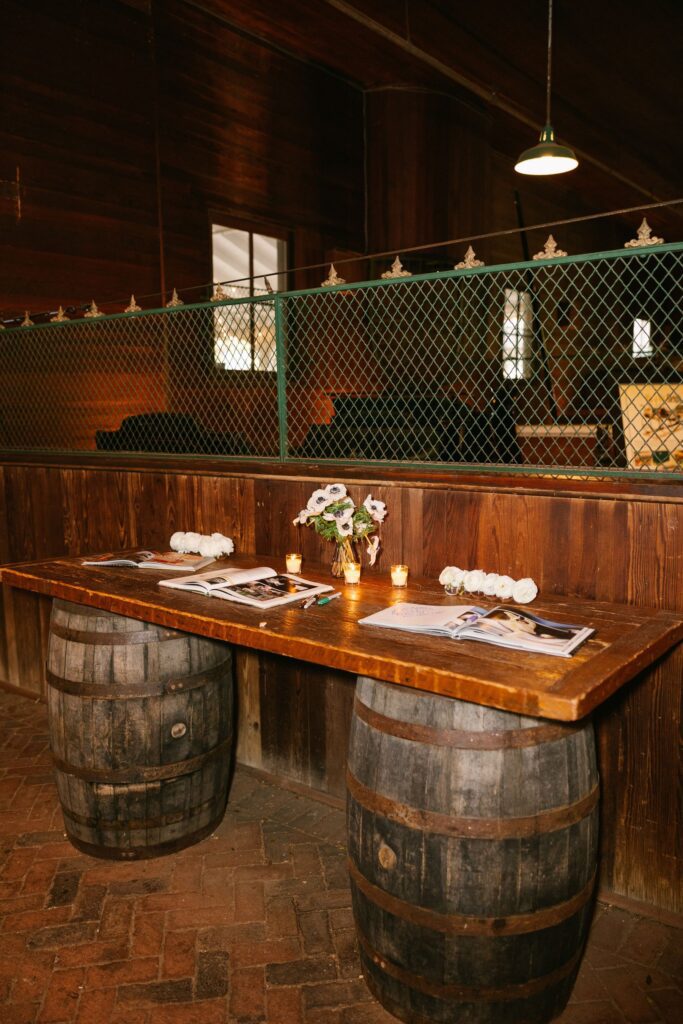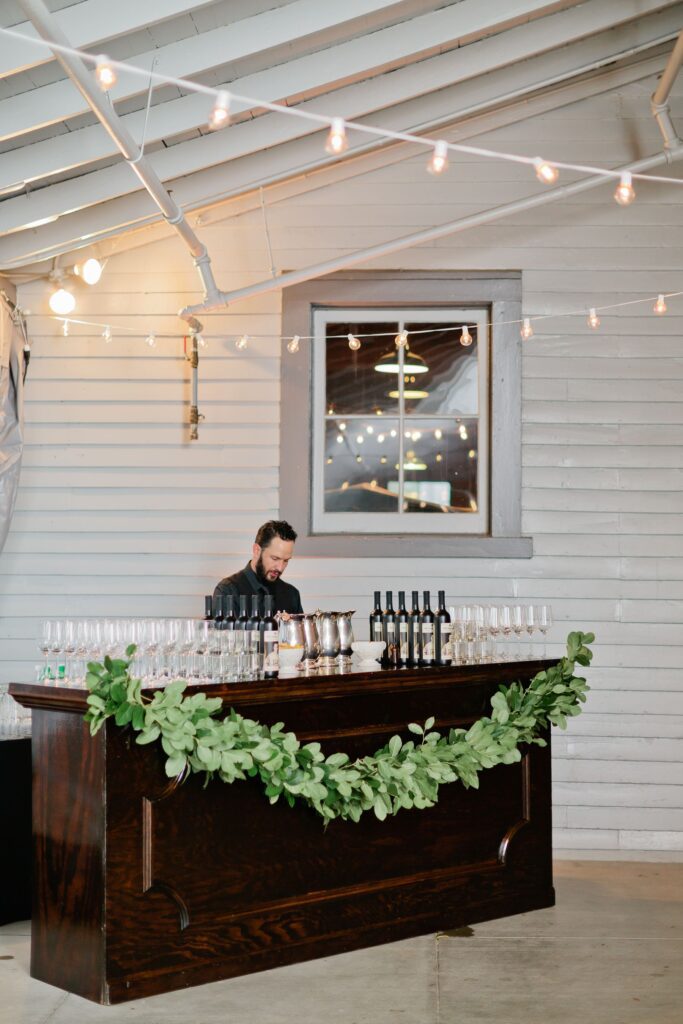 Modern Rustic Tables & Chairs
Create an inviting and stylish event with modern rustic tables and chairs. These rentals combine the raw beauty of wood with modern details. The natural textures and earthy tones complement the fall season. Offering your guests a comfortable and stunning place to gather and celebrate your union. From round tables with Cross Back Chairs for an intimate gathering. To long banquet-style tables paired with rustic benches for a grand feast. Or, spruce up your outdoor ceremony when you feature our elegant Harlin Dining Chairs.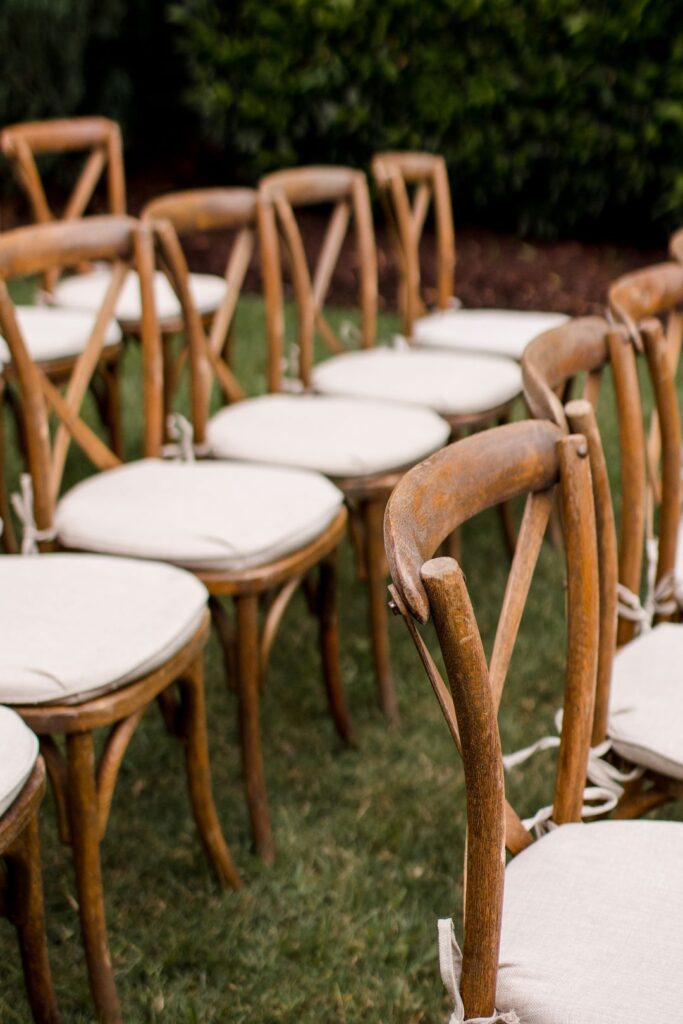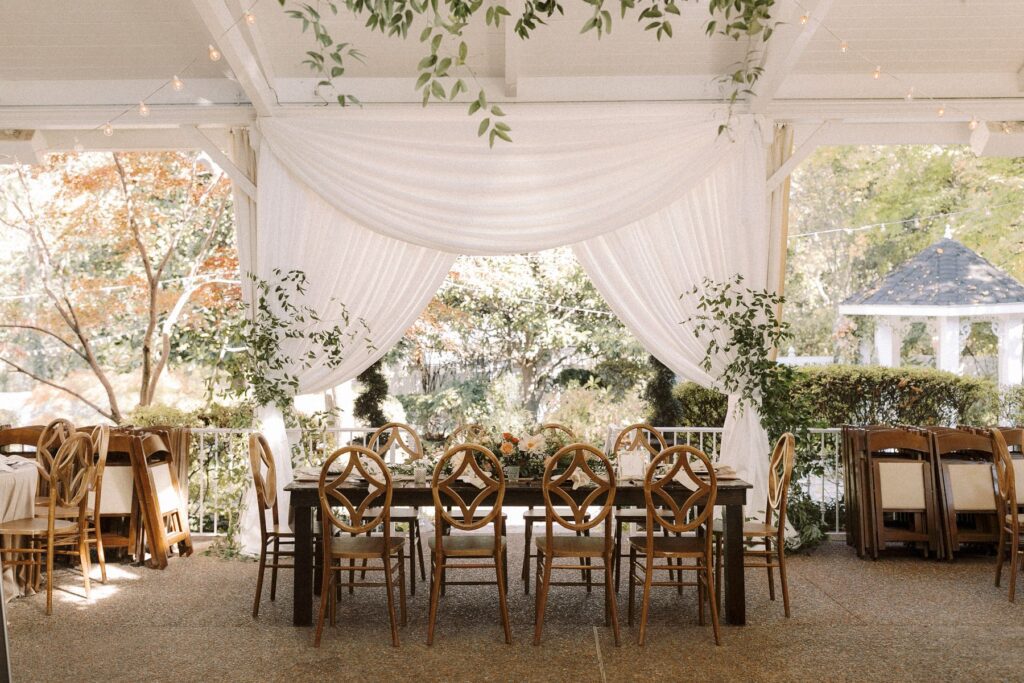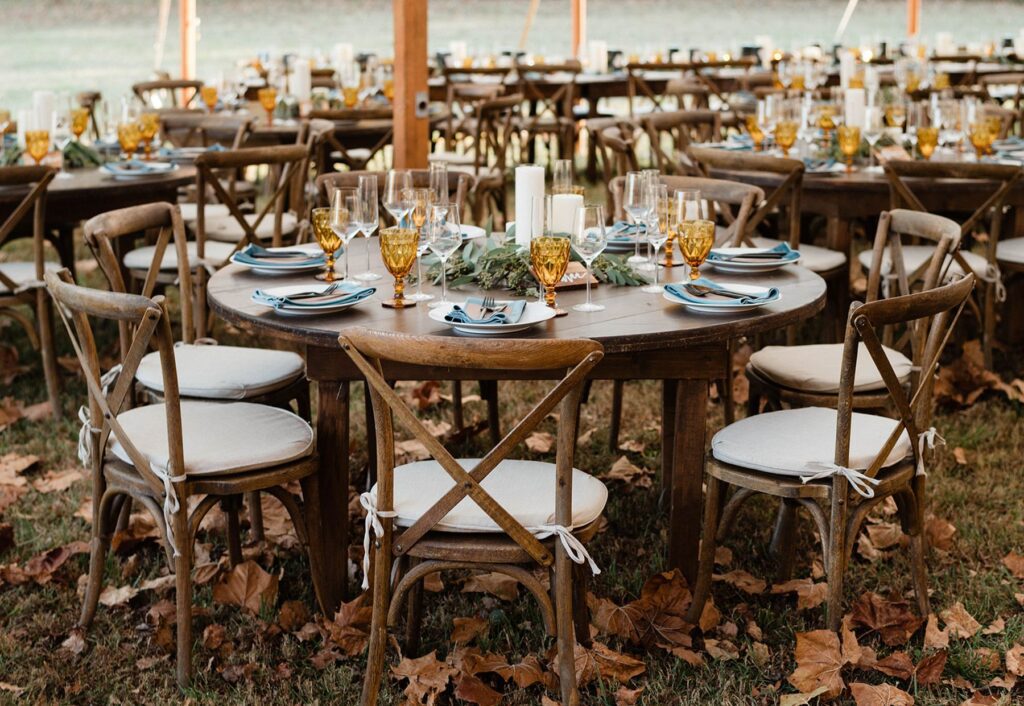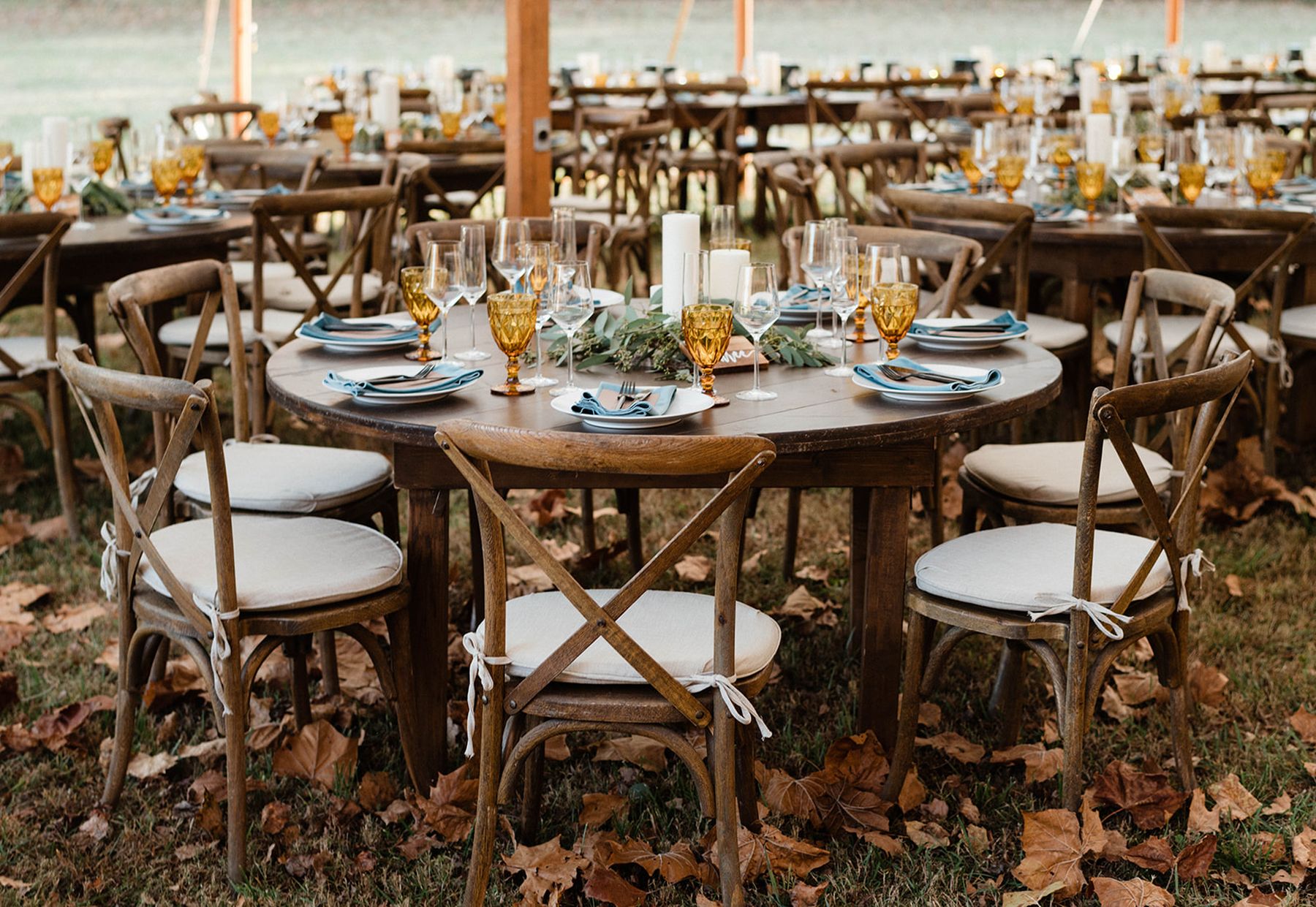 Artisan & Recycled Serving Ware
Elevate your Tennessee fall weddings with artisan and recycled serving ware. The simple and charming designs will add a unique and personal touch to your wedding reception. From handmade Earthen China to timeless Glass Mosaic Dinner Plates. Southern Events offers a range of serving ware for an autumnal theme. Create a modern minimalist place setting using Rattan White Washed Chargers, Alabaster Earthen China, and Gold Austin Flatware. Or, opt for a moody seasonal palette with a Copper Glass Charger, Onyx Earthen China, and Brushed Copper Flatware. Complete the look with Recycled Glassware or Amber Goblets!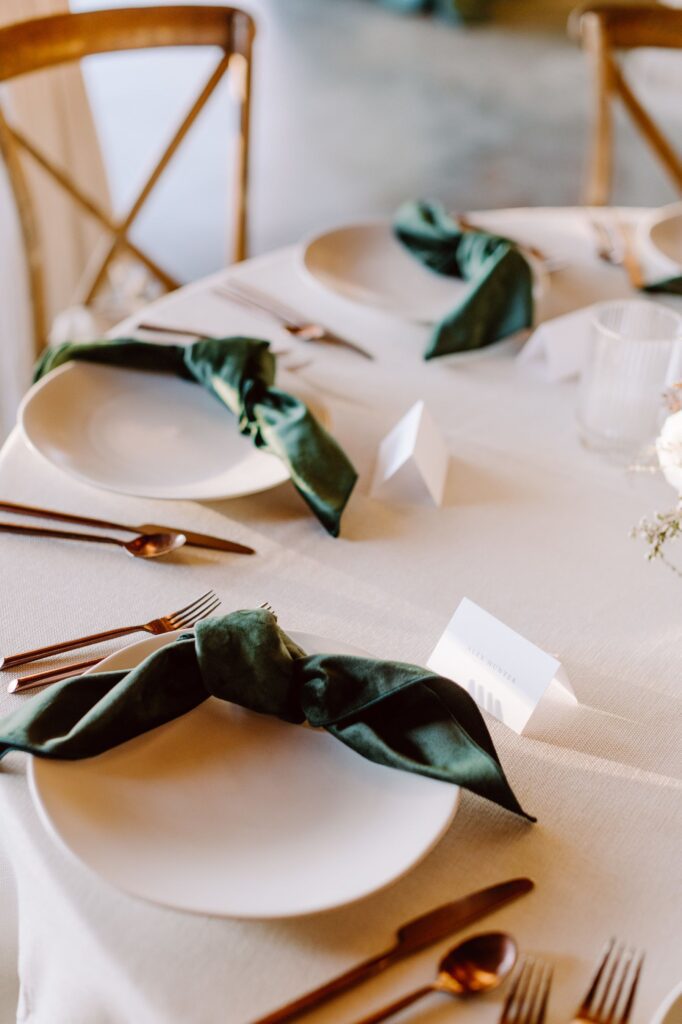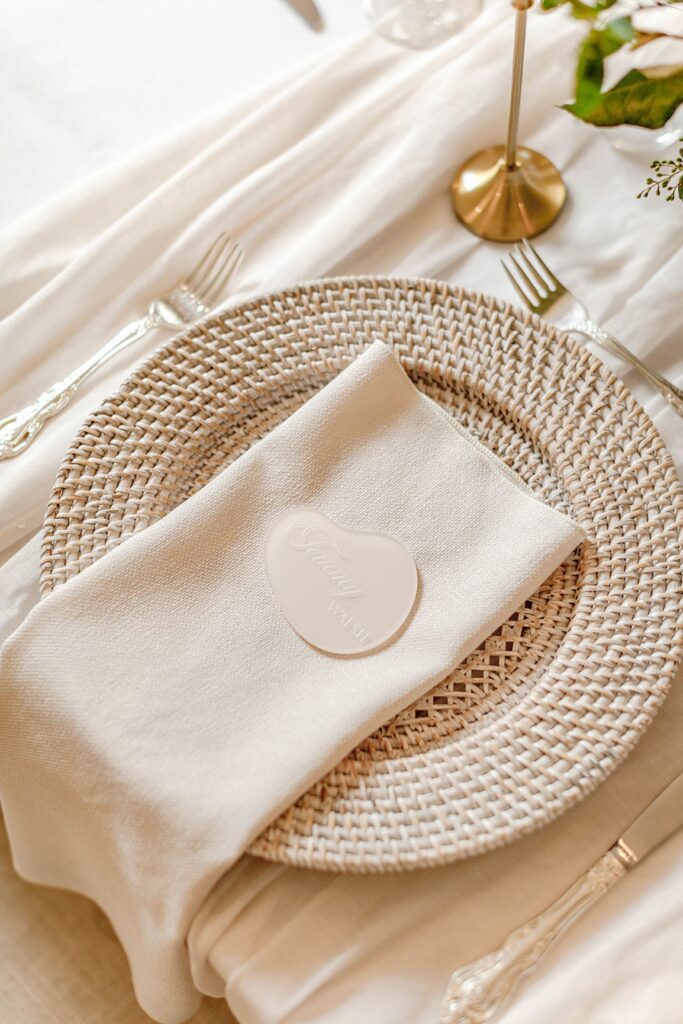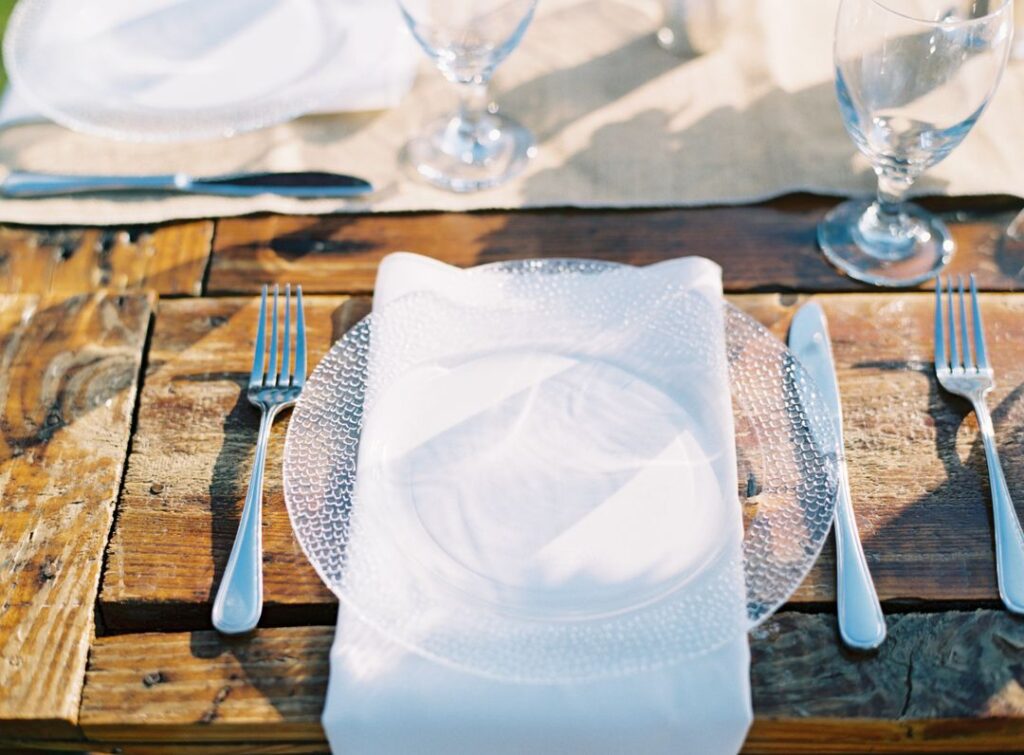 Romantic Runners & Linens
Bring a touch of romance and sophistication to your tables with soft runners and linens. Embrace the rich hues of fall with deep burgundies, warm oranges, and earthy browns. For an extra hint of warmth, perfect when chilly temperatures are in the forecast, opt for velvet napkins or tablecloths. Our current favorites include Golden Velvet and Moss Green Crush! Or, feature soft runners that allow the wood to shine while keeping a romantic vibe. Such as our Natural Sahara or Rust Runner.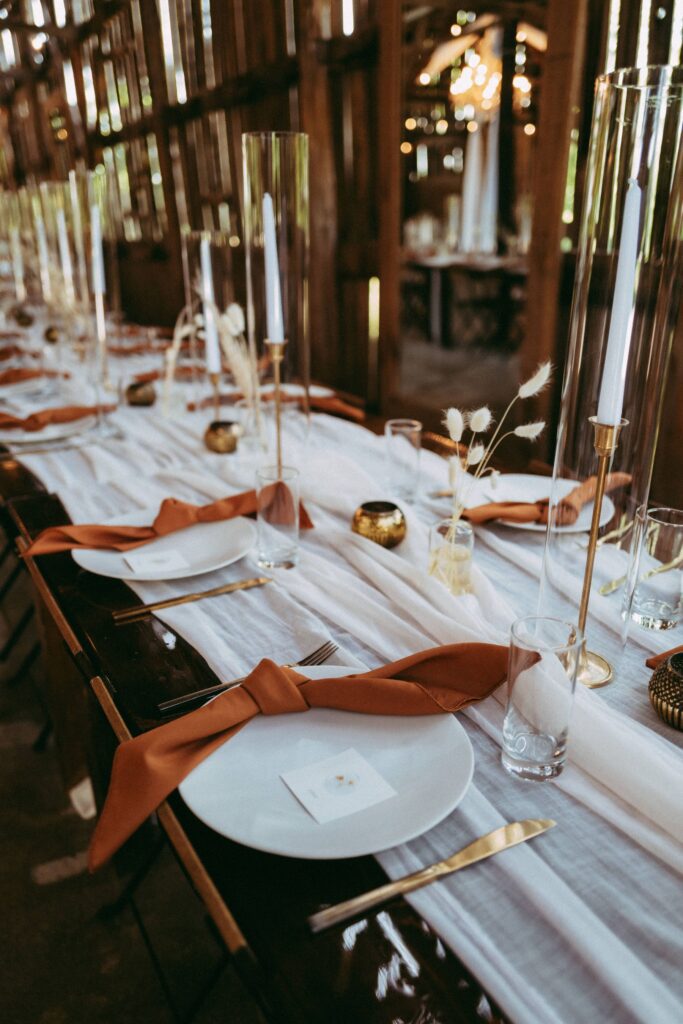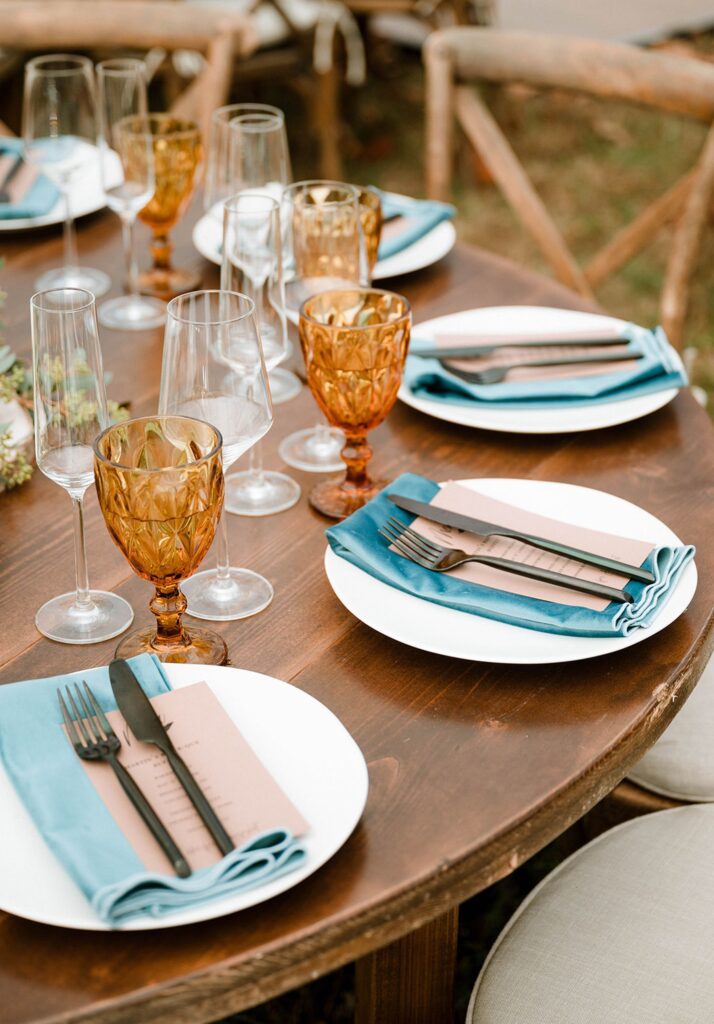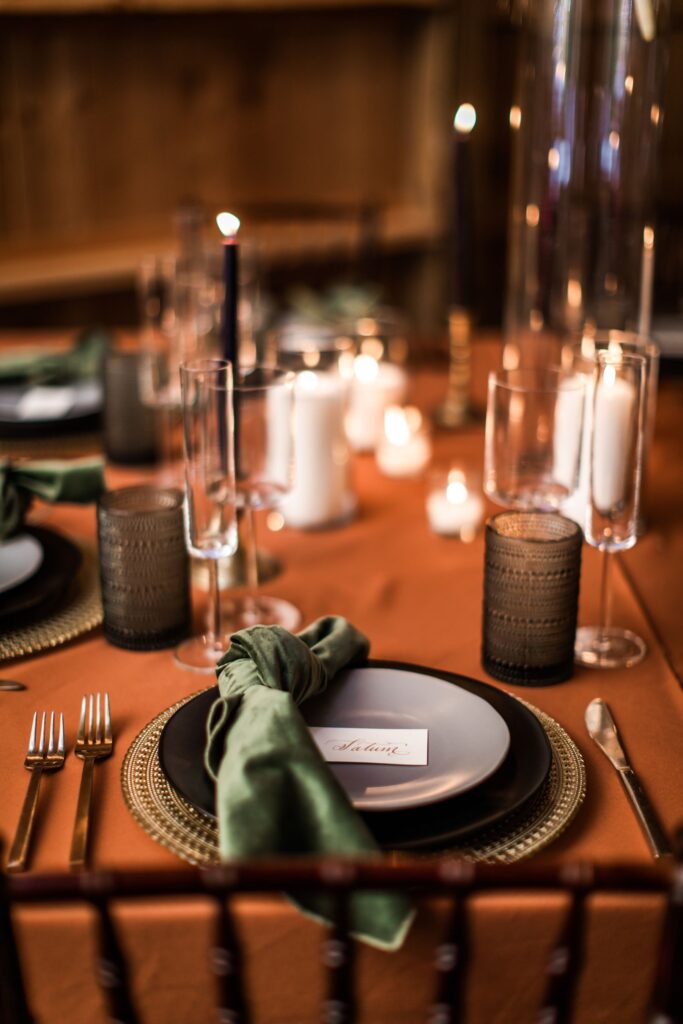 Cozy Lounge Areas
Enhance the guest experience with cozy lounge areas. As the evening breeze sets in, these areas provide a space where guests can relax and mingle. From plush sofas adorned with seasonal throw pillows to vintage-inspired armchairs. Southern Events' lounge rentals are both comfortable and pleasing to the eye. Grab our Jacqueline or Fern Velvet Sofa, or feature our classic Bennett Leather Sofa. Paired with a set of accent chairs. For an extra cozy setup, our Estelle Quarter Round Sofa is a stunner. Lastly, spruce up the space with a mix of vintage rugs and accent tables. Such as the Gold Hammered or Distressed Wood collections.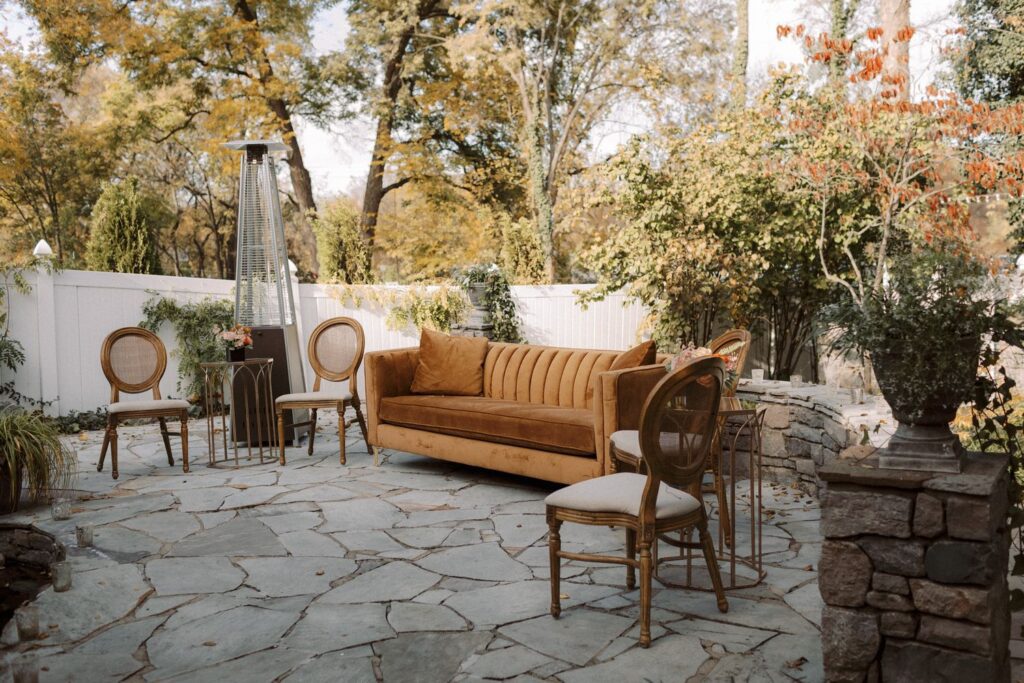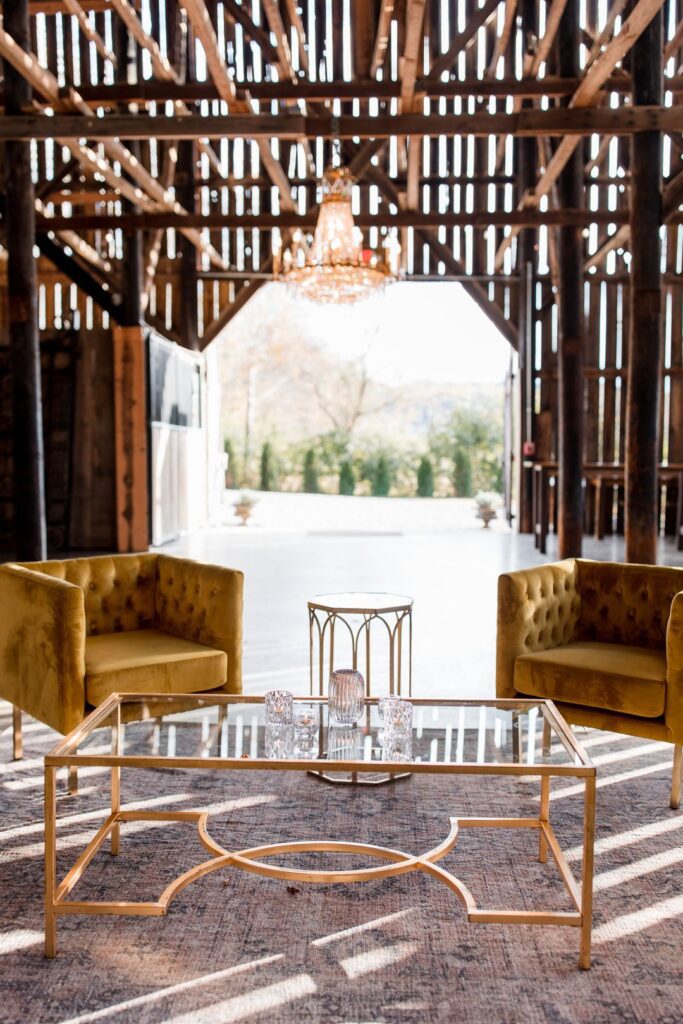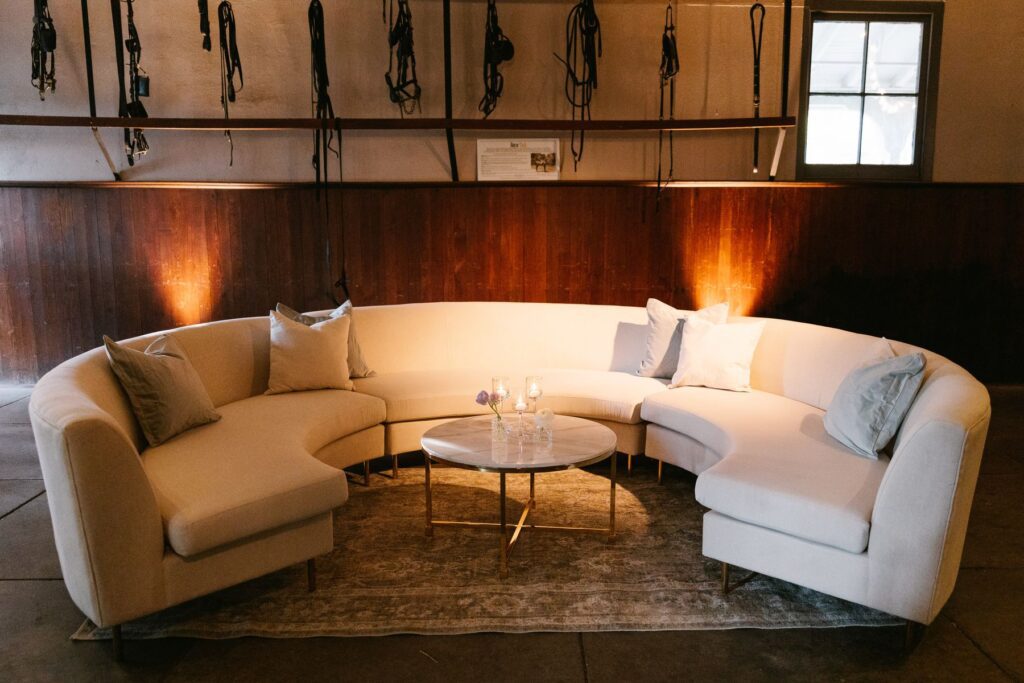 We can't wait to plan more Tennessee fall weddings! Send us a message at info@southerneventsonline.com to start planning your big day. Or for help choosing event rentals that fit your vision. Prefer a modern wedding look? Check out this Black and White Wedding at Diamond Creek.
TAGS | Fall Wedding Decor, Fall Wedding Rentals, Lounge Furniture, Rustic Weddings, Rustic event rentals, Tennessee fall wedding, fall weddings, outdoor fall wedding, rustic wedding decor, tablescape inspiration
FEATURED RENTALS | whiskey barrels, Cross Back chairs, fruitwood farm table, cross back chairs, harlin dining chairs, Copper Flatware. Complete the look with Recycled Glassware or Amber Goblets! Glass Mosaic Dinner, Rattan White Washed Charger, Alabaster Earthen China, Gold Austin Flatware, Copper Flatware, Amber Goblets Recycled Glassware, Onyx Earthen China, Copper Glass Charger, Golden Velvet, Moss Green Crust, Natural Sahara Runner, Rust Runner, Jacqueline Velvet Sofa, Fern velvet Sofa, Bennett Leather Sfoa, Estelle Quarter Round Sofa, vintage rugs, Gold Hammered Coffee Table, Distressed Wood Coffee Table,
---
27

Jul

On Trend, Southern Events Products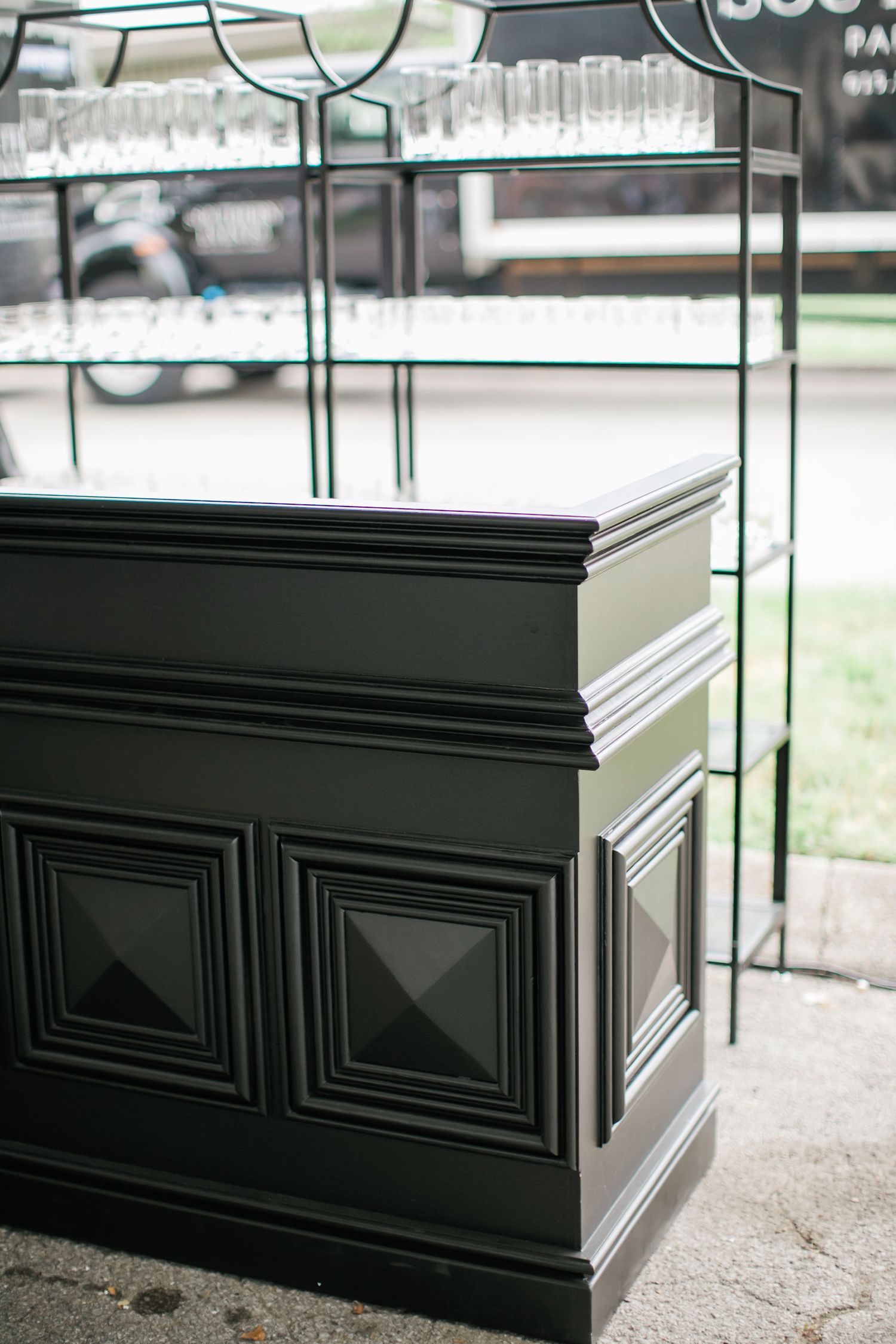 Serving alcoholic beverages, or delicious mocktails, starts with a well-stocked bar! Whether you're organizing a wedding reception, corporate gathering, or milestone celebration, Southern Events Online is your go-to destination for event bars and bar accessories for rent. Let's dive into the offerings that will transform your event into a sophisticated soirée, from bars in every shape and size to on-trend glassware and elegant backdrops.
Stylish Bars for Rent
A well-outfitted bar is the sign of a well-planned event. We offer a wide selection of stylish bars available for rent, perfect for any event theme or ambiance. For a rustic chic vibe, grab our Thompson Oak Bar. Or, a fan favorite, the Chelsea Marble Top Bar is perfect for a modern bohemian vibe! Our bars are crafted with attention to detail and are designed to create a focal point at your event. From vintage wooden bars to elegant mirrored options, you'll find the perfect match for your event aesthetic. If you are hosting an intimate event, we also carry a Gold Bar Cart, perfect for providing table service.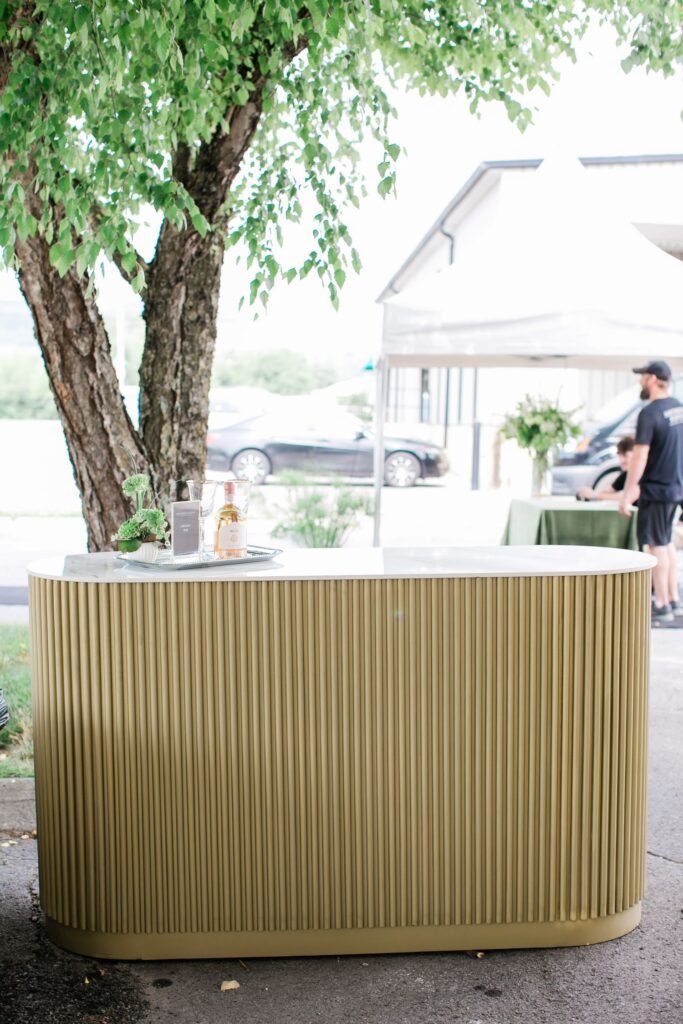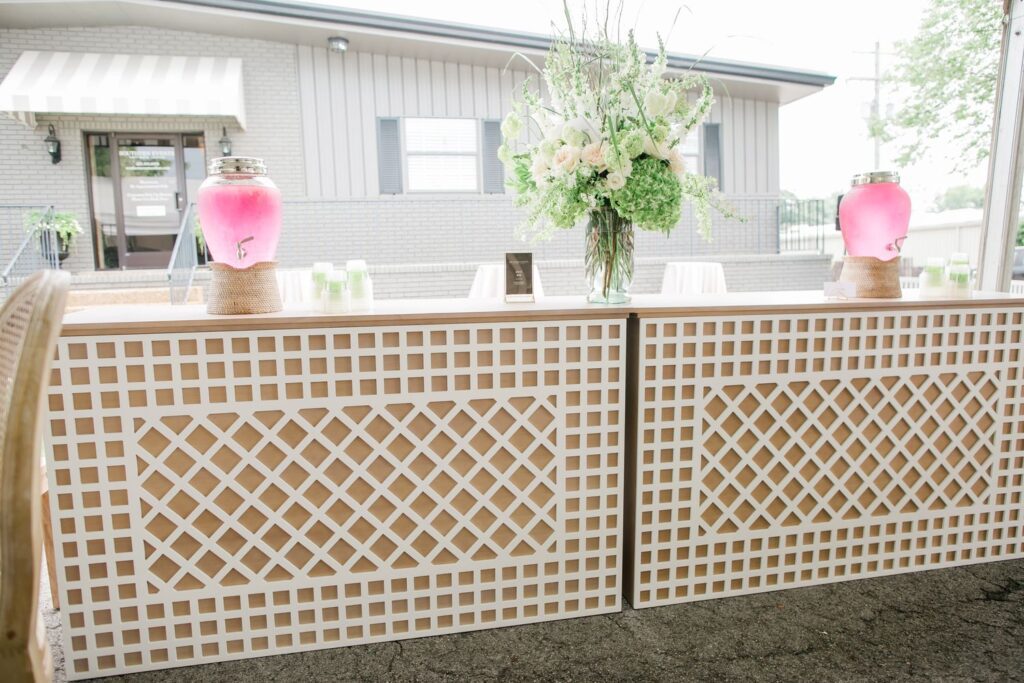 On-Trend Glassware
With an impressive bar area, you'll need glassware to match! This is why Southern is excited to stock an array of glassware options that will enhance the visual appeal of your beverages, whether it be wine or a signature cocktails, and impress your guests. In addition to the essentials, such as highball and rock glasses, we have an elegant selection for celebratory events. Including our Gatsby Champagne Coup Glasses and Cybil Champagne Flutes. If you want to infuse a splash of color into your bar setup, peruse our inventory of colored glassware. Ranging from retro shades of pink and amber, to vibrant shades of green and blue. Consider all your options when you visit our catalog!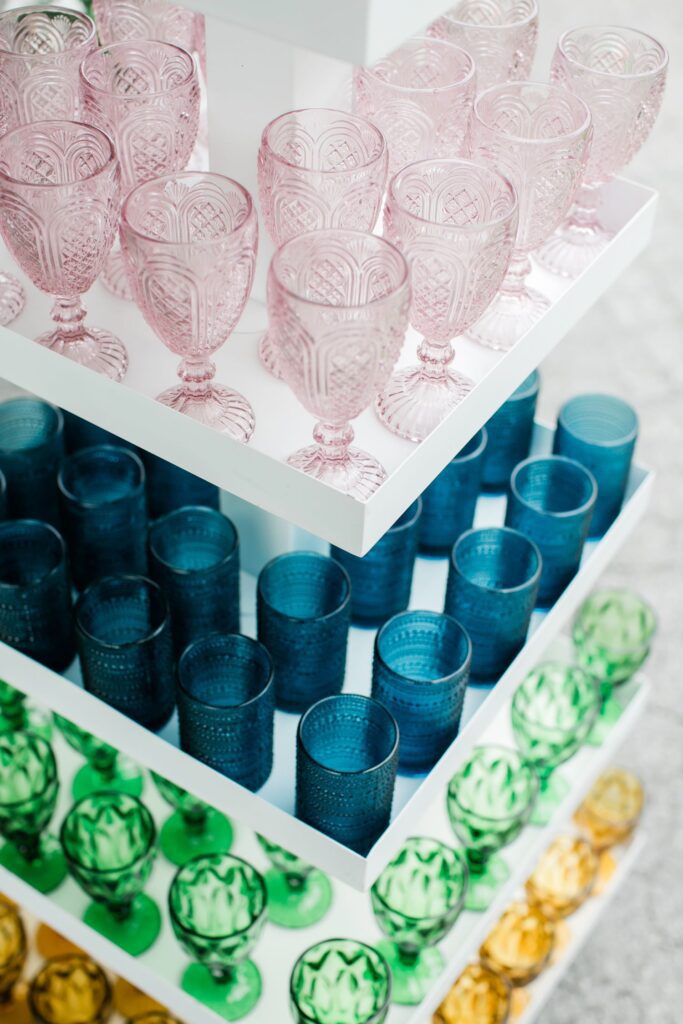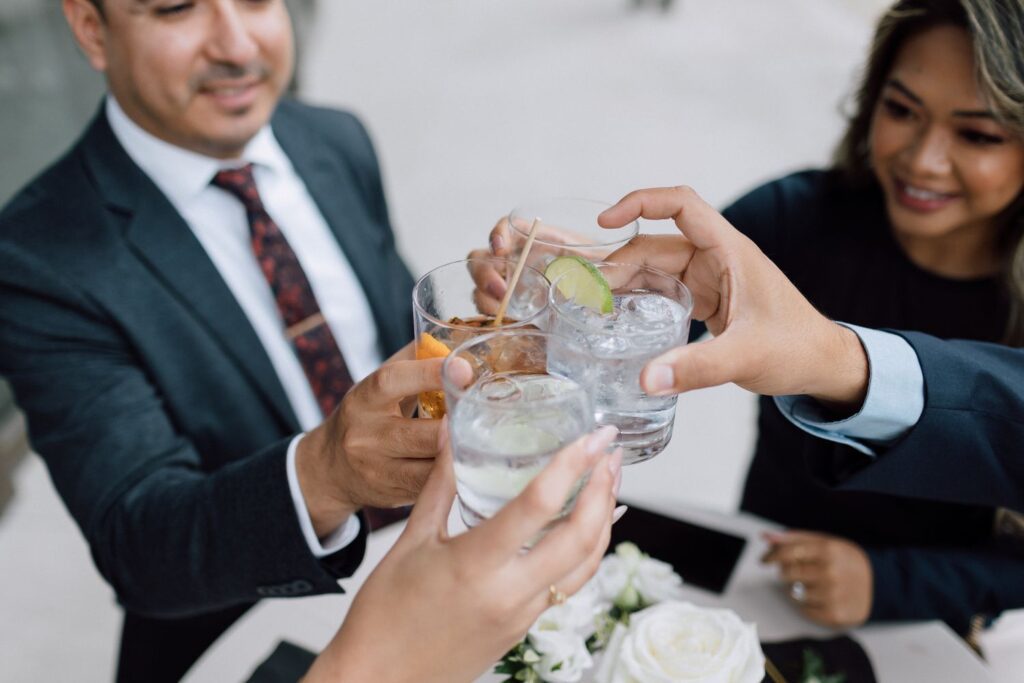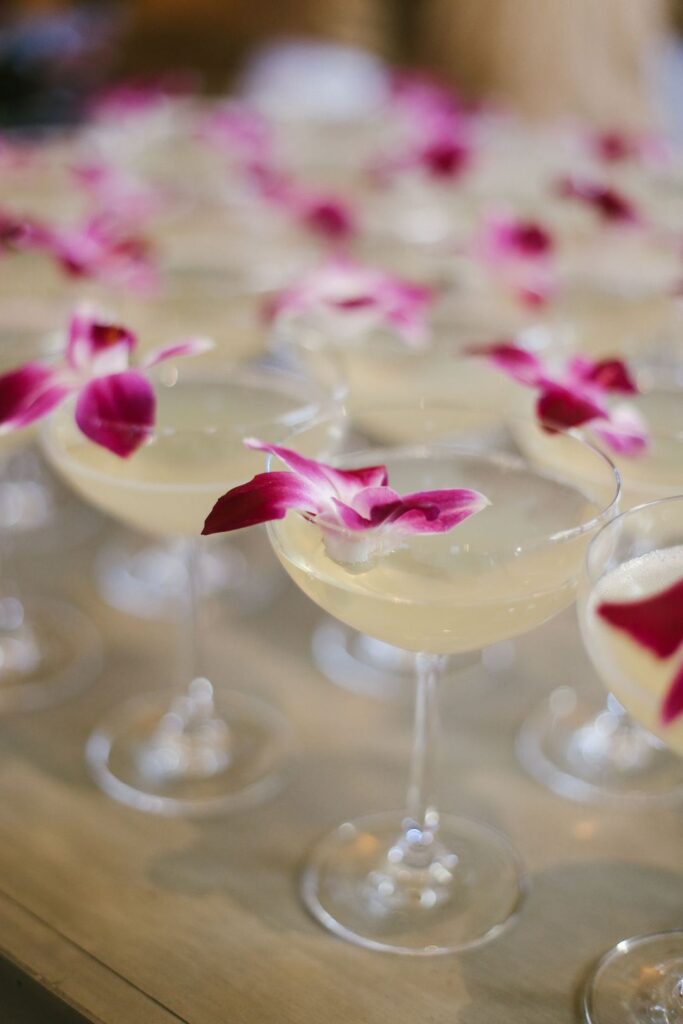 Bar Shelving + Backdrops
To create an immersive and visually appealing bar area, we stock an assortment of bar shelving and backdrops for rent. These elements will help transform a simple bar into a captivating focal point! Choose from simple shelves to display your liquor collection or glassware – such as a Black Bookcase or Gold Avenue Barback Shelf. Or, feature Boxwood Walls, elevated with custom signage starring a menu or corporate logo. With a diverse range of options, you can curate a bar setup that perfectly reflects your event theme and leaves a lasting impression.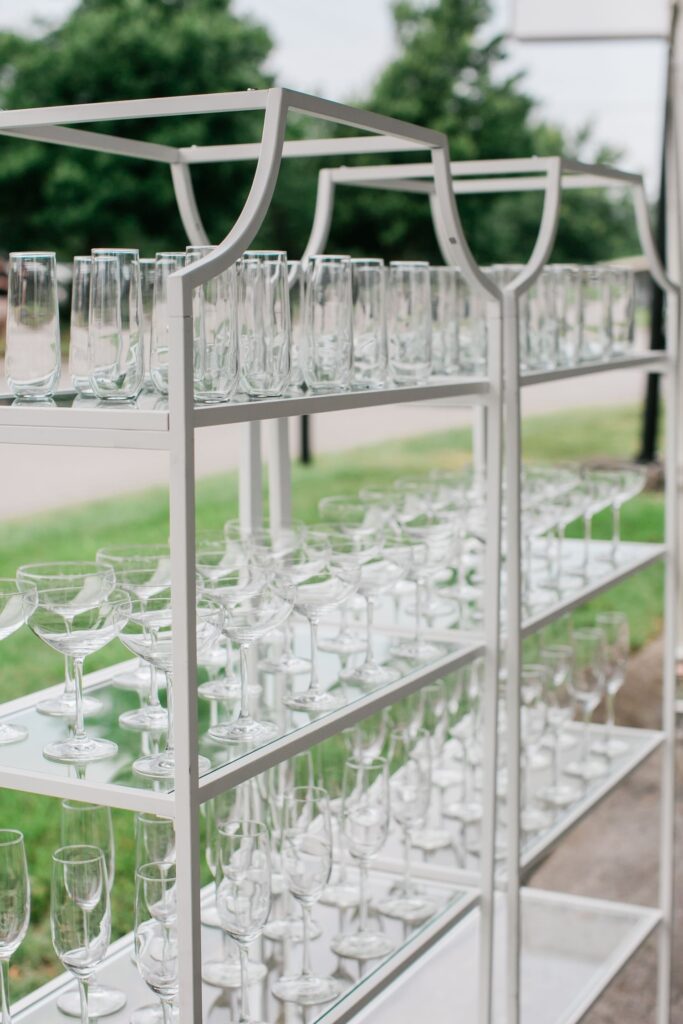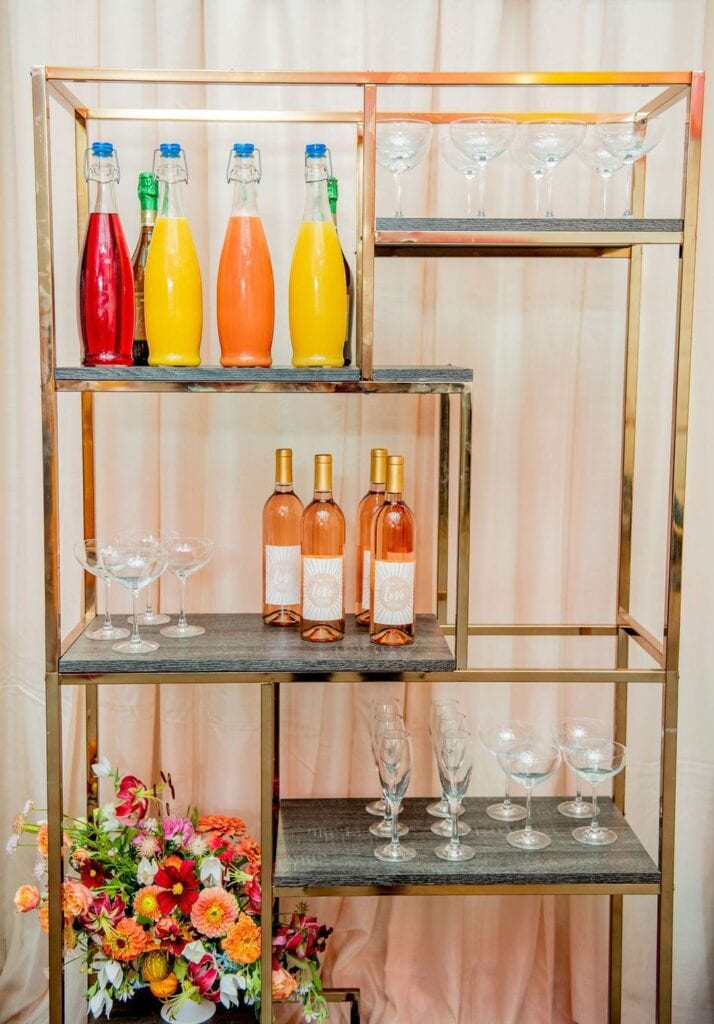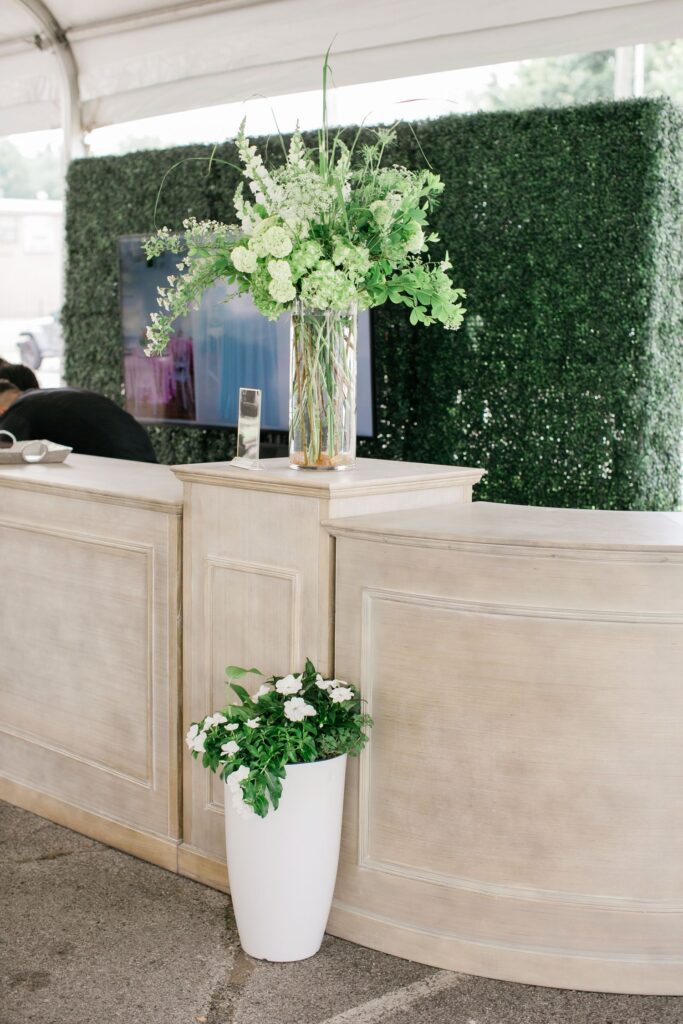 Cocktail Tables & Seating
Cocktail tables are both functional and stylish! These tables provide the perfect gathering spot for guests to enjoy their beverages and engage in conversation. For standing and mingling, combine our new Palmer Bistro Table with matching barstools, or feature a Charleston Bistro Table standalone. Or dress a cocktail table with bright linens, in a soft satin or rich velvet material, contrasted by Acrylic Ghost or Mid-Century White Barstool. Alternatively, and to create a more relaxed atmosphere, peruse our selection of curated event lounges. Complete with stylish seating, accent tables, and rugs.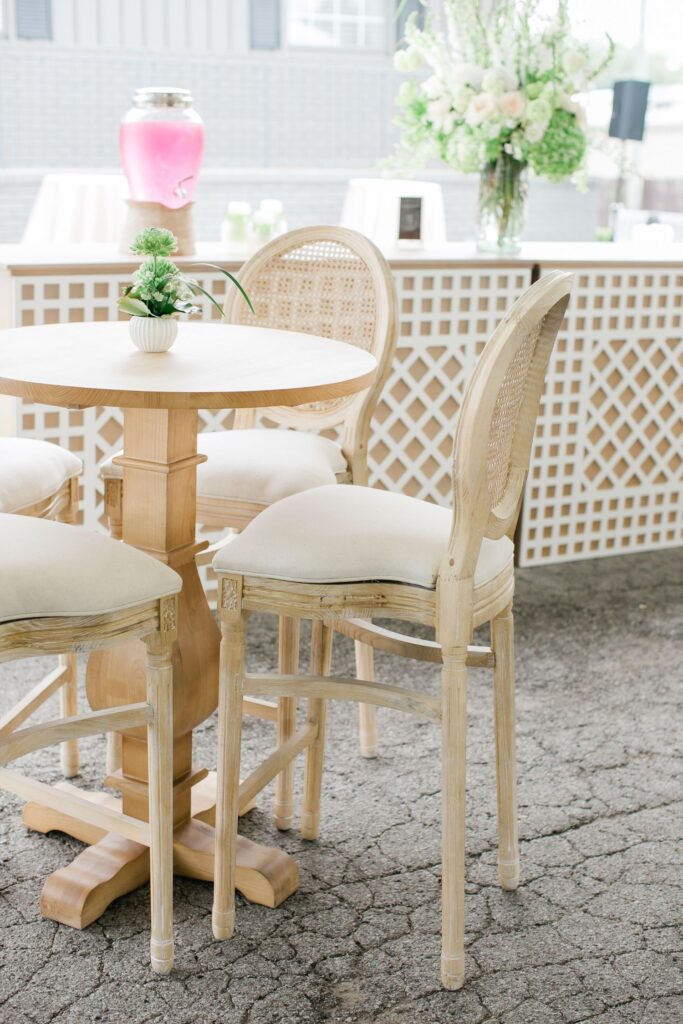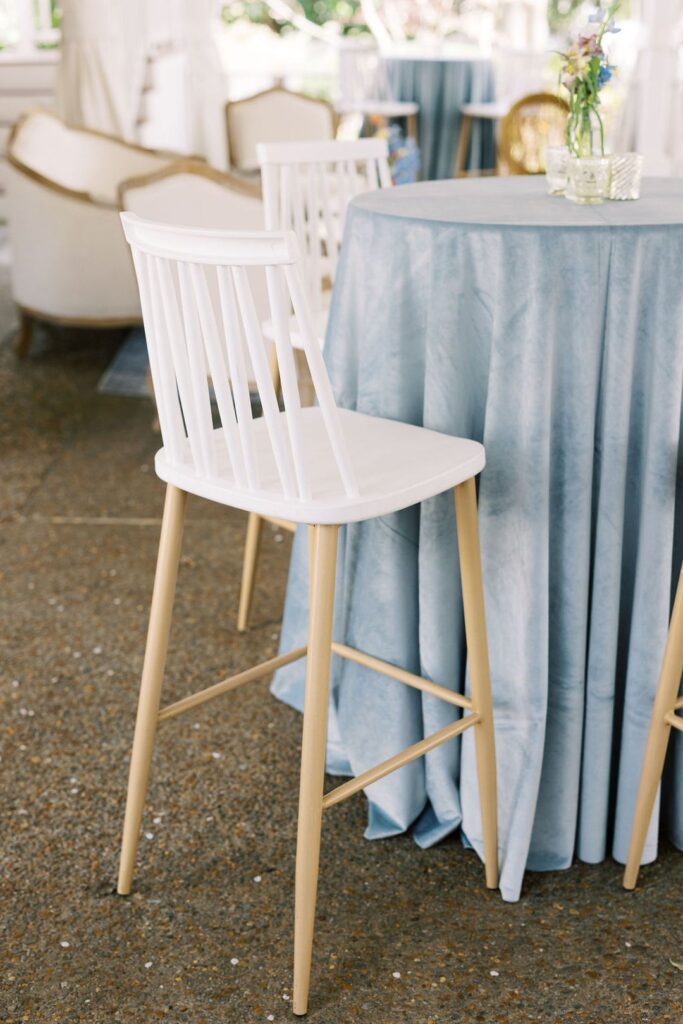 Want to feature some of these stylish bar accessories for rent at your upcoming event? Contact our team at info@southerneventsonline.com and let's start planning your best party event yet! Hosting outdoors? Explore our Unique Outdoor Party Decor & Props that will elevate your celebration.
TAGS | Glassware Collection, Nashville Event Rentals, Nashville Wedding Rentals, Nashville party rentals, Southern Events Party Rentals, Unique Wedding Rentals, backdrop ideas, bar accessories, bars for event rentals, glassware rentals Nashville
FEATURED RENTALS | Sorrento white bar, Thompson oak bar, cheese marble top bar, gold bar cart, gold bar cart, Gatsby coupe glasses, Cybil champagne flutes, black bookcase, gold avenue Barback shelf, boxwood ball, palmer bistro table, Charleston bistro table, mid century white barstool acrylic ghost barstool,
---
20

Jul

Southern Events Products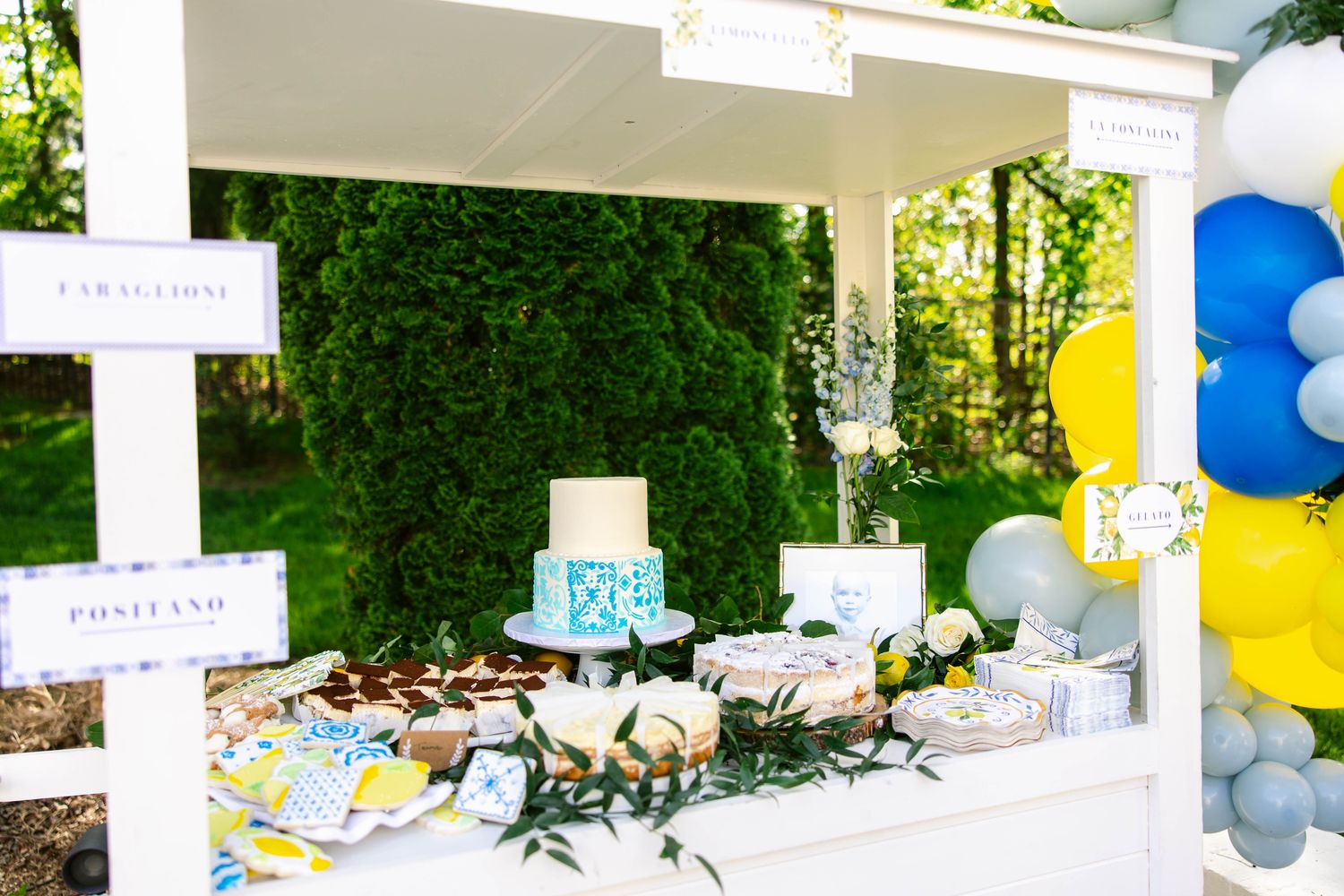 When it comes to hosting a memorable event, creating the perfect ambiance is essential. From corporate gatherings to weddings, the right furniture can elevate any occasion. And to help you, Southern Events offers a stunning collection of stylish specialty furniture rentals that are sure to impress your guests. From sophisticated lounge furniture to eye-catching props and more! Explore our in-stock rentals to discover how you can elevate your next celebration.
Luxe Lounge Furniture
Creating cozy and stylish lounge areas at your event has never been easier. From plush sofas and elegant armchairs to trendy ottomans and sleek coffee tables, our collection has it all. Whether you're hosting a corporate cocktail party or an intimate wedding reception, these pieces will ensure your guests feel comfortable. We recommend starting with a large loveseat or sofa set to match your theme. Choose from a collection, like the coastal-inspired Charlotte Collection or the contemporary Estelle Quarter Round Sofa. Alternatively, mix and match our single sofas and armchairs to match your event theme or style. Such as the Jacqueline Sofa and Bamboo Arm Chairs, a fitting combination for a modern retro vibe.
Don't forget to add on a set of accent tables and rug (or two), to create a cohesive look! The Gold Hammered Coffee Table and Capri Metal Table are both classic choices. As are our vintage rugs, available in an array of bright and beautiful colors.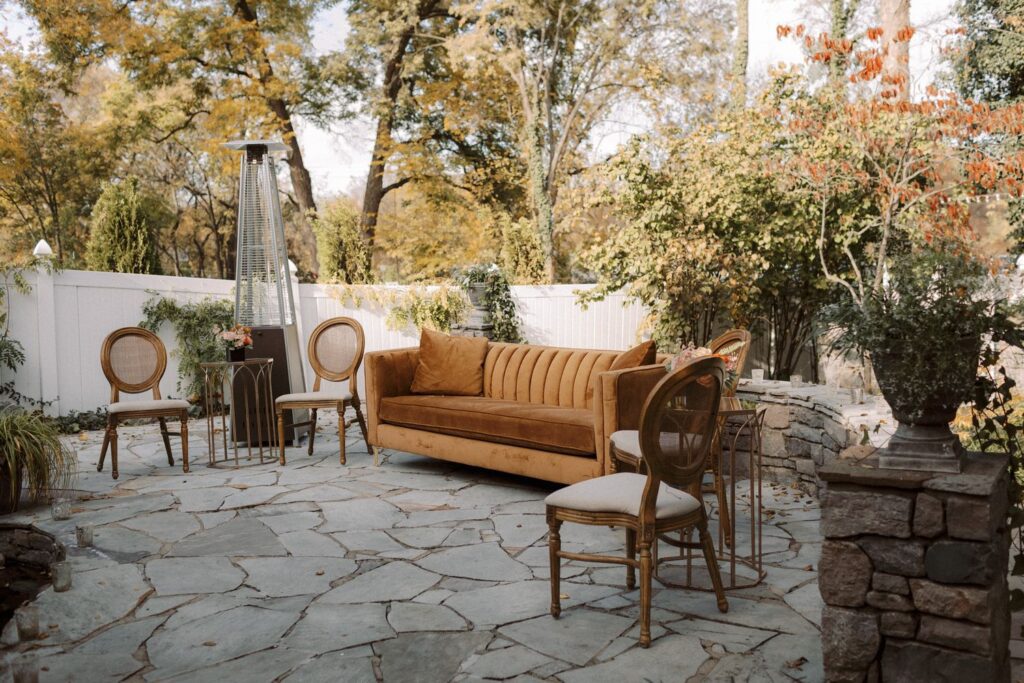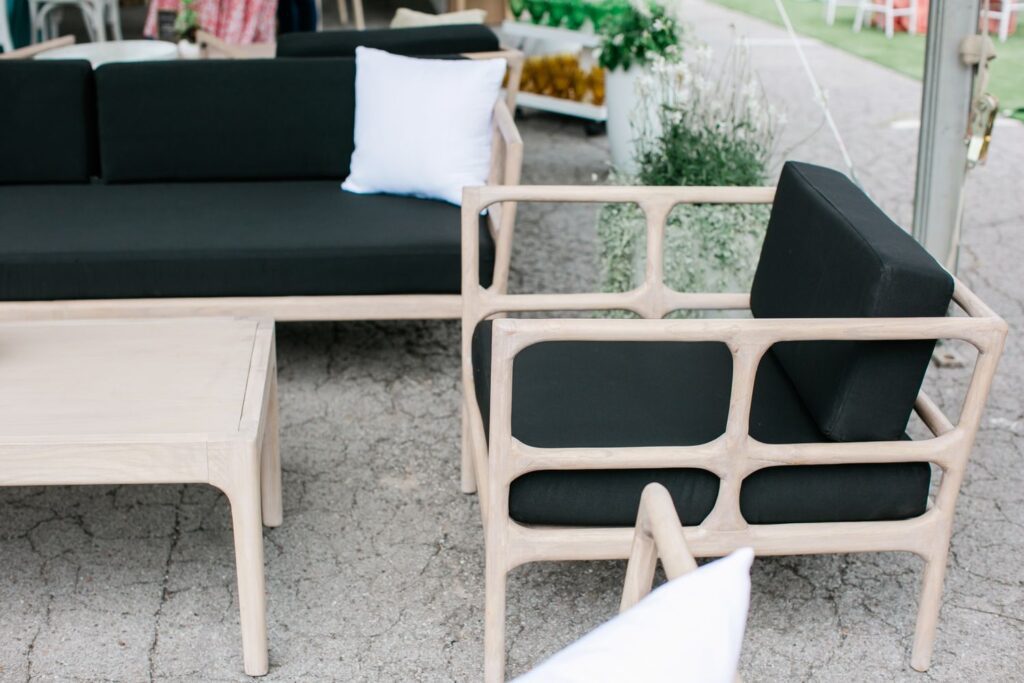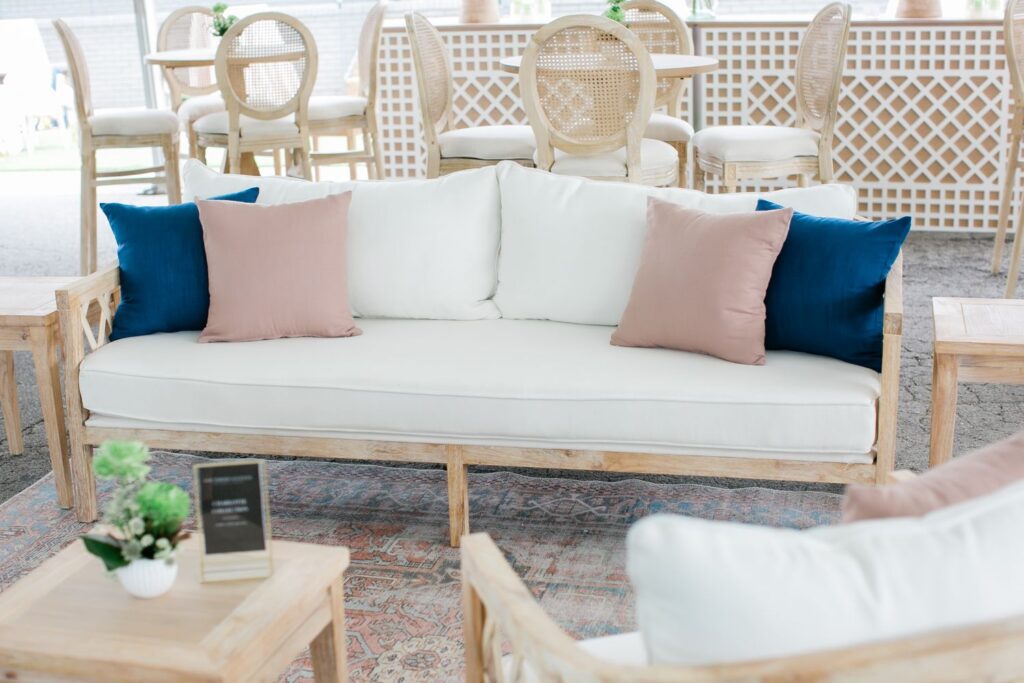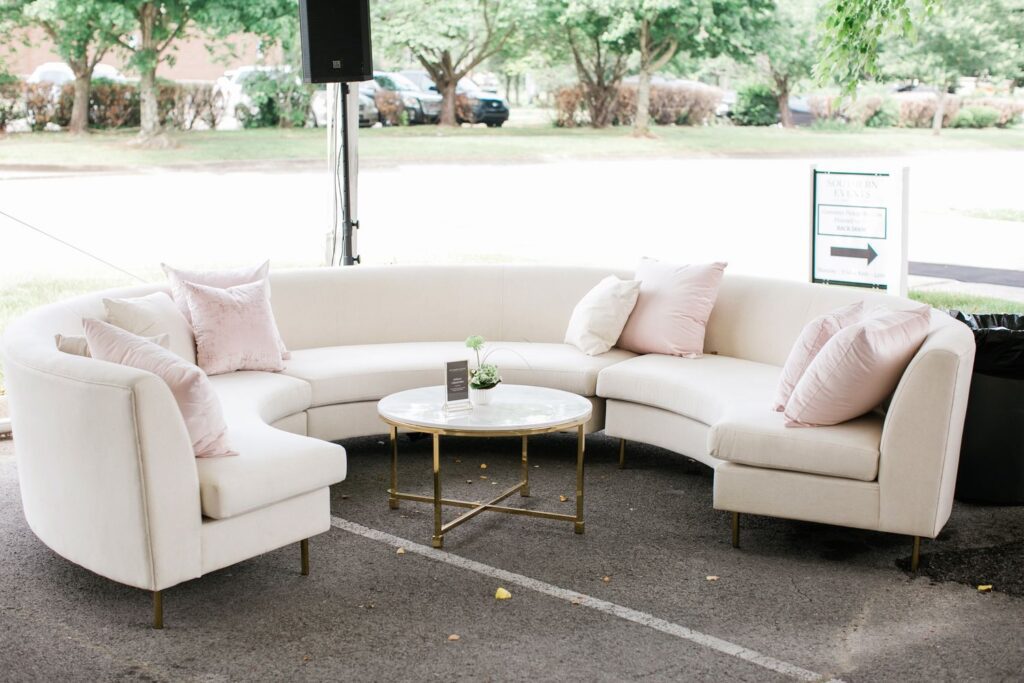 Dining Tables & Chairs
The dining experience starts with an impressive tablescape, the foundation of which are tables and chairs. For this reason, we stock a beautiful range of specialty furniture rentals, both functional and stylish. From modern rustic farm tables to chic chairs in various designs, our collection caters to diverse event themes and aesthetics. The newest addition, our Aged Oak Dining Table is a classic choice for any event and will lend a down-to-earth vibe. Should you prefer a brighter look, contrasted by bold servingware, opt for the White Antique Dining Table. Each of these looks stunning with Harlin Dining Chairs.
In the event that you will have an event bar, encourage guests to socialize with carefully placed cocktail tables. Such as the Palmer Bistro Table, complemented by matching barstools. If you need more seating, the Loren Gold Bistro Table is a beautiful alternative, that perfectly suits our Acrylic Ghost Barstools.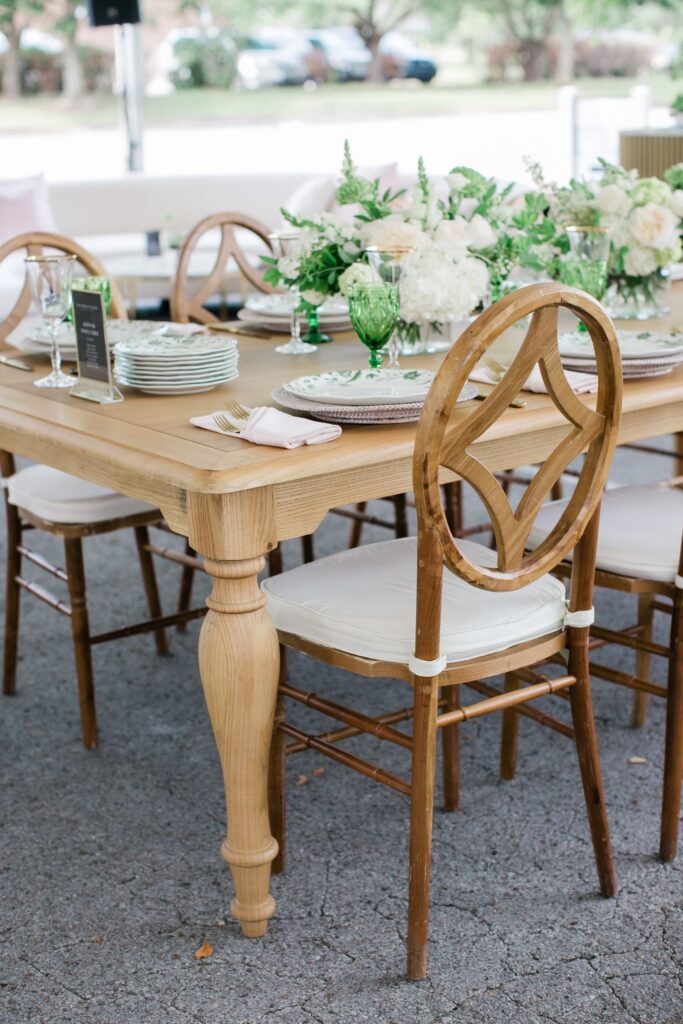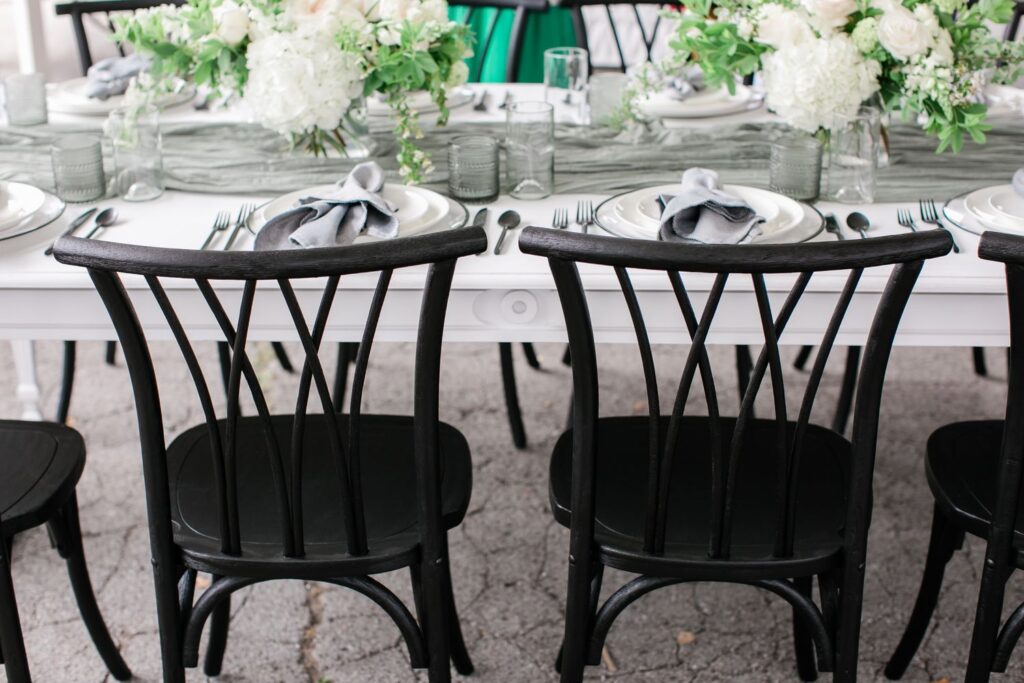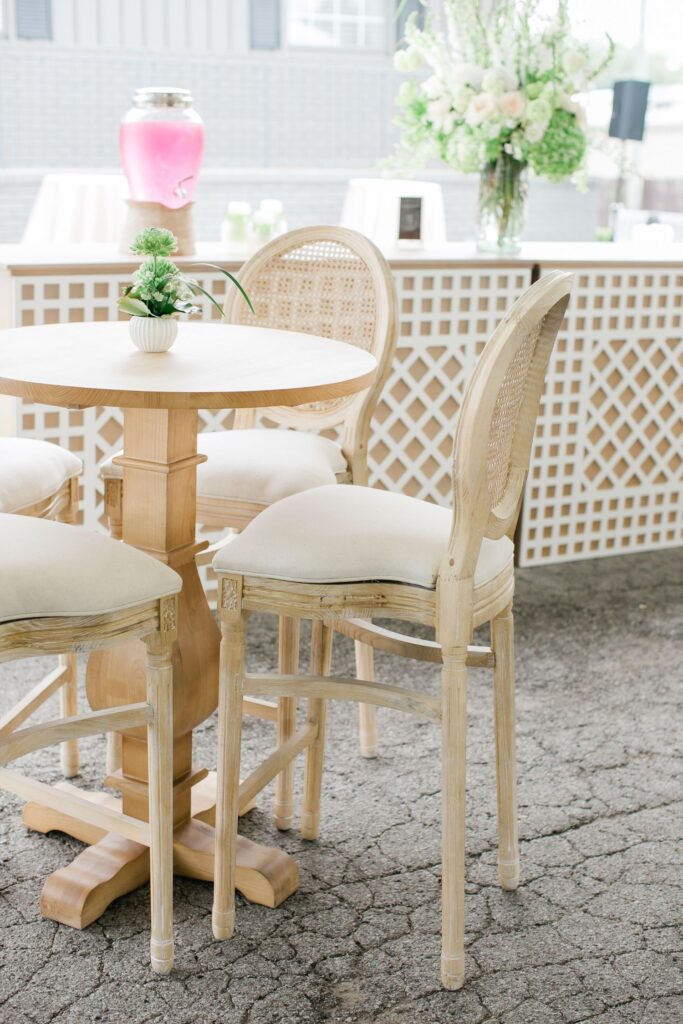 Eye-Catching Props
To truly transform your event space into a captivating environment you will want to feature eye-catching props! These unique decorative pieces add personality and flair to any setting, enhancing the visual appeal of your event. To create a luxurious display of desserts, consider our Market Cart, elevated with colorful balloons or flowers. For outdoor soirees, our White 6-Tier Serving Tower or Gold Bar Cart is perfect for serving up freshly made cocktails (or mocktails). Or, for the younger guests, party favors such as grab-and-go snacks or gift bags. Do you have plans to feature fun or quirky signage? Our Boxwood Walls look stunning affixed with a neon sign or seating chart. Whether it is used to welcome guests or serves as a ceremony backdrop.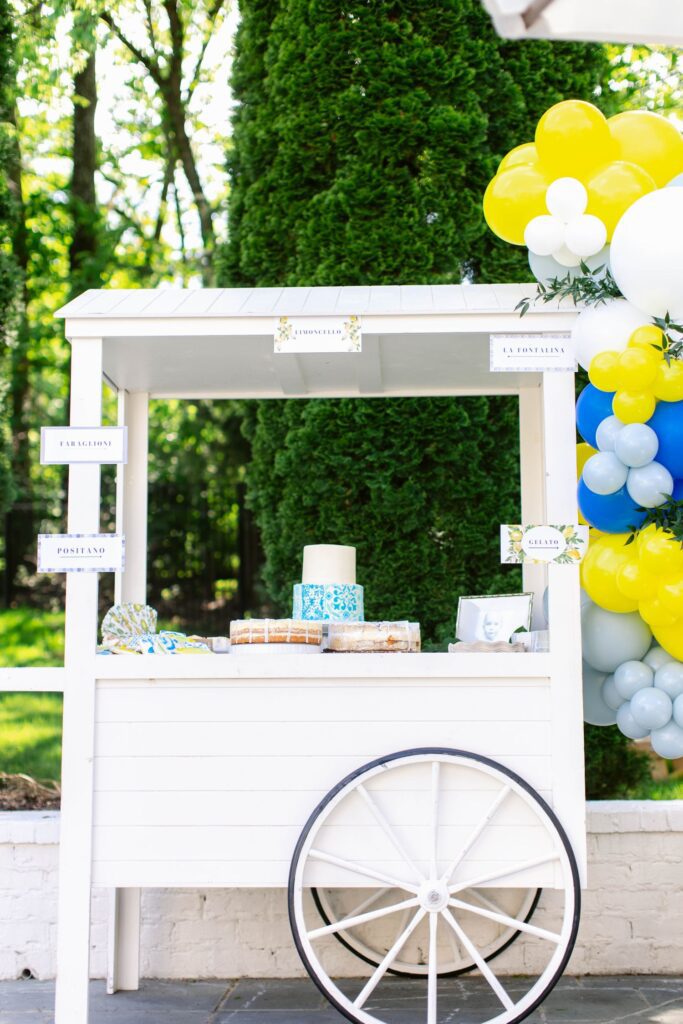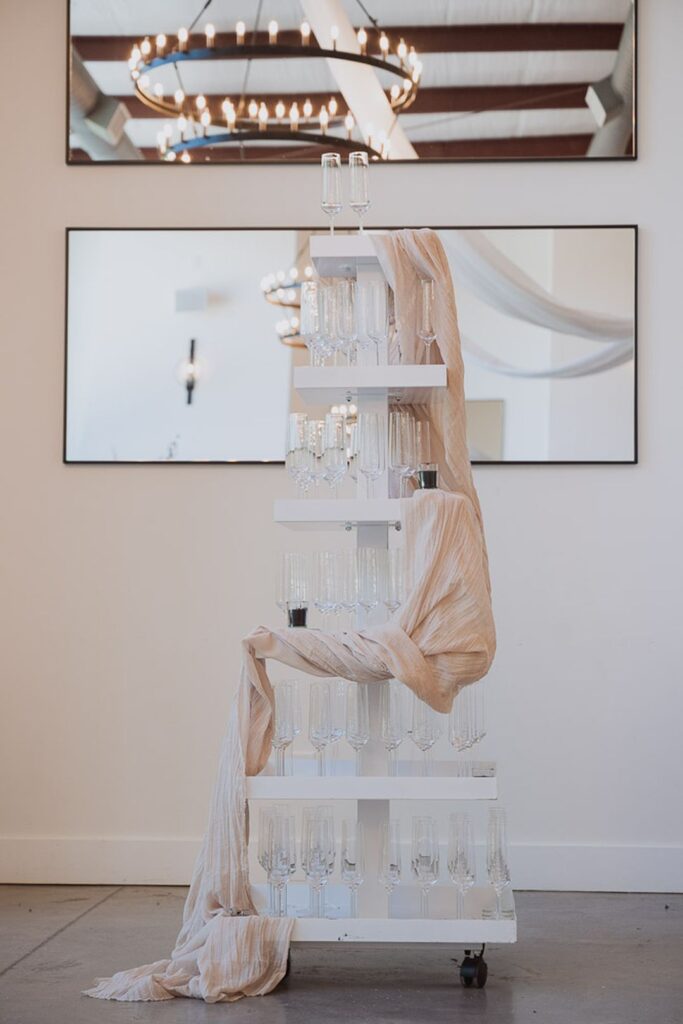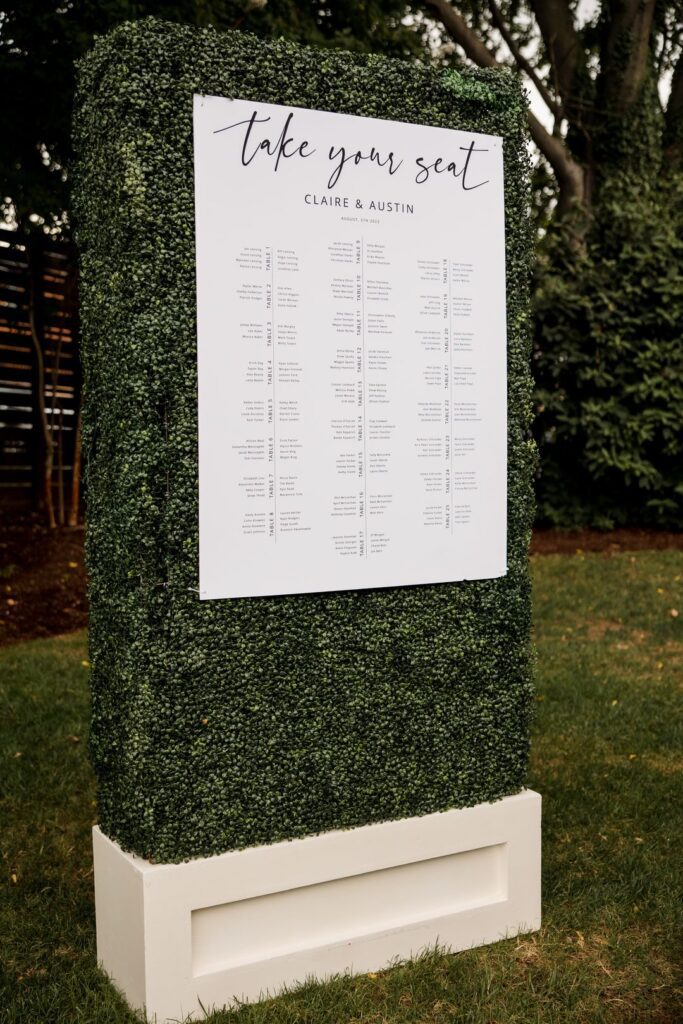 Bars and Shelving
A highly anticipated element at many events is the bar — hopefully well-stocked! We offer a beautiful collection of stylish bars and shelving options that not only serve as functional beverage stations but also make a statement. Whether you prefer a rustic wooden bar or a modern acrylic design, these specialty furniture rentals are a focal point that guests will flock to. The Collins Black Wood Bar is an elegant piece that, although its dark color, will lend a sophisticated look. Meanwhile, the Chelsea Marble Top Bar is ideal for a modern retro affair. Or, feature the Sorrento White Bar for a luxe contemporary event.
For storage, complement any of our bars with shelving, useful for showcasing glassware or bottles. Whether it be a White Bookcase or Gold Avenue Barback Shelf. If you choose to feature a large bar, such as the Thompson Full Oval Oak Bar, we recommend renting a Boxwood Wall. It is perfect for creating a luxe look, in addition to displaying a menu.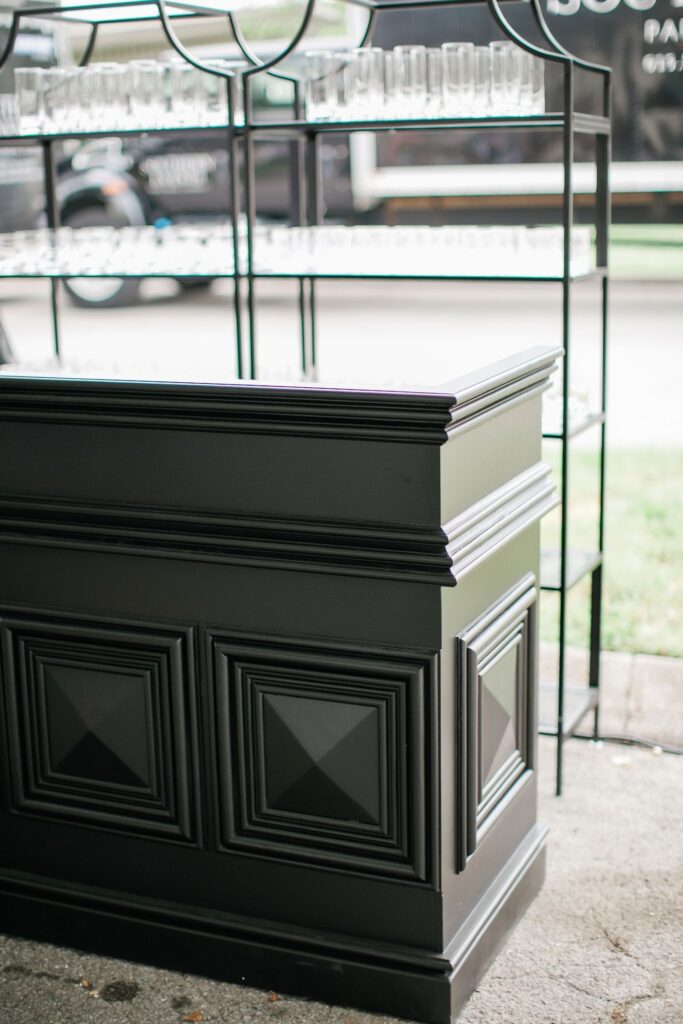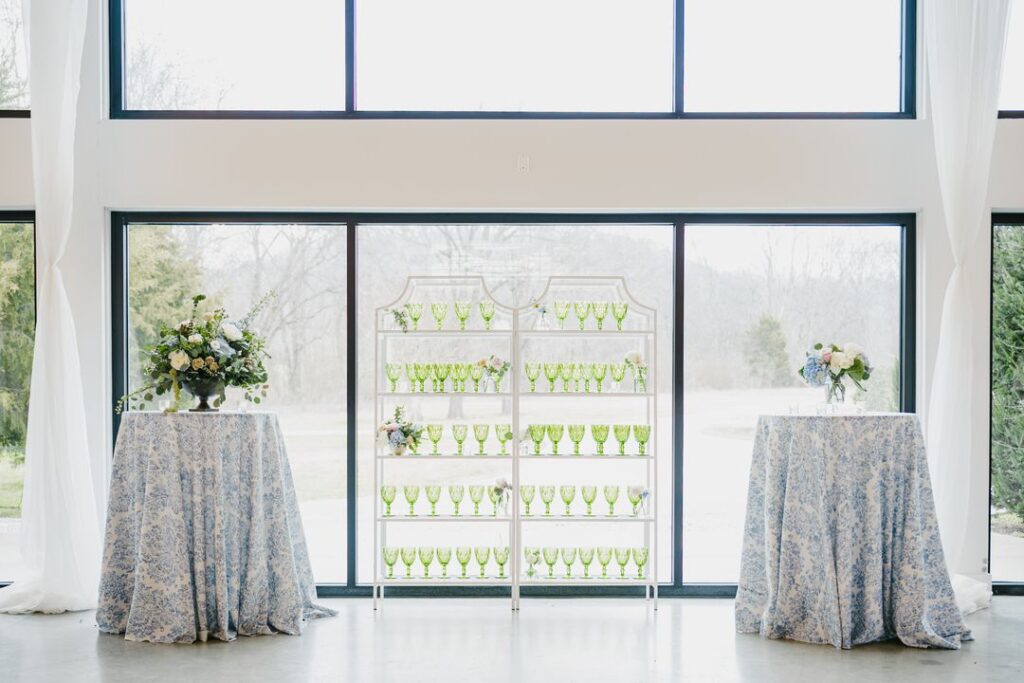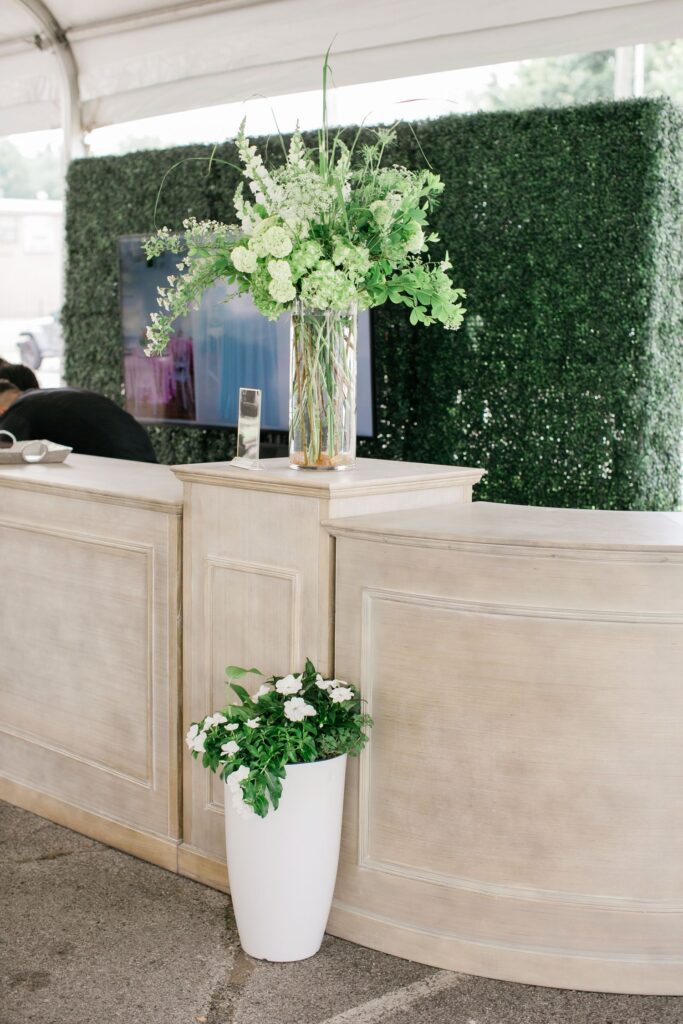 Why settle for ordinary when you can have extraordinary? Visit our website today to take a look at our full inventory of specialty furniture rentals. For additional help, send us a message at info@southerneventsonline.com! A member of our team would be happy to help you choose the perfect furnishings.
TAGS | Lounge Furniture, Modern Furniture, Outdoor Event Furniture, event furniture, event props, outdoor event rentals, specialty furniture rentals
FEATURED RENTALS | Collins Black Wood Bar, Chelsea Marble Top Bar, Sorrento White Bar, Gold Avenue Barback Shelf, Thompson Full Oval Oak Bar, Charlotte Collection, Market Cart, White 6 Tier Serving Tower, Gold Bar Cart, Boxwood Walls, Estelle Quarter Round Sofa, Jacqueline Sofa, Bamboo Arm Chairs, Aged Oak Dining Table, White Antique Dining Table, Harlin Dining Chairs, Palmer Bistro Table, Acrylic Ghost Barstools
---
29

Jun

On Trend, Southern Events Products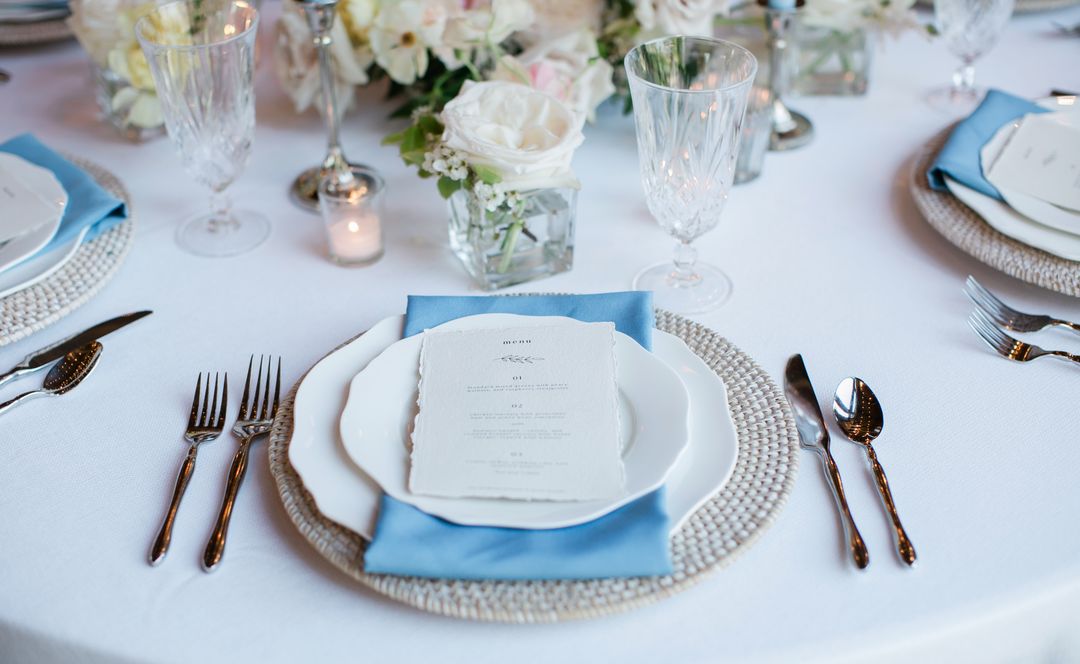 A memorable event calls for attention to detail! One of our favorite ways to elevate any celebration is with an elegant place setting. From casual backyard gatherings to elegant dinner parties, the right plates can enhance the aesthetic of your event. This said, buying a large number of plates can be expensive! Whereas paper plates are dull and wasteful. That's where Southern Events comes in! With a large catalog of party plates for rent, we offer an on-trend option for every celebration.
Modern Metallics
Metallics continue to reign supreme in event decor. When it comes to party plates, metal accents are an easy way to turn a plain table setting into a glam spread. We stock a number of chargers with metallics to elevate your table. From a modern Copper Glass Charger to a Silver Round Lacquer Charger. For a more dark and moody vibe, check out our Black Round Lacquer Chargers. Or create a chic place setting with the Silver Beaded Edge Belmont Chargers. Any of these plates is a stunning base for colorful or classic white china!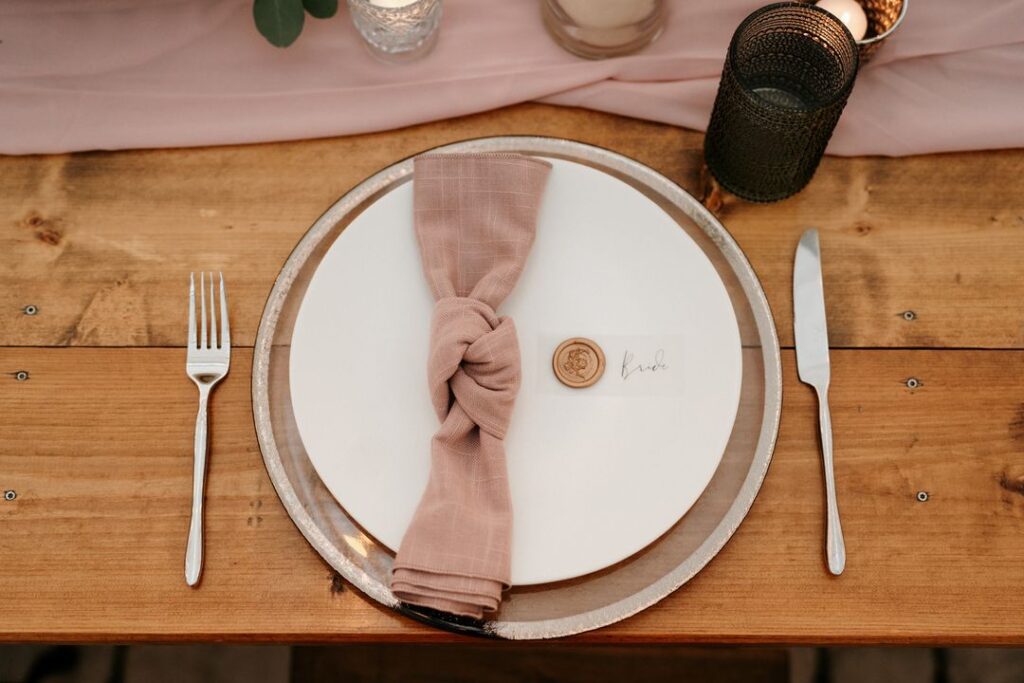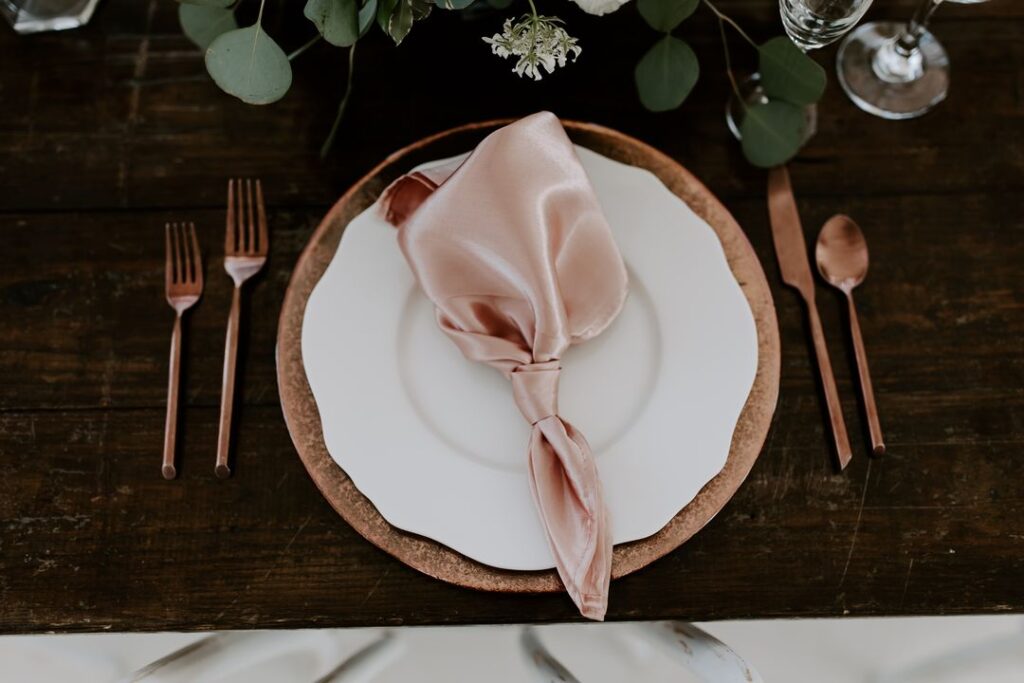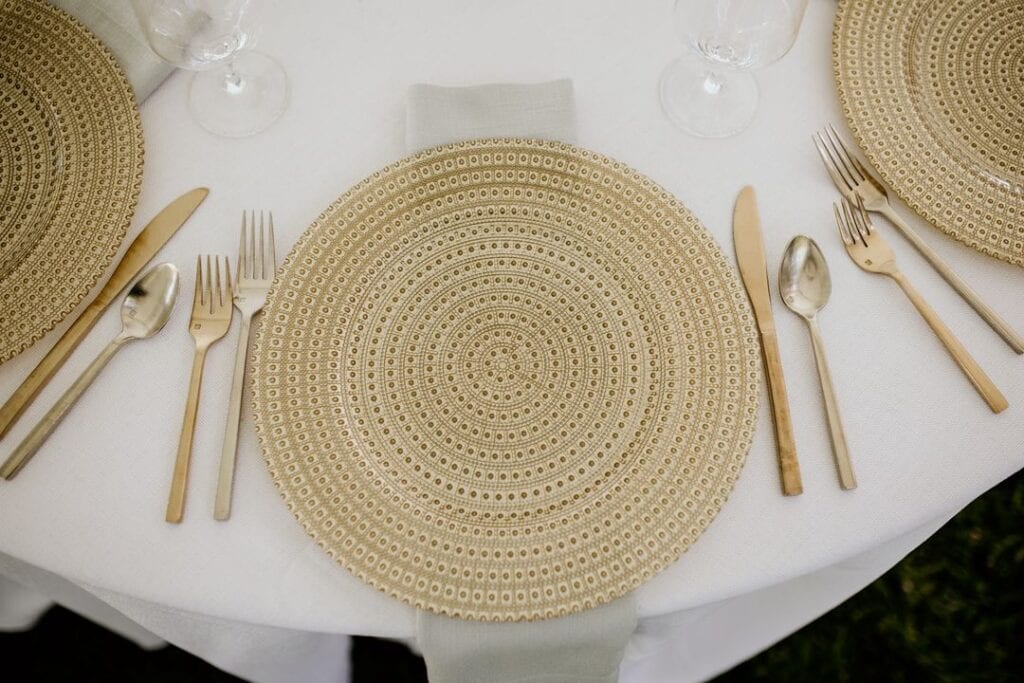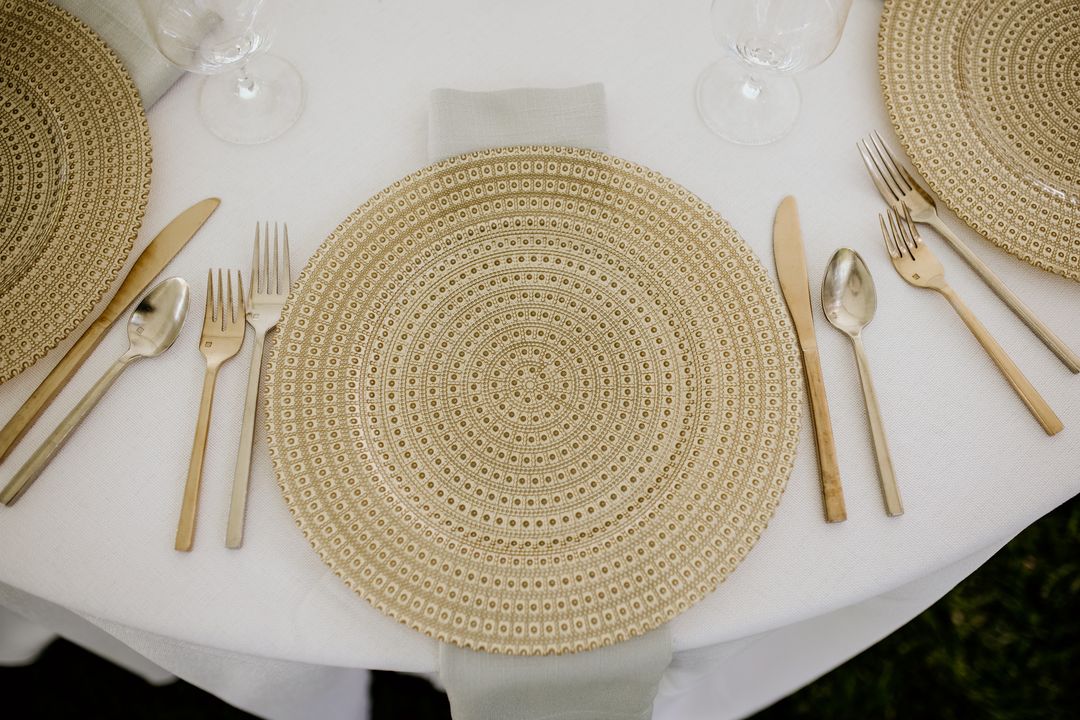 Chic Party Prints
If you're looking to infuse your personality and style into your event, printed plates are a beautiful choice. Our inventory includes styles to suit various themes and moods. Whether you're hosting a whimsical garden party or a bright al fresco dinner party. Feature a metallic accent with the Blair Geometeric or Vera Floral China. Or, add a pop of color with the elegant Laguna or Coronado China. Of course, there is no going wrong with our Carrera Marble Dinner Plates. They look gorgeous on top of a vibrant charger or paired with a colorful napkin!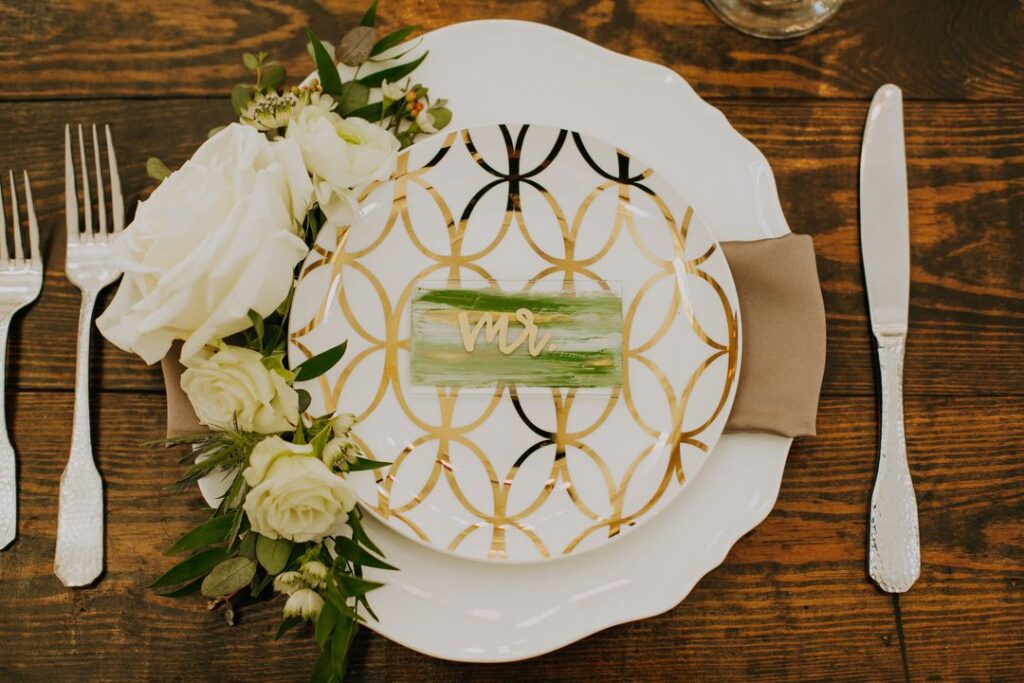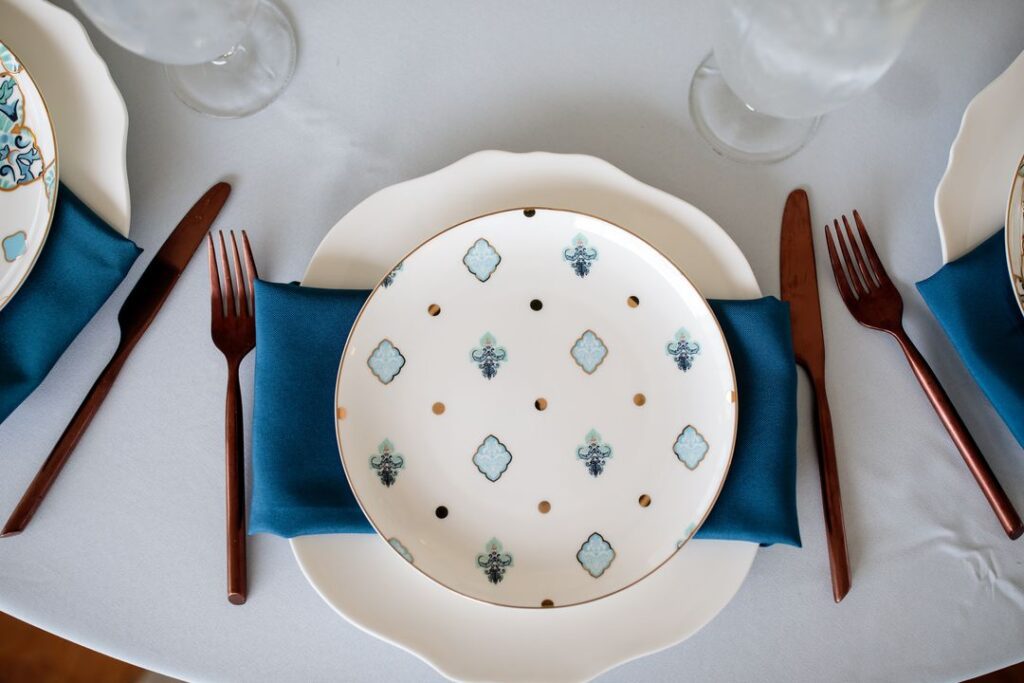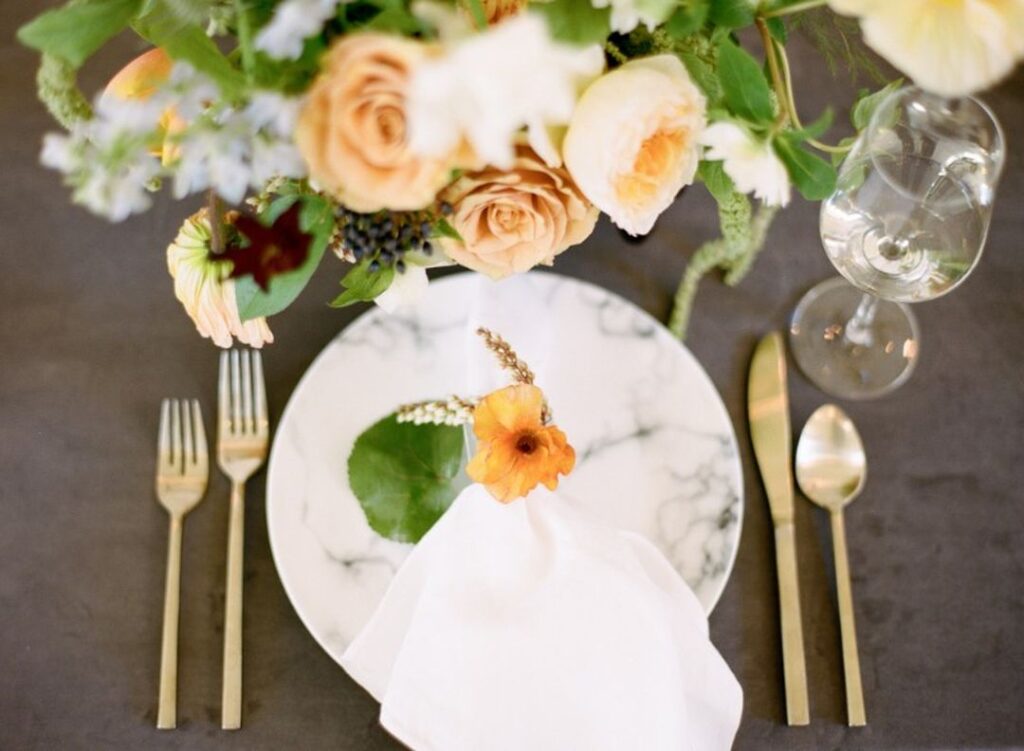 Down-to-Earthenware
If you desire a more rustic and organic aesthetic, earthenware plates are ideal. Their soft tones, textured surfaces, and imperfect edges exude warmth and charm. Our selection of beautifully crafted earthenware plates is perfect if you are in need of a dinnerware rental. Easily create a modern rustic wedding table with the color Alabaster. Or a bold table for a corporate gala with Onyx. Meanwhile, Stone is a classic and pairs perfectly with soft pastel shades. Such as pink, baby blue, and lavender. For added warmth, we recommend adding a set of velvet napkins.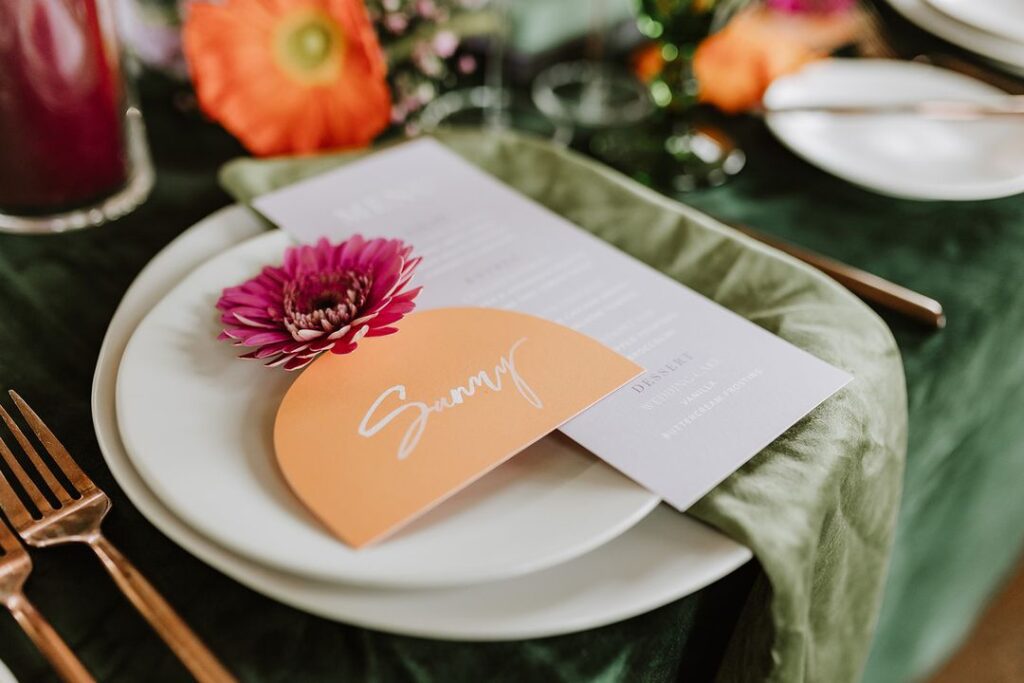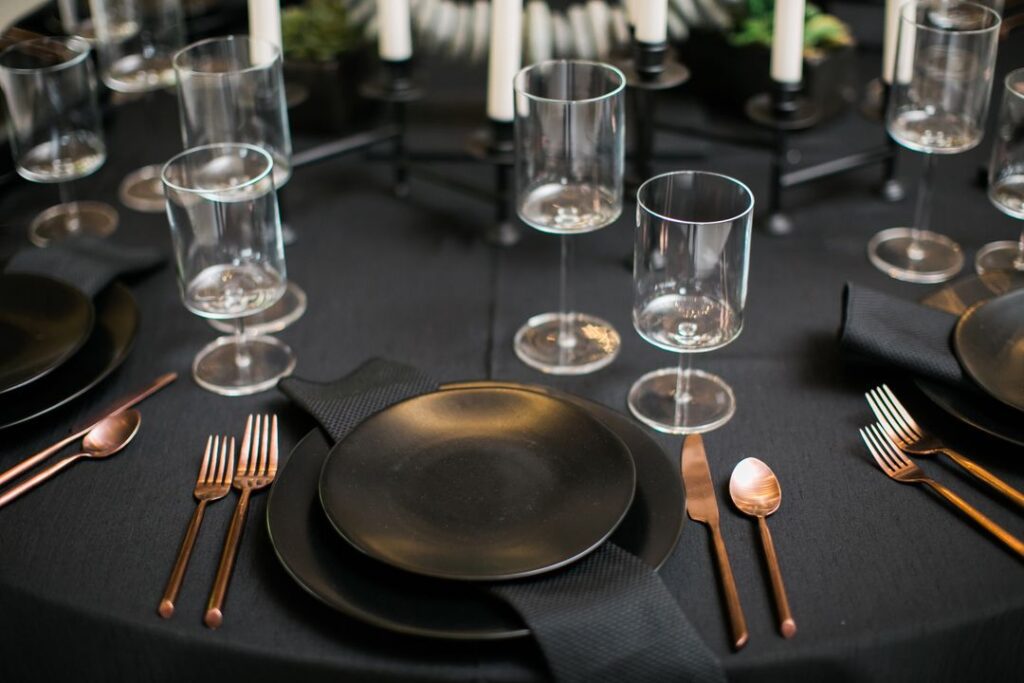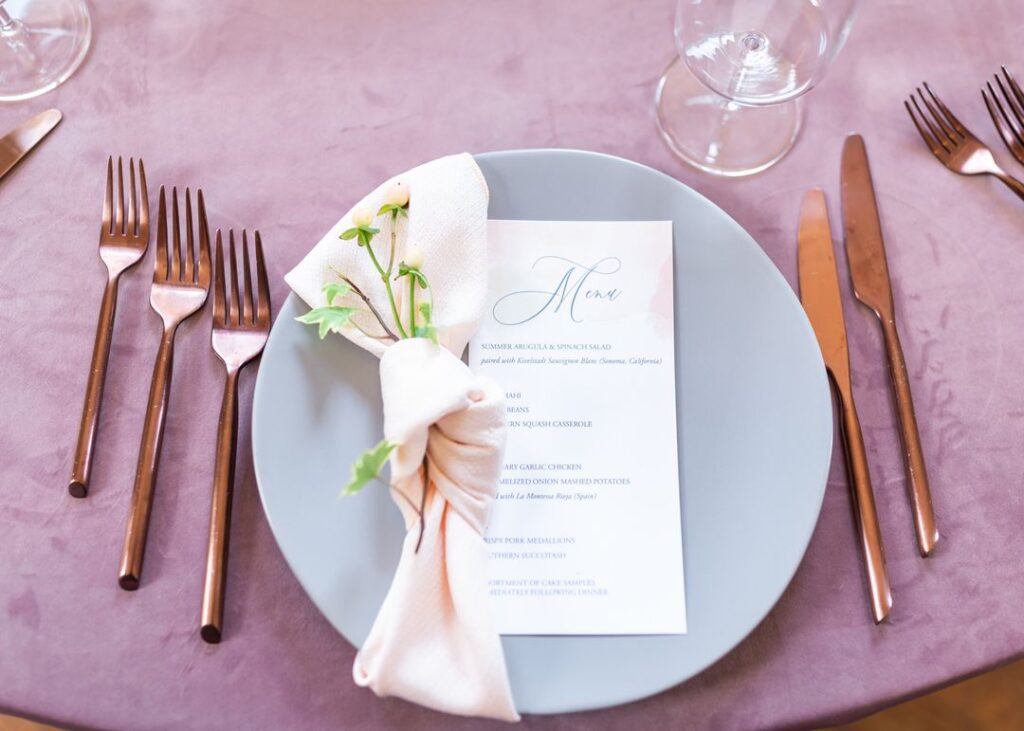 Textures that Elevate
Placed beneath the main dinner plates, chargers add depth to a table setting. However, you can easily add even more dimension by featuring a textured charger. There is our Rattan White Wash Charger, perfect for a bright and breezy brunch or afternoon tea. As well as a Scalloped Wood Charger, which lends a luxe boho vibe. Or, skip the charger and opt for a crisp set of Glass Mosaic China. A clean and modern look fitting for a gala or fundraiser! Especially when paired with classic white napkins.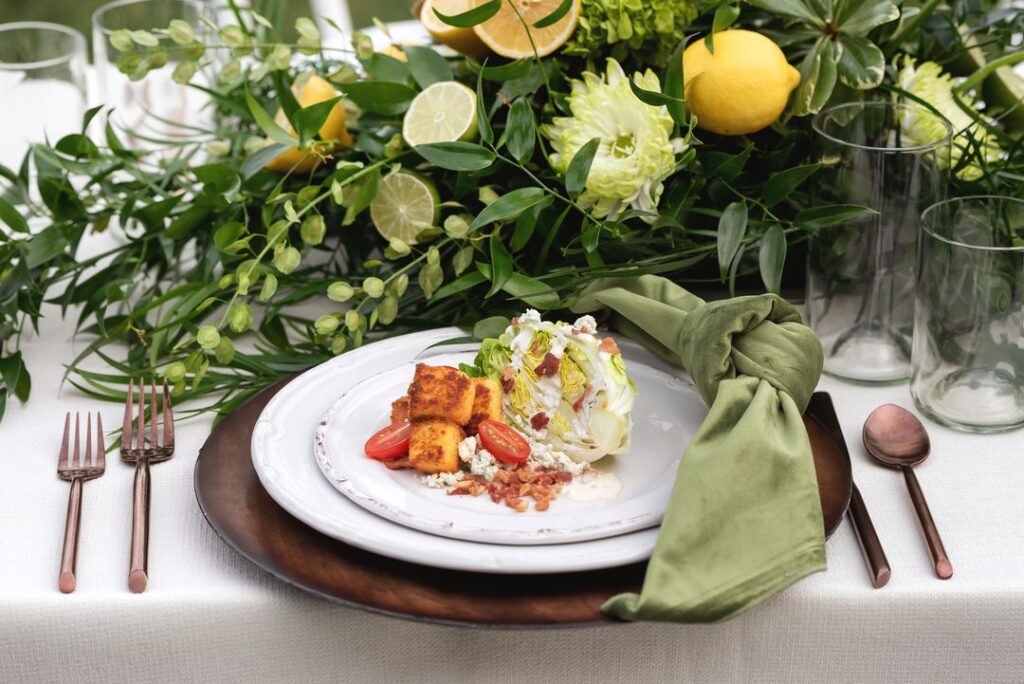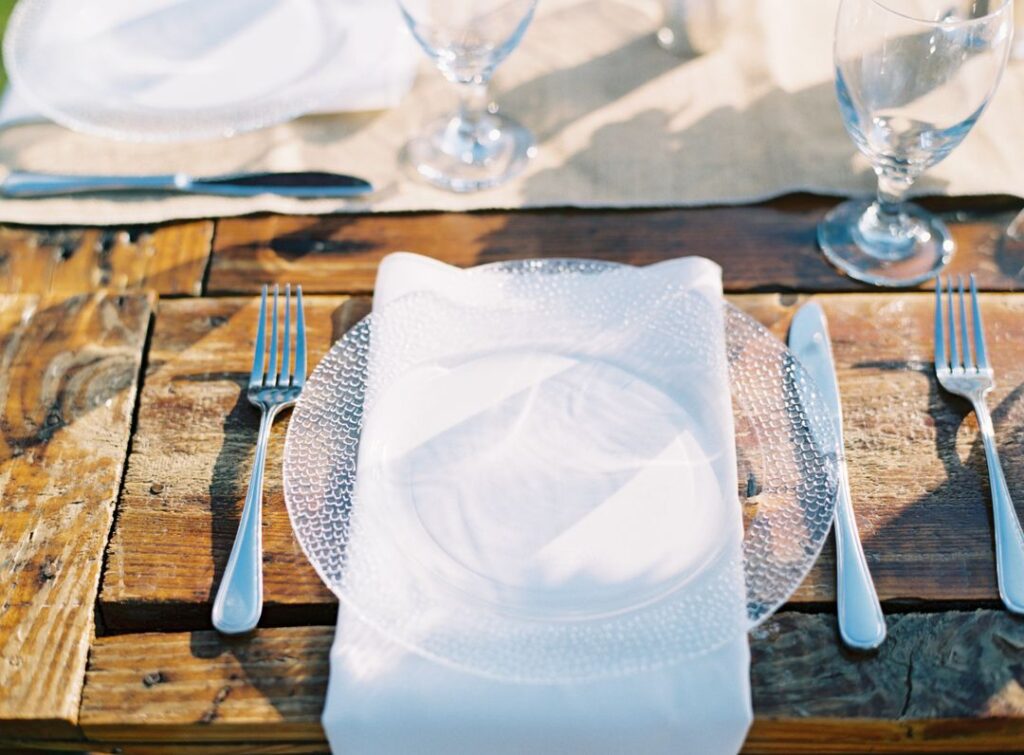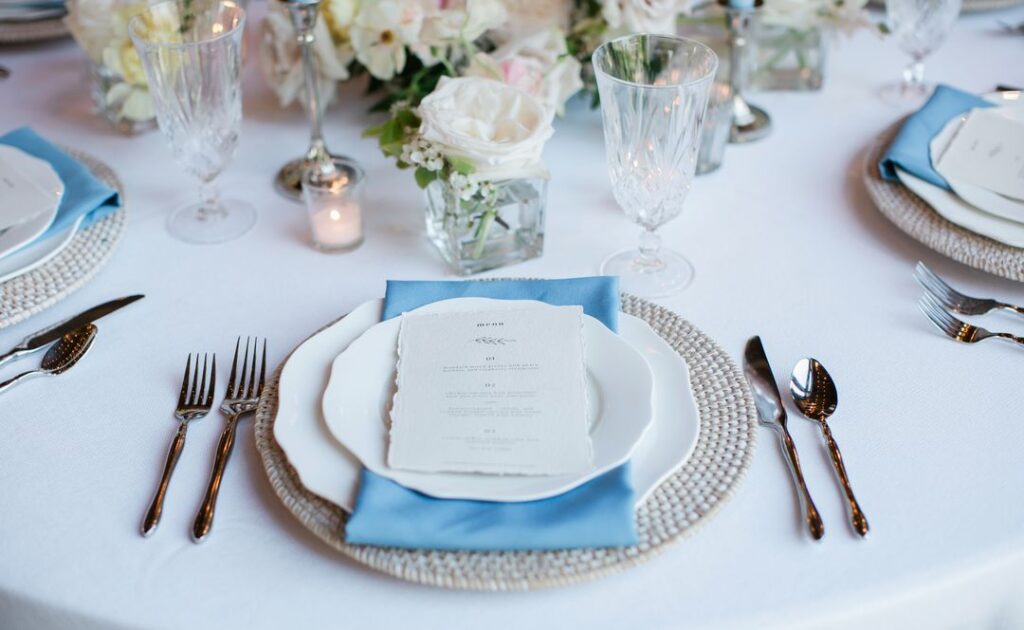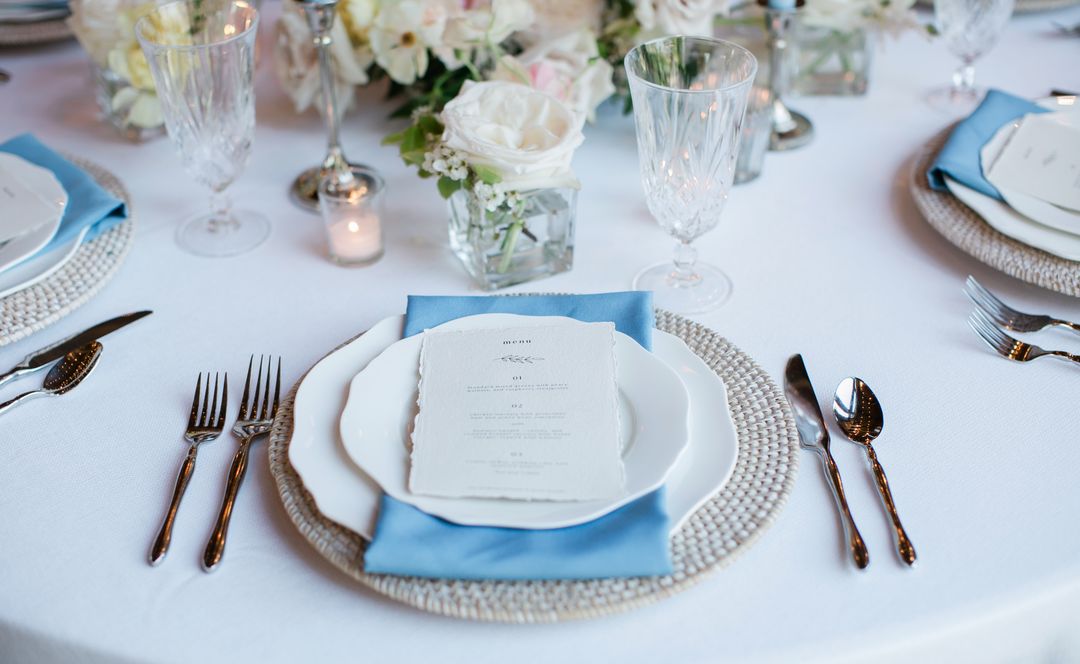 Our party plates for rent are a simple way to elevate your event table! Contact our team for help creating a unique place setting, or if you need more ideas. Looking for other ways to create a more luxe look? Take a peek at our napkins, available in a range of brilliant colors.
TAGS | Event Catering Rentals, Nashville Event Rentals, Nashville party rentals, On Trend, party plates, plates for rent, servingware
FEATURED RENTALS | Copper Glass Charger, Silver Round Laquer Charger, Black Round Laquer Charger, Silver Beaded Edge Belmont Charger, Rattan White Wash Charger, Scalloped Wood Charger, Glass Mosaic China, Blair Geometric China, Vera Floral China, Laguna China, Coronado China, Carrera Marble Dinner Plate, Onyx Earthen China, Alabaster Earthen China, Stone Earthen China,
---
15

Jun

Southern Events Products, Trends and Inspiration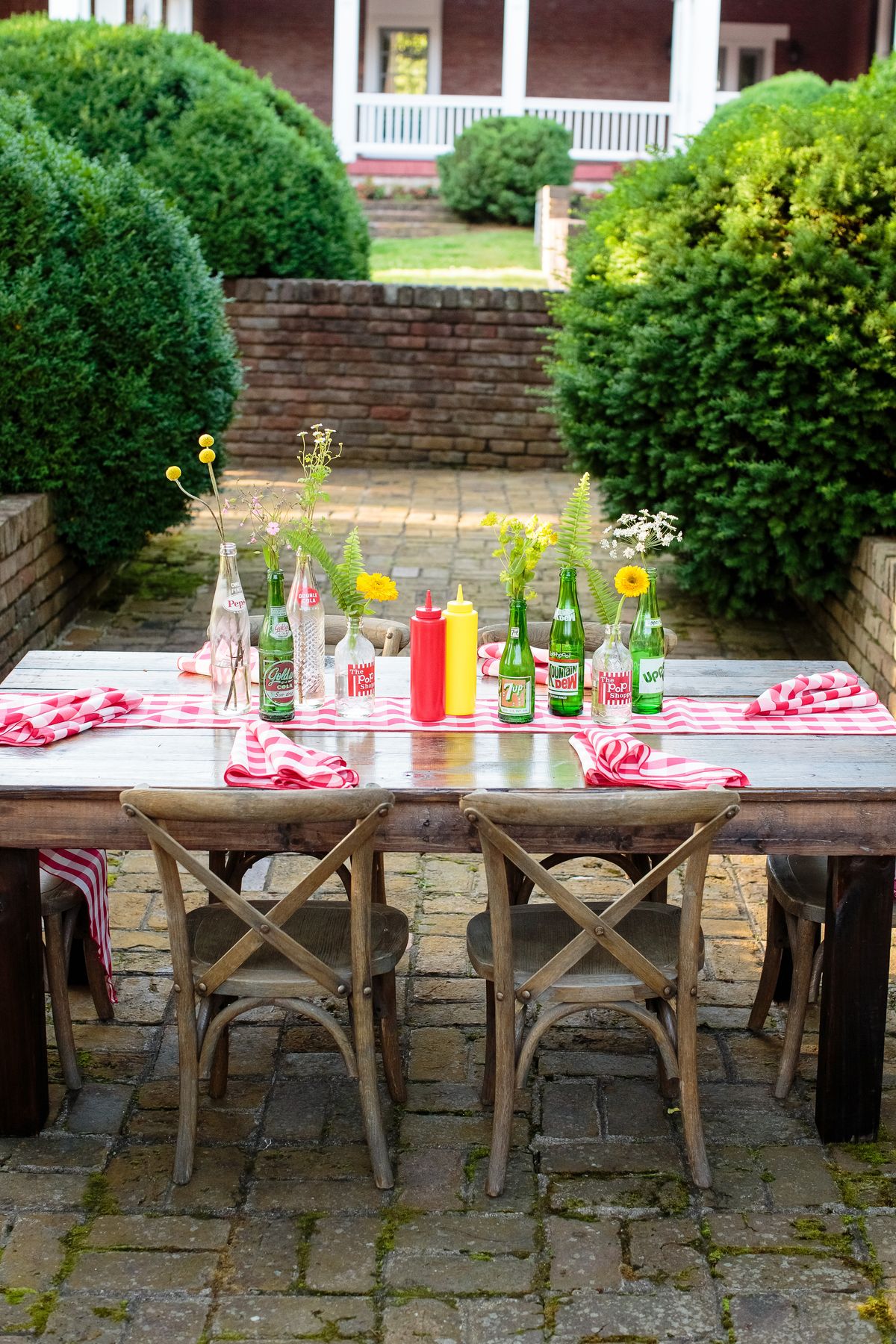 Summer is in full swing, and with it comes the most exhilarating day of the year—Independence Day! And to help you host an unforgettable 4th of July backyard gathering that reflects the hospitality of the South, we're sharing ideas for everything from serving up classic Southern dishes to creating cozy outdoor lounges. Keep reading to get inspired by our stylish event rentals that will honor the red, white, and blue.
Buffet Display
The best 4th of July backyard gathering will feature a delicious spread of summertime fares! Impress your guests with a simple Americana-inspired buffet table. Our Whiskey Barrel Bars offer a classic look, whether you go for a plain or whitewashed wood. We also stock a wide range of serving ware that will make it easy to display food! Including chafing dishes to keep fresh off the grill BBQ hot, and beverage dispensers to keep drinks cool. Classic Family Style Serving Pieces are beautiful options for sides such as slaw and potato salad. Or, showcase charcuterie as a centerpiece on Silver Tray.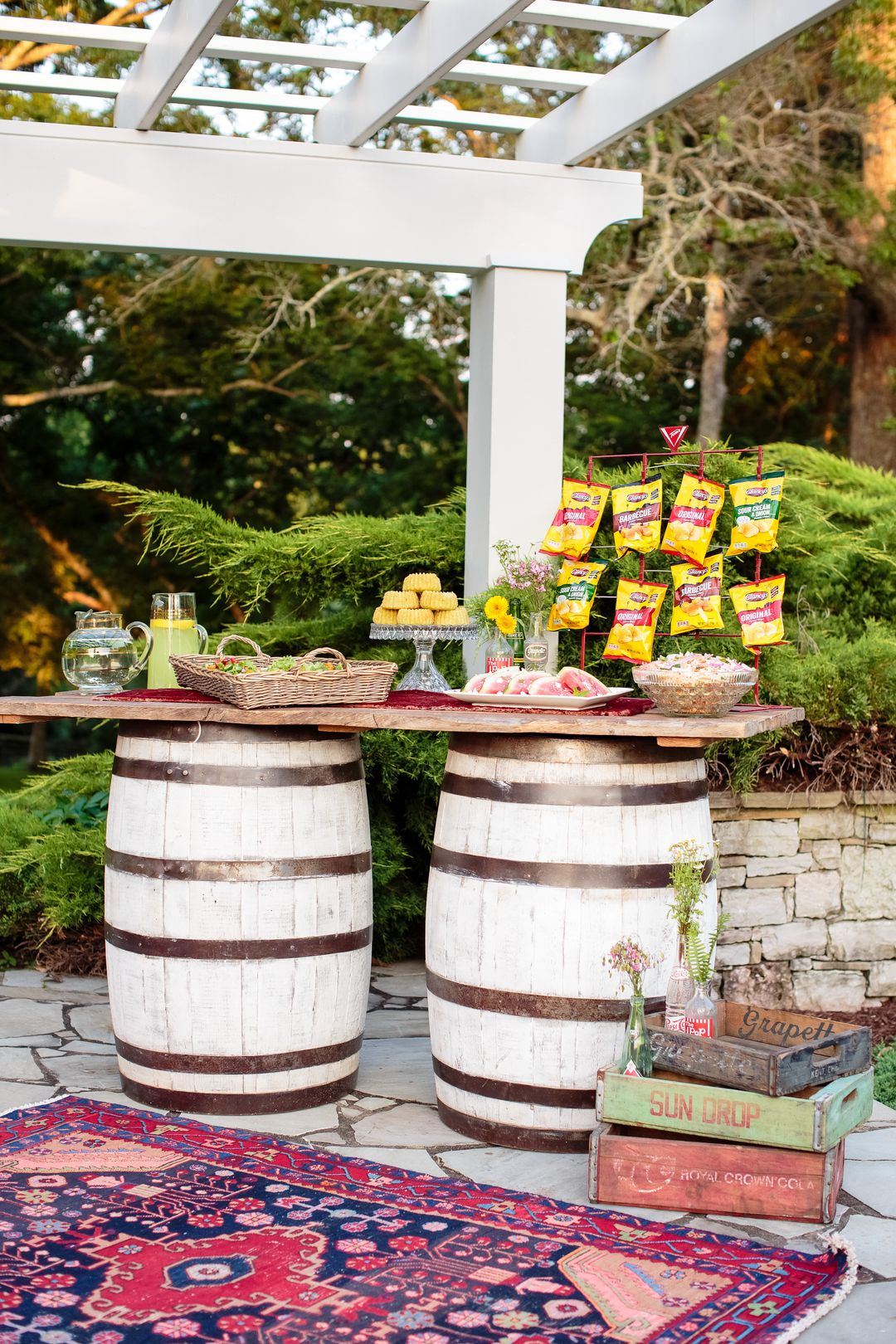 Photo by Erin Lee Allender
Child-Friendly Furniture
For the pint-size guests that will be in attendance, child-size furniture will go a long way to make them feel included. Our charming Children's Fruitwood Farm Table and Cross-back Chairs are one option – made of the same high-quality materials as our regular-size furniture. They are perfect for setting up game or coloring stations, as well as making meal times easier! We even stock high chairs, if you want to give the parents a little break to enjoy their meal.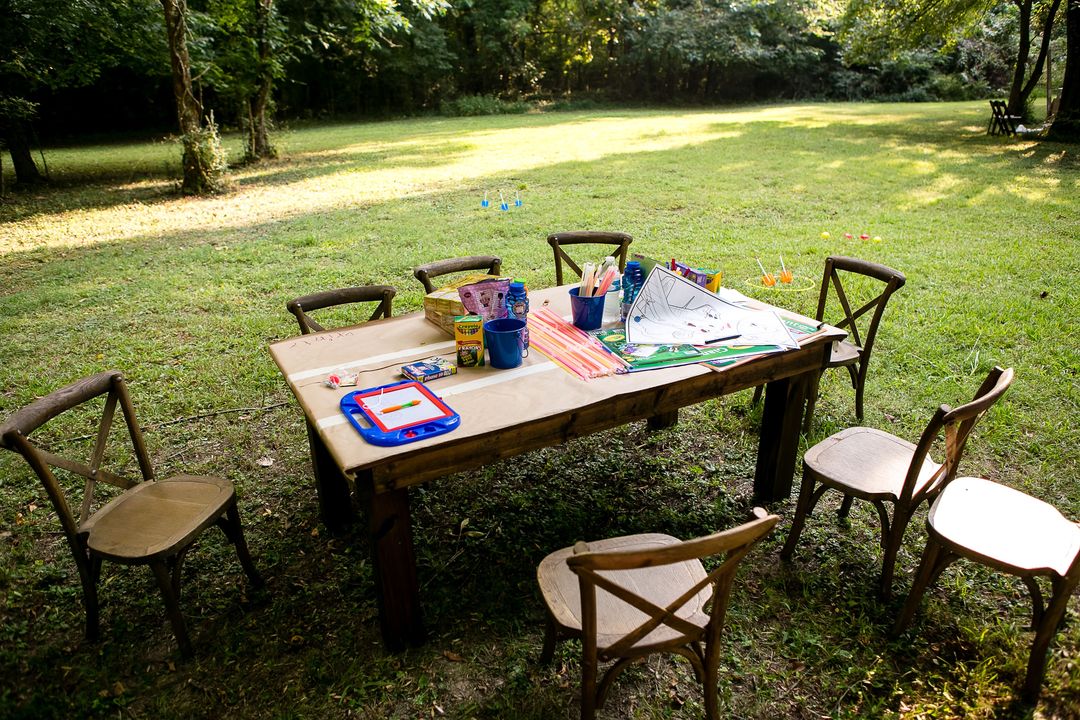 Simple Place Settings
You don't have to go all out to make a big statement! Skip the paper plates and go with solid-colored china instead. In addition to a White Round and Square China, we have beautiful Earthen China A bold black or Onyx will lend a chic modern look atop a red checked pattern, while bright Alabaster atop solid blue tablecloths is a classic. For a fun pop of color, add a vibrant napkin to the stack. Finally, choose from our wide selection of glassware, including a whimsical Meridian Blue Beverage Tumbler!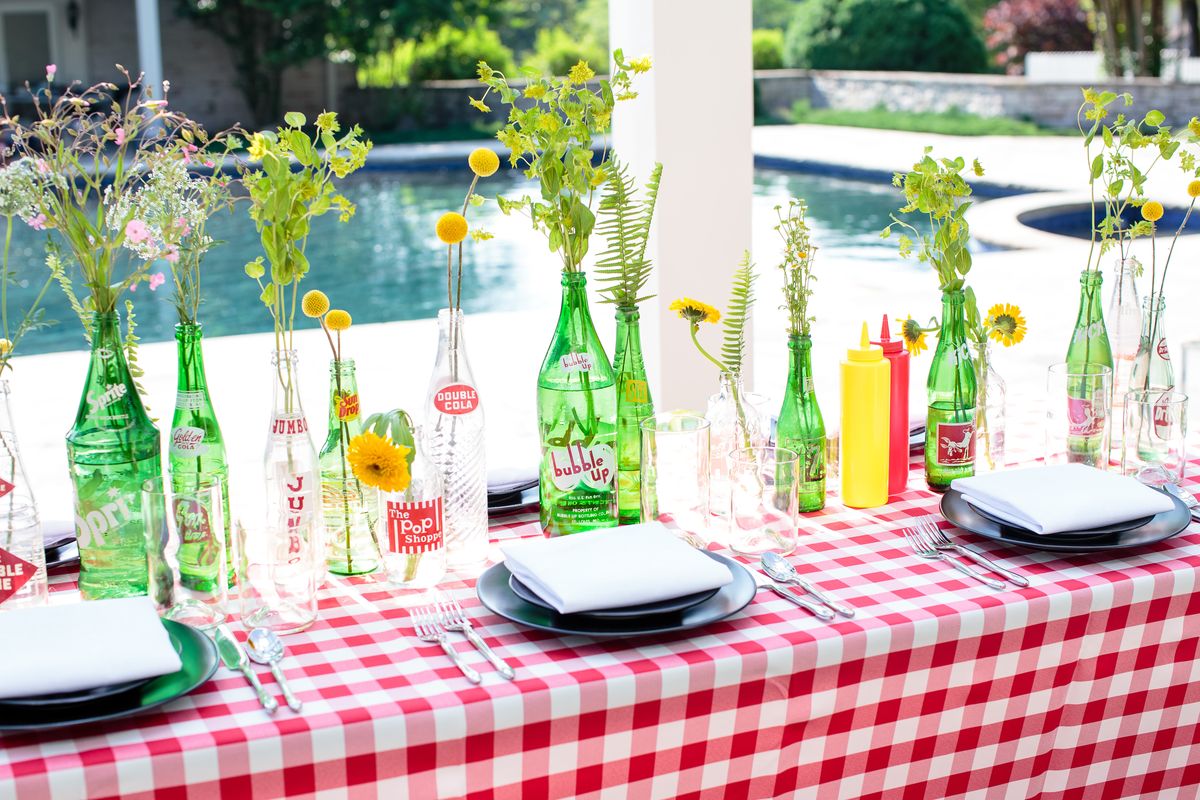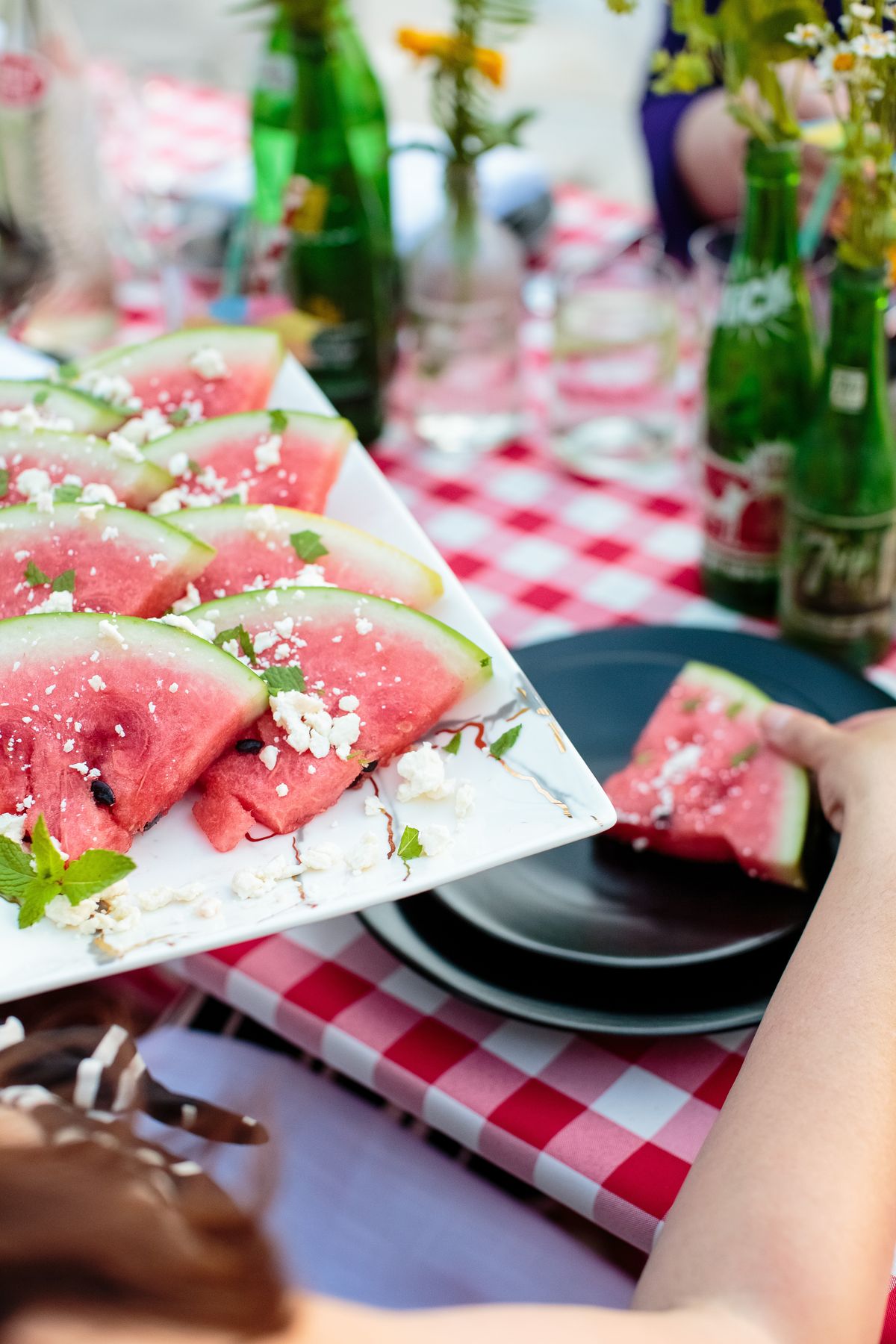 Cozy Outdoor Seating
Whether your plans include toasting marshmallows around a fire, setting off fireworks, or cuddling up for an outdoor movie, cozy seating is a must. Our inventory includes rustic benches, perfect for a casual event, as well as our plush Sutton Loveseat, Chairs and Ottomans. If you prefer a more upscale look, feature the Bennett Leather Sofa with Saylor Navy Velvet Armchairs and a Blue-Red Rug. For a subtle Americana-inspired accent, feature wood accent tables, such as Wood Distressed Coffee and Side Tables.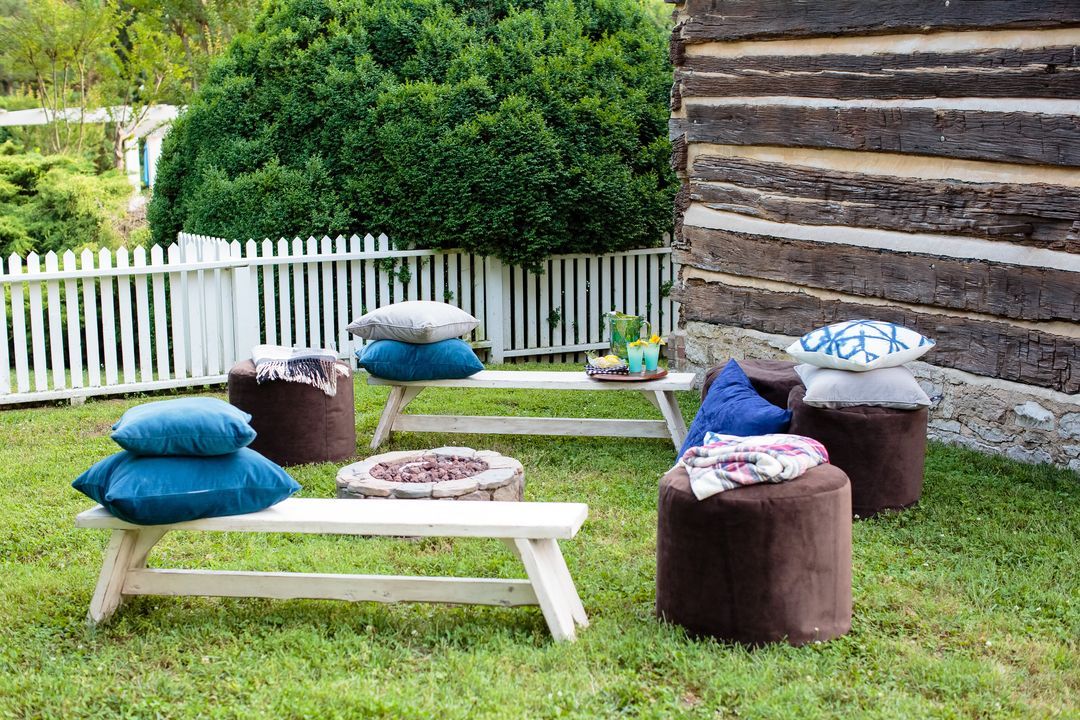 Create Some Shade
Beat the summer heat with a classic white tent! Our curated Tent Packages include everything you need to stay cool, dry, and comfortable during a backyard gathering. No matter how many guests your party includes, we have a tent, with tables, and chairs, that will meet your needs. Check out our easy-to-set-up Pop-Up Tents, or Ready to Party Packages – for parties with 30 to 70 guests.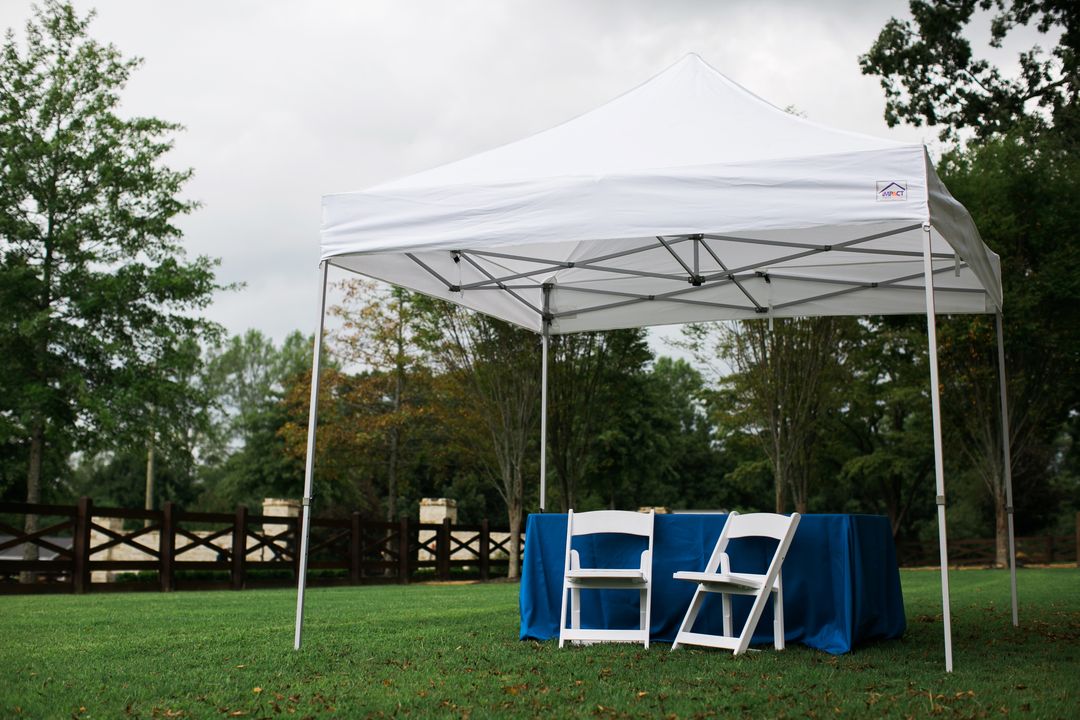 Ready to secure rentals for your 4th of July backyard gathering? Contact our team at info@southerneventsonline.com today to schedule your contactless pickup or delivery.
TAGS | 4th of July, Nashville Event Rentals, Tent Rentals, backyard parties, franklin party rental
FEATURED RENTALS | Whiskey barrel Bars, beverage dispensers, chafing dishes, silver tray, high chairs, cross-back chairs, children's fruitwood farm table, Onyx Earthen China, Alabaster Earthen China, Meridian Blue Beverage Tumbler, Bennett Leather Sofa, Sutton Loveseat, Saylor Navy Velvet Armchairs, Blue-Red Rug, Wood Distressed Coffee Table,
---
8

Jun

On Trend, Southern Events Products, Trends and Inspiration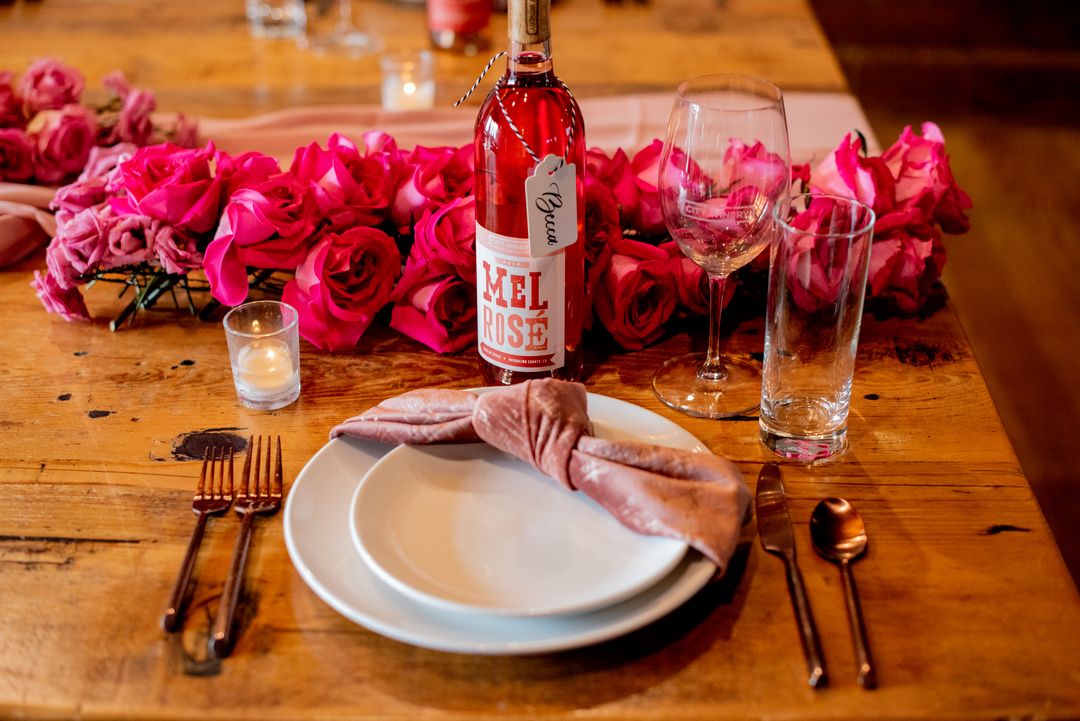 Combining energy and playful nostalgia, Barbiecore is trending! Inspired by the iconic doll, a Barbie-themed party will bring a touch of whimsy and fun to any event. Whether you're hosting a casual cocktail hour, an intimate bridal shower, an adult birthday party, or even a children's birthday bash. Southern Events Online has you covered with our beautiful collection of Barbiecore-inspired event rentals. Let's dive in and start planning your next celebration!
Take it Easy
When it comes to hosting a casual get-together, creating a stylish and vibrant space is key. To set the stage for a chic backyard cocktail hour or poolside bachelorette party, create a space adorned with pops of pink and a dash of retro charm. You can set the mood with bistro tables with Hot Pink Velvet Linens. In addition, add some chic Arylic Square Back Barstools for extra seating. Where guests can enjoy colorful cocktails, served in classic Gatsby Coupe Glasses. Alternatively, you can use our Gold Bar Cart as a self-serve drink station. With big-batch cocktails in the Hampton Beverage Dispenser. And if you plan to offer some light bites, our Coronado China will lend a fun hint of blue to party.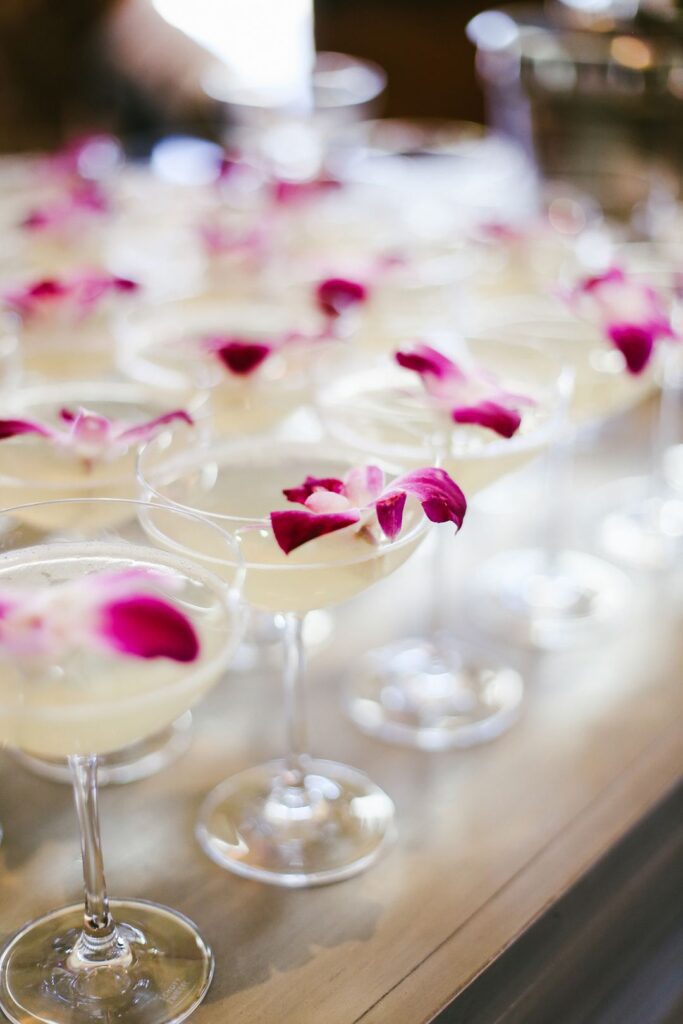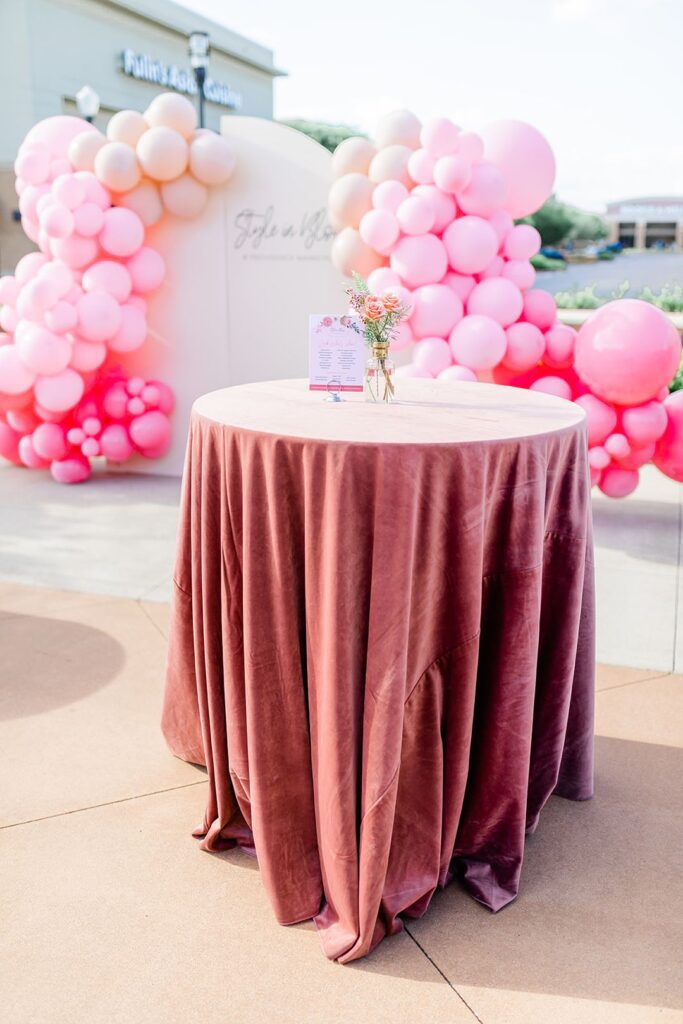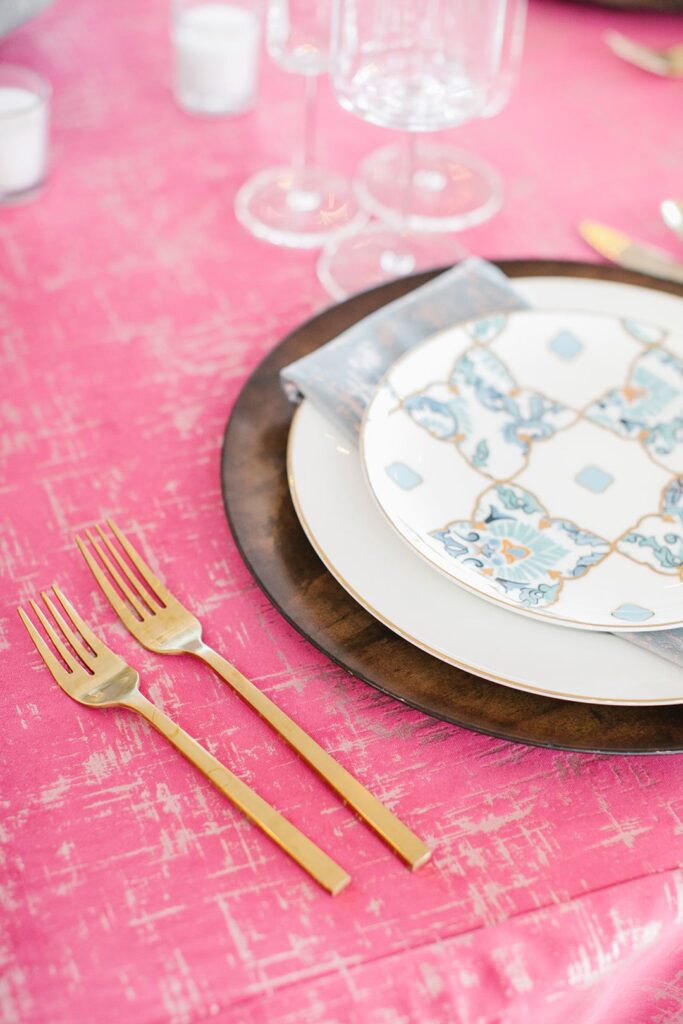 Chic in Pink
For a smaller gathering, such as a bridal shower or an adult birthday celebration, you'll want a muted look. We can help you create a chic pink setup that with our Barbie-inspired event rentals. Starting with a tablescape with a Satin Blush Matte Runner and hot pink roses. Next, feature White Coupe Dinner Plates contrasted by Rose Etched Velvet Napkins and Brushed Copper Flatware. To serve up a ròse, our Cybil Champagne or Wine Glasses will lend a fun retro touch. Complete the look with a pop of blue from our bold Farrah Teal Velvet Chairs. For additional seating, there is our cozy Pearce Lounge. Perfect for additional seating and post-dinner mingling.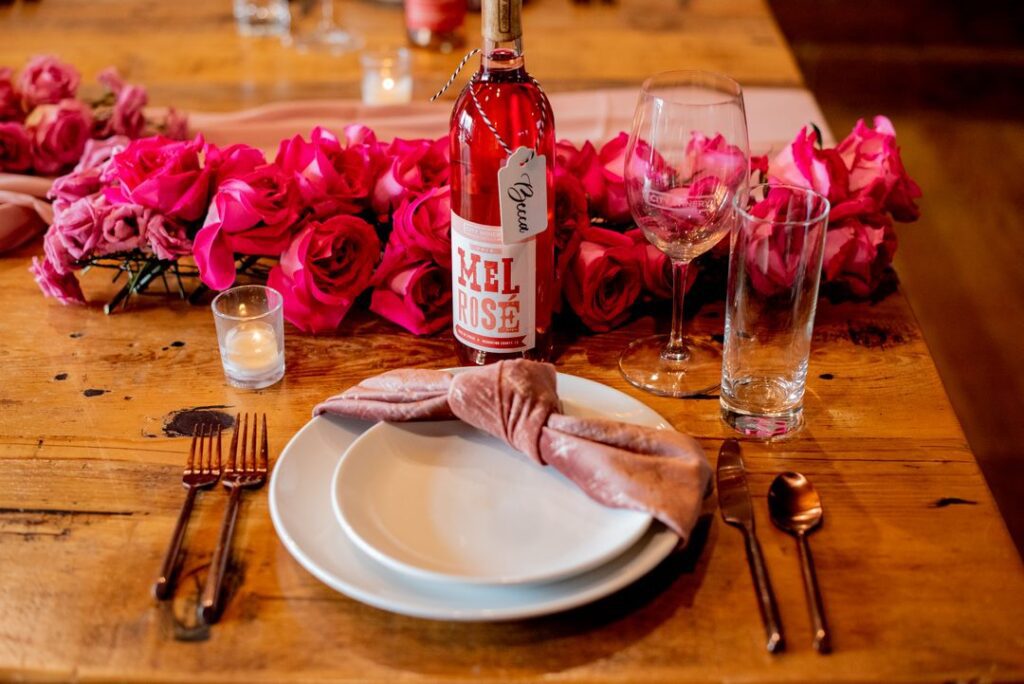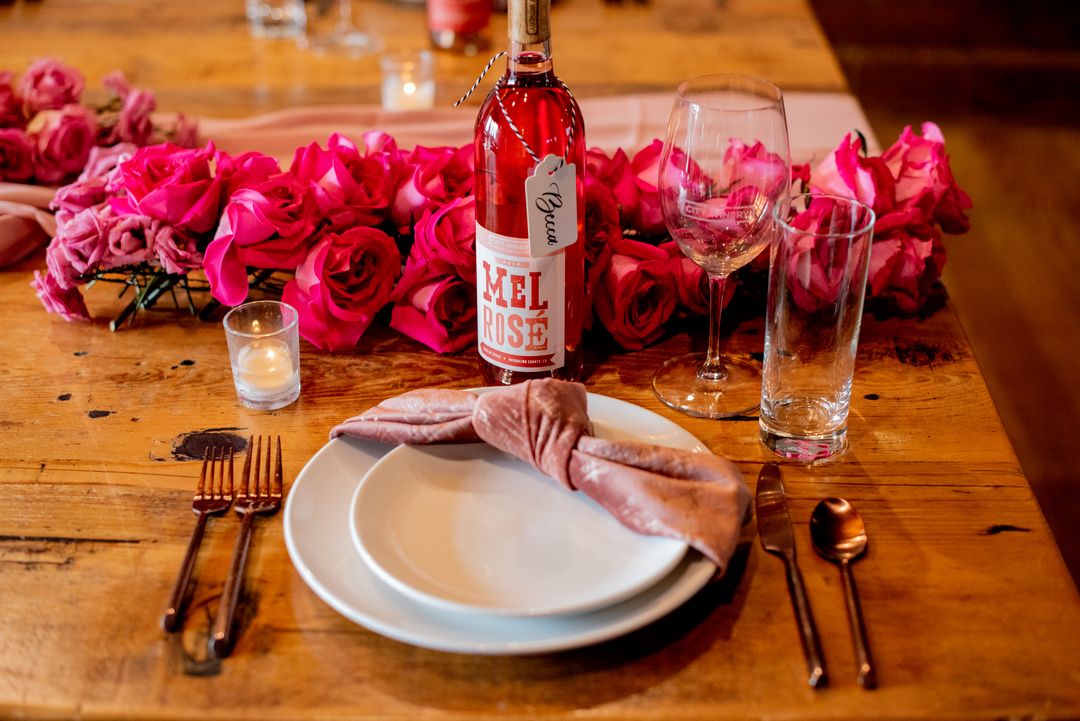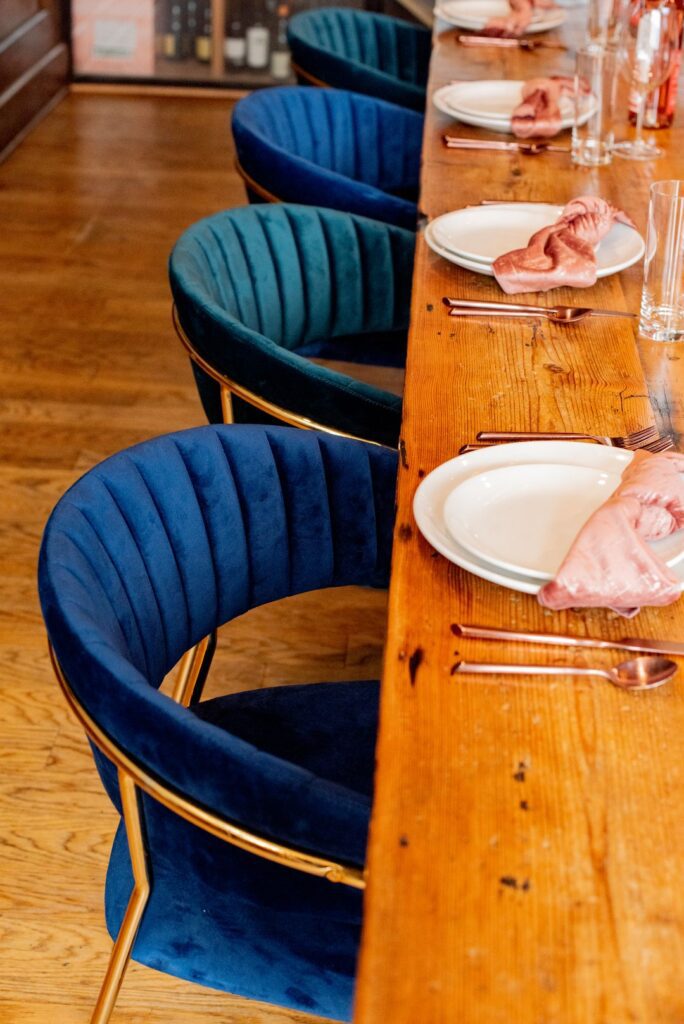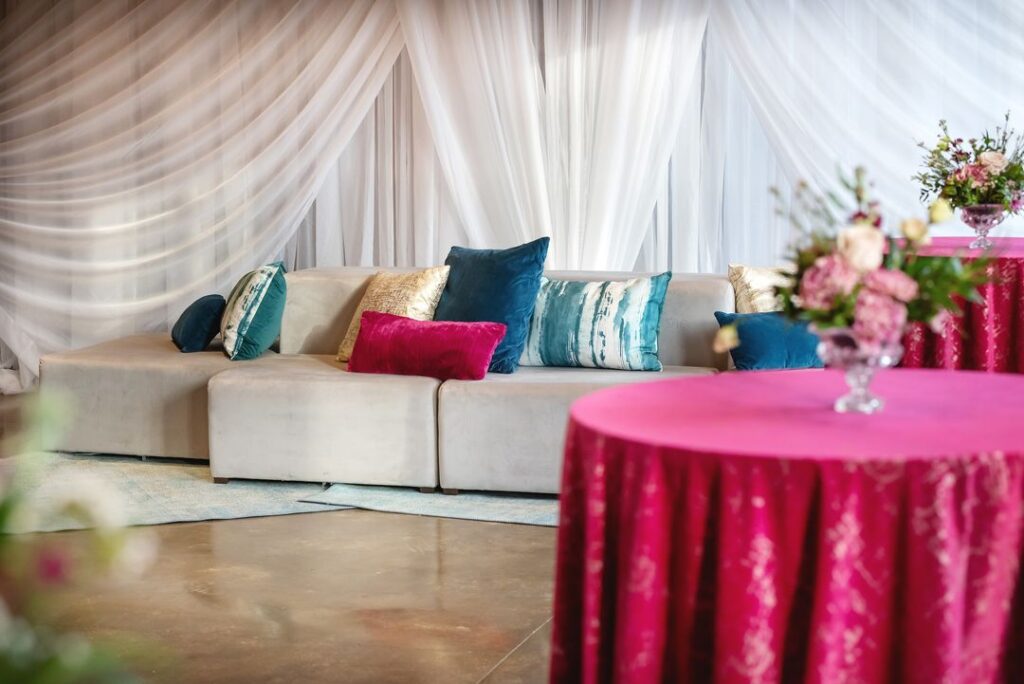 Child's Play
Planning a children's birthday party? Go big and bold with a Barbiecore theme! Our rentals will transport the little ones into a whimsical Barbie wonderland. Pair a children's table with Pink Sequin Tablecloths and matching Chiavari Children's Chairs. Create place settings with our Heirloom China and teacup sets. This is a fun detail that will make the kids feel like they're attending a real-life tea party with Barbie! To keep the energy high, we love a themed dessert table. Here you can showcase a variety of sweet treats adorned with pink frosting and edible glitter. Mix and match our cake stands to create a luxe-tiered display. Finally, incorporate a colorful pink and blue balloon arch, affixed to Boxwood Walls. This will serve as a beautiful backdrop for photos! Or, can be used to house a mirror where guests can try on party dresses.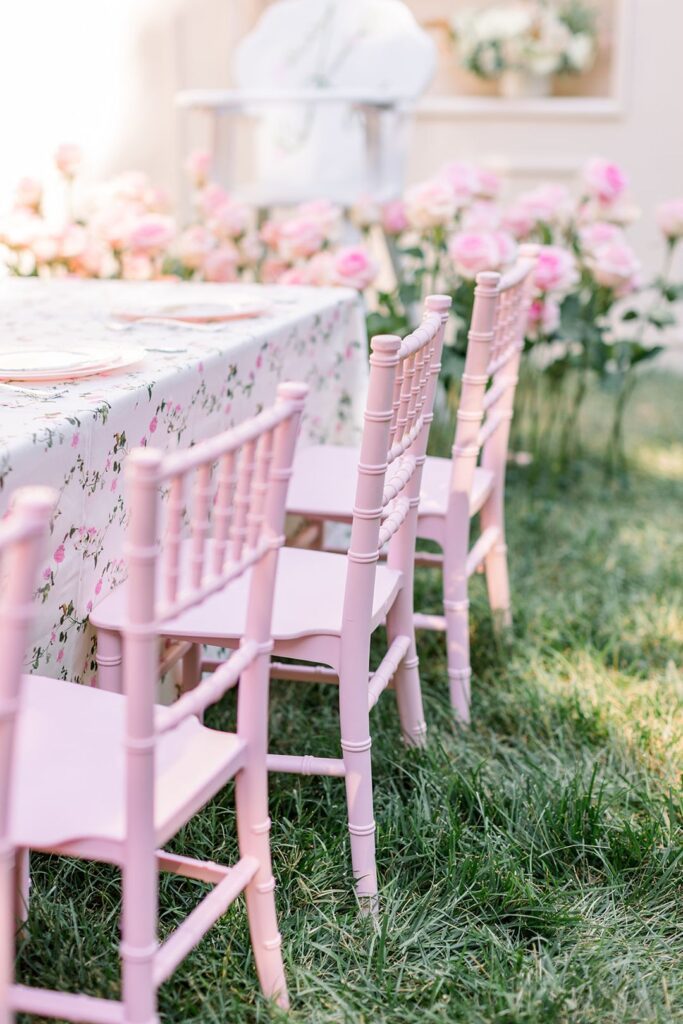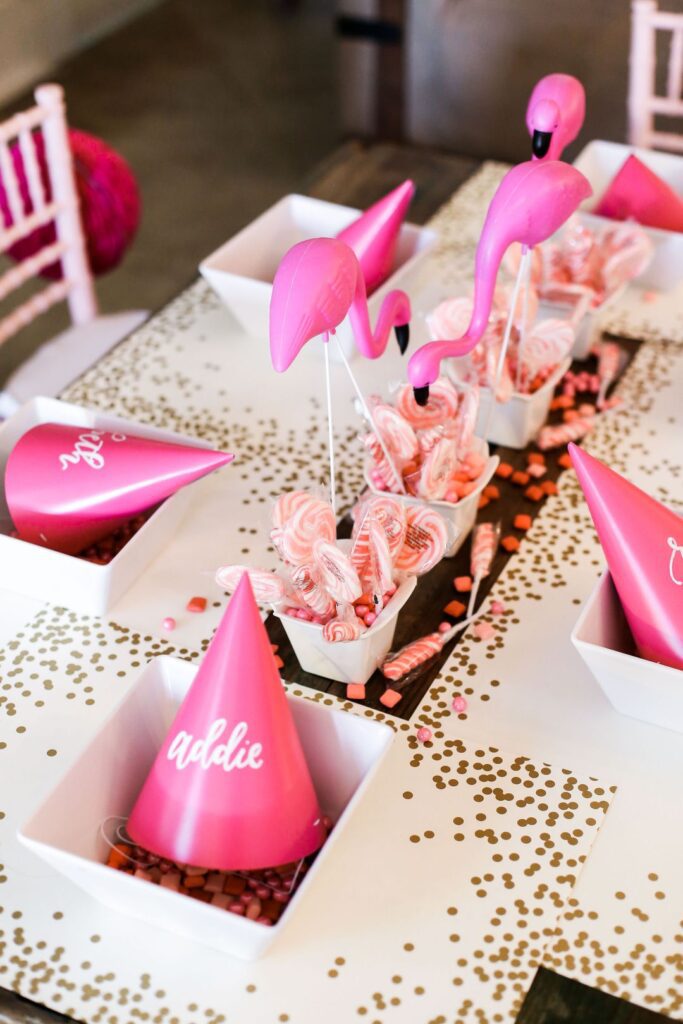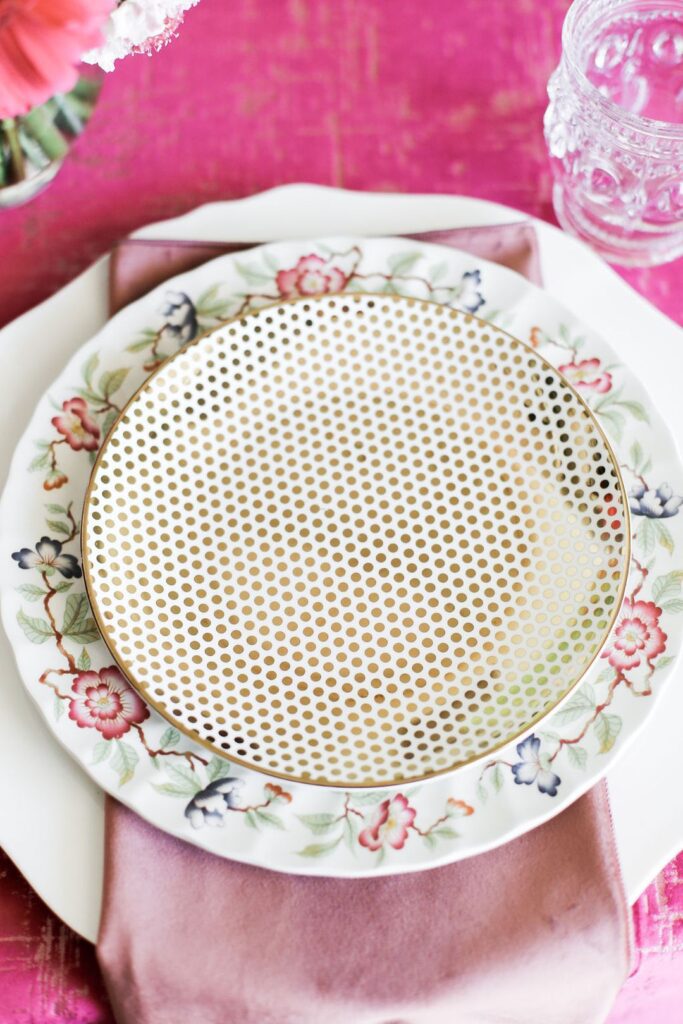 Are you ready to plan a party with our Barbiecore-inspired event rentals? Please send us a message at info@southerneventsonline.com. Or, view our full range of rentals in the catalog! Hosting your celebration outdoors? Elevate your event with our outdoor party rentals.
TAGS | Birthday party rentals, Nashville party rentals, Southern Events Party Rental, barbiecore, children's birthday party, summer event style, summer party ideas
FEATURED RENTALS | satin blush matte runner, white coupe dinner plates, rose etched velvet napkins, brushed copper flatware, cybil glassware, farrah teal velvet chairs, peace lounge, hot pink velvet linens, acrylic square back barstools, gold acrylic bar cart, hampton beverage dispenser, children's table, pink sequin tablecloths, pink chiavari children's chairs, heirloom china, cake stands, boxwood walls,
---
11

May

On Trend, Southern Events Products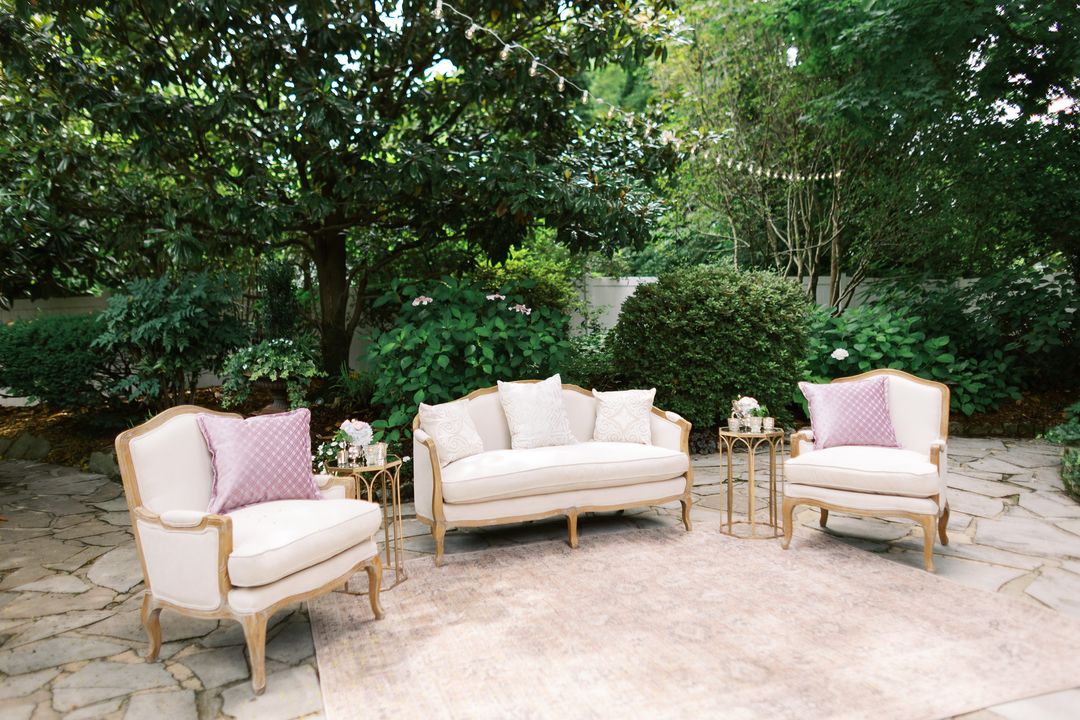 Summer is the season of backyard parties! Whether it's a birthday celebration, a family reunion, or a simple get-together with friends. Hosting an outdoor party is the perfect way to enjoy the beautiful weather while creating unforgettable memories. And to elevate your backyard gathering, Southern Events Online stocks stylish summer party rentals! Take a look at our inventory that will impress your guests. From coastal chic-inspired furniture to a modern rustic tablescape.
Neutral Coastal Chic
One of our favorite summer vibes is coastal chic! Starring a neutral color palette and natural materials, it is a stunning option for a casual yet elegant backyard gathering. Start by creating a bright and airy tablescape with an off-white, Havana Ecru Tablecloth. For an extra soft and breezy look, add a Sahara Ivory Runner and Ivory Poly Napkins. Meanwhile, Rattan White Wash Chargers will lend some much-needed texture! To warm up the table, feature our elegant Cross-Back Chairs with plush cushions.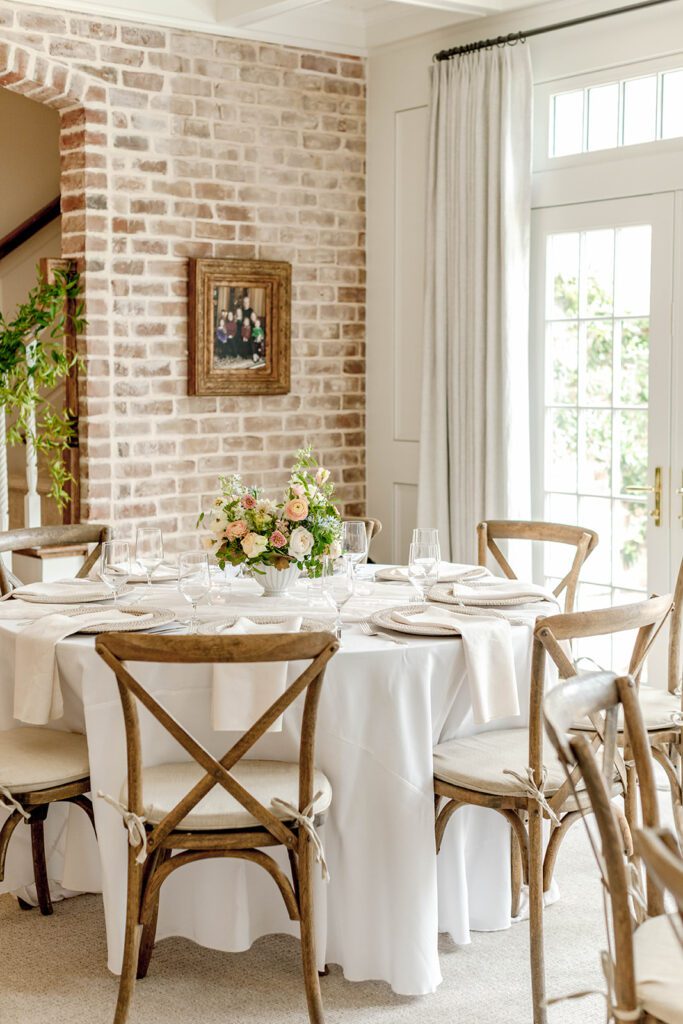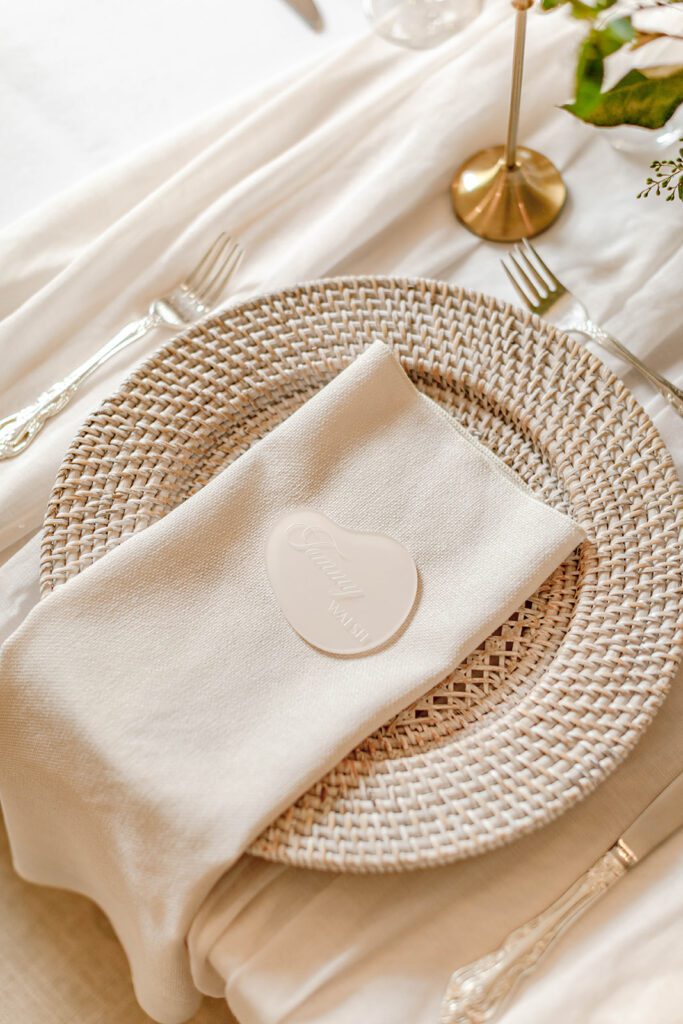 Coastal-Inspired Furnishings
Carrying over the theme, you won't want to miss out on our Sloan Sofa and Armchairs. They are made of classic bentwood with curved caning and a charcoal finish for a modern look. However, to complete the look, add a Linden Marble Table and a Blush Rug. Perhaps a Gold Bar Cart, for a luxe metallic accent. And to keep bubbly or beverages within arms reach!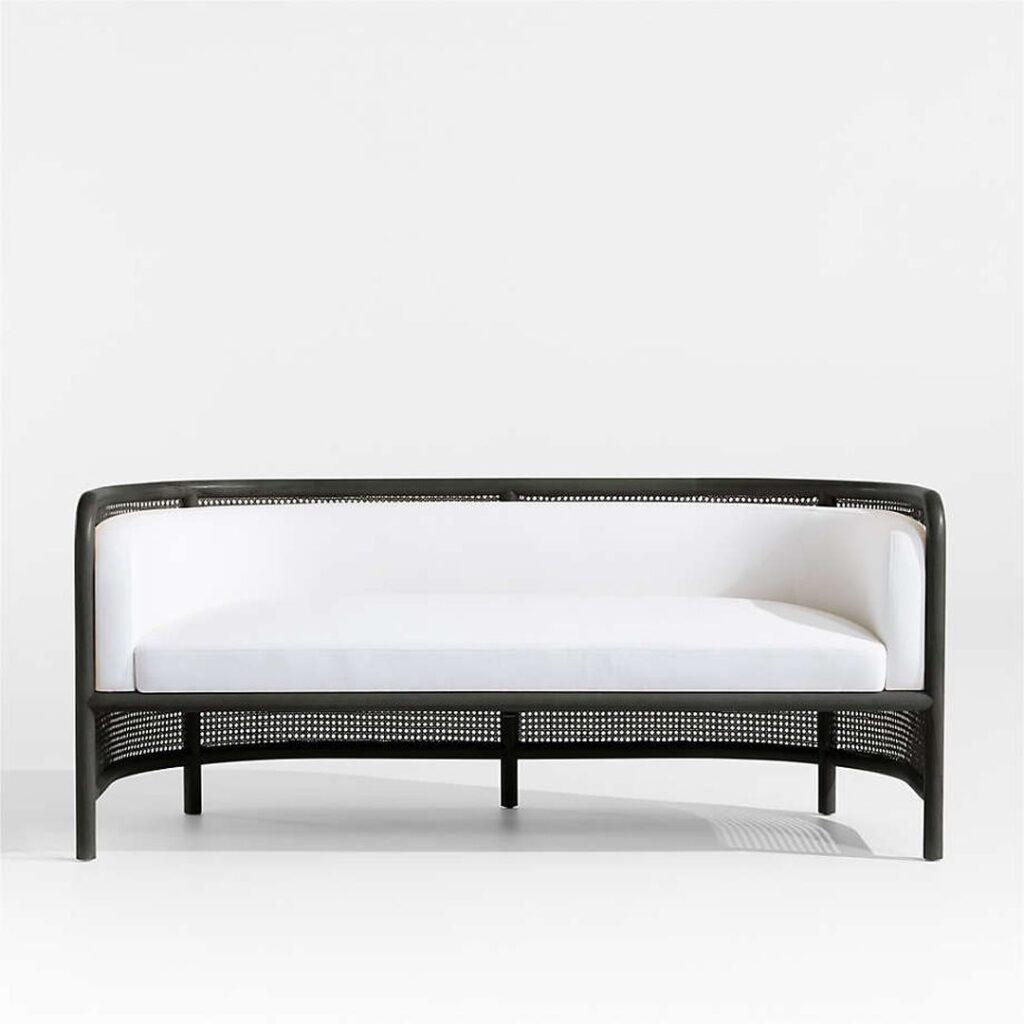 Sunny Citrus
If you want a more traditional summer look, go with bright and bold colors! For instance, we're loving this colorful citrus-inspired tablescape starring a rich Navy Blue Velvet Tablecloth. Our Burnt Orange Poly Napkins will beautifully contrast the blue table and tie in a fresh citrus, or fruit-laden charcuterie, centerpiece. Additionally, to maintain a clean and modern look, add on Brushed Copper Flatware and sleek White Coupe China. Depending on how bright you want the table, grab our Fruitwood Folding Chairs or Antique White Bentwood Chairs.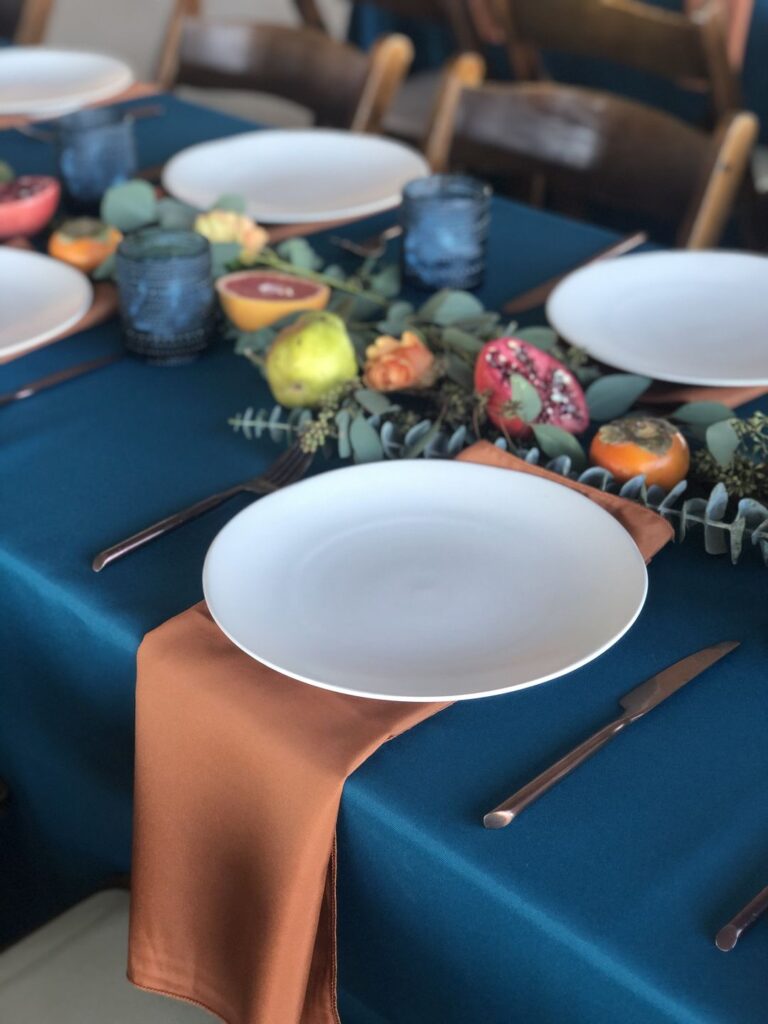 Mini Bar Must-Haves
If you plan to serve alcohol, our Franklin 4ft Antique White Bar is the perfect size for a small backyard celebration. It will be a treat if you plan on having a mixologist on site. Or, if you want to create a small self-serve station featuring our sleek Hampton Beverage Dispensers. Regardless, be sure to stock up on Meridian Blue Tumblers, one of our most underrated summer party rentals – a stunner for poolside cocktails!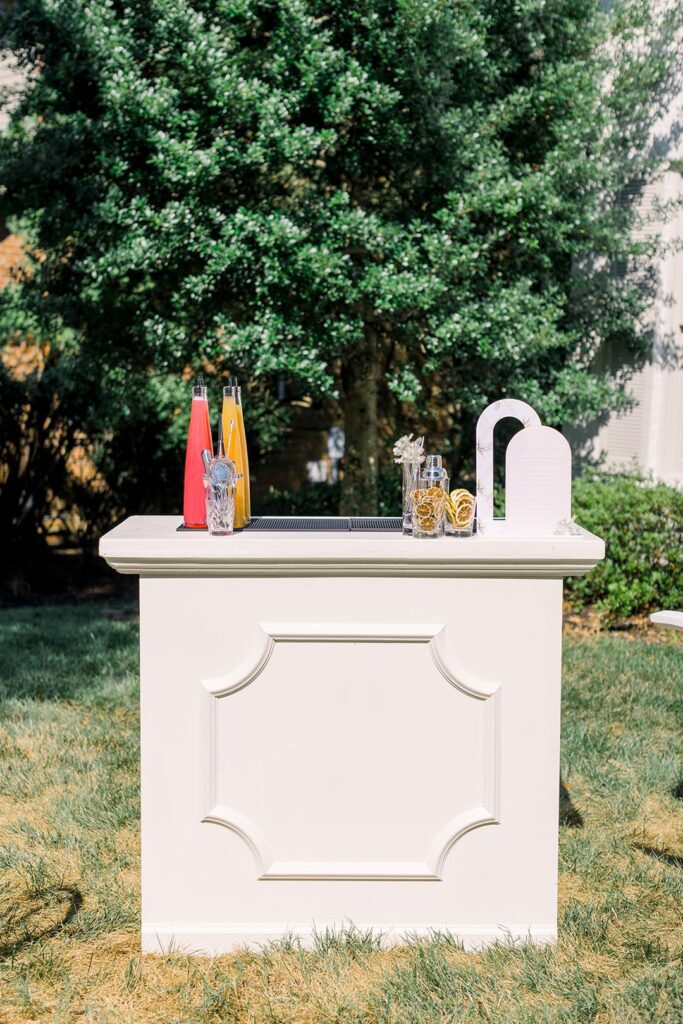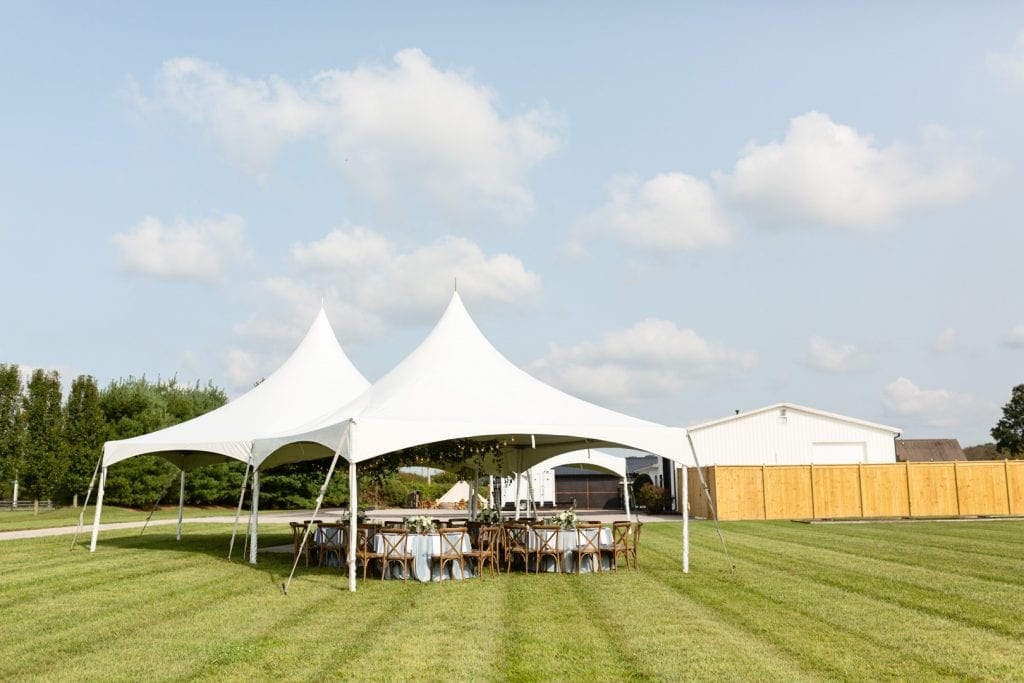 Modern Rustic Garden Party
We will never tire of an elegant garden celebration! And that is exactly what inspired this modern rustic backyard party. For instance, think of it like an elevated BBQ where warm woods and muted colors shine. Start with Aged Oak Dining Tables, placed side by side to create a long table fit for socializing. After that, keep it classic when you pair them with rustic benches. Or, elevate the look with elegant Harlin Dining Chairs. In addition, dress up the table with fresh flowers, complemented by clean serving ware and a splash of color. Try muted pieces, like our Amber Goblets or Moss Green Crush Velvet Napkins.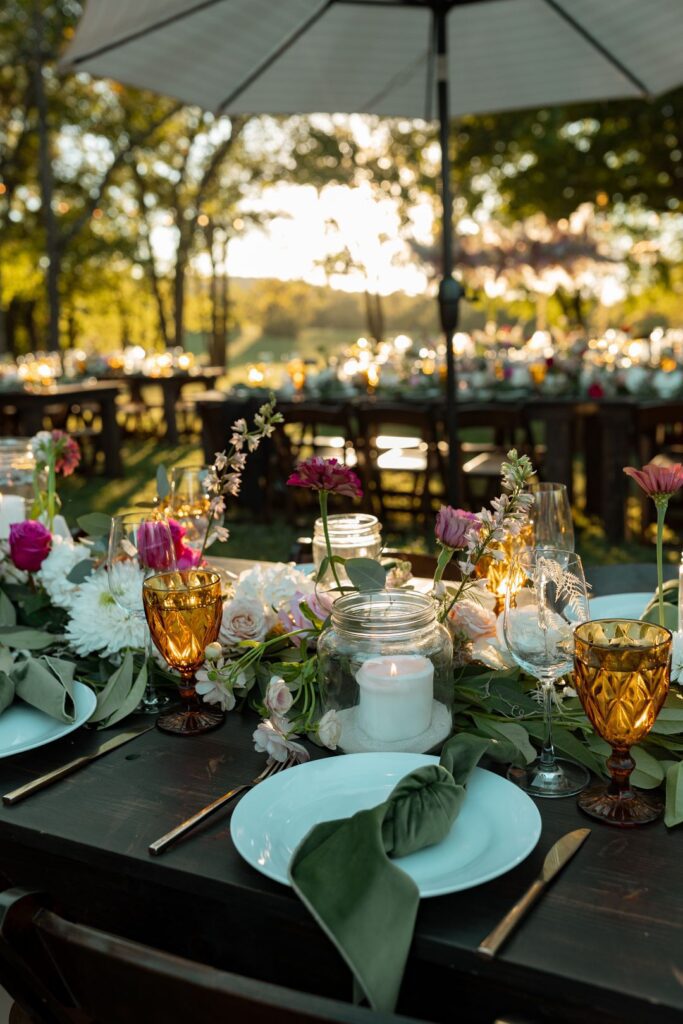 Muted Elegance
For a cocktail hour, consider featuring a down-to-earth lounge with warm woodsy browns. From our Bennett Leather Sofa and Adeline Dining Chairs. With a luxe metallic accent, from a set of Cheval Gold Mirror Side Tables. To soften up the space, add on Chocolate Poufs and a Bellamy Beige Linen Bench. After that, a bold Navy Rug to help frame the area. If you want to wow your guest upon their arrival, welcome them with a White 6-Tier Serving Tower. We recommend colorful cocktails in our Gatsby Champagne Coup glasses!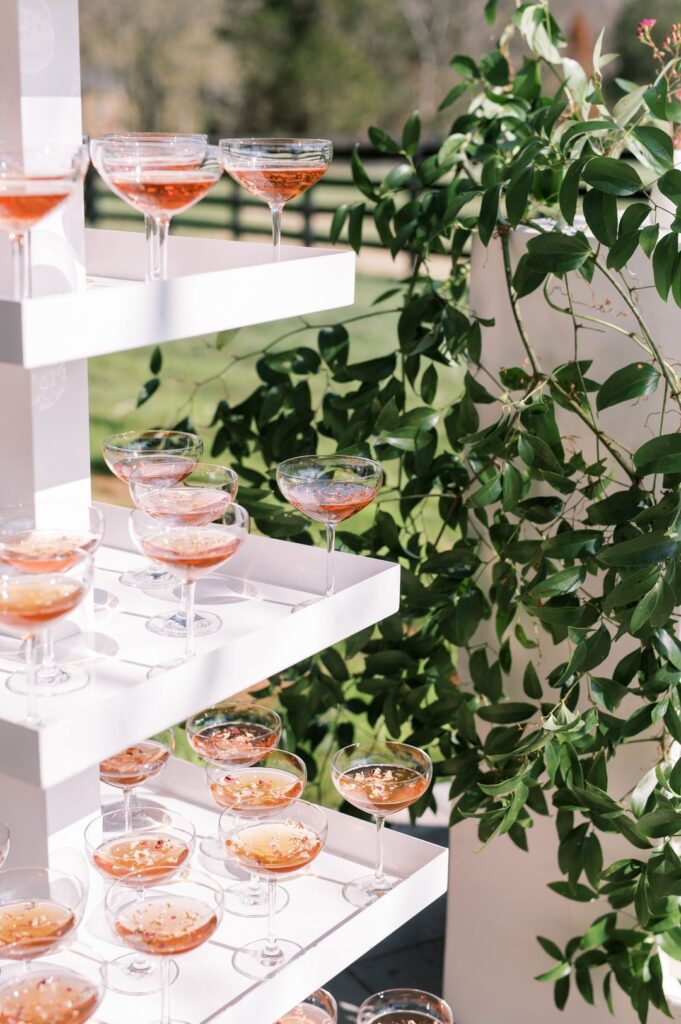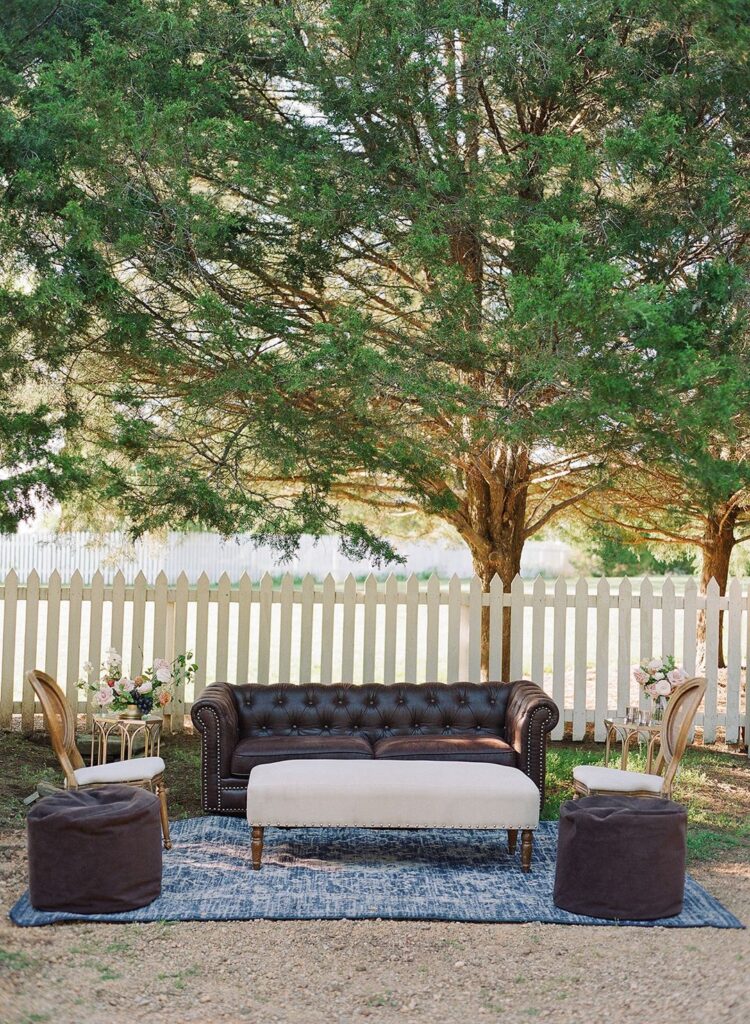 Want to feature our summer party rentals at your backyard gathering? Send us a message at info@southerneventsonline.com! A member of our team would be happy to help you choose the perfect furnishings and decor. If you need to create some shade to keep guests comfortable, take a look at our Pop Up Tent Packages.
TAGS | Event Rentals, Southern Events Party Rental, backyard parties, small gatherings, southern summer party planning, summer event style, summer party ideas
FEATURED RENTALS | Sloan Sofa, Sloan Armchairs, Gold Bar Cart, Blush Rug, Navy Blue Velvet Tablecloth, Burnt Orange Poly Napkins, Brushed Copper Flatware, White Coupe China, Antique White Bentwood Chairs, Fruitwood Folding CHairs, Hampton Beverage Dispenser, Meridian Blue Tumblers, Aged Oak Dining Tables, Rustic Benches, Harlin Dining CHairs, Amber Goblets, Gatsby Champagne COups, Chocolate Pouf, Adeline Dining CHairs, Cheval Gold Mirror Side Tables, Navy Rug, White 6 Tier Serving Tower, Bellamy Beige Linen Bench, Bennett Leather Sofa,
---