8

Jun

On Trend, Southern Events Products, Trends and Inspiration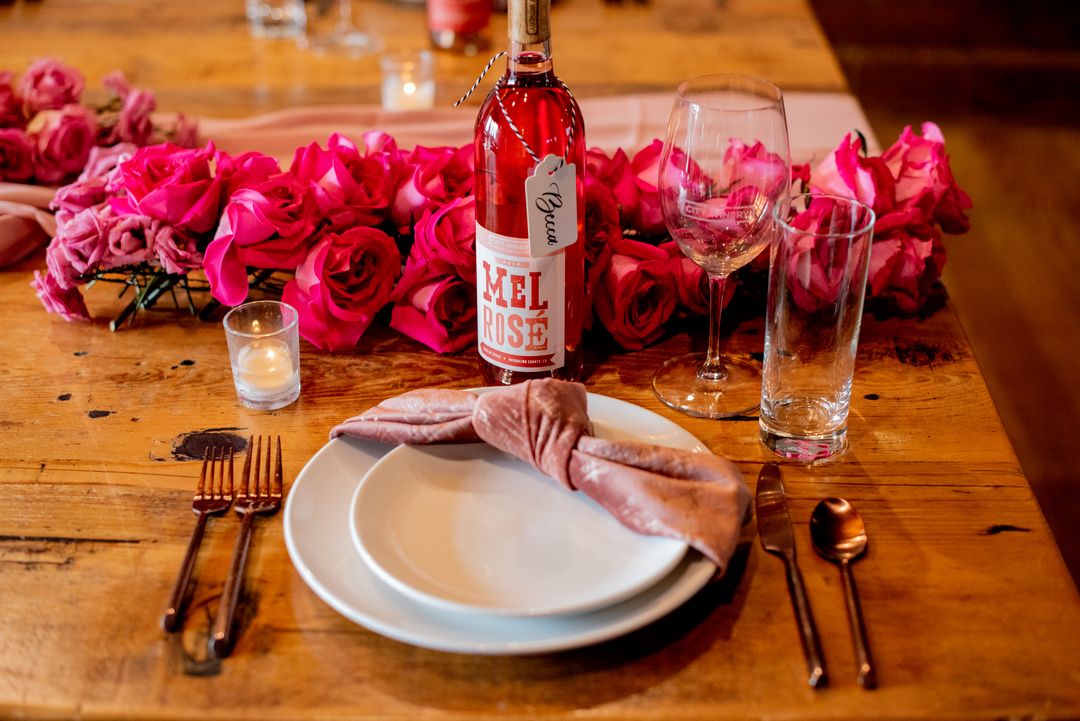 Combining energy and playful nostalgia, Barbiecore is trending! Inspired by the iconic doll, a Barbie-themed party will bring a touch of whimsy and fun to any event. Whether you're hosting a casual cocktail hour, an intimate bridal shower, an adult birthday party, or even a children's birthday bash. Southern Events Online has you covered with our beautiful collection of Barbiecore-inspired event rentals. Let's dive in and start planning your next celebration!
Take it Easy
When it comes to hosting a casual get-together, creating a stylish and vibrant space is key. To set the stage for a chic backyard cocktail hour or poolside bachelorette party, create a space adorned with pops of pink and a dash of retro charm. You can set the mood with bistro tables with Hot Pink Velvet Linens. In addition, add some chic Arylic Square Back Barstools for extra seating. Where guests can enjoy colorful cocktails, served in classic Gatsby Coupe Glasses. Alternatively, you can use our Gold Bar Cart as a self-serve drink station. With big-batch cocktails in the Hampton Beverage Dispenser. And if you plan to offer some light bites, our Coronado China will lend a fun hint of blue to party.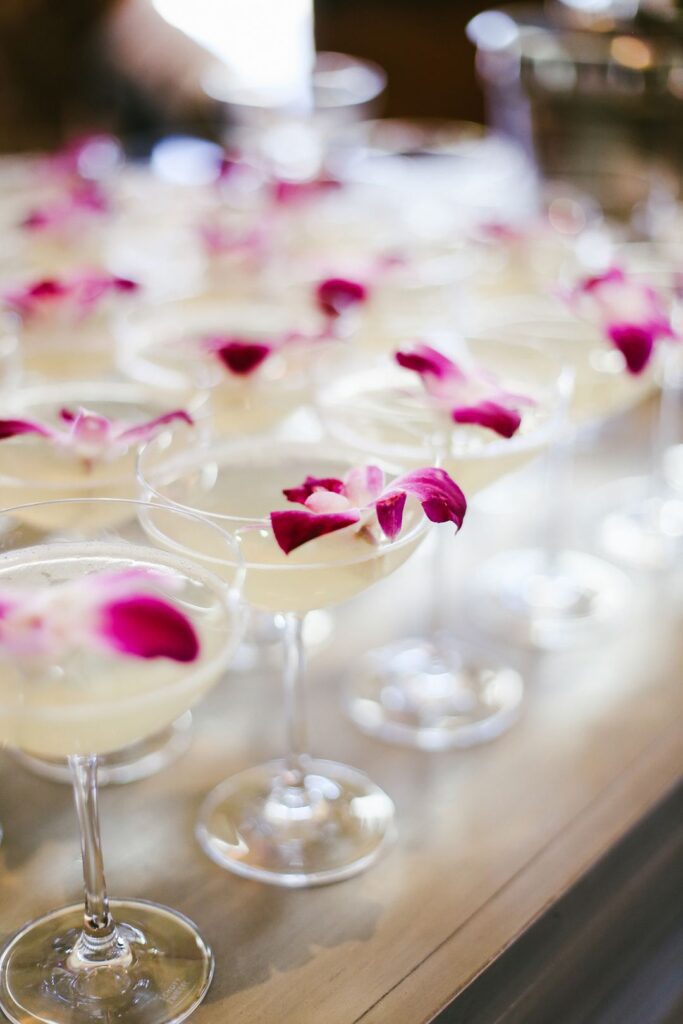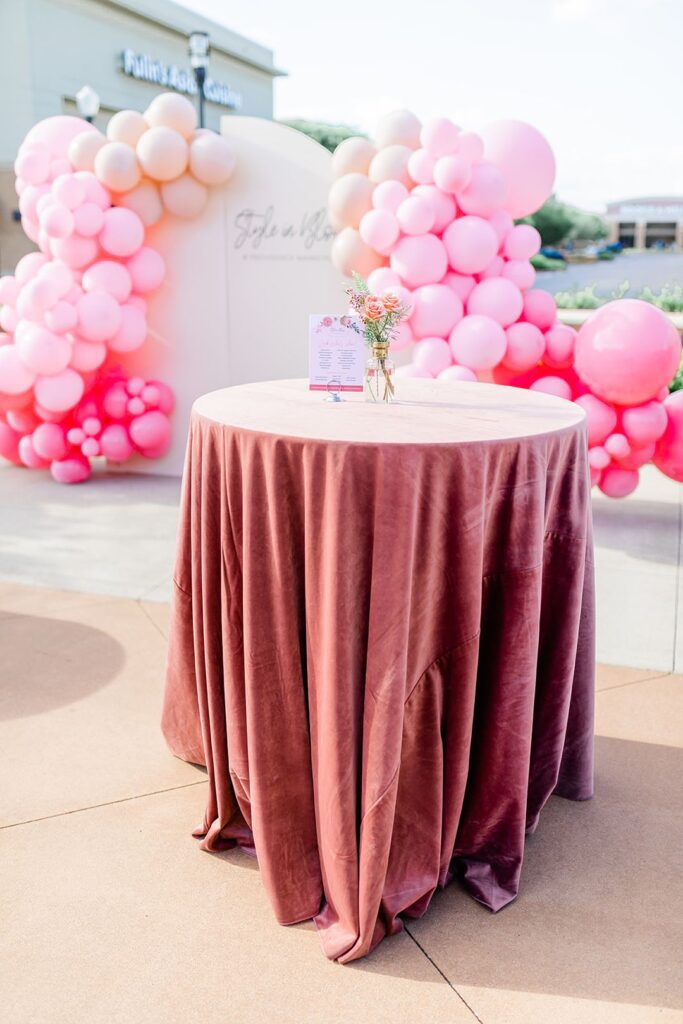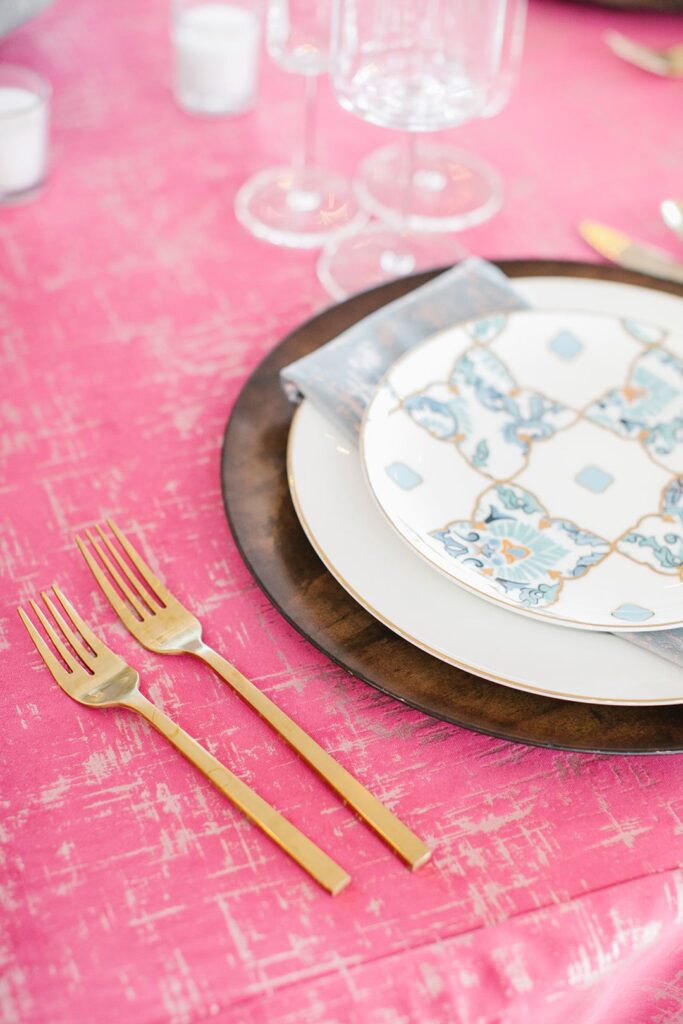 Chic in Pink
For a smaller gathering, such as a bridal shower or an adult birthday celebration, you'll want a muted look. We can help you create a chic pink setup that with our Barbie-inspired event rentals. Starting with a tablescape with a Satin Blush Matte Runner and hot pink roses. Next, feature White Coupe Dinner Plates contrasted by Rose Etched Velvet Napkins and Brushed Copper Flatware. To serve up a ròse, our Cybil Champagne or Wine Glasses will lend a fun retro touch. Complete the look with a pop of blue from our bold Farrah Teal Velvet Chairs. For additional seating, there is our cozy Pearce Lounge. Perfect for additional seating and post-dinner mingling.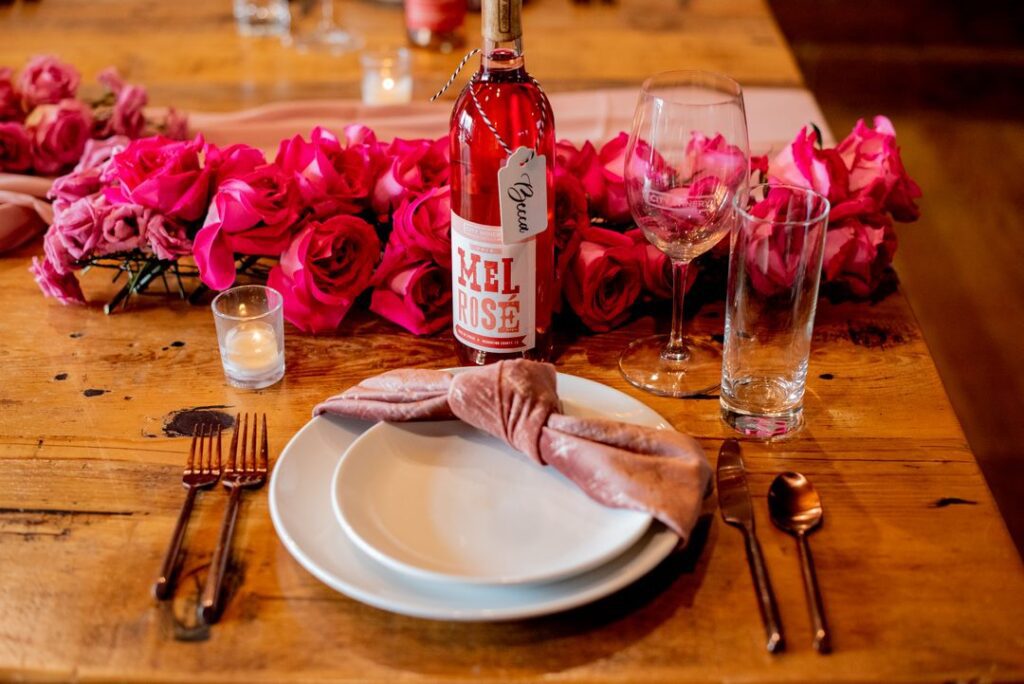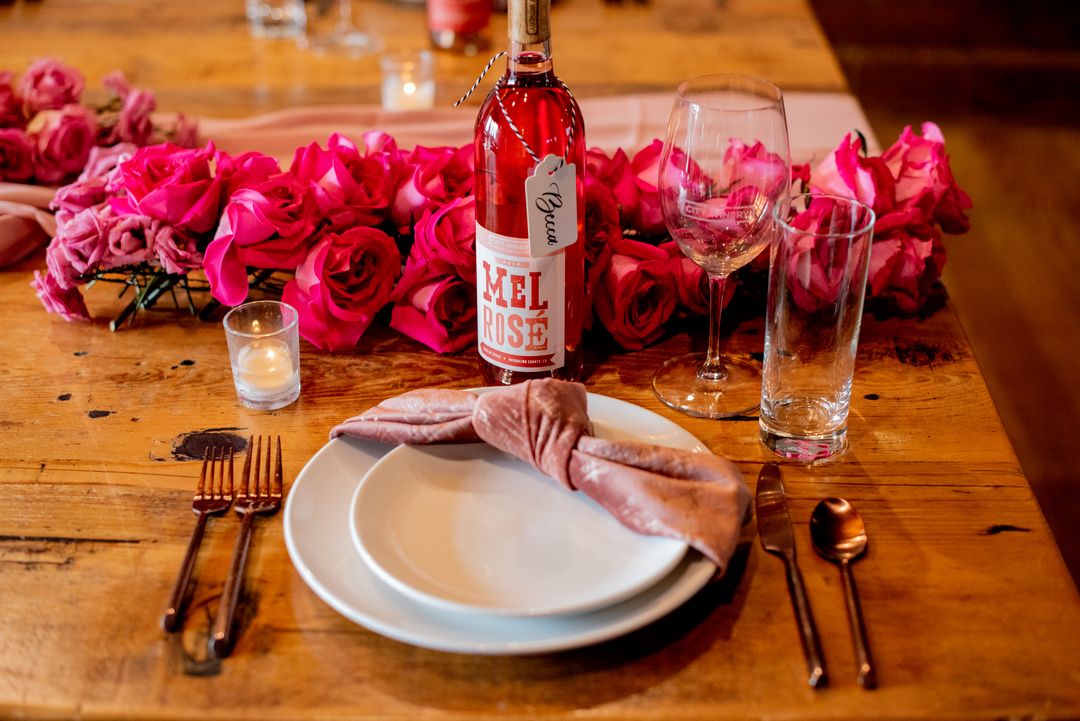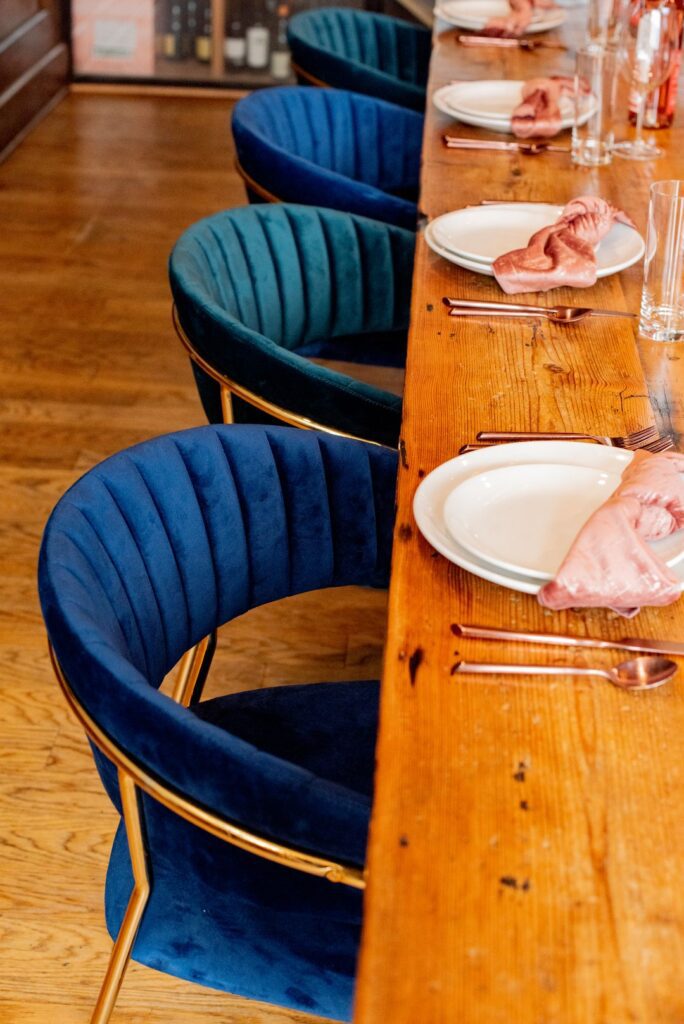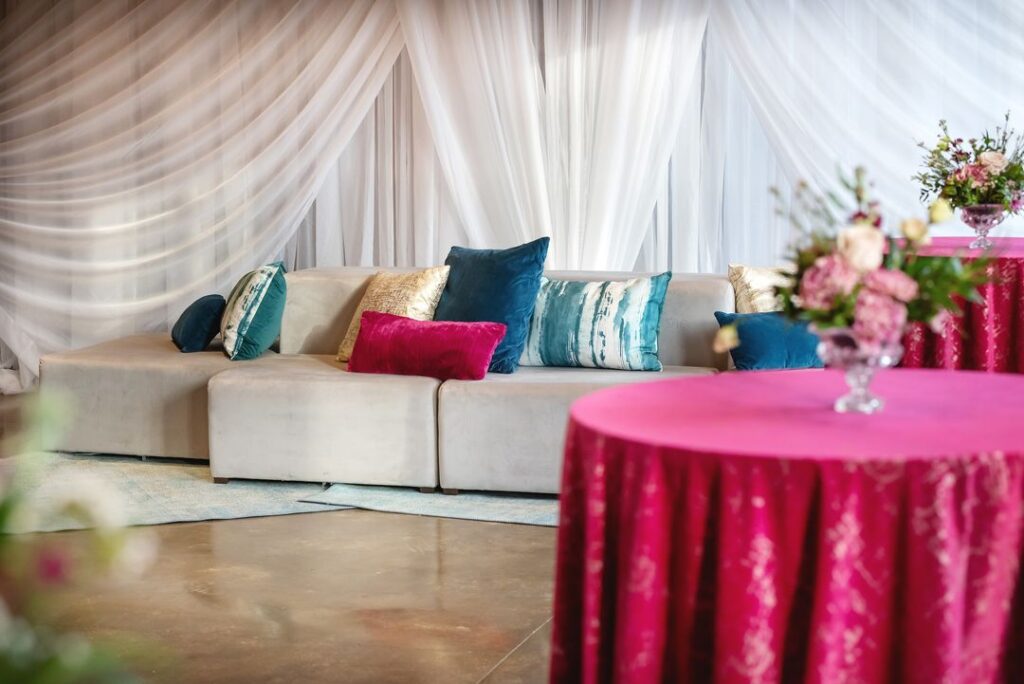 Child's Play
Planning a children's birthday party? Go big and bold with a Barbiecore theme! Our rentals will transport the little ones into a whimsical Barbie wonderland. Pair a children's table with Pink Sequin Tablecloths and matching Chiavari Children's Chairs. Create place settings with our Heirloom China and teacup sets. This is a fun detail that will make the kids feel like they're attending a real-life tea party with Barbie! To keep the energy high, we love a themed dessert table. Here you can showcase a variety of sweet treats adorned with pink frosting and edible glitter. Mix and match our cake stands to create a luxe-tiered display. Finally, incorporate a colorful pink and blue balloon arch, affixed to Boxwood Walls. This will serve as a beautiful backdrop for photos! Or, can be used to house a mirror where guests can try on party dresses.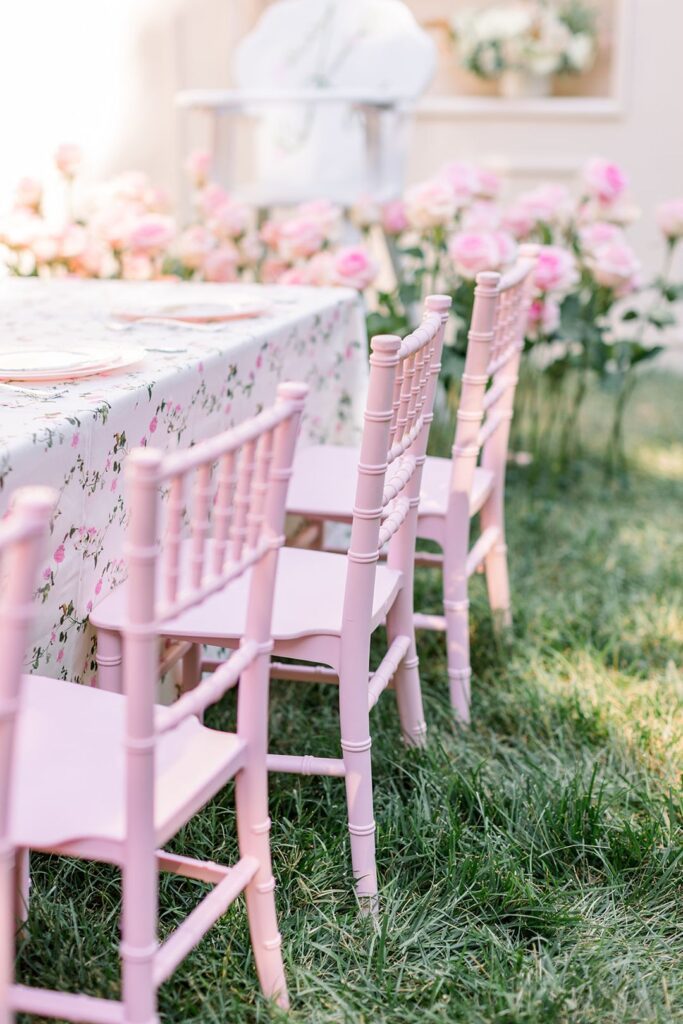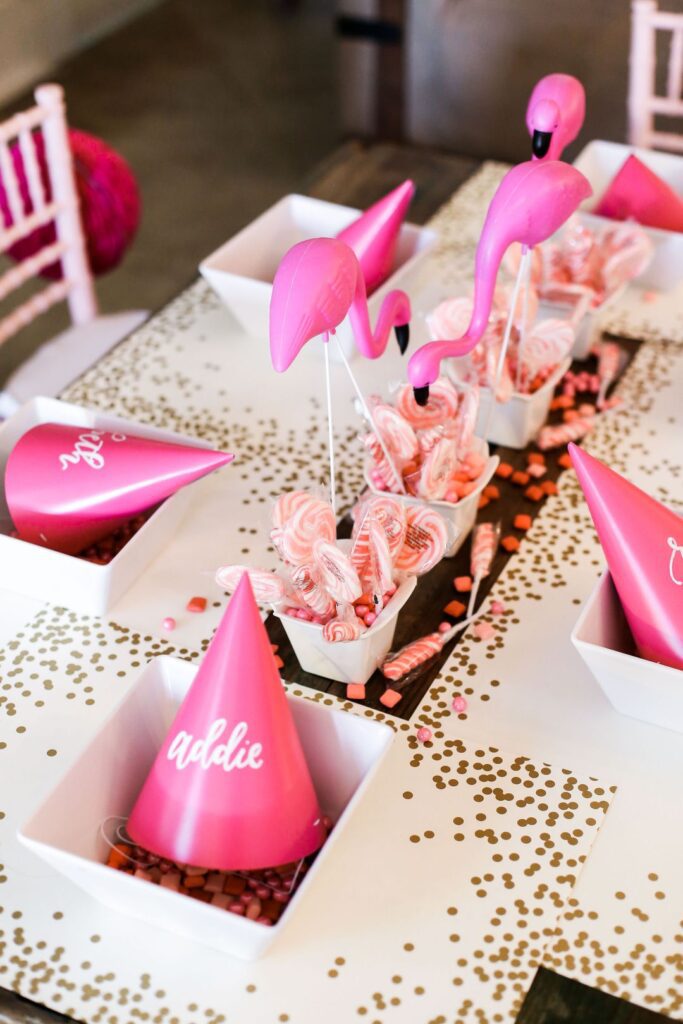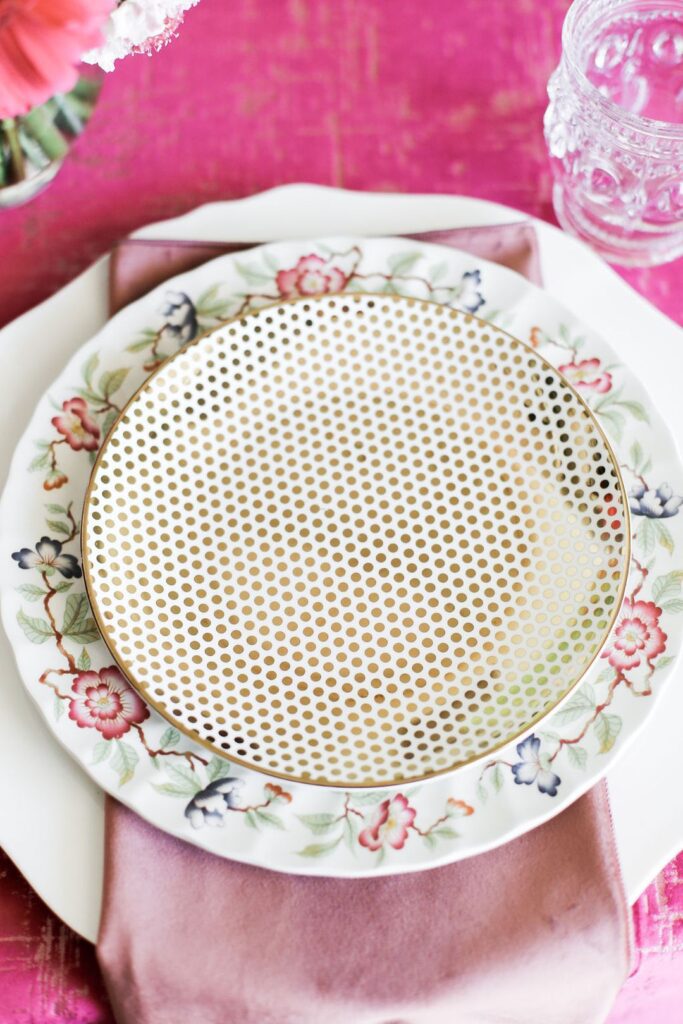 Are you ready to plan a party with our Barbiecore-inspired event rentals? Please send us a message at info@southerneventsonline.com. Or, view our full range of rentals in the catalog! Hosting your celebration outdoors? Elevate your event with our outdoor party rentals.
TAGS | Birthday party rentals, Nashville party rentals, Southern Events Party Rental, barbiecore, children's birthday party, summer event style, summer party ideas
FEATURED RENTALS | satin blush matte runner, white coupe dinner plates, rose etched velvet napkins, brushed copper flatware, cybil glassware, farrah teal velvet chairs, peace lounge, hot pink velvet linens, acrylic square back barstools, gold acrylic bar cart, hampton beverage dispenser, children's table, pink sequin tablecloths, pink chiavari children's chairs, heirloom china, cake stands, boxwood walls,
---
11

May

On Trend, Southern Events Products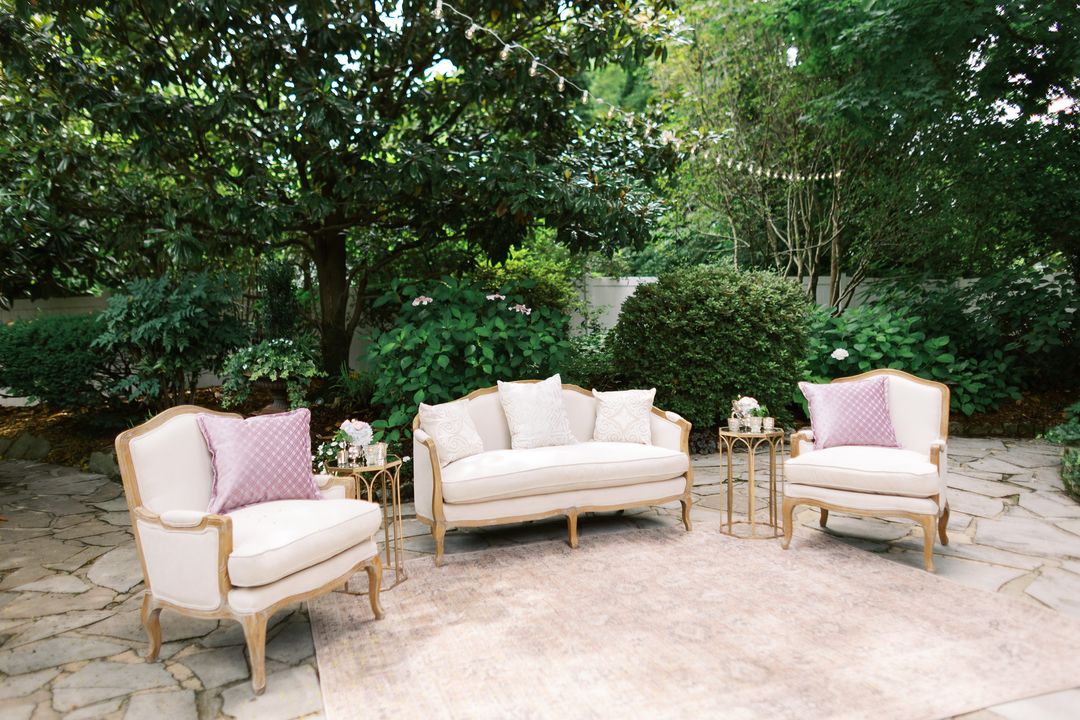 Summer is the season of backyard parties! Whether it's a birthday celebration, a family reunion, or a simple get-together with friends. Hosting an outdoor party is the perfect way to enjoy the beautiful weather while creating unforgettable memories. And to elevate your backyard gathering, Southern Events Online stocks stylish summer party rentals! Take a look at our inventory that will impress your guests. From coastal chic-inspired furniture to a modern rustic tablescape.
Neutral Coastal Chic
One of our favorite summer vibes is coastal chic! Starring a neutral color palette and natural materials, it is a stunning option for a casual yet elegant backyard gathering. Start by creating a bright and airy tablescape with an off-white, Havana Ecru Tablecloth. For an extra soft and breezy look, add a Sahara Ivory Runner and Ivory Poly Napkins. Meanwhile, Rattan White Wash Chargers will lend some much-needed texture! To warm up the table, feature our elegant Cross-Back Chairs with plush cushions.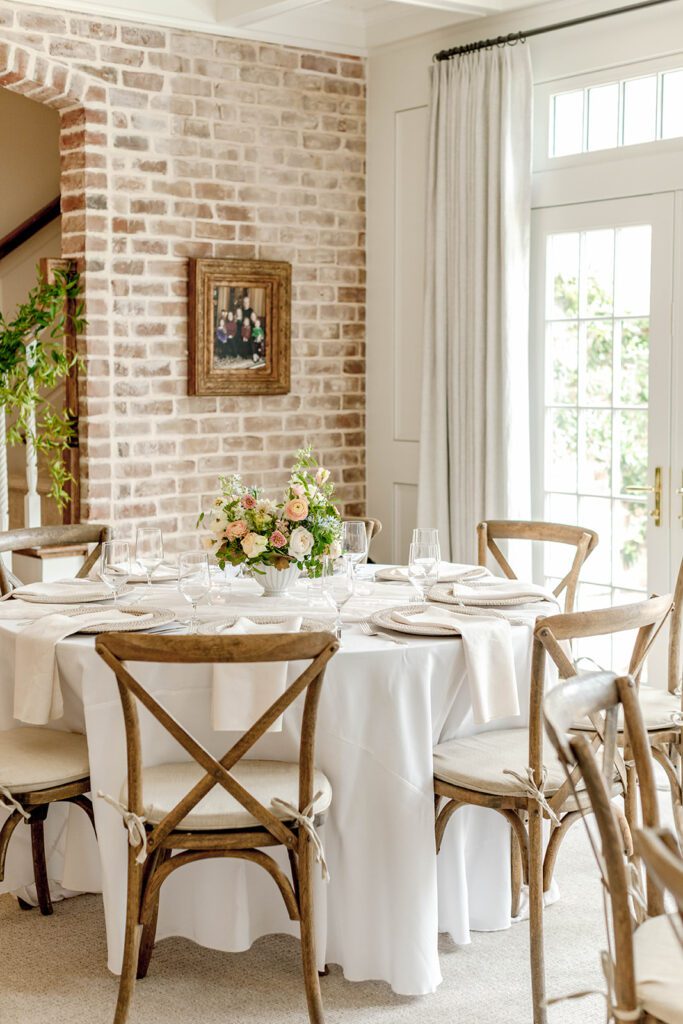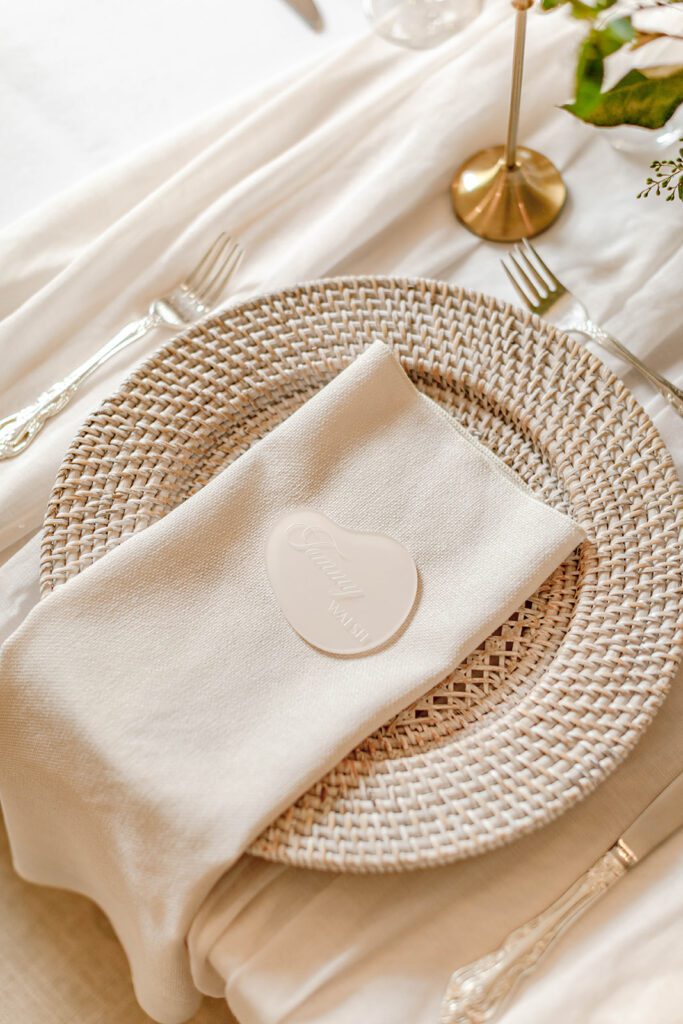 Coastal-Inspired Furnishings
Carrying over the theme, you won't want to miss out on our Sloan Sofa and Armchairs. They are made of classic bentwood with curved caning and a charcoal finish for a modern look. However, to complete the look, add a Linden Marble Table and a Blush Rug. Perhaps a Gold Bar Cart, for a luxe metallic accent. And to keep bubbly or beverages within arms reach!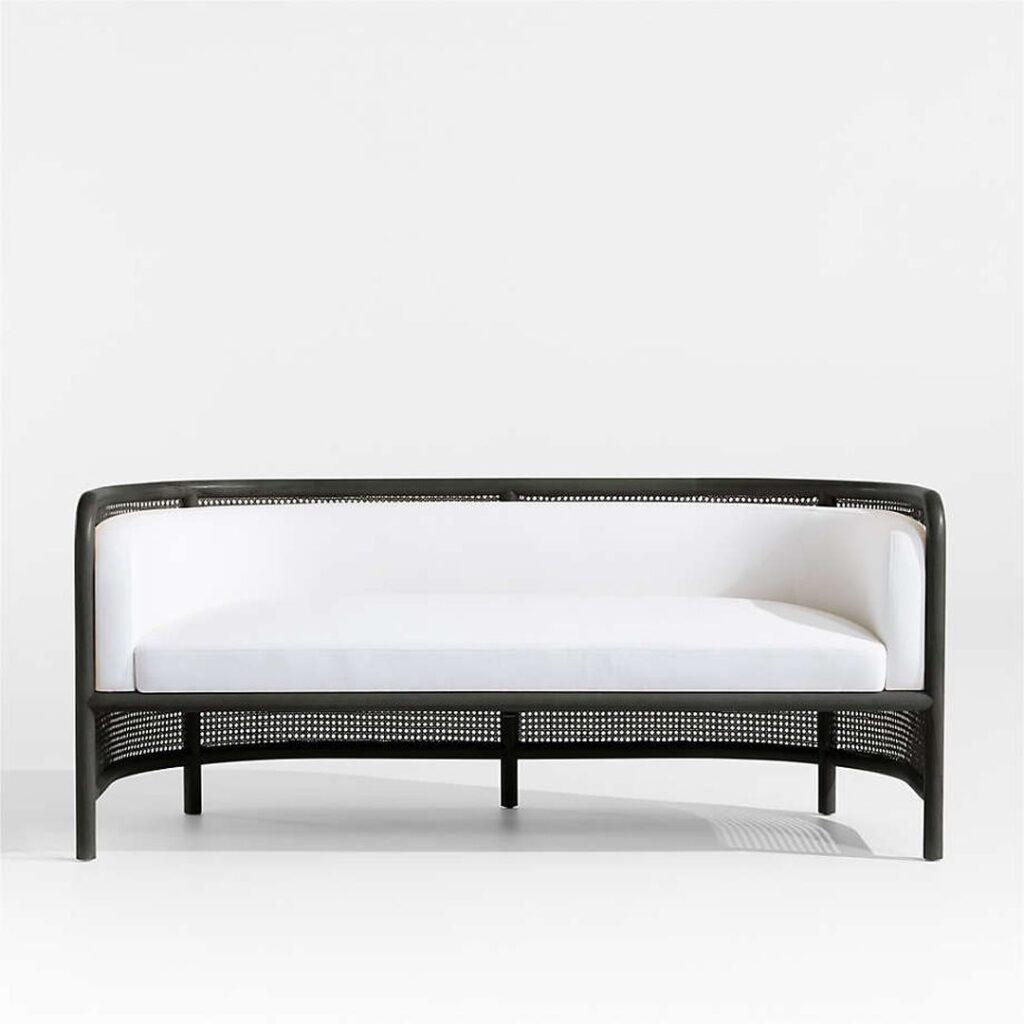 Sunny Citrus
If you want a more traditional summer look, go with bright and bold colors! For instance, we're loving this colorful citrus-inspired tablescape starring a rich Navy Blue Velvet Tablecloth. Our Burnt Orange Poly Napkins will beautifully contrast the blue table and tie in a fresh citrus, or fruit-laden charcuterie, centerpiece. Additionally, to maintain a clean and modern look, add on Brushed Copper Flatware and sleek White Coupe China. Depending on how bright you want the table, grab our Fruitwood Folding Chairs or Antique White Bentwood Chairs.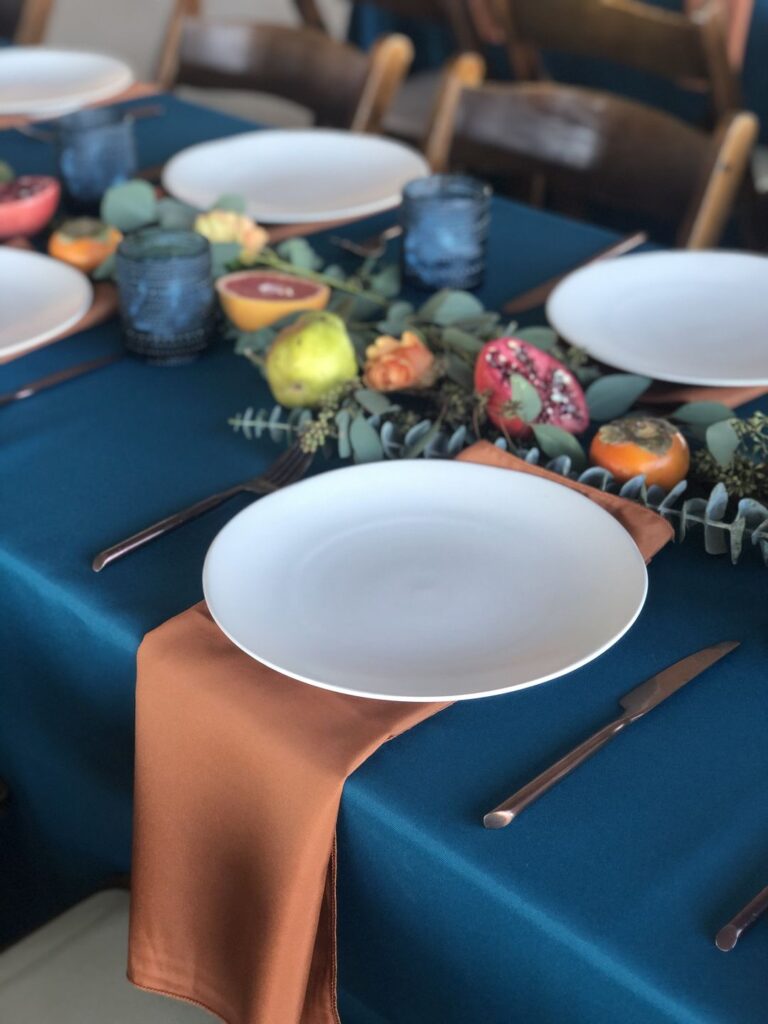 Mini Bar Must-Haves
If you plan to serve alcohol, our Franklin 4ft Antique White Bar is the perfect size for a small backyard celebration. It will be a treat if you plan on having a mixologist on site. Or, if you want to create a small self-serve station featuring our sleek Hampton Beverage Dispensers. Regardless, be sure to stock up on Meridian Blue Tumblers, one of our most underrated summer party rentals – a stunner for poolside cocktails!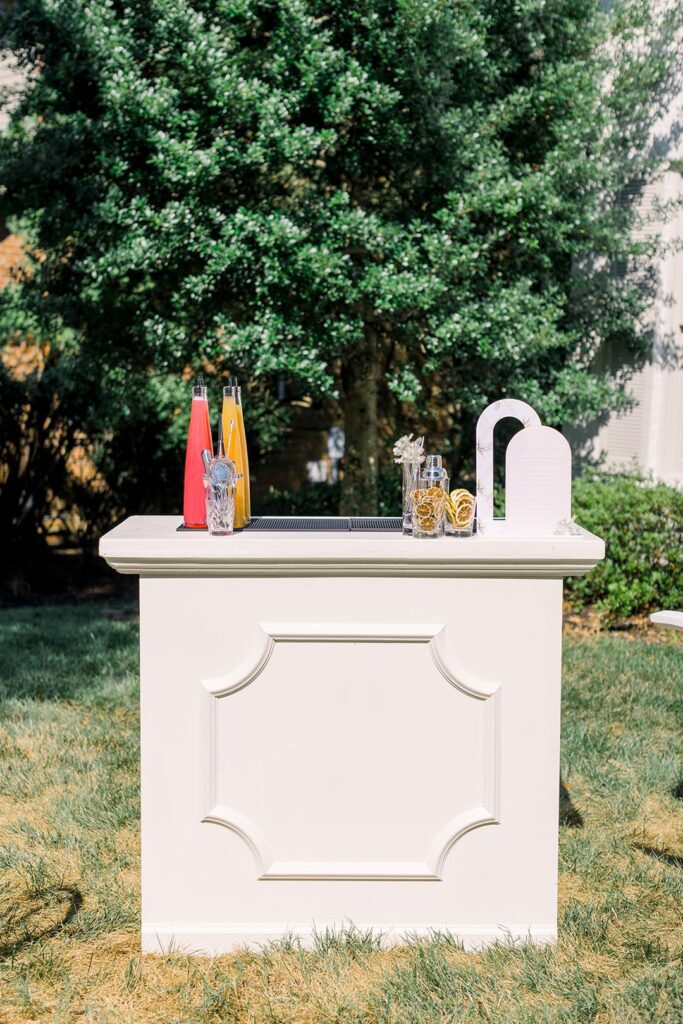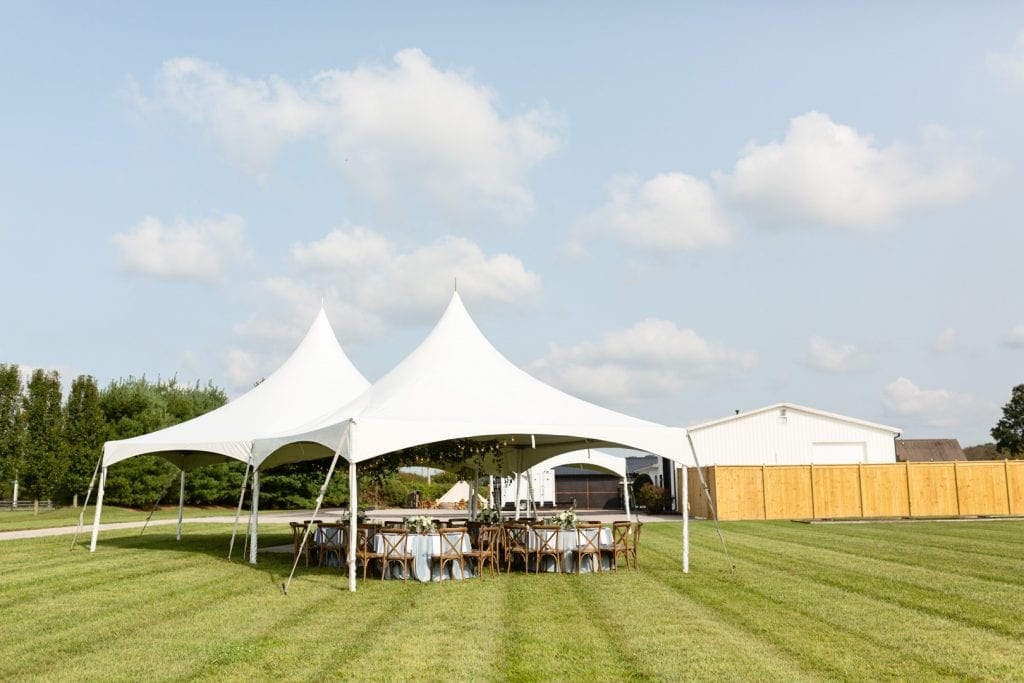 Modern Rustic Garden Party
We will never tire of an elegant garden celebration! And that is exactly what inspired this modern rustic backyard party. For instance, think of it like an elevated BBQ where warm woods and muted colors shine. Start with Aged Oak Dining Tables, placed side by side to create a long table fit for socializing. After that, keep it classic when you pair them with rustic benches. Or, elevate the look with elegant Harlin Dining Chairs. In addition, dress up the table with fresh flowers, complemented by clean serving ware and a splash of color. Try muted pieces, like our Amber Goblets or Moss Green Crush Velvet Napkins.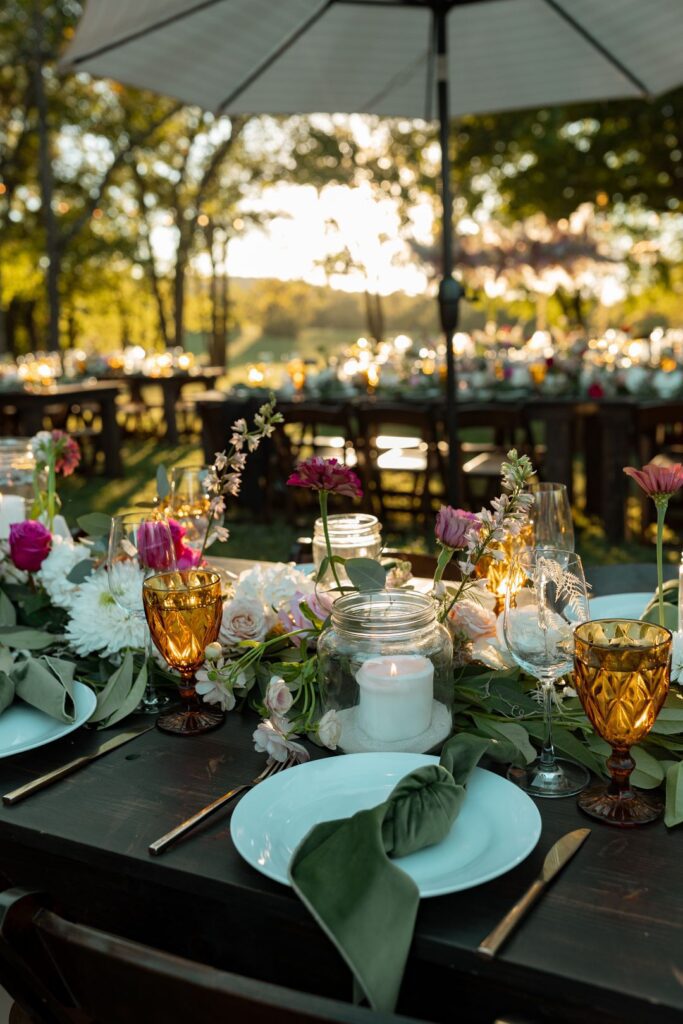 Muted Elegance
For a cocktail hour, consider featuring a down-to-earth lounge with warm woodsy browns. From our Bennett Leather Sofa and Adeline Dining Chairs. With a luxe metallic accent, from a set of Cheval Gold Mirror Side Tables. To soften up the space, add on Chocolate Poufs and a Bellamy Beige Linen Bench. After that, a bold Navy Rug to help frame the area. If you want to wow your guest upon their arrival, welcome them with a White 6-Tier Serving Tower. We recommend colorful cocktails in our Gatsby Champagne Coup glasses!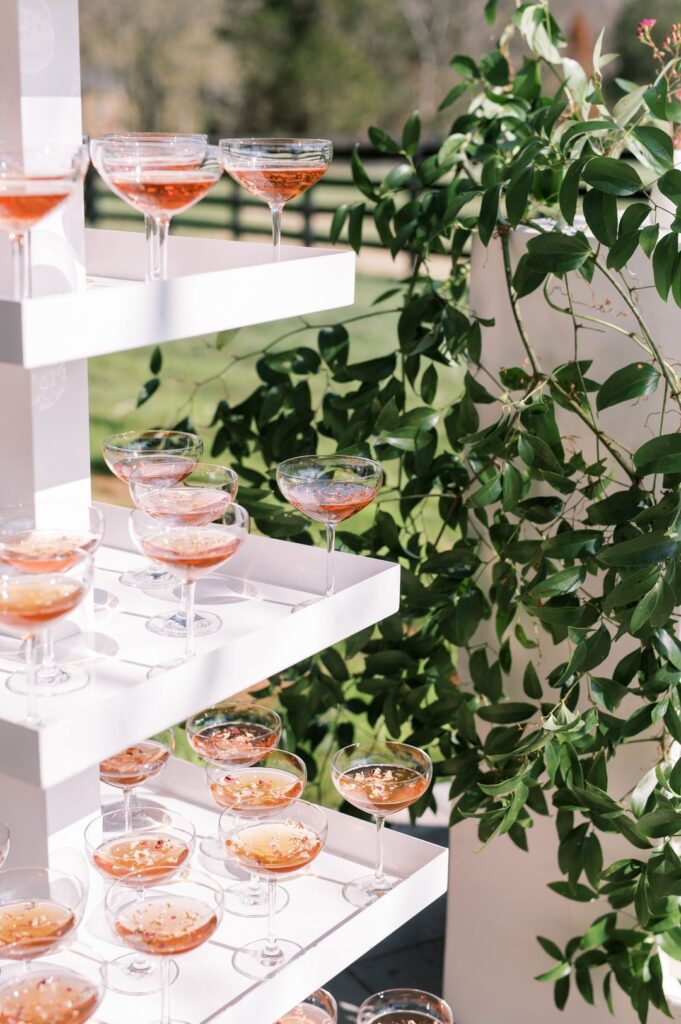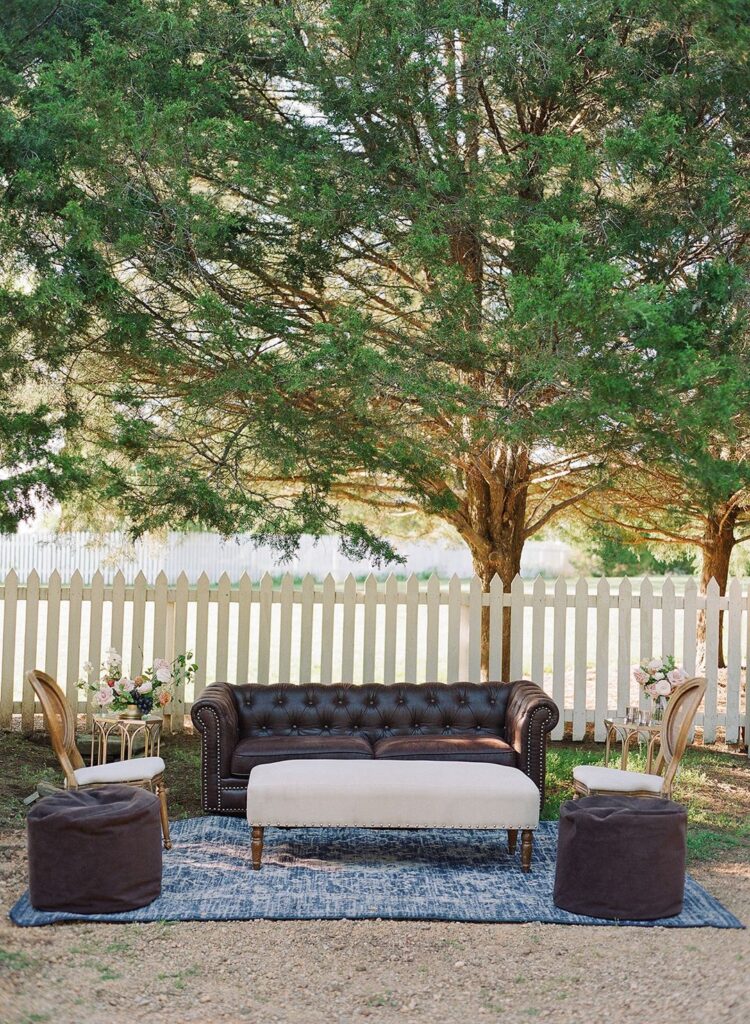 Want to feature our summer party rentals at your backyard gathering? Send us a message at info@southerneventsonline.com! A member of our team would be happy to help you choose the perfect furnishings and decor. If you need to create some shade to keep guests comfortable, take a look at our Pop Up Tent Packages.
TAGS | Event Rentals, Southern Events Party Rental, backyard parties, small gatherings, southern summer party planning, summer event style, summer party ideas
FEATURED RENTALS | Sloan Sofa, Sloan Armchairs, Gold Bar Cart, Blush Rug, Navy Blue Velvet Tablecloth, Burnt Orange Poly Napkins, Brushed Copper Flatware, White Coupe China, Antique White Bentwood Chairs, Fruitwood Folding CHairs, Hampton Beverage Dispenser, Meridian Blue Tumblers, Aged Oak Dining Tables, Rustic Benches, Harlin Dining CHairs, Amber Goblets, Gatsby Champagne COups, Chocolate Pouf, Adeline Dining CHairs, Cheval Gold Mirror Side Tables, Navy Rug, White 6 Tier Serving Tower, Bellamy Beige Linen Bench, Bennett Leather Sofa,
---
3

Nov

Southern Events Products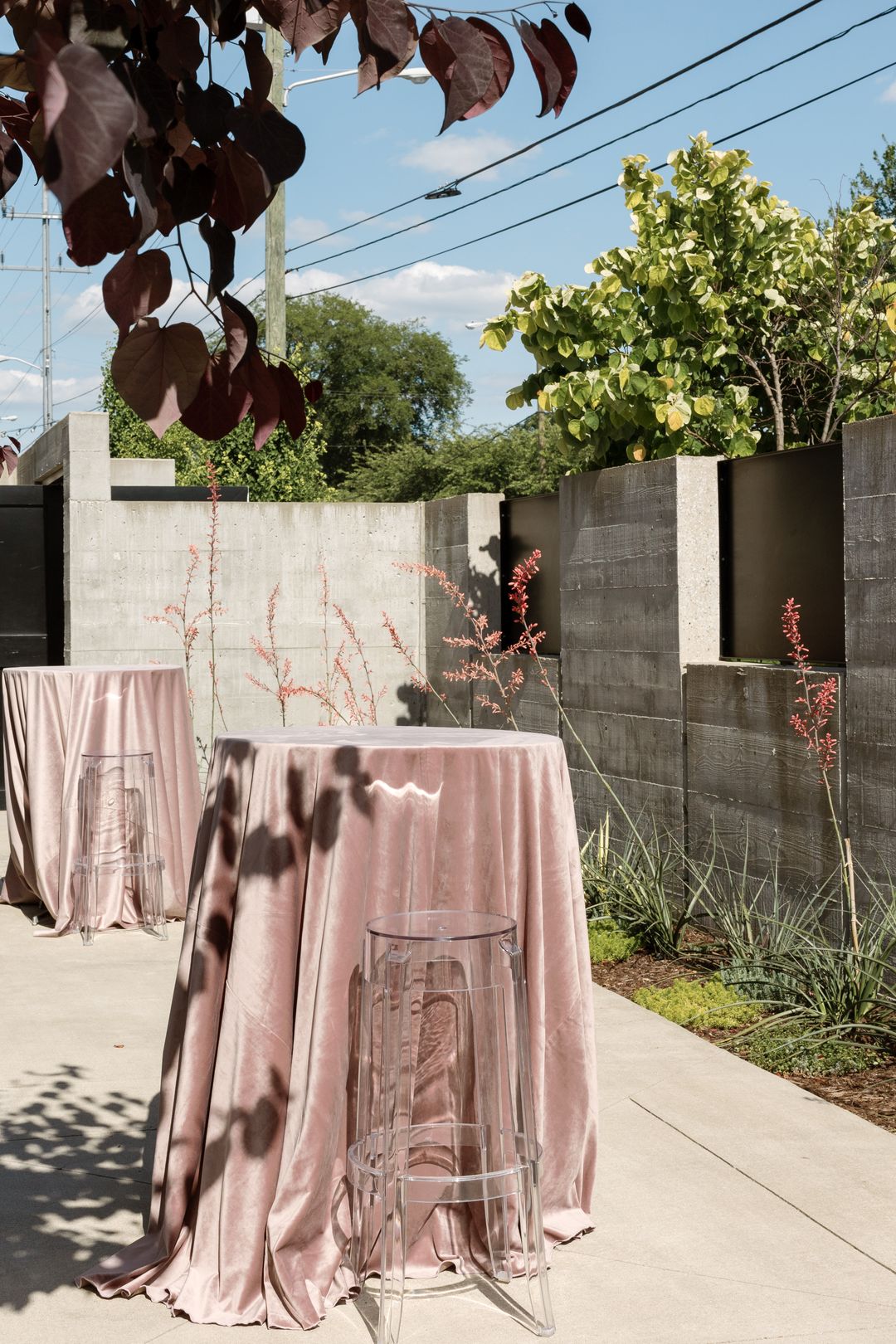 Cocktail hour on your wedding day. It's a fancy happy hour – with all of your closest family and friends. Along with planning your favorite signature drinks for your guests (and yummy hors d'oeuvres), you'll also want to create a comfortable space that's perfect for conversation. Cocktail hour is for moving around as your guests meet new people and connect with each other. With this in mind, barstools and cocktail tables are ideal when creating a setup fit for mingling! Take a look at our unique cocktail tables and bar stools that will complement your reception theme or venue.
Rustic Chic
Do you love farmhouse-inspired style? Our Farm Bistro Tables are a classic choice, available in two beautiful colors: White Wash and Fruitwood. If you prefer a more subdued rustic setup, you can top any of our classic bistro tables with luxe linens that will suit a woodsy setting. Forest Poly or Kennedy Natural will complement any rustic venue, as well as most urban backdrops. For a complete look, be sure to grab our Crossback Barstools.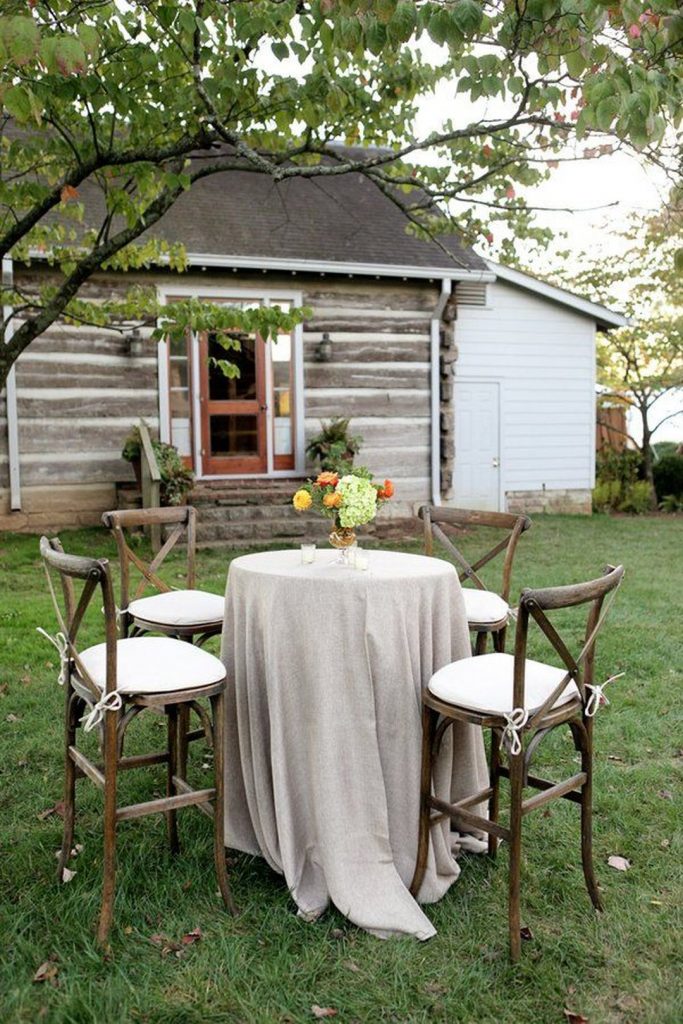 Modern Romantic
Bright colors and chic rentals are a must-have for a modern romantic celebration! Vibrant linen-dressed cocktail tables are an easy way to feature some color at the reception. And if you're into the clean lines of mid-century modern, our Mid-Century Barstools in Black or White will fit perfectly into your theme. Prefer a more luxe look? Our Charleston Bistro Table is an easy choice. It looks stunning with a set of popular Gold Chiavari Barstools.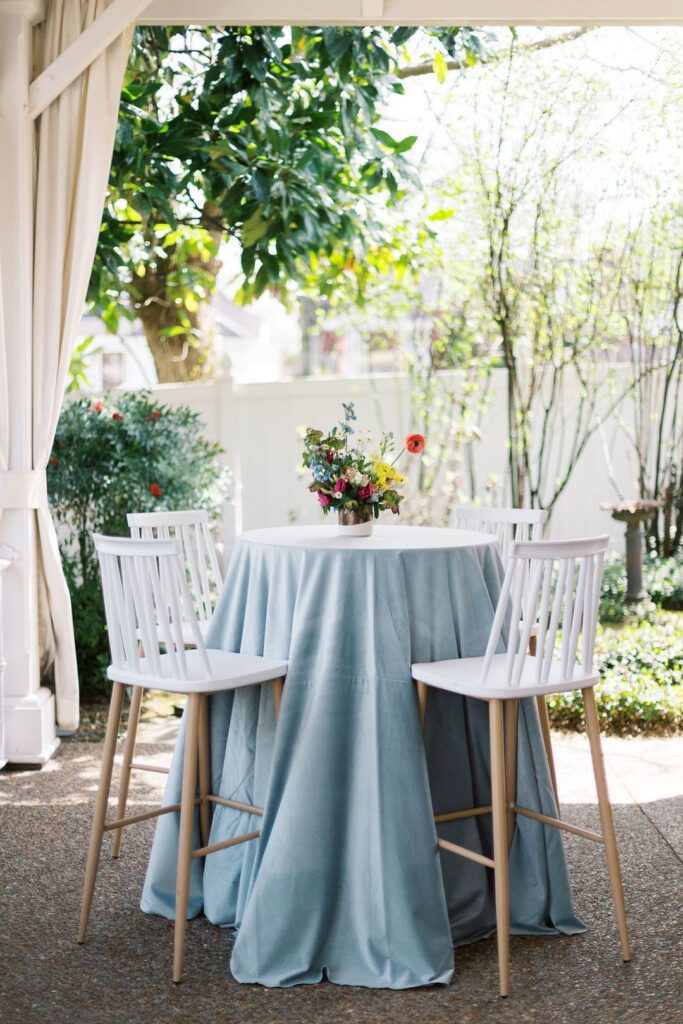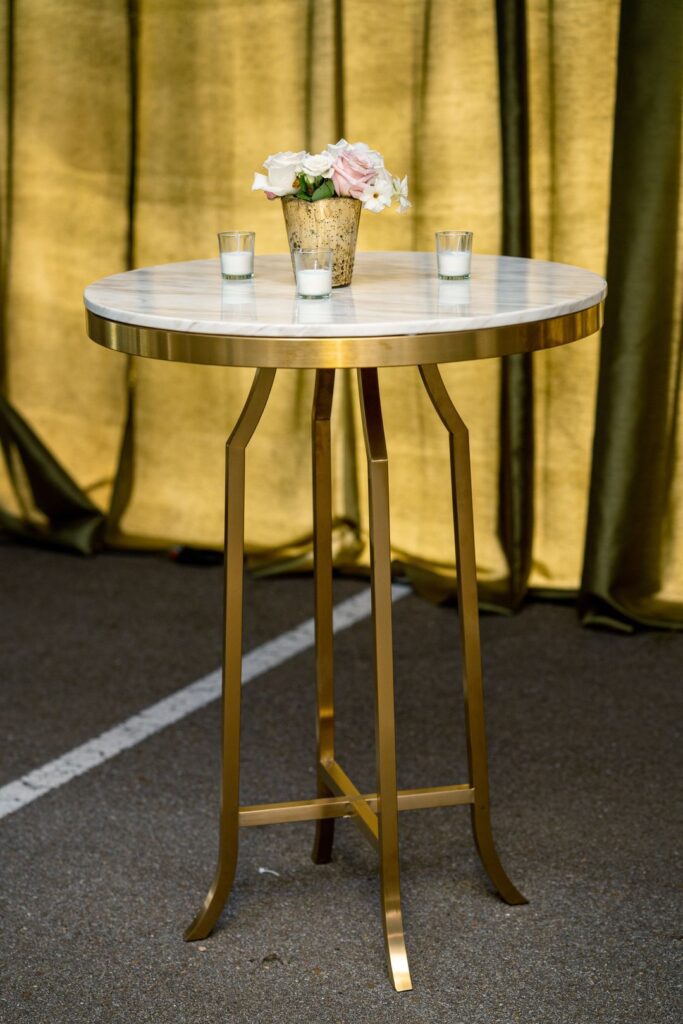 Modern Minimal
Going for a modern or minimal theme? Our Loren Gold Bistro Table and Acrylic Ghost Barstools are a darling pair, especially when set atop one of our vintage rugs. For a softer look, you might place a runner across the table, for that modern romantic look. Try a neutral color like Havana Ecru or Bloom Chiffon! To create an equally impressive but more traditional setup, opt for a simple bistro table outfitted in bold linens. Any color will look stunning with a pair of sleek Acrylic Casper Square Back Barstools – or any of our acrylic chairs for that matter.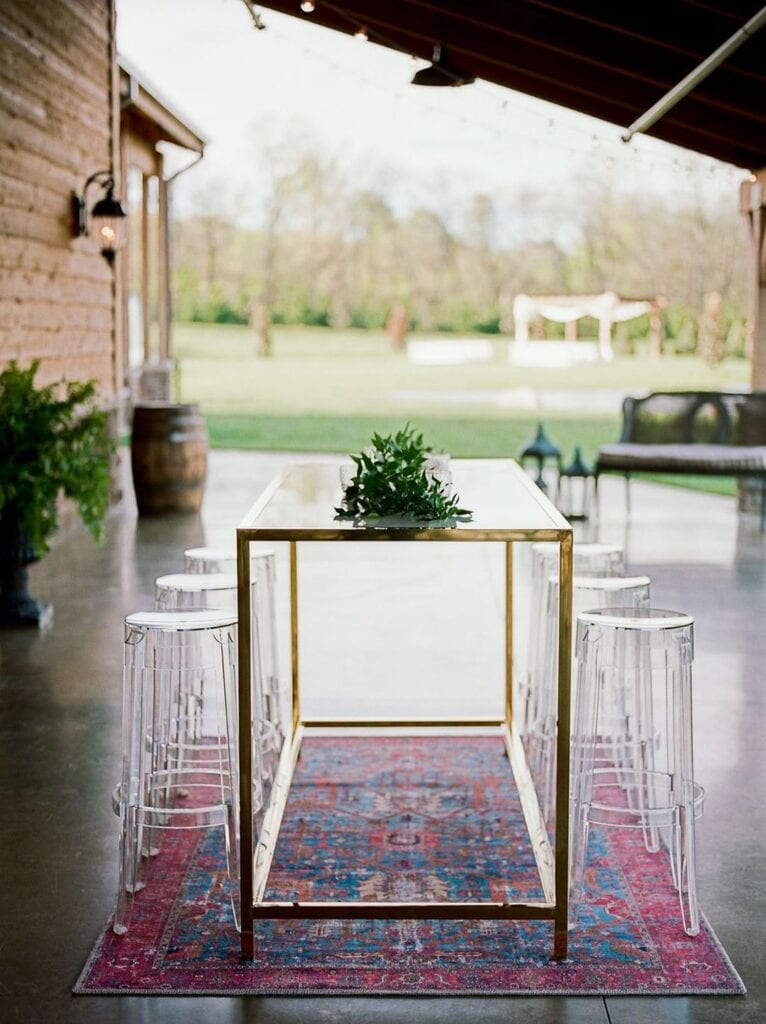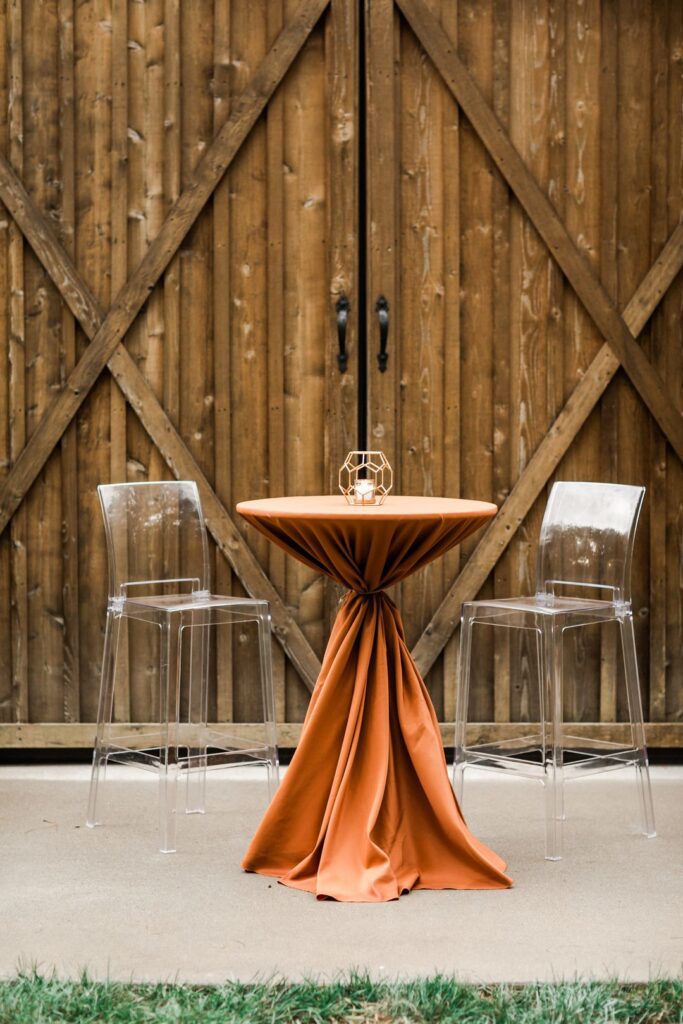 Cocktail Hour Essentials
A successful cocktail party requires some specific furnishings! Starting with a beautiful bar, where mixologists can whip up impressive beverages. To assist them in a stunning presentation, be sure to stock the bar with a selection of gorgeous, on-theme glassware. And maybe a display shelf or two! For a fun interactive element, you can't go wrong with our Boxwood Walls, complete with a champagne shelf and lots of bubbly.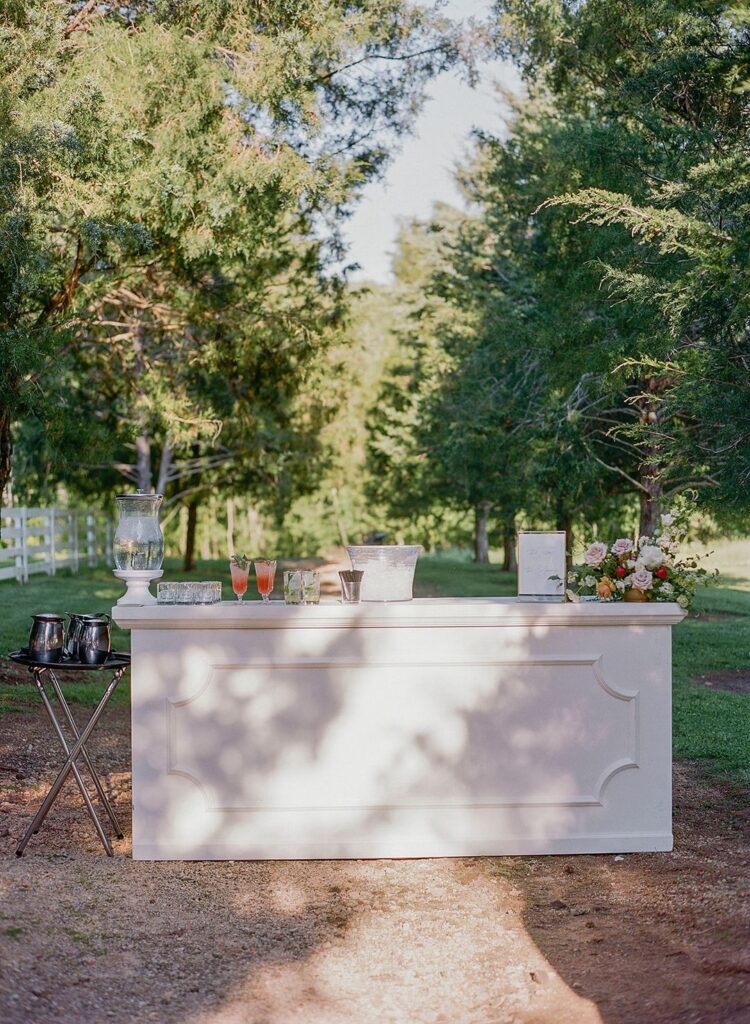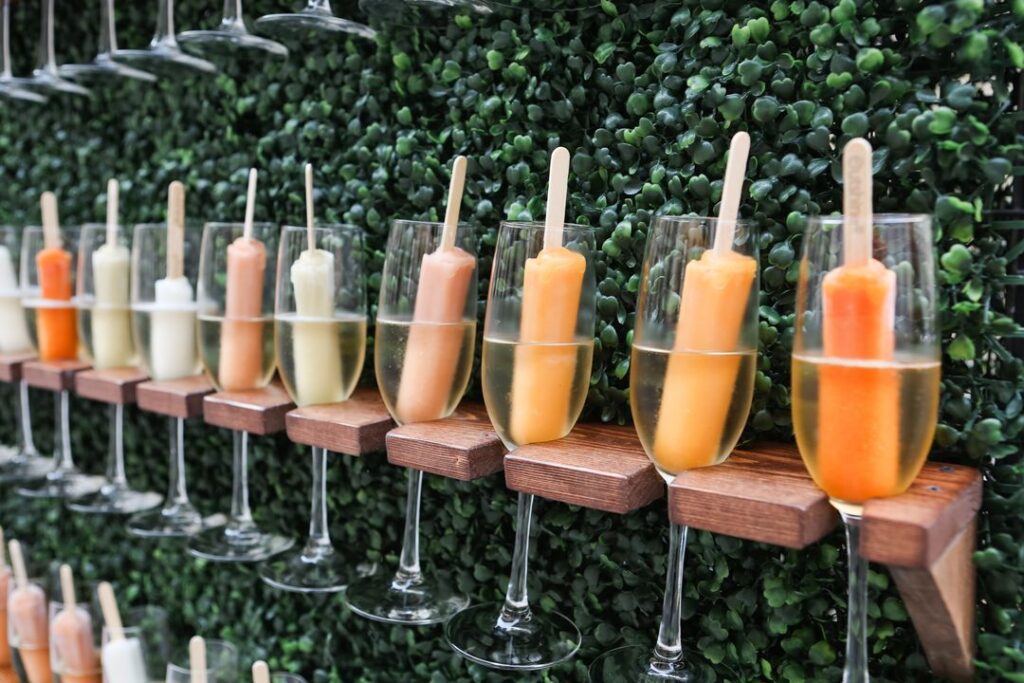 If you're ready to get started planning your upcoming cocktail hour, we'd love to help! Send us a message at info@southerneventsonline.com, or view our full range of wedding cocktail tables and barstools.
TAGS | Nashville Event Rentals, Nashville party rentals, Southern Events Party Rental, Unique Wedding Rentals, southern style events
FEATURED RENTALS | Loren Gold Bistro Table, Acrylic Ghost Barstools, Havana Ecru, Bloom Chiffon, Acrylic Casper Square Back Barstools, Mid Century Barstool, Charleston Bistro Table, Gold Chiavari Barstools, Farm Wood Table
---
20

Oct

On Trend, Southern Events Products, Trends and Inspiration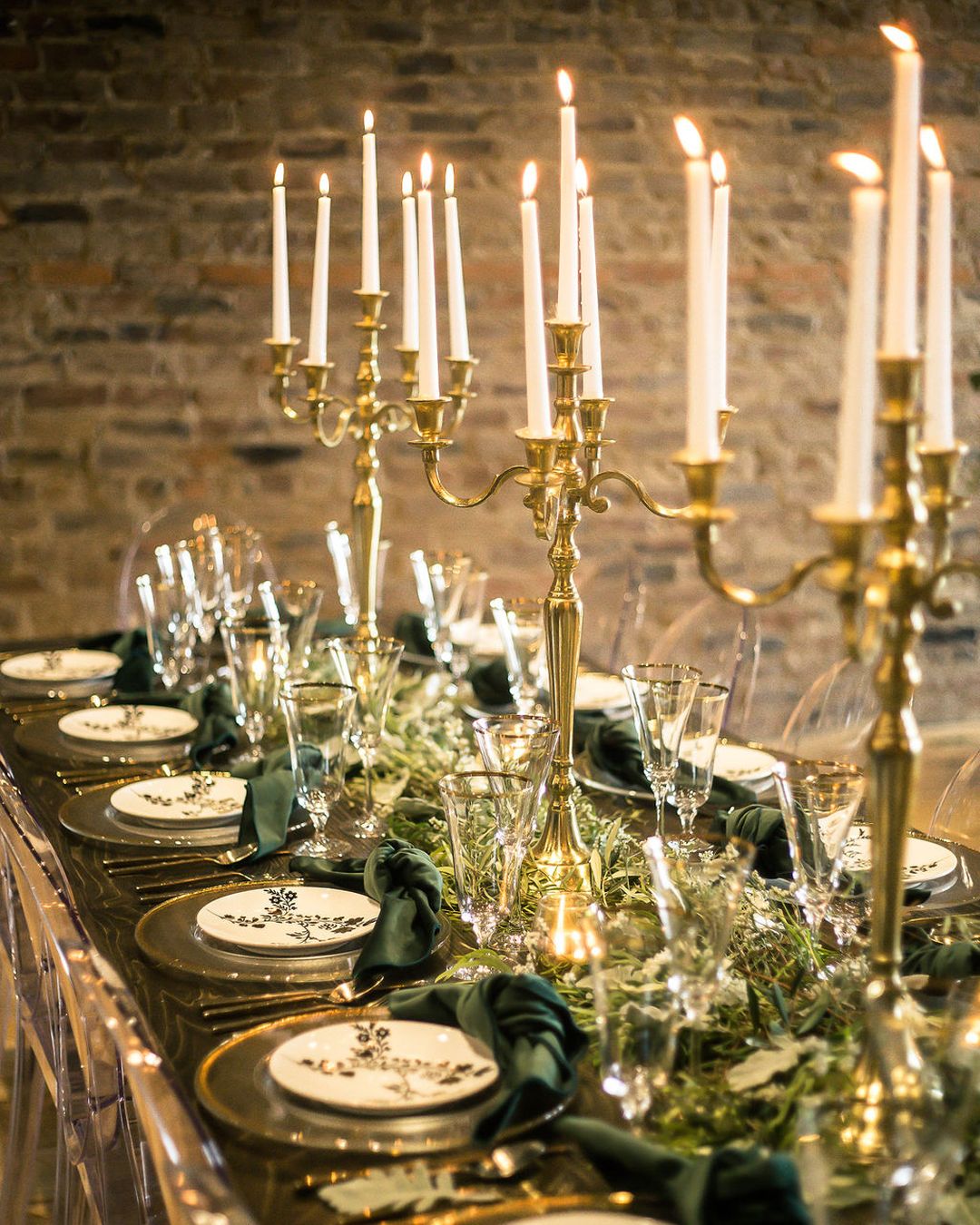 The holidays always come with a heavy dose of nostalgia, so why not carry this feeling over in your event design? Featuring a mix of the old and new, a modern vintage event is a beautiful balance. The perfect theme when you consider that we are celebrating both the end and beginning of yet another year. Check out our modern vintage rentals below and how they can be used to host a charming holiday party. For more help, take a look at our Holiday Party Planning Tips!
Luxe Linens in Every Shade
Linens are undoubtedly our favorite way to feature color at a holiday event. And for the holidays the options are endless! If you're looking for linens to complement your modern vintage rentals, consider those that feature a subtle pattern. Our Ivory Pearl Shalimar and Victoria Gold Luxe Linens ooze luxury and would complement any neutral-colored place setting. Meanwhile, a solid shade will look gorgeous with more intricate serving ware. Such as our Scarlet Red Velvet or Magnolia Green Velvet Linens. As always, don't forget napkins! Contrast a bold or patterned tablecloth with classic white or ivory napkins.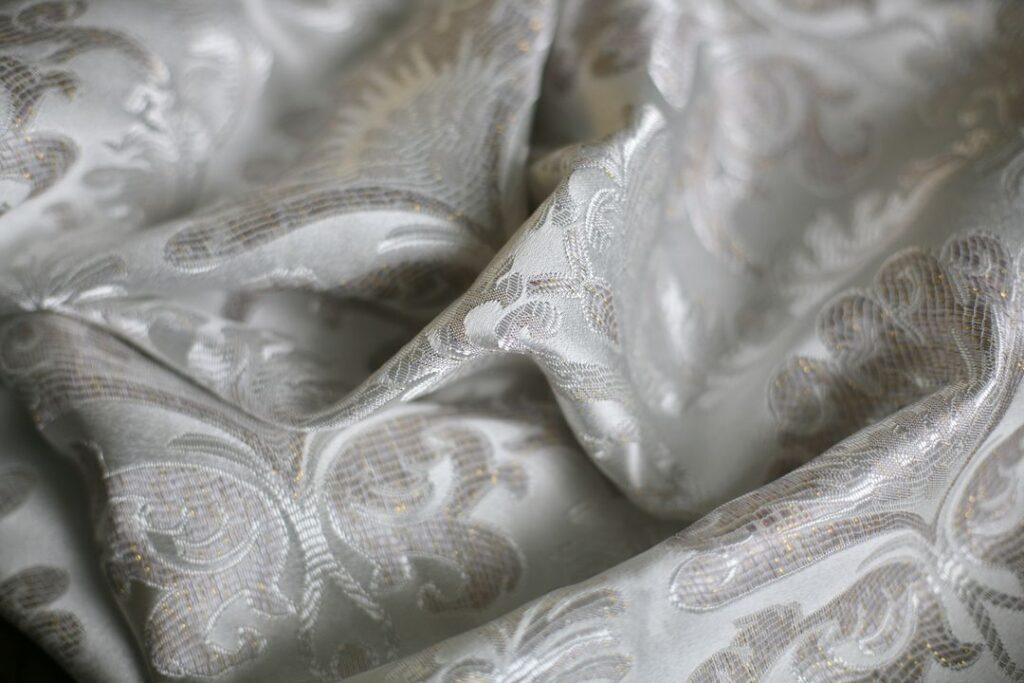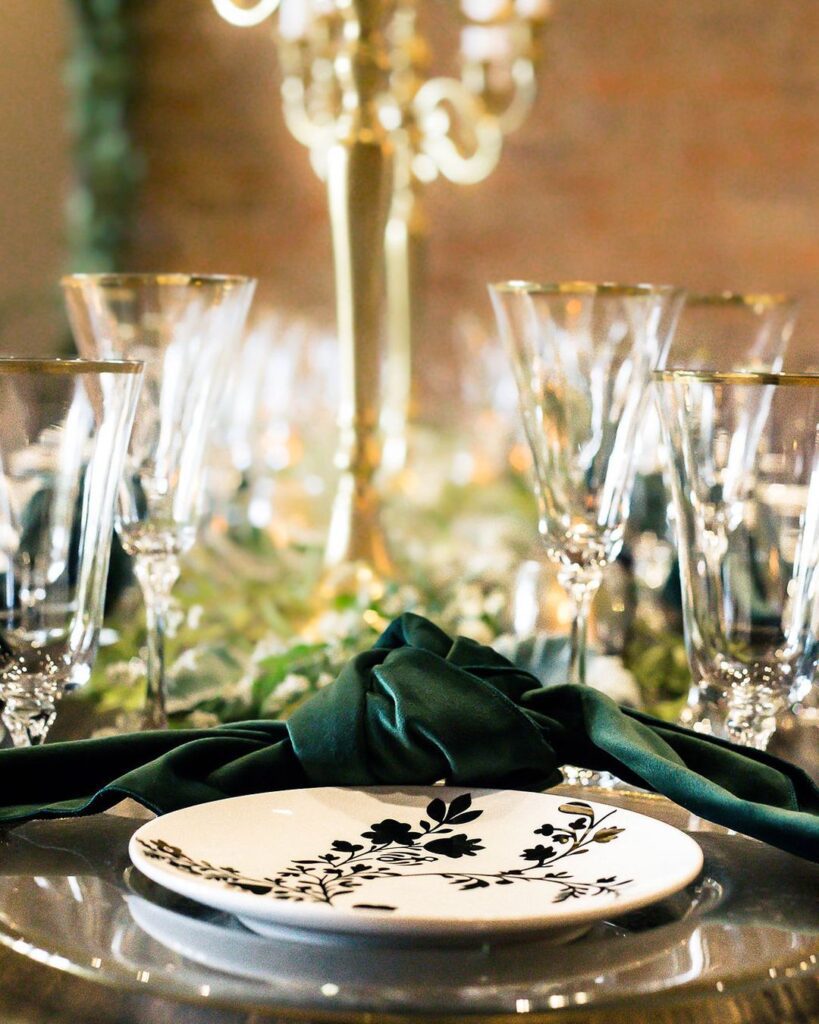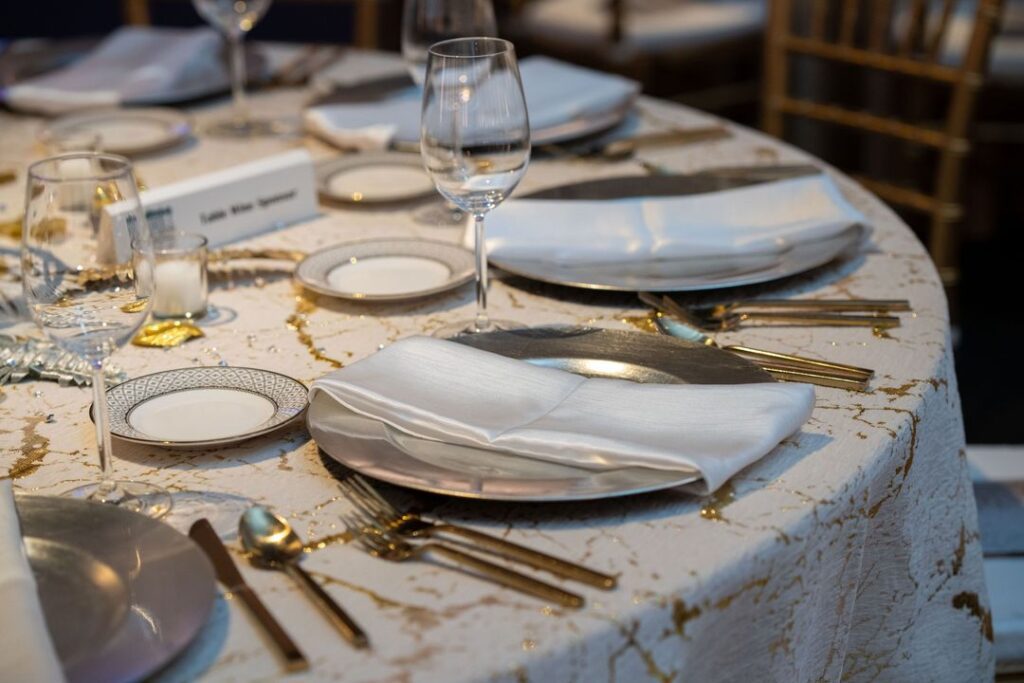 Vintage-Inspired Servingware
There is a charm to vintage-inspired serving ware that is perfect for the holidays! It lends a subtle sense of nostalgia that also happens to perfectly suit a modern vintage theme. Our inventory of servingware includes a range of pieces that can be used to create a stylish holiday tablescape. Either for a casual at-home soiree or for a formal corporate gathering.
To achieve this look you want to find a balance between simple pieces and those with ornate details. For example, pair plain White Round China with a Gold Rim Glass Charger and Abby Flatware. Or, feature a White Round Porcelain Charger with our ornate Ophelia China and modern Gold Austin Flatware. Choosing glassware is especially fun, with options like our Audrey Gold Rim, Monaco, and Pure Glassware.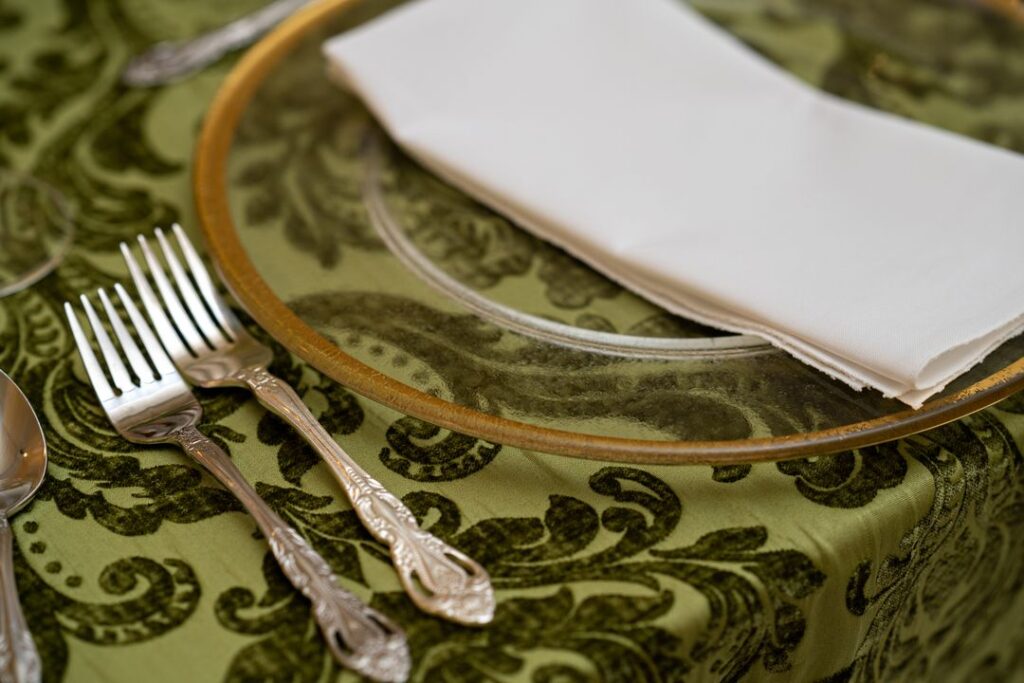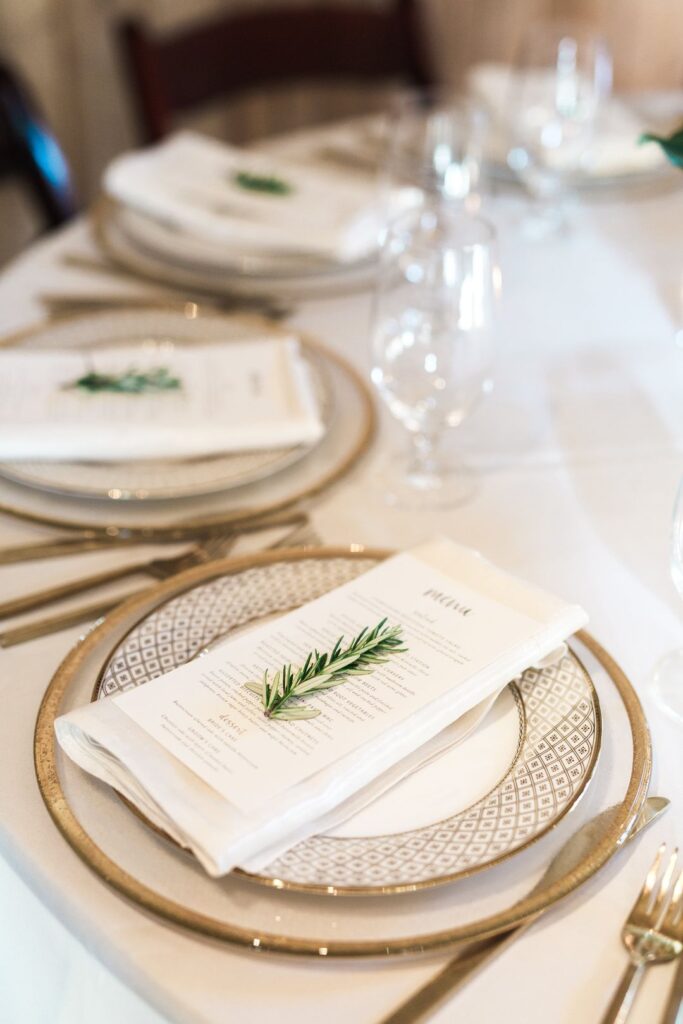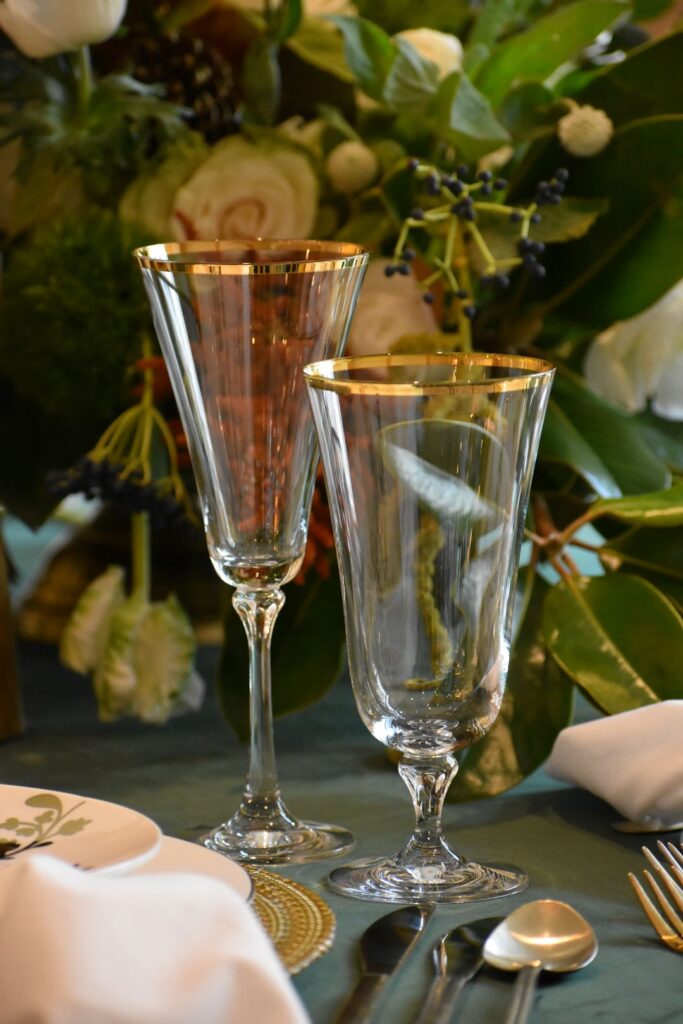 Cozy Holiday Lounge Areas
Lounging is what you do at holiday parties. Whether you're in a post-feast coma or simply need somewhere to sit and sip on a tasty seasonal cocktail. We have the perfect modern vintage rentals to create a stunning seating setup, whether you prefer a set of sofas or an armchair or two. Start with a rug featuring a vintage design to frame the space, adding a touch of warmth. Then choose your seating, such as our Fern Velvet and Bennett Leather Sofa. Either of these are stunning with our Bamboo Arm Chairs or White Eiffel Arm Chairs. Finish the look with a set of Gold Hammered Coffee Tables, where guests can set their drinks and appetizers.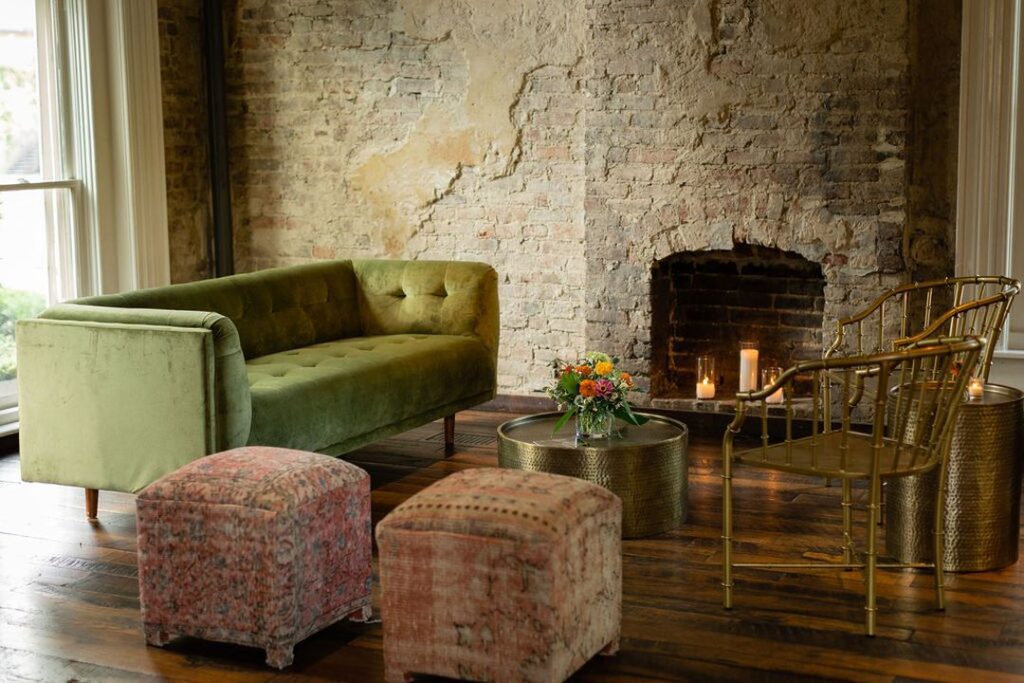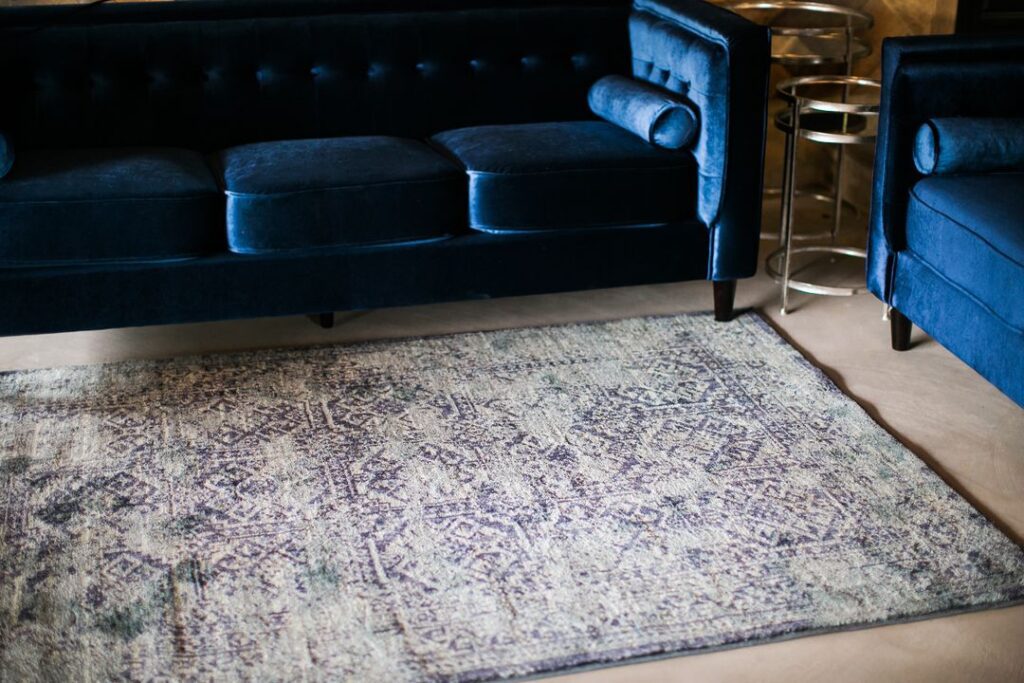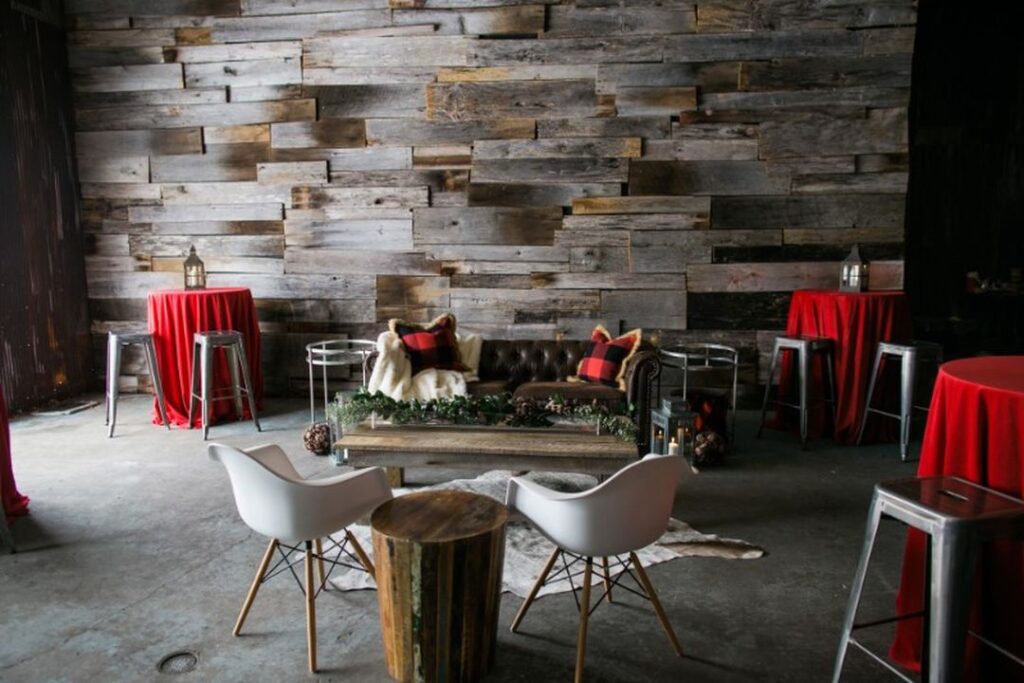 Want to feature these modern vintage rentals at your holiday party in Nashville? Send our team a message at info@southerneventsonline.com for help selecting the perfect pieces for your gathering, big or small!
TAGS | Holiday Parties, Holiday Party Ideas, Nashville Holiday Parties, Southern Events Party Rental, holiday tablescape, modern vintage rentals
FEATURED RENTALS | White Round CHina, Gold Rim Glass Charger, Abby Flatware, White Round Porcelain Charger, Ophelia China, Gold Austin Flatware, Ivory Pearl Shalimar, Victoria Gold Luxe Linens, Scarlet Red Velvet, Magnolia Gren Velvet Linens, napkins, audrey gold rim glassware, vintage rug, bamboo arm chair, white eiffel arm chair, gold hammered coffee table, monaco glassware, pure glassware,
---
6

Oct

Southern Events Products, Trends and Inspiration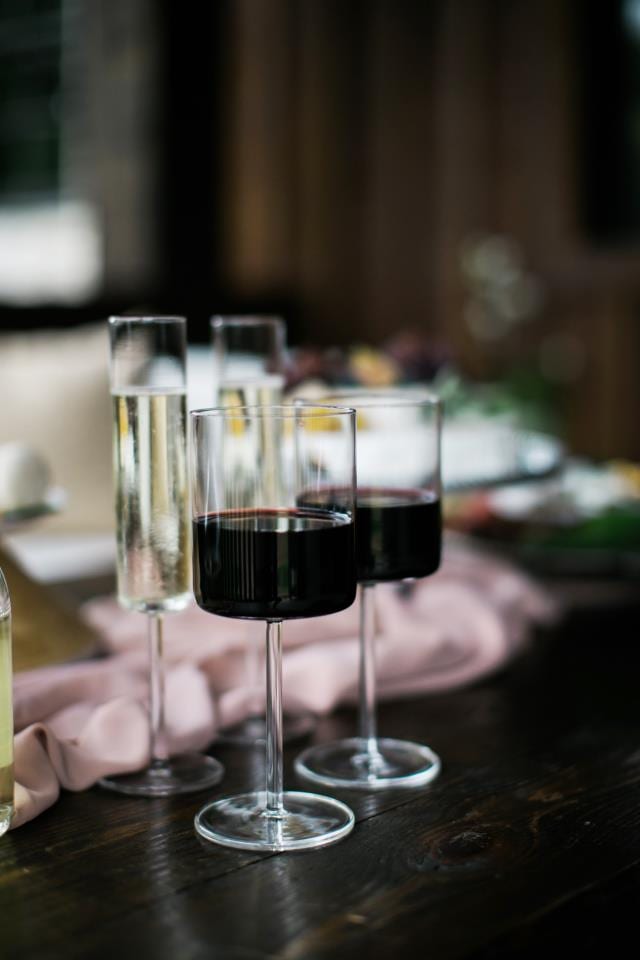 The key to throwing a successful holiday party (and not throwing your sanity out of the window) is proper preparation. If you've ever hosted a holiday party before, you understand how chaotic planning can be. Even then, you may still feel like you're scrambling trying to get things done at the last minute. This is why we want to treat you to a stress-free holiday party planning experience. Whether you're hosting an intimate holiday dinner at home or a large formal gala! Check out our tips below on holiday party must-haves, featuring our stylish rentals. Plus, grab our Holiday Party Checklist that will make it easy to execute a jolly affair!
On-Trend Holiday Office Party
Hosting a holiday party at the office can be limiting, but that doesn't mean it should be boring. Start by adding some color to the office with festive linens in a brilliant Heritage Cranberry or deep Magnolia Green. If you're serving food, even just appetizers, pass on the paper plates and opt for Gold Accent China paired with matching Gold Austin Flatware. Finally, serve up a DIY Hot Cocoa or Coffee Bar (don't forget the Baileys!), with our hot beverage dispensers. Alternatively, treat your team to a casual cocktail hour featuring a formal bar and a menu of seasonal cocktails in fancy glassware!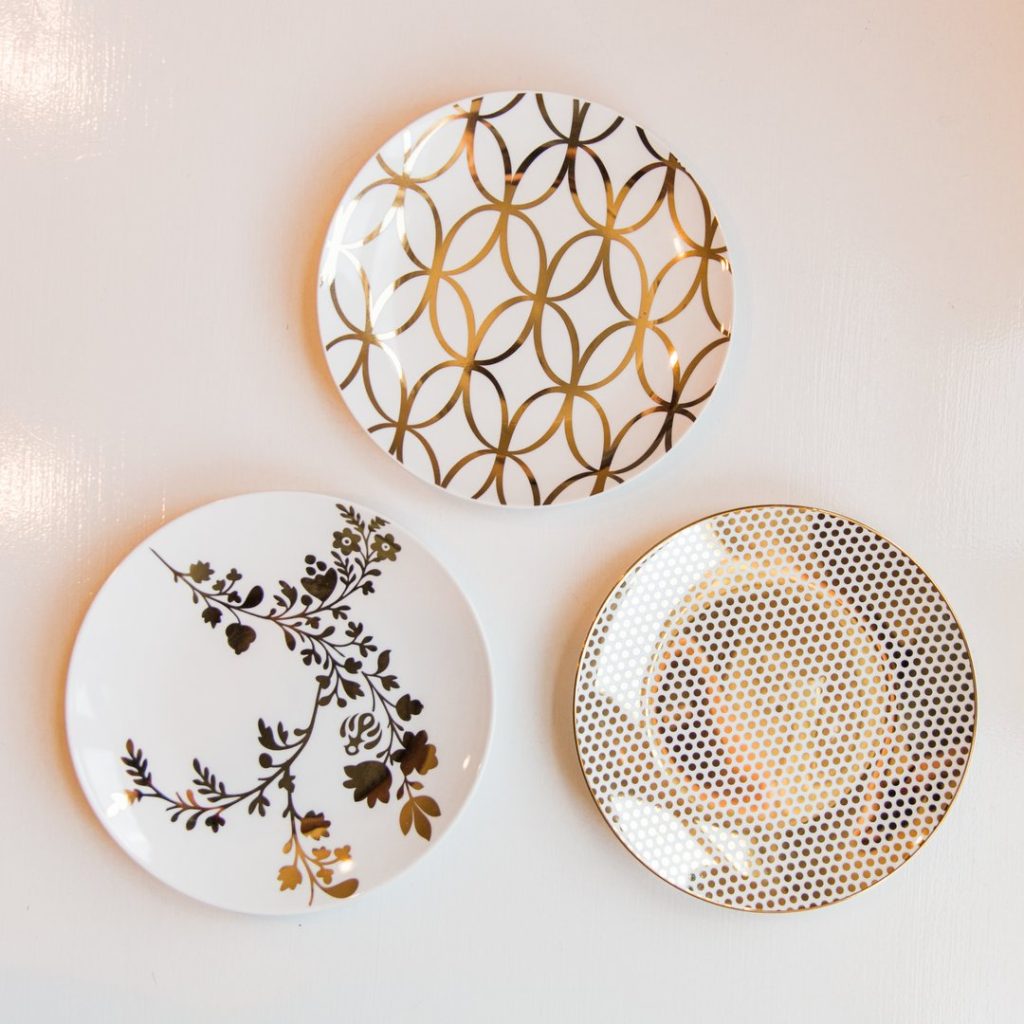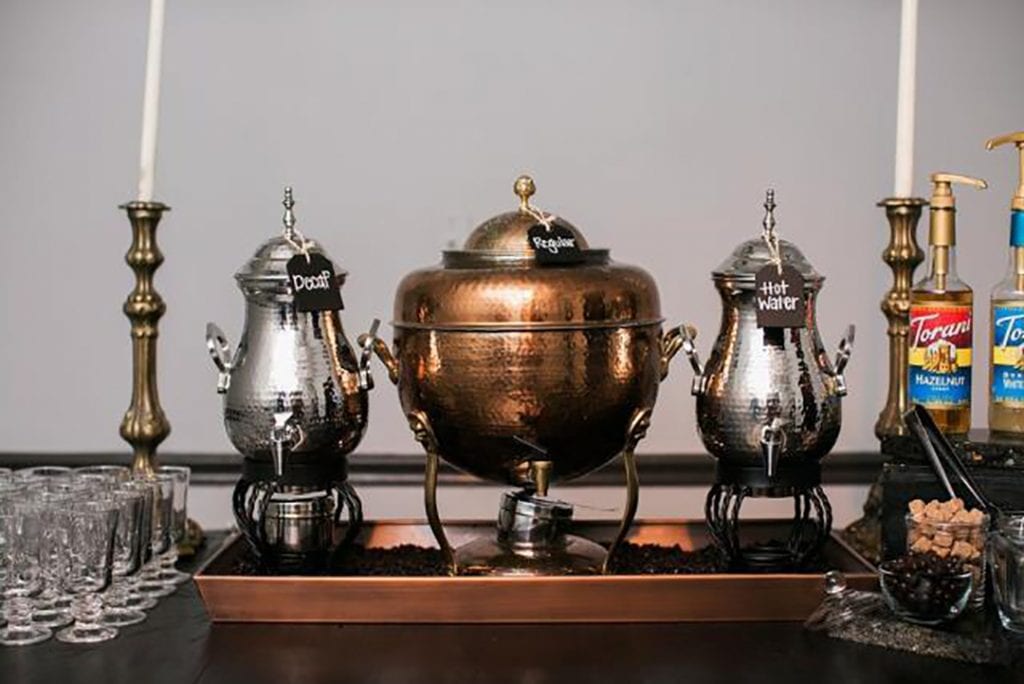 Casual Holiday Luncheon
When hosting a holiday luncheon, chances are you'll be inviting co-workers, peers, and people you may want to network with. That's why you'll want the event to feel approachable, yet still have a formal holiday vibe. In order to achieve this, you'll want to have coordinating linens such as our Champagne Sequin Linen, Chafing Dishes, and Copper Beverage Service Equipment – to give your holiday party a festive feel. To make sure guests feel welcome and encouraged to mingle, we also recommend a stylish lounge. Our Fern Velvet Sofa and Bamboo Arm Chairs are a chic set!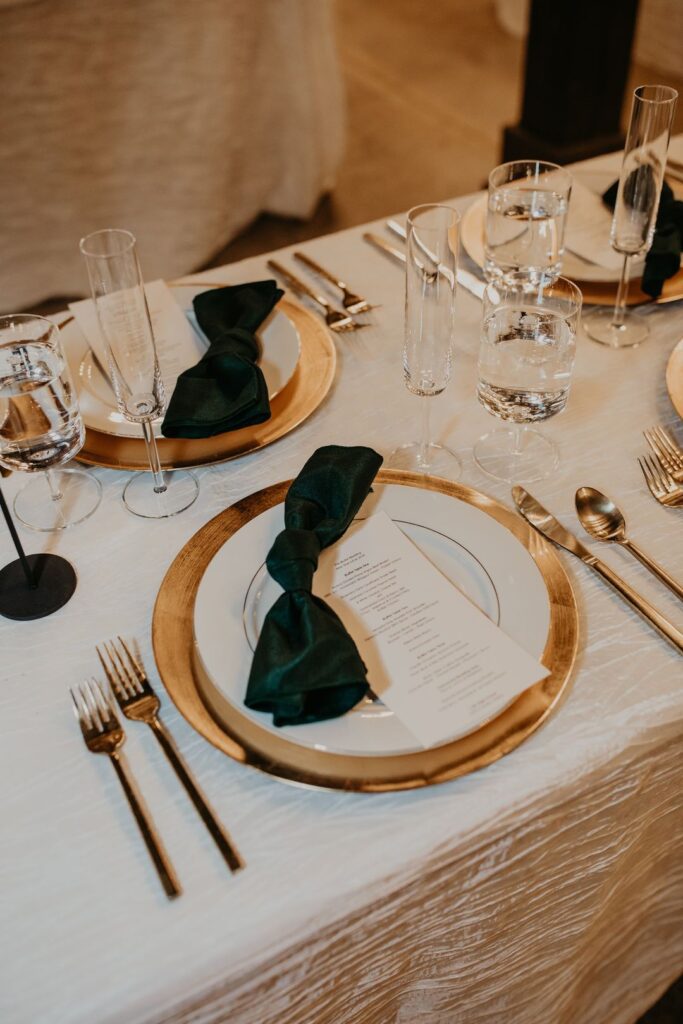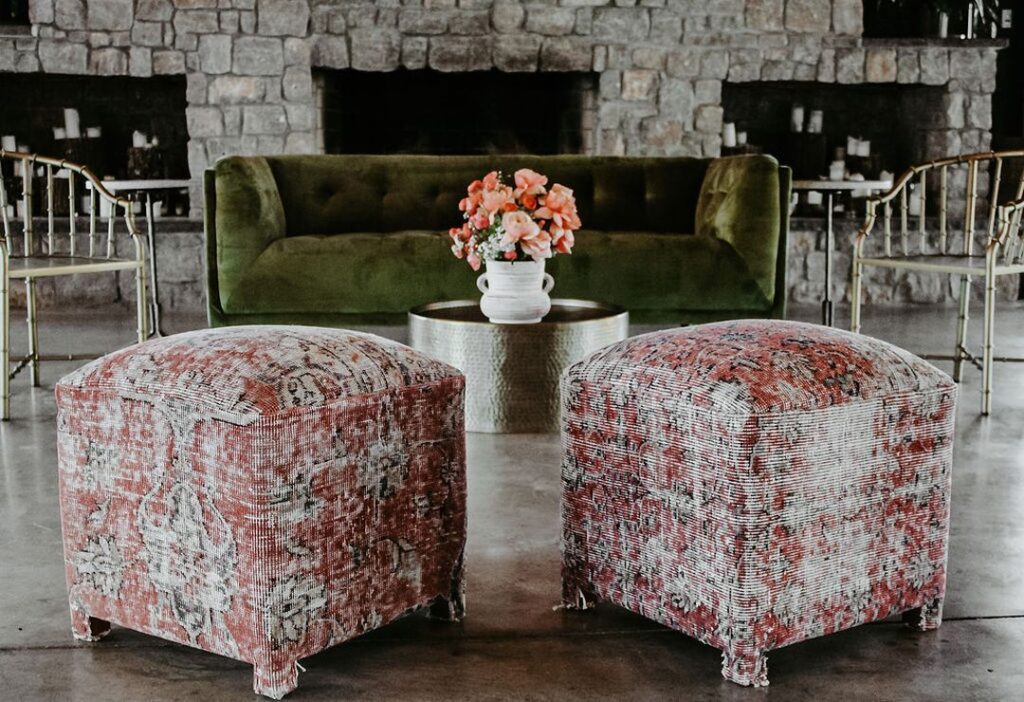 Feast at a Festive Gala
The holidays are a great time to celebrate in a big way and a grand gala is just the way to thank VIP clients or your team for all they contribute to your company's success. If you're hosting a large formal company holiday party, there are a few items you'll want to make sure you include. A red carpet entrance area sets the scene, as do our Boxwood Walls – emblazoned with your company logo or festival holiday decor. Cocktail and bistro tables are a must for mingling and should be decked out with luxe linens, say Etched Velvet or a shimmery Satin. Then there is the bar, where guests can enjoy their favorite seasonal drinks, from a Hot Toddy to spiked cocoa. We also recommend having formal place settings with china, chargers, and plenty of glassware for toasting the year past and ahead.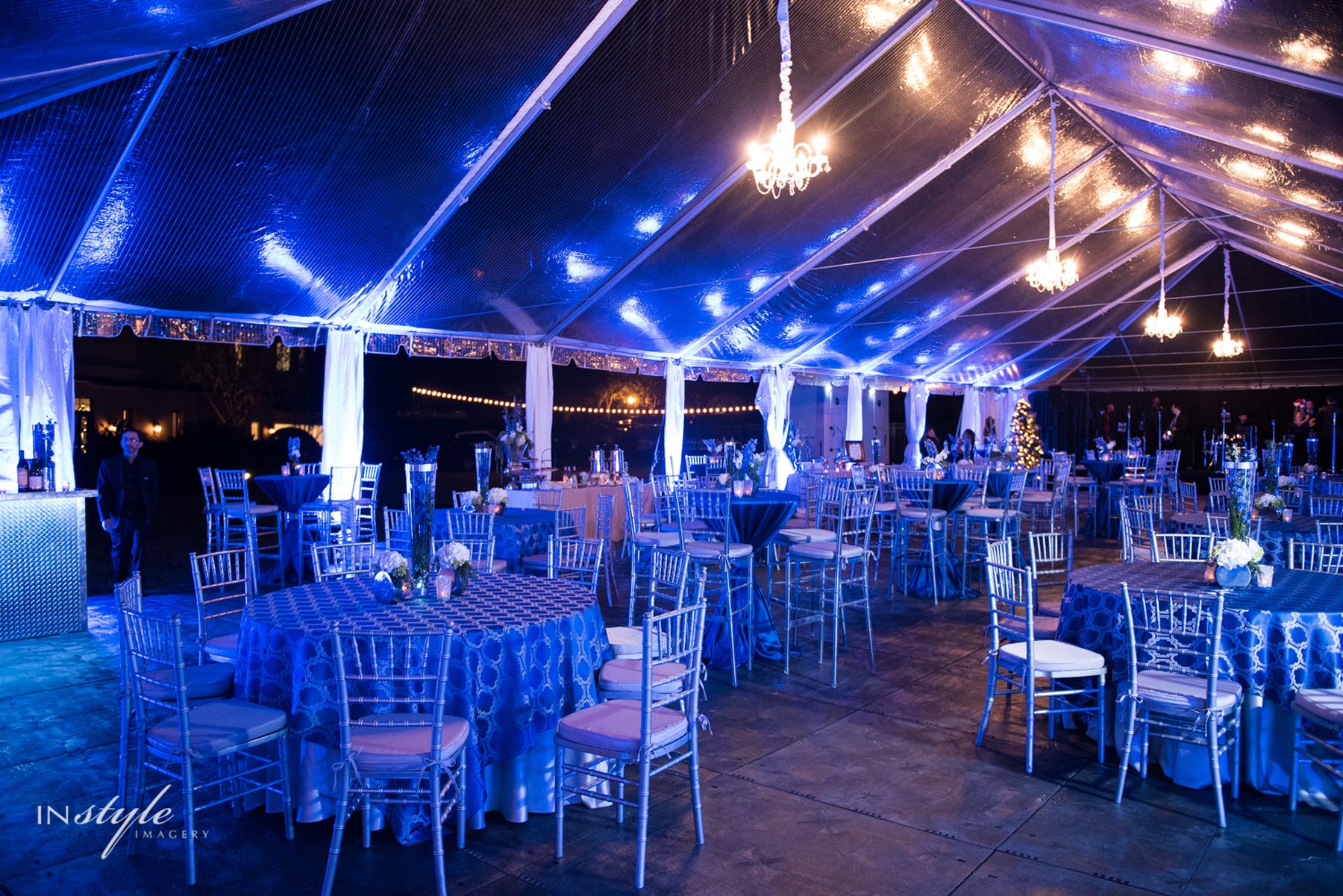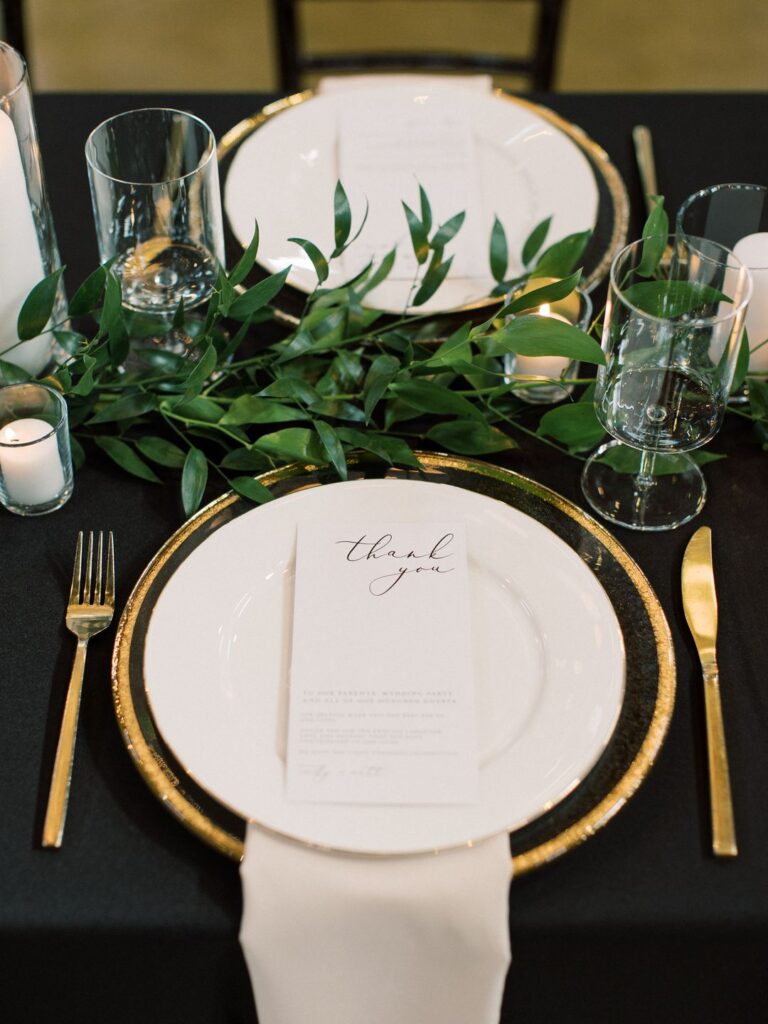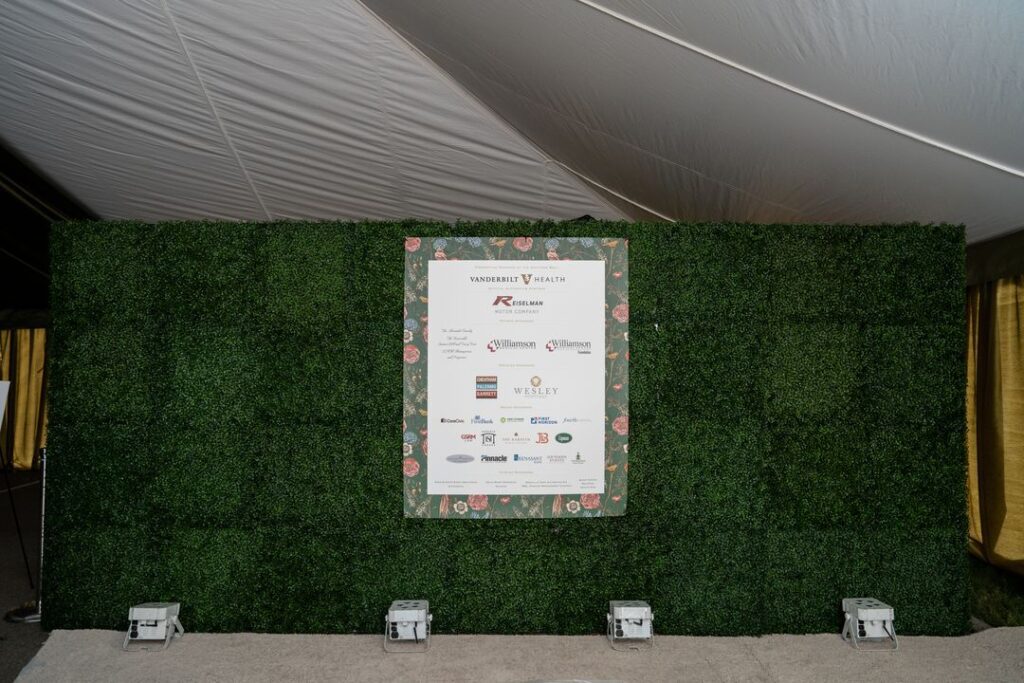 At-Home Holiday Soriee
Cozy home holiday parties are a wonderful and intimate way to share seasonal good tidings with family and friends. But these gatherings can stretch the limits of anyone's kitchen! Whether you need extra plates or forks, serving dishes and platters, or flutes for toasting, we have it all. We even offer a selection of curated rentals, Styled by Southern, packed with all the essentials for creating a stylish holiday tablescape – like the ice-inspired Silver Soiree! We can also elevate your seating, with our Adeline or Harlin Dining Chairs. For an extra luxe look, create an elegant drink display using our rolling Gold Bar Cart. As always, we're glad to schedule a delivery or pick-up at our Franklin warehouse.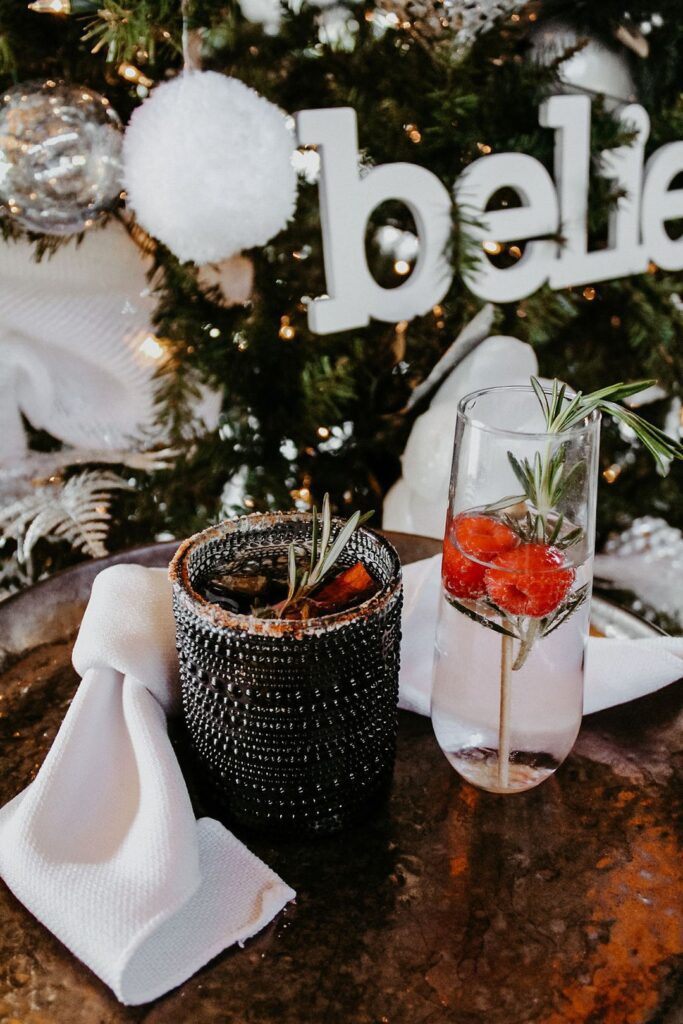 If you're hosting a holiday party, we'd love to help! Send us a message at info@southerneventsonline.com for assistance designing a seasonal get-together, big or small, that will have your guests in awe.
TAGS | Company Holiday Party, Holiday Party Ideas, Nashville Event Rentals, Southern Events Party Rental, holiday decor, holiday party, holiday party rentals, holiday tablescape, holiday tips, servingware
FEATURED RENTALS | Fern Velvet Sofa, Bamboo Arm Chairs, Chafing Dishes, Boxwood Walls, bistro tables, etched Velvet linens, satin linens, bars, holiday boxes, adeline dining chairs, harlin dining chairs, gold bar cart, Heritage Cranberry linens, magnolia green velvet linens, gold austin flatware, beverage dispensers,
---
29

Sep

Nashville Venues, Southern Events Products, Trends and Inspiration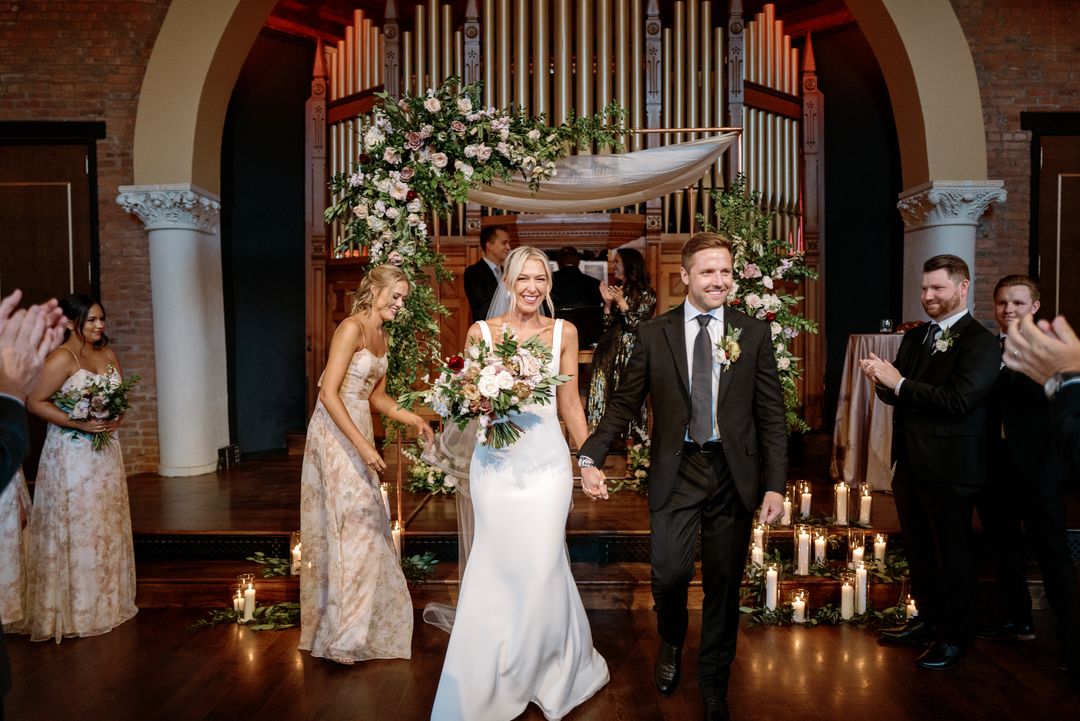 There is a certain charm to spaces where old meets new. And this style is particularly popular in Downtown Nashville, where event venues are rich with history and the original architecture is celebrated. As is the case with The Clementine! A spacious event hall, it was redesigned and rebuilt in 2018. Despite the recent renovations, however, its design remains true to its origins. Urban yet elegant, it is a versatile space in which couples can pull off the celebration of their dreams. To help you determine whether this venue aligns with your vision, we're sharing a few ideas for hosting a wedding at The Clementine, featuring our trendy event rentals.
Say "I Do" at Adelaide Hall
An original 1889 church sanctuary, Adelaide Hall is the largest of Clementine's spaces. Soaring wood beam ceilings, brick walls, hickory floors, massive mid-century chandeliers, and blown glass and steel gothic windows make a statement in this stunning space. Their famous pipe organ is perfect for a sweet ceremony. Decorate the stage with florals or a Wrought Iron Arch in front of the organ. Or use our Chuppah with drapery to soften the space. For ceremony seating, our classic Black Fruitwood Folding Chairs will offer some contrast. While our Davis Glass Cylinders will add a touch of modern elegance to the aisle. Alternatively, feature our Acrylic Ghost Armless Chairs and layered vintage or cowhide rugs to create a chic contemporary look.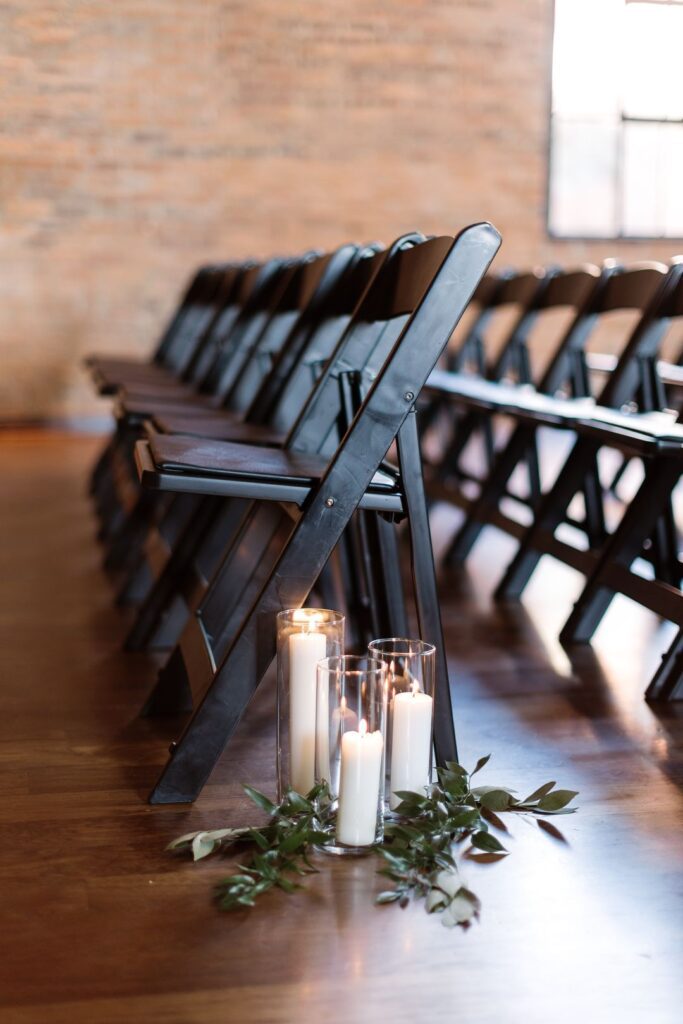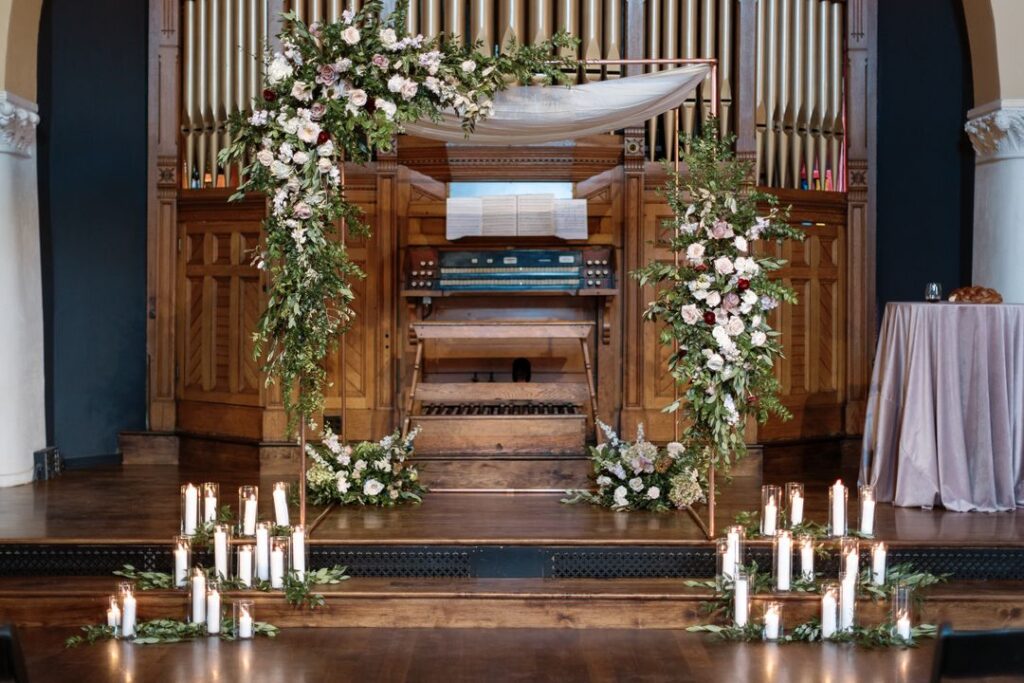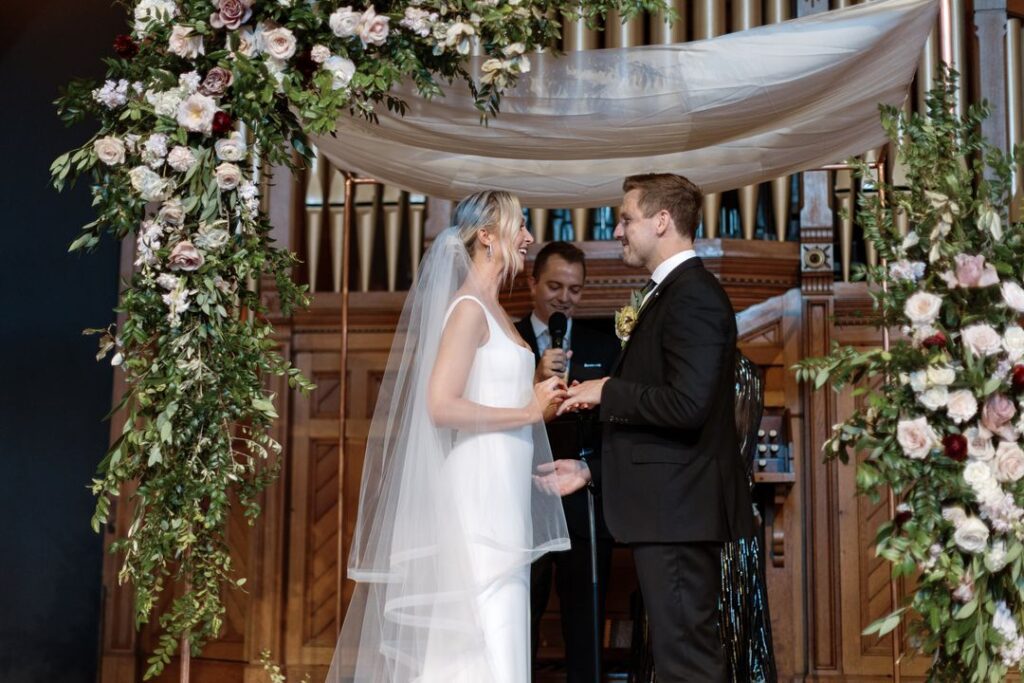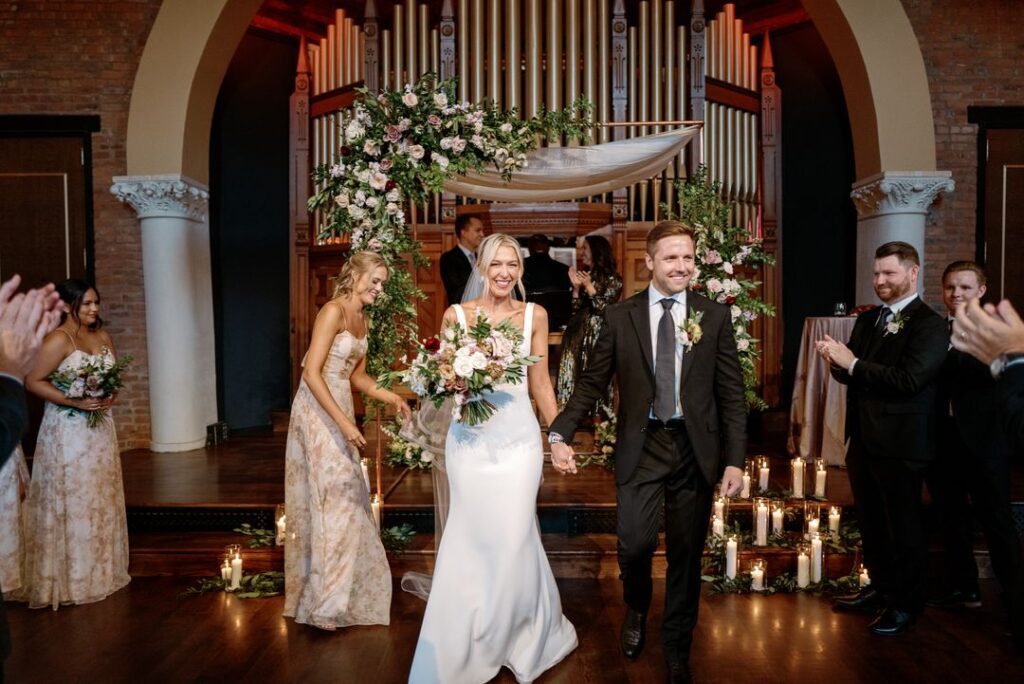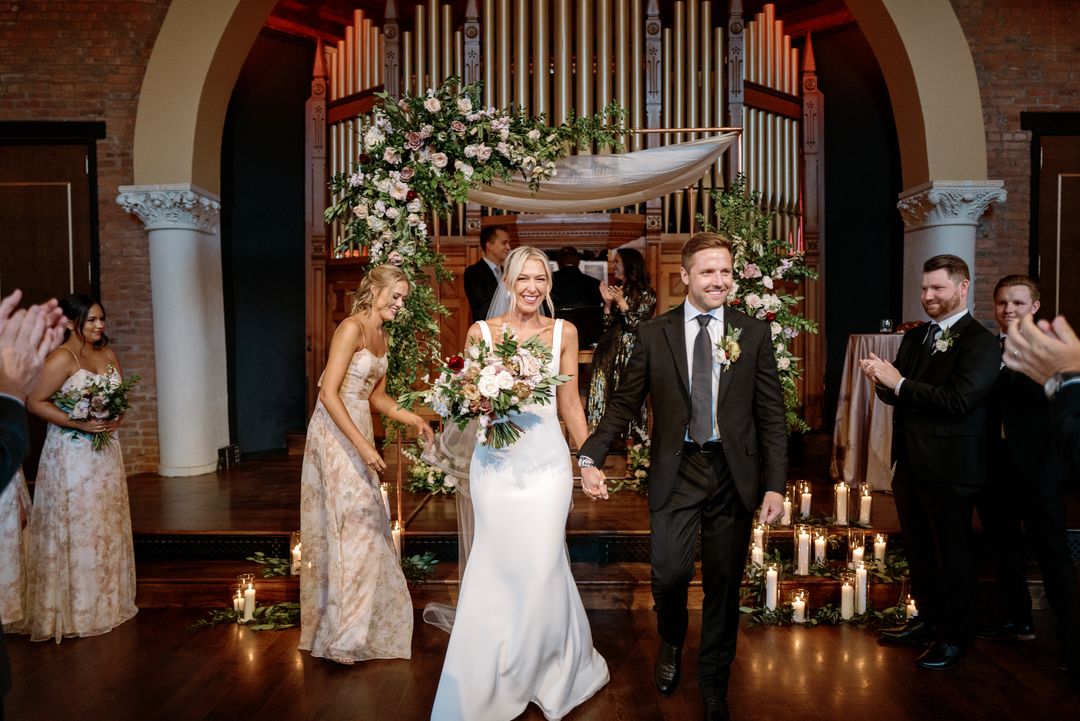 Host an Elegant Urban Reception
Following a ceremony, Adelaide Hall can be quickly flipped for an equally elegant reception. The urban event space is a gorgeous backdrop for a seated dinner. Whether you prefer to feature our round or rectangle Farm Wood Tables. Here you can pull off a timeless neutral palette, to complement the warm-toned walls and floors. Or, incorporate fun pops of color, via luxe linens and stylish serving ware.
At 2,400 square feet, there is plenty of space for catering and white dance floor (with your monogram, of course!). Unless you'd prefer to let the natural wood floors shine! In addition to the beautiful pipe organ, other key areas are the venue's two stages. Each feature concert-quality audio, video, and decorative LED lighting round things out. Making Clementine an ideal wedding venue if you have plans for live entertainment or a band.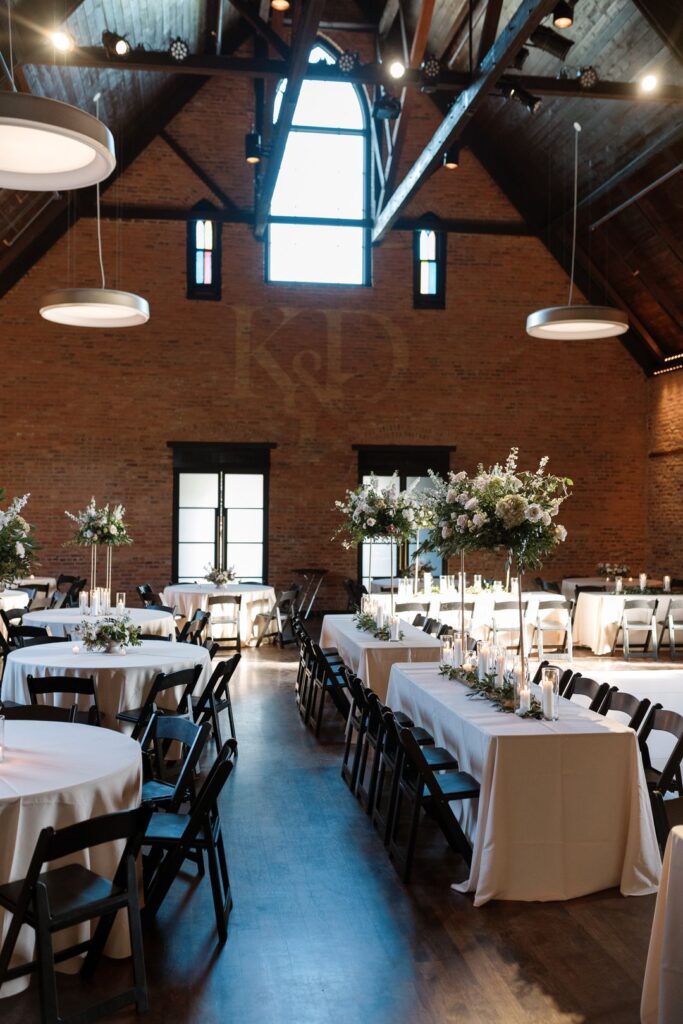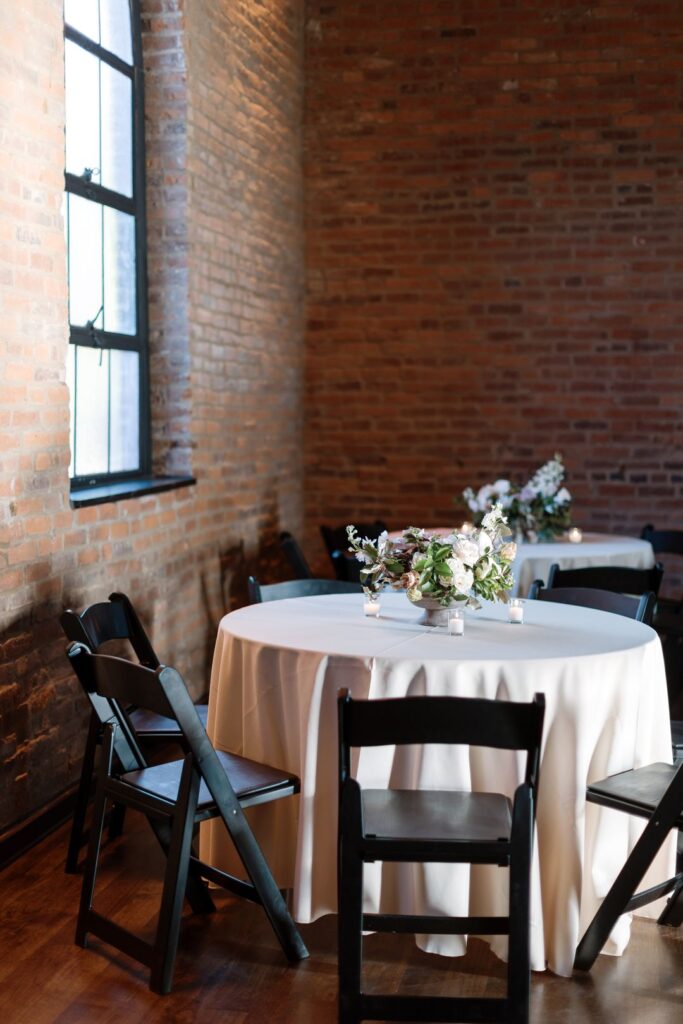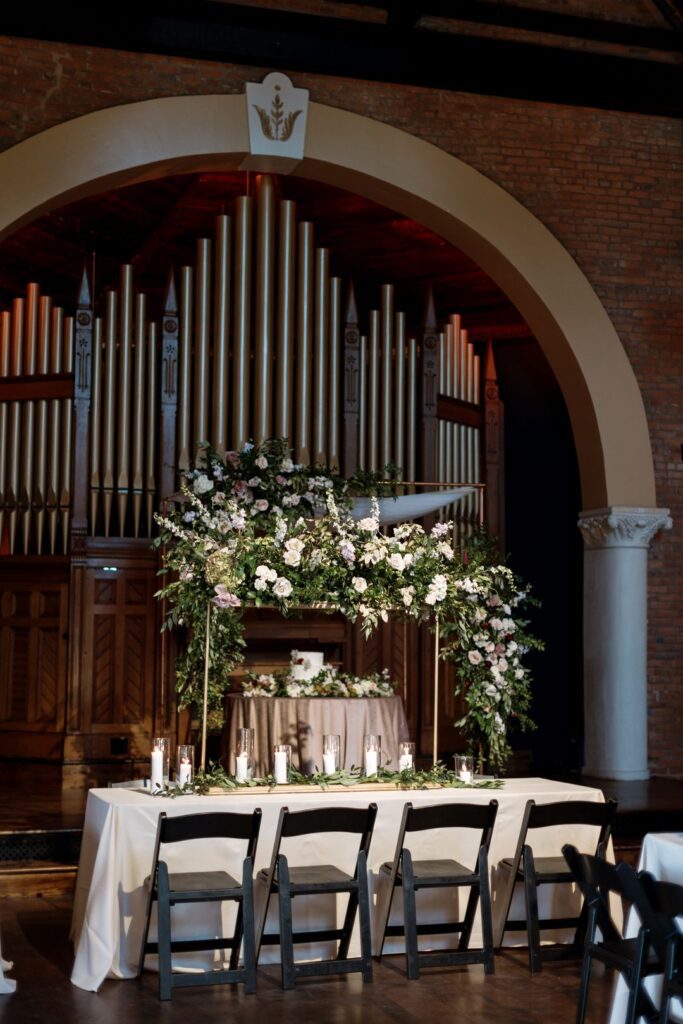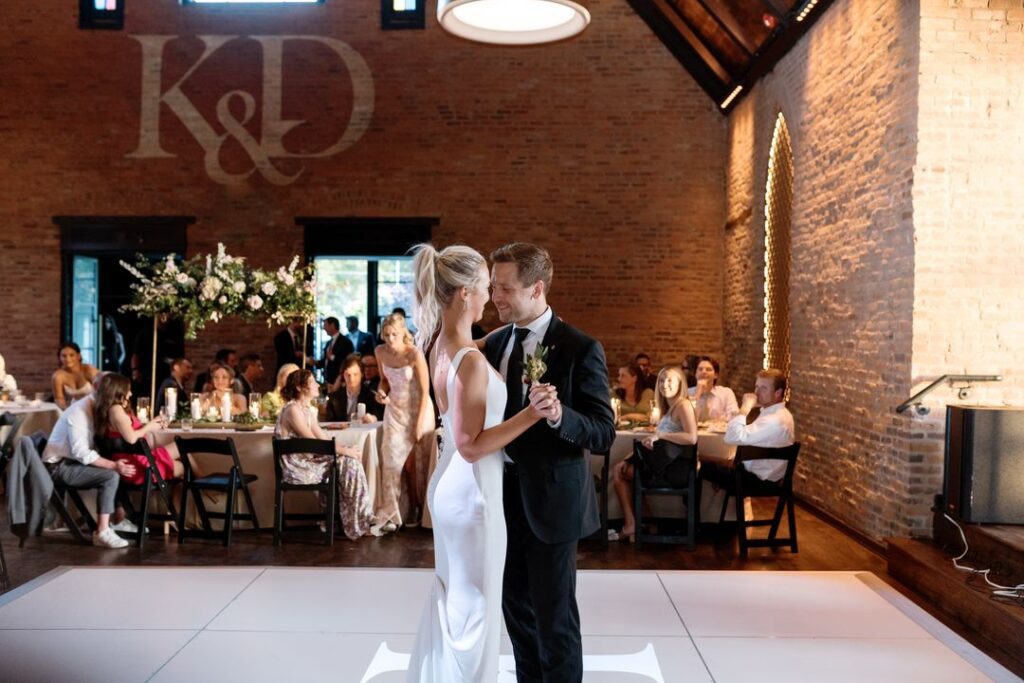 An Intimate Cocktail Hour
What's better than a venue with a dedicated social space? The Little Bird Lounge features built-in bistro tables and an elegant 20-foot marble bar. Perfect for a casual cocktail hour! An irregularly shaped room with original brickwork and arched windows, it's a memorable backdrop for a wedding lounge. More specifically, the Pearce Lounge Furniture — a modular sofa easily manipulated to fit within any space. It pairs beautifully with our Gold Hammered Coffee Table.
When the weather is nice, take advantage of their Brash Courtyard, easily accessed through the lounge. Outfit the concrete-walled patio with trendy bistro tables and chairs. Such as our Acrylic Casper Square Back Barstool or Mid Century White Barstool. For an extra luxe look, be sure to grab a set of our Velvet Linens! They look especially charming during the fall, when the surrounding foliage is at its peak.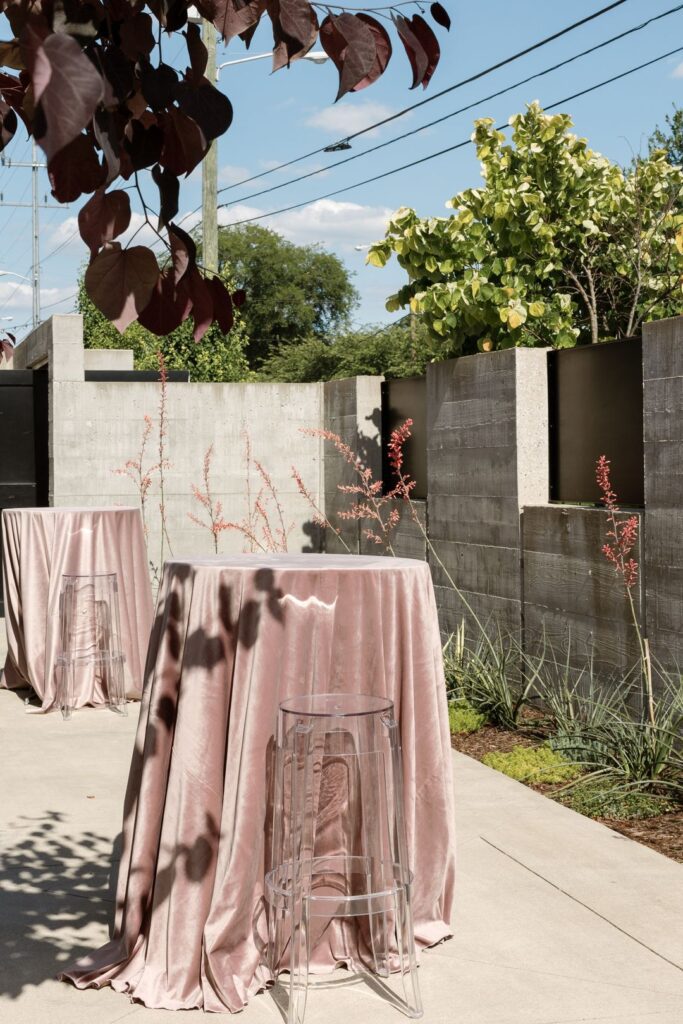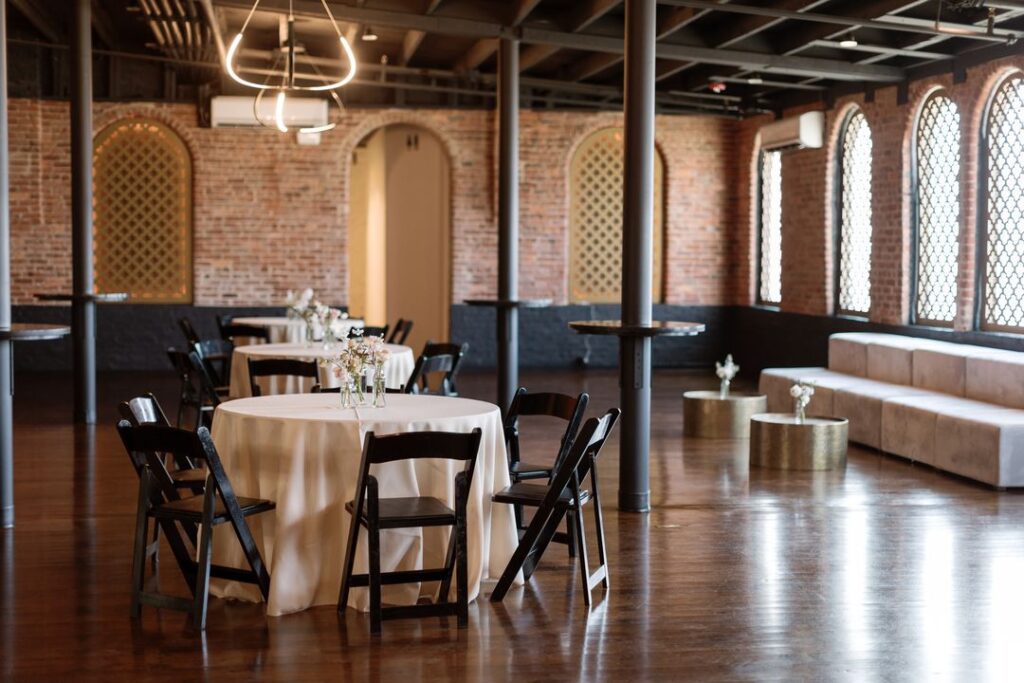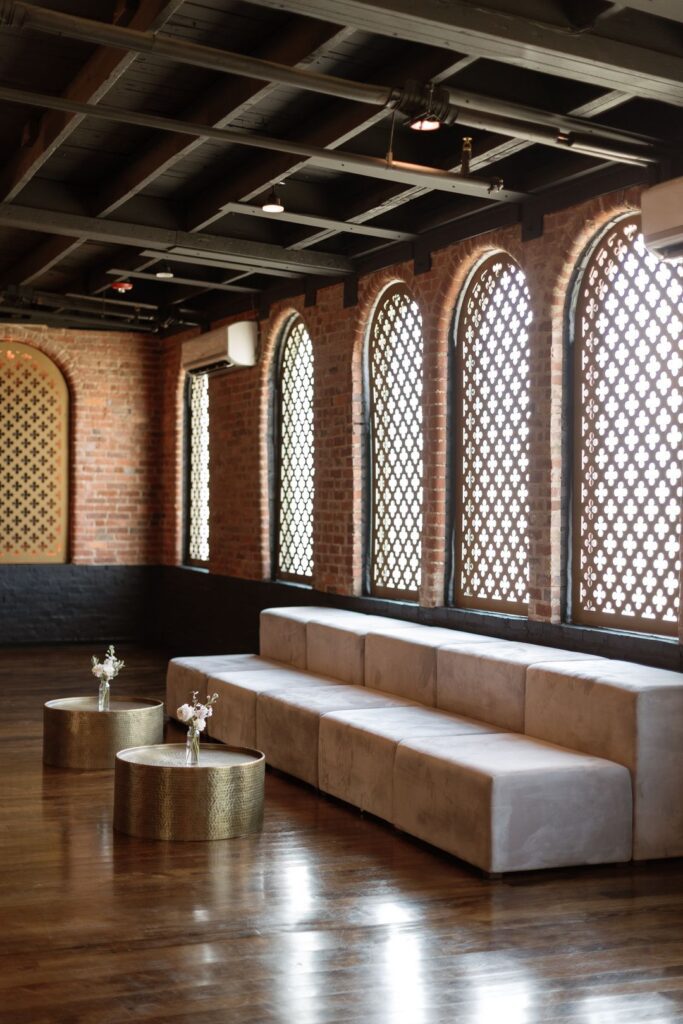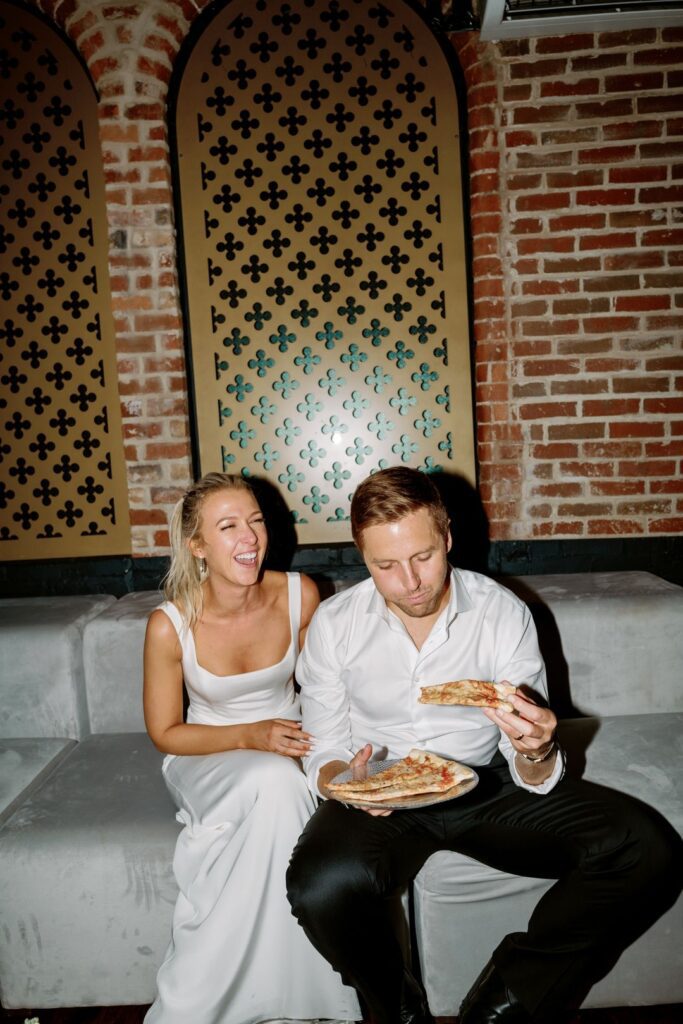 Shout out to Jordyn Smalling Photography for sharing the images from Katie and Drew's wedding with us!
Ready to plan your wedding at The Clementine in Nashville? Contact our team at info@southerneventsonline.com for help recreating this elegant urban wedding. Or, for help bringing your unique vision to life!
TAGS | Ceremony Decor, Nashville Event Venue, Nashville Wedding Rentals, Nashville Wedding Venues, Southern Events Party Rental, southern weddings, the clementine, wedding reception ideas
FEATURED RENTALS | Wrought Iron Arch, Chuppah, Black Fruitwood Folding Chairs, Davis Glass Cylinders, Acrylic Ghost Armless Chairs, vintage rugs, cowhide rugs, Pearce Lounge Furniture, Gold Hammered Coffee Table, Acrylic Casper Square Back Barstool, Mid Century White Barstool, Velvet Linens,
---
25

Aug

Events and Style Shoots, Southern Events Products, Trends and Inspiration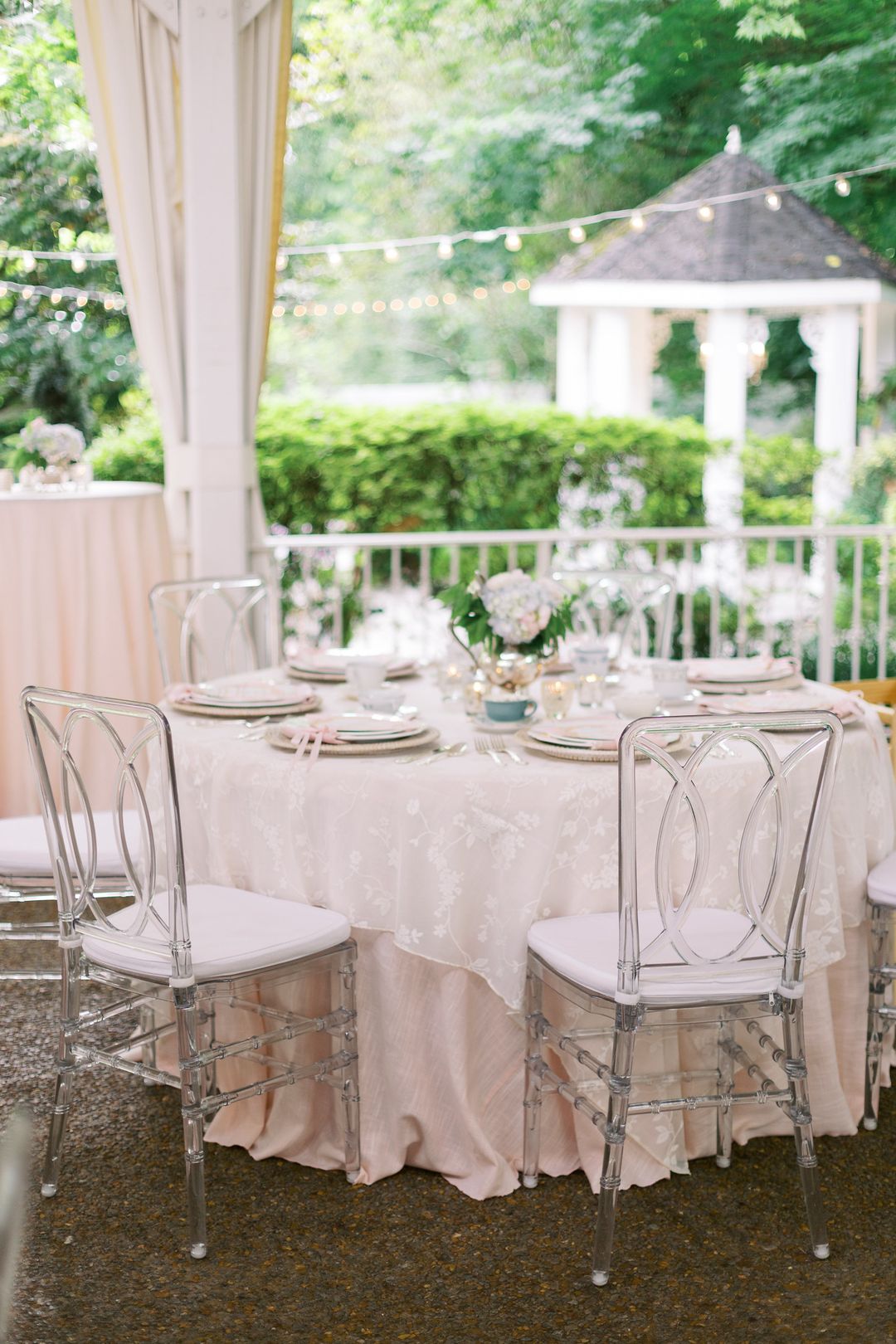 Who doesn't love a fabulous brunch?! Maybe that is why more than ever, people are centering their celebrations around this popular mealtime. From baby showers to bridal showers and weddings, brunch is a memorable way to mark a milestone. As well as a good excuse to break out the bubbles! The garden at CJ's Off the Square has all the inspiration needed for hosting a sweet southern brunch party, featuring vintage-inspired rentals and classic serving ware pieces.
Set the Scene
If you've ever enjoyed brunch then you know that the goal is to create a setting that is sophisticated yet casual. A space where people feel special, enjoying a decadent meal. With this in mind, your tablescape is key. We love starting off with tables dressed in bright linens, such as Blush Shimmer. For a fun extra layer, top it off with a textured runner or overlay. For seating, our Acrylic Carrigan Side Chair will bring a modern contemporary touch – as will any of our acrylic seating options.
For a look that is equally airy but a touch more rustic, you could also feature our Grayson Farm Table or White Wash Round Farm Table. Either of these pieces will look stunning standalone or can be decorated with a soft runner, like Bloom Chiffon or Champagne Lace. As with any brunch, fresh floral centerpieces are required! Place bright or neutral-colored blooms in our elegant Square Glass Vases. If you're hosting a large party, it doesn't hurt to throw a few bistro tables into the mix!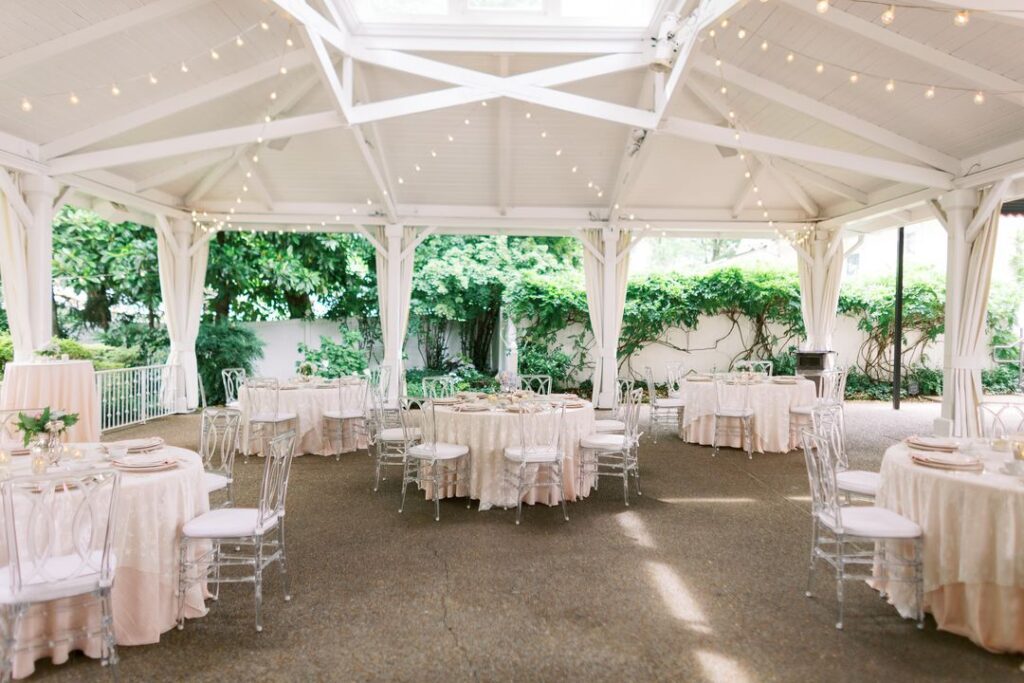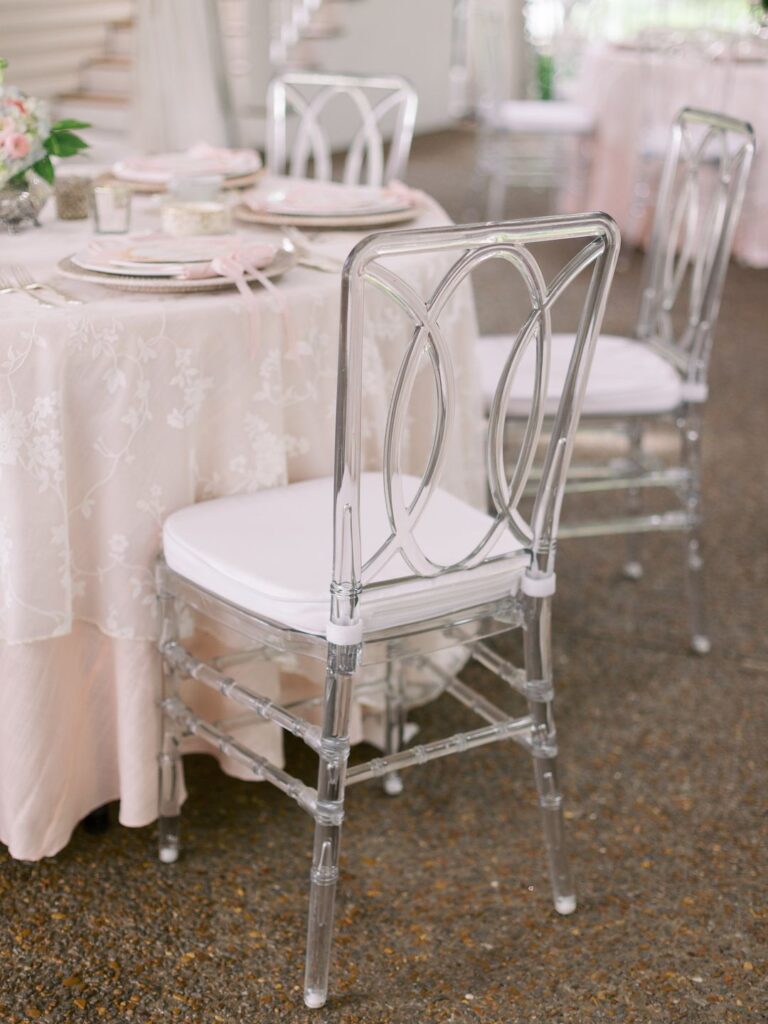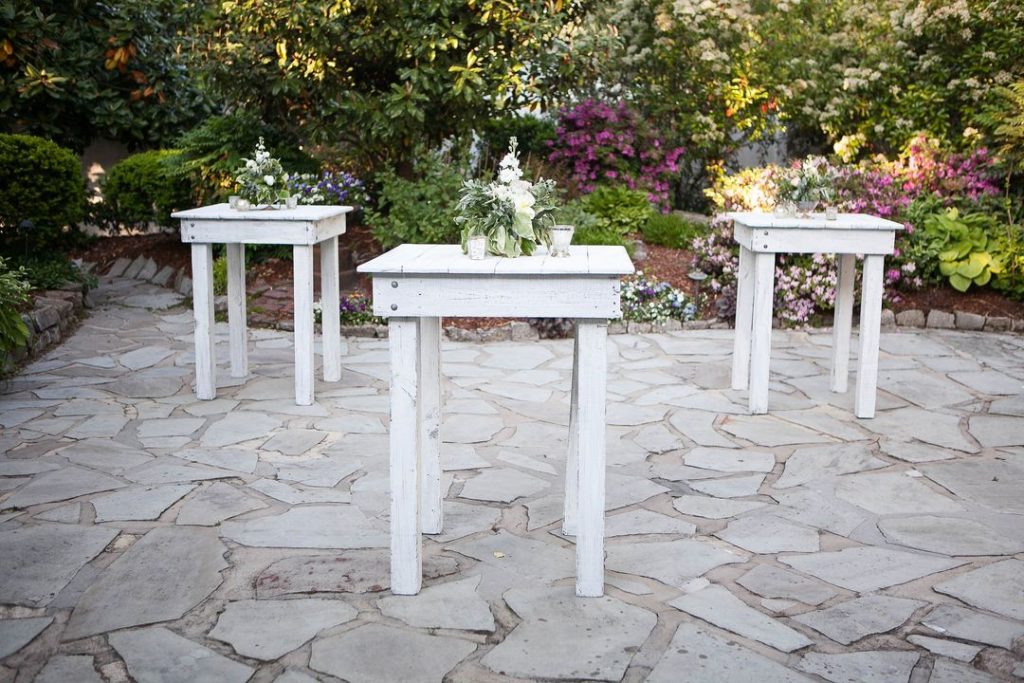 Then Set the Table!
Of course, the real star of a southern brunch party is the food! For which you'll need to create an impressive tablescape. One of our favorite ways to create a memorable table is by featuring serving ware with textures. Start with our White Wash Rattan Charger, stacked with our dainty Darcy China and Darcy Bone China Charger. These pieces are the perfect combination of old and new! Pair it with our Abby Flatware, or Austin Flateware if you prefer gold.
To complete the place setting you'll also need glassware, for a variety of popular brunch-themed beverages. A water goblet is always essential, and our Hob Nob Goblet is a stunner. It also pairs beautifully with our Heirloom Tea Cups and Saucers, for a quaint vintage touch for serving hot coffee or tea. For an especially well-thought-out table, you might also feature a Silver Coffee/Tea Server. Along with a matching Carson Silver Cream and Sugar Set, it will be a fun classically southern detail.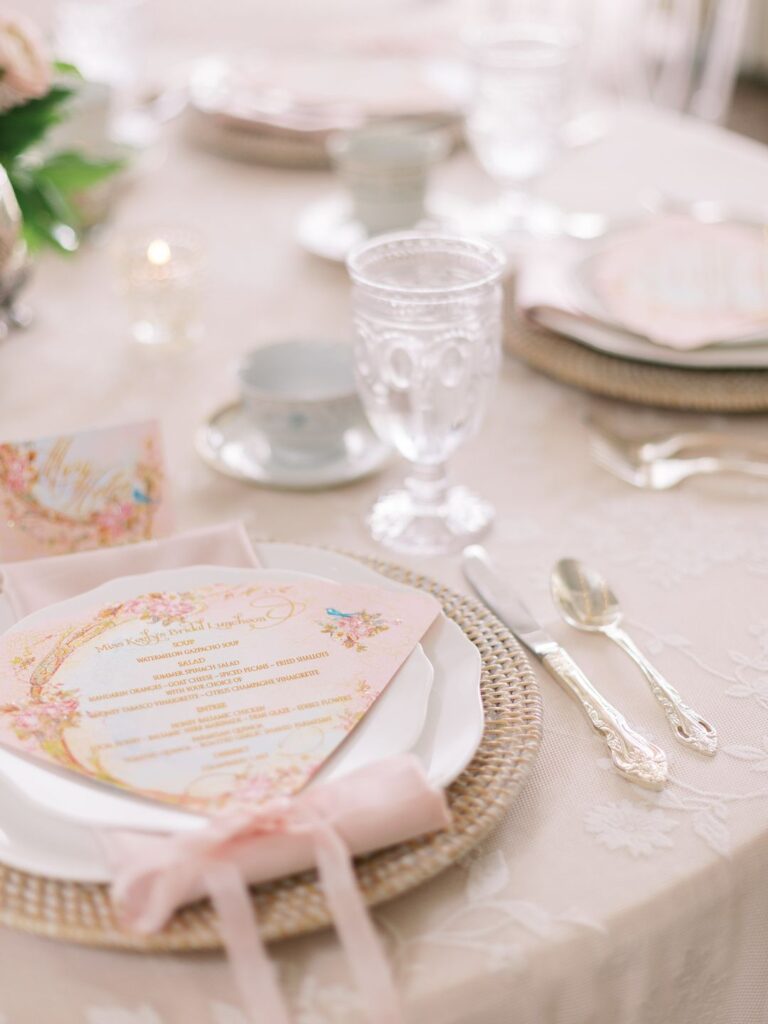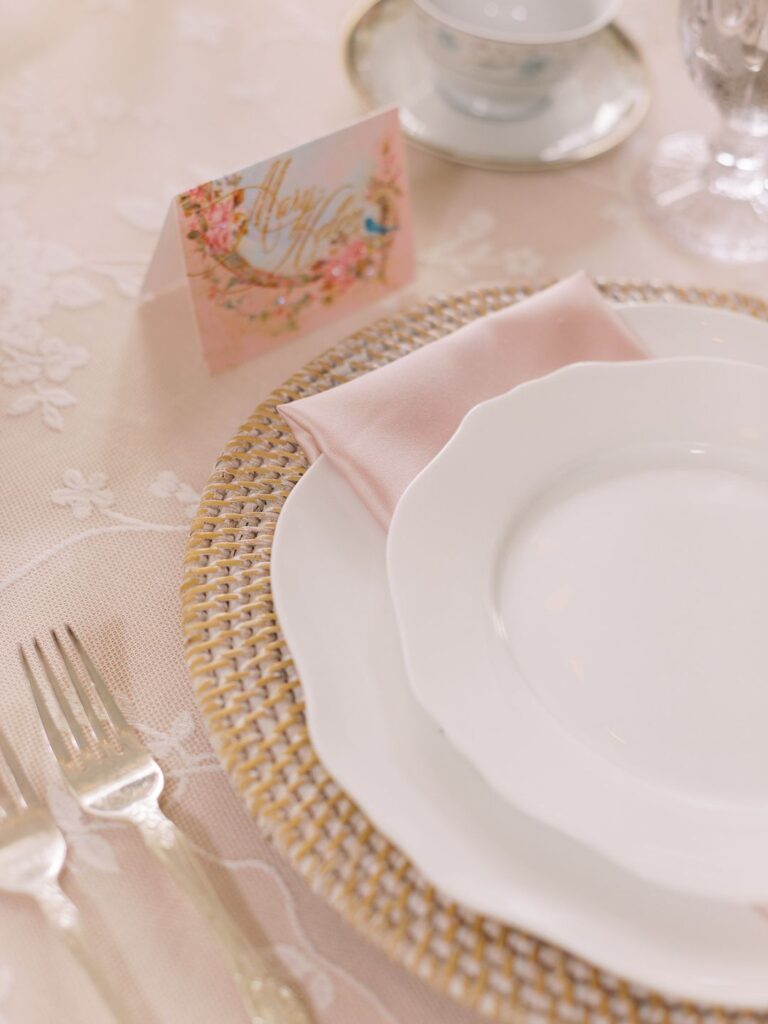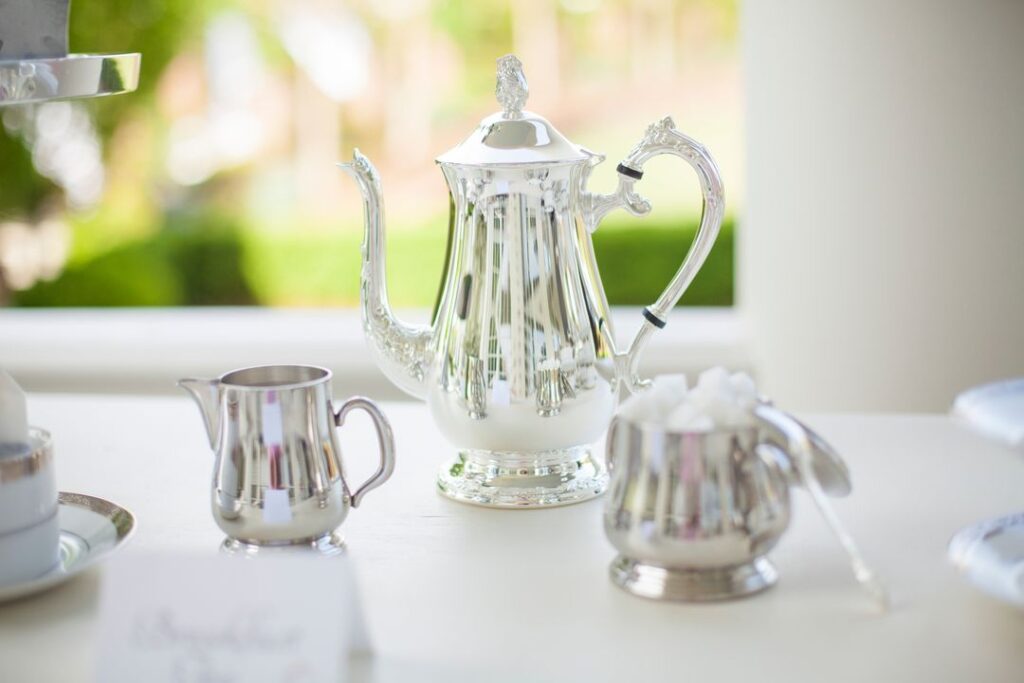 Create a Chic Lounge
It's not brunch without mimosas! Creating cozy spaces to sit and sip will ensure that they feel comfortable enough to linger and mingle. A lounge will also be a comfortable and photo-ready spot for opening gifts. Our Everly Sofa and Chair are a beautiful pair – not to mention incredibly comfy! If you need extra seating, add in our Winstead Grey Tufted Bench. You'll also want a place where people can set their drinks, like our Cheval Gold Mirror Side Table. Or our larger Blanche Coffee Table.
Speaking of drinks, another round of glassware is a must. Serve up mimosas in our Pure Champagne Flutes – placing glasses on our Boxwood Wall in Champagne Shelves, or displayed on the White Barback Shelf for stunning presentation. Provide a variety of fresh fruit juices in carafes, along with seasonal fruits and cheese on silver serving platters. Sparkling water is also a great option to have on hand for a mom-to-be, or kiddos in tow!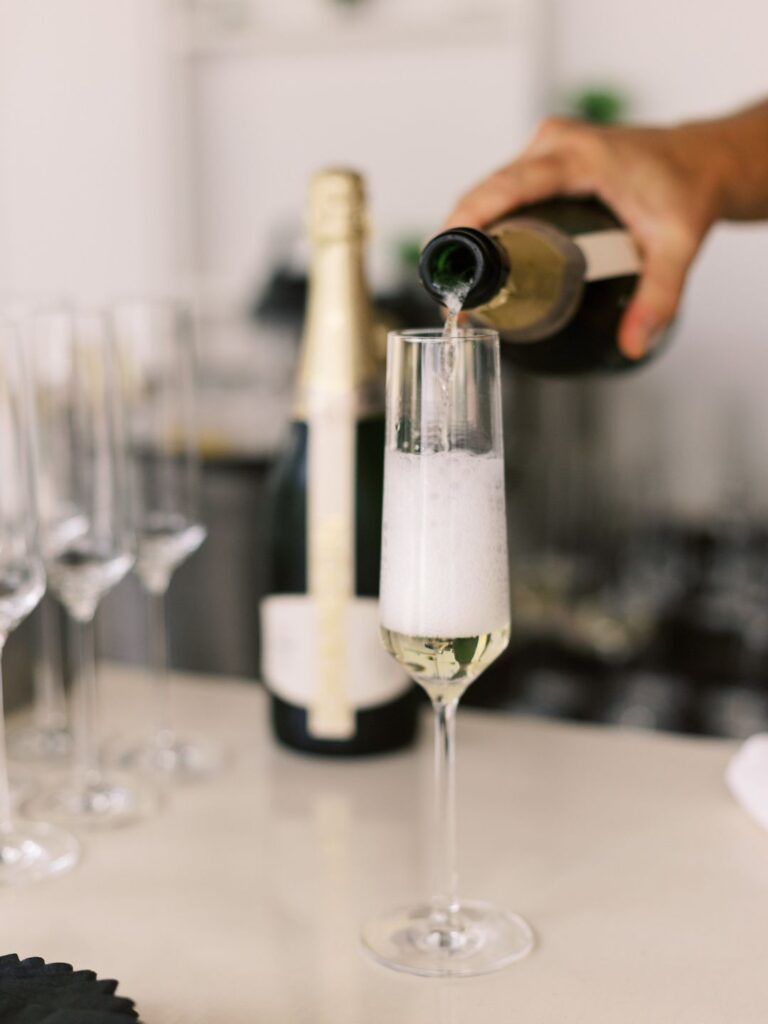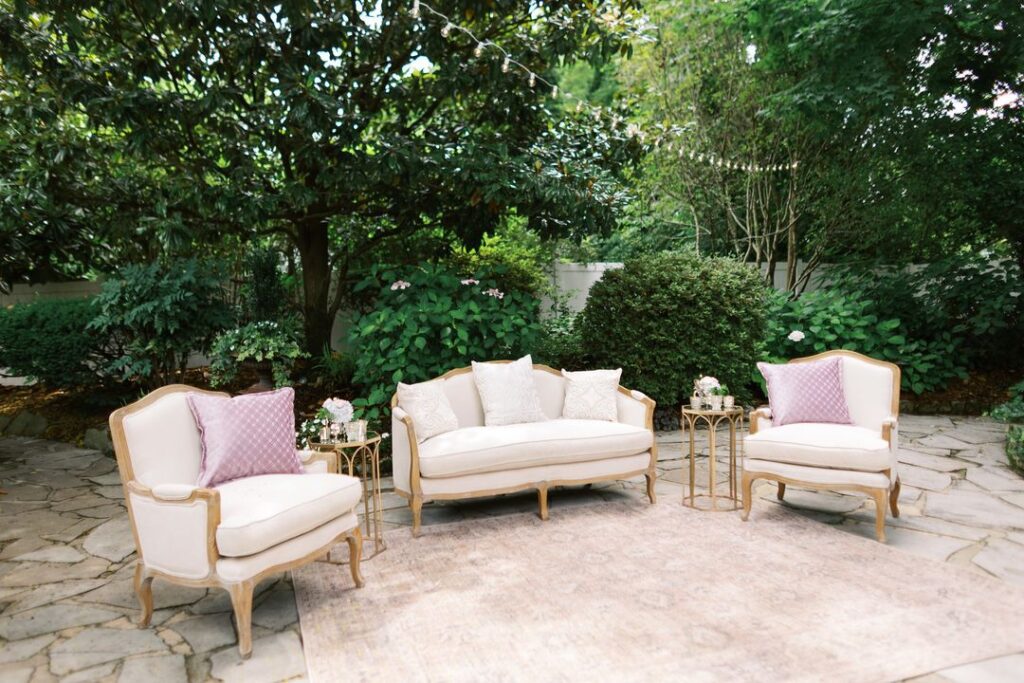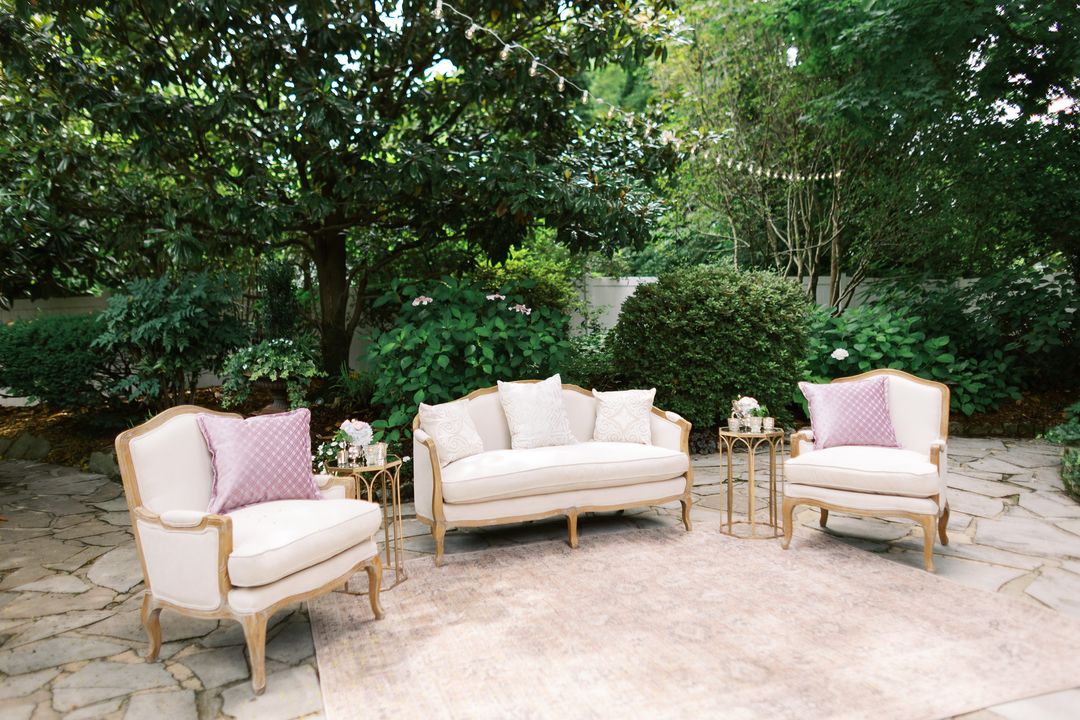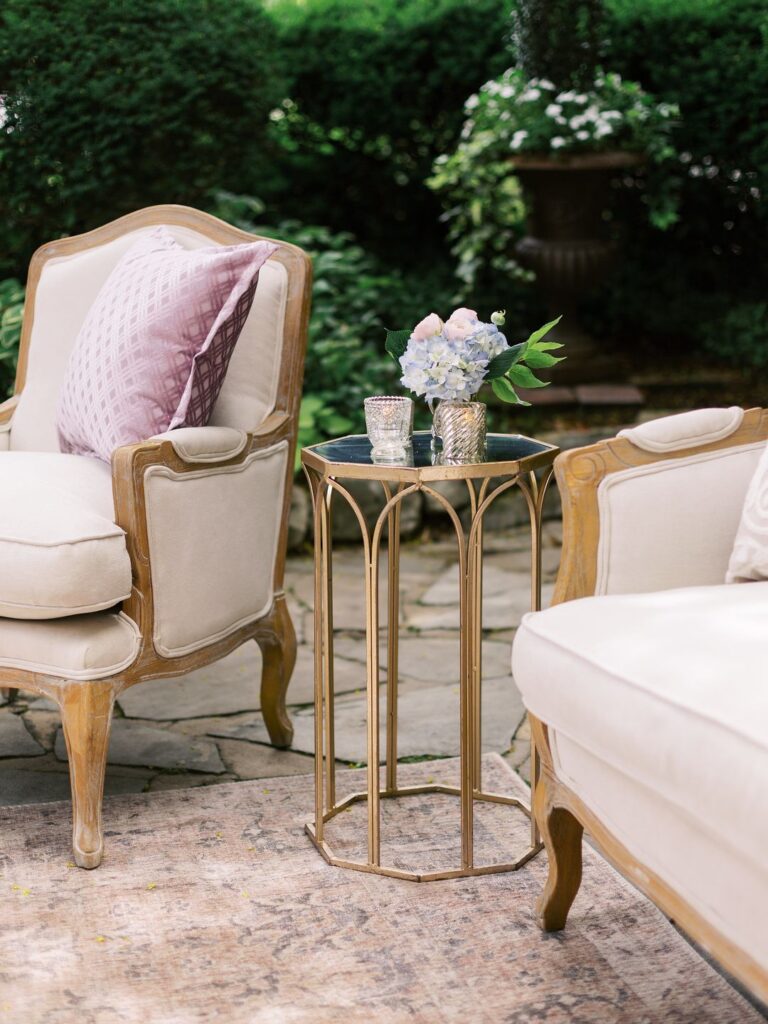 A special thank you to Jenna Henderson for sharing these event images with us!
Love the idea of hosting a southern brunch party? Send our team a message at info@southerneventsonline.com for help planning a one-of-a-kind get-together. Or for more event design inspiration, take a look at our blog to get some ideas for a black tie dinner party, perfect for hosting a formal event.
TAGS | Acrylic Chairs, CJ's Off the Square, Lounge Furniture, Nashville party rentals, Southern Events Party Rental, Tablescape, Tableware, southern brunch party
FEATURED RENTALS | Pure Champagne Flute, Everly Sofa, Everly Chair, Blush Rug, carafes, silver serving platter, carson sugar and tea set, Cheval Gold Mirror Side Table, White Wash Round Farm Table, Bloom Chiffon Runner, Champagne Lace Runner,White Barback Shelf, White Wash Rattan Charger, Darcy China, Darcy Charger, Abby Flatware, Acrylic Carrigan Side Chair,
---
21

Jul

On Trend, Southern Events Products, Trends and Inspiration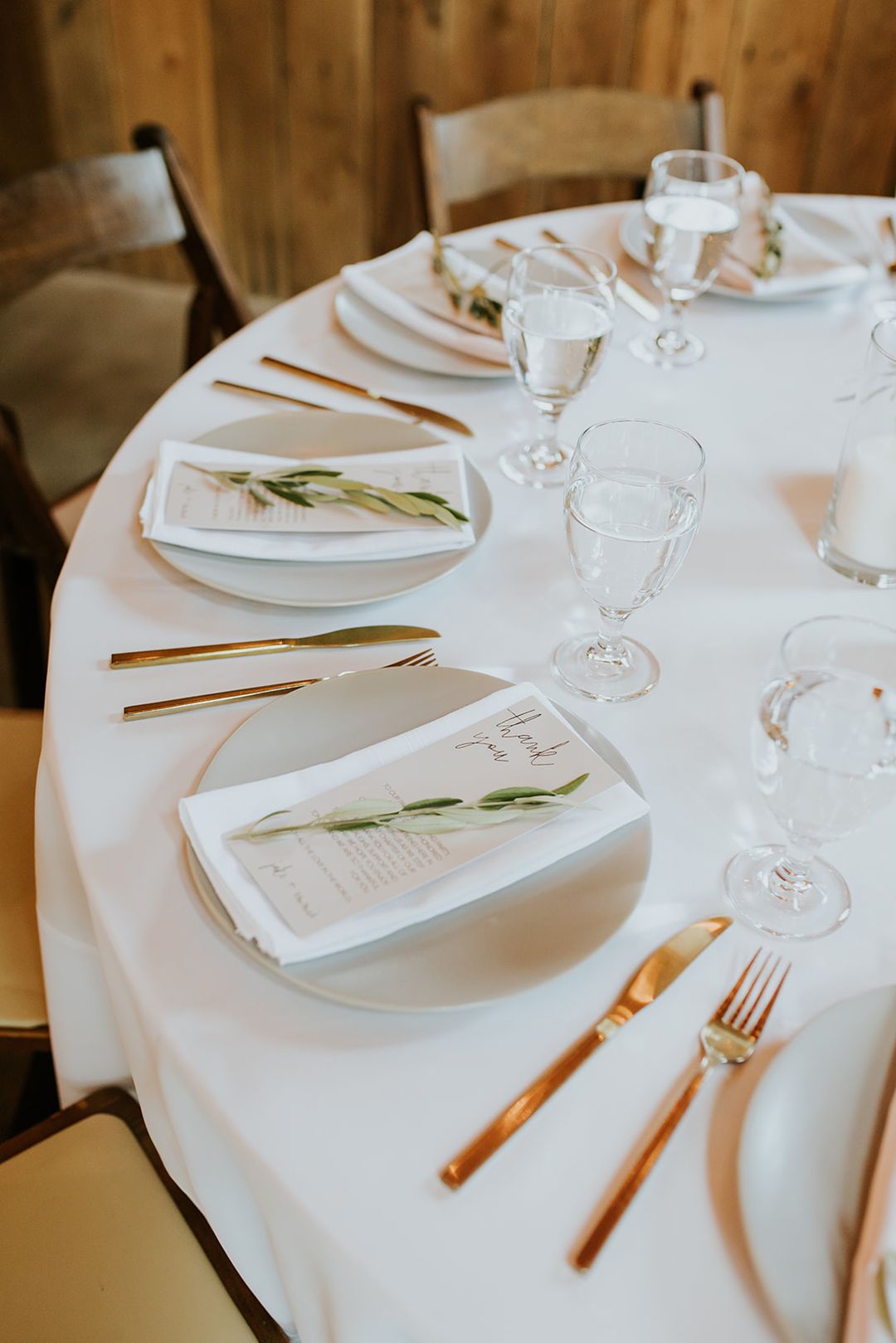 Sometimes less is more, and modern minimalist events prove just that! There is beauty to be found in simplicity, not to mention it often comes with a smaller decor budget. Less cluttered, modern minimalism can make it feel easier to breathe within your event space, without compromising style. Learn how to host a modern minimalist event when you take a look at our in-stock rentals that will lend a clean and timeless look.
Clean Tablescapes
To achieve a modern minimalist table, you'll want to keep any decor simple and maintain as much open space as possible – perhaps stick to greenery! As for serving ware, opt for pieces that are sleek. Such as our Earthen China, available in 3 neutral colors, or Plain Glass China. Easily feature an elegant pop of metallics with our simple Austin Gold or Noir Matte Black Flatware. For a romantic minimalist table, feature a touch of color in your otherwise neutral palette with a set of our poly napkins. Perhaps in Ice Pink, Slate, or Lilac! Or, grab a velvet set for subtle texture.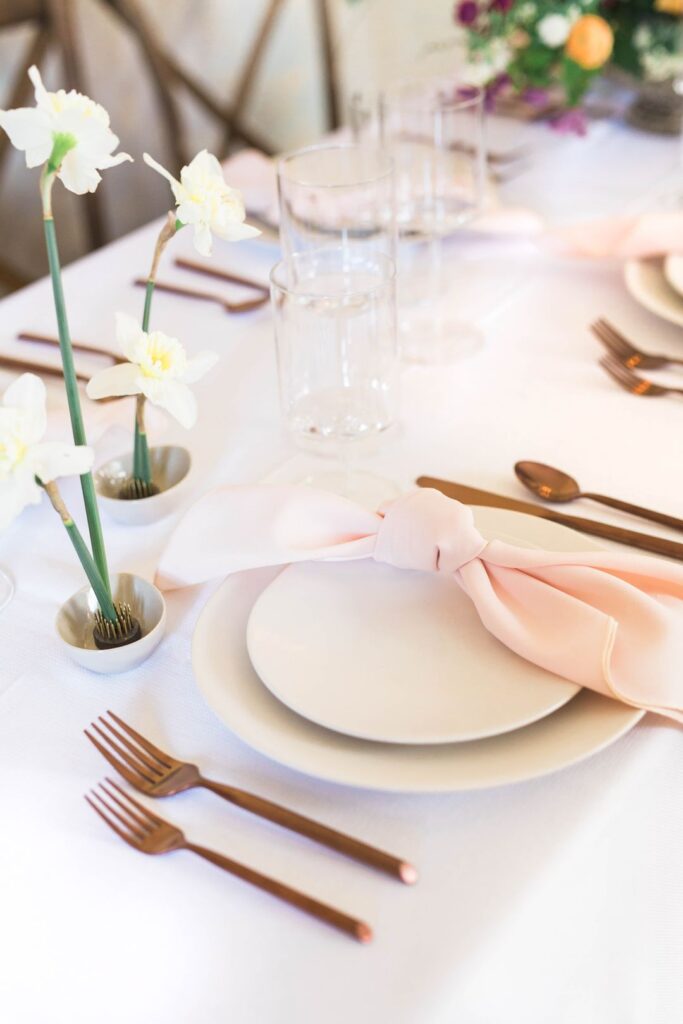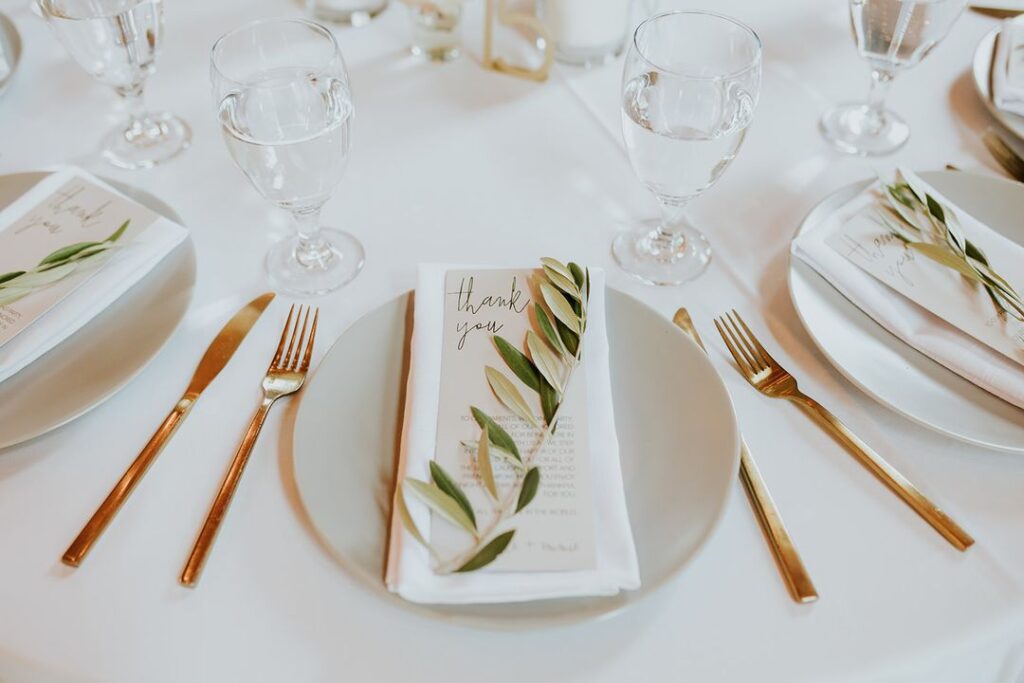 Stylish Guest Seating
Of course, your dinner tables will need chairs, of which we have many to choose from. For a modern event design, we recommend sticking to pieces that feature neutral colors and simple details. Any of our acrylic chairs are a great option, which will lend a unique contemporary look to your event. Both our Acrylic Ghost Arm Chairs and Acrylic Ghost Armless Chairs are a popular choice! For a slightly more romantic vibe, or to complement a warm-toned palette, you might opt for our Harlin Dining Chairs.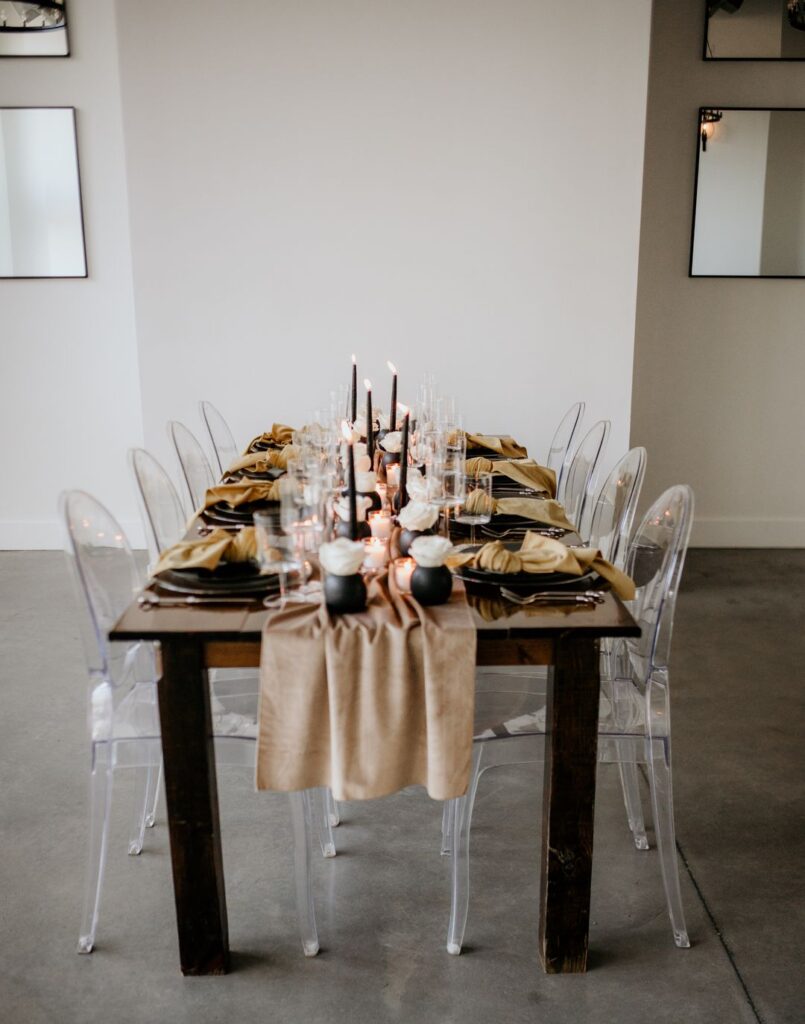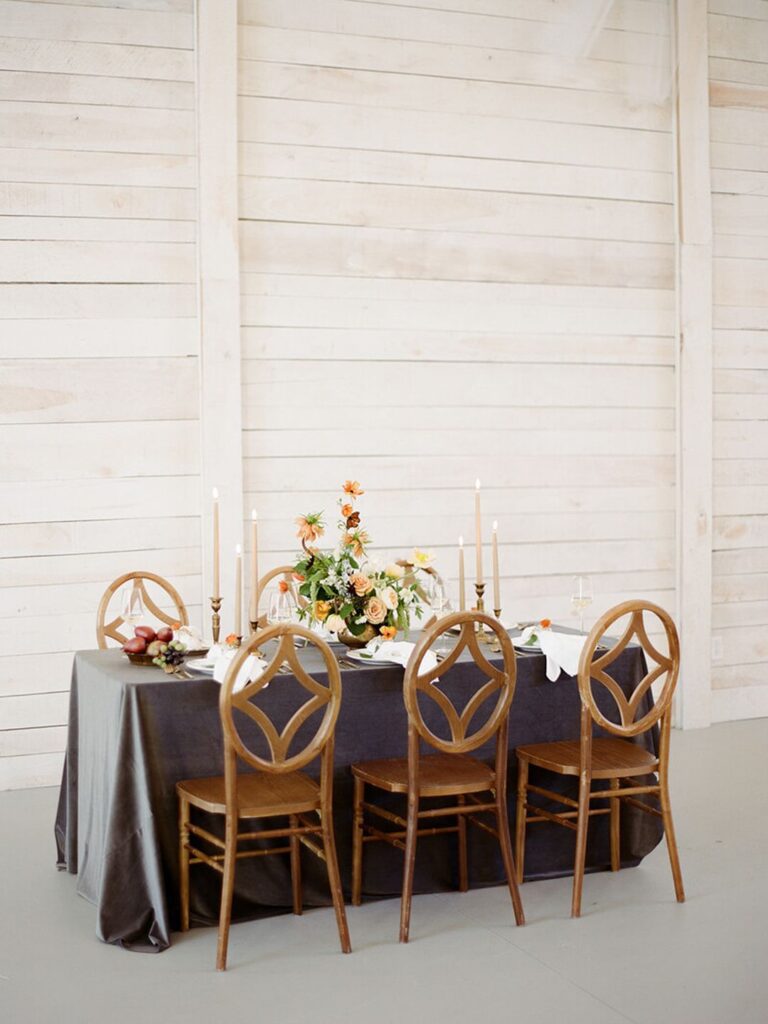 Sleek Lounge Areas
As always, every event needs a lounge to socialize. And one of our personal favorites are modern minimalist event lounges, starring clean & elegant furniture. We have a wide selection of timeless pieces that you can mix and match to create a one-of-a-kind social area. To start, choose a plush sofa, like our Regent Black Velvet Sofa – perfect for a moody minimalist lounge! Then, add-on chairs, such as one of our acrylic pieces or our unique White Eiffel Arm Chairs. And don't forget to include areas for guests to set their drinks! We're currently favoring our Rhodes, Rivet and Granger accent tables, with their sleek legs.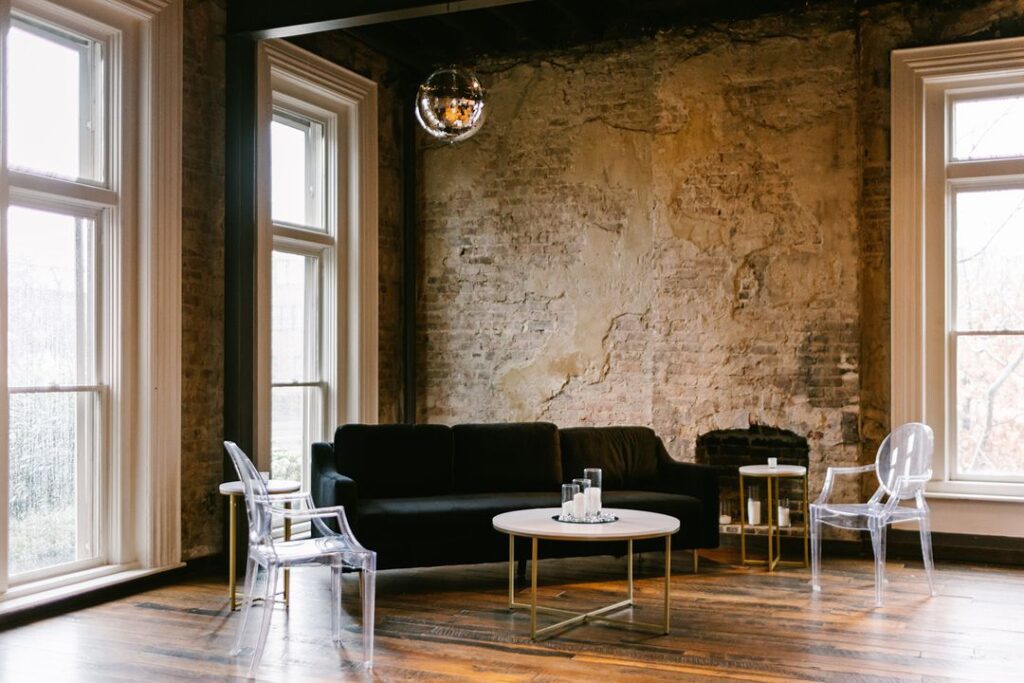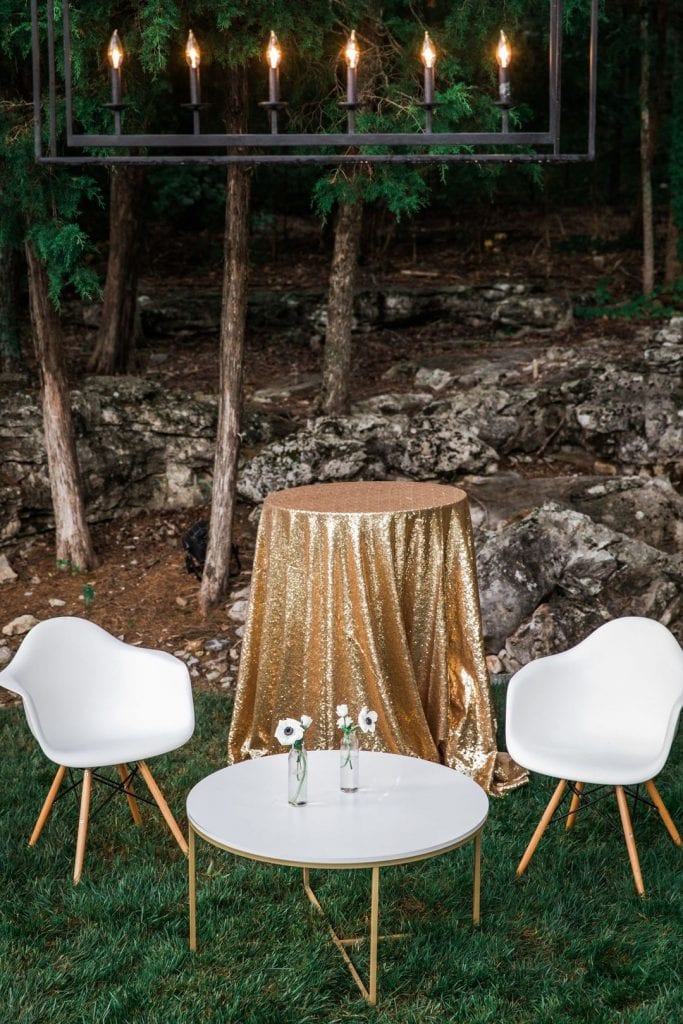 Ready to plan an on-trend modern minimalist event? Send our team a message at info@southerneventsonline.com for help selecting on-theme rentals!
TAGS | Event design, Southern Events Party Rental, luxe event design, minimalist event design, modern event decor, modern event design
FEATURED RENTALS | Earthen China, Plain Glass China, Austin Gold Flatware, Noire Matte Black flatware, poly napkins, Acrylic Ghost Arm Chairs, Acrylic Ghost Armless Chairs, Harlin Dining Chairs, Regent Black Velvet Sofa, White Eiffel Arm Chairs, Rhodes Accent Table, River Accent Table, Granger Accent Table,
---
9

Dec

On Trend, Trends and Inspiration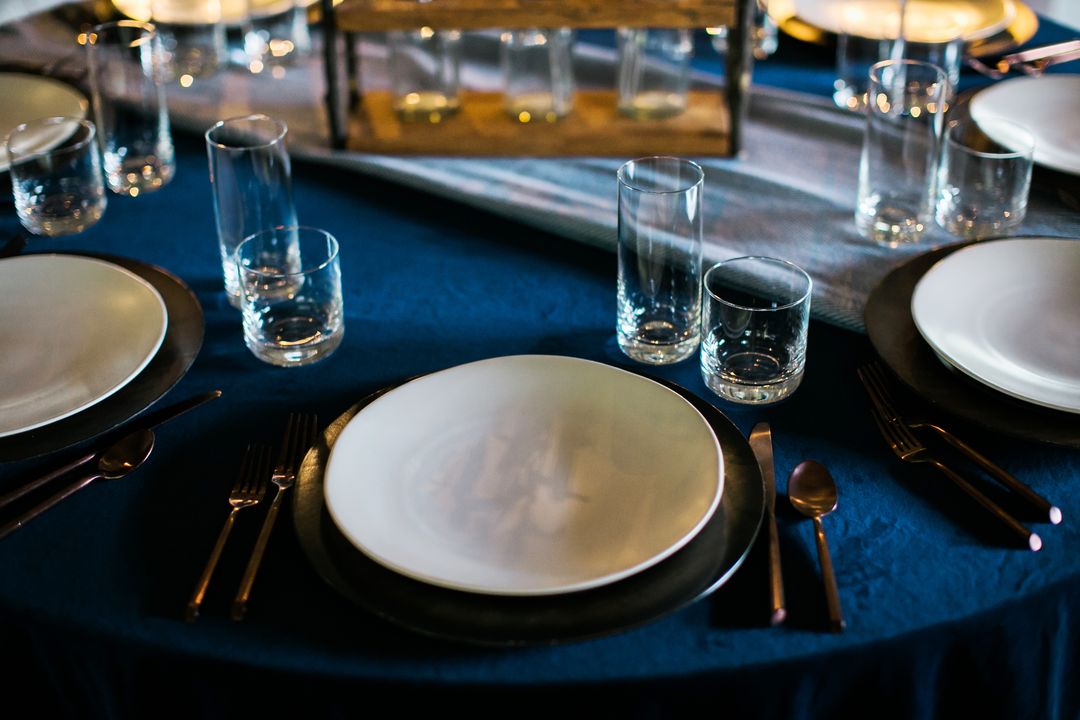 The wintertime is a festive season, but when it comes to hosting some people prefer a more minimal and timeless look. A setup that oozes warmth and charm but is totally on trend! Get inspired when you take a look at some of our favorite minimal winter event rentals, from serving ware to lounge furniture and more.
Stone China
Planning to host dinner at your winter event? Check out our beautiful Earthen China! These simple neutral-colored serving plates are so gorgeous your guests will want to take them home. They come in three colors: Alabaster, Onyx, and Stone. For a luxe metallic touch, pair any of these dishes with our Austin or Brushed Copper Flatware.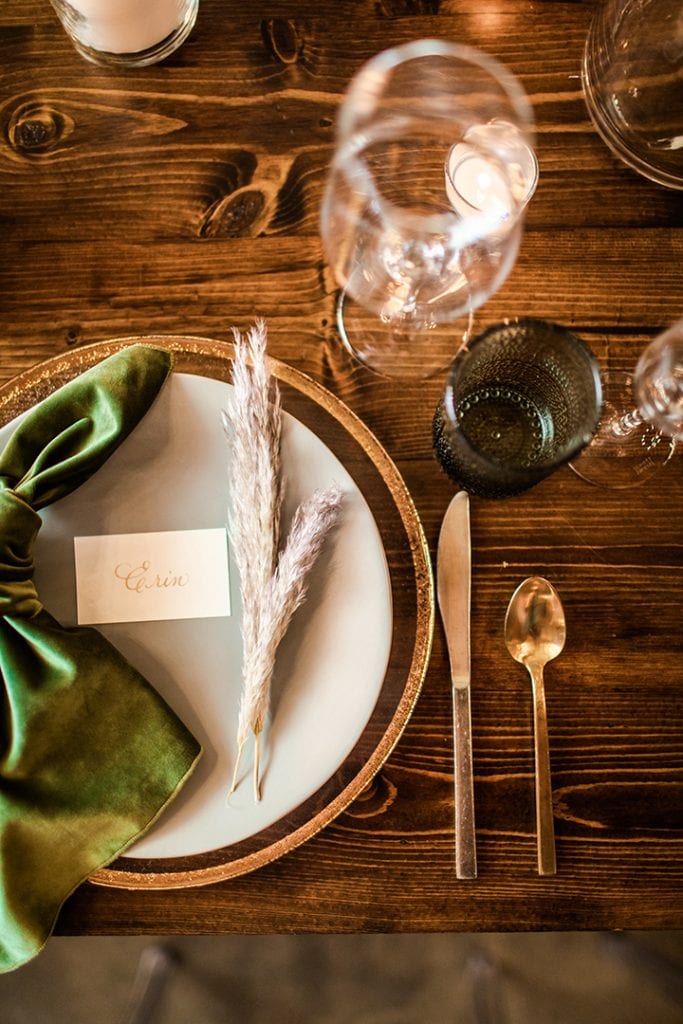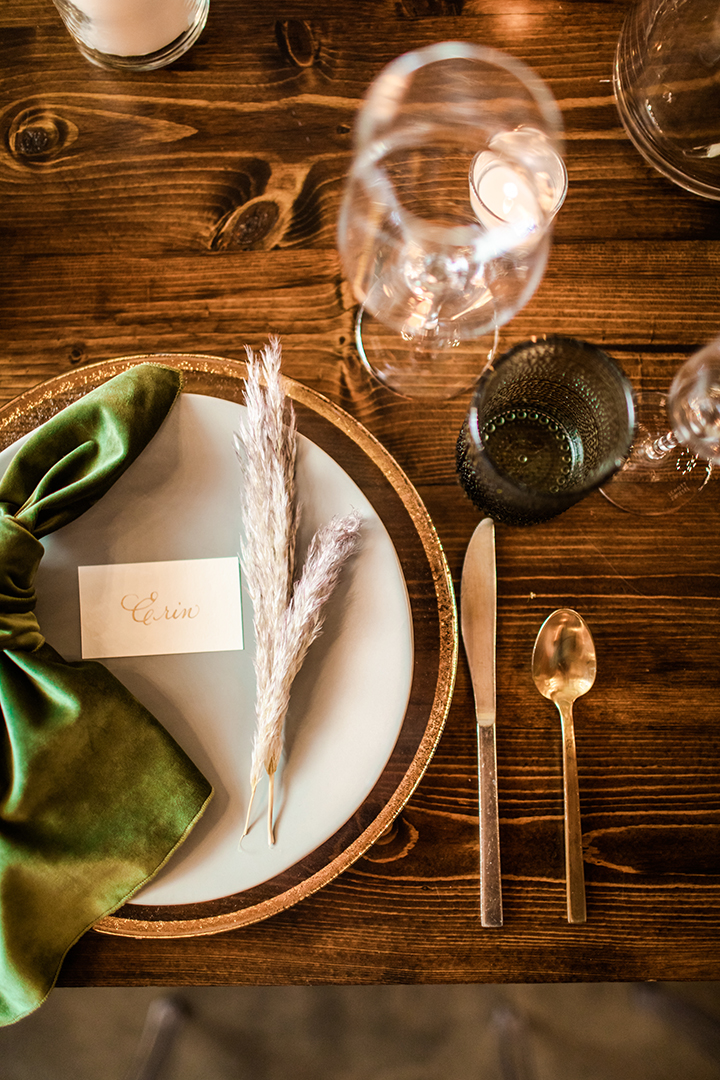 White Eiffel Arm Chairs
When featuring a minimal dinner table, like our Farm Tables, you can have some fun with your chairs. Our White Eiffel Arm Chairs are a unique contemporary option that are insanely comfy! Alternatively, use our Rustic Benches to lend a more cozy touch. You might also decorate these seats with soft throws or pillows for a fun pop of color.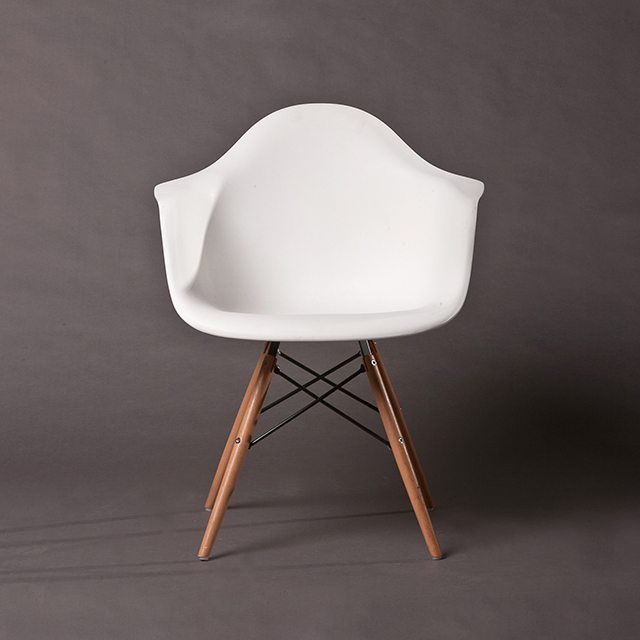 Saylor Navy Velvet Sofa
For a large social event or even an intimate cocktail hour you'll want a cozy lounge area. Our Saylor Navy Velvet Sofa and Saylor Navy Velvet Chairs are ultra-soft, simple, and beautiful. A rich blue hue, they are especially gorgeous if you are hosting an ice-inspired event or featuring a cool-toned palette.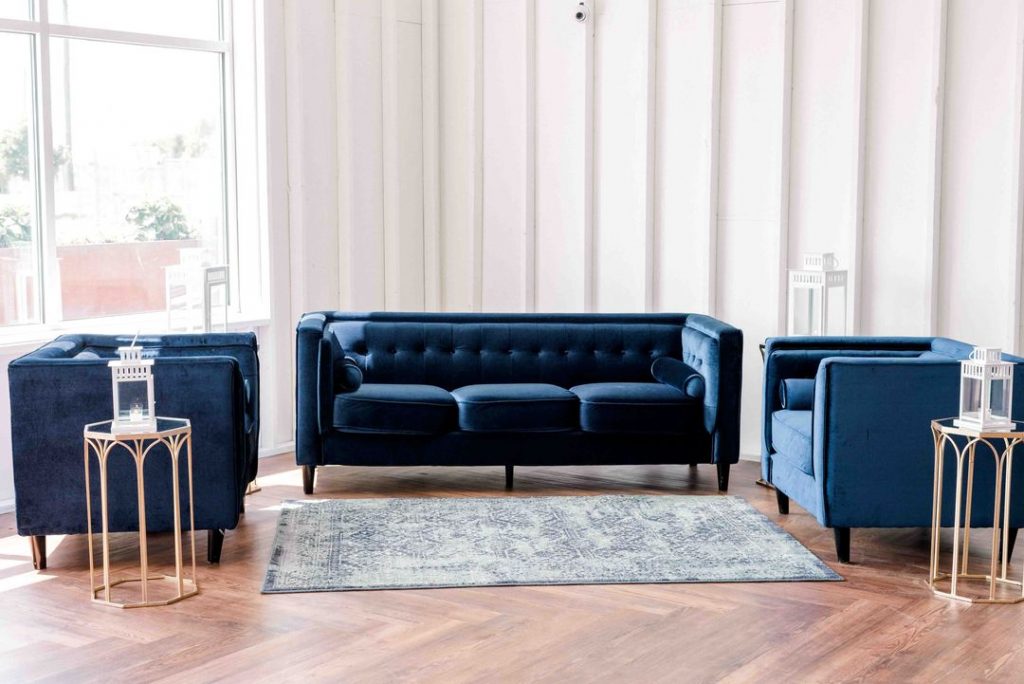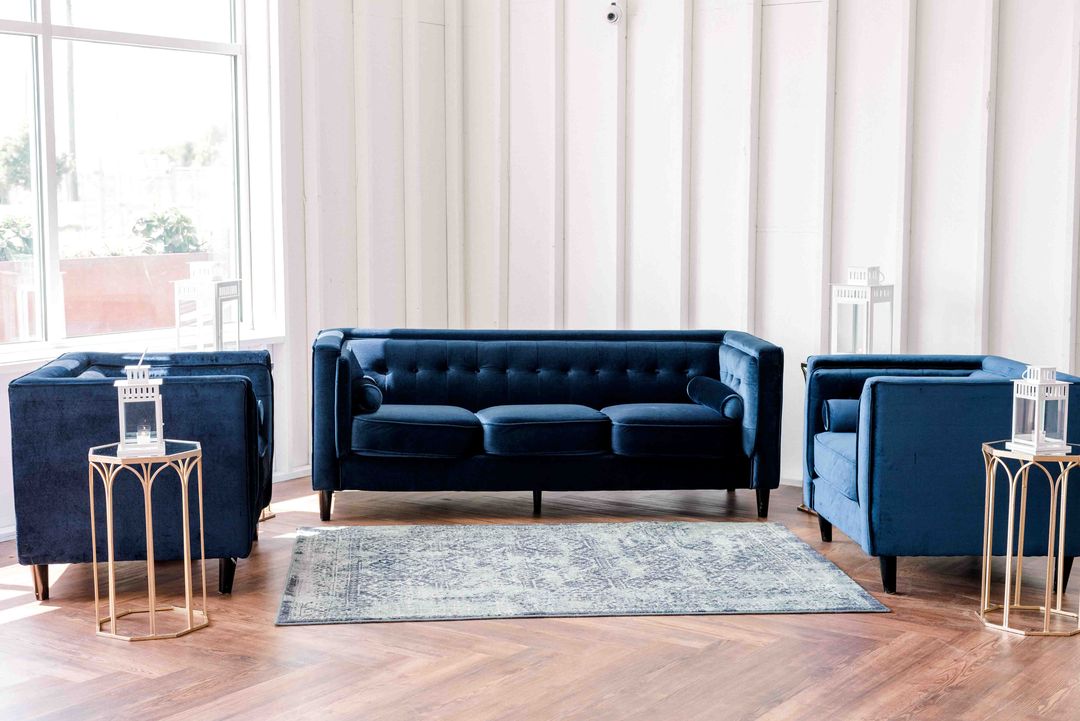 Gold Hammered Coffee Table
To create a fully functioning lounge area, don't forget some accent tables! Our Gold Hammered Coffee Table features an organic shape and a muted color that will complement most any furniture. If you prefer a more toned-down color palette, opt for Pewter instead.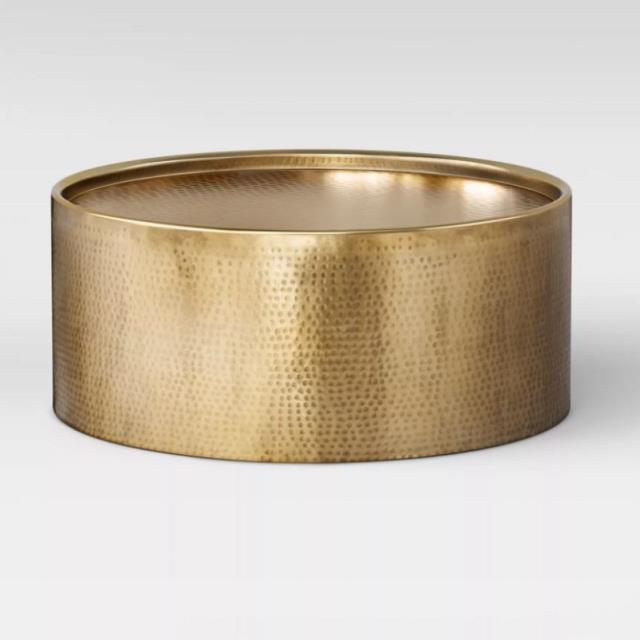 Gold Bar Cart
Last but far from least, we recommend our Gold Bar Cart! This elegant piece is oh so versatile, whether you want to offer a table-side drink service or a small self-serve drink station. It's a beautiful piece for both large and intimate events alike. Just don't forget to stock up on glasses – like our Reese Glassware.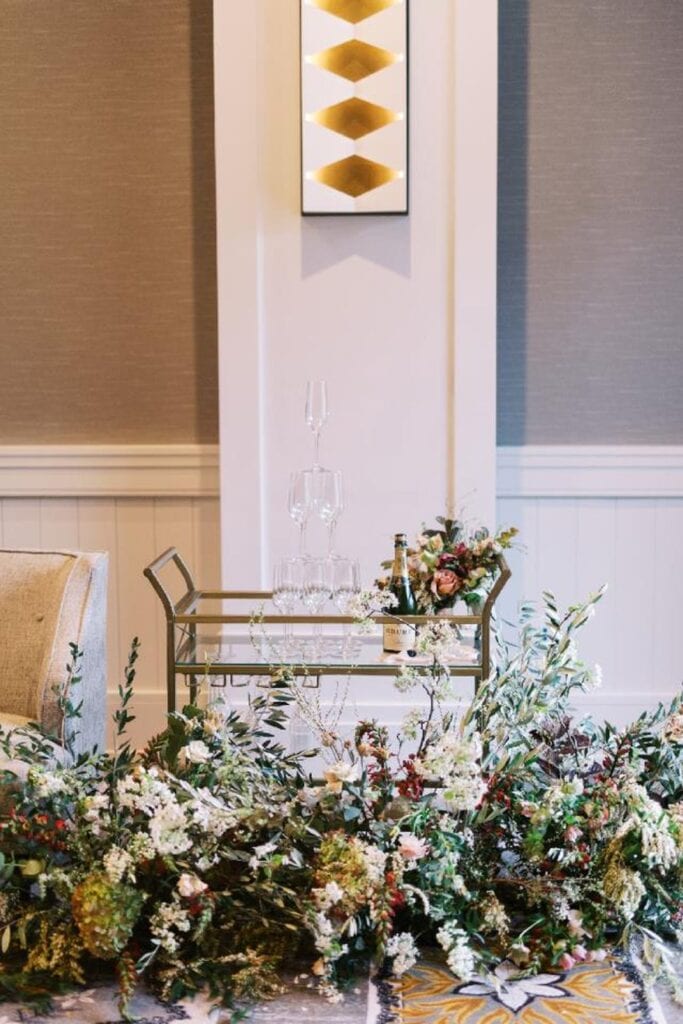 Do you love these minimal winter event rentals? Email us at info@southerneventsonline.com to reserve these rentals for your next event! Just need serving ware? Take a look at our previous blog featuring our curated collection, Styled by Southern.
TAGS | On Trend, Southern Events Party Rental, Winter Event Decor, minimal design event decor, modern minimalist tablescape, wedding style trends, winter event rentals, winter wedding
FEATURED RENTALS | Earthen China, Austin Flatware, Brushed Copper Flatware, Eiffel Arm Chair, Rustic Benches, Gold Hammered Coffee Table, Saylor Navy Velvet Sofa, Gold Bar Cart, Farm Table,
---
17

Jun

Southern Events Products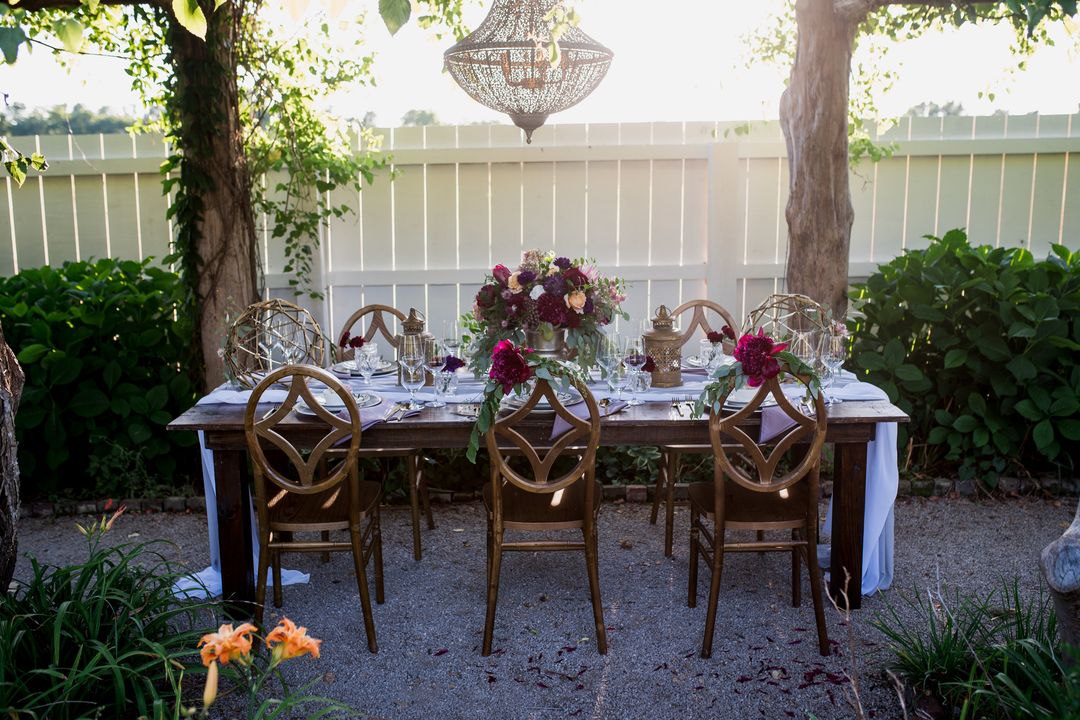 The sun is out and the flowers are in bloom – there's truly no better way to celebrate the beautiful weather in Nashville, TN than to host a gorgeous garden wedding! To help make your event picture-perfect, we've pulled together some of our most loved garden wedding rentals for a floral fête. With party and event rentals this beautiful, it's easy to capture the best of the southern summer season here in Middle Tennessee.
Interactive Boxwood Walls
Sculpt your own private garden with our lush Boxwood Walls! These eight-foot topiary walls can be used to create an intimate event space in any venue – think of it outdoors, enhancing your gorgeous garden, or as an interactive backdrop. It makes for a stunning seating chart, as well as an elegant champagne wall. You can trust that guests will flock to this trendy photo op time & time again!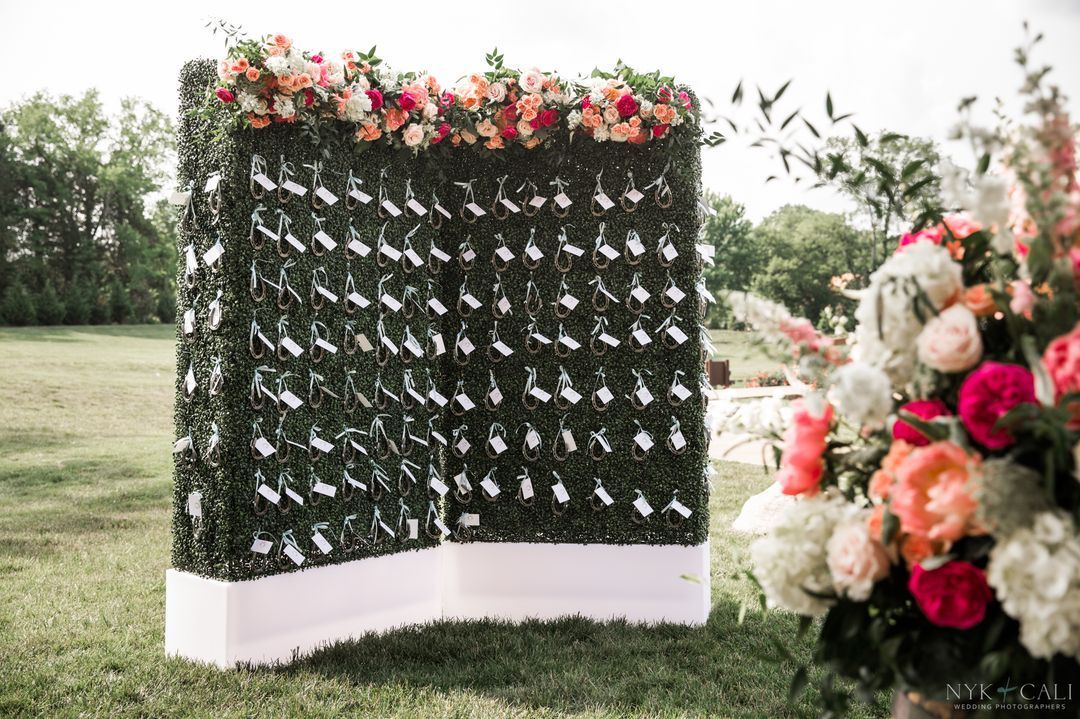 Photo by Nyk & Cali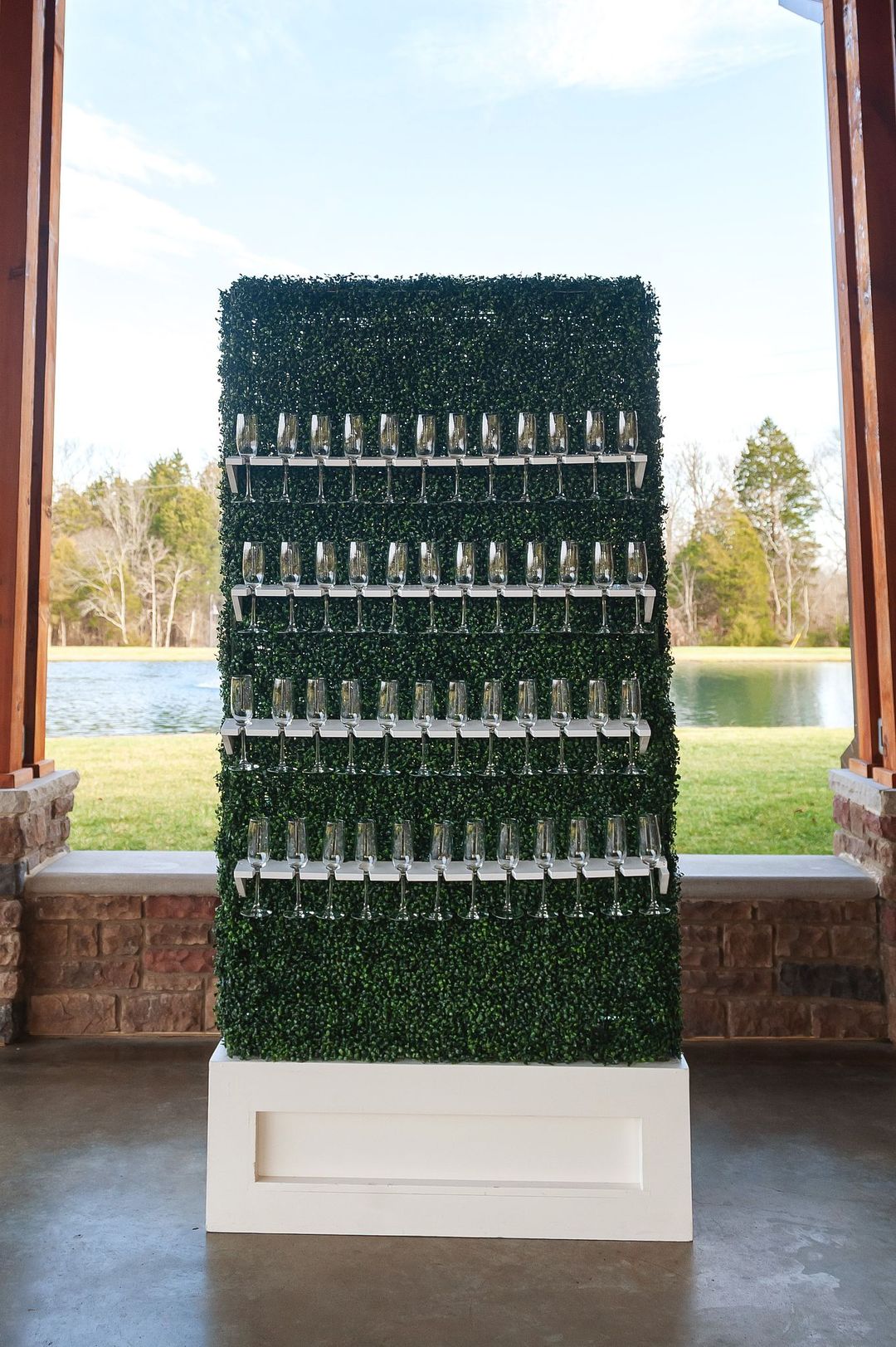 Photo by Megan Stark
Stylish Seating
Easily elevate any tablescape with stylish and comfortable seating. Favorites from our inventory, including our charming Harlin, Antique Bentwood, and Adeline Dining Chairs. They are a simply stunning way to add natural wood to your wedding reception, thanks to elegant details. If you prefer a more whimsical and contemporary garden vibe, opt for one of our Acrylic chairs, such as our Carrigan or Fantasma side chairs.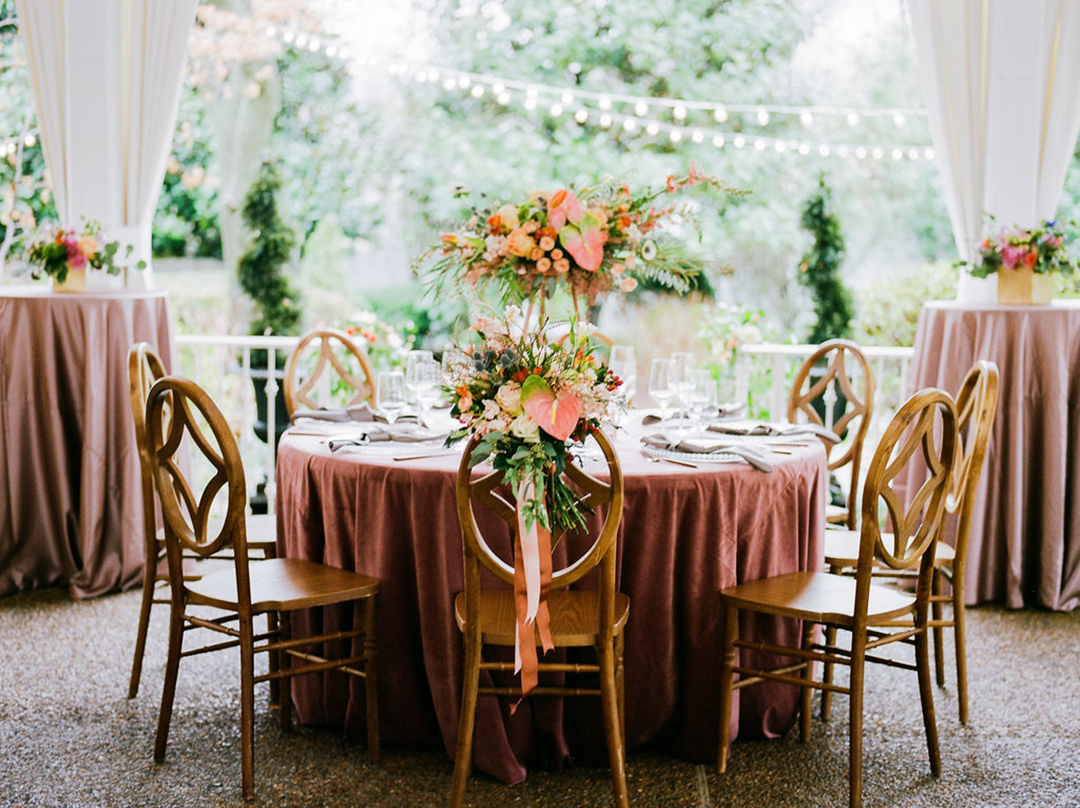 Photo by Jenna Henderson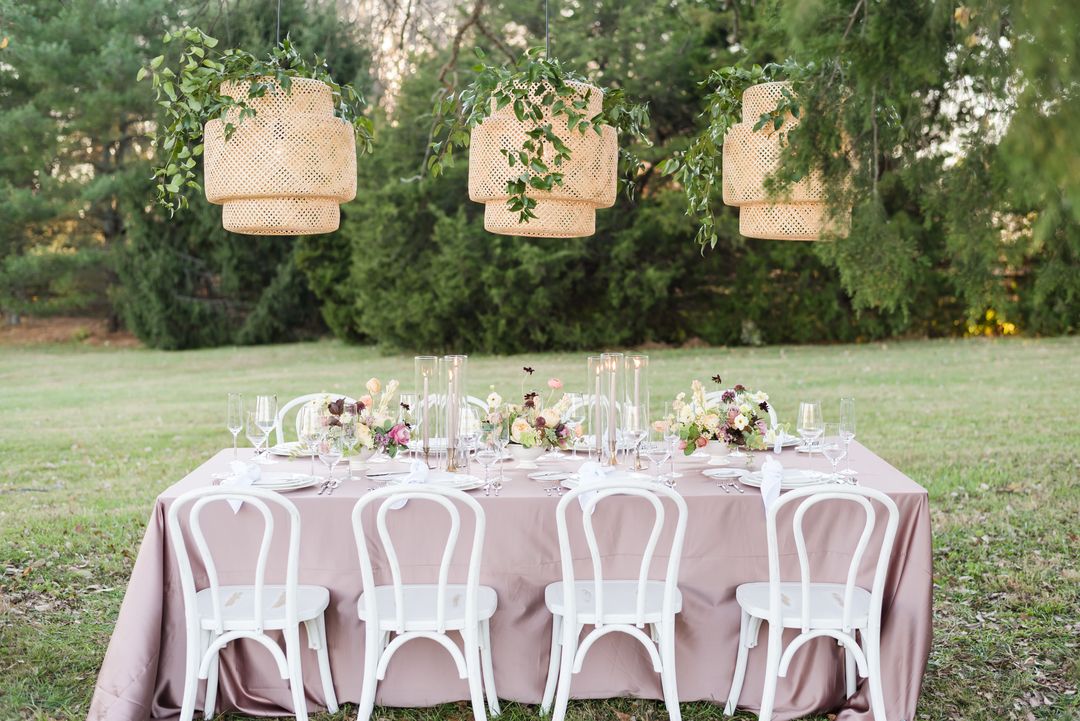 Photo by Mandy Liz Photography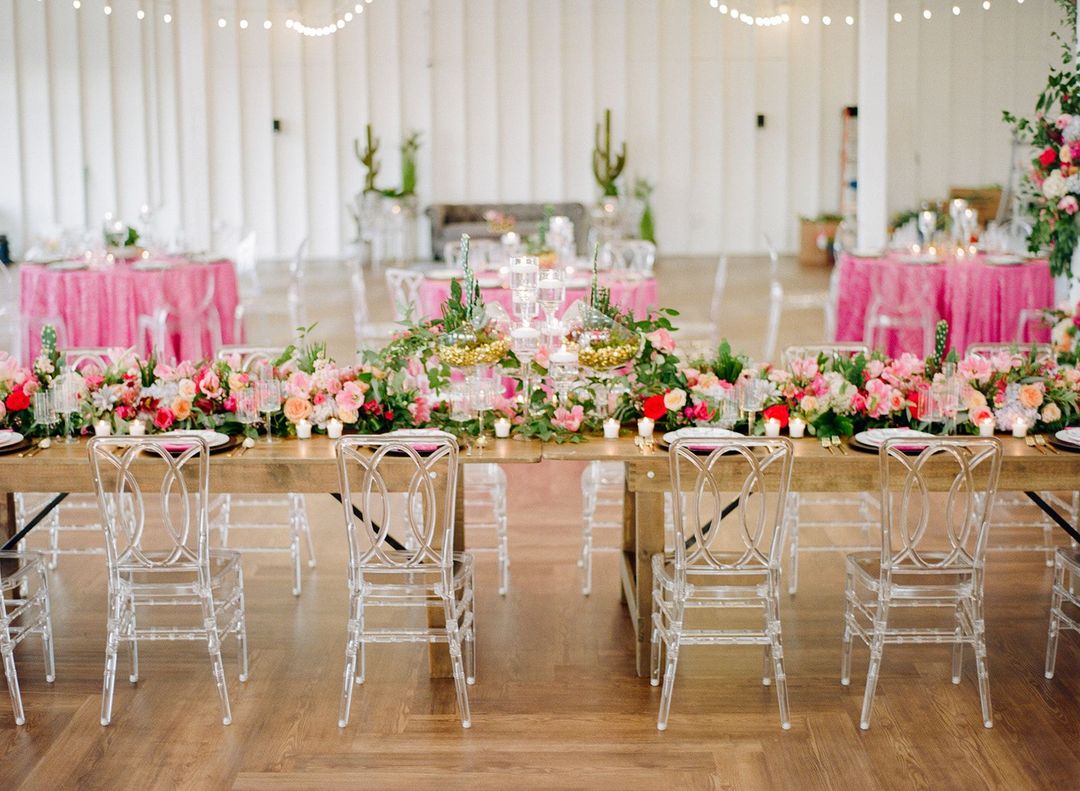 Photo by Gray Kammera
Delicate Serving Ware
Every Southerner knows that a classic never goes out of style, and the same can be said for a variety of our serving ware. Take for example our scalloped Darcy China. Bone white with a gracefully curved edge, these beautiful dinner plates provide the perfect canvas for fresh spring or summer fare and are one of our favorite garden wedding rentals! Be sure to also take a look at our Heirloom China and Stoneware.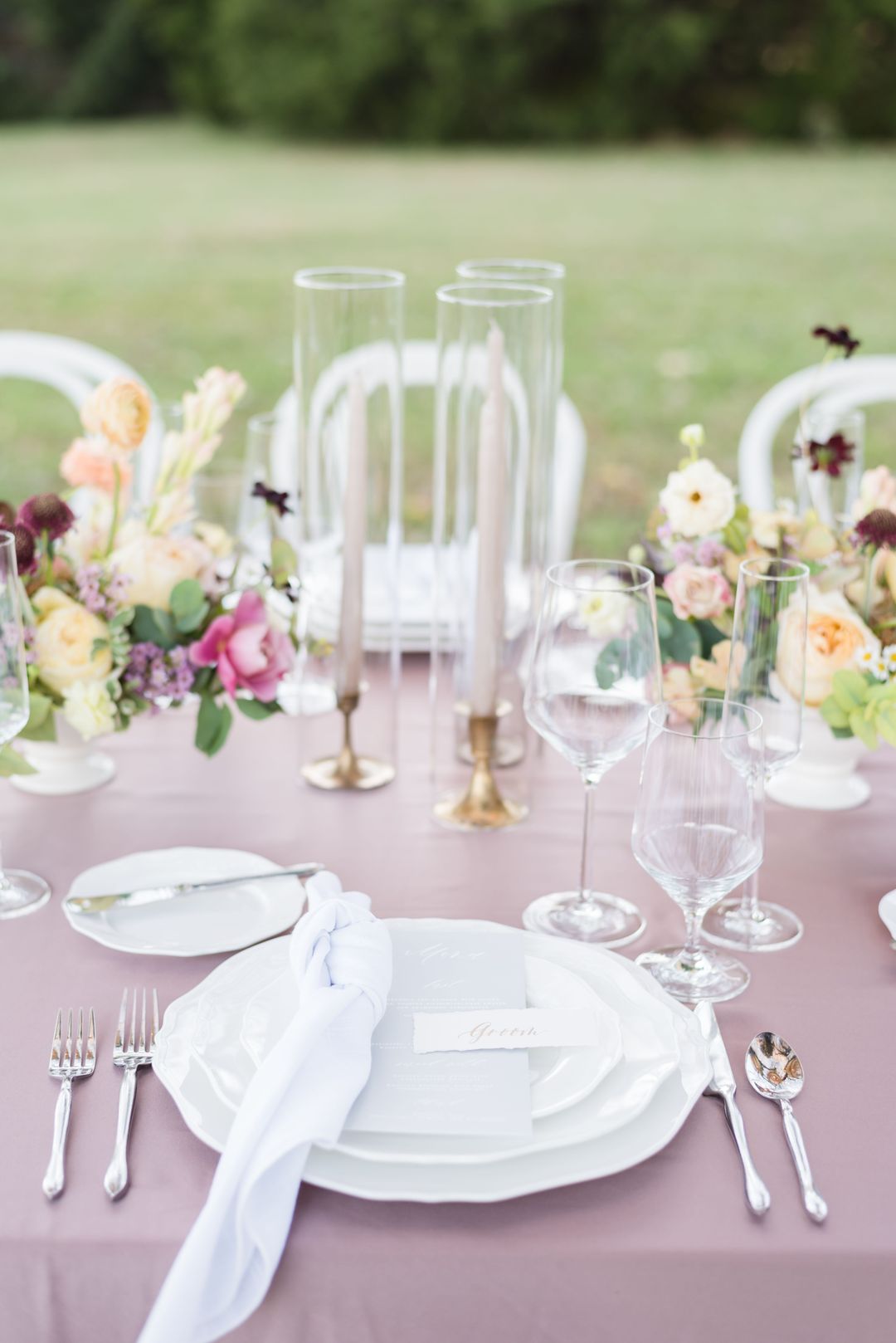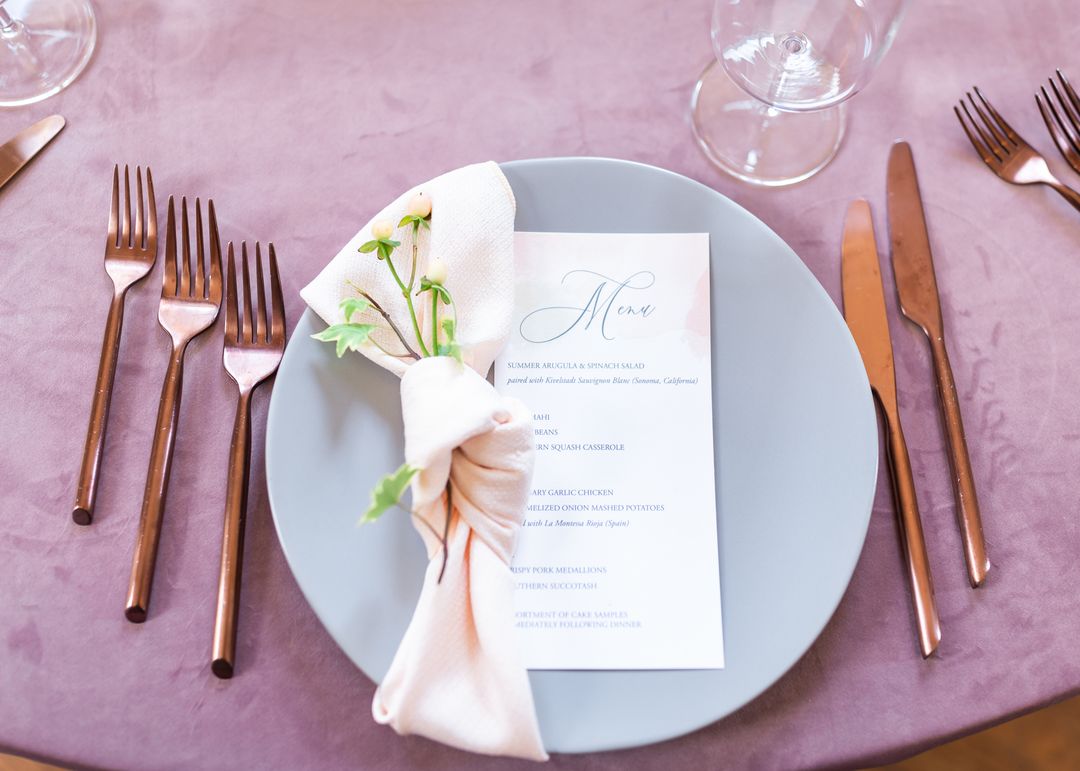 Ceremony Set-Ups
We love adding unexpected elements to an outdoor garden party, using interior pieces to stage lush floral arrangements and cozy seating areas. Create unique ceremony backdrops, seating areas and Instagram-worthy nooks with our Fiona Ivory Mantle. This classic piece looks so beautiful covered in fresh blossoms and pictures of the bride and groom!
Garden-Inspired Table Linens
Nothing freshens up an outdoor table setting like a pop of color and texture from high-quality table linens. Your linens can provide the perfect backdrop for your table settings and arrangements. For garden weddings, we love our richly textured Moss Green Crush and Velvet Linens, as well as our warm and rustic Havana Cafe neutral napkins and feminine Chiffon Runners.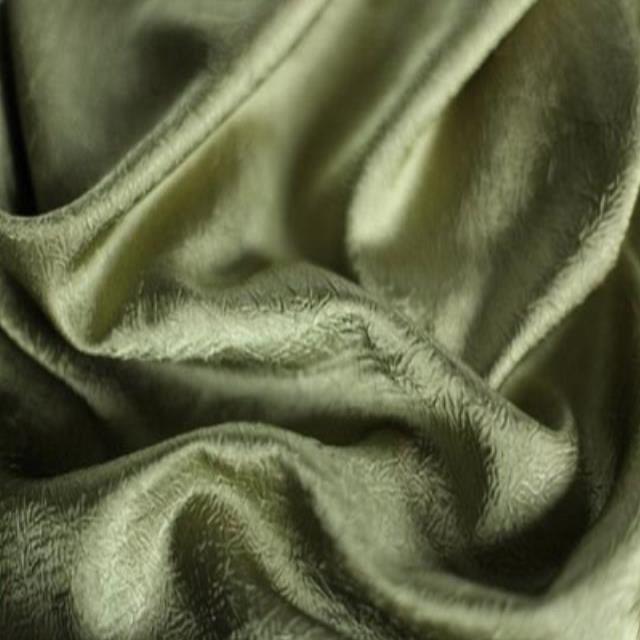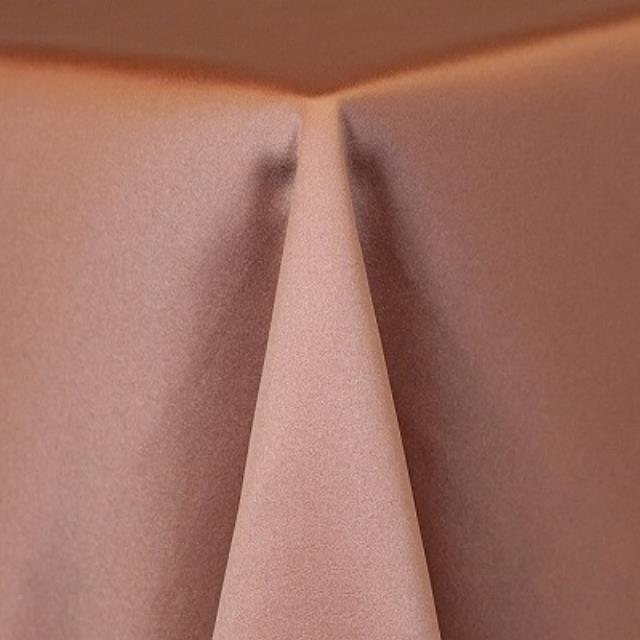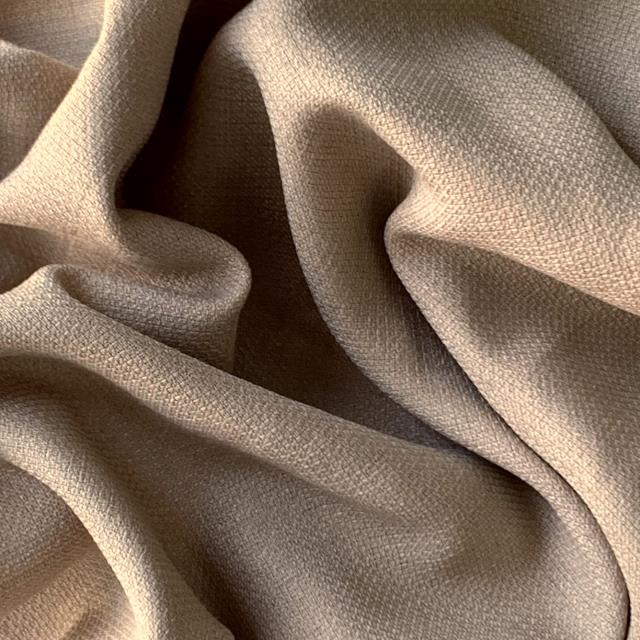 Intimate Lounge Areas
When it comes to a garden wedding, we love the simple, feminine charm of an intimate lounge area! Mix and match our elegant and cozy furniture, to create a welcoming place for guests to sit and stay for a while. Alongside pieces such as our sofas & loveseats, be sure to feature a few Trellis or Capri White Side Tables. Both are elegant and will add a sophisticated, feminine feel to your wedding lounge!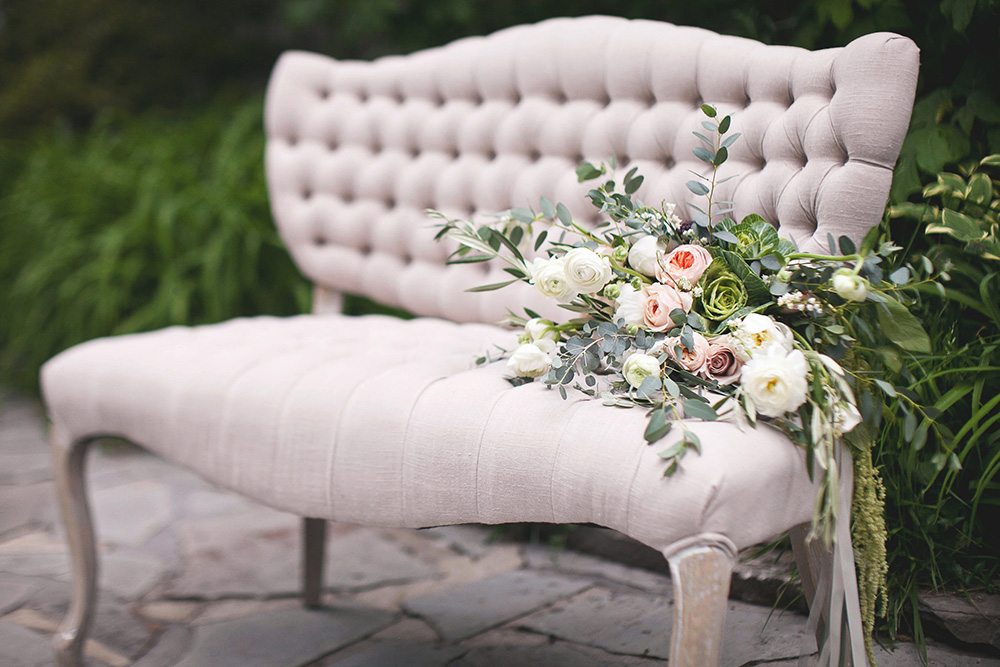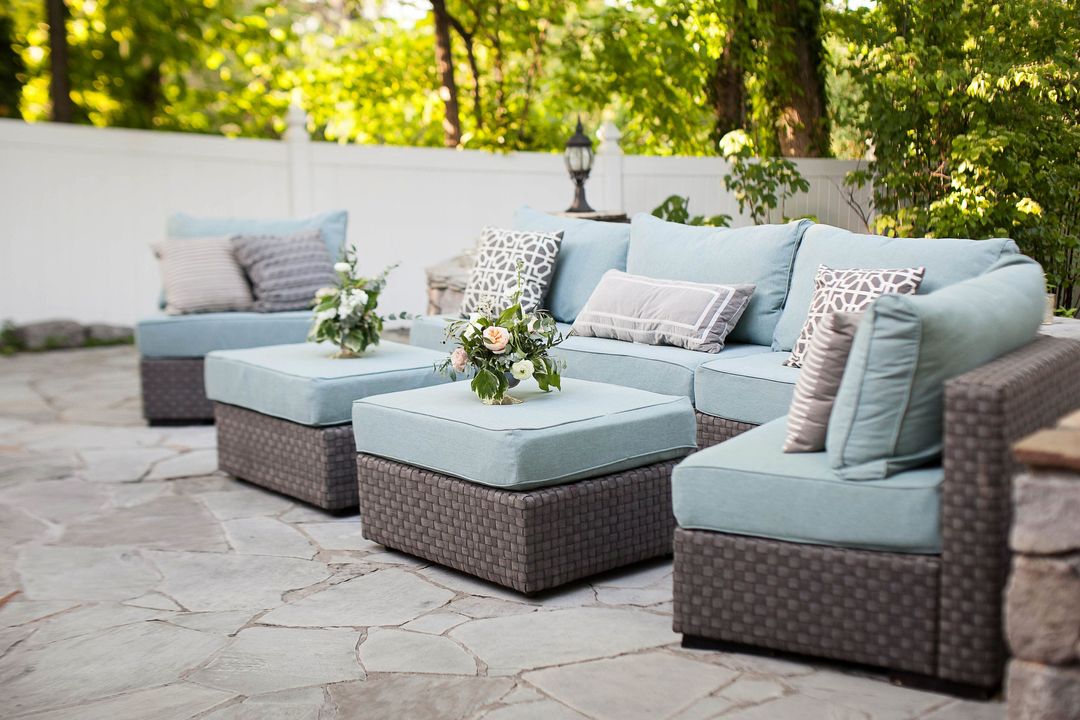 Peak Tent
Rain or shine, your big day is going to be beautiful. That's why we encourage you to take away the stress and enjoy the shade (or shelter) from underneath one of our elegant tents. Featuring heavy-duty aluminum frames and block-out vinyl tops, you and your guests will stay cool in the shade beneath our Peak Frame and Hexagon Tents! Decorate them with billowing drapery and fresh flowers for a wonderful and whimsical outdoor event.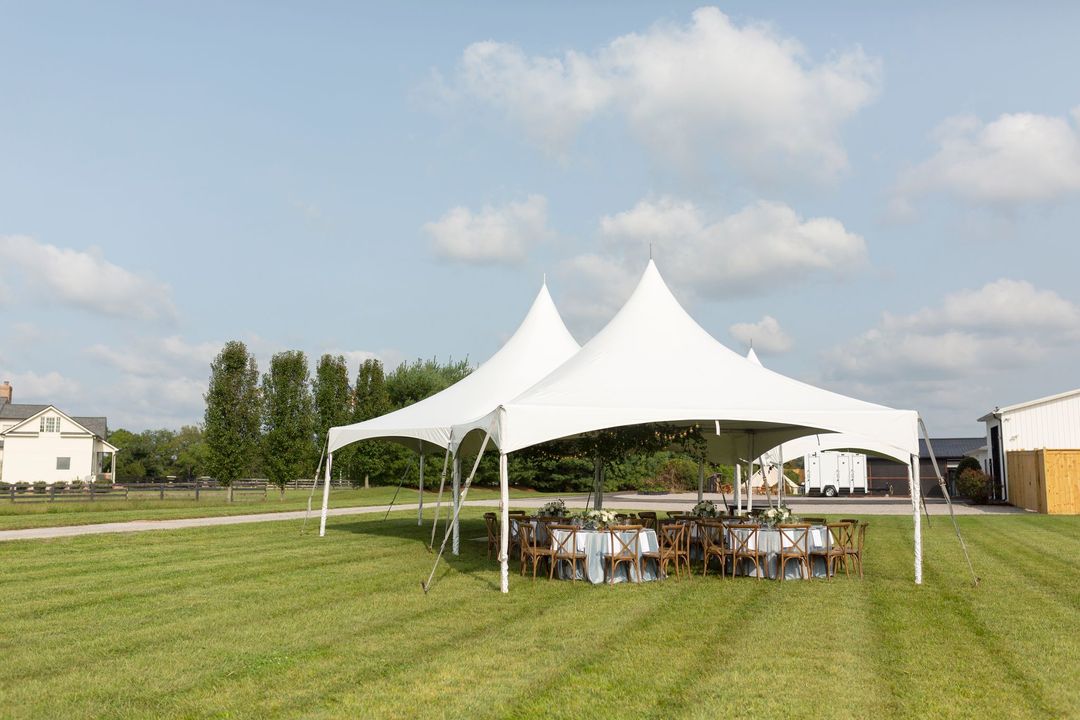 Natural Wood Dance Floor
Dancing in the grass sounds like a wonderful time- until you remember that you and your friends will be wearing heels! Prevent any fashion faux-pas and keep the party going with our New England Wood Dance Floor. The natural wood finish makes a lovely addition to the party, adding function without interrupting the aesthetic.
Photo @smithstudiosphotography
Ready to plan your dreamy garden wedding? To discover how to create your own elegant garden event in Nashville and Franklin, TN, email us at info@southerneventsonline.com.
TAGS | Boxwood Walls, Chifon Runners, Darcy China, Fiona Mantle, Garden Party Design, Harlin Chairs, Nashville Event Rentals, Nashville party rentals, Natural Wood Dance Floor, Outdoor Event Furniture, Outdoor Prop Shoppe, Peak Tent, Southern Events Party Rental, Southern Events Party Rental Company, Vintage Fruitwood Ceremony Doors, Vintage Walnut Ceremony Doors, garden wedding decor, outdoor wedding, outdoor wedding decor, upscale outdoor wedding decor
FEATURED RENTALS | Boxwood Walls, Harlin Chairs, Darcy China, Natural Wood Dance Floor, Fiona Mantle, Celcila Linens, Magnolia Velvet Linens, Moss Green Crush Linens, Havana Cafe Linens, Chifon Runners, Vintage Bird Cages, Wrought Iron Tabletop Tree, Trellis Side Table, Capri Side Table, Peak Tent,
---