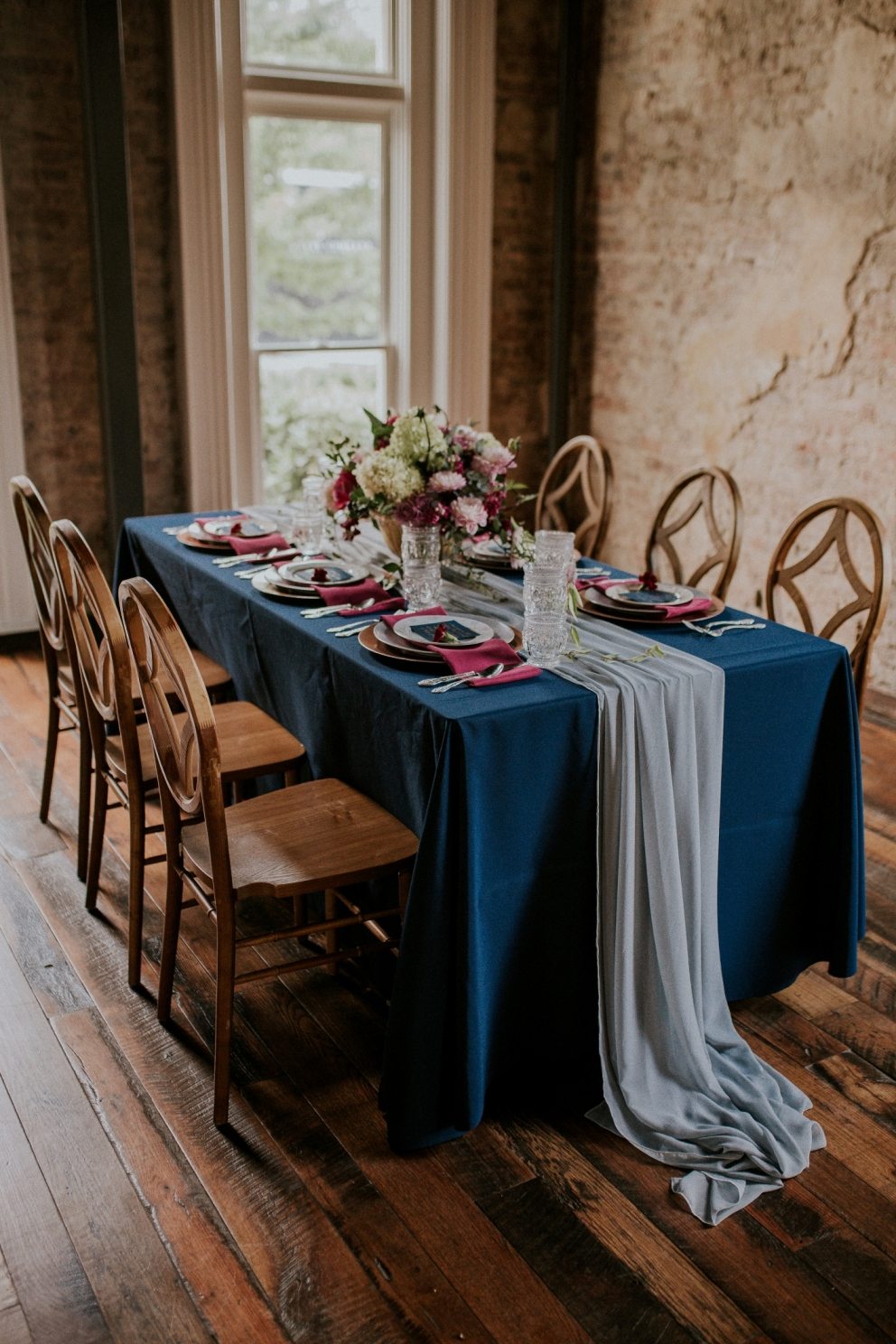 Fall is drifting in, and as the seasons begin to change, so do wedding trends. Bold and vibrant colors can be found everywhere in nature–from the burgundy mums sitting on your doorstep, to the bright orange pumpkins waiting to be carved into jack-o-lanterns, to the yellow leaves falling to the ground. Who are we to argue with mother nature? The vivid and rich color palette of the great outdoors moves fall wedding trends toward more jewel-toned hues.
So grab that pumpkin spice latte, light a candle, and peruse these gorgeous, in-stock jewel-toned rentals.
Jewel-Toned Furniture
Our Saylor Navy Sofa always makes a striking statement. We've used it at many weddings and events, and it begged to be included in this lineup. The piece's deep and powerful hue of blue brings in warmth and vivacity. Our Tabby Tufted Gray Linen Loveseat and Gold Chiavari Chairs are alluring accent pieces that round out the fall color theme.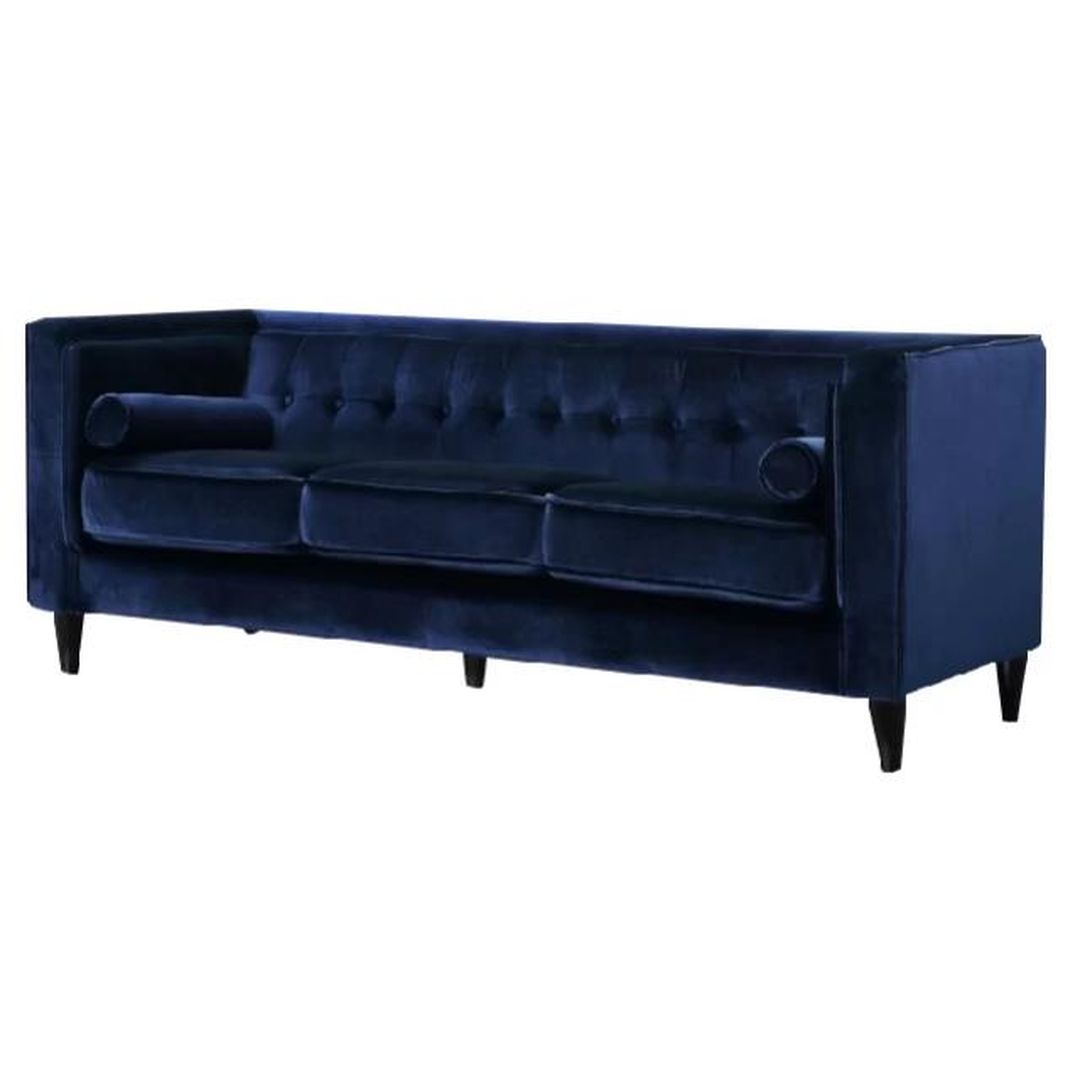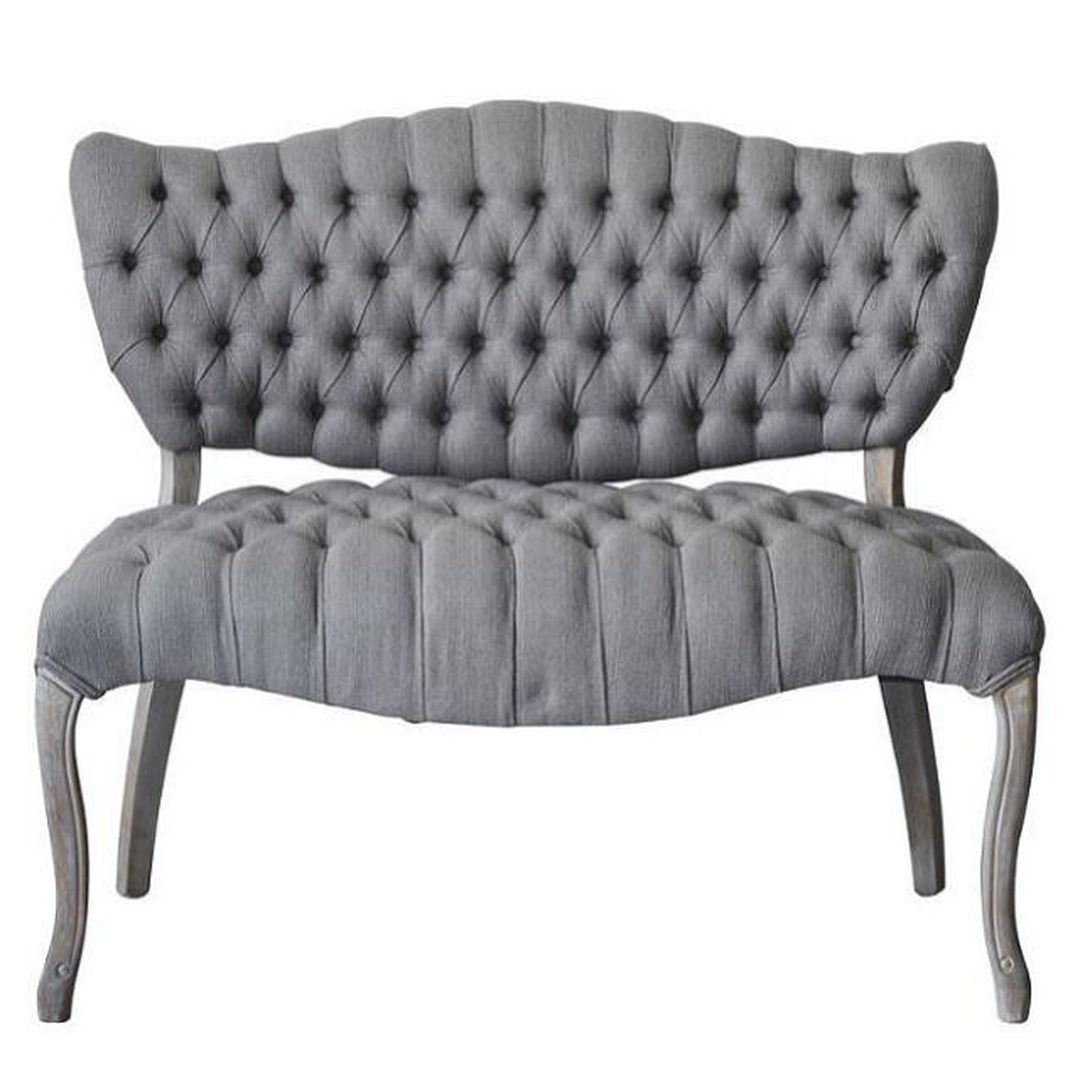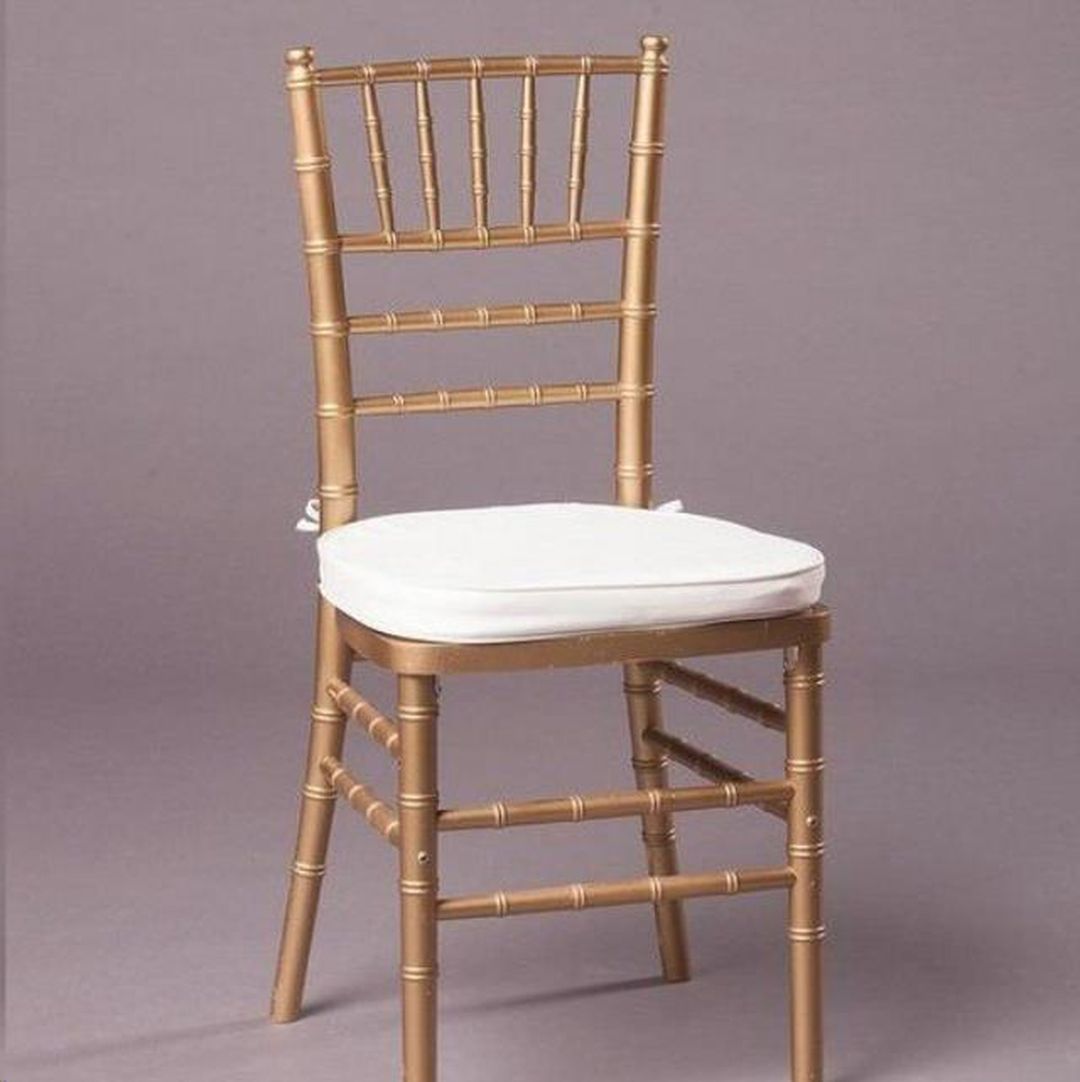 Bold Linens
We love playing with linens- layering them, draping them, and allowing them to pop in unexpected places. When it comes to a fall, jewel-toned wedding theme, linens are a trusty side-kick. They accentuate, build up, and reinforce the vibrant color palette. The possibilities are endless. Our Burgundy Poly Linen, Gold Poly Linen, Magnolia Green Velvet Linen, and Raspberry Poly Linen are our top picks for pushing this jewel-toned vision to life.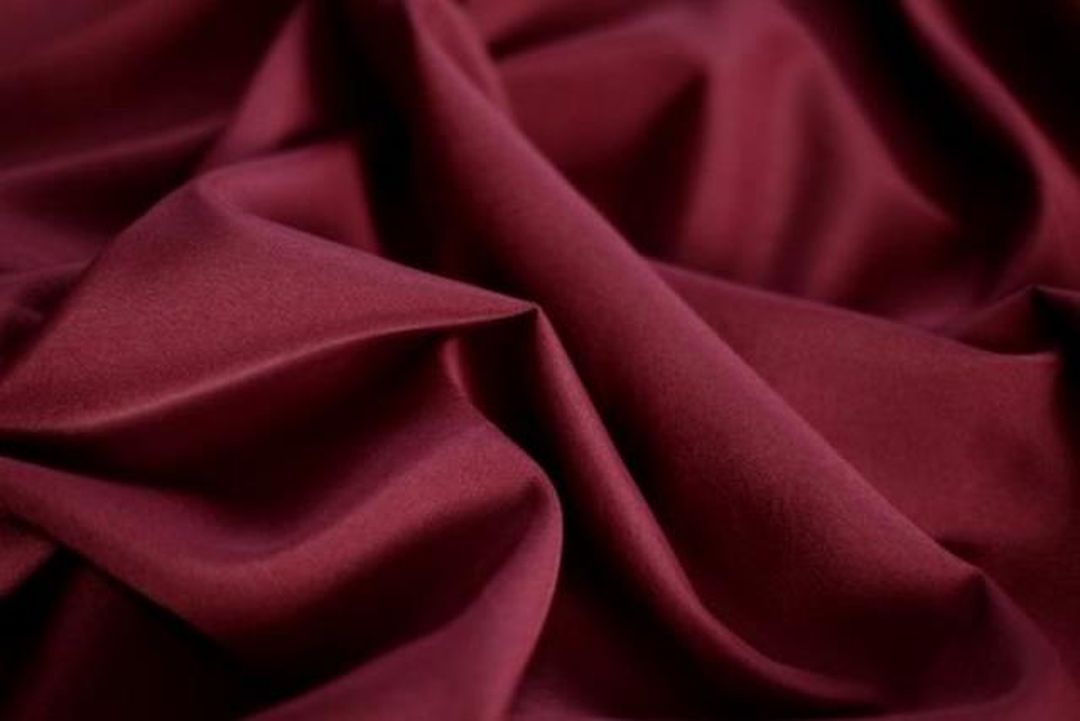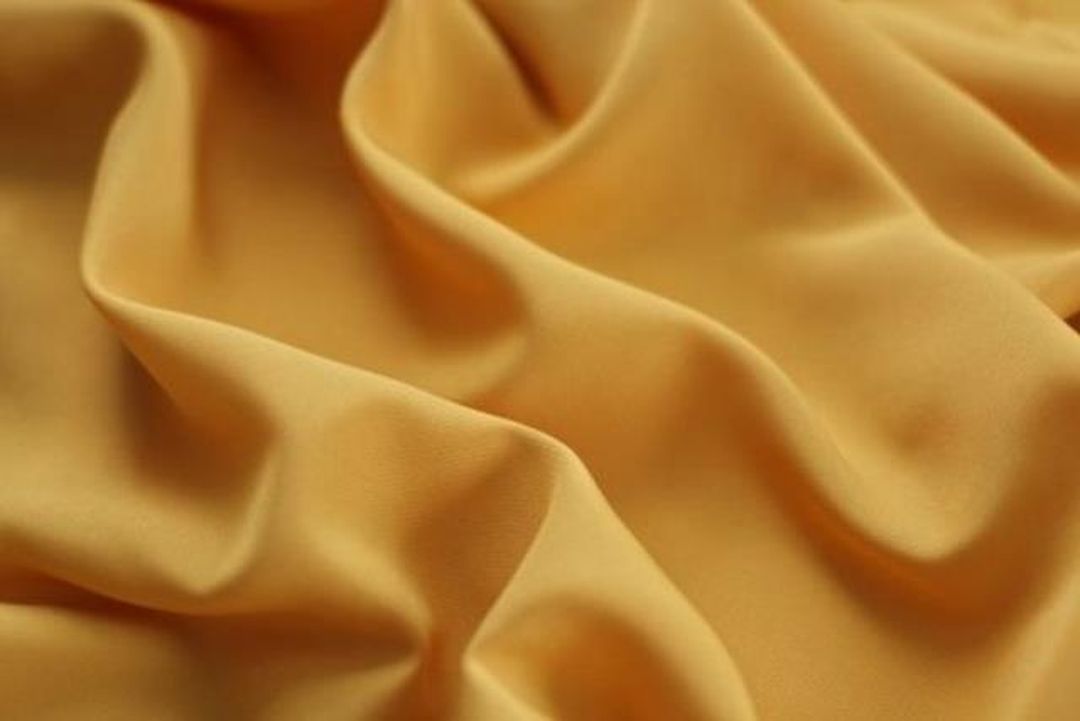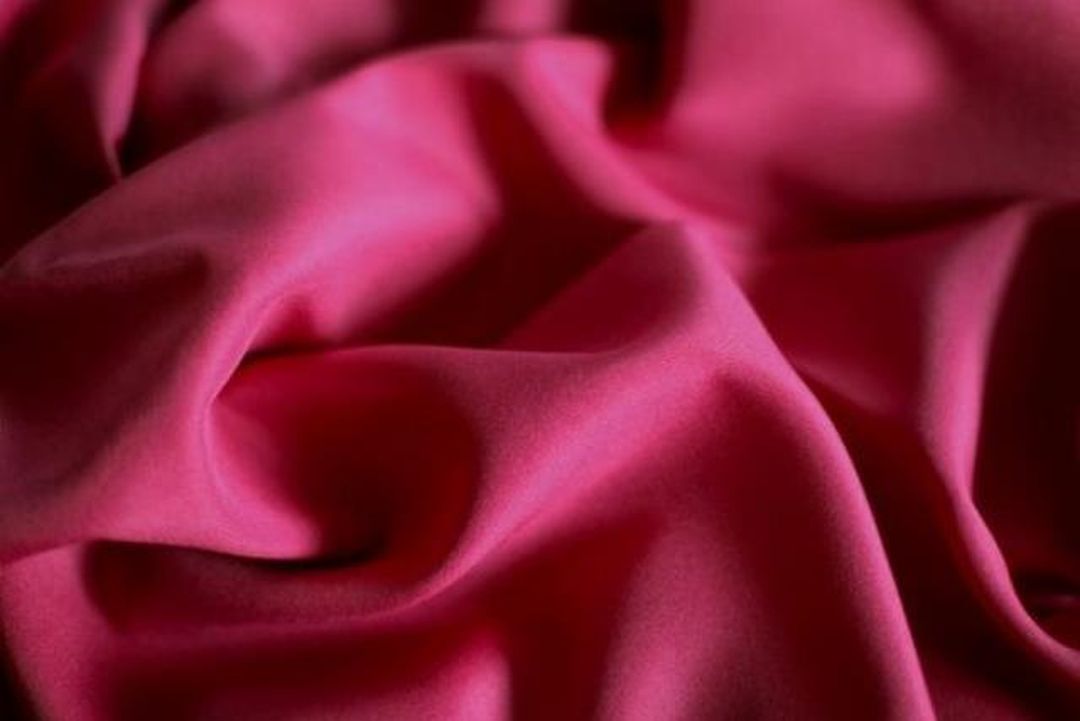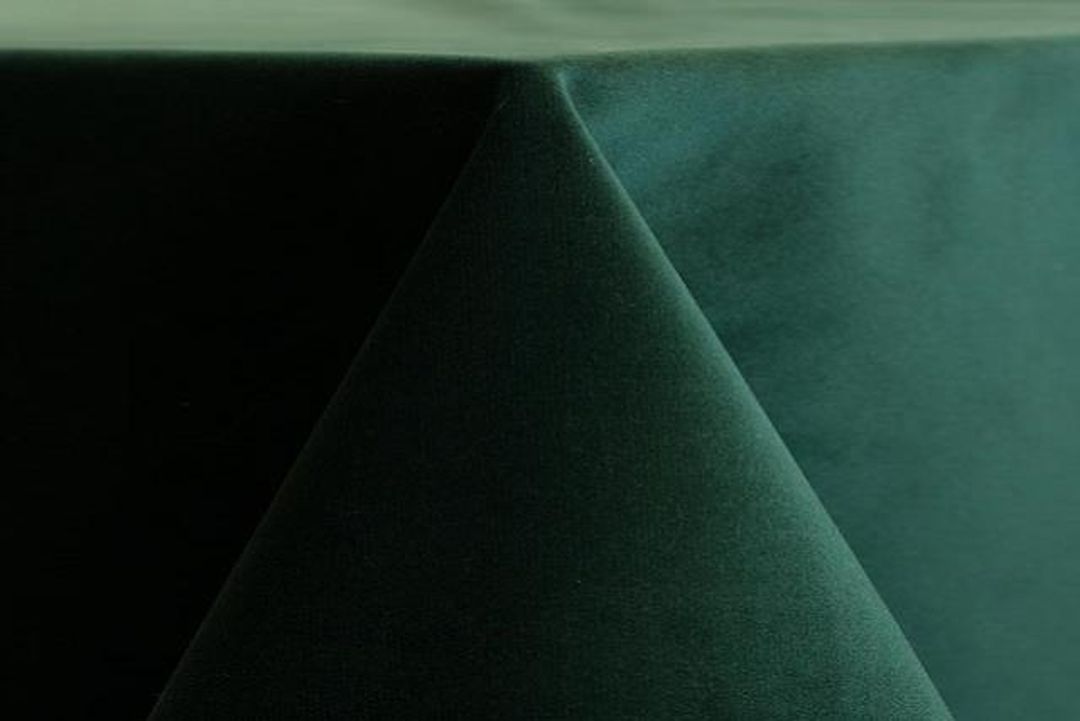 Gold Accents
Warm, rich, vivacious colors set in gold are the things of fairy tales (and sought-after gifts). Rubies, emeralds, sapphires- they all have several things in common. One of which being they are set in gold. Setting your jewel-toned wedding in gold is simple with our in-stock rentals. Our Austin Flatware, Gold Accent China, and Gold Decor Accessories do just the trick.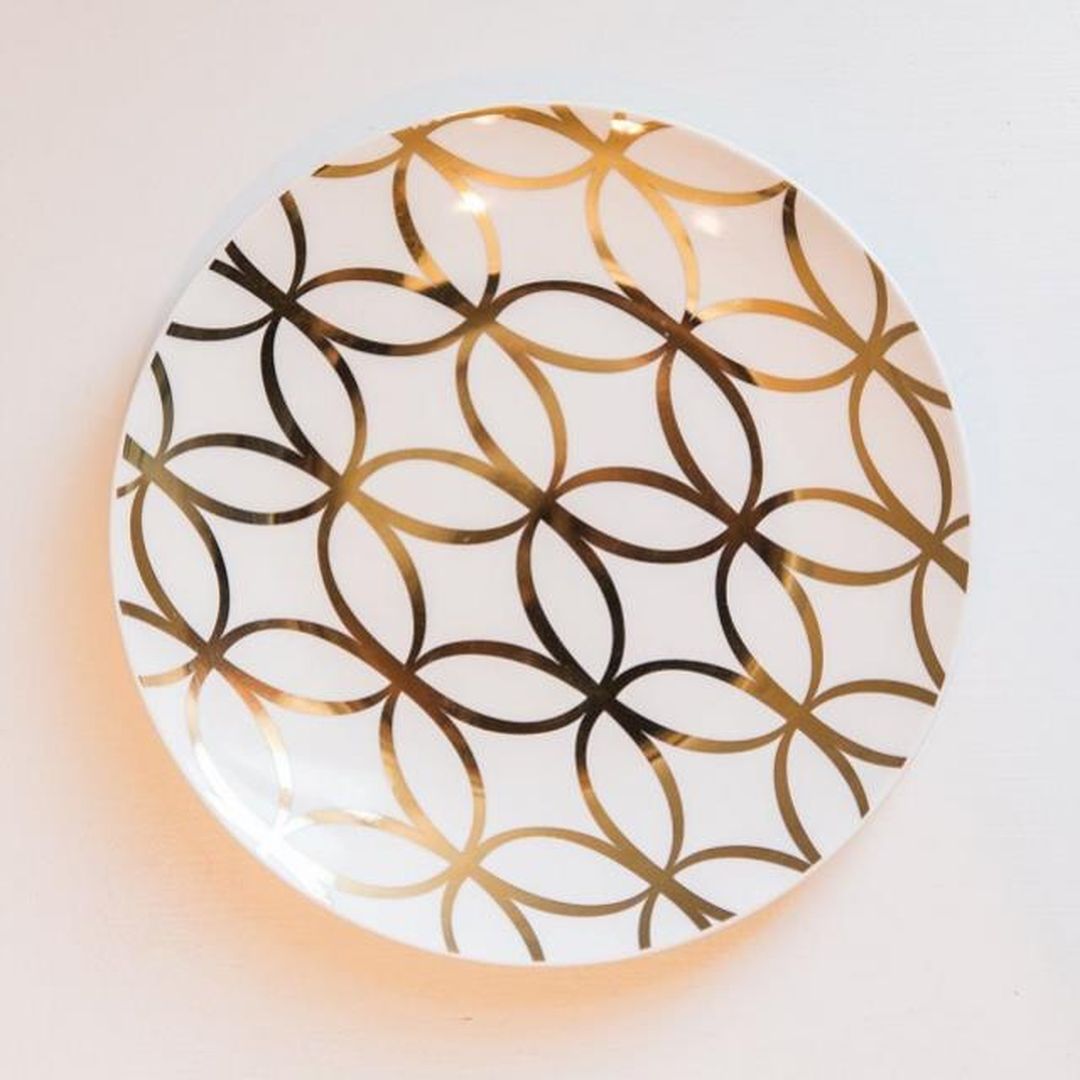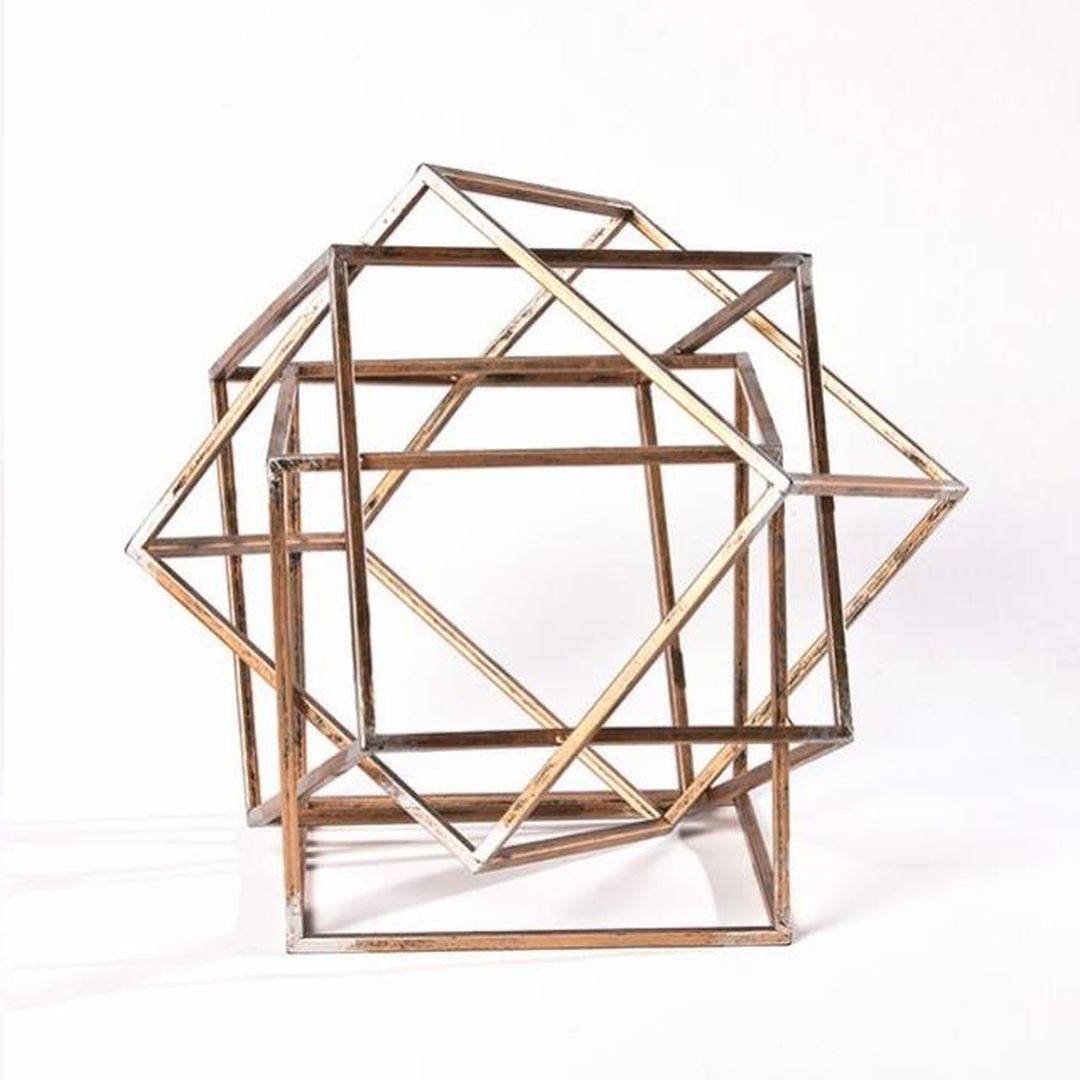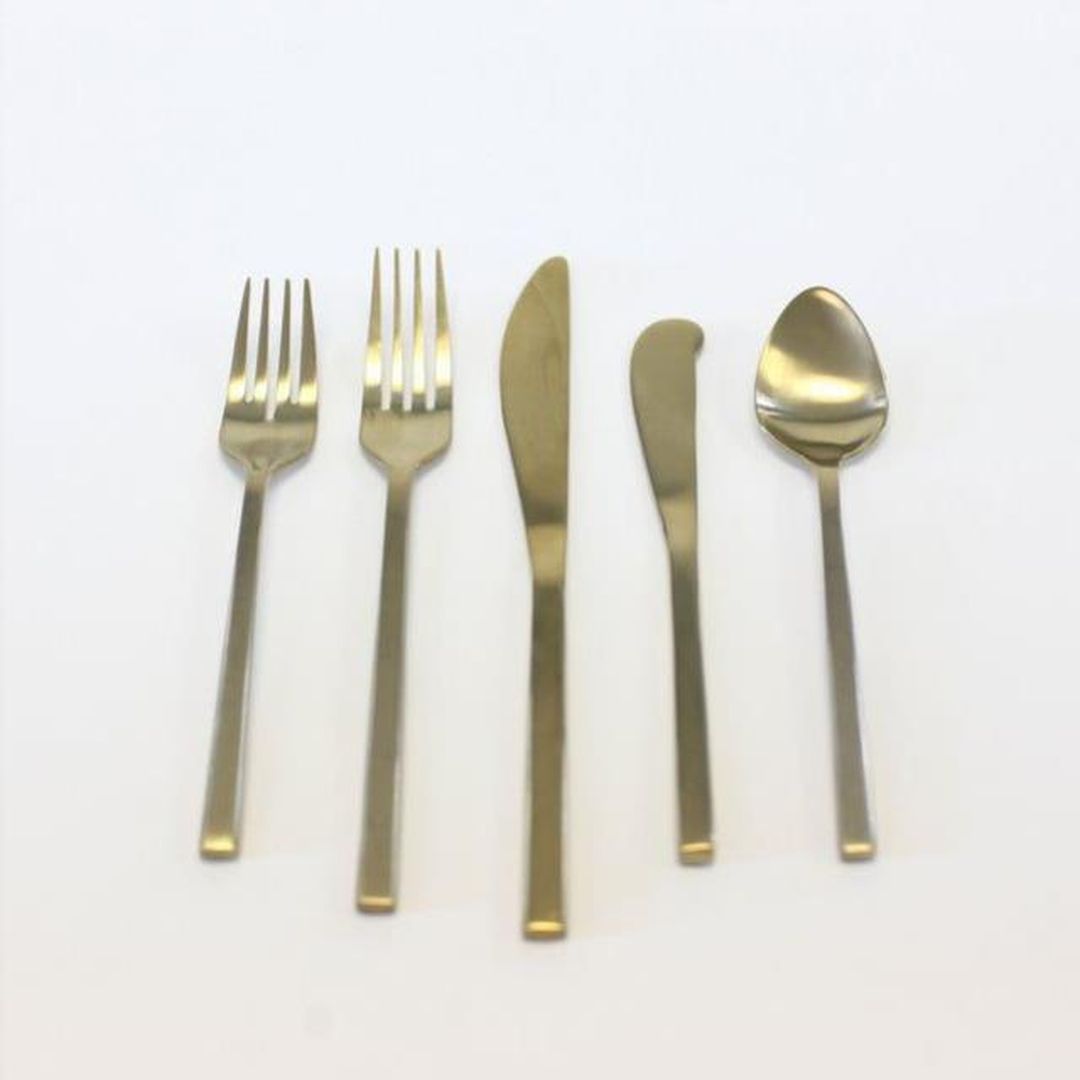 Are you catching these fall feels? We'd love to help you create the bold and vivacious wedding you're dreaming of. Send us a message at info@southerneventsonline.com.
TAGS | Nashville Event Rentals, Southern Events Party Rental Company, southern weddings, wedding style trends
FEATURED RENTALS | Saylor Sofa, Chiavari Chair, Austin Flatware, Magnolia Green Velvet Linen, Tabby Gray Tufted Sofar
---
5

Sep

Southern Events Products, Trends and Inspiration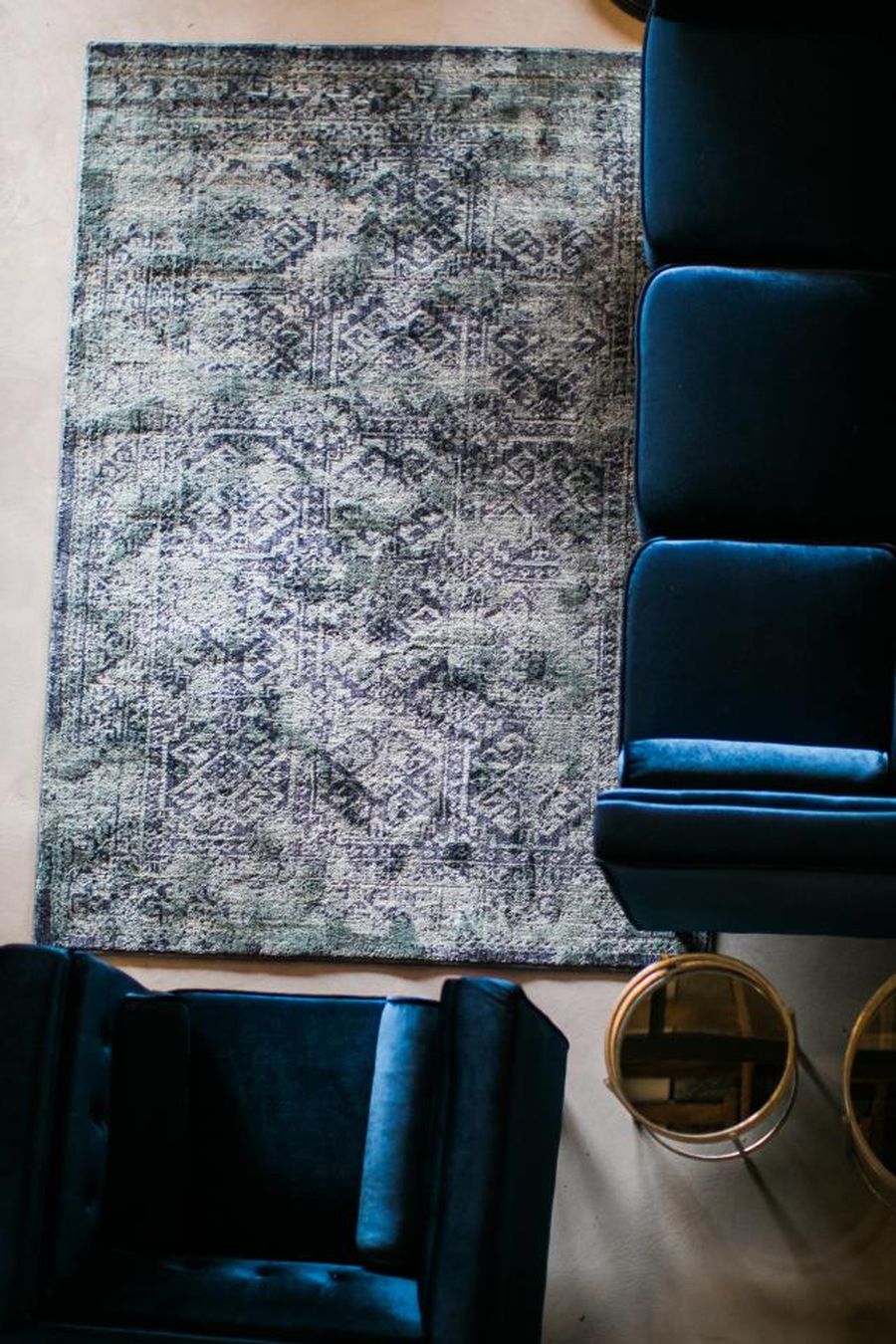 Monochromatic event design takes one color and weaves it throughout the event rentals and decor. We've all heard the phrase "less is more" and that's definitely true here.  If you're looking to create a lot of drama and make a memorable statement, choosing one color and layering in different textures and materials will go a long way. It'll be bold no matter what, but the mood varies depending on the color.
This look can be achieved by keeping furniture, linens, lighting, and florals (and pretty much anything and everything in between) in the same color palette. Also, there's no need to stress about making sure everything matches just right. For monochromatic design, it's more about pulling together varying hues, tones, and textures in the same color family. We've used our in-stock rentals to showcase how to pull together this look.
Sophisticated Black
A black monochromatic design creates a sophisticated feel. Our Black Velvet Sofa paired with our Black and Silver Rug build out the perfect lounge area. For dining, our Carrera Marble Dinner Plate and Black Dupioni Linens join forces to give off an ultra-sophisticated and seamless look. Finally, we used our Acrylic Ghost Armless Chairs to compliment the black monochromatic design and carry the sophistication even further. (Our Acrylic Chairs are a nice companion to pretty much any monochromatic event design.)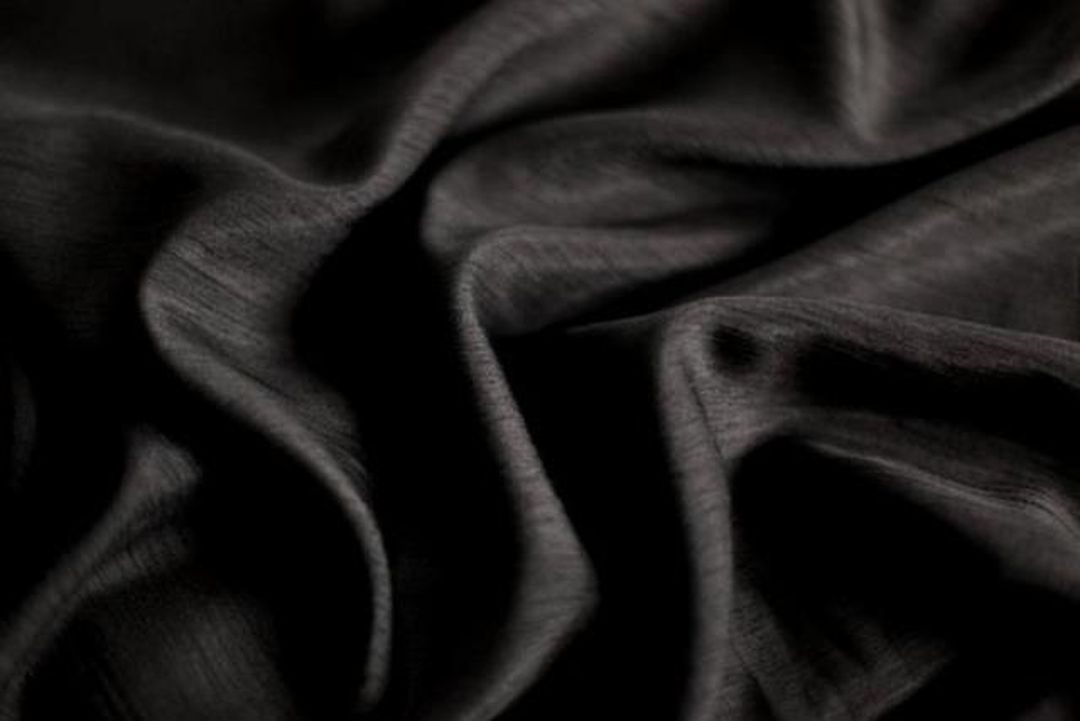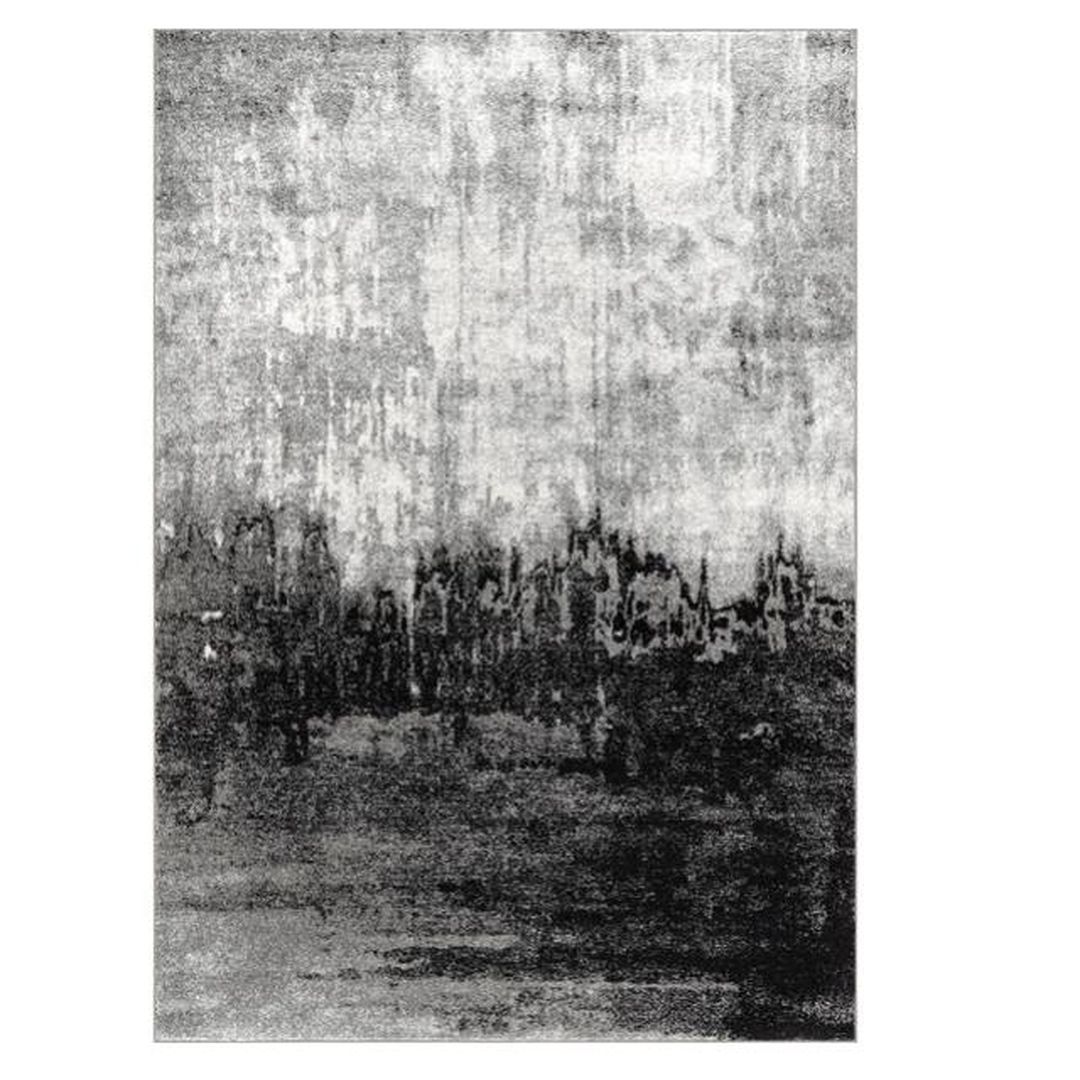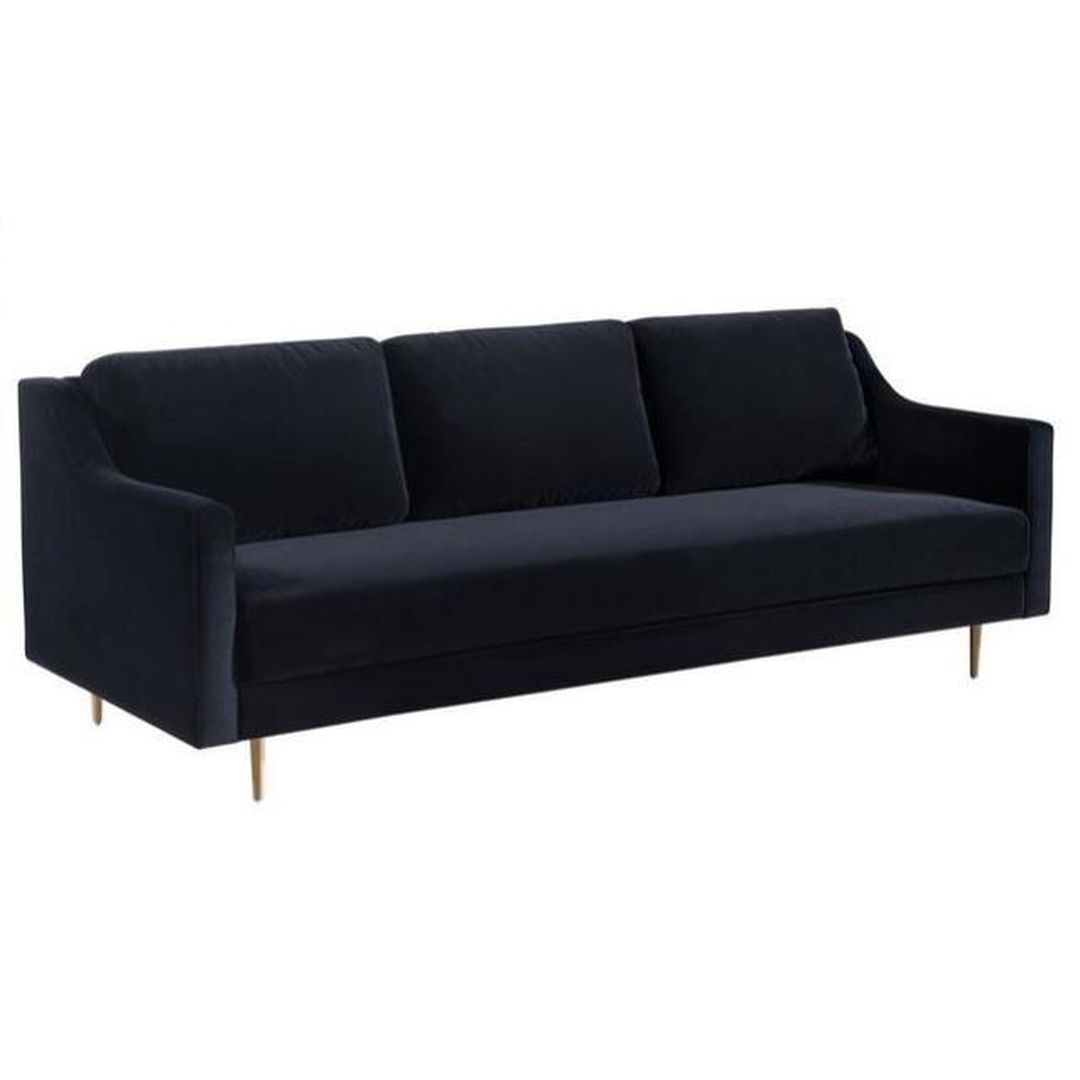 Glamorous White
An all-white design is a dreamy and glamorous option for weddings and other events. It gives off an ethereal, magical feel. There are so many ways to go about a white monochromatic design. For this look, we pulled together our Santorini Off-White Sofa and Loveseat and Cowhide Rug for a comfortable lounge area. For the dining area, we brought in mismatched Vintage Chairs, Athena China, and Cybil Glassware.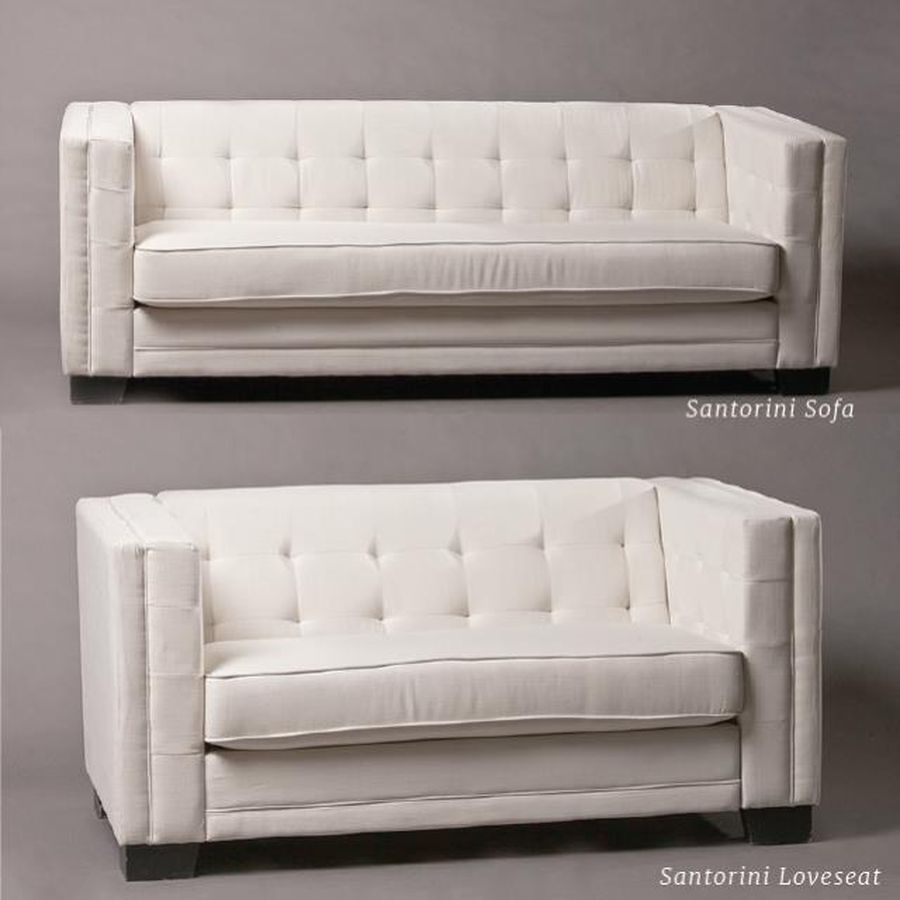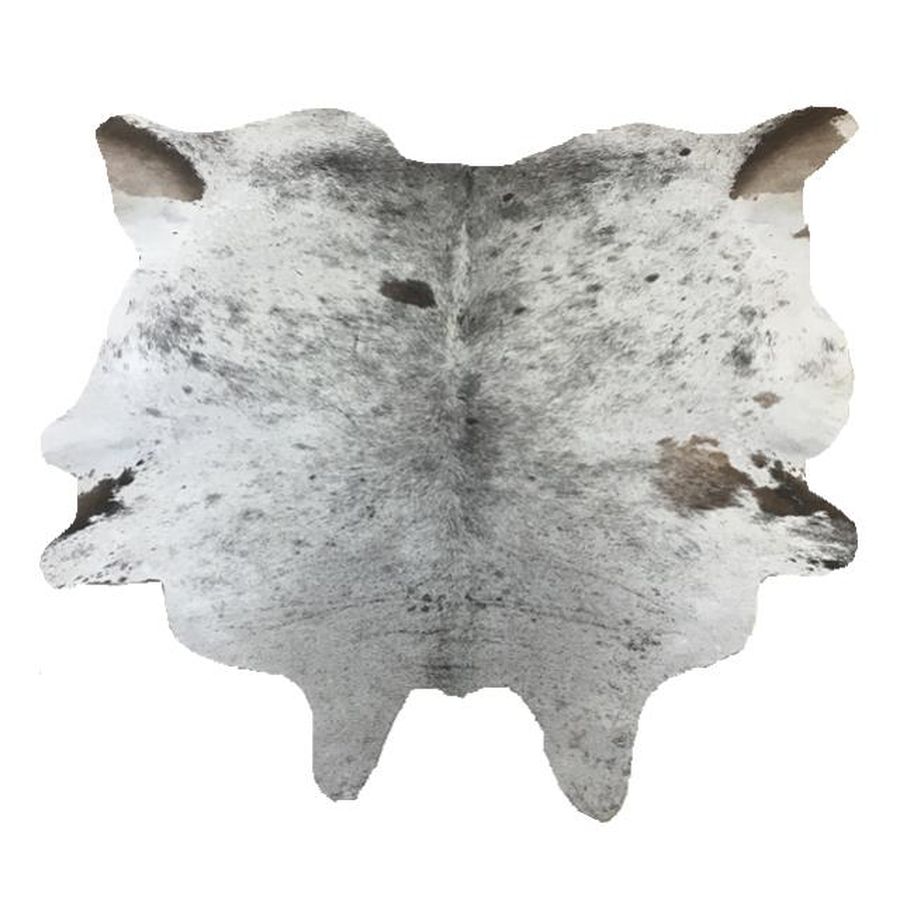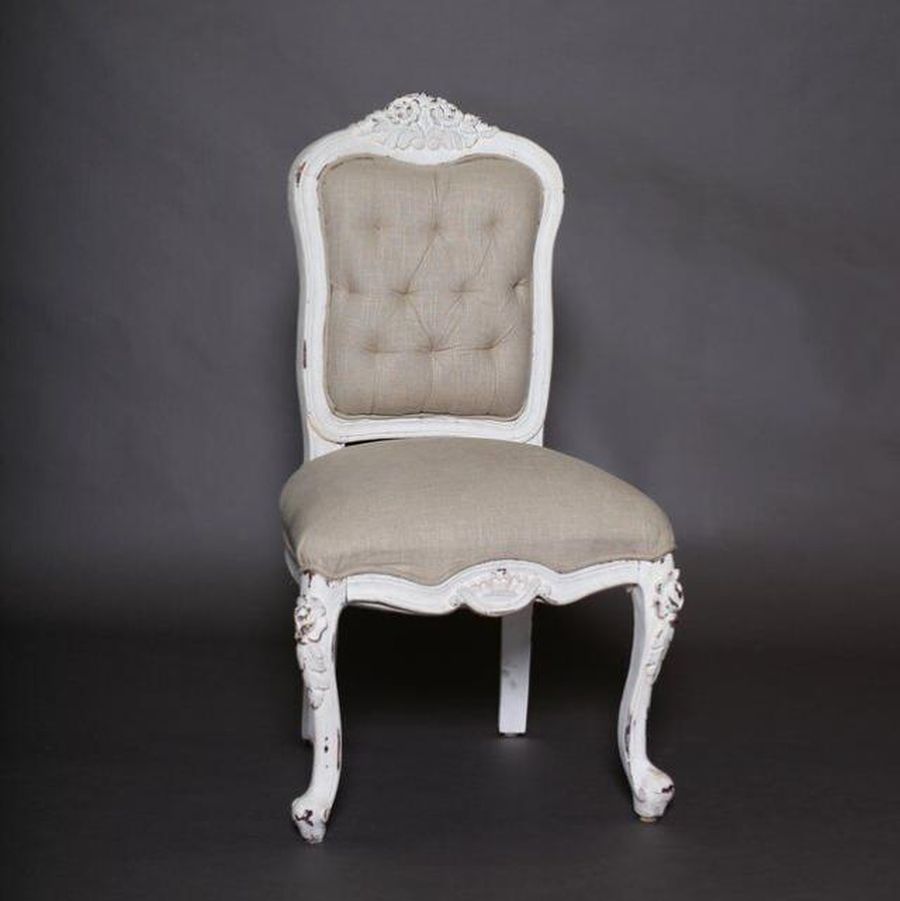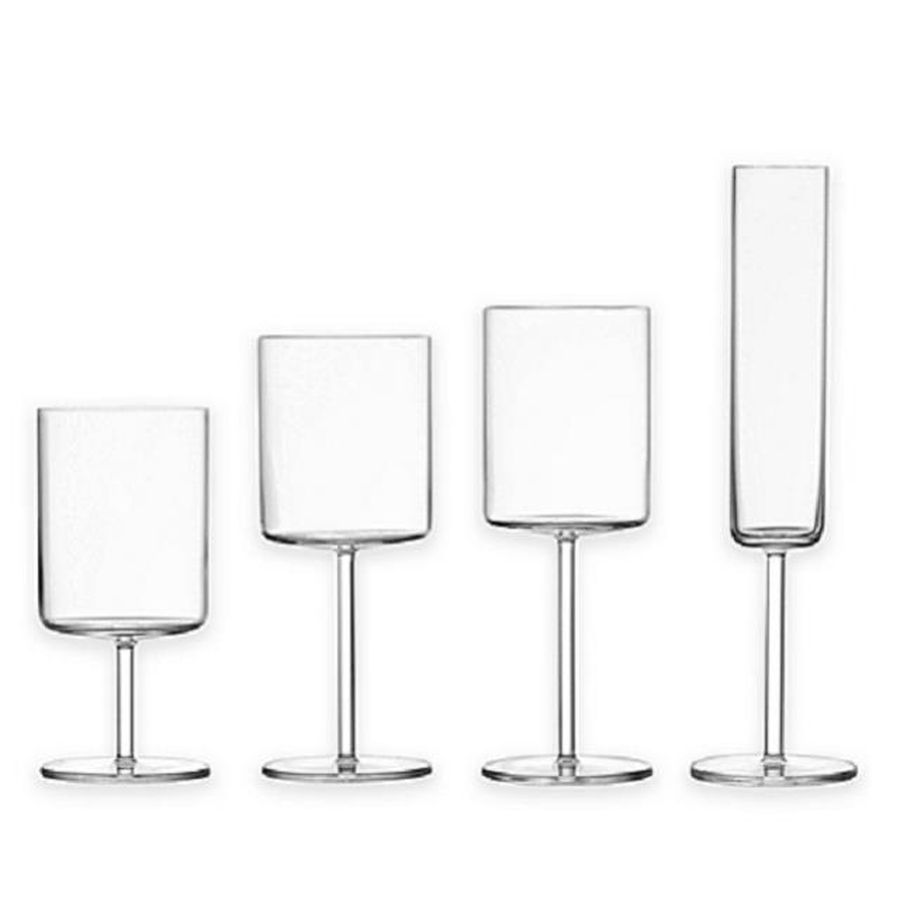 Bold Blue
A blue monochromatic theme is both bold and classy. The Saylor Sofa and Loveseat set the scene for this look. To accent the blue monochromatic theme, we pulled in our Navy Rug and Meridian Blue Tumblers.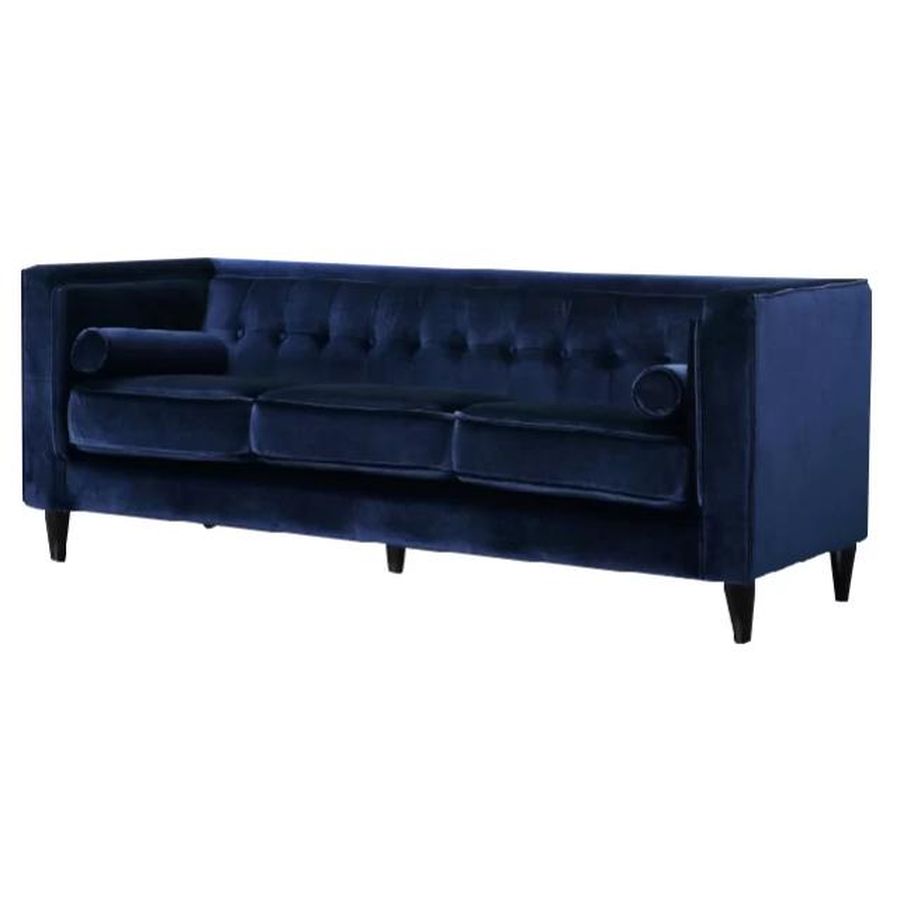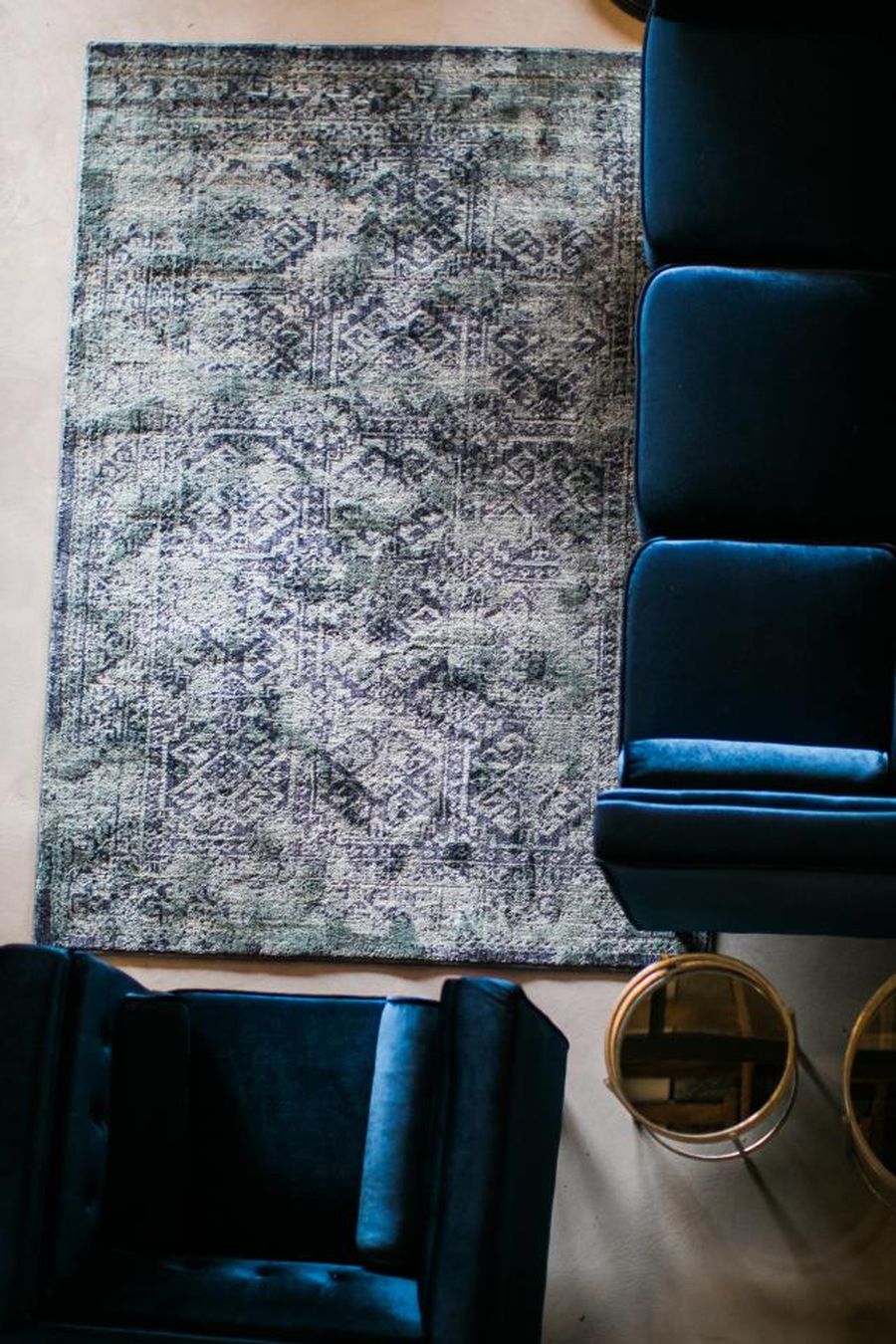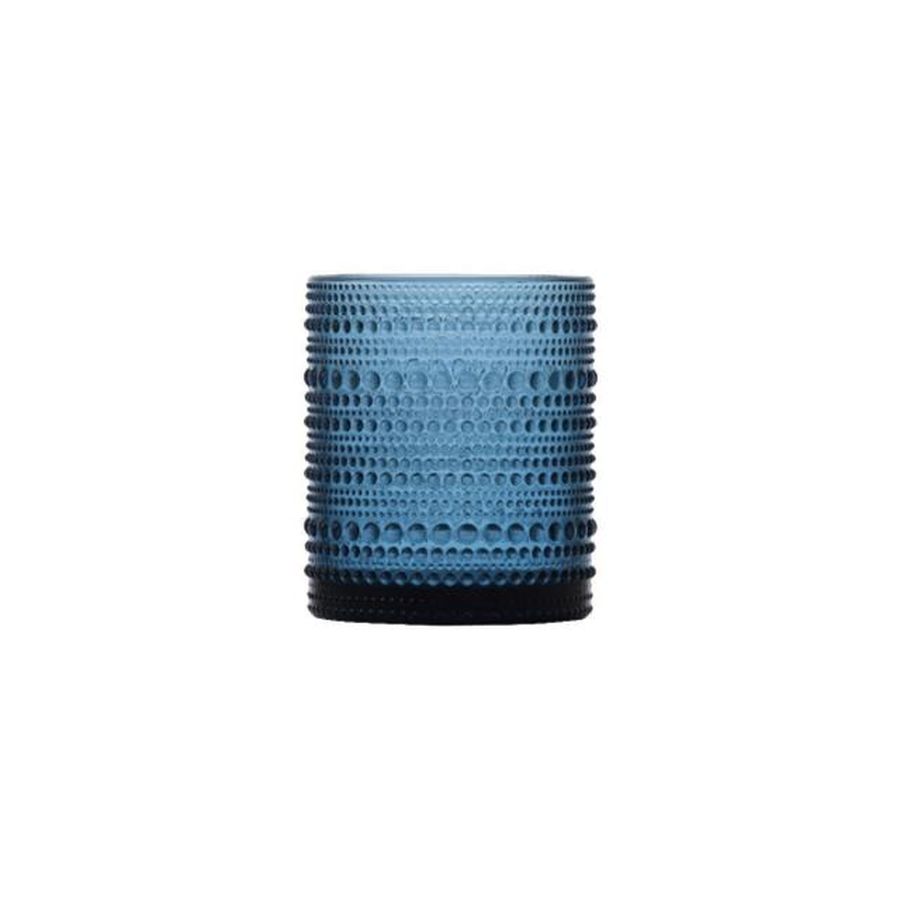 We'd love to create a show-stopping look for your wedding or corporate event. If you're feeling inspired by these designs, send us a message at info@southerneventsonline.com.
TAGS | Nashville Event Rentals, corporate event rentals, monochromatic event design, monochromatic event rentals, southern weddings, wedding style trends
FEATURED RENTALS | Saylor Sofa, Navy Rug, Athena China, Santorini Sofa, Meridian Tumbler, Black Velvet Sofa, Cybil Glassware, Black and Silver Rug
---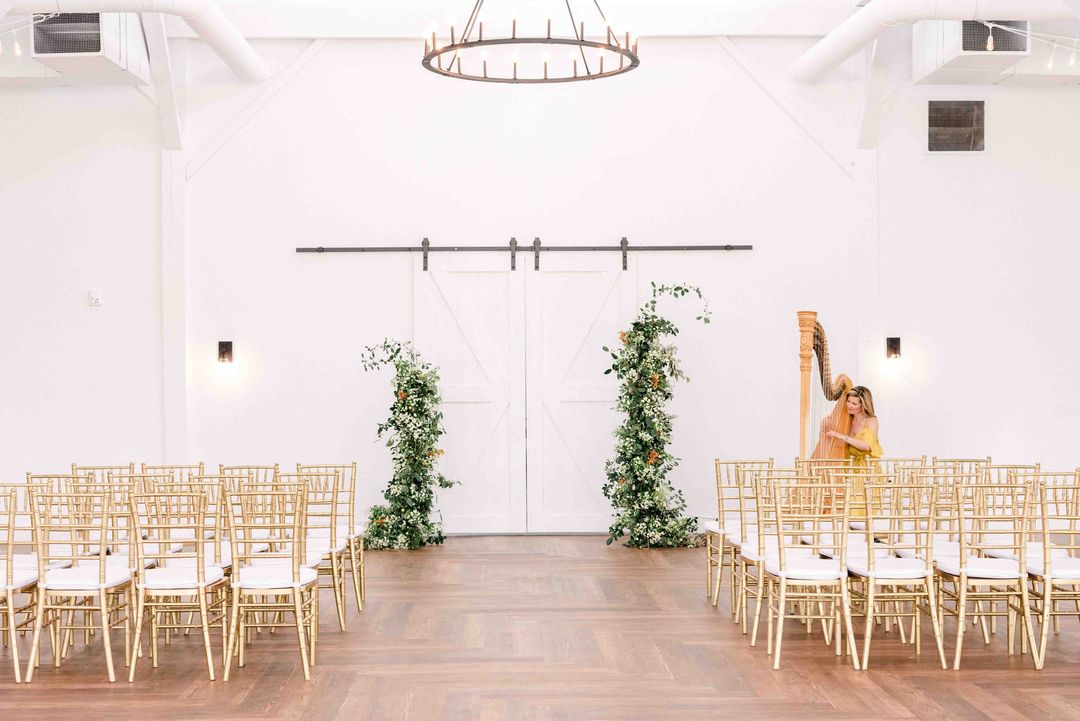 With natural light pouring into the wedding venue from all angles, 14Tenn in Nashville, Tennessee is a sought-after event space for holding weddings and events of all shapes and sizes. As one of the venue's exclusive vendors, we adore designing and dressing this space with our unique wedding and party rentals. The gorgeous, well-lit event venue becomes something new each and every time we get the opportunity to create events there. Crisp white walls, warm wood floors, and obscenely large windows create the perfect canvas.
For a recent style shoot with Styled Shoots Across America, we had the opportunity to create a luxe and inviting wedding look at this Middle Tennessee wedding venue. Our Saylor Navy Velvet Sofa and Chairs brought a welcome pop of color to the serene and modern space. We added our Navy Rug for warmth and comfort (guests always love an inviting space to sit and chat). When working with white walls and wood floors, we jump at the chance to bring in gold accents. The color combination always creates a swoon-worthy – almost ethereal – look that brides and grooms look for on their wedding day. We brought in our Gold Chiavari Chairs to evoke that magical, blissful feeling that all wedding days should have!
For the wedding reception portion of the design, we combined rustic elements with rich, warm colors. Our Fruitwood Farm Table and mismatched white vintage chairs were both inviting and rustic. To up the elegance a bit, we added Magnolia Green Velvet Linens, Hob Nob Glassware, and Gold Accent China.
Photography by Cee Cee Photography.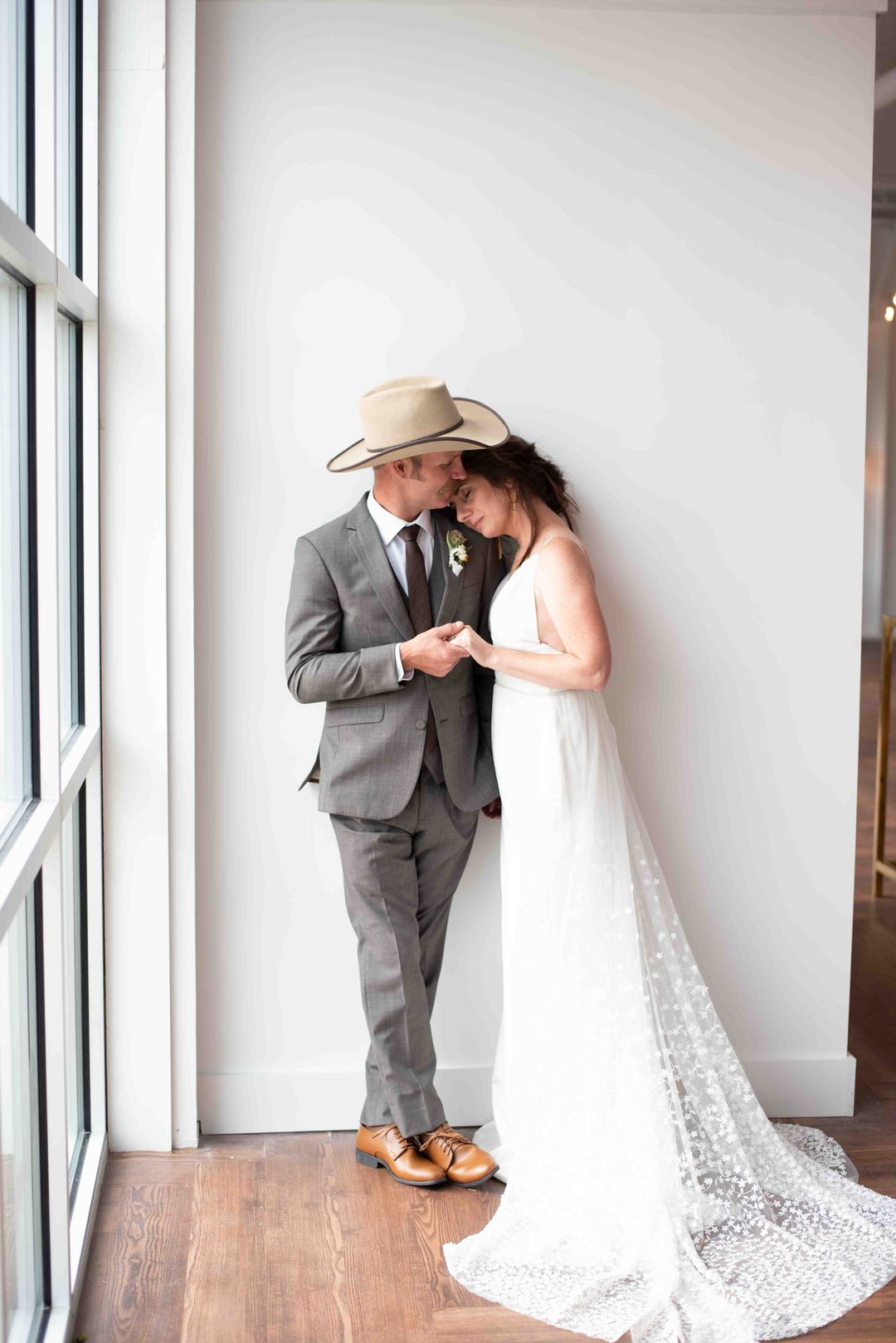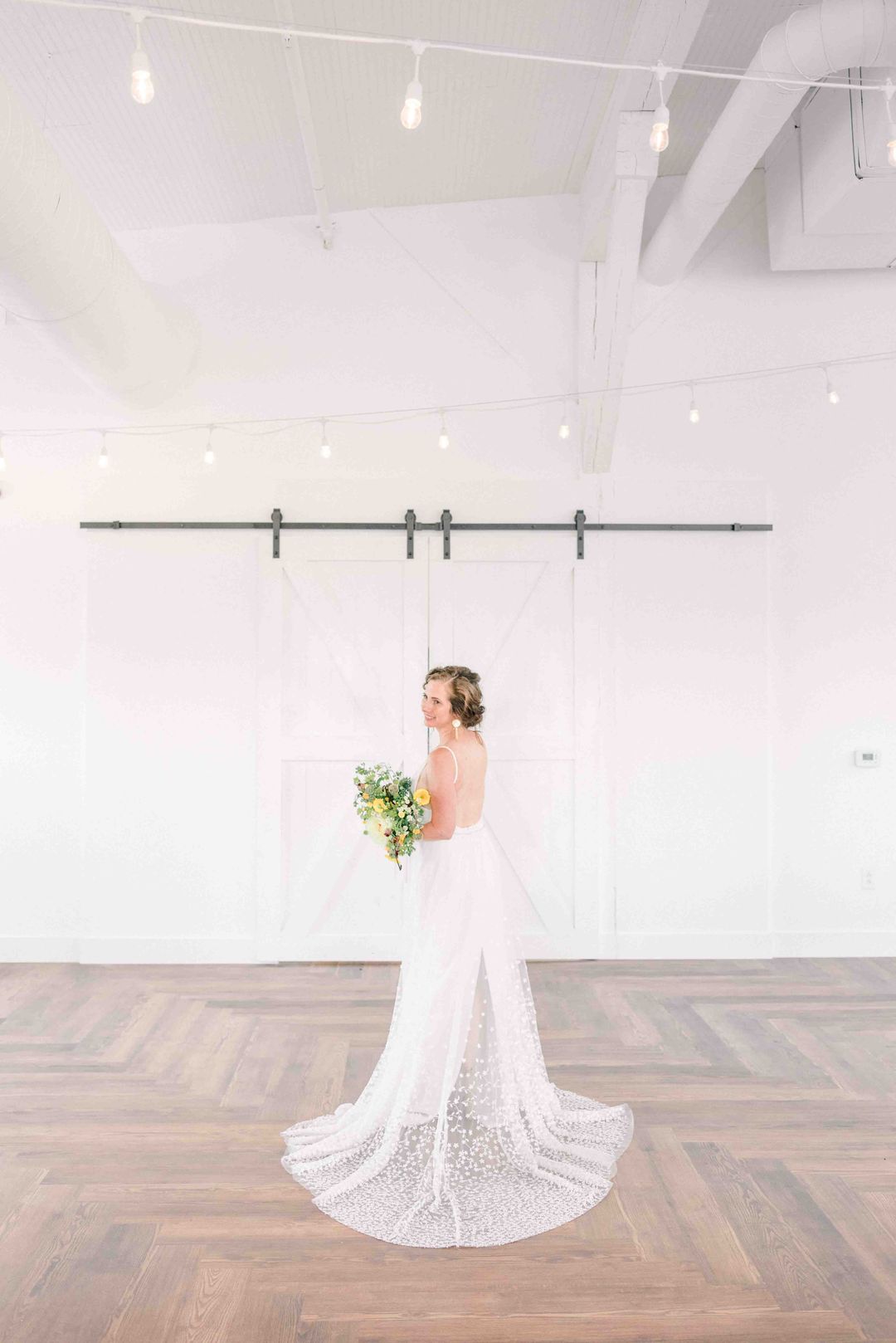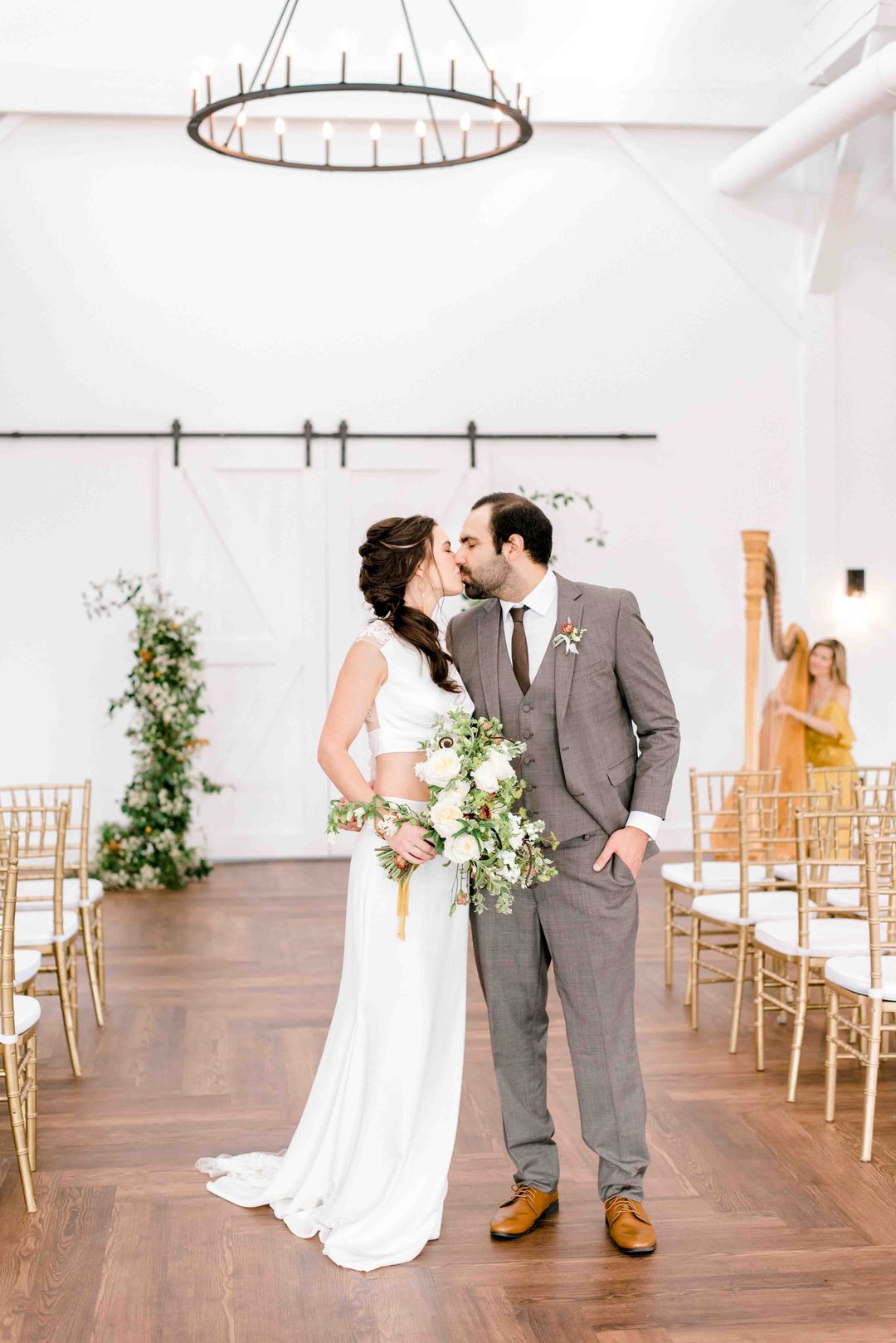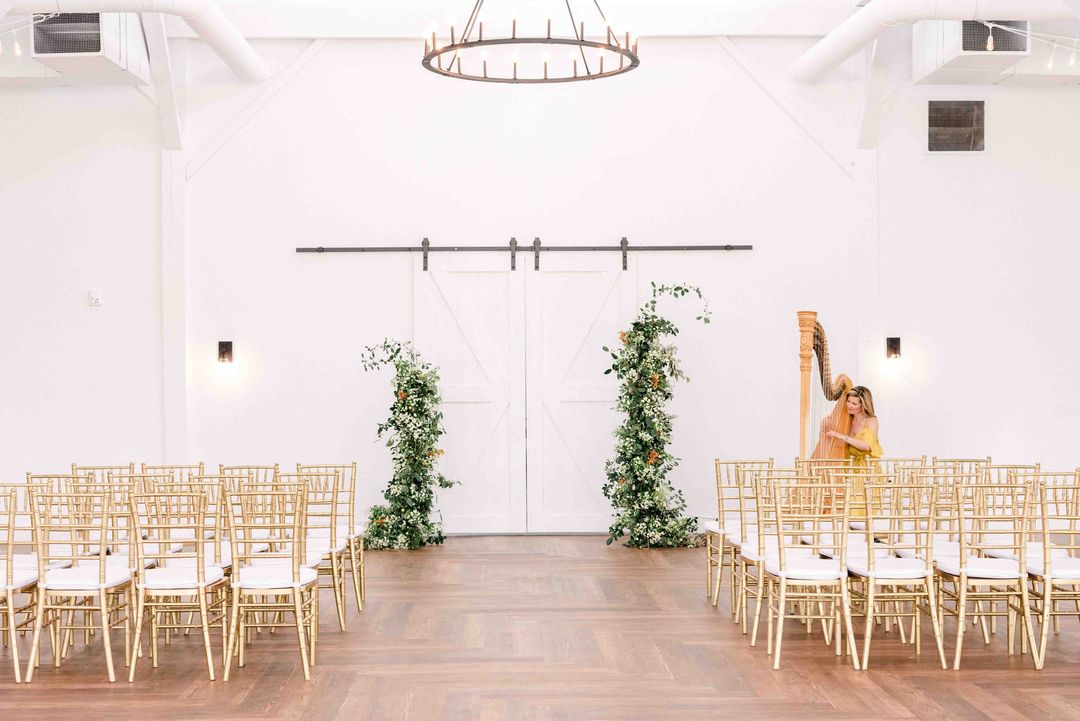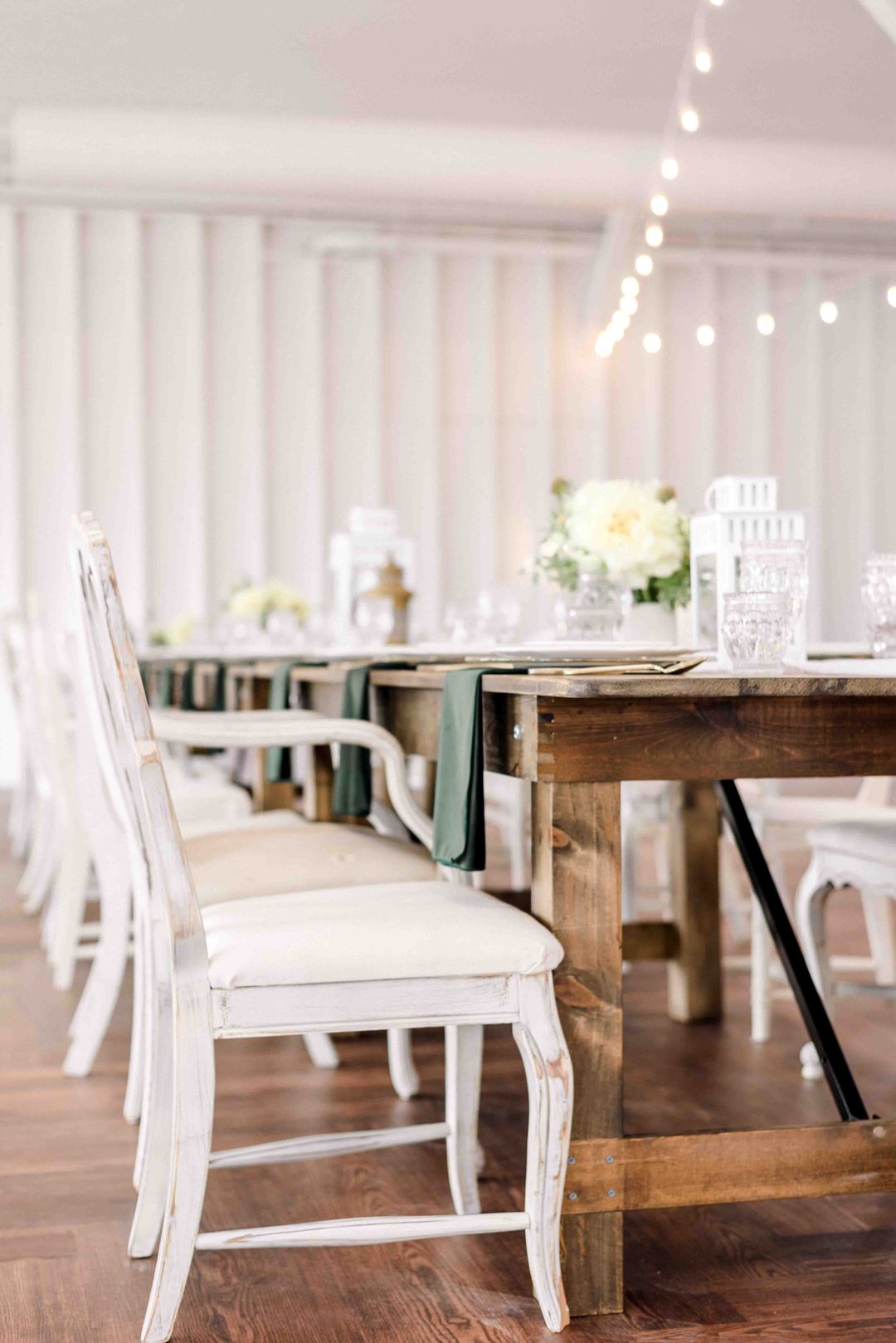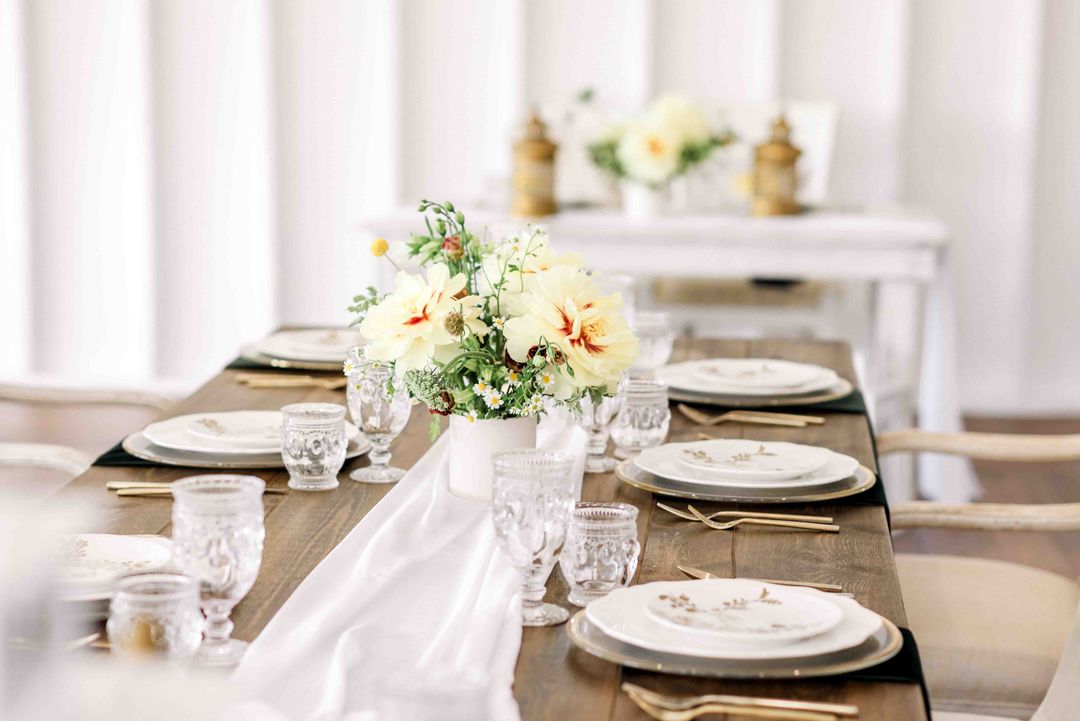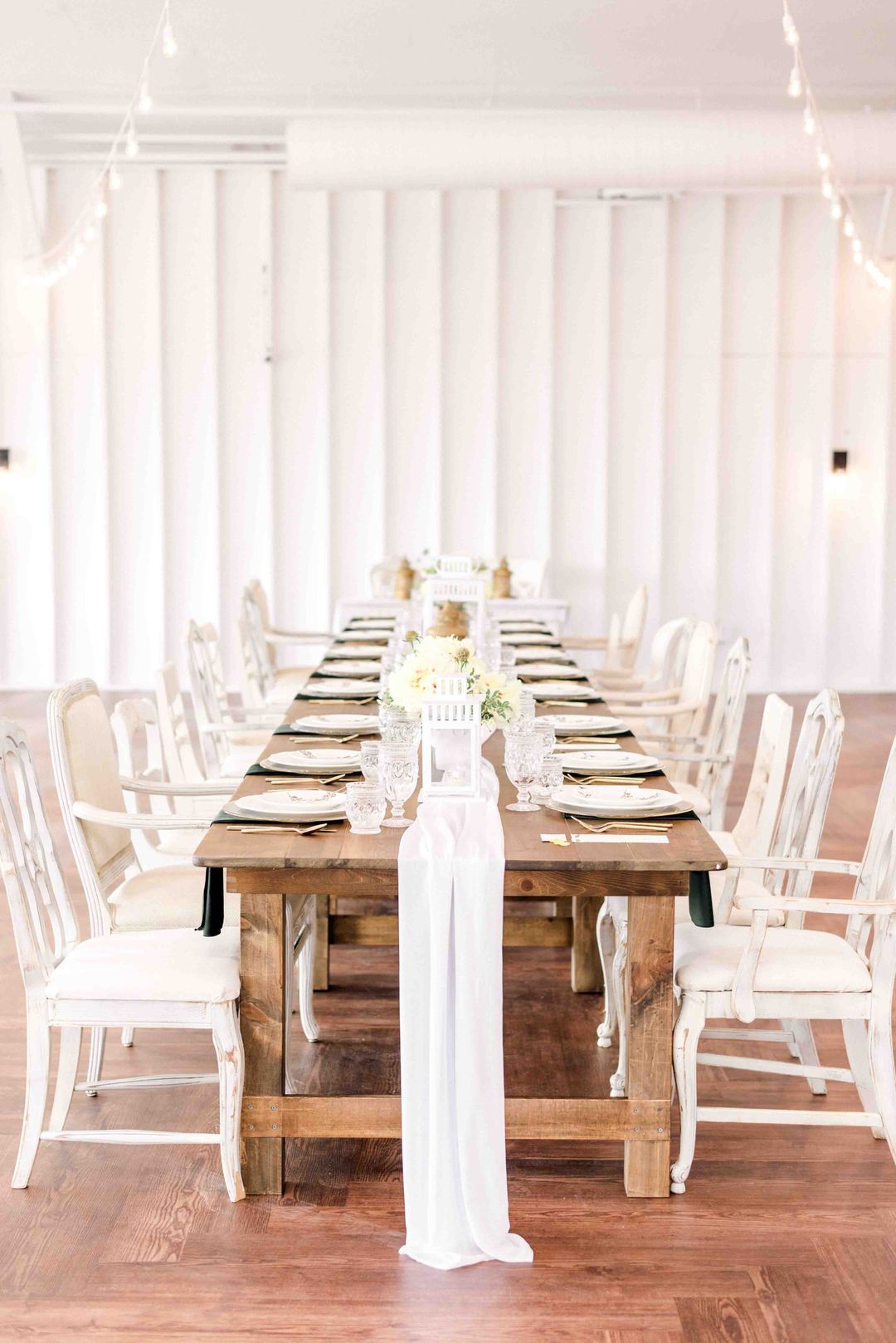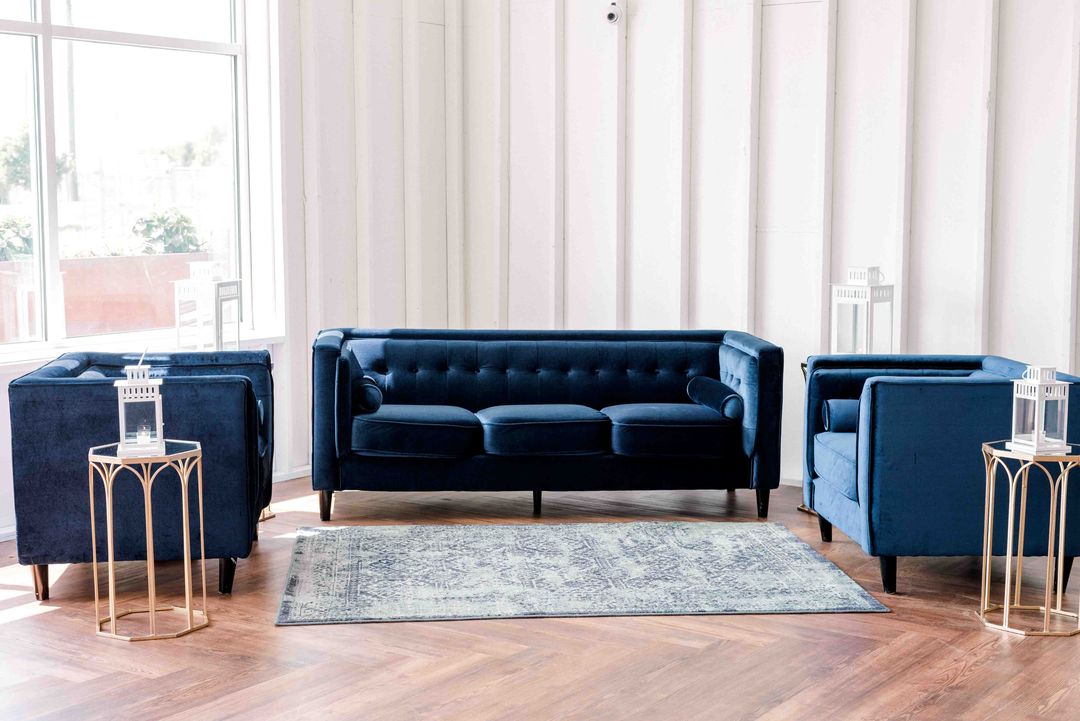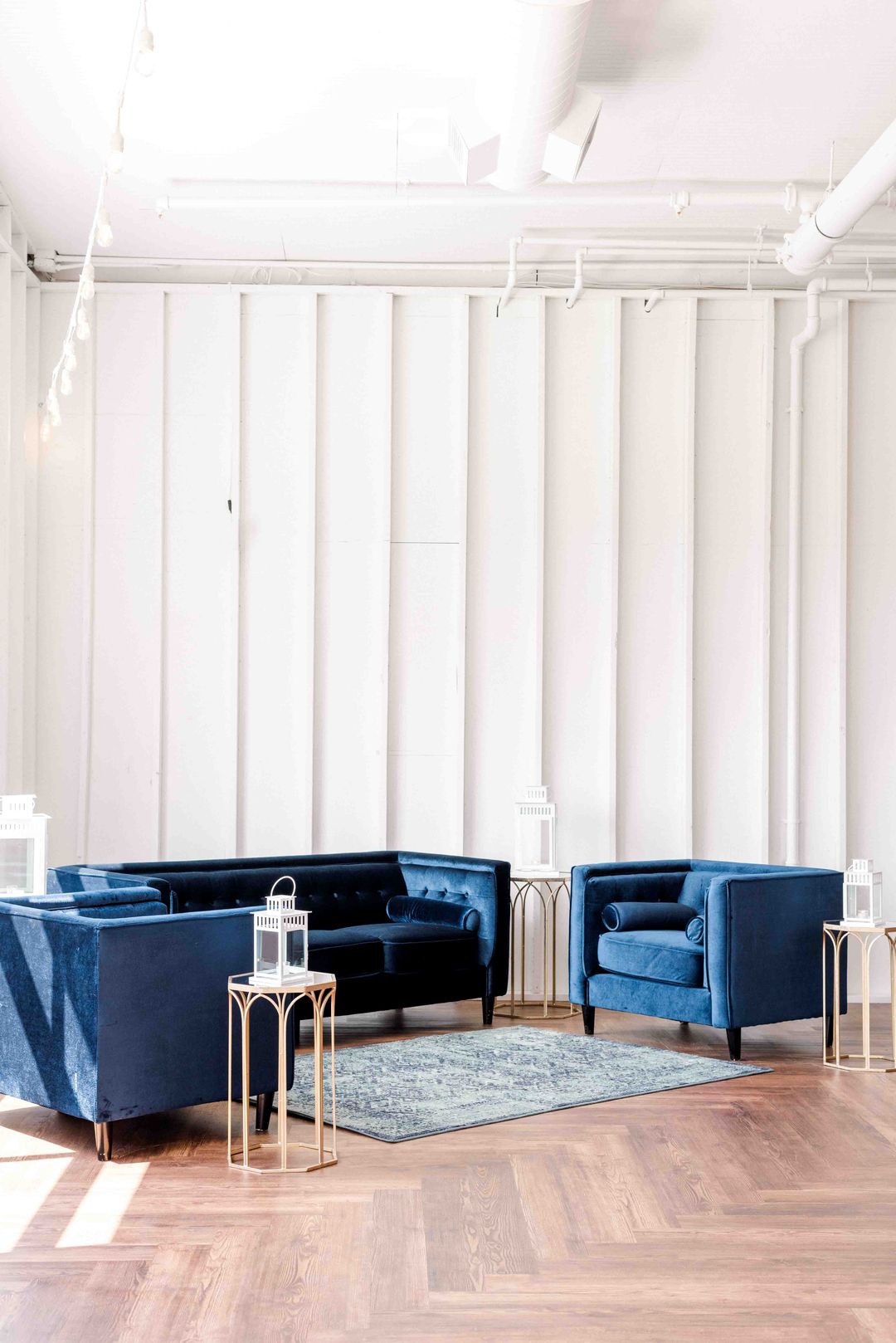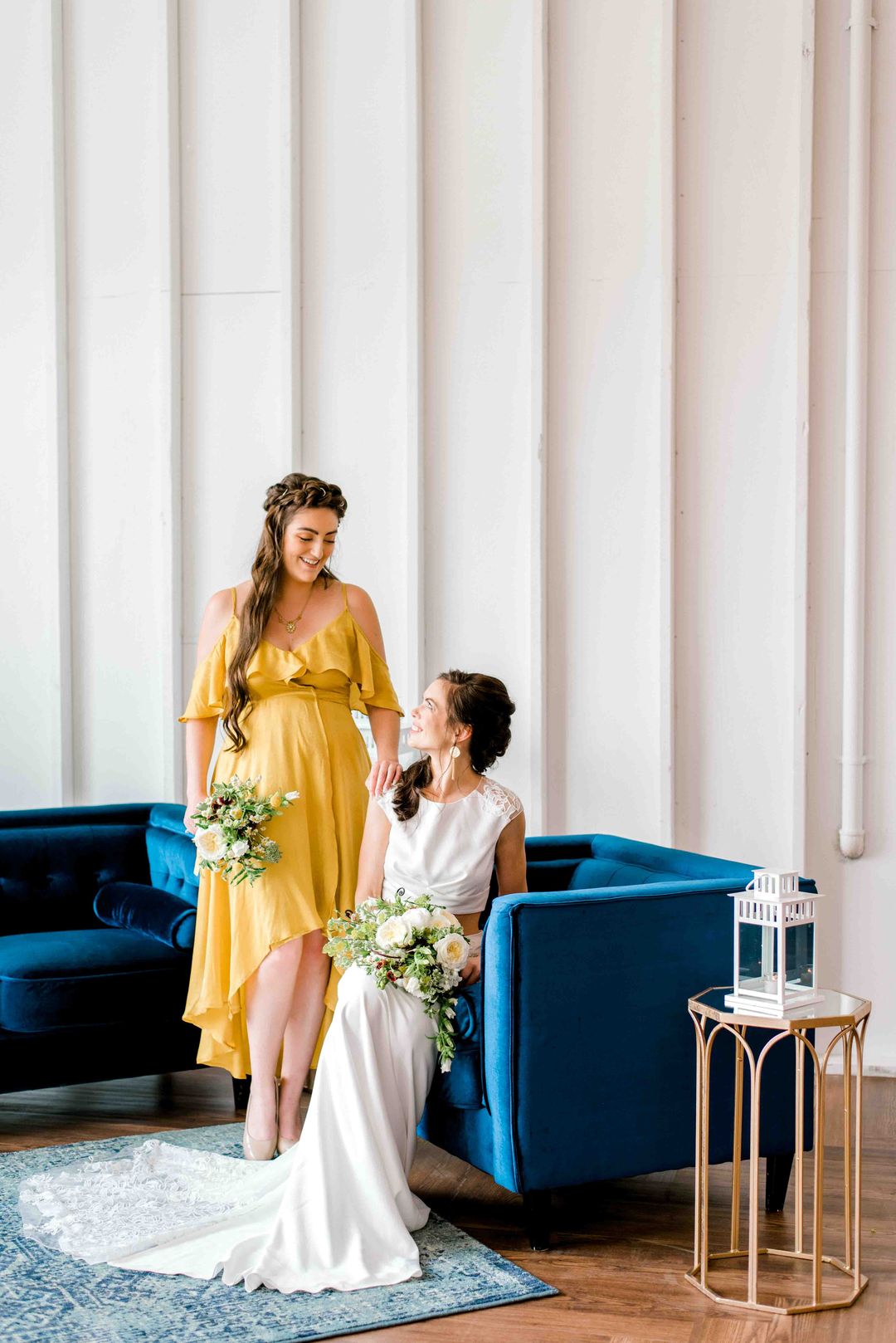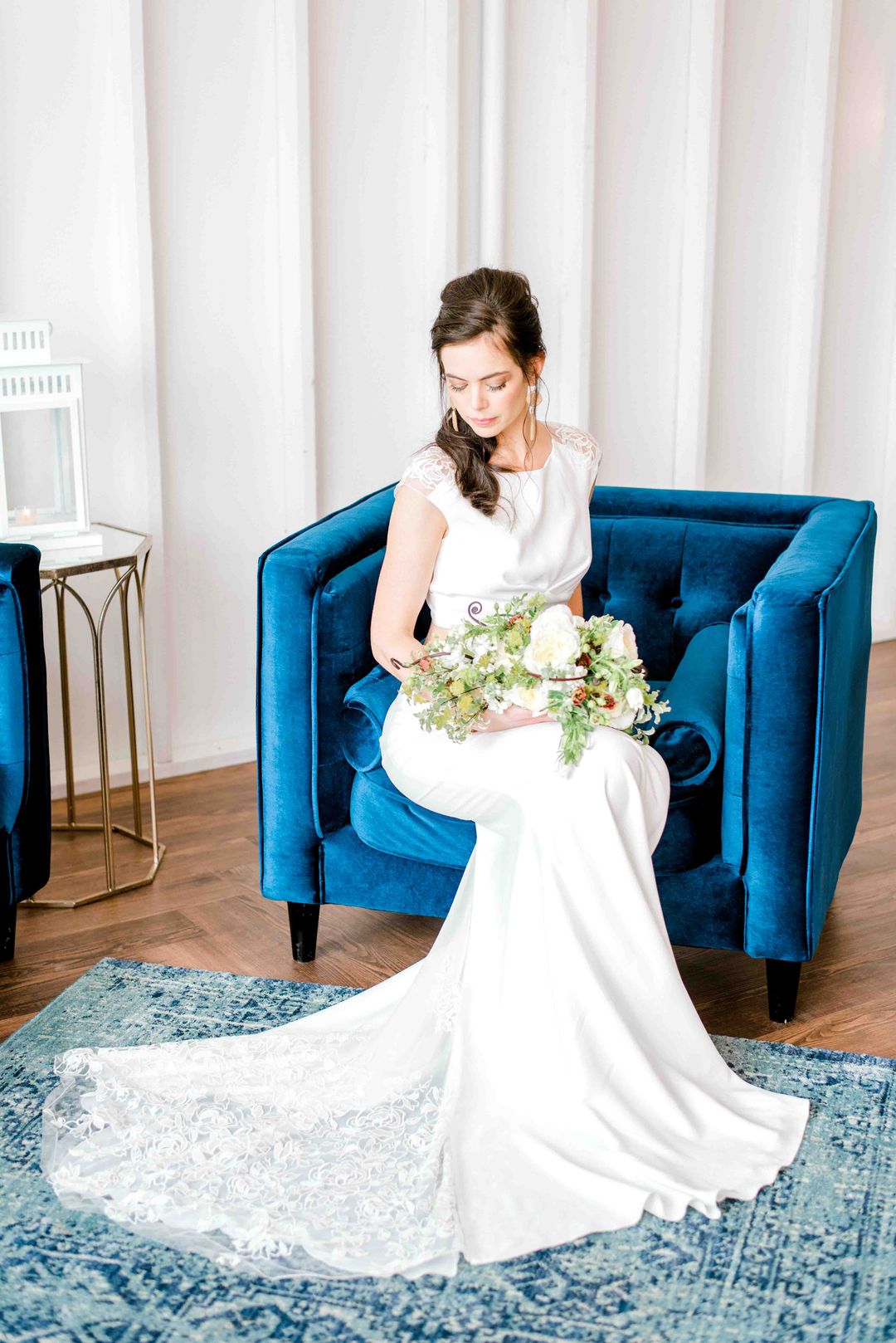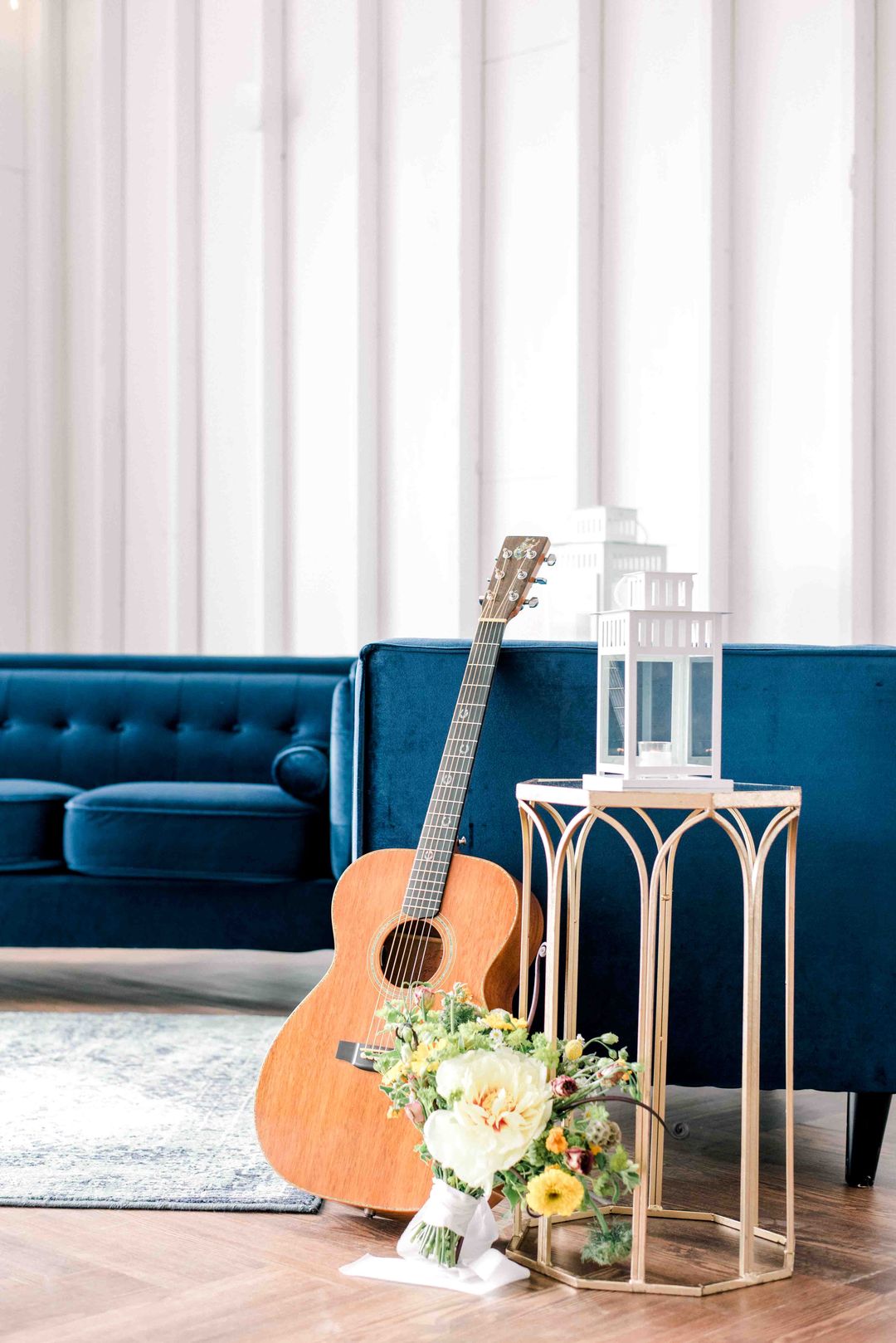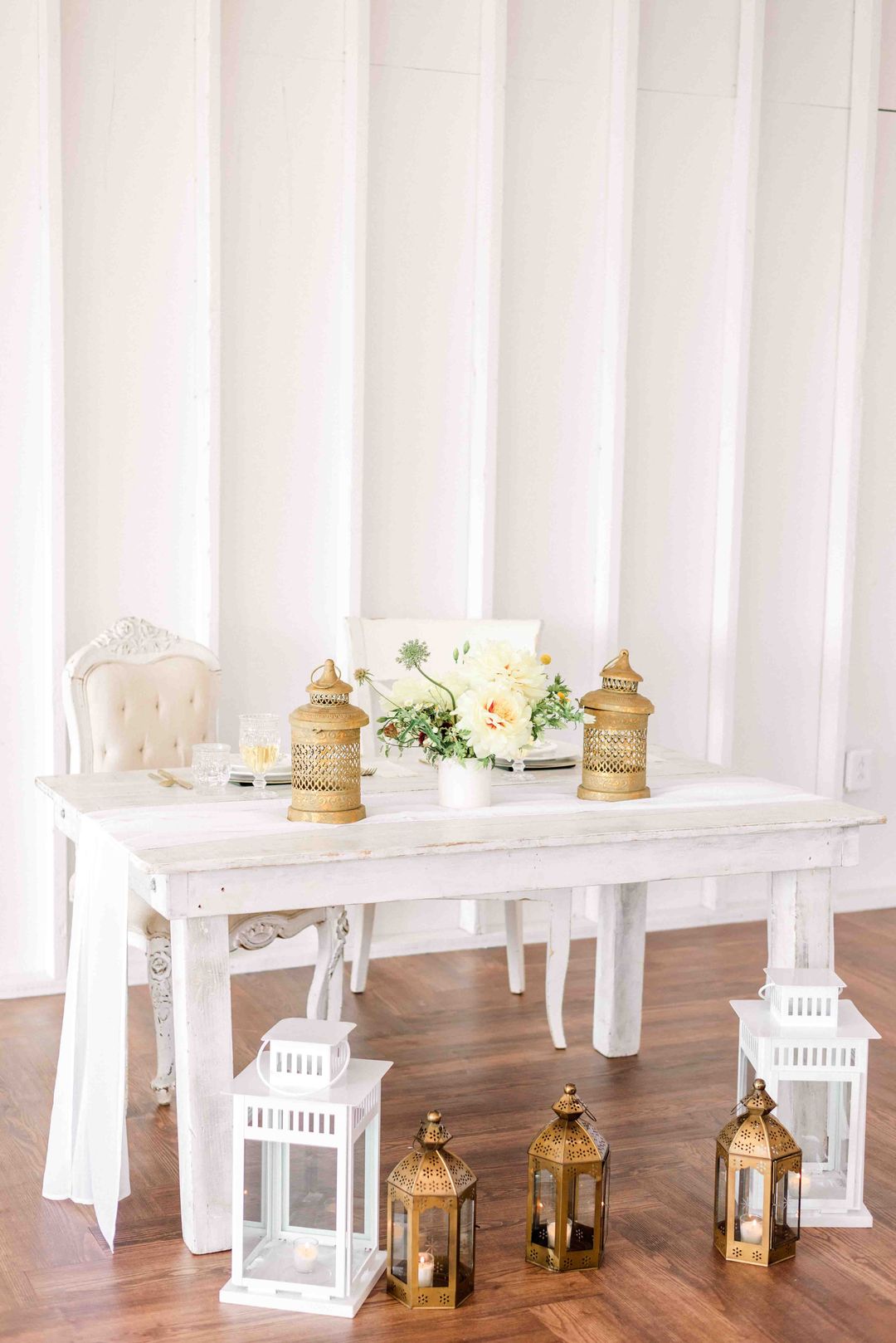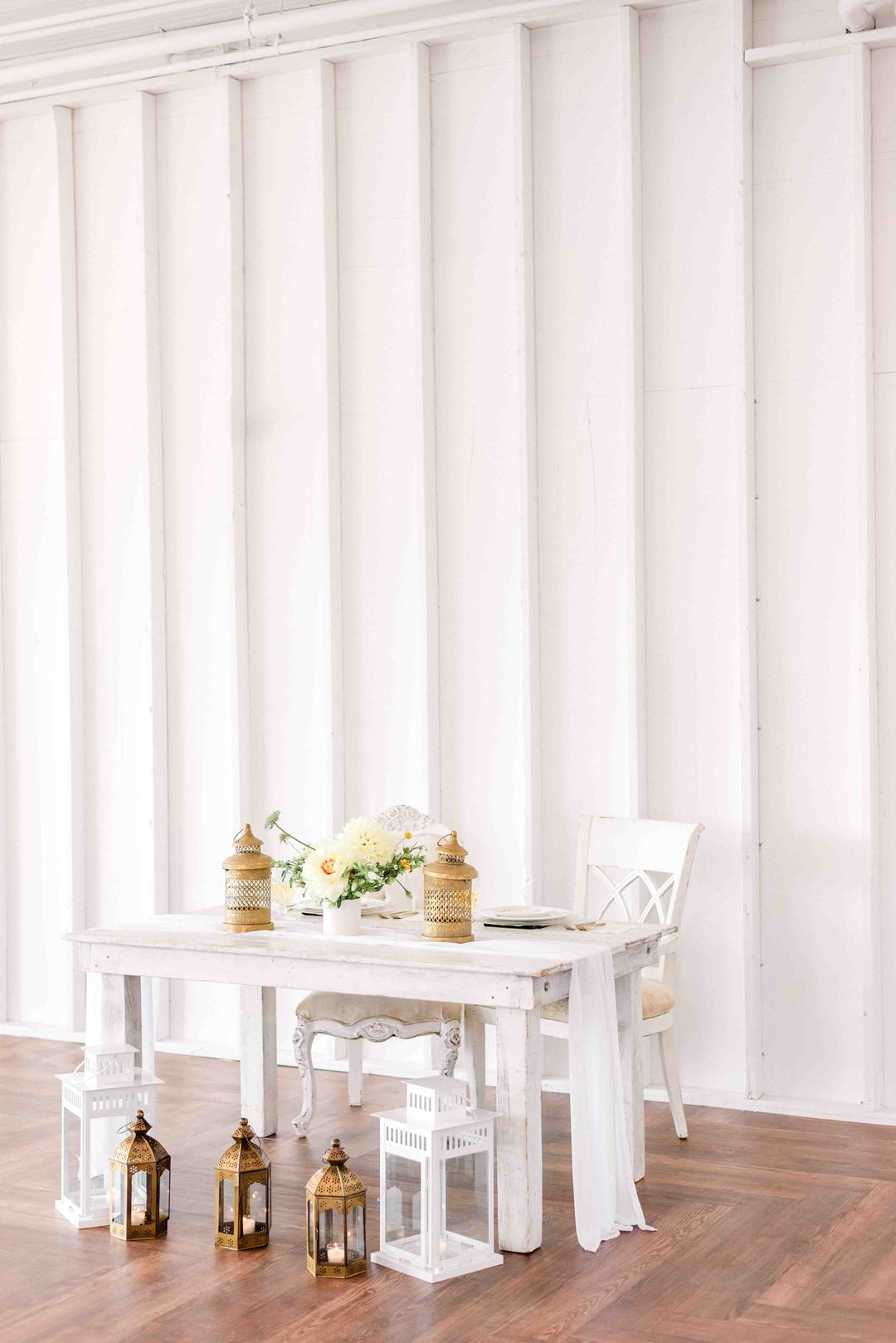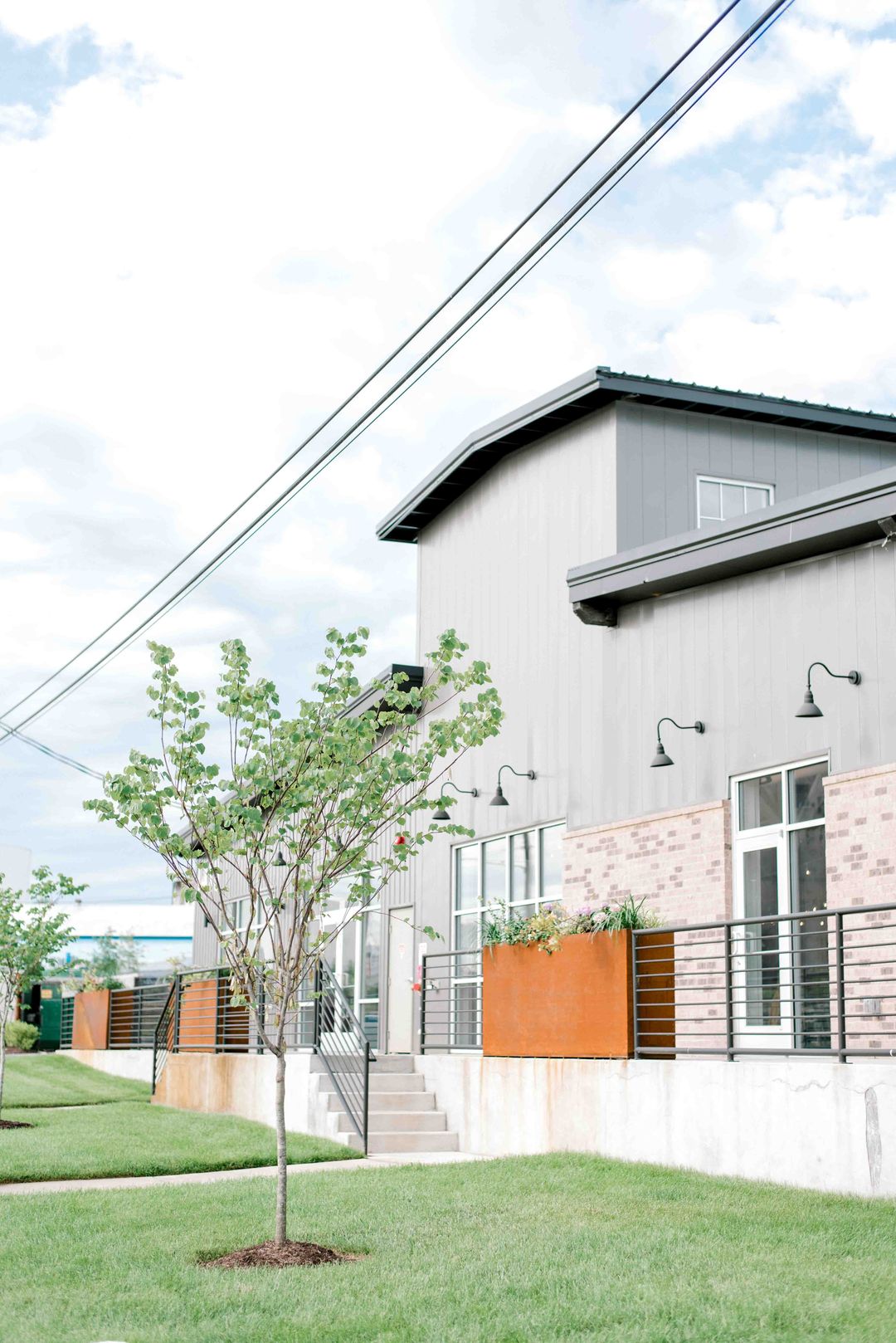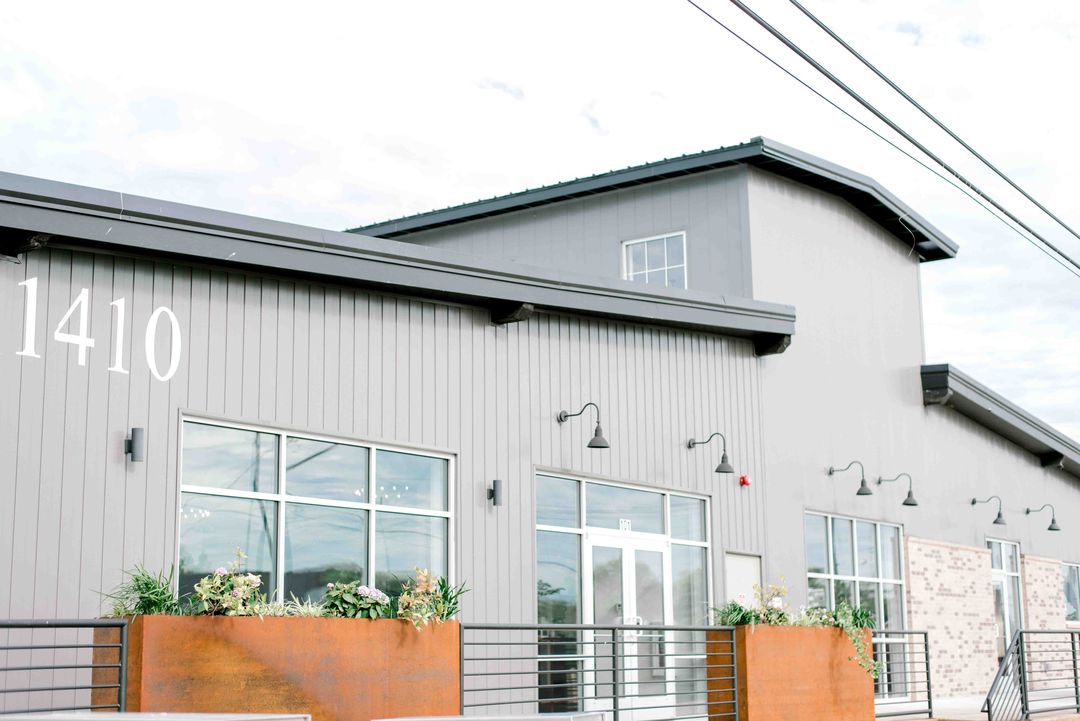 14Tenn in Nashville, Tennessee is a creative blend of natural light and blank spaces. We'd love to help you get started designing an event at this gorgeous venue! Send us a message at info@southerneventsonline.com.
TAGS | 14Tenn, 14Tenn Nashville, Nashville Event Venues, Nashville Wedding Rentals, Nashville Wedding Venues, Nashville party rentals, Southern Events Party Rental, Vintage Chairs, southern style events, southern weddings
FEATURED RENTALS | Saylor Sofa and Chairs, Fruitwood Table, Navy Rug, Magnolia Green Linens, Gold Chiavari Chairs
---
15

Aug

Southern Events Products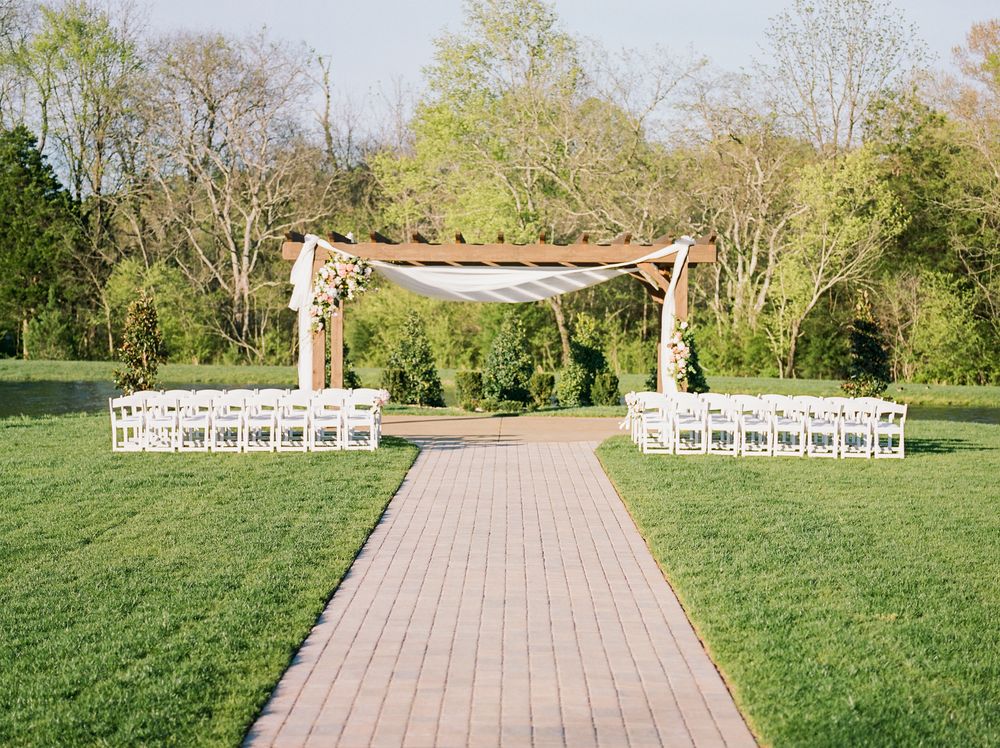 Outdoor wedding ceremonies in Nashville, TN come in all shapes and sizes. Couples may opt for an open-air feel for a variety of reasons – one being the sheer beauty and novelty of exchanging vows with Mother Earth as a front-row guest. Many brides and grooms have envisioned an outdoor wedding ceremony for as long as they can remember. We adore being part of wedding celebrations outdoors, and get giddy with excitement when we see it all come together!
An outdoor wedding ceremony does not always mean the wedding is taking place on some form of a lawn. You could use a rooftop or a venue that offers concrete area. If a couple is looking to take it to the next level, Dura-Trac Flooring is the perfect option in terms of creating flooring outdoors. Otherwise, with nature as the backdrop, the sky is certainly the limit in terms of what kind of look one can achieve for an open-air wedding ceremony. Boho, elegant, rustic, intimate, grand – we've seen it all. In order to achieve the look you desire, all that is needed is creativity, a plan, and the perfect outdoor wedding ceremony rentals.
Boho Outdoor Weddings
For a boho-themed outdoor wedding ceremony, we love using rentals such as our Rustic Bench for seating. For texture, Cowhide Rugs draped over benches and over the ground are used. This adds warmth, color, and fun! Our Metal Ceremony Ring would fit perfectly here as well.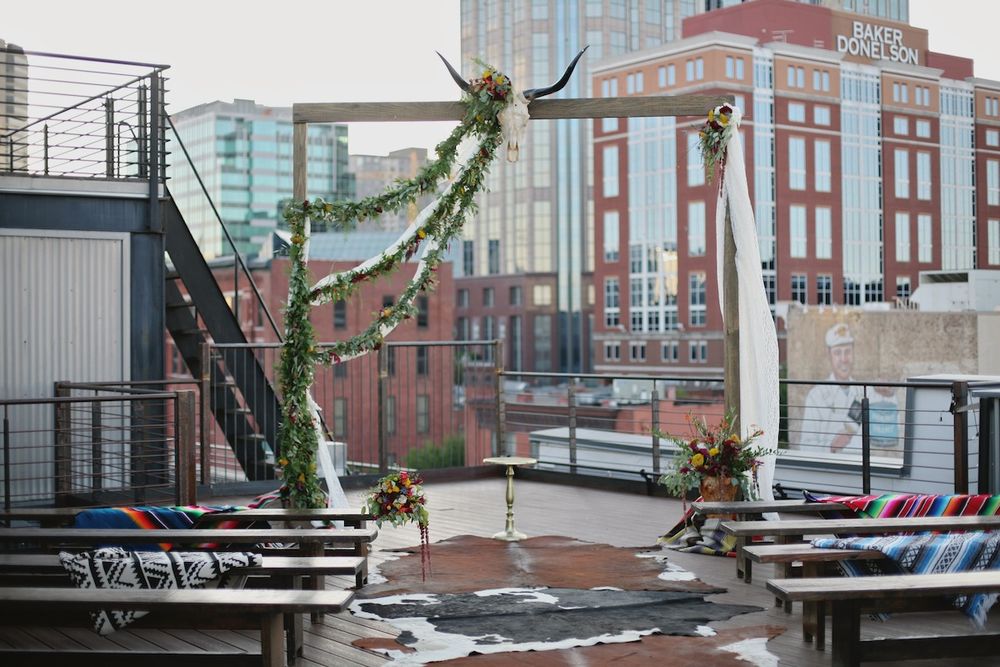 Photo by The Photographix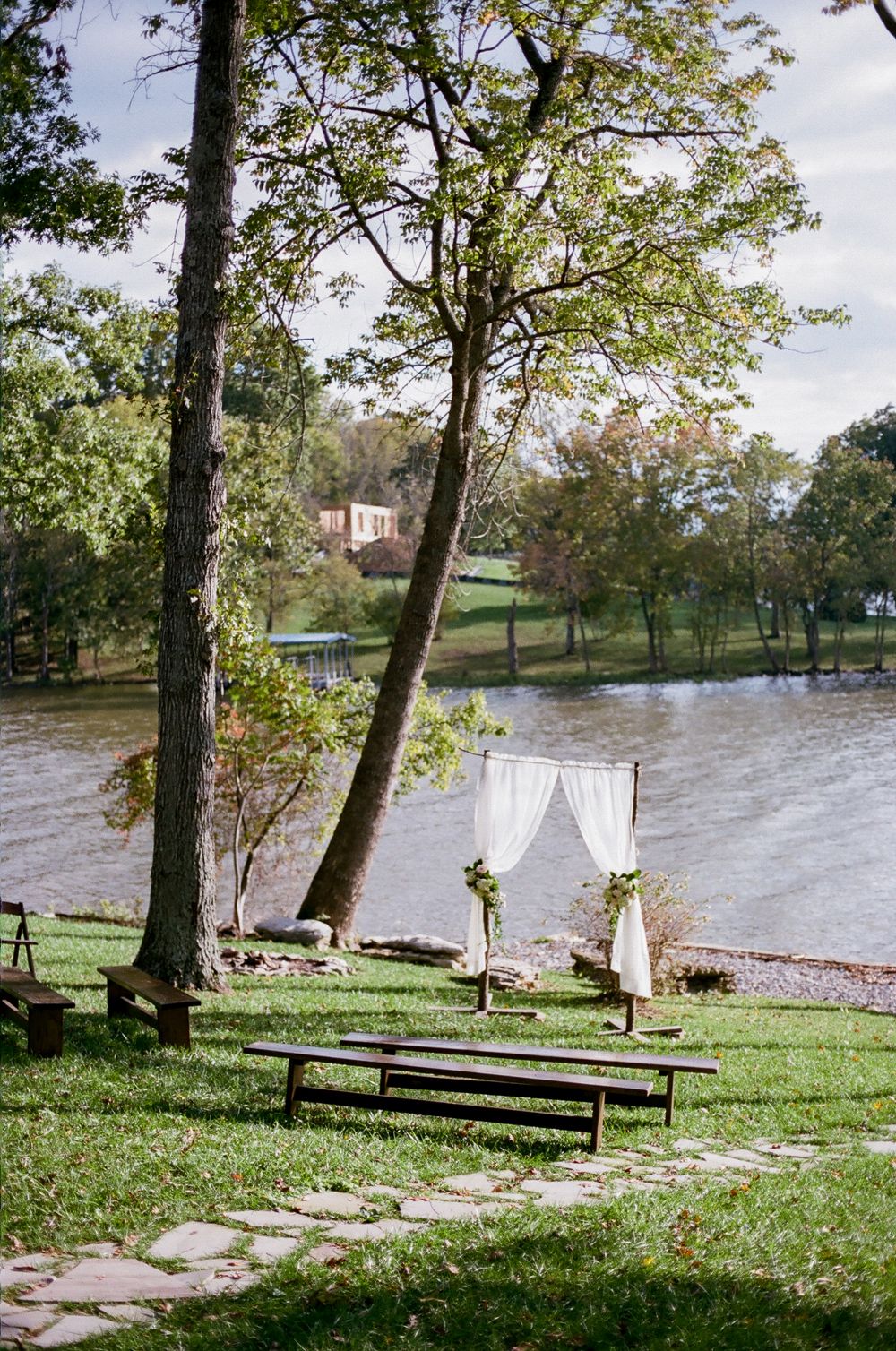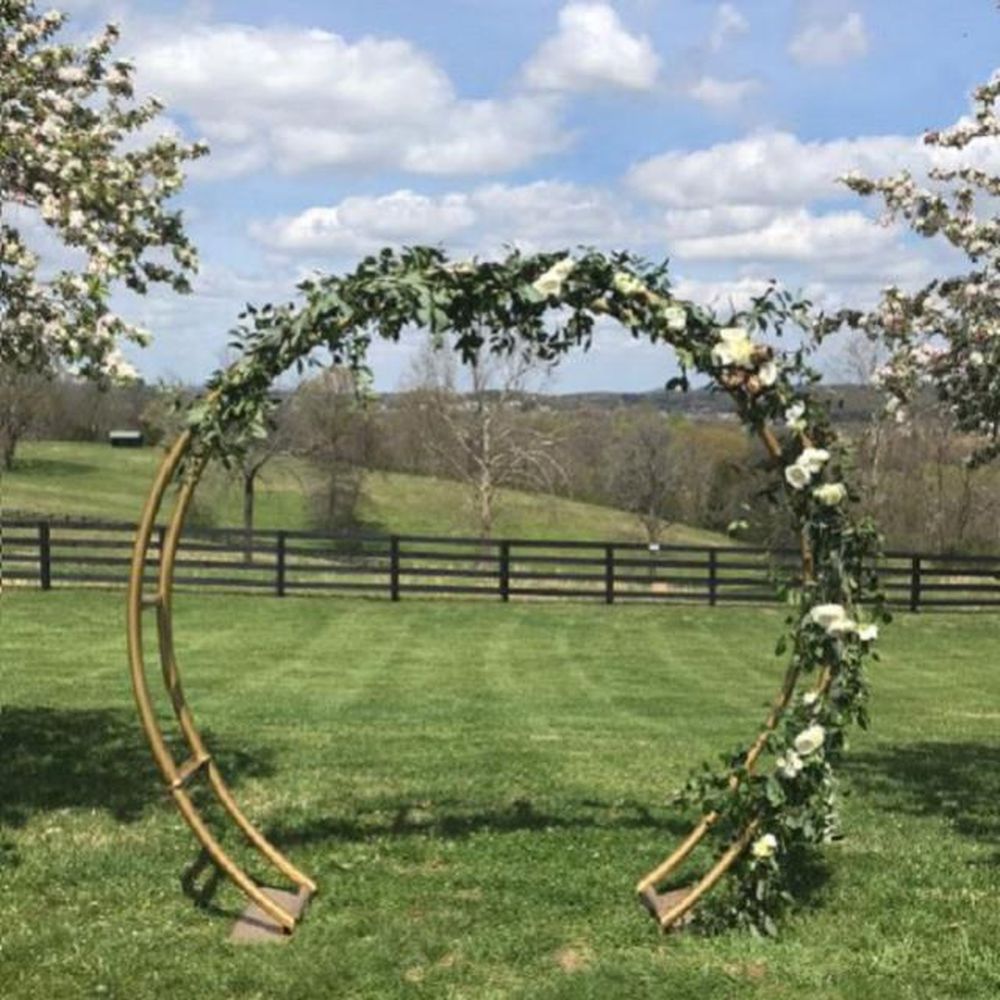 Traditional Outdoor Weddings
For a more traditional outdoor wedding ceremony, Folding Chairs in black, natural wood, or white and our Walnut Ceremony Doors create a streamlined, classic look. The combination of natural wood, green grass, and a blue sky come together for a memorable and gorgeous day!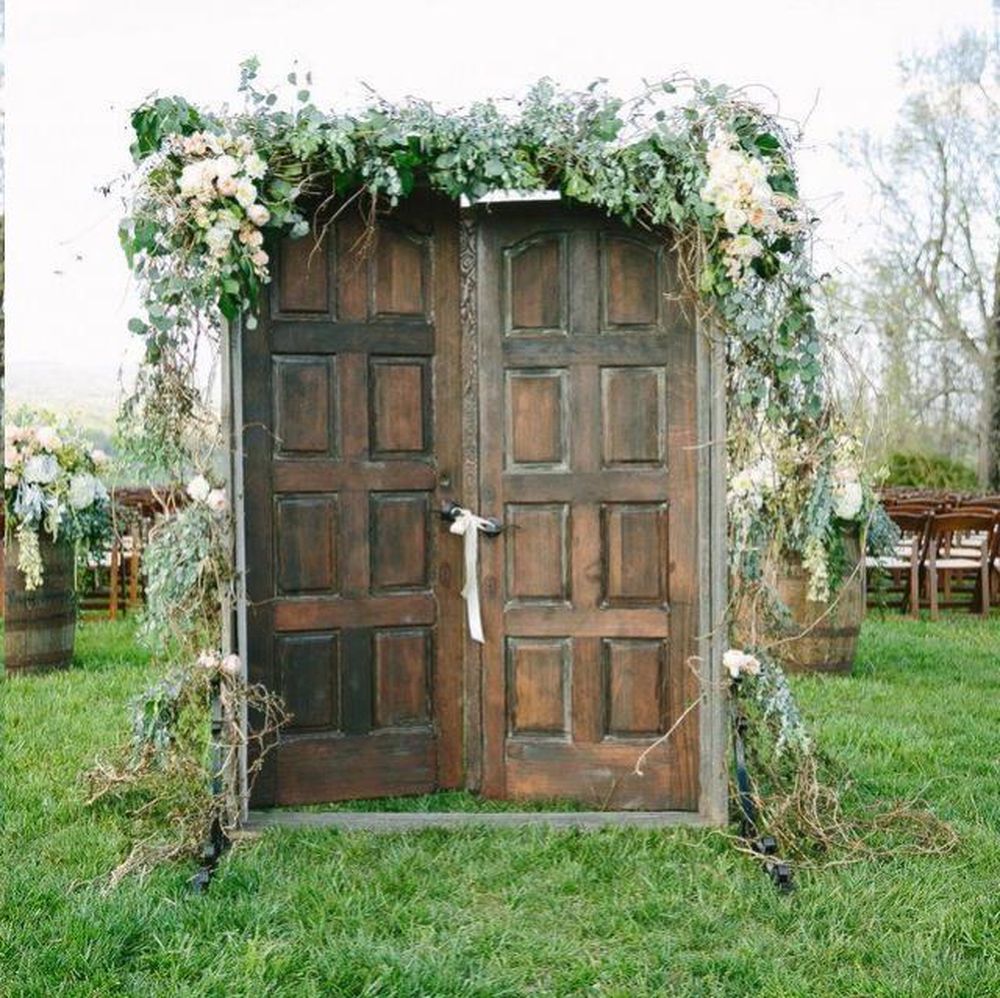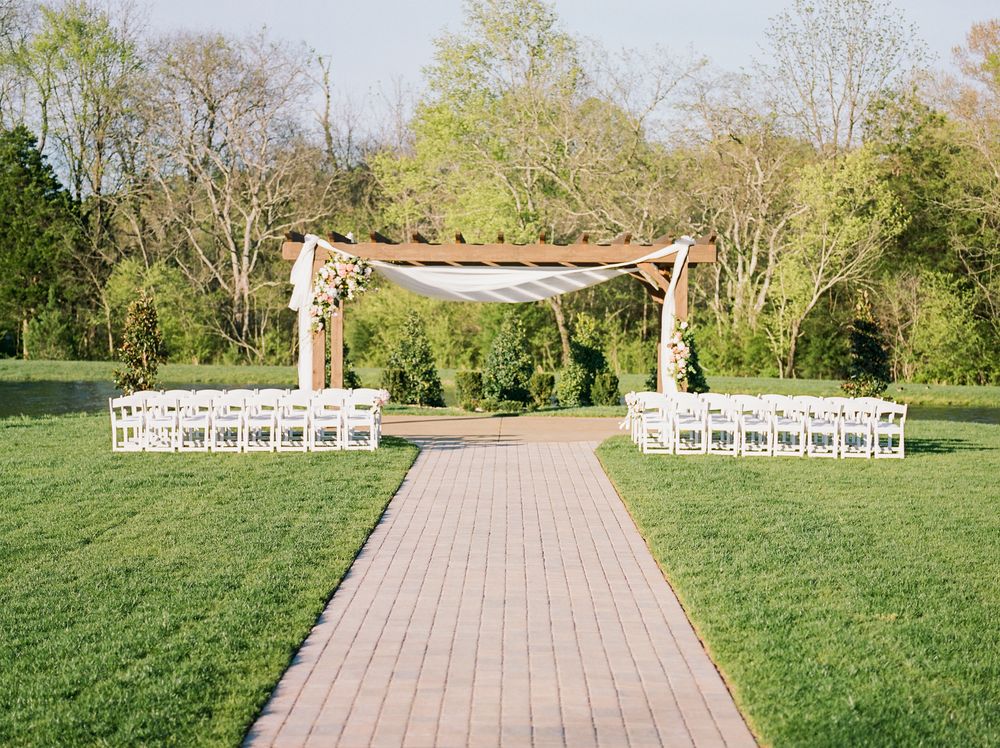 Photo by Jenna Henderson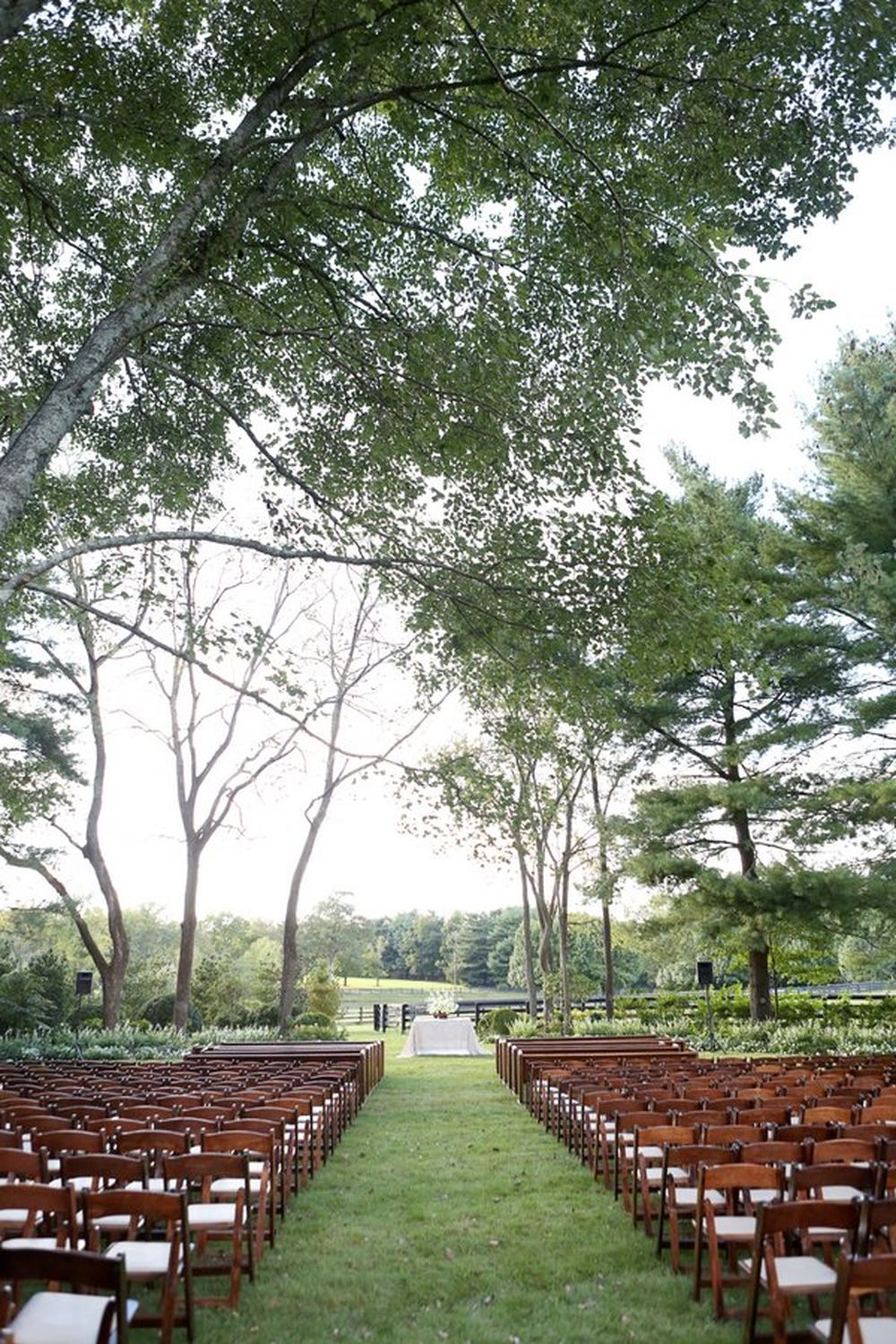 Photo by Mary Rosenbaum Photography
Modern  Outdoor Weddings
If a couple is desiring a modern vibe at their wedding ceremony, Acrylic Chairs look absolutely gorgeous – they are the perfect modern approach to seating at an outdoor wedding. Pairing an outdoor setting with modern materials creates an upscale, yet approachable feel.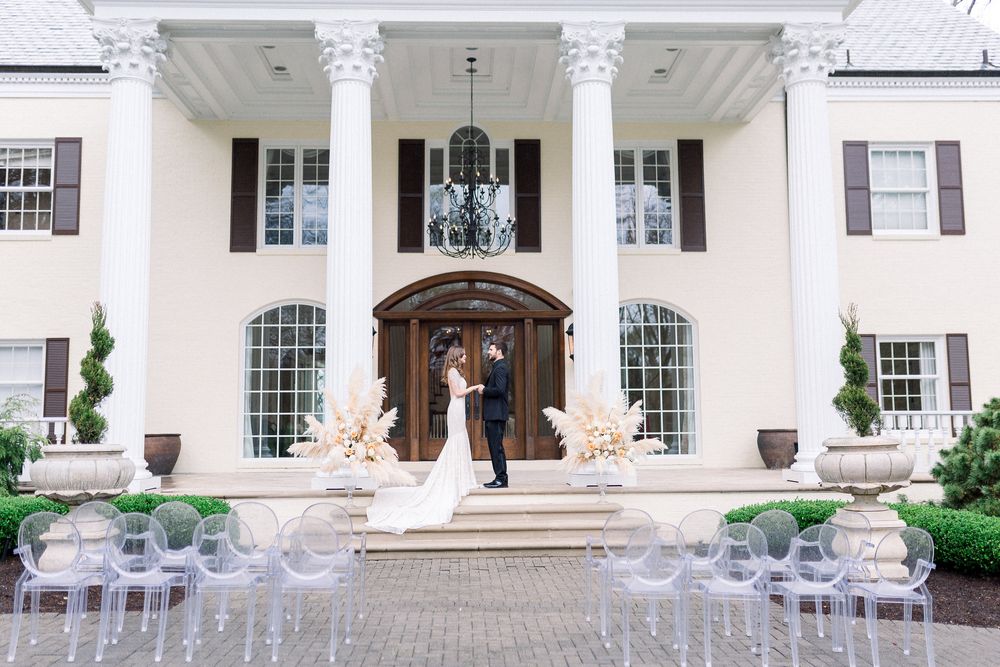 Photo by Honey and Bee Photography
If you're wanting to get hitched outdoors, we'd love to help! Send us a message at info@southerneventsonline.com.
TAGS | Ghost Chairs, Nashville Wedding Rentals, Outdoor Wedding Ceremony, Southern Events Party Rental Company, Unique Nashville Wedding Rentals, Unique Wedding Rentals, southern weddings, upscale outdoor wedding, wedding style trends
FEATURED RENTALS | Walnut Ceremony Doors, Rugs, Dura-Trac Flooring, Metal Ceremony Ring, Black Wood Folding Chairs, Acrylic Chairs, Rustic Bench, White Wood Folding Chairs, Brown Wood Folding Chairs
---
20

May

Southern Events Products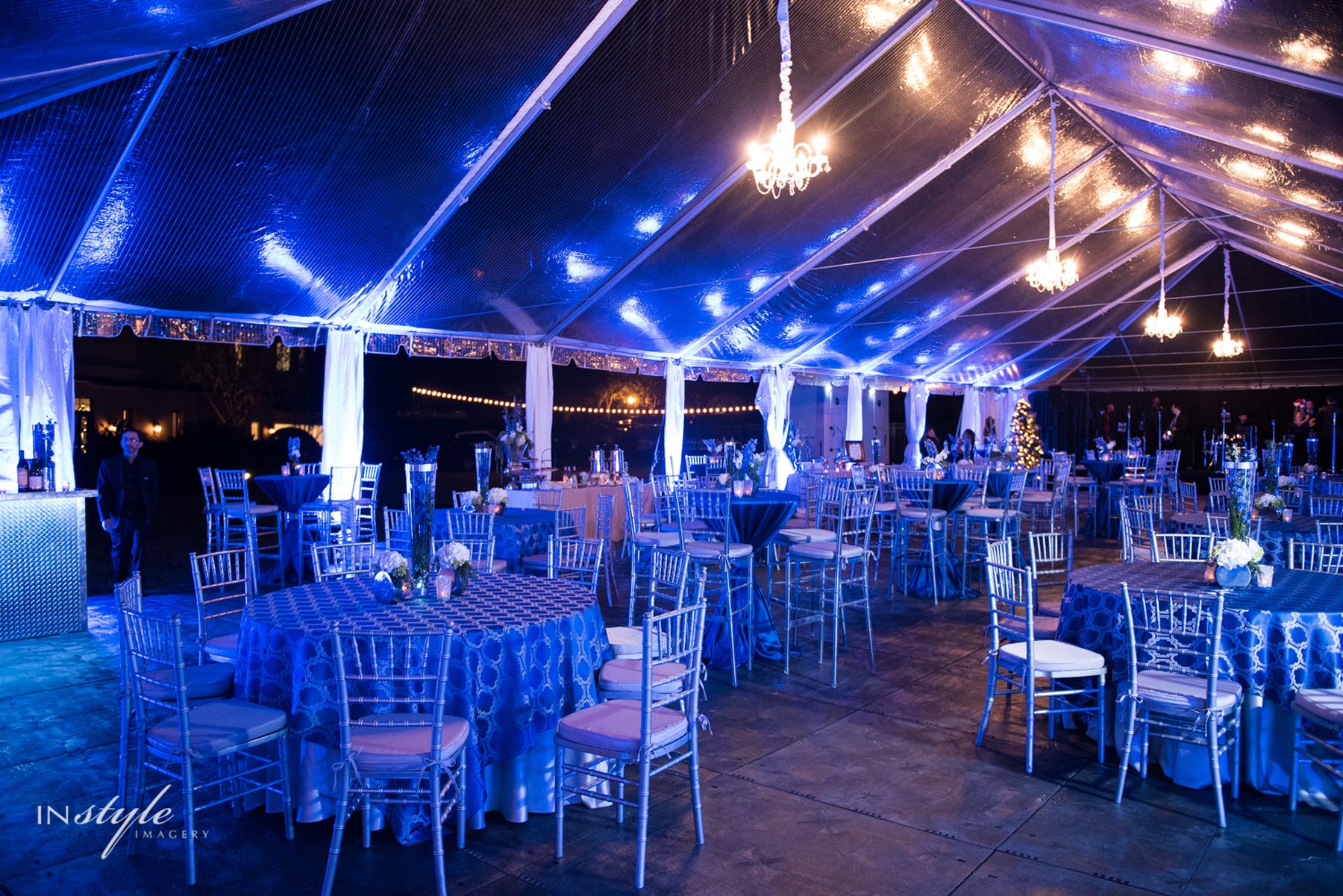 Friends, say "goodbye" to the days of worrying about the wear and tear of floors or grass at your event or having limited options on finishes and design. And say "hello" to durable, portable and stylish flooring!
Made for the event industry by special event flooring experts, Dura-Trac flooring is an easy-to-install flooring system designed to protect your existing space and stand up to the wear and tear of any event. Dura-Trac's interlocking panel system is the perfect way to protect your space and your guests.
Ideal for festivals, concerts, graduation, tented parties, tradeshows and more!

Can be installed over grass, dirt, mud and other uneven surfaces

Use on slick tiles or antique floors for added protection and durability – plus the surface doubles as a great dance floor!
Download all flooring details HERE.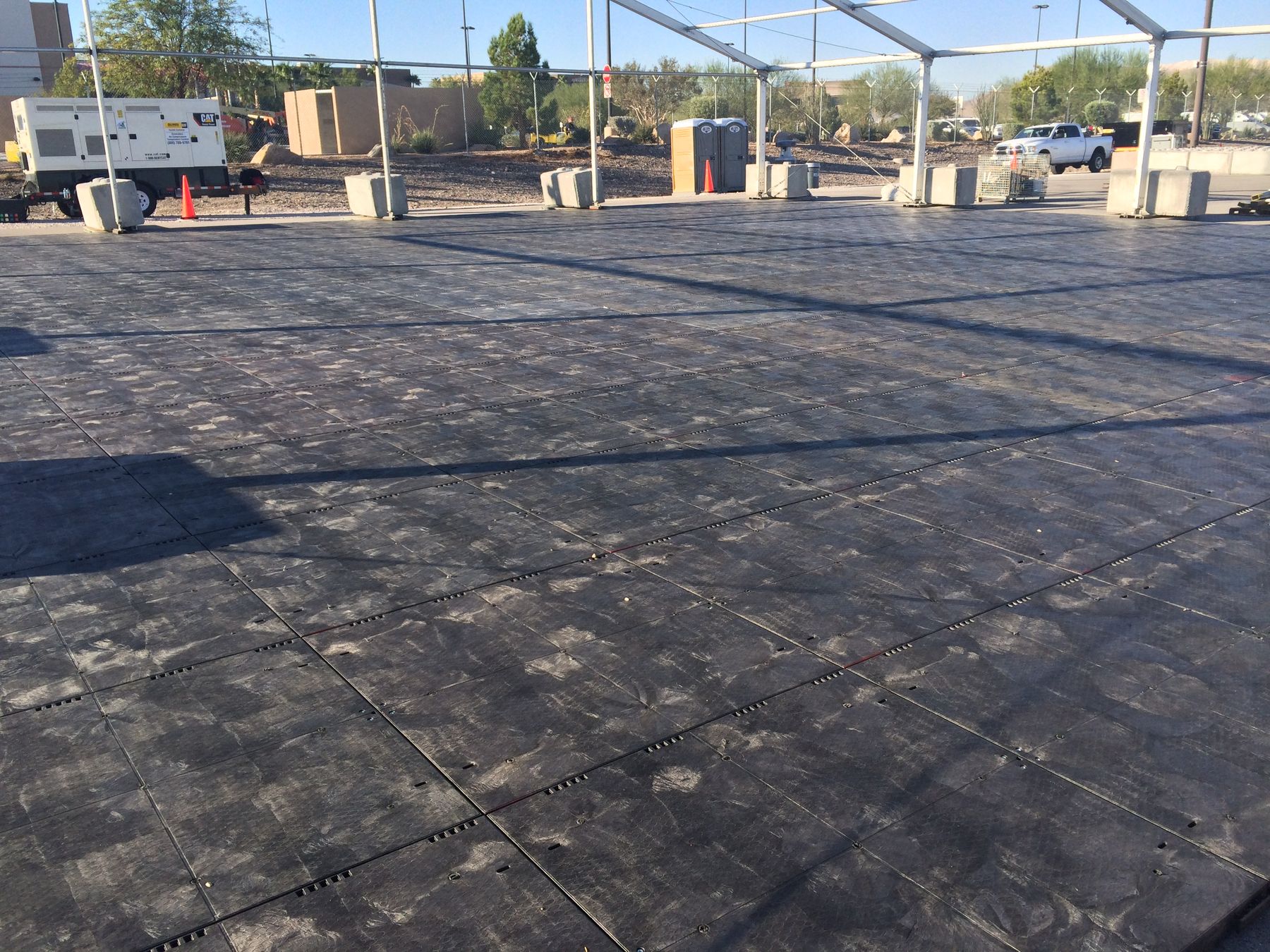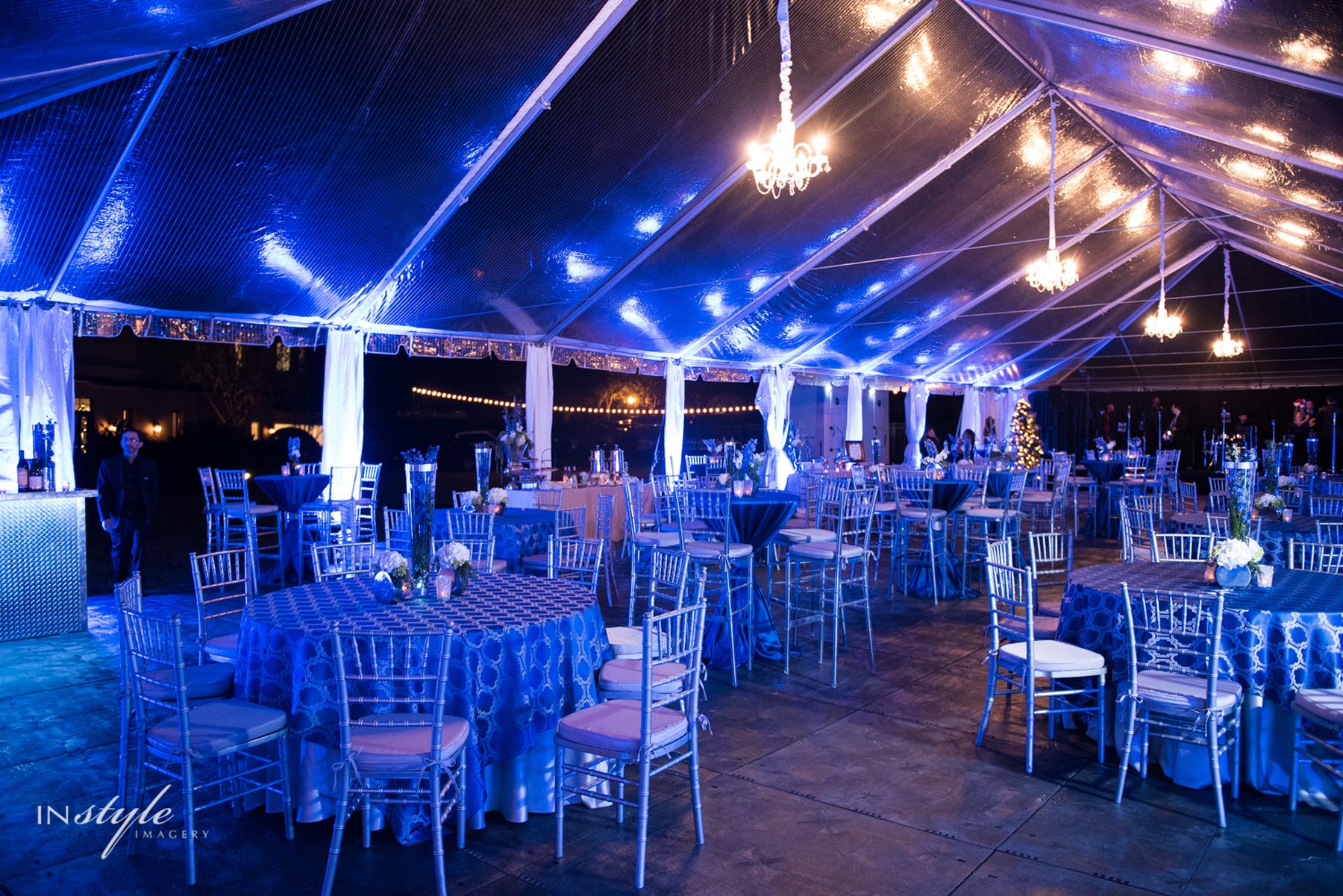 Dura-Trac also offers endless potential for customization literally on-top of its amazing performance. Like rolling out the red carpet, we can cover Dura-Trac with premium vinyl flooring in pattern and wood finishes – making it a stylish statement for your event!
With the a wide range of design possibilities and the unparalleled durability of this brand new flooring, we are thrilled to use it at events this year!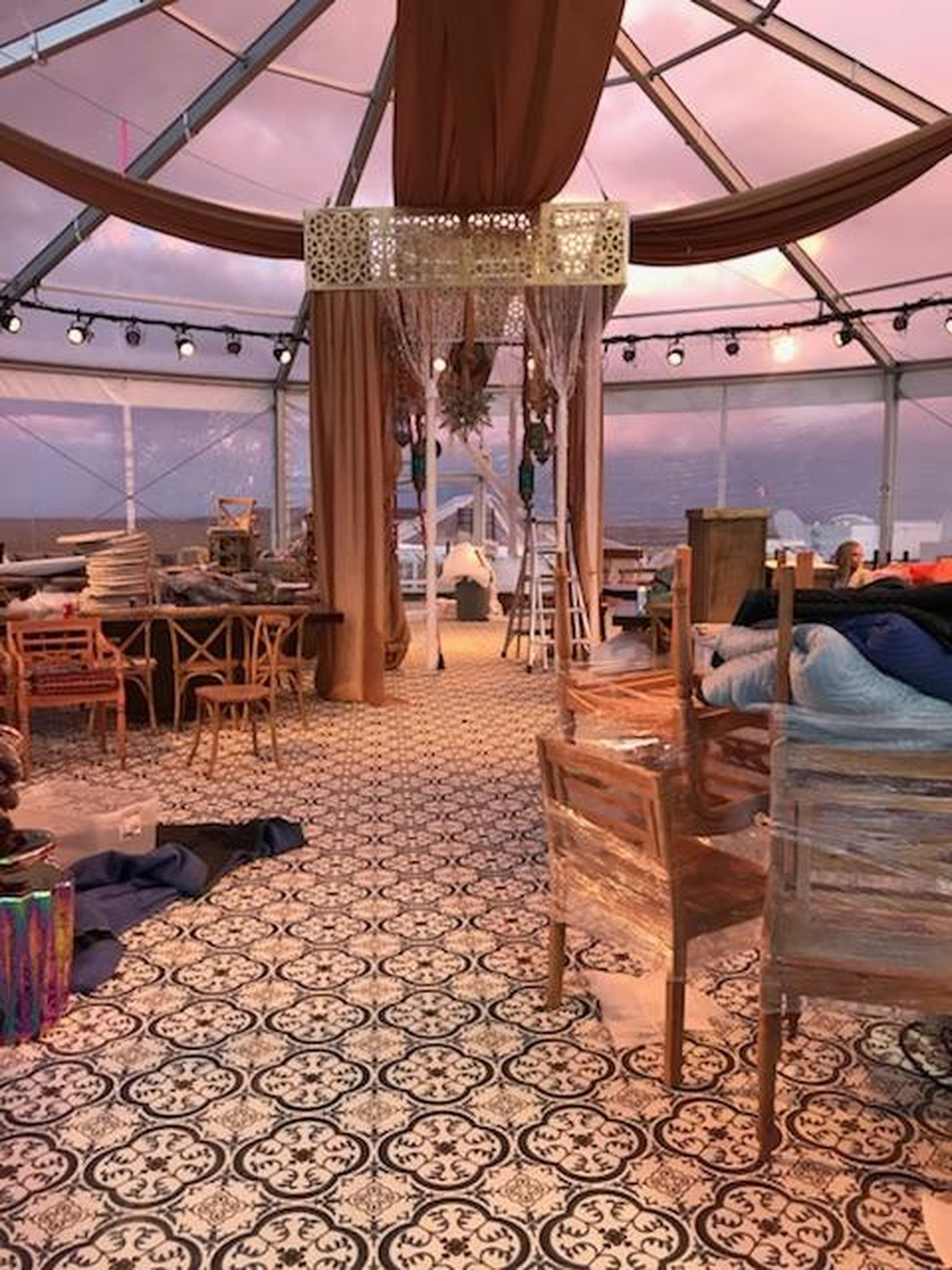 If you've been looking for event rentals that are functional and gorgeous, we're your people. Send us an email at info@southerneventsonline.com.
TAGS | Nashville Event Rentals, Nashville Wedding Rentals, Nashville party rentals, Southern Events, Unique Nashville Event Rentals, southern weddings
FEATURED RENTALS | Dura-Trac Flooring
---
25

Apr

Trends and Inspiration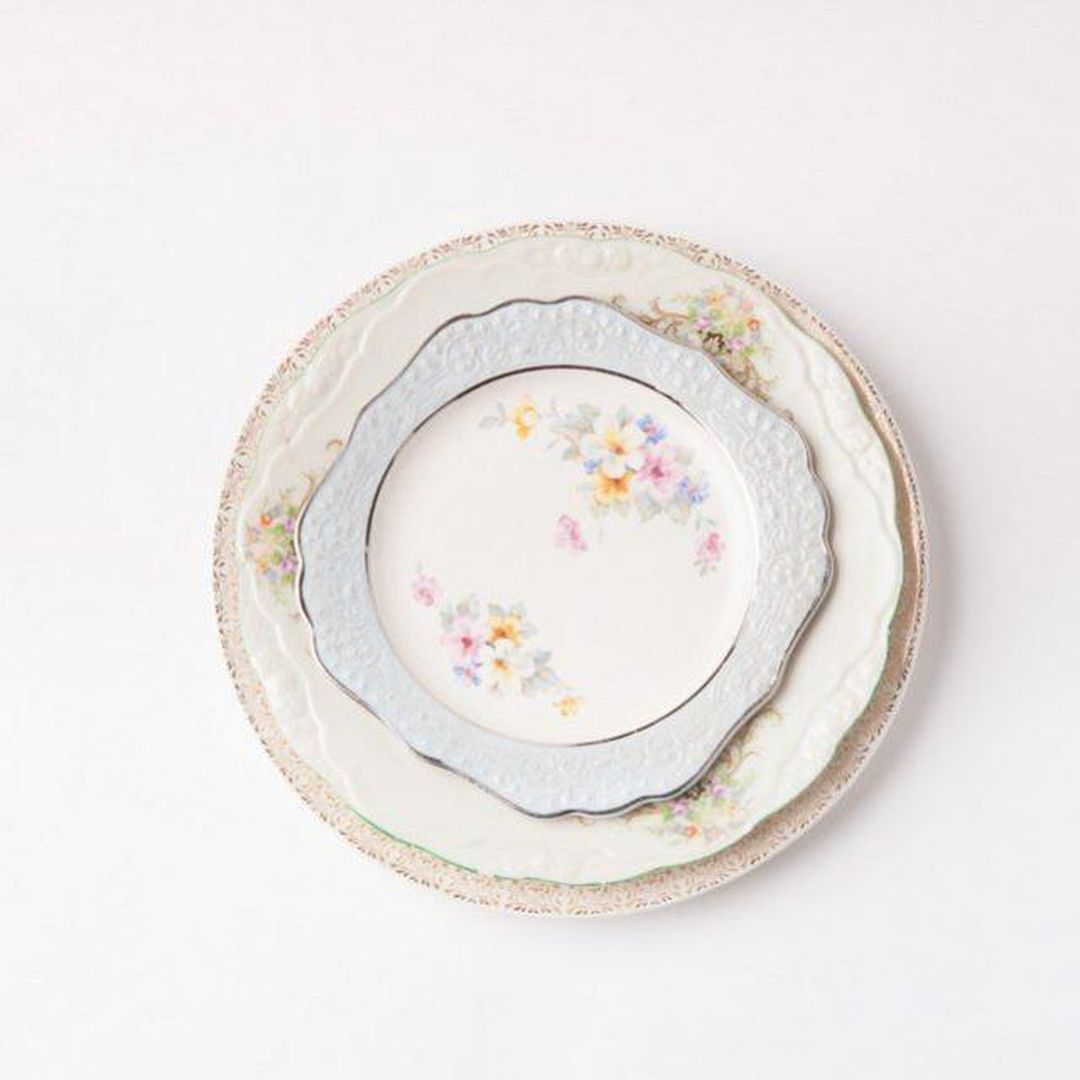 Pastels are a growing trend in event design this year. If you watched the Oscars, you know it (we are still swooning over Maya Rudolph's glorious pink gown – among other amazing looks). Pastels were everywhere. Bonus: This trend incorporates itself beautifully in weddings and events. You can make this color scheme work with whichever various themes you're going for. Classic? Of course. How about "garden charm", or Southern, or "rustic glam"… yep, you can do that, too! Whimsical, romantic, and even glamorous, pastels will lend an enchanted feel to pretty much any event or wedding.
Often, when people think of pastel color schemes, they think "sweet, traditional, and girly." That's definitely not the case anymore! This pastel color scheme can most definitely be luxe and modern. Imagine monochromatic shades of pastel blue – that look is both sleek, modern, and incredibly fresh.
When creating a fresh look with these colors, you can bring in pastel linens, dishes, furniture, or florals. You could also weave pastel colors through your invitations, food (think French macaroons), or wedding party gowns and accessories. If you're wanting to create a look with pastels, Southern Events Party Rental Company has everything you need – from linens to dishes to coffee tables!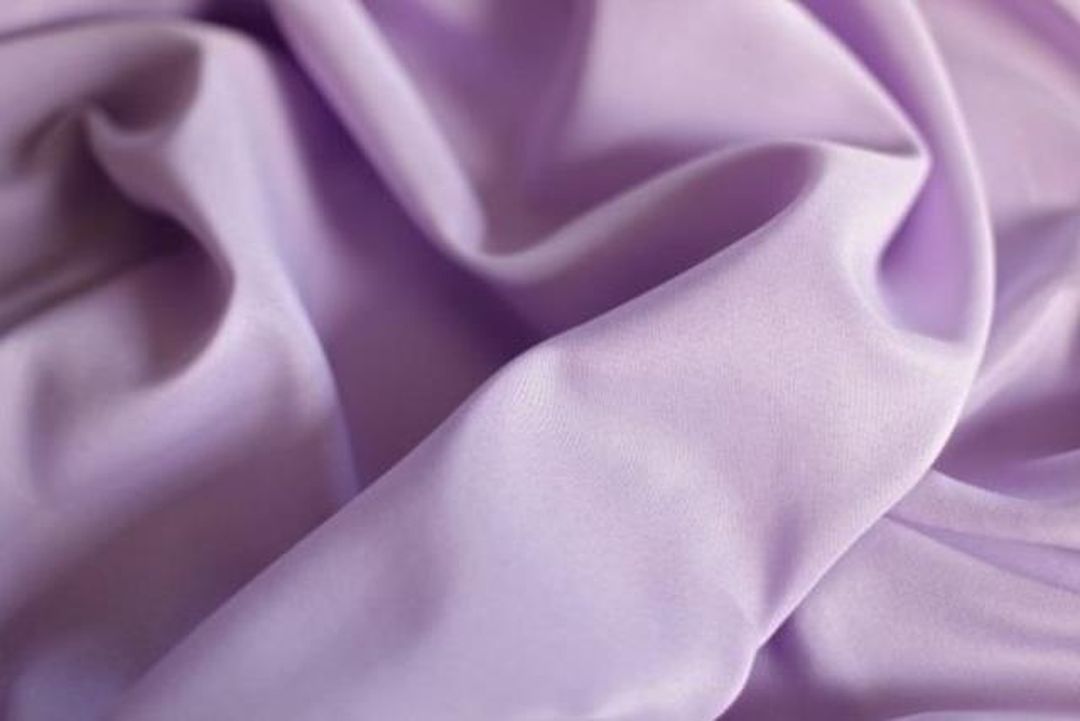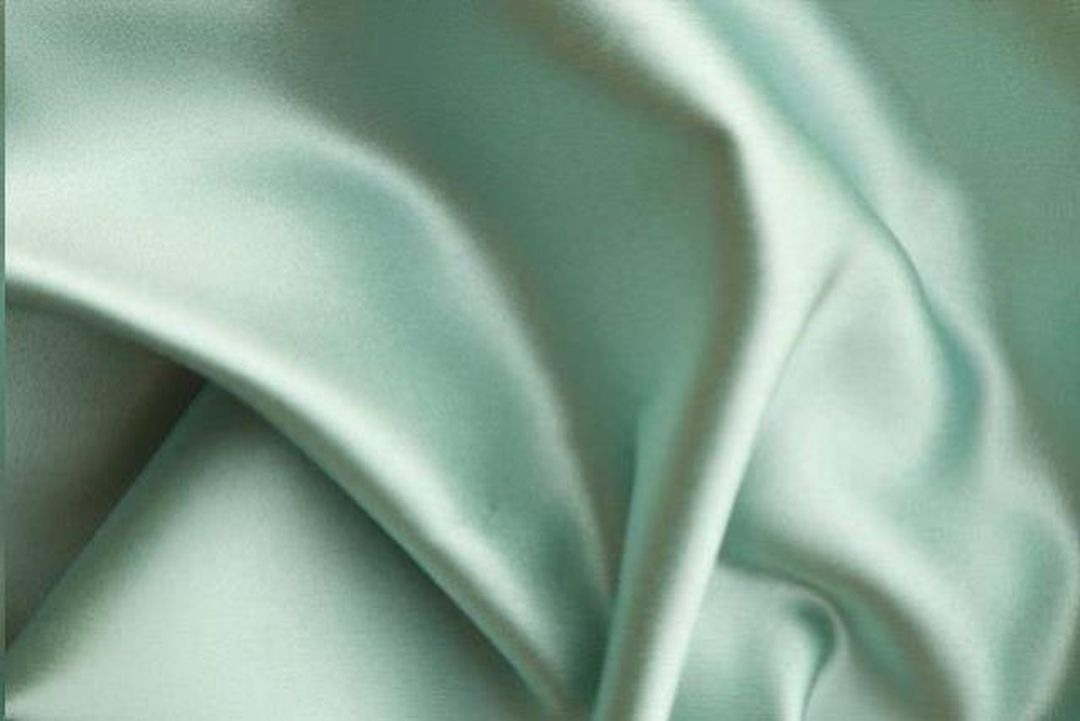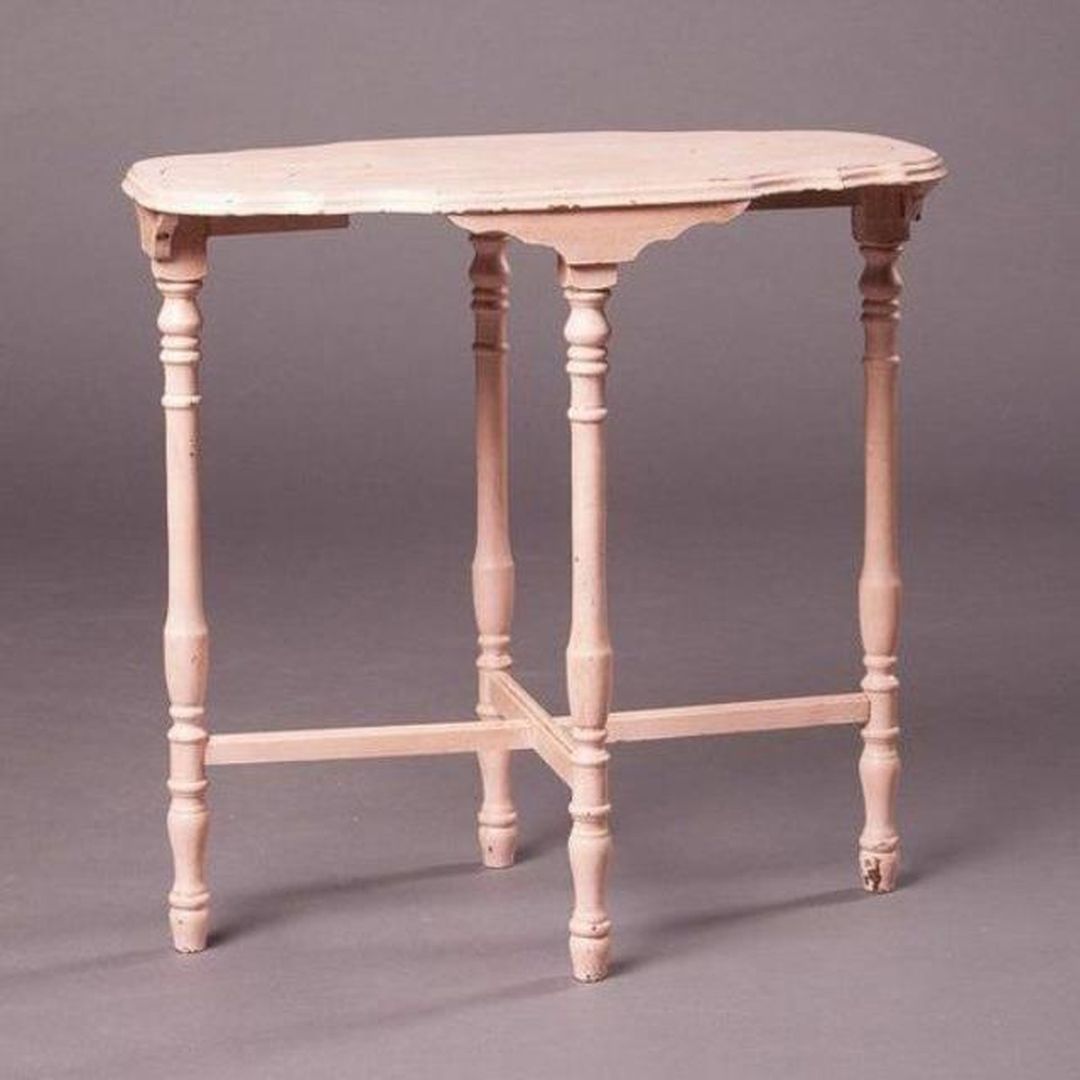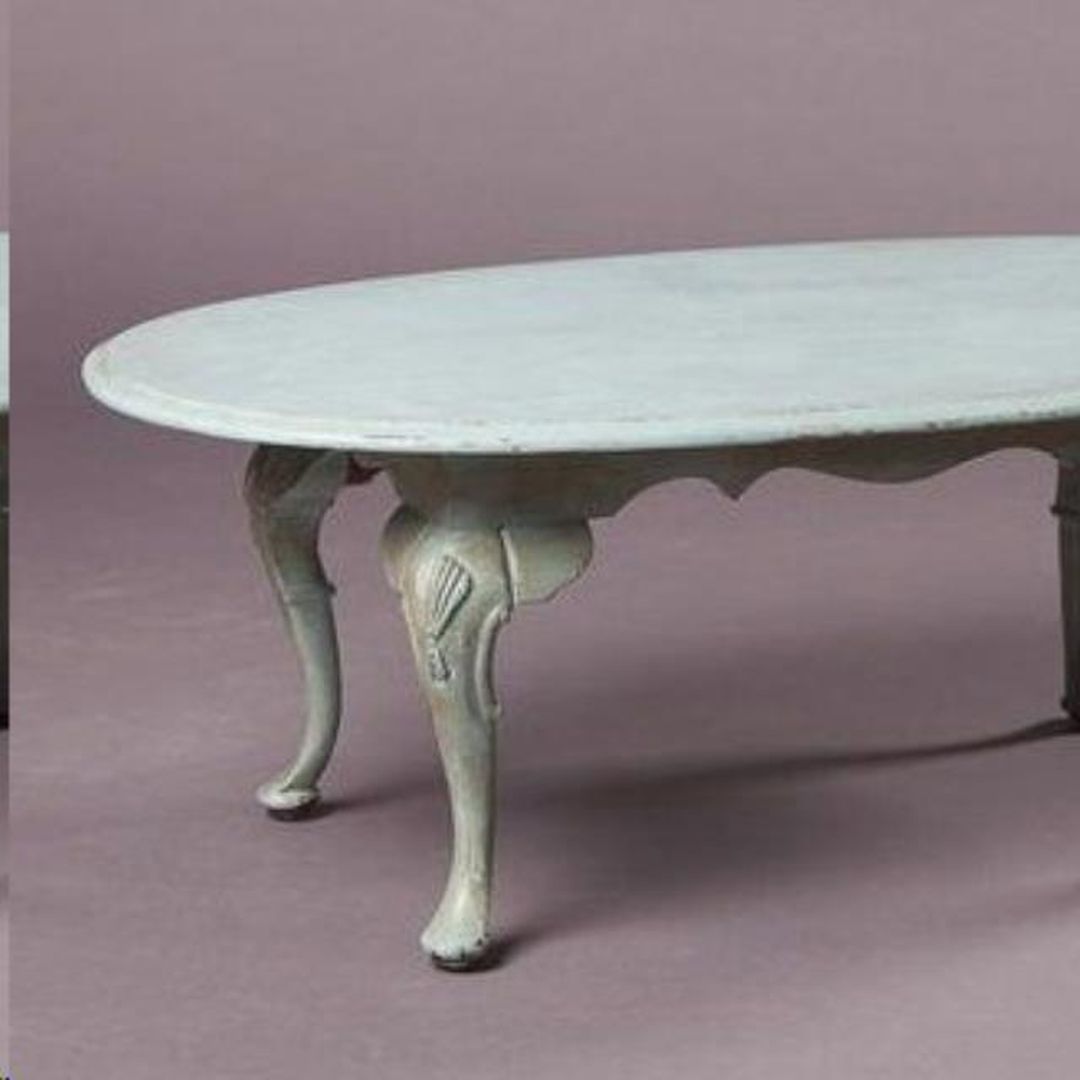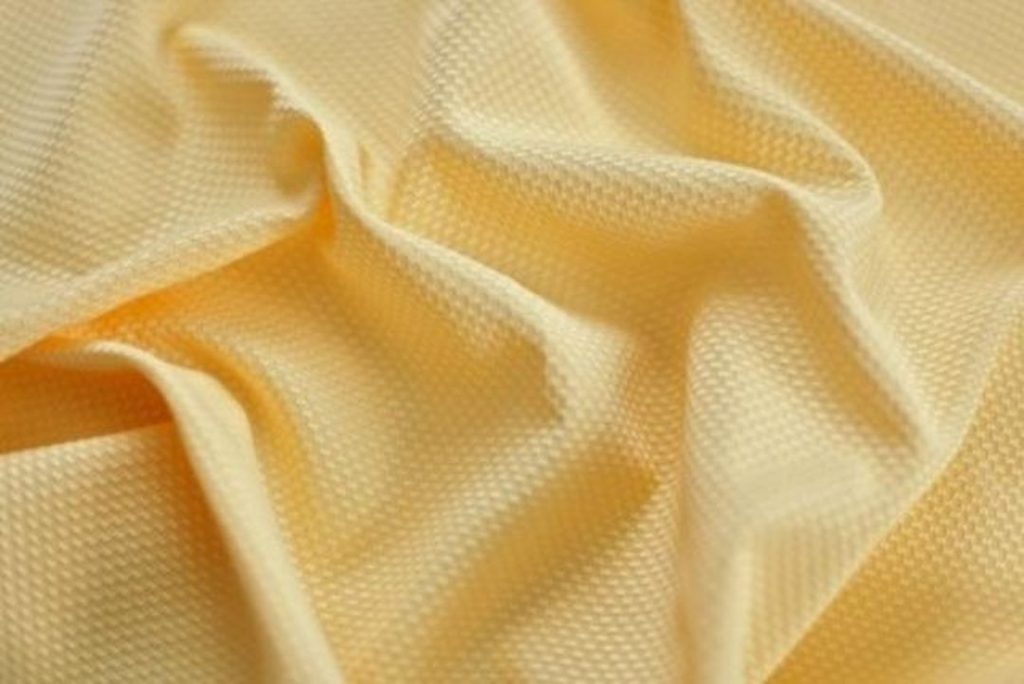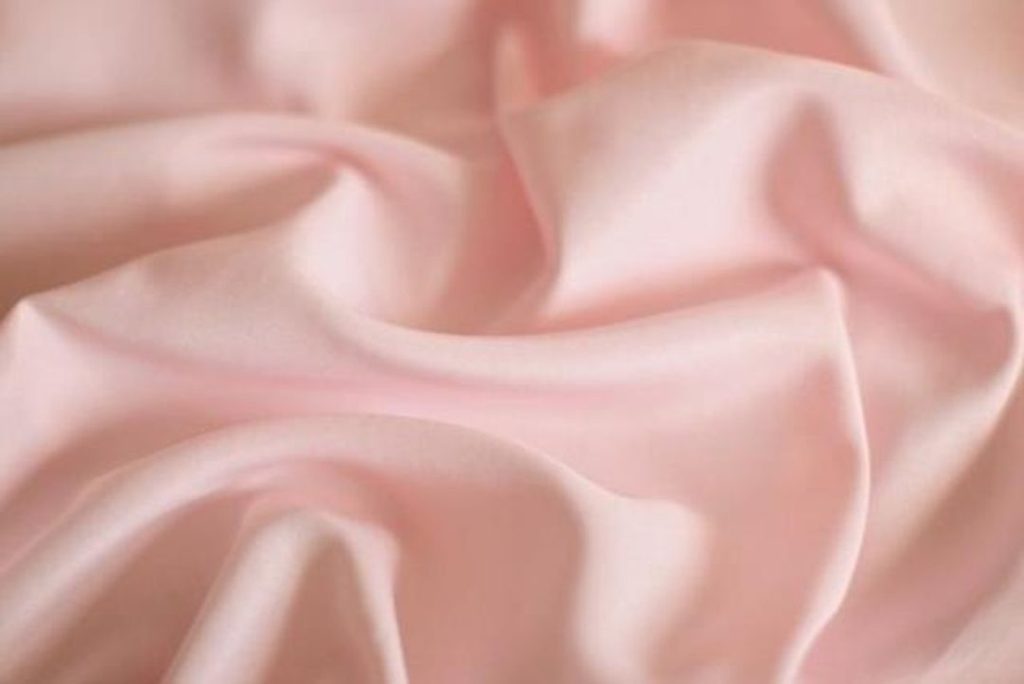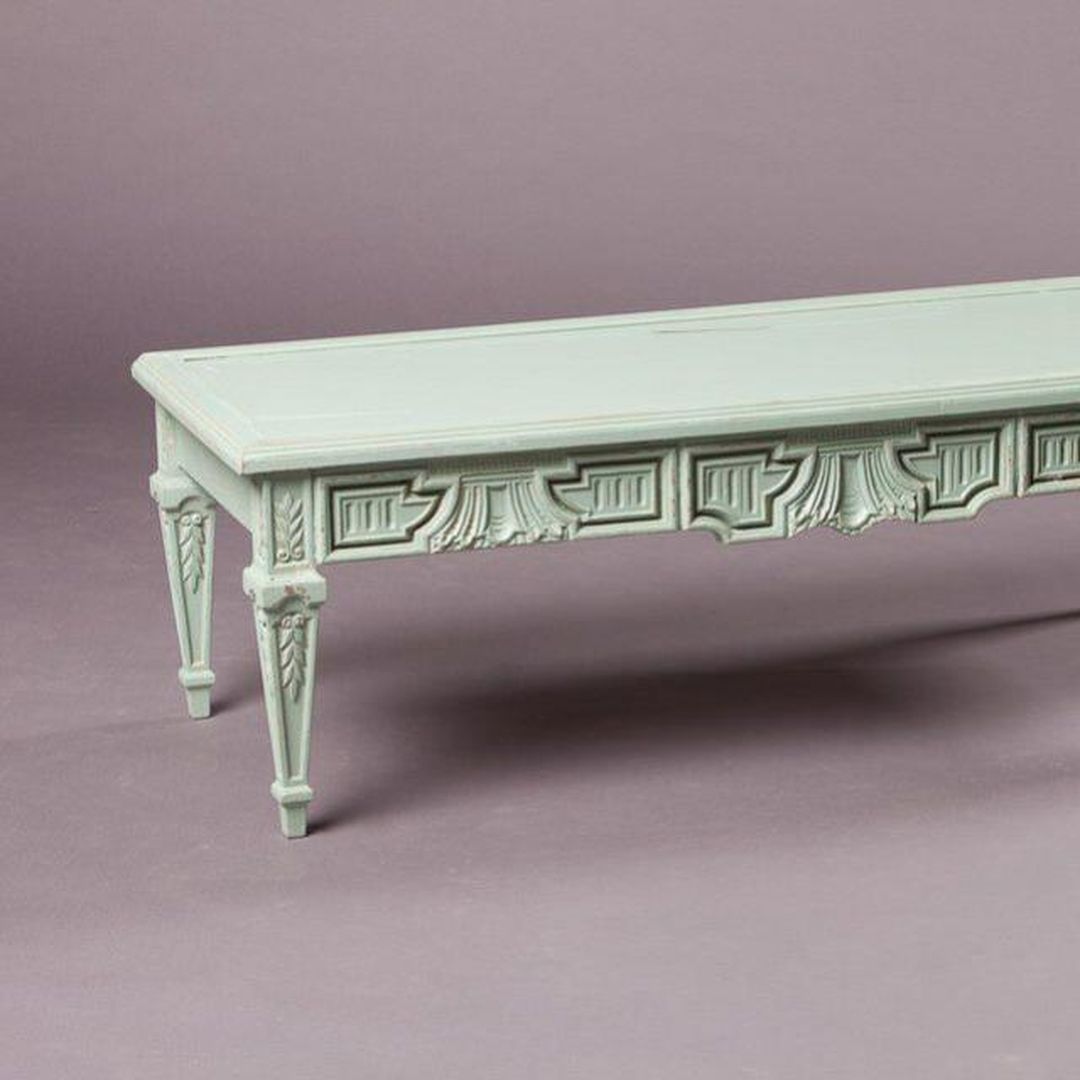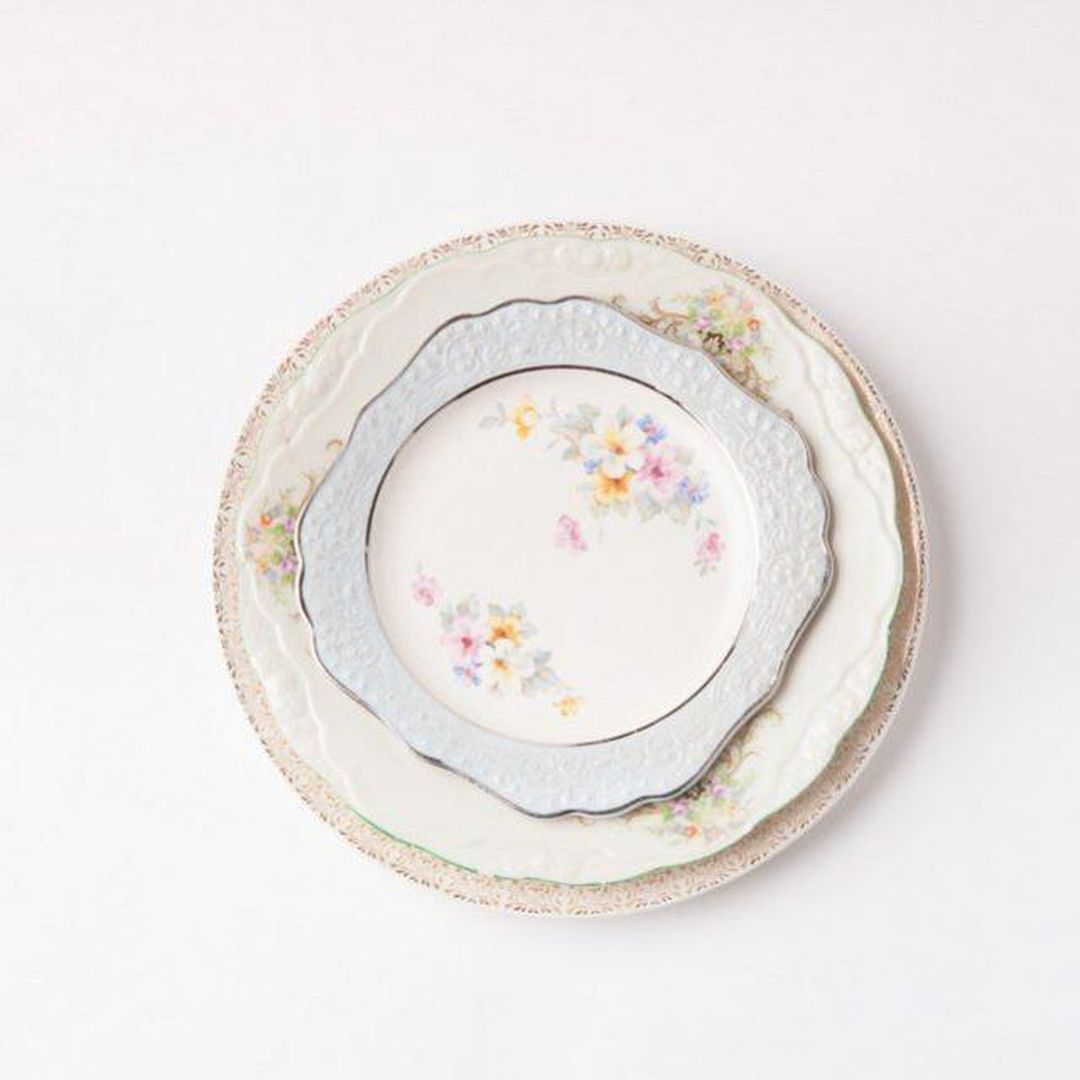 Love pastels and want help incorporating this fresh palette into your next event? Send us a message at info@southerneventsonline.com.
TAGS | Nashville Event Rentals, On Trend, Southern Events Party Rental Company, southern style events, southern wedding style, southern weddings, wedding style trends
FEATURED RENTALS | Heirloom China, Vintage Marjorie Coffee Table, Vintage Blush Side Table, Vintage Blush Coffee Table, Light Blue Pindot Linen, Mediterranean Satin, Lavender Poly LInen, Cornsilk Pindot LInen, Lilac Dupioni
---
11

Apr

Events and Style Shoots, On Trend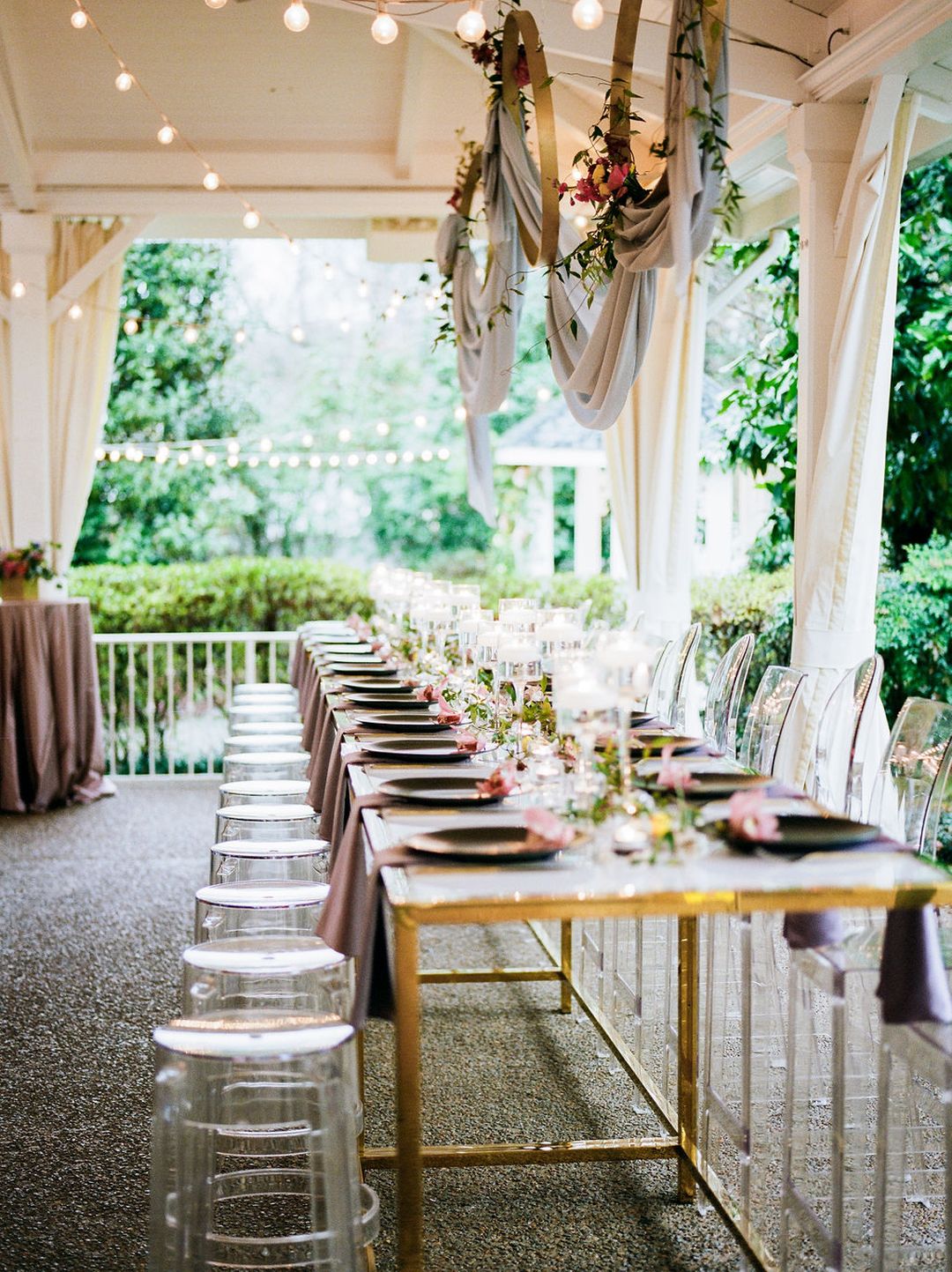 Boho is trending as a wedding theme for 2019. We love seeing it an all forms, especially as Boho Modern! One of our favorite things about this wedding theme is its versatility. Boho can be personalized in a myriad of ways. Some wedding couples shoot for a boho theme that is super laid-back and colorful. Others vibe with a boho theme that is more minimal. We are here for all of it!
In this Spring Tasting Event at CJs off the Square, we created a series of looks that we are currently still swooning over. We love the look featured here, a Boho Modern theme. Equal parts whimsical, down-to-earth, and modern – all at once. A gold, clear, black, and blush combination — paired with slightly mismatched chairs — is what gives us the whimsy. Linens, perfectly draped, in cream and grey, along with florals, and cafe lights, give us an easy, down-to-earth feel. Finally, accents of gold metal, glass, and acrylic are brought in to give us that modern wedding theme.
Beautiful images by Jenna Henderson Photographer.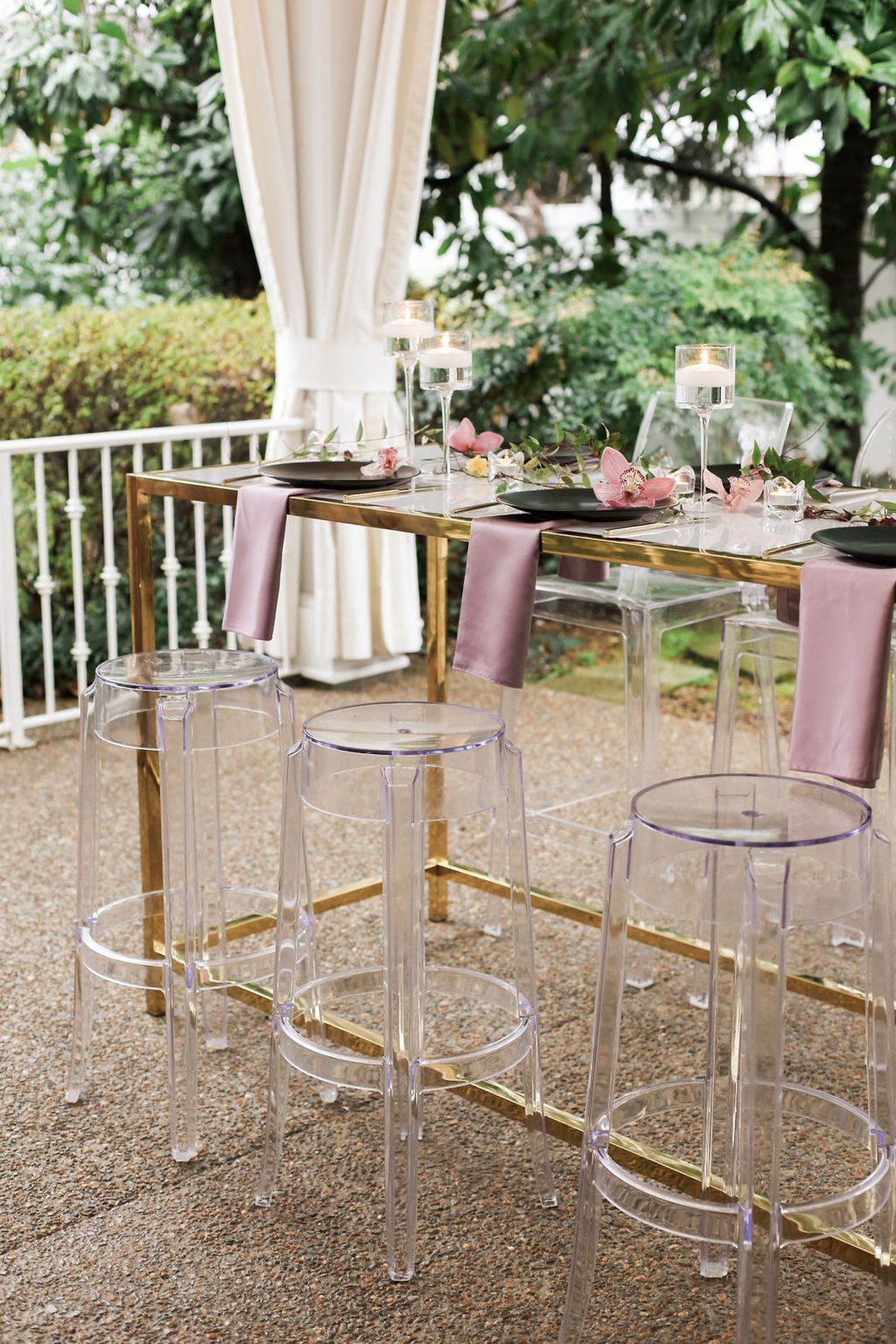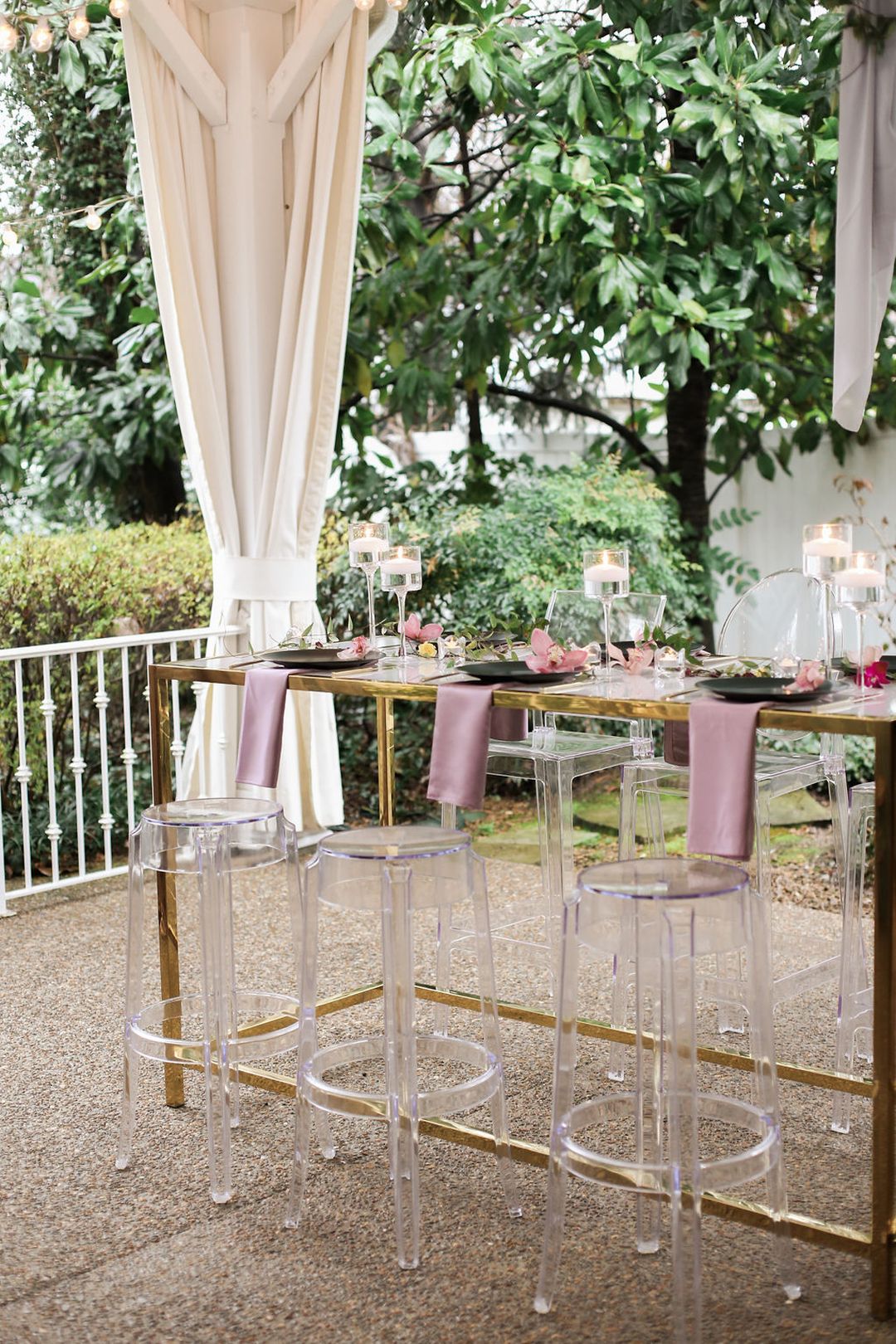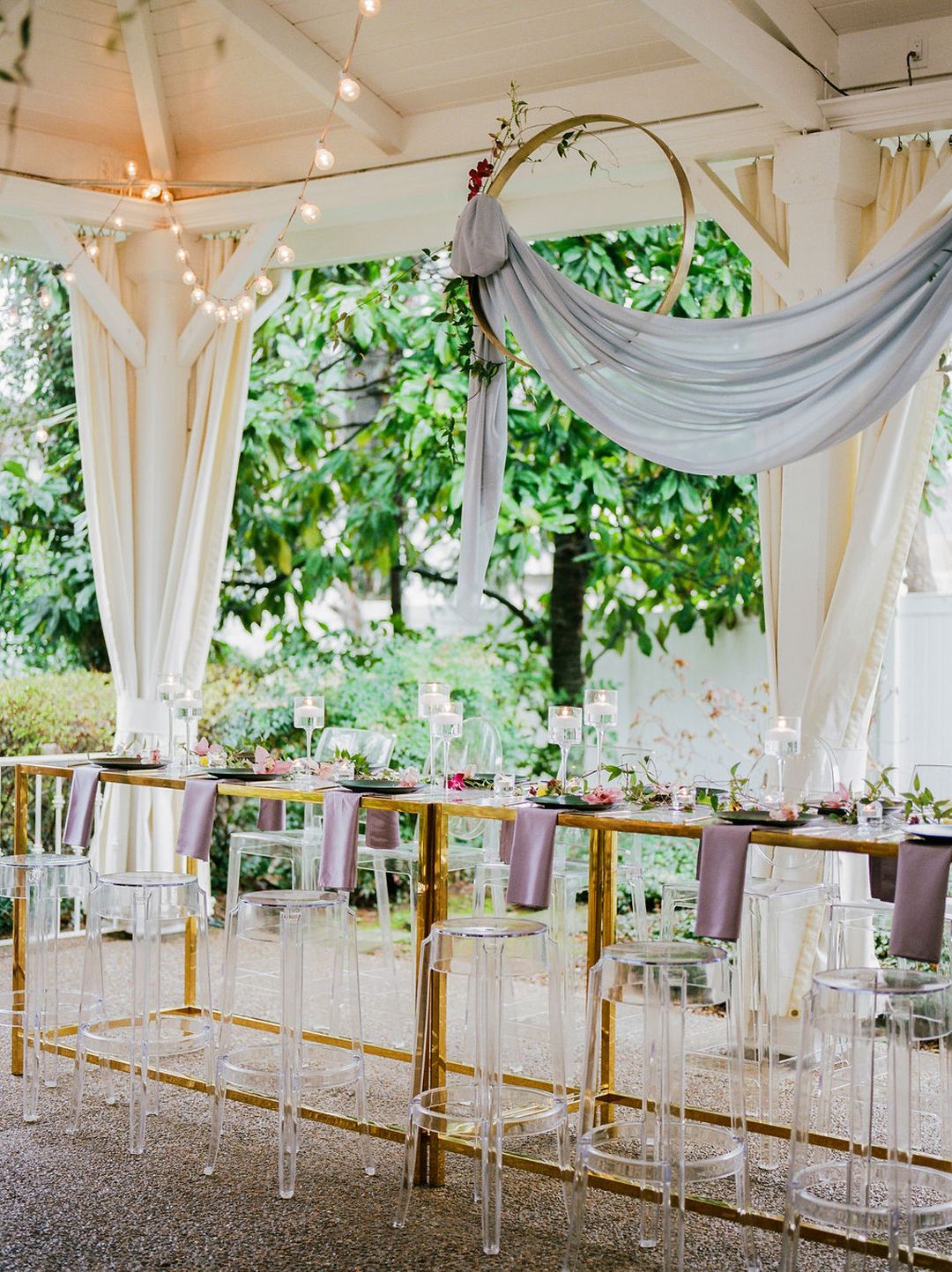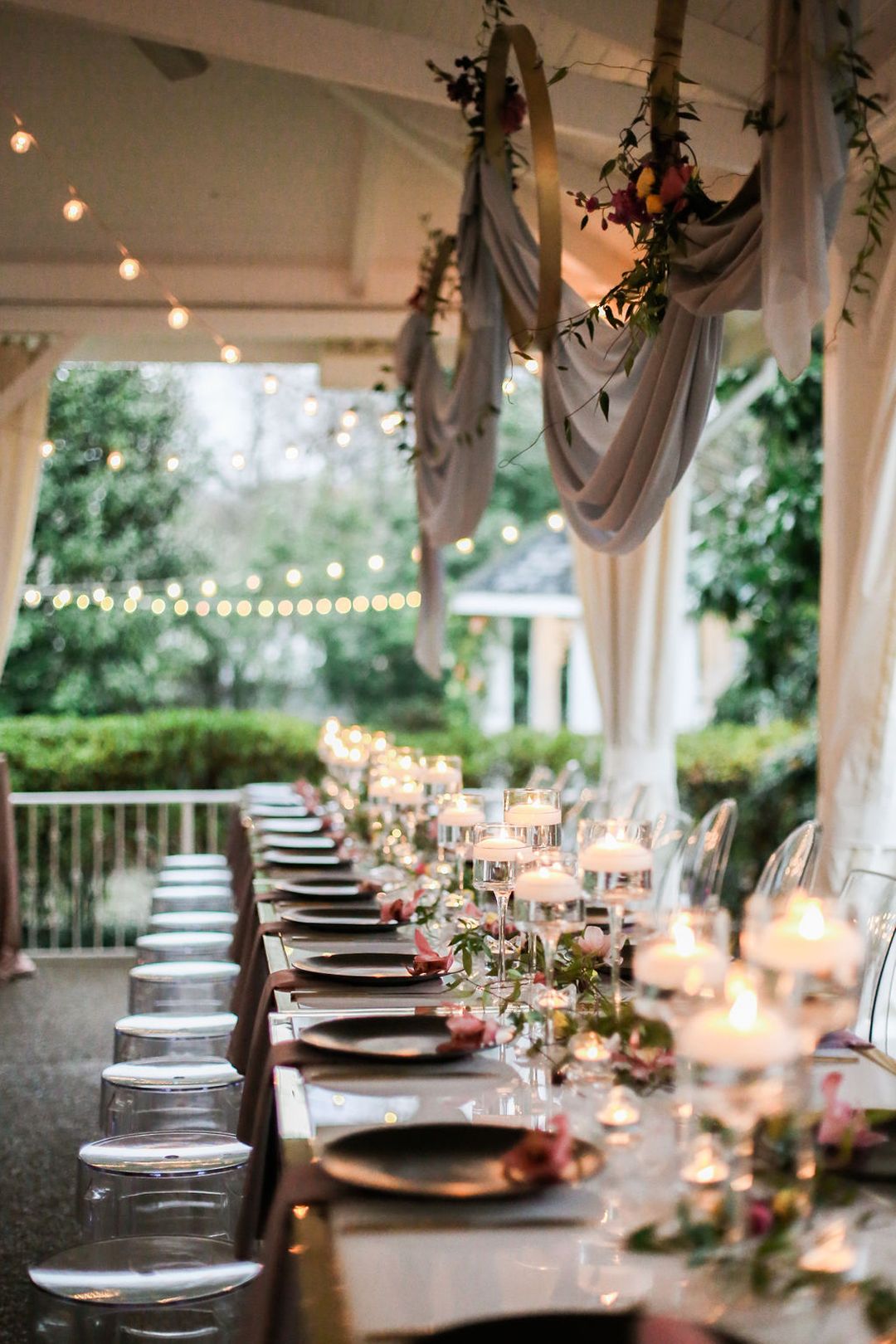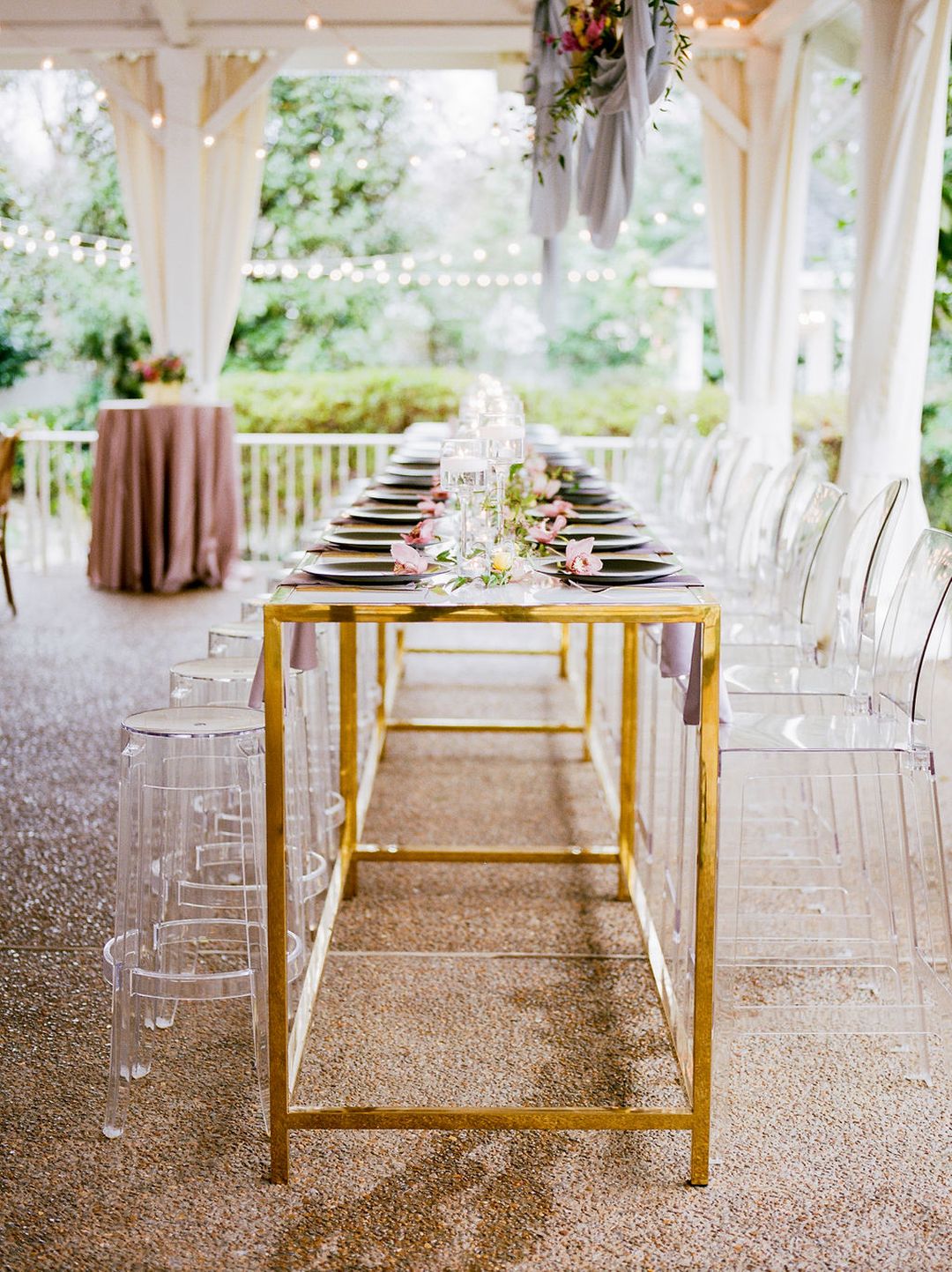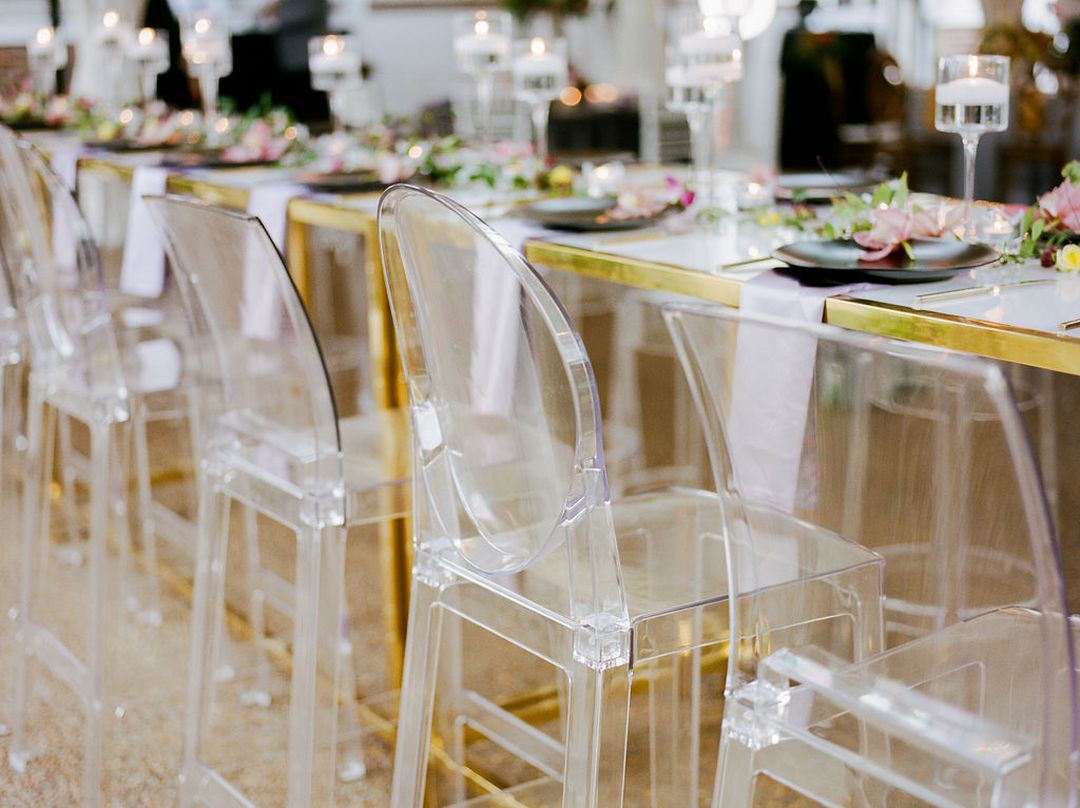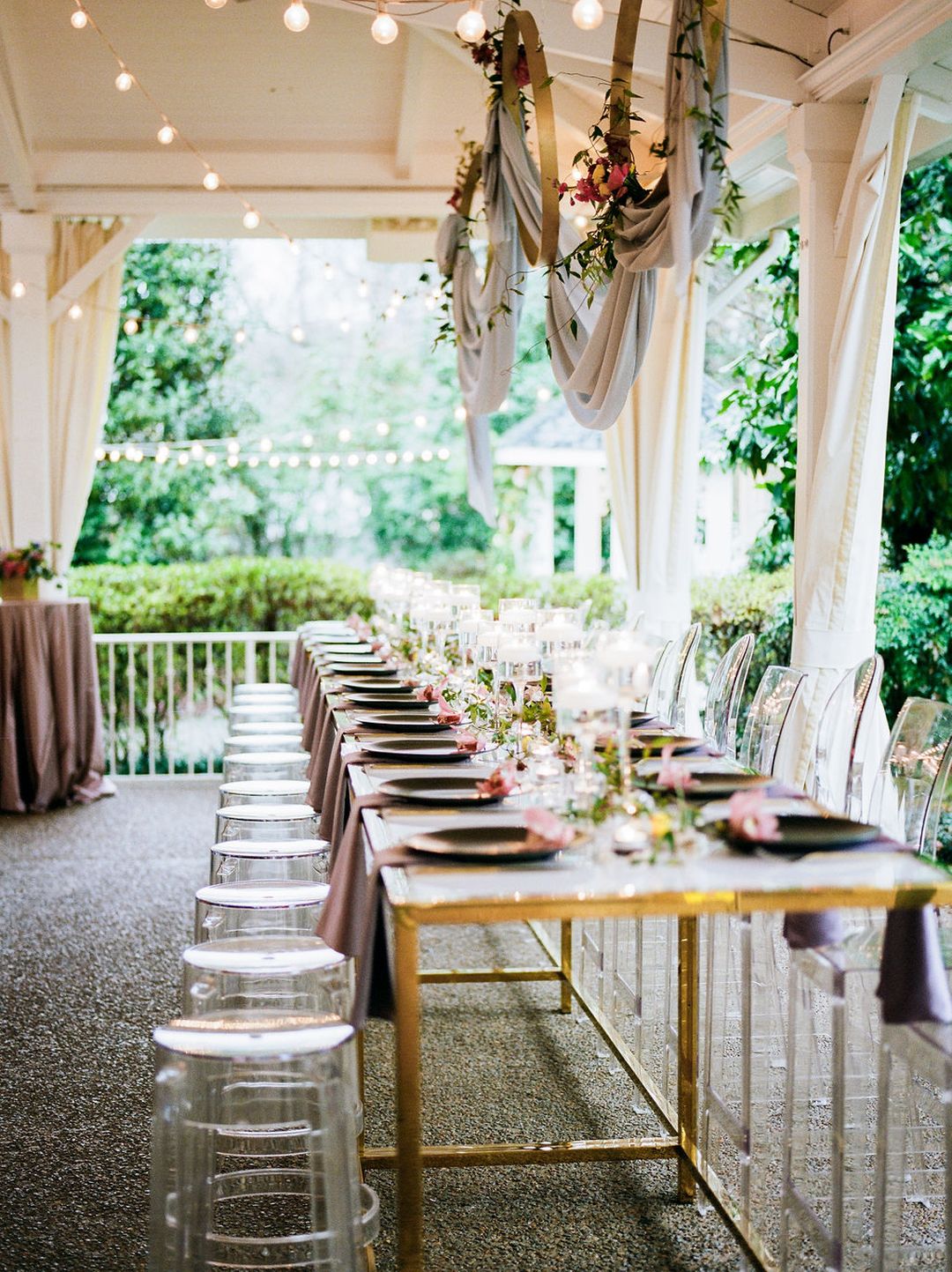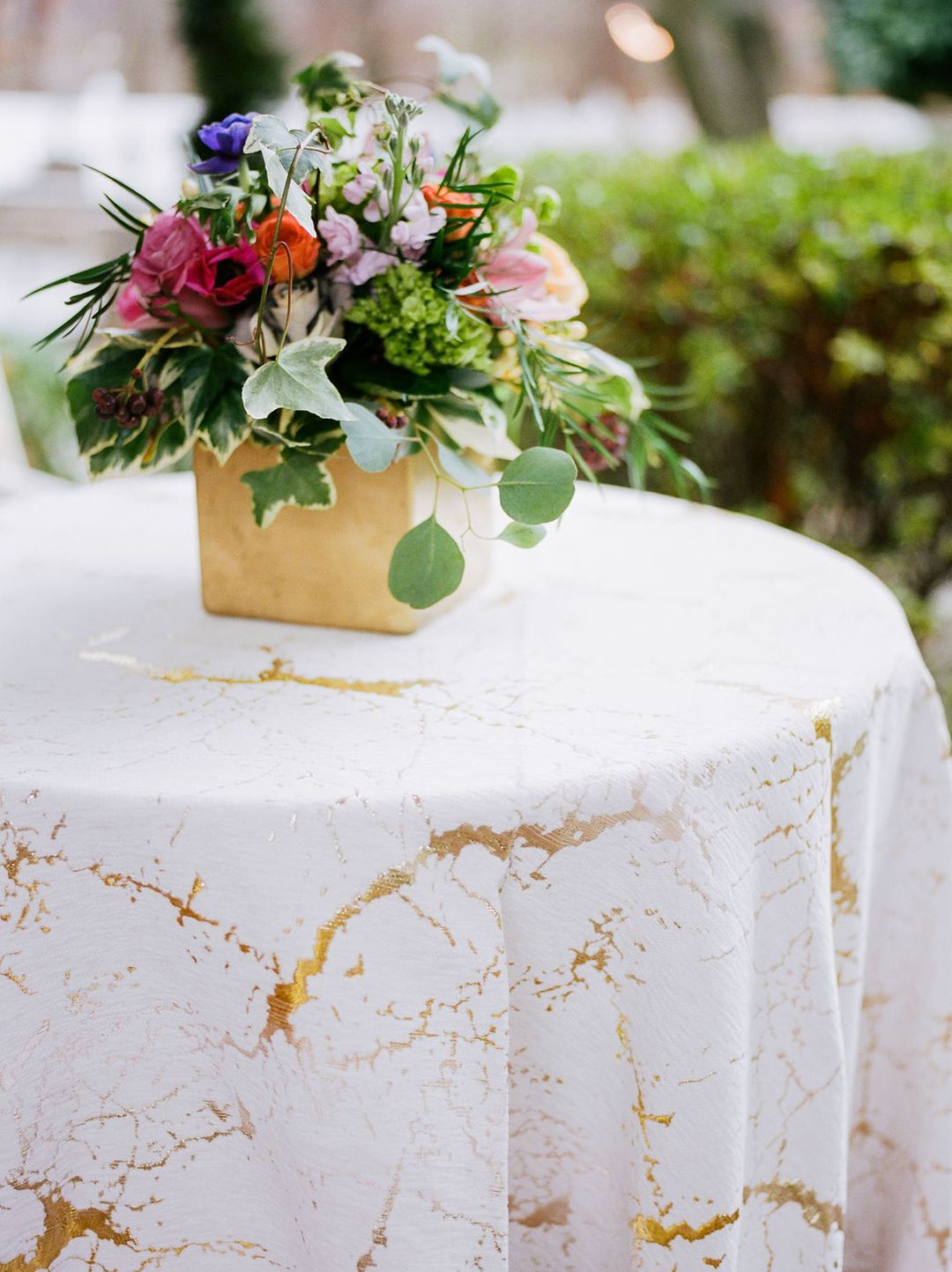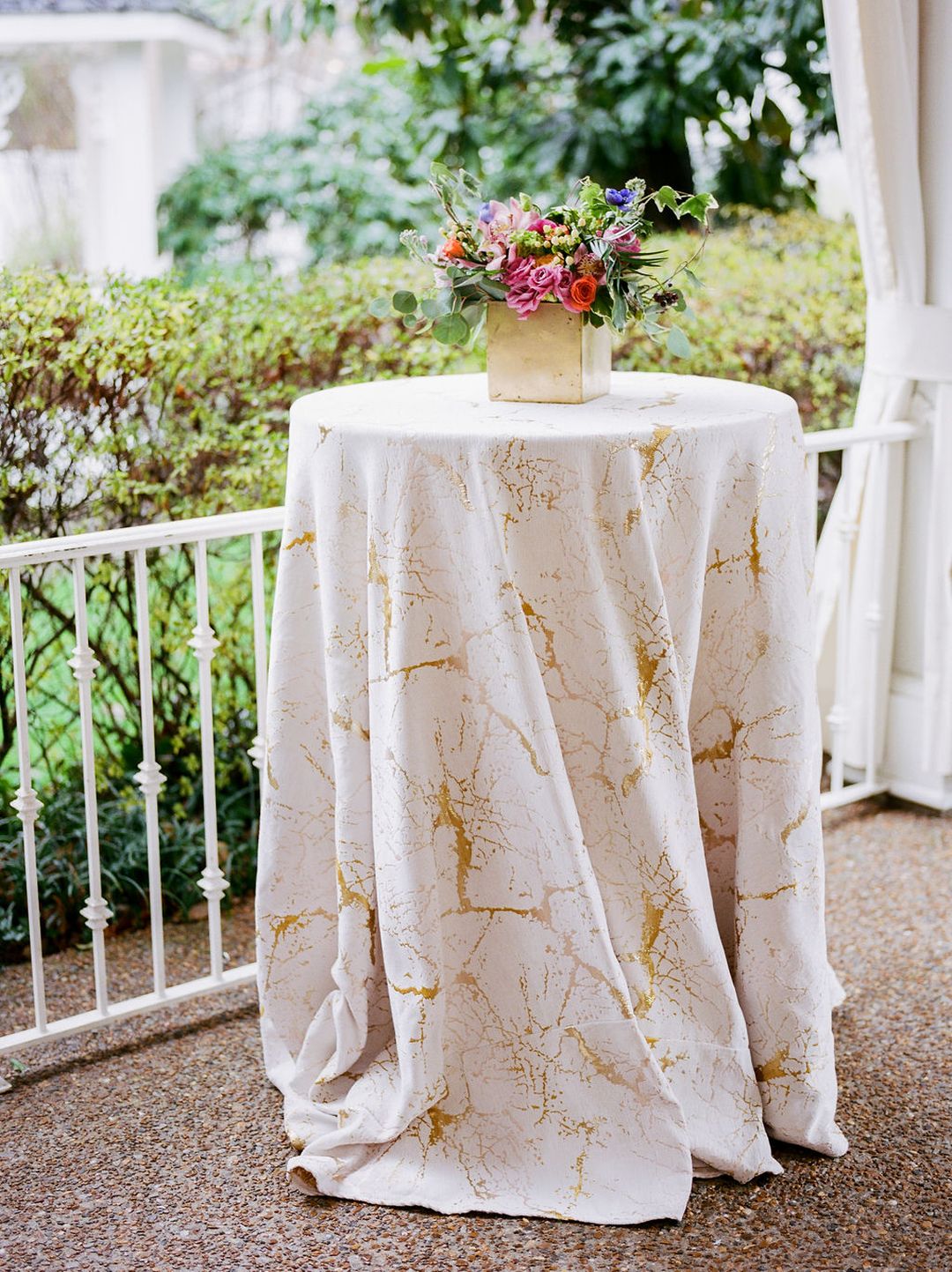 Planning a wedding or event and wanting a Boho Modern theme? Send us a message at info@southerneventsonline.com.
TAGS | CJ's Off the Square, Jenna Henderson Photography, Nashville Wedding Rentals, On Trend, Southern Events Party Rental Company, southern style events, southern weddings
FEATURED RENTALS | Loren Gold Bistro Table, Acrylic Chairs, Cameo Blush Velvet Linens, Gold Furrow Linens, Cybil Glassware, Onyx Dinner Plate,
---
14

Mar

Trends and Inspiration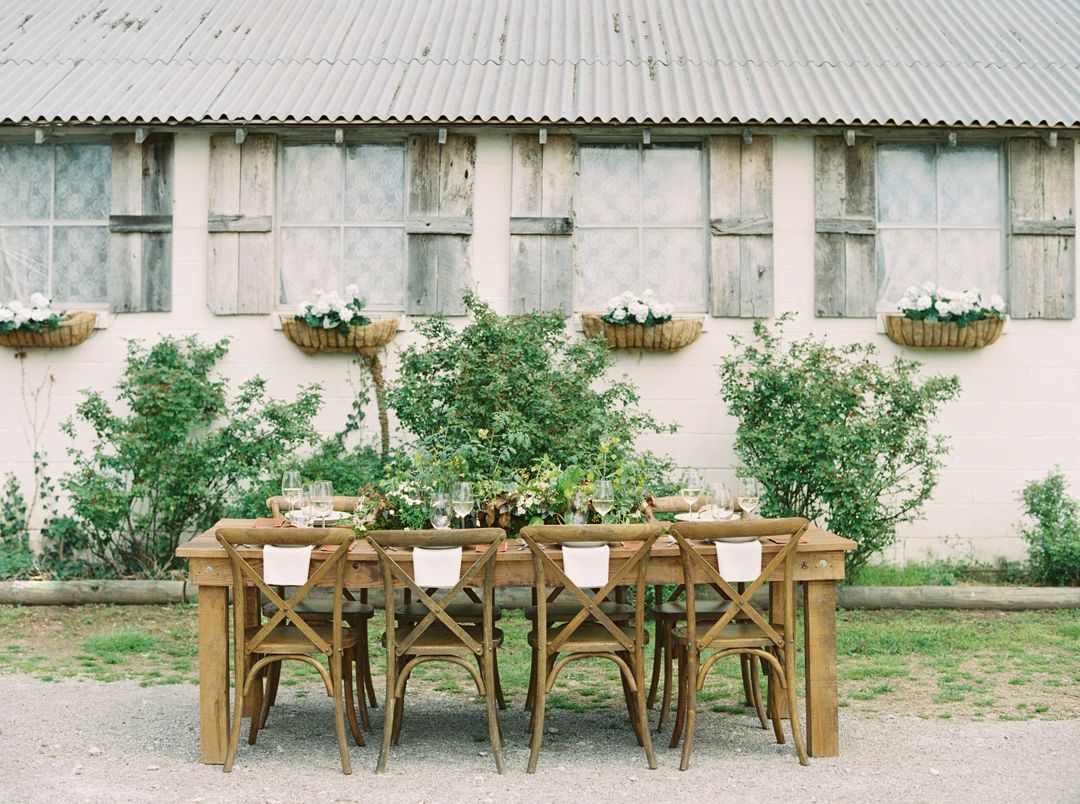 Farmhouse-inspired weddings and events are very of-the-moment, and for good reason! This trend is classic, fresh, and uber-relaxed. Perfect for a gathering of friends and family that is down to earth (literally) while being effortlessly stylish.
We partnered with the Gifford Collective at Meadow Hill Farms, where we used some of our favorite neutral rentals to bring this Southern Farmhouse look to life. The tablescape features our Sophia Flatware, Artisan Dinner Plates and Artisan Dessert Plates, Madison Glasses, and Havana Ecru Napkins.  Fresh bread wrapped in butcher paper serves as place cards (love!), while cream, greenery & silver accents atop a Farm Table, paired with our Cross-Back Chairs, created an elegant and approachable Southern Farmhouse table.  The ivory and handpainted wedding cake sits on our Fruitwood Round Cake Plateau as a tempting finish to the delicious meal one can imagine enjoying here.
The Southern Farmhouse style has been growing in popularity and is still going strong as a trend for 2019! We are excited to help create this beautiful scene for couples this upcoming year. Thank you Cassidy Carson Photography, for the beautiful images.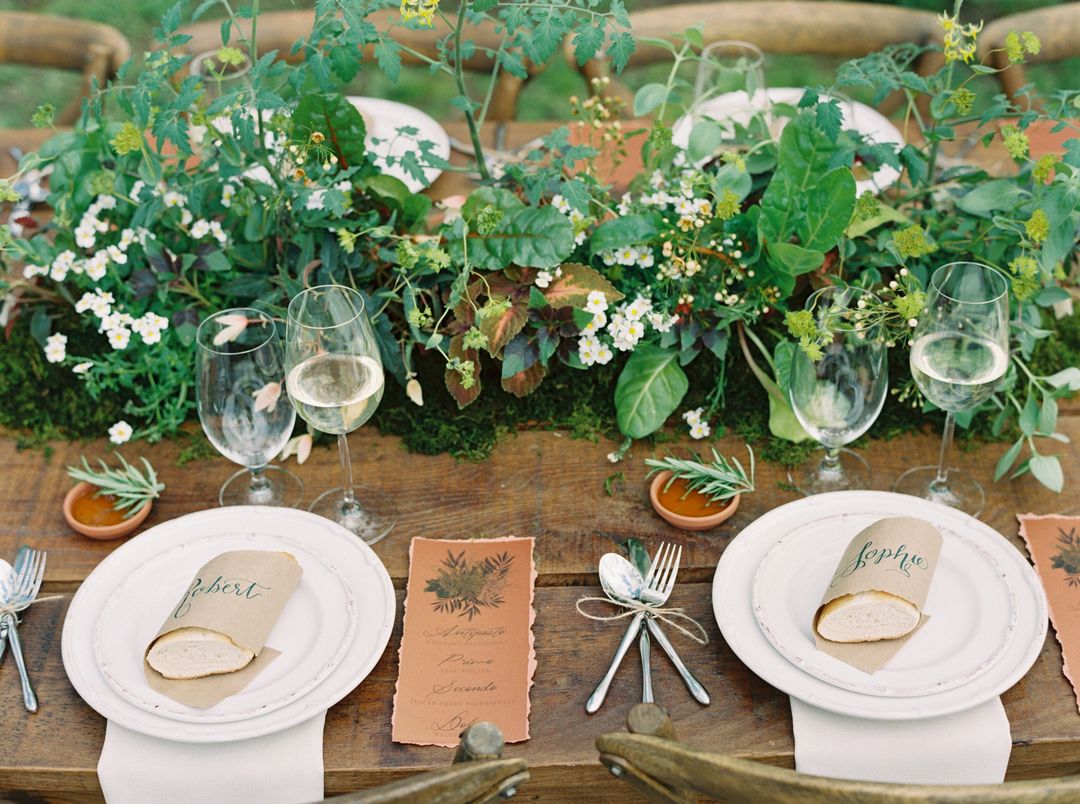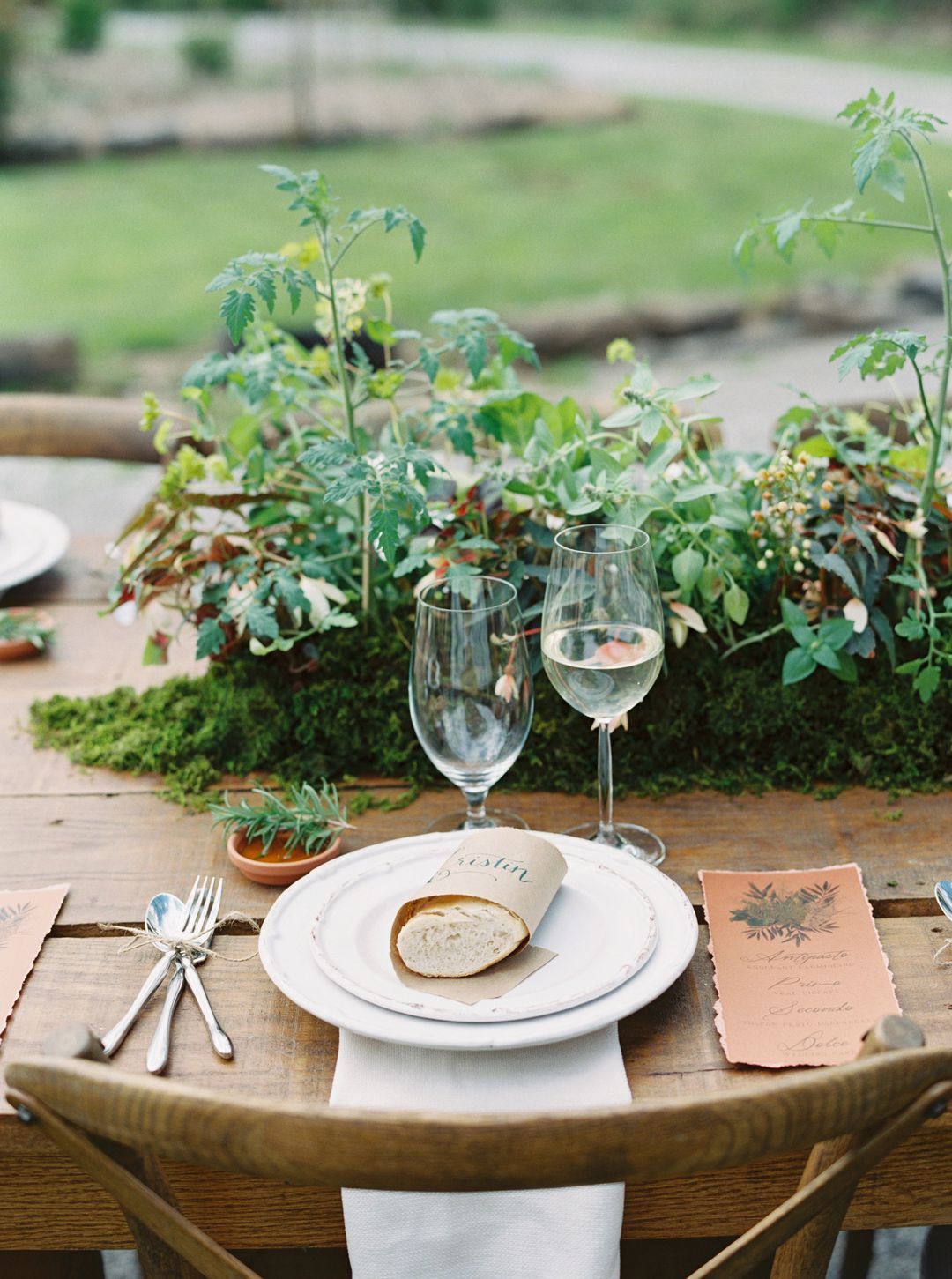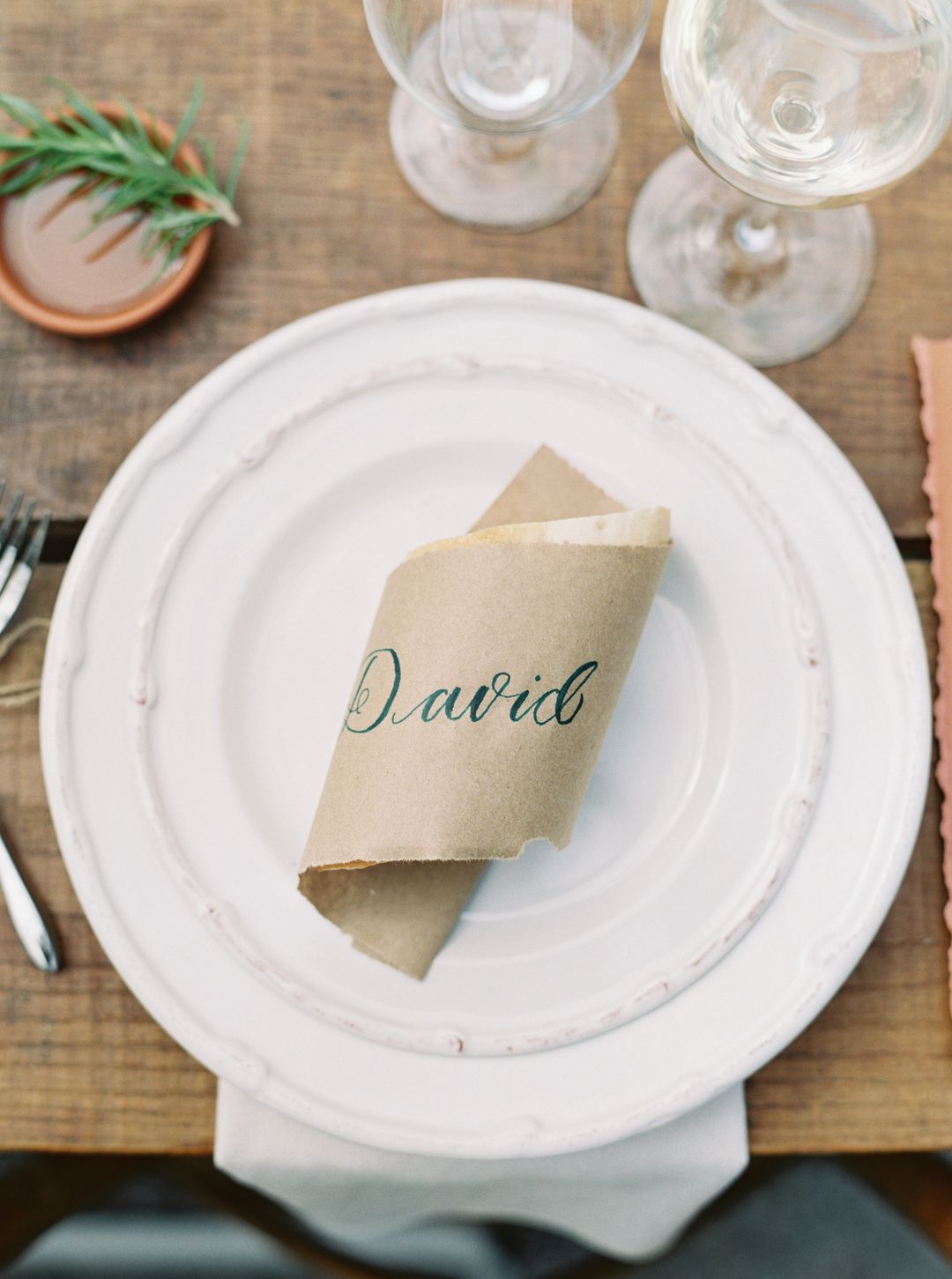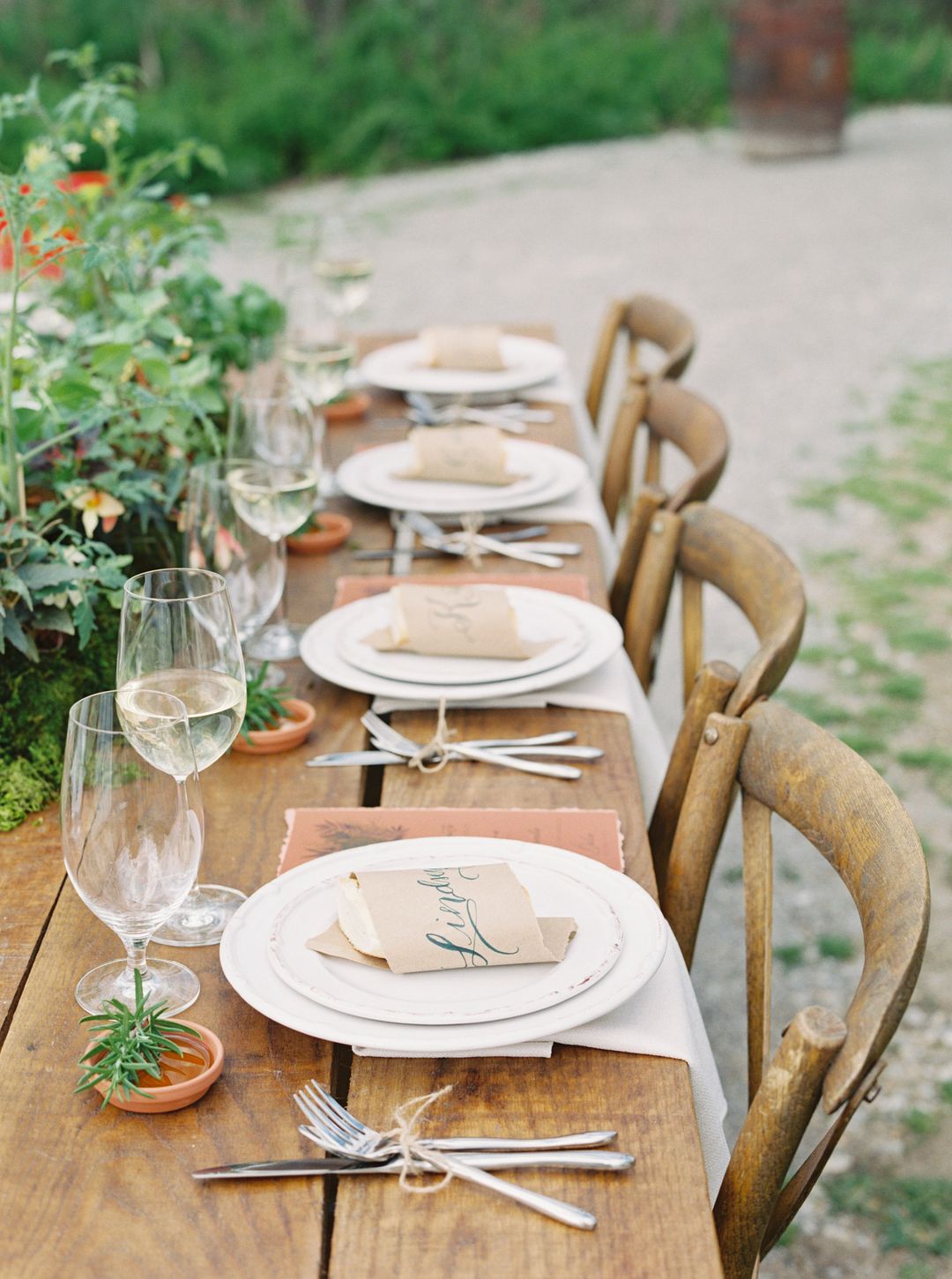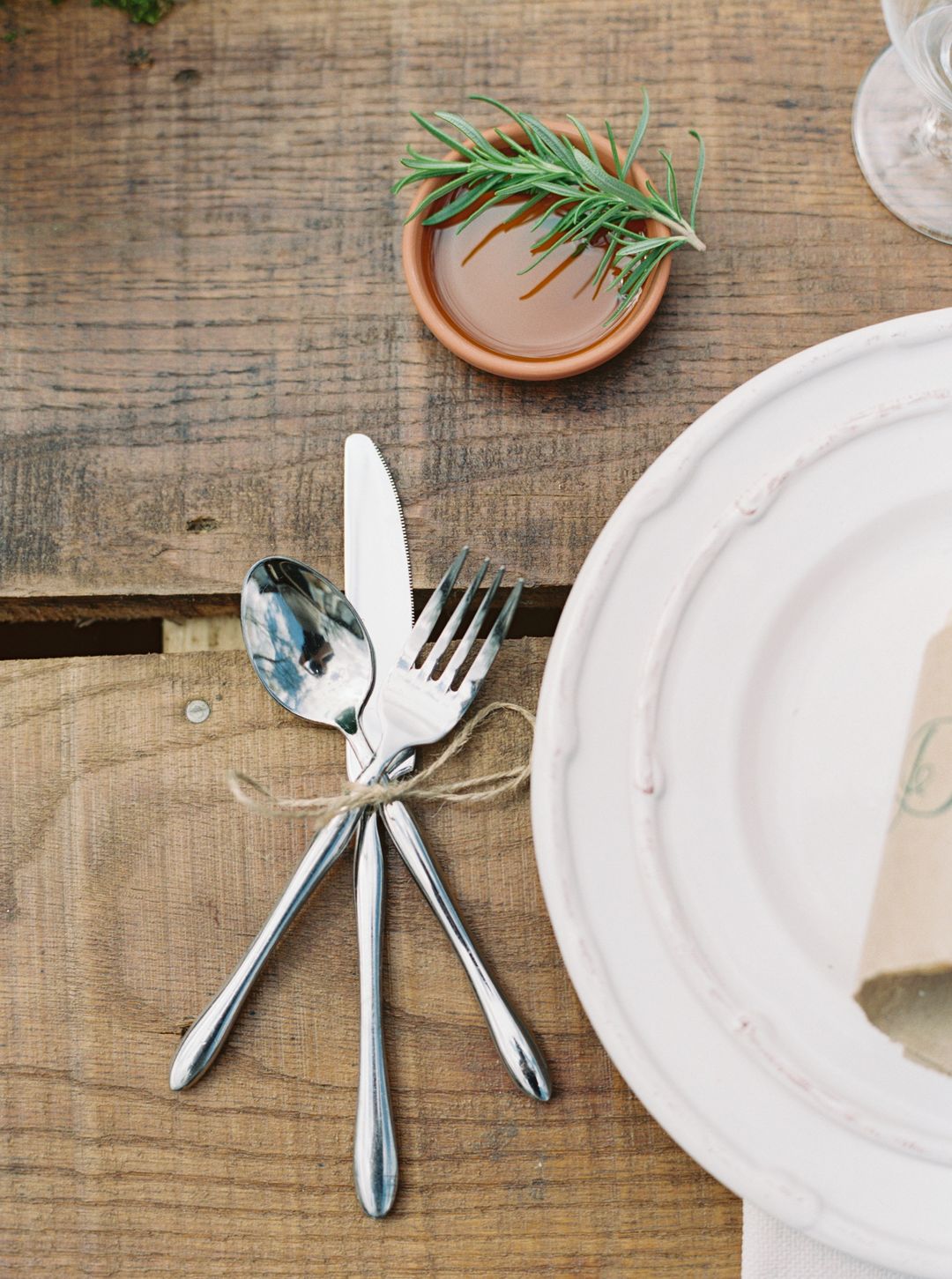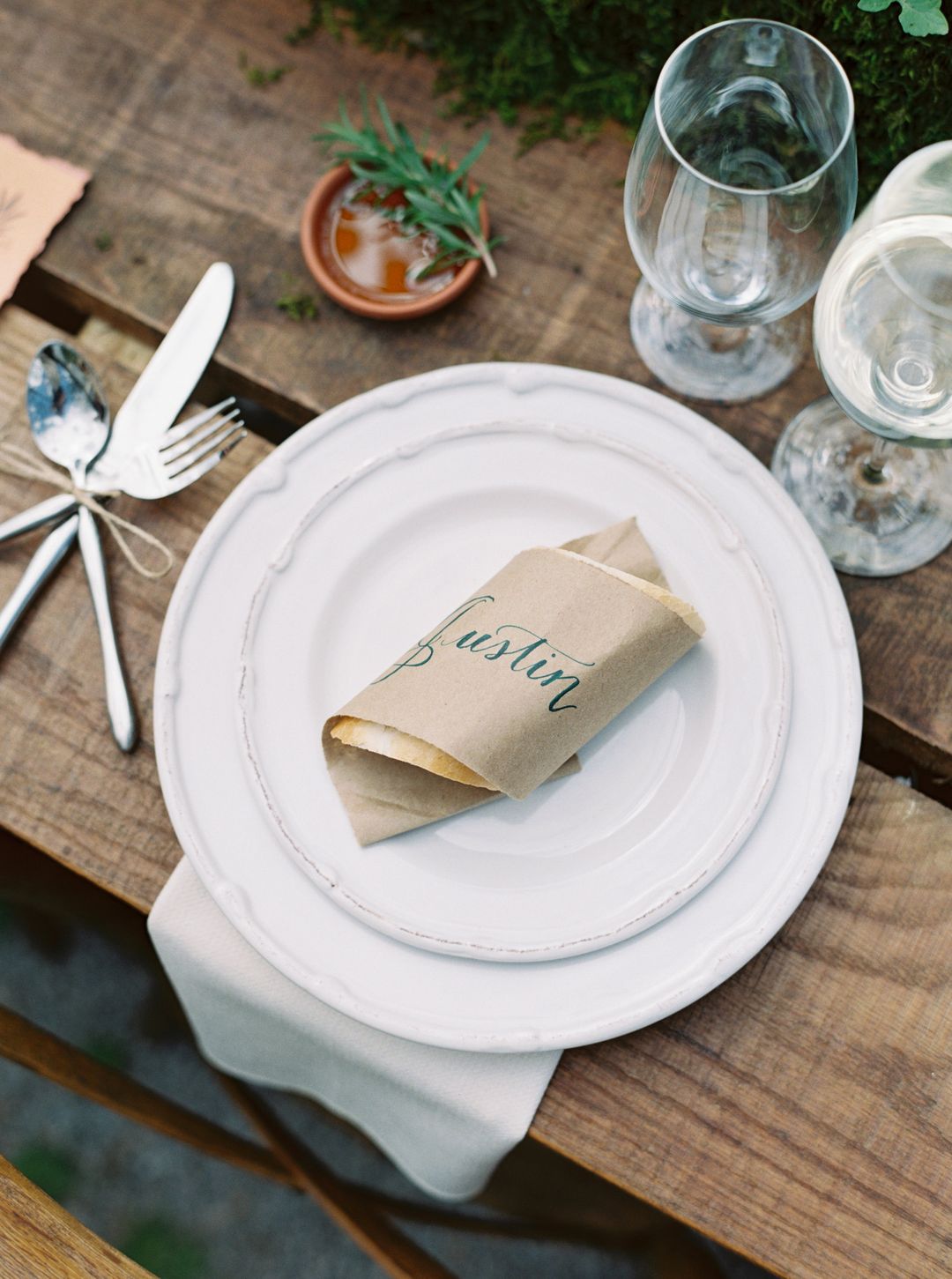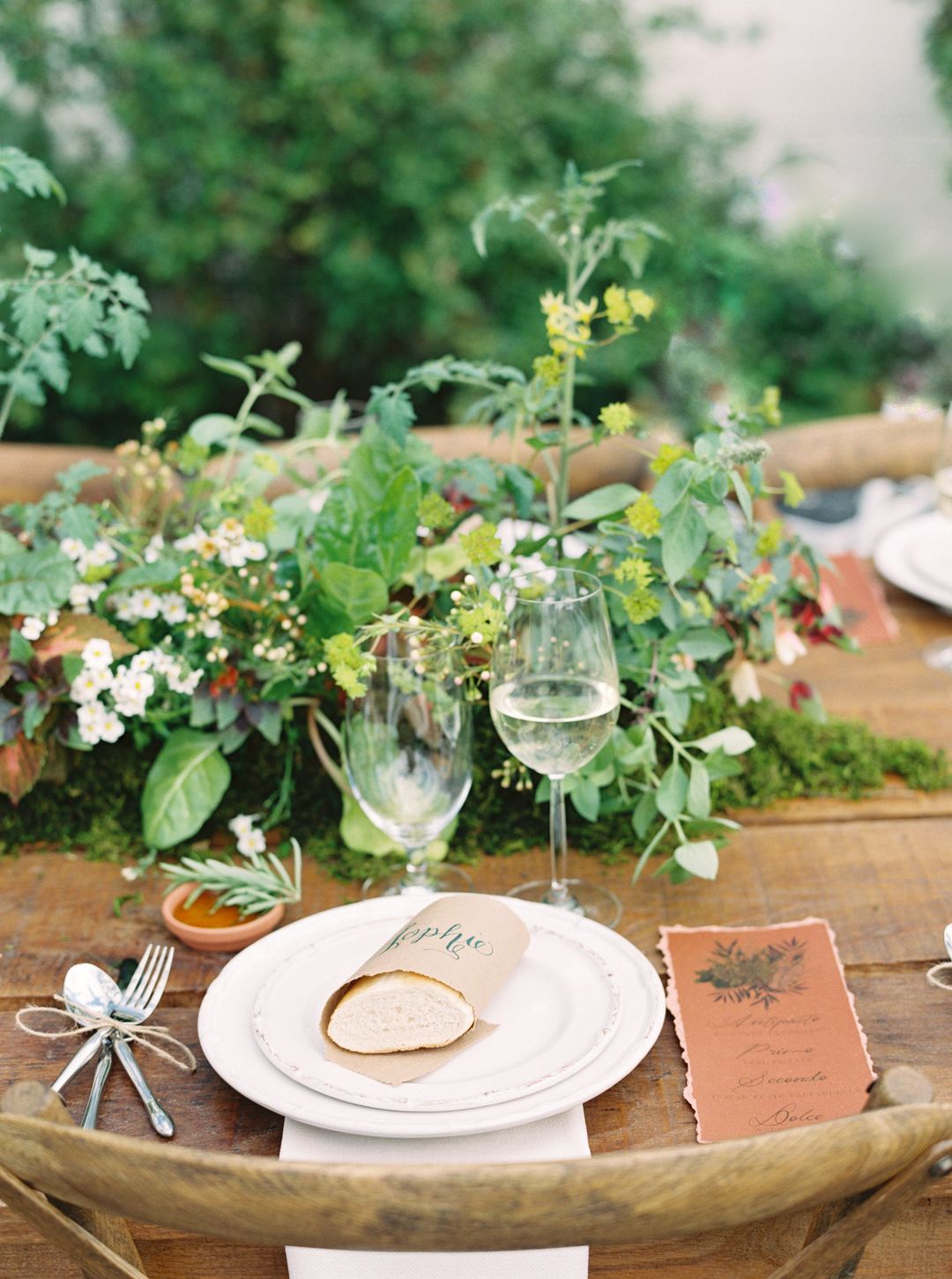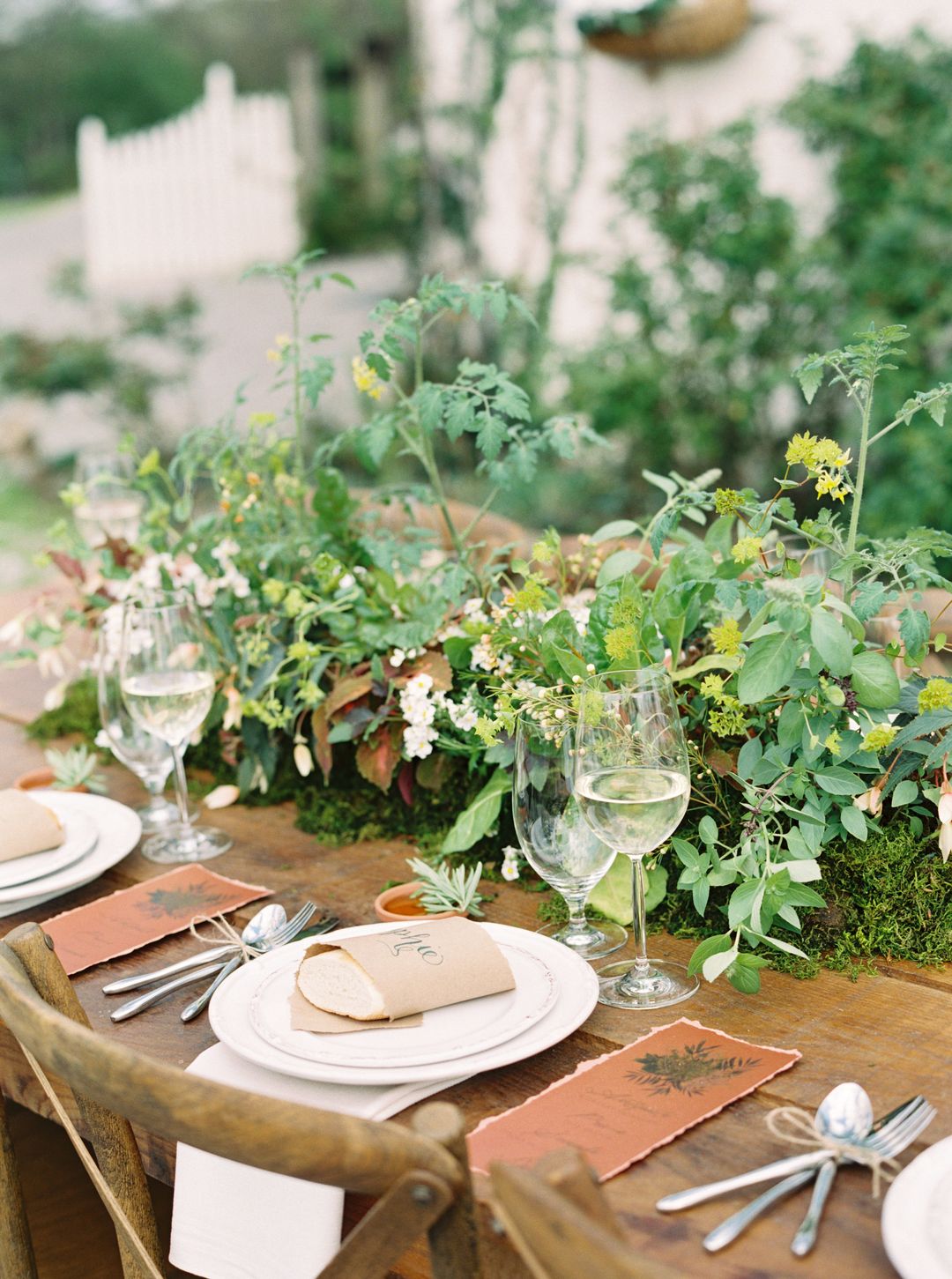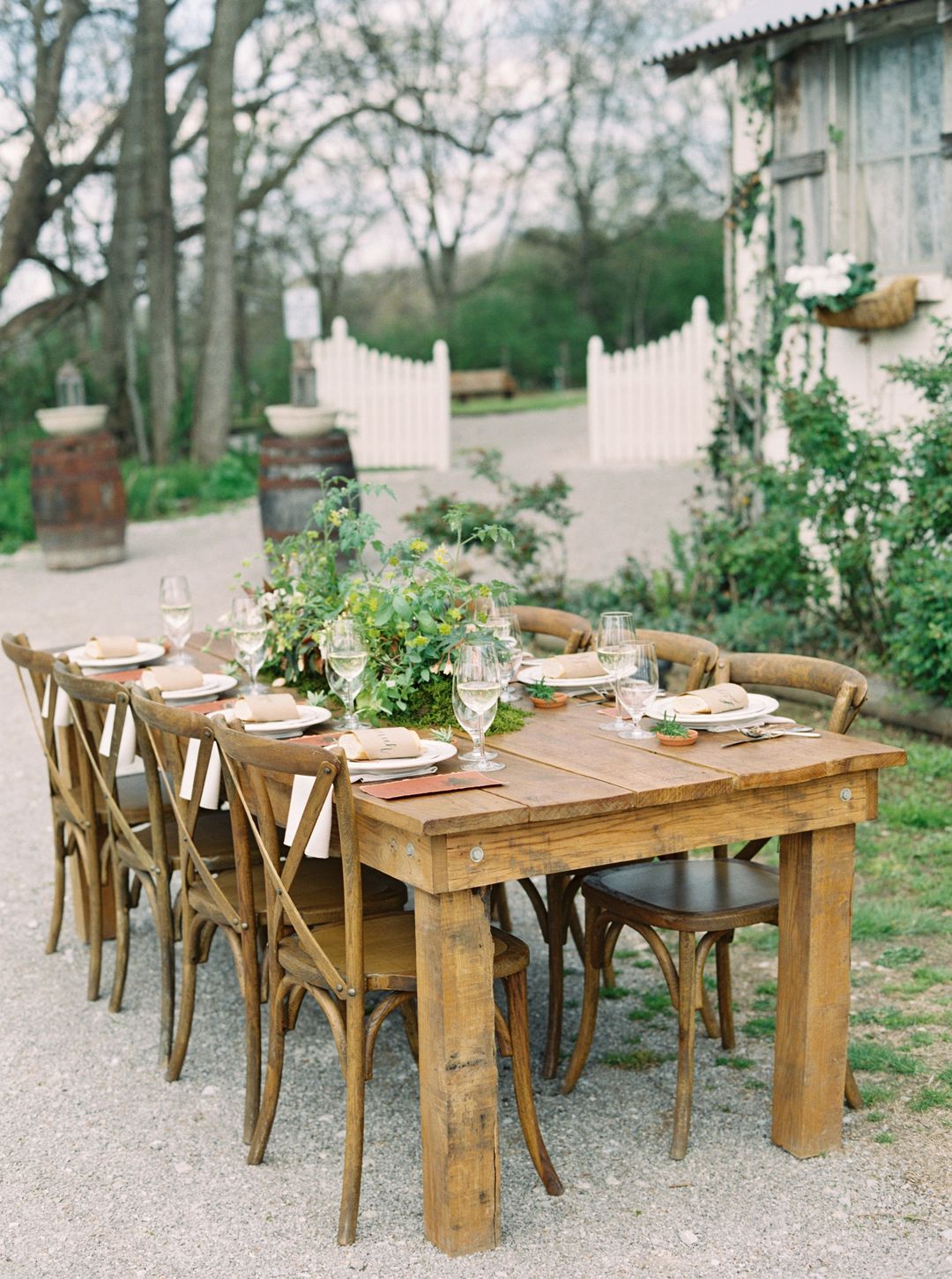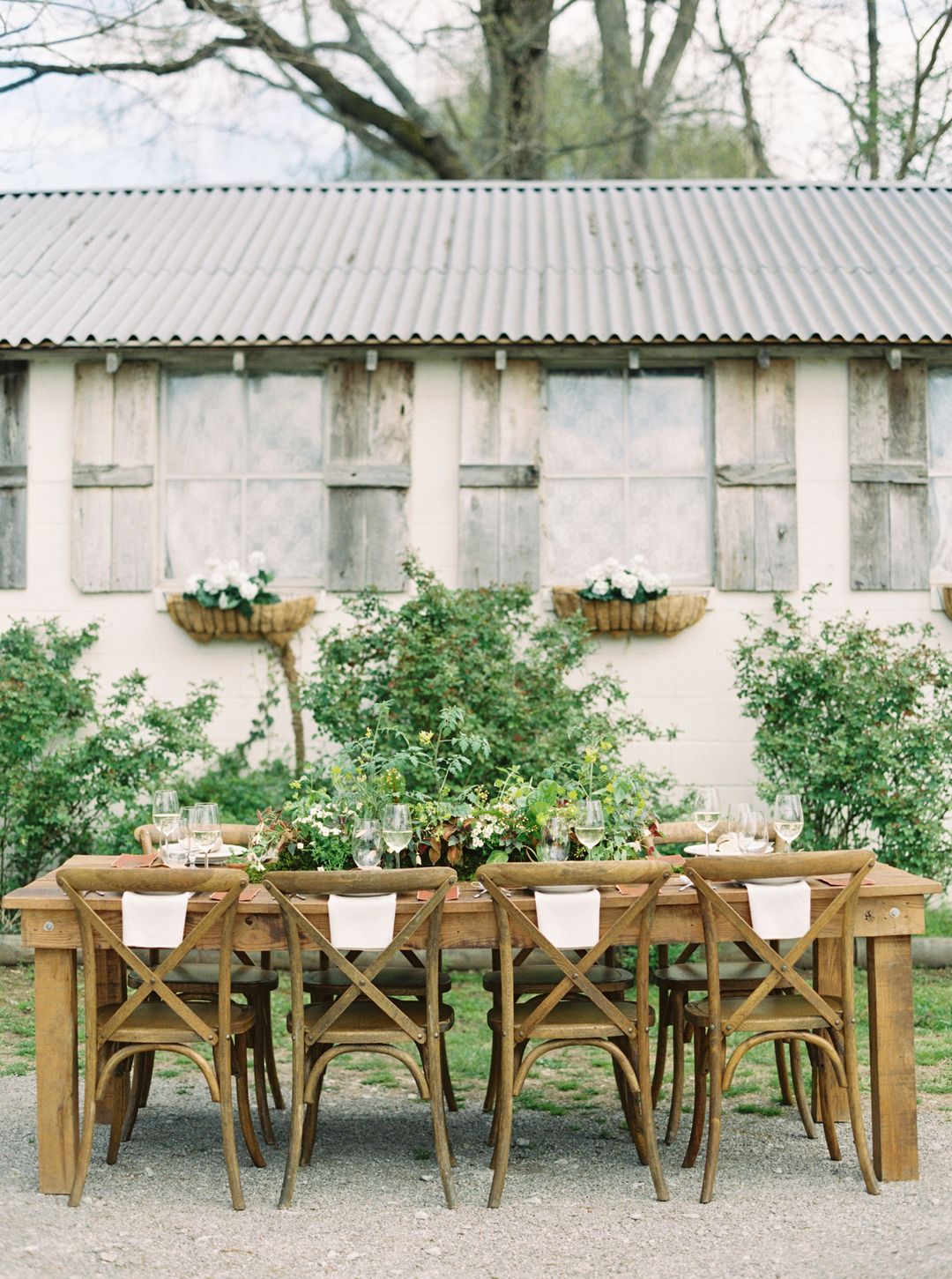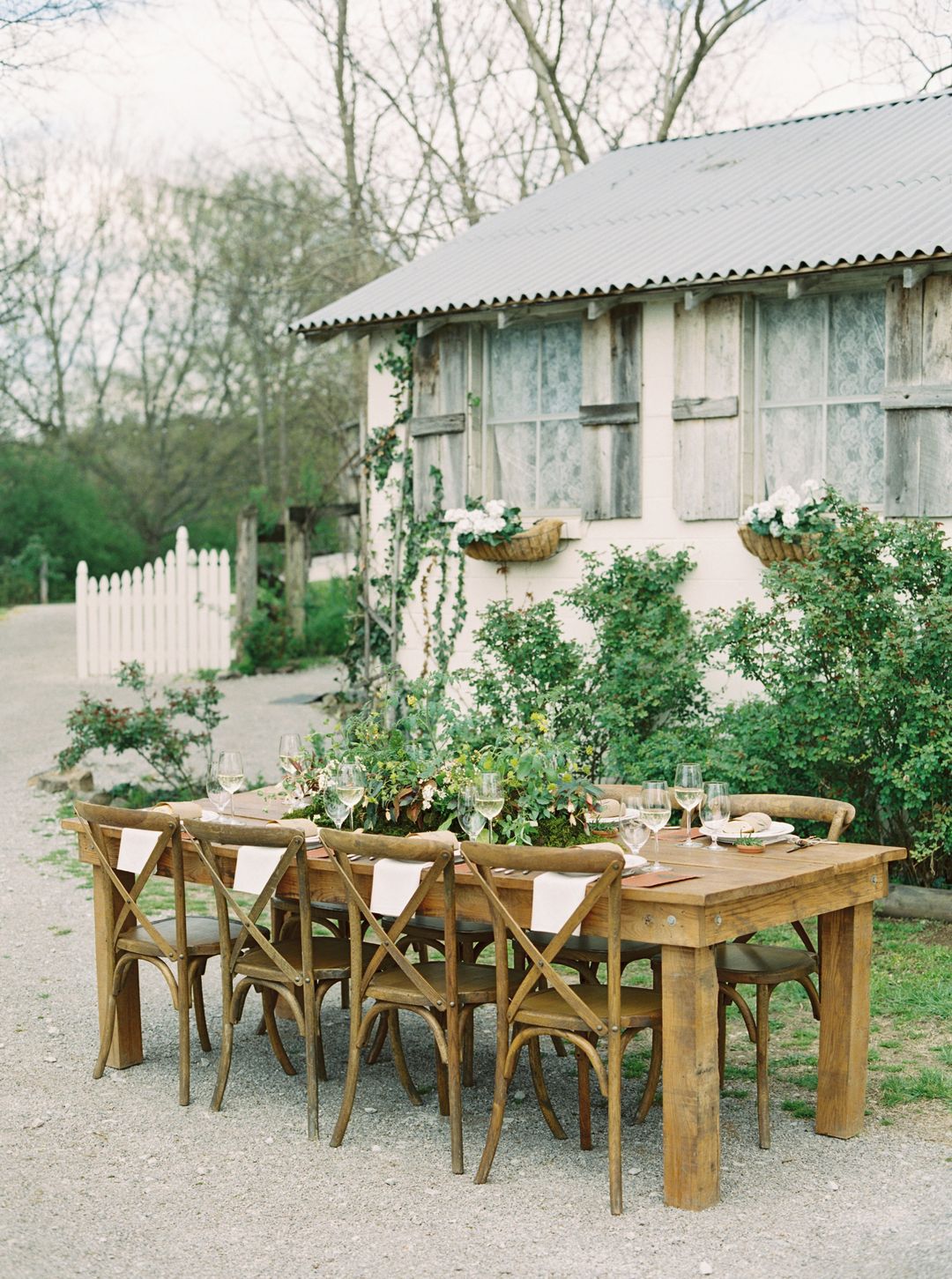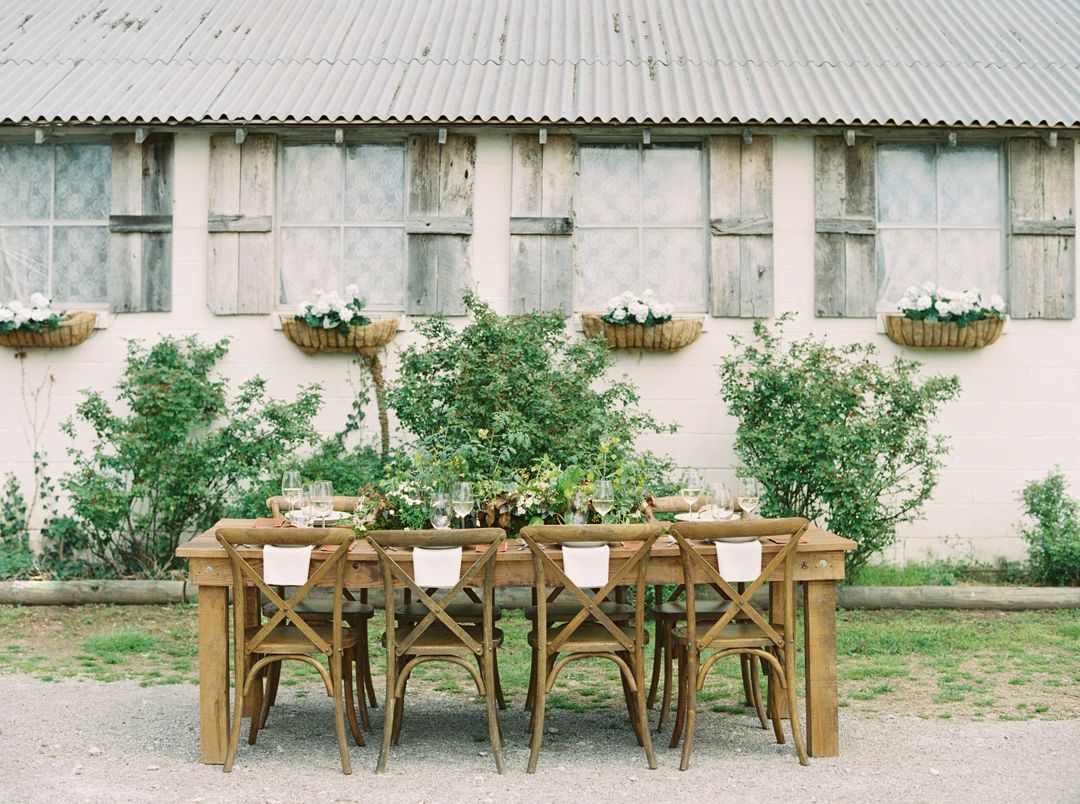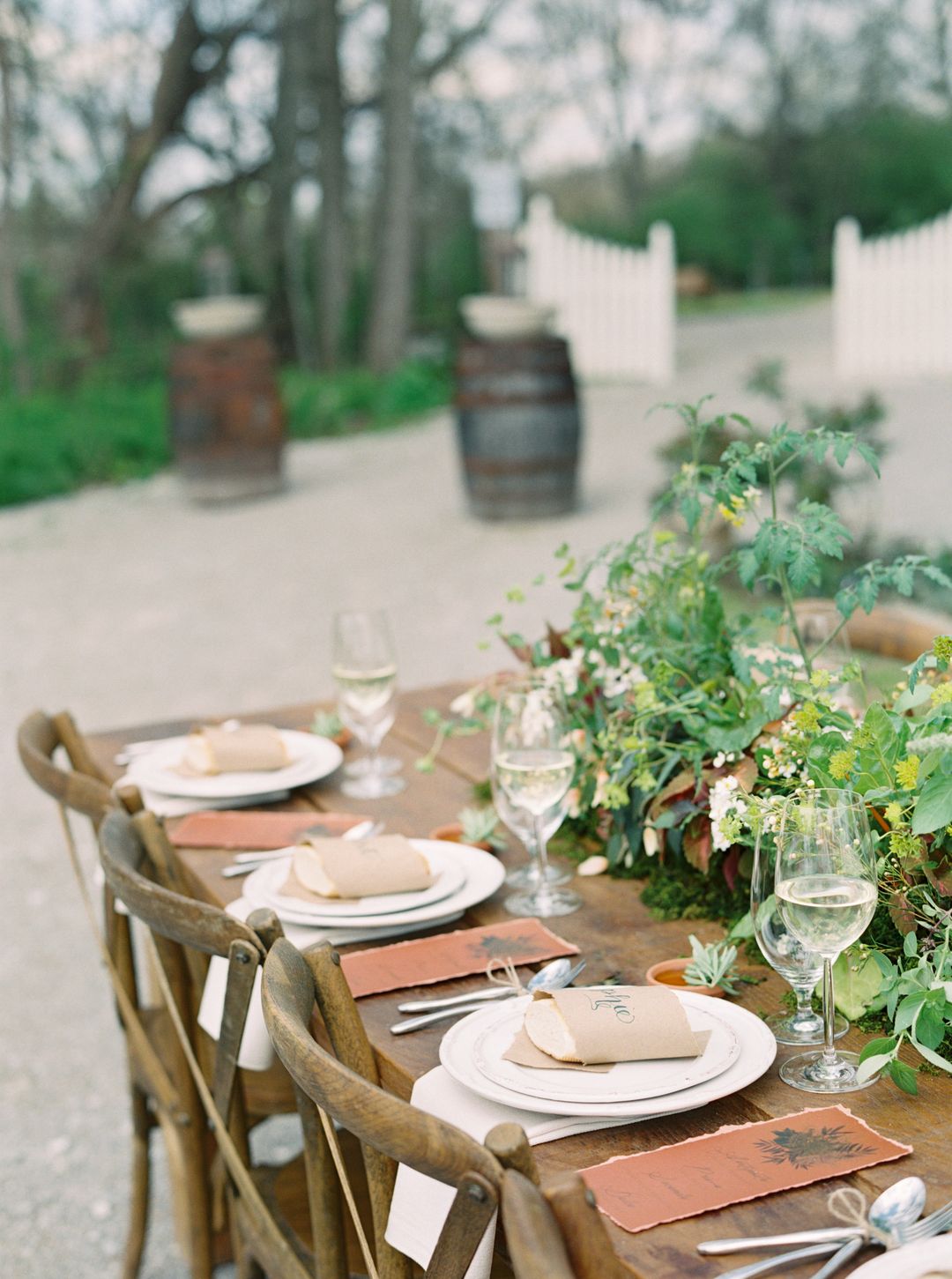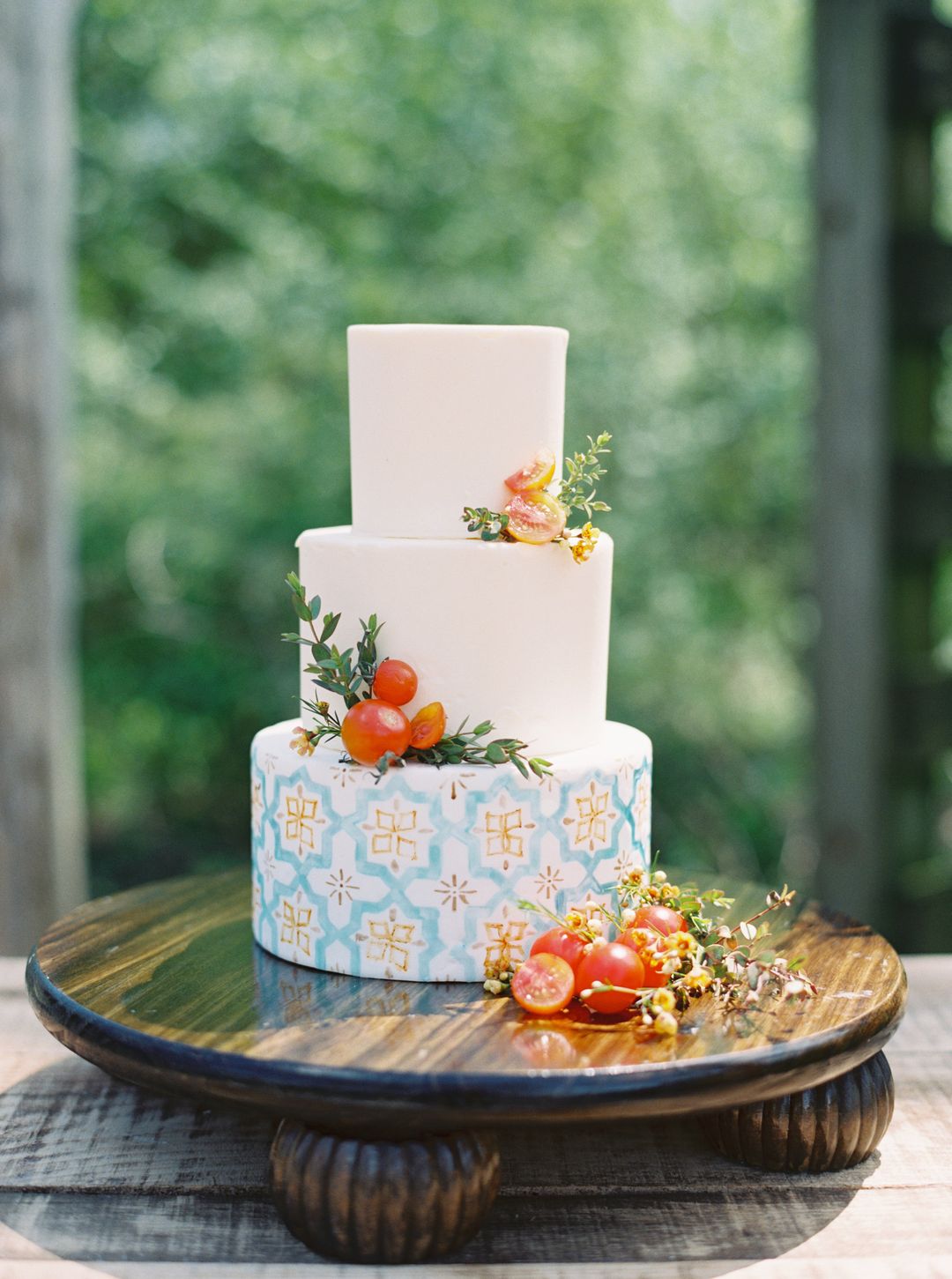 Planning a wedding or event and looking to give a Southern Farmhouse feel? Send us a message at info@southerneventsonline.com.
TAGS | Nashville Event Rentals, On Trend, Southern Events Party Rentals, farmhouse style wedding, southern style events, southern wedding style, southern weddings
FEATURED RENTALS | Sophia Flatware, Artisan Dinner Plate, Artisan Dessert Plate, Cross-Back Chair, Havana Ecru Napkins, Madison Water Glass, Farm Table
---
28

Feb

Nashville Wedding Vendors, Southern Events Products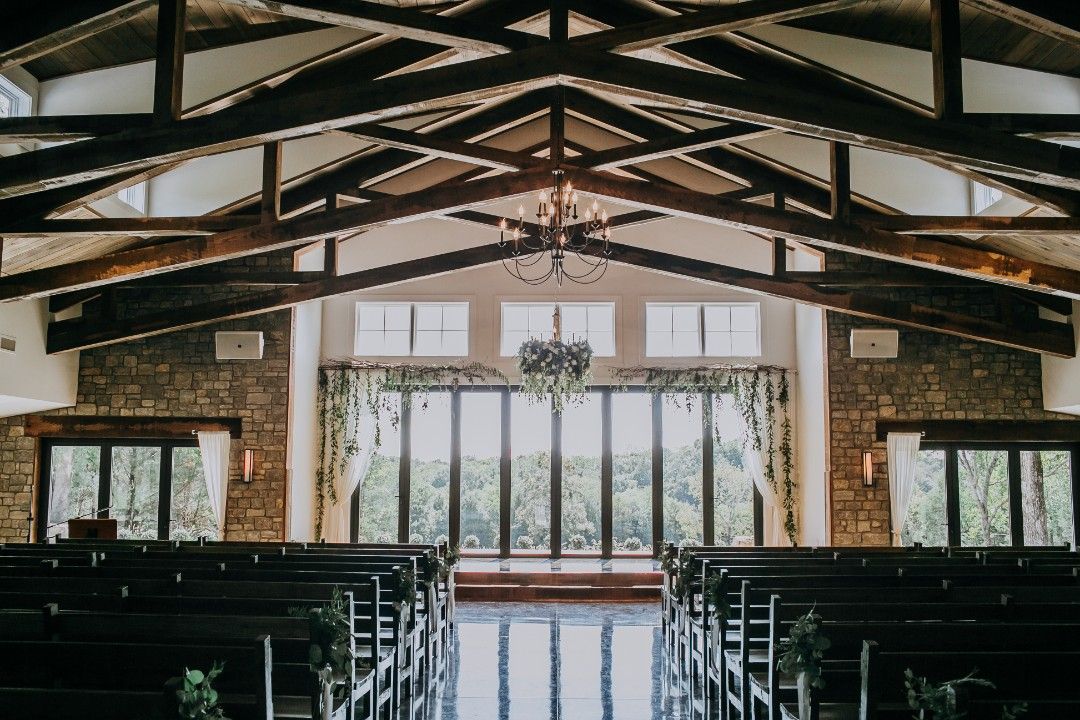 A waterfall. 138 acres of a reclaimed rock quarry. Forest and meadow. Streams and ponds. Limestone cliff walls. We aren't talking about some magical land in a Disney movie. We are talking about a real-life wedding venue in Nashville–Graystone Quarry.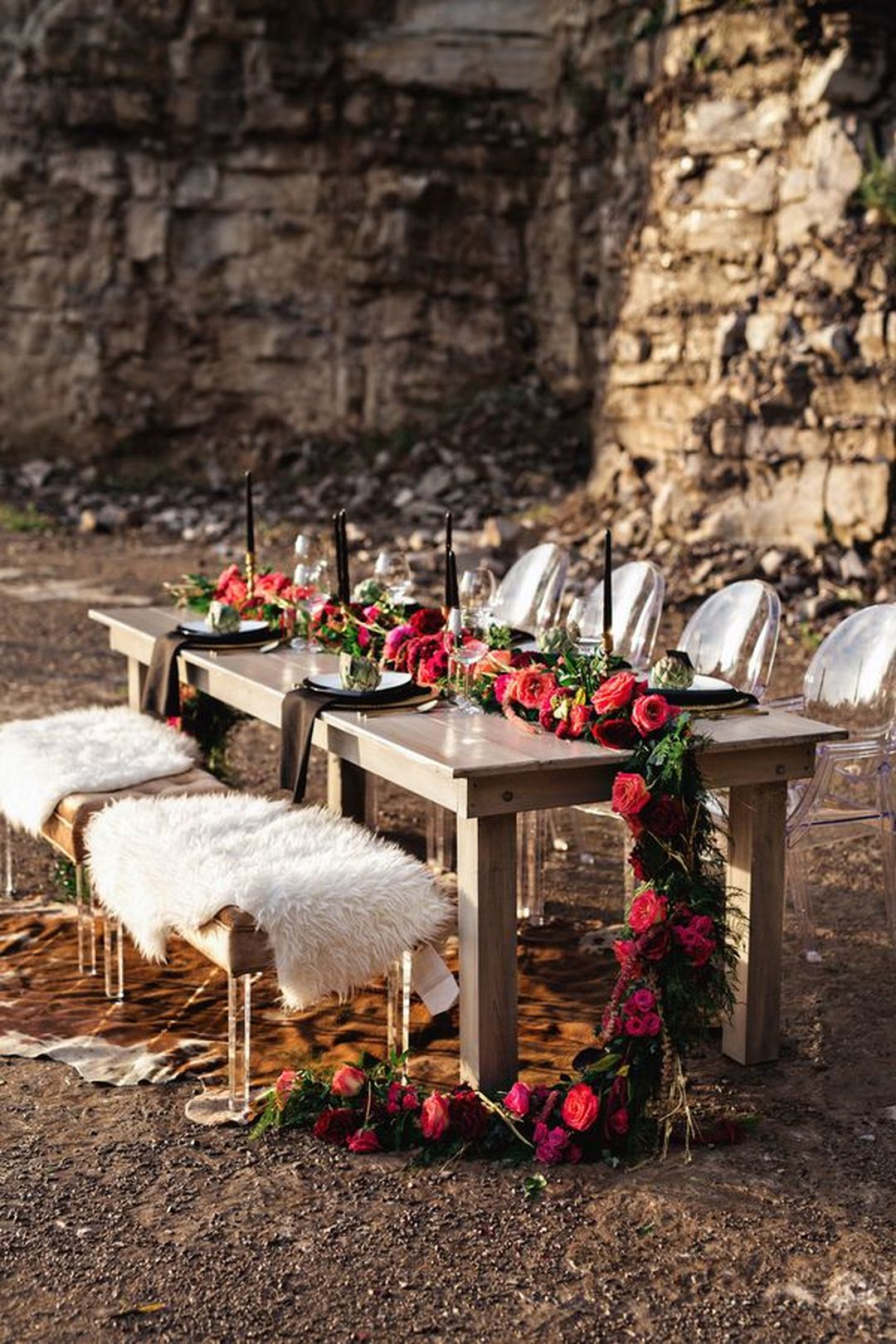 Photography by Amilia Photography
Graystone Quarry, located in Nashville, TN, is a sought-after venue for weddings and events. Full of natural beauty and resonating with history and culture, this Nashville venue has limitless options for a sure-to-be-talked-about wedding or event. As the exclusive rental company for Graystone Quarry, Southern Events Party Rental Company has had the honor of working with their team to create a multitude of event design and looks for weddings and events at this venue. From moody & elegant to timeless & classic, the property's stone backdrops and upscale buildings work with any event style.
Wedding Ceremony Space
Graystone Quarry's signature glass doors inside of the Hillside Pavilion have been the quiet and reverent observers of vows exchanged. Couples can choose between opening all three glass doors or leaving them closed. Guests are treated to gorgeous views from every angle. The benches found here stay with the venue.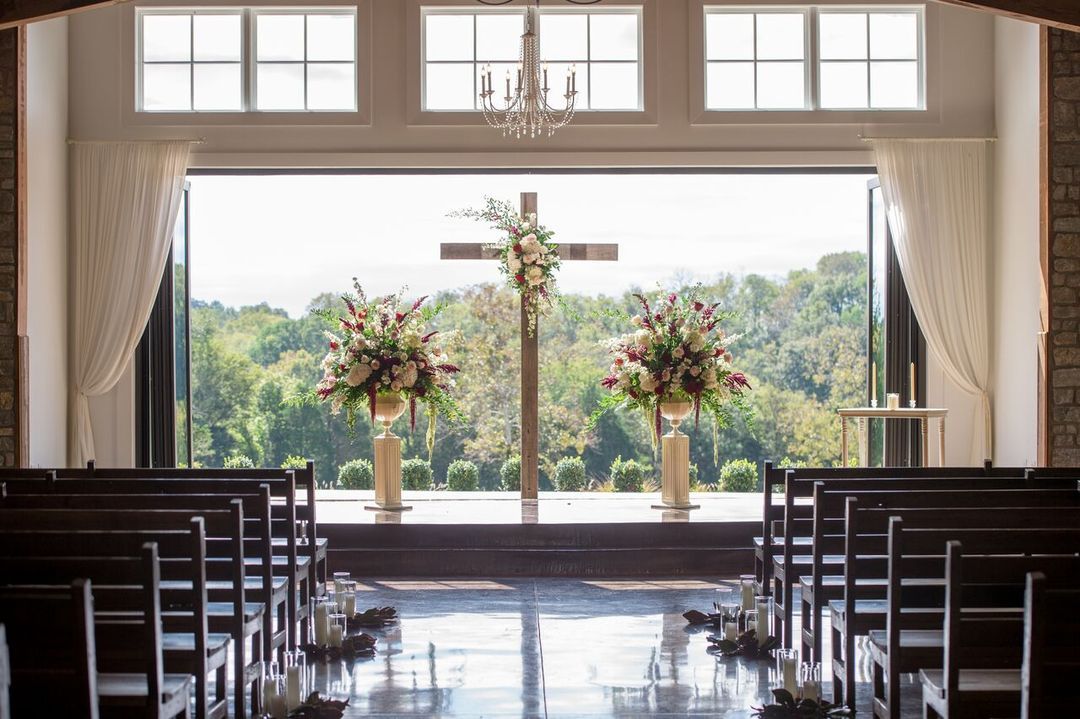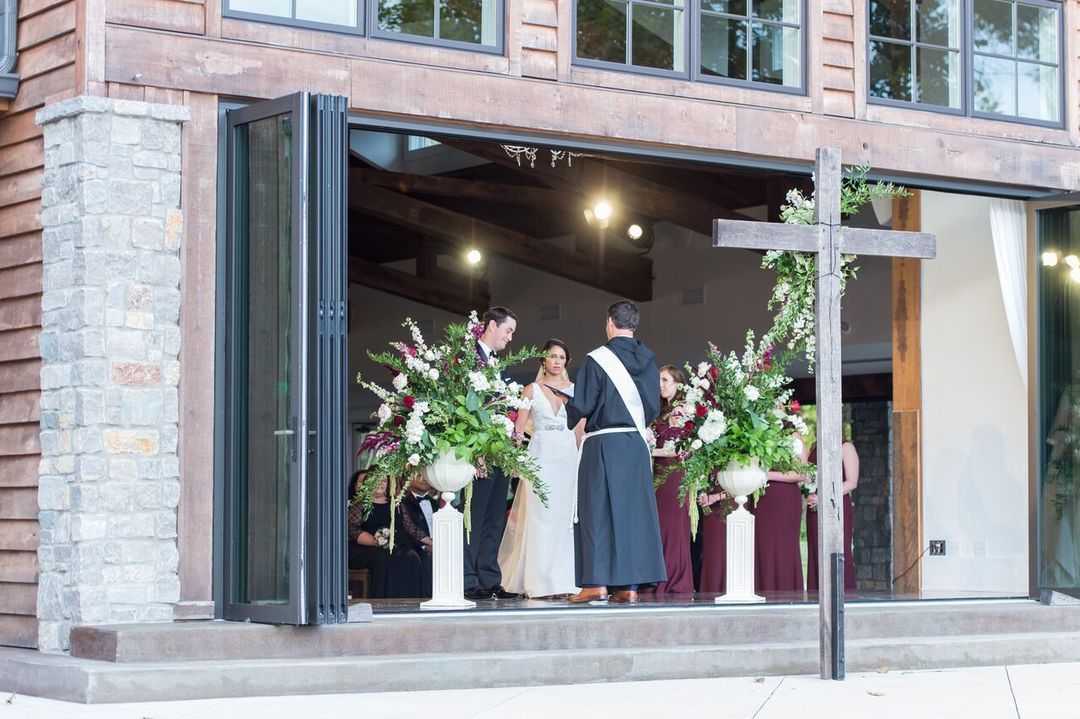 Florals by Enchanted Florist and photography by Kelly and Logan Photography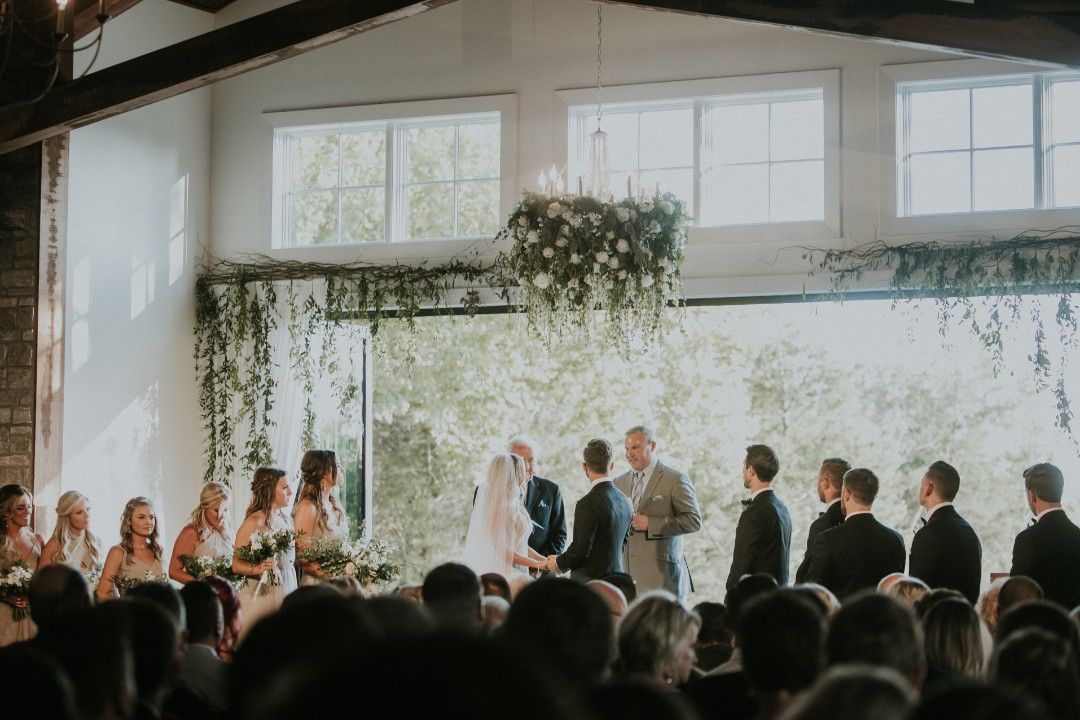 Florals by Enchanted Florist and photography by Teale Photography
Wedding Reception Space
After the wedding ceremony, guests are taken to the wedding reception area–the Gathering Hall, where they find a fireplace, a double staircase, and glass doors opening to a courtyard (complete with a pond and a 20-foot waterfall). The Gathering Hall boasts plenty of seating, a sweetheart table directly near the fireplace, and dramatic backdrops at every turn.
With all their events, one thing remains the same, and that is that each event is equally memorable, meaningful, and magical. To top it off, you will be sure to find Southern hospitality at each and every turn. If you're seeking a wedding or event venue that is equally unique and breathtaking, charming and memorable, historic and gracious–Graystone Quarry fits the bill.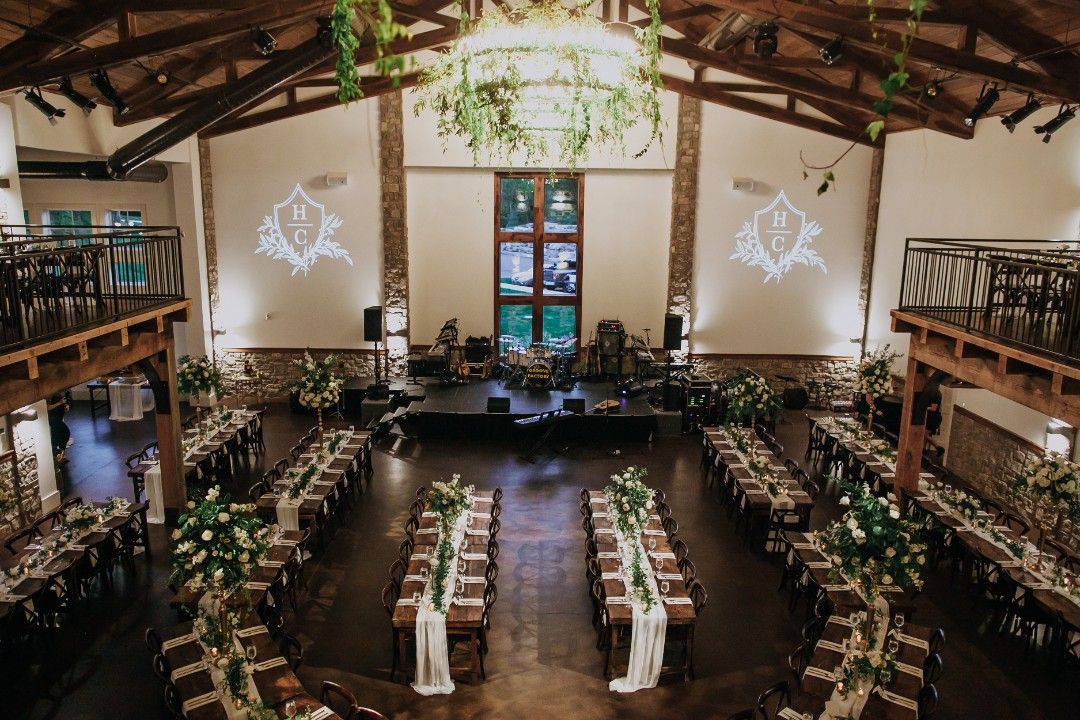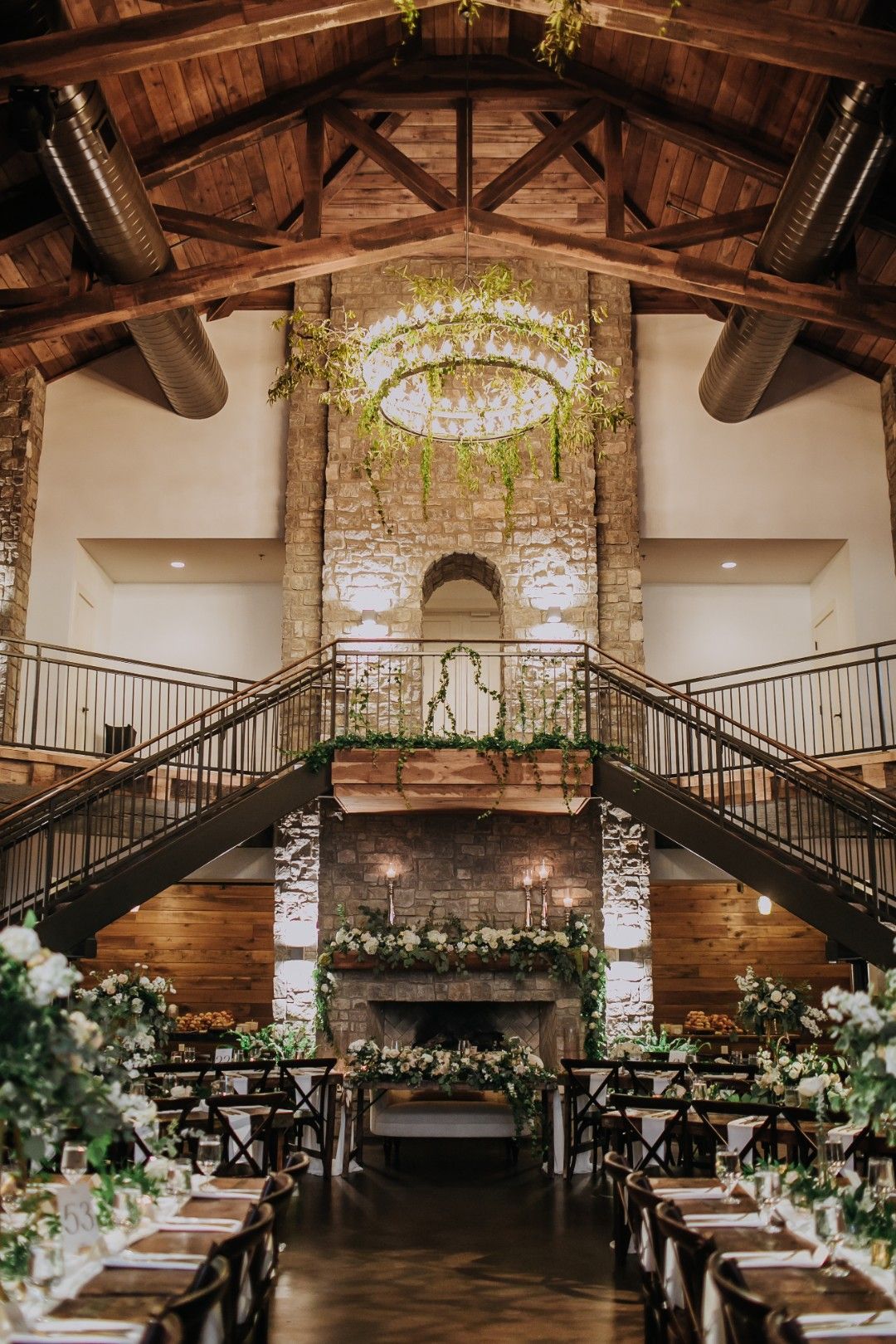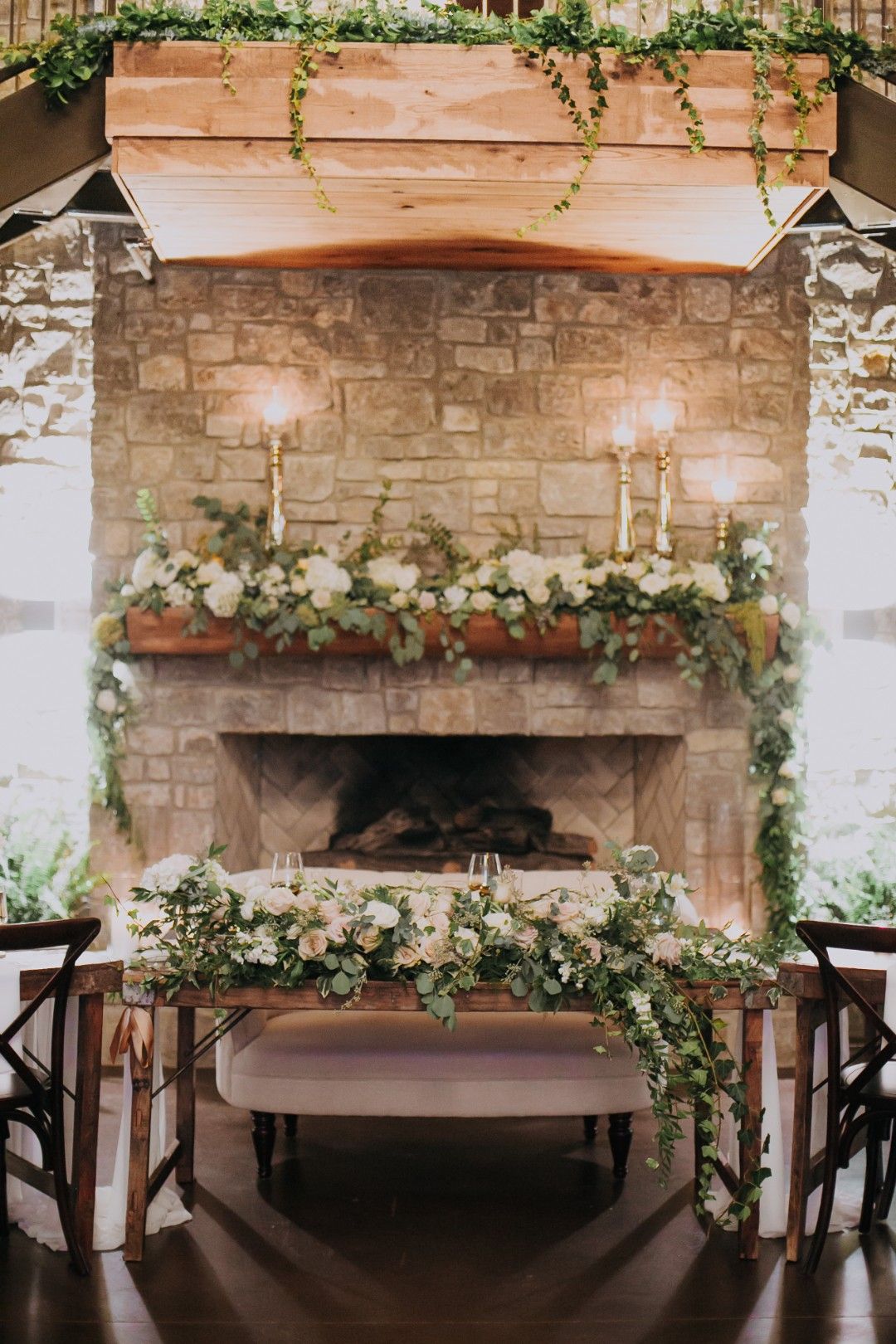 Florals by Enchanted Florist and photography by Teale Photography
If you're hosting a large event in the Franklin, Nashville, or Middle Tennessee areas the teams at Southern Events Online and Graystone Quarry can bring your desired event to life. Want to learn more? Contact info@southerneventsonline.com to chat today!
TAGS | Nashville Event Rentals, Outdoor Wedding Ceremony, Southern Events, Southern Events Party Rental Company, southern style events, southern wedding style, southern weddings
FEATURED RENTALS | Acrylic Ghost Arm Chairs, Cowhide Rug, Midas Gold Bench (Acrylic Legs), Grayson Farm Table, Fruitwood Farm Table, Cross-back Chairs, Chiffon Table Runner,
---
14

Feb

Southern Events Products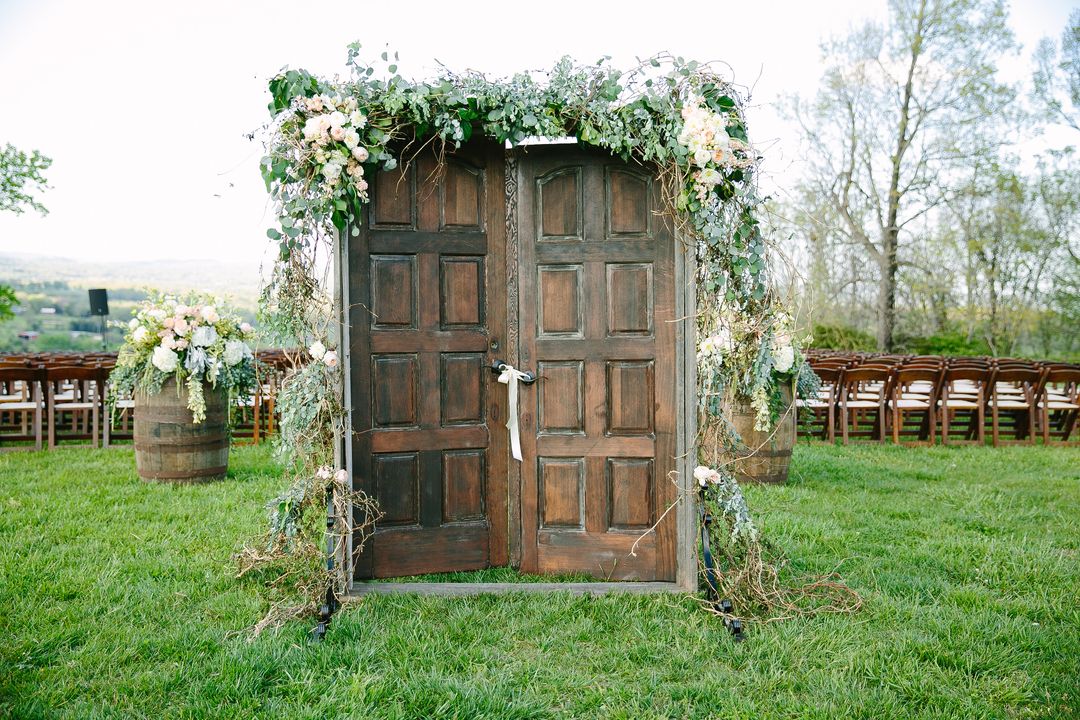 The wedding ceremony. Time-wise, this is the shortest part of your Big Day. But, this is where vows are exchanged as family and friends gather. You and your beloved stand across from one another, surrounded by those that you love – and you want to create your own, special experience! Whether you're having a traditional wedding or you are wanting to plan something out of the box, Southern Events has plenty of wedding ceremony rentals to choose from. From chairs to rugs to whiskey barrels, our selection gives you creative freedom to create the day you've always dreamed about.
The Alter and the Aisle
Our Wrought Iron Arch looks gorgeous decked out in nature's finest blooms, as does our Fiona Ivory Mantle. Another beautiful option would be the amazing Fruitwood Ceremony Doors or the Walnut Ceremony Doors.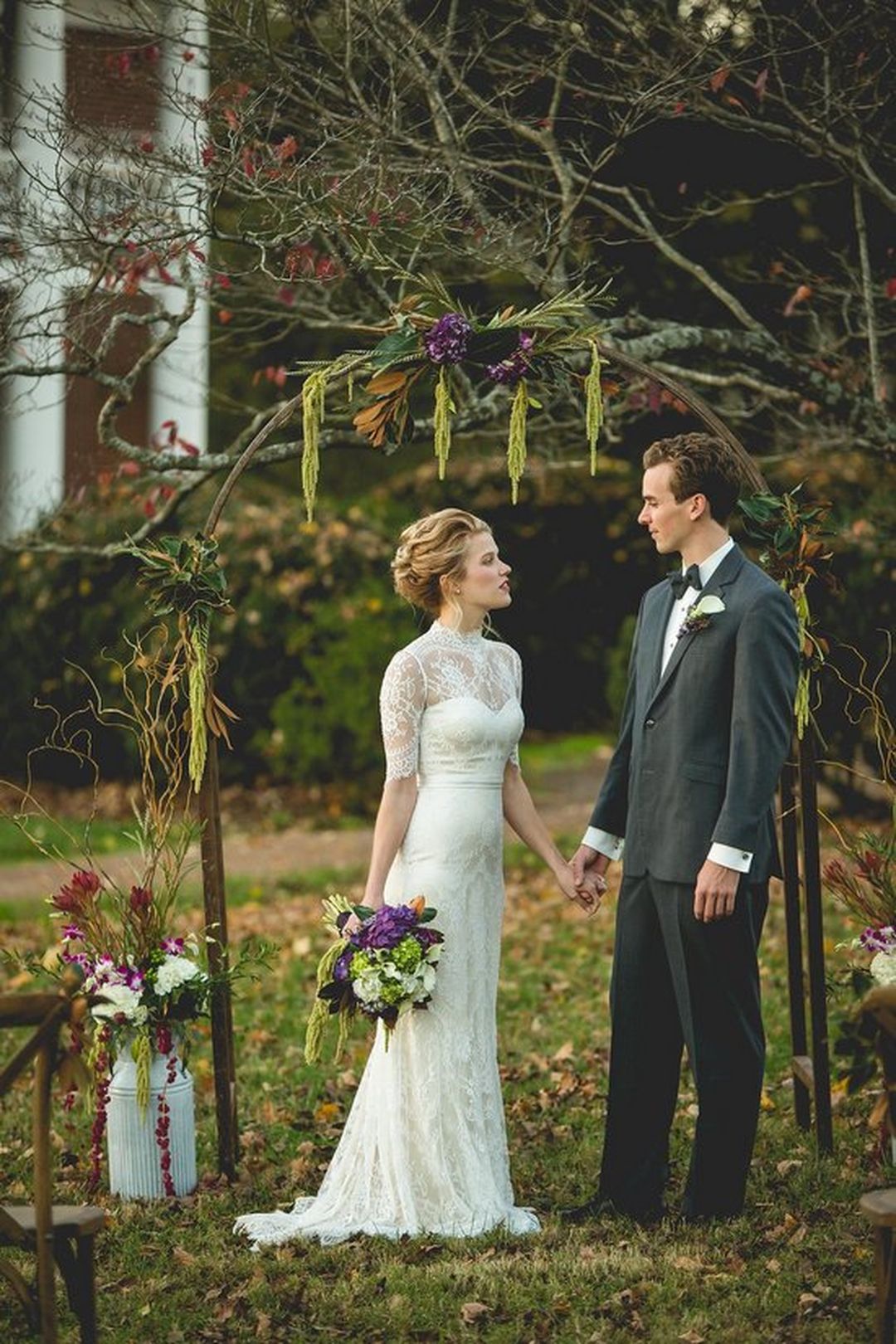 Picture by SheHeWe Photography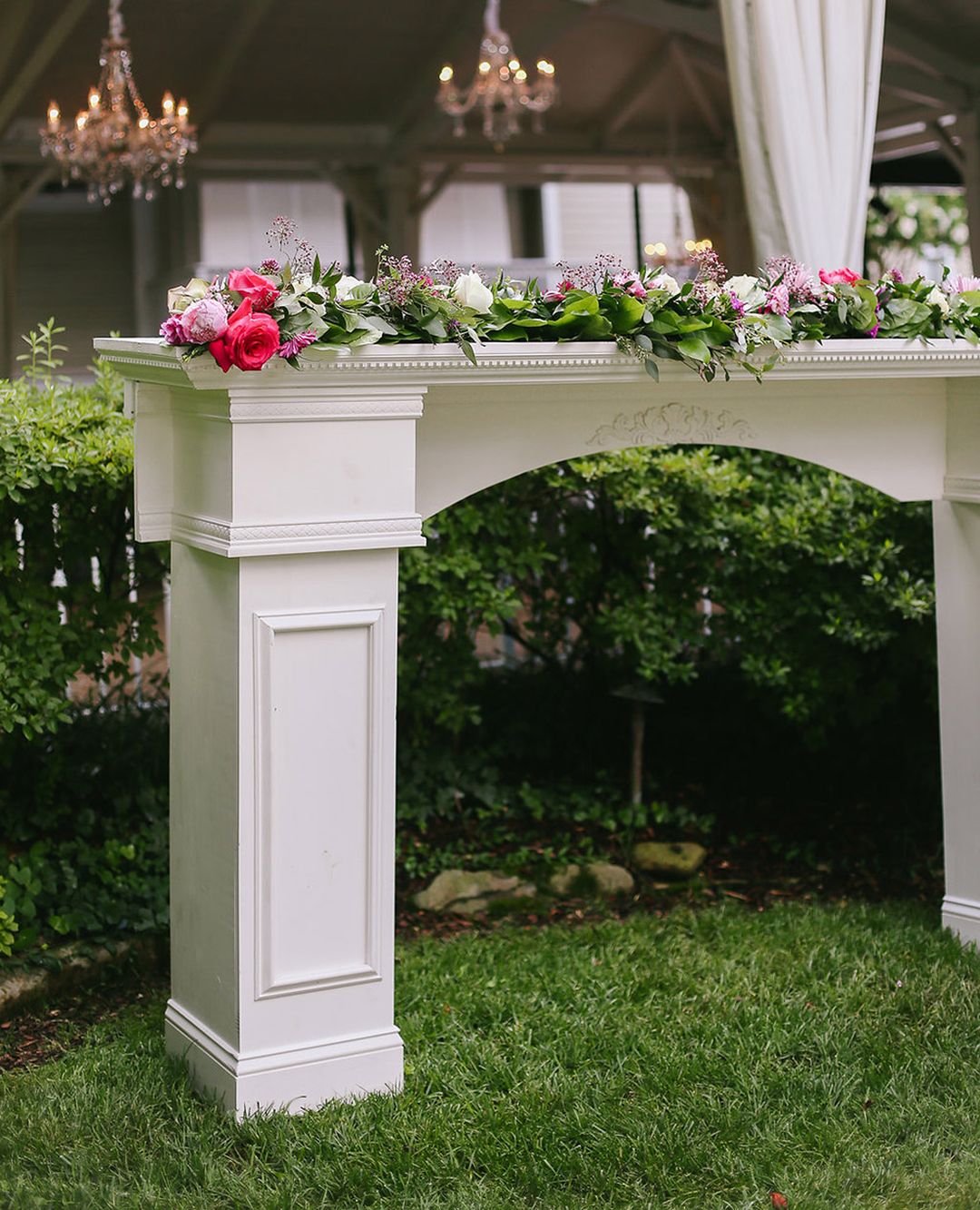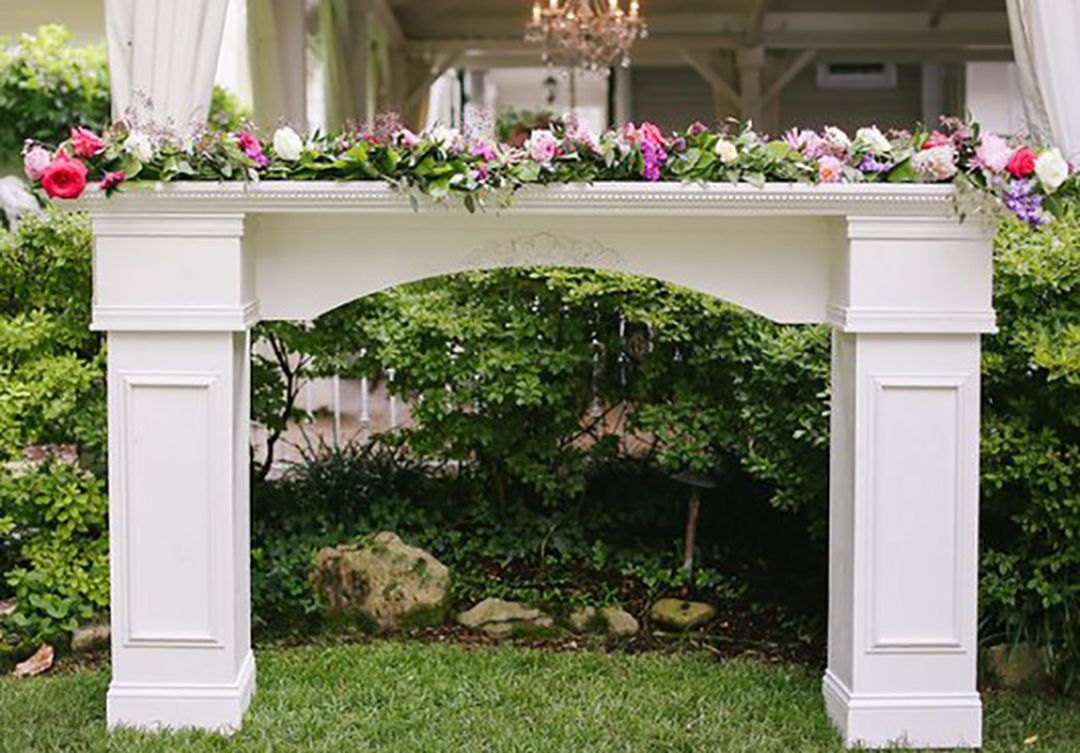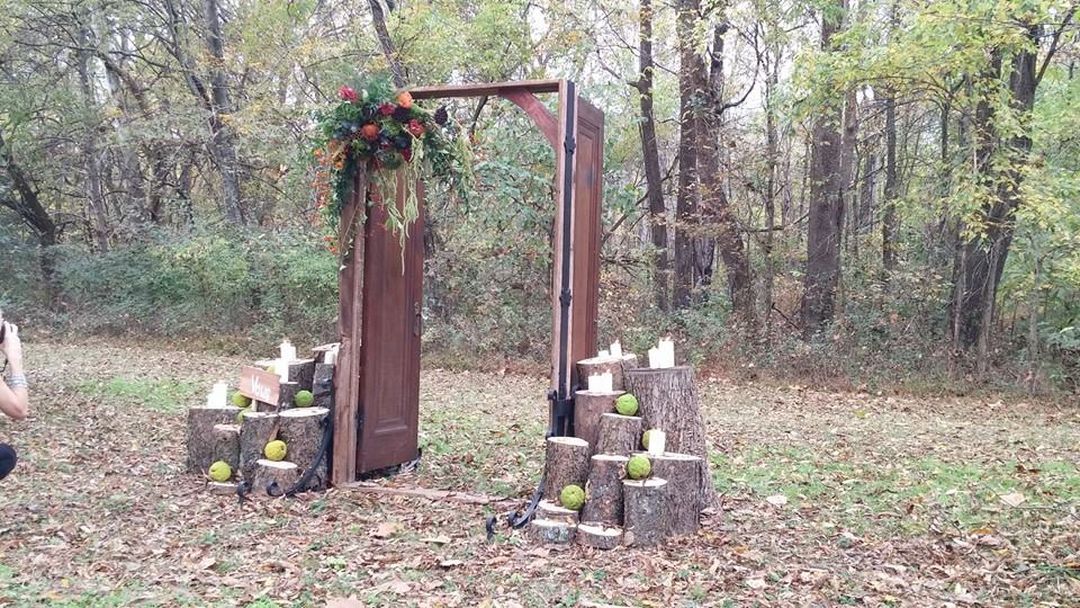 Photo by Mary Lauren Photography.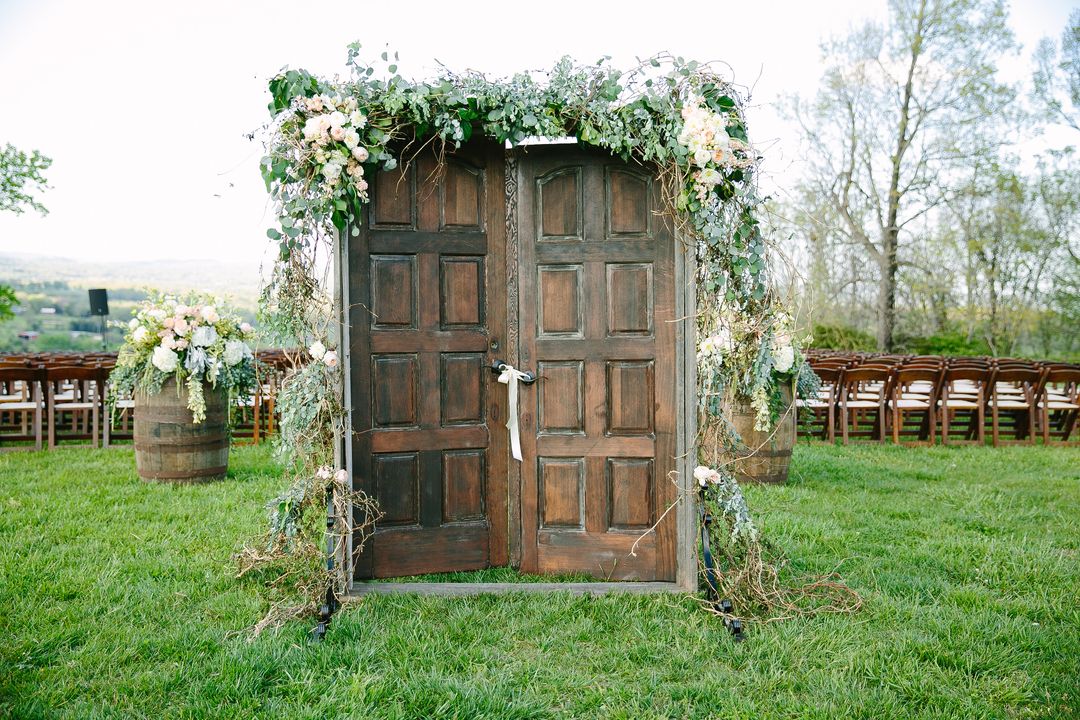 Photo by Lindsey Grace Photography
Chairs For Your Wedding Ceremony
What will your guests sit on?  Let's make your ideas come to life! Wanting rustic feels? We got you with this Rustic Bench or Cross-Back Chairs. You could also go for a sleek, sophisticated look using chairs like our Acrylic Ghost Armless Chairs for your ceremony. Or mix + match soft seating from our Furniture Collection to create a cozy & stylish feel for your wedding ceremony. There are tons of options to choose from here… the sky is the limit!
Wedding Ceremony Decor
Display your well-thought-out floral arrangements on Whiskey/Wine Barrels for a rustic feel, on our Loren Gold Bistro Table for a modern and sophisticated ceremony, or go classic with the Franklin Wood Column. If you're looking to get creative on aisle runners, you can choose between our many different rugs. We love the Cowhide Rug or add some sparkle with our Metallic Cowhide Rug. Whether your wedding ceremony theme is rustic, modern, sophisticated, luxe, or anything in between, you're sure to find what you need!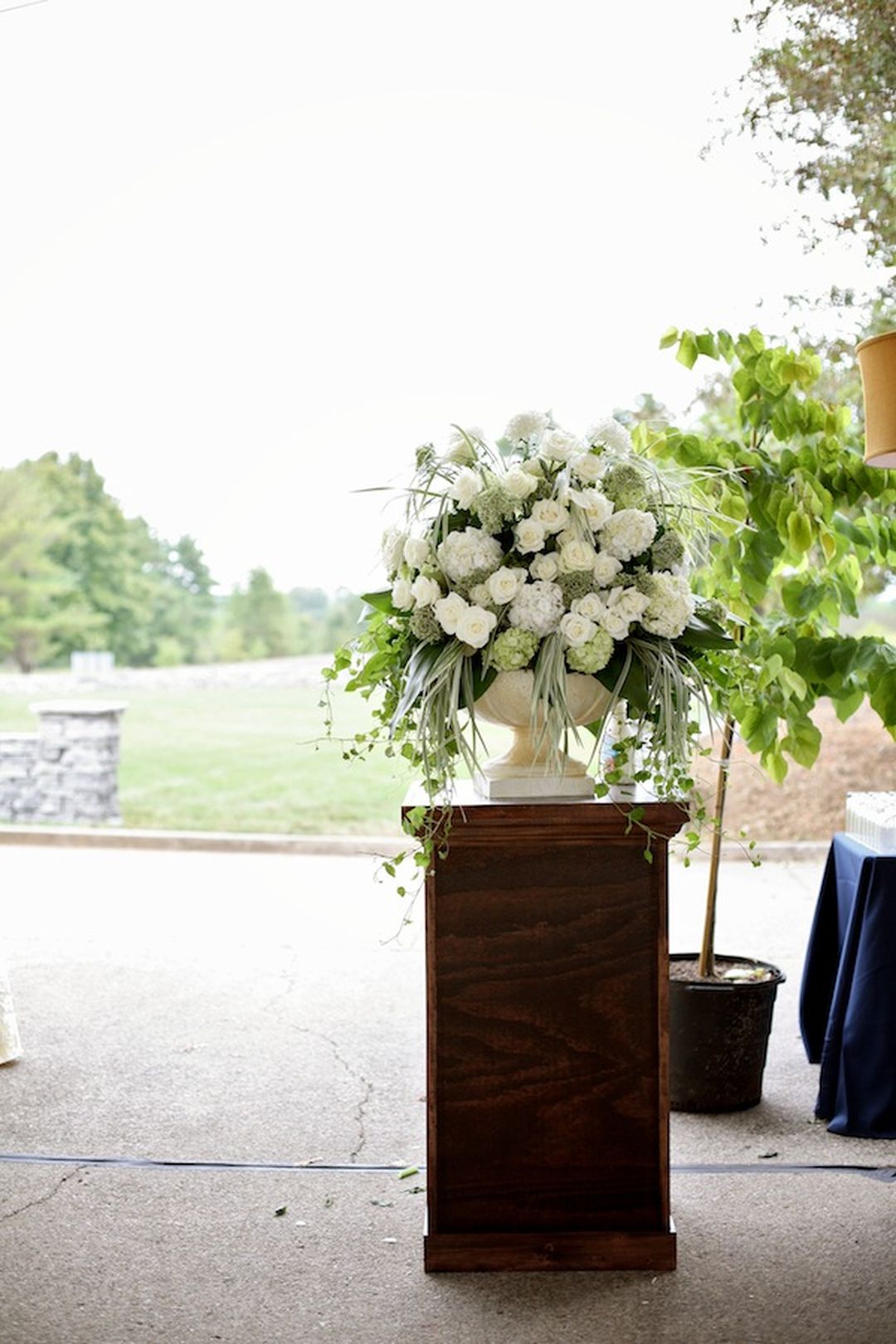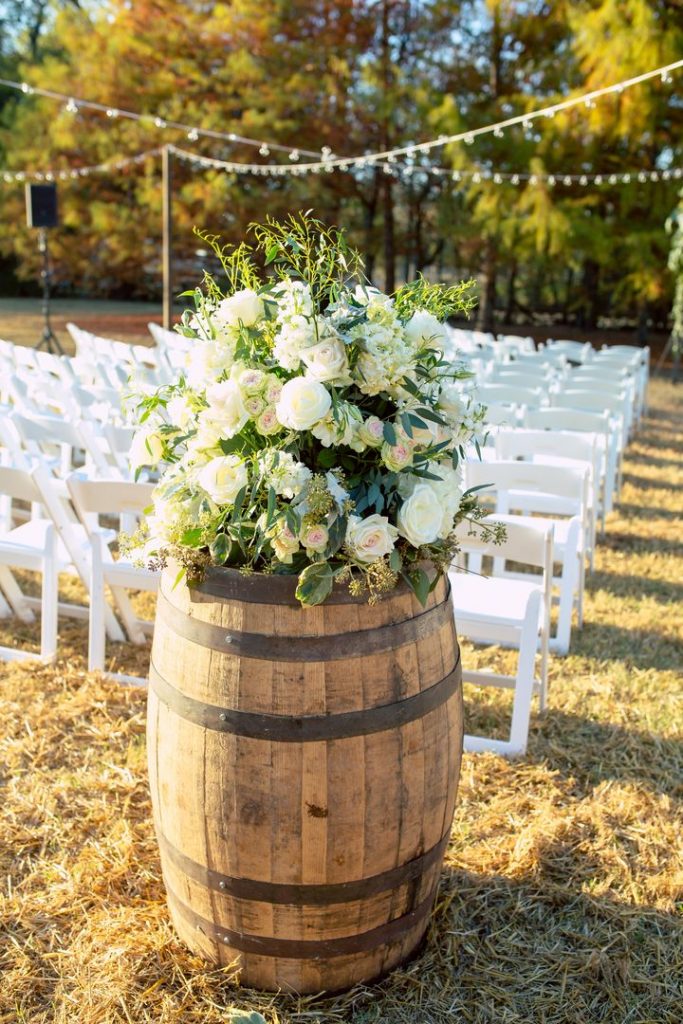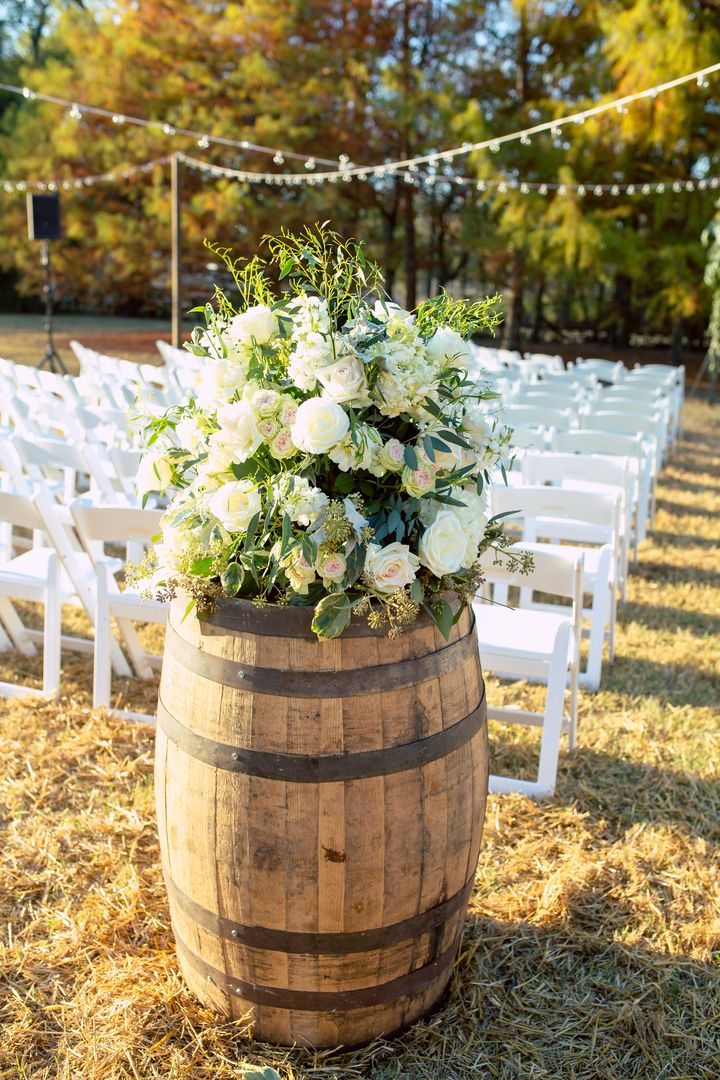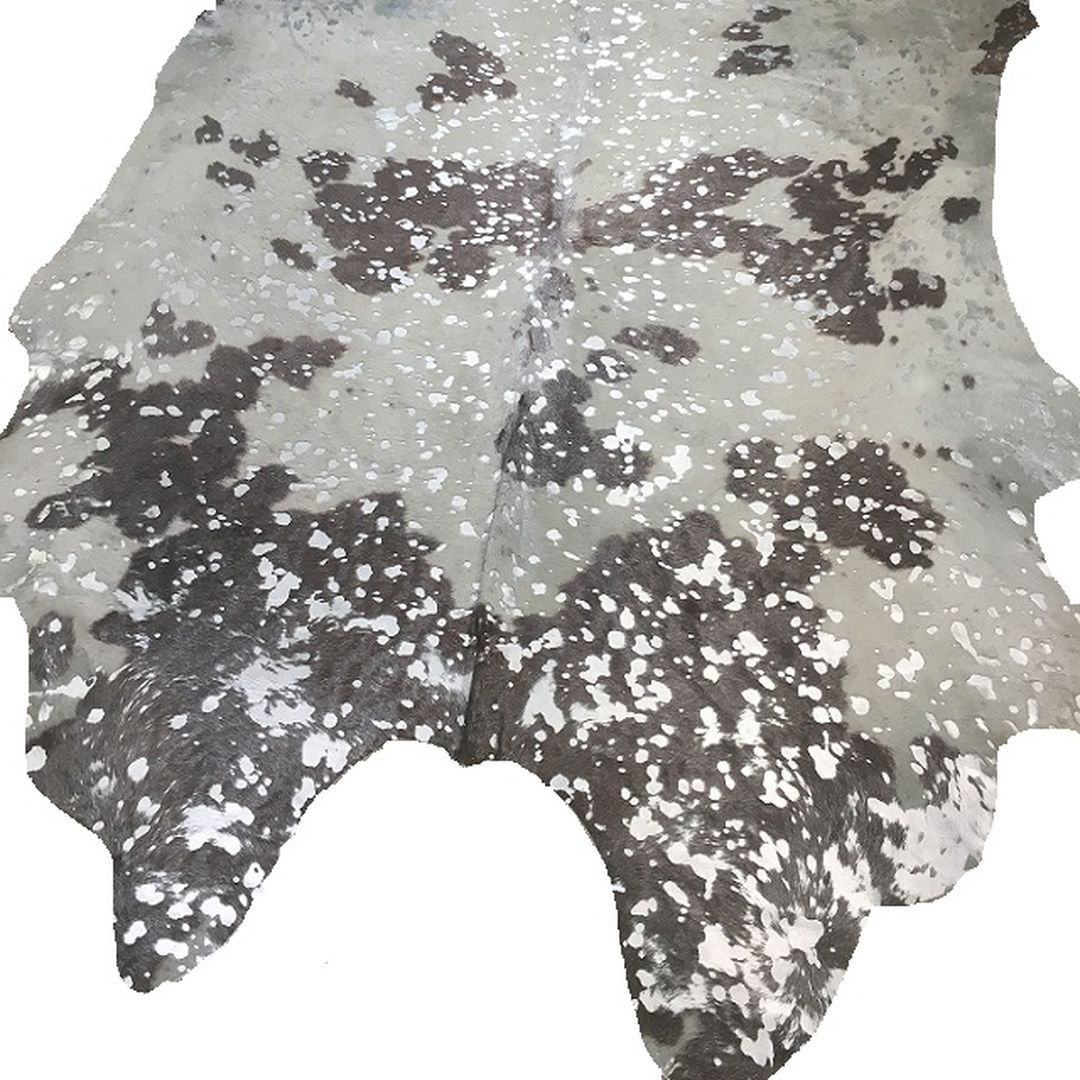 ---
We know how special this day is for you and how hard you're working to get the details just right. We also know you have unique and creative ideas for your ceremony! Email our team to book your personal showroom tour at info@southerneventsonline.com to get started!
TAGS | Nashville Event Rentals, Nashville Wedding Rentals, Southern Events Party Rental, Unique Wedding Rentals, Vintage Wedding Decor, southern weddings, wedding style trends
FEATURED RENTALS | Wrought Iron Arch, Fiona Ivory Mantle, Fruitwood Ceremony Doors, Walnut Ceremony Doors, Cowhide Rug, Metallic Cowhide Rug, Whiskey/Wine Barrels, Loren Gold Bistro Table,Franklin Wood Column, Rustic Bench, Acrylic Ghost Armless Chairs,
---