12

May

Southern Style | Modern Garden Wedding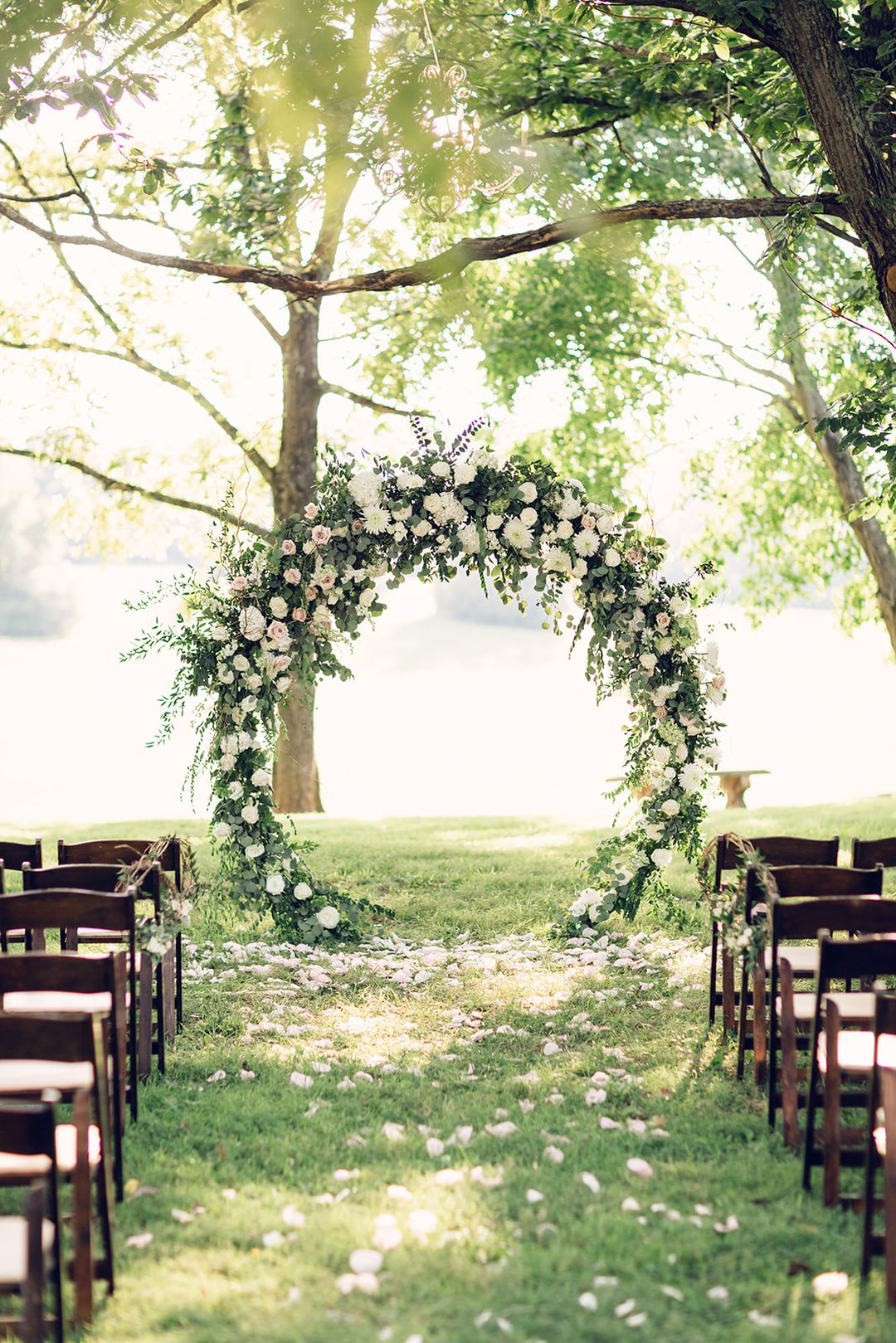 Garden weddings are popular themes, especially during the warmer months of the year. As we sit and dream with couples, we hear their love for the romantic feel this theme offers. Over the years, we've had the privilege of seeing garden weddings come together in a myriad of ways, and we have fallen head over heels for the whimsical palettes and charming event design. Keep reading to get inspired by our take on the modern garden wedding, featuring sleek and sophisticated rentals that make for an incredibly chic celebration!
Sleek and Chic Tables
This modern take on garden weddings can be achieved by bringing in bright rentals featuring geometric shapes that contrast dramatically with the freeform nature of, well, nature. Outfit your tables in colorful linens that will POP against a lush garden setting. For balance, feature our Harlin Dining Chairs or Cross-Back Chairs, made of natural wood. If you prefer an equally romantic but vintage-inspired look, consider our Antique White Bentwood Chairs.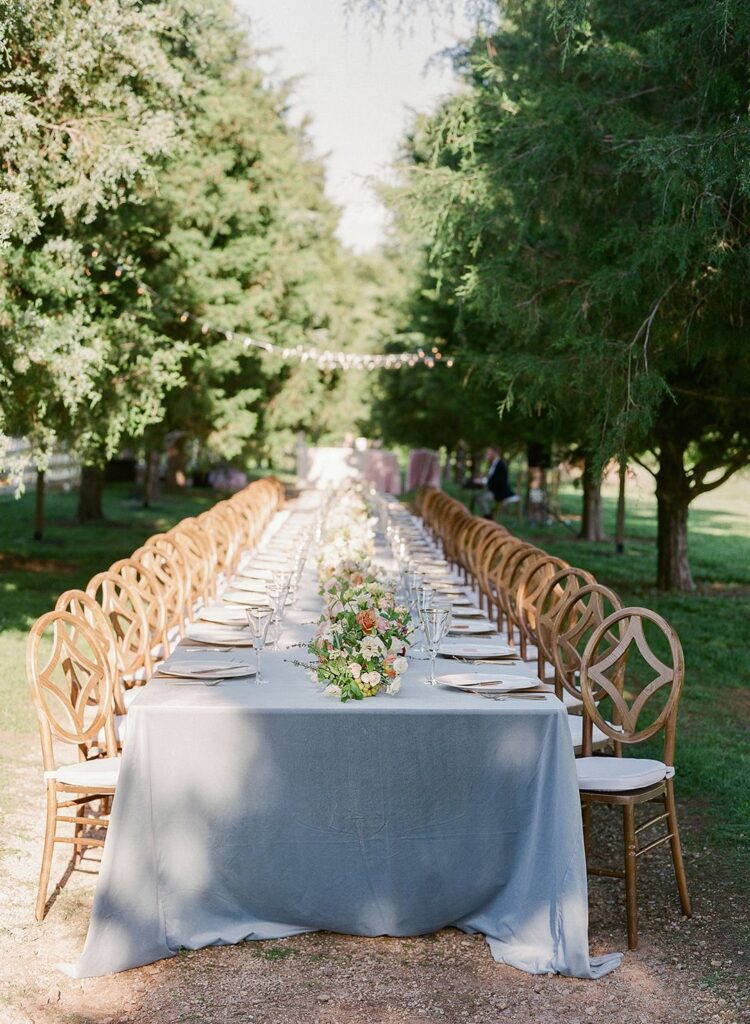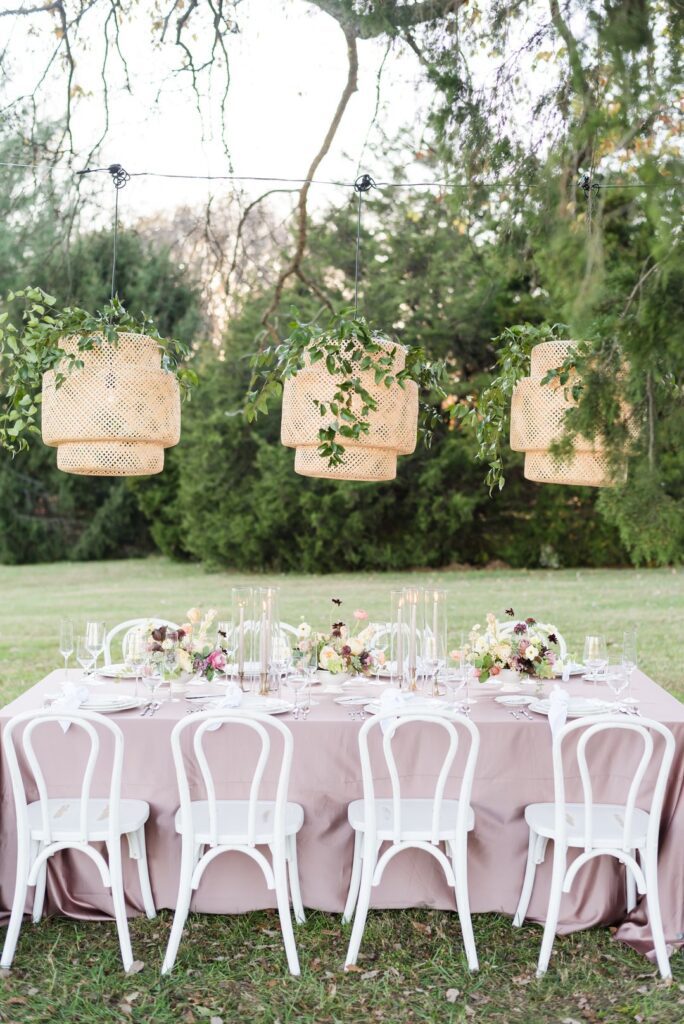 Dreamy Velvet Details
Masculine elements, such as monochromatic color schemes contrast beautifully against soft florals and greenery. All white or all black furniture against a dreamy, floral aesthetic is both masculine and modern! Although, we're still a fan of lighter palettes that complement whimsical florals. You can achieve a luxe but chic look by featuring textured details, namely in the form of velvet linens! Some of our current favorite colors include bold blue hues and romantic pinks and purples!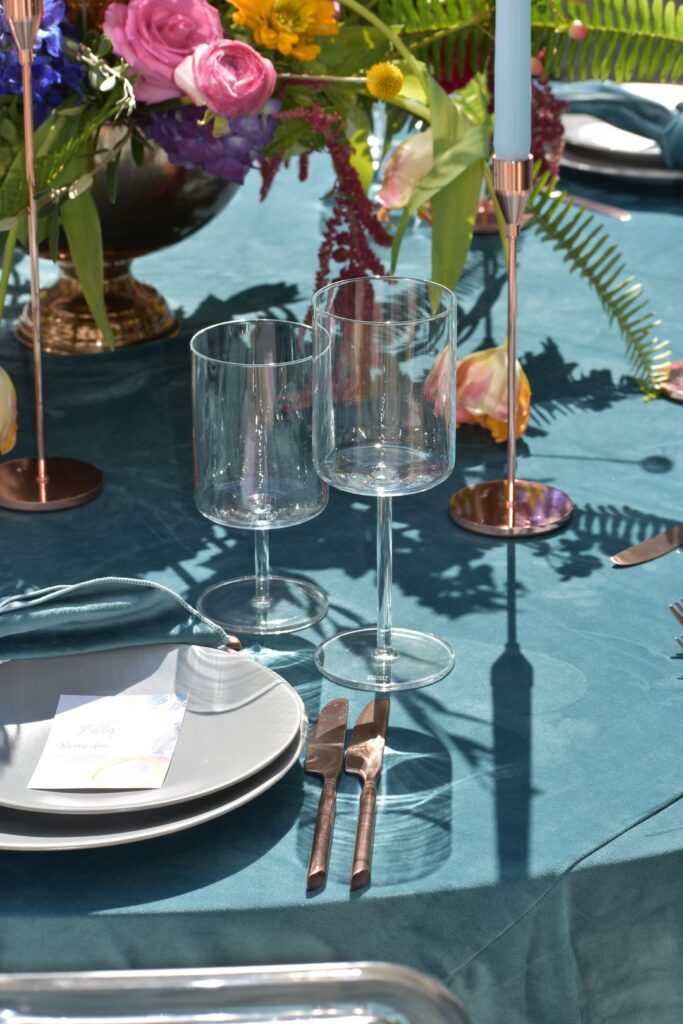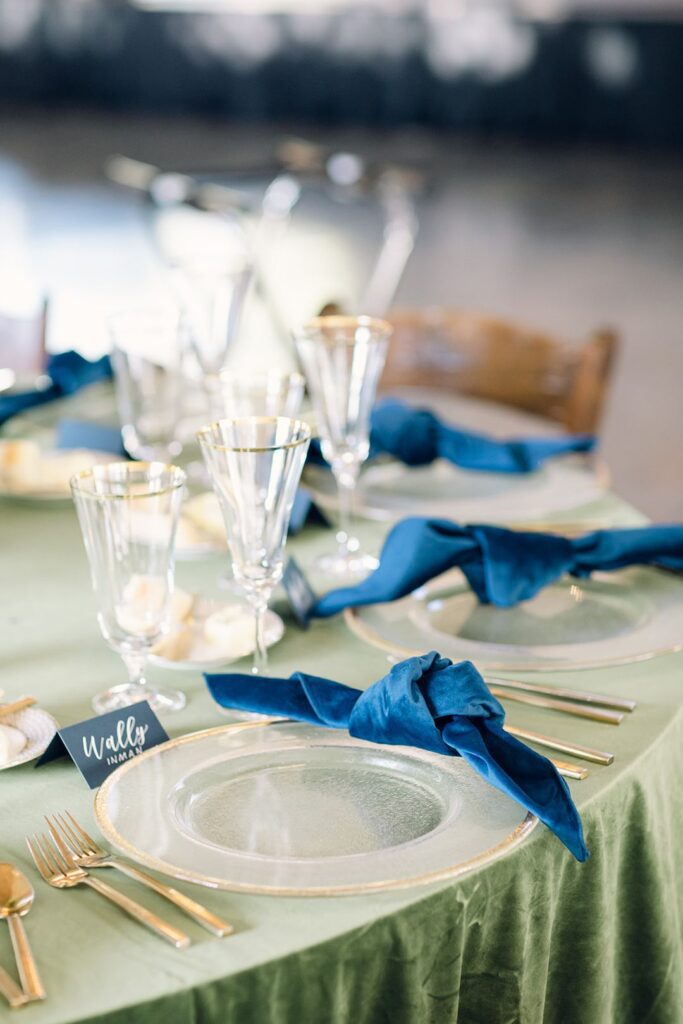 Elegant Social Areas
When hosting an event outdoors you tend to have more area to fill – in which case there is no reason not to have a cocktail lounge! Something simple yet elegant and cozy where guests can enjoy a drink and socialize. Take a look at our curated lounge packages, or mix and match our pieces to make your own. Our Bennett Leather Sofa and Adeline Dining Chairs are a fine pair, especially when complemented by a set of Chocolate Poufs and stylish accent tables. Meanwhile a rug will help frame the space!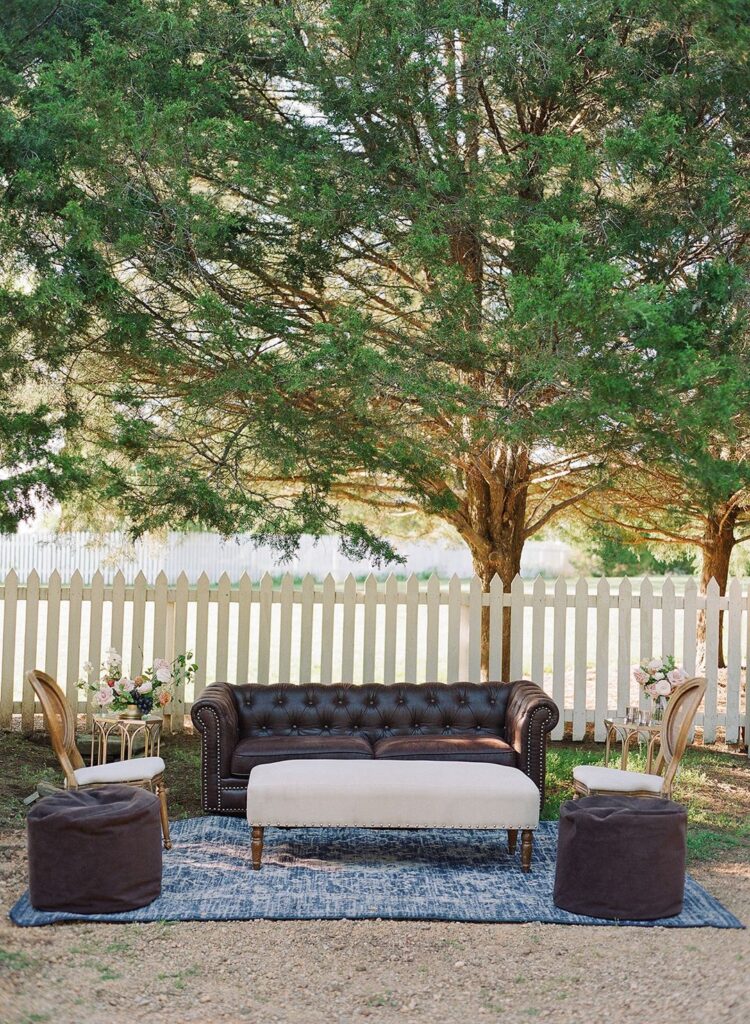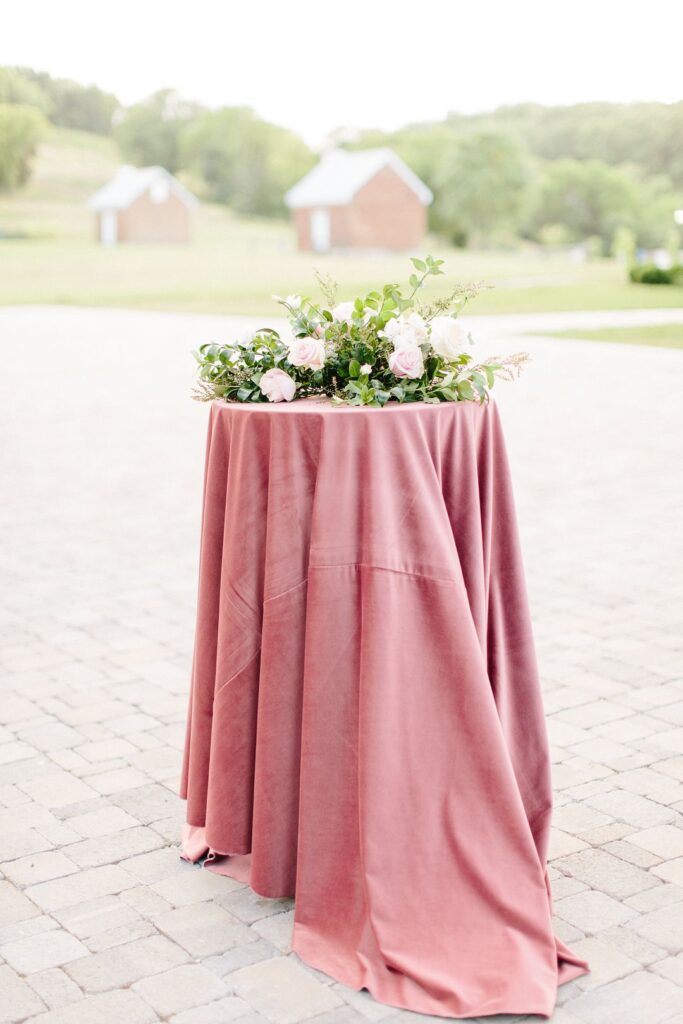 Interactive Decor
We adore taking lovely decor pieces and transforming them by creating interactive designs that deliver jaw drops from the guests and serve a purpose. In this case, our Boxwood Wall shows up to look gorgeous, with bright ice pops that also serve as a stylish backdrop for a photo-op. Alternatively, you might dish up some champagne to greet guests at the door!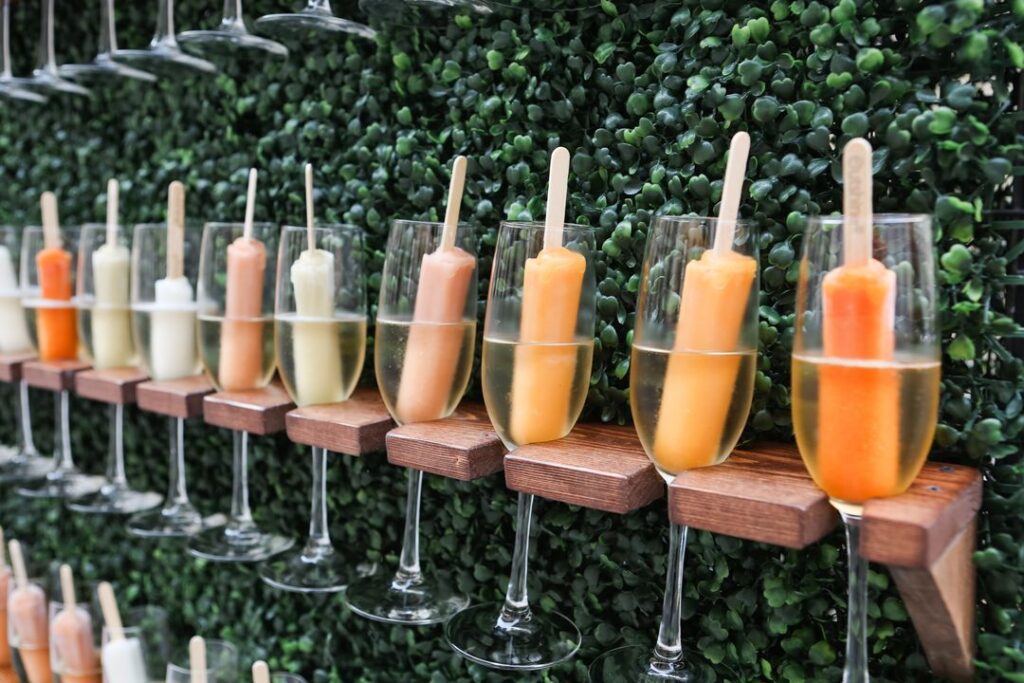 Love the idea of hosting a modern garden wedding? Send us a message at info@southerneventsonline.com and our team would be glad to help you plan a memorable outdoor event! Need a lounge for a cocktail hour? Be sure to check out our blog on Natural Luxe Lounge Furniture.
FEATURED RENTALS | boxwood wall, champagne shelf, velvet linens, harlin dining chair, antique white bentwood chairs, cross-back chairs, lounge packages, chocolate poufs, area rug, bennett leather sofa,,
SEE MORE LIKE THIS