27

Jul

On Trend, Southern Events Products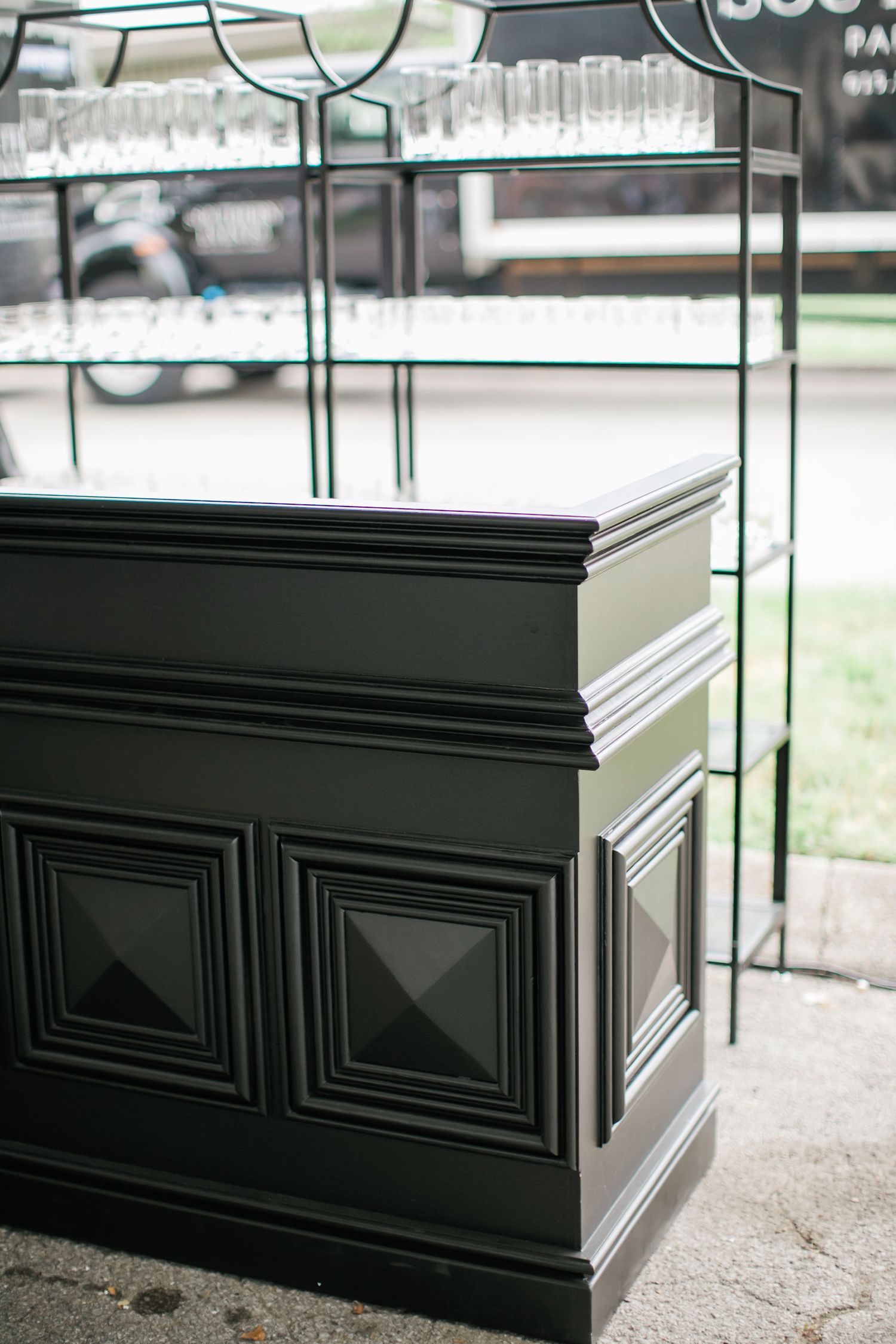 Serving alcoholic beverages, or delicious mocktails, starts with a well-stocked bar! Whether you're organizing a wedding reception, corporate gathering, or milestone celebration, Southern Events Online is your go-to destination for event bars and bar accessories for rent. Let's dive into the offerings that will transform your event into a sophisticated soirée, from bars in every shape and size to on-trend glassware and elegant backdrops.
Stylish Bars for Rent
A well-outfitted bar is the sign of a well-planned event. We offer a wide selection of stylish bars available for rent, perfect for any event theme or ambiance. For a rustic chic vibe, grab our Thompson Oak Bar. Or, a fan favorite, the Chelsea Marble Top Bar is perfect for a modern bohemian vibe! Our bars are crafted with attention to detail and are designed to create a focal point at your event. From vintage wooden bars to elegant mirrored options, you'll find the perfect match for your event aesthetic. If you are hosting an intimate event, we also carry a Gold Bar Cart, perfect for providing table service.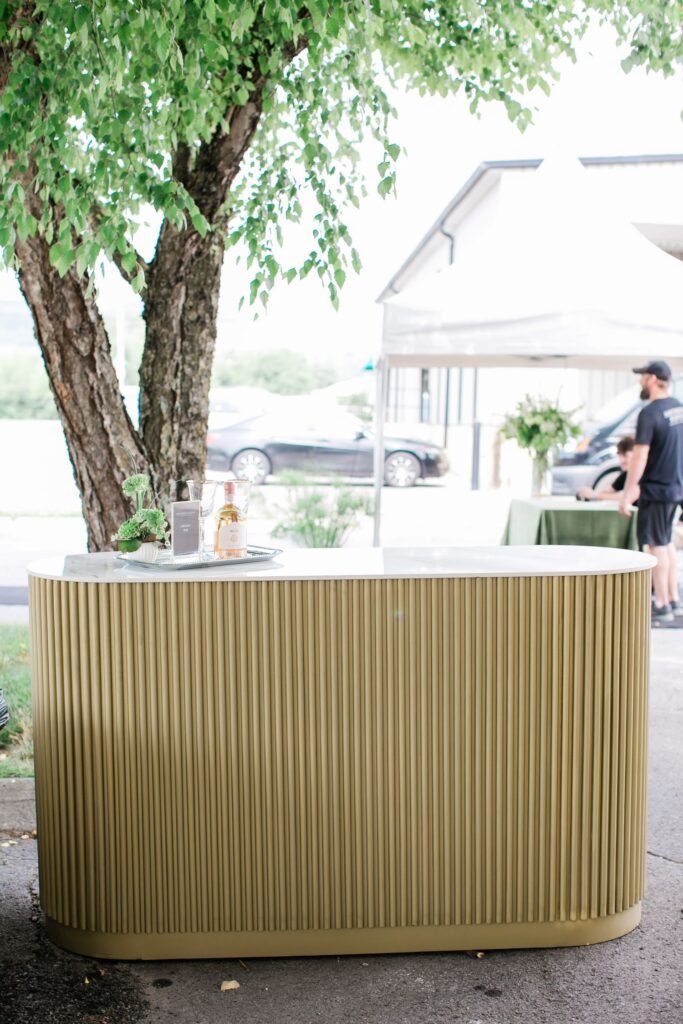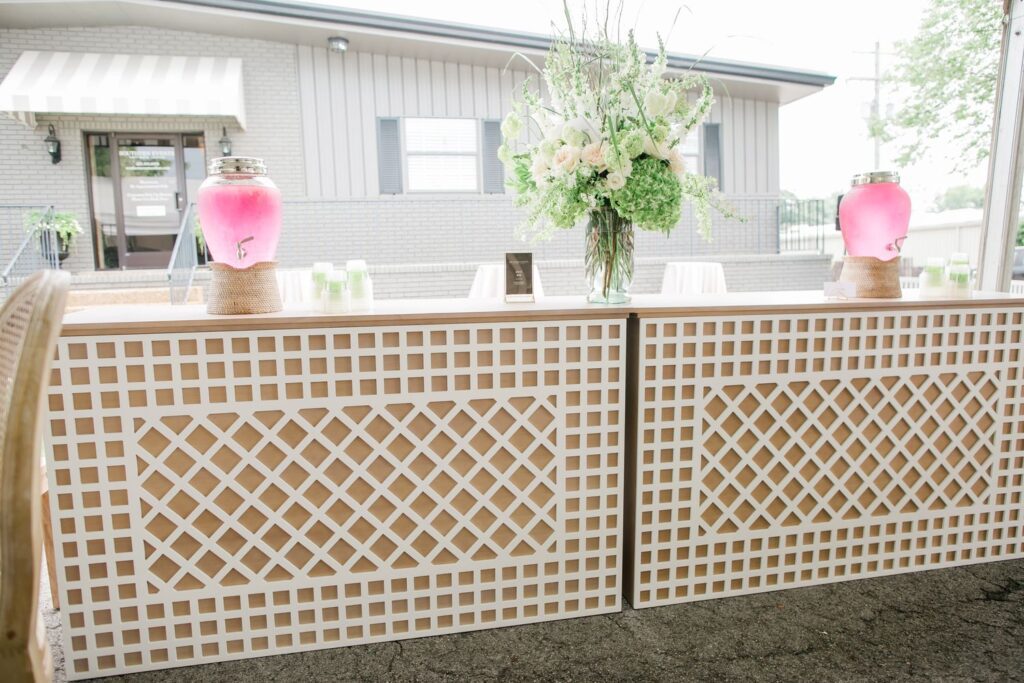 On-Trend Glassware
With an impressive bar area, you'll need glassware to match! This is why Southern is excited to stock an array of glassware options that will enhance the visual appeal of your beverages, whether it be wine or a signature cocktails, and impress your guests. In addition to the essentials, such as highball and rock glasses, we have an elegant selection for celebratory events. Including our Gatsby Champagne Coup Glasses and Cybil Champagne Flutes. If you want to infuse a splash of color into your bar setup, peruse our inventory of colored glassware. Ranging from retro shades of pink and amber, to vibrant shades of green and blue. Consider all your options when you visit our catalog!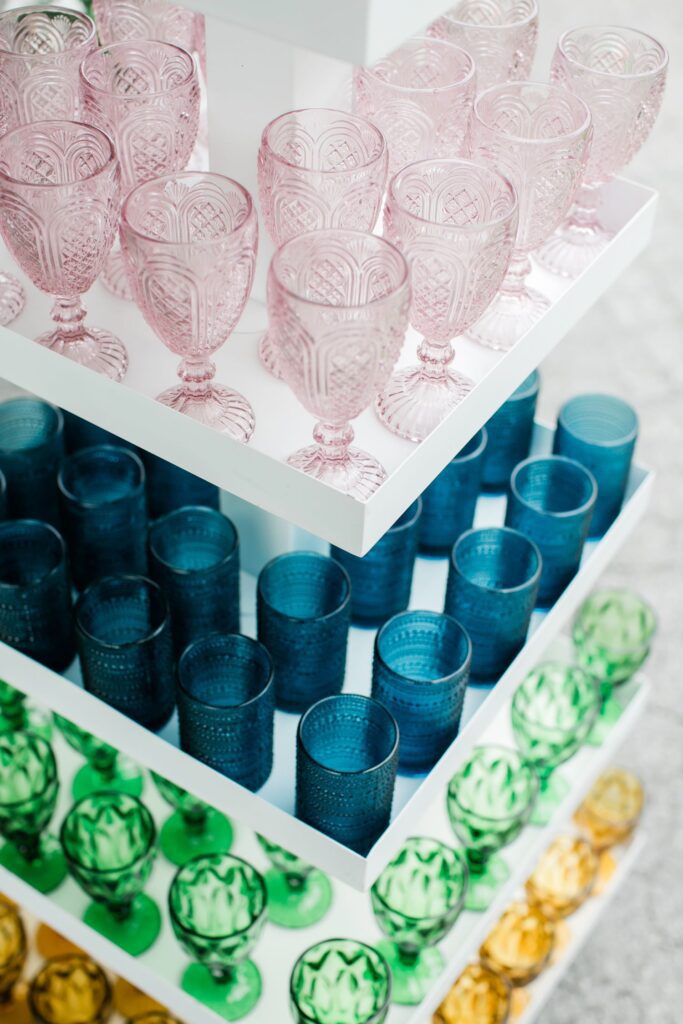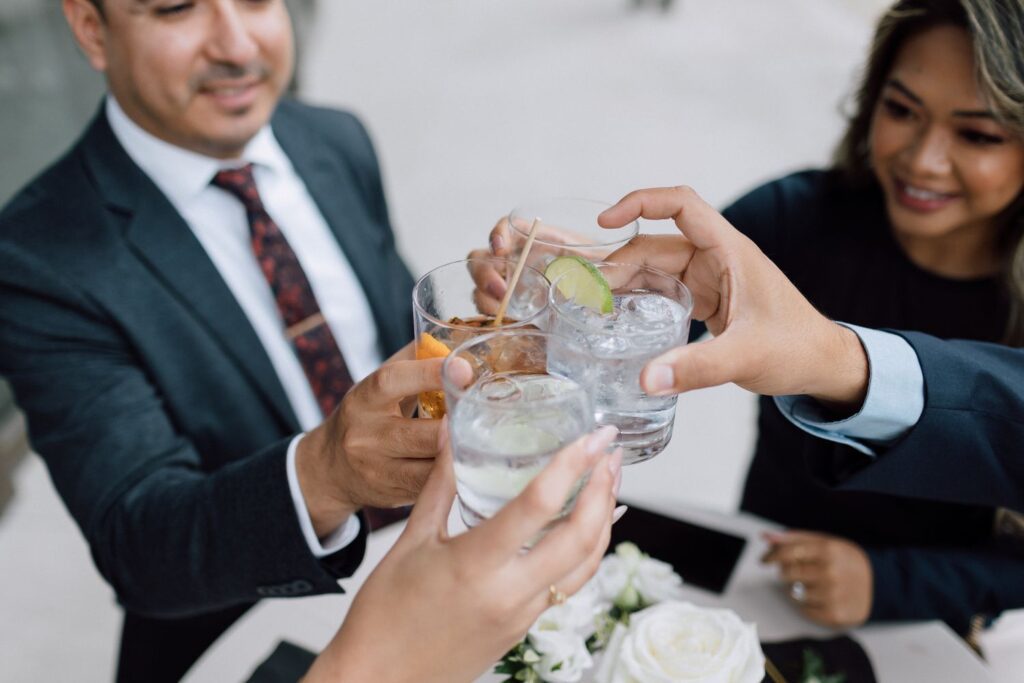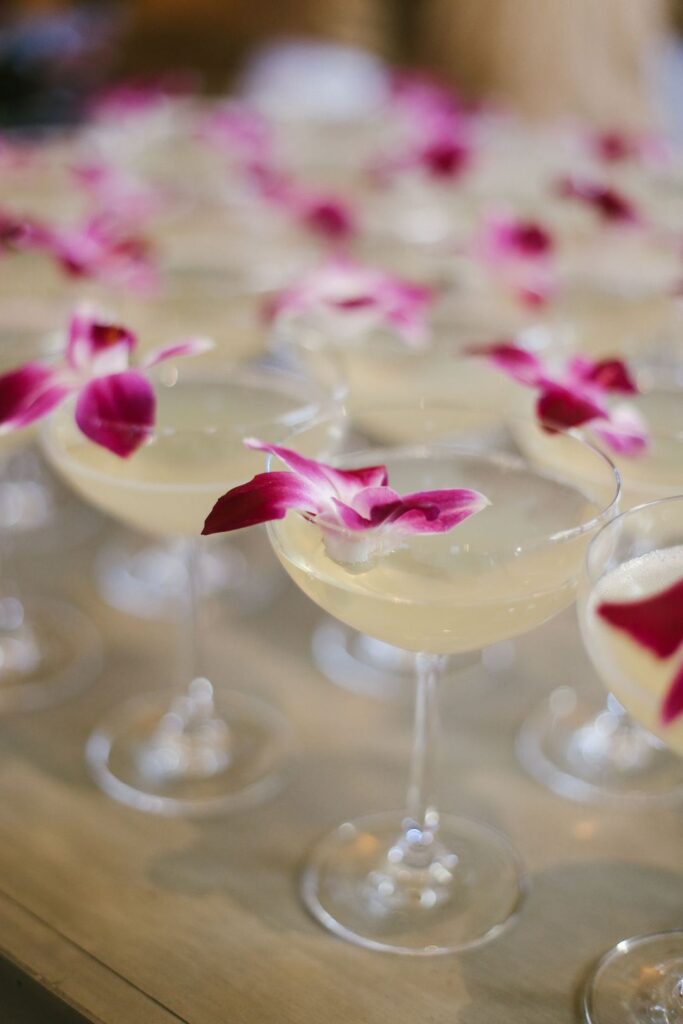 Bar Shelving + Backdrops
To create an immersive and visually appealing bar area, we stock an assortment of bar shelving and backdrops for rent. These elements will help transform a simple bar into a captivating focal point! Choose from simple shelves to display your liquor collection or glassware – such as a Black Bookcase or Gold Avenue Barback Shelf. Or, feature Boxwood Walls, elevated with custom signage starring a menu or corporate logo. With a diverse range of options, you can curate a bar setup that perfectly reflects your event theme and leaves a lasting impression.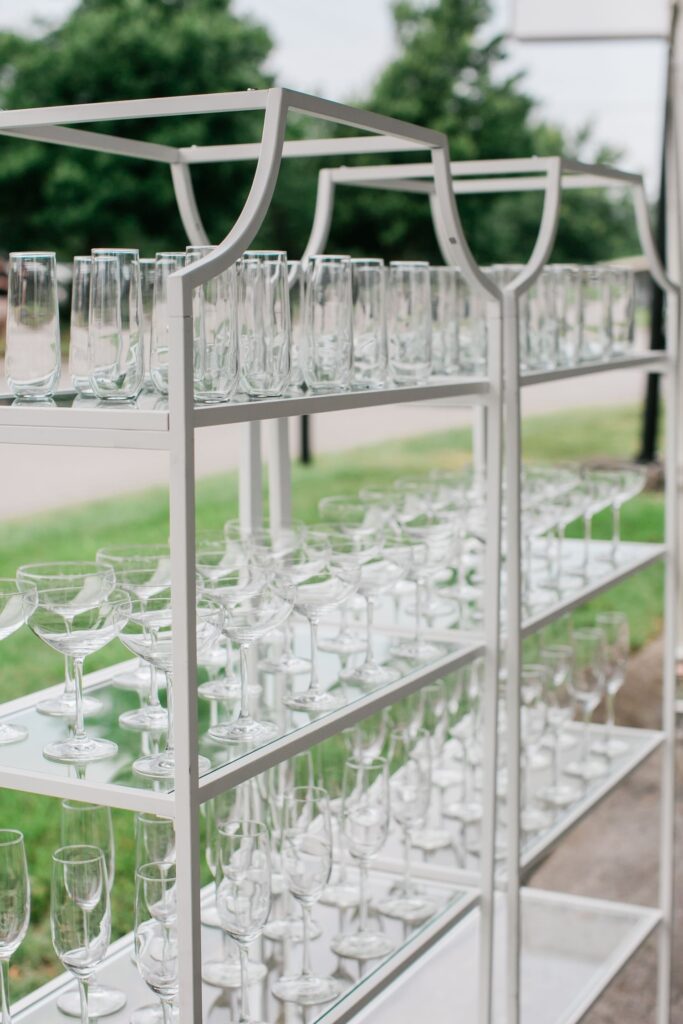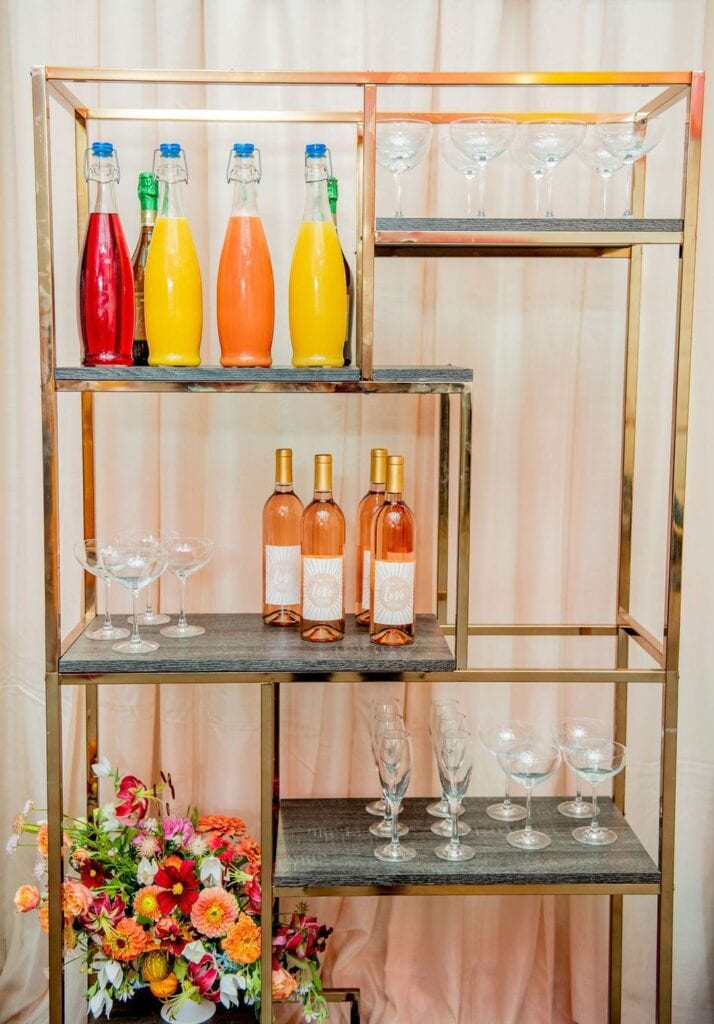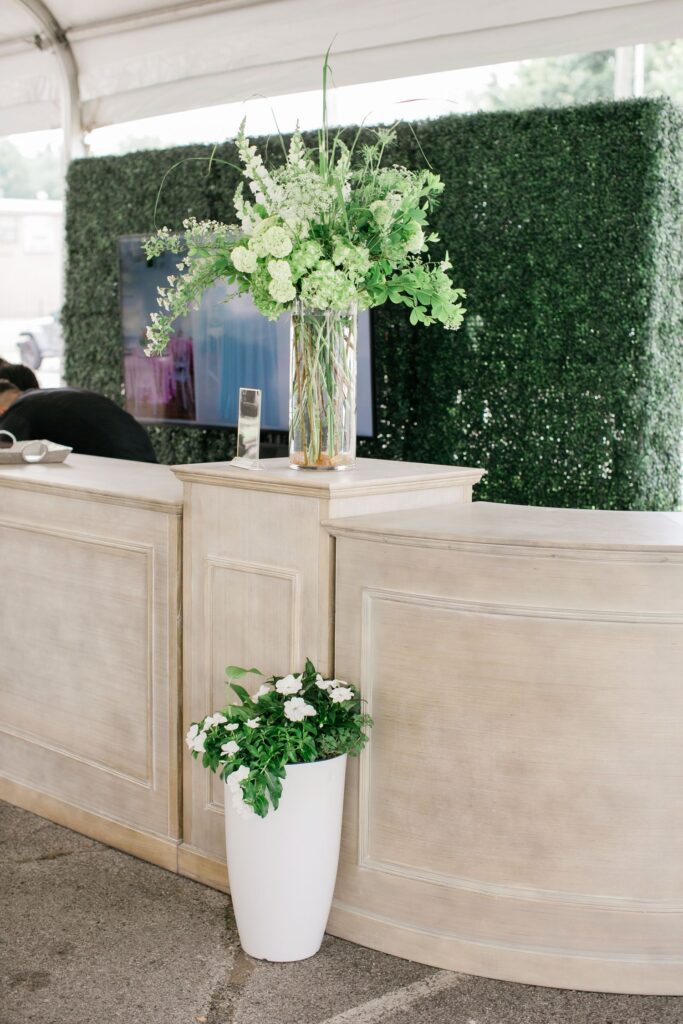 Cocktail Tables & Seating
Cocktail tables are both functional and stylish! These tables provide the perfect gathering spot for guests to enjoy their beverages and engage in conversation. For standing and mingling, combine our new Palmer Bistro Table with matching barstools, or feature a Charleston Bistro Table standalone. Or dress a cocktail table with bright linens, in a soft satin or rich velvet material, contrasted by Acrylic Ghost or Mid-Century White Barstool. Alternatively, and to create a more relaxed atmosphere, peruse our selection of curated event lounges. Complete with stylish seating, accent tables, and rugs.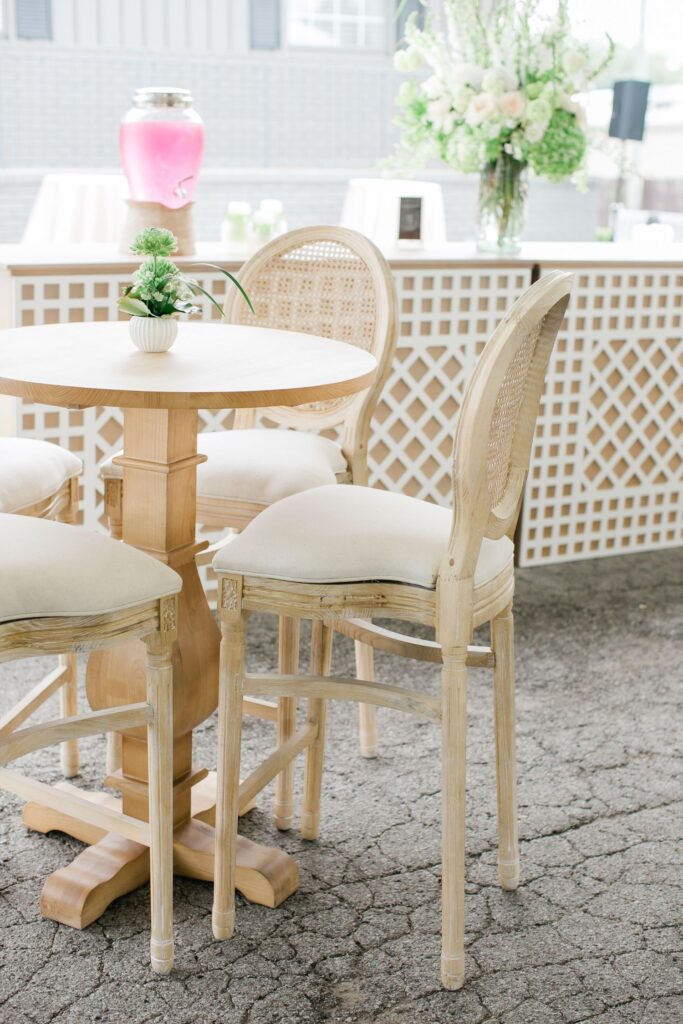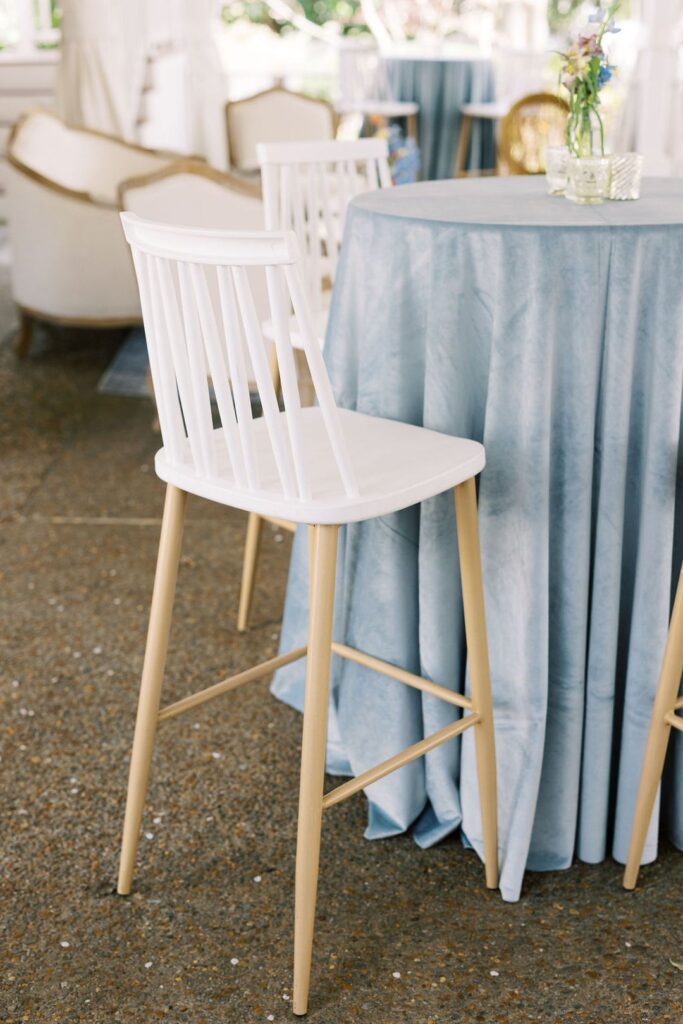 Want to feature some of these stylish bar accessories for rent at your upcoming event? Contact our team at info@southerneventsonline.com and let's start planning your best party event yet! Hosting outdoors? Explore our Unique Outdoor Party Decor & Props that will elevate your celebration.
TAGS | Glassware Collection, Nashville Event Rentals, Nashville Wedding Rentals, Nashville party rentals, Southern Events Party Rentals, Unique Wedding Rentals, backdrop ideas, bar accessories, bars for event rentals, glassware rentals Nashville
FEATURED RENTALS | Sorrento white bar, Thompson oak bar, cheese marble top bar, gold bar cart, gold bar cart, Gatsby coupe glasses, Cybil champagne flutes, black bookcase, gold avenue Barback shelf, boxwood ball, palmer bistro table, Charleston bistro table, mid century white barstool acrylic ghost barstool,
---
17

Nov

Nashville Venues, Real Nashville Weddings, Southern Events Products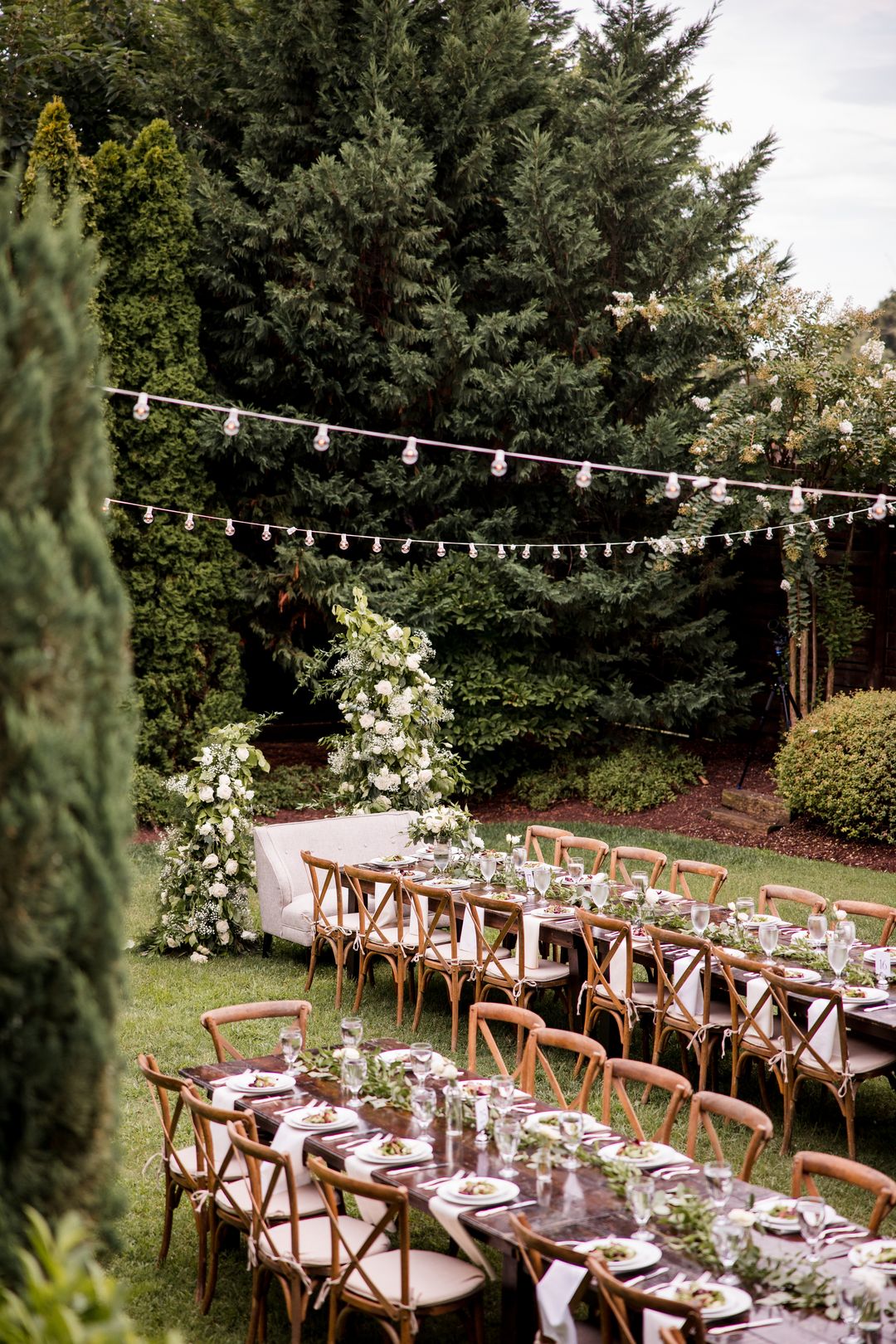 A lush garden. Elegant wooden furniture. A chic neutral palette. Sounds like the making of a dreamy wedding! Hosted at The Cordelle, Claire and Austin's modern rustic wedding was simple yet oh-so chic. From the timeless decorations to the modern color scheme, it was a gorgeous celebration. One sure to inspired many brides! Take a look at the details from their day, including how they incorporated our stylish rustic event rentals.
A Garden Ceremony
Firstly, the pair's vow exchange took place in the lush garden, surrounded by manicured hedges and towering trees. It was a warm but overcast day, ideal for the outdoor celebration. Guests sat facing a breathtaking, white floral backdrop. Seating was simple; clean rows of our ever-popular Cross-Back Chairs including cushions to ensure guests sat comfortably. Our Harlin Dining Chairs are an equally gorgeous alternative we'd recommend paired with candles in Davis Glass Cylinders for aisle decor.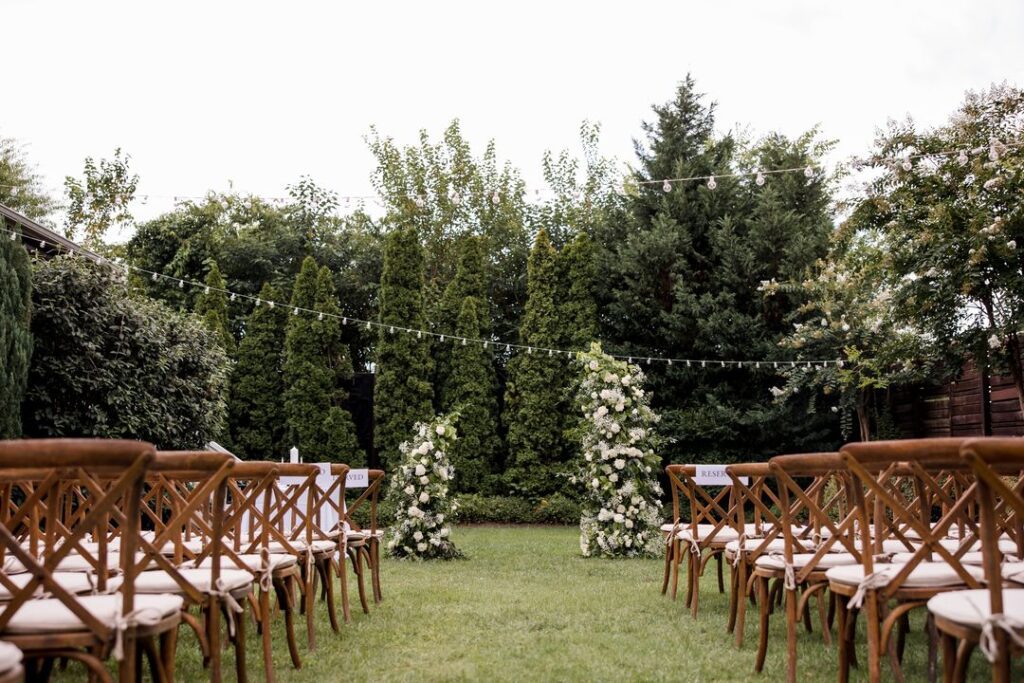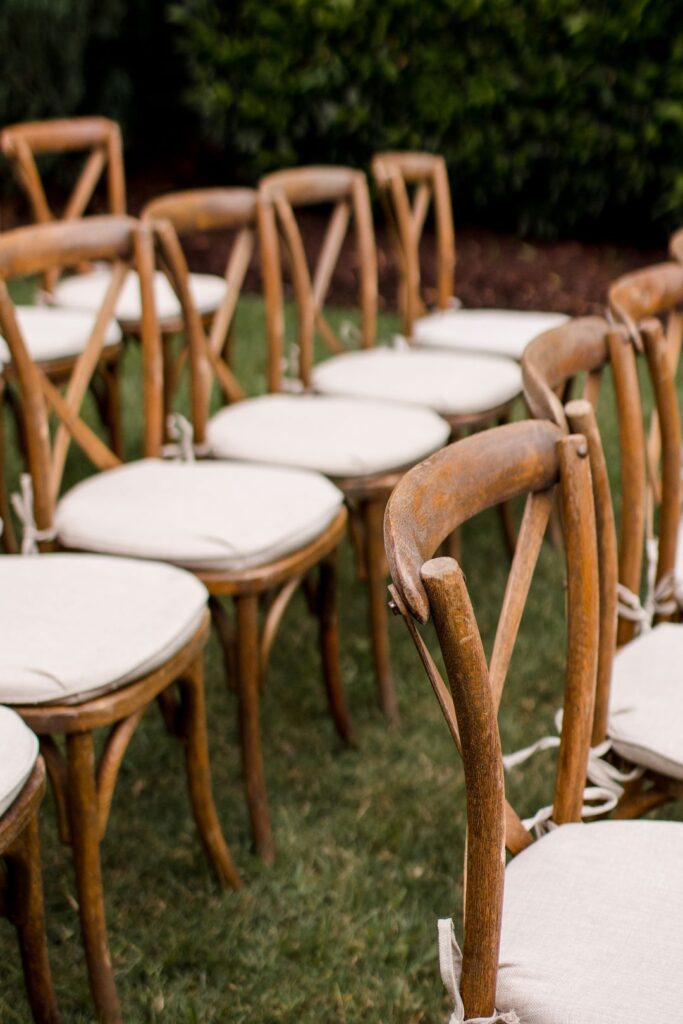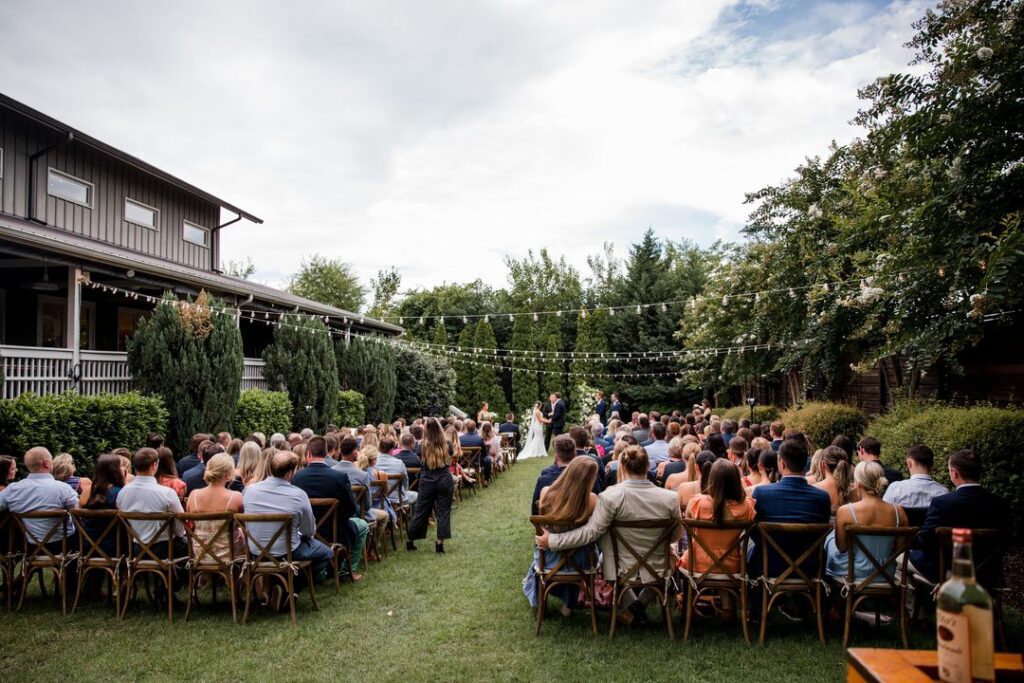 Simple Cocktail Hour
Guests enjoyed cocktail hour hosted on the patio as the garden flipped from the ceremony to the reception setup. A seating chart displayed on one of our Boxwood Walls, with a white base to match the neutral wedding theme so that guests are greeted as they re-entered the space. The bar staff prepared bubbly in classic champagne glasses. For an especially impressive display, consider displaying champagne or a cocktail of choice using our Fruitwood Champagne Shelf. Our bistro tables with luxe linens paired with our stylish bar stools are a great way to hold over guests until they can be led to their dinner tables.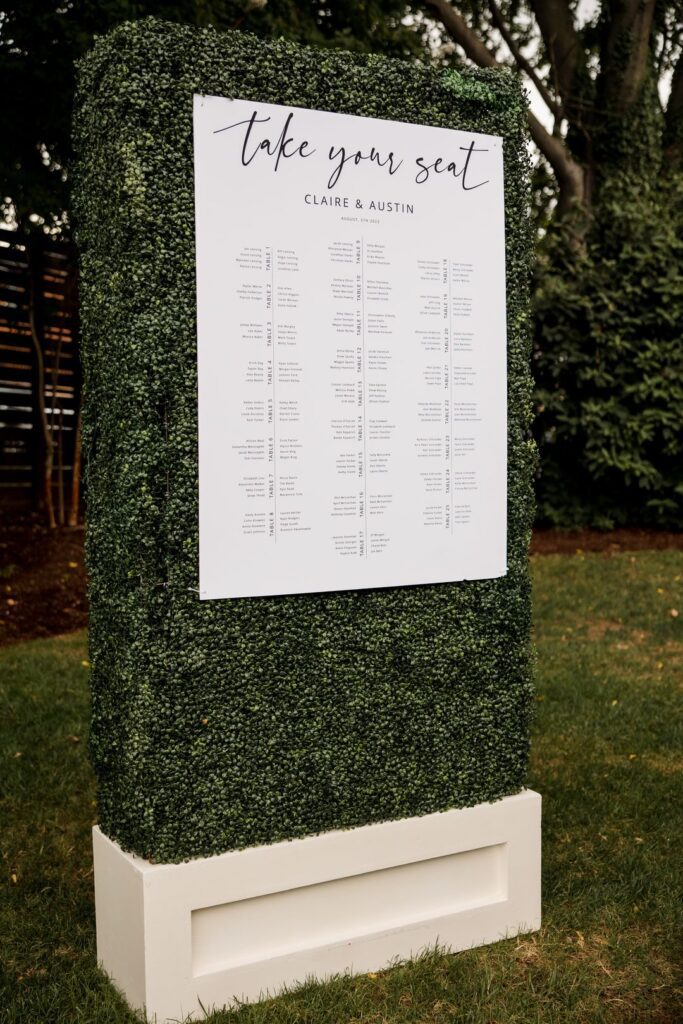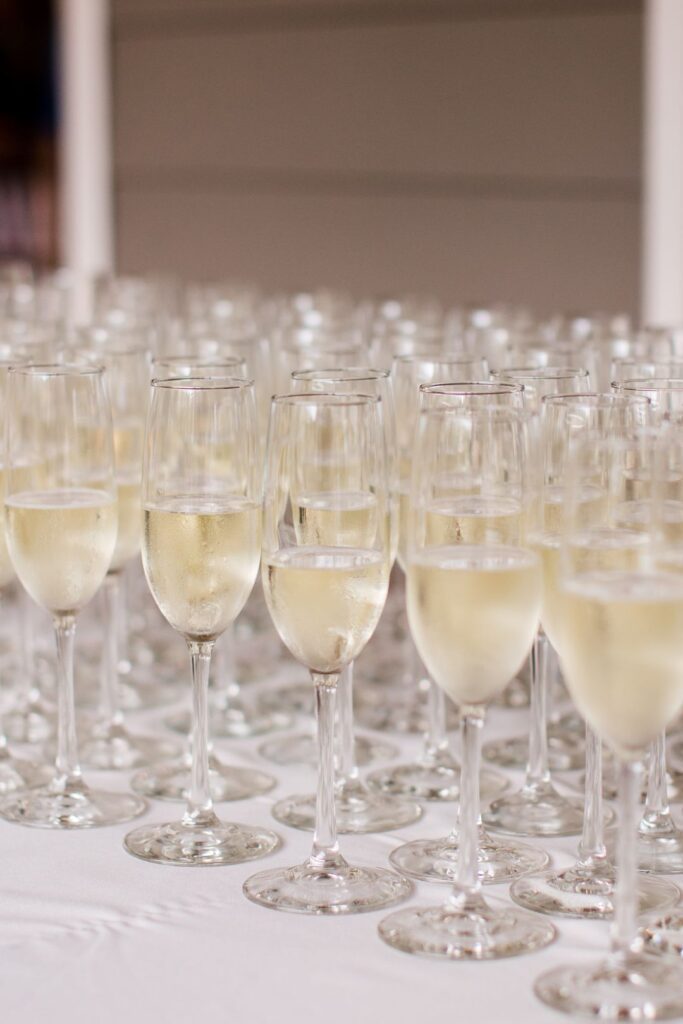 Elegant Wood Banquet Tables
Our favorite design, by far, was the reception tables! Claire and Austin desired an intimate vibe for their dinner, opting for banquet tables. Set up side by side, our Fruitwood Farm Tables looked stunning and sat dozens comfortably, and to complement the modern rustic wedding colors, place settings were simple. Consisting of white round dinner plates, Abby Flatware, and Carly Water Goblets. If you prefer a subtle pop of color, take a look at our luxe napkins! Lush garlands made of bright greenery were the perfect modern rustic centerpieces. As the sun went down, the overhead bistro lights came on, casting a warm glow on the party below. It was a beautiful gathering and our team felt honored to be a part of it.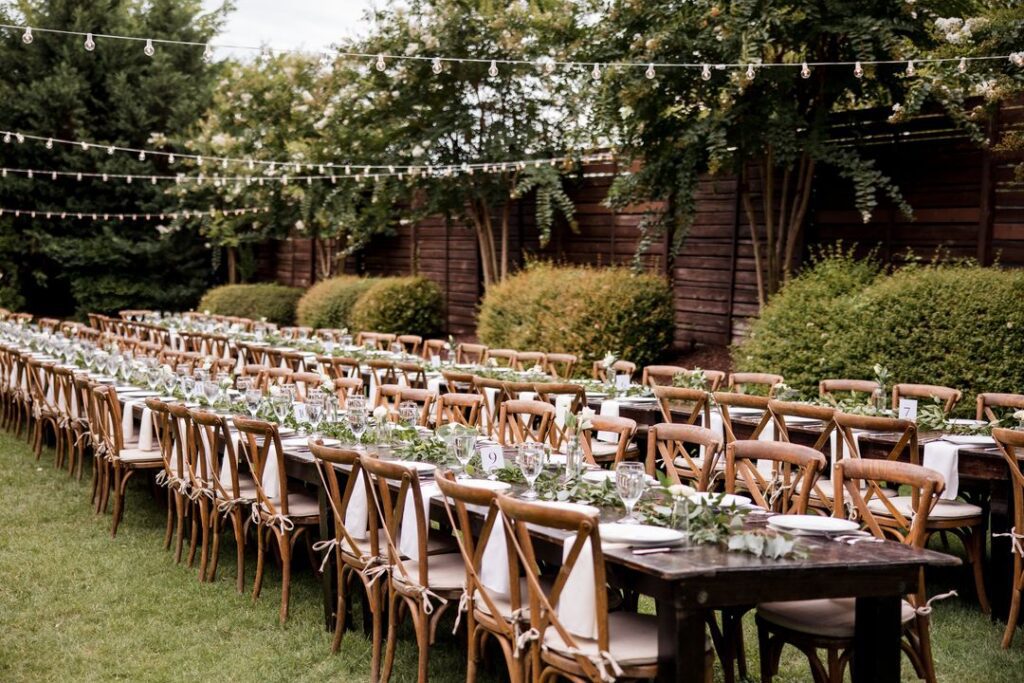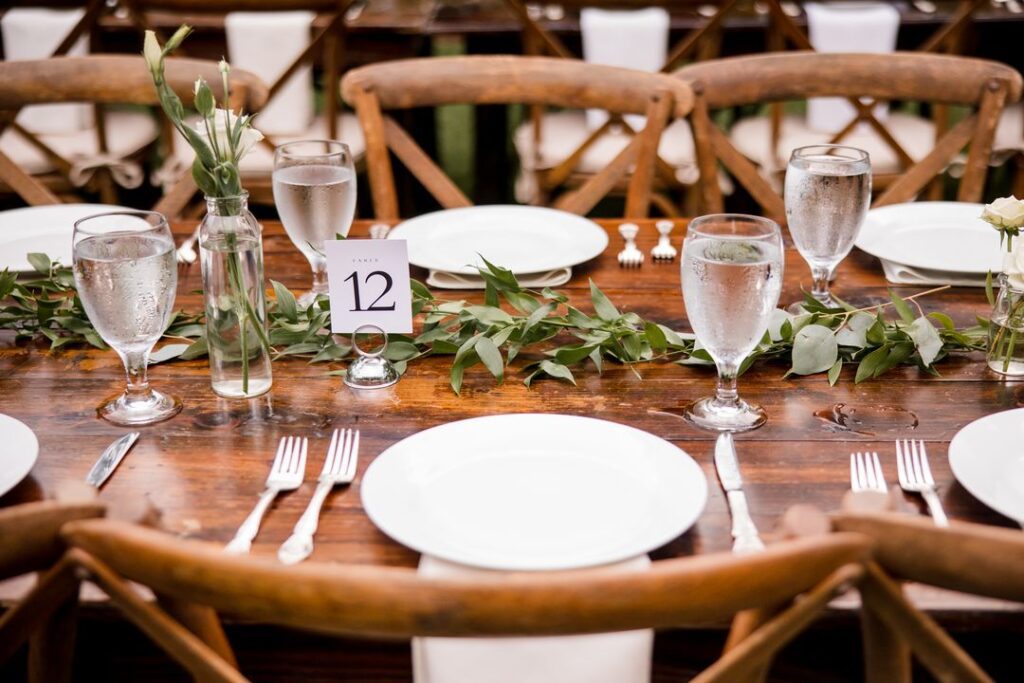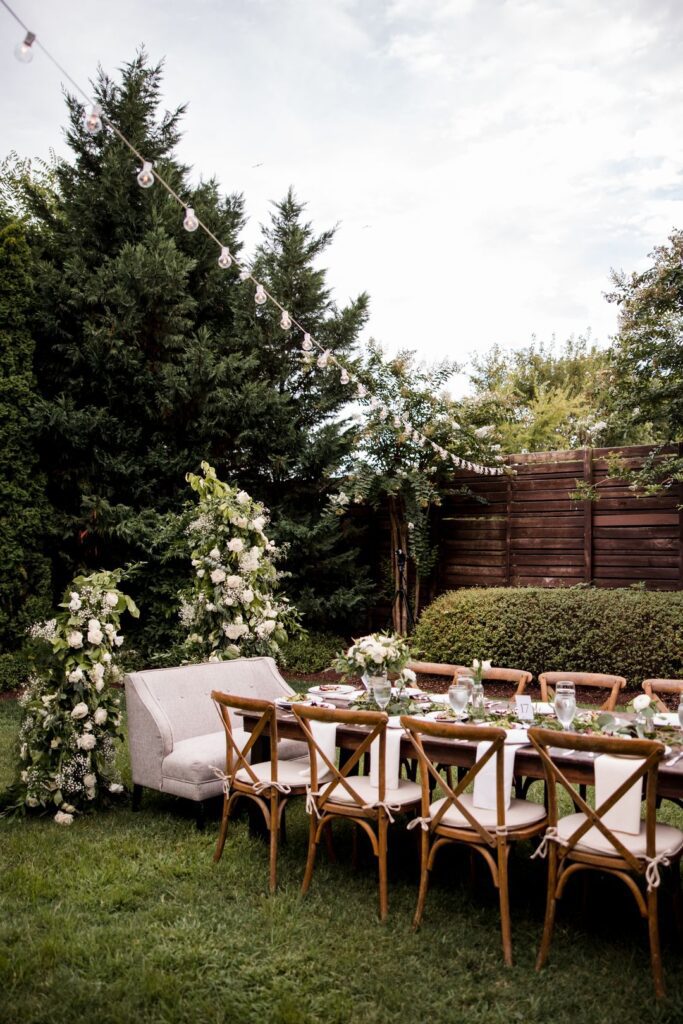 Shout out to John Myers Photography for sharing the images from Claire and Austin's wedding with us!
Hosting your own modern rustic wedding? Contact our team at info@southerneventsonline.com for help recreating this elegant ceremony or reception setup. Or, for help bringing your unique wedding vision to life!
TAGS | Garden Wedding, Nashville Wedding Reception, Nashville Wedding Rentals, Outdoor Wedding Ceremony, Rustic Wedding rentals, Rustic Weddings, The Cordelle, southern weddings
FEATURED RENTALS |
---
29

Sep

Nashville Venues, Southern Events Products, Trends and Inspiration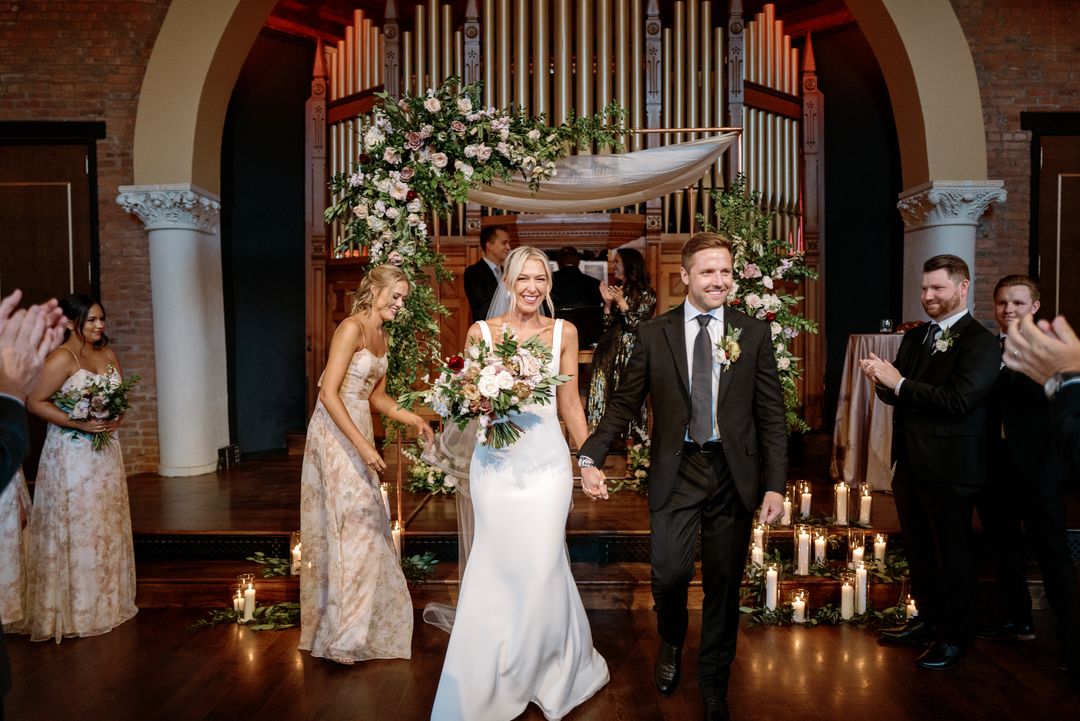 There is a certain charm to spaces where old meets new. And this style is particularly popular in Downtown Nashville, where event venues are rich with history and the original architecture is celebrated. As is the case with The Clementine! A spacious event hall, it was redesigned and rebuilt in 2018. Despite the recent renovations, however, its design remains true to its origins. Urban yet elegant, it is a versatile space in which couples can pull off the celebration of their dreams. To help you determine whether this venue aligns with your vision, we're sharing a few ideas for hosting a wedding at The Clementine, featuring our trendy event rentals.
Say "I Do" at Adelaide Hall
An original 1889 church sanctuary, Adelaide Hall is the largest of Clementine's spaces. Soaring wood beam ceilings, brick walls, hickory floors, massive mid-century chandeliers, and blown glass and steel gothic windows make a statement in this stunning space. Their famous pipe organ is perfect for a sweet ceremony. Decorate the stage with florals or a Wrought Iron Arch in front of the organ. Or use our Chuppah with drapery to soften the space. For ceremony seating, our classic Black Fruitwood Folding Chairs will offer some contrast. While our Davis Glass Cylinders will add a touch of modern elegance to the aisle. Alternatively, feature our Acrylic Ghost Armless Chairs and layered vintage or cowhide rugs to create a chic contemporary look.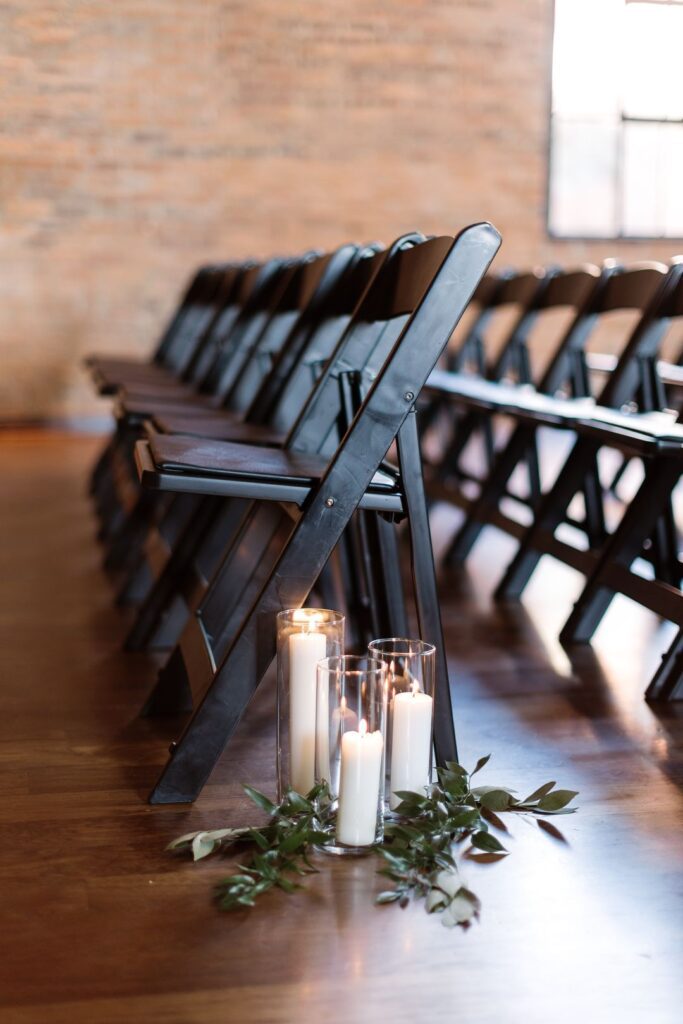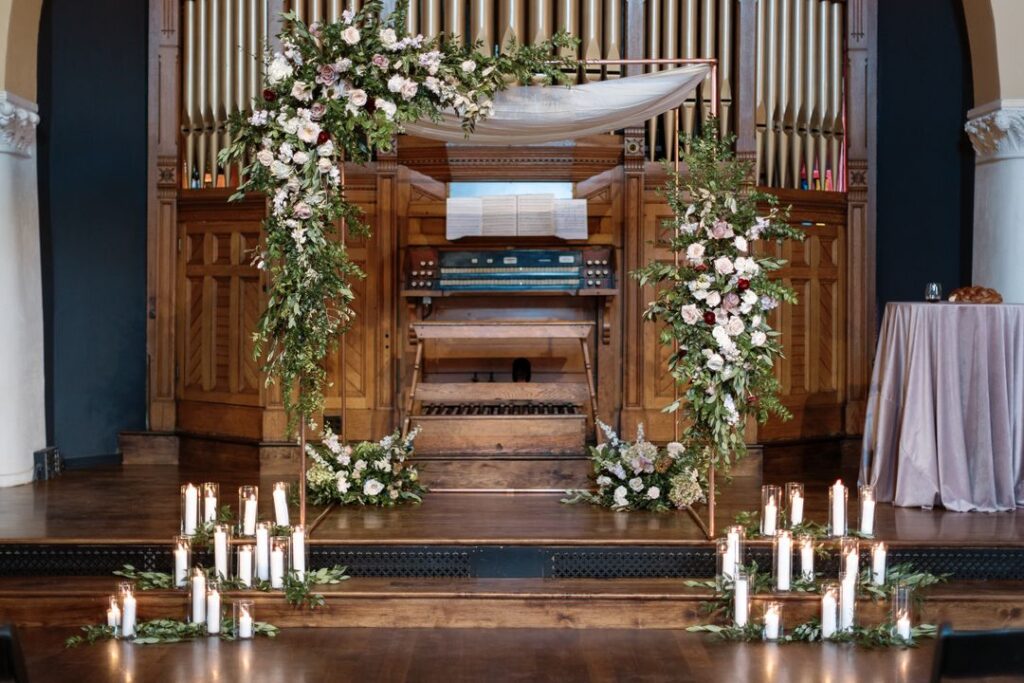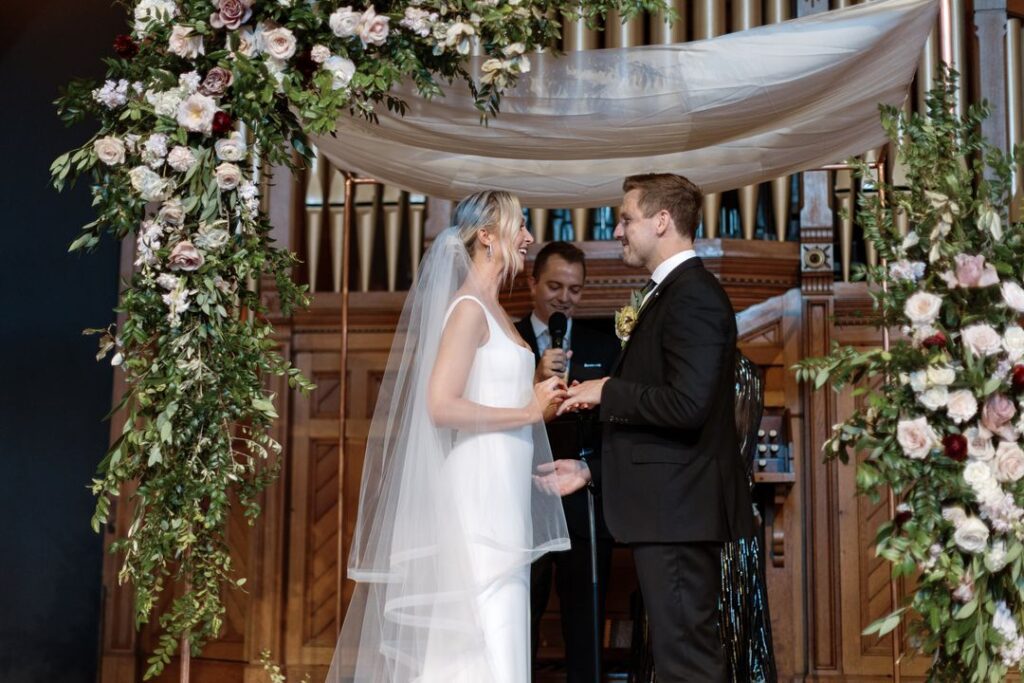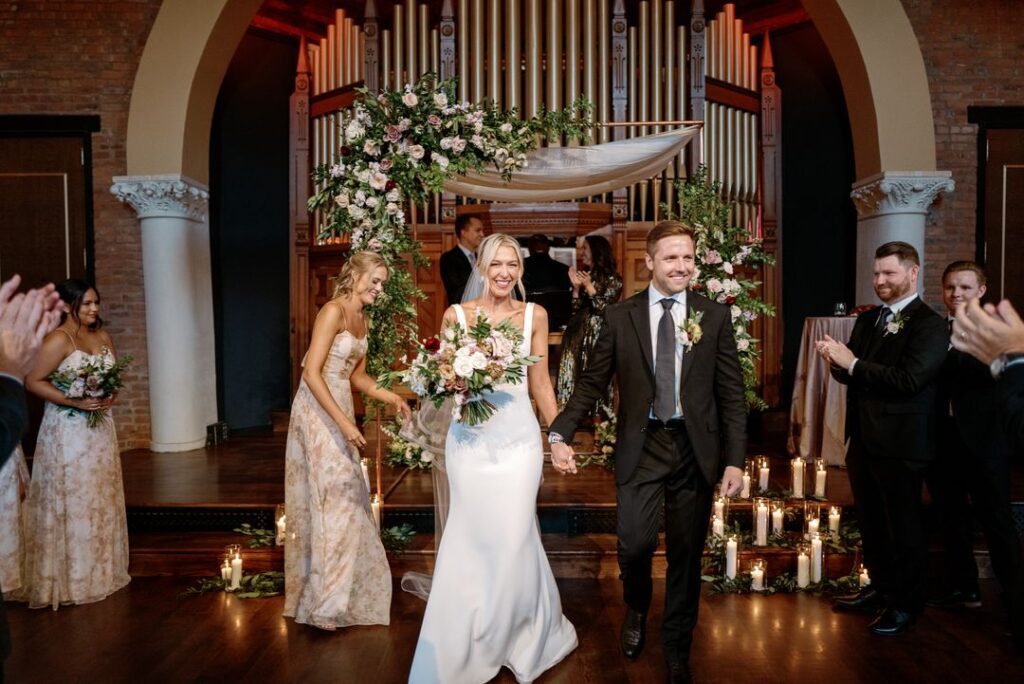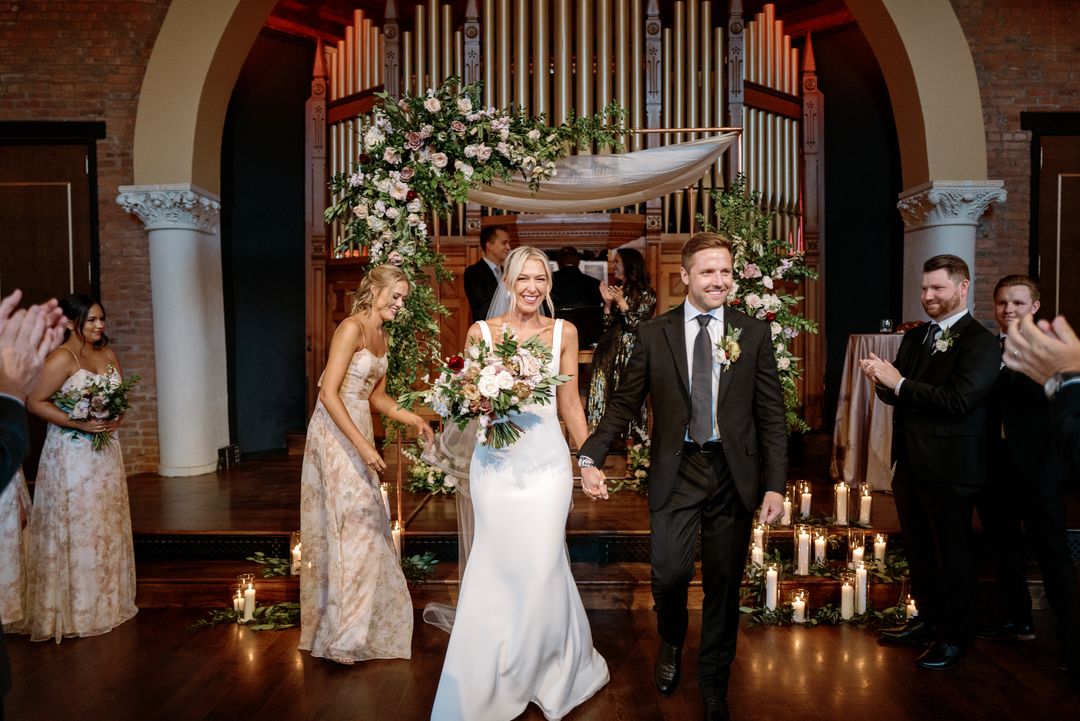 Host an Elegant Urban Reception
Following a ceremony, Adelaide Hall can be quickly flipped for an equally elegant reception. The urban event space is a gorgeous backdrop for a seated dinner. Whether you prefer to feature our round or rectangle Farm Wood Tables. Here you can pull off a timeless neutral palette, to complement the warm-toned walls and floors. Or, incorporate fun pops of color, via luxe linens and stylish serving ware.
At 2,400 square feet, there is plenty of space for catering and white dance floor (with your monogram, of course!). Unless you'd prefer to let the natural wood floors shine! In addition to the beautiful pipe organ, other key areas are the venue's two stages. Each feature concert-quality audio, video, and decorative LED lighting round things out. Making Clementine an ideal wedding venue if you have plans for live entertainment or a band.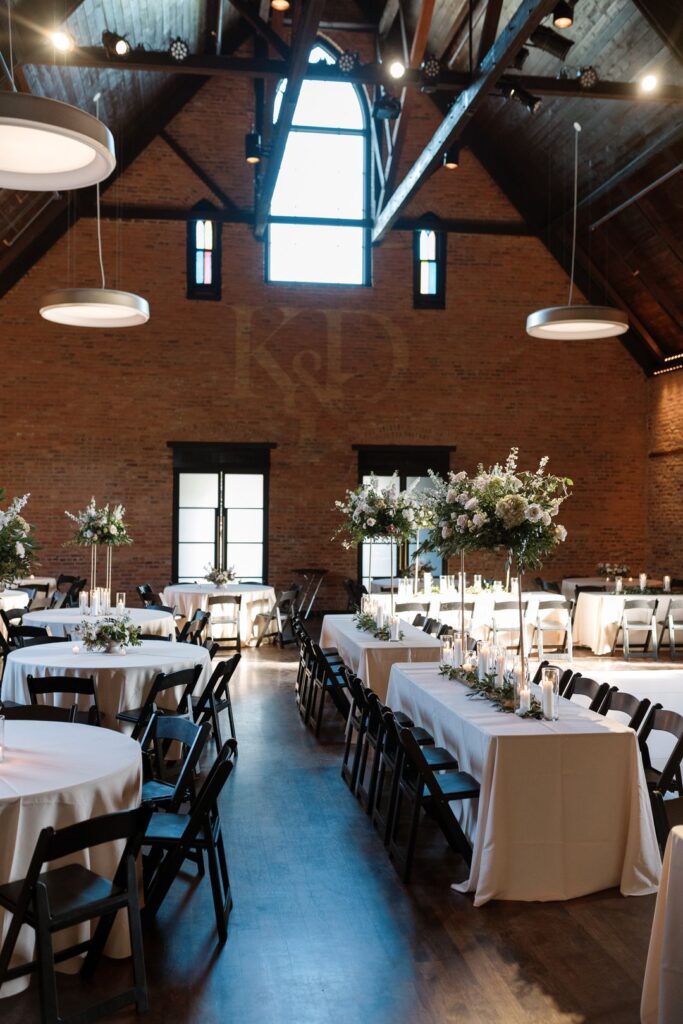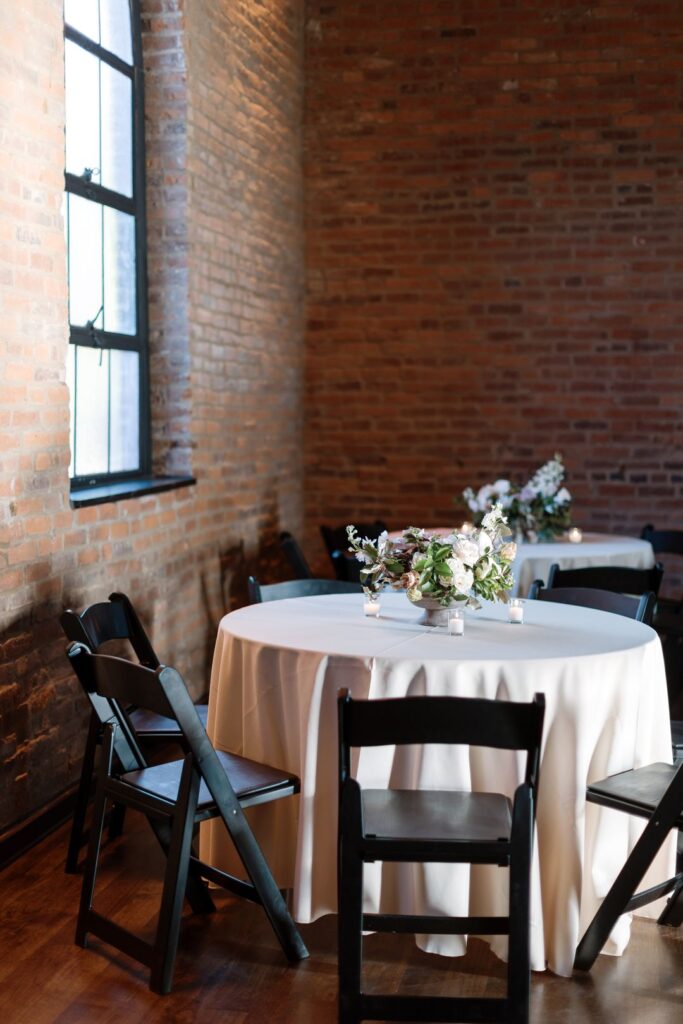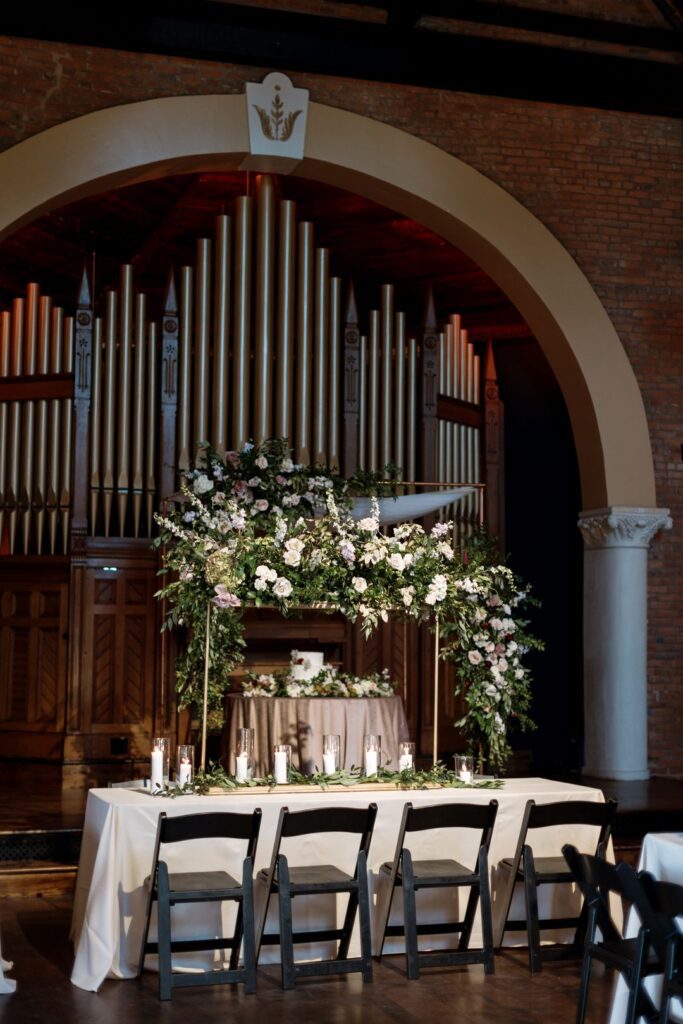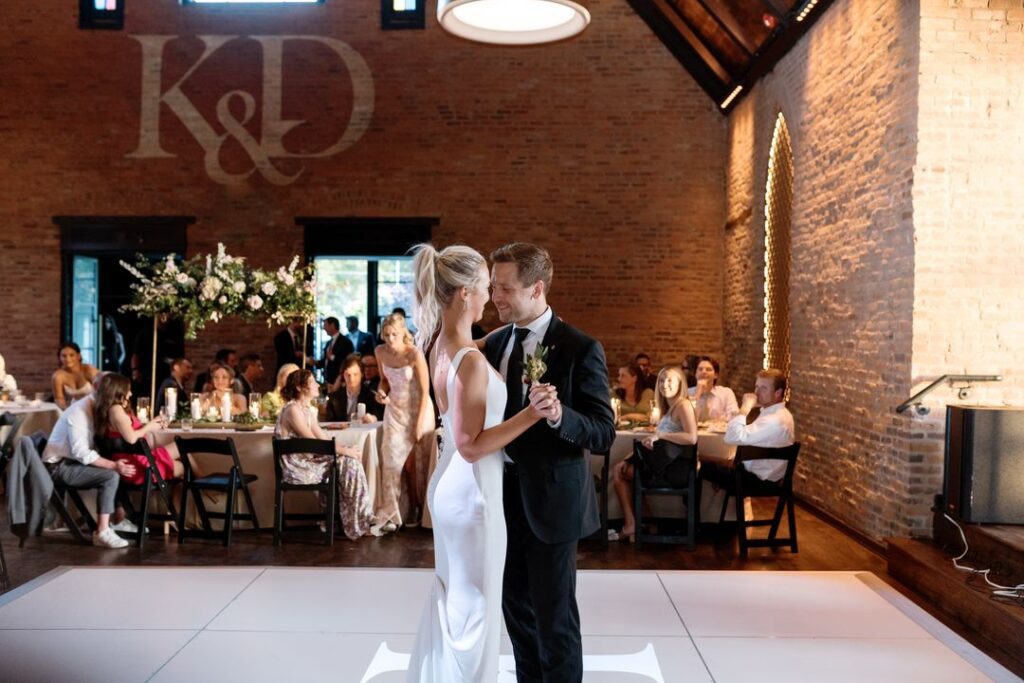 An Intimate Cocktail Hour
What's better than a venue with a dedicated social space? The Little Bird Lounge features built-in bistro tables and an elegant 20-foot marble bar. Perfect for a casual cocktail hour! An irregularly shaped room with original brickwork and arched windows, it's a memorable backdrop for a wedding lounge. More specifically, the Pearce Lounge Furniture — a modular sofa easily manipulated to fit within any space. It pairs beautifully with our Gold Hammered Coffee Table.
When the weather is nice, take advantage of their Brash Courtyard, easily accessed through the lounge. Outfit the concrete-walled patio with trendy bistro tables and chairs. Such as our Acrylic Casper Square Back Barstool or Mid Century White Barstool. For an extra luxe look, be sure to grab a set of our Velvet Linens! They look especially charming during the fall, when the surrounding foliage is at its peak.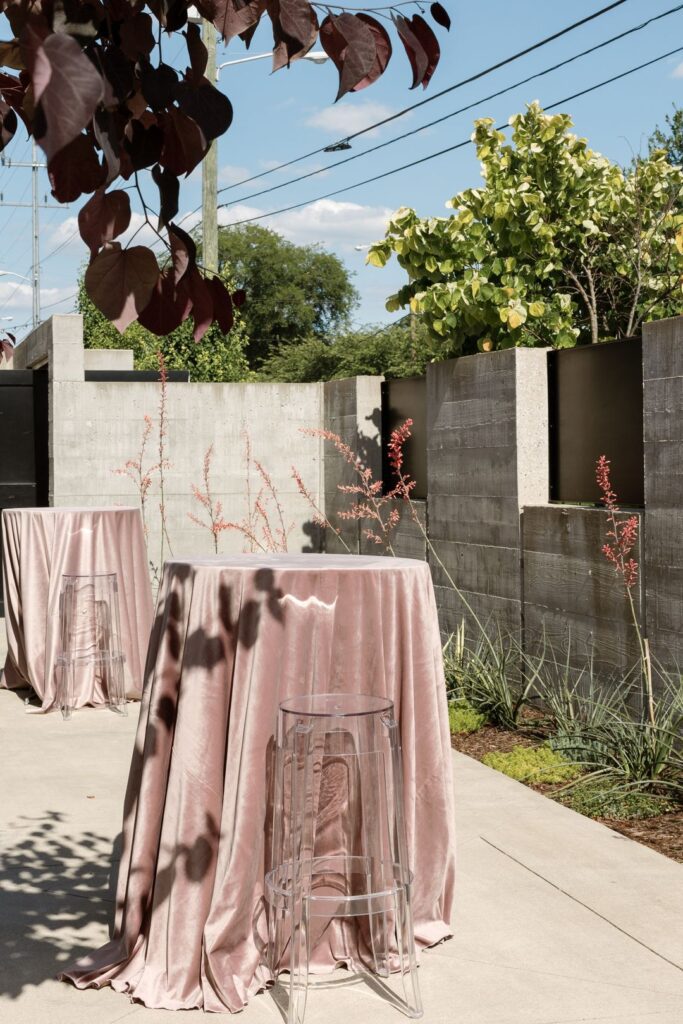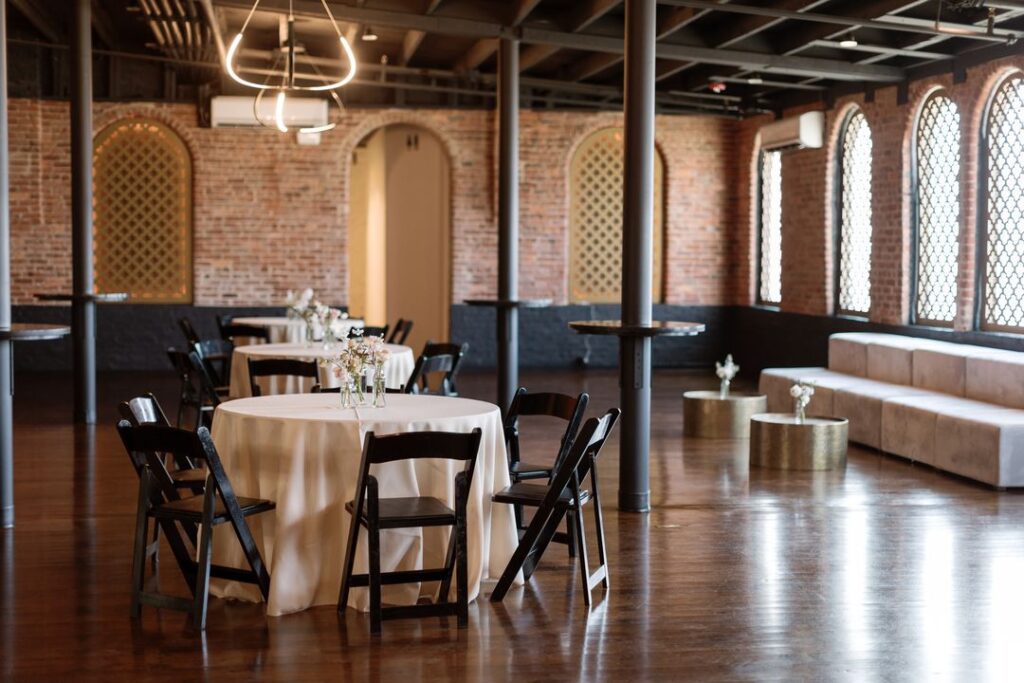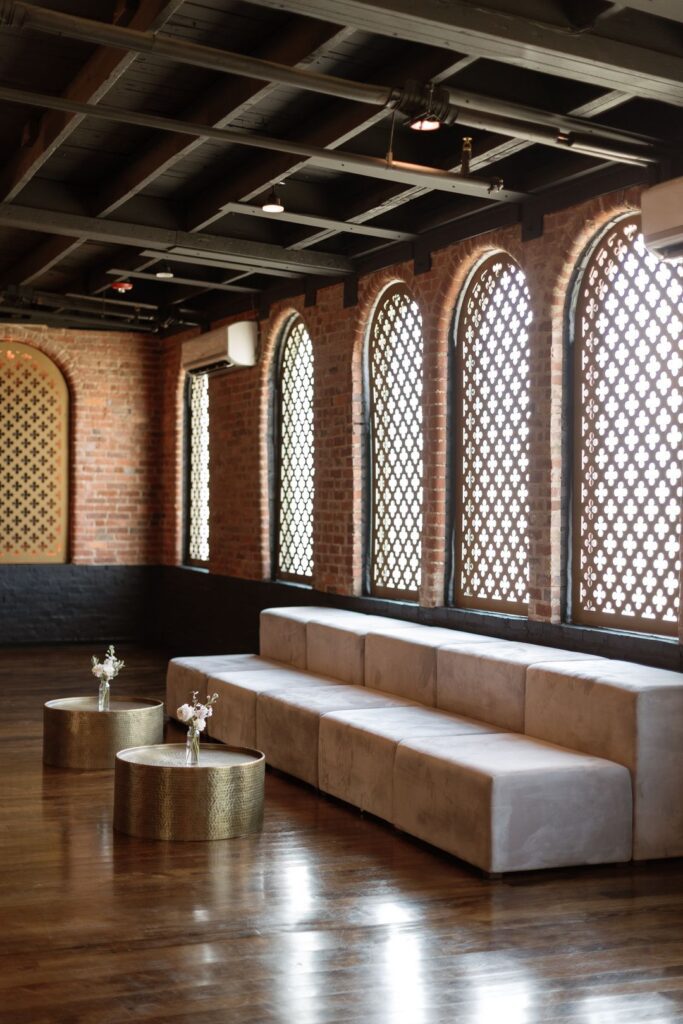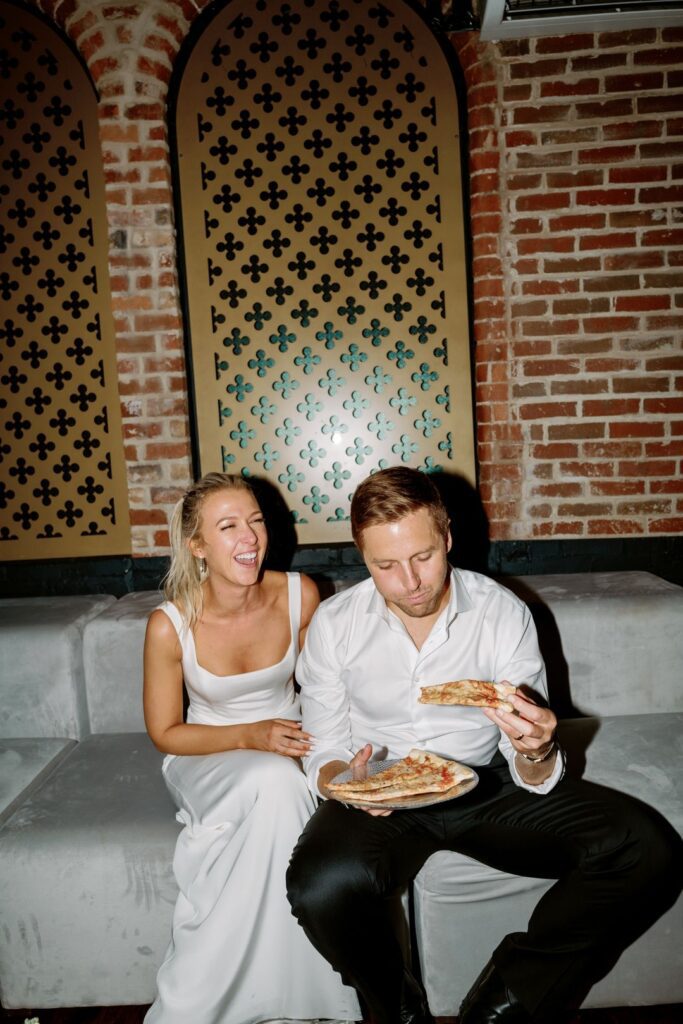 Shout out to Jordyn Smalling Photography for sharing the images from Katie and Drew's wedding with us!
Ready to plan your wedding at The Clementine in Nashville? Contact our team at info@southerneventsonline.com for help recreating this elegant urban wedding. Or, for help bringing your unique vision to life!
TAGS | Ceremony Decor, Nashville Event Venue, Nashville Wedding Rentals, Nashville Wedding Venues, Southern Events Party Rental, southern weddings, the clementine, wedding reception ideas
FEATURED RENTALS | Wrought Iron Arch, Chuppah, Black Fruitwood Folding Chairs, Davis Glass Cylinders, Acrylic Ghost Armless Chairs, vintage rugs, cowhide rugs, Pearce Lounge Furniture, Gold Hammered Coffee Table, Acrylic Casper Square Back Barstool, Mid Century White Barstool, Velvet Linens,
---
23

Jun

Southern Events Products, Trends and Inspiration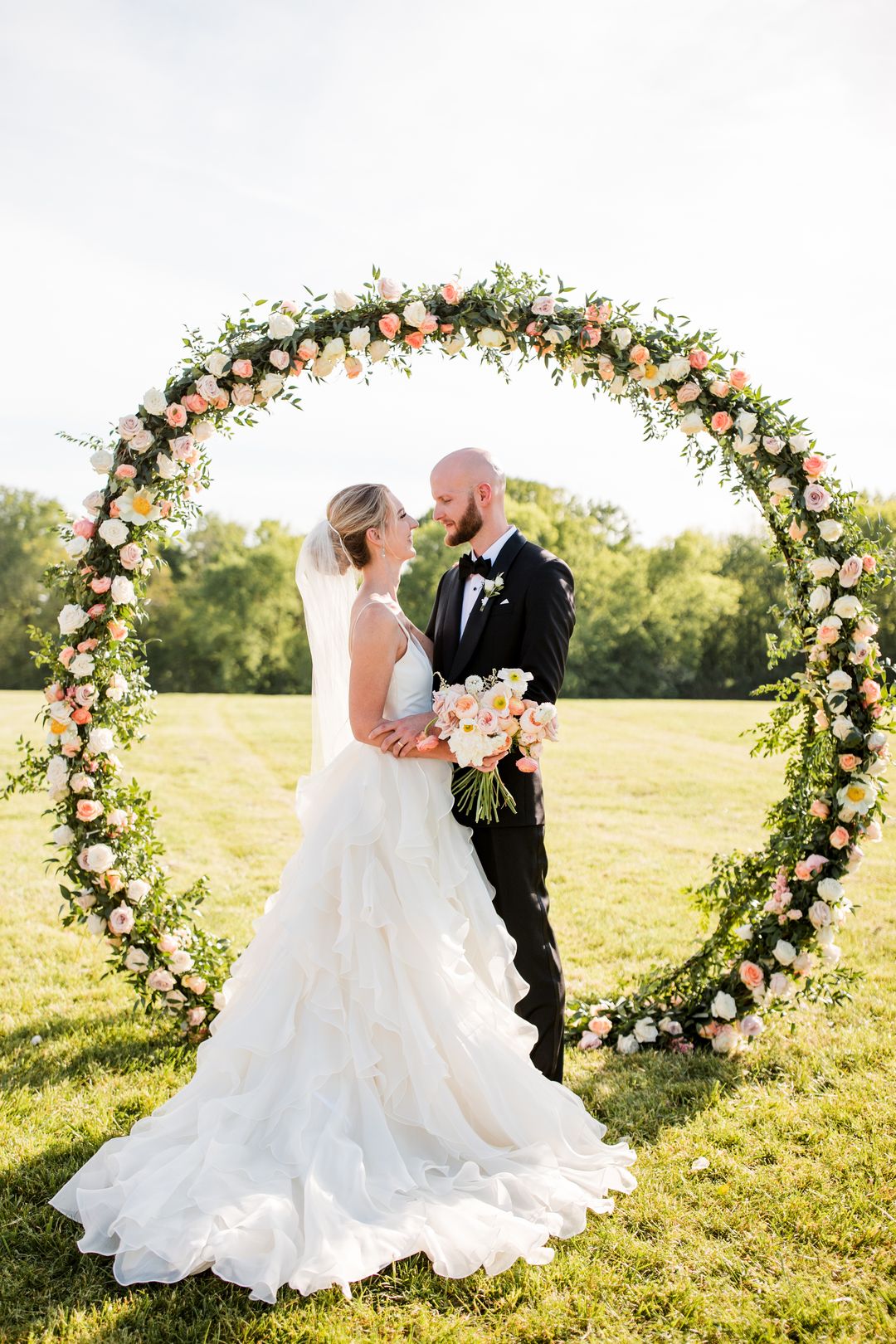 An essential piece of decor for a wedding ceremony is a backdrop! Often complimented with fresh florals and greenery, it will not only help frame the bride and groom but serve as a beautiful backdrop for photographs. Take a look at our wedding backdrop rentals, with options for every type of event style and theme! From more traditional pieces to modern options.
Fiona Ivory Mantle
A unique option for wedding ceremony decor, our Fiona Ivory Mantle is a romantic piece. With its vintage design and soft white color, it will complement most any theme. You can dress this piece up with florals, or by placing candles in our cylindrical glass vases at the base.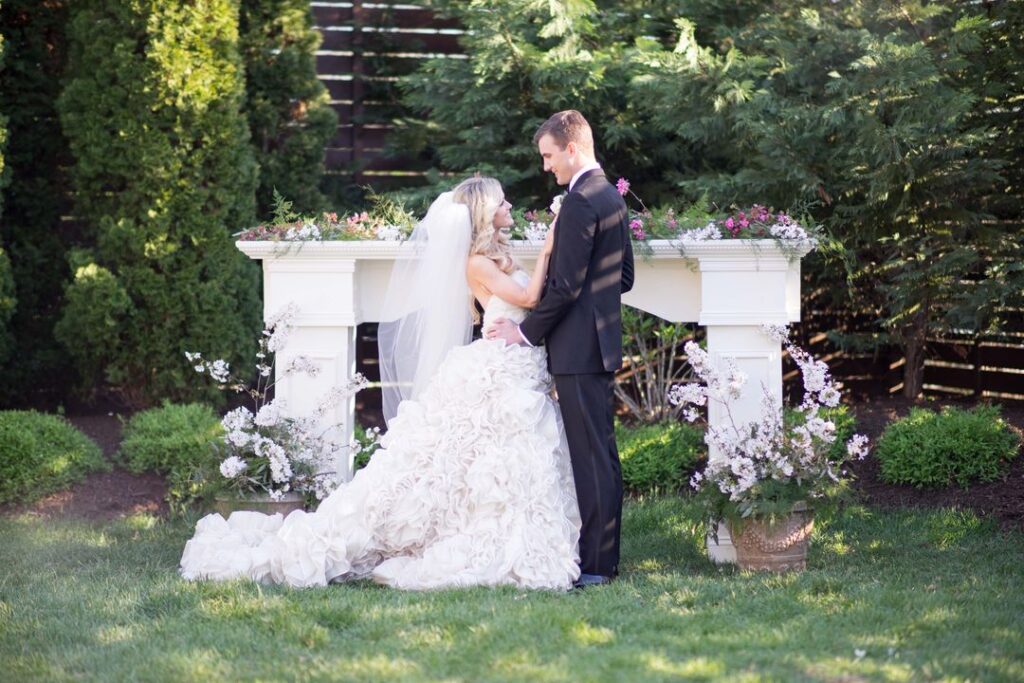 Chuppah/Wedding Canopy
At Southern, our goal is to be able to serve couples of every type and religion! Our wedding chuppah is a beautiful piece consisting of a classic square frame decorated with white drapery. It can easily be dressed up with greenery, or you might tie back the draping with smaller floral arrangements.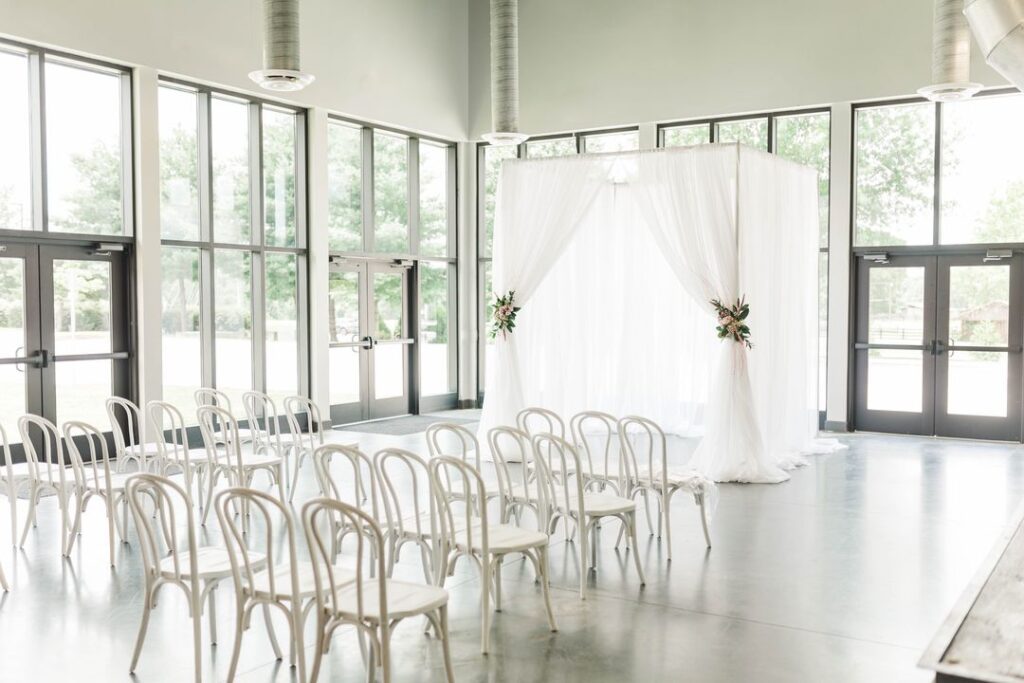 Boxwood Wall
Another popular option is our greenery backdrop rental, or a Boxwood Wall. This piece is our most versatile due to the fact that it can be easily customized with a variety of decor. Such as florals or a neon sign! We also have three different color bases available to ensure our grass wall will complement your color palette or wedding theme.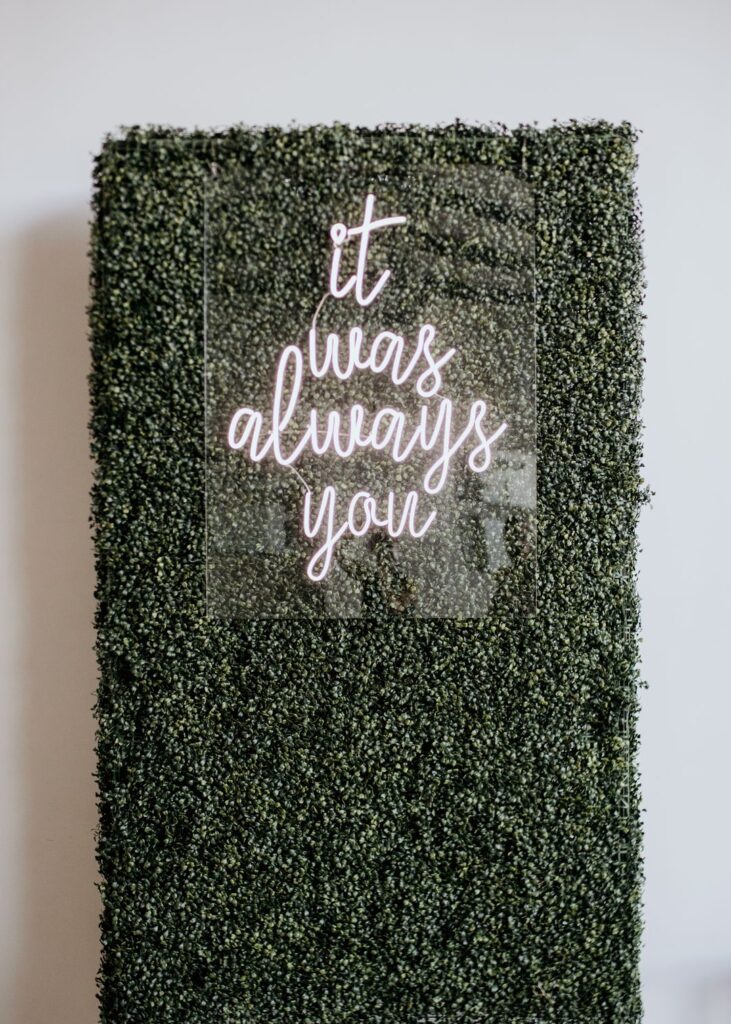 Wood Cross
For more traditional couples we had to include a Wood Cross in our inventory. This simple but elegant piece is made of a light-colored wood with a beautiful grain. Couples often choose to decorate this piece with a long piece of drapery or a floral garland.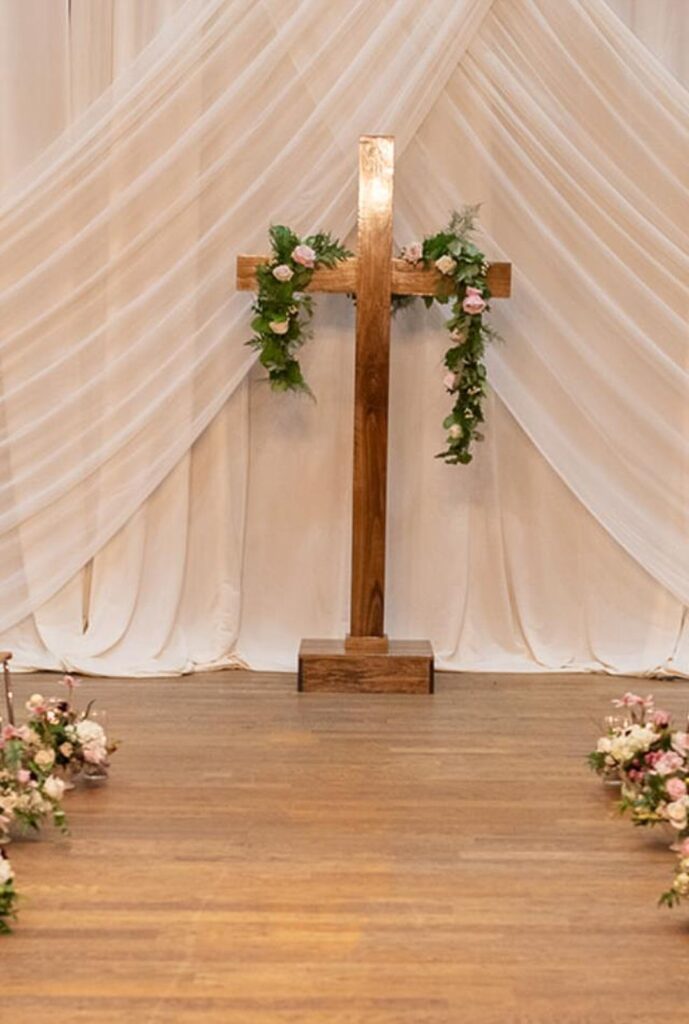 Wrought Iron Arch
Another of our wedding arch rentals, this Wrought Iron Arch is a gorgeous choice for ceremonies indoors or out. Dress is up with greenery or drapery for a sophisticated look. As with our Metal Ceremony Ring, this piece is perfect for a modern garden wedding.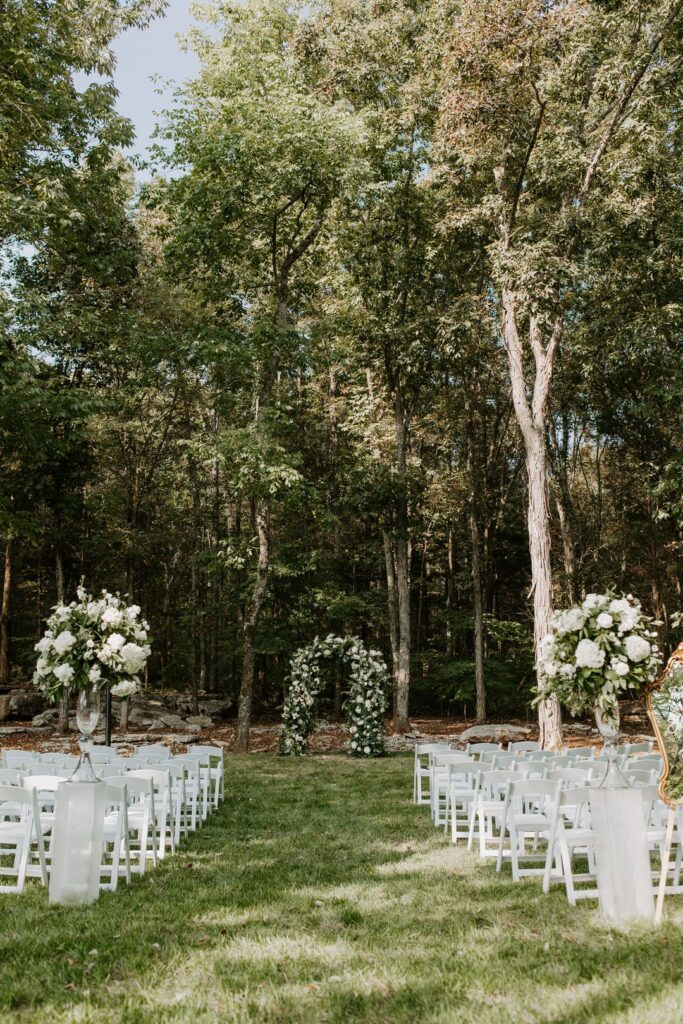 Rugs
Looking for a more modern ceremony backdrop? Consider one or several of our rugs! This is a great option if you want to show off an existing backdrop at your venue, whether it be indoors or out. A rug is a simple way to frame a space and add a little bit of color. We have a variety of options for different themes, including vintage and cowhide rugs.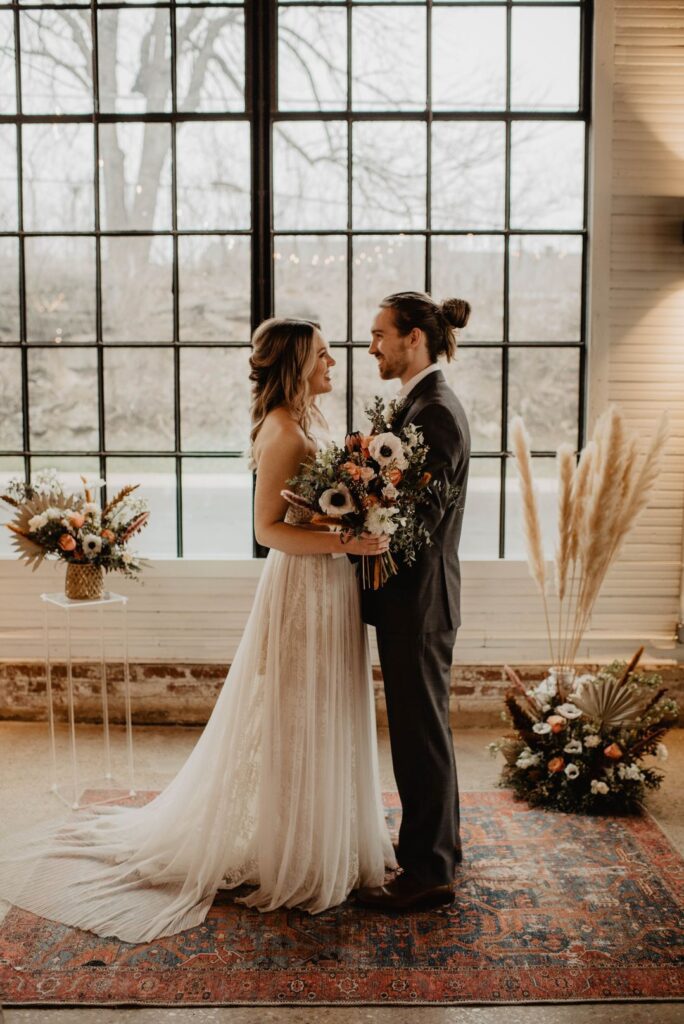 Ready to book one of our wedding backdrop rentals? Send our team a message at info@southerneventsonline.com to secure a piece for your big day!
TAGS | Nashville Wedding Rentals, Wedding Ceremonies, southern wedding style, wedding backdrop rentals, wedding backdrops, wedding ceremony decor
FEATURED RENTALS | Wood Cross, Boxwood Wall, Rug, Wrought Iron Arch, Wedding Chuppah, Fiona Ivory Mantle,
---
12

May

On Trend, Southern Events Products, Trends and Inspiration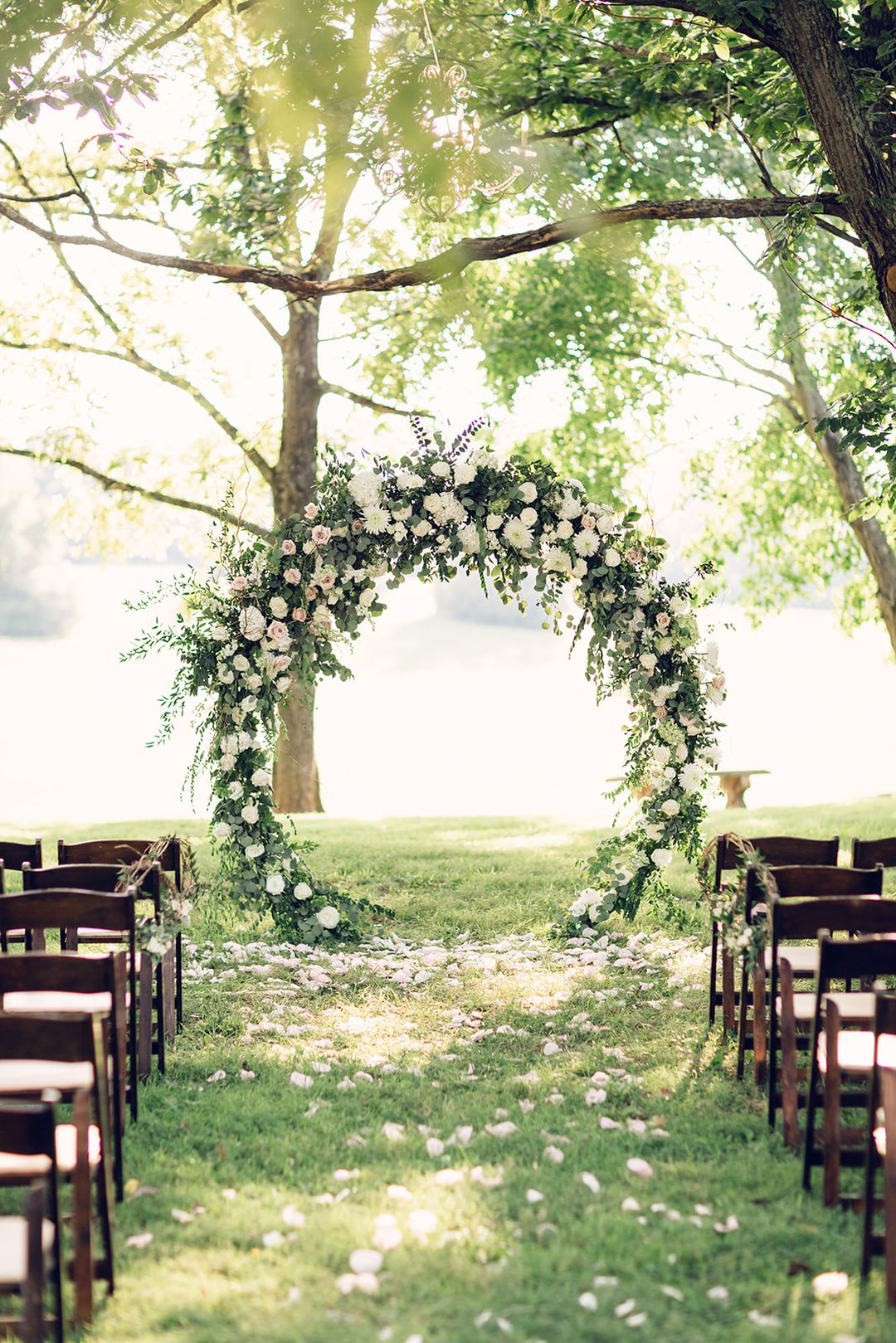 Garden weddings are popular themes, especially during the warmer months of the year. As we sit and dream with couples, we hear their love for the romantic feel this theme offers. Over the years, we've had the privilege of seeing garden weddings come together in a myriad of ways, and we have fallen head over heels for the whimsical palettes and charming event design. Keep reading to get inspired by our take on the modern garden wedding, featuring sleek and sophisticated rentals that make for an incredibly chic celebration!
Sleek and Chic Tables
This modern take on garden weddings can be achieved by bringing in bright rentals featuring geometric shapes that contrast dramatically with the freeform nature of, well, nature. Outfit your tables in colorful linens that will POP against a lush garden setting. For balance, feature our Harlin Dining Chairs or Cross-Back Chairs, made of natural wood. If you prefer an equally romantic but vintage-inspired look, consider our Antique White Bentwood Chairs.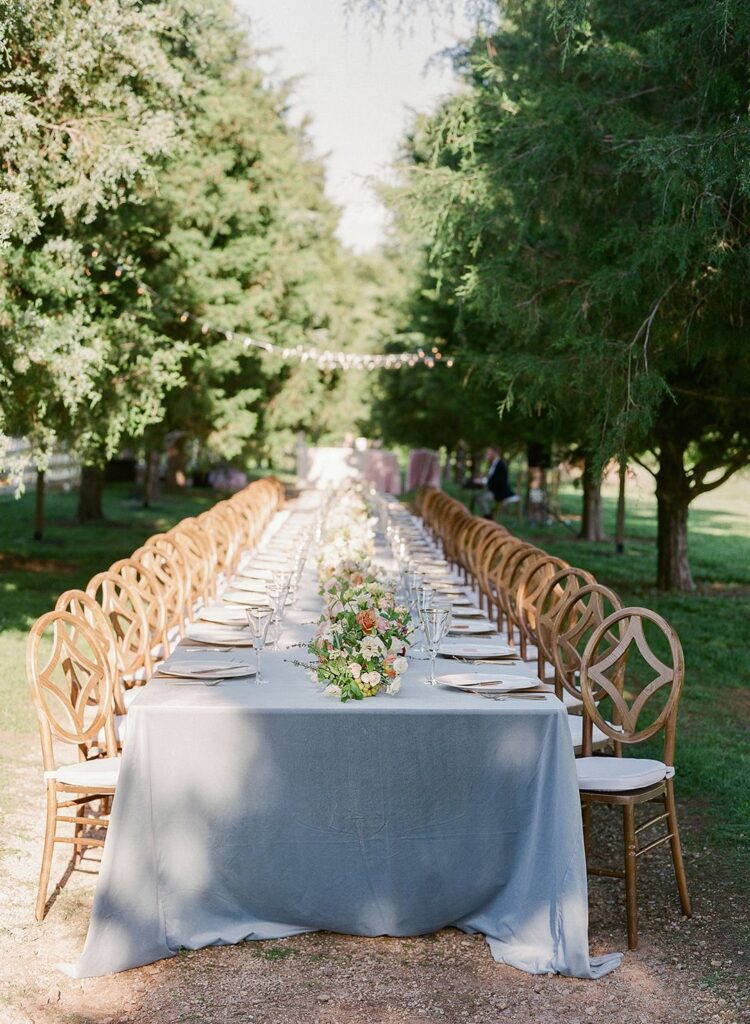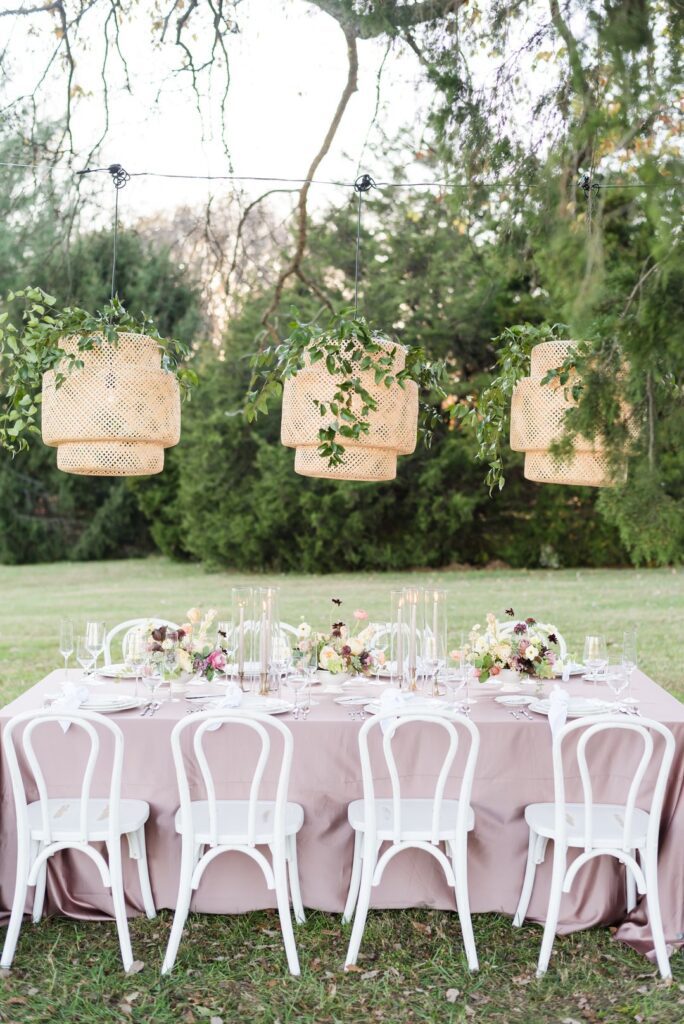 Dreamy Velvet Details
Masculine elements, such as monochromatic color schemes contrast beautifully against soft florals and greenery. All white or all black furniture against a dreamy, floral aesthetic is both masculine and modern! Although, we're still a fan of lighter palettes that complement whimsical florals. You can achieve a luxe but chic look by featuring textured details, namely in the form of velvet linens! Some of our current favorite colors include bold blue hues and romantic pinks and purples!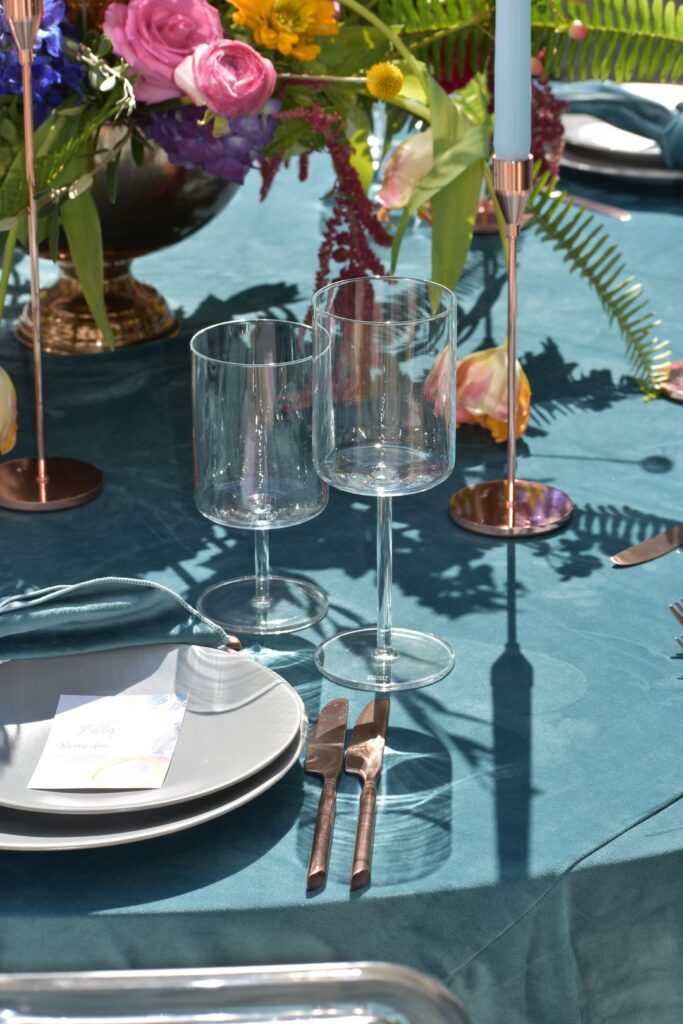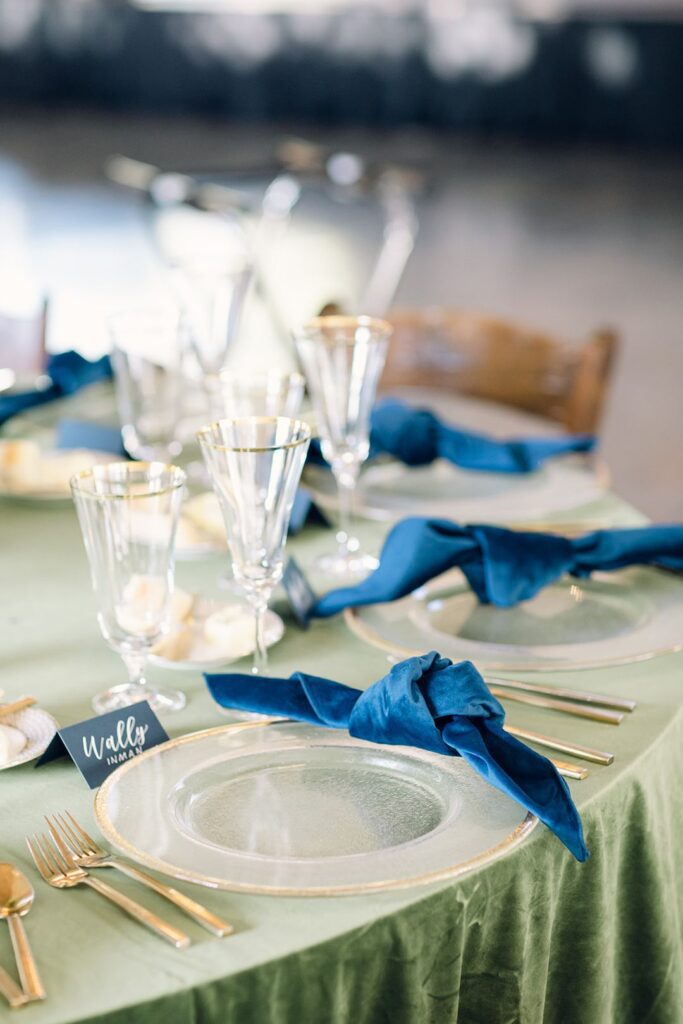 Elegant Social Areas
When hosting an event outdoors you tend to have more area to fill – in which case there is no reason not to have a cocktail lounge! Something simple yet elegant and cozy where guests can enjoy a drink and socialize. Take a look at our curated lounge packages, or mix and match our pieces to make your own. Our Bennett Leather Sofa and Adeline Dining Chairs are a fine pair, especially when complemented by a set of Chocolate Poufs and stylish accent tables. Meanwhile a rug will help frame the space!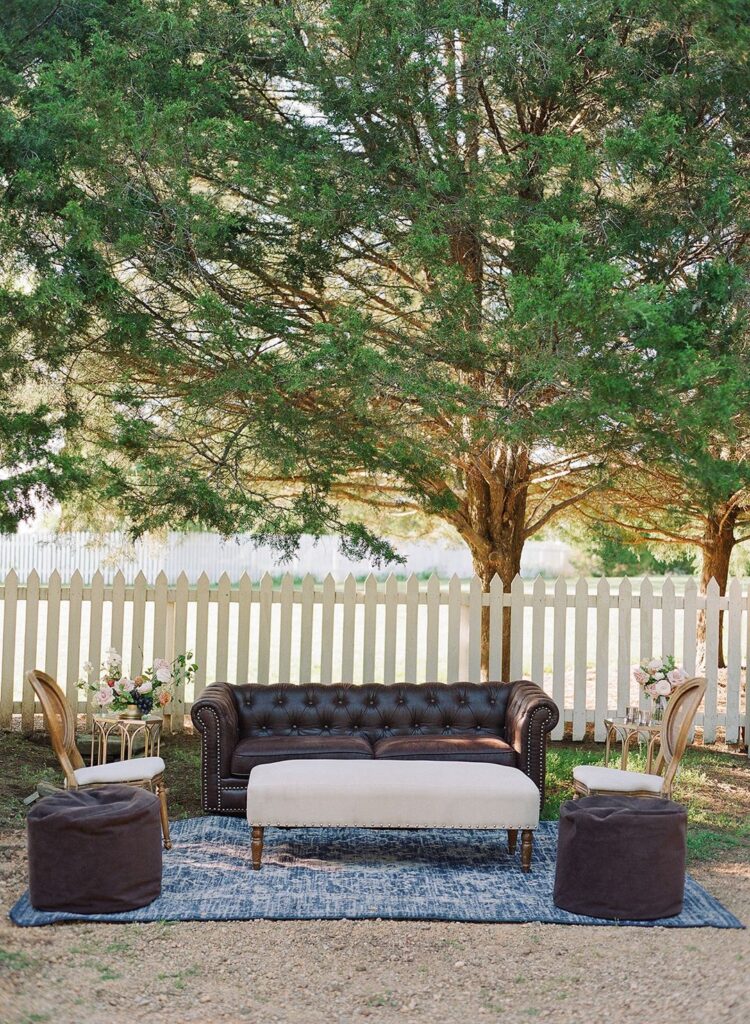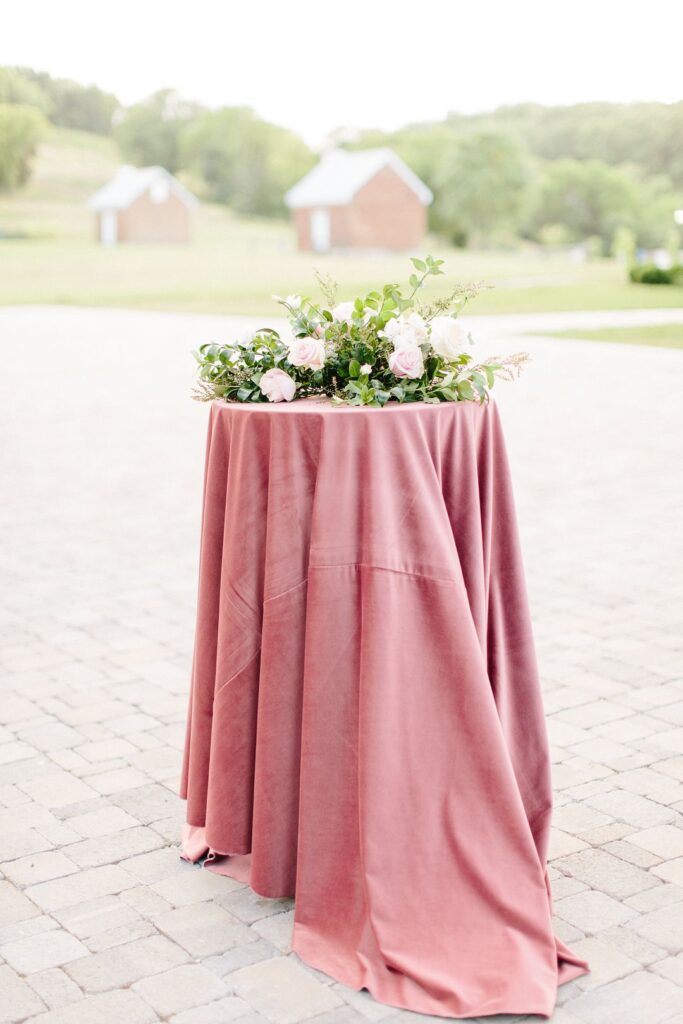 Interactive Decor
We adore taking lovely decor pieces and transforming them by creating interactive designs that deliver jaw drops from the guests and serve a purpose. In this case, our Boxwood Wall shows up to look gorgeous, with bright ice pops that also serve as a stylish backdrop for a photo-op. Alternatively, you might dish up some champagne to greet guests at the door!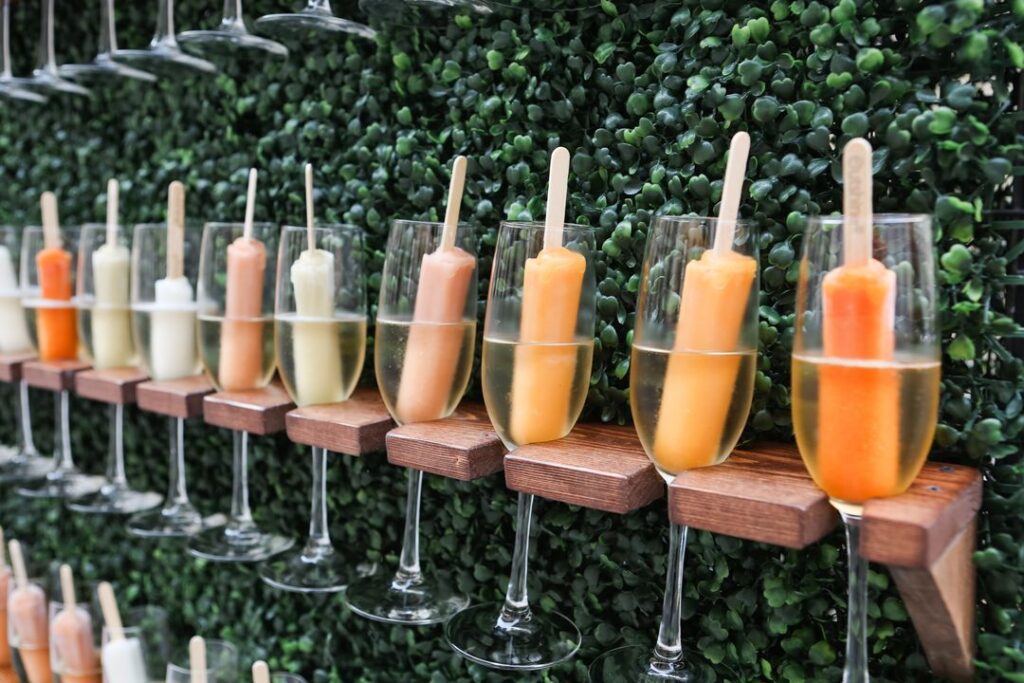 Love the idea of hosting a modern garden wedding? Send us a message at info@southerneventsonline.com and our team would be glad to help you plan a memorable outdoor event! Need a lounge for a cocktail hour? Be sure to check out our blog on Natural Luxe Lounge Furniture.
TAGS | Garden Wedding Inspiration, Garden Weddings Nashville, Modern Garden Wedding, Nashville Wedding Rentals, outdoor southern weddings, southern wedding style, southern weddings
FEATURED RENTALS | boxwood wall, champagne shelf, velvet linens, harlin dining chair, antique white bentwood chairs, cross-back chairs, lounge packages, chocolate poufs, area rug, bennett leather sofa,,
---
7

Apr

Southern Events Products, Trends and Inspiration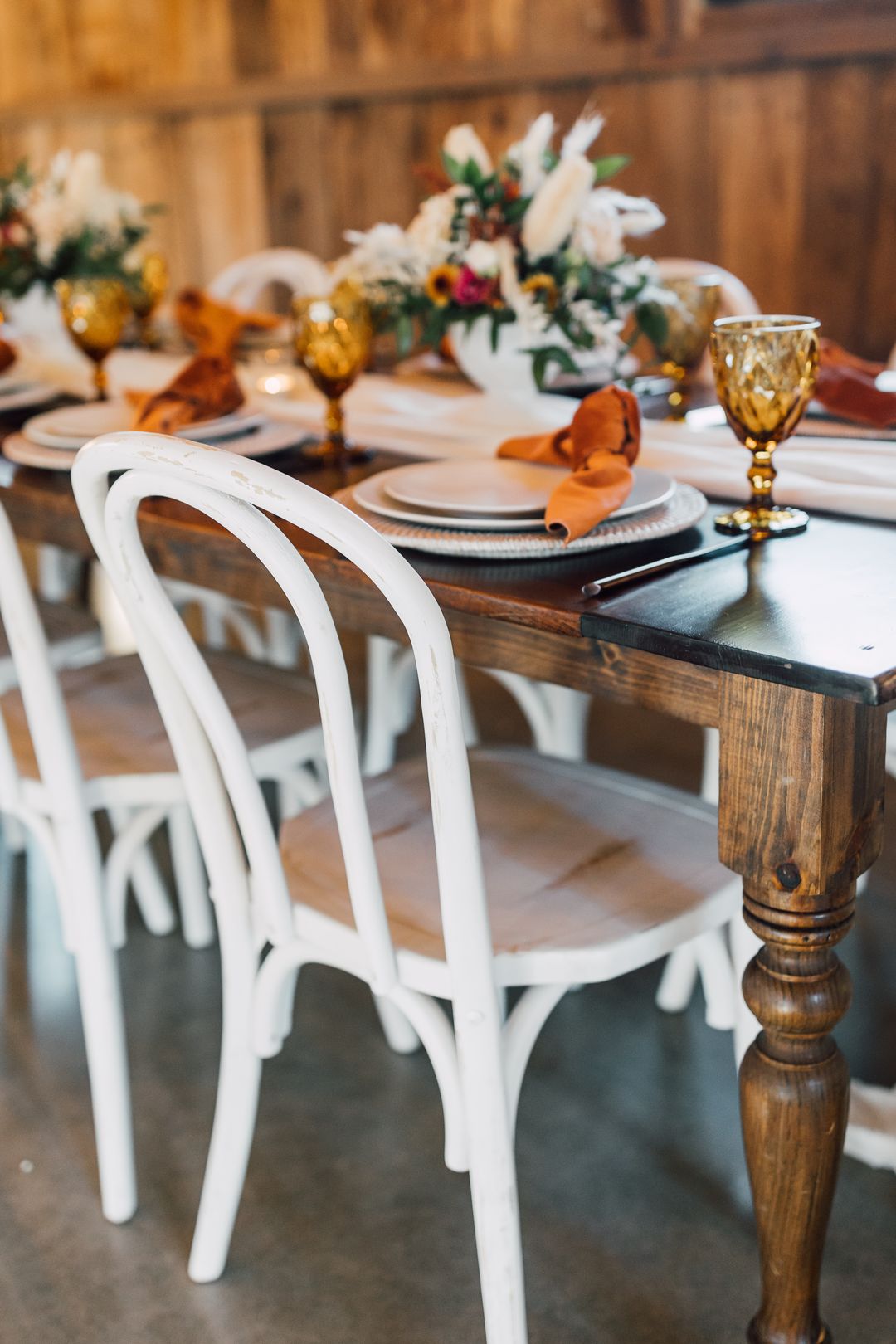 Don't underestimate the impact stylish seating can have on your event! An essential piece of furniture for your wedding ceremony and reception, the chairs you feature are an easy way to take your celebration to the next level. Today we're sharing our in stock wedding chair rentals, with unique styles for every type of event! Including classic folding and wood chairs, plus on-theme options!
Wood Chairs
Let's start with the most popular option, wood chairs for rent! These beautiful pieces tend to be desirable as they lend an elegant and timeless look to an event, thanks to the natural wood stains. They look especially beautiful in an outdoor setting, such as a backyard ceremony or tented reception. The go-to is are our Cross-Back Chairs with their sleek design. However, our Adeline and Harlin Dining Chairs are stunning statement pieces that offer a more high-end look. Just don't forget to add a cushion for extra comfort!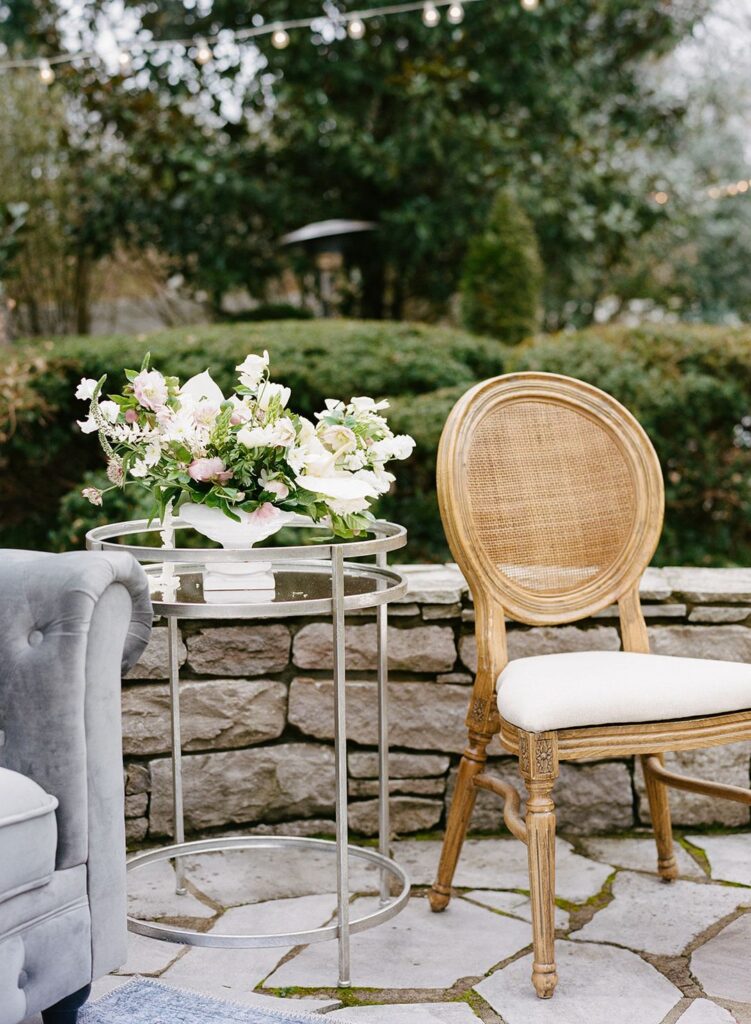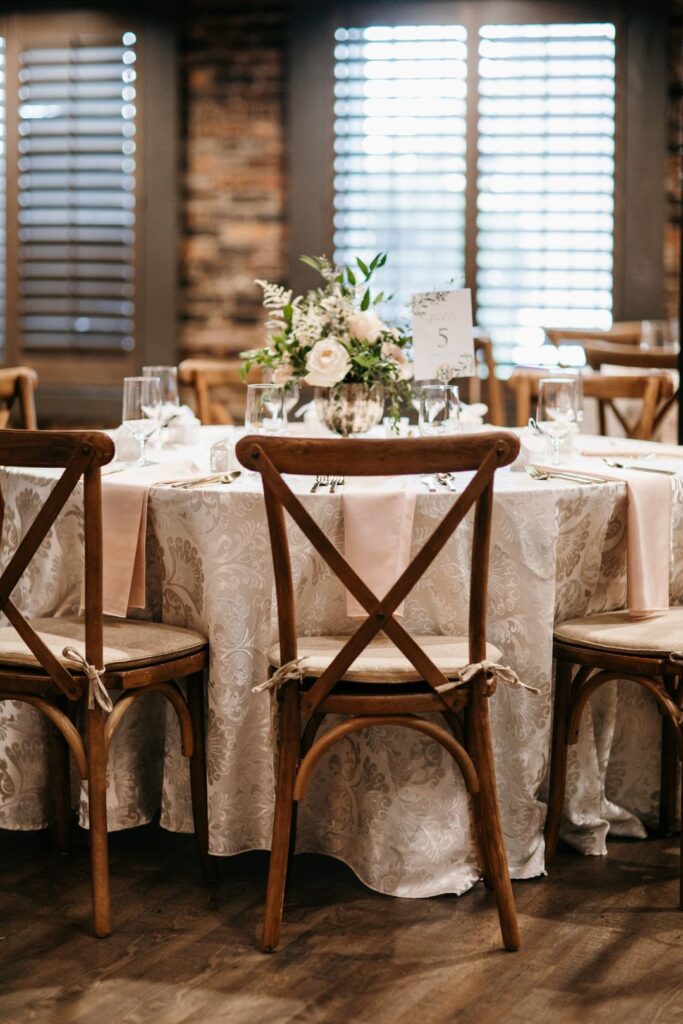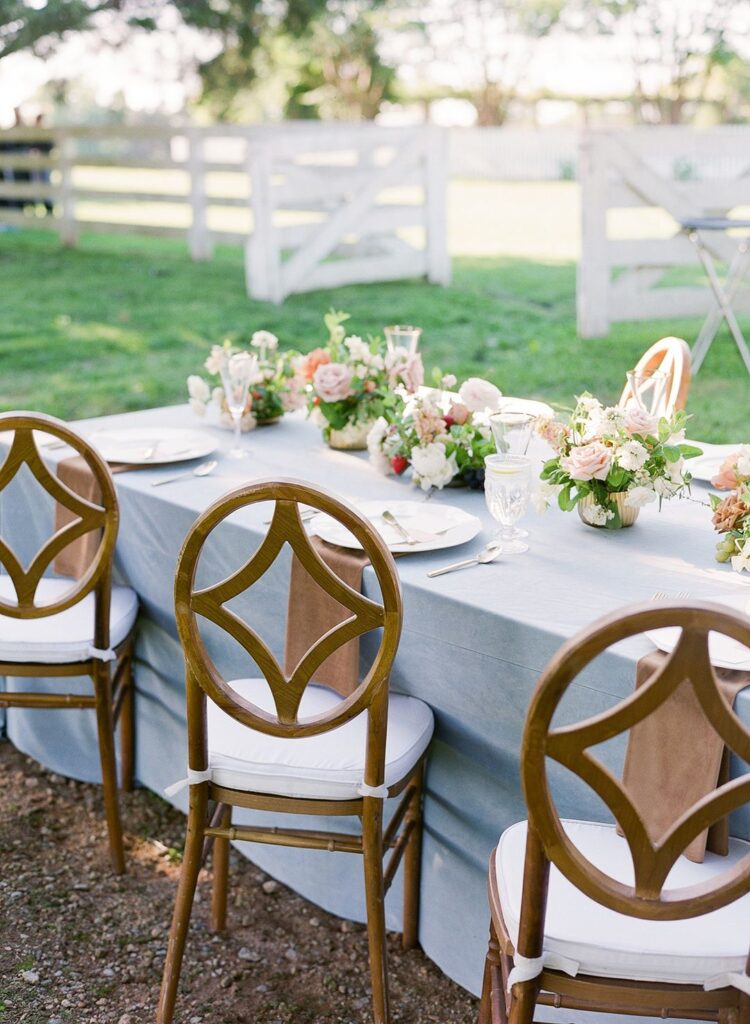 Classic Event Chairs
Sometimes keeping it classic is best, especially for those who prefer are hosting a casual event or have a more understated style. We offer a variety of folding chairs for rent, with our Fruitwood Folding Chairs being the most popular color. They are also available in a classic white and black. Or, for a more glam event style, opt for our Chiavari Chairs with their details backs – available in black, fruitwood, gold, and white!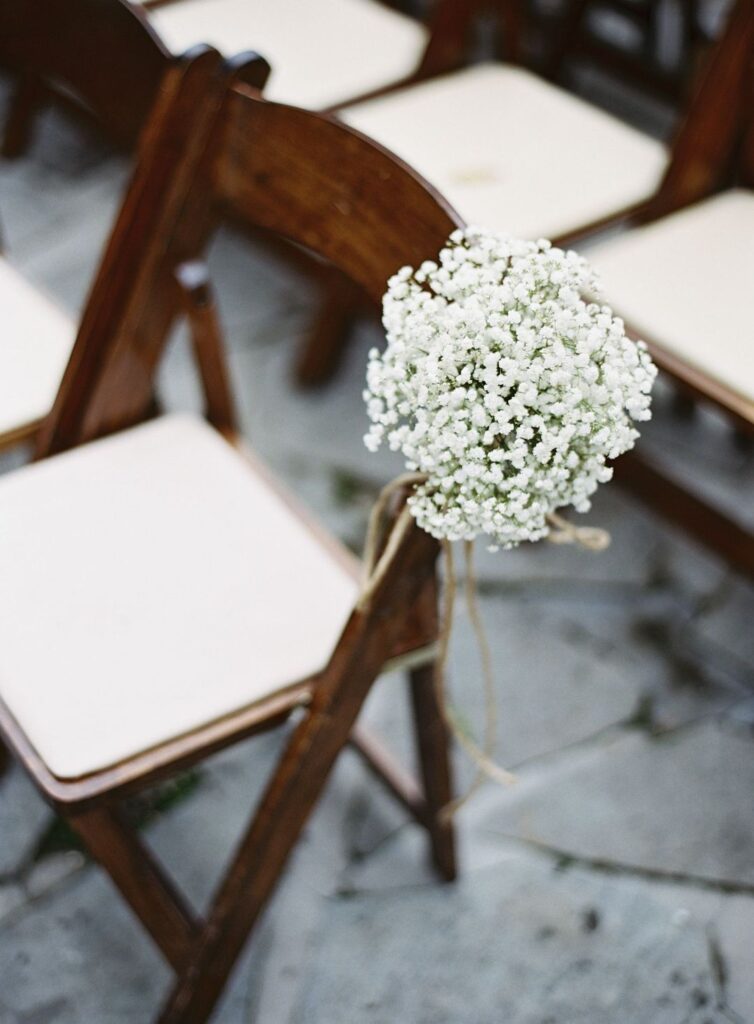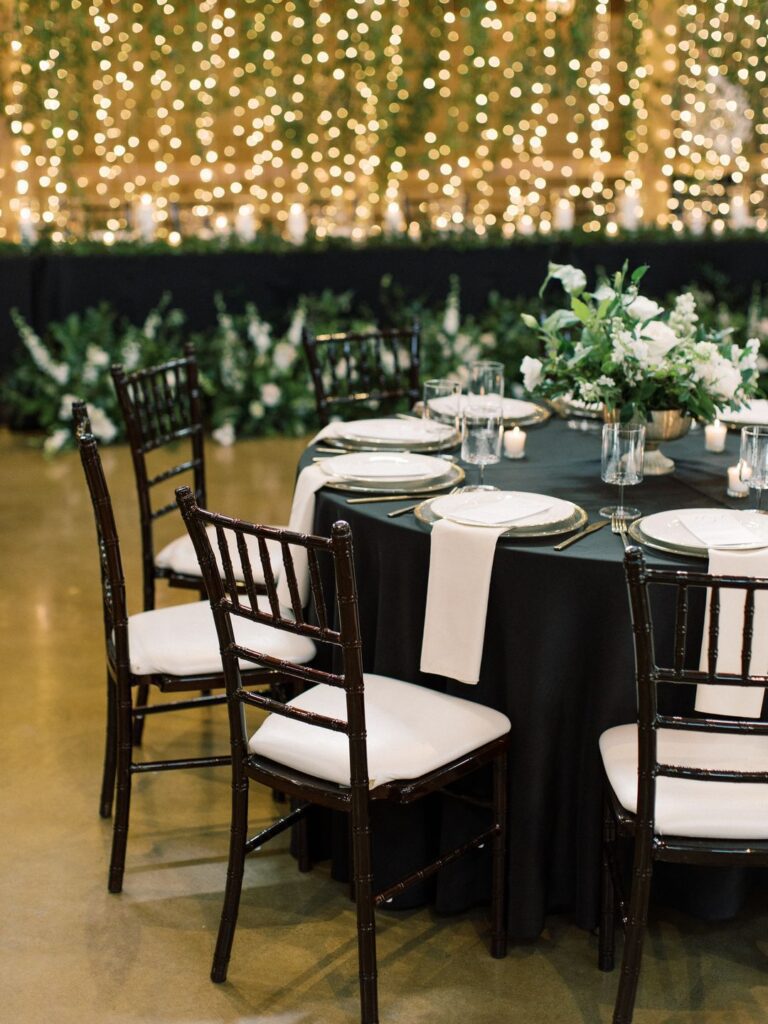 Contemporary Event Chairs
A more recent addition, and our current favorite, are our selection of acrylic event chairs. Made of polyacrylate, these clear chairs lend a fun contemporary vibe to an event. They're a beautiful choice for both ceremonies and receptions, and we carry a variety of unique designs. For a more subtle look, opt for our Acrylic Ghost Armless Chair – also available with arms. If you like a bit more detail, feature our elegant Acrylic Carrigan Side Chairs.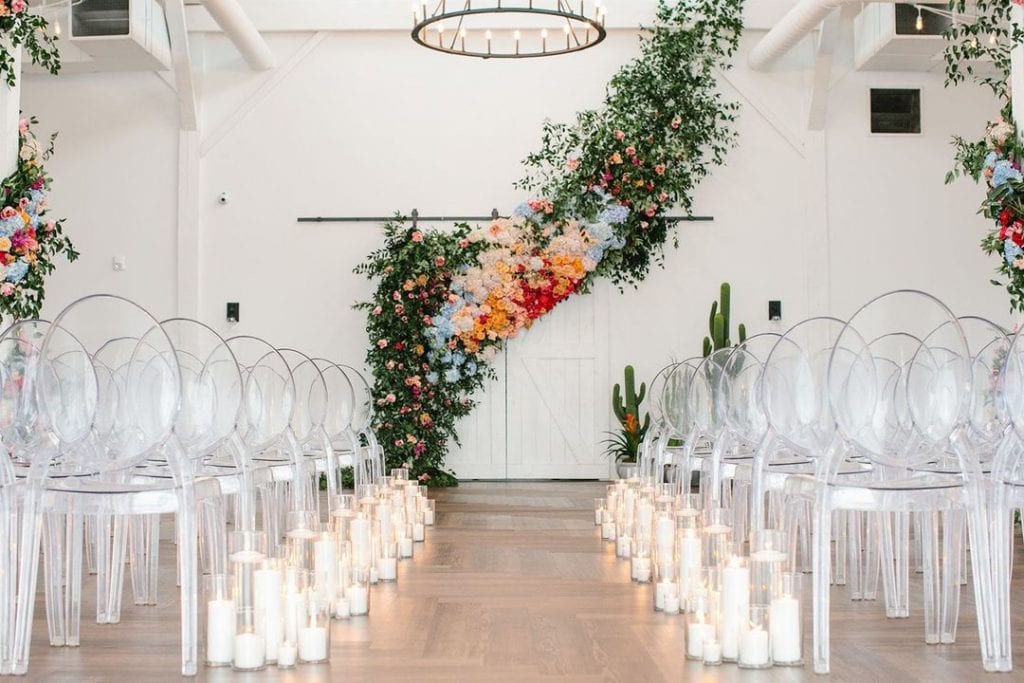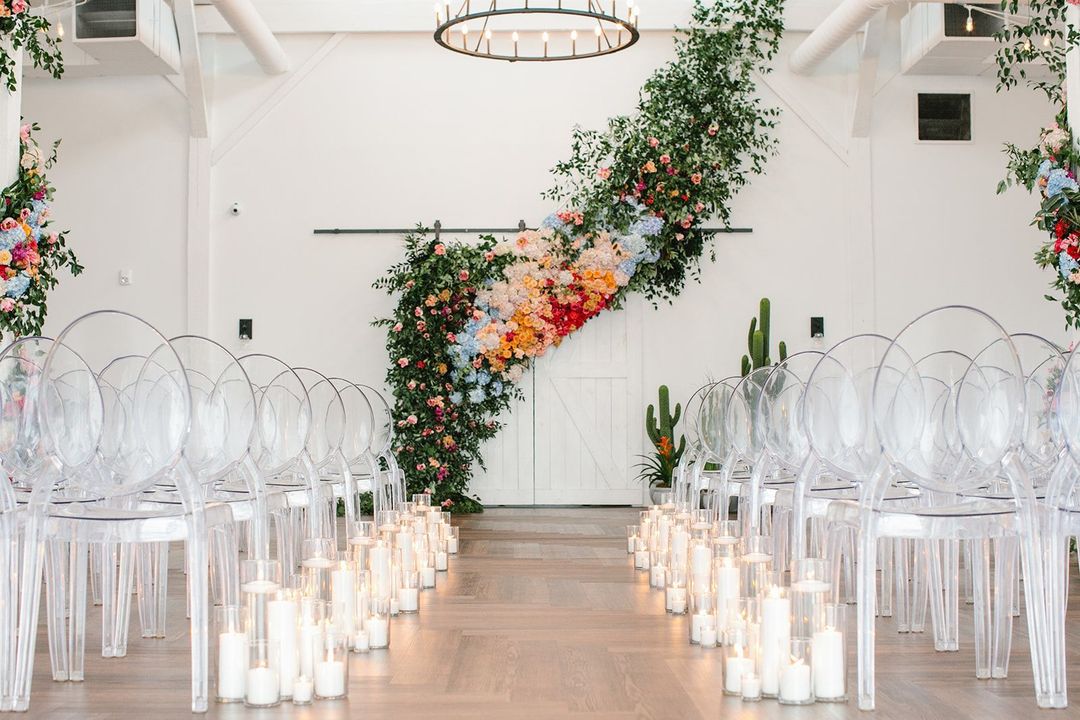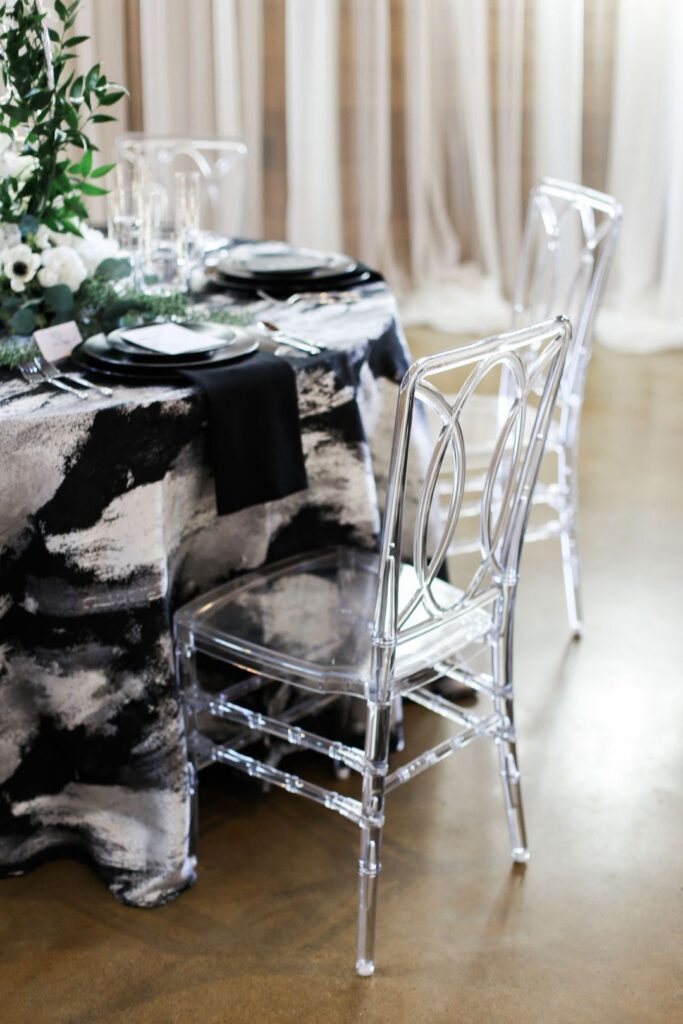 Vintage Event Chairs
In recent years there has been an uptick in an appreciation for vintage event chairs with their dainty details and classic designs. They are a gorgeous choice for rustic events, as well as modern events with a vintage twist. A prime example being our Antique White Bentwood Chairs! However, we also offer throne chairs for couples who want a more regal-inspired look. Both our Constance and Provence Cathedral Chairs are perfect for those who want to create a memorable sweetheart table.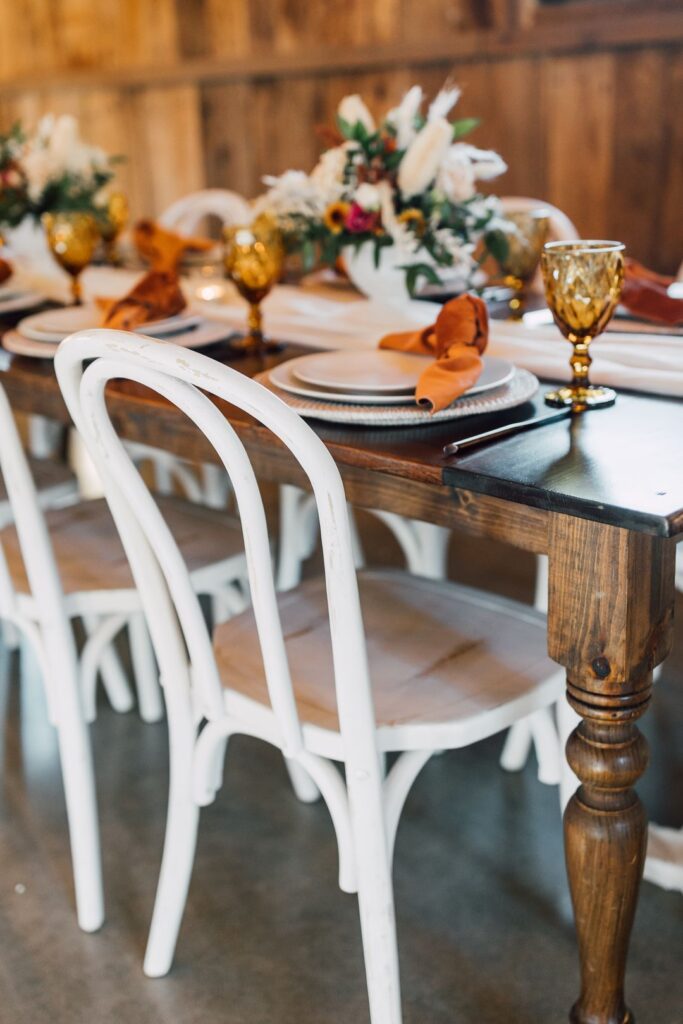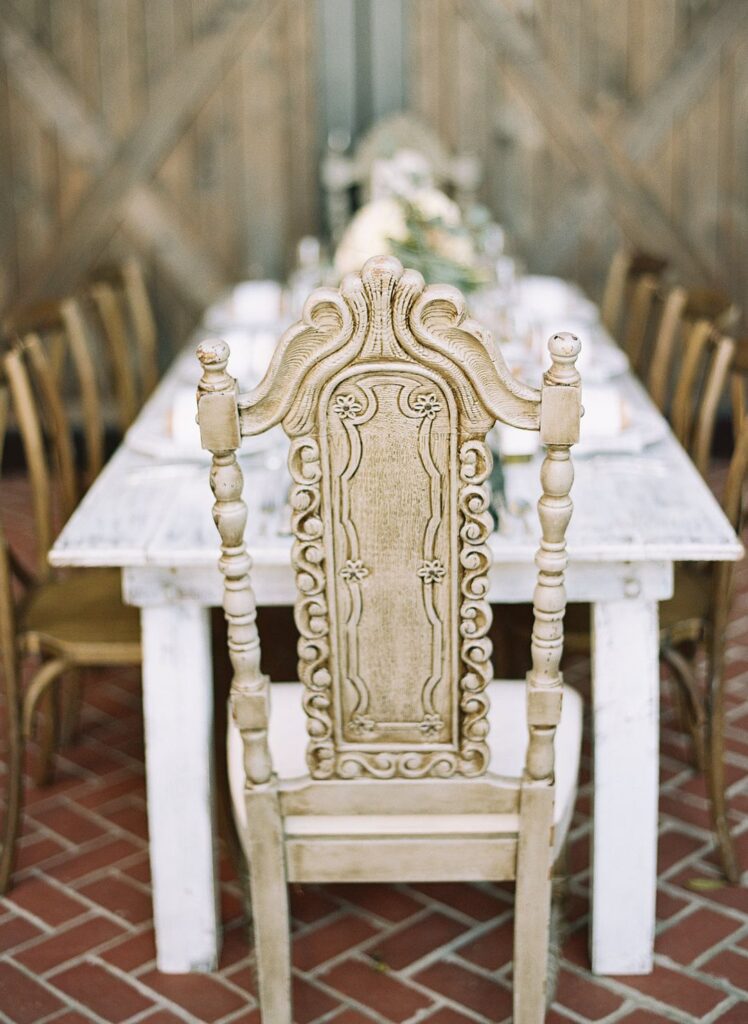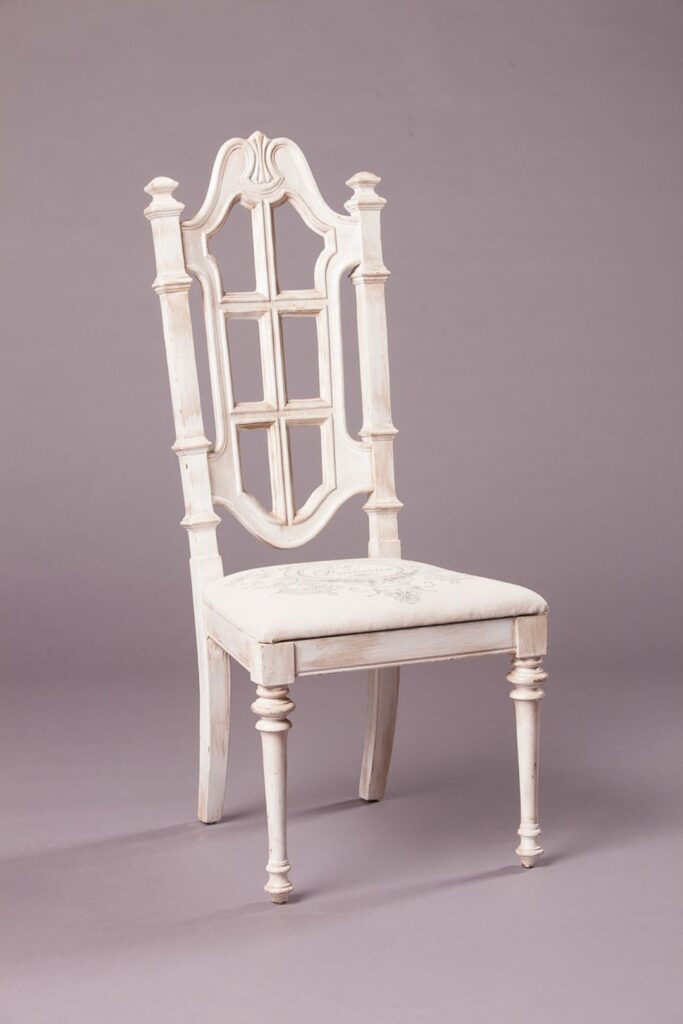 Love these elegant wedding chair rentals? Send our team a message at info@southerneventsonline.com to secure these rentals for your big day. Or for more event seating inspiration, take a look at our Natural Luxe Lounge Furniture.
TAGS | Cross-Back Chairs, Event Seating, Ghost Chairs, Nashville Wedding Rentals, Vintage Chairs, unique seating, wedding chairs, wedding style trends
FEATURED RENTALS | Constance Chair Provence, Cathedral Chair, Adeline Dining Chair, Cross Back Chair, Harlin Dining Chair, Chiavari Chair, Folding Chair, Acrylic Carrigan Side Chair, Acrylic Ghost Armless Chair, Antique White Bentwood Chair,
---
5

Aug

Southern Events Products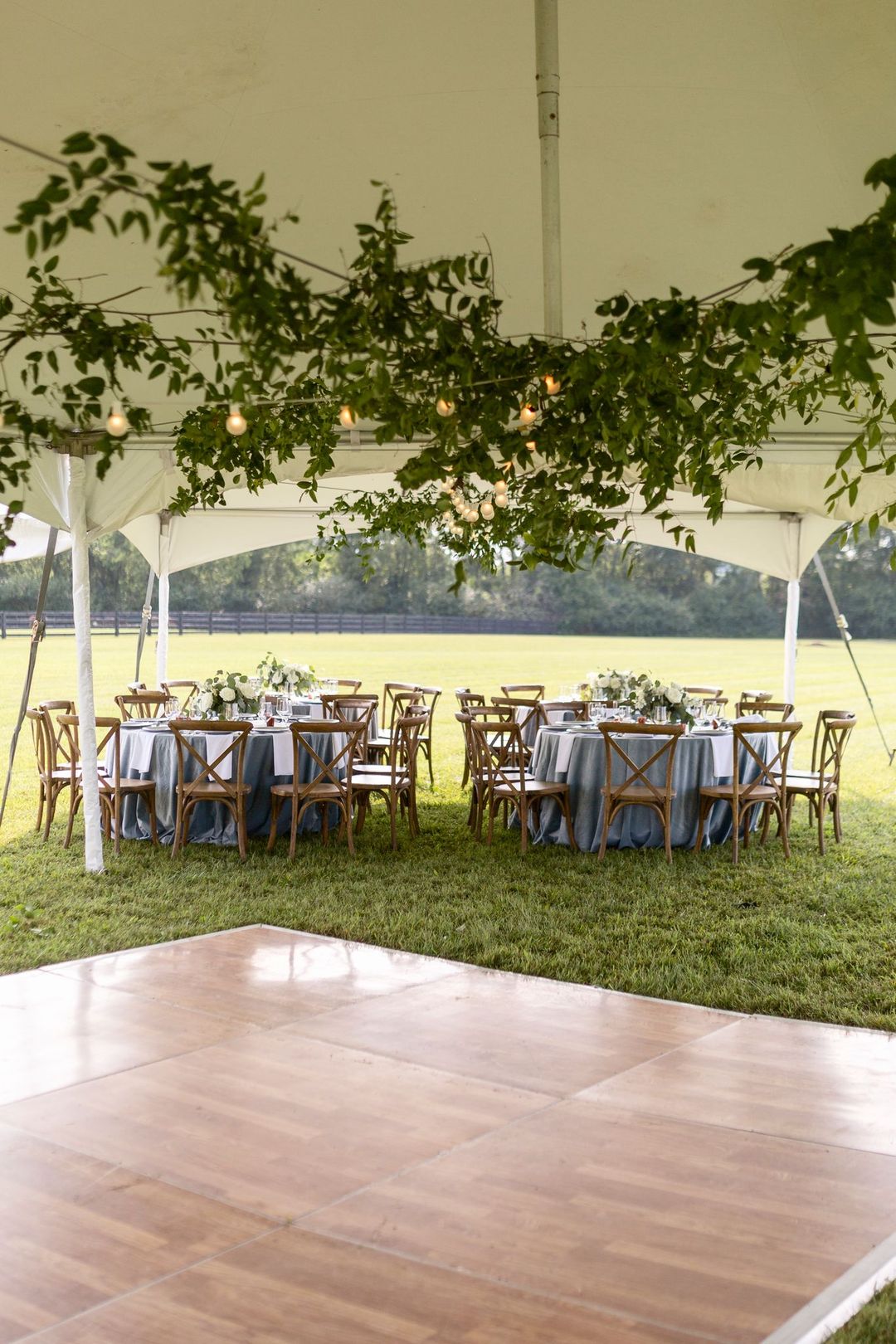 Say "Goodbye" to the days of worrying about the wear and tear of floors or grass at your event. And let us introduce you to durable and stylish event flooring! Our team understands that the floor is the foundation for your event, and will lend to a more cohesive and aesthetically pleasing look. Get inspired for your upcoming celebration in Nashville, when you check out our trendy yet functional in-stock flooring options.
Dura-Trac Flooring
Made for the event industry by special event flooring experts, Dura-Trac flooring is an easy-to-install flooring system designed to protect your existing space. The interlocking panel system is the perfect way to protect your space and your guests, making it ideal for festivals, concerts, tented parties, and more! It can be installed over a variety of surfaces, including those that are uneven. Best of all, it can be customized by placing premium vinyl flooring or carpeting over the top. To learn more about our Dura-Trac flooring, download our PDF.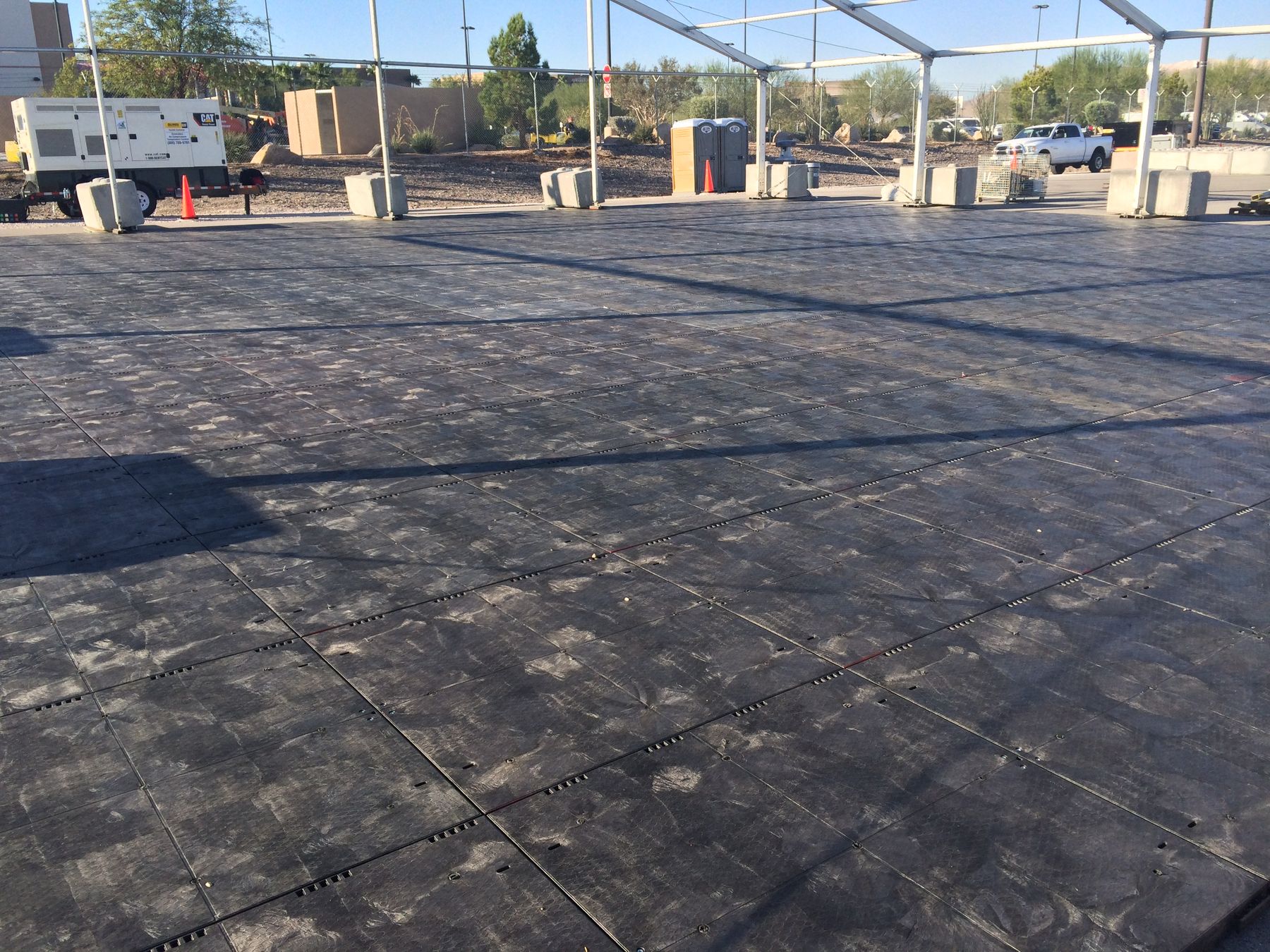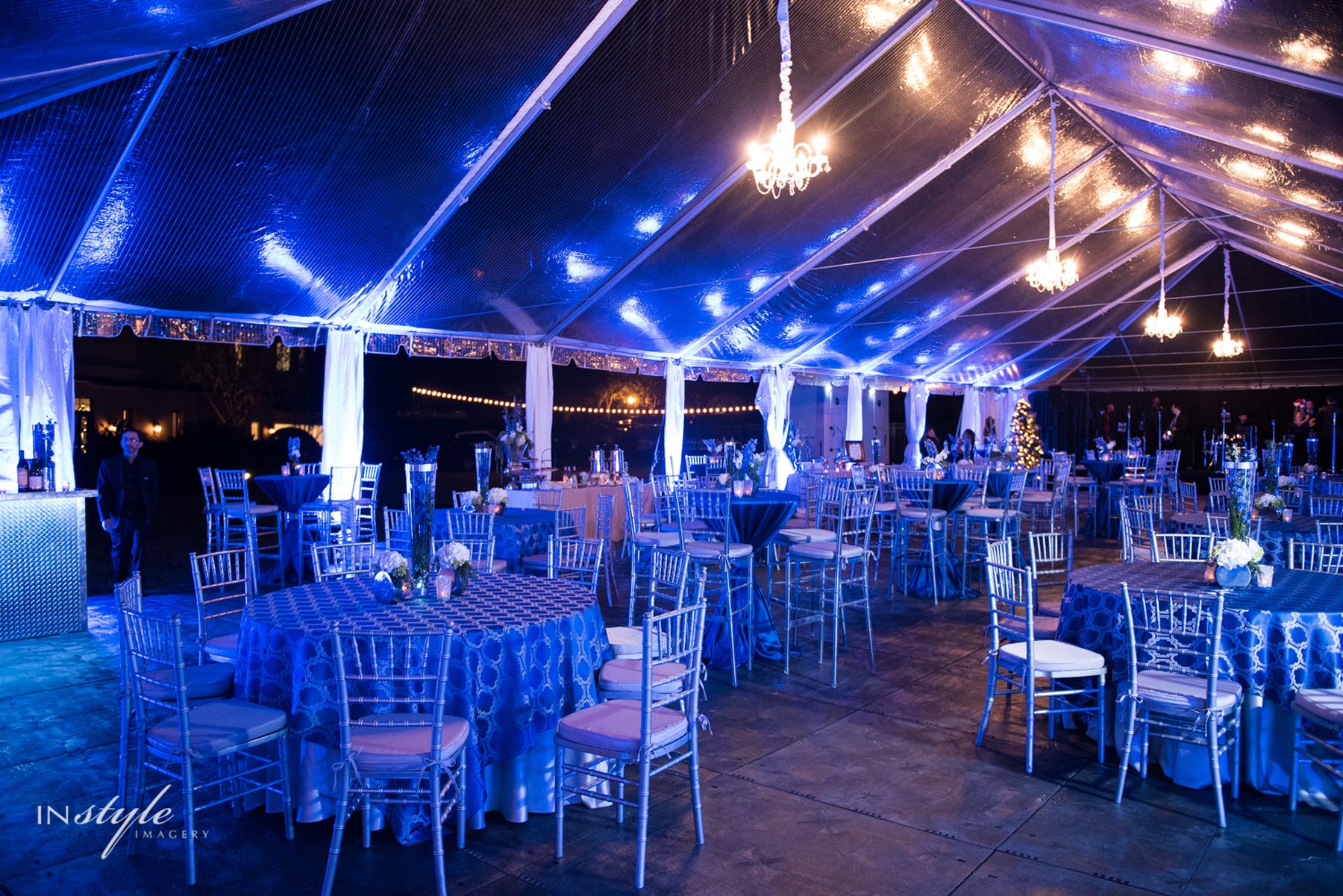 Artificial Grass
Why would you use artificial grass at your event? It's a unique option that will lend a fun touch of texture to your event. For an indoor event, it will also lend traction, making it perfect for placing on top of existing tile or vinyl flooring. For warm-weather outdoor events, it will actually offer a more natural and welcoming look. Consider renting it for your next tailgating party, trade-show exhibit, or church picnic!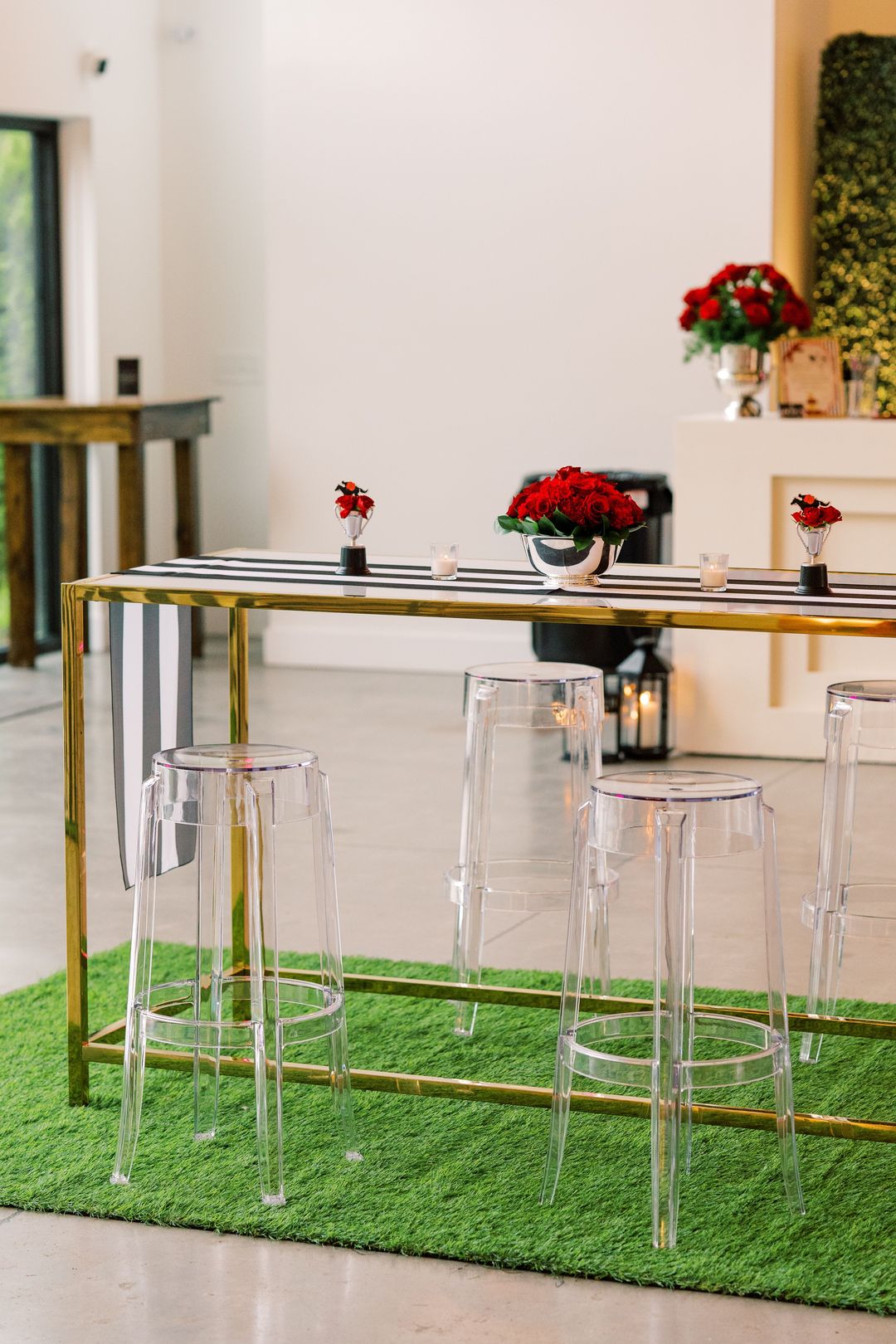 Photo by Garrett Richardson
Dance Floors
Some flooring is limited to certain areas of your event space, like dance floors. They act as a focal point within an event space, in addition to being a designated area for entertainment. We offer a selection of dance floors, for a variety of different event types and themes. Although our classic White and Black dance floor is popular, our Plank Wood dance floor will lend a modern and timeless look to your event.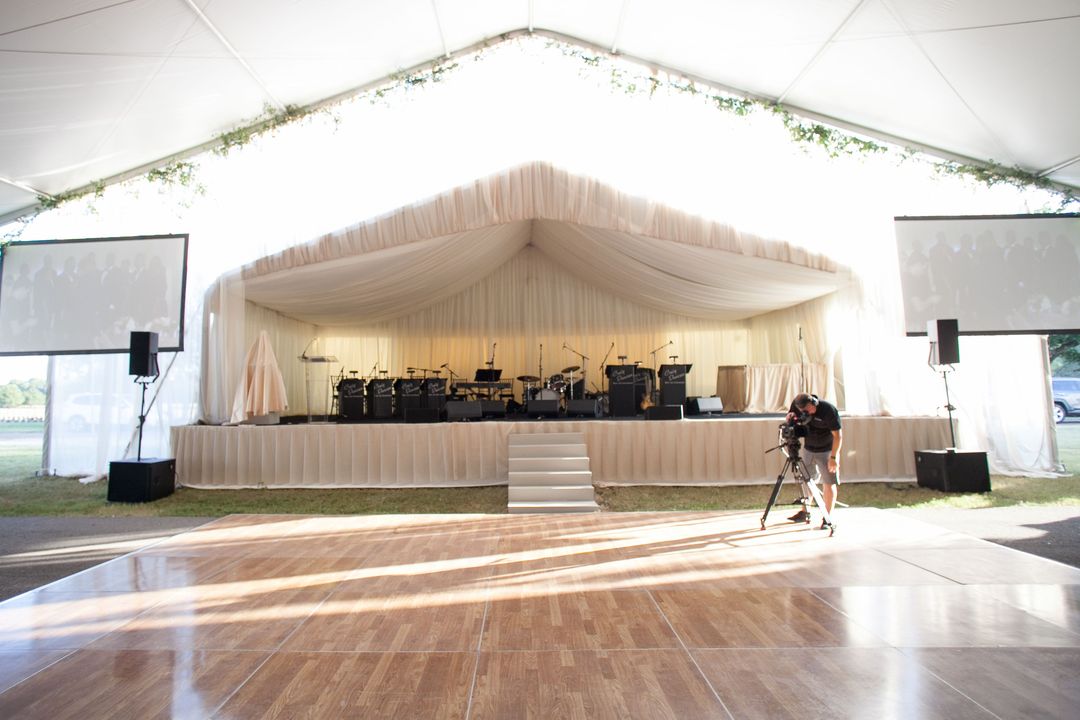 Photo by Phindy Studios
If you've been looking for event rentals that both functional and stylish, we're your people! Send us an email at info@southerneventsonline.com for help choosing the best event flooring.
TAGS | Nashville Event Rentals, Nashville Wedding Rentals, Nashville party rentals, Southern Events, Unique Nashville Event Rentals, dura flooring, southern weddings
FEATURED RENTALS | Dura-Trac Flooring, black and white dance floor, plank wood dance floor, artificial grass,
---
13

May

On Trend, Southern Events Products, Trends and Inspiration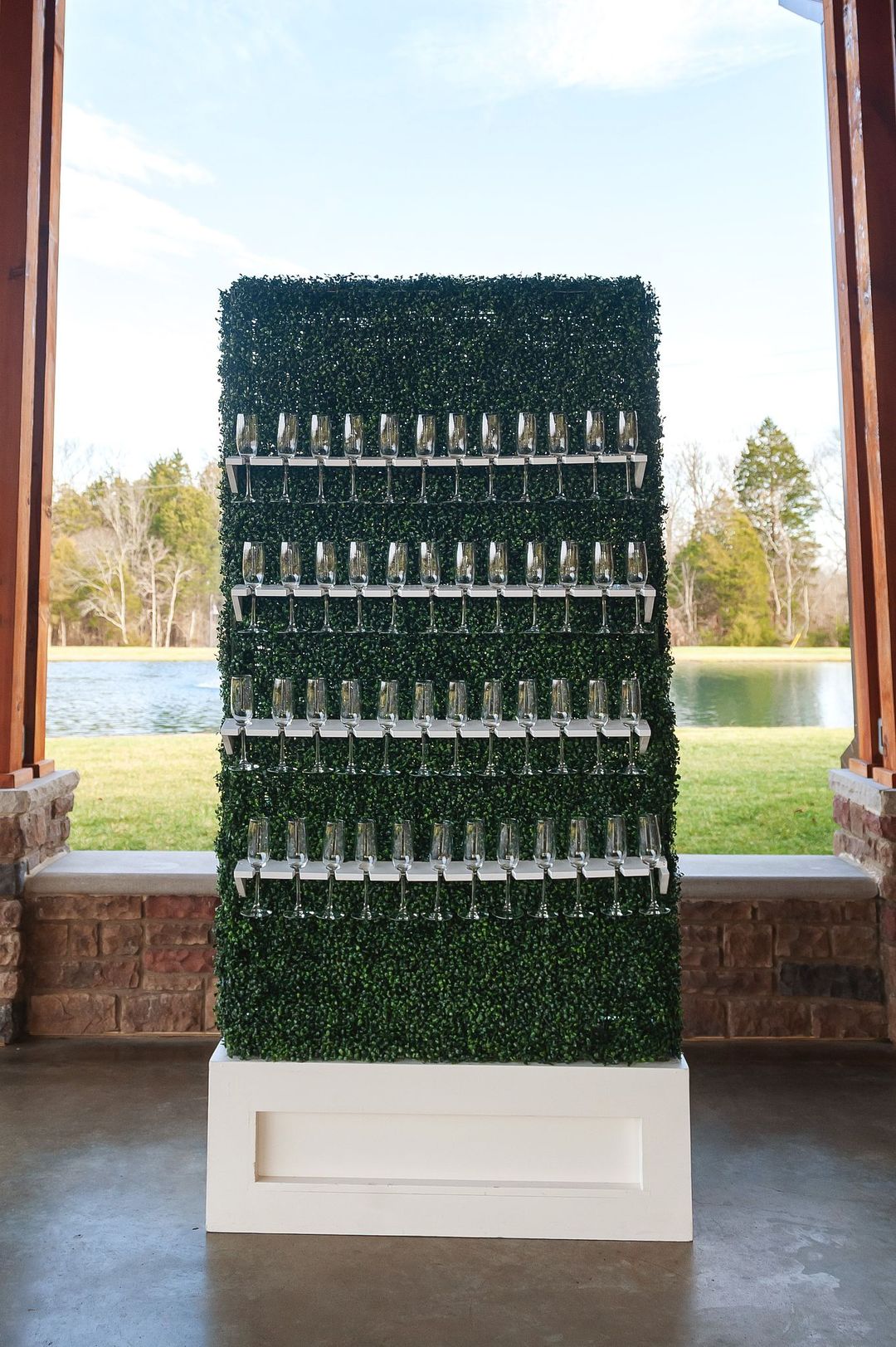 At Southern Events, we love a multi-functional rental! Our boxwood walls are available with 3 distinct bases (gold, white and ivory) and offer endless ways they can be personalized at your event. From serving champagne, snapping pics or elevating your escort cards, see how to customize this rental for your next Nashville event.
Boxwood Champagne Walls
Cocktails are a highly anticipated treat at any event, but why not take your service to the next level with an interactive champagne wall? Creative, interactive, gorgeous, and full of bubbly – we're definitely here for it! Guests will be absolutely delighted as they walk by this fun drink station, which can also double as a photo op! For the setup below, our Boxwood Wall was adorned with lush florals by the talented team at Enchanted Florist, our Fruitwood Shelves and Cybil Flutes.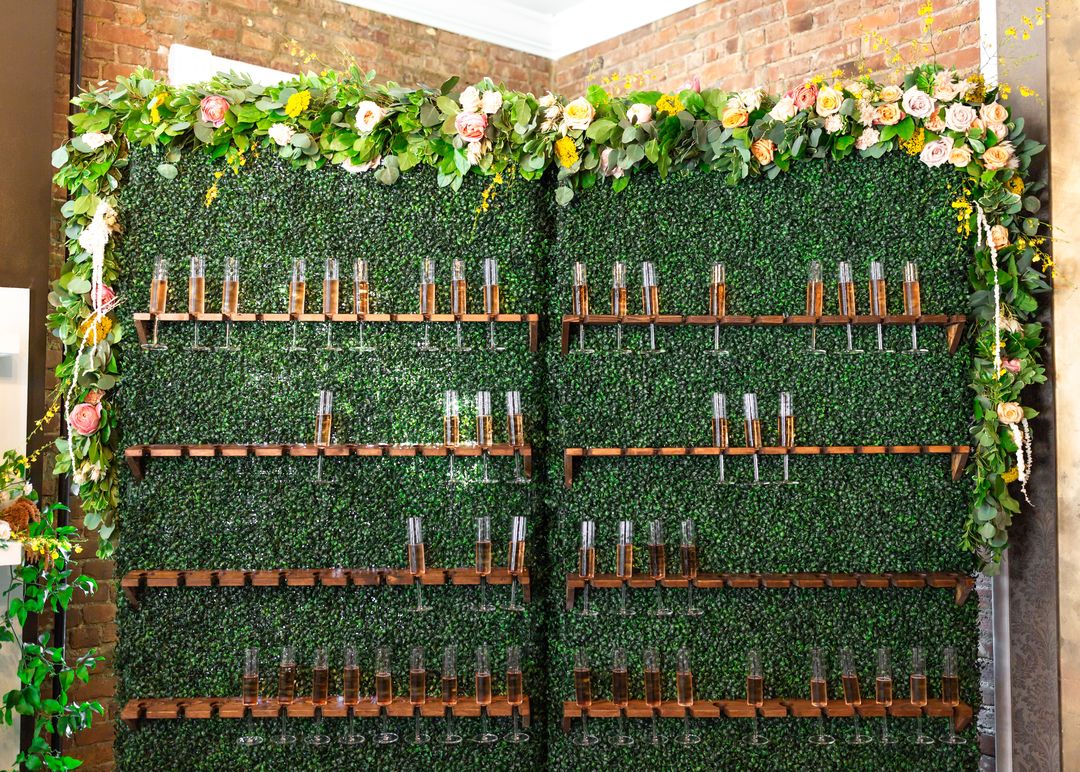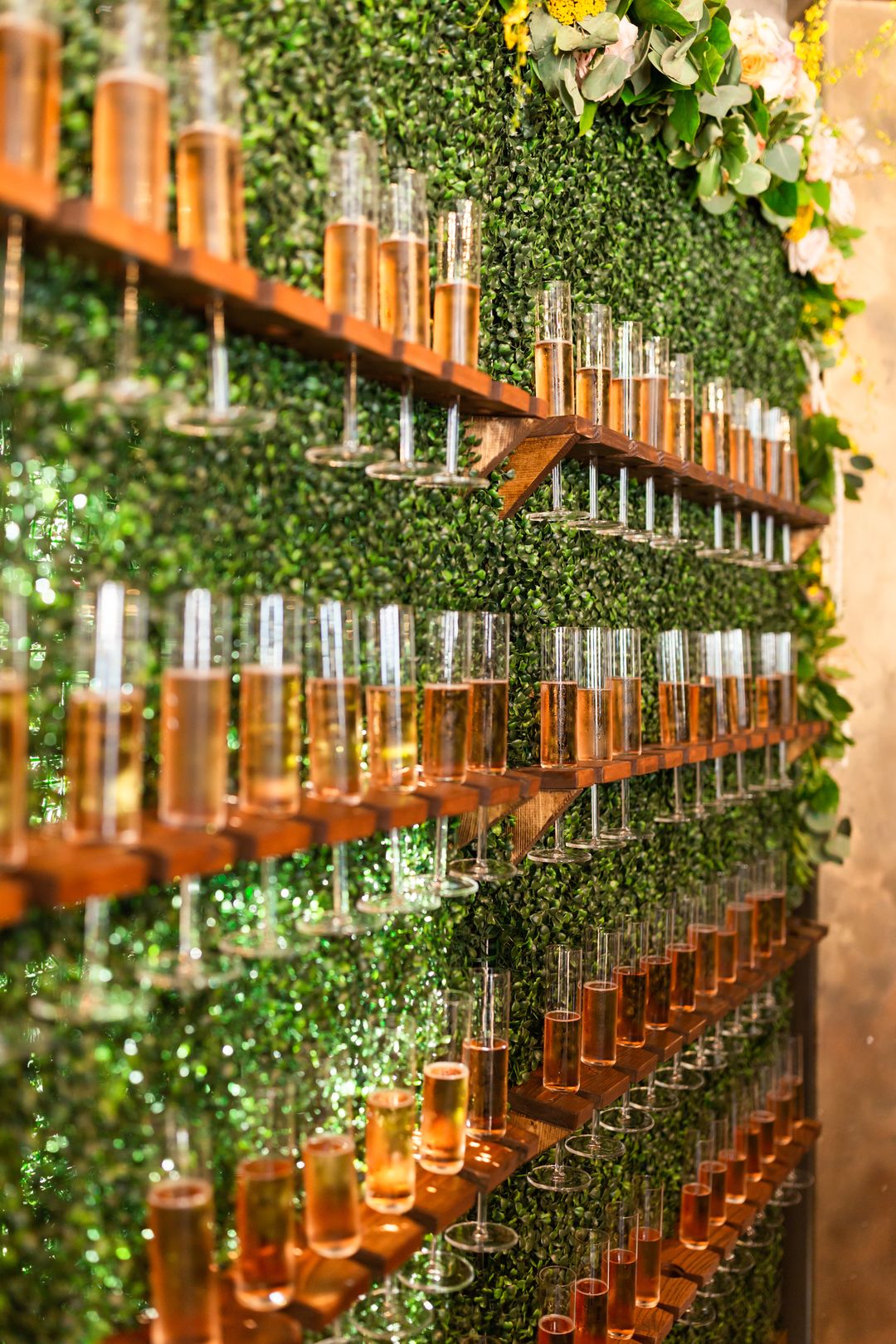 Photos via Honeysuckle & Wine.
Boxwood Wall Photo Backdrops
Entirely customizable, our boxwood walls are a must-have for a trendy photo station. Easily create a photo backdrop that complements your event, whether it's for a wedding or another social gathering. The options are truly endless, as long as you have the creativity and gusto! As shown below, a bright neon sign is always a nostalgic decoration. However, it would also look lovely with a monogram or pictures of the newlyweds. We also love it with a colorful balloon arch for a shower or birthday party.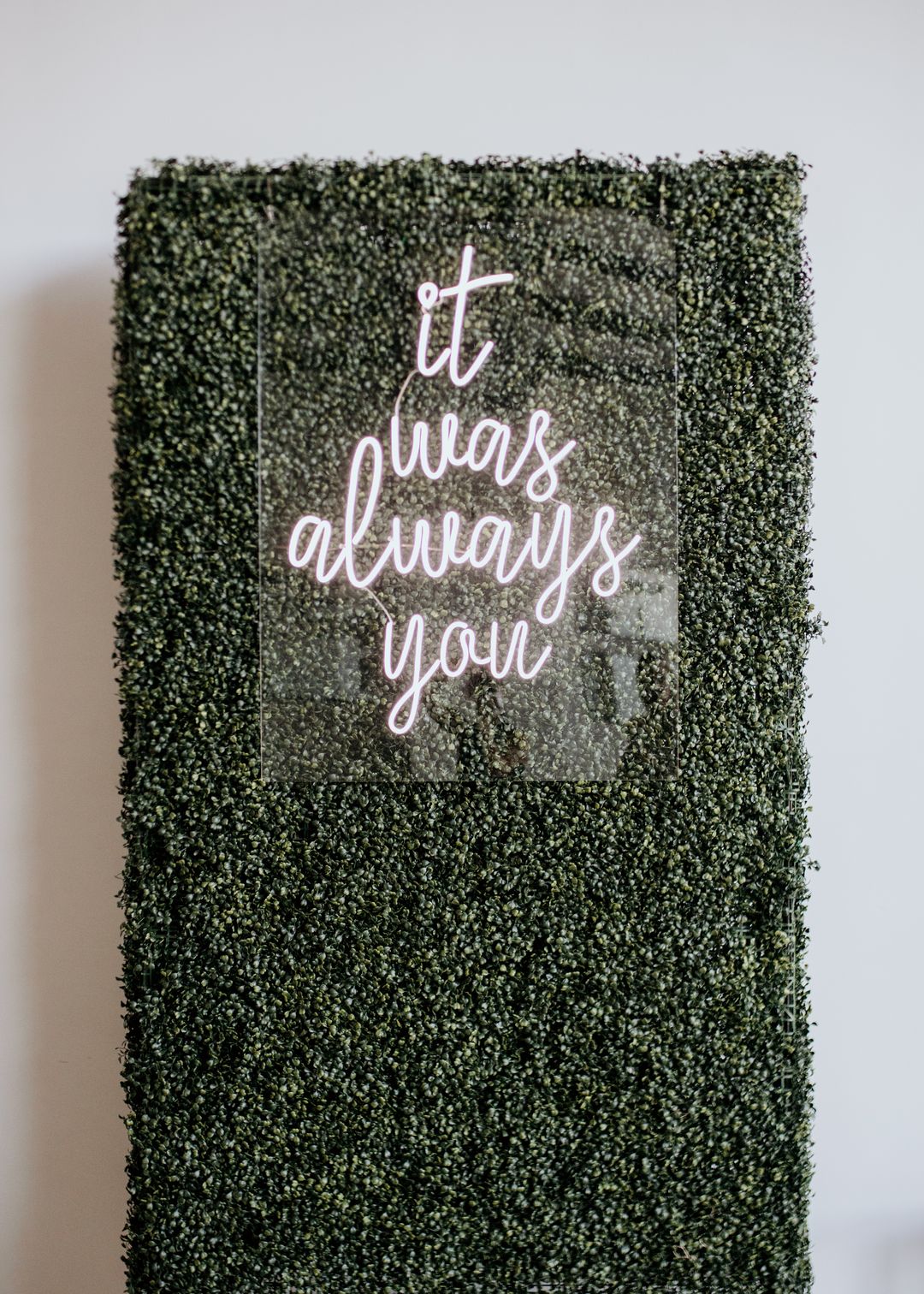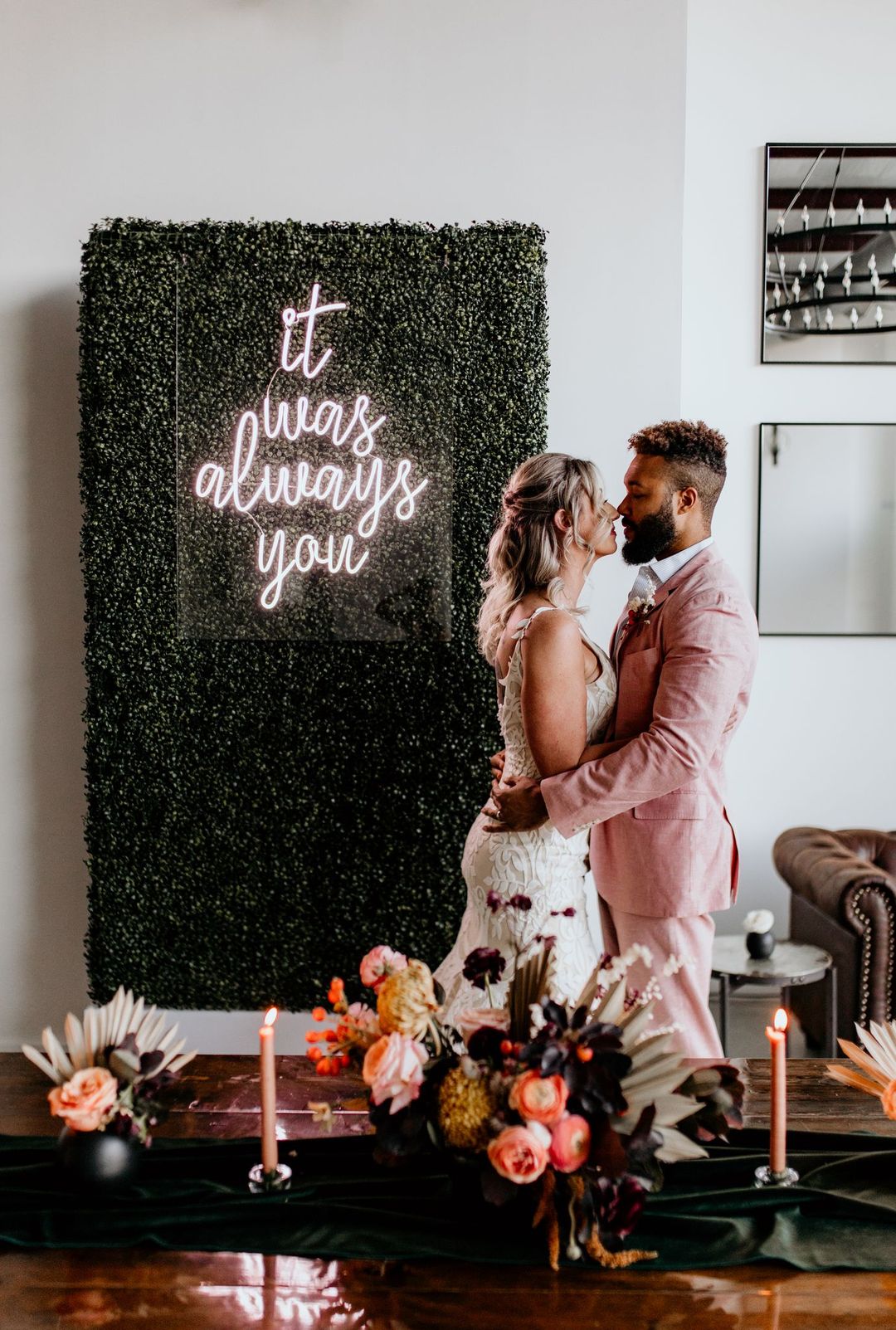 Photo by Megan Stark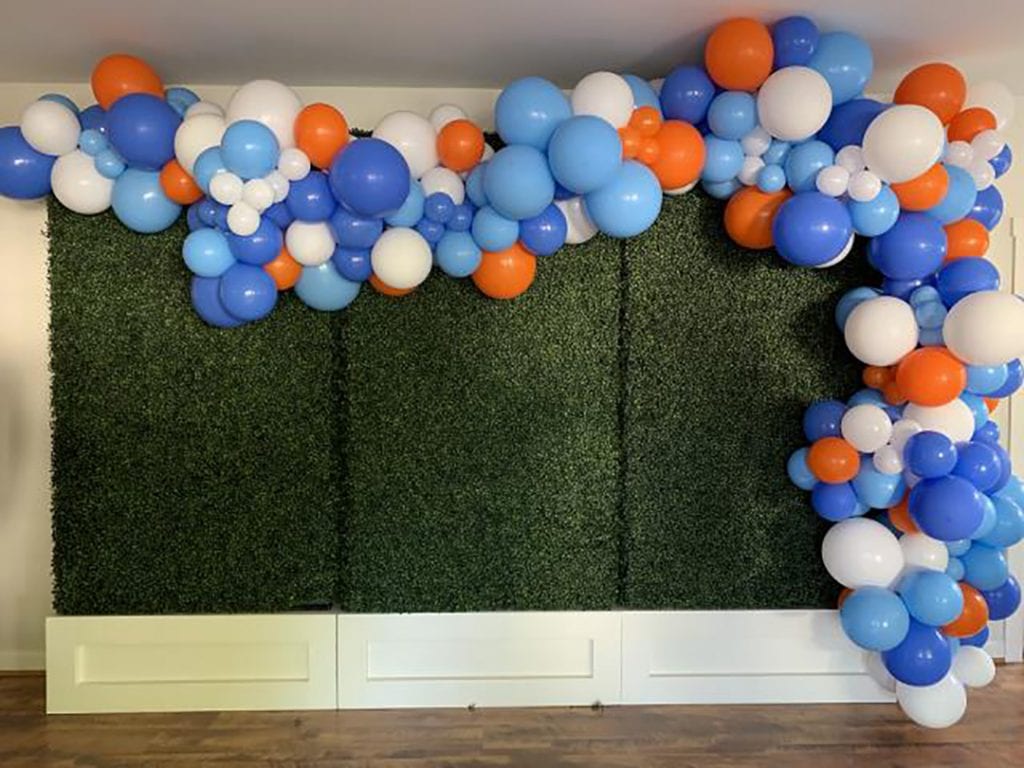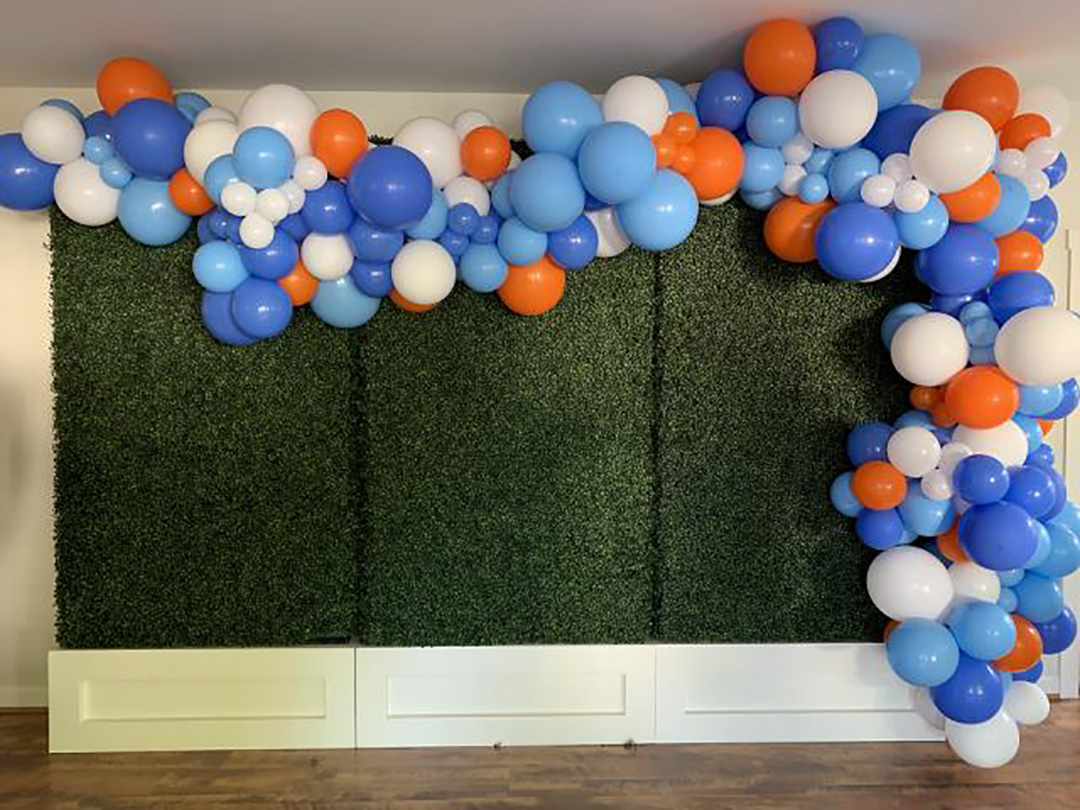 Corporate Event Backdrops and Entrances
For large corporate events, our boxwood walls are an effective way to keep your business at the forefront of guest's minds. As shown, it creates a beautiful backdrop for galas, fundraisers, or celebrations, especially those where there will be a stage or grand entrance. Show off your corporate logo in an upscale way, fitting of the elegant decor. And, if you have sponsors, feature their logos as well.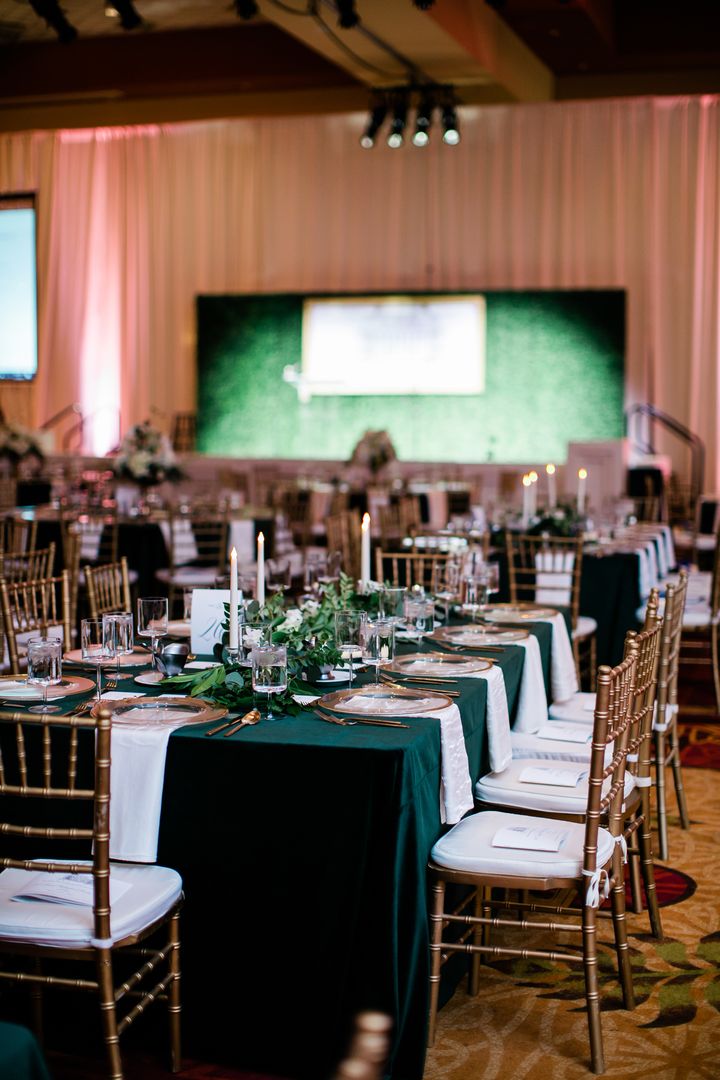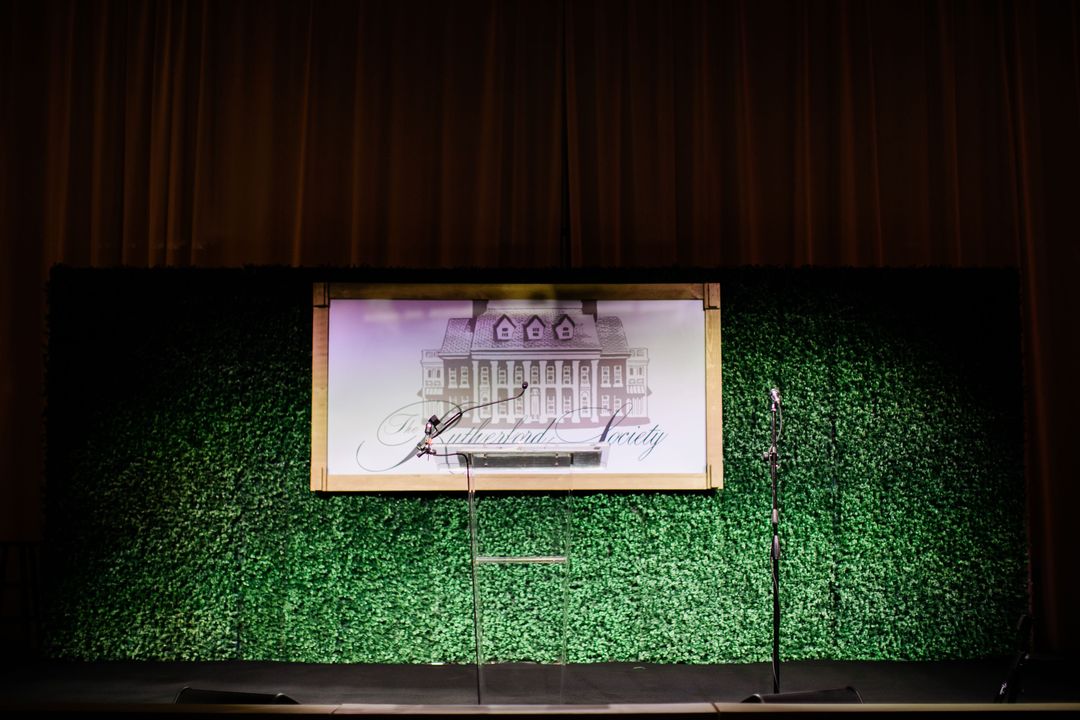 Photos by Jen & Chris Creed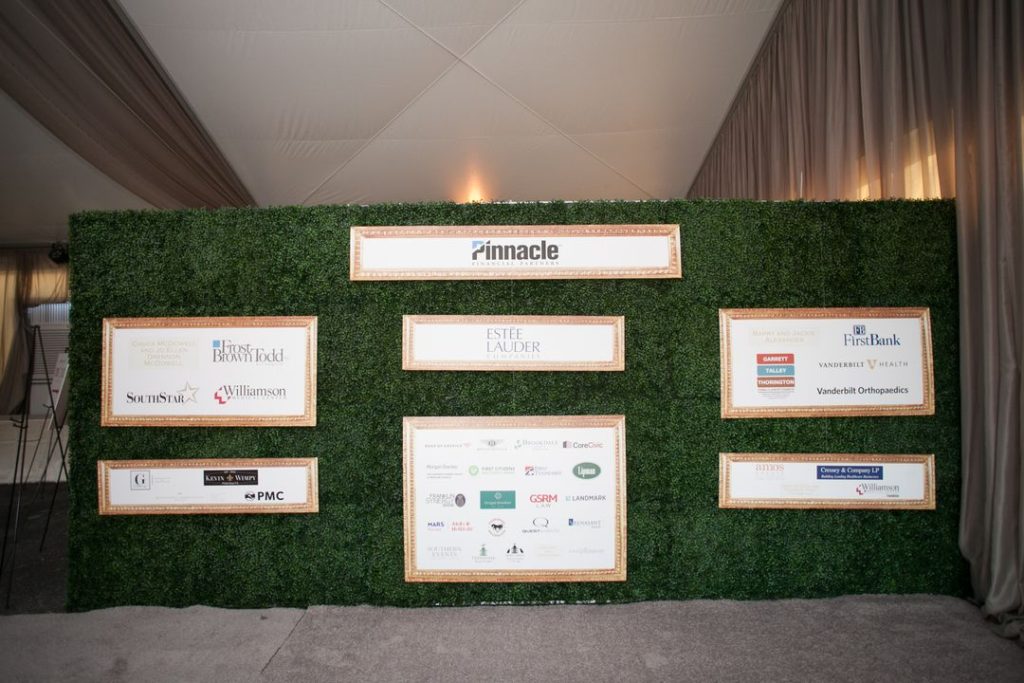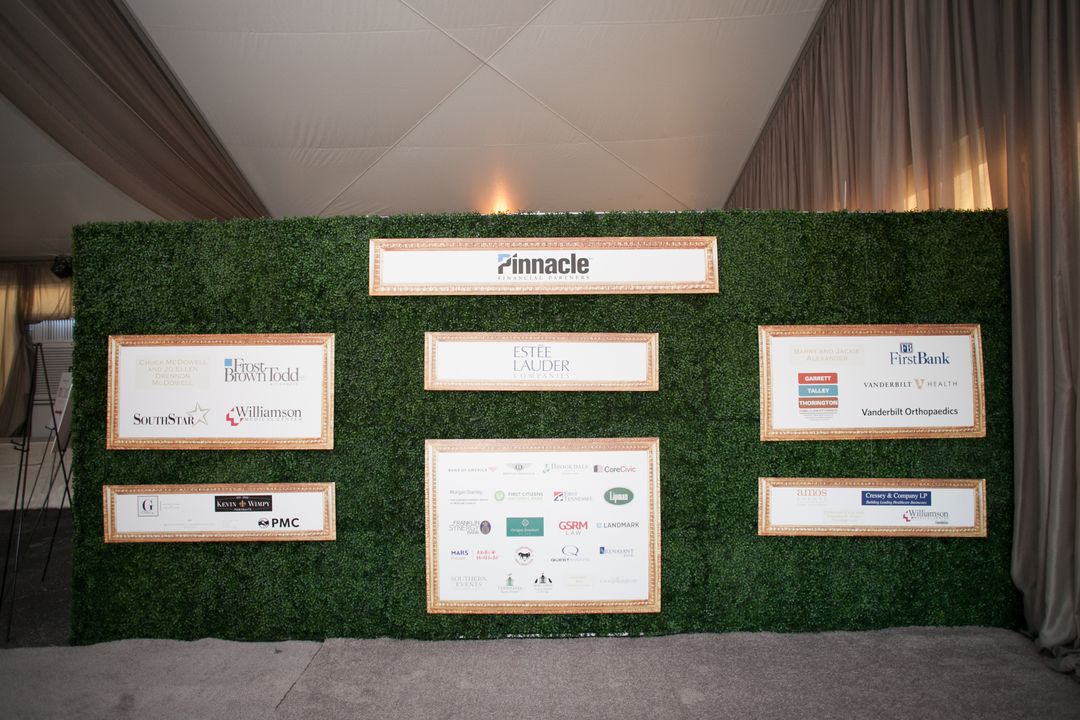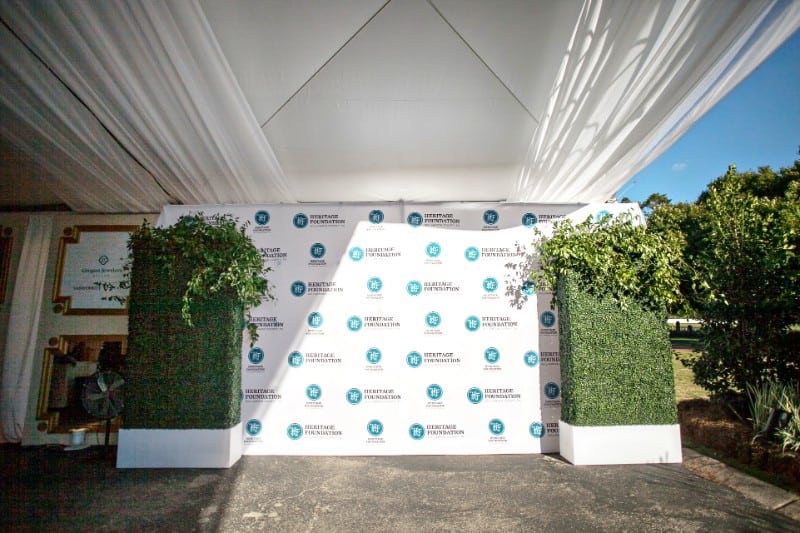 Boxwood Wall Seating Chart
At a wedding, you want to leave a lasting impression! Aside from a champagne wall, one easy method is with an interactive seating chart. Popular in recent years, a boxwood wall seating chart is a fun way to greet guests and guide them to their respective tables. You can simply list their names, like on a mirror or acrylic sign. Or you can use wedding favors that double as escort cards, like these beautiful horseshoe ornaments.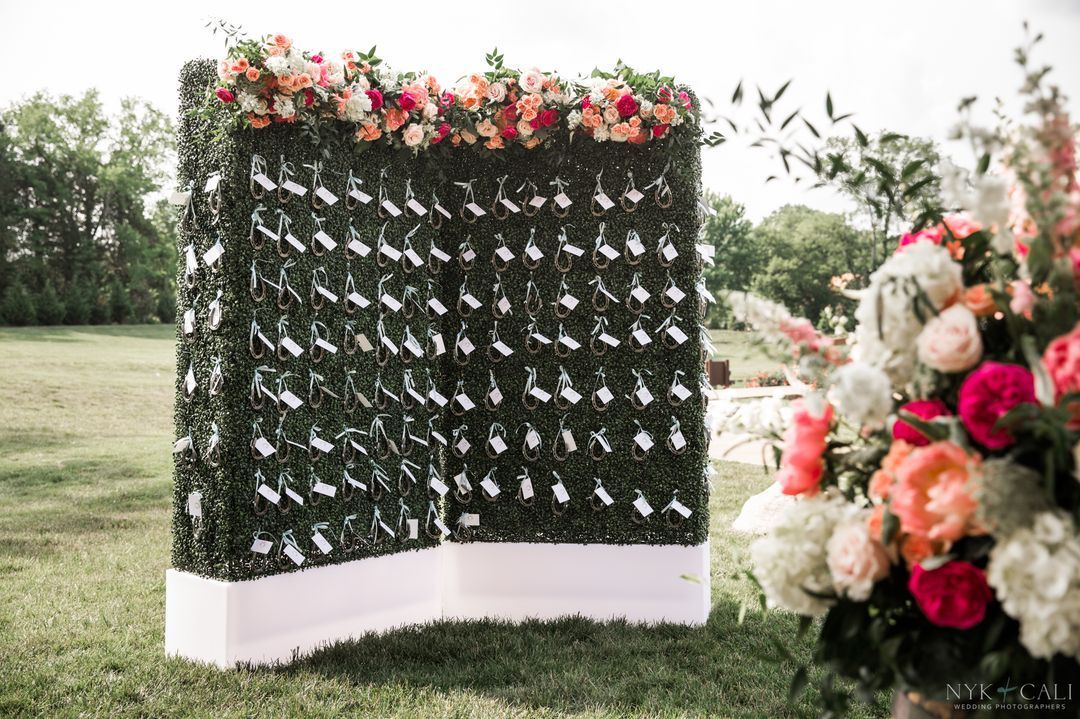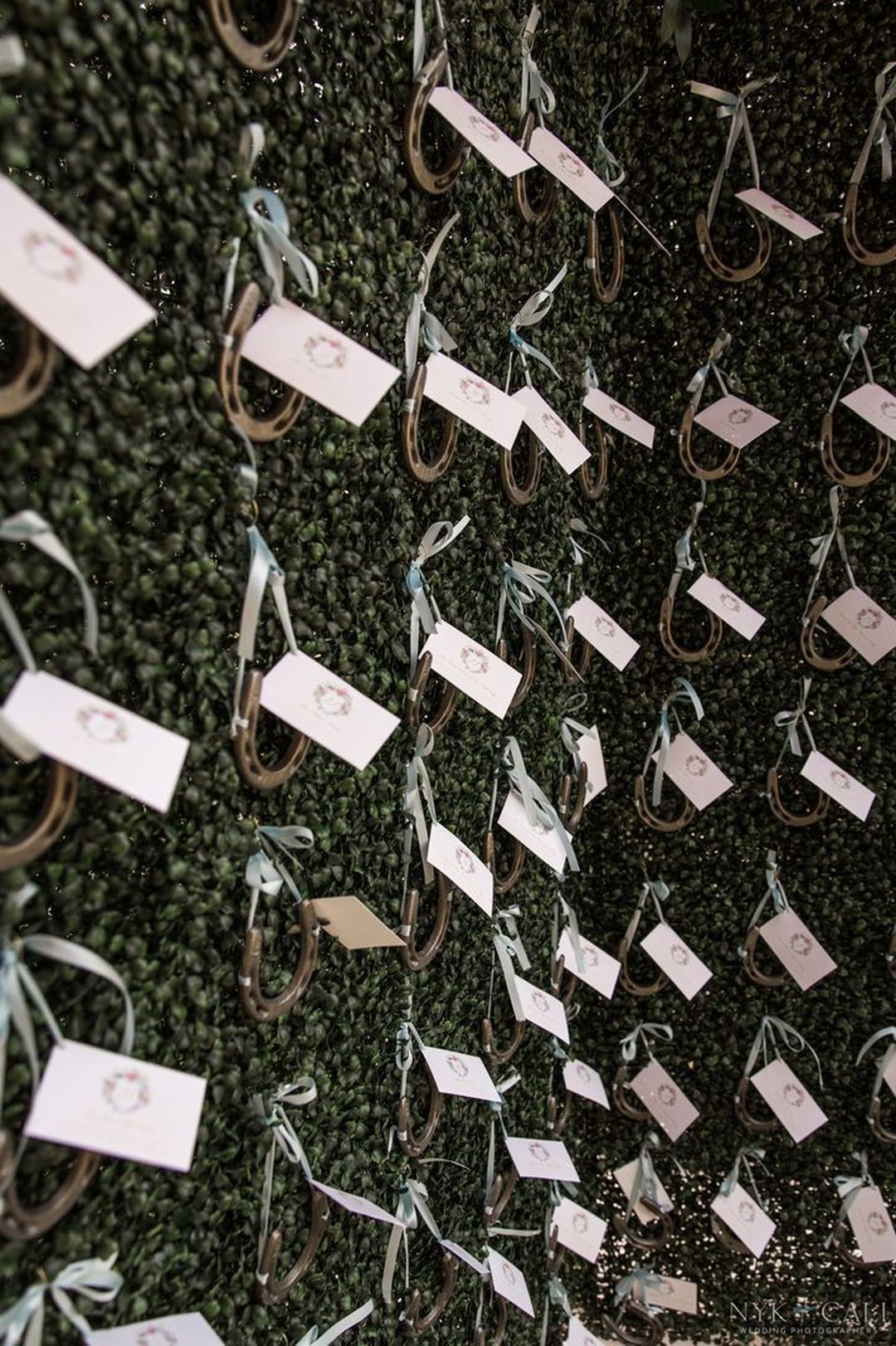 Want to feature one of our boxwood walls, as a drink station or backdrop, at your upcoming event? Let's chat! Send us an email today, at info@southerneventsonline.com.
TAGS | Boxwood Wall, Champagne Wall, Interactive Drink Station, Nashville Event Rentals, Nashville Wedding Rentals, Nashville party rentals, On Trend, Southern Events Party Rental, Southern Events Party Rental Company, Unique Wedding Rentals
FEATURED RENTALS | Boxwood wall, Cybil glassware, champagne shelf,
---
8

Oct

On Trend, Southern Events Products, Trends and Inspiration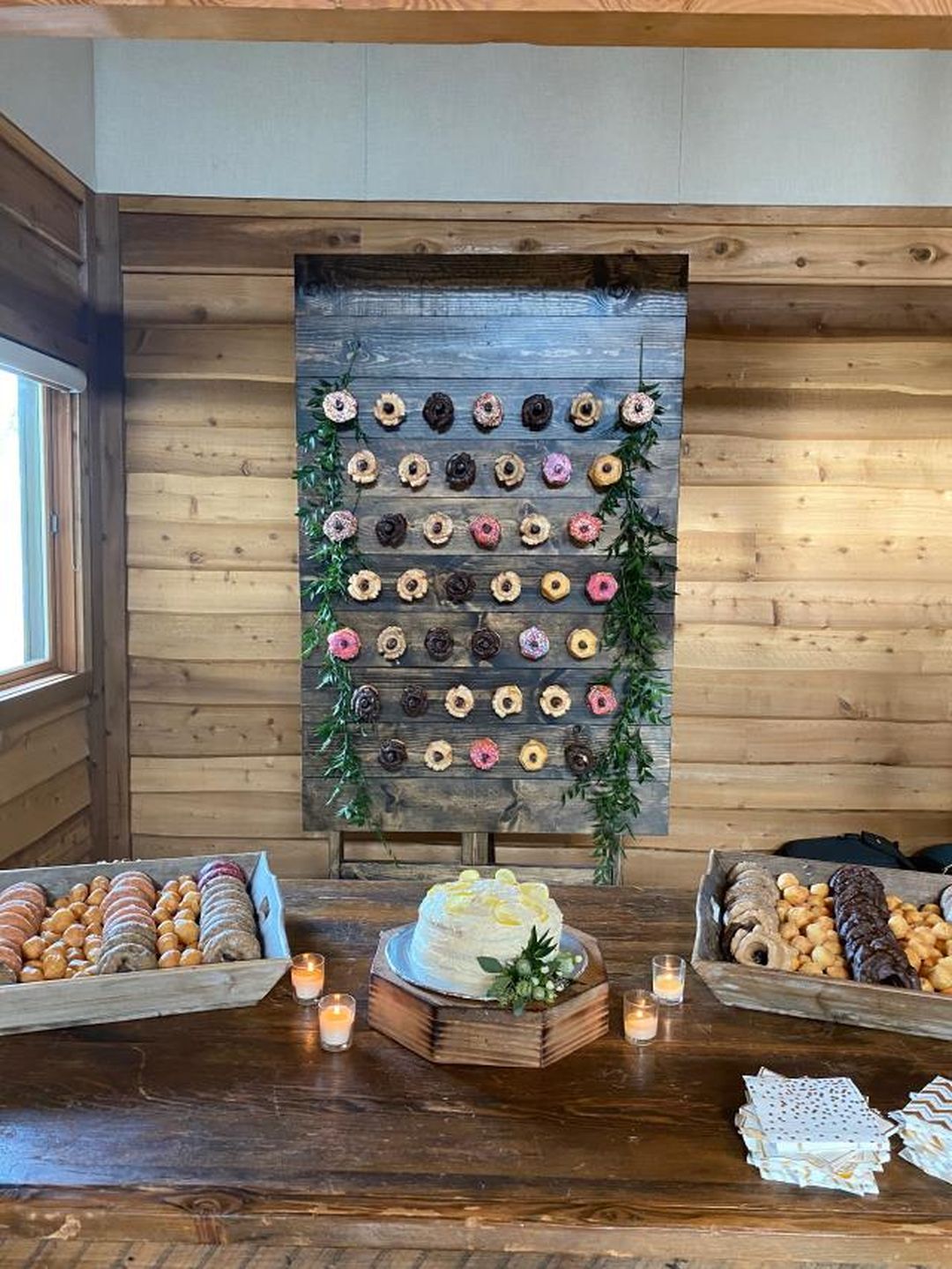 Interactive elements are always a hit at events. Whether you're planning a birthday party, a wedding reception, or even a baby shower, our donut wall is a must-have. These popular pastries double as a delicious dessert & decor! Keep reading to get inspired and learn how you can use our donut wall rental at your next event.
Donut Desert Wall
What can we say – if loving donuts is wrong then we don't want to be right! Donuts have quickly become a fan favorite at events & parties.  Plus, these sweet treats are as beautiful as they are tasty creating double duty decor. They can also be a quick photo backdrop. For some extra fun, we recommend serving up some coffee and/or milk! Be sure to check out our beverage rentals, like our stylish copper urn.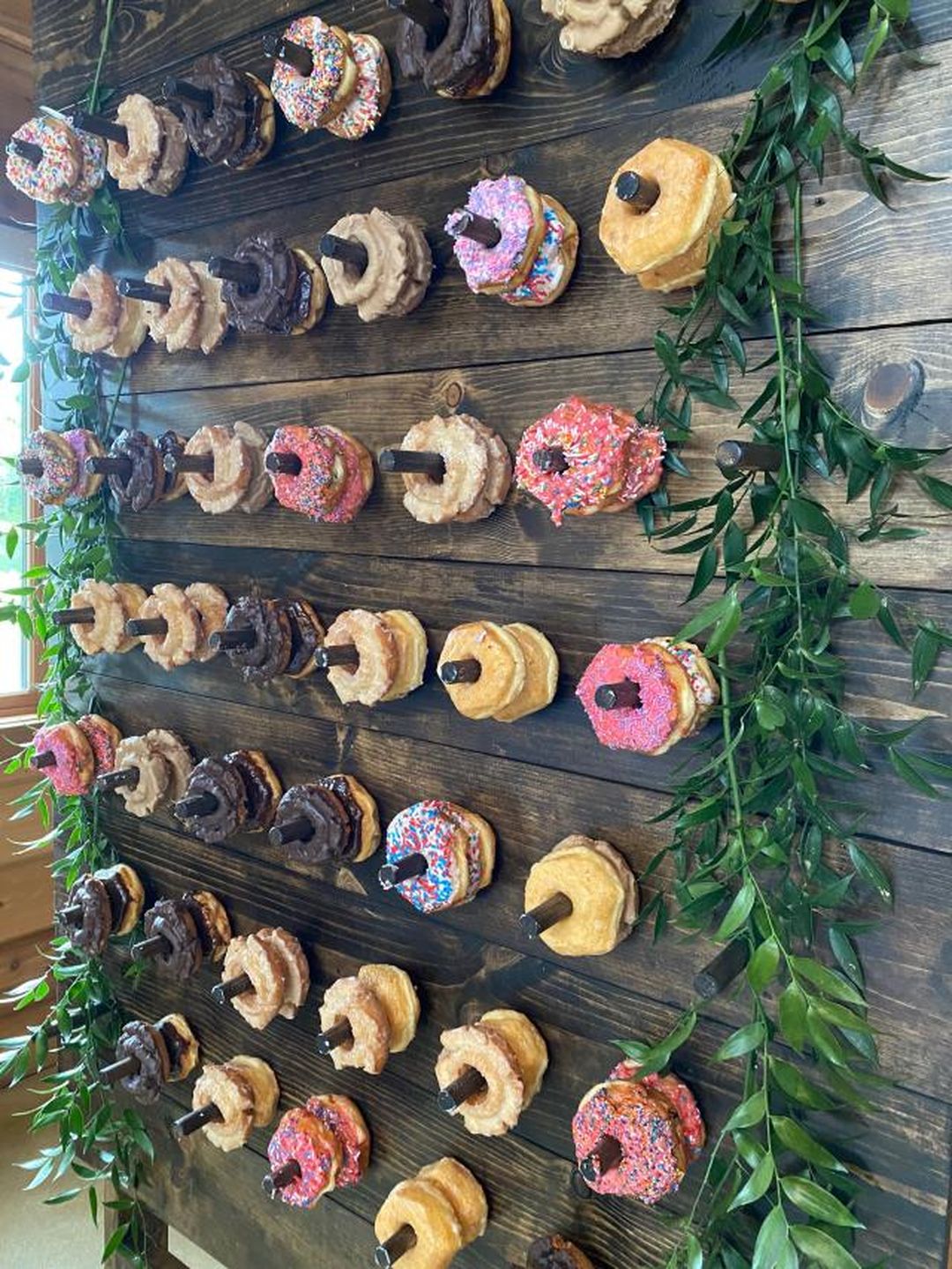 A Must for Birthdays & Baby Showers
Our freestanding peg wall for donuts has a beautiful dark wood stain that complements every type of event. It is 4′ wide by 8′ tall with 46 pegs and each peg holds 2-3 donuts. It is perfect for both adult and children's birthday parties, baby showers, bridal showers, and a variety of other events. The only downside to this interactive piece of decor is that the donuts aren't included!
Escort Cards 
Donuts are a fun treat, but you can also make them functional! Consider using our donut wall to serve up escort cards to your wedding guests. Simply add a tag to each donut with your guest's name and their designated table number. Or opt for classic escort cards tied with a colorful ribbon on this rustic backdrop.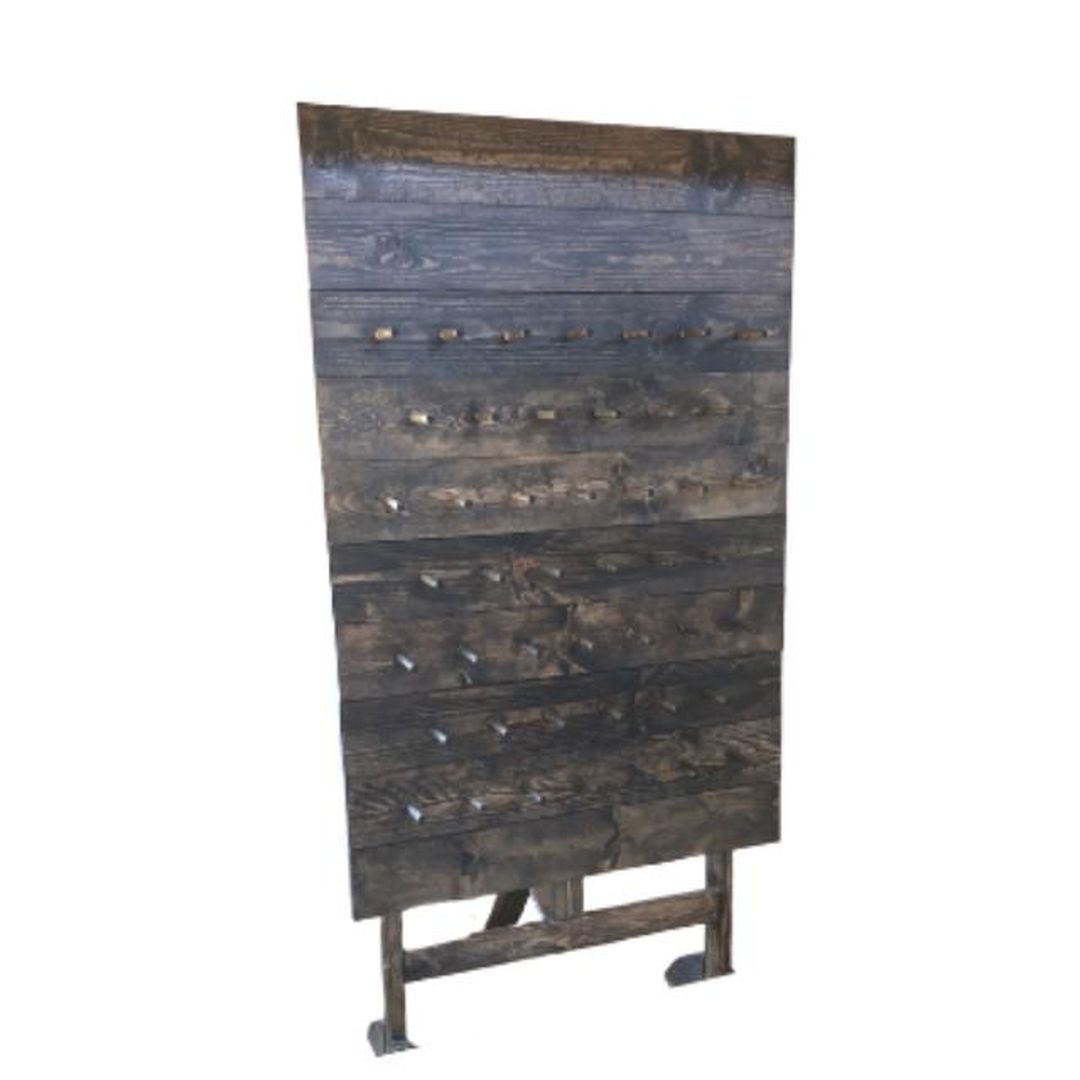 Are you ready to snag this donut wall for your next event? Contact our team today to secure your rental, or for more design inspiration!
TAGS | Nashville Wedding Rentals, On Trend, after party style ideas, dessert wall, donut wall, donut wall ideas, food display
FEATURED RENTALS | Donut Wall
---
21

May

Southern Events Products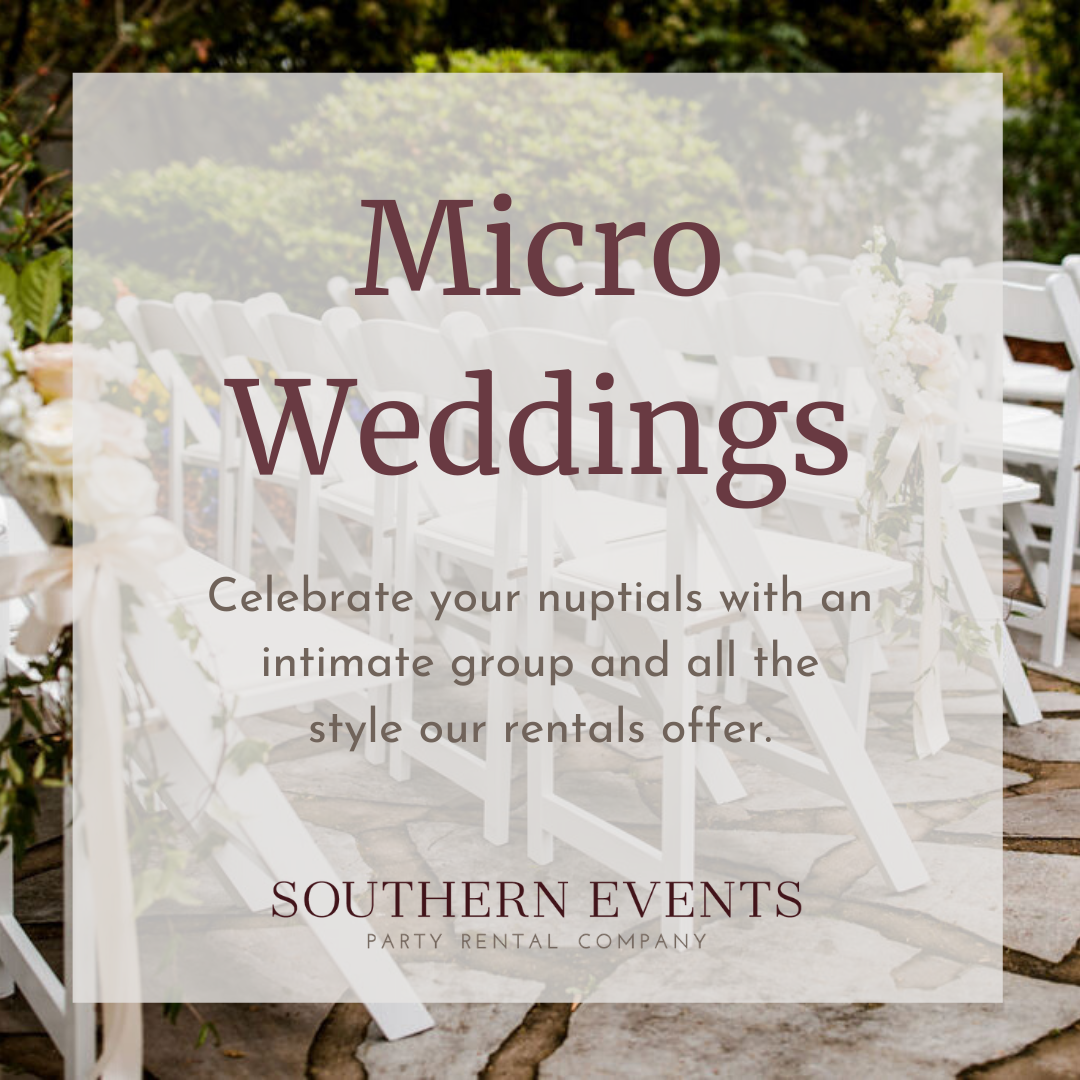 At present, many couples are opting for a smaller or micro wedding. Our team is excited to offer 3 different Micro Wedding Packages: the Champagne Toast Package, the Dinner Celebration Package, and the Ultimate Celebration Package. Each of the packages are perfect for an intimate wedding or elopement with rentals for up to 10 guests. Micro Wedding Packages can also be combined with other rentals, including our Ready to Party Packages or additional tables and chairs if your guest count is a bit larger than 10 guests. Check out some of the stylish rentals items that are included in these packages below, plus get some design inspiration for your event.
Champagne Toast Package
Our Champagne Toast Package is the perfect starter package for your intimate wedding. Our classic wrought iron arbor and the romantic drapery will look stunning in your wedding photographs. Plus the beautiful lattice makes attaching fresh florals a breeze. This package also includes everything you need for a traditional toast and cake cutting, like our timeless champagne flutes, a 10″ round glass cake stand, glass dessert plates and flatware.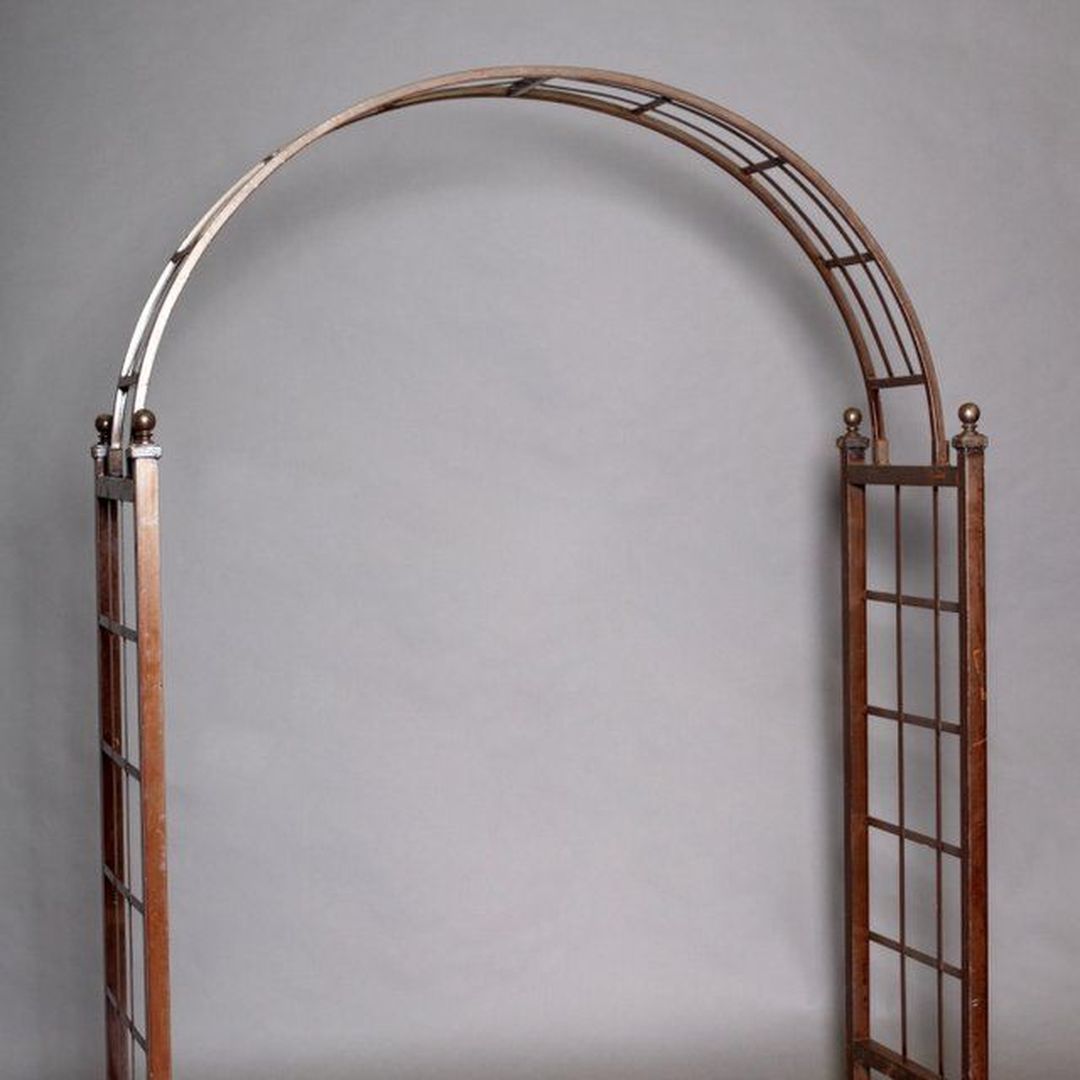 Dinner Celebration Package
If you will be treating your guests to an intimate dinner, our Dinner Celebration Package is the way to go. In addition to all of the items in the Champagne Package, it includes our crisp & stylish white china – perfect for any wedding theme or color palette. The package also includes all of your other necessary serving ware, like utensils, glass water goblets, and a set of solid poly napkins in the color of your choice.


Ultimate Celebration Package
If your goal is to host a more luxe micro wedding, check out our Ultimate Celebration Package. Alongside the content of our first two packages, it features a gorgeous mix of rustic and modern furniture, including our popular Fruitwood Farm Table and premium place settings. For your convenience, this package will also include local delivery.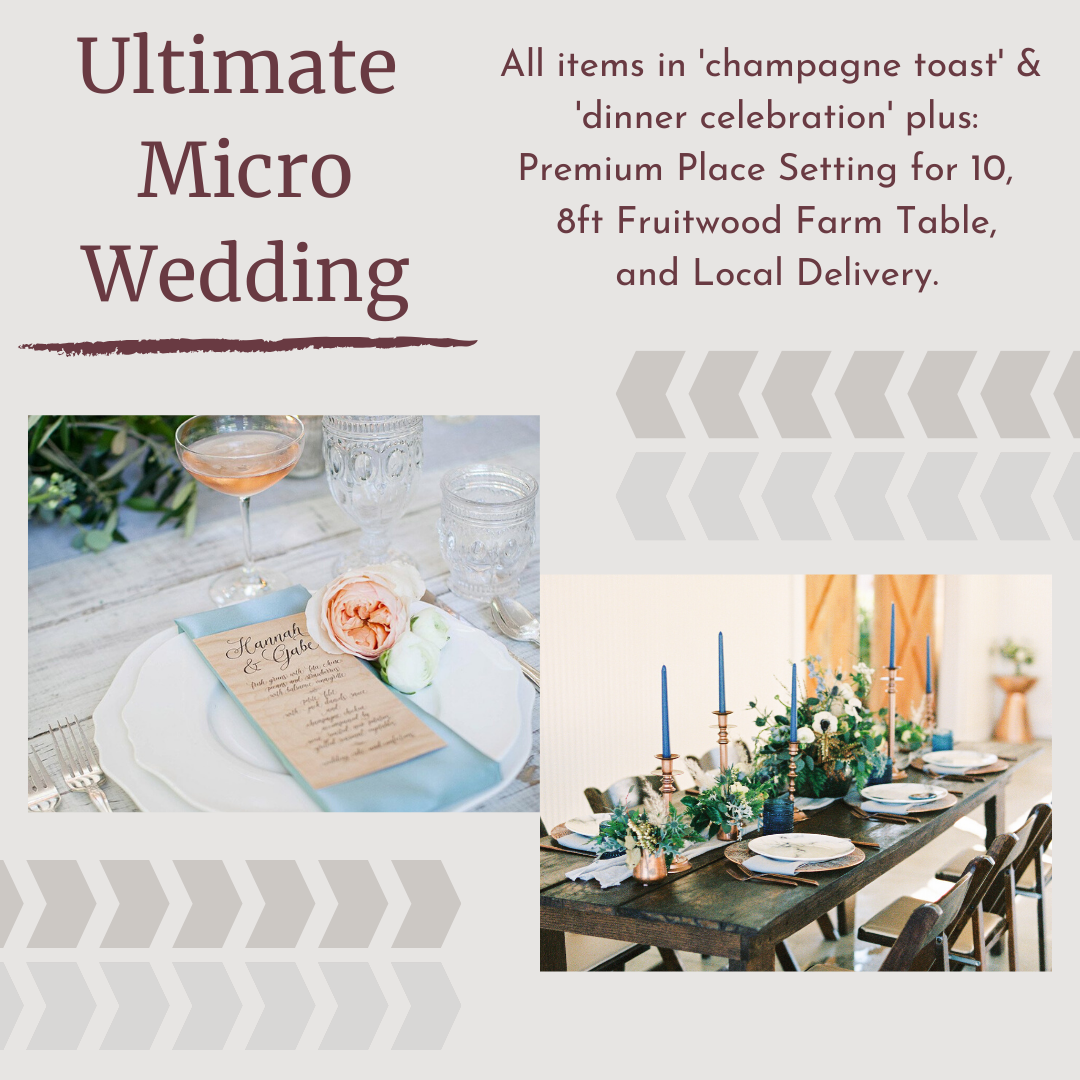 Check out all of our petite packages: Micro Wedding Packages & Ready To Party Packages
Want to book one of our curated packages for your upcoming micro wedding? Contact our team today! Or reach out for help customizing a package!
TAGS | Intimate Weddings, Nashville Wedding Rentals, franklin weddings, micro wedding, modern wedding, small weddings
FEATURED RENTALS | wrought iron arbor, champagne flutes, glass cake stand, glass dessert plates, white resin folding chairs, white round china, solid poly linens,
---