12

May

On Trend, Southern Events Products, Trends and Inspiration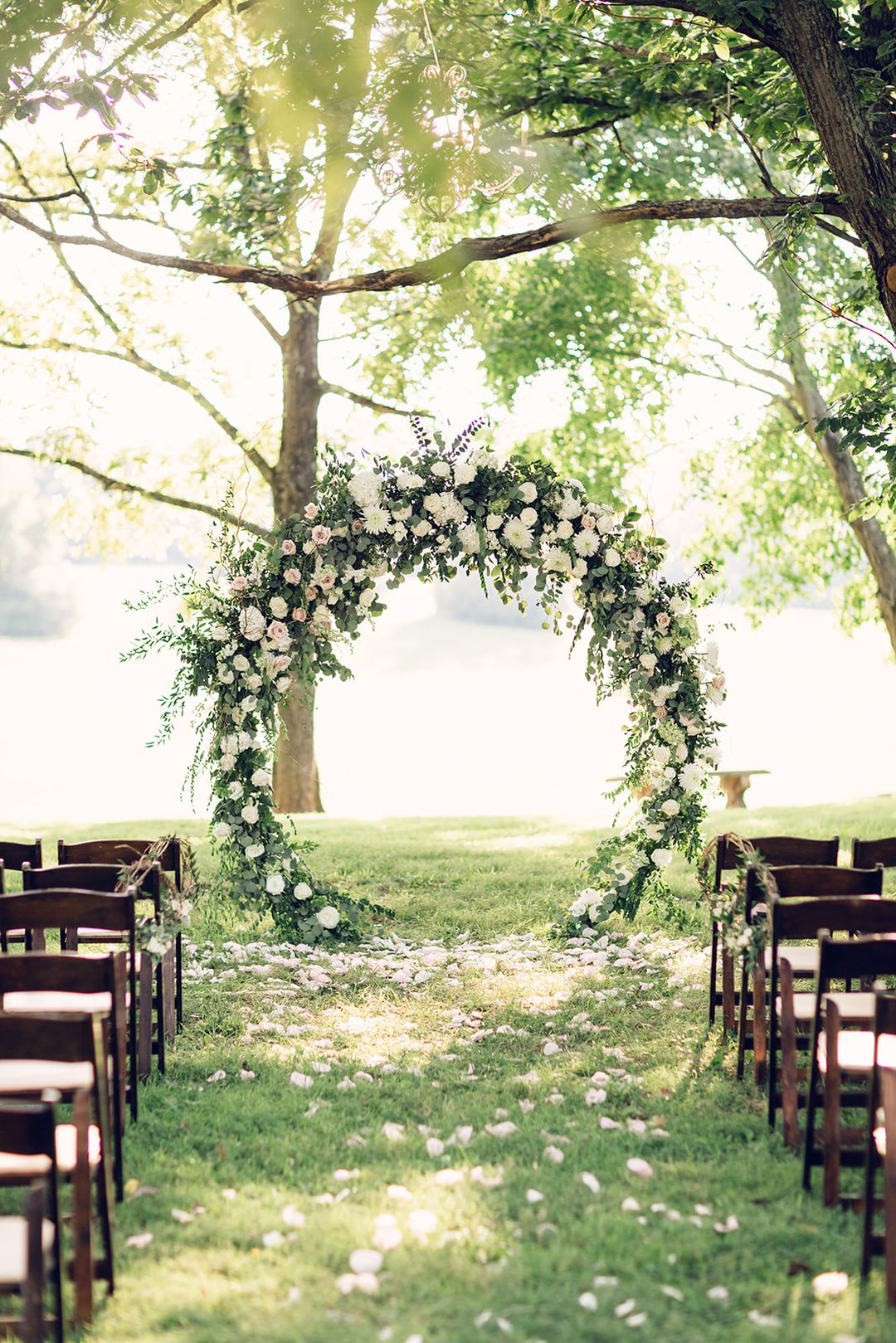 Garden weddings are popular themes, especially during the warmer months of the year. As we sit and dream with couples, we hear their love for the romantic feel this theme offers. Over the years, we've had the privilege of seeing garden weddings come together in a myriad of ways, and we have fallen head over heels for the whimsical palettes and charming event design. Keep reading to get inspired by our take on the modern garden wedding, featuring sleek and sophisticated rentals that make for an incredibly chic celebration!
Sleek and Chic Tables
This modern take on garden weddings can be achieved by bringing in bright rentals featuring geometric shapes that contrast dramatically with the freeform nature of, well, nature. Outfit your tables in colorful linens that will POP against a lush garden setting. For balance, feature our Harlin Dining Chairs or Cross-Back Chairs, made of natural wood. If you prefer an equally romantic but vintage-inspired look, consider our Antique White Bentwood Chairs.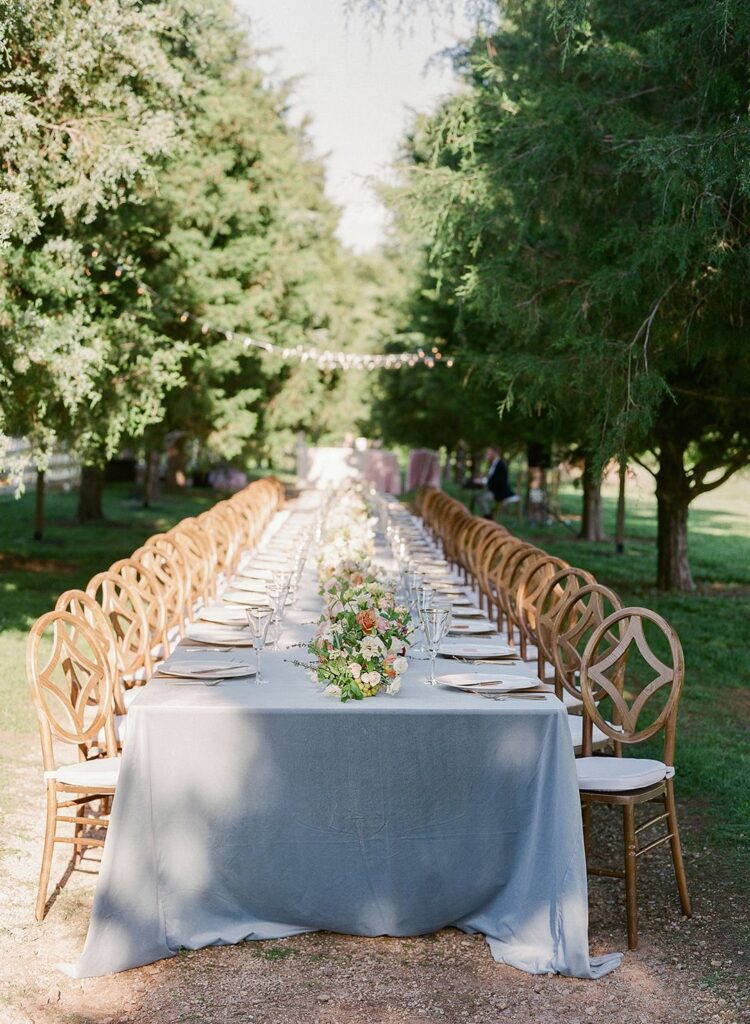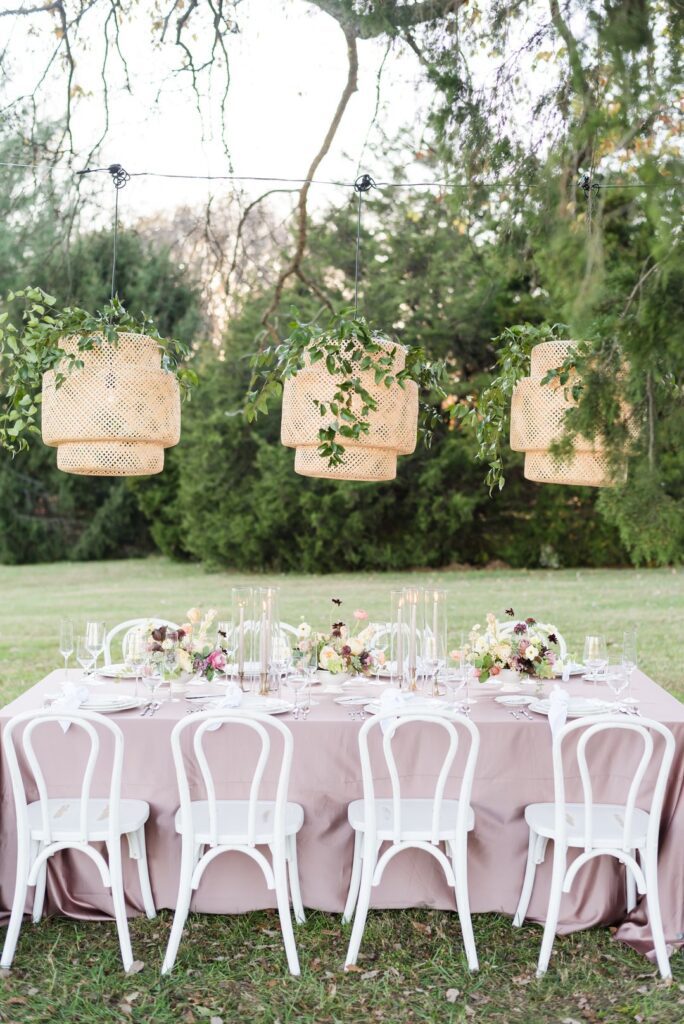 Dreamy Velvet Details
Masculine elements, such as monochromatic color schemes contrast beautifully against soft florals and greenery. All white or all black furniture against a dreamy, floral aesthetic is both masculine and modern! Although, we're still a fan of lighter palettes that complement whimsical florals. You can achieve a luxe but chic look by featuring textured details, namely in the form of velvet linens! Some of our current favorite colors include bold blue hues and romantic pinks and purples!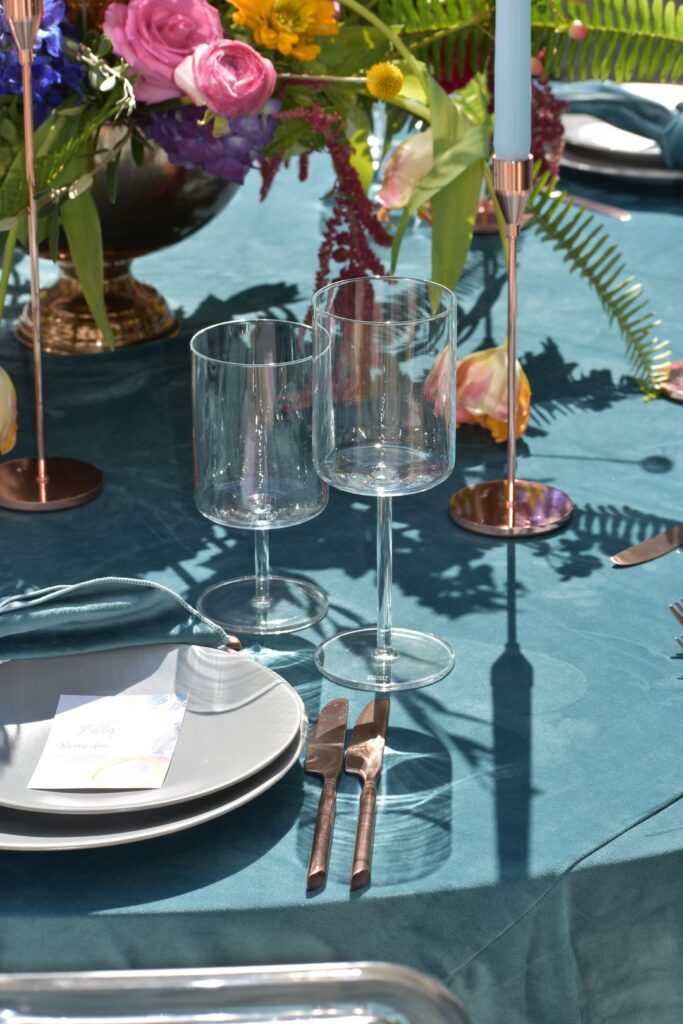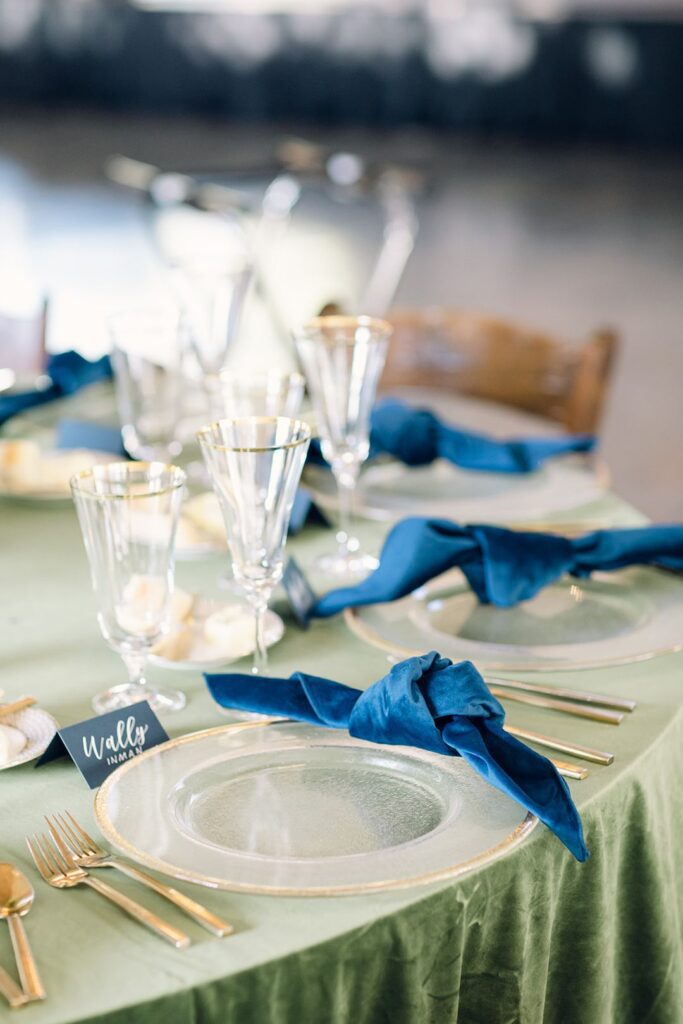 Elegant Social Areas
When hosting an event outdoors you tend to have more area to fill – in which case there is no reason not to have a cocktail lounge! Something simple yet elegant and cozy where guests can enjoy a drink and socialize. Take a look at our curated lounge packages, or mix and match our pieces to make your own. Our Bennett Leather Sofa and Adeline Dining Chairs are a fine pair, especially when complemented by a set of Chocolate Poufs and stylish accent tables. Meanwhile a rug will help frame the space!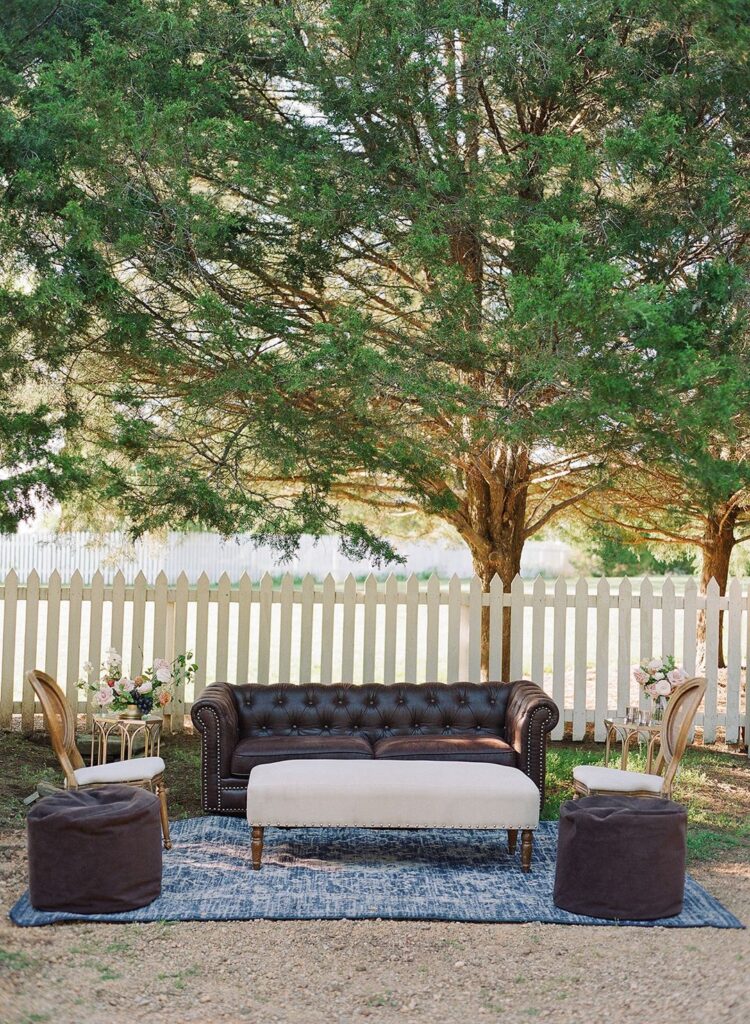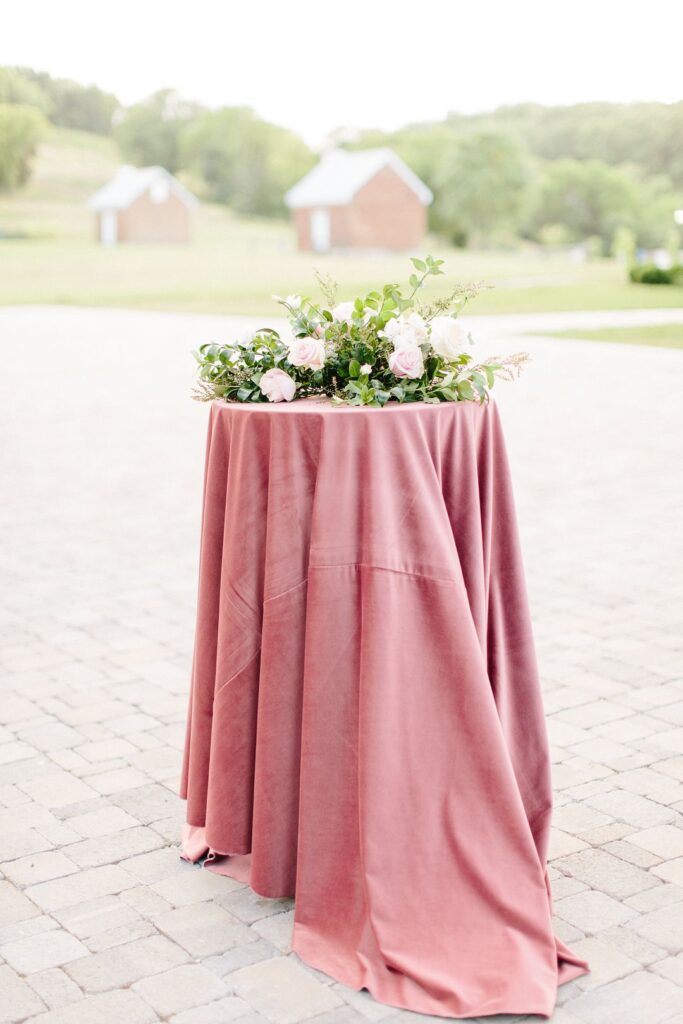 Interactive Decor
We adore taking lovely decor pieces and transforming them by creating interactive designs that deliver jaw drops from the guests and serve a purpose. In this case, our Boxwood Wall shows up to look gorgeous, with bright ice pops that also serve as a stylish backdrop for a photo-op. Alternatively, you might dish up some champagne to greet guests at the door!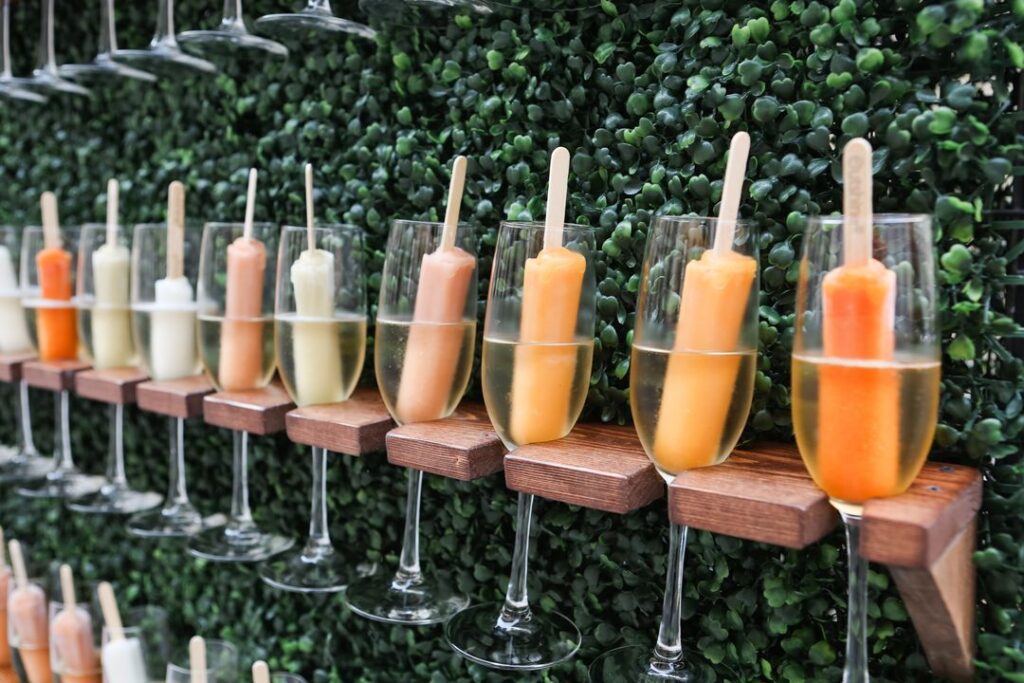 Love the idea of hosting a modern garden wedding? Send us a message at info@southerneventsonline.com and our team would be glad to help you plan a memorable outdoor event! Need a lounge for a cocktail hour? Be sure to check out our blog on Natural Luxe Lounge Furniture.
TAGS | Garden Wedding Inspiration, Garden Weddings Nashville, Modern Garden Wedding, Nashville Wedding Rentals, outdoor southern weddings, southern wedding style, southern weddings
FEATURED RENTALS | boxwood wall, champagne shelf, velvet linens, harlin dining chair, antique white bentwood chairs, cross-back chairs, lounge packages, chocolate poufs, area rug, bennett leather sofa,,
---
30

Dec

On Trend, Southern Events Products, Trends and Inspiration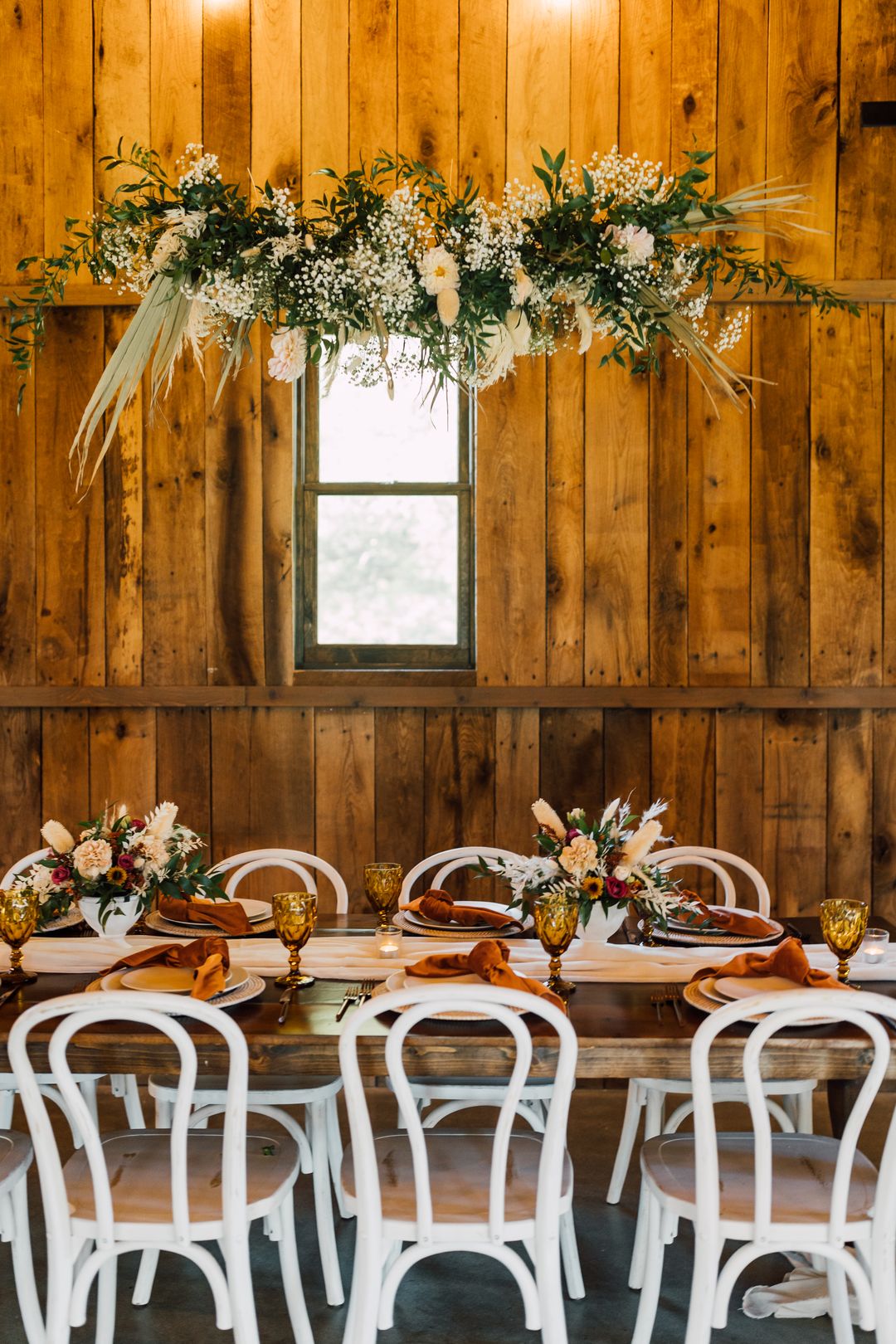 In 2022 we brought a lot of trends to fruition, from micro-weddings and backyard gatherings, to boho and retro-inspired rentals, as well as neutral and earth-toned color palettes. But now it's time to look to the future! Today we're going to take a look at some of the anticipated 2022 event trends, so that you can start planning your best gathering yet.
Bridgerton-Inspired Design
We saw a snippet of this trend in 2021, with opulent garden parties. But in 2022, we're taking it to the next level with set ups inspired by the hit series Bridgerton, also known as Cottagecore. For this event style, we're expecting pastel-rich color palettes, luxe textures, and vintage-inspired furniture.
Start with memorable tablescapes, featuring unique colors and fun rentals. For example, our Fern or Sea Glass velvet linens, or more decade appropriate Blue Kensington print. Top them off with our mismatched Heirloom China, or break up all the prints with our dainty Darcy China. The best choice for flatware is our versatile Abby or Sophia flatware. Finally, incorporate a splash of texture with our Green or Amber Goblets.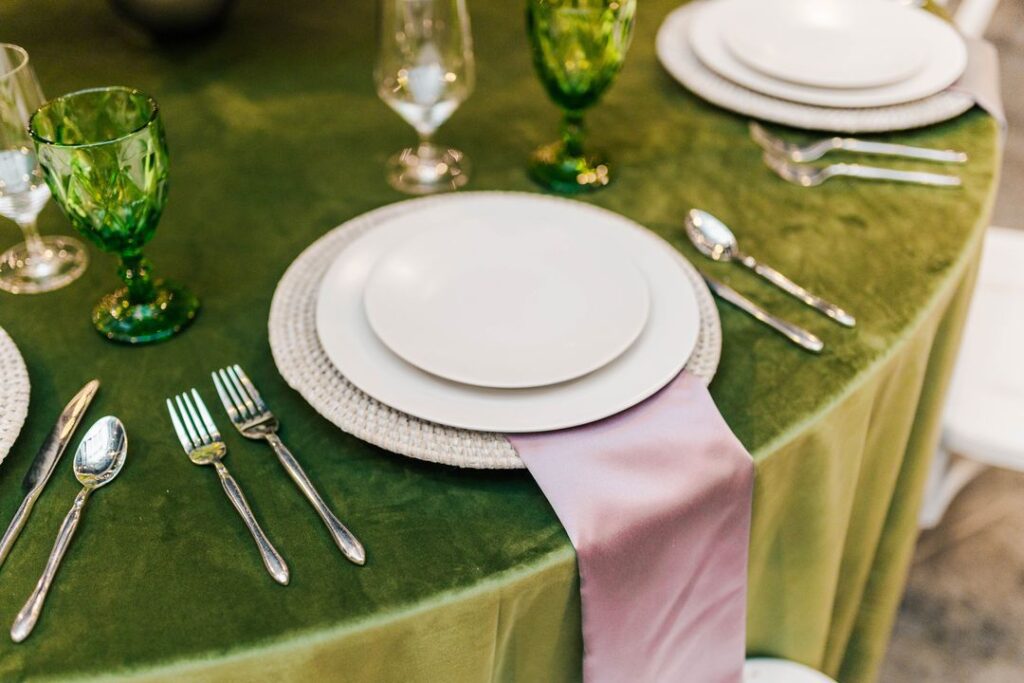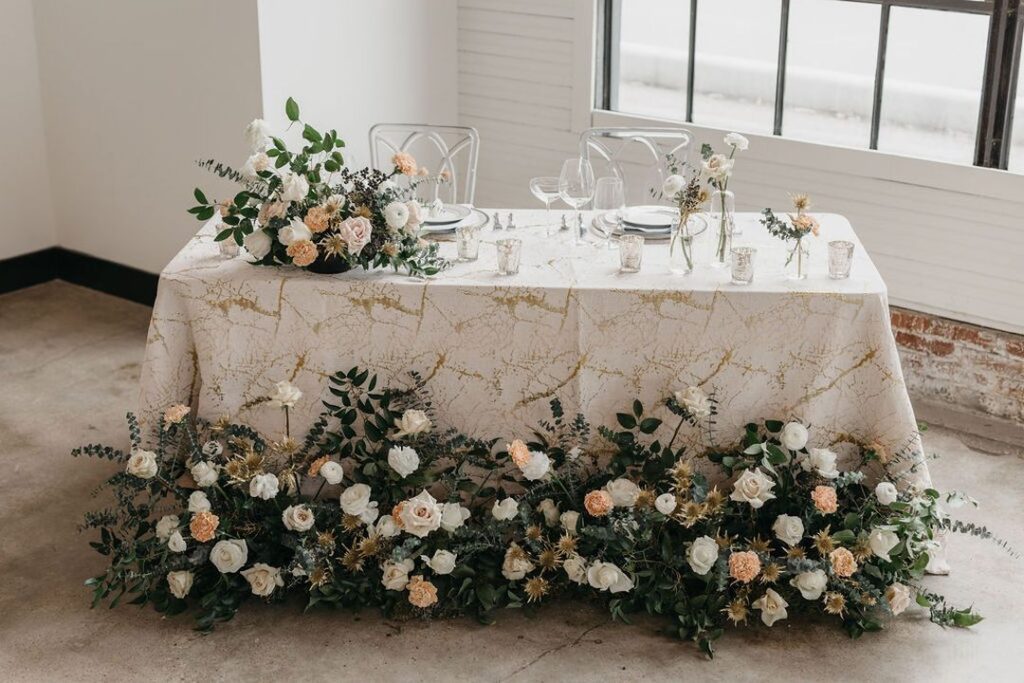 If you're hosting an accurate event, then you'll also need an equally impressive cocktail hour setup – high-society gatherings were all about mingling! Rent our Franklin Antique White Bar and a lounge to match. Such as our Fern Velvet Sofa, a set of Everly Chairs, and our Rhodes Coffee and side tables. Cocktail tables are also available for those who prefer to remain standing room!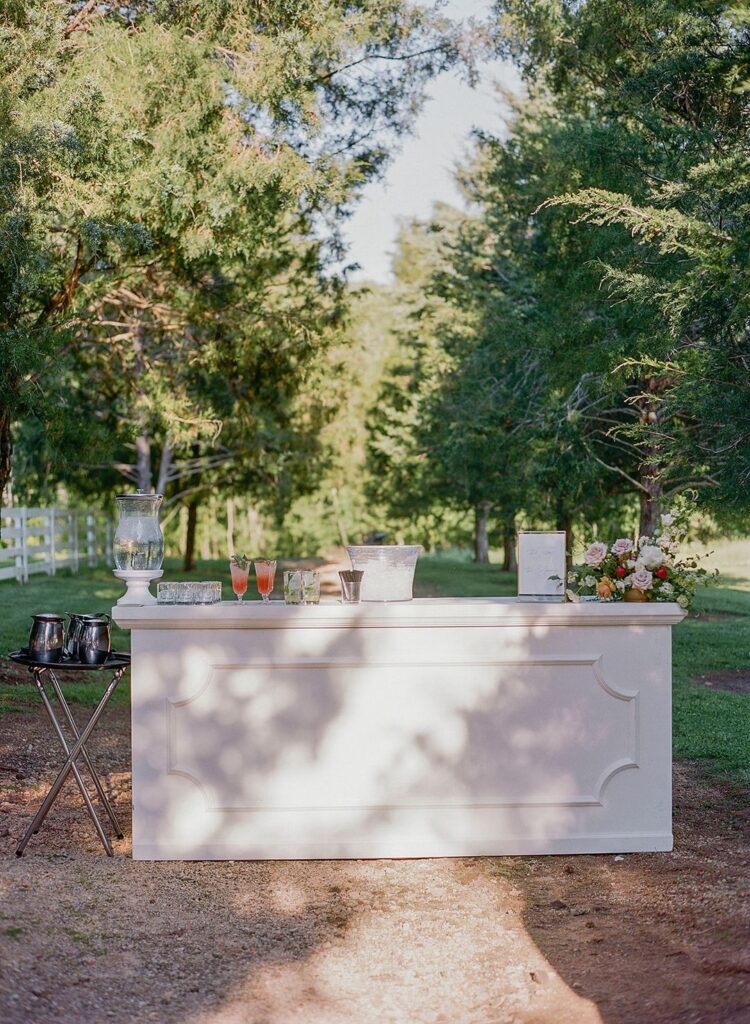 Sequel Weddings!
Due to a large number of couples postponing their nuptials in 2021, sequel weddings will be a hit in 2022. That is, a big party following an intimate ceremony. Which can also be used following a vow renewal, or any type of post-pandemic celebration. These events will be focused on living in the moment, so they don't have to be luxe – but they can be!
At these events, we'll want to help create a small and cozy feel, which can be achieved with soft textures and warm colors. Think earthy, natural tones, like Terra Cotta or Rust. For a ceremony, start with our classic White or Fruitwood Folding Chairs and line the aisle with mismatched cowhide rugs.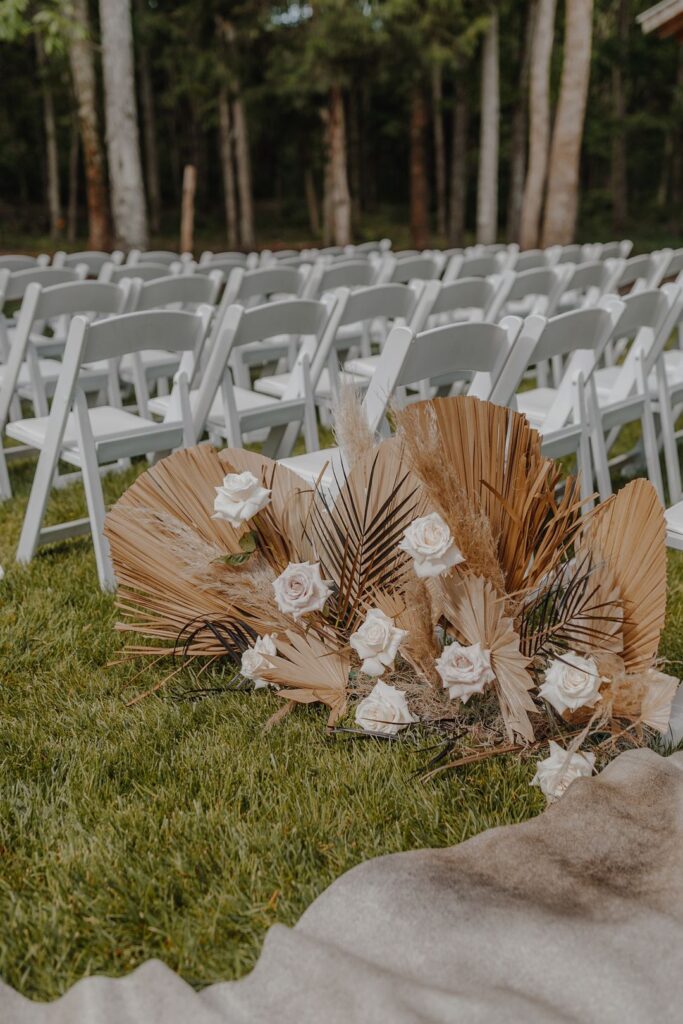 For your reception, as well as any other small dinners, you'll want to create cozy tablescapes and lounge areas where people can gather. Start with one of our beautiful Farm Tables paired with a neutral-colored runner, in Ivory or Natural Sahara. Next, feature simple serving ware, such as our Artisan or Earthen Alabaster China. For some fun pops of color, consider our Amber Goblets and elegant velvet napkins in Spice or Cameo Blush. Easily create a complementary lounge with our Santorini Off-White Sofa and Adeline Dining Chairs.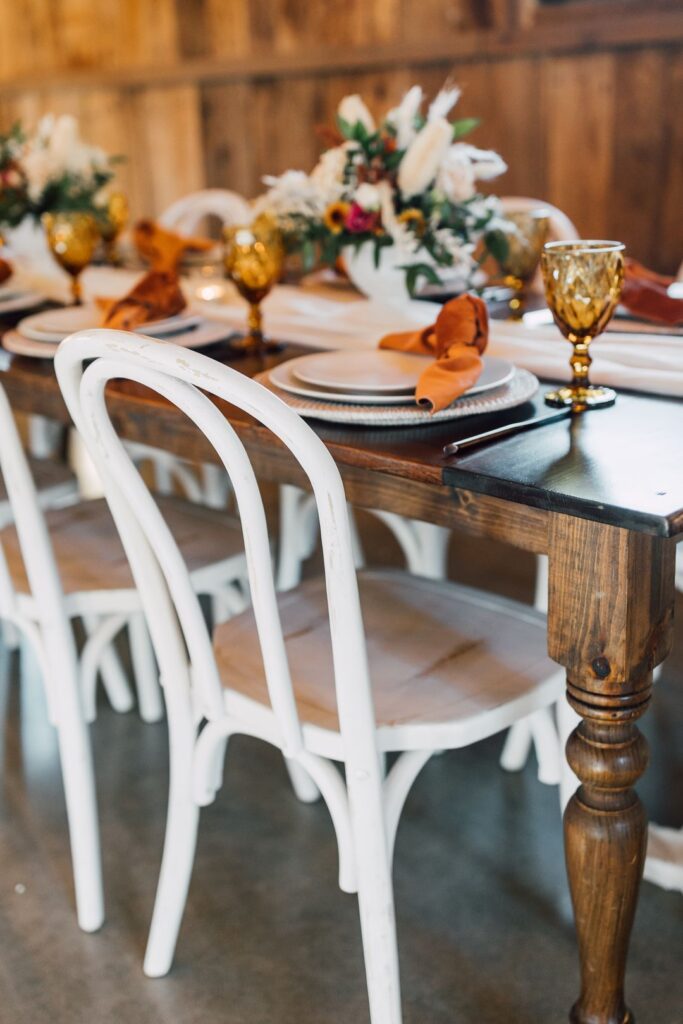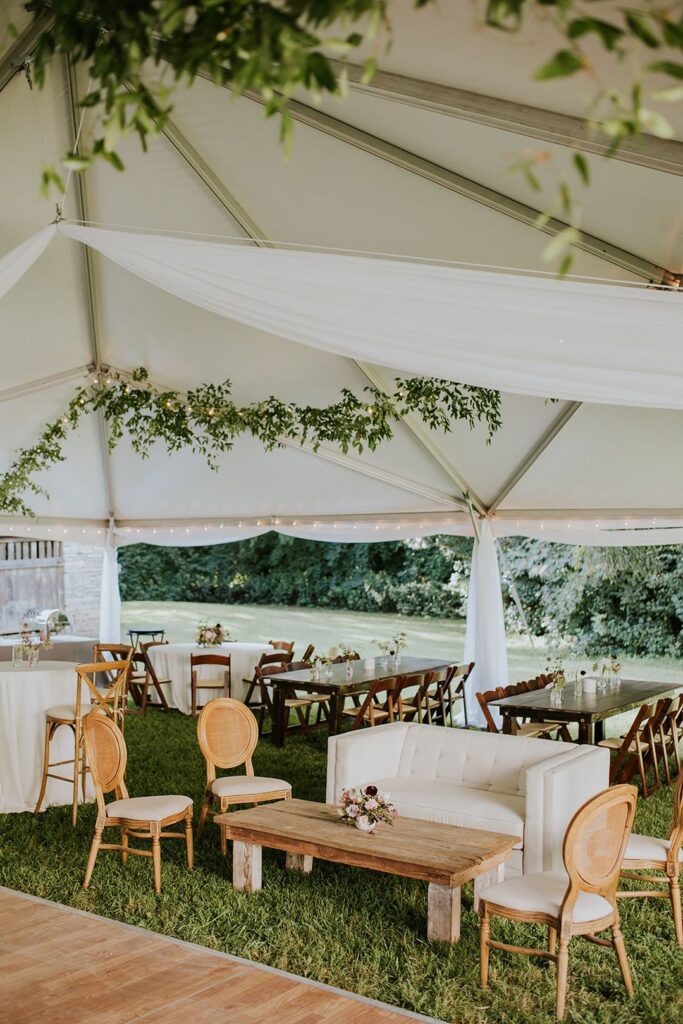 Mocktails & Sober Cocktails
Wellness is a priority for a large amount of the population at the start of a new year. And to help you and your guests achieve that goal throughout the year, we recommend upping your mocktail game! Which is easy to achieve with our wide selection of gorgeous glassware rentals. For this 2022 event trend, grab some of our favorites, like our Audrey Gold Rim Glassware and Whimsical Cybil Glassware. If you want a more colorful look, go with our Colored Glassware in a Meridian Blue and Smoke.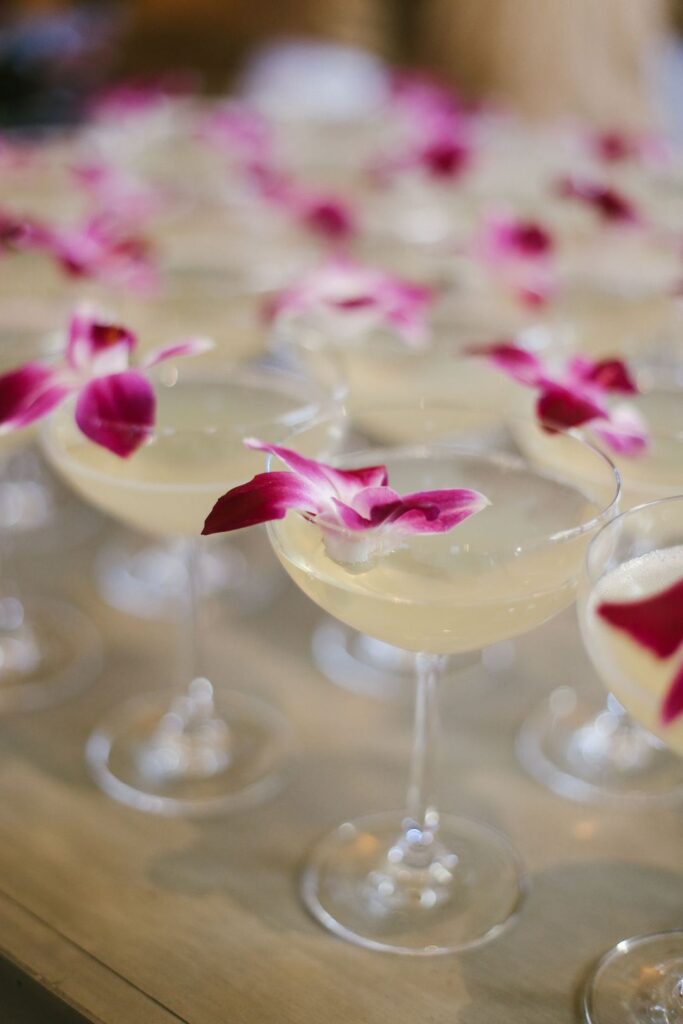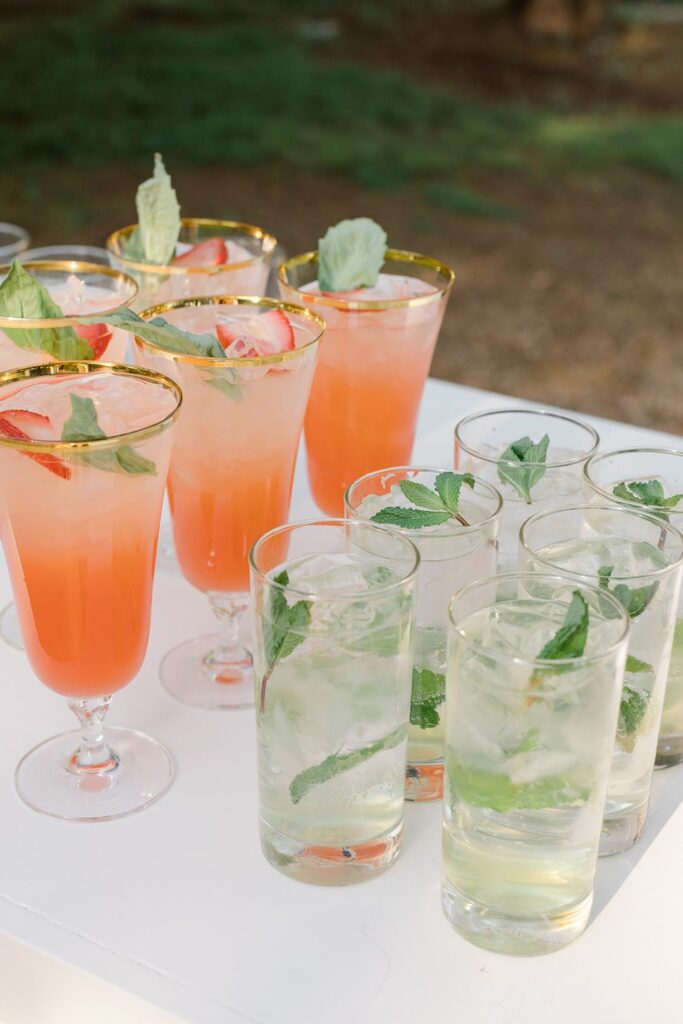 At Southern Events, we're excited to help you continue to celebrate with these 2022 event trends! A reminder, however, that as we see an increase in gatherings our rentals will book up faster than ever. Be sure to secure your rentals as soon as possible to ensure that the pieces you love the most will be available at the time of your event. Reach out today, at info@southerneventsonline.com!
TAGS | 2022 event trends, Garden Wedding Inspiration, Glassware, cottagecore, event inspiration, event style trends, lounge furniture rentals, mocktails, sequal weddings, wedding style trends
FEATURED RENTALS | colored glassware, audrey gold rim glassware, Santorini Off-White Sofa, Adeline Dining Chairs, Velvet Linens, Farm Tables, Artisan China, Earthen Alabaster China, Franklin Antique White Bar, Cowhide Rugs, Fruitwood Folding Chair, Everly Chairs, Fern Velvet Sofa, Rhodes Coffee Table, Darcy China, Heirloom China, Amber Goblets, Green Goblets,
---
9

Sep

Nashville Venues, On Trend, Southern Events Products, Trends and Inspiration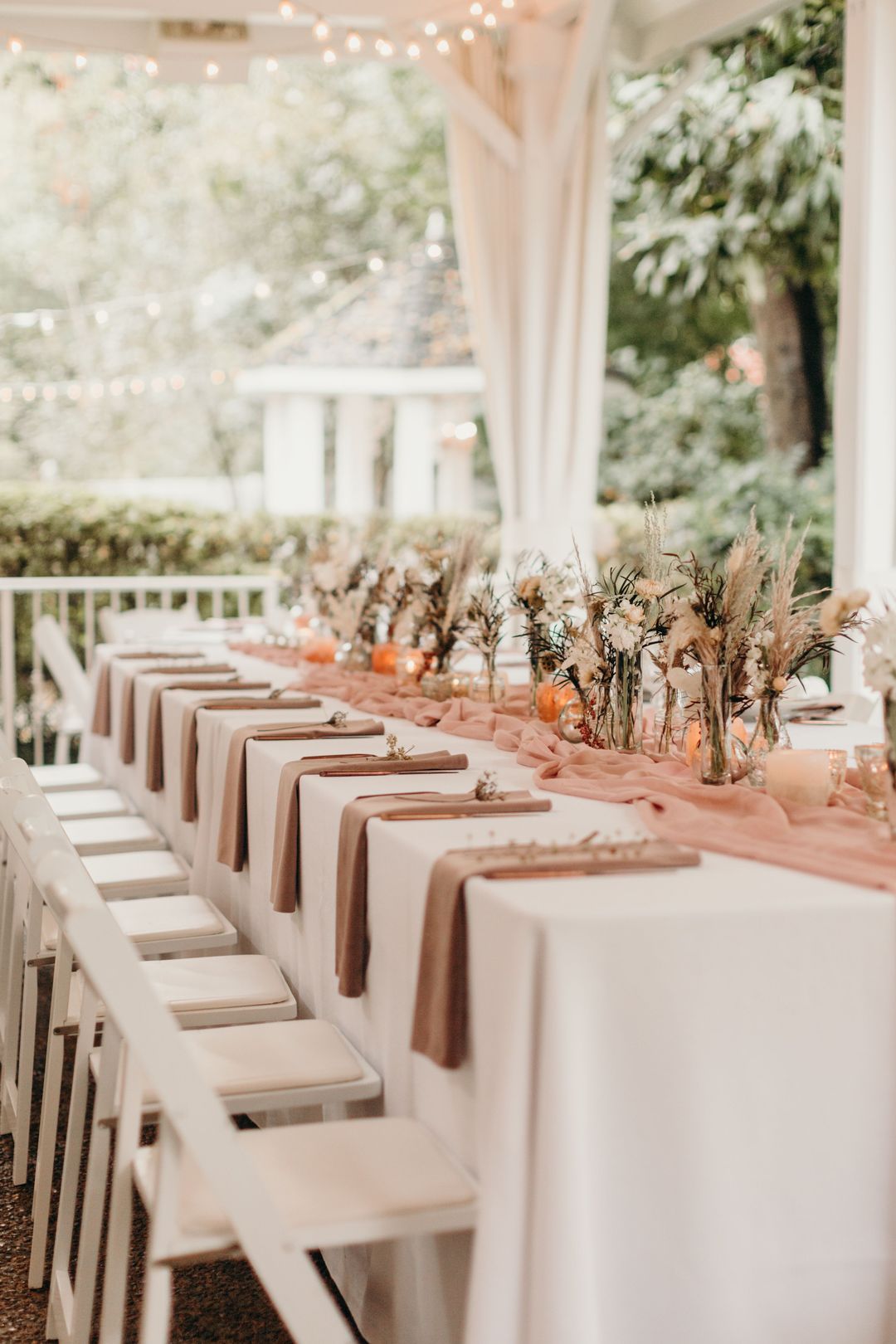 With beautiful weather and stunning foliage, there's no better time to host an outdoor wedding than the fall. Keeping reading to get inspired by fall garden weddings at CJ's Off the Square. This outdoor wedding venue in Franklin, Tennesse is a beauty, where our team has enjoyed several opportunities to help couples design the fall wedding of their dreams. From which we've compiled some of our favorite color palettes and designs, featuring our modern event rentals.
Blush & Brown
A subtle palette, blush and brown are a trendy color palette for the fall that perfectly complements the season. It's especially popular amongst brides who want a bohemian theme. While pink is feminine, brown (and white) will lend a timeless look. With this simple palette, you'll want to add dimension via texture. Like how the team at Petal & Fields decorated our Metal Ceremony Ring with pampas grass. For the reception and bistro tables, feature a mix of linens like our Light Pink Etched Velvet and Bloom Chiffon Runner. To keep the look modern, feature fun modern furniture, such as our Mid Century White Barstools.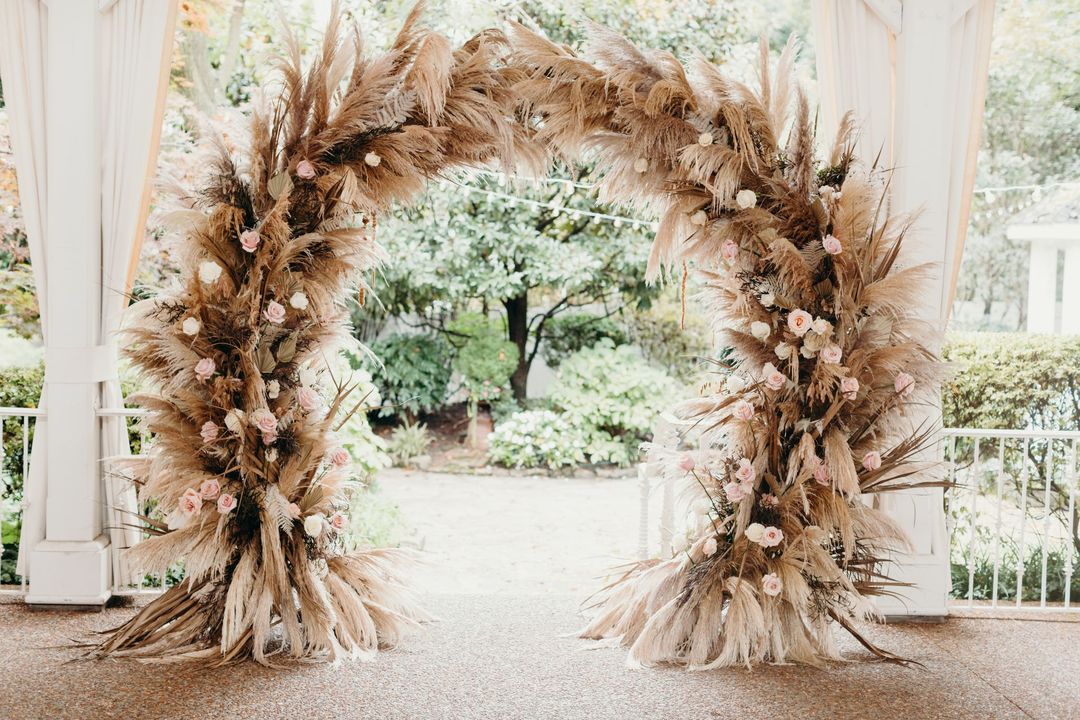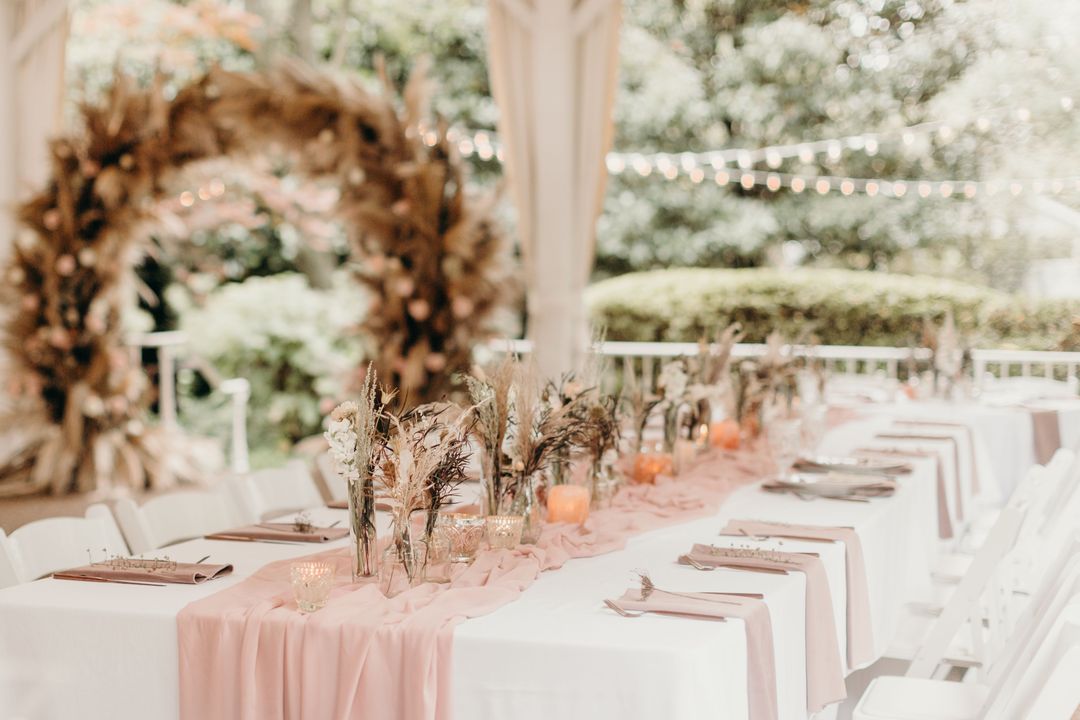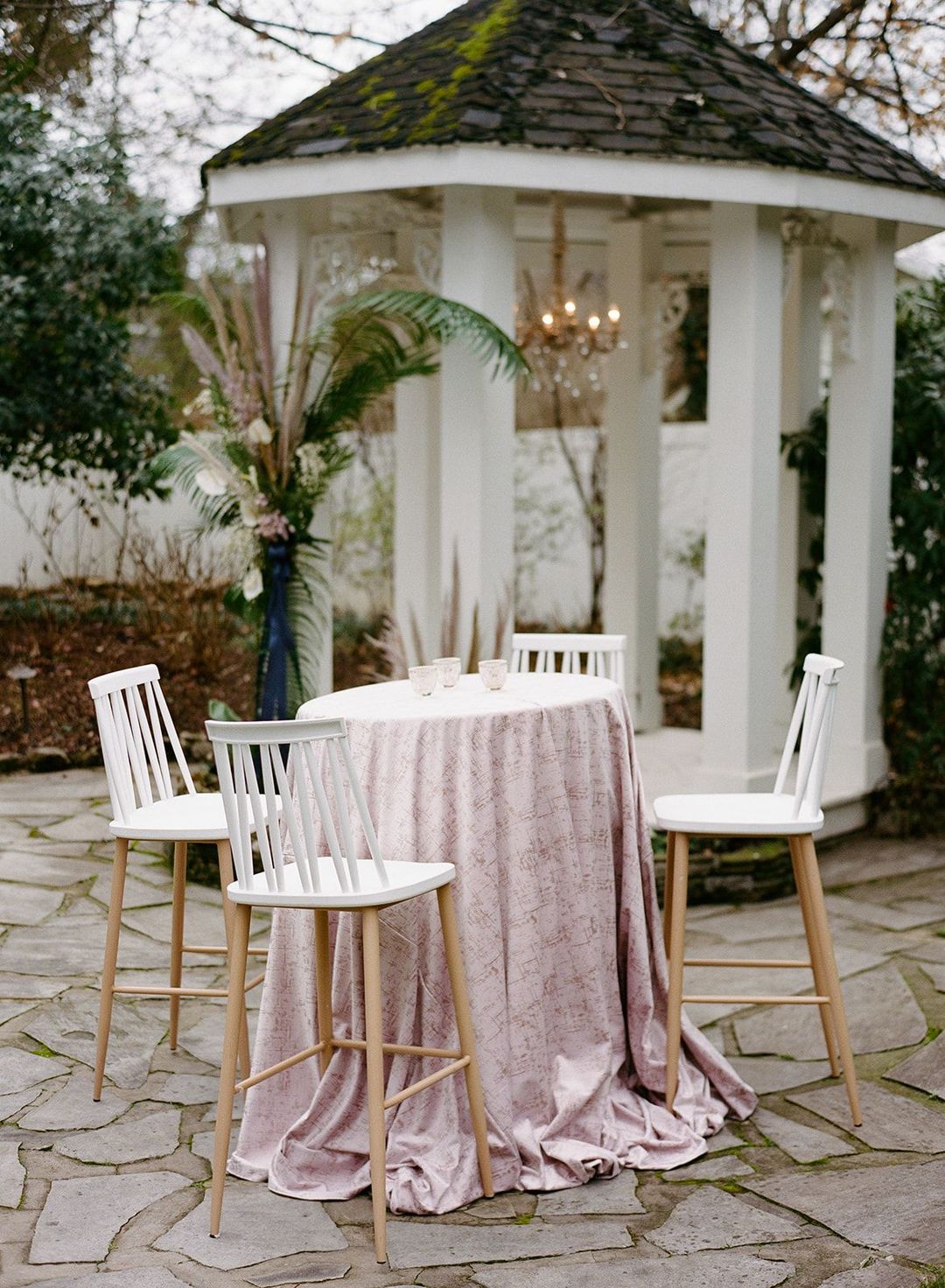 Photos by Megan Beilfelt
Timeless Neutrals
If your goal is a timeless fall wedding, then you can't go wrong with neutrals. Colors like white, ivory, and brown are beautiful, plus they'll complement the seasonal foliage. This fall wedding featured a range of warm neutral shades, that lent a timeless rustic look. For this design, we recommend opting for detailed serving ware, so that your tables aren't too plain. Consider the following tablescape with vintage inspiration, created using our Hob Nob Glassware, White Round China, and Belmont Chargers. To complement this table, we selected our elegant Cross-Back Chairs. Just don't forget outdoor seating that will allow your guests to fully enjoy the outdoors, like our Sand Sutton Collection!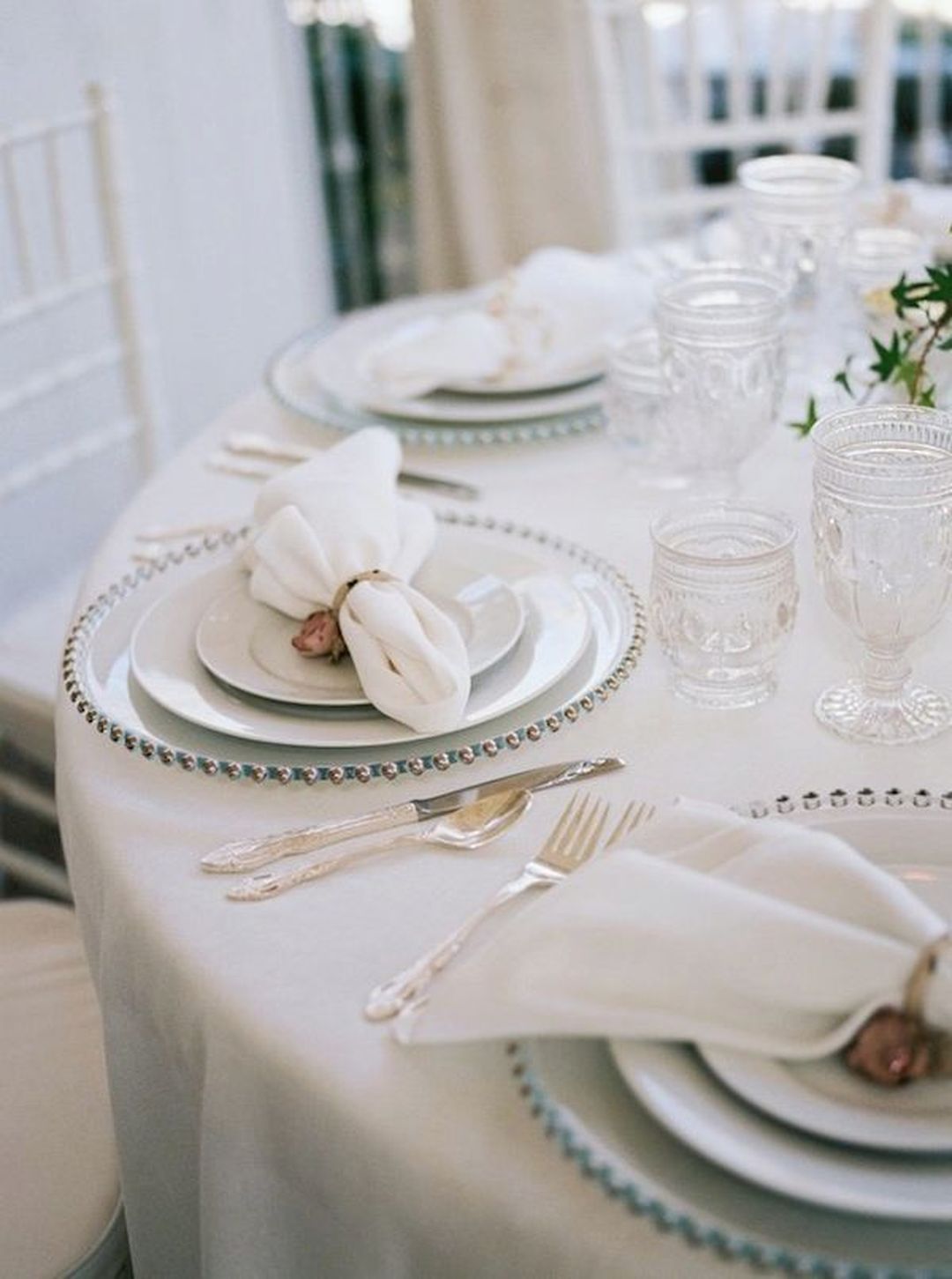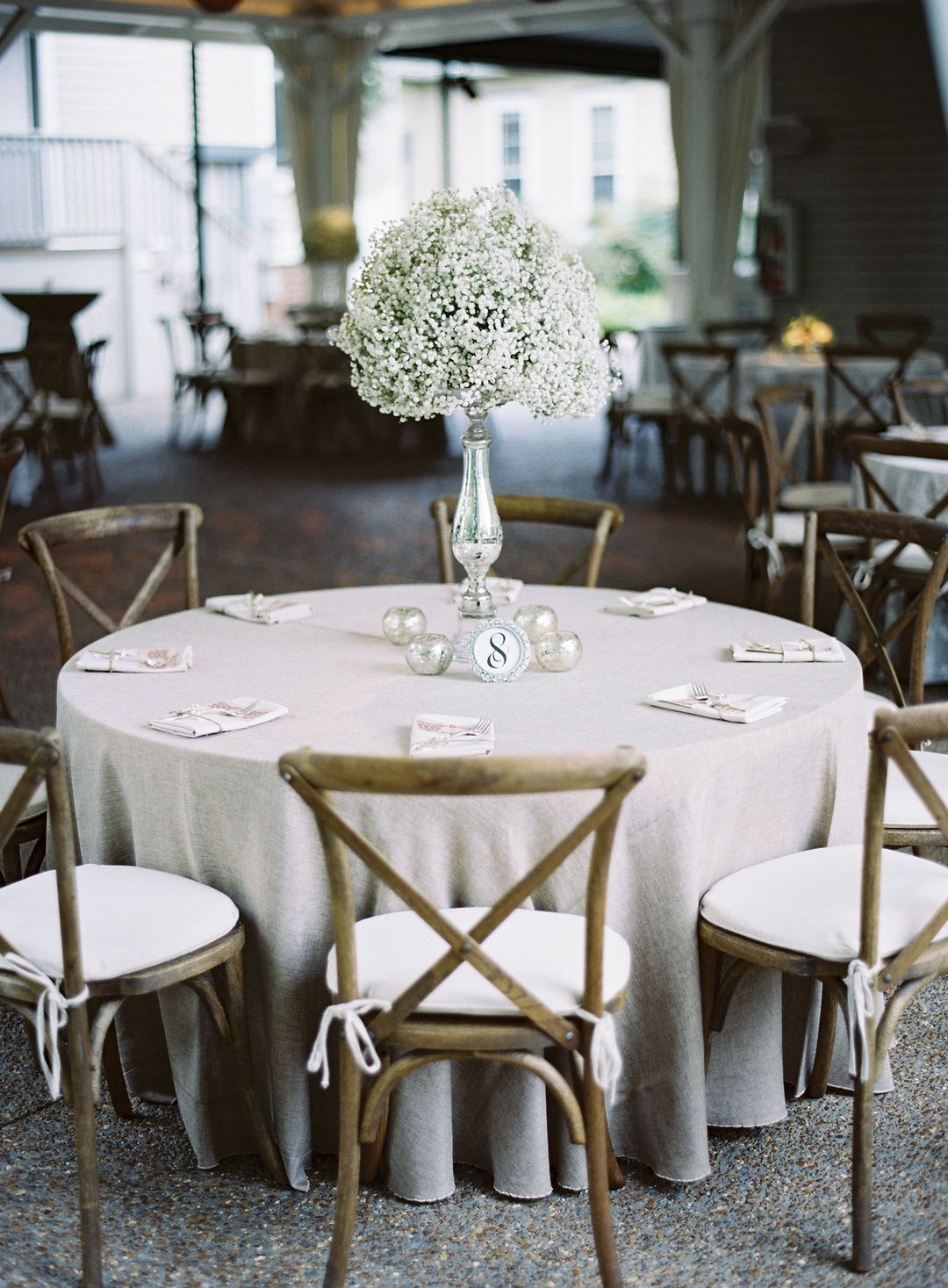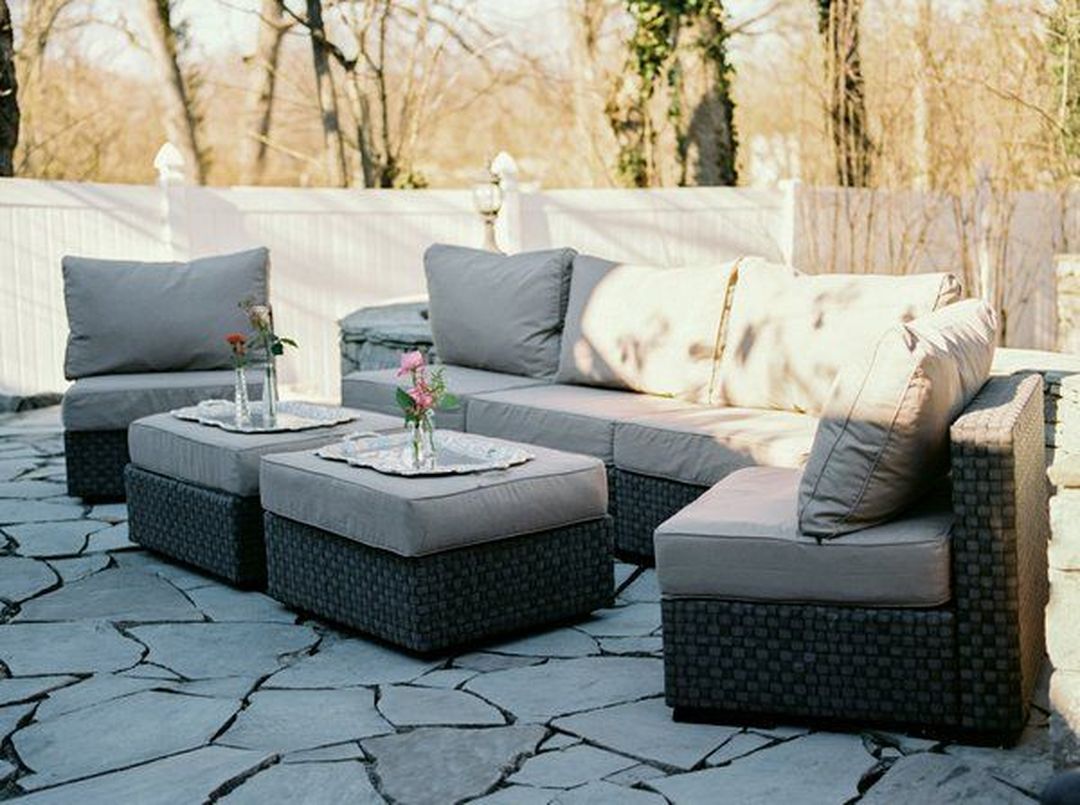 Photo by Brandon Chesbro / Jenna Henderson
Cool Blue Hues
A unique color palette for the fall, cool blue hues are often used for winter. But, they can provide some fun contrast next to the warm-toned foliage! The key to pulling off this palette is making sure that you incorporate some ivory or brown, versus just white. For example, check out this icy tablescape featuring our Alabaster China, London Fog Velvet Linens, White Chiffon Runners, and Bentwood Antique Chairs. The same applies to the lounge are we designed for the outdoor cocktail hour. Our Henley Grey Velvet Tufted Sofa is paired with Adeline Dining Chairs and Echo Silver Mirror Side Tables.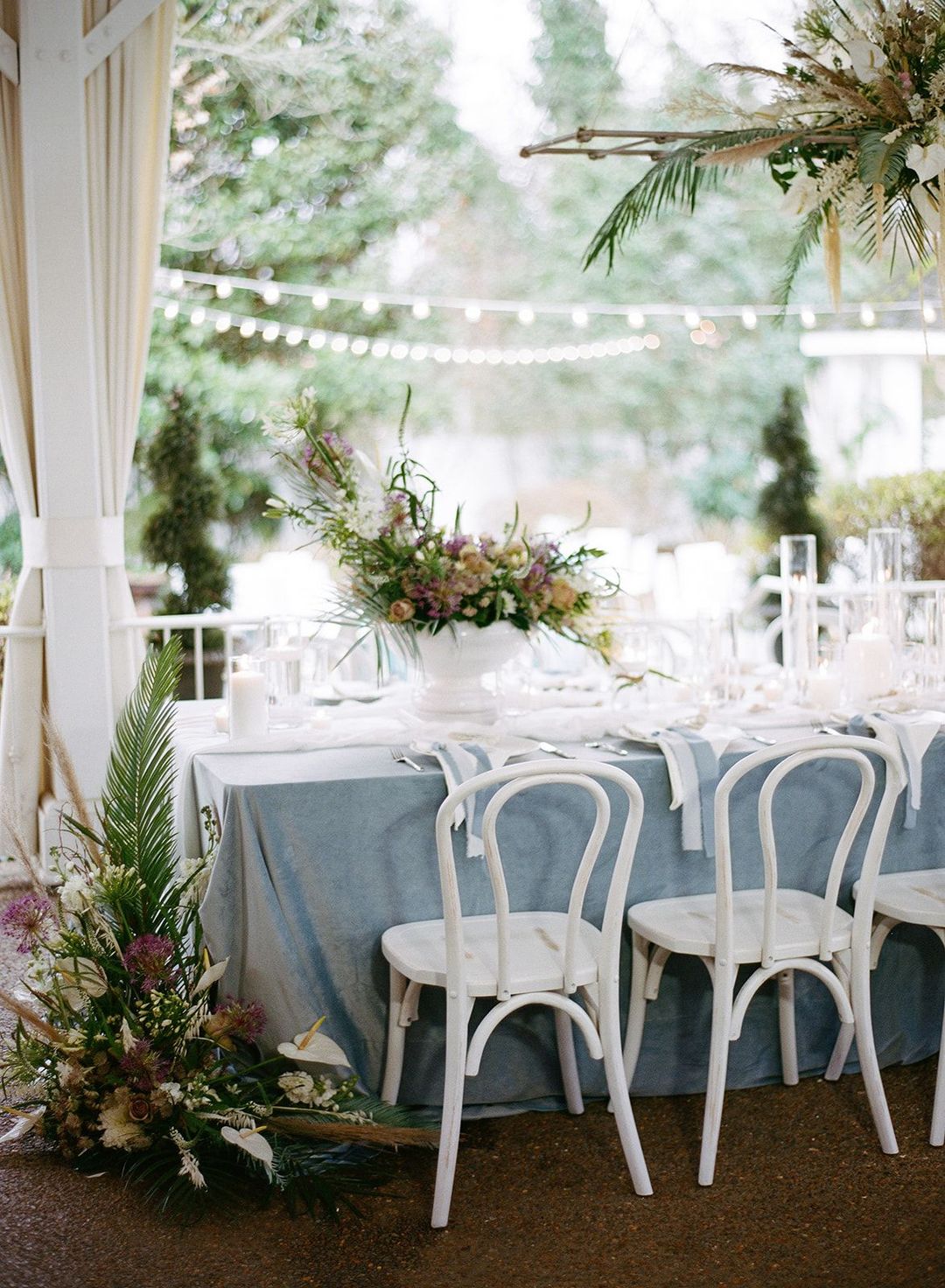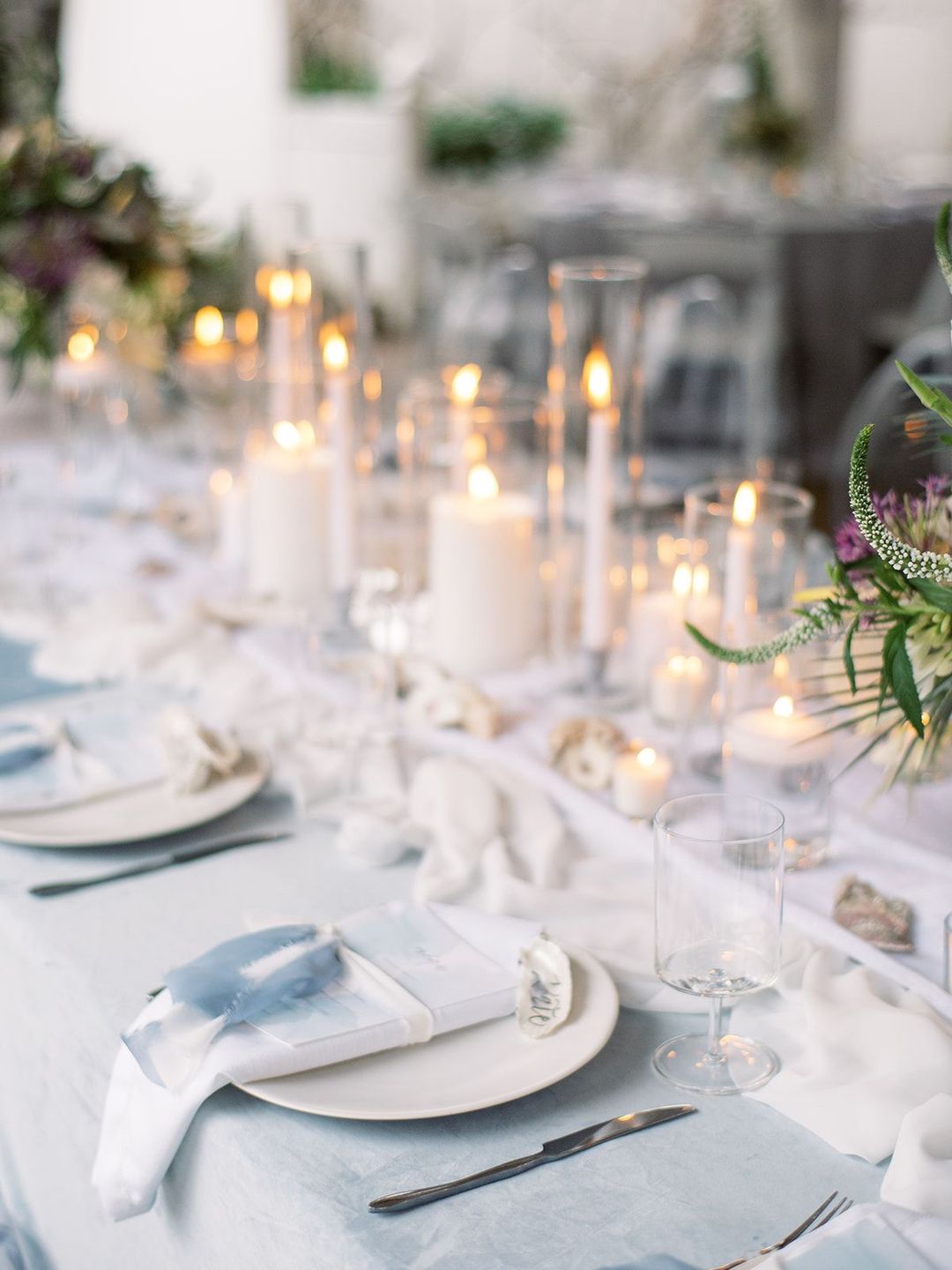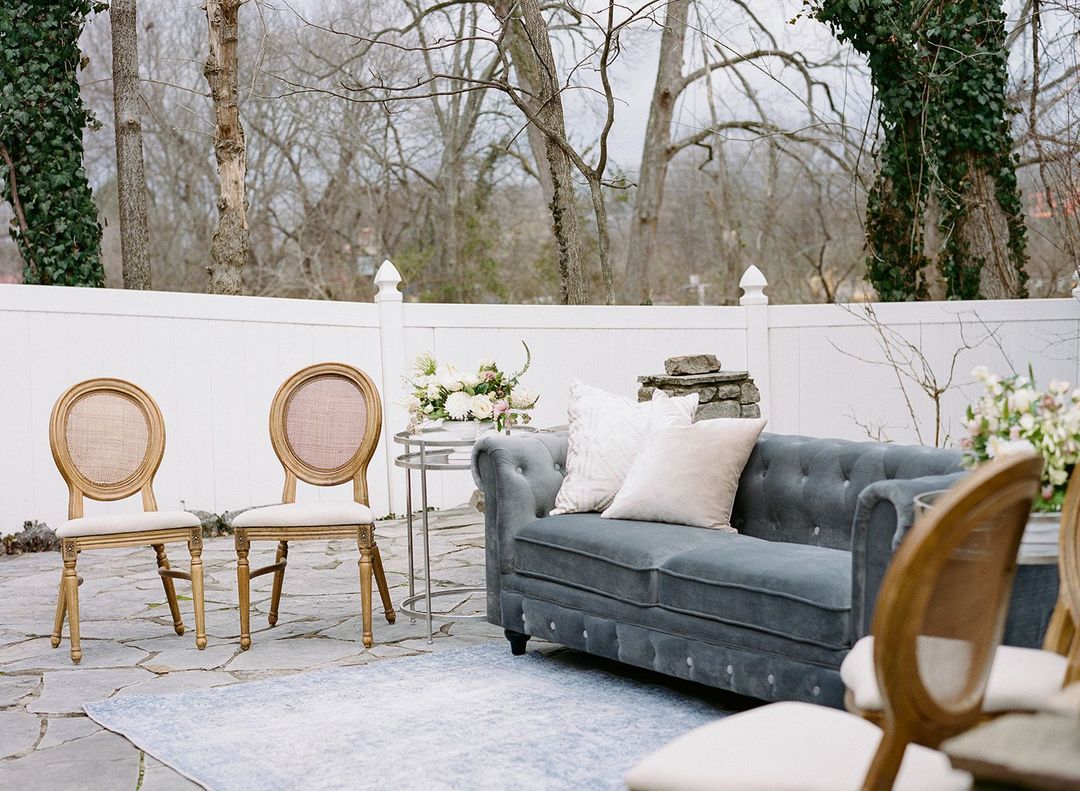 Photos Abigail Lewis
Love the look of these fall garden weddings?  We would love to help plan your autumn nuptials, whether or not they'll take place at CJ's Off the Square. Contact our team at info@southerneventsonline.com & let's start planning! Or for more event inspo, take a look at our blog on earth-toned party rentals.
TAGS | CJ's Off the Square, Garden Wedding, Garden Wedding Inspiration, autumn wedding decor, fall weddings, outdoor event, outdoor fall wedding
FEATURED RENTALS | Metal Ceremony Ring, Light Pink Etched Velvet, Bloom Chiffon Runner, Mid Century White Barstools, Hob Nob Glassware, White Round China, Belmont Chargers, Cross-Back Chairs, Sand Sutton Collection, Alabaster China, London Fog Velvet Linens, White Chiffon Runners, Bentwood Antique Chairs, Henley Grey Velvet Tufted Sofa, Adeline Dining Chairs, Echo Silver Mirror Side Tables,
---