10

Sep

On Trend, Southern Events Products, Trends and Inspiration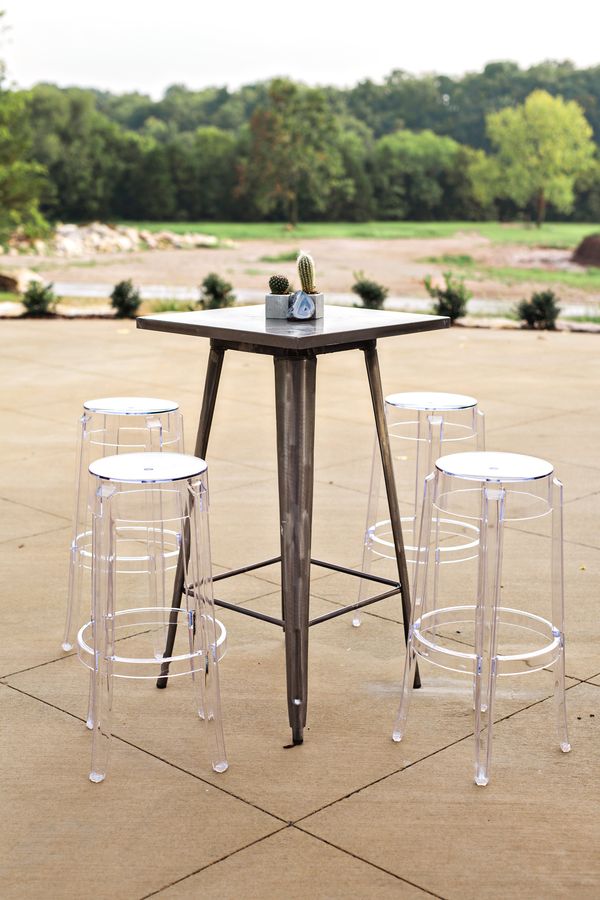 When it comes to small gatherings, you want to make the most of the space and allow guests to interact safely. To help you create a functional layout, we've rounded up of our favorite bistro style and mixed seating set-ups for every type of event. Spacing out seating and place settings appropriately is just one way that you can continue to host safer events in Nashville, Tennessee!
Bistro Tables
Hosting a cocktail hour? Bistro tables will take your event up a notch. Although compact, these tables bring a sense of luxury to even the smallest spaces.
This simple outdoor set-up features our a bistro table paired with elegant Cross-back Barstools. A neutral-toned table linen added a touch of formality, without distracting from the beautiful setting.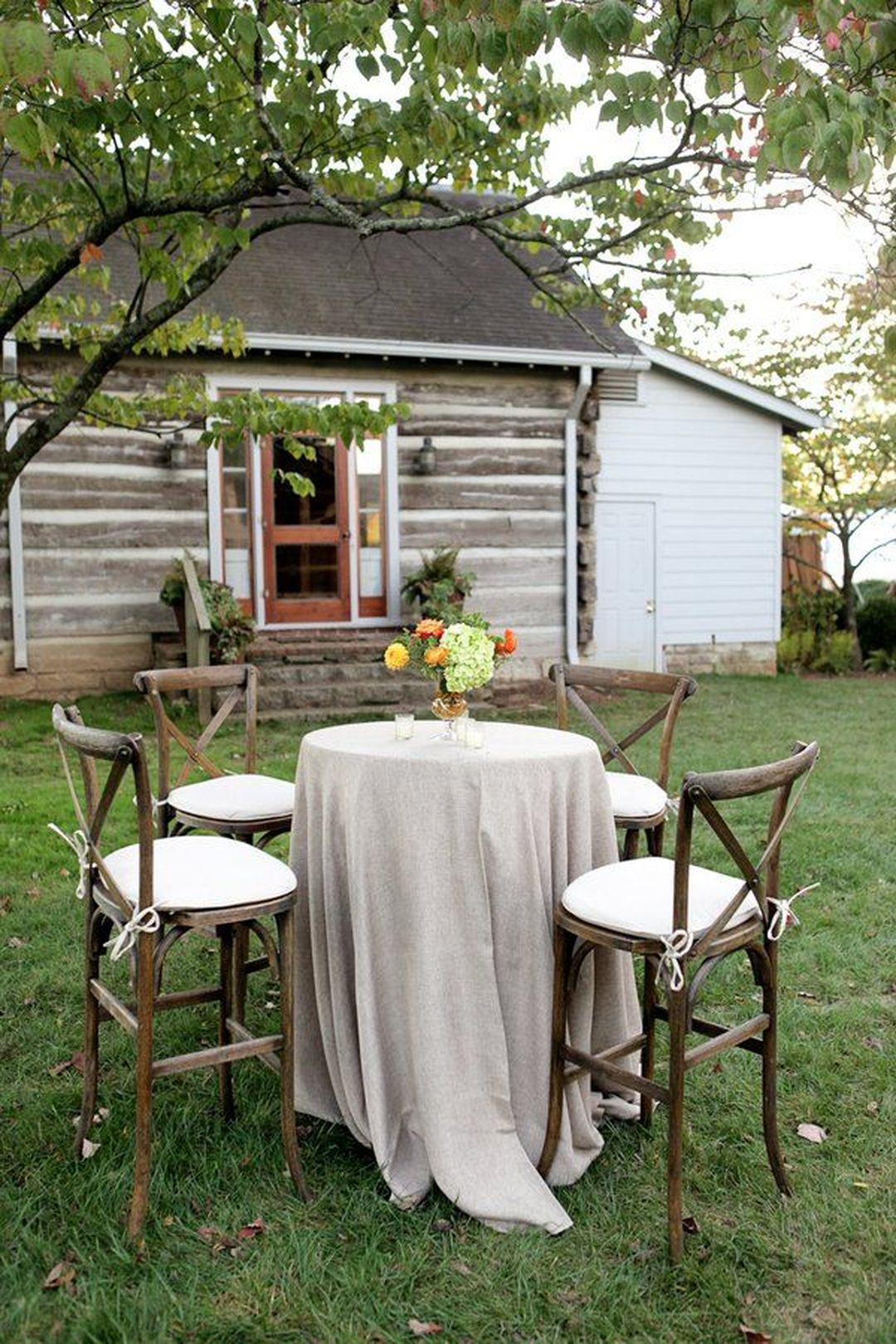 This contemporary bistro set-up at CJ's Off the Square is perfect for a wedding. It is draped in our Light Pink Etched Velvet Linen and complemented by Mid Century White Barstools.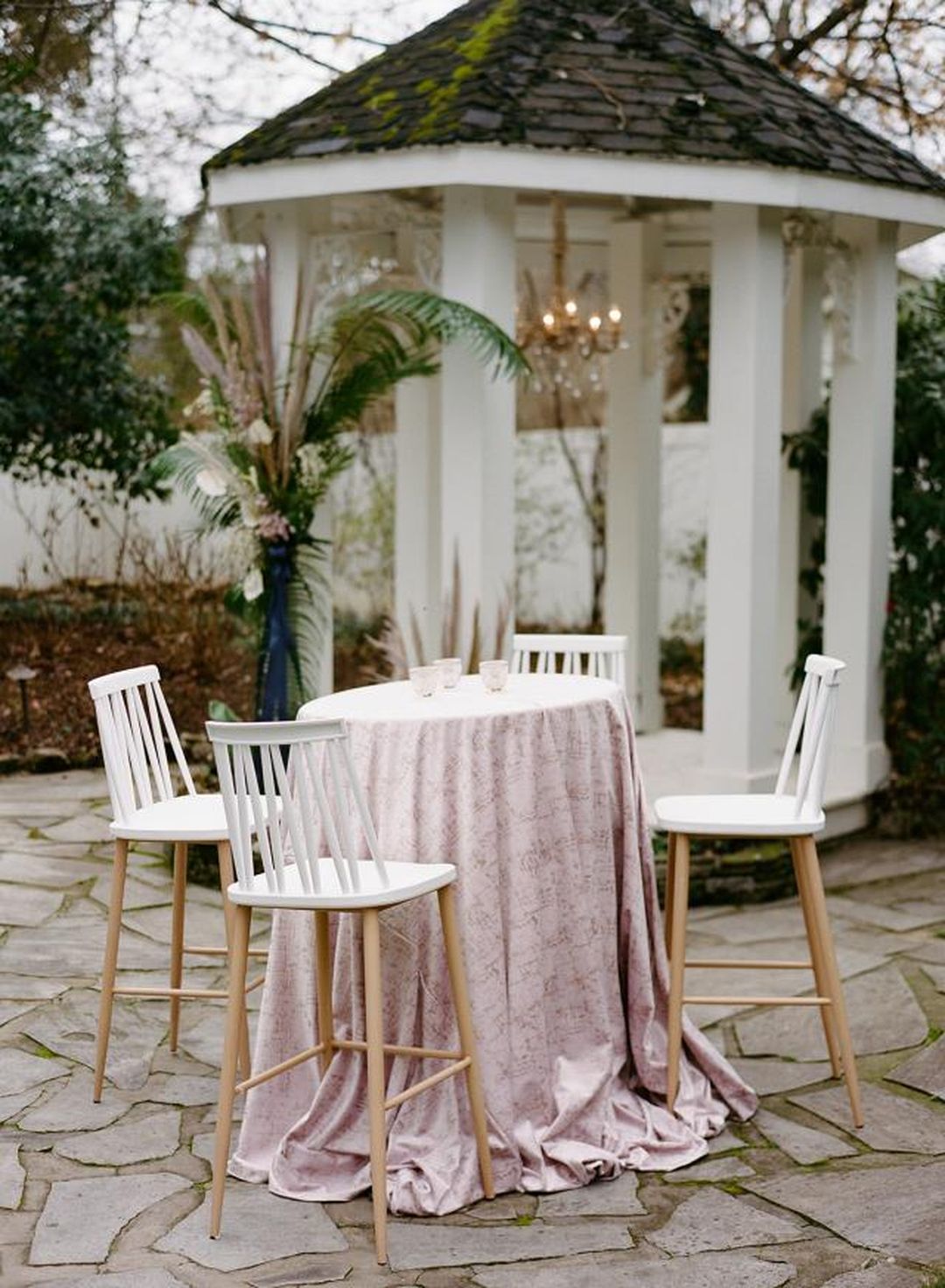 Our Loren Gold Bistro Table screams luxury! Adding to this elegant design, are our modern Acrylic Ghost Barstools. We love the bold choice to feature contrasting colors, via Tawny Napkins and Onyx China.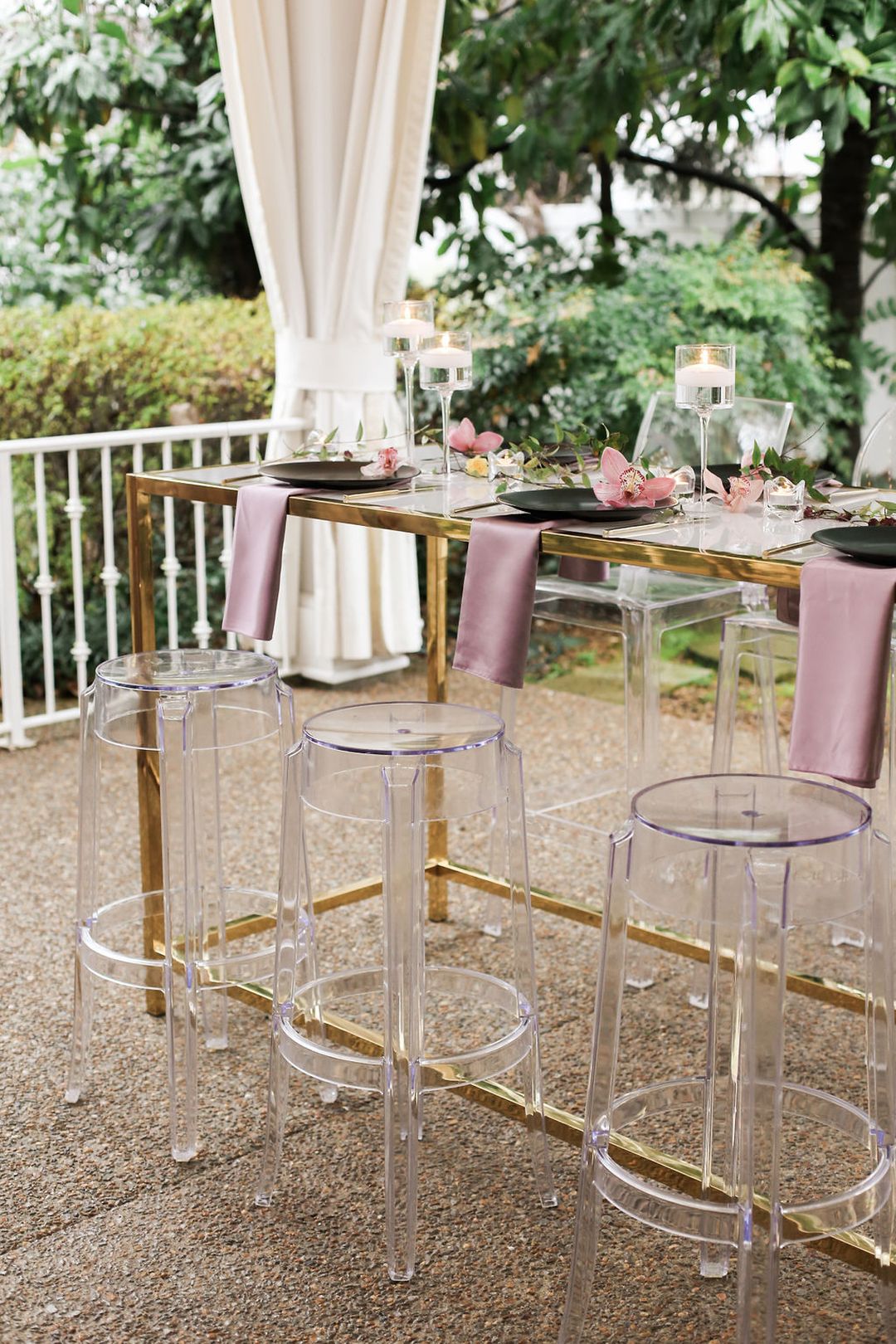 Photo by Jenna Henderson Photo
Simple but beautiful, this set up combines both old and new elements. Our rustic Grayson Farm Bistro Table is paired with modern Acrylic Ghost Barstools.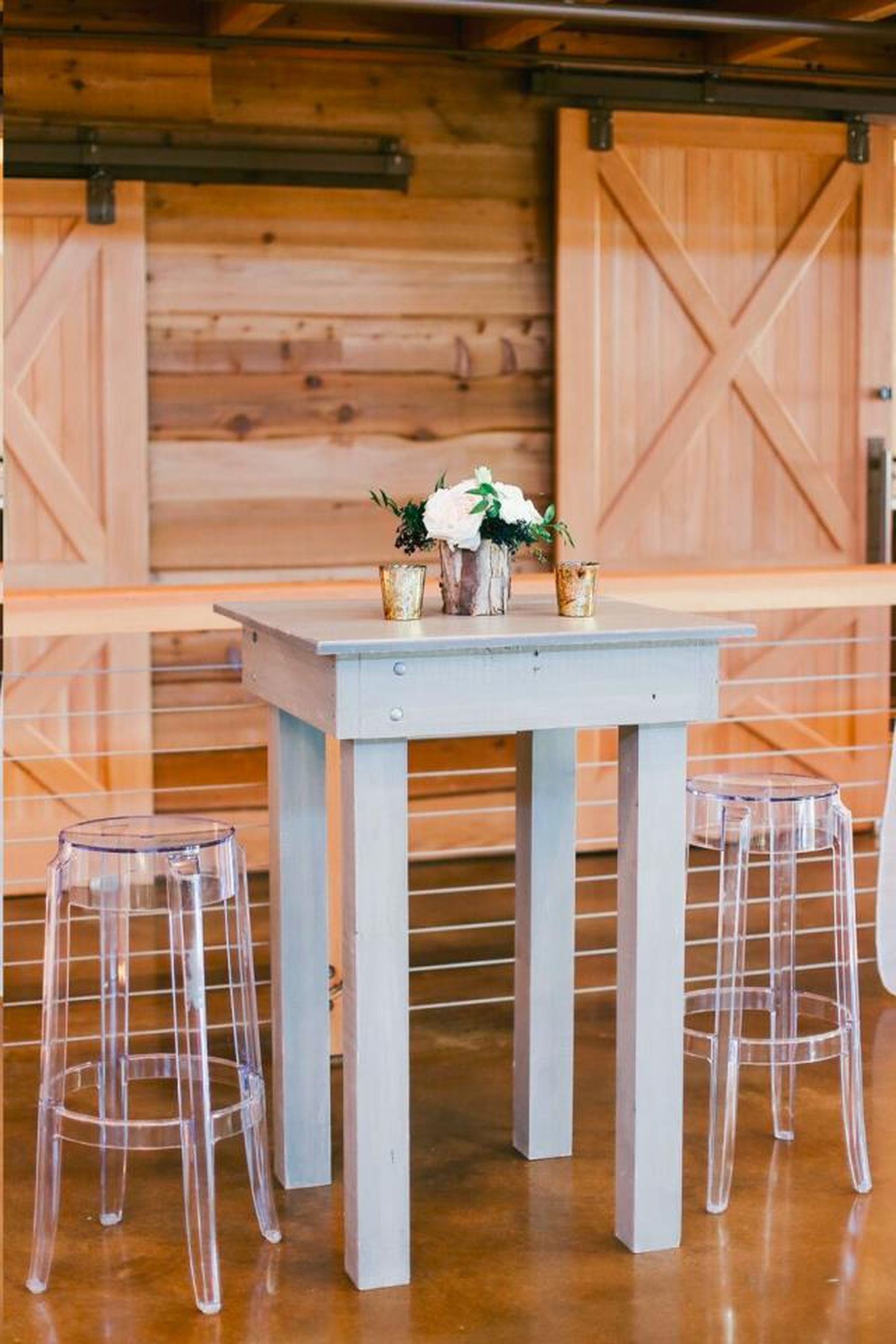 Mixed Seating
Want a slightly larger, low to the ground alternative? These cozy mixed seating set-ups are perfect for your next social gathering. Be sure to set the furniture farther apart than normal. You can use a rug to fill the interior space, or to create a frame for the area, like the elegant arrangement below. It features our Adeline Dining Chairs with a plush loveseat.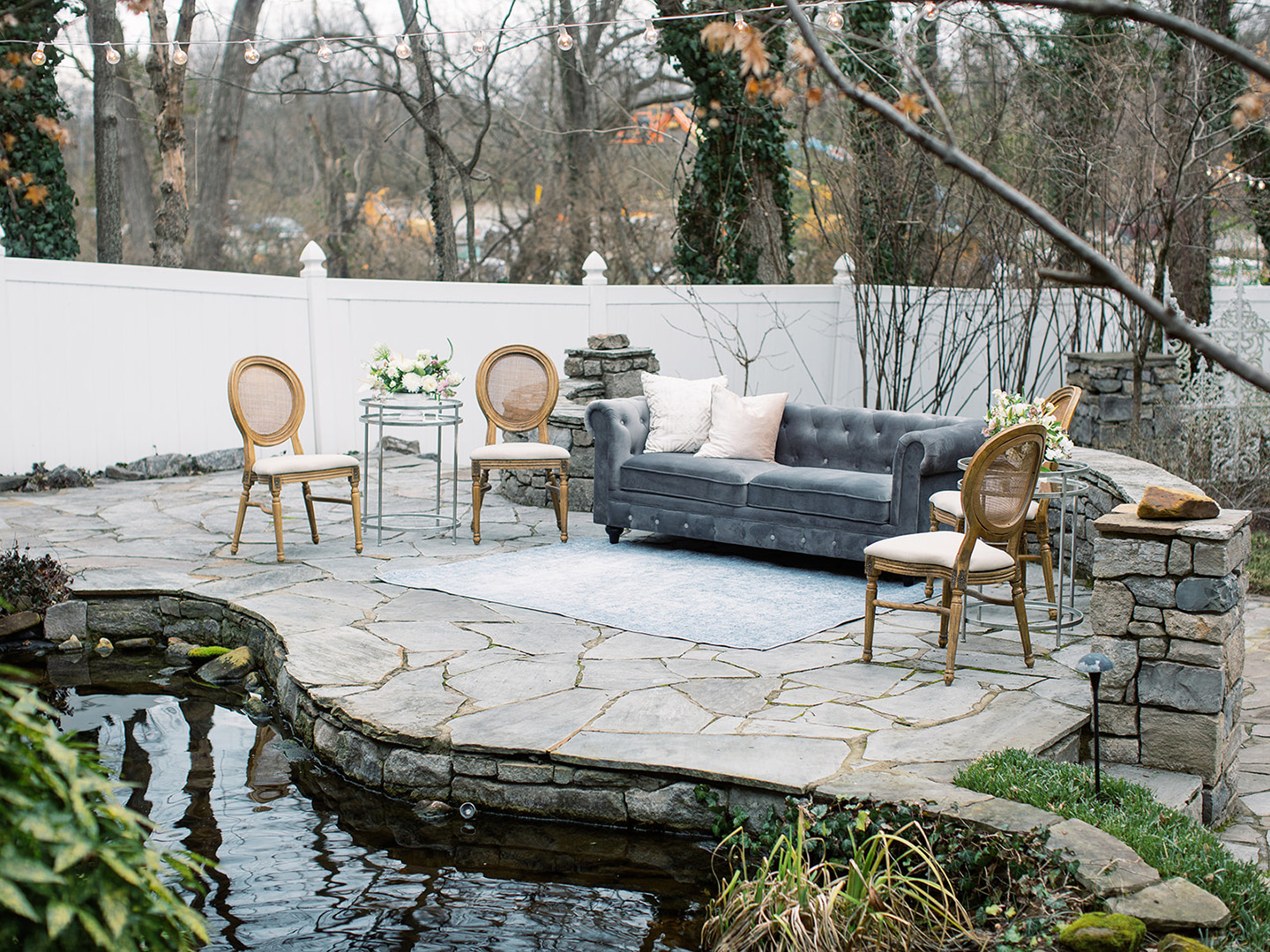 Photo by Abigail Lewis Photography
Created for a luxe southern wedding, this vibrant seating area was made using our Saylor Navy Velvet Sofa and matching chairs. Cheval Gold Side Tables are added as a place for guests to set their drinks.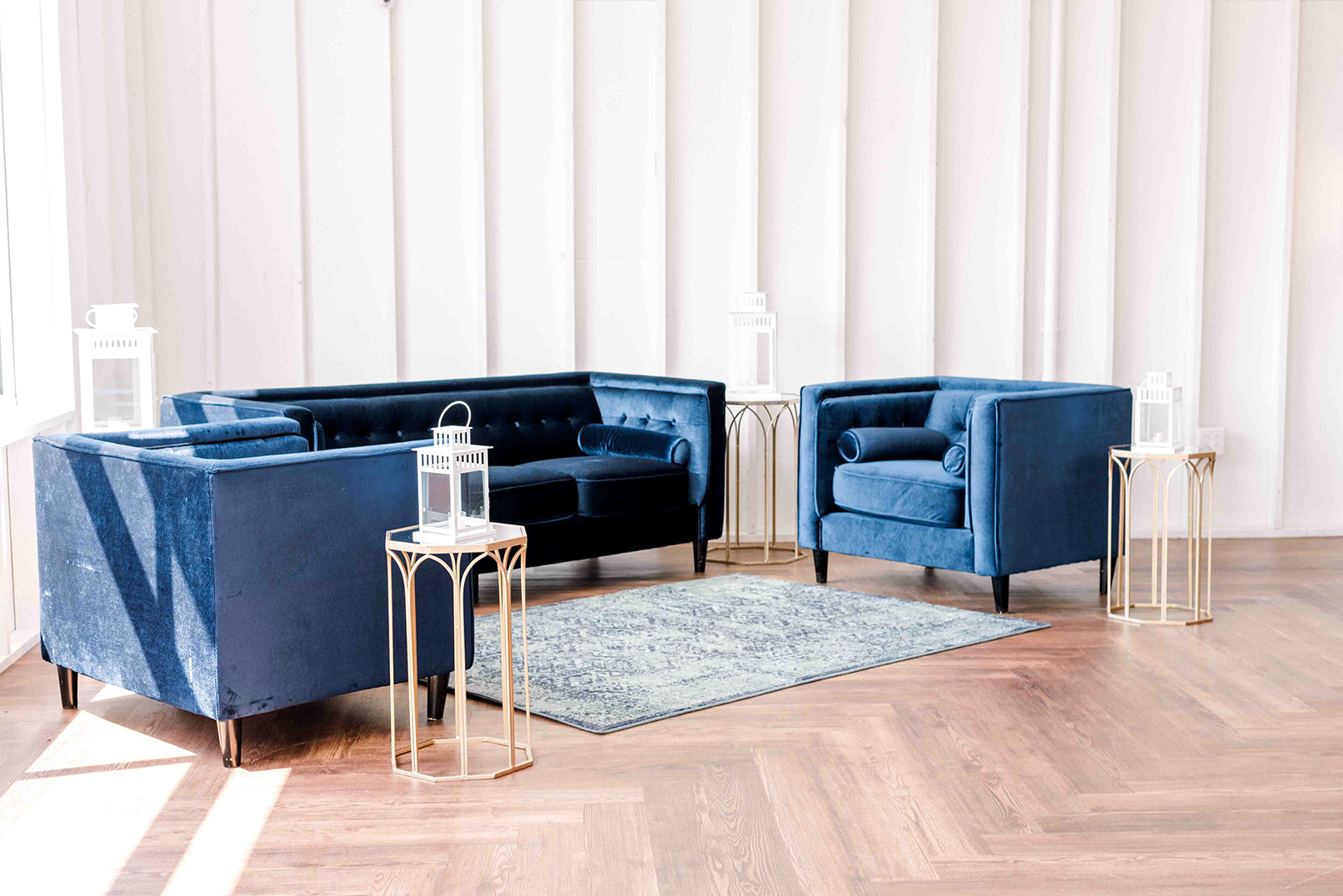 Photo by Cee Cee Photography
A unique mix of urban and contemporary elements, this mixed seating arrangement features our Mercer White Leather Collection and Midas Gold Bench.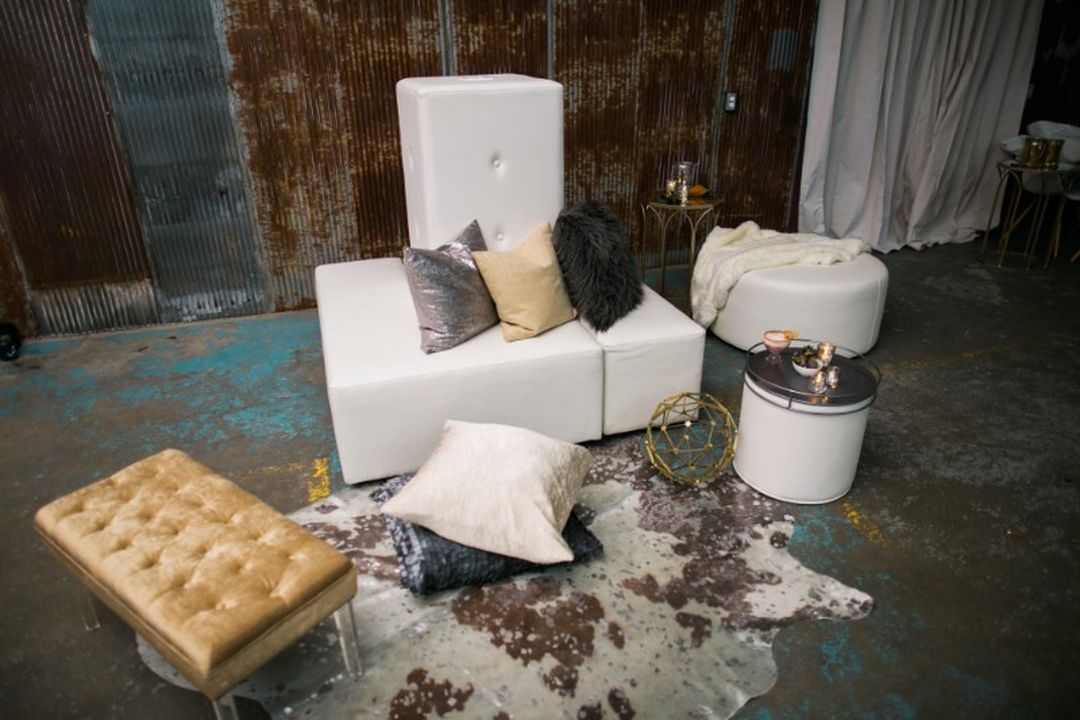 A beautiful warm-toned set up, our Bennett Leather Sofa and London Loveseat is perfect for a modern rustic event or wedding. It also includes our Cheval Gold Side Tables, Chocolate Poufs, and a Cowhide Rug.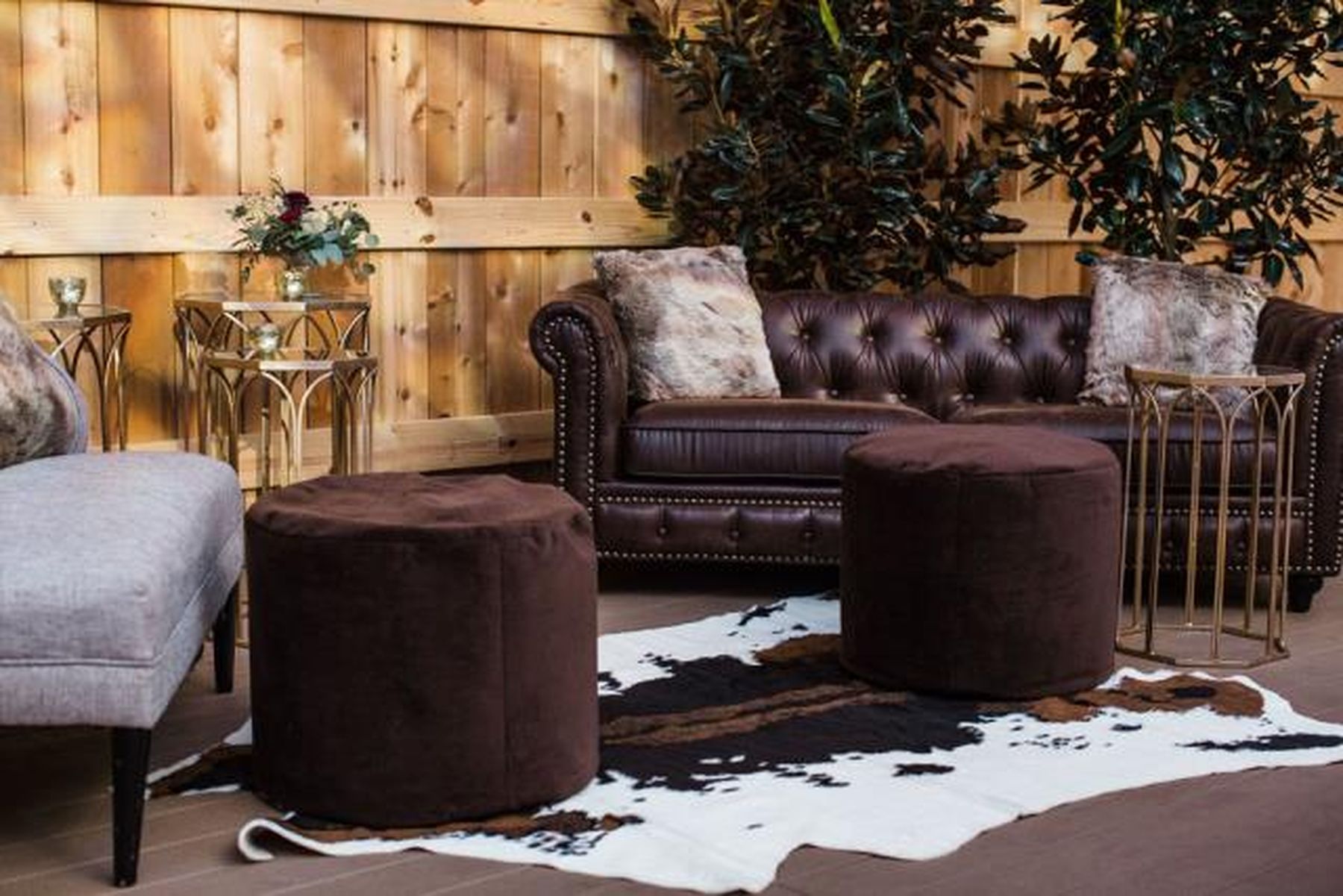 Want to incorporate a mixed seating arrangement into your upcoming event layout? Be sure to take a look at our current Lounge Packages, pre-designed for every type of event. Or, if you prefer to create an arrangement of your own, contact our team at info@southerneventsonline.com.
TAGS | Bistro Tables, Chairs, Cocktail Party Rentals, Lounge Furniture Packages, bistro chairs, bistro seating, cocktail hour, lounge areas
FEATURED RENTALS | cross back barstool, acrylic ghost barstools, Chocolate Poufs, Cowhide Rugs, Mercer White Leather Collection, Bennett Leather Sofa, London Loveseat, Midas Gold Ottoman, light pink etched velvet linens, Saylor Navy Velvet Sofa, Cheval Side Tables, mid century white barstools, Adeline dining chairs, loren gold bistro barstool, Grayson farm bistro table, Onyx china, tawny napkins,
---
14

May

Southern Events Products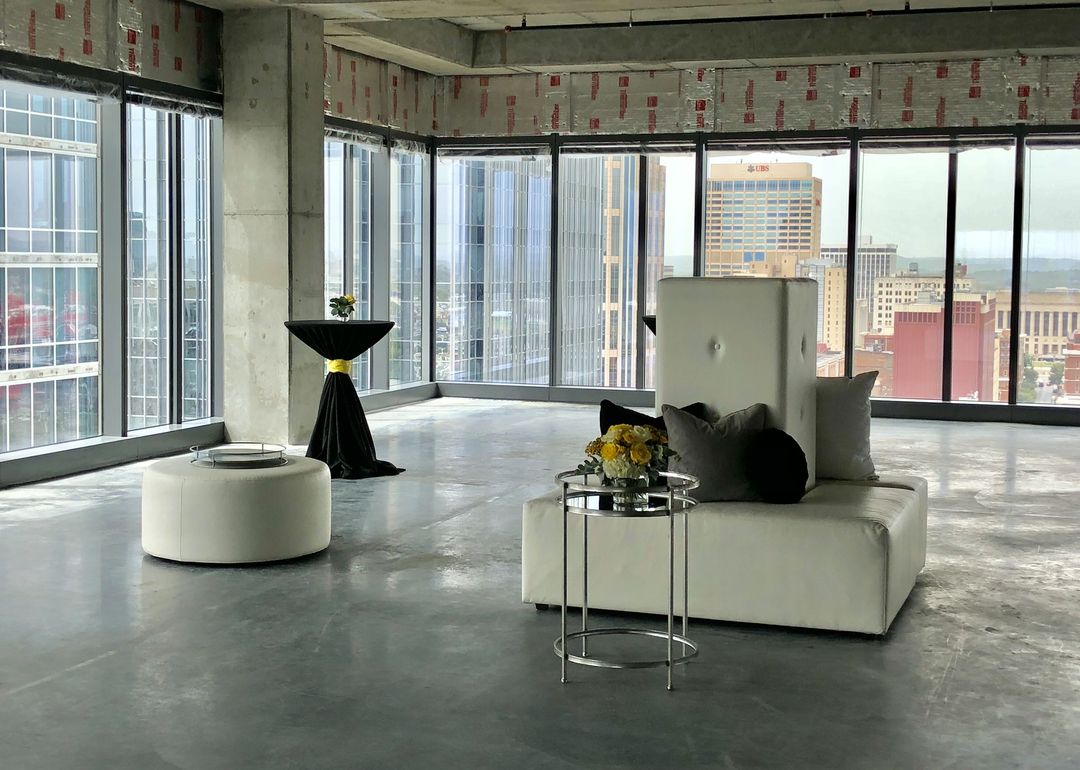 Furniture with sleek features, straight lines, and smooth and shiny surfaces – hello modern event lounges! Modern furniture design often focuses on simple geometric shapes rather than heavy or excessive ornamentation. The following event lounge packages are free of busy lines and color schemes, which lend a simple, elegant and refined look.
Chic & Sleek
White, blue velvet and gold are a gorgeous trio in this chic and sleek modern lounge package. It features our stunning Saylor Navy Velvet Sofa, with its rich color and geometric tufts. The slender legs of the Rory Navy Velvet Chair complement the Rhodes Coffee and Side Tables. The stark white tops are a beautiful contrast next to the surrounding sea of navy.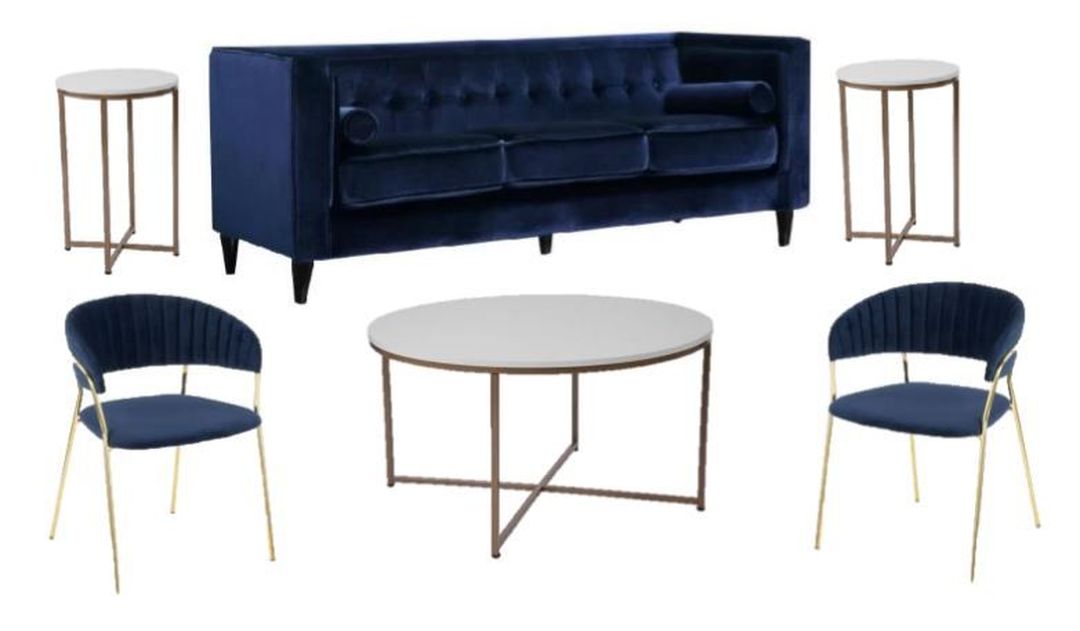 Classic Black & White
If you are looking to make a statement, this black and white event lounge is a bold choice. The sleek Black & White Stripe Cabana Benches, striking and sharp, pulls from the Regent Black Velvet Sofa. This pattern adds a unique punch of character to the otherwise plain lounge area. Meanwhile, the Rhodes Coffee Table and Rhodes Side Table add a subtle but luxe gold accent into the mix.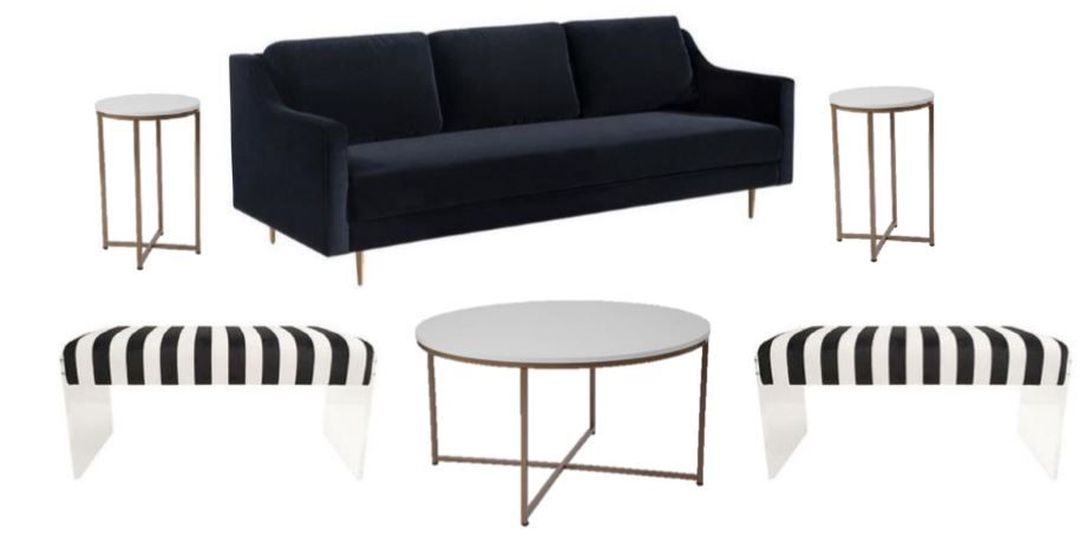 Modern Glam
Featuring black and white, this modern glam lounge is sleek and a little flashy. Blocky furniture, like the Santorini Off-White Sofa and Santorini Off-White Loveseat, appears visually sharp yet is cozy – promise.  It pairs perfectly with our white Siros Coffee Table. The cylindrical shape of the Echo Silver Mirror Side Table provides a bit of relief from the geometric dominated space, while a Black-Silver Rug ties it all together. (Learn why rugs are essential for creating a functional space!)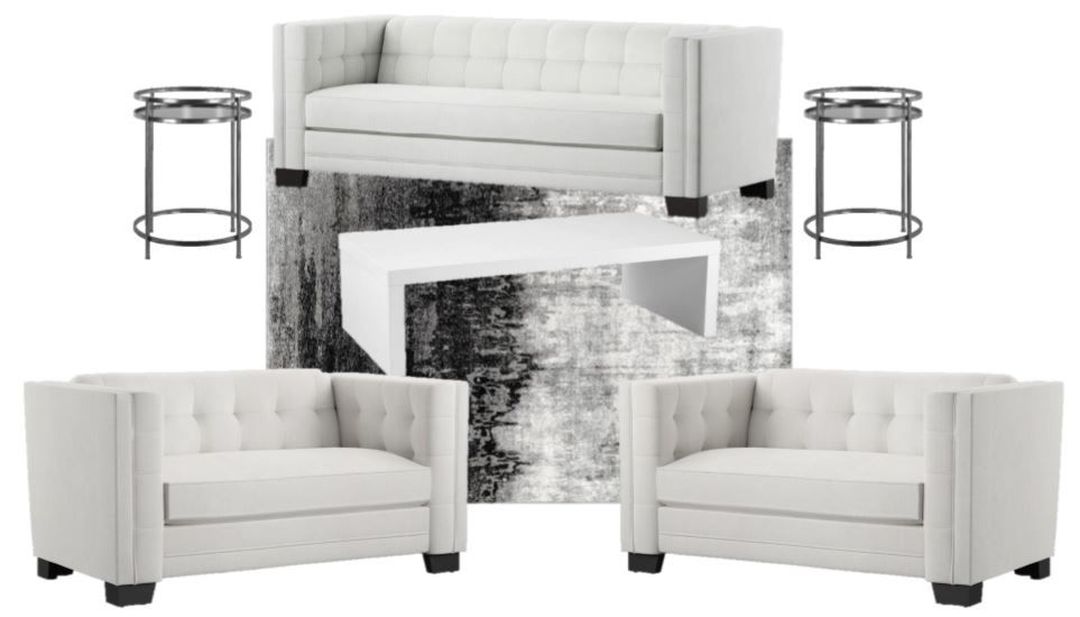 Simplistic
Primarily functional, this simplistic modern event lounge setup features neutral tones with a touch of gold. The Regent Black Velvet Sofa is clean but inviting, with its plush velvet cushions. One of the most popular modern furniture designs, the White Eiffel Arm Chair will tempt all of your guests, with its unique shape. Each piece is subtly connected, via solid colors and geometric angles, such as the legs of the Rhodes Coffee Table.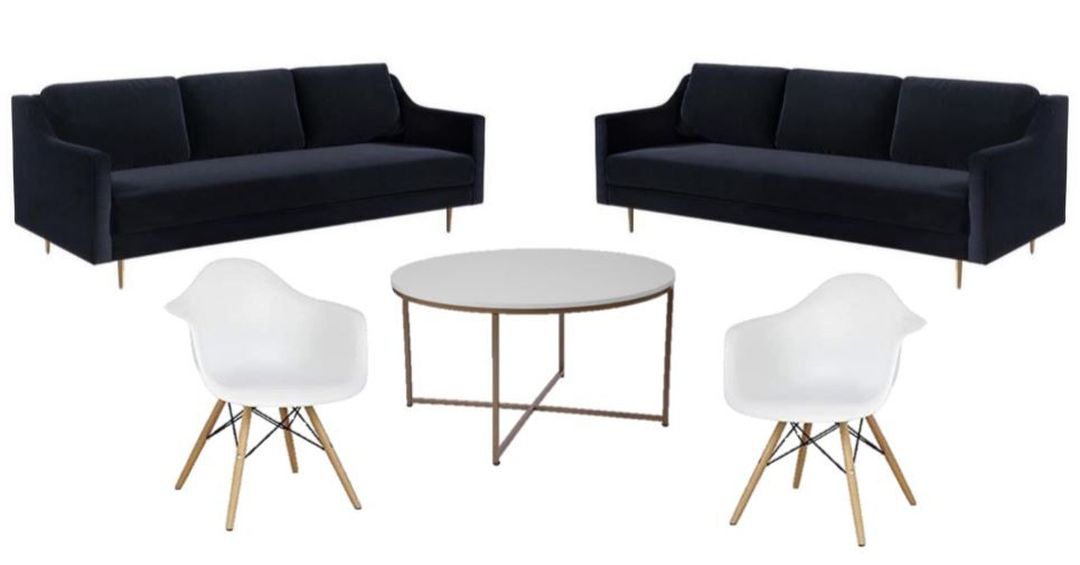 Contemporary
With a mix of unique shapes and textures, this social area will be a big draw. It consists of the Mercer White Leather Couch, Mercer White Leather Ottomans, Acrylic Ghost Arm Chairs and a Nickel Grey Bench. This package is the definition of contemporary, with simple geometric shapes and smooth surfaces. We are especially fond of acrylic elements, such as the armchairs and bench legs, which are sleek and stylish.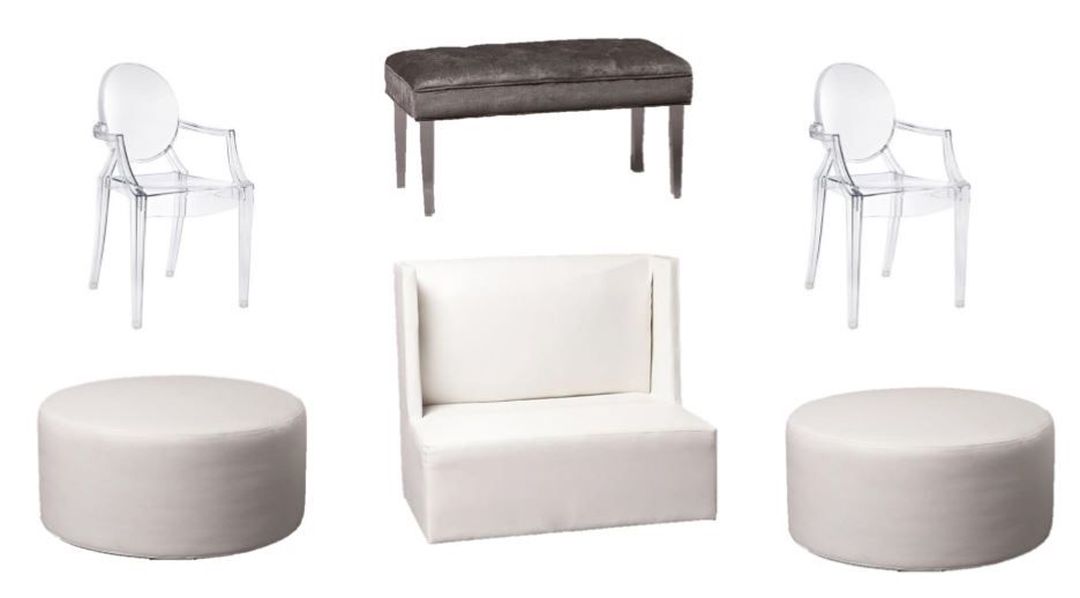 Loving these sleek and modern event lounge designs? See more options event lounge packages or contact our team today to book one for your wedding or event!
TAGS | Lounge Furniture, Lounge Furniture Packages, Modern Event Lounge, Modern Lounge Furniture, lounge, lounge areas
FEATURED RENTALS | Regent Black Velvet Sofa, Black & White Stripe Cabana Bench, Rhodes Coffee Table, Rhodes Side Table, Saylor Navy Velvet Sofa, Rory Navy Velvet Chair, Rhodes Coffee Table, Rhodes Side Table, Navy Rug, Santorini Off-White Sofa, Santorini Off-White Loveseat, Siros Coffee Table, Echo Silver Mirror Side Table, Black-Silver Rug, Regent Black Velvet Sofa, White Eiffel Arm Chair, Rhodes Coffee Table, Mercer White Leather Couch, Mercer White Leather Ottoman, Nickel Grey Bench, Acrylic Ghost Arm Chair
---
28

Dec

Southern Events Products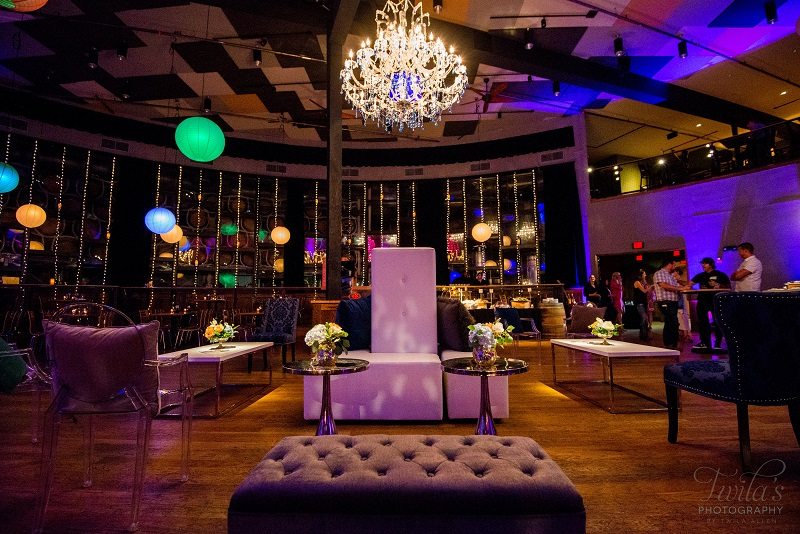 No matter what kind of Nashville or Franklin TN event you're having, a lounge area is a welcome addition. It allows guests to mix and mingle outside of their assigned tables or beyond a conference classroom setting. And with Southern's rentals, lounge areas are functional and fun.
Need a little inspiration? We've put together three popular lounge styles, each featuring a variety of our most loved rentals.
Event Lounge Style: Bright White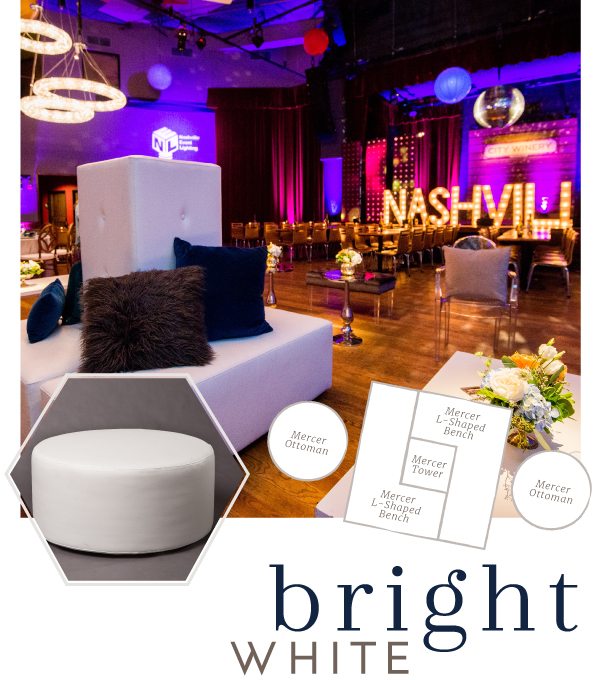 Our new White Leather Mercer Tower is powered, meaning it can be used as a charging station for guests! Busy professionals at your event will love this feature; and paired with ghost chairs and white & silver accents, it's chic any time of the year.
Event Lounge Style: Color Pop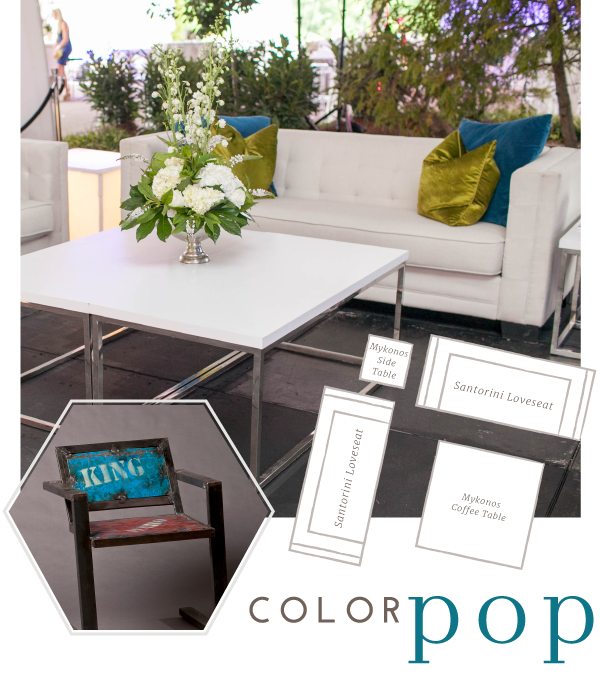 Add a little brand personalization to your event with color! Dress up the classic Mykonos Coffee Table and Santorini Sofa with bright pillows and complete your lounge look with colorful pieces and accessories, like our Urban Metal Arm Chair or Rhapsody in Blue chairs.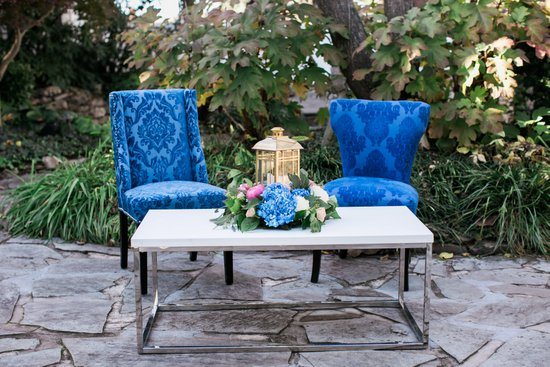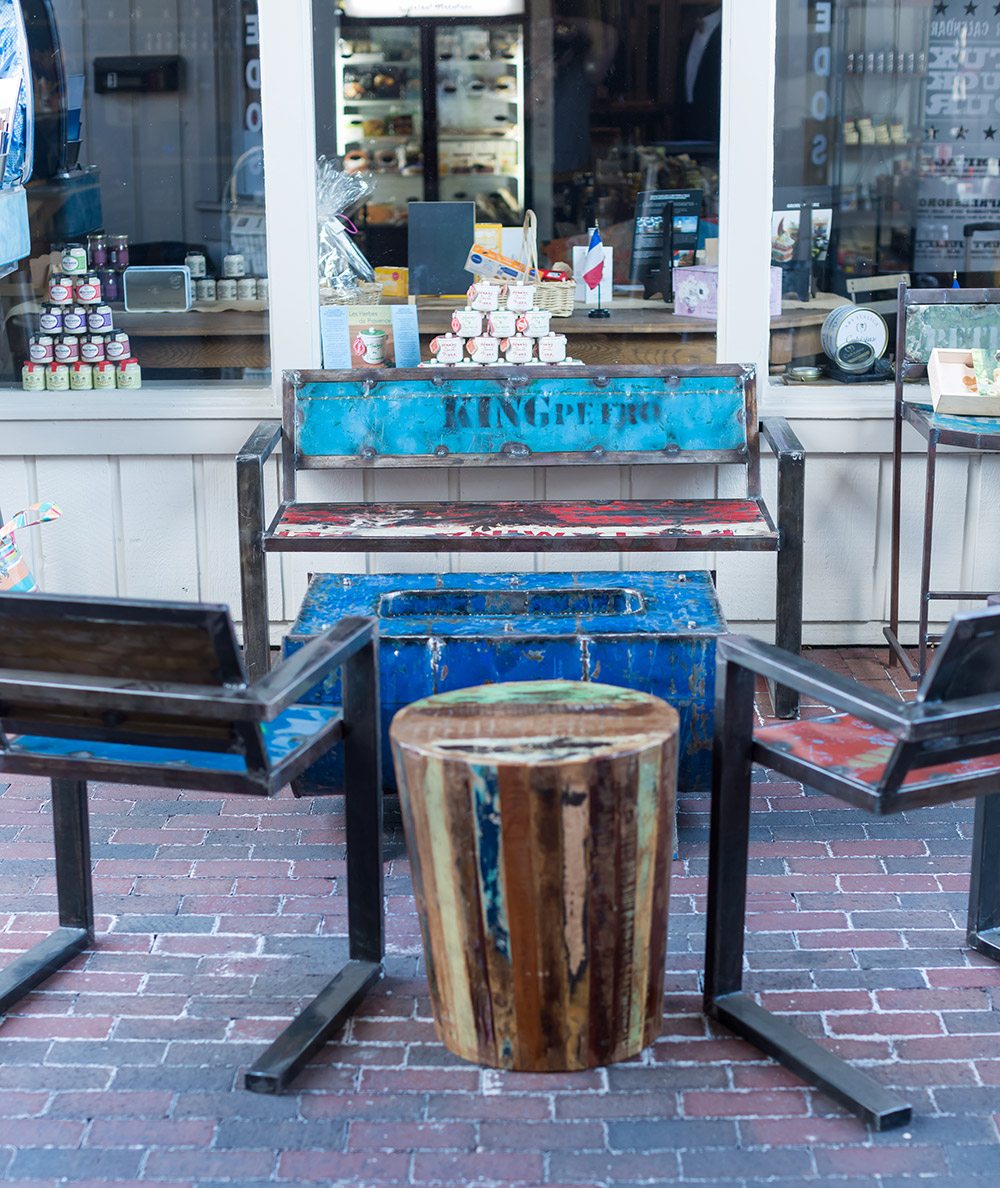 Event Lounge Style: Rustic Texture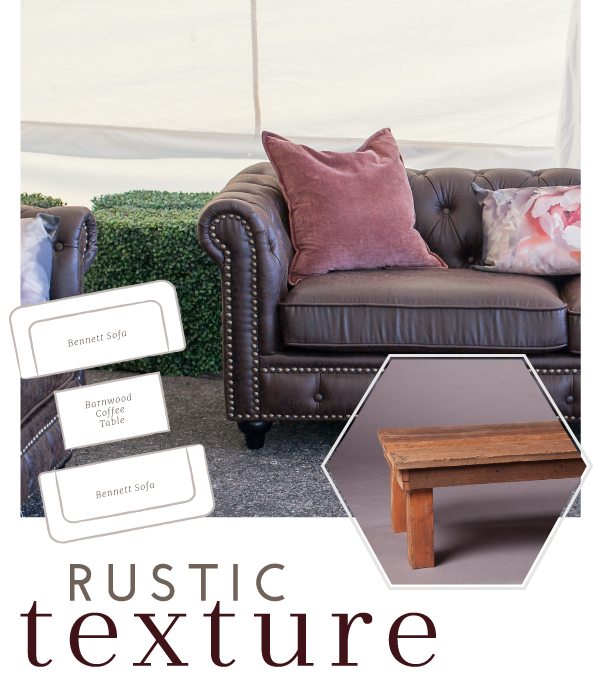 Going for an earthier style? Layering textures can do the work for you! Our tufted leather Bennett Sofa pairs with elegant pillows and the Barnwood Coffee Table to create a lounge that's comfy for putting up your feet after networking at an event!
Event Lounge Packages = Event Styling Made Simple
Looking for something with a little more vintage flare? Or hoping for metallics galore? You can easily define a lounge space without wondering if it all goes together with our specially designed lounge packages. Take the guesswork out of designing your lounge or determining your preferred style and add a lounge package designed by the pros!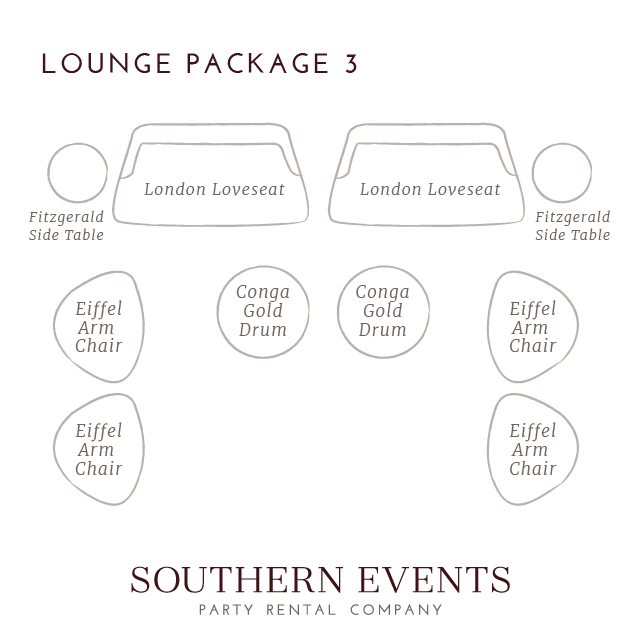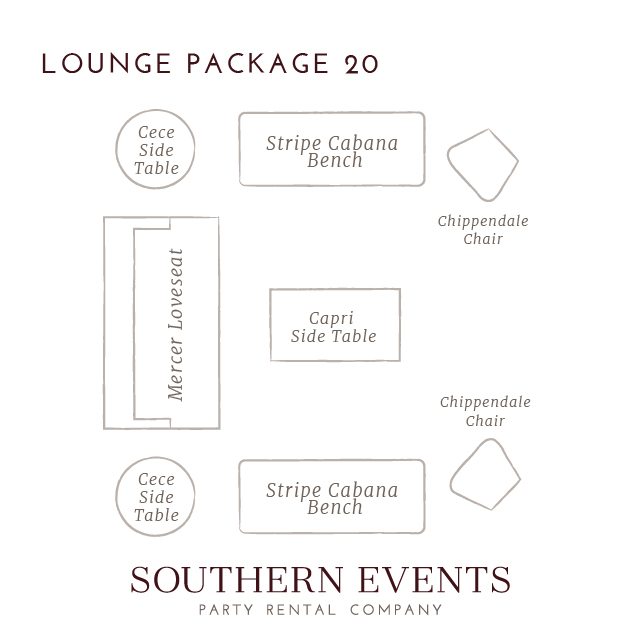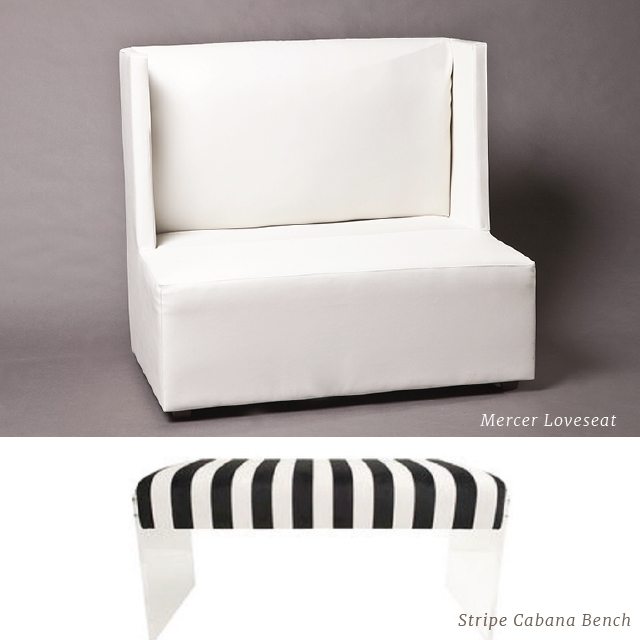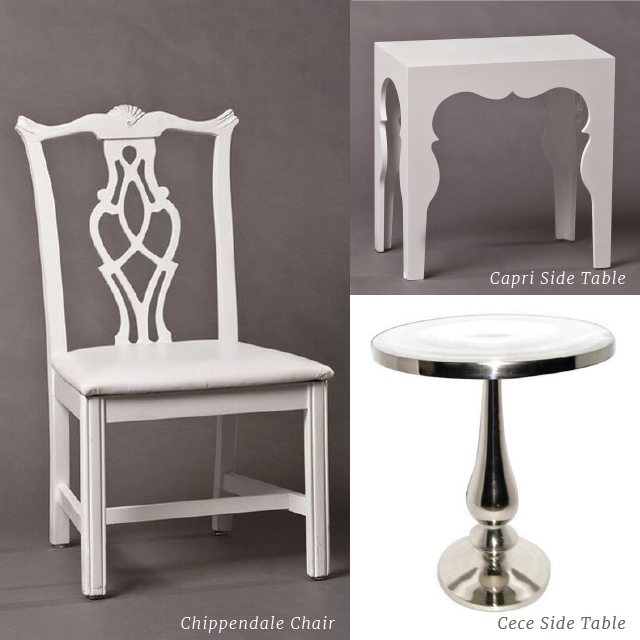 Love these looks? Contact the team today for a quick quote or to reserve the rentals of your choice, info@southerneventsonline.com.
TAGS | Barnwood Coffee Table, Bennett Sofa, Franklin event rentals, Ghost Chairs, Lounge Furniture, Lounge Furniture Packages, Mykonos Coffee Table, Nashville Event Rentals, Rhapsody in Blue Chair, Santorini Sofa, Southern Wedding Rentals, Urban Metal Arm Chair, White Leather Mercer Tower, lounge areas, lounge furniture in nashville, lounge furniture rentals, southern evets and party rentals
FEATURED RENTALS | Barnwood Coffee Table, Bennett Sofa, Urban Metal Arm Chair, Mykonos Coffee Table , Santorini Sofa, Rhapsody in Blue Chair, Ghost Chairs, White Leather Mercer Tower
---