26

Oct

In Stock: Striking and Romantic Rentals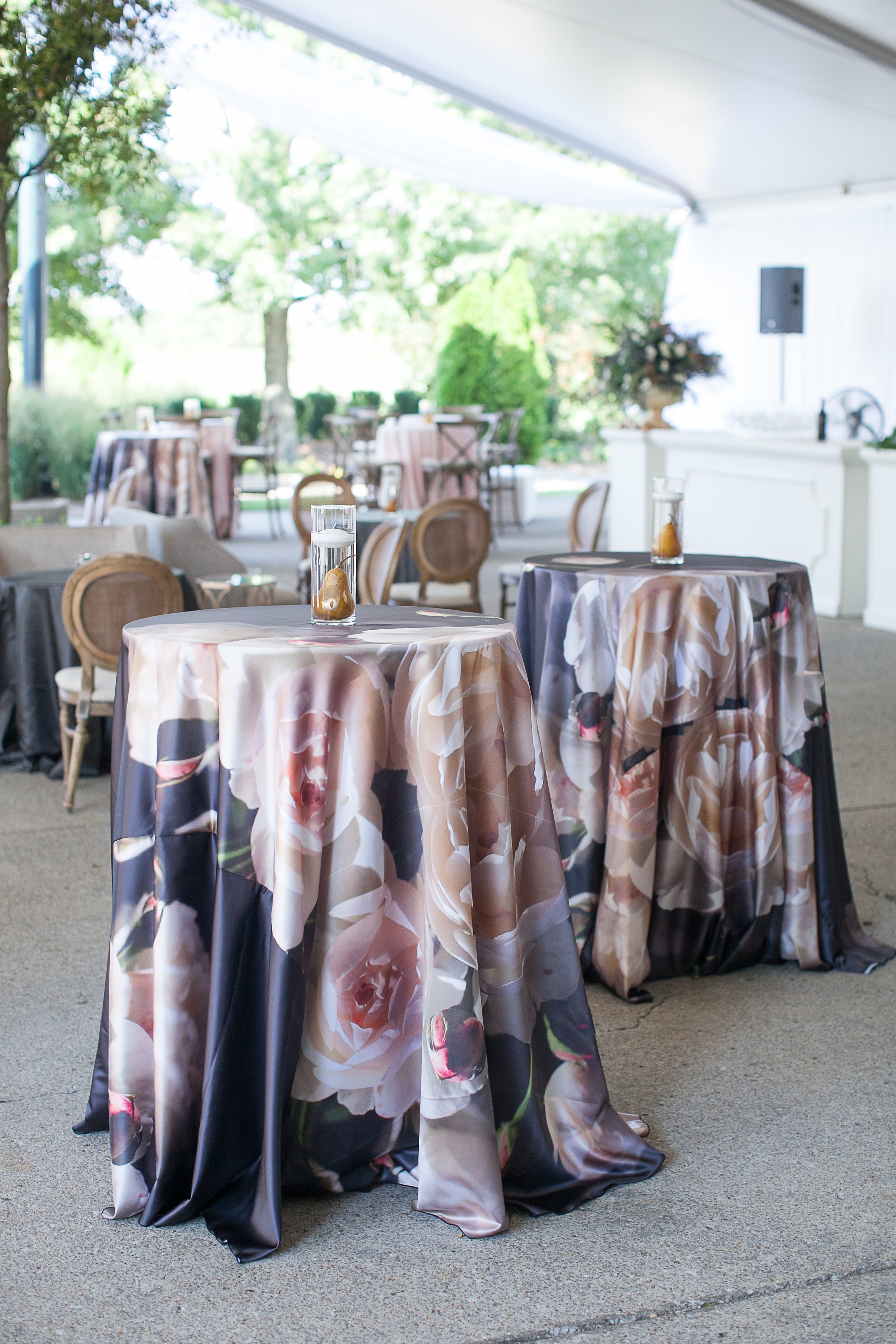 Team Southern has been hard at work sourcing striking new rental pieces for your upcoming events in Nashville & Middle Tennesee. With metallic accents, bold prints, and comfortable tufted furniture, you just might swoon at all that is new in stock!
Looking to dazzle at your next occasion? Southern has all you need for your next Franklin, Nashville or Middle Tennessee event. Reach out to info@southerneventsonline.com to reserve any of the items you see! 
Harlin Chairs
Our Harlin Chairs are the answer for a more formal but still rustic Cross-Back Chair. The architecturally stunning design in natural wood adds elegance to any event, looking striking no matter the season. Available with or without an ivory cushion, this piece has been loved at indoor and outdoor events alike! We love its versatility and the black-tie rustic charm it brings to any occasion.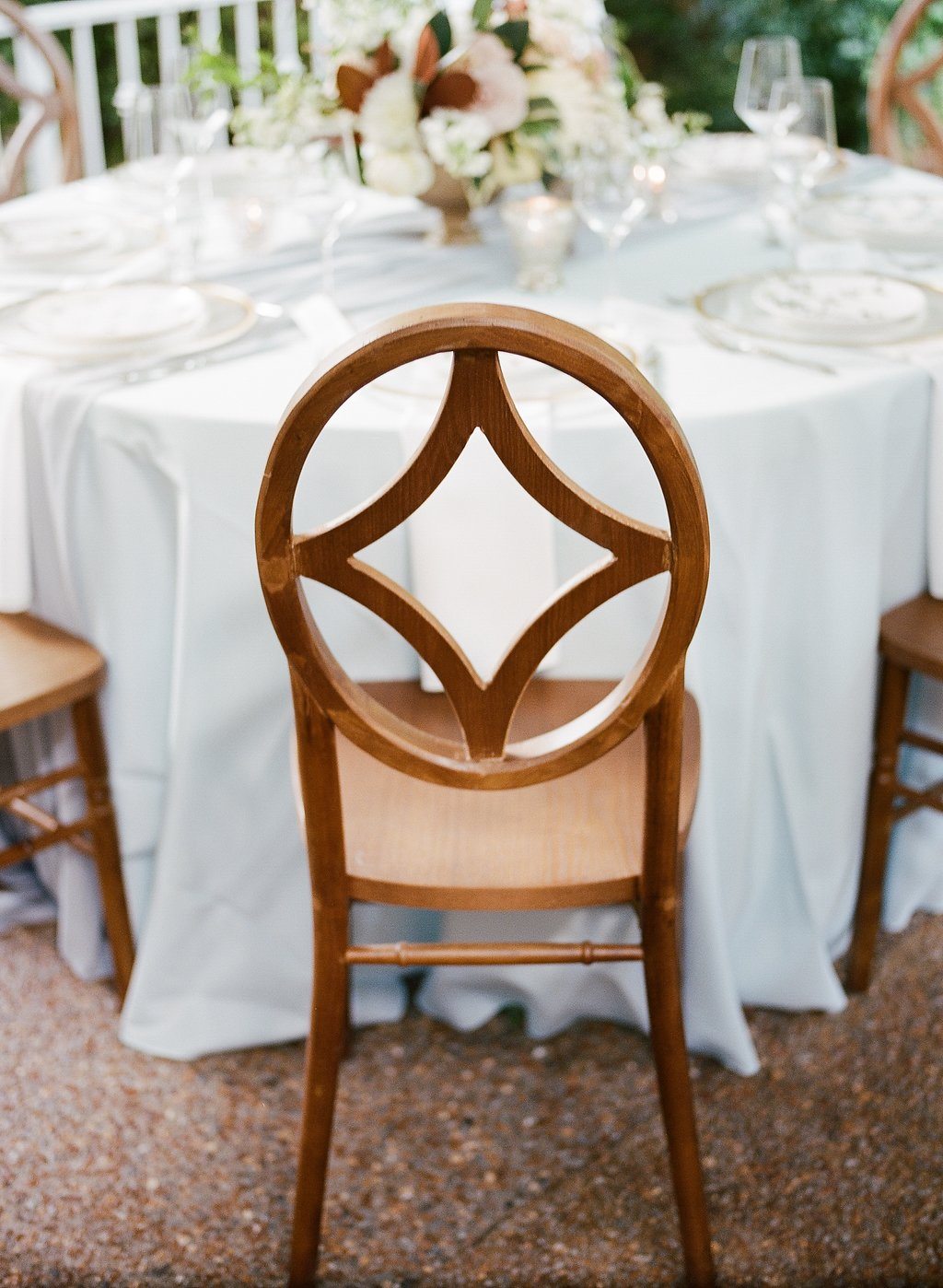 Photo Credit: Jenna Henderson Photographer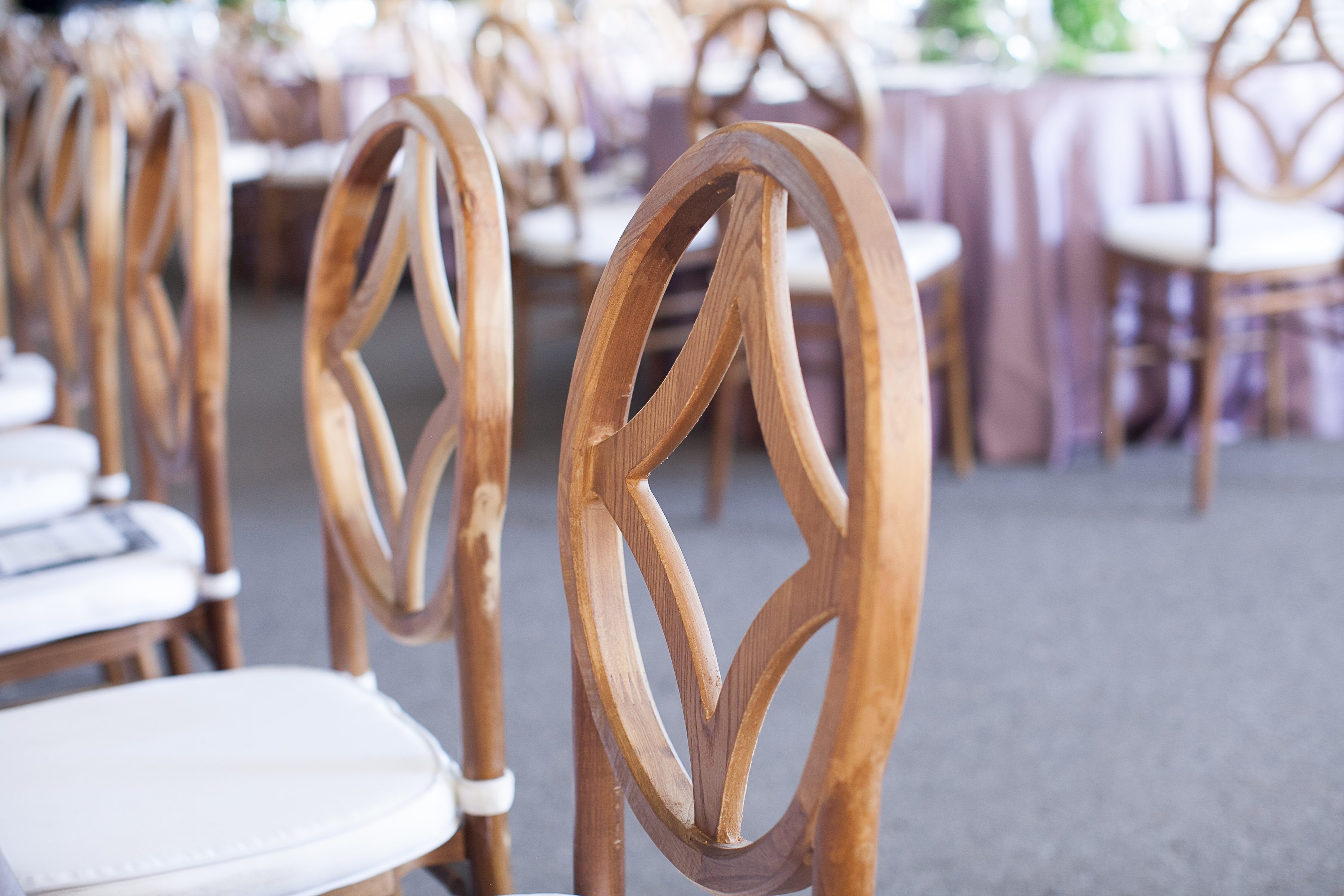 Photo Credit: Phindy Studios
Laguna & Coronado Gold Accent Plates
Adding to our Gold Accent Plates, Laguna and Coronado plates are a gorgeous addition to any place setting. Gold with a hint of sky blue, these small accent plates feature distinct patterns perfectly sized for a starter, salad or dessert course as part of a table setting, or displayed during a cocktail event.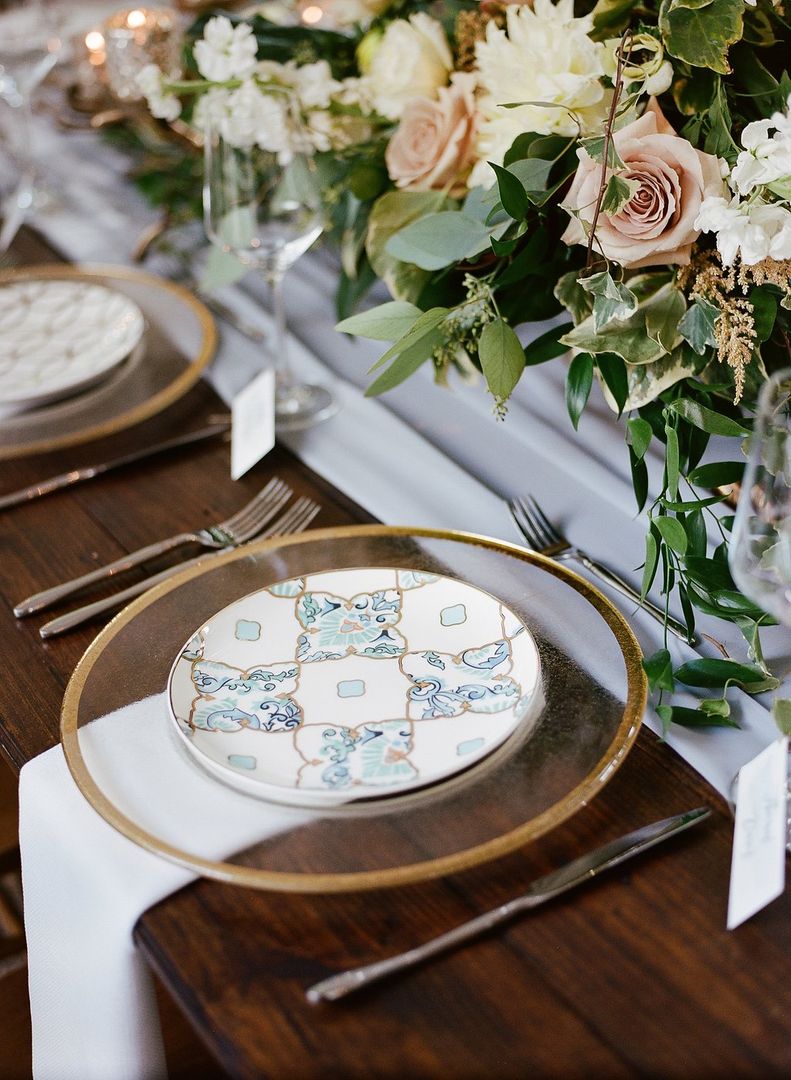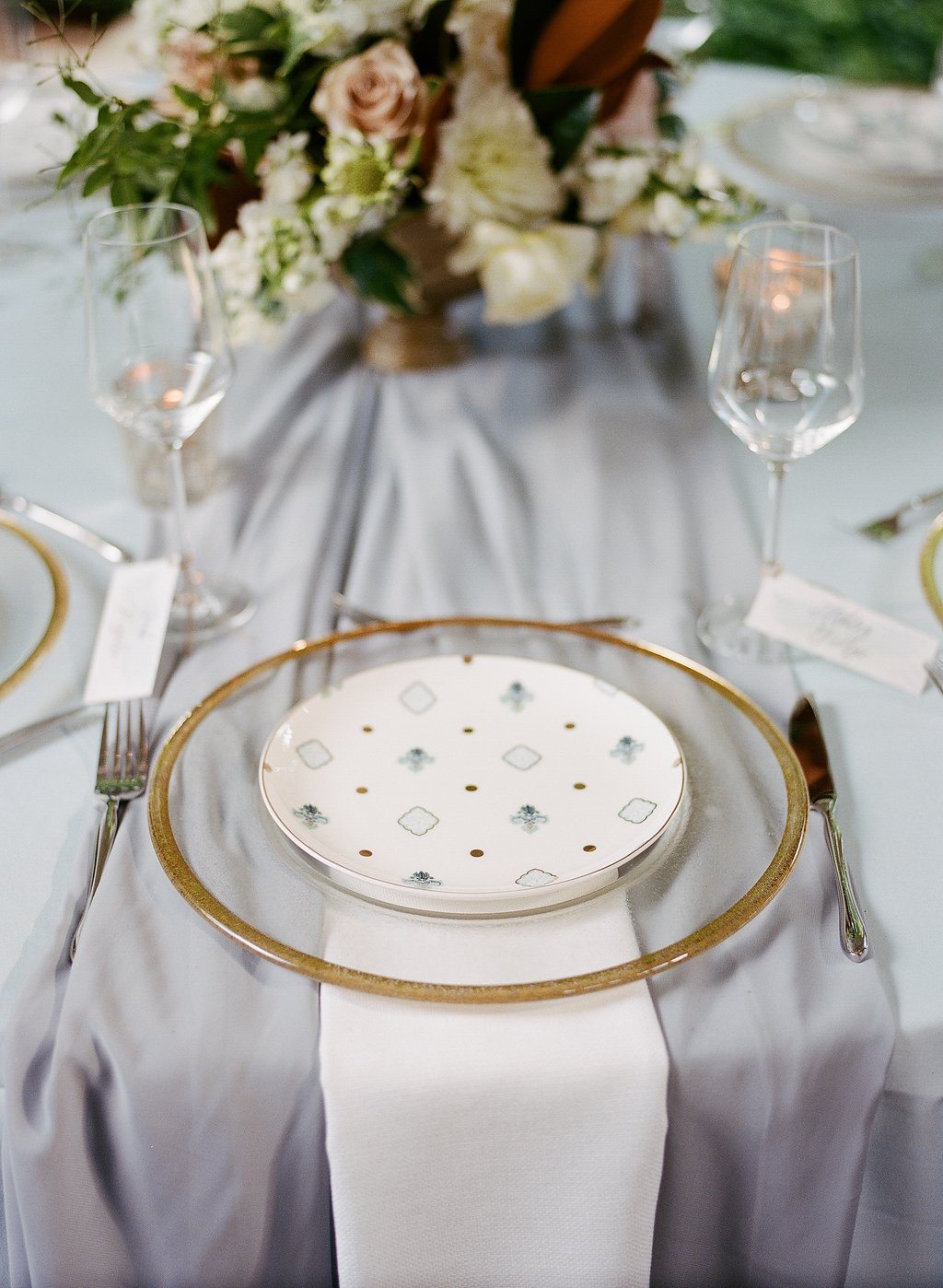 Photo Credit: Jenna Henderson Photographer
Gold Rimmed Glass Chargers
A little gold goes a long way, and our new Gold Rimmed Glass Chargers (also shown above) add a metallic warmth to a modern glass charger plate. Tablescapes featuring just a hint of gold will dazzle guests and are perfect for hosts who truly want just a hint of this very on-trend accent.
Winstead Gray Tufted Bench
The Winstead Gray Tufted Bench is extra large, making it ideal for any lounge area. Tufted at the top with hammered details around the bottom, this bench is a clean and chic new way to welcome guests to your event. Whether used as seating or as a coffee table, the neutral gray color and tufted fabric play incredibly well into any design you choose.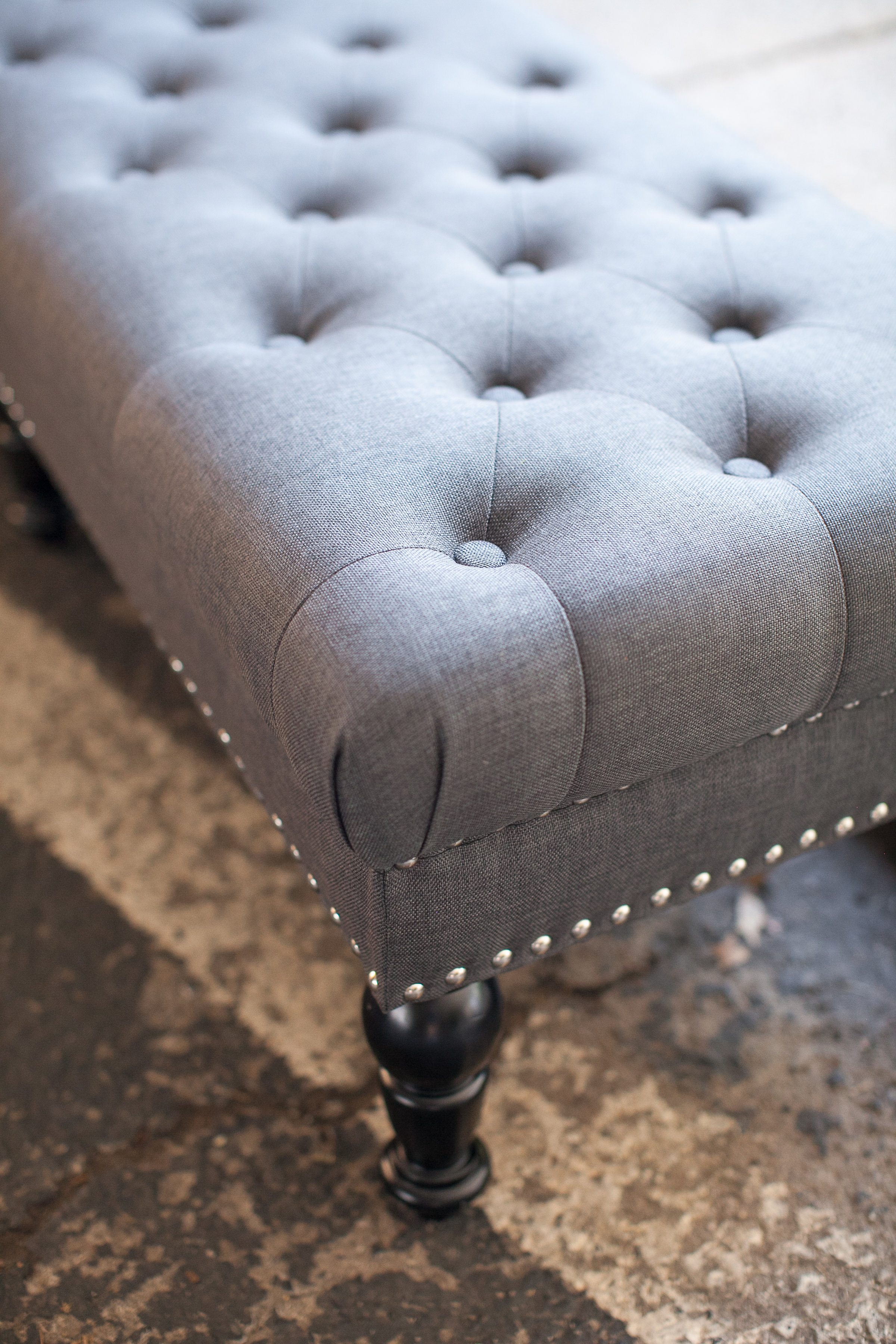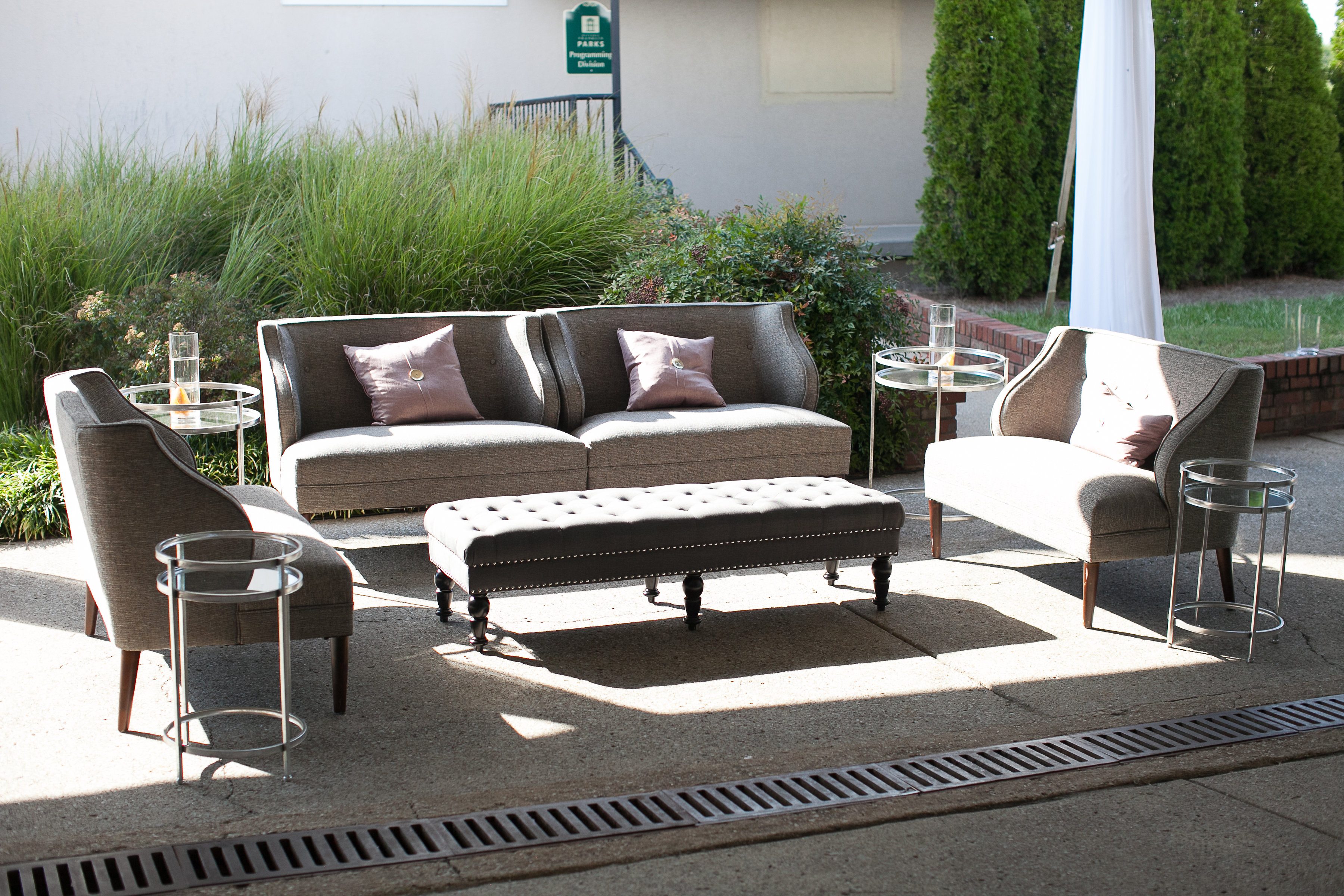 Photo Credit: Phindy Studios
Chiffon Runners
Elegant Chiffon Runners add a new element of texture to your upcoming tablescapes. The sheer, smooth fabric adds a romantic touch and looks especially stunning when paired with a farm table or the Fruitwood Bar. We have also had clients used this as part of wedding ceremony backdrops, intertwined with flowers and greenery garlands. Available in blush, dove gray or ivory, the muted colors coordinate nicely with any color palettes.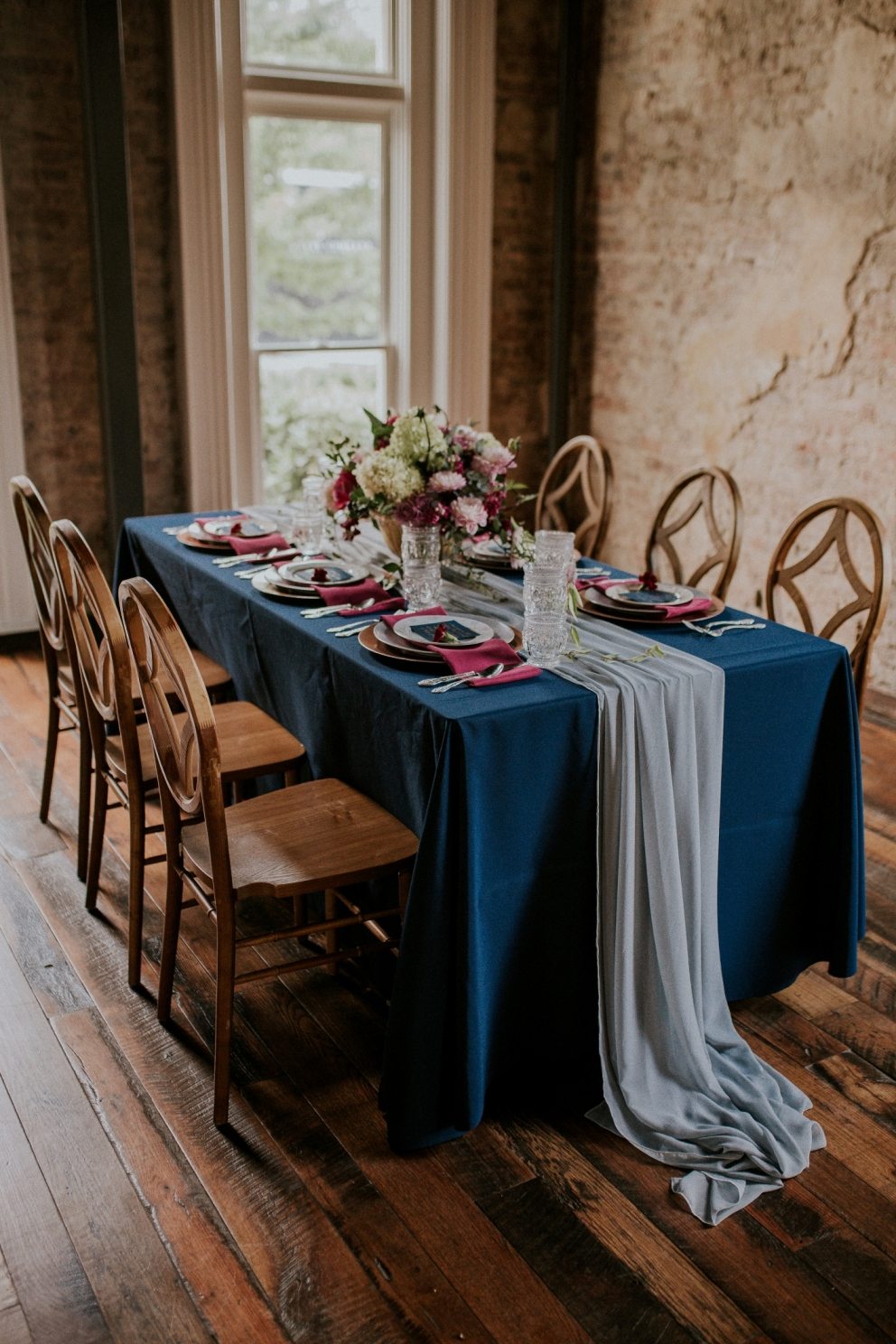 Photo Credit: Abigail Bridges Photography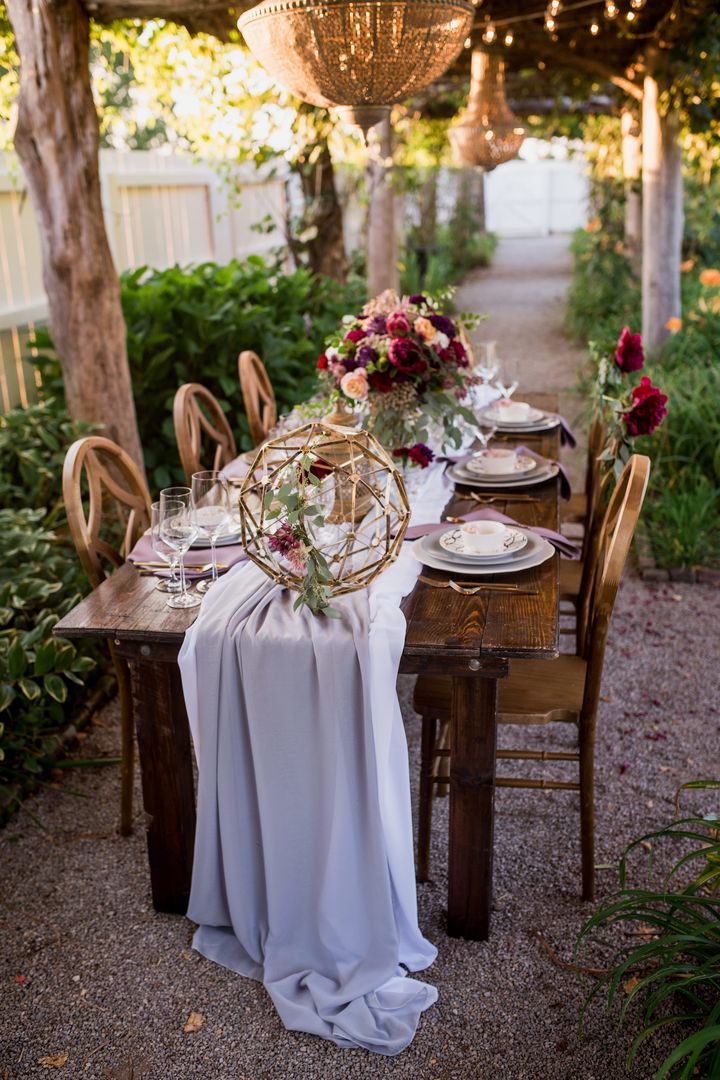 Photo Credit: John Myers Photographer
Cecilia Floral Matte Satin
Feeling bold? The Cecilia Floral Matte Satin fabric adds a bold romantic pattern in muted colors, creating effortless elegance for your cocktail hour or main event. We especially love the way it so easily pairs with our other satin linens in coordinating colors for a truly seamless design. We love this at any occasion, whether a romantic garden wedding or a grand gala!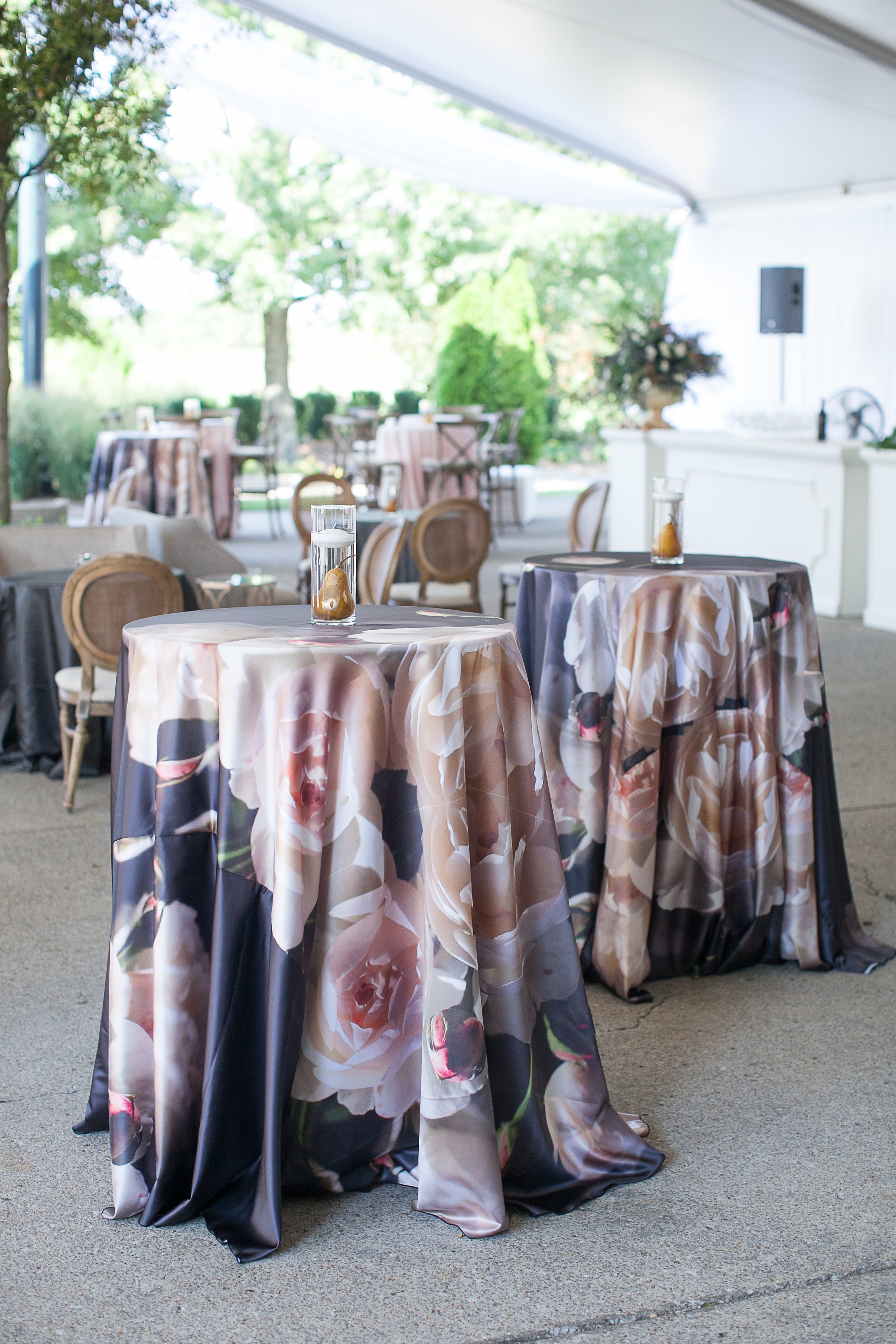 Photo Credit: Phindy Studios
Cheval Gold Mirrored Table in Large and Small
A side table that glistens adds depth to an event's style. The Cheval Gold Mirrored Table comes in two sizes (large and small) has striking lines in a metallic finish, ideal for a modern design. Gold adds a bit of romance, making it perfect to accompany a blush or all white color palette. We can't wait to see how you'll design it!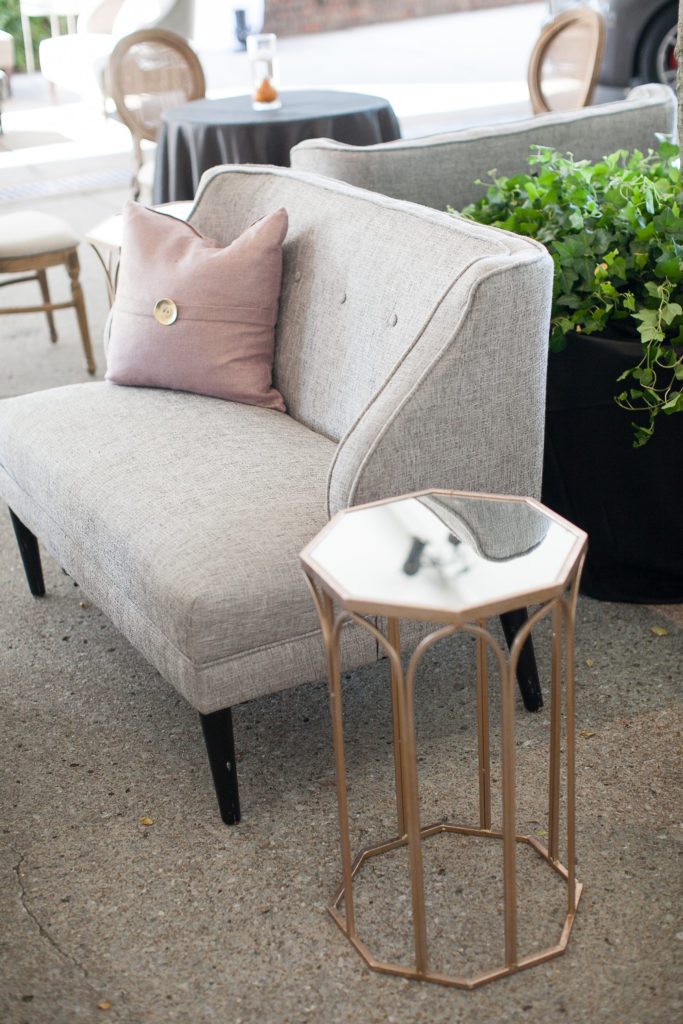 Echo Silver Mirrored Table in Large and Small
Our Echo Silver Mirrored Table in large and small is just as stunning as the Cheval, only in silver metallic. The chrome finish lends itself well to any modern seating areas and is welcomed by guests as a place to rest their drinks while mingling with others.
Photo Credit: Phindy Studios
Floral Printed Dance Floor
An inspirational dance floor really elevates the entire look of an event – when the design is coordinated from top to literally bottom, it stands out in a marvelous way! The new Floral Printed Dance Floor features oversize prints in various corners of the dance floor. Peonies in a barely-there pink are featured, allows the elegance to carry over from dinner to dancing. We loved it at the Heritage Ball 2017 as an entry into the main space – the striking and romantic design had guests swooning!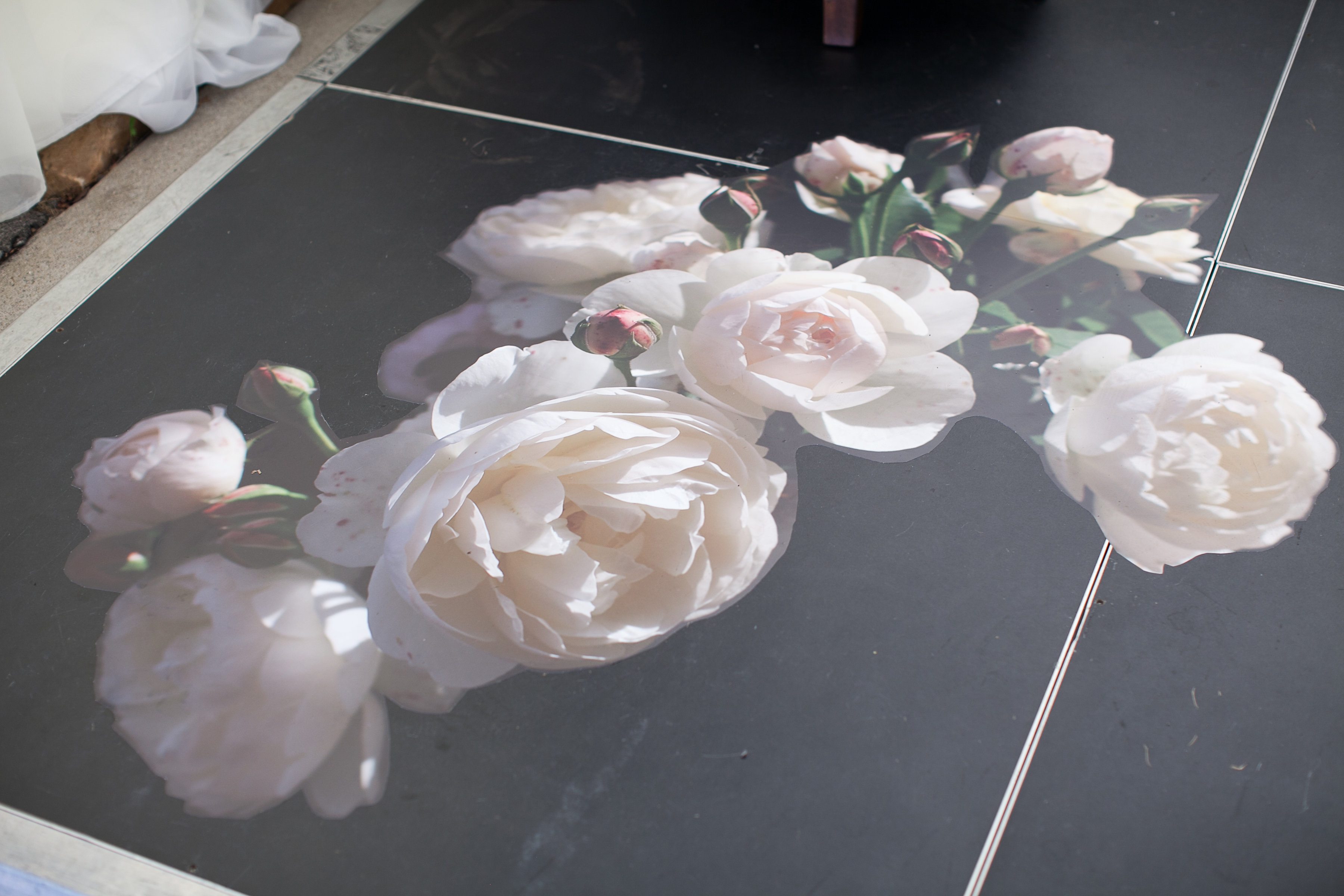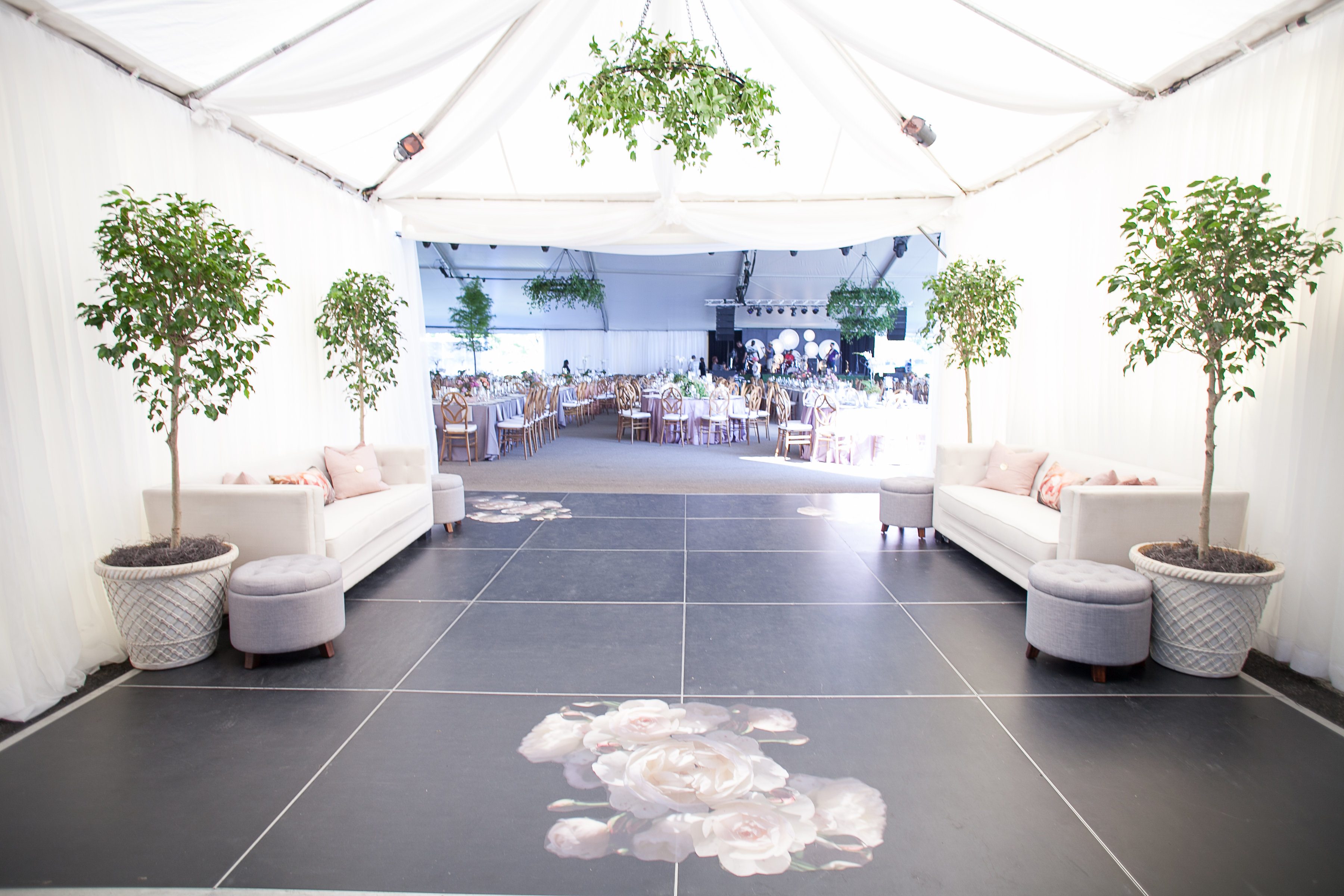 Photo Credit: Phindy Studios
FEATURED RENTALS | Brancher Centerpieces, Harlin Chairs, Laguna Accent Plates, Coronado Accent Plates, Gold Rimmed Glass Chargers, Winstead Gray Tufted Bench, Chiffon Runners, Cecilia Floral Matte Satin, Cheval Gold Mirrored Table, Echo Silver Mirrored Table, Floral Printed Dance Floor
SEE MORE LIKE THIS