17

Jun

Southern Events Products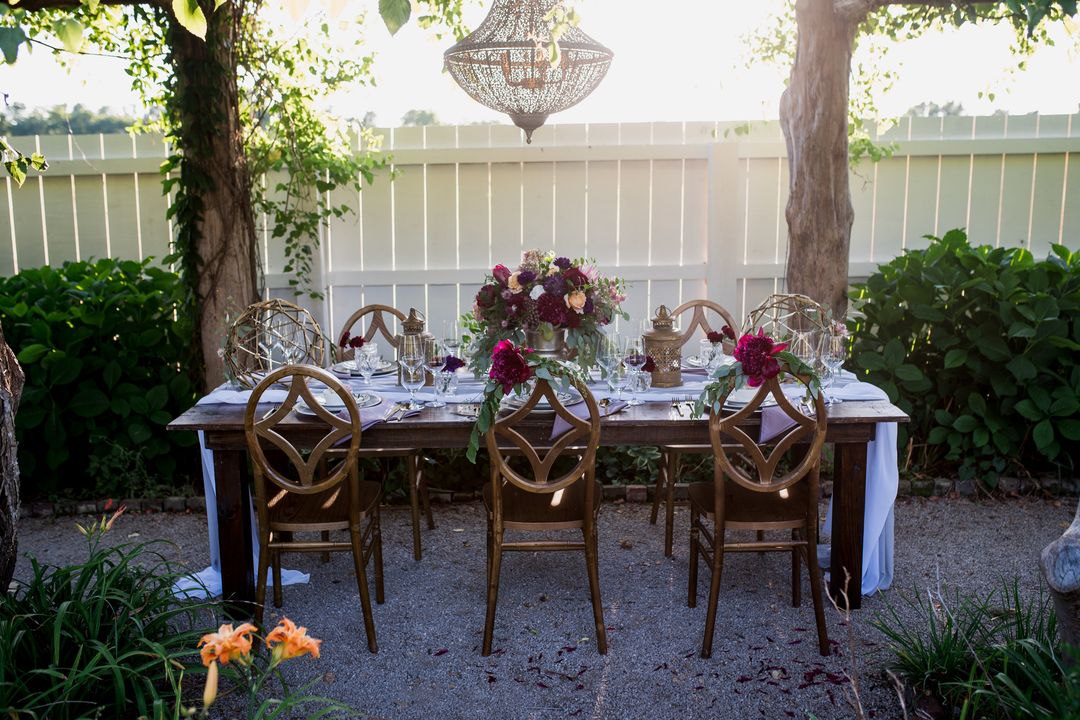 The sun is out and the flowers are in bloom – there's truly no better way to celebrate the beautiful weather in Nashville, TN than to host a gorgeous garden wedding! To help make your event picture-perfect, we've pulled together some of our most loved garden wedding rentals for a floral fête. With party and event rentals this beautiful, it's easy to capture the best of the southern summer season here in Middle Tennessee.
Interactive Boxwood Walls
Sculpt your own private garden with our lush Boxwood Walls! These eight-foot topiary walls can be used to create an intimate event space in any venue – think of it outdoors, enhancing your gorgeous garden, or as an interactive backdrop. It makes for a stunning seating chart, as well as an elegant champagne wall. You can trust that guests will flock to this trendy photo op time & time again!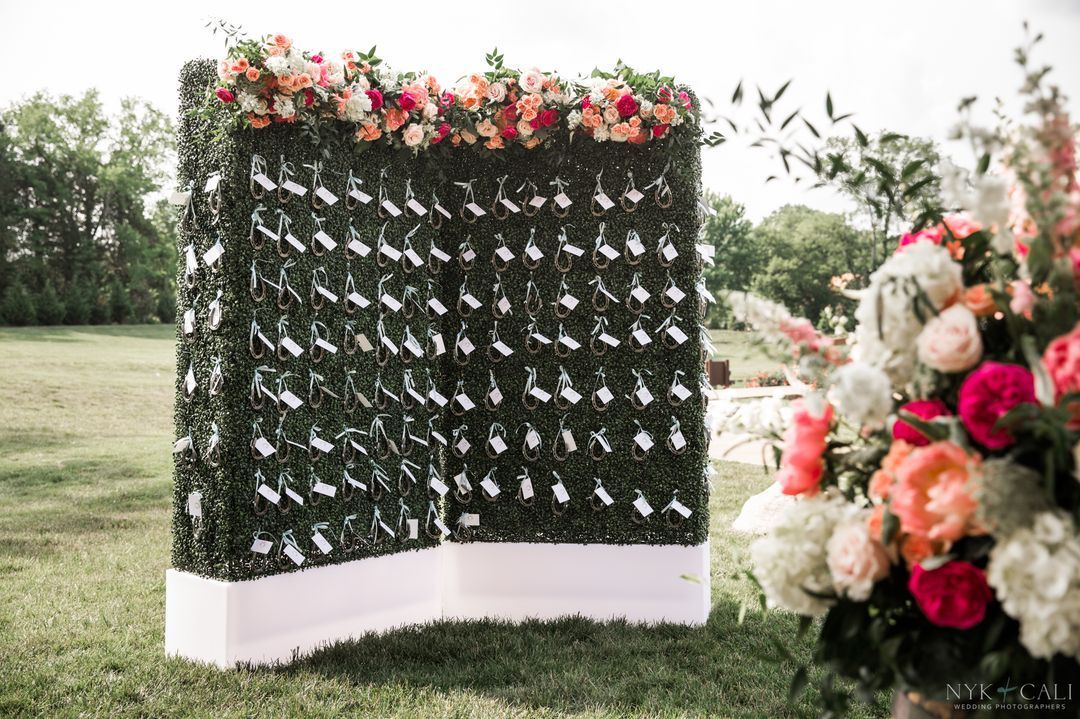 Photo by Nyk & Cali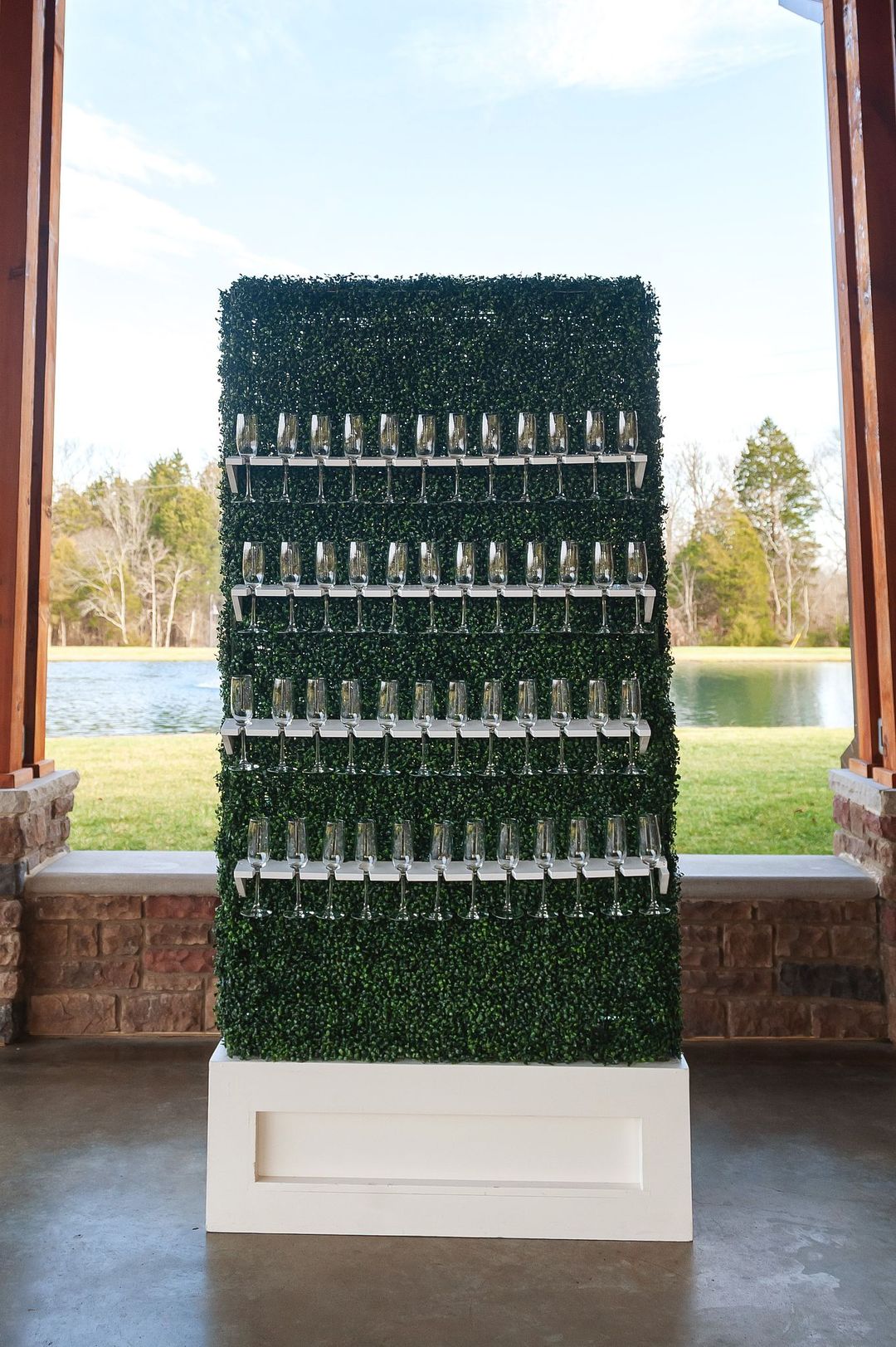 Photo by Megan Stark
Stylish Seating
Easily elevate any tablescape with stylish and comfortable seating. Favorites from our inventory, including our charming Harlin, Antique Bentwood, and Adeline Dining Chairs. They are a simply stunning way to add natural wood to your wedding reception, thanks to elegant details. If you prefer a more whimsical and contemporary garden vibe, opt for one of our Acrylic chairs, such as our Carrigan or Fantasma side chairs.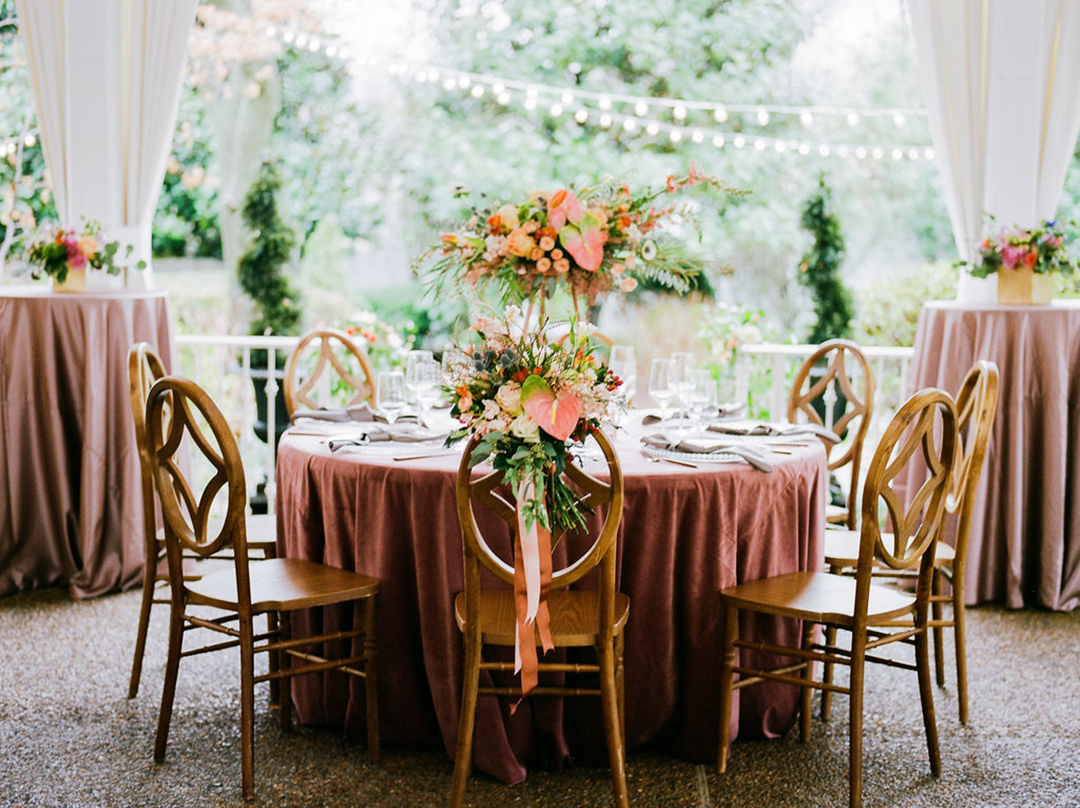 Photo by Jenna Henderson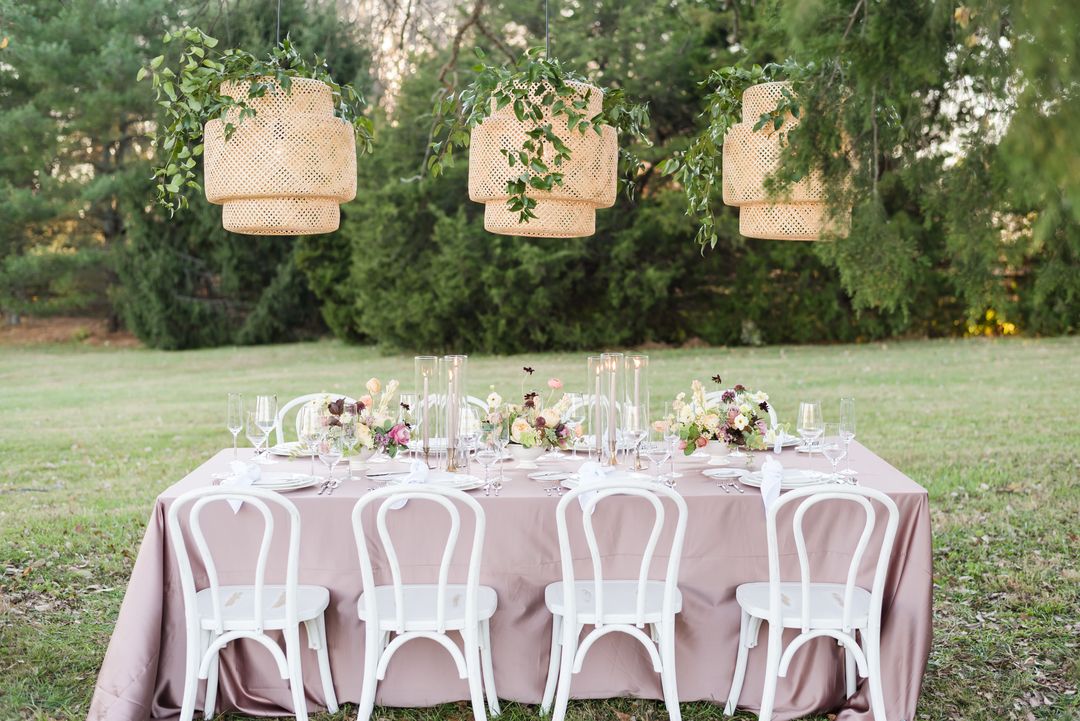 Photo by Mandy Liz Photography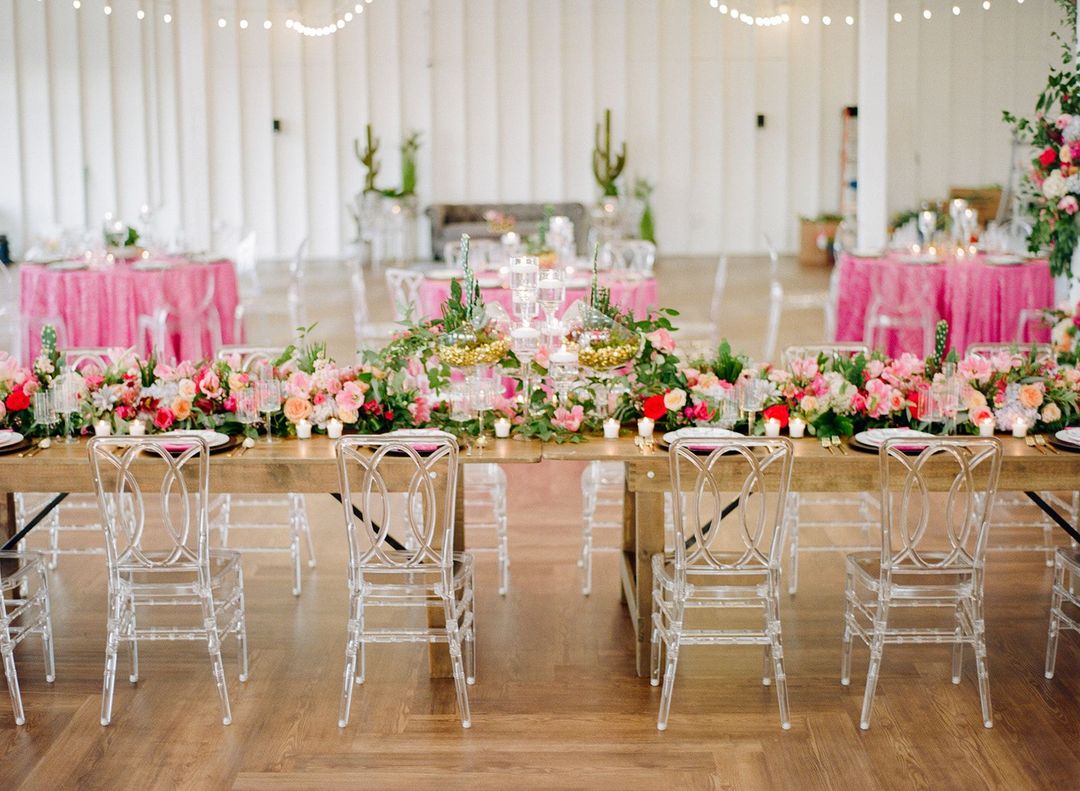 Photo by Gray Kammera
Delicate Serving Ware
Every Southerner knows that a classic never goes out of style, and the same can be said for a variety of our serving ware. Take for example our scalloped Darcy China. Bone white with a gracefully curved edge, these beautiful dinner plates provide the perfect canvas for fresh spring or summer fare and are one of our favorite garden wedding rentals! Be sure to also take a look at our Heirloom China and Stoneware.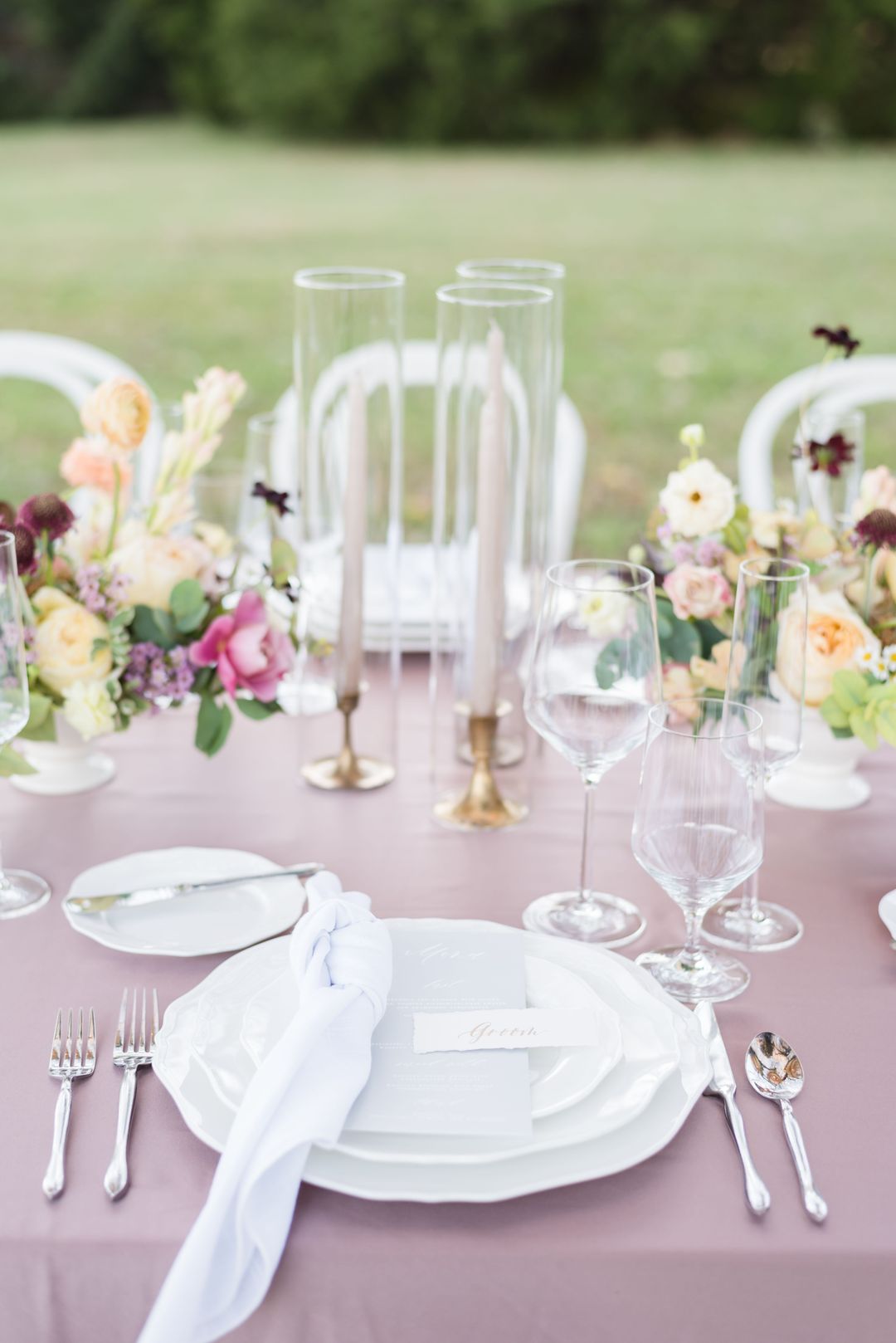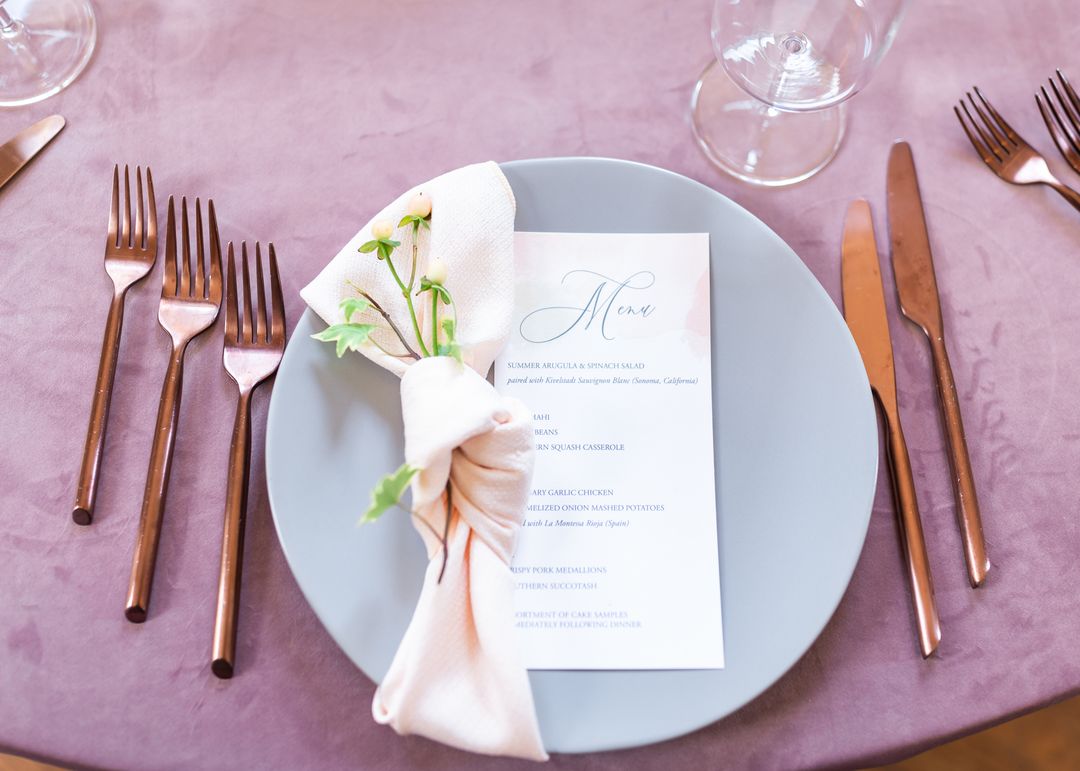 Ceremony Set-Ups
We love adding unexpected elements to an outdoor garden party, using interior pieces to stage lush floral arrangements and cozy seating areas. This season, we're obsessed with our Vintage Walnut and Vintage Fruitwood Ceremony Doors. These beautiful vintage ceremony rentals make the perfect backdrops or entrance points for your outdoor wedding!
Create unique seating areas and Instagram-worthy nooks with our Fiona Ivory Mantle. This classic piece looks so beautiful covered in fresh blossoms and pictures of the bride and groom!
Garden-Inspired Table Linens
Nothing freshens up an outdoor table setting like a pop of color and texture from high-quality table linens. Your linens can provide the perfect backdrop for your table settings and arrangements. For garden weddings, we love our richly textured Moss Green Crush and Velvet Linens, as well as our warm and rustic Havana Cafe neutral napkins and feminine Chiffon Runners.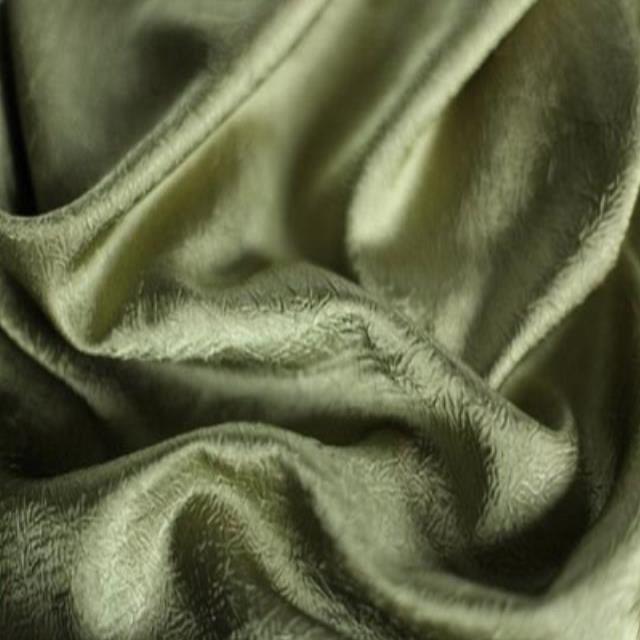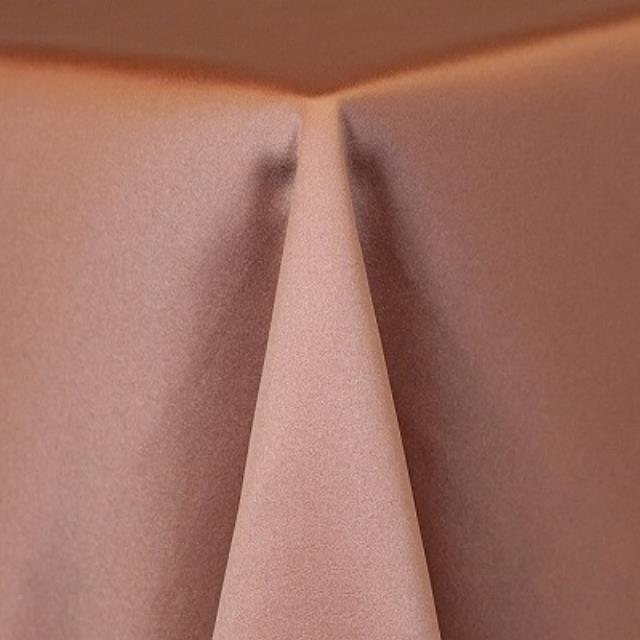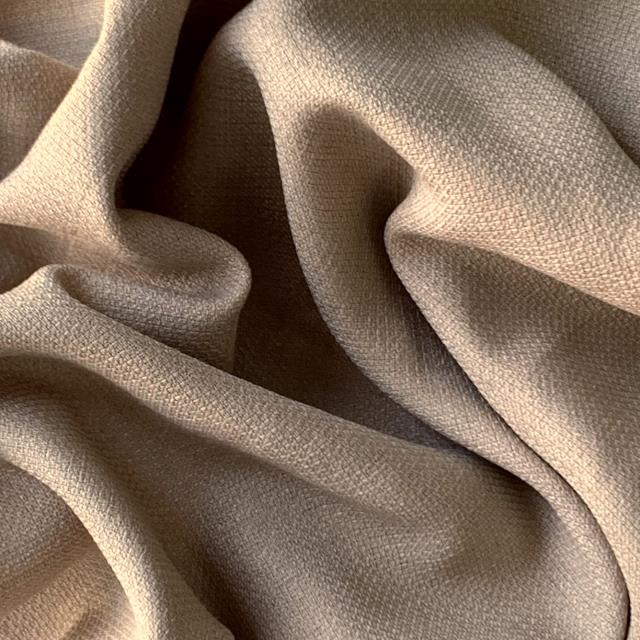 Intimate Lounge Areas
When it comes to a garden wedding, we love the simple, feminine charm of an intimate lounge area! Mix and match our elegant and cozy furniture, to create a welcoming place for guests to sit and stay for a while. Alongside pieces such as our sofas & loveseats, be sure to feature a few Trellis or Capri White Side Tables. Both are elegant and will add a sophisticated, feminine feel to your wedding lounge!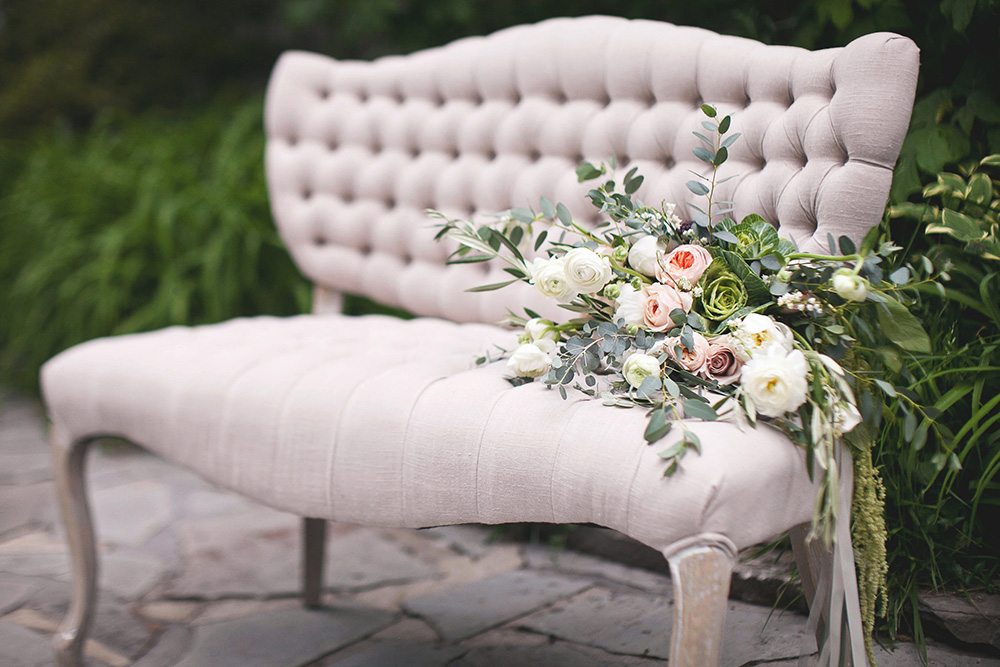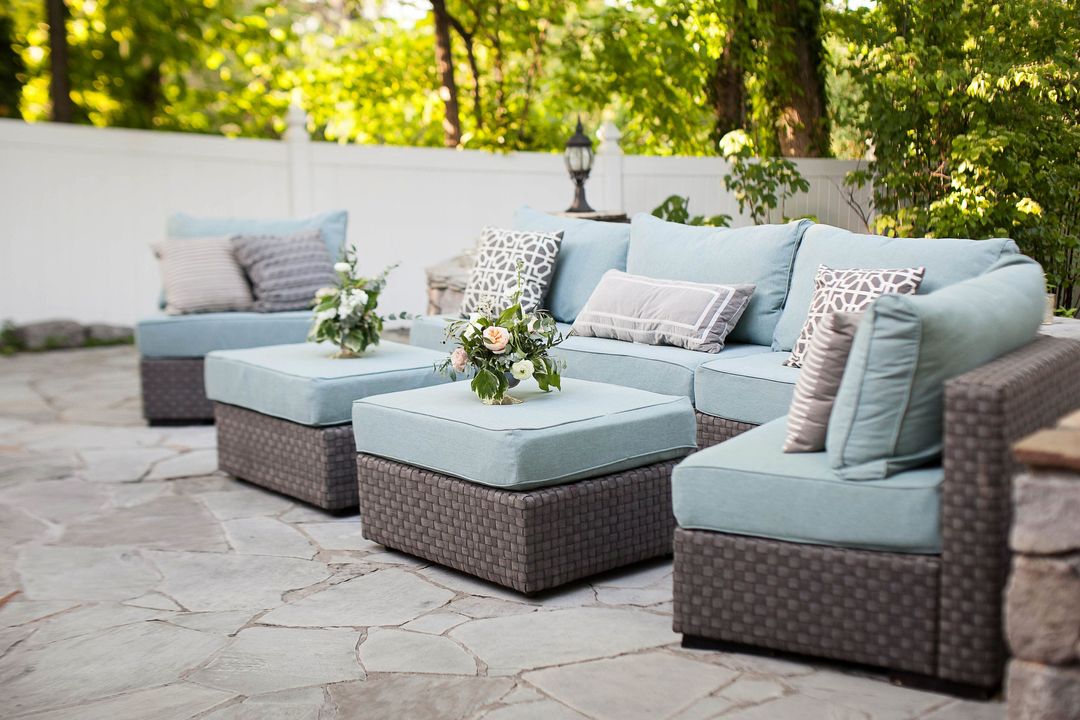 Peak Tent
Rain or shine, your big day is going to be beautiful. That's why we encourage you to take away the stress and enjoy the shade (or shelter) from underneath one of our elegant tents. Featuring heavy-duty aluminum frames and block-out vinyl tops, you and your guests will stay cool in the shade beneath our Peak Frame and Hexagon Tents! Decorate them with billowing drapery and fresh flowers for a wonderful and whimsical outdoor event.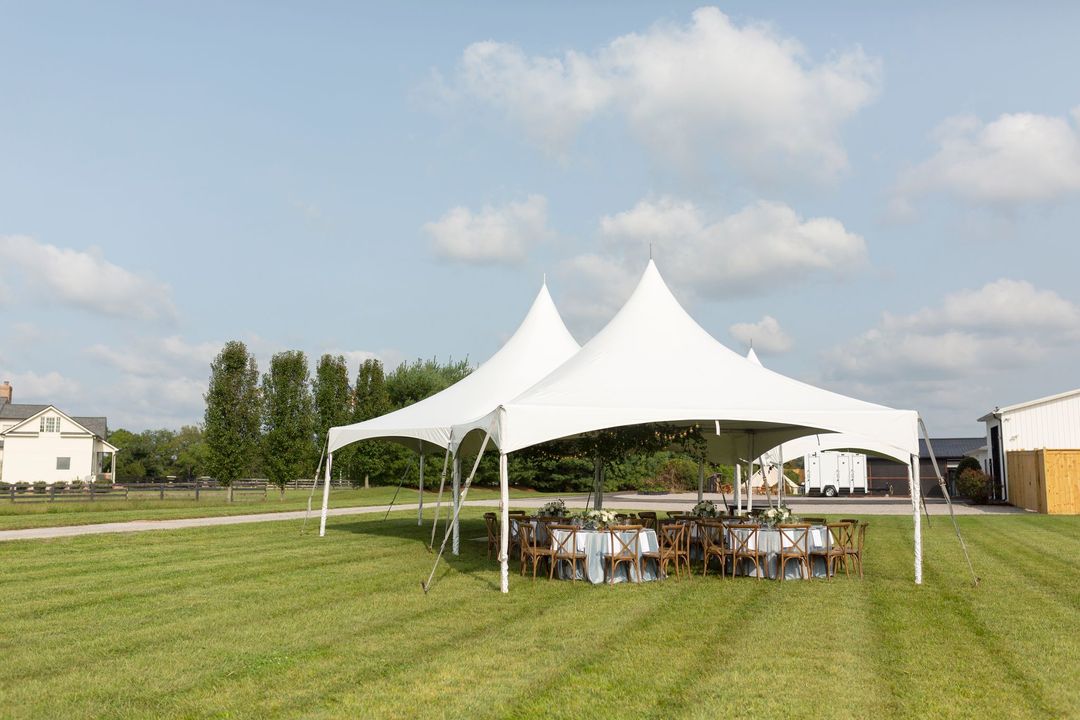 Natural Wood Dance Floor
Dancing in the grass sounds like a wonderful time- until you remember that you and your friends will be wearing heels! Prevent any fashion faux-pas and keep the party going with our New England Wood Dance Floor. The natural wood finish makes a lovely addition to the party, adding function without interrupting the aesthetic.
Photo @smithstudiosphotography
Ready to plan your dreamy garden wedding? To discover how to create your own elegant garden event in Nashville and Franklin, TN, email us at info@southerneventsonline.com.
TAGS | Boxwood Walls, Chifon Runners, Darcy China, Fiona Mantle, Garden Party Design, Harlin Chairs, Nashville Event Rentals, Nashville party rentals, Natural Wood Dance Floor, Outdoor Event Furniture, Outdoor Prop Shoppe, Peak Tent, Southern Events Party Rental, Southern Events Party Rental Company, Vintage Fruitwood Ceremony Doors, Vintage Walnut Ceremony Doors, garden wedding decor, outdoor wedding, outdoor wedding decor, upscale outdoor wedding decor
FEATURED RENTALS | Boxwood Walls, Harlin Chairs, Darcy China, Natural Wood Dance Floor, Vintage Fruitwood Ceremony Doors, Vintage Walnut Ceremony Doors, Fiona Mantle, Celcila Linens, Magnolia Velvet Linens, Moss Green Crush Linens, Havana Cafe Linens, Chifon Runners, Vintage Bird Cages, Wrought Iron Tabletop Tree, Trellis Side Table, Capri Side Table, Peak Tent,
---
7

May

Events and Style Shoots, Nashville Venues, Southern Events Products, Trends and Inspiration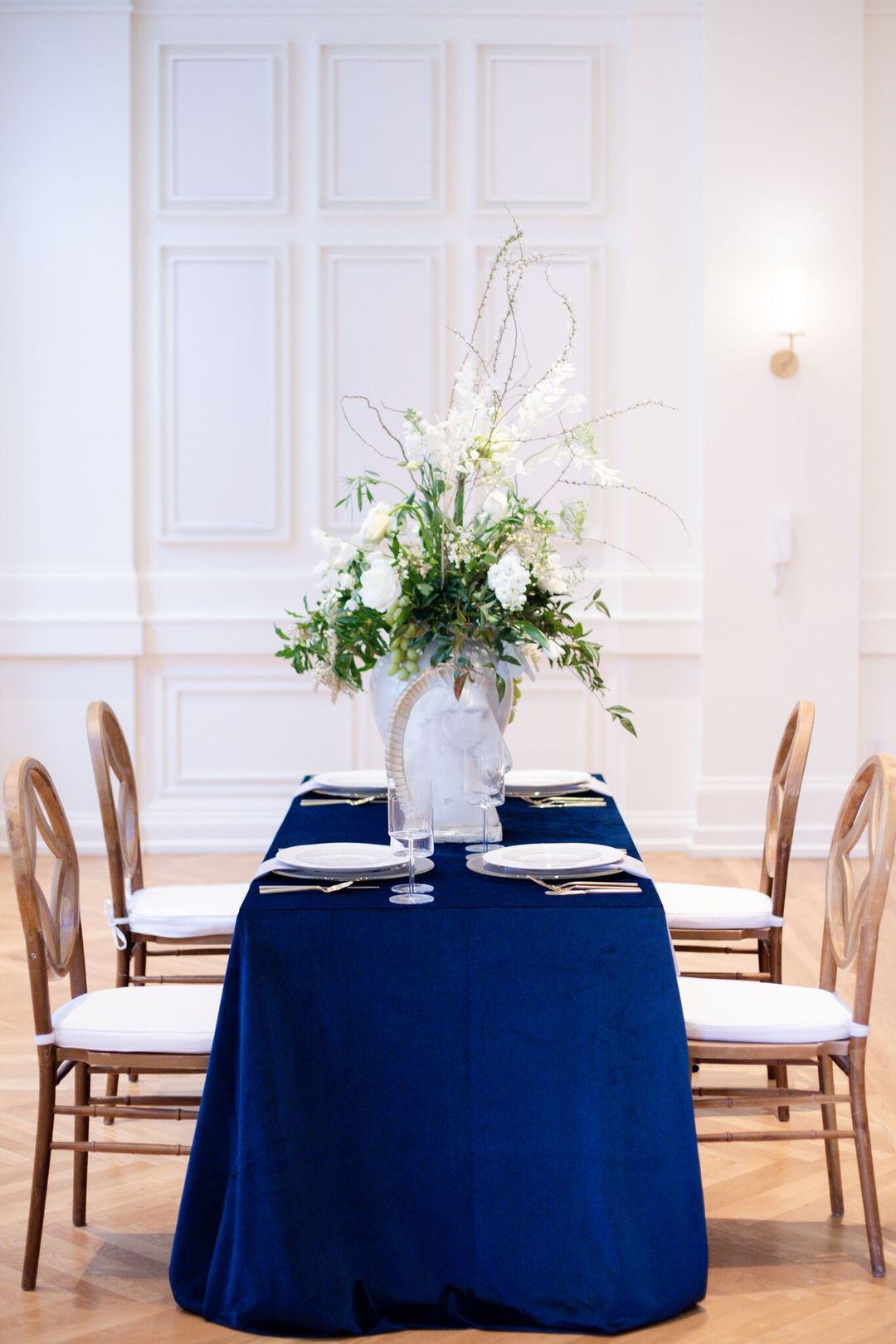 A smaller wedding does not mean smaller style! To help inspire you, we're sharing a handful of ways that you can pull off a small, yet elegant intimate wedding, featuring wedding design ideas from a recent styled shoot at the bright and airy boutique Noelle Hotel in Nashville.
Up Close and Personal
By far the most rewarding aspect of hosting an intimate wedding is that you can be truly yourself, as you will be most comfortable amongst the special few whom you invited. With less people around, your guests will also feel more connected to you, as they witness this milestone in your lives and share in your emotions. As shown with our Harlin Chairs, create a seating area that allows everyone to see, hear and be a part of the intimate ceremony.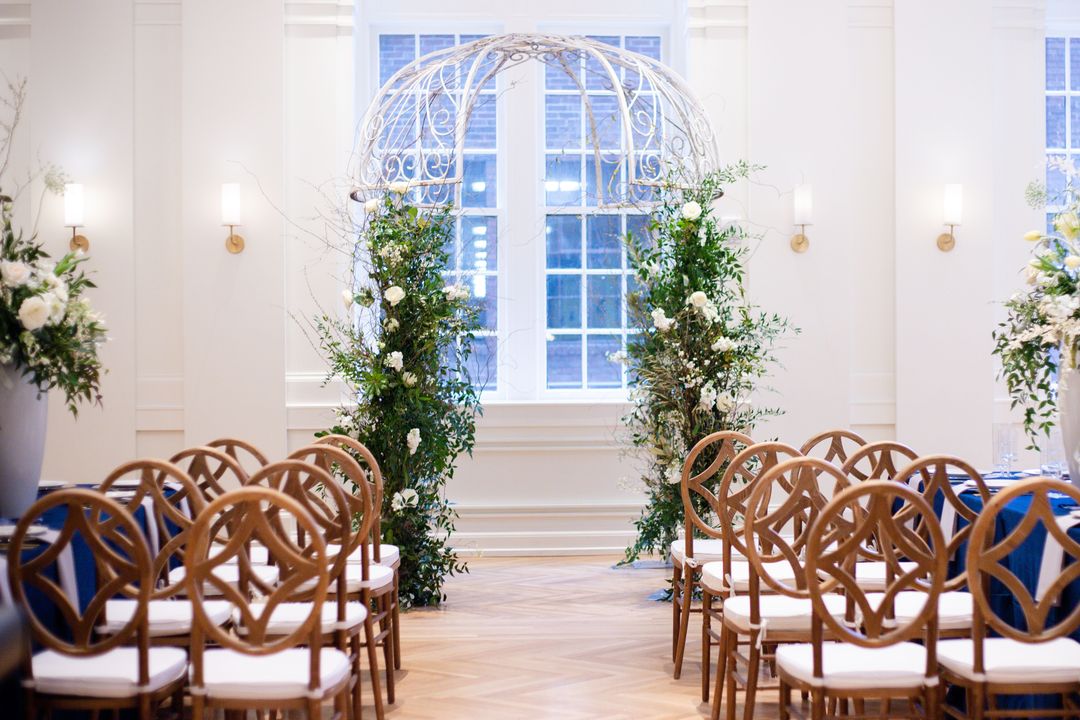 Photos by Sigourney Hermann Photography
Elegant Place Settings
When it comes to planning a small wedding, you can still make a statement! Take the elegant table setting we created, which includes our Gold Austin Flatware, Glass Mosaic China, Glass Charger with Gold Rim, and White Round China. It absolutely POPs on the rich Blue Velvet Linens! We were also careful in our choice of Cybil Glassware which, while slightly more whimsical, still fits into the overall aesthetic.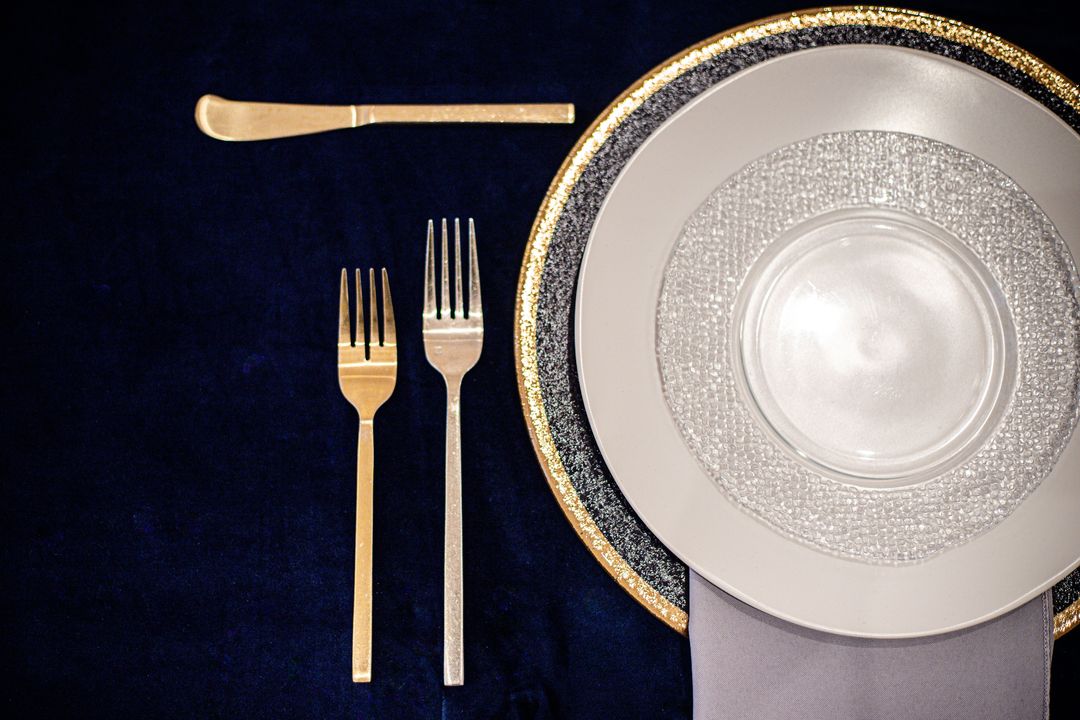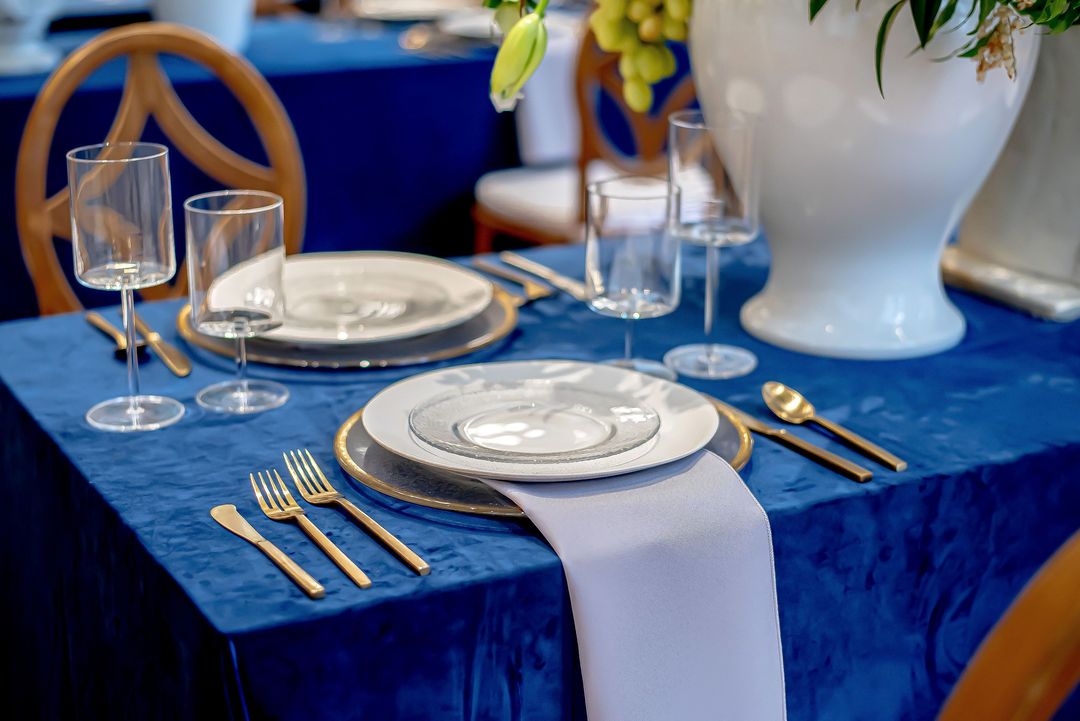 Make the Most of Your Venue
Often times, couples who host an intimate wedding will utilize the same space for both their ceremony and reception. This will save you the effort and cost of a secondary event space, and allow you to make the most of the venue you truly love. Take this into consideration when researching potential venues, as a large enough area can accommodate both the weddings ceremony seating and dinner tables. If everything can be set up from the get-go, there will be less hustle and bustle to rearrange furniture when it comes time to eat.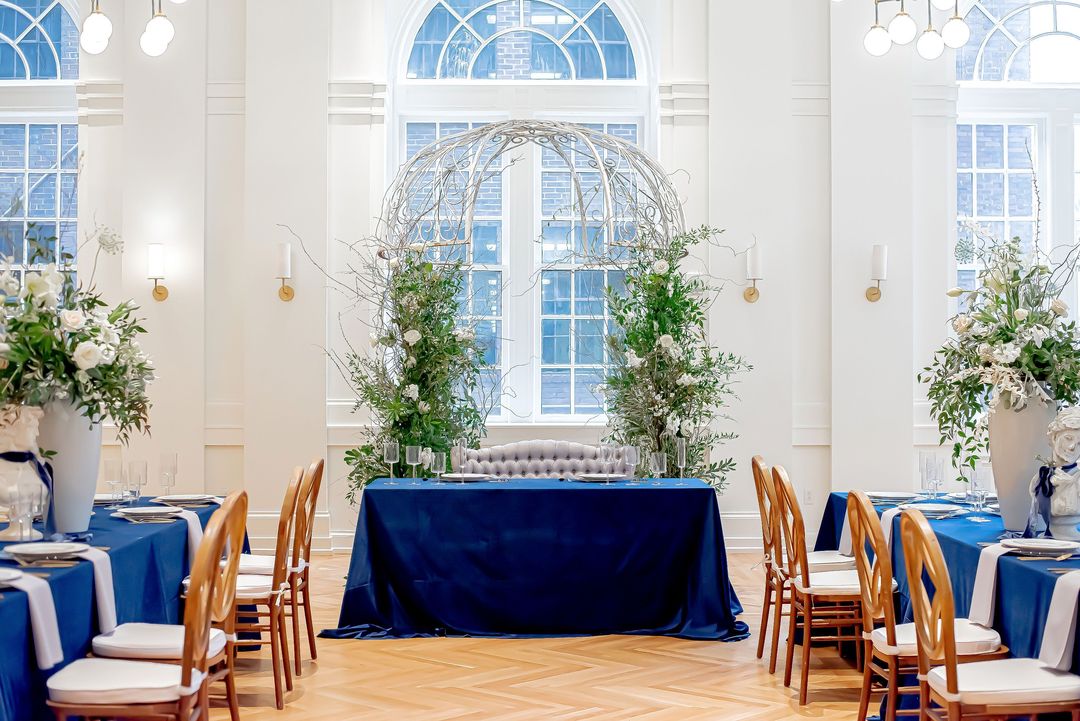 Splurge on Special Touches
One benefit of opting for a smaller-scale affair is that you will have the budget to splurge on items or elements that you love, like our comfy and downright beautiful Tabby Tufted Grey Linen Loveseat. These special touches can be an item that sparks joy for you or is simply more convenient. Take the opportunity to treat yourself and your loved ones to a special space.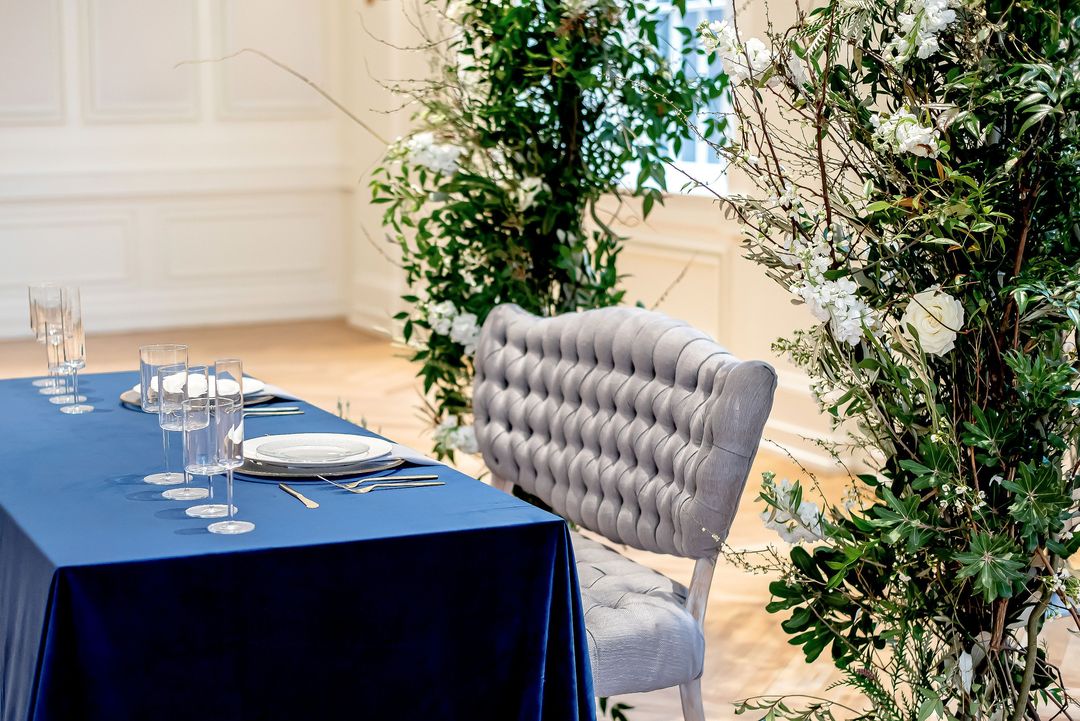 Are you ready to start planning the details and design of your intimate wedding? Send us a message at info@southerneventsonline.com.
TAGS | Austin Flatware, Cybil Glassware, Grey Loveseat, Harlin Chairs, Intimate Weddings, Nashville Wedding, Nashville Wedding Reception, Nashville Wedding Venue, Noelle Nashville, Velvet Linens, Wedding Rentals Nashville, small weddings, wedding tablescapes
FEATURED RENTALS | Austin Flatware, Glass Mosaic China, Glass Charger with Gold Rim, White Round China, Velvet Linen, Cybil Glassware, Tabby Tufted Grey Linen Loveseat, Harlin Chairs,
---
26

Oct

Southern Events Products, Trends and Inspiration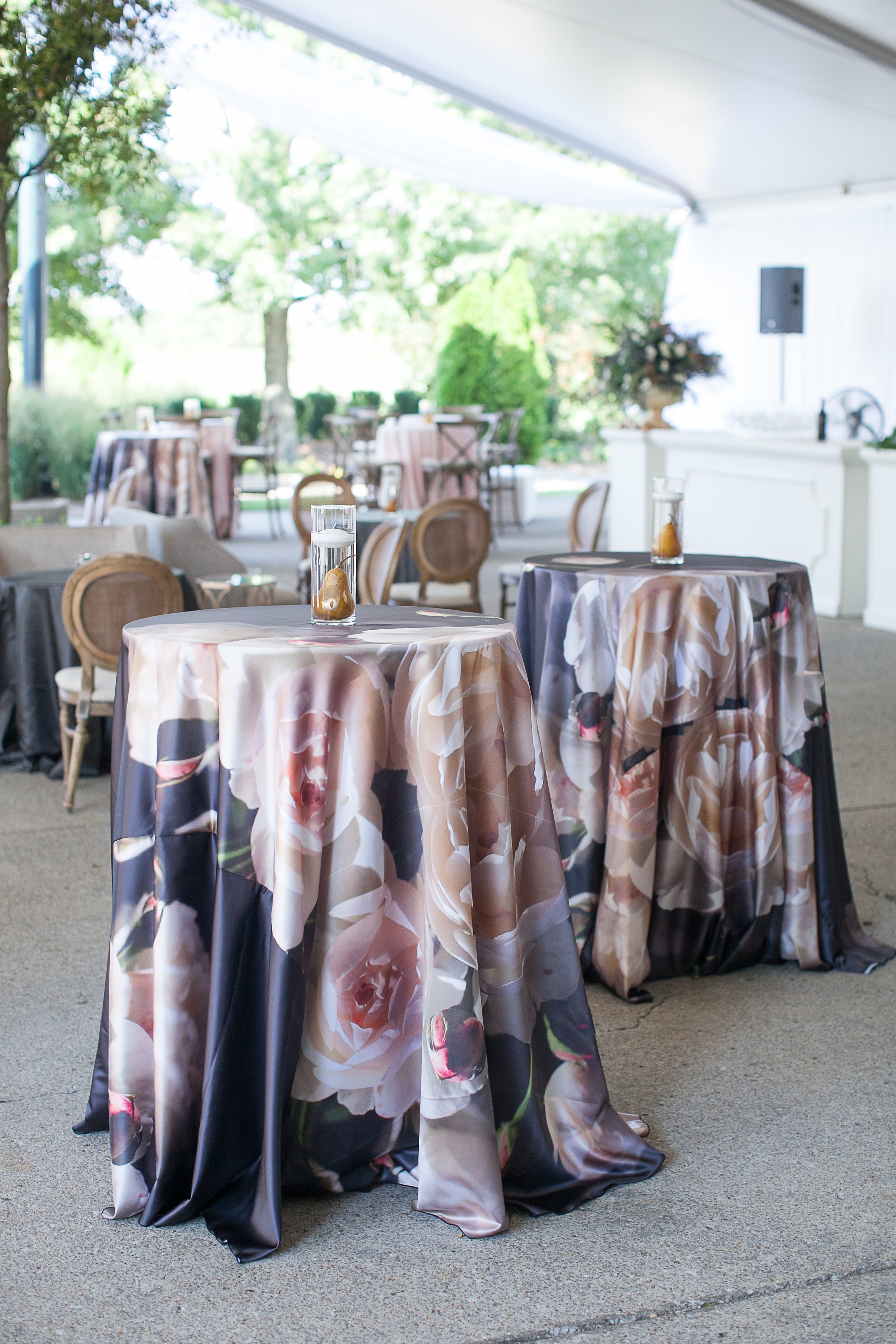 Team Southern has been hard at work sourcing striking new rental pieces for your upcoming events in Nashville & Middle Tennesee. With metallic accents, bold prints, and comfortable tufted furniture, you just might swoon at all that is new in stock!
Looking to dazzle at your next occasion? Southern has all you need for your next Franklin, Nashville or Middle Tennessee event. Reach out to info@southerneventsonline.com to reserve any of the items you see! 
Harlin Chairs
Our Harlin Chairs are the answer for a more formal but still rustic Cross-Back Chair. The architecturally stunning design in natural wood adds elegance to any event, looking striking no matter the season. Available with or without an ivory cushion, this piece has been loved at indoor and outdoor events alike! We love its versatility and the black-tie rustic charm it brings to any occasion.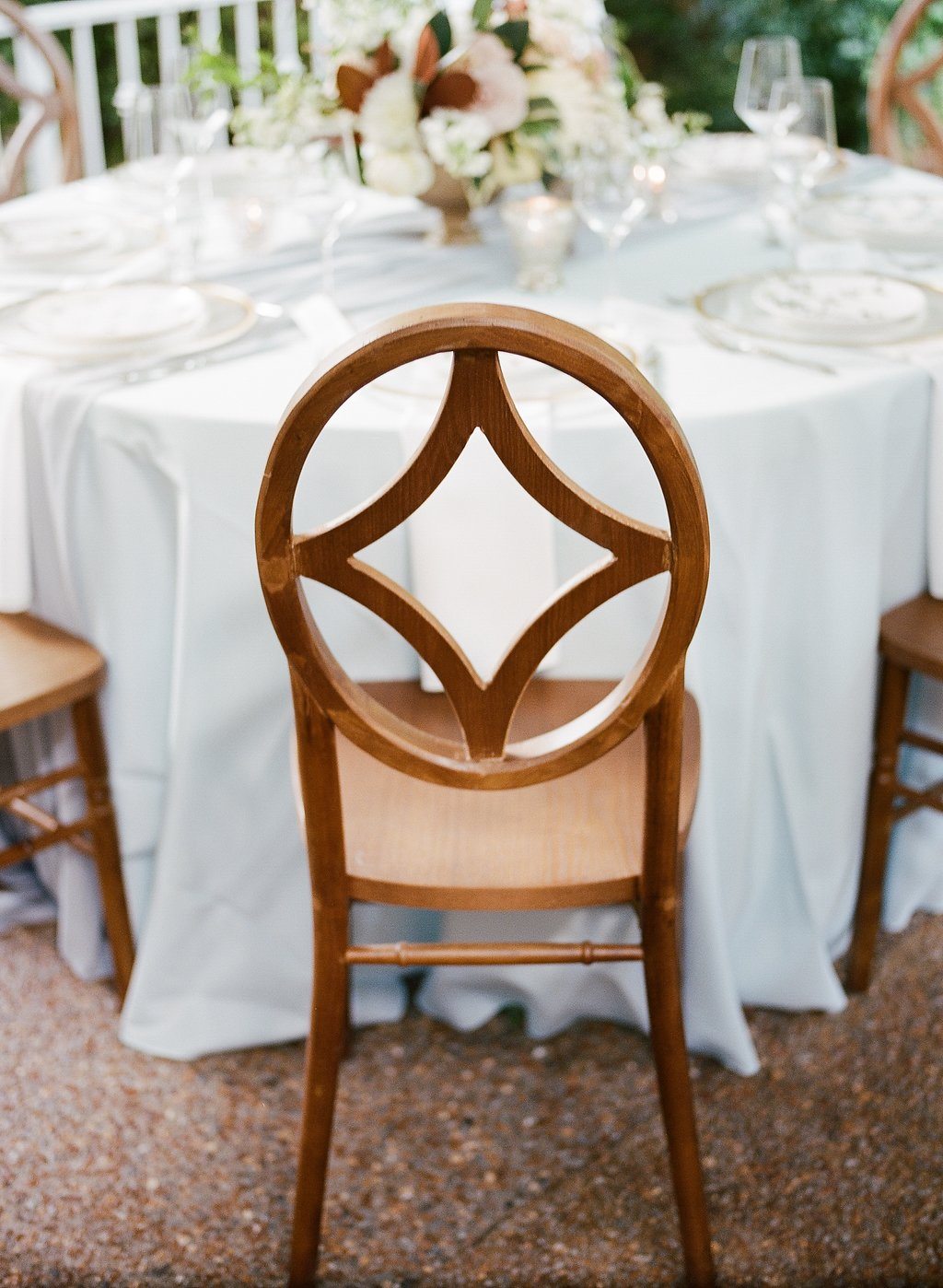 Photo Credit: Jenna Henderson Photographer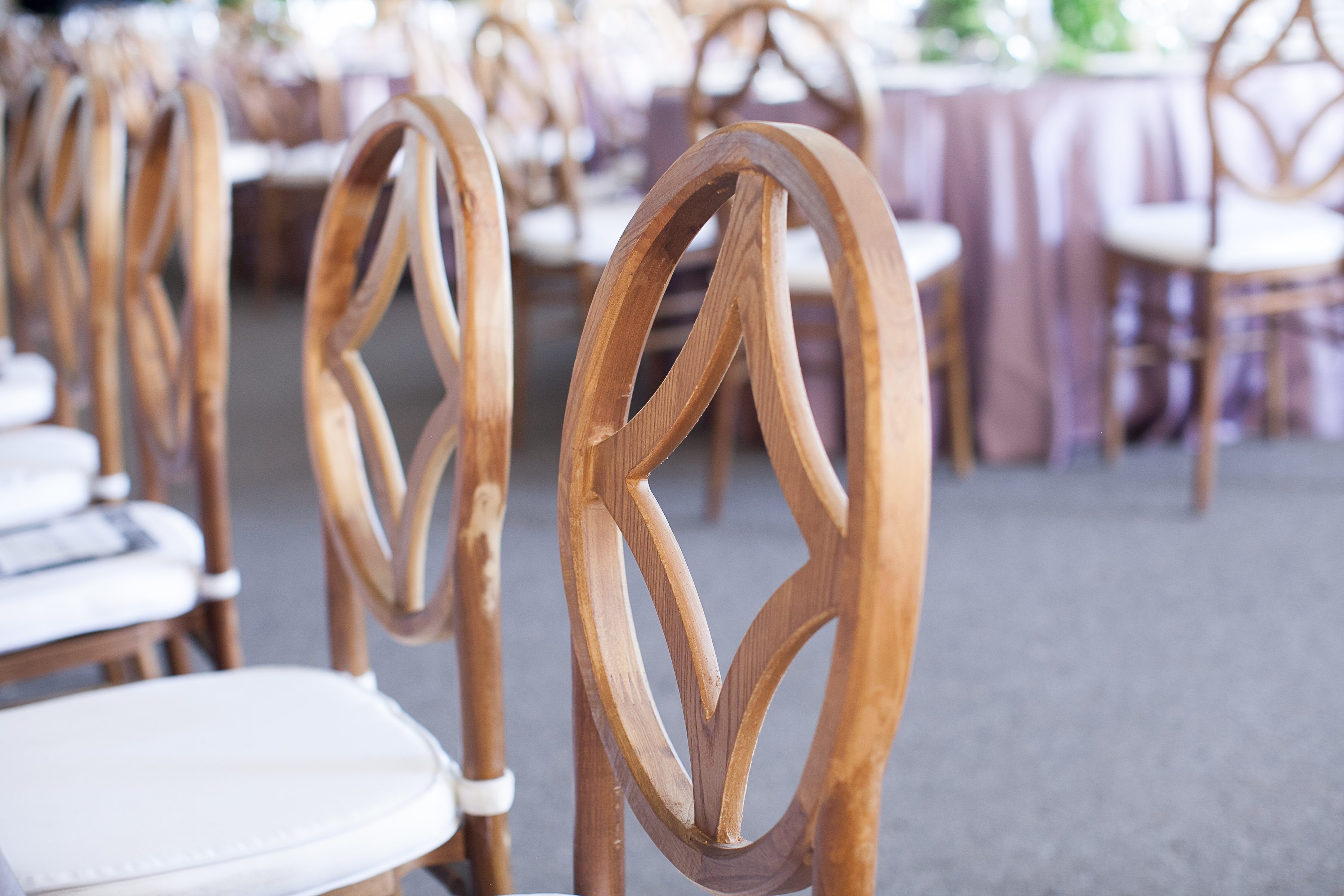 Photo Credit: Phindy Studios
Laguna & Coronado Gold Accent Plates
Adding to our Gold Accent Plates, Laguna and Coronado plates are a gorgeous addition to any place setting. Gold with a hint of sky blue, these small accent plates feature distinct patterns perfectly sized for a starter, salad or dessert course as part of a table setting, or displayed during a cocktail event.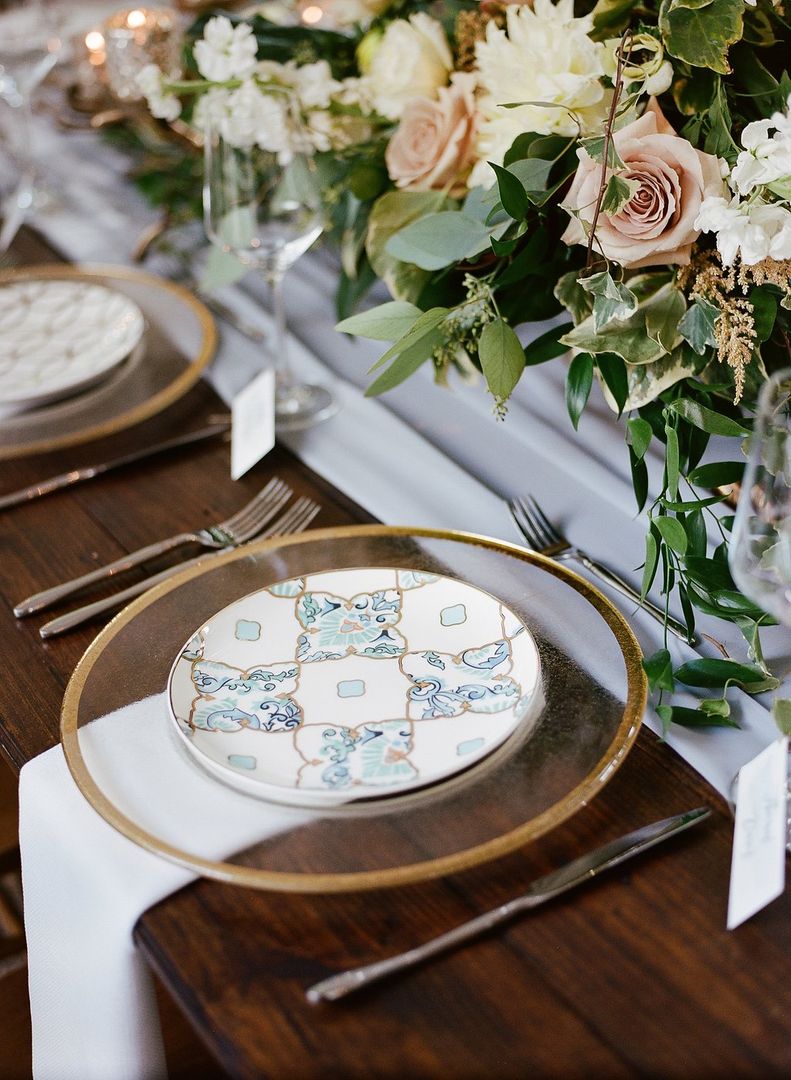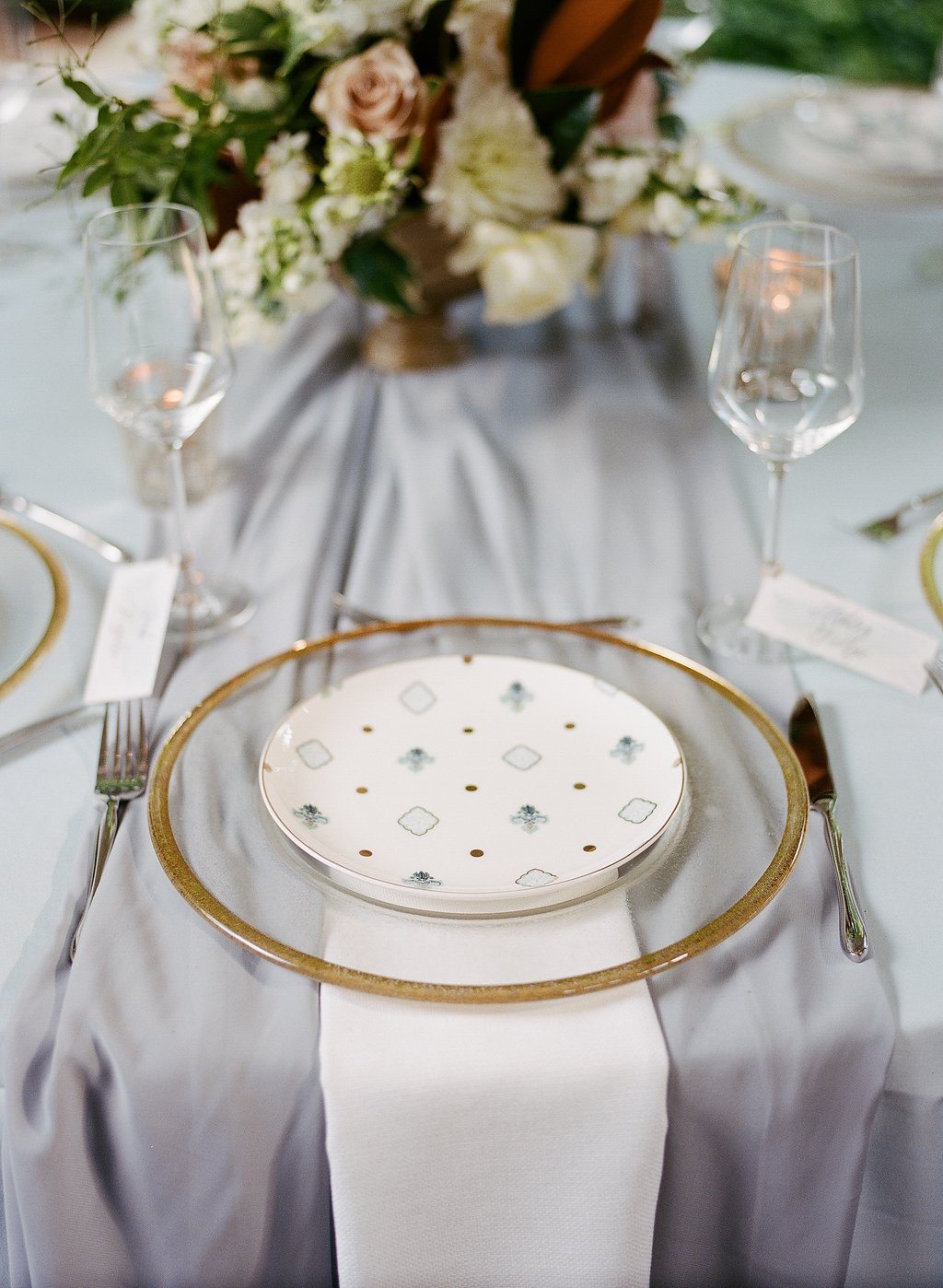 Photo Credit: Jenna Henderson Photographer
Gold Rimmed Glass Chargers
A little gold goes a long way, and our new Gold Rimmed Glass Chargers (also shown above) add a metallic warmth to a modern glass charger plate. Tablescapes featuring just a hint of gold will dazzle guests and are perfect for hosts who truly want just a hint of this very on-trend accent.
Winstead Gray Tufted Bench
The Winstead Gray Tufted Bench is extra large, making it ideal for any lounge area. Tufted at the top with hammered details around the bottom, this bench is a clean and chic new way to welcome guests to your event. Whether used as seating or as a coffee table, the neutral gray color and tufted fabric play incredibly well into any design you choose.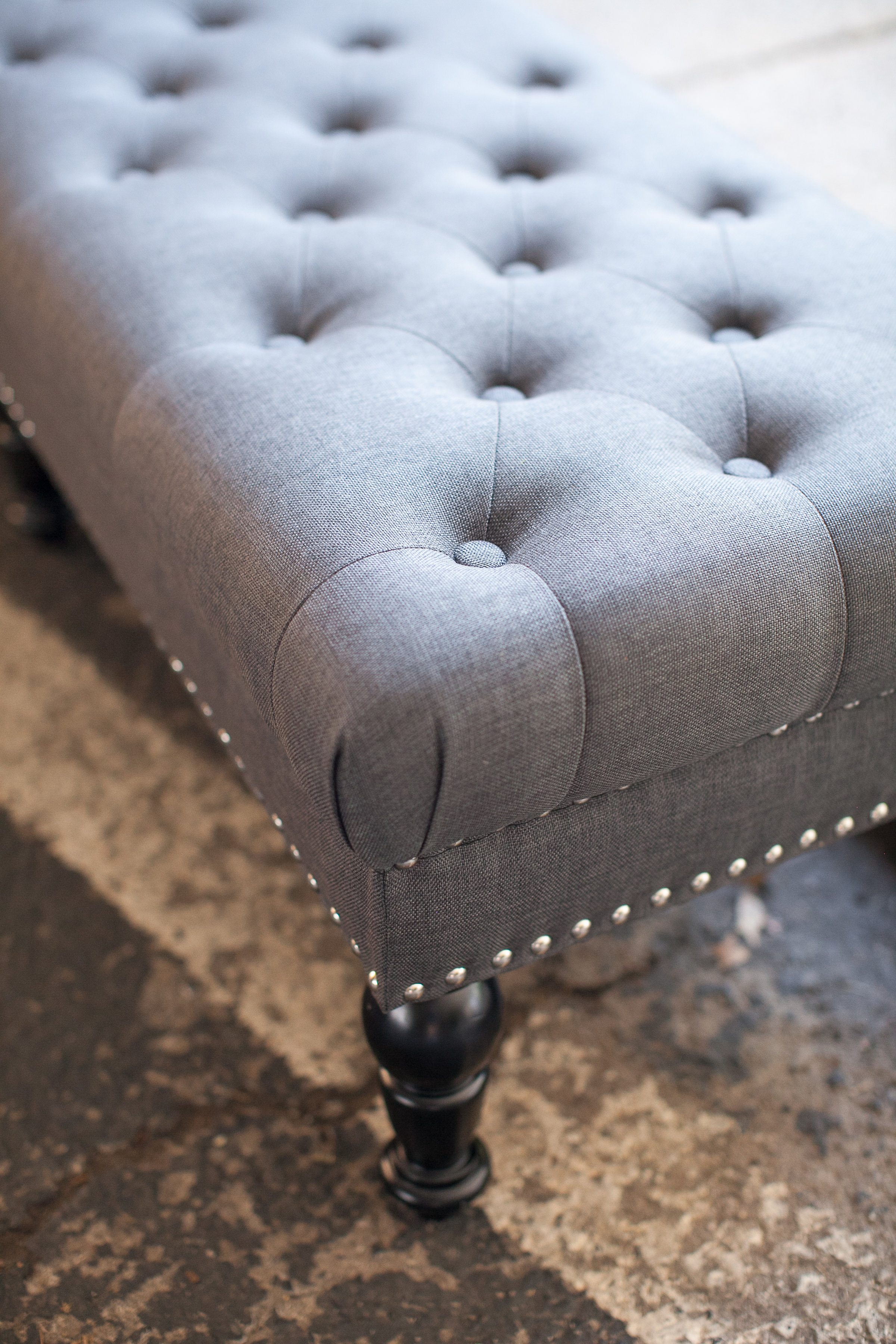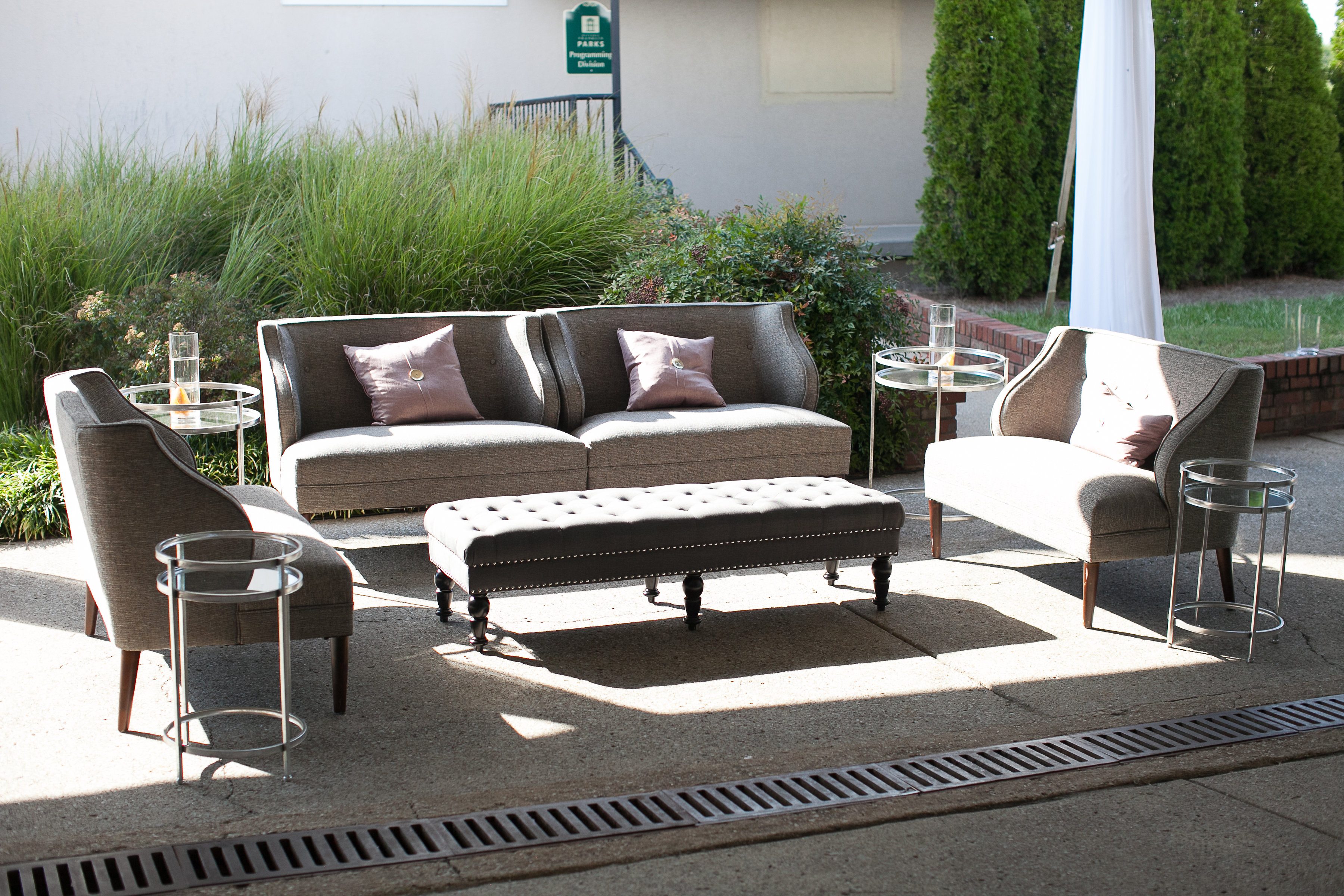 Photo Credit: Phindy Studios
Chiffon Runners
Elegant Chiffon Runners add a new element of texture to your upcoming tablescapes. The sheer, smooth fabric adds a romantic touch and looks especially stunning when paired with a farm table or the Fruitwood Bar. We have also had clients used this as part of wedding ceremony backdrops, intertwined with flowers and greenery garlands. Available in blush, dove gray or ivory, the muted colors coordinate nicely with any color palettes.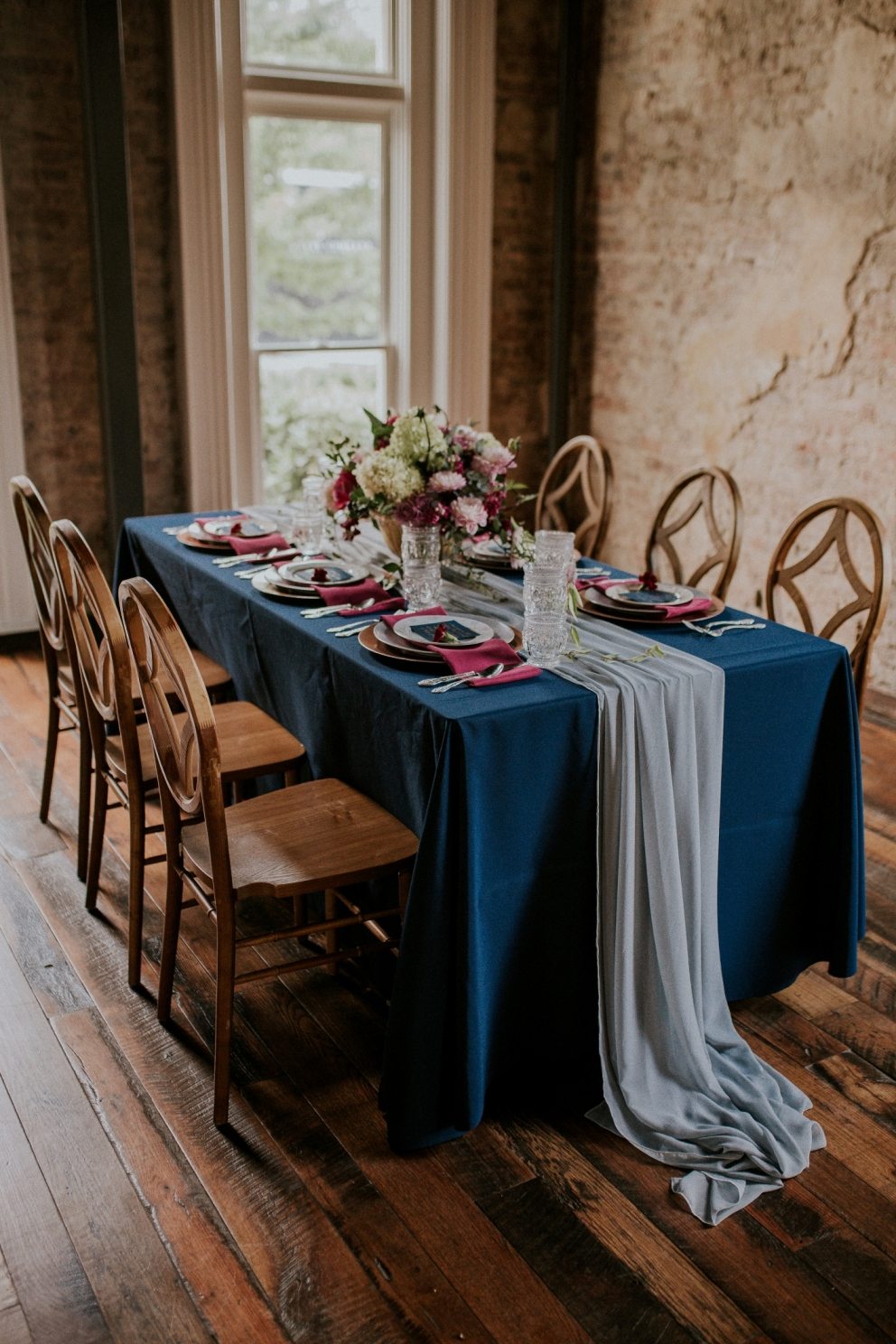 Photo Credit: Abigail Bridges Photography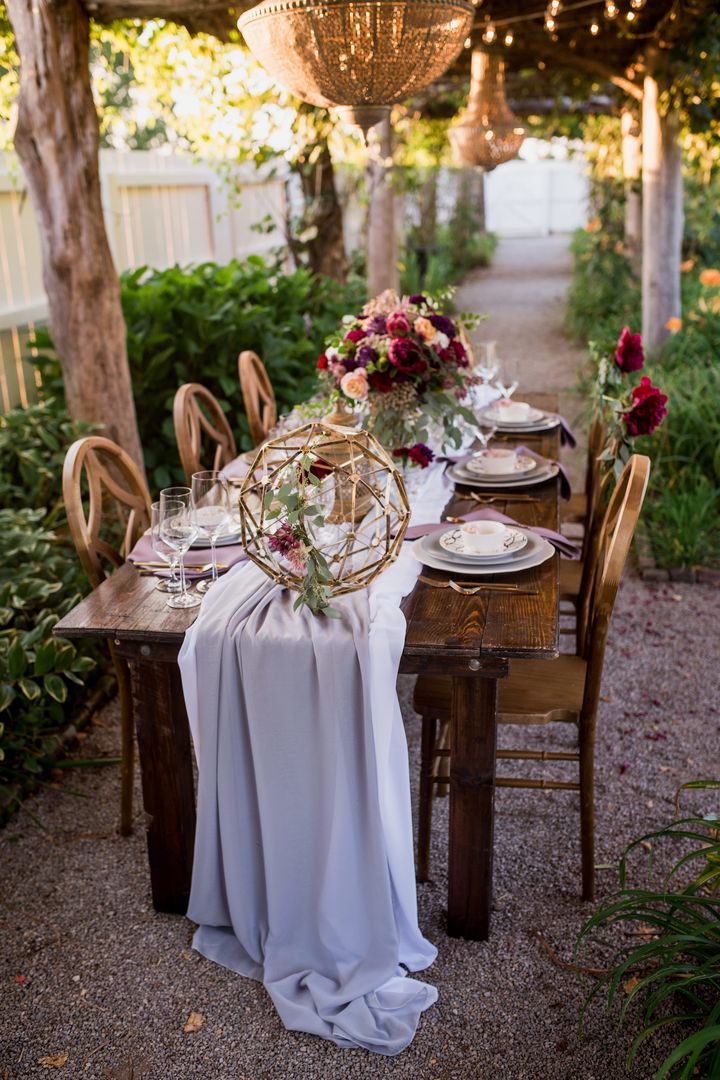 Photo Credit: John Myers Photographer
Cecilia Floral Matte Satin
Feeling bold? The Cecilia Floral Matte Satin fabric adds a bold romantic pattern in muted colors, creating effortless elegance for your cocktail hour or main event. We especially love the way it so easily pairs with our other satin linens in coordinating colors for a truly seamless design. We love this at any occasion, whether a romantic garden wedding or a grand gala!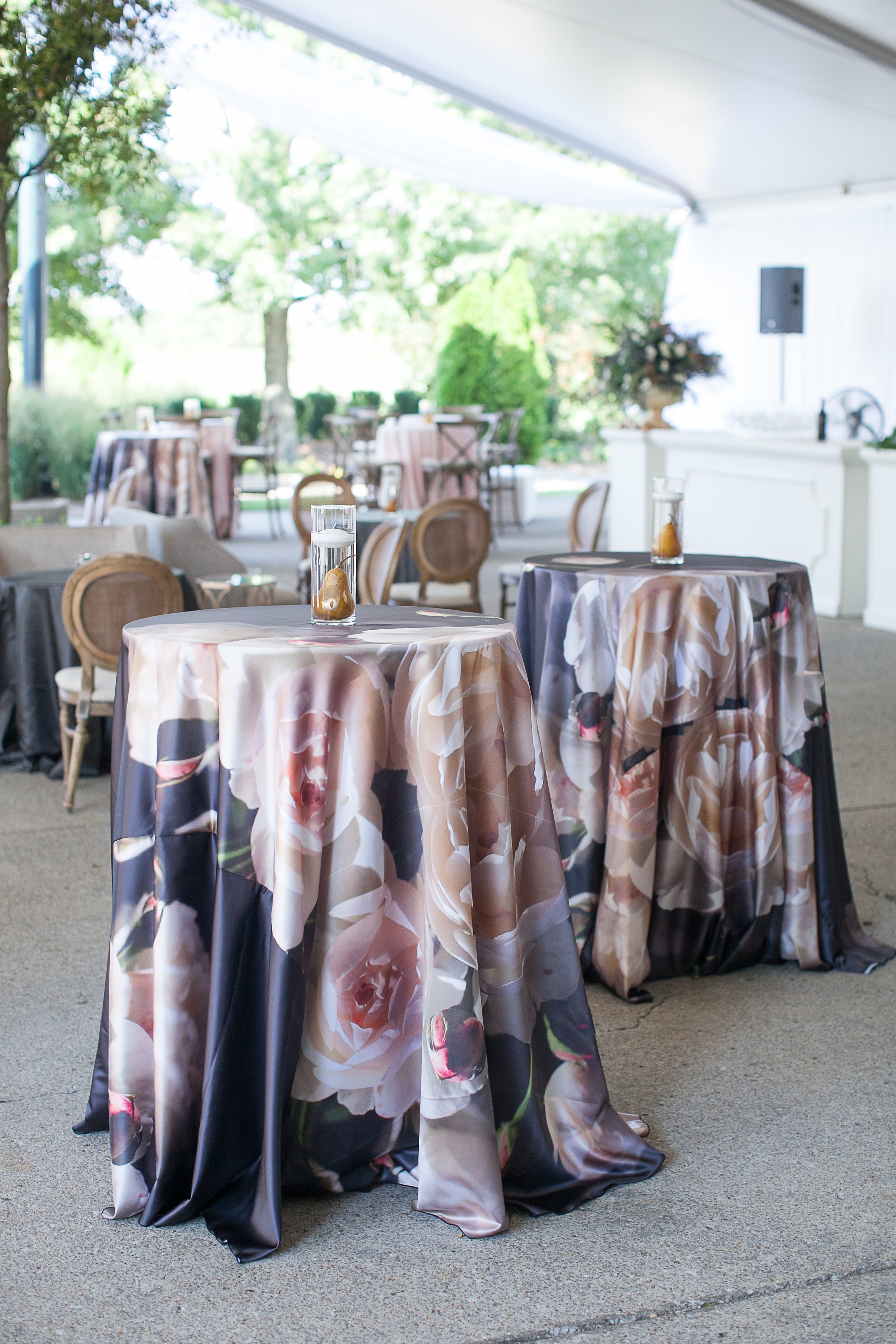 Photo Credit: Phindy Studios
Cheval Gold Mirrored Table in Large and Small
A side table that glistens adds depth to an event's style. The Cheval Gold Mirrored Table comes in two sizes (large and small) has striking lines in a metallic finish, ideal for a modern design. Gold adds a bit of romance, making it perfect to accompany a blush or all white color palette. We can't wait to see how you'll design it!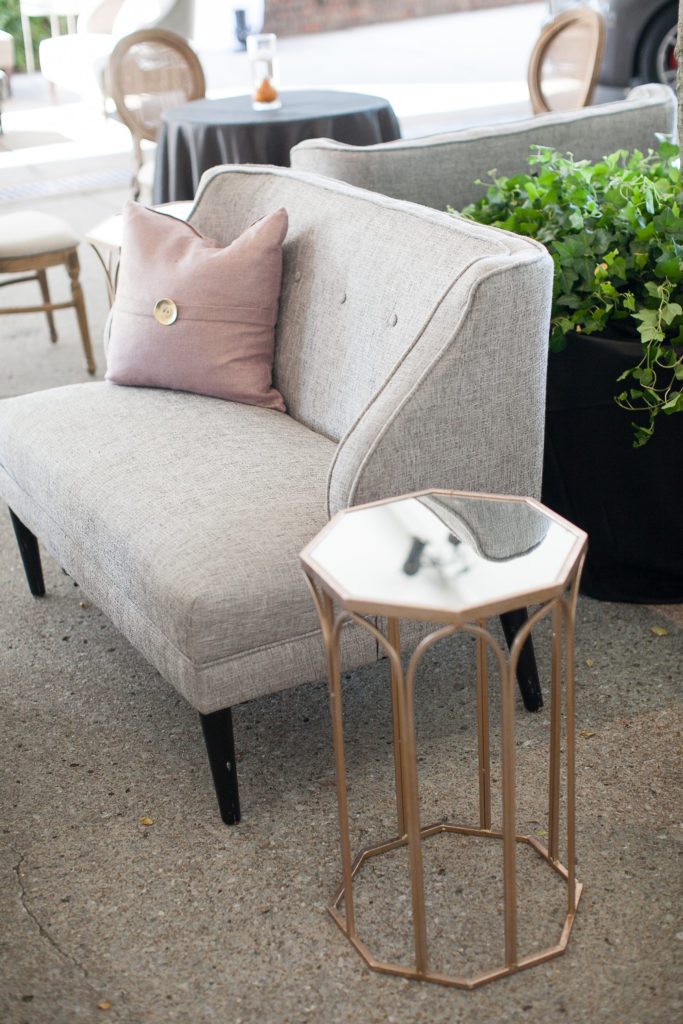 Echo Silver Mirrored Table in Large and Small
Our Echo Silver Mirrored Table in large and small is just as stunning as the Cheval, only in silver metallic. The chrome finish lends itself well to any modern seating areas and is welcomed by guests as a place to rest their drinks while mingling with others.
Photo Credit: Phindy Studios
Floral Printed Dance Floor
An inspirational dance floor really elevates the entire look of an event – when the design is coordinated from top to literally bottom, it stands out in a marvelous way! The new Floral Printed Dance Floor features oversize prints in various corners of the dance floor. Peonies in a barely-there pink are featured, allows the elegance to carry over from dinner to dancing. We loved it at the Heritage Ball 2017 as an entry into the main space – the striking and romantic design had guests swooning!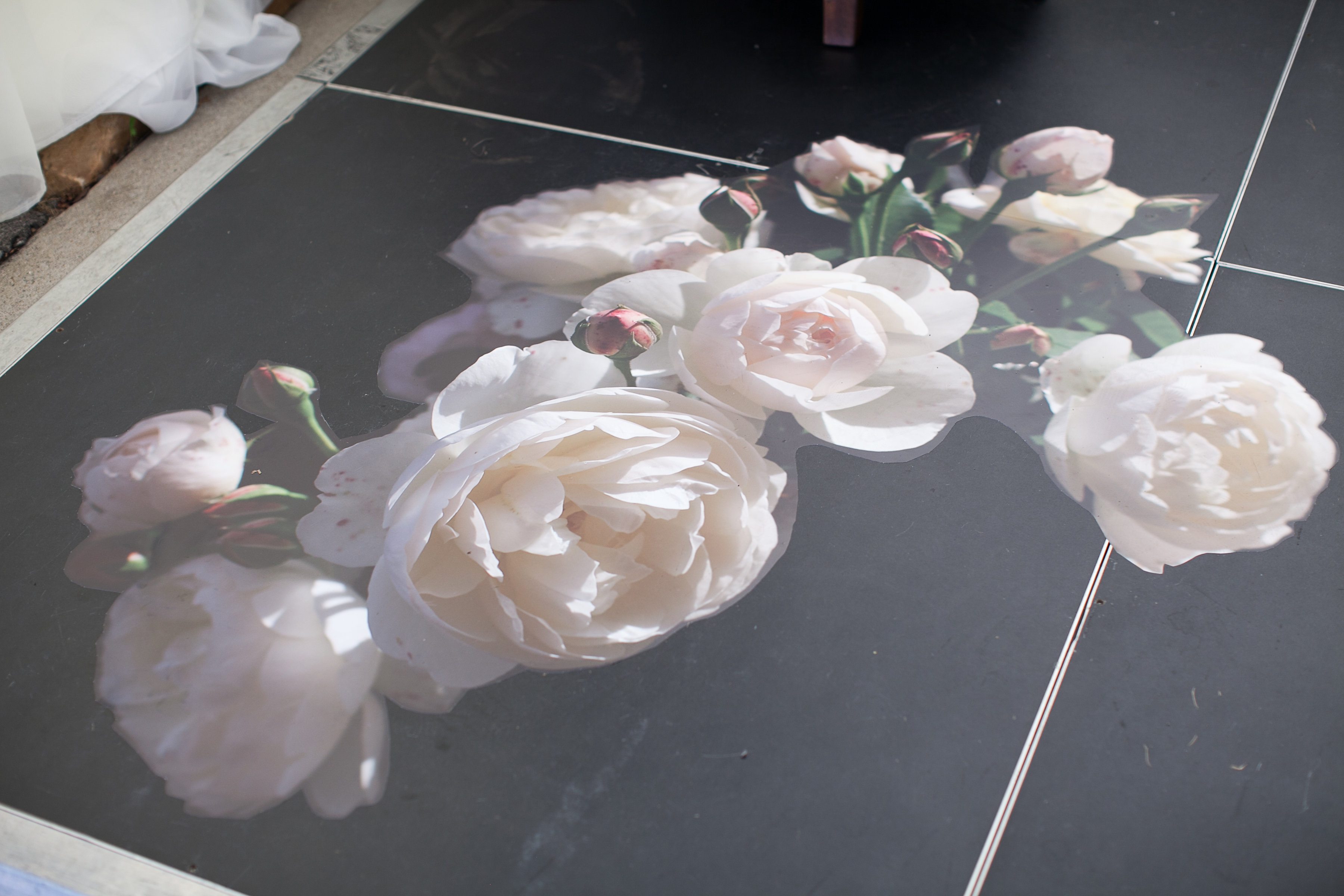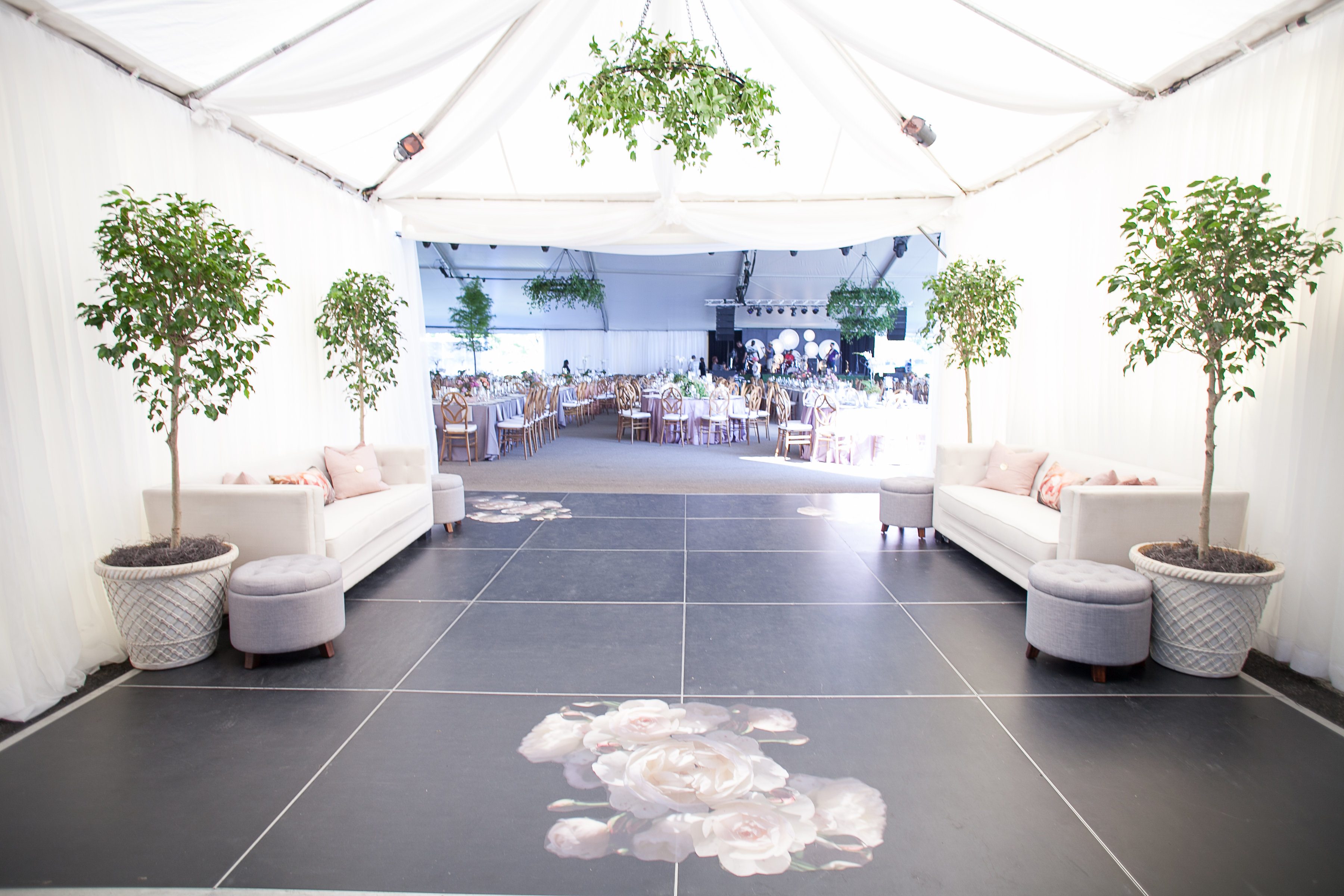 Photo Credit: Phindy Studios
TAGS | Cecilia Floral Matte Satin, Cheval Gold Mirrored Table, Chiffon Runners, Coronado Accent Plates, Echo Silver Mirrored Table, Farm Tables, Floral Printed Dance Floor, Gold Rimmed Glass Chargers, Harlin Chairs, Laguna accent plates, Nashville Wedding Rentals, Southern Events Party Rental, Southern Events Party Rentals, Unique Wedding Rentals, Winstead Gray Tufted Bench, southern weddings, upscale outdoor wedding
FEATURED RENTALS | Brancher Centerpieces, Harlin Chairs, Laguna Accent Plates, Coronado Accent Plates, Gold Rimmed Glass Chargers, Winstead Gray Tufted Bench, Chiffon Runners, Cecilia Floral Matte Satin, Cheval Gold Mirrored Table, Echo Silver Mirrored Table, Floral Printed Dance Floor
---