8

Dec

Southern Events Products, Trends and Inspiration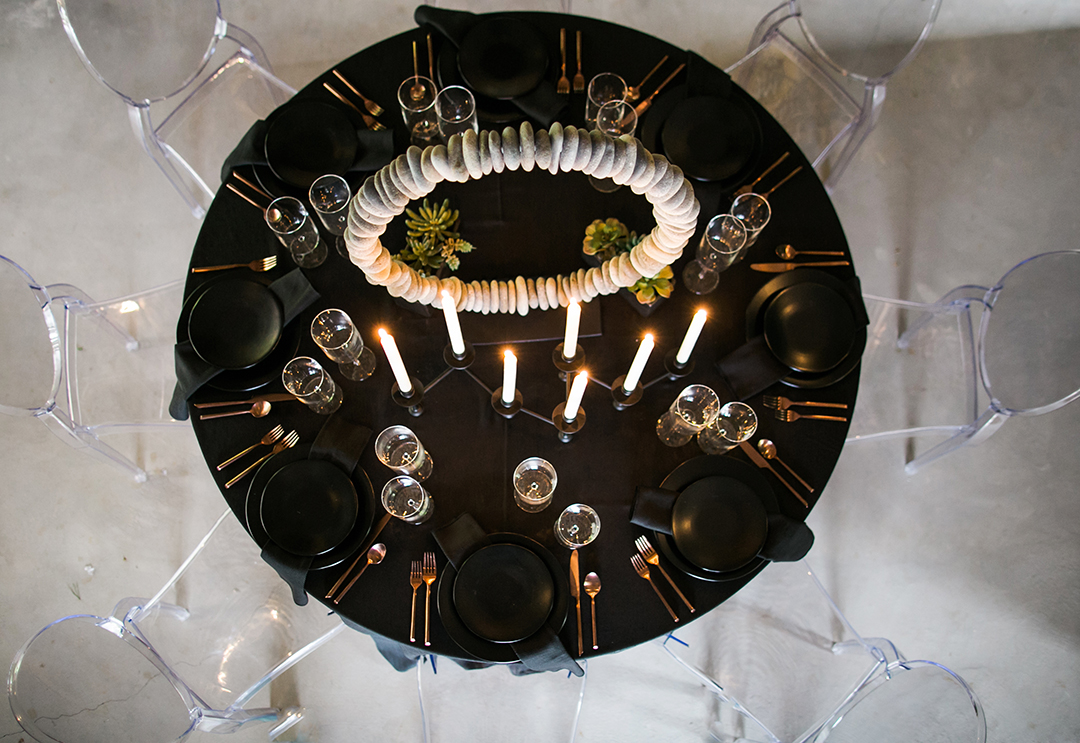 Skip the downtown crowds and opt for a moody modern New Year's Eve party to ring in 2023 – we know, the year has flown by! Whether it's a large corporate gala, casual holiday office party, or intimate countdown cocktail hour, we've got the perfect New Year's Eve party rentals to host a memorable fete. Think plush modern retro furniture, luxe neutral linens, and a bar featuring the most divine glassware; for tasty themed drinks. Keep reading for ideas on everything from trendy tablescapes to lounge areas fit for a long night of sipping and sitting!
Moody Metallic Tables
So you're hosting a seated dinner? Creating a moody modern New Year's table is a breeze! Black is the color of choice for this celebration, but we like to add luxe touches where we can! The easiest way is serving ware featuring metallic accents – plates, glassware, flatware. Start with a set of our elegant tablecloths, in a solid black or with a subtle pattern, like Black Nova. If you prefer a brighter but equally elegant linen, Gold Furrow is a stunner. Top it off with a stack of china. Such as a Gold, Silver, or Black Rim Glass Charger and any of our Earthen Dinner Plates. Choose serving ware that complements existing metallics, whether it be our Gold Austin Flatware, Brooklyn Flatware, or Brushed Copper Flatware. For a spunky touch, include some fun modern glassware – Cybil or blue-hued Meridian Tumblers.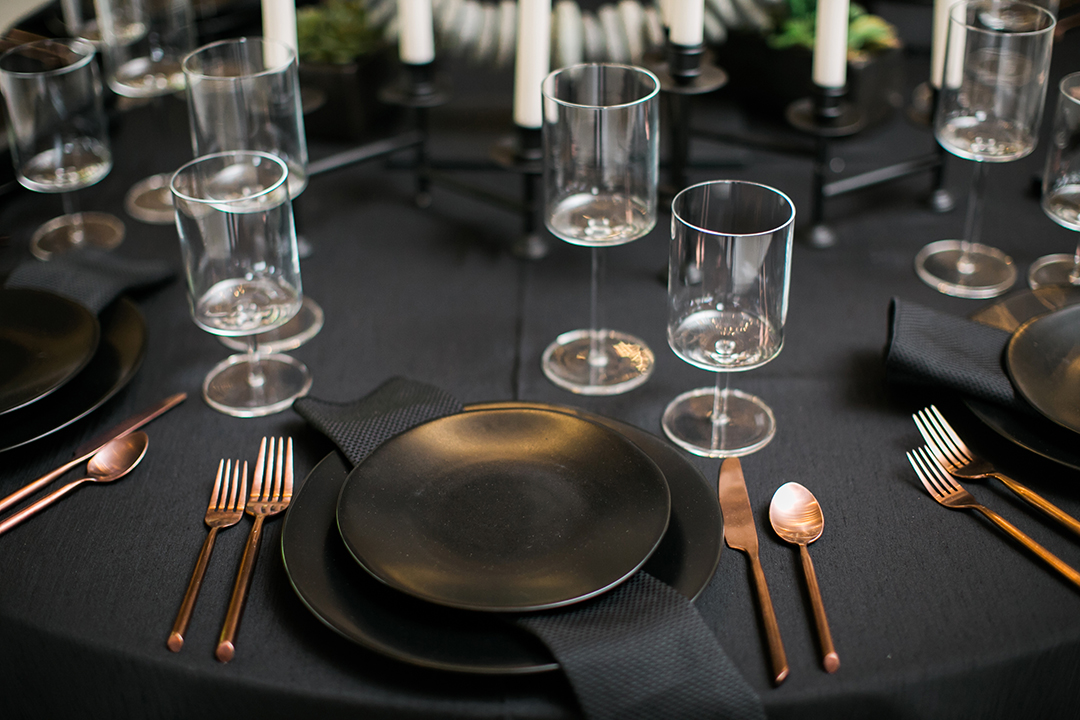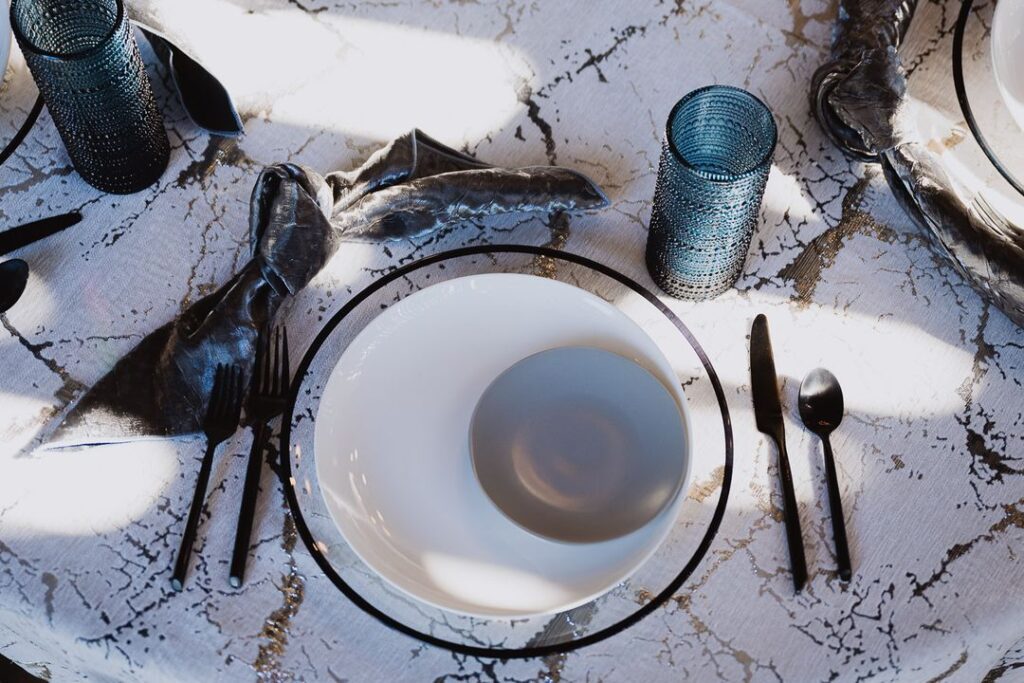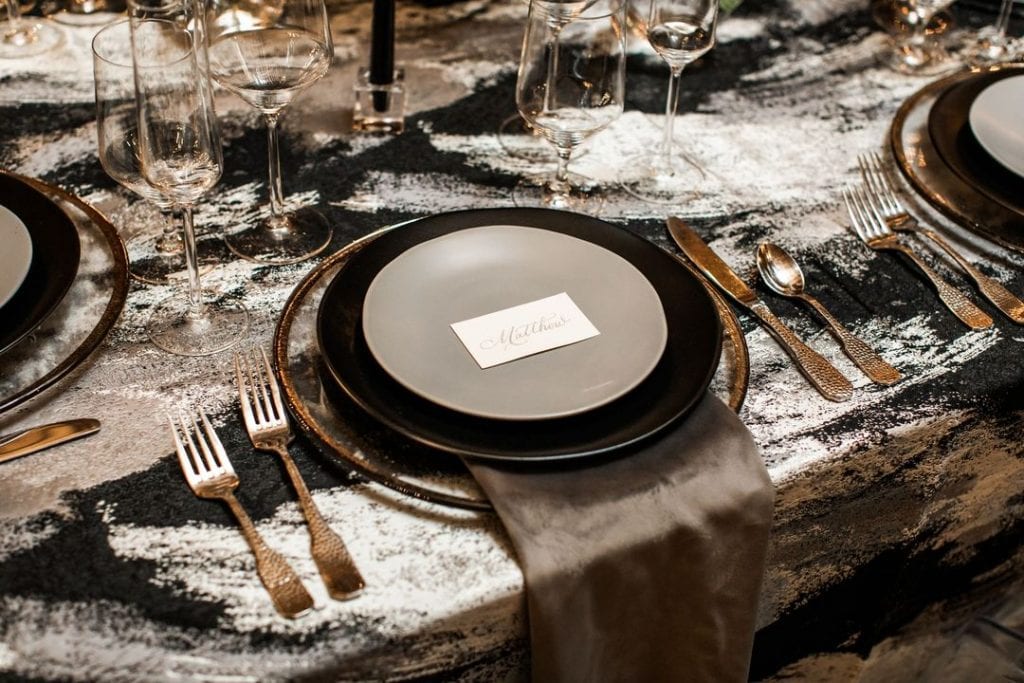 Cozy Countdown Lounge
A lounge (or two) are a must-have for New Year's Eve. It will be a long night and to keep guests cozy you need a space where they can sit, sip, and mingle to their heart's content! Our favorite modern moody setup starts with Regent Black Velvet Sofa and a set of Acrylic Ghost Arm Chairs. Pair it with our Capriano Marble and Copper Accent Tables, or a similar set. Another alternative is our Modular Pearce Lounge, which can be arranged as desired to fit your event space. Be sure to surround it with some layered rugs for an extra cozy vibe! For larger parties, we recommend adding in a sprinkling of bistro tables and barstools near the bar area.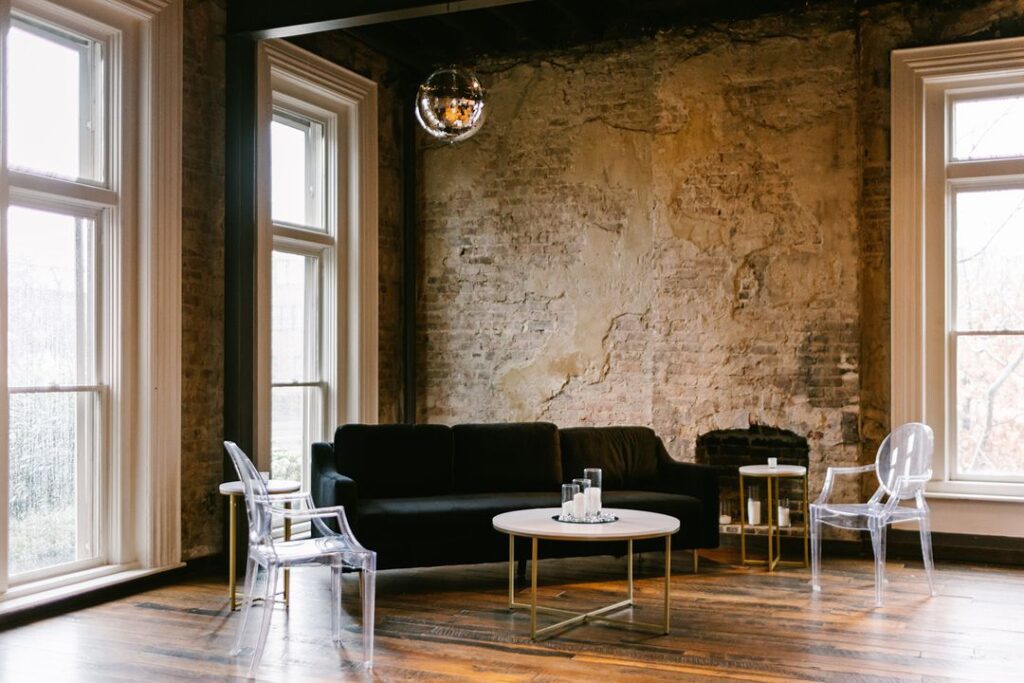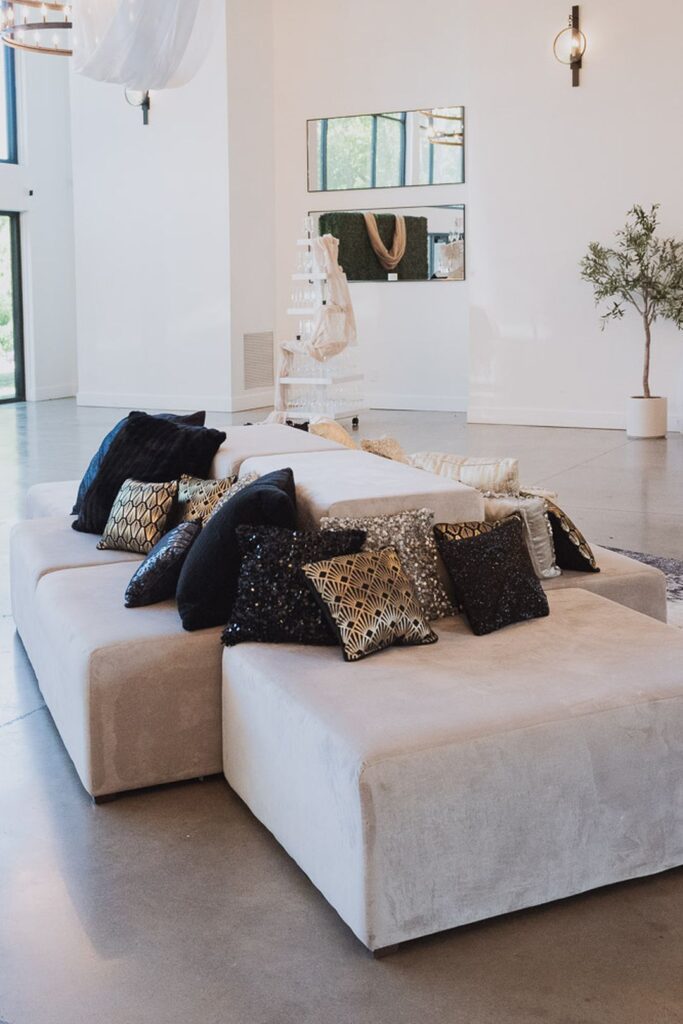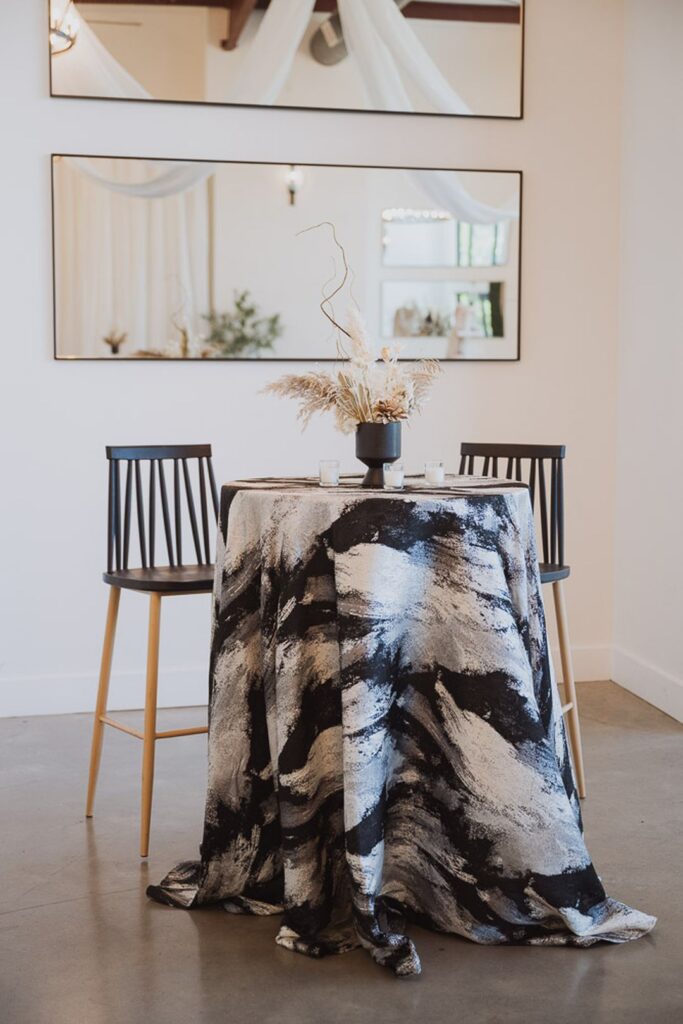 Perfect Bar for Toasts
Speaking of bars, you will want one – whether you are serving cocktails or mocktails! Our Black Franklin Bar is a classic staple which you can accessorize with our Avenue Bar Back Shelving. Here you can stock bottles or display fanciful glassware. For smaller gatherings, grab our Gold Bar Cart for storage or a beverage service. When it comes to choosing glassware, you'll want to offer an array of choices. Start with Gatsby Champagne Coupes for toasting. And Upton Glassware for bourbon or mocktails! If you'd like to wow guests with a champagne tower, our White 6-Tier Serving Tower is a must-have!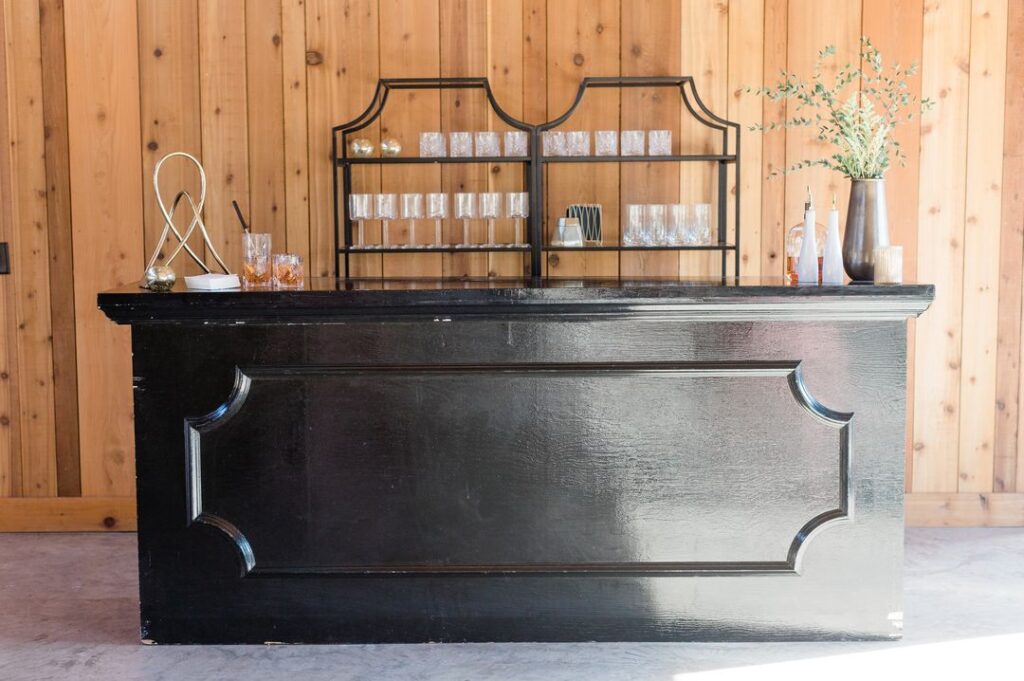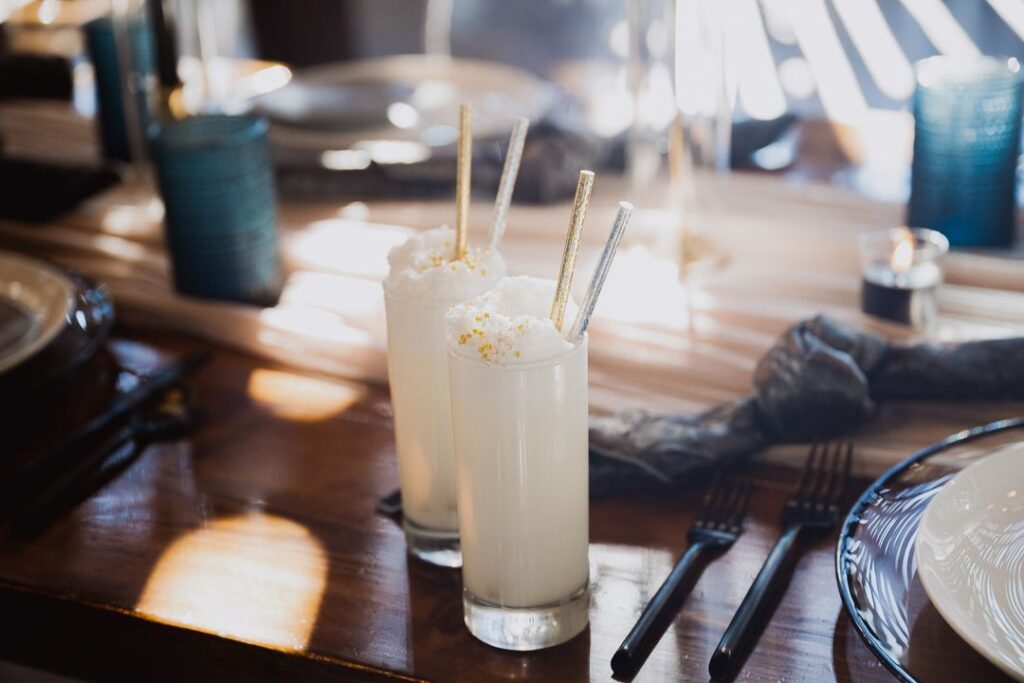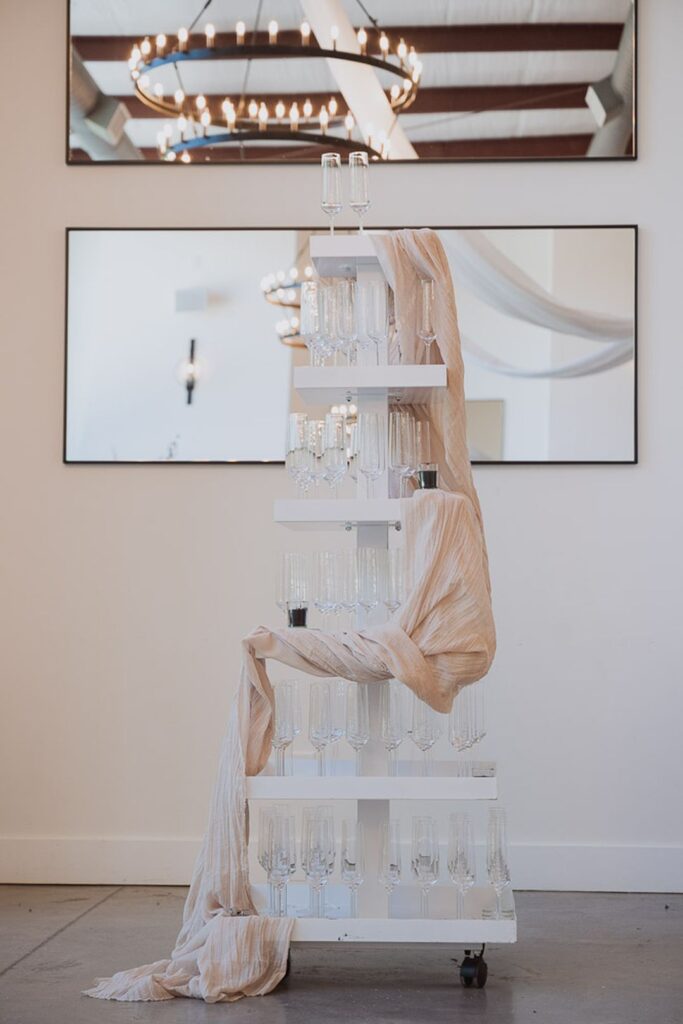 Soft & Moody Event Lighting
Candlelight sets the perfect mood for midnight festivities. Create intimate centerpieces using our Davis Glass Cylinders filled with candles and surrounded by a soft runner or greenery. Or feature votives in our Acrylic Rectangle Container. To warm up lounge areas, strategically scatter Oversized Lanterns. We have a variety of styles to choose from to complement different themes! Another fun option is to cozy up around our Hammered Rectangle Fire Pit! Just be sure to supply some plush pillows and afghans or blankets.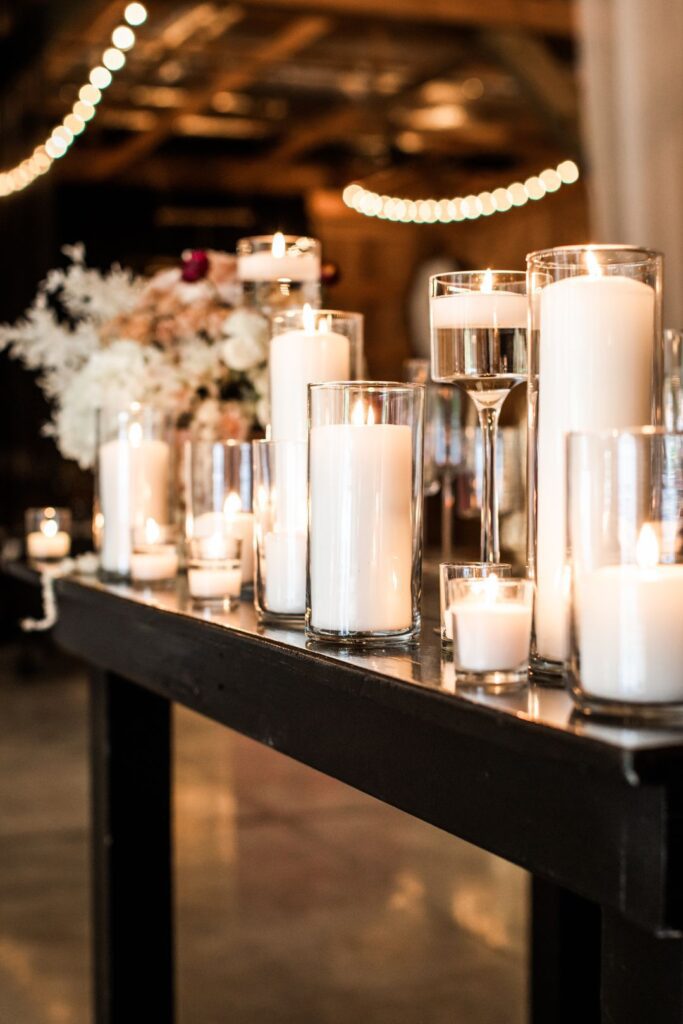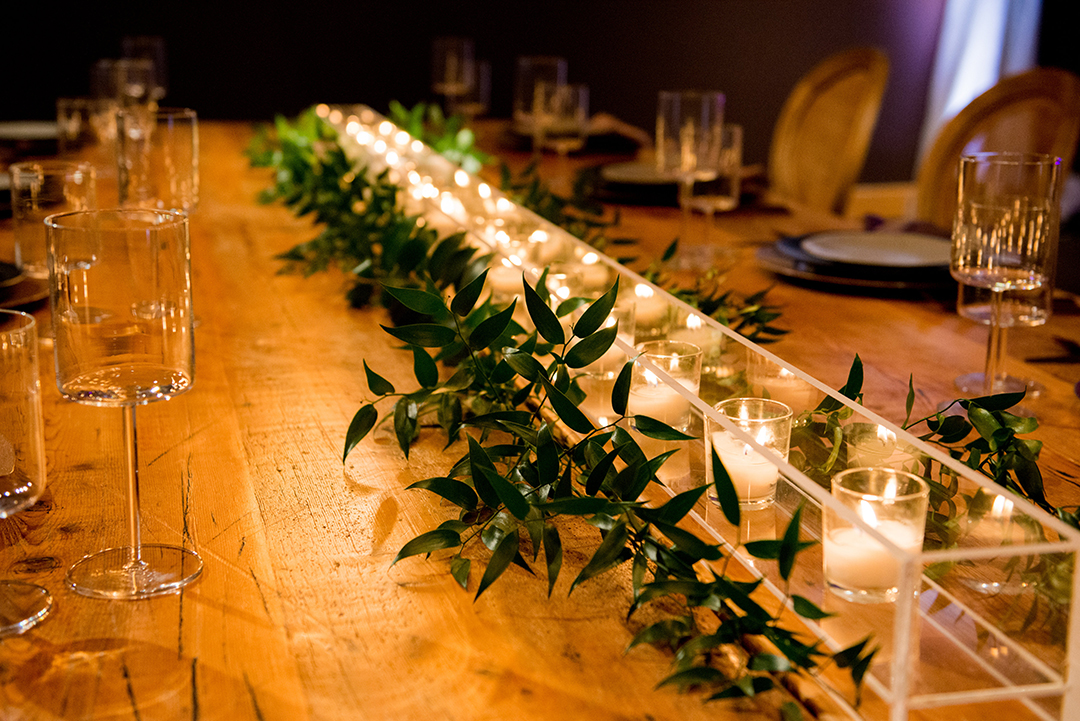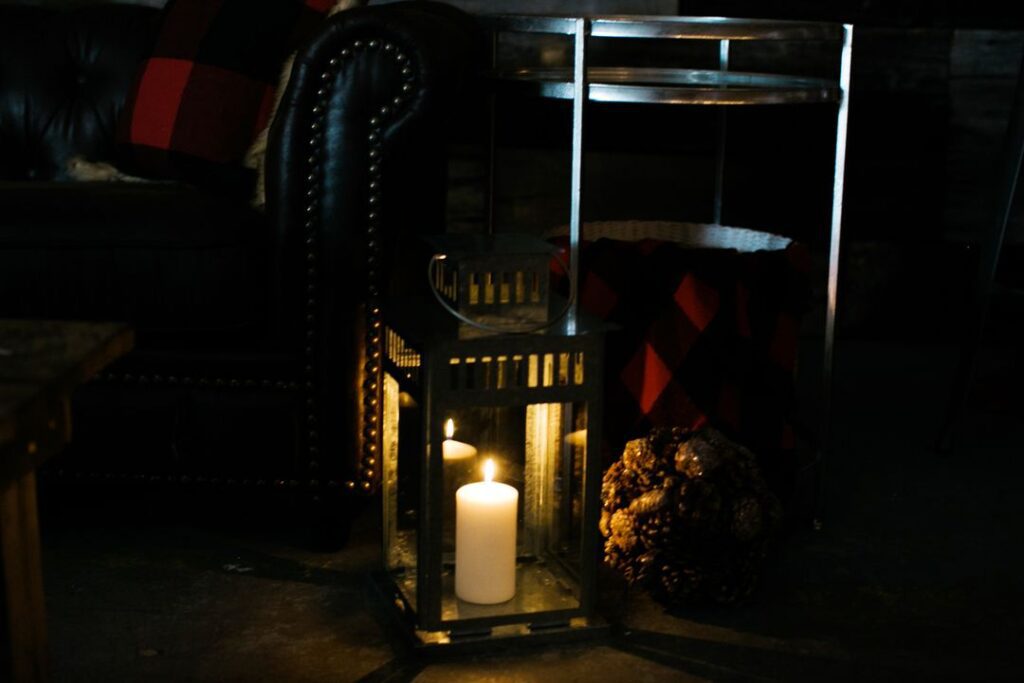 Feeling inspired? We would love to help you plan a Moody Modern New Year's Eve party in Nashville – whether you're hosting a small at-home gathering or a large corporate event! Send us a message at  info@southerneventsonline.com, or take a look at our catalog of rentals on the website.
TAGS | Holiday Party Decor, Holiday Party Ideas, Modern Lounge Furniture, Nashville party rentals, New Year's Eve party, On Trend, Southern Events Party Rental Company, Winter Event Decor, company event, holiday events, holiday party, holiday party rentals, modern event decor, modern tablescape, monochromatic event design, monochromatic event rentals, winter party
FEATURED RENTALS | Black Nova, Gold Furrow, Gold Rim Glass Charger, Silver Rim Glass Chaarger, Black Rim Glass Charger, Earthen China, Brushed Copper Flatware, Brooklyn Flatware, Gold Austin Flatware, Cybil Classware, Meridian Tumbles, Acrylic Ghost Arm Chairs, Regent Black Velvet Sofa, Pearce Lounge, rugs, Black Franklin bar, Avenue Bar Back Shelving, Gold Bar Cart, Gatsby Champagne Couples, White 6 Tier Serving Tower, Upton Glassware, Davis Glass Cylinders, Oversized Lanterns, Acrylic Rectangle Container, Hammered Rectangel Fire Pit,
---
1

Sep

On Trend, Southern Events Products, Trends and Inspiration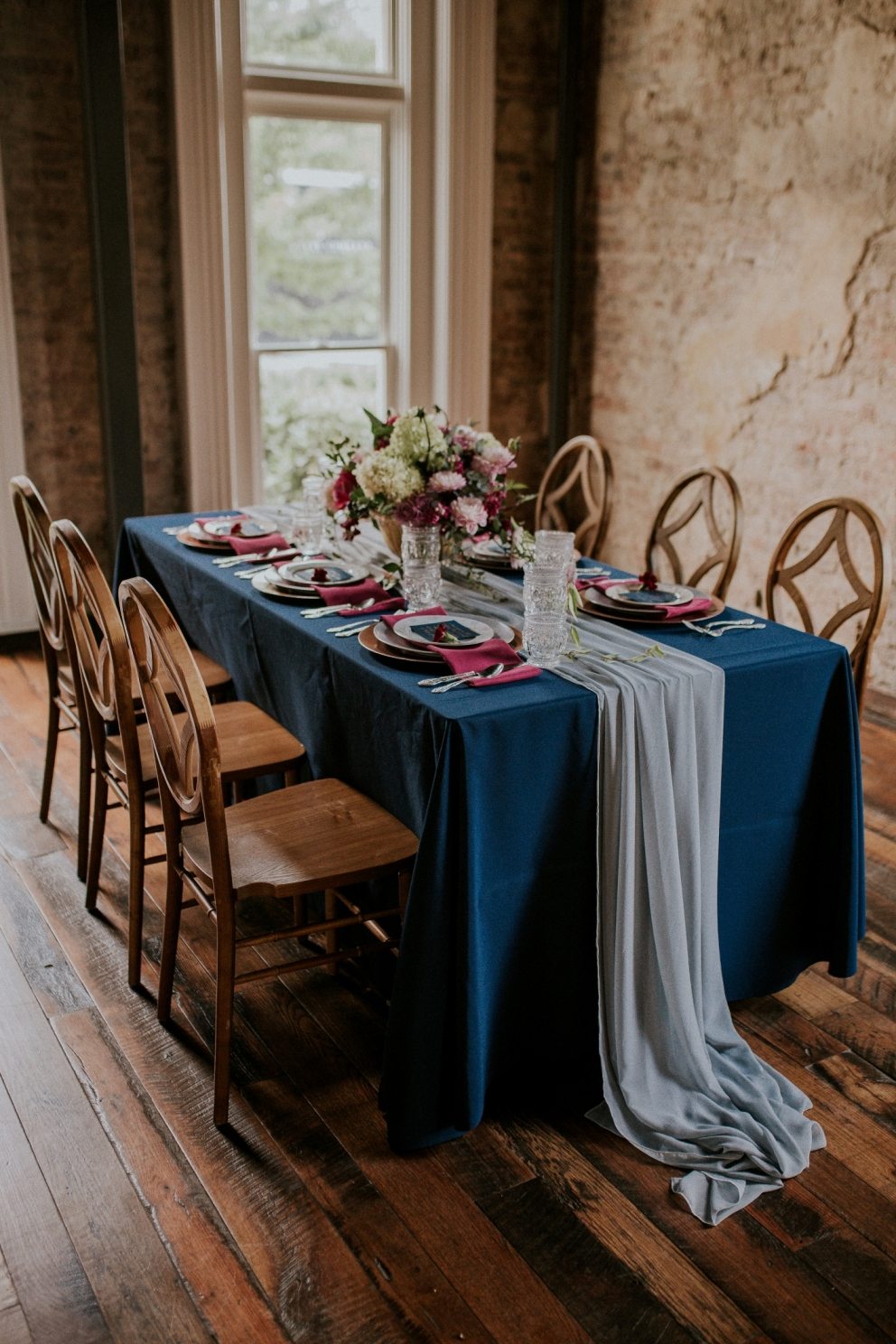 Bold and vibrant colors can be found everywhere in nature — from the burgundy mums sitting on your doorstep, to the bright orange pumpkins waiting to be carved into jack-o-lanterns, to the yellow leaves falling to the ground. The vivid and rich color palette of the great outdoors moves fall wedding trends toward more jewel-toned hues – an aesthetic we are happy to help you achieve! Grab that pumpkin spice latte, light a candle, and peruse these gorgeous, in-stock jewel-toned fall wedding rentals!
Jewel-Toned Furniture
Our Saylor Navy Sofa always makes a striking statement. We use it at many weddings and events, and it is essential for this lineup. The piece's deep and powerful hue of blue brings in warmth and vivacity. Our Jaqueline Velvet Sofa, which features a rich amber color, is just as beautiful and practically glows. But should you prefer a more muted look, opt for our Fern Velvet Sofa, paired with a set of vintage-inspired Turkish Rug Ottomans. To frame the space, and lend an extra cozy look, feature our vibrant Blue-Red Rug.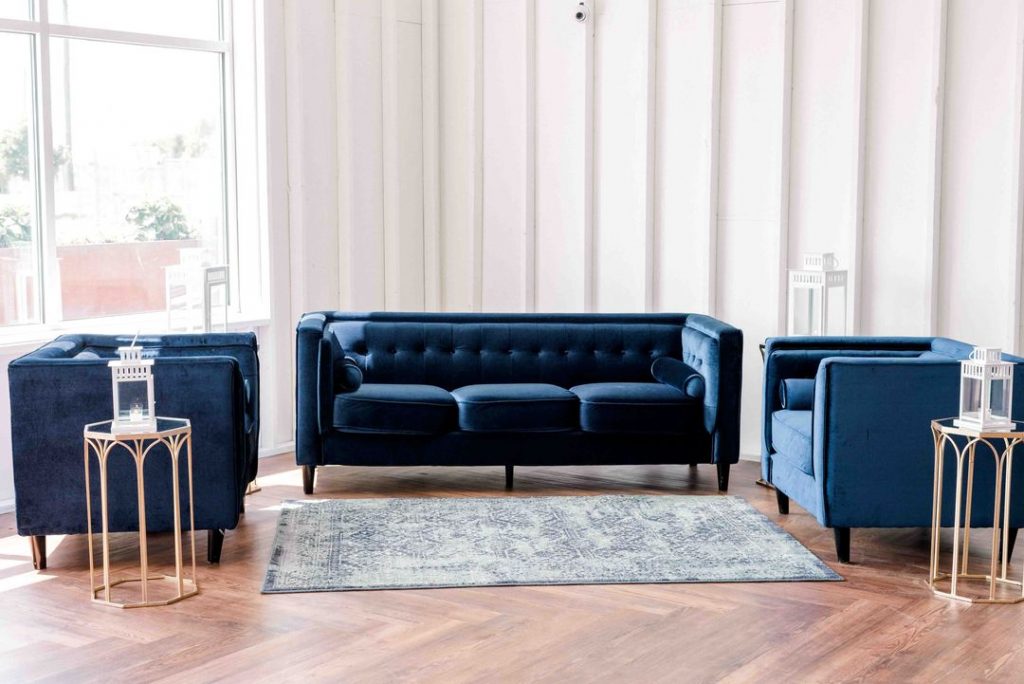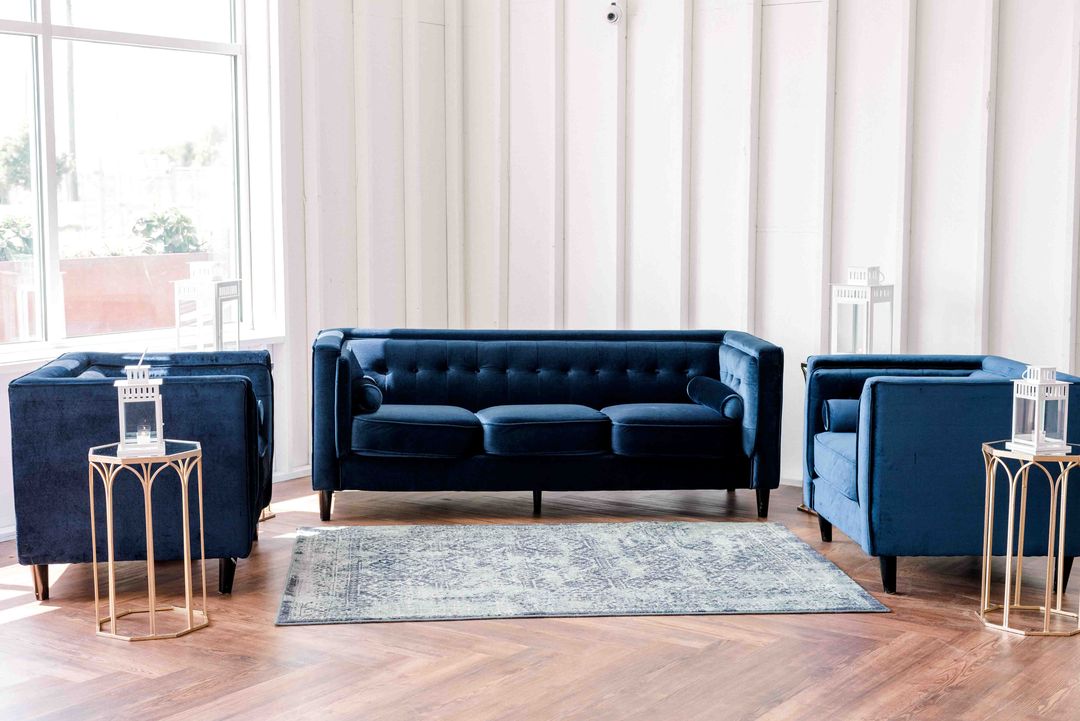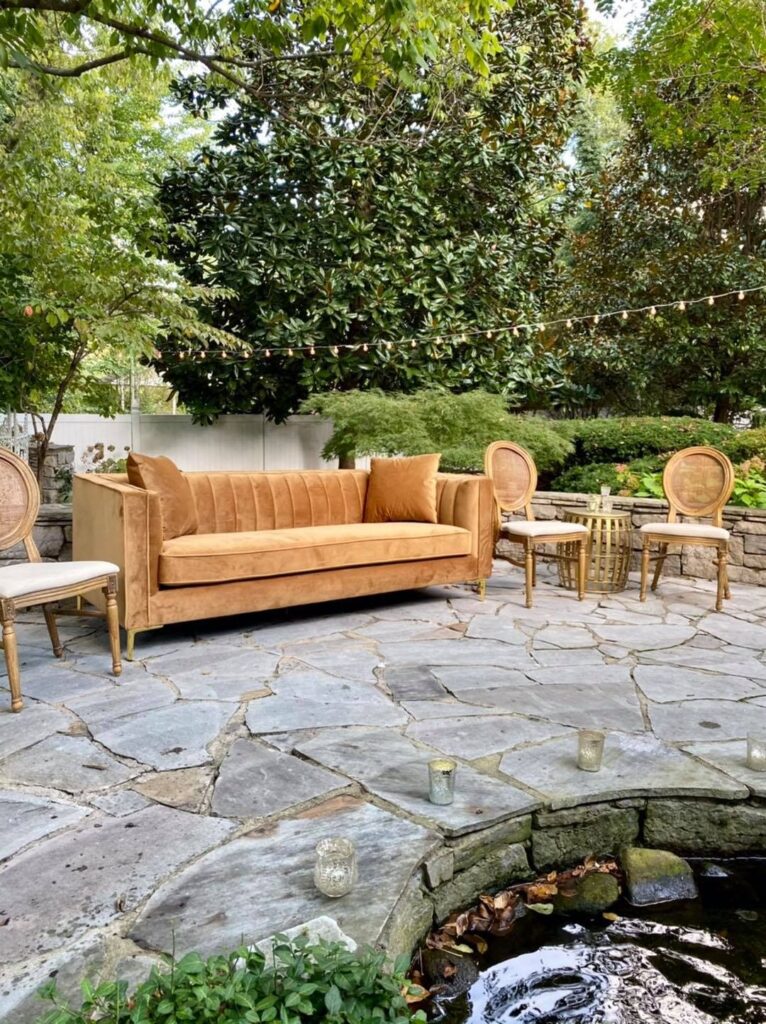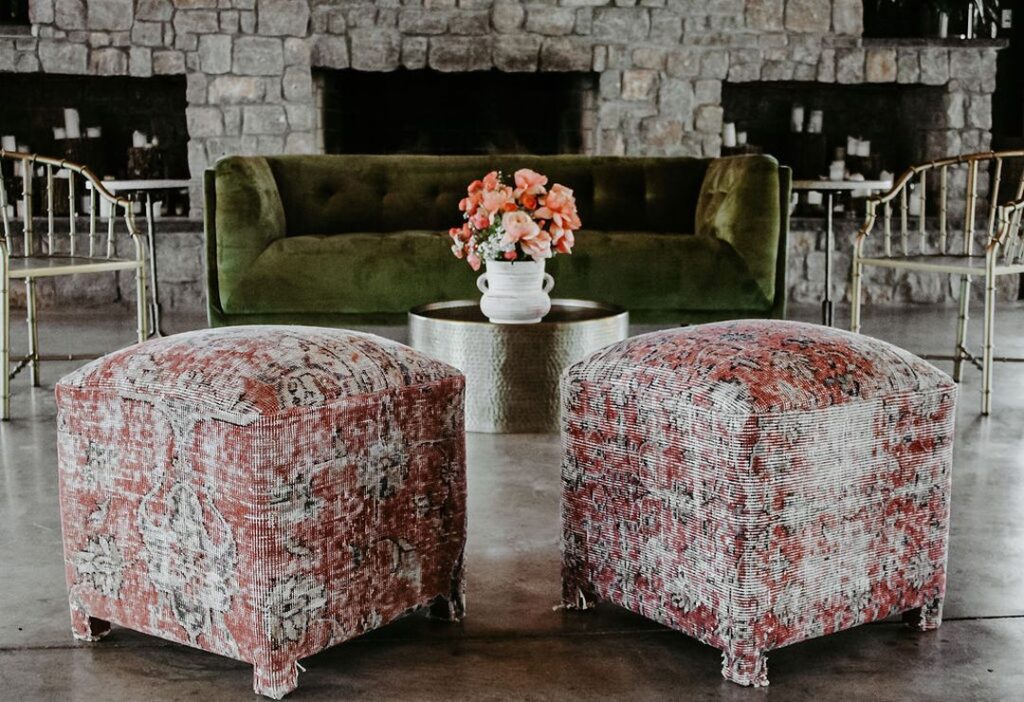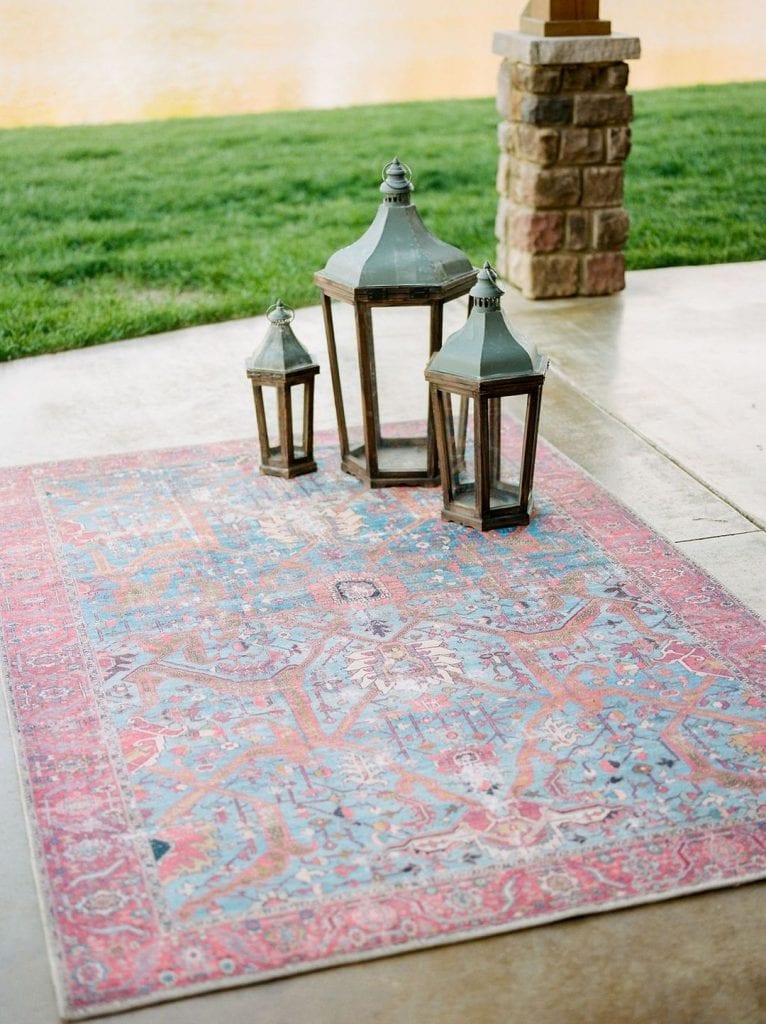 Bold Jewel-Toned Linens
We love playing with linens – layering them, draping them, and allowing them to pop in unexpected places. For the fall and a jewel-toned wedding theme, linens are a trusty sidekick. They accentuate, build up, and reinforce the vibrant color palette. The possibilities are endless. Our Burgundy Poly Linen, Gold Poly Linen, Magnolia Velvet Linen, and Raspberry Poly Linen, are our top picks for pushing this jewel-toned vision to life. For an extra luxe touch, top your place settings off with a set of velvet napkins!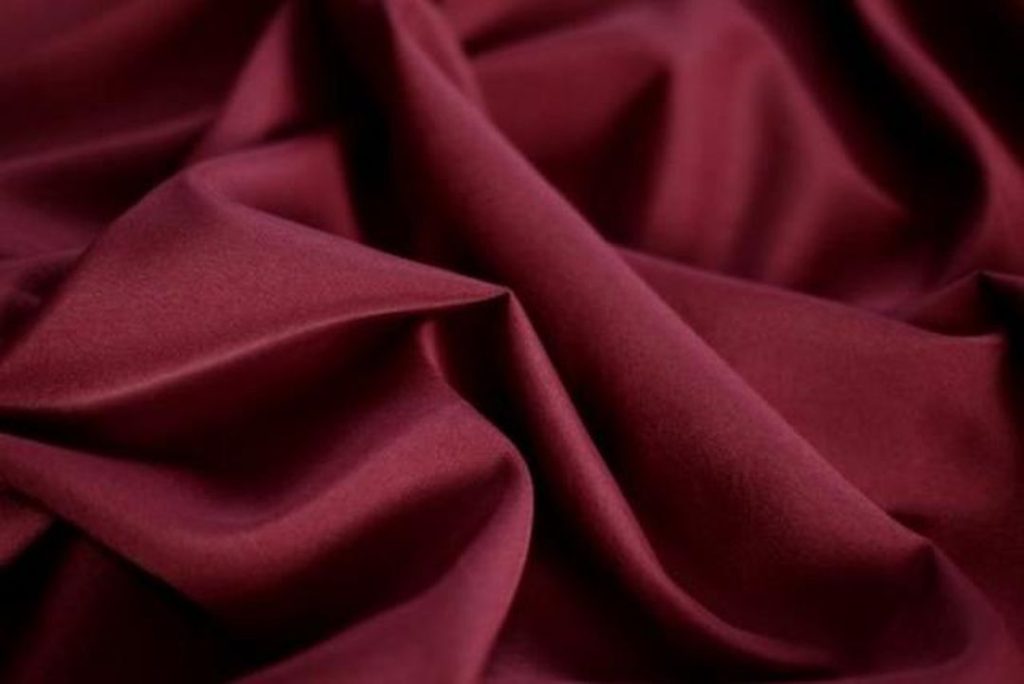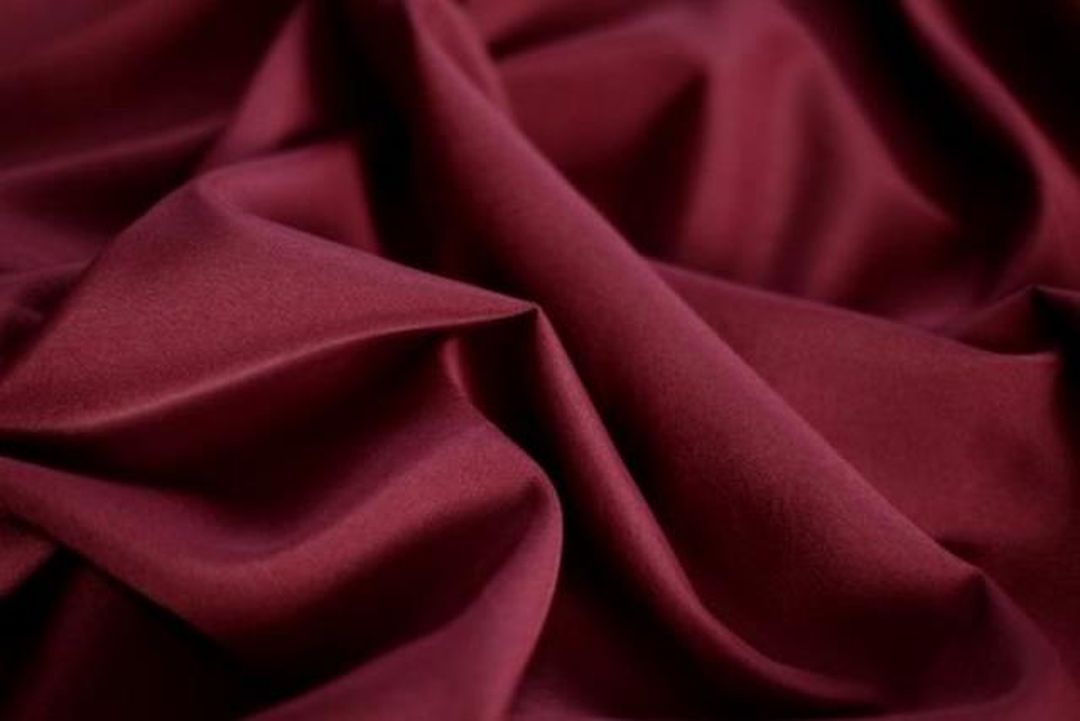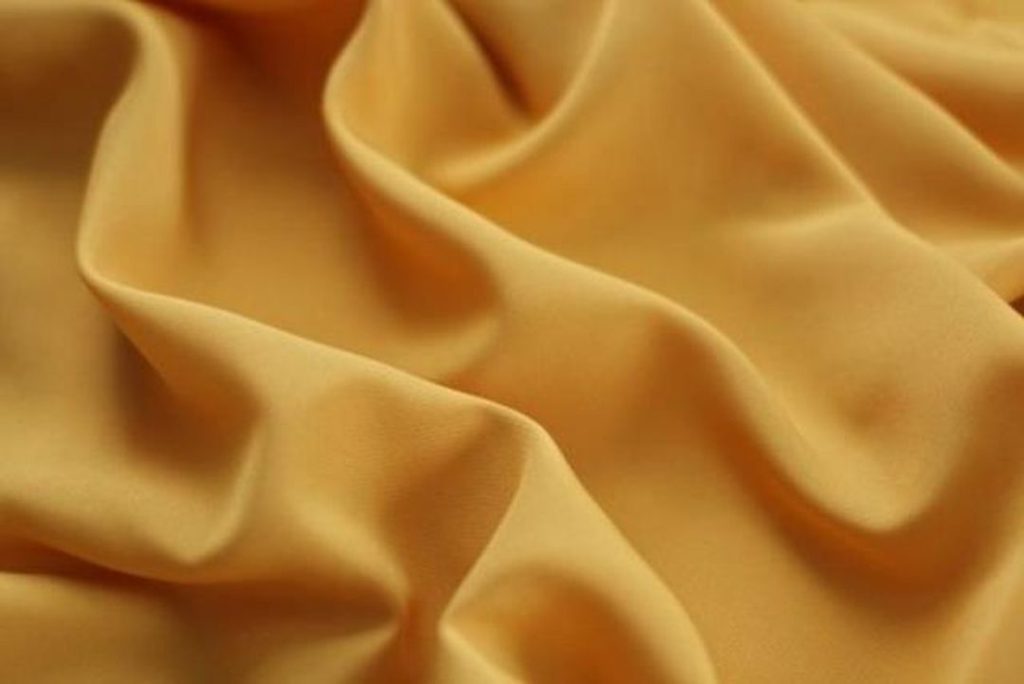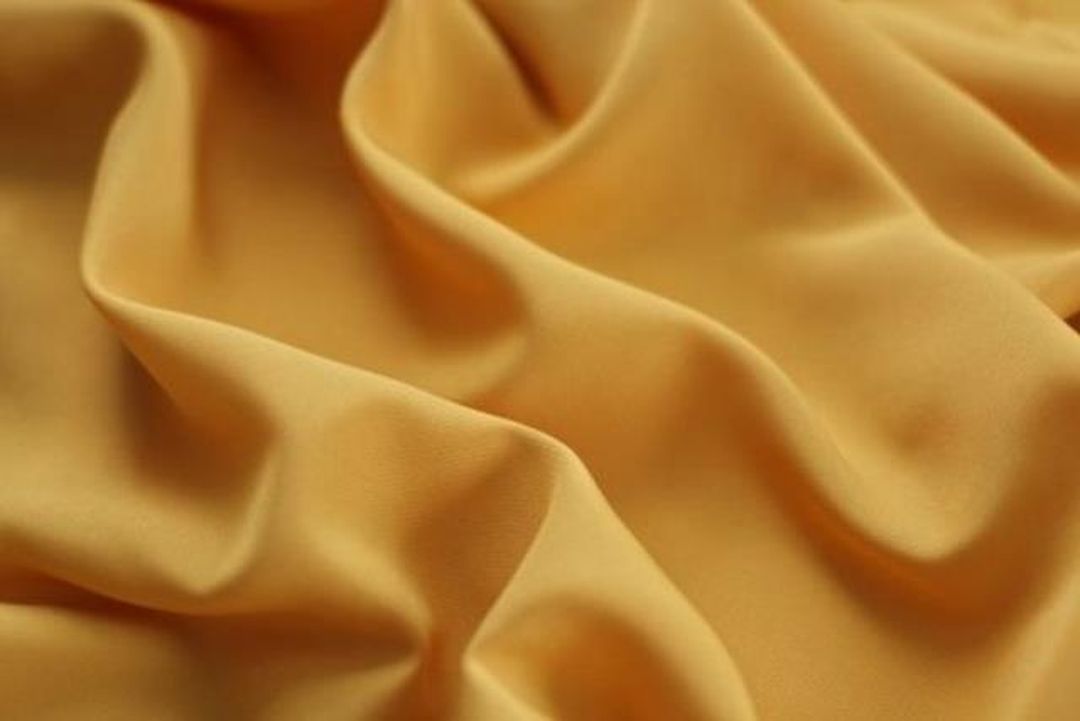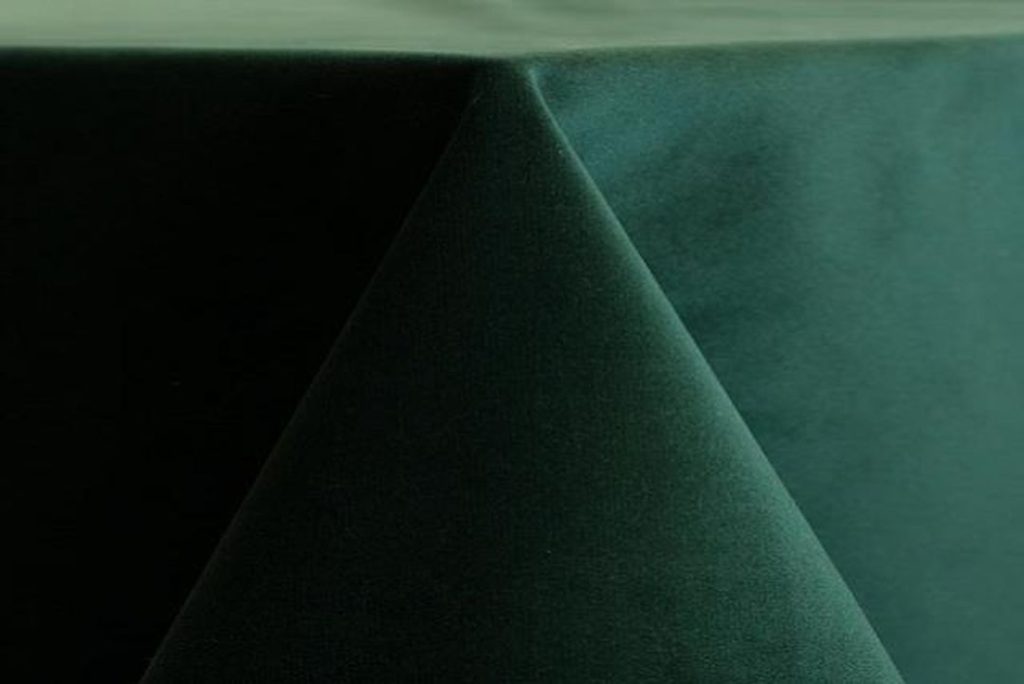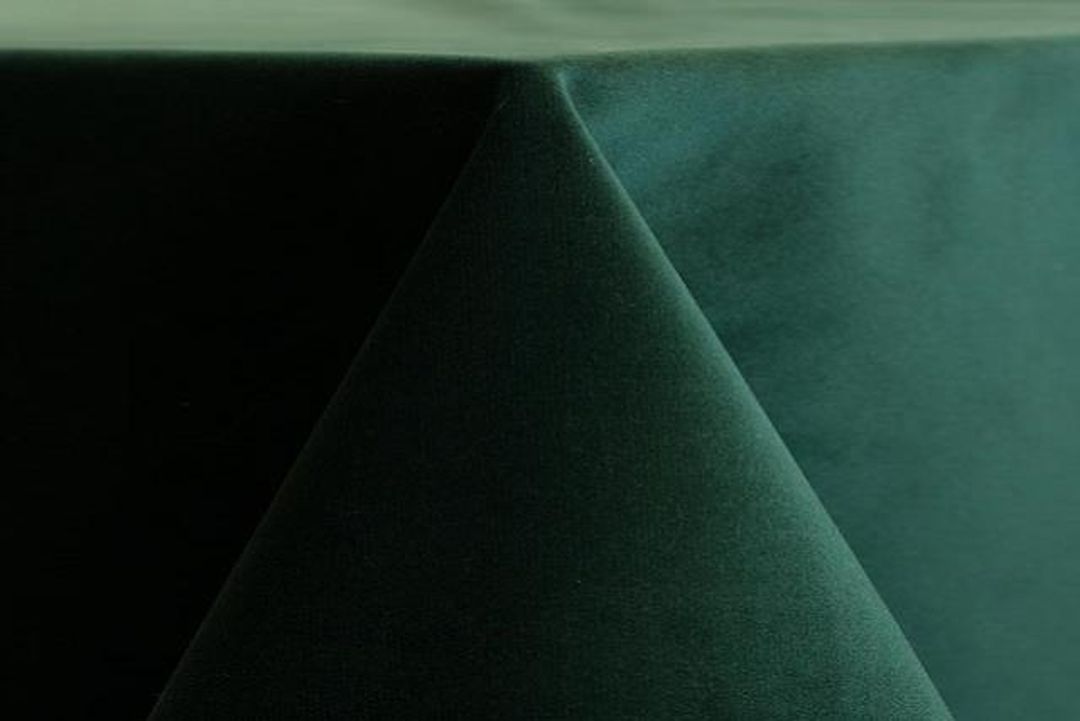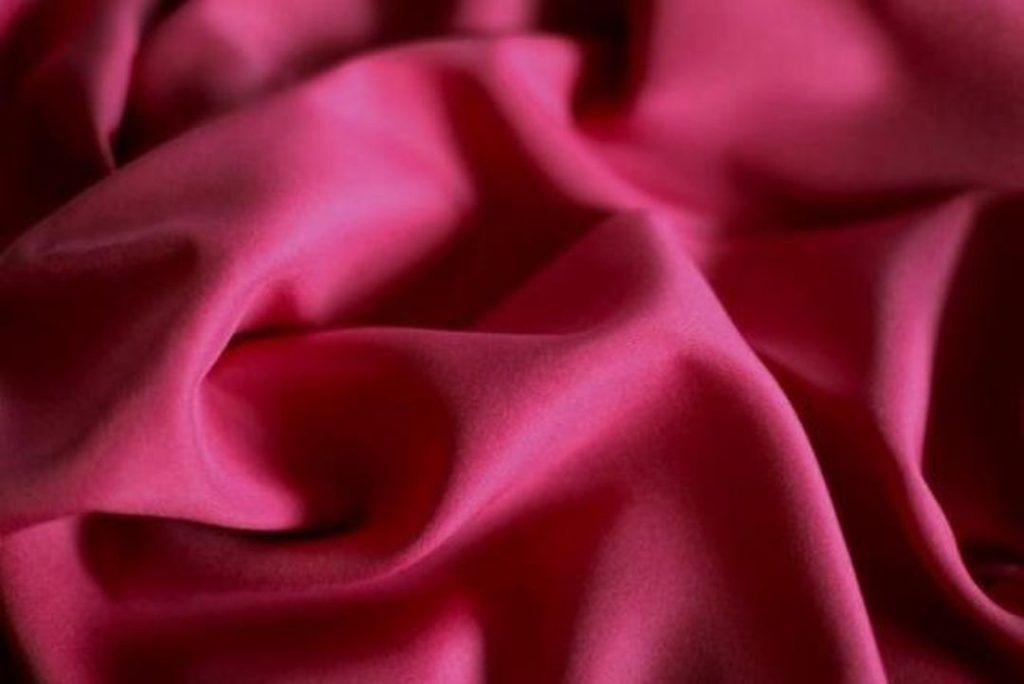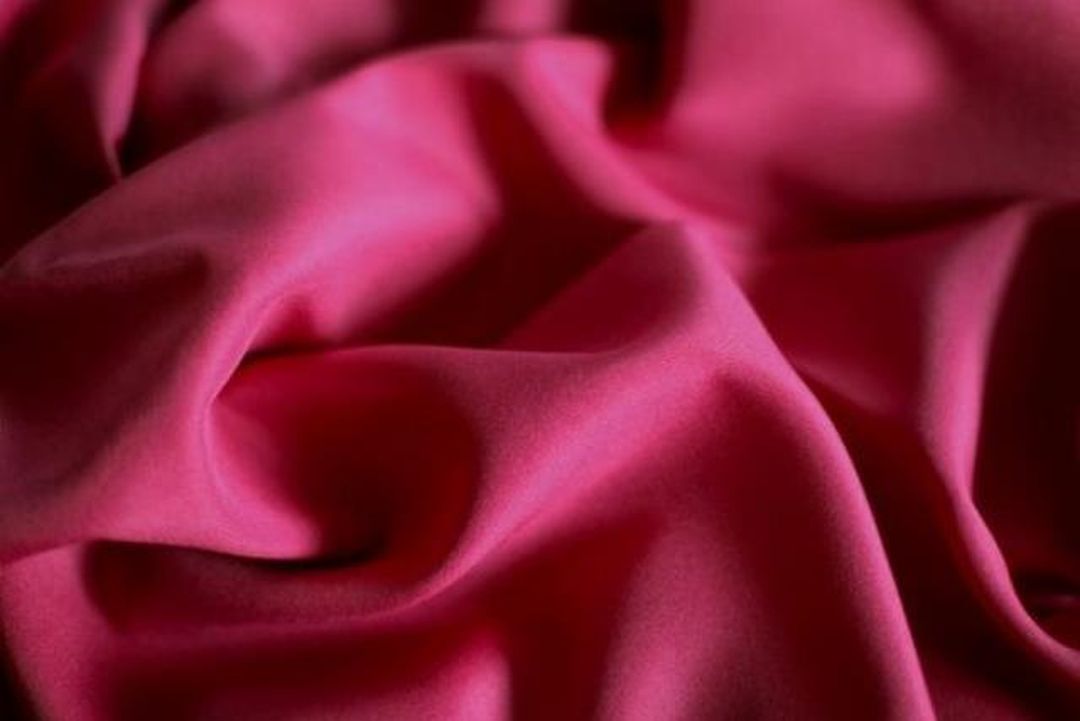 Gold Accents
Warm, rich, vivacious colors set in gold are the thing of fairy tales (and sought-after gifts). Rubies, emeralds, sapphires – they all have several things in common. One of which is that they are set in gold! Setting your jewel-toned wedding in gold is simple with our in-stock rentals, ranging from serving ware to accent furniture. Our Austin Flatware, Gold Accent China, and Audrey Gold Rim Glassware will make for an elevated fall tablescape. To match, create a centerpiece using any of our Gold Tabletop Decor. For a luxe lounge, feature a set of trendy Gold Hammered Coffee Tables. Or seat guests at the table with our always popular (and oh so comfy) Gold Chiavari Chairs.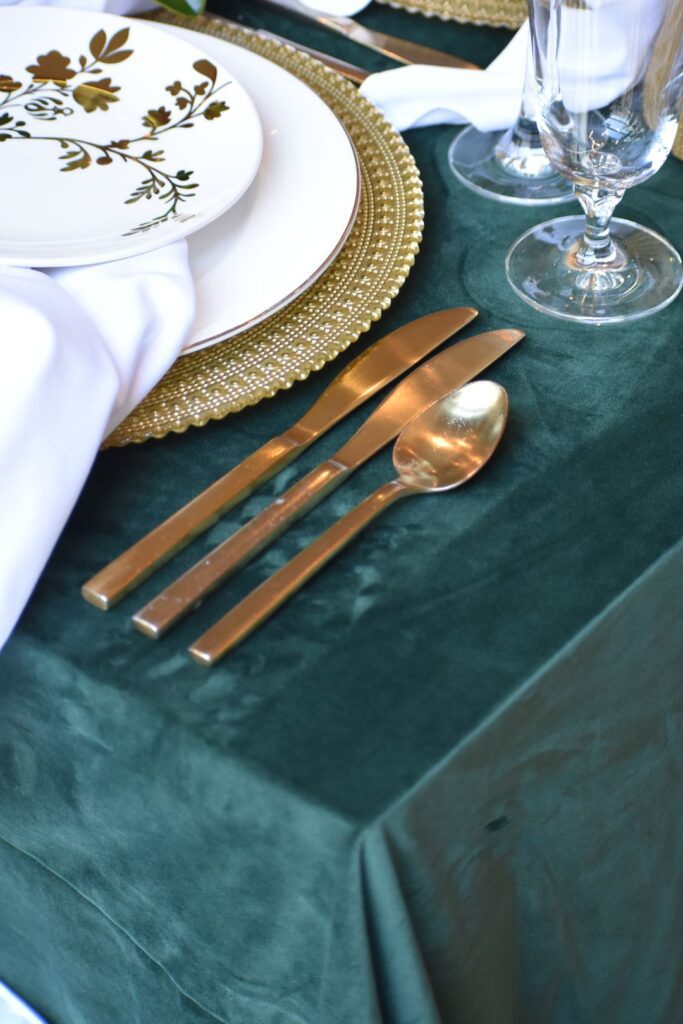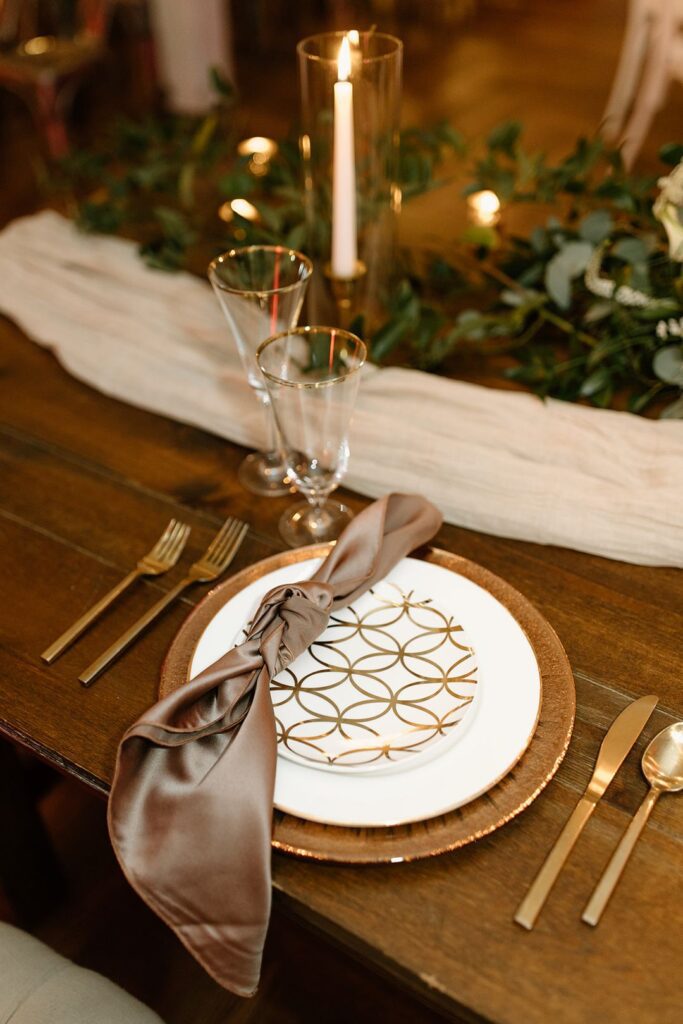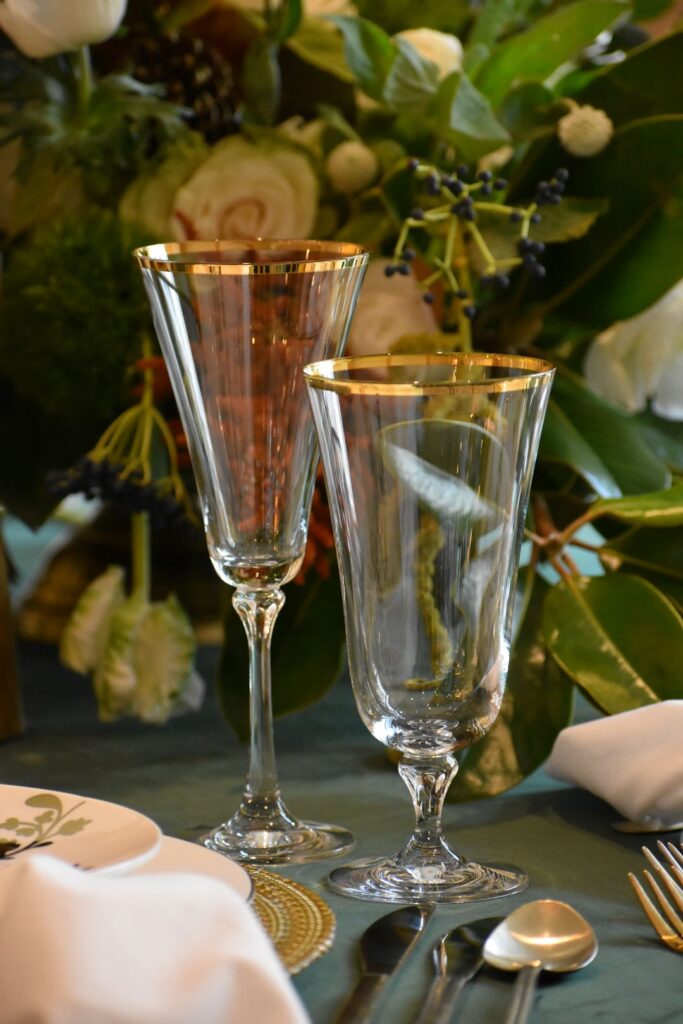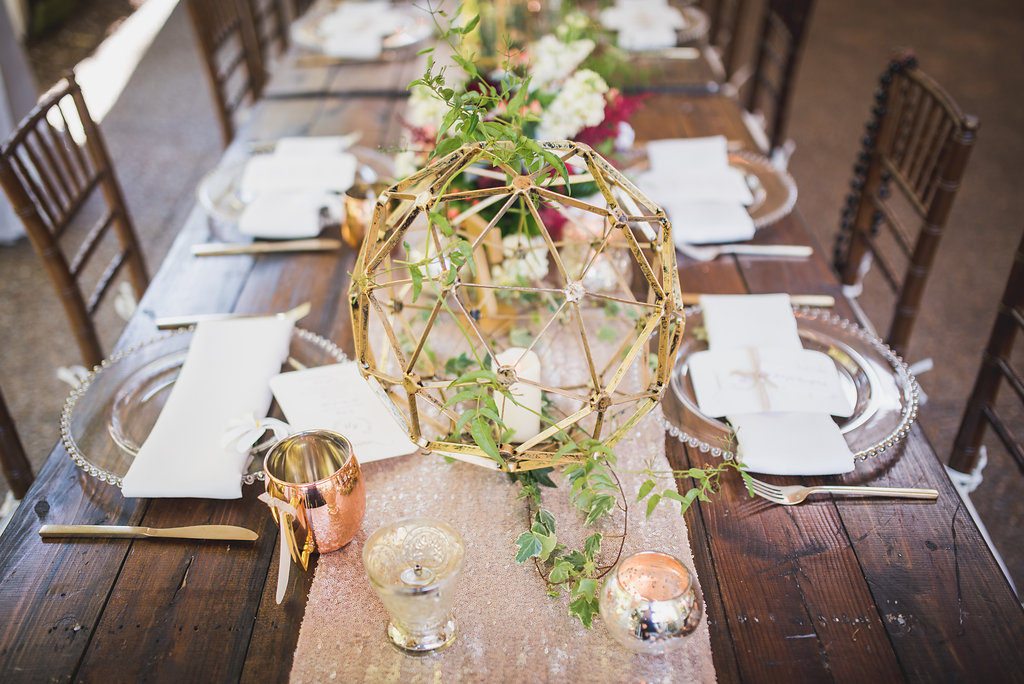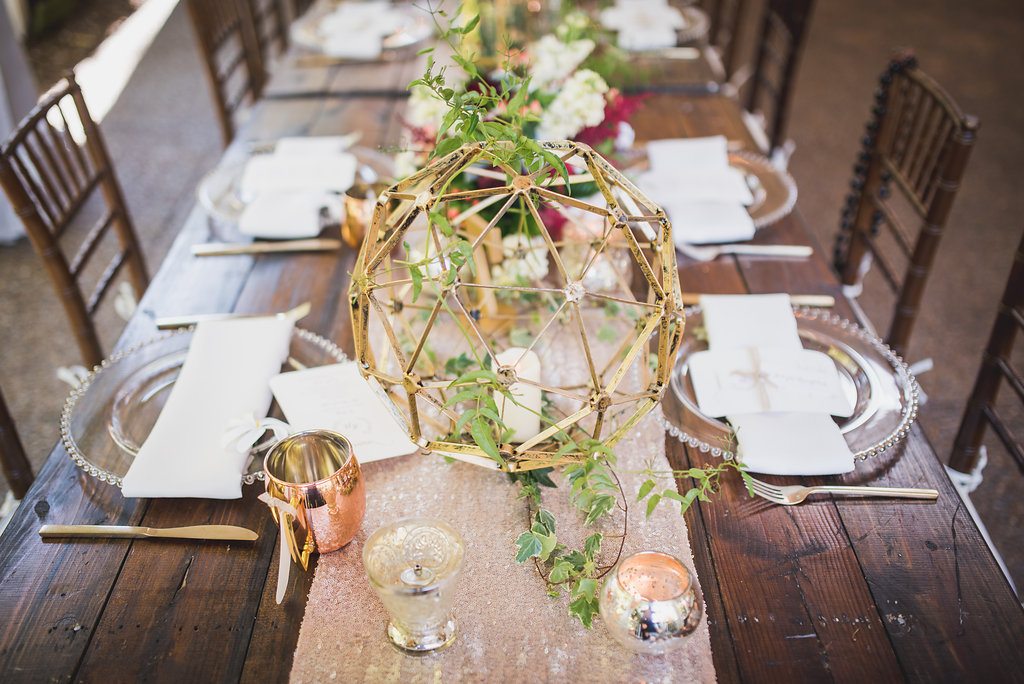 Are you catching these fall feels? We'd love to help you create the bold and vivacious day of your dreams featuring our jewel-toned fall wedding rentals. Send us a message at info@southerneventsonline.com and let's start planning! Hosting an outdoor fall wedding? Get more inspiration when you take a look at this Fall Garden Wedding at CJ's Off the Square.
TAGS | Nashville Event Rentals, Southern Events Party Rental Company, event linens, jewel-toned event, southern weddings, velvet rentals, wedding style trends
FEATURED RENTALS | Saylor Navy Sofa, Turkish Rug Ottomans, Jaqueline Velvet Sofa, Fern Velvet Sofa, Gold Hammered Coffee Tables, Austin Flatware, Gold Accent China, Gold Tabletop Decor, blue-red rug, Burgundy Poly Linen, Gold Poly Linen, Magnolia Green Velvet Linen, Raspberry Poly Linen
---
6

Jan

On Trend, Southern Events Products, Trends and Inspiration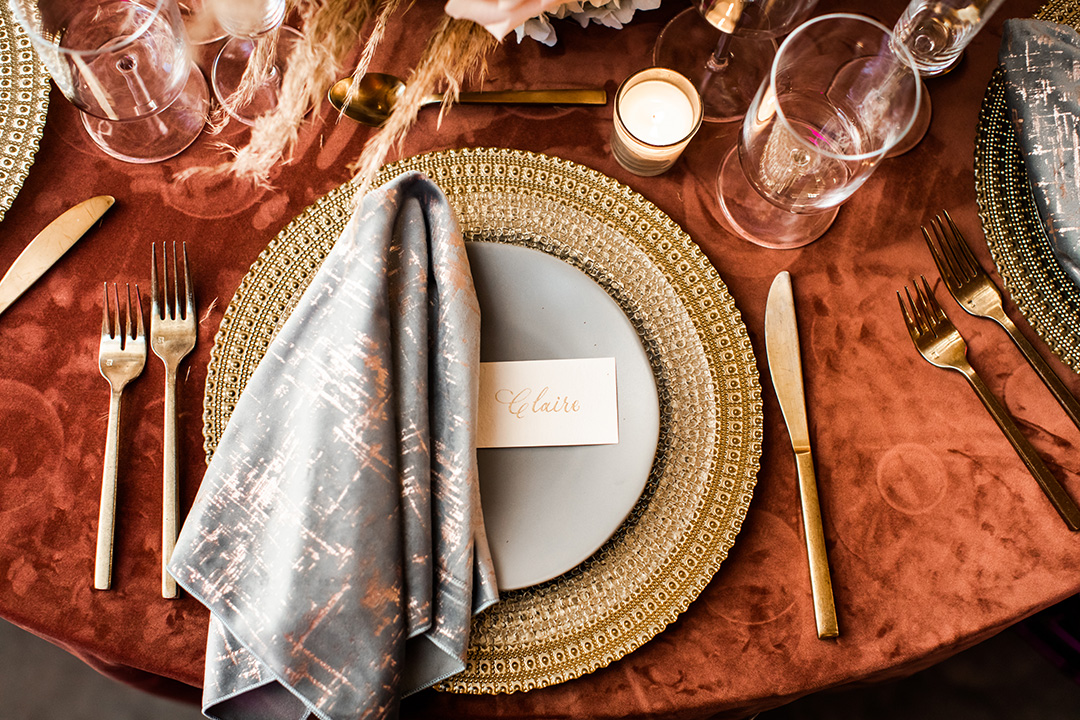 If there is one trend that we hope will stick around for years to come, it's the love for all things velvet! Warm and sophisticated, this luxurious fabric has made its way into event design. Not only is velvet incredibly elegant, but it's also versatile. Combine velvet with more rustic elements, such as farm tables and Cross-back Chairs for a warm and approachable vibe. Or, combine it with elements a bit more on the fancy side, think elegant flatware and gold-rimmed glassware, for a breathtaking tablescape. Get inspired when you check out our trendy velvet party rentals, ranging from couches to chairs and linens.
All Out Velvet
If you're obsessed with velvet and want to go all-in for your next party, then you'll want to check out our selection of velvet lounge furniture. Starting with our sofas! The the Saylor Velvet Sofa and Henley Gray Tufted Sofa are elegant pieces perfect for a more luxe event design. They look gorgeous when complemented with a modern side table or ottoman. Such as the Cheval Gold Mirror Side Table or Midas Gold Bench. And of course, one of our stunning vintage rugs!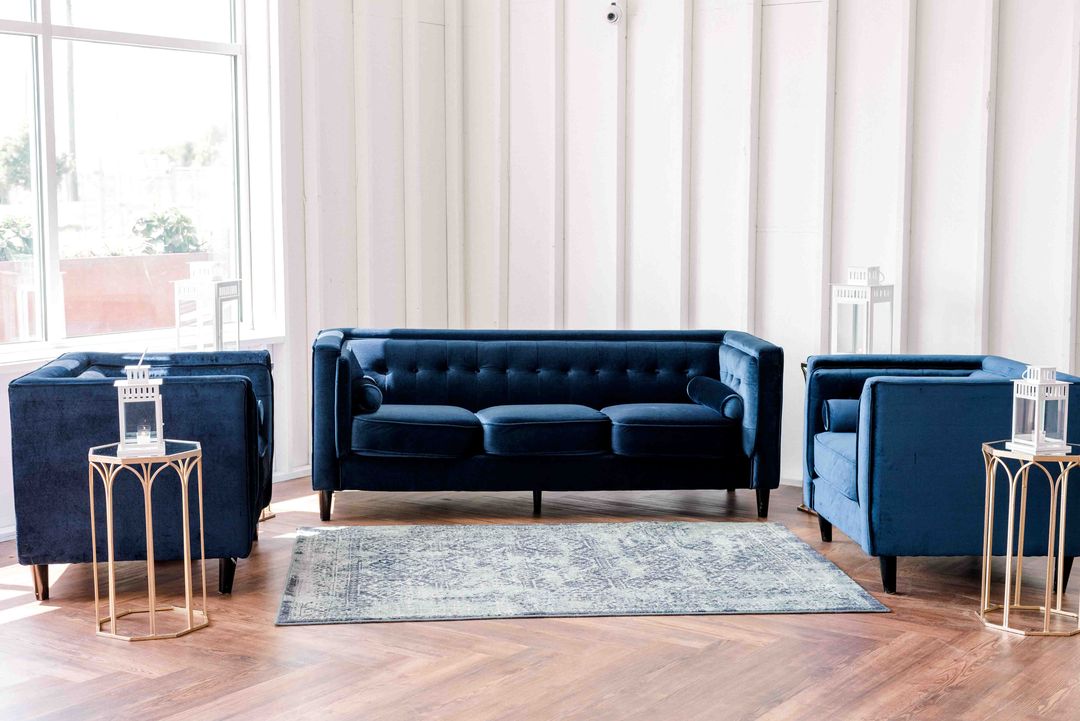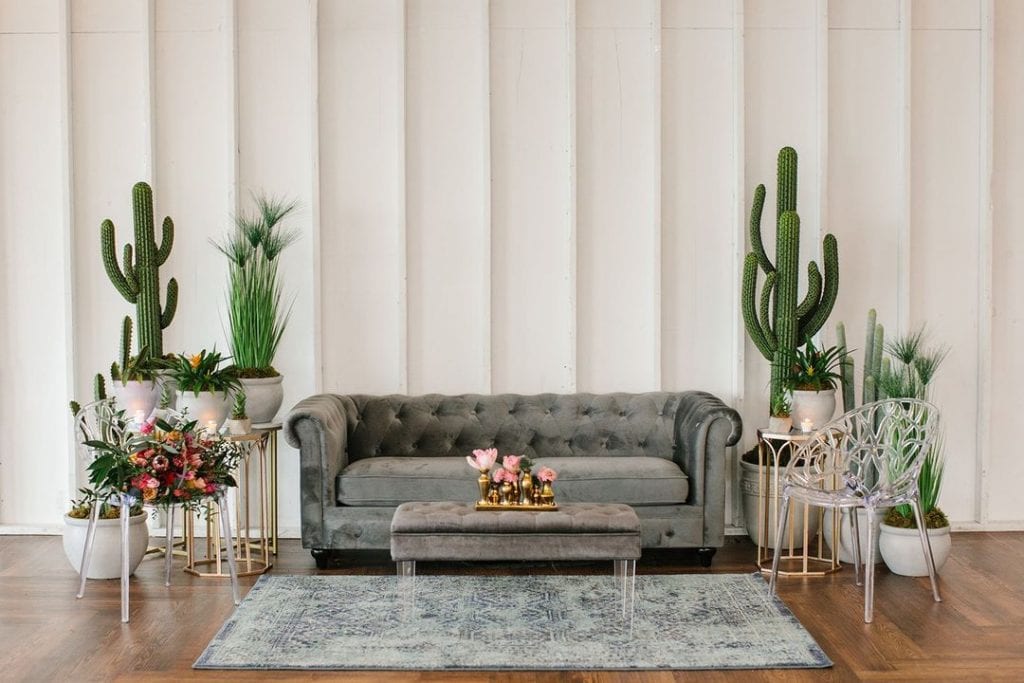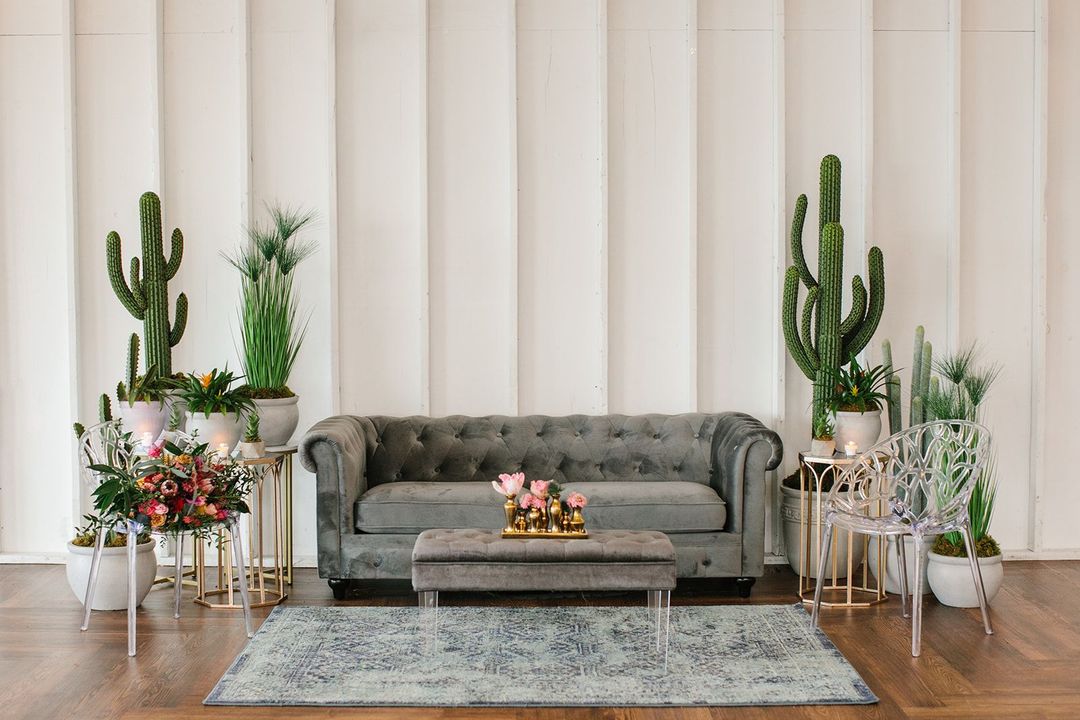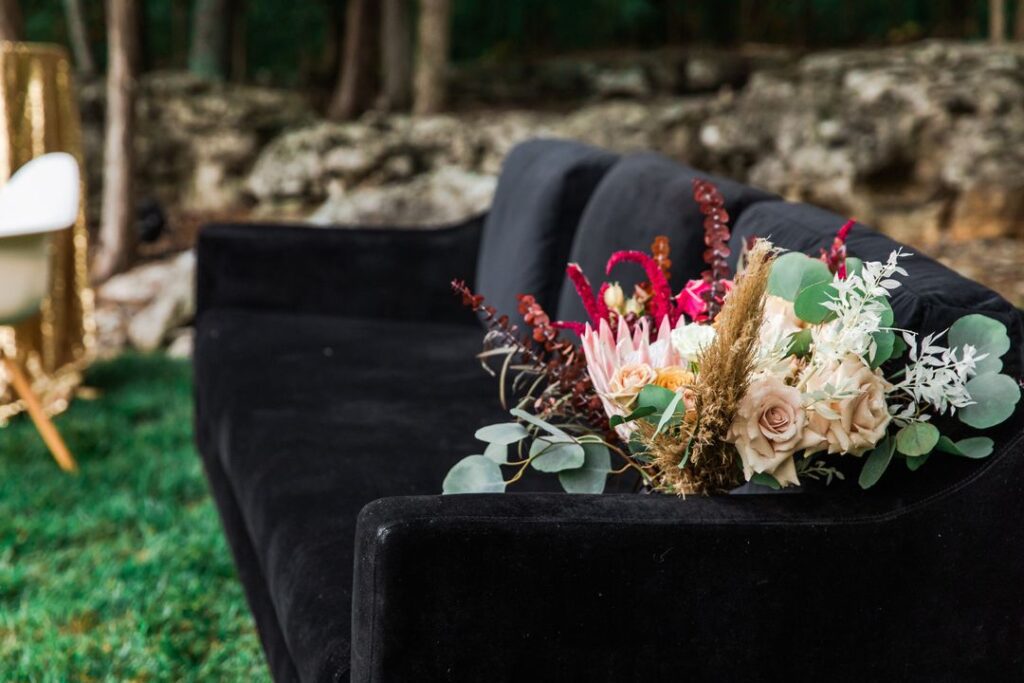 If you need additional seating, then add in a mix of chairs and ottomans. Both our Gloria Velvet Armchairs and Saylor Navy Velvet Chairs are both rich in color and style. Whereas for more minimal seating, you might feature our Grey Tufted OttomanI. If you prefer a unique seating option, check out our chic Farah Teal Velvet and Rory Navy Velvet, perfect for special occasions.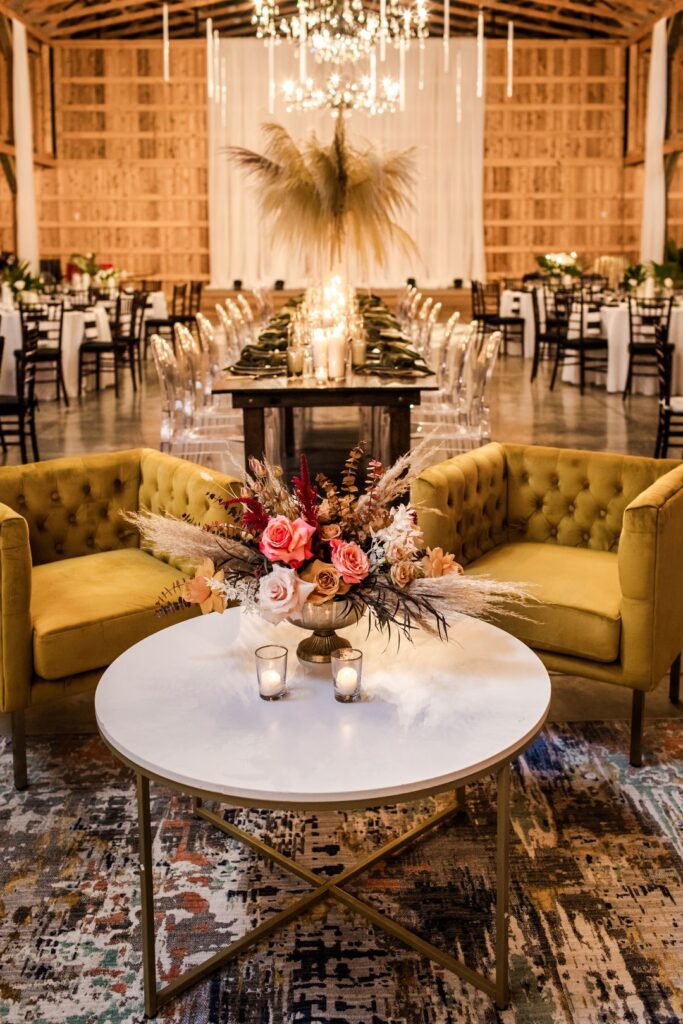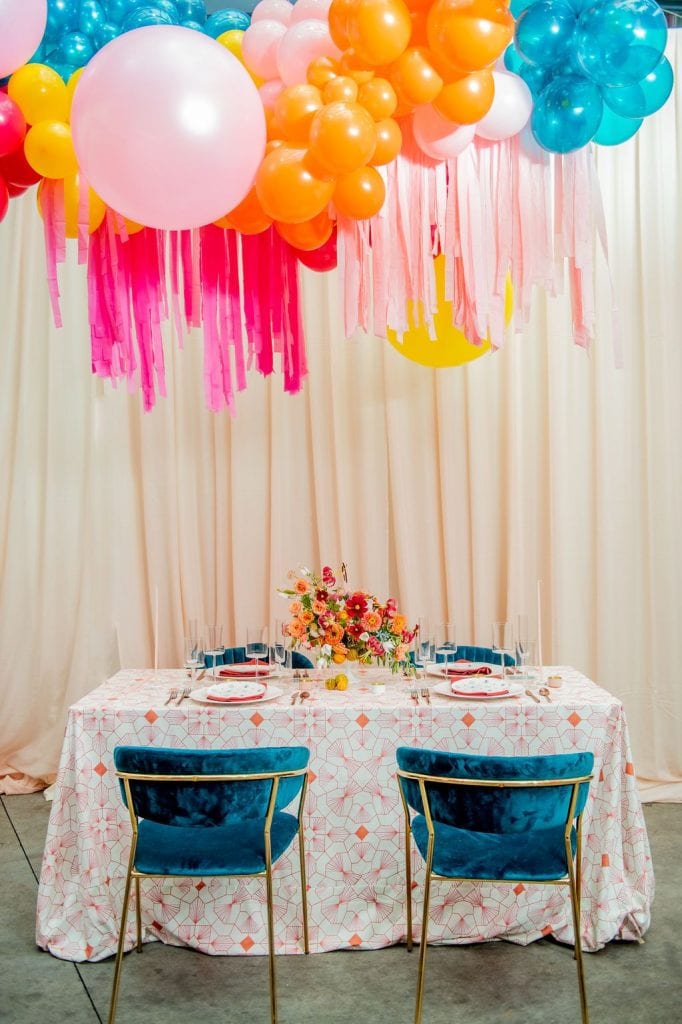 Velvet in Moderation
Are you a fan of "velvet in moderation"? There are SO many velvet linens to choose from that will take your tablescape to the next level. Pick one color and go modern with a monochromatic look, or pick several colors and go for a boho layered look! Neutrals are always a classic, such as Driftwood and Fern. Or go bold with Ocean Blue or Spice.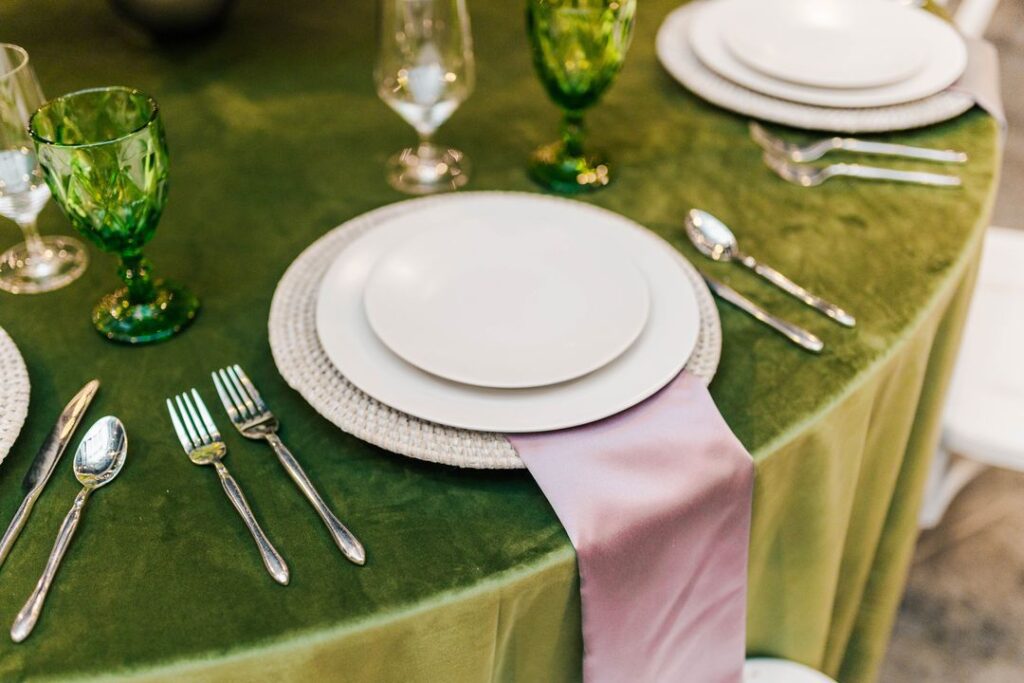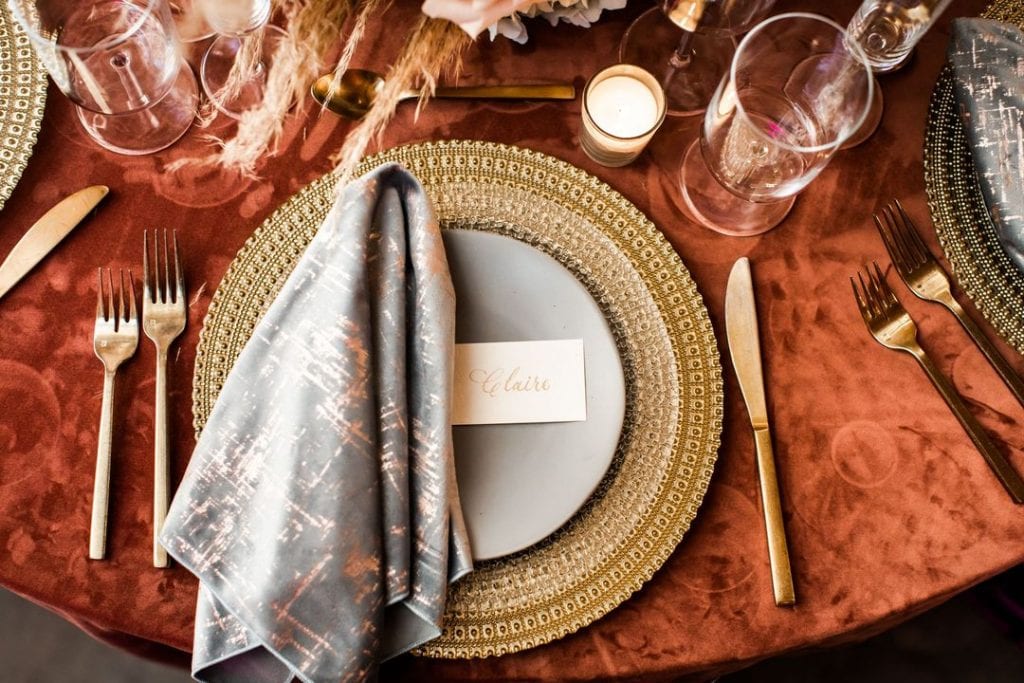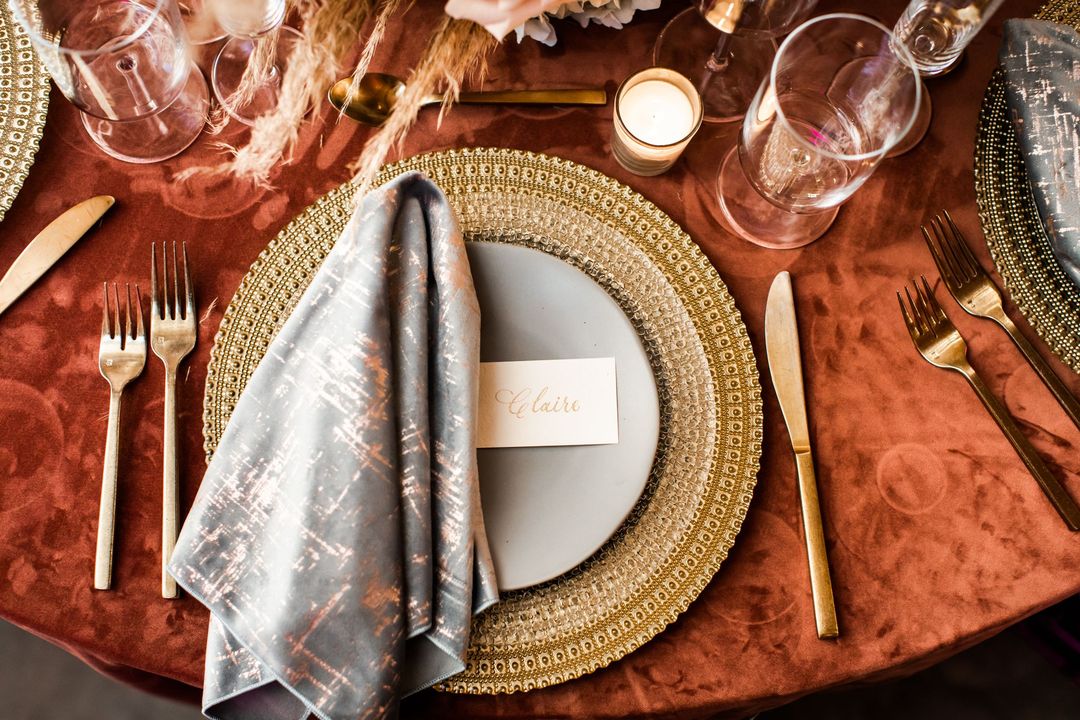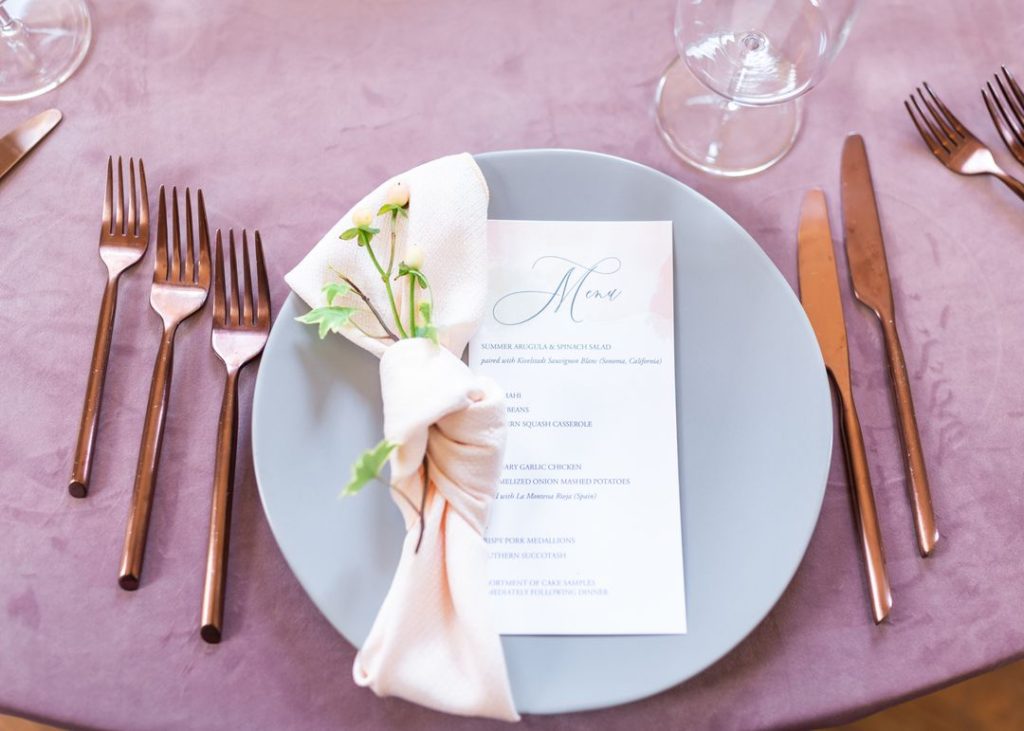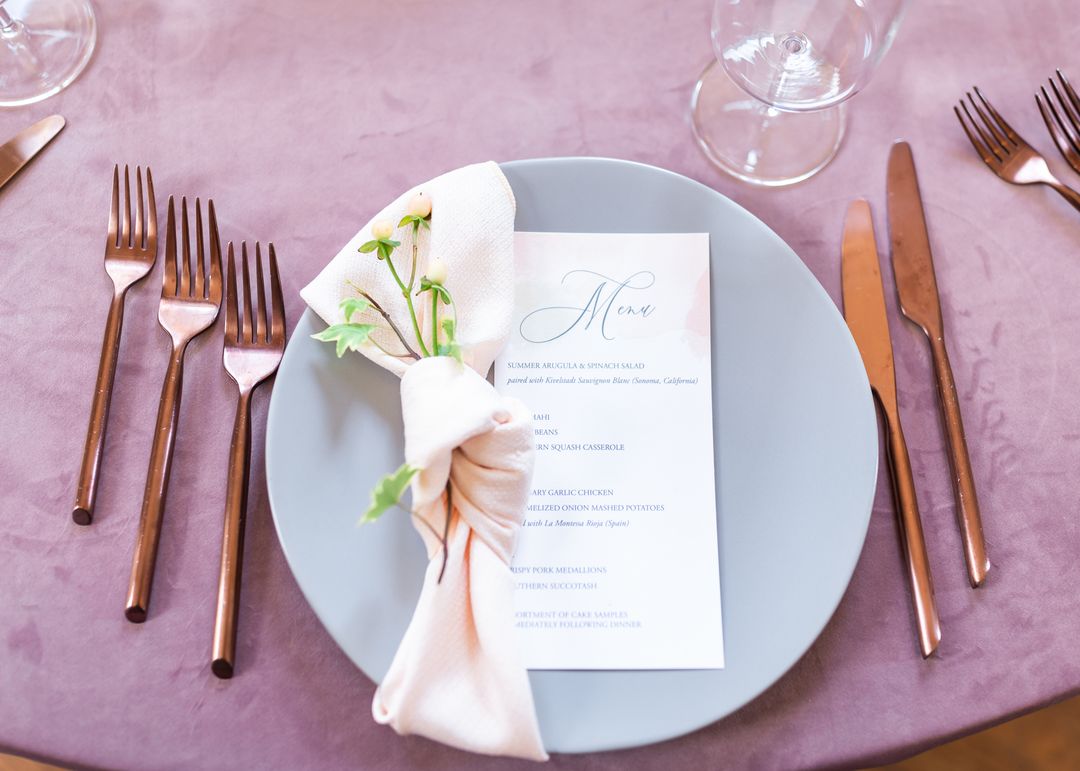 Drooling over our velvet party rentals? Send our team a message at info@southerneventsonline.com for help finding the perfect piece to wow your guests.
TAGS | On Trend, Southern Events Party Rental Company, Velvet Linens, southern weddings, velvet furniture, velvet napkins, velvet party rentals
FEATURED RENTALS | Saylor Sofa, Henley Tufted Sofa, Grey Tufted Ottoman, Fern Velvet Sofa, Jacqueline Velvet Sofa, Gloria Velvet, Armchairs, Black Velvet Sofa, Velvet Linens, Driftwood Velvet Linens, Ferm Velvet Linens, ,
---
1

Jul

Southern Events Products, Trends and Inspiration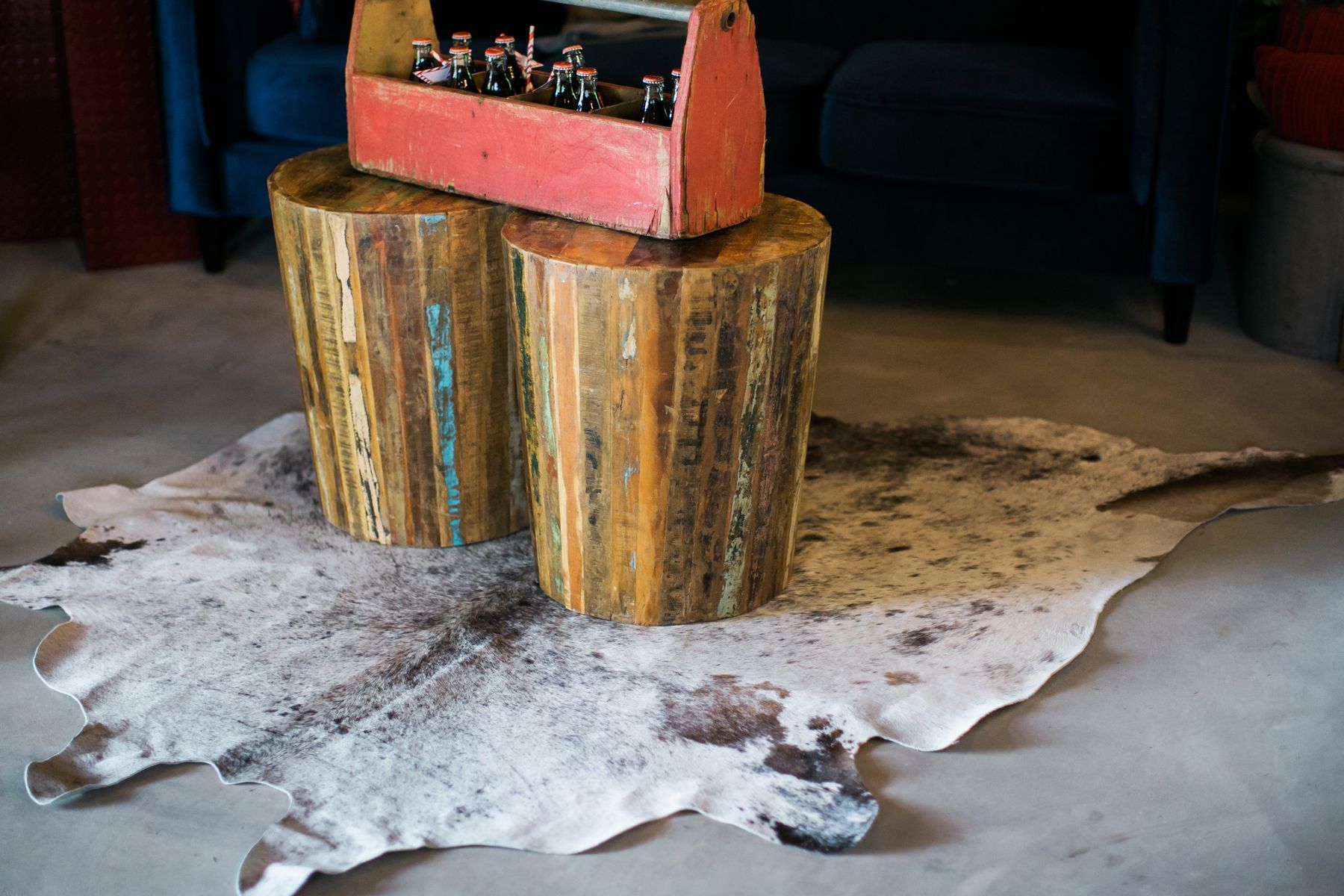 You've never heard of Americana decor? Let us introduce you! This unique style is a throwback to the industrial age, with rustic details, vintage pieces, and other nods to star-spangled pride. Nostalgic, classic, and versatile, this theme is fun and will lend a casual yet put-together look to your next event. Making it the perfect vibe for a corporate meeting or summer party on or near July 4th. Take a look at our favorite Americana event rentals, to help you achieve an iconic yet effortless setup.
Laid Back Furniture
From tables to chairs and bars, Southern Events has a multitude of in-stock Americana event rentals. Easily create a cozy lounge using our Bennett Sofa and layered Cow Hide Rugs to set the scene. Alternatively, a Blue and Red Rug bring warmth and a bit of modern style to the Americana theme. For a bistro area, use our classic Whiskey Barrels and our Remington Gunmetal Barstools. To complement your dinner tables, we also carry vintage and urban-inspired chairs.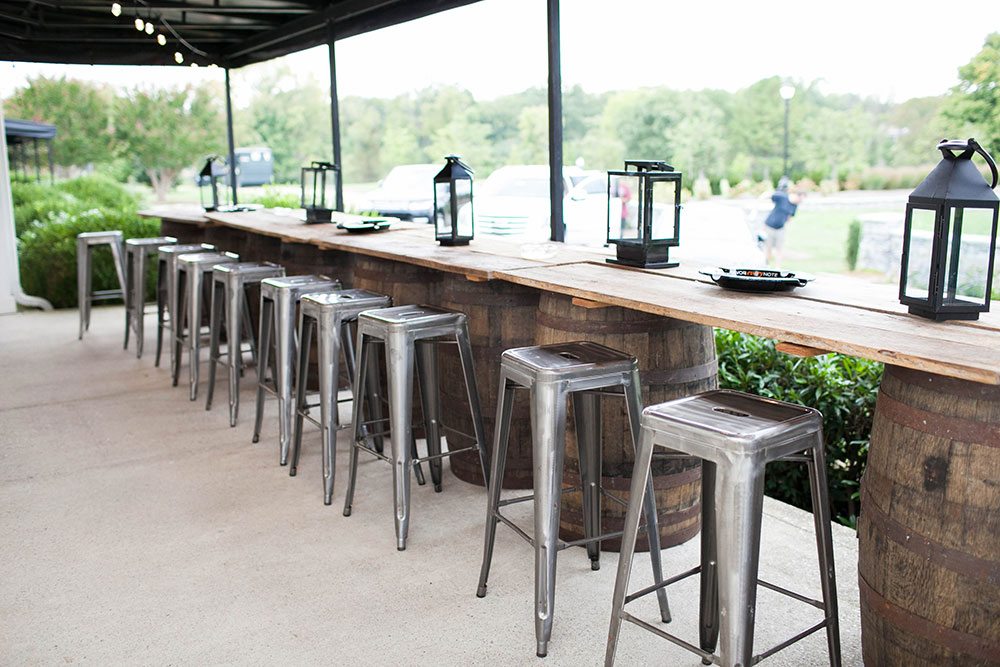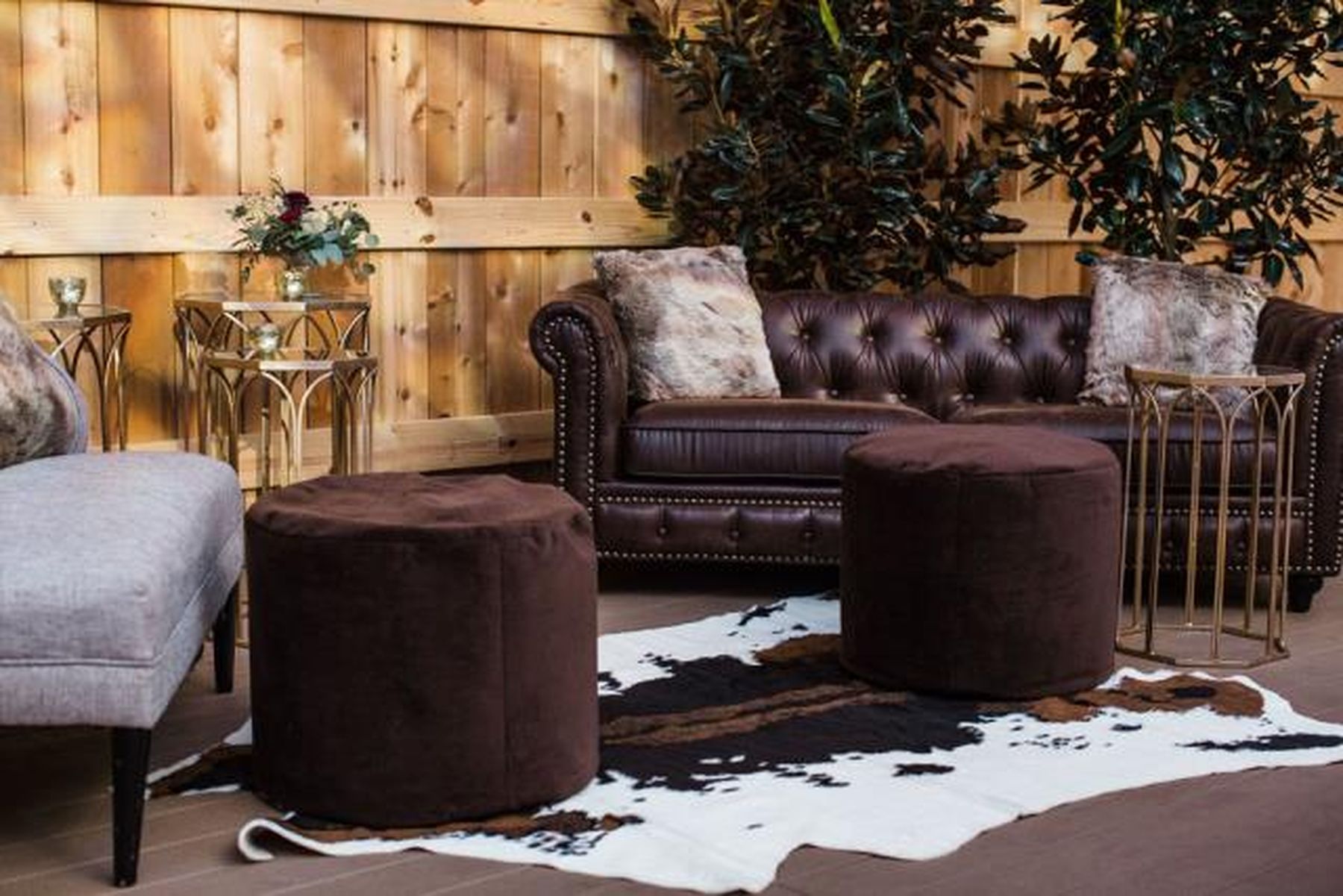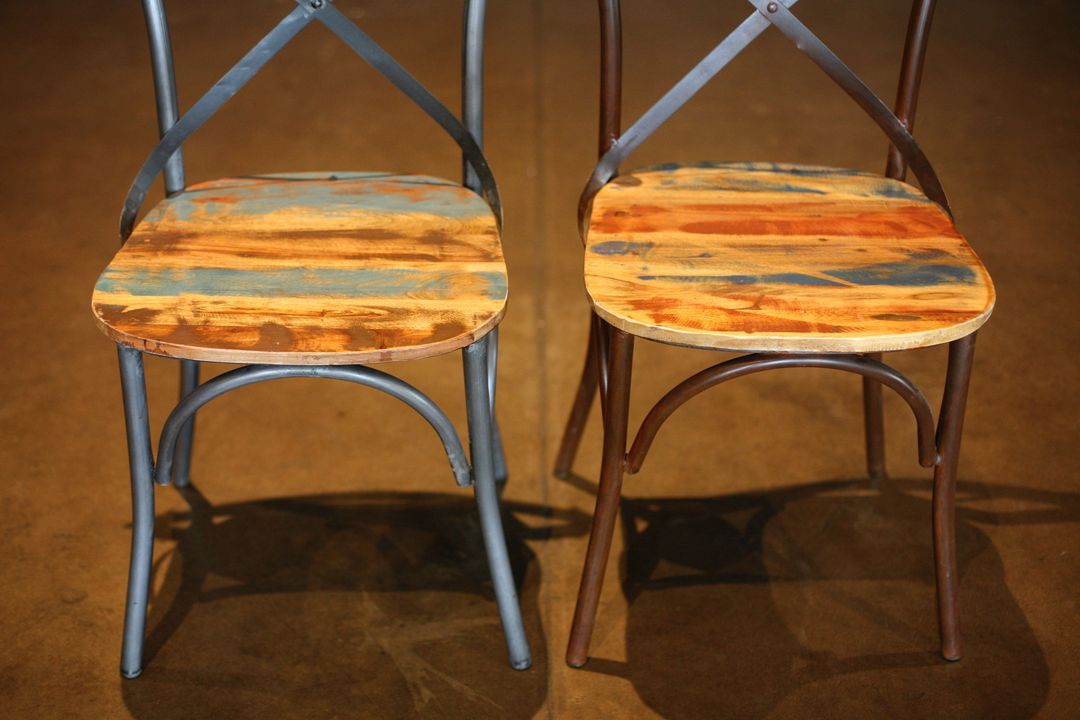 Vintage-Inspired Servingware
Is an Americana event complete without a bar for toasting and celebrating? Absolutely not! The Bond Bar is equal parts laid-back and vintage. Then there's our always popular Hob Nob Glassware which lends a touch of elegance. Of course, if you prefer a more sleek design, opt for our Recycled Glassware. To set the table, Artisan China creates a beautiful relaxed look! We also encourage you to infuse a subtle touch of color into your tablescape using our luxurious linens. Try out a natural tan or ivory, or a subtle shade of blue.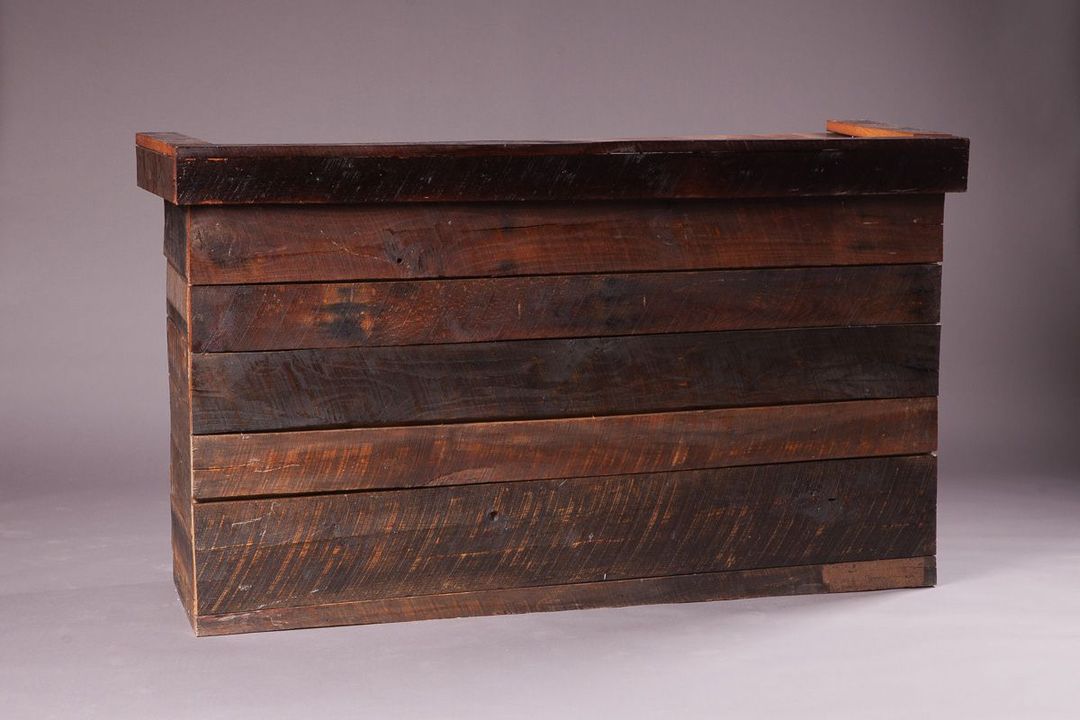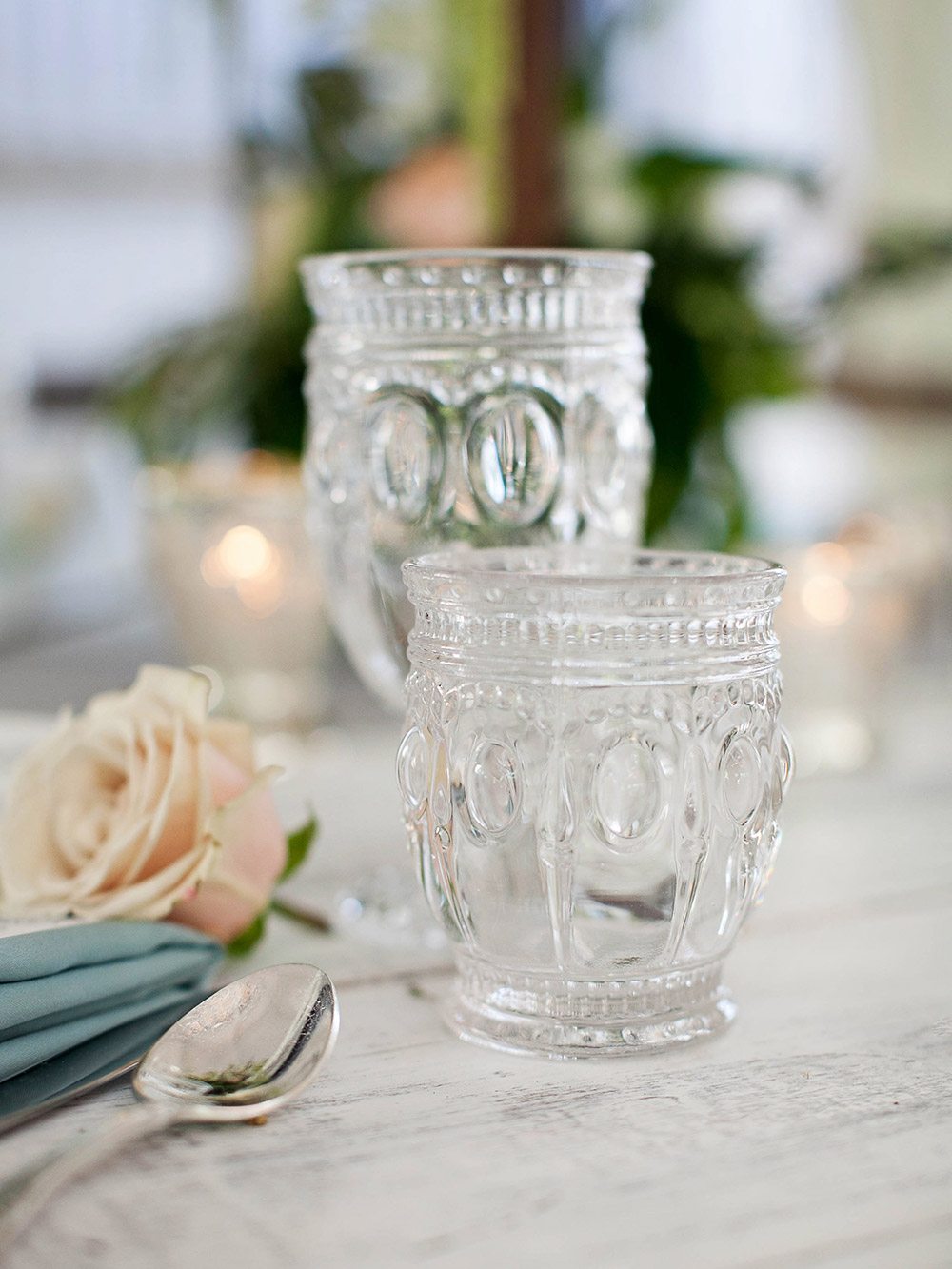 Photo by Phindy Studios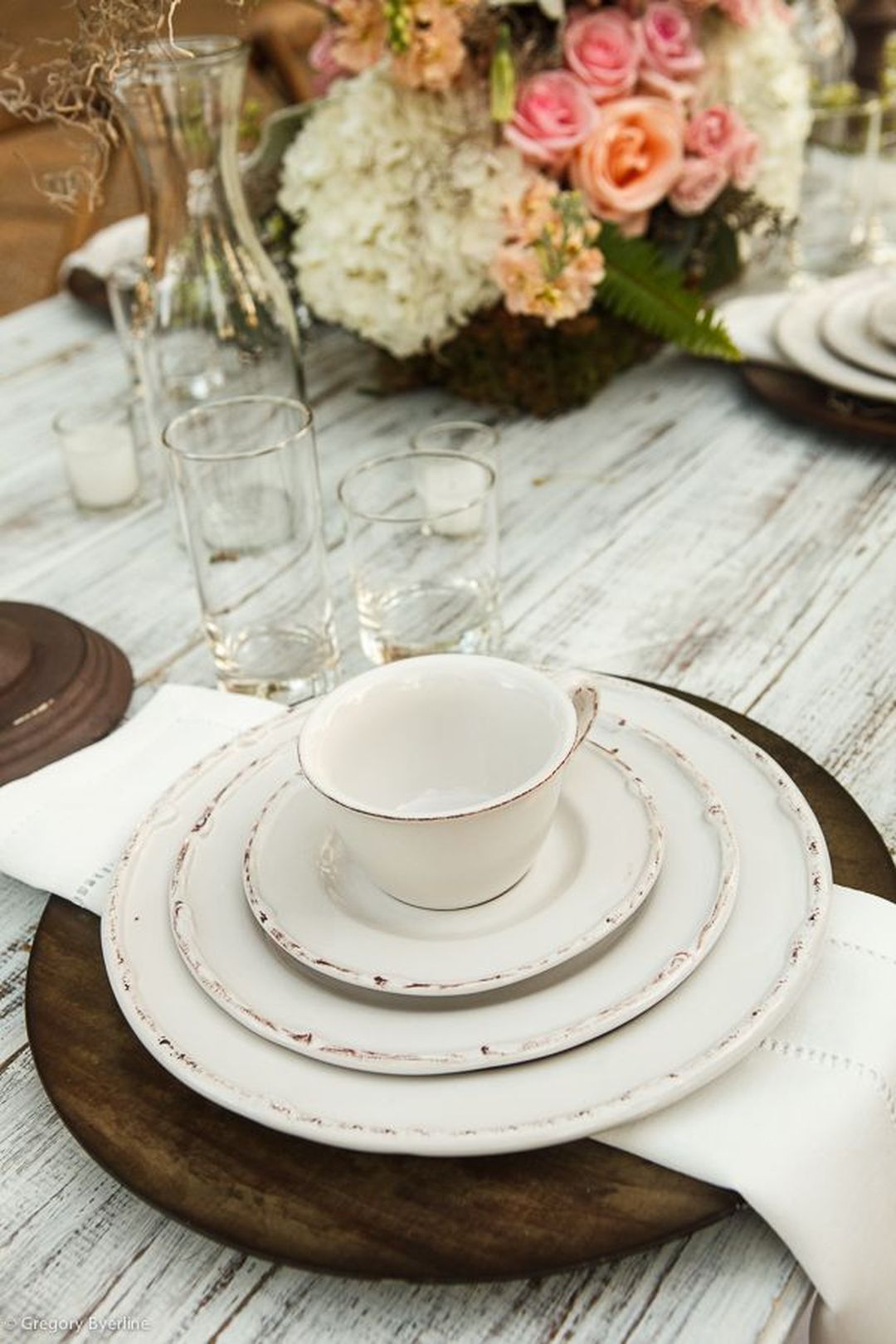 Photo by Gregory Byerline
Nostalgic Props
Both functional and decorative, we offer a variety of stylish nostalgic props to infuse even more personality into your event. It just takes the right combination of classic American colors, vintage pieces, and contemporary lines to create an Americana-inspired event that is welcoming and beautiful. For example, these Urban Wood Side Table! Or our Hungarian Baby Bath, which makes for a unique drink cooler (as do any of our vintage washtubs). Place them alongside the bar for a casual grab & go set up! And to decorate your tables or frame a space, check out our all-American fruit crates.  To see similar rentals, be sure to visit our Vintage Prop Shop!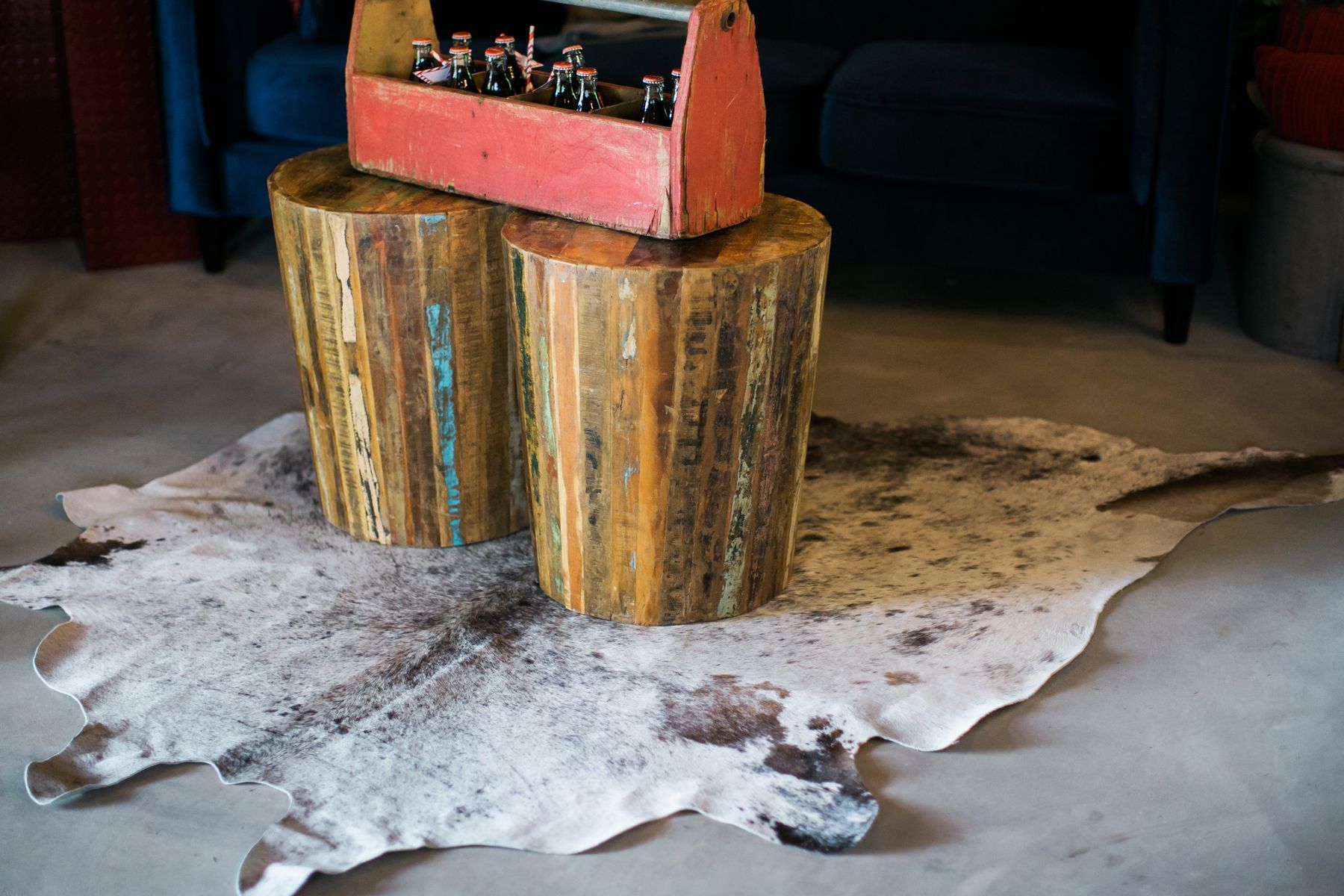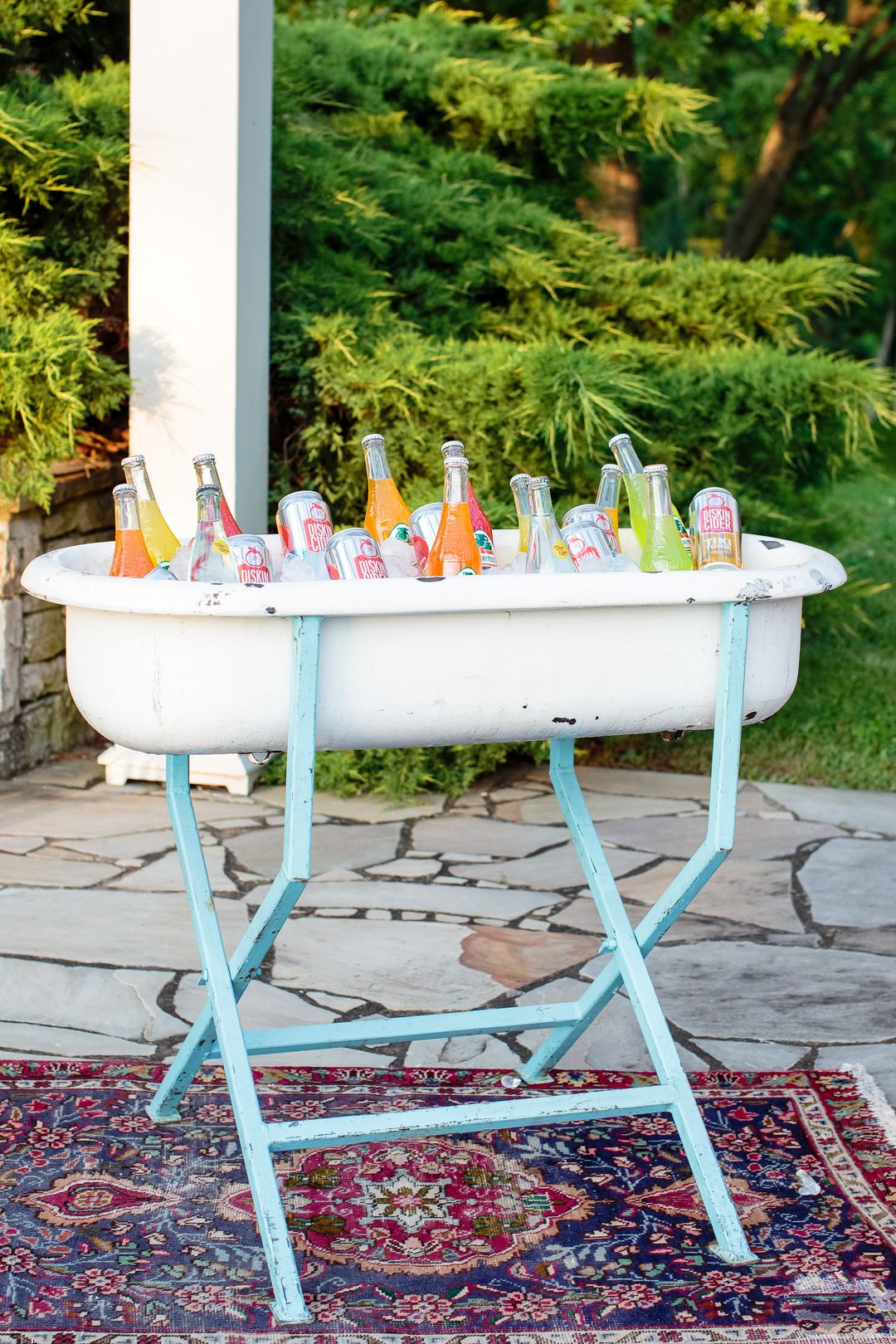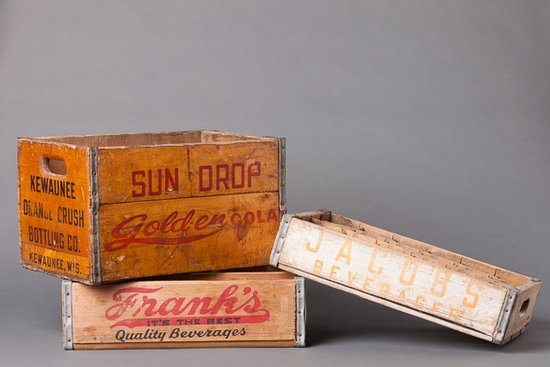 If you're wanting to create a star-spangled vibe at your next event, we'd love to help you design a layout using our Americana event rentals! Email our team to book your personal showroom tour at info@southerneventsonline.com to get started! Or for more inspiration, be sure to check out our blog on must-have rentals for small gatherings.
TAGS | Nashville Event Rentals, Nashville party rentals, Southern Events Party Rental Company, Unique Wedding Rentals, Vintage Chairs, americana event rentals, corporate event rentals, southern style events
FEATURED RENTALS | bennett sofa, cowhide rugs, blue and red rug, whiskey barrels, remington gunmetal barstools, recycled glassware, hob nob glassware, bond bar, urban wood side table, hungaarian baby bath, all american fruit crates,
---
17

Jun

Southern Events Products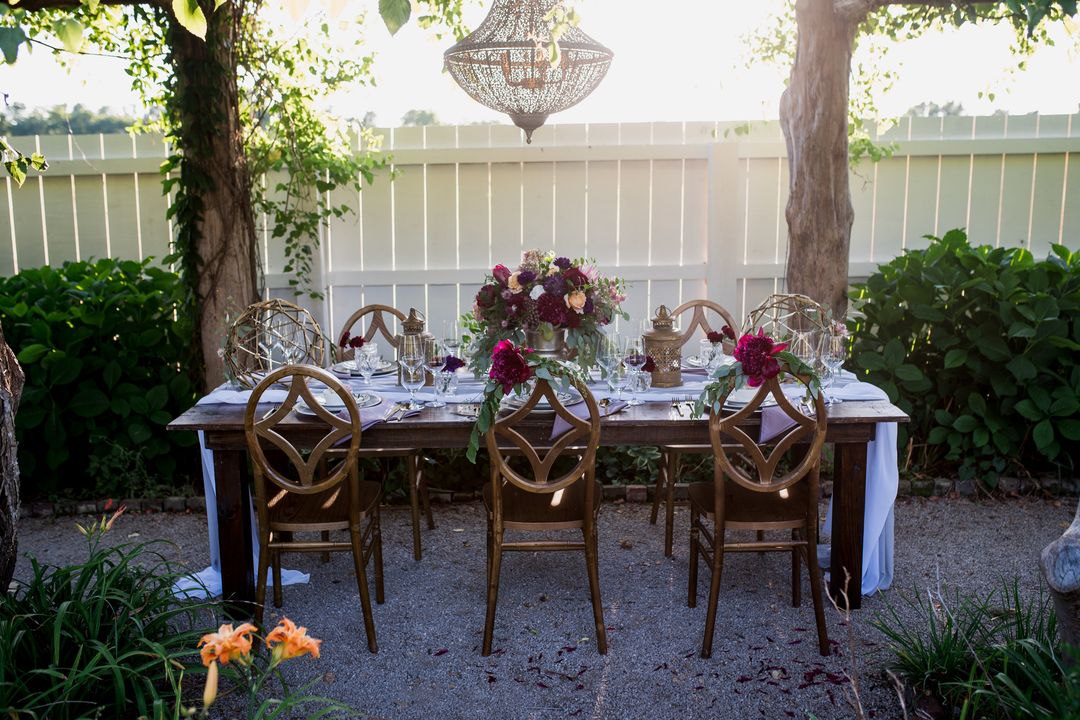 The sun is out and the flowers are in bloom – there's truly no better way to celebrate the beautiful weather in Nashville, TN than to host a gorgeous garden wedding! To help make your event picture-perfect, we've pulled together some of our most loved garden wedding rentals for a floral fête. With party and event rentals this beautiful, it's easy to capture the best of the southern summer season here in Middle Tennessee.
Interactive Boxwood Walls
Sculpt your own private garden with our lush Boxwood Walls! These eight-foot topiary walls can be used to create an intimate event space in any venue – think of it outdoors, enhancing your gorgeous garden, or as an interactive backdrop. It makes for a stunning seating chart, as well as an elegant champagne wall. You can trust that guests will flock to this trendy photo op time & time again!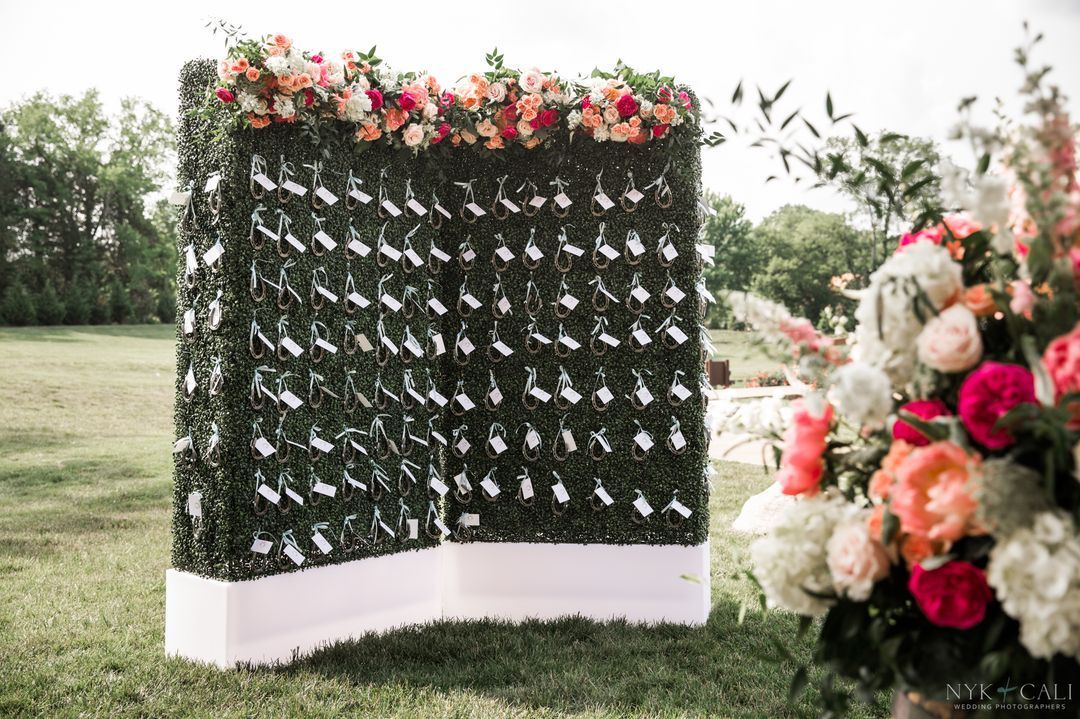 Photo by Nyk & Cali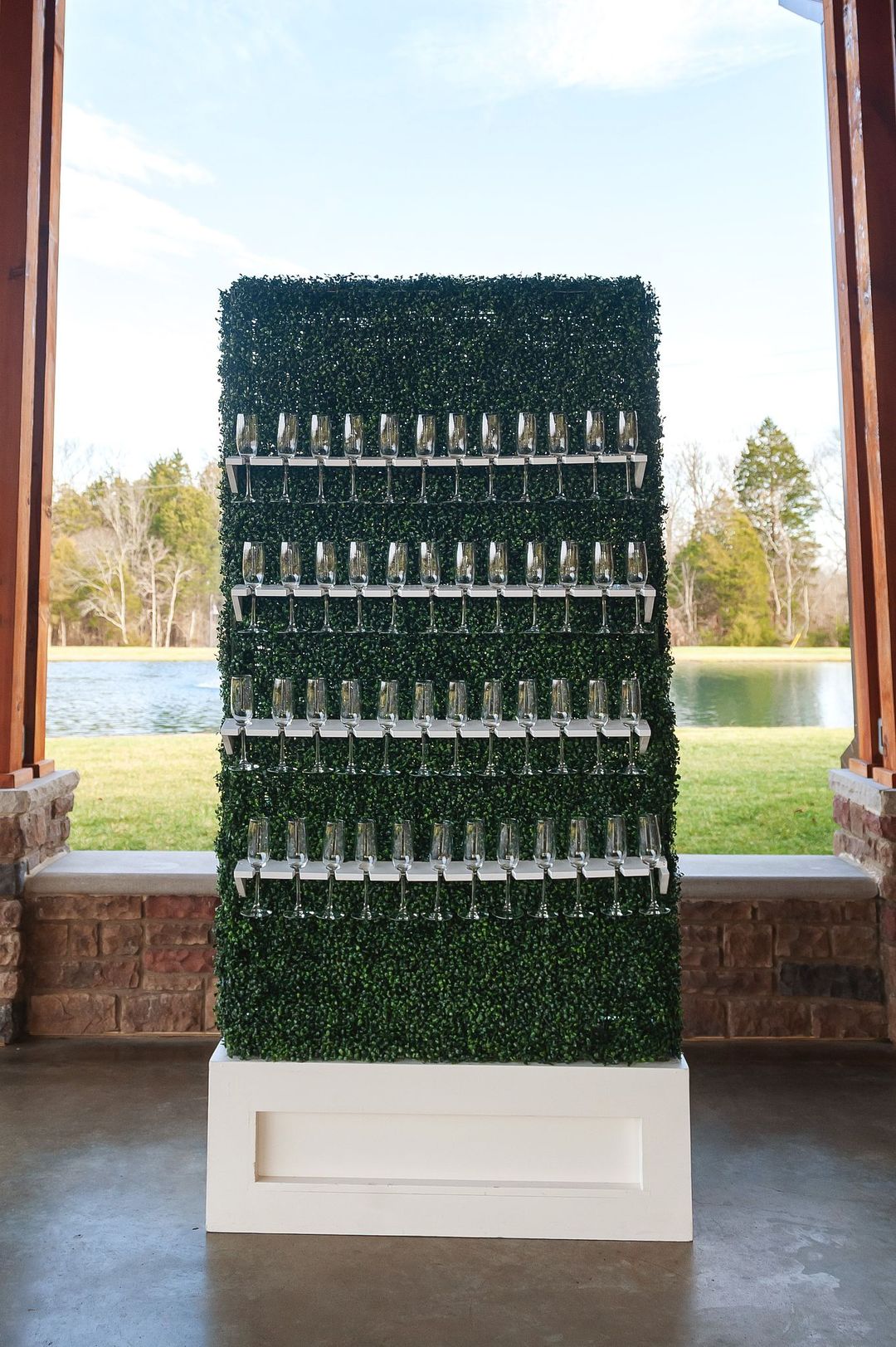 Photo by Megan Stark
Stylish Seating
Easily elevate any tablescape with stylish and comfortable seating. Favorites from our inventory, including our charming Harlin, Antique Bentwood, and Adeline Dining Chairs. They are a simply stunning way to add natural wood to your wedding reception, thanks to elegant details. If you prefer a more whimsical and contemporary garden vibe, opt for one of our Acrylic chairs, such as our Carrigan or Fantasma side chairs.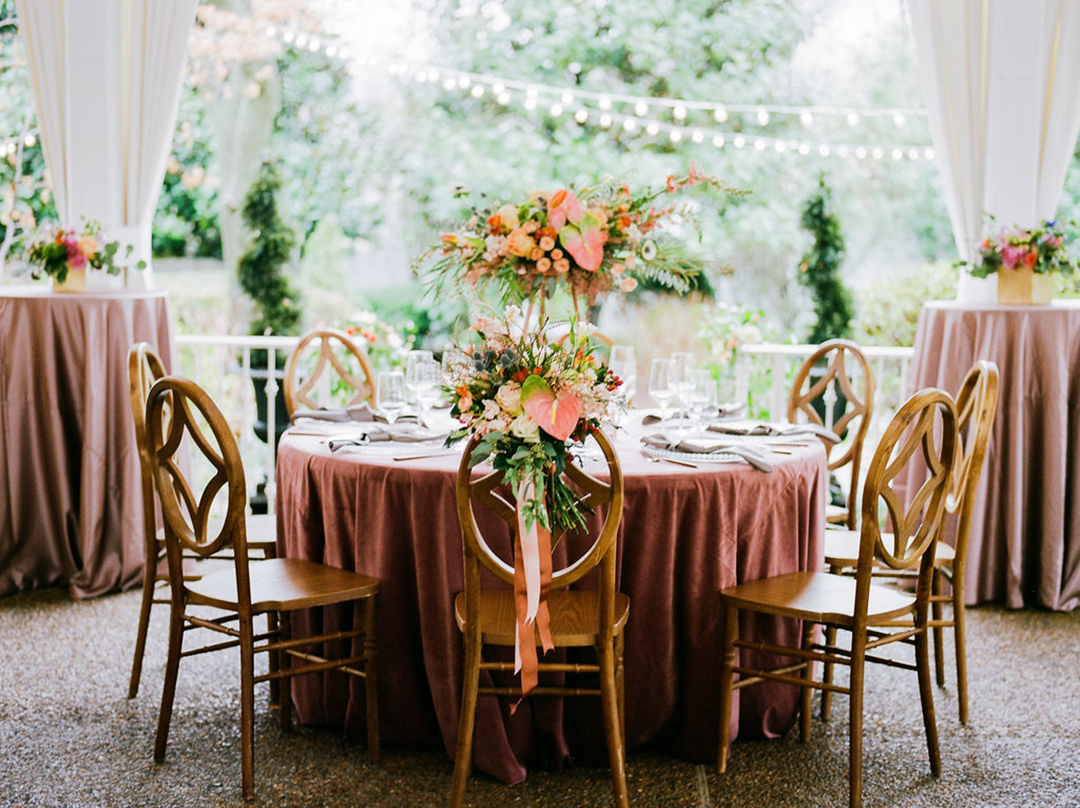 Photo by Jenna Henderson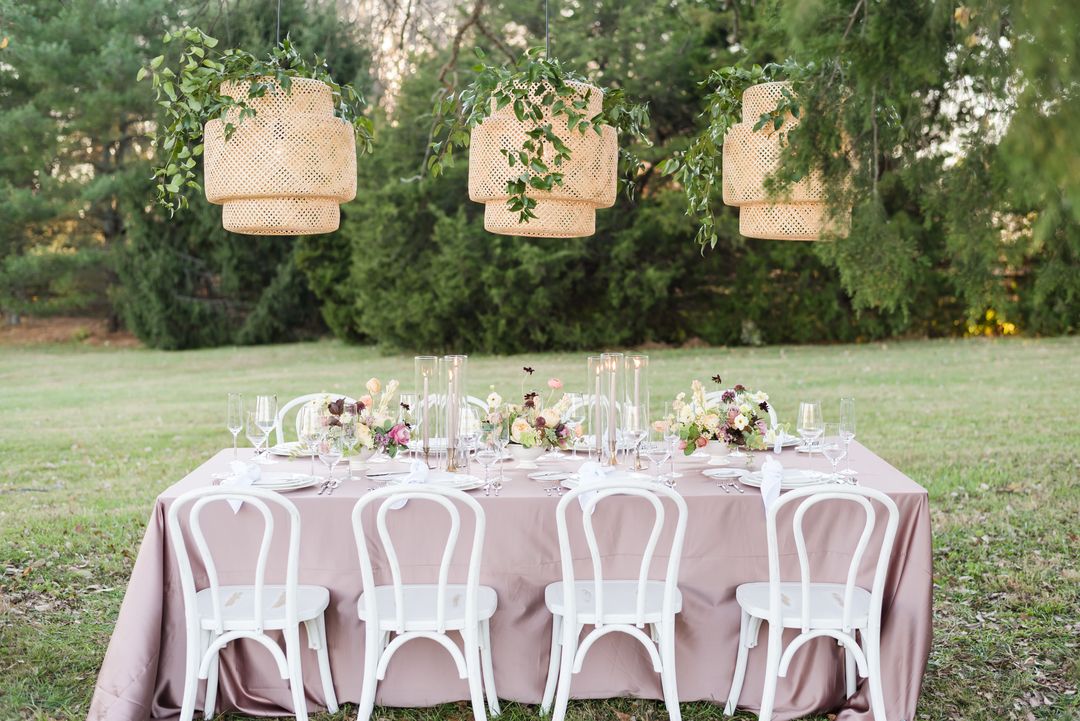 Photo by Mandy Liz Photography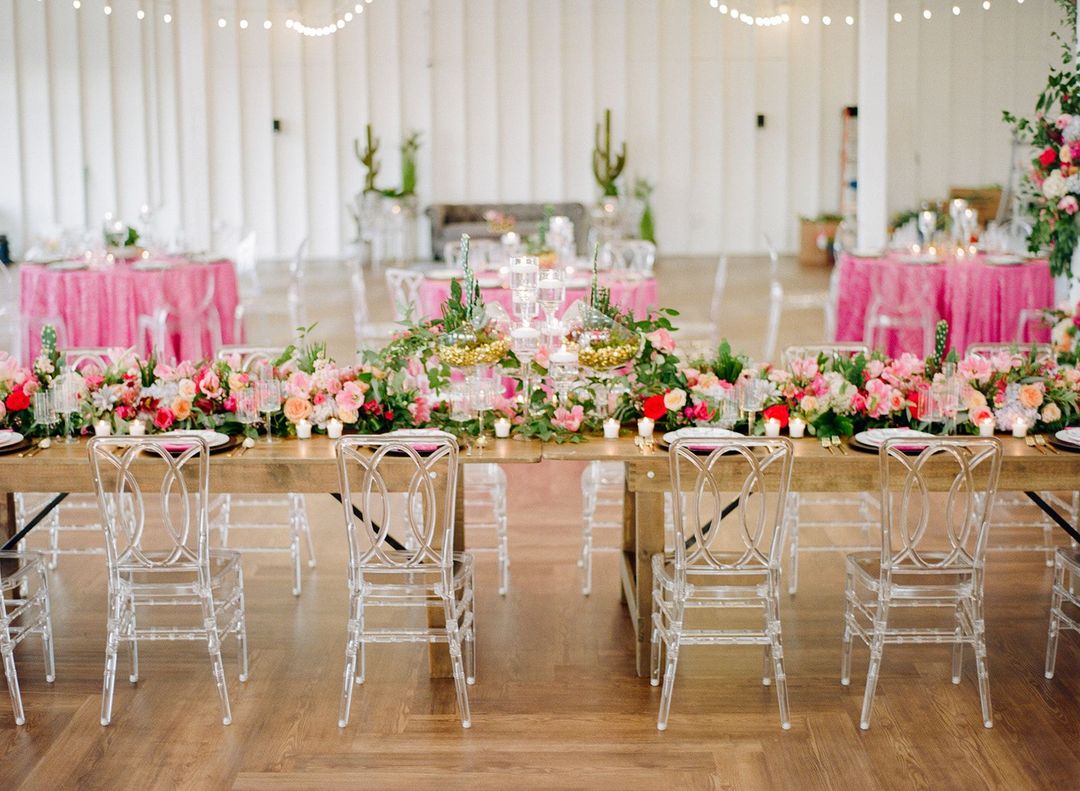 Photo by Gray Kammera
Delicate Serving Ware
Every Southerner knows that a classic never goes out of style, and the same can be said for a variety of our serving ware. Take for example our scalloped Darcy China. Bone white with a gracefully curved edge, these beautiful dinner plates provide the perfect canvas for fresh spring or summer fare and are one of our favorite garden wedding rentals! Be sure to also take a look at our Heirloom China and Stoneware.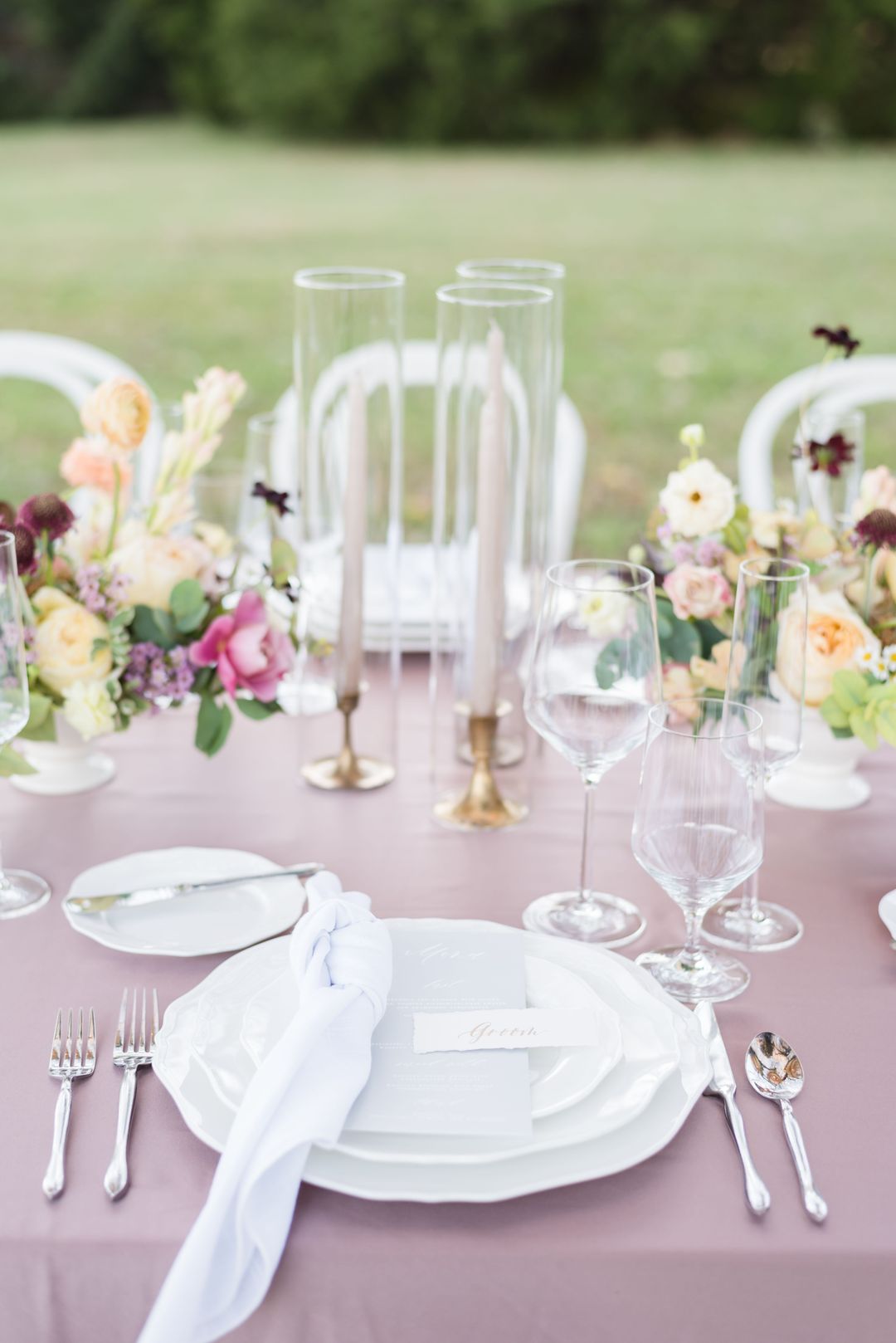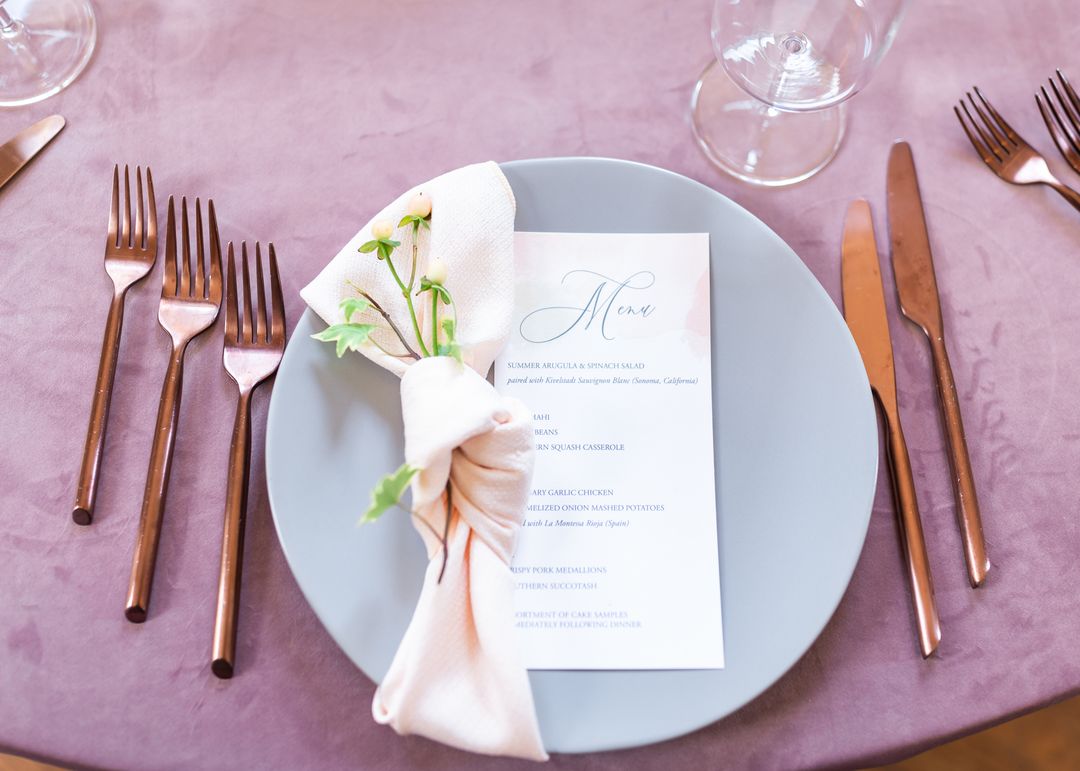 Ceremony Set-Ups
We love adding unexpected elements to an outdoor garden party, using interior pieces to stage lush floral arrangements and cozy seating areas. This season, we're obsessed with our Vintage Walnut and Vintage Fruitwood Ceremony Doors. These beautiful vintage ceremony rentals make the perfect backdrops or entrance points for your outdoor wedding!
Create unique seating areas and Instagram-worthy nooks with our Fiona Ivory Mantle. This classic piece looks so beautiful covered in fresh blossoms and pictures of the bride and groom!
Garden-Inspired Table Linens
Nothing freshens up an outdoor table setting like a pop of color and texture from high-quality table linens. Your linens can provide the perfect backdrop for your table settings and arrangements. For garden weddings, we love our richly textured Moss Green Crush and Velvet Linens, as well as our warm and rustic Havana Cafe neutral napkins and feminine Chiffon Runners.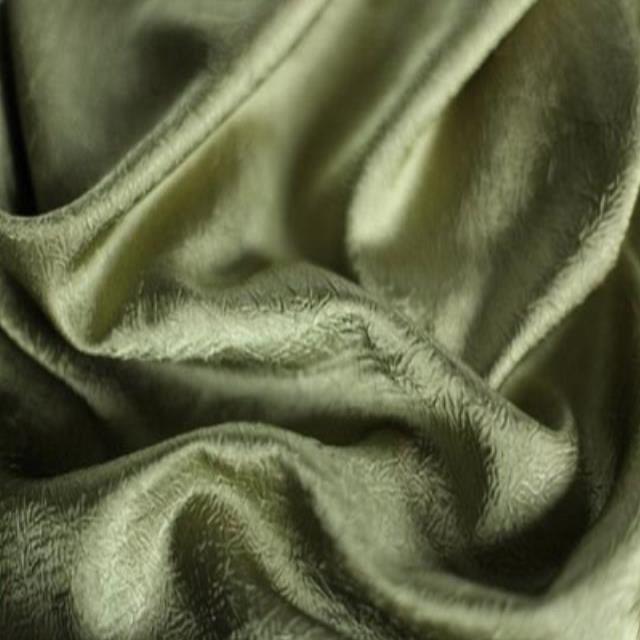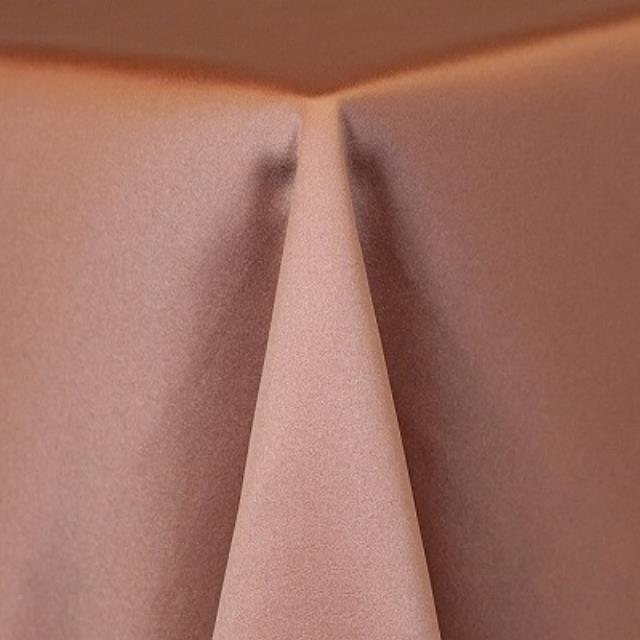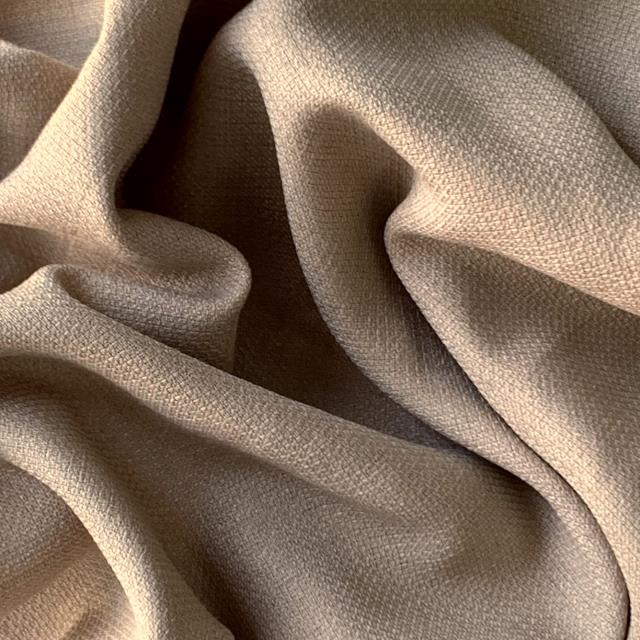 Intimate Lounge Areas
When it comes to a garden wedding, we love the simple, feminine charm of an intimate lounge area! Mix and match our elegant and cozy furniture, to create a welcoming place for guests to sit and stay for a while. Alongside pieces such as our sofas & loveseats, be sure to feature a few Trellis or Capri White Side Tables. Both are elegant and will add a sophisticated, feminine feel to your wedding lounge!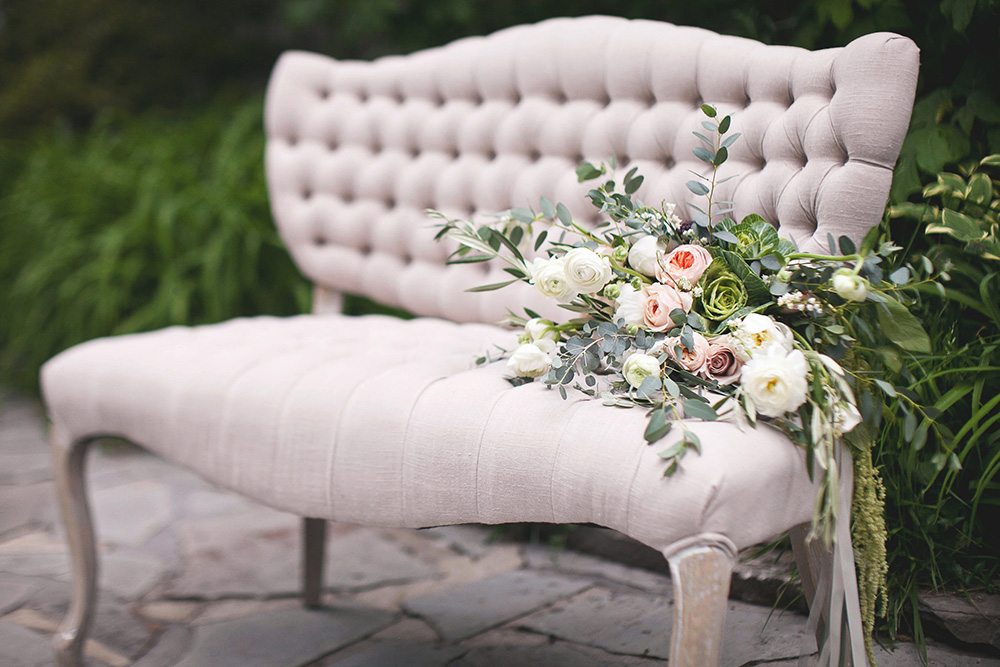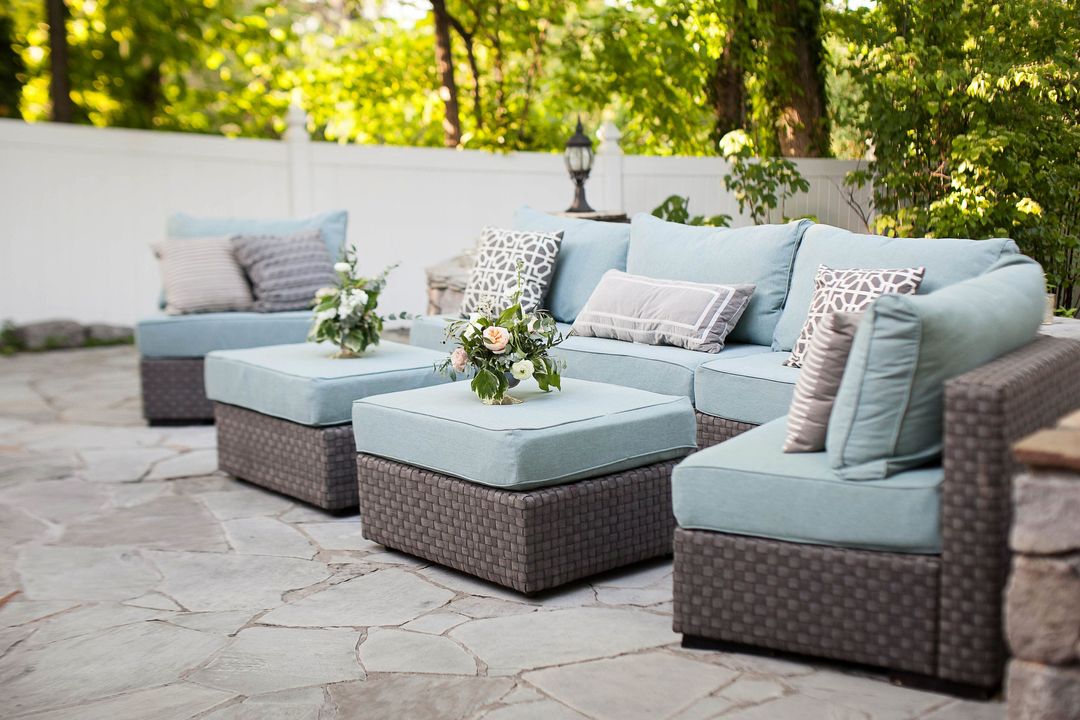 Peak Tent
Rain or shine, your big day is going to be beautiful. That's why we encourage you to take away the stress and enjoy the shade (or shelter) from underneath one of our elegant tents. Featuring heavy-duty aluminum frames and block-out vinyl tops, you and your guests will stay cool in the shade beneath our Peak Frame and Hexagon Tents! Decorate them with billowing drapery and fresh flowers for a wonderful and whimsical outdoor event.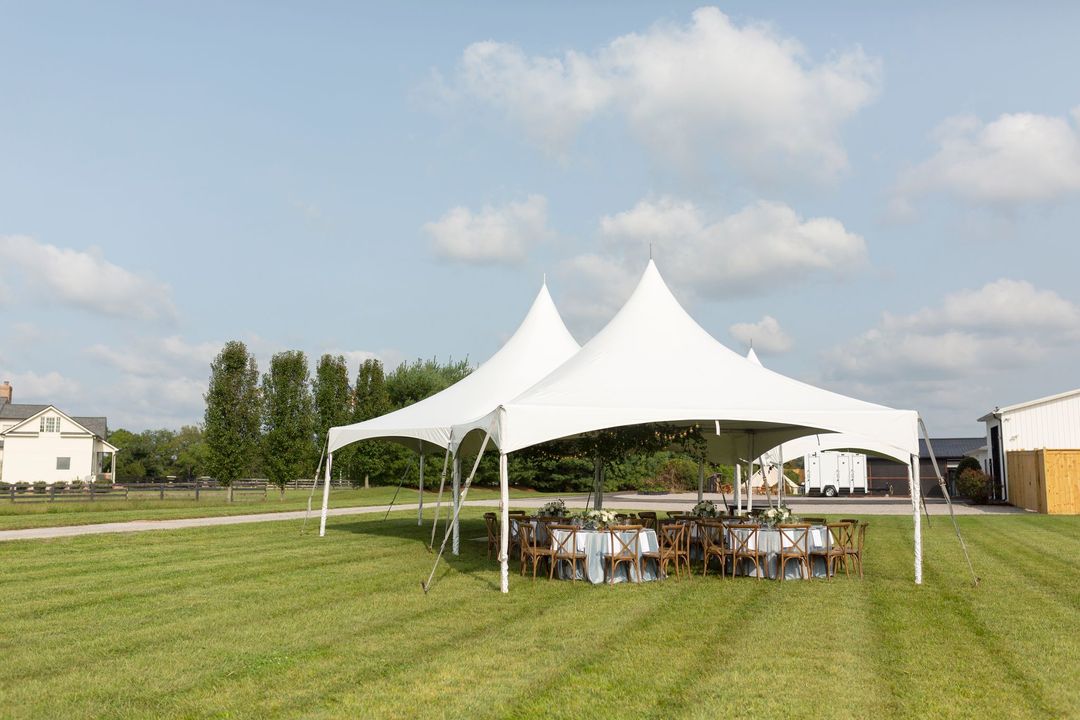 Natural Wood Dance Floor
Dancing in the grass sounds like a wonderful time- until you remember that you and your friends will be wearing heels! Prevent any fashion faux-pas and keep the party going with our New England Wood Dance Floor. The natural wood finish makes a lovely addition to the party, adding function without interrupting the aesthetic.
Photo @smithstudiosphotography
Ready to plan your dreamy garden wedding? To discover how to create your own elegant garden event in Nashville and Franklin, TN, email us at info@southerneventsonline.com.
TAGS | Boxwood Walls, Chifon Runners, Darcy China, Fiona Mantle, Garden Party Design, Harlin Chairs, Nashville Event Rentals, Nashville party rentals, Natural Wood Dance Floor, Outdoor Event Furniture, Outdoor Prop Shoppe, Peak Tent, Southern Events Party Rental, Southern Events Party Rental Company, Vintage Fruitwood Ceremony Doors, Vintage Walnut Ceremony Doors, garden wedding decor, outdoor wedding, outdoor wedding decor, upscale outdoor wedding decor
FEATURED RENTALS | Boxwood Walls, Harlin Chairs, Darcy China, Natural Wood Dance Floor, Vintage Fruitwood Ceremony Doors, Vintage Walnut Ceremony Doors, Fiona Mantle, Celcila Linens, Magnolia Velvet Linens, Moss Green Crush Linens, Havana Cafe Linens, Chifon Runners, Vintage Bird Cages, Wrought Iron Tabletop Tree, Trellis Side Table, Capri Side Table, Peak Tent,
---
13

May

On Trend, Southern Events Products, Trends and Inspiration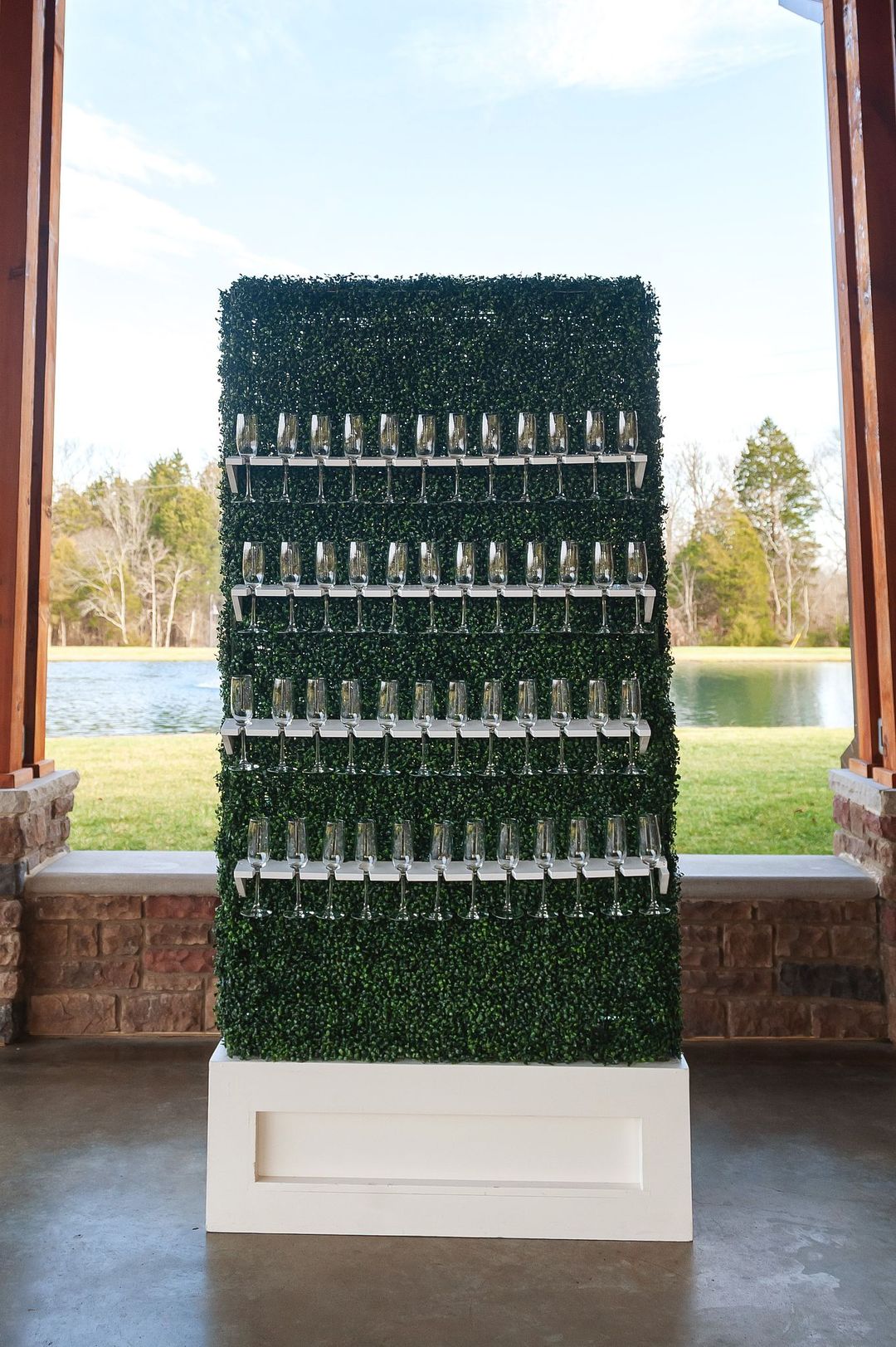 At Southern Events, we love a multi-functional rental! Our boxwood walls are available with 3 distinct bases (gold, white and ivory) and offer endless ways they can be personalized at your event. From serving champagne, snapping pics or elevating your escort cards, see how to customize this rental for your next Nashville event.
Boxwood Champagne Walls
Cocktails are a highly anticipated treat at any event, but why not take your service to the next level with an interactive champagne wall? Creative, interactive, gorgeous, and full of bubbly – we're definitely here for it! Guests will be absolutely delighted as they walk by this fun drink station, which can also double as a photo op! For the setup below, our Boxwood Wall was adorned with lush florals by the talented team at Enchanted Florist, our Fruitwood Shelves and Cybil Flutes.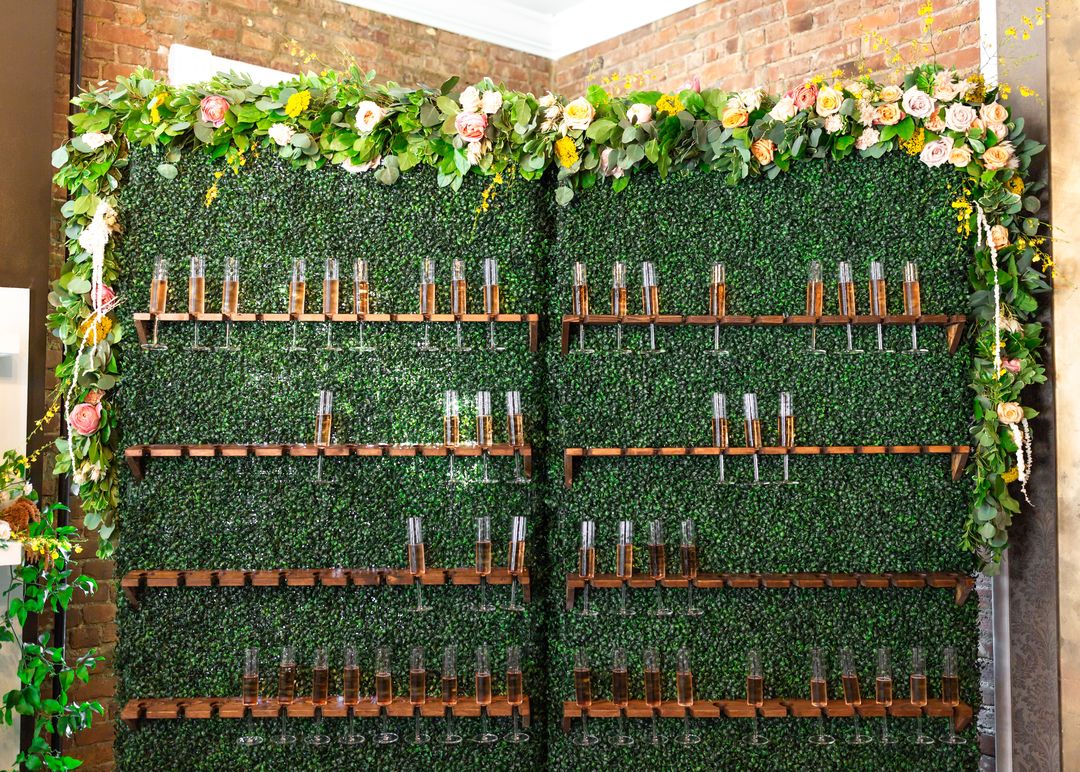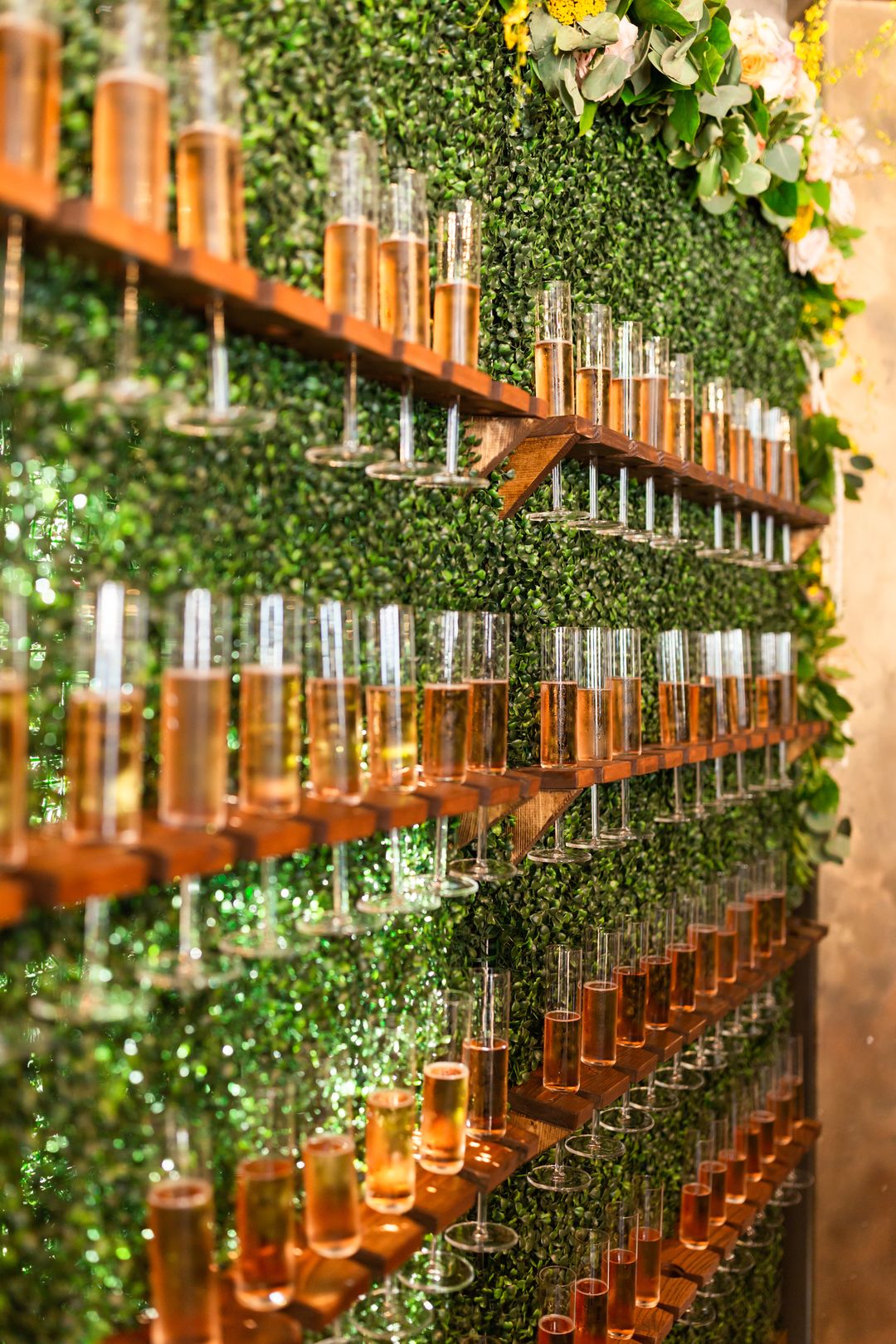 Photos via Honeysuckle & Wine.
Boxwood Wall Photo Backdrops
Entirely customizable, our boxwood walls are a must-have for a trendy photo station. Easily create a photo backdrop that complements your event, whether it's for a wedding or another social gathering. The options are truly endless, as long as you have the creativity and gusto! As shown below, a bright neon sign is always a nostalgic decoration. However, it would also look lovely with a monogram or pictures of the newlyweds. We also love it with a colorful balloon arch for a shower or birthday party.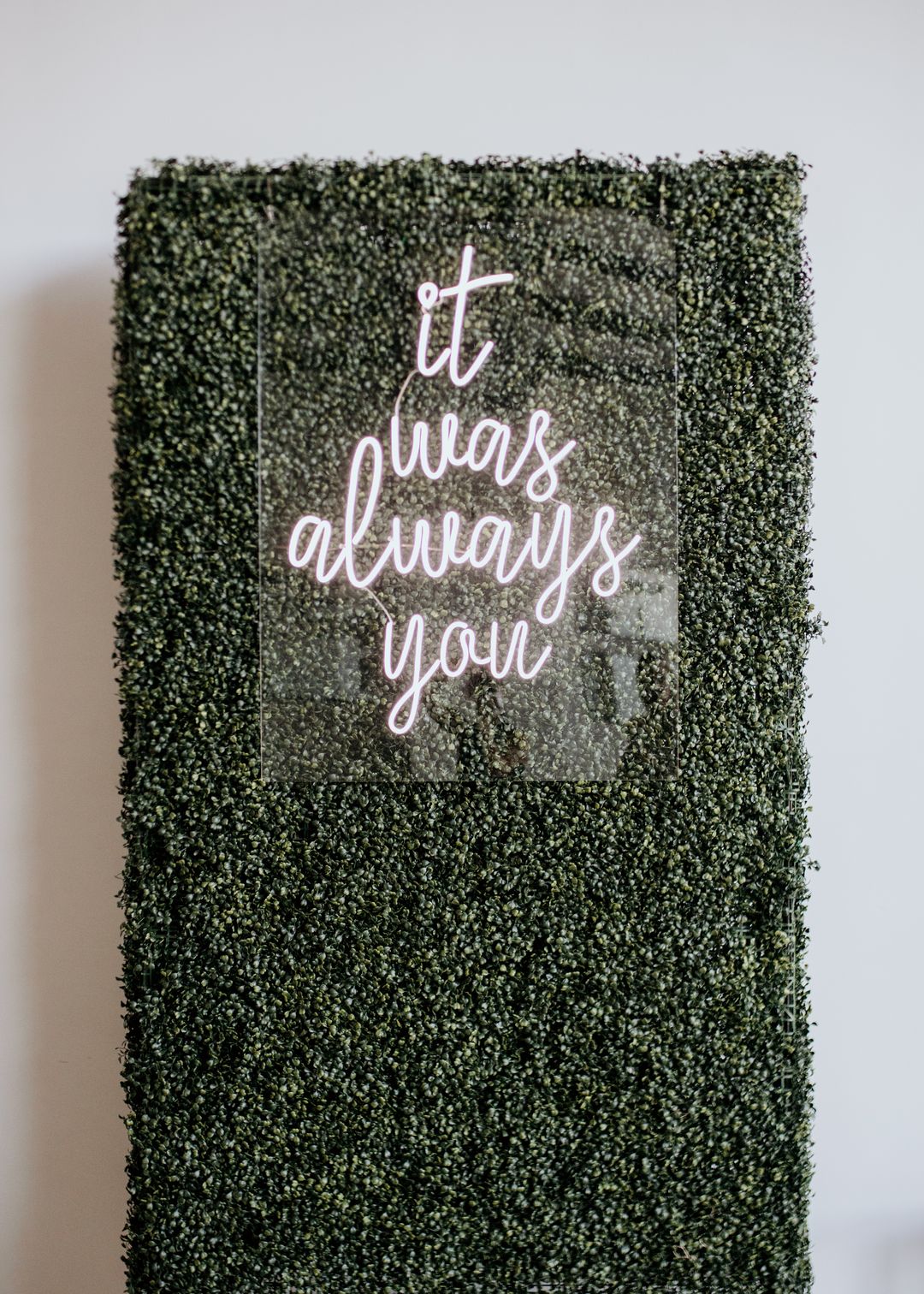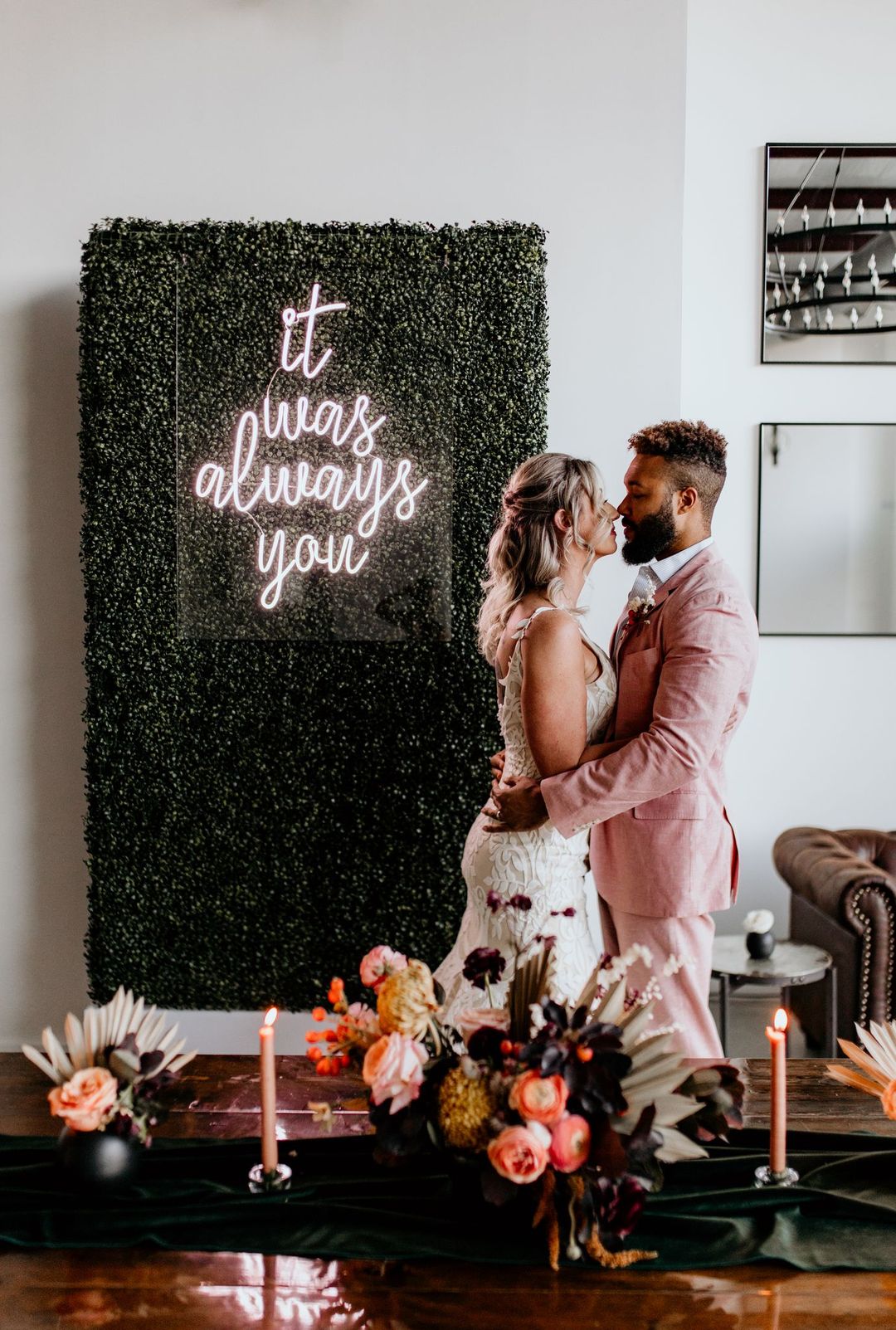 Photo by Megan Stark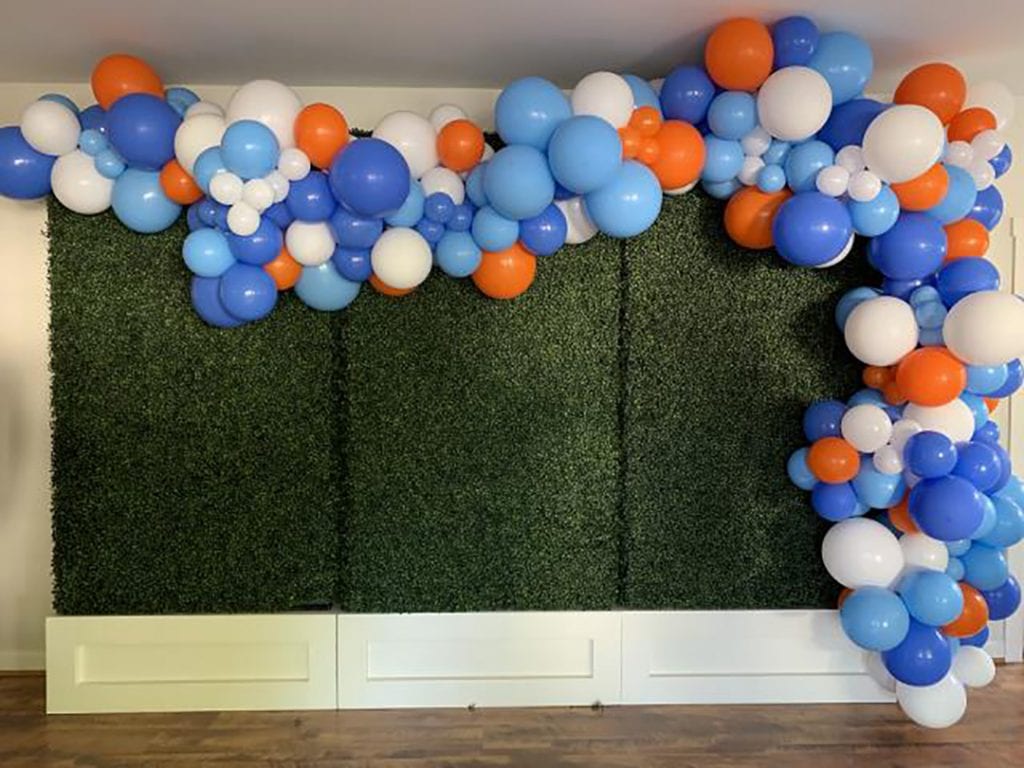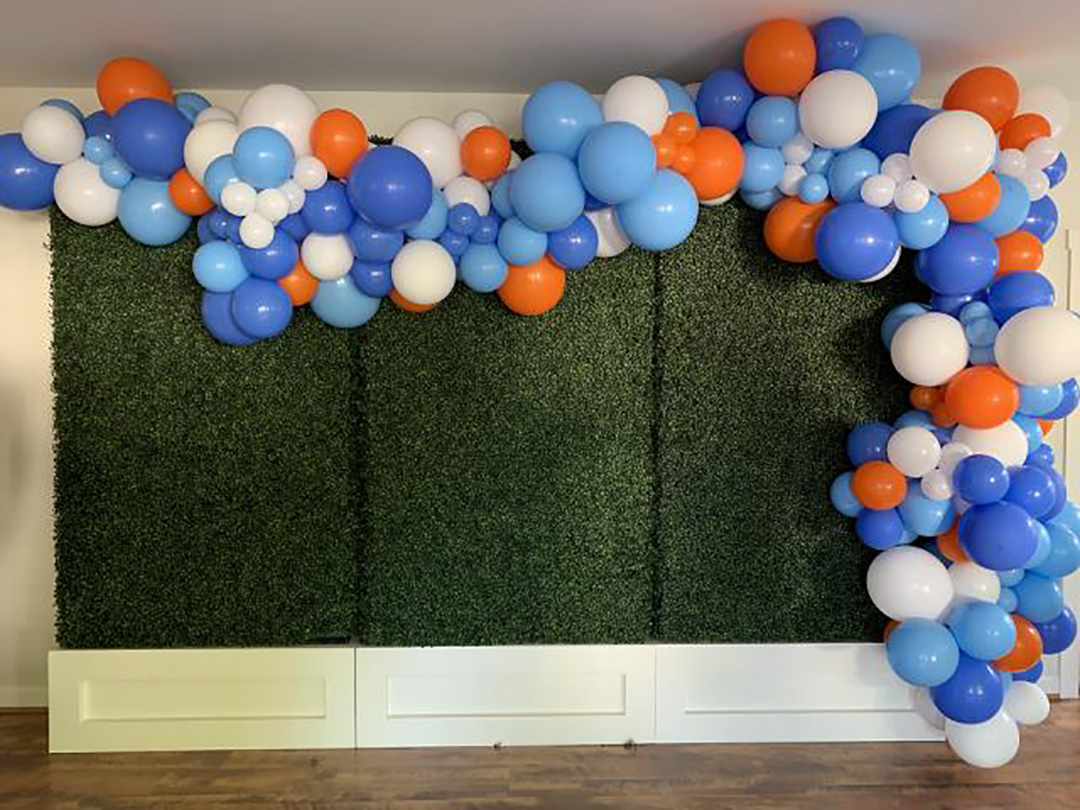 Corporate Event Backdrops and Entrances
For large corporate events, our boxwood walls are an effective way to keep your business at the forefront of guest's minds. As shown, it creates a beautiful backdrop for galas, fundraisers, or celebrations, especially those where there will be a stage or grand entrance. Show off your corporate logo in an upscale way, fitting of the elegant decor. And, if you have sponsors, feature their logos as well.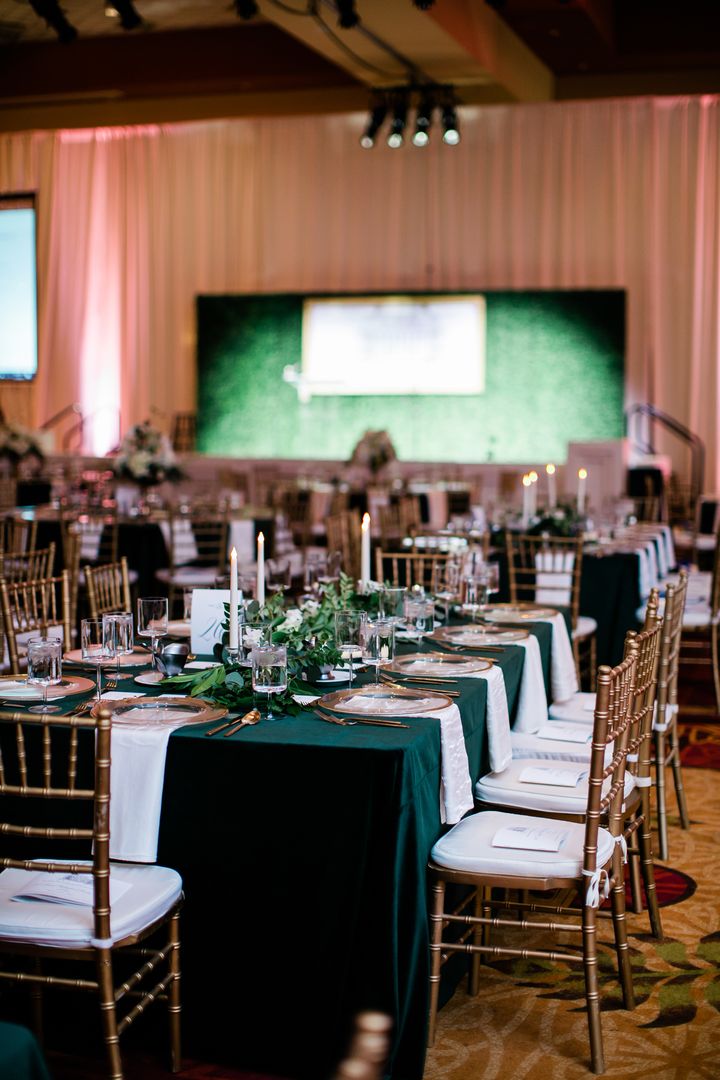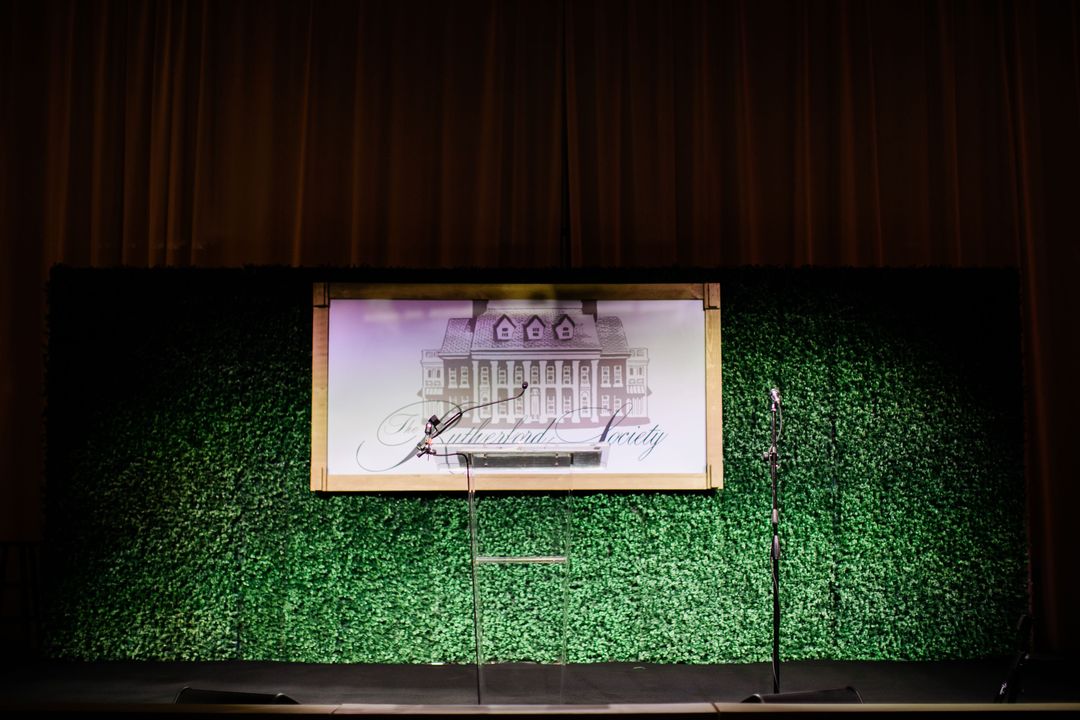 Photos by Jen & Chris Creed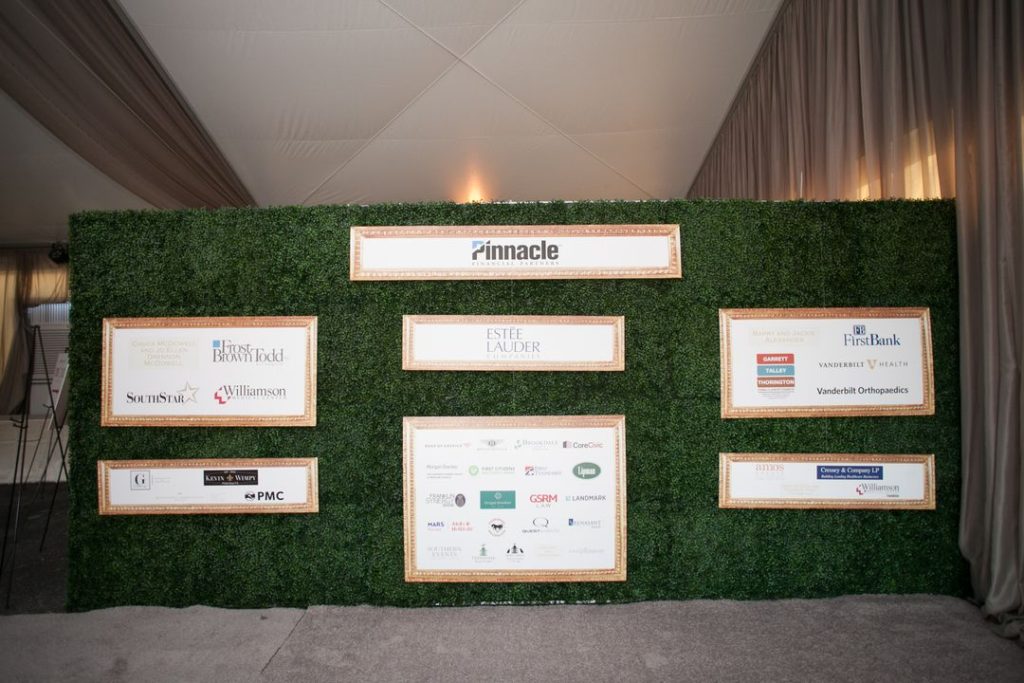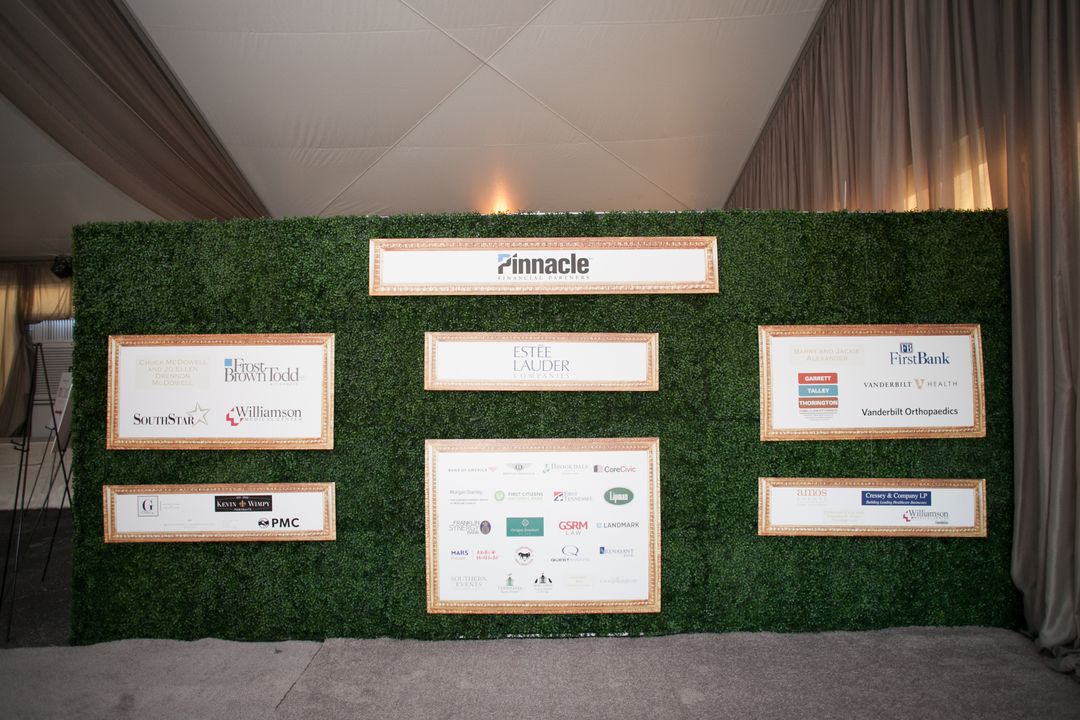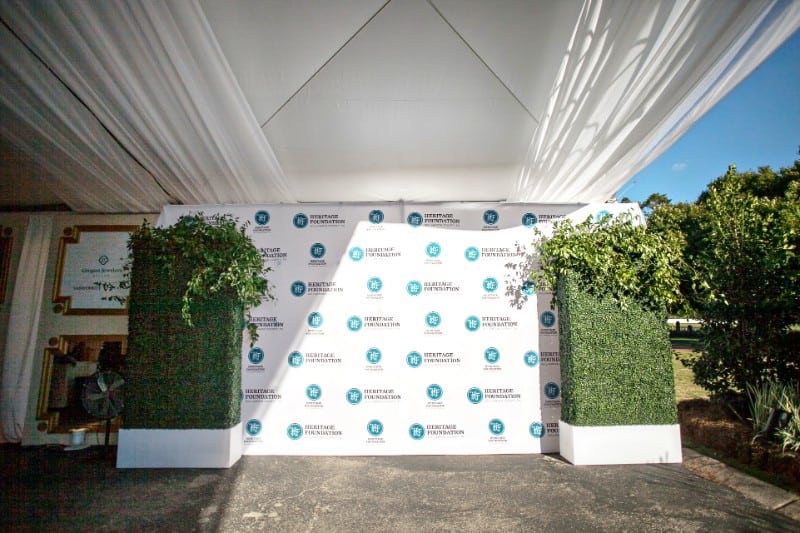 Boxwood Wall Seating Chart
At a wedding, you want to leave a lasting impression! Aside from a champagne wall, one easy method is with an interactive seating chart. Popular in recent years, a boxwood wall seating chart is a fun way to greet guests and guide them to their respective tables. You can simply list their names, like on a mirror or acrylic sign. Or you can use wedding favors that double as escort cards, like these beautiful horseshoe ornaments.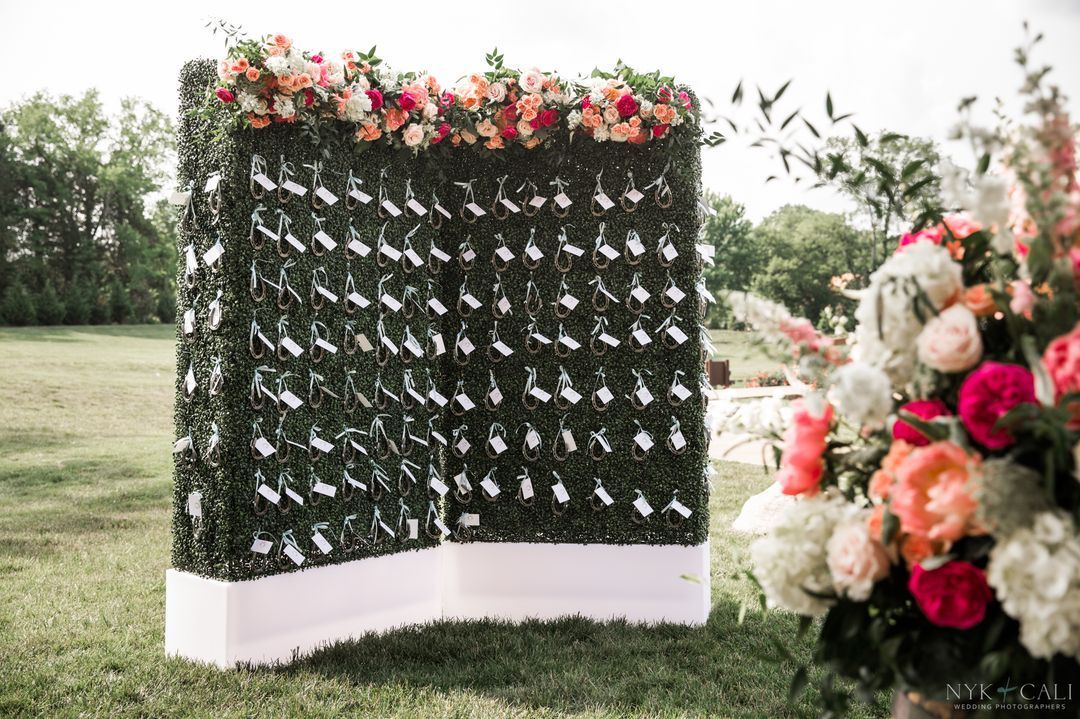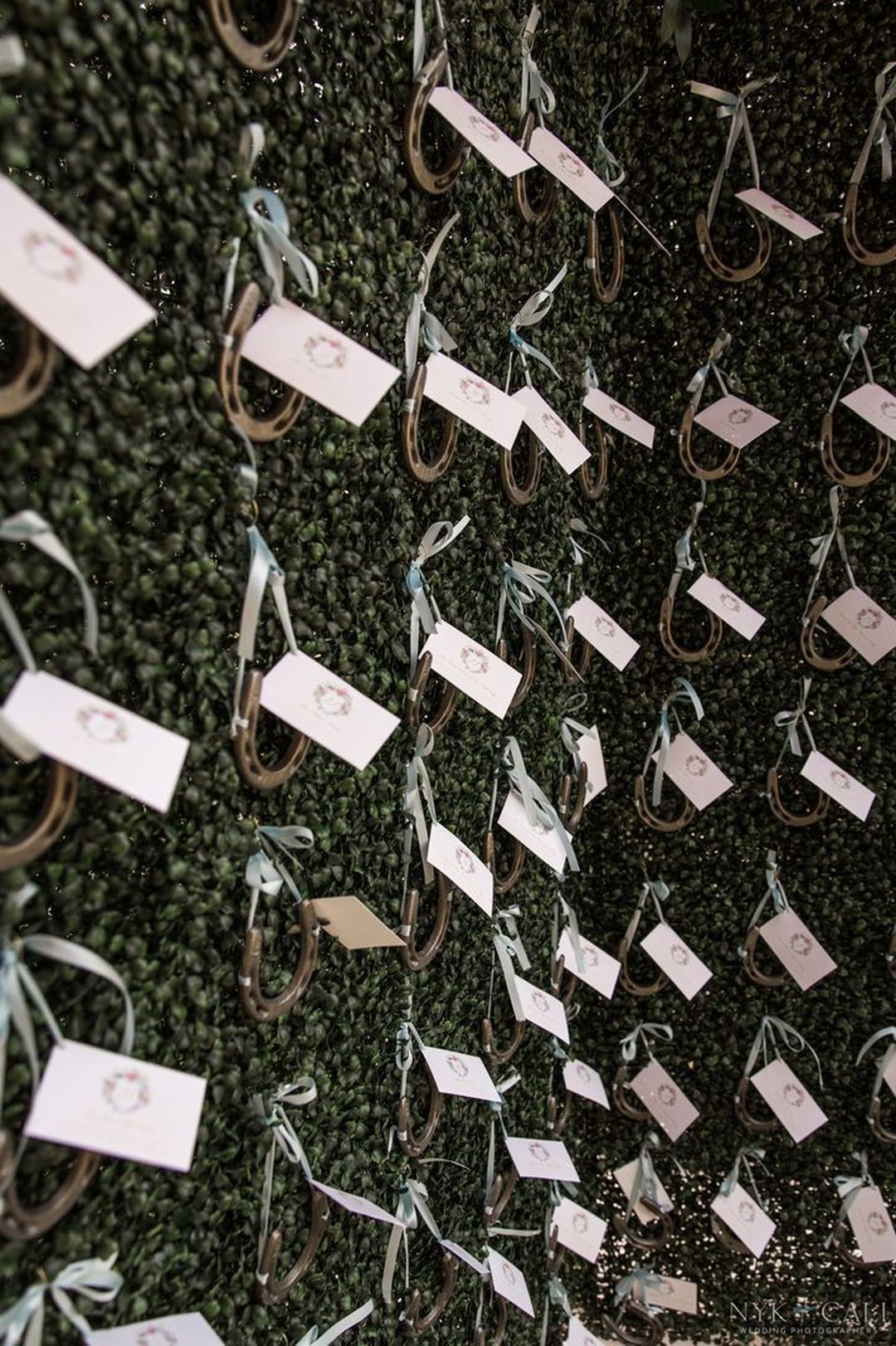 Want to feature one of our boxwood walls, as a drink station or backdrop, at your upcoming event? Let's chat! Send us an email today, at info@southerneventsonline.com.
TAGS | Boxwood Wall, Champagne Wall, Interactive Drink Station, Nashville Event Rentals, Nashville Wedding Rentals, Nashville party rentals, On Trend, Southern Events Party Rental, Southern Events Party Rental Company, Unique Wedding Rentals
FEATURED RENTALS | Boxwood wall, Cybil glassware, champagne shelf,
---
16

Apr

Southern Events Products, Trends and Inspiration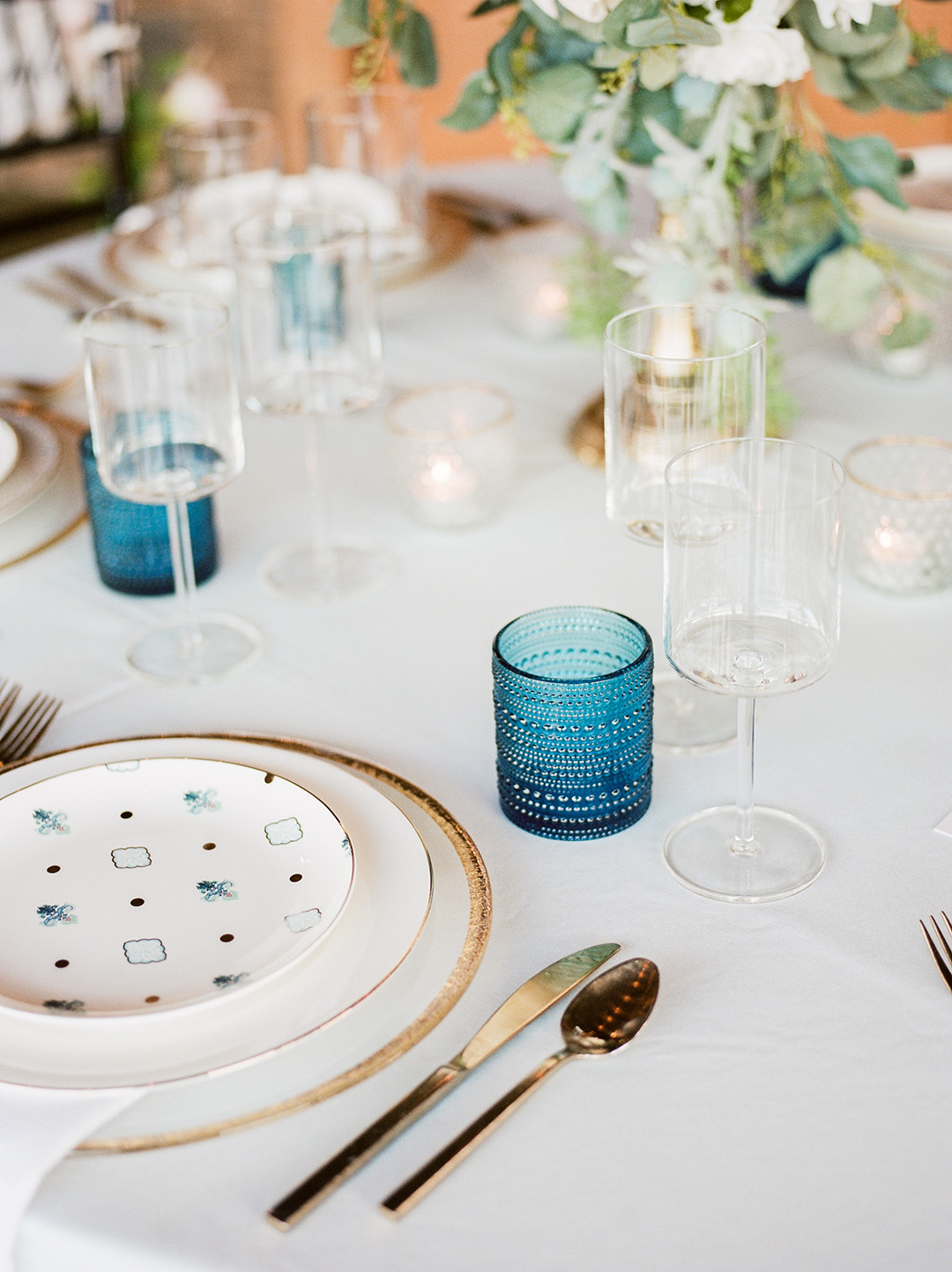 Though we hope every event goes off without a hitch, postponing or rescheduling weddings and events happens. But you don't have to sacrifice your event style for a shift in seasons with these classic, season-less event design tips & rentals from Southern Events.
Natural Notes
Take a note from nature to plan your event color scheme. Blues, teals, and greens are classic colors that can easily transition your event rentals from one season to the next. We love our Saylor Velvet Sofa and Chairs, Ocean Blue Velvet Linens, Coronado Salad Plates, and Fern Velvet Linens for the perfect pop of season-less event design color.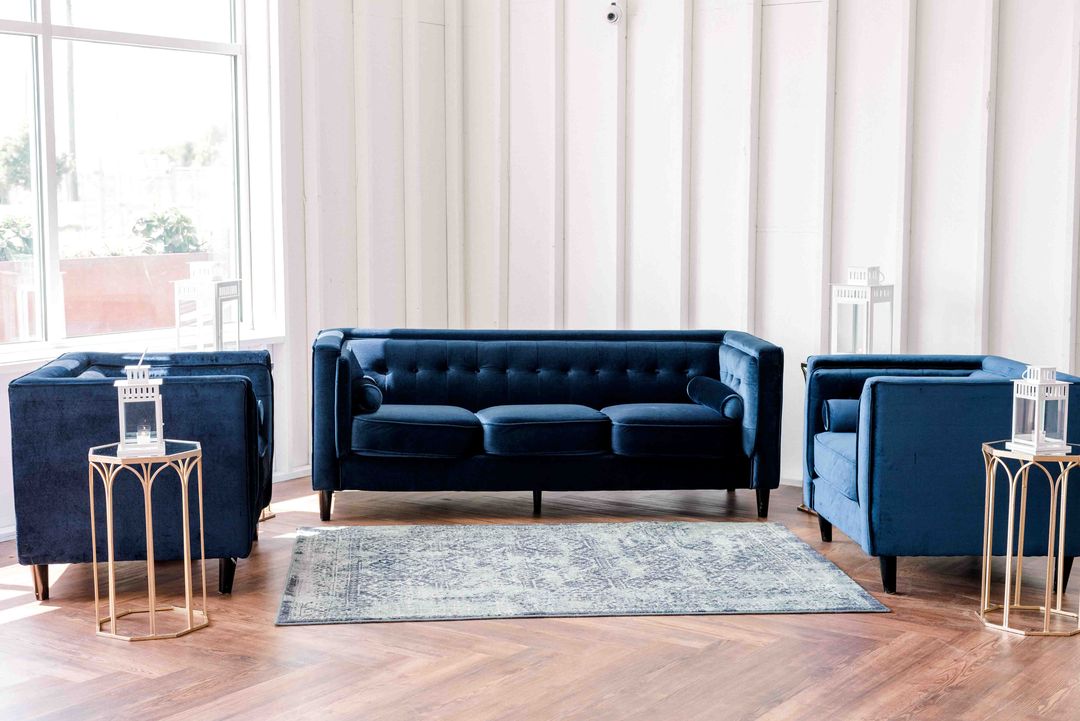 Photo | CeeCee Photography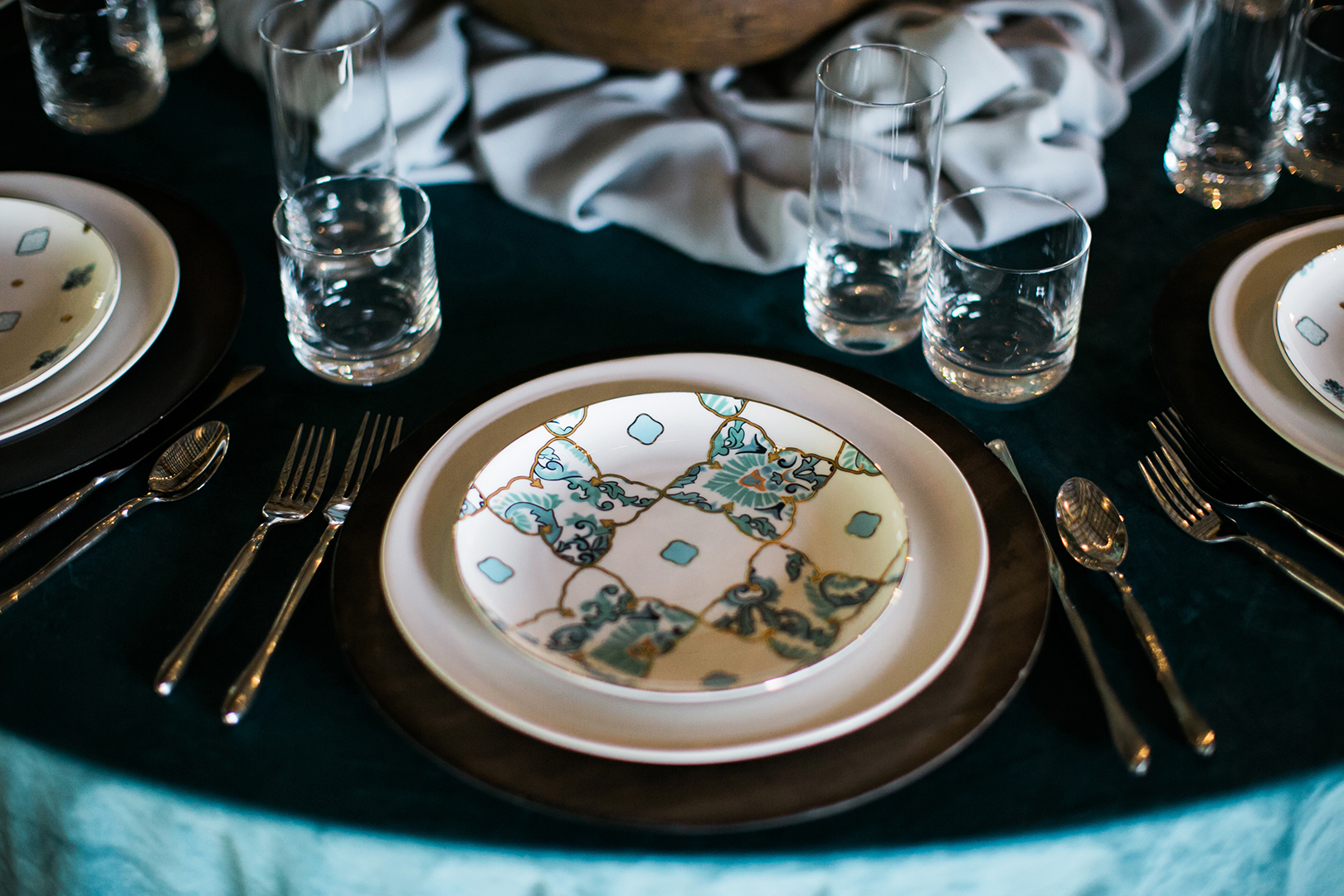 Photo | Jen & Chris Creed Photographers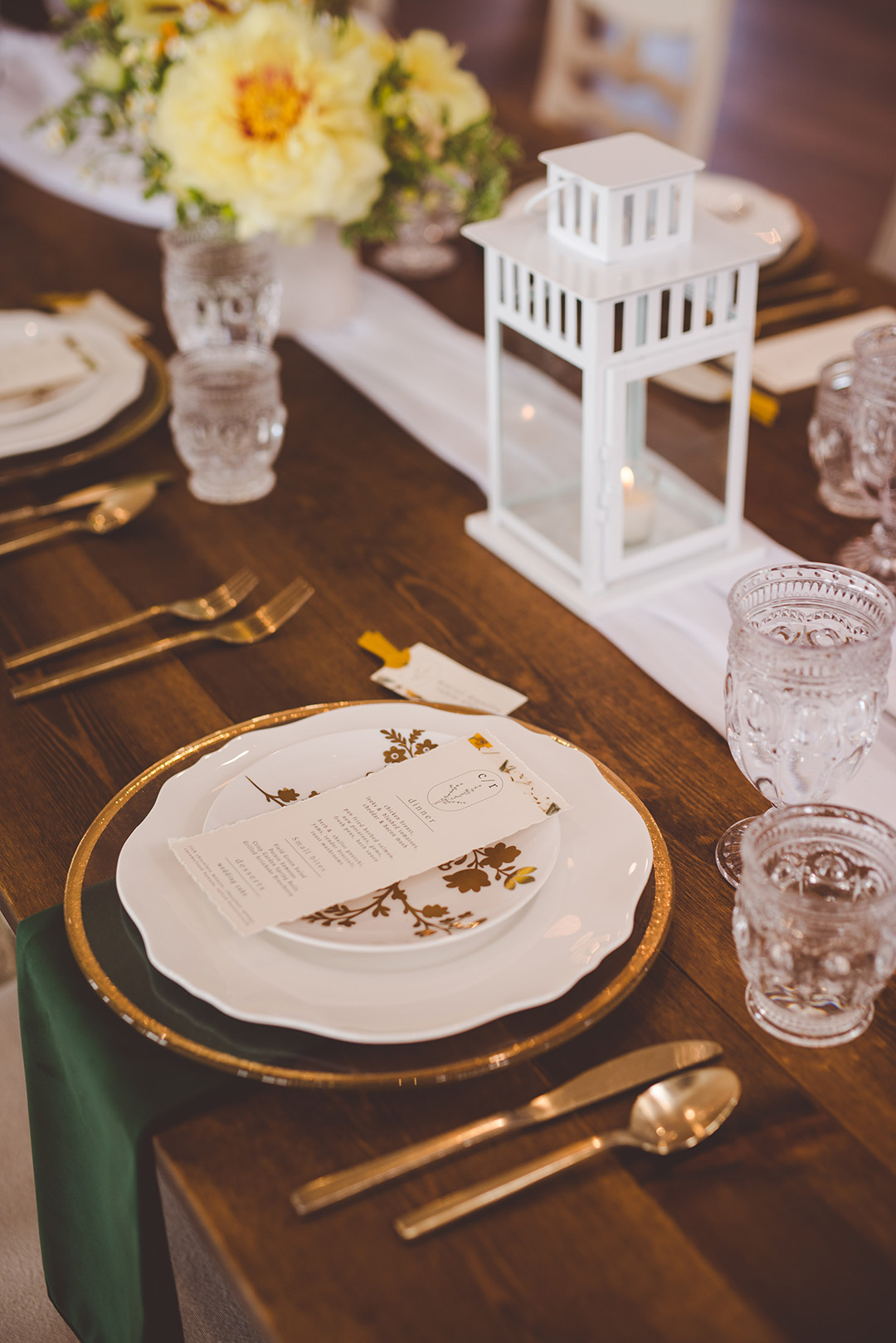 Photo | Rachel & Garren Photography
Farm-to-Table
Always appropriate, especially in the rolling countryside of middle Tennessee, a farm-to-table style is perfect for any type of event – no matter the season. Go for timeless rustic rentals with our classic Farm Tables, Cross-back or Bentwood Chairs, Kennedy Textured Linens (a polished update to burlap), and Artisan China.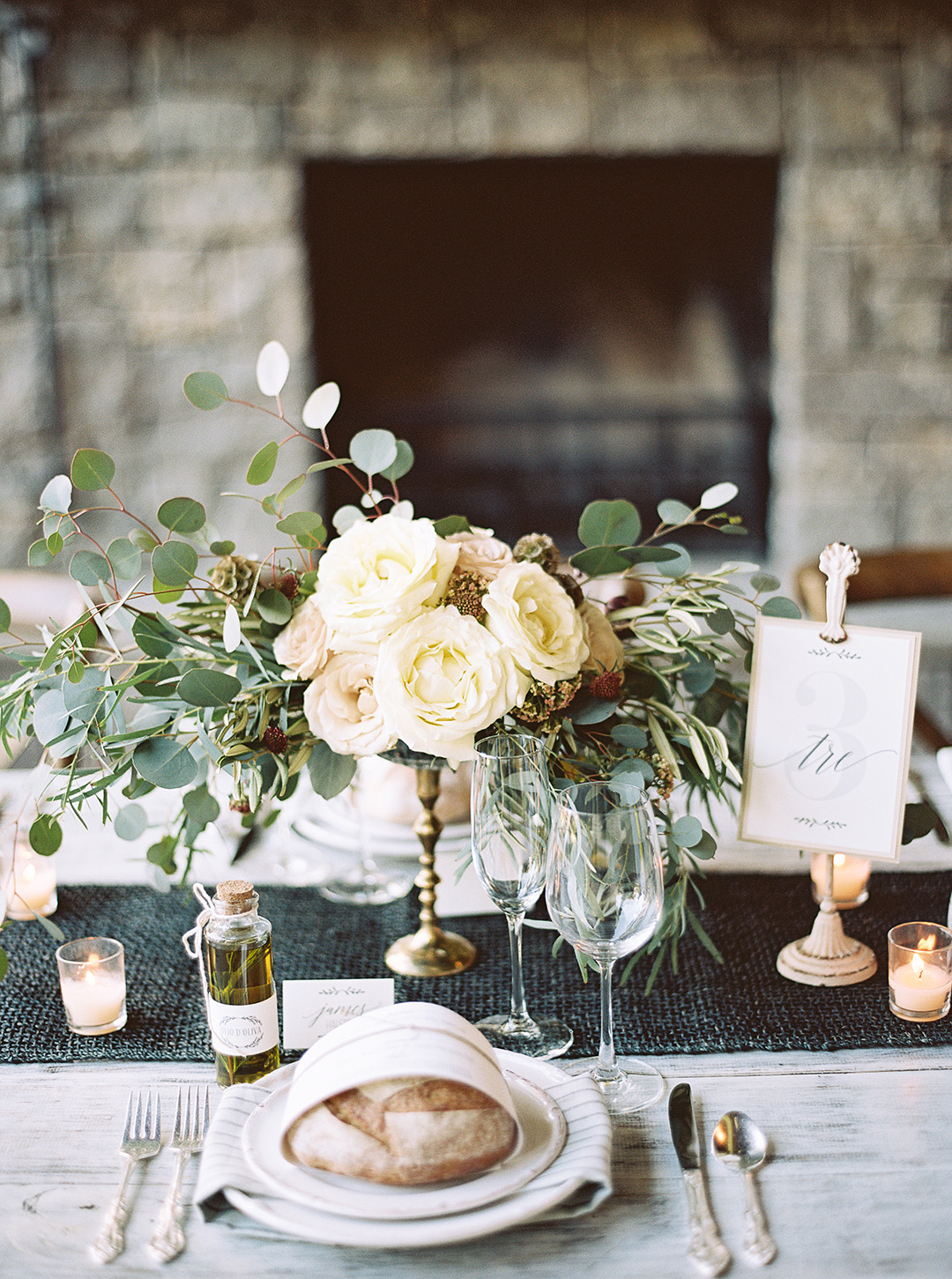 Photo | Julie Paisley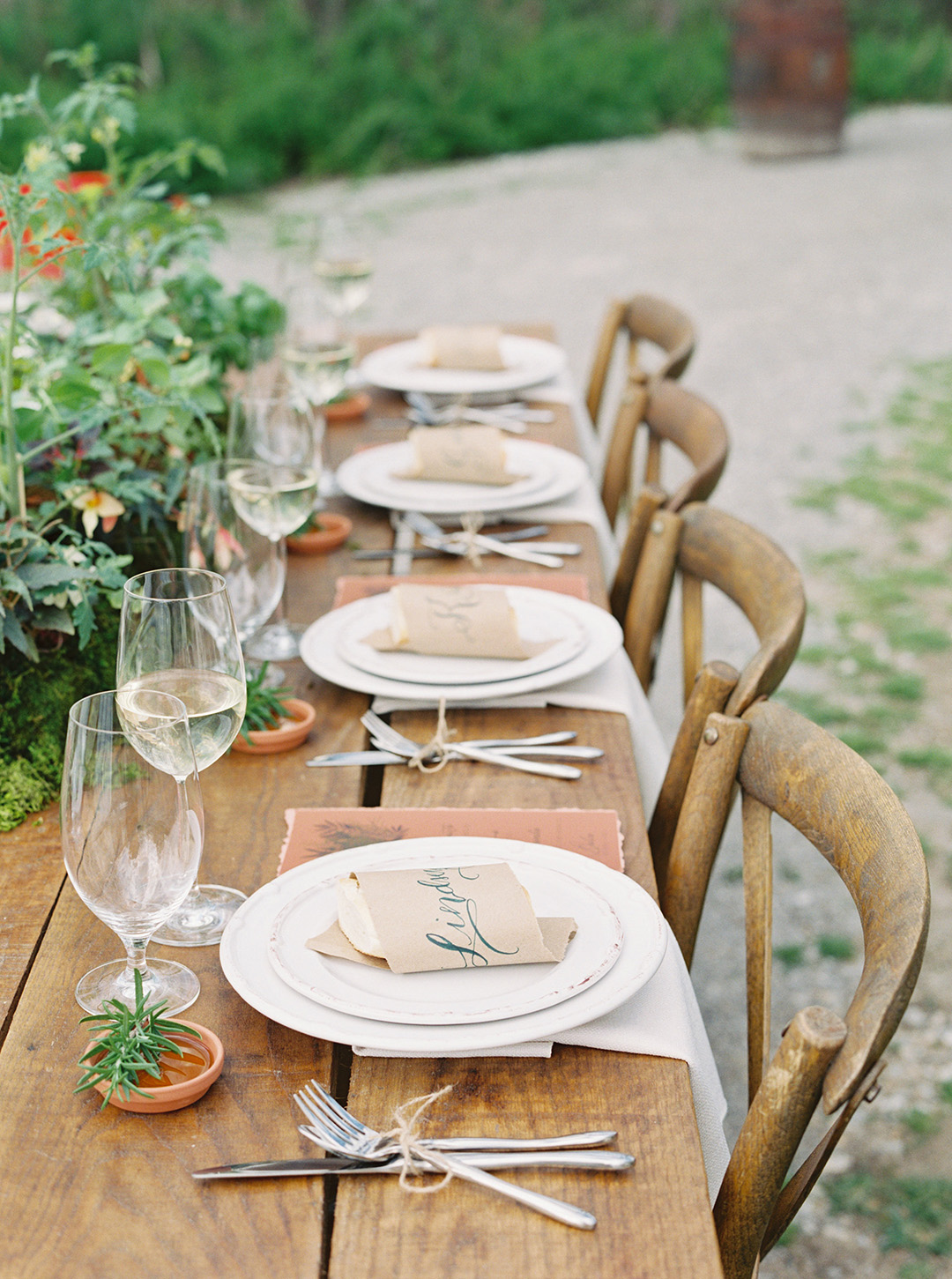 Photo | Cassidy Carson Photography
Classic Tastes
These rentals are classics for a reason! Timeless and season-less, mix and match our Athena, Hamlet and Ophelia Gold China with modern Austin Flatware and classic white or soft gray linens to set the tone any time of year.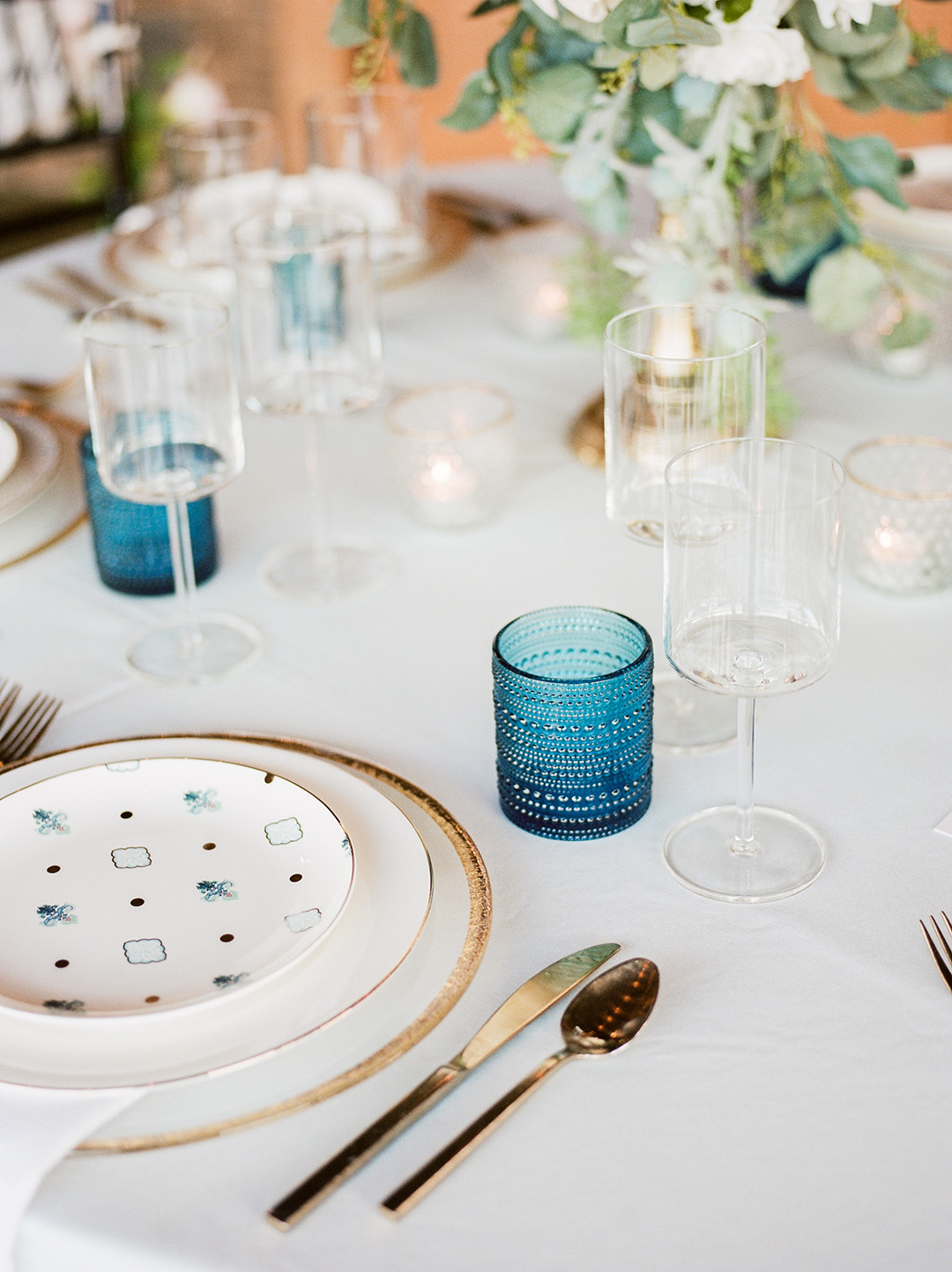 Photo | Jenna Henderson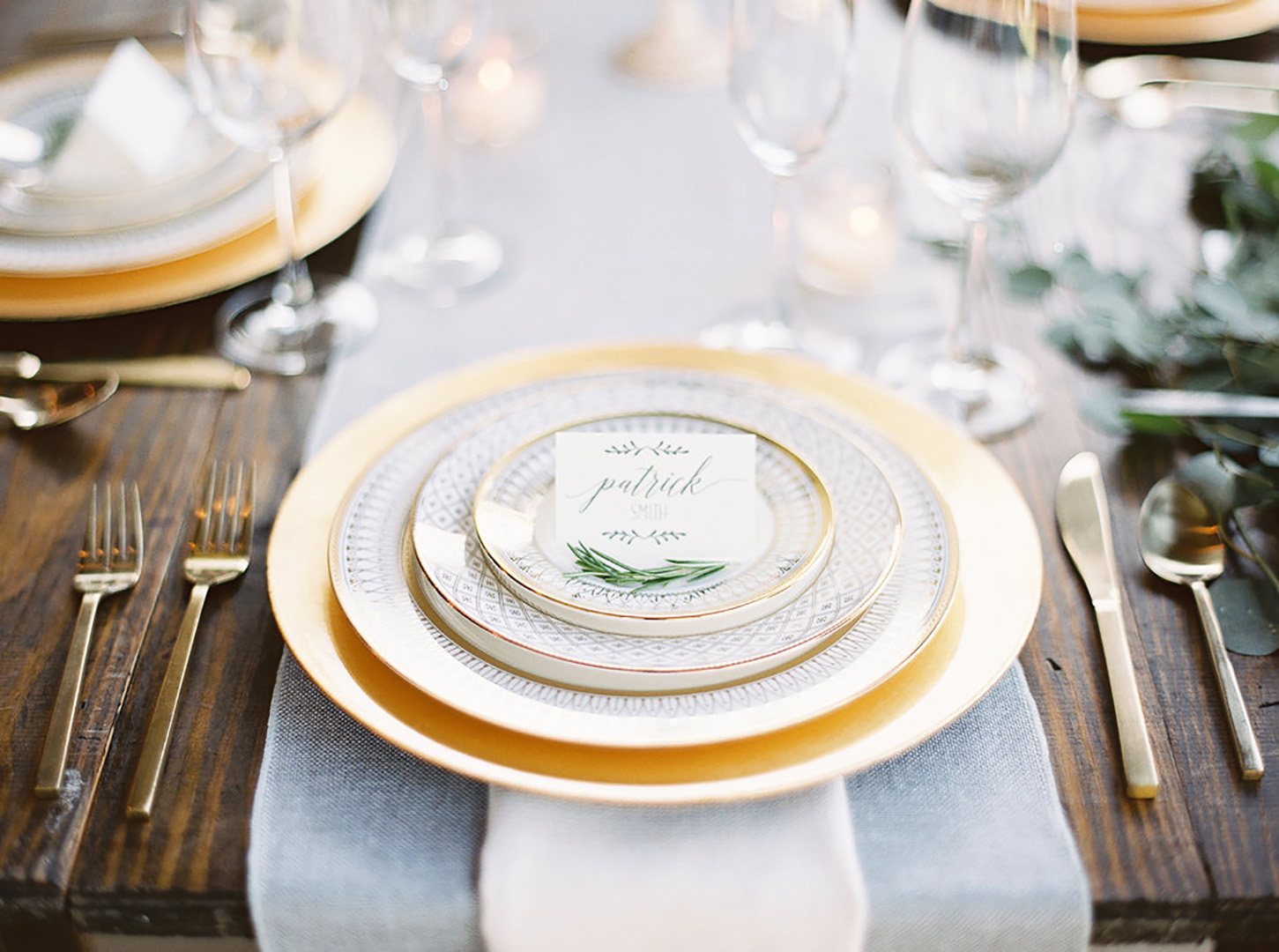 Photo | Julie Paisley
Shift to Neutral
Keeping your event color palette neutral can avoid a seasonal shift – but it doesn't have to be boring! Try layering our Grey Goose Linens with Earthen China and glittering Pure Glassware for a modern event table design, or staging your event lounge with our Henley Grey Velvet Sofa, warm wood Adeline Chairs, and Echo Silver Mirror Side Tables for a luxe lounge area.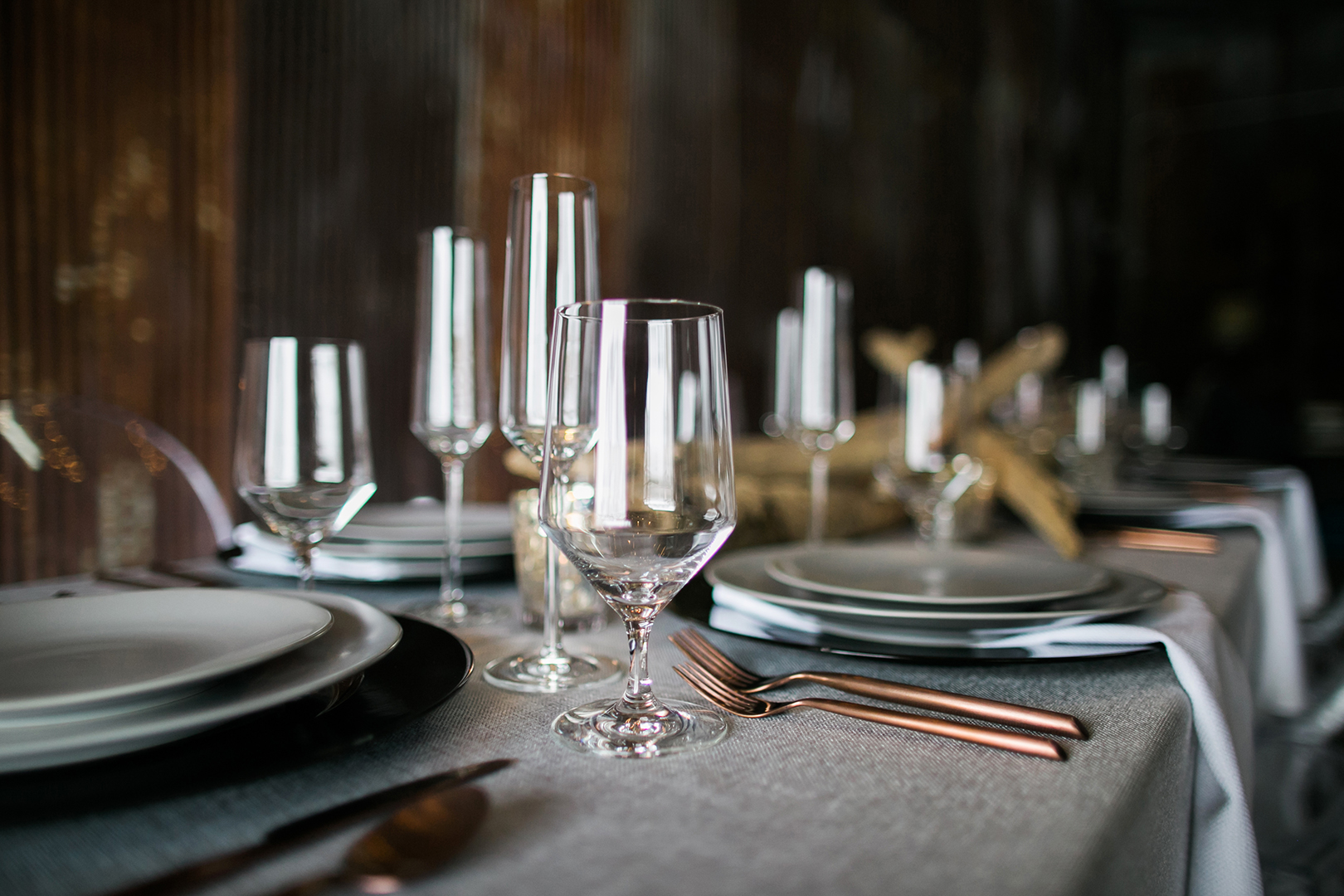 Photo | Jen & Chris Creed Photographers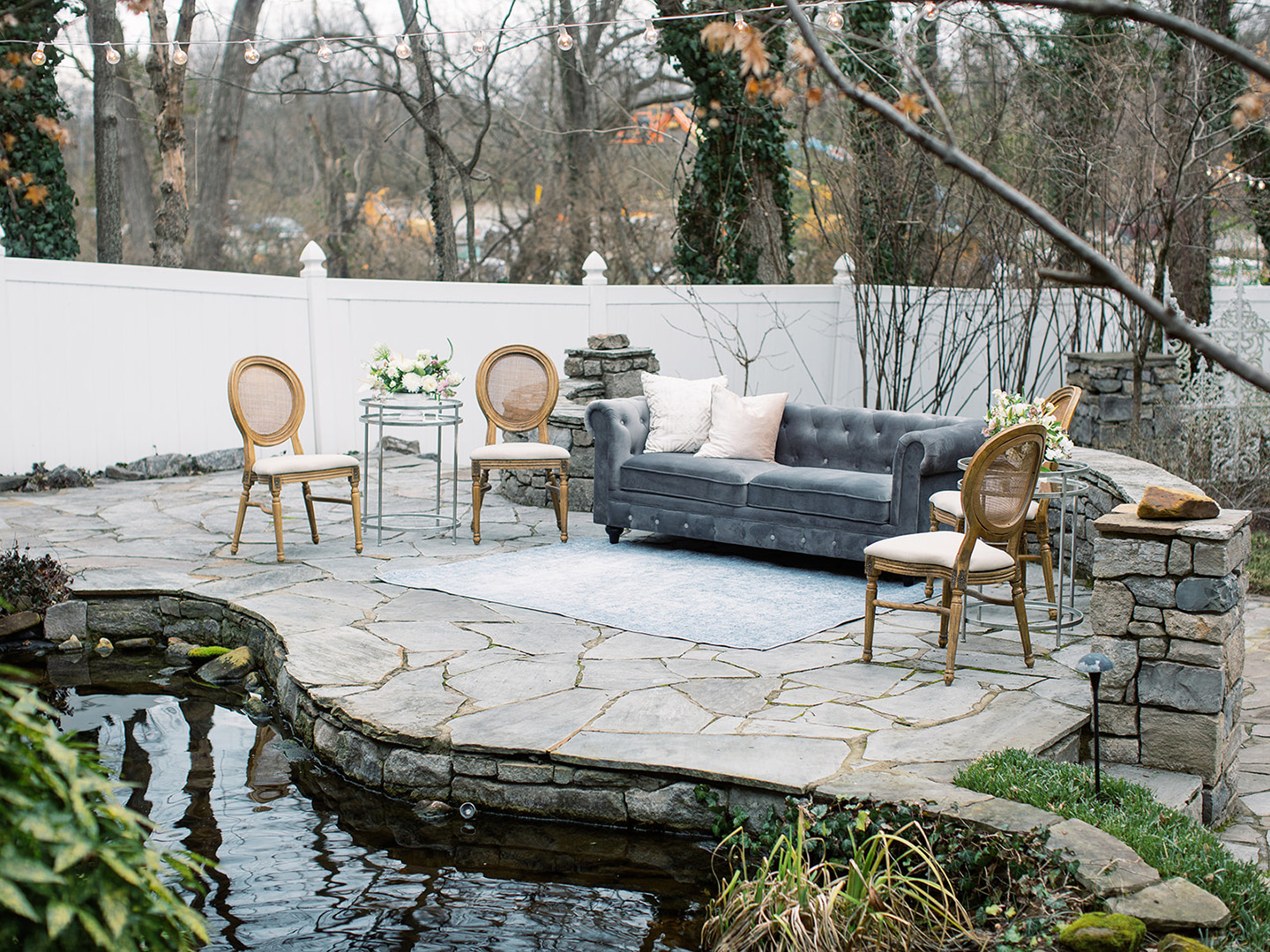 Photo | Abigail Lewis Photography
Warm + Cool
Use both warm and cool colors in varying shades in your season-less event design. This way you avoid seasonally inspired palettes – like spring pastels or rich fall colors. These colors can be mix in your florals, linens, furniture, and even flatware – like mixing our Brushed Copper Flatware and Sea Glass Velvet Linens.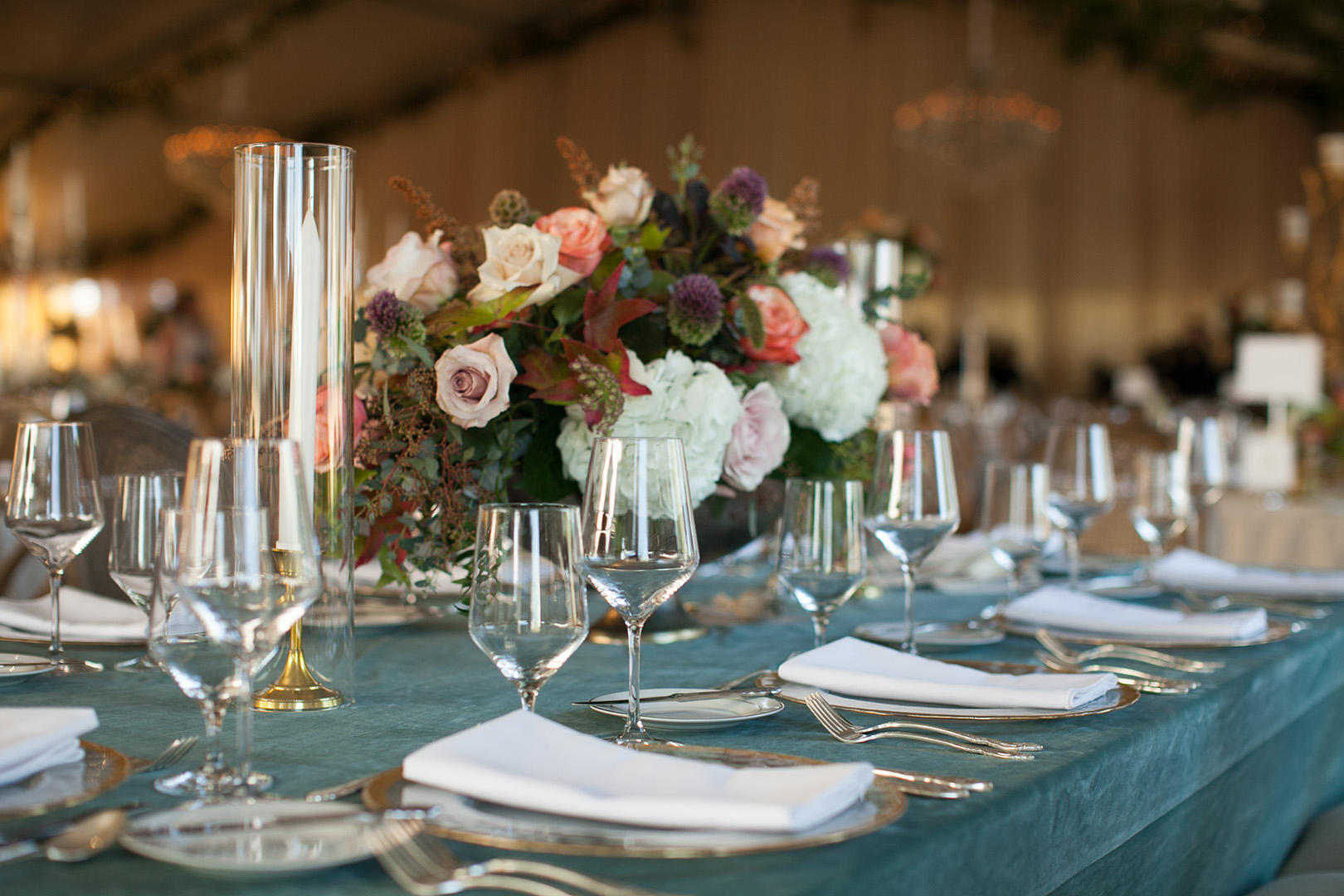 Photo | Phindy Studios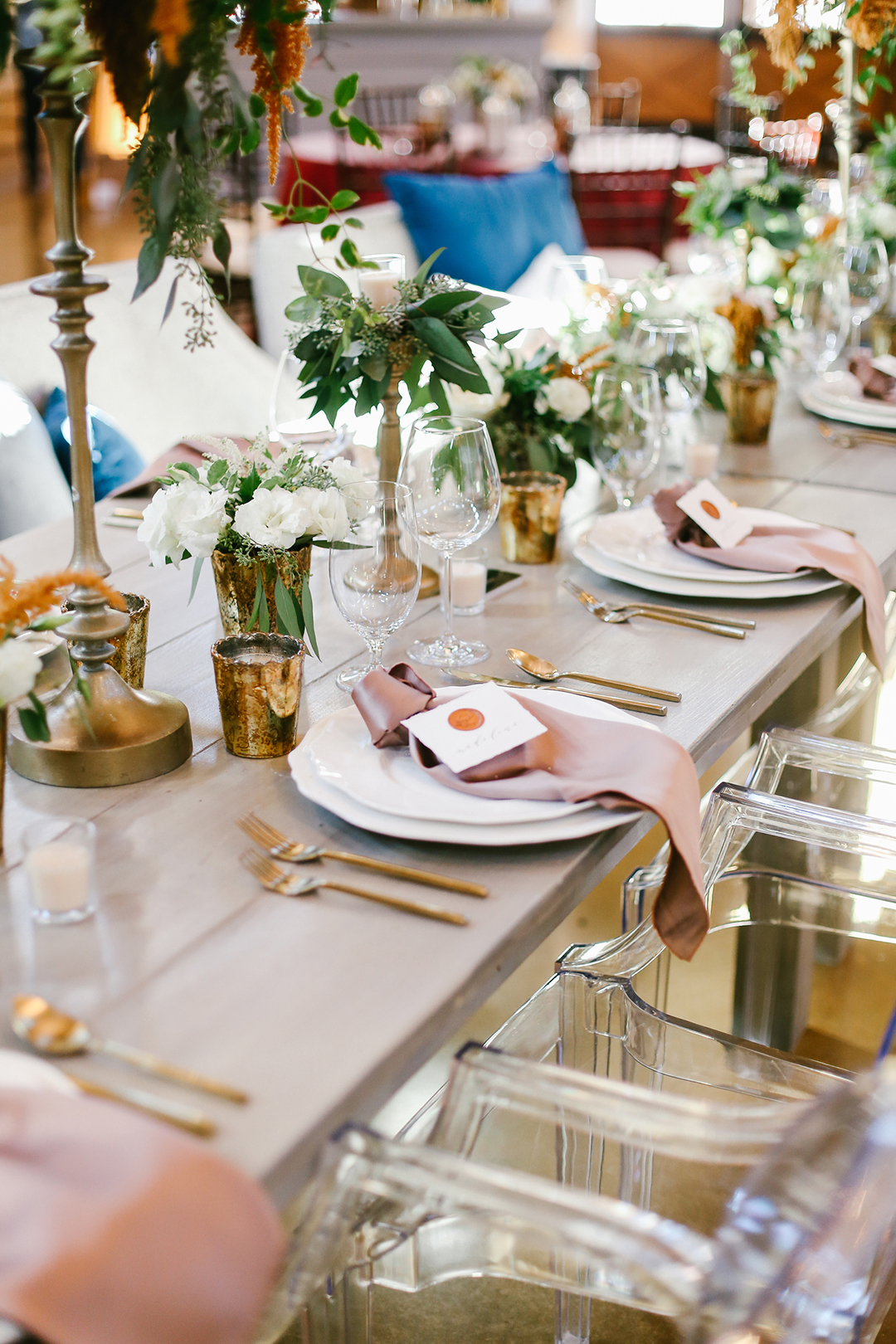 Photo | Jenna Henderson
Loving these season-less event design ideas? Contact our team for more timeless inspiration and rentals for your wedding or event!
TAGS | Southern Events Party Rental, Southern Events Party Rental Company, Southern Events Rental, classic event rentals, classic event style, classic southern wedding, farm, farm table rentals, farm to table, farm wedding, neutral event rentals, southern event rentals, timeless event rentals, timeless event style, timeless southern wedding, timeless southern wedding style
FEATURED RENTALS | Saylor Velvet Sofa, Saylor Velvet Chairs, Ocean Blue Velvet Linens, Coronado Salad Plates, Fern Velvet Linens, Farm Tables, Cross-back Chairs, Bentwood Chairs, Kennedy Textured Linens, Artisan China, Athena Gold Rim China, Hamlet China, Ophelia China, Austin Flatware, White Linens, Grey Linens, Grey Goose Linen, Earthen China, Brushed Copper Flatware, Pure Glassware, Henley Grey Velvet Sofa, Adeline Chairs, Echo Silver Mirror Side Table, Sea Glass Velvet Linen
---
30

Jan

Real Nashville Weddings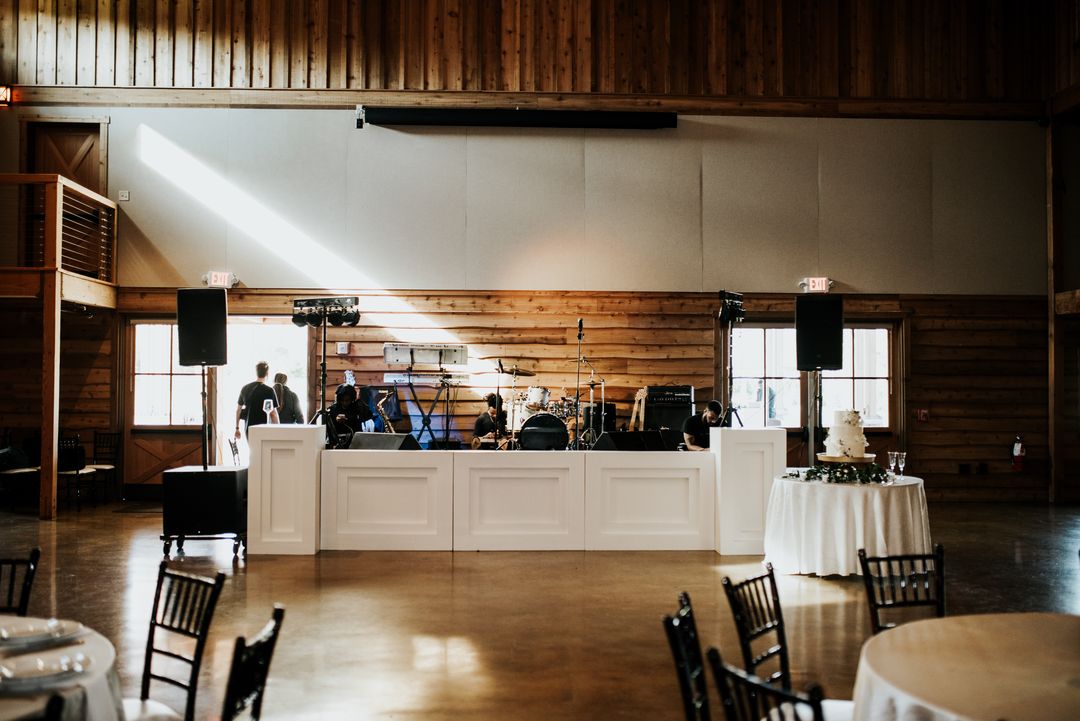 We recently had the honor of being part of Hailey and Daniel's Nashville wedding day at Sycamore Farms. Classy, elegant, and full of warmth – this day was bursting with elements that we are thrilled to share with you. From the lush views of the venue, down to the live band… it was utterly fabulous.
Let's begin with the gowns. The bride wore a sophisticated white bridal gown with intricate details and a plunging neckline. Her bridesmaids looked elegant and beautiful with black bridesmaids dresses. We always adore a good black and white wedding style.
The couple's vision for an elegant and classy day was brought to life by whites, golds, and accenting greenery. Hailey and Daniel exchanged vows outdoors under Sycamore Farms' rustic pergola with 360-degree views, draped with white linens and trailing greenery. Guests watched the nuptials take place, seated in white chairs. Everyone dined and celebrated indoors, with tables dressed in elegant White Satin Linens, White Round China, and chic gold Austin Flatware.
The classiness of this perfect wedding day was leveled up by a live band. We brought in our White Harpeth Staging that fit the "elegant" bill perfectly. Clients adore this staging because of its versatility. We love using this white staging for live bands…it would also be a fabulous piece for a grand head table.
Lovely photography provided by Cannon Weddings. Thank you, Hailey and Daniel, for the honor of being part of your incredible wedding!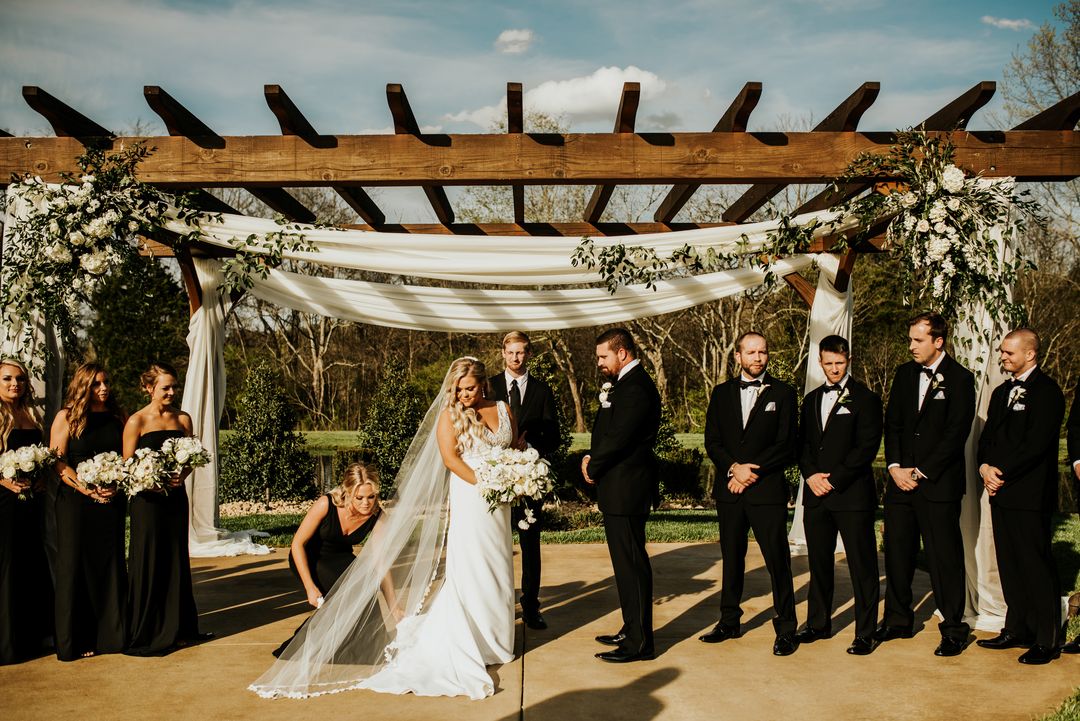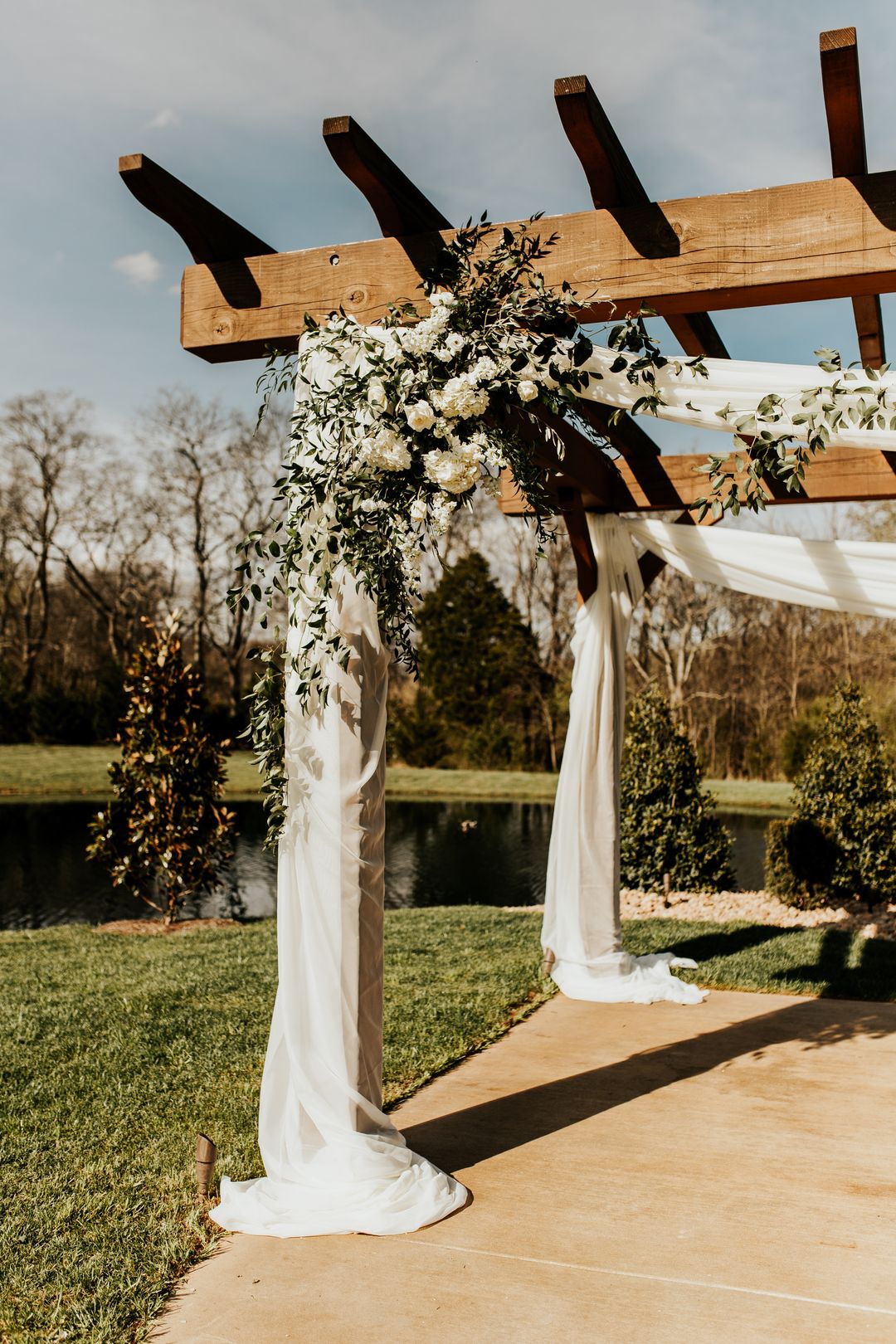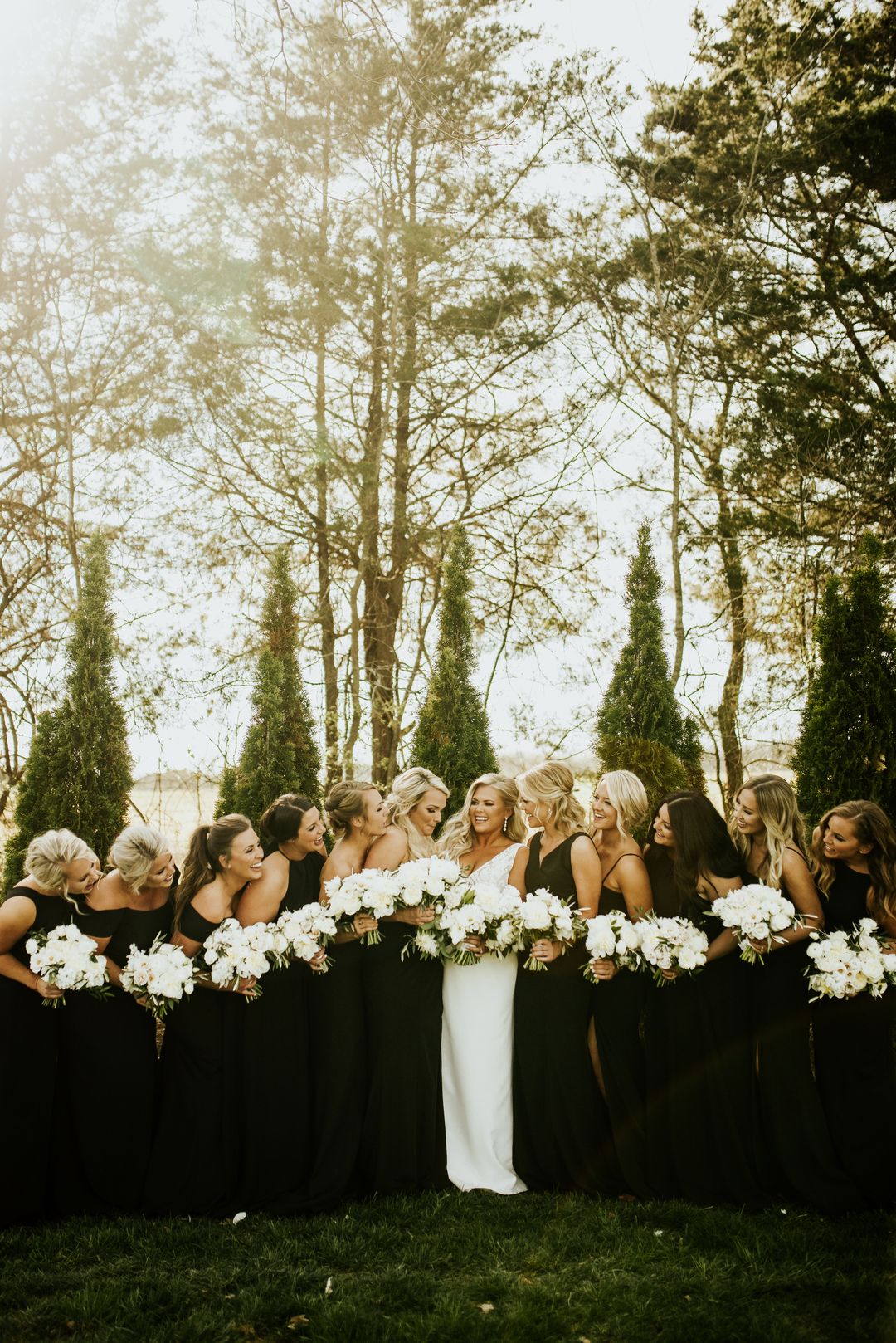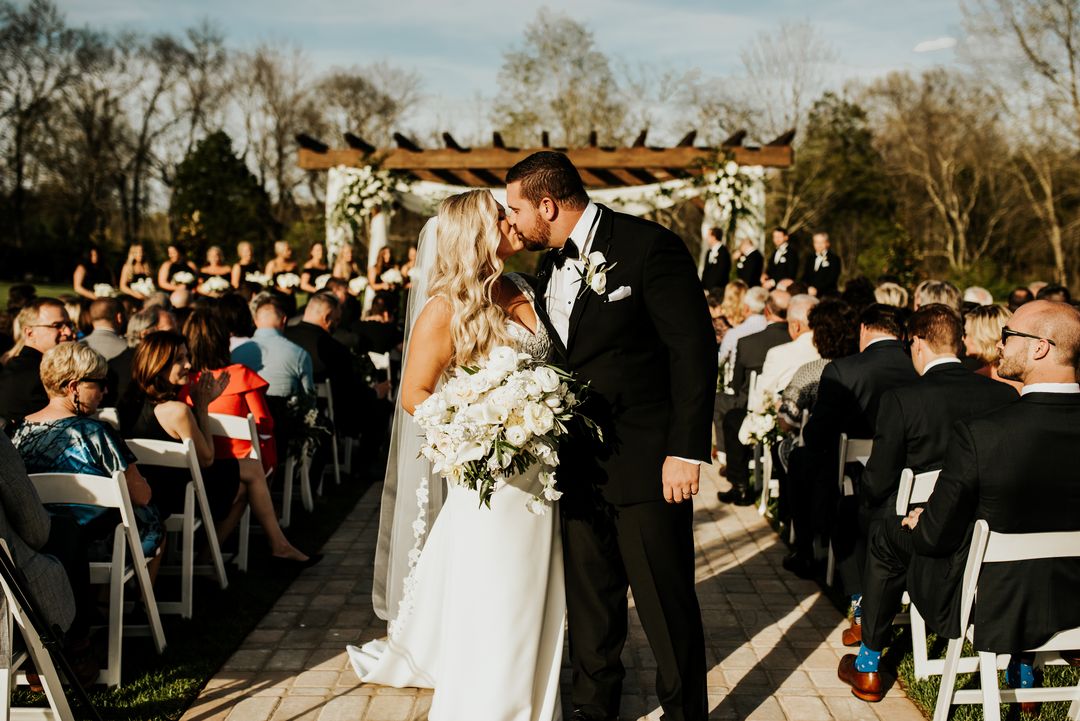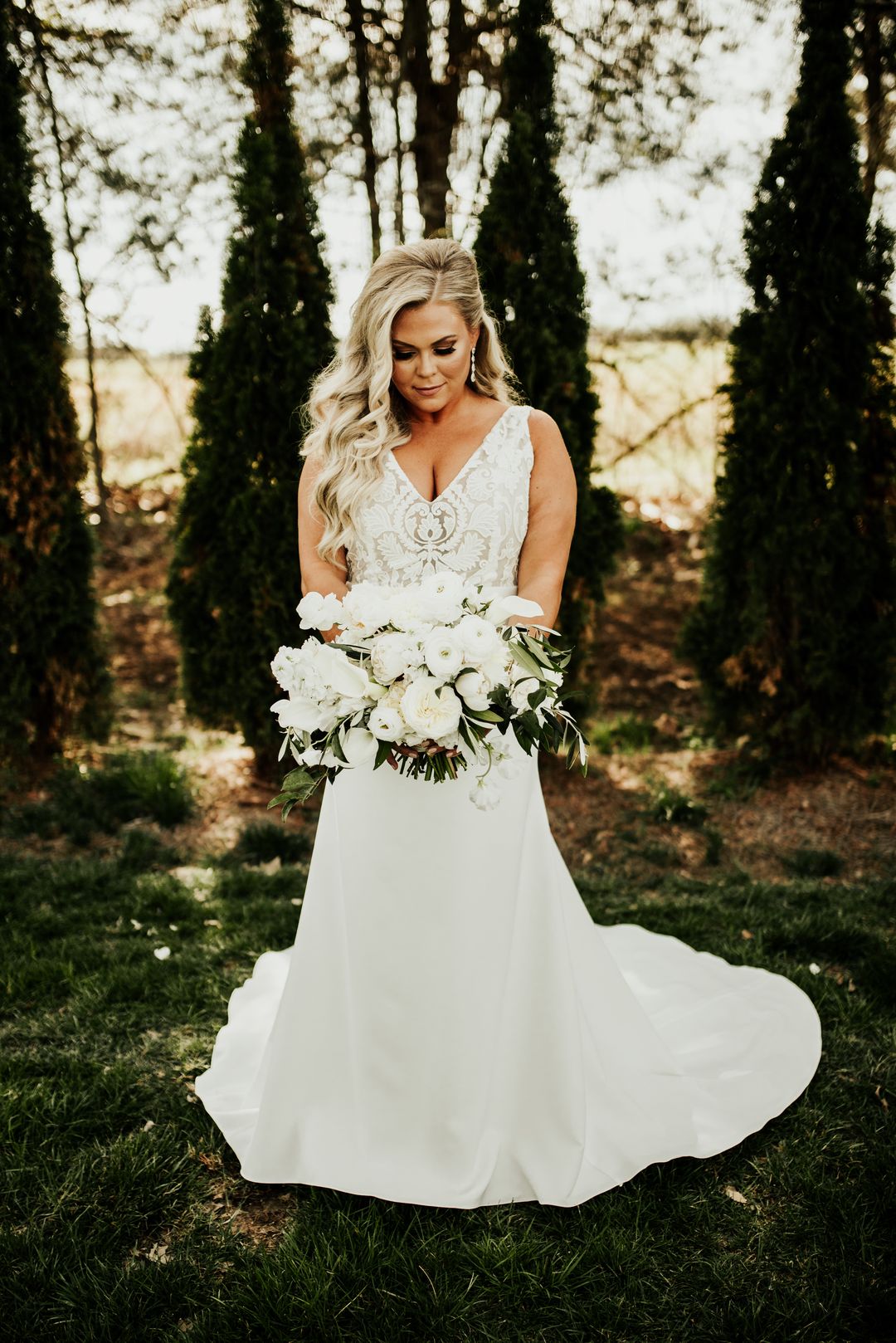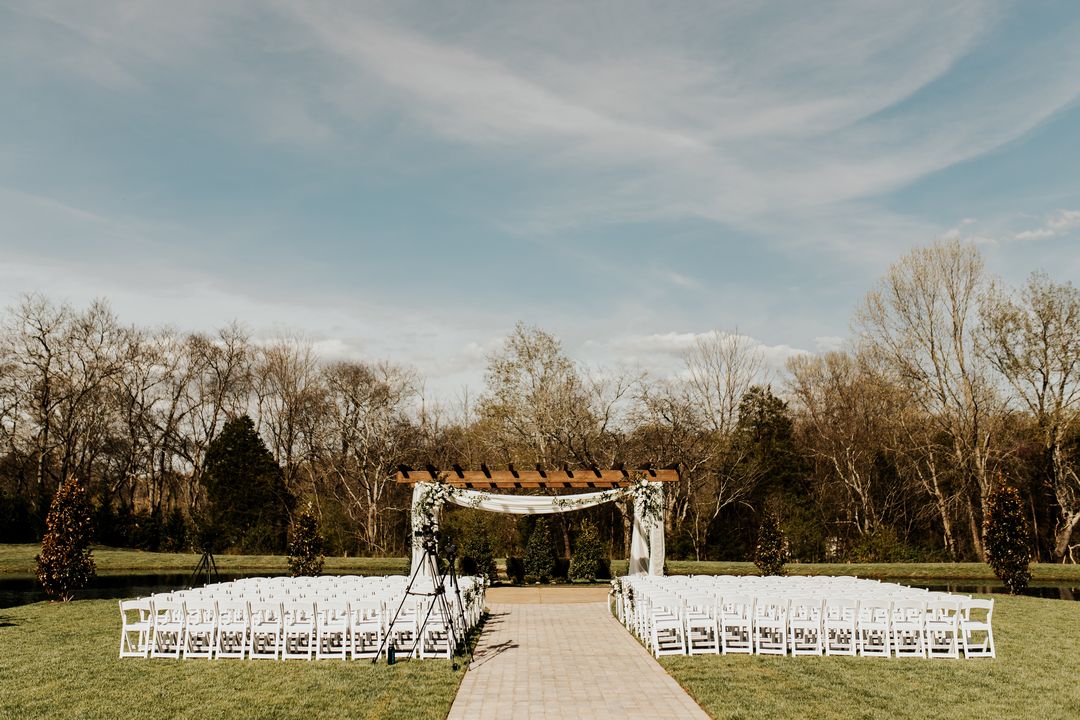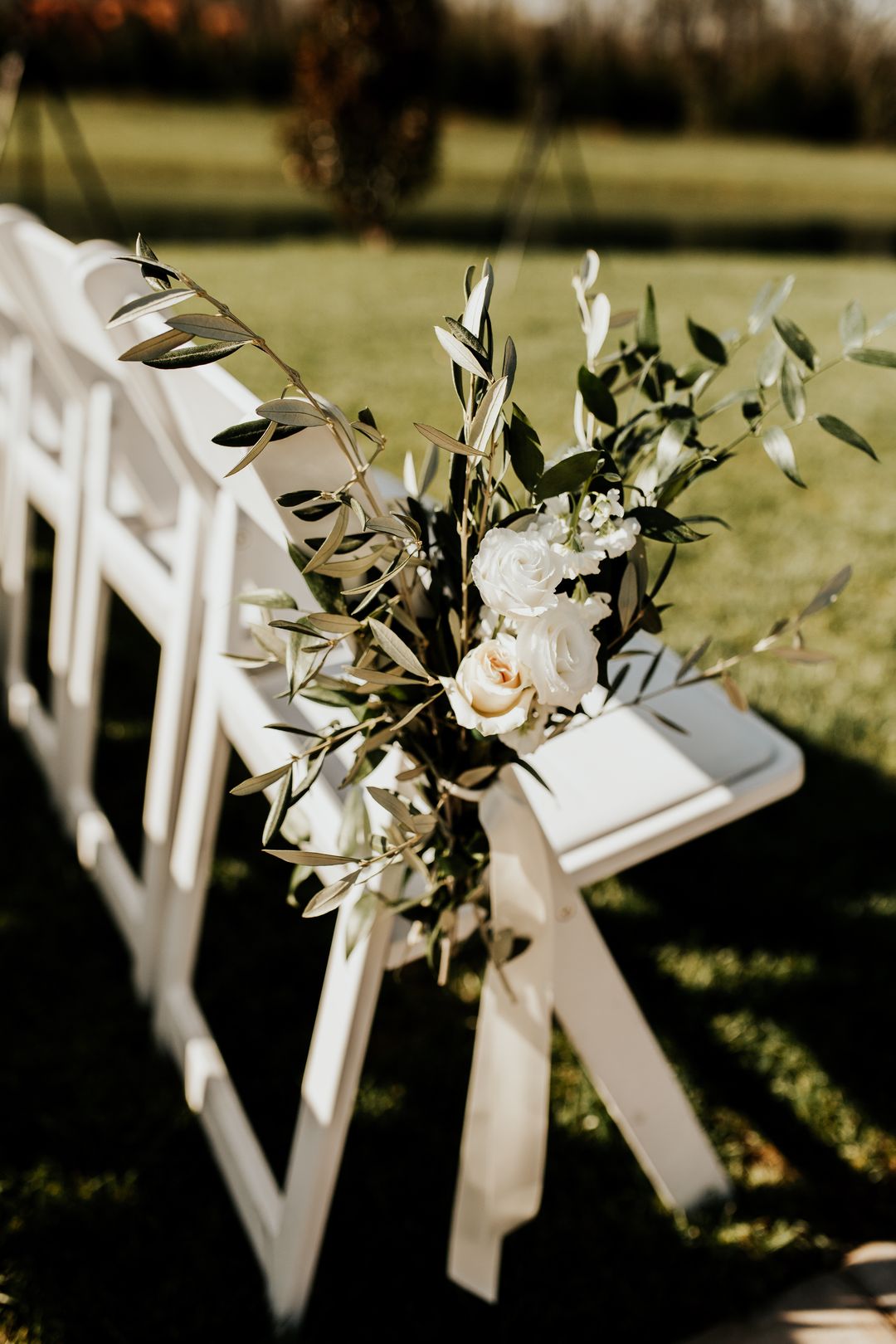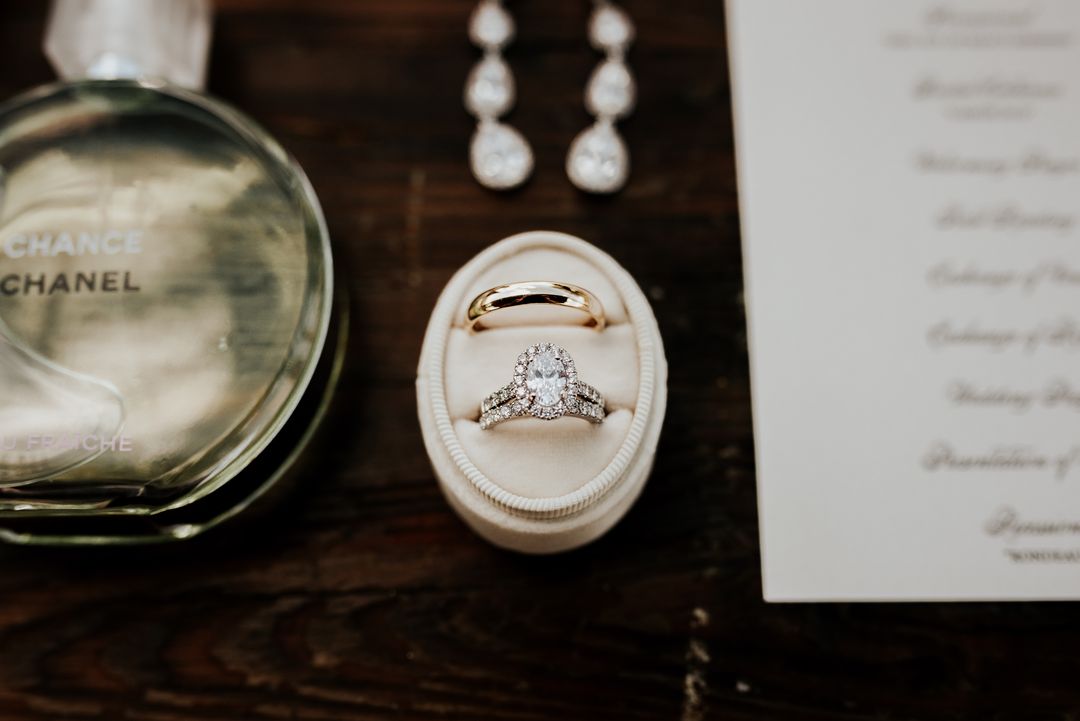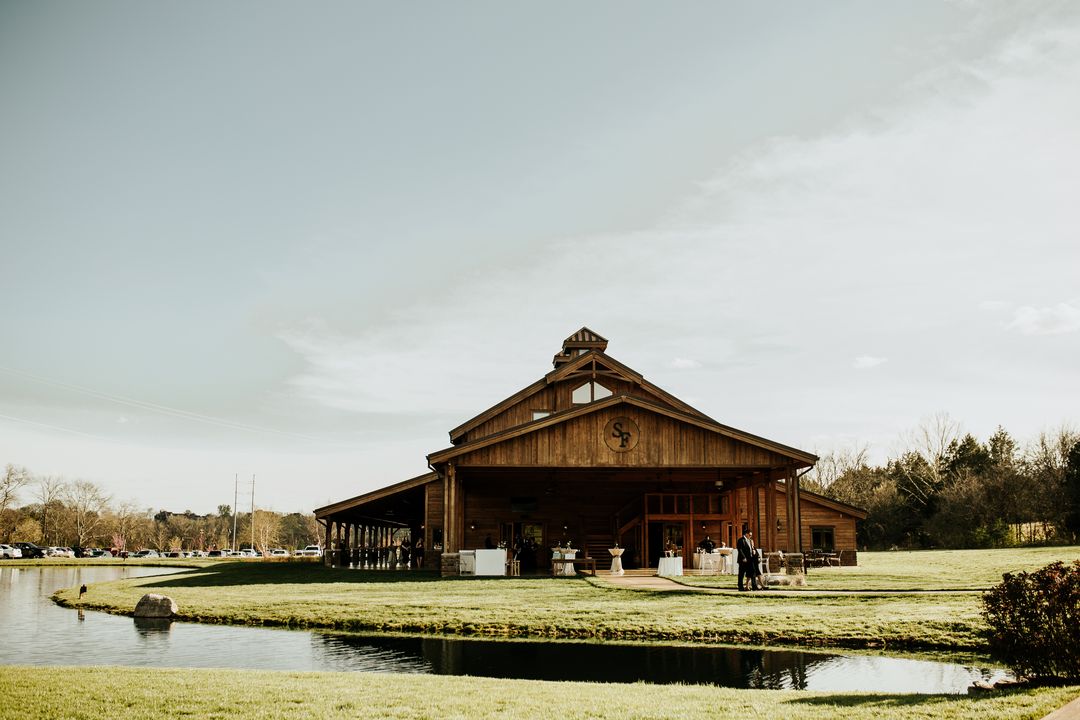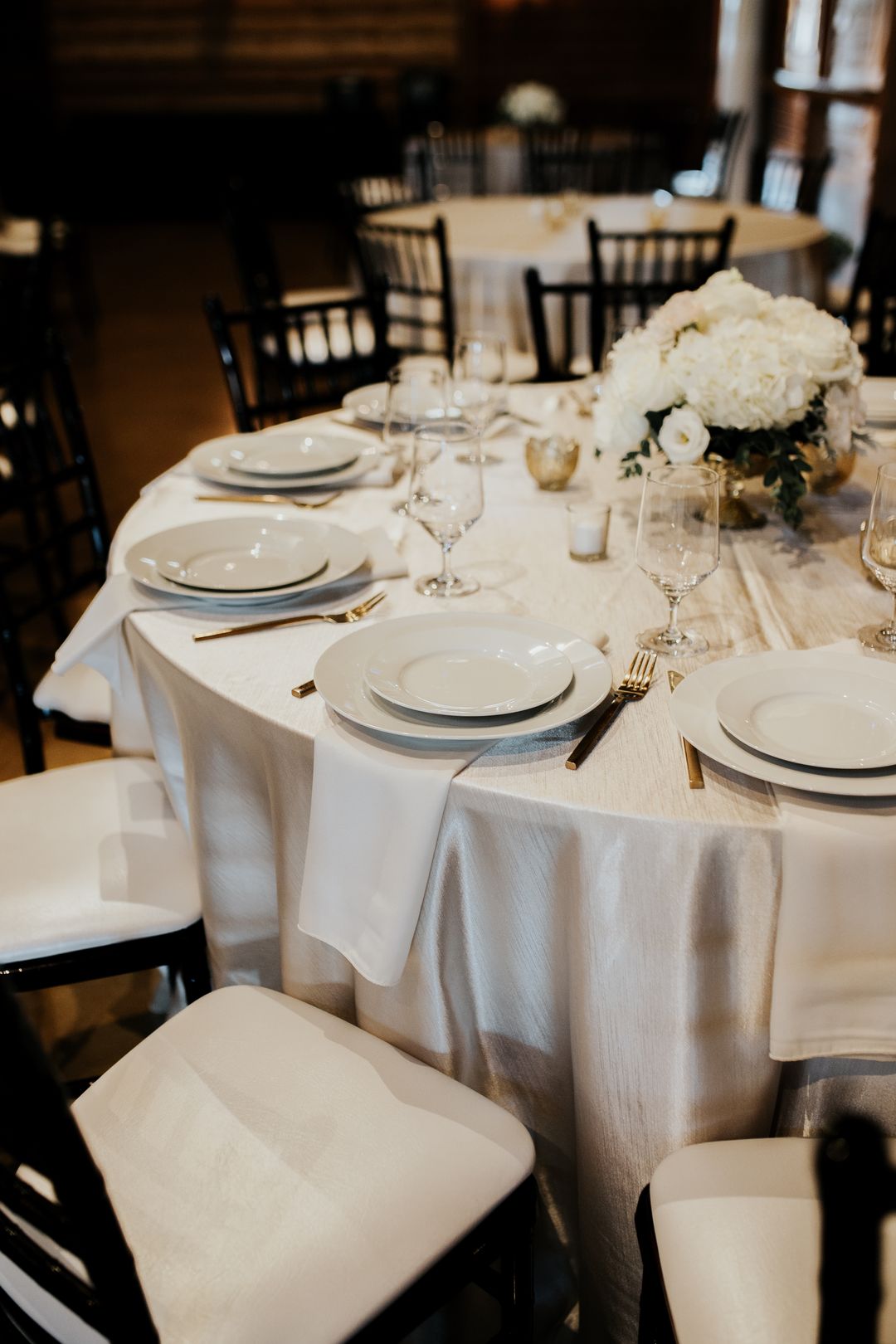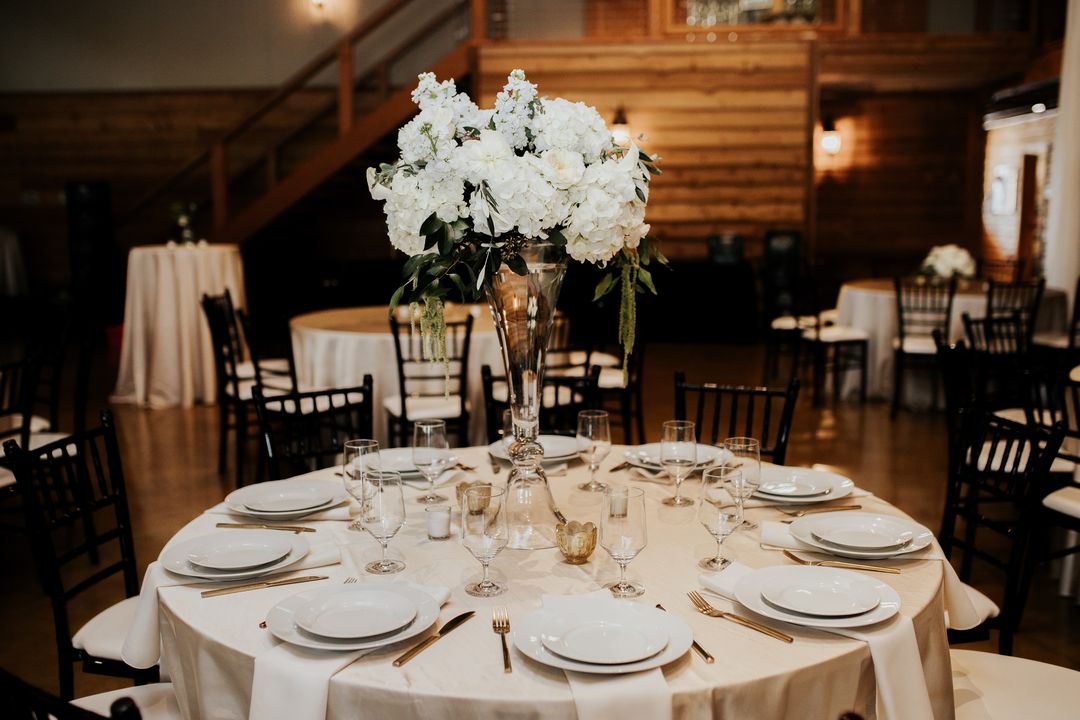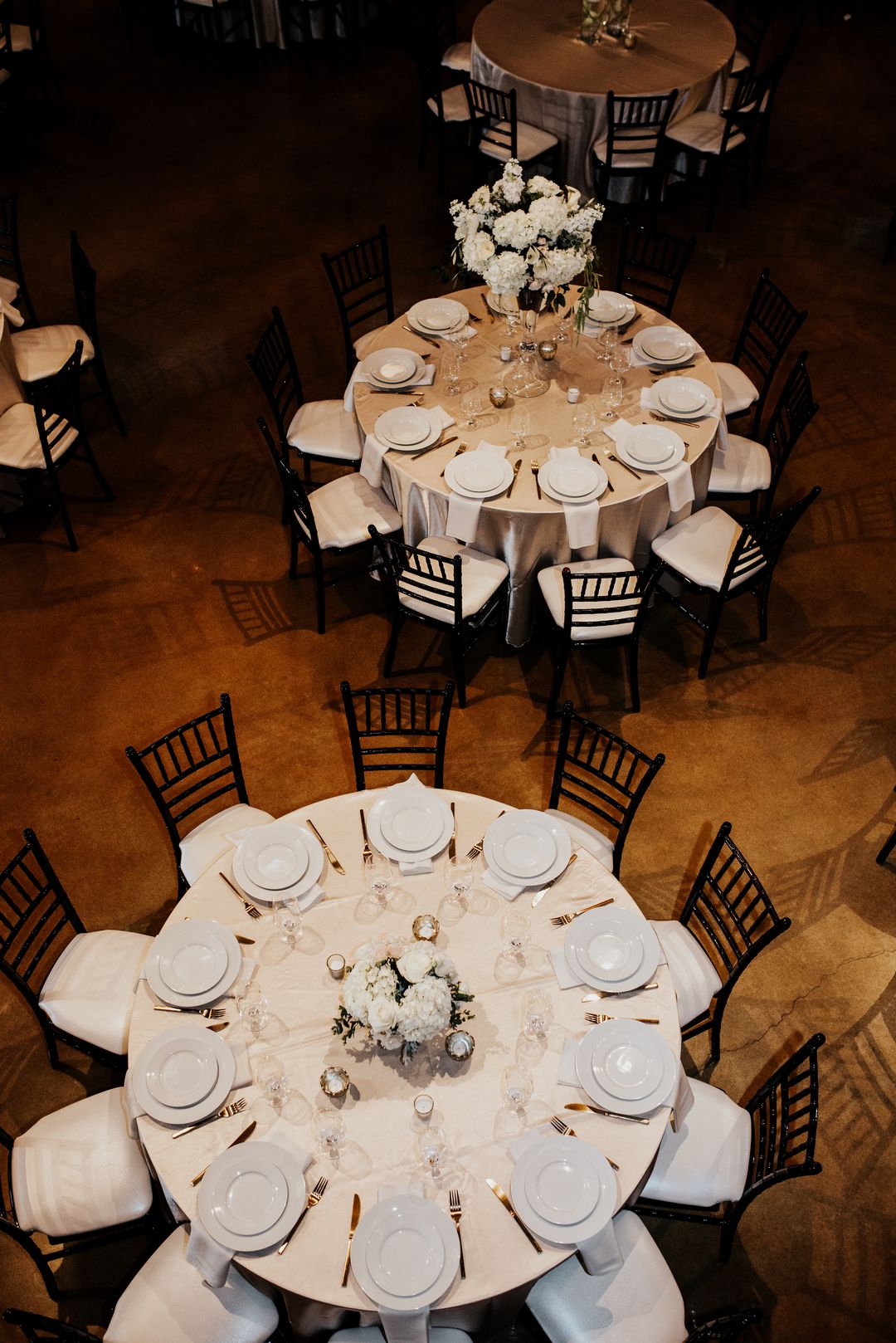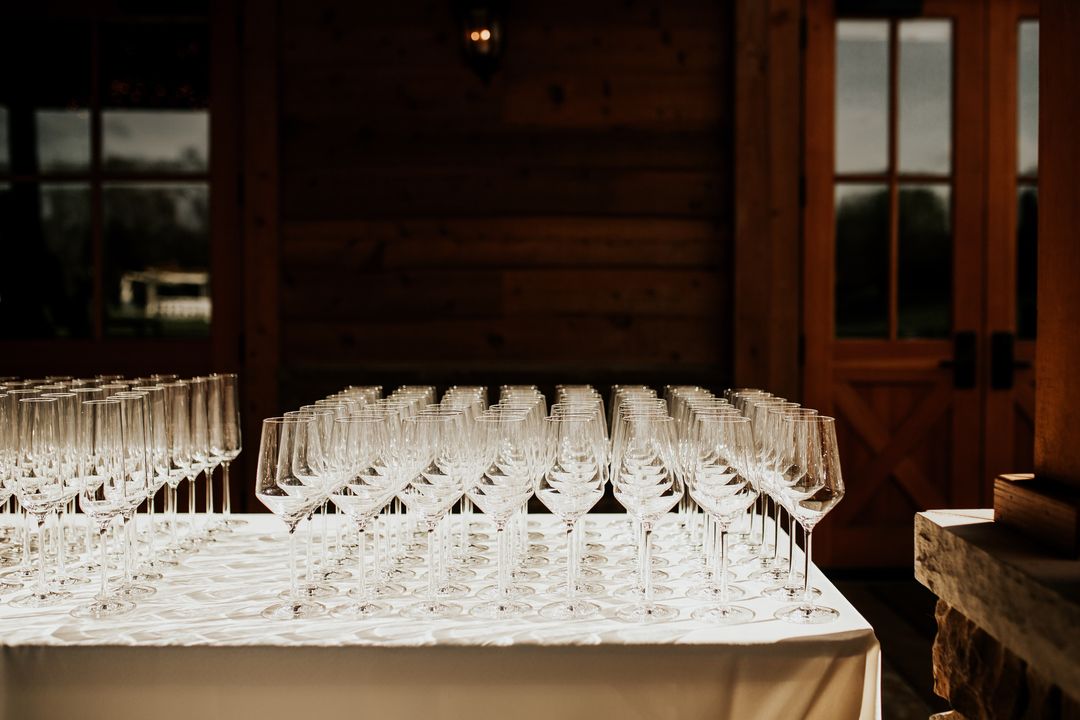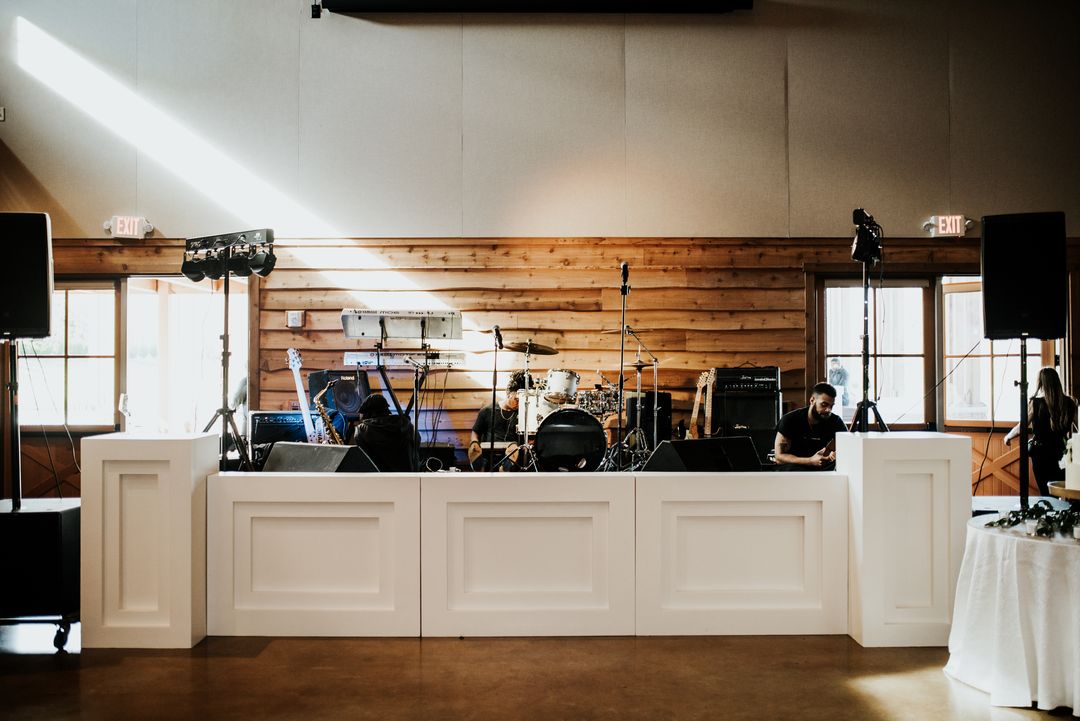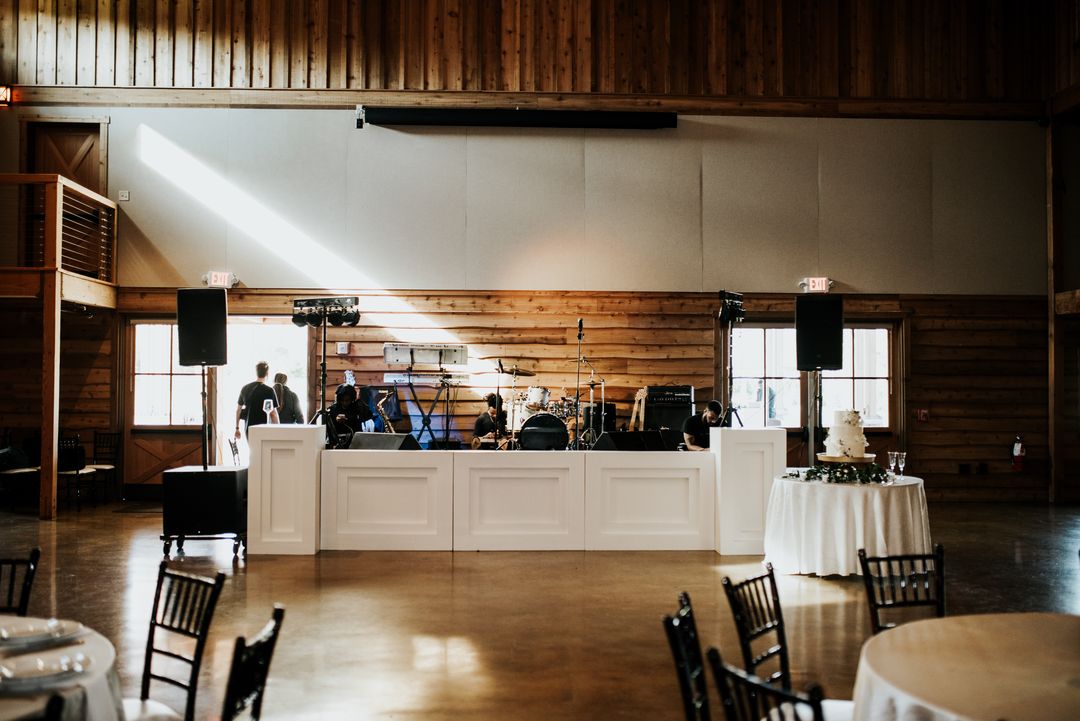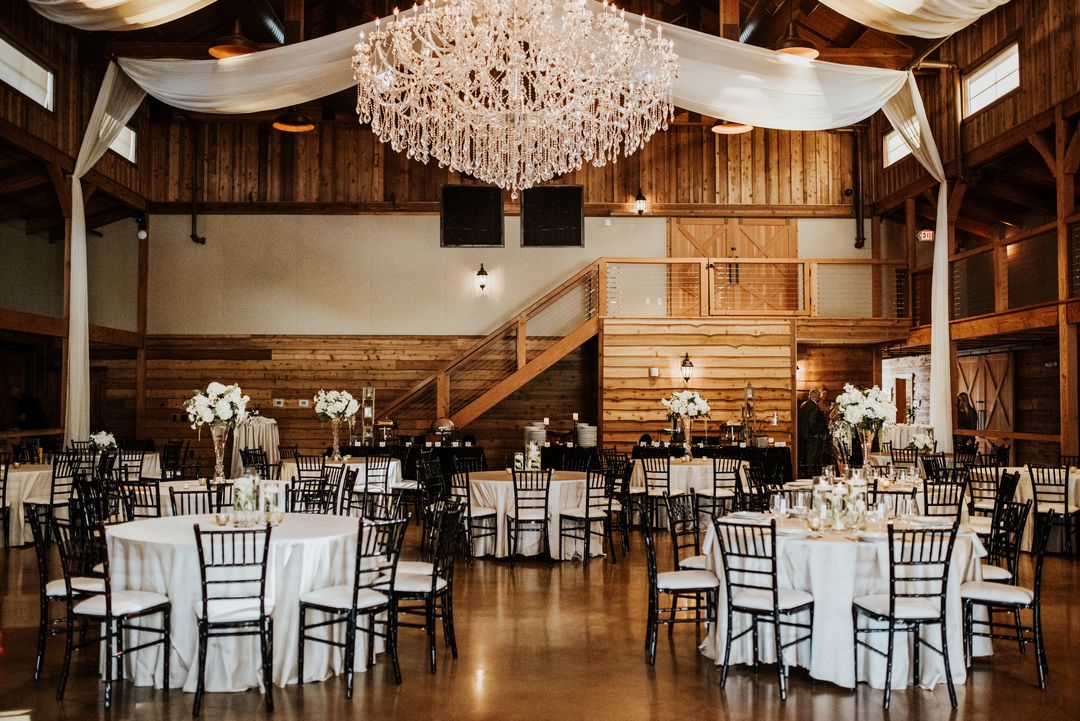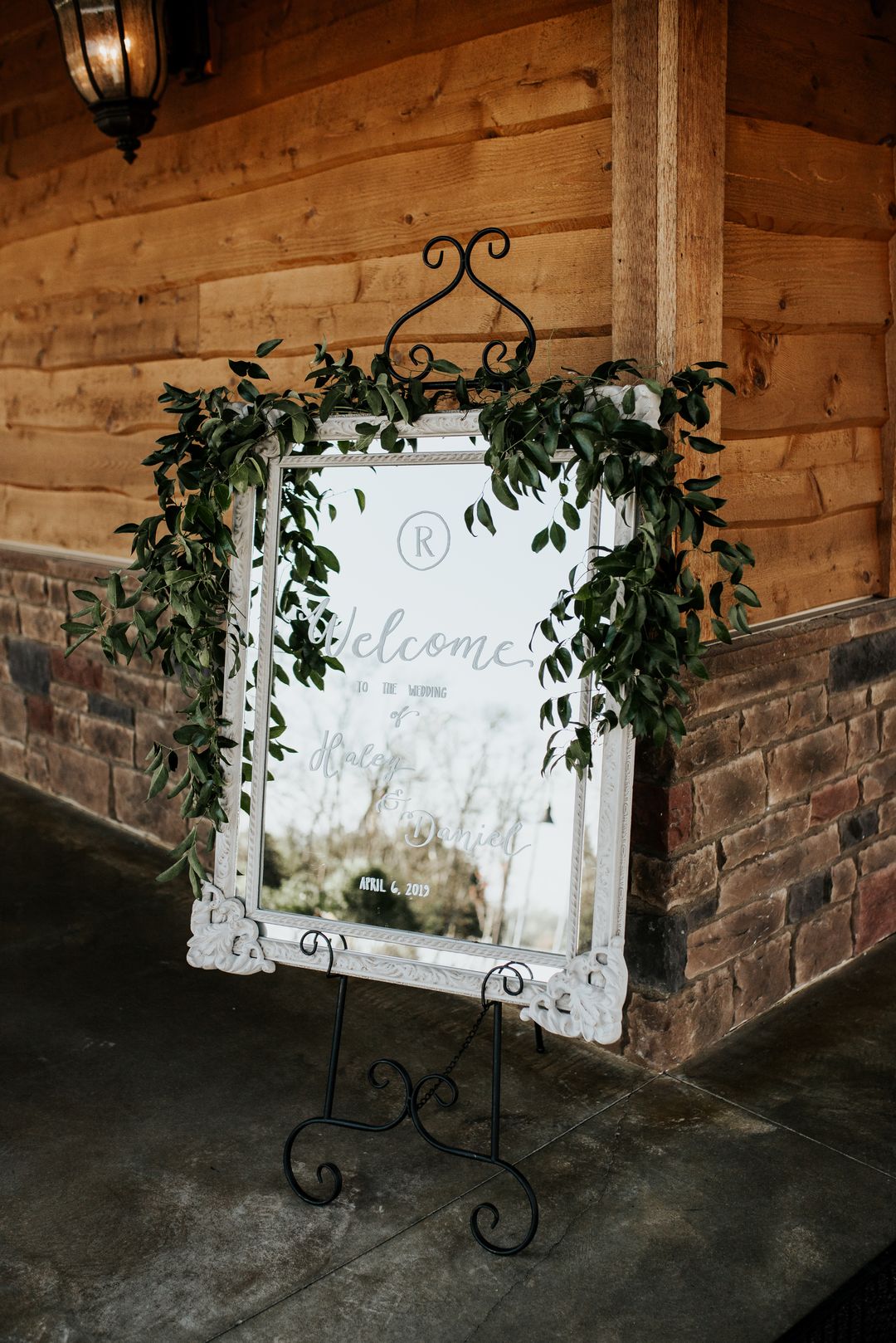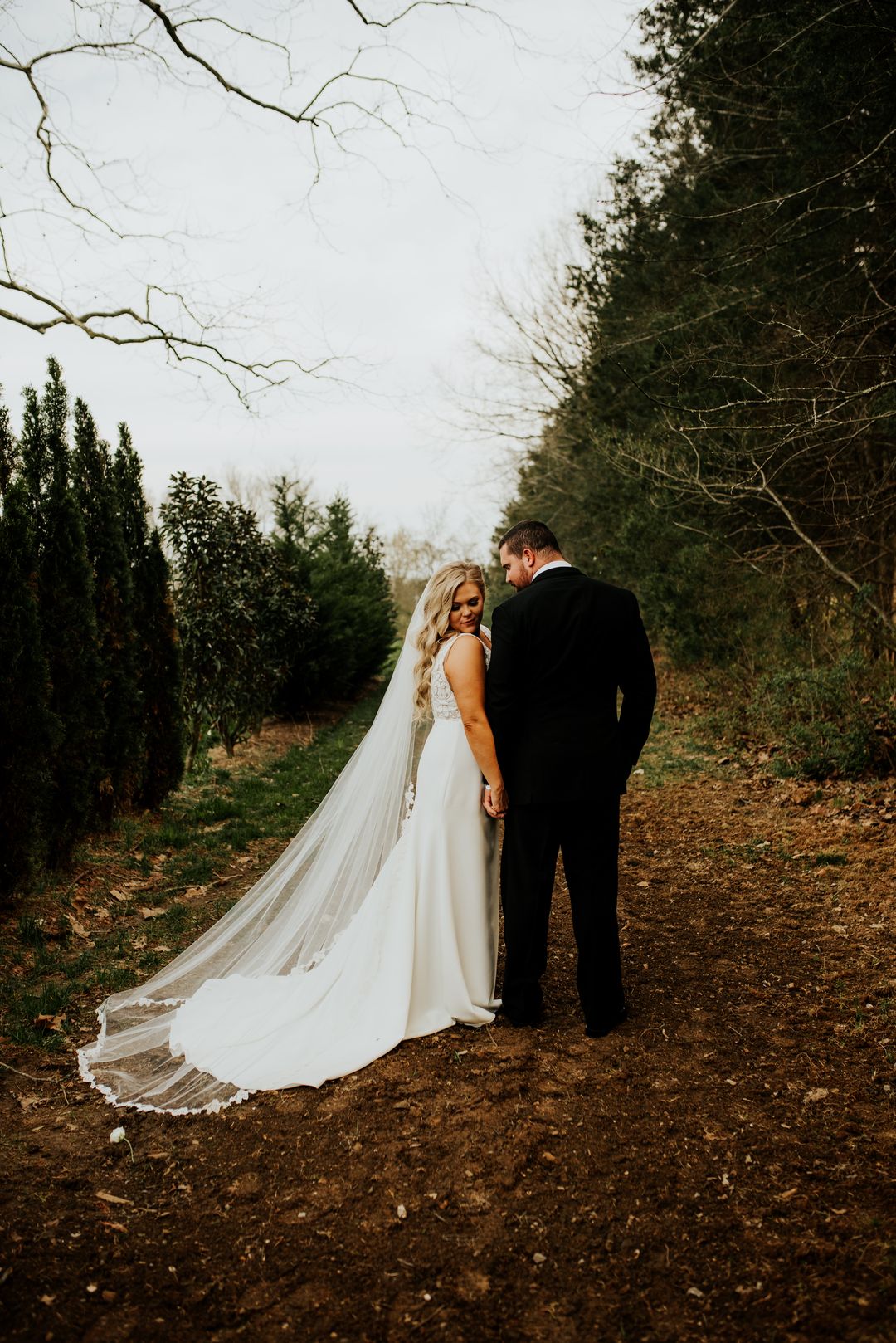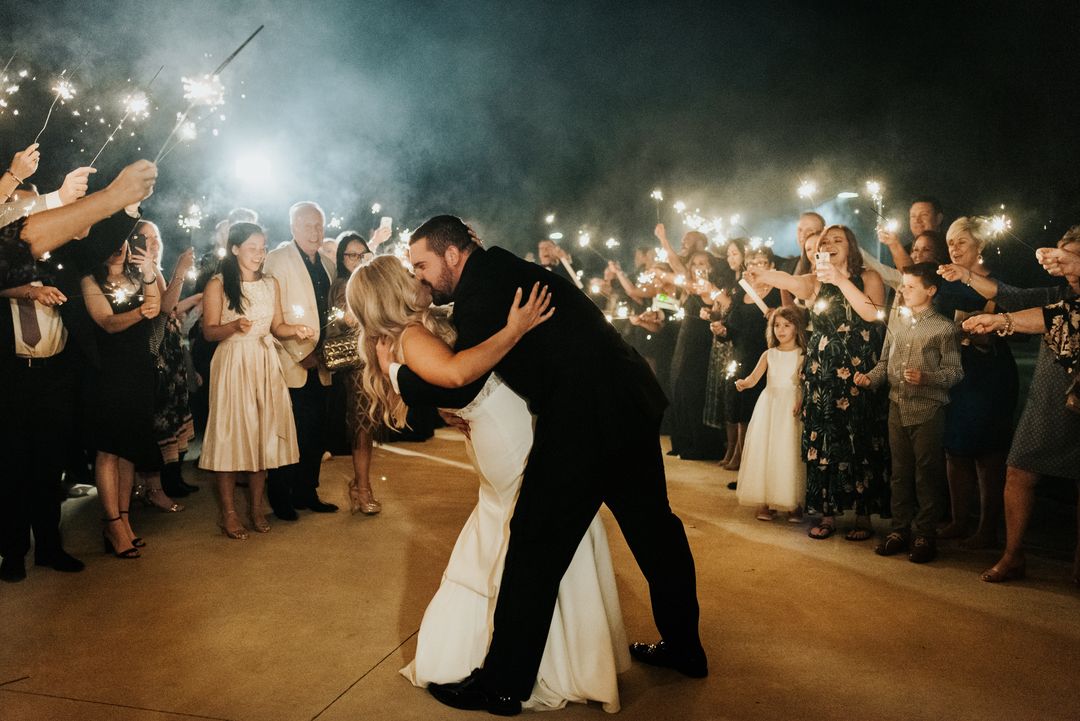 If you're drooling like us over this elegant day, send us a message at info@southernevents.com! We'd love to chat about your upcoming wedding. 
TAGS | Austin Flatware, Nashville Wedding Rentals, Southern Events Party Rental Company, southern wedding style, southern weddings, upscale outdoor wedding
FEATURED RENTALS | Austin Flatware, White Round China, Harpeth Stage, White Satin Linens,
---
10

Oct

Trends and Inspiration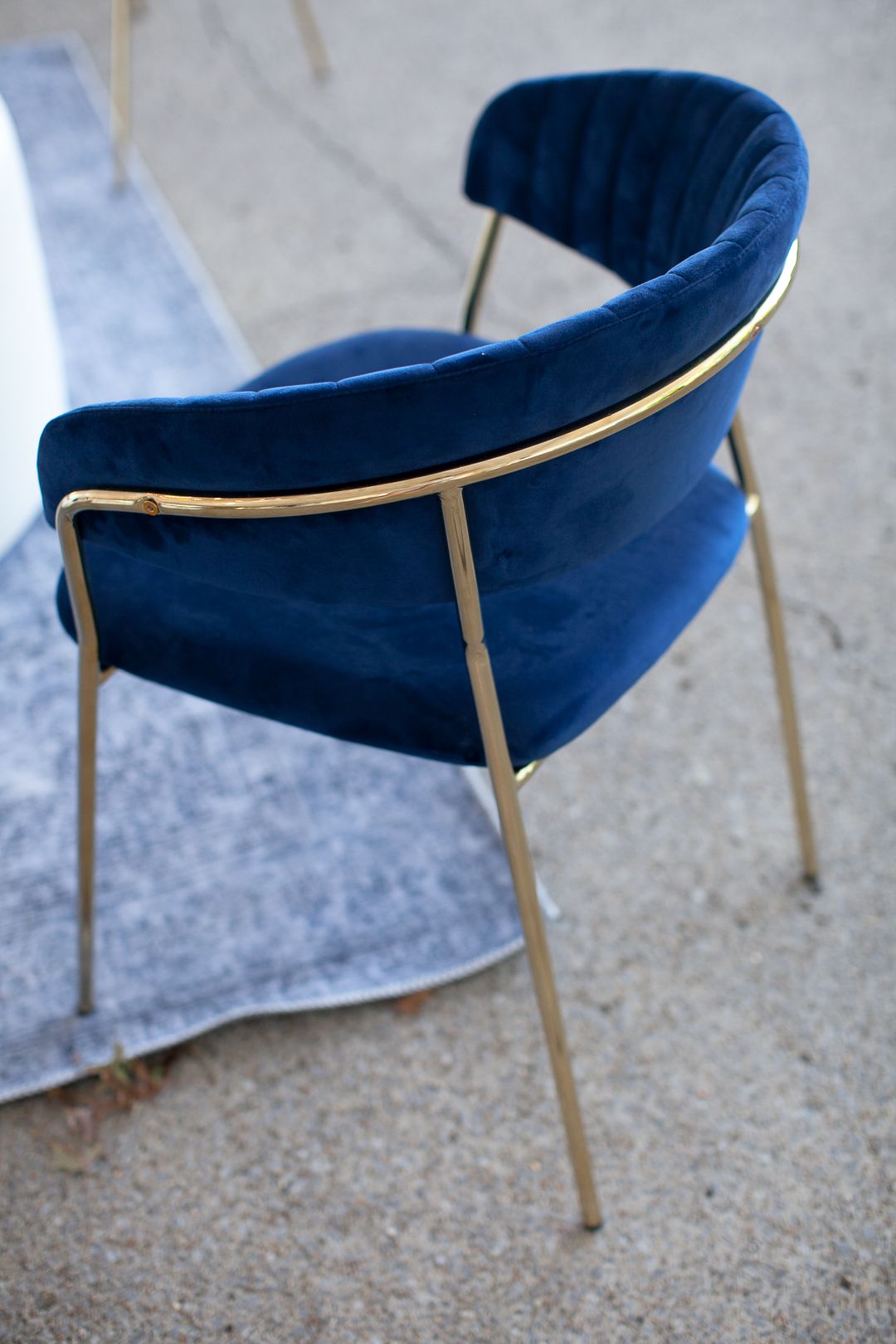 Once the temperature drops here in Nashville, TN, we begin dreaming about holiday event & party design. Holiday gatherings, dinner parties, winter weddings, and corporate events are right around the corner! There are hundreds of ways to ensure your guests feel all the holiday vibes. A mid-century glam holiday theme with a navy, gold, and white color combination is one of our current favorite holiday looks. Glamorous and full of mid-century nods, you'll have your guests celebrating Don Draper-style, with a side of chic. Here are the rentals you need to bring this holiday party design to life:
Gold
Gold metallics such as our Loren Bistro Table and Avenue Shelving add clean, sophisticated lines. Other gold elements such as our Champagne Sequin Linen bring in that glam effect.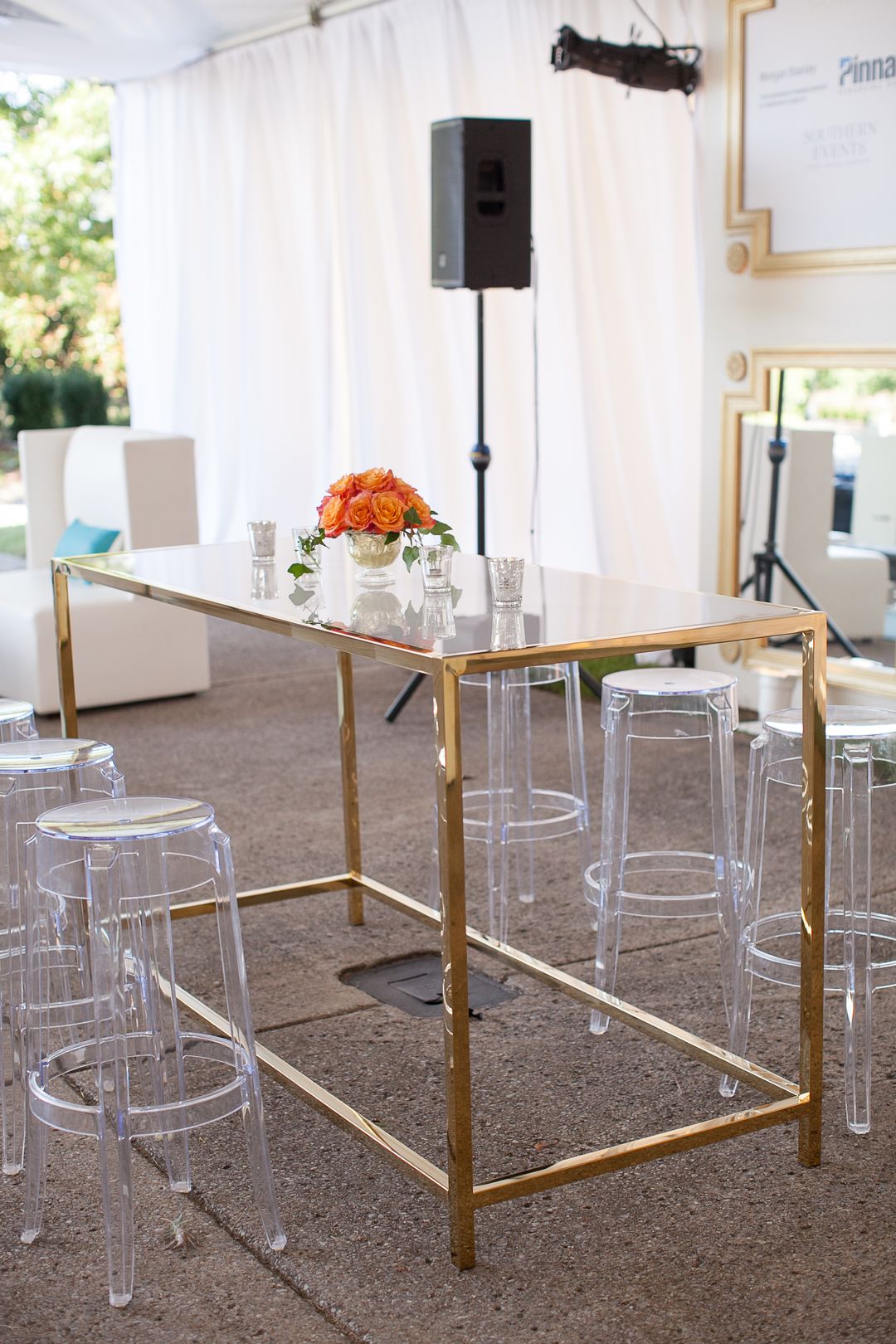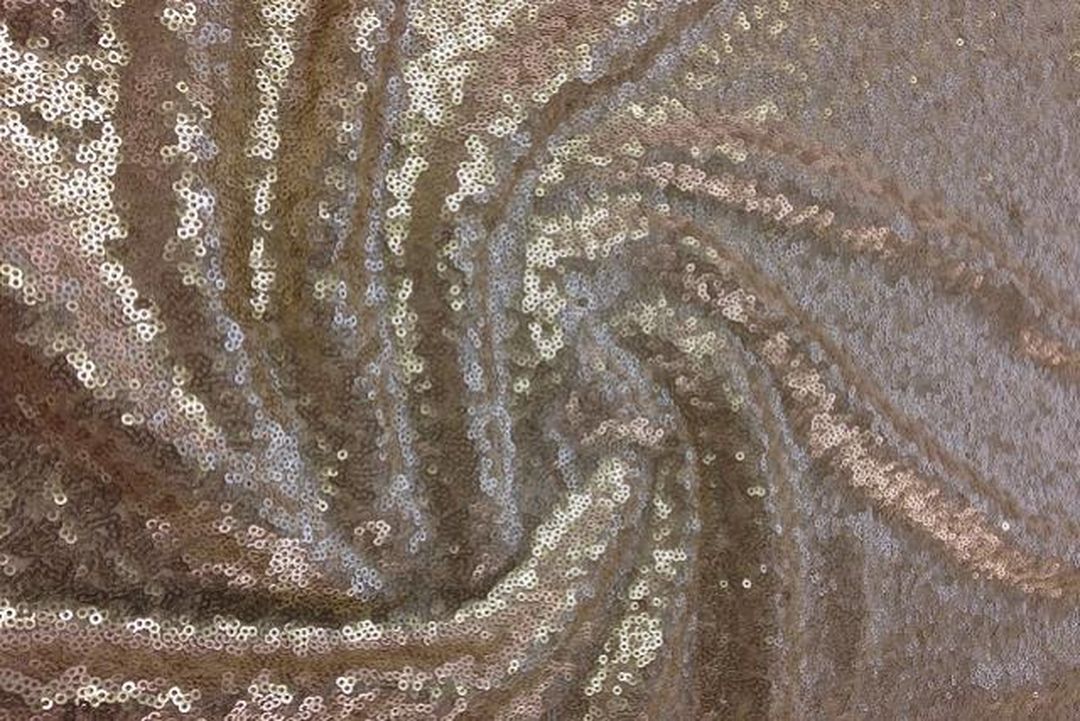 White
White elements bring in that clean and mod look that is so iconic when it comes to mid-century themes. We suggest using our Harpeth Bar, Mercer Lounge Collection, or Mid-Century Bar Stools!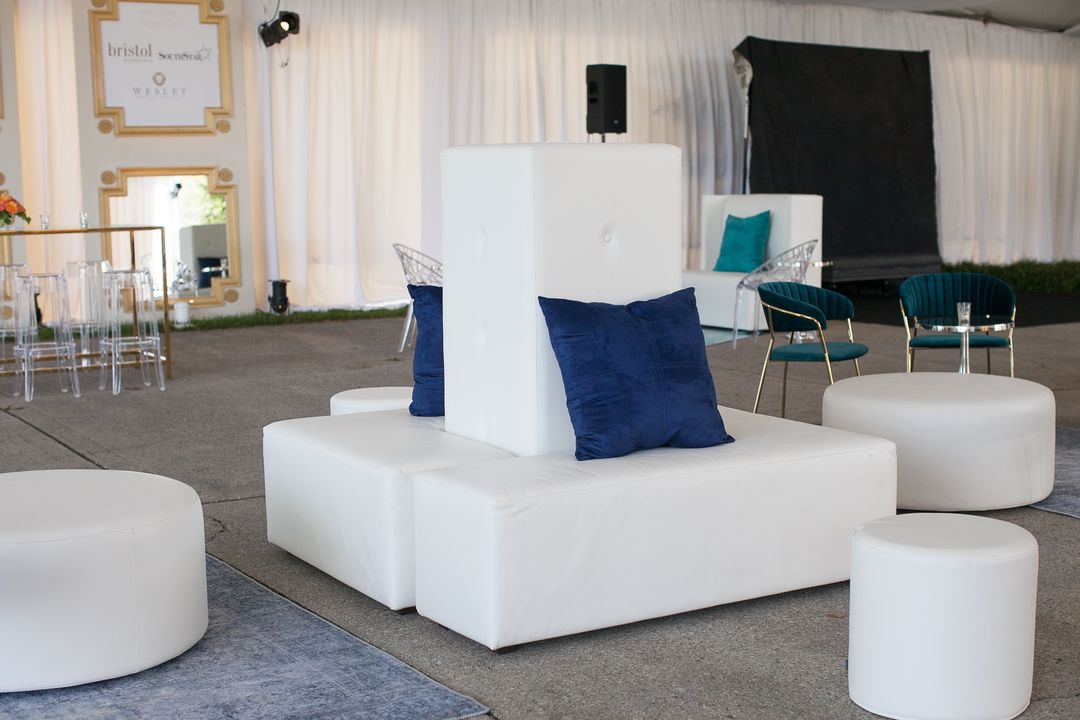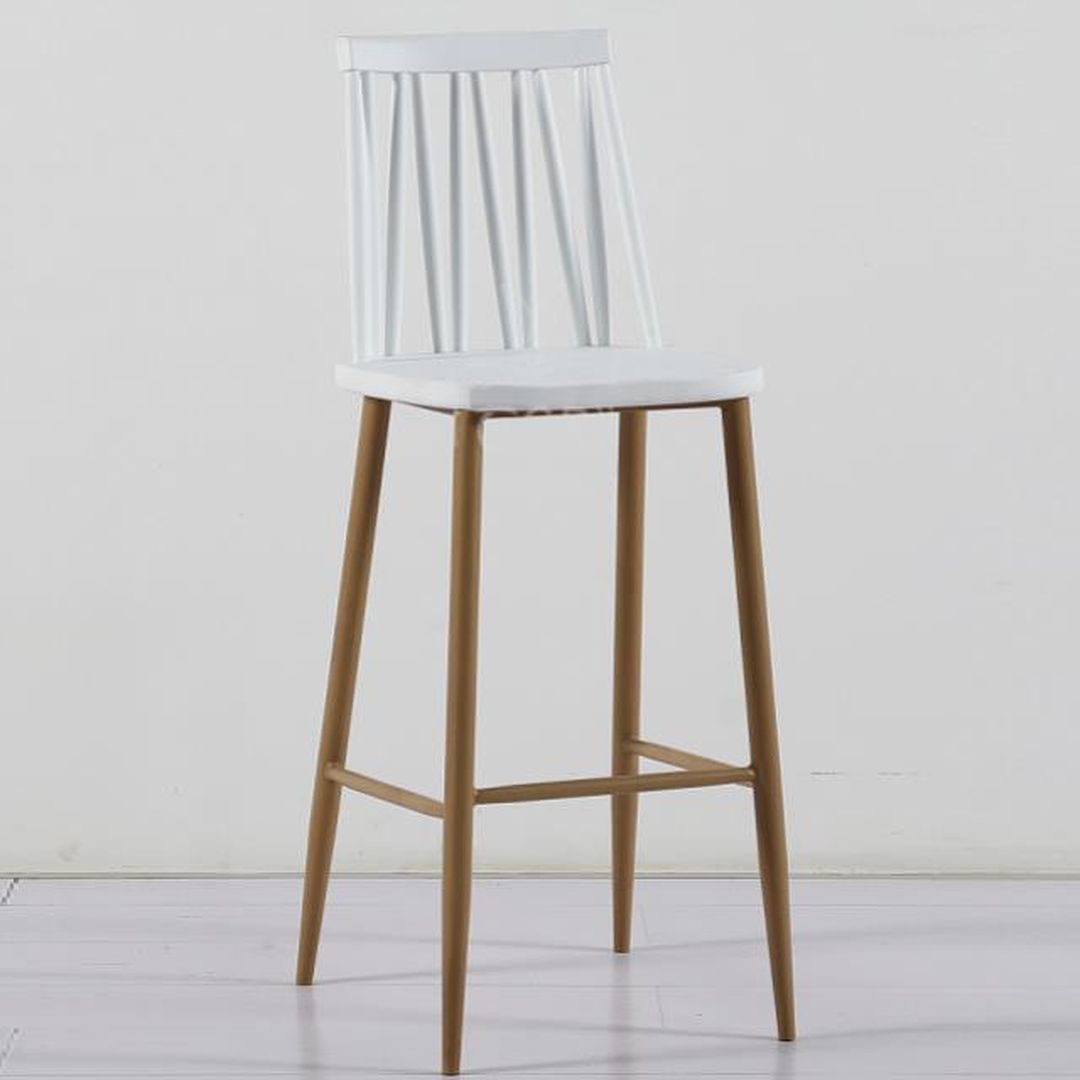 Navy
Navy is such a luxe neutral, and it really doesn't get more luxe than navy velvet. Our Saylor Sofa, Navy Blue Velvet Linens, and Rory Navy Velvet Chairs are absolutely perfect for this.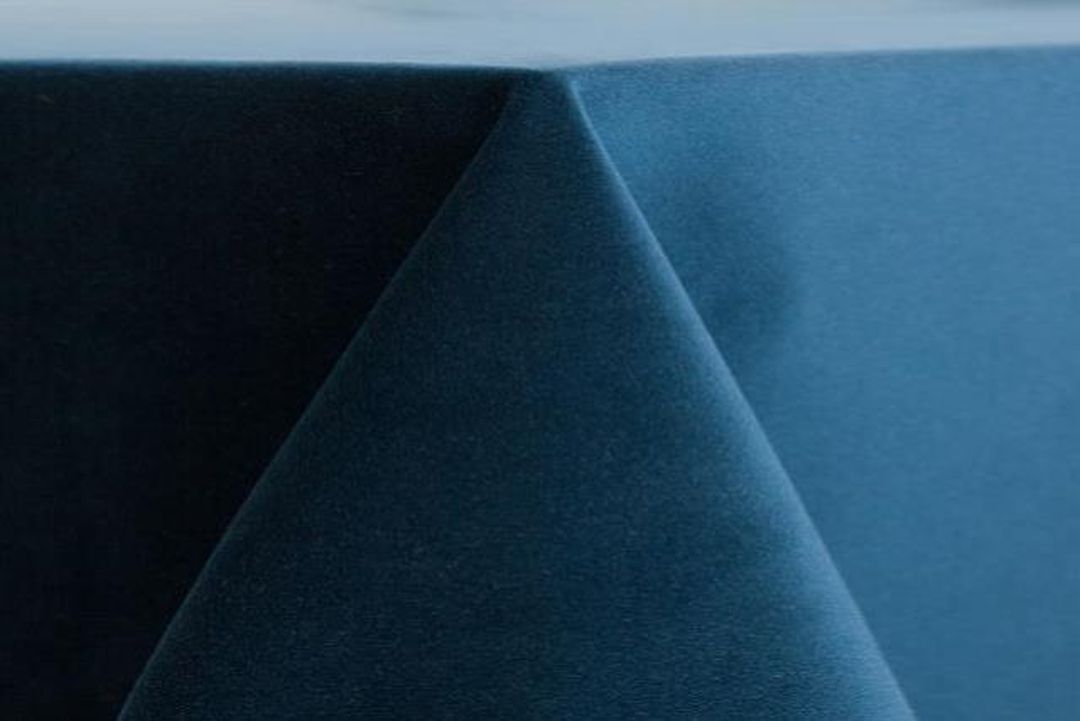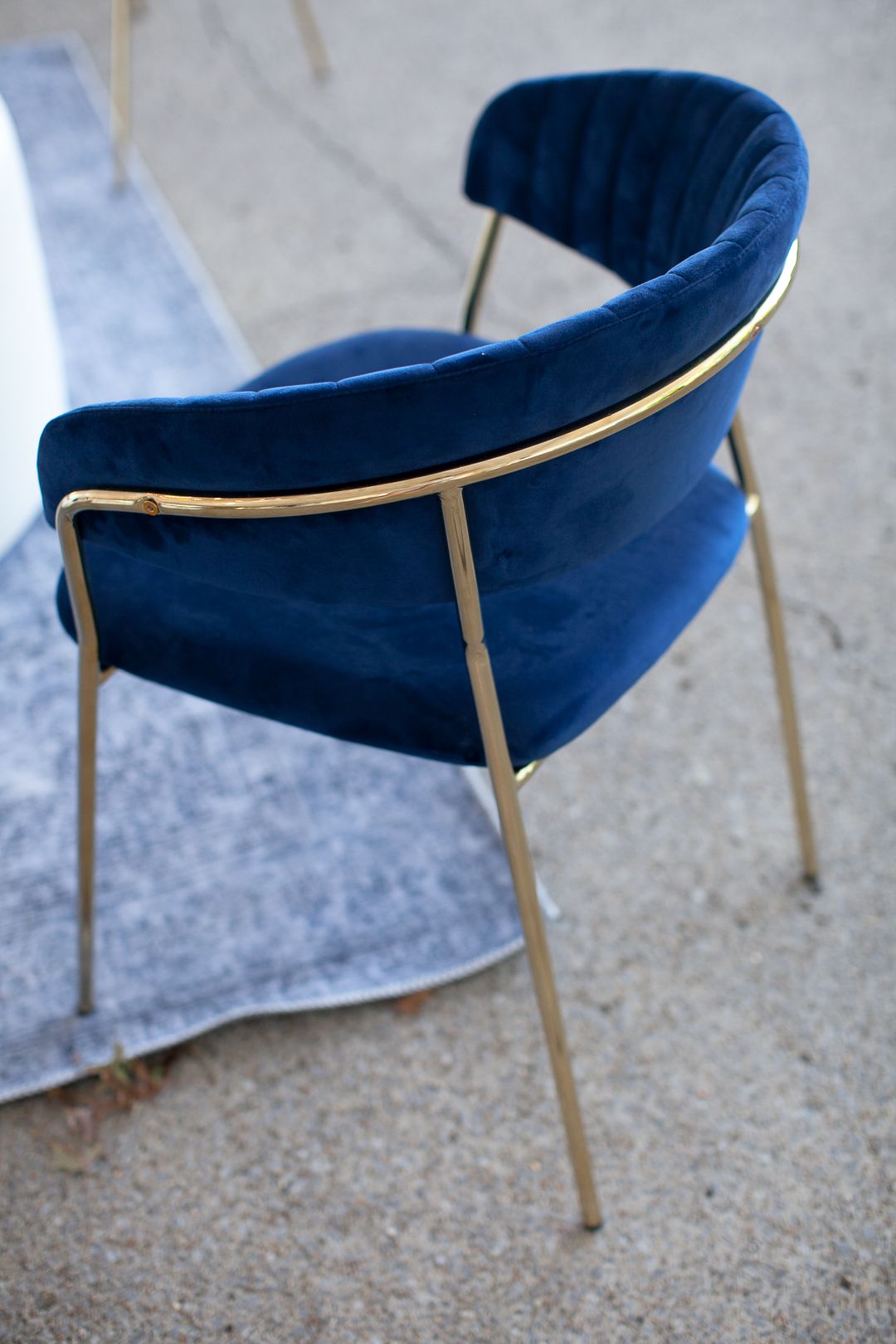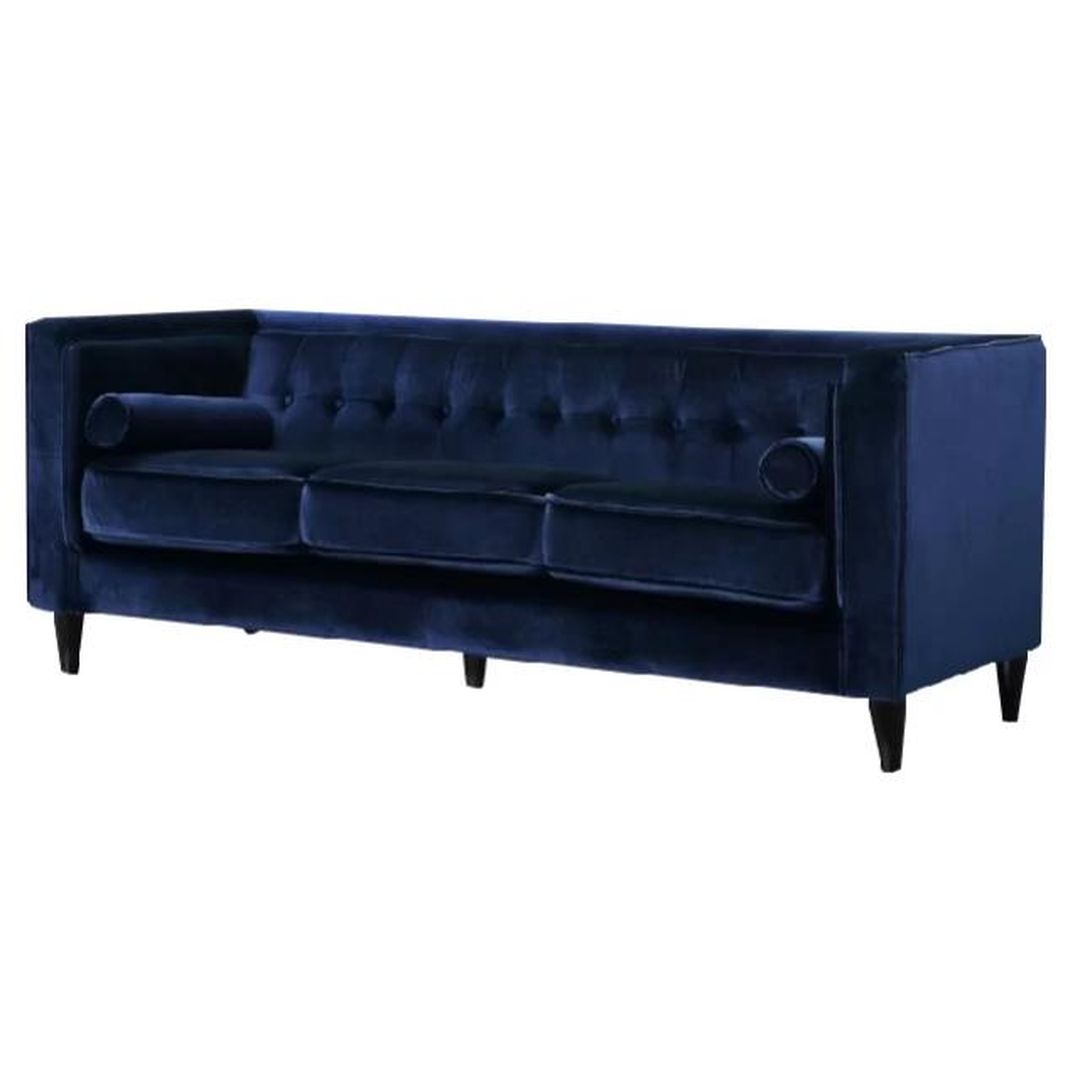 Feeling inspired? We'd love to help you create a glam + holiday event in Nashville, TN! Send us a message at  info@southerneventsonline.com.
TAGS | Company Holiday Party, Holiday Party Decor, Holiday Party Ideas, Nashville Holiday Parties, Nashville party rentals, On Trend, Southern Events Party Rental Company, holiday events
FEATURED RENTALS | Saylor Sofa, Harpeth Bar, Mercer Lounge, Loren Bistro, Avenue Bar, Navy Velvet Linen, Rory Navy Chair,
---
15

Aug

Southern Events Products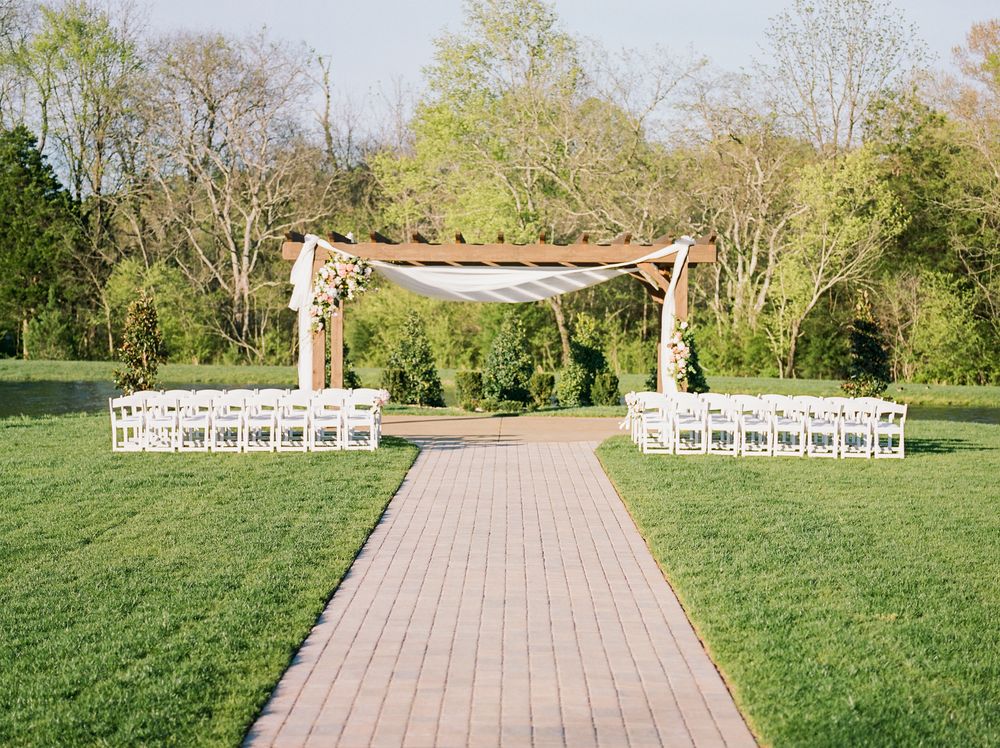 Outdoor wedding ceremonies in Nashville, TN come in all shapes and sizes. Couples may opt for an open-air feel for a variety of reasons – one being the sheer beauty and novelty of exchanging vows with Mother Earth as a front-row guest. Many brides and grooms have envisioned an outdoor wedding ceremony for as long as they can remember. We adore being part of wedding celebrations outdoors, and get giddy with excitement when we see it all come together!
An outdoor wedding ceremony does not always mean the wedding is taking place on some form of a lawn. You could use a rooftop or a venue that offers concrete area. If a couple is looking to take it to the next level, Dura-Trac Flooring is the perfect option in terms of creating flooring outdoors. Otherwise, with nature as the backdrop, the sky is certainly the limit in terms of what kind of look one can achieve for an open-air wedding ceremony. Boho, elegant, rustic, intimate, grand – we've seen it all. In order to achieve the look you desire, all that is needed is creativity, a plan, and the perfect outdoor wedding ceremony rentals.
Boho Outdoor Weddings
For a boho-themed outdoor wedding ceremony, we love using rentals such as our Rustic Bench for seating. For texture, Cowhide Rugs draped over benches and over the ground are used. This adds warmth, color, and fun!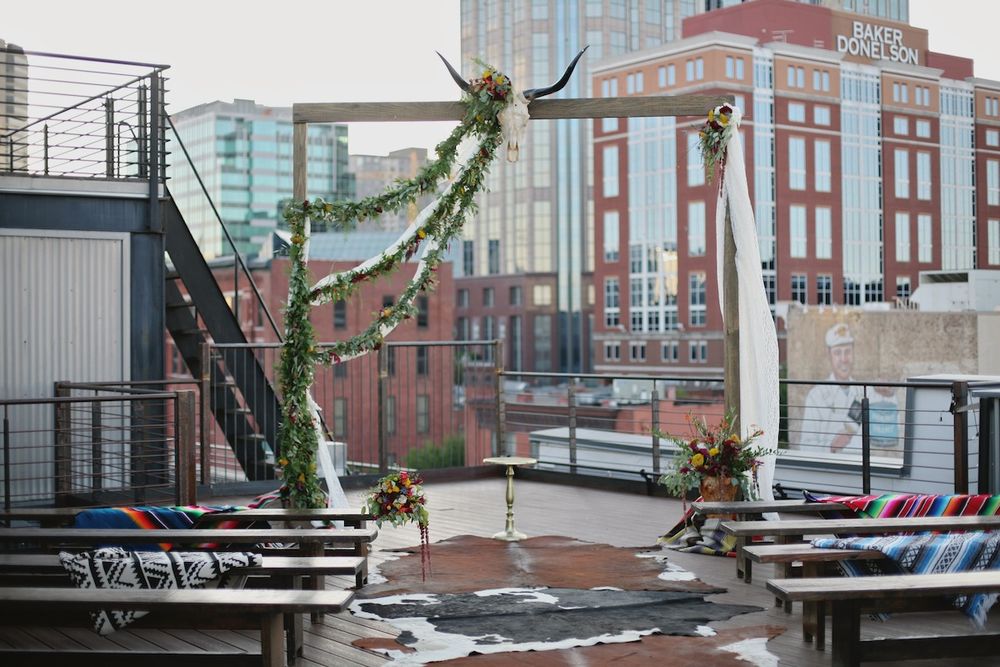 Photo by The Photographix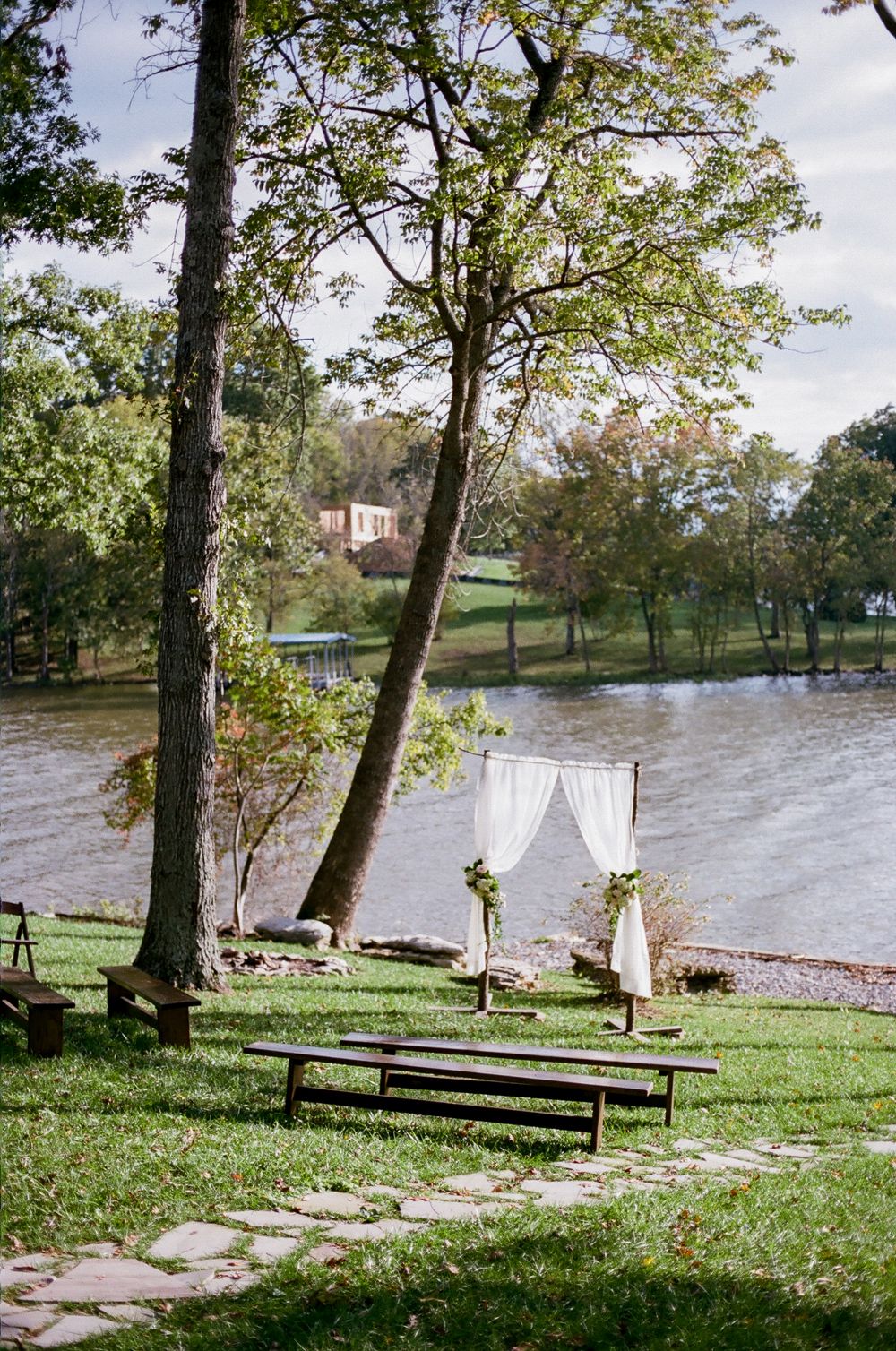 Traditional Outdoor Weddings
For a more traditional outdoor wedding ceremony, Folding Chairs in black, natural wood, or white create a streamlined, classic look. The combination of natural wood, green grass, and a blue sky come together for a memorable and gorgeous day!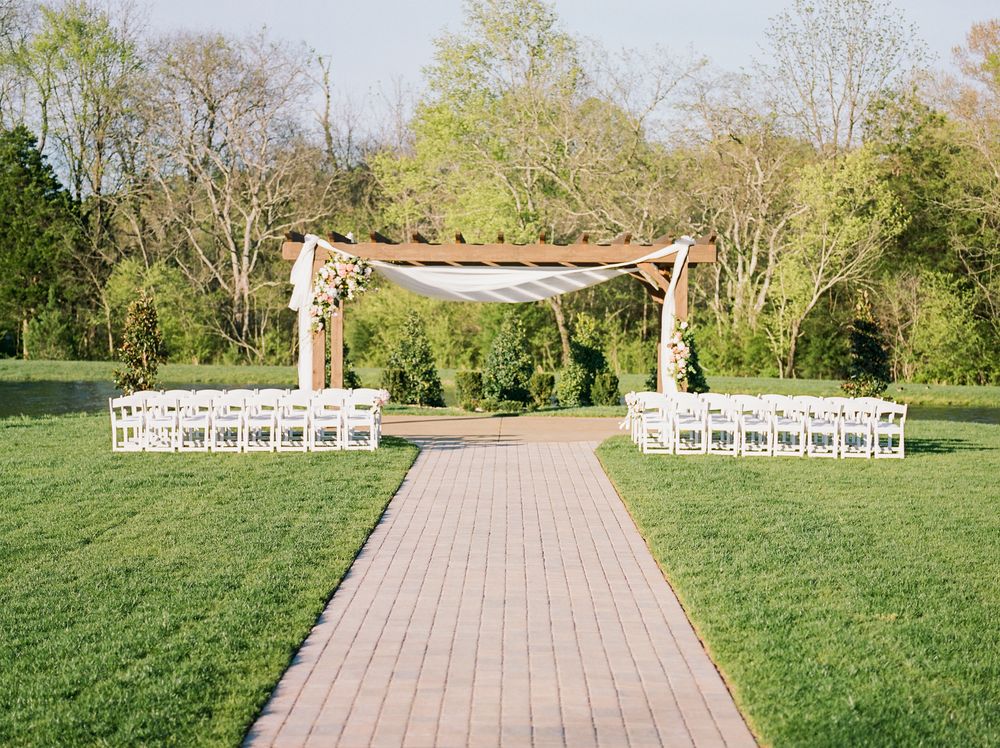 Photo by Jenna Henderson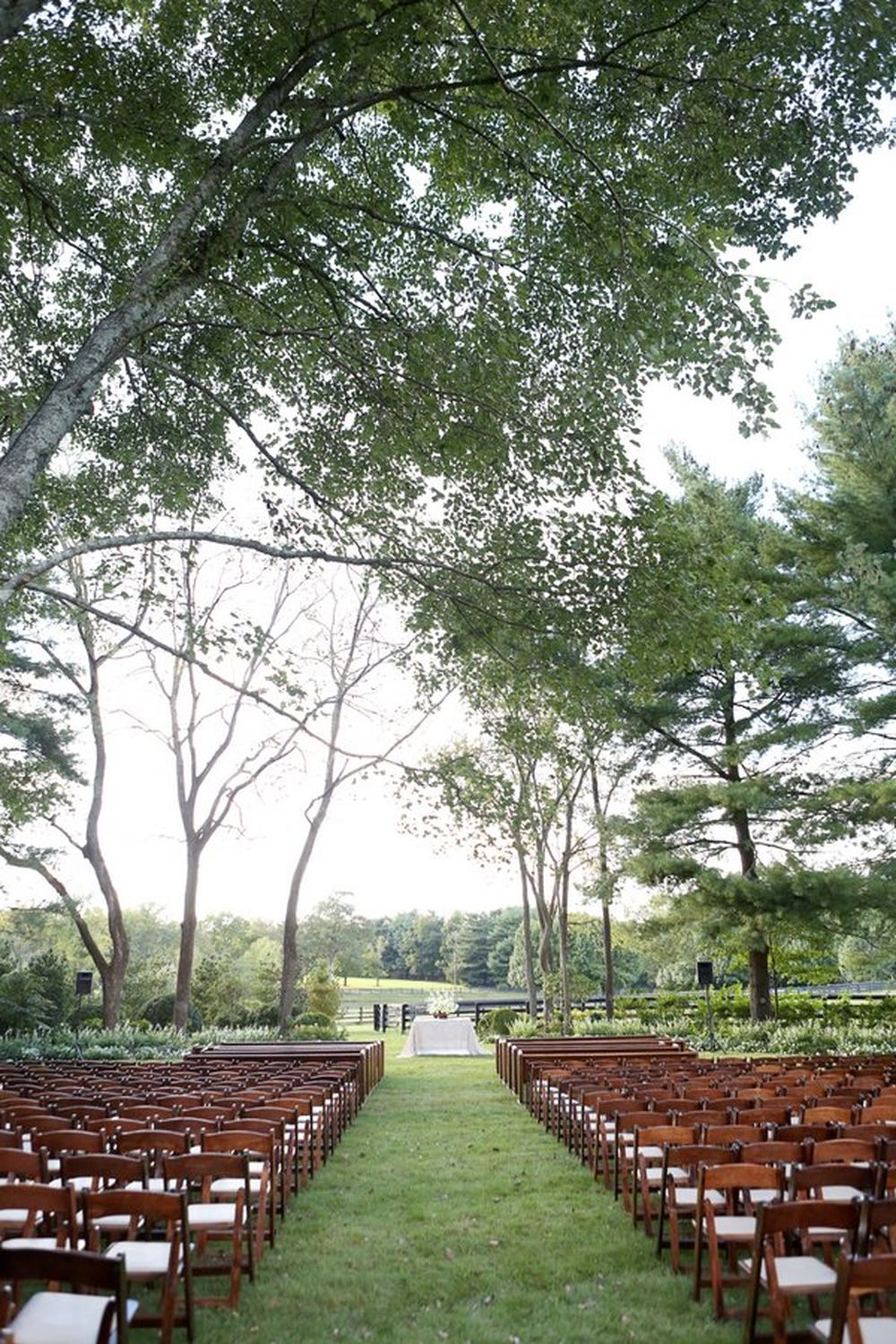 Photo by Mary Rosenbaum Photography
Modern  Outdoor Weddings
If a couple is desiring a modern vibe at their wedding ceremony, Acrylic Chairs look absolutely gorgeous – they are the perfect modern approach to seating at an outdoor wedding. Pairing an outdoor setting with modern materials creates an upscale, yet approachable feel.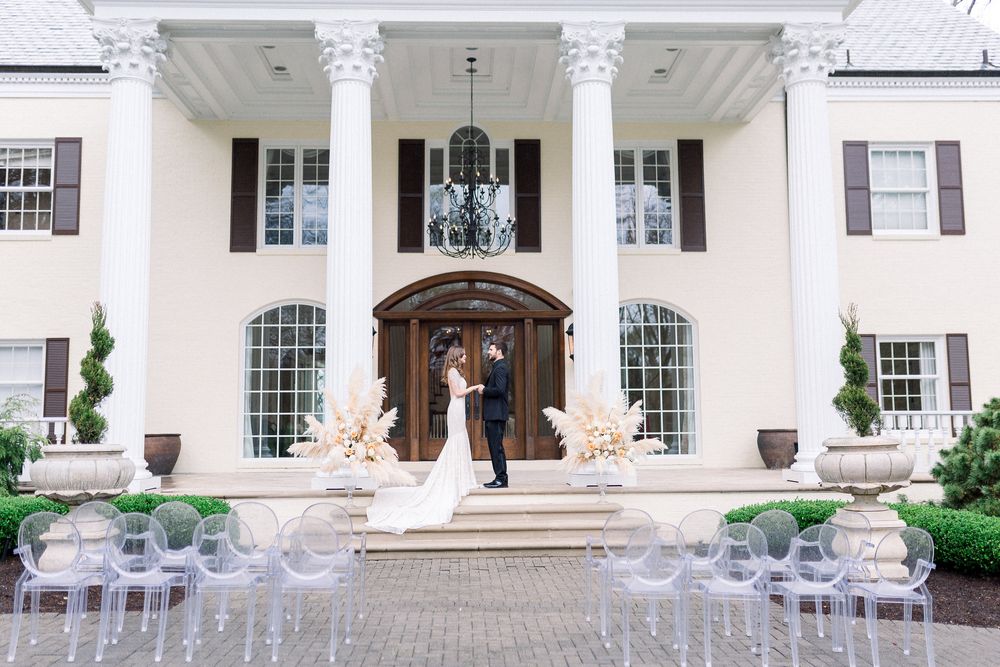 Photo by Honey and Bee Photography
If you're wanting to get hitched outdoors, we'd love to help! Send us a message at info@southerneventsonline.com.
TAGS | Ghost Chairs, Nashville Wedding Rentals, Outdoor Wedding Ceremony, Southern Events Party Rental Company, Unique Nashville Wedding Rentals, Unique Wedding Rentals, southern weddings, upscale outdoor wedding, wedding style trends
FEATURED RENTALS | Walnut Ceremony Doors, Rugs, Dura-Trac Flooring, Metal Ceremony Ring, Black Wood Folding Chairs, Acrylic Chairs, Rustic Bench, White Wood Folding Chairs, Brown Wood Folding Chairs
---