8

Feb

Southern Events Products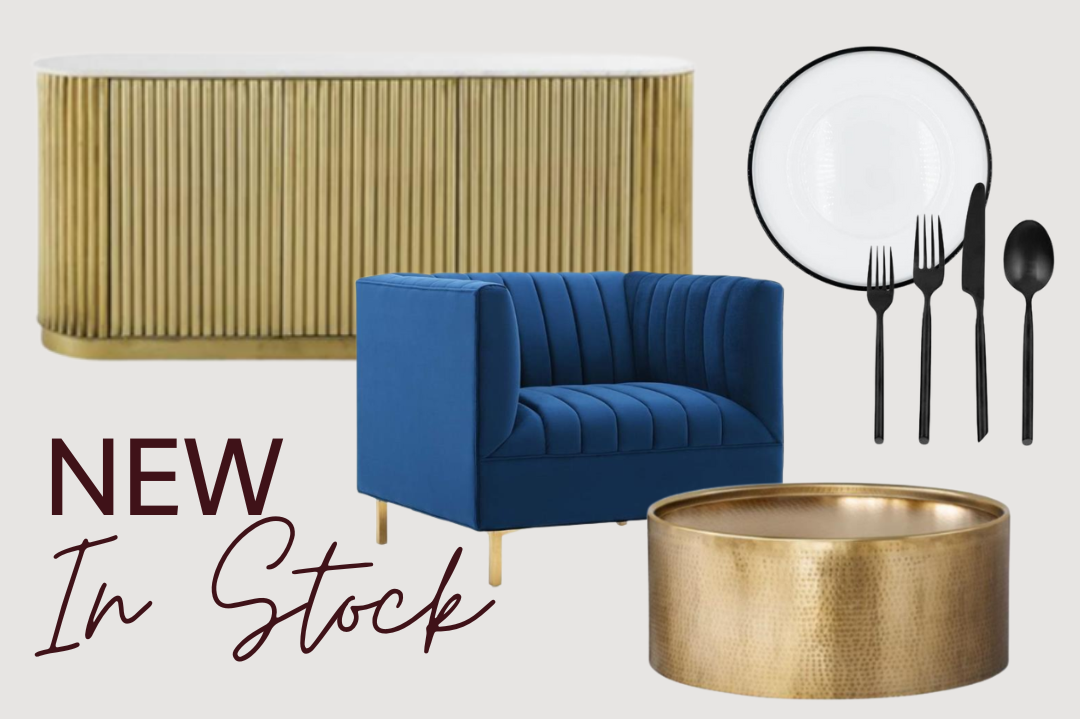 A new year and new design trends call for new event rentals! In 2023 we expect to see an increase in elevated events that showcase an attention to detail, big and small. Whether you're planning a bold modern wedding, an intimate birthday bash, or a casual backyard soiree. To help you host a well-thought-out event that will leave a lasting impression on your guests, take a look at our new in-stock event rentals, from luxe linens to sleek serving ware and trendy event furniture.
Stylish Serving Ware + Linens
Modern event tables are bigger and brighter than ever. But rather than featuring intricate serving ware, centerpieces serve as the focal point. Such as large floral arrangements and bold textured linens. Meanwhile, chargers, china, and flatware are sleek and simple. Together, these details lend a perfect balance between minimalism and maximalism! This aesthetic is easy to achieve with our new serving ware & linens. Create a moody neutral table starring our Sahara Runner in White, topped with a Glass Charger with Black Rim and Noir Matte Black Flatware. For a more chic design, try our Sierra Runner in Rose with Georgia China and Fresno Matte Gold Flatware.
Pro Tip: Add a fun splash of color with our velvet napkins in timeless colors like Driftwood or Magnolia.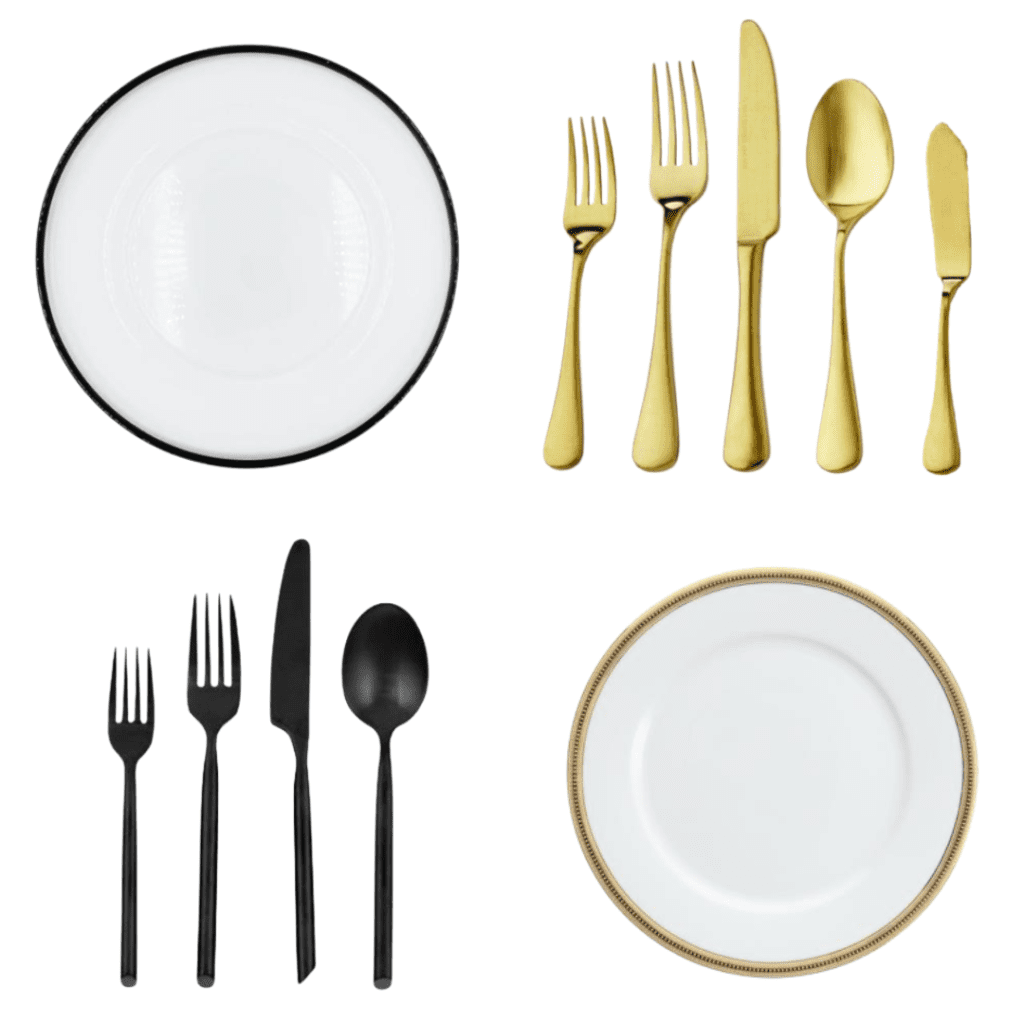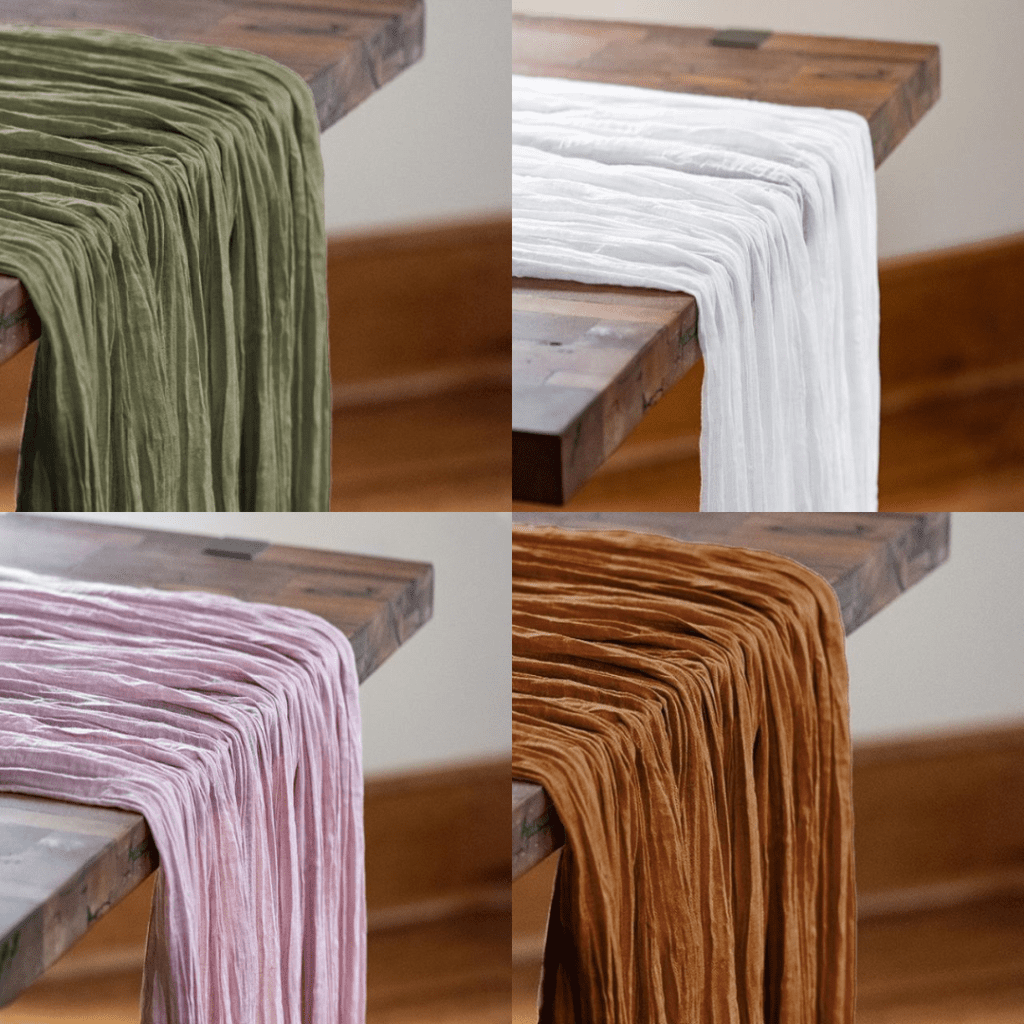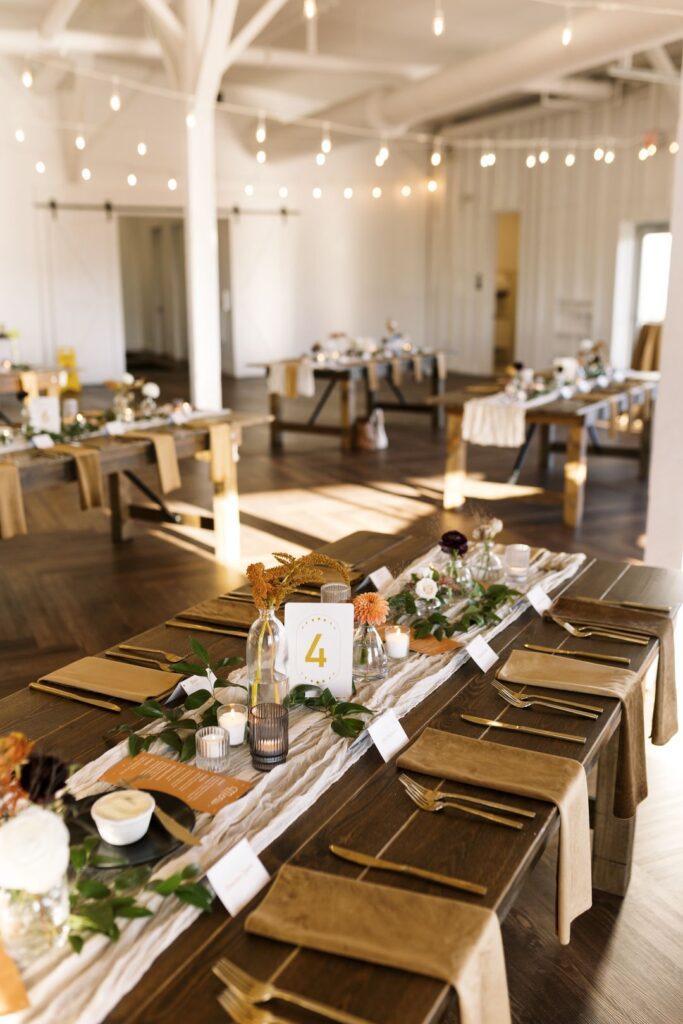 Trendy Lounge Furniture
If you've read any of our blogs then you know we love a stylish event lounge! They are a simple but effective way to elevate any event, from corporate cocktail hours to weddings or backyard parties. To help our clients create one-of-a-kind areas that encourage guests to sit, sip and mingle, we're adding new furniture to our inventory. Including accent tables, plush sofas, and armchairs. Some of our favorite additions are the Marine Navy Velvet Chair and Grey Tufted Ottoman. Both of which look stunning paired with a Hammered Coffee Table, in Pewter or Gold. To stay on top of the trends we have also updated our lounge packages – be sure to take a look to see if any of these curated collections align with your upcoming event.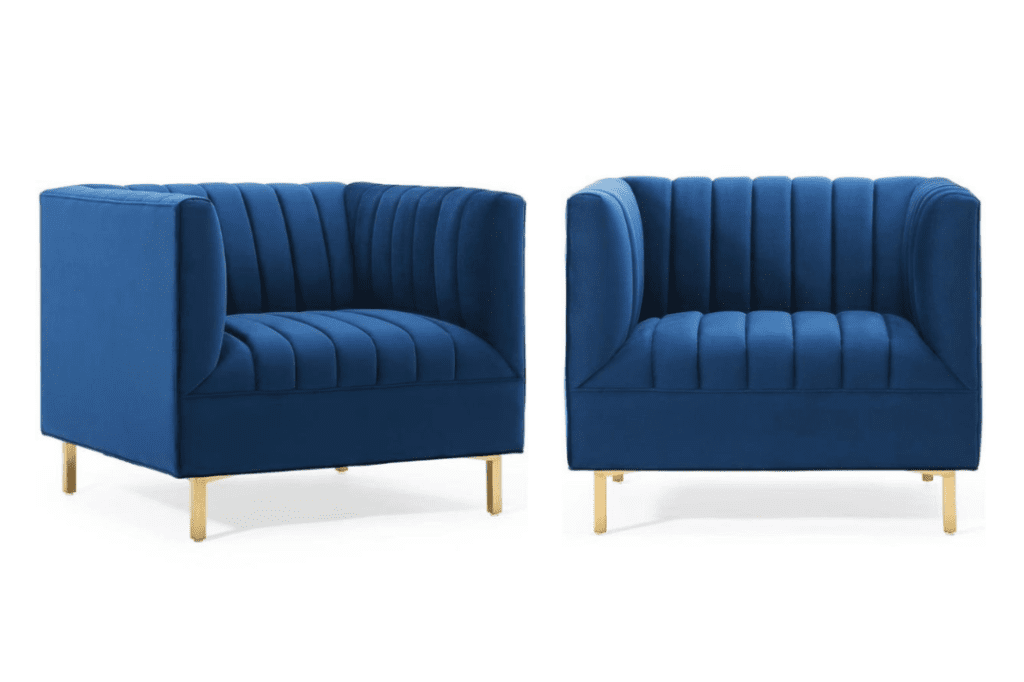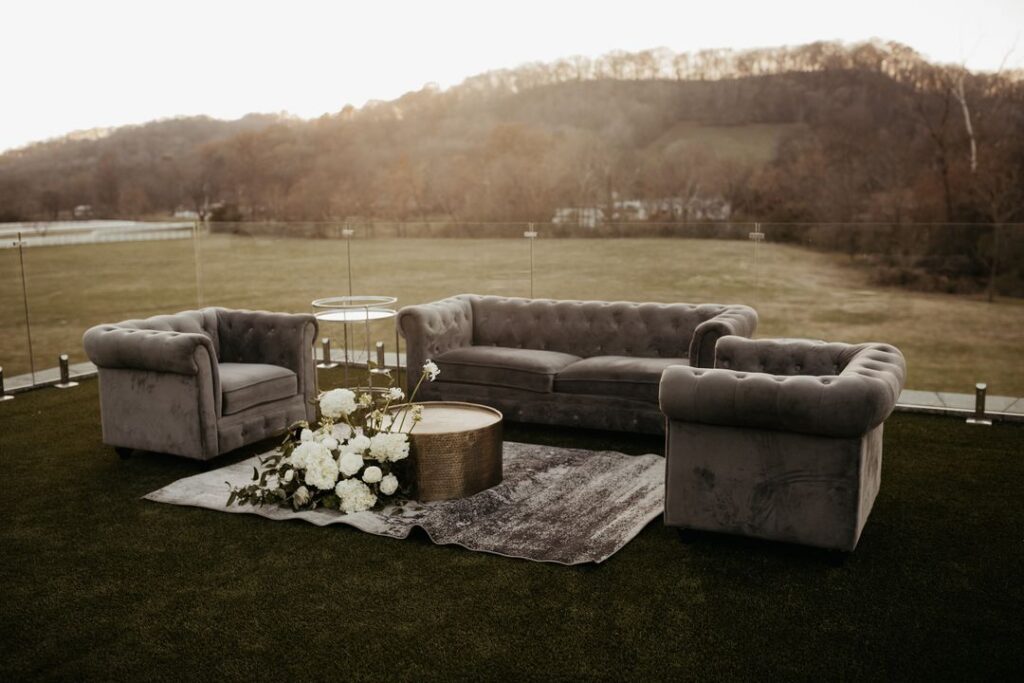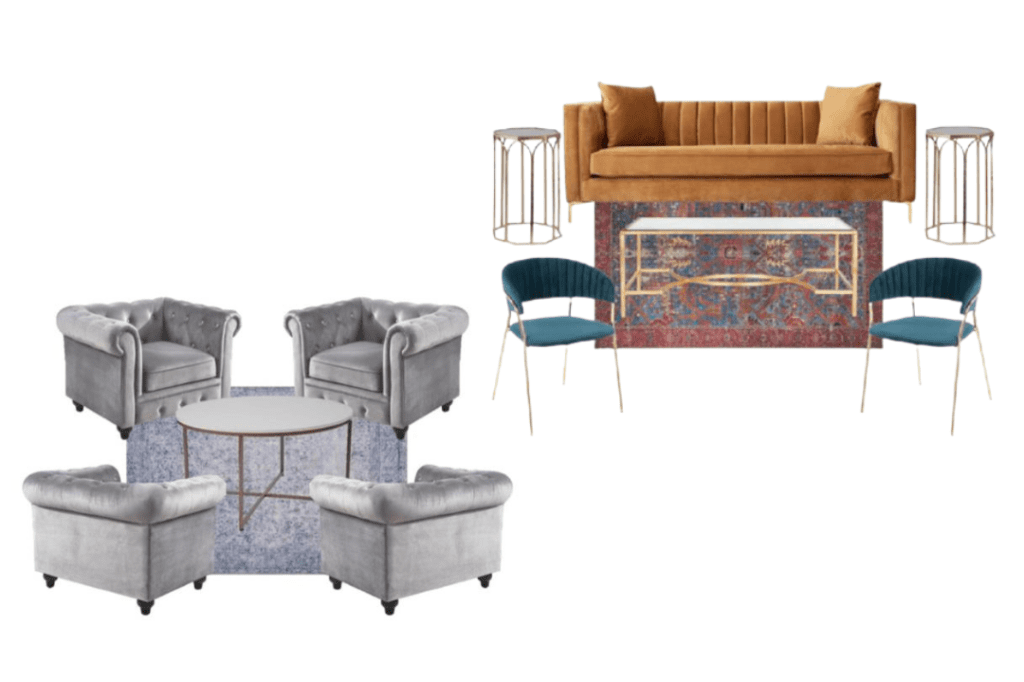 On-Theme Event Bars
If there is one item that every event needs, it's a bar! These versatile pieces aren't just for serving drinks, but can also be used for displaying food, decor, and more. That's why this year we are adding a new variety of bars to our inventory that will align with current design trends and event themes. Take our Chelsea Marble Top Bar, a luxe piece fitting for modern retro events or chic cocktail parties. Meanwhile, staple pieces like the Harpeth 8ft Bar can be customized with signage, for weddings or corporate galas! Or create an elegant dessert or champagne tower using White 6-Tier Serving Tower.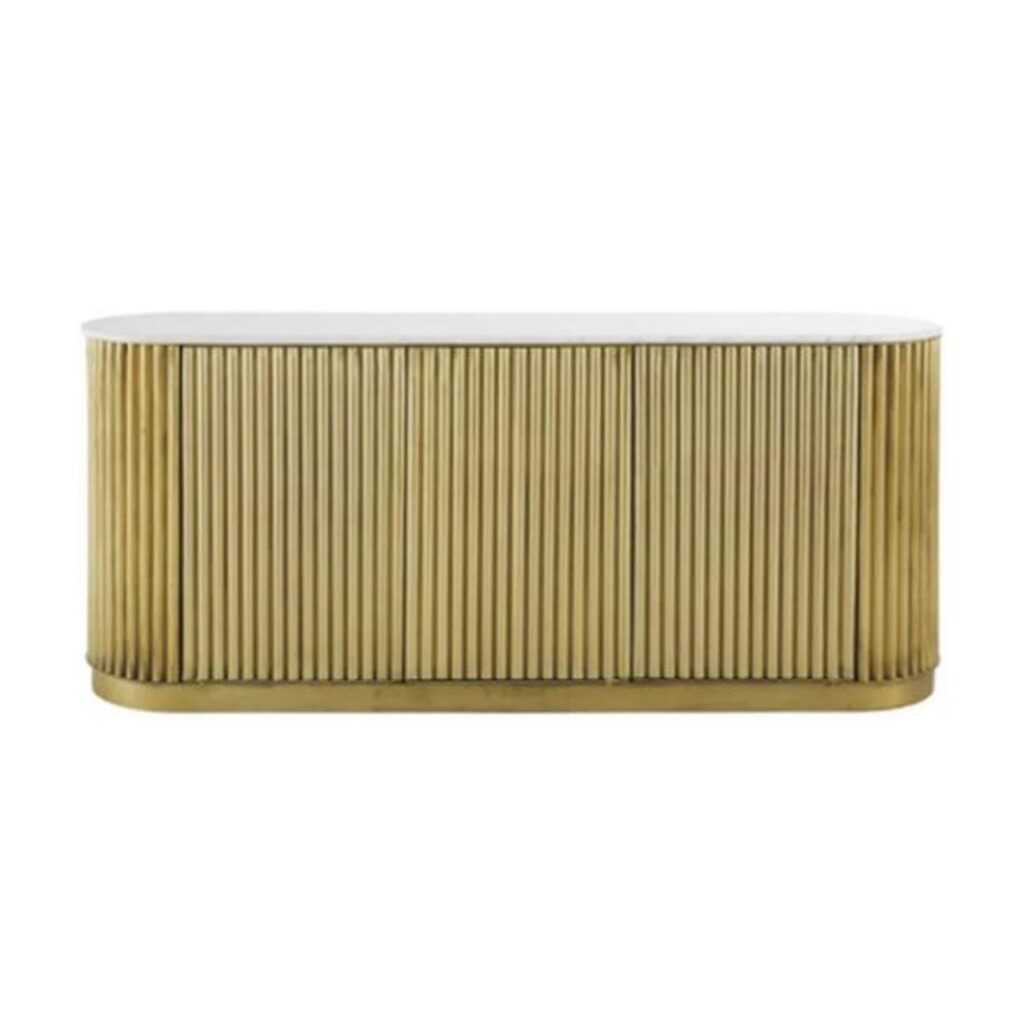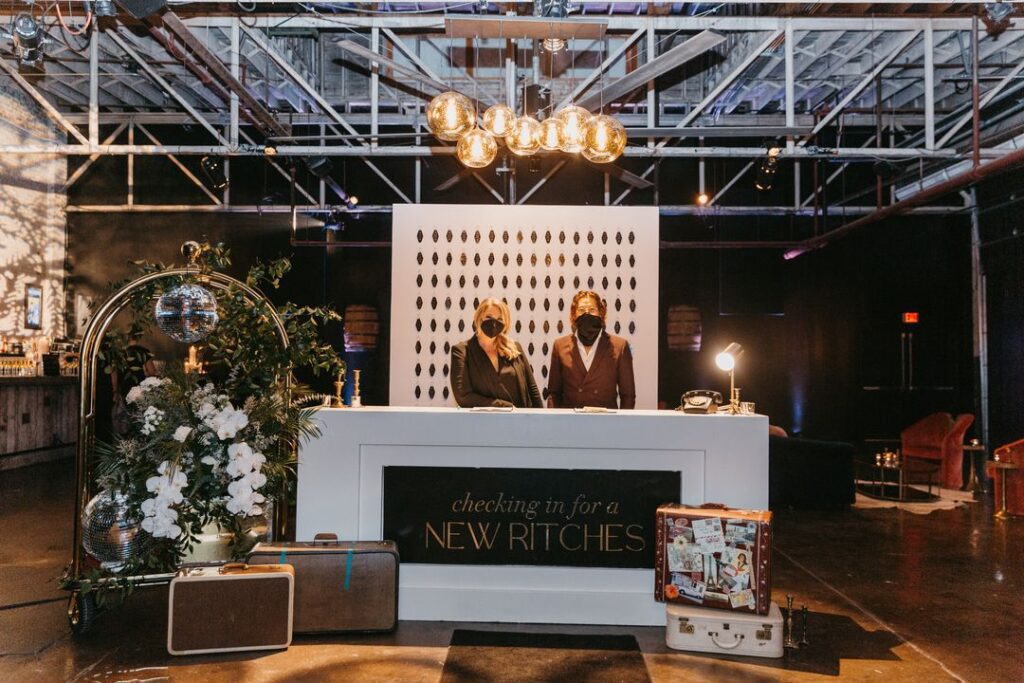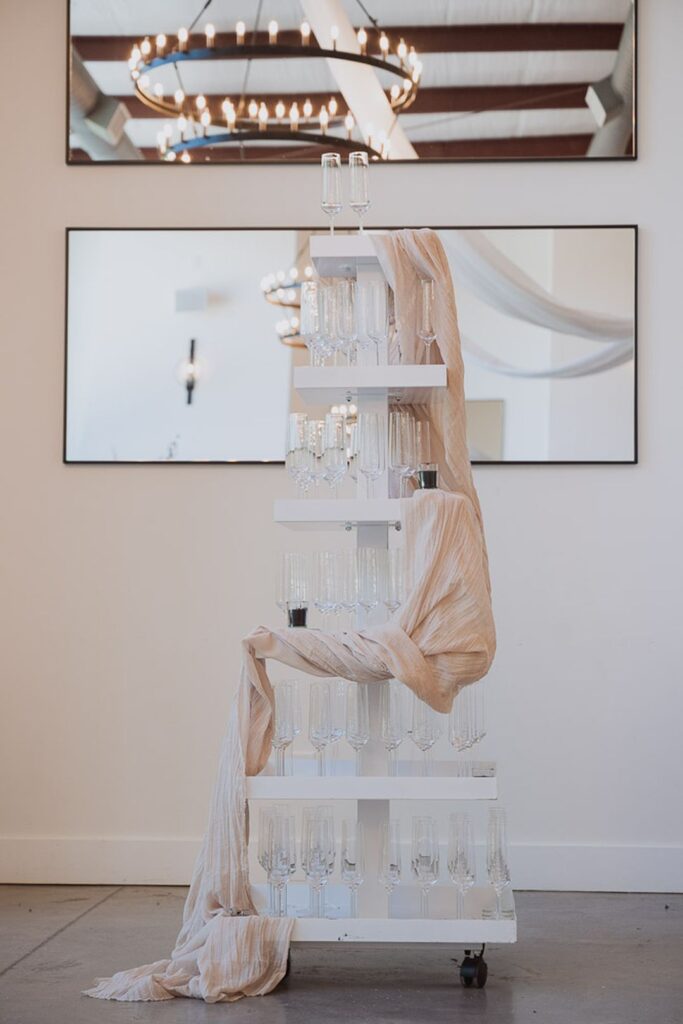 Want to feature these new event rentals at an upcoming holiday party in Nashville? Send our team a message at info@southerneventsonline.com for help selecting the perfect pieces for your gathering, big or small! And be sure to keep an eye out for new additions to our catalog – more is coming soon.
TAGS | Event Rentals, In Stock, Linens for Rent, Lounge Furniture Packages, bar event rentals, event rentals in franklin tn, event rentals in nashville, new in stock, servingware
FEATURED RENTALS | Sahara Runner in White, Glass Charger with Black Rim, Noir Matte Black Flatware, Sierra Runner in Rose, Georgia China, Fresno Matte Gold Flatware, Driftwood Velvet, Chelsea Marble Top Bar, Harpeth 8ft Bar, White 6-Tier Serving Tower,Magnolia Velvet, lounge packages, hammer pewter coffee table, hammer gold coffee table, grey tufted ottoman, marine navy velvet chair,
---
10

Nov

Southern Events Products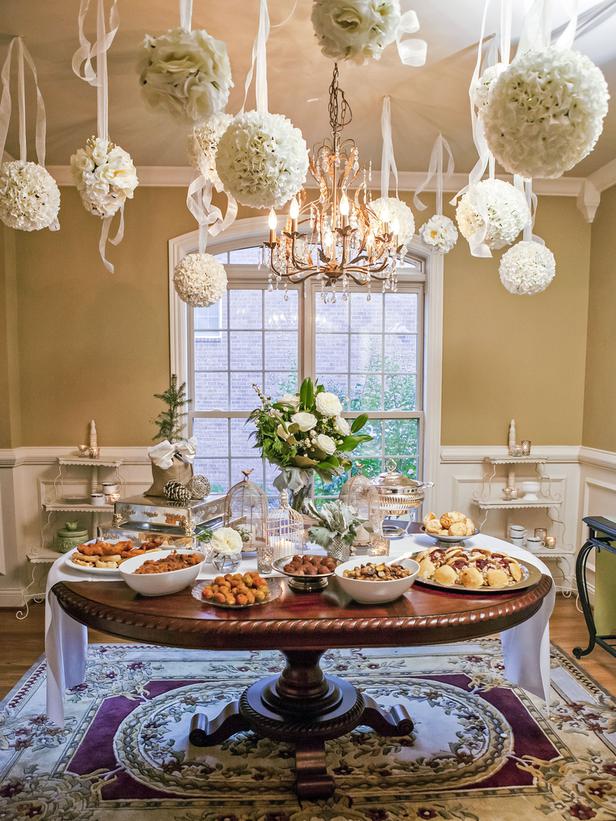 Nothing brings good tidings and cheer like delicious holiday fare – deviled eggs, butter-laden potatoes, gravy-smothered turkey. In fact, food remains the focal point of most holiday celebrations, wherein family and friends gather around the table. This makes it all the more important that you serve your painstakingly created dishes in style – that and it somehow makes the food taste better. Take a look at our stylish serving pieces for holiday parties, and other catering rentals, that will make for a memorable food-focused gathering.
Luxe Hors D'oeuvres & Entrees
Which is better – hor d'oeuvres or entrees? We can't decide, but there is no doubt that appetizers have picked up in popularity in recent years. Maybe it's the charcuterie fad, but people seem to love these flavor-packed and visually stunning creations. And what better way to display them than a gorgeous Silver Tray – try Carson Rectangle for charcuterie or Carson Round for tidbits on toothpicks. If you prefer a rustic-inspired alternative, our Wood Charcuterie Board or Wood Melamine Tray are both gorgeous.
Come time for dinner, create a complete look using our crisp white Melamine Serving Pieces. From deep platters to bowls and trays, there is a piece for every tasty morsel. Add on other essentials, like a Rattan Bread Basket – for those fan-favorite rolls. Plus a Stainless Steel Gravy Boat (or two)! If you plan to have a larger guest count and want to keep dinner service easy peasy, no problem. We rent chafing dishes, plus stock a variety of other catering rentals.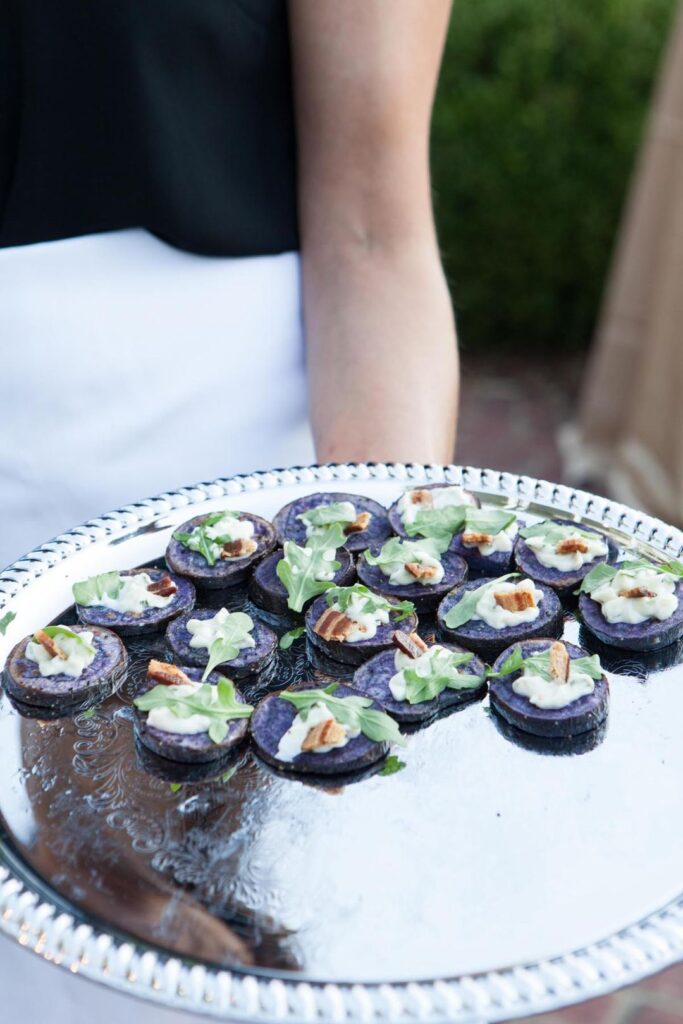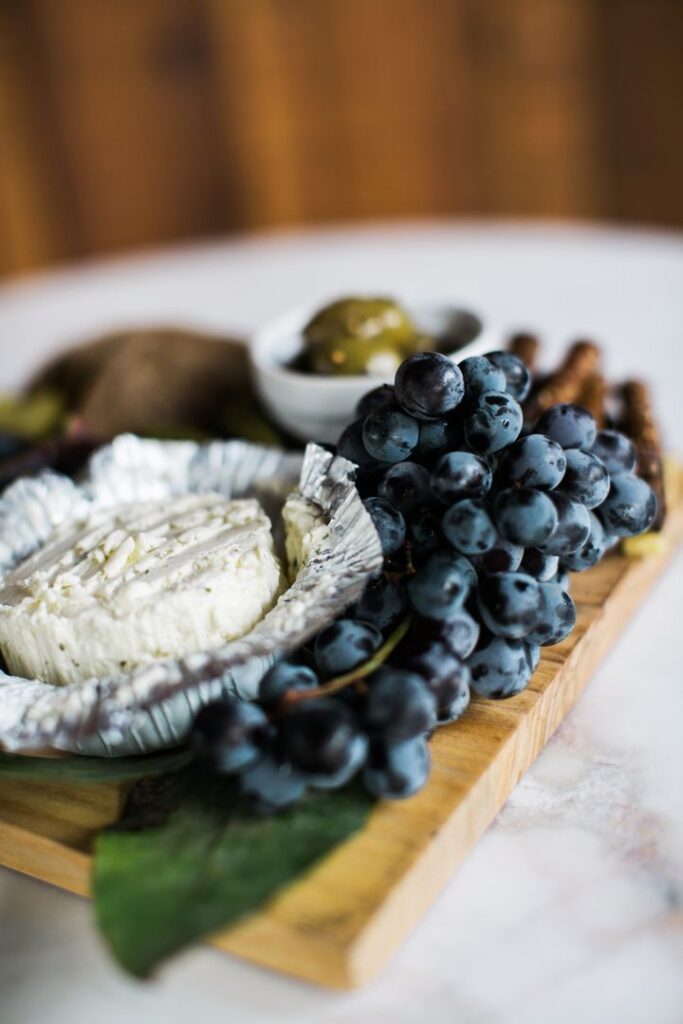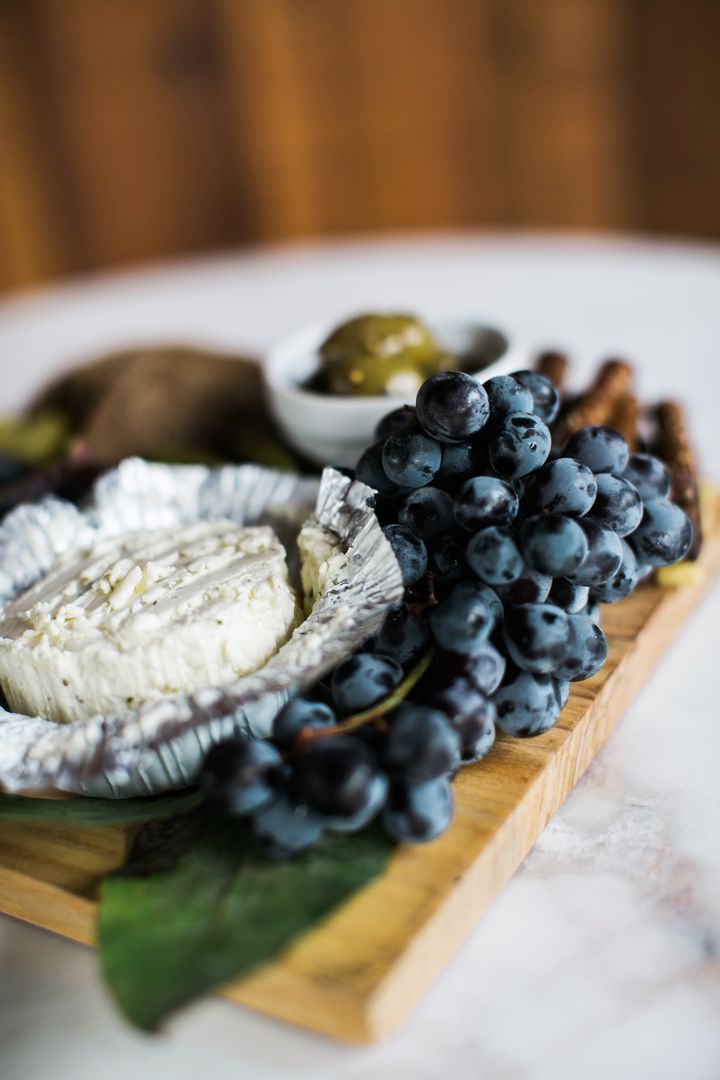 Fanciful Dessert Plates
What are the holidays without your favorite desserts? Alongside charcuterie, dessert displays are also popular – elegant tiered arrangements featuring everything from homemade pies to handheld puddings. Our Marble and Gold Cake Stands are adjustable, ideal for creating a custom arrangement. And our Windsor Stands would be a fun add-on. For a rustic-inspired table, feature the Wyatt Pedestals alongside the Willow 2-Tiered Stand – perfect for minis! Of course, you'll also need plates. We recommend any of our gold accent china, for that luxe seasonal look. Check out Hamlet for a traditional table, or Athena for a more modern setting.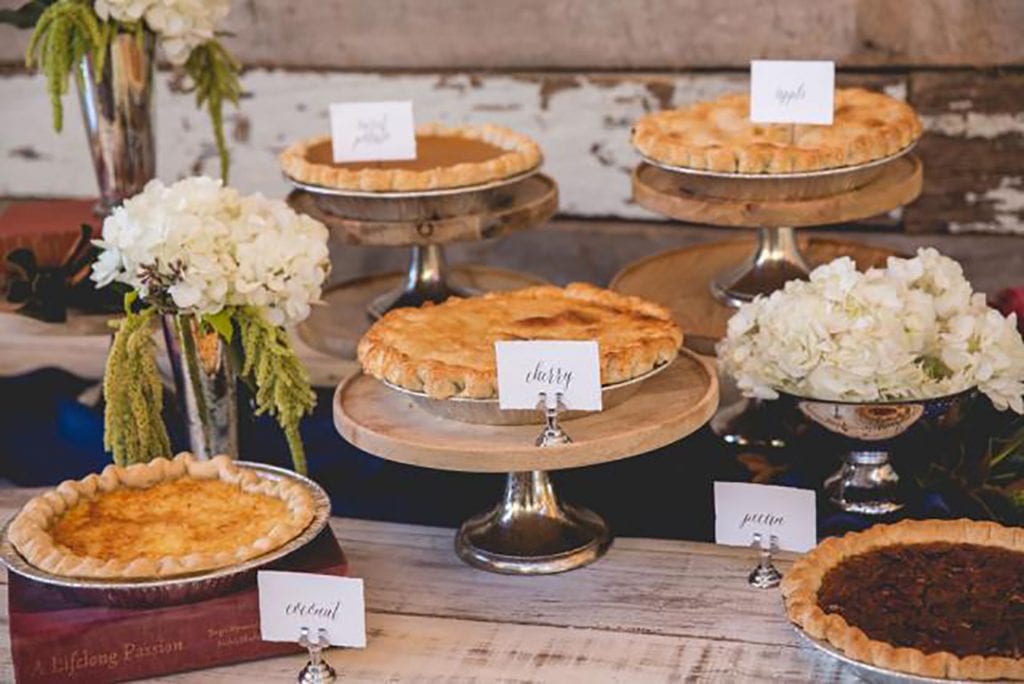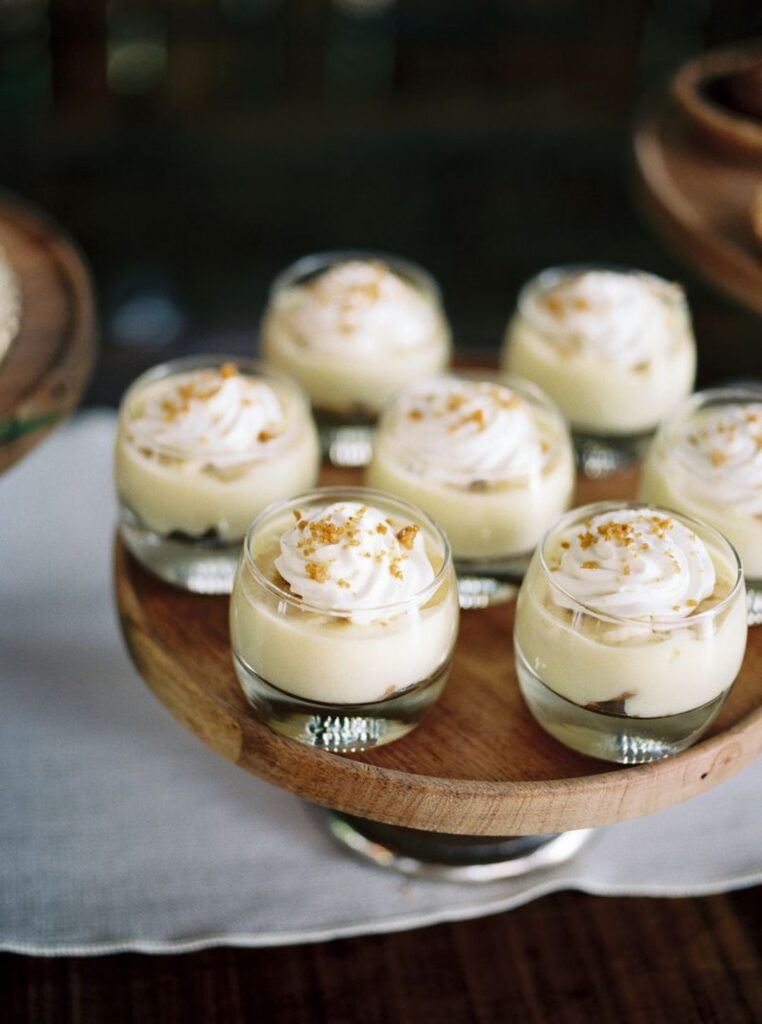 Beautiful Beverage Displays
Easily the most underrated serving pieces for rent are our beverage dispensers, for a coffee or tea service. Regardless of the size of your holiday party, these elegant pieces will make for an elevated experience. We have options for table service or drink stations, including the Silver Coffee Server and Silver Coffee Urn. Just don't forget the matching cream and sugar set – a must for that charming old-school look. For larger parties, or if you plan to feature a build-you-own hot chocolate bar, opt for a larger Copper Coffee Urn. You might also throw in a second Silver Urn, to provide a spiked coffee or hot chocolate option for the adults!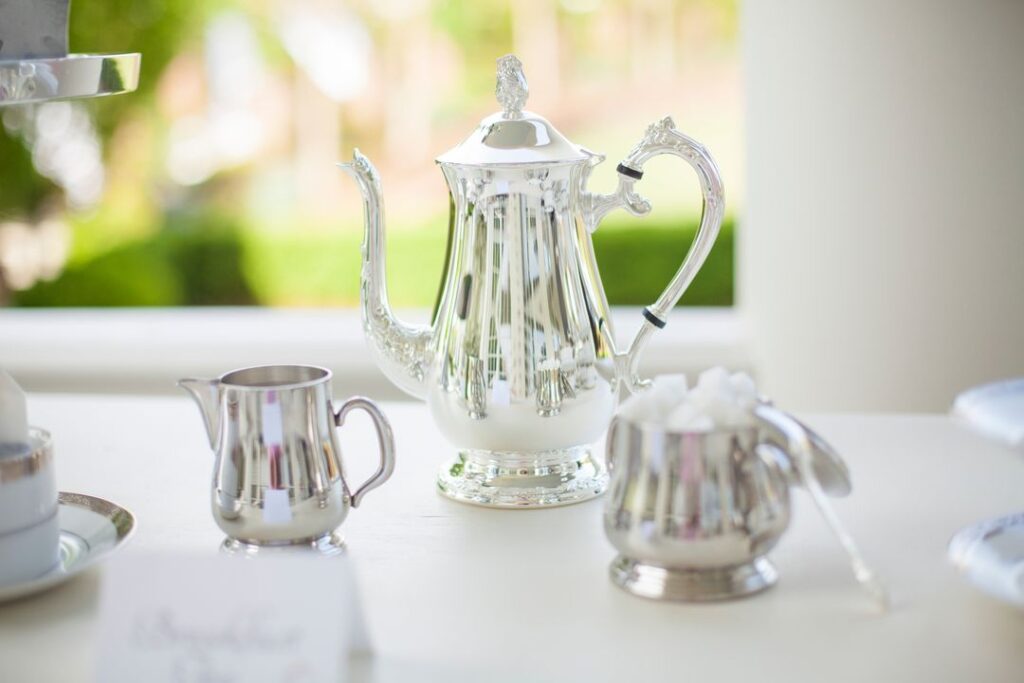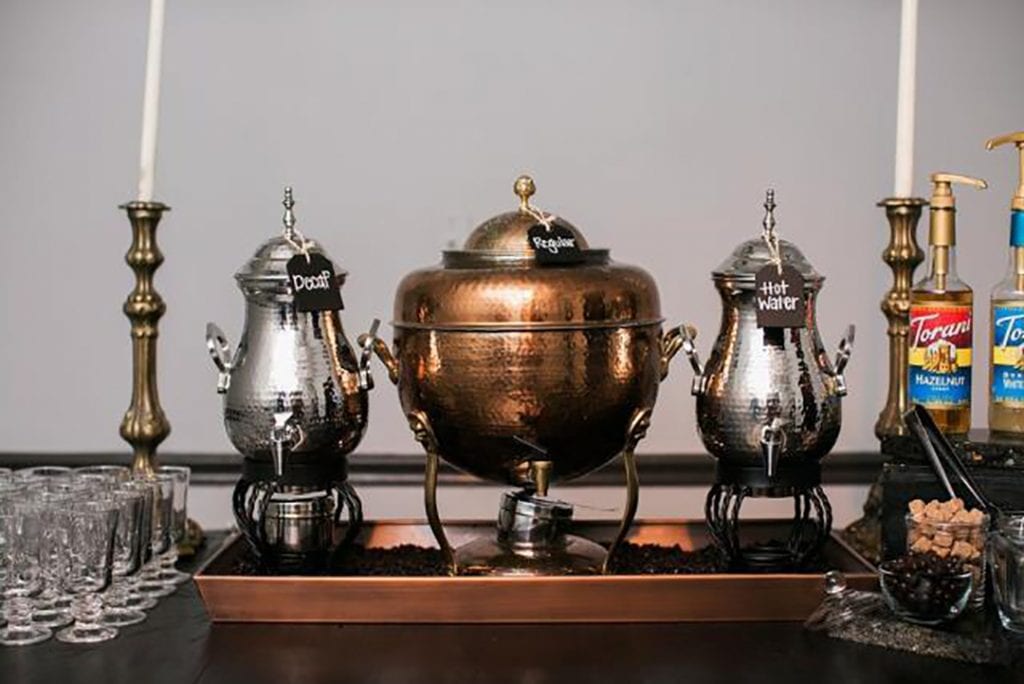 Want to feature a number of these serving pieces for holiday parties? Peruse our full inventory of stylish serving ware, or get help from a team member at info@southerneventsonline.com. We look forward to making your holiday gatherings a success! Need more help for the upcoming holidays? Take a look at our holiday party planning tips & checklist!
TAGS | Melamine Serving Pieces, Silver Trays, food display, holiday party rentals, serving pieces, servingware
FEATURED RENTALS | Silver Coffee Server, Silver Coffee Urn, cream and sugar set, copper coffee urn, Marble and Gold Cake Stands, Wyatt Pedestals, Carston Rectangle, Carson Round, Wood Charcuterie Board, Wood Melamine Try, Melamine Serving Pieces, Stainless Steel Gravy Boat, chafing dishes, Willow 2 Tiered Stand, Hamlet China, Athena China,
---
6

Oct

Southern Events Products, Trends and Inspiration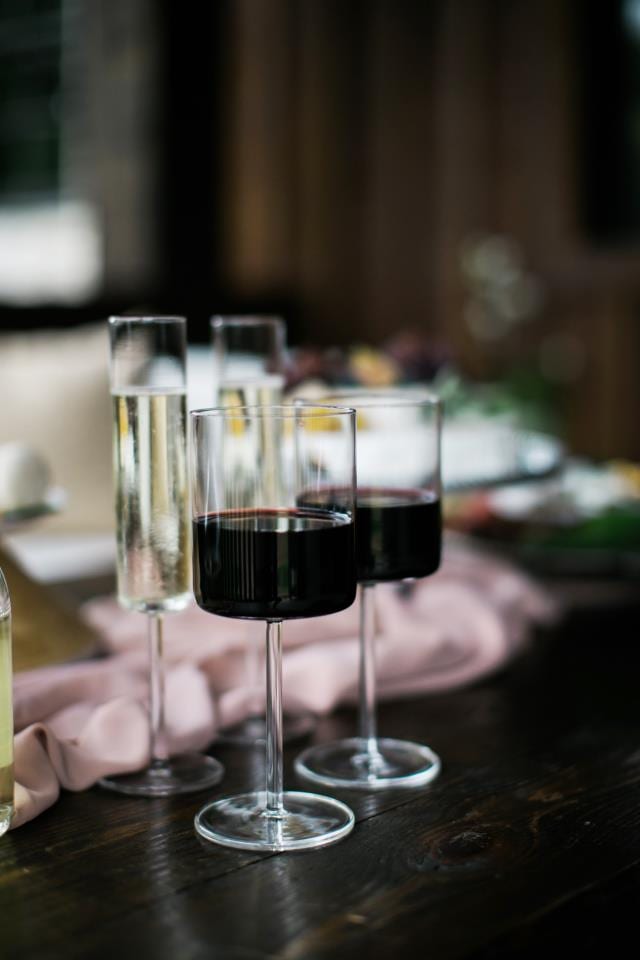 The key to throwing a successful holiday party (and not throwing your sanity out of the window) is proper preparation. If you've ever hosted a holiday party before, you understand how chaotic planning can be. Even then, you may still feel like you're scrambling trying to get things done at the last minute. This is why we want to treat you to a stress-free holiday party planning experience. Whether you're hosting an intimate holiday dinner at home or a large formal gala! Check out our tips below on holiday party must-haves, featuring our stylish rentals. Plus, grab our Holiday Party Checklist that will make it easy to execute a jolly affair!
On-Trend Holiday Office Party
Hosting a holiday party at the office can be limiting, but that doesn't mean it should be boring. Start by adding some color to the office with festive linens in a brilliant Heritage Cranberry or deep Magnolia Green. If you're serving food, even just appetizers, pass on the paper plates and opt for Gold Accent China paired with matching Gold Austin Flatware. Finally, serve up a DIY Hot Cocoa or Coffee Bar (don't forget the Baileys!), with our hot beverage dispensers. Alternatively, treat your team to a casual cocktail hour featuring a formal bar and a menu of seasonal cocktails in fancy glassware!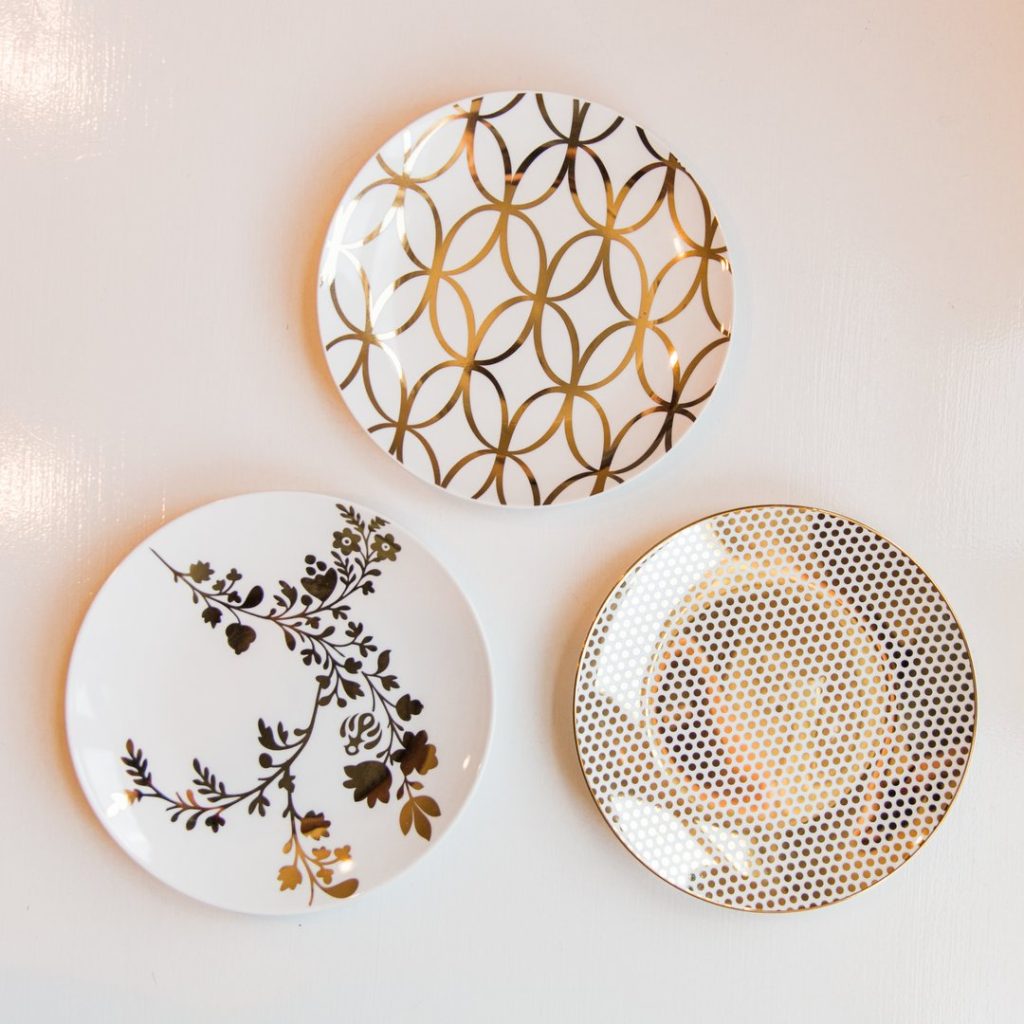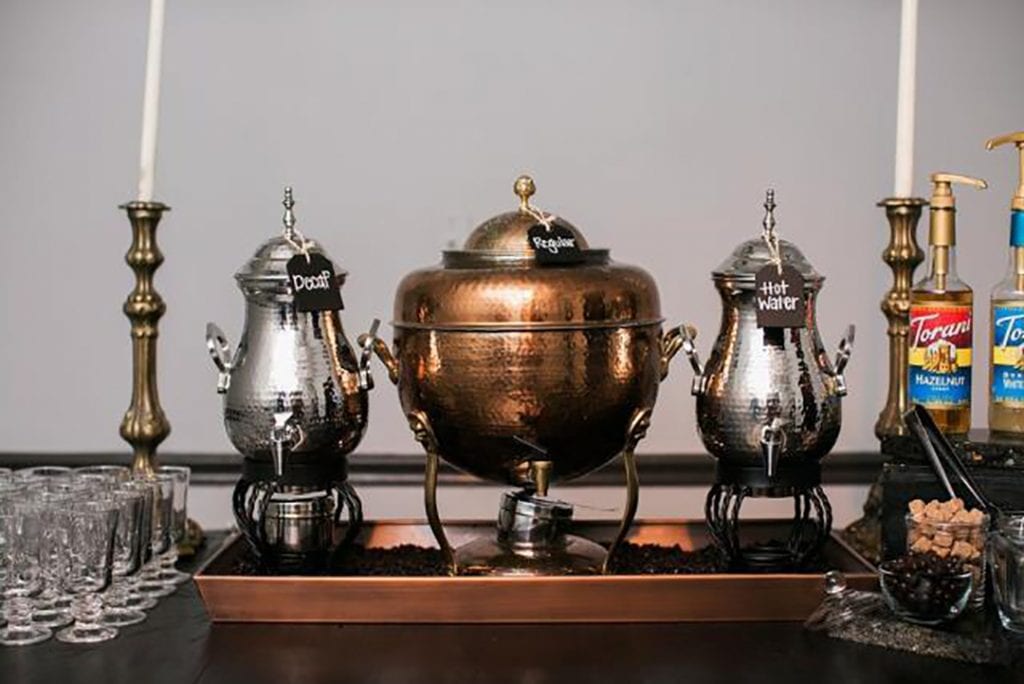 Casual Holiday Luncheon
When hosting a holiday luncheon, chances are you'll be inviting co-workers, peers, and people you may want to network with. That's why you'll want the event to feel approachable, yet still have a formal holiday vibe. In order to achieve this, you'll want to have coordinating linens such as our Champagne Sequin Linen, Chafing Dishes, and Copper Beverage Service Equipment – to give your holiday party a festive feel. To make sure guests feel welcome and encouraged to mingle, we also recommend a stylish lounge. Our Fern Velvet Sofa and Bamboo Arm Chairs are a chic set!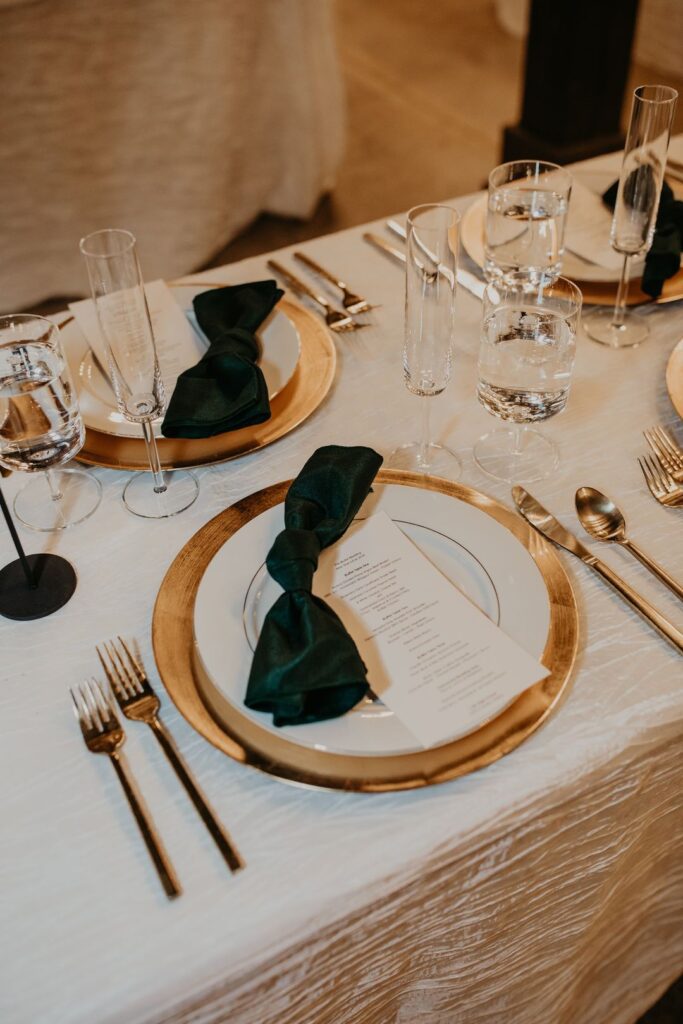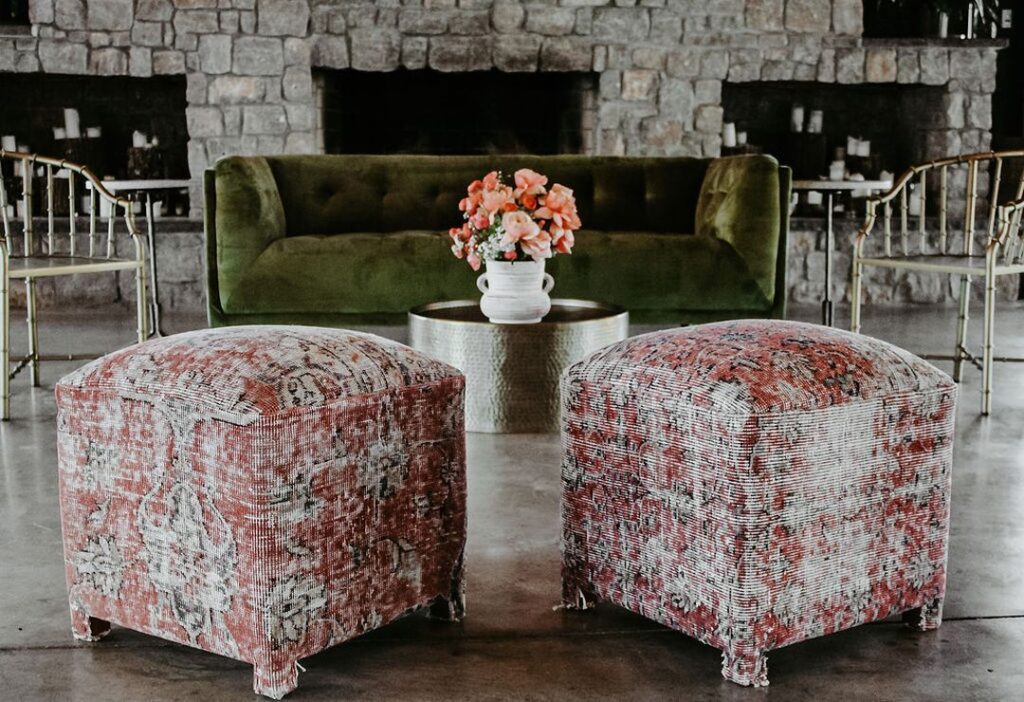 Feast at a Festive Gala
The holidays are a great time to celebrate in a big way and a grand gala is just the way to thank VIP clients or your team for all they contribute to your company's success. If you're hosting a large formal company holiday party, there are a few items you'll want to make sure you include. A red carpet entrance area sets the scene, as do our Boxwood Walls – emblazoned with your company logo or festival holiday decor. Cocktail and bistro tables are a must for mingling and should be decked out with luxe linens, say Etched Velvet or a shimmery Satin. Then there is the bar, where guests can enjoy their favorite seasonal drinks, from a Hot Toddy to spiked cocoa. We also recommend having formal place settings with china, chargers, and plenty of glassware for toasting the year past and ahead.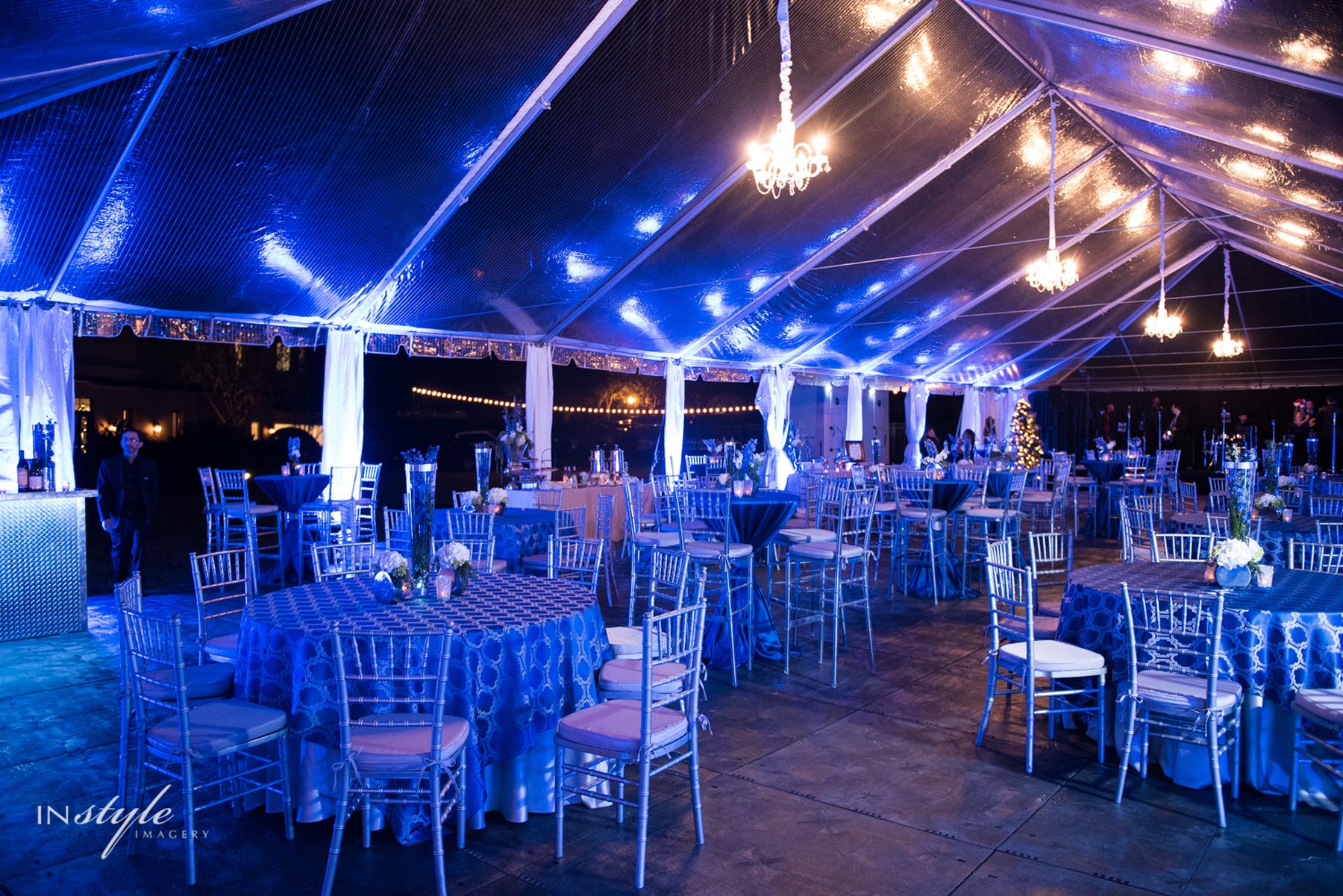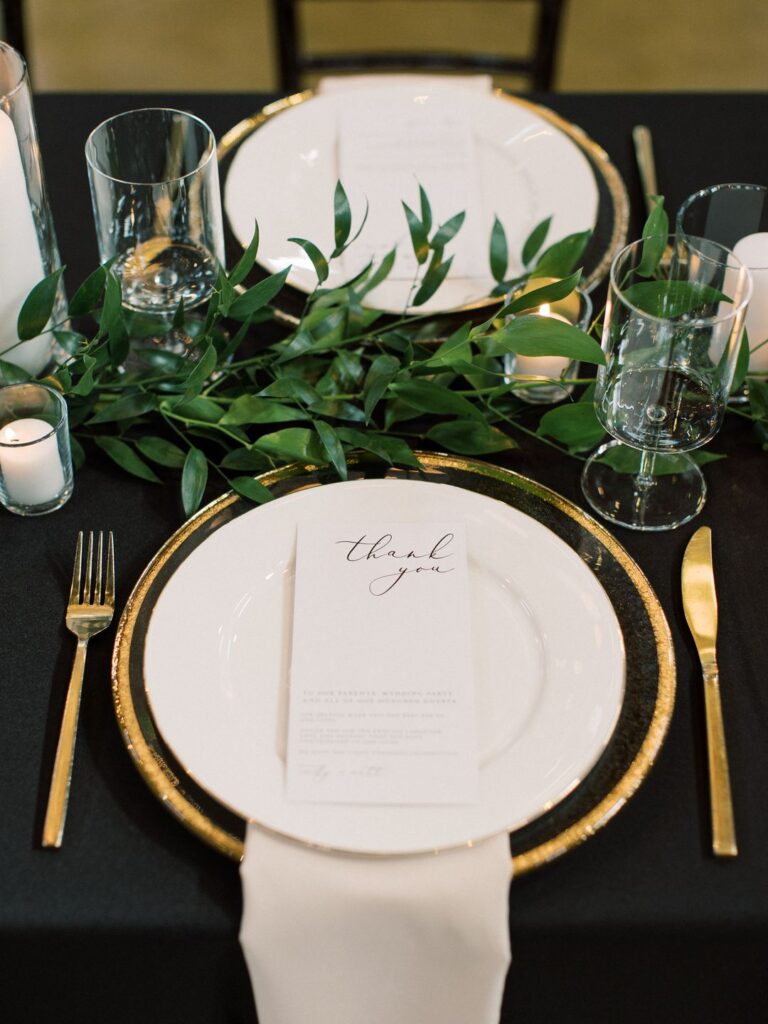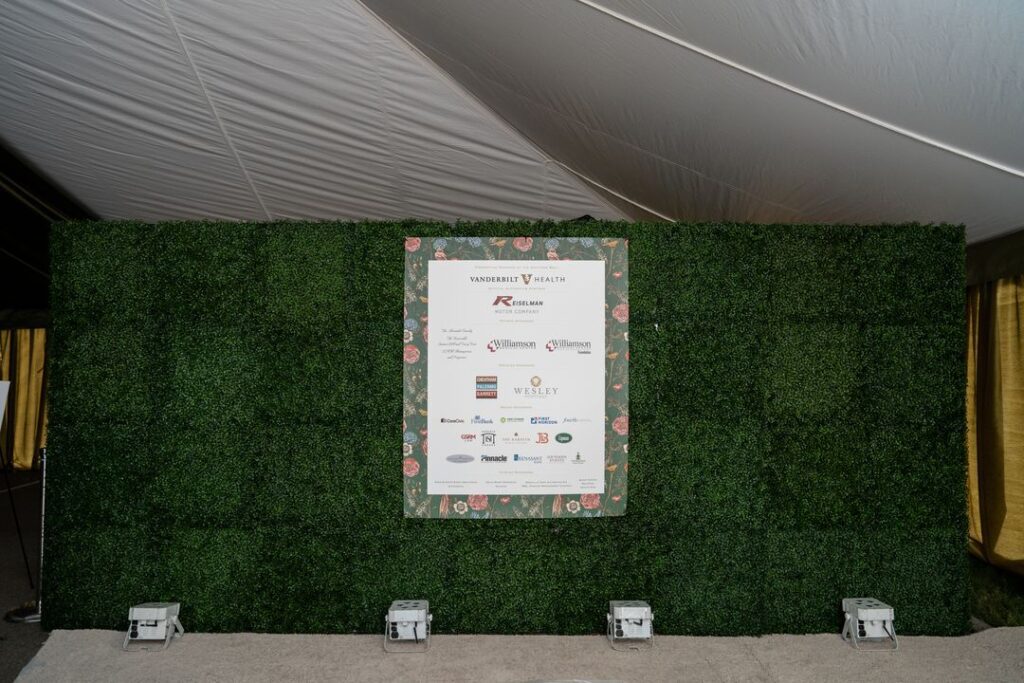 At-Home Holiday Soriee
Cozy home holiday parties are a wonderful and intimate way to share seasonal good tidings with family and friends. But these gatherings can stretch the limits of anyone's kitchen! Whether you need extra plates or forks, serving dishes and platters, or flutes for toasting, we have it all. We even offer a selection of carefully curated Holiday Boxes, packed with all the essentials for creating a stylish holiday tablescape – like the ice-inspired Silver Soiree! We can also elevate your seating, with our Adeline or Harlin Dining Chairs. For an extra luxe look, create an elegant drink display using our rolling Gold Bar Cart. As always, we're glad to schedule a delivery or pick-up at our Franklin warehouse.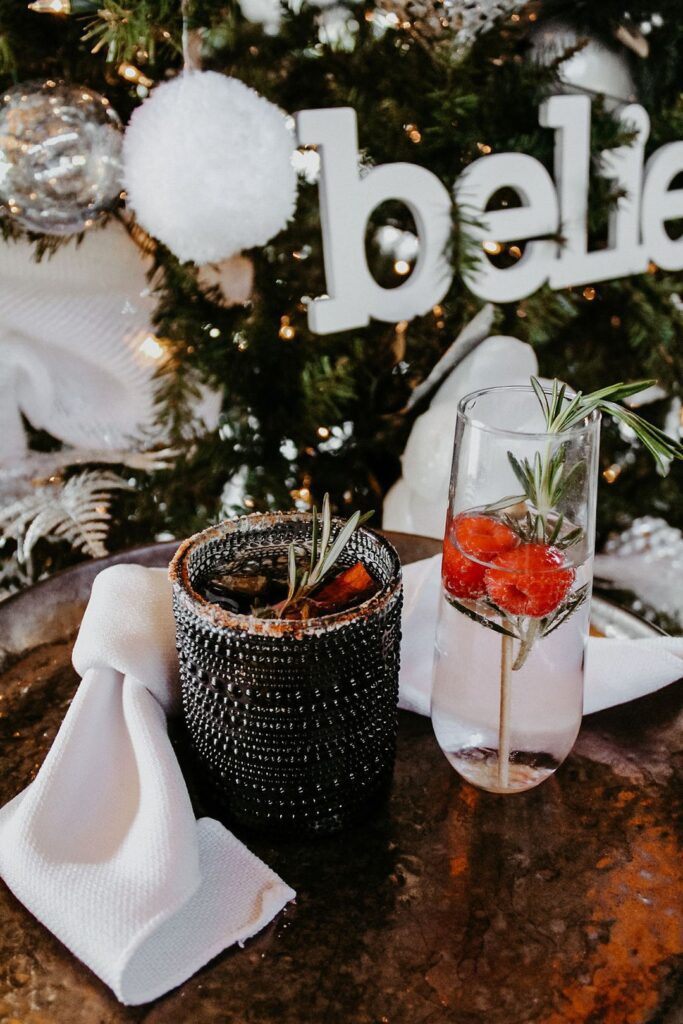 If you're hosting a holiday party, we'd love to help! Send us a message at info@southerneventsonline.com for assistance designing a seasonal get-together, big or small, that will have your guests in awe.
TAGS | Company Holiday Party, Holiday Party Ideas, Nashville Event Rentals, Southern Events Party Rental, holiday decor, holiday party, holiday party rentals, holiday tablescape, holiday tips, servingware
FEATURED RENTALS | Fern Velvet Sofa, Bamboo Arm Chairs, Chafing Dishes, Boxwood Walls, bistro tables, etched Velvet linens, satin linens, bars, holiday boxes, adeline dining chairs, harlin dining chairs, gold bar cart, Heritage Cranberry linens, magnolia green velvet linens, gold austin flatware, beverage dispensers,
---
14

Jul

On Trend, Southern Events Products, Trends and Inspiration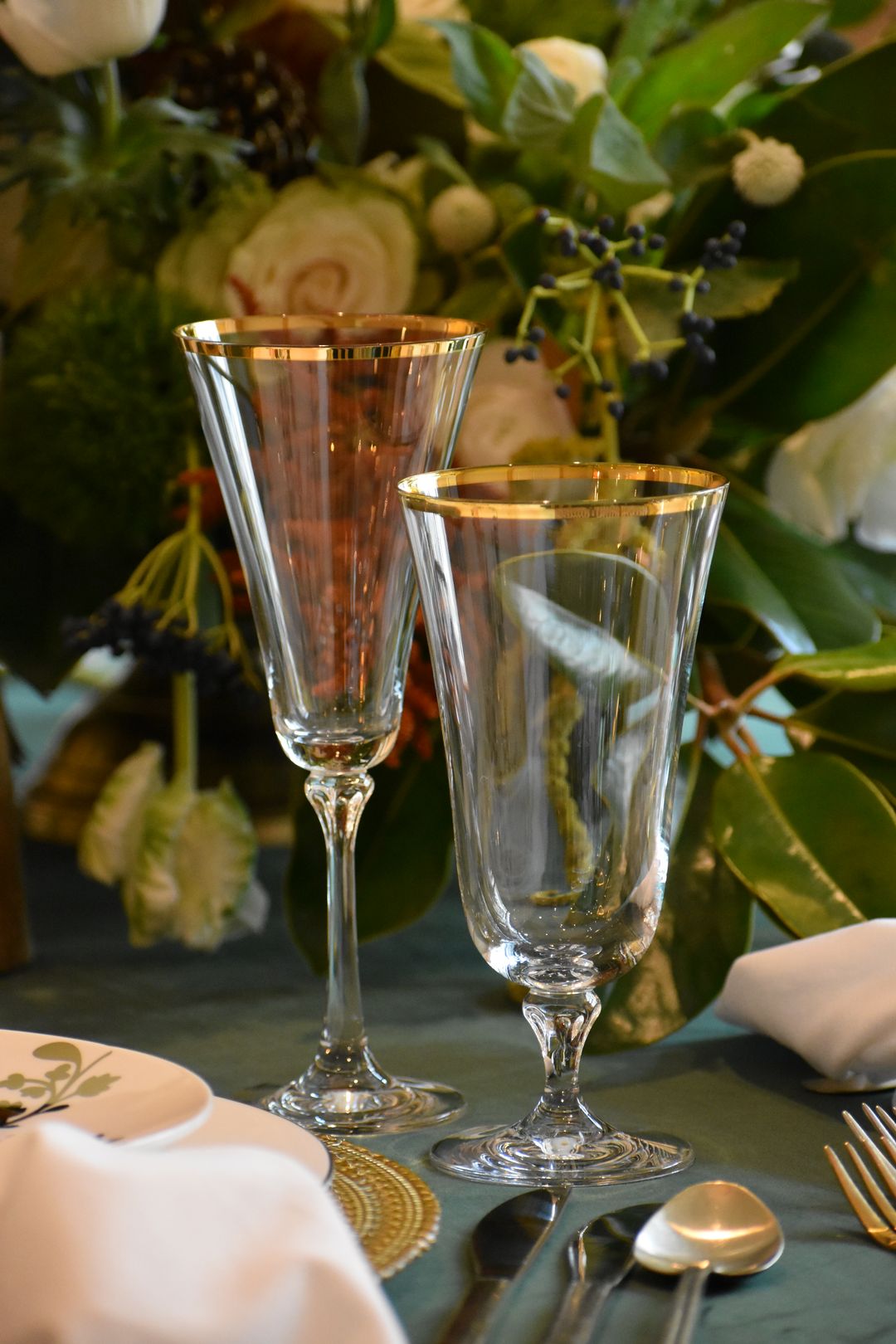 With regal and royal trending in event design, we're all about appreciating the finer things in life – including black-tie dinner parties! This theme is perfect for adding an upscale feel to any celebration, whether it be a birthday, anniversary, reunion, corporate achievement, and so on. Plus, planning a formal event is easier than ever, thanks to our elegant in-stock event rentals. Check out our serving ware, furniture, and decor that can be used to elevate your tablescape and impress your dinner guests!
Elegant Serving Ware
Black tie event design is all about luxury! For the table, we offer a range of stylish serving ware that suits any palette and style. White China is always a good start, whether you prefer Round plates or a more charming design, like Darcy. For a more moody table, opt for Earthen Onyx or Stone China. And should you prefer a more glam look, check out pieces that feature metallics. Such as our Glass Charger with a Gold Rim or Medallion Gold Glass Charger. If you want a touch of color, take a look at our gold accented Laguna or Coronado China.
Just don't forget to grab matching flatware! Our Gold Austin and Abby Flatware are always popular. Meanwhile, the Noir Matte Black and Como Flatware are edgy yet stylish.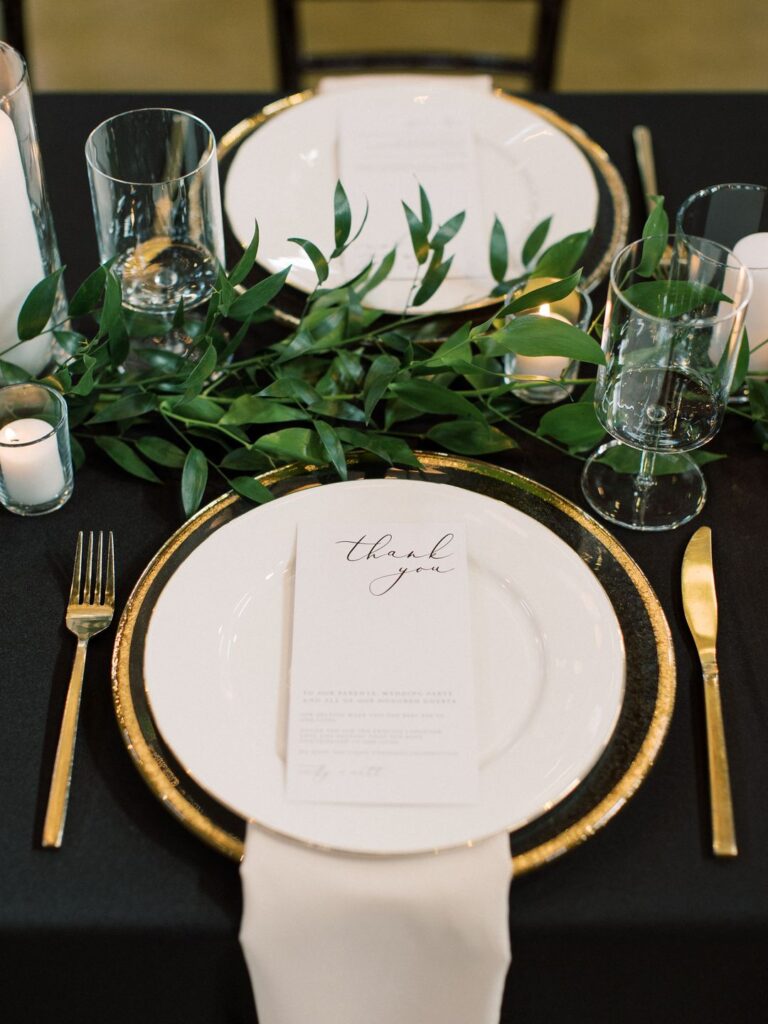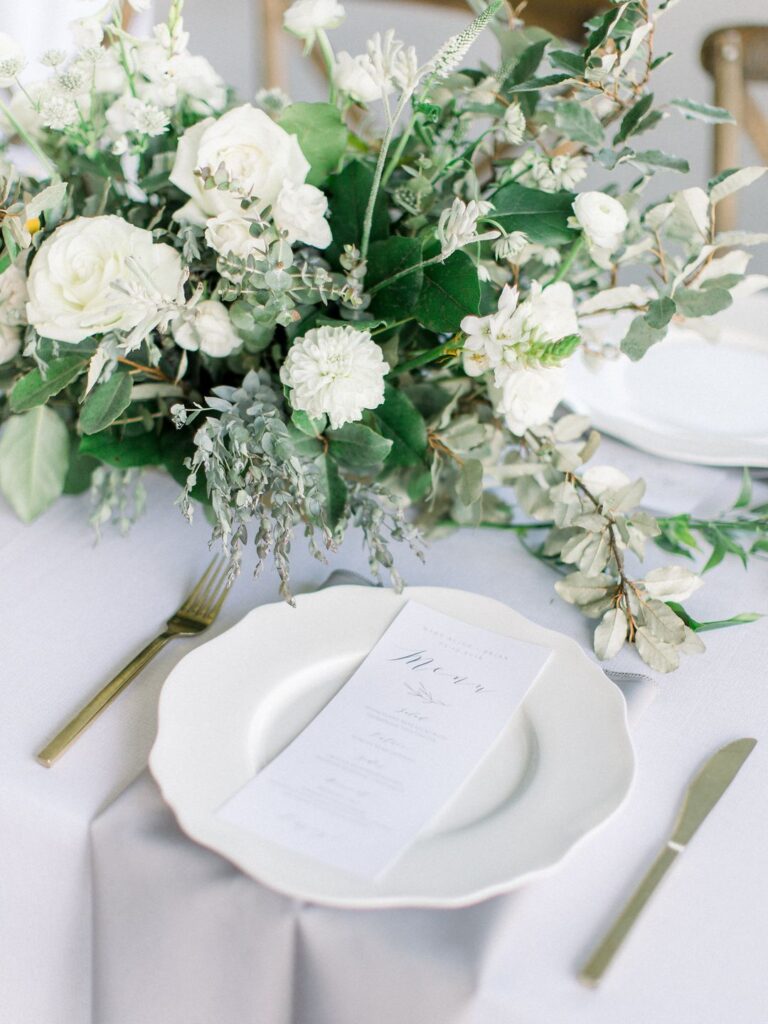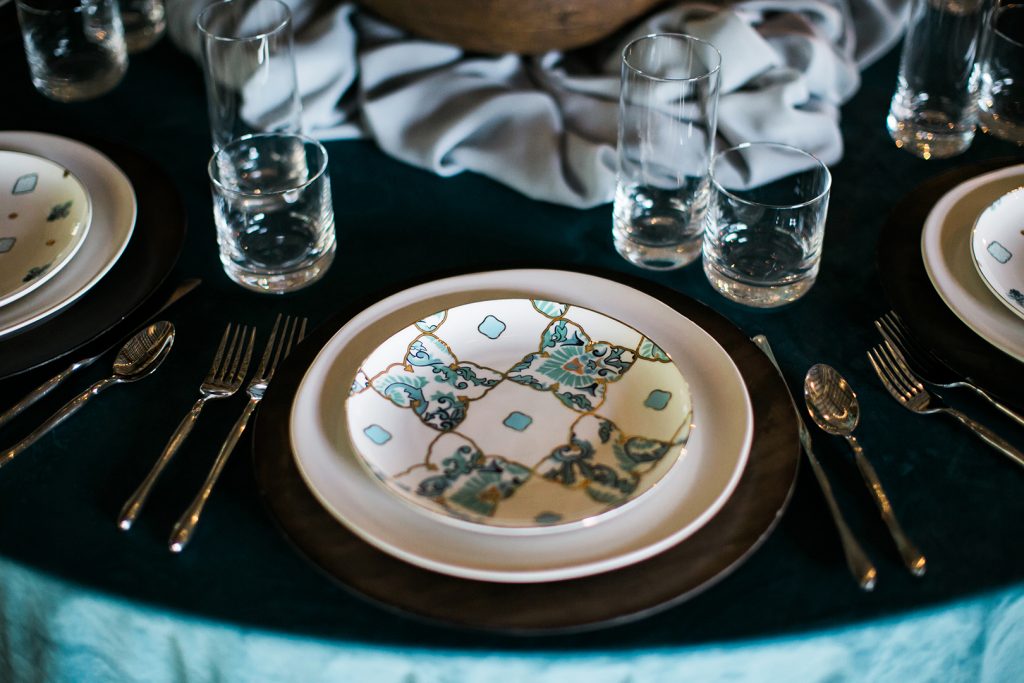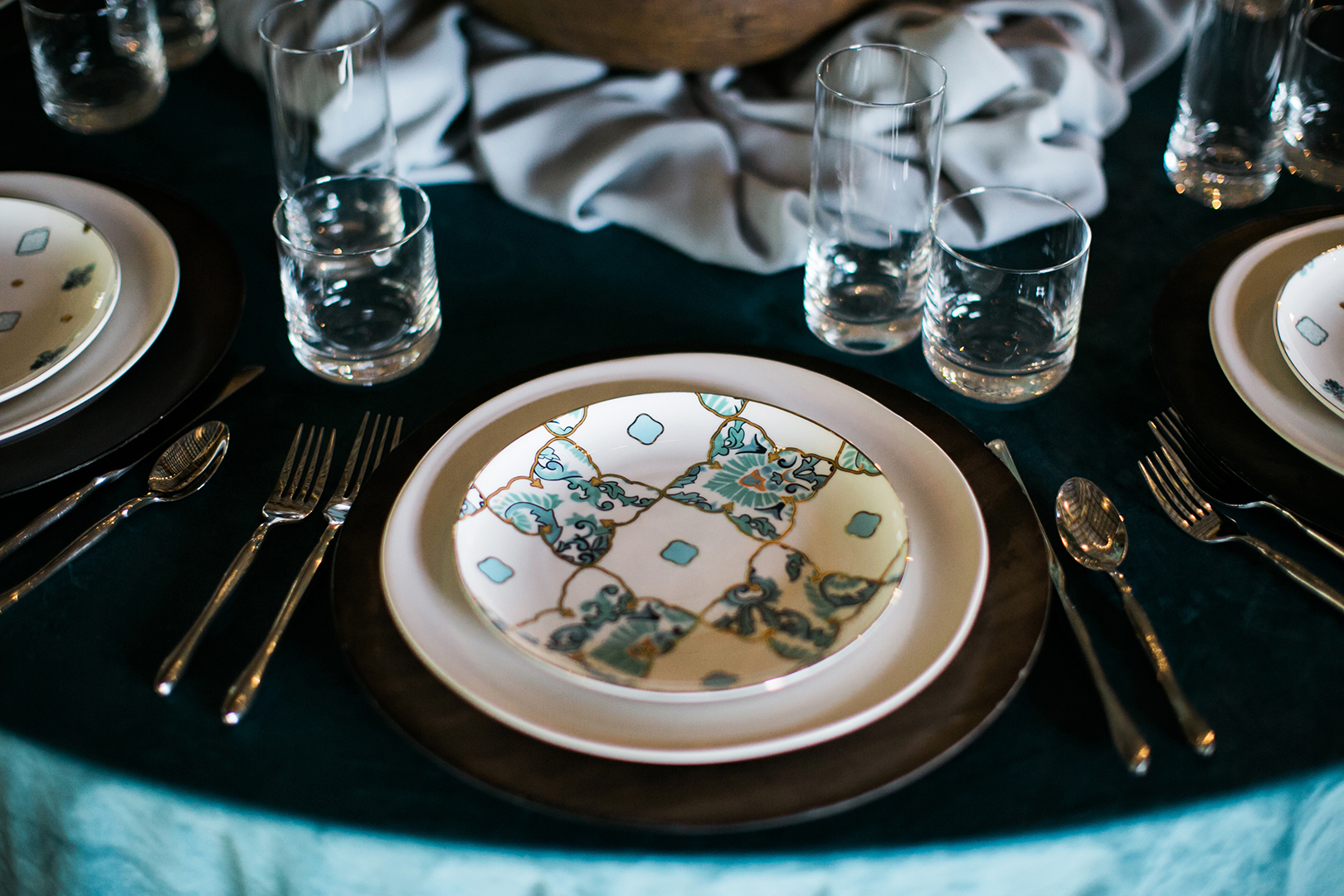 Luxe Seating
Although your own dining chairs will do just fine, swapping your seating for a special evening can make a big impact. It also makes for more cohesive black-tie dinner parties! We offer a variety of stylish seating options, from more traditional designs to unique contemporary pieces. Our Harlin Dining Chairs are ideal for luxe Southern-inspired gatherings, as our the Adeline Chairs. Whereas the Acrylic Carrigan Side Chairs offer a more modern but equally formal look! Then there is the always popular Chiavari Chairs, available in four beautiful colors, which look stunning in any setting.
Hosting a black-tie wedding or black-tie corporate event? Don't fret! We have plenty of seating in stock for small parties as well as large gatherings.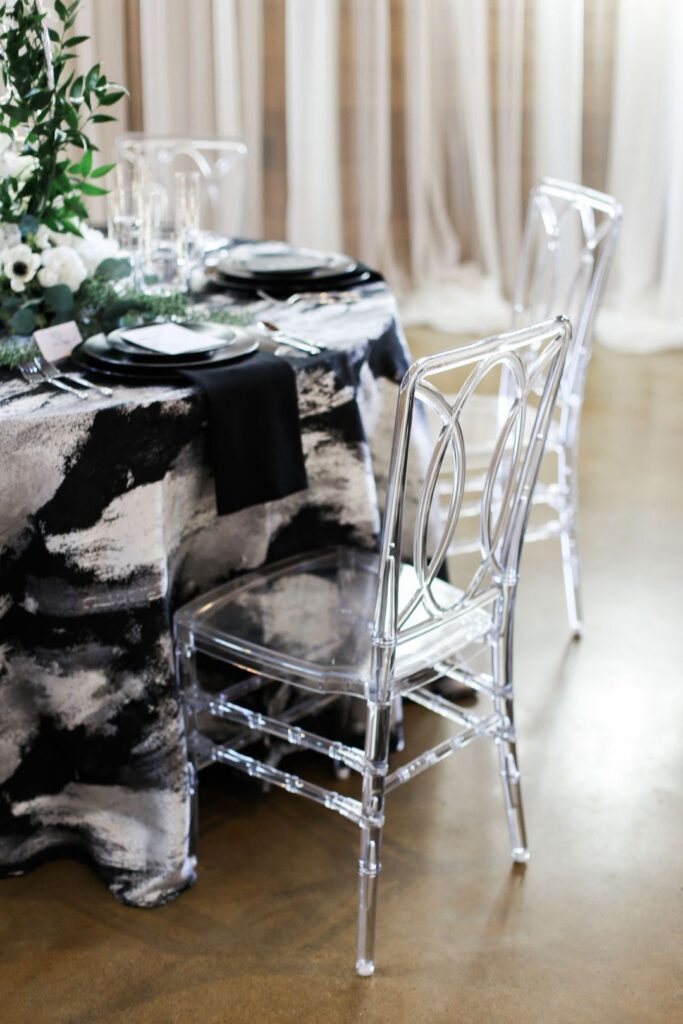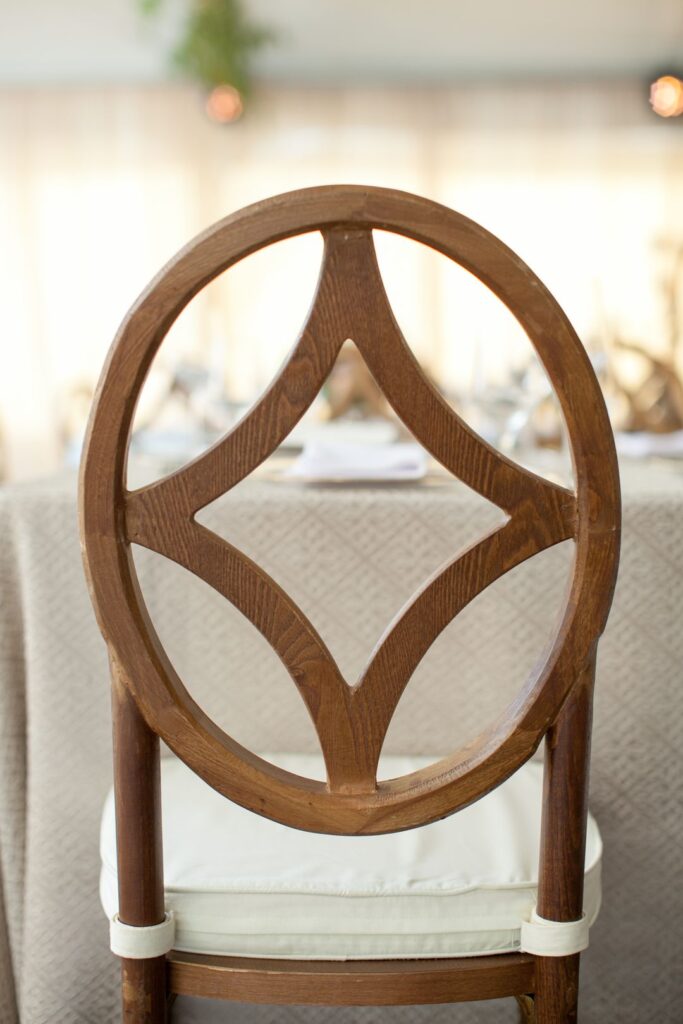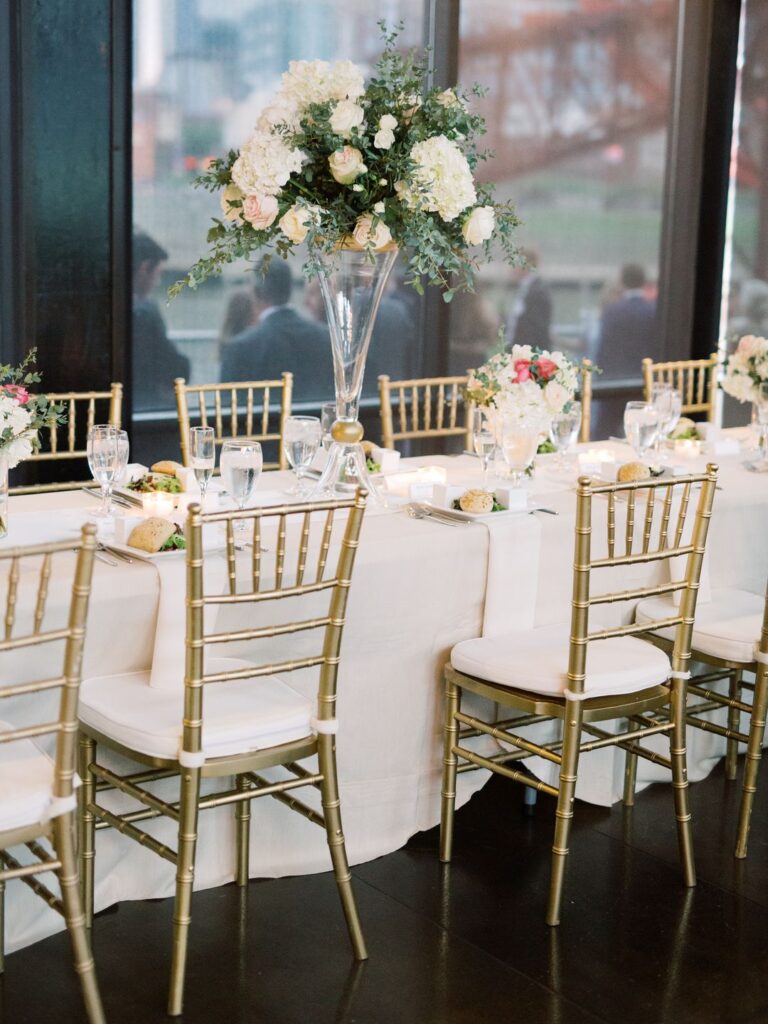 The 'Wow' Factor
While most black-tie event themes entail neutral palettes and elegant serving ware, we love a 'wow' factor. In fact, we encourage it! Little details that will have guests talking, snapping pics, and admiring the thought that went into the design. It can be as simple as quirky glassware, like our always popular Cybil Wine Glasses or Champagne Flutes. Or luxurious velvet linens, in a deep Magnolia or eye-catching Merlot – they won't be able to keep their hands off it! Another luxe addition are stylish centerpieces like our Davis Glass Cylinders, paired with greenery and candles. Or our contemporary Acrylic Rectangle Container.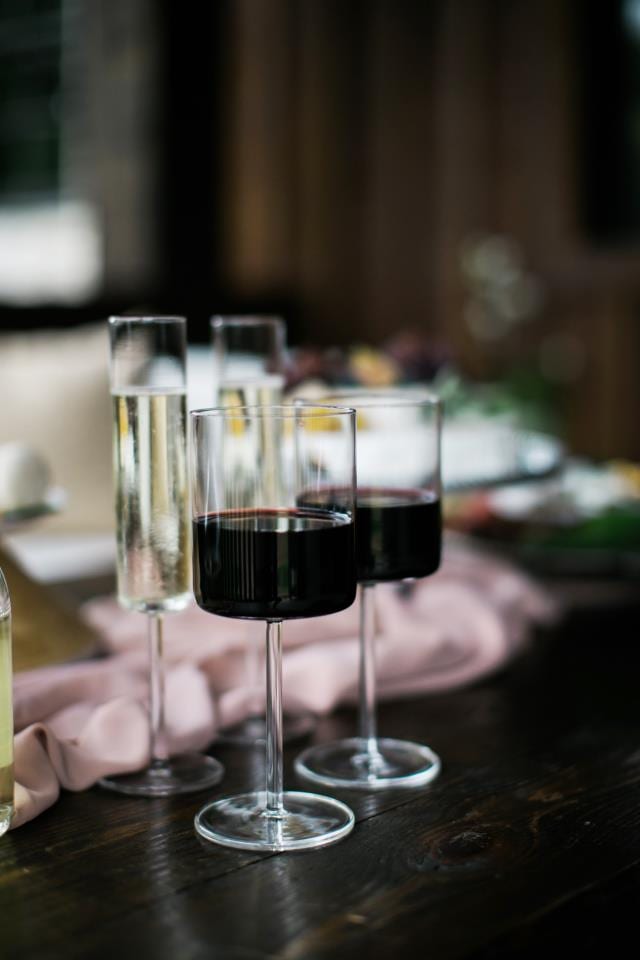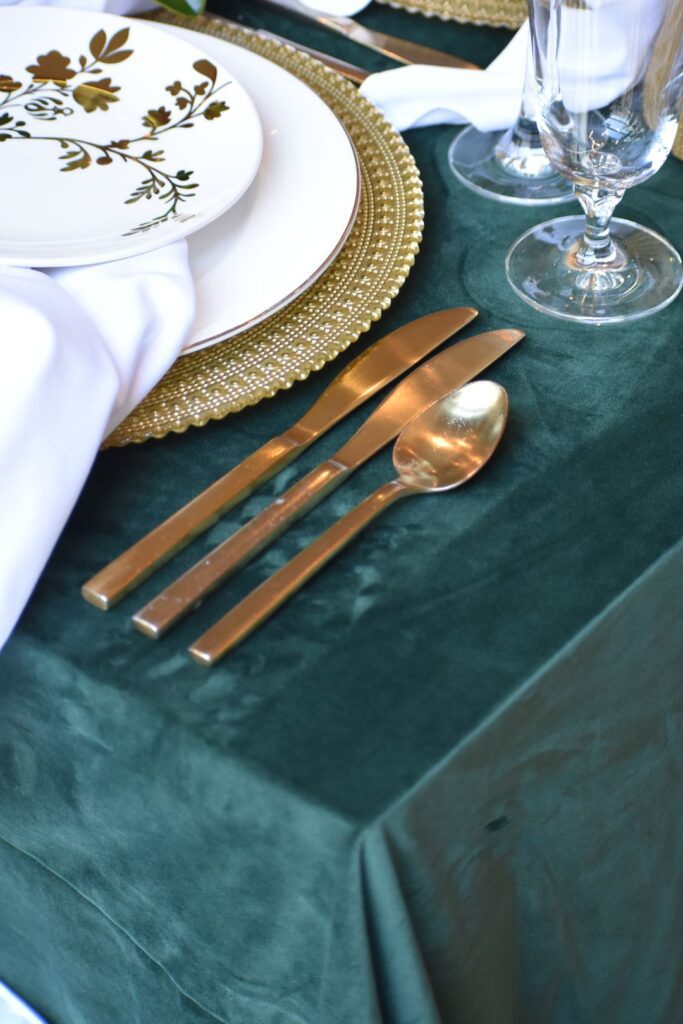 Love the idea of black-tie dinner parties? Send our team a message at info@southerneventsonline.com for help planning a one-of-a-kind event. Or for more event design inspiration, take a look at our blog on Regal Inspired Rentals for Elegant Tablescapes.
TAGS | Black and White, black tie dinner parties, event tables, event tablescapes, formal event design, luxe event design, luxe event rentals, servingware, tablescape design
FEATURED RENTALS | Magnolia Velvet Linens, Merlot Velvet Linens, Davis Glass Cylinders, Acrylic Rectangle Container, Round China, Onyx China, Stone China, Darcy China, Harlin Chairs, Adeline Chairs, Acrylic Carrigan Side Chairs, Chiavari Chairs,Glass Charger with Gold Rim, Medallion Gold Glass Charger, Laguna china, Coronado China, Gold Austin, Abby Flatware, Como Flatware, Noir Matte Black Flatware,
---
3

Mar

On Trend, Southern Events Products, Trends and Inspiration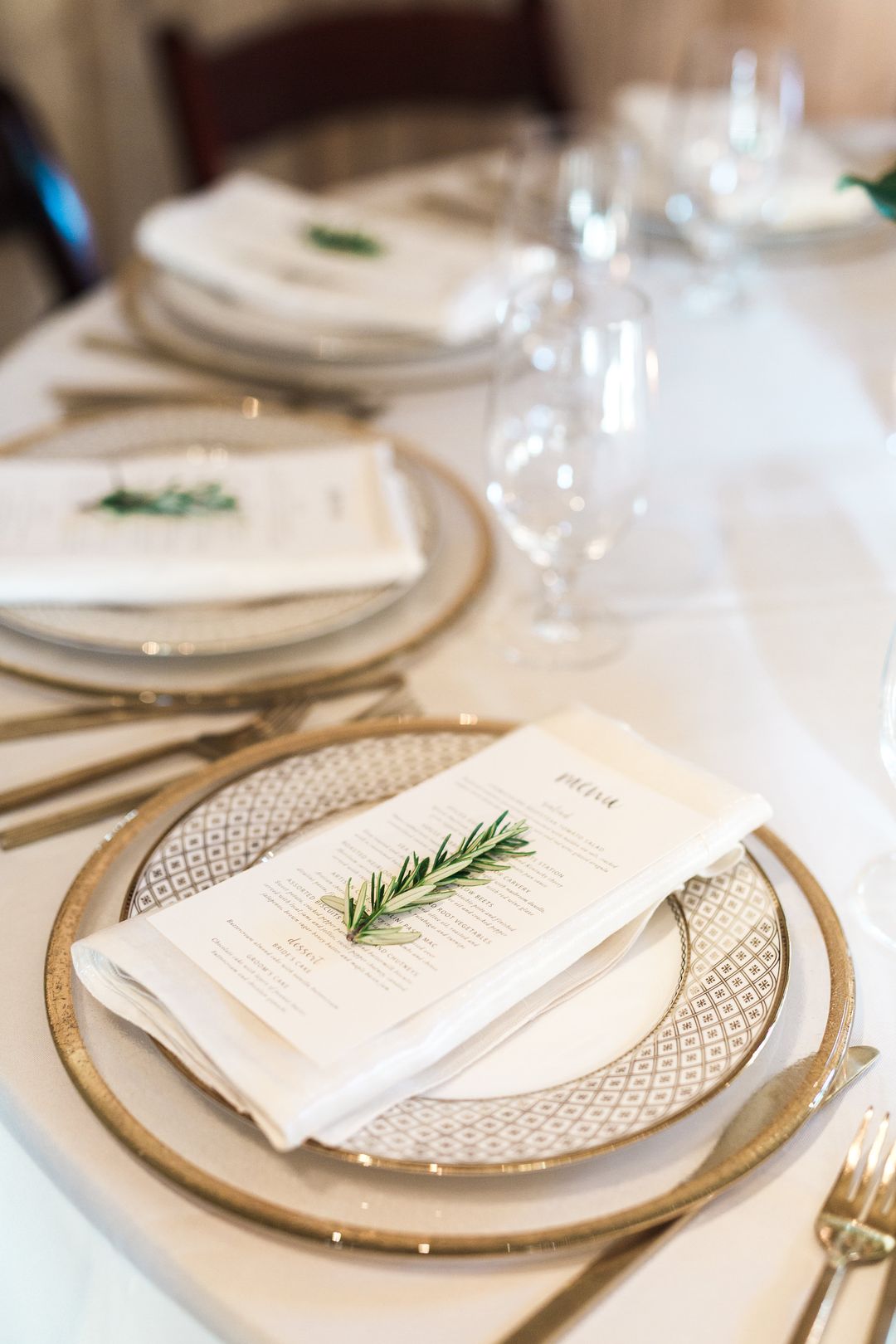 If there is one type of event design that will never go out of style, it's regal inspired celebrations. Starring luxurious metals, intricate patterns, and opulent colors, this style is a surefire way to achieve a memorable yet timeless event. It's a gorgeous option for a wide variety of gatherings, including corporate events, such as galas and fundraisers, as well as weddings and personal parties. Get inspired by our regal inspired rentals, perfect for hosting a cocktail hour or seated reception.
Regal Event Linens
Let's start by putting together a place setting fitting for a queen! Depending on the table featured at your event, you may want linens. The exception being tables with natural wood tabletops, like or Fruitwood Farm Table, which you'll want to show off.
As of late any of our velvet linens have been a hit, as the plush materials is effective at lending a regal look to any tablescape. You can't go wrong with neutral colors, such as black, white or taupe. Although, rich colors will contrast beautifully with metallic accents. Our current favorites include Magnolia Green and Navy Blue! However, if you want a tablescape that looks like it came straight from the Regency Era, consider our Gold & Ivory Fresco, Blue Kensington, or Ivory Pearl Shalimar Linens.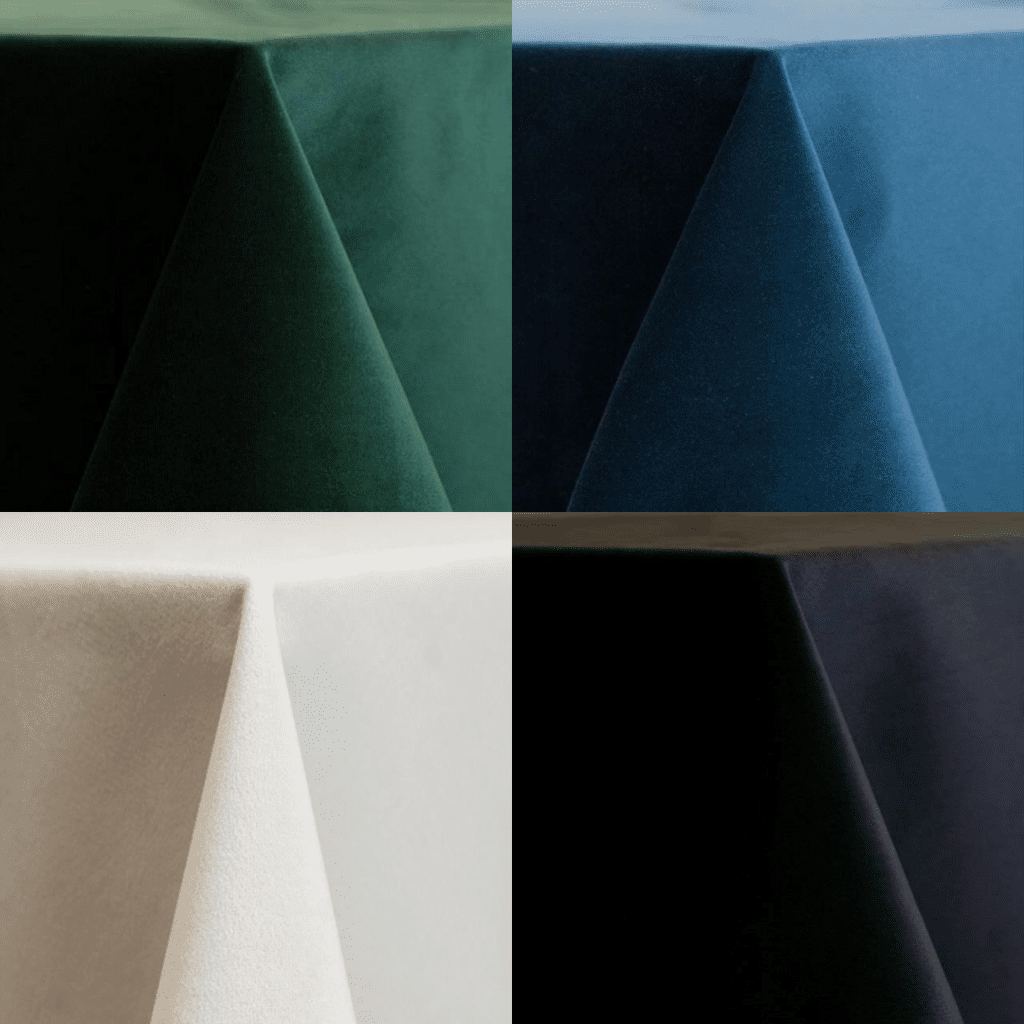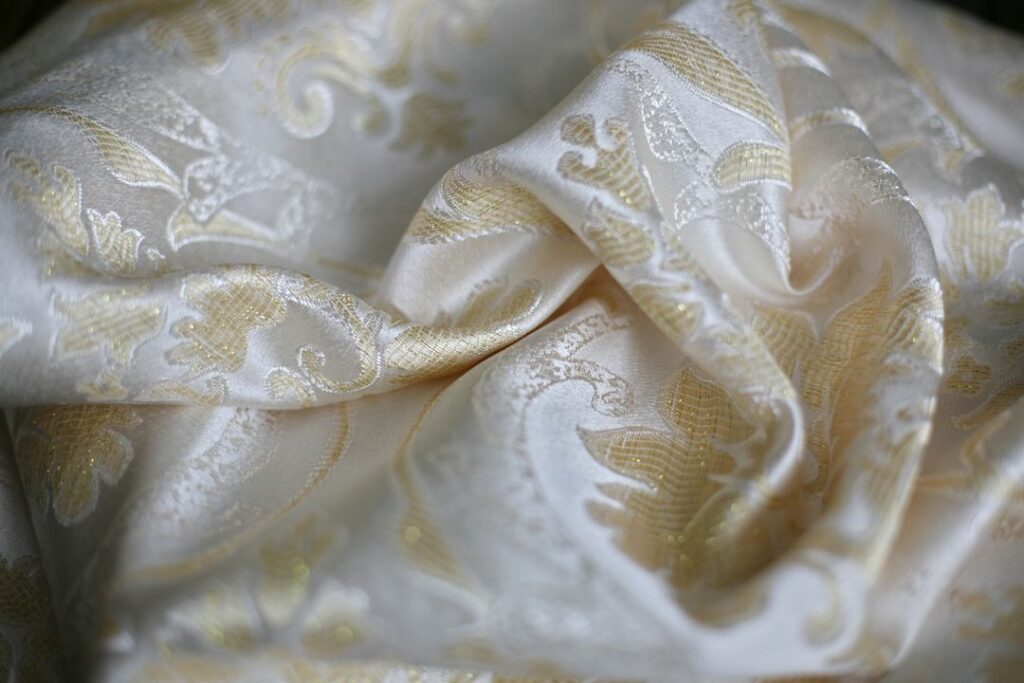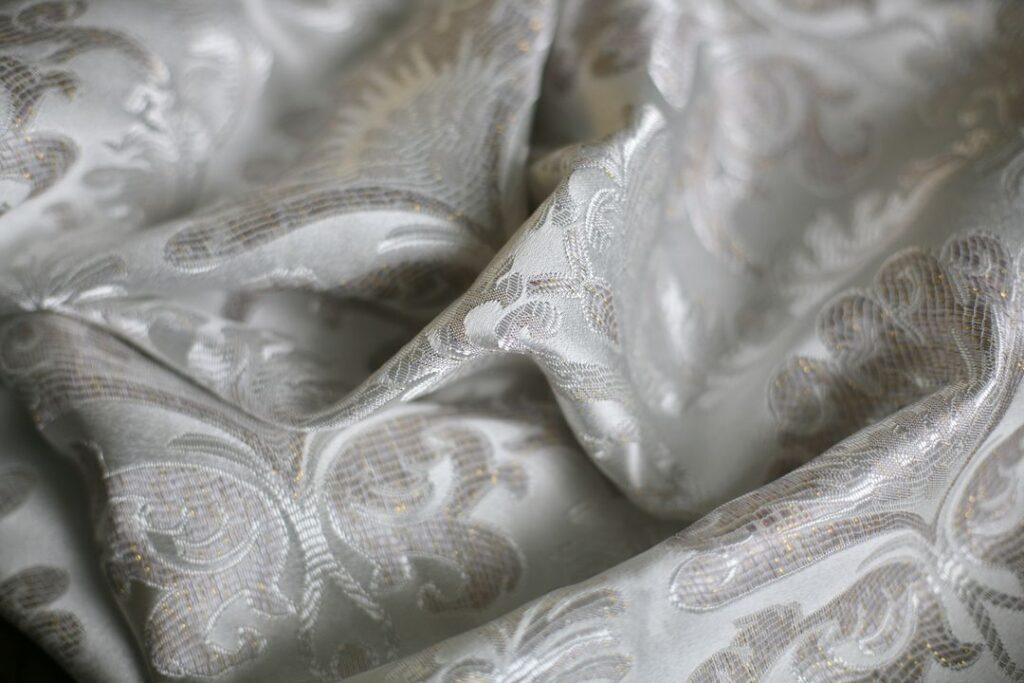 Opulent China
By far our most popular china for a luxe event is our Athena China, with its sleek gold border. For an especially regal look, consider or Ophelia or Hamlet China, with their more intricate designs. All of these pieces pair well with any of our glass chargers – elegant pieces that don't take away from the fabulous gold accented china. We have a variety of options depending on your color scheme or style, including glass chargers with black, gold, silver, and even a beaded rim.
For flatware, we recommend either our beautiful Fresno or Abby Flatware. The Gold Matte color and bulky shape of Fresno will lend a big statement. Meanwhile, the dainty Abby Flatware is luxe yet understated. A better option if your china and charger is bold!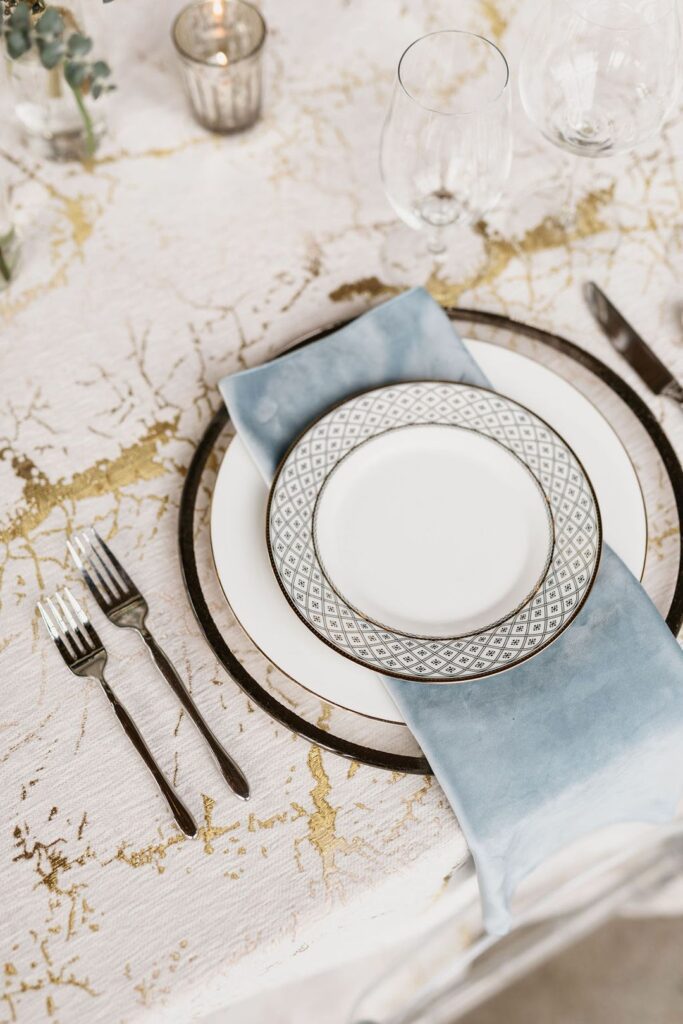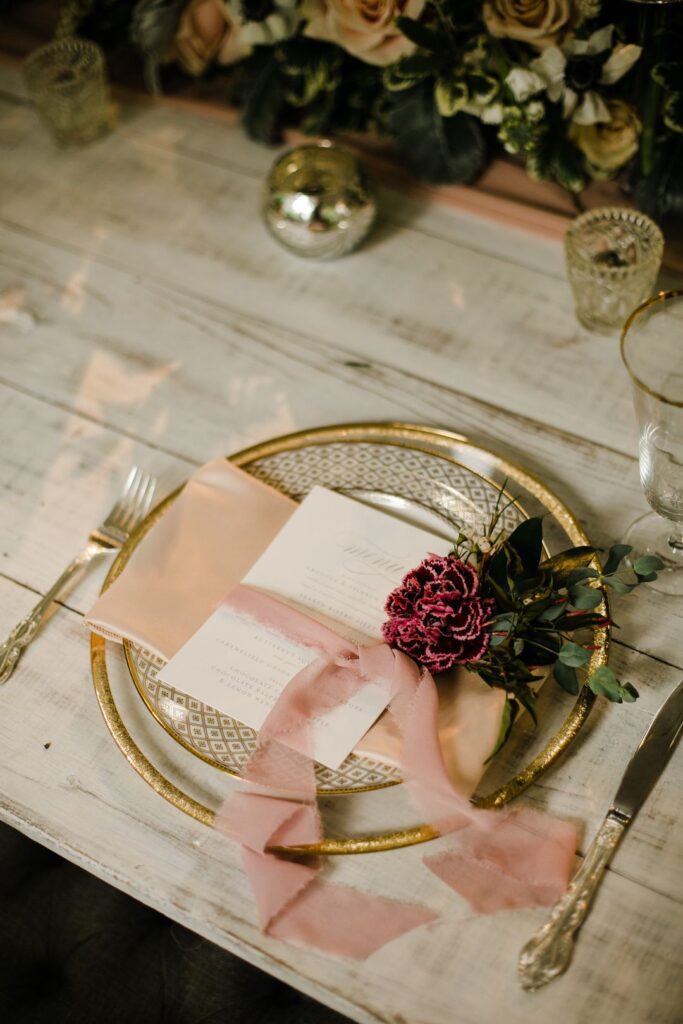 Luxe Barware
Every social event requires a bar and fresh beverages! Make sure you serve your drinks in glassware that suits your regal theme. Our Audrey Glassware is a dainty but timeless option, featuring a sleek design and luxe gold rim. Meanwhile, our Monaco Glassware has an intricate design that is sure to 'wow' your guests. Or, consider the simple Champagne Gatsby Coupe glasses, fitting pieces for a more casual event.
If you're hosting an intimate party and want to add an extra luxe entertainment factor to your cocktail hour or reception, consider renting our Rolling Gold Bar Cart. It's the perfect way to serve up fresh drinks table-side!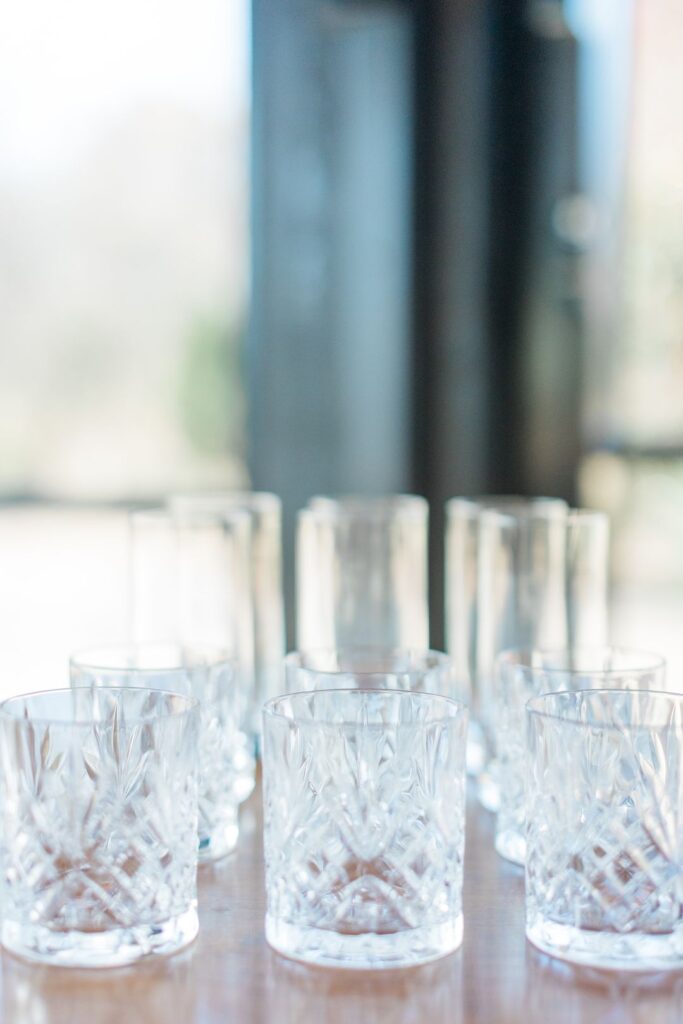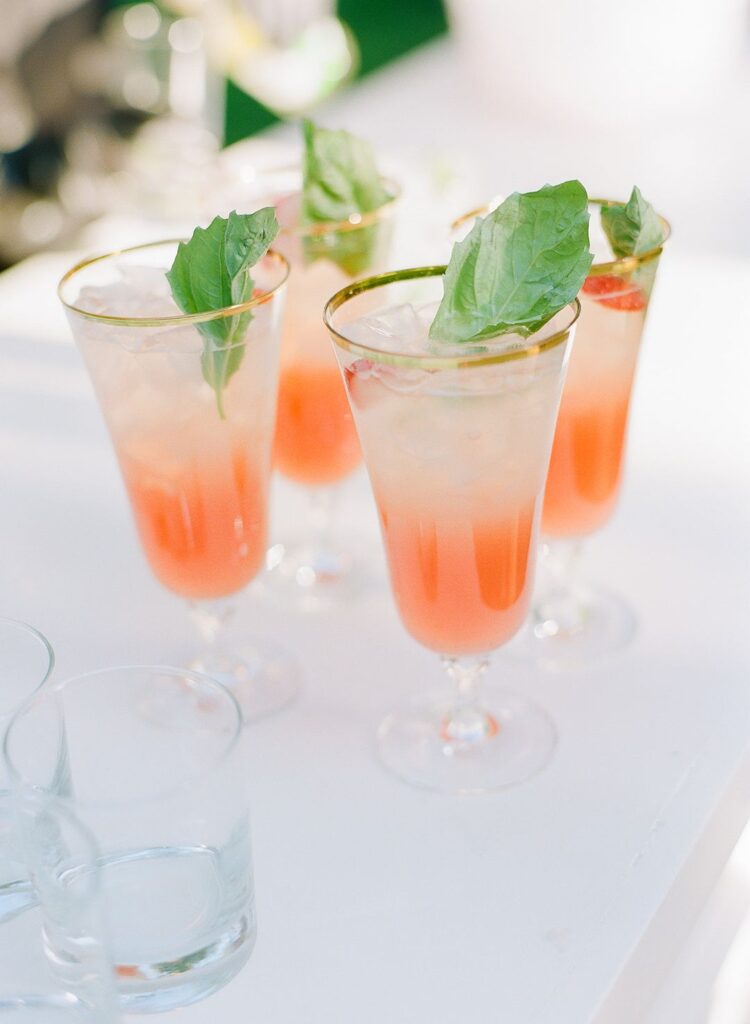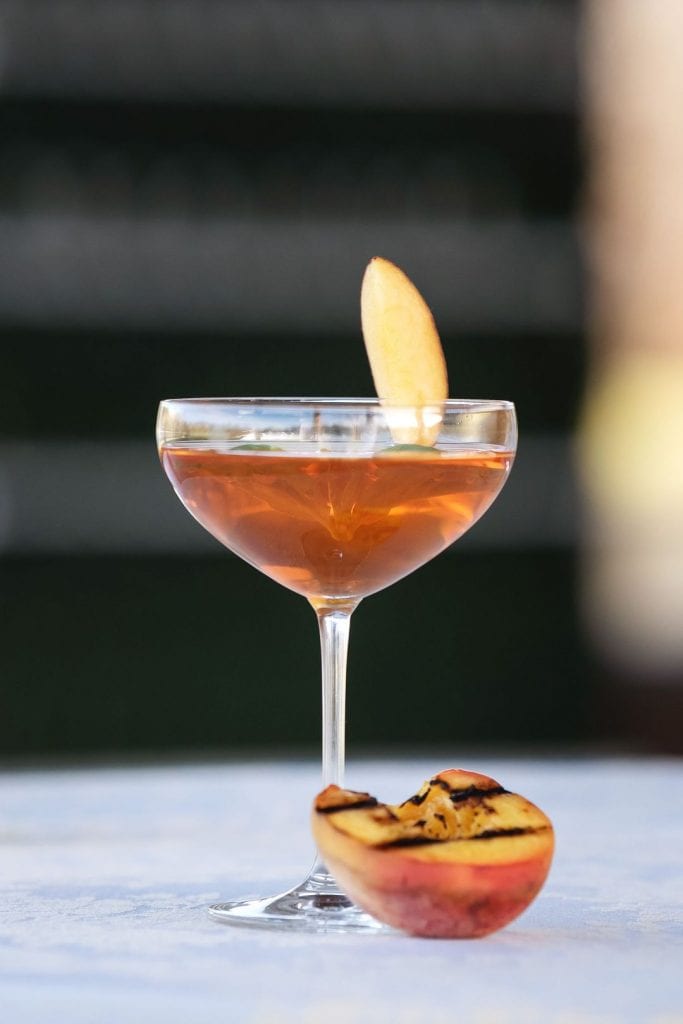 Drooling over these regal inspired rentals? Send our team a message at info@southerneventsonline.com for help selecting the best pieces for your elegant event! If you need a matching lounge, be sure to check out our blog on Natural Luxe Lounge Furniture.
TAGS | Glassware, Velvet Linens, glassware rentals Nashville, gold place setting, linen rentals nashville, luxe event rentals, luxe linens, regal event rentals, servingware
FEATURED RENTALS | Champagne Gatsby Coupe, Audrey Glassware, Monaco Glassware, Rolling Bar Cart, Velvet Linens, Kensington Linens, Ophelia China, Hamlet China, Athena China, Gold Rim Glass Charger, Silver Rim Glass Charger, Black Rim Glass Charger, Fresno Flatware, Abby Flatware,
---
3

Feb

On Trend, Trends and Inspiration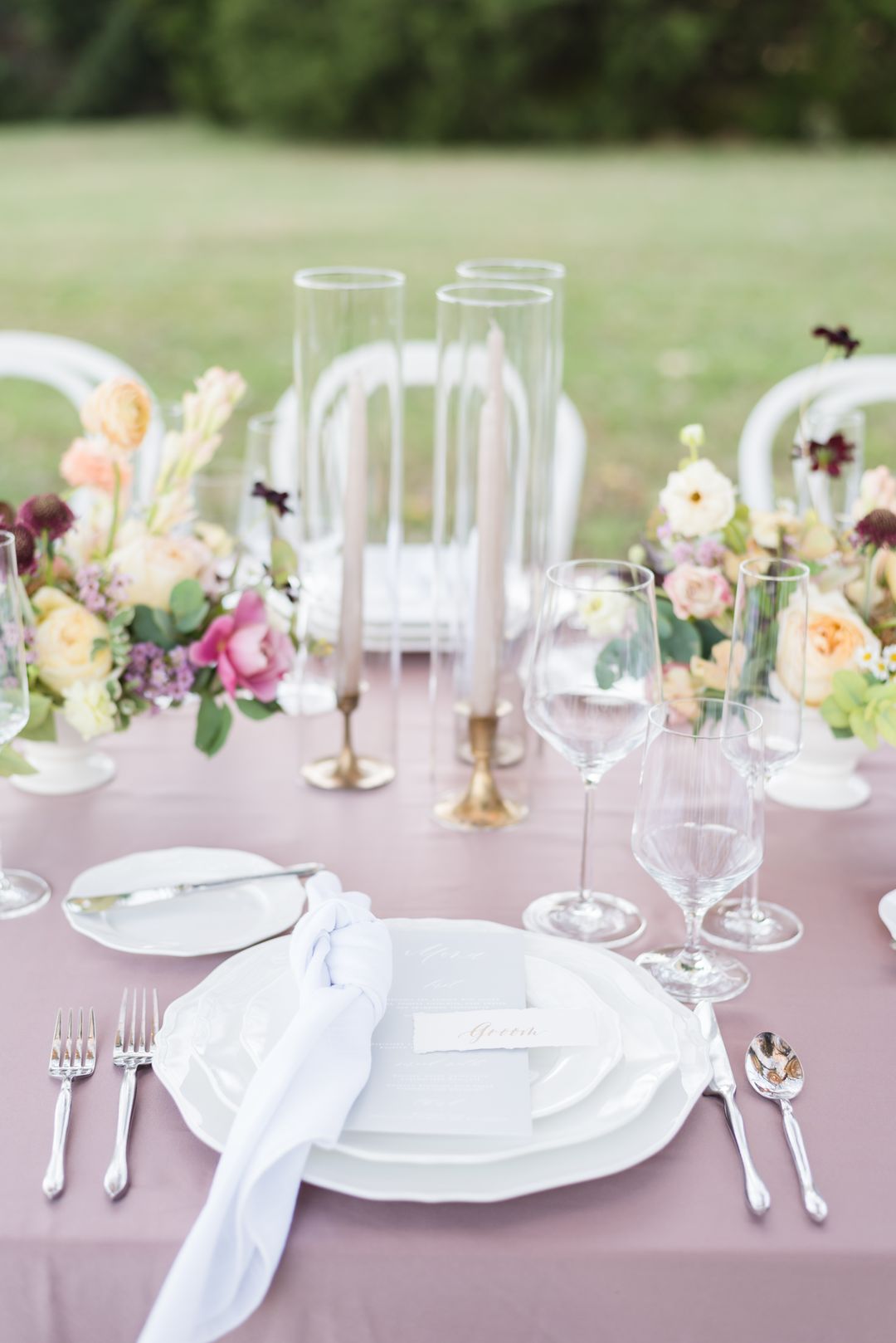 It should be no surprise that with the popularity of the show Bridgerton we're seeing an uptick in Cottagecore event design. Romantic and regent, this style is a throwback to simpler times and elevated design. Meaning luxe textiles, rich colors, and dainty details that would impress members of high society. To help you host a party that feels like a timeless period drama, take a look at our Cottagecore inspired event rentals.
Vintage-Inspired Lounges
If you want to impress guests with your Bridgerton inspired event design then a luxe lounge is a must-have. During this period cocktail hours were the WAY to stay up-to-date on the latest gossip! Easily create a comfortable and memorable area for socializing with our vintage-inspired furniture. A velvet sofa, such as Fern, is always a winner, featuring a rich color and texture. Or opt for the more period appropriate Everly, with a shapely back. For a complete look, don't forget extra seating, like our Bamboo Arm Chairs or fun Turkish Rug Ottoman. Topped off with any of our classic Vintage Rugs!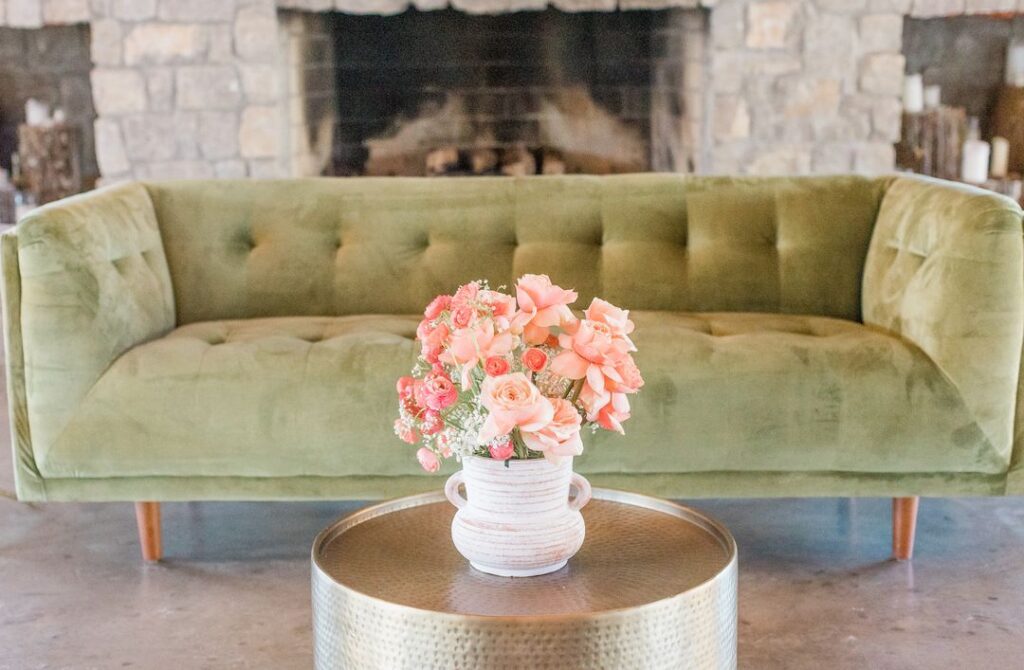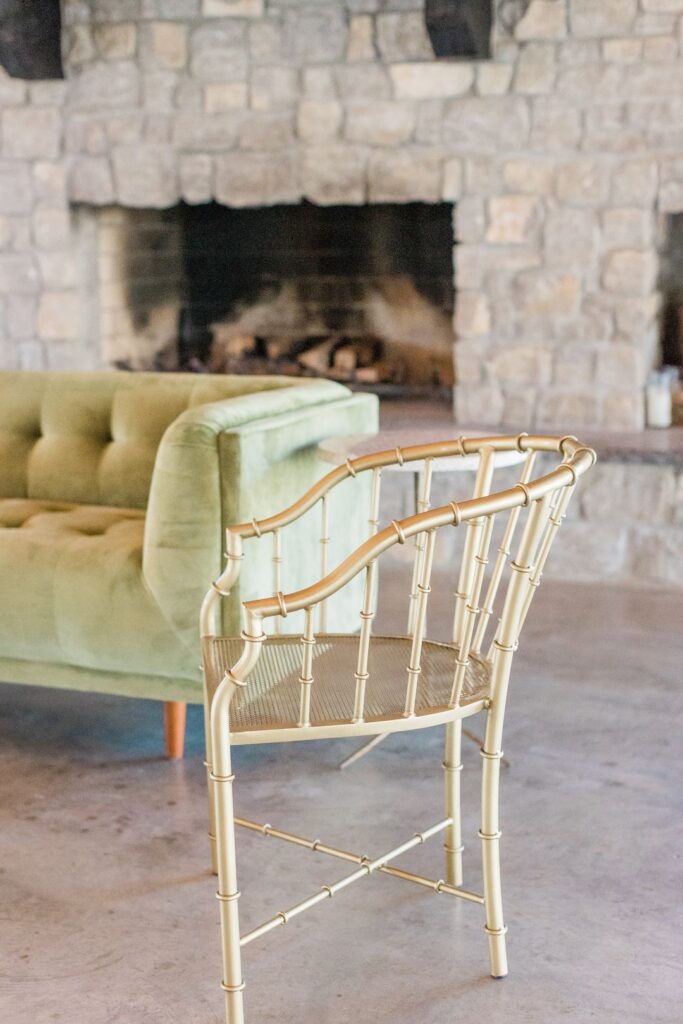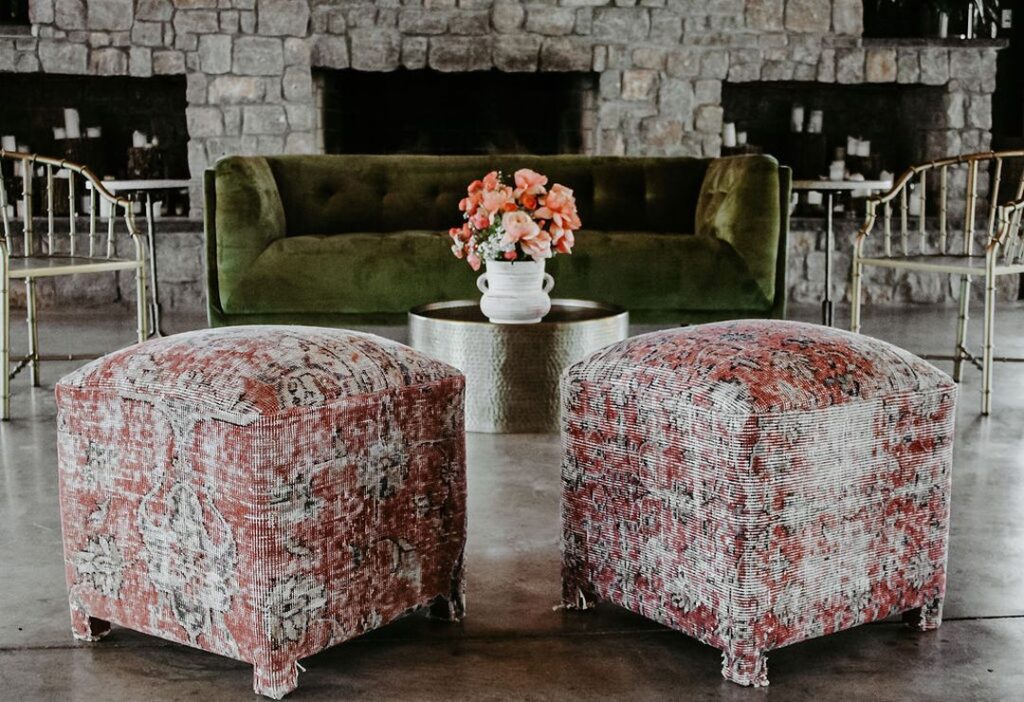 Elegant Barware
A cocktail hour requires drinks, served up in regal glassware. It's always fun to receive a refreshing cocktail served up in an elegant vintage-inspired glass. If you're wanting to incorporate a touch of color into your tablescape, we recommend our colored goblets, available in Amber and Green. Or for a more timeless Cottagecore inspired event design, try our stunning Audrey Gold Rim Glassware. Then there is a newer addition to our lineup, Monaco Glassware, of which the champagne and water goblets are our favorite. For an especially impressive display, don't forget to grab a Bar Cart or Bookcase.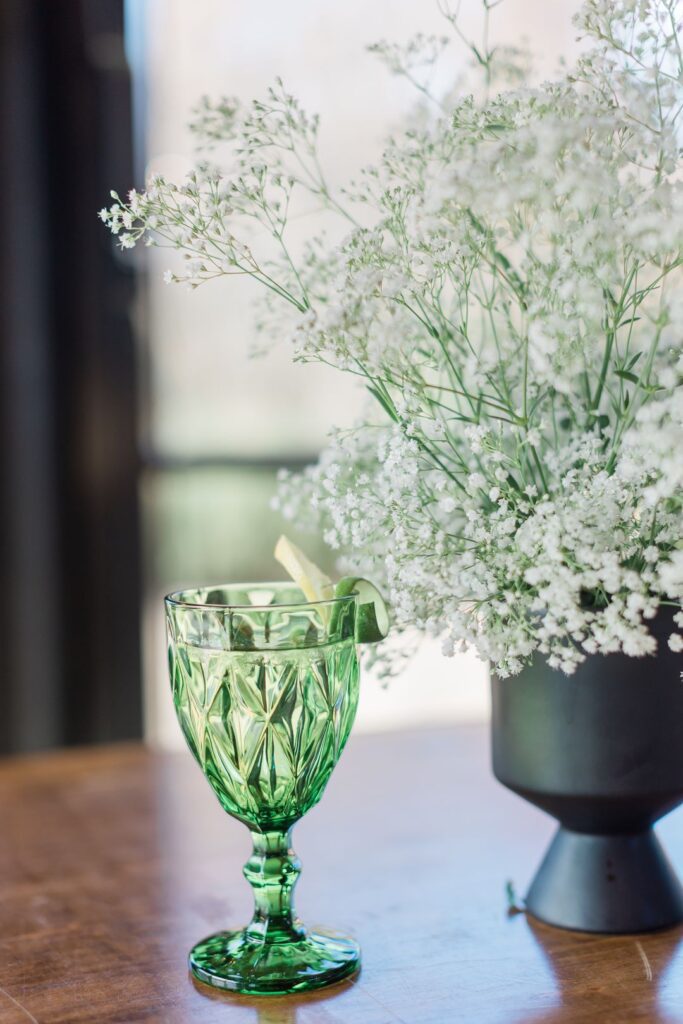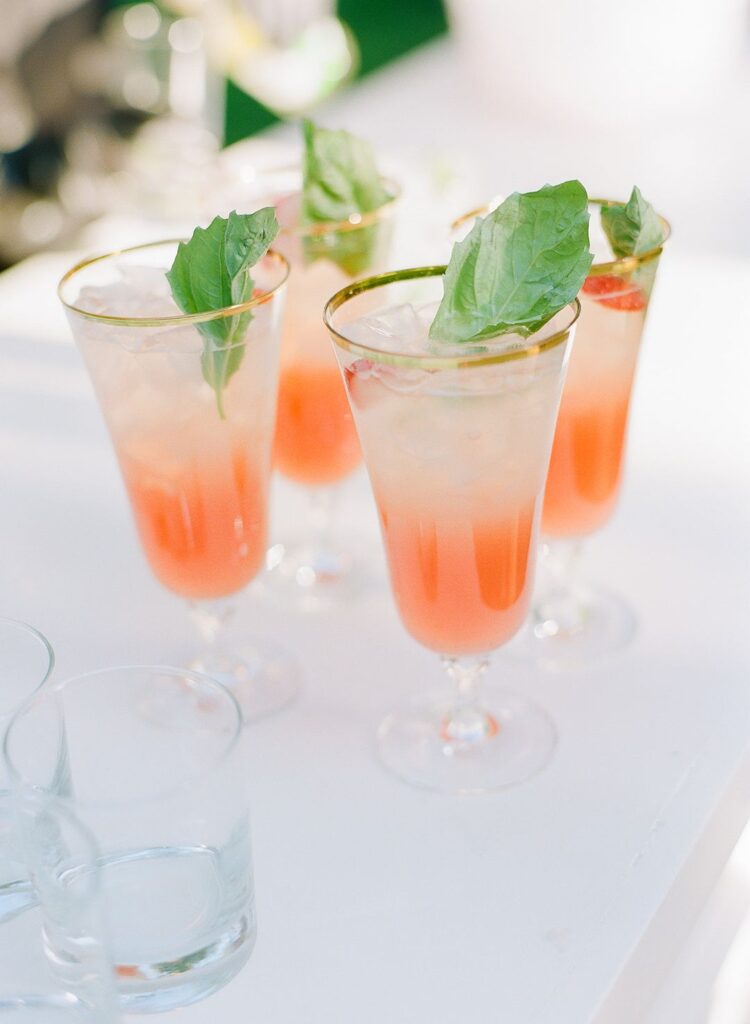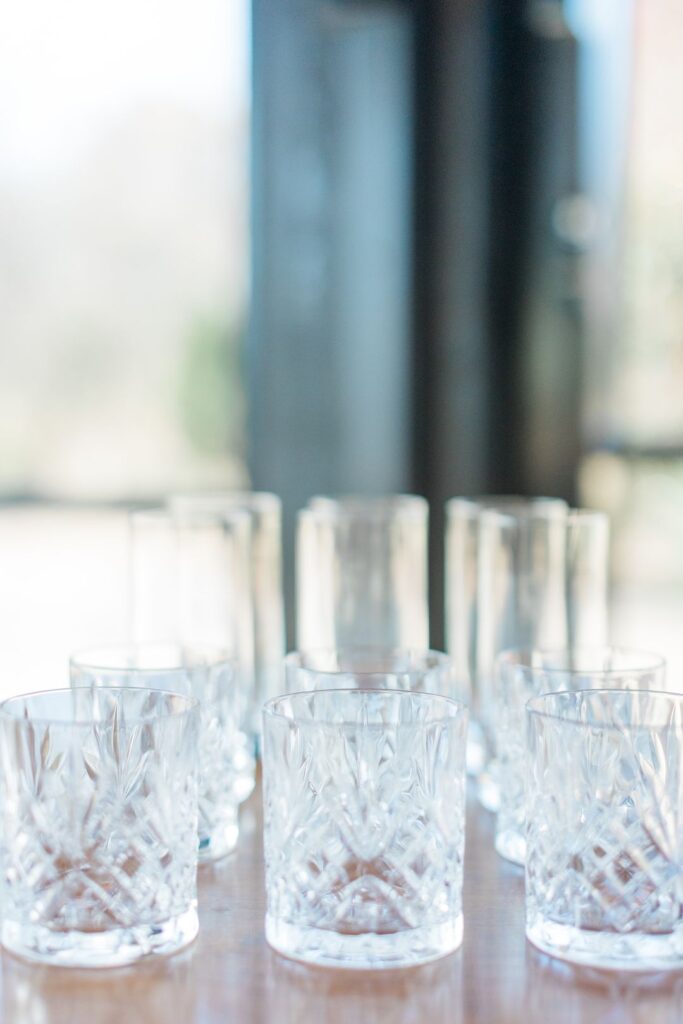 Fine Servingware
Of course for dinner you'll need equally impressive serving ware! We offer a wide selection of aristocracy approved china and flatware. A popular choice is our mismatched Heirloom China, which looks stunning when stacked. Or, go for a more high end vibe when you feature our gold embellished china, such as Hamlet or Ophelia. Our personal favorite however is Darcy, which has a dainty shape fitting for a more whimsical event. And to keep it simple, all of these pieces looks beautiful with both our Austin Gold and Fresno Matte Gold Flatware.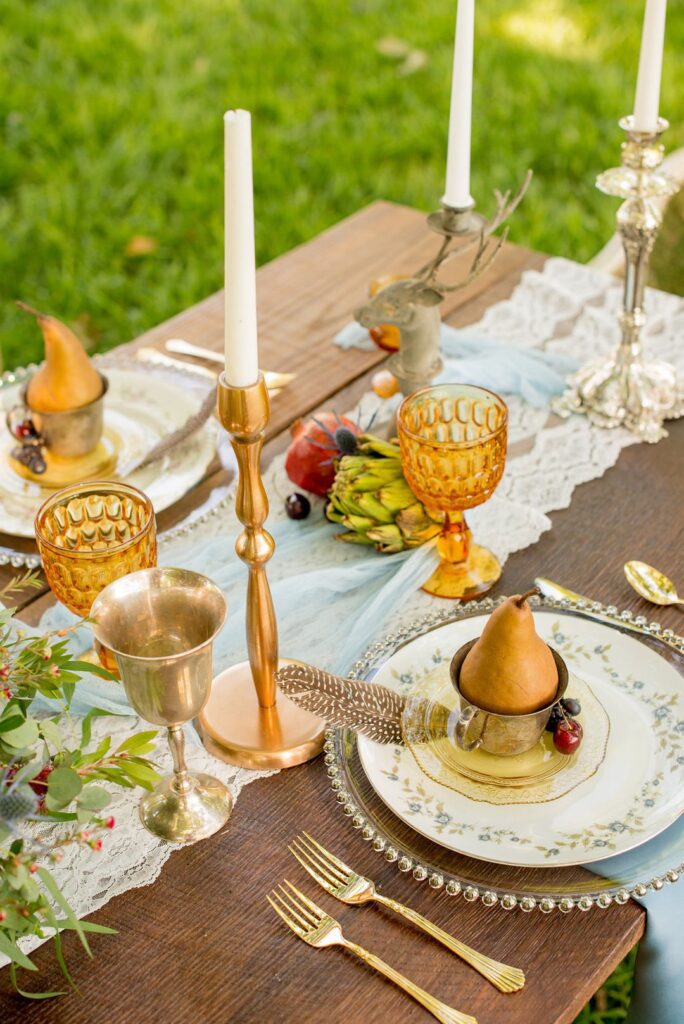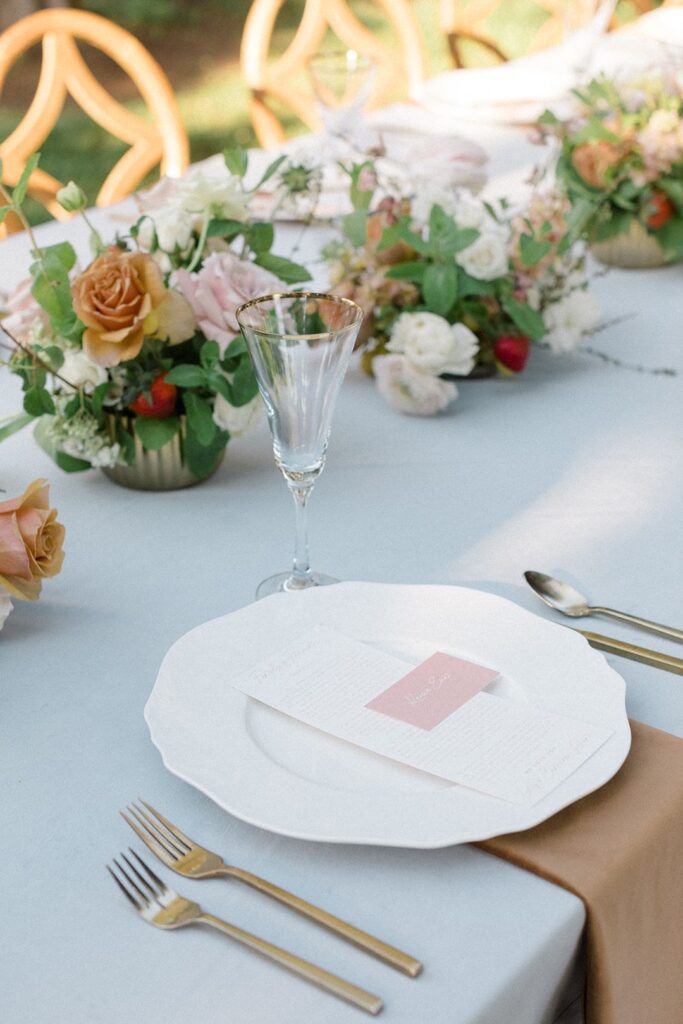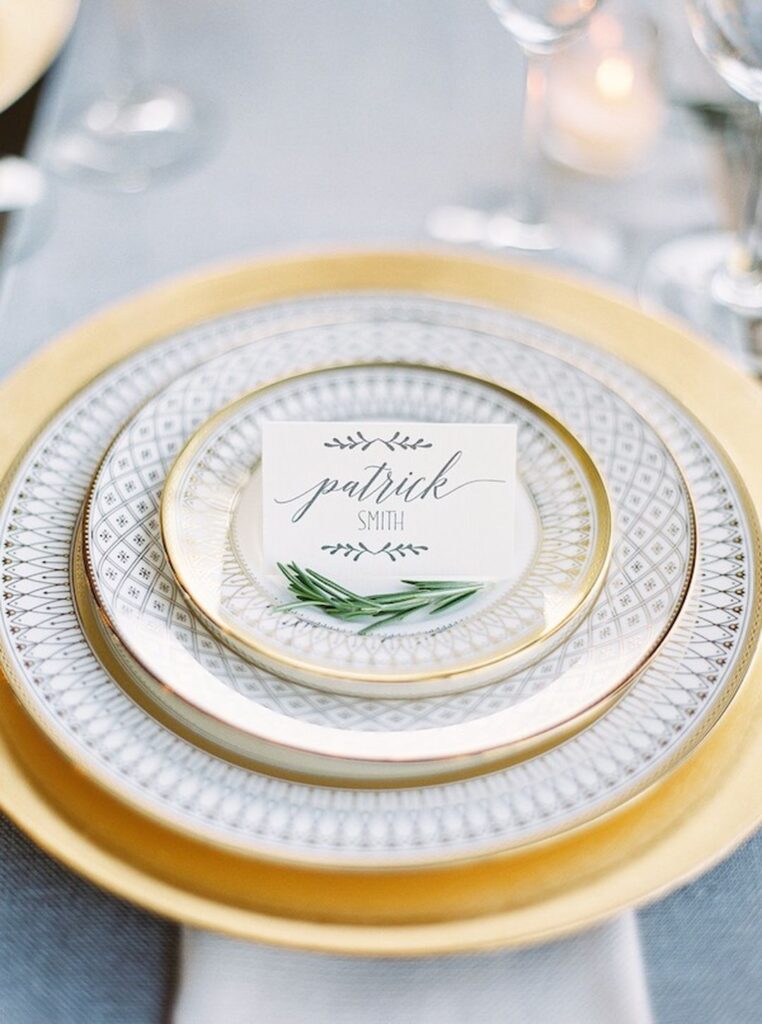 Want to secure one or several pieces of our cottagecore inspired event rentals? Contact our team today, at info@southerneventsonline.com! Or, if you're leaning towards a more natural luxe event design, take a look at our previous blog.
TAGS | Cocktail Party Rentals, Glassware, Lounge Furniture, On Trend, bar event rentals, bridgerton, cottagecore, cottagecore event design, luxe event design, servingware
FEATURED RENTALS | Everly Sofa, Fern Sofa, Bamboo Arm Chairs, Turkish Rug Ottoman, Vintage Rugs, Heirloom China, Hamlet CHina, Ophelia China, Darcy China, Austin Flatware, Fresno Matte Gold Flatware, colored goblets, Audrey Gold Rim Glassware, Monaco Glassware, Bar Cart, Gold Bookcase
---
18

Mar

On Trend, Southern Events Products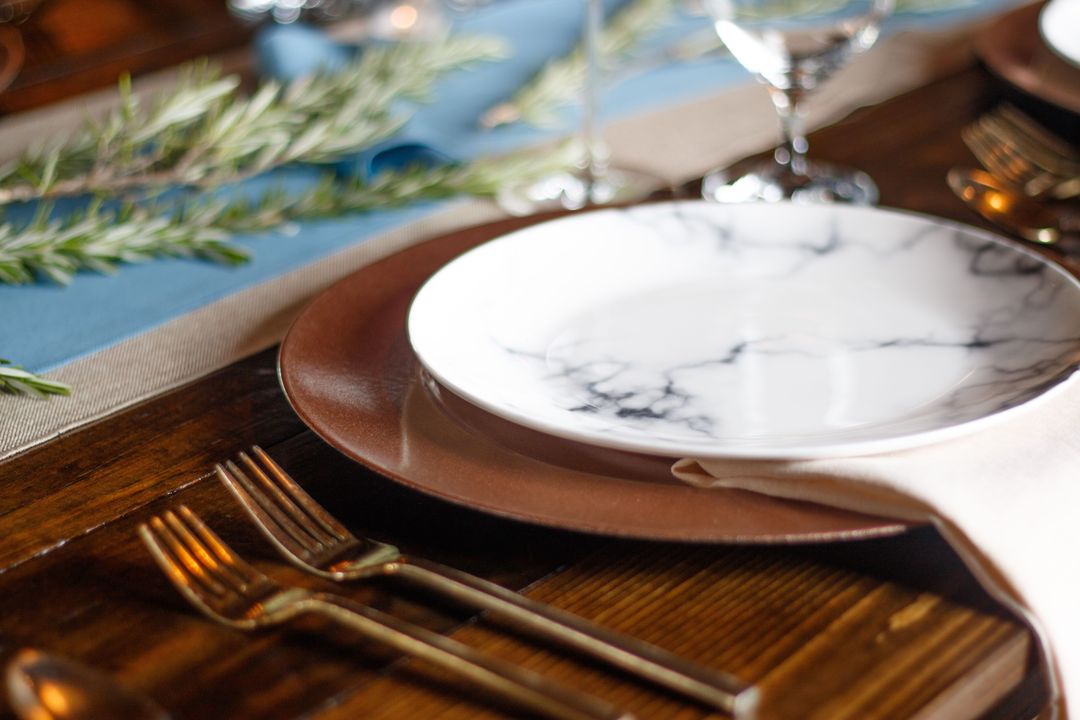 A stylish tablescape is a memorable element at any event, corporate gala or social dinner party. For many, the first addition is a charger plate, a large decorative base upon which other dinnerware is placed. These pieces serve as an effective yet simple way to elevate a tablescape, by complementing or contrasting your other serving ware, decor, or color palette. Take a look at our selection of unique chargers, now in-stock and available to rent!
Belmont Charger
A classic favorite, the Belmont Charger is a clear glass plate featuring a beautiful silver beaded rim. This versatile piece looks beautiful when stacked with bright or dark serving ware, creating an elegant yet subtle sparkle. Below, it is complemented by our Onyx China, Cameron Flatware, and Cybil Glassware, for a modern and dark yet whimsical look.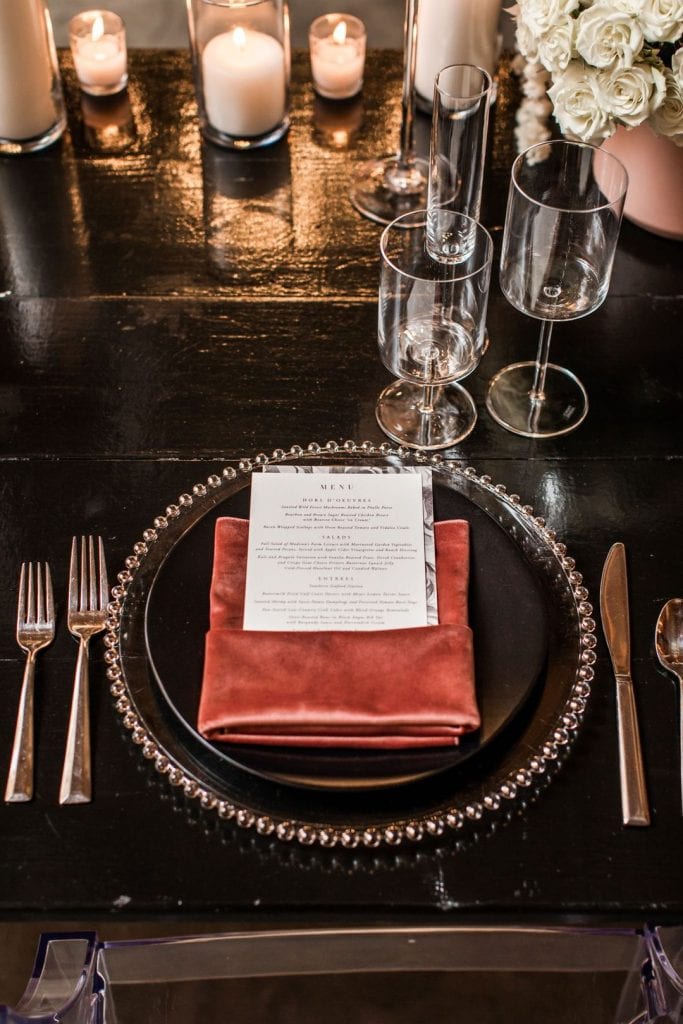 Copper Glass Charger
A newer item in our catalog, the Copper Glass Charger is a chic piece that lends a gorgeous touch of metallic to any tablescape. The bright copper rim has a feathered edge, giving it a fun contemporary vibe. Consider complementing this unique charger with our Brushed Copper flatware and Carrera Marble Dinner Plate.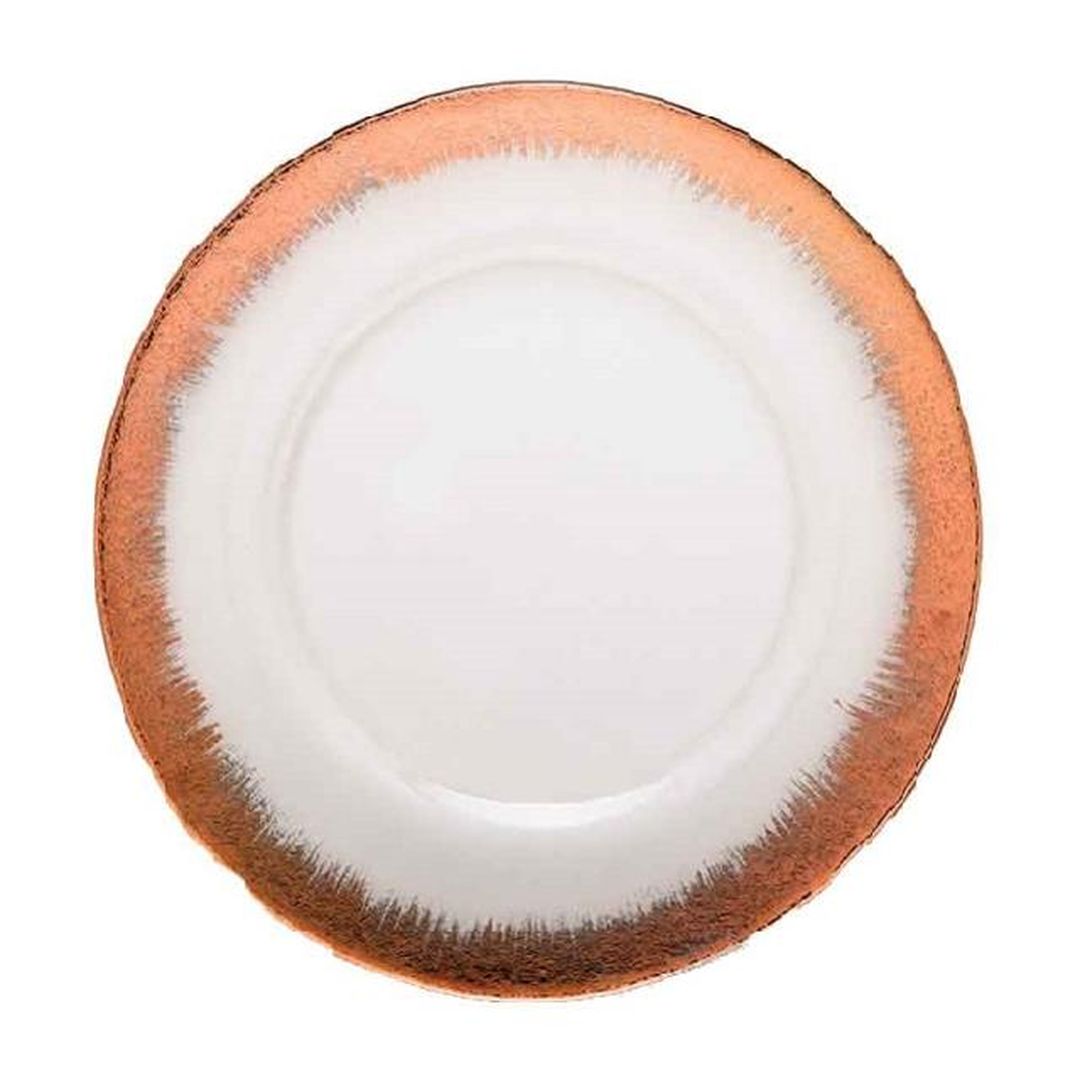 Darcy Bone China Charger
When your goal is a classically feminine tablescape, you can't go wrong with our Darcy Bone China Charger. With a dainty rim, this delicate plate looks stunning for a more traditional design. If you're a fan of the current cottage core trend, we recommend pairing this plate with our Heirloom China, Abby Flatware, and vintage-inspired Hob Nob Glassware.
Glass Charger with Gold Rim
Our Glass Charger with a Gold Rim is a must-have for any luxe modern tablescape. Simple yet bold, it features a clear glass center and a metallic gold rim. Popular for weddings, it looks especially beautiful when contrasting rustic elements, or when complementing other minimalist details. As shown below, it is paired with our Austin Flatware and Pure Glassware.
Glass Charger with Silver Rim
Similar to the previous design, our Glass Charger with a Silver Rim is an equally gorgeous alternative to gold. It offers a cooler tone to a tablescape that may be preferable for a brighter palette or cool weather event. On the tablescape shown below, it is complemented by a modern color palette of grey and purple.
Gold Round Laquer Charger
Our Gold Rouge Laquer Charger is a classic that can be dressed up or down. It can be paired with a wide range of china, including our Darcy China or mixed and matched with our Gold China. To complement the metallic shade, feature it alongside our Gold Austin Flatware.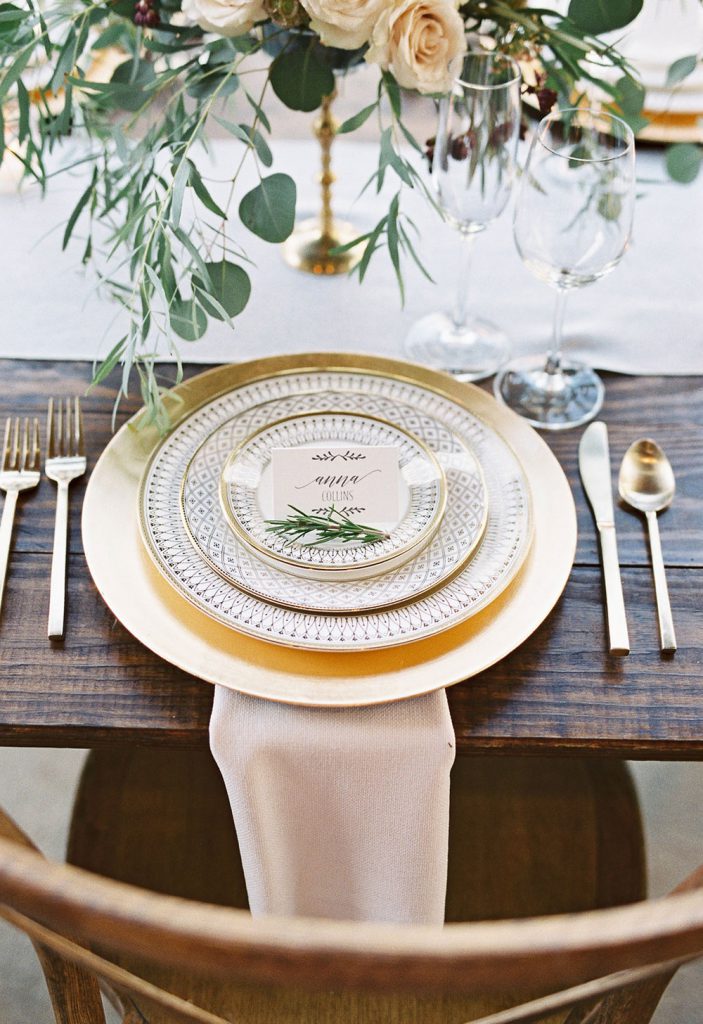 Medallion Gold Glass Charger
If you want a tablescape that screams luxe, check out our Medallion Gold Glass Charger! This intricate design is a stunner and looks even more beautiful stacked with our Athena or Ophelia China. The tablescape shown is topped with a Spice Velvet linen for a slight boho look. But for an equally dramatic yet moody vibe, opt for a darker color such as Black velvet.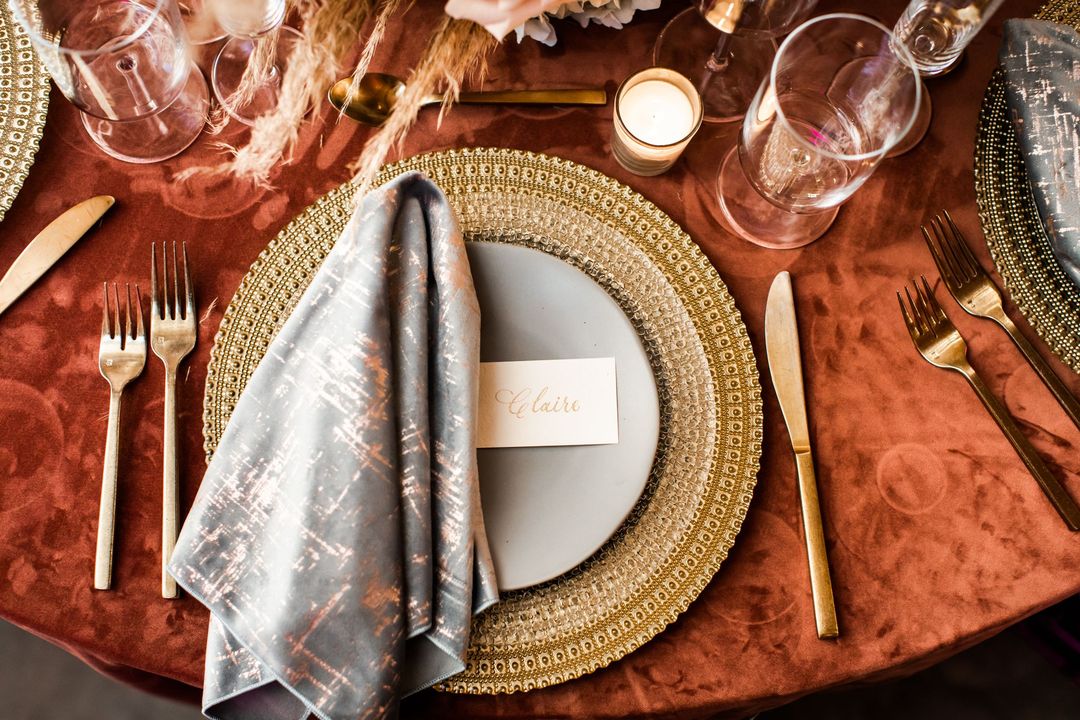 Rouge Round Laquer Charger
A versatile piece, the Rouge Round Laquer Charger is a rich copper tone. Although it looks gorgeous with neutral tones, feel free to spice up your tablescape by adding in more vibrant colors! As you can see below, it looks beautiful with a deep blue, true red, as well as silver metallics, and Earthenware.
Scalloped Wood Charger
Boho is in and our team at Southern Events is here for the trend! Our Scalloped Wood Charger is an easy way to lend a rustic yet charming look to your tablescape. It features a beautiful wood grain that perfectly contrasts bright serving ware, such as our White Round China. On the other hand, keep this unique charger front and center when pairing it with Clear Glass China.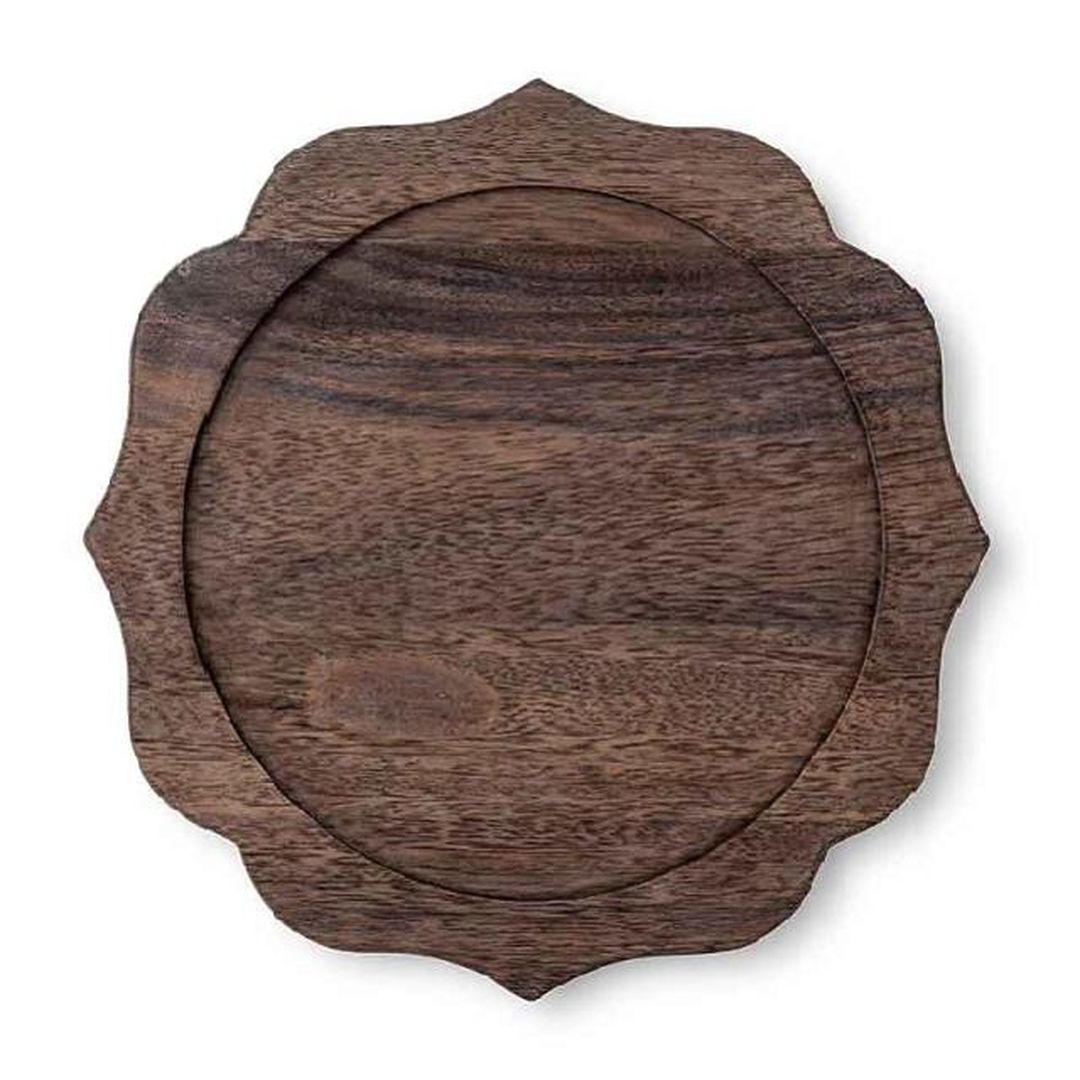 Silver or Black Round Laquer Charger
Our Silver Round Laquer Charger is a stunning base for a cool weather tablescape that is modern and luxe. Consider pairing these unique chargers with vibrant linens, such as our Light Blue Pindot or Wisteria Satin tablecloths. Meanwhile, our Black Round Laquer Charger works well in as a grounding element in both neutral tablescapes and bright and bold looks. Consider pairing it with our Fuchsia Etched Velvet Linen or against our Grayson Tables.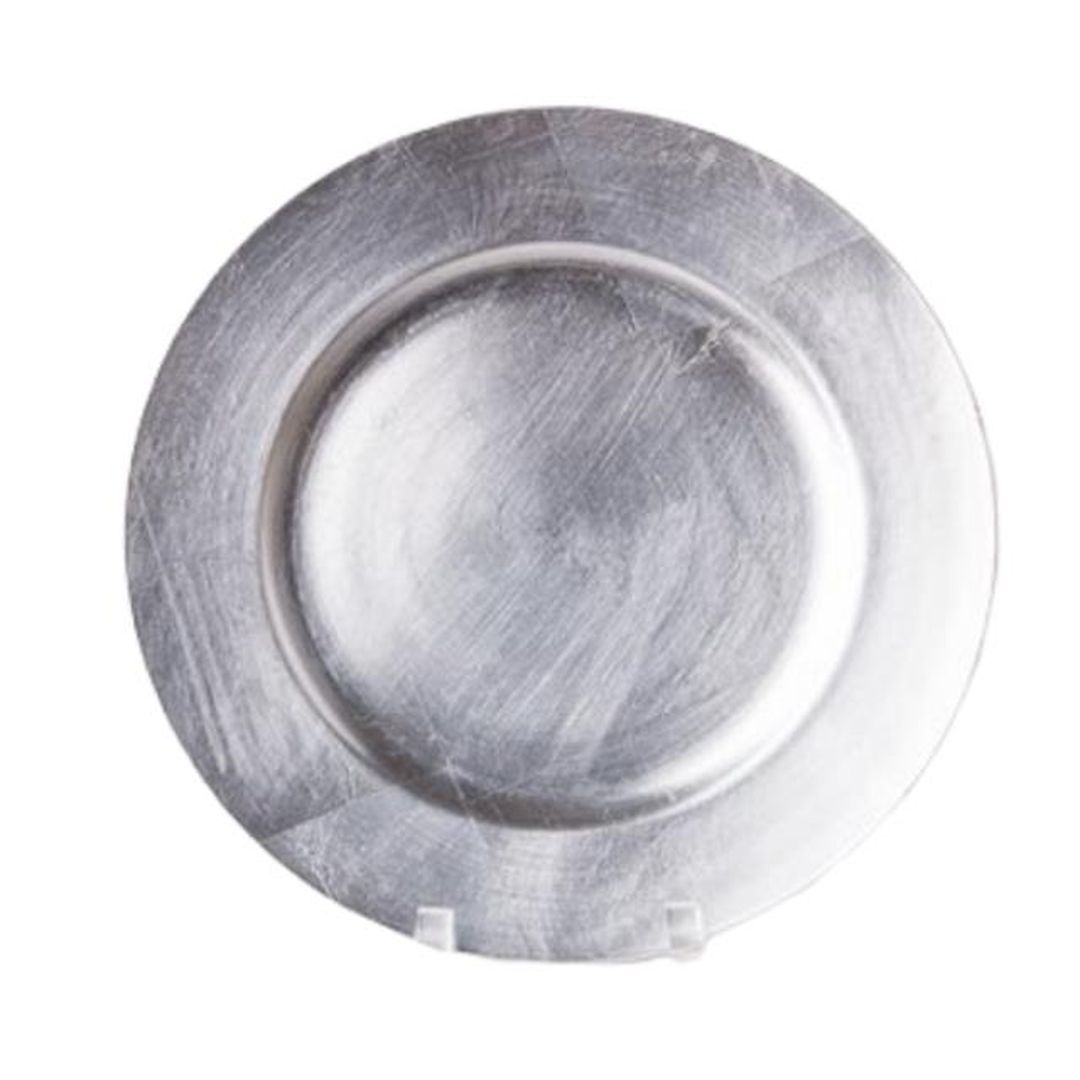 White Round Porcelain Charger
There is nothing wrong with a traditional tablescape starring our White Round Porcelain Chargers! Lending a traditional look, this style is preferable for corporate events, in addition to formal weddings or similar social events. It is easily paired with a selection of our white or ivory linens. Consider adding a luxe metallic touch via the flatware!
Wood Round Charger
Don't be mistaken, our Wood Round Charger can be used for more than rustic-themed tablescapes. While this faux wood charger looks beautiful next to other rustic elements, it can also be used to create a fun and modern design. See below, where it is paired with bright whites, vibrant pink, and gold metallics.
Want to feature one or more of these unique chargers on your event tablescape? Contact our team for help recreating one of these looks, or creating your very own, today!
TAGS | Chargers, modern tablescape, servingware, stylish event rentals, tablescape inspiration, tablescape rentals
FEATURED RENTALS | Belmont Charger, Black Round Laquer Charger, Copper Glass Charger, Darcy Bone China Charger, Glass Charger with Gold Rim, Glass Charger with Silver Rim, Gold Round Laquer Charger, Medallion Gold Glass Charger, Rouge Round Laquer Charger, Scalloped Wood Charger, Silver Round Laquer Charger, White Round Porcelain Charger, Wood Round Charger
---
4

Mar

On Trend, Southern Events Products, Trends and Inspiration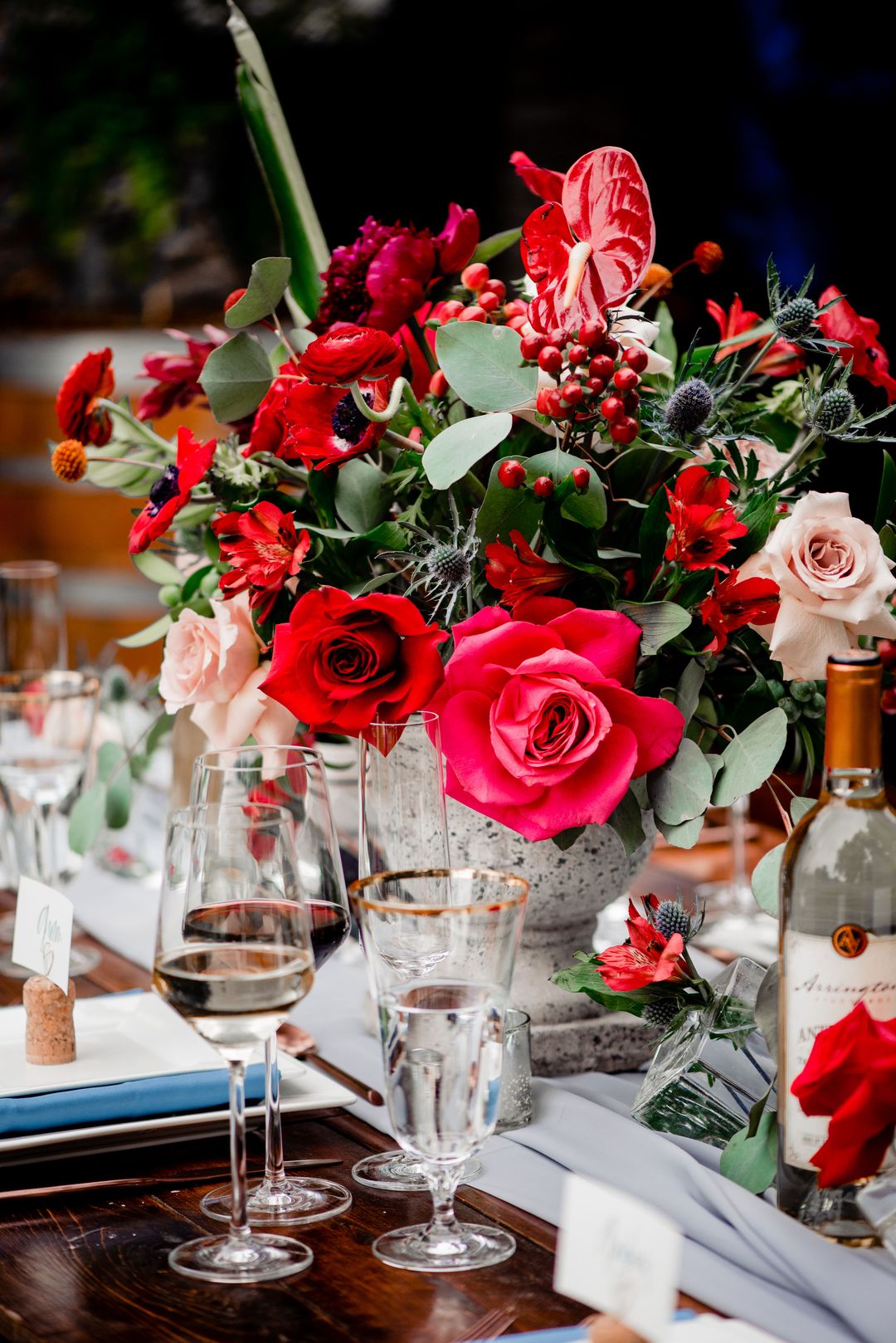 When the weather is nice, why not enjoy dinner with your family and friends outside? Come spring and summer in Tennessee, there is nothing better than dining in the fresh air, with a cold cocktail in hand. Get inspired for backyard alfresco dining with our stylish in-stock serving ware.
Vibrant Cherry Red & Teal
To complement the colors of the season, we love a vibrant tablescape. This design features cherry red and teal, for a look that is classically southern. Our warm fruitwood farm table acts as a base for White Square China, Navy Blue Velvet napkins, and Pure Glassware. A cool-toned, Dove Grey runner lends another hint of blue to the table. Meanwhile, our Brushed Copper Flatware and Audrey Gold Rim Glassware bring a touch of glam via metallics.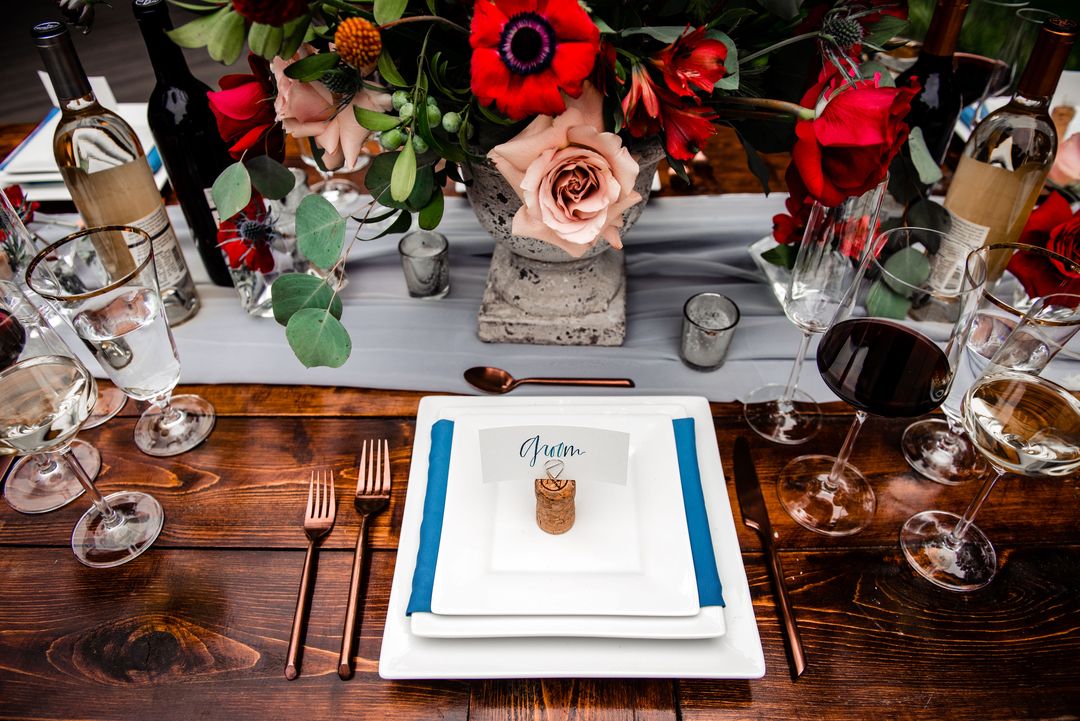 Natural Lime & Lemon
Sometimes less is more! For this natural table design, fresh citrus and fruit was the star of the show. Atop Heritage Ivory Linens, we placed our simple Artisan China and Wood Round Charger, complemented by Brushed Copper Flatware. The centerpieces consisted of fresh greenery and citrus, which were perfect for the lush lawn setting. To tie some greenery into the tablescape, we opted for our favorite fern velvet napkins. This design is ideal for a bright mid-morning brunch or afternoon cocktail hour!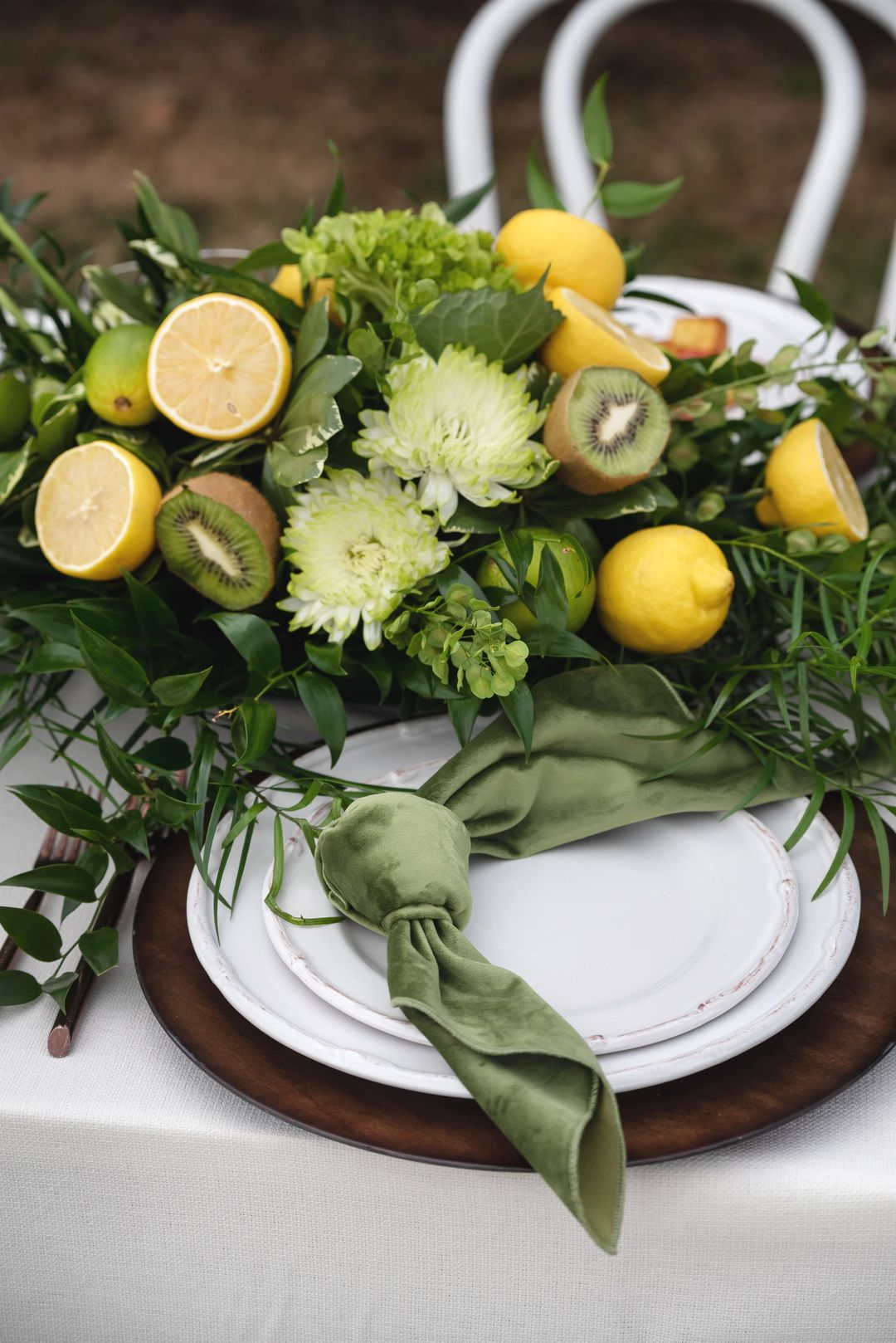 Rustic Farm-to-Table
When you want a casual yet put-together look, opt for a farm-to-table design. This simple tablescape features our Artisan China, Sophia Flatware, and Madison Glassware. Despite the minimal serving ware and linens, what truly makes this layout is the table and chairs. Take our Cross-back chairs, which are plain yet oh so elegant. For a pop of color, you might consider brightly-colored napkins or a table runner. Perhaps in our Cornsilk Poly or Peaches n' Cream Poly.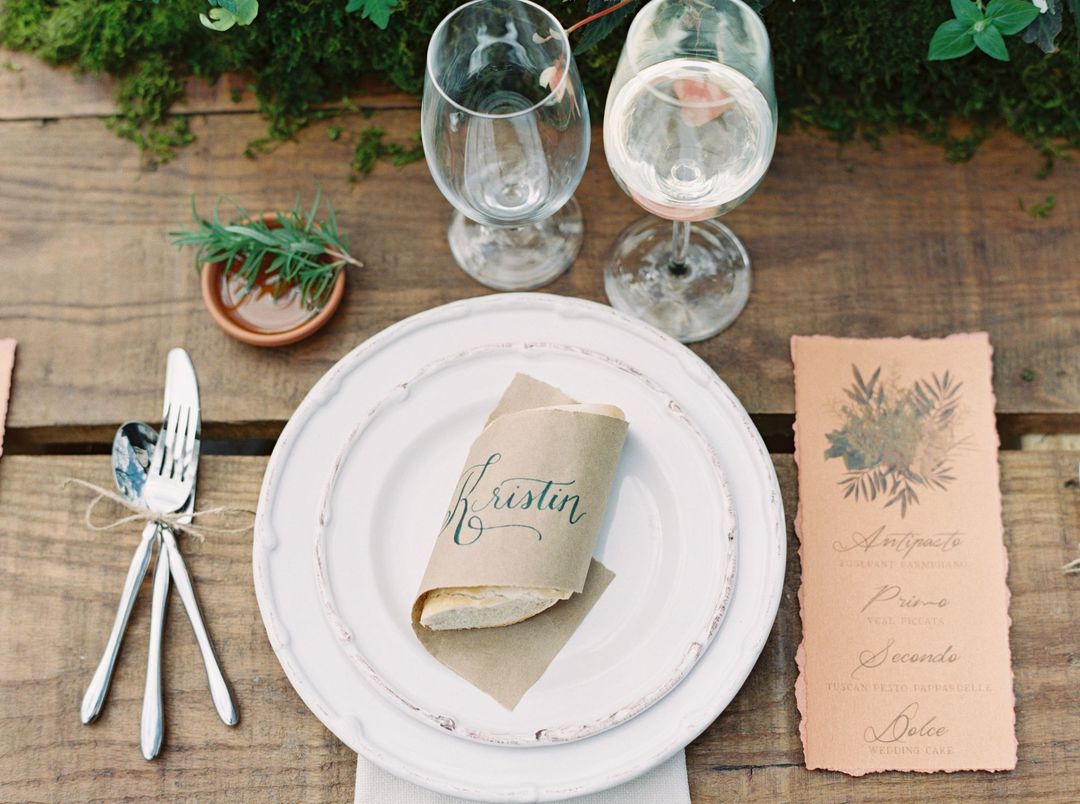 Bold Black & Gold
Black and gold are a classic pairing and surefire way to make a statement. This luxe and bold backyard alfresco dining table showcase a mix of moody hues, including black, gold, and a variety of red shades. For the serving ware, we opted for our Austin Flatware, Medallion Gold Glass Charger, and Madison Glassware. What amplifies this tablescape is the balance from glam elements, such as the gold and acrylic details. Take for example our always popular Acrylic Ghost Chairs! If you prefer an equally colorful but bright style, take a look at this colorful backyard party.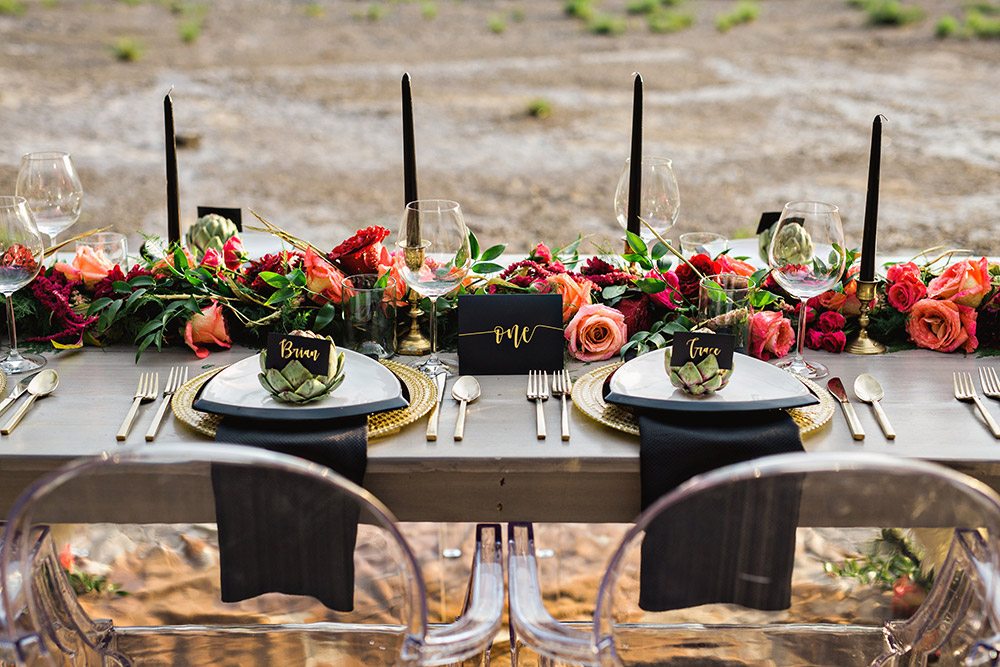 Classic Cookout
There is something so charming about gingham, and this backyard cookout-inspired table just does it for us. It was created using our Onyx China and silver Sophia Flatware. The true black plates are an easy way to bring the fun gingham tablecloth back down to earth. Yet super cute coke bottle centerpieces and our contemporary Davis Glassware keep the overall vibe light. For a look that is slightly more toned down, switch out this tablecloth for a solid or neutral color.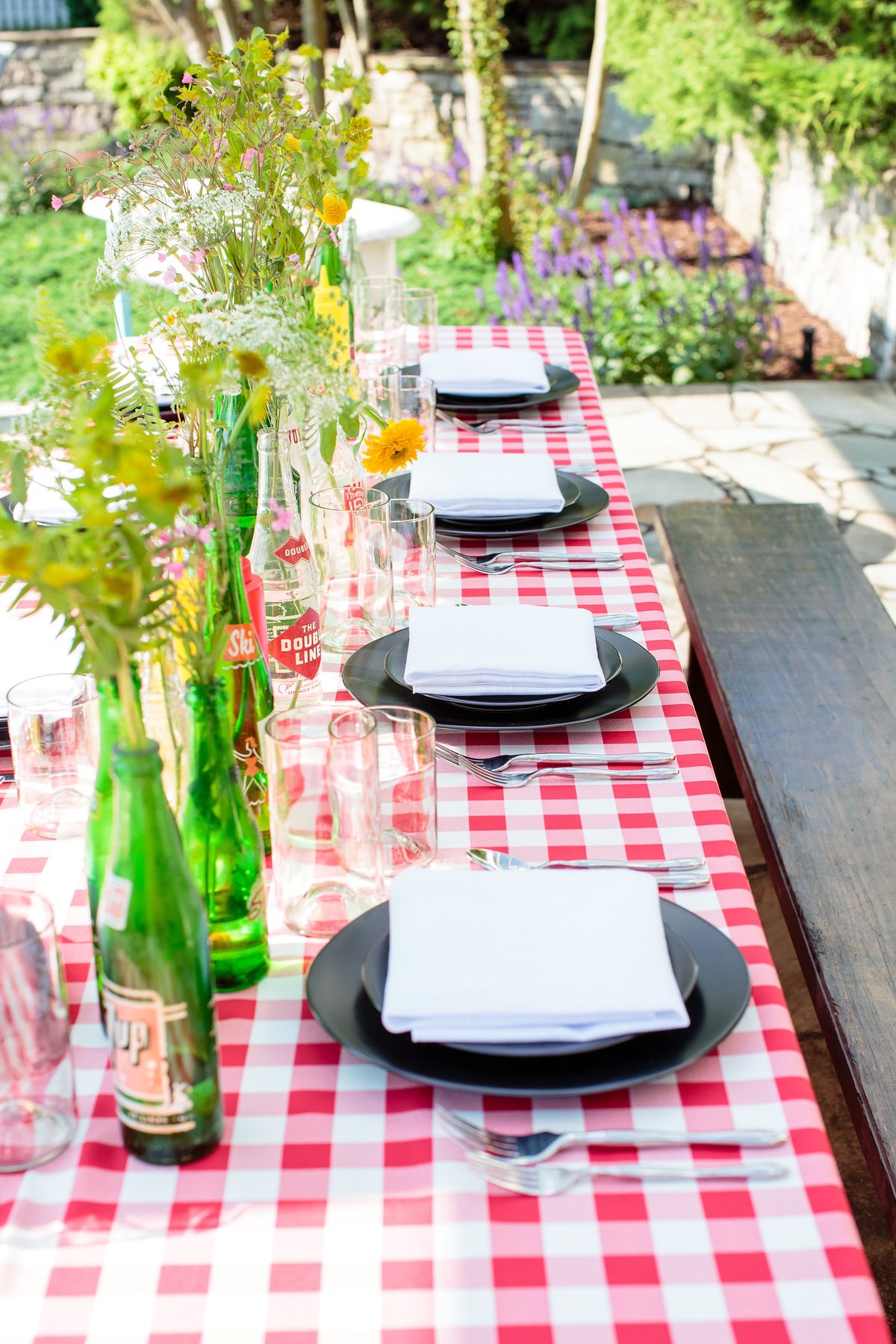 Want to feature some of the gorgeous rentals on your backyard alfresco dining table? Contact our team today for assistance! Or for more ideas, be sure to check out our Holiday Boxes.
TAGS | alfresco dining, backyard parties, outdoor event, outdoor event rentals, servingware, tablescape inspiration, tablescape rentals
FEATURED RENTALS | white square china, navy blue velvet, brushed copper flatware, pure glassware, audrey gold rim glassware, gingham tablecloth, onyx china, acrylic ghost chairs, medallion gold glass charger, artisan china, wood round charger, fern velvet napkins, sophia flatware, madison glassware, cornsilk poly
---