10

Aug

Tips to Host a Feel-Good Party with Sustainable Event Rentals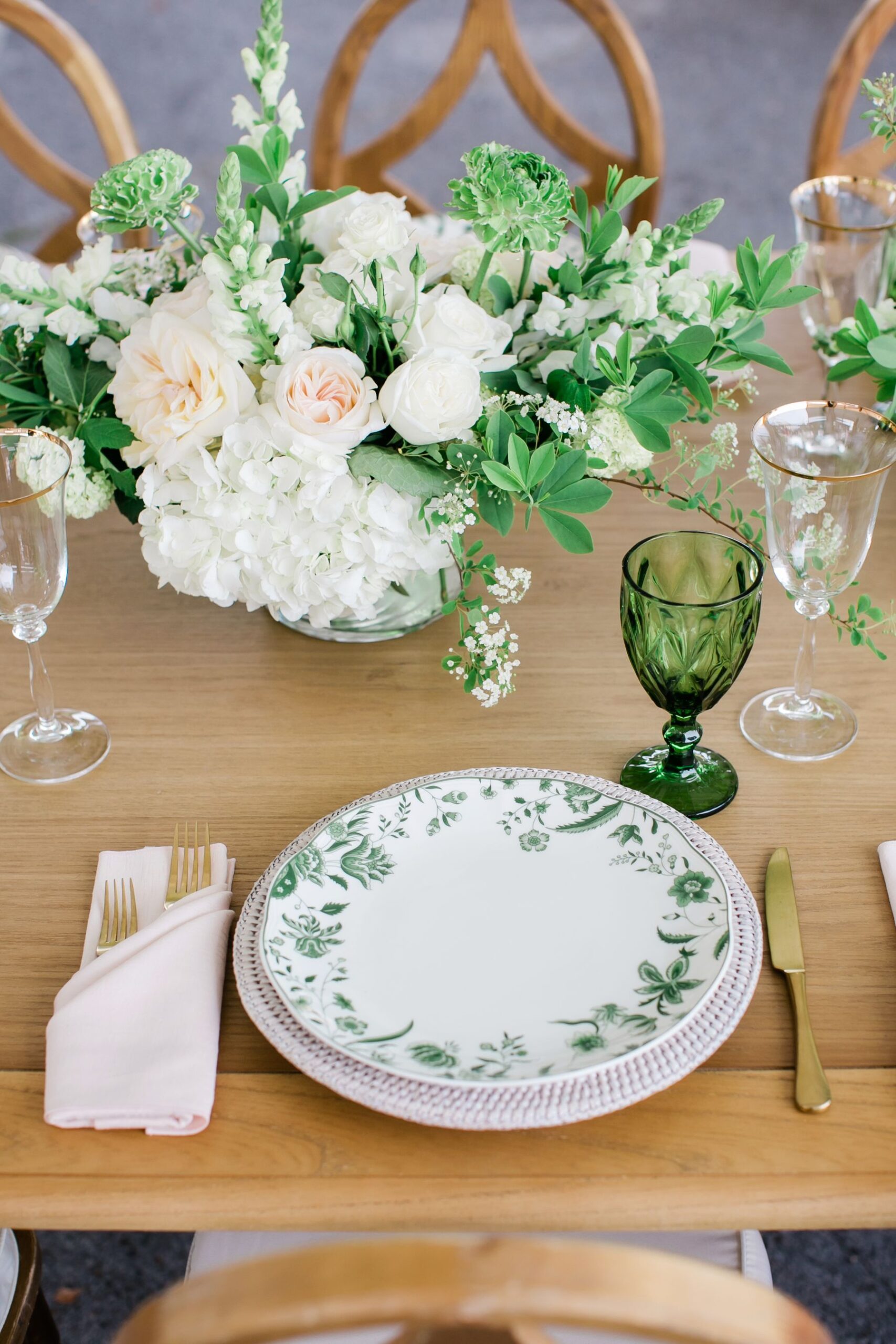 Hosting a party is a wonderful way to celebrate life's special moments with friends and family. However, in our efforts to create memorable events, we often overlook the environmental impact. From plastic disposables to excessive waste, parties can generate a considerable carbon footprint. But fear not, there is a better way! By choosing sustainable event rentals, we can reduce our ecological footprint while still throwing a stylish gathering. Explore how you can host a feel-good party by renting linens, china, and other serving pieces from Southern Events Online.
High-Quality Linens
When it comes to creating an eco-friendly tablescape, opting for sustainable linens is a fantastic choice. Instead of disposable tablecloths and paper napkins, consider renting high-quality fabric linens. Reusable tablecloths made from natural fibers like linen or cotton not only exude elegance but also reduce waste significantly. We stock a variety of options for every occasion! From whimsical pastels to bold jewel tones and sophisticated patterns. Plus, seasonally-inspired options such as Four Seasons Floral for a sunny summer soiree. Or, perhaps an Ocean Blue Velvet Tablecloth contrasted with Lavender and Hot Pink Napkins for a bold jewel-toned look.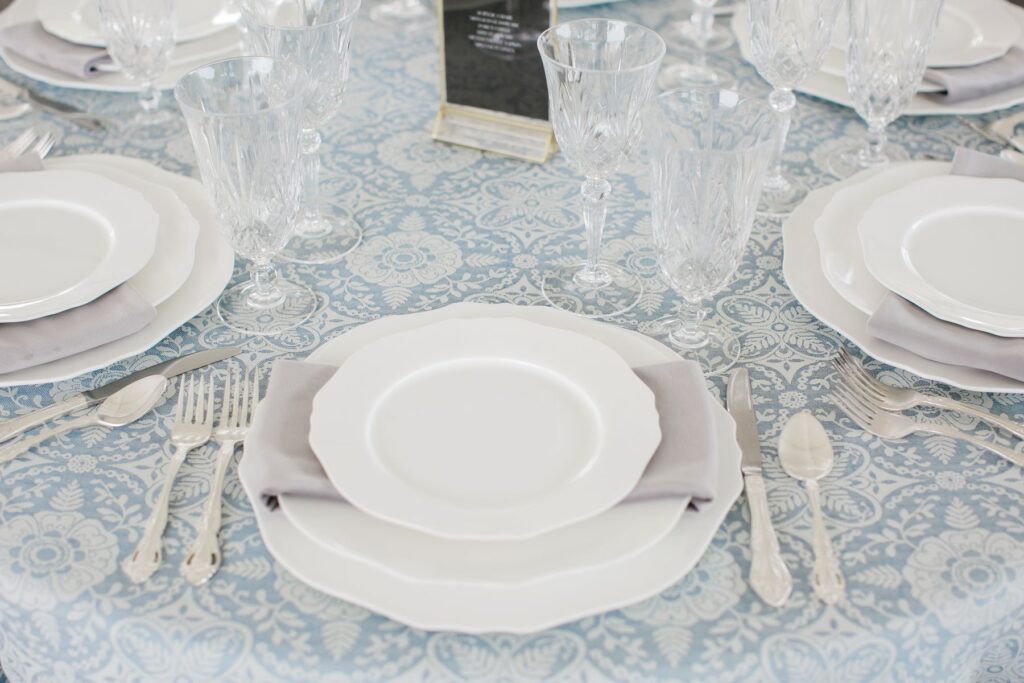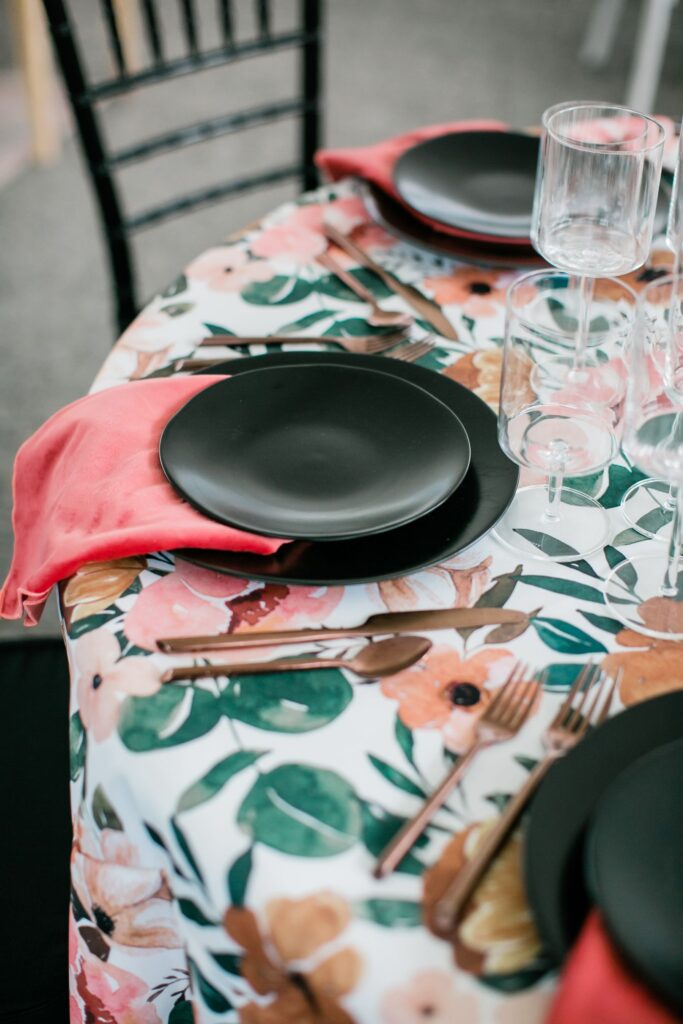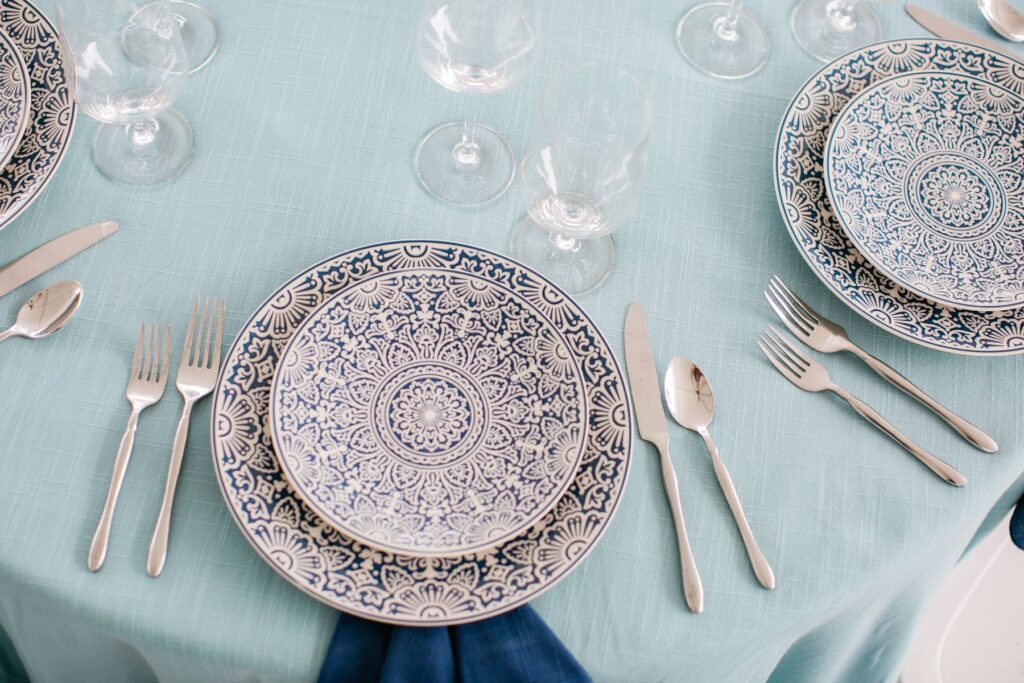 Reusable China and Flatware
Ditch the disposable plates and cutlery in exchange for timeless china and flatware. Renting ceramic or porcelain dishes not only adds sophistication to your table settings. It also helps prevent single-use plastic waste from piling up in landfills, and your garbage cans. Stack our Darcy Charger with the Liana China, along with the Abby silver flatware for a charming vintage-inspired table. Or, for a more modern vibe, complement a Glass Charger with Black Rim and Earthen Alabaster China with Austin Gold Flatware. Need a setting that oozes luxury? You can't go wrong with our Hamlet China – although the sleek Athena China is equally striking. Moreso when contrasted by the Noir Matte Black Flatware. Mix and match to your heart's desire, or take a look at some of our favorite on-trend party plates for more inspiration.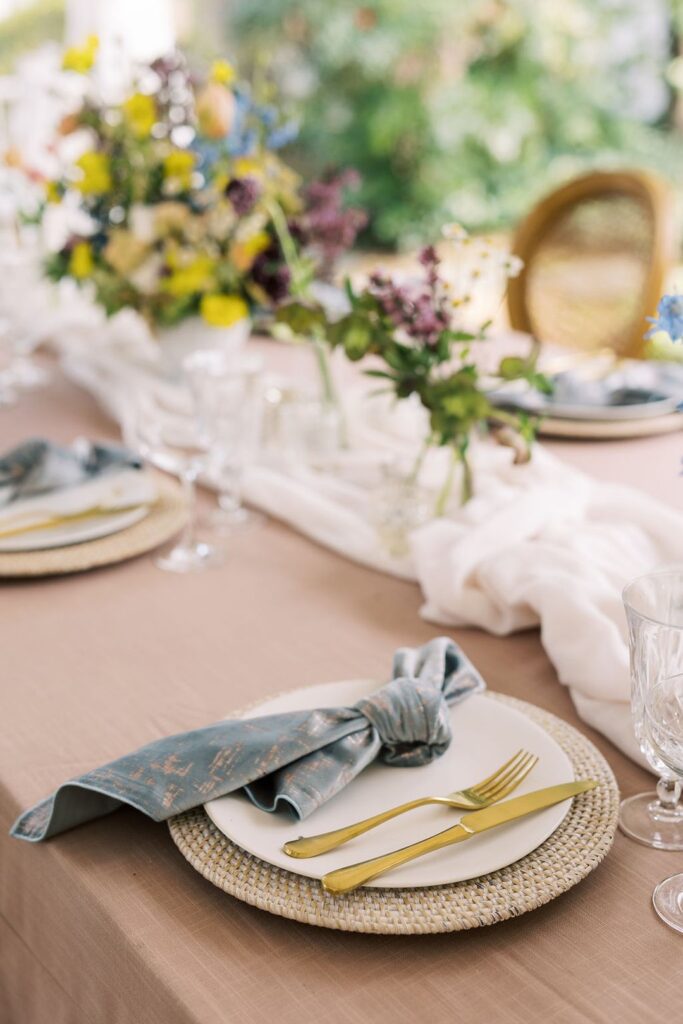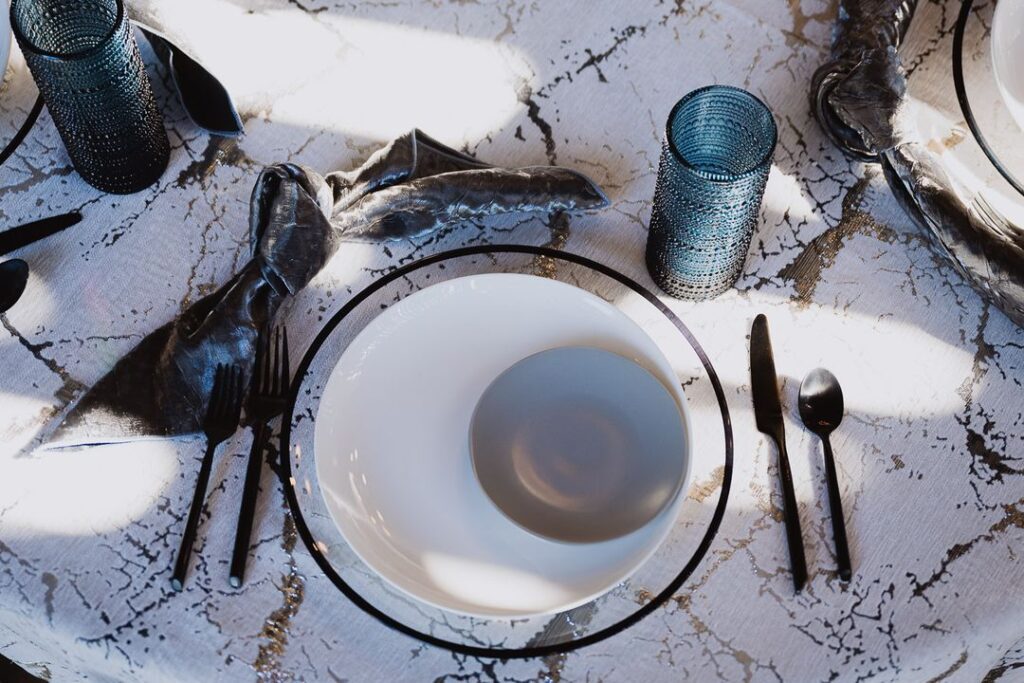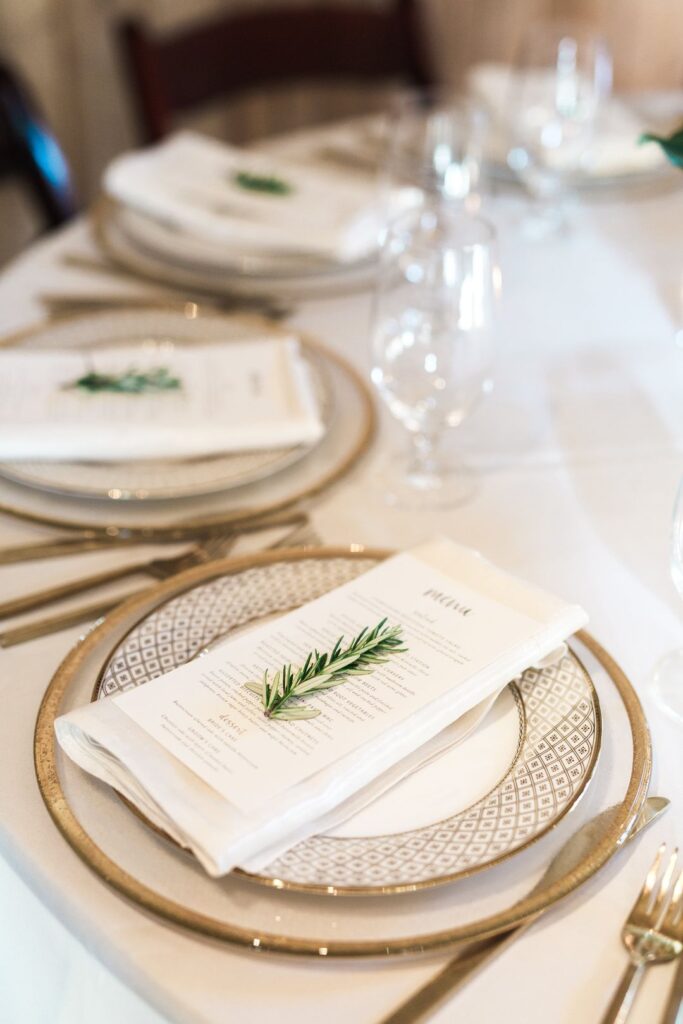 Eye-Catching Glassware
One of the biggest culprits of waste at parties is plastic cups. Eliminate this waste by renting glassware for your beverages – an eye-catching alternative! From wine glasses to tumblers and everything in between, glassware rentals add a touch of class and sustainability to your party. In addition to being an easy way to infuse an extra touch of style. Take for example our Cybil glassware, with a funky modern shape. Or our beaded glassware, oozing coastal charm. Furthermore, consider using beverage dispensers for serving drinks. Not only do they look stylish, but they also minimize the need for single-use plastic bottles and cans. Infuse water with fresh fruits or herbs to create a refreshing and visually appealing drink station.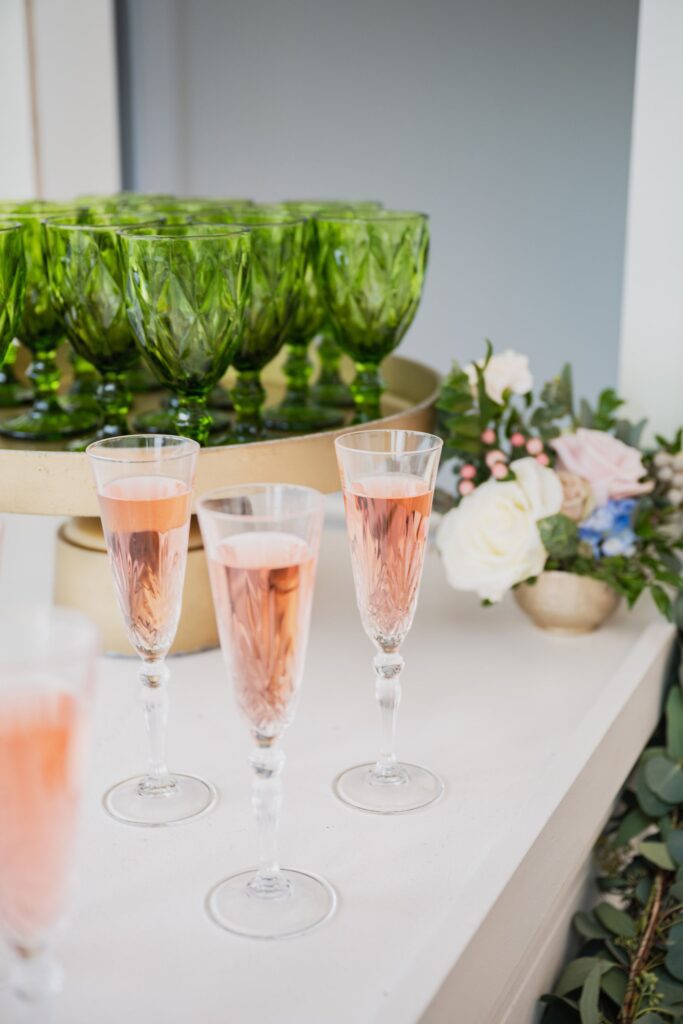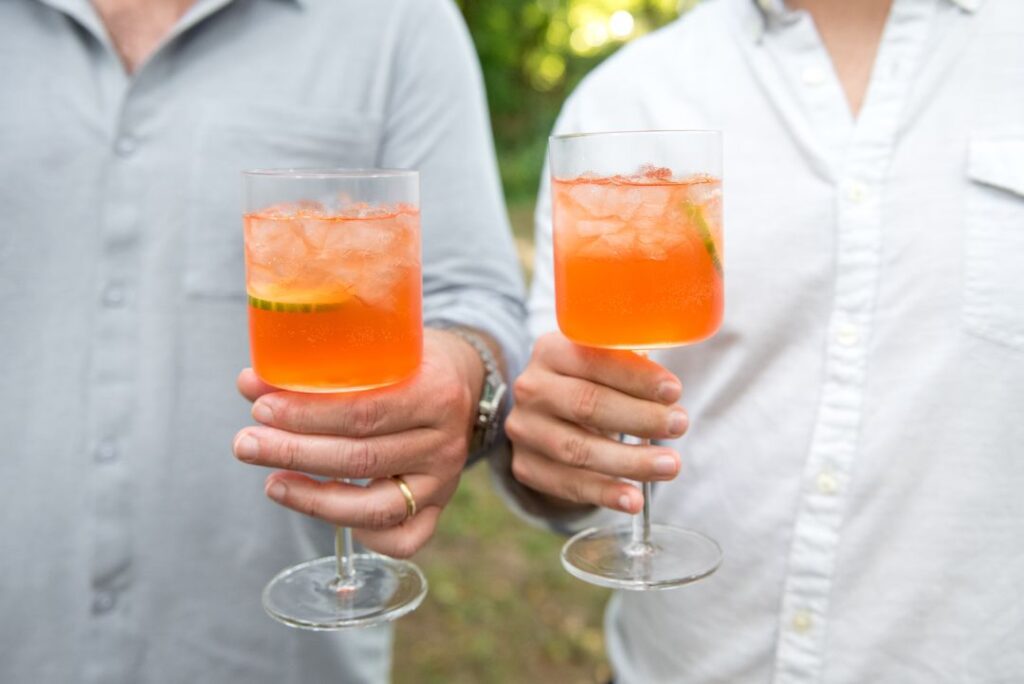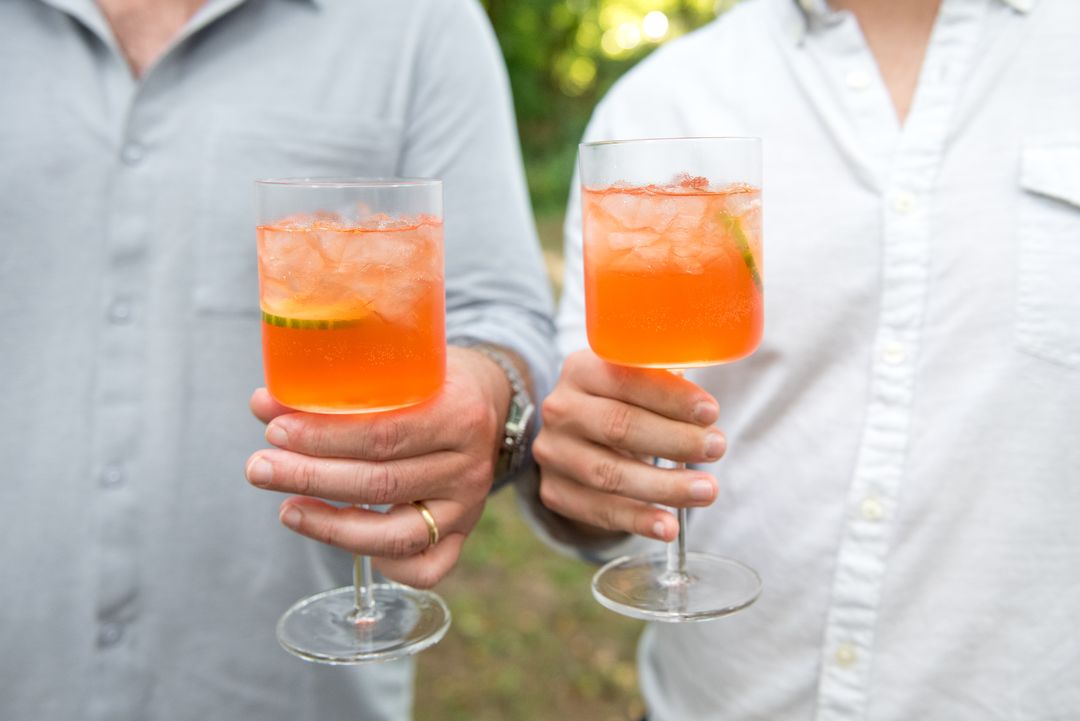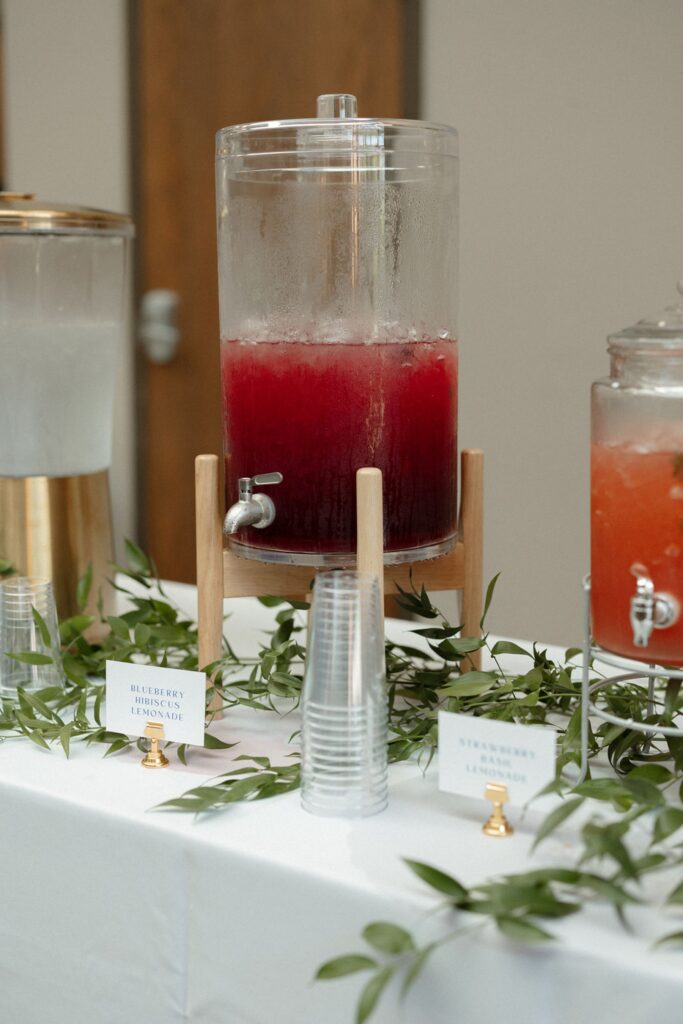 Stylish Serving Pieces
When it comes to serving food, to parties large or small, we offer a variety of options to suit your needs. Chafing dishes, which keep food warm, are excellent for buffet-style events and help reduce food waste by maintaining optimal serving temperatures. Meanwhile, family-style serving bowls encourage guests to share food, fostering a sense of community and reducing individual packaging waste. Finally, silver trays and charcuterie boards lend a touch of sophistication to your spread while avoiding disposable platters and trays.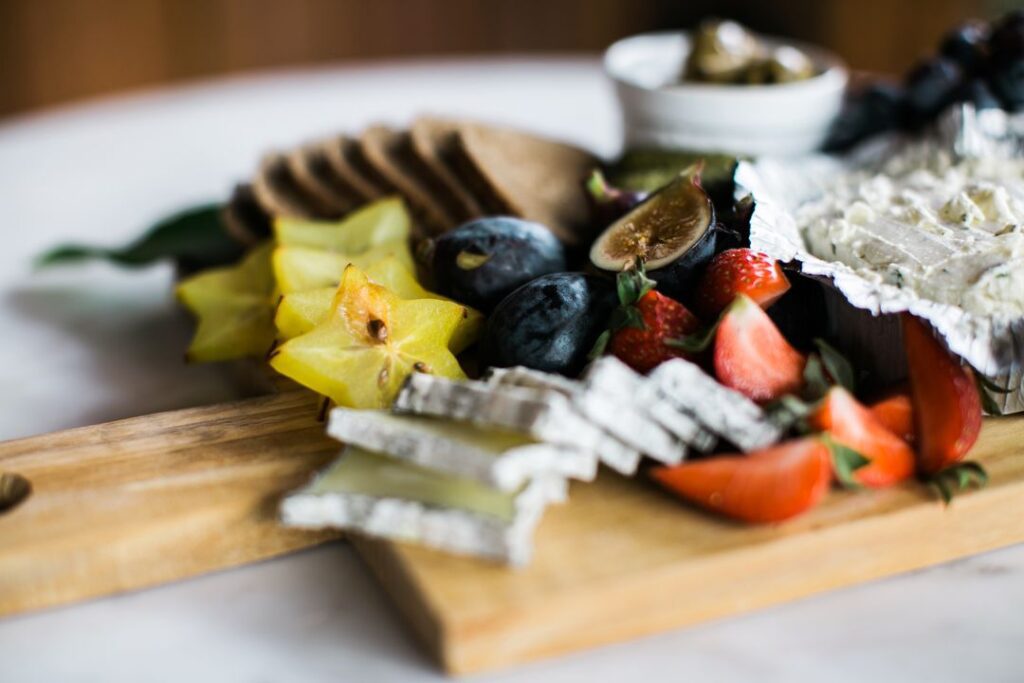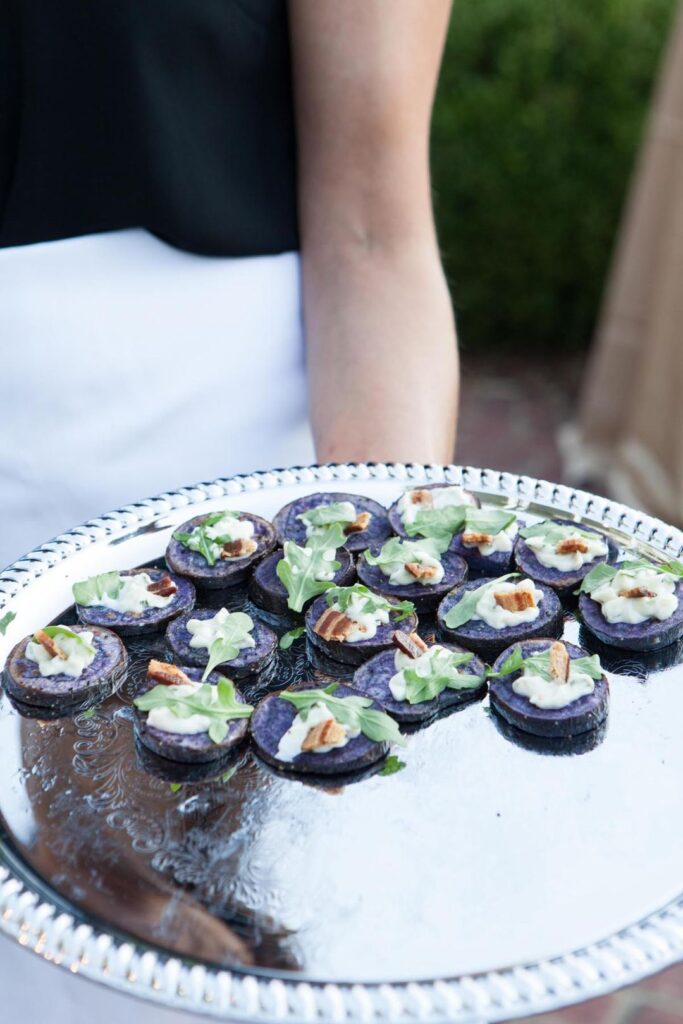 Hosting a feel-good party with sustainable event rentals will showcase your commitment to the environment. In addition to creating a warm and inviting atmosphere for your guests! Contact our team for help creating a unique tablescape, or if you need more ideas
FEATURED RENTALS |
SEE MORE LIKE THIS