8

Feb

Southern Events Products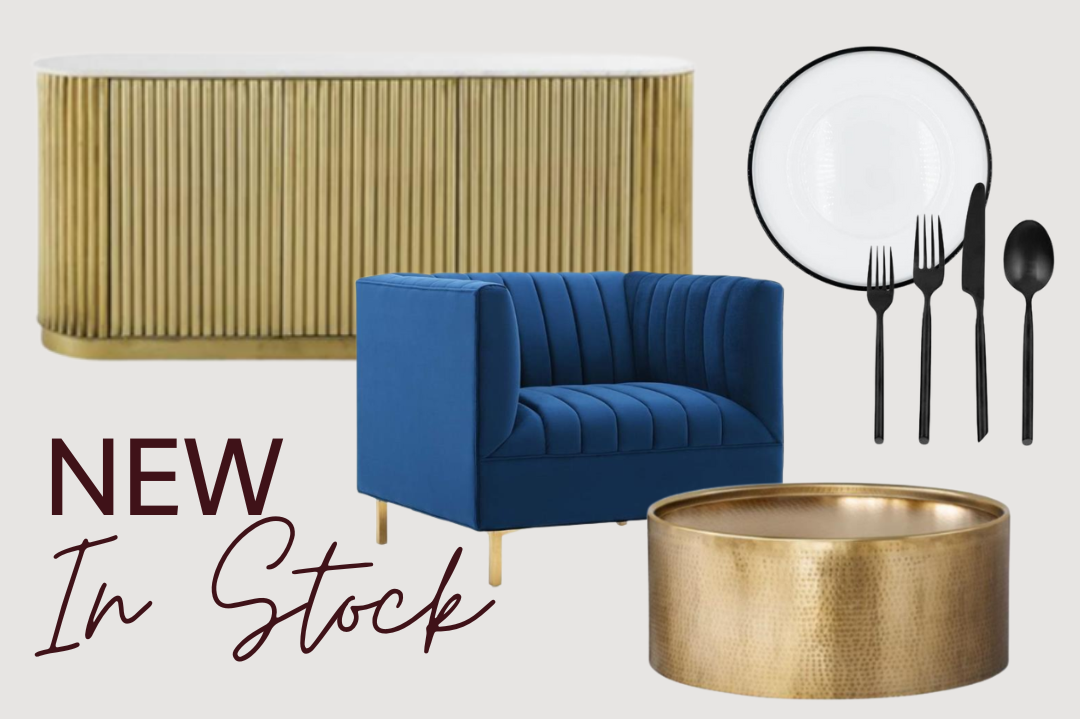 A new year and new design trends call for new event rentals! In 2023 we expect to see an increase in elevated events that showcase an attention to detail, big and small. Whether you're planning a bold modern wedding, an intimate birthday bash, or a casual backyard soiree. To help you host a well-thought-out event that will leave a lasting impression on your guests, take a look at our new in-stock event rentals, from luxe linens to sleek serving ware and trendy event furniture.
Stylish Serving Ware + Linens
Modern event tables are bigger and brighter than ever. But rather than featuring intricate serving ware, centerpieces serve as the focal point. Such as large floral arrangements and bold textured linens. Meanwhile, chargers, china, and flatware are sleek and simple. Together, these details lend a perfect balance between minimalism and maximalism! This aesthetic is easy to achieve with our new serving ware & linens. Create a moody neutral table starring our Sahara Runner in White, topped with a Glass Charger with Black Rim and Noir Matte Black Flatware. For a more chic design, try our Sierra Runner in Rose with Georgia China and Fresno Matte Gold Flatware.
Pro Tip: Add a fun splash of color with our velvet napkins in timeless colors like Driftwood or Magnolia.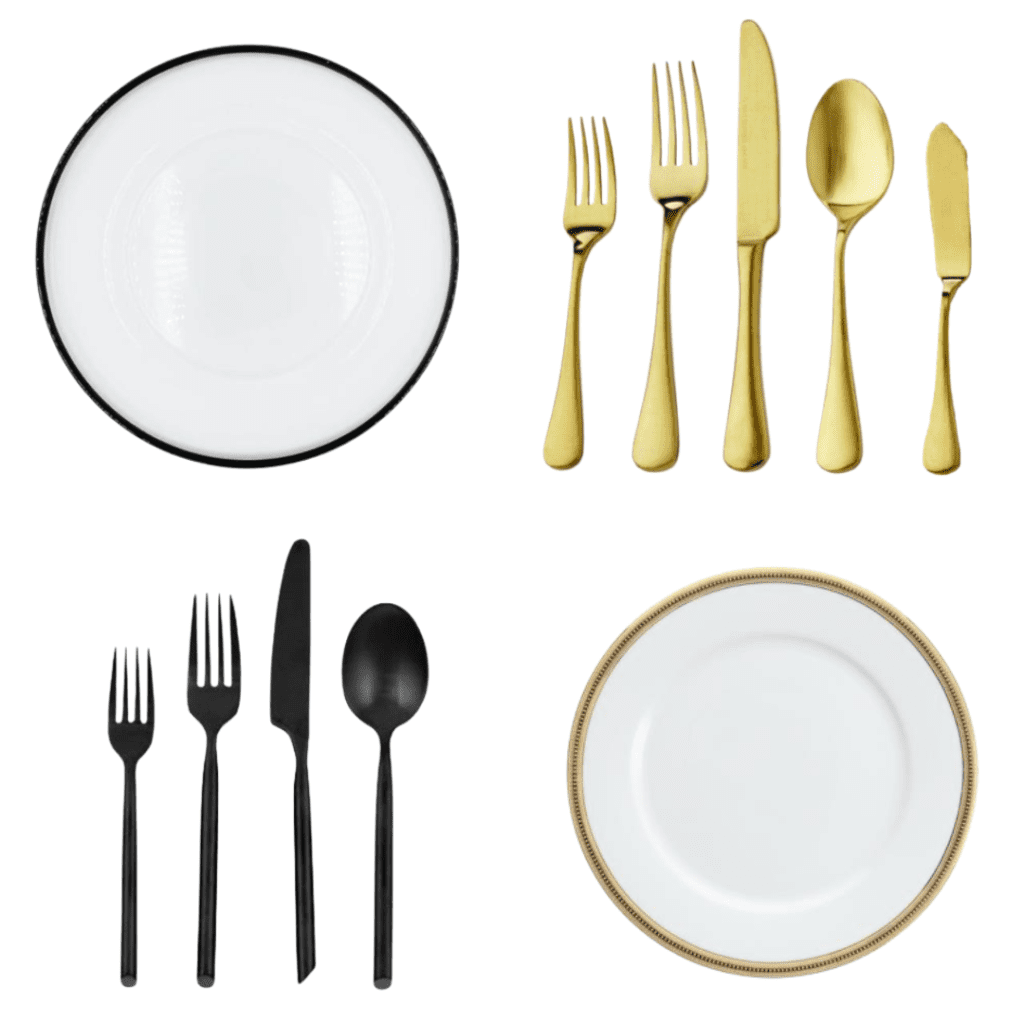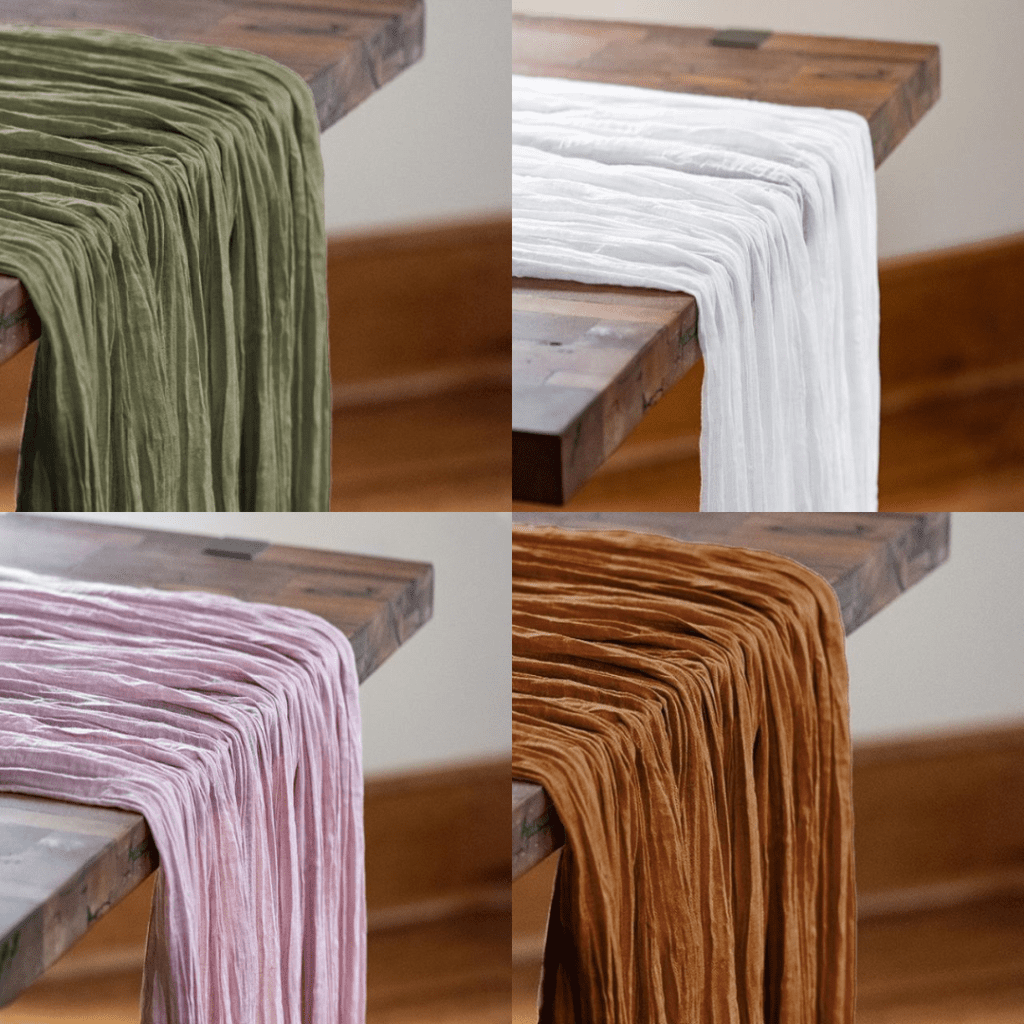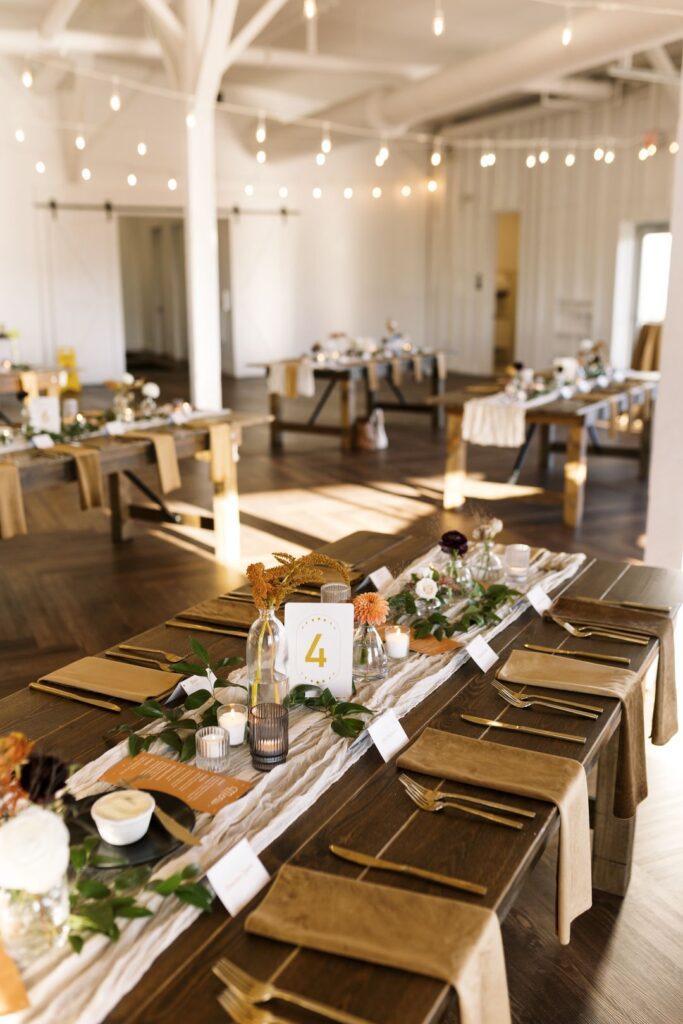 Trendy Lounge Furniture
If you've read any of our blogs then you know we love a stylish event lounge! They are a simple but effective way to elevate any event, from corporate cocktail hours to weddings or backyard parties. To help our clients create one-of-a-kind areas that encourage guests to sit, sip and mingle, we're adding new furniture to our inventory. Including accent tables, plush sofas, and armchairs. Some of our favorite additions are the Marine Navy Velvet Chair and Grey Tufted Ottoman. Both of which look stunning paired with a Hammered Coffee Table, in Pewter or Gold. To stay on top of the trends we have also updated our lounge packages – be sure to take a look to see if any of these curated collections align with your upcoming event.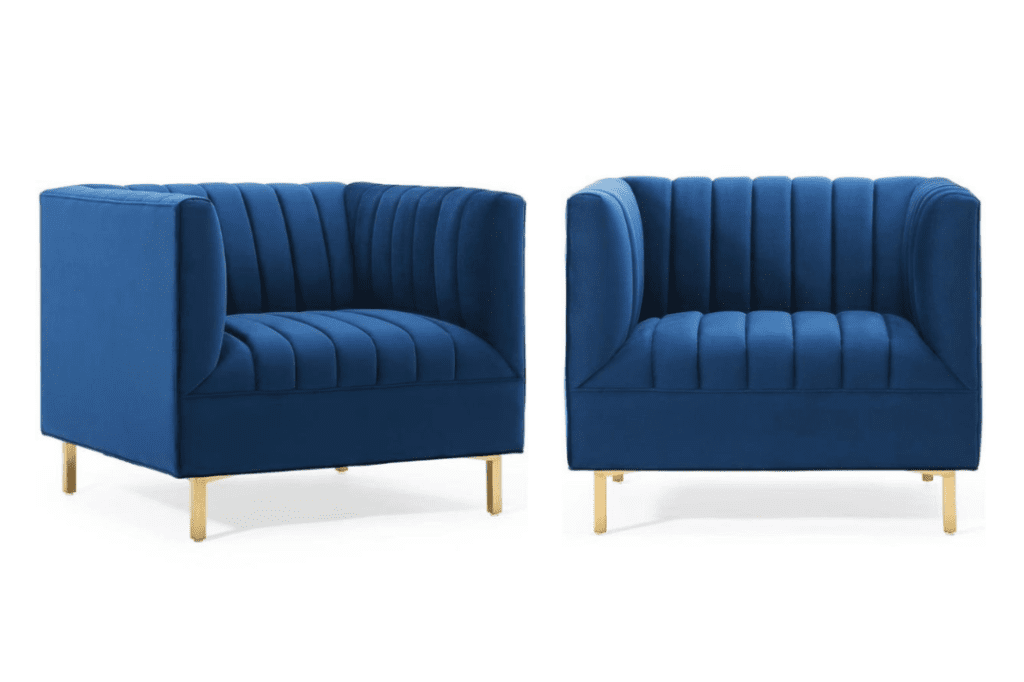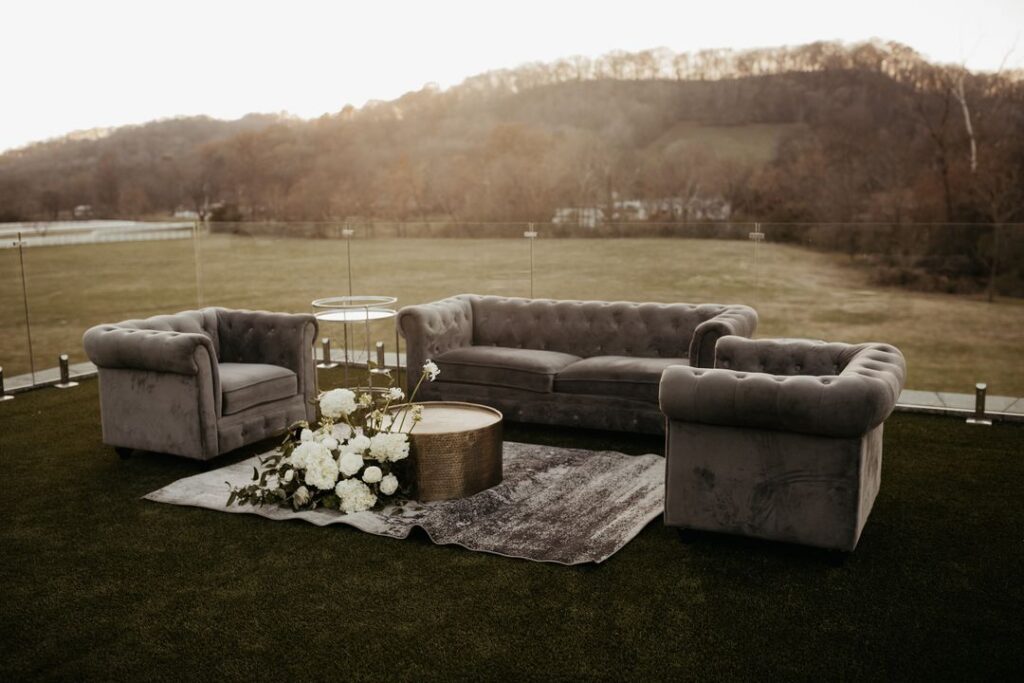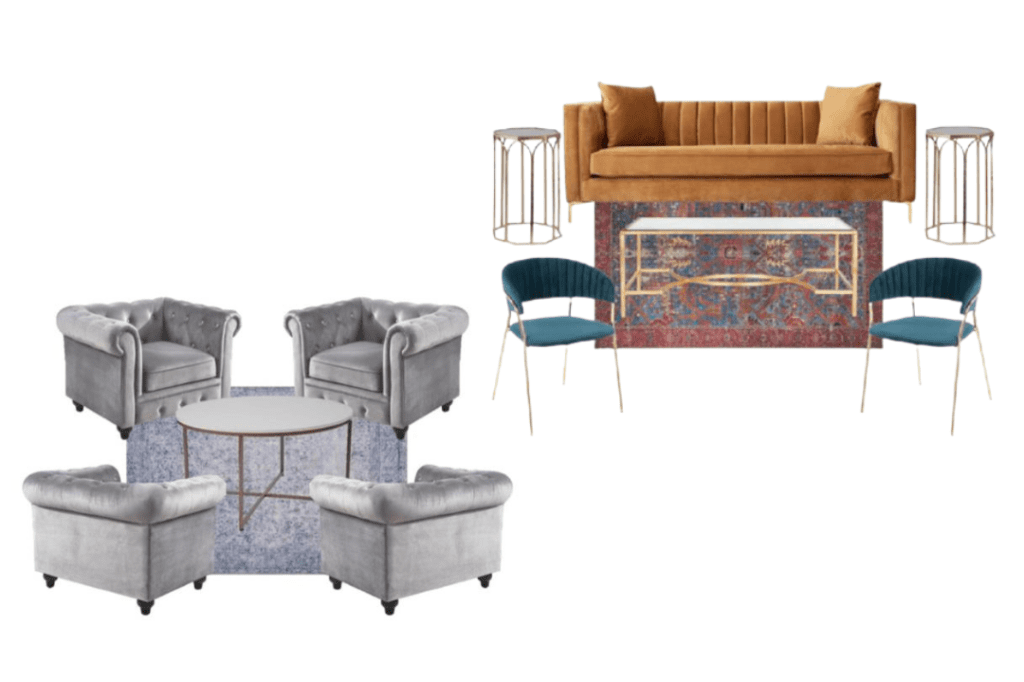 On-Theme Event Bars
If there is one item that every event needs, it's a bar! These versatile pieces aren't just for serving drinks, but can also be used for displaying food, decor, and more. That's why this year we are adding a new variety of bars to our inventory that will align with current design trends and event themes. Take our Chelsea Marble Top Bar, a luxe piece fitting for modern retro events or chic cocktail parties. Meanwhile, staple pieces like the Harpeth 8ft Bar can be customized with signage, for weddings or corporate galas! Or create an elegant dessert or champagne tower using White 6-Tier Serving Tower.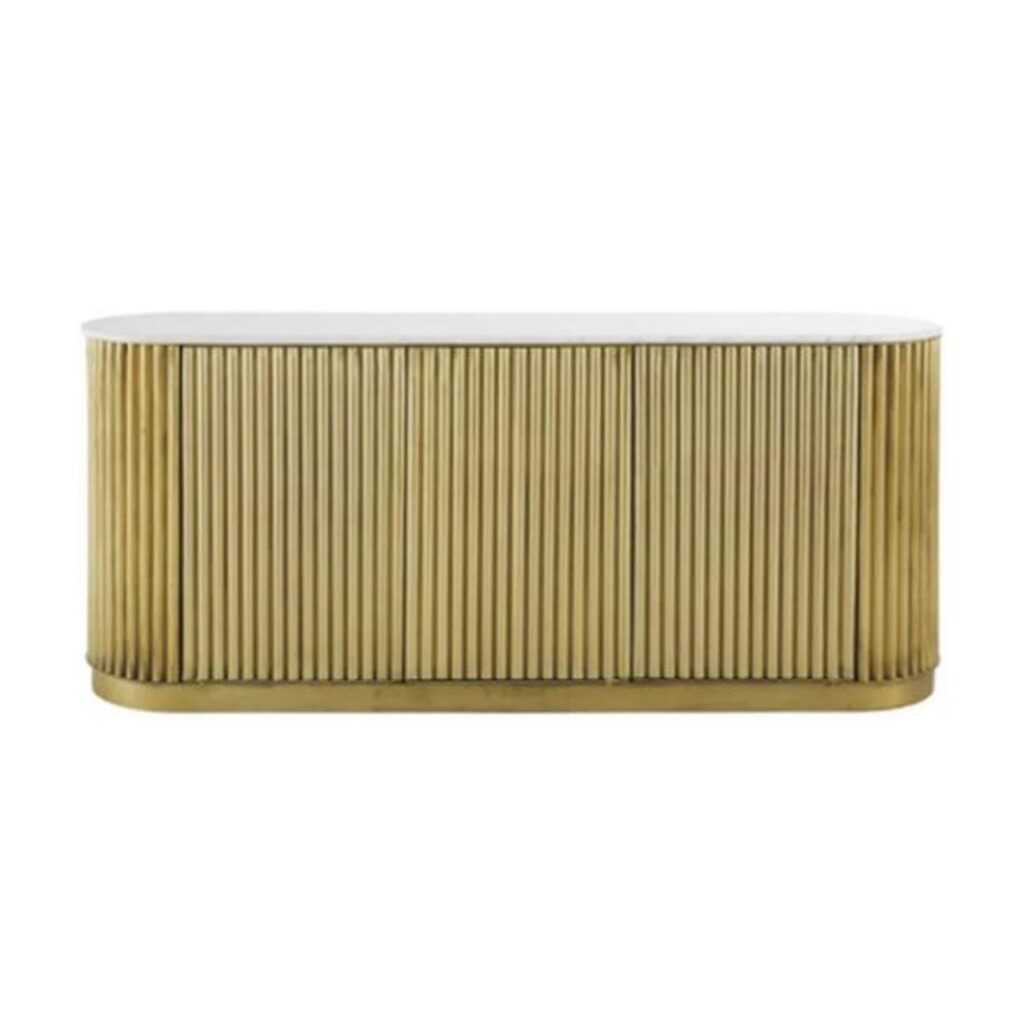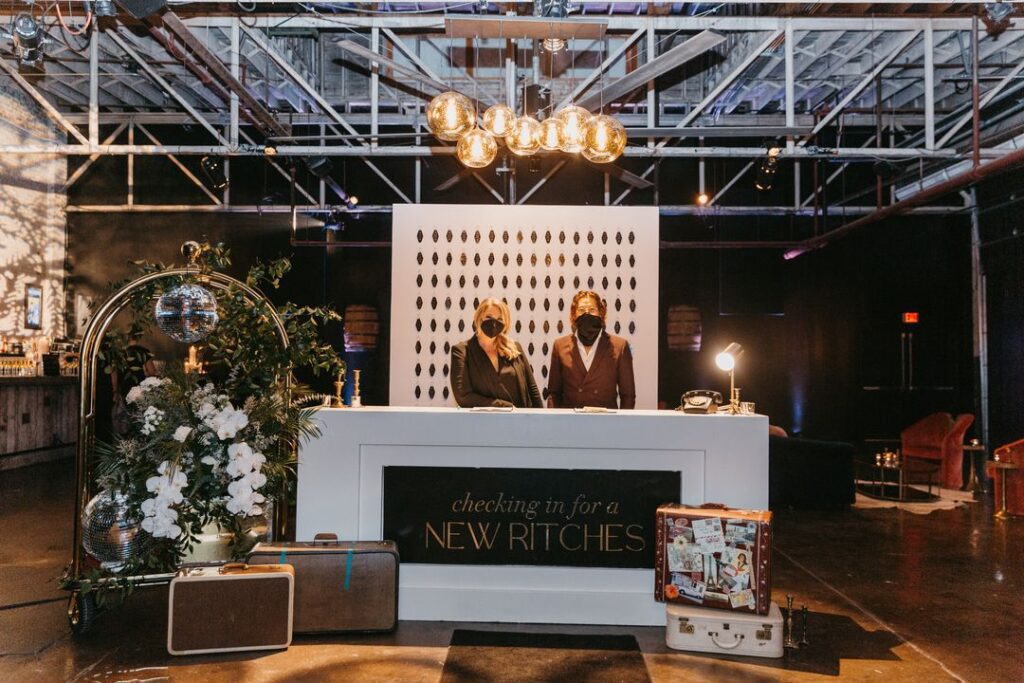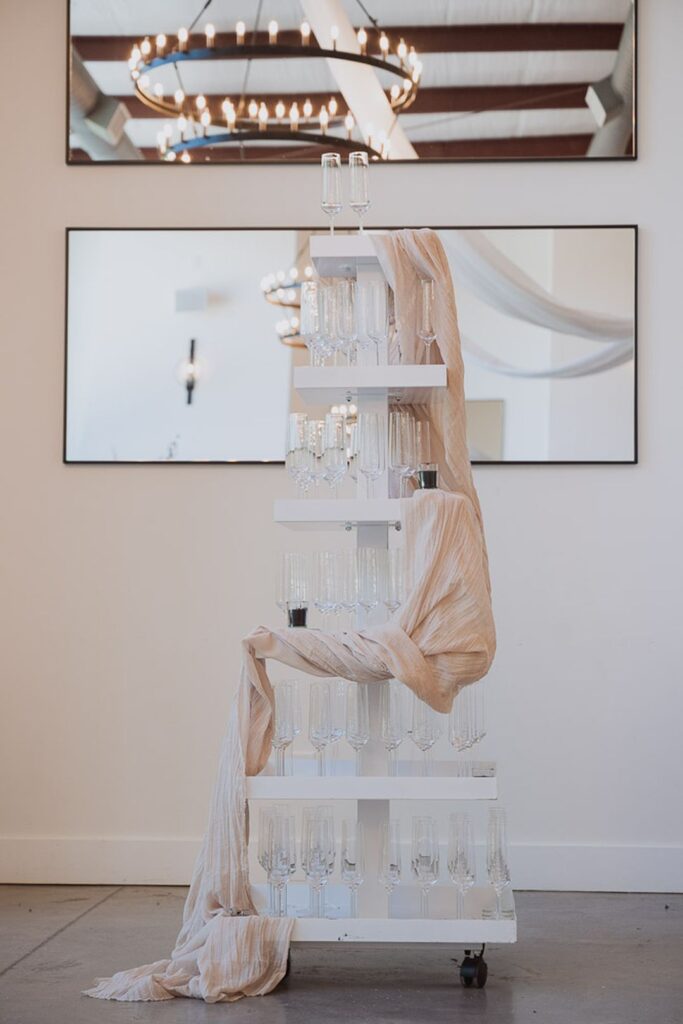 Want to feature these new event rentals at an upcoming holiday party in Nashville? Send our team a message at info@southerneventsonline.com for help selecting the perfect pieces for your gathering, big or small! And be sure to keep an eye out for new additions to our catalog – more is coming soon.
TAGS | Event Rentals, In Stock, Linens for Rent, Lounge Furniture Packages, bar event rentals, event rentals in franklin tn, event rentals in nashville, new in stock, servingware
FEATURED RENTALS | Sahara Runner in White, Glass Charger with Black Rim, Noir Matte Black Flatware, Sierra Runner in Rose, Georgia China, Fresno Matte Gold Flatware, Driftwood Velvet, Chelsea Marble Top Bar, Harpeth 8ft Bar, White 6-Tier Serving Tower,Magnolia Velvet, lounge packages, hammer pewter coffee table, hammer gold coffee table, grey tufted ottoman, marine navy velvet chair,
---
2

Dec

On Trend, Southern Events Products, Trends and Inspiration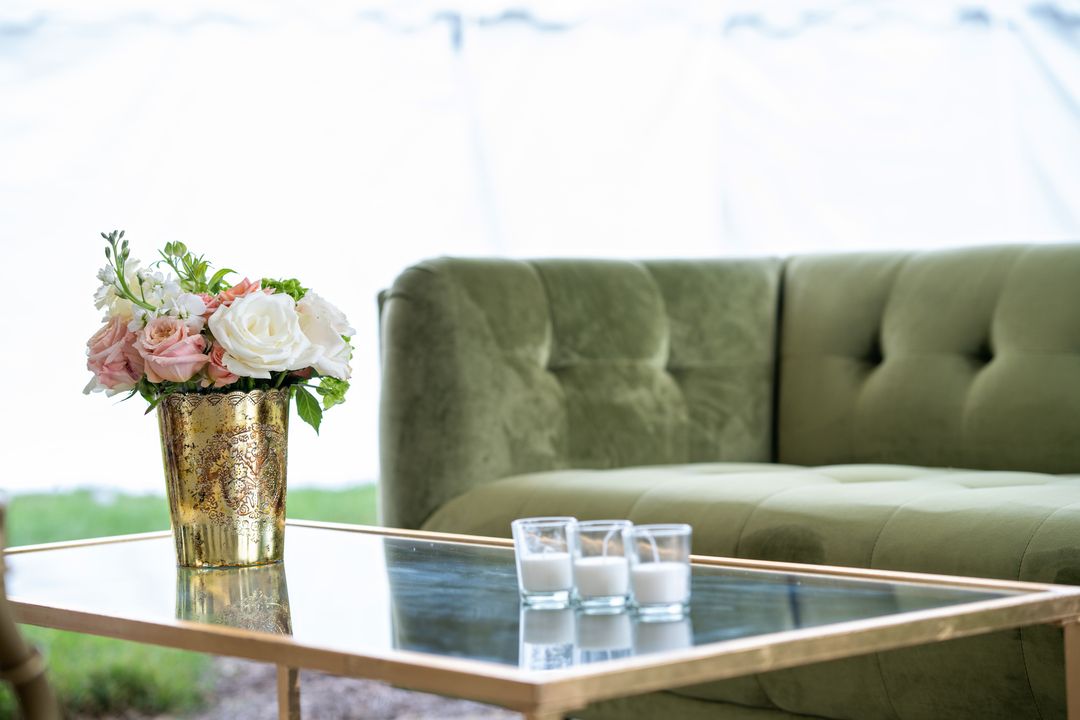 Regardless of the type of event you host, a lounge area (or several) are essential – encouraging guests to sit, sip and mingle. And at Southern Events, we're making it easier than ever to create a lounge area that is timeless and cozy, with stylish rentals featuring luxe textures, neutral colors, and organic shapes. Take a look at our new natural luxe lounge furniture perfect for your next Middle Tennessee event, from galas to weddings!
Hammered Side & Coffee Tables
Our Hammered Side and Coffee Tables are a gorgeous centerpiece for any lounge area, especially for a cocktail hour. A classic shape and a muted metallic color, they pair well with most any color furniture. We offer both the side and coffee tables in both a beautiful Gold and Pewter color!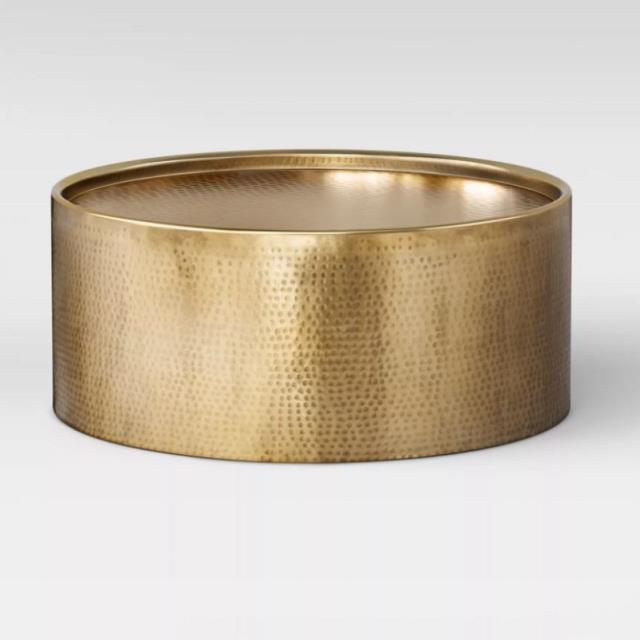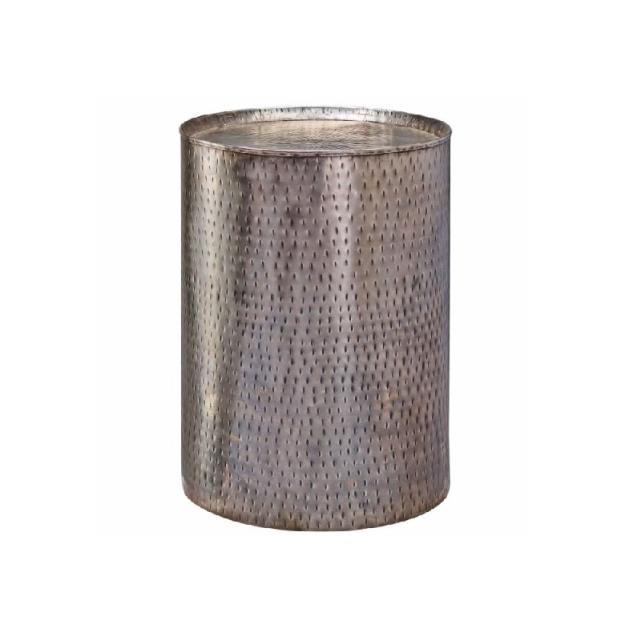 Leather Ottoman
We love a cozy ottoman and our Caramel Leather Ottoman is a must-have! A rich chocolatey brown, this stunning leather piece will complement most any furniture. It pairs especially well without Gloria Velvet Armchairs – and always looks stunning atop a cowhide rug.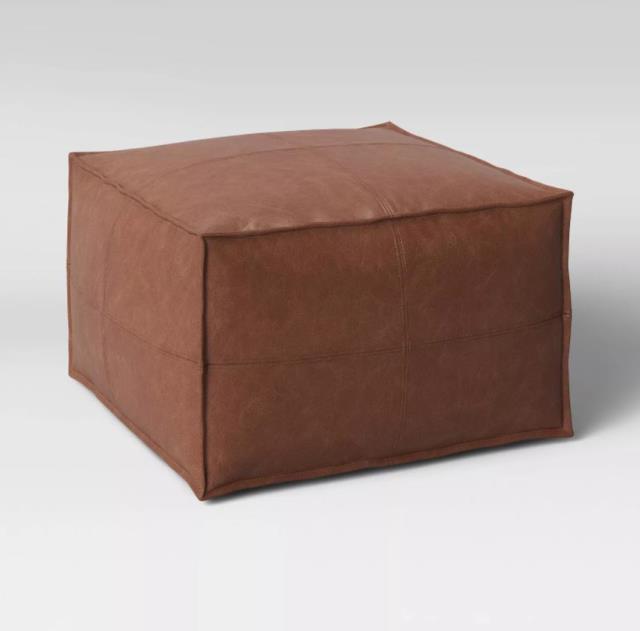 Grey Tufted Ottoman
If you want to lend a slightly more chic look to your natural luxe lounge furniture set up, opt for our Grey Tufted Ottoman. This super cozy piece features beautiful tufted details in a classic grey color. It's the perfect piece to use if your other furniture is especially vibrant or colorful.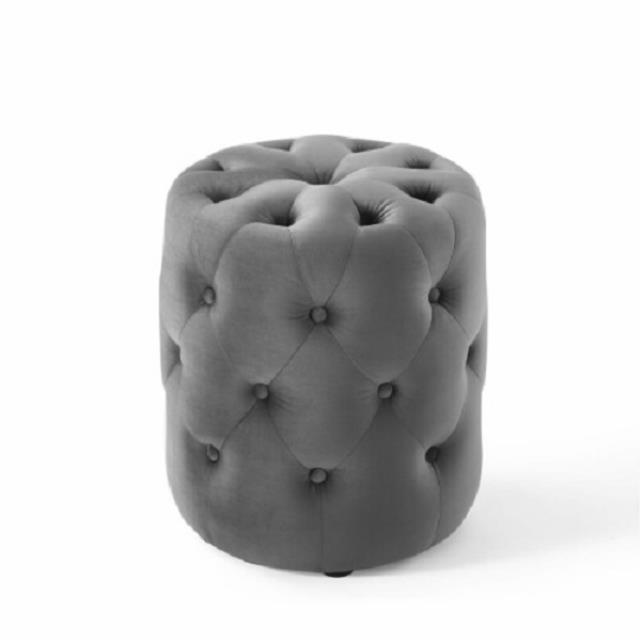 Charleston Bistro
One of our favorite new pieces, the Charleston Bistro is oh so elegant! It features a stunning gold metallic base and a marble top. It's essential for a luxe cocktail hour, especially if you're working with limited space and don't have enough room for a full lounge area.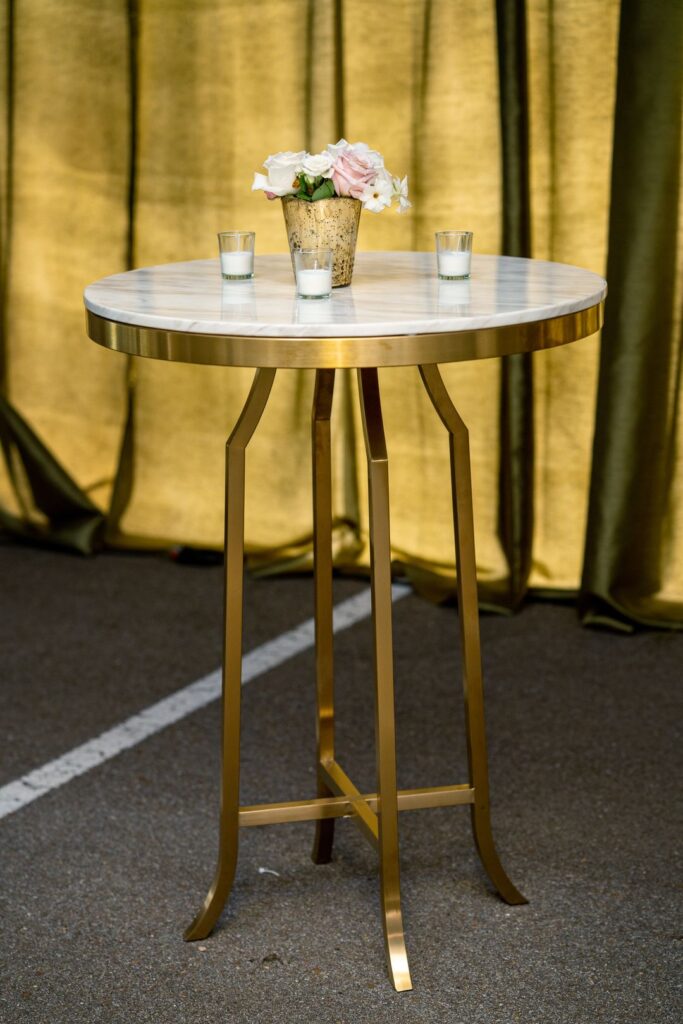 Fern & Jaqueline Sofas
The epitome of natural luxe lounge furniture, our velvet sofas will be your new favorites! They feature rich natural colors and ultra-soft textures that will make it hard for your guests to leave. They also feature beautiful tufting – Fern Velvet with classic, and Jaqueline with vertical.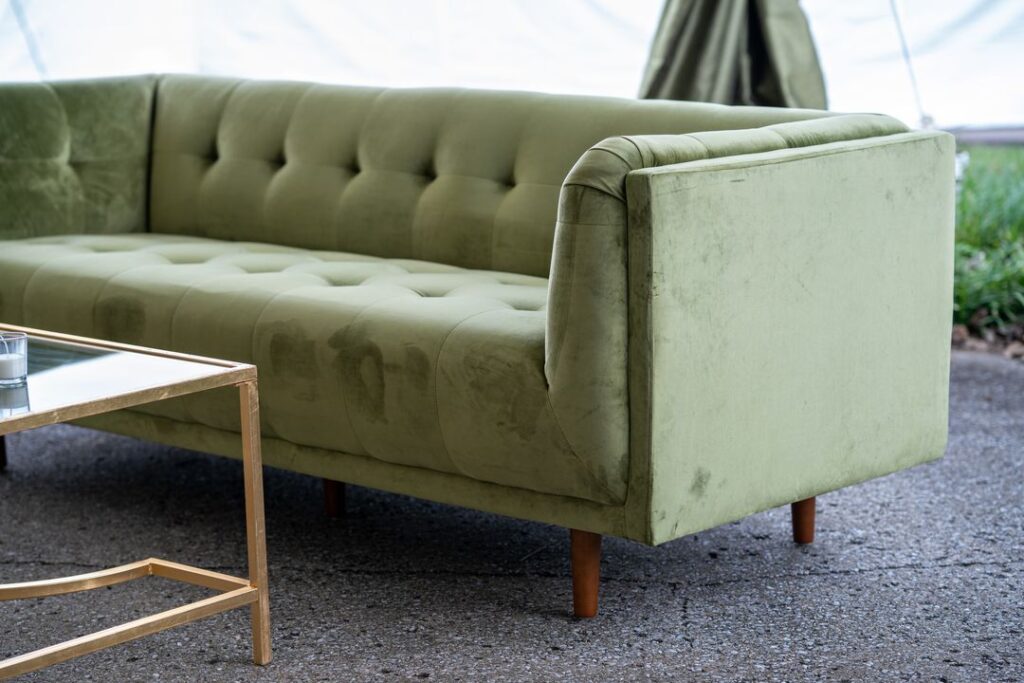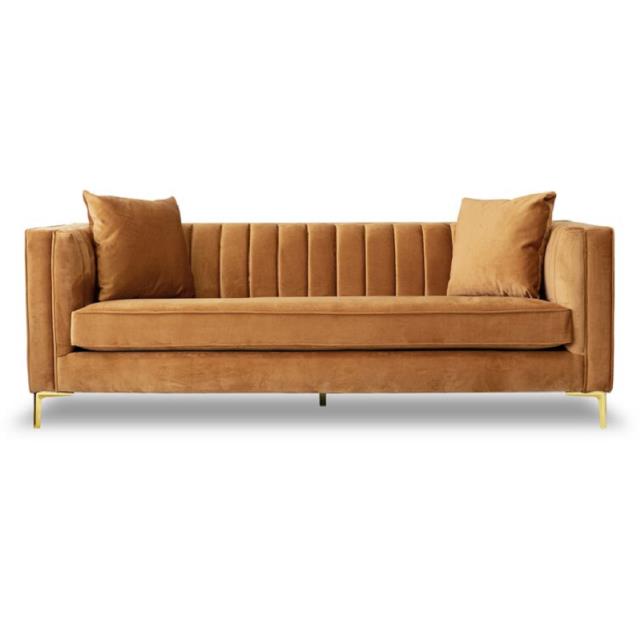 Bamboo Arm Chair
A unique statement piece, our Bamboo Arm Chairs are as comfy as they are stylish. A muted gold, this high back chair features beautiful bamboo details throughout. We recommend pairing it with either our Fern Velvet or Jaqueline Sofas!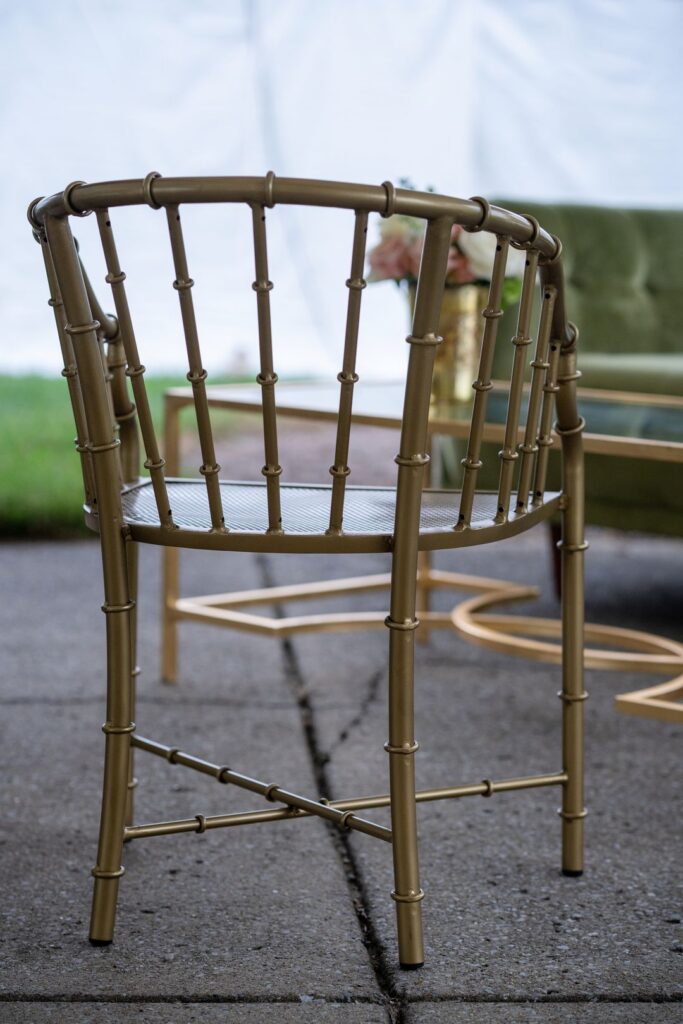 Want to secure one of several pieces of our natural luxe lounge furniture for your next event? Contact our team today, at info@southerneventsonline.com! Or, if you aren't up to designing your own lounge area, take a look at our stylish Lounge Packages with options for every style.
TAGS | Lounge Furniture Packages, Natural Luxe, accent tables, lounge areas, lounge furniture rentals, loveseats and sofas, luxe lounge rentals
FEATURED RENTALS |
---
10

Sep

On Trend, Southern Events Products, Trends and Inspiration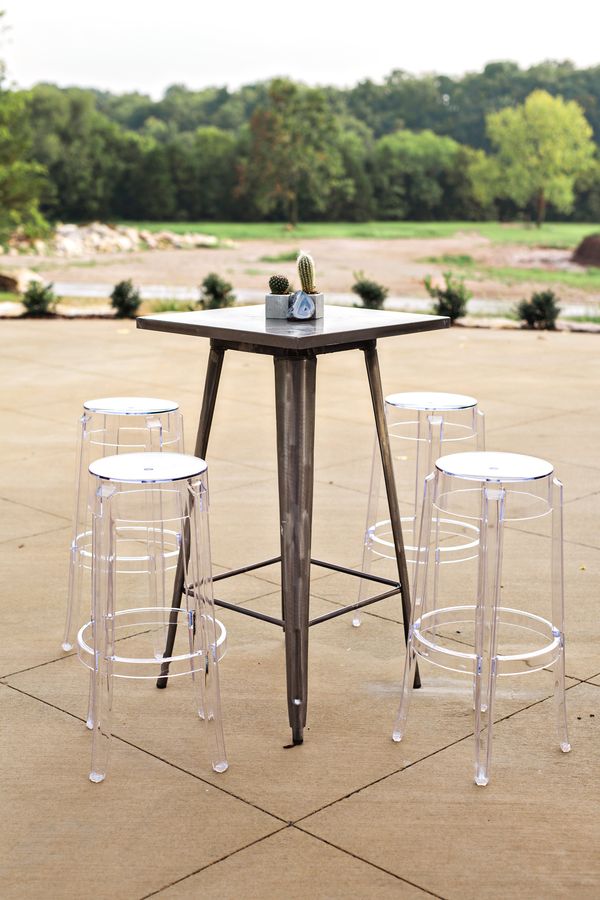 When it comes to small gatherings, you want to make the most of the space and allow guests to interact safely. To help you create a functional layout, we've rounded up of our favorite bistro style and mixed seating set-ups for every type of event. Spacing out seating and place settings appropriately is just one way that you can continue to host safer events in Nashville, Tennessee!
Bistro Tables
Hosting a cocktail hour? Bistro tables will take your event up a notch. Although compact, these tables bring a sense of luxury to even the smallest spaces.
This simple outdoor set-up features our a bistro table paired with elegant Cross-back Barstools. A neutral-toned table linen added a touch of formality, without distracting from the beautiful setting.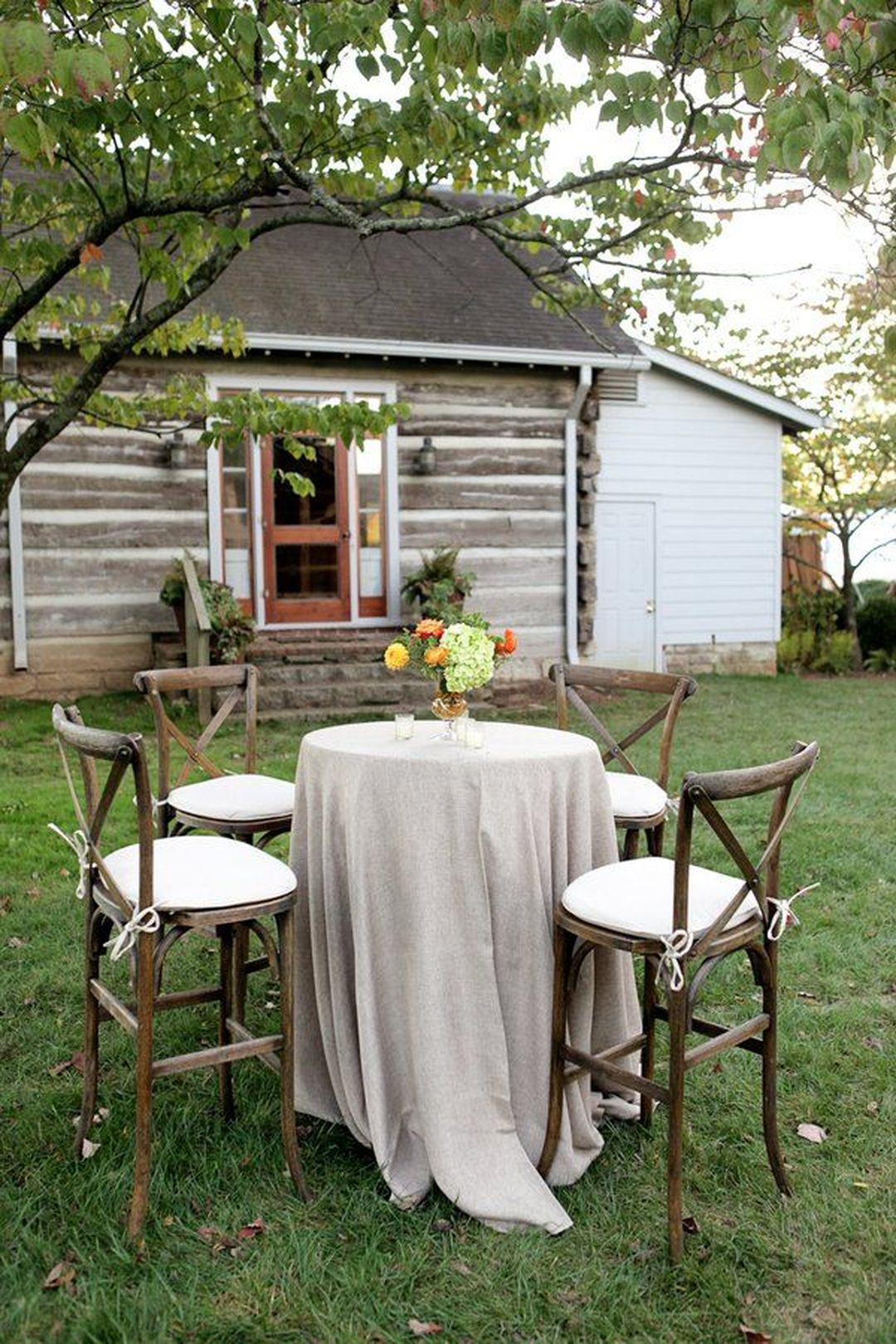 This contemporary bistro set-up at CJ's Off the Square is perfect for a wedding. It is draped in our Light Pink Etched Velvet Linen and complemented by Mid Century White Barstools.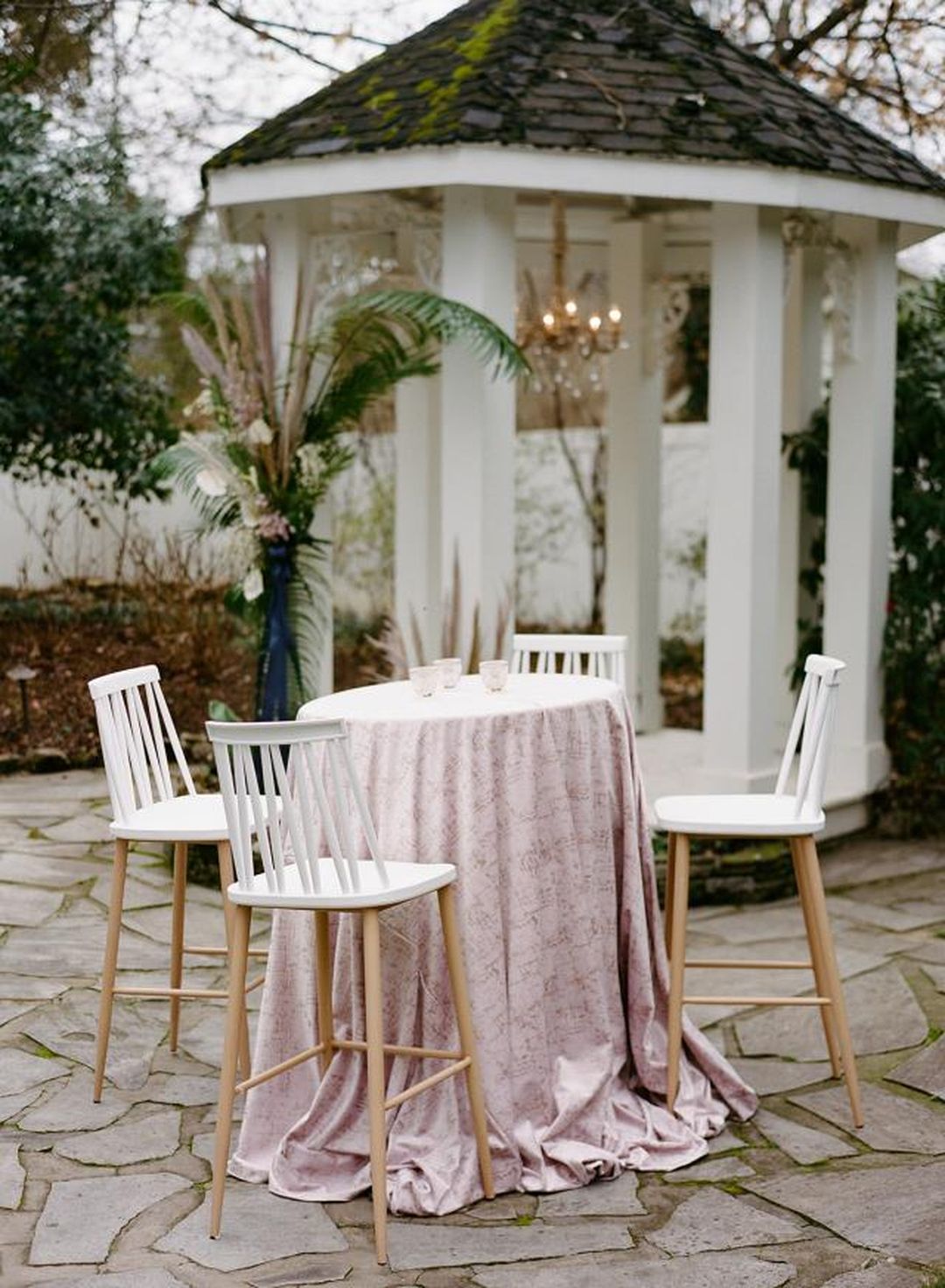 Our Loren Gold Bistro Table screams luxury! Adding to this elegant design, are our modern Acrylic Ghost Barstools. We love the bold choice to feature contrasting colors, via Tawny Napkins and Onyx China.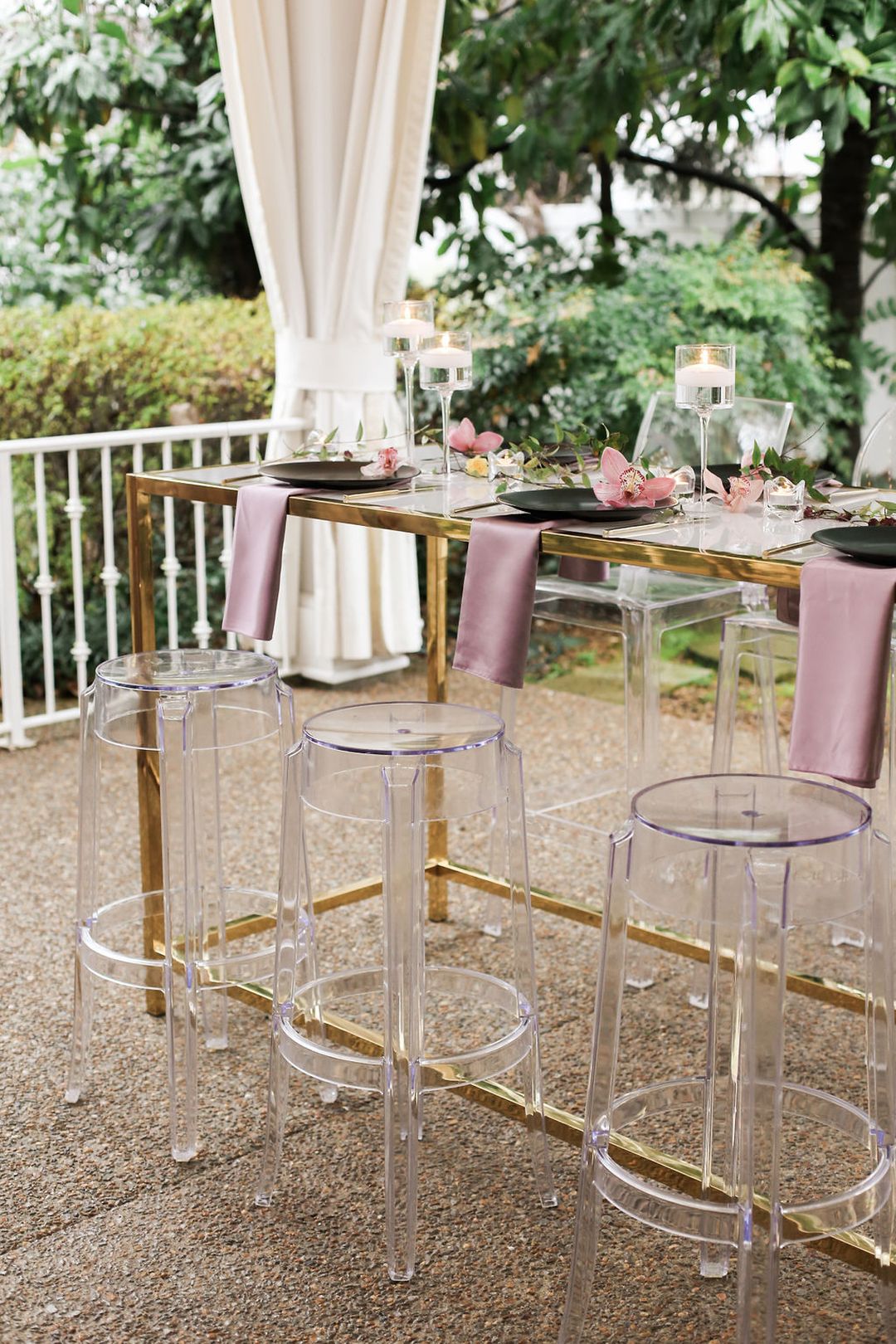 Photo by Jenna Henderson Photo
Simple but beautiful, this set up combines both old and new elements. Our rustic Grayson Farm Bistro Table is paired with modern Acrylic Ghost Barstools.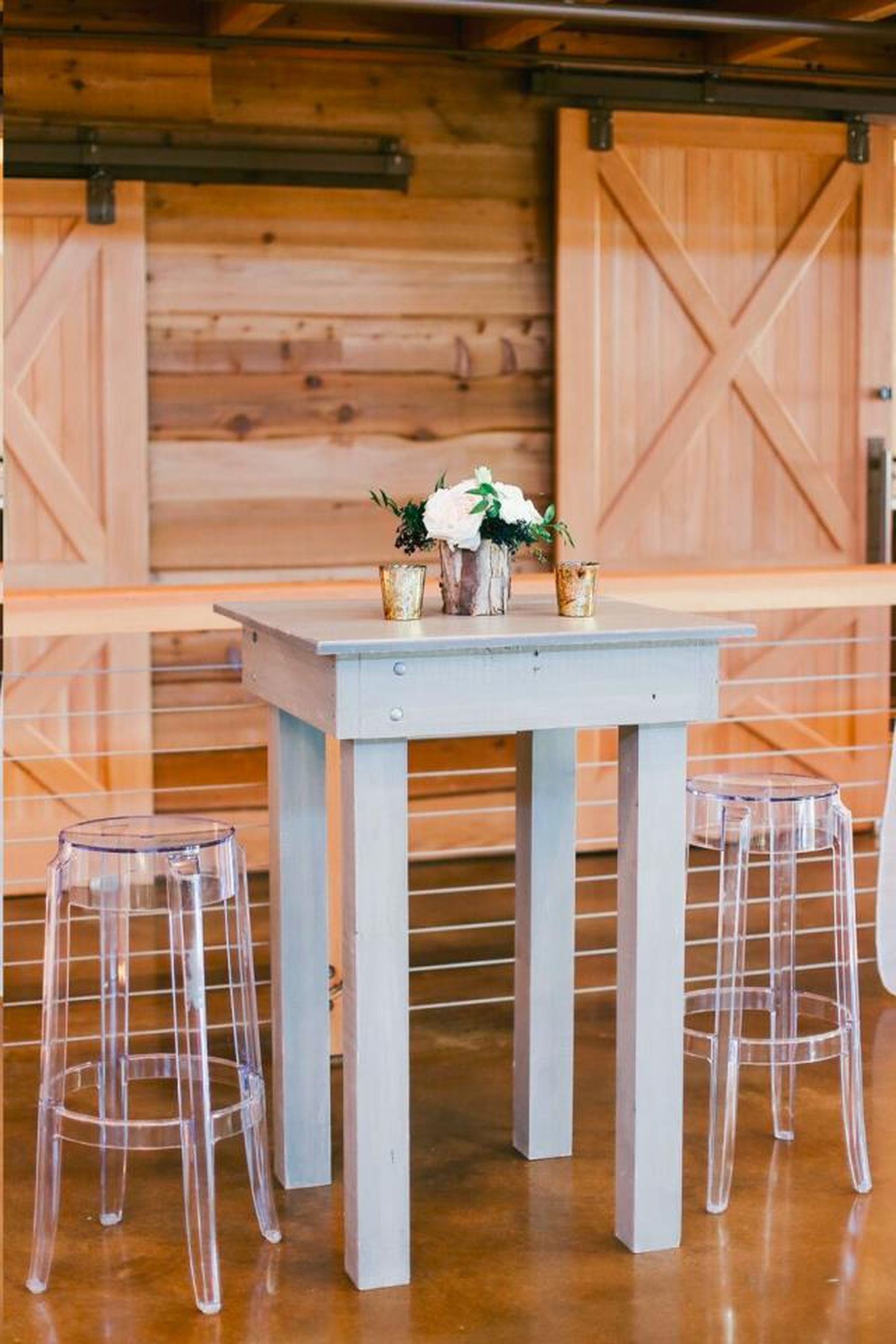 Mixed Seating
Want a slightly larger, low to the ground alternative? These cozy mixed seating set-ups are perfect for your next social gathering. Be sure to set the furniture farther apart than normal. You can use a rug to fill the interior space, or to create a frame for the area, like the elegant arrangement below. It features our Adeline Dining Chairs with a plush loveseat.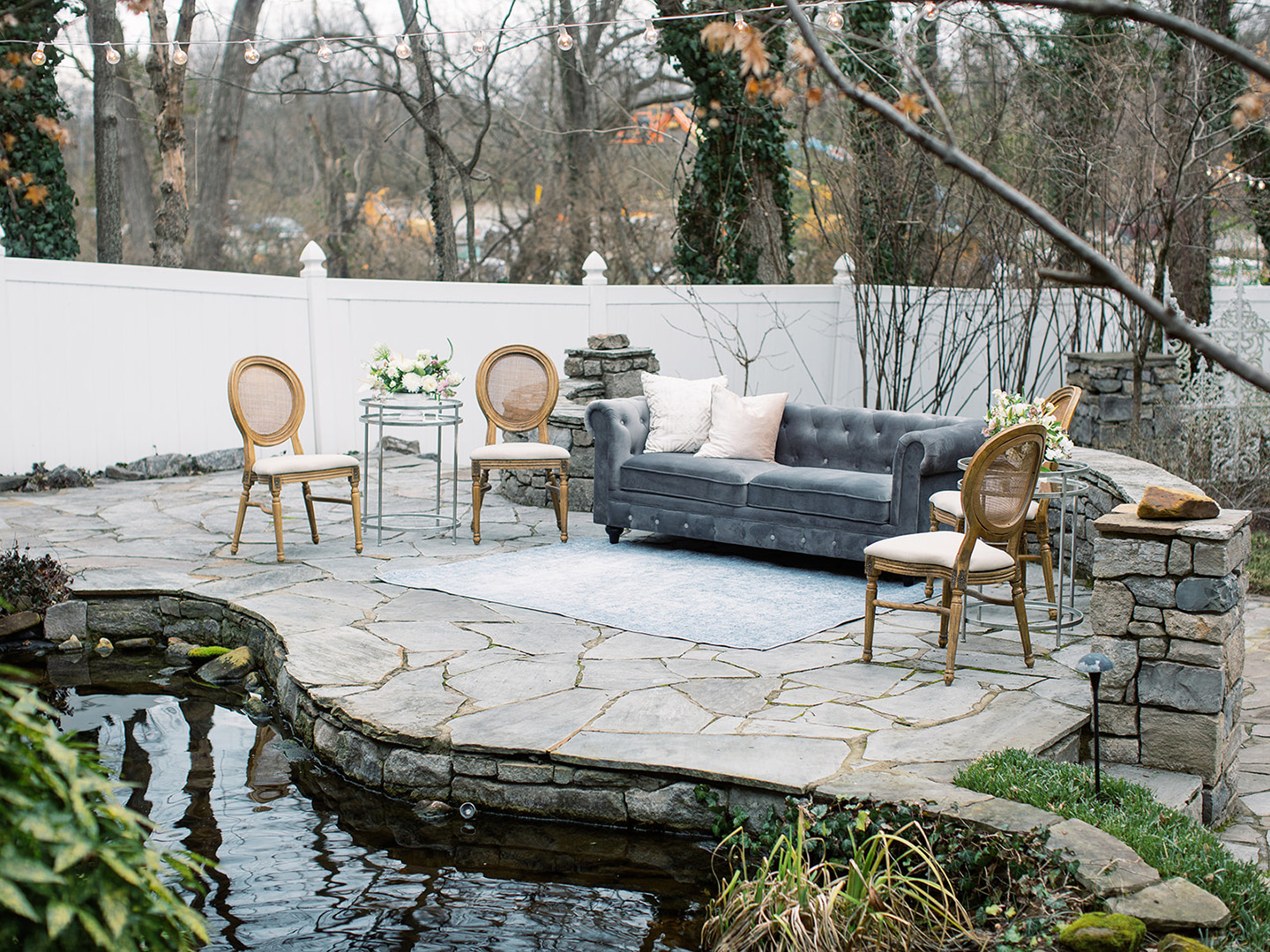 Photo by Abigail Lewis Photography
Created for a luxe southern wedding, this vibrant seating area was made using our Saylor Navy Velvet Sofa and matching chairs. Cheval Gold Side Tables are added as a place for guests to set their drinks.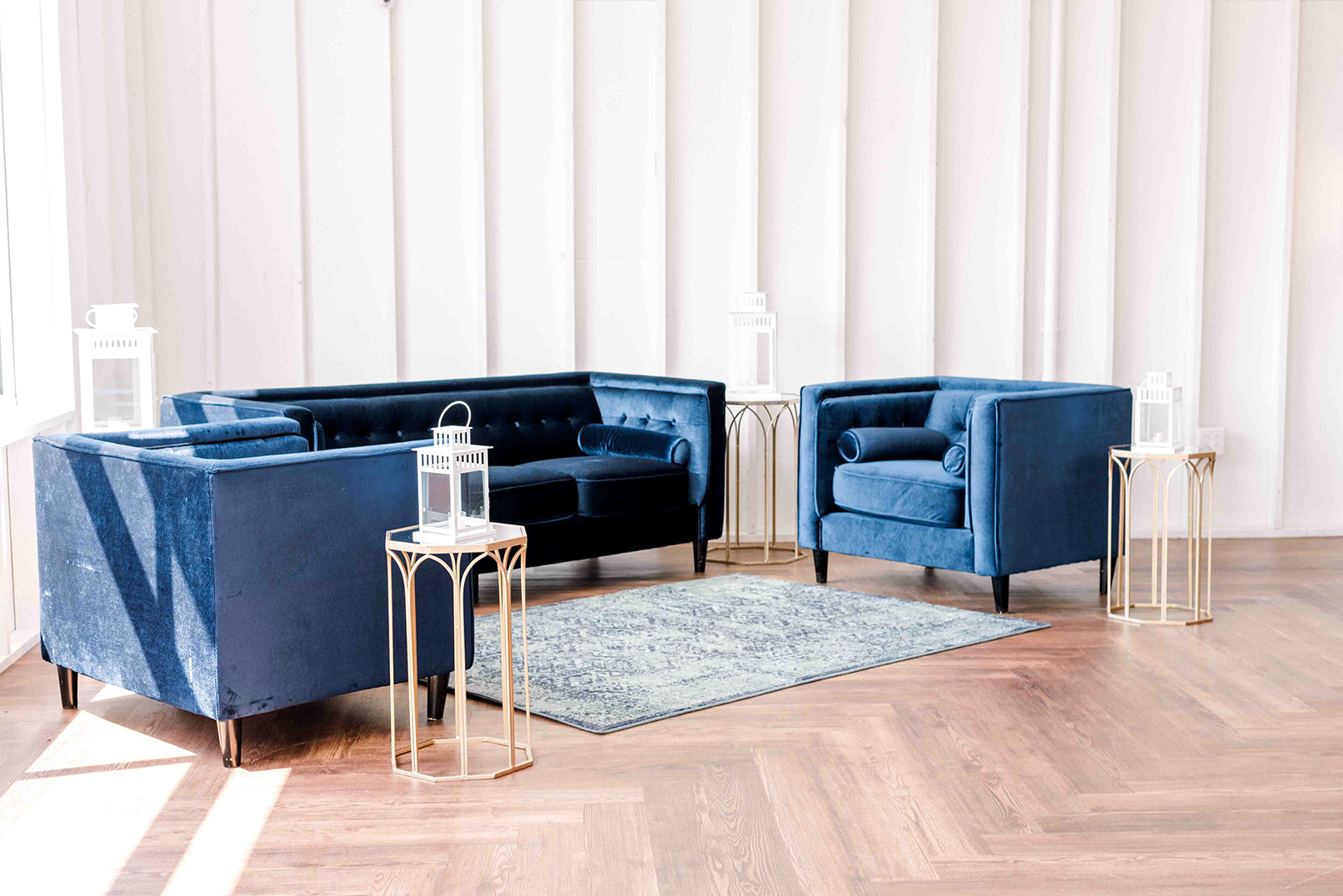 Photo by Cee Cee Photography
A unique mix of urban and contemporary elements, this mixed seating arrangement features our Mercer White Leather Collection and Midas Gold Bench.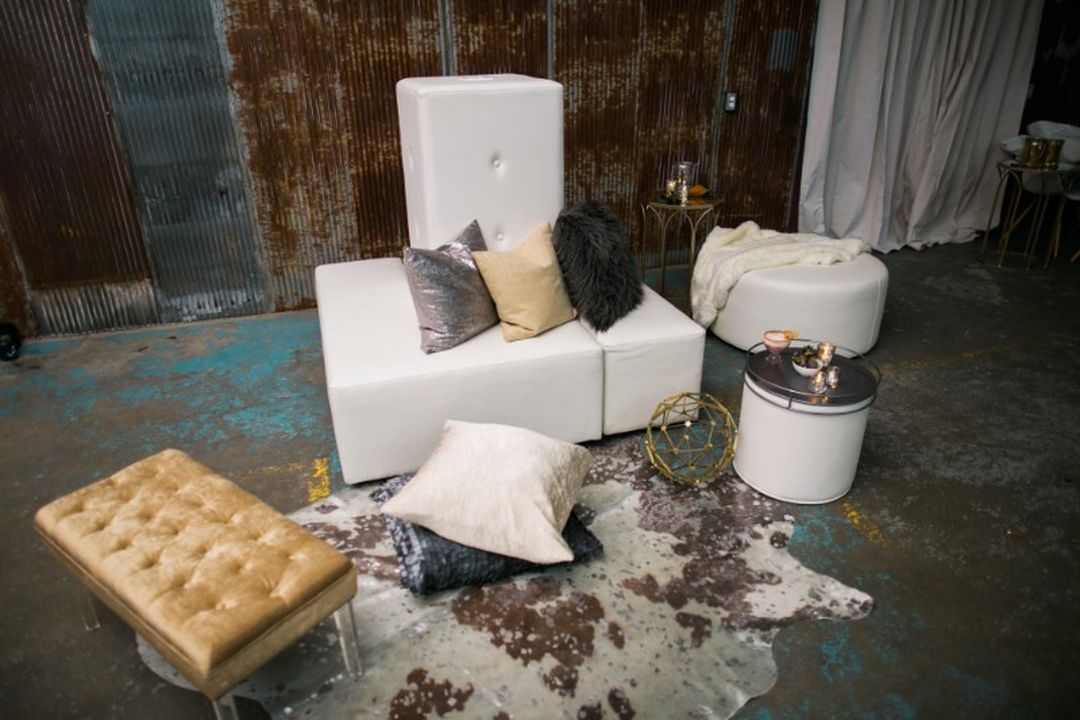 A beautiful warm-toned set up, our Bennett Leather Sofa and London Loveseat is perfect for a modern rustic event or wedding. It also includes our Cheval Gold Side Tables, Chocolate Poufs, and a Cowhide Rug.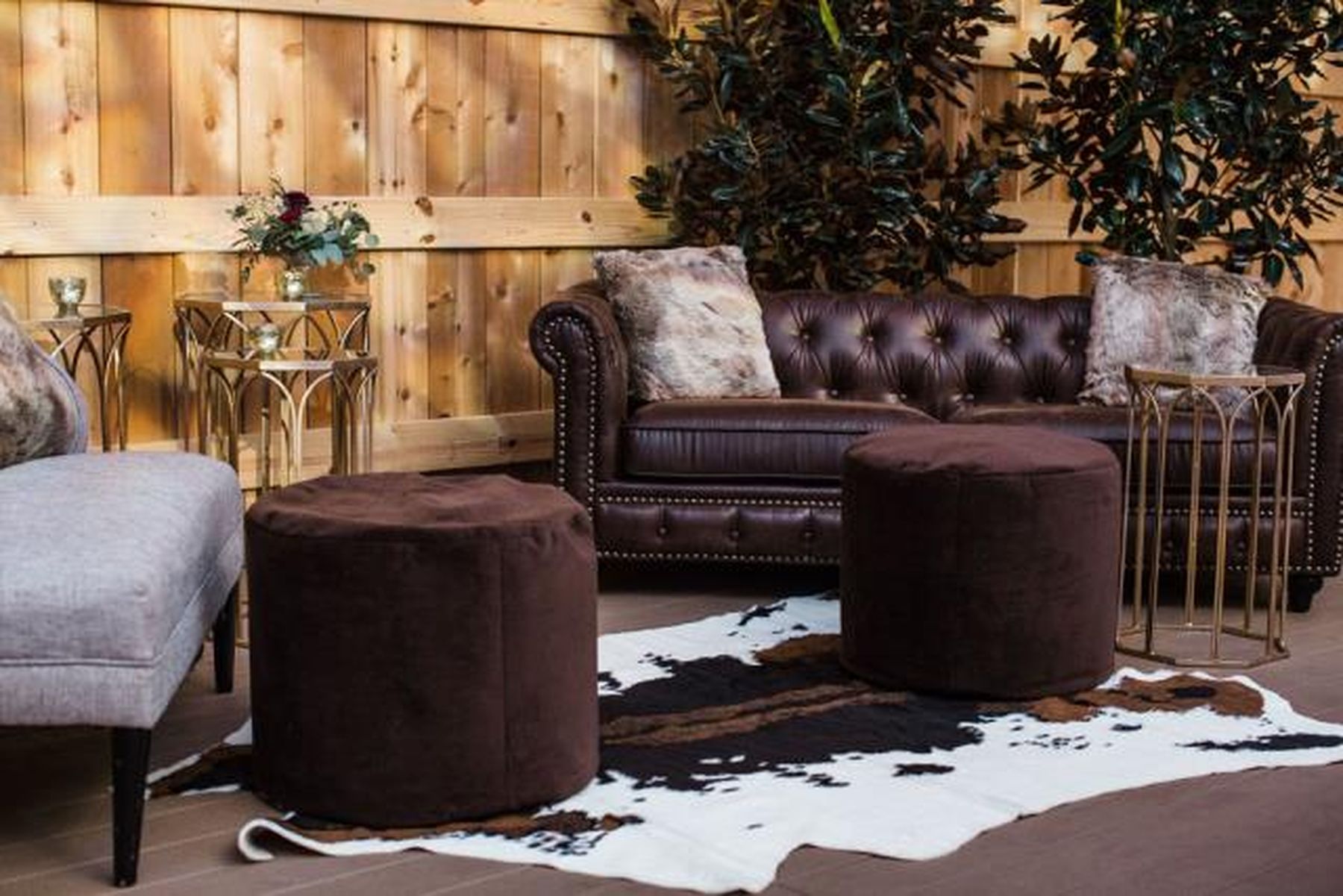 Want to incorporate a mixed seating arrangement into your upcoming event layout? Be sure to take a look at our current Lounge Packages, pre-designed for every type of event. Or, if you prefer to create an arrangement of your own, contact our team at info@southerneventsonline.com.
TAGS | Bistro Tables, Chairs, Cocktail Party Rentals, Lounge Furniture Packages, bistro chairs, bistro seating, cocktail hour, lounge areas
FEATURED RENTALS | cross back barstool, acrylic ghost barstools, Chocolate Poufs, Cowhide Rugs, Mercer White Leather Collection, Bennett Leather Sofa, London Loveseat, Midas Gold Ottoman, light pink etched velvet linens, Saylor Navy Velvet Sofa, Cheval Side Tables, mid century white barstools, Adeline dining chairs, loren gold bistro barstool, Grayson farm bistro table, Onyx china, tawny napkins,
---
14

May

Southern Events Products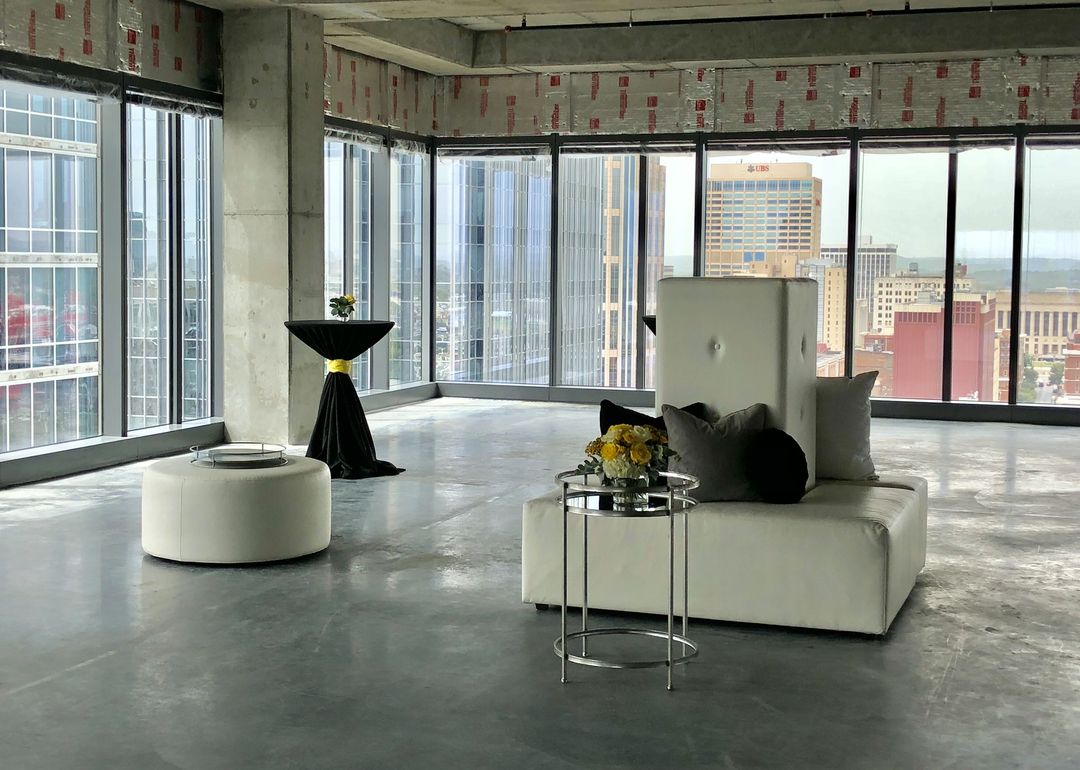 Furniture with sleek features, straight lines, and smooth and shiny surfaces – hello modern event lounges! Modern furniture design often focuses on simple geometric shapes rather than heavy or excessive ornamentation. The following event lounge packages are free of busy lines and color schemes, which lend a simple, elegant and refined look.
Chic & Sleek
White, blue velvet and gold are a gorgeous trio in this chic and sleek modern lounge package. It features our stunning Saylor Navy Velvet Sofa, with its rich color and geometric tufts. The slender legs of the Rory Navy Velvet Chair complement the Rhodes Coffee and Side Tables. The stark white tops are a beautiful contrast next to the surrounding sea of navy.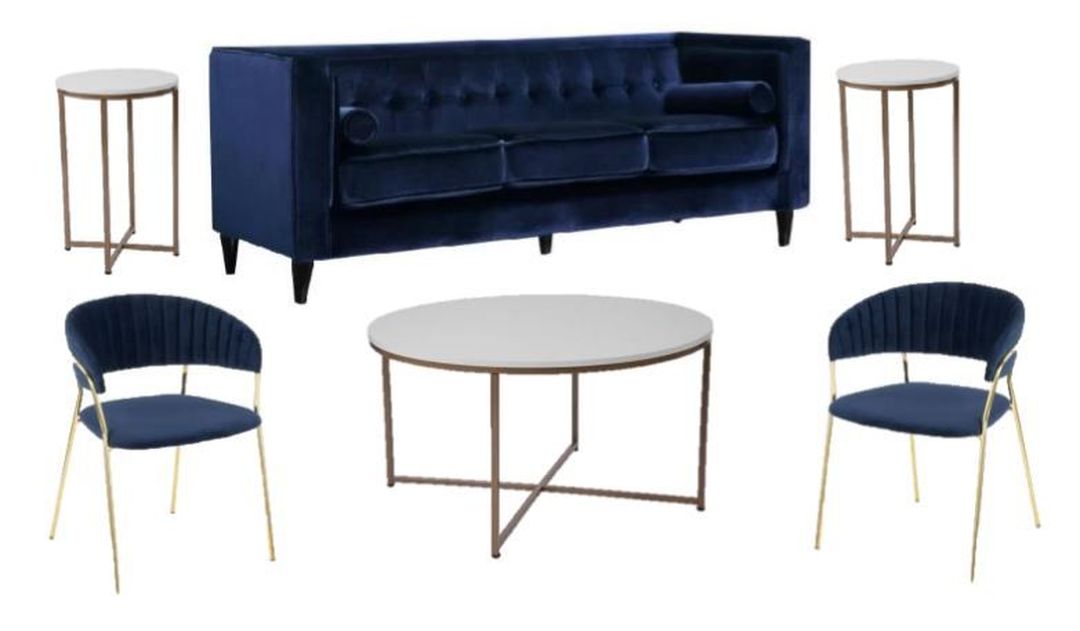 Classic Black & White
If you are looking to make a statement, this black and white event lounge is a bold choice. The sleek Black & White Stripe Cabana Benches, striking and sharp, pulls from the Regent Black Velvet Sofa. This pattern adds a unique punch of character to the otherwise plain lounge area. Meanwhile, the Rhodes Coffee Table and Rhodes Side Table add a subtle but luxe gold accent into the mix.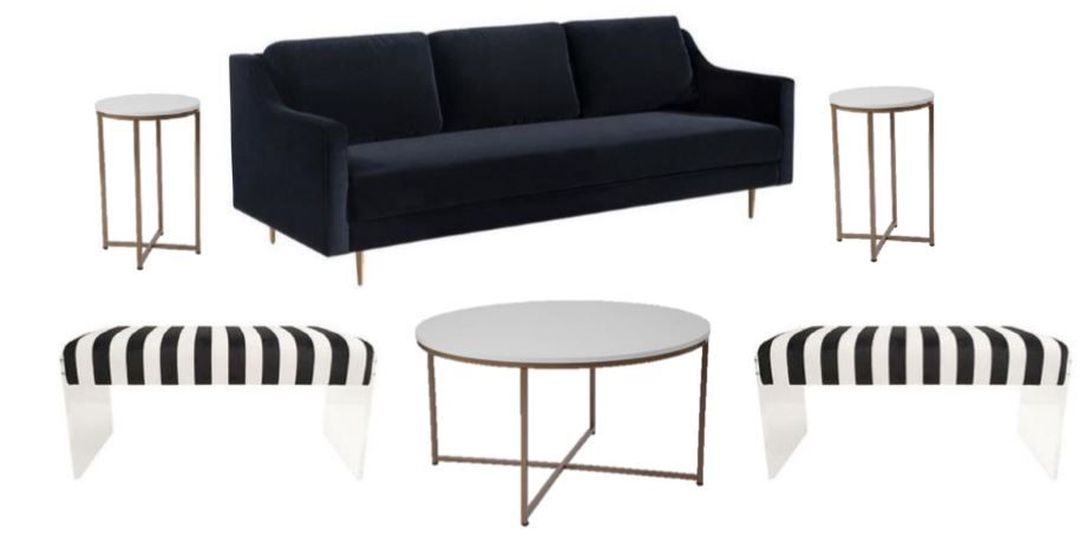 Modern Glam
Featuring black and white, this modern glam lounge is sleek and a little flashy. Blocky furniture, like the Santorini Off-White Sofa and Santorini Off-White Loveseat, appears visually sharp yet is cozy – promise.  It pairs perfectly with our white Siros Coffee Table. The cylindrical shape of the Echo Silver Mirror Side Table provides a bit of relief from the geometric dominated space, while a Black-Silver Rug ties it all together. (Learn why rugs are essential for creating a functional space!)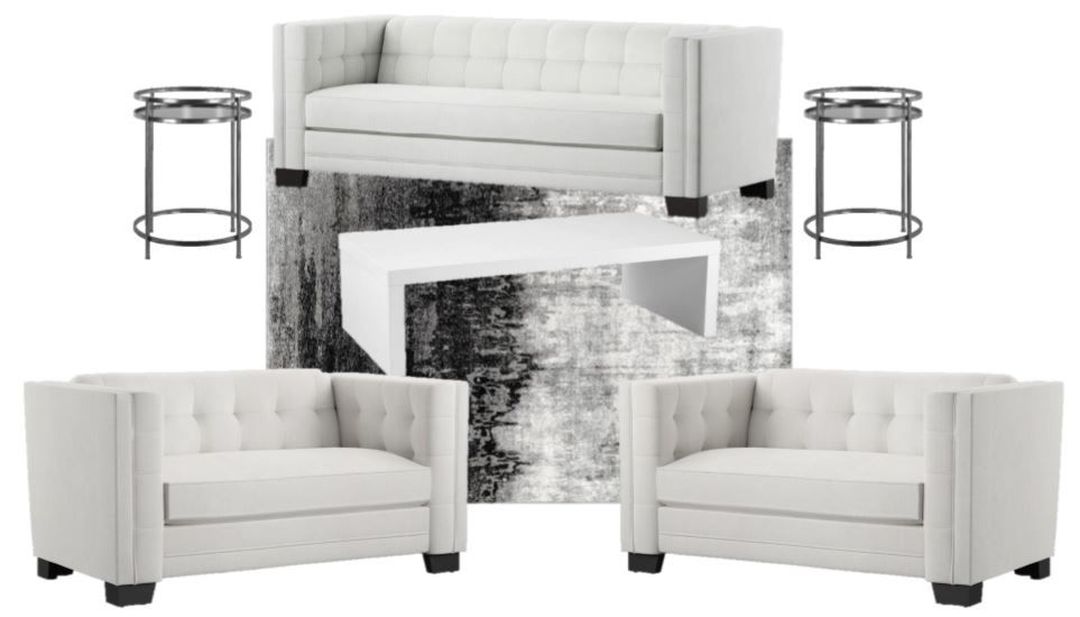 Simplistic
Primarily functional, this simplistic modern event lounge setup features neutral tones with a touch of gold. The Regent Black Velvet Sofa is clean but inviting, with its plush velvet cushions. One of the most popular modern furniture designs, the White Eiffel Arm Chair will tempt all of your guests, with its unique shape. Each piece is subtly connected, via solid colors and geometric angles, such as the legs of the Rhodes Coffee Table.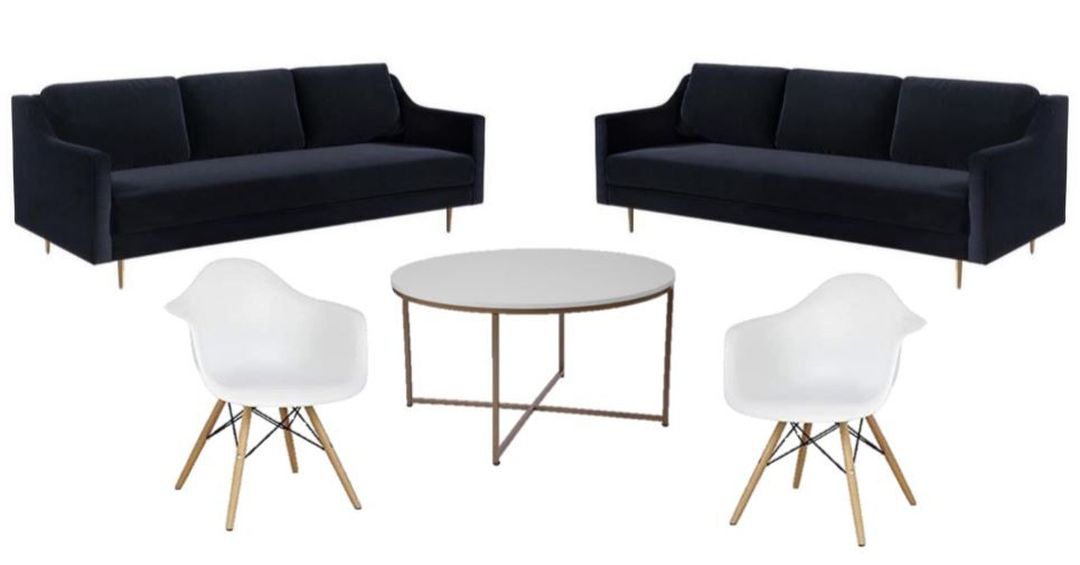 Contemporary
With a mix of unique shapes and textures, this social area will be a big draw. It consists of the Mercer White Leather Couch, Mercer White Leather Ottomans, Acrylic Ghost Arm Chairs and a Nickel Grey Bench. This package is the definition of contemporary, with simple geometric shapes and smooth surfaces. We are especially fond of acrylic elements, such as the armchairs and bench legs, which are sleek and stylish.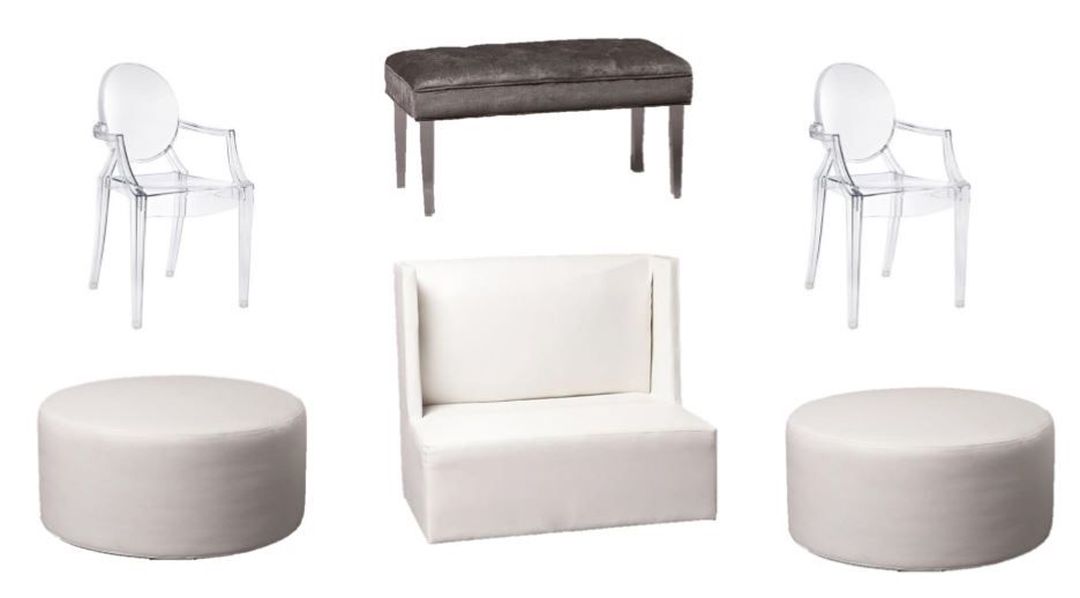 Loving these sleek and modern event lounge designs? See more options event lounge packages or contact our team today to book one for your wedding or event!
TAGS | Lounge Furniture, Lounge Furniture Packages, Modern Event Lounge, Modern Lounge Furniture, lounge, lounge areas
FEATURED RENTALS | Regent Black Velvet Sofa, Black & White Stripe Cabana Bench, Rhodes Coffee Table, Rhodes Side Table, Saylor Navy Velvet Sofa, Rory Navy Velvet Chair, Rhodes Coffee Table, Rhodes Side Table, Navy Rug, Santorini Off-White Sofa, Santorini Off-White Loveseat, Siros Coffee Table, Echo Silver Mirror Side Table, Black-Silver Rug, Regent Black Velvet Sofa, White Eiffel Arm Chair, Rhodes Coffee Table, Mercer White Leather Couch, Mercer White Leather Ottoman, Nickel Grey Bench, Acrylic Ghost Arm Chair
---
28

Dec

Southern Events Products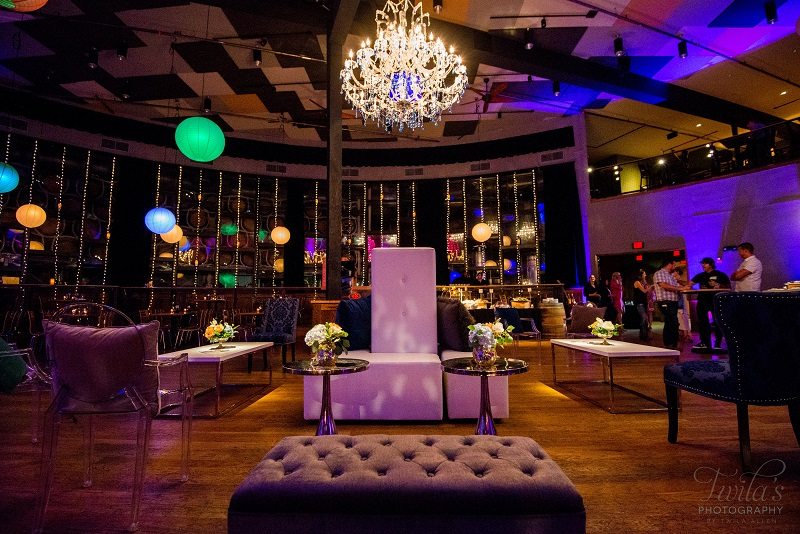 No matter what kind of Nashville or Franklin TN event you're having, a lounge area is a welcome addition. It allows guests to mix and mingle outside of their assigned tables or beyond a conference classroom setting. And with Southern's rentals, lounge areas are functional and fun.
Need a little inspiration? We've put together three popular lounge styles, each featuring a variety of our most loved rentals.
Event Lounge Style: Bright White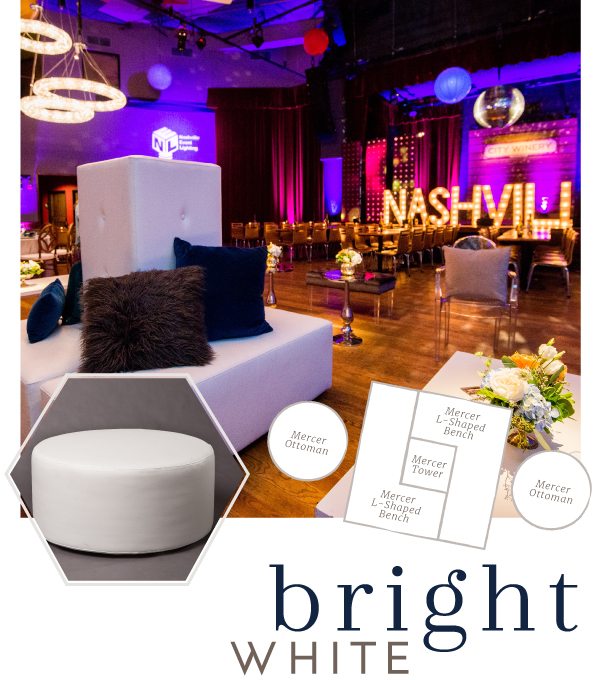 Our new White Leather Mercer Tower is powered, meaning it can be used as a charging station for guests! Busy professionals at your event will love this feature; and paired with ghost chairs and white & silver accents, it's chic any time of the year.
Event Lounge Style: Color Pop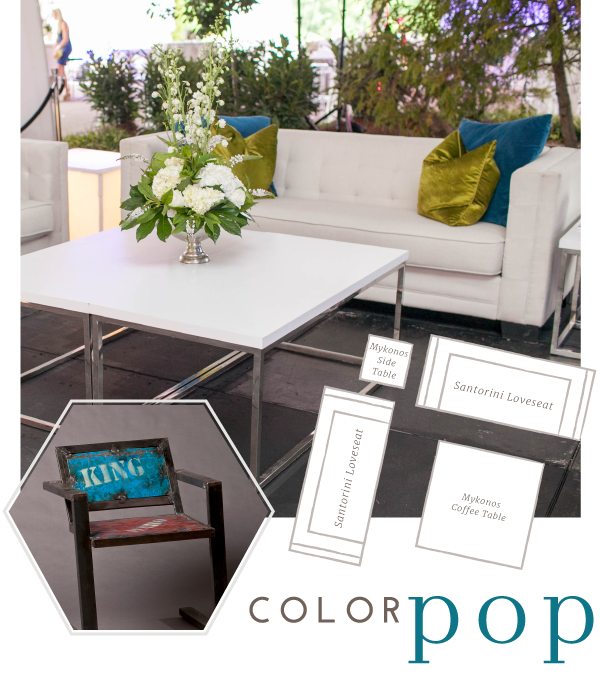 Add a little brand personalization to your event with color! Dress up the classic Mykonos Coffee Table and Santorini Sofa with bright pillows and complete your lounge look with colorful pieces and accessories, like our Urban Metal Arm Chair or Rhapsody in Blue chairs.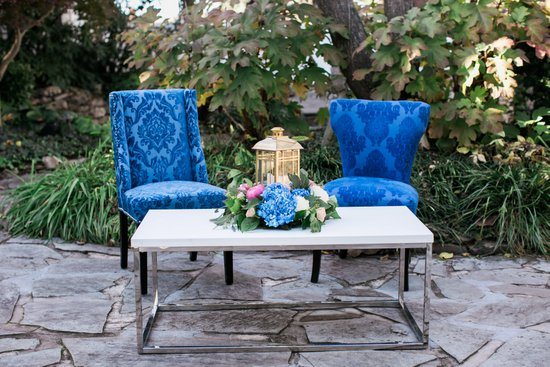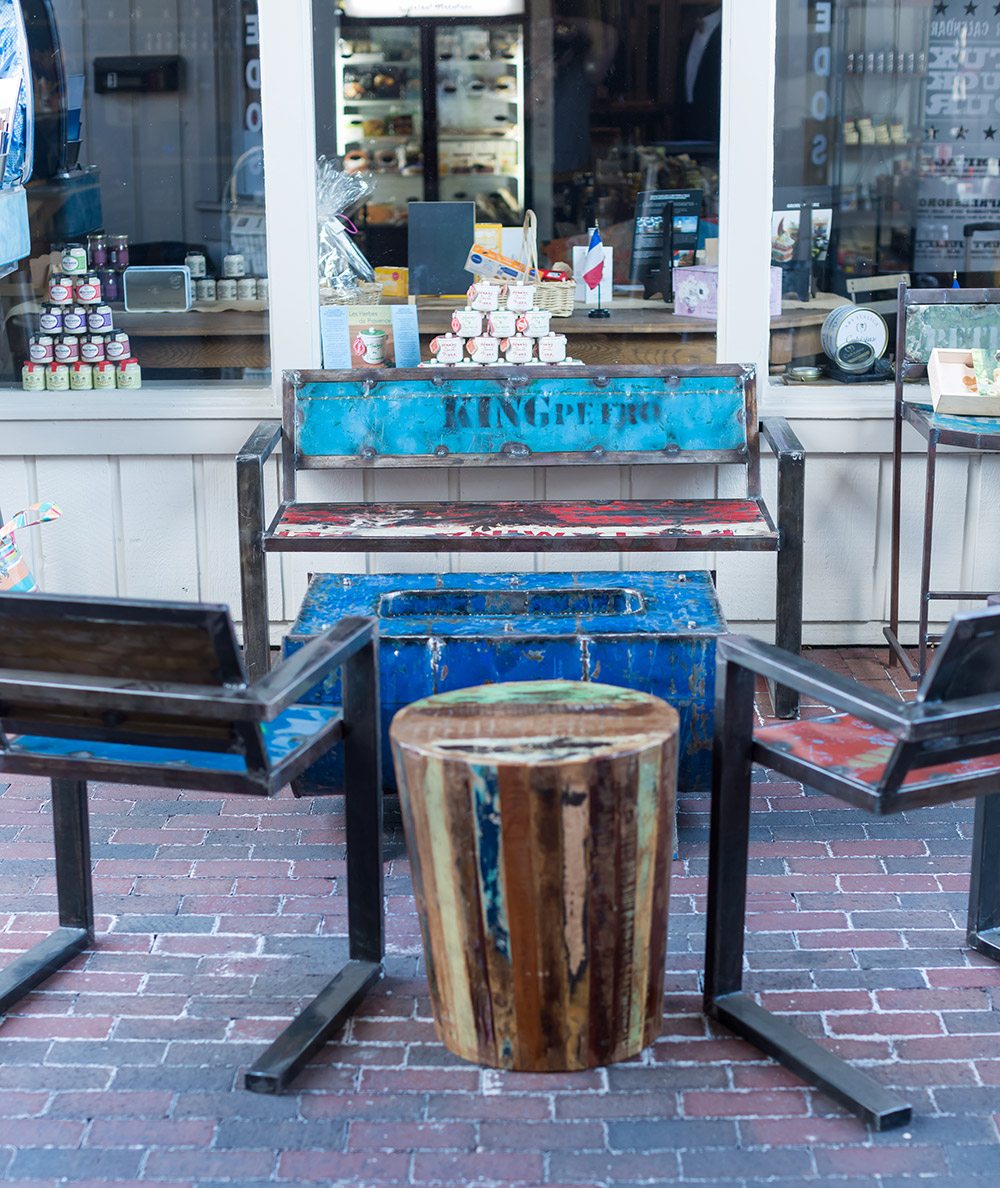 Event Lounge Style: Rustic Texture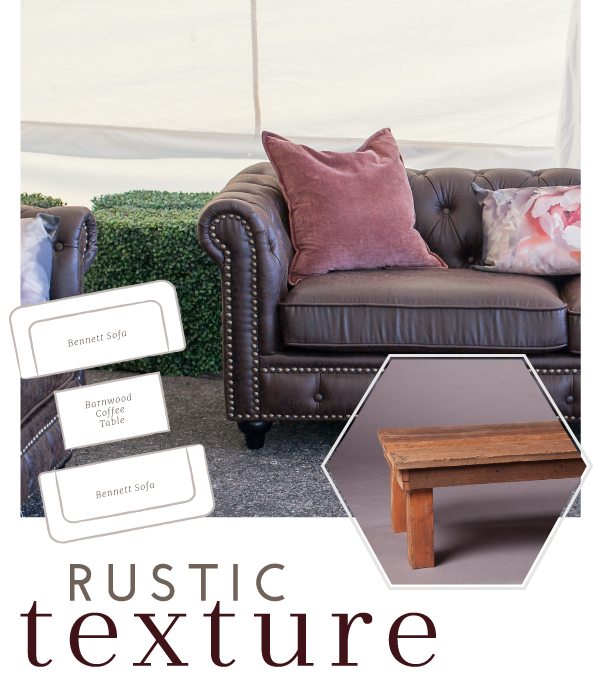 Going for an earthier style? Layering textures can do the work for you! Our tufted leather Bennett Sofa pairs with elegant pillows and the Barnwood Coffee Table to create a lounge that's comfy for putting up your feet after networking at an event!
Event Lounge Packages = Event Styling Made Simple
Looking for something with a little more vintage flare? Or hoping for metallics galore? You can easily define a lounge space without wondering if it all goes together with our specially designed lounge packages. Take the guesswork out of designing your lounge or determining your preferred style and add a lounge package designed by the pros!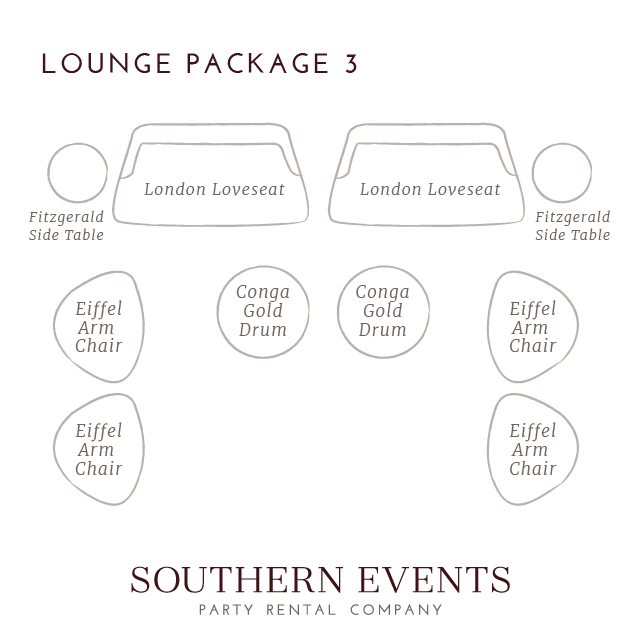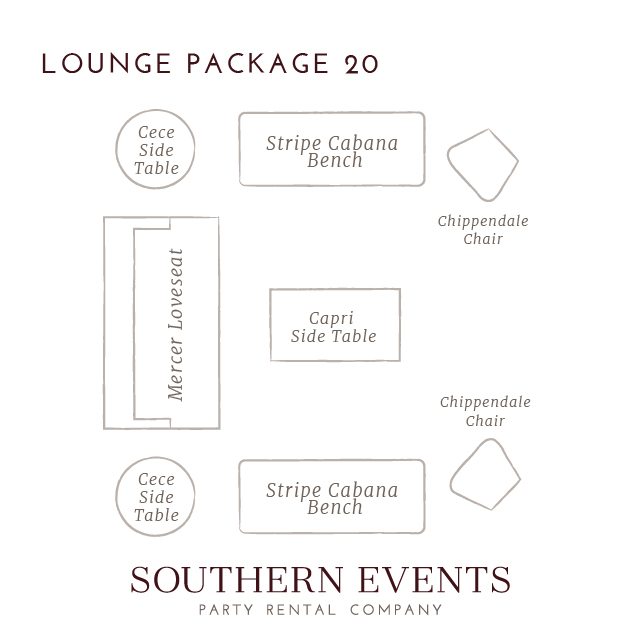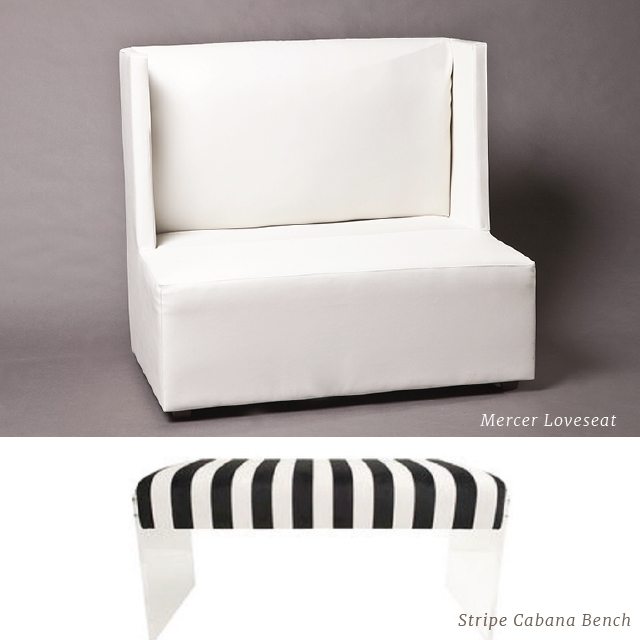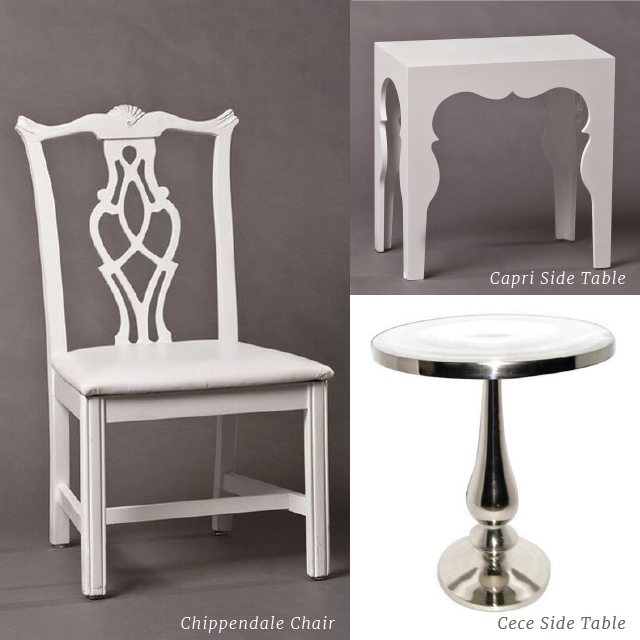 Love these looks? Contact the team today for a quick quote or to reserve the rentals of your choice, info@southerneventsonline.com.
TAGS | Barnwood Coffee Table, Bennett Sofa, Franklin event rentals, Ghost Chairs, Lounge Furniture, Lounge Furniture Packages, Mykonos Coffee Table, Nashville Event Rentals, Rhapsody in Blue Chair, Santorini Sofa, Southern Wedding Rentals, Urban Metal Arm Chair, White Leather Mercer Tower, lounge areas, lounge furniture in nashville, lounge furniture rentals, southern evets and party rentals
FEATURED RENTALS | Barnwood Coffee Table, Bennett Sofa, Urban Metal Arm Chair, Mykonos Coffee Table , Santorini Sofa, Rhapsody in Blue Chair, Ghost Chairs, White Leather Mercer Tower
---
14

Sep

Southern Events Products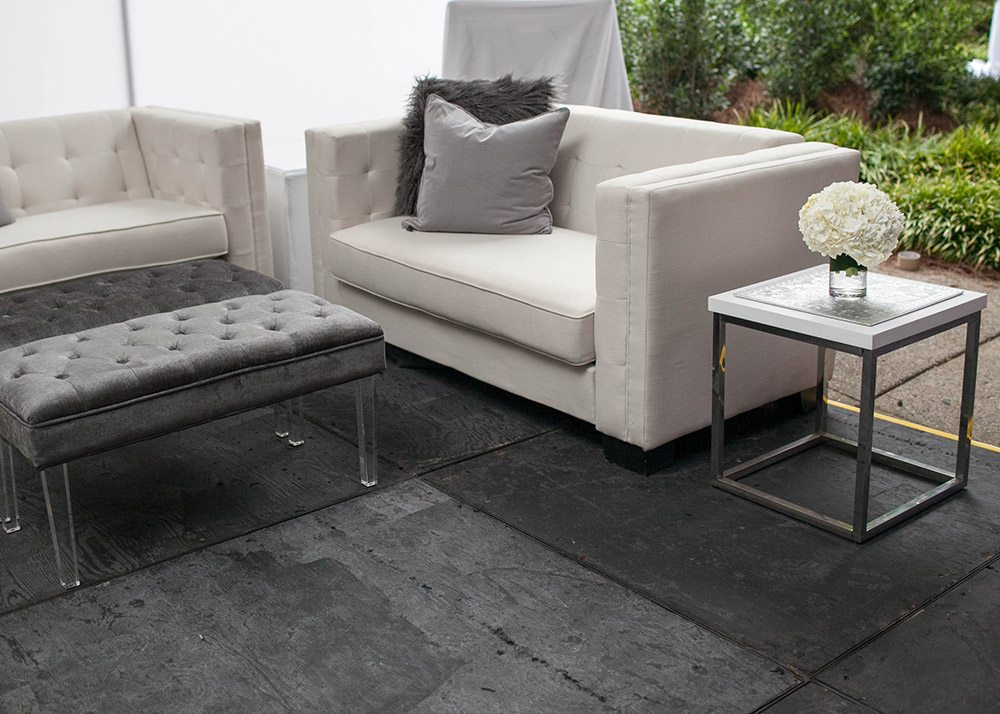 Company Retreats and Corporate Summits are an important and exciting part of any company's culture. Whether you're having a creative brainstorming summit with a small team, or a large conference with hundreds of attendees, Southern has great rentals and a huge quantity of everything you need!
Staging
Whoever is speaking at your company's next event, you'll want them to have a stage to share from. And if you're looking at a creative location, sometimes it's not obvious where exactly to have someone deliver their presentation. We provide staging for all kinds of venues, whether indoor or outdoor, to make it easy for all attendees to be able to hear and see.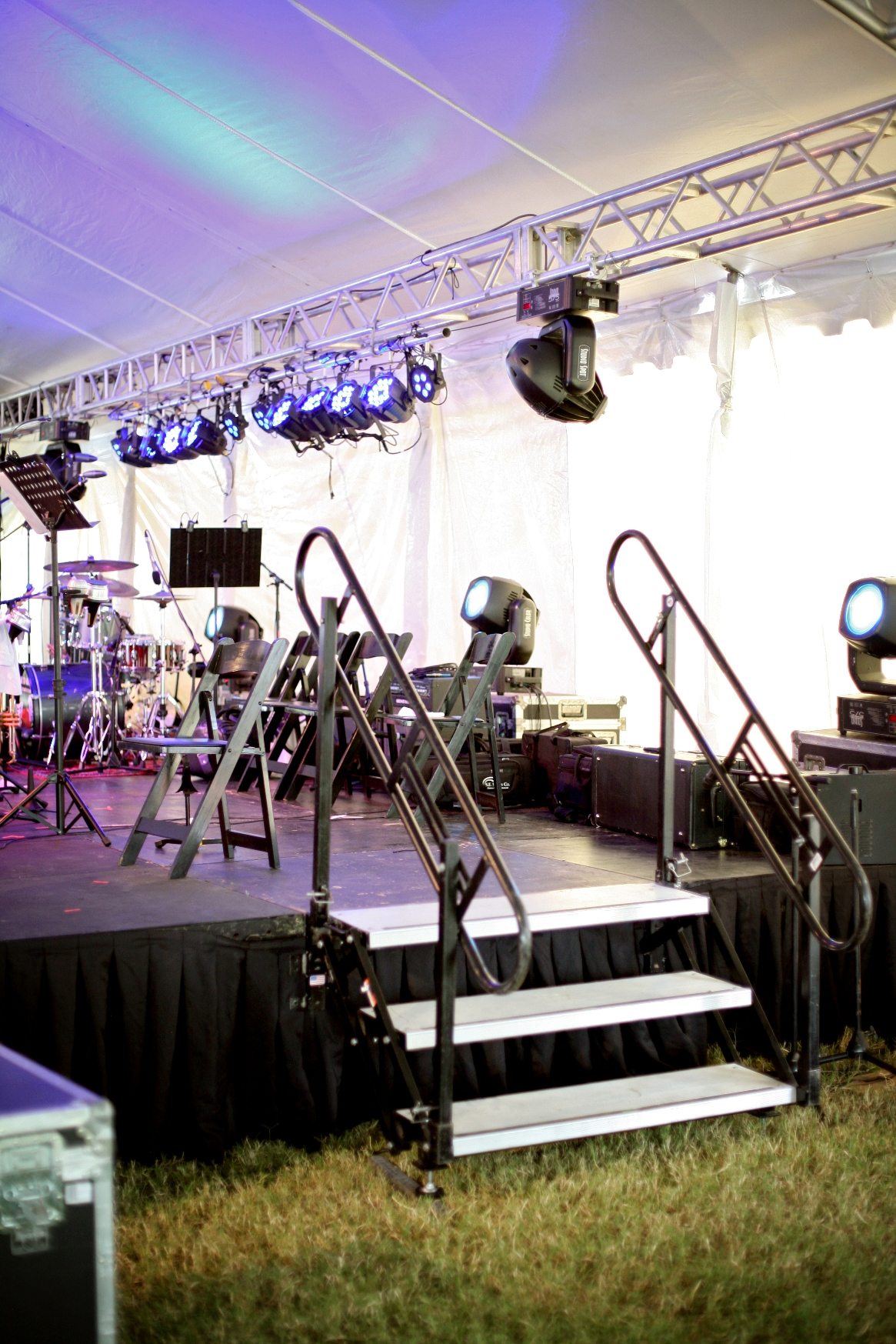 Pipe and Draping
Add elegance and grandeur to your event with pipe and draping – a bonus when you add it in your company colors! We love how pipe and draping instantly elevates the design of any event, and when you've planned a large conference in a neutral space, it easily adds personality and reflects your company culture.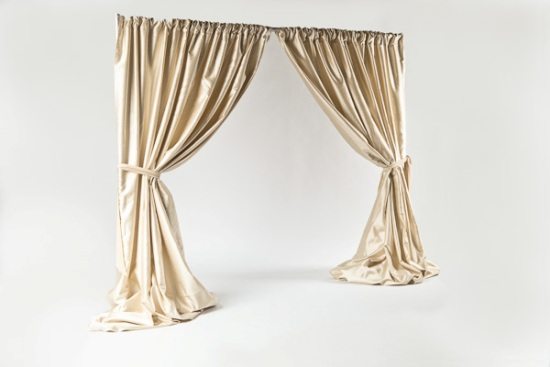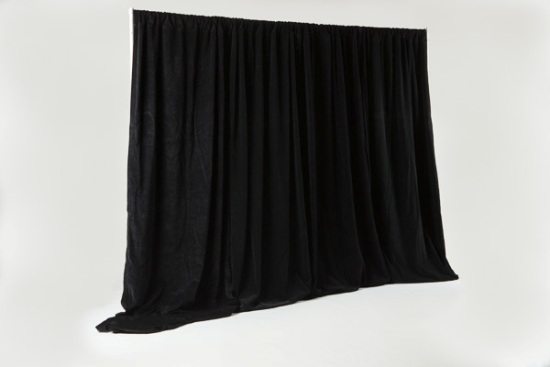 Lounge Furniture Packages
Lounges are the perfect way to break up an oversized space or provide your colleagues with a comfier place to mix and mingle. Create a professional looking lounge area with one of our many Lounge Packages – all of which can be added on seamlessly to any event's design.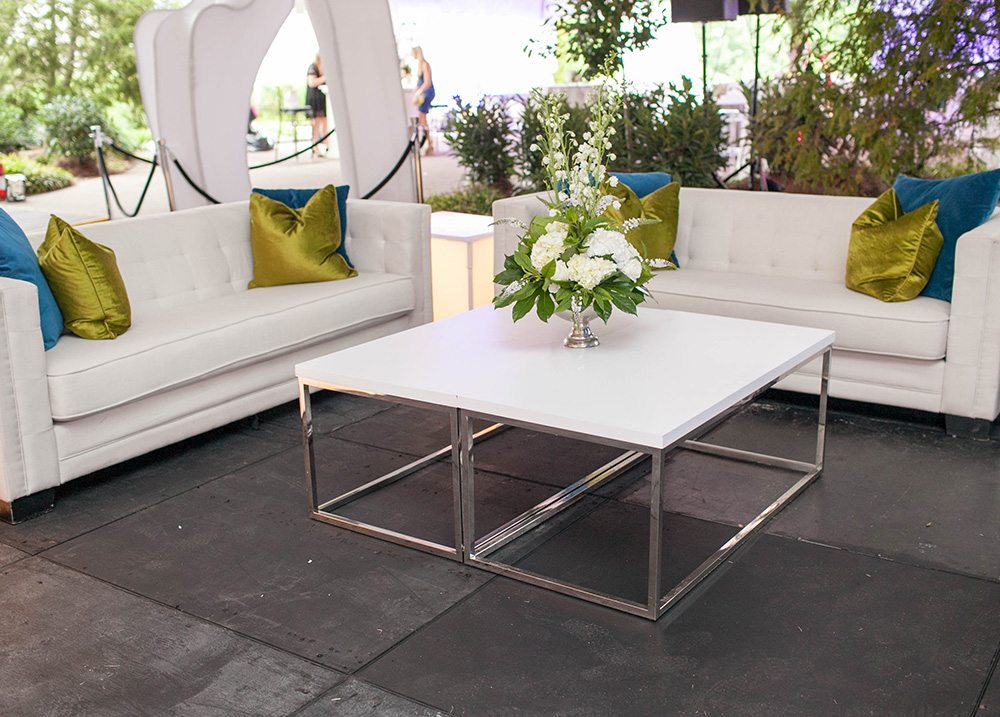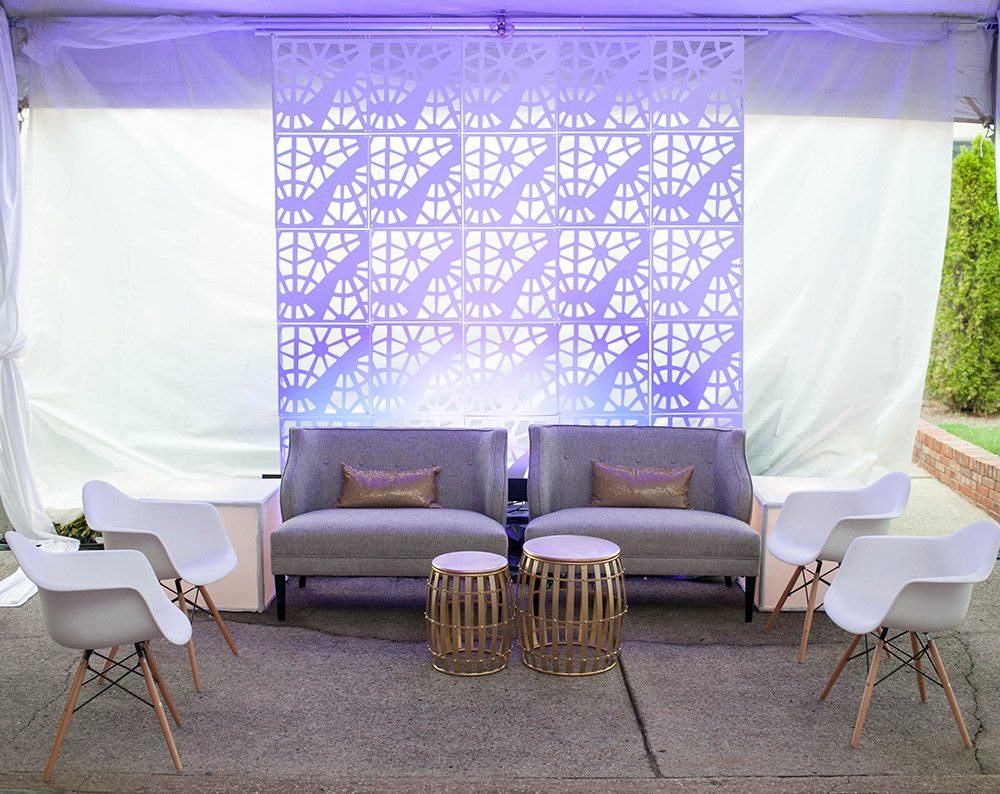 Photos by Phindy Studios
Red Carpets
Rolling out the Red Carpet is a fun way to express gratitude to your team to show them how much you appreciate their work. We love how much fun guests have when they walk down – such a fun added touch!
Folding Screens and Stanchions
Folding Screens and Stanchions are another great way to break up a massive room design and control foot traffic. Think about different stations being set up (check in station, information station, etc) and how you'll want to create good foot traffic flow and obvious signage. Prevent long lines from overwhelming with stanchions placed strategically, and have folding screens act as the backdrop to various stations creating a "room within a room" look without setting up a wall.
Unique Stage Seating
Looking for a way bring beautiful design to your company event? We love how our Bennett Sofa, Eiffel Chairs, Adeline Chairs, or other Vintage Chairs look on stage, or placed throughout key points.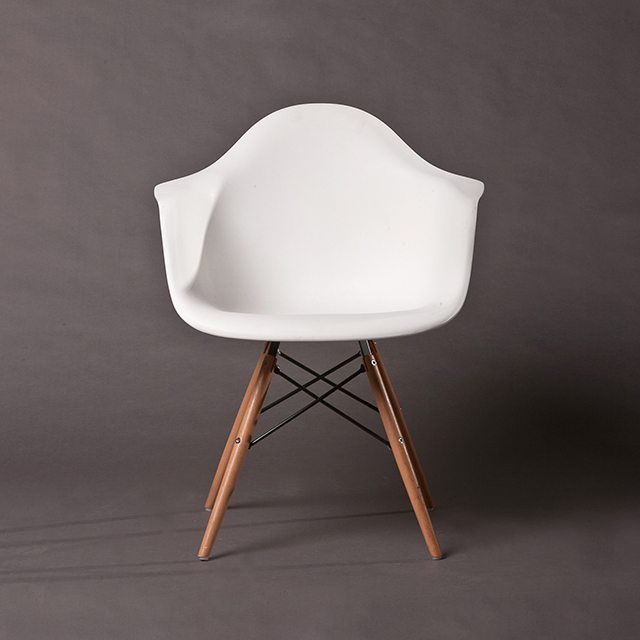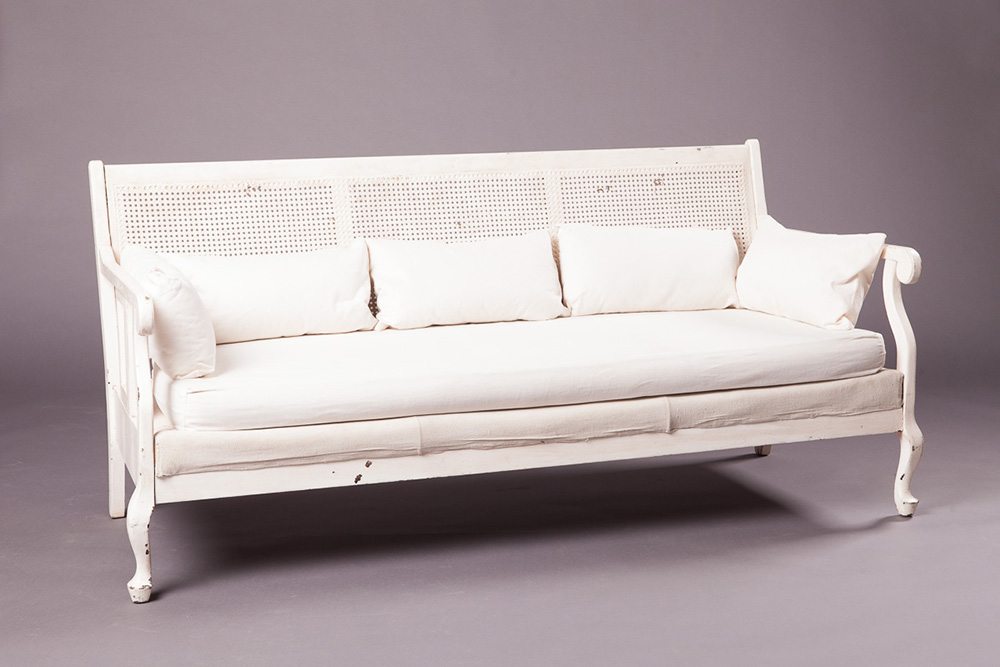 Whatever corporate event your company is throwing next, Southern can help! Send us a shout at info@southerneventsonline.com and we'll show you all the ways we can upgrade your next Nashville, Franklin, or Middle TN event.
TAGS | Adeline Chairs, Bennett Sofa, Company Party Rentals, Corporate Summit Rentals, Eiffel Chairs, Folding Screens, Lounge Furniture Packages, Pipe and Draping, Red Carpets, Staging, Stanchions, company event, corporate, corporate event, meeting
FEATURED RENTALS | Staging, Pipe and Draping, Lounge Furniture Packages, Red Carpets, Folding Screens, Stanchions, Bennett Sofa, Eiffel Chairs, Adeline Chairs
---