30

Dec

On Trend, Southern Events Products, Trends and Inspiration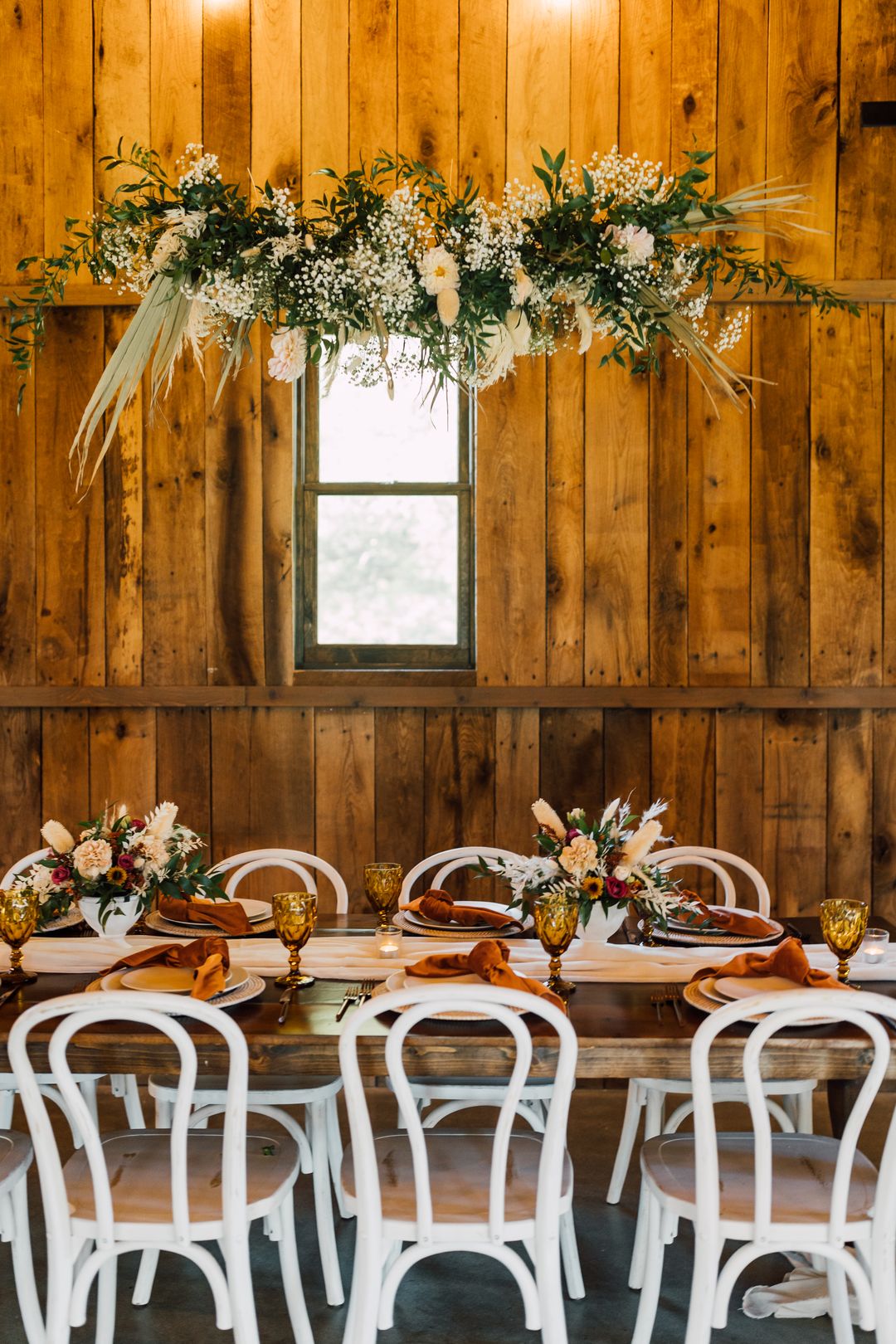 In 2022 we brought a lot of trends to fruition, from micro-weddings and backyard gatherings, to boho and retro-inspired rentals, as well as neutral and earth-toned color palettes. But now it's time to look to the future! Today we're going to take a look at some of the anticipated 2022 event trends, so that you can start planning your best gathering yet.
Bridgerton-Inspired Design
We saw a snippet of this trend in 2021, with opulent garden parties. But in 2022, we're taking it to the next level with set ups inspired by the hit series Bridgerton, also known as Cottagecore. For this event style, we're expecting pastel-rich color palettes, luxe textures, and vintage-inspired furniture.
Start with memorable tablescapes, featuring unique colors and fun rentals. For example, our Fern or Sea Glass velvet linens, or more decade appropriate Blue Kensington print. Top them off with our mismatched Heirloom China, or break up all the prints with our dainty Darcy China. The best choice for flatware is our versatile Abby or Sophia flatware. Finally, incorporate a splash of texture with our Green or Amber Goblets.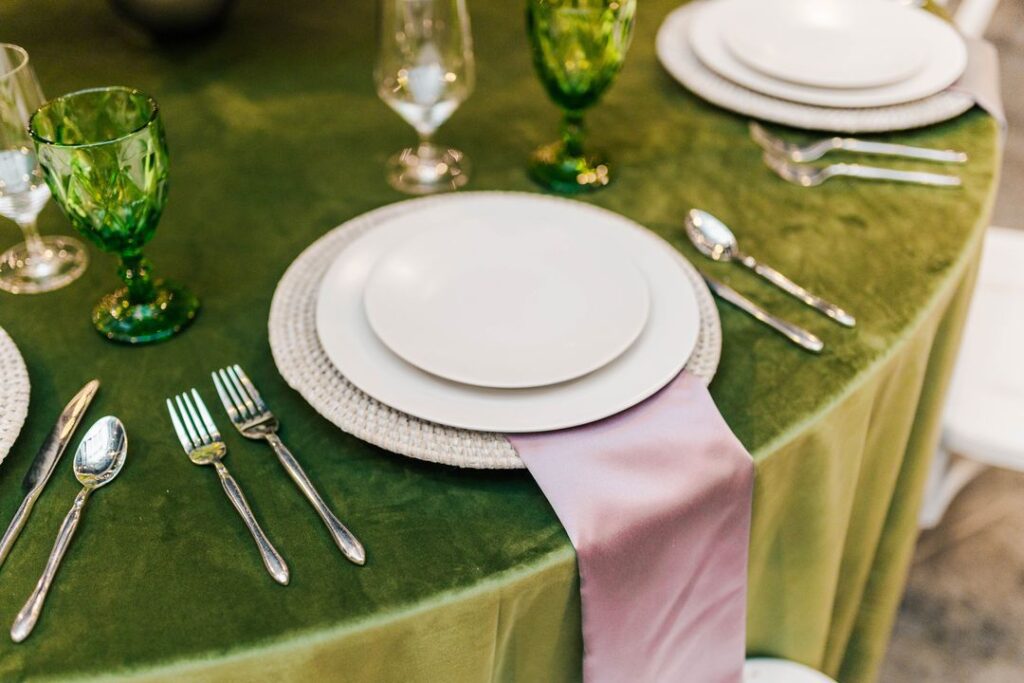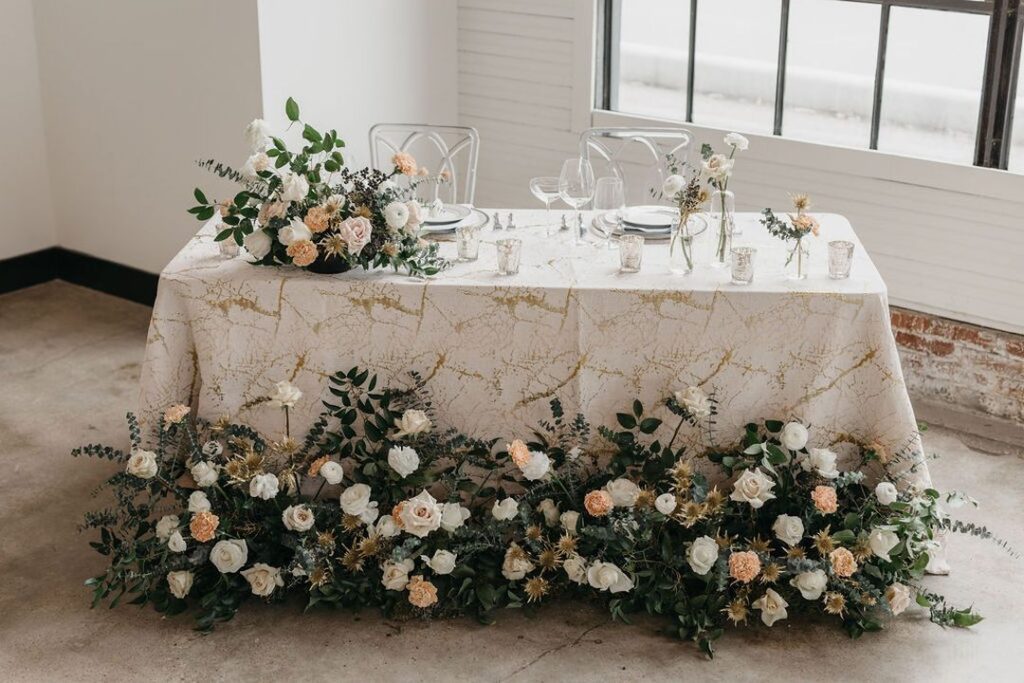 If you're hosting an accurate event, then you'll also need an equally impressive cocktail hour setup – high-society gatherings were all about mingling! Rent our Franklin Antique White Bar and a lounge to match. Such as our Fern Velvet Sofa, a set of Everly Chairs, and our Rhodes Coffee and side tables. Cocktail tables are also available for those who prefer to remain standing room!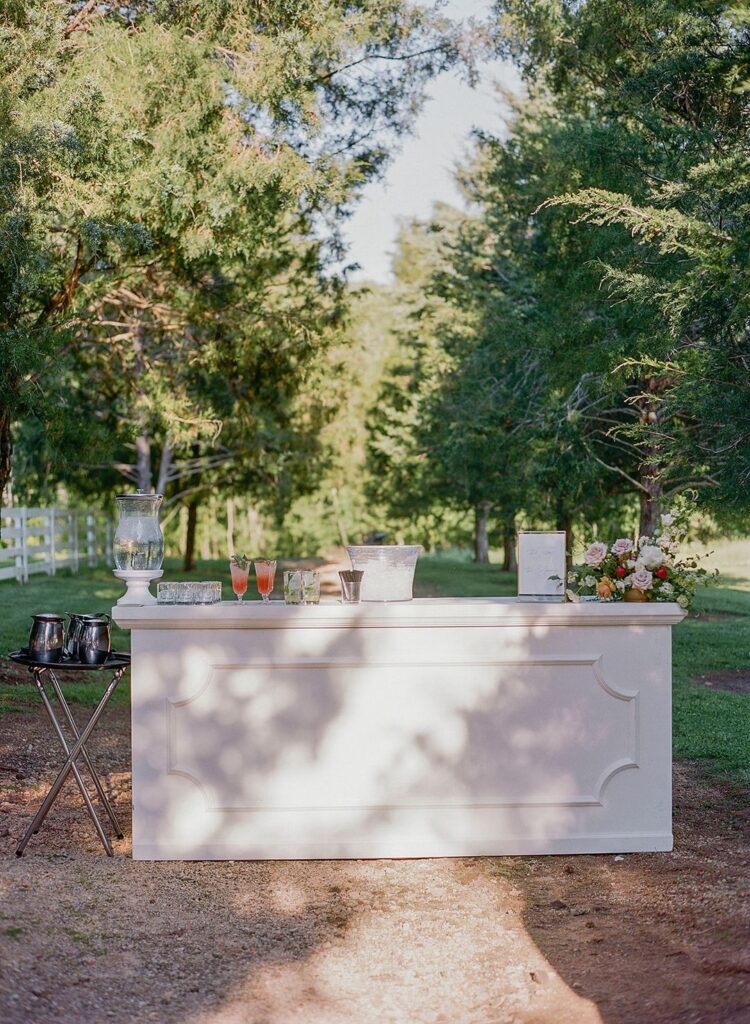 Sequel Weddings!
Due to a large number of couples postponing their nuptials in 2021, sequel weddings will be a hit in 2022. That is, a big party following an intimate ceremony. Which can also be used following a vow renewal, or any type of post-pandemic celebration. These events will be focused on living in the moment, so they don't have to be luxe – but they can be!
At these events, we'll want to help create a small and cozy feel, which can be achieved with soft textures and warm colors. Think earthy, natural tones, like Terra Cotta or Rust. For a ceremony, start with our classic White or Fruitwood Folding Chairs and line the aisle with mismatched cowhide rugs.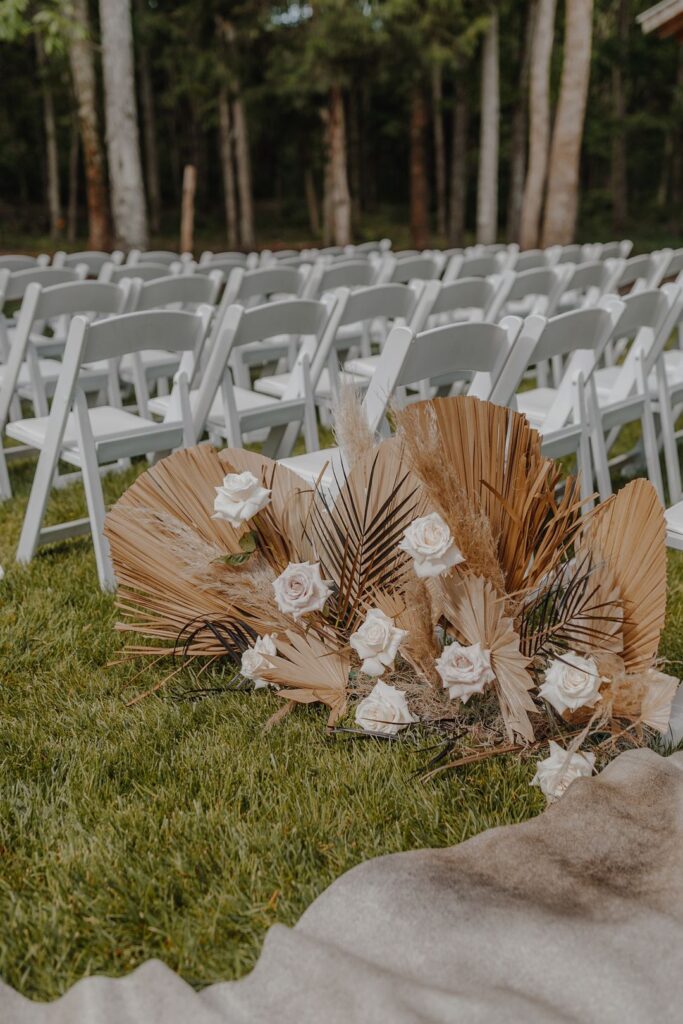 For your reception, as well as any other small dinners, you'll want to create cozy tablescapes and lounge areas where people can gather. Start with one of our beautiful Farm Tables paired with a neutral-colored runner, in Ivory or Natural Sahara. Next, feature simple serving ware, such as our Artisan or Earthen Alabaster China. For some fun pops of color, consider our Amber Goblets and elegant velvet napkins in Spice or Cameo Blush. Easily create a complementary lounge with our Santorini Off-White Sofa and Adeline Dining Chairs.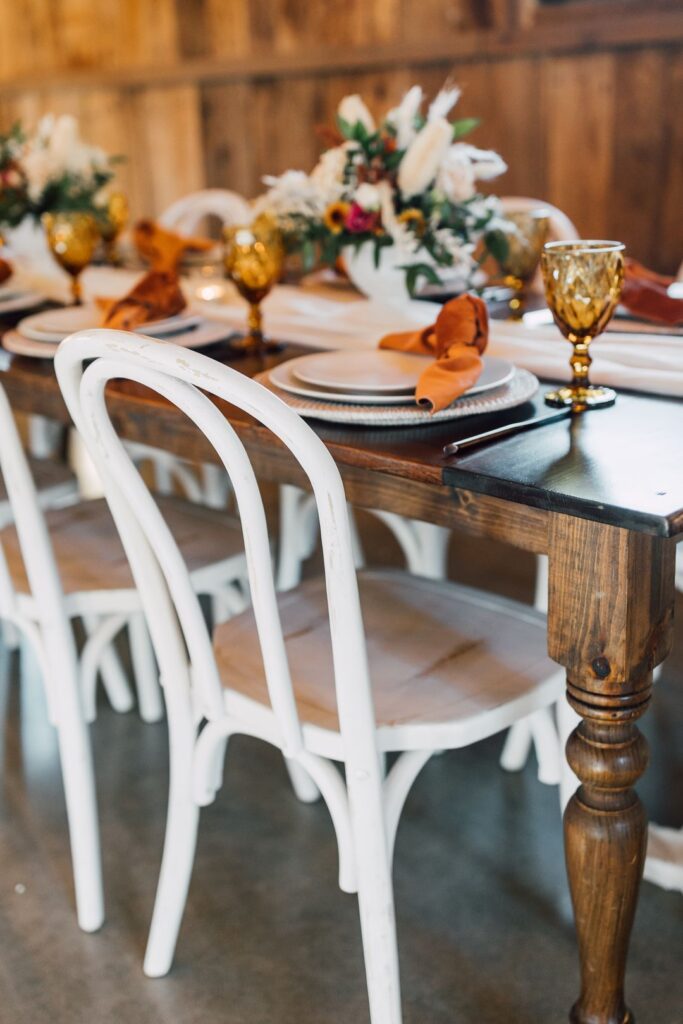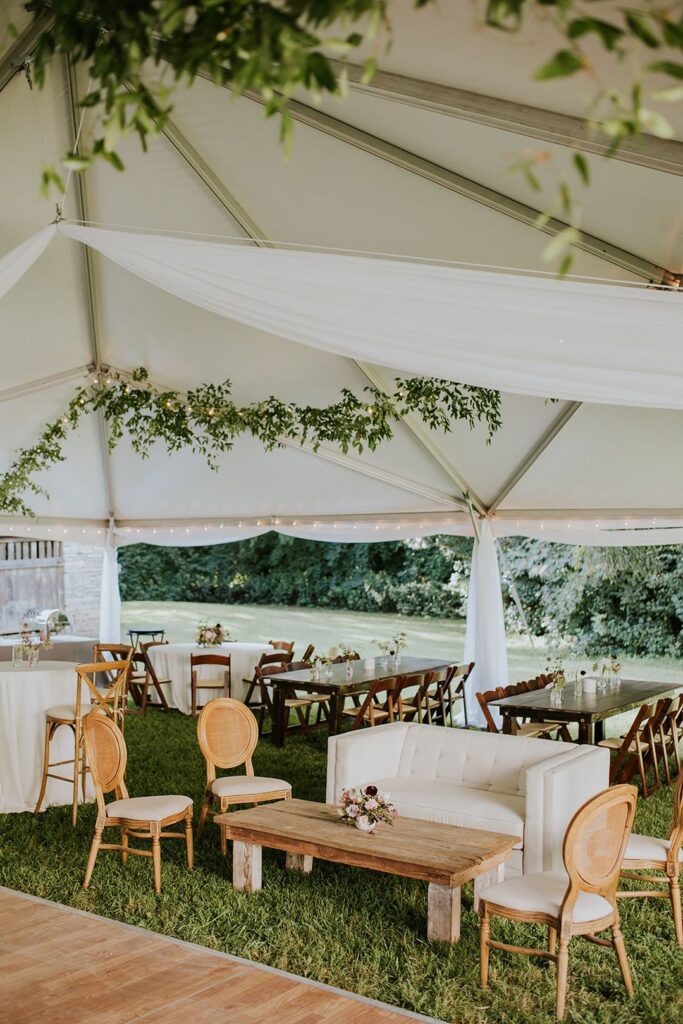 Mocktails & Sober Cocktails
Wellness is a priority for a large amount of the population at the start of a new year. And to help you and your guests achieve that goal throughout the year, we recommend upping your mocktail game! Which is easy to achieve with our wide selection of gorgeous glassware rentals. For this 2022 event trend, grab some of our favorites, like our Audrey Gold Rim Glassware and Whimsical Cybil Glassware. If you want a more colorful look, go with our Colored Glassware in a Meridian Blue and Smoke.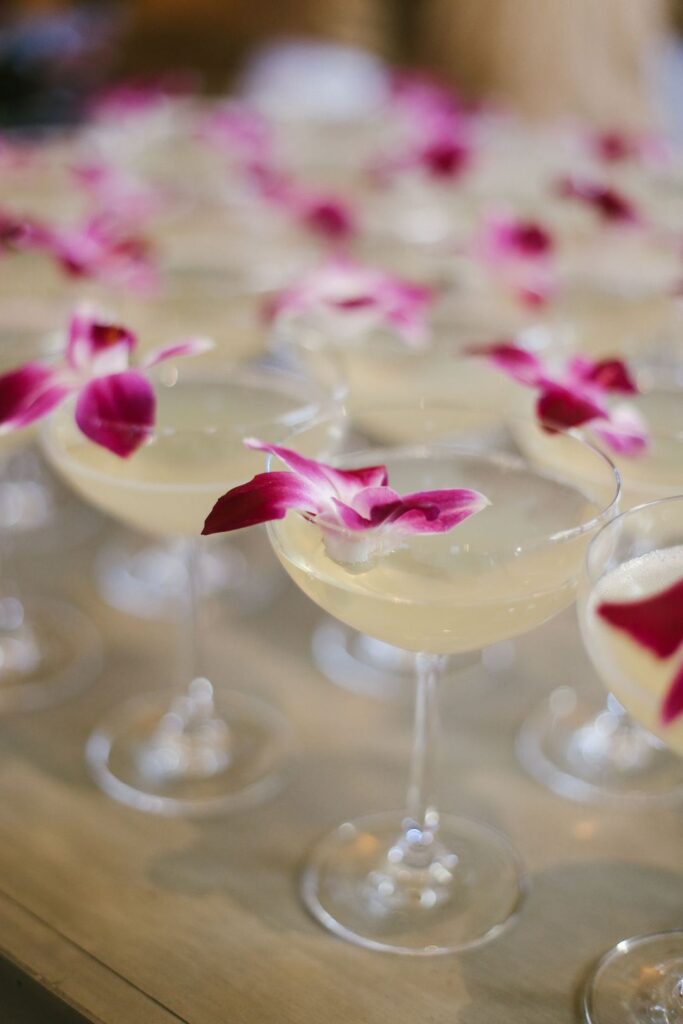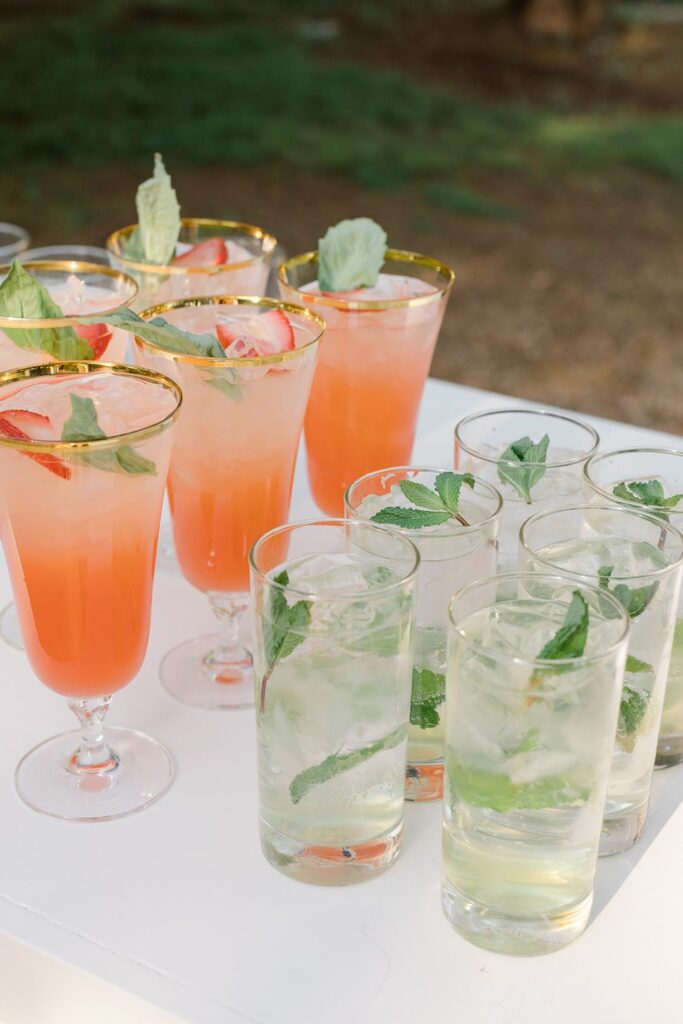 At Southern Events, we're excited to help you continue to celebrate with these 2022 event trends! A reminder, however, that as we see an increase in gatherings our rentals will book up faster than ever. Be sure to secure your rentals as soon as possible to ensure that the pieces you love the most will be available at the time of your event. Reach out today, at info@southerneventsonline.com!
TAGS | 2022 event trends, Garden Wedding Inspiration, Glassware, cottagecore, event inspiration, event style trends, lounge furniture rentals, mocktails, sequal weddings, wedding style trends
FEATURED RENTALS | colored glassware, audrey gold rim glassware, Santorini Off-White Sofa, Adeline Dining Chairs, Velvet Linens, Farm Tables, Artisan China, Earthen Alabaster China, Franklin Antique White Bar, Cowhide Rugs, Fruitwood Folding Chair, Everly Chairs, Fern Velvet Sofa, Rhodes Coffee Table, Darcy China, Heirloom China, Amber Goblets, Green Goblets,
---
2

Sep

On Trend, Southern Events Products, Trends and Inspiration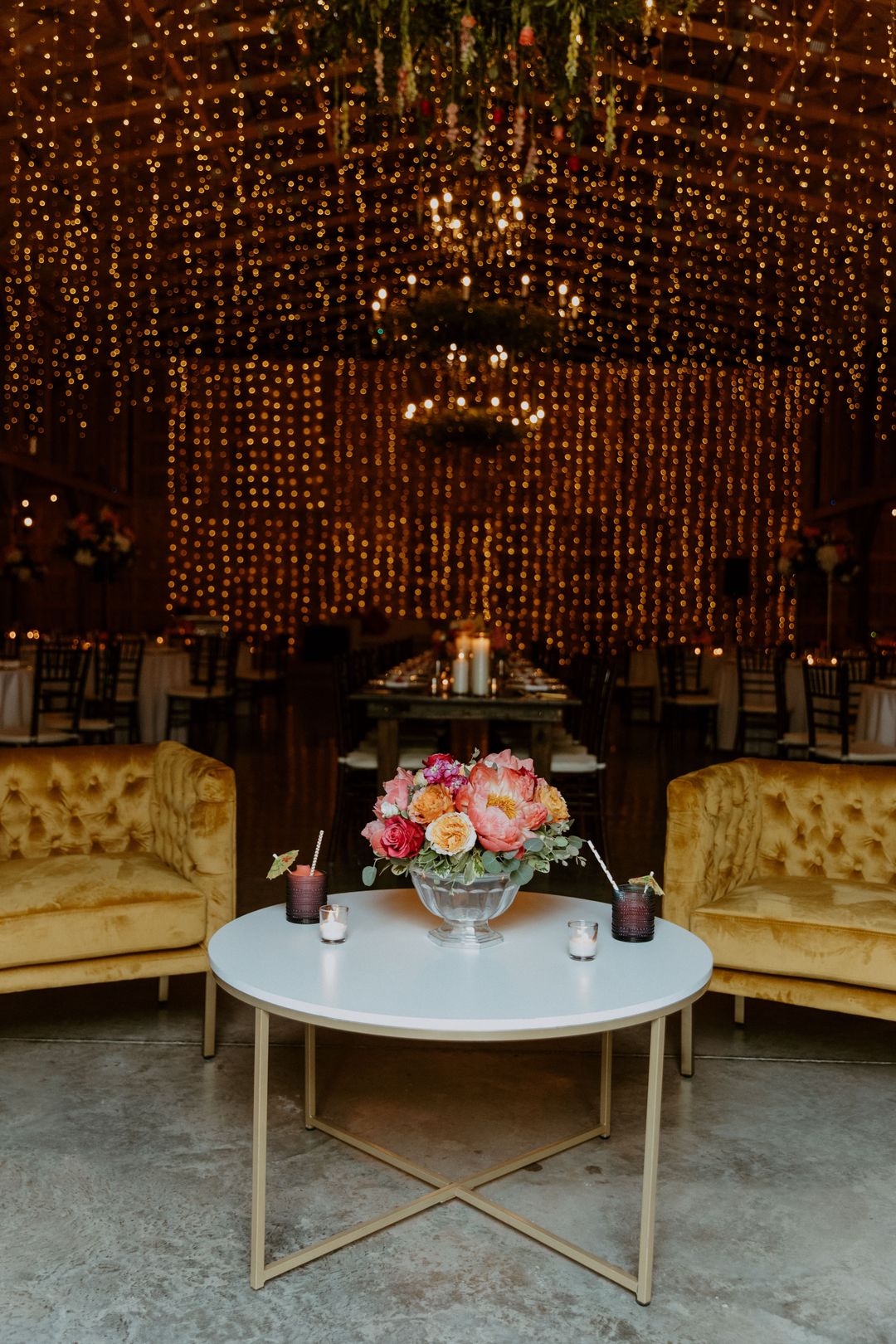 Looking for a fun and colorful yet stylish theme for your next event? Go with modern retro or late-century! Our modern retro rentals take inspiration from the late 1970s through the 90s, featuring rich colors and aesthetic but functional designs. Perfect for a totally trendy throwback! Get inspired when you check out our party furniture rentals that can be used to host a modern retro event!
Fun Retro Lounge Furniture
There is nothing that screams retro like a colorful lounge area for an intimate cocktail hour or afternoon social! Check out these fun retro rentals and furniture that make for a stylish late-century setup.
Fern Sofa
A sleek and luxurious piece our fern sofa makes for a beautiful focal point in a lounge area. The low mid-century design features clean lines and elegant tufting, all in a muted olive color. We recommend pairing this stunning sofa with our Rivet Accent Table.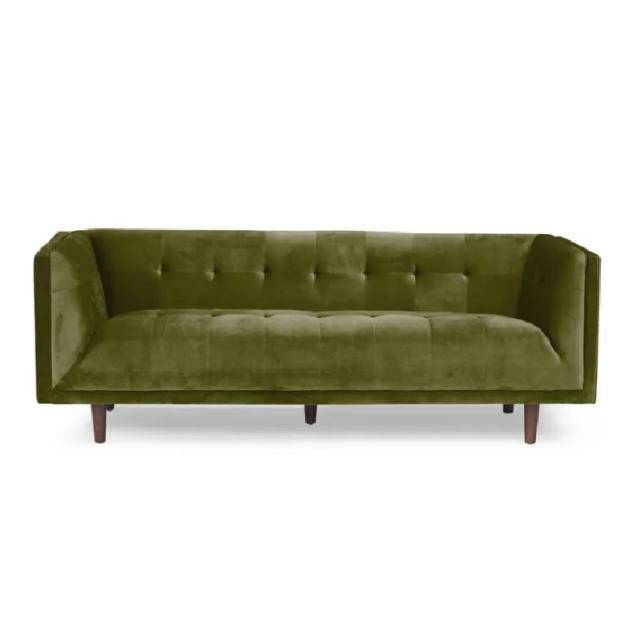 Jacqueline Sofa
A classic addition to any lounge area, the Jacqueline sofa is oh so chic! It features a sleek boxy design with minimalistic feet and a tufted back, in a trendy retro orange color. To complement the gold hardware, pair it with our Blanche Coffee Table.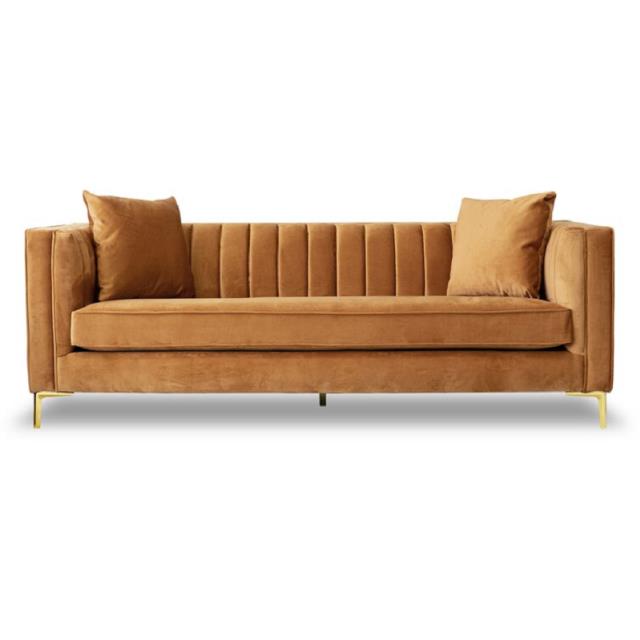 Gloria Arm Chair & Ottoman
In a buttery gold, our Gloria Arm Chairs are a stylish choice for a small lounge area – perfect for an intimate cocktail hour. They feature a sleek design and elegant tufting for a modern luxe look. Consider complementing them with our Rhodes Coffee Table!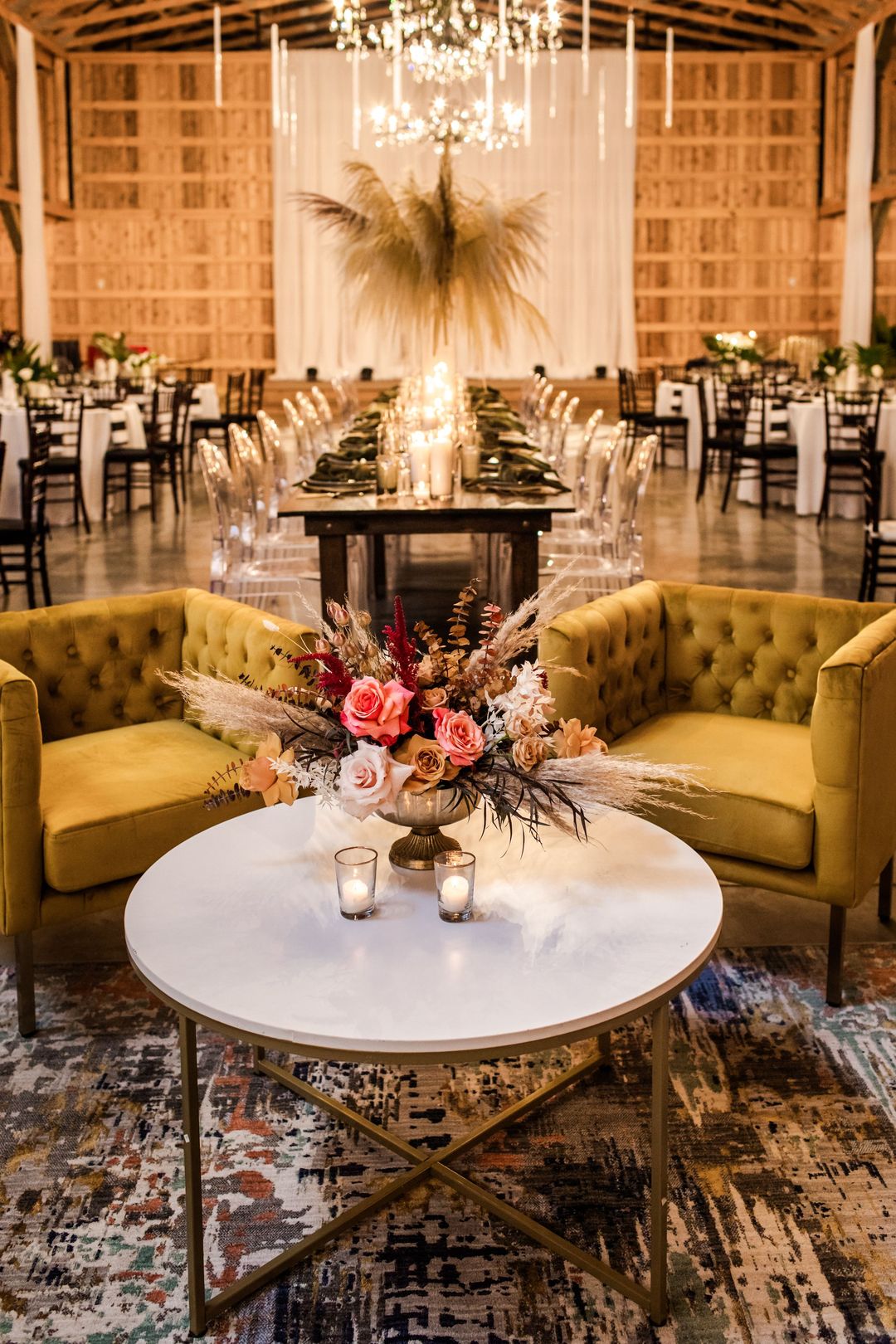 Acrylic Fantasma Chair
A unique addition to any lounge area, our Acrylic Fantasma Side Chair will take your setup to the next level. Its sleek yet fantastical design will be a memorable detail. Pair it with any of our brightly colored velvet sofas for a modern retro look.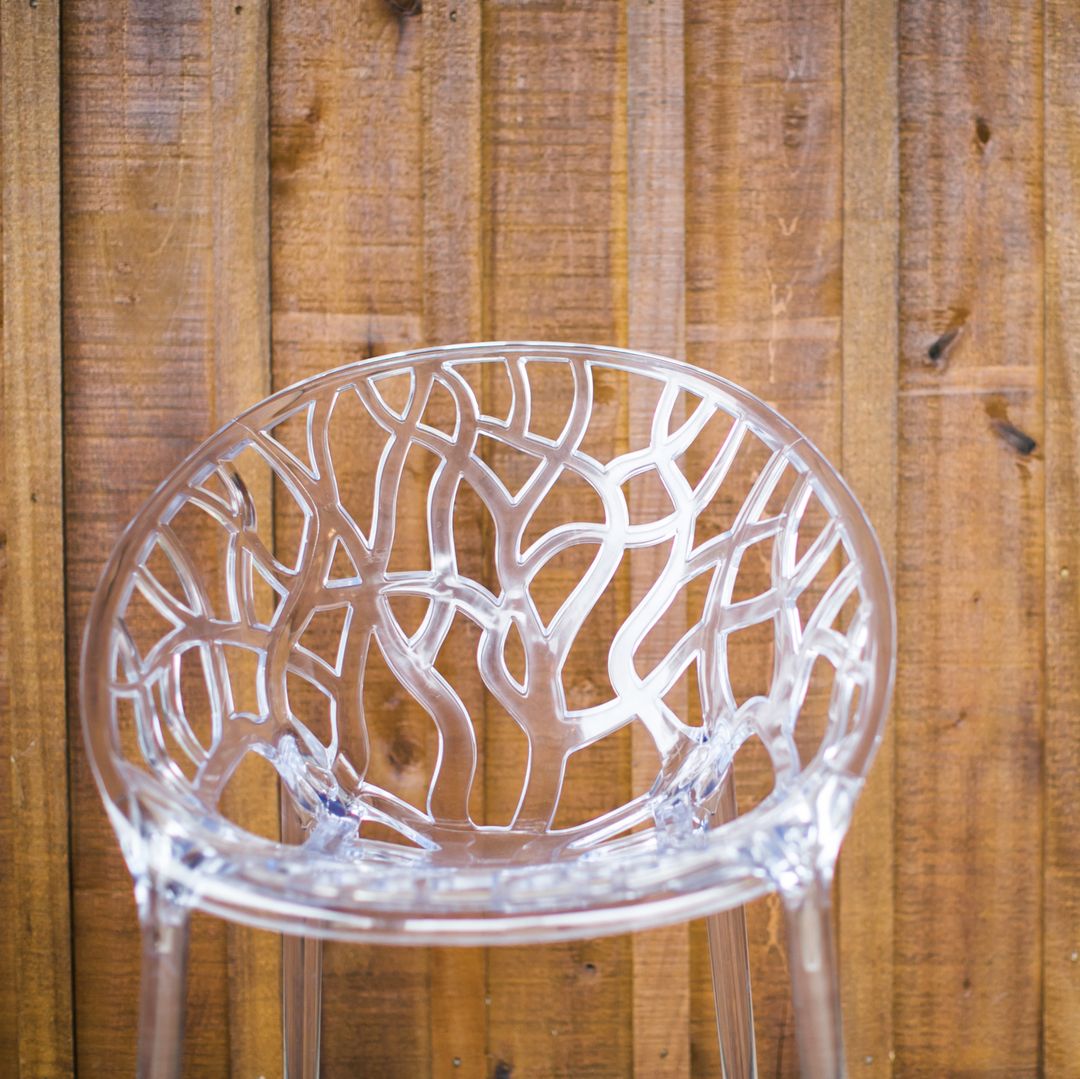 Lounge Area Accessories
Accessories, from rugs to accent tables, are an effective way to elevate your retro-modern lounge. Consider these party furniture rentals, to level up your next gathering.
Hammered Pewter Coffee & Side Table
A more sophisticated alternative to galvanized metal, our hammered pewter coffee, and side tables, are a simple yet functional piece. It's the perfect centerpiece for any lounge area.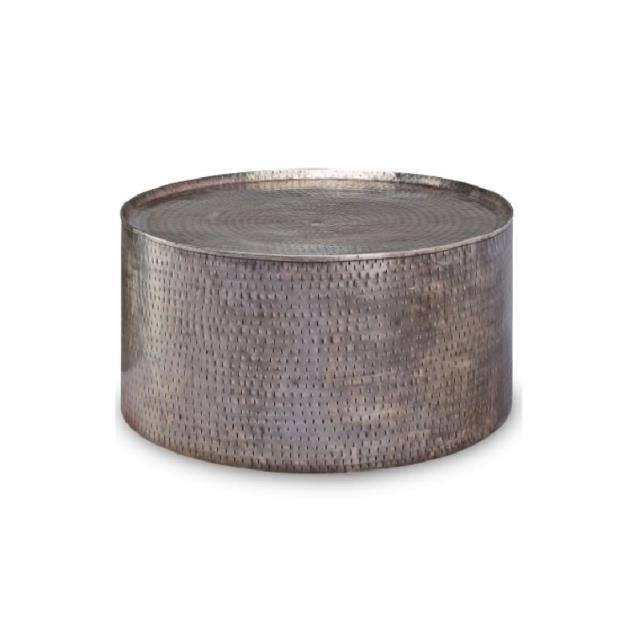 Wood Distressed Coffee & Side Table
Made with mango wood planks fitted in a mild steel frame, our wood distressed coffee and side tables will bring a bright focal point to your lounge. It has a beautiful dark-brown finish with textural wood grain patterns showing through.
Chocolate Poufs
Looking for small but on-trend seating? Check out these cute and cozy chocolate poufs! A rich brown color, this soft seating will complement most of our muted retro furniture, from sofas to armchairs.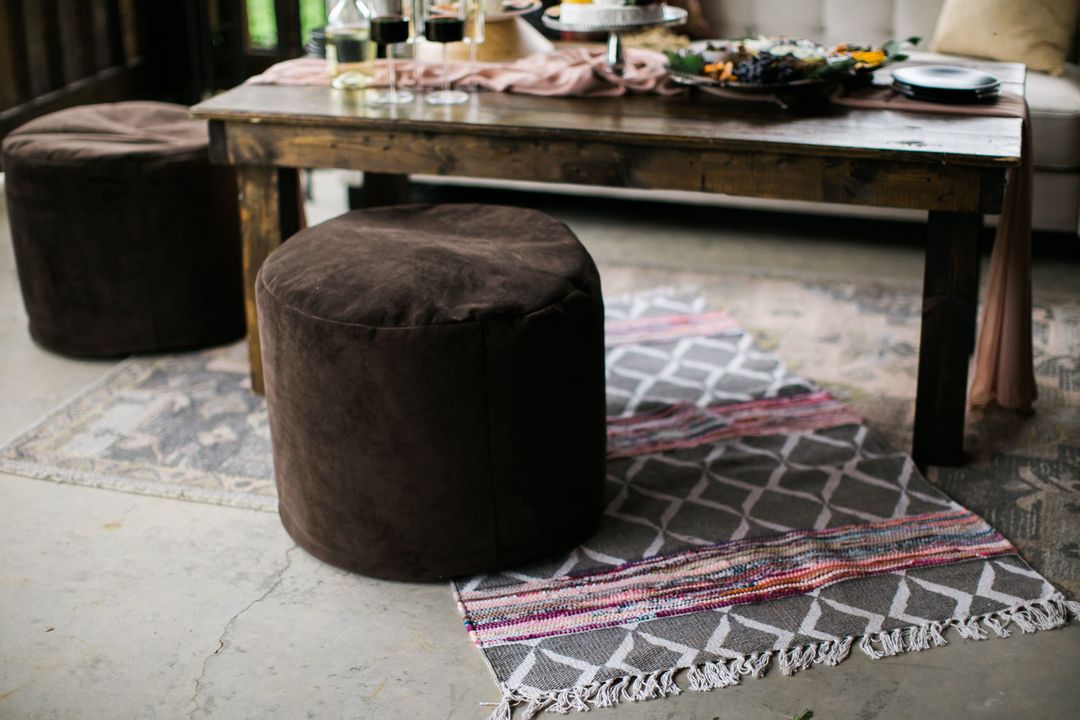 Cowhide Rugs
When featuring smaller rentals, like our chocolate poufs, rugs can help tie them into the space. For a late-century lounge, we recommend a neutral-colored cowhide rug! Available in a variety of colors, these classic textured pieces will help frame your lounge.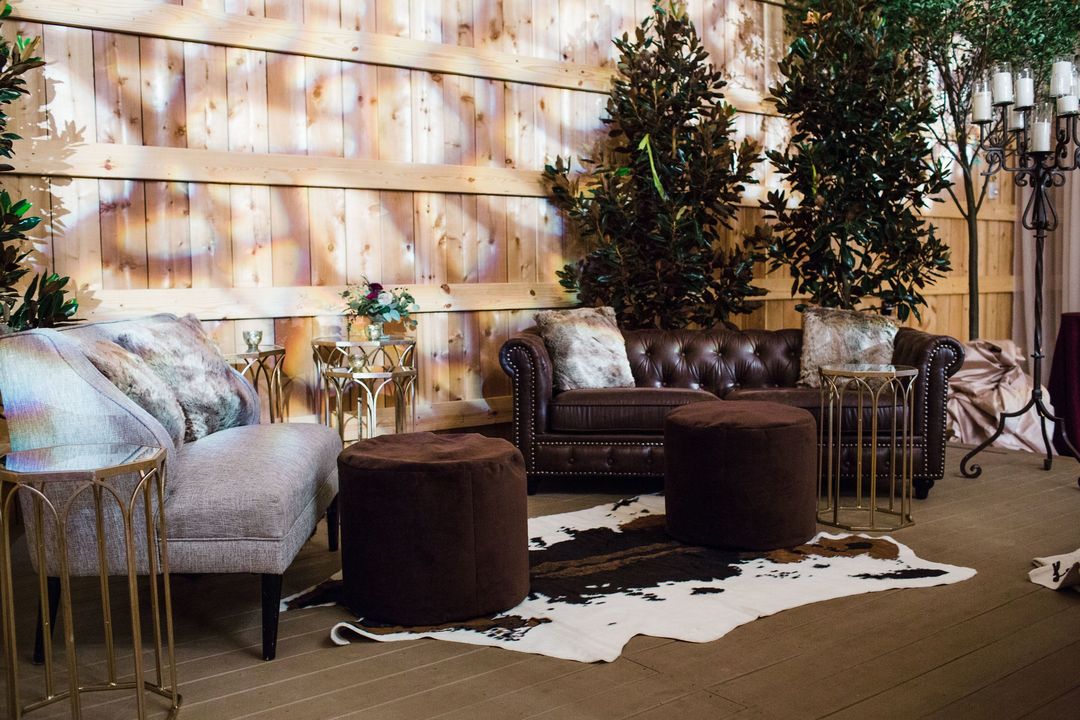 Modern Retro Servingware
Last, but not least, bring a touch of modern retro designs to your dinner tables or bar. Our Green and Amber water goblets are fun muted colors with a vintage design that exudes luxury. Or lean into the modern feel, when you opt for our sleek Upton Glassware. After all, you want the glassware sitting on your lounge tables to complement the overall vibe!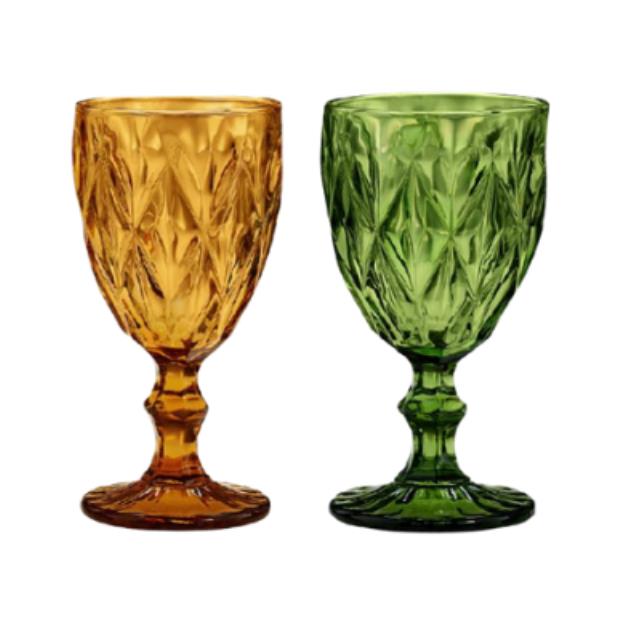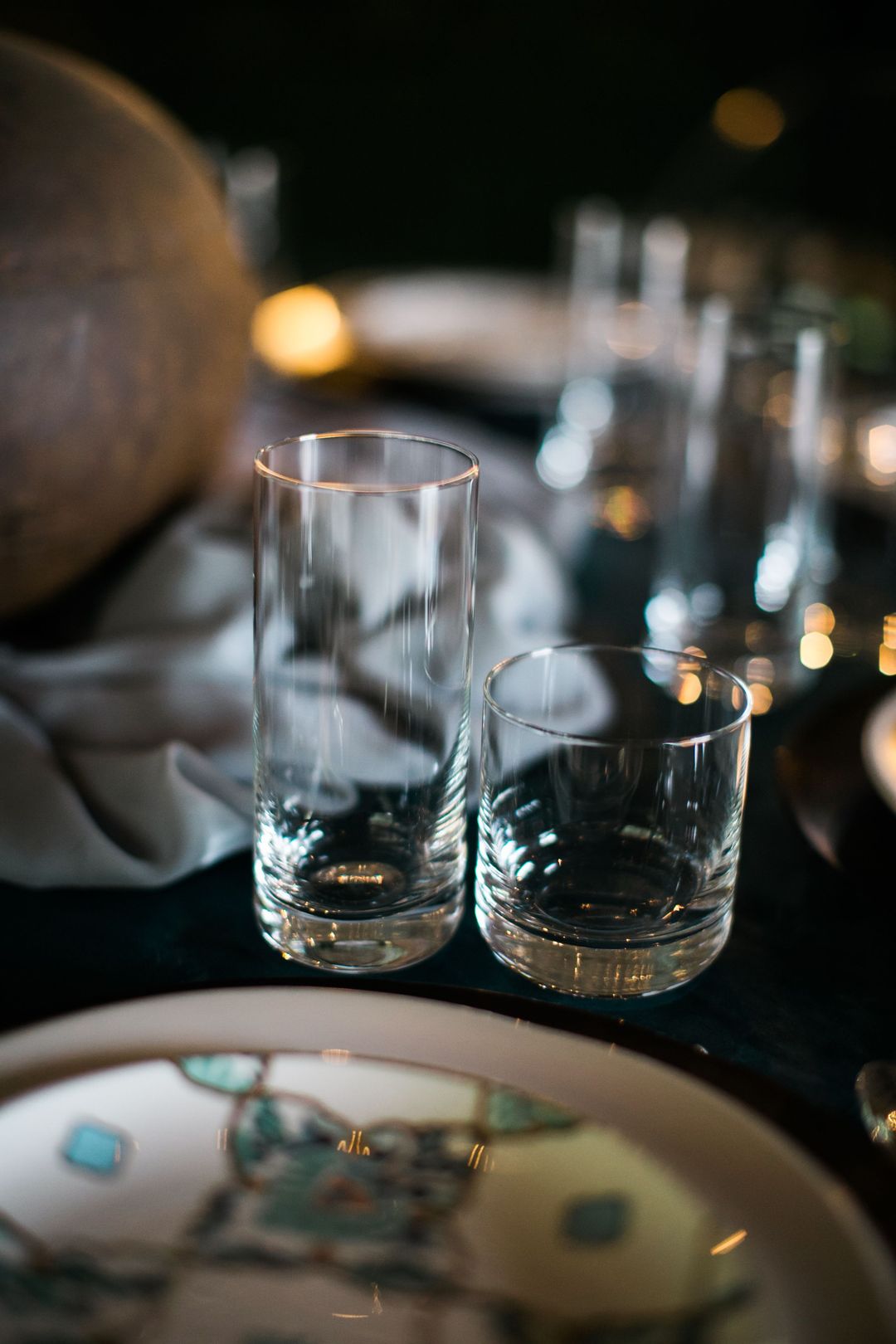 Want to feature one or several of these modern retro-inspired party furniture rentals at your Nashville event? Contact our team at info@southerneventsonline.com & let's start planning! Or for more event inspiration, check out our natural-neutral or earth-toned party rentals.
TAGS | On Trend, colorful decor, event inspiration, event style trends, modern retro, retro rentals, style trends
FEATURED RENTALS | fern lounge, Jaqueline sofa, acrylic fantastma chair, gloria armchair, colored water goblets, upton glassware, hammered pewter coffee table, hammered petwer side table, chocolate poufs, cowhide rugs, wood distressed coffee table, wood distressed side tables,
---
15

Jul

On Trend, Southern Events Products, Trends and Inspiration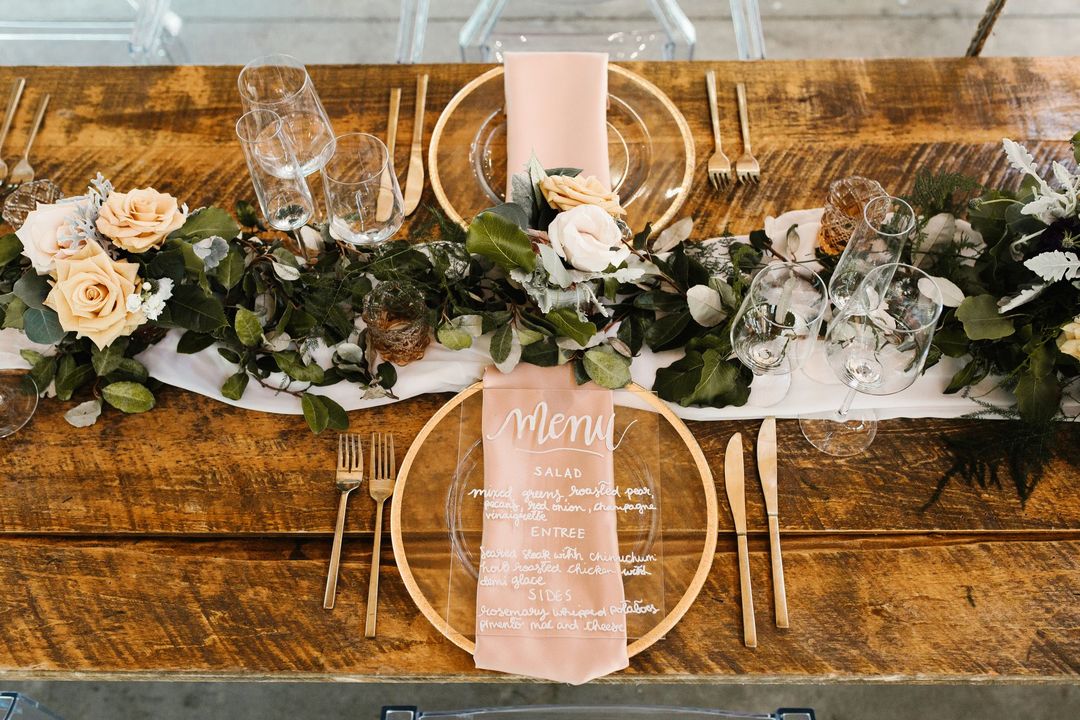 Neutral color palettes have been popular as they offer a stylish yet timeless look. However, there are both cool and warm neutral colors, which will lend a completely different vibe to an event. Today, we're doling out some inspiration featuring our natural-neutral wedding rentals! These warm-toned pieces will lend a modern yet organic theme to your event.
Natural-Neutral Place Settings
One of our favorite ways to feature natural neutrals is via an elegant tablescape. We carry a large variety of warm-toned serving ware for creating a cohesive and memorable layout. For starters, consider our Fruitwood Farm Table for the perfect warm-toned base. Alternatively, a table with light-colored linen will add a brighter base.
These elegant tables are warm and feature pink for a fun feminine flair. Both are accented with metallic gold accents, for a wonderful luxe look! We always recommend a touch of texture. For instance, using neutral velvet table linens or a wood tabletop with a table runner.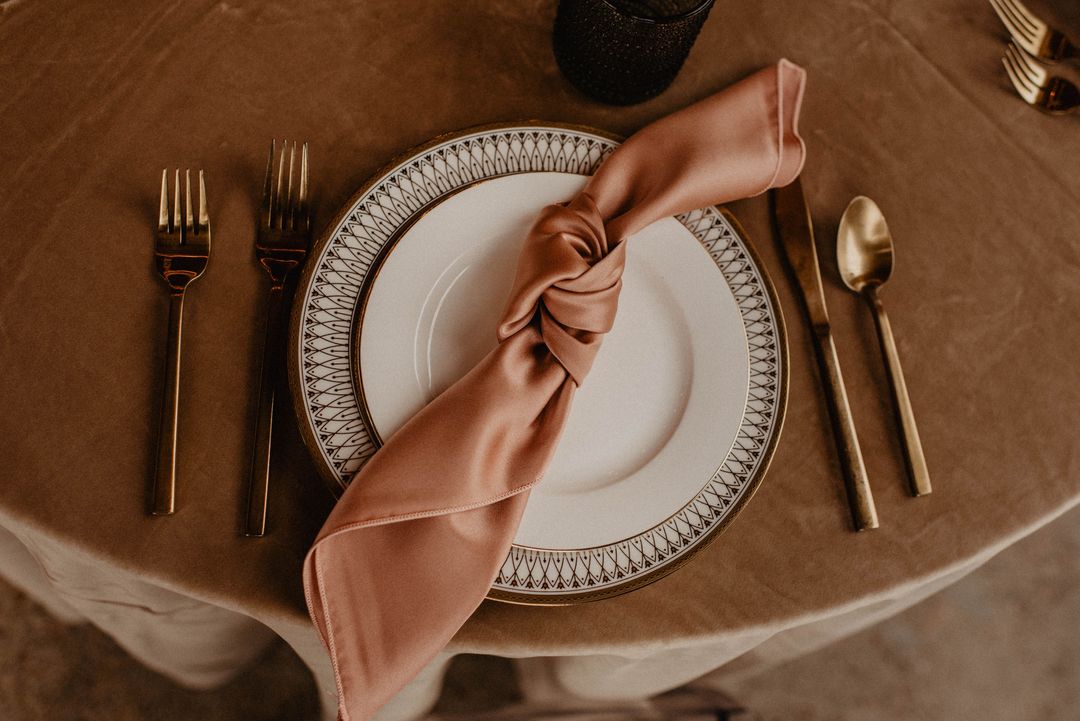 Photo by Renrose Photography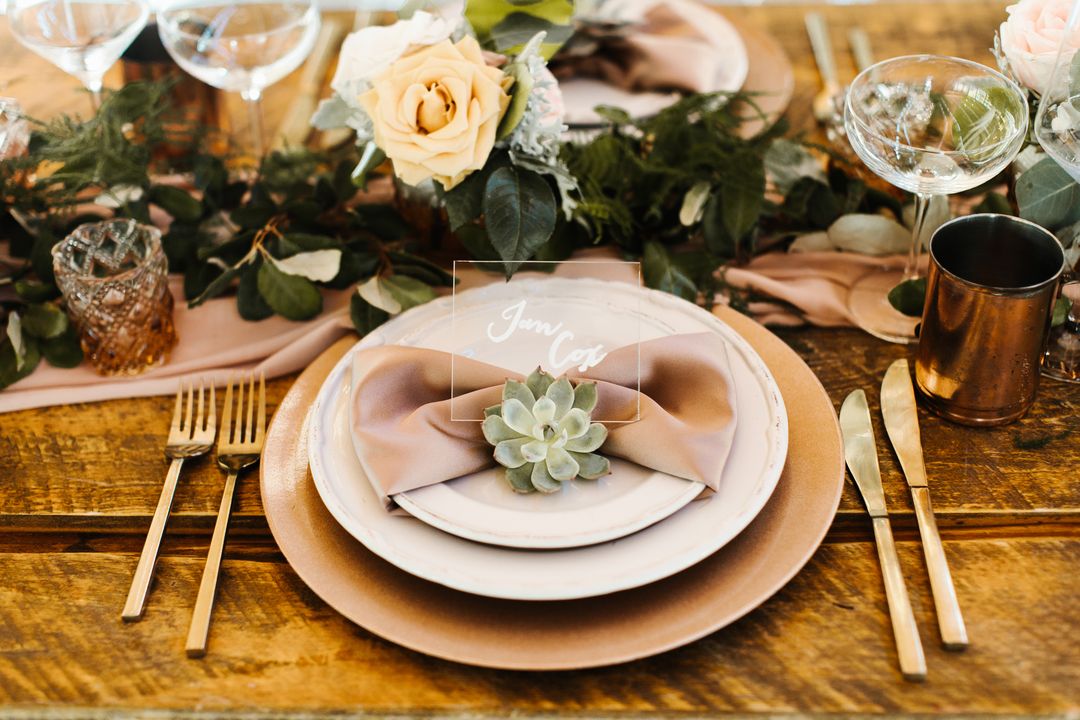 Photo by Madi Flourney
Worried that your tablescape will be overwhelmingly warm-toned? Add in a touch of cool-toned neutrals. These tables are beautifully balanced thanks to silver accents. Our Earthen Onyx or Earthen Stone China always pairs well with a warm-toned charger or napkins. Or feature silver flatware atop a neutral table or table linens.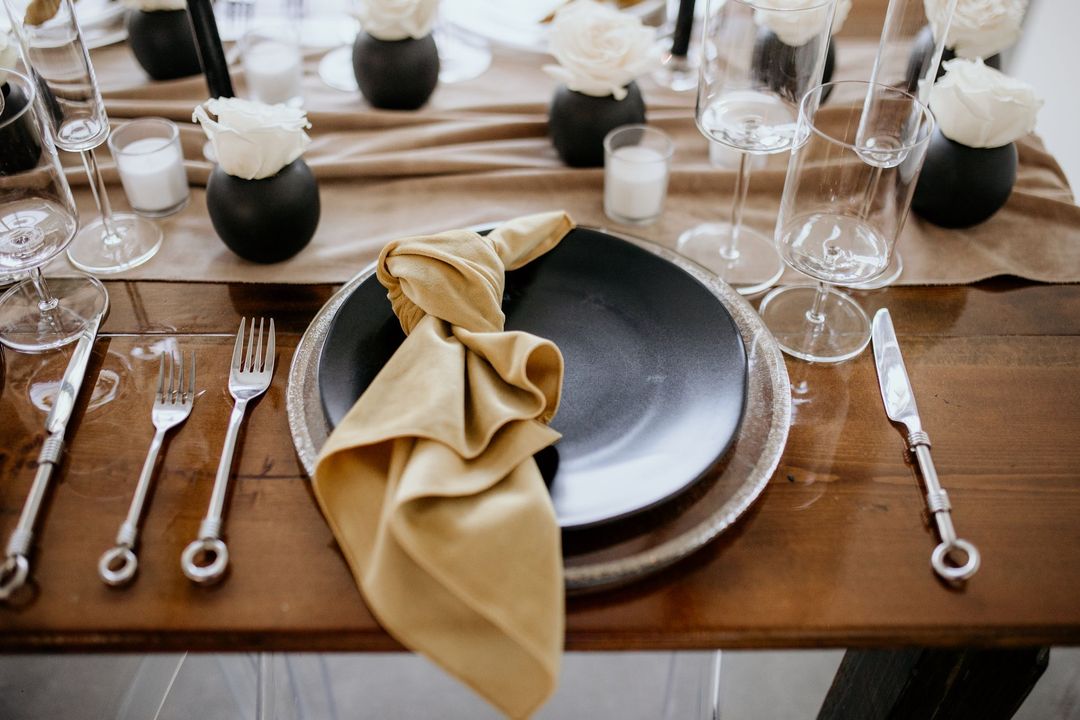 Photo by Kelsey Leigh Photography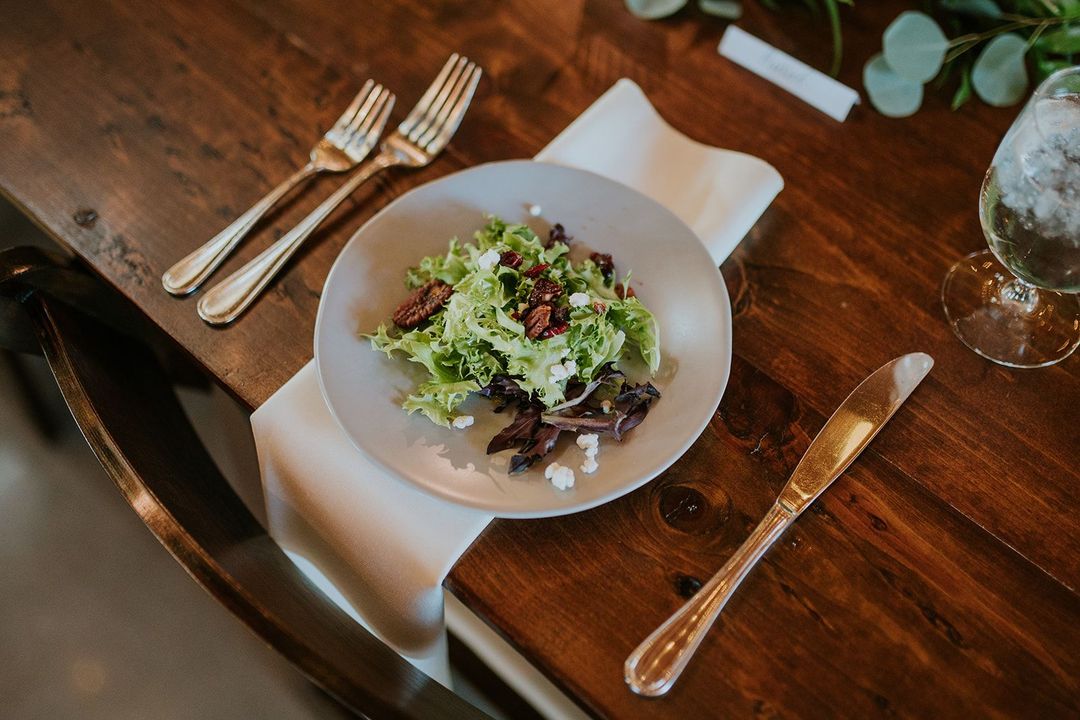 Photo by Kelsey Shea Photo
Linens
Speaking of linens, let's cover a few of our favorites. First up is our stunning Golden Velvet Linens. With a buttery texture, this piece will make a gorgeous base for a luxe tablescape. It pairs well with cream, white or brown. Next up is Kennedy Natural, with a beautiful woven texture. It will lend a touch of texture to a table and is a subtle and elegant color. Finally, there is our Ivory Sahara Runner. Place this runner atop our Fruitwood Farm table for a slightly more casual vibe.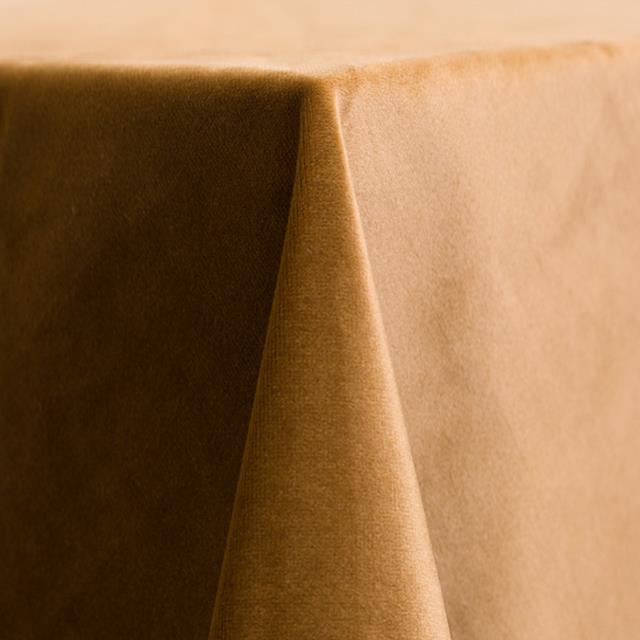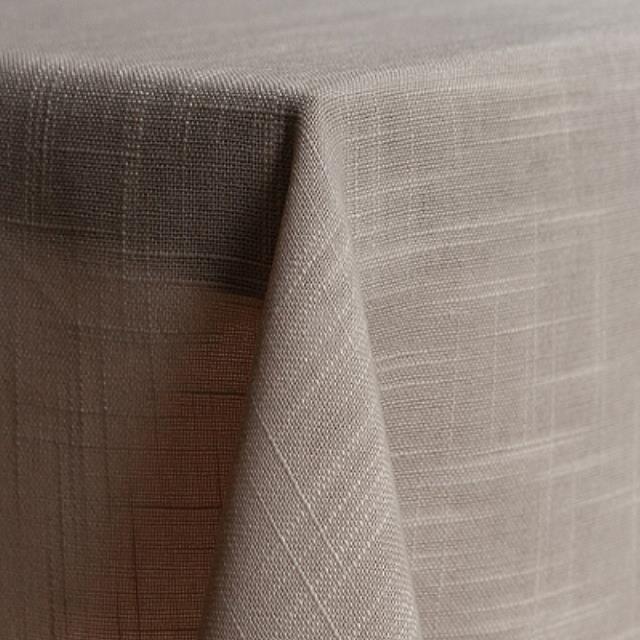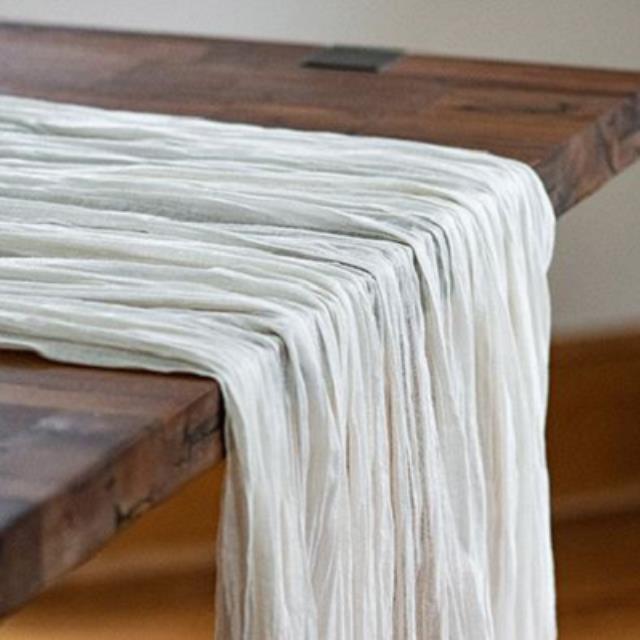 Neutral Lounge Furniture
What's a social event without a cute and cozy lounge area? We carry a range of comfortable, natural neutral furniture. First up is our Tessa Tufted Beige Linen Loveseat, which is a beautiful piece for a sweetheart table, as well as smaller lounge areas. Alternatively, our Bennett Leather Sofa is a rich brown color and the perfect size for a larger event. Lastly, be sure to check out one of the newest additions to our catalog, the Everly sofa! This cream-colored piece features an arched silhouette, pad feet, a camelback, and carved arms, plus a distressed wood frame.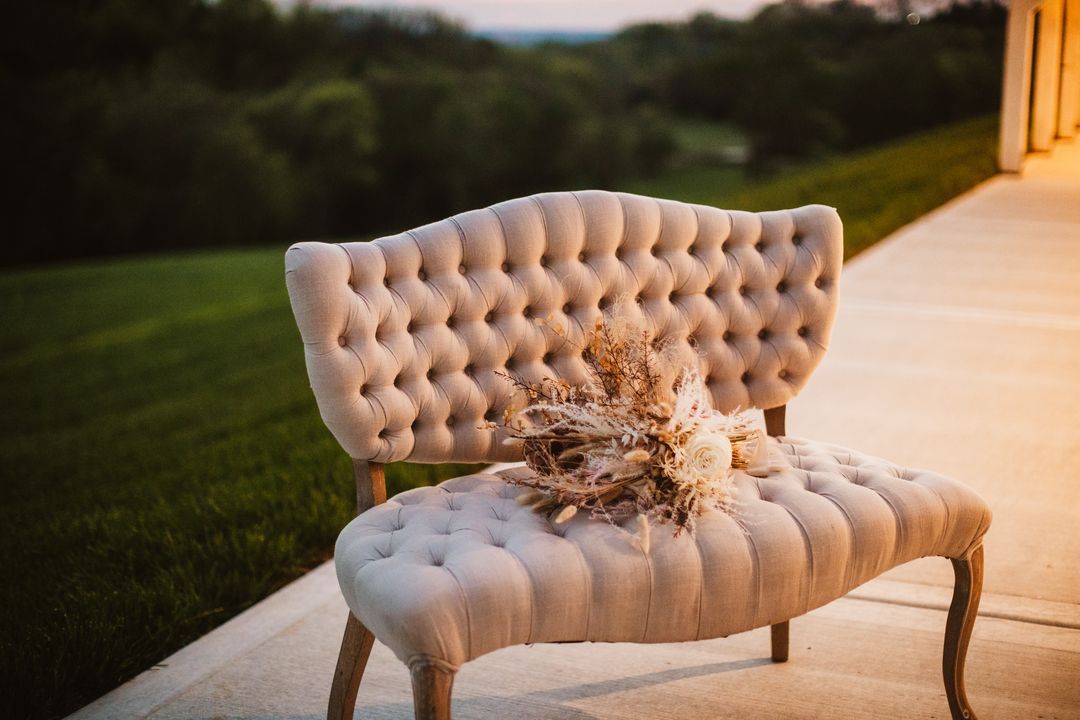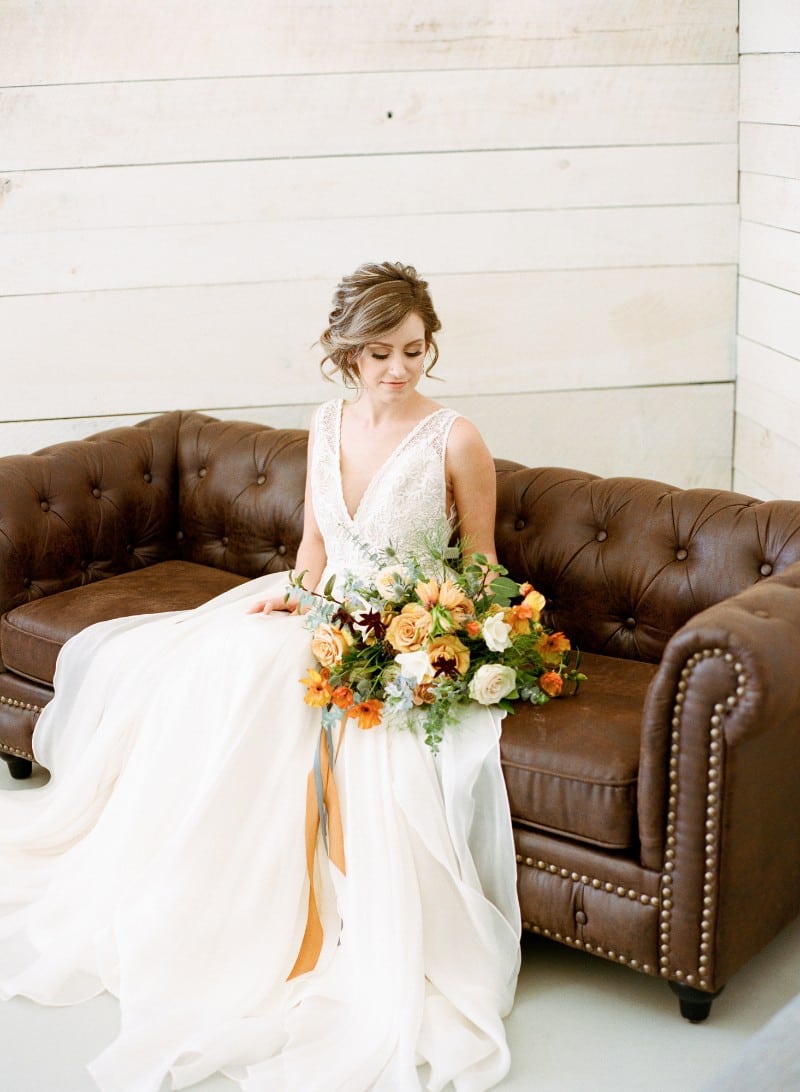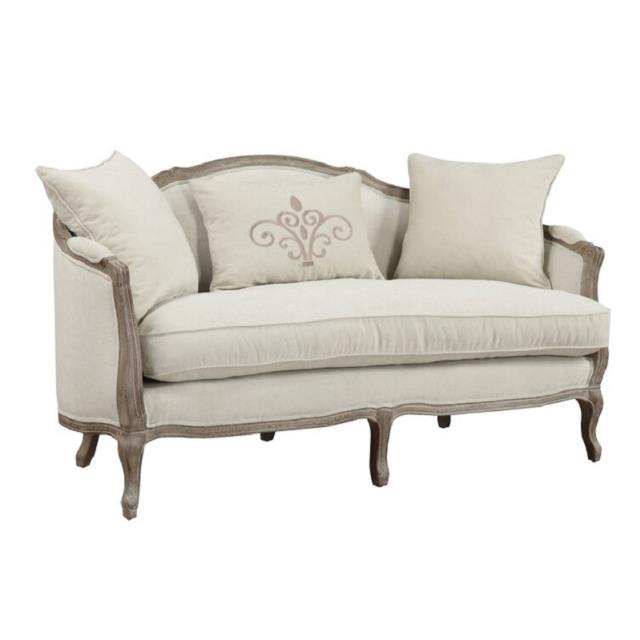 Photo by Alex Thornton Photography
Want to feature one or several of these natural neutral wedding rentals at your event? Contact our team at info@southerneventsonline.com & let's start planning! Or if you prefer a moodier vibe, take a look at our blog on earth-toned party rentals.
TAGS | classic event style, event style trends, natural colored event rentals, neutral event rentals, on trend wedding style, style trends, timeless event rentals
FEATURED RENTALS | Kennedy Natural , Ivory Sahara Runner, Everly Sofa, Bennett Leather Sofa, Tabby Tufted Beige Linen Loveseat, onyx earthen china, earthen stone china, artisan china,
---
20

May

Events and Style Shoots, Nashville Venues, On Trend, Southern Events Products, Trends and Inspiration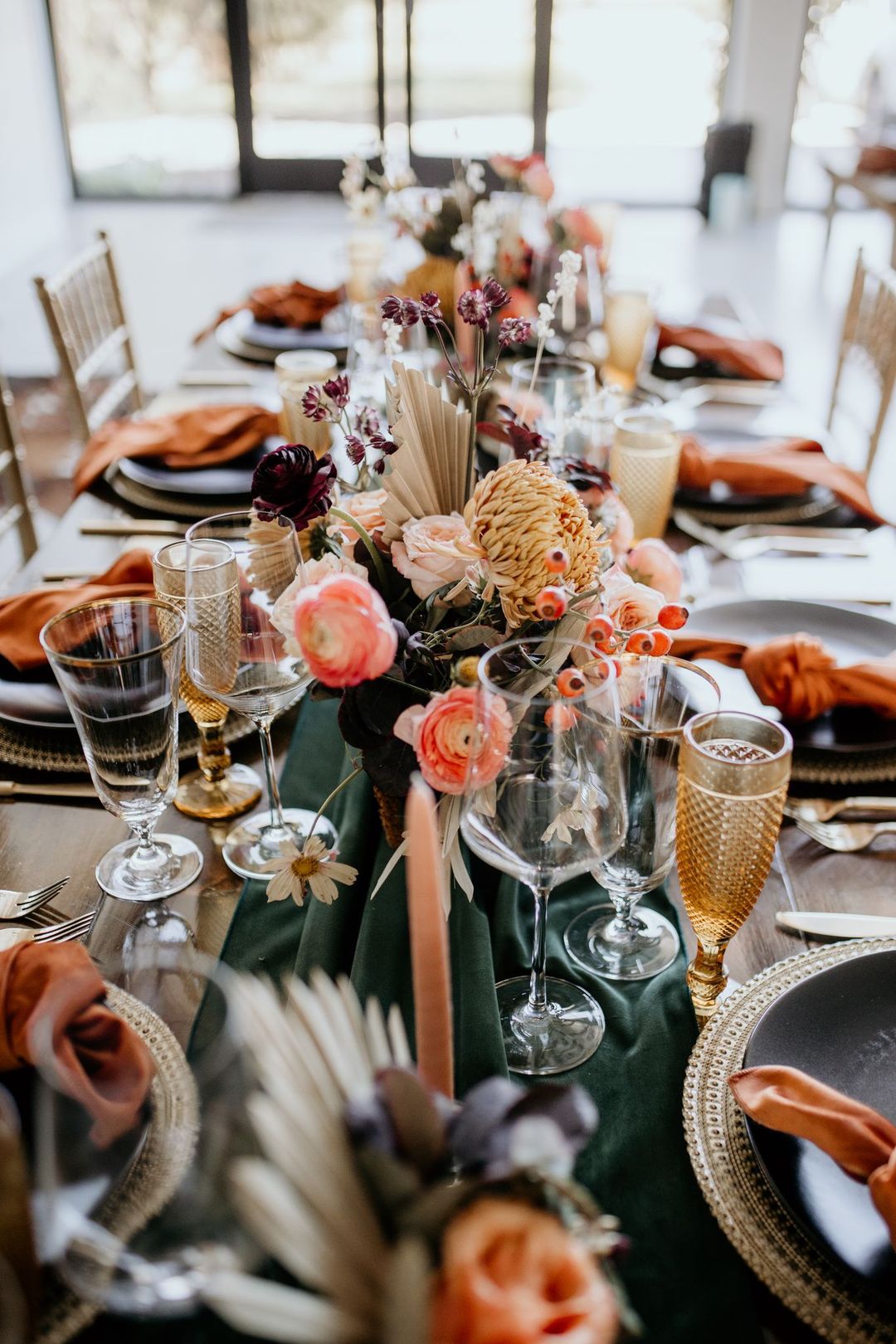 Two entirely different yet equally beautiful styles, Bohemian and Diva elements have been combined to create a new look: Boho Diva! It's the perfect balance of chic, contemporary, and moody details, for a look that is relaxed, but bold and unique! Get inspired for your upcoming event with this bold boho diva event style we created at Franklin wedding venue Southall Meadows featuring our stylish rentals.
Bold & Moody
Our first tablescape is moody but romantic, with a black, rust, and pink color palette. Situated on top of our Fruitwood Farm Table is a deep Magnolia Green Runner. To complement the warm wood of the table we opted for our Medallion Gold Glass Charger and Onyx Dinner Plate, paired with Gold Austin Flatware.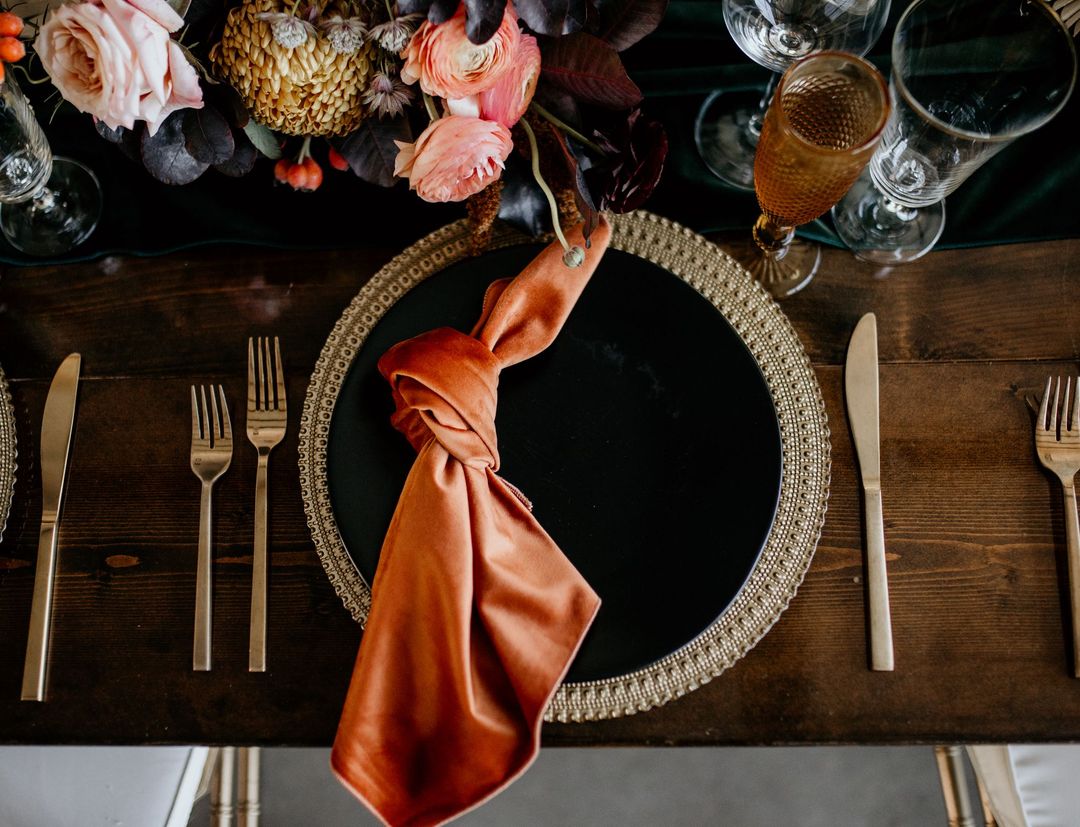 Matching the elegant serving ware, we featured our Pure and Audrey Gold Rimmed Glassware.  To spice the look up a little, our beautifully textured, vintage-inspired Amber Goblets. Gold Chiavari Chairs were an easy choice for seating, with their dainty but luxe look.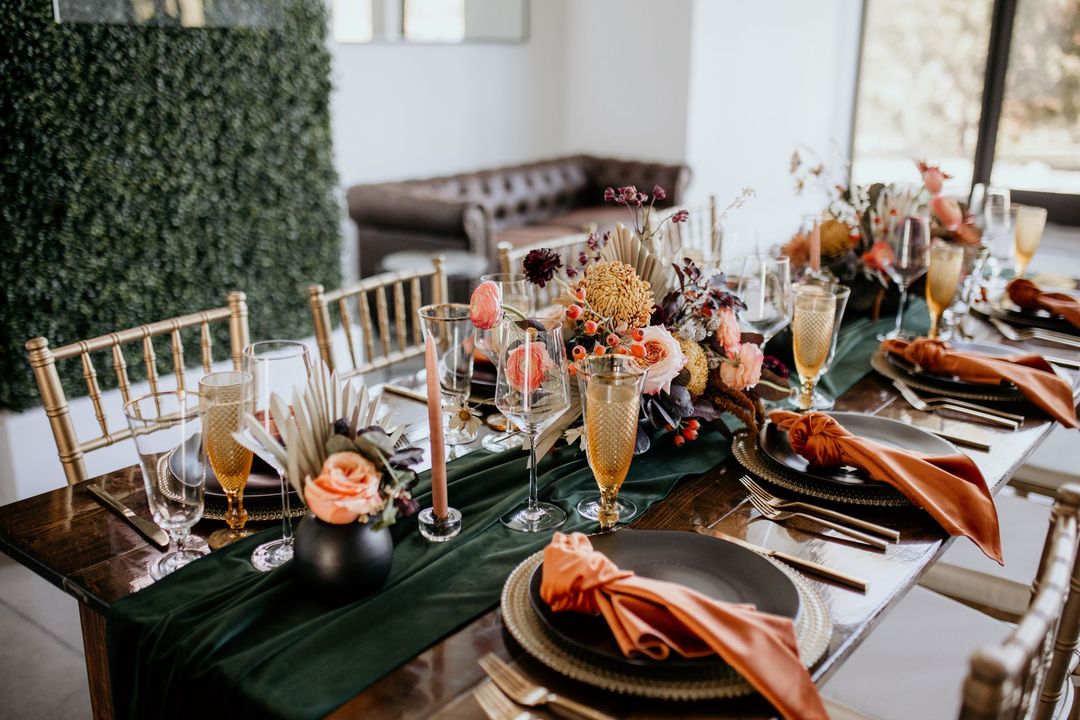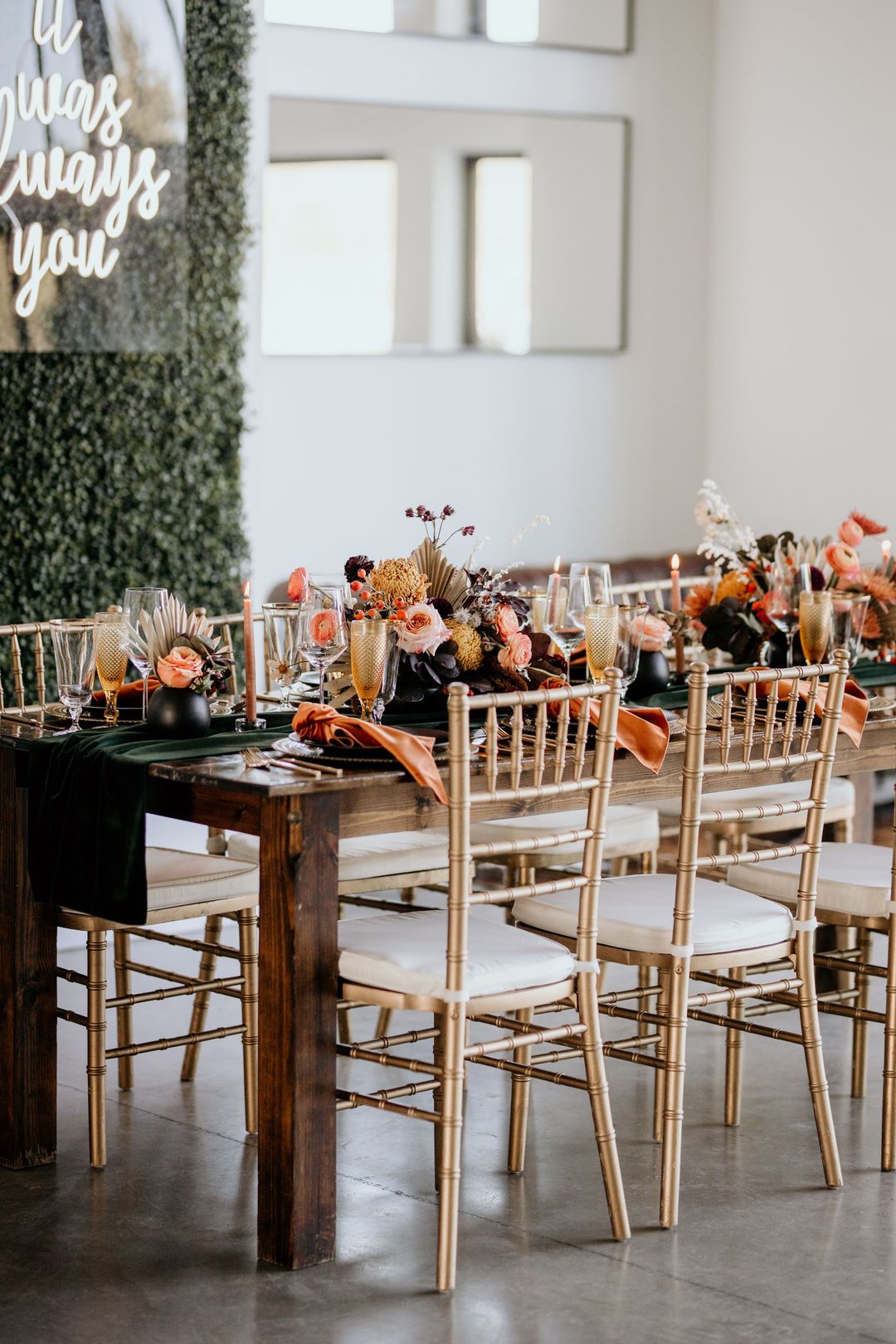 Clean & Bright
Should you prefer a neutral palette, our second tablescape combines classic colors in an elegant and striking way. Also atop our Fruitwood Farm Table, is a Driftwood Table Runner and Yarrow Velvet Napkins. This design features silver metallic details, which complement the bright white centerpieces and crisp glassware. Notice our Silver Rimmed Glass Charger and Onyx Dinner Plate. Black is a key accent that is common with a Boho Diva inspired look.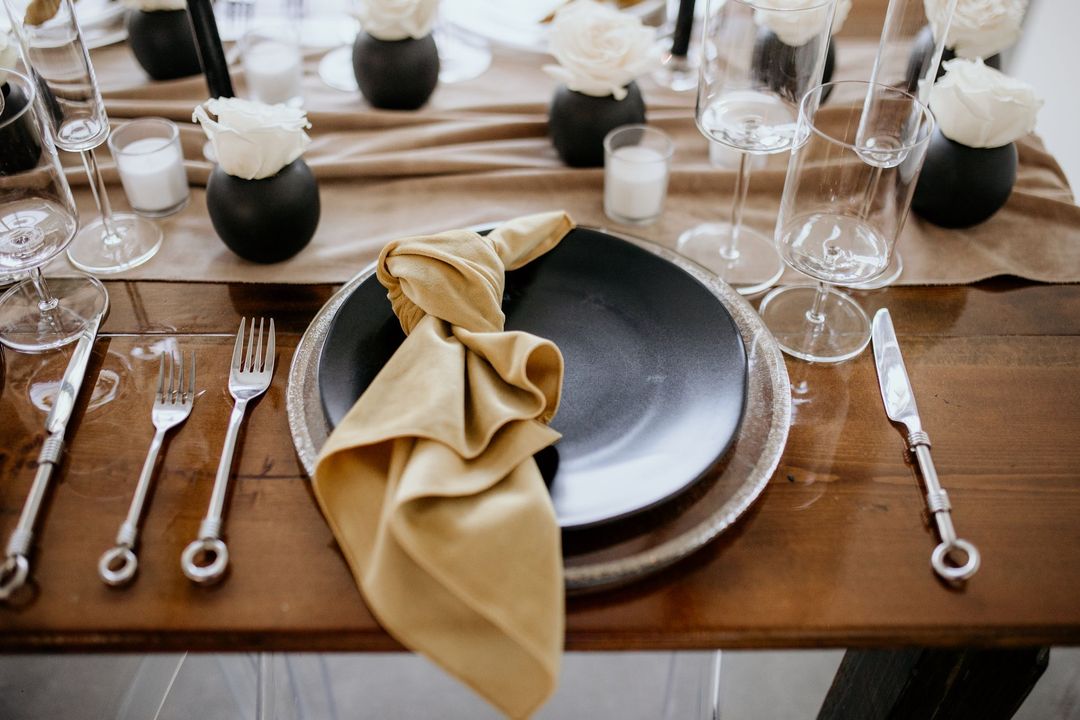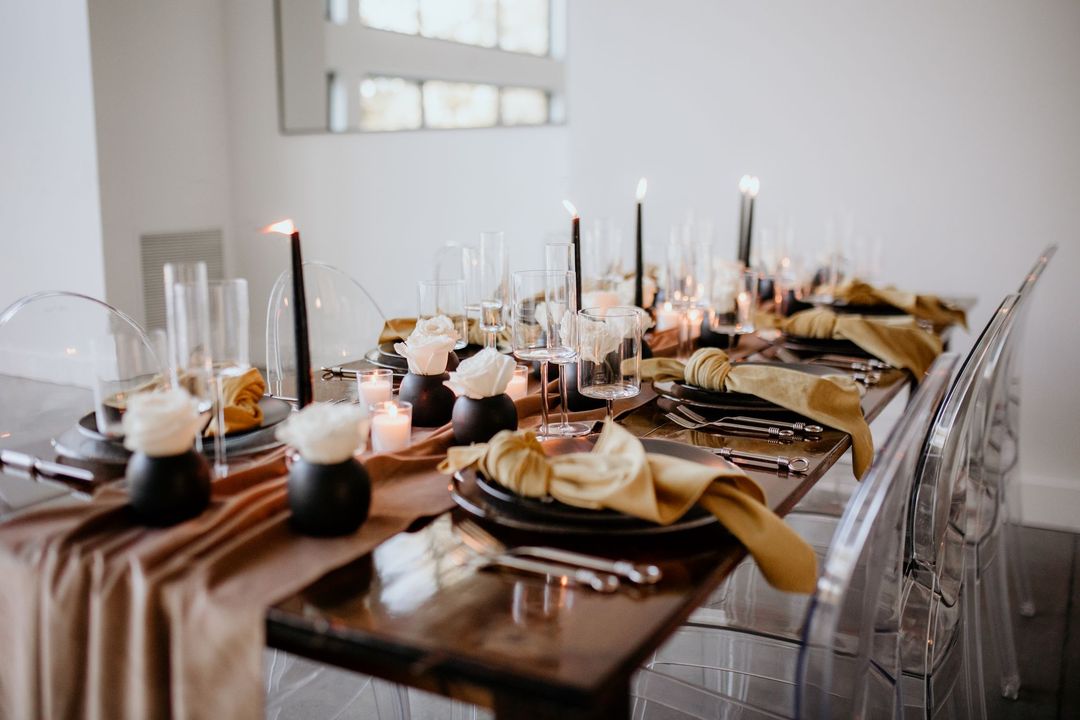 Aiming for a slightly quirky but still elegant look, we carefully selected a few of our favorite contemporary rentals. Including our Como Flatware and gorgeous Cybil Glassware. And of course, our always popular Acrylic Ghost Armless Chairs – also available with arms.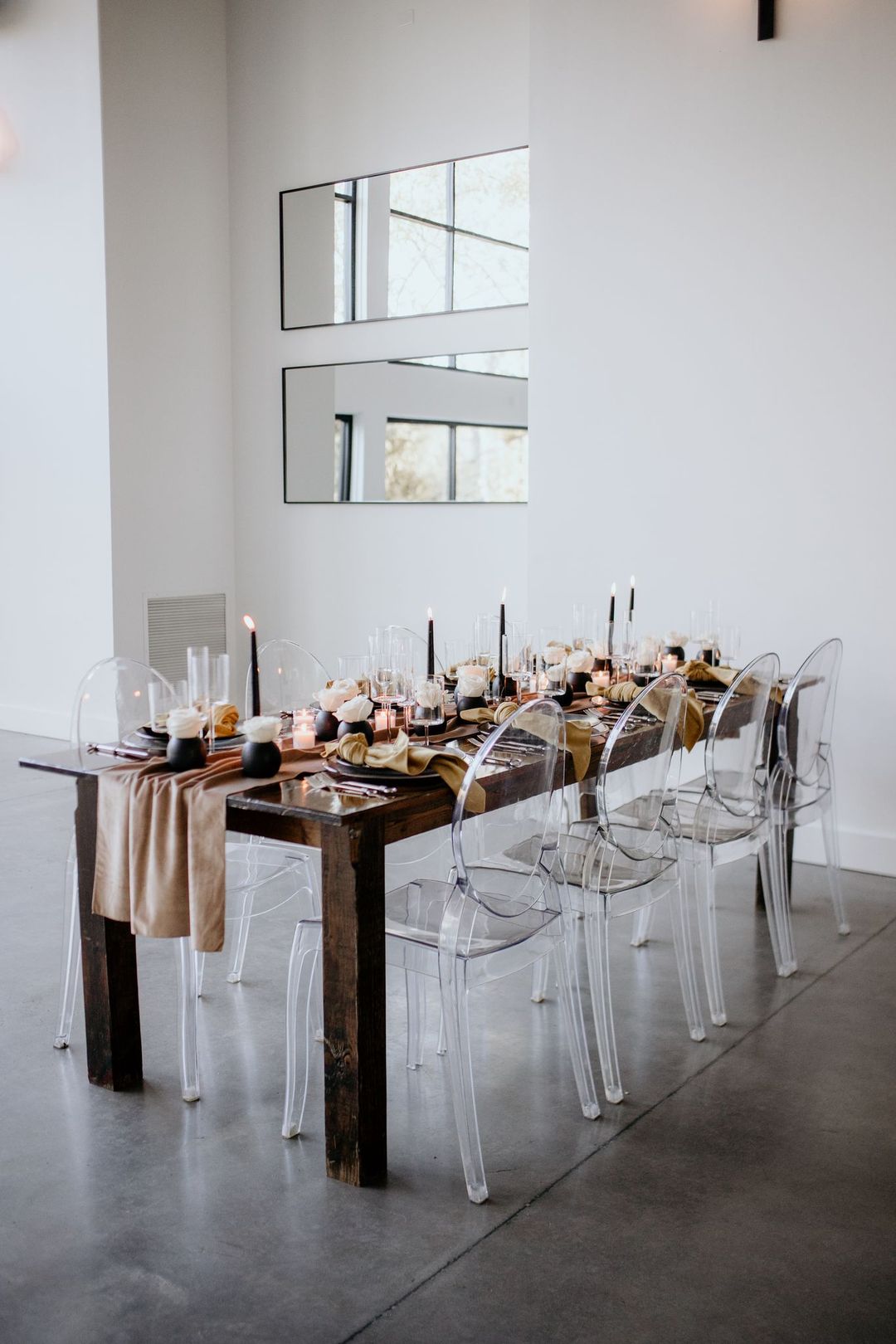 Glam Cocktail Tables
Cocktail tables, spread throughout an event space, make for the perfect opportunity to feature glam linens. Our Sequin tablecloths, shown in Gold, are available in 5 gorgeous colors. Or opt for one of our etched velvet linens, for a less over-the-top but equally elegant look.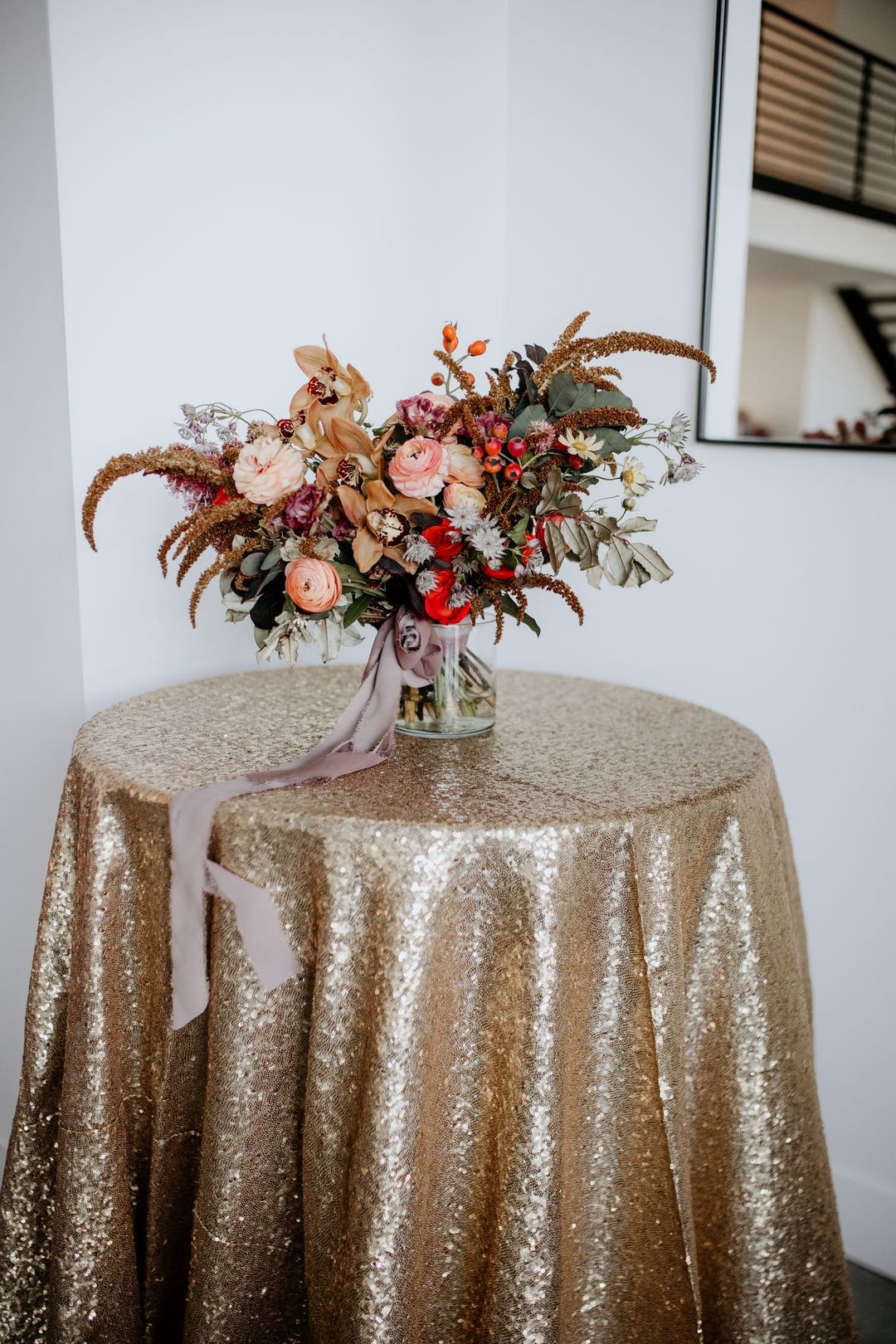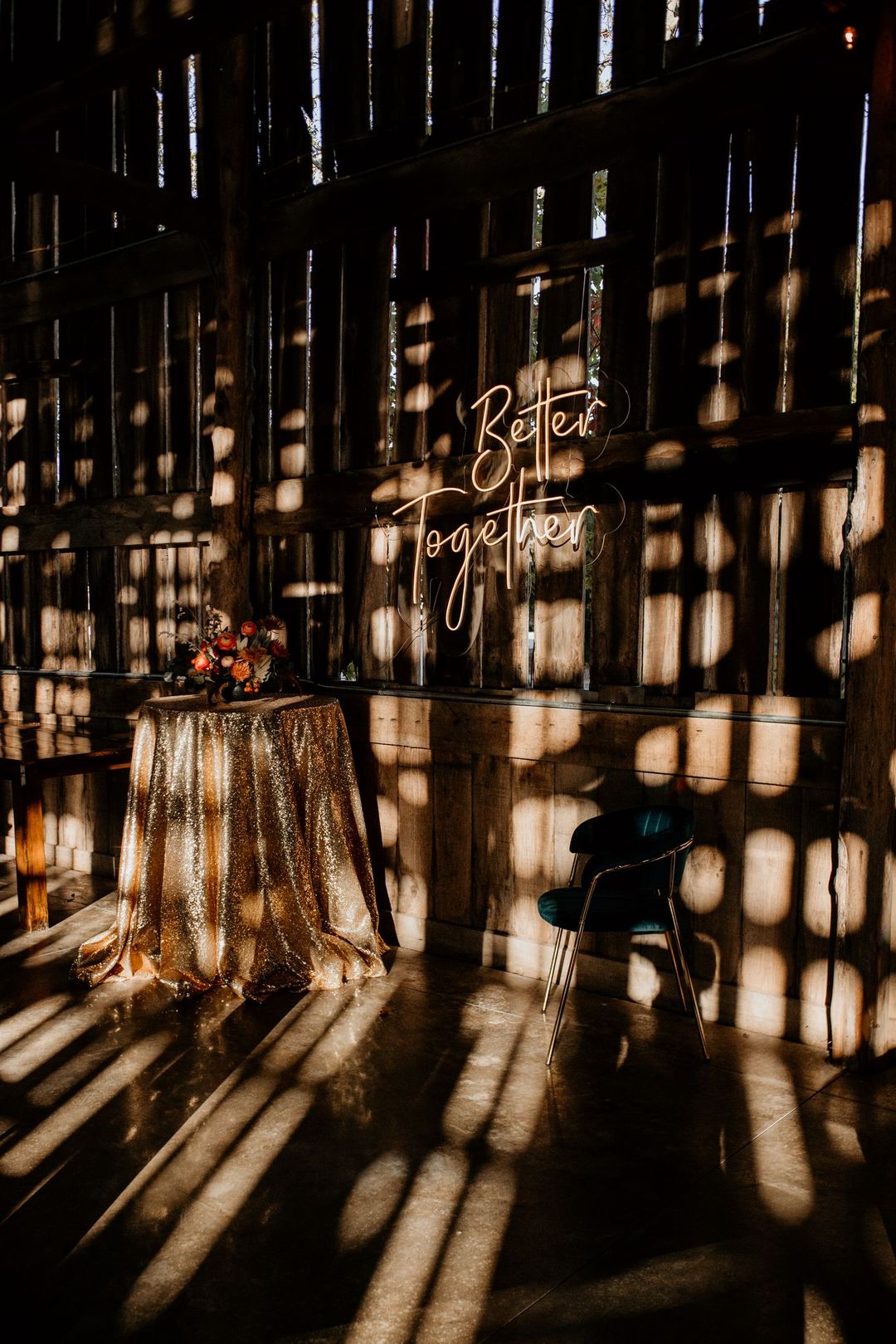 Thanks to the Nashville Vendor Team that partner with us on this look!
Planning: Erin Lynn Events
Photography: Kelsey Leigh Photo
Florals: Stella Rose Floral
Neon Light: Nash Neon
Lighting: Nashville Lighting & Production
Want to recreate this boho diva event style? Reach out to our team for help or to secure your rentals at info@southerneventsonline.com. For additional ideas and inspiration for your 2021 event, check out the latest trends featuring our in-stock rentals.
TAGS | Bohemian Wedding Trend, Boho Luxe Event Decor, Southern Boho Chic, boho glam, event style trends, nashville venue, southall meadows, southern boho style
FEATURED RENTALS | sequin, etched velvet linens, onlyx china, silver rimmes glass china, gold medallion glass charger, Como flatware, Cybil glassware, Austin gold flatware, Aubrey gold rim glassware, pure glassware, amber goblets, magnolia runner, driftwood runner, yarrow napkins, fruitwood farm table, gold Chiavari chairs, acrylic ghost arm chairs,
---
8

Apr

On Trend, Southern Events Products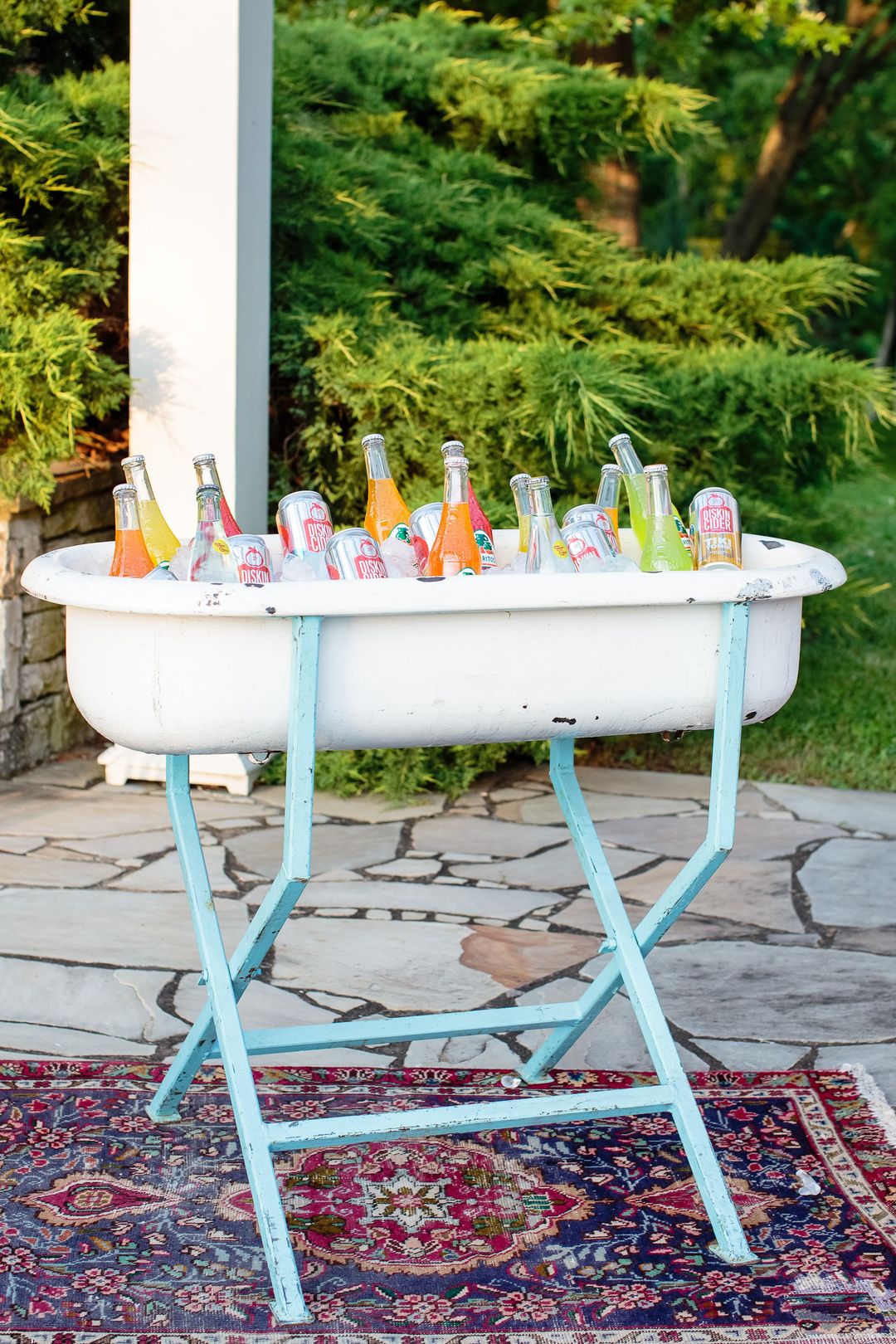 In recent years small gatherings have peaked in popularity! As there is something extra charming about a party that is smaller in size, or more exclusive, yet stylish. Get inspired by some of our must-have rentals for small gatherings, perfect for hosting intimate parties in the greater Nashville area.
Chairs & Tables
We're kicking things off with the basics! Chairs & tables are a must, whether you are serving food or simply want to encourage guests to sit down and stay for a while. Our lounge packages feature beautiful furniture, perfect for a casual evening in the backyard. When it's time to eat, gather around our always beautiful Fruitwood Farm Table, with child-sized furniture (chairs included) to match. For a cocktail hour, a set of bistro tables and bar stools are a classic choice.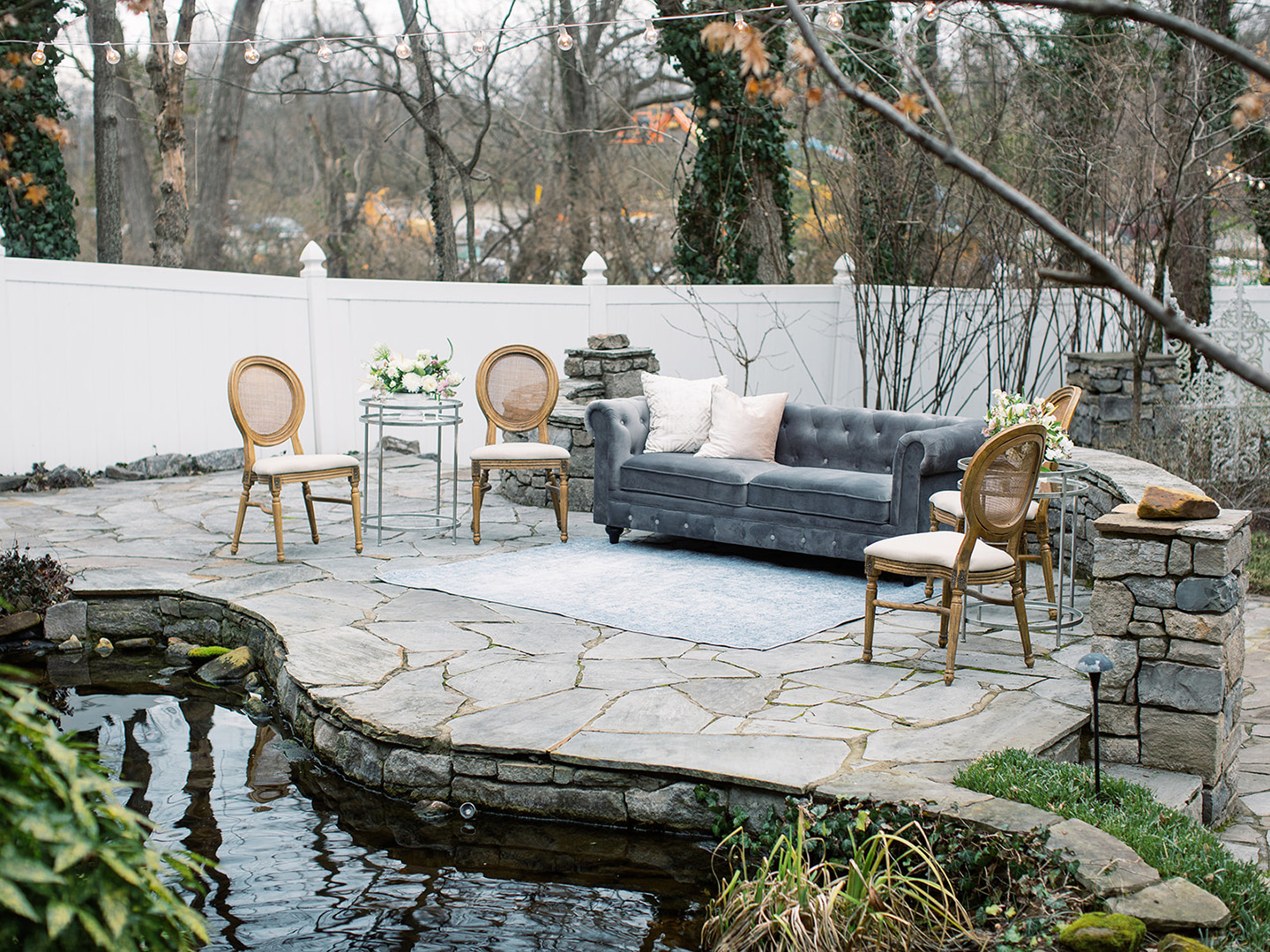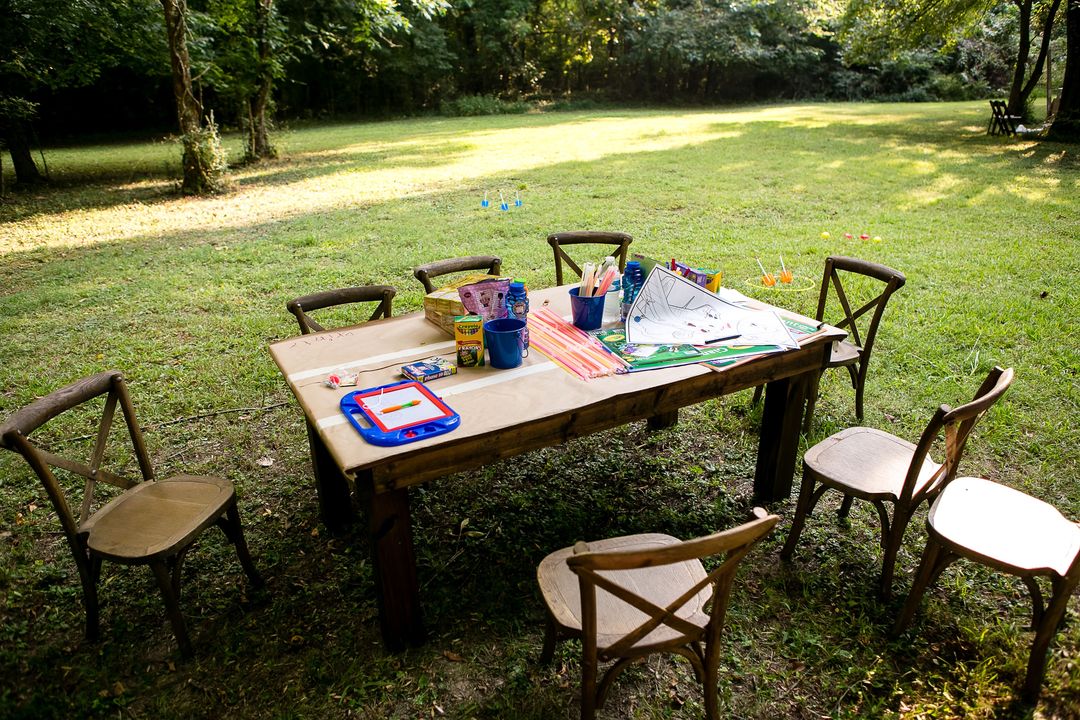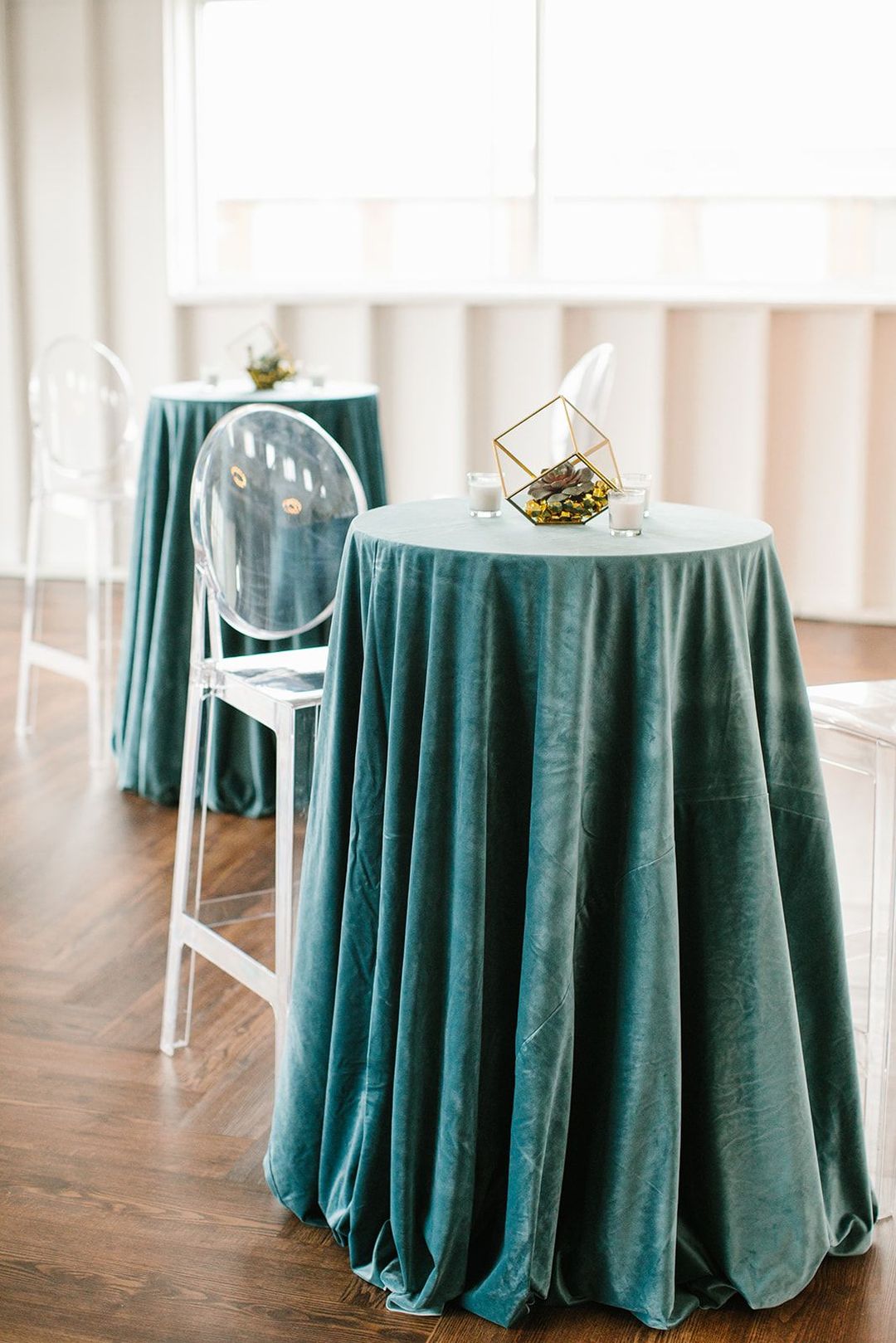 Stylish Rugs
Rugs are a must-have when it comes to defining a space. Large or small, they create a frame in which to lay out a social area. Alternatively, they add an additional level of comfort underfoot. With summer coming we're favoring bright colors, like our Aqua Rug or Blue-Red Rug. For some extra pizzazz, try layering a few of your favorites.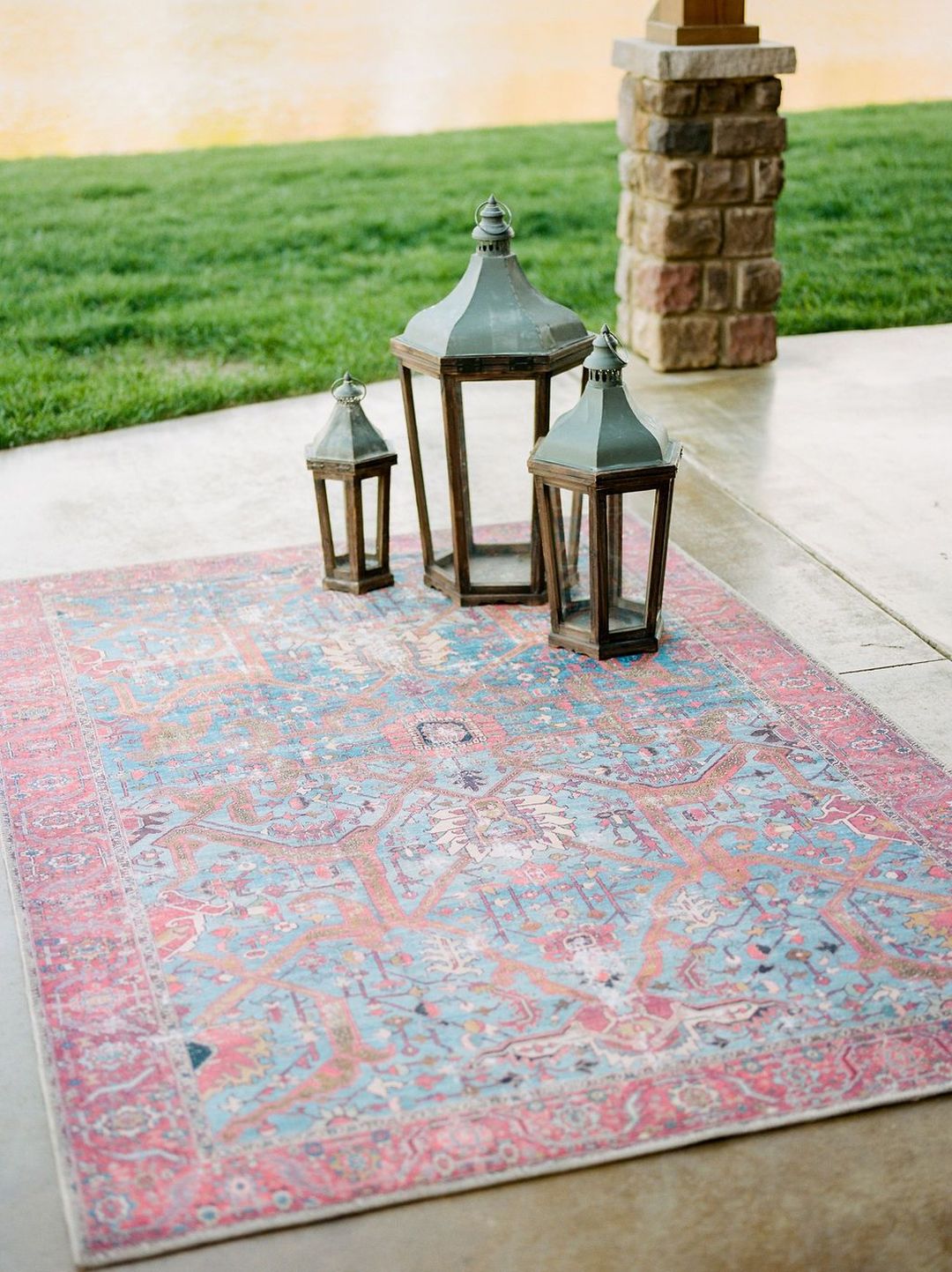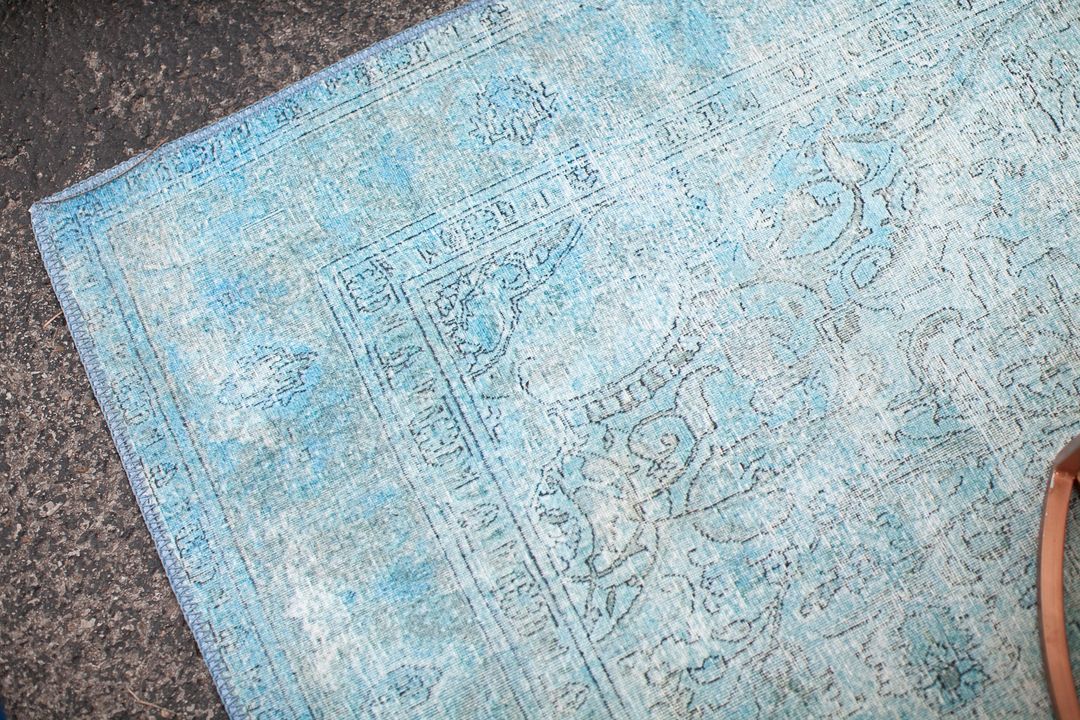 Photo by Phindy Studios
Bar Service
With the weather warming up, you'll want to treat your guests to a cold drink. We offer a variety of beautiful stands and displays, perfect for a small bar or self-serve area. Our 4ft Antique White Bar is an elegant choice for a more upscale event. Or for a quaint but stylish self-serve area, check out our Avenue Bar Back Shelf or Gold Rolling Bar Cart. Each of them has just enough space to hold glassware, alcohol, and your ingredients of choice. You will also have a wide selection of gorgeous glassware to choose from, to complement the style of your event!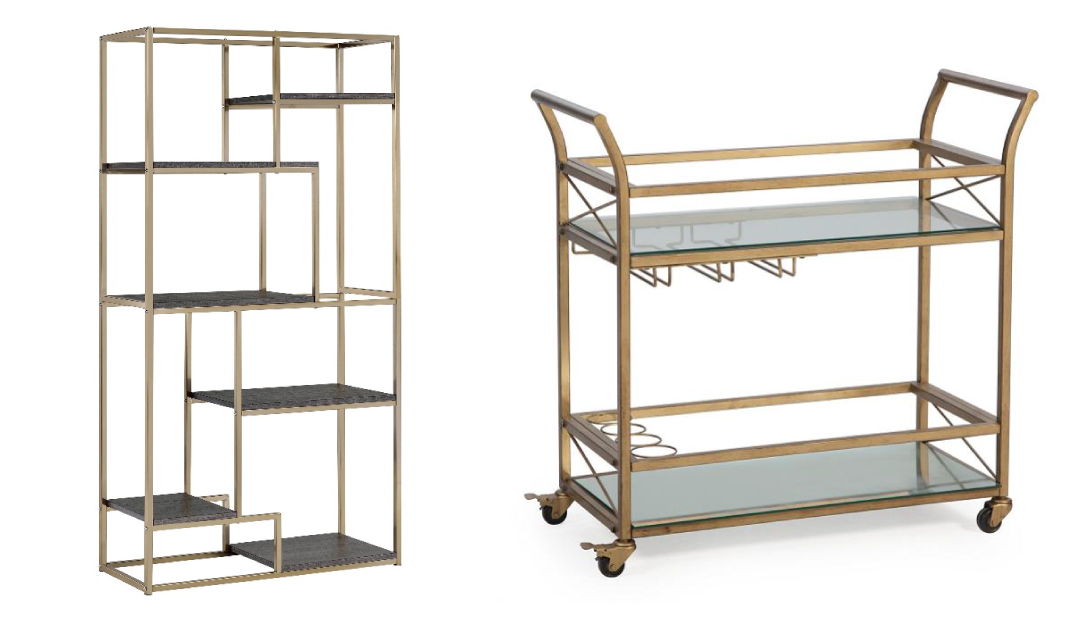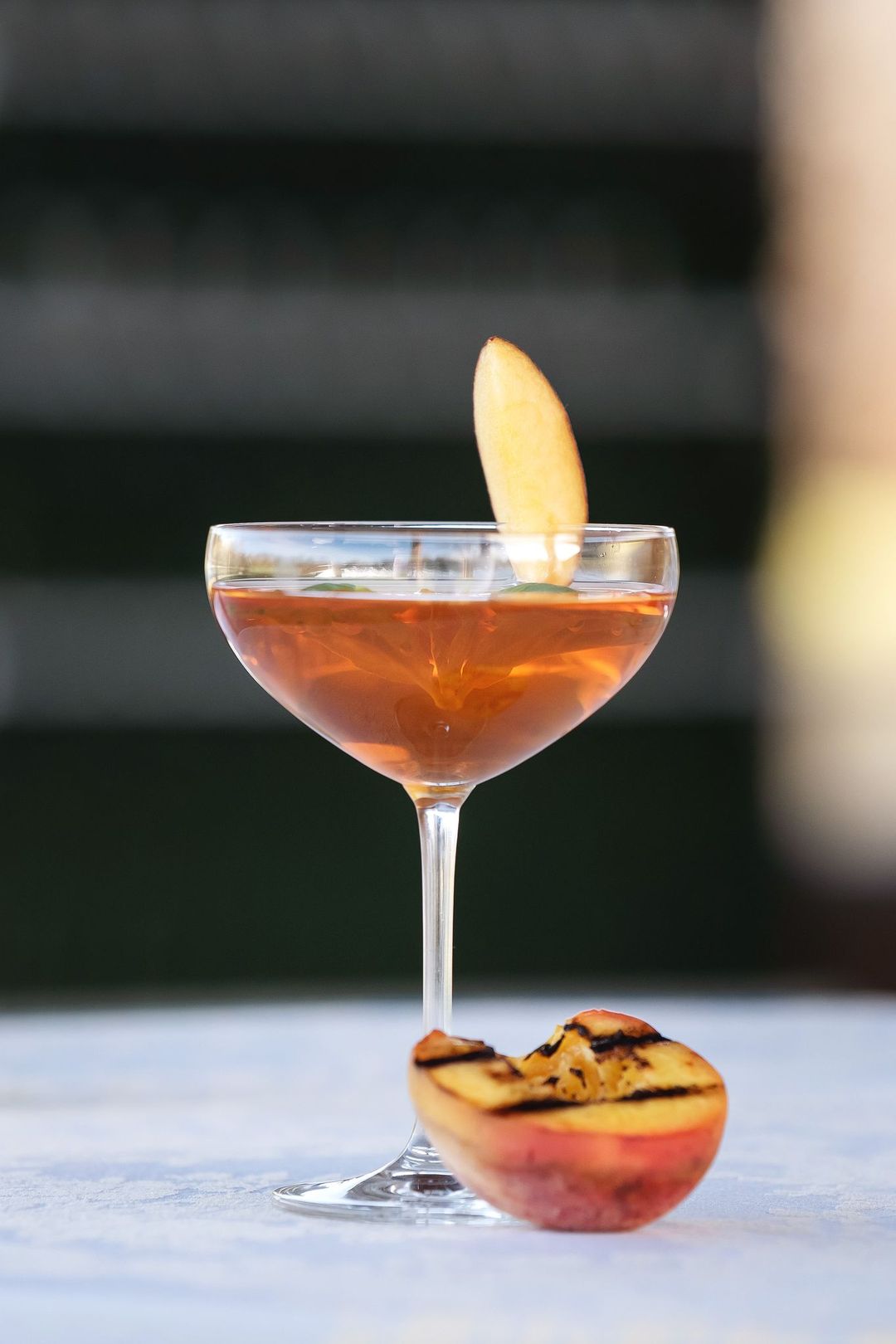 Photo by Megan Stark
A Fun Focal Point
Every party needs a unique, eye-catching focal point. When hosting happy hour or your event will include alcohol, our Boxwood Wall makes for a fun interactive photo backdrop or central spot for guest place cards. It can also be used to serve up refreshing beverages throughout the duration of your event!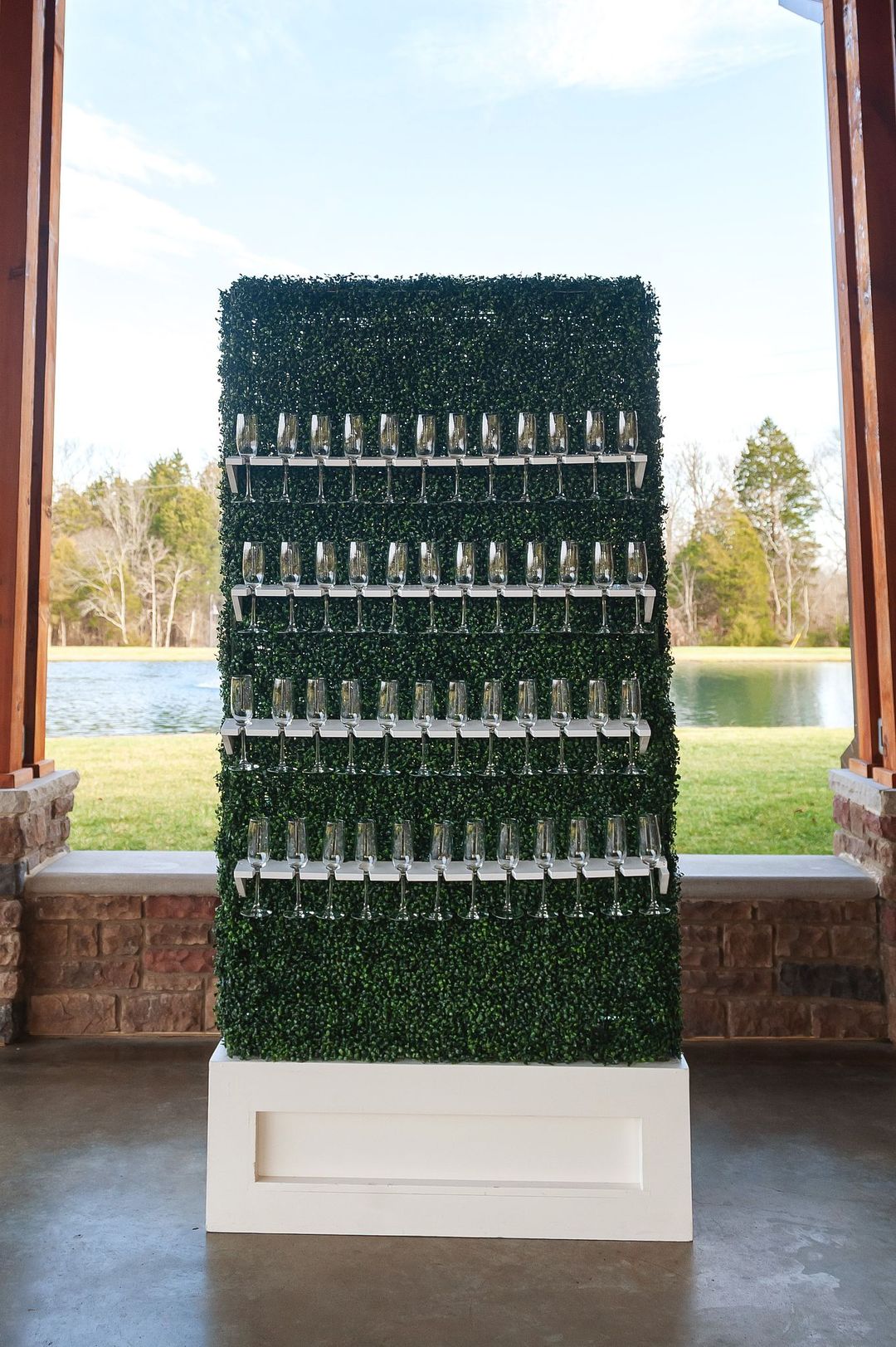 Photo by Megan Stark
Tabletop Decor
Don't let your tables sit bare! Even a small centerpiece goes a long way. We offer a variety of lanterns and votives in various colors. Use these as decoration or to create a warm ambiance once the sun goes down. If you plan on showcasing some flowers fresh from the garden, our cylindrical and square glass vases are an elegant choice.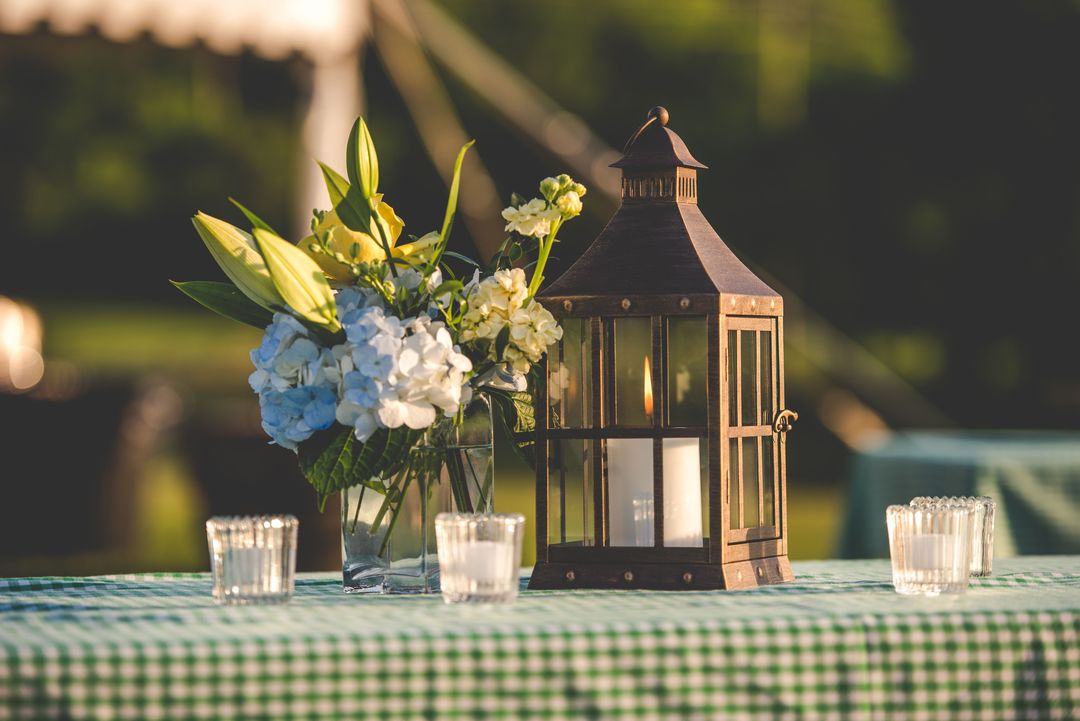 Photo by Joe Hendricks Photography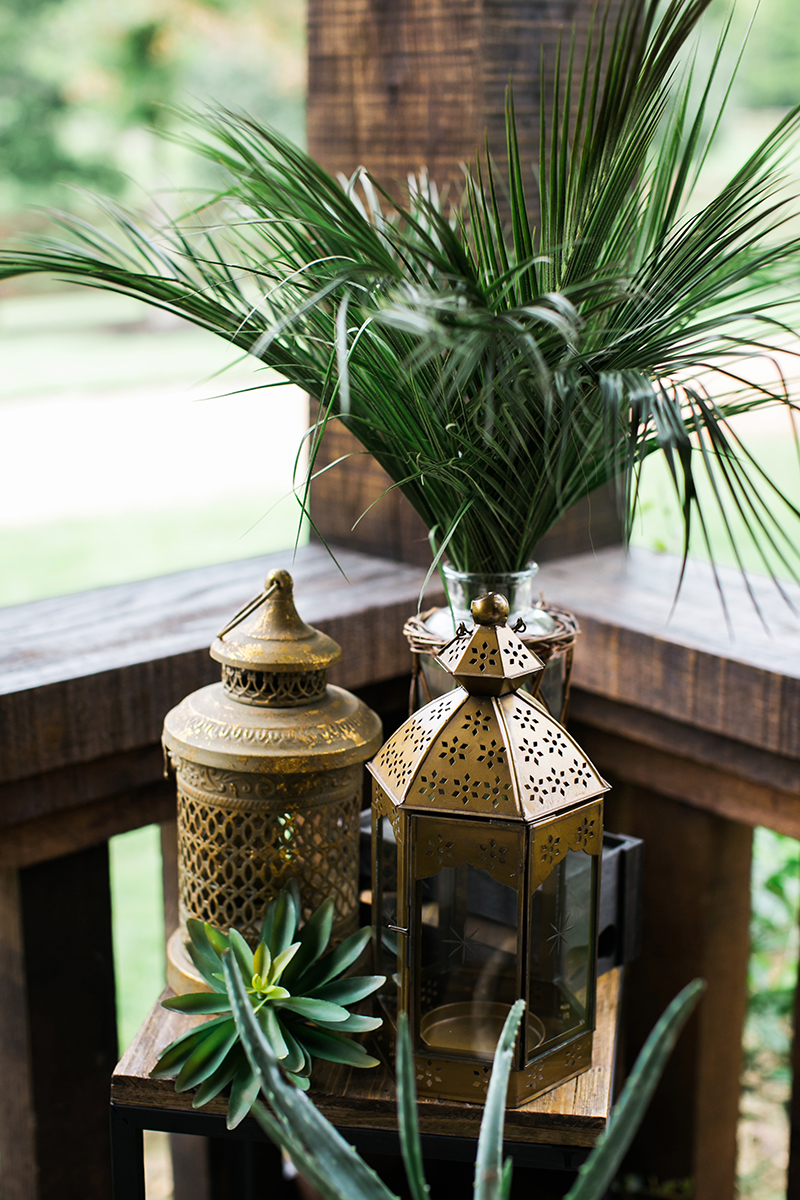 Photo by Jen & Chris Creed
Want to feature one or multiple of these stylish rentals at your upcoming small gatherings? We've got you covered! Contact our team at info@southerneventsonline.com & let's start planning!
TAGS | Nashville Rentals, event style trends, franklin tn, franklin tn rentals, nashville tn, southern summer party planning, summer event style
FEATURED RENTALS | lounge packages, Cross-back Barstool, Fruitwood Farm Table, Children's Cross-back Chairs, Nolen Lantern, Aqua Rug, Blue-Red Rug, Mercury Votive, Square Glass Vase, Boxwood Wall, bell tent, gold rolling bar cart, avenue bar back shelf, glassware,
---
31

Dec

On Trend, Southern Events Products, Trends and Inspiration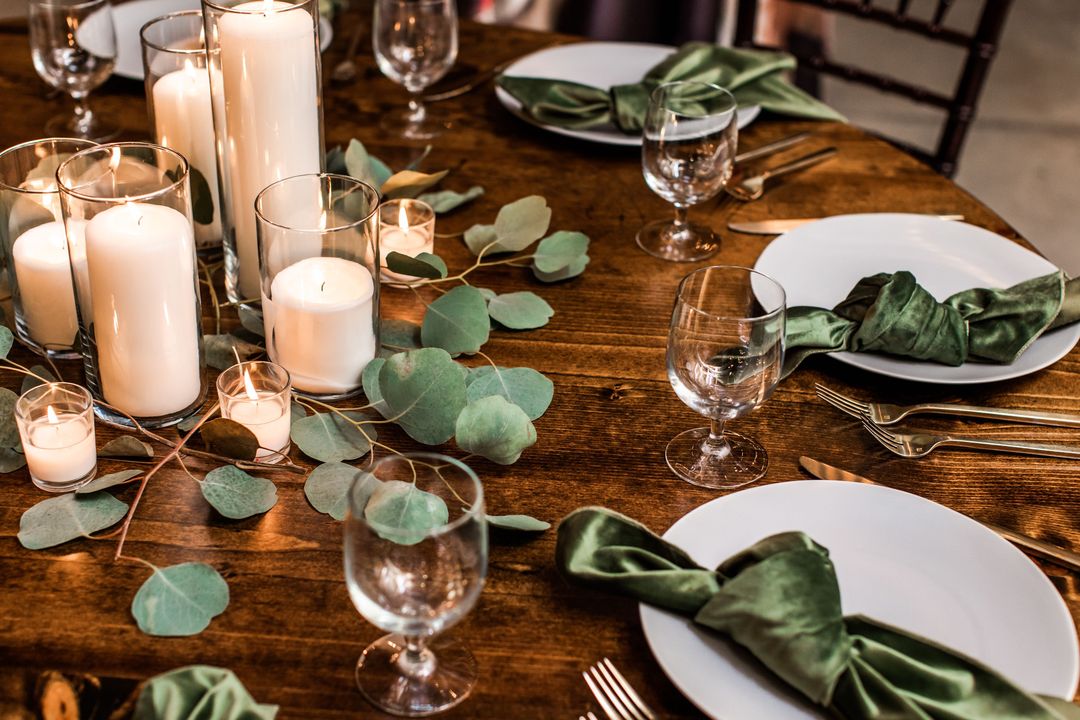 2021 is rapidly approaching and with it are new event trends! Our team at Southern Events is looking forward to getting creative to help you design memorable celebrations in the year ahead. Get inspired for your future events by looking at the 2021 trends, featuring our in-stock rentals.
Luxe But Sustainable
Luxe events aren't going anywhere but we're seeing an increased interest in sustainability. There are multiple ways to host a sustainable event via rentals. The first is reusable serving ware, including china, flatware, glassware, and linens. Rentals are an easy and beautiful way to reduce the waste produced by your event.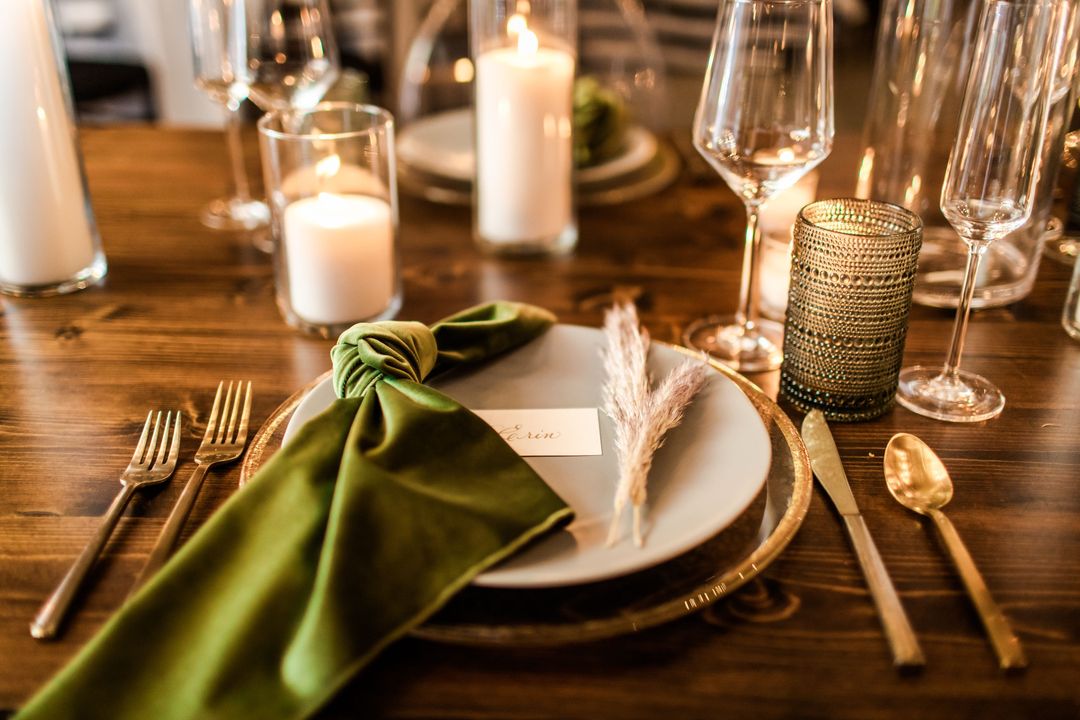 In terms of styling, expect lots of lush plants & greenery. Potted plants are especially beautiful and perfect for aisle decor and table centerpieces.  The same goes for dried plants, which lend lots of texture. Pampas grass in particular is trending, as it easily adds volume and height. Expect to see an increasing amount of dried flower bouquets and arrangements.
This emerald, cream & gold tablescape features our Gold Rim Glass Charger, Alabaster Earthenware, Gold Austin Flatware, Fern Velvet Linens, Colored Glassware & Pure Glassware.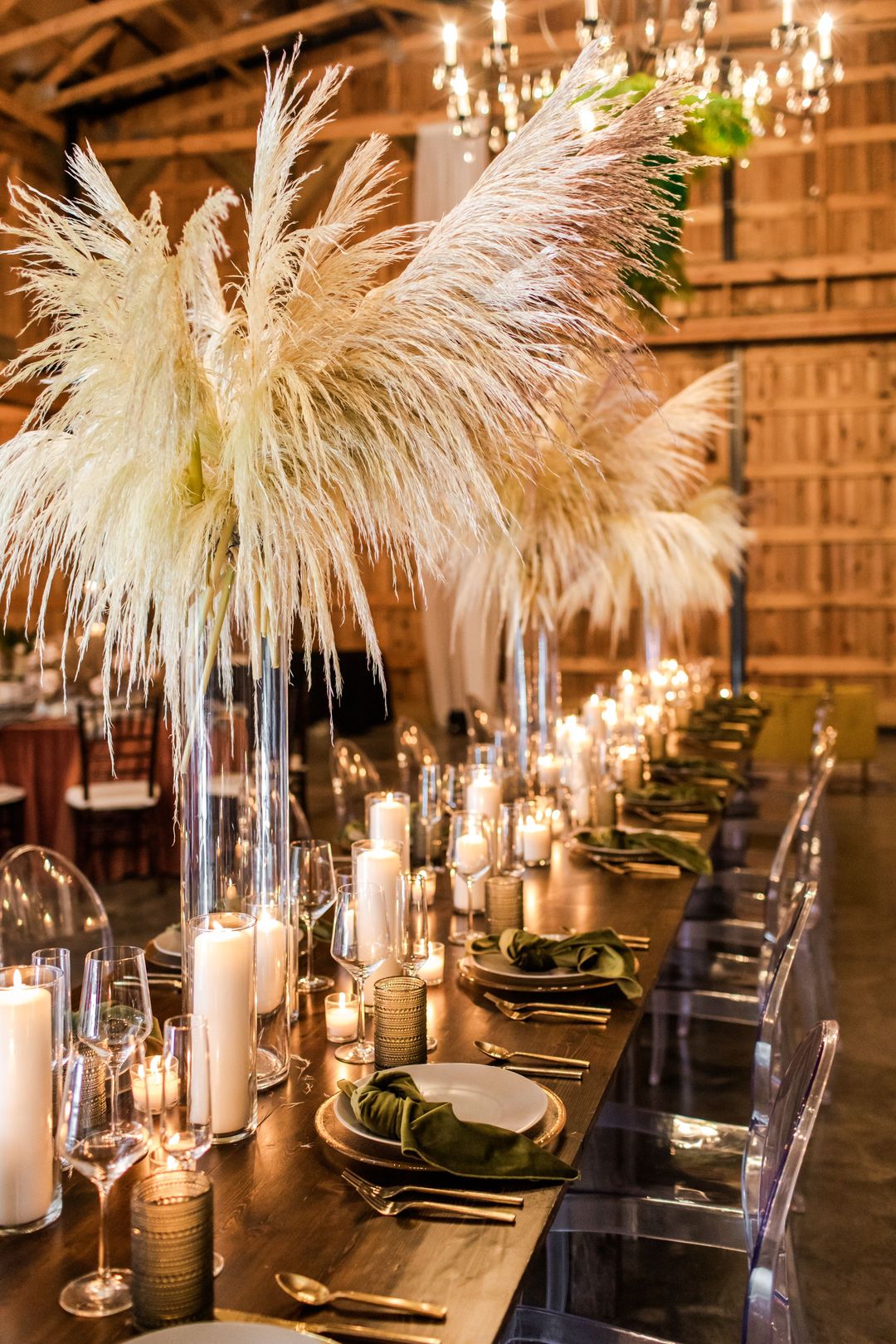 Photo by Nyk and Cali
All Out Events
Go big or go home right? One 2021 trend is events that are memorable, not necessarily in size but in the details. Diva Boho-themed events are a great example. Think of bold & intricate geometric patterns, and voluminous flowers or other organic arrangements. Metallics are also here to stay, as they are a quick way to add some sparkle and shine to an event. At this type of event, you can tell that every thoughtful detail was well planned and executed.
This bright textured tablescape was created using our Medallion Gold Glass Chargers, Onyx Earthenware, Austin Flatware & Audrey Gold Rim Glassware.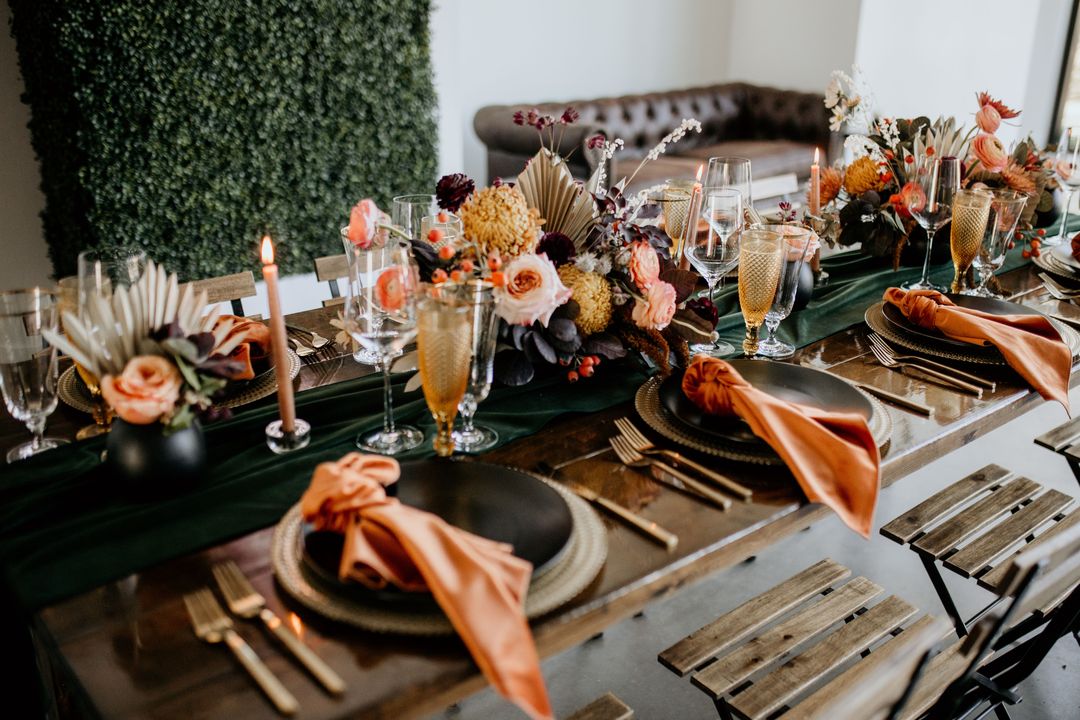 Photo by Kelsey Leigh Photography
A Focus on Sentimentality
People are gravitating towards heirlooms and the texture of various things that draw them to the past – we expect this event trend to only get bigger in 2021. Not necessarily a boho theme, but colors and textures that incite a sense of nostalgia. So sustainable handmade pieces lend texture, such as clay, jute, and wicker decor. This trend also applies to attire, in the form of heirloom jewelry, clothing, and accessories. For weddings, think dresses with intricate old-school embroidery in an ivory or cream color. One great example is celestial-inspired events, where texture and vintage or retro items are easy to incorporate into the design.
Recreate this romantic neutral design with our Driftwood Velvet Napkins, Artisan China, Cybil Glassware, & Como Flatware.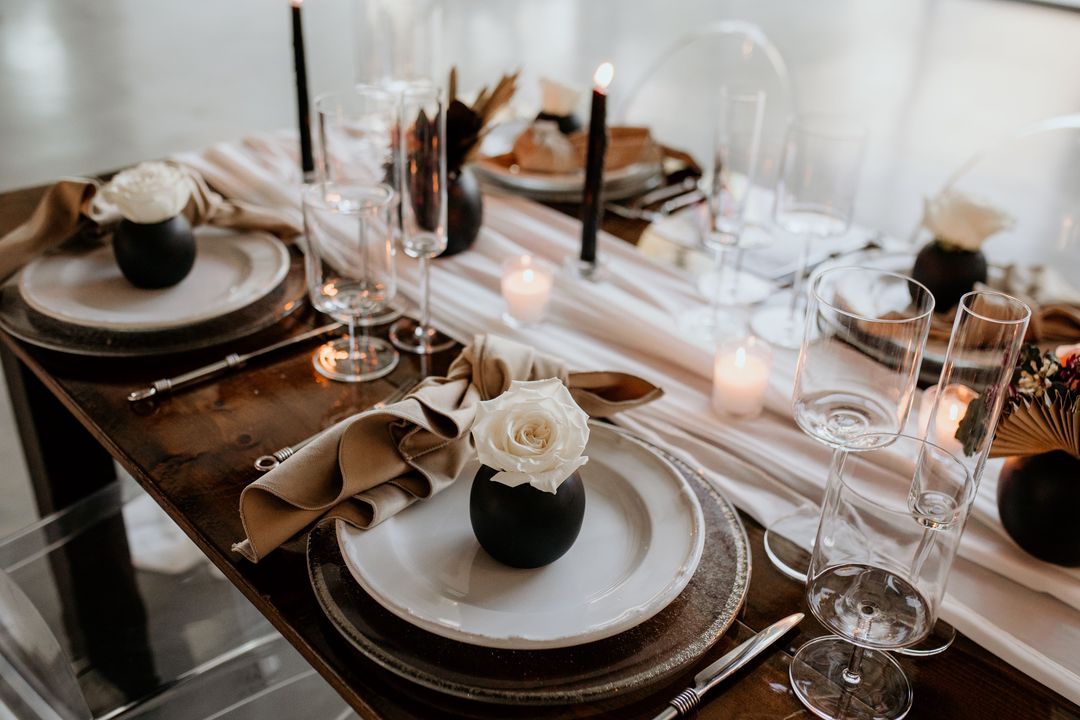 Photo by Kelsey Leigh Photography
2021 Wedding Colors
In 2021, we're expecting to see every color & combination imaginable. After a year of postponing and adjusting, why not throw out the rules a little?! While neutral-themed weddings are timeless, more and more couples are seeking to host an event that is unique and memorable. The colors you feature are one easy way to showcase your personality. Here's some 2021 color trend inspo!
Muted/Matte Jewel Tones – Mustard, Dark Plum, Hunter & Emerald green, Inky Indigo, Sapphire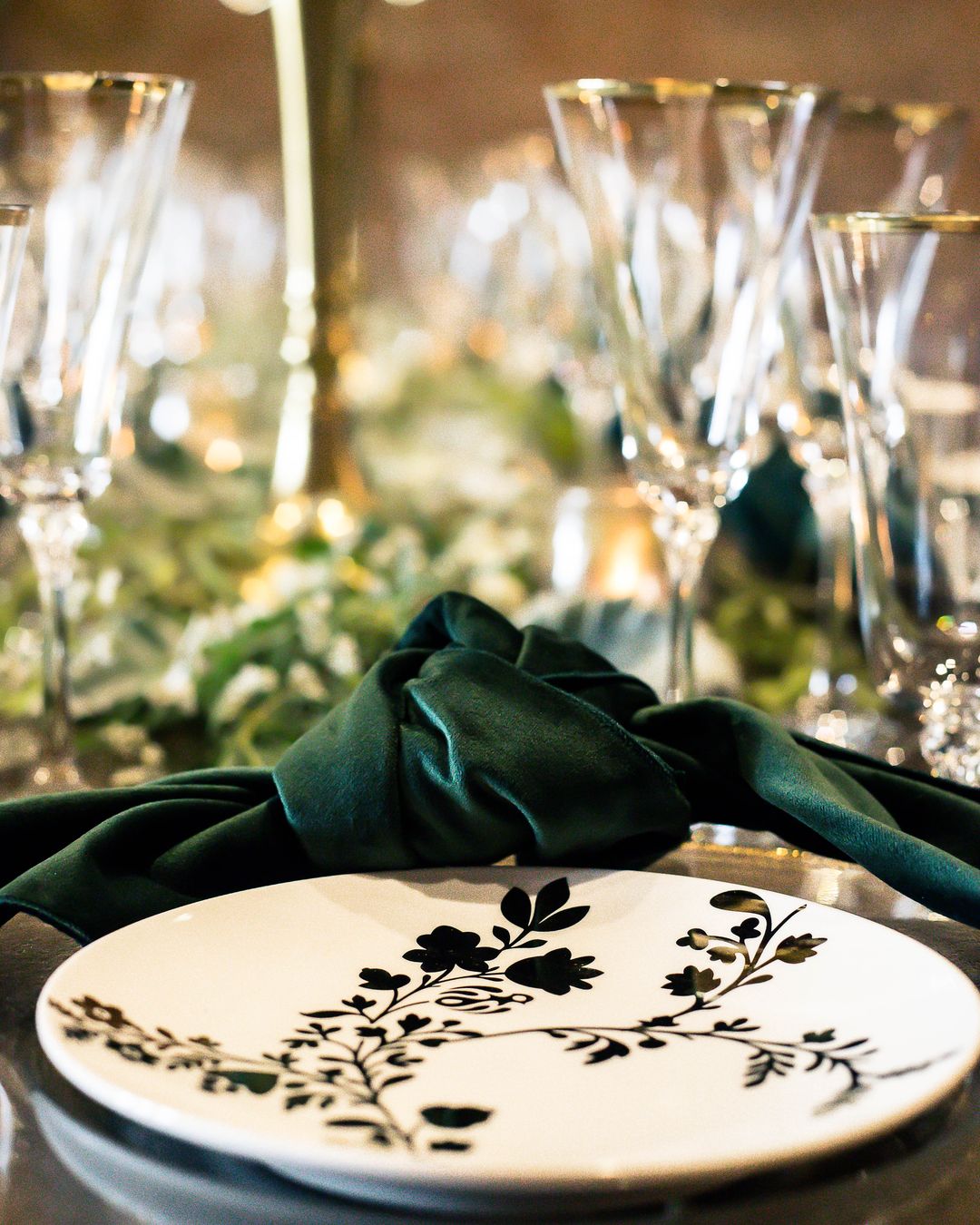 Pastel Tones – Light Aqua, Baby Pink, Peach, Cantaloupe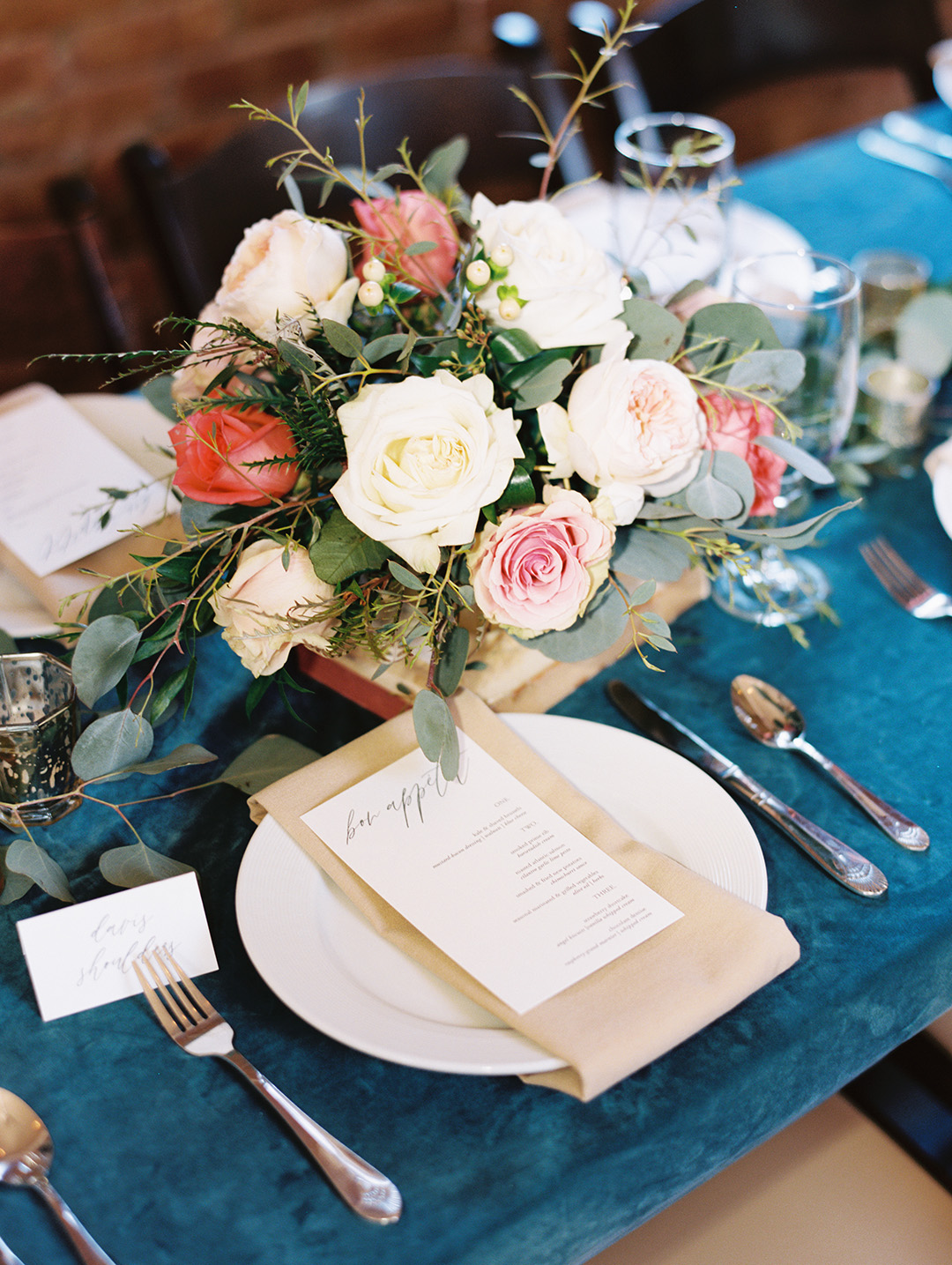 Photo by Abigail Lewis Photo
Bold & Bright – Coral, Fuschia & Sherbert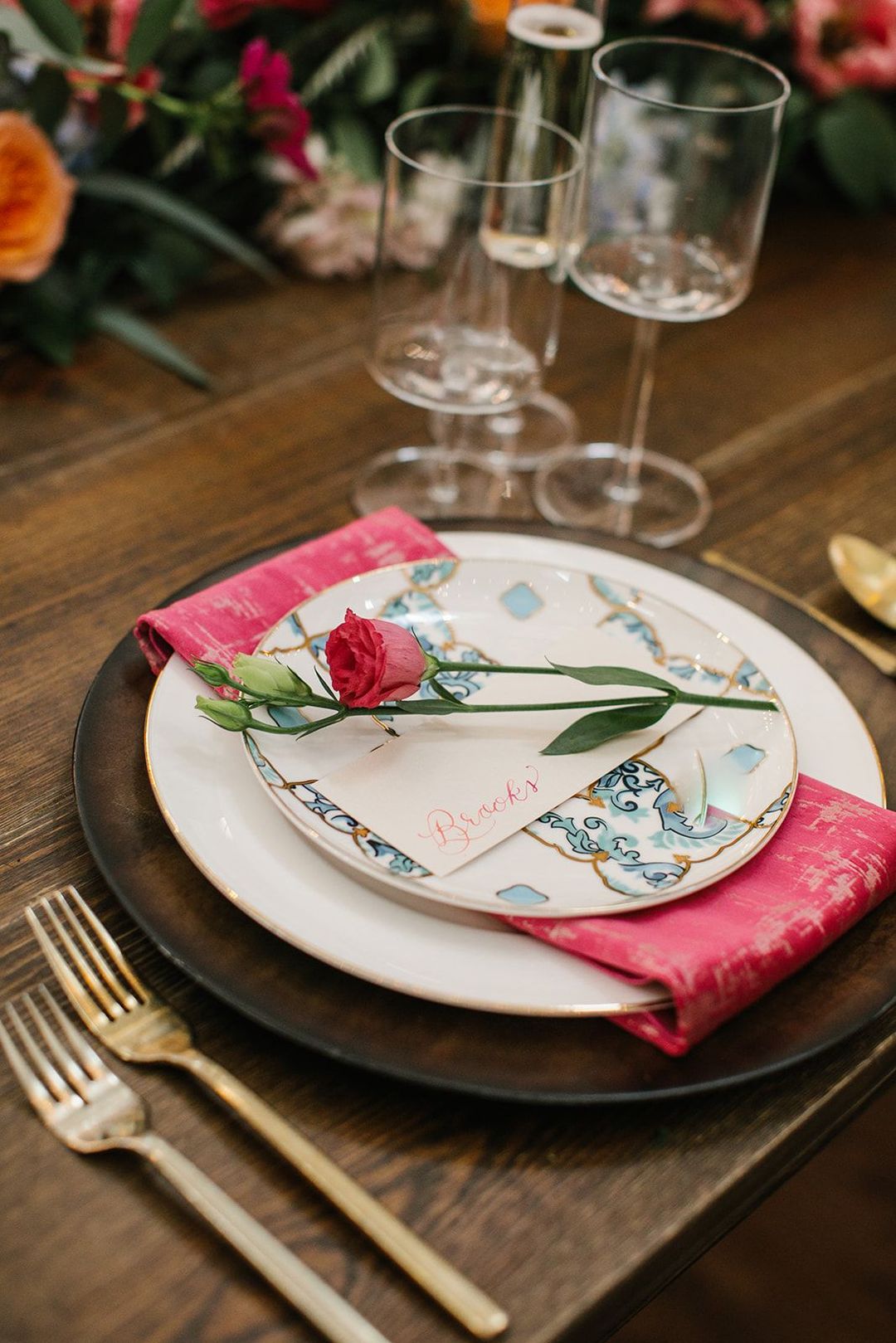 Photo by Gray Kammera
Dark & Moody + Black – Burgundy, Olive Green, Cinnamon, Crimson, Navy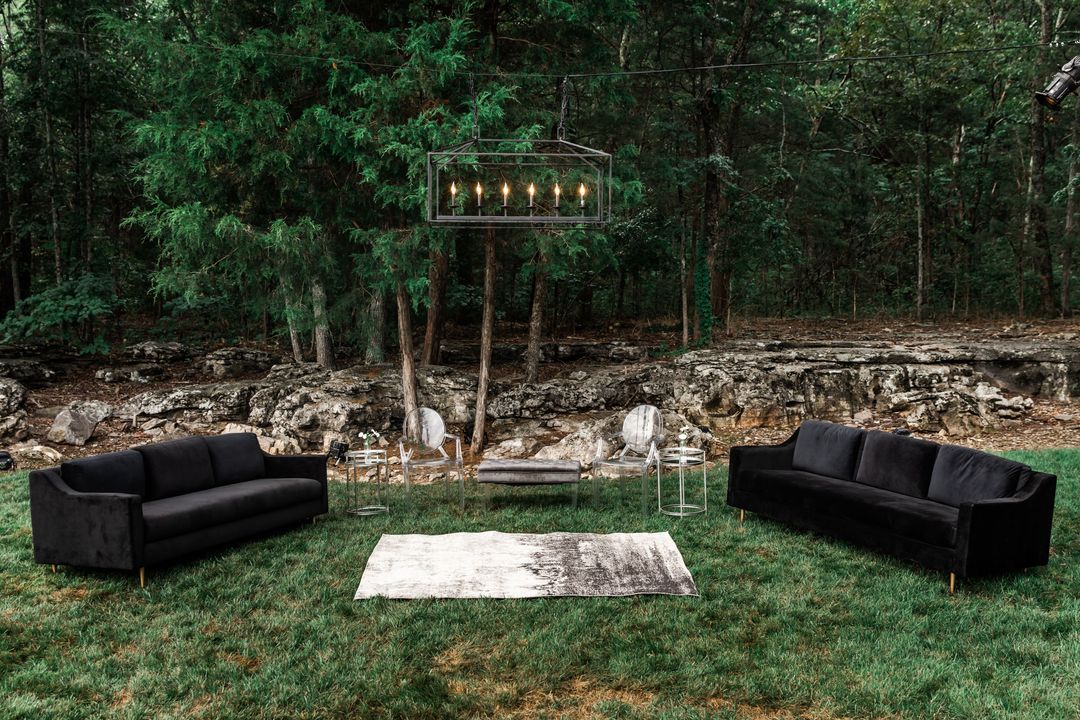 Photo by Nyk and Cali
Pantone Colors of the Year – A bright and positive combination, the Pantone Colors of the Year are Illuminating (yellow) and Ultimate Gray. We're excited to see how these colors are featured at 2021 weddings!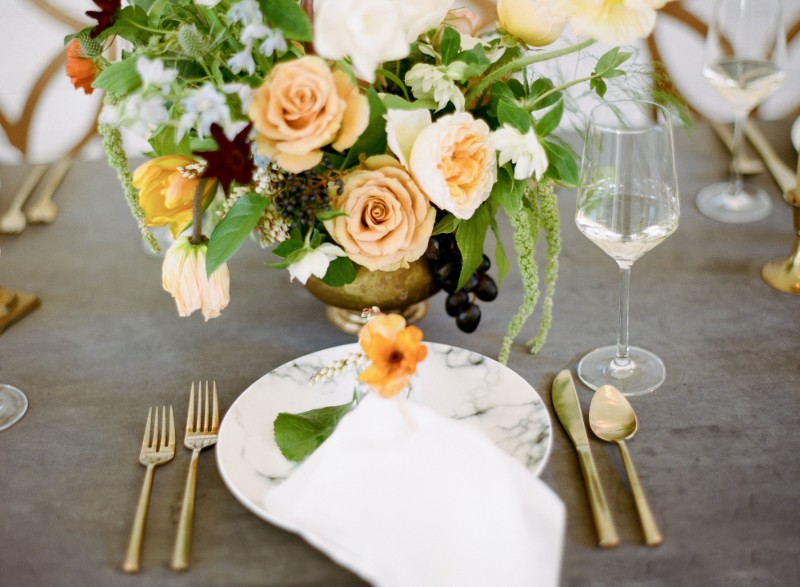 Photo by Alex Thorton Photography
Want to incorporate some of these 2021 trends into your upcoming or future Nashville or Franklin, Tennessee event? Reach out to our team for styling help or inspiration, or to secure your rentals, info@southerneventsonline.com.
TAGS | 2021 trends, On Trend, colorful decor, event inspiration, event style trends, on trend wedding style, style trends, wedding inspiration
FEATURED RENTALS | Gold Rim Glass Charger, Alabaster Earthenware, Driftwood Velvet Napkins, Artisan China, Cybil Glassware, Como Flatware, Gold Austin Flatware, Fern Velvet Linens, Colored Glassware, Pure Glassware, Medallion Gold Glass Chargers, Onyx Earthenware, Austin Flatware, Audrey Gold Rim Glassware
---
6

Aug

Events and Style Shoots, On Trend, Southern Events Products, Trends and Inspiration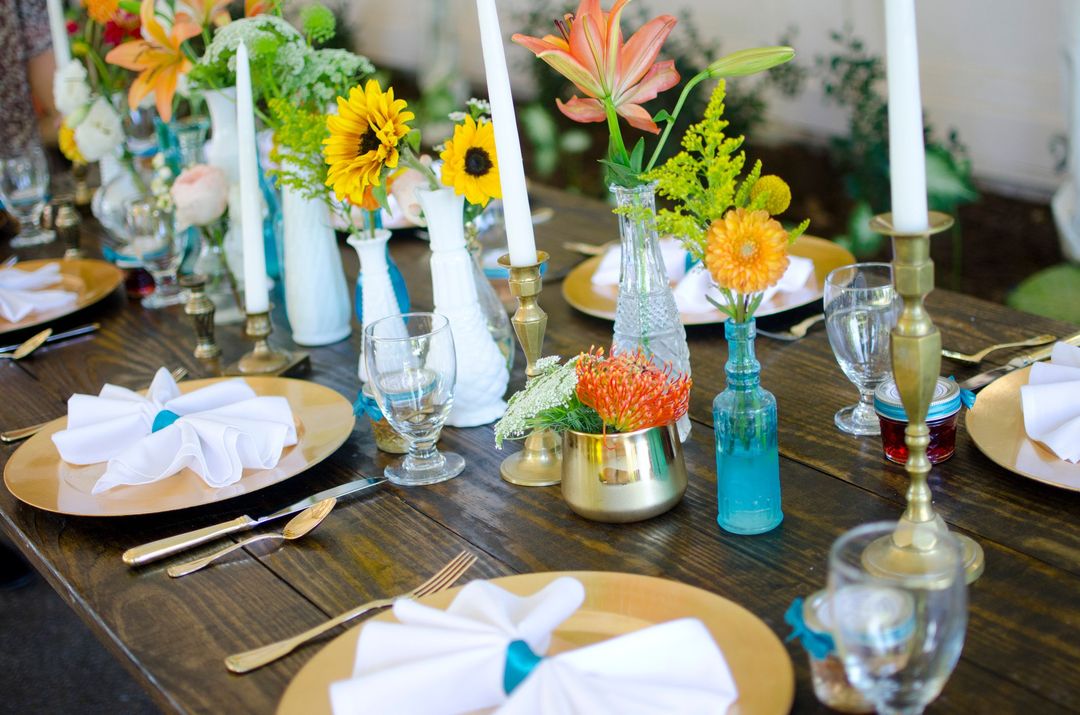 Vibrant and whimsical, these colorful backyard party ideas that are sure to bring some wonder & whimsy to your next Nashville, Tennessee event. Perfect for a kid's birthday party, fun gender reveal party or daytime wedding, check out how we use our party rentals to create a bold & colorful look that is timeless, stylish and fun!
Mix & Match Furniture
Keep your event casual yet maintain a consistent aesthetic with a mix of furniture that complements one another. By using Barnwood Furniture of a variety of shapes, you can make the most of the space and also feature some statement pieces. Take for example our beautiful Fruitwood Farm Tables. In regards to chairs, we used a mix of rustic benches and our elegant Cross-back chairs. Although simple, it creates a foundation from which to add color!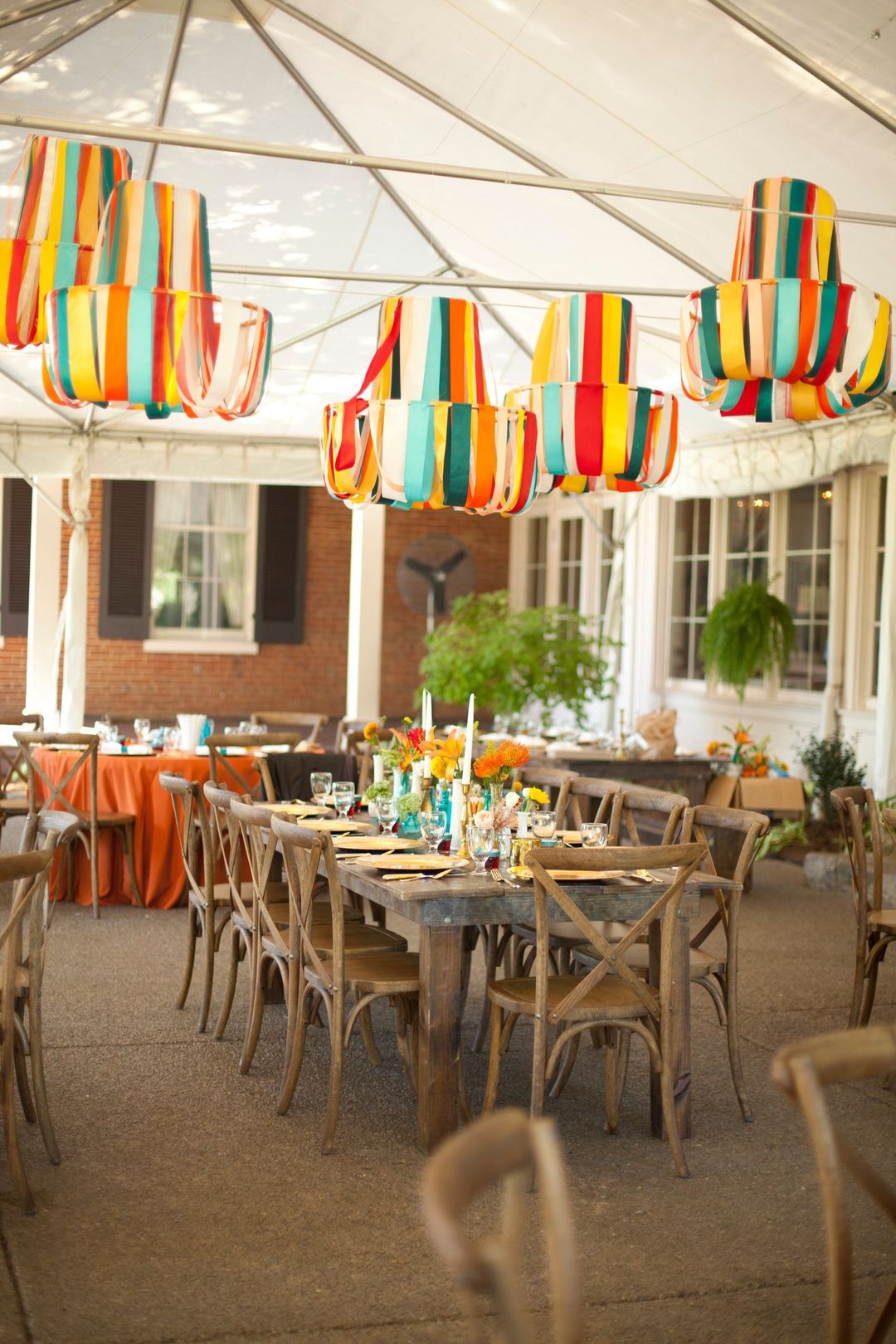 Photos by Krista Lee Photography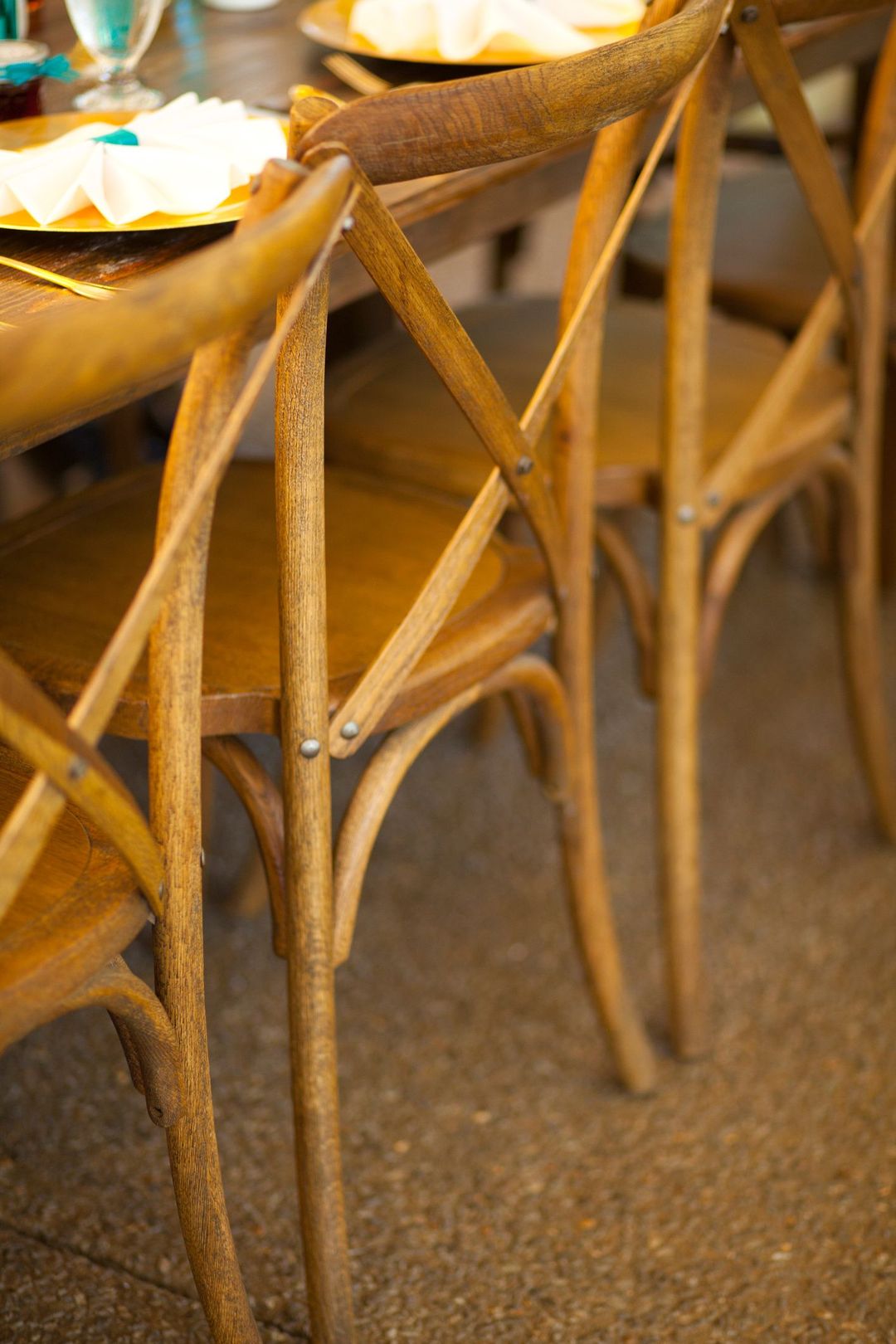 Metallic Place Settings
An easy way to add warmth to a colorful backyard event is with gold or silver accents. Featuring our Gold Round Lacquer Charger and Austin Flatware, adds a touch of metallics that contrasts beautifully against turquoise centerpieces. It also complements the golden yellows and sunset-inspired oranges throughout the event design. Don't forget to pull these accents into other parts of your events with gold-rimmed glasses on your bar or gold side tables in your lounge. This creates a more cohesive look.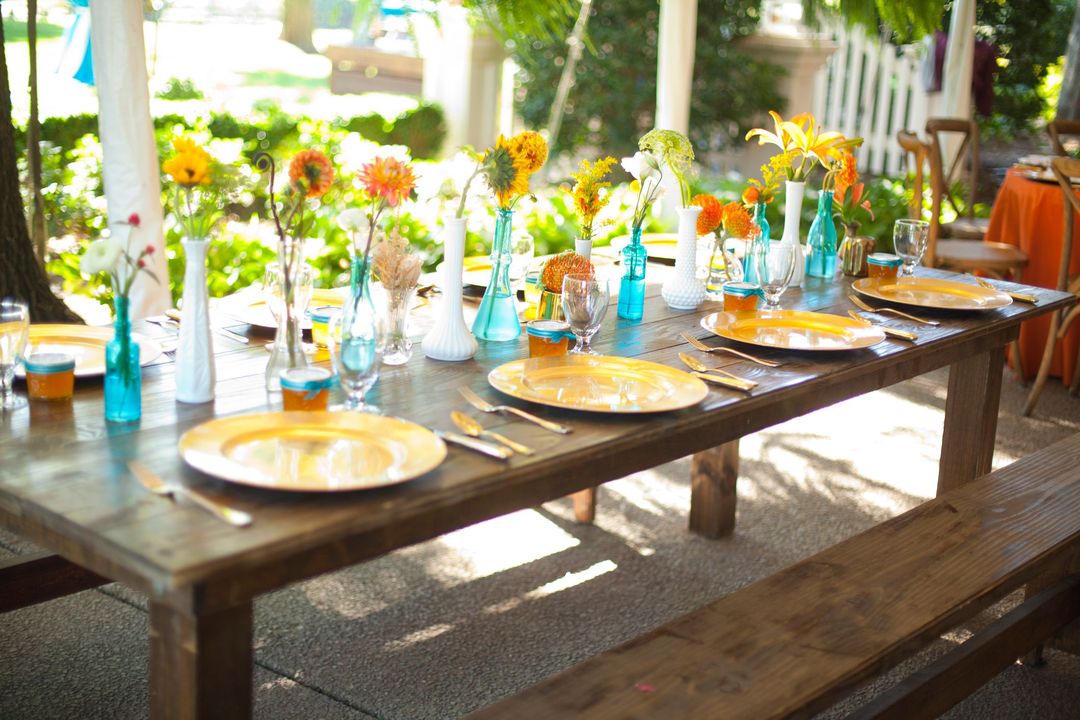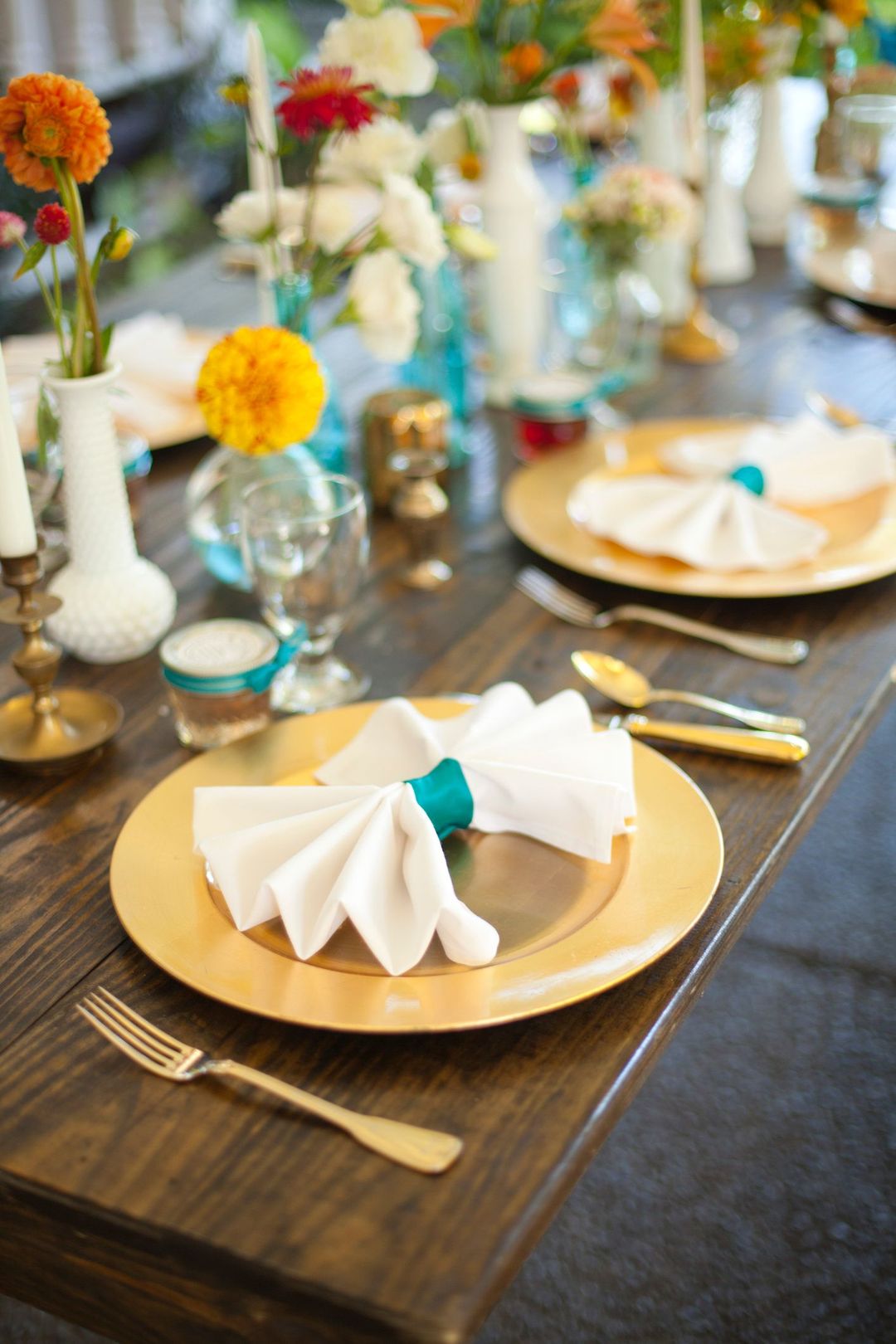 Bold Centerpieces
When it comes to table centerpieces people often feel the need to use matching pieces. A colorful backyard party is a perfect time to experiment with creative shapes and colors. This tablescape features a mix of vases, in teal, white, gold and clear glass – easy for a DIY backyard party. For candles, we suggest varying heights to add some dimension (though you can also create this with taller arrangements). As far as flowers go, consider keeping it simple but bright with a variety of wildflowers. Orange & yellow tones perfectly contrasted and popped against the teal and white glassware!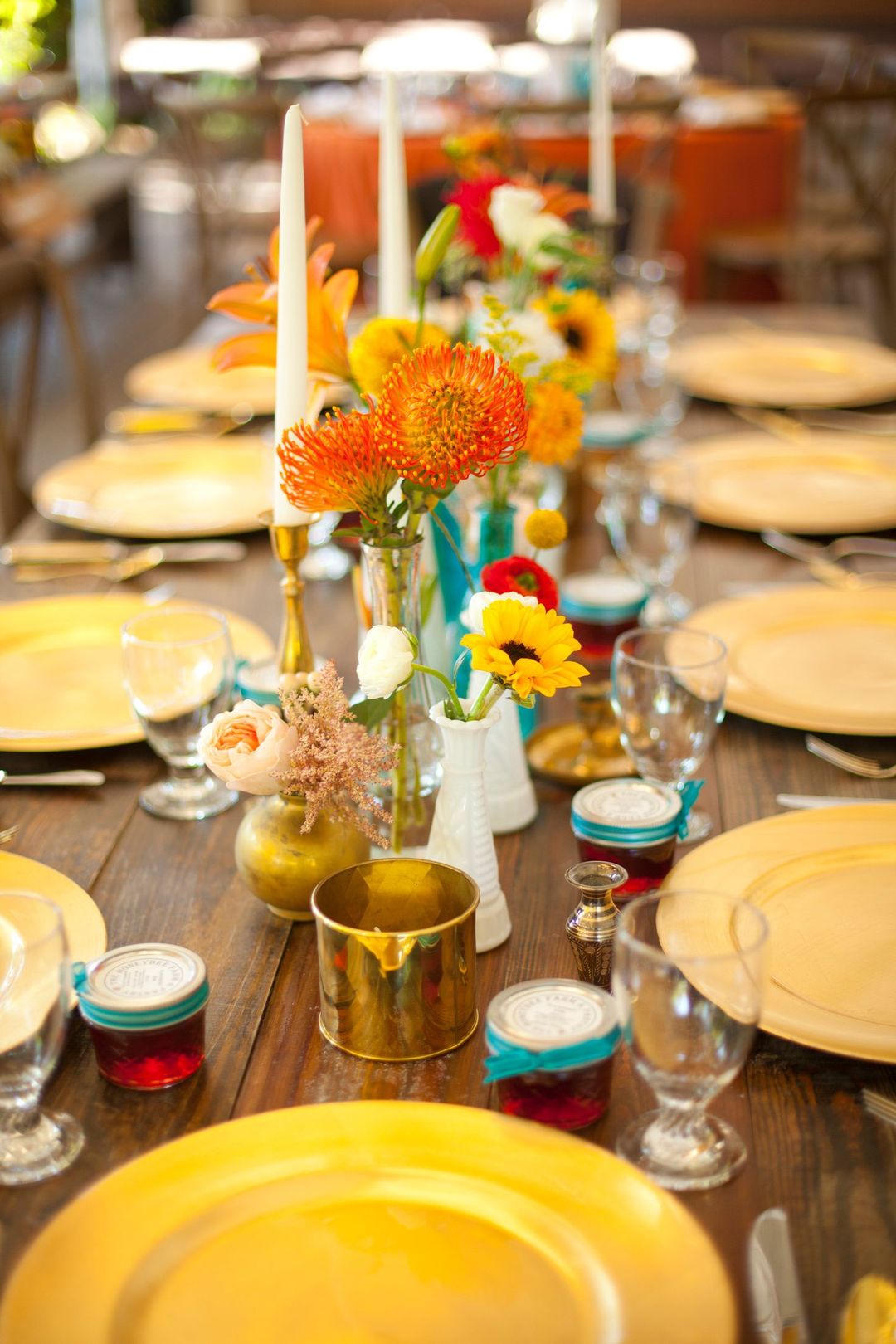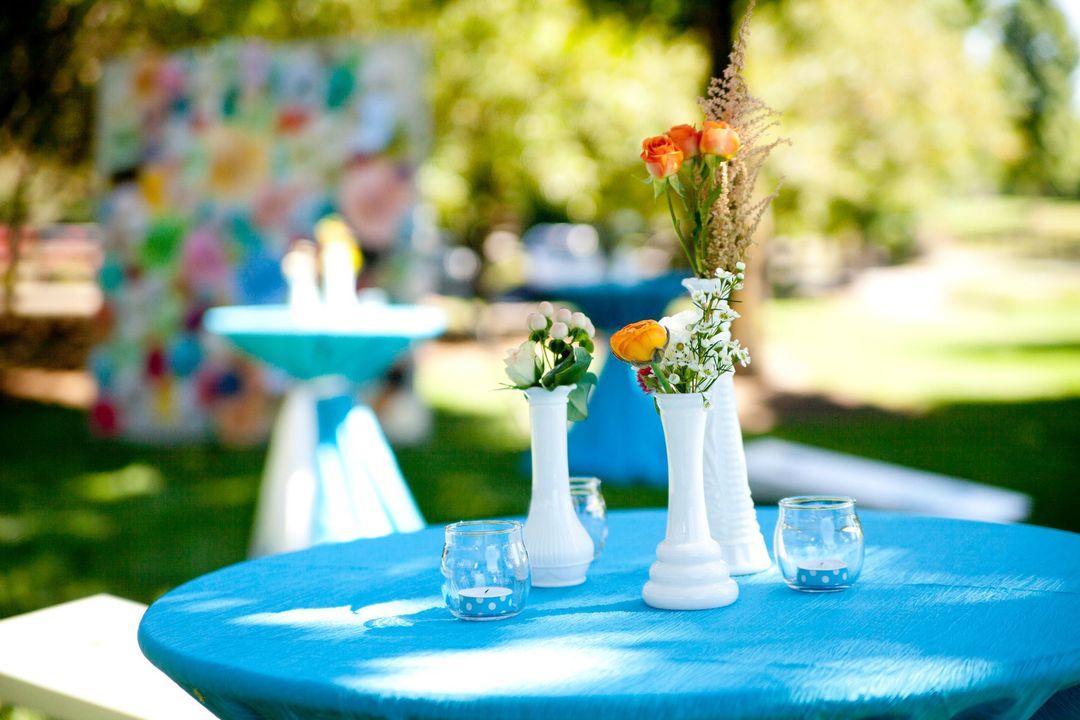 Vibrant Linens
Vibrant linens are so much fun! The use of bright colors will lend a sense of liveliness to your event, plus make your event photos pop. Don't be afraid to use different linens for each table either! Note how we were careful to switch up the color of our table centerpieces depending on the linen color. As a general rule: place lighter colored centerpieces on dark tablecloths and vice versa. Our Fuschia Etched Velvet Linens with their gold veining would be a another way to bring in a subtle metallic accent and a bold pop of color.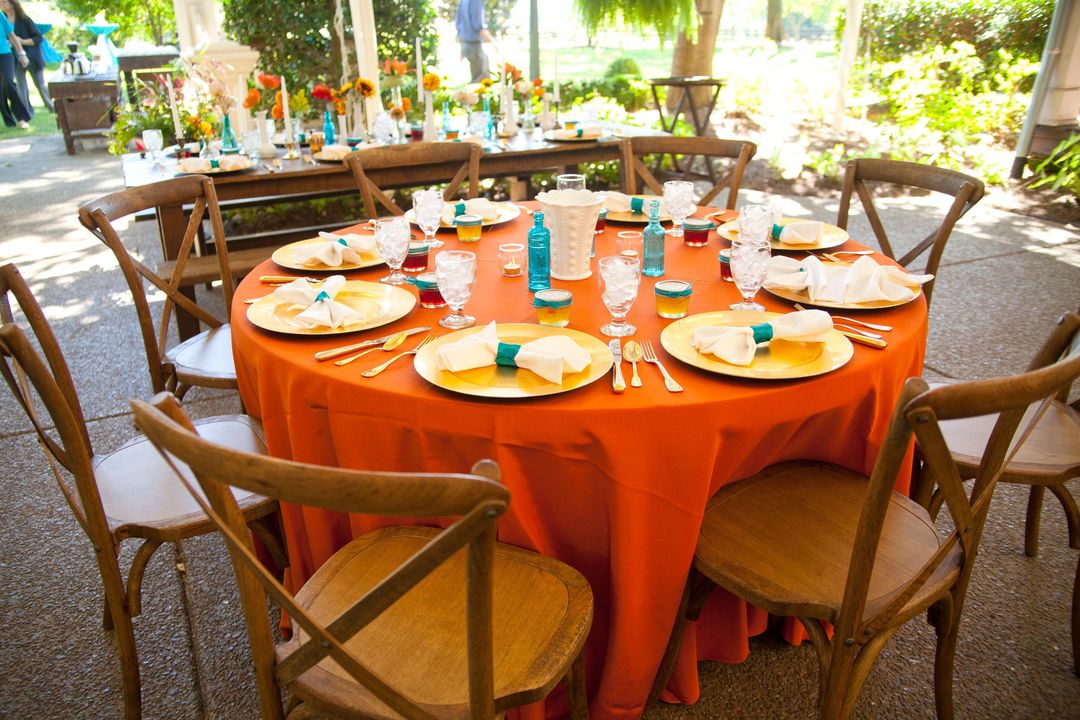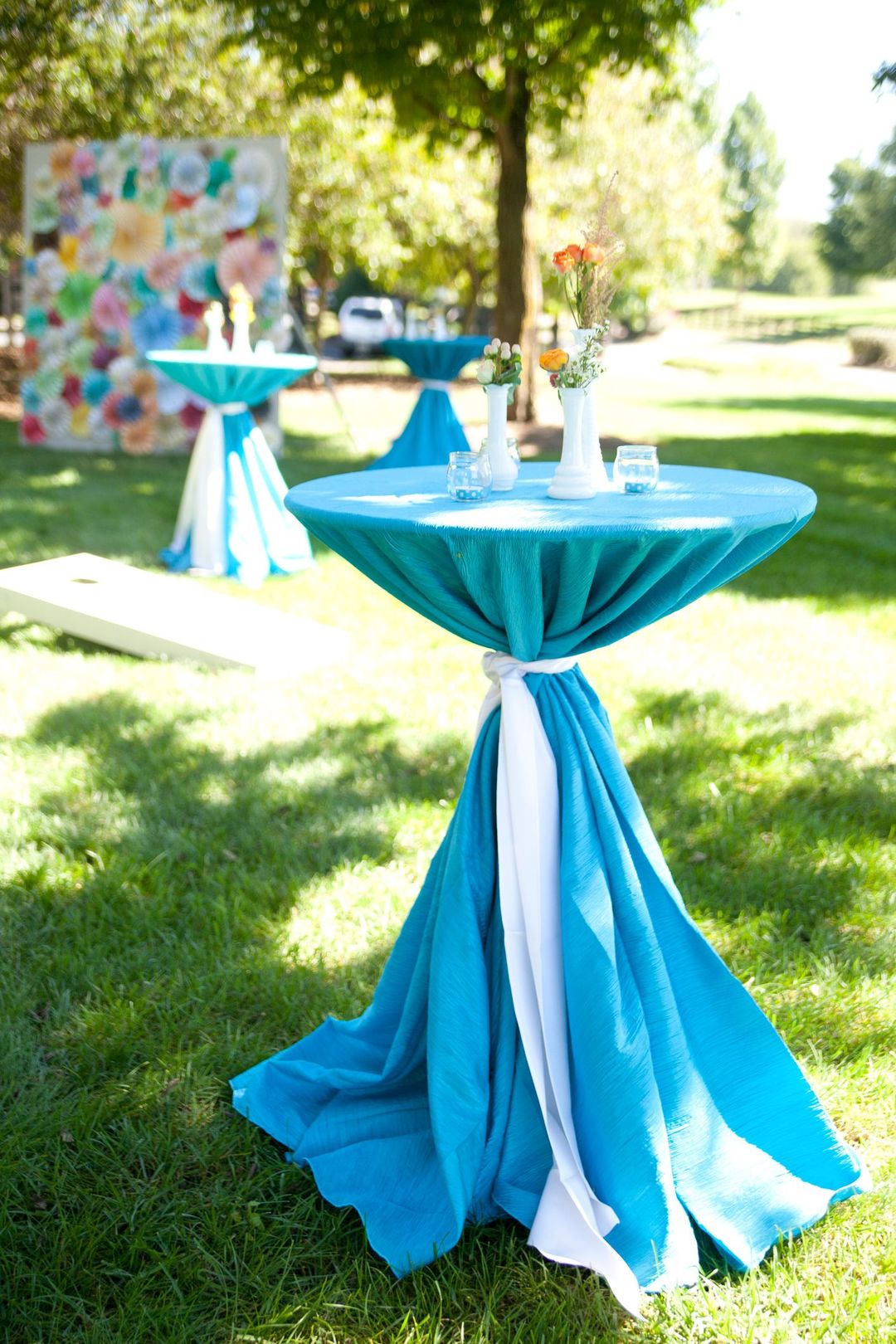 Loving these colorful backyard party design ideas? Contact our team for more inspiration and rentals for your event! Plus check out our previous blog for Season-less Event design.
TAGS | Bright & Colorful Rentals, Colorful and Fun Outdoor Wedding, Kids Parties, On Trend, backyard parties, classic event rentals, colorful decor, event inspiration, event style trends, style trends
FEATURED RENTALS | rustic bench, fruitwood farm table, cross back chairs, round gold lacquer charger, Austin flatware, colored glassware, table linens, velvet linens
---
26

Mar

Events and Style Shoots, Southern Events Products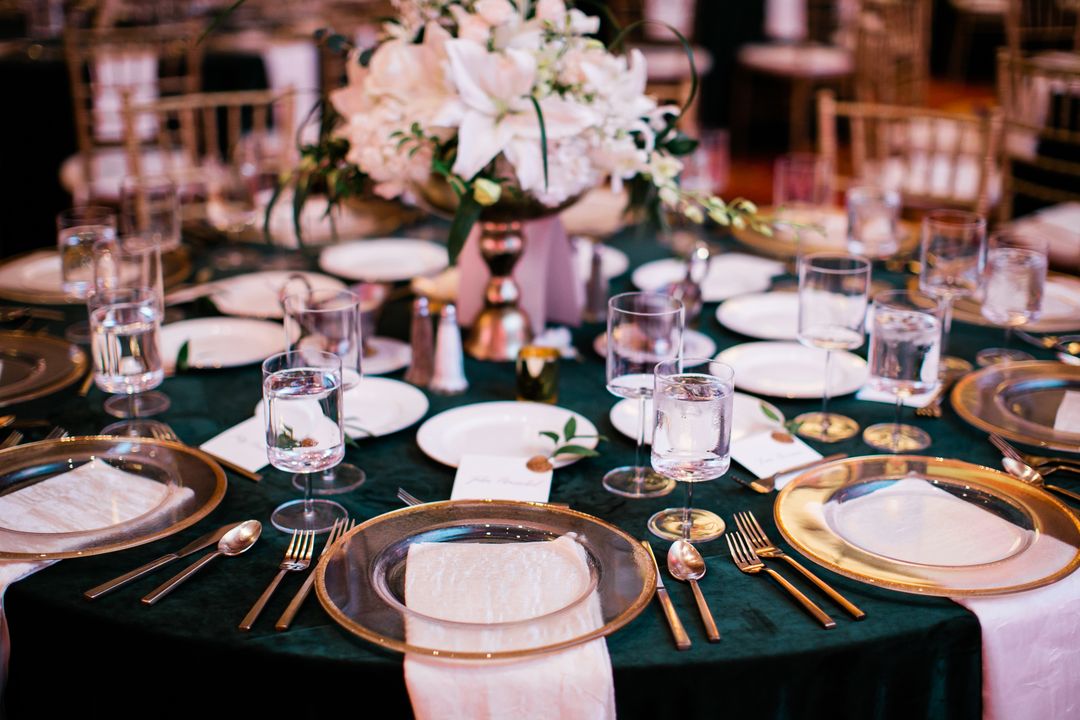 Emerald and gold speaks to opulence and set the tone for the event design at the 13th Annual Rutherford Society Gala. A black-tie affair, the Embassy Suites by Hilton Nashville in southeast Murfreesboro was transformed into an elegant affair. A mix of vibrant and deep greens, white furniture and golden accents made for a luxurious setting.
It is easy to take emerald and gold event design and end up over the top. With beautiful but simple pieces, a chic and functional space is possible. Alongside a pleasing aesthetic our aim is to eliminate any feelings of claustrophobia. It is a cocktail hour after all! Pieces like our Pearce Furniture, a chic modular lounge, and bistro tables will prompt guests towards social areas for a drink well throughout the evening.
The elegant layout and grandeur spilled over to the main ballroom for a 3-course meal. Paired with rich velvet tablecloths and white linens are the perfect amount of gold metallics to make it all pop! This includes Chiavari Chairs, gold-rimmed Athena Plates, and Austin Flatware. A touch of fresh florals in clear glass vases goes on to add some natural beauty.
Images courtesy of Jen and Chris Creed Photography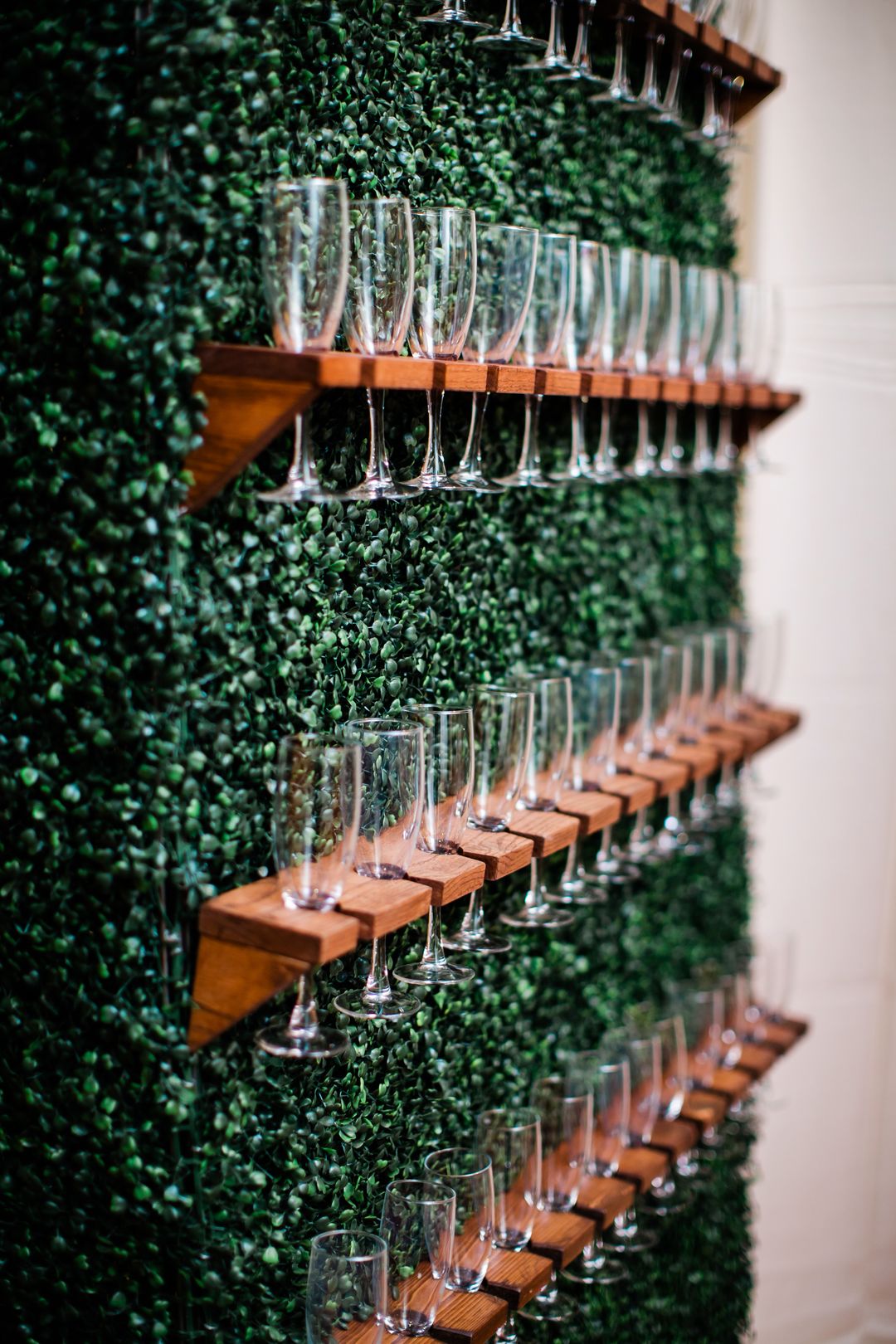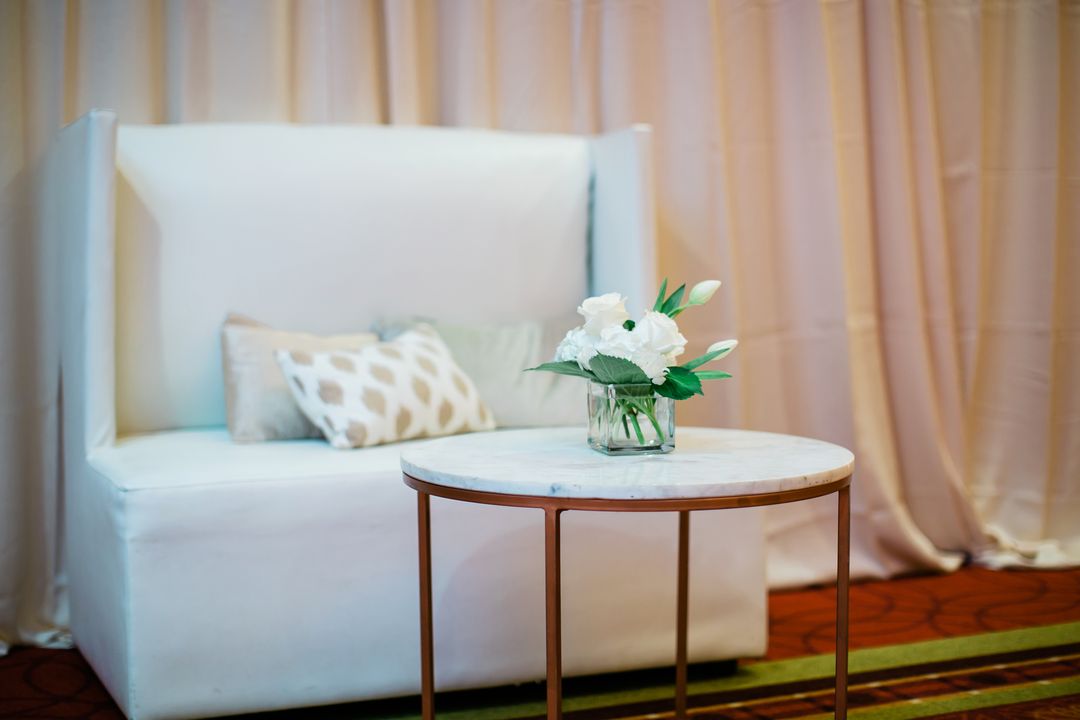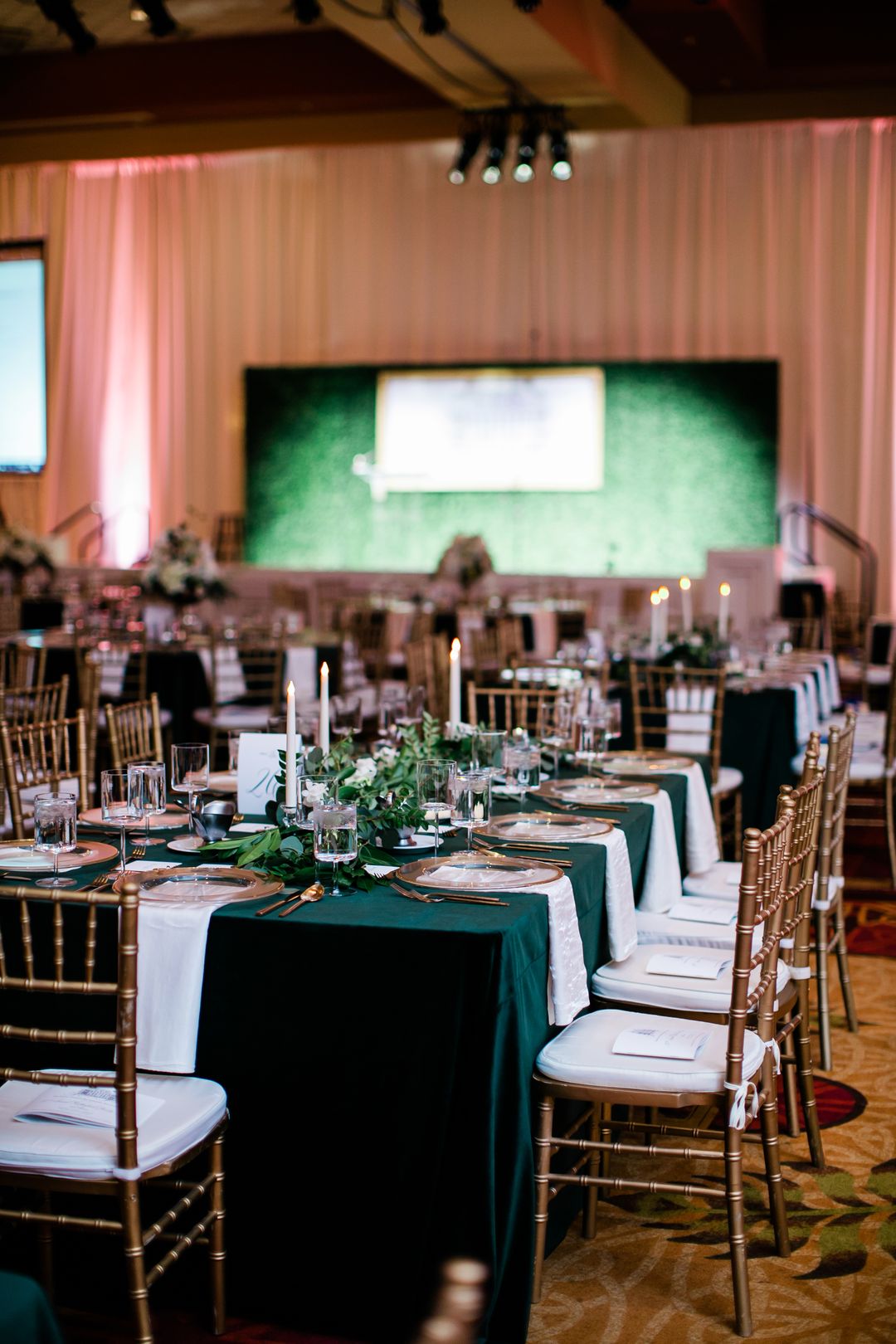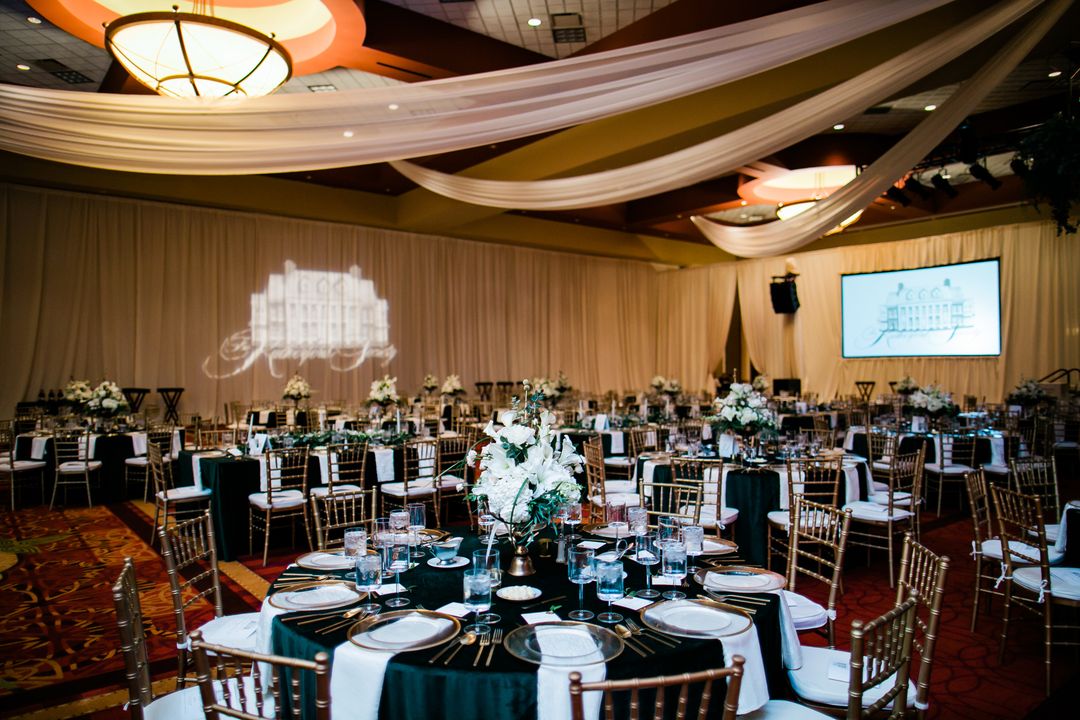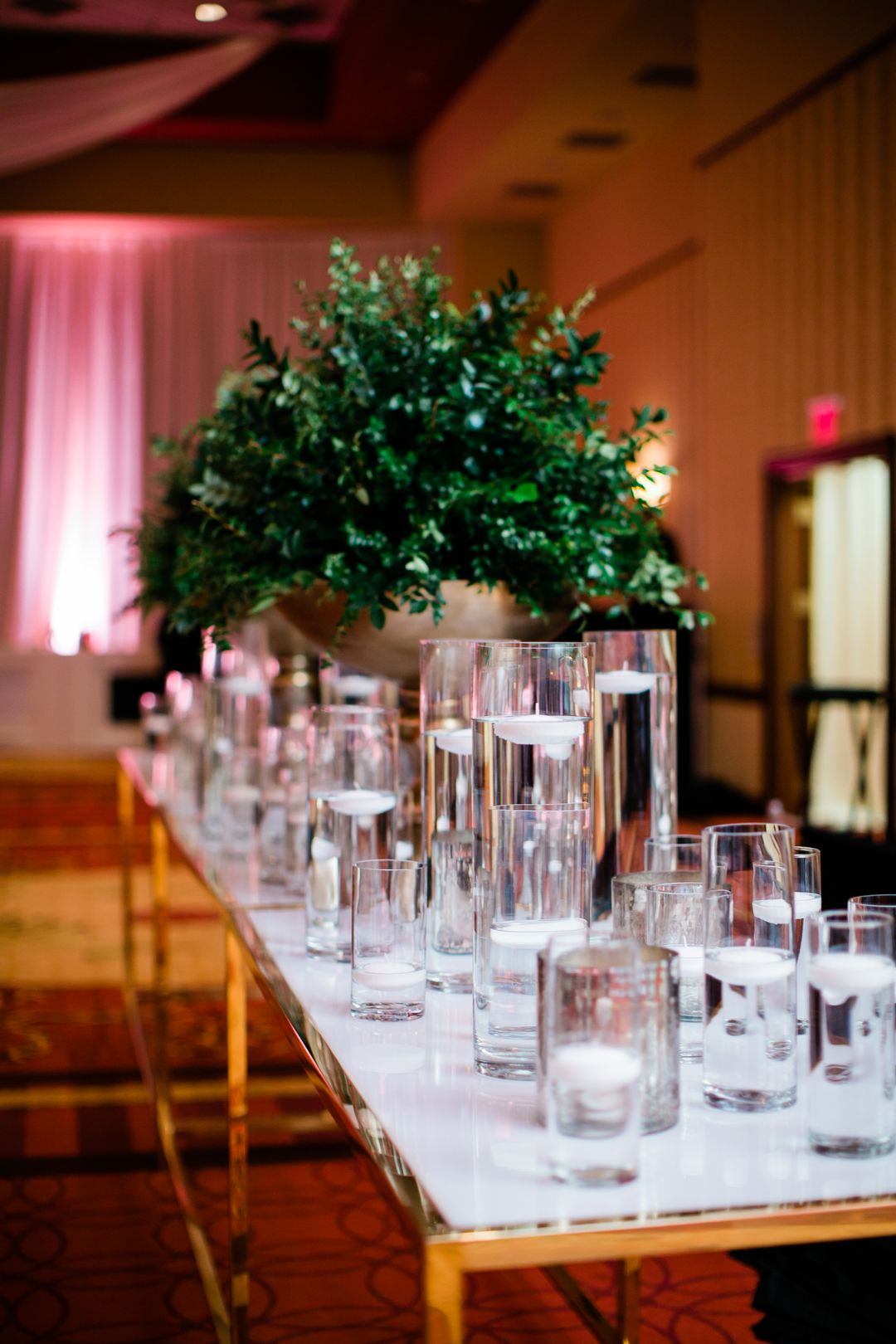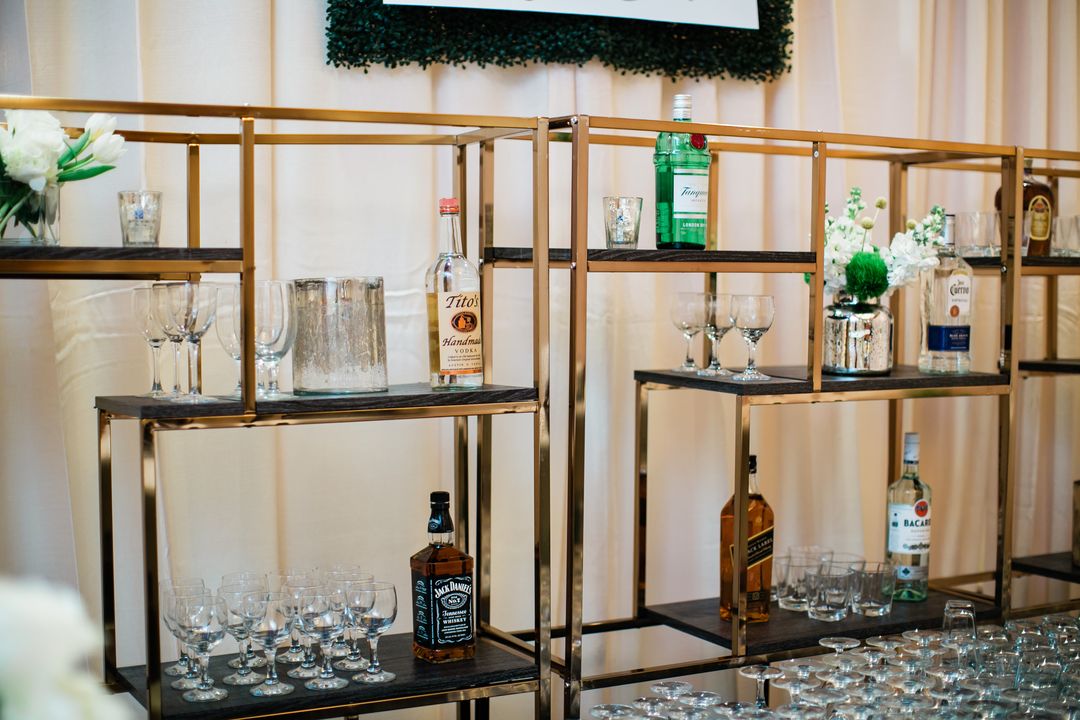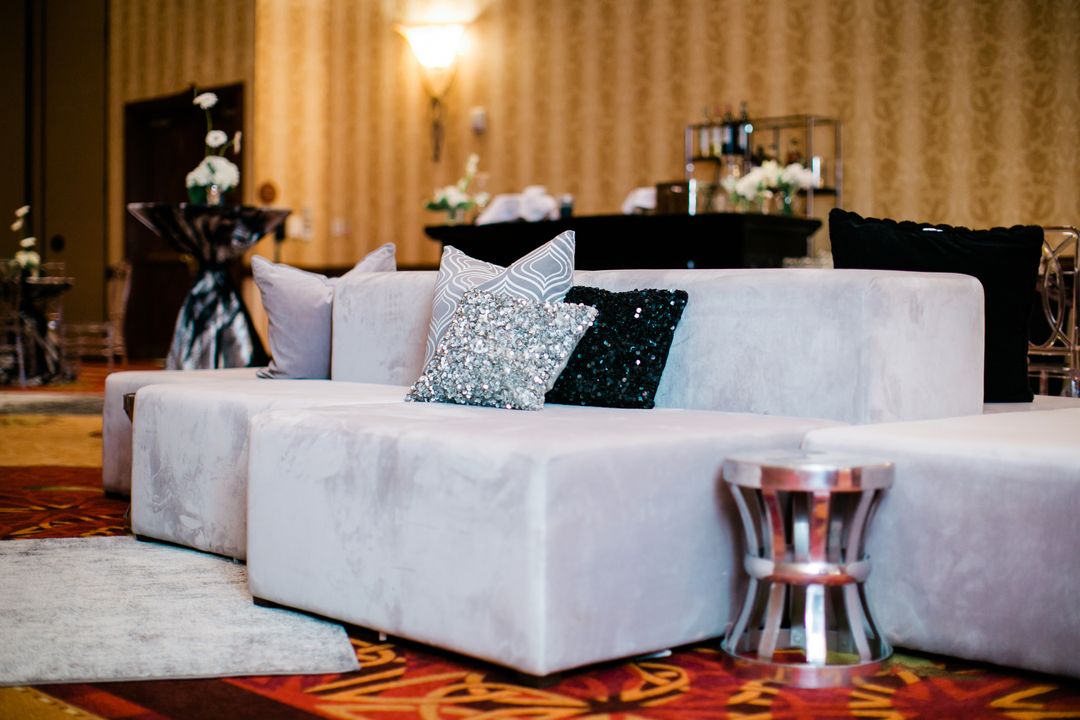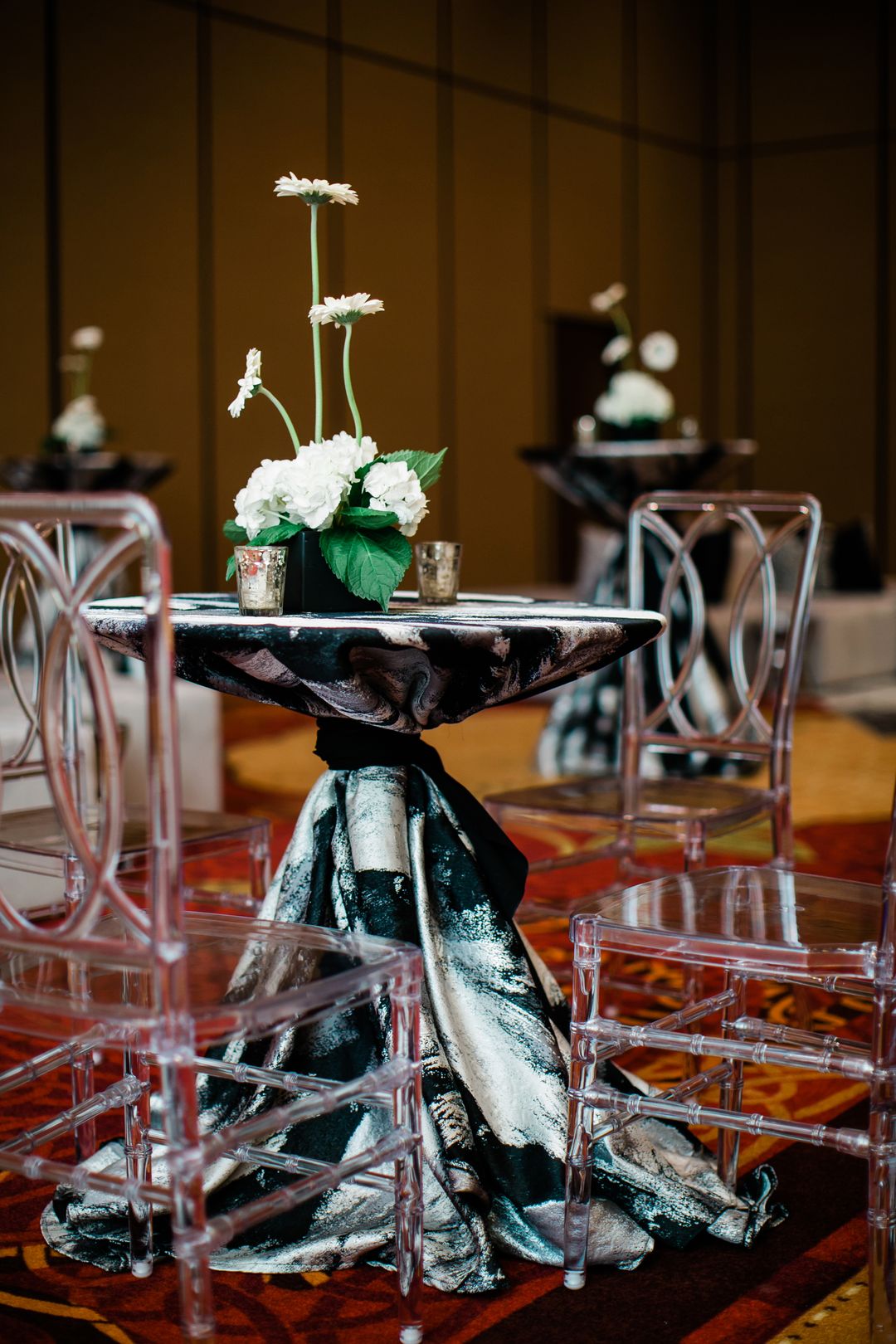 Want to feature emerald and gold event design at your next event? Send us a message at info@southerneventsonline.com.
TAGS | Athena China Plates, Boxwood Hedge Wall, Cocktail Party Rentals, Emerald and Gold, Event Catering Rentals, Gold and White, Nashville Event Rentals, Nashville party rentals, Southern Events Party Rental, corporate chic, corporate event design, corporate event rentals, event style trends
FEATURED RENTALS | Black Nova Linen, Chiavari Chairs, Austin Flatware, Loren Gold Bistro Table, Acrylic Carrigan Side Chair, Capriano Marble & Copper Accent Table, Black and Silver Rug, Gold Avenue Bar Back Shelf, Harpeth Bar, Athena China, Boxwood Walls
---