20

Jul

Southern Events Products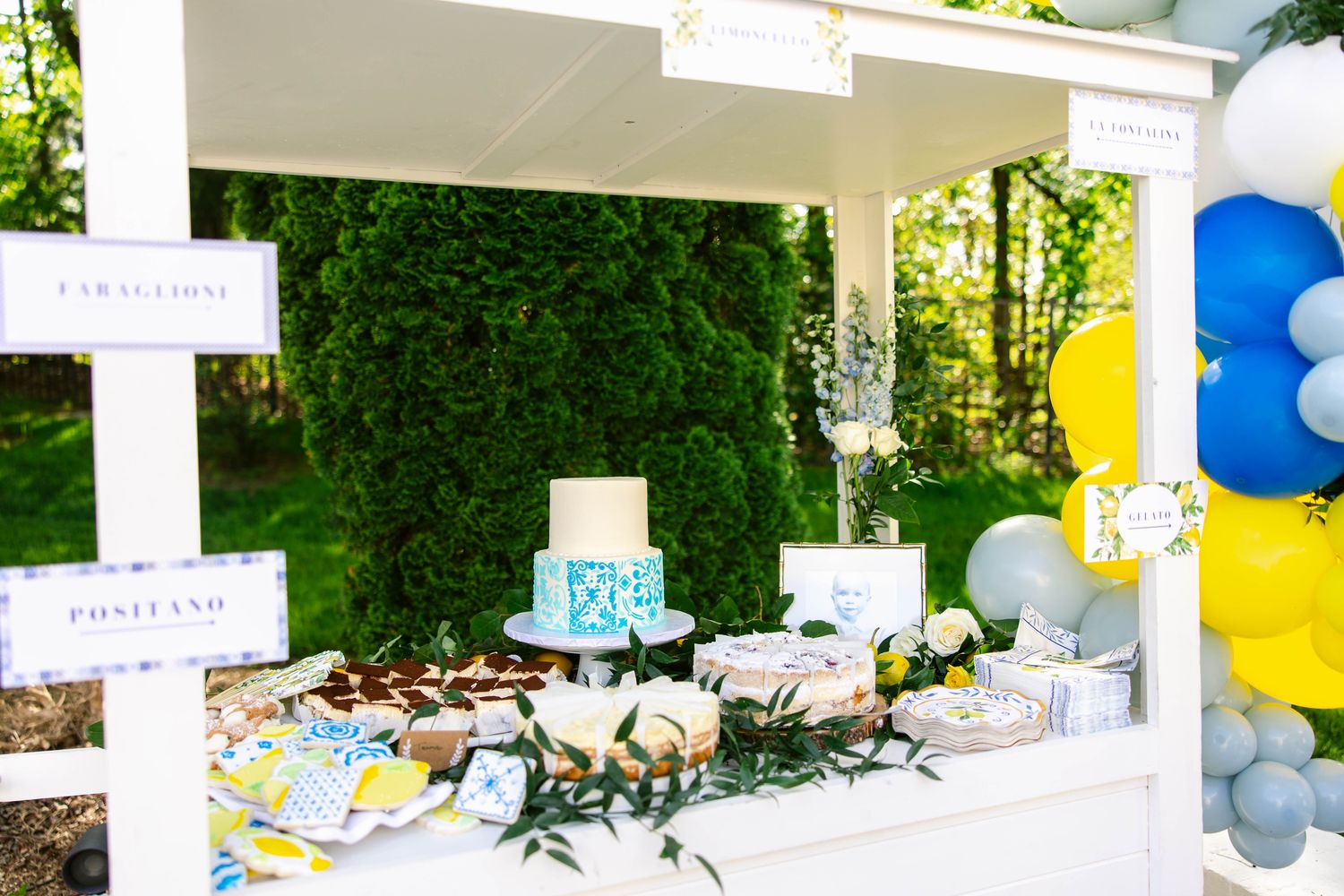 When it comes to hosting a memorable event, creating the perfect ambiance is essential. From corporate gatherings to weddings, the right furniture can elevate any occasion. And to help you, Southern Events offers a stunning collection of stylish specialty furniture rentals that are sure to impress your guests. From sophisticated lounge furniture to eye-catching props and more! Explore our in-stock rentals to discover how you can elevate your next celebration.
Luxe Lounge Furniture
Creating cozy and stylish lounge areas at your event has never been easier. From plush sofas and elegant armchairs to trendy ottomans and sleek coffee tables, our collection has it all. Whether you're hosting a corporate cocktail party or an intimate wedding reception, these pieces will ensure your guests feel comfortable. We recommend starting with a large loveseat or sofa set to match your theme. Choose from a collection, like the coastal-inspired Charlotte Collection or the contemporary Estelle Quarter Round Sofa. Alternatively, mix and match our single sofas and armchairs to match your event theme or style. Such as the Jacqueline Sofa and Bamboo Arm Chairs, a fitting combination for a modern retro vibe.
Don't forget to add on a set of accent tables and rug (or two), to create a cohesive look! The Gold Hammered Coffee Table and Capri Metal Table are both classic choices. As are our vintage rugs, available in an array of bright and beautiful colors.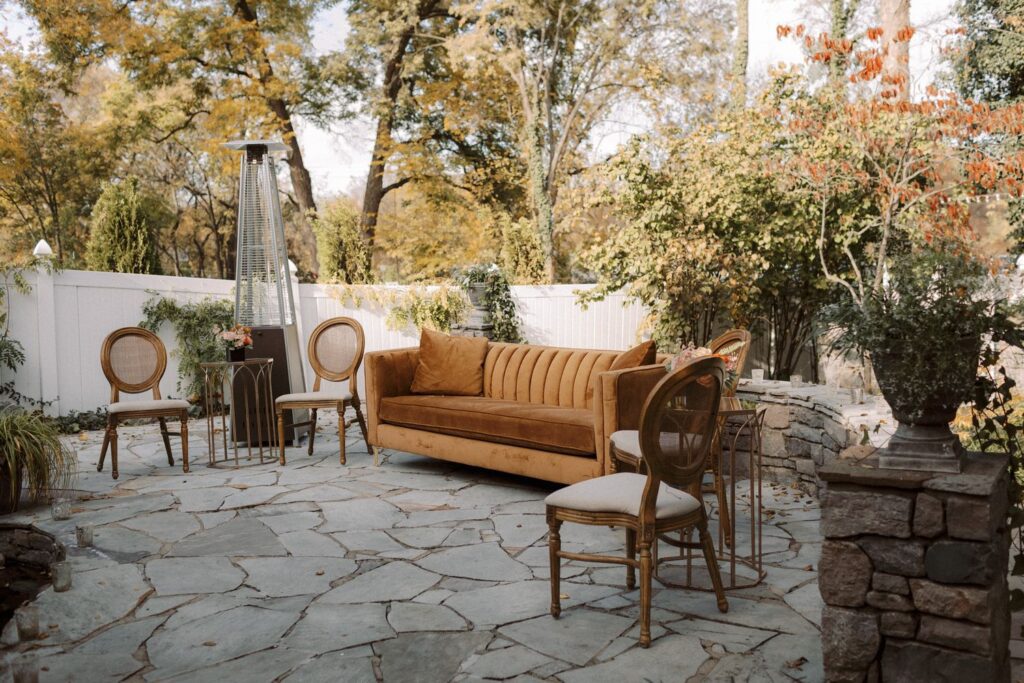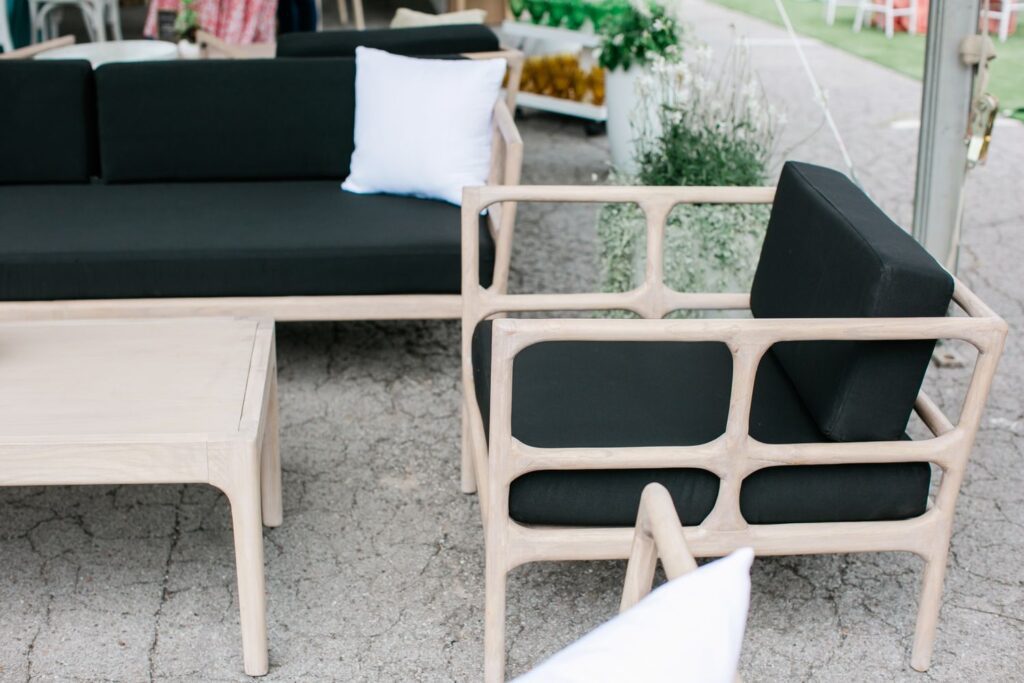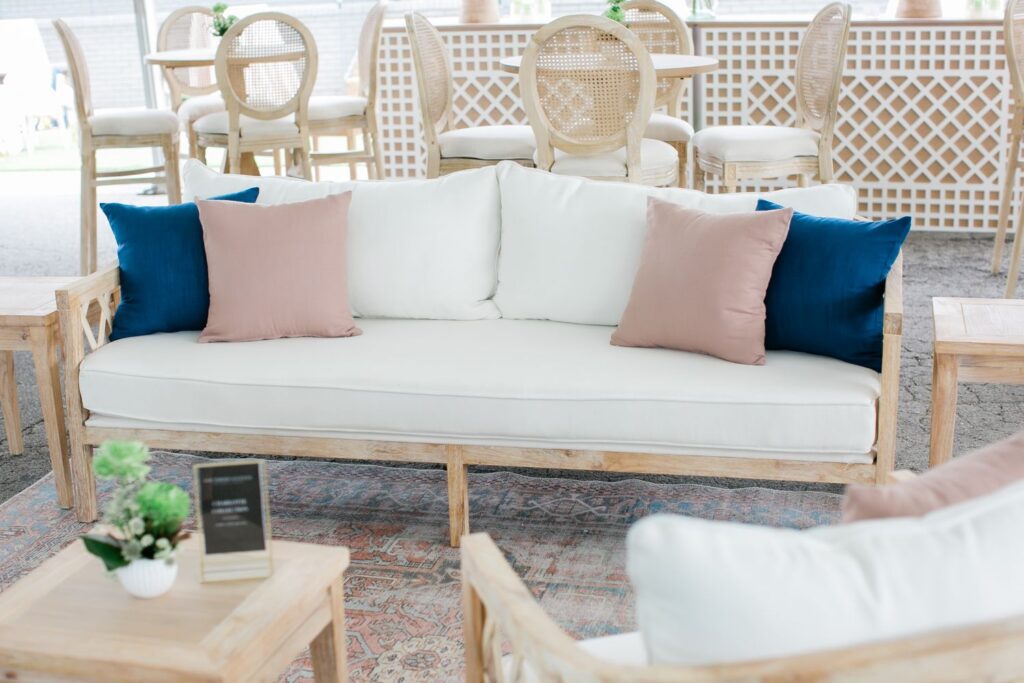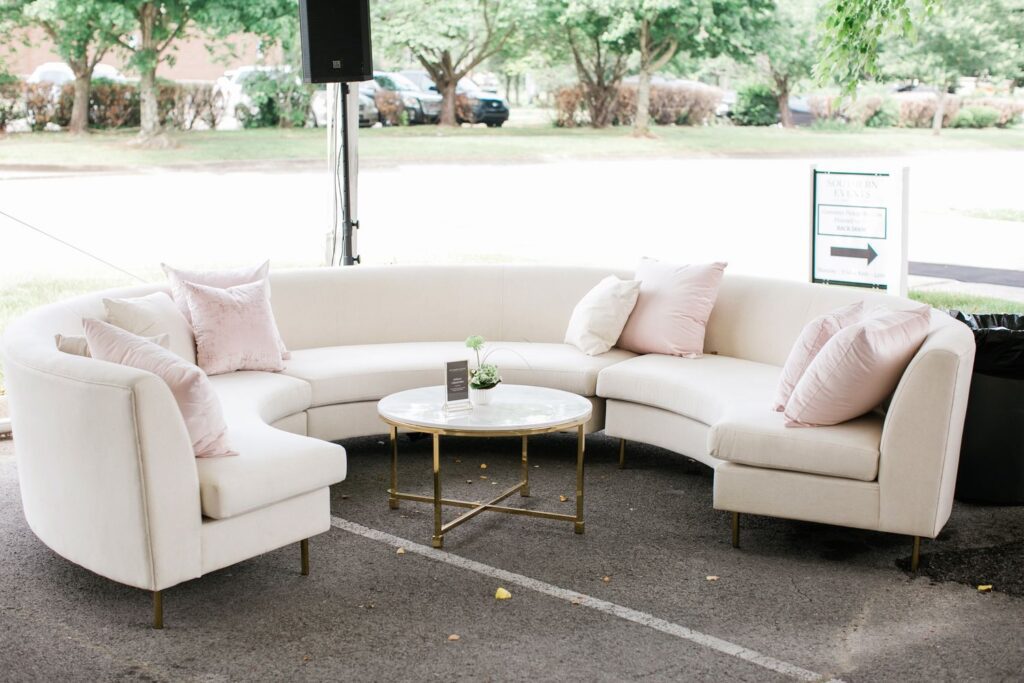 Dining Tables & Chairs
The dining experience starts with an impressive tablescape, the foundation of which are tables and chairs. For this reason, we stock a beautiful range of specialty furniture rentals, both functional and stylish. From modern rustic farm tables to chic chairs in various designs, our collection caters to diverse event themes and aesthetics. The newest addition, our Aged Oak Dining Table is a classic choice for any event and will lend a down-to-earth vibe. Should you prefer a brighter look, contrasted by bold servingware, opt for the White Antique Dining Table. Each of these looks stunning with Harlin Dining Chairs.
In the event that you will have an event bar, encourage guests to socialize with carefully placed cocktail tables. Such as the Palmer Bistro Table, complemented by matching barstools. If you need more seating, the Loren Gold Bistro Table is a beautiful alternative, that perfectly suits our Acrylic Ghost Barstools.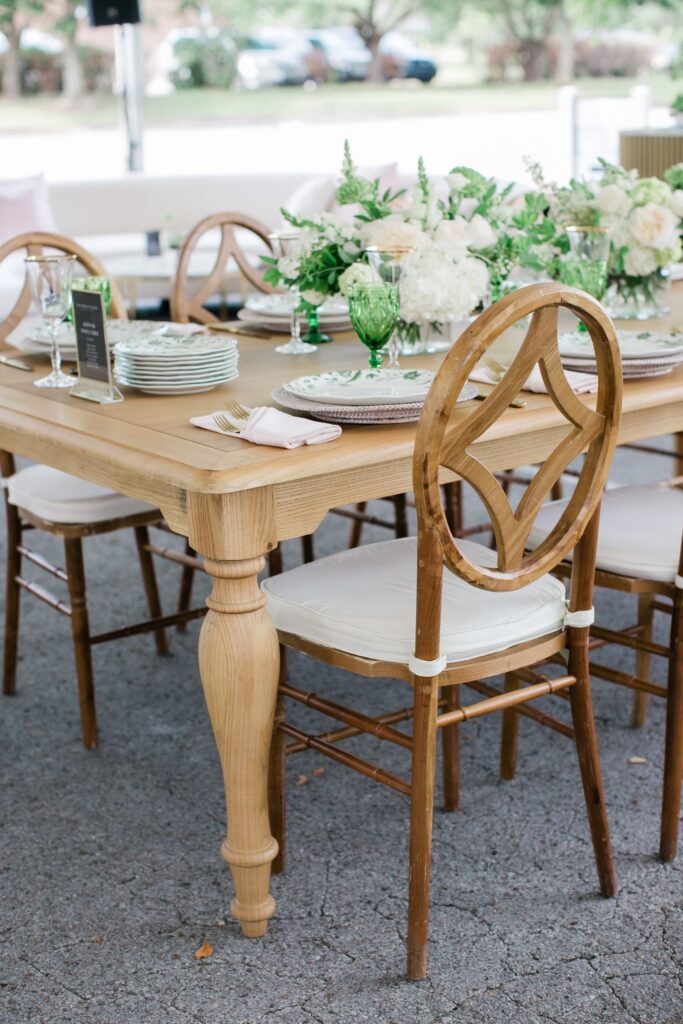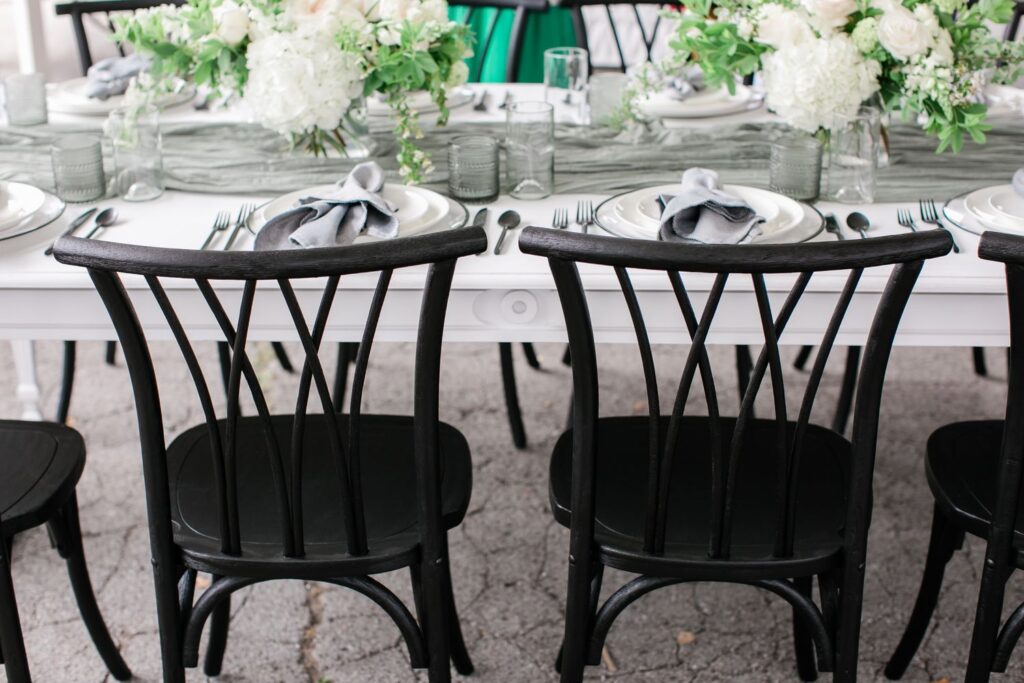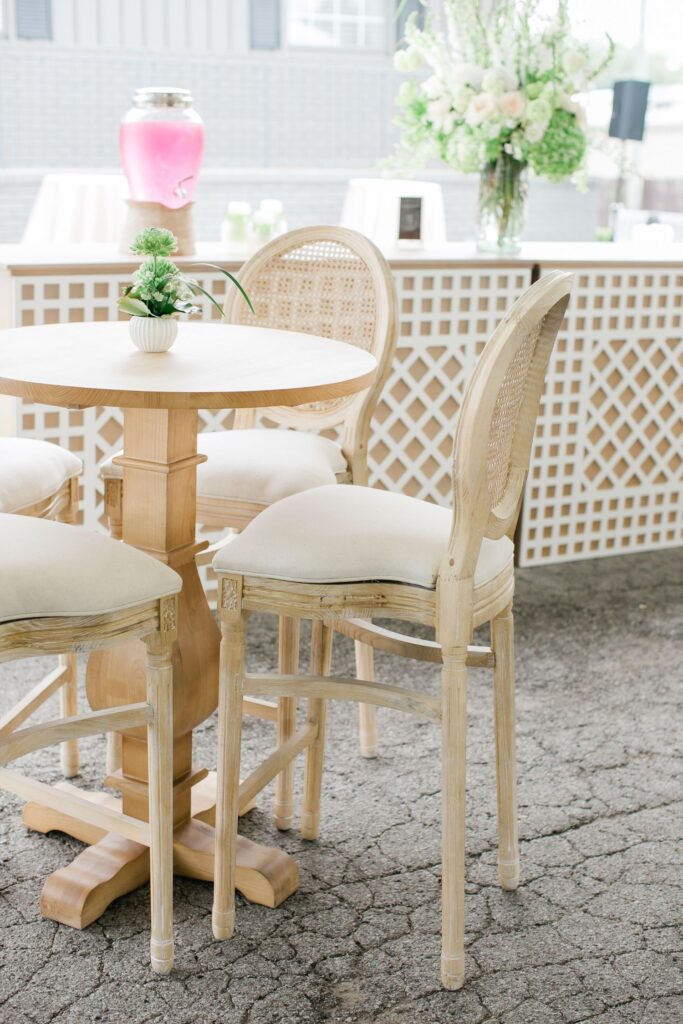 Eye-Catching Props
To truly transform your event space into a captivating environment you will want to feature eye-catching props! These unique decorative pieces add personality and flair to any setting, enhancing the visual appeal of your event. To create a luxurious display of desserts, consider our Market Cart, elevated with colorful balloons or flowers. For outdoor soirees, our White 6-Tier Serving Tower or Gold Bar Cart is perfect for serving up freshly made cocktails (or mocktails). Or, for the younger guests, party favors such as grab-and-go snacks or gift bags. Do you have plans to feature fun or quirky signage? Our Boxwood Walls look stunning affixed with a neon sign or seating chart. Whether it is used to welcome guests or serves as a ceremony backdrop.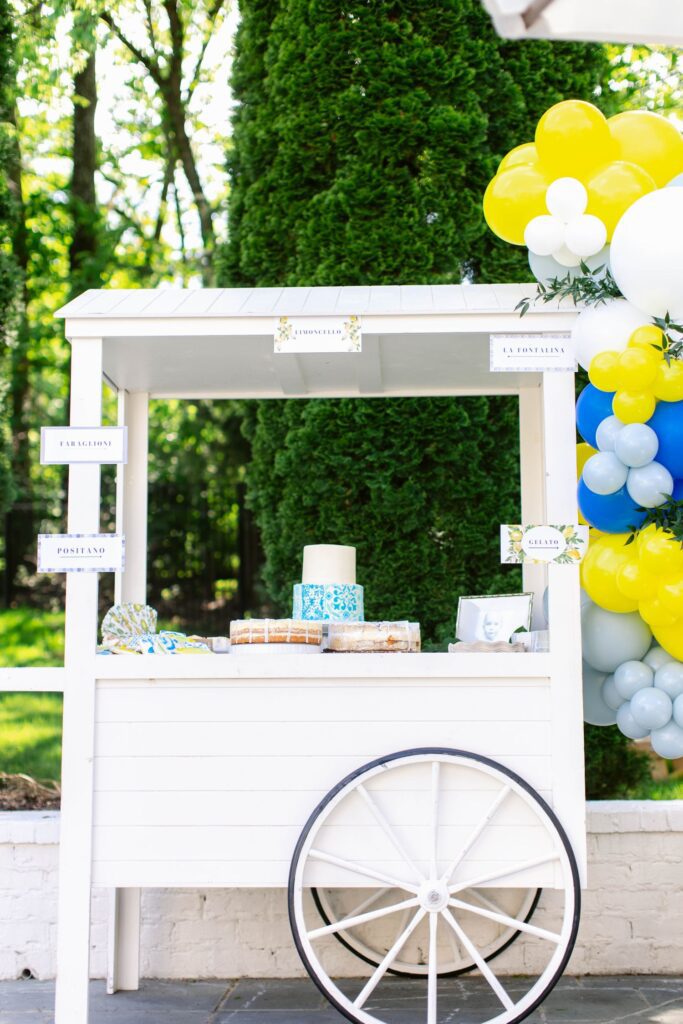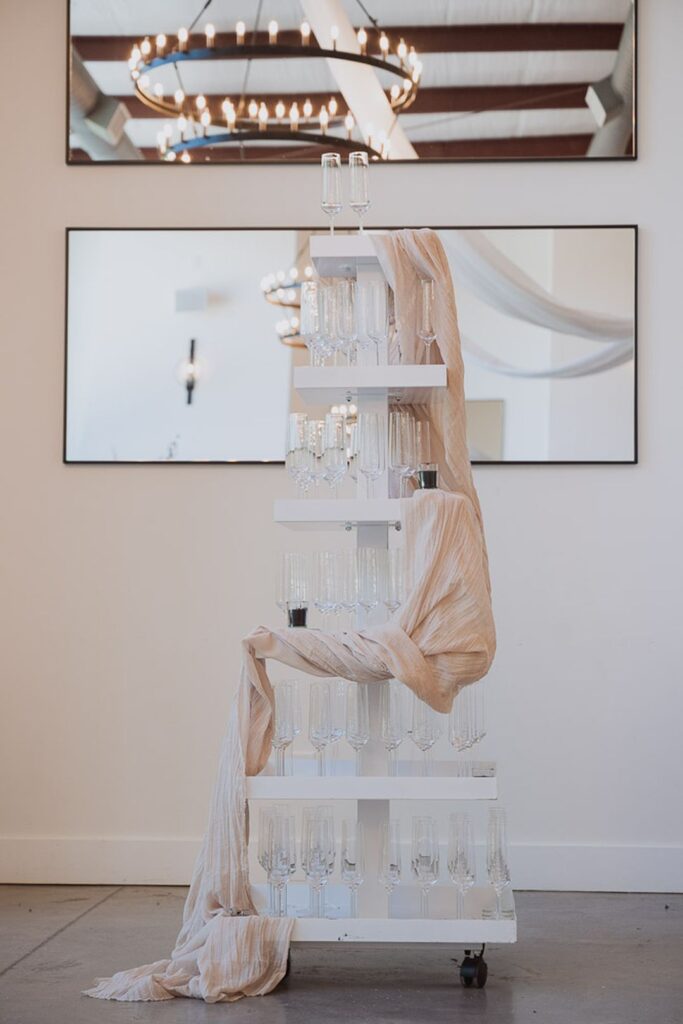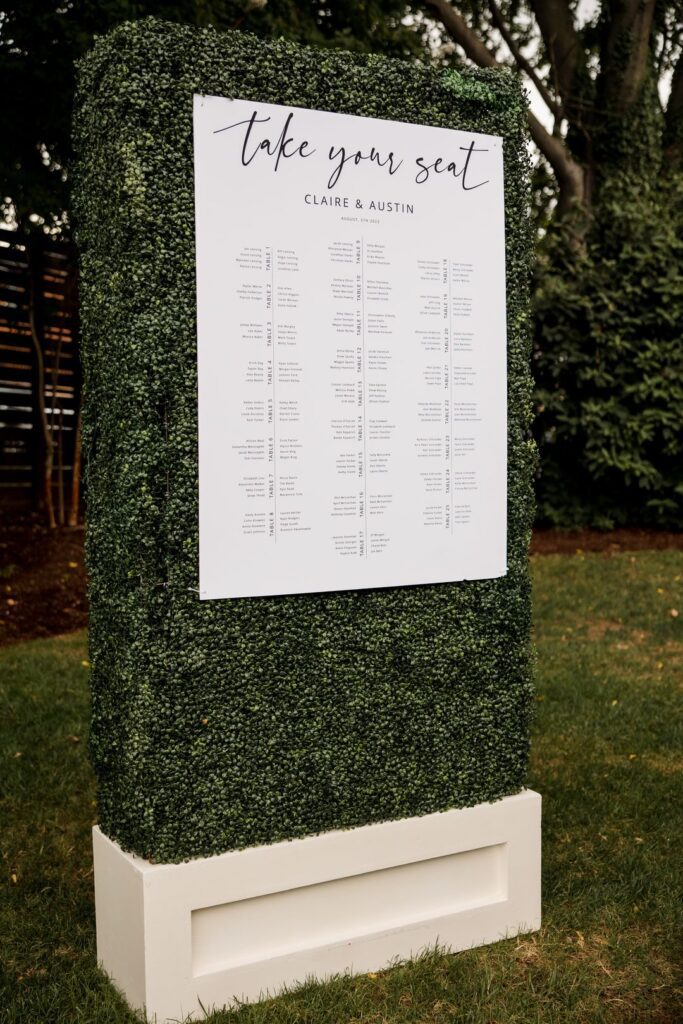 Bars and Shelving
A highly anticipated element at many events is the bar — hopefully well-stocked! We offer a beautiful collection of stylish bars and shelving options that not only serve as functional beverage stations but also make a statement. Whether you prefer a rustic wooden bar or a modern acrylic design, these specialty furniture rentals are a focal point that guests will flock to. The Collins Black Wood Bar is an elegant piece that, although its dark color, will lend a sophisticated look. Meanwhile, the Chelsea Marble Top Bar is ideal for a modern retro affair. Or, feature the Sorrento White Bar for a luxe contemporary event.
For storage, complement any of our bars with shelving, useful for showcasing glassware or bottles. Whether it be a White Bookcase or Gold Avenue Barback Shelf. If you choose to feature a large bar, such as the Thompson Full Oval Oak Bar, we recommend renting a Boxwood Wall. It is perfect for creating a luxe look, in addition to displaying a menu.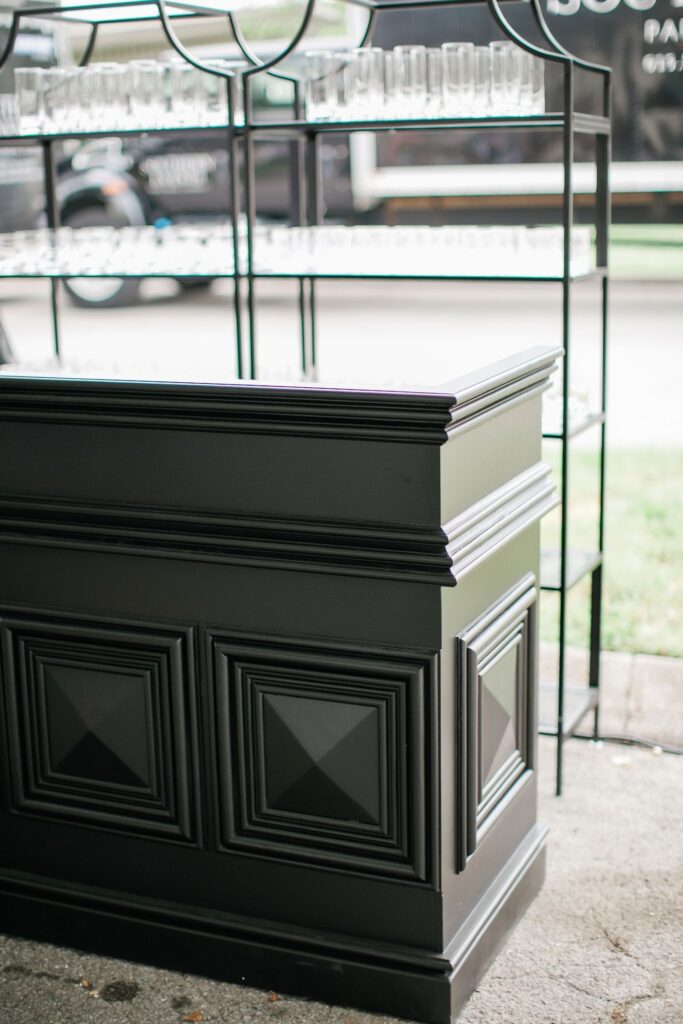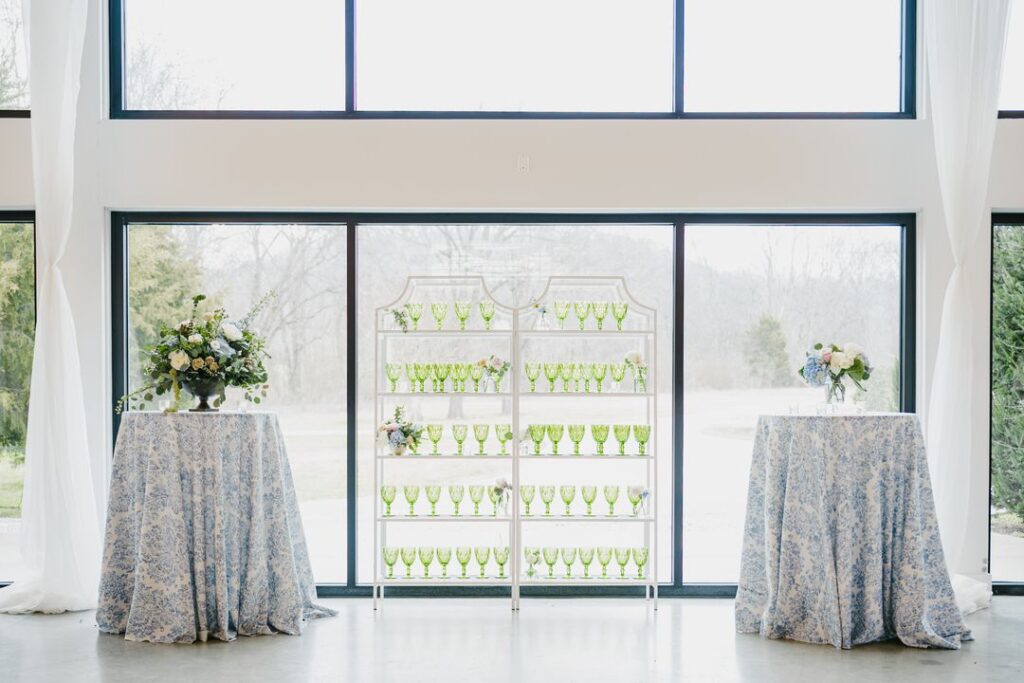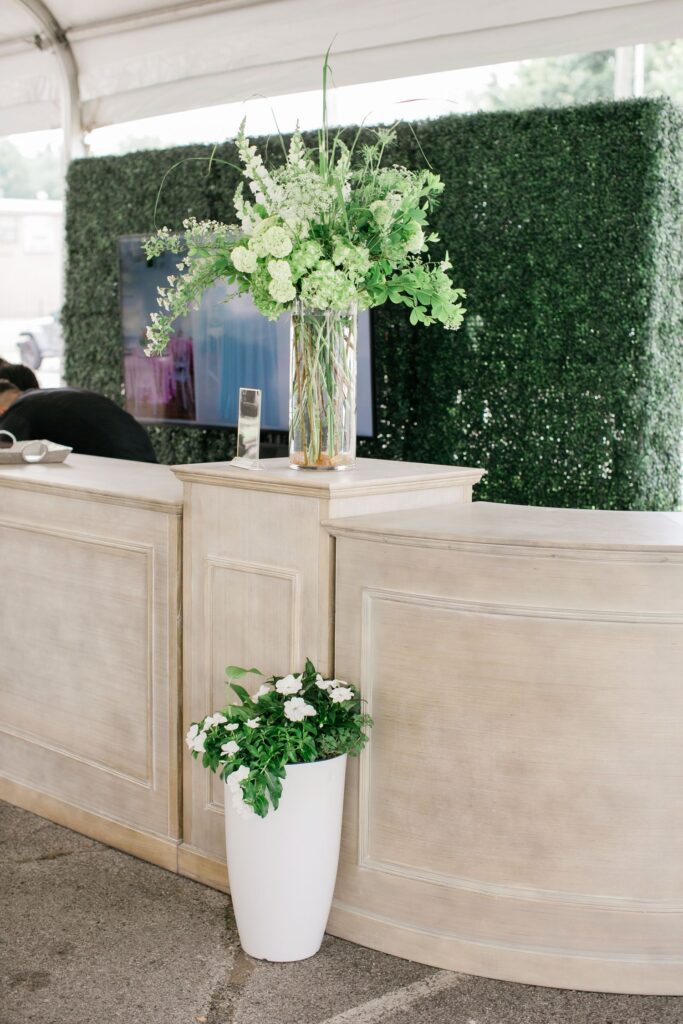 Why settle for ordinary when you can have extraordinary? Visit our website today to take a look at our full inventory of specialty furniture rentals. For additional help, send us a message at info@southerneventsonline.com! A member of our team would be happy to help you choose the perfect furnishings.
TAGS | Lounge Furniture, Modern Furniture, Outdoor Event Furniture, event furniture, event props, outdoor event rentals, specialty furniture rentals
FEATURED RENTALS | Collins Black Wood Bar, Chelsea Marble Top Bar, Sorrento White Bar, Gold Avenue Barback Shelf, Thompson Full Oval Oak Bar, Charlotte Collection, Market Cart, White 6 Tier Serving Tower, Gold Bar Cart, Boxwood Walls, Estelle Quarter Round Sofa, Jacqueline Sofa, Bamboo Arm Chairs, Aged Oak Dining Table, White Antique Dining Table, Harlin Dining Chairs, Palmer Bistro Table, Acrylic Ghost Barstools
---
27

Apr

Southern Events Products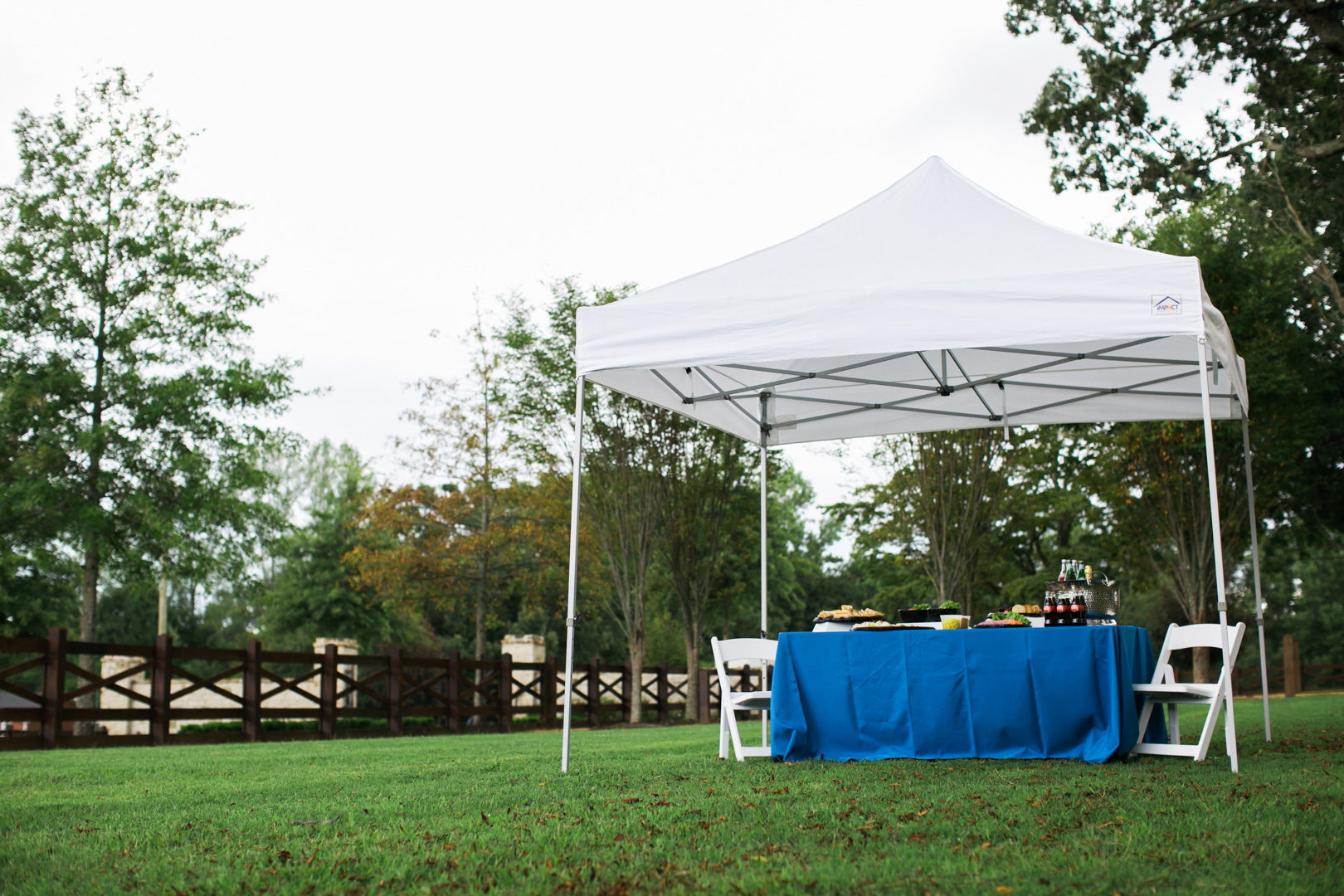 Warm weather brings with it the chance to get outdoors, namely thanks to local events! Some of the most popular are local festivals or fairs and sporting events. They're the perfect opportunity to get out, whether it's to enjoy craft beer, buy handcrafted art, or watch your favorite athletes in action. And to keep you comfortable, our pop up tent packages are an easy and affordable solution. Perfect should you want a bit of shelter, for a long day under the sun or if scattered showers are in the forecast. Check out our pop up tent packages, curated to cover all the essentials!
A Tent Package for Every Event
Our tent packages come with a variety of rentals, so it's important to choose one that fits your needs. Take a look at our curated pop up tent packages to find the perfect option for your small gathering, or to feature wares at an upcoming fair!
Basic Pop Up – A simple but versatile package, this setup includes all the basics. Whether you are serving up food at a local fair or want to advertise your business at a trade show. Including a 10x10 white frame tent, a 6-foot rectangle table, a poly tablecloth in the table of your choice, and a set of two folding chairs.
Summer Tailgate – Cheer on your team in comfort and style with our pop up tent for tailgates! It comes with all the essentials, whether you're hosting at home or pre-gaming outside a stadium. Start with a 10×10 white frame tent and eight folding chairs – good to have on hand, whether or not you can stand to sit down! A trash can makes it easy to dispose of game-day food, displayed on a 6-foot rectangle table. And a poly tablecloth in the color of your choice will let you proudly represent your team!
Vendor Booth – This pop up vendor tent package is perfectly crafted for local businesses to showcase their services and artisans to display their wares. It includes a 10×10 white frame tent, along with a 6-foot rectangle table. An extra bistro table is ideal for conversing with visitors, while a set of folding chairs will provide you a chance to get off your feet. There is also an aluminum black easel for signage, and two poly linen tablecloths in the color of your choice.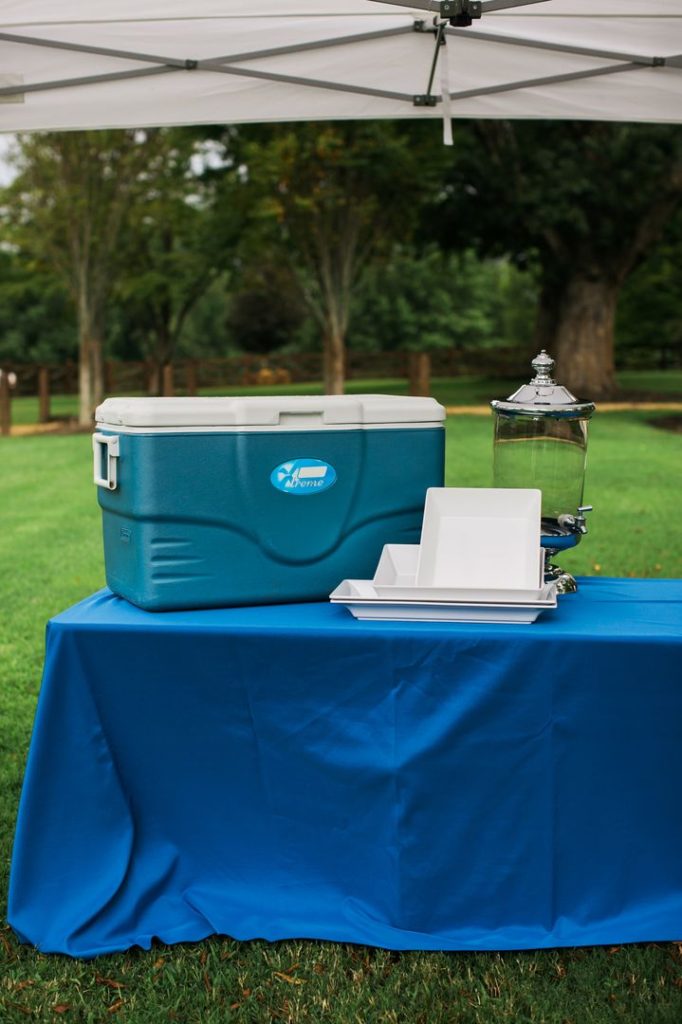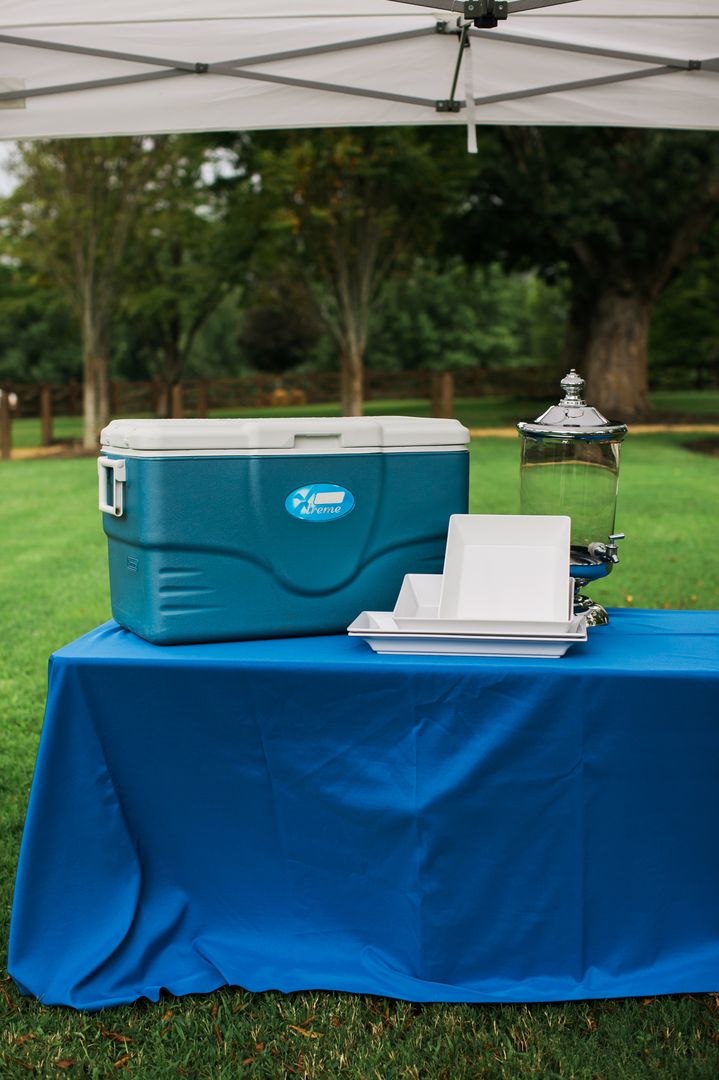 Add-Ons that Elevate
Regardless of the occasion or event, you can always elevate your event with our stylish rentals! Let's start with businesses or artisans looking to make a good impression at a fair or tradeshow. Display your products on a tall and elegant stand that will put them directly in the buyer's line of sight. Our White Bookcase and Gold Bookcase are both beautiful options, whether you are displaying samples, products, or favors. For those who create pre-made foods, our White 6-Tier Serving Tower is a stunner.
Another option is to provide additional furniture. Our whiskey barrels are a classic piece, perfect if you will be having quick interactions with customers. Or if you are looking to provide an extra area at your event for people to set their drinks and socialize. If you will be having longer interactions, similar to a consultation, consider a set of armchairs and a coffee table. Such as the Gloria Velvet Armchair and Farrah Teal Velvet Chair, with the Blanche or Gold Hammered Coffee Table.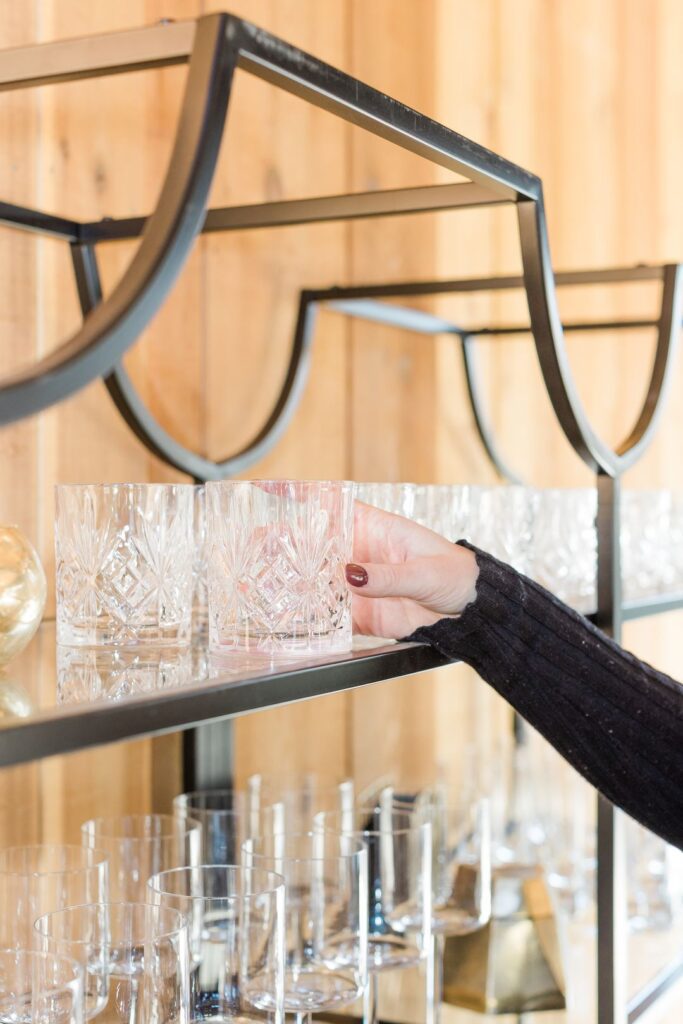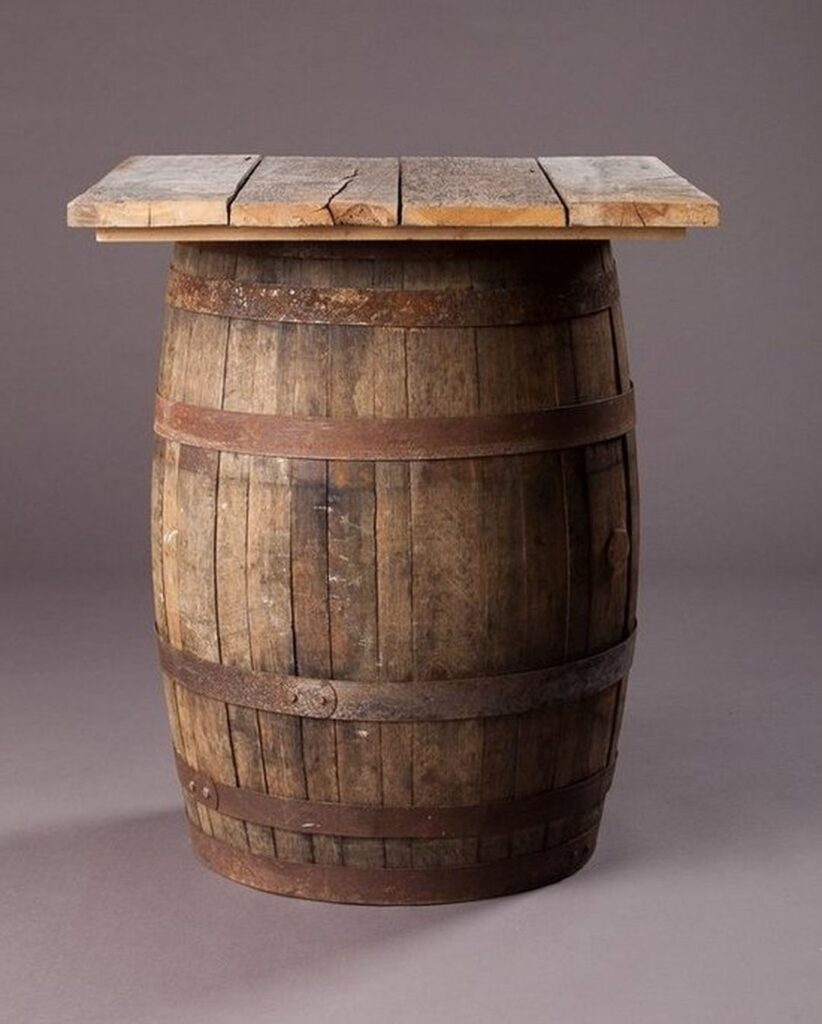 Want to grab one of our tent packages for your backyard party or an upcoming event? We've got you covered – literally! Contact our team at info@southerneventsonline.com and let's start planning! For more ideas, check out our must-have rentals for small gatherings.
TAGS | backyard parties, outdoor event rentals, pop up tent packages, pop up tents, small gatherings, summer party ideas
FEATURED RENTALS | Basic Pop Up Tent Package, Summer Tailgate Tent Package, Vendor Booth Tent Package, White Bookcase, White 6 Tier Serving Tower, whiskey barrels, blanche coffee table, gold hammered coffee table, gloria velvet armchair, farrah teal velvet chair,
---
23

Feb

On Trend, Southern Events Products, Trends and Inspiration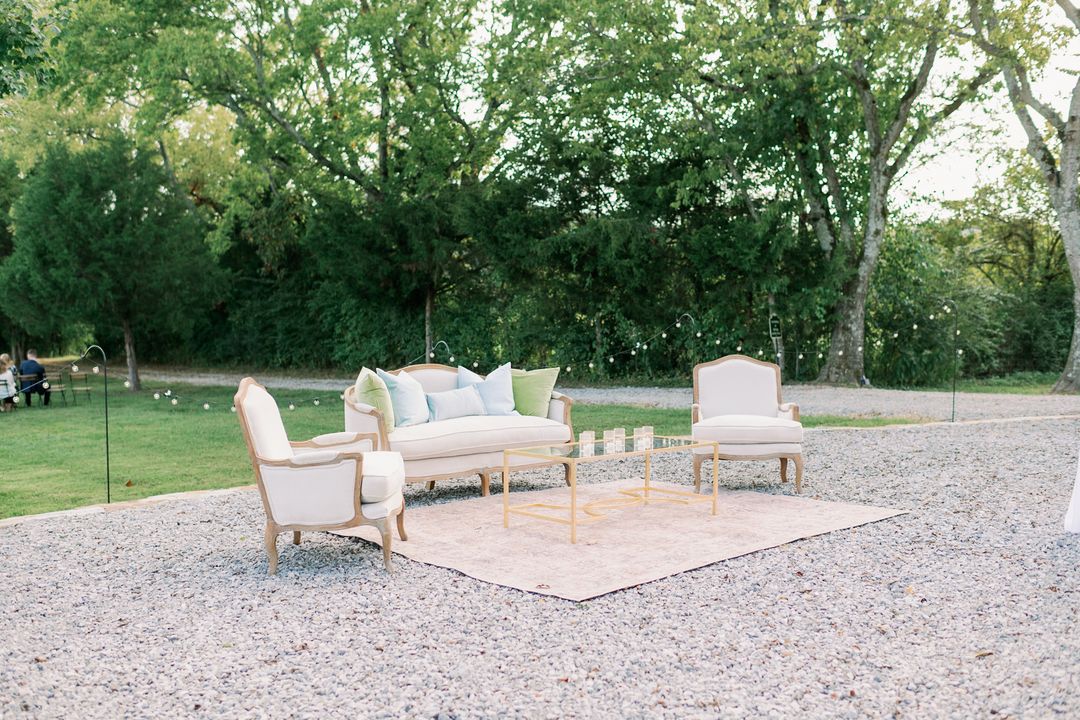 Nothing is quite as invigorating as a bright spring gathering after a long and dreary winter. As nature springs back to life consider hosting a casual outdoor party. Whether it is a simple backyard dinner or a semi-formal cocktail hour, light bites, refreshing beverages, and good company are exactly what the doctor calls for! Get inspired by our most popular spring event design ideas, featuring our pastel event rentals. From chic linens and elegant serving ware to dreamy lounge areas, we have everything you need to host a sunny spring soiree.
Sleek & Chic Serving Pieces
Is it just us or does a well-thought-out place setting make for an extra charming table? Modern chic event design calls for a bright palette featuring crisp serving ware with a splash of color. Start with simple china, such as the Classic Round or dainty Darcy, and for a more muted white, consider Alabaster Earthen China. You can add texture with our Elegant Rattan White Wash Charger or Scalloped Wood Charger – paired with pastel linens, you'll achieve an elegant table. If you would like a little more color, swap the white china out for brighter plates – perhaps the Coronado, Laguna, or Veral Floral China. Choosing flatware is simple. Just select a polished, matte, or brushed finish.
Fancy Glassware + Drink Displays
One of our favorite spring event ideas is signature drinks. And we have a variety of gorgeous glassware that will elevate any cocktail (or mocktail)! Popular choices include Cybil Wine Glass, Monaco Rock Glass, and Pure Water Glass. Our Franklin 4 Ft Antique White Bar is a classic choice for a small gathering. Use it to display your favorite alcohol and mixers. Or feature batch cocktails placed atop our Rattan Beverage Jar Stand. If you need additional display pieces, take a look at our White 6-Tier Serving Tower or White Bookcase.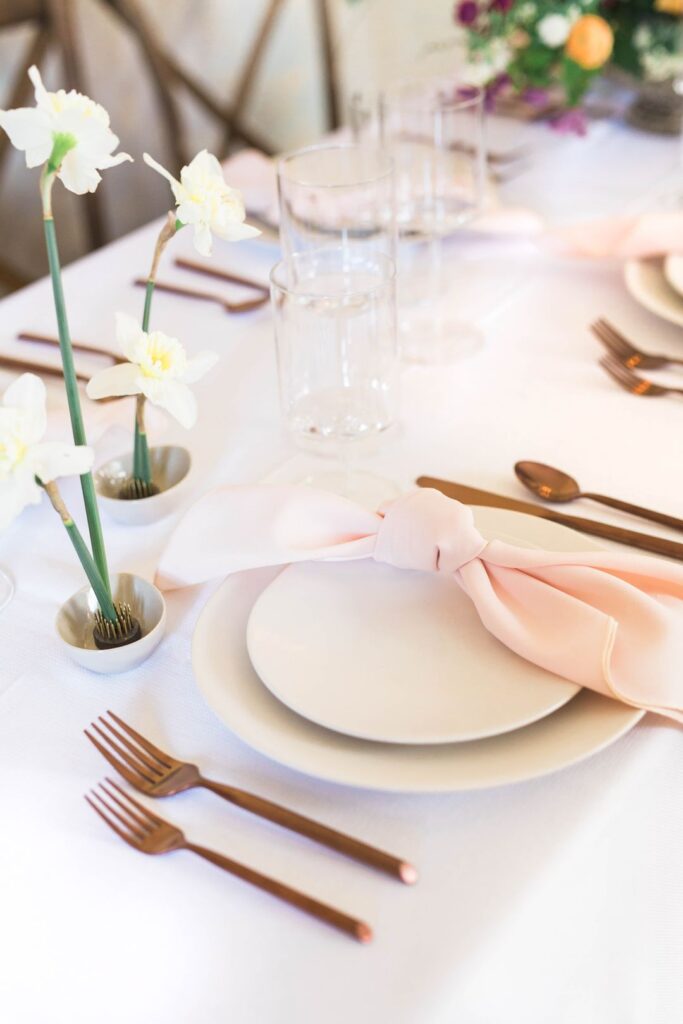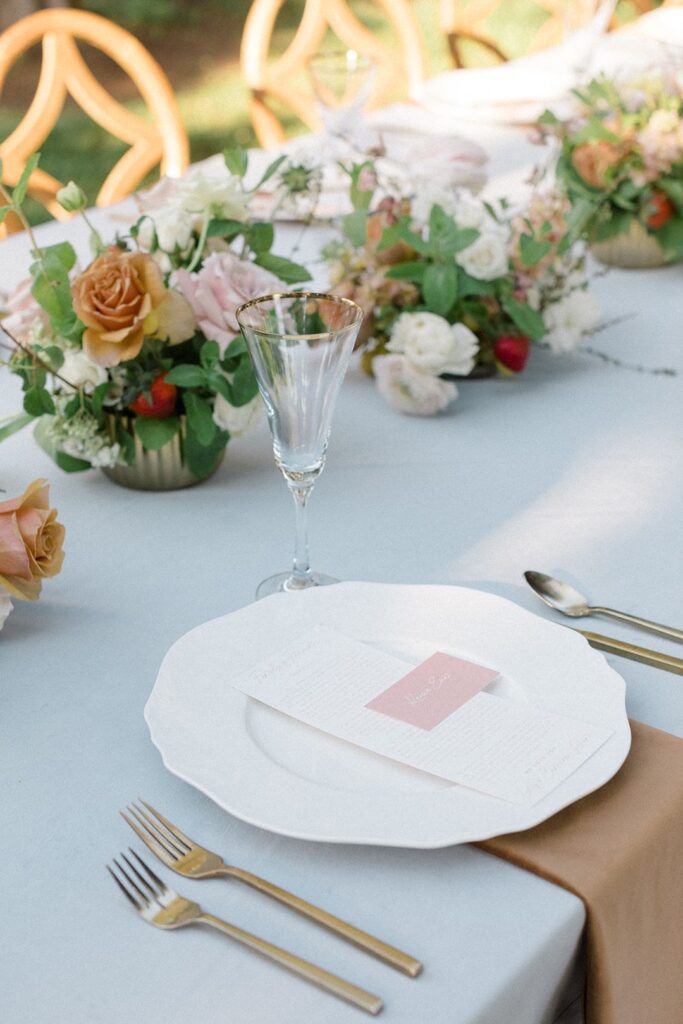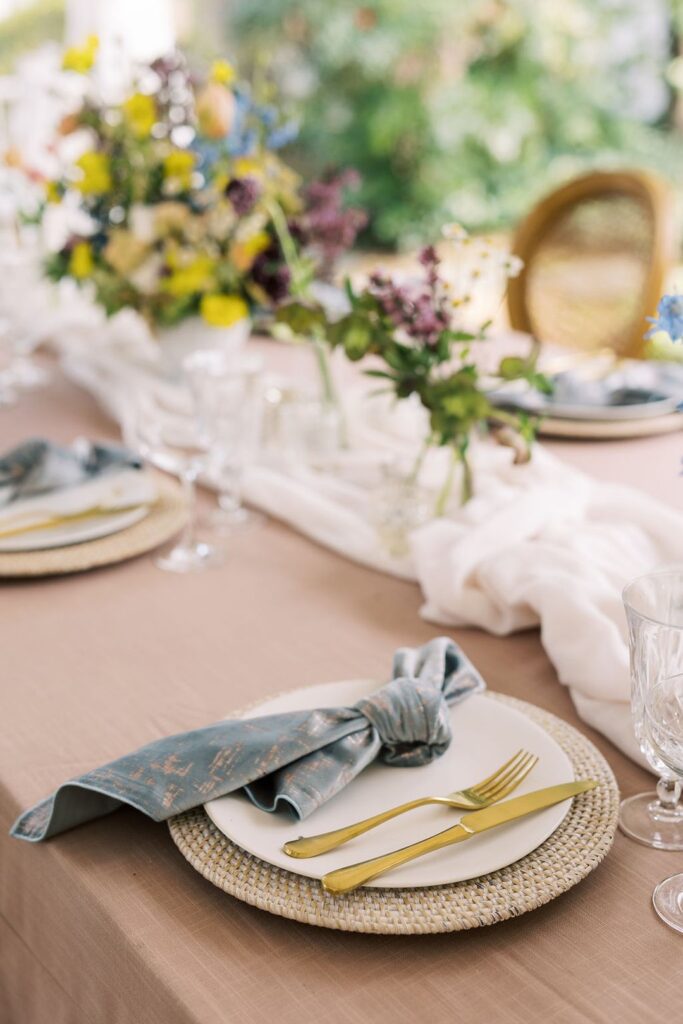 Bright Linens
Linens are one of the most effective ways to incorporate color into your event table. And we have a huge array of pastel event rentals to help you create a spring-inspired tablescape! From subtle blue and purple hues to sunny yellows and greens. You can add as many colors or shades of color as you like by mixing and matching tablecloths and napkins.
Create a trendy monochromatic look by pairing our Peaches n' Cream Poly Linens with Coral Velvet Napkins, or pair classic colors with a buttery texture when you combine our Fern Velvet Tablecloth with Navy Blue Velvet Napkins. Other gorgeous choices include Lilac Poly, Honey Poly, and Light Blue Pindot. If you prefer muted pastels, be sure to consider our Kennedy Collection.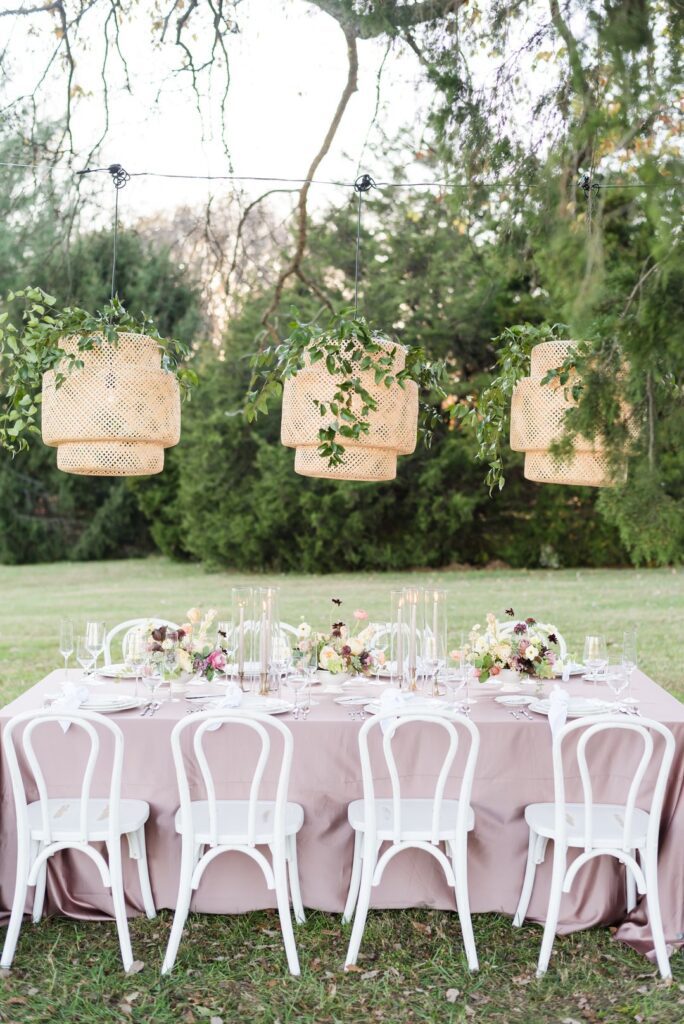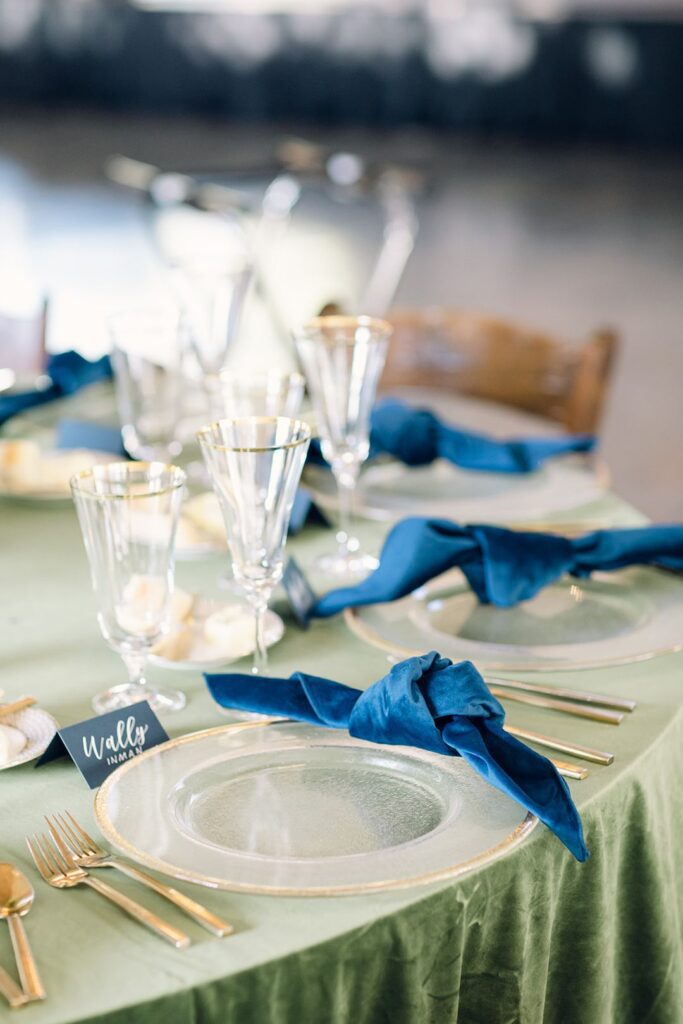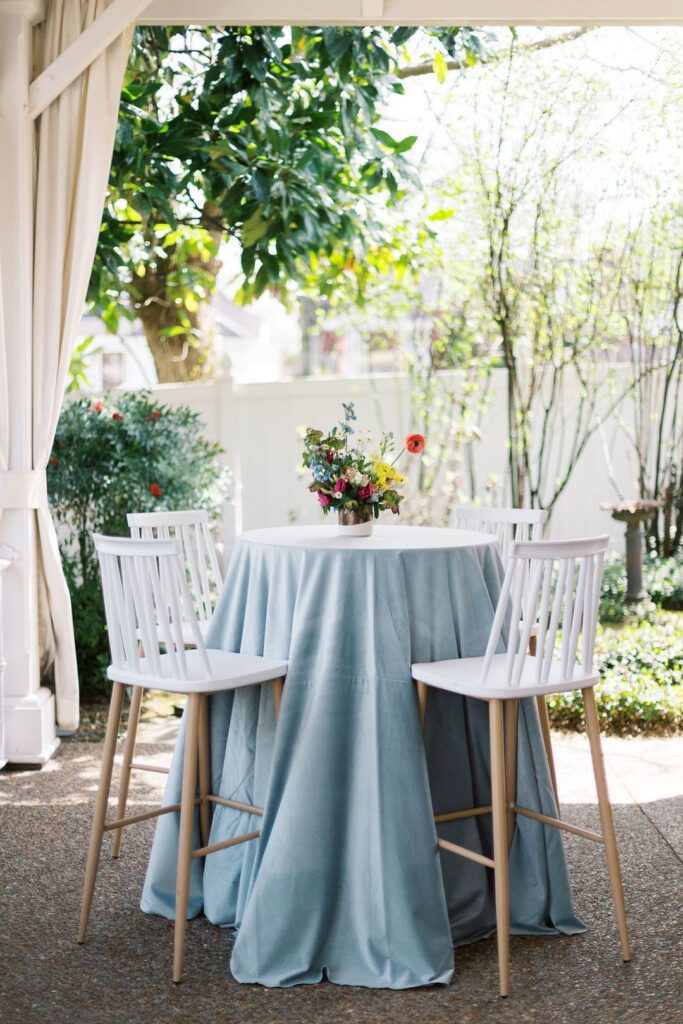 Sunny Outdoor Event Lounges
Is there any better way to enjoy the outdoors than a sunny lounge area? Having at least one, if not several, will encourage your guests to cozy up and hang out – hopefully with a cocktail in hand! Start with a stylish sofa that will stand out against nature. Such as the Everly or Bennett Leather Sofa. Then consider armchairs, like our always popular Gloria Velvet. Or sub in dining chairs for an extra-chic look, whether it be the Harlin or Adeline chairs.
You will also want a set of accent tables, which can be a great way to add in metallics – like the Gold Hammered or Cheval Gold Mirror Side Tables. One of the most underrated spring event rentals is our stylish rugs, which will help frame lounge furniture placed on a lawn or gravel – to make the space extra cozy you can also feature a mix of poufs and ottomans.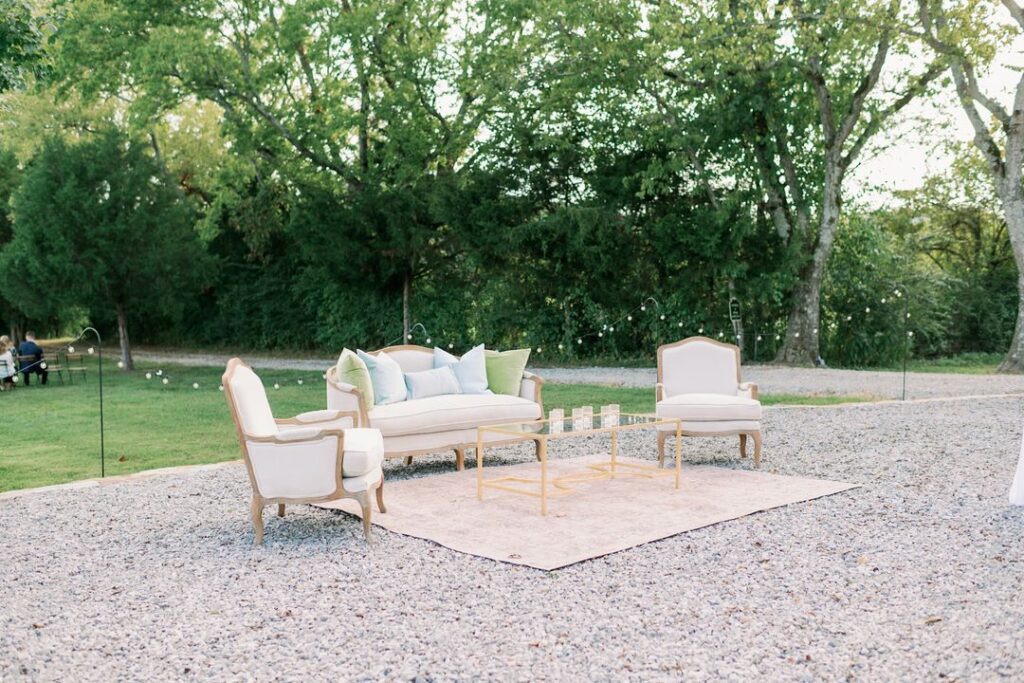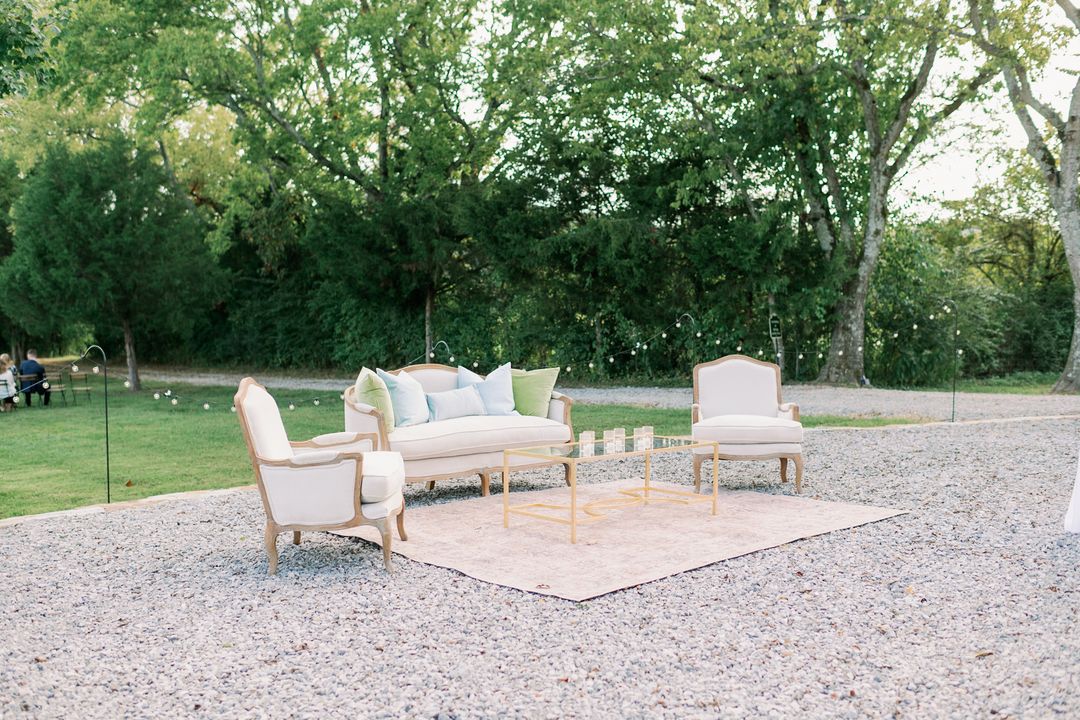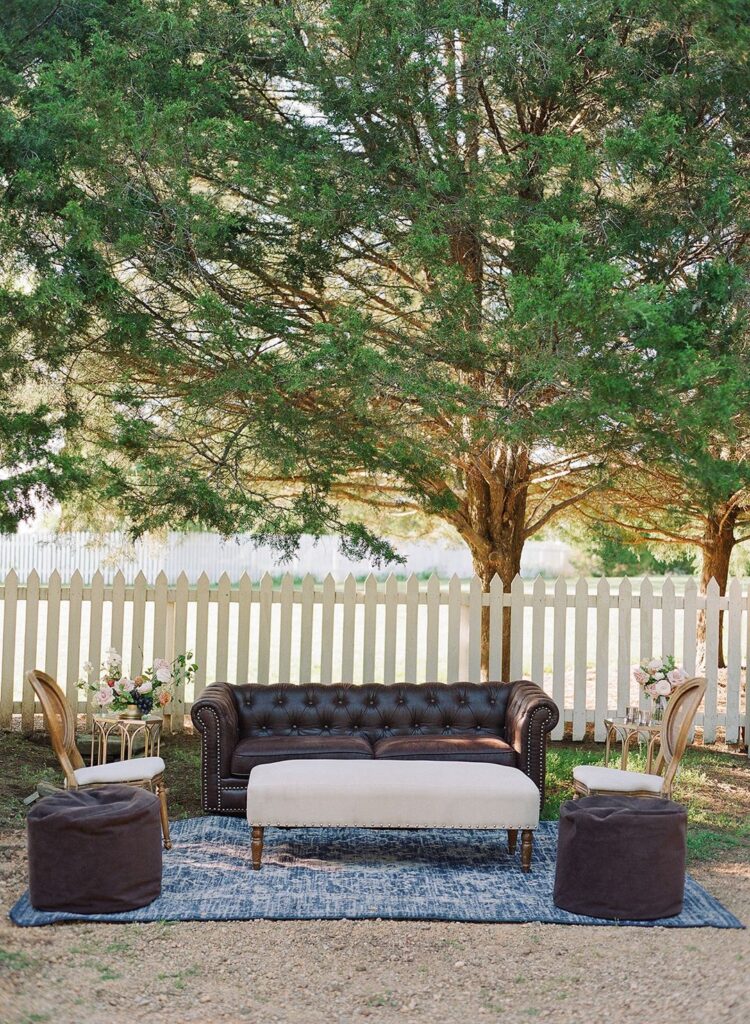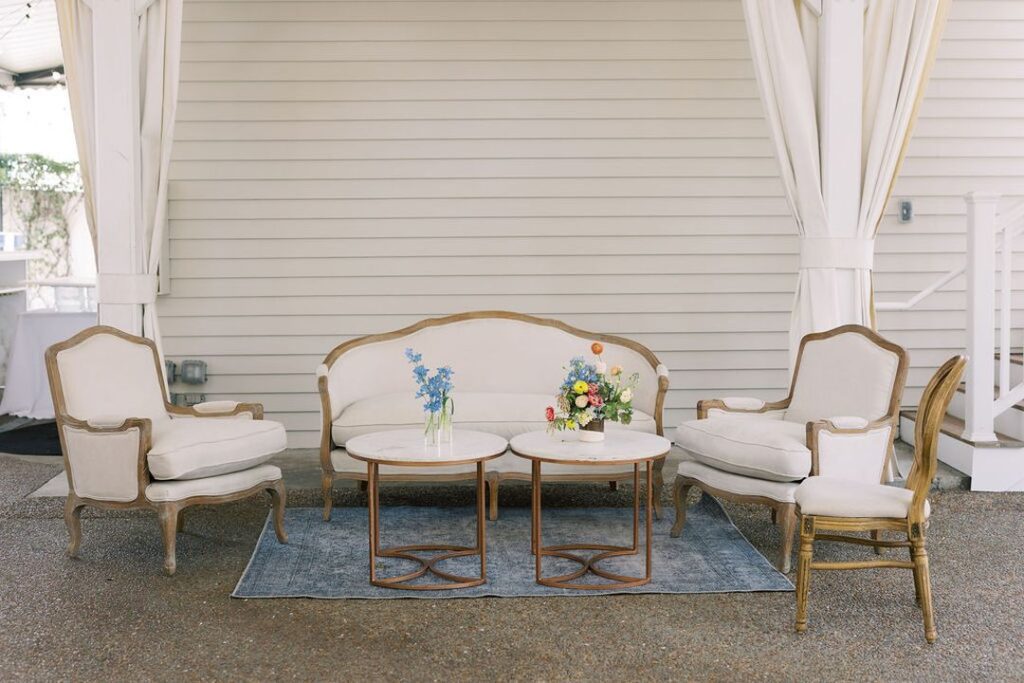 Get Your Event Started
Love these popular spring rentals? Contact our team at info@southerneventsonline.com for help choosing the perfect rentals for a bright and colorful spring soiree, indoors or out! For more design ideas, be sure to take a look at the newest additions to our inventory, with more to come. Need ideas for a spring wedding? Take a look at this modern rustic garden wedding at The Cordelle.
TAGS | Bright & Colorful Rentals, Spring Weddings in Nashville, colorful decor, colorful event lounge, colorful event rentals, outdoor event rentals, pastel event, spring wedding style
FEATURED RENTALS | Everly Sofa, Bennett Leather Sofa, Gloria Velvet Arm Chair, Harlin, Adeline, rugs, Gold Hammered Side Table, Cheval Gold Mirror Side Table, Kennedy Collection, Coral Velvet napkins, Navy Blue Velvet, Lilac Poly, Honey Poly, Light Blue Pindot, Fern Velvet, Cybil Wine Glass, Monaco, Pure Glassware, Franklin Antique White Bar, White 6 Tier Serving Tower, White Bookcase, Darcy China, White Round China, Alabaster Earthen China, Rattan White Wash Charger, Scalloped Wood Charger, Coronado China, Laguna China, Vera Floral China,
---
11

Aug

Events and Style Shoots, On Trend, Southern Events Products, Trends and Inspiration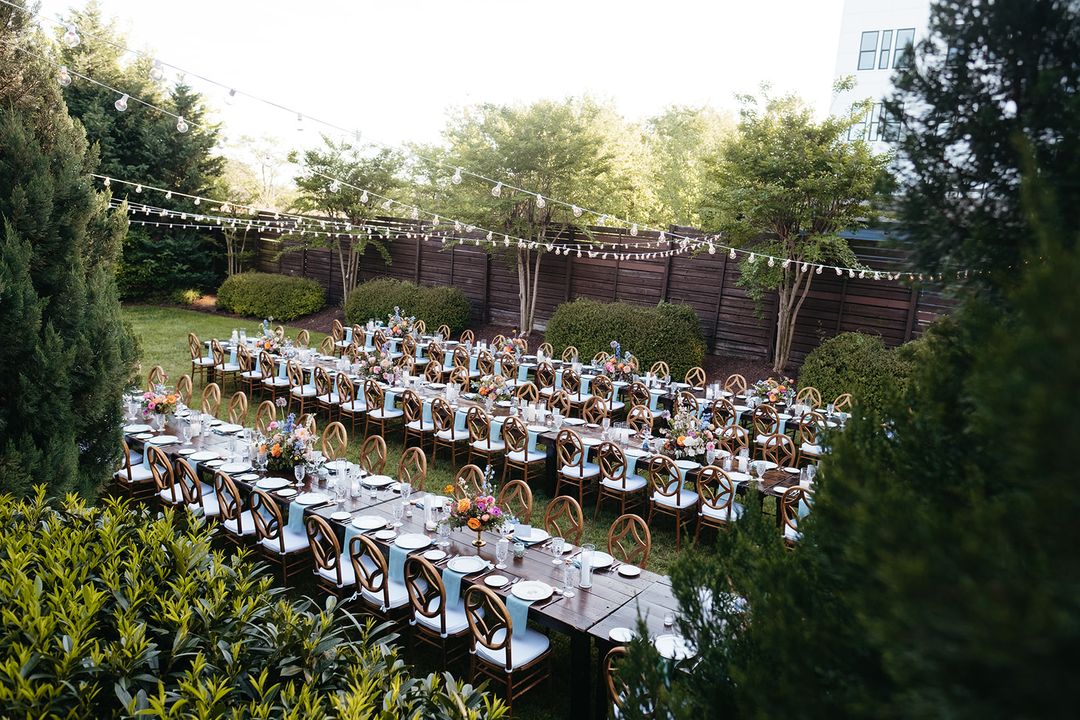 Team Southern recently had the opportunity to collaborate with local vendors on a whimsical styled shoot at The Cordelle. An event venue & garden situated in Downtown Nashville, it was a stunning backdrop for the colorful outdoor wedding. With a mix of historic and modern spaces, featuring grandeur and charm, there was no shortage of room to create a functional and on-trend wedding layout. Check out the details from this dreamy garden-inspired wedding, featuring our stylish event rentals.
Seating for a Whimsical Indoor Ceremony
The ceremony took place in The Victorian, featuring brick walls, hardwood floors, and beautiful floor-to-ceiling windows. Contrasting the urban event space, we opted for our elegant Harlin Dining Chairs. Featuring light wood and detailed backs, they were the perfect choice for the dreamy indoor ceremony. An equally gorgeous alternative would have been our Adeline Dining Chairs! While we decided to keep the aisle bare, featuring a mix of our vintage rugs would have also been a beautiful choice, lending a cozy vibe.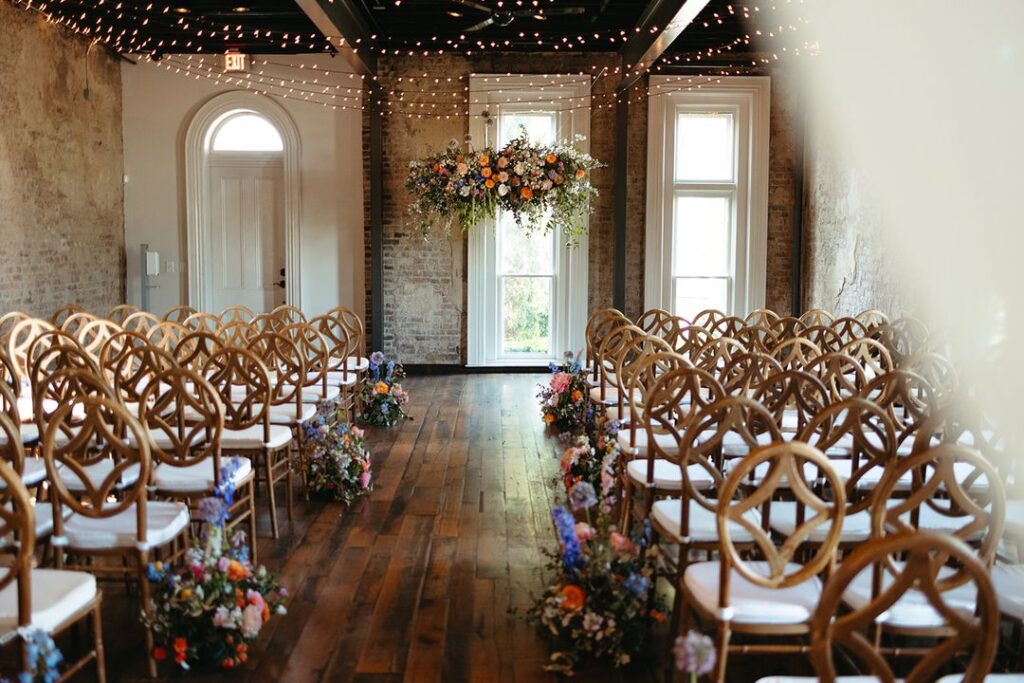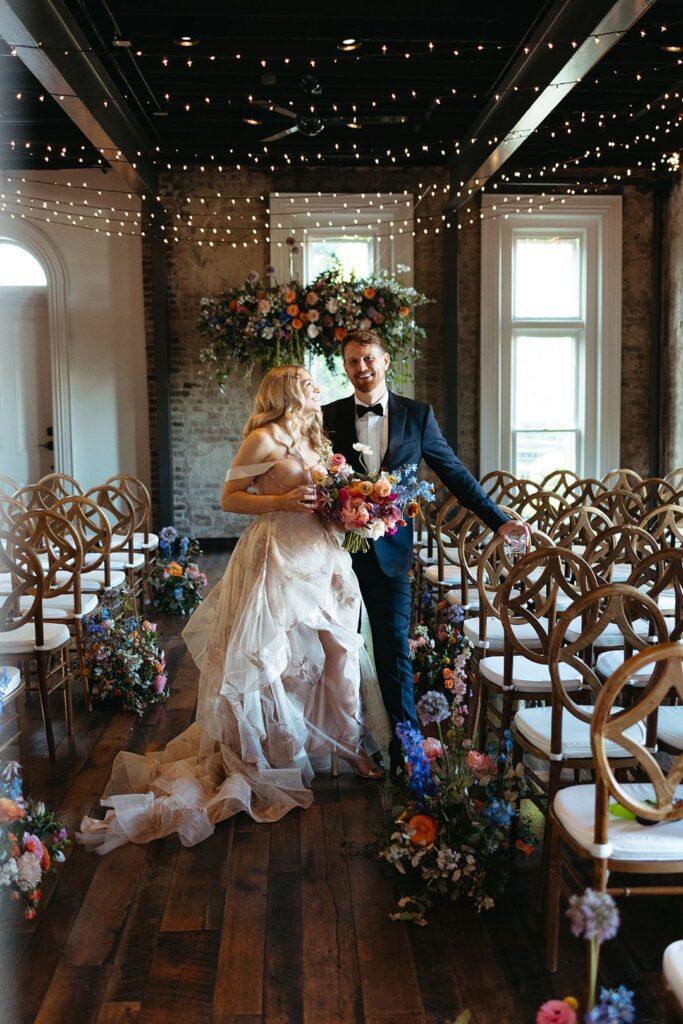 A Dreamy Outdoor Reception Set Up
Meanwhile, the 5,000-square-foot Garden Lawn created an ethereal garden reception. The manicured lawn and bistro lights overhead made for a charming outdoor setup – especially come nightfall. Our Fruitwood Farm Tables and Harlin Dining Chairs were the base for the guest tables. This banquet style is perfect if you want a more intimate feel! Set with Heirloom China, Hob Nob Glassware, and Sophia Flatware, the look was elegant and vintage-inspired. Fun fresh florals and Turqouise Poly Napkins provided a punch of color, fitting for the season! Our Davis Glass Cylinders filled in the table centerpieces.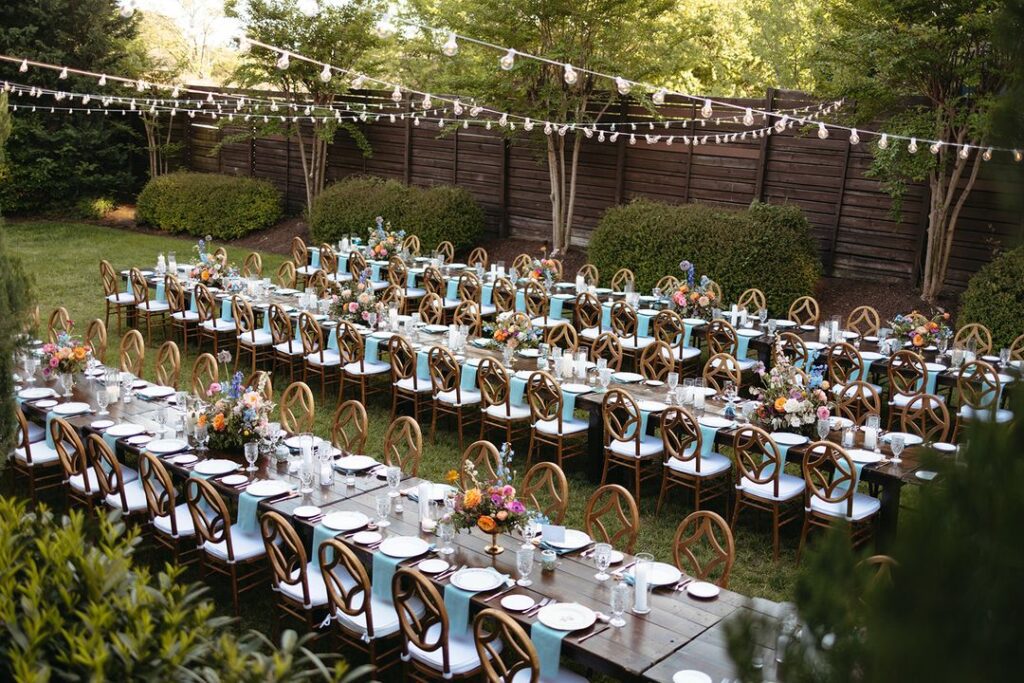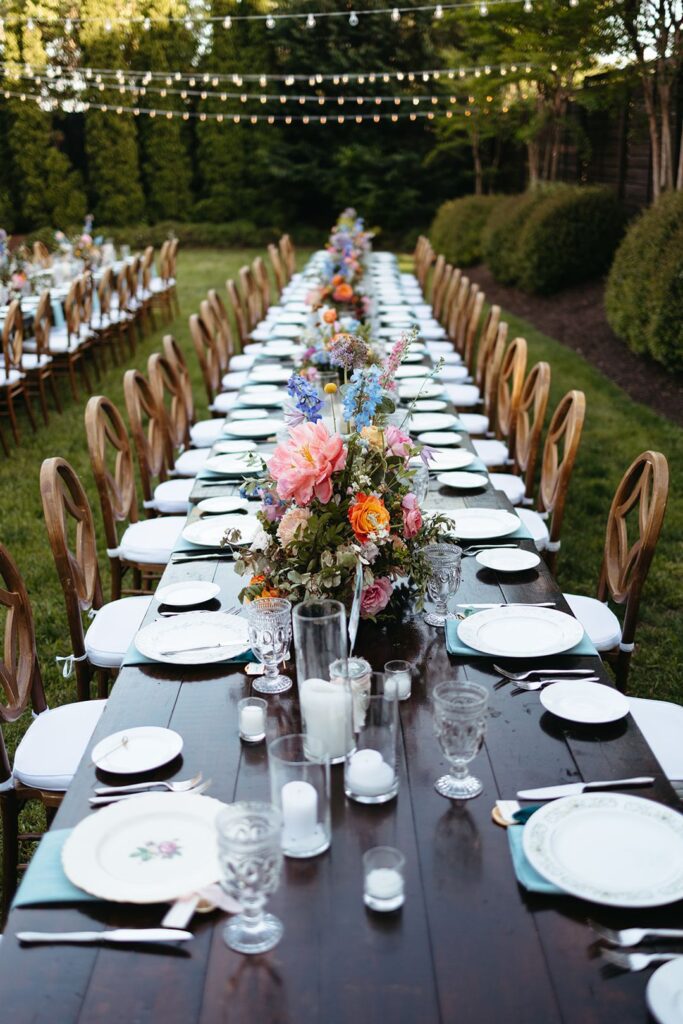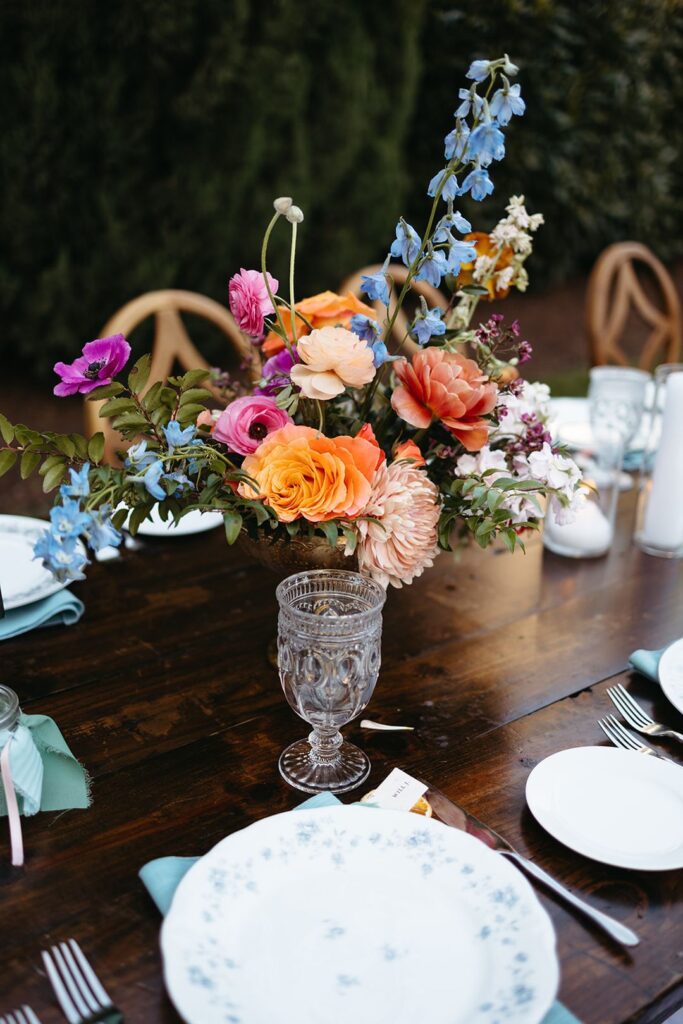 Blue-Hued Wedding Lounge
Eventually, The Victorian was flipped into a cozy cocktail area. Contrasting the warm-toned space, we chose our always popular Saylor Navy Velvet Sofa and Chair. It paired beautifully with a bright Aqua Rug and modern Rhodes Coffee Table. To optimize the space were a handful of cocktail tables – dressed up with deep black linen. Combining with the whimsical florals, it was a perfect cocktail hour set up for the colorful garden wedding.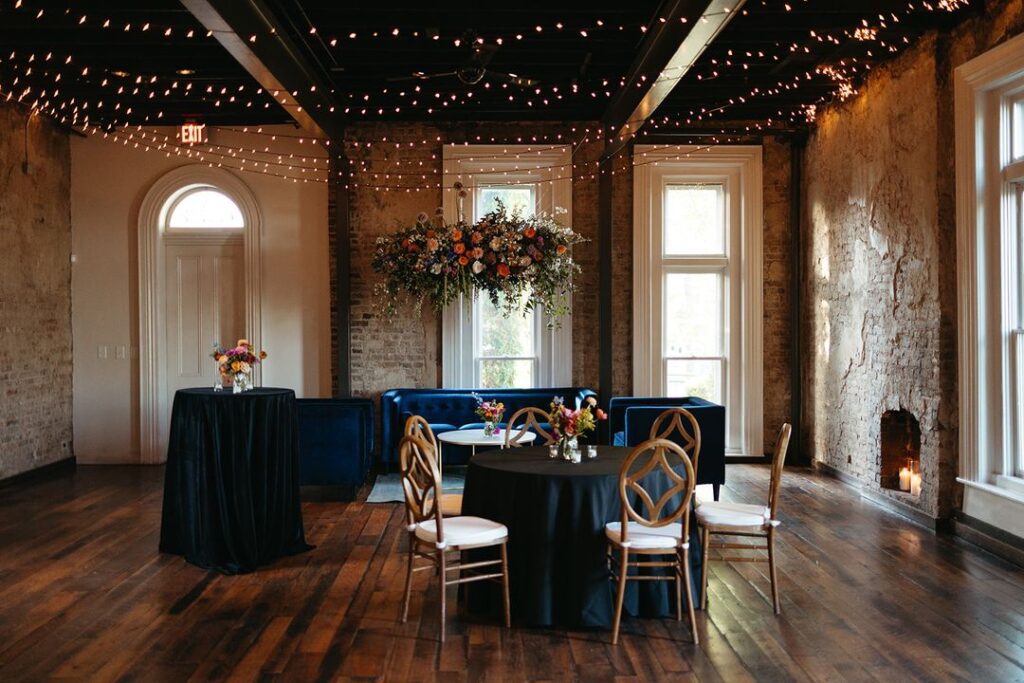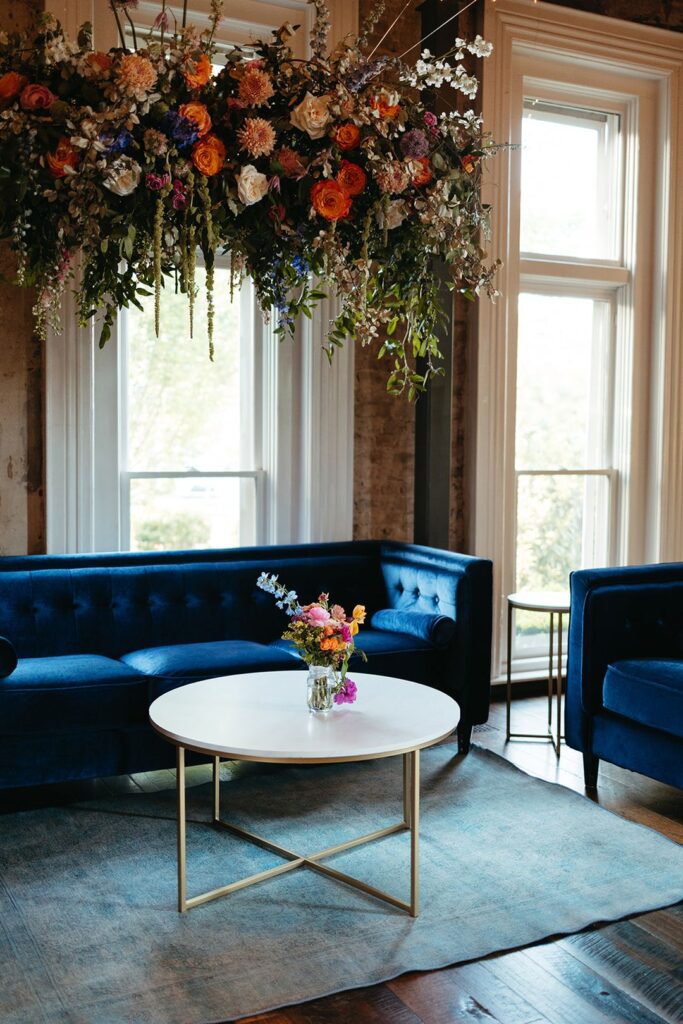 On-Theme Wedding Cocktails
To match the colorful event design, equally bold wedding cocktails were required! J Jackson Mobile Mixologist served up a variety of delicious colorful cocktails in our Davis and Coupe Glasses. We chose these pieces for their clean shape, contrasting the vintage-inspired Hob Nob Glassware used at each table. We also loved the fun colors of the beverages as well as edible florals!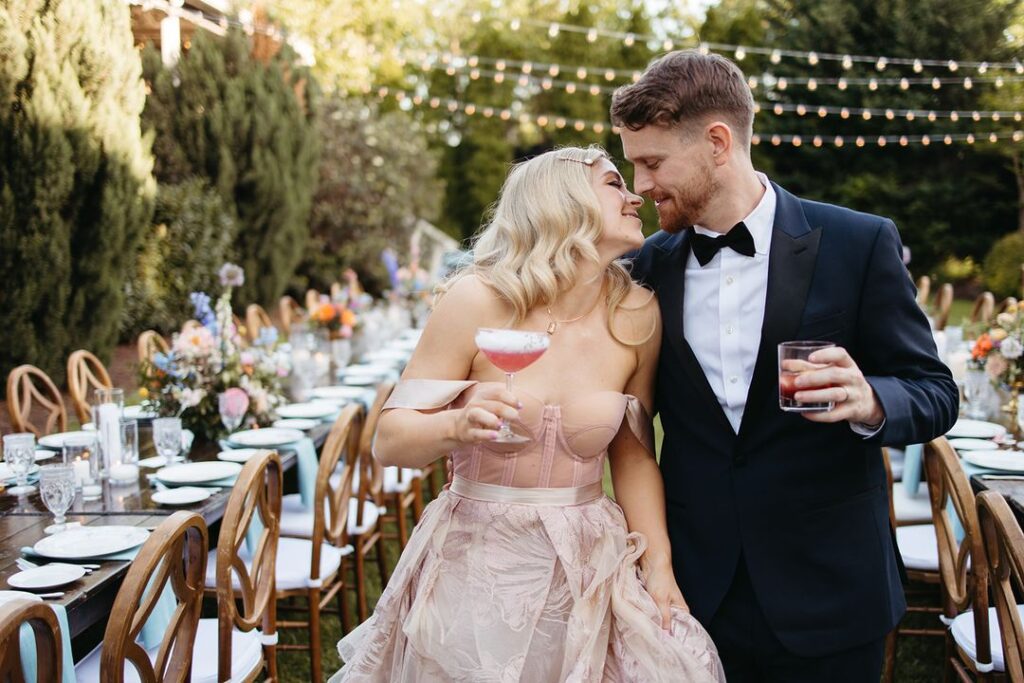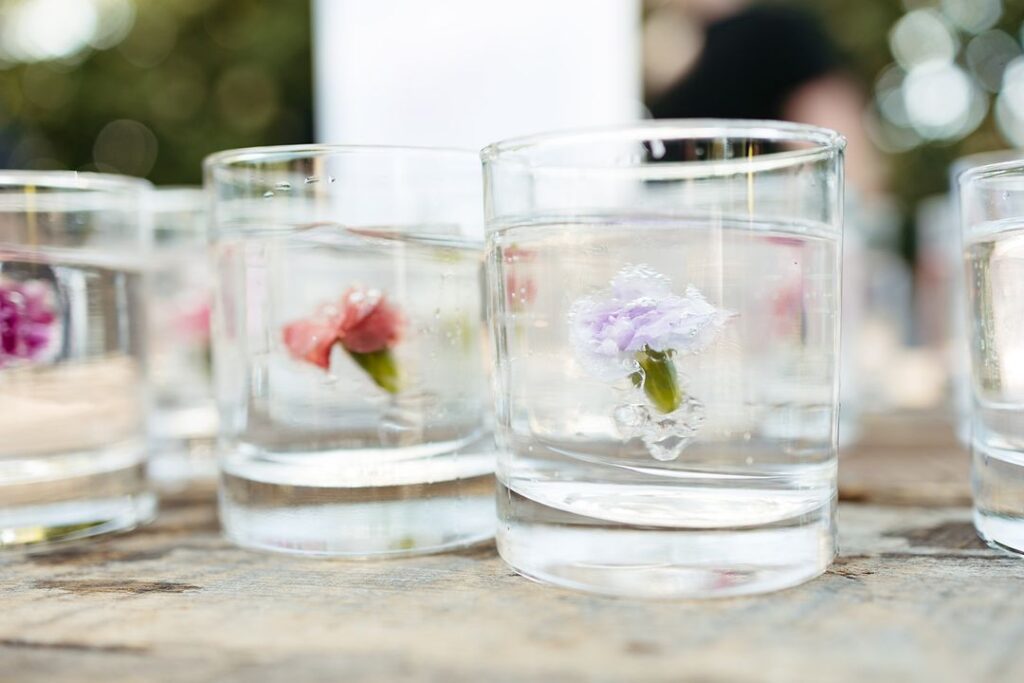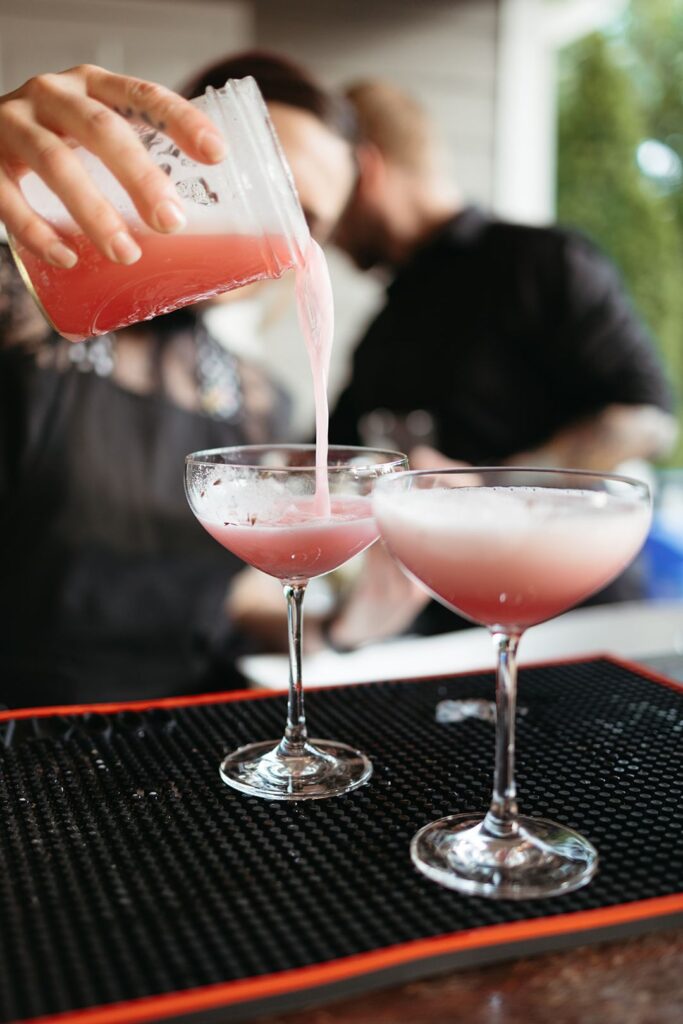 Vendors
Planning: Posh Occasions
Venue: The Cordelle
Florals: LL Floral
Photography: KT Sura Photography
Live Painter: Heather Wolfe Art
Bar: J Jackson Mobile Mixologist
Catering: South Fork Catering Co.
DJ & Sparkle Fountains: Request Premier
Lighting: Bright Event Productions
HMUA: Local Honey
Groom Attire: The Black TuxTransportation: Signature Nashville
Looking to recreate the style of this colorful garden wedding for your upcoming nuptials or an outdoor celebration? Send our team a message at info@southerneventsonline.com for help! For more colorful event design inspiration, take a look at our blog covering Colorful Summer Party Ideas.
TAGS | Colorful and Fun Outdoor Wedding, Event Seating, Glassware, Nashville Wedding Reception, bar event rentals, colorful decor, colorful event lounge, colorful event rentals, heirloom china, lounge areas, outdoor event rentals, outdoor southern weddings, wedding lounge, wedding reception ideas
FEATURED RENTALS | Harlin Dining Chairs, Fruitwood Farm Tables, Hob Nob Glassware, Abby Flatware, Heirloom China, Davis Glass Cylinders, Saylor Navy Velvet Sofa, Rhodes Coffee Table, Aqua Rug, Davis Glassware, Coupe Glass,
---
30

Jun

Nashville Venues, On Trend, Southern Events Products, Trends and Inspiration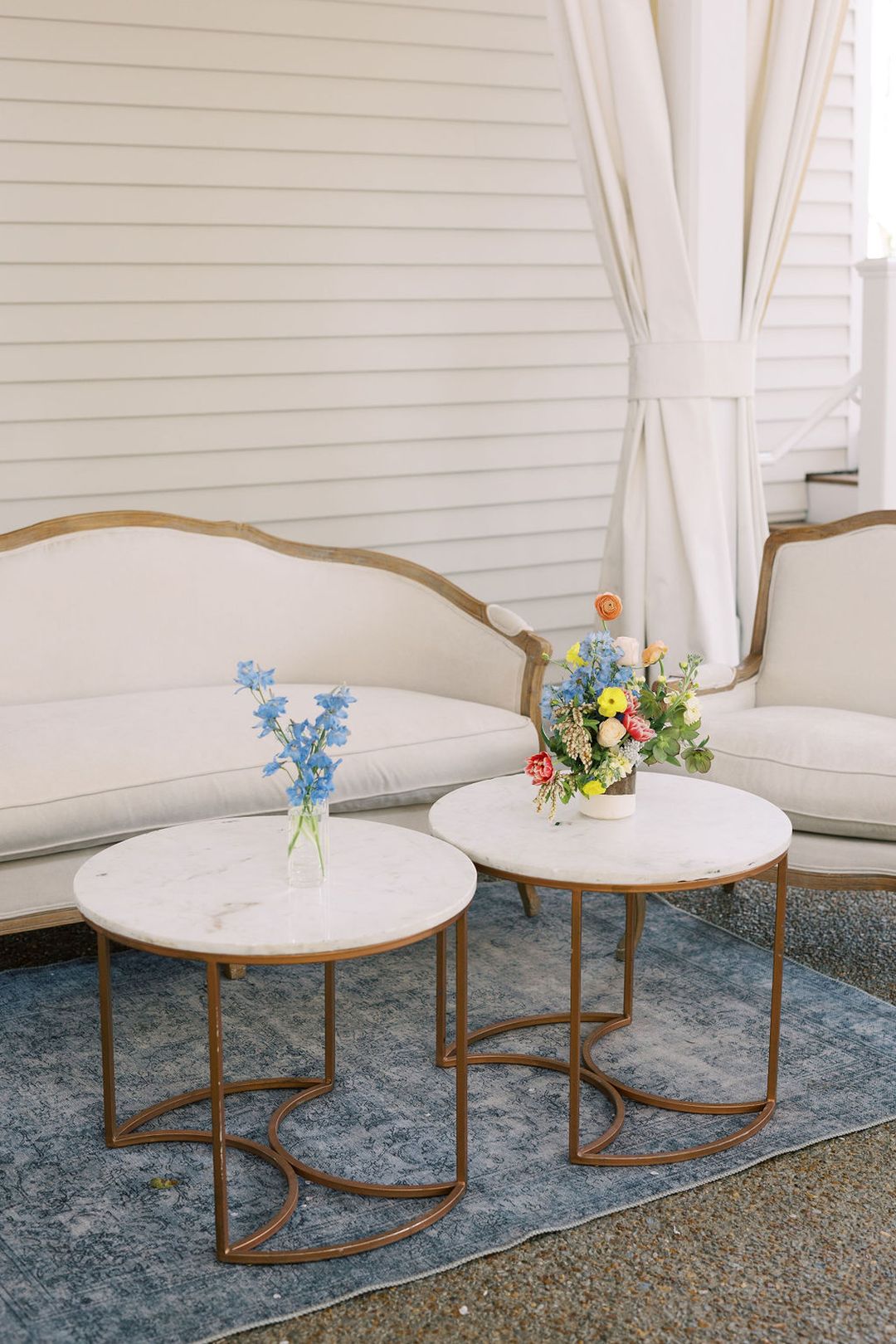 In the heat of summer, there is nothing quite like a garden party – whether you are celebrating with family, friends, or even coworkers! An intimate celebration outdoors is the perfect way to spend an afternoon, with light bites, and tasty drinks gathered around a lawn game or two. Get inspired on how to host a colorful fete when you check out this city chic garden party at CJ's Off the Square!
Summer Champagne Wall!
You don't have to host a huge celebration in order to incorporate a 'wow' factor. Our boxwood walls are a simple addition that will uplevel any event. It is a fun way to greet your guests with appetizers or a cocktail, as seen with this popsicle champagne wall. Or, they can visit it later, to find a sweet treat or dessert. Like fresh donuts and milk or coffee! And, since they are easy to customize you can incorporate elegant decorations such as a neon sign or vibrant florals.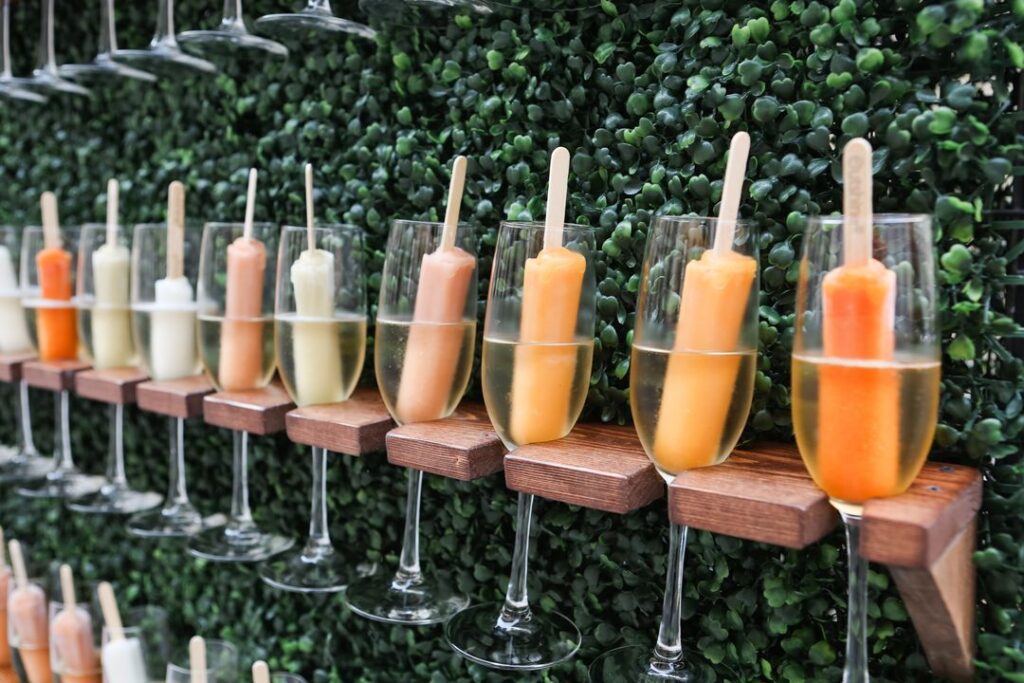 Chic Cocktail Lounges
A must-have for a cocktail hour is a social area, where guests can sit down and sip on their drinks for a while. Consider a bistro table or lounge areas, or even both! Feature a combination of our sofas, chairs, and accent tables to create a chic setup. Consider our Everly Sofa and Chairs, paired with a set of our Capriano Marble and Copper Accent Tables. We also recommend including a few of our colorful event rentals, whether you opt for a Vintage Rug or swap out the Everly Chairs for our Saylor Navy Velvet Chairs.
Don't forget to grab a selection of our beautiful glassware for rent – to serve up colorful fruit-infused cocktails! If you won't have a bar and would prefer a self-serve drink station, our Gold Beverage Jars are a stylish way to dish up big batch cocktails.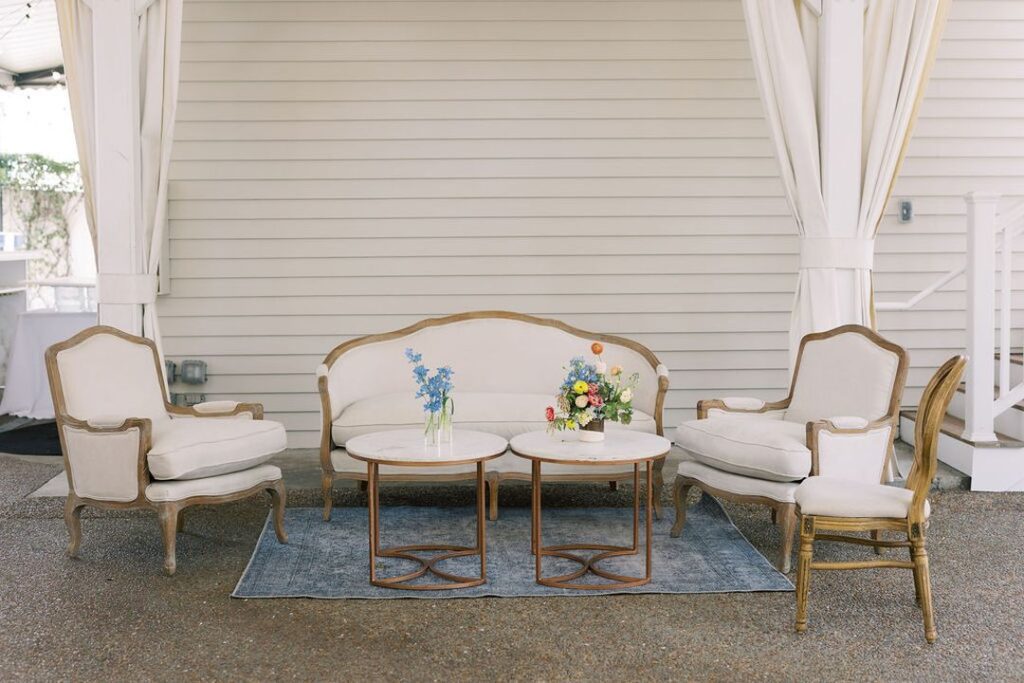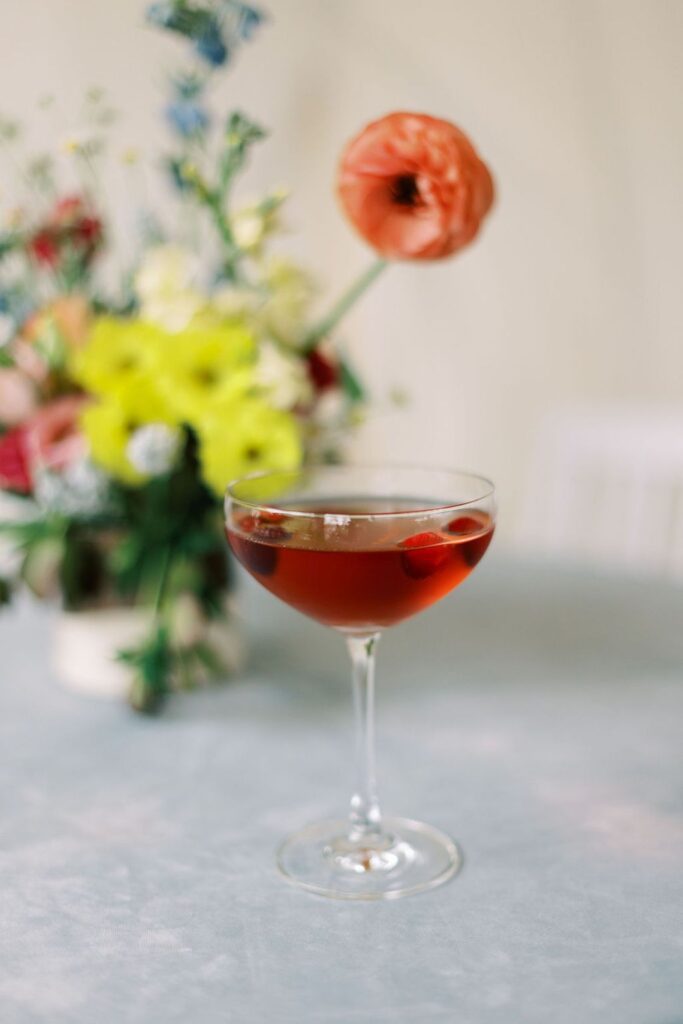 Intimate Yet Luxe Dining
If your goal is a true garden dinner party, with more than just appetizers, you'll also need some elegant tablescapes. We have a variety of beautiful tables and linens for rent, an essential foundation for colorful event design. Start with our Kennedy Fawn or Dusty Blue Etched Velvet Linens. Pastels will lend color but allow vibrant floral centerpieces to shine! If you like the look of more layers, top it off with any of our chiffon runners. For serving ware, keep it simple but don't be afraid of some texture. Check out our Rattan White Wash Chargers, which pair beautifully with any of our white china. For napkins, any of our luxe linens will do. We also recommend incorporating some pieces featuring metallic colors, whether it be our Austin Gold or Brushed Copper Flatware, for that chic touch. Maybe even our Vera Floral China!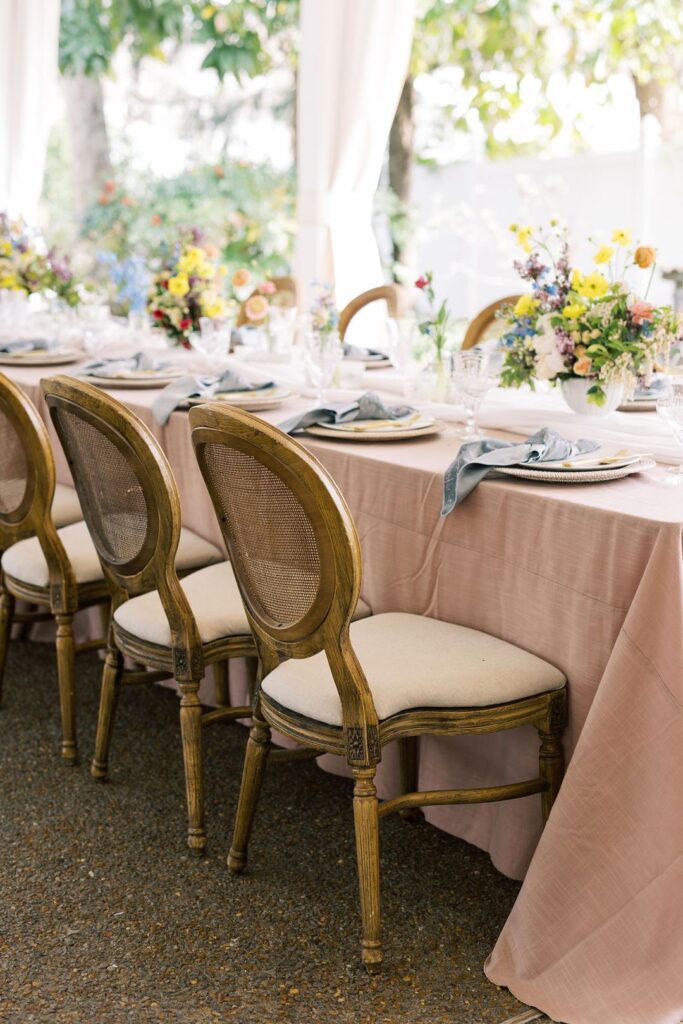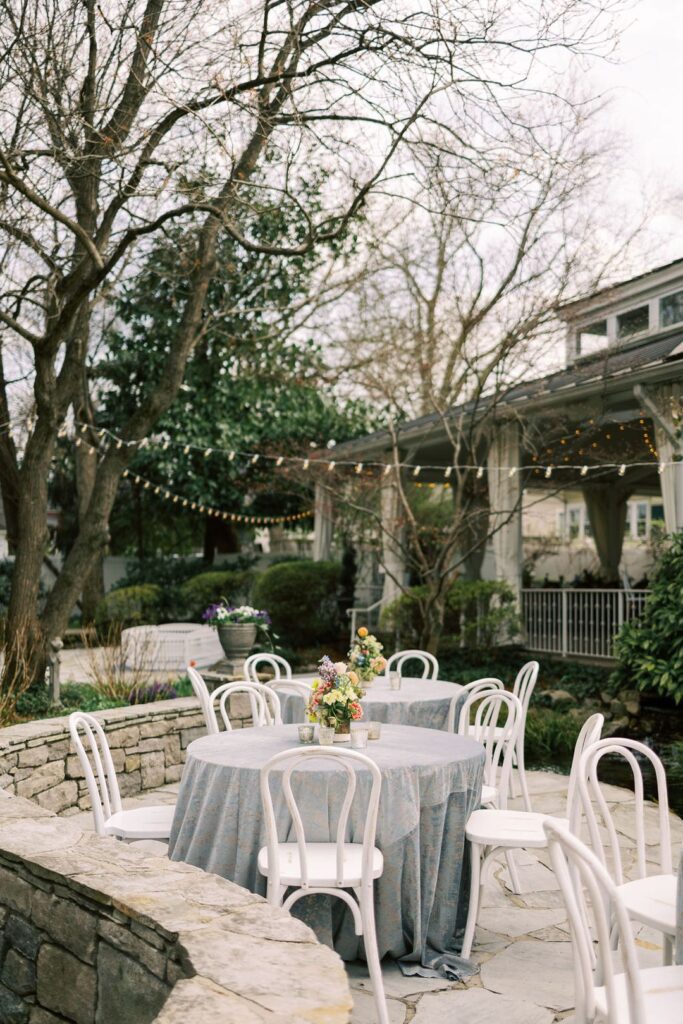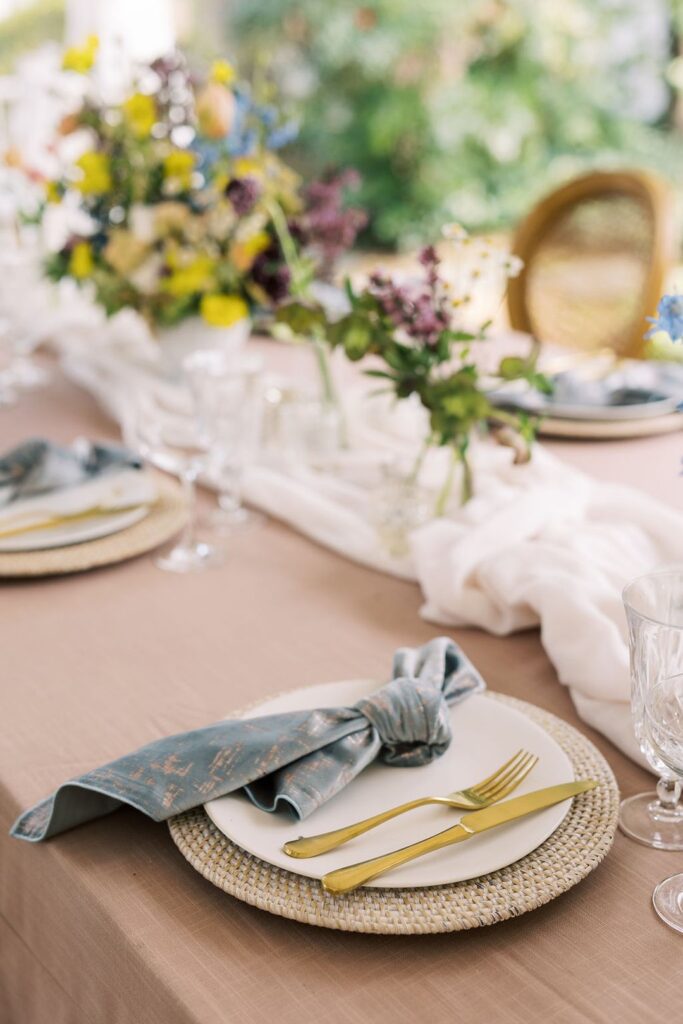 A special thank you to Jenna Henderson Photo for sharing these photos with us!
Want to host your own garden party in Tennessee? Contact our team today for assistance, or for help choosing products that align with your event design!
TAGS | Chic Modern Design, Cocktail Party Rentals, Garden Wedding, colorful decor, colorful event rentals, event lounge, outdoor event rentals, summer cocktail party decorations, summertime chic
FEATURED RENTALS | boxwood walls, champagne shelf, Beverly sofa, Beverly chairs, Cipriano marble and copper tables, saylor navy velvet chairs, Kennedy Fawn, Dusty Blue Etched Velvet, chiffon runners, rattan white wash chargers, vera floral china, austin gold flatware, brushed copper flatware,
---
16

Jun

Southern Events Products, Trends and Inspiration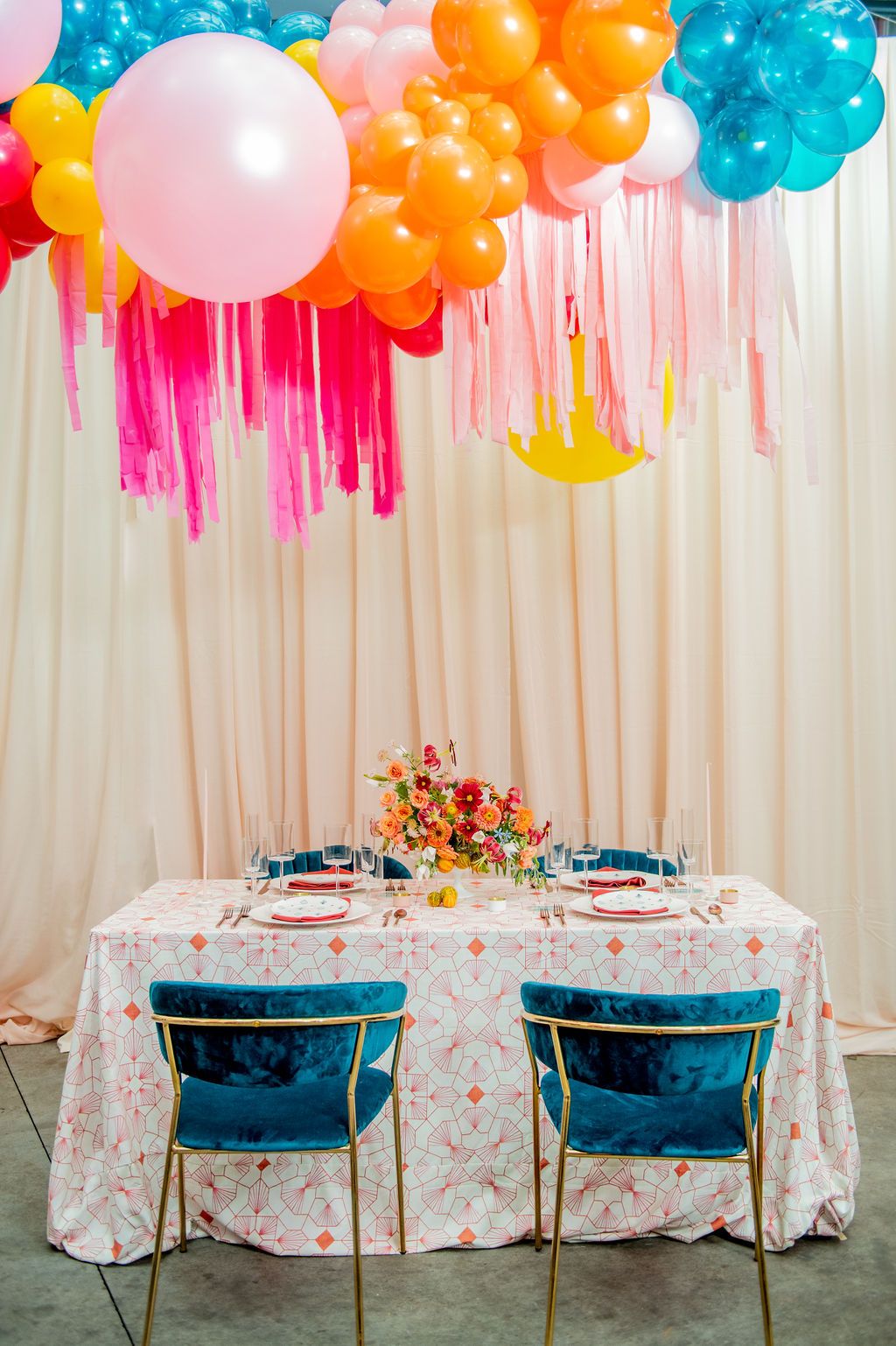 With warm weather comes the opportunity to host outdoors! And what better way than with a vibrant backyard celebration starring our colorful party rentals. From bold linens to unique glassware, we have everything you need to host a one-of-a-kind shindig. Get inspired by these colorful summer party ideas featuring our fun modern event rentals!
Bold Linens
The easiest way to infuse some color into your event set up are a combination of our bold linens. We offer tablecloths and napkins in just about every color, and a wide range of materials. So there is something for every type of summer party, whether you want a more luxe or relaxed look. Our Poly Linens offer widest selection in regards to color, including brilliant warm and cool shades. Such as a beautiful periwinkle and bright coral! If you want to feature a touch of texture, don't forget to check out our Velvet Linens! Current fan favorites include Lavender and Sea Glass. Of course if you want to go all out, you have to take a look at our Miscellaneous Linens, which include an array of fun print and color combinations. We recommend Gold Aurora!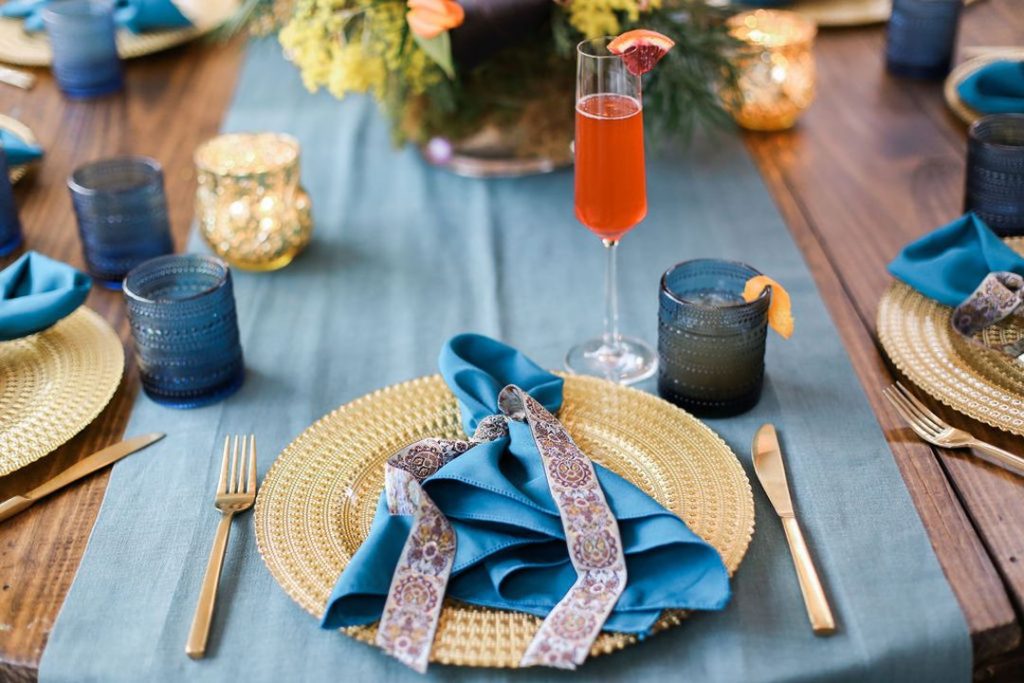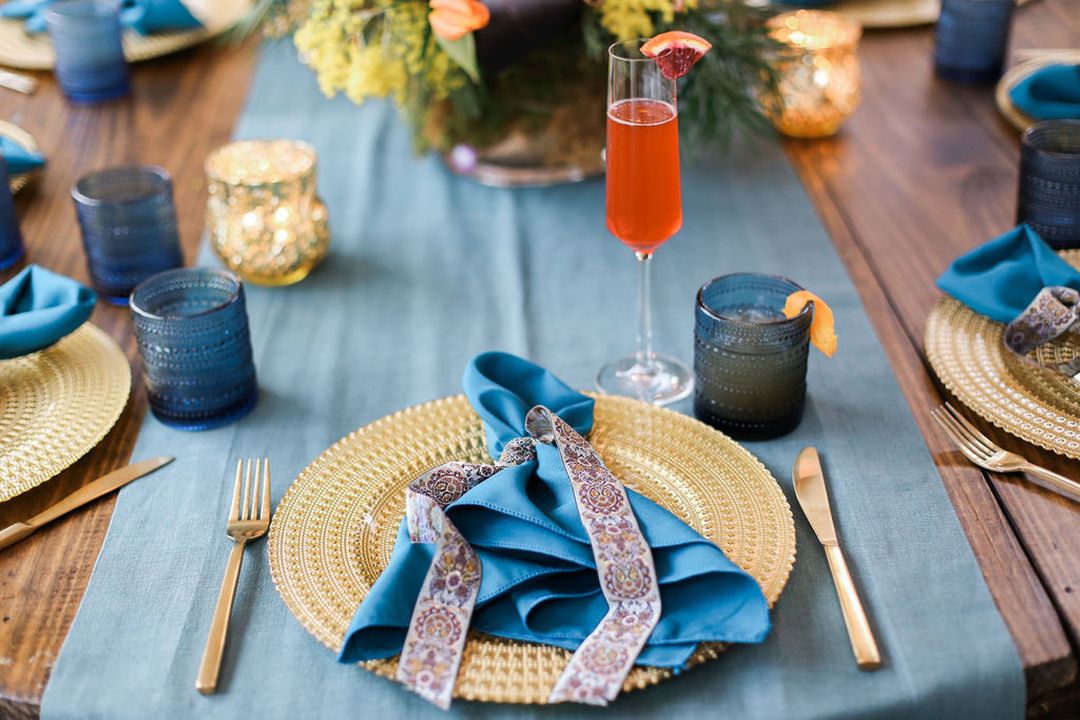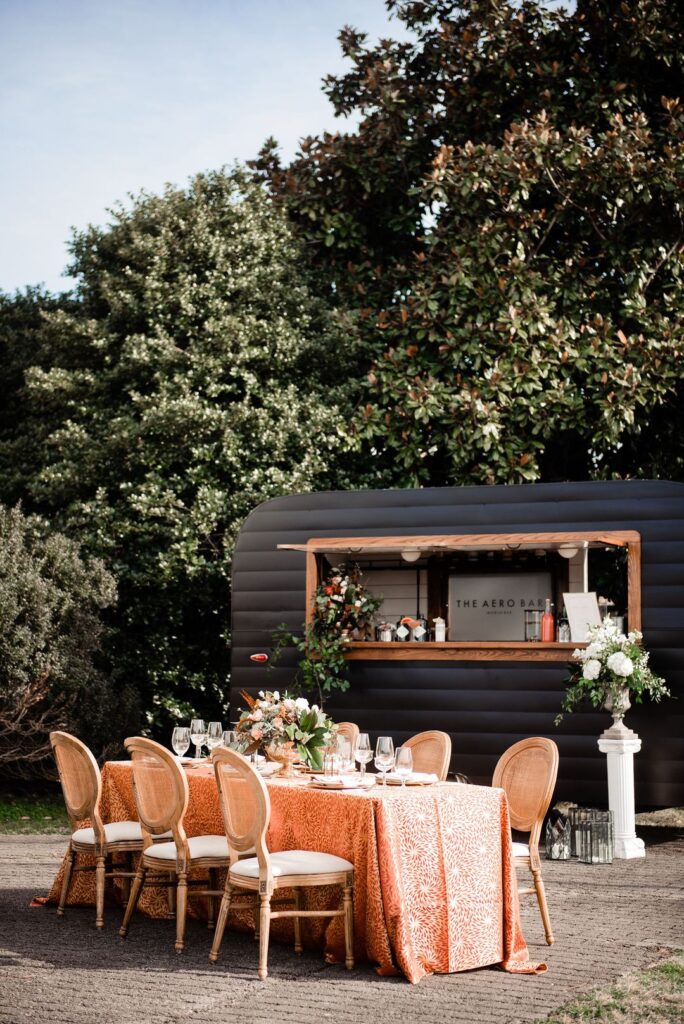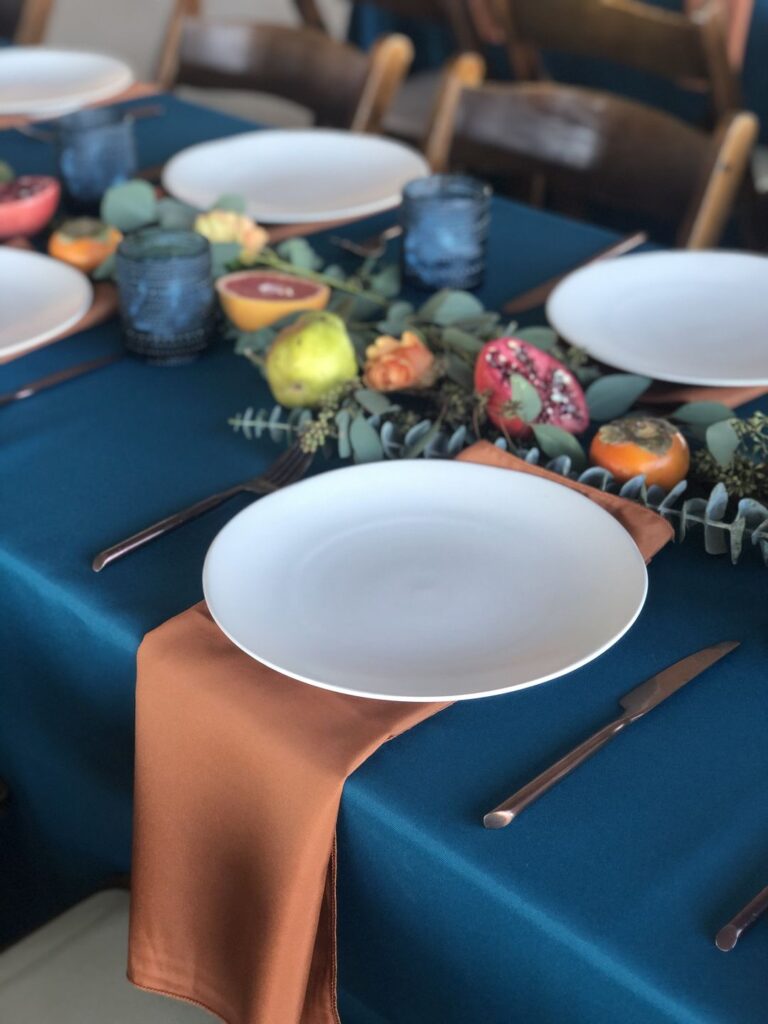 Colorful Cocktails
As with any warm weather event, refreshing beverages are a requirement. And for a colorful summer party, equally fun glassware is a must! We stock a range of on-trend glassware suitable for a variety of different beverages and cocktails. We have more sleek contemporary pieces, like Davis, as well as fun and funky designs, like Cybil. Of course, you will also want to keep guests hydrated! So check out our vintage-inspired water goblets, available in Amber and Green. If you're looking to add a fun interactive detail, you might feature our Boxwood Wall and Champagne Shelf! It's a great way to display fresh drinks, like these tasty champagne popsicles.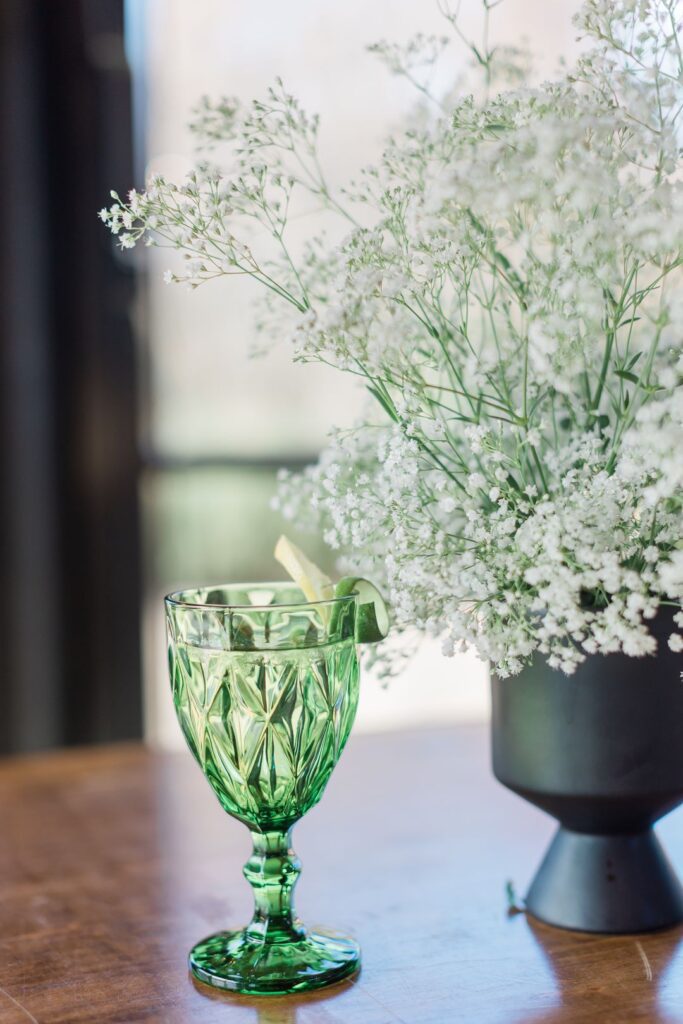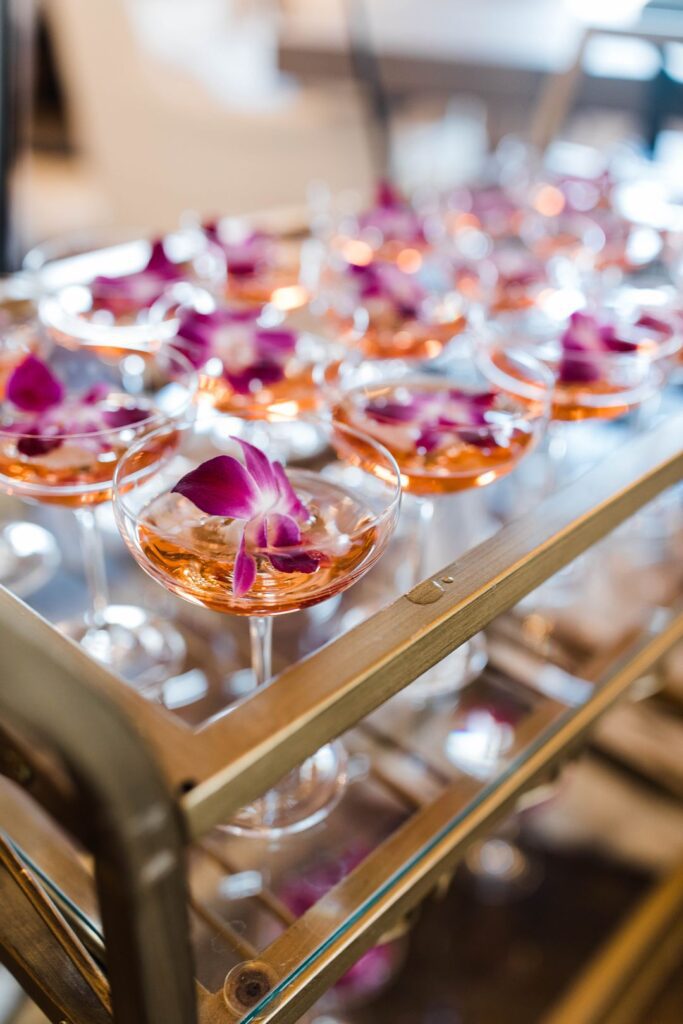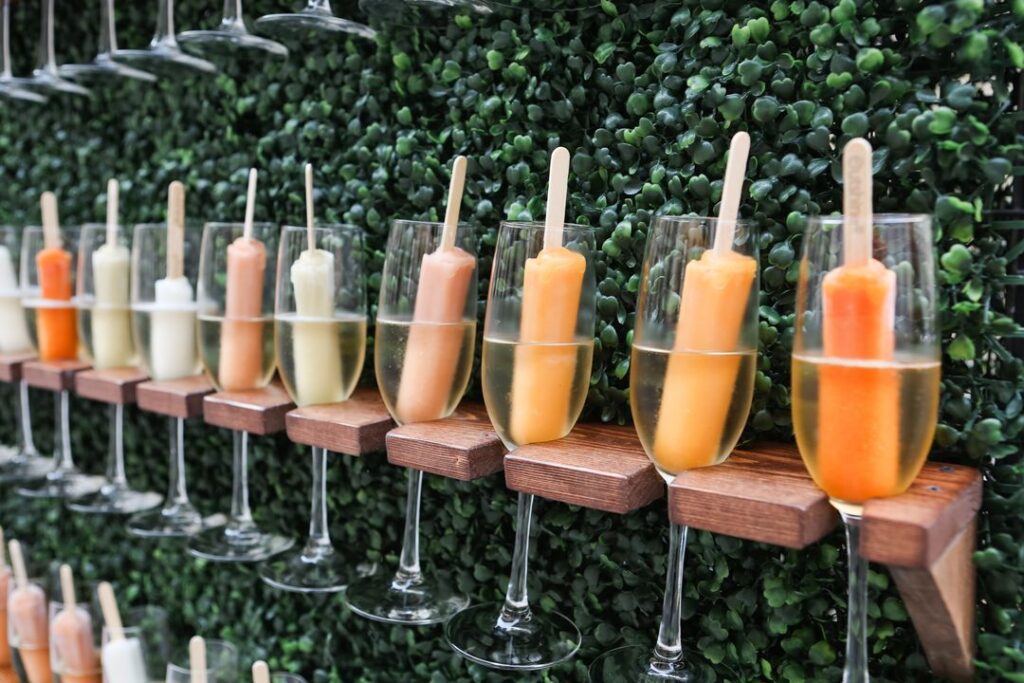 Luxe Event Lounges
To fully enjoy the outdoors, you'll need a cozy lounge area. A setup is stylish yet comfy, where guests can sit, sip and mingle. We offer a fun mix of colorful party rentals that make it easy to create a one-of-a-kind event lounge. Lately, our velvet furniture has been a hit. Especially our Saylor Navy and Jacqueline Velvet Sofa. Closely followed by Farrah Teal and Gloria Velvet Arm Chairs. You will also want to grab a set of our beautiful accent tables and a vintage rug, to help frame the space. If you prefer to keep it simple, you can also check out our curated Lounge Packages.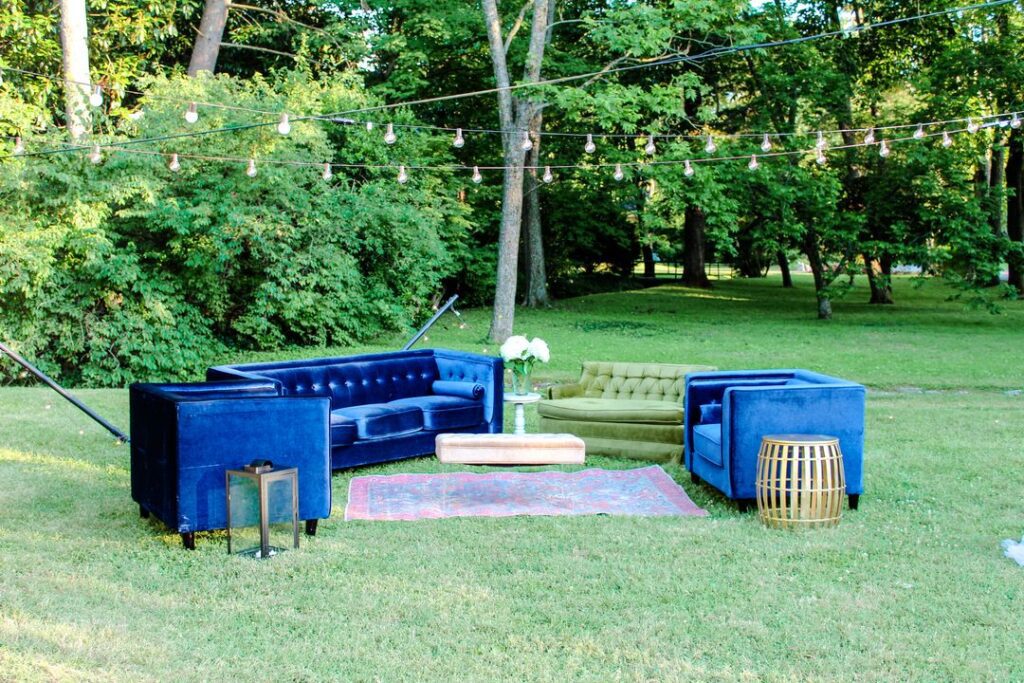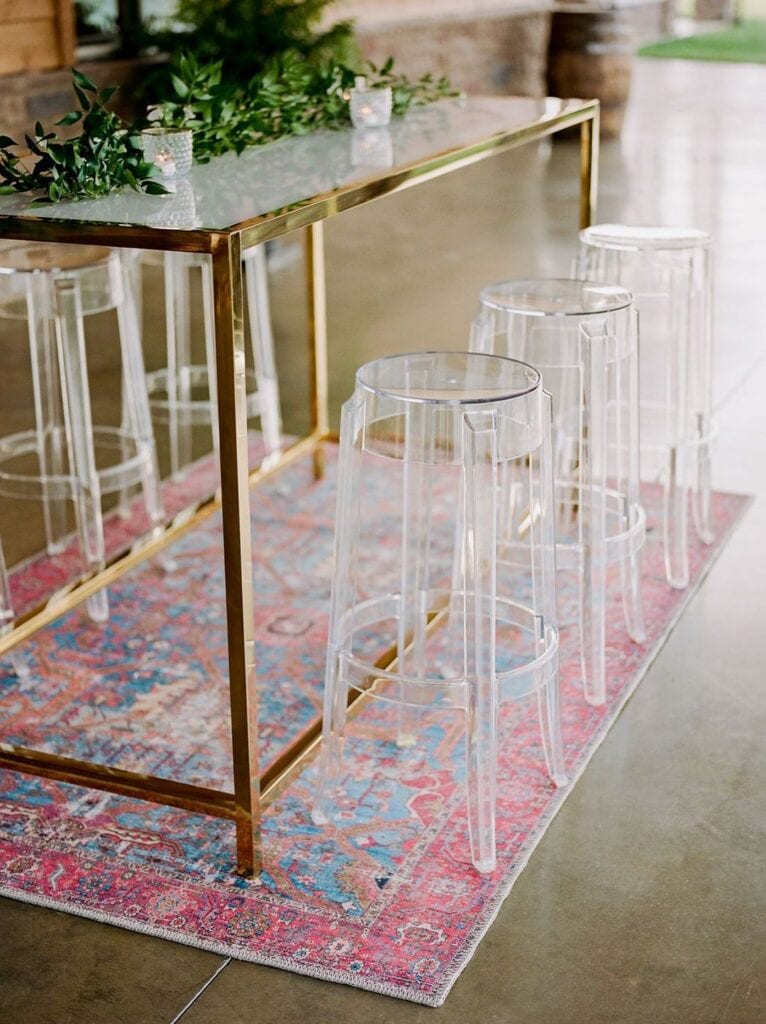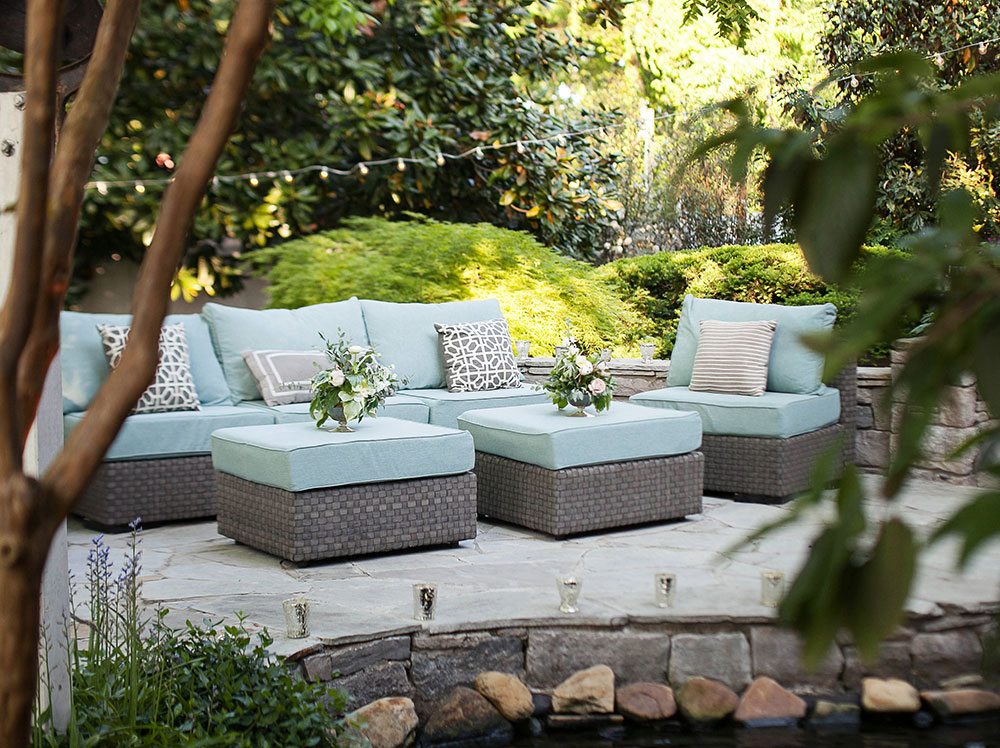 Need more colorful summer party ideas? Contact our team today and a member of our team would be more than happy to help you come up with a one-of-a-kind event design!
TAGS | colorful decor, colorful event lounge, colorful event rentals, colorful party rentals, outdoor event rentals, summer event style, summer party ideas
FEATURED RENTALS | Davis Glassware, Cybil Glassware, Water Goblets, Champagne Shelf, Boxwood Wall, Poly Linens, Velvet Linens, Miscellaneous Linens, Gold Aurora, Saylor Navy Velvet Sofa, Jaqueline Velvet Sofa, Farrah Teal Velvet Chair, Gloria Velvet Arm Chair, Accent Tables, Lounge Packages, Rugs,
---
9

Jun

Southern Events Products, Trends and Inspiration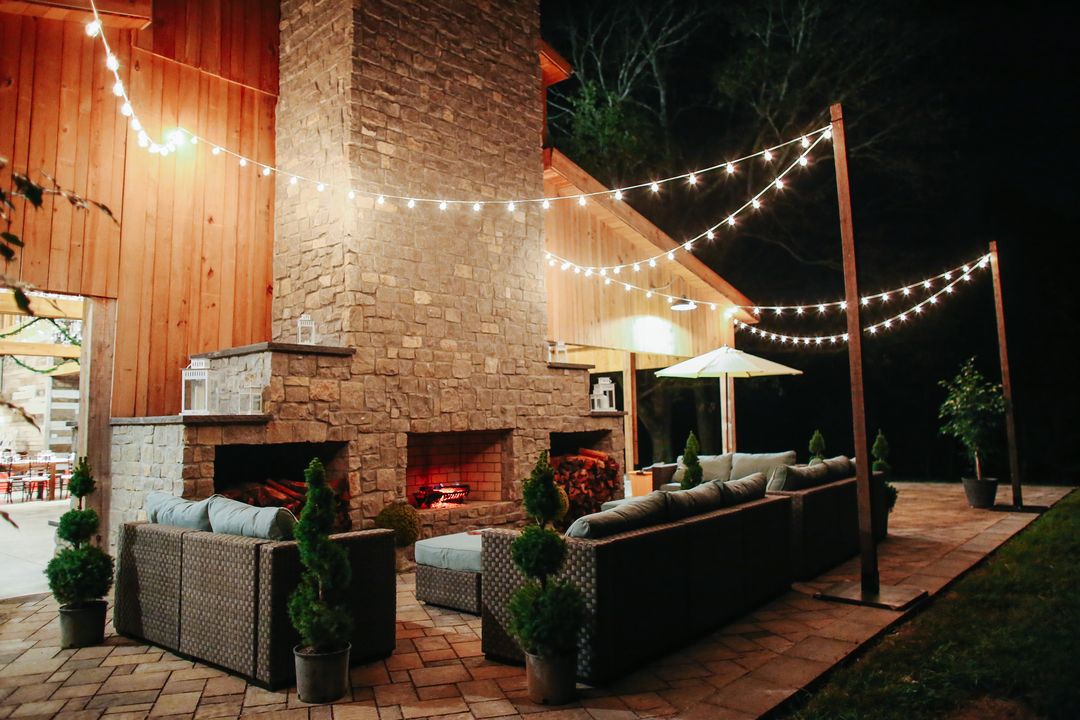 Many of us spend our days inside, hunched over a computer. Throwing outdoor parties makes for a welcome change of pace, especially when the weather is warm! Imagine an event spent under the night sky, with music in the air and a refreshing cocktail in hand. Yep, that sounds like a Nashville-themed outdoor party to us! If this has you feeling inspired, keep reading for a curated list of outdoor party rentals for your Music City gathering!
Indoor to Outdoor Spaces
Hosting a comfortable backyard party is all about knowing how to make the most of a space! Utilizing both indoor and outdoor areas will allow more room for guests to mingle. Consider setting up different social areas where guests can move to and from to interact with others. Outdoors, create a cozy space with our Sutton Lounge Collection and Navy Rug. On a patio or covered terrace, set up a handful of stylish bistro tables outfitted with any of our luxe linens linens – Kennedy looks great no matter the weather!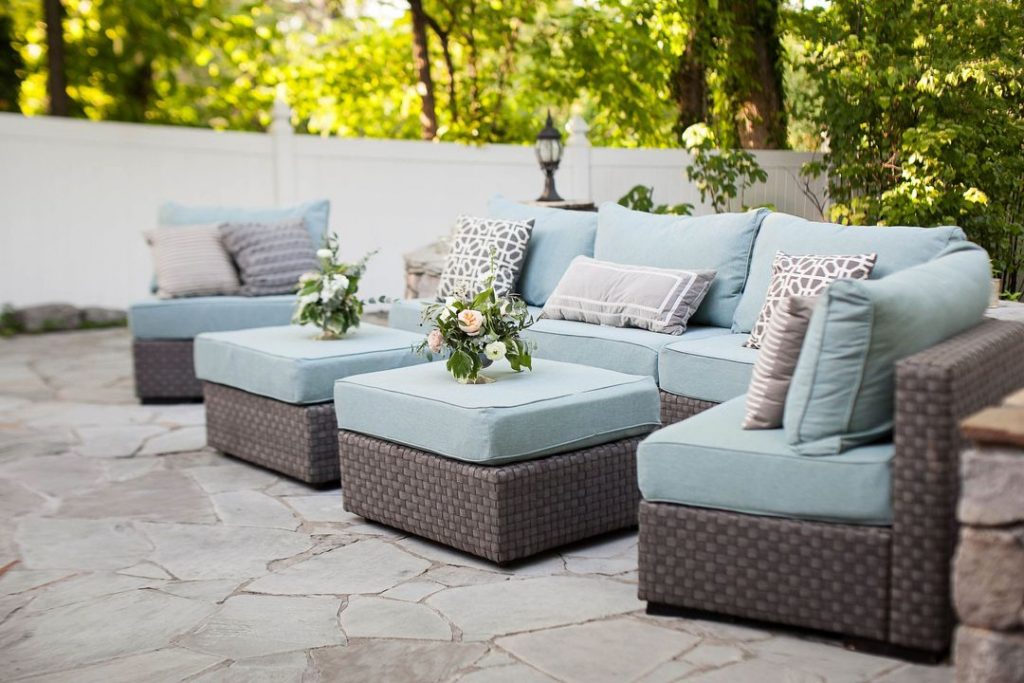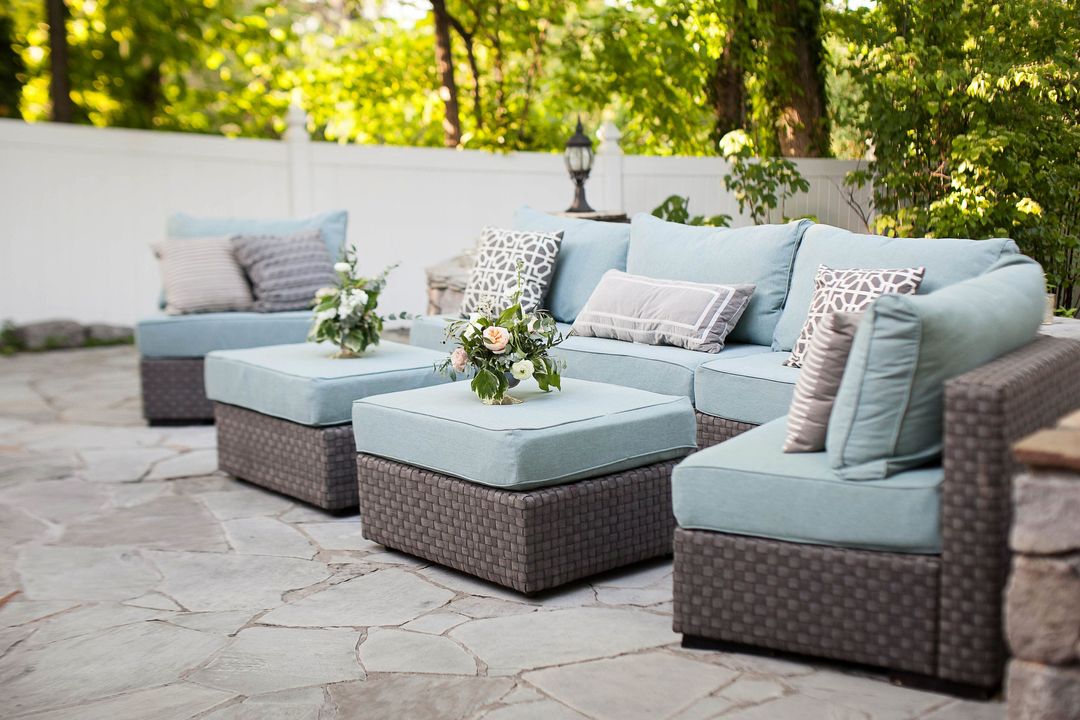 Delightful Drinks
A well-planned Nashville Themed outdoor party is likely to include refreshing cocktails. And in Nashville, you'll most definitely find bourbon! Having the right outdoor bar set up that is both functional and stylish is vital for a successful outdoor party. For a more intimate gathering or Gold Bar Cart is an elegant piece. But for a sizeable crowd, feature any of our rustic-inspired bars. Such as our Antique White Franklin Bar or Whiskey Barrel Barnwood Bar! Of course, don't forget to keep it stocked with elegant glassware, like our classic Monaco Rock Glasses.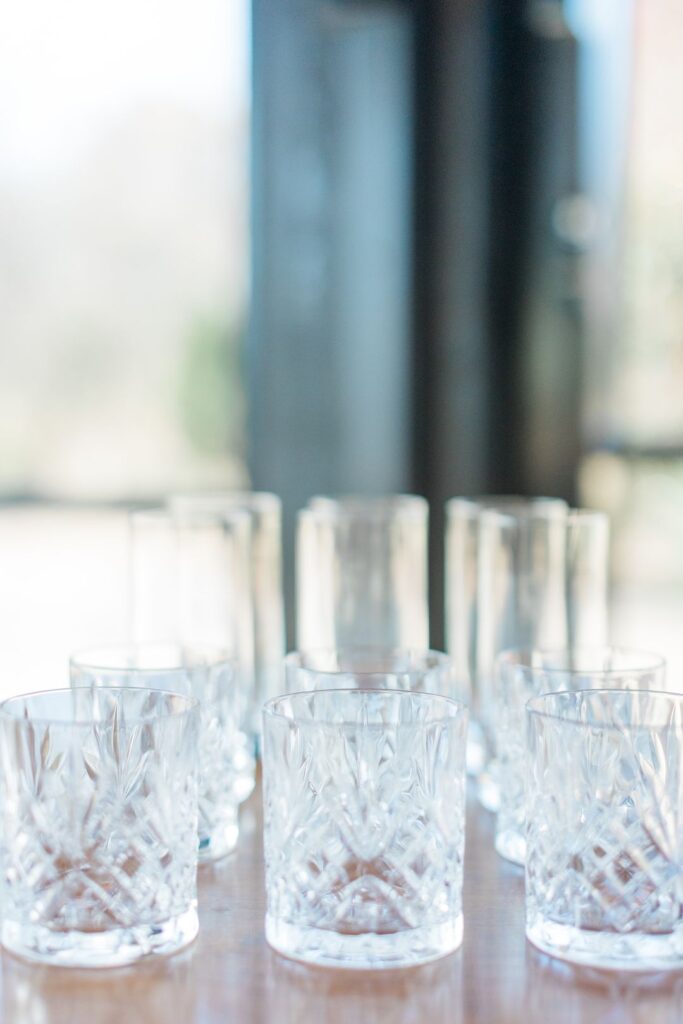 Interactive Areas
Fire pits just burn with ambiance! Guests love to gather around our Stone Round Fire Pit to perch on Rustic Benches or Chocolate Poufs. Oh, and speaking of ambiance, our Assorted Oversized Lanterns look darling placed near lounging areas and tables. All the while providing extra lights to keep guests safe. To dress up your seating, and keep guests cozy, we recommend that you feature throw pillows and blankets. Just don't forget to pack the s'mores!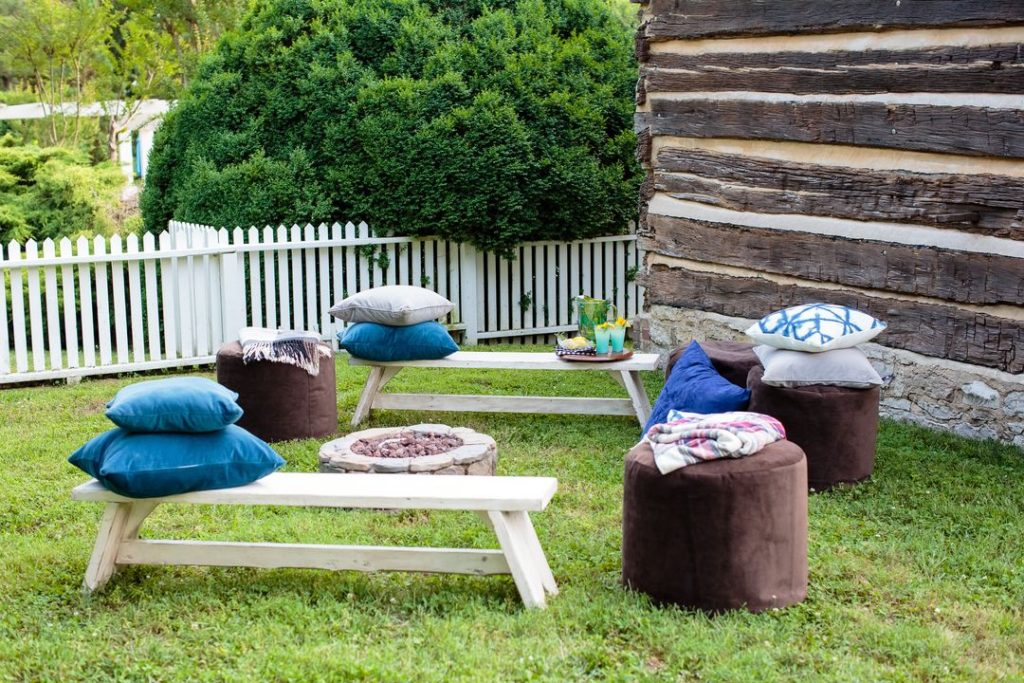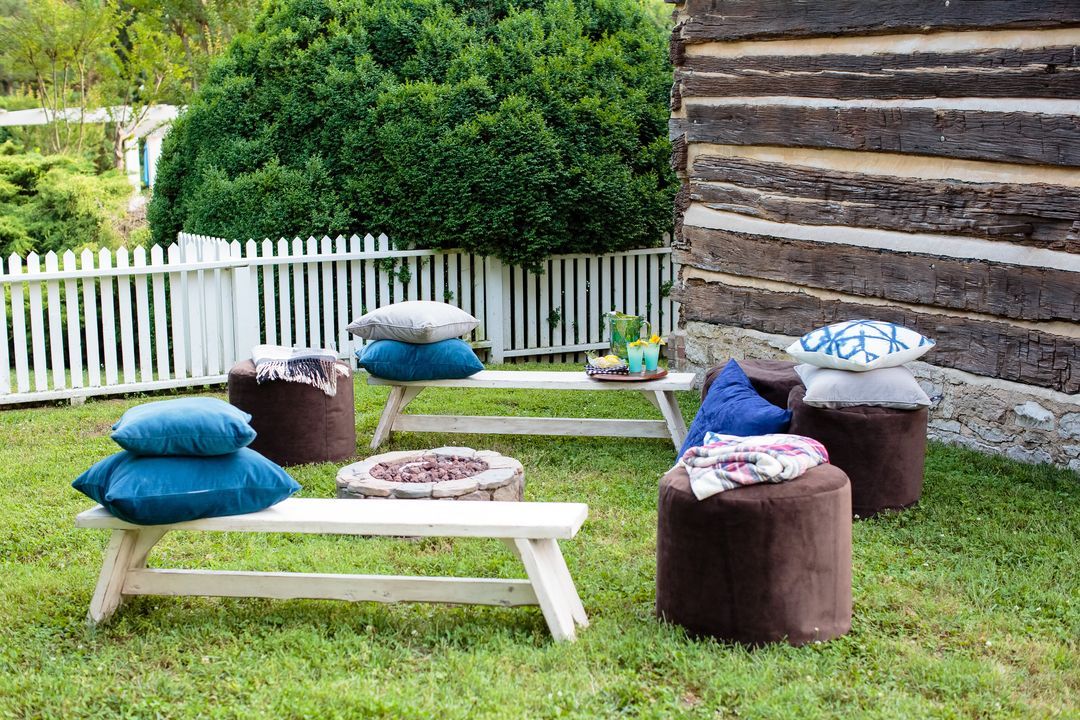 Ready to plan a Nashville-themed party under the stars? Send us a message at info@southerneventsonline.com and work with our team to host a one-of-a-kind event. Planning to enjoy dinner outdoors as well? Be sure to check out our blog on Al Fresco Dining!
TAGS | Cocktail Party Rentals, Lounge Furniture, Nashville party rentals, Southern Events Party Rentals, Unique Nashville Event Rentals, backyard parties, bar event rentals, lounge furniture rentals, outdoor event rentals
FEATURED RENTALS | Sutton Lounge Collection, Navy Rug, Stone Round Fire Pit, Chocolate Poufs, Rustic Bench, Assorted Oversized Lanterns, Antique White Franklin Bar, Whiskey Barrel Barnwood Bar, Gold Bar Cart,, Monaco Glassware,,
---
10

Feb

On Trend, Southern Events Products, Trends and Inspiration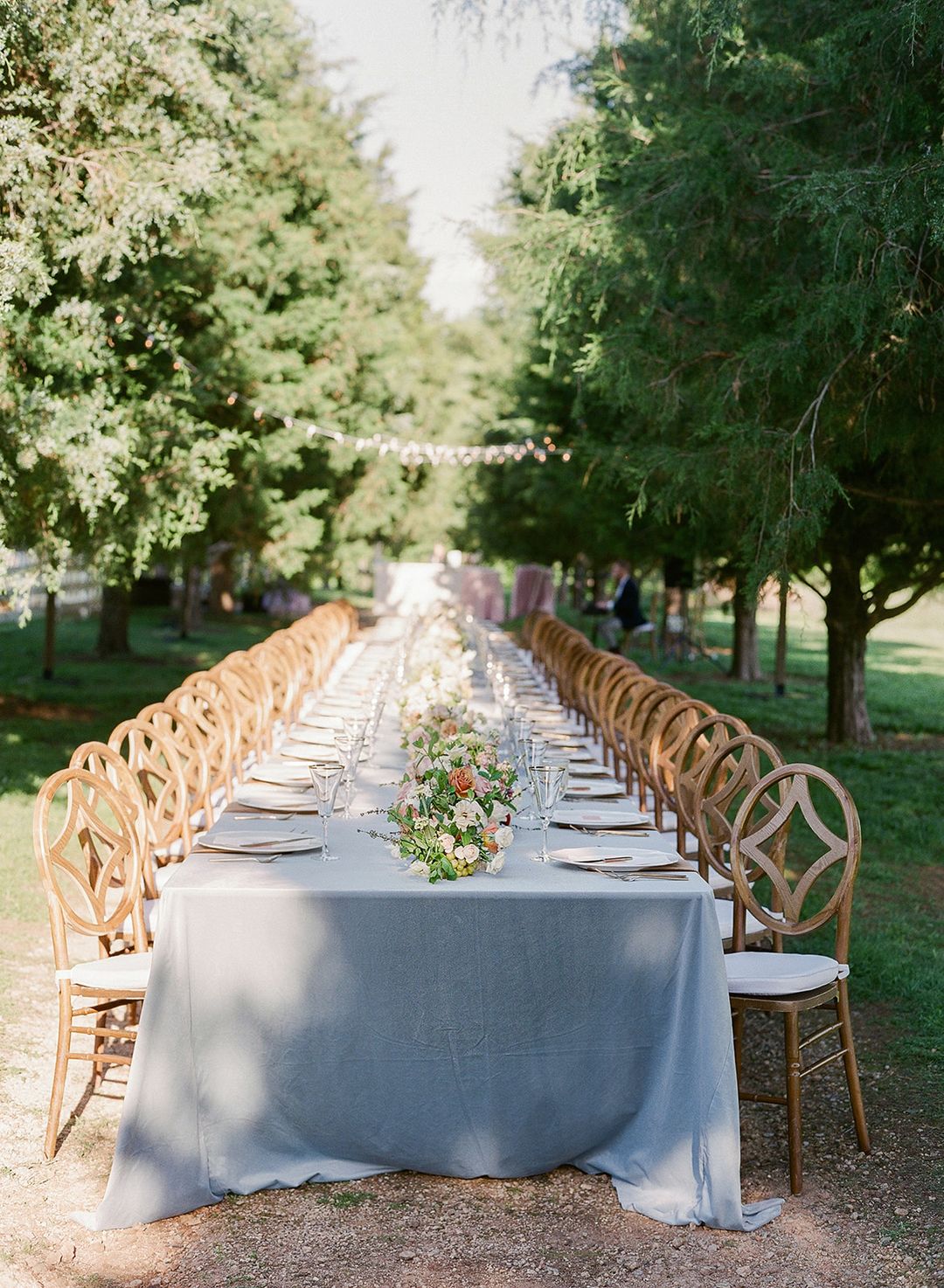 When the springtime rolls around, so too does bright and airy wedding design! Perfect for the season, this style is clean and romantic featuring chic colors and luxurious details. To help you host a memorable warm-weather celebration in Tennessee, we're sharing some organic spring wedding inspiration featuring our on-trend rentals.
Airy Reception Setups
First things first, let's talk ceremony details! You can pull off a modern organic look indoors or out, regardless of the state of the weather. Starting with simple and timeless seating. Our Fruitwood Folding Chairs are a natural color, ideal for an outdoor setting. Whereas our Antique White Bentwood Chairs will brighten any indoor space! And, don't forget an elegant ceremony backdrop – our Wedding Canopy are easy to customize.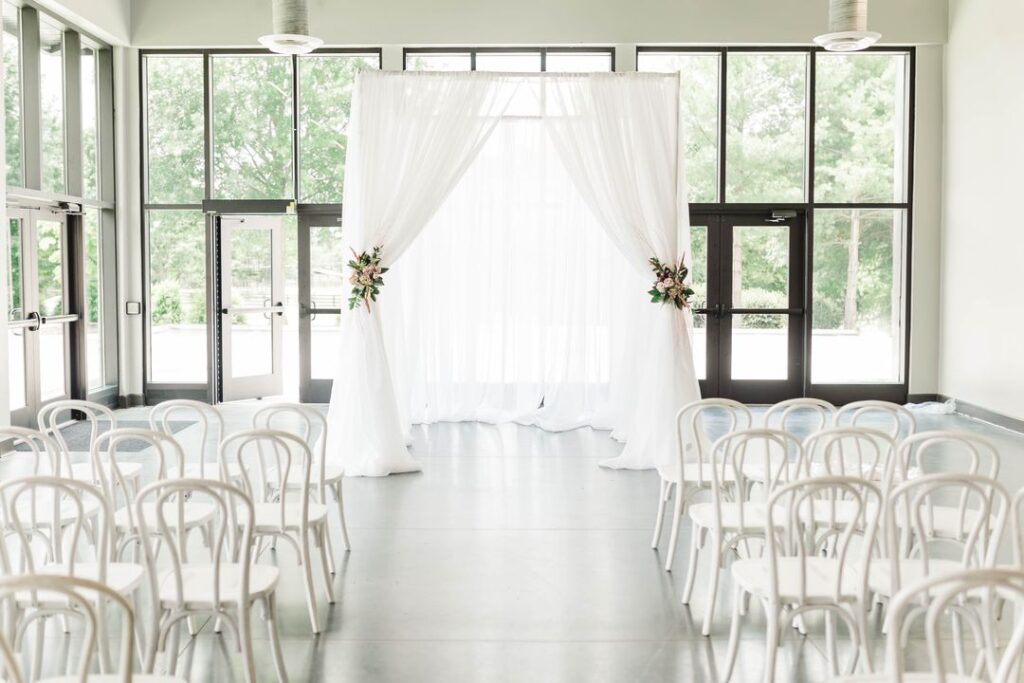 Organic Reception Tables
When designing your reception tables, carry over the simple but romantic theme. But don't be afraid of color! This year, we're loving rich table linens – perfect when featuring white china. A few of our favorites include the Fern Velvet and Sea Glass Velvet Linens. Both of these pair well with our White Round China and Rattan White Wash Chargers. For an extra pop of color, you might also feature our colored goblets in Green or Amber! We love this look for an indoor dinner.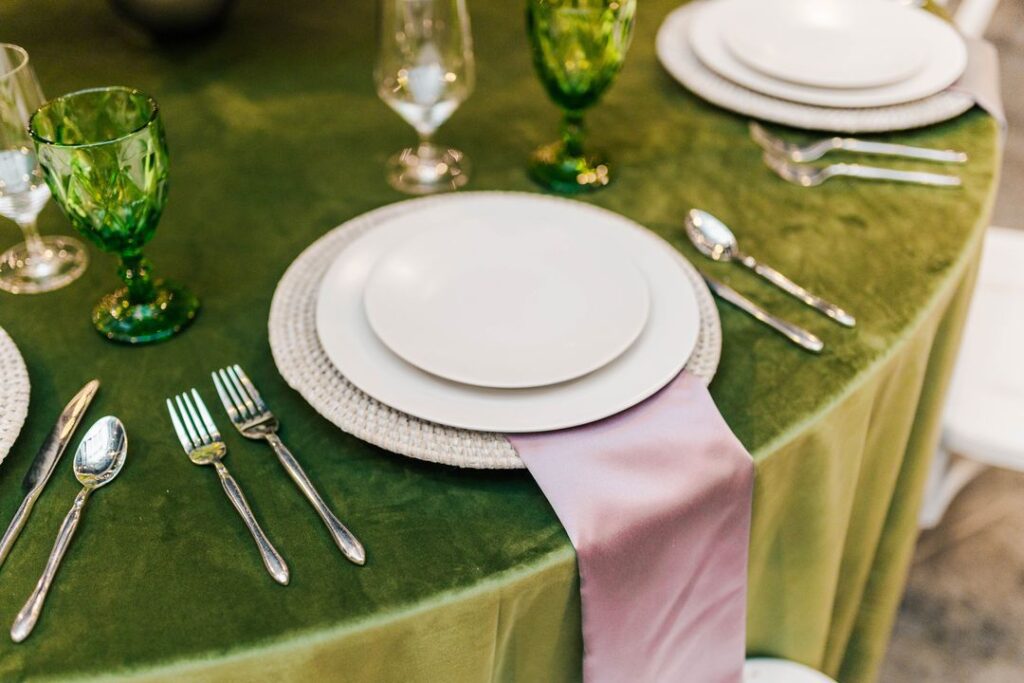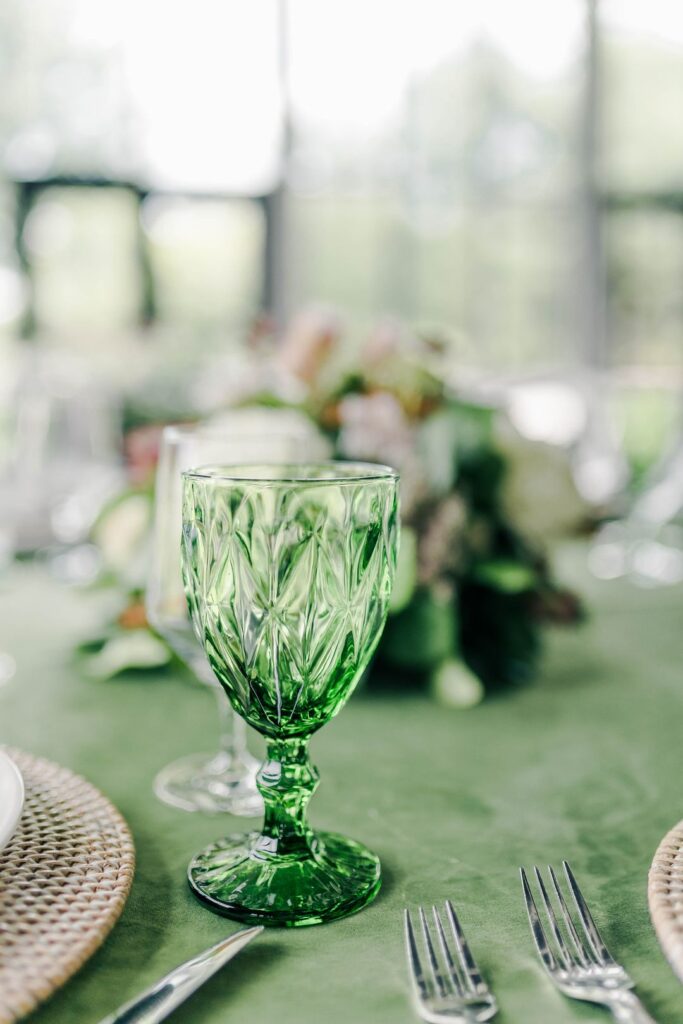 If you're hosting outdoors, we recommend a brighter palette that will stand out against a lush backdrop, such as a garden. This table features our Light Blue Pindot linens and brown napkins, which beautifully complement our elegant Harlin Dining Chairs. For serving ware, check out our dainty Darcy China, Austin Gold Flatware, and Audrey Gold Rimmed Glassware. Altogether, these pieces make for an absolutely timeless and oh so romantic dinner set up!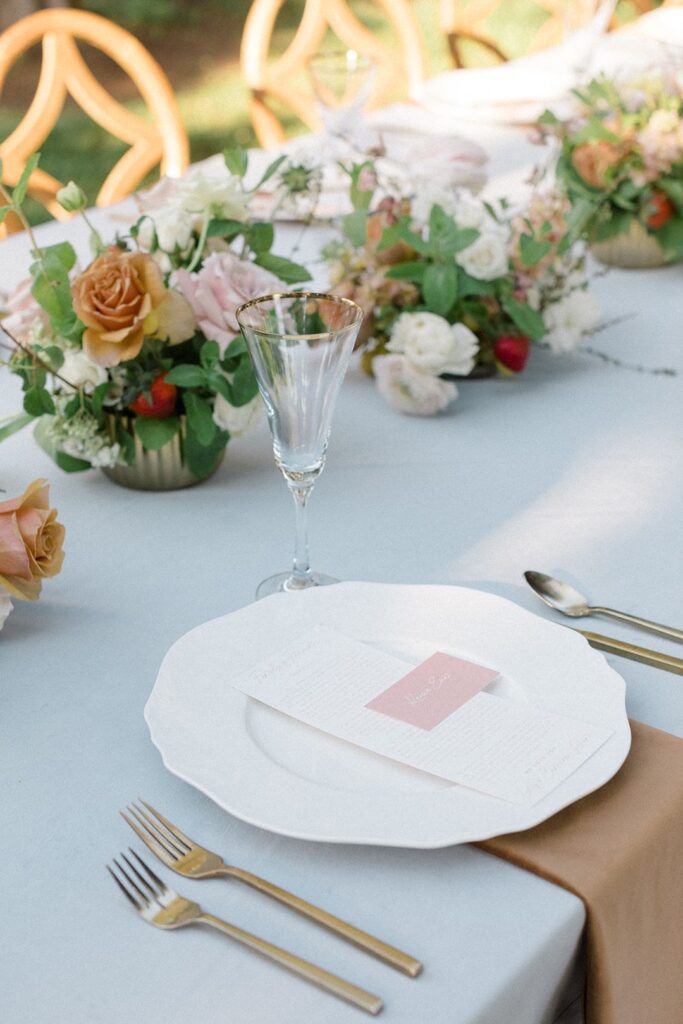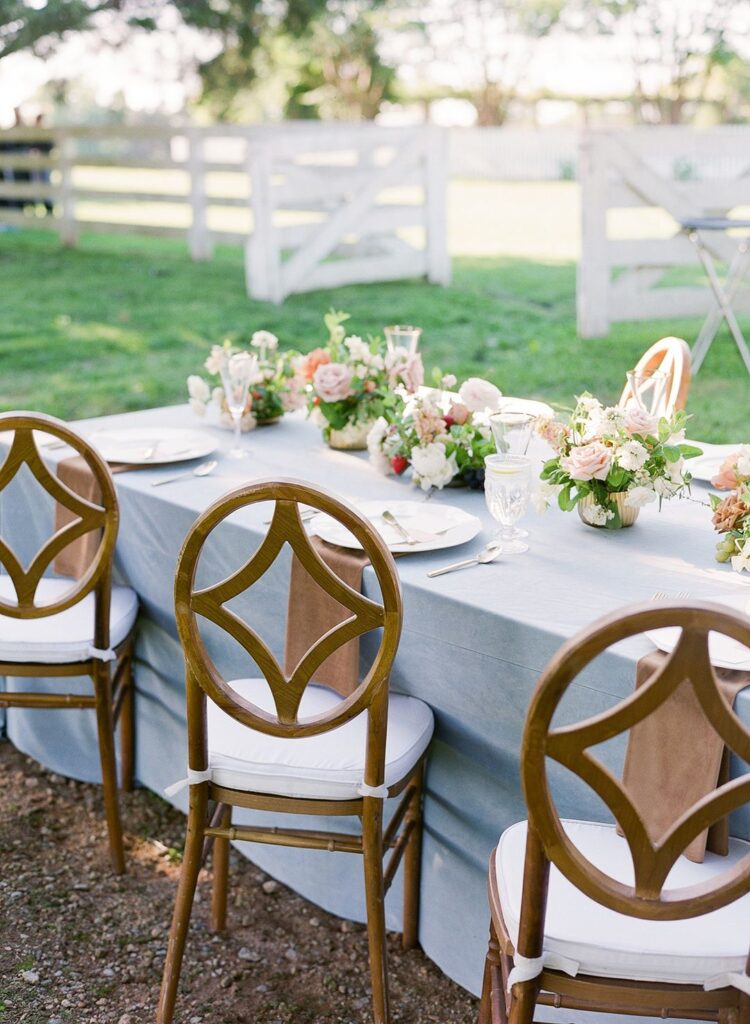 Outdoor Cocktail Hours
Last, and certainly not least, is a bar and lounge fitting for a breezy cocktail hour. When hosting an organic spring wedding, let nature do the work and keep your furniture simple. The Franklin Antique White Bar will stand out in a lush setting and is complemented beautifully by our White Bar Back Shelf. For a cozy yet timeless lounge area, you can't go wrong with warm-toned rentals, such as the Bennett Leather Sofa and Adeline Dining Chairs. To make it extra inviting, don't forget some plush poufs and a rug or two!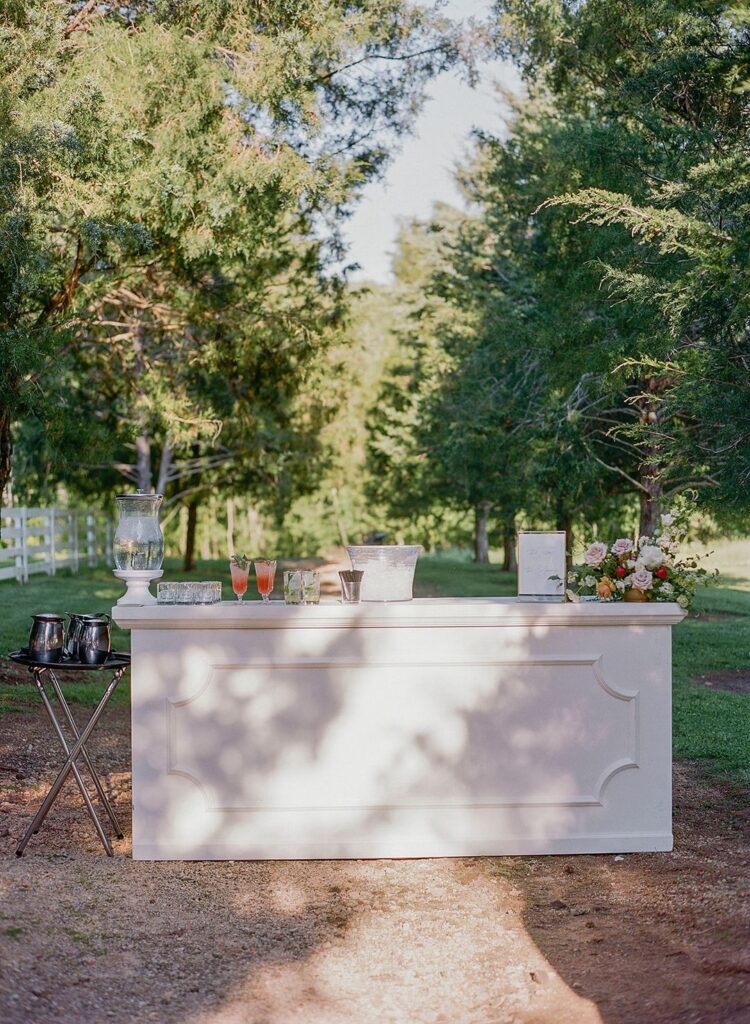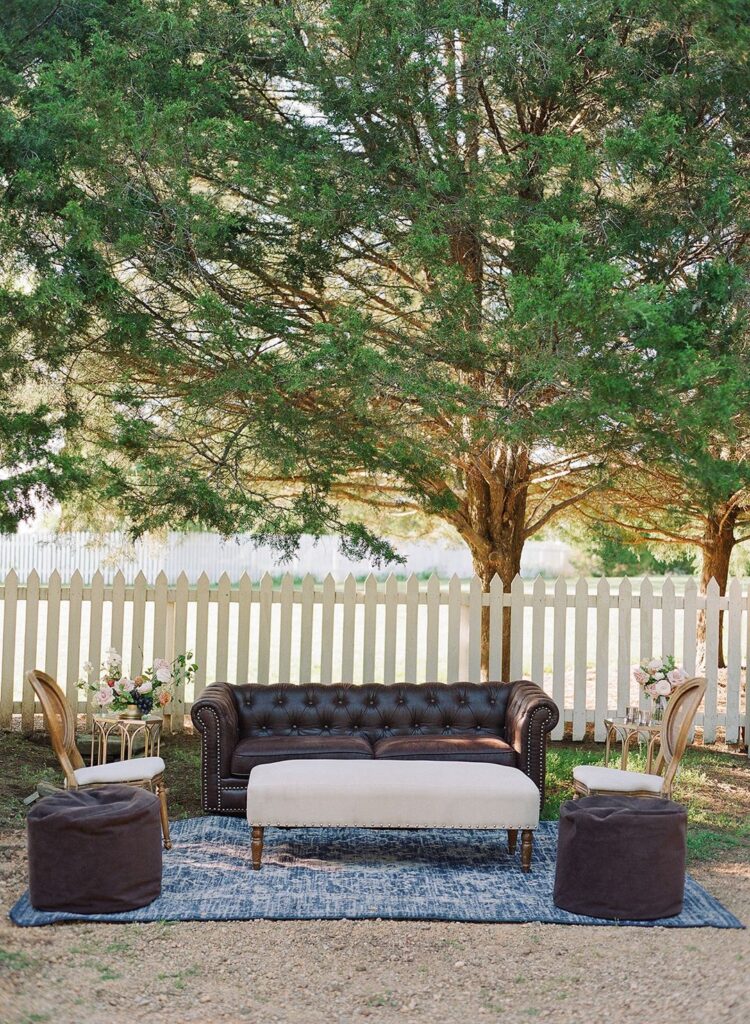 Drooling over this organic spring wedding inspiration? Send our team a message at info@southerneventsonline.com for help bringing this theme to life for your big day! For more organic event ideas, check out our blog on Natural Luxe Lounge Furniture.
TAGS | Spring Weddings in Nashville, lounge seating, organic luxe, outdoor event rentals, spring wedding style, tablescape inspiration, upscale organic wedding style
FEATURED RENTALS | Fruitwood Folding Chairs, Antique White Bentwood Chairs, Wedding Canopy, Franklin Antique White Bar, white Bar Back Shelf, bennett leather Sofa, Adeline Dining Chairs, White round china, fern velvet, sea glass velvet, colored goblets, darcy china, audrey gold rimmed glassware, harling dining chairs, light blue pindot linens, austin gold flatware,
---
1

Apr

On Trend, Southern Events Products, Trends and Inspiration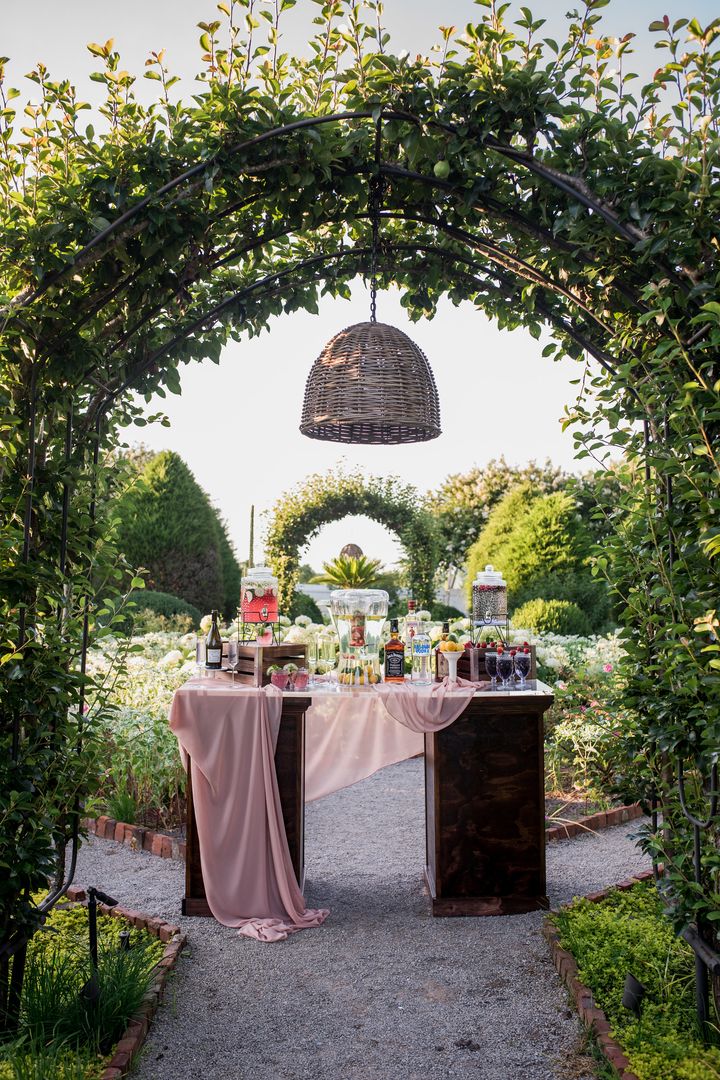 Come warmer weather in Tennessee, there is nothing more enjoyable than surrounding yourself with friends and family outdoors. You need to create a bright and memorable setup that complements the season. Today we're sharing pastel summer event inspiration for your upcoming summer or spring Nashville celebrations, featuring our stylish in-stock rentals.
Soft Pastel Colors
This season we're complementing the lush foliage and soft flowers with pastel palettes! Ideal for an outdoor event, it will stand out with a fresh and elegant look. While this design features our Wisteria Satin linens, we also offer a Peach Poly, Light Blue Pindot, and Mediterranean Satin. For a cohesive vibe, consider hand-written details for place cards, the menu, or event signage.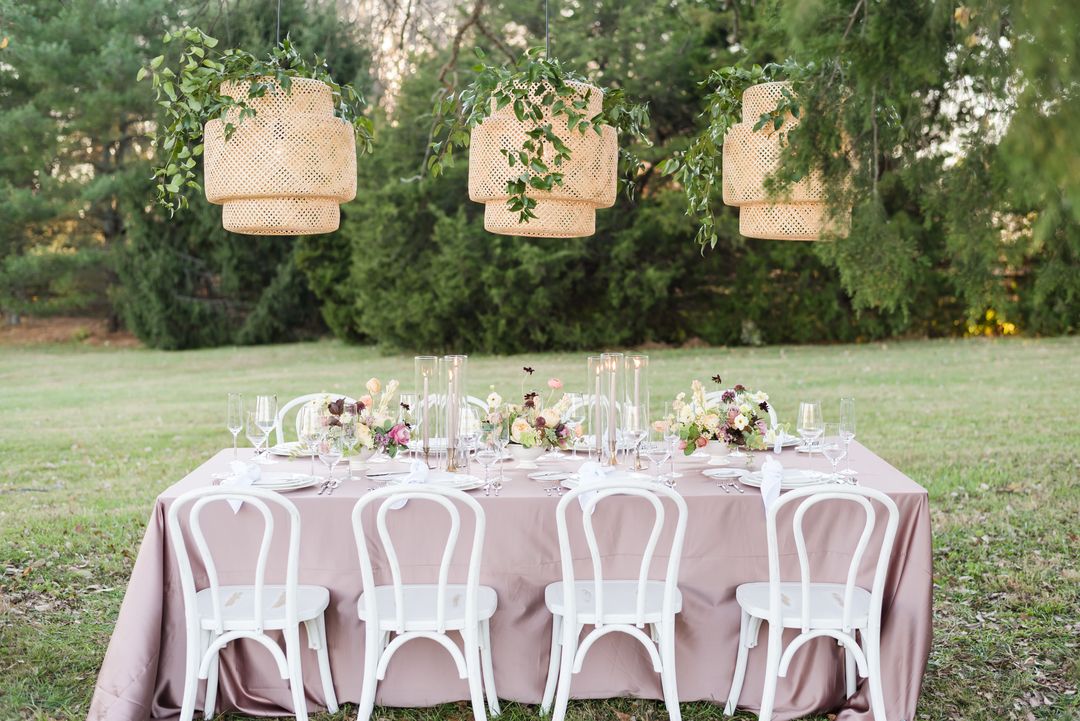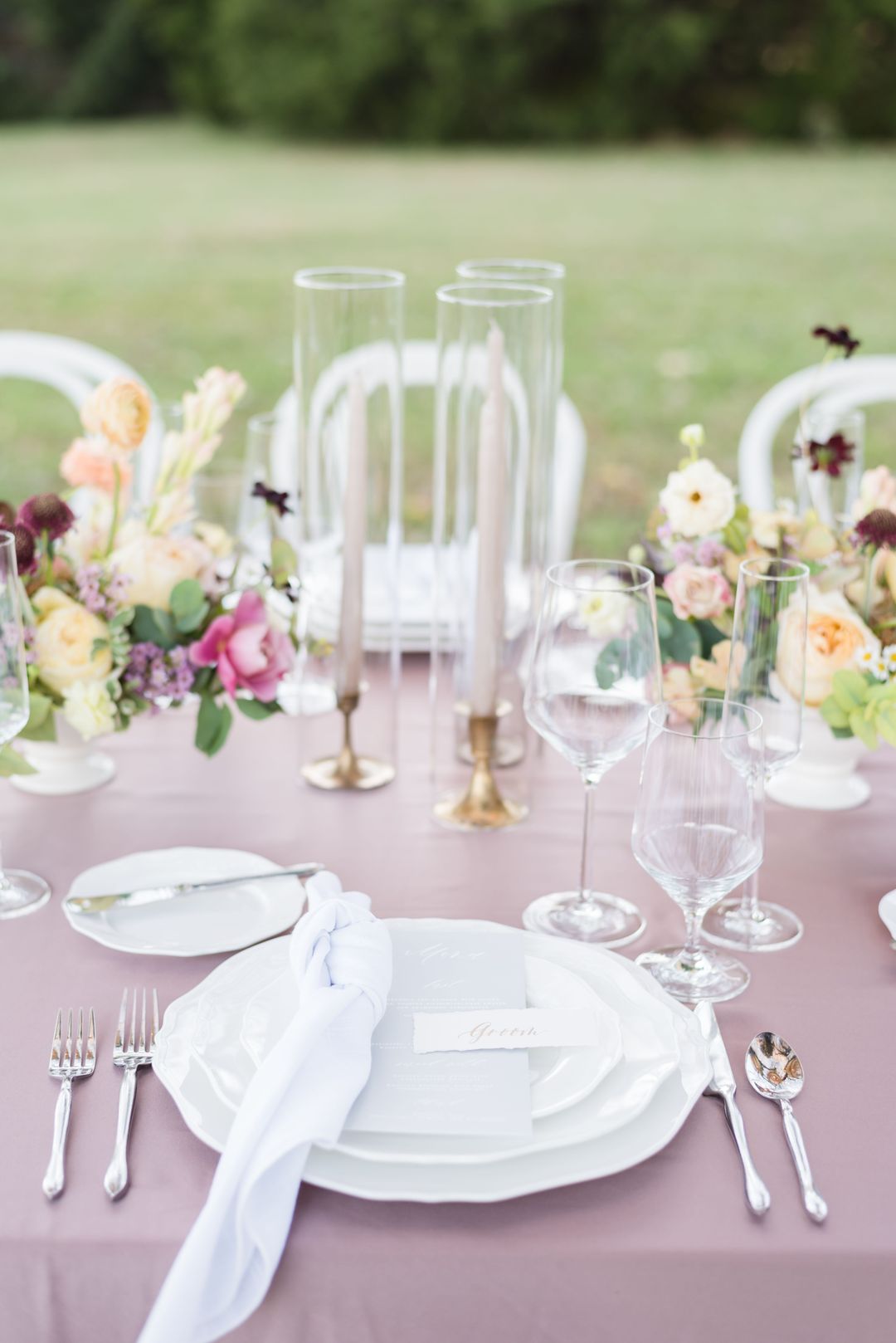 Photo by Mandy Liz Photography
Earthen China
To plate up dinner, check out an equally gorgeous alternative to classic china: earthenware. It comes in three beautiful colors, Alabaster, Onyx, and Stone. While Alabaster and Stone are beautiful for a pastel look, don't overlook Onyx which can be used to lend some contrast to an otherwise bright tablescape. To amp up the look of our earthen china, consider complementing it with one of our unique chargers!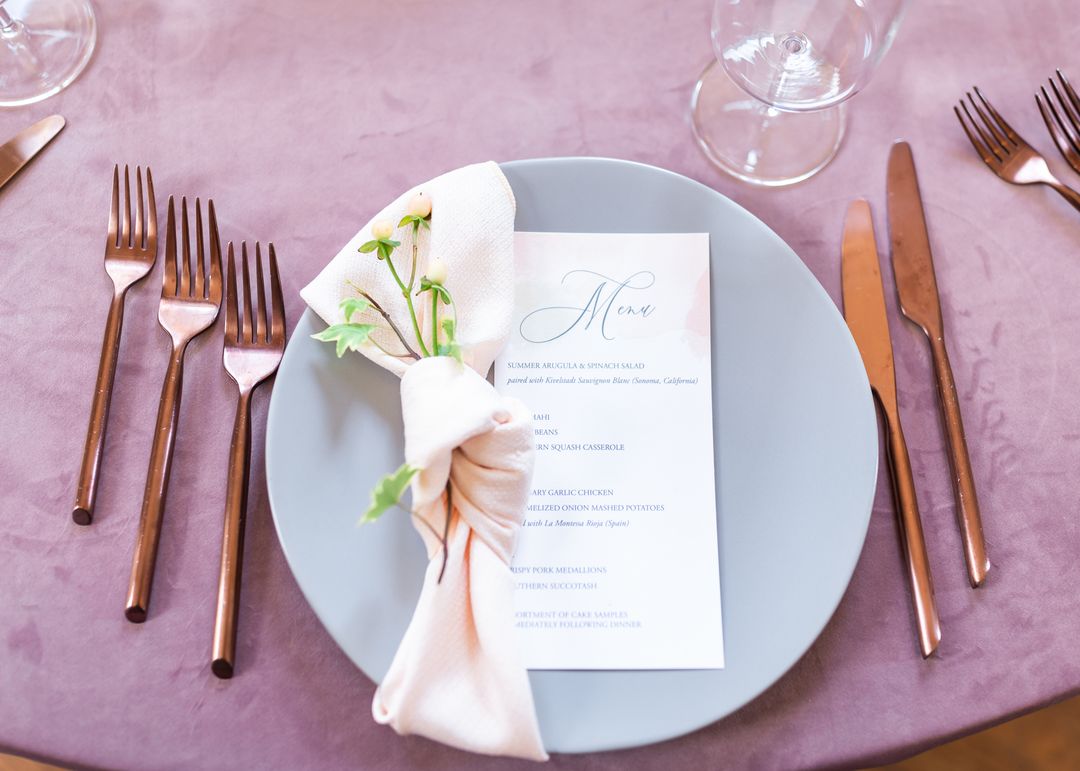 Photo by Honeysuckle & Wine Photography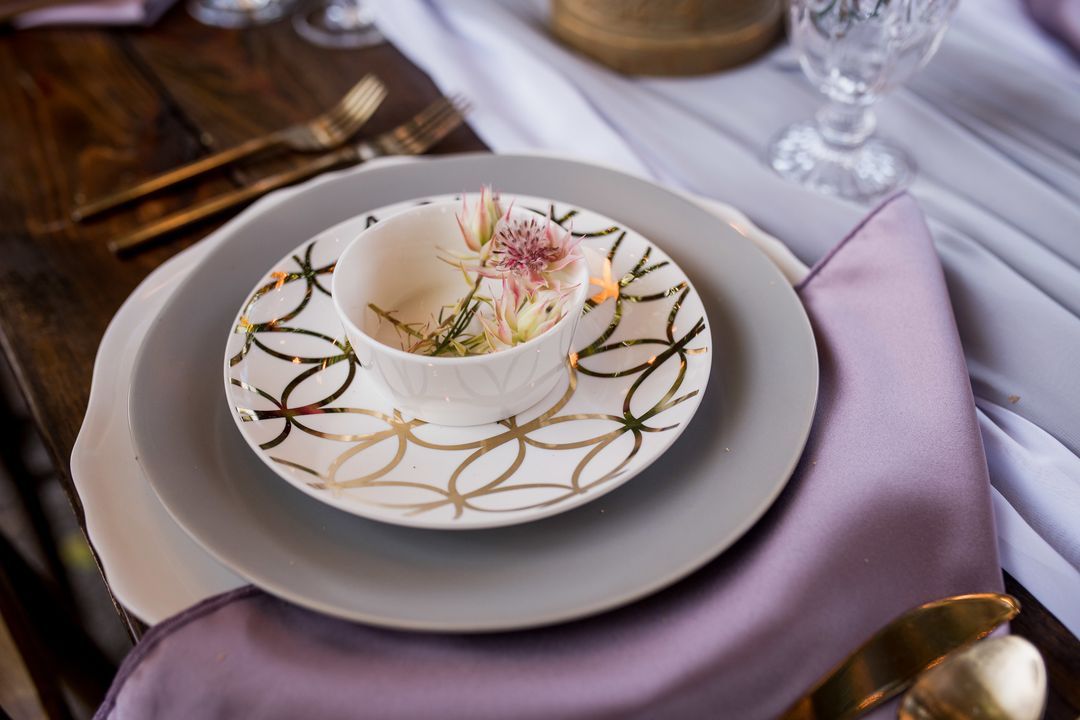 Romantic Chiffon Runners
In terms of centerpieces, florals, lanterns, and geometric table decor – all add to the beauty of a tablescape. If you're looking to add some texture and romance, however, we recommend a chiffon table runner. They can be used standalone or atop table linens to add volume. You can let them pool around your centerpieces and/or allow them to drape off the edge of your tables for a loose but elegant look.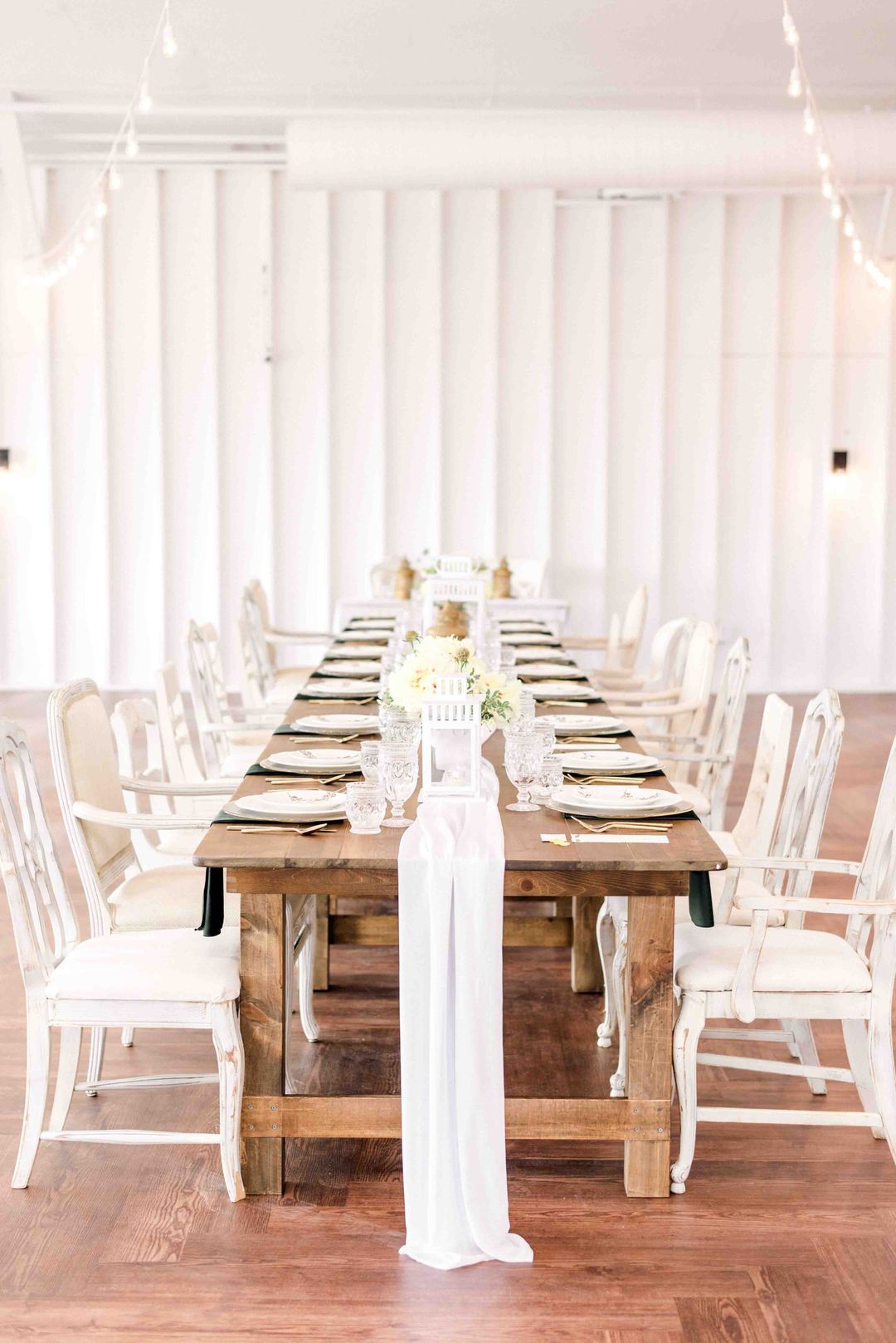 Photo by Cee Cee Photography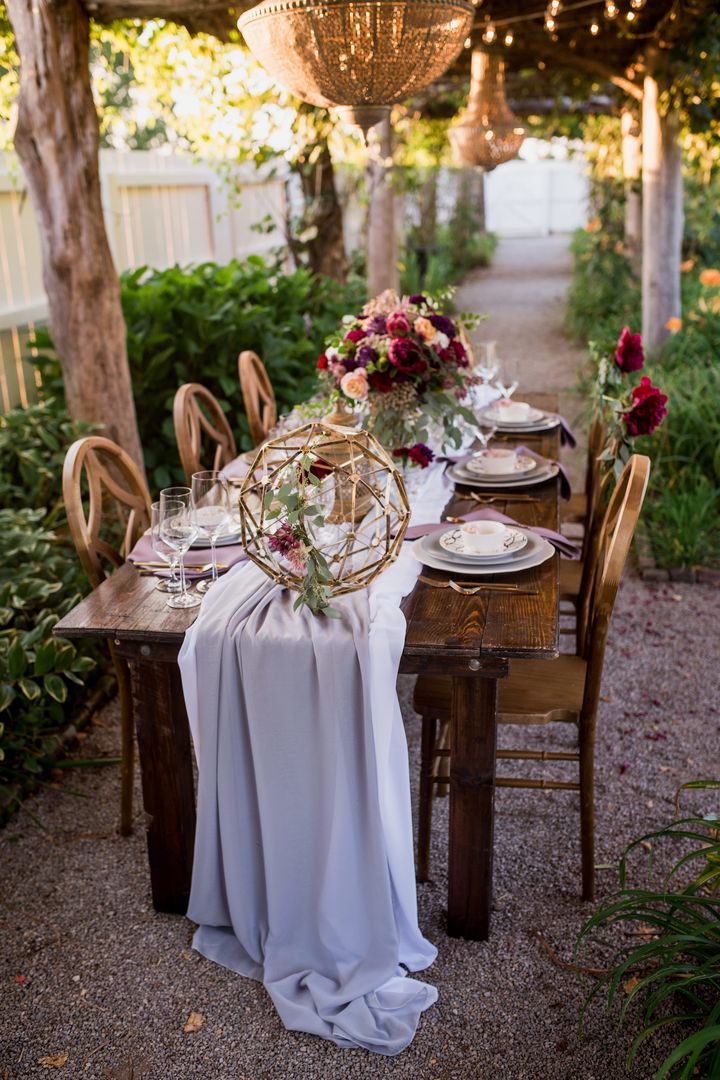 Photo by John Myers Photography
Elegant Harlin Chairs
One of our favorite pieces of furniture, our Harlin dining chairs are a stunning option for your summer event. Made of wood and with stylish backs, they add an instant touch of elegance to any tablescape. They can also easily be decorated with greenery, for a fresh spring or summer look. For a table that complements these chairs, consider featuring our Fruitwood Farm Tables.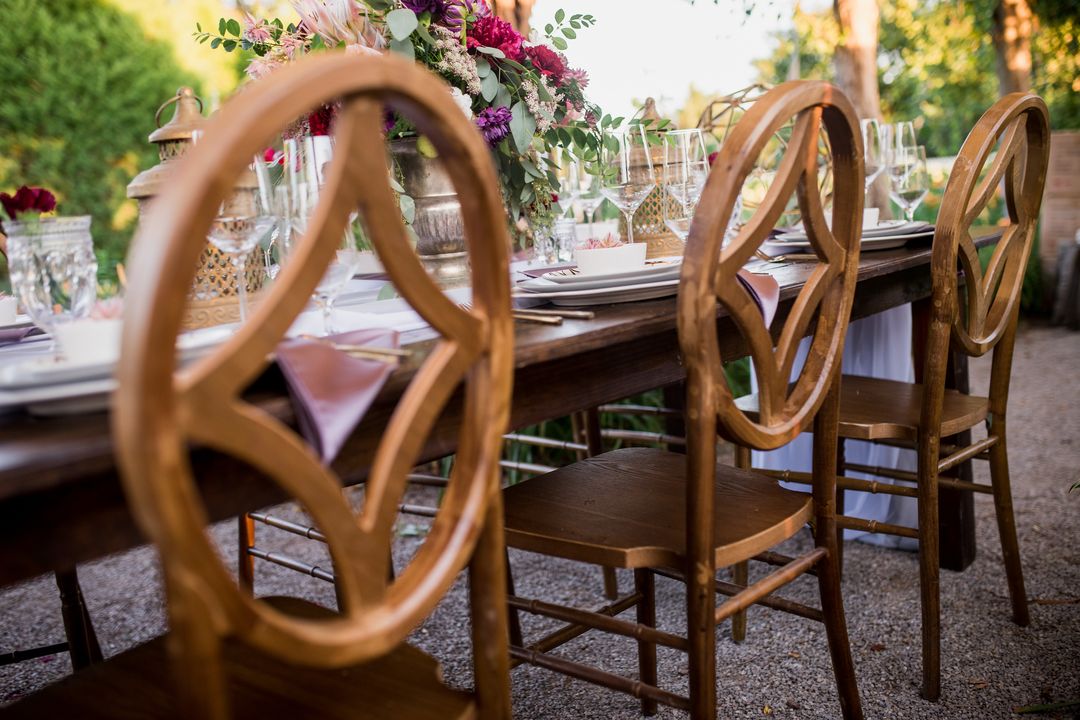 Santorini Furniture
If you plan on taking full advantage of summertime in Tennesse, an outdoor lounge area is a good idea. Perfect for a cocktail hour or post-dinner drinks, it will allow your guests to get cozy and mingle all evening. Keeping with our pastel summer event inspiration, we recommend our Santorini Off-White Sofa paired with an accent table. Or feel free to choose from one of our curated lounge packages!
Rolling Bar Cart
Cold drinks are a must-have at any summer celebration! This summer, we're loving the look of our vintage-inspired Hob Nob glassware. They're the perfect way to add a little bit of texture to your tablescape. Or for a more sleek and elegant look opt for our Pure glassware, available in wine glasses, goblets, and champagne flutes. To complete the look, create a luxurious and memorable drink station using our rolling gold bar cart!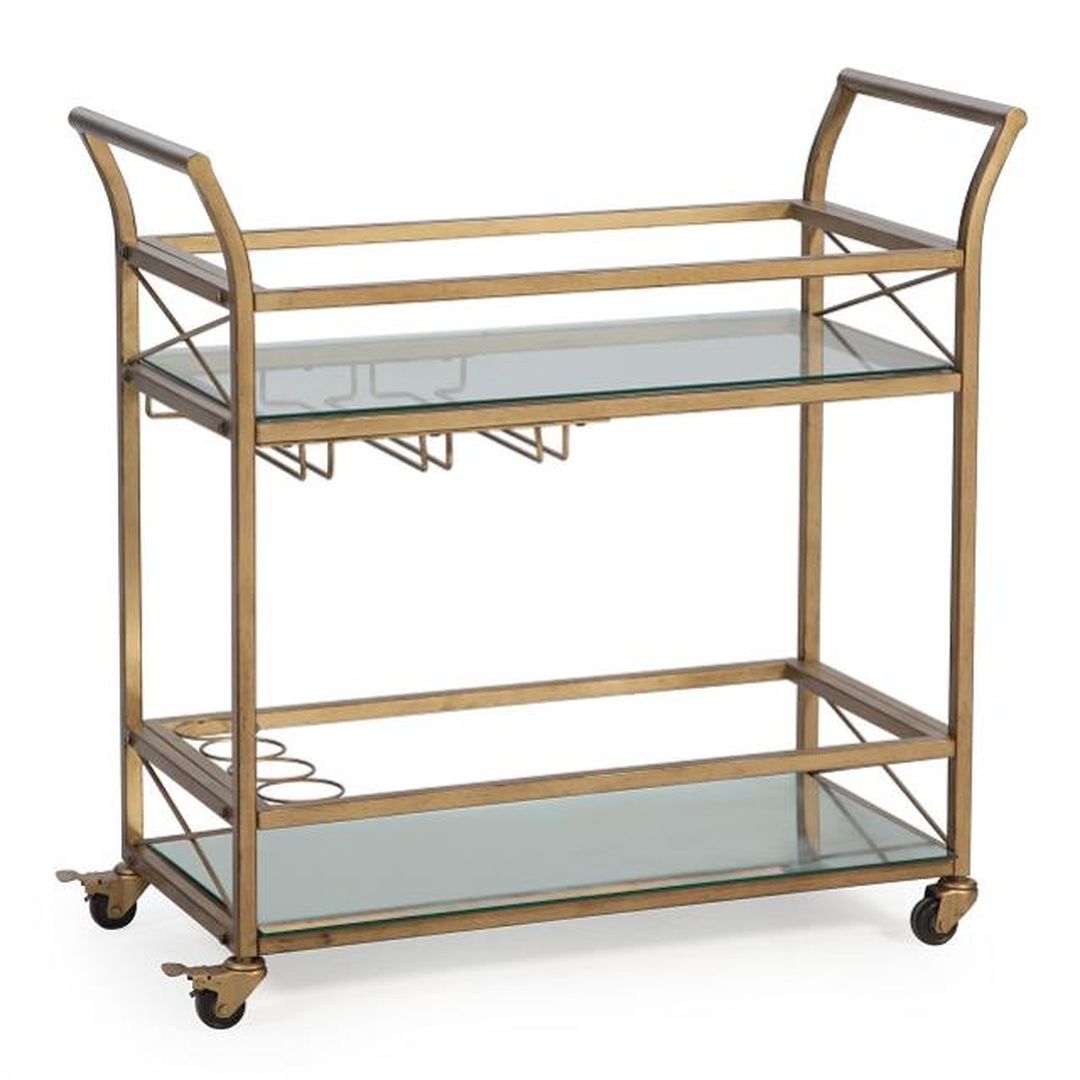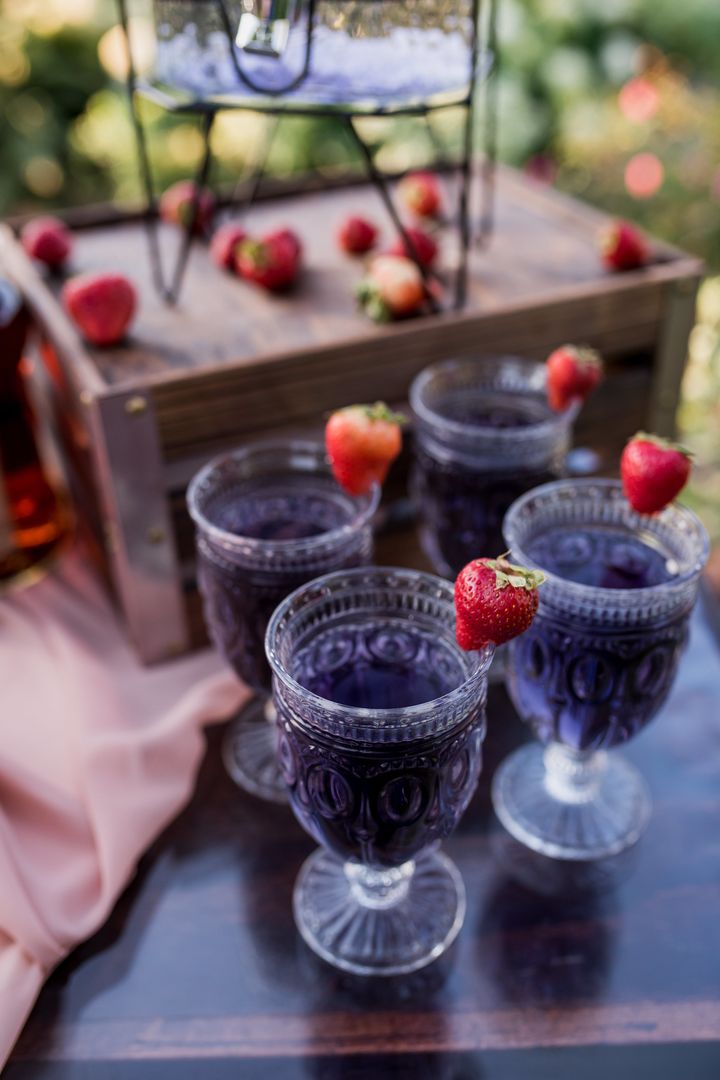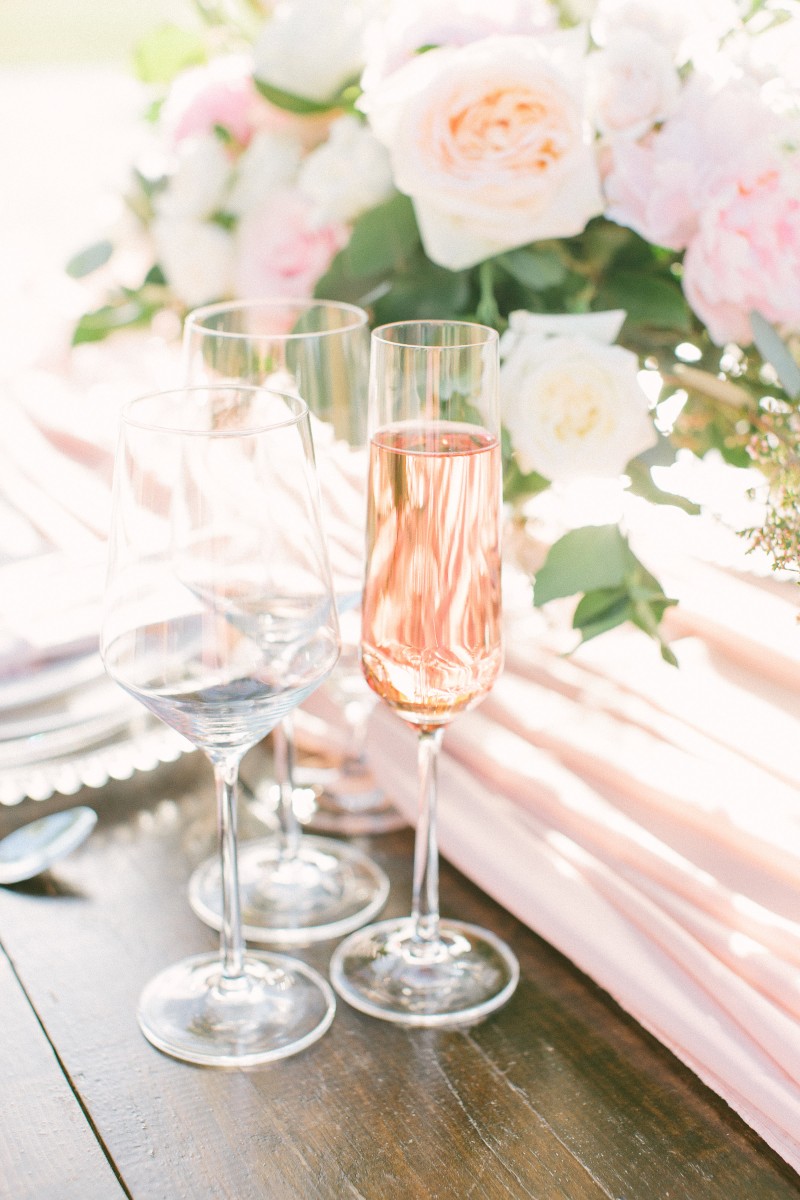 Photo by Jannah Alexander Photography
Loving this pastel summer event inspiration? 
Contact our team 
today for help recreating one of the looks for your upcoming event!
TAGS | outdoor event rentals, pastel event, southern summer party planning, summer event style, summertime chic
FEATURED RENTALS | Santorini off-white sofa, lounge packages, Hob Nob glassware, pure glassware, bar cart, earthen china, wisteria linens, peach poly, Harlin chairs, Mediterranean Satin, light blue pindot poly,
---
4

Mar

On Trend, Southern Events Products, Trends and Inspiration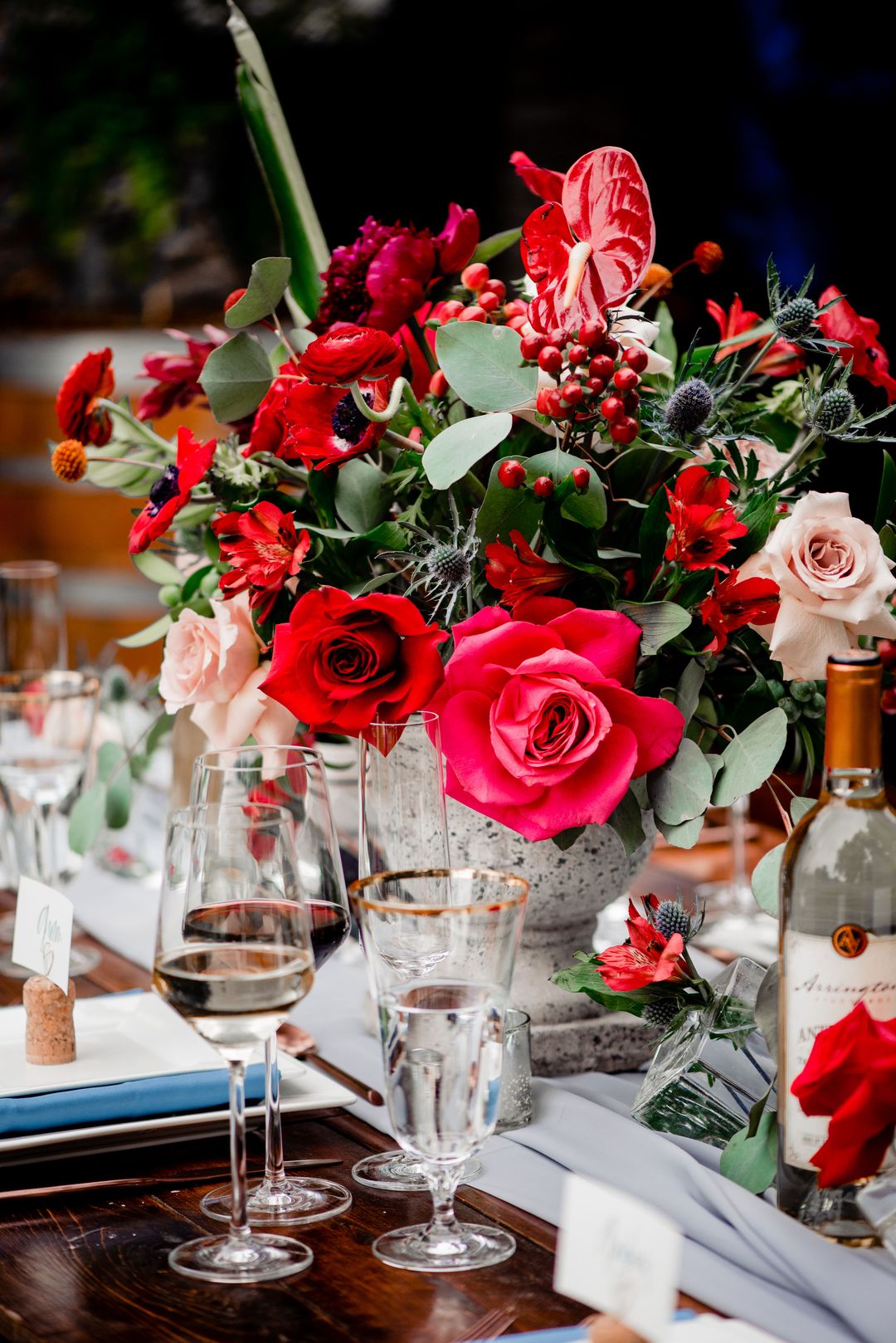 When the weather is nice, why not enjoy dinner with your family and friends outside? Come spring and summer in Tennessee, there is nothing better than dining in the fresh air, with a cold cocktail in hand. Get inspired for backyard alfresco dining with our stylish in-stock serving ware.
Vibrant Cherry Red & Teal
To complement the colors of the season, we love a vibrant tablescape. This design features cherry red and teal, for a look that is classically southern. Our warm fruitwood farm table acts as a base for White Square China, Navy Blue Velvet napkins, and Pure Glassware. A cool-toned, Dove Grey runner lends another hint of blue to the table. Meanwhile, our Brushed Copper Flatware and Audrey Gold Rim Glassware bring a touch of glam via metallics.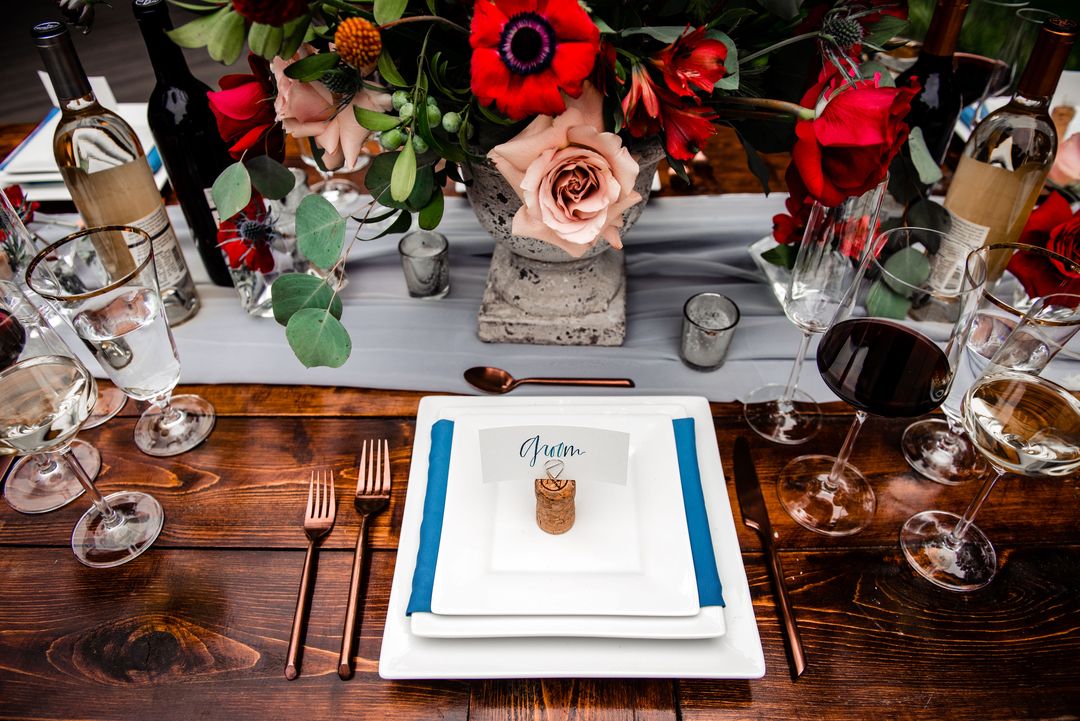 Natural Lime & Lemon
Sometimes less is more! For this natural table design, fresh citrus and fruit was the star of the show. Atop Heritage Ivory Linens, we placed our simple Artisan China and Wood Round Charger, complemented by Brushed Copper Flatware. The centerpieces consisted of fresh greenery and citrus, which were perfect for the lush lawn setting. To tie some greenery into the tablescape, we opted for our favorite fern velvet napkins. This design is ideal for a bright mid-morning brunch or afternoon cocktail hour!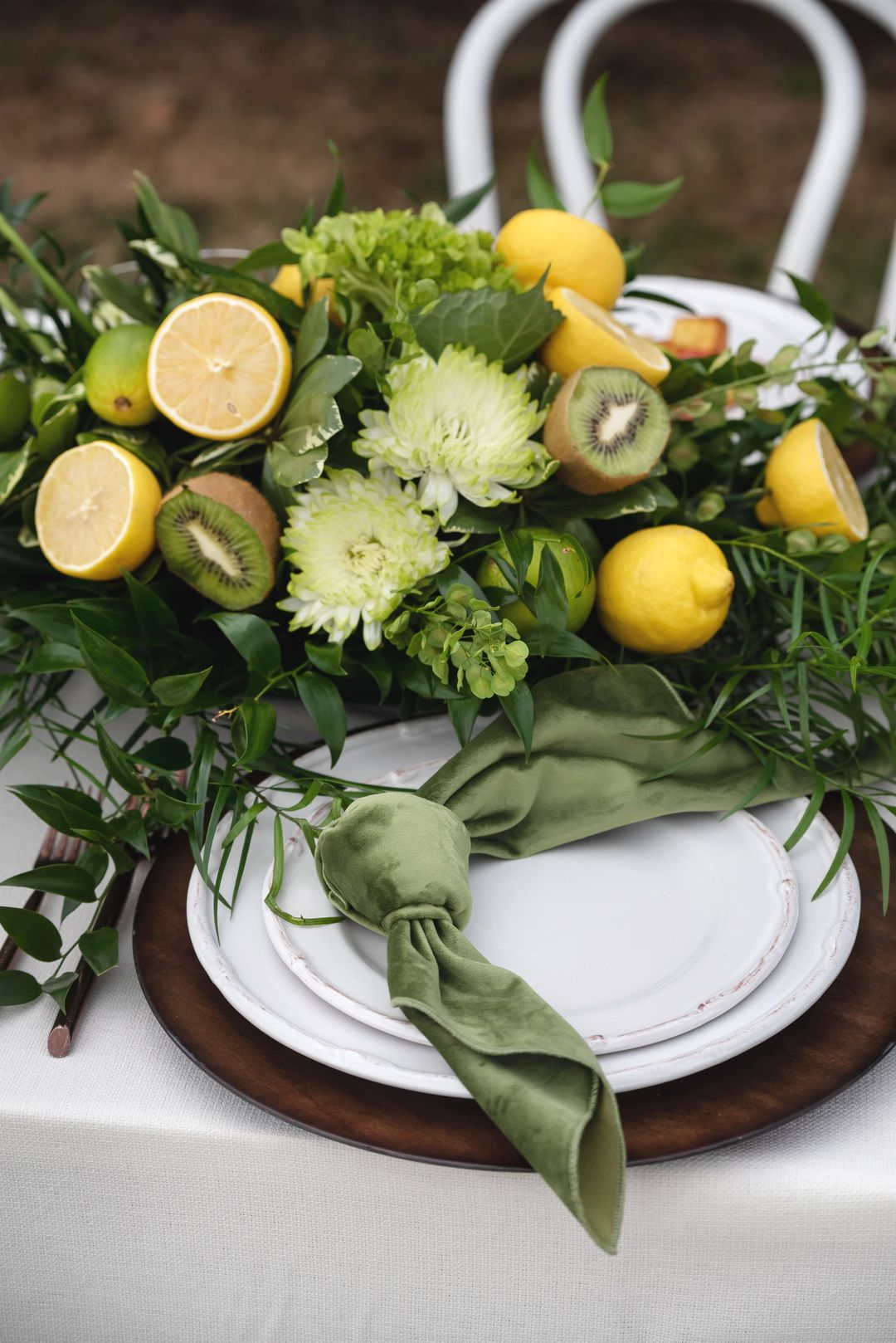 Rustic Farm-to-Table
When you want a casual yet put-together look, opt for a farm-to-table design. This simple tablescape features our Artisan China, Sophia Flatware, and Madison Glassware. Despite the minimal serving ware and linens, what truly makes this layout is the table and chairs. Take our Cross-back chairs, which are plain yet oh so elegant. For a pop of color, you might consider brightly-colored napkins or a table runner. Perhaps in our Cornsilk Poly or Peaches n' Cream Poly.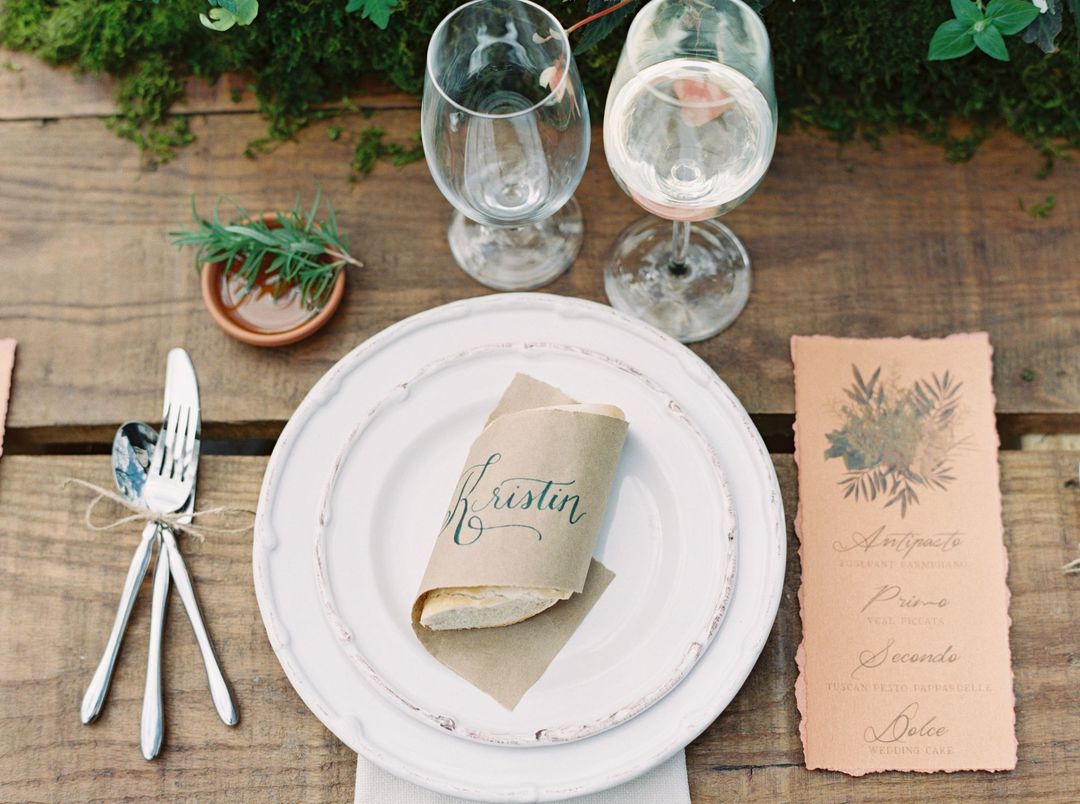 Bold Black & Gold
Black and gold are a classic pairing and surefire way to make a statement. This luxe and bold backyard alfresco dining table showcase a mix of moody hues, including black, gold, and a variety of red shades. For the serving ware, we opted for our Austin Flatware, Medallion Gold Glass Charger, and Madison Glassware. What amplifies this tablescape is the balance from glam elements, such as the gold and acrylic details. Take for example our always popular Acrylic Ghost Chairs! If you prefer an equally colorful but bright style, take a look at this colorful backyard party.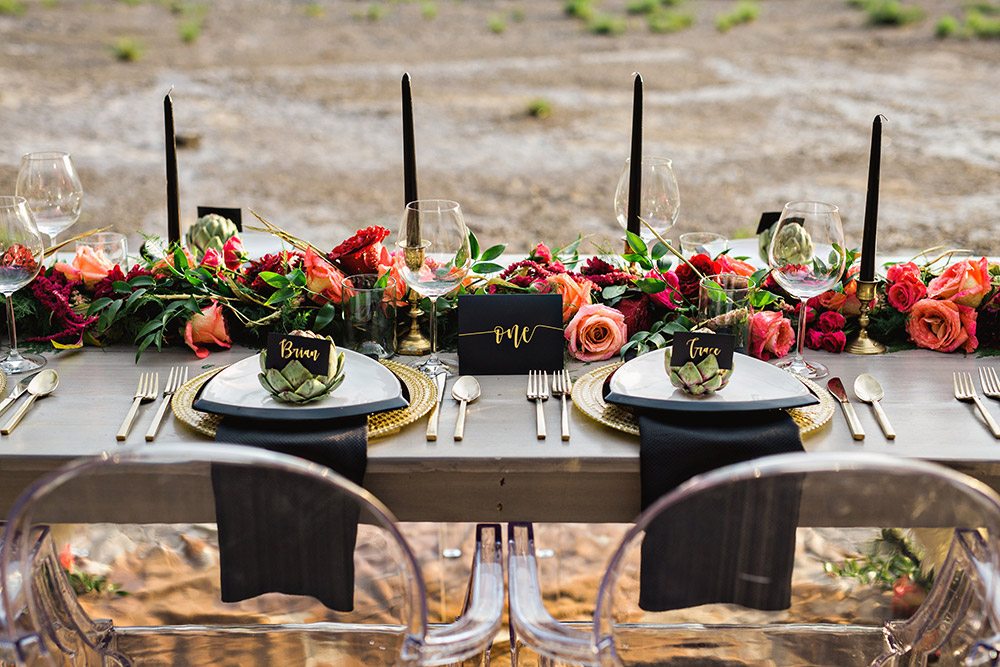 Classic Cookout
There is something so charming about gingham, and this backyard cookout-inspired table just does it for us. It was created using our Onyx China and silver Sophia Flatware. The true black plates are an easy way to bring the fun gingham tablecloth back down to earth. Yet super cute coke bottle centerpieces and our contemporary Davis Glassware keep the overall vibe light. For a look that is slightly more toned down, switch out this tablecloth for a solid or neutral color.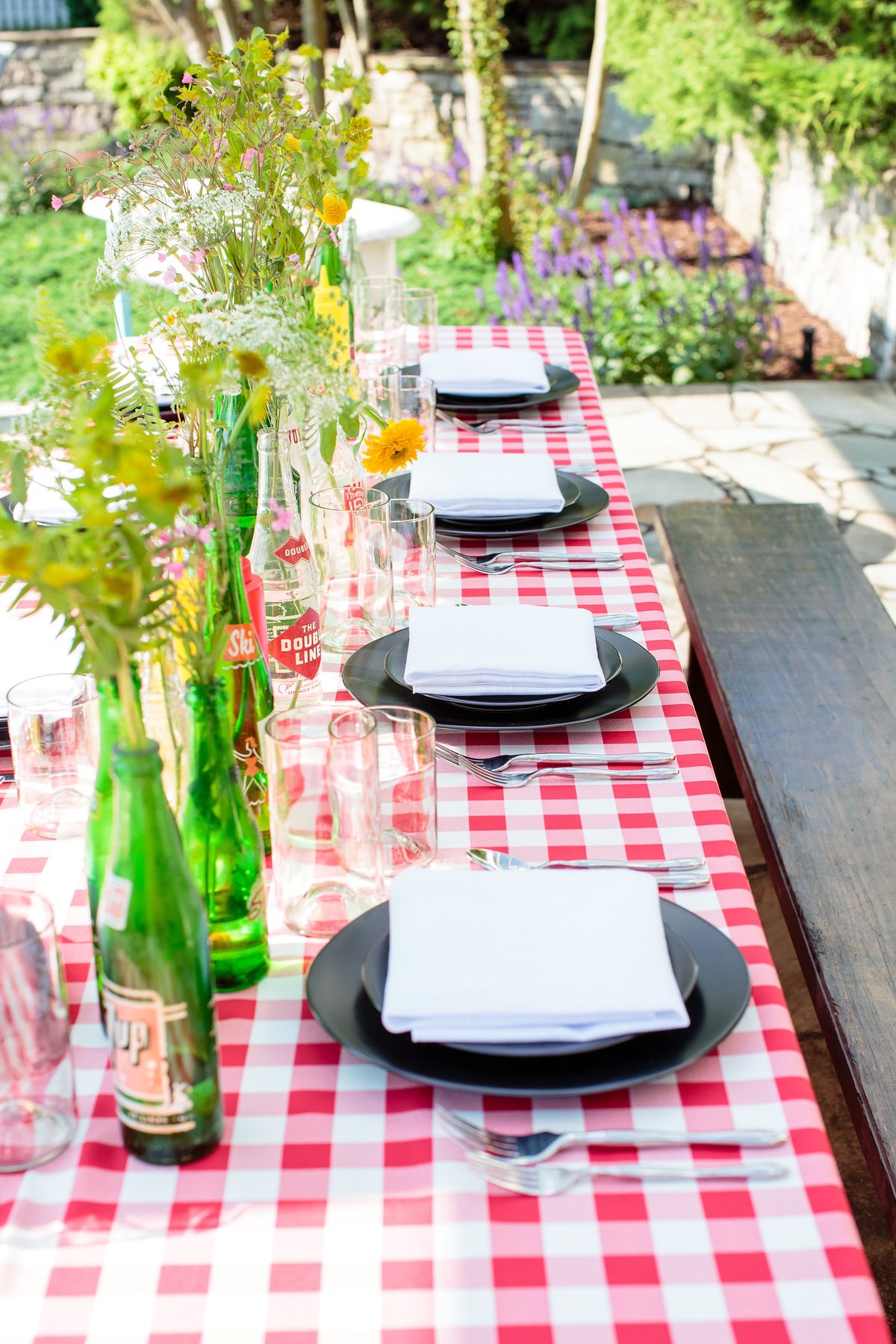 Want to feature some of the gorgeous rentals on your backyard alfresco dining table? Contact our team today for assistance! Or for more ideas, be sure to check out our curated rental collections, Styled by Southern.
TAGS | alfresco dining, backyard parties, outdoor event, outdoor event rentals, servingware, tablescape inspiration, tablescape rentals
FEATURED RENTALS | white square china, navy blue velvet, brushed copper flatware, pure glassware, audrey gold rim glassware, gingham tablecloth, onyx china, acrylic ghost chairs, medallion gold glass charger, artisan china, wood round charger, fern velvet napkins, sophia flatware, madison glassware, cornsilk poly
---