13

Apr

Events and Style Shoots, On Trend, Southern Events Products, Trends and Inspiration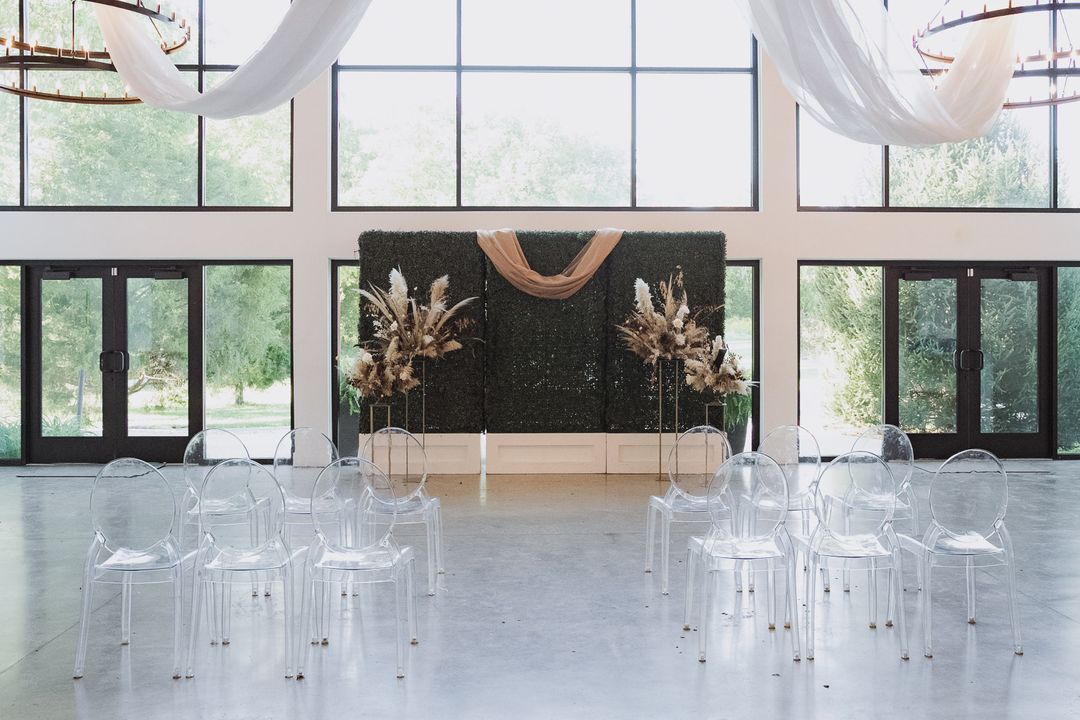 Are you dreaming of a wedding that is out of this world? Check out this modern celestial wedding! A theme that is all about creating a bright and modern atmosphere, with an ethereal touch. It is perfect for couples who want to have a unique wedding that is contemporary yet tasteful! Featuring our stylish rentals and a cool-toned color scheme, check out the details of a styled shoot hosted at Southall Meadows, inspired by the magic of the cosmos.
A Chic Indoor Ceremony
The Hall at Southall Meadows was the perfect setting for a ceremony, with a towering ceiling and blank white walls. It lent an airy atmosphere, softened by romantic white drapery. For the backdrop, a row of lush Boxwood Walls sat in front of a wall almost entirely made of glass. It beautifully illuminated the space, and cast a glow on the wedding party! White bases maintained a crisp look, complemented by our Acrylic Ghost Armless Chairs.
If you have a larger guest count or are feeling inspired by the universe, place them in a half circle for an elegant ceremony in the round. Want to make a memorable first impression? Greet guests at the ceremony space with a colorful mocktail displayed on a White 6-Tier Serving Tower.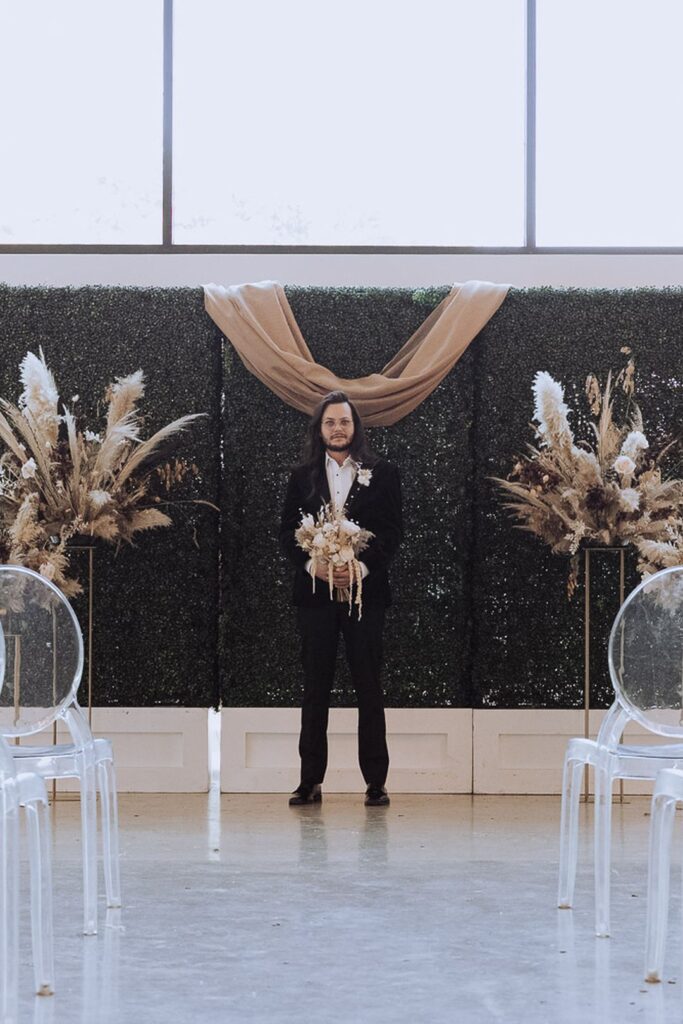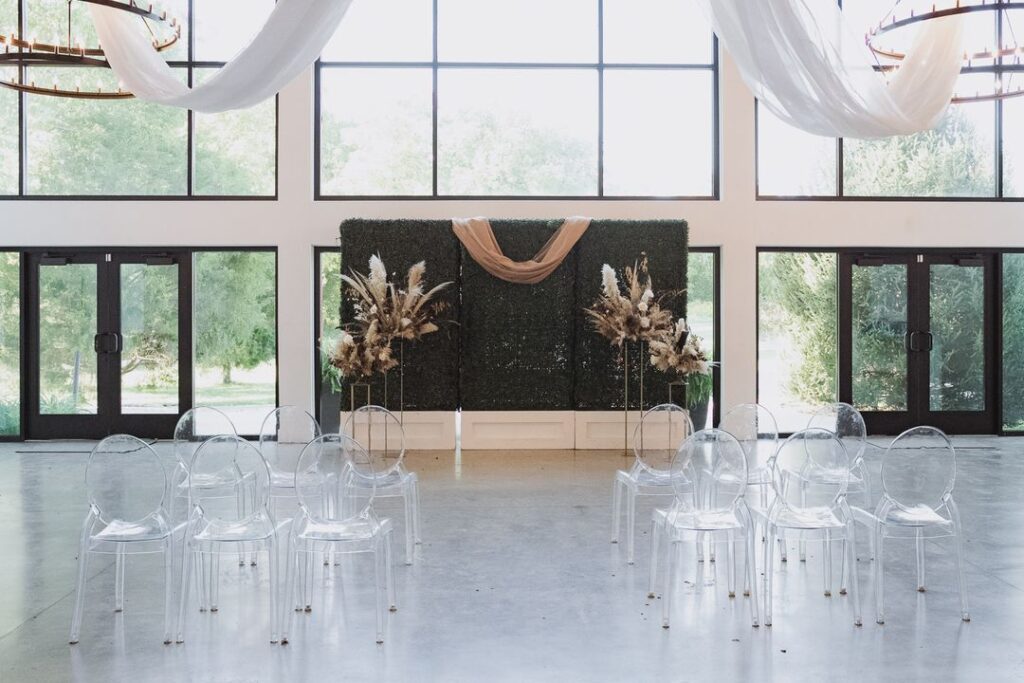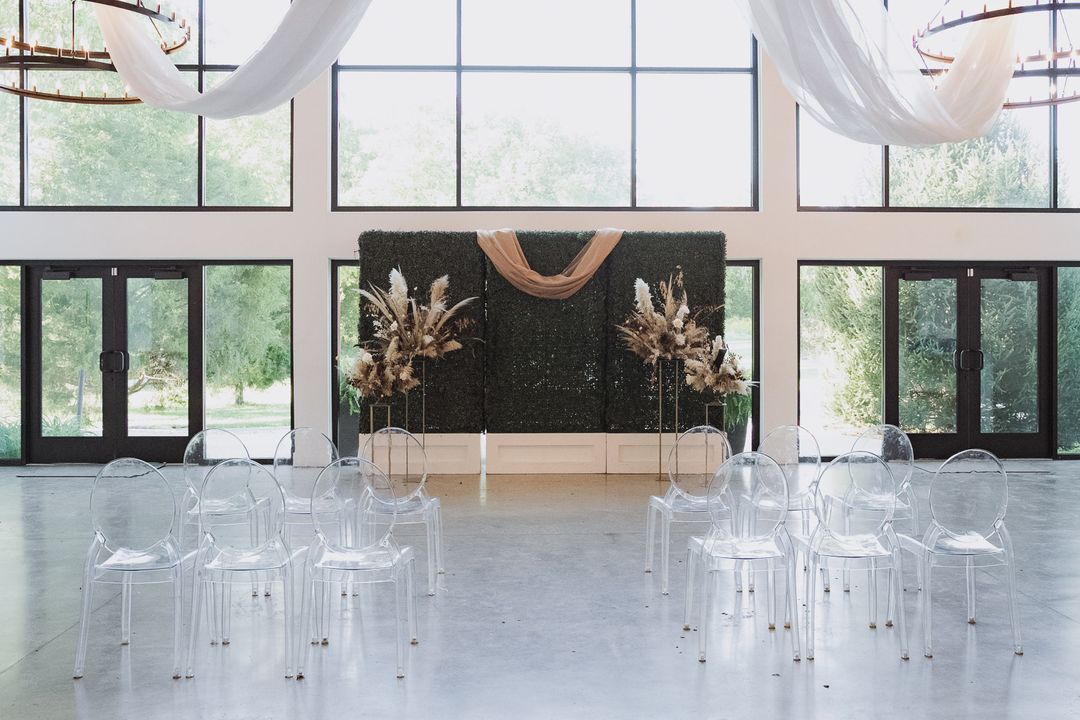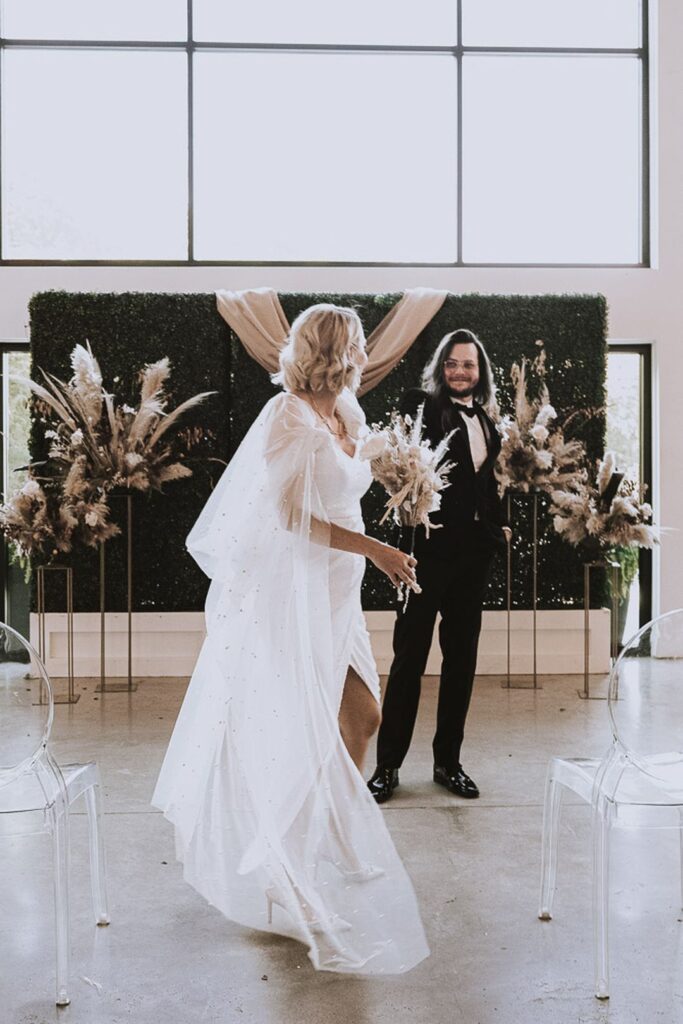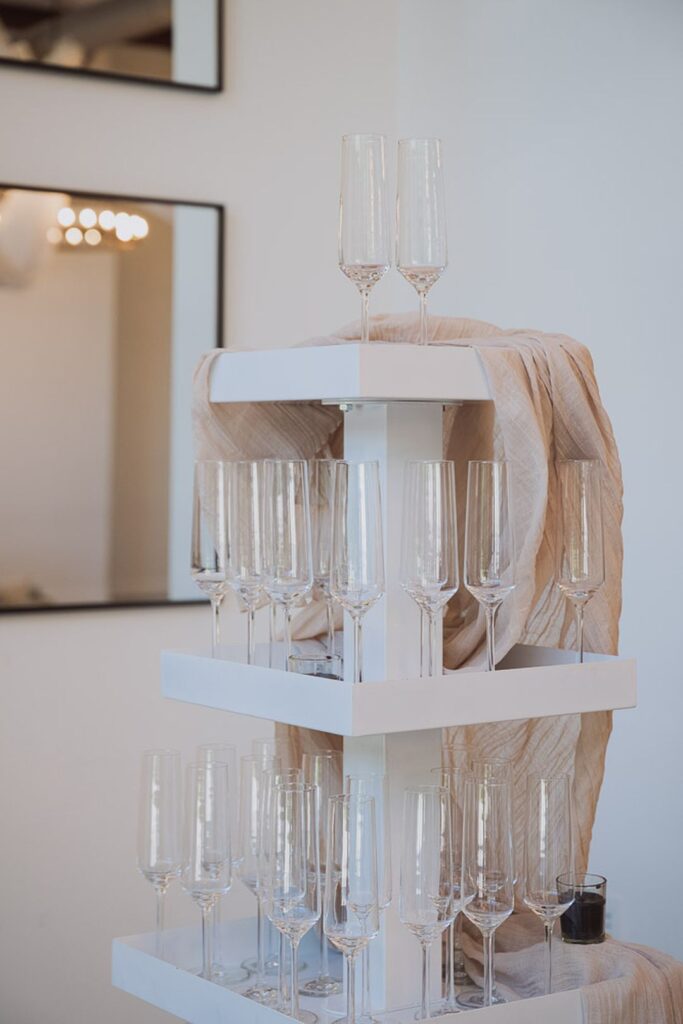 Bright Modern Cocktail Party
A bright celestial-themed cocktail hour is a fun and unique way to celebrate your big day. In line with the ceremony, we created a modern setup where guests could grab a drink, get comfortable and mingle prior to dinner. Starting with an elegant bar, starring the same boxwood walls. It was a gorgeous backdrop for our curved Harpeth Bar. A classic piece that can be customized with your new last name or a custom monogram!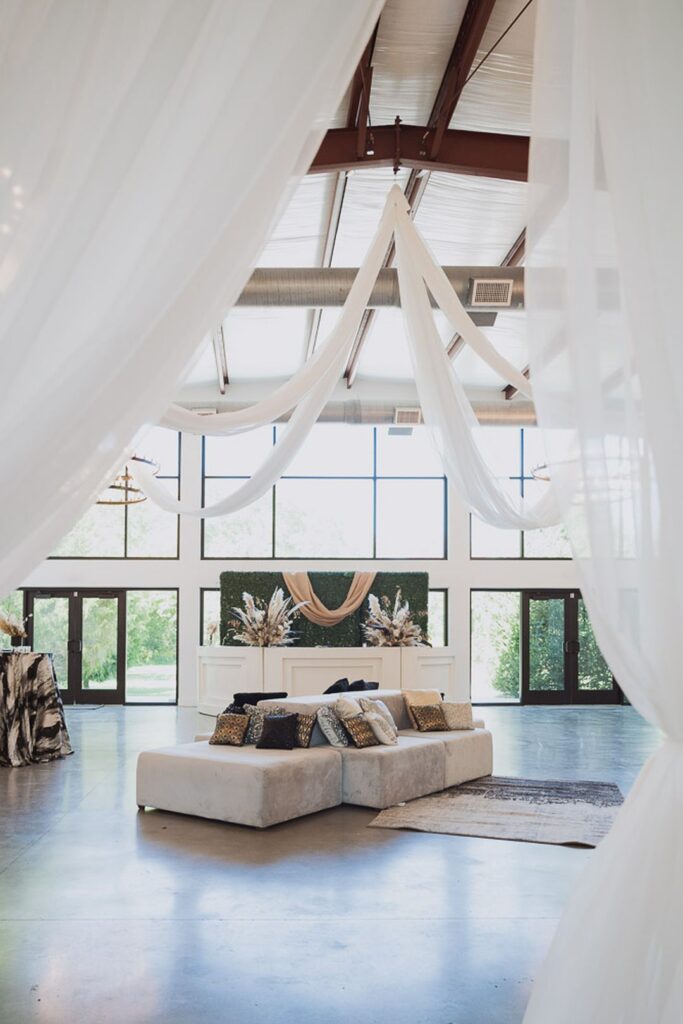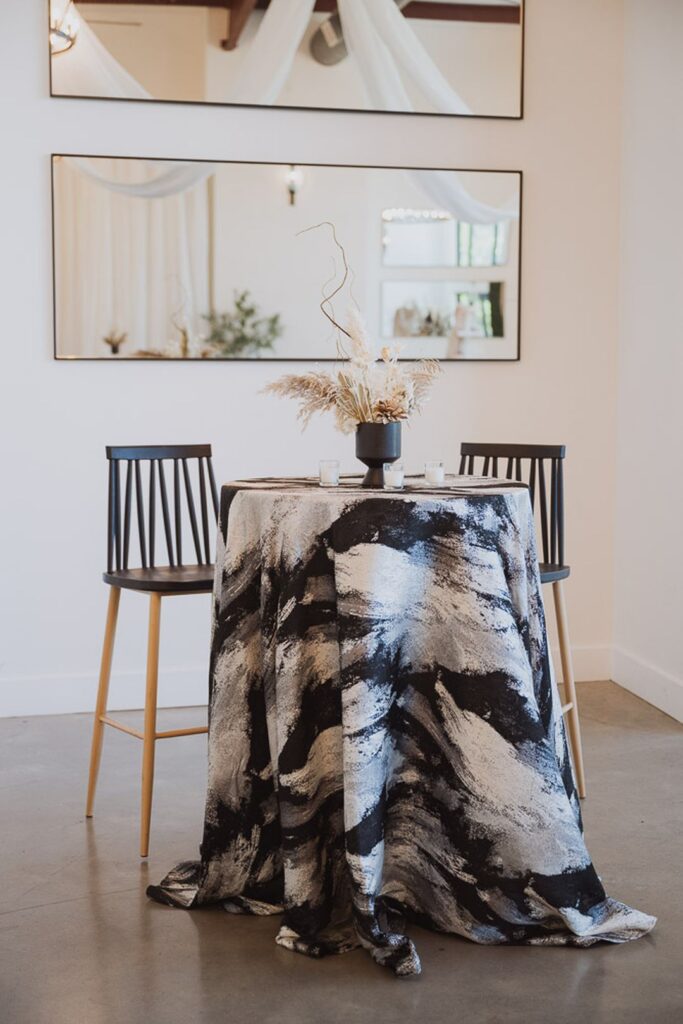 Celestial-Inspired Cocktails
The bar was stocked with a variety of contemporary glassware, including Gatsby Champagne Coupe and Temptations Glasses. The unique shapes are perfect for serving up quirky signature drinks that embody the theme. Such as a blue-colored drink with glitter for a "galaxy" effect! For additional seating, we opted to feature our modular Pearce Lounge with a Black-Silver Rug. We also have cocktail tables outfitted in Black Nova Linens with Mid-Century Barstools, in black or white.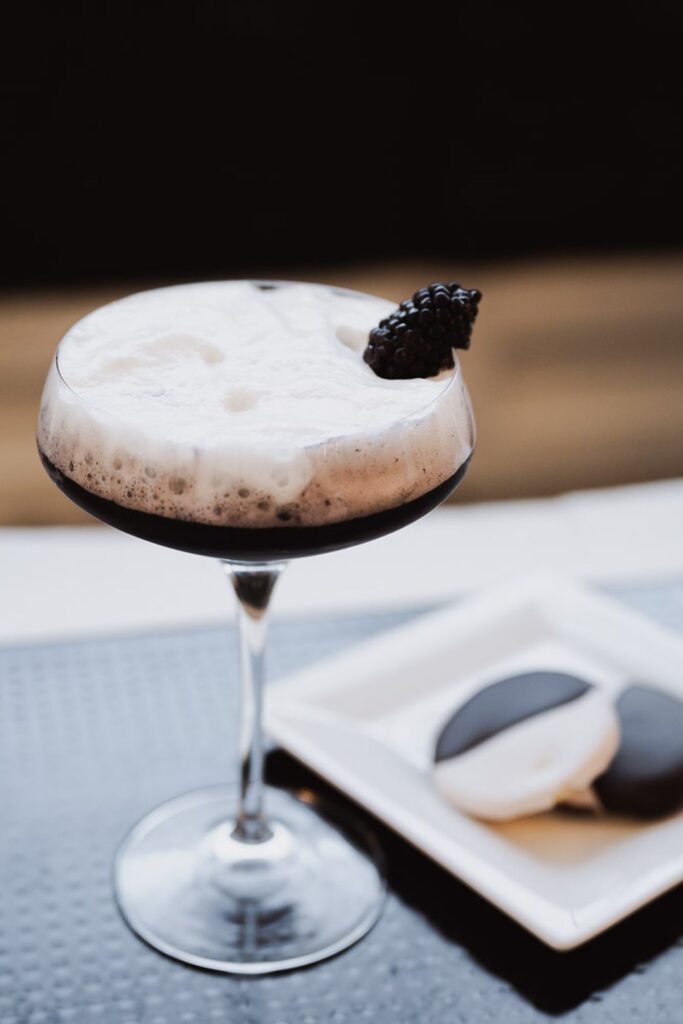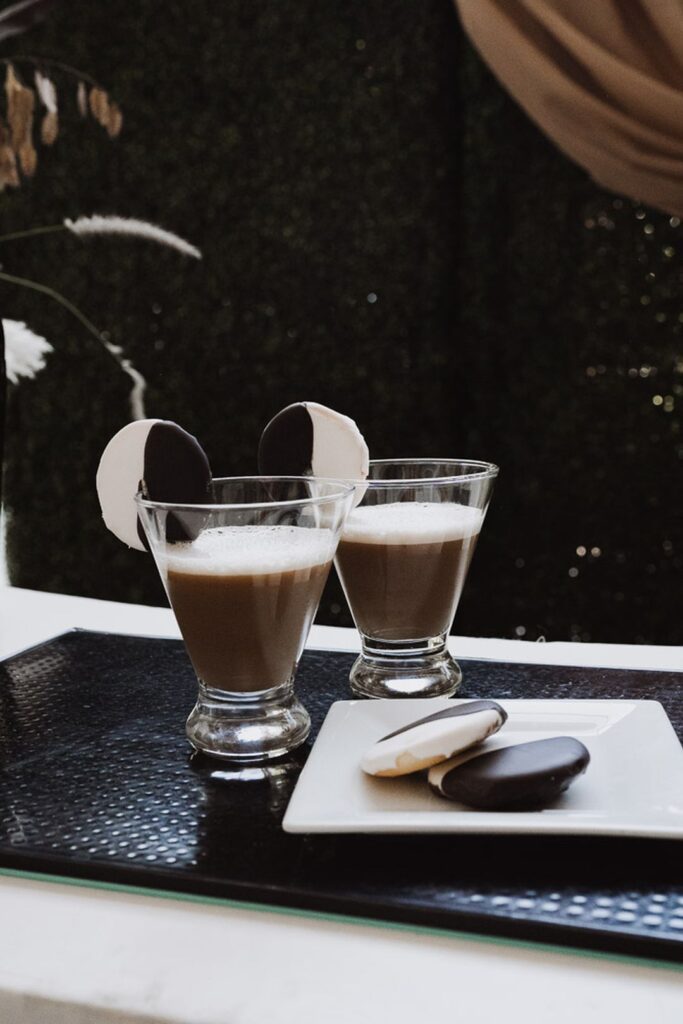 Modern Celestial Wedding Reception
Come dinner time, we wanted to create a slightly more intimate atmosphere. This is why we set up in the historic barn, which lent a more down-to-earth vibe. It also ensured that the tablescapes, starring a splash of celestial-inspired colors, stood out! Wood banquet tables featured a Sahara Runner in Ivory and round were covered with White Etched Velvet Tablecloths. They were contrasted by sleek serving ware: Glass Chargers with a Black Rim, stacked with Earthen Alabaster and Stone China, and Noir Matte Black Flatware. Meridian Blue Tumblers and Dusty Blue Etched Velvet Napkins lent a unique pop of blue! While Acrylic chairs were a modern and elegant touch.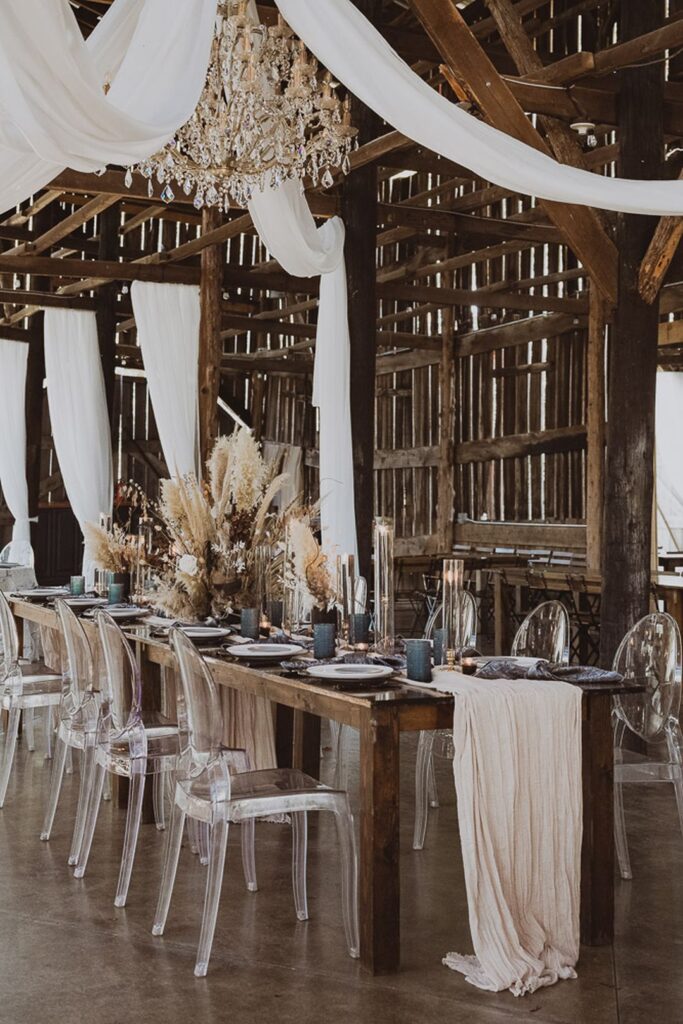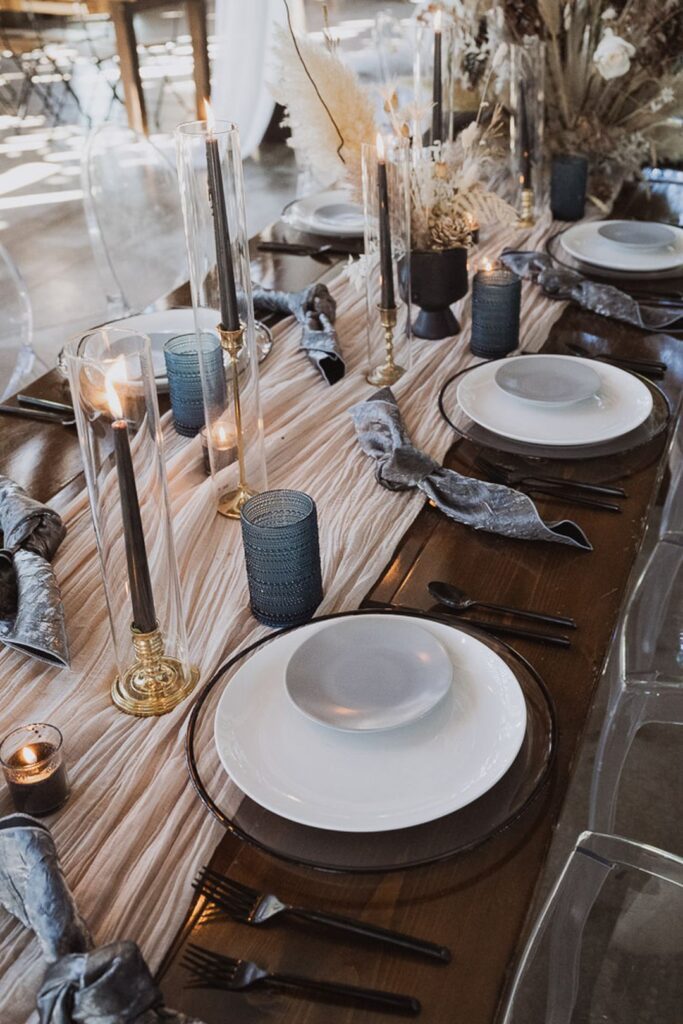 Non-Floral Table Centerpieces
At each table, centerpieces starred voluminous plumes of dried ferns and pampas, for a subtle bohemian vibe. Although if you want to tone down the florals, consider a non-floral centerpiece starring our Gold Metal Intersect Cube. The bright geometric design is ethereal and the shimmering gold will make your serving ware pop. Place candles around each cube or at the center, depending on how much lighting you would like to feature.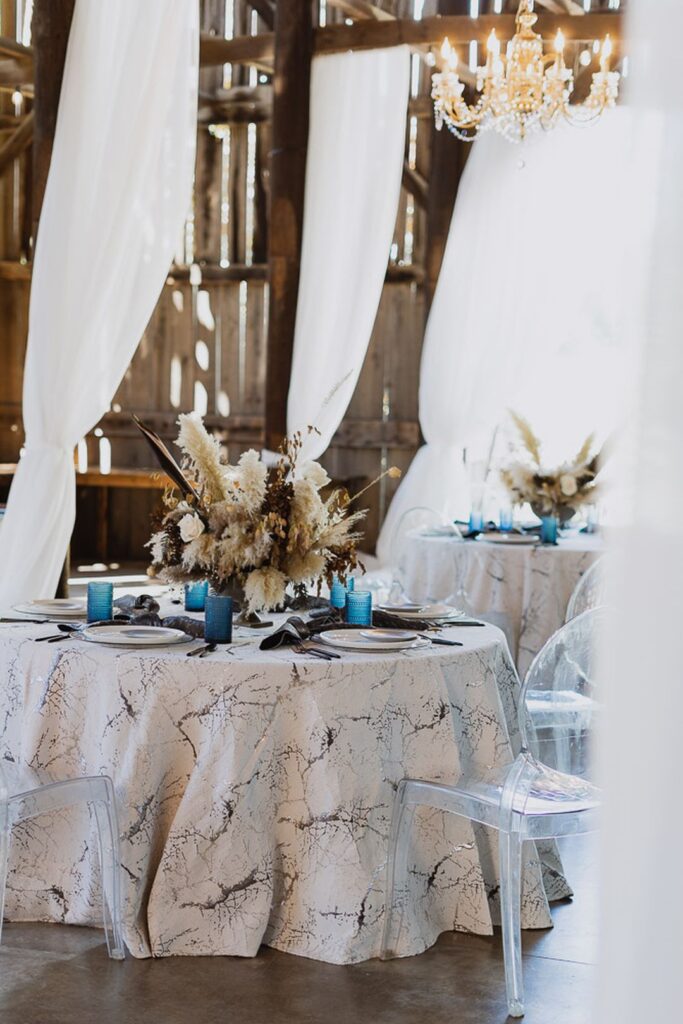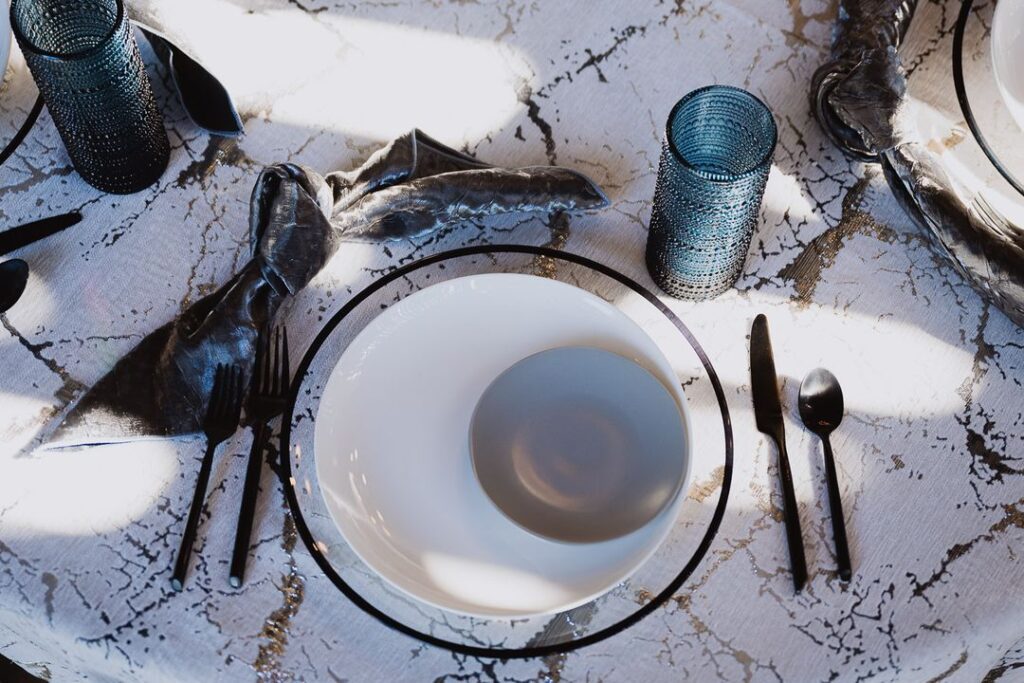 Vendors
Venue + planning | @southall_meadows⁠
Photography | @stokesdunavanphoto⁠
Catering | @beyond_details⁠
Florals | @samanthajayevents⁠
Bar | @jjacksonmobilemixologist⁠⁠
Drapery | @blueherondesigns.tn⁠
HMUA | @theagencyofbeauty⁠
Tuxedo | @jmstreetmenswear
Do you want to plan a modern celestial wedding that will be the envy of every bride? Send us a message at info@southerneventsonline.com, or view our full range of rentals in the catalog. Are you dreaming of a more colorful retro-inspired celebration? Then take a look at these ideas for a Modern Disco Wedding!
TAGS | Barn Weddings, Glassware, Modern Event Lounge, blue event decor, blue event design, celestial wedding, cocktail hour, modern tablescape, modern wedding, southall meadows, tablescape inspiration, wedding theme
FEATURED RENTALS | Sahara Runner in Ivory, Glass Chargers with a Black Rim, White Etched Velvet Tablecloths, Earthen Stone China, Earthen Alabaster china, Noir Matte black Flatware, Meridian Blue Tumblers, Dusty Blue Etched Velvet Napkins, Gold Metal Intersect Cube, Round Harpeth Bar, Boxwood Walls, White 6-Tier Serving Tower, Acrylic Ghost Armless Chairs, Gatsby Champagne Coupe, Temptations Glass, Black Nova Linens, Pearce Lounge, Black-Silver Rug, Mid-Century Barstools,
---
16

Mar

On Trend, Southern Events Products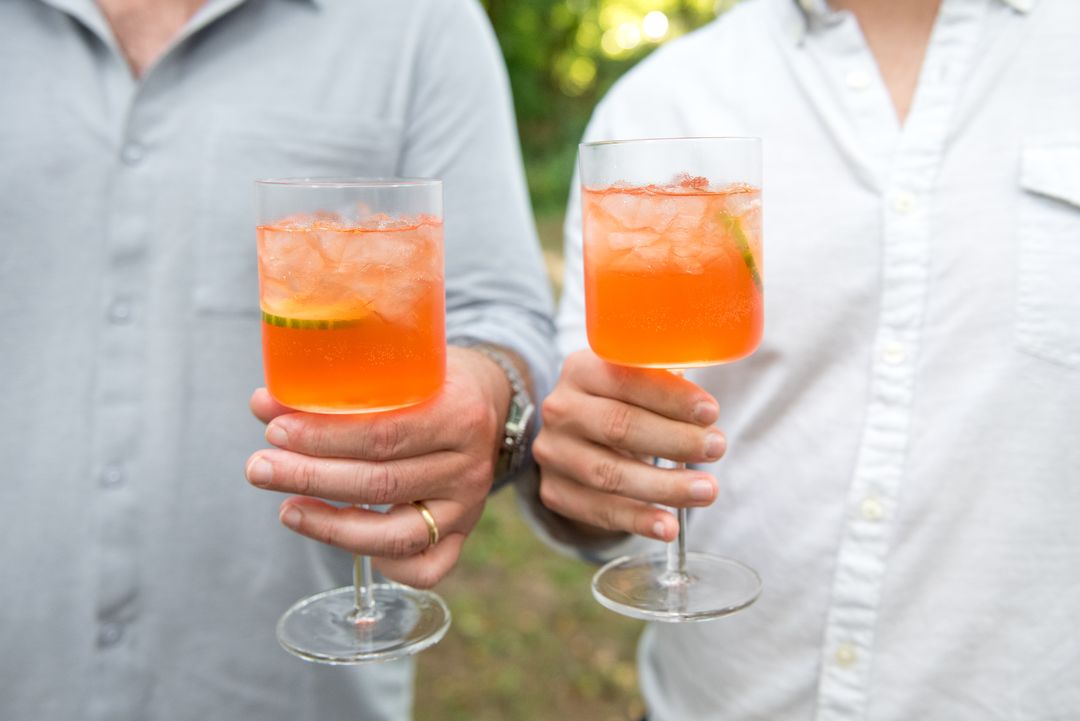 As the weather warms up there is no better time to host a corporate event. Blue skies and sunshine open up a world of possibilities in terms of creative entertainment and event design. At Southern Events Party Rentals Online, we have a little something for every occasion and celebration! From stylish cocktail hour essentials to cozy event lounges. Perfect for toasting an anniversary, thanking partners and clients, or treating your employees. Get inspired by these unique corporate event themes, perfect for the spring and summer seasons!
Spring Has Sprung
The season of new beginnings, spring is a fitting time to treat your employees to a party that will leave them feeling reenergized. This is one of the more simple corporate event themes, yet it is sure to be a memorable event. We recommend hosting outdoors, to make the most of the seasonal foliage – think of it as natural decor! Scatter a mix of bistro and round tables on the lawn, dressed up with Peaches N' Cream Poly and our elegant Harlin Dining Chairs. For additional seating, feature a chic neutral lounge area made up of our Bennett Leather Sofa, Adeline Dining Chairs, Chocolate Poufs, and a Navy Rug. To encourage guests to stay awhile, provide them with a stocked Franklin Antique White Bar and grazing boards served up on Wood Melamine Trays.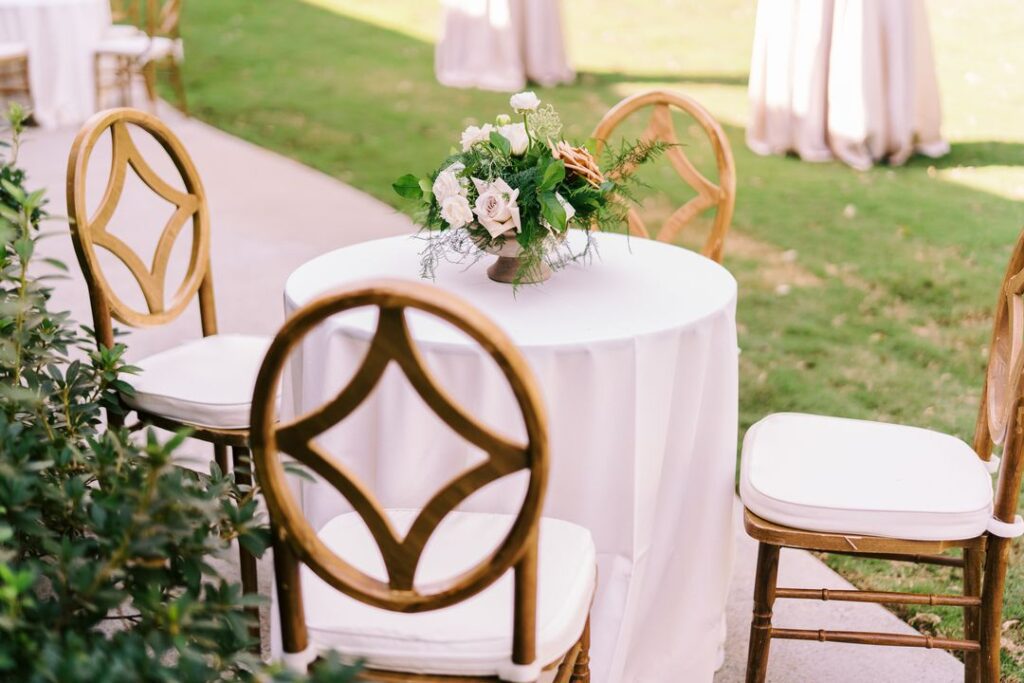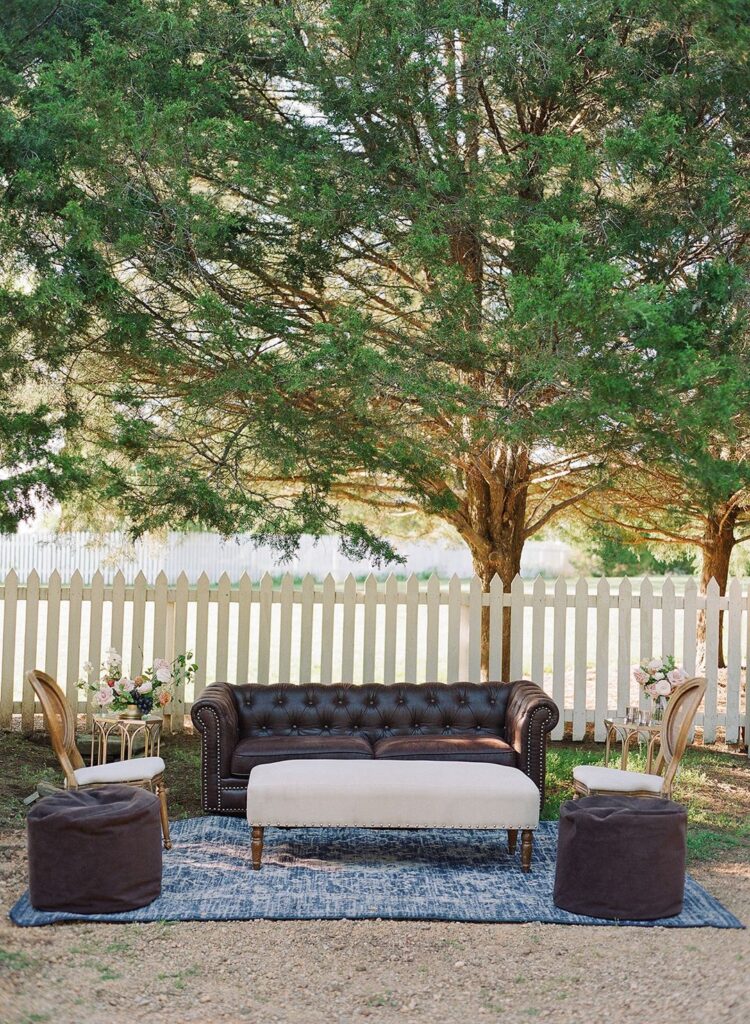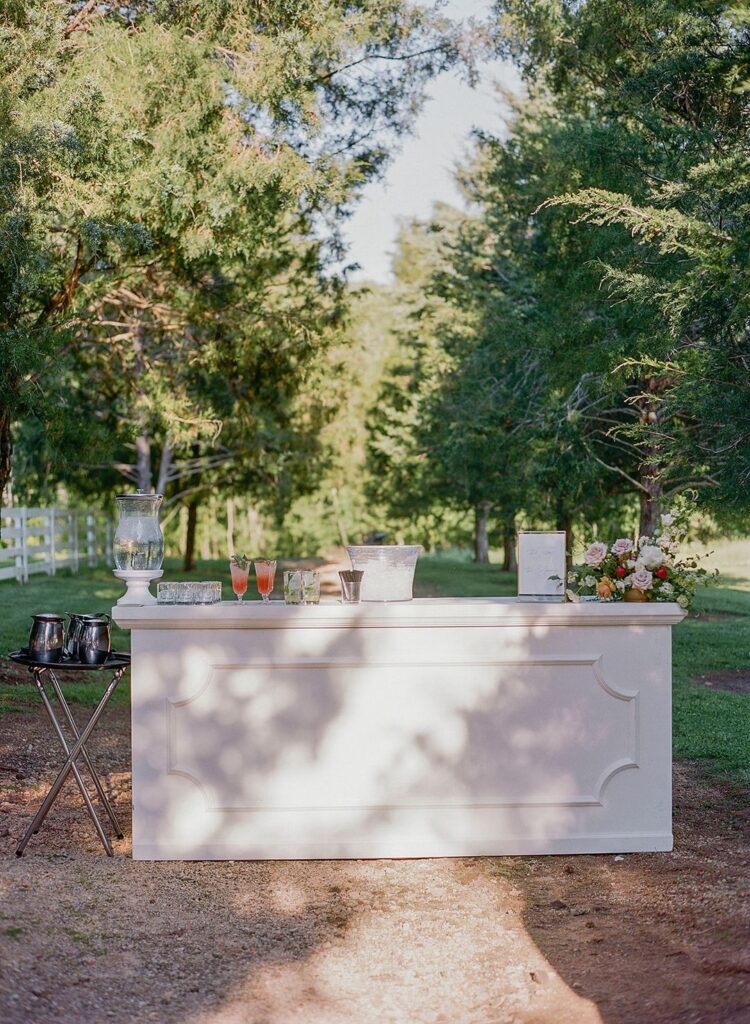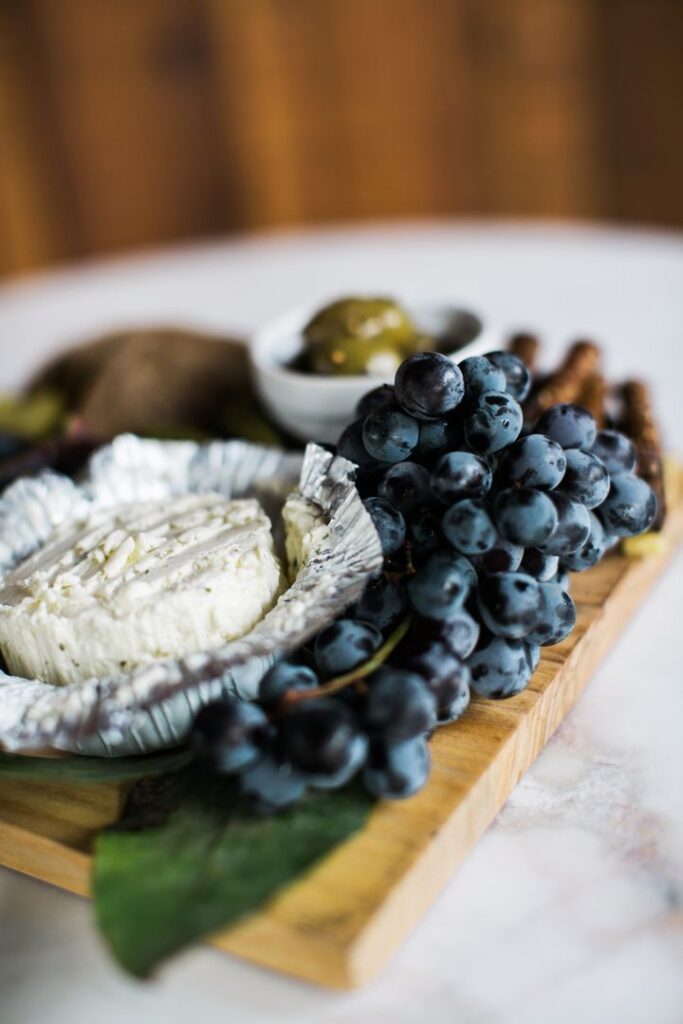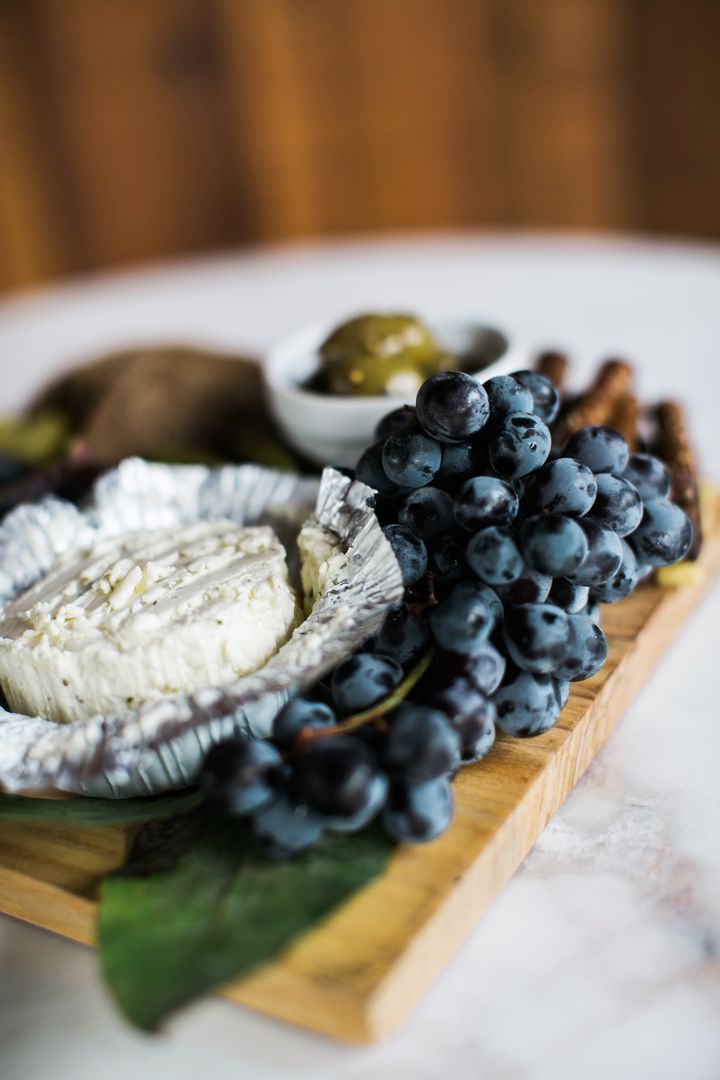 Off to the Races
The Kentucky Derby may only last two minutes, but it is a highly anticipated and celebrated sporting event. In terms of themed corporate events, there is no better time to host a party. Running with existing events or holidays makes it easier than ever to piece together a theme, and a high-class Derby Party is one of our personal favorites. Start with stylish bistro tables, like a classic bistro table dressed up with Cherry Red Poly Linens. Or the Loren Gold Bistro Table with a Black and White Striped Runner and Acrylic Ghost Barstools. Place an artificial grass rug beneath them for a fun spring touch! A fully stocked bar is essential – try Harpeth customized with your business logo – set against a pair of Boxwood Walls. Classic glassware, like Mint Julep Cups and Davis Rocks Glass, is perfect for serving up bourbon-based cocktails.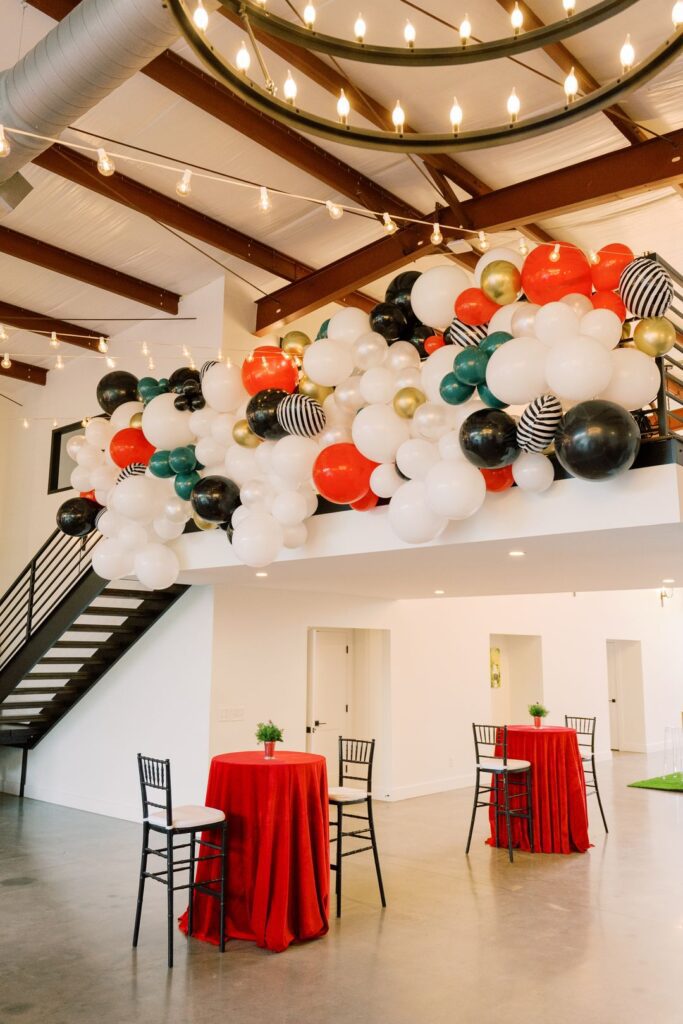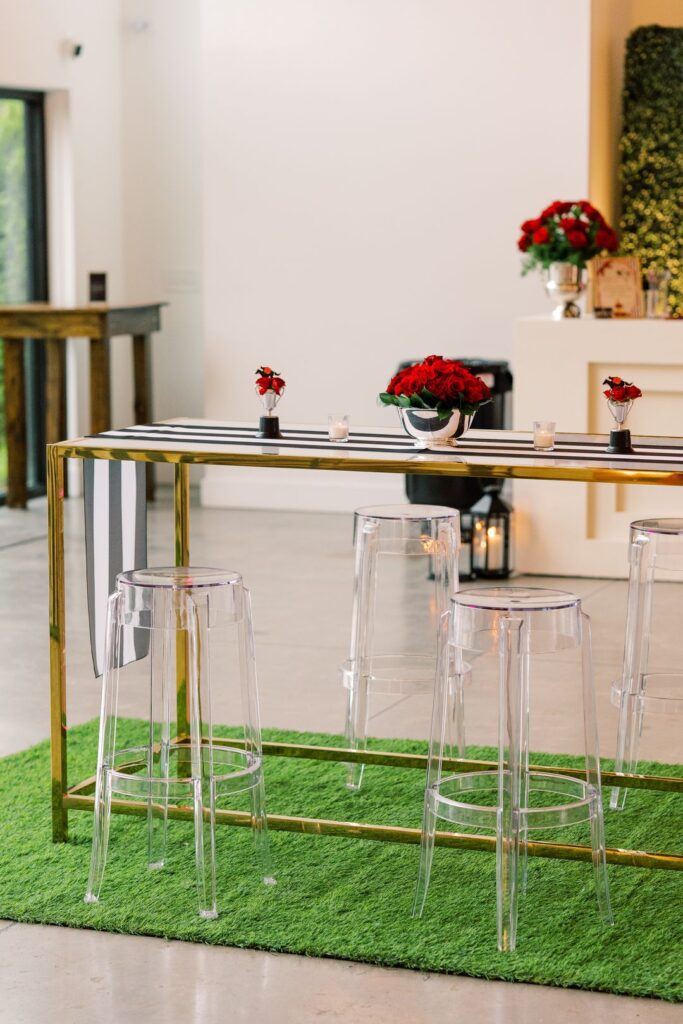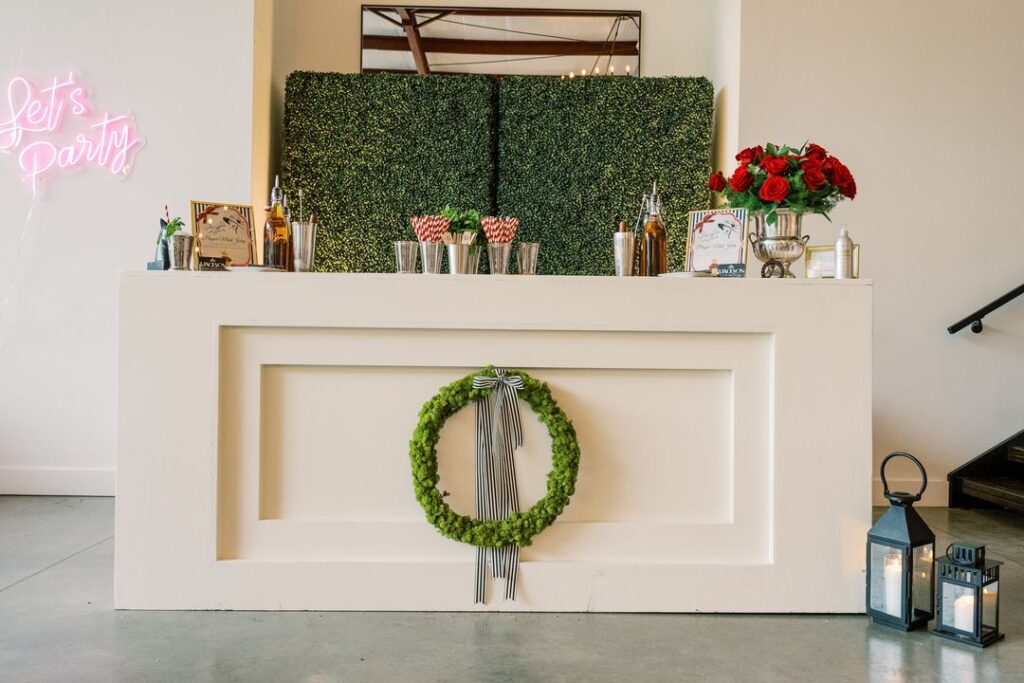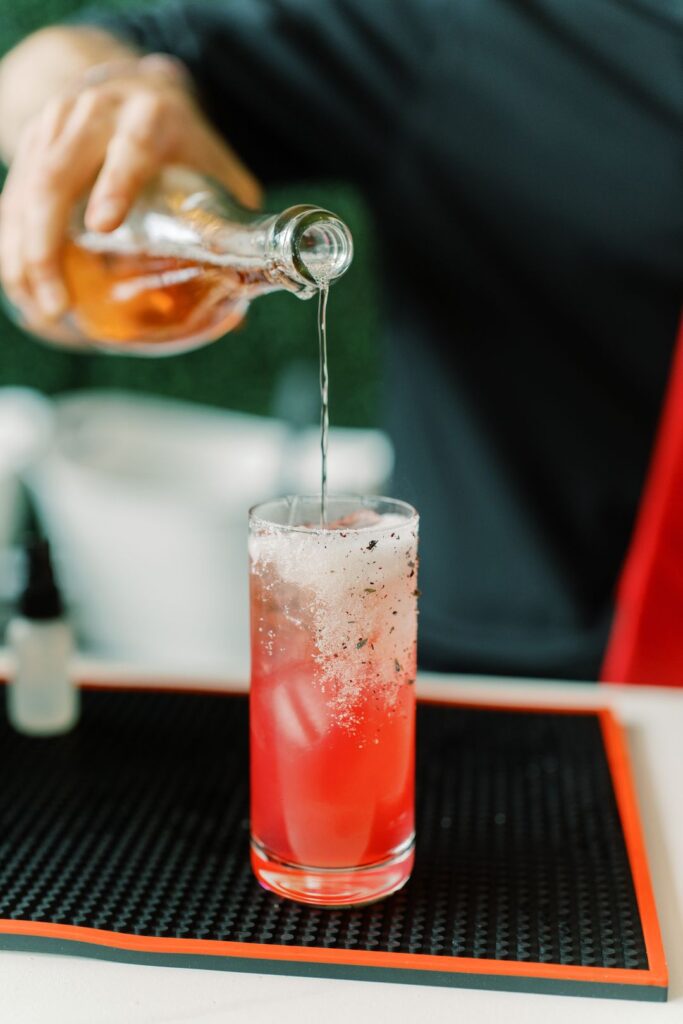 Upscale Summer BBQ
A simple but always exciting event theme idea is a classic summer BBQ. A backyard BBQ is fitting for a casual celebration, say an employee appreciation day or even 'just because'. You don't need a reason to get together and grill out! Set up picnic tables with Red & White Check Linens. If kids are attending, check out our children's furniture. For some contrast, feature our Earthen Onyx China and crisp White Napkins. Should you need serving trays, check out our family-style serving pieces. Whether you want a self-serve bar or food display, opt for our Whiskey Barrel Barnwood Bar. For added colors, a mix of vintage rugs will create an extra cozy vibe! Moreso should you feature a fire pit surrounded by poufs and rustic benches.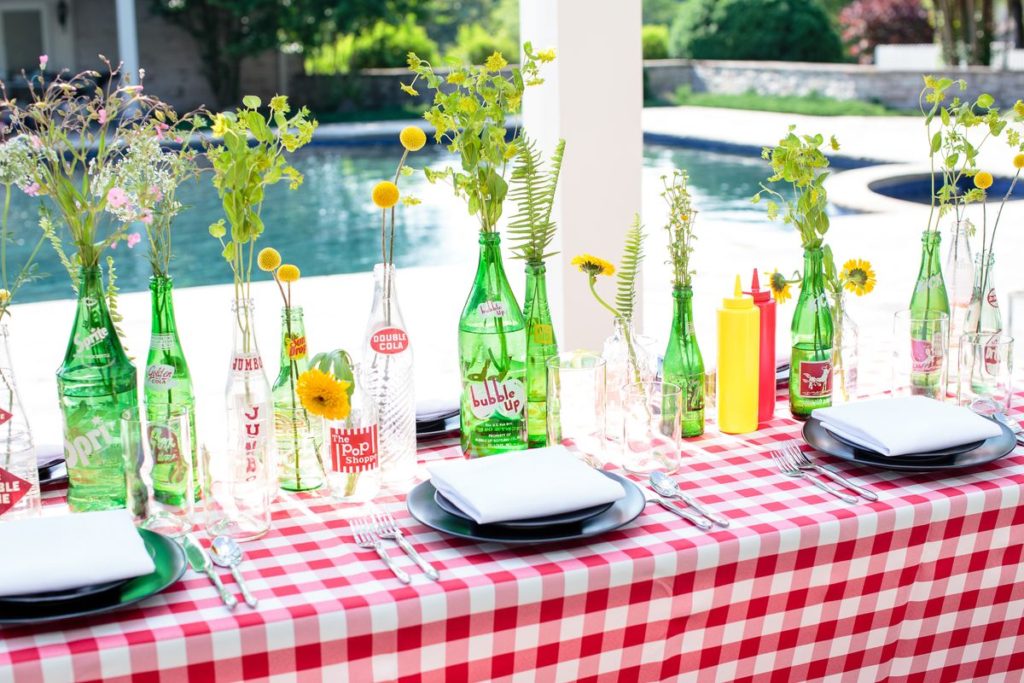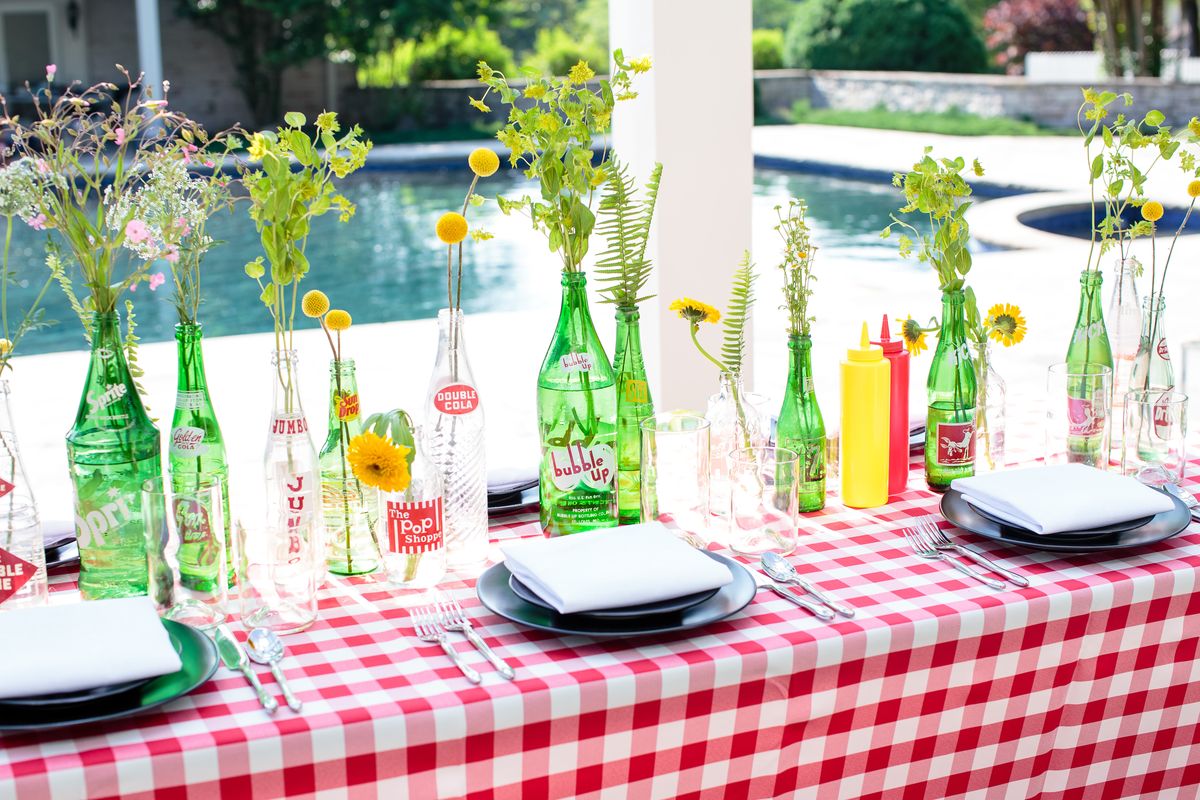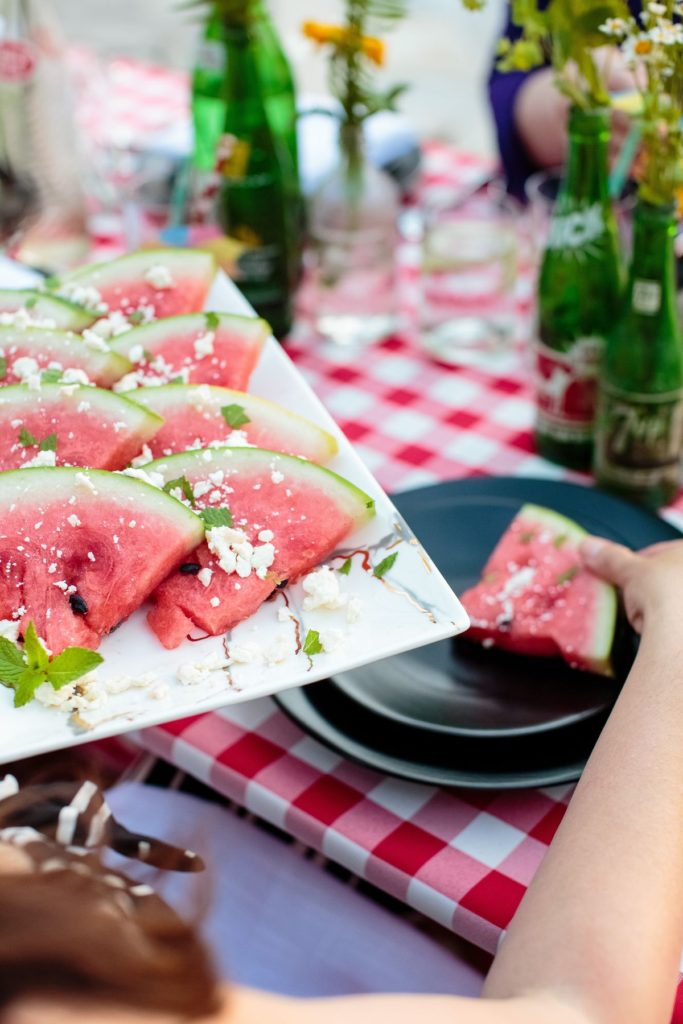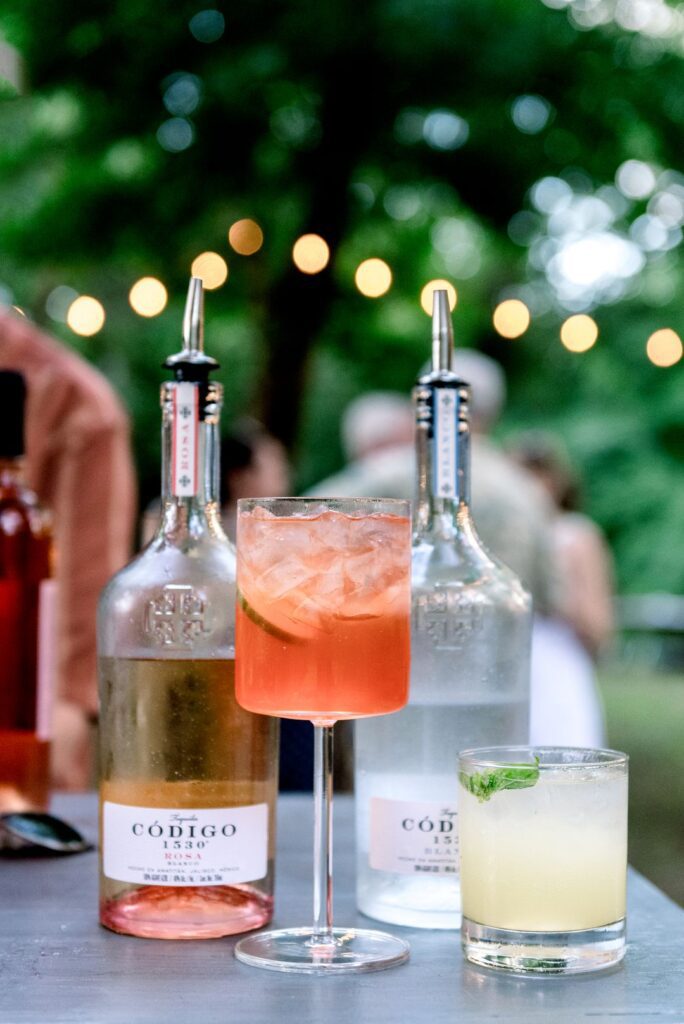 Black and White Party
If you are hosting an elegant corporate party, you can't go wrong with a black and white event theme. A grayscale color palette will also make it incredibly easy to put together a cohesive look. Start with classic bistro tables outfitted in our beautiful Black Nova Linens, paired with Mid Century Black Barstools. If you'll be toasting to the occasion, you'll need a stylish bar and glassware to match. Our Black Franklin Antique Bar is a bold choice, as is a White 6-Tier Serving Tower. Should you need additional storage space, be sure to grab a set of barback shelves in black or white. For glassware, take a look at our Cybil Champagne Glasses or trendy coupe glasses.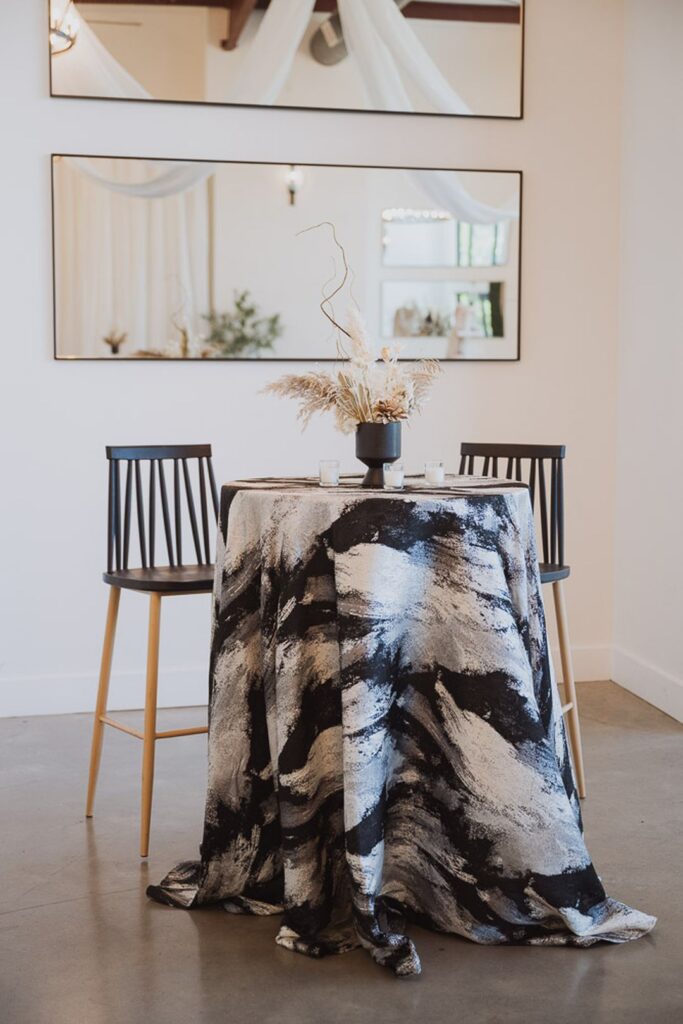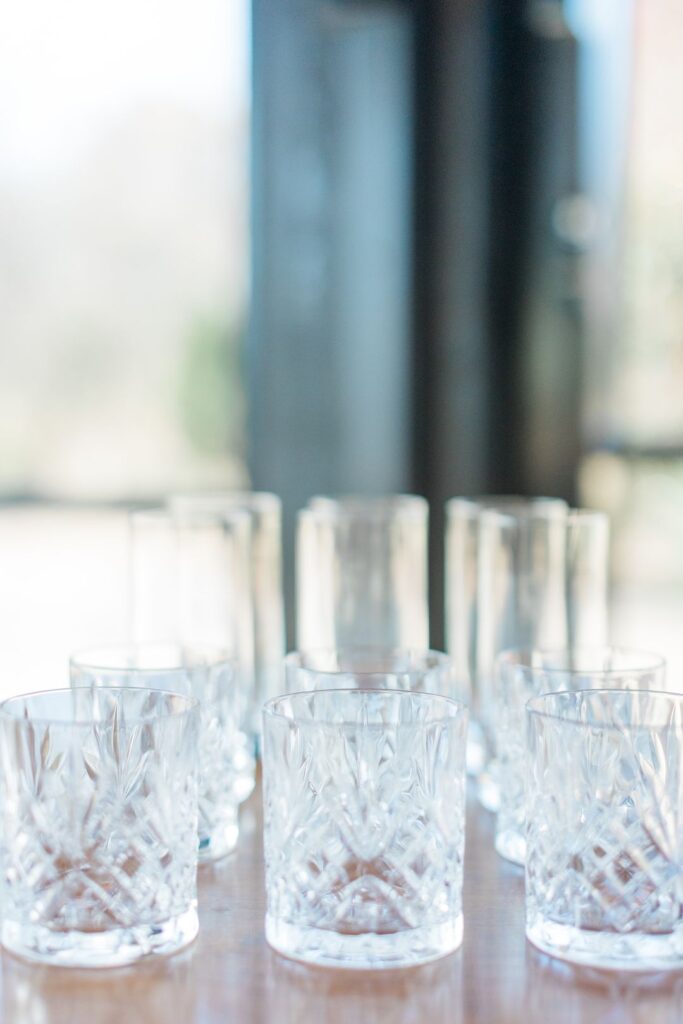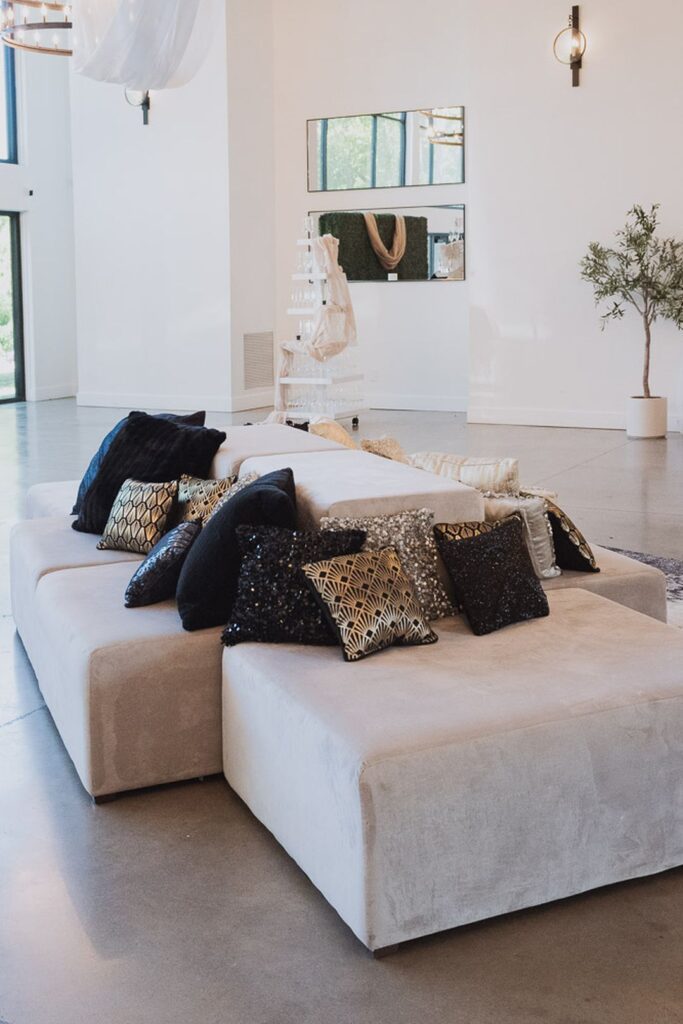 Book Your Unique Corporate Event Rentals Today!
Love one of these corporate event themes? Send us a message at info@southerneventsonline.com and a member of our team would be happy to help you recreate it for your upcoming event. Or let's work together and come up with unique corporate event themes that are one of a kind! And in case you missed it, don't forget to check out the newest additions to our catalog.
TAGS | Cocktail Party Rentals, Lounge Furniture, cocktail hour, corporate event design, corporate event rentals, corporate event style, corporate parties
FEATURED RENTALS | Picnic tables, red and white check linens, earthen onyx china, family-style serving pieces, whiskey barrel barnwood bar, rustic benches, sutton collection, Wood Melamine Trays. Peaches N Cream Poly, Harlin Dining Chairs, Bennett Leather Sofa, Adeline Dining Chairs, Chocolate Poufs, Cherry Red Poly Linens, Loren Gold Bistro Table, Black and White Striped Runner, Acrylic Ghost Barstools, artificial grass rug, Harpeth Bar, Boxwood Walls, Mint Julet Cups, Davis Rocks Glass, Navy Rug, Wood Melamine Trays, Franklin Antique White Bar,
---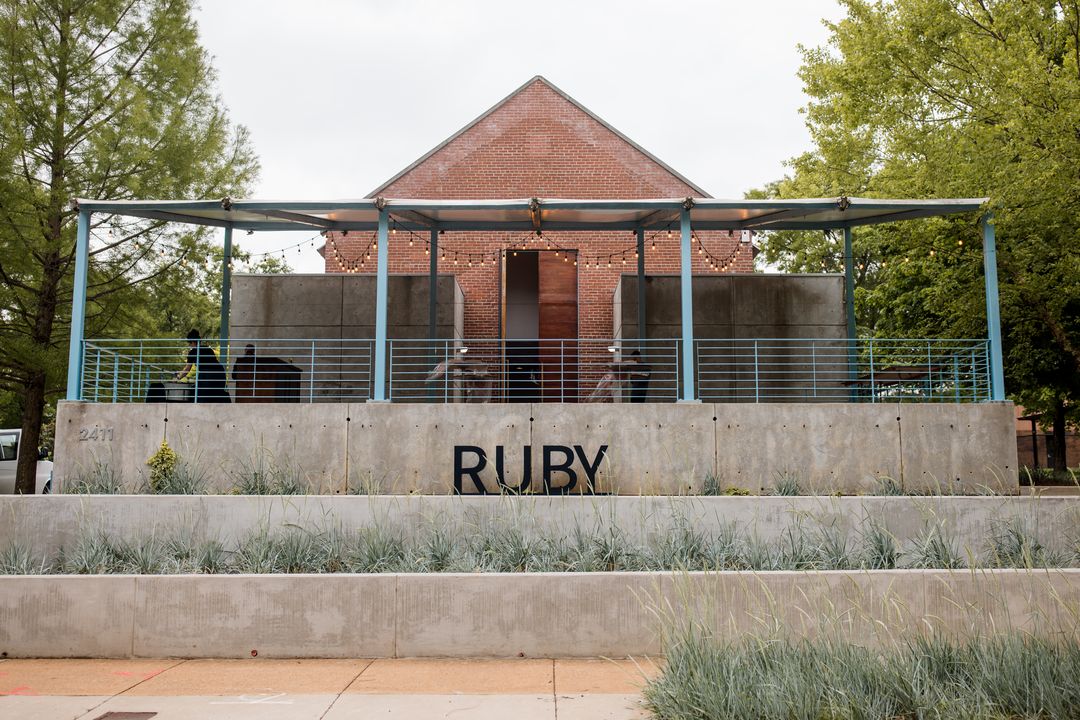 Nashville's gem of an event and wedding venue, The Ruby lives up to its name. Beautiful in her simplicity yet modern for her age, the urban chic event space is a timeless backdrop for a wedding. The vintage space was rejuvenated specifically for social gatherings, featuring modern amenities and industrial details. To help you determine whether this venue aligns with your grand vision, we're sharing a few ideas for hosting a wedding at The Ruby, featuring our stylish event rentals.
The Hall
With a vaulted wood ceiling and plaster walls, the Hall is both historic yet contemporary, expansive yet intimate. Doors that access the courtyards with the park beyond fill the space with natural light, creating a bright and cozy glow. The vast room is incredibly versatile, allowing couples to use the space as desired to bring their vision to life. Create elegant rows with our Black Resin Folding Chairs, the aisle lined with layered rugs, vintage and cowhide. For a more romantic look, feature our Davis Glass Cylinders with candles. As for a backdrop, the white textured walls will complement any style of decor, from a floral arch to greenery or signage.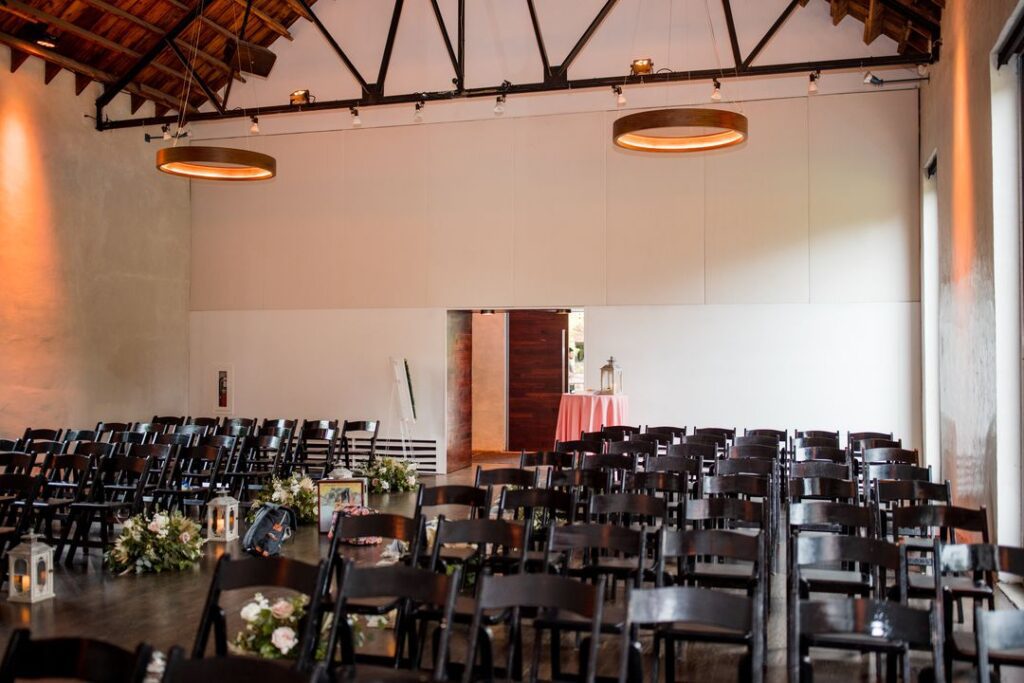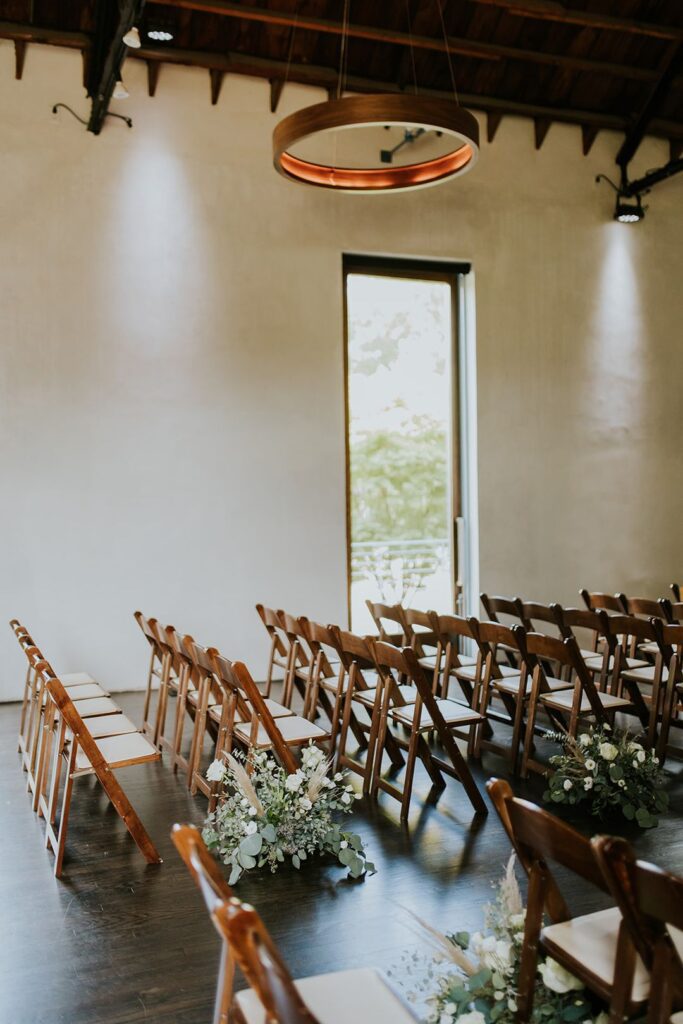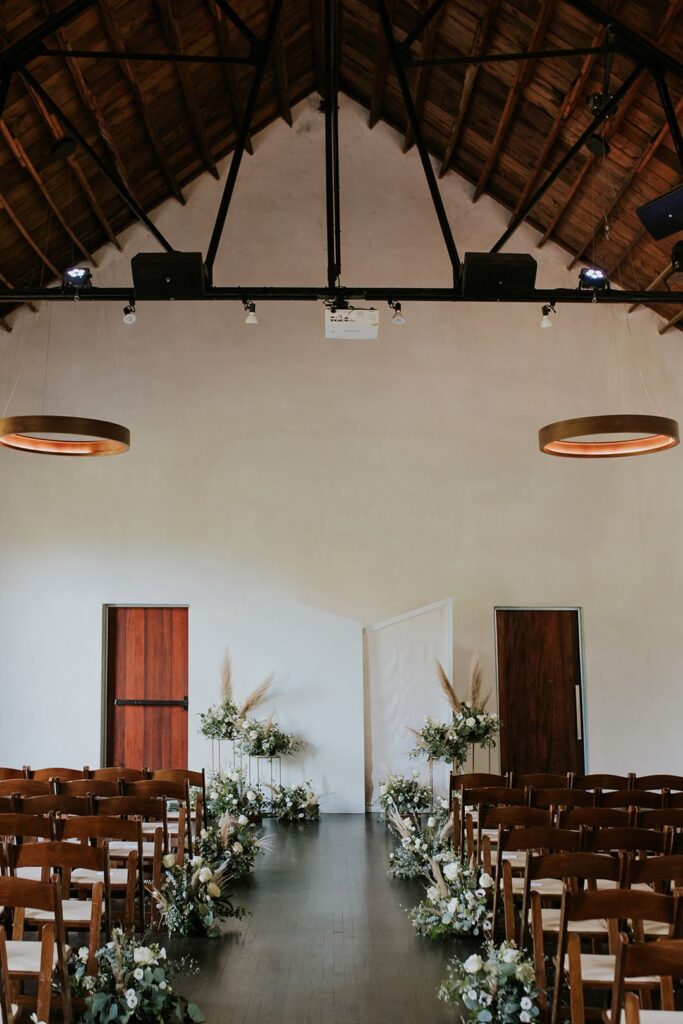 Treehouse Courtyard
Elevated and enclosed by the surrounding trees, the Treehouse Courtyard greets guests when they enter. This space serves as a gorgeous setting for a cocktail hour. Here you can set up a variety of bistro tables, decorated with our luxe linens, as well as lounge areas. Our Bennett Leather Sofa, paired with the Rivet Accent Tables and a set of Gloria Velvet Arm Chairs, are the perfect choice for the urban chic event space. Guests will enjoy views of Dragon Park, including the facade and its towering 15-foot doors. Here you might also feature one of our Boxwood Walls, customized for your guests to use as a photo backdrop. Or, set up with our Fruitwood Champagne Shelves, featuring glasses full of bubbly! The space is covered for sun and rain, and walled in the wintertime for year-round use.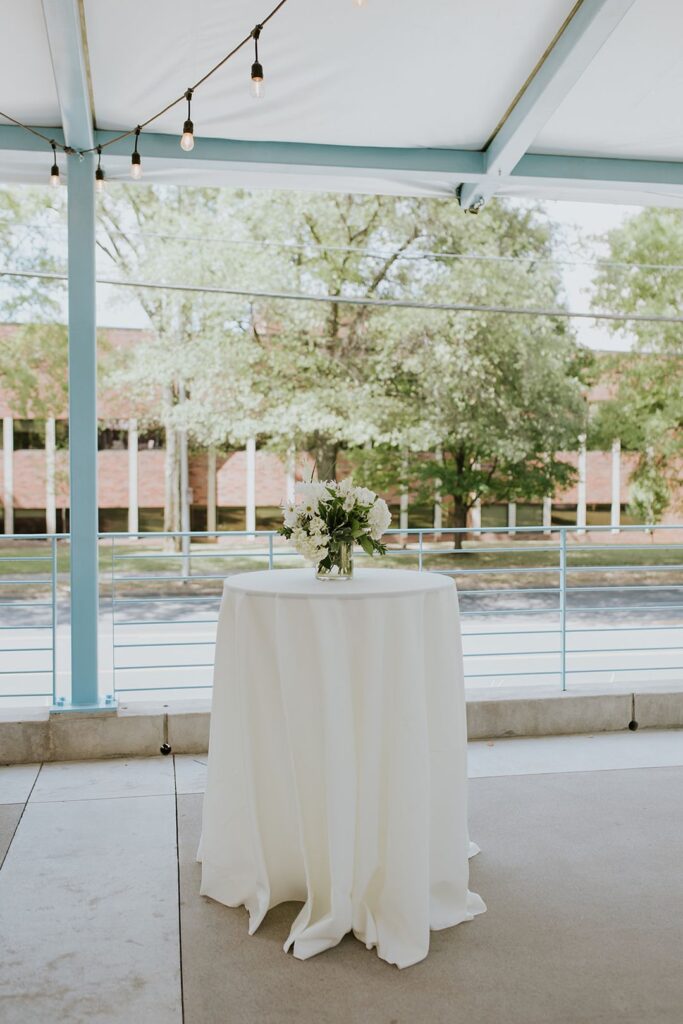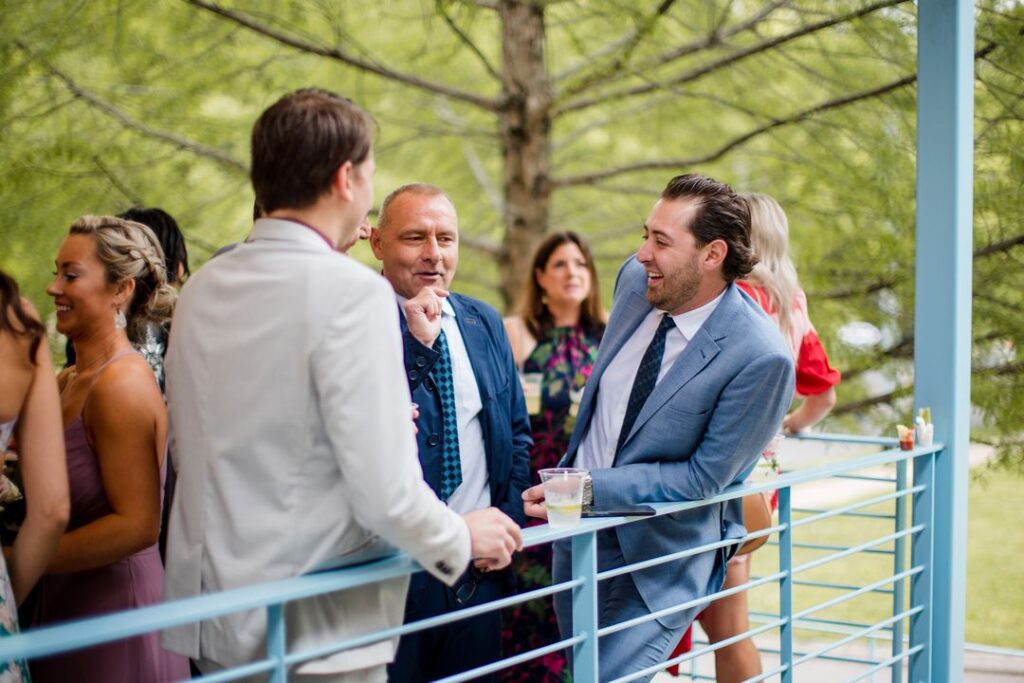 The Park Courtyard
Fitting to its name, The Park Courtyard is surrounded by the park on all sides – making it a popular space for wedding party photos and bridal portraits. From the brick exterior, towering doors and light blue railing, these details make for trendy urban images, fitting for a frame. During spring and summer, as well as warm fall days, guests are drawn out by the light drifting through towering maples and tall grasses. It is a great transitional location for food stations or food trucks, and bars. Depending on your event theme, both our Franklin Black Wood Bar and Whiskey Barrel Galvanized Bar would look stunning. Just don't forget to grab a selection of equally impressive glassware! Or expand your social areas by adding another lounge set with appetizers displayed on any of our stylish serving pieces.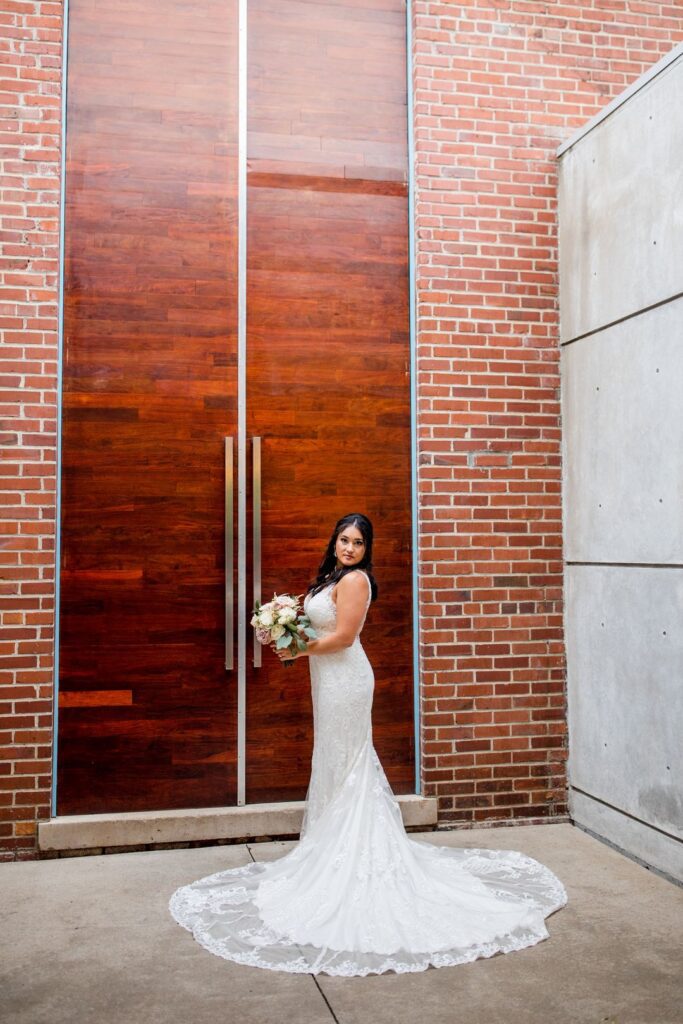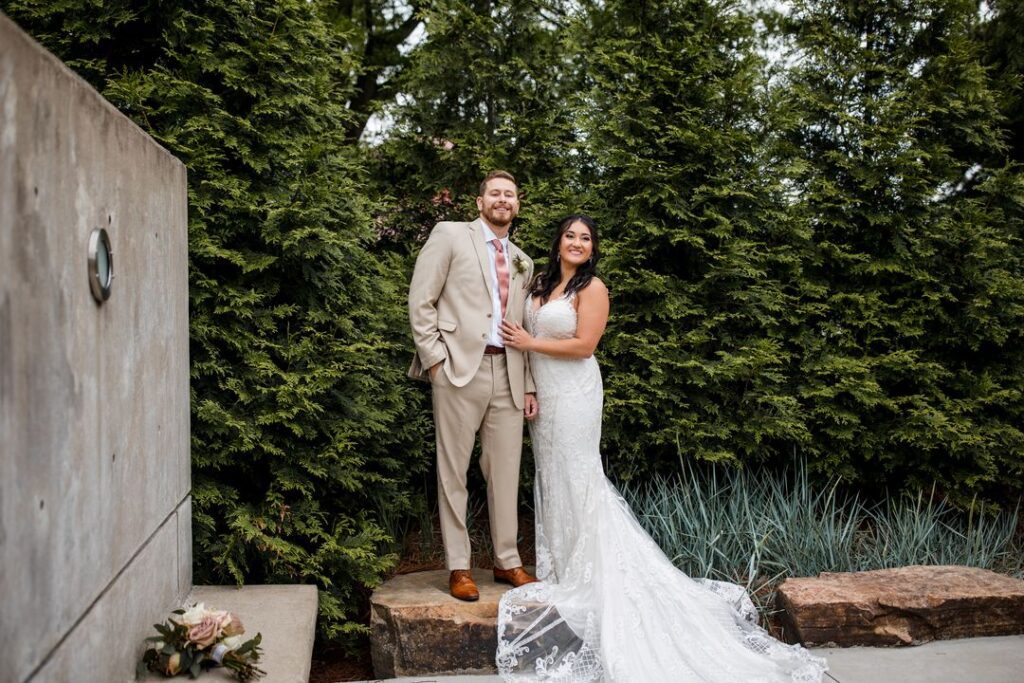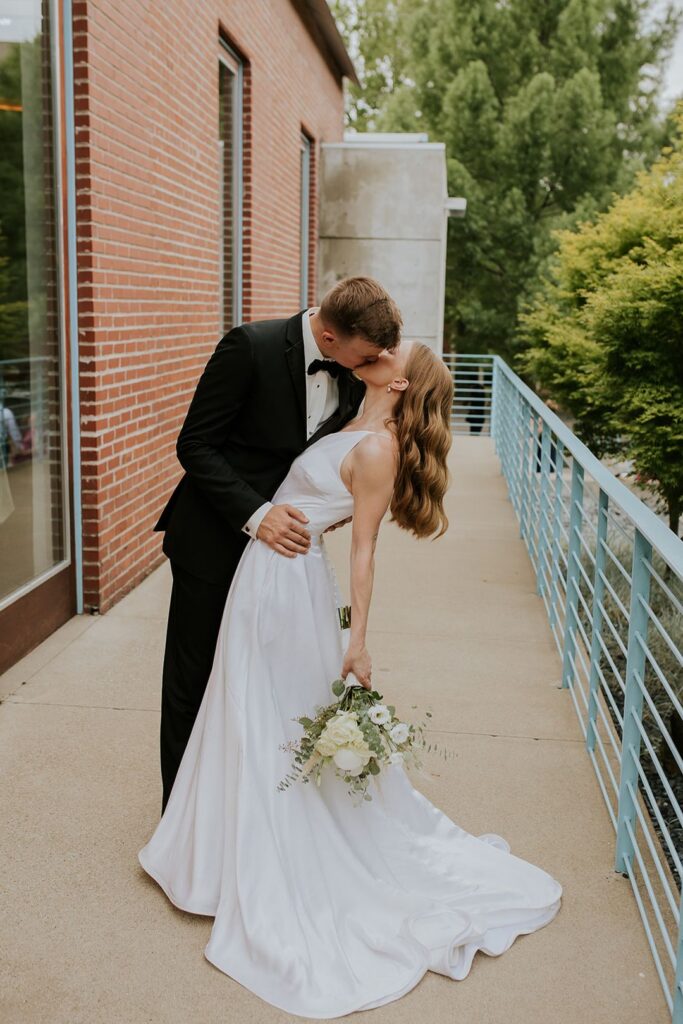 Host an Elegant Indoor Reception
Following a quick flip, the white plastered Hall is an equally stunning setting for an intimate wedding reception. As the sun dims, the room lights up with soft overhead chandeliers and downlights. Meanwhile, there is enough floor space for up to 130 of your loved ones. Create a unique set up, featuring a mix of round and banquet tables. including our Fruitwood Farm Tables. It beautifully complements the wood ceiling, while our Black Resin Folding Chairs provide some contrast. If you prefer a more modern look, consider our Ghost Acrylic Arm Chairs. As far as place settings, the options are endless! We, however, are partial to neutral servingware with a subtle pop of color. Like our Earthen Alabaster China and a Fern Velvet Napkin. And should you choose to feature a dance floor, we recommend our Black or White Dance Floor.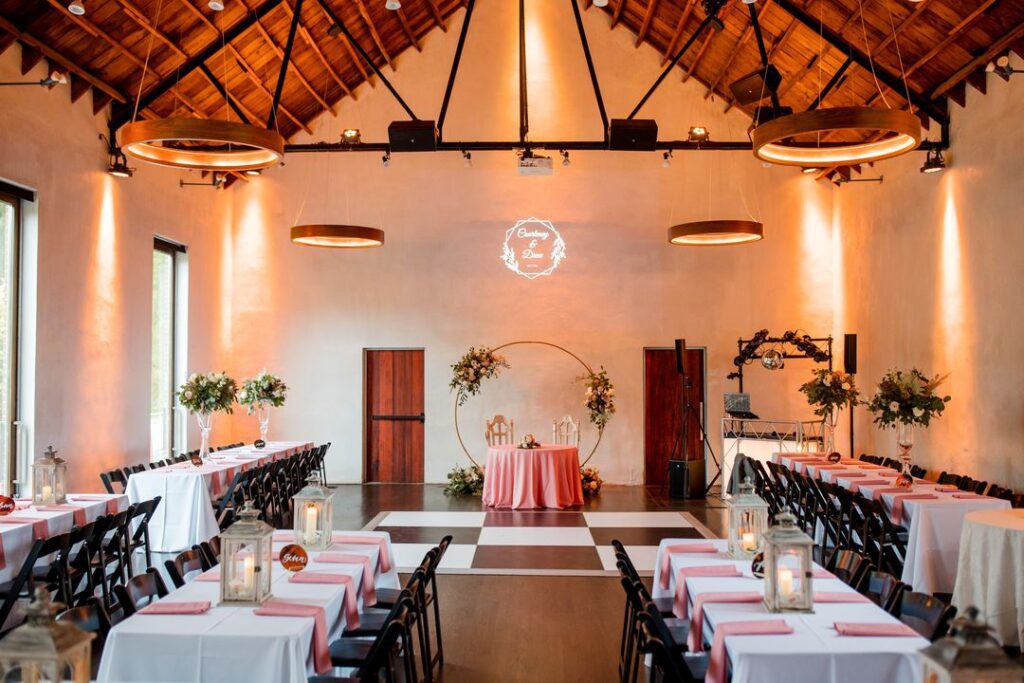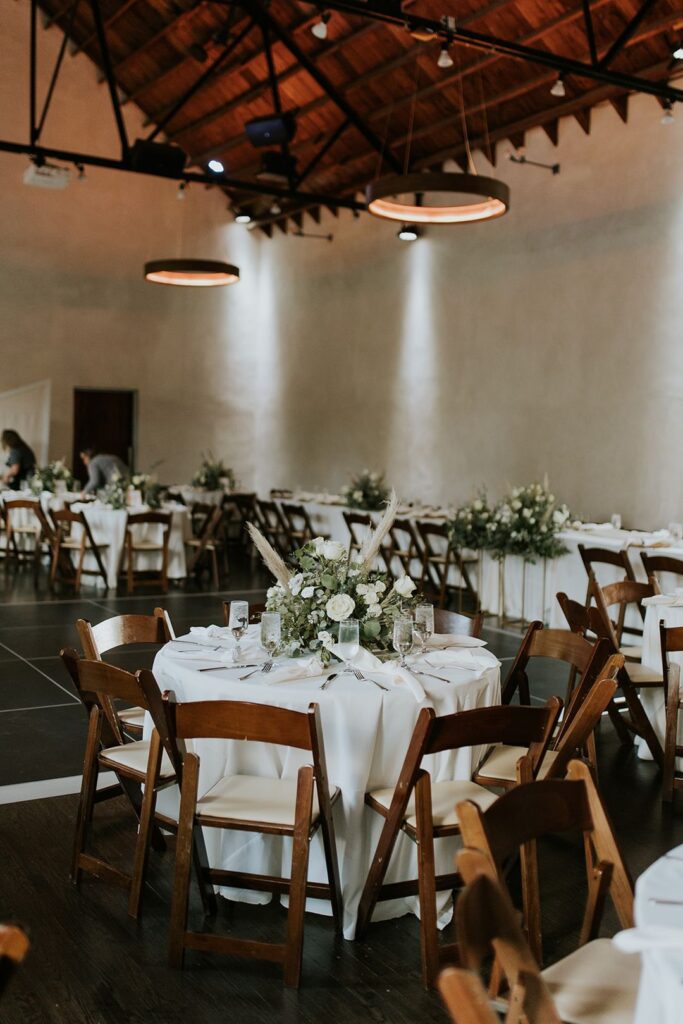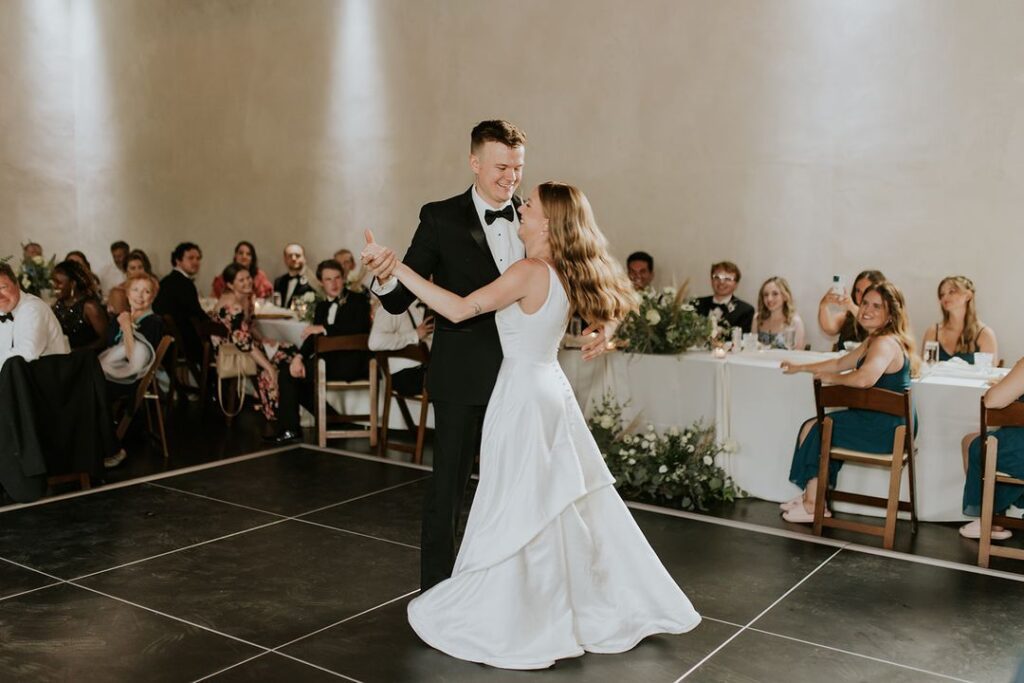 Ready to plan your wedding at The Ruby in Nashville? Contact our team at info@southerneventsonline.com for help recreating this elegant urban wedding. Or, for help bringing your unique vision to life!
TAGS | Nashville Event Venue, The Ruby, Wedding Ceremonies, cocktail hour, nashville venue, wedding reception
FEATURED RENTALS | Black Resin Folding CHairs, rugs, Davis Glass Cylinders, Bennett Leather Sofa, Rivet Accent Table, luxe Linens, Gloria Velvet Arm Chairs, Boxwood Walls, Fruitwood Farm Tables, Ghost Acrylic Arm Chairs, Earthen Alabaster China, Fern Velvet Napkins,Fruitwood Champagne Shelves, Franklin Black Wood Bar, Whiskey Barrel Galvanized Bar, glassware, serving pieces,
---
28

Jul

On Trend, Southern Events Products, Trends and Inspiration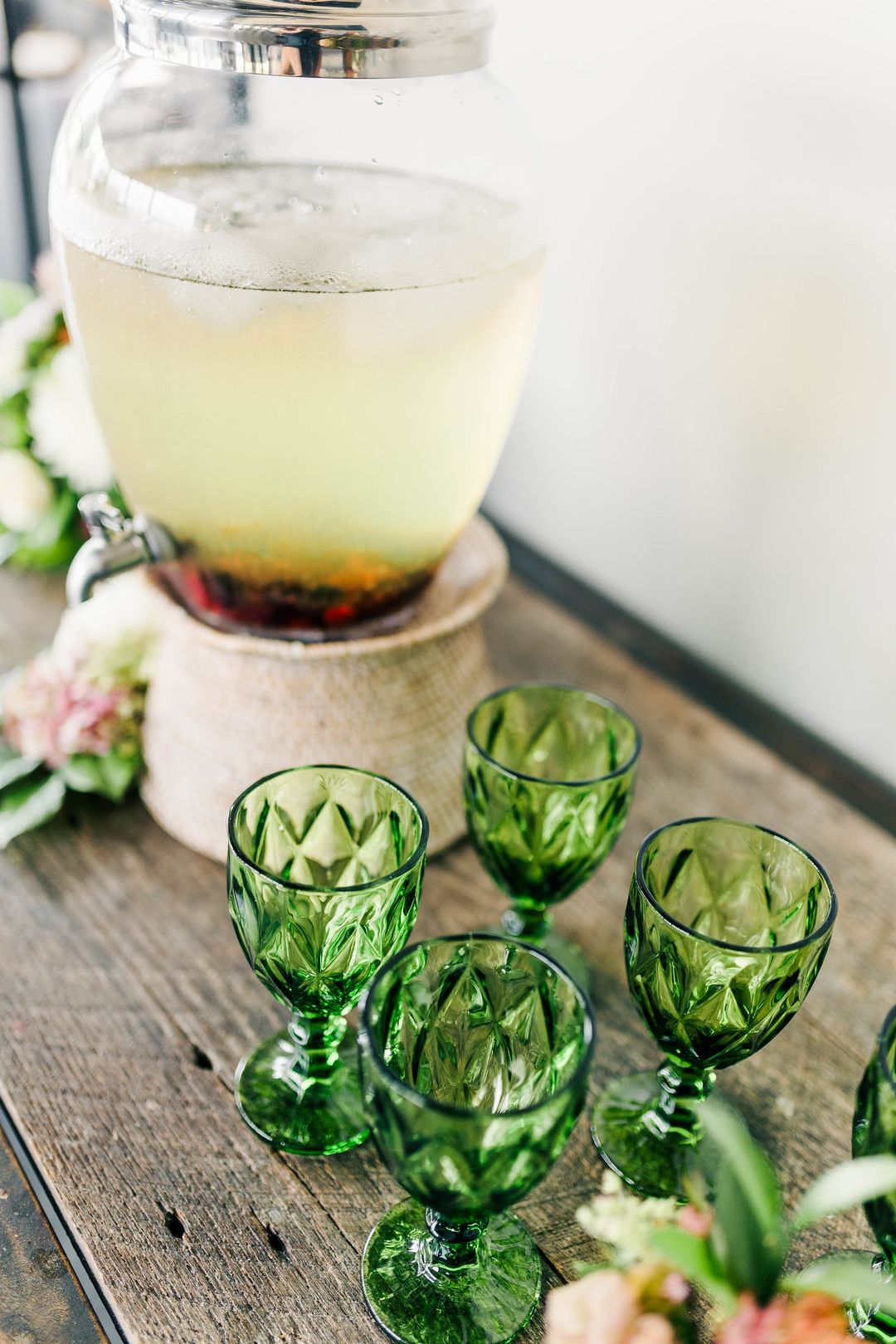 Hosting a laid-back cocktail hour? Level up your event when you serve big batch cocktails(or mocktails) in style! By featuring beautiful dispensers and fitting glassware for each type of drink, your guests are sure to be impressed. Learn about our beverage service rentals that will make it a breeze to serve up large batch cocktails at your next social event! Plus, we're sharing some easy party drinks for every type of gathering!
Easy Pour Beverage Jars
If you want easy yet elegant, our easy-pour beverage jars are a good choice! Featuring a simple pour spout and a sophisticated shape, these pieces make it easy to create big batch cocktails that guests can serve themselves. With a little rearranging of your fridge, you can even store them indoors until guests arrive.
Our Classic Glass Beverage Jar is especially impressive if you plan to serve up a colorful or fruit-infused cocktail or mocktail! Perhaps a tasty blackberry collins, basil strawberry lemonade, or a rum punch. Pair it with our Rattan Beverage Jar Stand, or a glass cake stand. Meanwhile, our Gold Beverage Jar is an equally gorgeous option for a more upscale event! To create an on-trend display, consider placing them on our Market Cart or any of our beautiful bars for rent.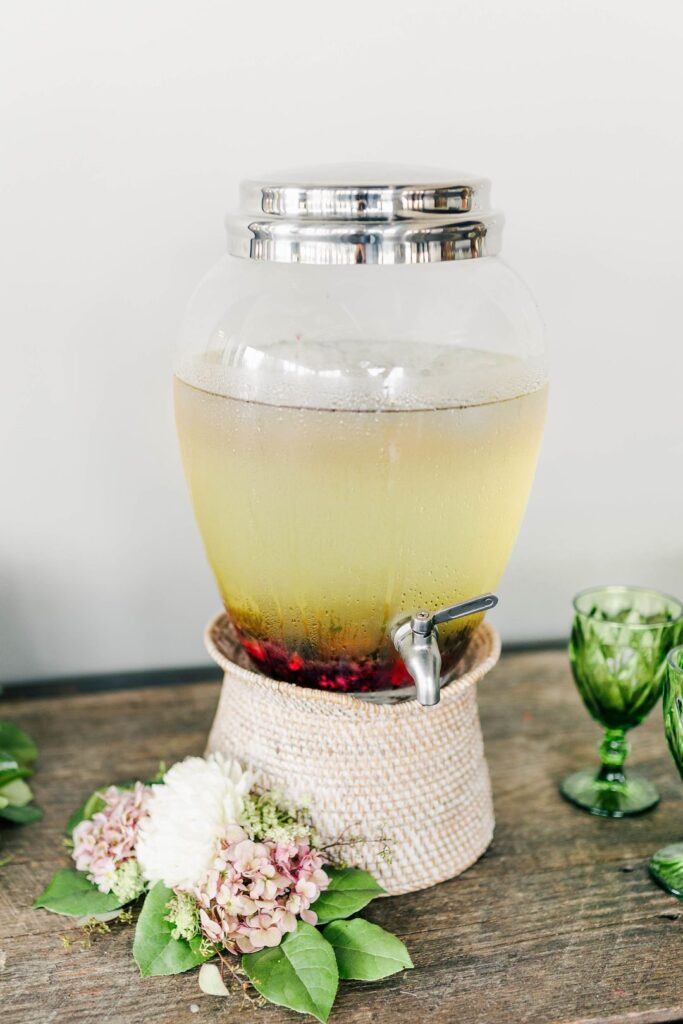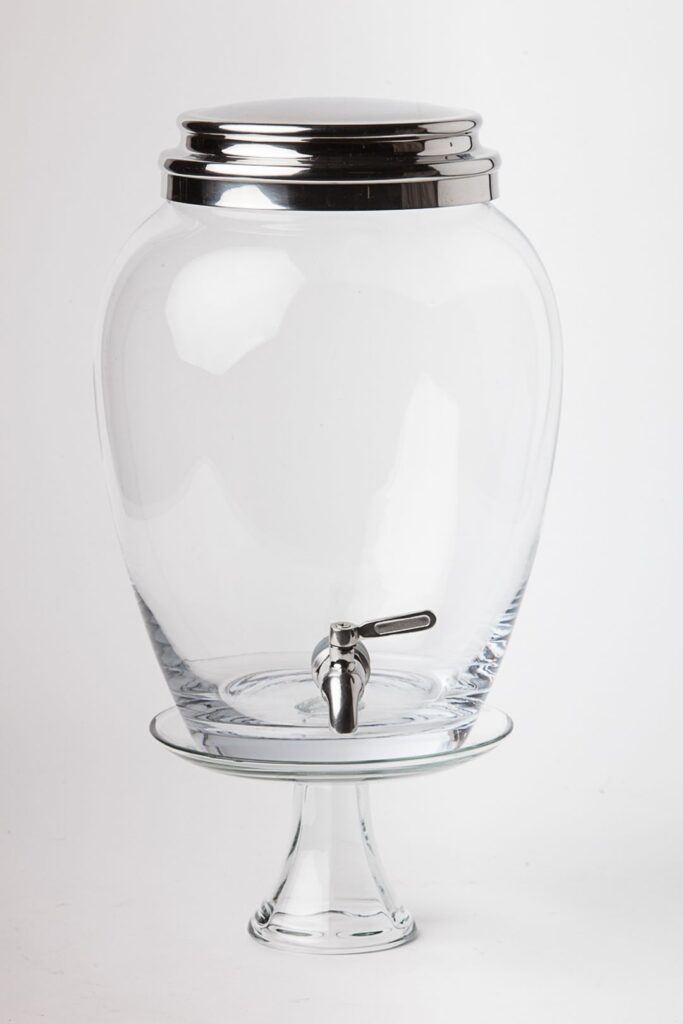 Silver Beverage Containers
If you're hosting a Southern-inspired gathering, our silver beverage containers are essential! We have a wide selection of styles available! From a beautiful Silver Beverage Pitcher – perfect for an assortment of Sangrias, fresh Margaritas, and infused waters. To options for hot drinks, like a Silver Coffee Urn – a fail-proof way to serve a delicious Mulled Wine, Coffee bars, or Hot Buttered Rum. Featuring pour-spouts, there will be no need to worry about burnt fingers!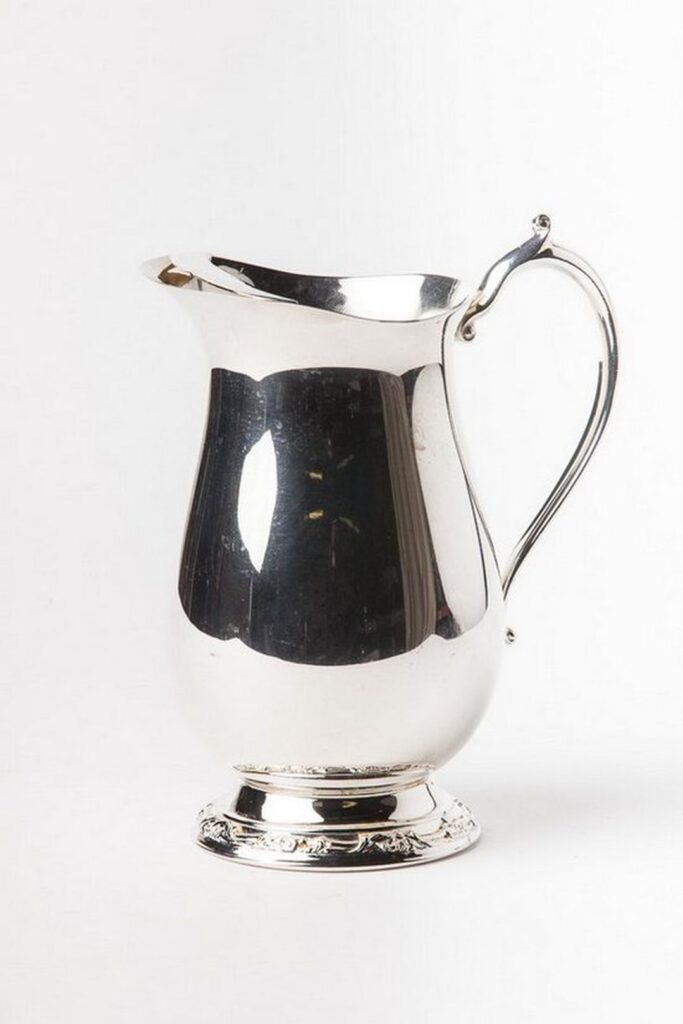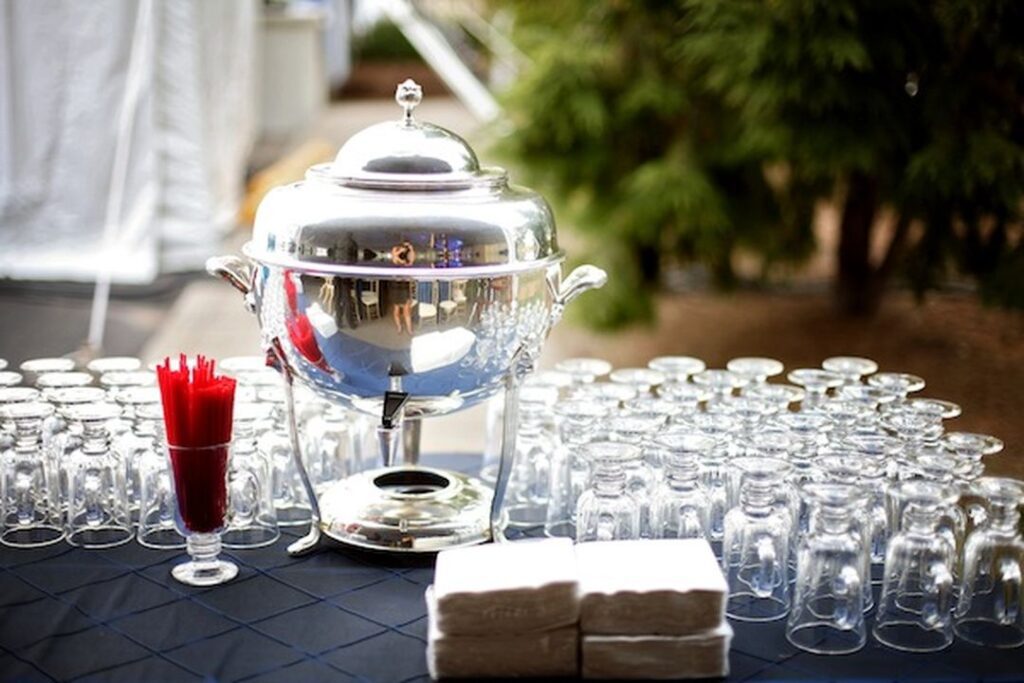 Correct Cocktail Glassware
An easy way to impress your guests is by showcasing the knowledge of the correct cocktail glassware. Southern stocks a variety of glassware, in every shape and style, so that you can display each drink as intended. Come to us with your intended menu, and we're glad to point you in the right direction – whether you plan to whip up a classic beverage or a more upscale drink. We have wine glasses for every type of Sangria. High-ball glasses for mixed drinks. Martini glasses for iceless cocktails. Or colored glassware to make mocktails feel special and much more! To store your glassware, don't forget to rent one or several of our Bar Back Shelves, available in a range of styles and colors.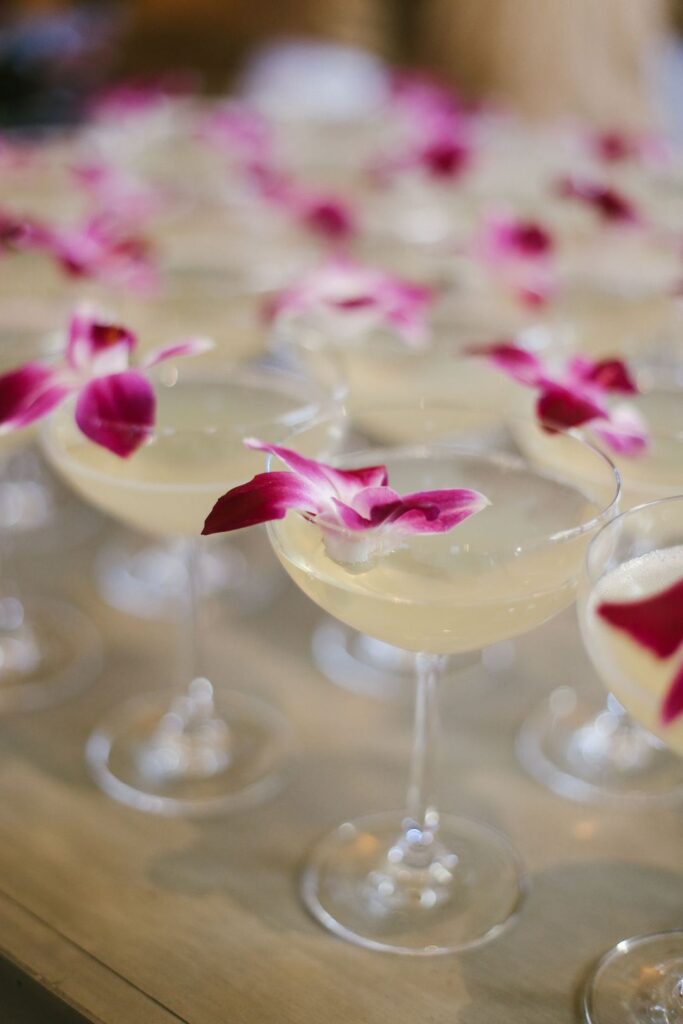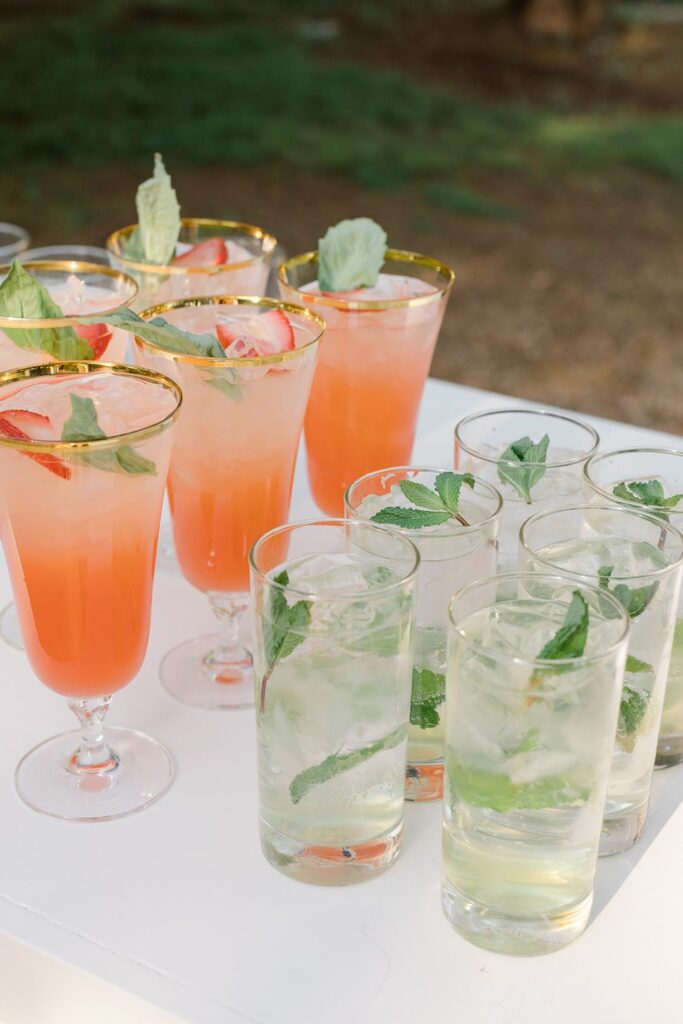 Planning to serve big batch cocktails at your upcoming celebration or party? Contact our team today for assistance choosing the best beverage service rentals for your event! Or view our catalog to see our full inventory of products, including drink dispensers, glassware, and more. Need more cocktail or mocktail hour inspiration? Check out our in-stock bars and accessories for rent.
TAGS | Beverage Service, Cocktail Party Rentals, Glassware, cocktail hour, cocktail party ideas, glassware rentals Nashville
FEATURED RENTALS | Gold Beverage Jar, Classic Glass Beverage Jar, Rattan Beverage Jar Stand, Market Cart, silver beverage pitcher, silver coffee urn, bar back shelves,
---
10

Jun

On Trend, Southern Events Products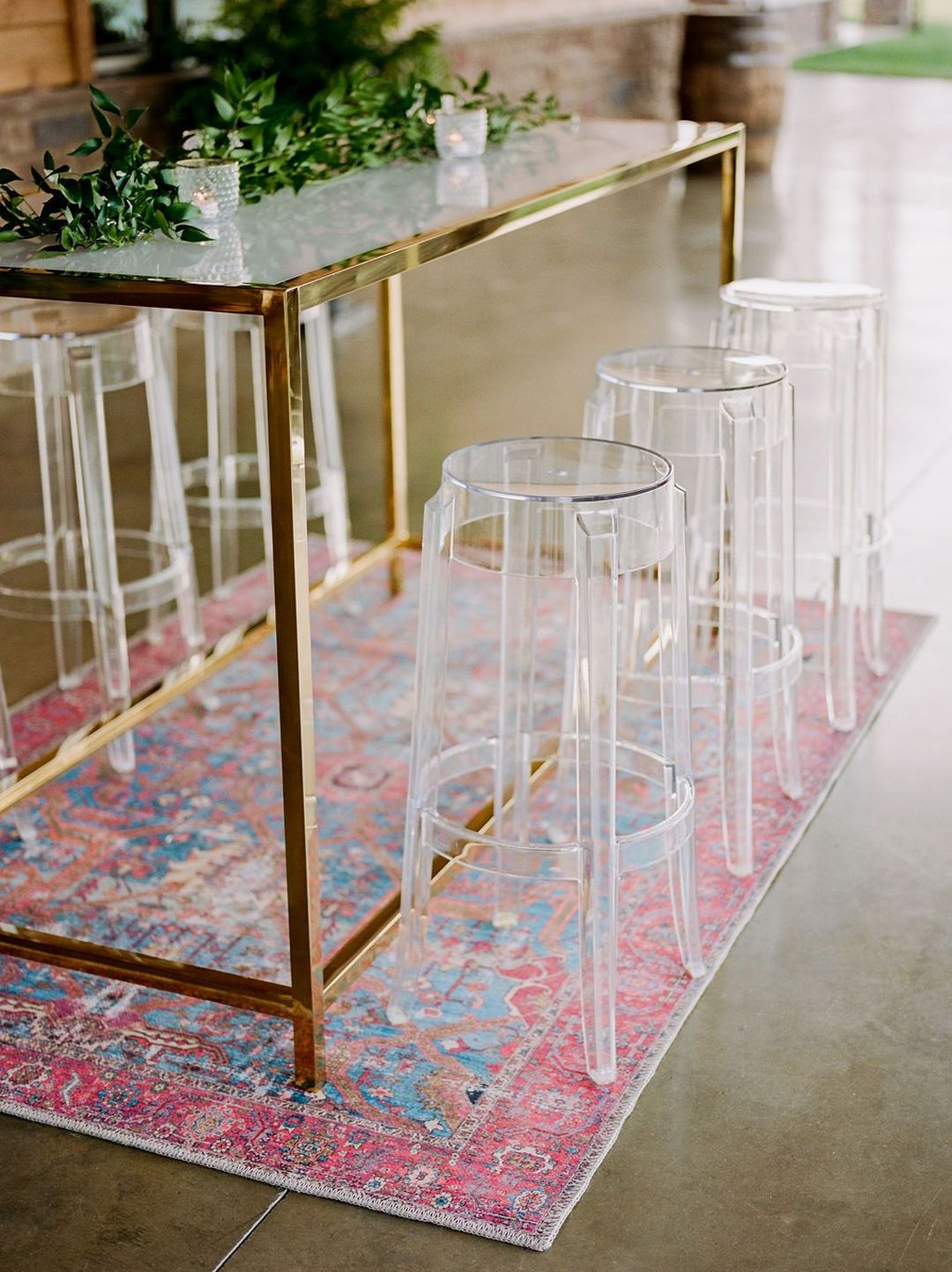 Functional and stylish rentals, Southern Events offers a range of area rugs for events & weddings. Although simple, a beautiful decorative rug will lend to an all-around cohesive event space. Whether they are used to line an aisleway or placed beneath the featured furniture. You go to major lengths to decorate and furnish the space in a way that aligns with your event, and the floor is the foundation! Take a look at our in-stock area rugs and how you can feature one or several at your upcoming Nashville event.
Tie it All Together
Area rugs are more than just decoration. Take for example the use of layered rugs as an aisle runner. Our Brown & White Cowhide Rug and Dark Brown Cowhide Rug are perfect for a trendy urban desert wedding ceremony. Meanwhile, our vintage-inspired rugs look stunning for a cozy, boho-themed affair. Feel free to layer them up or use one standalone alongside a ceremony backdrop.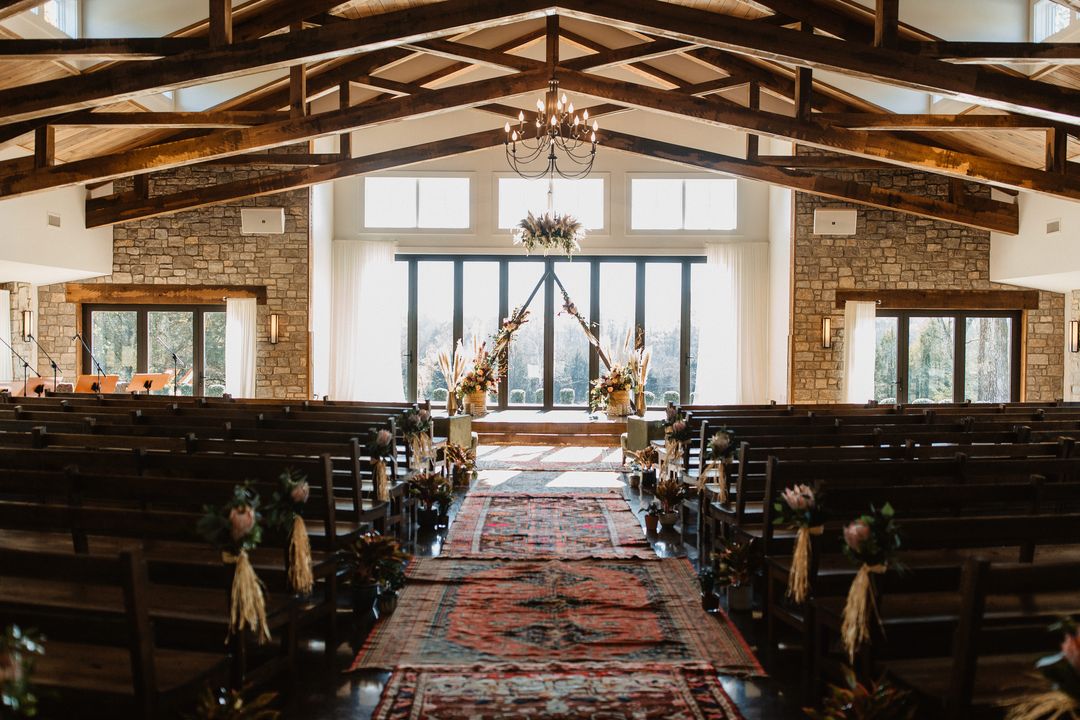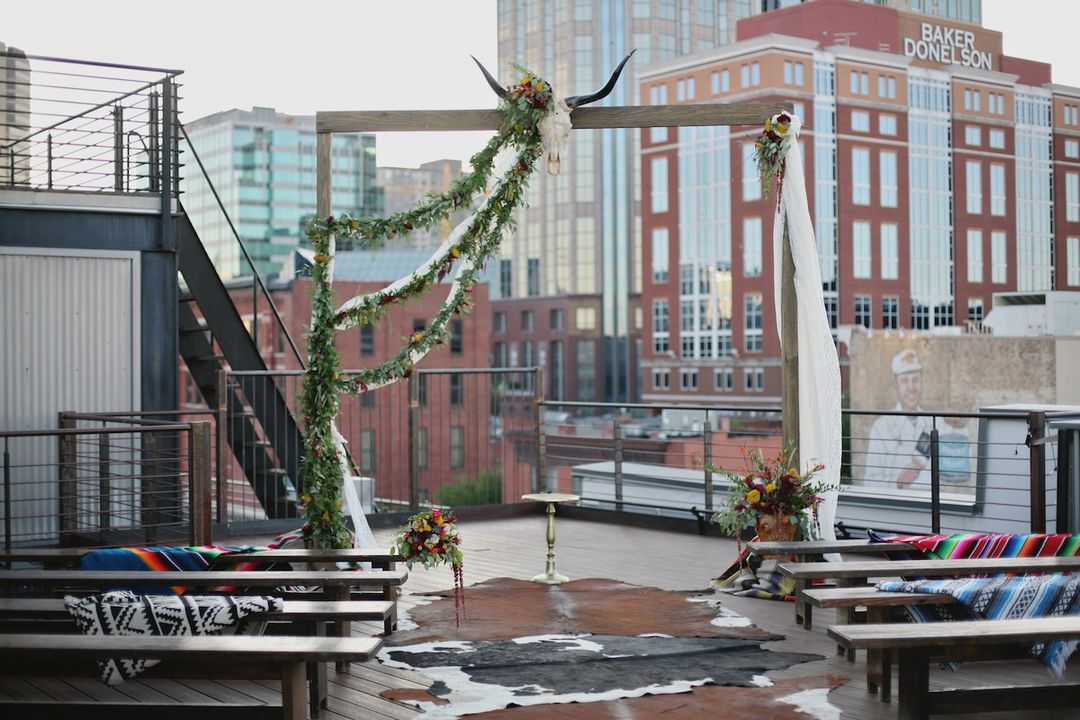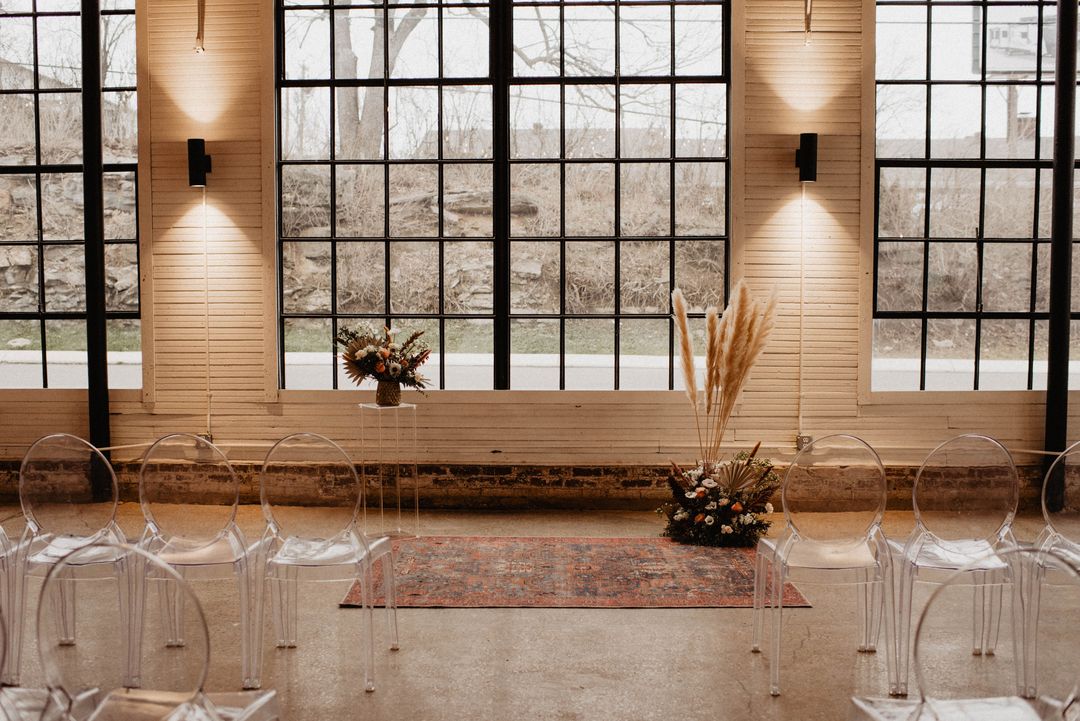 Photo by Renrose Photography
Frame a Space
Rugs assist in creating a frame in which to place the furniture. A trick that is especially useful for social areas, like a cocktail lounge. Consider using a rug to lead guests from the bar to a lounge area. It will help prevent your guests from huddling around the bar and encourage them to sit down, get comfortable, and stay for a while. See how our clients have used a range of area rugs for events & weddings, including our Navy and Aqua Rugs.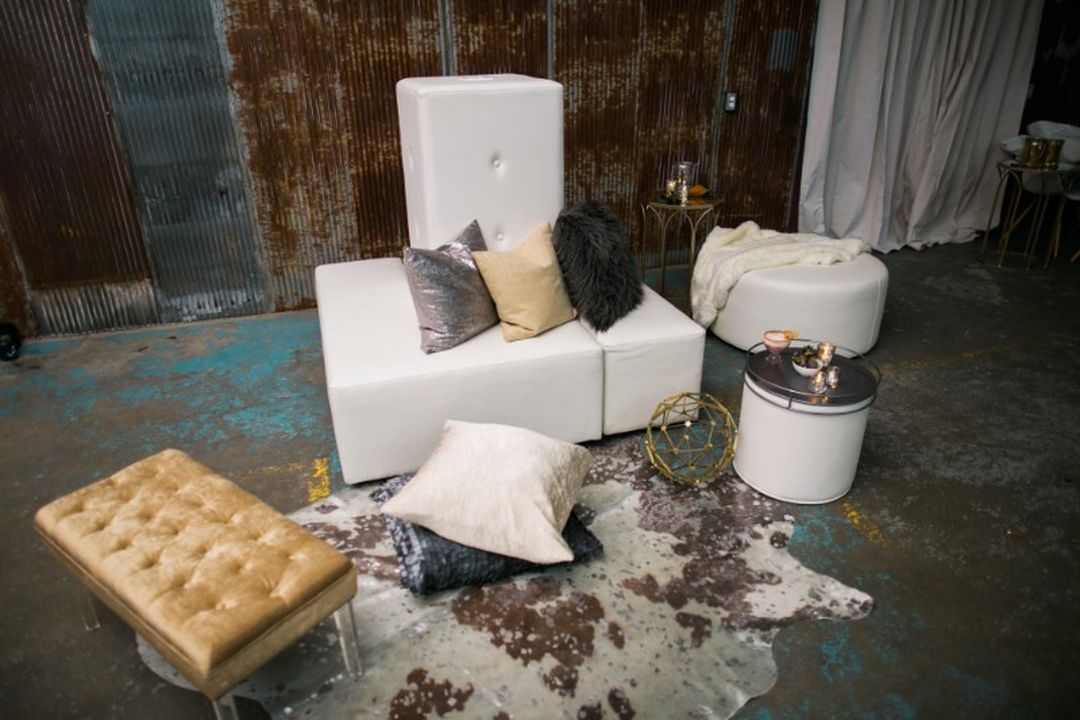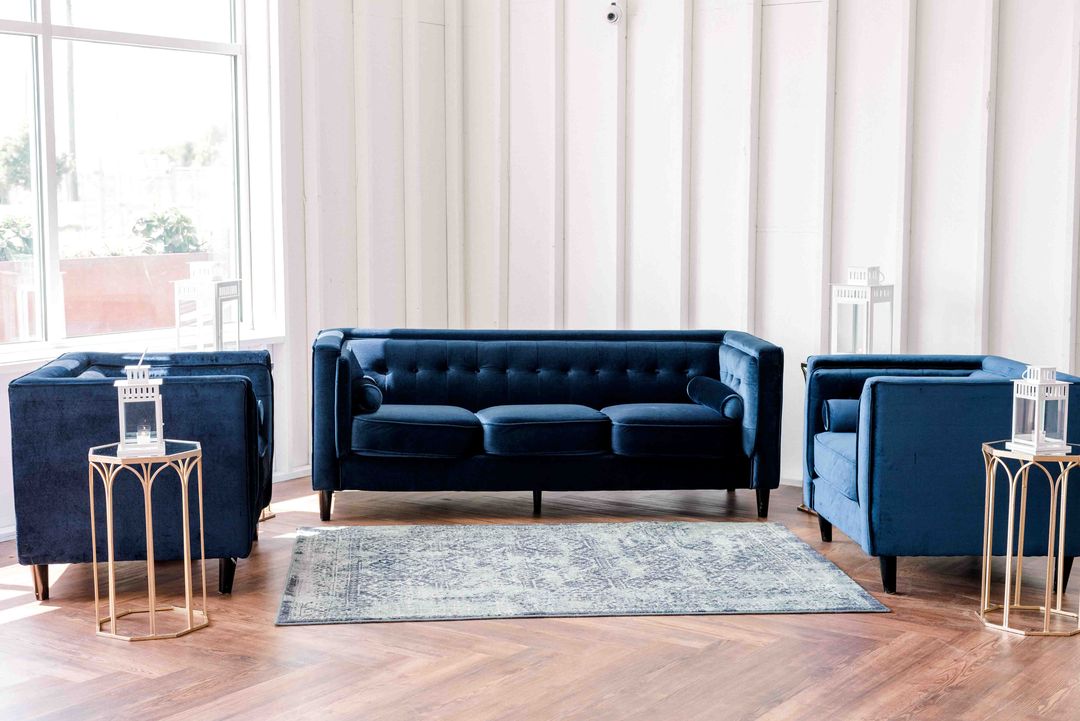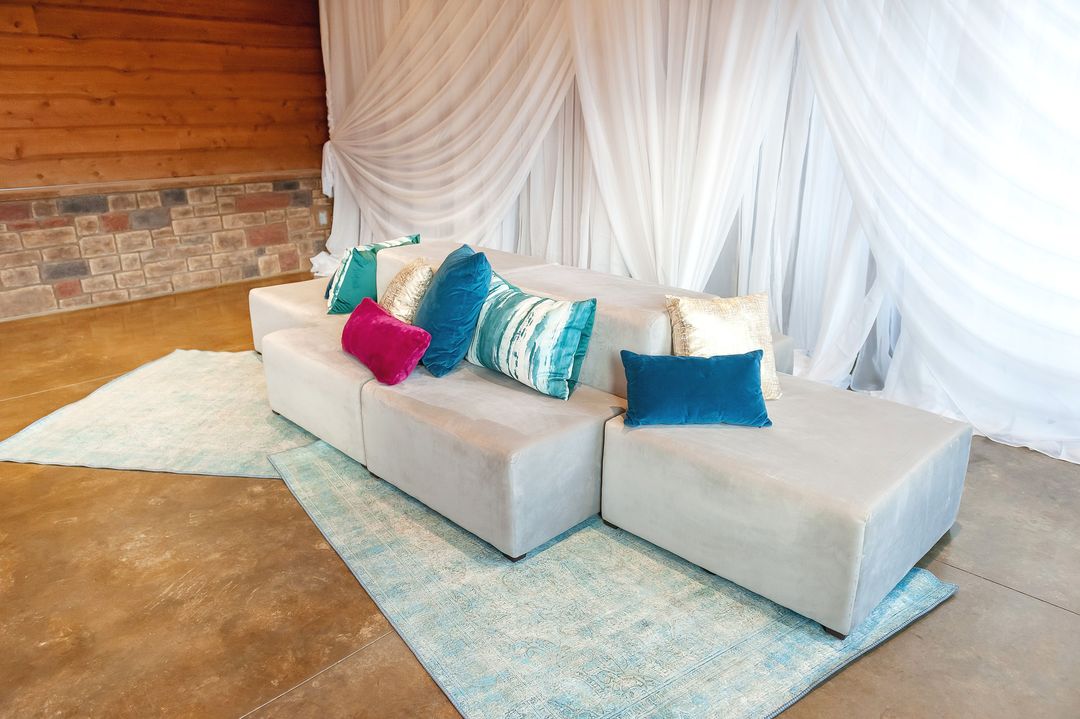 Photo by Megan Stark
A Cohesive Design
Similar to cocktail lounges, rugs can be placed beneath standalone furniture to help create a more cohesive aesthetic. Without one, it can feel as though your furniture may float away! A rug can also help tie different areas together that would otherwise look out of place. Featured below, our vintage Blue-Red Rugs were used to accent a whiskey-barrel bar and create a charming buffet area. And to create a stylish outdoor cocktail area, it was placed beneath our Loren Gold Bistro Table.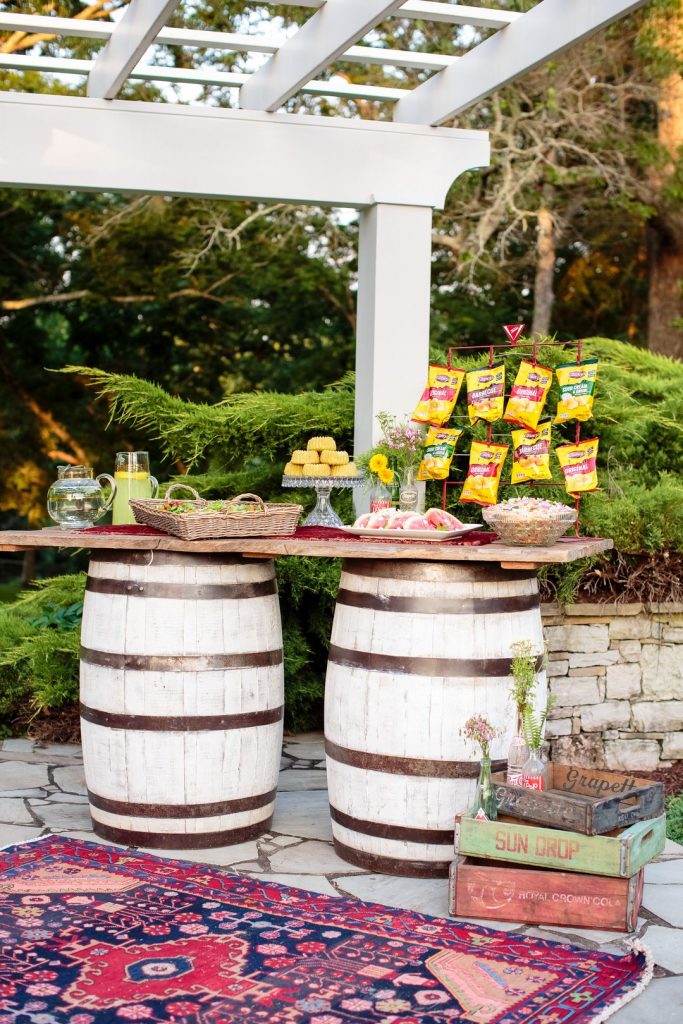 Photo by Erin Lee Allender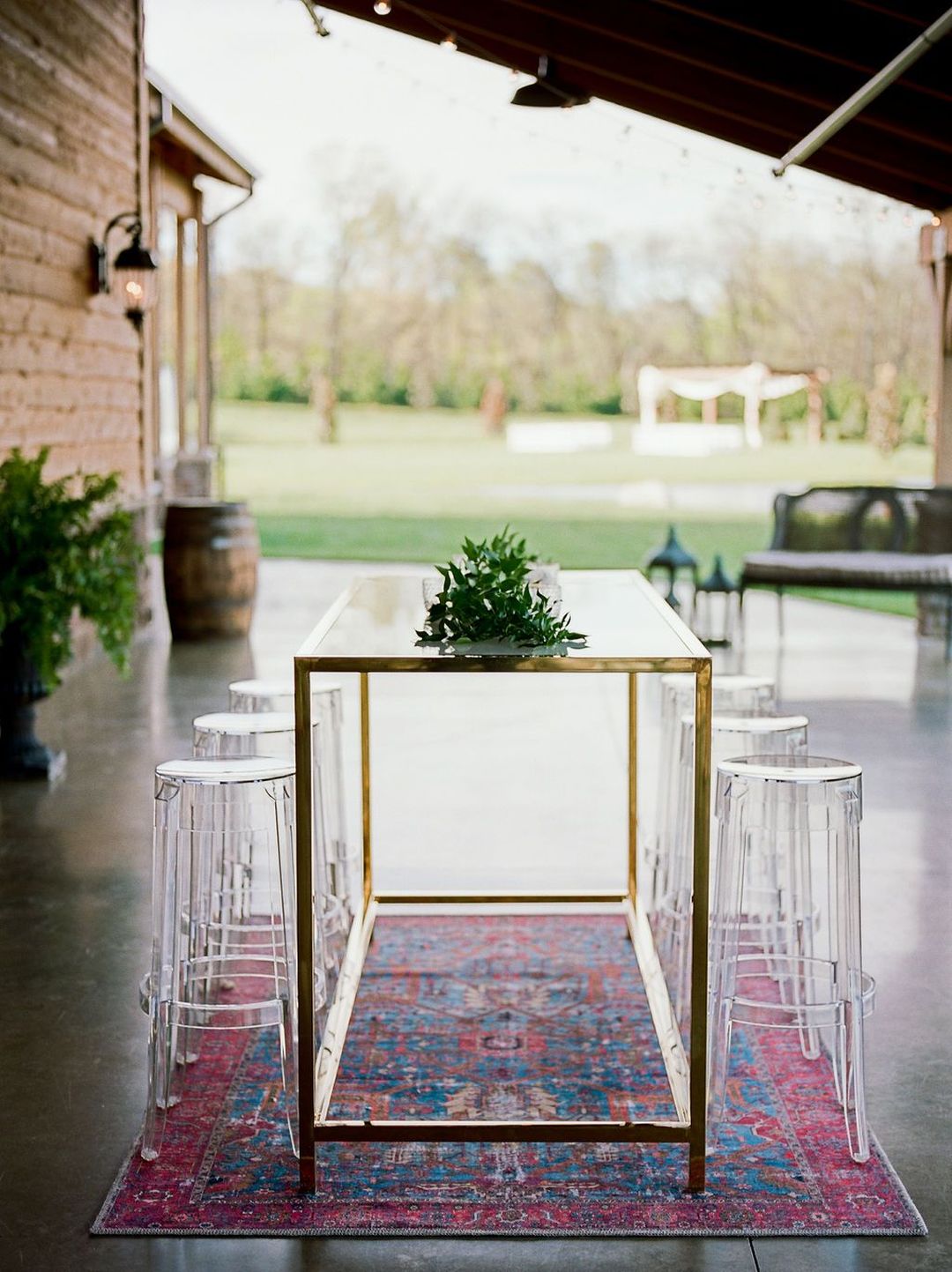 Photo by Jenna Henderson
Want something that provides more stability than a rug? Our Dura-Trac Flooring is a great option! It is made of high-quality materials and can be customized to fit any size you may need. Plus it is a safe, slip-resistant surface that can be used over a variety of terrains. Plus, you can still place one or more of our trendy area rugs on top to create a cozy atmosphere.
If you have an upcoming event and are looking to create a unique space with area rugs we'd love to chat with you! Send us a message at info@southerneventsonline.com for help or additional event inspiration!
TAGS | Area Rugs, Boho Wedding Nashville, Cocktail Party Rentals, Cow hide rug, Nashville Corporate event Rentals, Nashville Event Rentals, Nashville furniture rentals, Nashville party rentals, Vintage Rugs, cocktail hour, corporate event design, corporate event rentals, cowhide rugs, wedding event design
FEATURED RENTALS | Blue-Red Rug, Brown/White Cowhide Rug, Dark Brown Cowhide Rug, Gray Cowhide Rug, Navy Rug, Metallic Cowhide Rug, Loren Gold Bistro Table, Pearce Modular Lounge,
---
10

Sep

On Trend, Southern Events Products, Trends and Inspiration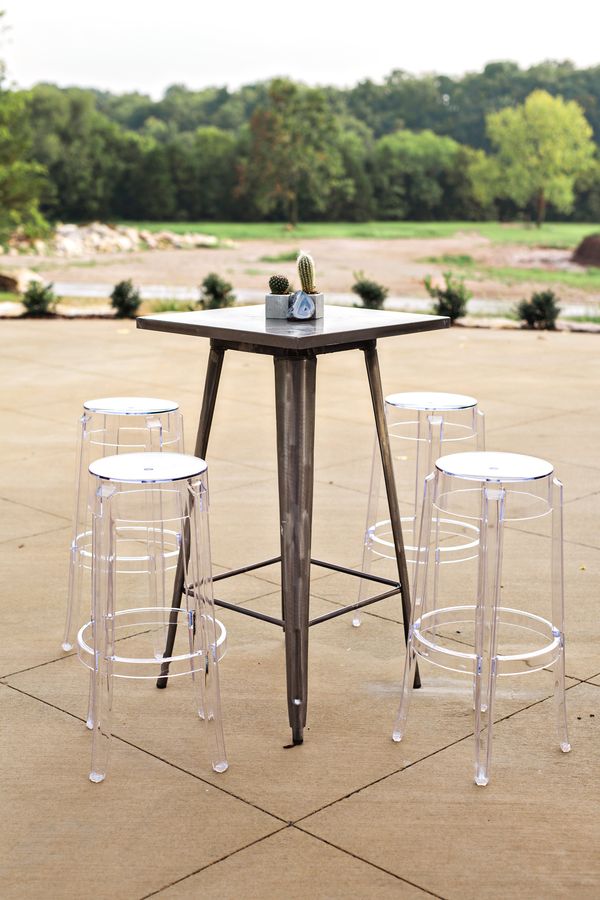 When it comes to small gatherings, you want to make the most of the space and allow guests to interact safely. To help you create a functional layout, we've rounded up of our favorite bistro style and mixed seating set-ups for every type of event. Spacing out seating and place settings appropriately is just one way that you can continue to host safer events in Nashville, Tennessee!
Bistro Tables
Hosting a cocktail hour? Bistro tables will take your event up a notch. Although compact, these tables bring a sense of luxury to even the smallest spaces.
This simple outdoor set-up features our a bistro table paired with elegant Cross-back Barstools. A neutral-toned table linen added a touch of formality, without distracting from the beautiful setting.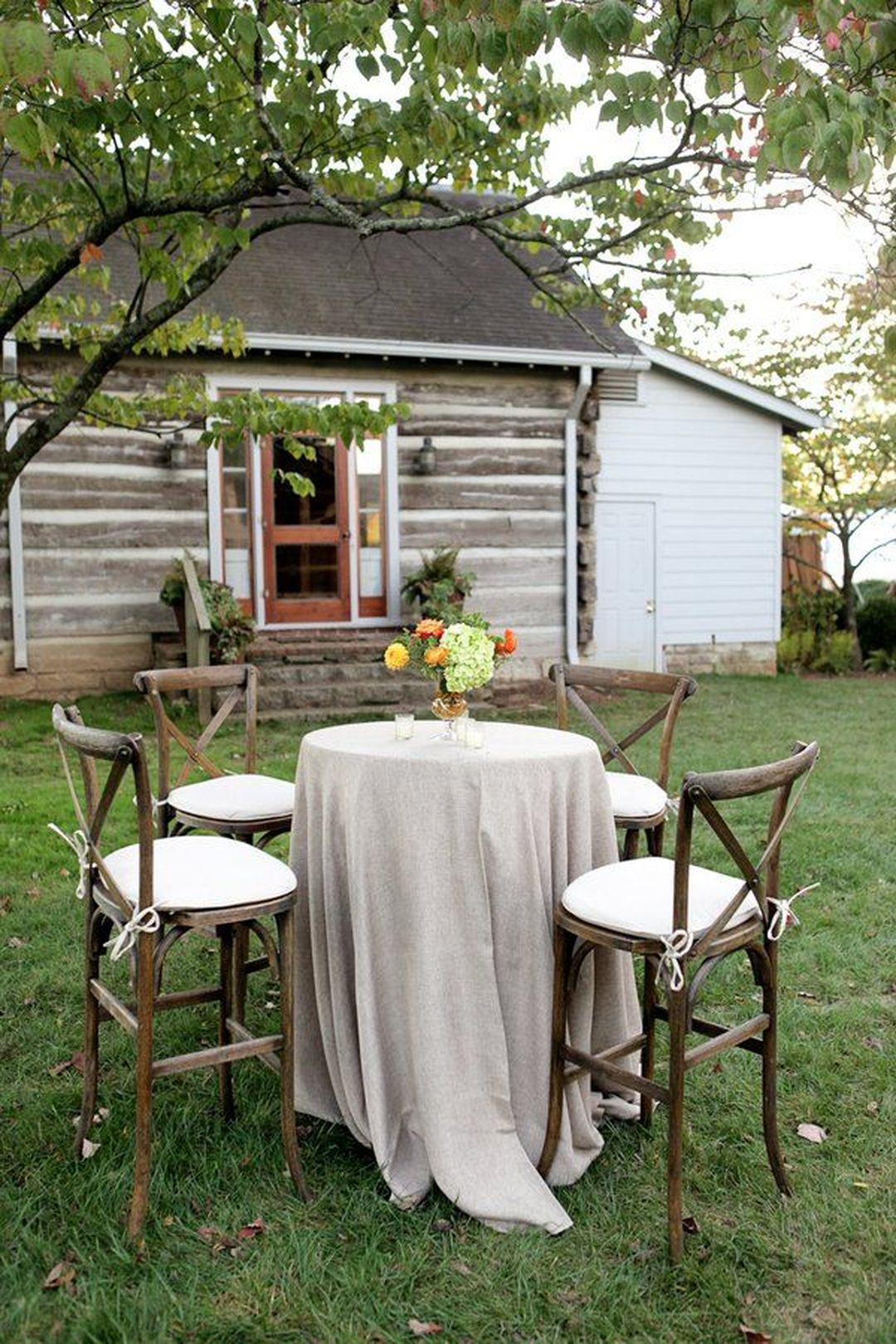 This contemporary bistro set-up at CJ's Off the Square is perfect for a wedding. It is draped in our Light Pink Etched Velvet Linen and complemented by Mid Century White Barstools.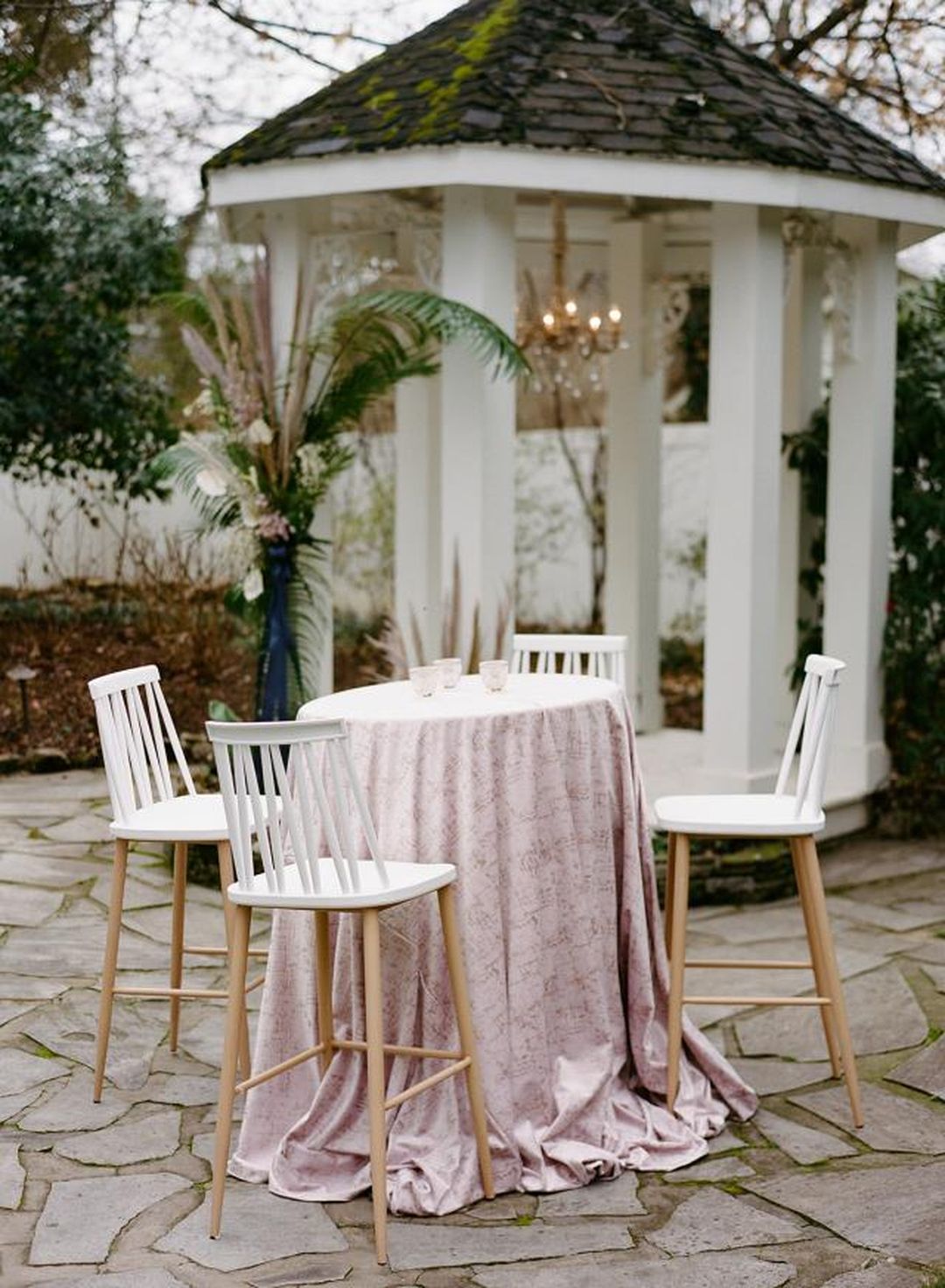 Our Loren Gold Bistro Table screams luxury! Adding to this elegant design, are our modern Acrylic Ghost Barstools. We love the bold choice to feature contrasting colors, via Tawny Napkins and Onyx China.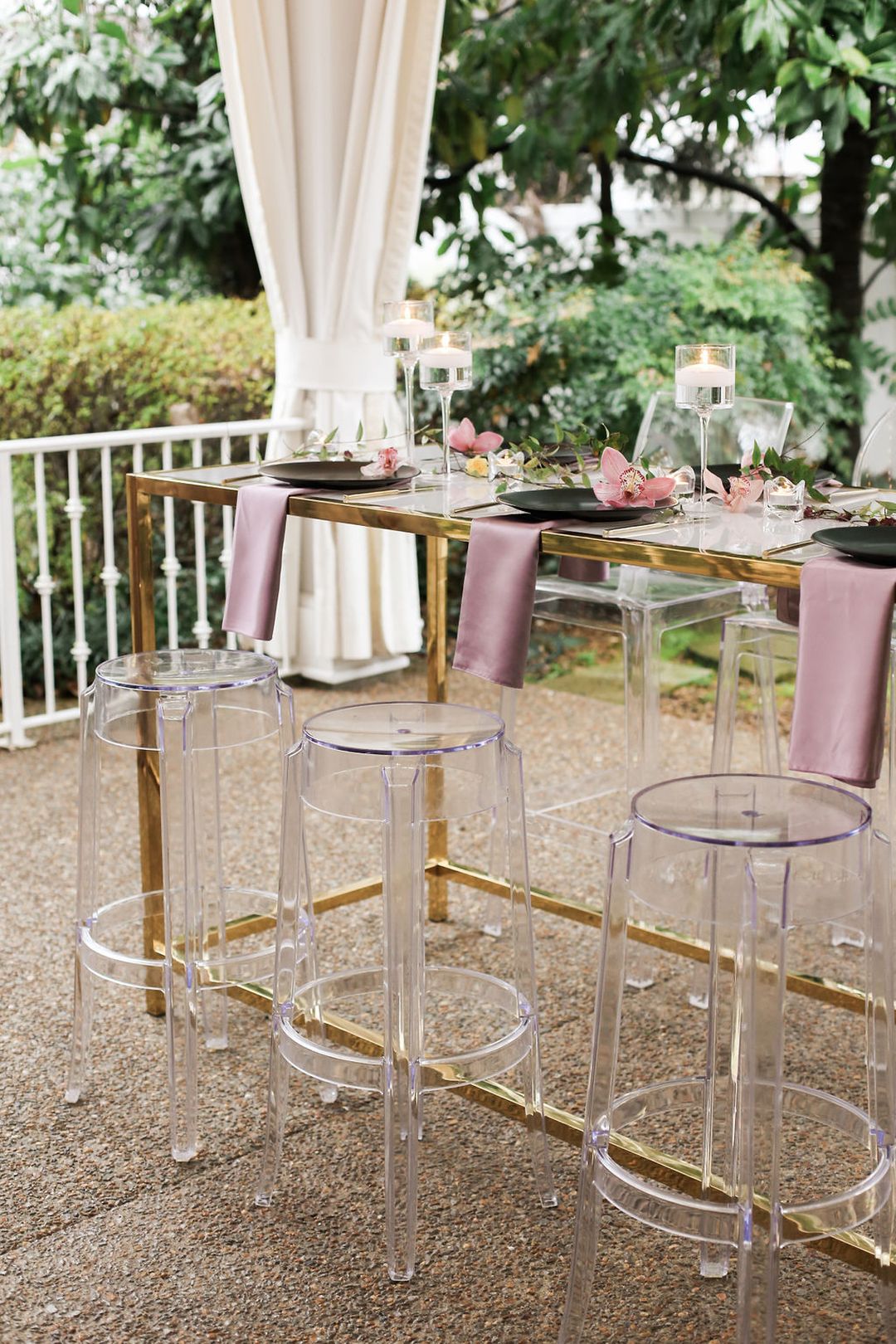 Photo by Jenna Henderson Photo
Simple but beautiful, this set up combines both old and new elements. Our rustic Grayson Farm Bistro Table is paired with modern Acrylic Ghost Barstools.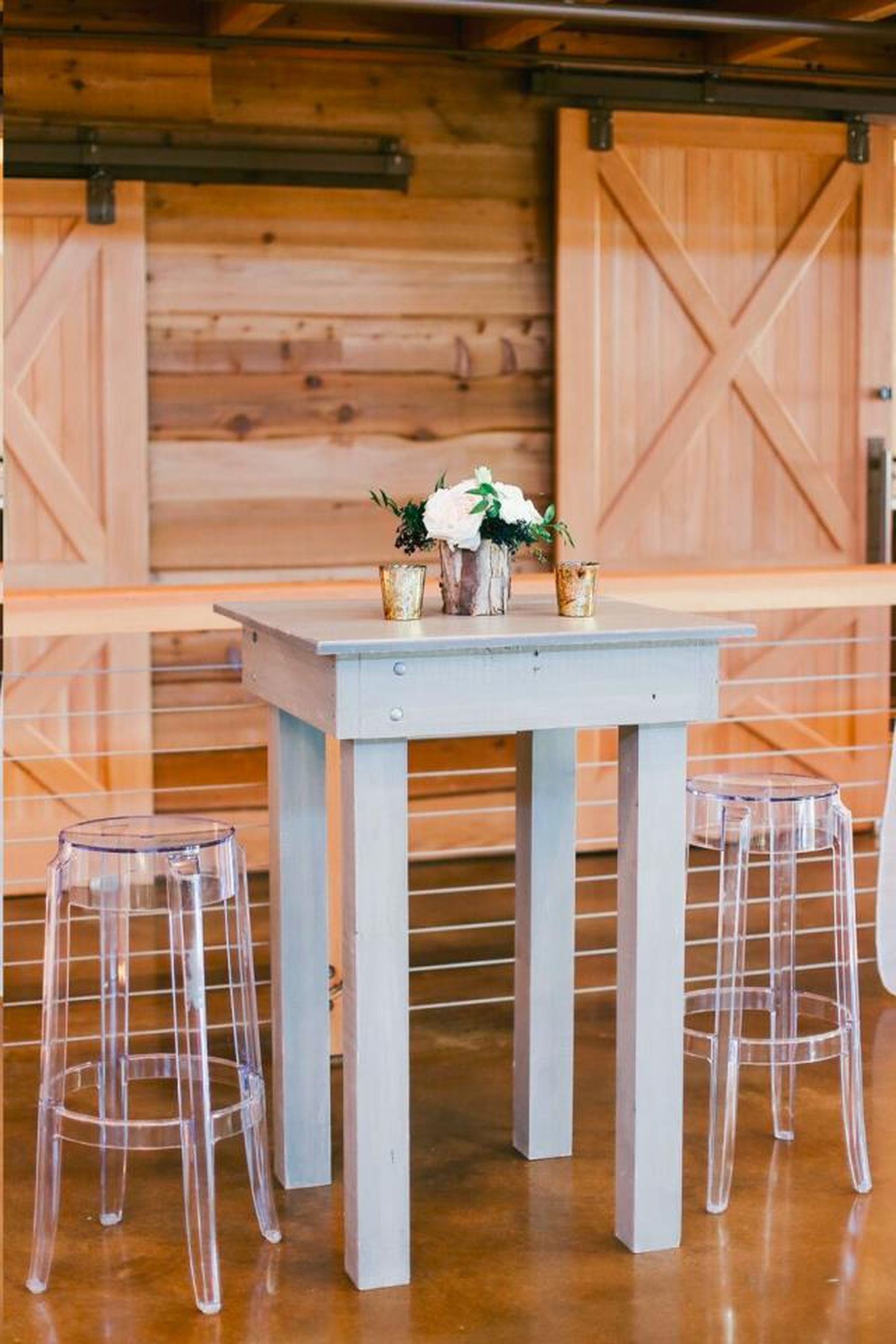 Mixed Seating
Want a slightly larger, low to the ground alternative? These cozy mixed seating set-ups are perfect for your next social gathering. Be sure to set the furniture farther apart than normal. You can use a rug to fill the interior space, or to create a frame for the area, like the elegant arrangement below. It features our Adeline Dining Chairs with a plush loveseat.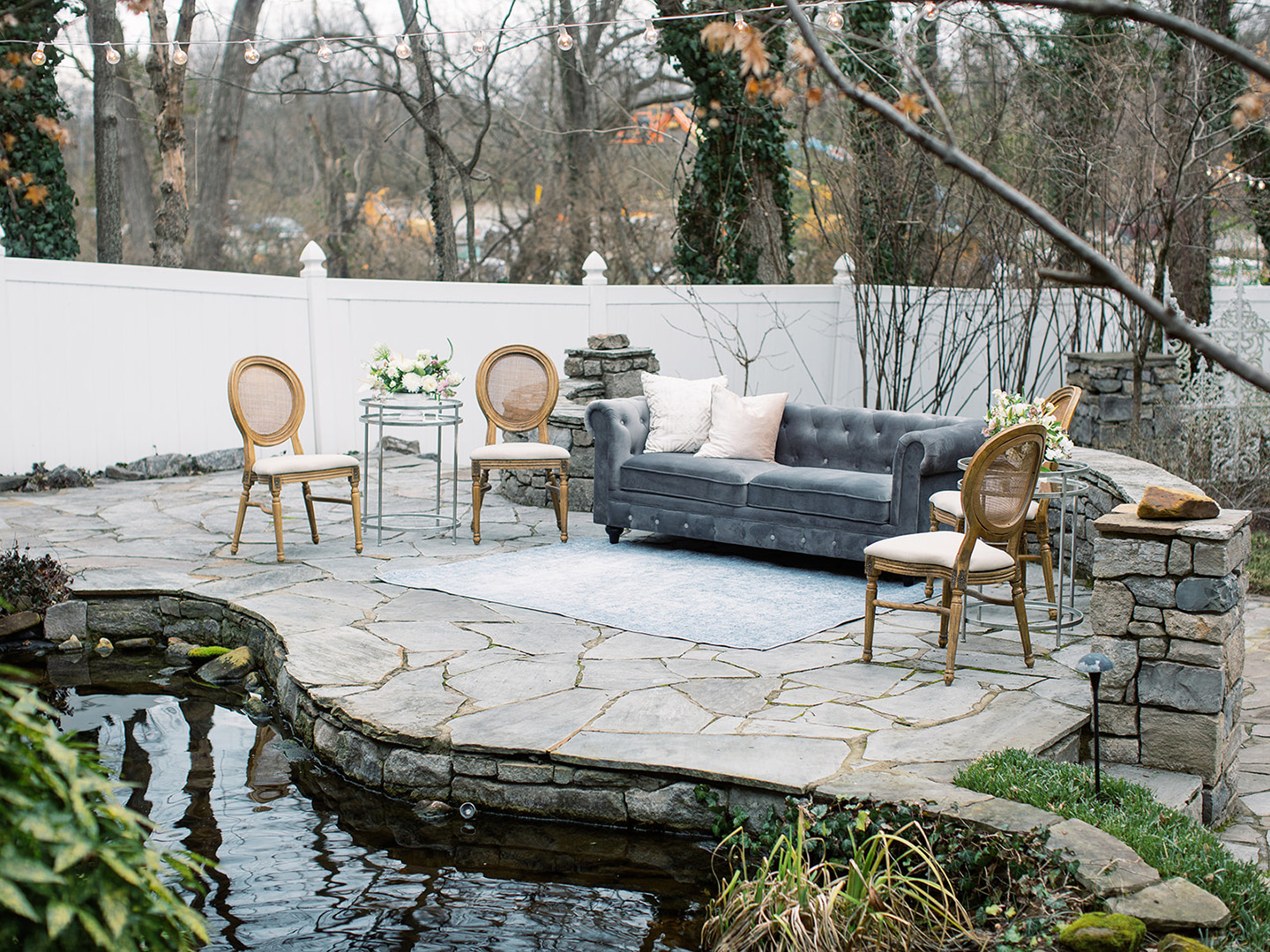 Photo by Abigail Lewis Photography
Created for a luxe southern wedding, this vibrant seating area was made using our Saylor Navy Velvet Sofa and matching chairs. Cheval Gold Side Tables are added as a place for guests to set their drinks.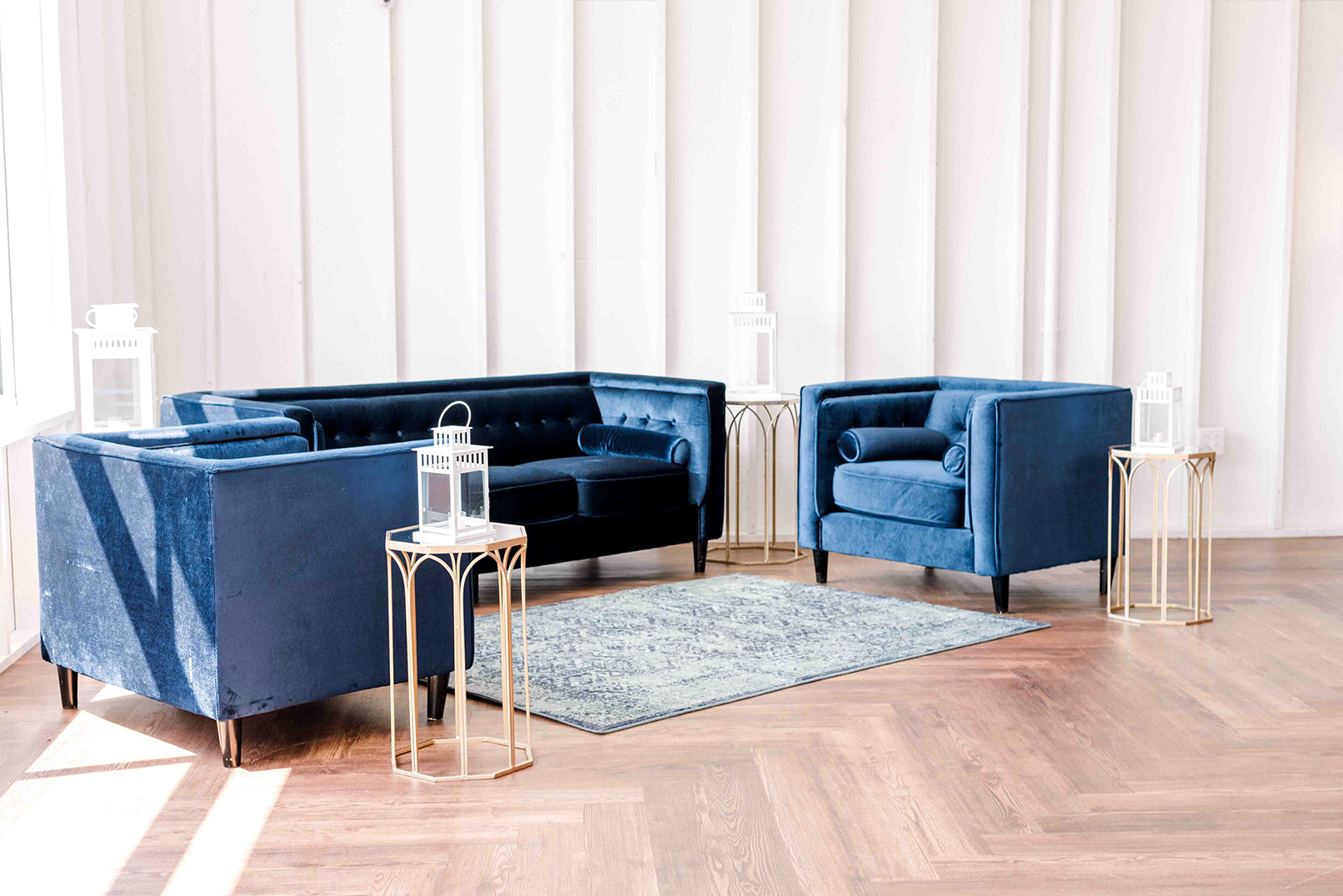 Photo by Cee Cee Photography
A unique mix of urban and contemporary elements, this mixed seating arrangement features our Mercer White Leather Collection and Midas Gold Bench.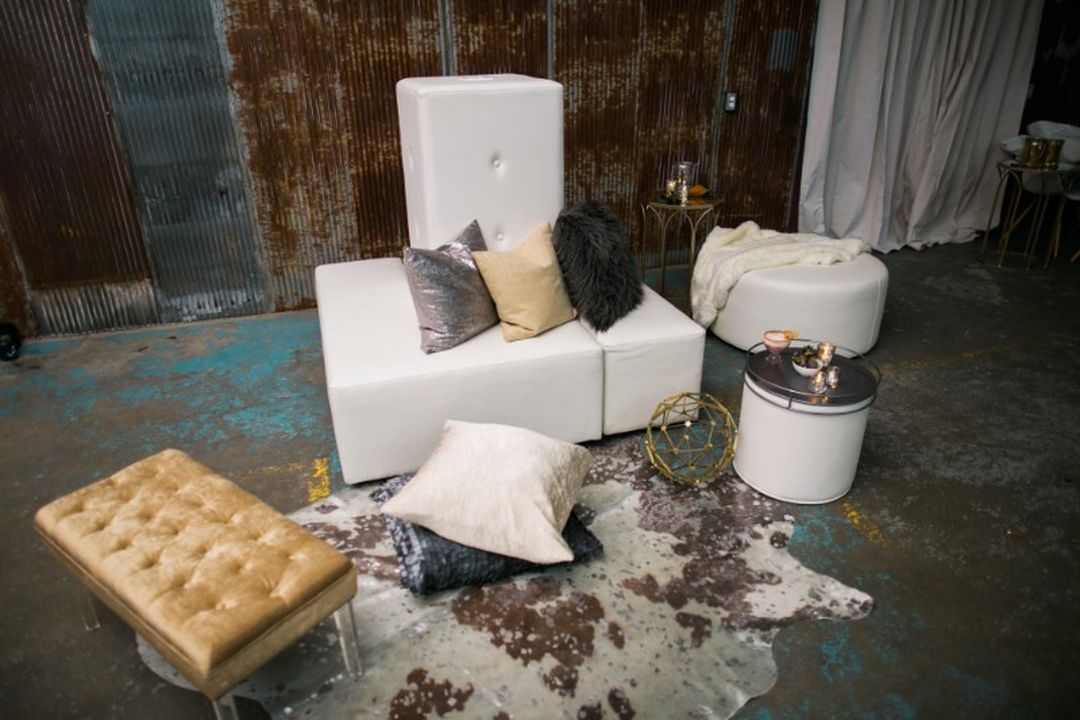 A beautiful warm-toned set up, our Bennett Leather Sofa and London Loveseat is perfect for a modern rustic event or wedding. It also includes our Cheval Gold Side Tables, Chocolate Poufs, and a Cowhide Rug.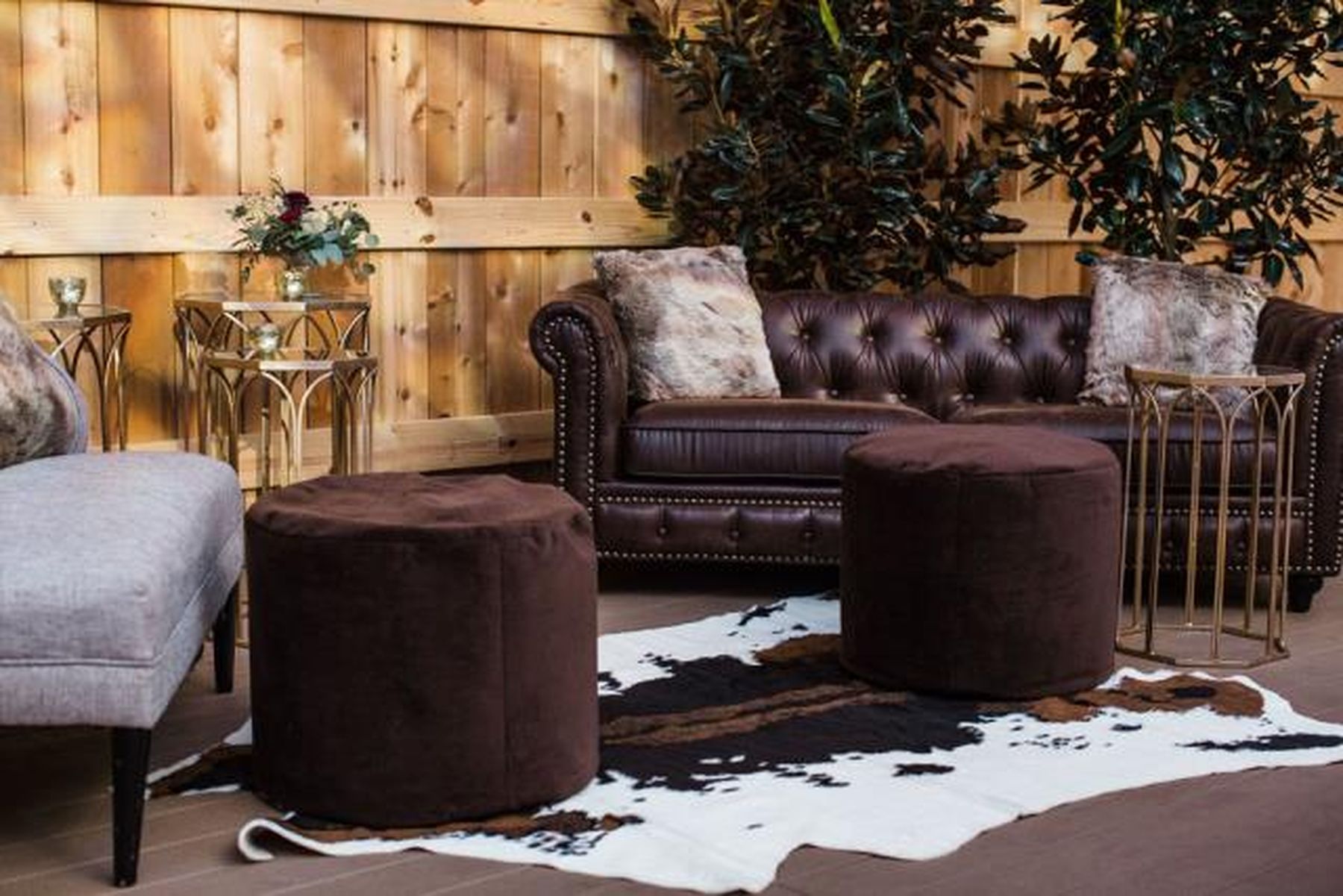 Want to incorporate a mixed seating arrangement into your upcoming event layout? Be sure to take a look at our current Lounge Packages, pre-designed for every type of event. Or, if you prefer to create an arrangement of your own, contact our team at info@southerneventsonline.com.
TAGS | Bistro Tables, Chairs, Cocktail Party Rentals, Lounge Furniture Packages, bistro chairs, bistro seating, cocktail hour, lounge areas
FEATURED RENTALS | cross back barstool, acrylic ghost barstools, Chocolate Poufs, Cowhide Rugs, Mercer White Leather Collection, Bennett Leather Sofa, London Loveseat, Midas Gold Ottoman, light pink etched velvet linens, Saylor Navy Velvet Sofa, Cheval Side Tables, mid century white barstools, Adeline dining chairs, loren gold bistro barstool, Grayson farm bistro table, Onyx china, tawny napkins,
---
27

Jul

Southern Events Products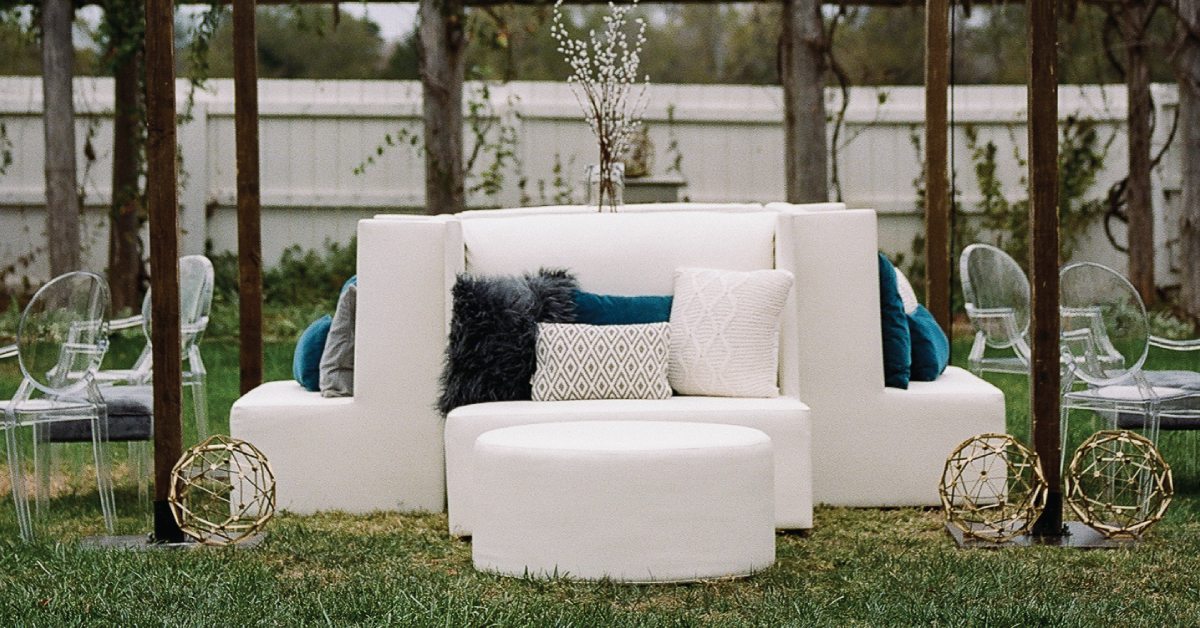 Adding a lounge area to your next meeting or company gala is no longer just a fun design element to include – it's now an anticipated staple for any modern event. The perfect place for your guests to mingle and relax, lounge areas bring people together and adds personality and intimacy to a large event space. Whether your guests are enjoying cocktails or conversation, they can more easily do so in comfort and style with lounge furniture.
Excited about the design addition, but lost when it comes to styling your own? We've made it effortless to add a lounge area to your next event with our Southern Lounge Packages. Whatever event is next on the docket – meeting, galas, wedding or cocktail parties – we've curated our most loved styles for your event lounge!
Formal Corporate Events or Galas
Our Lounge Package One combines clean lines, tufted accents and chic chrome for a buttoned up, black-tie event. With simple and neutral details like this, this package can be easily customized with pillows or florals to match your overal decor. Perfect for your next charity gala or formal corporate party.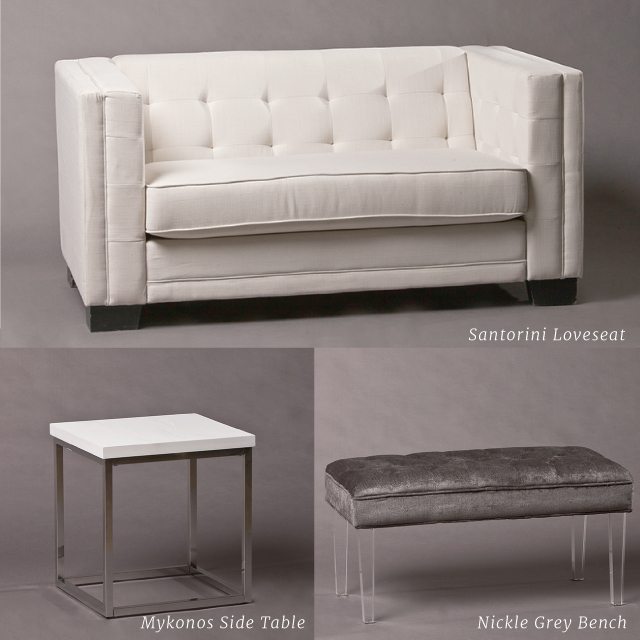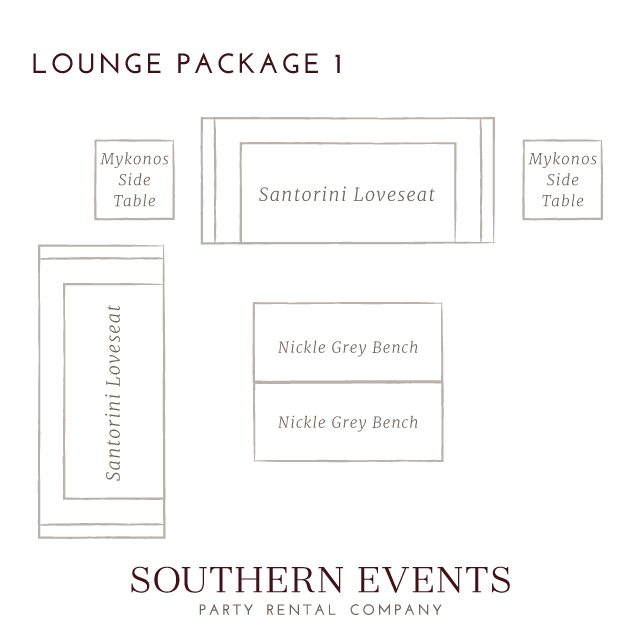 Or take black-tie to the next level with a black and white statement bench and silhouetted tables. Black and white chic gets a little more stylish with Lounge Package 20 – we especially love how elegant the Cece side table looks paired with the Chippendale chair.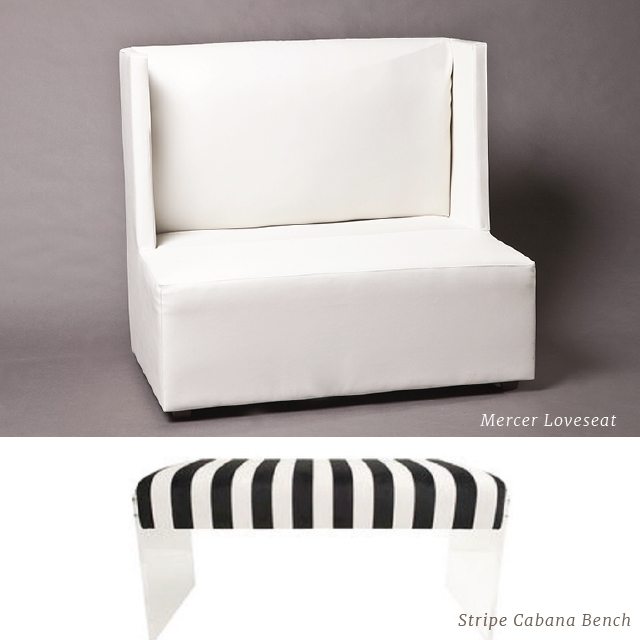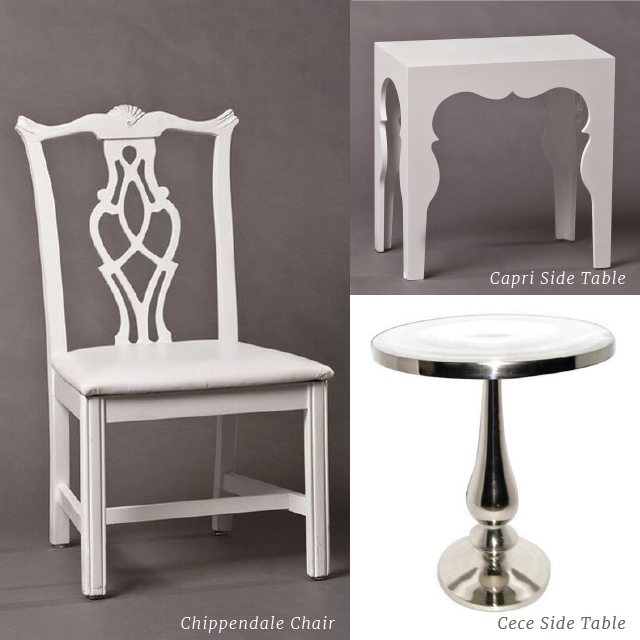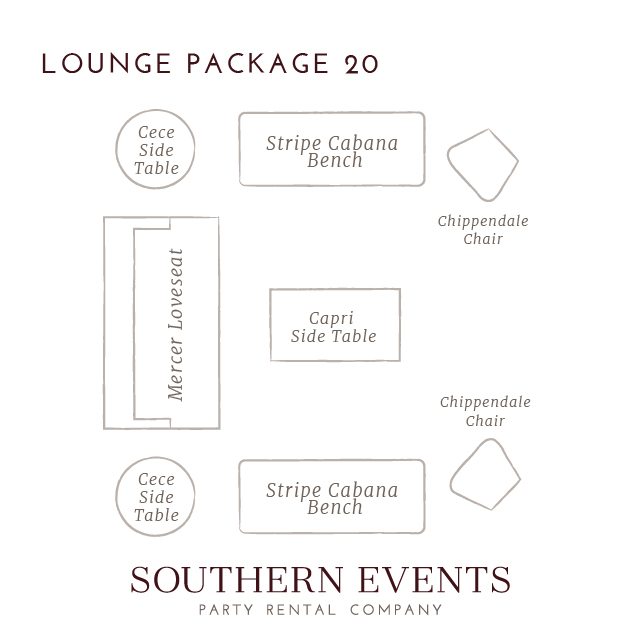 Have something else in mind? View the rest of our Lounge Furniture Packages or contact info@southerneventsonline.com for more information.
Meetings or Conferences
Sleek white leather matches nearly any company's logo colors, making these next Lounge Packages the ideal fit for your next corporate event.
Our Mercer L-Shaped benches are ideal for large corporate gatherings that need to provide comfortable, informal seating for guests in between panels, or trainings. More than that, these benches allow your colleagues to sit on either side which makes it easy to put in the middle of the venue since you know that sight lines will remain uninterrupted.
Pair them with our Mercer Ottoman and Cylinder or Mykonos Coffee Table for a simple and chic lounge area.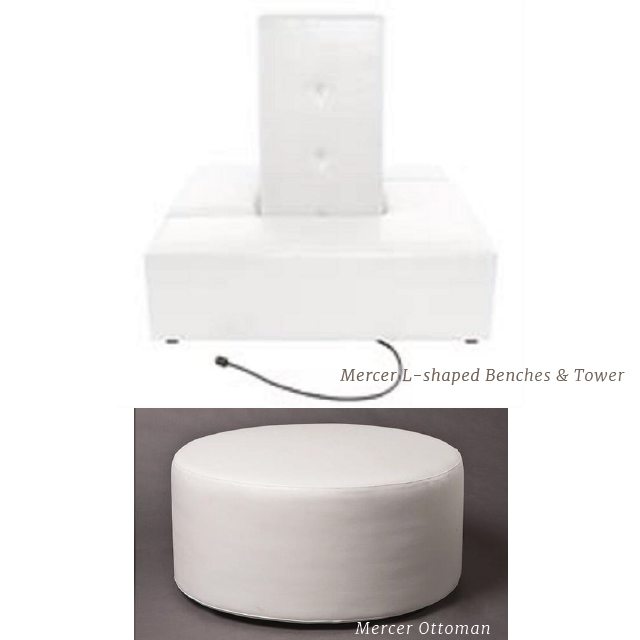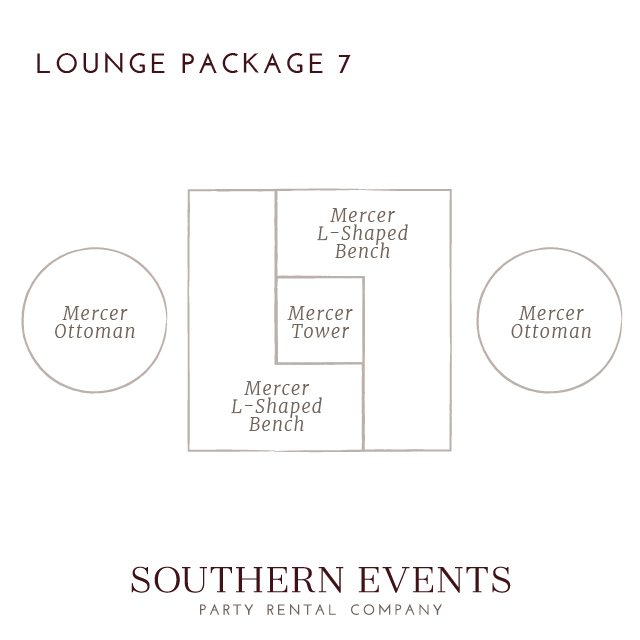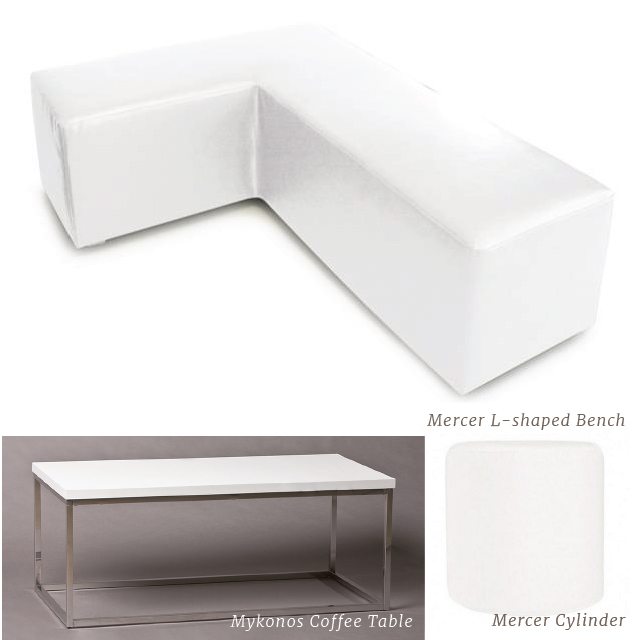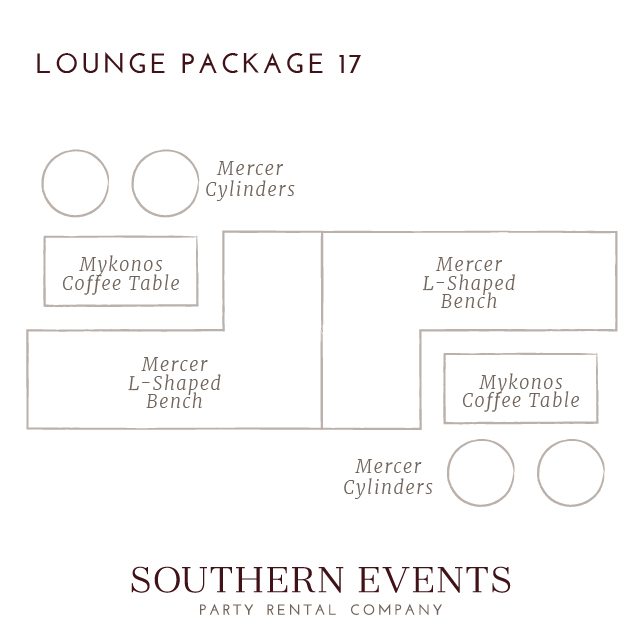 Have something else in mind? View the rest of our Lounge Furniture Packages or contact info@southerneventsonline.com for more information.
Company Cocktail Parties
Cocktail parties are a great way to show appreciation for your employees while allowing them to build camaraderie. Get people to do more than stand and sip – allow them to sit and socialize with a thoughtful lounge area! Our comfortable London Loveseat next to gold accented side tables is a stylish way to welcome guests, while the Eiffel Arm Chair adds an unexpected touch of modern flair to the design. Or, give your lounge a masculine feel with our Bennett Leather Sofa – perfect for a more rustic event venue.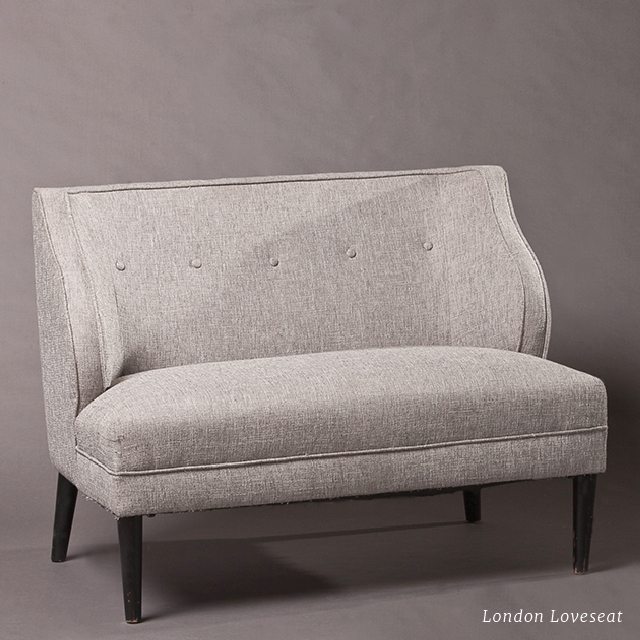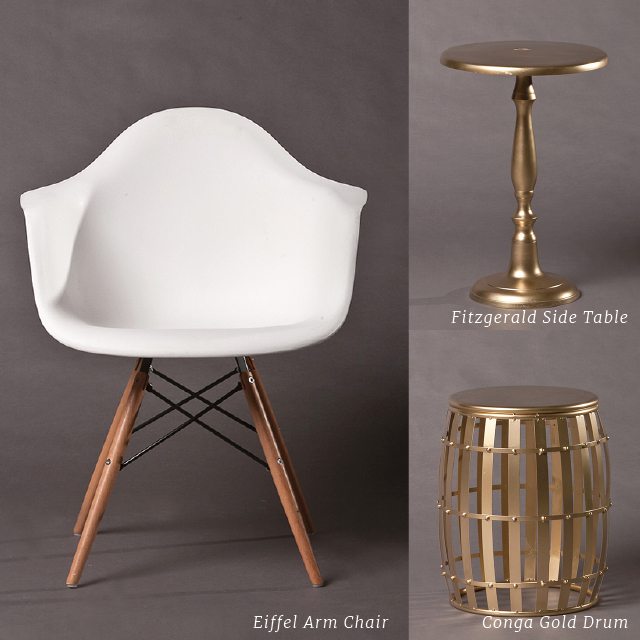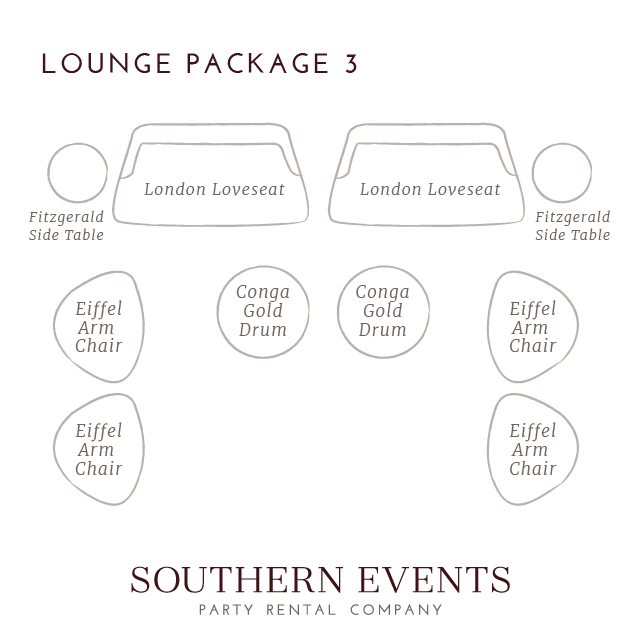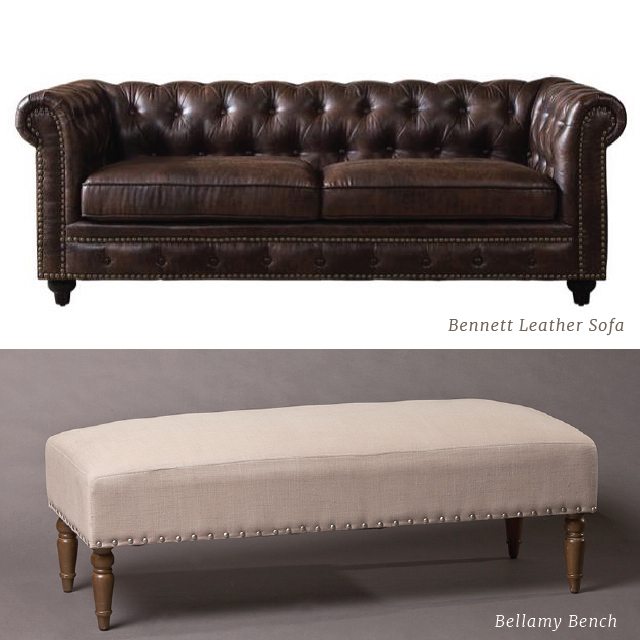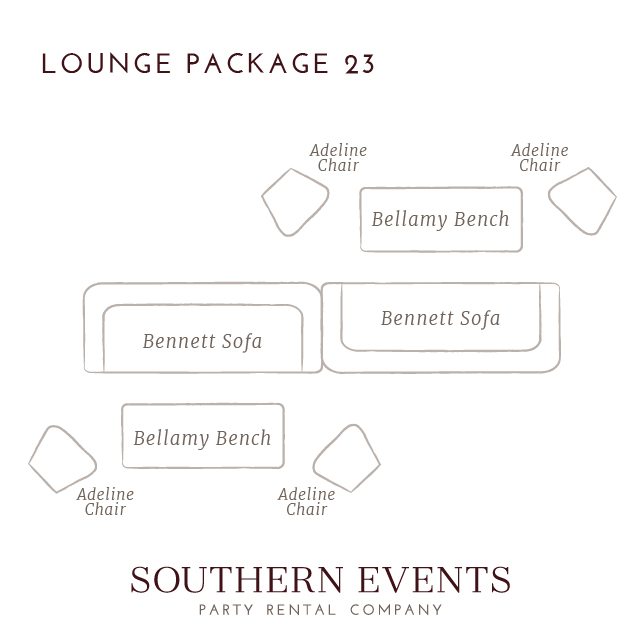 We're pleased as punch to be offering these new Lounge Furniture Packages in Nashville and thrilled to offer special pricing to celebrate! Book by August 15th, 2017 and receive special pricing for events through Nov 30, 2017. Contact our team at 615.595.8508 or by emailing info@southerneventsonline.com for more information!

TAGS | Adeline Chair, Bellamy Bench, Bennett Leather Sofa, Capri Side Table, Cece Side Table, Chippendale Chair, Conga Gold Drum, Eiffel Arm Chair, Fitzgerald Side Table, London Loveseat, Mercer Cylinder, Mercer Loveseat, Mercer Ottoman, Mykonos Coffee Table, Mykonos Side Table, Nashville Event Rentals, Nickle Grey Bench, Santorini Loveseat, Southern Events, Southern Events Party Rental, Southern Events Party Rental Company, Stripe Cabana Bench, cocktail hour, corporate event rentals, corporate events, corporate lounge furniture, corporate parties, gala, lounge, lounge packages, meeting
FEATURED RENTALS | Mykonos Side Table, Santorini Loveseat, Nickle Grey Bench, Mercer Loveseat, Stripe Cabana Bench, Chippendale Chair, Cece Side Table, Capri Side Table, Mercer Ottoman, Mercer Cylinder, Mykonos Coffee Table, London Loveseat, Eiffel Arm Chair, Bennett Leather Sofa, Fitzgerald Side Table, Conga Gold Drum, Bellamy Bench, Adeline Chair
---