16

Jun

Southern Events Products, Trends and Inspiration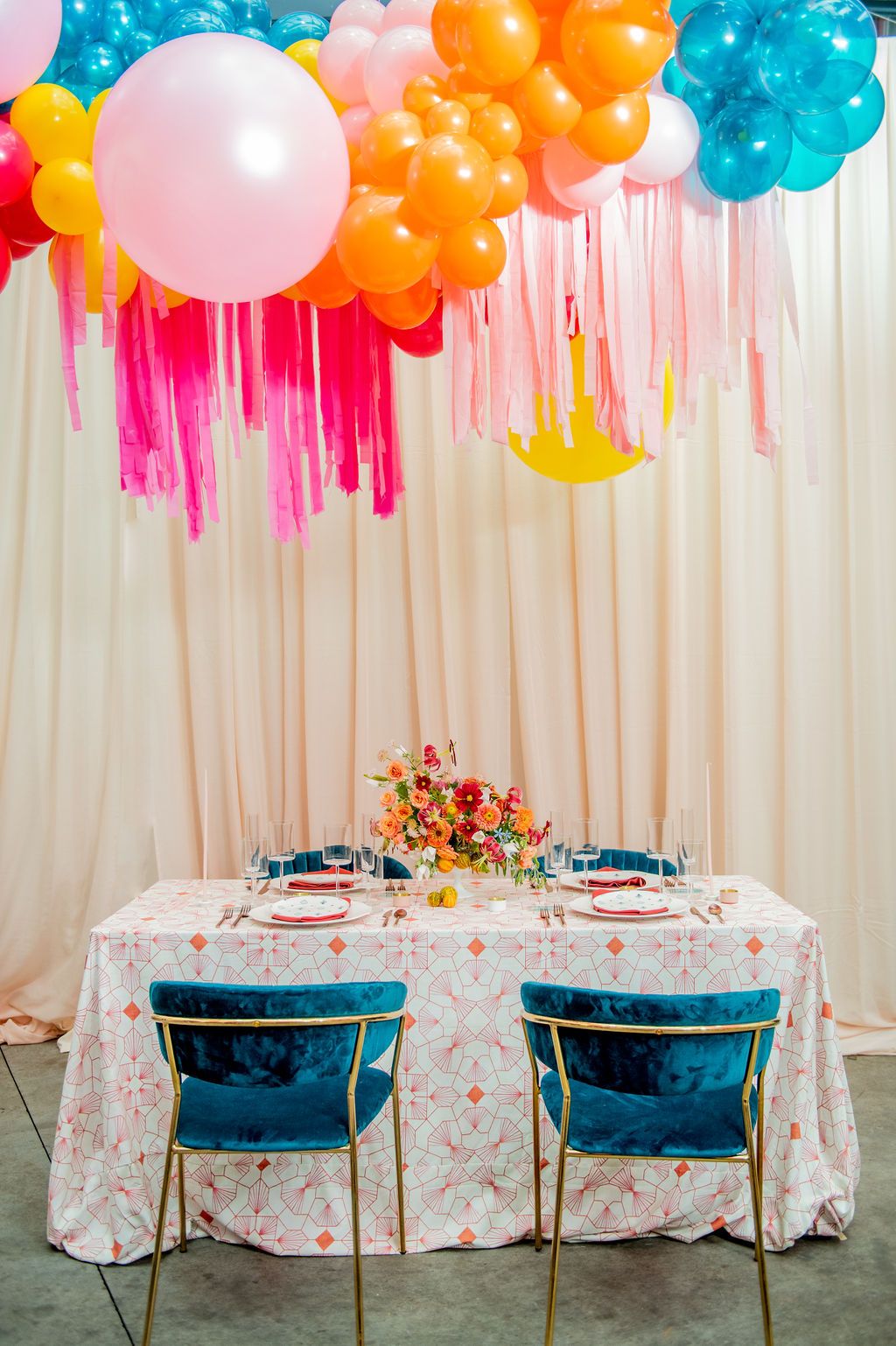 With warm weather comes the opportunity to host outdoors! And what better way than with a vibrant backyard celebration starring our colorful party rentals. From bold linens to unique glassware, we have everything you need to host a one-of-a-kind shindig. Get inspired by these colorful summer party ideas featuring our fun modern event rentals!
Bold Linens
The easiest way to infuse some color into your event set up are a combination of our bold linens. We offer tablecloths and napkins in just about every color, and a wide range of materials. So there is something for every type of summer party, whether you want a more luxe or relaxed look. Our Poly Linens offer widest selection in regards to color, including brilliant warm and cool shades. Such as a beautiful periwinkle and bright coral! If you want to feature a touch of texture, don't forget to check out our Velvet Linens! Current fan favorites include Lavender and Sea Glass. Of course if you want to go all out, you have to take a look at our Miscellaneous Linens, which include an array of fun print and color combinations. We recommend Gold Aurora!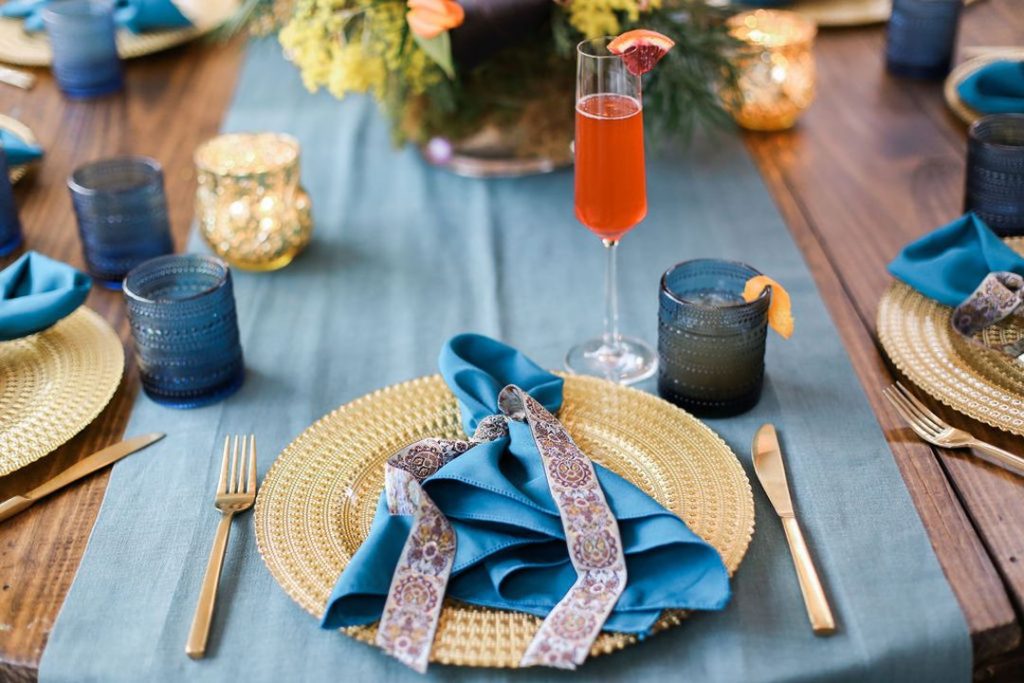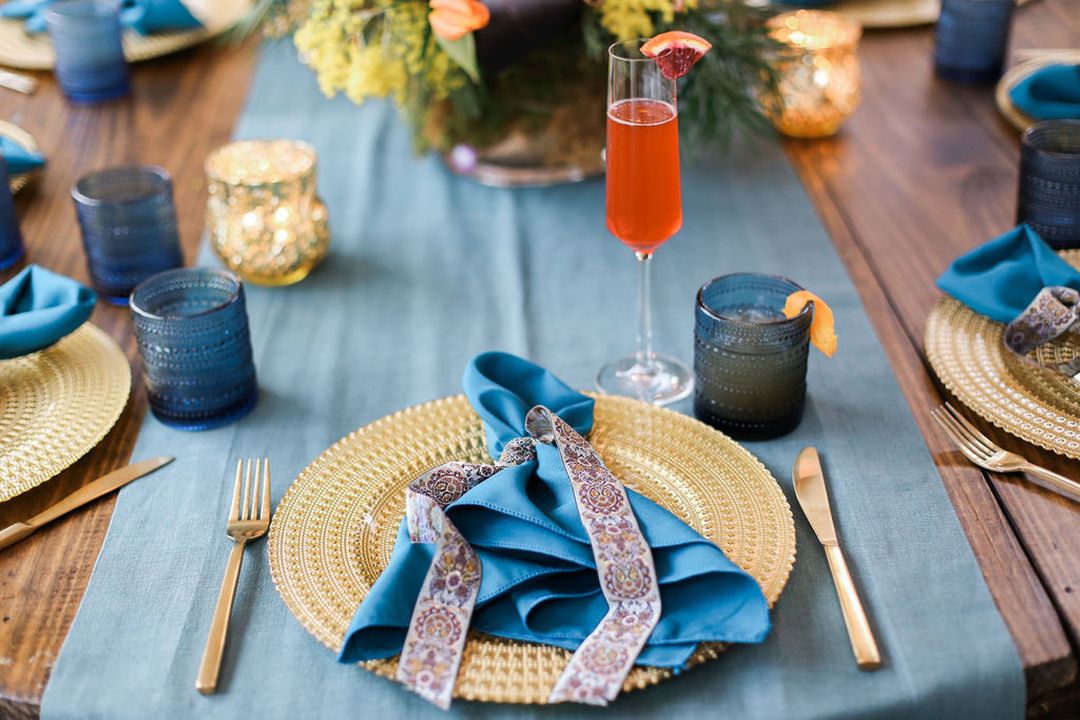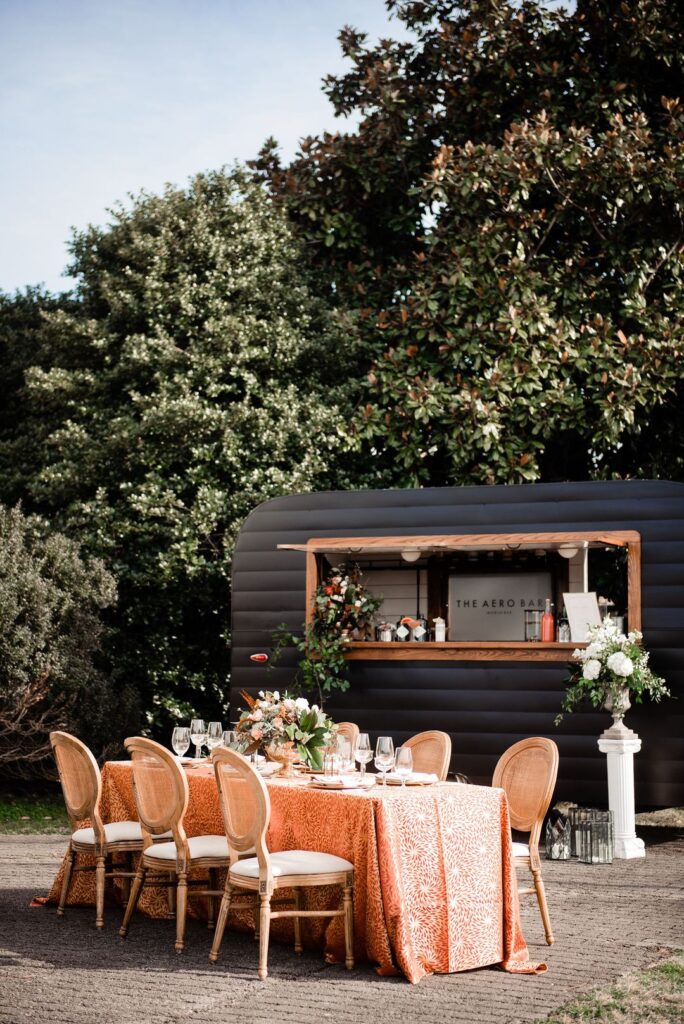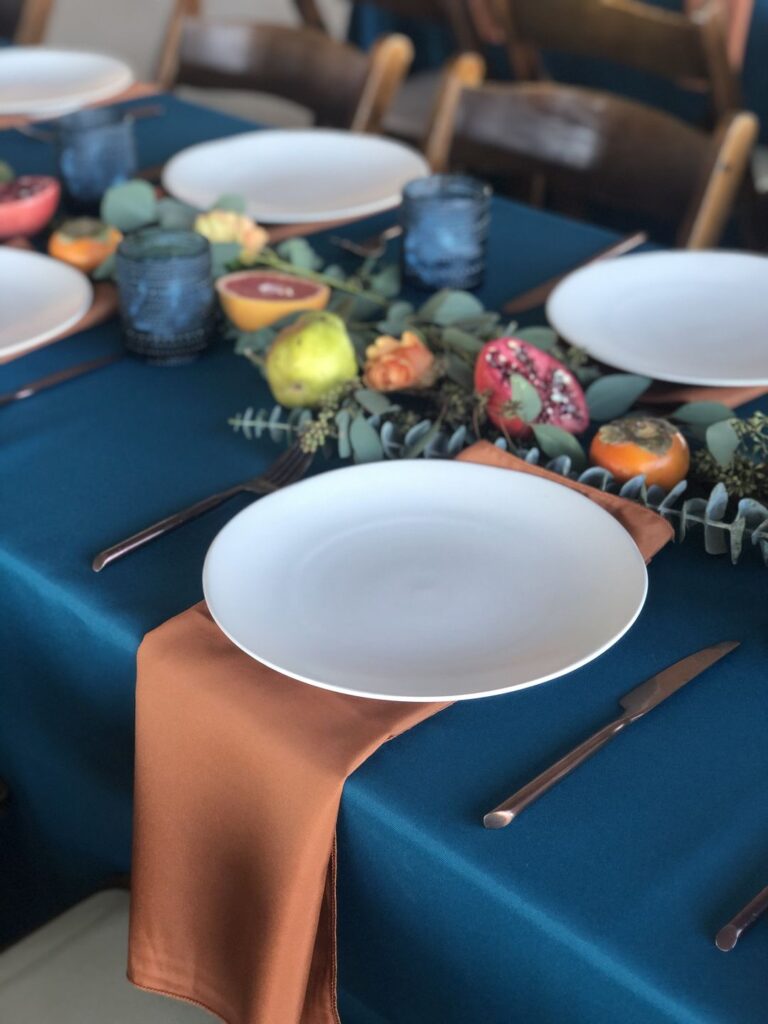 Colorful Cocktails
As with any warm weather event, refreshing beverages are a requirement. And for a colorful summer party, equally fun glassware is a must! We stock a range of on-trend glassware suitable for a variety of different beverages and cocktails. We have more sleek contemporary pieces, like Davis, as well as fun and funky designs, like Cybil. Of course, you will also want to keep guests hydrated! So check out our vintage-inspired water goblets, available in Amber and Green. If you're looking to add a fun interactive detail, you might feature our Boxwood Wall and Champagne Shelf! It's a great way to display fresh drinks, like these tasty champagne popsicles.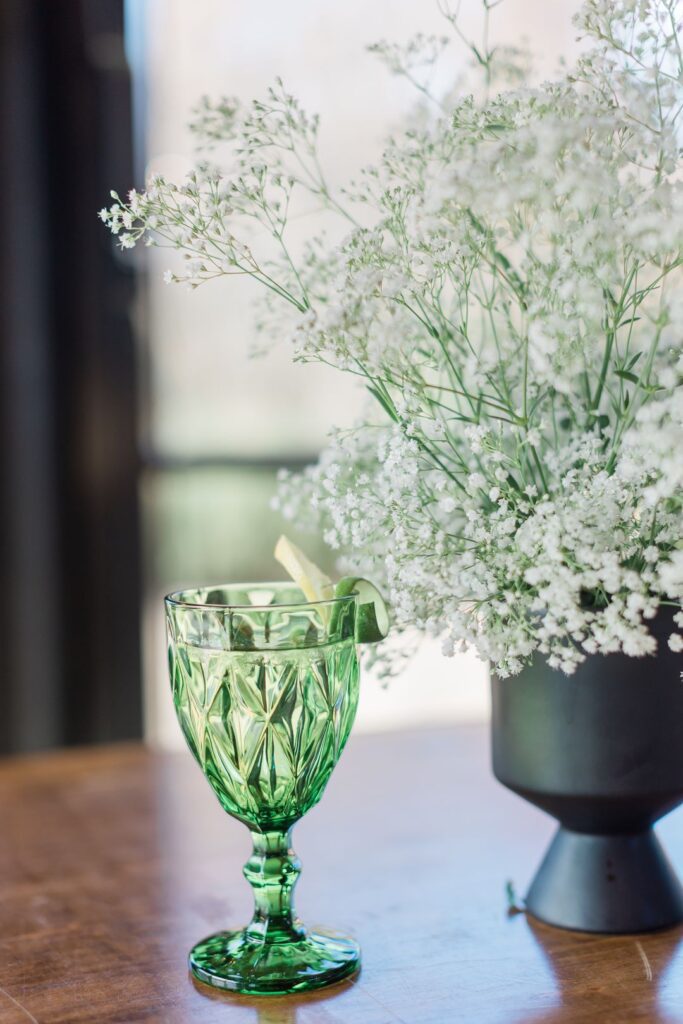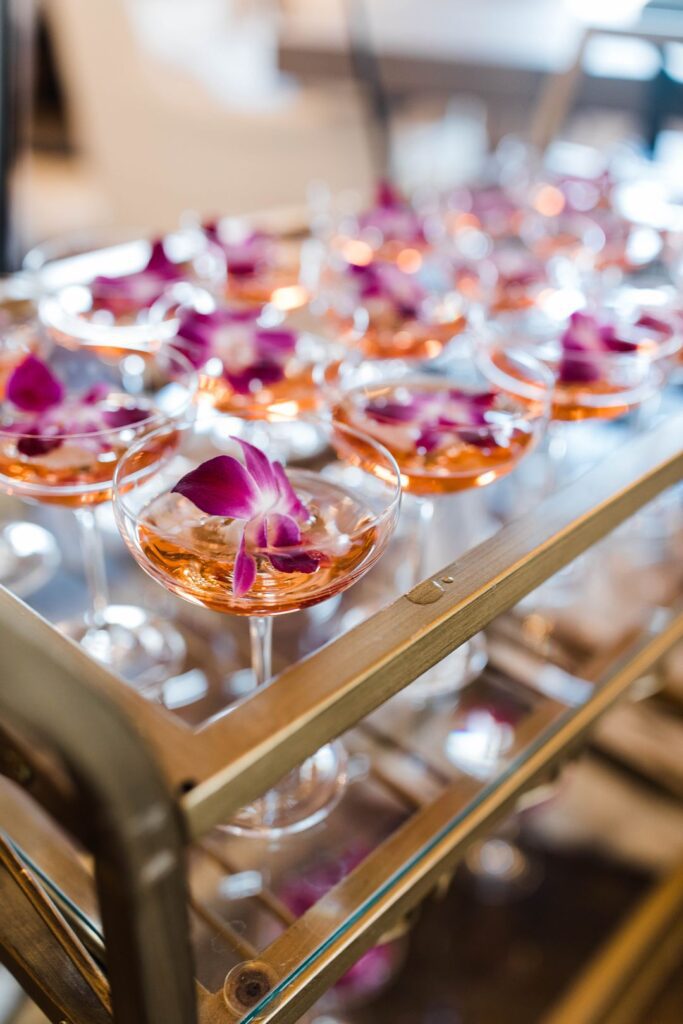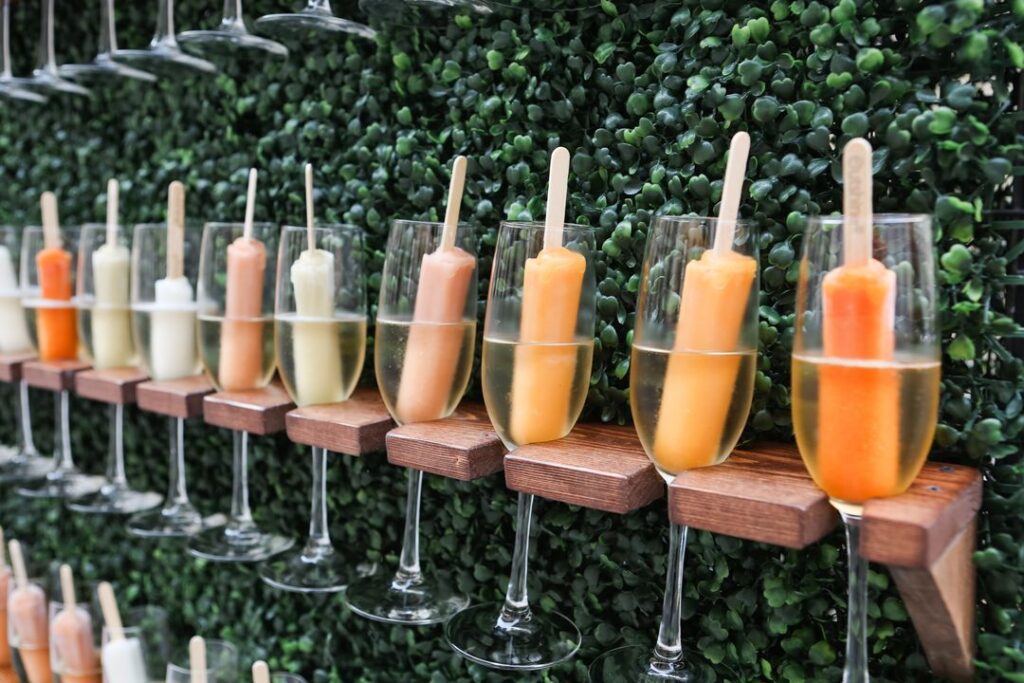 Luxe Event Lounges
To fully enjoy the outdoors, you'll need a cozy lounge area. A setup is stylish yet comfy, where guests can sit, sip and mingle. We offer a fun mix of colorful party rentals that make it easy to create a one-of-a-kind event lounge. Lately, our velvet furniture has been a hit. Especially our Saylor Navy and Jacqueline Velvet Sofa. Closely followed by Farrah Teal and Gloria Velvet Arm Chairs. You will also want to grab a set of our beautiful accent tables and a vintage rug, to help frame the space. If you prefer to keep it simple, you can also check out our curated Lounge Packages.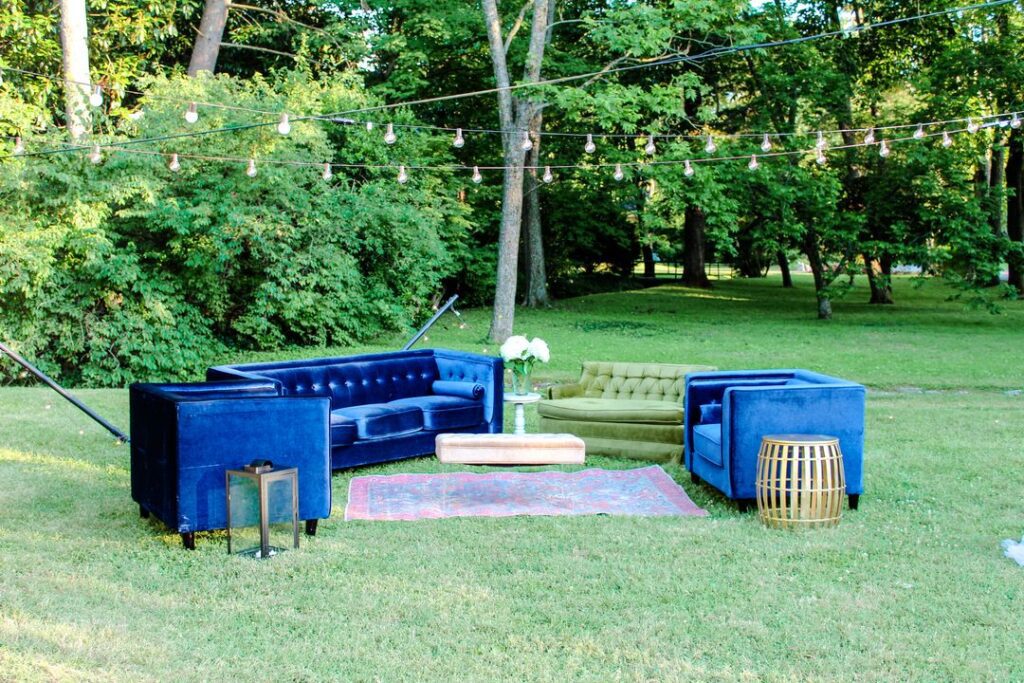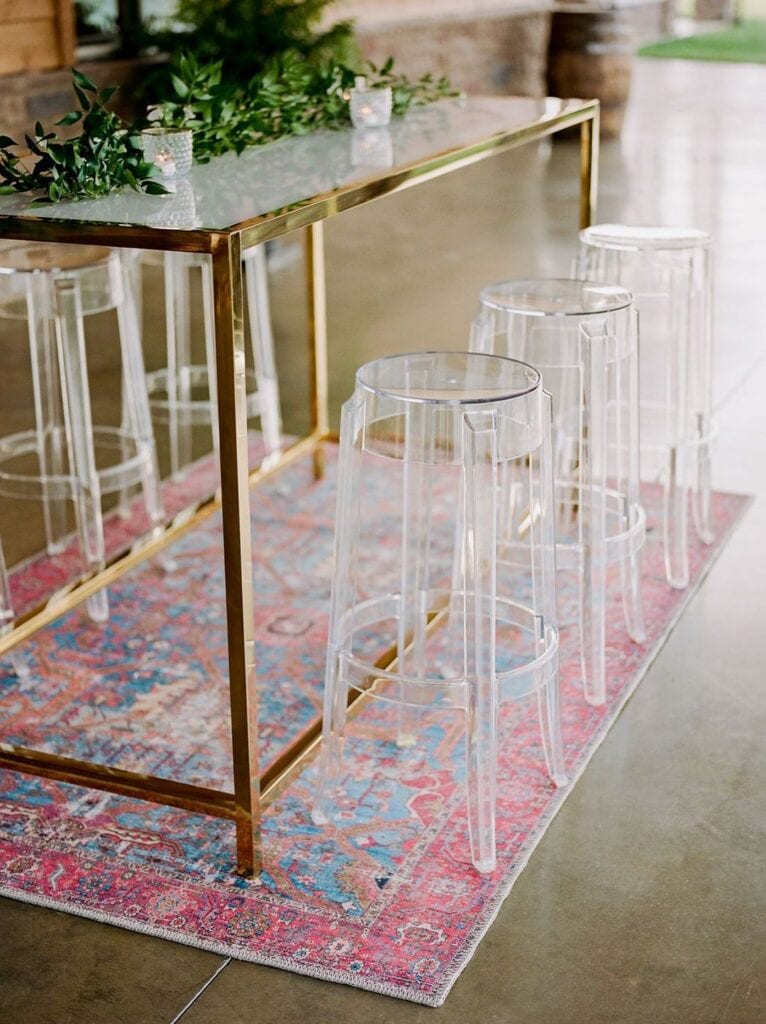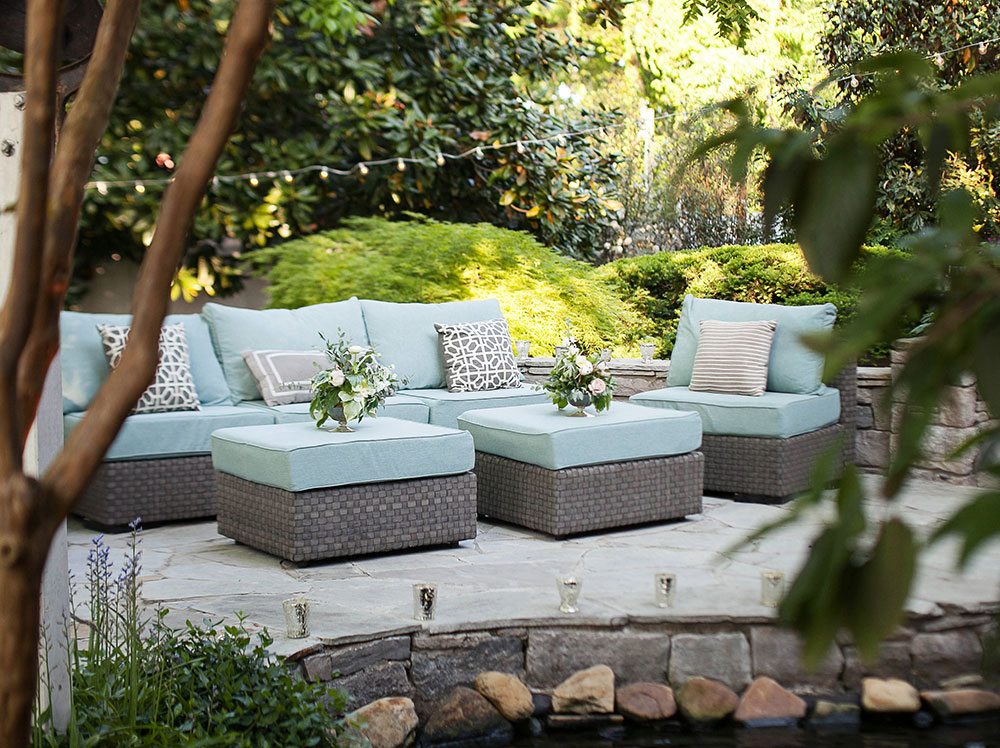 Need more colorful summer party ideas? Contact our team today and a member of our team would be more than happy to help you come up with a one-of-a-kind event design!
TAGS | colorful decor, colorful event lounge, colorful event rentals, colorful party rentals, outdoor event rentals, summer event style, summer party ideas
FEATURED RENTALS | Davis Glassware, Cybil Glassware, Water Goblets, Champagne Shelf, Boxwood Wall, Poly Linens, Velvet Linens, Miscellaneous Linens, Gold Aurora, Saylor Navy Velvet Sofa, Jaqueline Velvet Sofa, Farrah Teal Velvet Chair, Gloria Velvet Arm Chair, Accent Tables, Lounge Packages, Rugs,
---
8

Apr

On Trend, Southern Events Products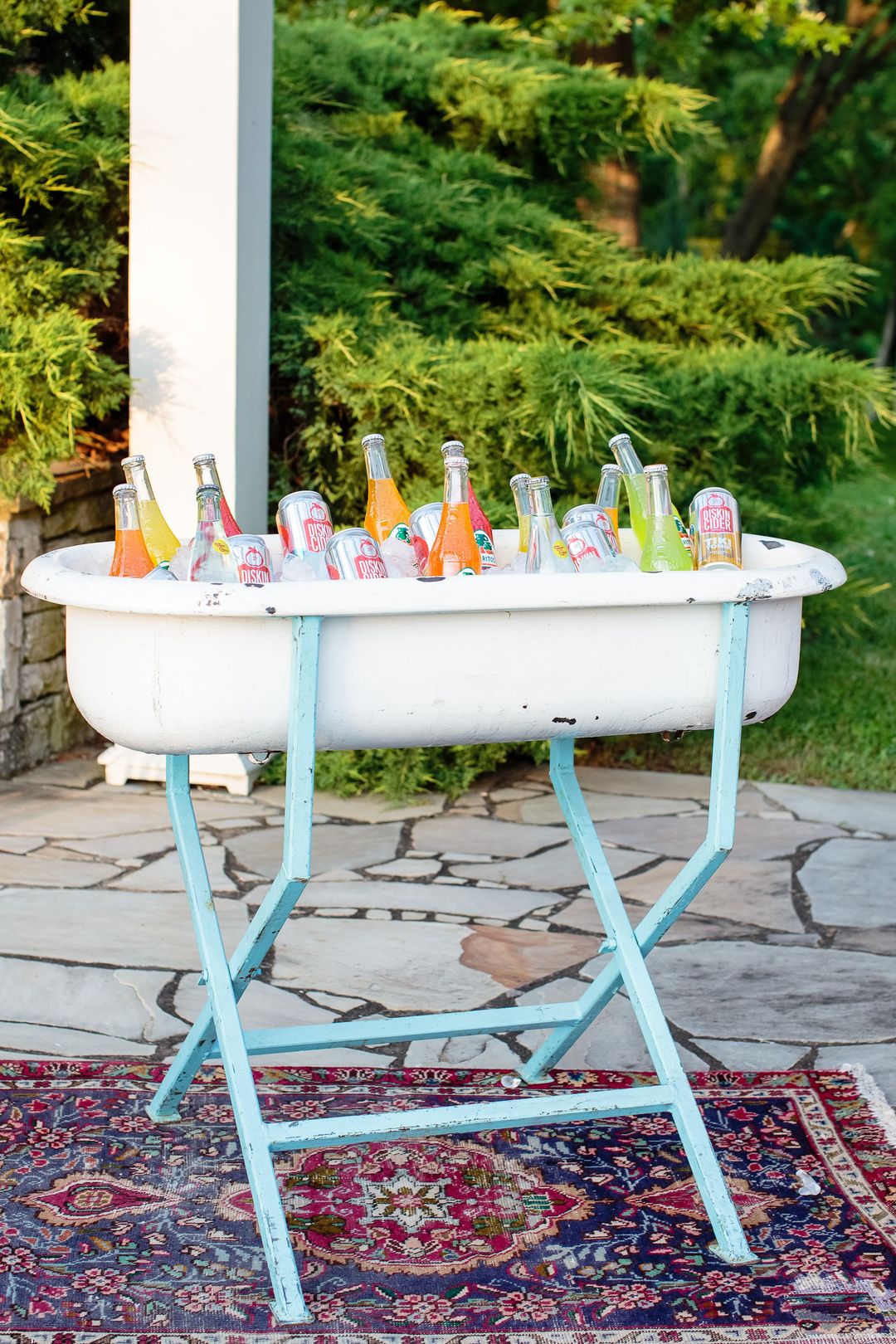 In recent years small gatherings have peaked in popularity! As there is something extra charming about a party that is smaller in size, or more exclusive, yet stylish. Get inspired by some of our must-have rentals for small gatherings, perfect for hosting intimate parties in the greater Nashville area.
Chairs & Tables
We're kicking things off with the basics! Chairs & tables are a must, whether you are serving food or simply want to encourage guests to sit down and stay for a while. Our lounge packages feature beautiful furniture, perfect for a casual evening in the backyard. When it's time to eat, gather around our always beautiful Fruitwood Farm Table, with child-sized furniture (chairs included) to match. For a cocktail hour, a set of bistro tables and bar stools are a classic choice.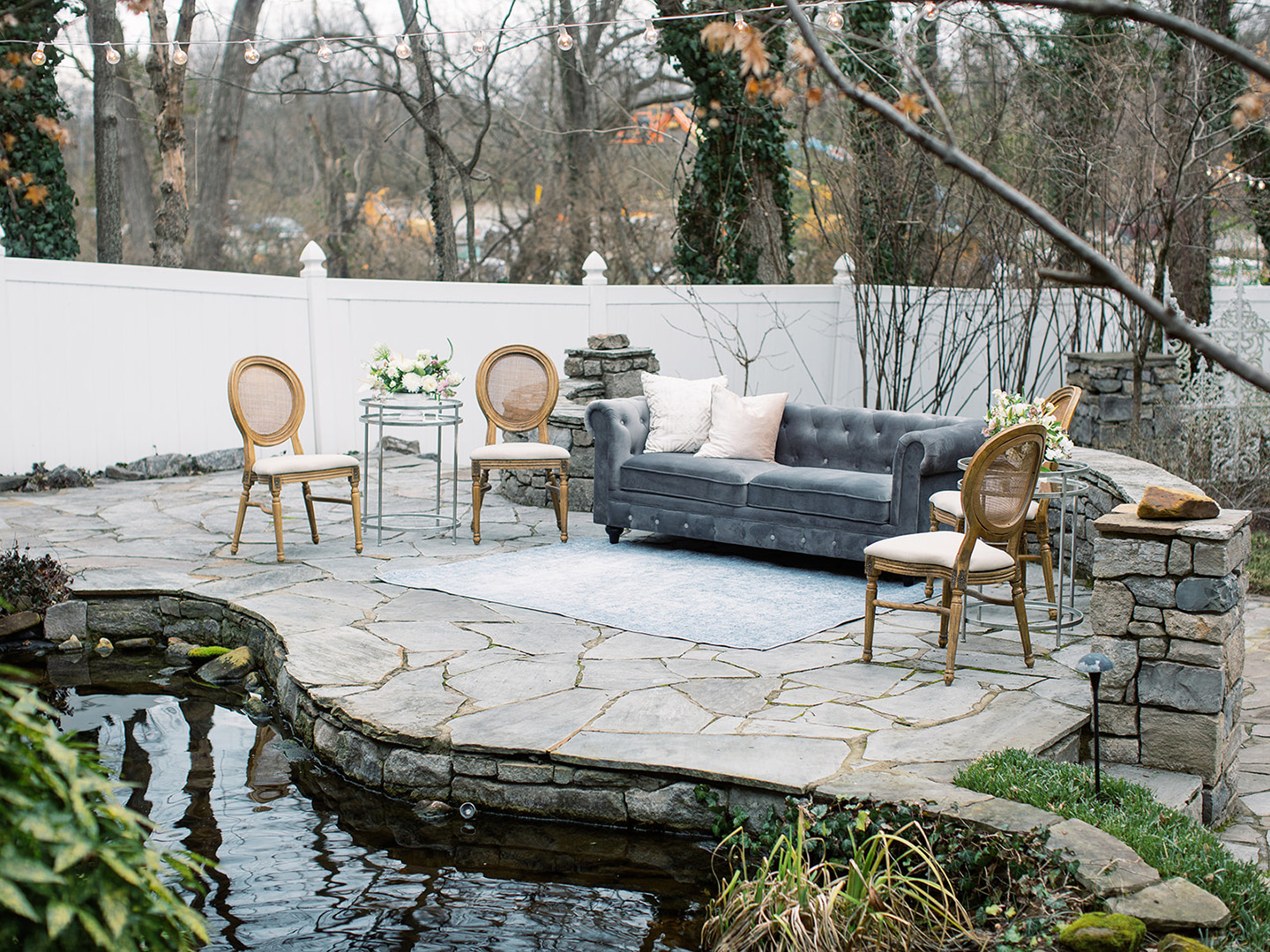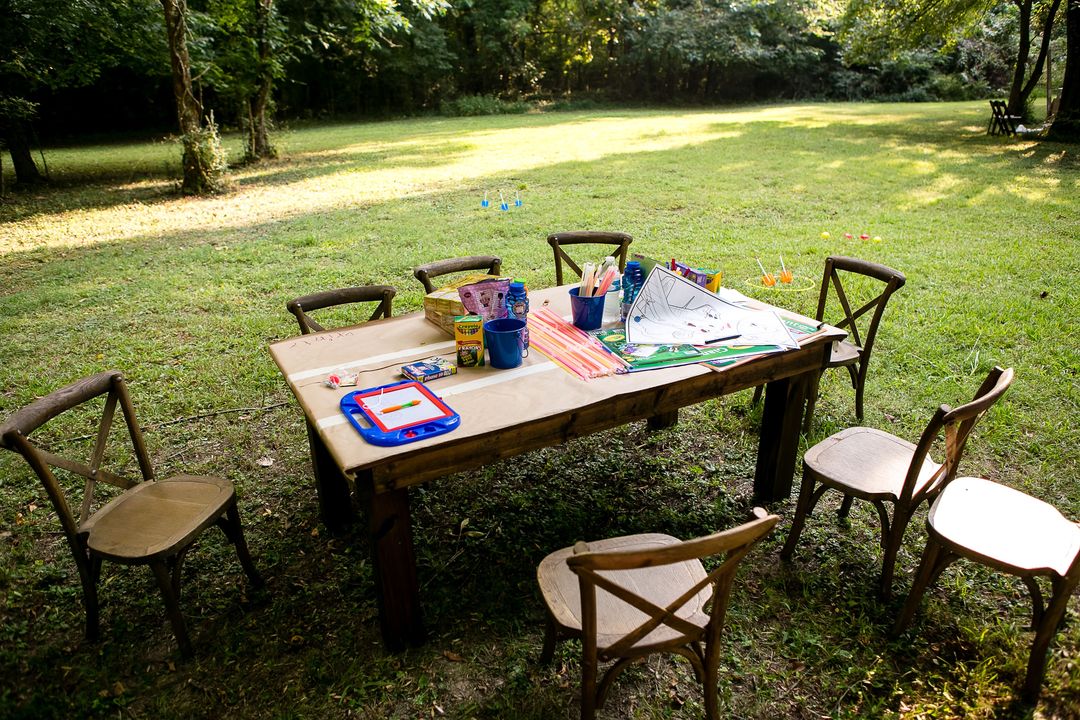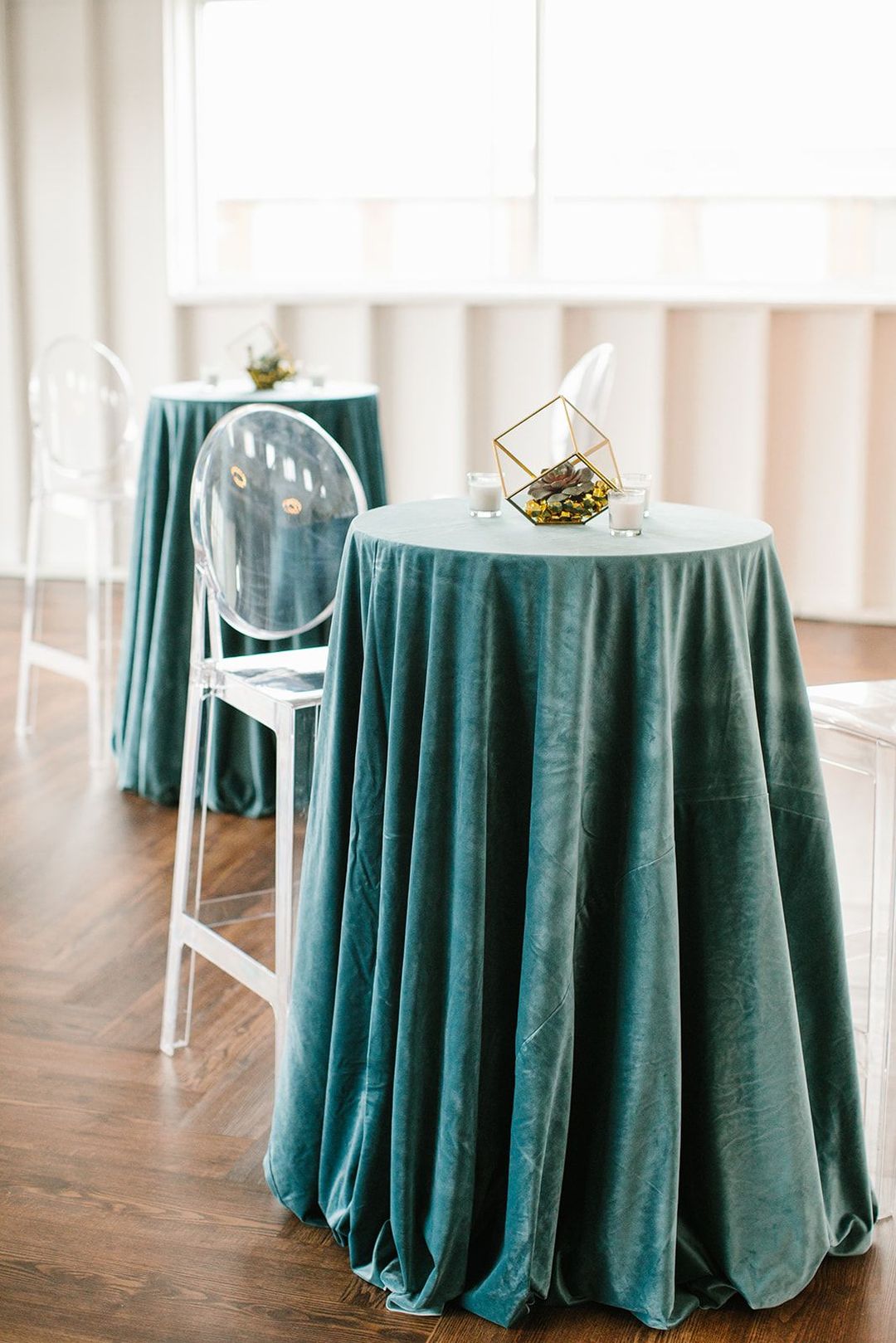 Stylish Rugs
Rugs are a must-have when it comes to defining a space. Large or small, they create a frame in which to lay out a social area. Alternatively, they add an additional level of comfort underfoot. With summer coming we're favoring bright colors, like our Aqua Rug or Blue-Red Rug. For some extra pizzazz, try layering a few of your favorites.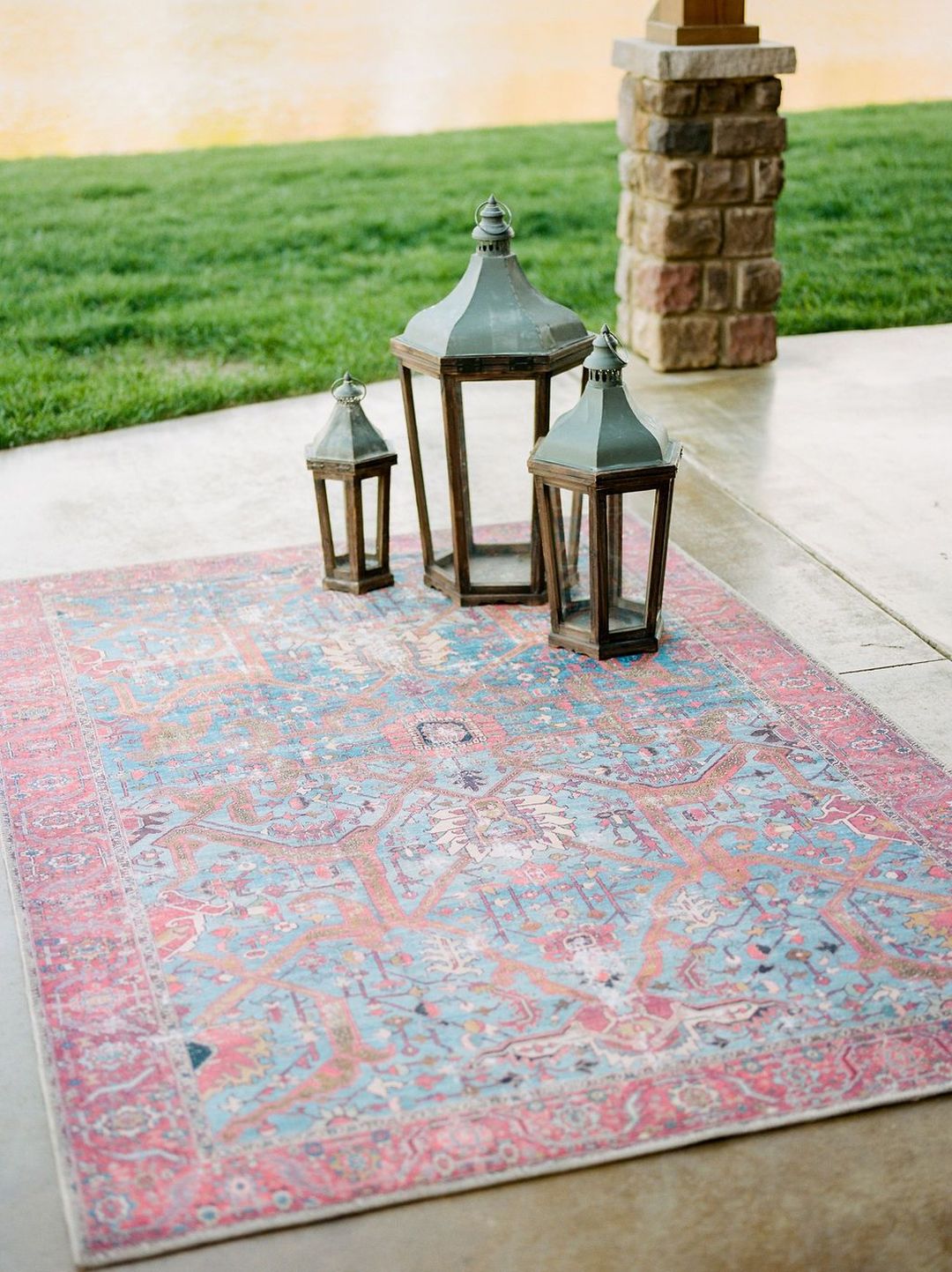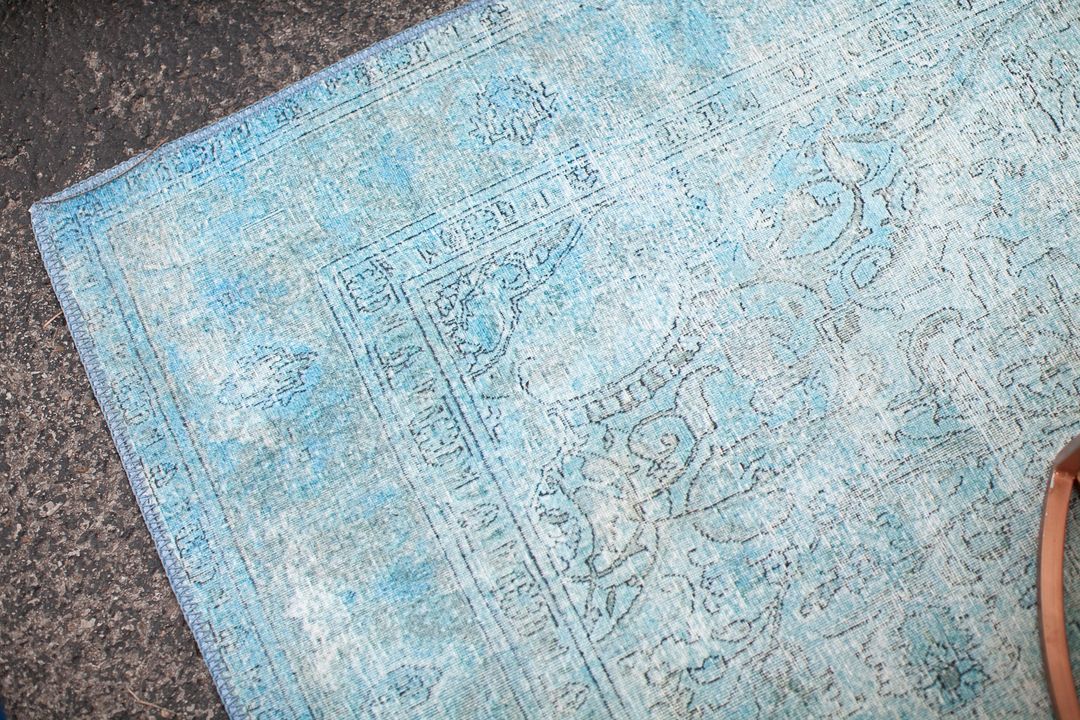 Photo by Phindy Studios
Bar Service
With the weather warming up, you'll want to treat your guests to a cold drink. We offer a variety of beautiful stands and displays, perfect for a small bar or self-serve area. Our 4ft Antique White Bar is an elegant choice for a more upscale event. Or for a quaint but stylish self-serve area, check out our Avenue Bar Back Shelf or Gold Rolling Bar Cart. Each of them has just enough space to hold glassware, alcohol, and your ingredients of choice. You will also have a wide selection of gorgeous glassware to choose from, to complement the style of your event!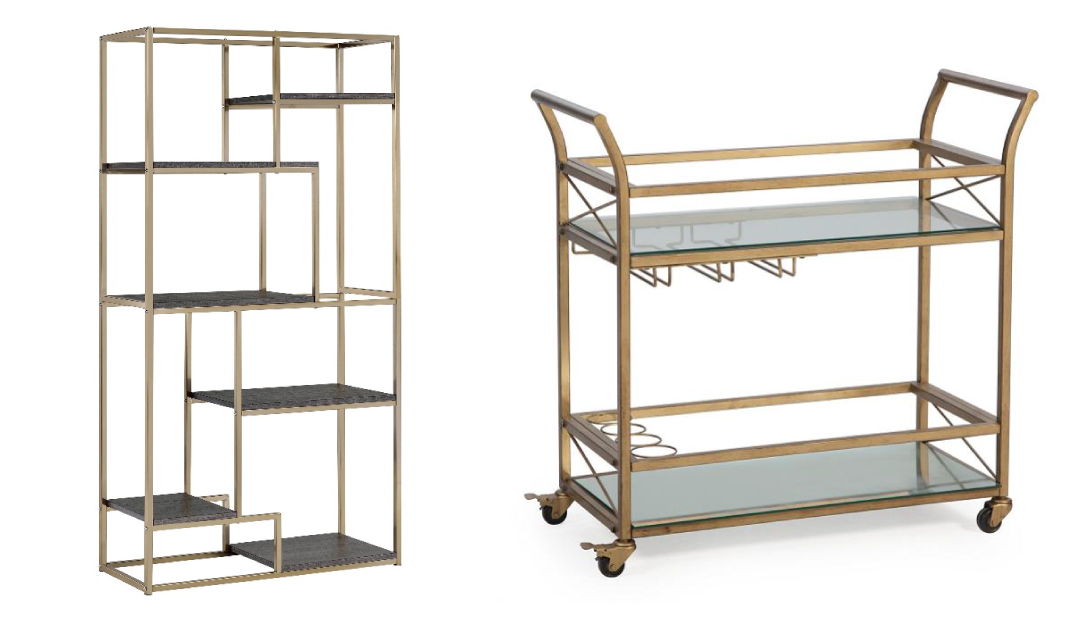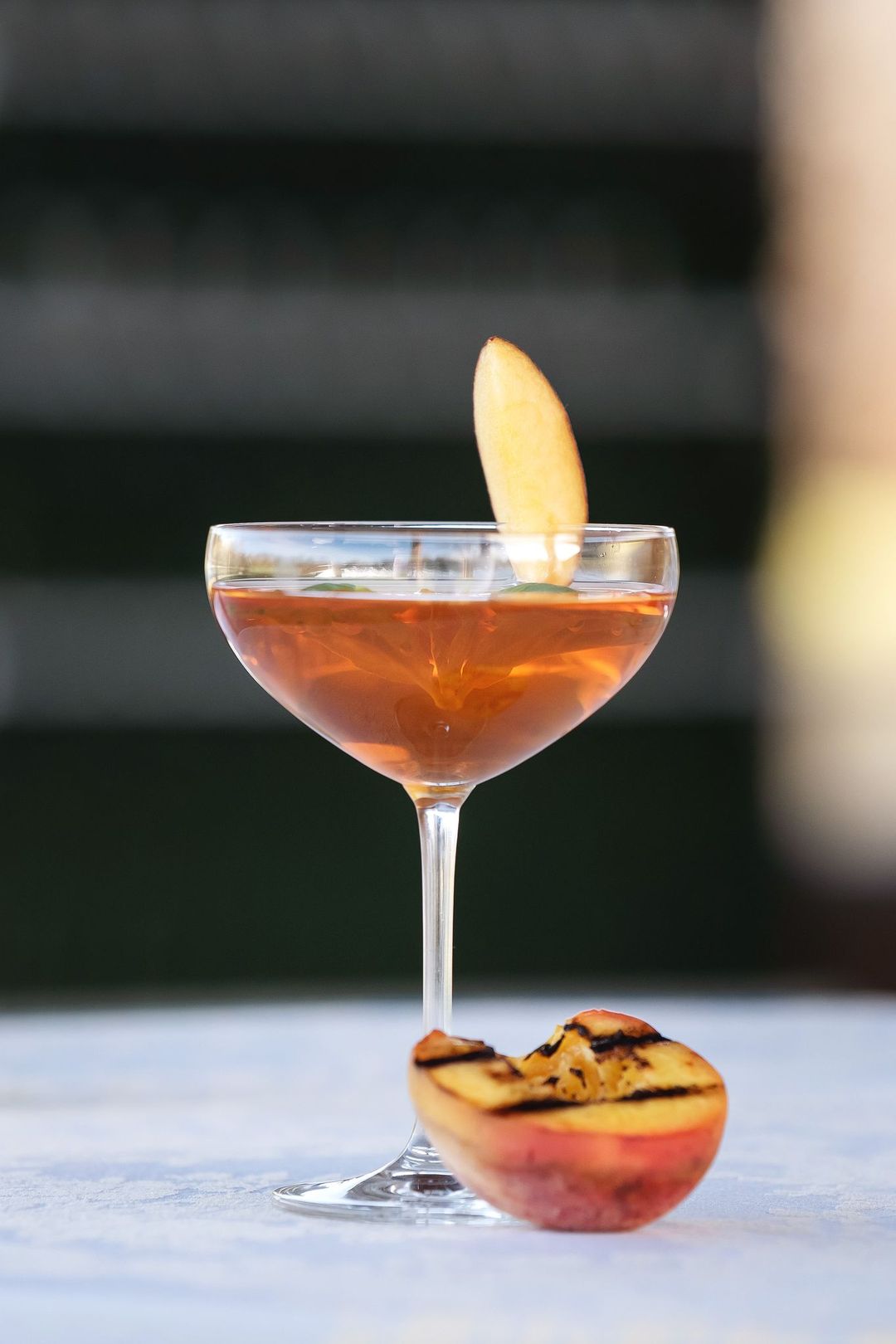 Photo by Megan Stark
A Fun Focal Point
Every party needs a unique, eye-catching focal point. When hosting happy hour or your event will include alcohol, our Boxwood Wall makes for a fun interactive photo backdrop or central spot for guest place cards. It can also be used to serve up refreshing beverages throughout the duration of your event!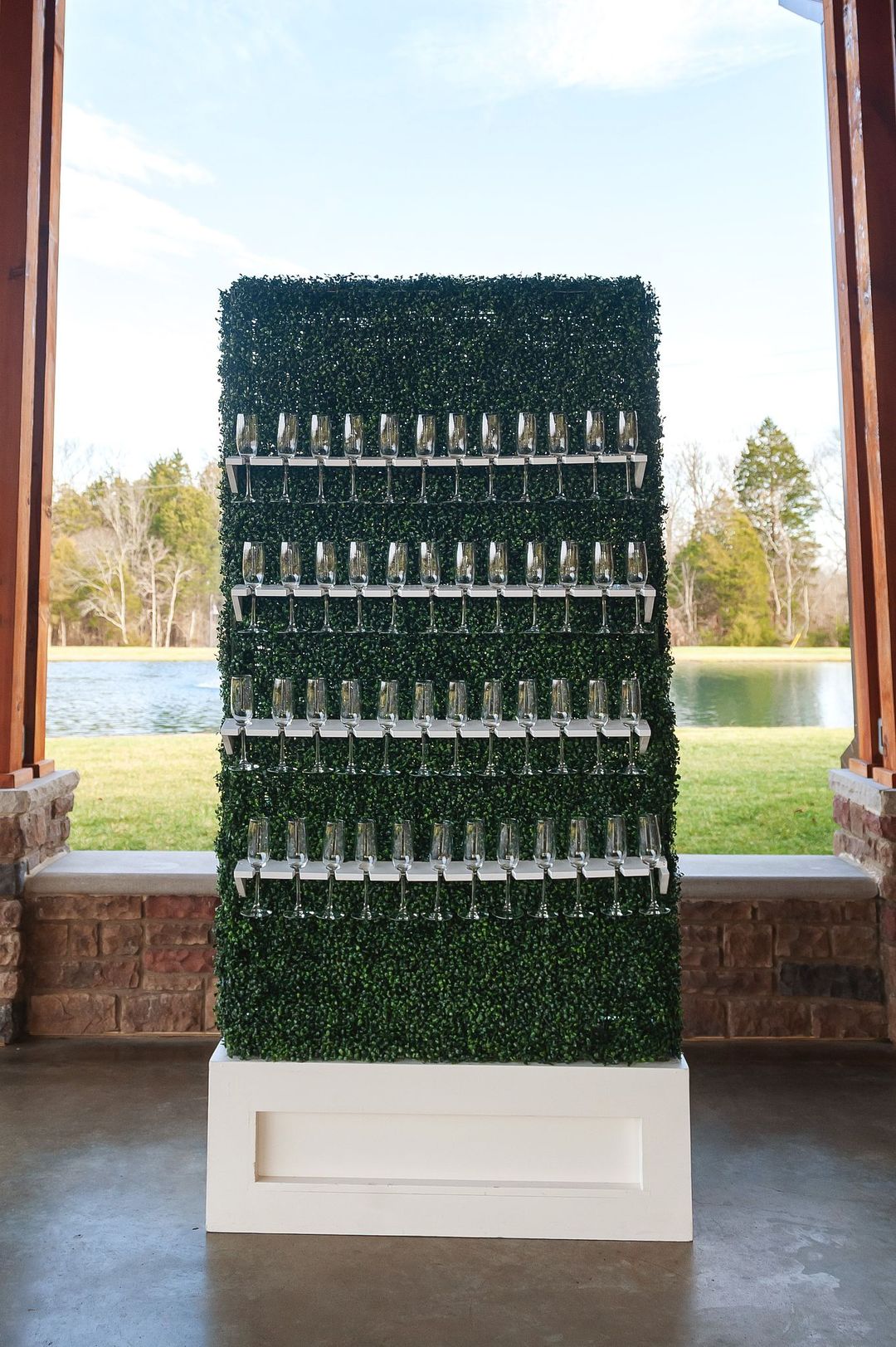 Photo by Megan Stark
Tabletop Decor
Don't let your tables sit bare! Even a small centerpiece goes a long way. We offer a variety of lanterns and votives in various colors. Use these as decoration or to create a warm ambiance once the sun goes down. If you plan on showcasing some flowers fresh from the garden, our cylindrical and square glass vases are an elegant choice.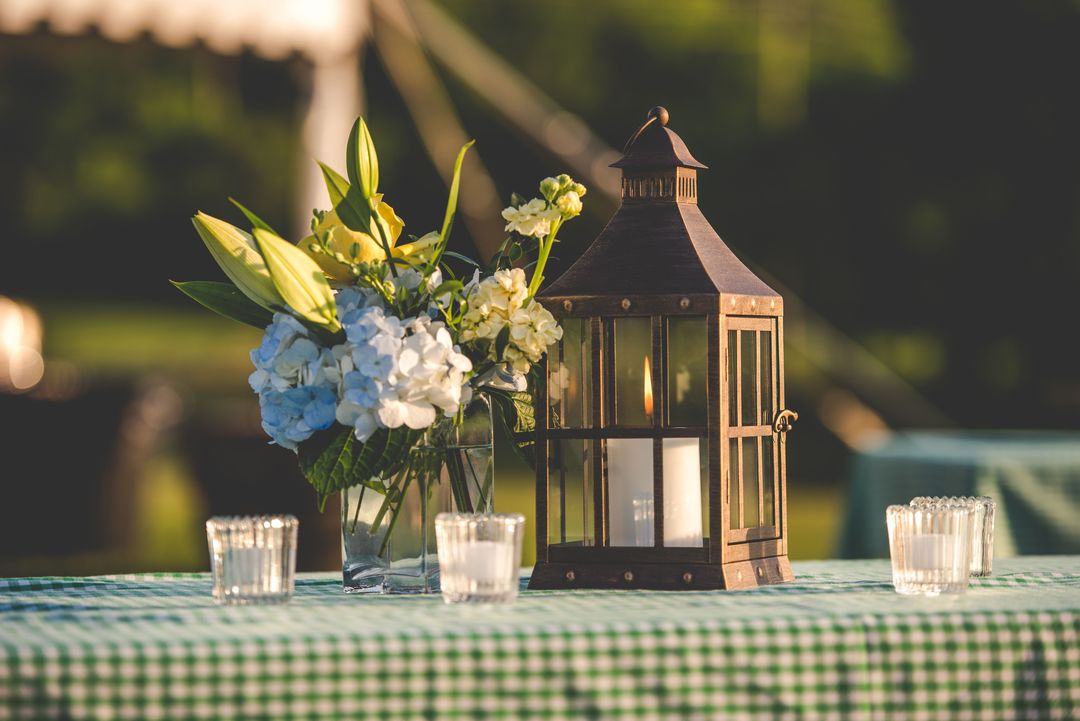 Photo by Joe Hendricks Photography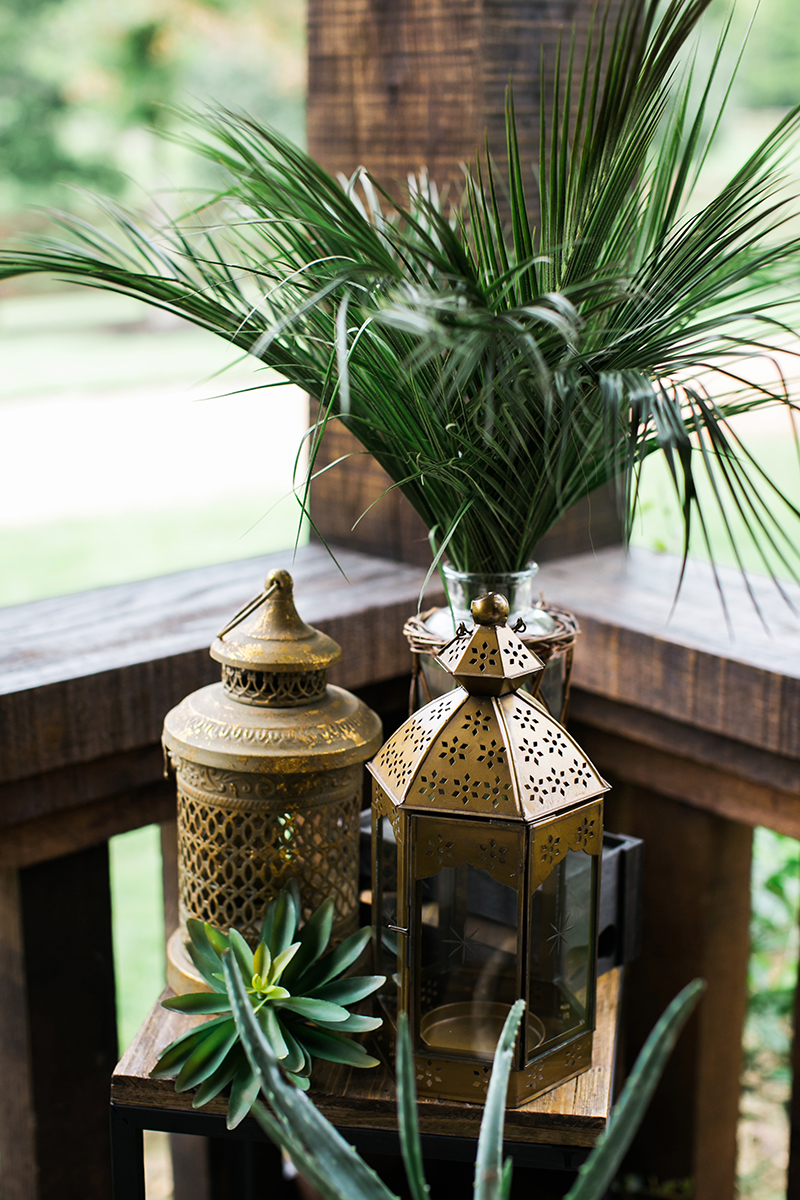 Photo by Jen & Chris Creed
Want to feature one or multiple of these stylish rentals at your upcoming small gatherings? We've got you covered! Contact our team at info@southerneventsonline.com & let's start planning!
TAGS | Nashville Rentals, event style trends, franklin tn, franklin tn rentals, nashville tn, southern summer party planning, summer event style
FEATURED RENTALS | lounge packages, Cross-back Barstool, Fruitwood Farm Table, Children's Cross-back Chairs, Nolen Lantern, Aqua Rug, Blue-Red Rug, Mercury Votive, Square Glass Vase, Boxwood Wall, bell tent, gold rolling bar cart, avenue bar back shelf, glassware,
---
1

Apr

On Trend, Southern Events Products, Trends and Inspiration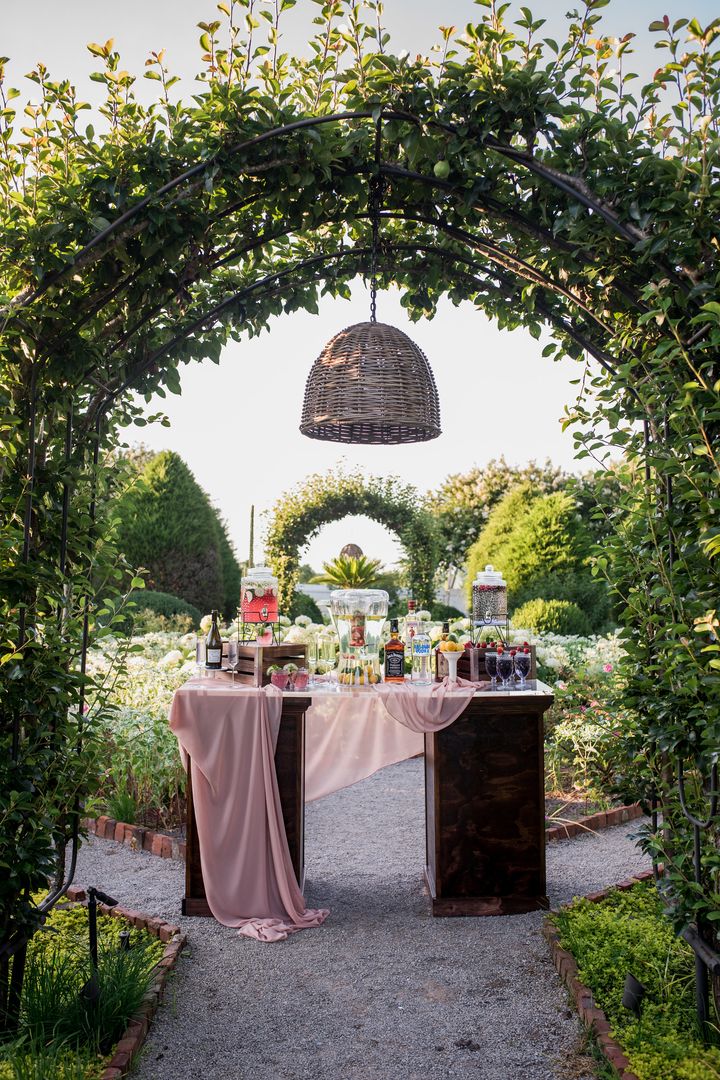 Come warmer weather in Tennessee, there is nothing more enjoyable than surrounding yourself with friends and family outdoors. You need to create a bright and memorable setup that complements the season. Today we're sharing pastel summer event inspiration for your upcoming summer or spring Nashville celebrations, featuring our stylish in-stock rentals.
Soft Pastel Colors
This season we're complementing the lush foliage and soft flowers with pastel palettes! Ideal for an outdoor event, it will stand out with a fresh and elegant look. While this design features our Wisteria Satin linens, we also offer a Peach Poly, Light Blue Pindot, and Mediterranean Satin. For a cohesive vibe, consider hand-written details for place cards, the menu, or event signage.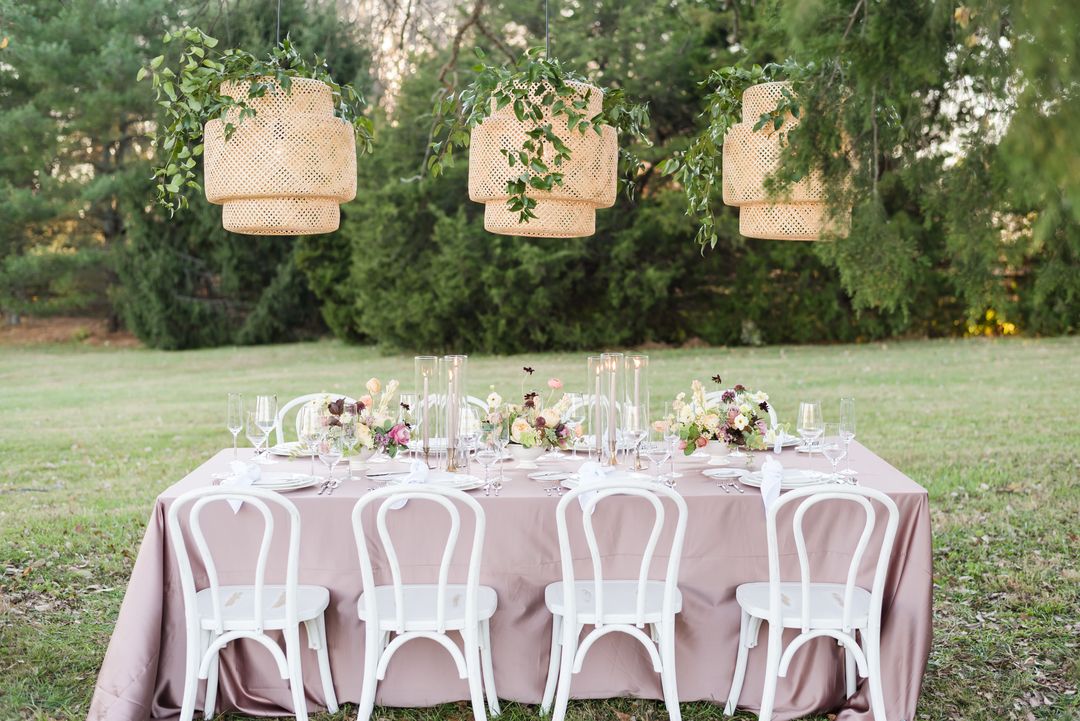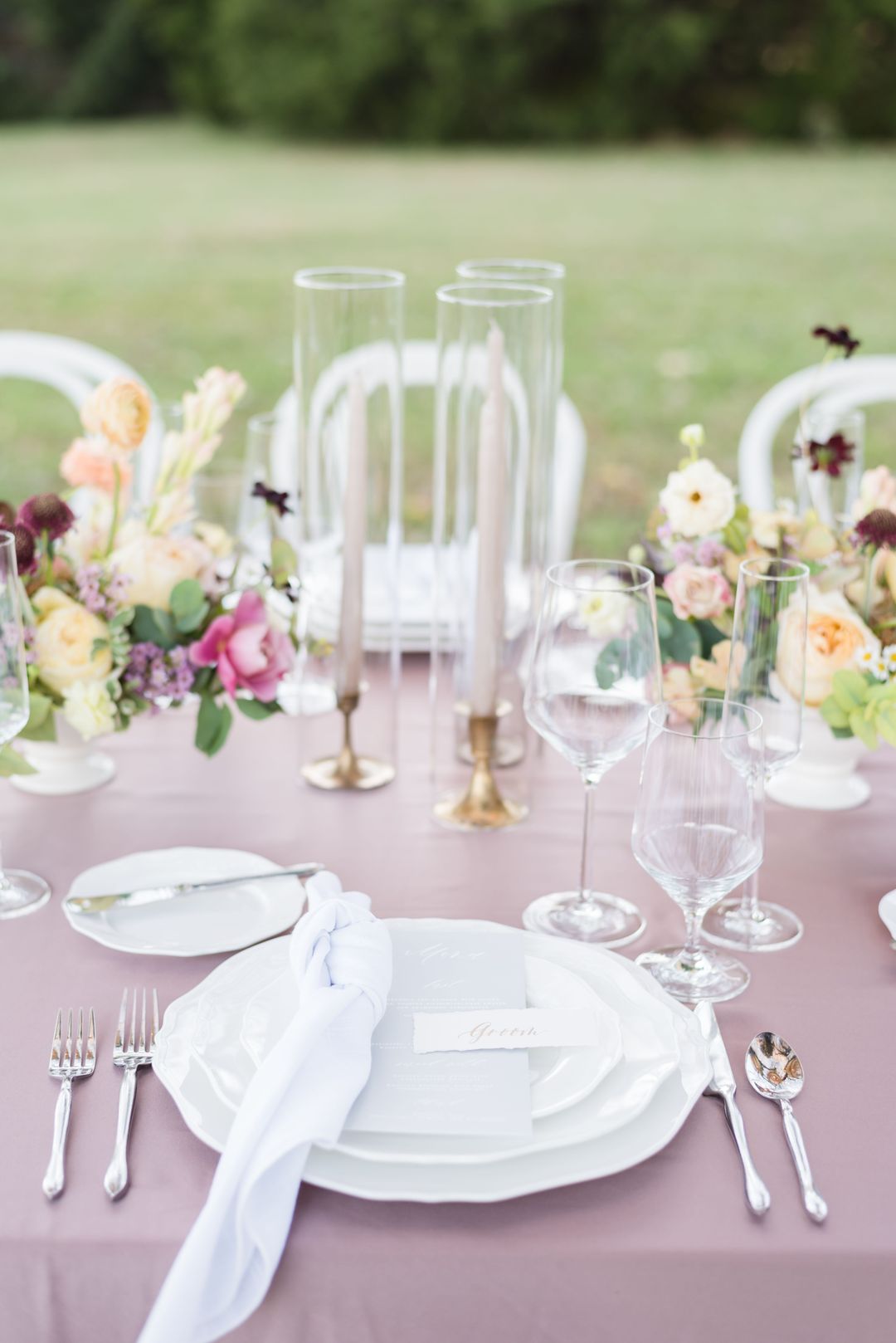 Photo by Mandy Liz Photography
Earthen China
To plate up dinner, check out an equally gorgeous alternative to classic china: earthenware. It comes in three beautiful colors, Alabaster, Onyx, and Stone. While Alabaster and Stone are beautiful for a pastel look, don't overlook Onyx which can be used to lend some contrast to an otherwise bright tablescape. To amp up the look of our earthen china, consider complementing it with one of our unique chargers!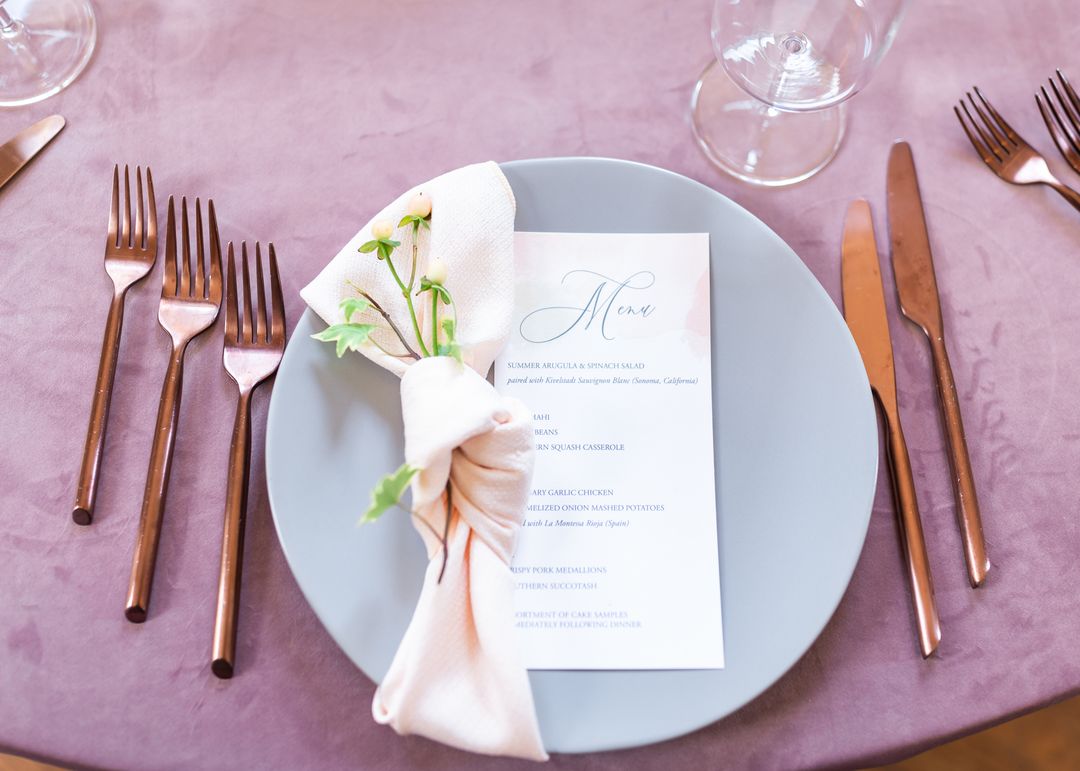 Photo by Honeysuckle & Wine Photography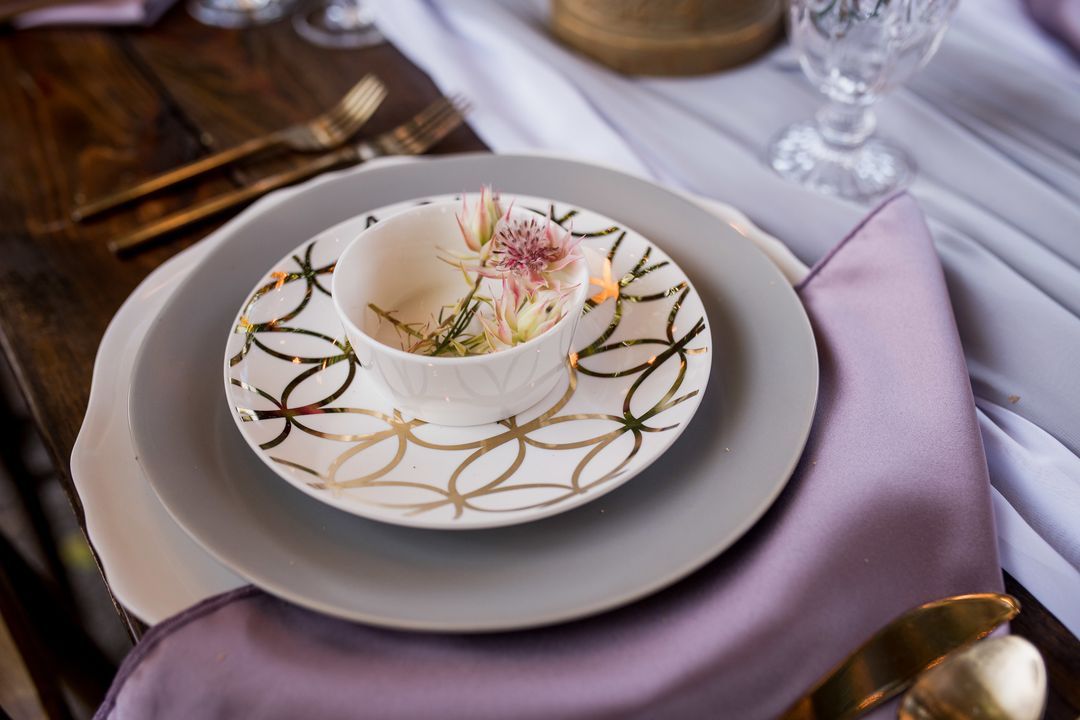 Romantic Chiffon Runners
In terms of centerpieces, florals, lanterns, and geometric table decor – all add to the beauty of a tablescape. If you're looking to add some texture and romance, however, we recommend a chiffon table runner. They can be used standalone or atop table linens to add volume. You can let them pool around your centerpieces and/or allow them to drape off the edge of your tables for a loose but elegant look.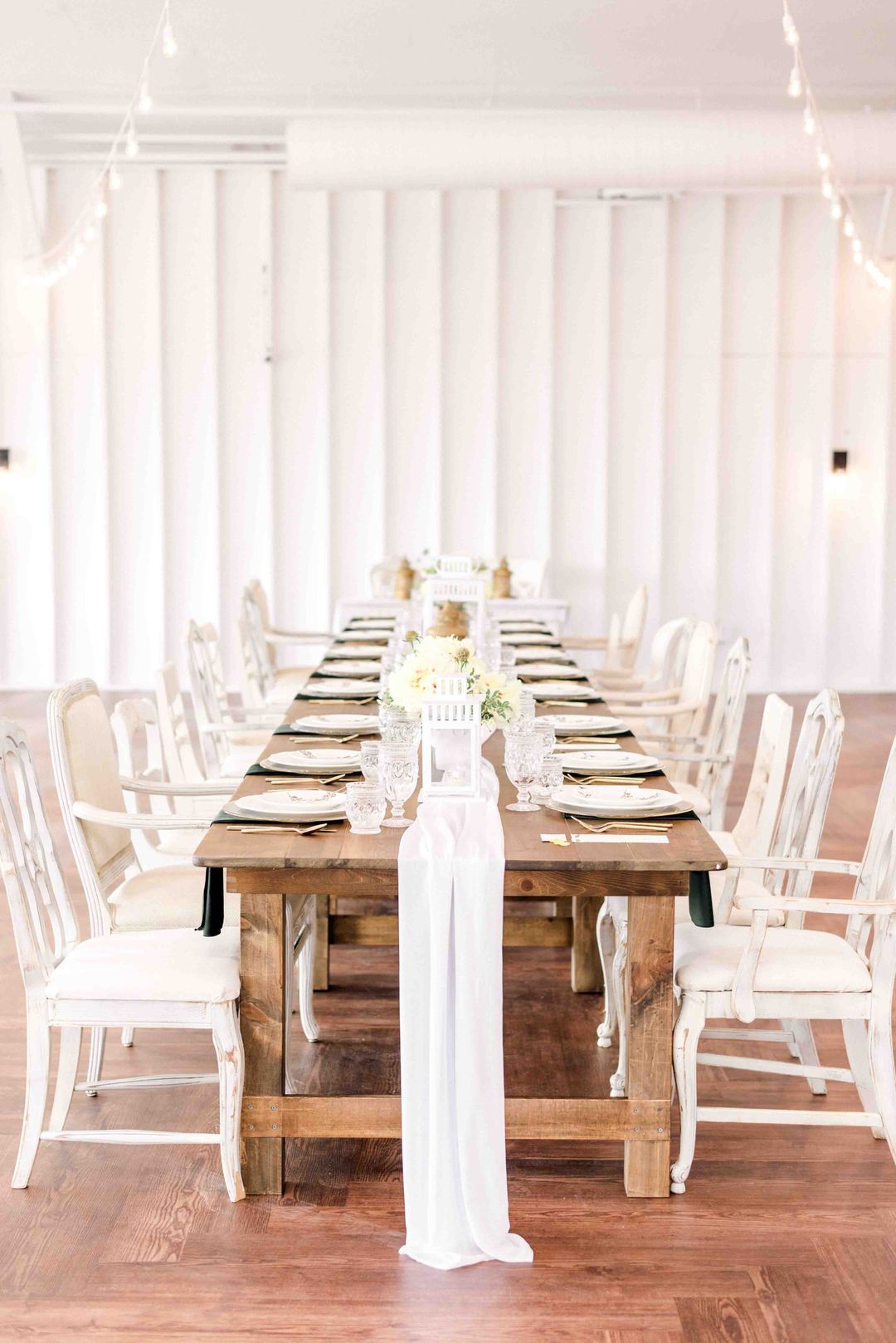 Photo by Cee Cee Photography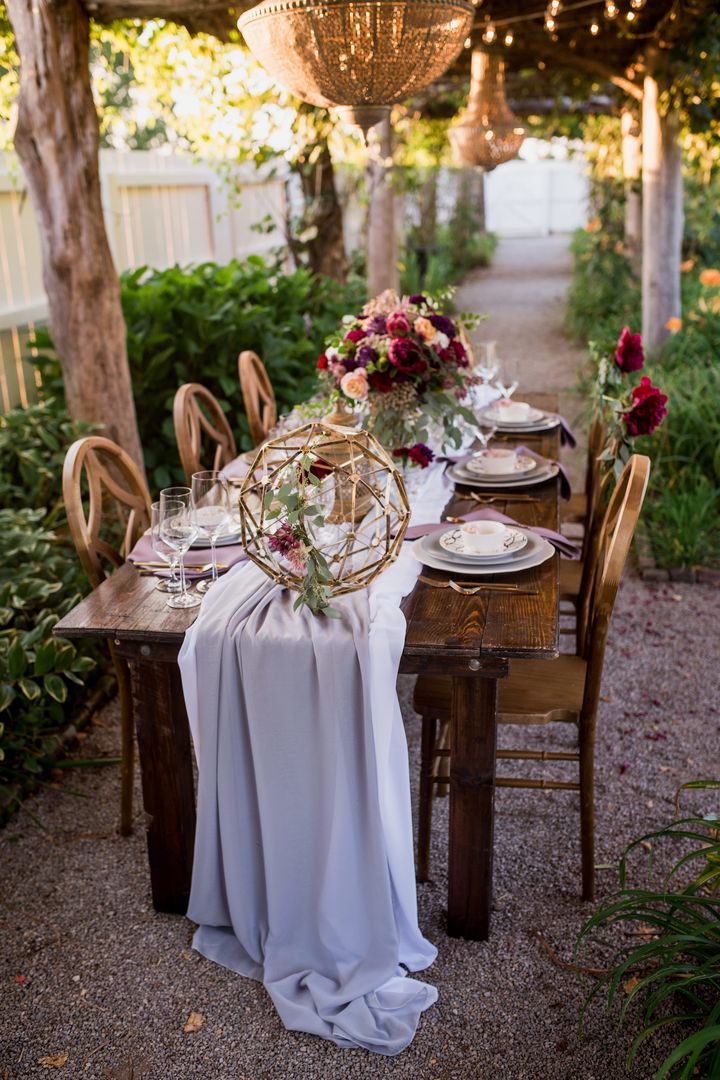 Photo by John Myers Photography
Elegant Harlin Chairs
One of our favorite pieces of furniture, our Harlin dining chairs are a stunning option for your summer event. Made of wood and with stylish backs, they add an instant touch of elegance to any tablescape. They can also easily be decorated with greenery, for a fresh spring or summer look. For a table that complements these chairs, consider featuring our Fruitwood Farm Tables.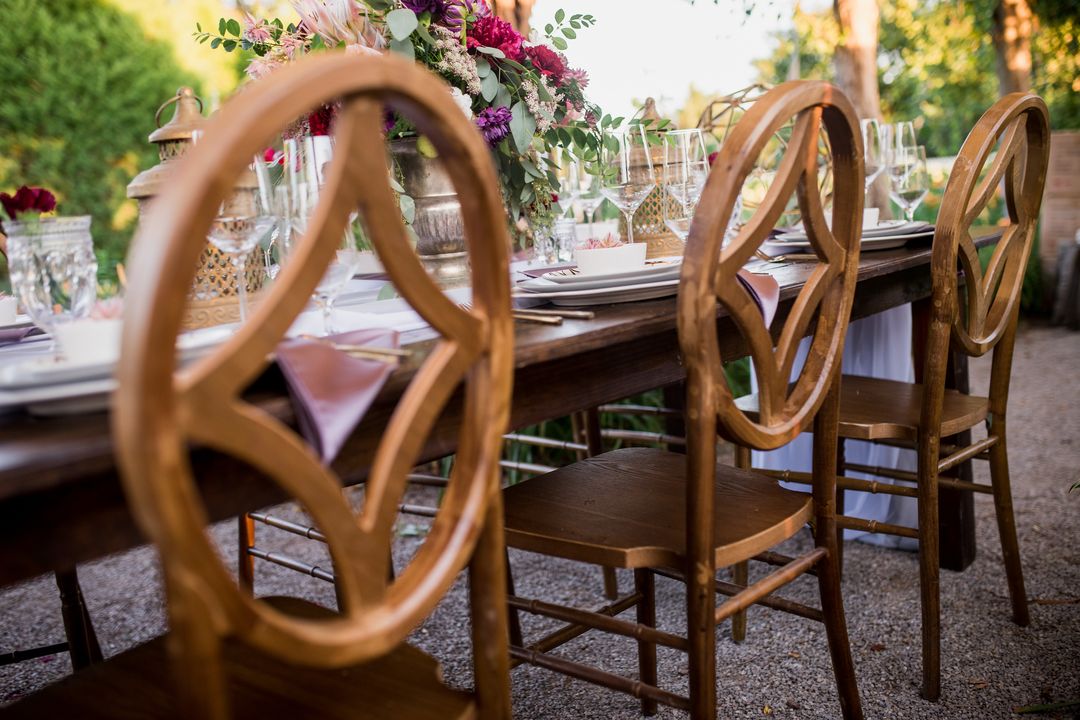 Santorini Furniture
If you plan on taking full advantage of summertime in Tennesse, an outdoor lounge area is a good idea. Perfect for a cocktail hour or post-dinner drinks, it will allow your guests to get cozy and mingle all evening. Keeping with our pastel summer event inspiration, we recommend our Santorini Off-White Sofa paired with an accent table. Or feel free to choose from one of our curated lounge packages!
Rolling Bar Cart
Cold drinks are a must-have at any summer celebration! This summer, we're loving the look of our vintage-inspired Hob Nob glassware. They're the perfect way to add a little bit of texture to your tablescape. Or for a more sleek and elegant look opt for our Pure glassware, available in wine glasses, goblets, and champagne flutes. To complete the look, create a luxurious and memorable drink station using our rolling gold bar cart!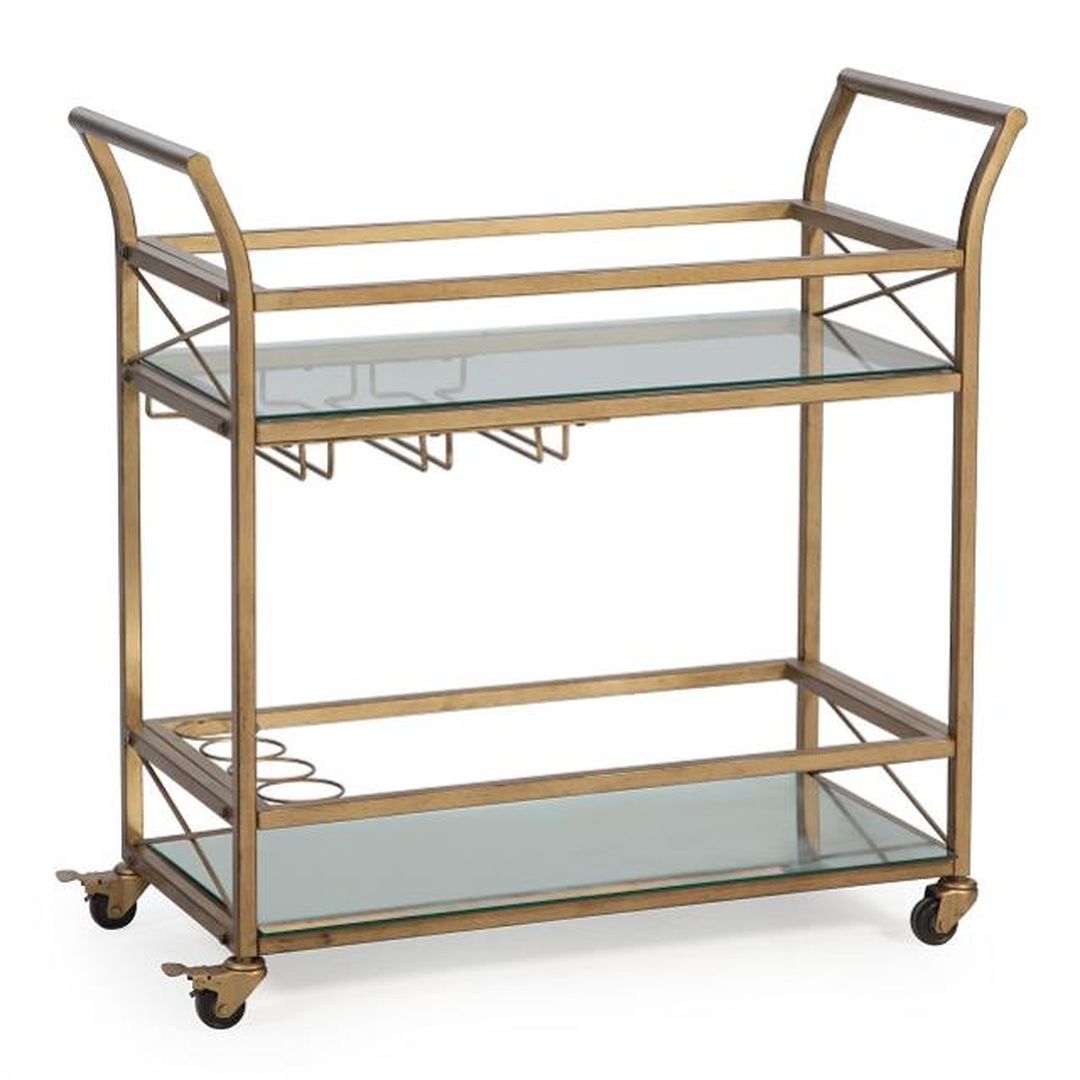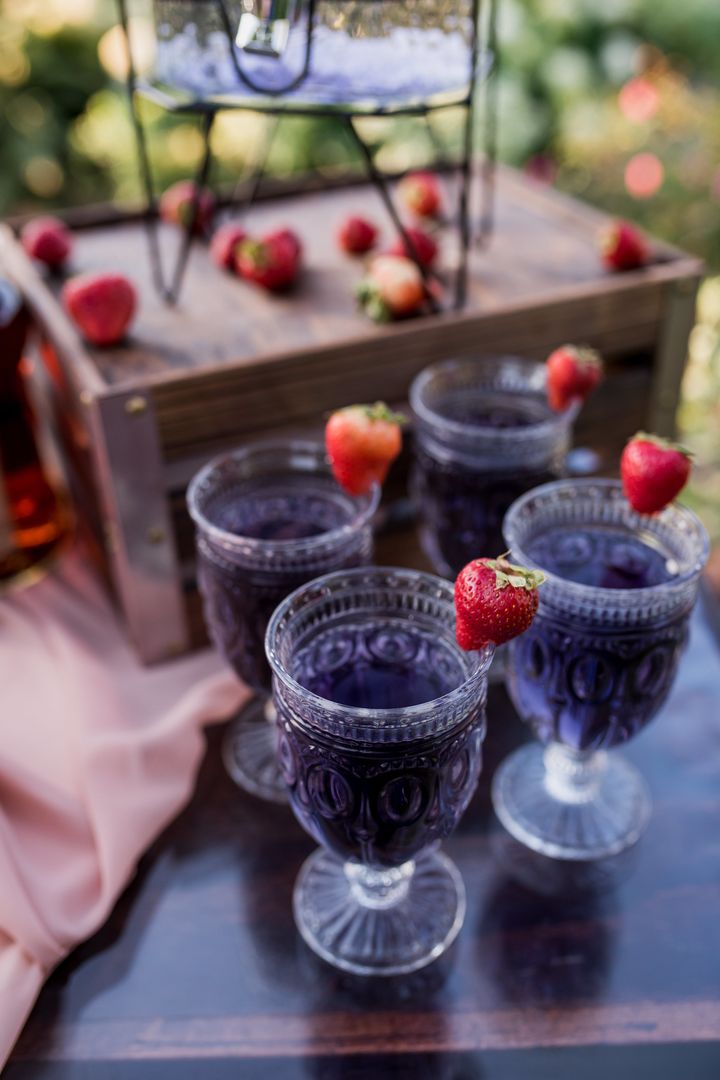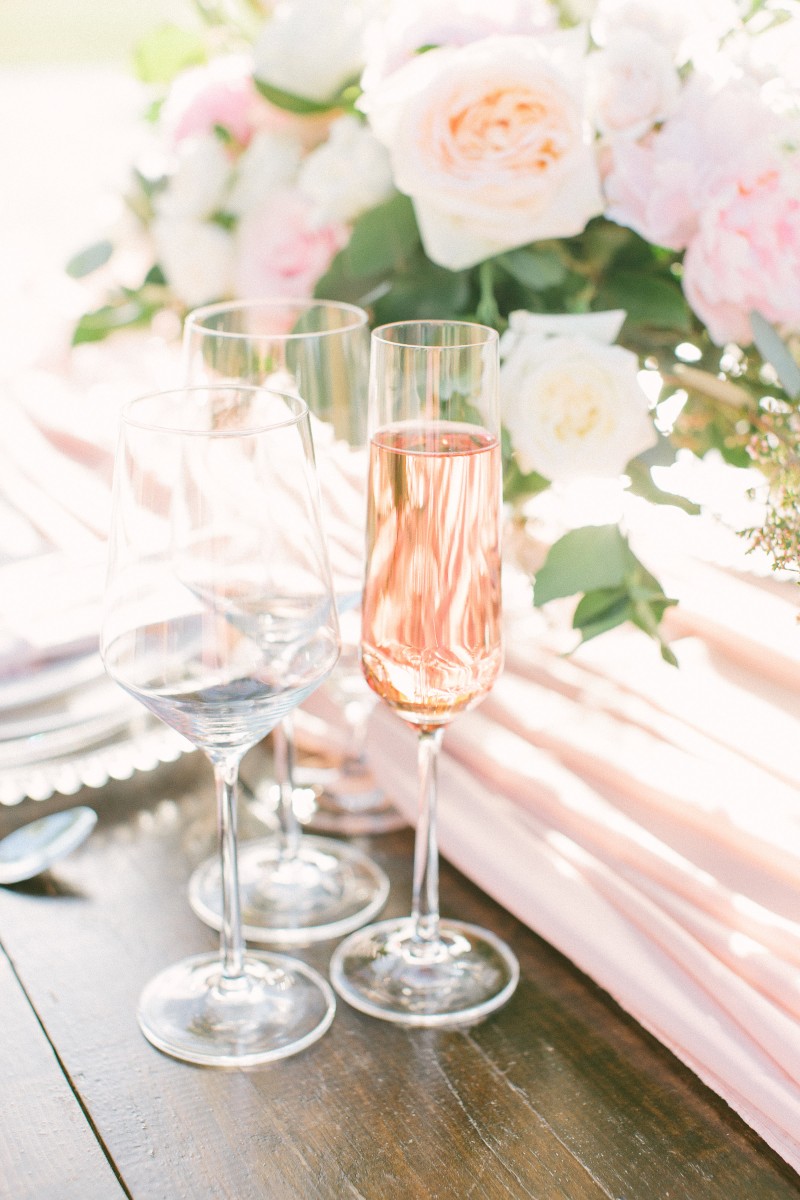 Photo by Jannah Alexander Photography
Loving this pastel summer event inspiration? 
Contact our team 
today for help recreating one of the looks for your upcoming event!
TAGS | outdoor event rentals, pastel event, southern summer party planning, summer event style, summertime chic
FEATURED RENTALS | Santorini off-white sofa, lounge packages, Hob Nob glassware, pure glassware, bar cart, earthen china, wisteria linens, peach poly, Harlin chairs, Mediterranean Satin, light blue pindot poly,
---
9

Jun

Southern Events Products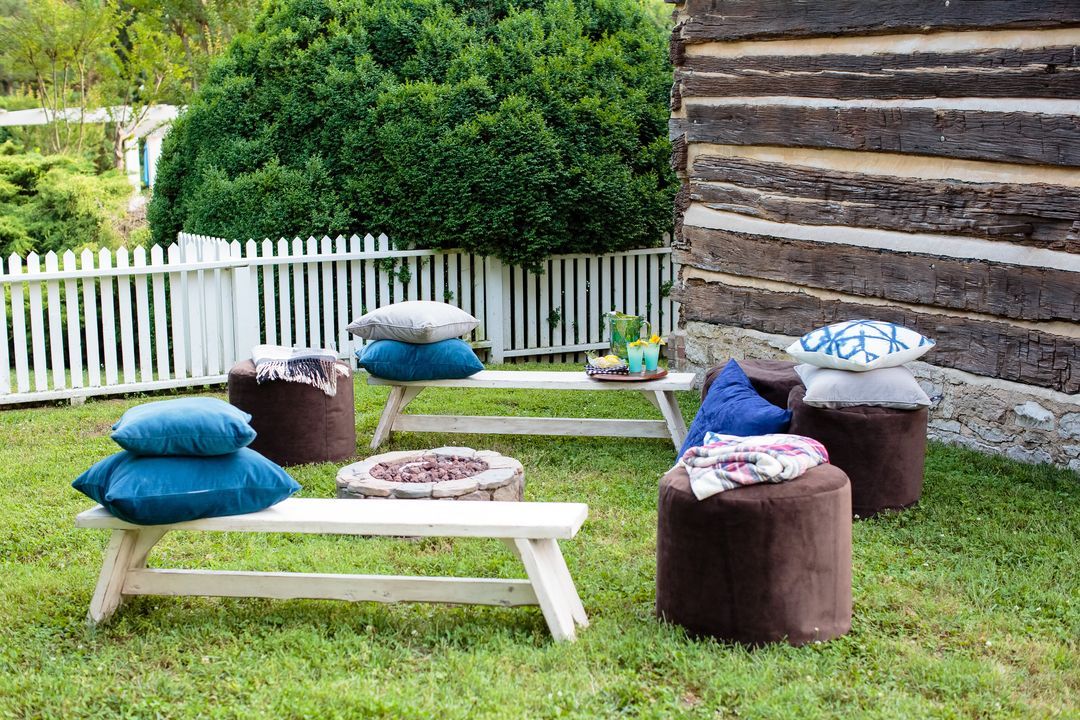 With the summer approaching, we can't wait for the backyard parties and outdoor celebrations! The gorgeous weather makes it the perfect time of year to host a small get together with family and friends. Get inspired by some of our favorite summer backyard party ideas, whether you are celebrating a birthday, family milestone, the 4th of July or simply need an excuse to gather with loved ones.
Backyard Movie Night
Take a break from the news with a backyard movie night. It is a great way to entertain both kids and adults, with plenty of new movies currently being offered on-demand. Create a casual and cozy environment, with our Sutton Couch and Chairs! You can also create interactive areas like a snack bar for refreshments and treats, using our White Wash Barrel Barnwood Bar.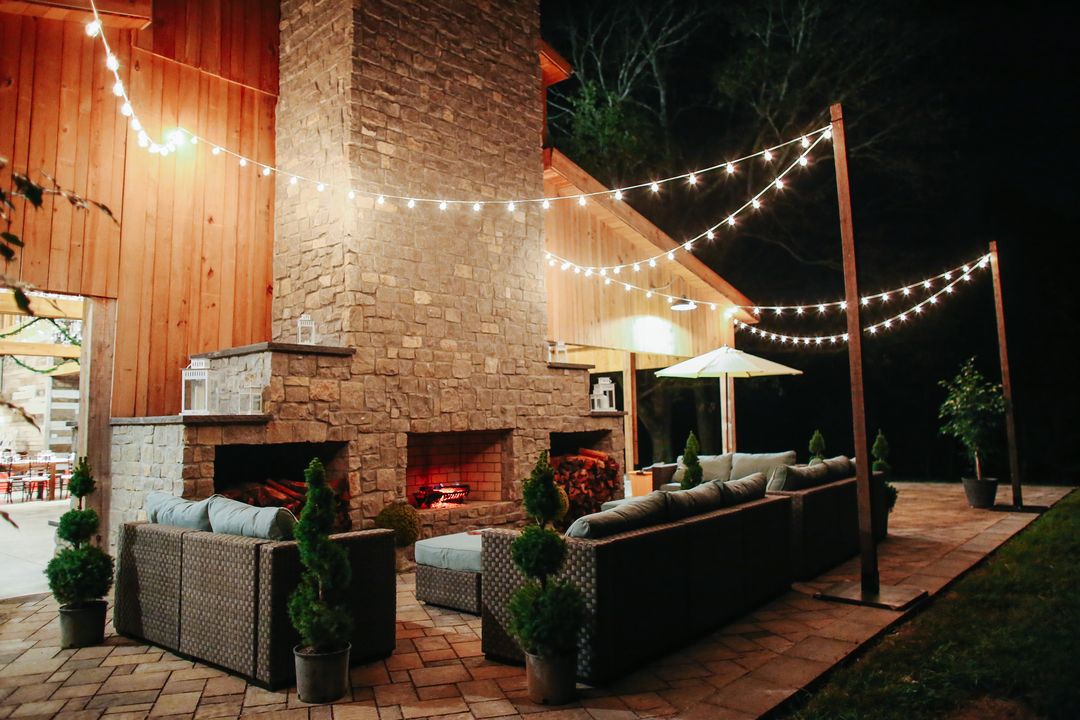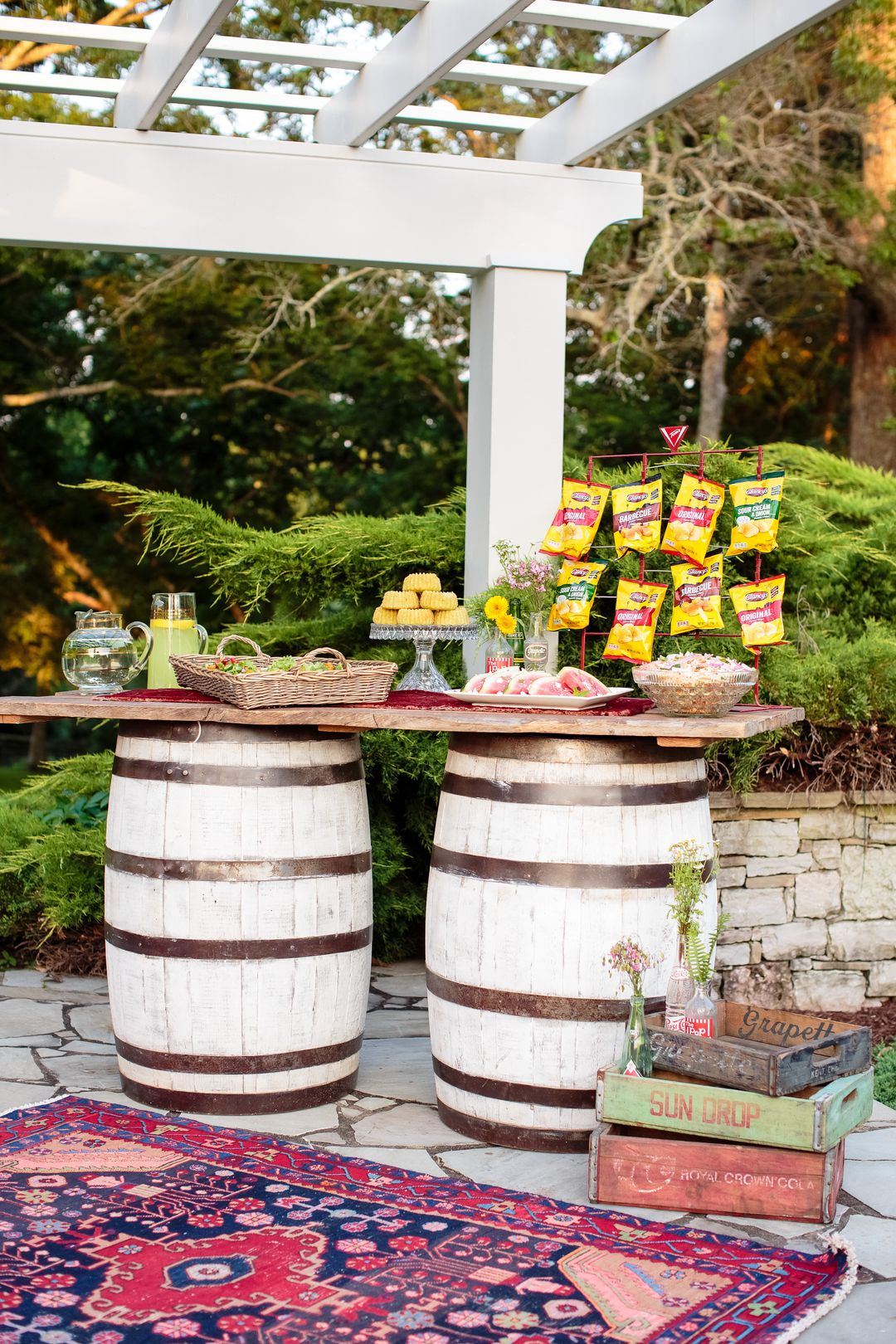 Photo by Erin Allender Photo
Kids Birthday Parties
The summertime is a great opportunity to host a kid's birthday party, including those that were previously postponed. Keep it family-focused with fun, colorful rentals and by creating areas for activities. You can also incorporate child-size rentals, like our gorgeous Children's Fruitwood Farm Table and Cross-back Children's Chairs.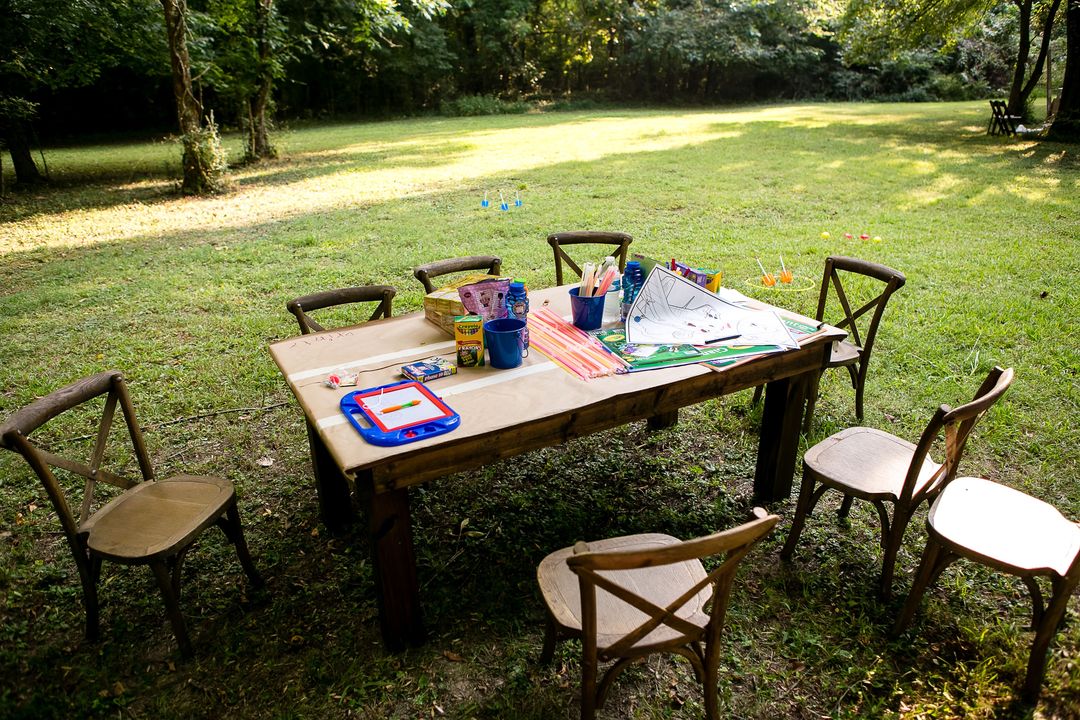 Backyard Tailgates
While we can't attend sporting events in person, we can still root for our favorite teams with a lively at-home tailgate party. Celebrate the big game with a classic backyard tailgate. Our pop-up tent packages are perfect for beating the heat. Easy to set up, they will create some much-needed shade while you watch or listen to the game. Of course, what's a game without food & drinks? Create an impressive food and seating area with our stylish tables, chairs and serving ware.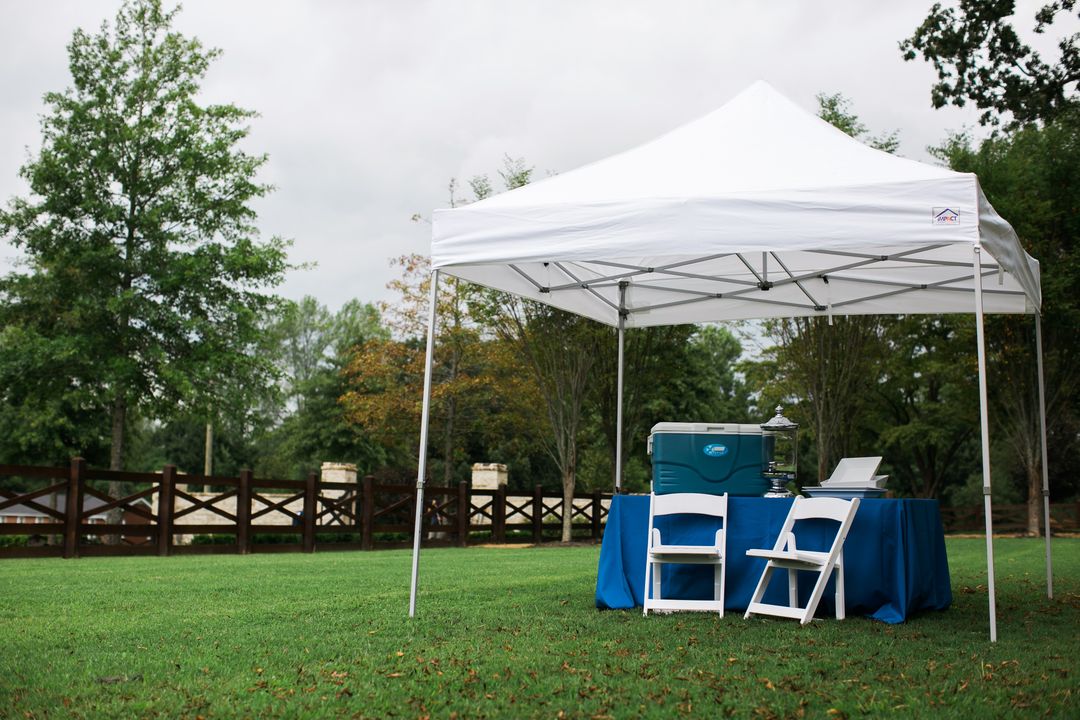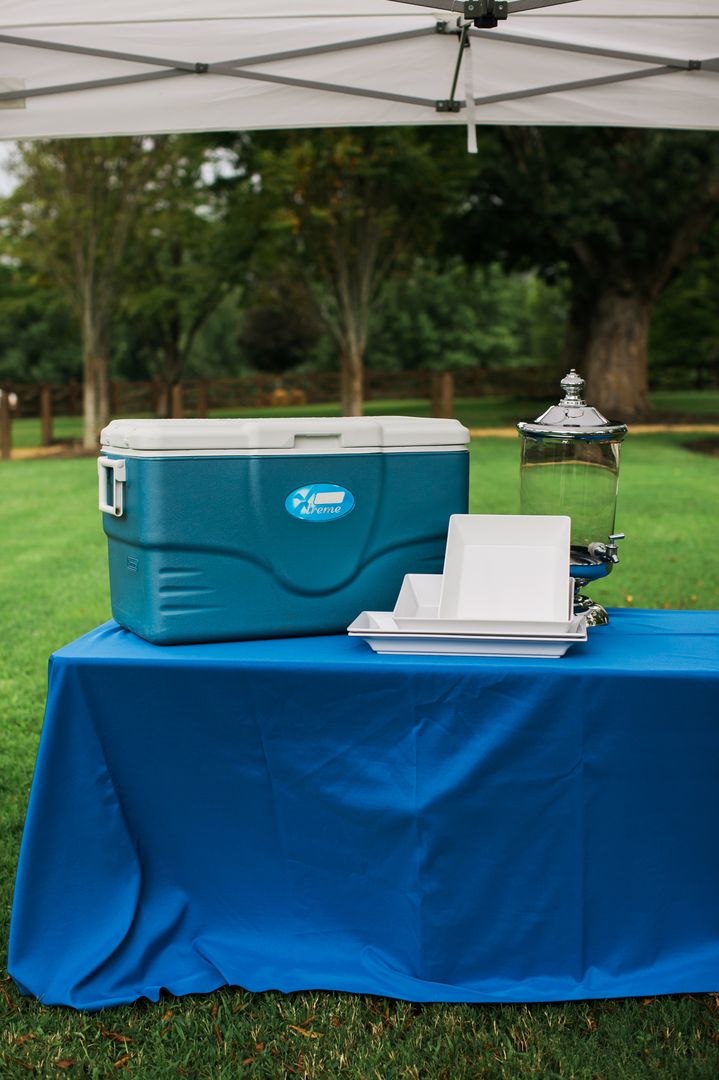 4th of July
Before you light up the night in style, enjoy the summer weather with the company of your friends and family. Our Ready to Party Packages are perfect for your annual 4th of July Party, whether your guest count ranges from 30 to 100. Each includes a white tent and enough stylish furnishings to accommodates your party size. Just don't forget to add on your essentials, like a banquet table for food, festive linens and serving ware for summer food favs.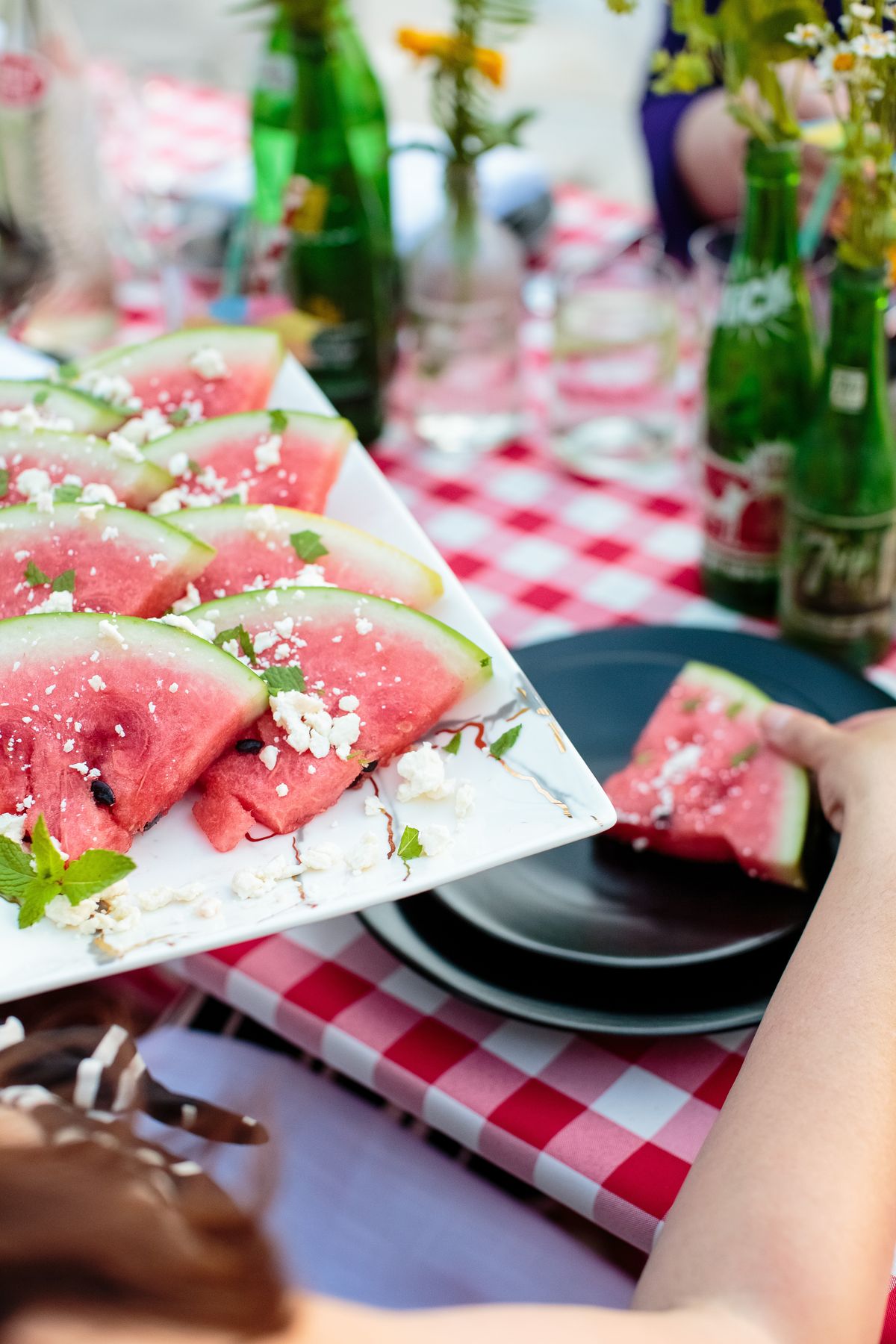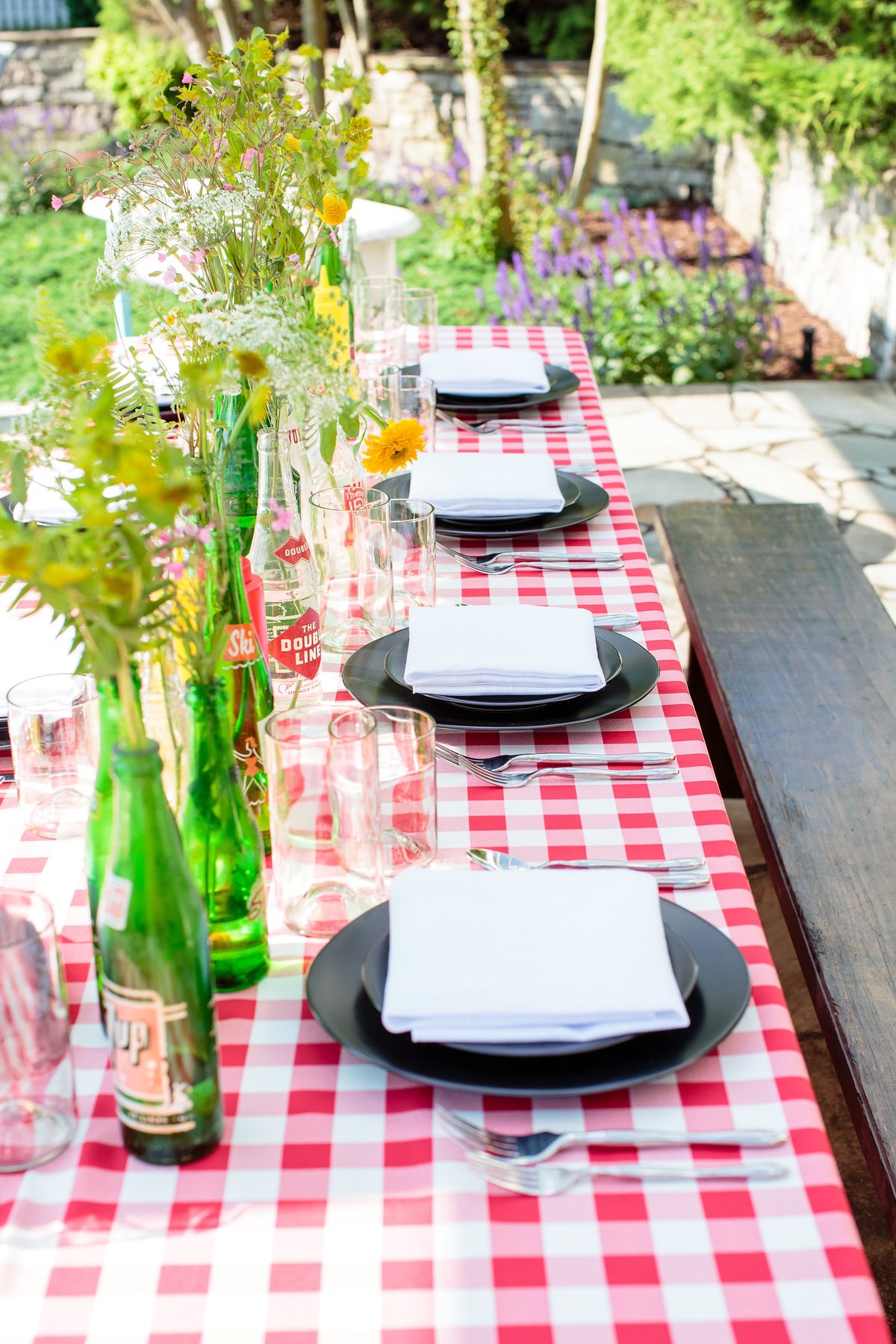 Micro Weddings
Host the small and intimate wedding of your dreams in your very own backyard. Our Micro Wedding Packages were created with simplicity in mind and has all of the essentials you need, including furniture and serving ware, like our elegant White China. View our packages to see which one most suits your needs and add on any other decor or furnishings you can't do without.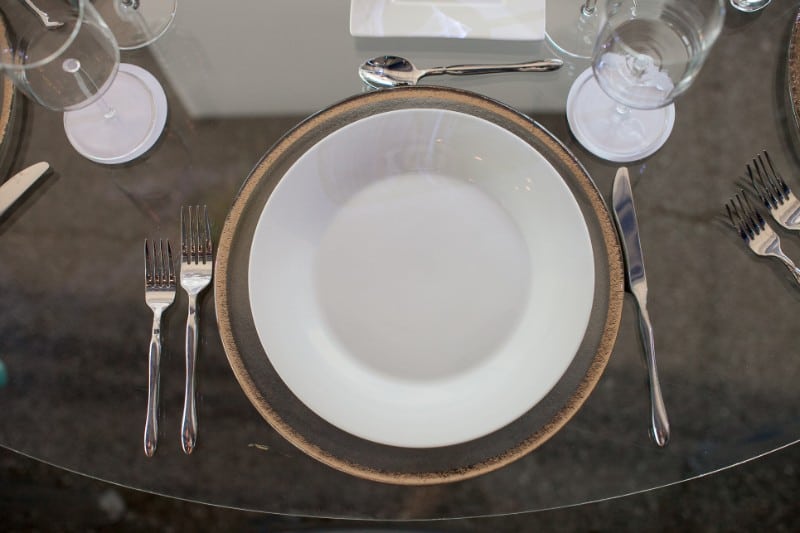 Photo by Phindy Studios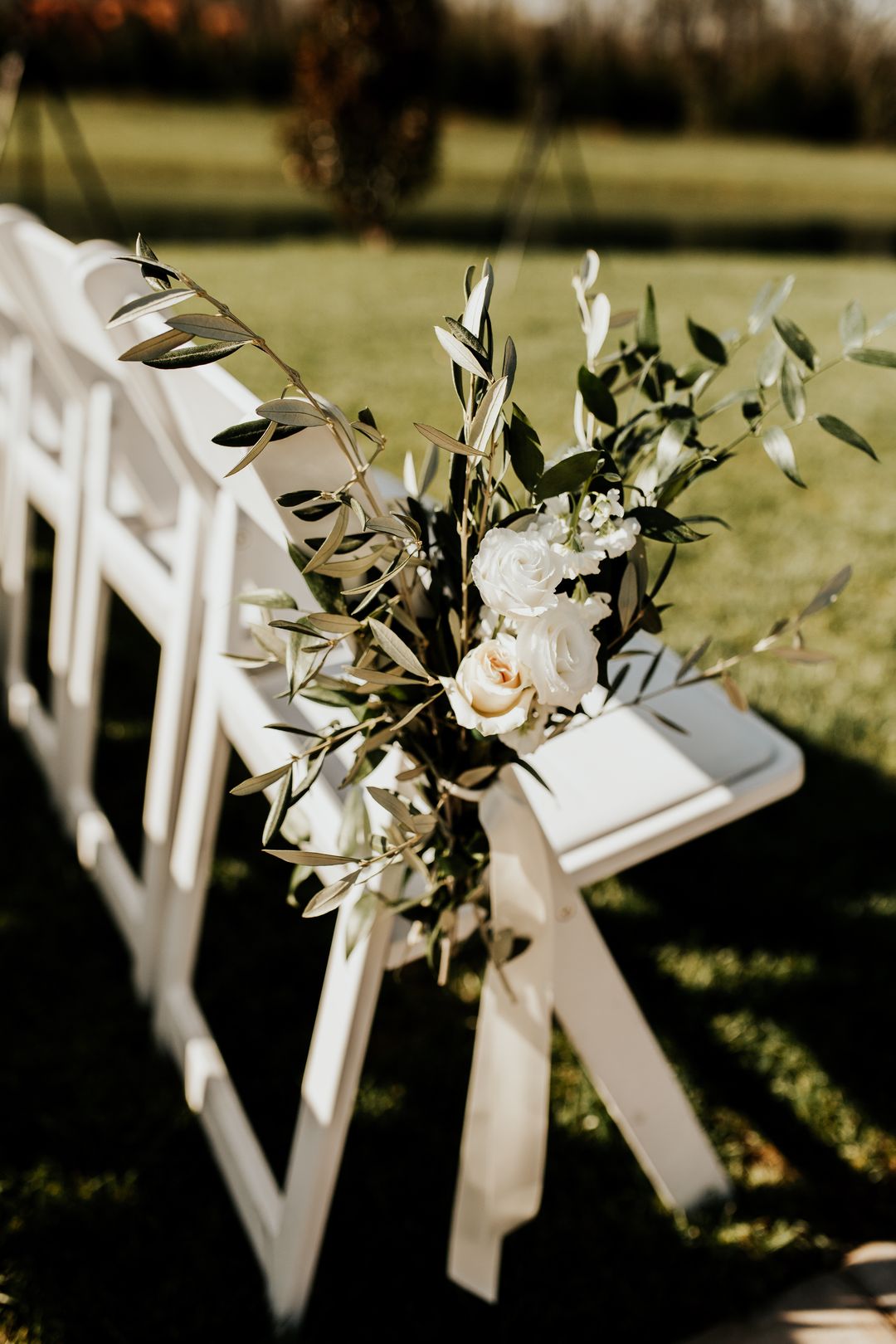 Photo by Cannon Weddings
Are you ready to host a backyard party of your own? Contact our team today to secure your rentals or to get more design inspiration!
TAGS | Kids Parties, Small Tent, Small Tents, backyard parties, kid friendly event, kid friendly party, micro wedding, outdoor summer weddings, southern summer party planning, summer event style
FEATURED RENTALS | Resin Folding Chairs, White Wash Barrel Barnwood Bar, Children's Fruitwood Farm Table, Children's Cross-Back Chairs, White China, Microwedding Packages,
---
8

Jun

On Trend, Southern Events Products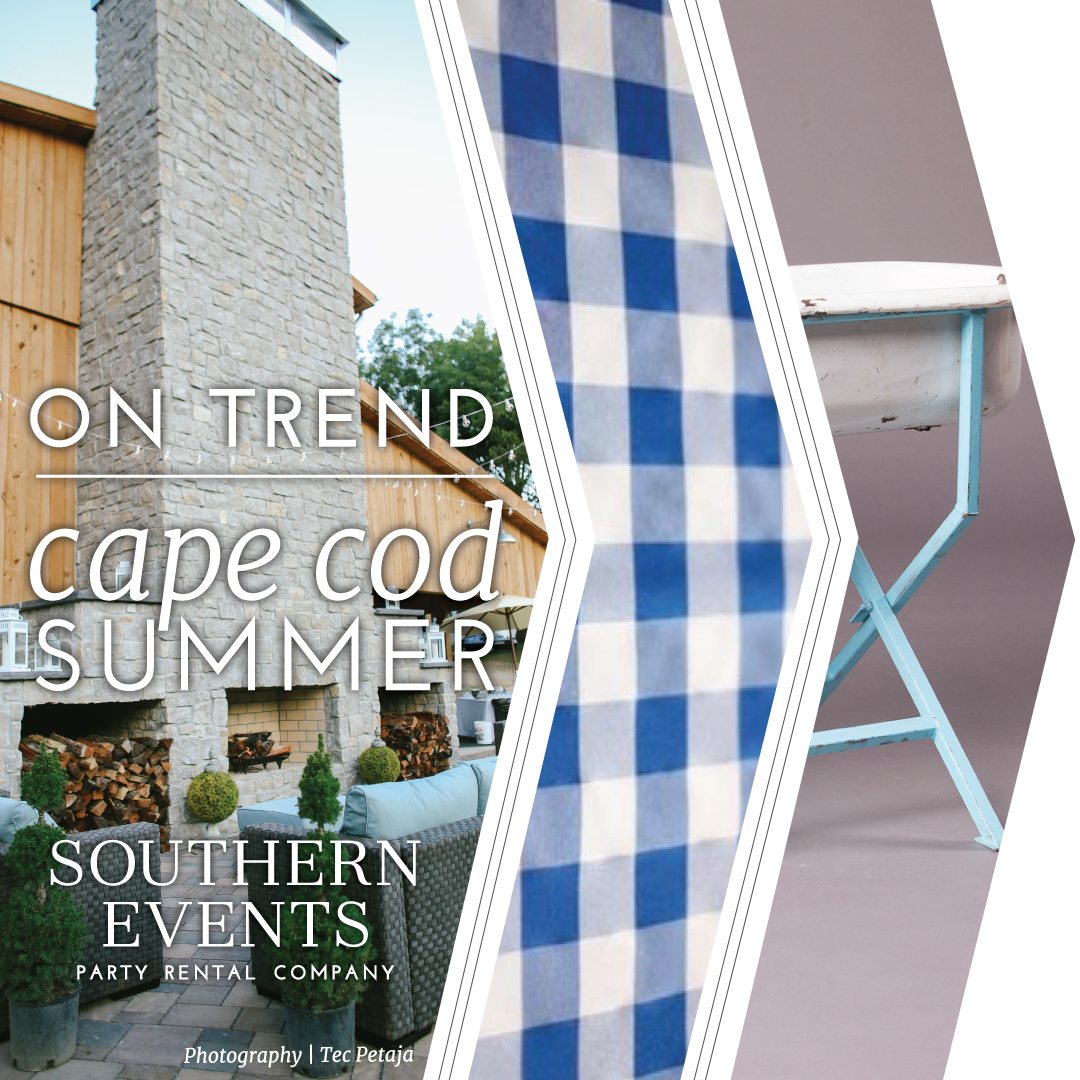 Outdoor gatherings and backyard barbecues are quintessential summer soirees. Cape Cod Summer is the latest design trend that buttons up your childhood summertime memories and brings them into the present with a seaside nostalgia. With well-loved designs and some vintage flare, you can celebrate summer in style. Our white farm tables make the perfect foundation – add on napkins in a class blue check print with our Hob Knob goblet and you've got a Patriotic party that can't be beat! We see the Cape Cod Summer design trend taking off at family reunions, company picnics and retreats, rehearsal dinners, and graduation parties this season.
Product Details: Sutton Furniture in Mediterranean, White Farm Table, Glass Carafe, Hob Knob Glassware, Blue and White Check Napkins, Cobalt Glass China,  White Square Tabletop & Oversized Lantern, Vintage Hungarian Baby Bath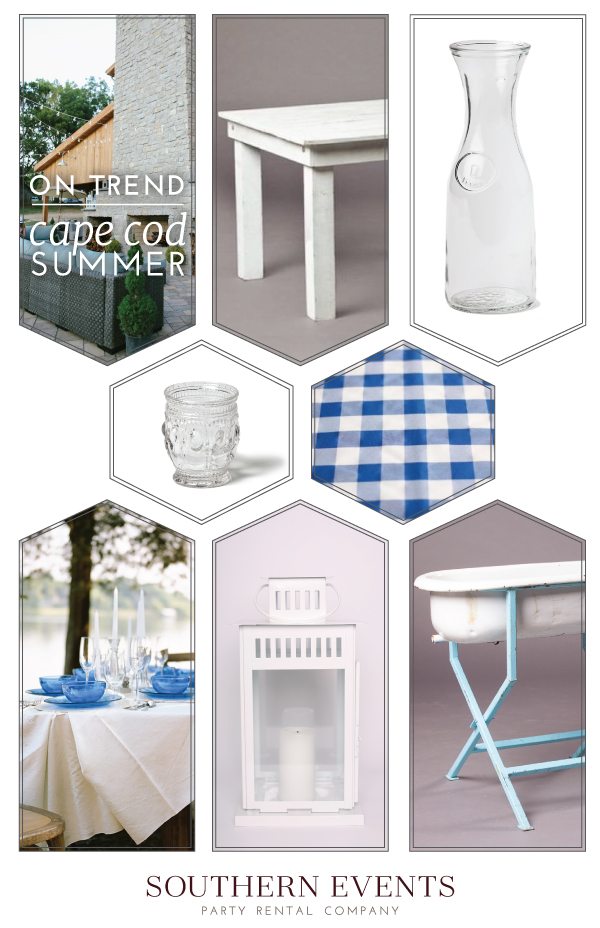 TAGS | Blue and White Check Napkins, Cobalt Glass China, Farm Tables, Glass Carafe, Hob Knob Glassware, Nashville Event Rentals, Nashville Wedding Rentals, Nashville party rentals, On Trend, Outdoor Wedding Ceremony, Southern Events Party Rental, Southern Events Party Rental Company, Sutton Furniture in Mediterranean, Unique Nashville Event Rentals, Unique Wedding Rentals, Vintage Hungarian Baby Bath, White Farm Table, White Square Tabletop Lantern, summer event style
FEATURED RENTALS | Sutton Furniture in Mediterranean, White Farm Table, Glass Carafe, Hob Knob Glassware, Blue and White Check Napkins, Cobalt Glass China, White Square Tabletop Lantern, Vintage Hungarian Baby Bath,
---