18

Mar

In Stock: Unique Chargers for Tablescapes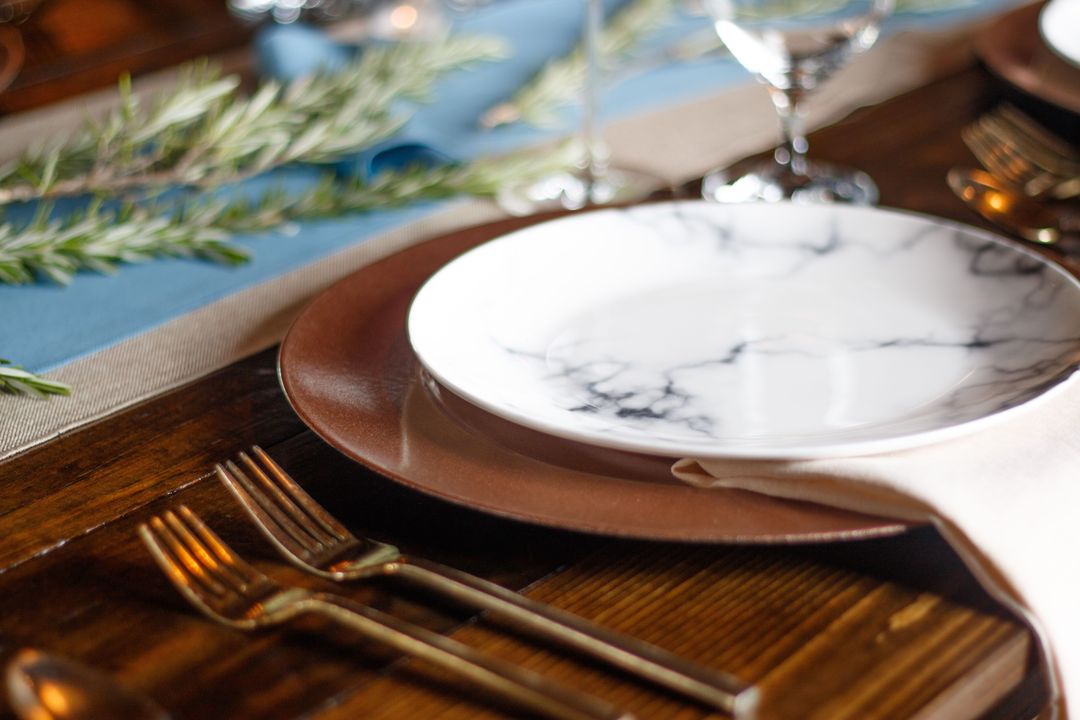 A stylish tablescape is a memorable element at any event, corporate gala or social dinner party. For many, the first addition is a charger plate, a large decorative base upon which other dinnerware is placed. These pieces serve as an effective yet simple way to elevate a tablescape, by complementing or contrasting your other serving ware, decor, or color palette. Take a look at our selection of unique chargers, now in-stock and available to rent!
Belmont Charger
A classic favorite, the Belmont Charger is a clear glass plate featuring a beautiful silver beaded rim. This versatile piece looks beautiful when stacked with bright or dark serving ware, creating an elegant yet subtle sparkle. Below, it is complemented by our Onyx China, Cameron Flatware, and Cybil Glassware, for a modern and dark yet whimsical look.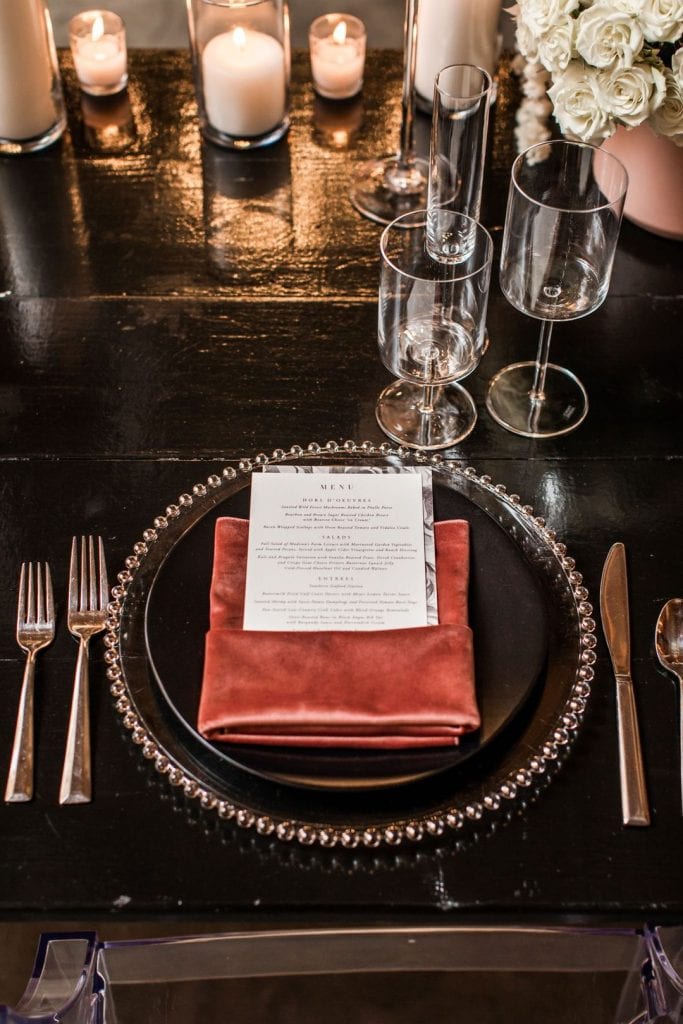 Copper Glass Charger
A newer item in our catalog, the Copper Glass Charger is a chic piece that lends a gorgeous touch of metallic to any tablescape. The bright copper rim has a feathered edge, giving it a fun contemporary vibe. Consider complementing this unique charger with our Brushed Copper flatware and Carrera Marble Dinner Plate.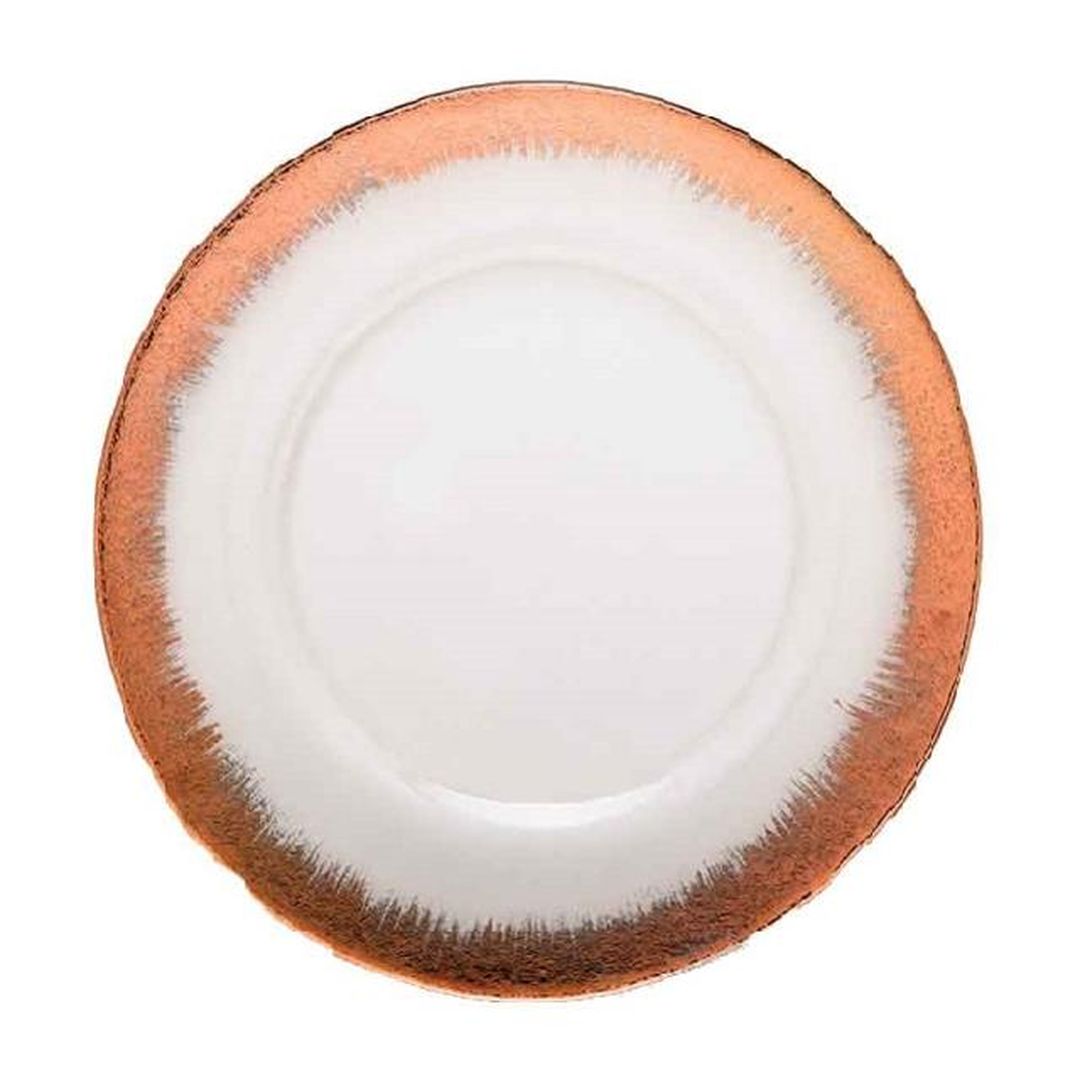 Darcy Bone China Charger
When your goal is a classically feminine tablescape, you can't go wrong with our Darcy Bone China Charger. With a dainty rim, this delicate plate looks stunning for a more traditional design. If you're a fan of the current cottage core trend, we recommend pairing this plate with our Heirloom China, Abby Flatware, and vintage-inspired Hob Nob Glassware.
Glass Charger with Gold Rim
Our Glass Charger with a Gold Rim is a must-have for any luxe modern tablescape. Simple yet bold, it features a clear glass center and a metallic gold rim. Popular for weddings, it looks especially beautiful when contrasting rustic elements, or when complementing other minimalist details. As shown below, it is paired with our Austin Flatware and Pure Glassware.
Glass Charger with Silver Rim
Similar to the previous design, our Glass Charger with a Silver Rim is an equally gorgeous alternative to gold. It offers a cooler tone to a tablescape that may be preferable for a brighter palette or cool weather event. On the tablescape shown below, it is complemented by a modern color palette of grey and purple.
Gold Round Laquer Charger
Our Gold Rouge Laquer Charger is a classic that can be dressed up or down. It can be paired with a wide range of china, including our Darcy China or mixed and matched with our Gold China. To complement the metallic shade, feature it alongside our Gold Austin Flatware.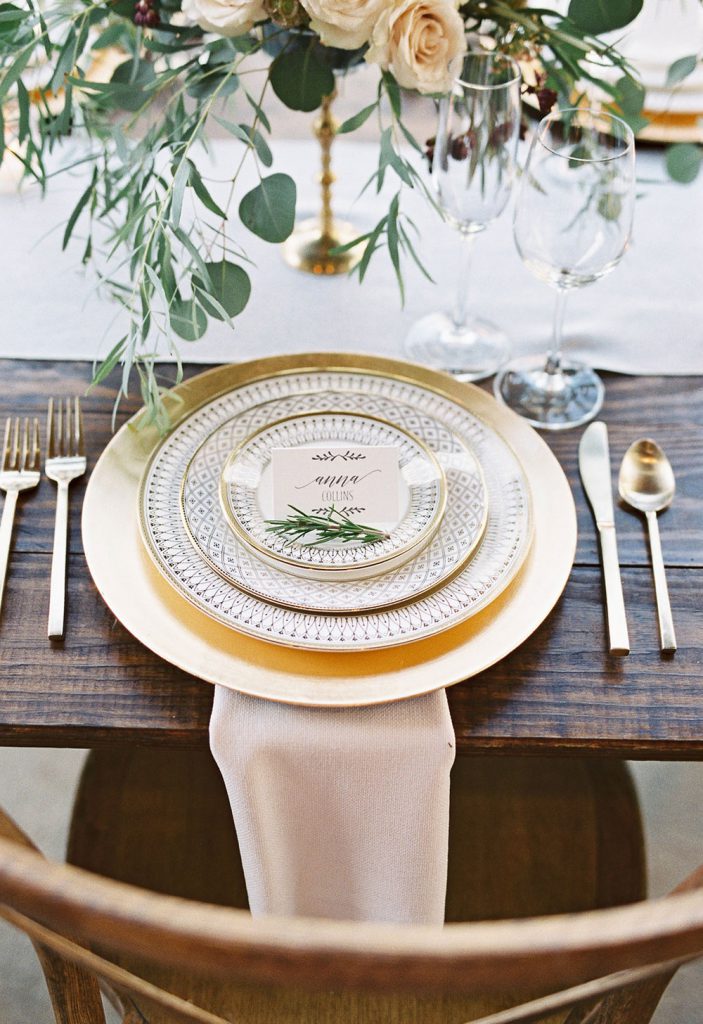 Medallion Gold Glass Charger
If you want a tablescape that screams luxe, check out our Medallion Gold Glass Charger! This intricate design is a stunner and looks even more beautiful stacked with our Athena or Ophelia China. The tablescape shown is topped with a Spice Velvet linen for a slight boho look. But for an equally dramatic yet moody vibe, opt for a darker color such as Black velvet.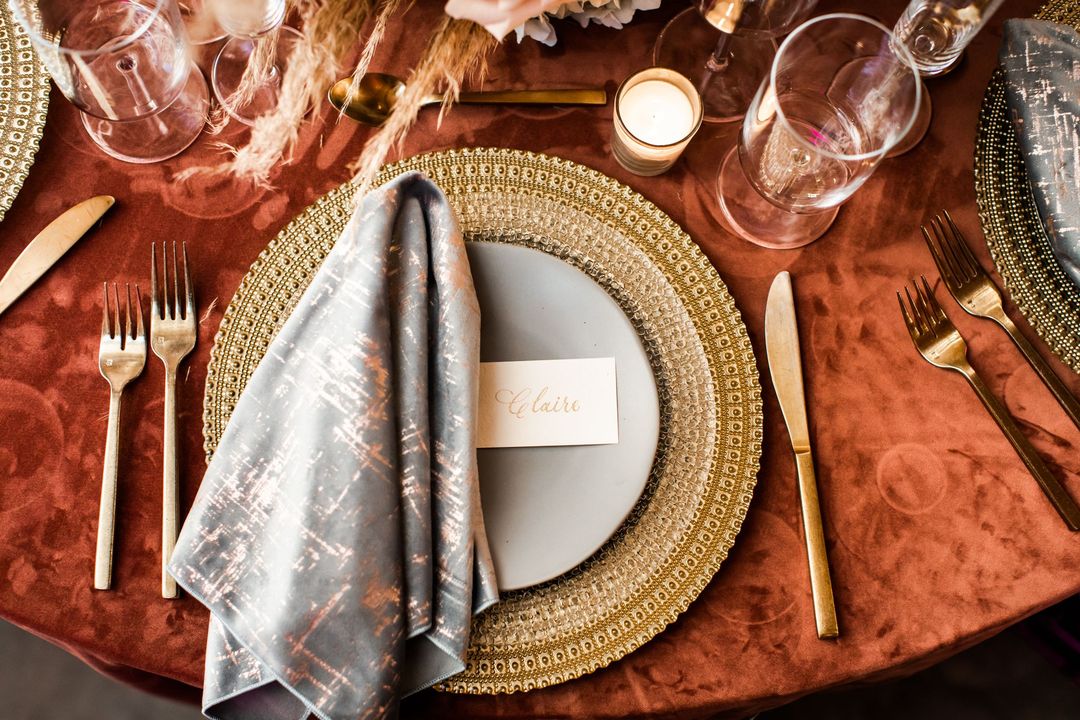 Rouge Round Laquer Charger
A versatile piece, the Rouge Round Laquer Charger is a rich copper tone. Although it looks gorgeous with neutral tones, feel free to spice up your tablescape by adding in more vibrant colors! As you can see below, it looks beautiful with a deep blue, true red, as well as silver metallics, and Earthenware.
Scalloped Wood Charger
Boho is in and our team at Southern Events is here for the trend! Our Scalloped Wood Charger is an easy way to lend a rustic yet charming look to your tablescape. It features a beautiful wood grain that perfectly contrasts bright serving ware, such as our White Round China. On the other hand, keep this unique charger front and center when pairing it with Clear Glass China.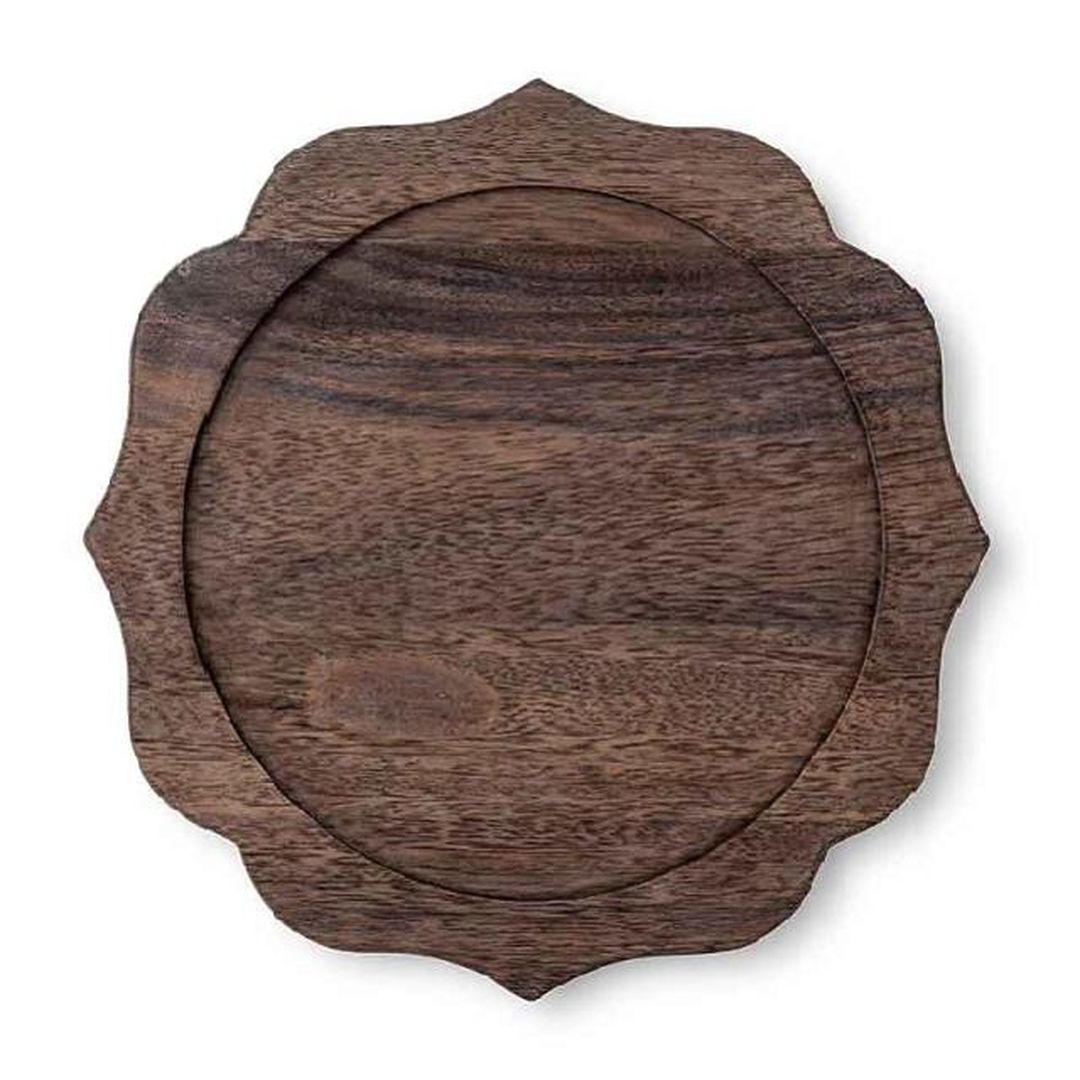 Silver or Black Round Laquer Charger
Our Silver Round Laquer Charger is a stunning base for a cool weather tablescape that is modern and luxe. Consider pairing these unique chargers with vibrant linens, such as our Light Blue Pindot or Wisteria Satin tablecloths. Meanwhile, our Black Round Laquer Charger works well in as a grounding element in both neutral tablescapes and bright and bold looks. Consider pairing it with our Fuchsia Etched Velvet Linen or against our Grayson Tables.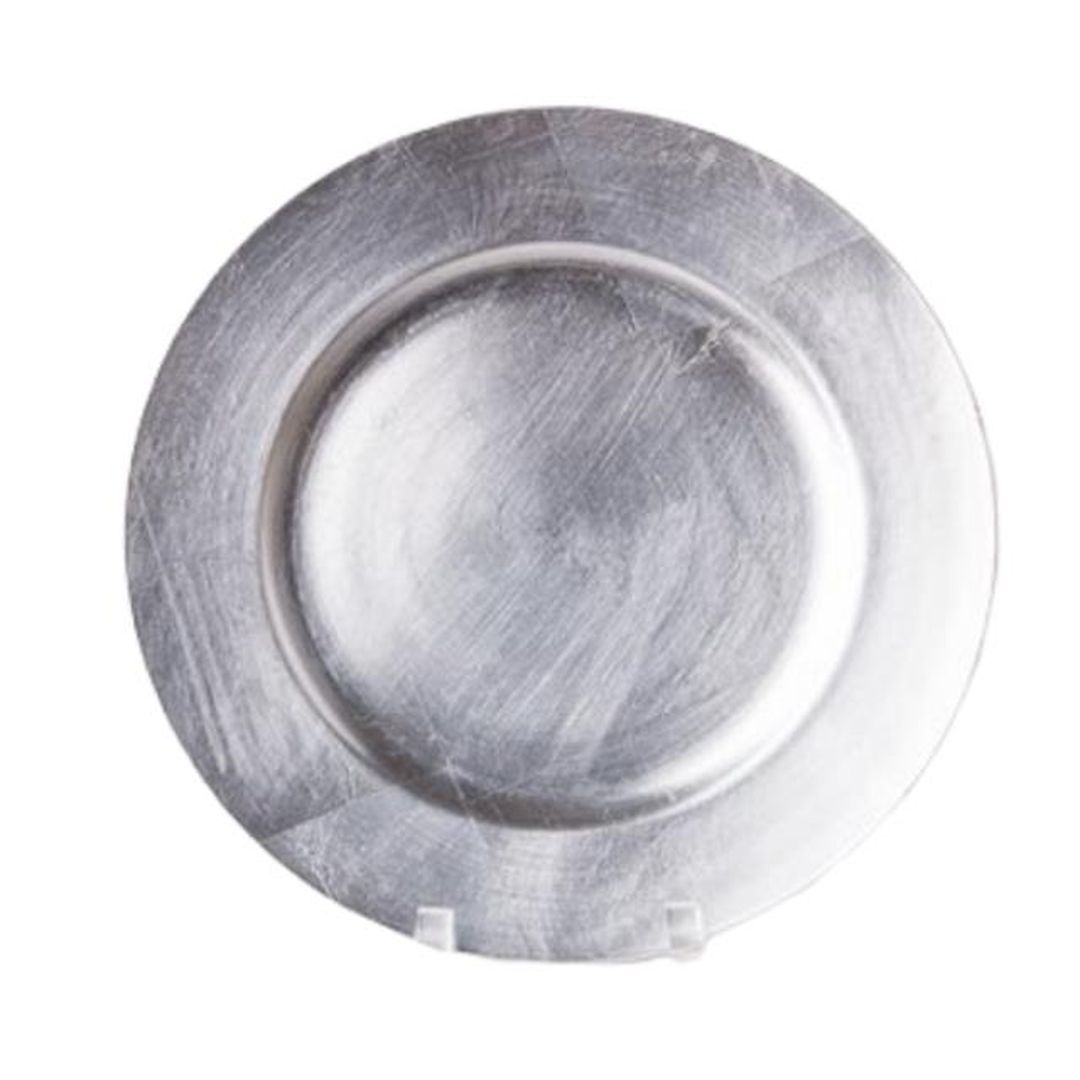 White Round Porcelain Charger
There is nothing wrong with a traditional tablescape starring our White Round Porcelain Chargers! Lending a traditional look, this style is preferable for corporate events, in addition to formal weddings or similar social events. It is easily paired with a selection of our white or ivory linens. Consider adding a luxe metallic touch via the flatware!
Wood Round Charger
Don't be mistaken, our Wood Round Charger can be used for more than rustic-themed tablescapes. While this faux wood charger looks beautiful next to other rustic elements, it can also be used to create a fun and modern design. See below, where it is paired with bright whites, vibrant pink, and gold metallics.
Want to feature one or more of these unique chargers on your event tablescape? Contact our team for help recreating one of these looks, or creating your very own, today!
FEATURED RENTALS | Belmont Charger, Black Round Laquer Charger, Copper Glass Charger, Darcy Bone China Charger, Glass Charger with Gold Rim, Glass Charger with Silver Rim, Gold Round Laquer Charger, Medallion Gold Glass Charger, Rouge Round Laquer Charger, Scalloped Wood Charger, Silver Round Laquer Charger, White Round Porcelain Charger, Wood Round Charger
SEE MORE LIKE THIS