2

Sep

On Trend, Southern Events Products, Trends and Inspiration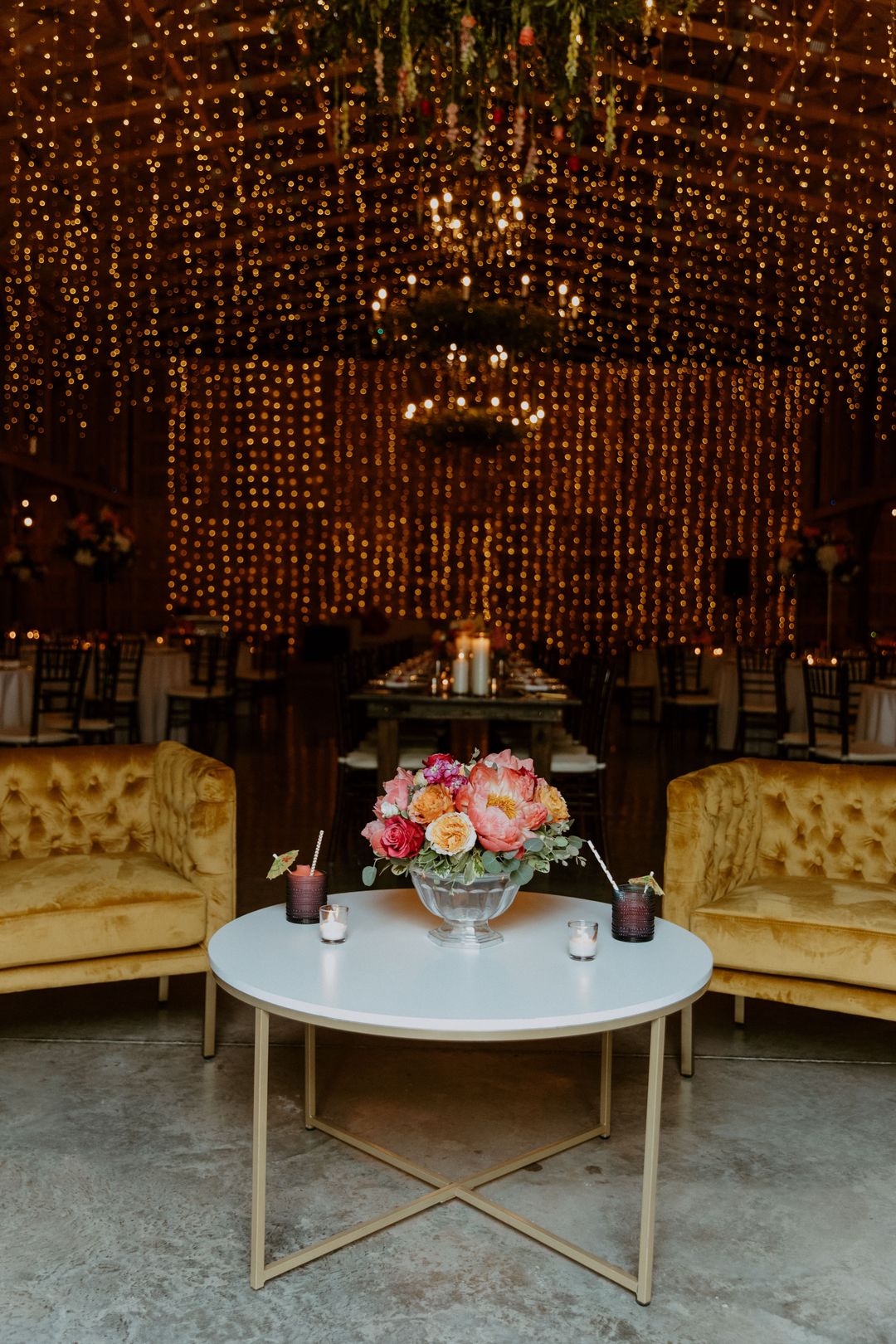 Looking for a fun and colorful yet stylish theme for your next event? Go with modern retro or late-century! Our modern retro rentals take inspiration from the late 1970s through the 90s, featuring rich colors and aesthetic but functional designs. Perfect for a totally trendy throwback! Get inspired when you check out our party furniture rentals that can be used to host a modern retro event!
Fun Retro Lounge Furniture
There is nothing that screams retro like a colorful lounge area for an intimate cocktail hour or afternoon social! Check out these fun retro rentals and furniture that make for a stylish late-century setup.
Fern Sofa
A sleek and luxurious piece our fern sofa makes for a beautiful focal point in a lounge area. The low mid-century design features clean lines and elegant tufting, all in a muted olive color. We recommend pairing this stunning sofa with our Rivet Accent Table.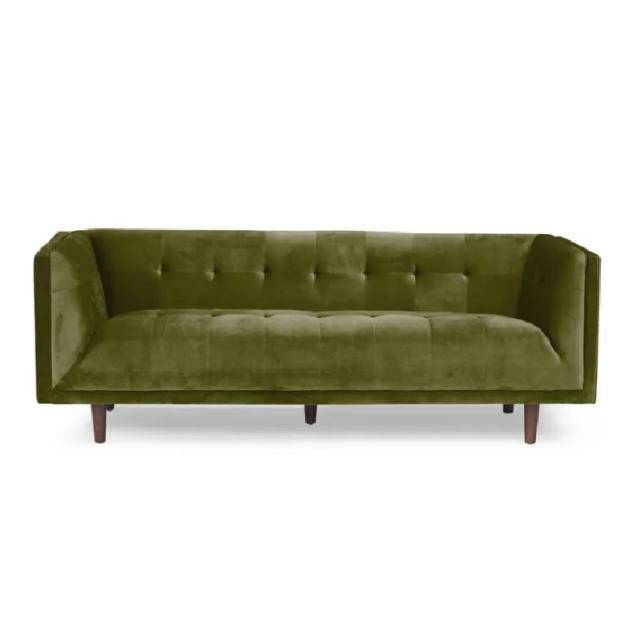 Jacqueline Sofa
A classic addition to any lounge area, the Jacqueline sofa is oh so chic! It features a sleek boxy design with minimalistic feet and a tufted back, in a trendy retro orange color. To complement the gold hardware, pair it with our Blanche Coffee Table.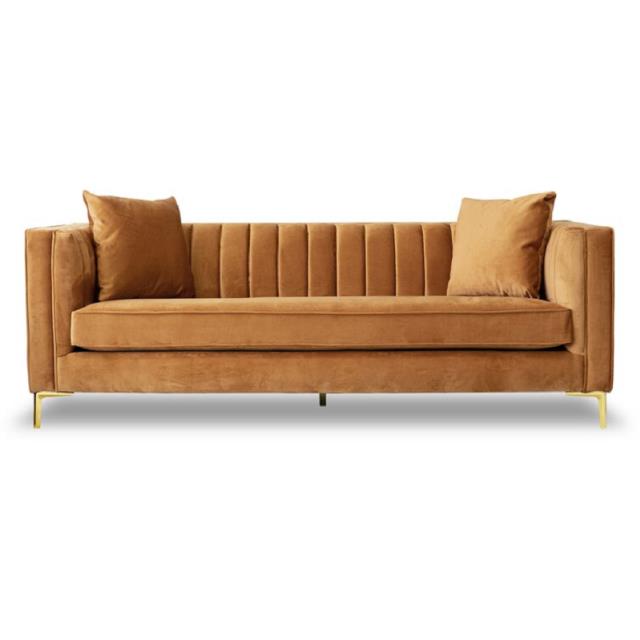 Gloria Arm Chair & Ottoman
In a buttery gold, our Gloria Arm Chairs are a stylish choice for a small lounge area – perfect for an intimate cocktail hour. They feature a sleek design and elegant tufting for a modern luxe look. Consider complementing them with our Rhodes Coffee Table!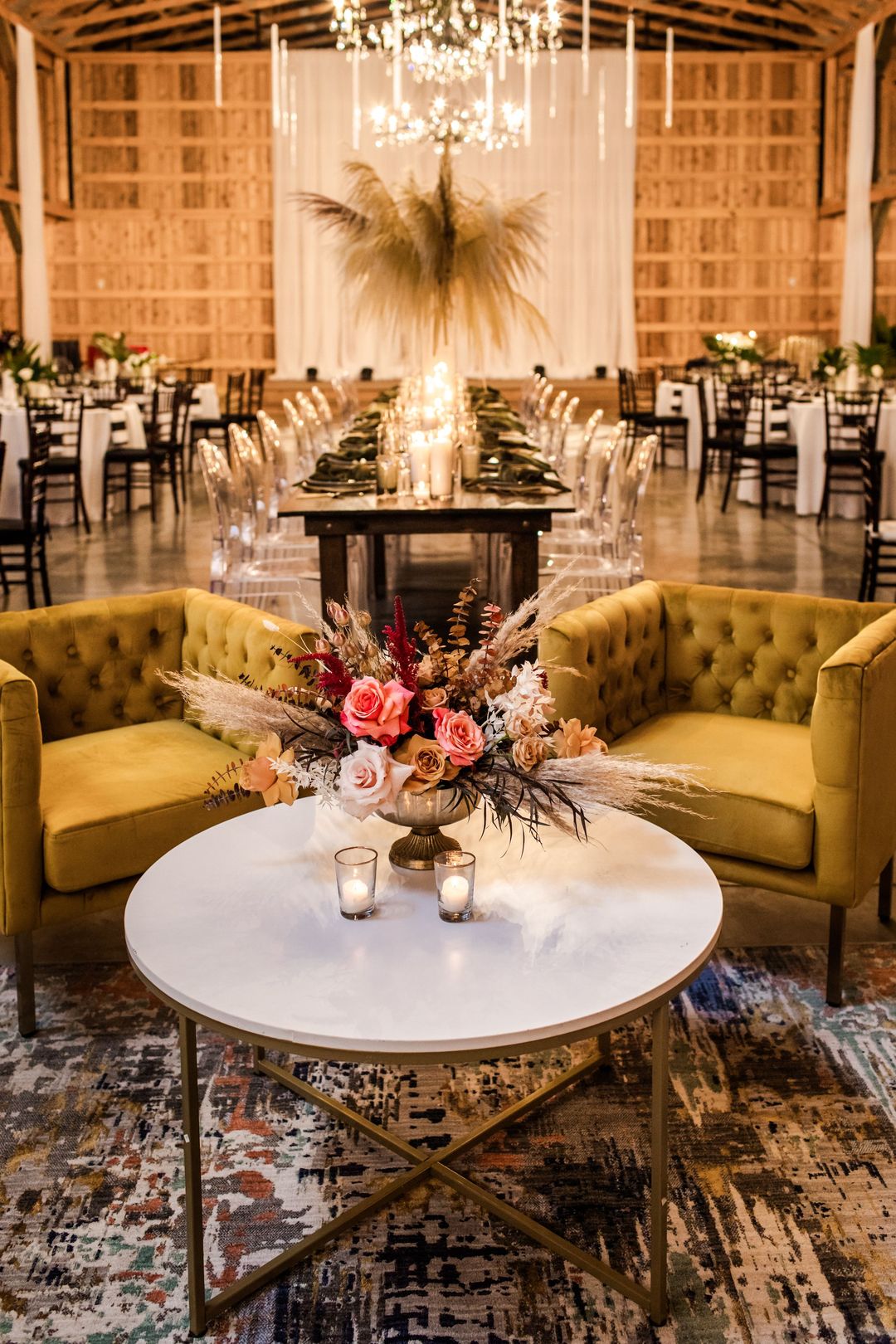 Acrylic Fantasma Chair
A unique addition to any lounge area, our Acrylic Fantasma Side Chair will take your setup to the next level. Its sleek yet fantastical design will be a memorable detail. Pair it with any of our brightly colored velvet sofas for a modern retro look.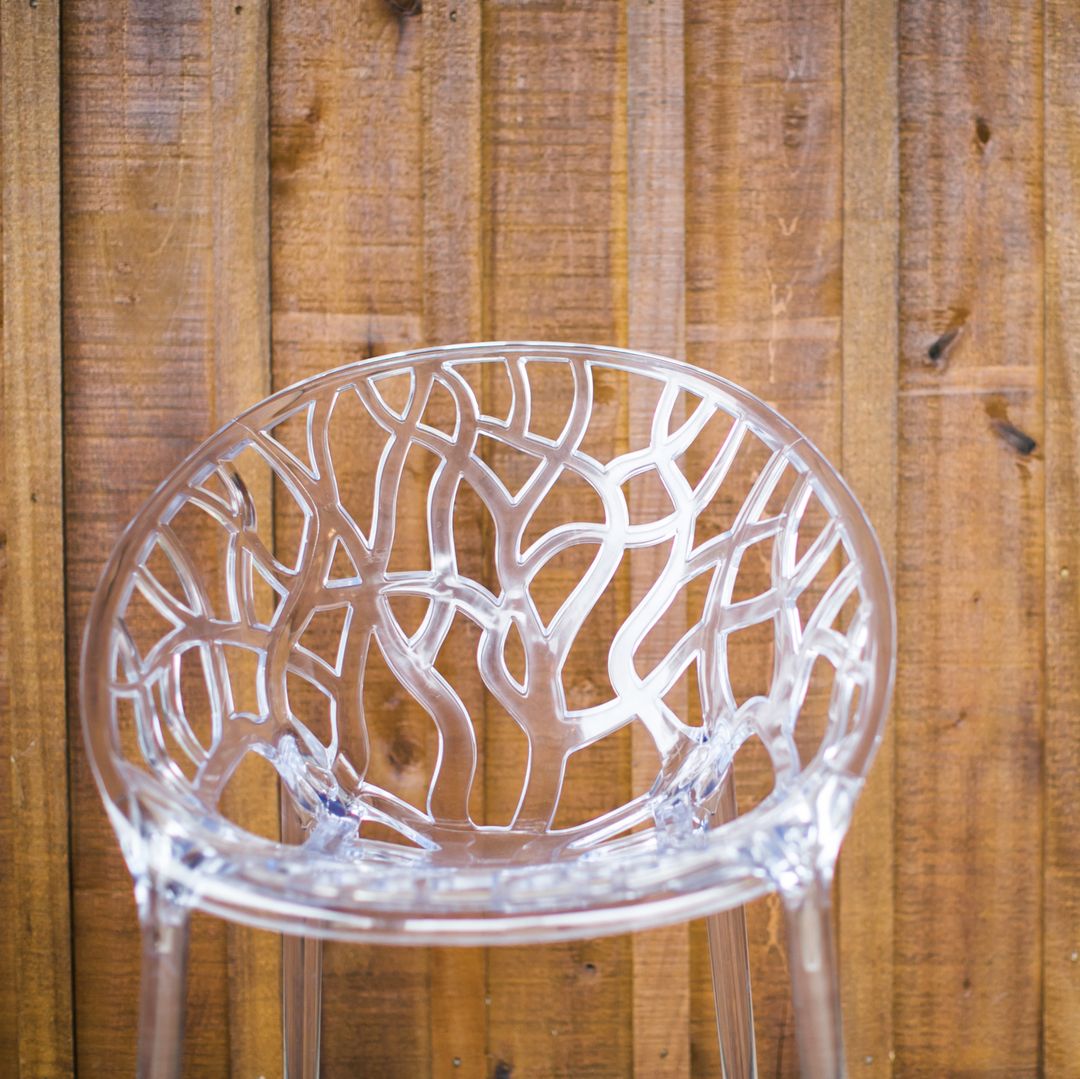 Lounge Area Accessories
Accessories, from rugs to accent tables, are an effective way to elevate your retro-modern lounge. Consider these party furniture rentals, to level up your next gathering.
Hammered Pewter Coffee & Side Table
A more sophisticated alternative to galvanized metal, our hammered pewter coffee, and side tables, are a simple yet functional piece. It's the perfect centerpiece for any lounge area.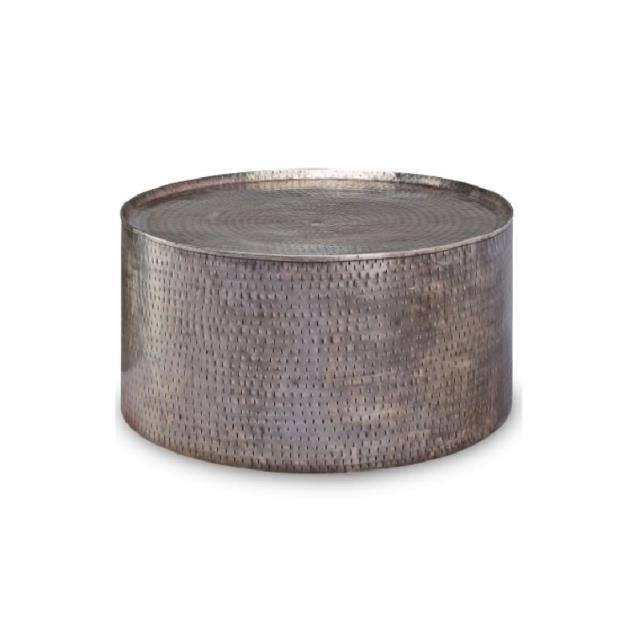 Wood Distressed Coffee & Side Table
Made with mango wood planks fitted in a mild steel frame, our wood distressed coffee and side tables will bring a bright focal point to your lounge. It has a beautiful dark-brown finish with textural wood grain patterns showing through.
Chocolate Poufs
Looking for small but on-trend seating? Check out these cute and cozy chocolate poufs! A rich brown color, this soft seating will complement most of our muted retro furniture, from sofas to armchairs.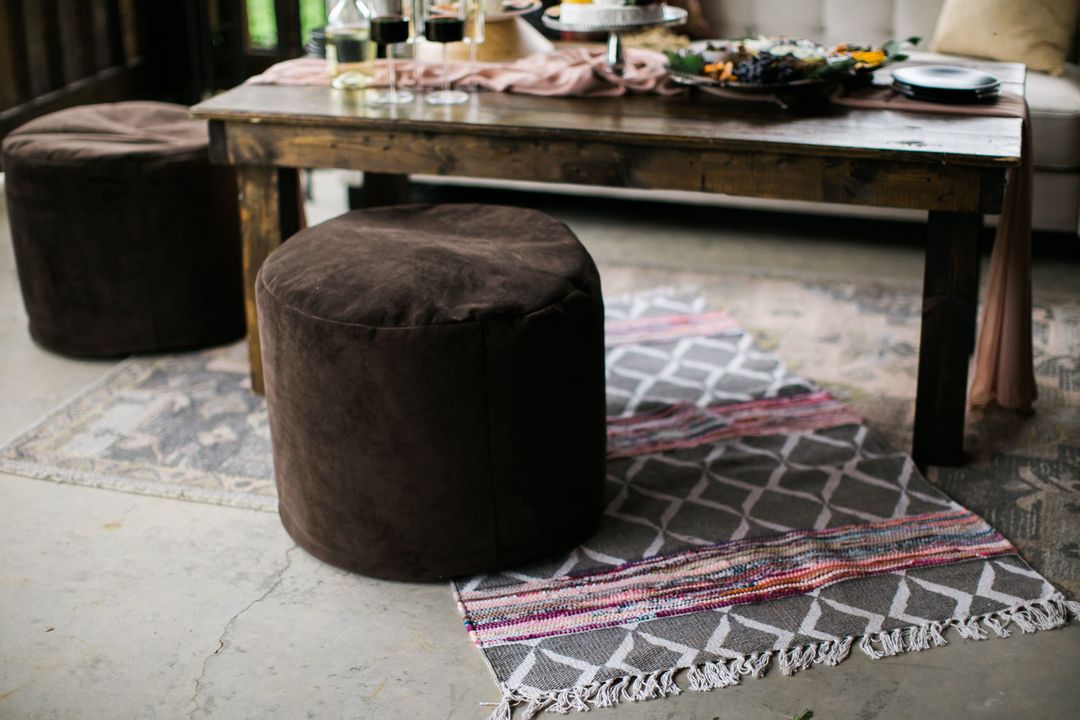 Cowhide Rugs
When featuring smaller rentals, like our chocolate poufs, rugs can help tie them into the space. For a late-century lounge, we recommend a neutral-colored cowhide rug! Available in a variety of colors, these classic textured pieces will help frame your lounge.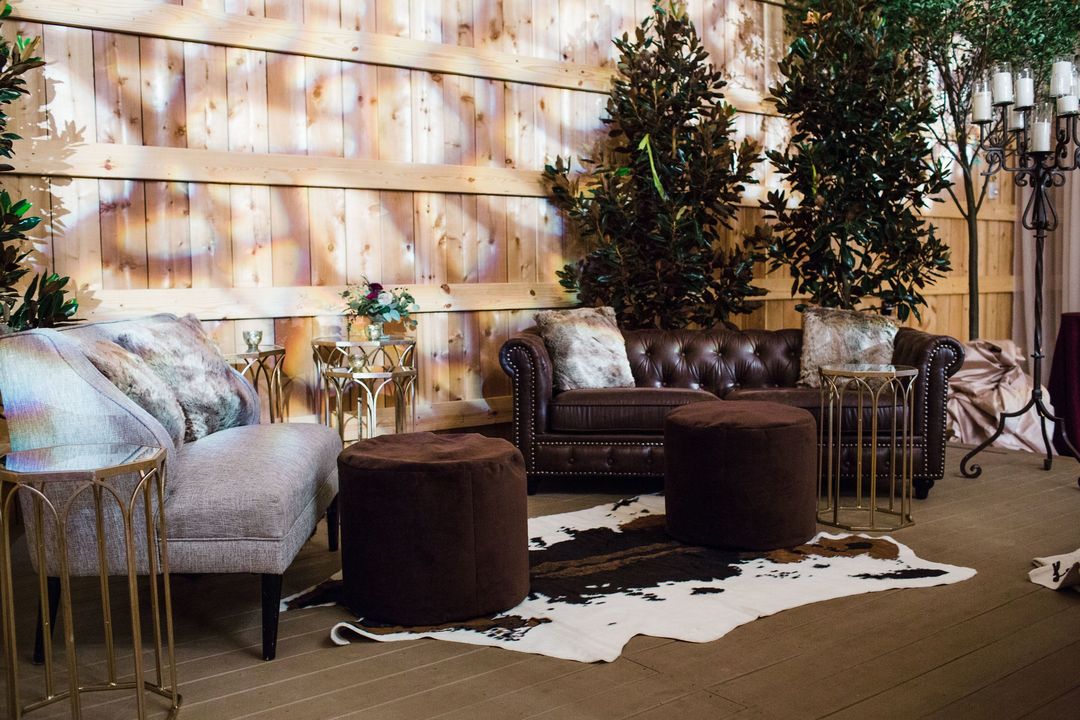 Modern Retro Servingware
Last, but not least, bring a touch of modern retro designs to your dinner tables or bar. Our Green and Amber water goblets are fun muted colors with a vintage design that exudes luxury. Or lean into the modern feel, when you opt for our sleek Upton Glassware. After all, you want the glassware sitting on your lounge tables to complement the overall vibe!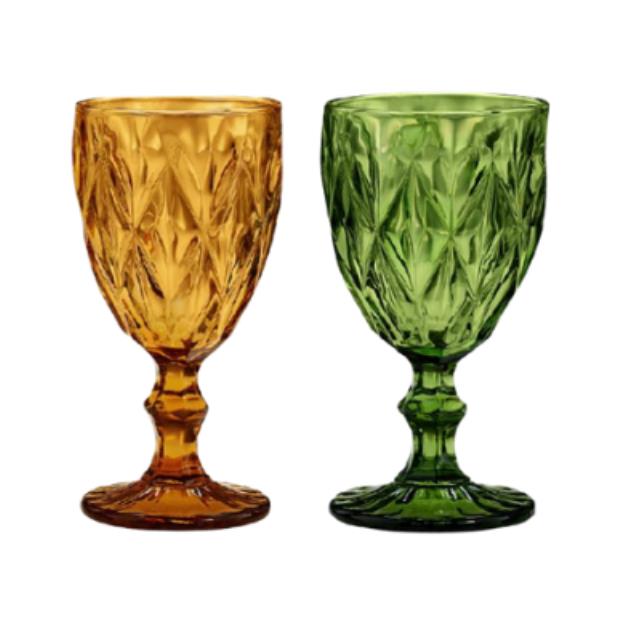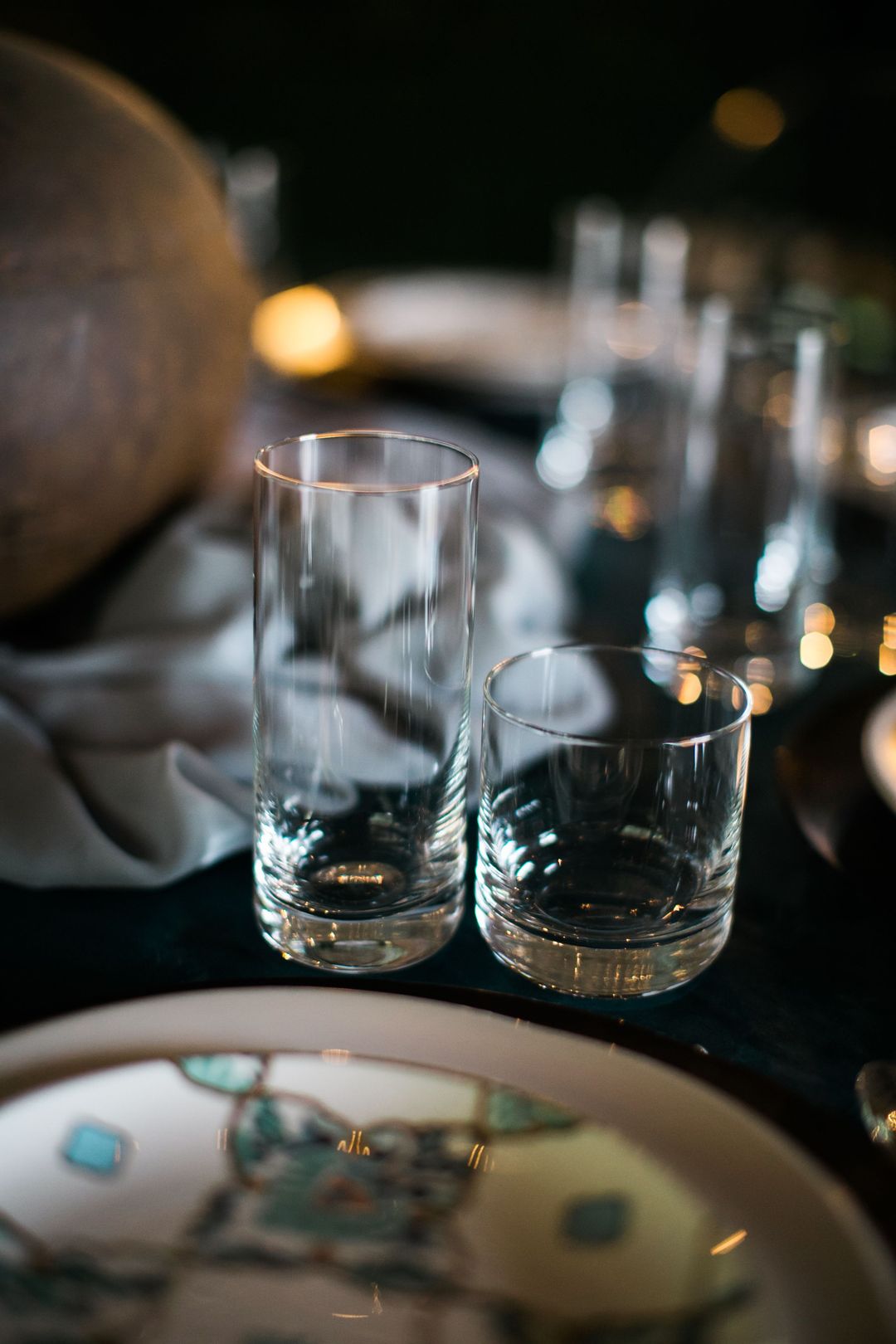 Want to feature one or several of these modern retro-inspired party furniture rentals at your Nashville event? Contact our team at info@southerneventsonline.com & let's start planning! Or for more event inspiration, check out our natural-neutral or earth-toned party rentals.
TAGS | On Trend, colorful decor, event inspiration, event style trends, modern retro, retro rentals, style trends
FEATURED RENTALS | fern lounge, Jaqueline sofa, acrylic fantastma chair, gloria armchair, colored water goblets, upton glassware, hammered pewter coffee table, hammered petwer side table, chocolate poufs, cowhide rugs, wood distressed coffee table, wood distressed side tables,
---
12

Aug

On Trend, Real Nashville Weddings, Southern Events Products, Trends and Inspiration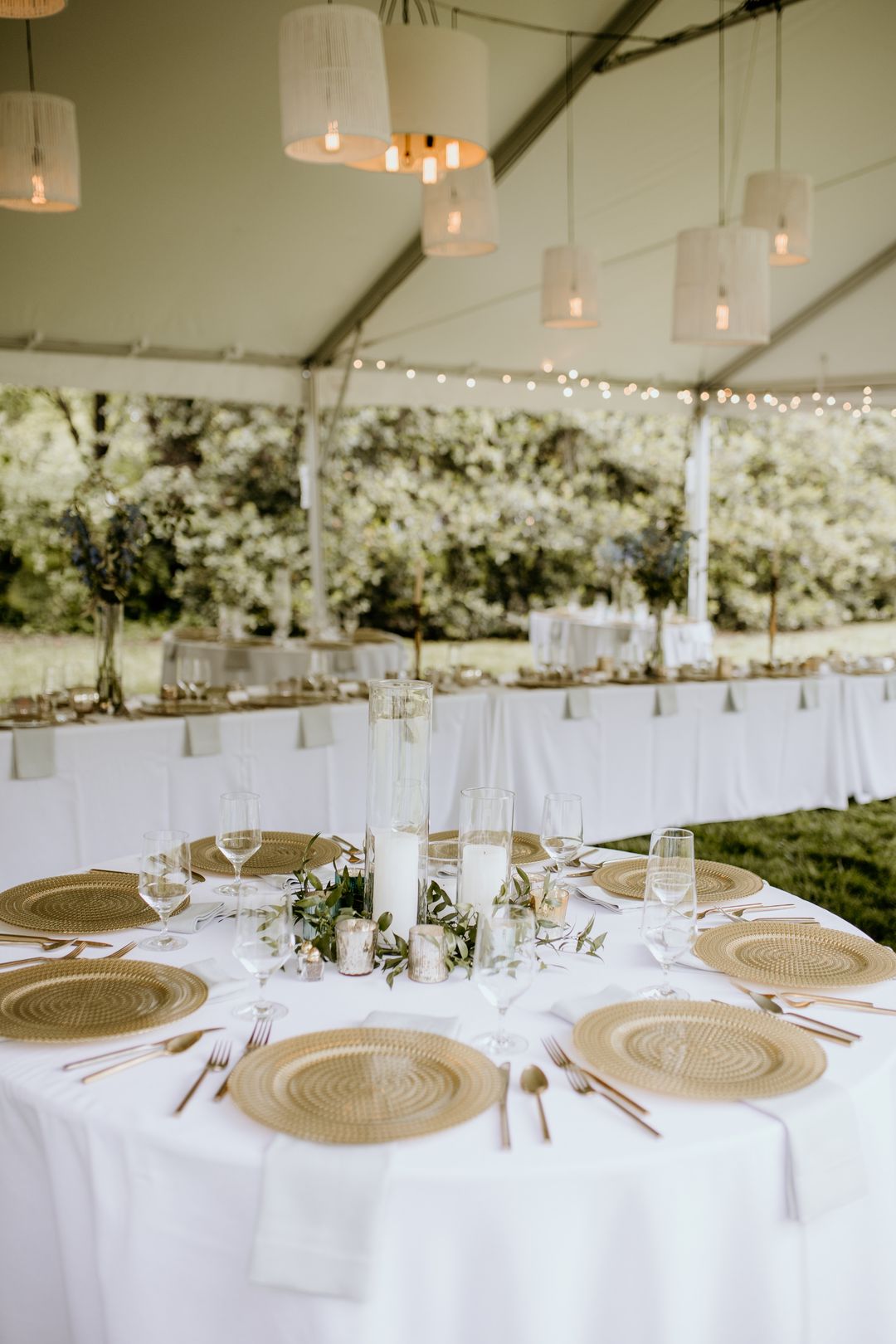 Have you been dreaming of a wedding that is small yet elegant? We have all the must-have rentals to pull off a luxe neutral white and gold wedding that you'll look back on with joy for years to come! Get inspired for your own intimate backyard wedding in Nashville, when you check out the details from this timeless event.
The pair hosted their small ceremony behind the home on a stone patio. For a backdrop, they featured a simple wooden arbor decorated with fresh flowers. Seating consisted of our elegant wood Harlin Dining Chairs with white cushions.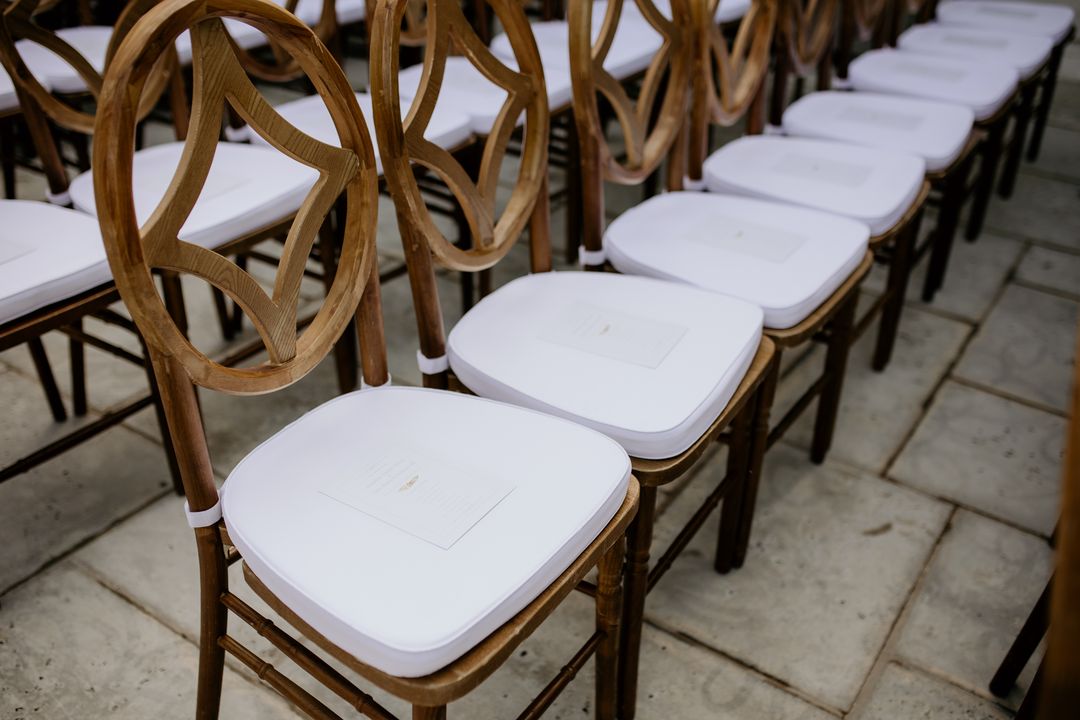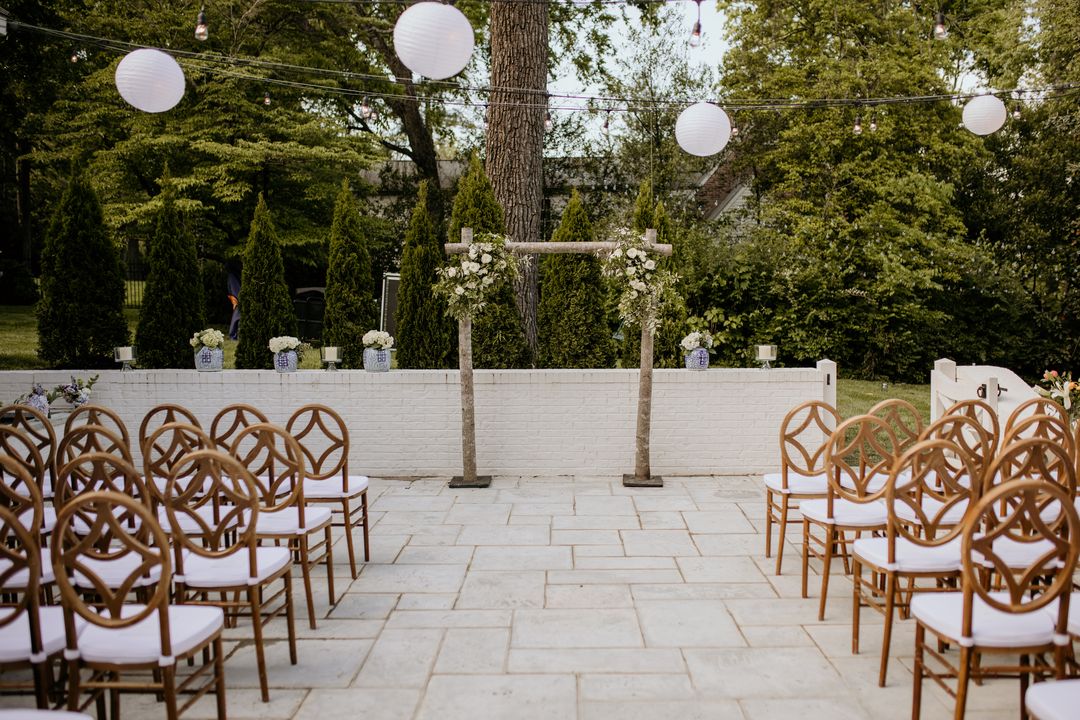 After they exchanged vows, they retired to a tent situated in the front yard. It was the perfect setup for the warm weather! Their layout consisted of both round and banquet dinner tables, outfitted in classic white linens. The centerpieces consisted of our Davis Glass Cylinders, paired with candles and greenery. As well as a sprinkling of votive candles.
To complement their gold and white wedding palette, we created place settings starring our Gold Medallion Glass Chargers. Along with our Austin Gold Flatware, Pure Glassware, and Kennedy White Linens. On their designated dessert table, a beautiful wedding cake stood out on our Gold Windsor Cake Stand. For more outdoor tablescape inspiration, check out our blog on Backyard Alfresco Dining.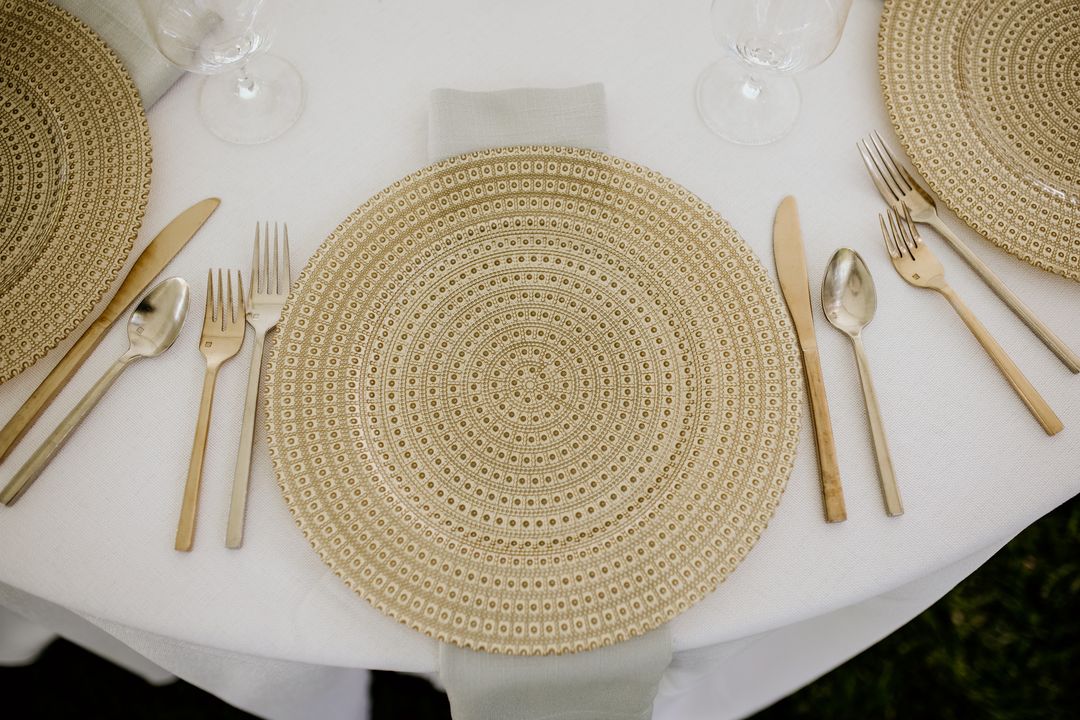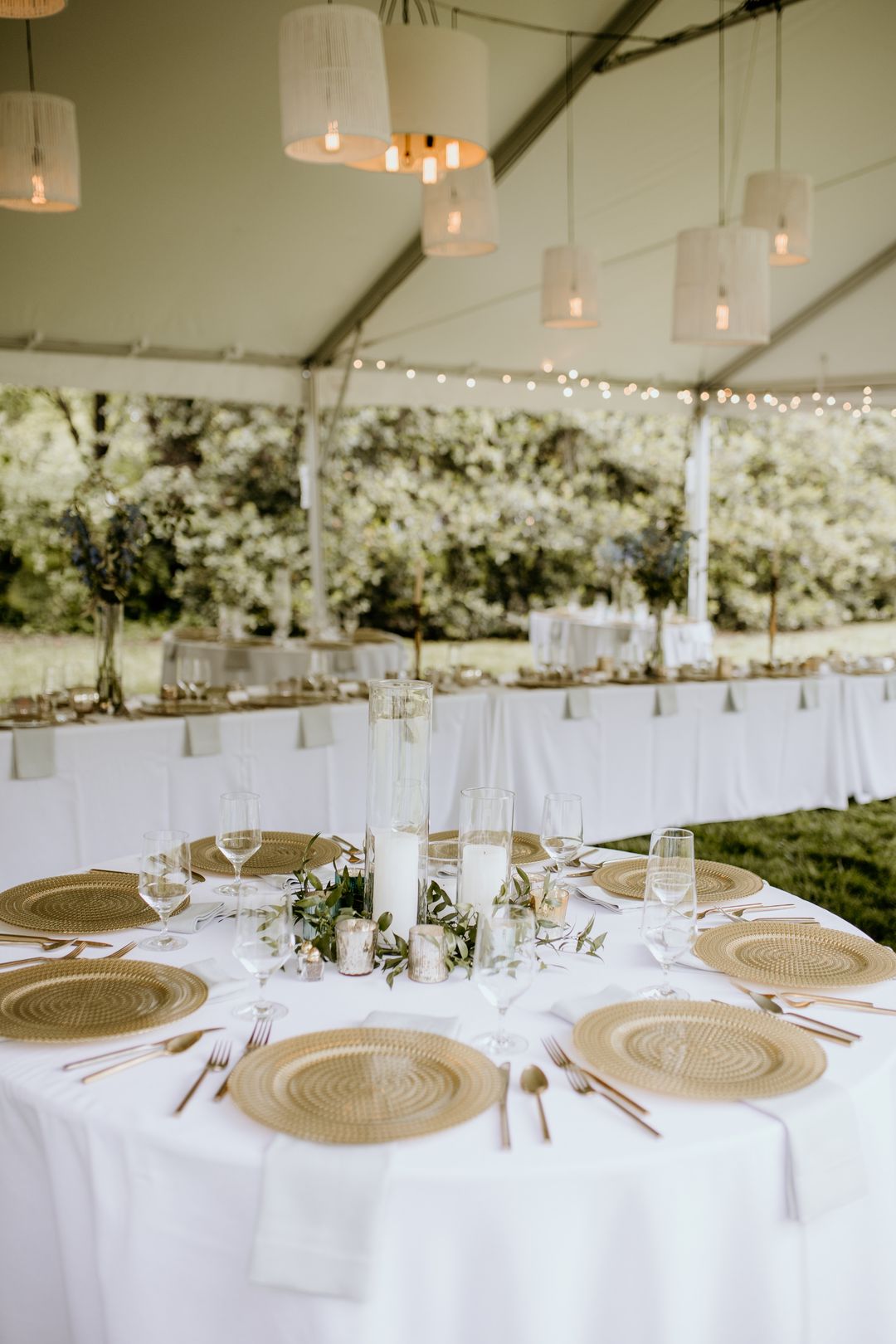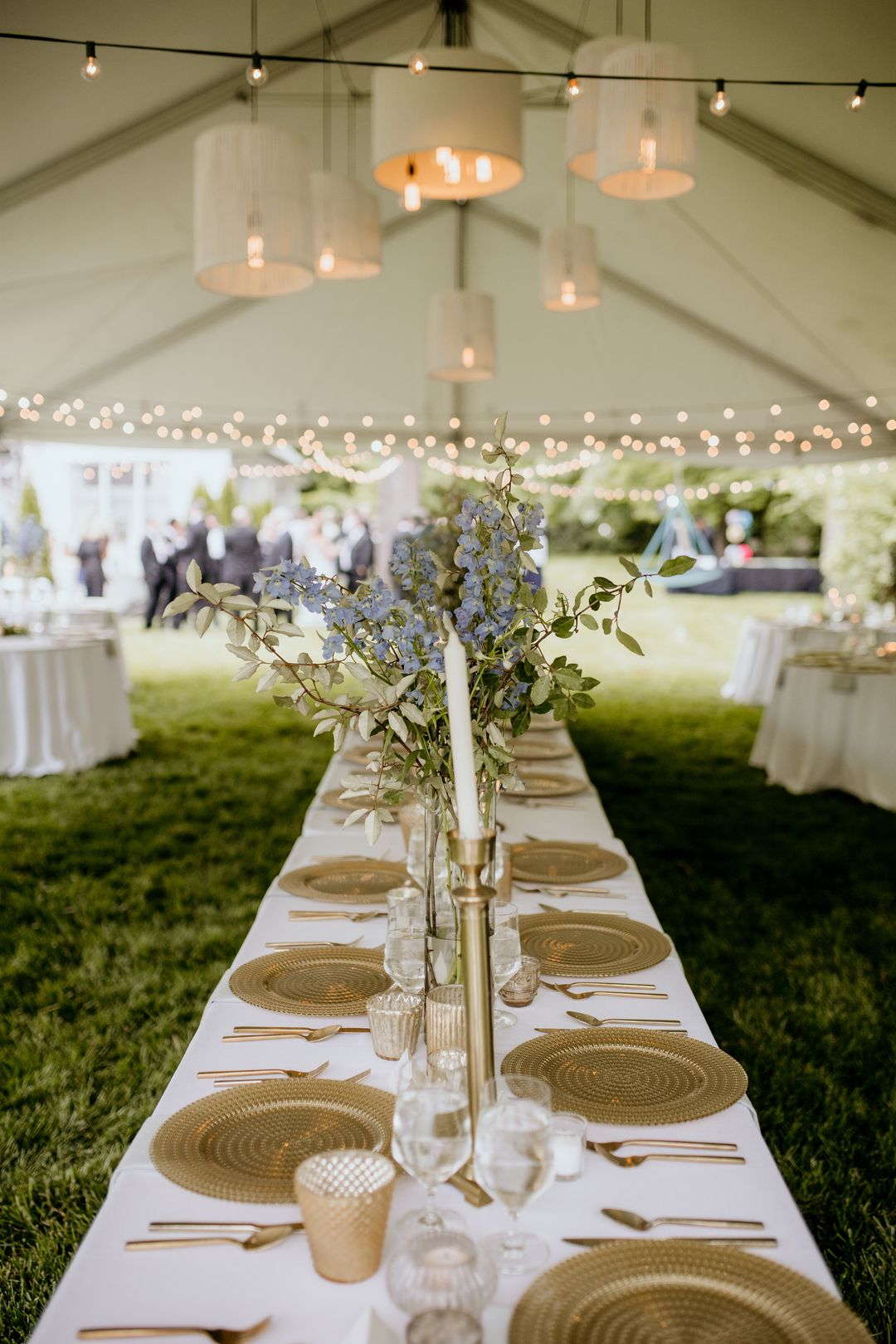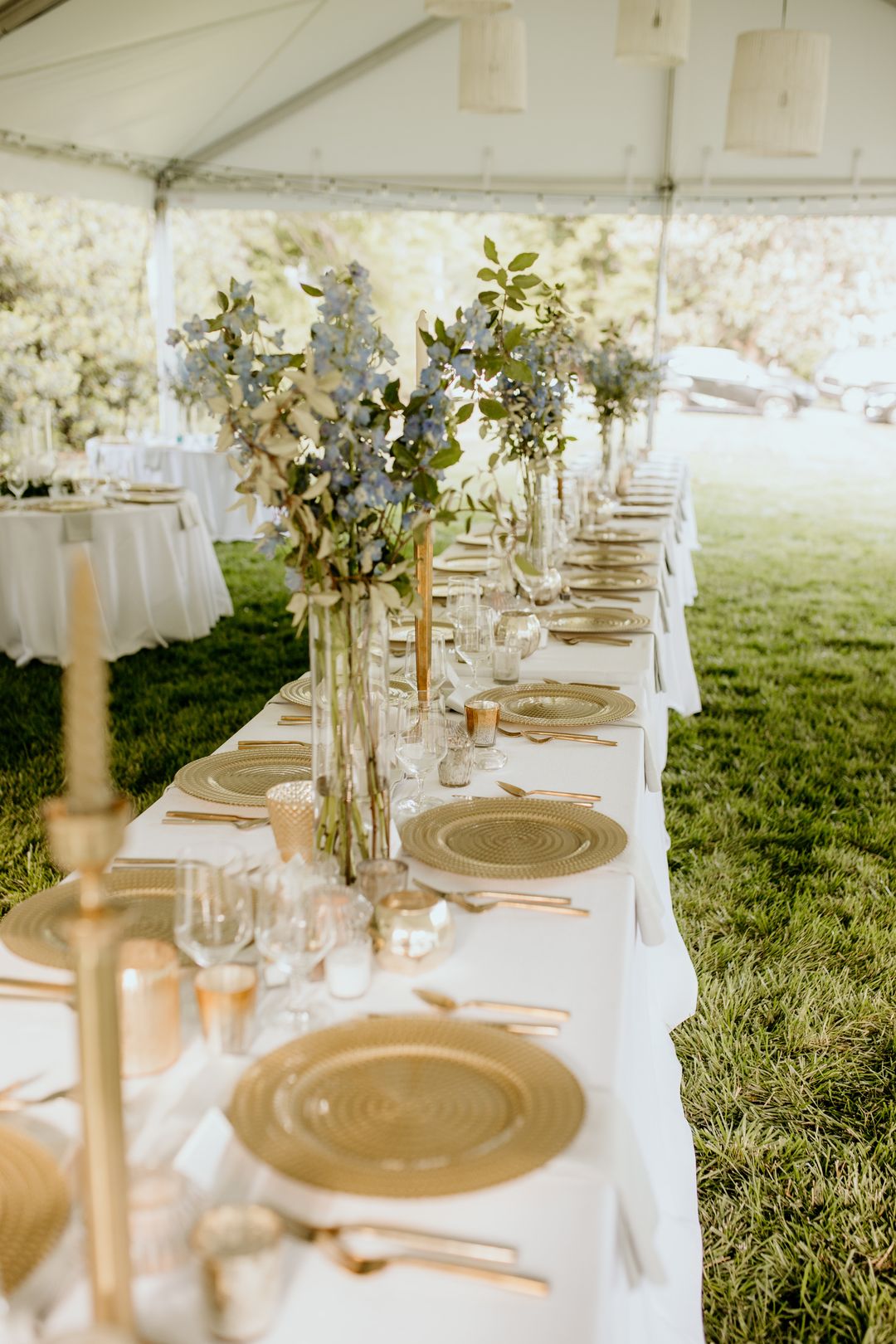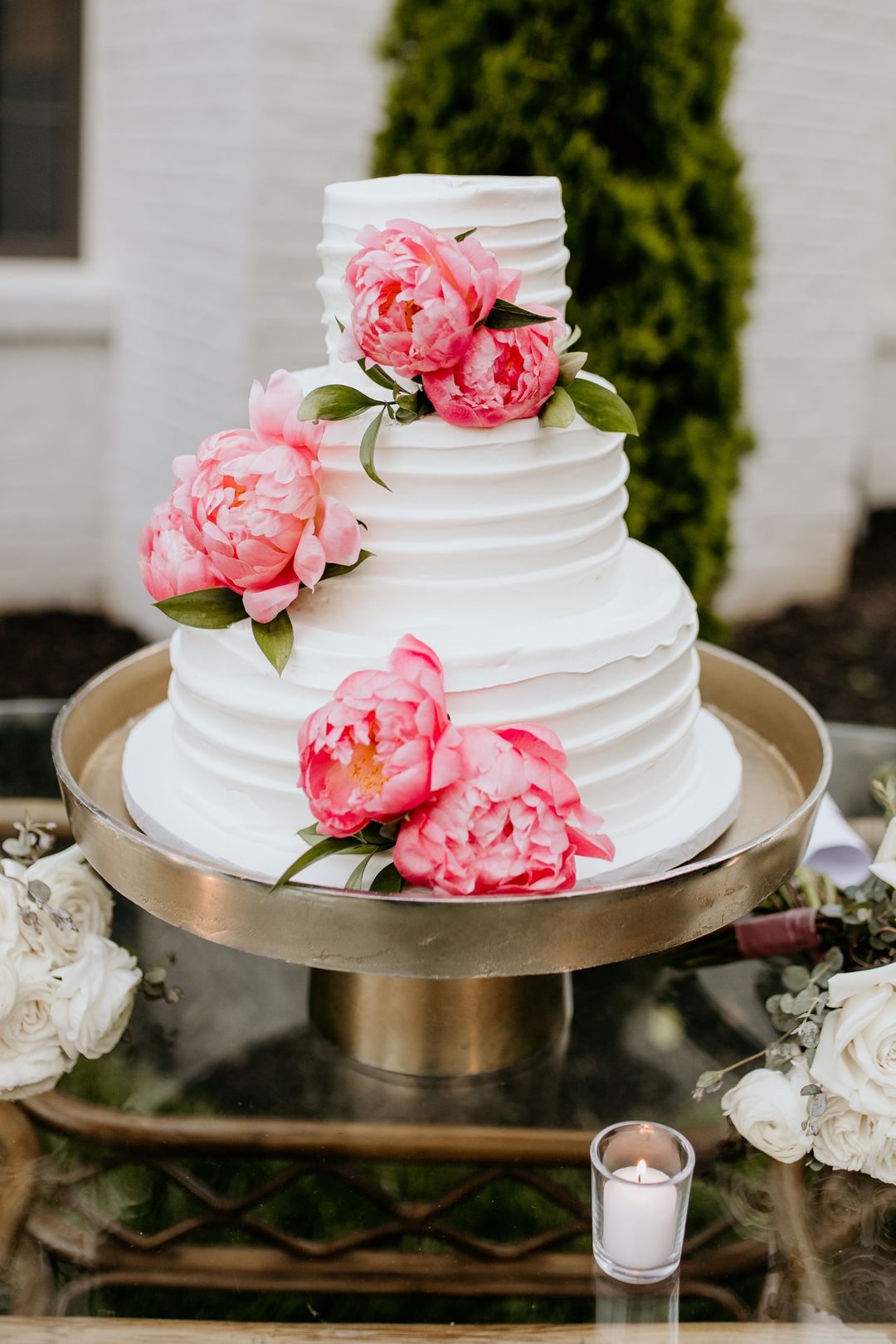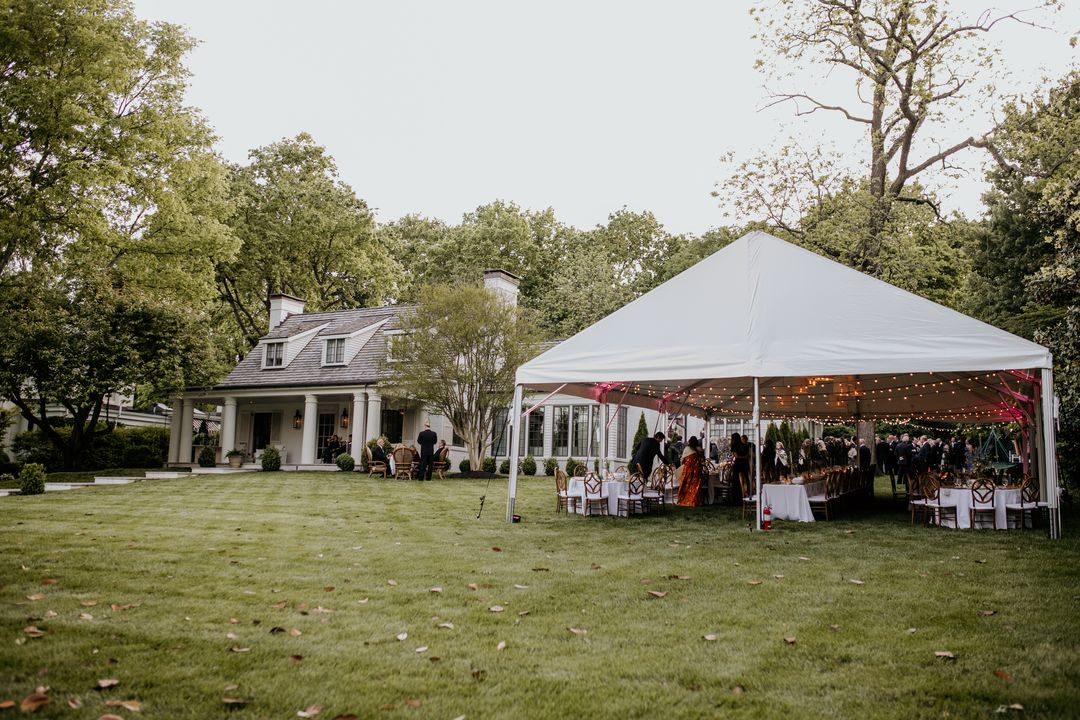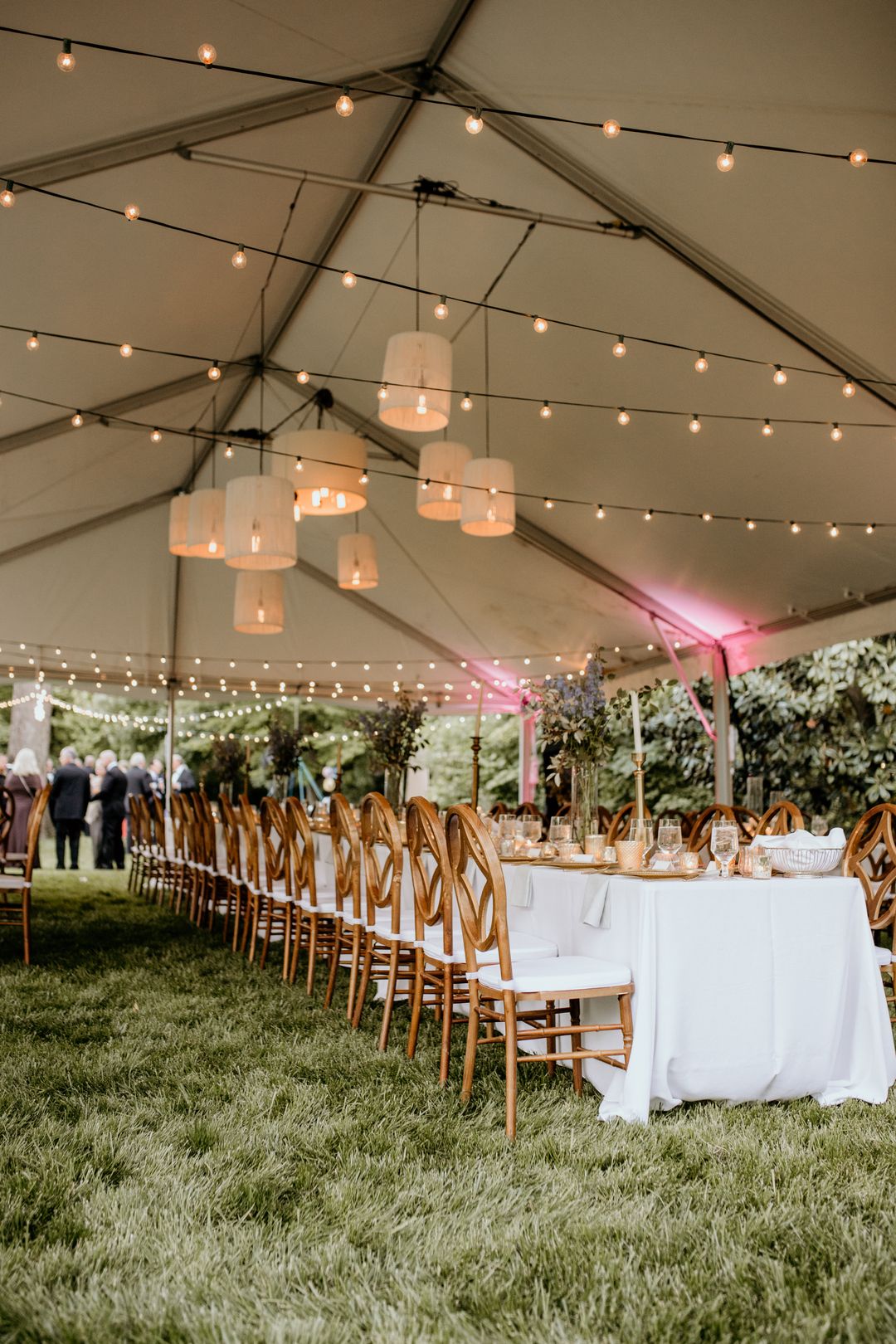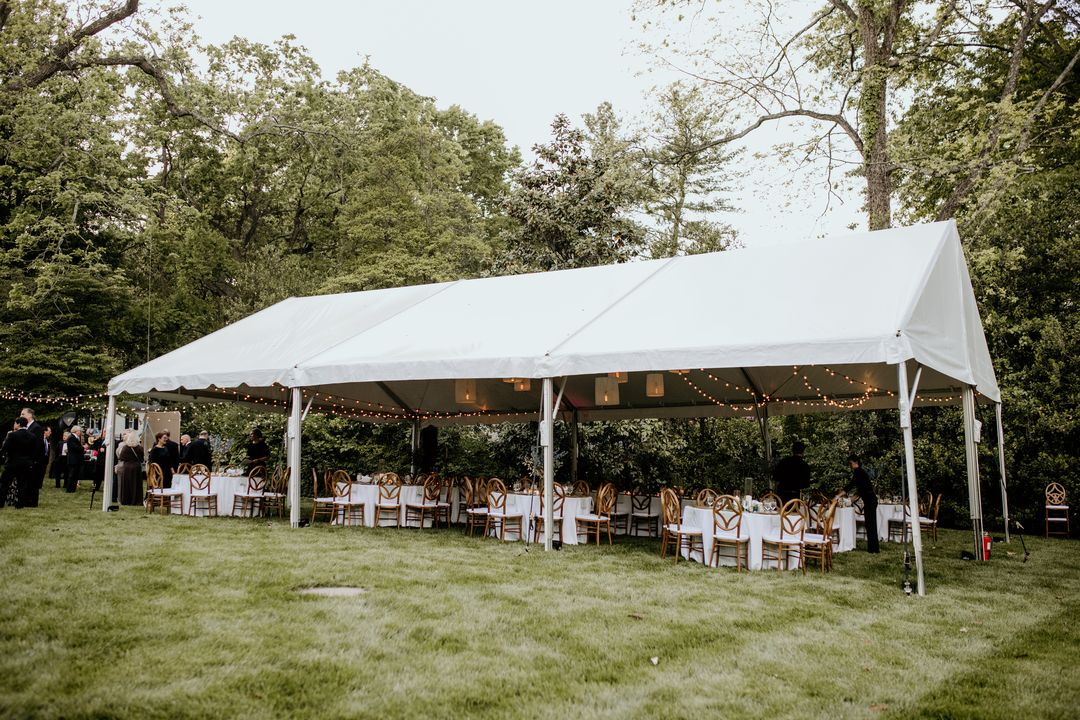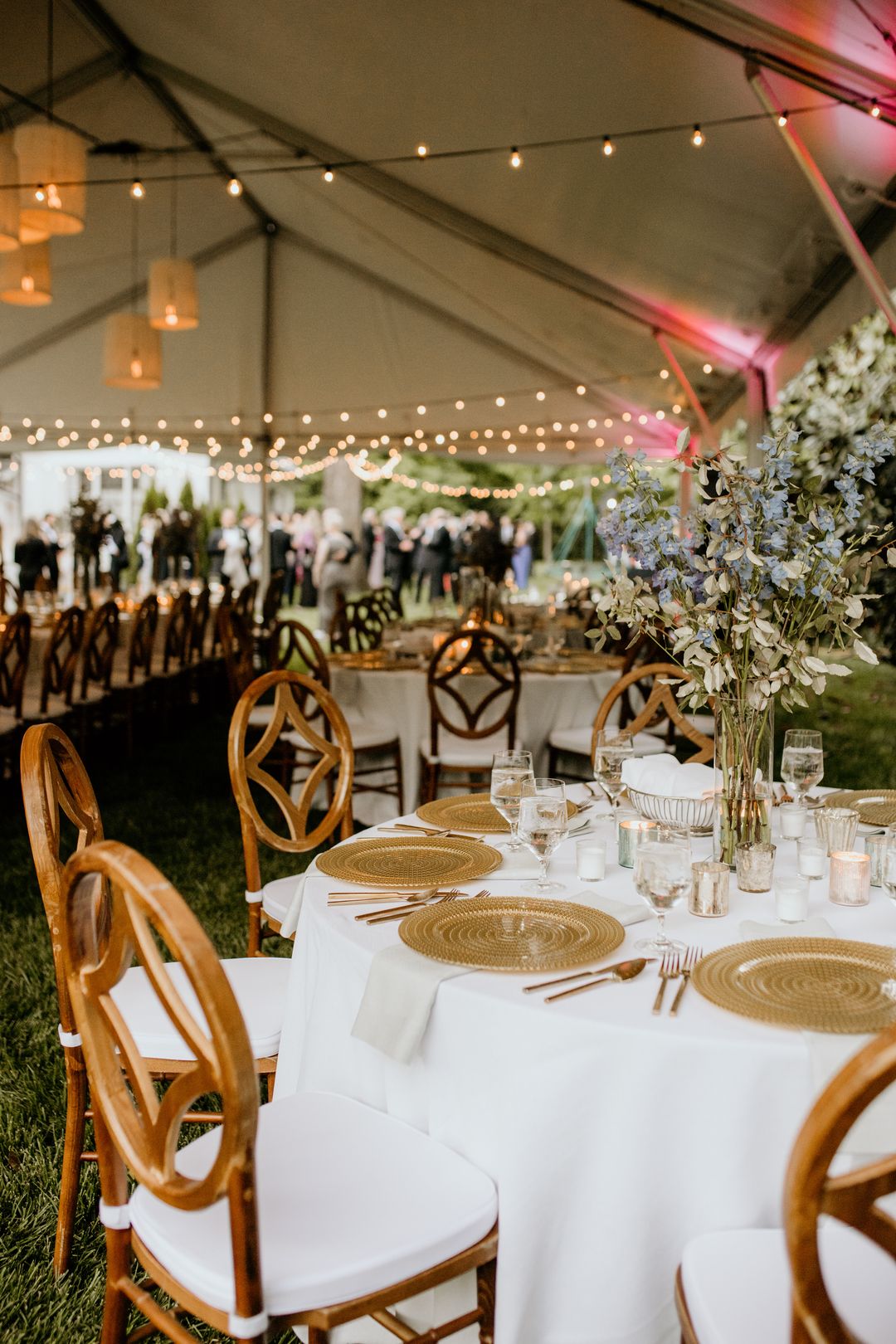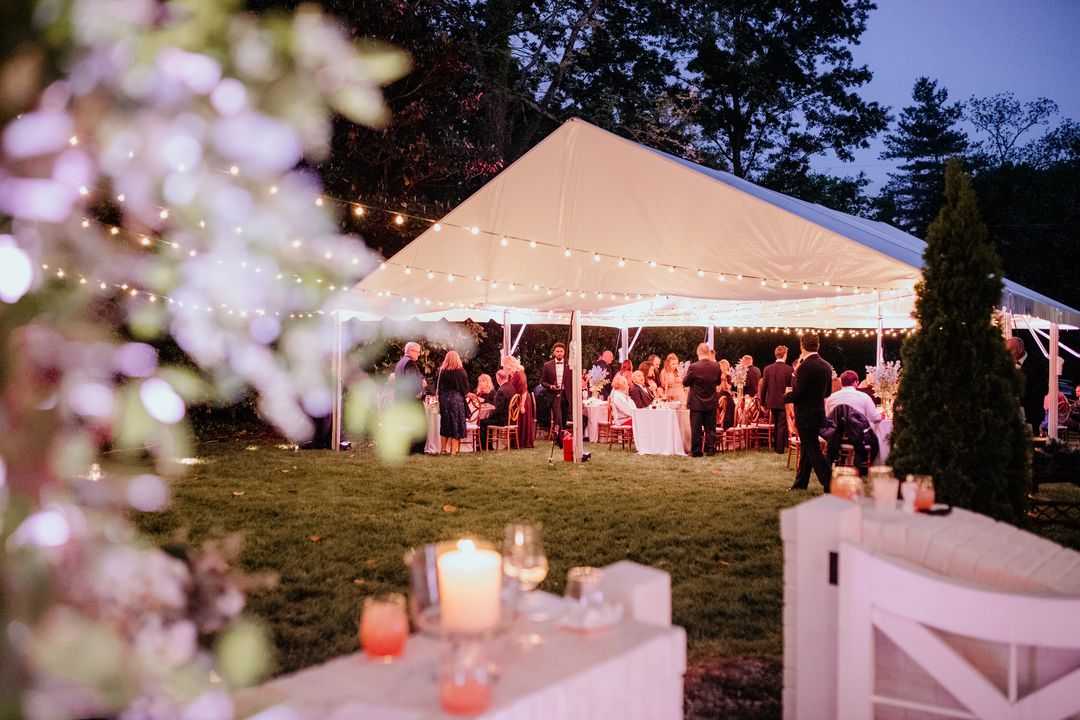 Photo by Kelsey Leigh Photo
Ready to plan your intimate backyard wedding? For help planning and creating the layout for your event in Nashville or Franklin, TN, email us at info@southerneventsonline.com.
TAGS | Gold, Nashville Real Wedding, On Trend, backyard wedding, event inspiration, gold event, intimate event, intimate wedding, real wedding
FEATURED RENTALS | Austin Gold Flatware, Pure Glassware, Kennedy White Linens, Gold Windsor Cake Stand, Gold Medallion Glass Chargers, Davis Glass Cylinders, Harlin Dining Chairs
---
29

Jul

On Trend, Southern Events Products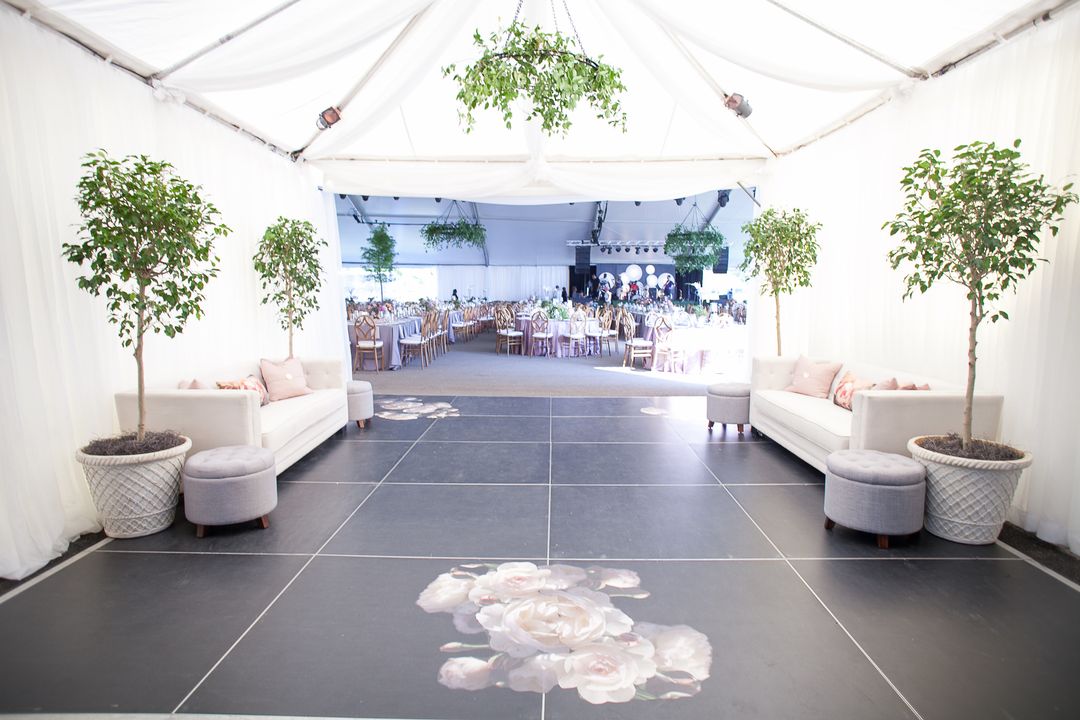 The entrance to an event is a guest's first impression of what's to come! It will set the tone for the remainder of the event, and so it's important to start things off on the right foot. Today, we're sharing some of our in-stock rentals that can be used to create a grand event entrance.
Carpeted Entrance
Want to wow your guests? A carpeted entrance to your event is a sure way to do that. A red carpet is an easy way to lend a hint of old Hollywood glamour – regardless of the formality of the event! It will lend to the overall look and experience, making guests feel as though they are special and creating excitement for what lies in store. Of course, your carpet doesn't have to be red! Feel free to feature your event or company colors like the grand event entrance done in blue and white below.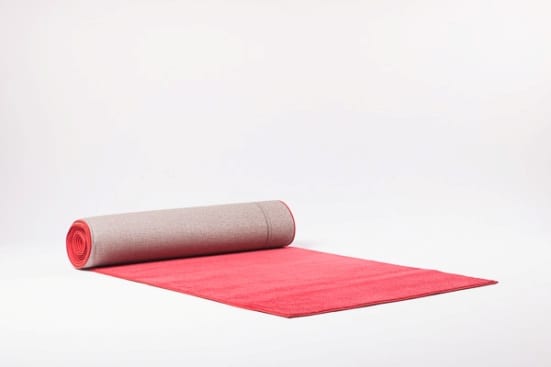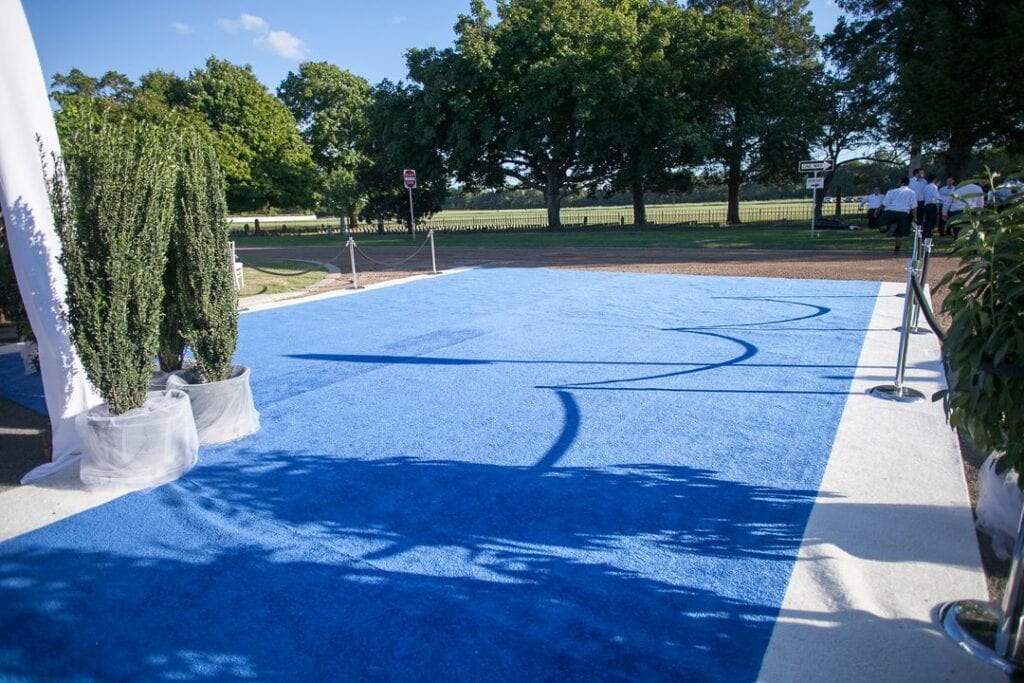 Photo by Phindy Studios
Stanchion & Rope
Along with a grand carpet entrance, you'll want to rent stanchion and rope. Our Chrome Stanchions are a timeless addition that will help you maintain an orderly entrance. It is especially great for events that will require attendees to queue up or that are ticketed.  You will also be able to choose between our Black Velour Rope and Red Velour Rope, depending on the theme or color palette featured at your event.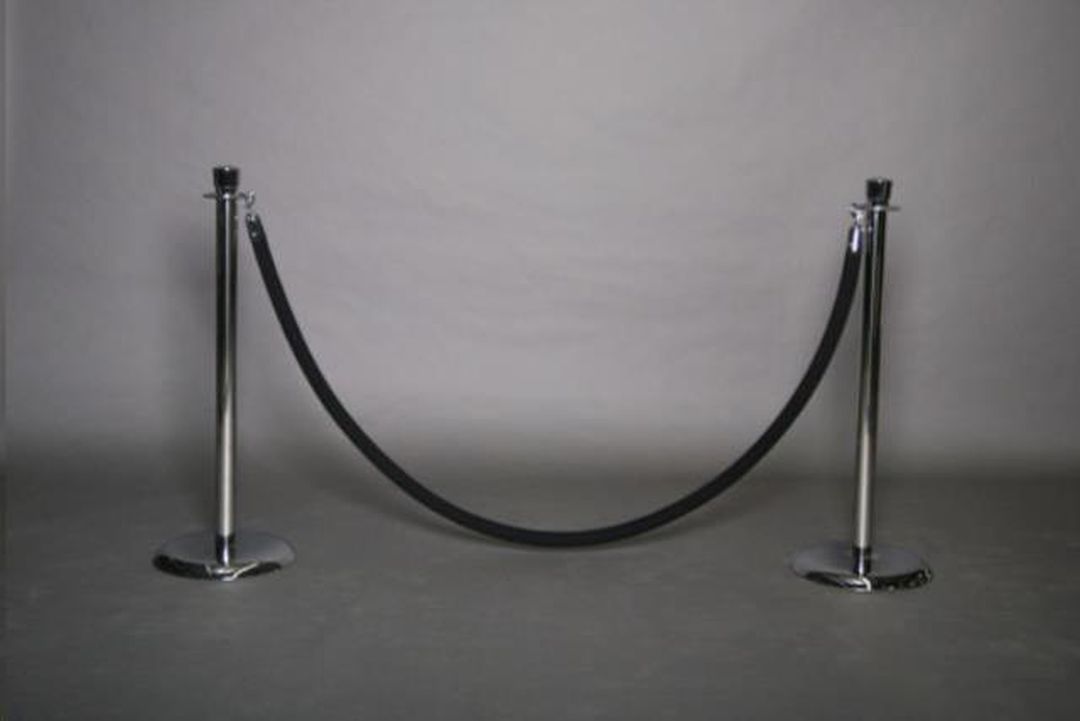 Vinyl Appliques
When you have a thoughtful theme or event design, vinyl appliques on your event flooring can be a unique way to welcome guests.  Custom appliques can be added to our Black, White or Natural dance floors – doubling as entrance flooring- as part of your grand event entrance. Here we replicated the florals from the event invitation and linen pattern onto floor appliques. Also, consider showing off your new monogram to welcome wedding guests or brand at a product launch.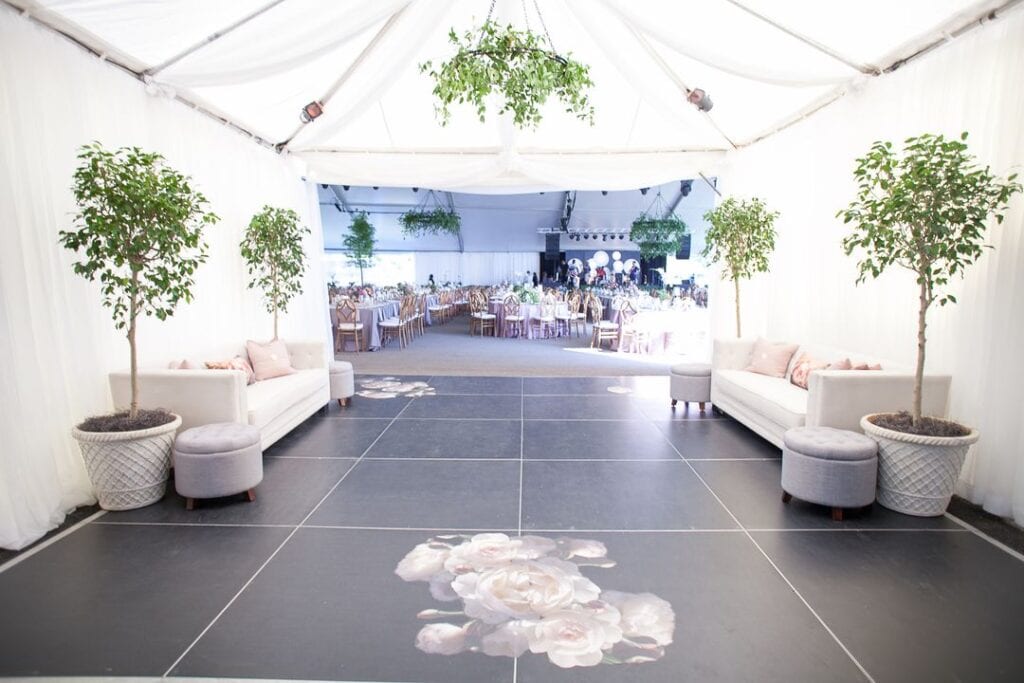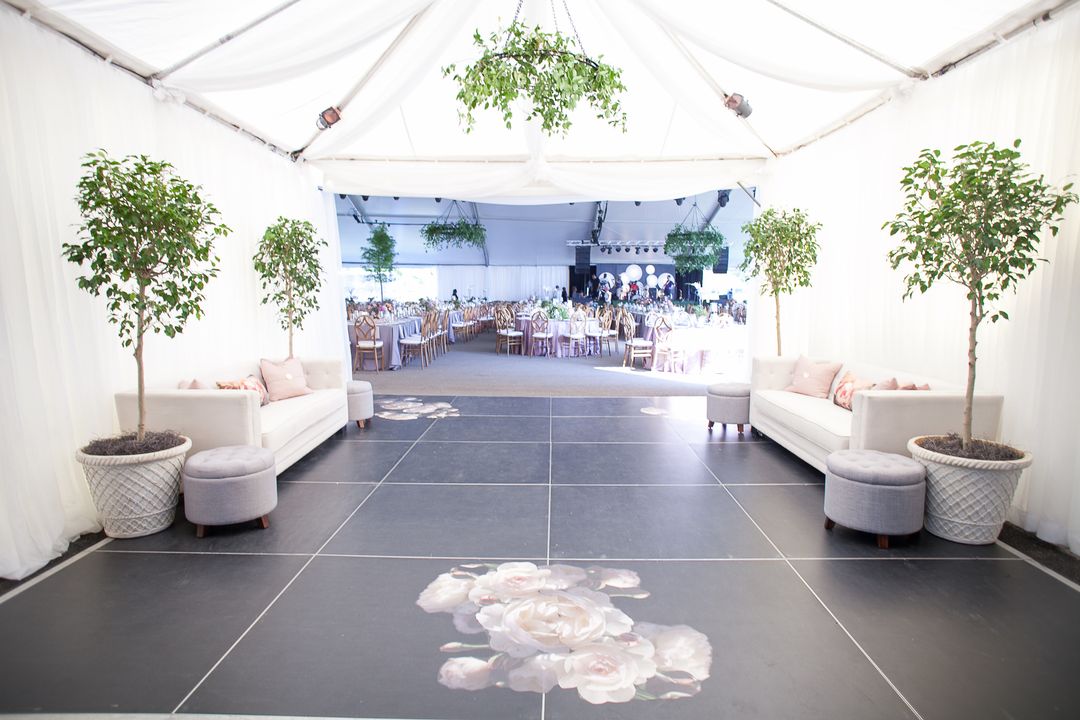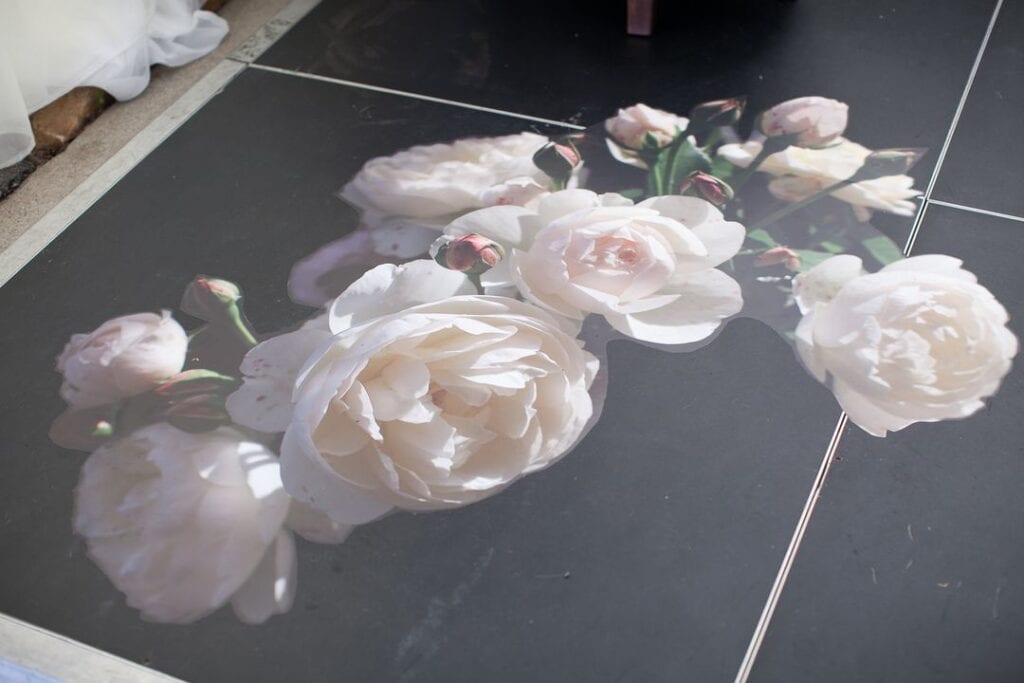 Photo by Phindy Studios
Boxwood Walls
A popular way to decorate an entryway is with our lush Boxwood Walls. These customizable pieces can be decorated with details of sponsors, used as a photo op with a step and repeat, or simply act as decor. Alternatively, add an interactive twist by greeting guests with a cold refreshment! Our champagne/beverage shelves are an elegant and memorable way to welcome guests at the entrance of your event, whether it be a cocktail hour or seated dinner. They are available in two trendy colors, modern Fruitwood and classic white.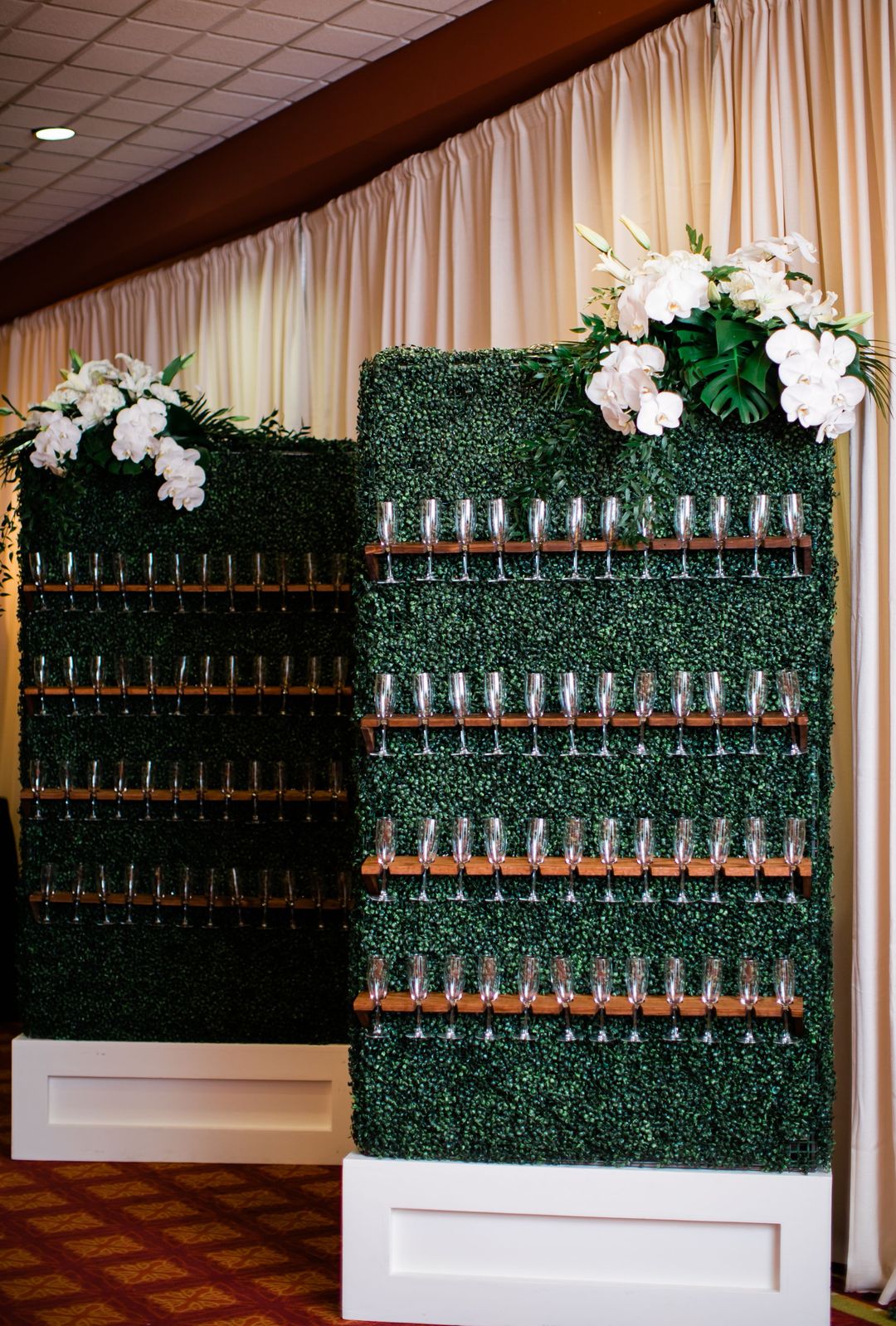 Photo by Jen & Chris Creed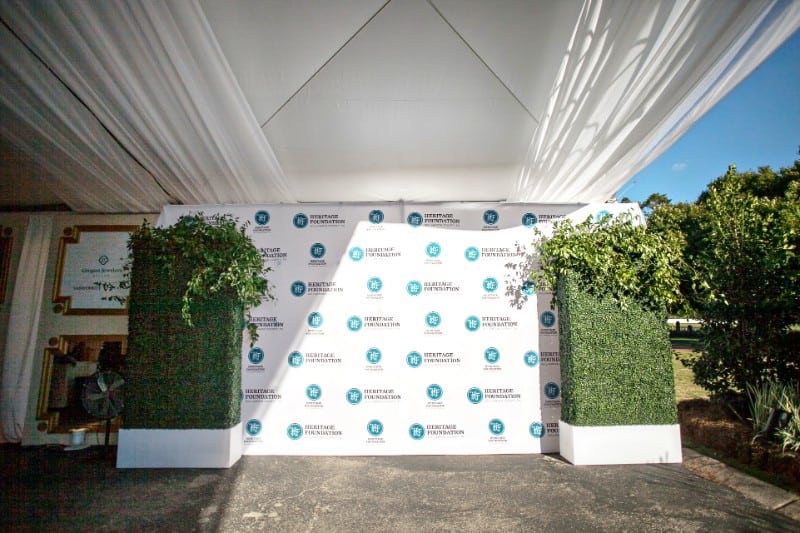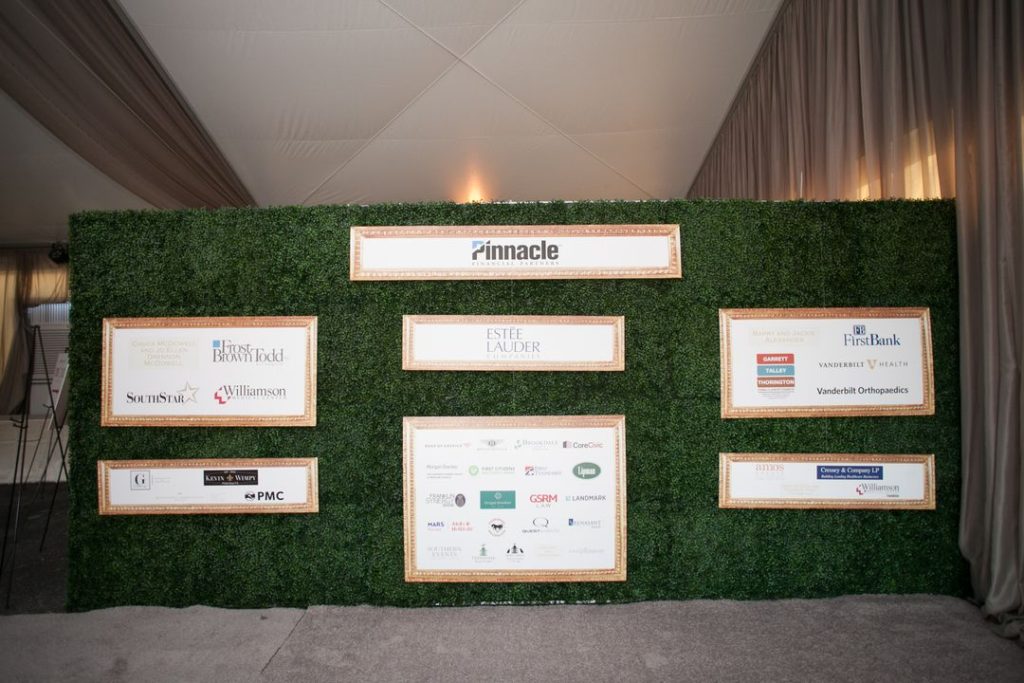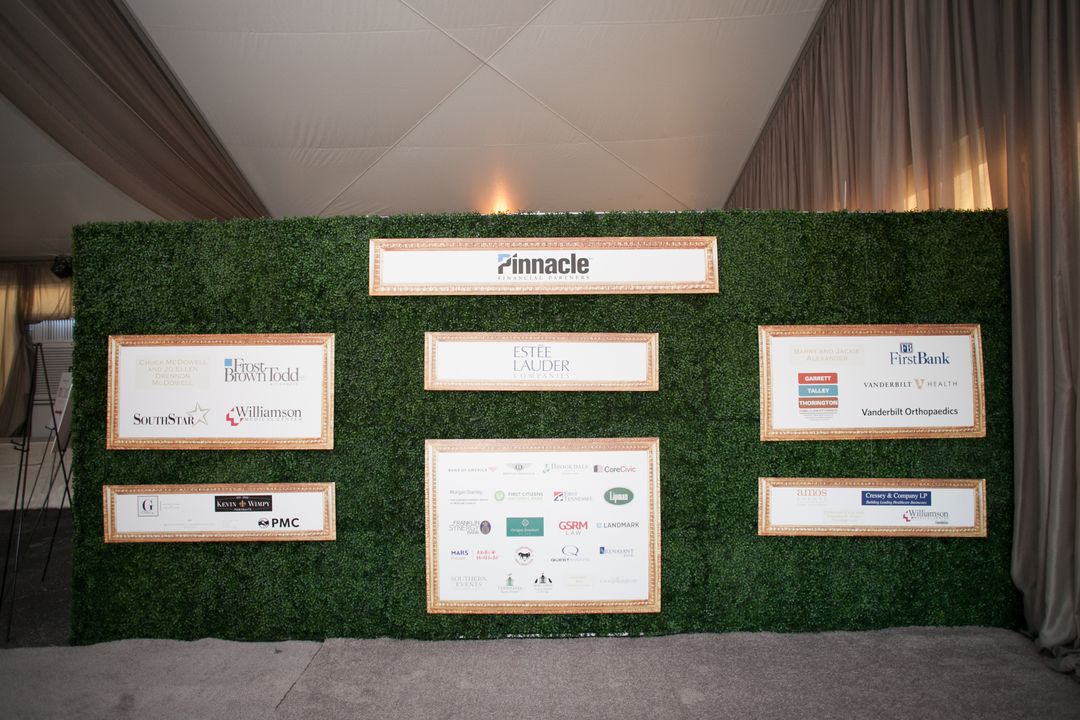 Photo by Phindy Studios
Want to use one or several of these rentals to create a grand event entrance? We would love to make it happen! Contact our team at info@southerneventsonline.com & let's start planning a one-of-a-kind event.
TAGS | Boxwood Wall, Champagne Wall, On Trend, corporate event, event entrance, grand entrance, grand opening
FEATURED RENTALS | black velour rope, red velour rope, chrome stanchion, boxwood wall, Champagne/ beverage shelf, red carpet,
---
8

Jul

On Trend, Southern Events Products, Trends and Inspiration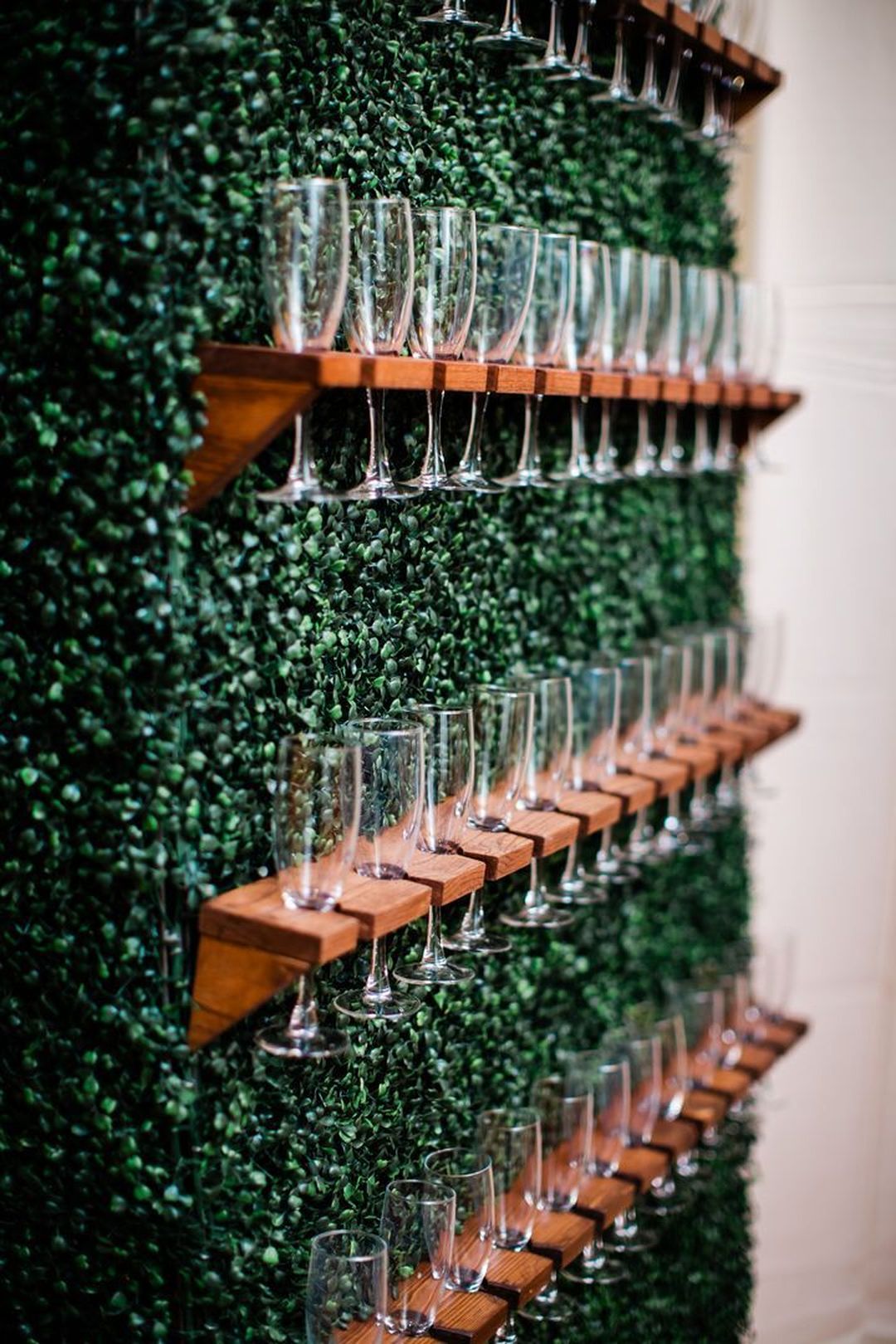 At any event, interactive elements are a must-have! It will help get guests out of their seats and socializing. Plus it will make your event more visually appealing since it doubles as a decoration. Take a look at some of our favorite rentals that can be used to create interactive party displays, from delicious donut walls to fun bubbly bars and classy carts!
Market Cart
A two-wheel cart with an awning, this charming display prop is so versatile! It can be used to display a small food selection or function as a drink station. In our personal opinion, it would make for a darling grazing station, packed with cold cuts and cheese on our vintage-inspired silver trays. You're welcome to decorate our Market Cart to your heart's desire, with fresh flowers, banners, or balloons!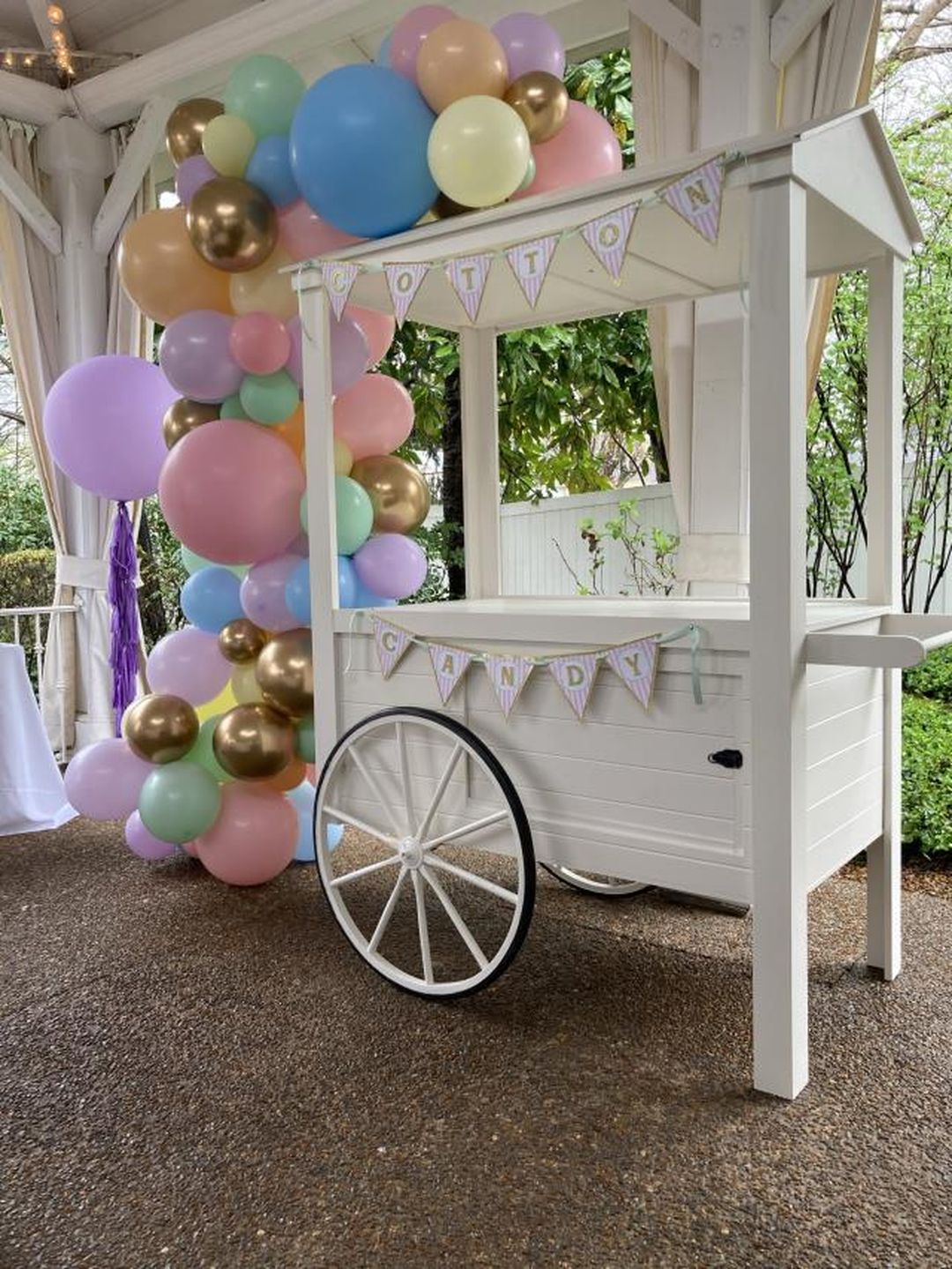 Shelving
Despite its simple appearance, our Avenue Barback Shelf is a staple at events that feature self-serve drink stations. It's a luxe gold metallic color and features brown wood veneer shelves. You can easily recreate this luxe bubbly bar when you rent a variety of our gorgeous modern glassware! Our current favorites include Cybil and Pure Glassware.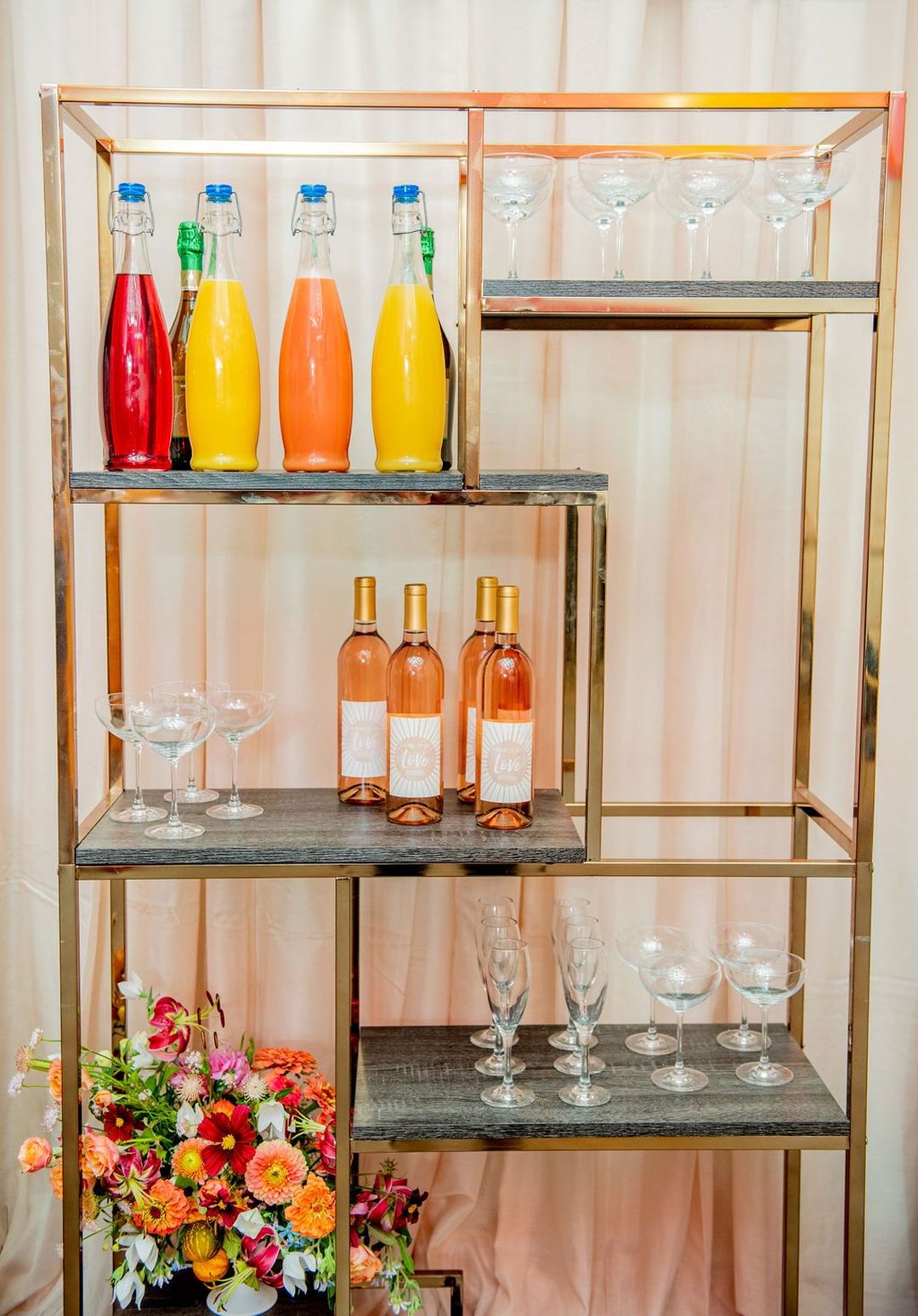 Photo by Twila's Photography
Bar Cart
Bring wine, champagne, or a drink of your choice straight to guests when you rent our Gold Bar Cart! This rental has under-shelf wine glass storage for 12 glasses, and 4 wine-bottle rings for storage. And don't worry, it features two locking wheels so your liquor won't roll away. Alternatively, plate up small appetizers or cake!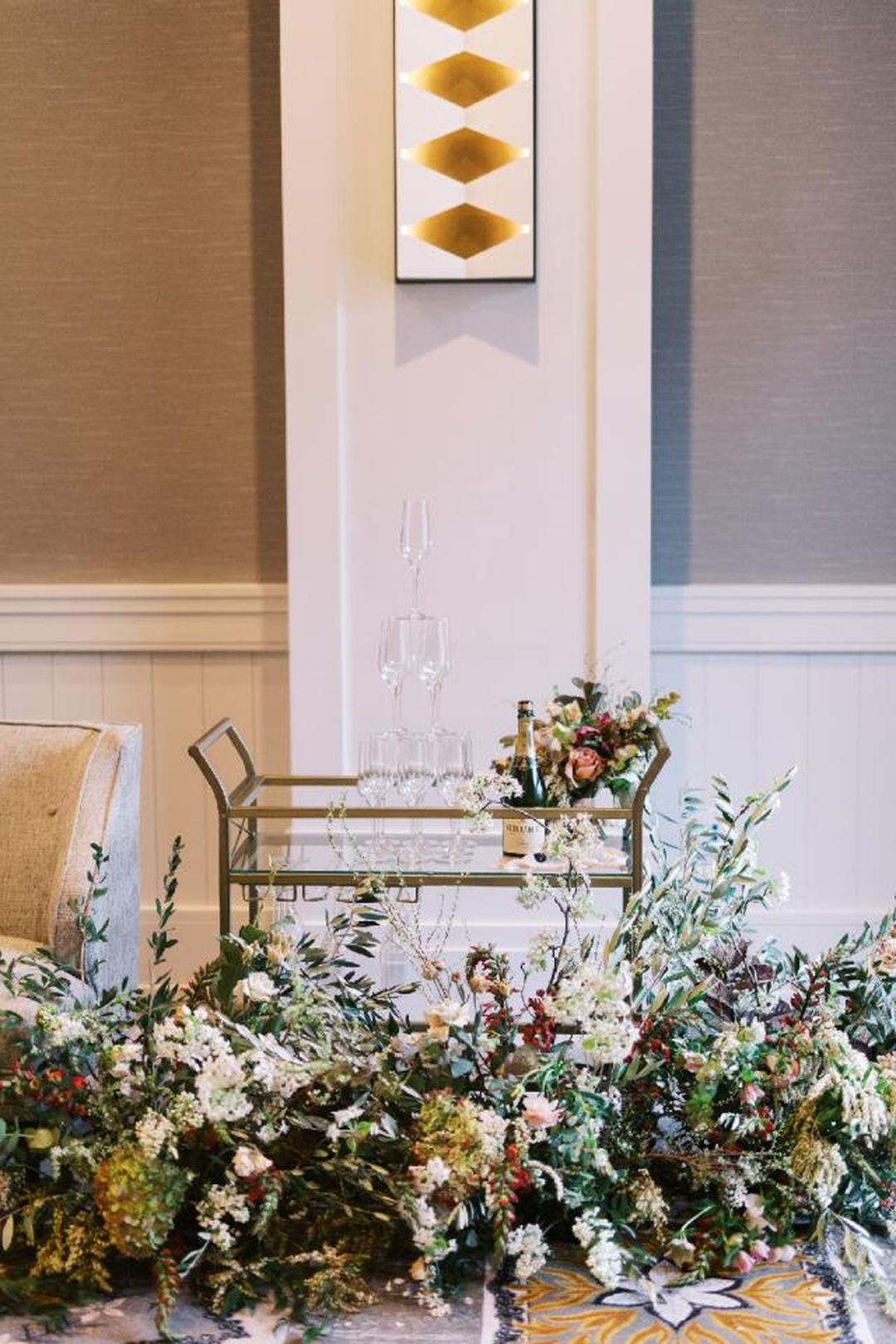 Ticket Booth
Although most events now offer tickets online, a classic booth is a fun way to welcome guests to your event! Our sturdy booth features a solid wood top and is a solid white color that will work any color palette. It also features a decal sign area so that you can easily personalize it to compliment the theme of your event.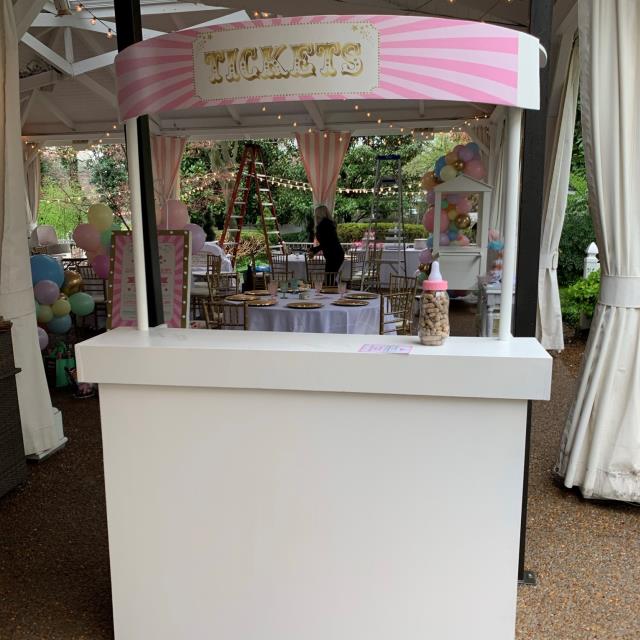 Donut Wall
Donut walls are far from a past fad. In fact, we're predicting that these delicious displays will stick around for a while – because who doesn't love a donut? Our wall is freestanding, features a beautiful dark stain, and has 48 pegs, which can hold 2-3 donuts each. The only downside is that it doesn't come with the donuts!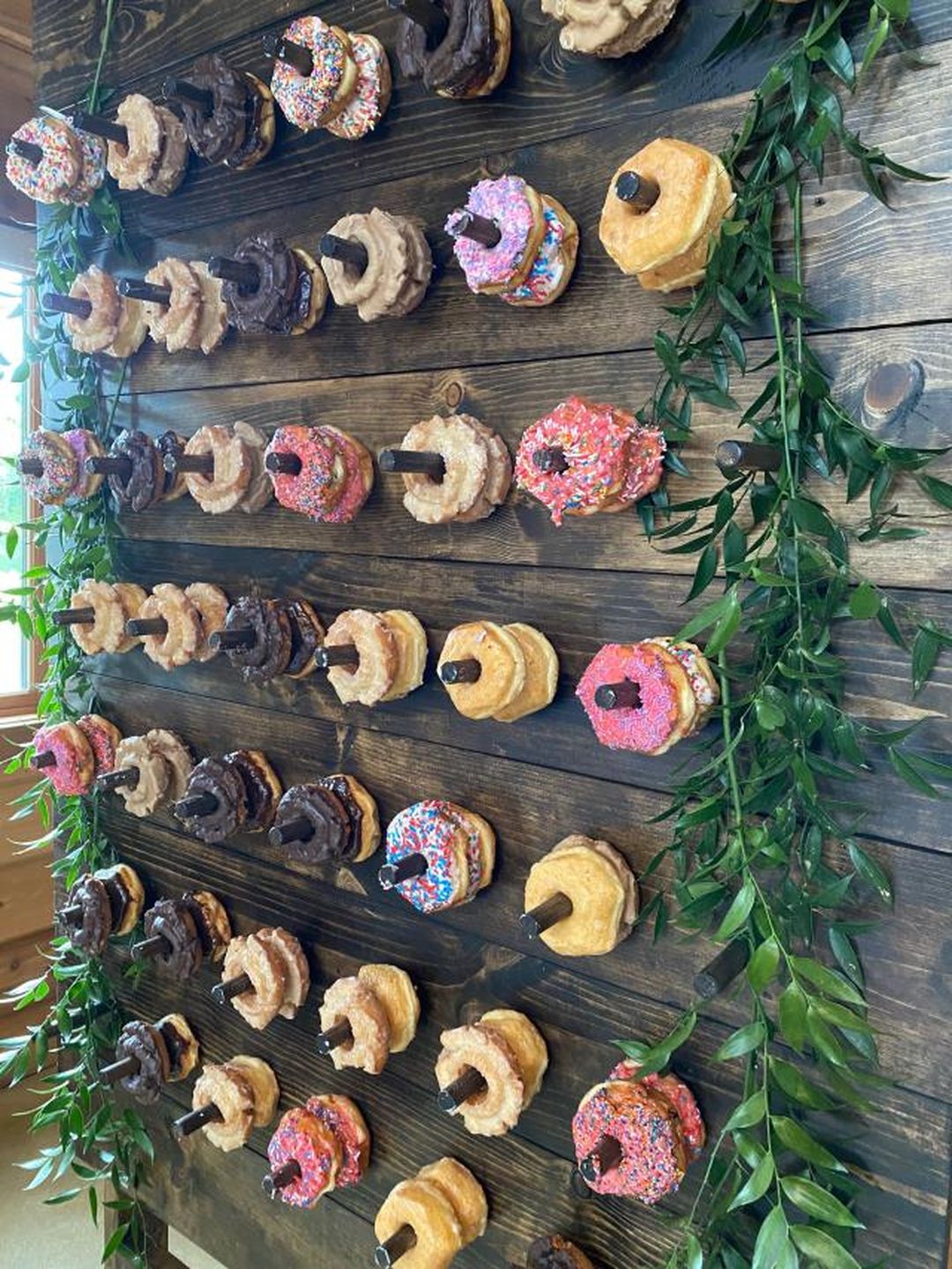 Boxwood Champagne Wall
A classic rental, our Boxwood Champagne Wall is a memorable way to welcome guests to your event. The lush green backdrop can be paired with a gold, white or ivory base. Meanwhile, the champagne shelves are available in Fruitwood or White. Our boxwood walls are also easy to customize, perfect for creating an Insta-worthy photo backdrop!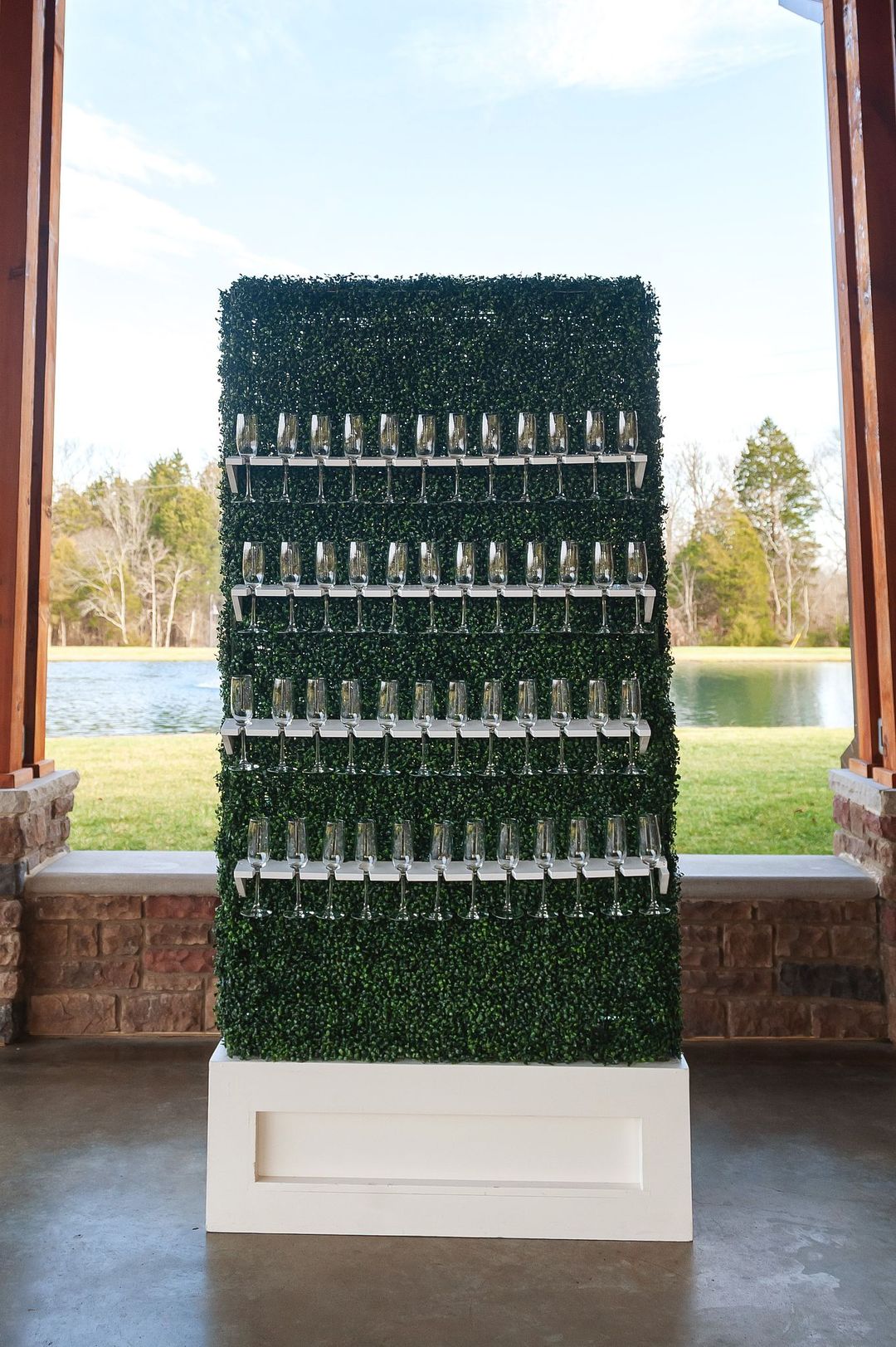 Photo by Megan Stark
Want to feature one of these trendy interactive party displays at your upcoming event? Contact our team today for help recreating one of these looks for your Tennessee wedding, social, or corporate event!
TAGS | Boxwood Wall, Champagne Wall, Interactive Drink Station, On Trend, bar cart, donut wall, event inspiration, interactive party display, shelving, ticket booth
FEATURED RENTALS | boxwood champagne wall, market cart, gold bar cart, donut wall, ticket booth, gold shelving,
---
3

Jun

On Trend, Southern Events Products, Trends and Inspiration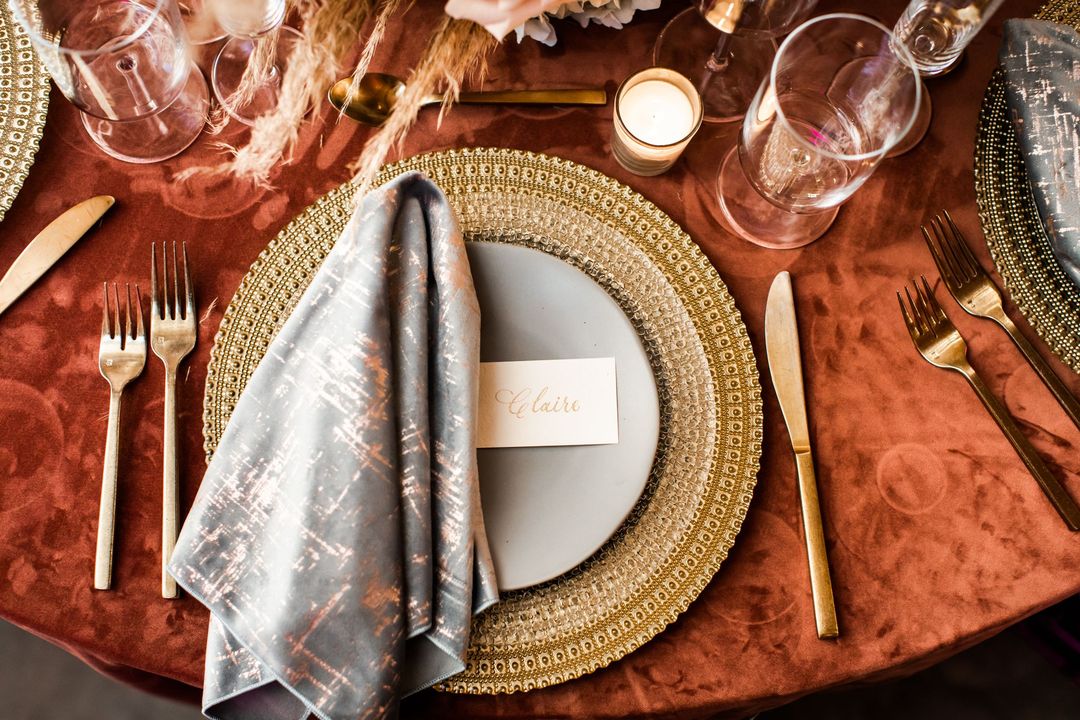 Earth tone colors are warm, reassuring, and luxurious – making them a beautiful choice for a mature yet cozy party or event! They are especially common in palettes for neutral and bohemian-themed events, now peaking in popularity due to a recent appreciation for minimalistic event designs. Take a look at some of our trendy earth-tone party rentals to create a timeless look at your next Nashville event!
Velvet Linens
Linens amplify the look of any tablescape, but velvet adds a certain elegance that just can't be beaten. And one that pairs perfectly with the vibe of earth tones. Soft in texture and rich in color, we offer velvet linens in a wide range of warm, earth-inspired colors.
Napkins
Every place setting needs a napkin! Below you'll see a bright neutral design featuring our Driftwood Velvet napkins, paired with a Havana Cafe Velvet runner. For a warmer, moody look, Spice Velvet napkins are a stark contrast next to a classic black runner.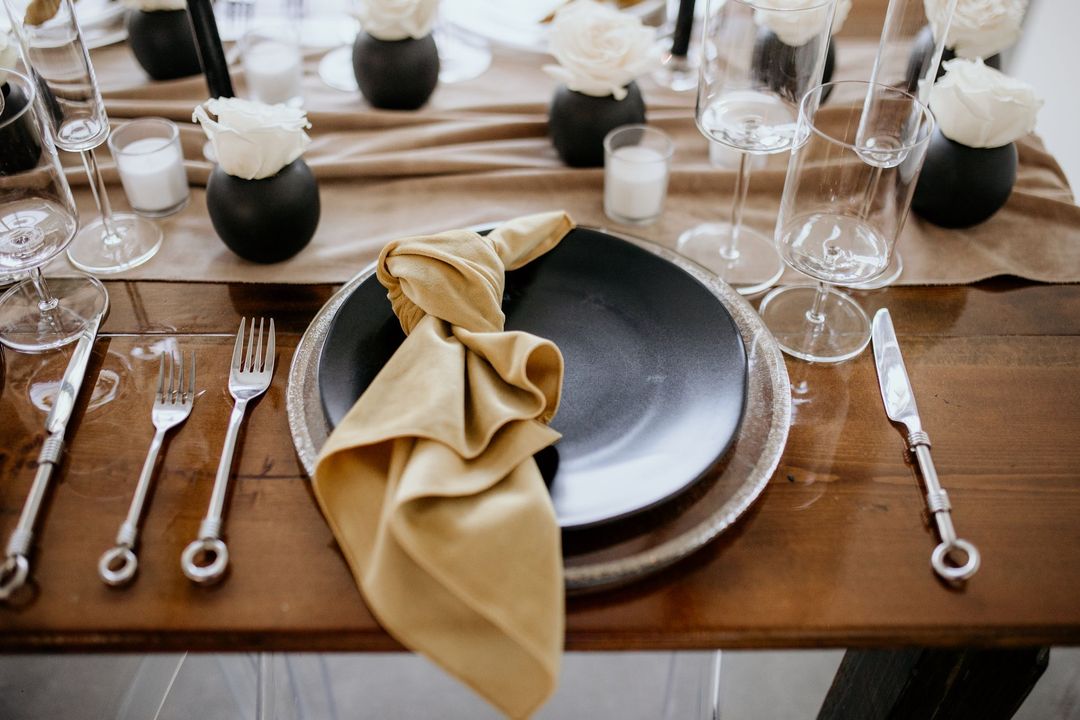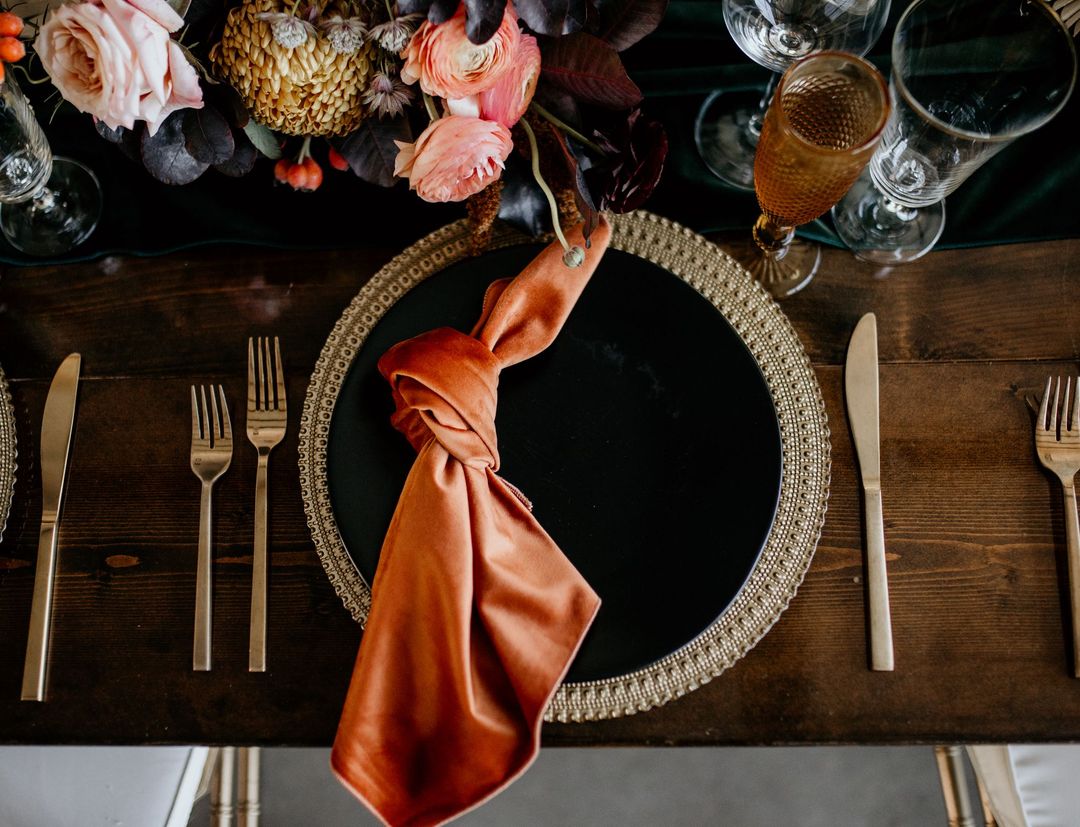 Photos by Kelsey Leigh Photography
Velvet Table Linens
Give your tablescape a rich base to build upon. We carry velvet table linens for every size table so that you can create a cohesive look from one event space to the next. As you can see, velvet linens stand out in any setting, indoor and out. Our Light Pink and Driftwood Velvet linens look stunning for a more modern event design. In contrast, our Spice Velvet suits a rustic or wooded venue.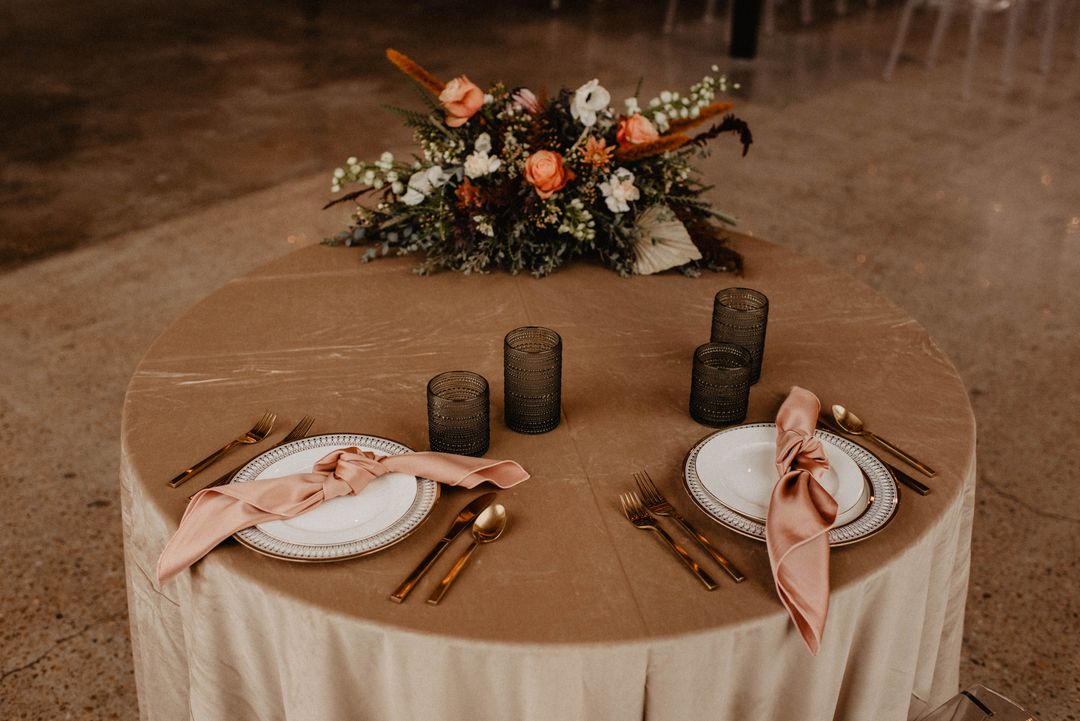 Photo by Renrose Photography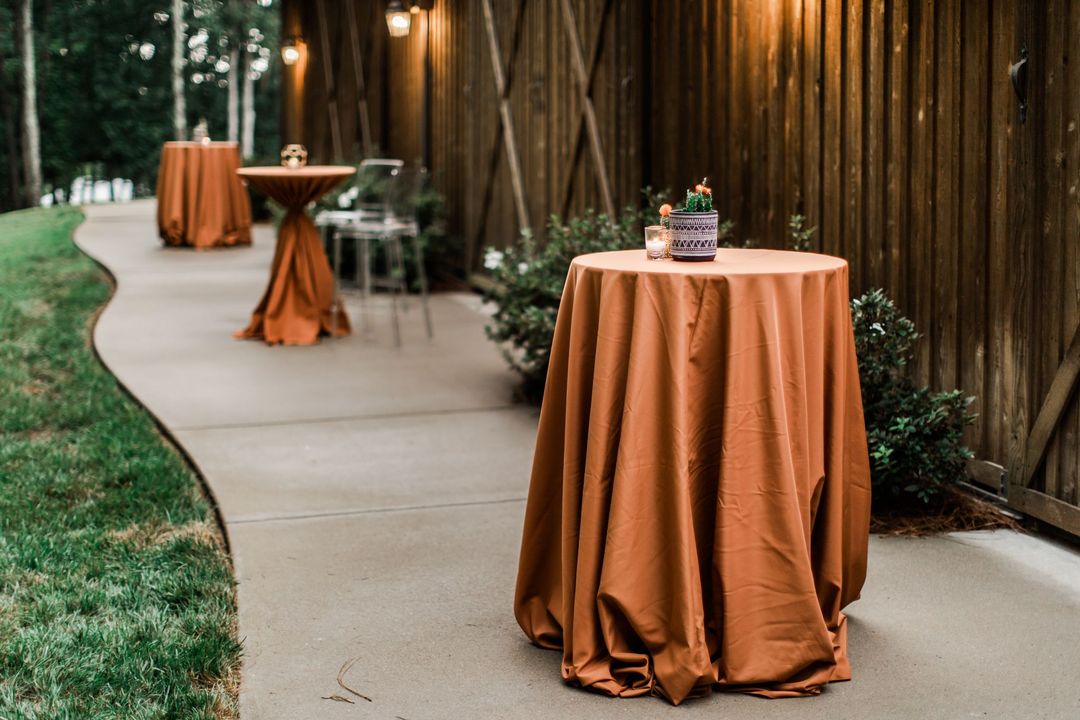 Photo by Nyk & Cali
Amber Goblets
Clear glassware is an easy choice, but you won't want to overlook our Amber Goblets. Use these stunning pieces in conjunction with other colored serving ware, or as the sole colored rental on a warm, neutral tablescape. If you are opting for a design that features minimal textures, then these glasses will be a welcome touch, with their antique-inspired design.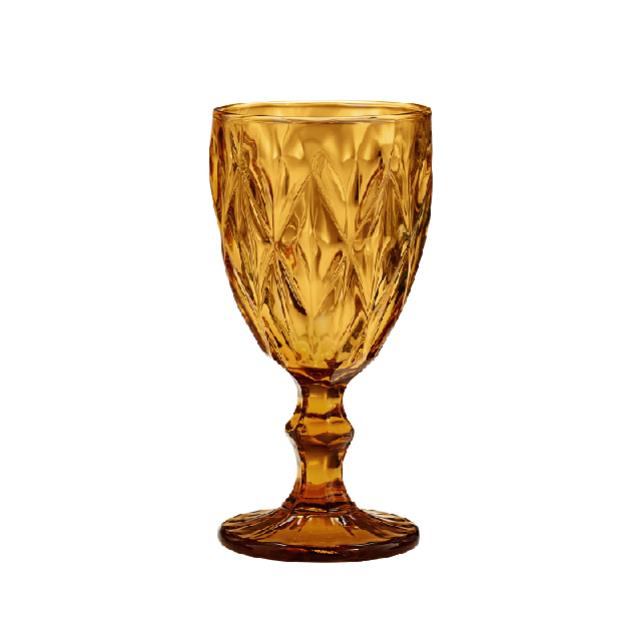 Chargers
Chargers lend to the overall aesthetic of a table, creating a more finished look. And we carry a charger for every earth-tone event, color and style! For a warm gold design, our Medallion Gold Glass Charger is a classic thanks to the intricate rim. It also pairs beautifully with our Austin Gold Flatware.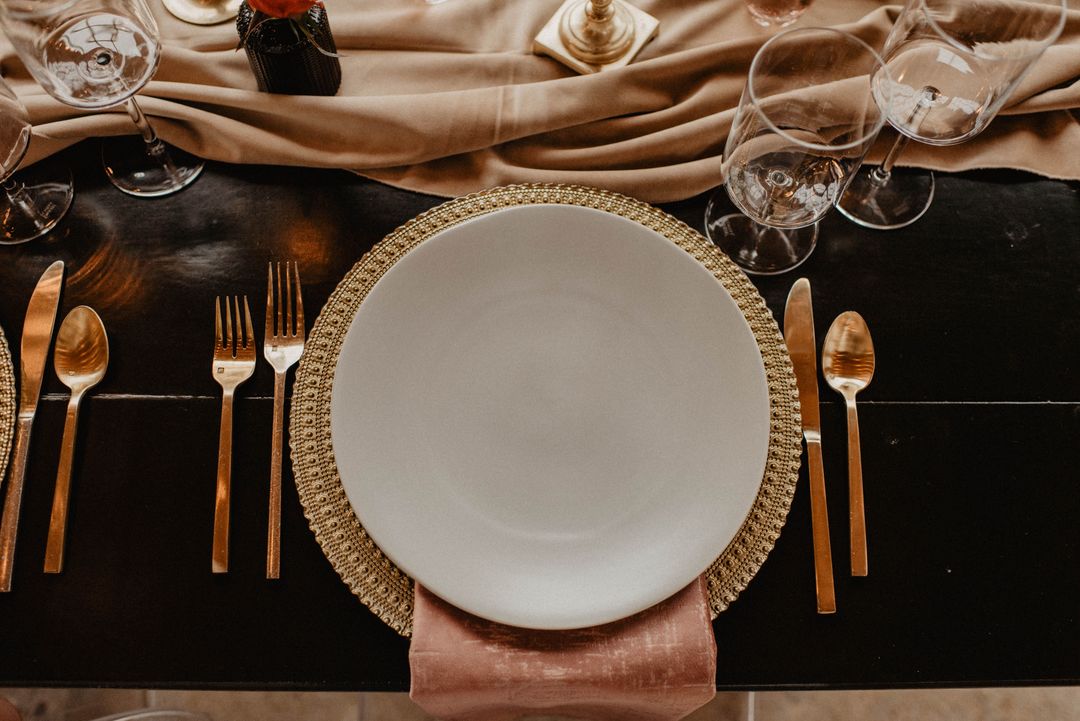 For a rustic-inspired event or boho-themed event, our Scalloped Wood Charger is a must. The simple but unique edging will make every single plate pop against the table!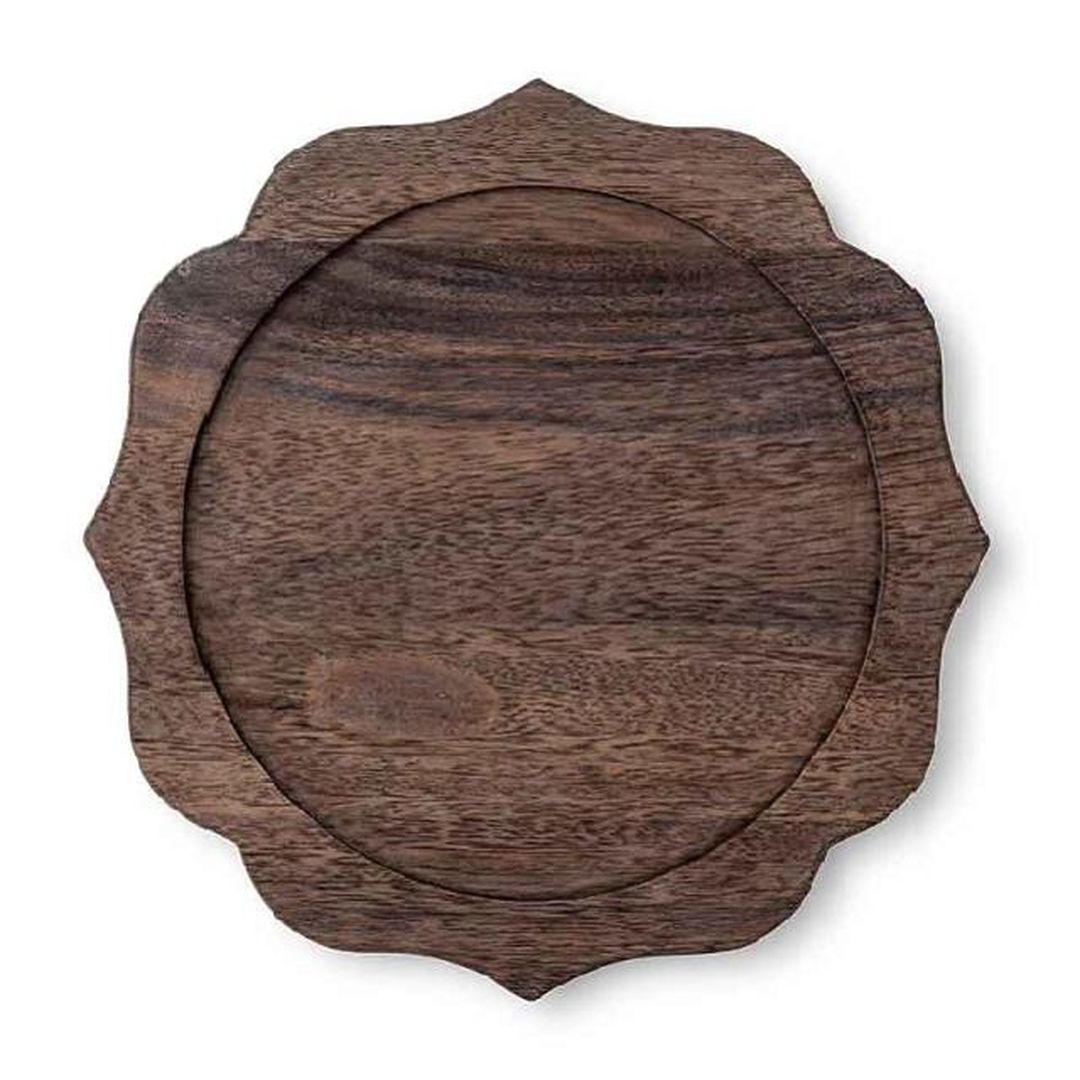 Lastly, is our timeless Copper Glass Charger. This elegant piece features clear glass at the center and a contemporary copper rim. We love this earth-tone party rental for a modern neutral-themed event, such as a wedding or gala.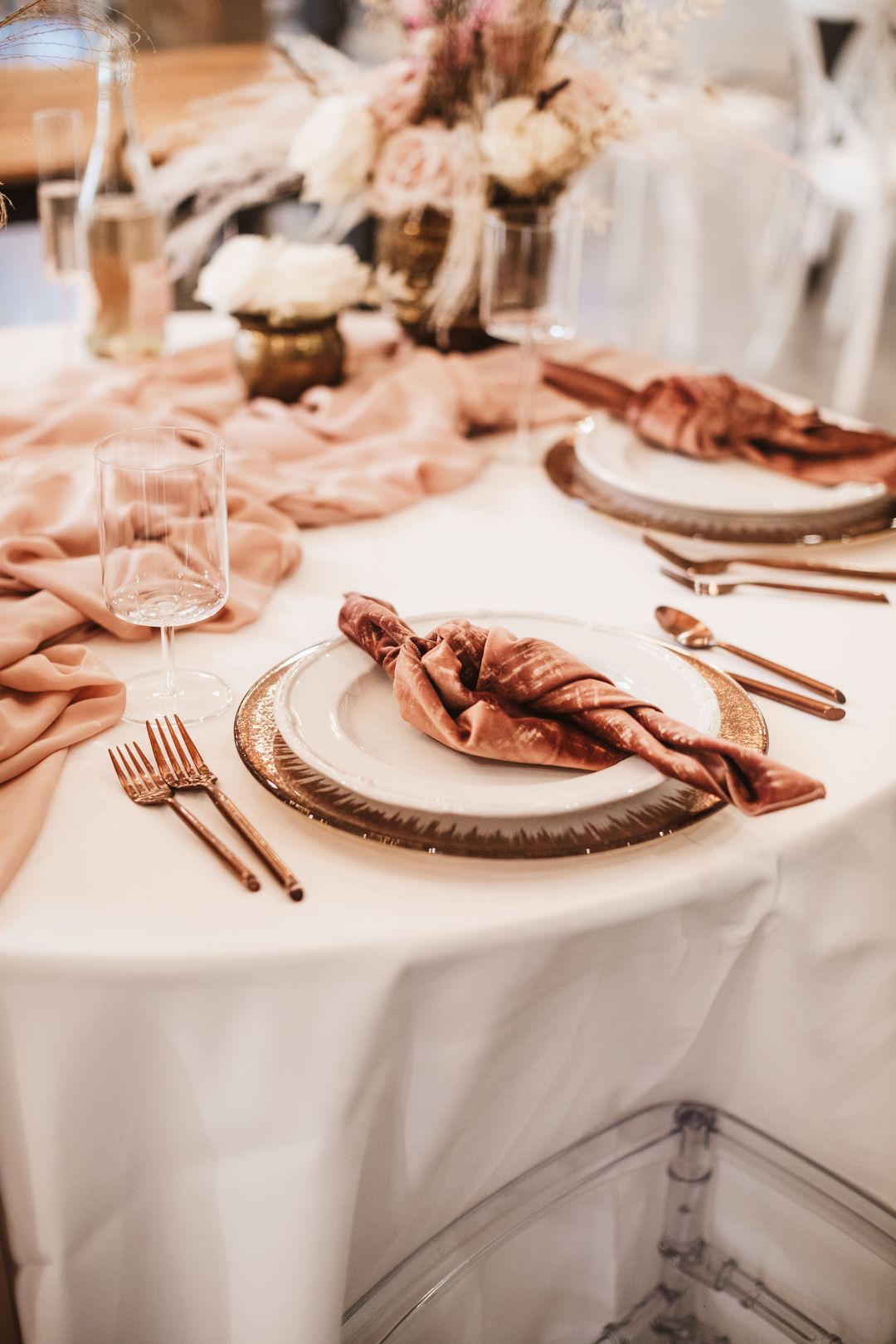 Photo by Gabrielle Von Heyking
Gloria Chair & Ottoman
A cozy lounge area is a must-have at any event, whether you are hosting a large social gathering or an intimate cocktail hour. Our Gloria Velvet Arm Chair and matching ottoman make for a stunning warm-toned seating area. Feature these pieces together, or separately. And be sure to pair them with an accent table, such as our Rhodes Coffee or Side tables. The gold metallic legs will complement any of our earth-tone party rentals.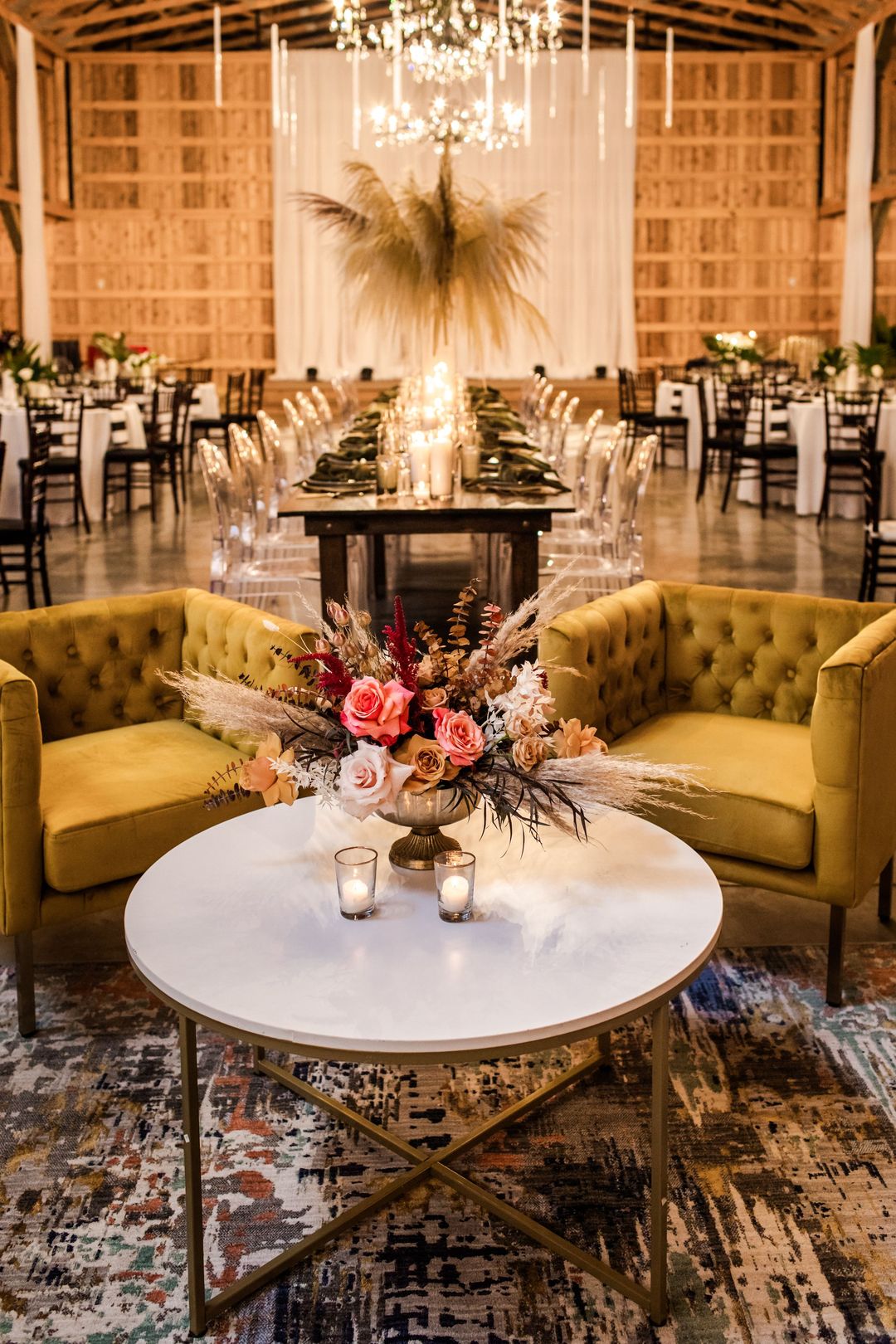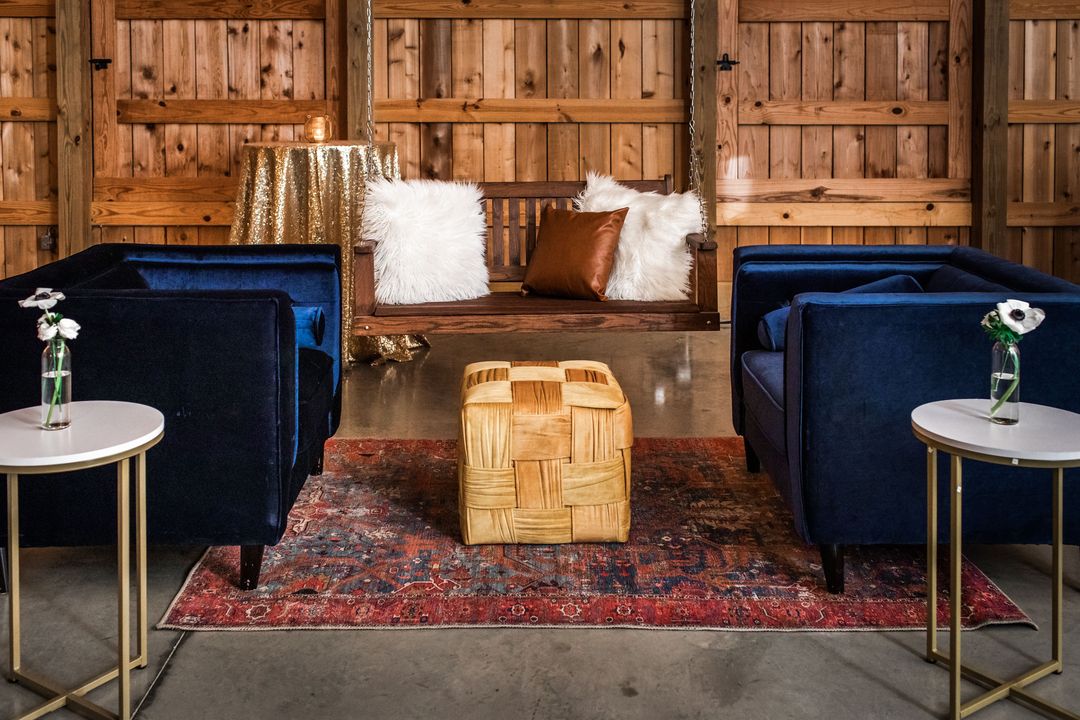 Want to feature one or several of these beautiful earth-tone party rentals at your event? Contact our team at info@southerneventsonline.com & let's start planning!
TAGS | On Trend, Southern Boho Chic, Velvet Linens, event inspiration, gold event rentals, neutral event rentals, southern boho style, style trends
FEATURED RENTALS | Rhodes Coffee Table, Gloria Velvet Armchair, Spice Velvet Linens, Light Pink Velvet Linens, Driftwood Velvet Linens, Gold medallion glass charger, copper glass charger, scalloped wood charger,
---
13

May

On Trend, Southern Events Products, Trends and Inspiration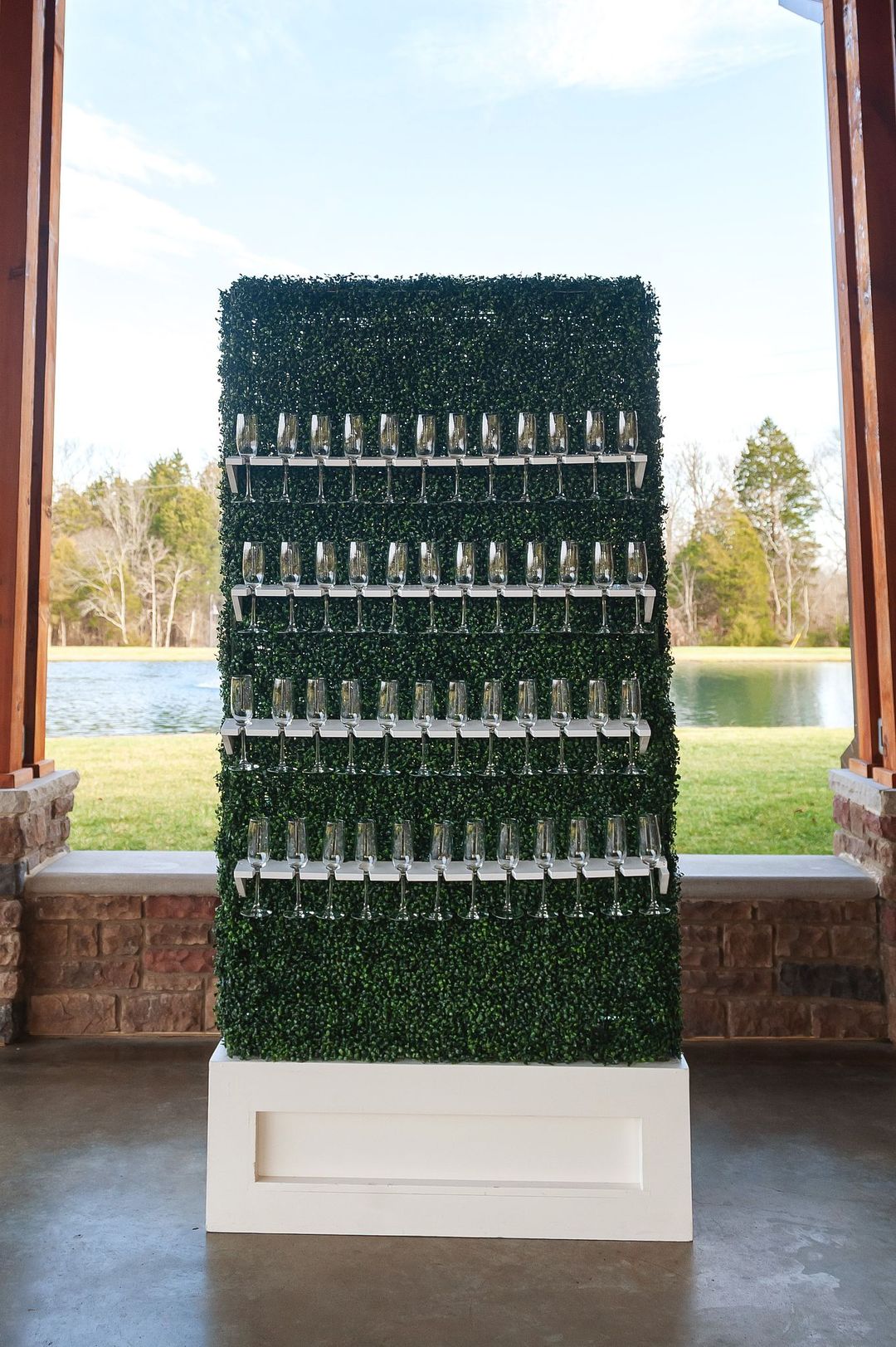 At Southern Events, we love a multi-functional rental! Our boxwood walls are available with 3 distinct bases (gold, white and ivory) and offer endless ways they can be personalized at your event.  From serving champagne, snapping pics or elevating your escort cards, see how to customize this rental for your next Nashville event.
Boxwood Champagne Walls
Cocktails are a highly anticipated treat at any event, but why not take your service to the next level with an interactive champagne wall? Creative, interactive, gorgeous, and full of bubbly – we're definitely here for it! Guests will be absolutely delighted as they walk by this fun drink station, which can also double as a photo op! For the setup below, our Boxwood Wall was adorned with lush florals by the talented team at Enchanted Florist, our Fruitwood Shelves and Cybil Flutes.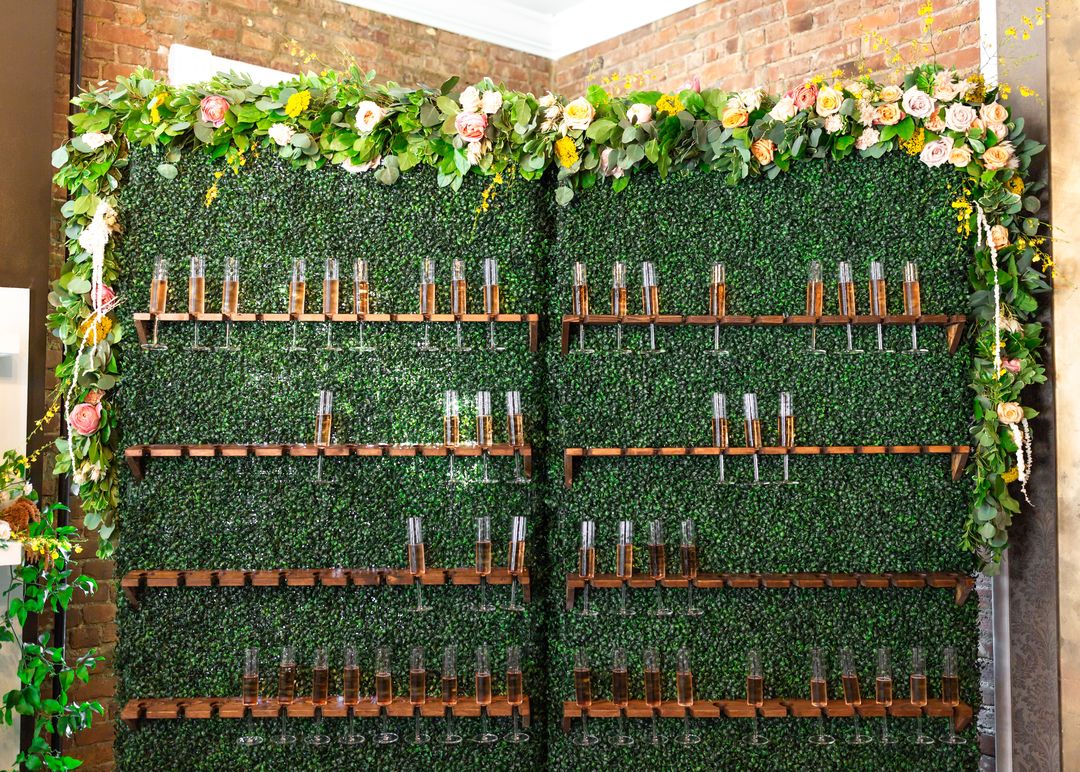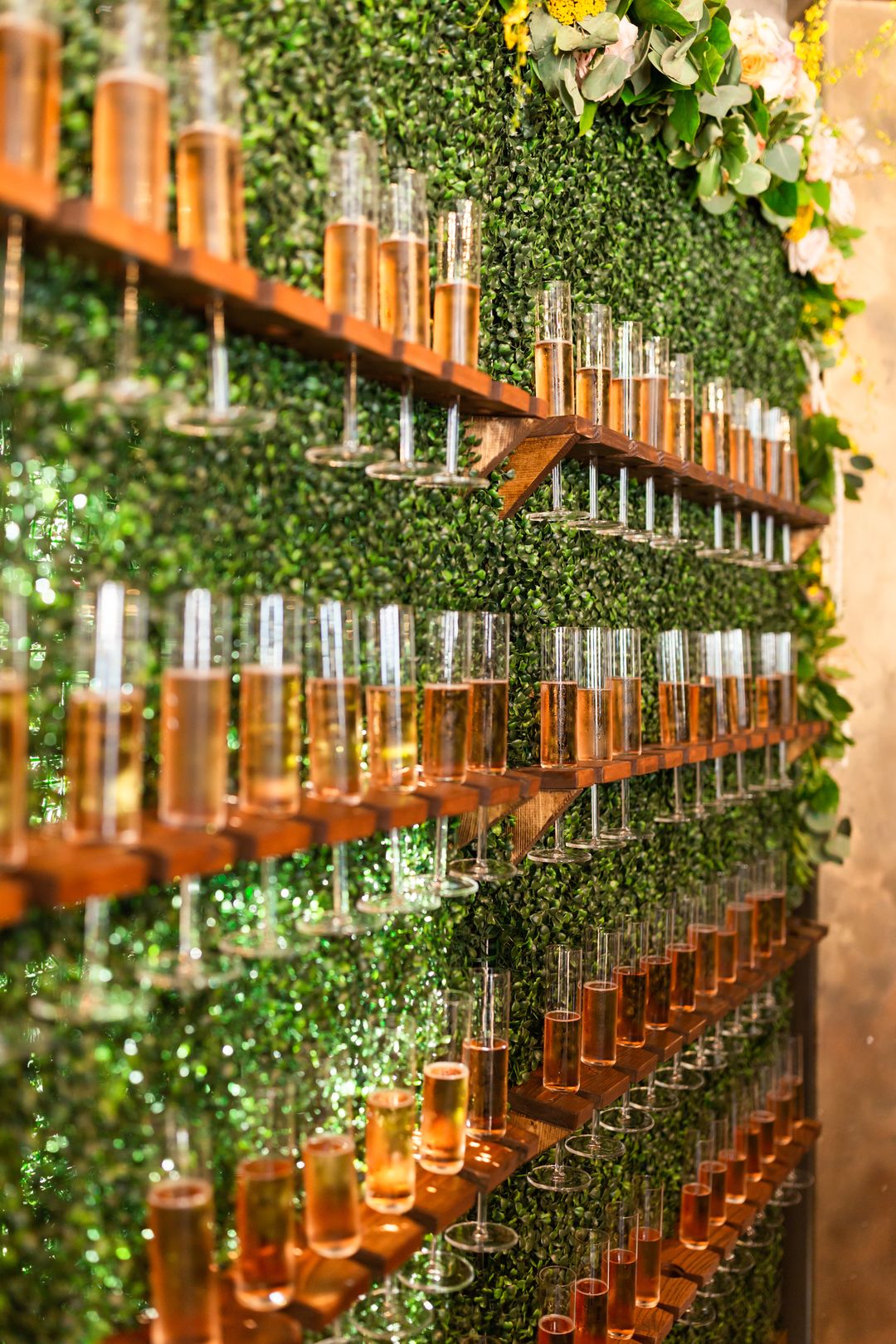 Photos via Honeysuckle & Wine.
Boxwood Wall Photo Backdrops
Entirely customizable, our boxwood walls are a must-have for a trendy photo station. Easily create a photo backdrop that complements your event, whether it's for a wedding or another social gathering. The options are truly endless, as long as you have the creativity and gusto! As shown below, a bright neon sign is always a nostalgic decoration. However, it would also look lovely with a monogram or pictures of the newlyweds. We also love it with a colorful balloon arch for a shower or birthday party.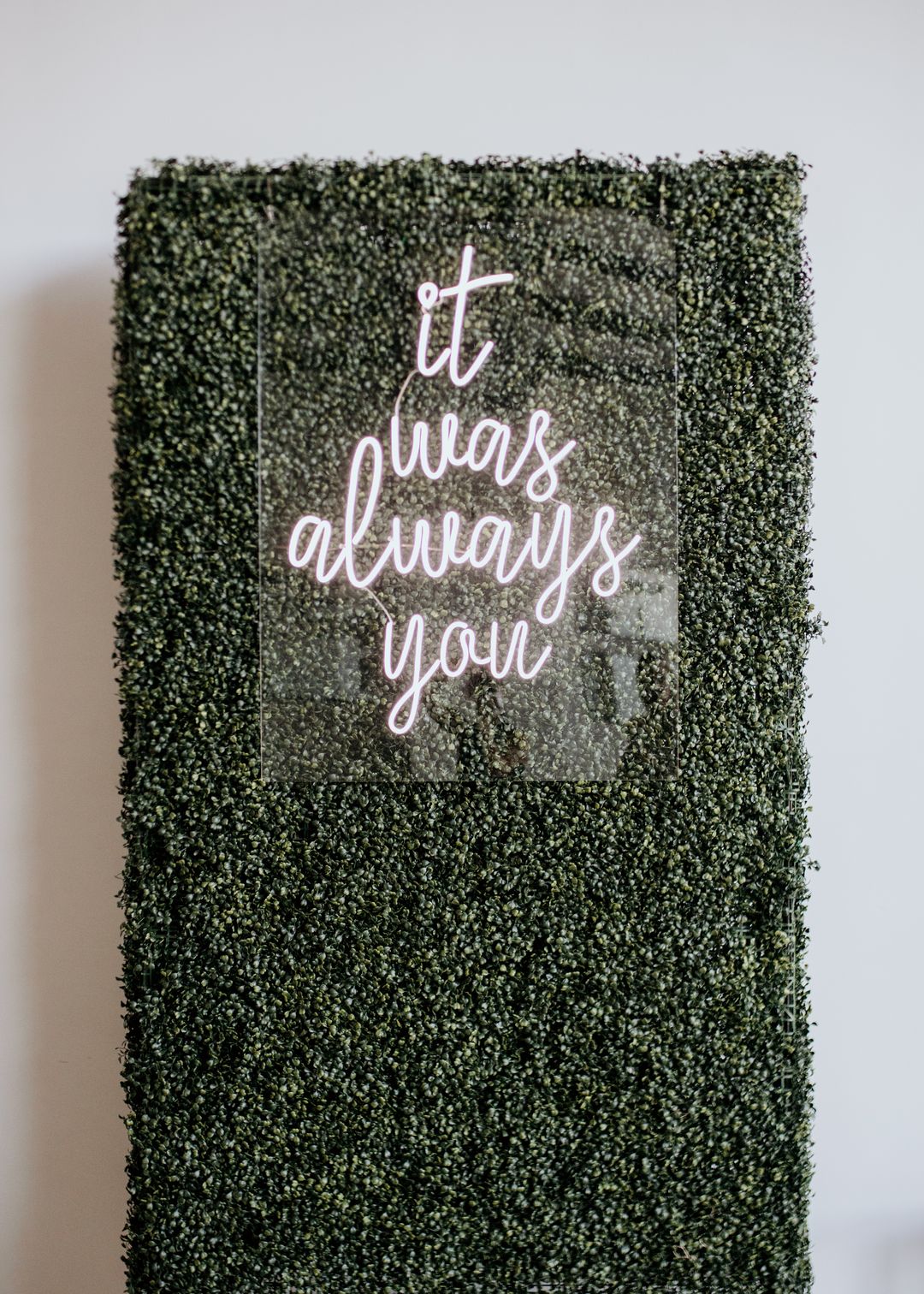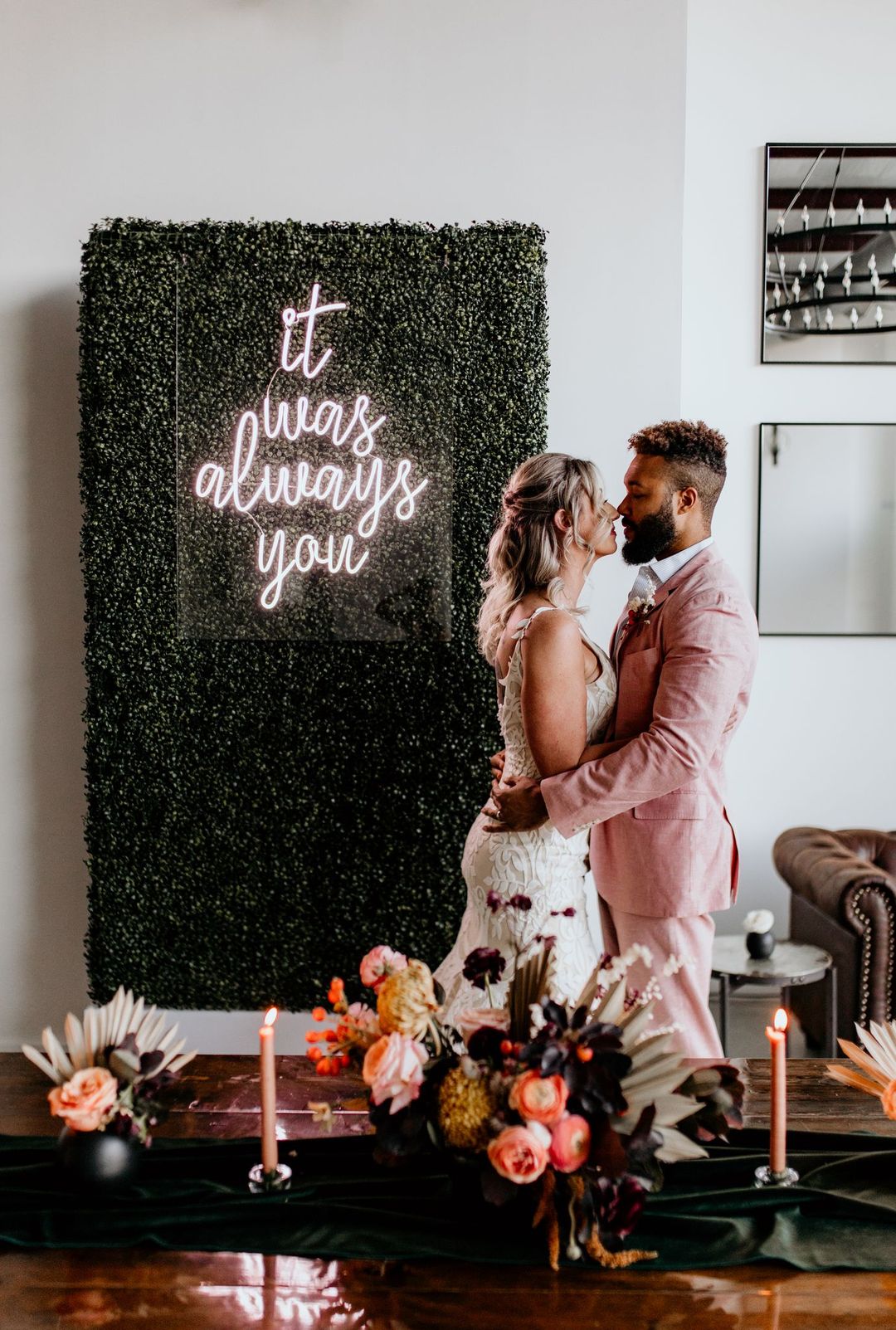 Photo by Megan Stark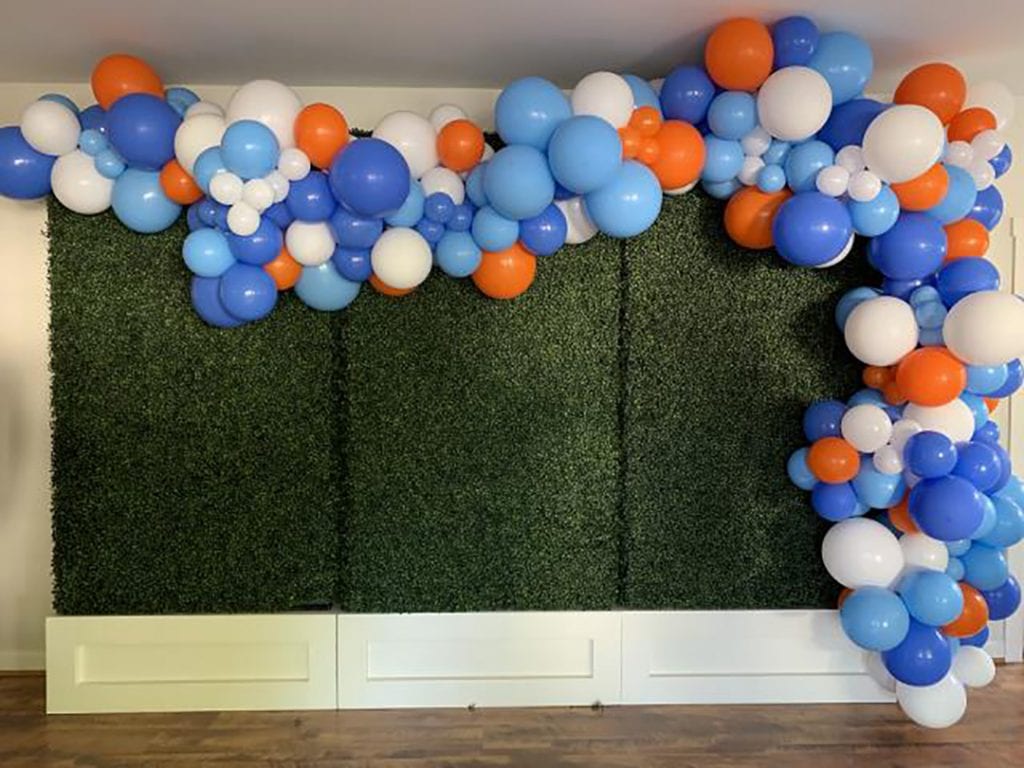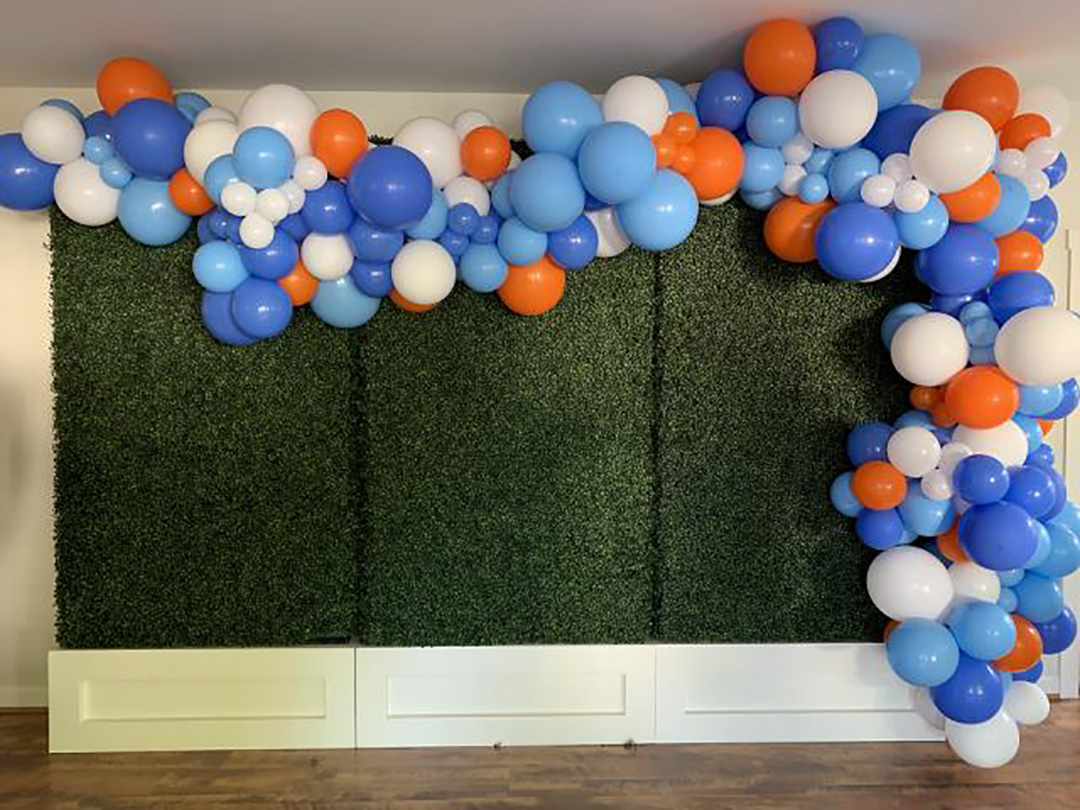 Corporate Event Backdrops and Entrances
For large corporate events, our boxwood walls are an effective way to keep your business at the forefront of guest's minds. As shown, it creates a beautiful backdrop for galas, fundraisers, or celebrations, especially those where there will be a stage or grand entrance. Show off your corporate logo in an upscale way, fitting of the elegant decor. And, if you have sponsors, feature their logos as well.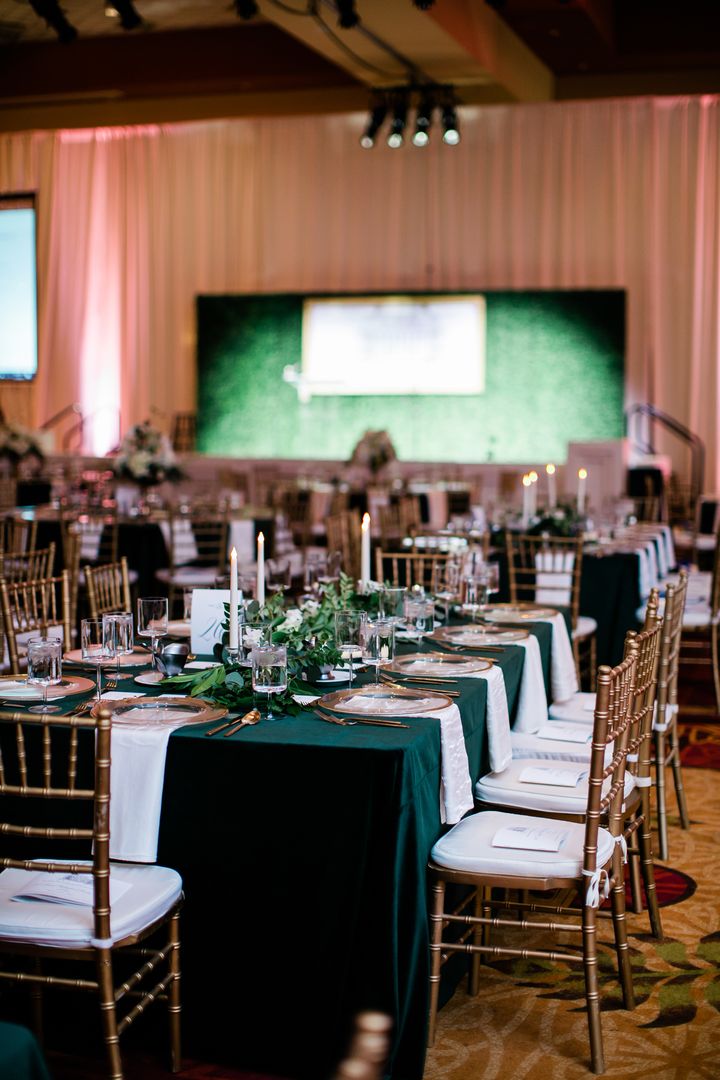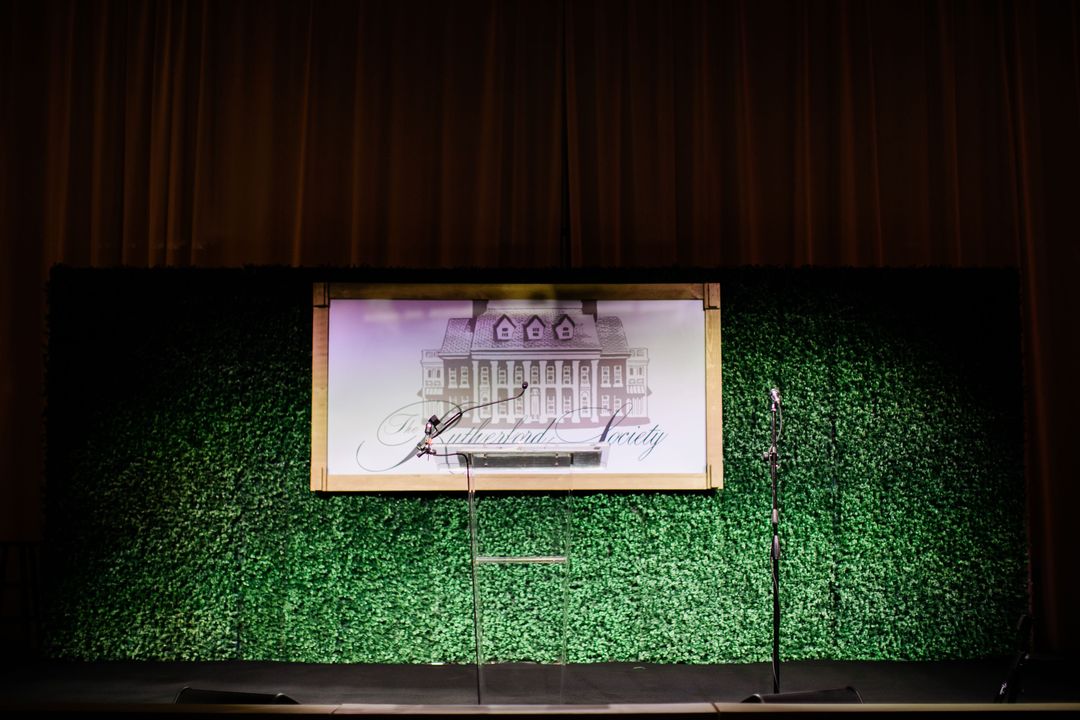 Photos by Jen & Chris Creed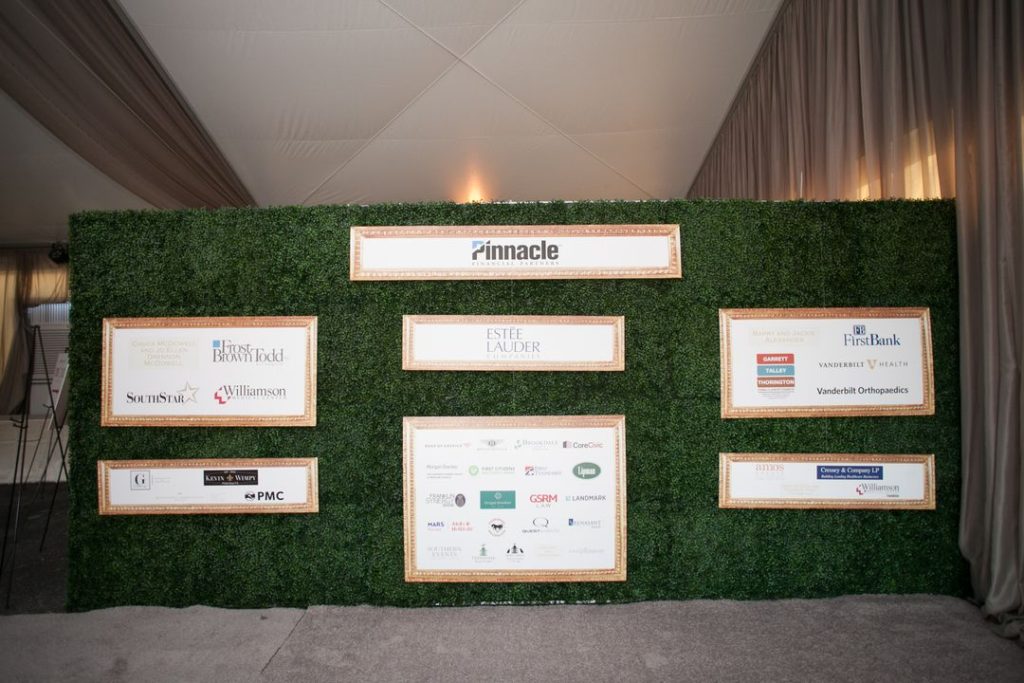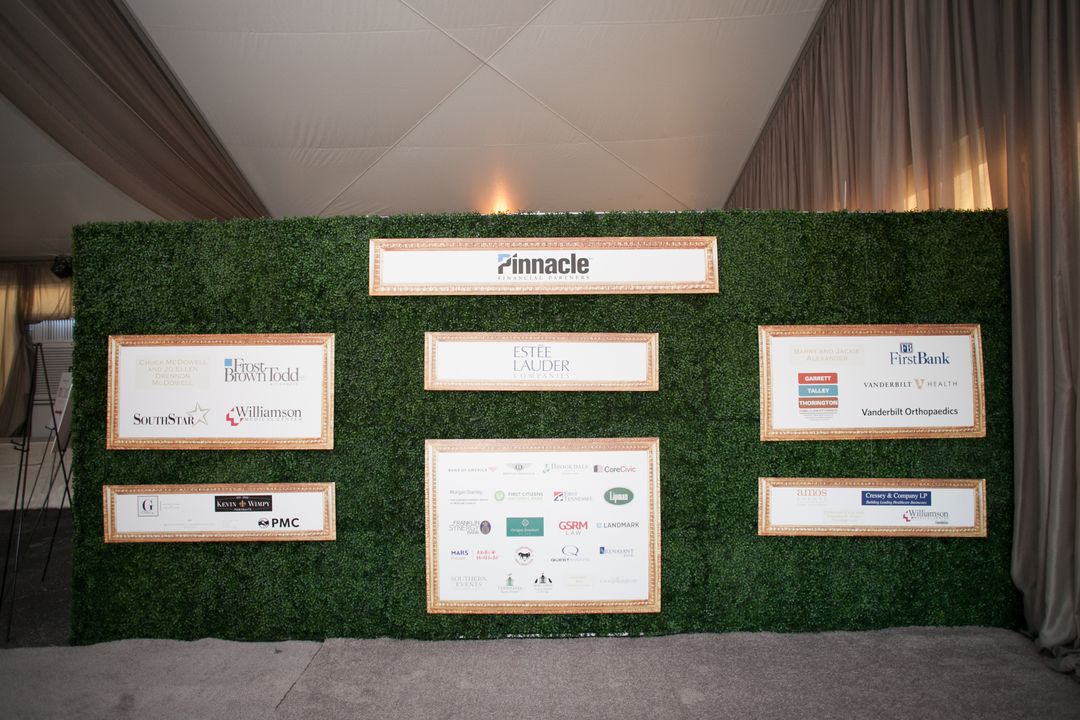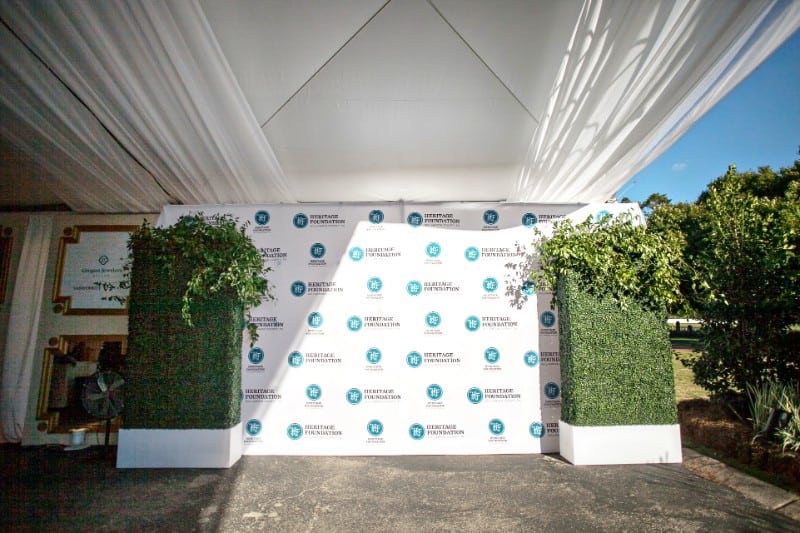 Boxwood Wall Seating Chart
At a wedding, you want to leave a lasting impression! Aside from a champagne wall, one easy method is with an interactive seating chart. Popular in recent years, a boxwood wall seating chart is a fun way to greet guests and guide them to their respective tables. You can simply list their names, like on a mirror or acrylic sign. Or you can use wedding favors that double as escort cards, like these beautiful horseshoe ornaments.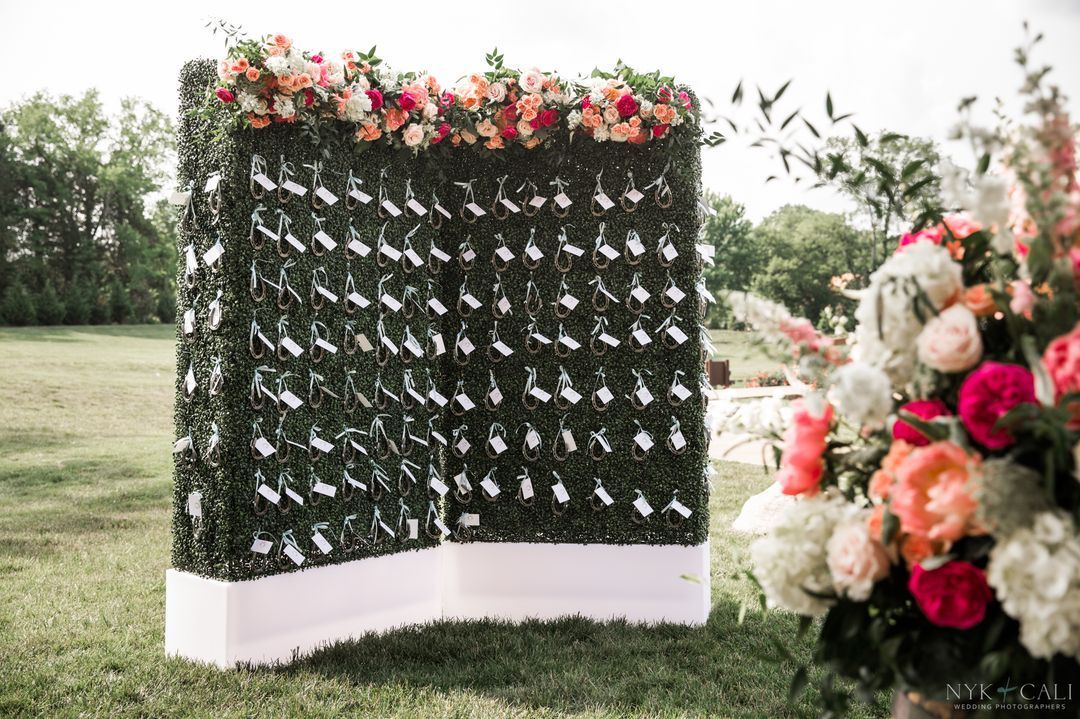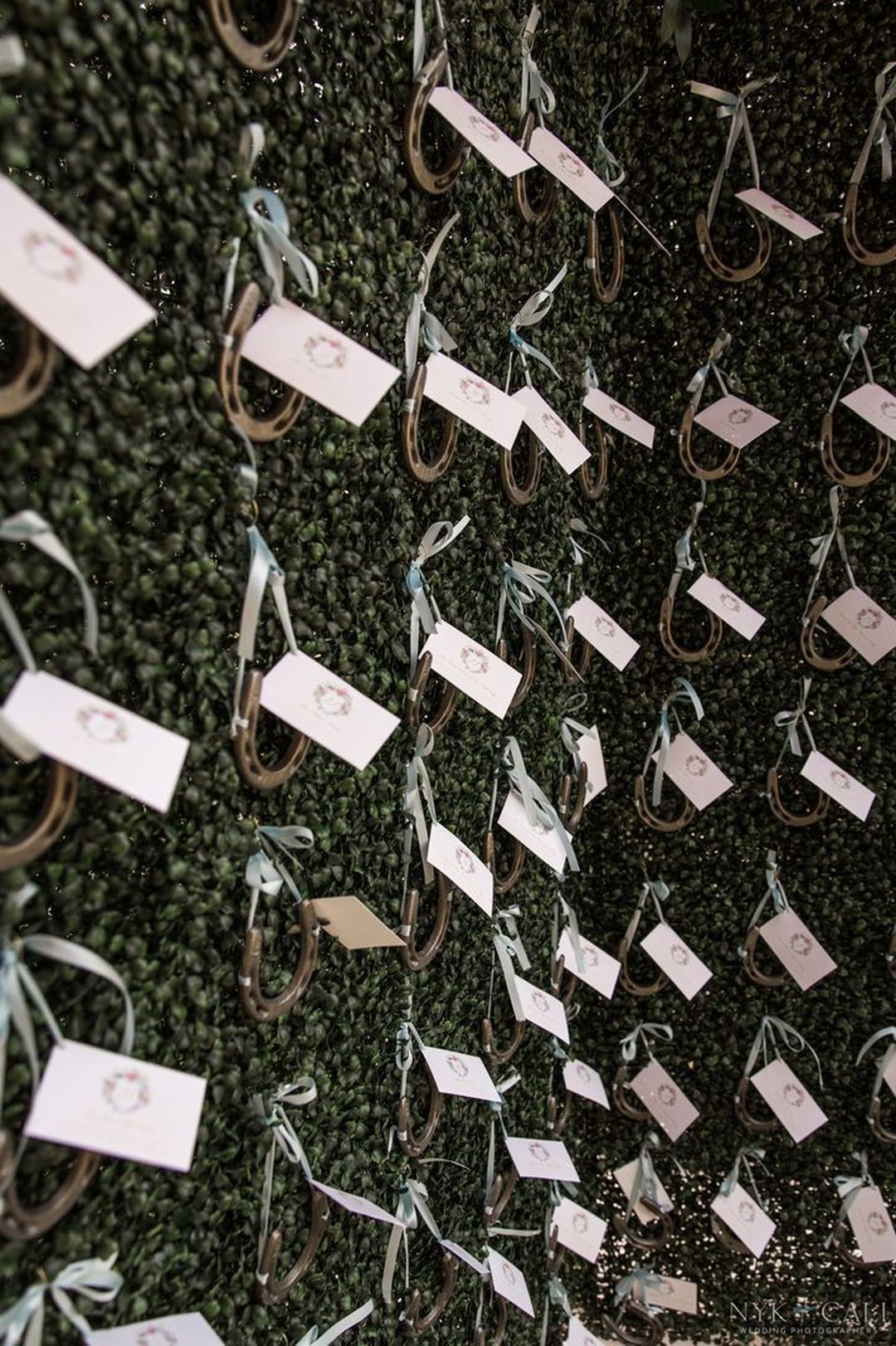 Want to feature one of our boxwood walls, as a drink station or backdrop, at your upcoming event? Let's chat! Send us an email today, at info@southerneventsonline.com.
TAGS | Boxwood Wall, Champagne Wall, Interactive Drink Station, Nashville Event Rentals, Nashville Wedding Rentals, Nashville party rentals, On Trend, Southern Events Party Rental, Southern Events Party Rental Company, Unique Wedding Rentals
FEATURED RENTALS | Boxwood wall, Cybil glassware, champagne shelf,
---
31

Dec

On Trend, Southern Events Products, Trends and Inspiration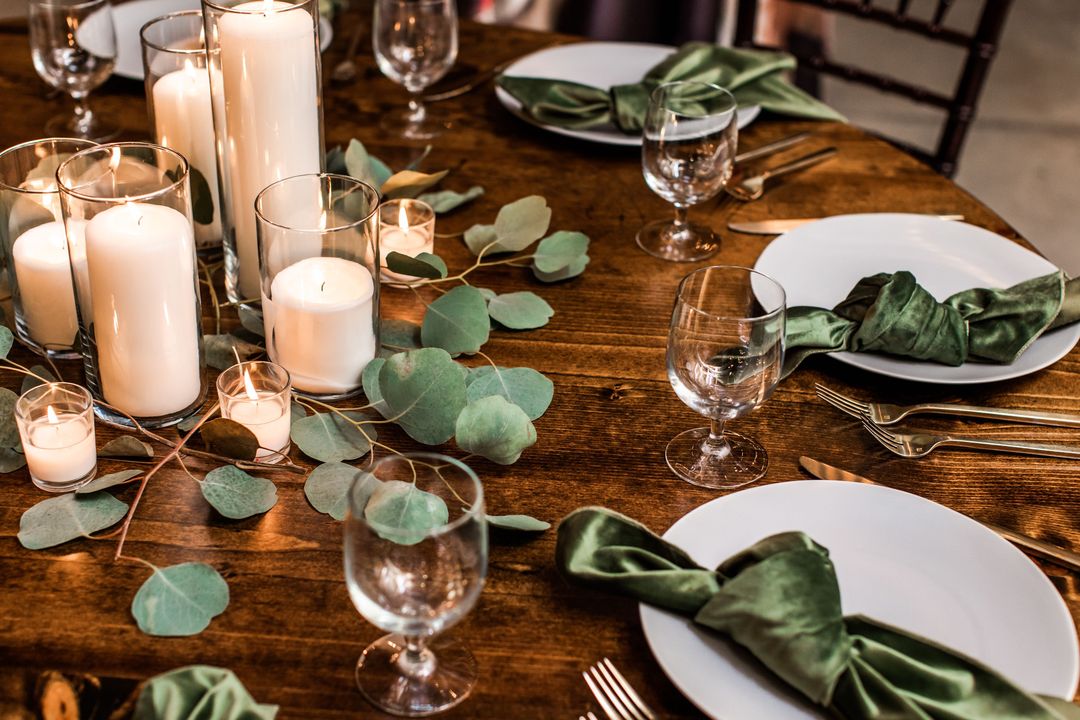 2021 is rapidly approaching and with it are new event trends! After all the challenges of 2020, our team at Southern Events is looking forward to getting creative to help you design memorable celebrations in the year ahead. Get inspired for your future events when you take a look at the 2021 trends, featuring our in-stock rentals.
Luxe But Sustainable
Luxe events aren't going anywhere but we're seeing an increased interest in sustainability. There are multiple ways to host a sustainable event via rentals. The first being reusable serving ware, including china, flatware, glassware, as well as linens. Rentals are an easy and beautiful way to reduce the waste produced by your event.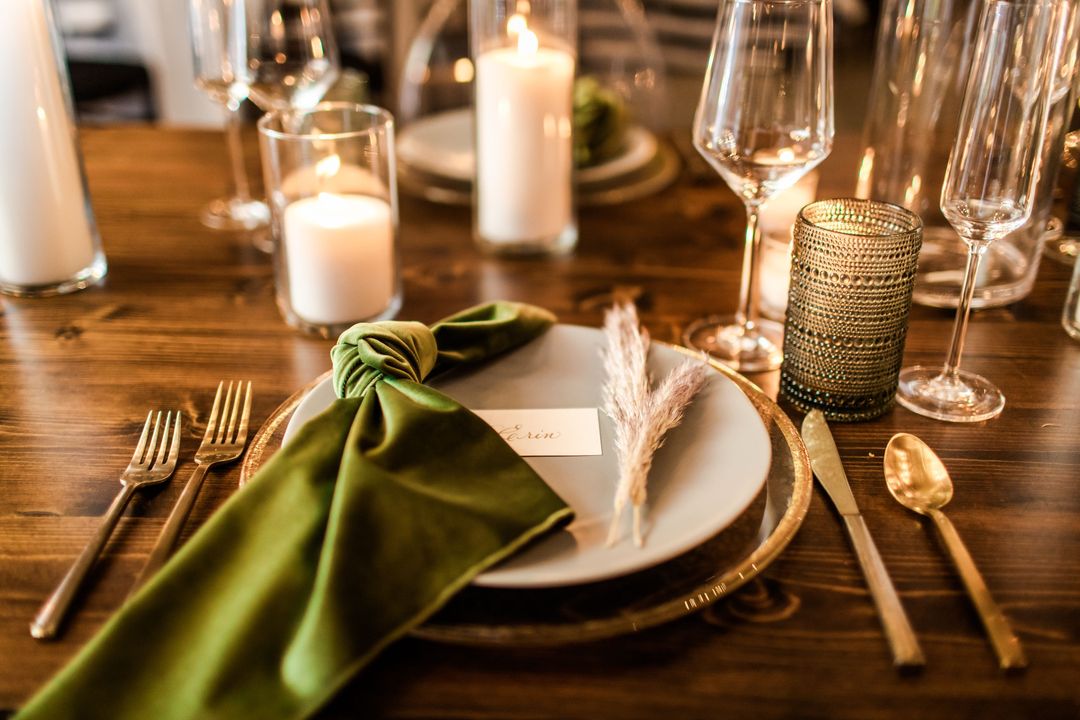 In terms of styling, expect lots of lush plants & greenery. Potted plants are especially beautiful and perfect for aisle decor and table centerpieces.  The same goes for dried plants, which lend lots of texture. Pampas grass in particular is trending, as it easily adds volume and height. Expect to see an increasing amount of dried floral bouquets and arrangements.
This emerald, cream & gold tablescape features our Gold Rim Glass Charger, Alabaster Earthenware, Gold Austin Flatware, Fern Velvet Linens, Colored Glassware & Pure Glassware.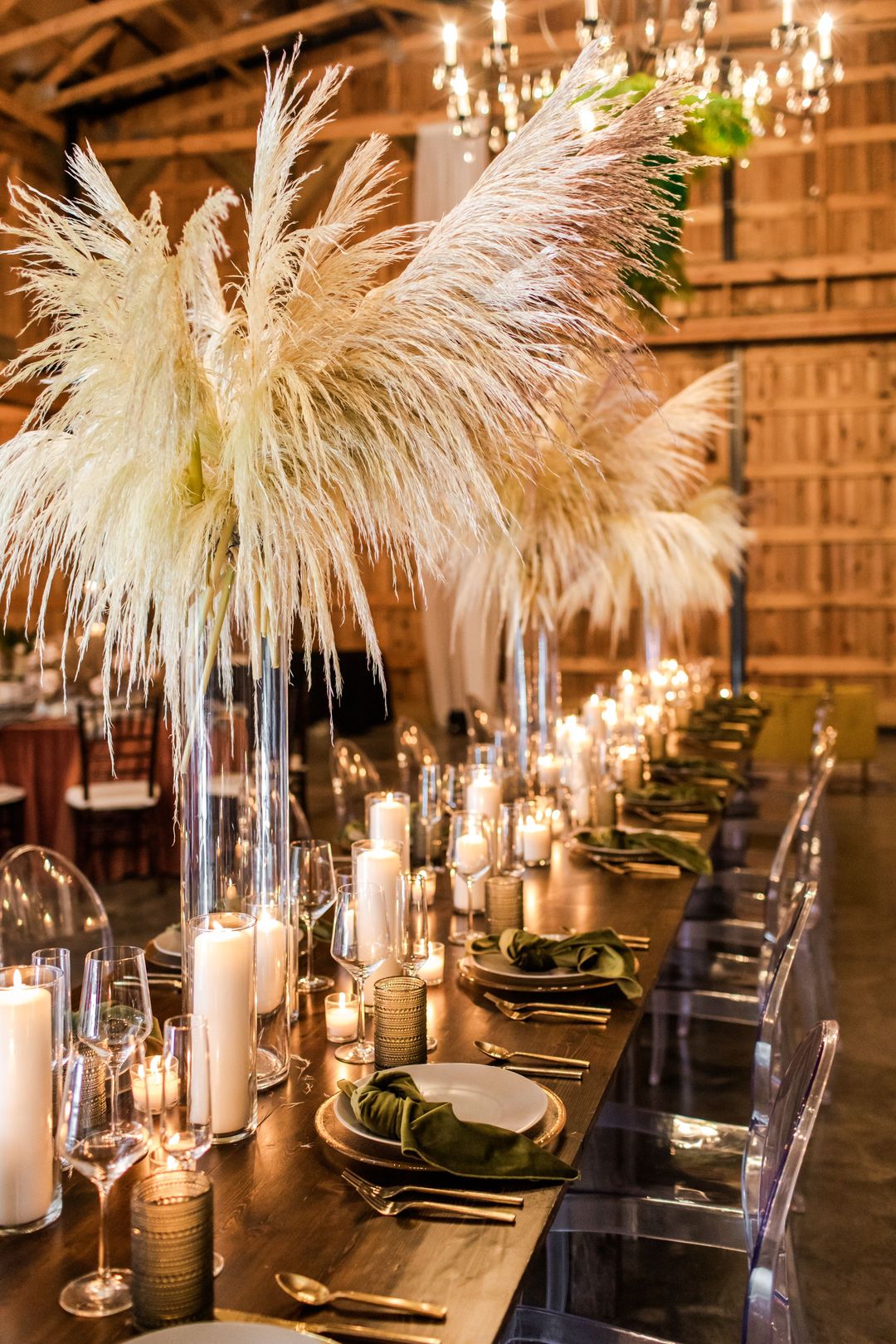 Photo by Nyk and Cali
All Out Events
Go big or go home right? One 2021 trend is events that are memorable, not necessarily in size but in the details. Diva Boho themed events are a great example. Think of bold & intricate geometric patterns, and voluminous flowers or other organic arrangements. Metallics are also here to stay, as they are a quick way to add some sparkle and shine to an event. At this type of event, you can tell that every thoughtful detail was well planned and executed.
This bright textured tablescape was created using our Medallion Gold Glass Chargers, Onyx Earthenware, Austin Flatware & Audrey Gold Rim Glassware.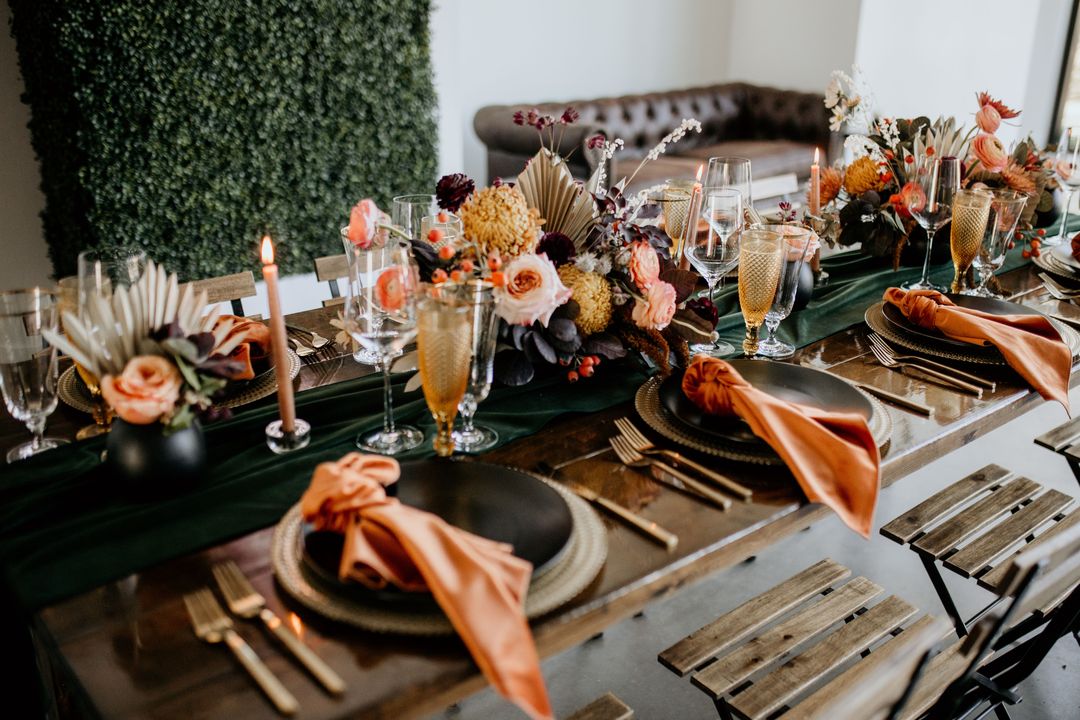 Photo by Kelsey Leigh Photography
A Focus on Sentimentality
People are gravitating towards heirlooms and the texture of various things that draw them to the past – we expect this event trend to only get bigger in 2021. Not necessarily boho theme, but colors and textures the incite a sense of nostalgia. So sustainable handmade pieces that lend texture, such as clay, jute and wicker decor. This trend also applies to attire, in the form of heirloom jewelry, clothing and accessories. For weddings, think dresses with intricate old school embroidery in an ivory or cream color. One great example are celestial-inspired events, where texture and vintage or retro items are easy to incorporate into the design.
Recreate this romantic neutral design with our Driftwood Velvet Napkins, Artisan China, Cybil Glassware, & Como Flatware.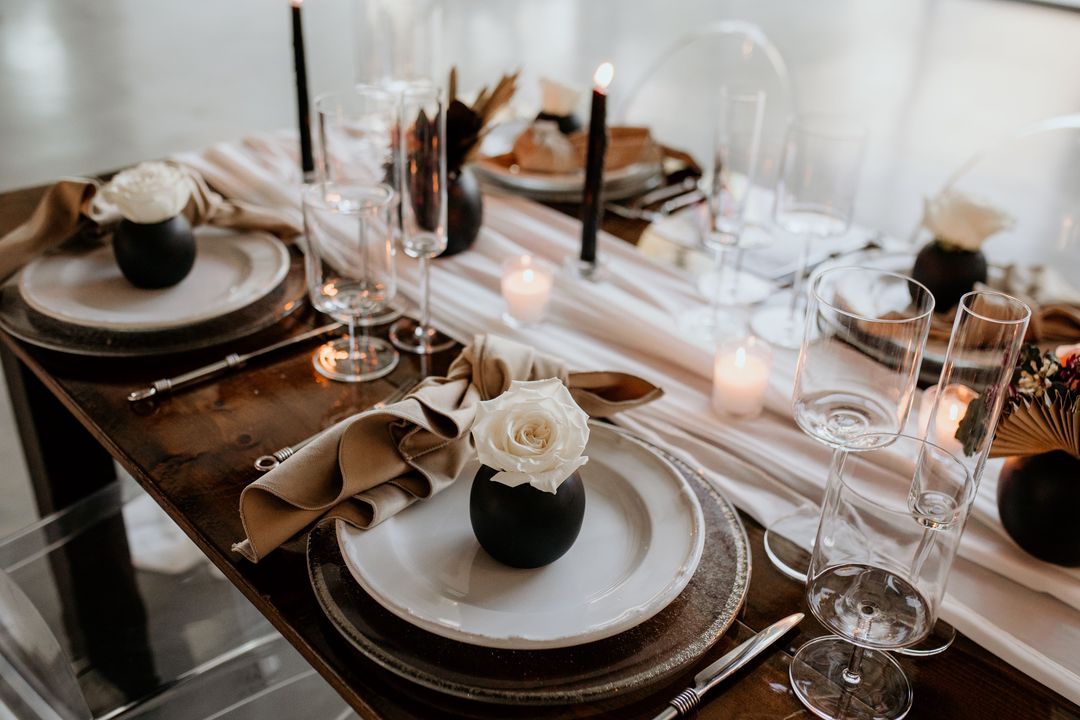 Photo by Kelsey Leigh Photography
2021 Wedding Colors
In 2021, we're expecting to see every color & combination imaginable. After a year of postponing and adjusting, why not throw out the rules a little?! While neutral-themed weddings are timeless, more and more couples are seeking to host an event that is unique and memorable. The colors you feature are one easy way to showcase your personality. Here's some 2021 color trend inspo!
Muted/Matte Jewel Tones – Mustard, Dark Plum, Hunter & Emerald green, Inky Indigo, Sapphire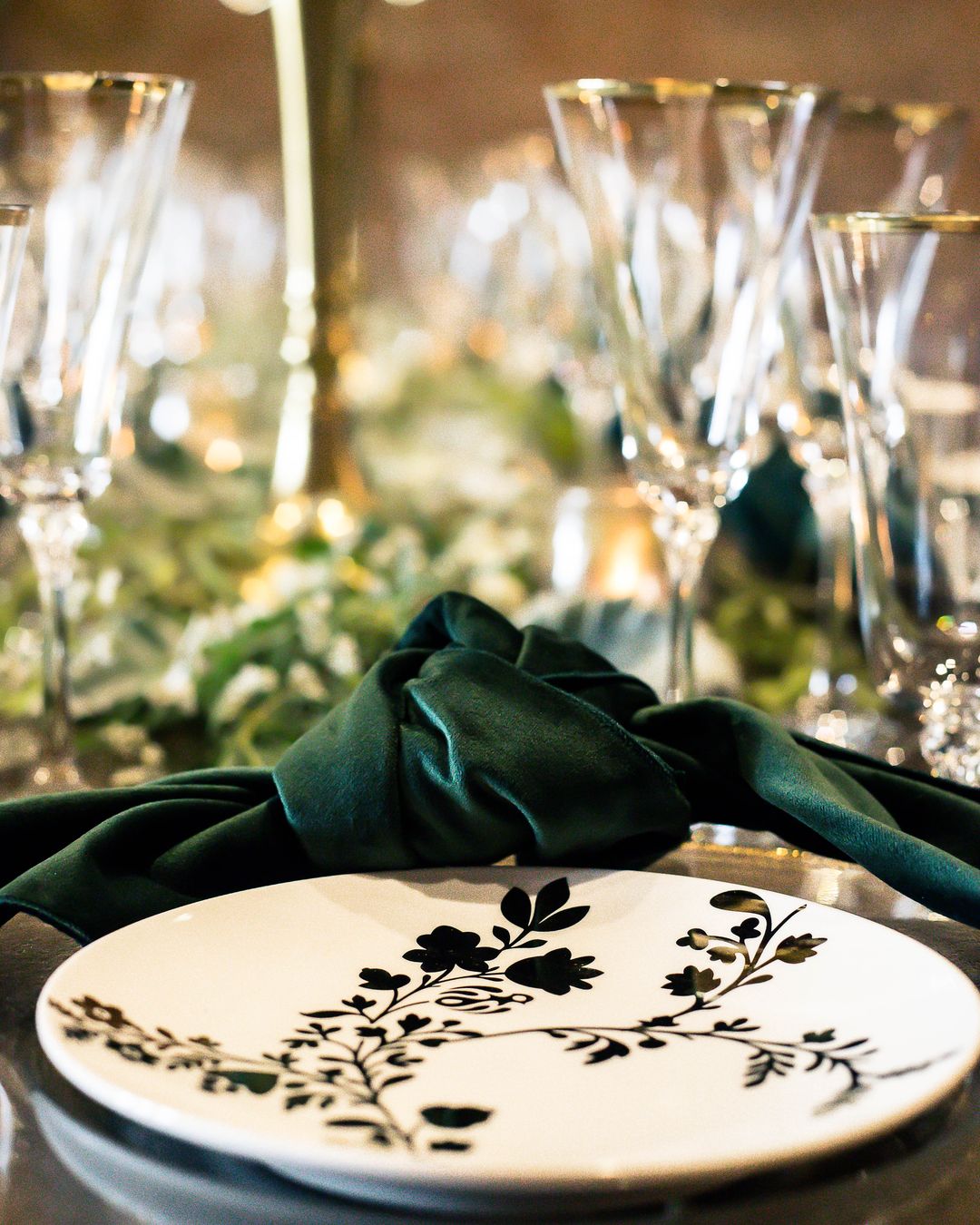 Pastel Tones – Light Aqua, Baby Pink, Peach, Cantaloupe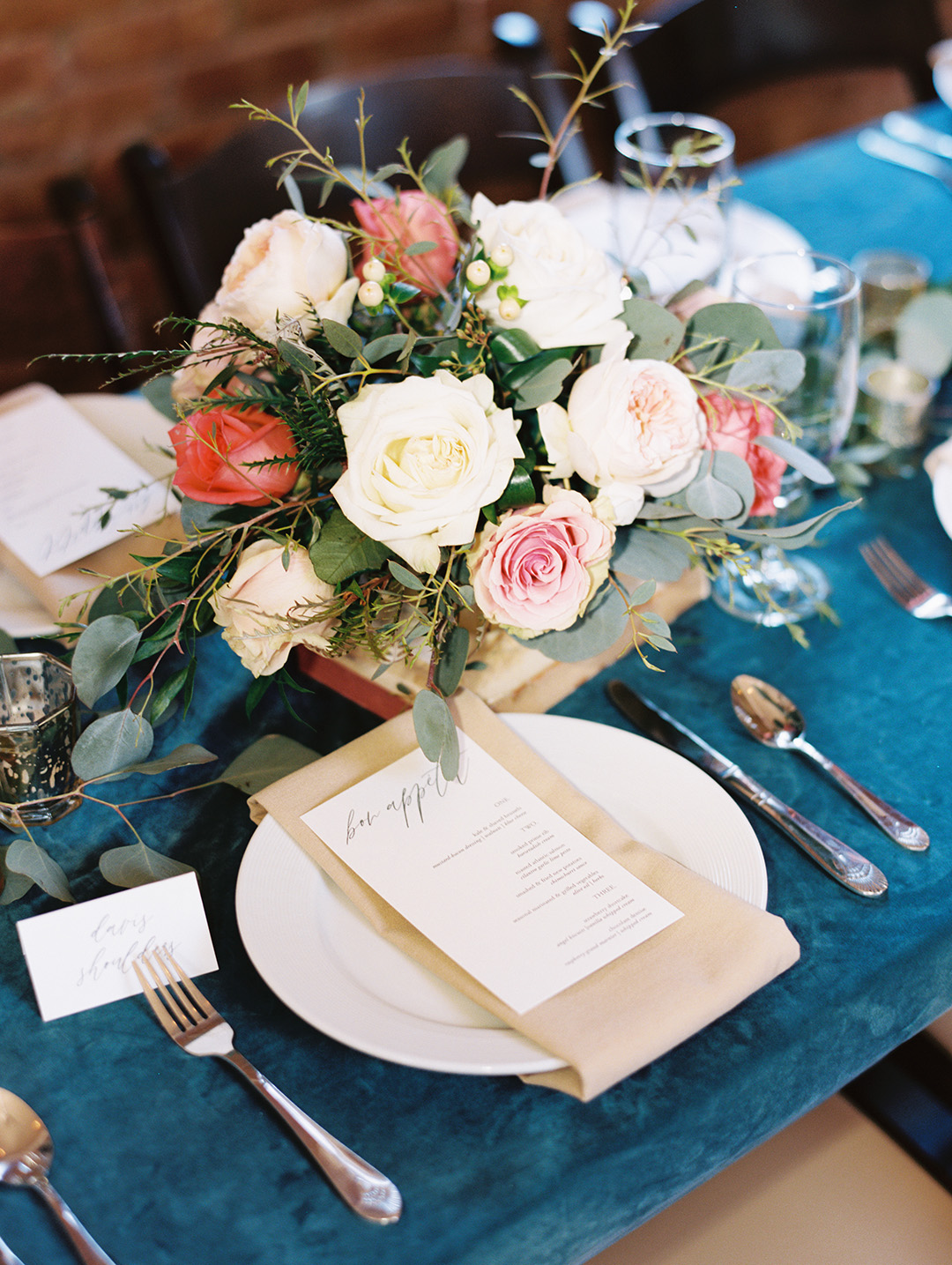 Photo by Abigail Lewis Photo
Bold & Bright – Coral, Fuschia & Sherbert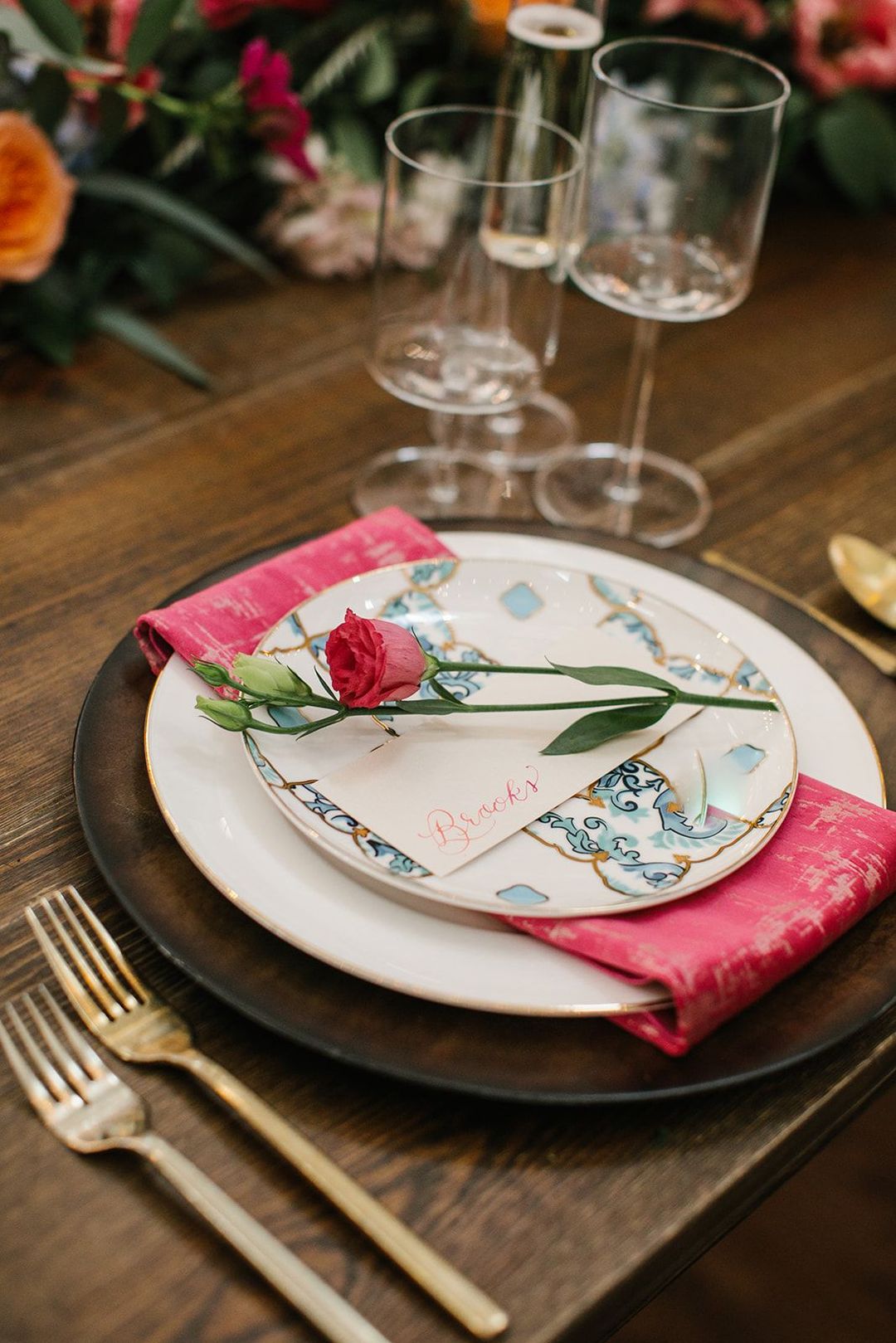 Photo by Gray Kammera
Dark & Moody + Black – Burgundy, Olive Green, Cinnamon, Crimson, Navy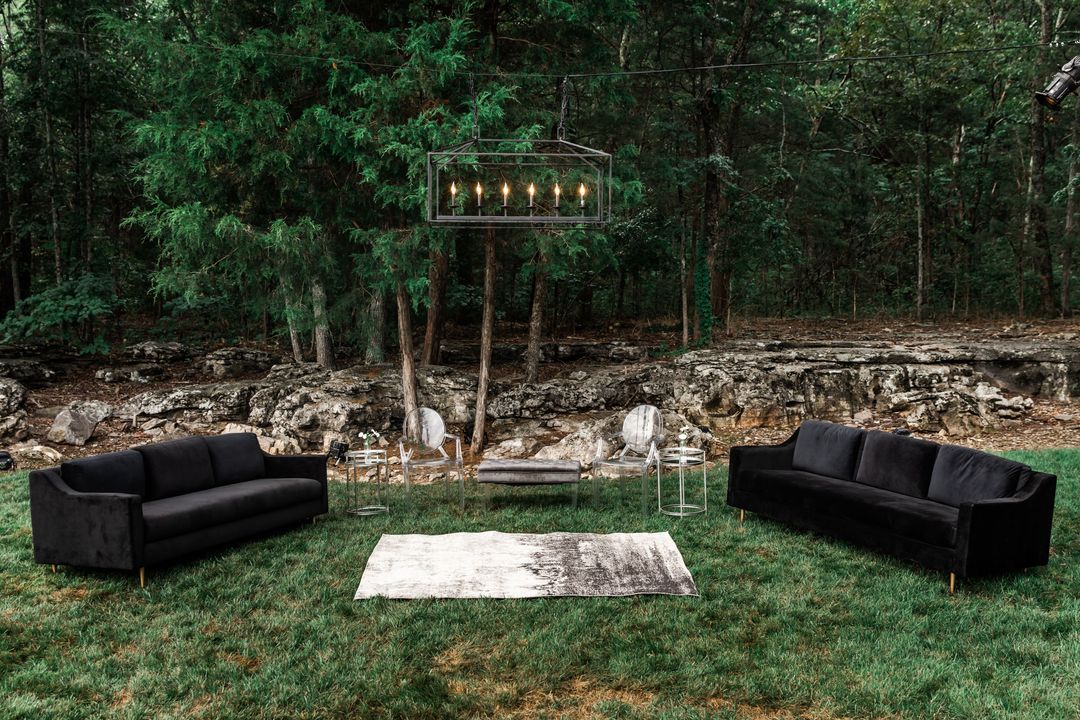 Photo by Nyk and Cali
Pantone Colors of the Year – A bright and positive combination, the Pantone Colors of the Year are Illuminating (yellow) and Ultimate Gray. We're excited to see how these colors are featured at 2021 weddings!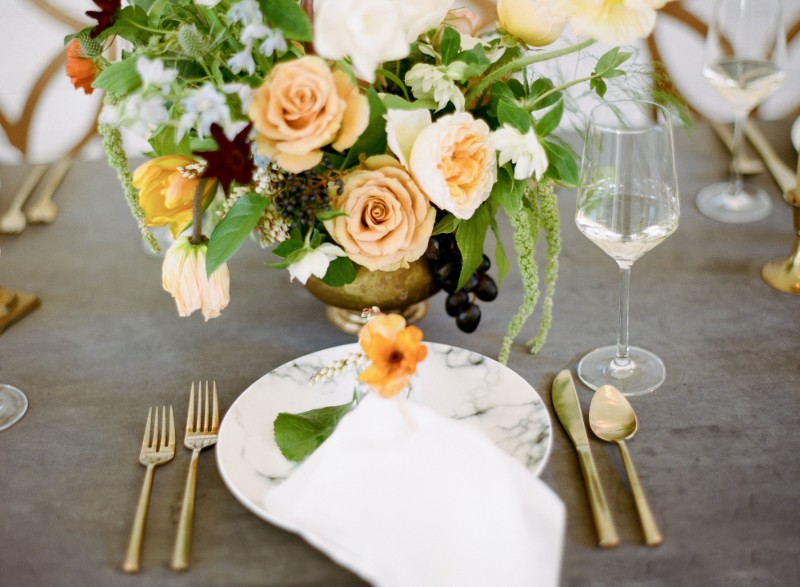 Photo by Alex Thorton Photography
Want to incorporate some of these 2021 trends into your upcoming or future Nashville or Franklin, Tennessee event? Reach out to our team for styling help or inspiration, or to secure your rentals, info@southerneventsonline.com.
TAGS | 2021 trends, On Trend, colorful decor, event inspiration, event style trends, on trend wedding style, style trends, wedding inspiration
FEATURED RENTALS | Gold Rim Glass Charger, Alabaster Earthenware, Driftwood Velvet Napkins, Artisan China, Cybil Glassware, Como Flatware, Gold Austin Flatware, Fern Velvet Linens, Colored Glassware, Pure Glassware, Medallion Gold Glass Chargers, Onyx Earthenware, Austin Flatware, Audrey Gold Rim Glassware
---
10

Dec

Events and Style Shoots, Nashville Venues, On Trend, Southern Events Products, Trends and Inspiration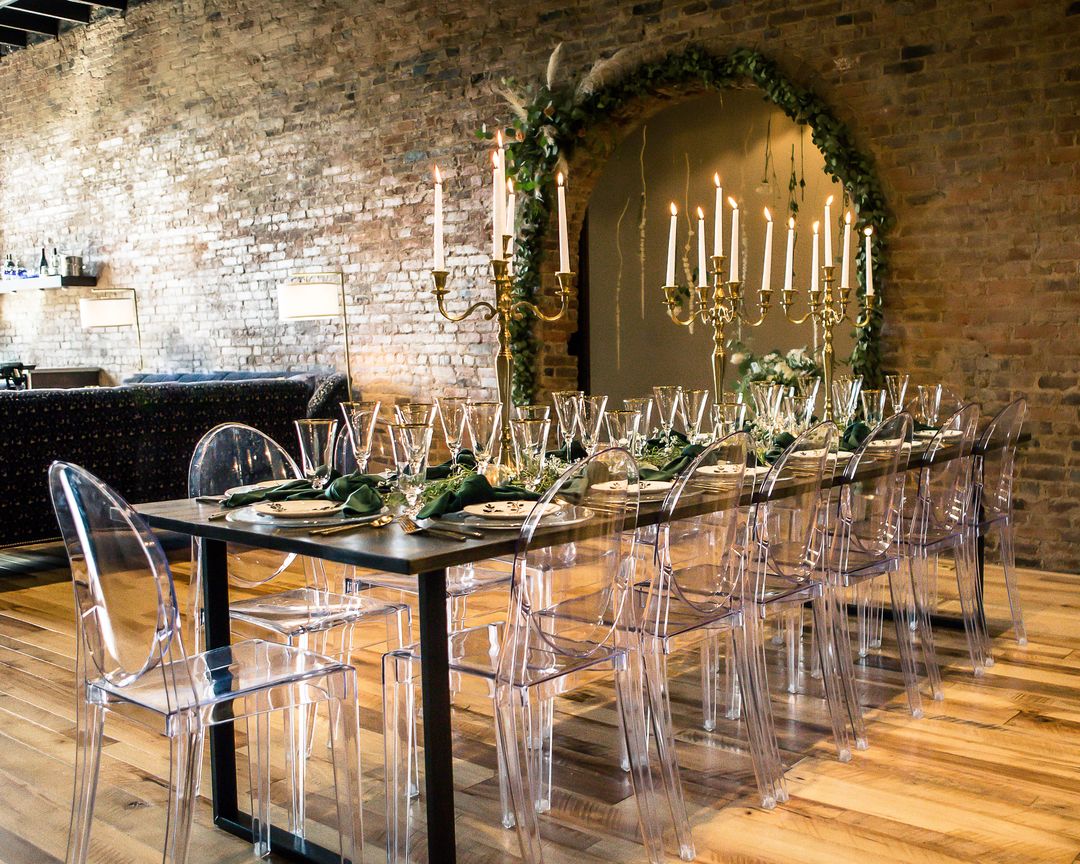 We love a good diner party and this emerald and gold styled shoot has us dreaming of luxe tablescapes for dinner parties and intimate weddings. Soiree on the Square in downtown Columbia, Tennessee was our host for the shoot and the perfect backdrop of cozy charm. Check out the details below, to get inspired for your own micro wedding reception or intimate dinner celebration!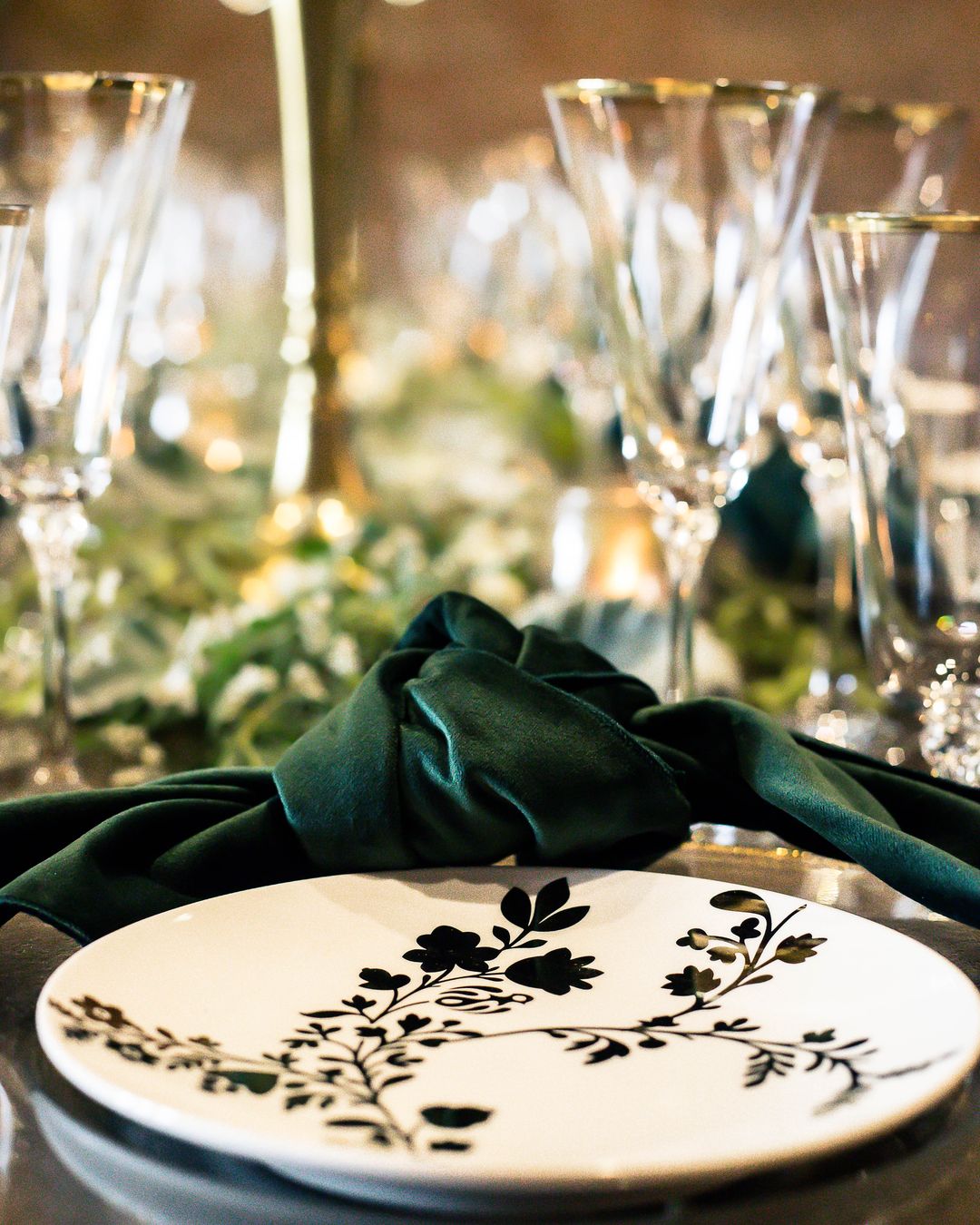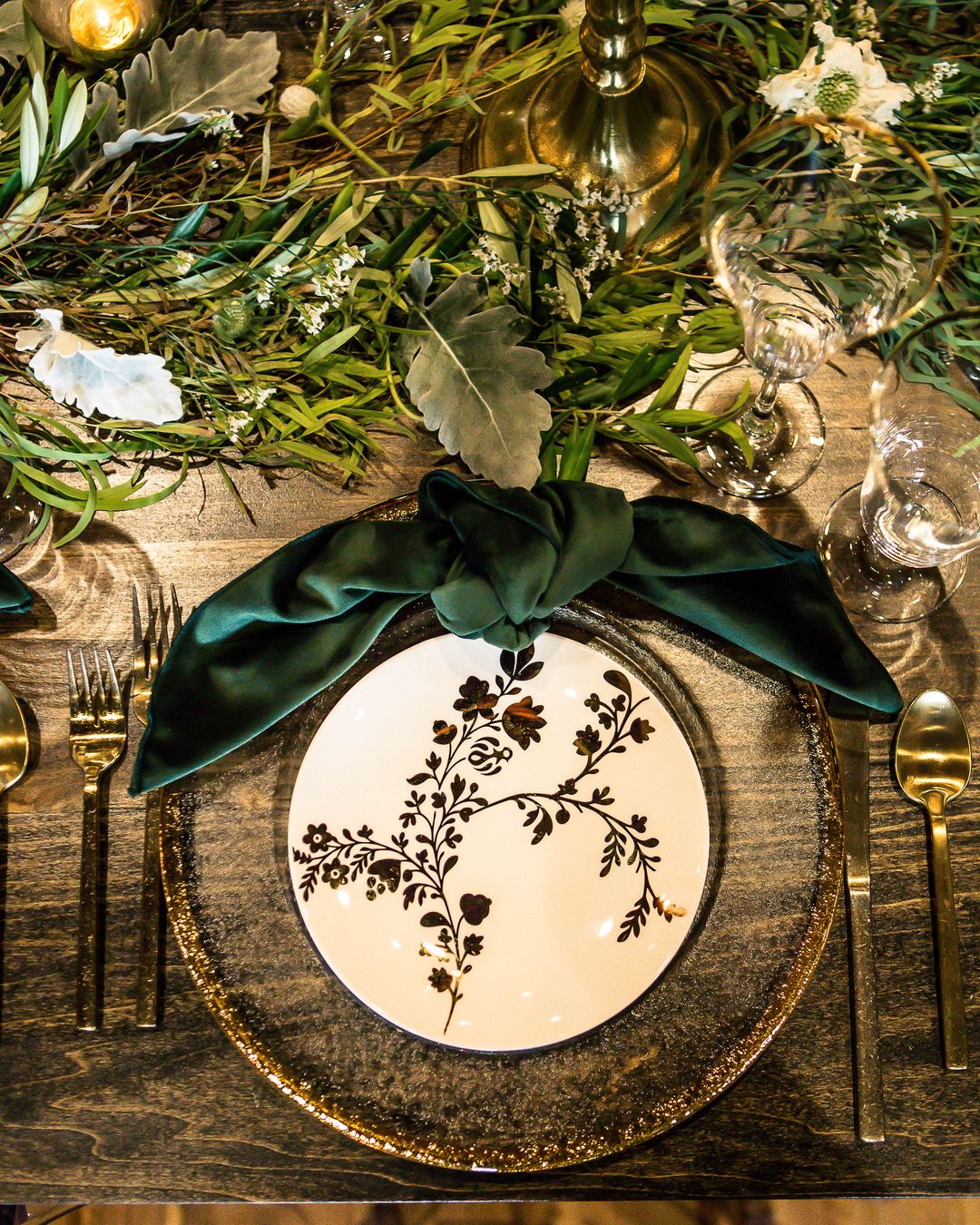 The Soiree on the Square is a gorgeous event space that mixes industrial architecture with contemporary furnishings. We contrasted the warm brick walls,  hardwood floors and industrial furniture with our modern
Acrylic Ghost Chairs
.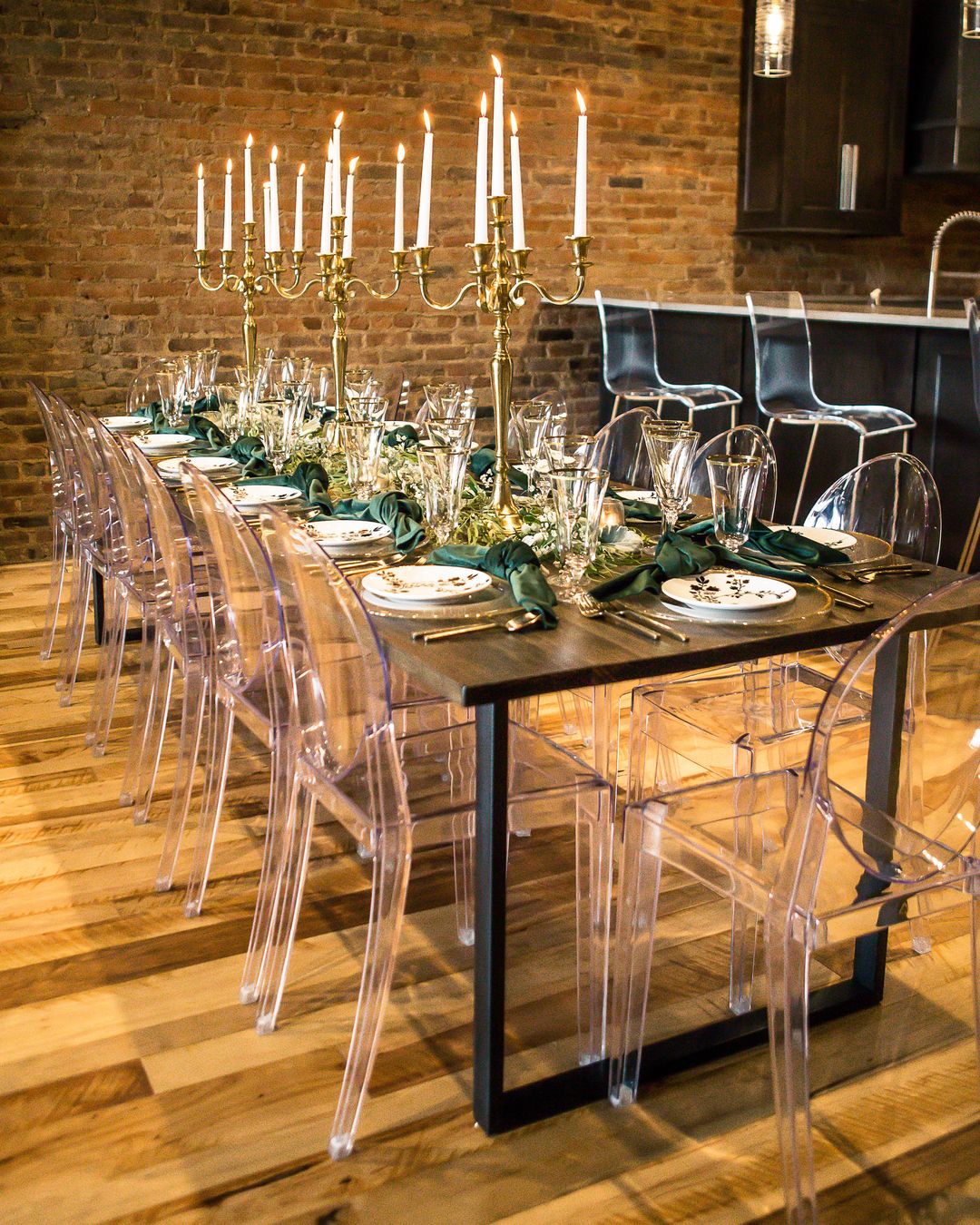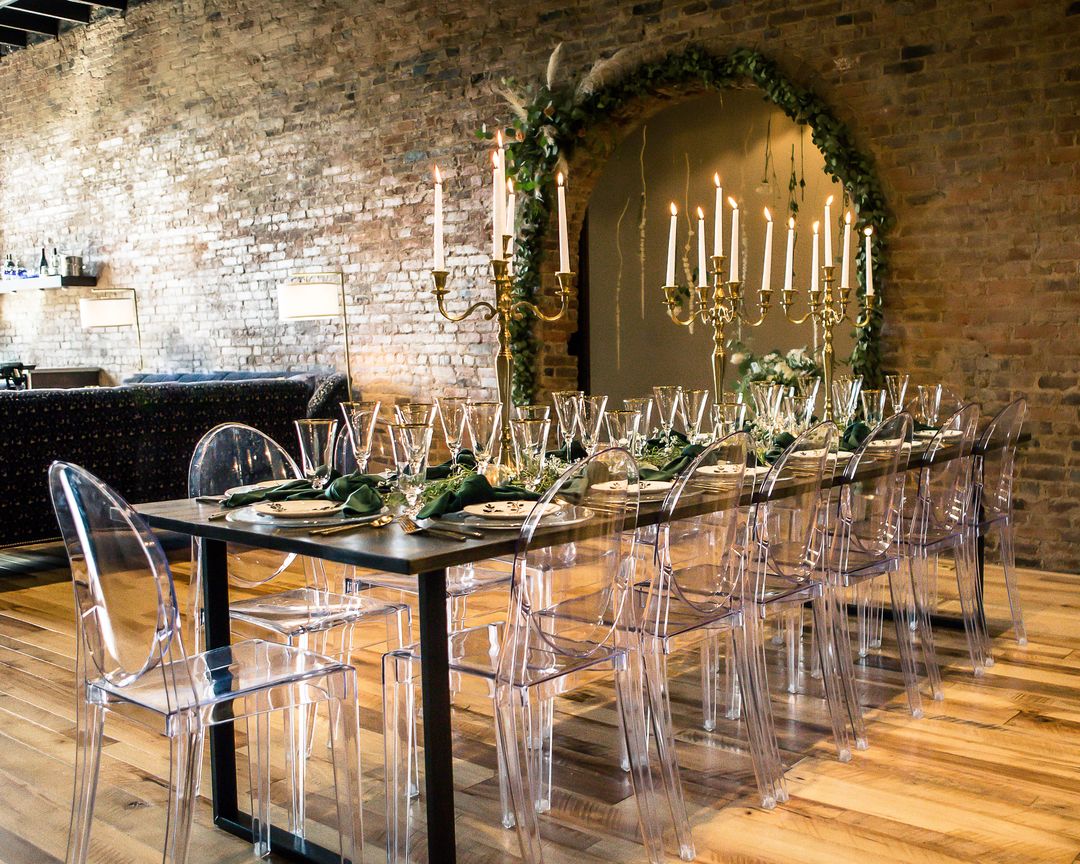 The centerpieces were simple but elegant, featuring greenery and tall gold candelabras – ideal for conversing across a table. Tall candles and votives were used throughout the space to create a romantic and intimate ambiance.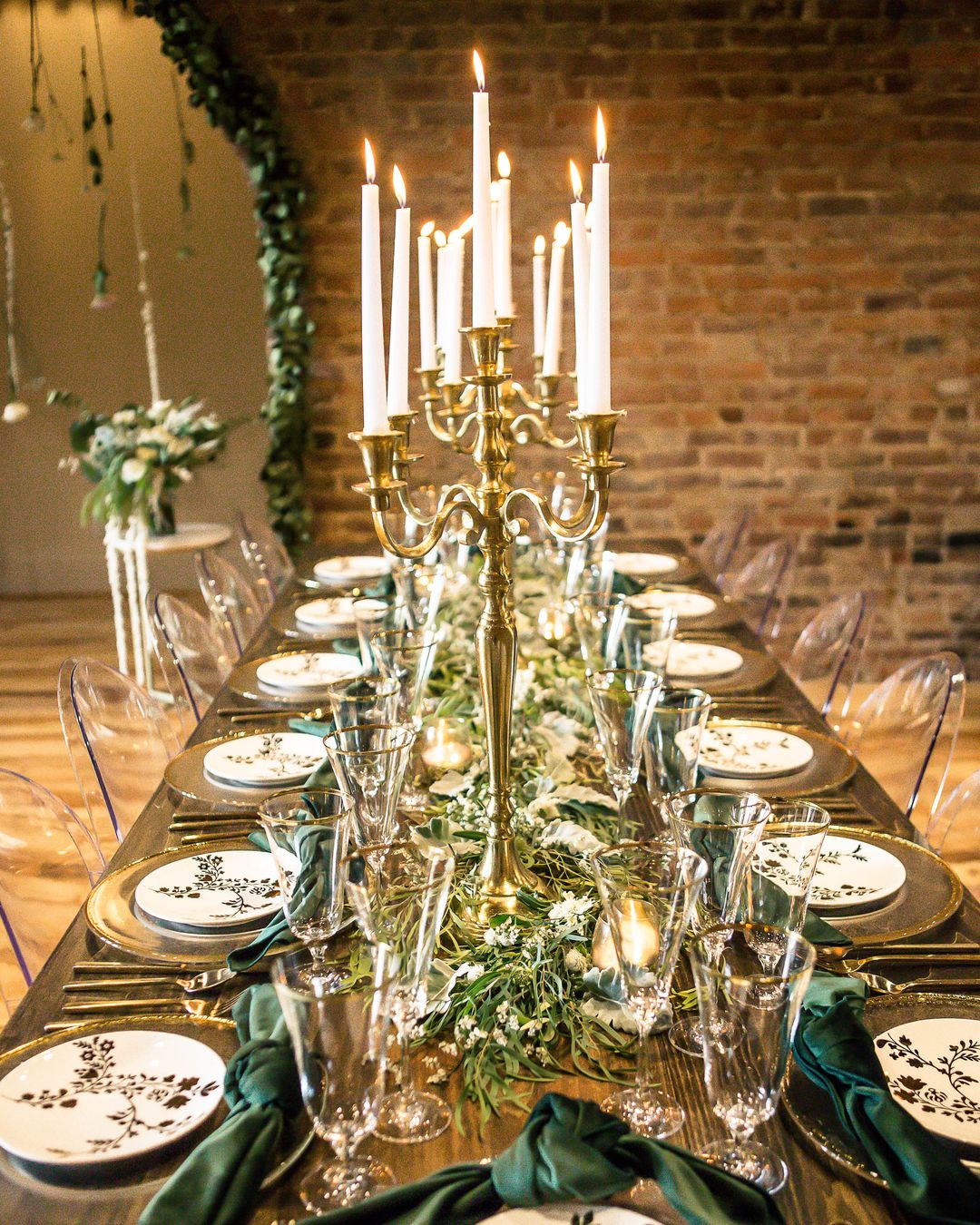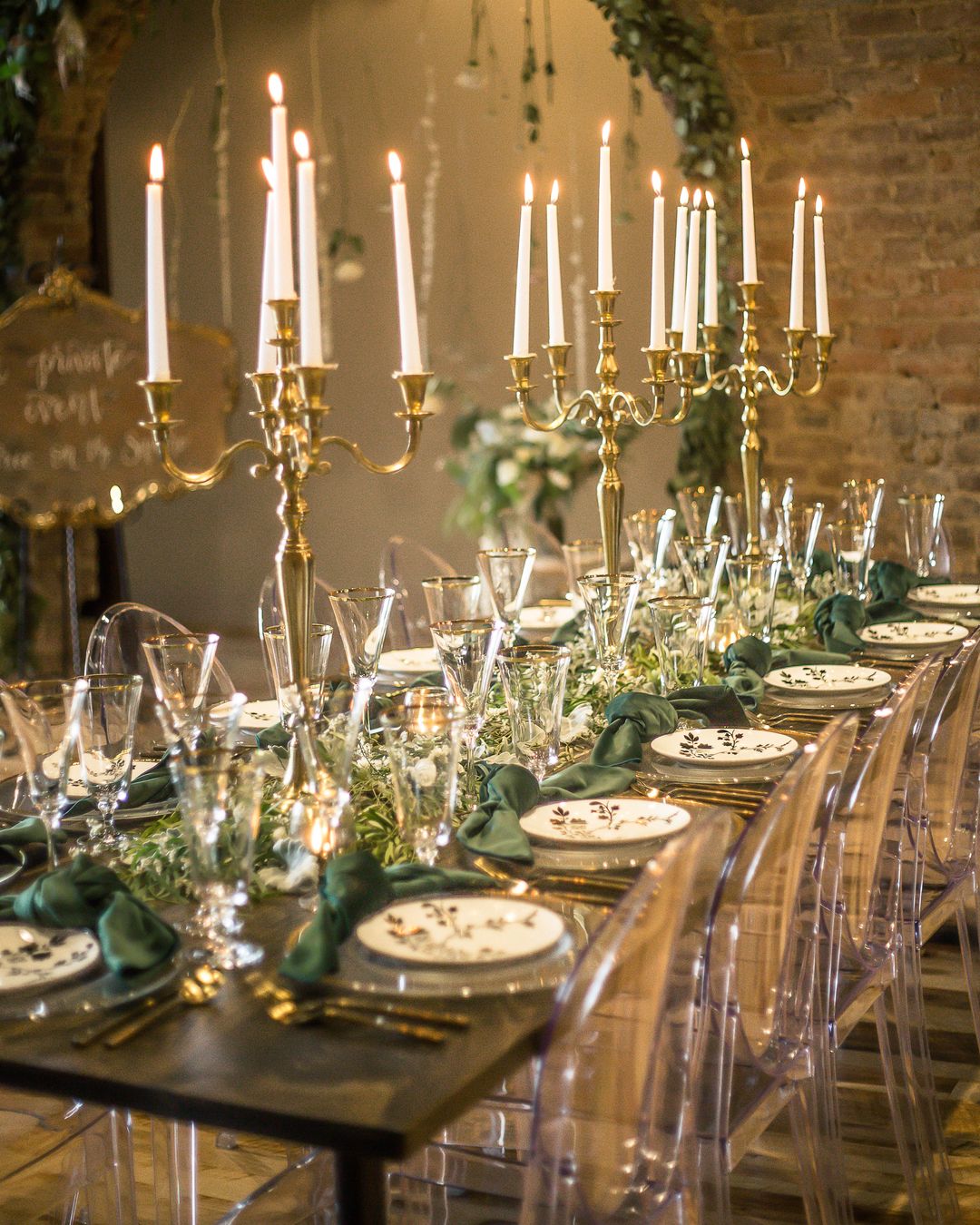 Other decorative elements include a lush garland to frame the entryway to the reception space. Eucalyptus, pampas grass and roses add volume here. A gold-framed mirror featuring a handwritten message was placed on a wrought iron stand as a stylish way to welcome guests.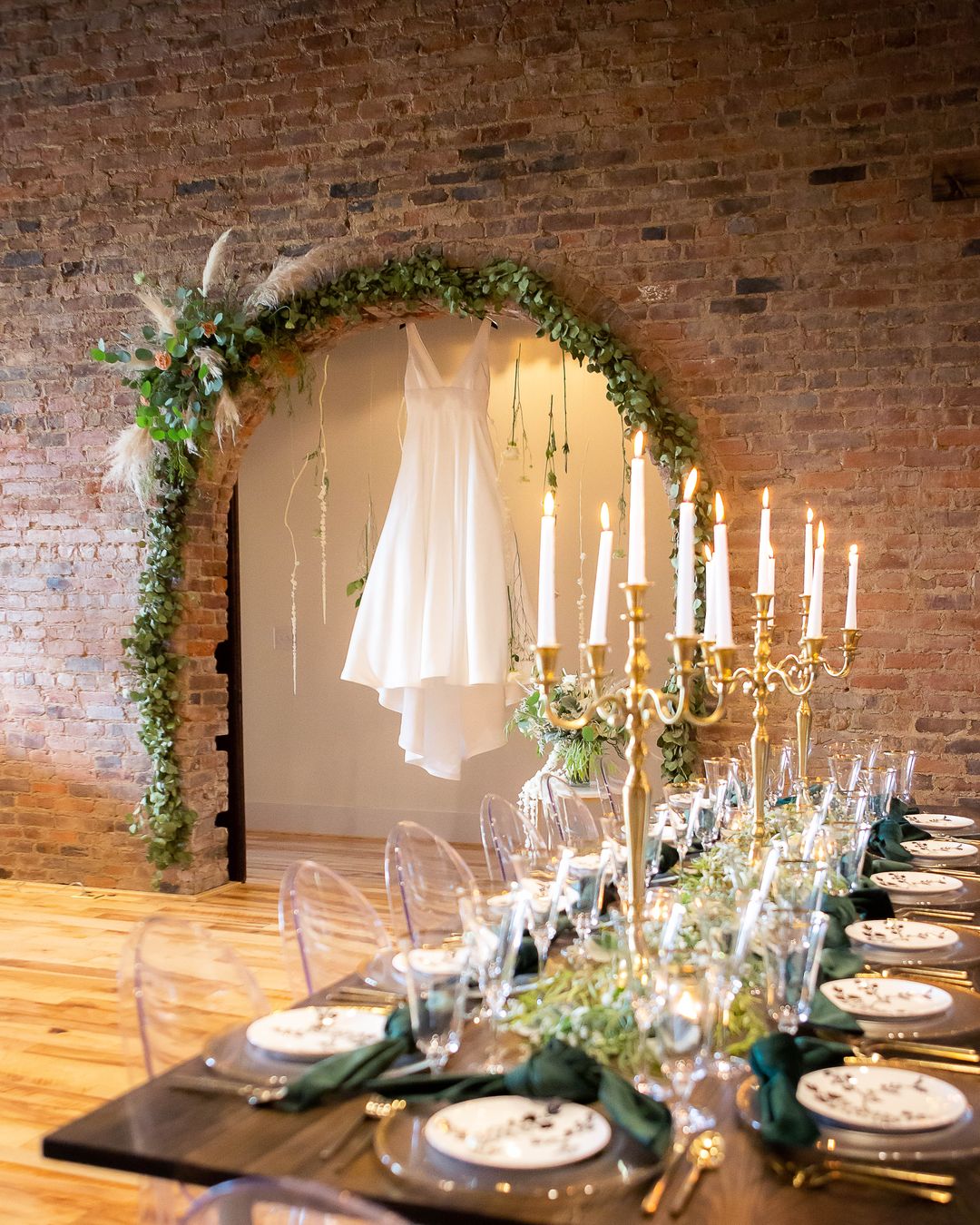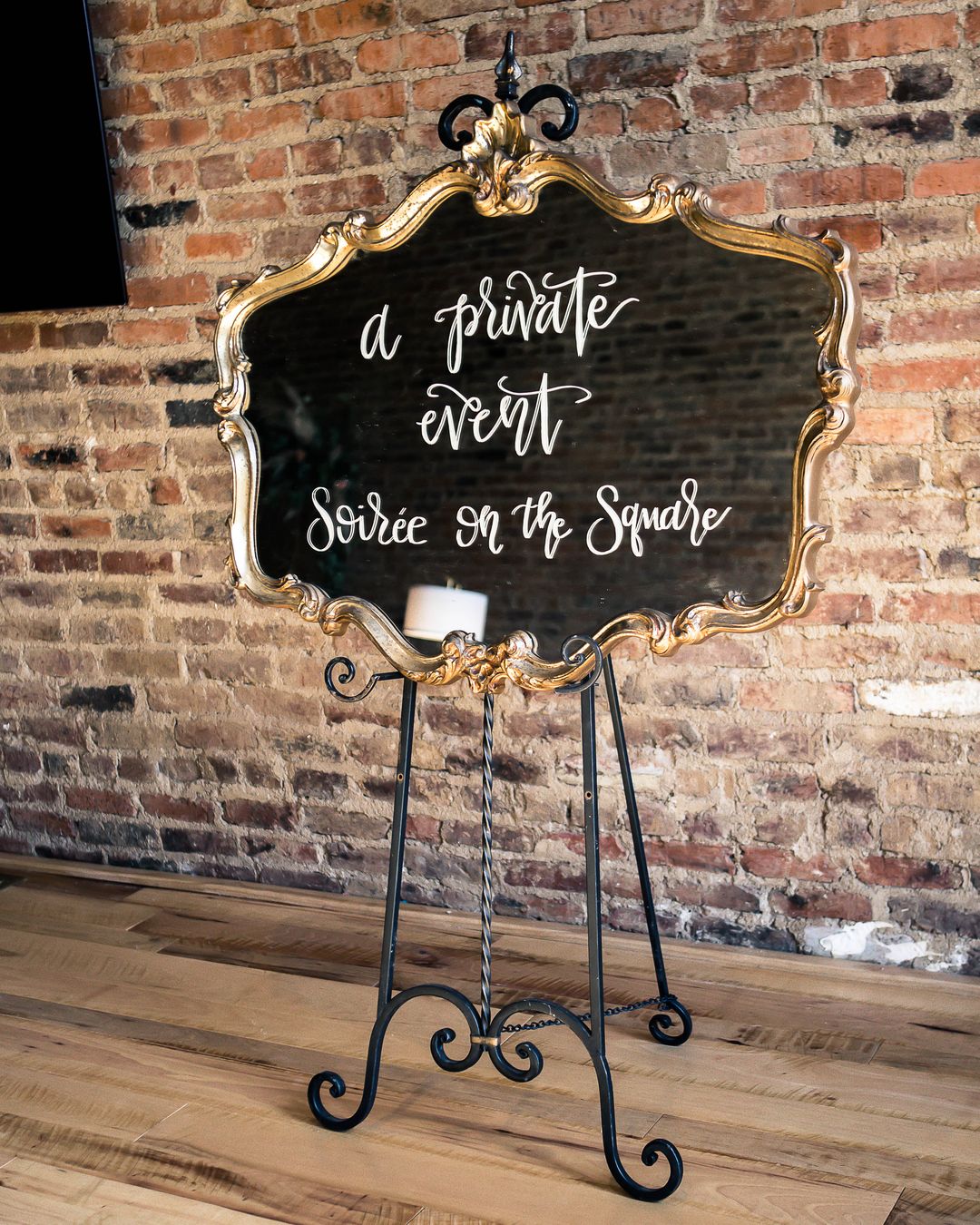 A special thank you to all of the amazing vendors who collaborated to make this stunning shoot possible!
TAGS | Nashville Event Venue, On Trend, Style Shoot, event inspiration, gold and emerald, gold event rentals, luxe event design, luxe event rentals, modern events, nashville event vendors, nashville venue
FEATURED RENTALS | Velvet Magnolia Green Linens, Glass Charger with Gold Rim, Vera Floral Desset Plate, Austin Gold Flatware, Audrey Gold Rim Goblet, Audrey Gold Rim Wine Glass
---
8

Oct

On Trend, Southern Events Products, Trends and Inspiration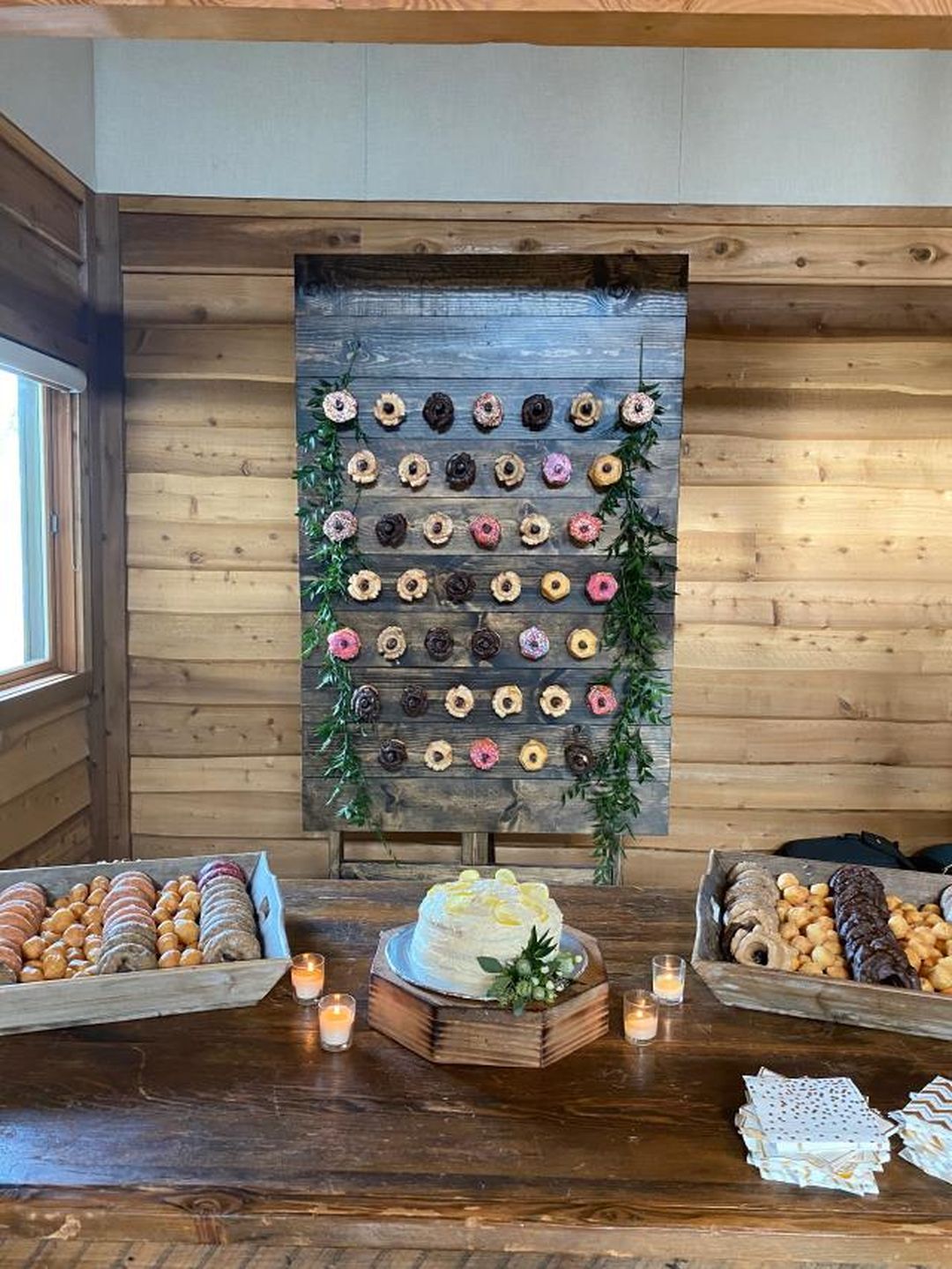 Interactive elements are always a hit at events. Whether you're planning a birthday party, a wedding reception, or even a baby shower, our donut wall is a must-have. These popular pastries double as a delicious dessert & decor! Keep reading to get inspired and learn how you can use our donut wall rental at your next event.
Donut Desert Wall
What can we say – if loving donuts is wrong then we don't want to be right! Donuts have quickly become a fan favorite at events & parties.  Plus, these sweet treats are as beautiful as they are tasty creating double duty decor. They can also be a quick photo backdrop. For some extra fun, we recommend serving up some coffee and/or milk! Be sure to check out our beverage rentals, like our stylish copper urn.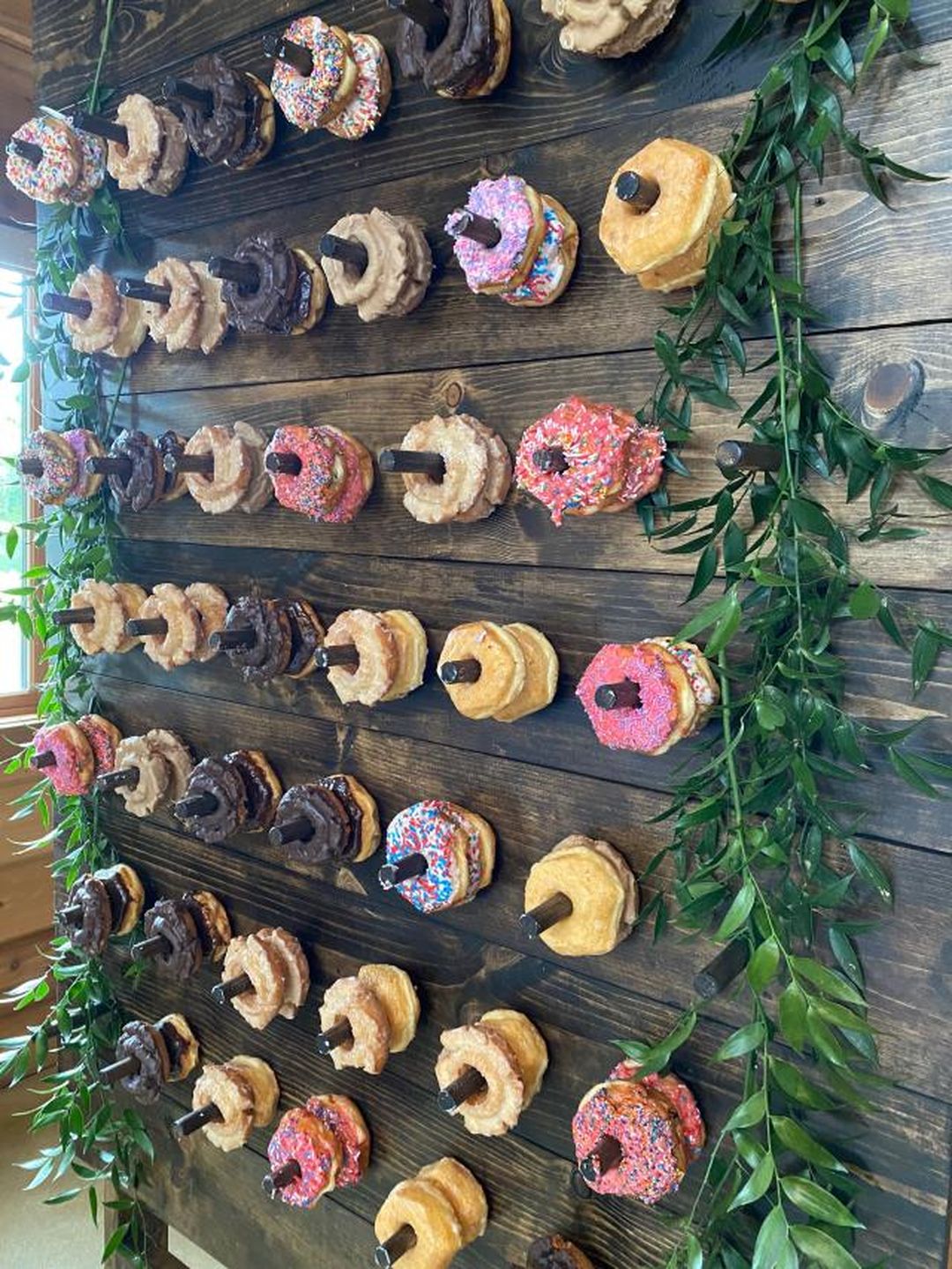 A Must for Birthdays & Baby Showers
Our freestanding peg wall for donuts has a beautiful dark wood stain that complements every type of event. It is 4′ wide by 8′ tall with 46 pegs and each peg holds 2-3 donuts. It is perfect for both adult and children's birthday parties, baby showers, bridal showers, and a variety of other events. The only downside to this interactive piece of decor is that the donuts aren't included!
Escort Cards 
Donuts are a fun treat, but you can also make them functional! Consider using our donut wall to serve up escort cards to your wedding guests. Simply add a tag to each donut with your guest's name and their designated table number. Or opt for classic escort cards tied with a colorful ribbon on this rustic backdrop.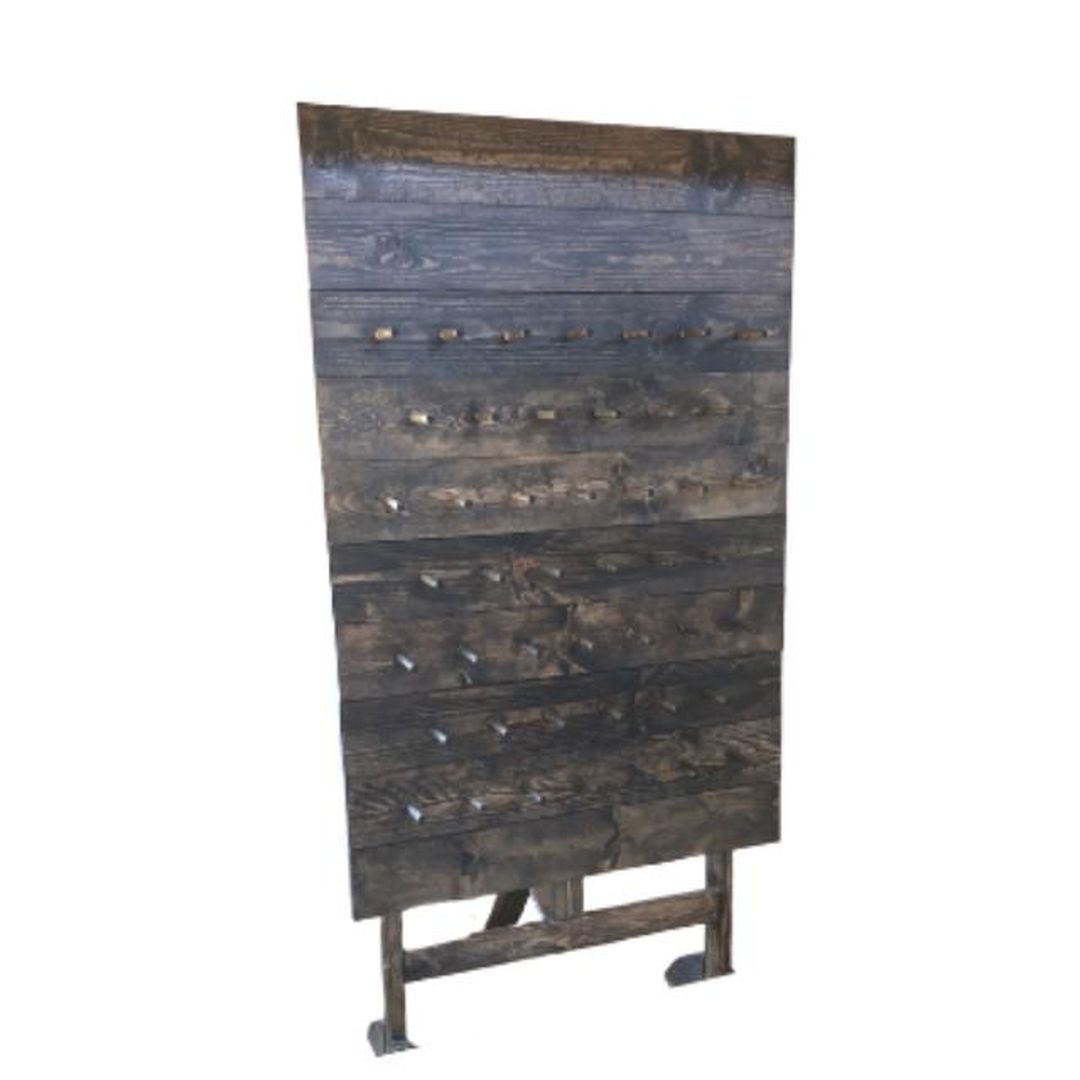 Are you ready to snag this donut wall for your next event? Contact our team today to secure your rental, or for more design inspiration!
TAGS | Nashville Wedding Rentals, On Trend, after party style ideas, dessert wall, donut wall, donut wall ideas, food display
FEATURED RENTALS | Donut Wall
---
6

Aug

Events and Style Shoots, On Trend, Southern Events Products, Trends and Inspiration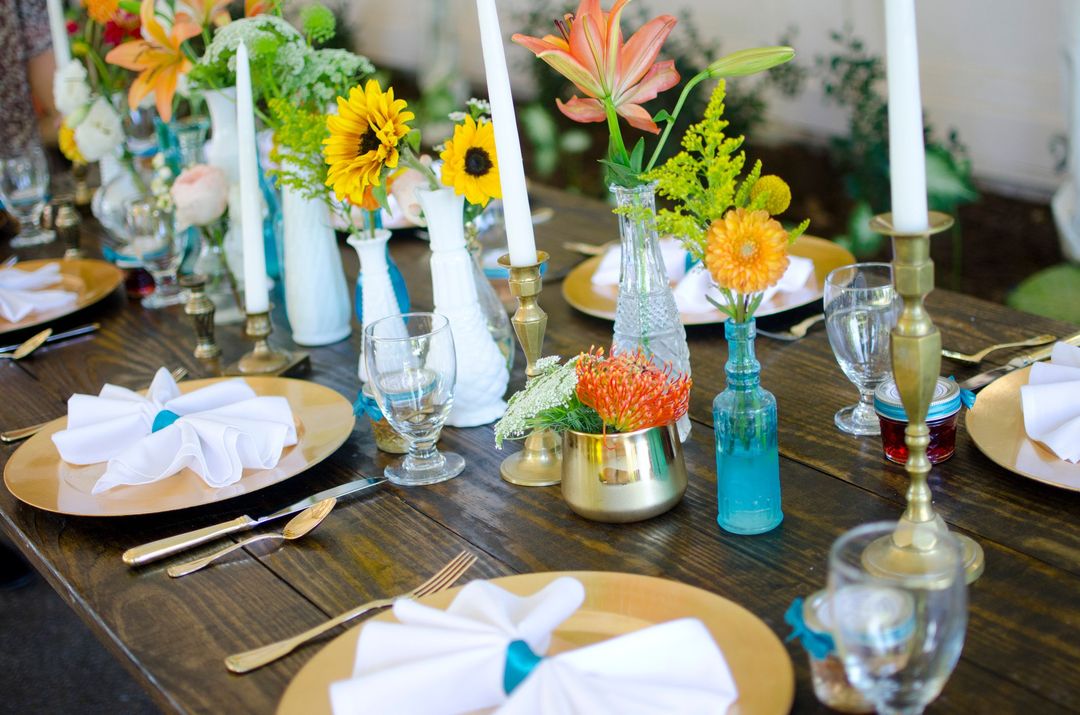 Vibrant and whimsical, these colorful backyard party ideas that are sure to bring some wonder & whimsy to your next Nashville, Tennessee event. Perfect for a kid's birthday party, fun gender reveal party or daytime wedding, check out how we use our party rentals to create a bold & colorful look that is timeless, stylish and fun!
Mix & Match Furniture
Keep your event casual yet maintain a consistent aesthetic with a mix of furniture that complements one another. By using Barnwood Furniture of a variety of shapes, you can make the most of the space and also feature some statement pieces. Take for example our beautiful Fruitwood Farm Tables. In regards to chairs, we used a mix of rustic benches and our elegant Cross-back chairs. Although simple, it creates a foundation from which to add color!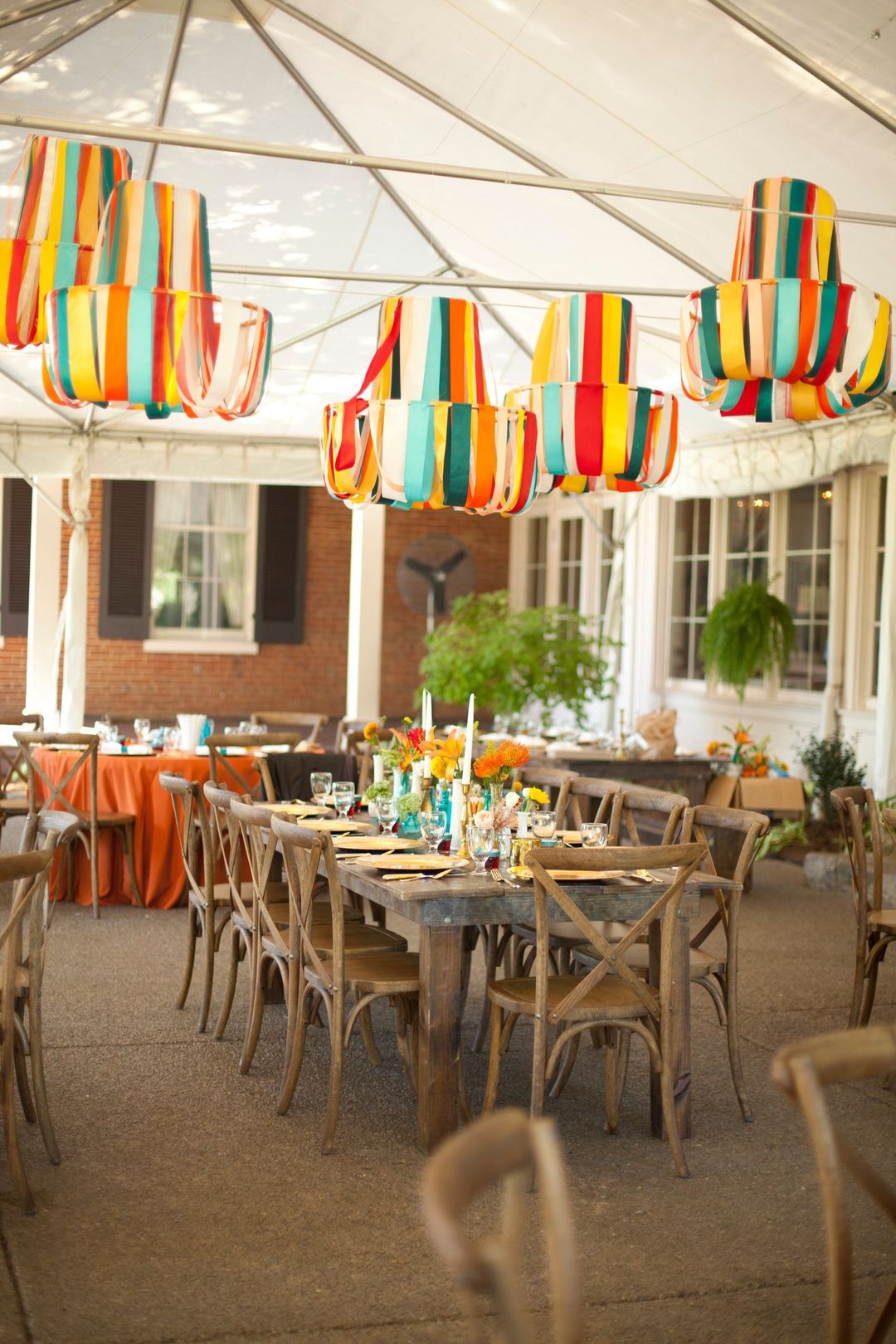 Photos by Krista Lee Photography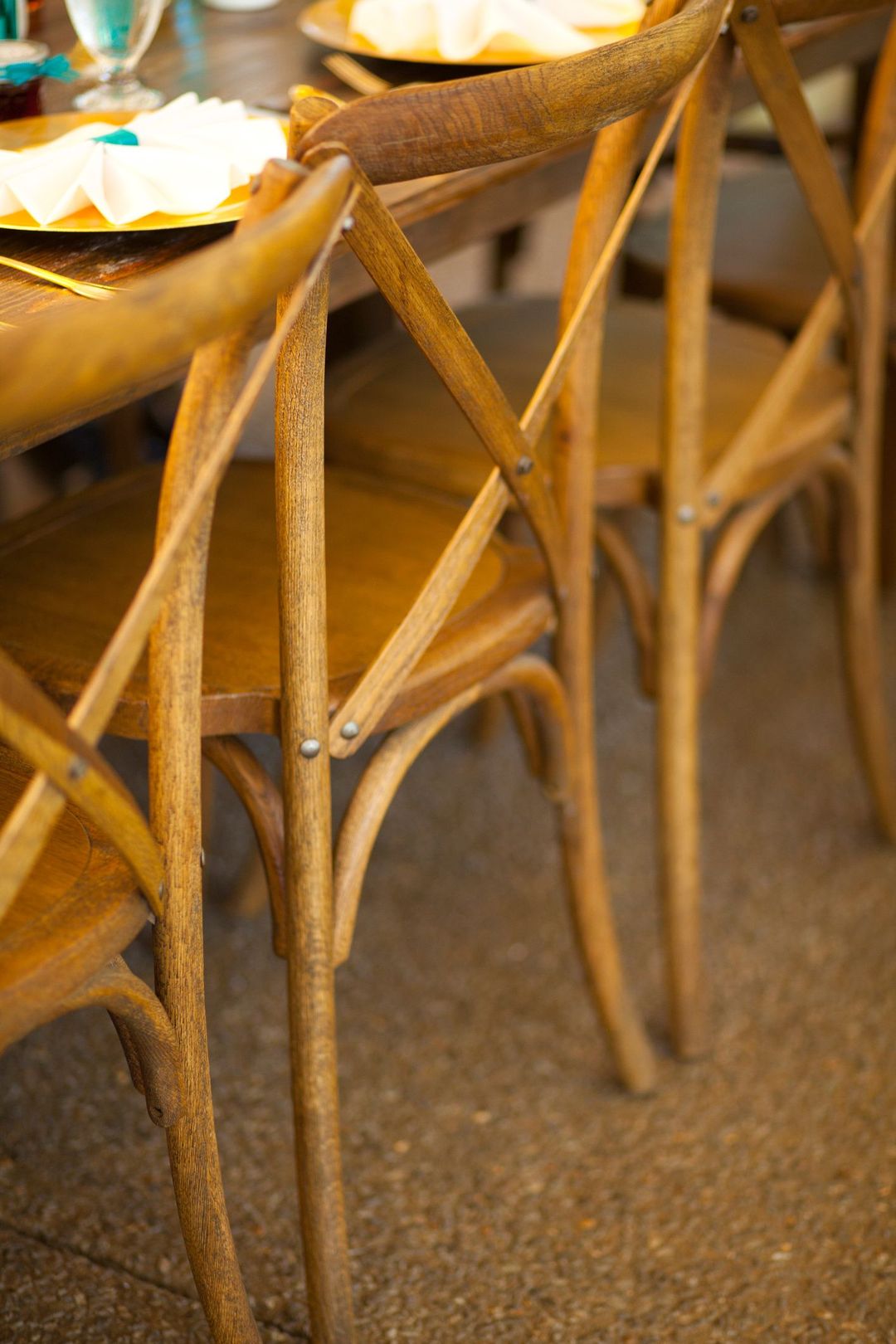 Metallic Place Settings
An easy way to add warmth to a colorful backyard event is with gold or silver accents. Featuring our Gold Round Lacquer Charger and Austin Flatware, adds a touch of metallics that contrasts beautifully against turquoise centerpieces. It also complements the golden yellows and sunset-inspired oranges throughout the event design. Don't forget to pull these accents into other parts of your events with gold-rimmed glasses on your bar or gold side tables in your lounge. This creates a more cohesive look.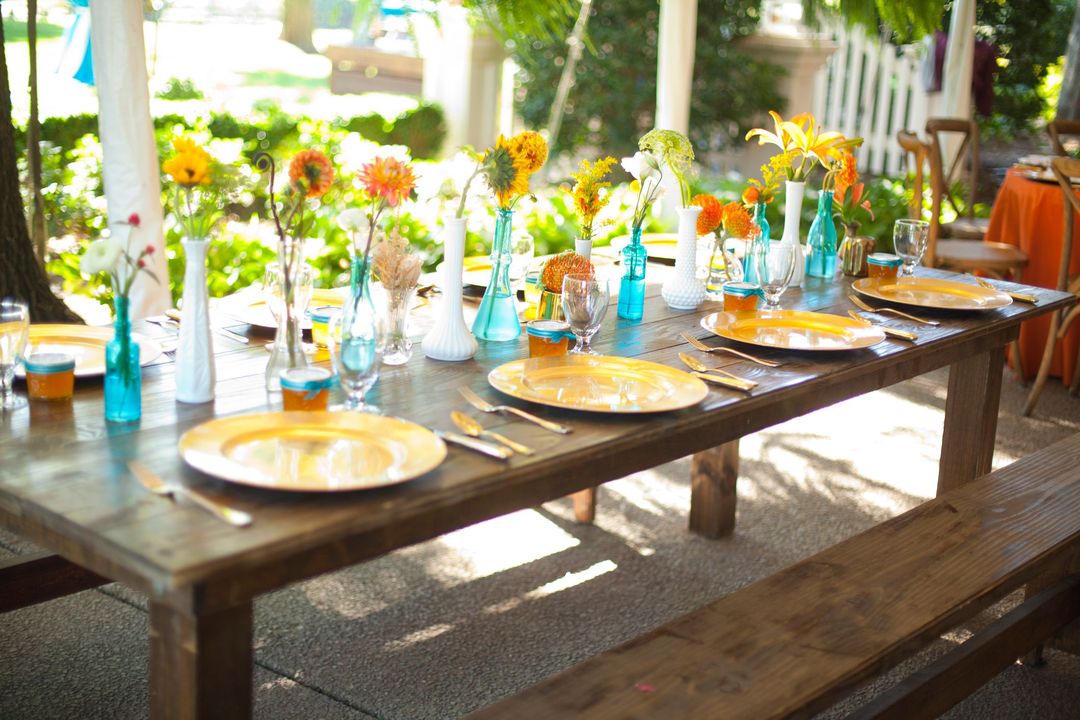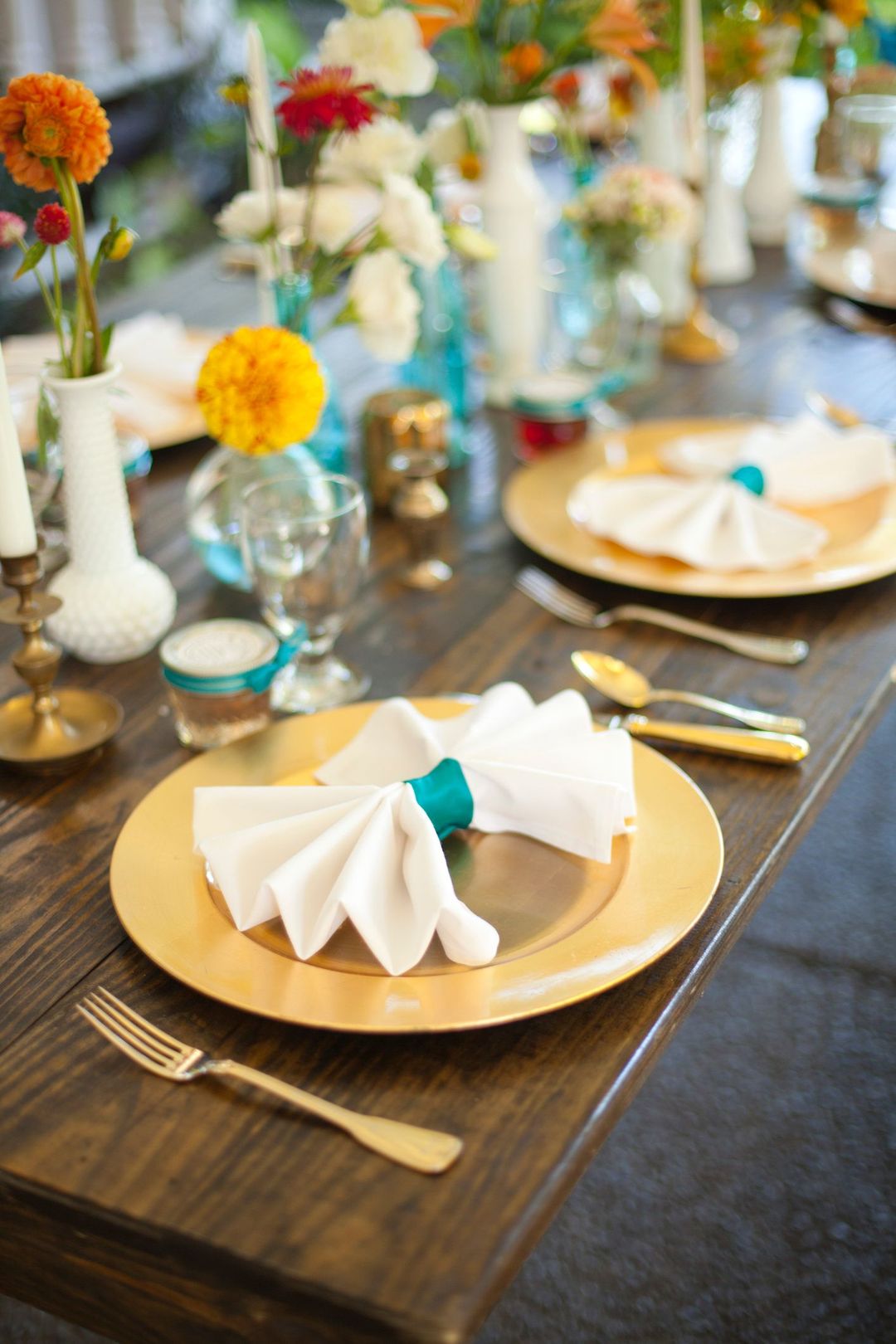 Bold Centerpieces
When it comes to table centerpieces people often feel the need to use matching pieces. A colorful backyard party is a perfect time to experiment with creative shapes and colors. This tablescape features a mix of vases, in teal, white, gold and clear glass – easy for a DIY backyard party. For candles, we suggest varying heights to add some dimension (though you can also create this with taller arrangements). As far as flowers go, consider keeping it simple but bright with a variety of wildflowers. Orange & yellow tones perfectly contrasted and popped against the teal and white glassware!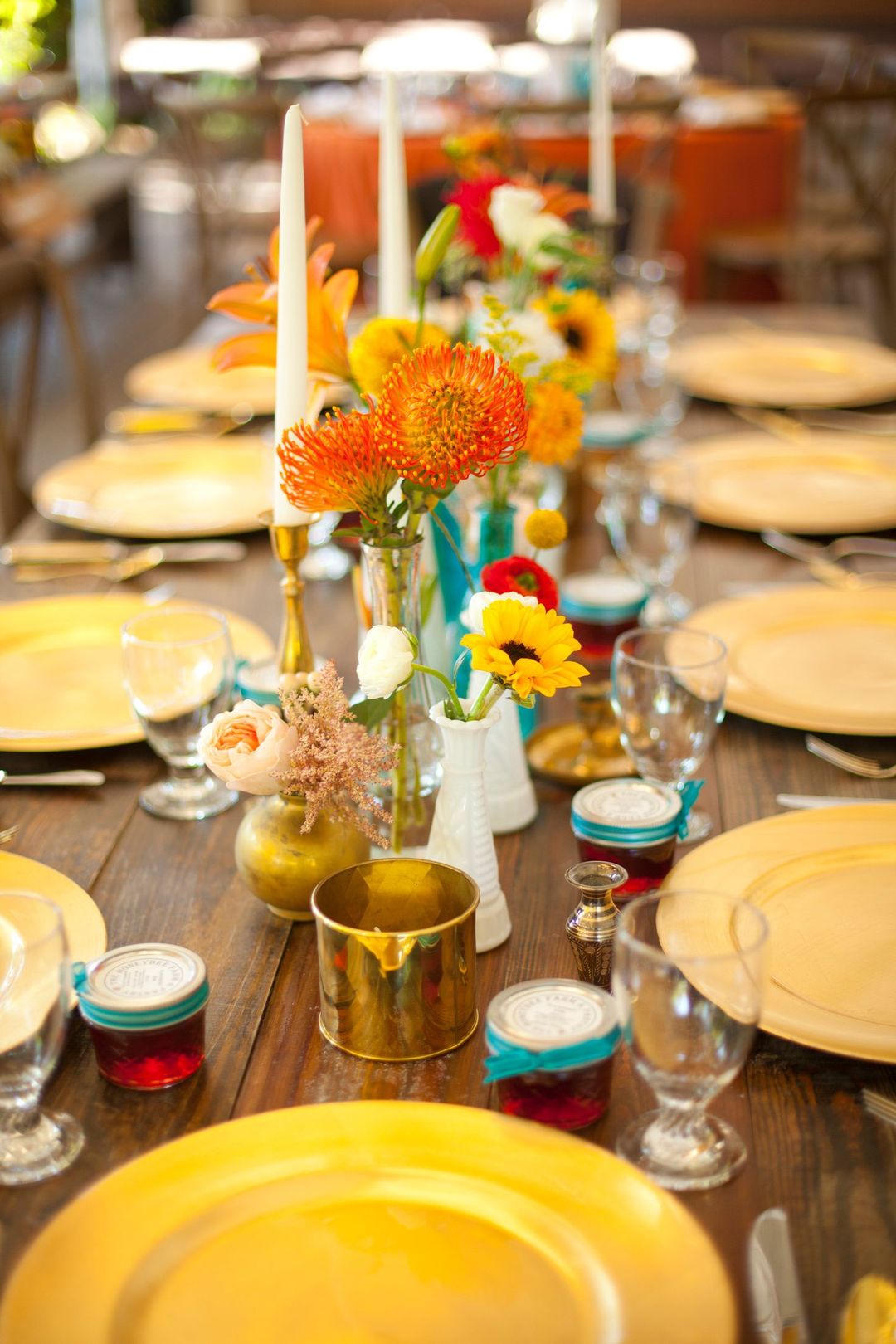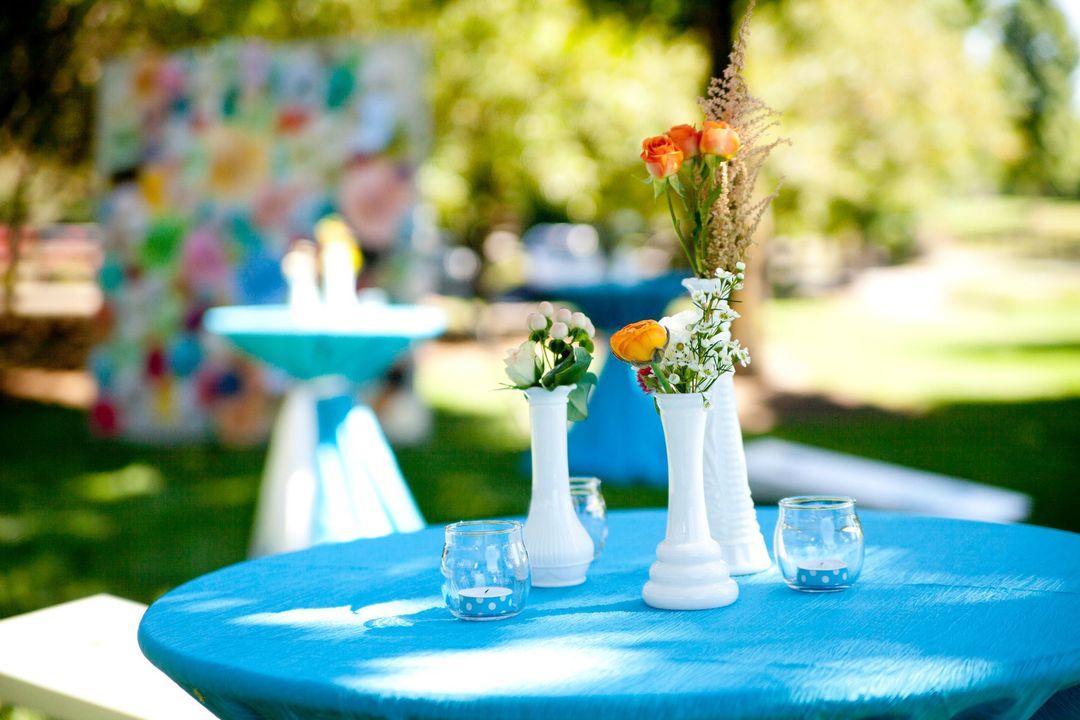 Vibrant Linens
Vibrant linens are so much fun! The use of bright colors will lend a sense of liveliness to your event, plus make your event photos pop. Don't be afraid to use different linens for each table either! Note how we were careful to switch up the color of our table centerpieces depending on the linen color. As a general rule: place lighter colored centerpieces on dark tablecloths and vice versa. Our Fuschia Etched Velvet Linens with their gold veining would be a another way to bring in a subtle metallic accent and a bold pop of color.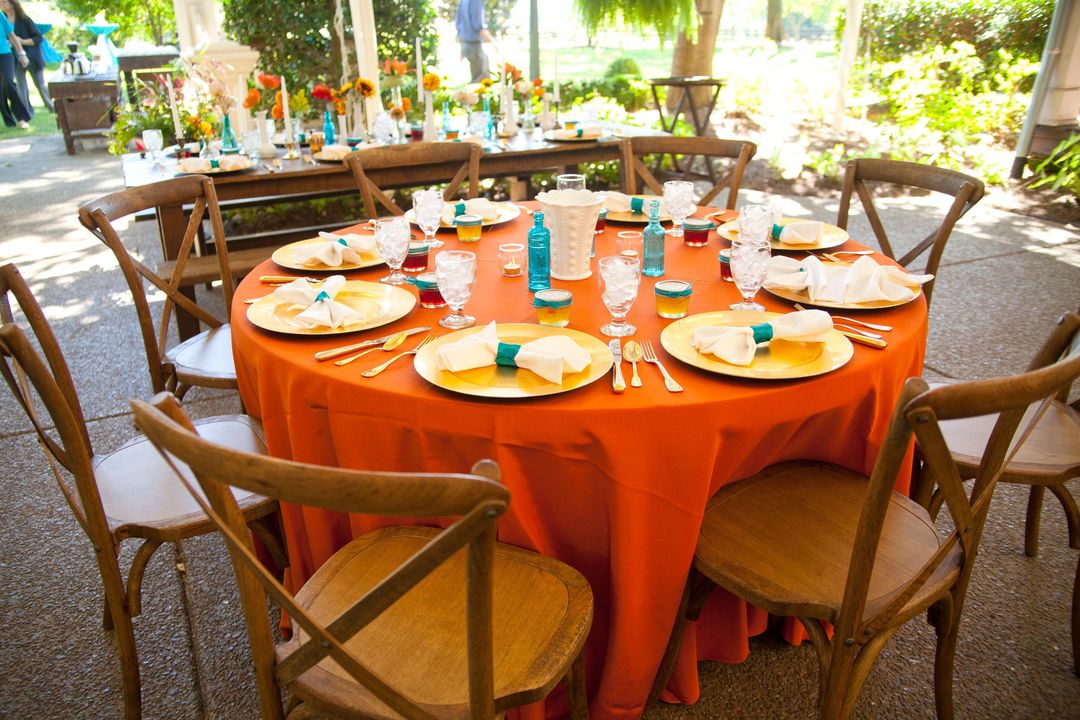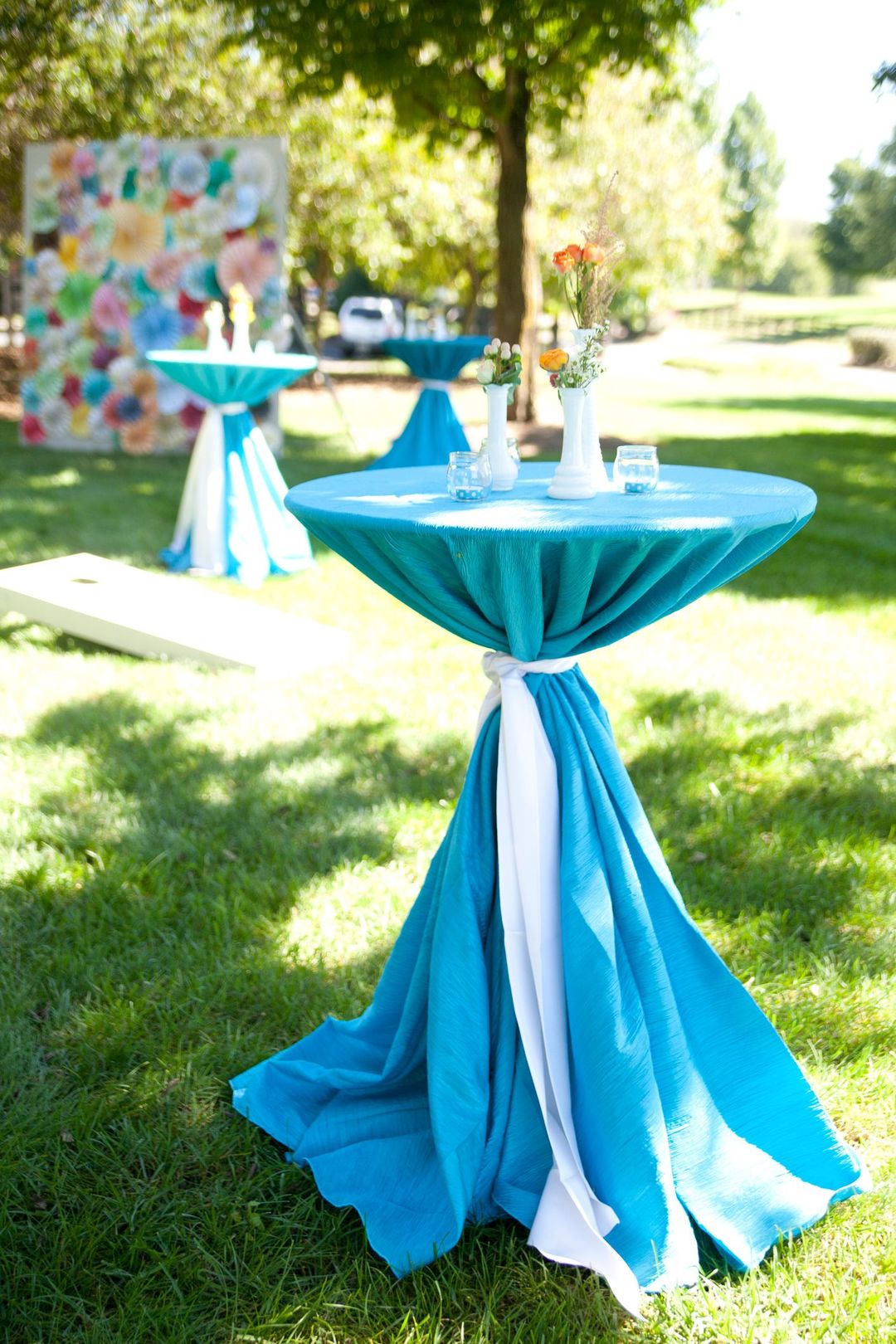 Loving these colorful backyard party design ideas? Contact our team for more inspiration and rentals for your event! Plus check out our previous blog for Season-less Event design.
TAGS | Bright & Colorful Rentals, Colorful and Fun Outdoor Wedding, Kids Parties, On Trend, backyard parties, classic event rentals, colorful decor, event inspiration, event style trends, style trends
FEATURED RENTALS | rustic bench, fruitwood farm table, cross back chairs, round gold lacquer charger, Austin flatware, colored glassware, table linens, velvet linens
---