29

Jun

On Trend, Southern Events Products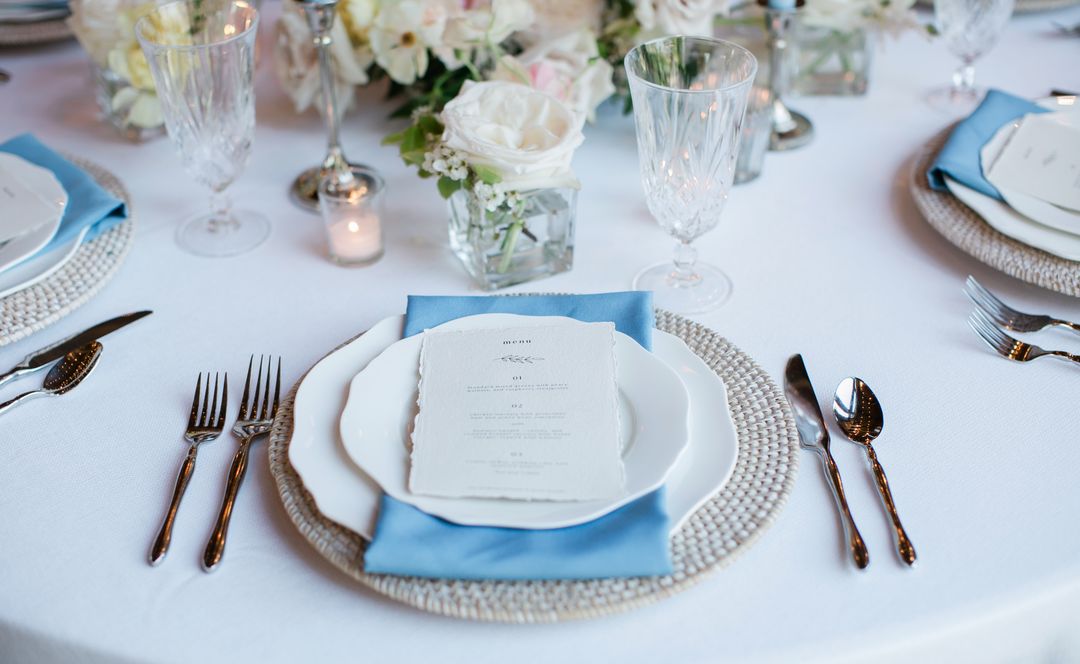 A memorable event calls for attention to detail! One of our favorite ways to elevate any celebration is with an elegant place setting. From casual backyard gatherings to elegant dinner parties, the right plates can enhance the aesthetic of your event. This said, buying a large number of plates can be expensive! Whereas paper plates are dull and wasteful. That's where Southern Events comes in! With a large catalog of party plates for rent, we offer an on-trend option for every celebration.
Modern Metallics
Metallics continue to reign supreme in event decor. When it comes to party plates, metal accents are an easy way to turn a plain table setting into a glam spread. We stock a number of chargers with metallics to elevate your table. From a modern Copper Glass Charger to a Silver Round Lacquer Charger. For a more dark and moody vibe, check out our Black Round Lacquer Chargers. Or create a chic place setting with the Silver Beaded Edge Belmont Chargers. Any of these plates is a stunning base for colorful or classic white china!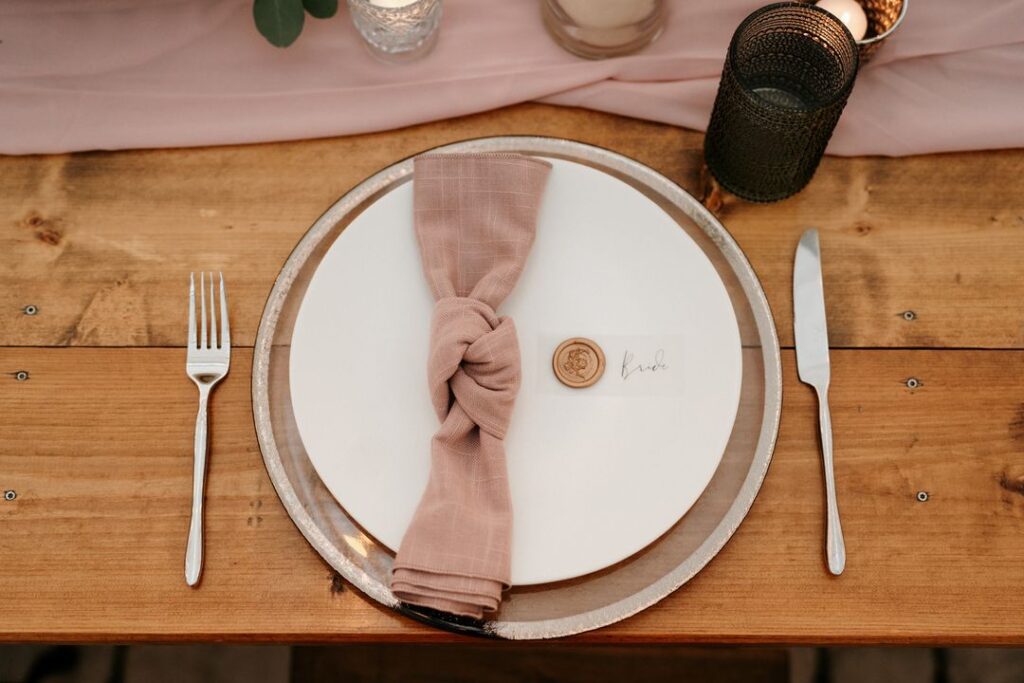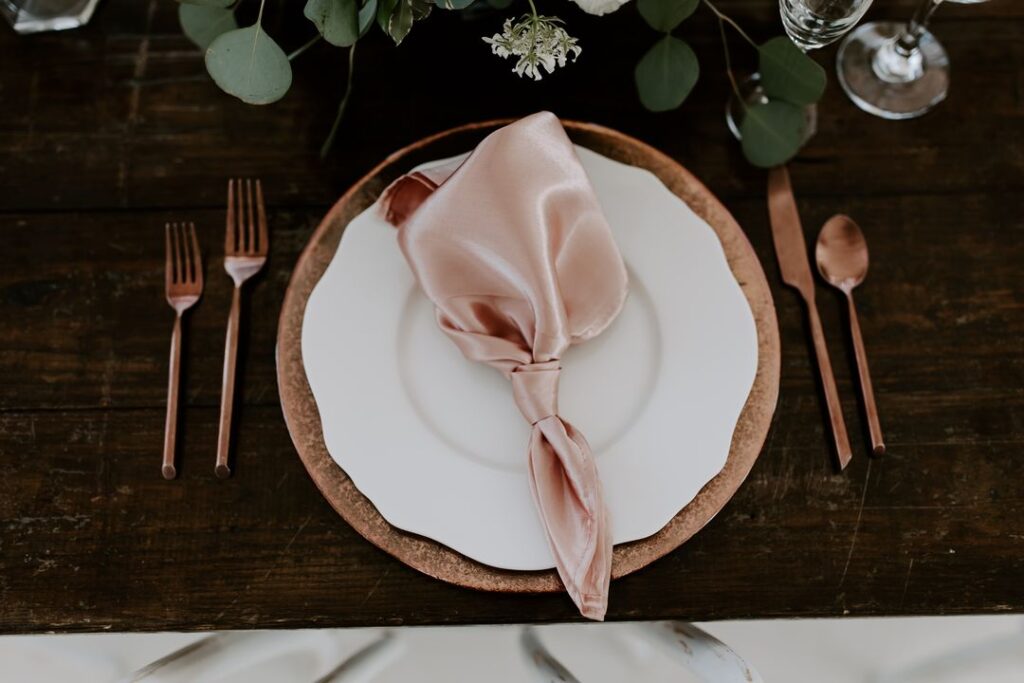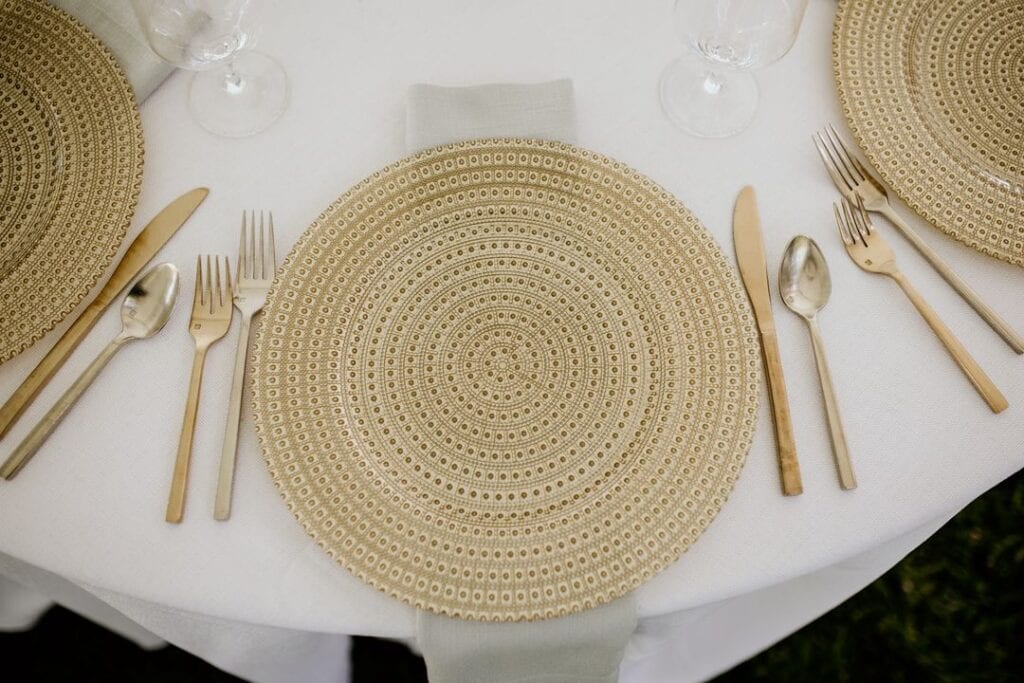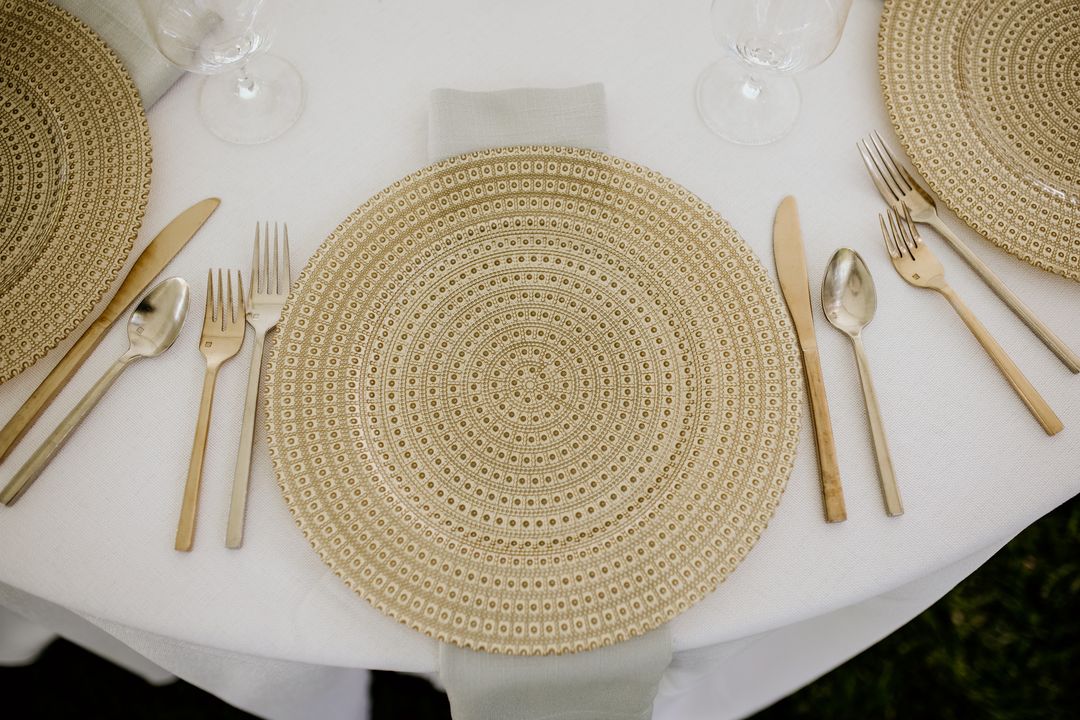 Chic Party Prints
If you're looking to infuse your personality and style into your event, printed plates are a beautiful choice. Our inventory includes styles to suit various themes and moods. Whether you're hosting a whimsical garden party or a bright al fresco dinner party. Feature a metallic accent with the Blair Geometeric or Vera Floral China. Or, add a pop of color with the elegant Laguna or Coronado China. Of course, there is no going wrong with our Carrera Marble Dinner Plates. They look gorgeous on top of a vibrant charger or paired with a colorful napkin!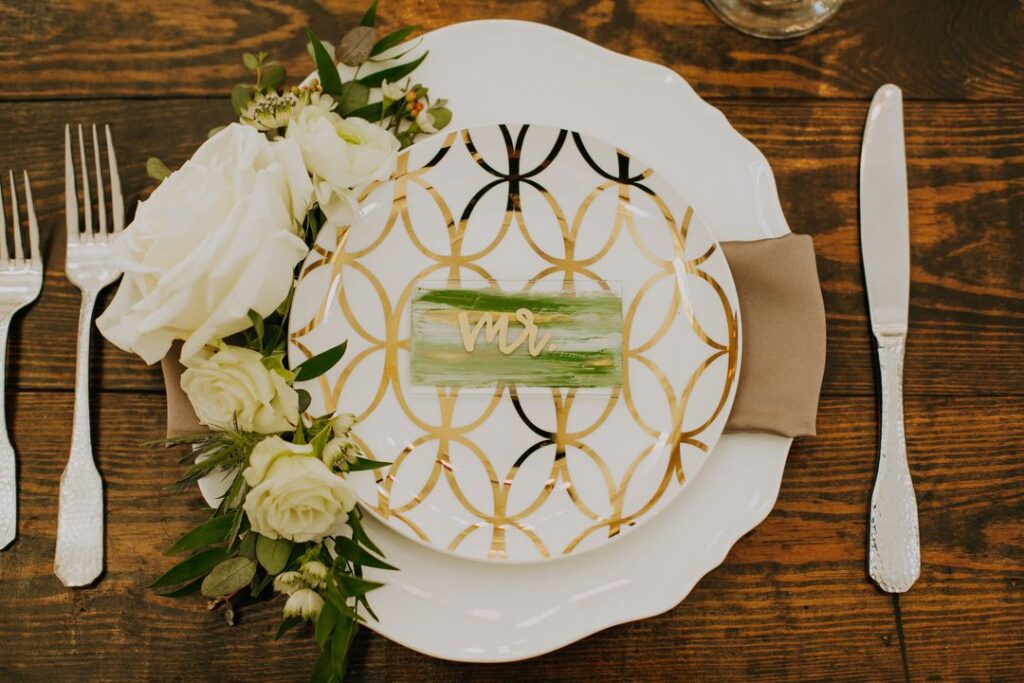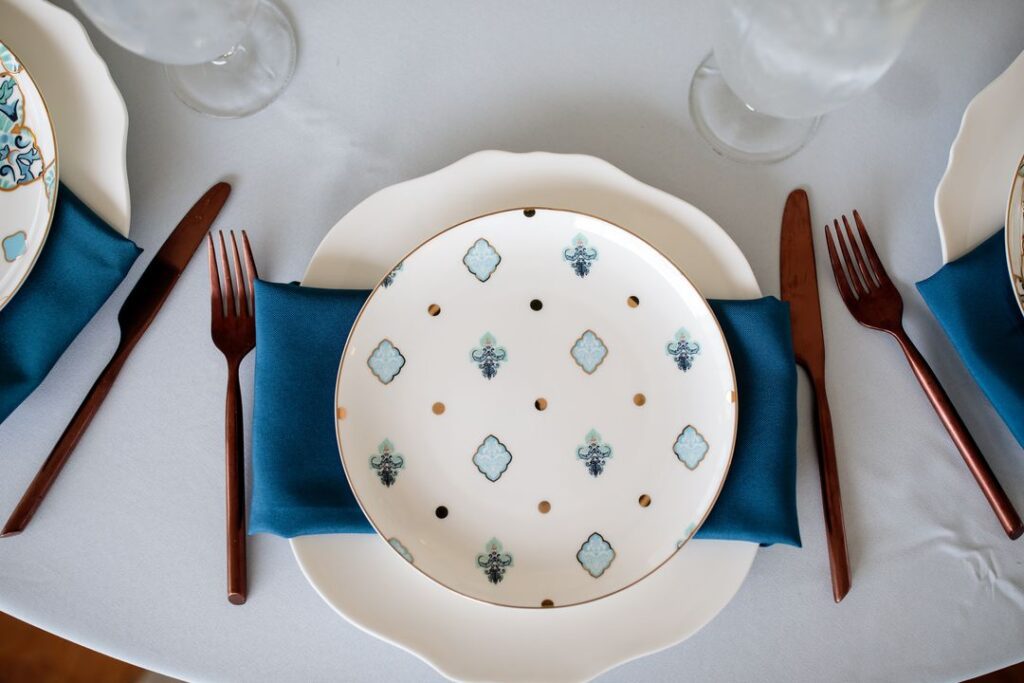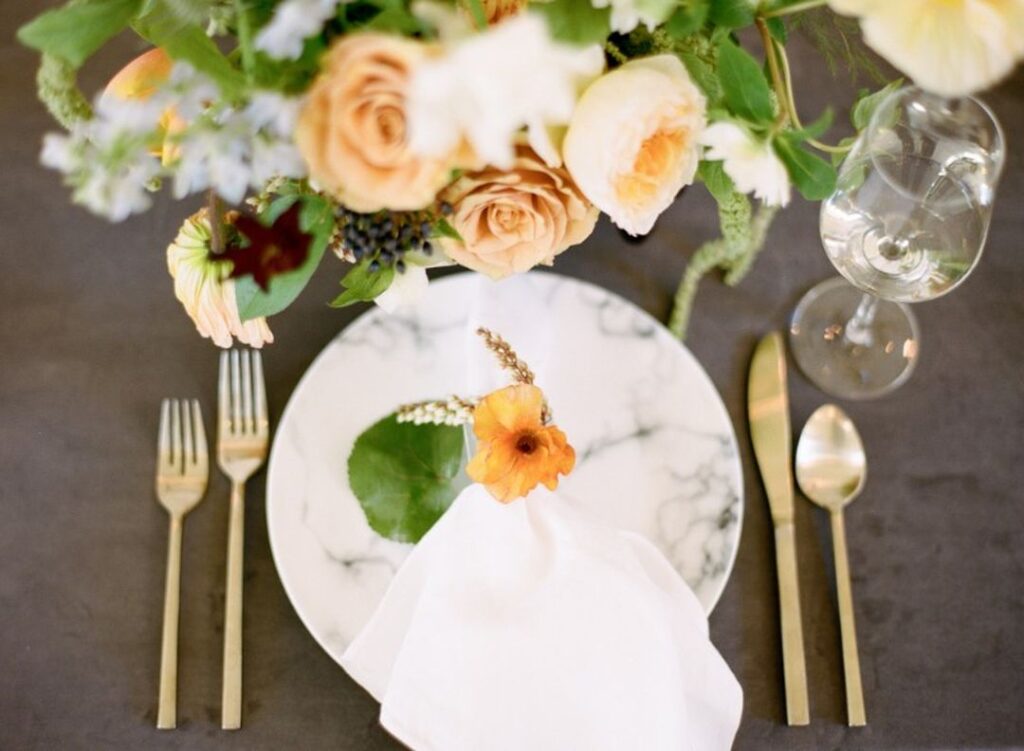 Down-to-Earthenware
If you desire a more rustic and organic aesthetic, earthenware plates are ideal. Their soft tones, textured surfaces, and imperfect edges exude warmth and charm. Our selection of beautifully crafted earthenware plates is perfect if you are in need of a dinnerware rental. Easily create a modern rustic wedding table with the color Alabaster. Or a bold table for a corporate gala with Onyx. Meanwhile, Stone is a classic and pairs perfectly with soft pastel shades. Such as pink, baby blue, and lavender. For added warmth, we recommend adding a set of velvet napkins.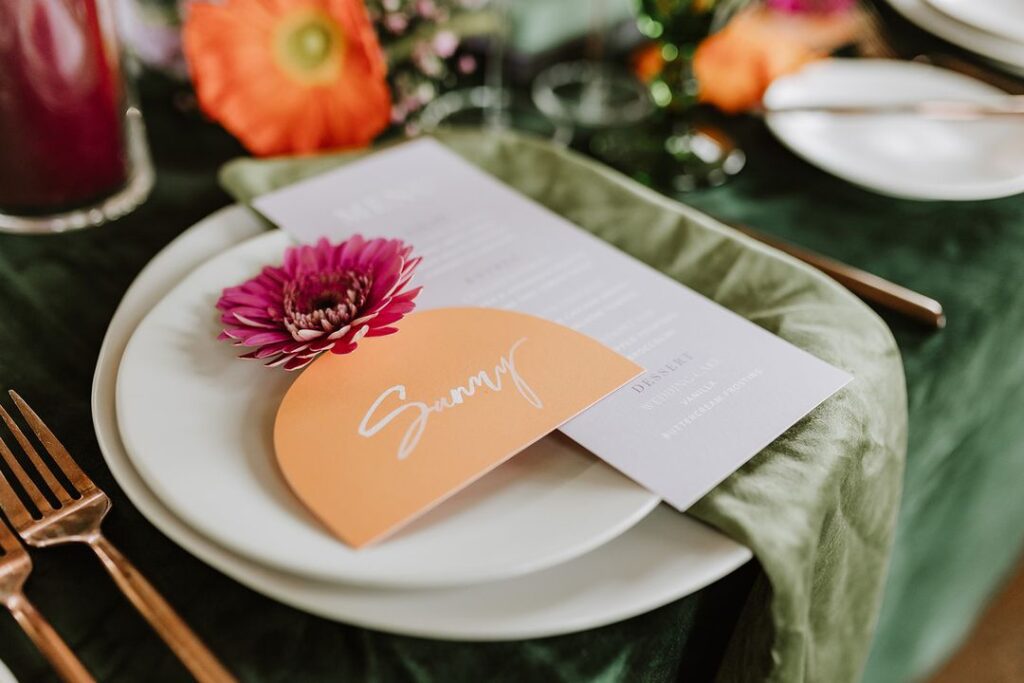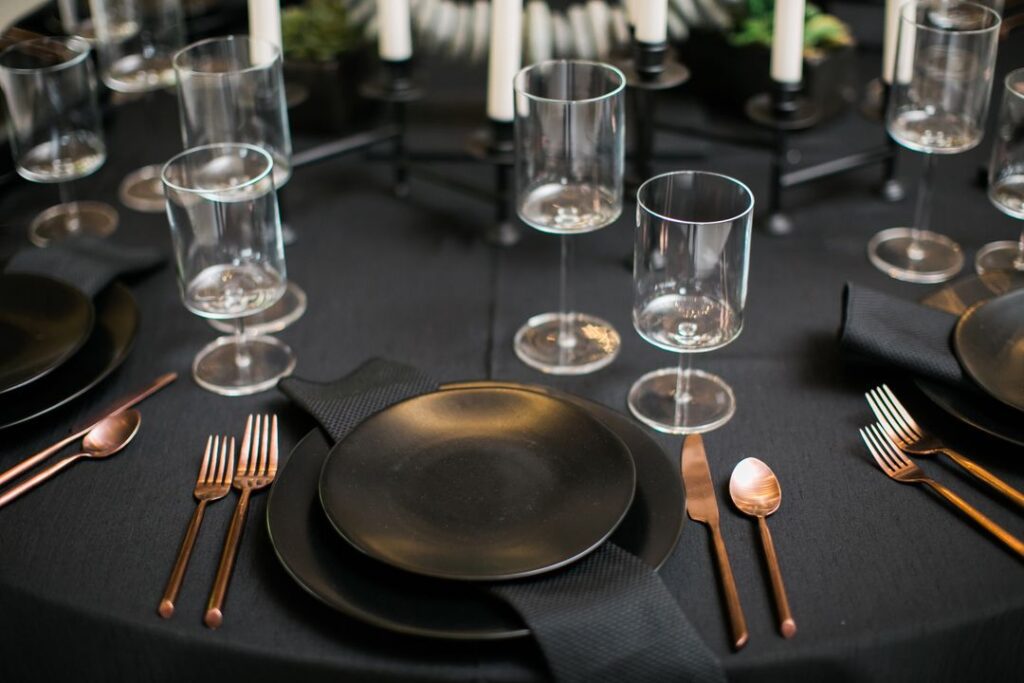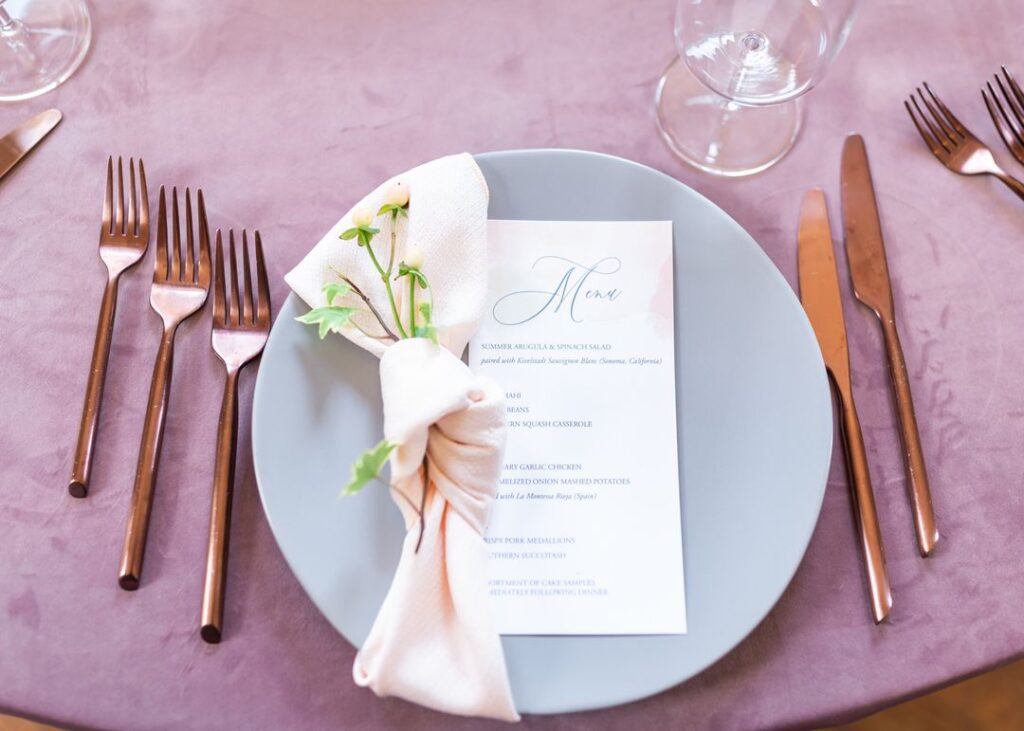 Textures that Elevate
Placed beneath the main dinner plates, chargers add depth to a table setting. However, you can easily add even more dimension by featuring a textured charger. There is our Rattan White Wash Charger, perfect for a bright and breezy brunch or afternoon tea. As well as a Scalloped Wood Charger, which lends a luxe boho vibe. Or, skip the charger and opt for a crisp set of Glass Mosaic China. A clean and modern look fitting for a gala or fundraiser! Especially when paired with classic white napkins.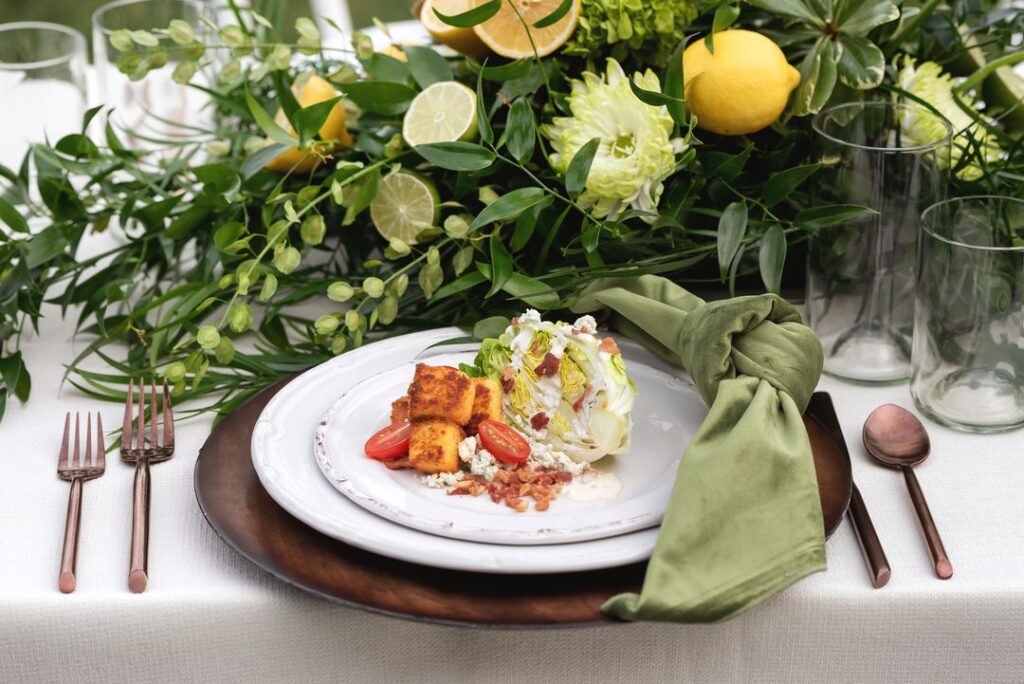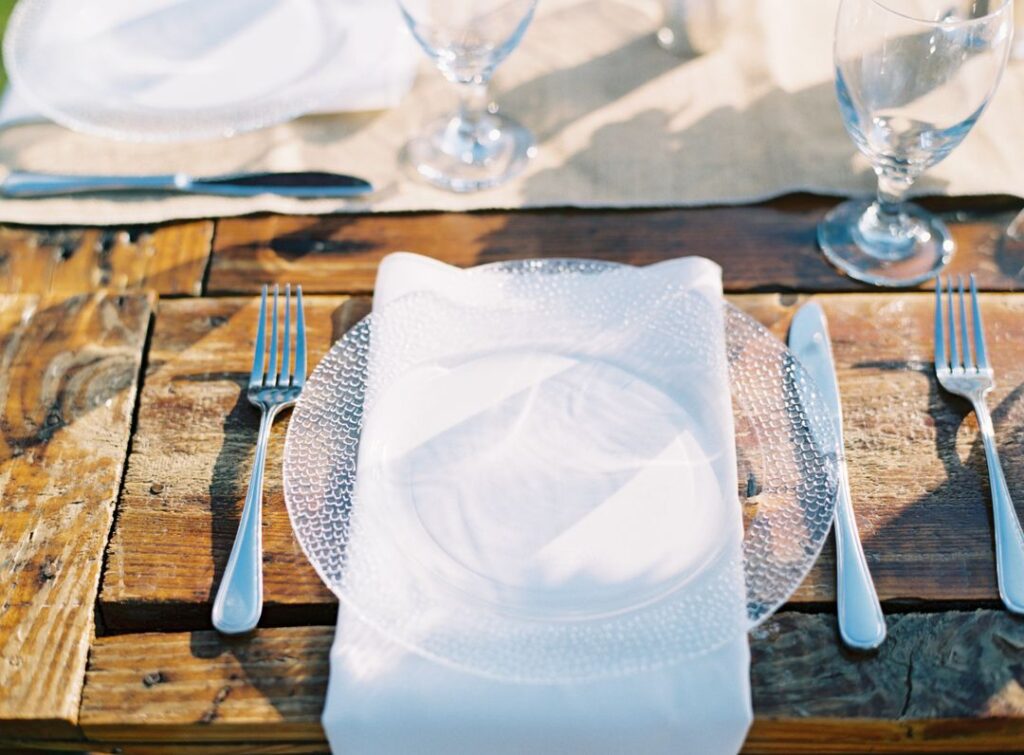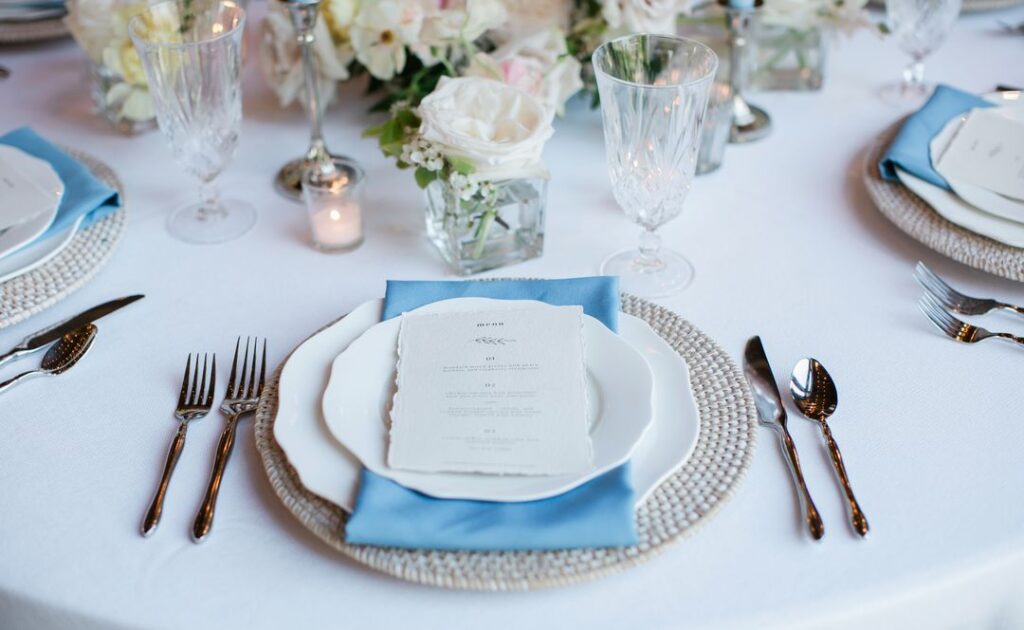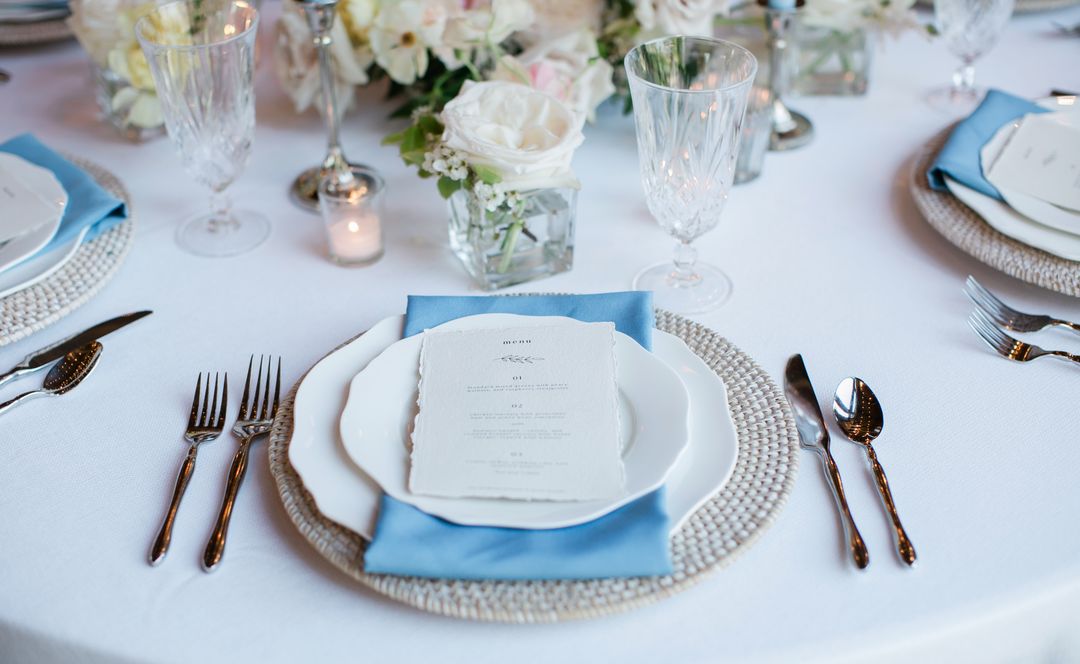 Our party plates for rent are a simple way to elevate your event table! Contact our team for help creating a unique place setting, or if you need more ideas. Looking for other ways to create a more luxe look? Take a peek at our napkins, available in a range of brilliant colors.
TAGS | Event Catering Rentals, Nashville Event Rentals, Nashville party rentals, On Trend, party plates, plates for rent, servingware
FEATURED RENTALS | Copper Glass Charger, Silver Round Laquer Charger, Black Round Laquer Charger, Silver Beaded Edge Belmont Charger, Rattan White Wash Charger, Scalloped Wood Charger, Glass Mosaic China, Blair Geometric China, Vera Floral China, Laguna China, Coronado China, Carrera Marble Dinner Plate, Onyx Earthen China, Alabaster Earthen China, Stone Earthen China,
---
2

Mar

On Trend, Southern Events Products, Trends and Inspiration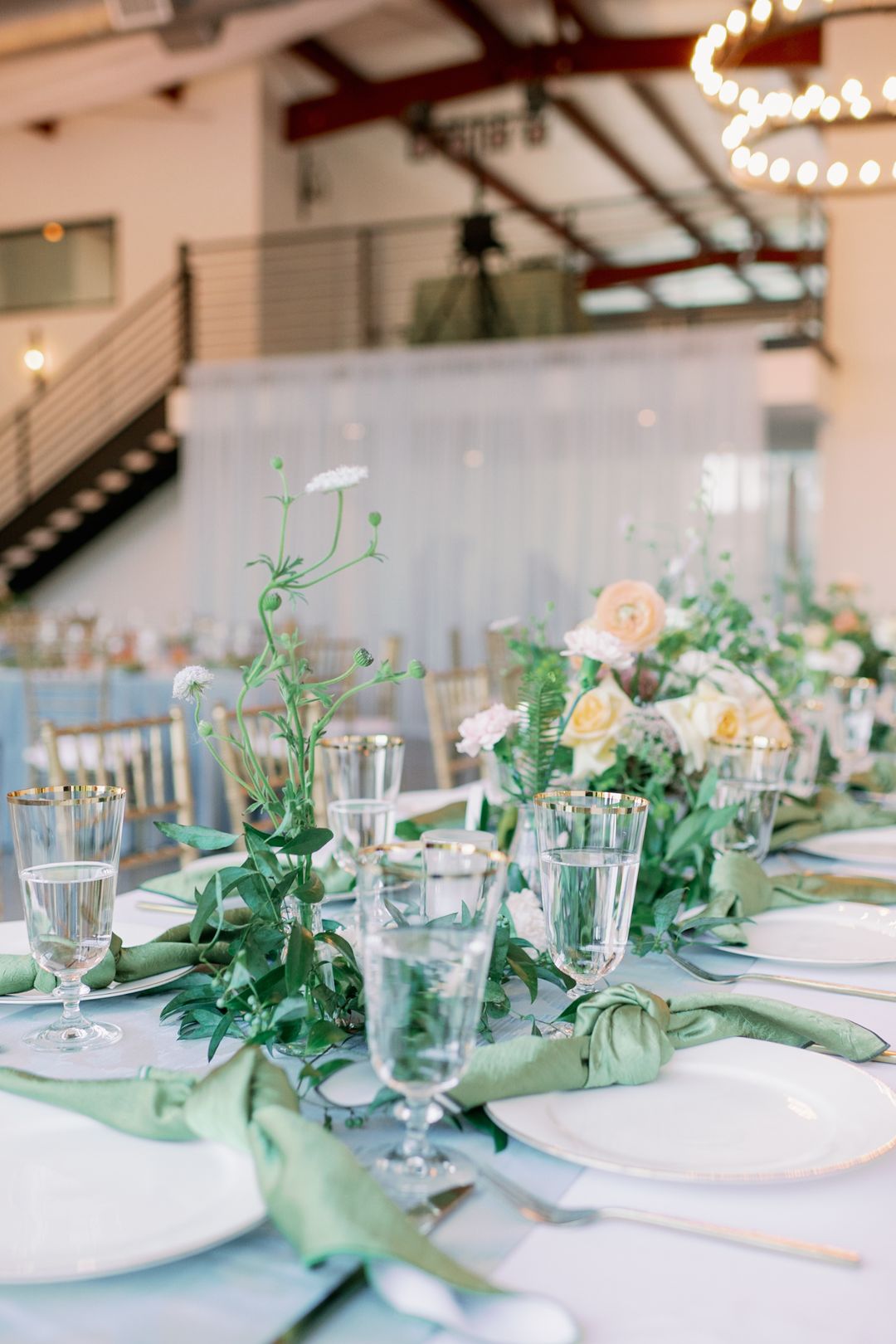 Bright, floral-focused weddings are trending! Perhaps due to the renewed interest in maximalist design or a desire to shift away from neutral palettes. In either case, a vivid color scheme will lend a luxe and modern look for the spring and summer seasons. Get inspired to host a colorful spring wedding with these on-trend ideas starring our stylish event rentals. Southern Events Online has everything you need to pull off a chic celebration, from a whimsical garden ceremony to a bold maximalist reception.
Bold Monochromatic Scheme
One of our favorite bright wedding color schemes is a monochromatic palette. Red, blue, orange, pink, or purple – mixing the hues from any one of these colors are perfect for a bold wedding. For example, this gorgeous tented wedding with bright red and pink tablecloths is classically romantic. Especially when complemented by brilliant floral centerpieces and fresh bundles of greenery. Meanwhile, crisp napkins paired with White Round China and Bradley Flatware kept the look modern and airy. Our Gold Chiavari Chairs are a sophisticated touch, as is the Tessa Tufted Beige Linen Loveseat, overall, a super cozy detail the newlyweds will enjoy.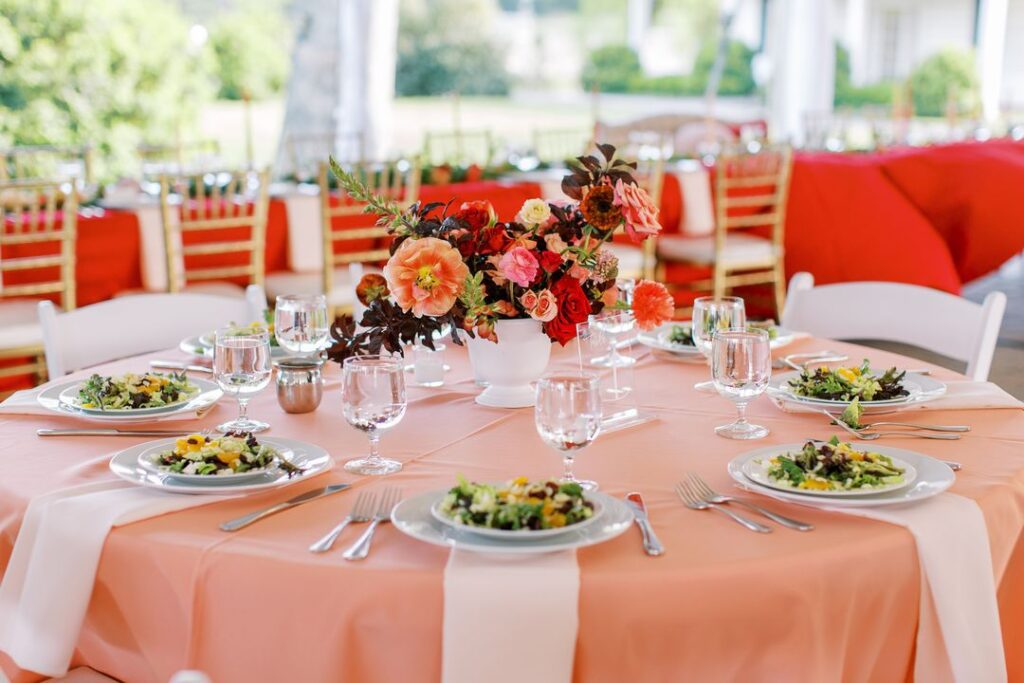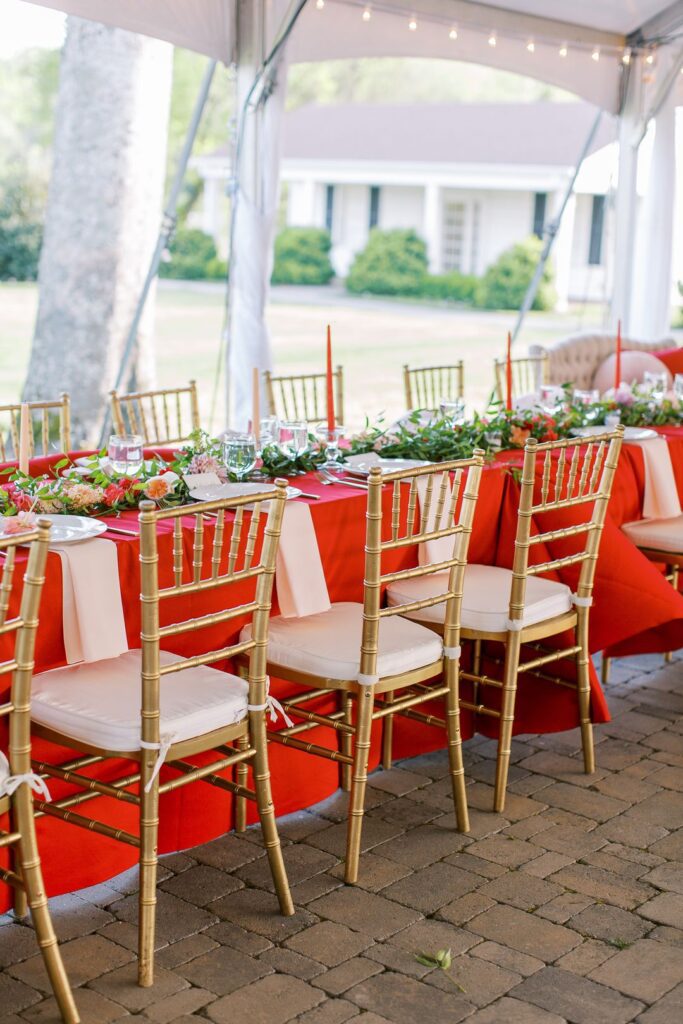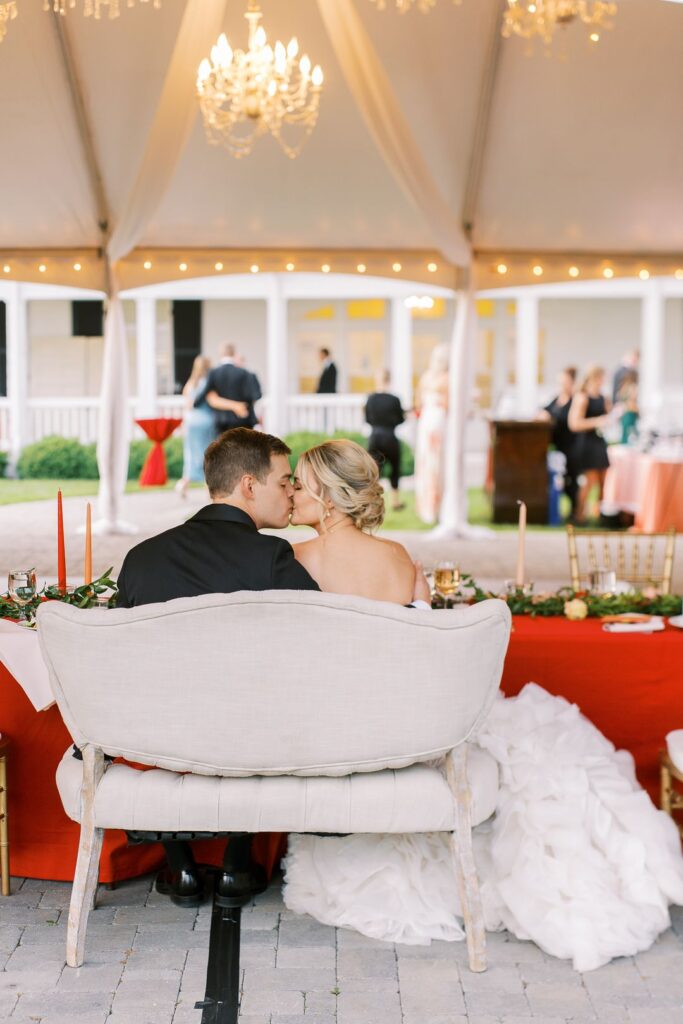 Refreshing Blue & Green Hues
This spring wedding inspiration stars refreshing blue and green hues, for a soft and organic vibe. It's a gorgeous look for an early spring wedding as we come out of a cold and dreary winter! Start with romantic tablecloths starring bright blues, like our Light Blue Pindot, or you might consider the Blue Kensington linens, for a chic maximalist design. Furthermore, tie in splashes of green using buttery napkins in the color Fern, and create an elegant drink station to greet guests using our Green Goblets. For a fun interactive element, display them on White Barback Bookshelves. If the weather is nice we always recommend an outdoor lounge! Take a look at our romantic Everly Sofa and Chairs, paired with the Blanche Coffee Table and aqua rug.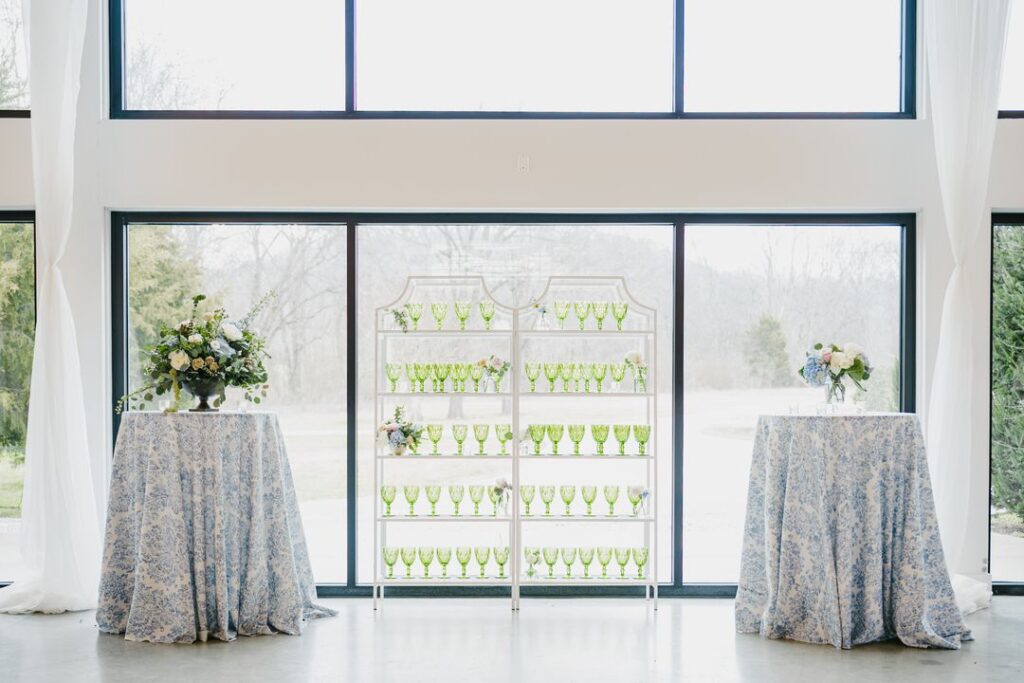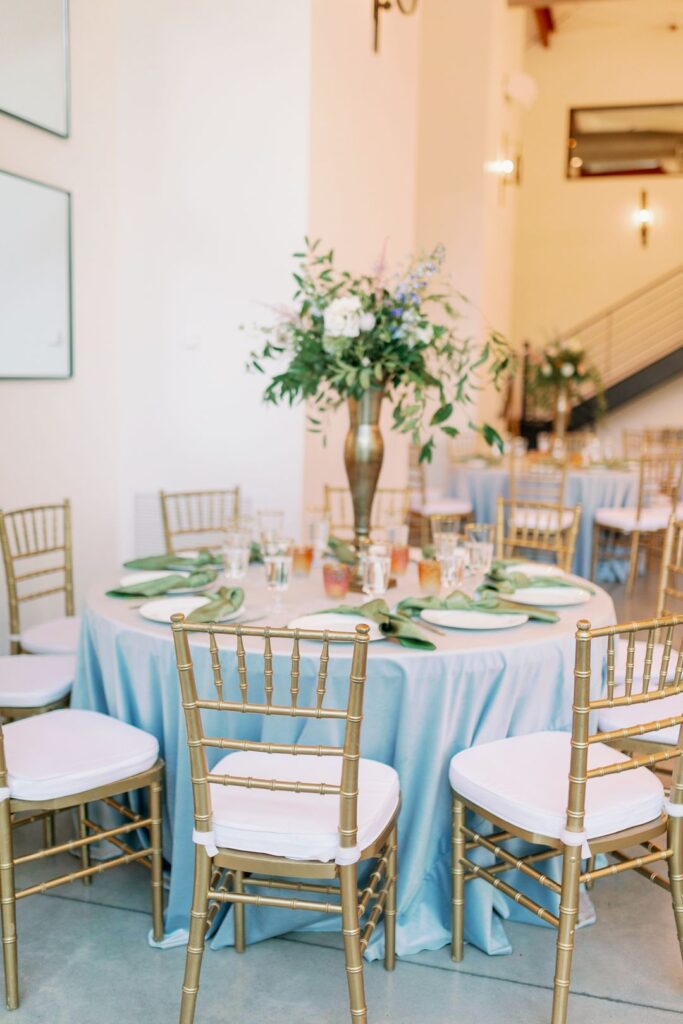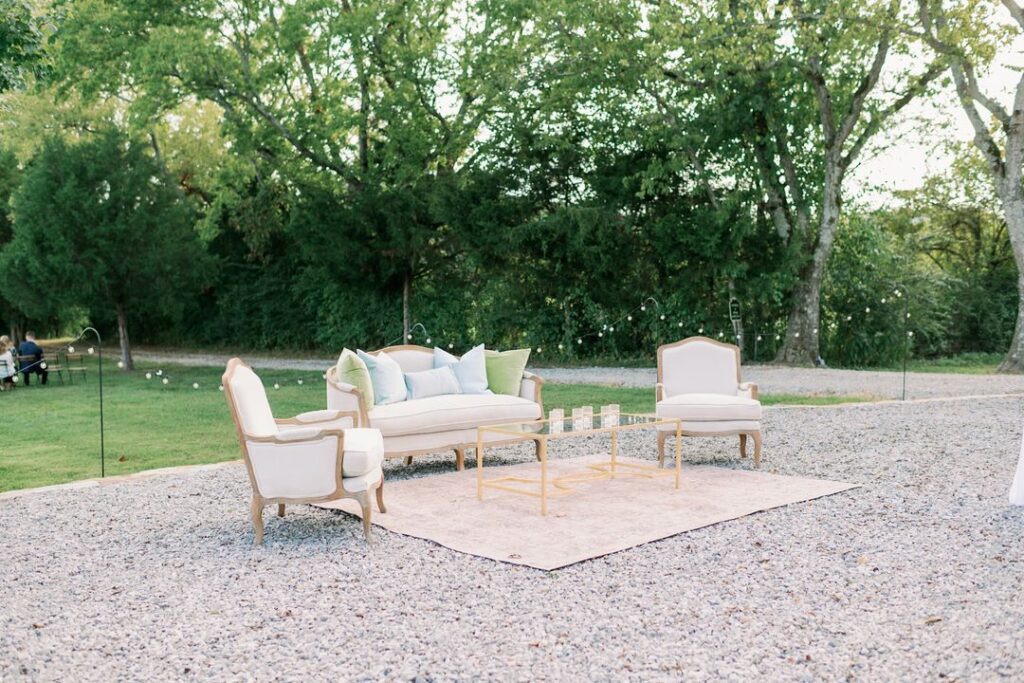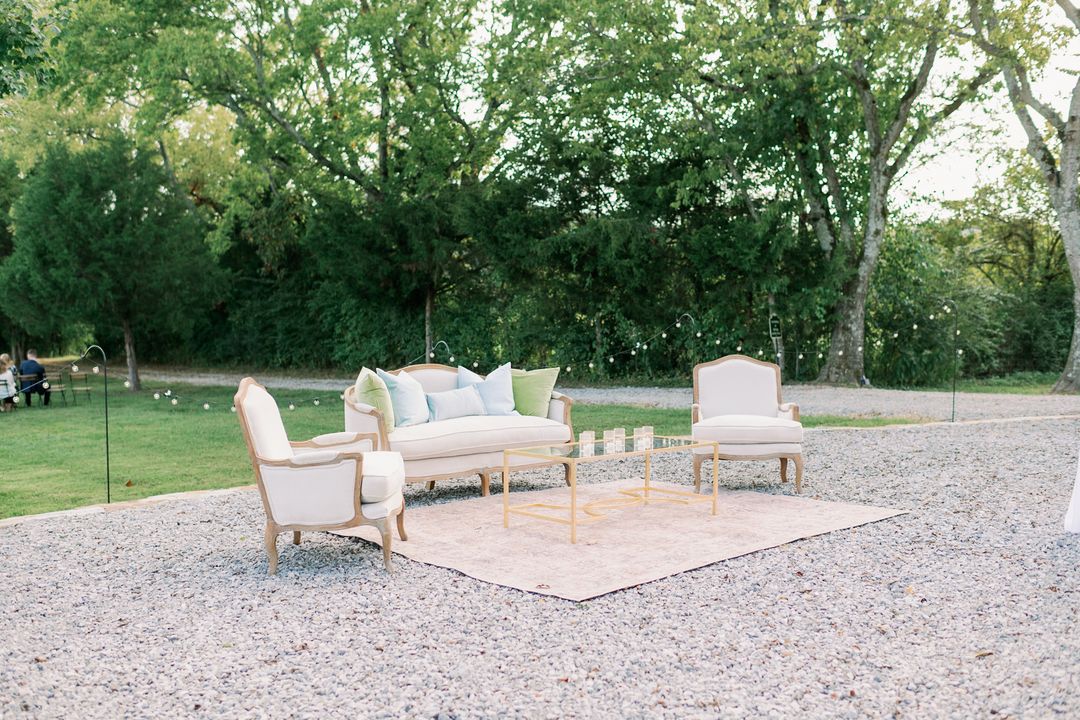 Rich & Retro Chic
Dreaming of vibrant wedding colors that will bring a sense of retro charm to your big day? Check out this romantic spring wedding starring a bold palette of teal and amber! Our Sea Glass Velvet Tablecloth is a dark base, complemented by Kennedy Storm Napkins, and Earthen Alabaster China with Austin Gold Flatware provides a chic touch. Our favorite detail is the retro-inspired furniture! From the Antique White Bentwood Chairs to the gorgeous Jaqueline Sofa. Do you love this color scheme and the modern retro rentals? Be sure to check out our blog on ideas for a Modern Disco Wedding Design.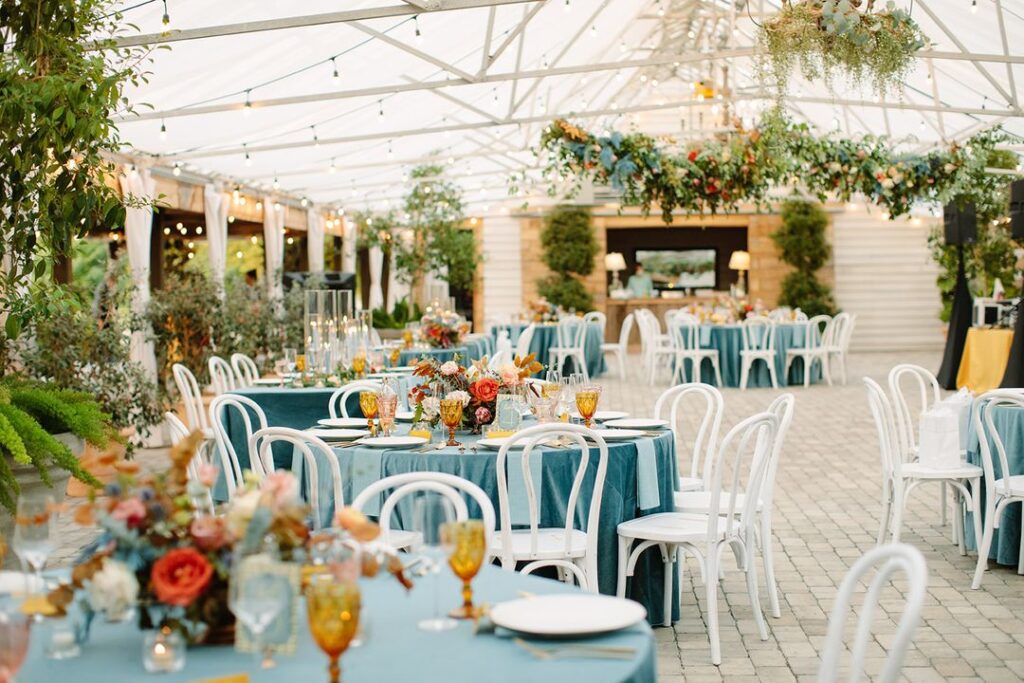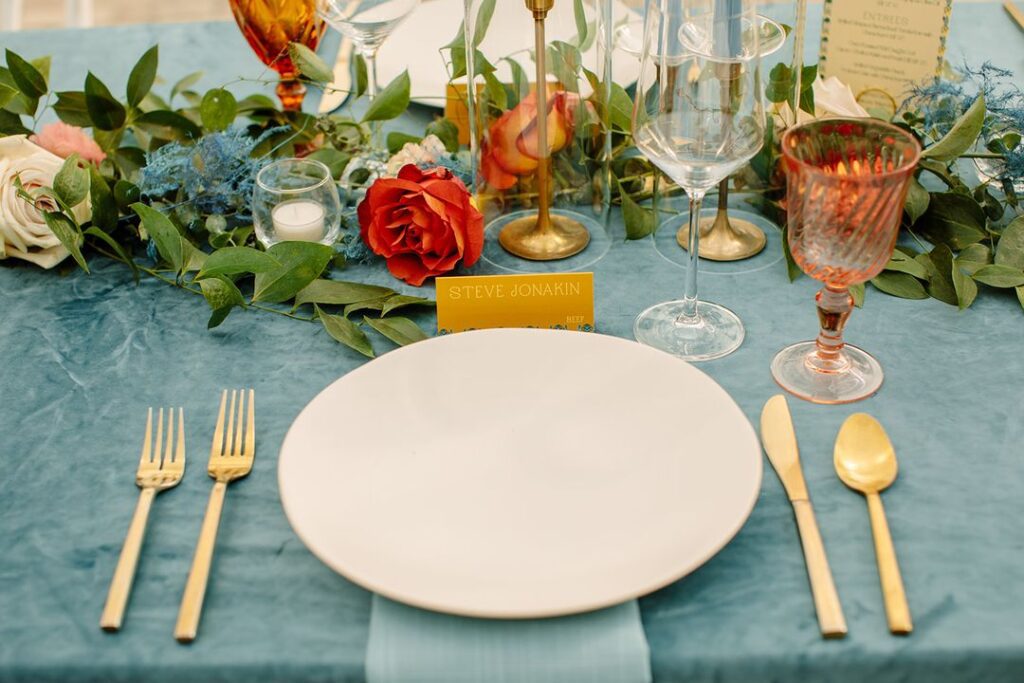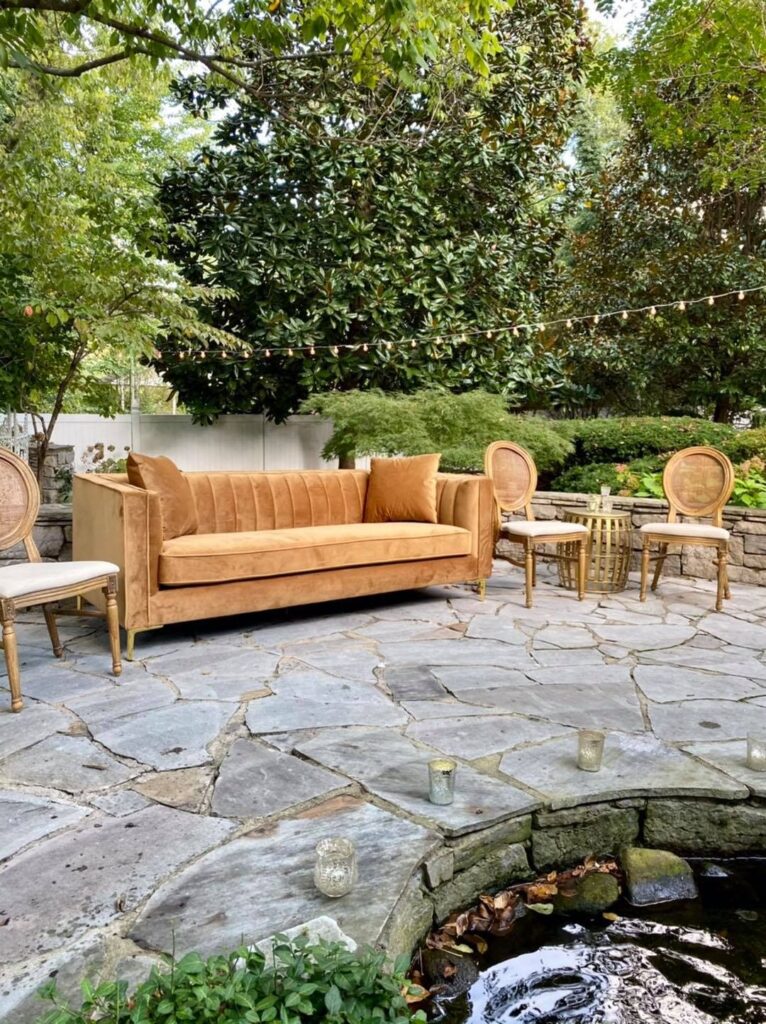 Let our team help you plan a colorful spring wedding that will be the envy of every bride! Send us a message at info@southerneventsonline.com, or view our full range of rentals in the catalog.
TAGS | Ceremony Decor, Colorful and Fun Outdoor Wedding, On Trend, colorful event design, colorful event rentals, wedding reception ideas, wedding style trends, wedding tablescapes
FEATURED RENTALS | wedding tent, white round china, bradley flatware, gold chiavari chair, tests tufted beige linen loveseat, light blue pindot, blue Kensington, fern velvet linens, green goblets, white barback bookshelves, Beverly sofa, blanche coffee table, aqua rug,
---
8

Dec

Southern Events Products, Trends and Inspiration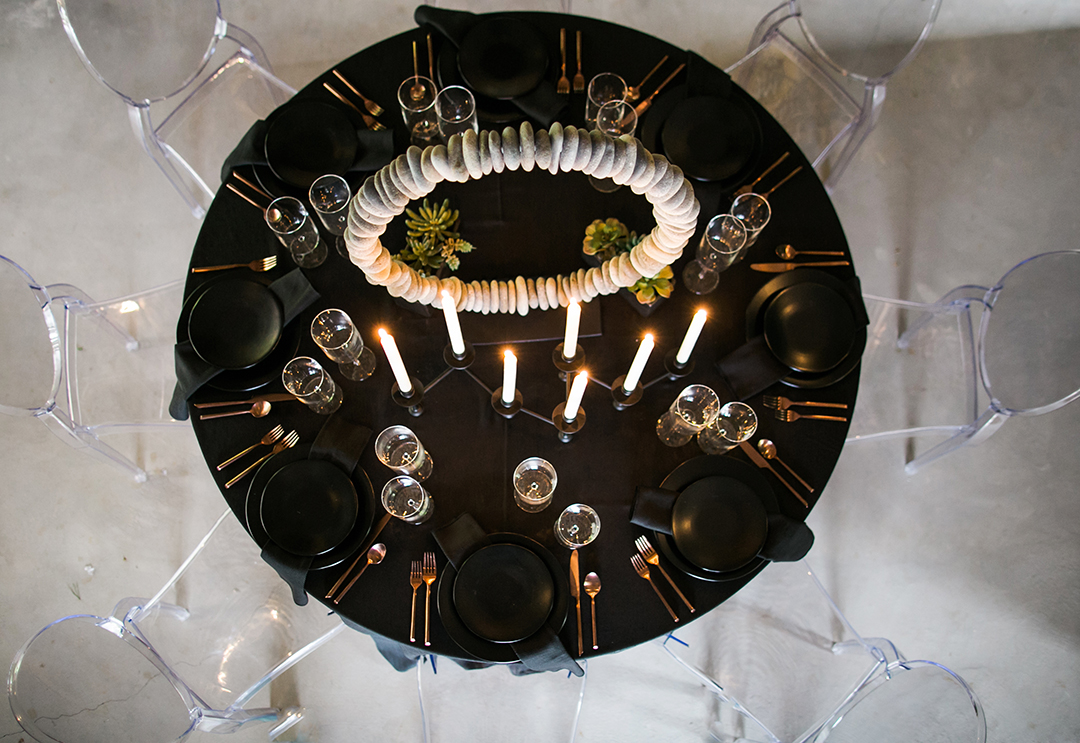 Skip the downtown crowds and opt for a moody modern New Year's Eve party to ring in 2023 – we know, the year has flown by! Whether it's a large corporate gala, casual holiday office party, or intimate countdown cocktail hour, we've got the perfect New Year's Eve party rentals to host a memorable fete. Think plush modern retro furniture, luxe neutral linens, and a bar featuring the most divine glassware; for tasty themed drinks. Keep reading for ideas on everything from trendy tablescapes to lounge areas fit for a long night of sipping and sitting!
Moody Metallic Tables
So you're hosting a seated dinner? Creating a moody modern New Year's table is a breeze! Black is the color of choice for this celebration, but we like to add luxe touches where we can! The easiest way is serving ware featuring metallic accents – plates, glassware, flatware. Start with a set of our elegant tablecloths, in a solid black or with a subtle pattern, like Black Nova. If you prefer a brighter but equally elegant linen, Gold Furrow is a stunner. Top it off with a stack of china. Such as a Gold, Silver, or Black Rim Glass Charger and any of our Earthen Dinner Plates. Choose serving ware that complements existing metallics, whether it be our Gold Austin Flatware, Brooklyn Flatware, or Brushed Copper Flatware. For a spunky touch, include some fun modern glassware – Cybil or blue-hued Meridian Tumblers.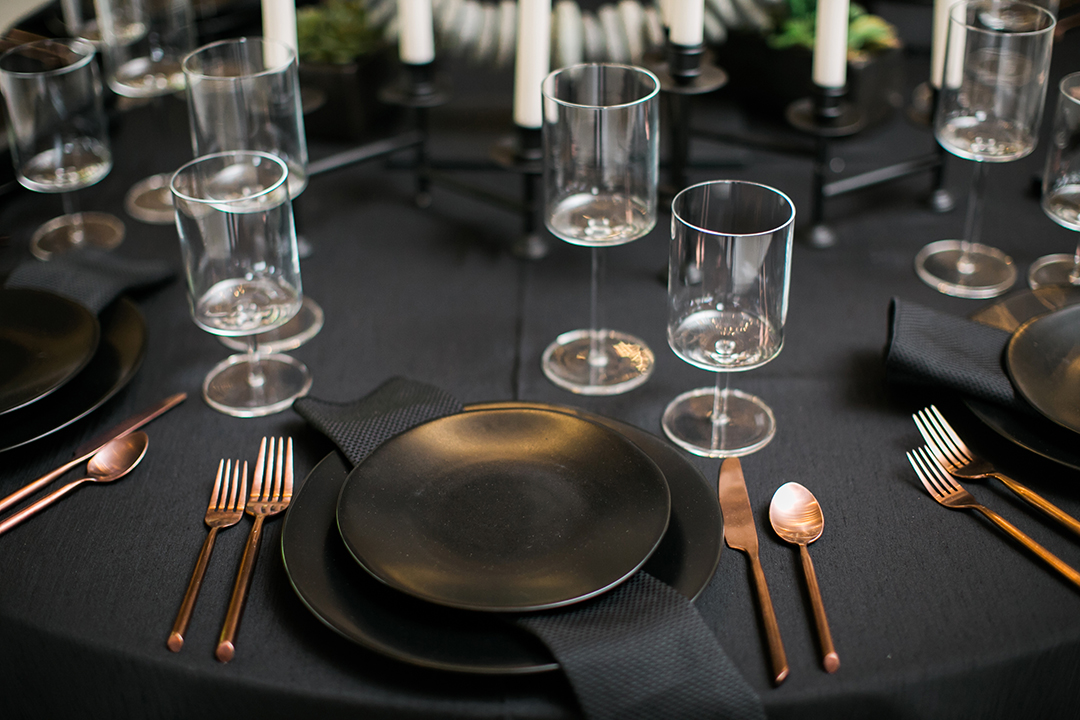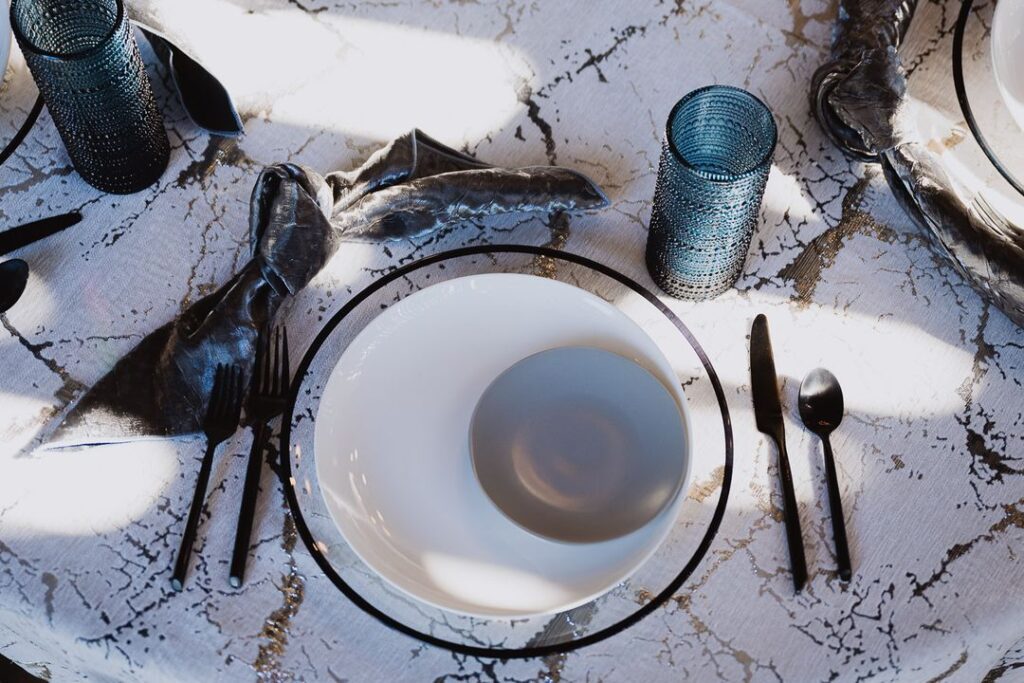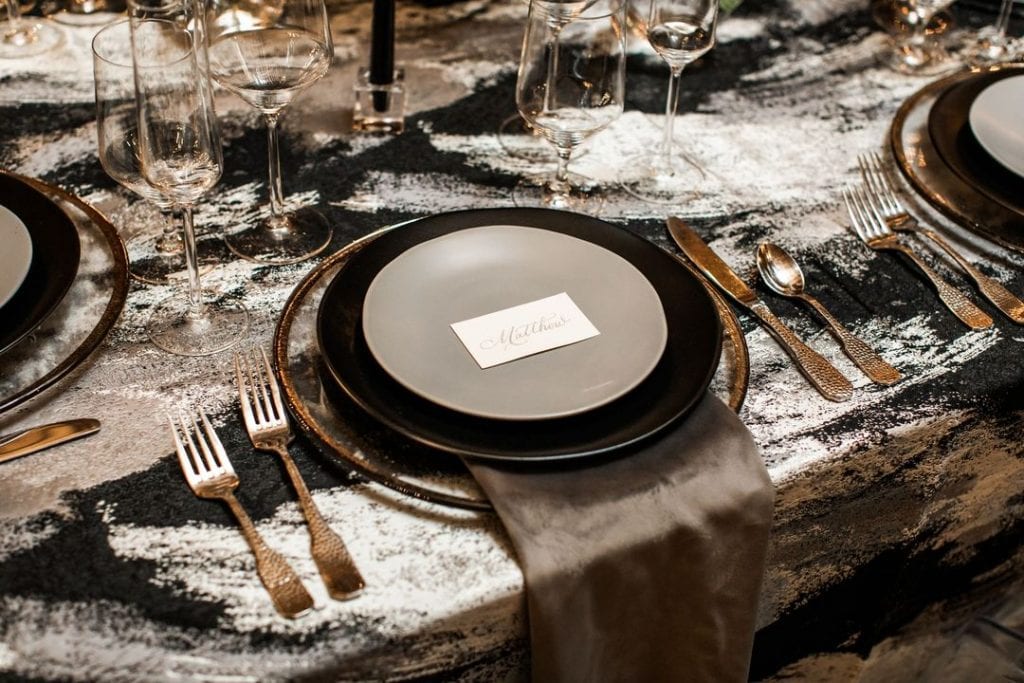 Cozy Countdown Lounge
A lounge (or two) are a must-have for New Year's Eve. It will be a long night and to keep guests cozy you need a space where they can sit, sip, and mingle to their heart's content! Our favorite modern moody setup starts with Regent Black Velvet Sofa and a set of Acrylic Ghost Arm Chairs. Pair it with our Capriano Marble and Copper Accent Tables, or a similar set. Another alternative is our Modular Pearce Lounge, which can be arranged as desired to fit your event space. Be sure to surround it with some layered rugs for an extra cozy vibe! For larger parties, we recommend adding in a sprinkling of bistro tables and barstools near the bar area.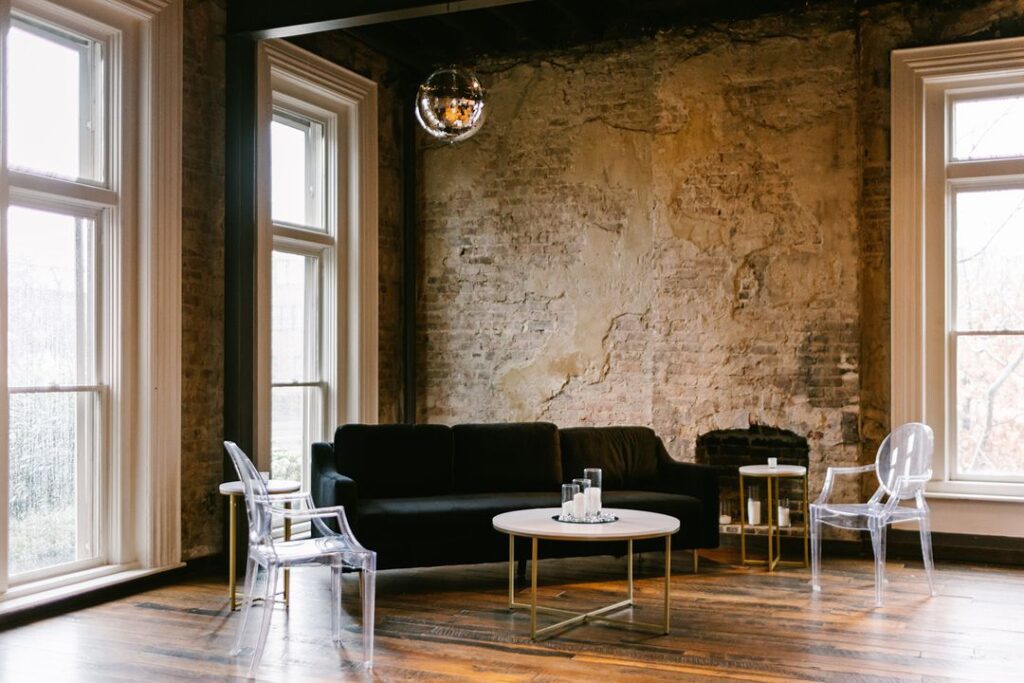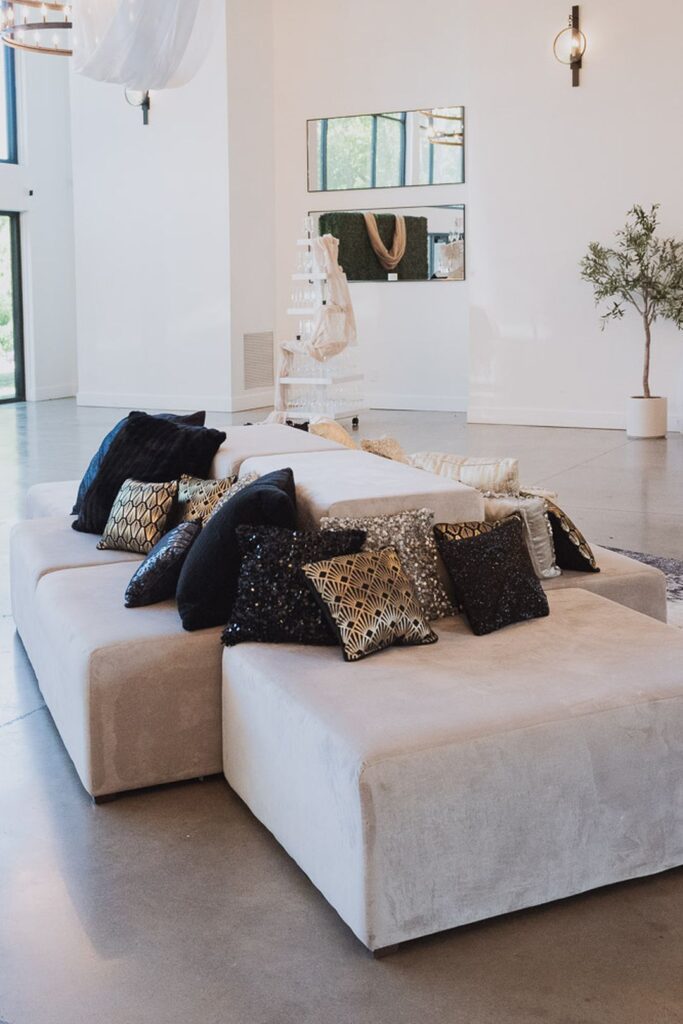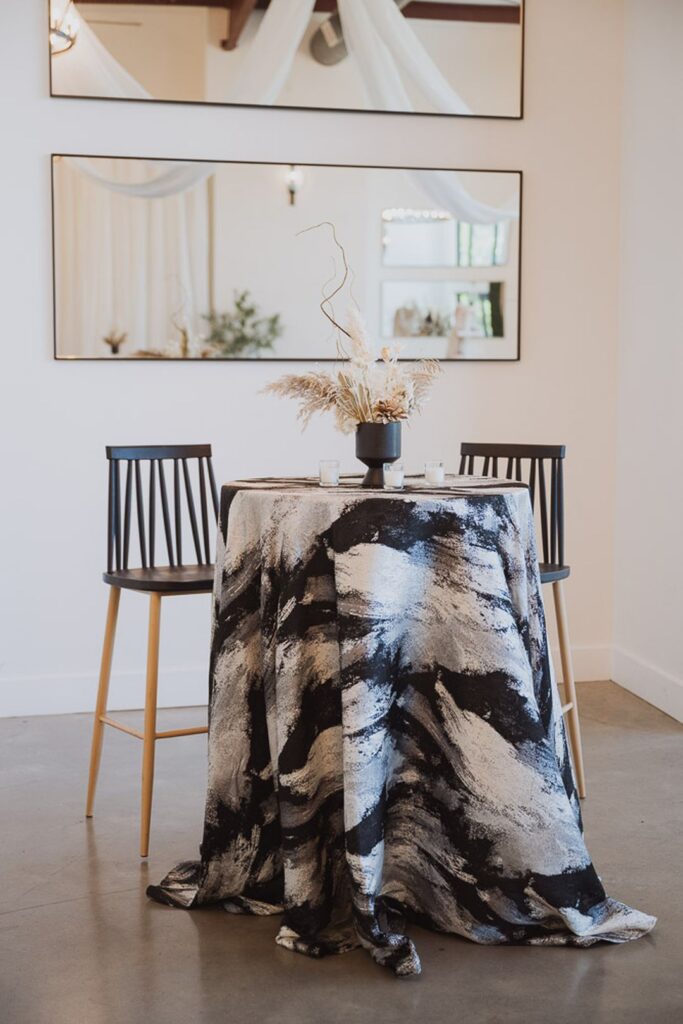 Perfect Bar for Toasts
Speaking of bars, you will want one – whether you are serving cocktails or mocktails! Our Black Franklin Bar is a classic staple which you can accessorize with our Avenue Bar Back Shelving. Here you can stock bottles or display fanciful glassware. For smaller gatherings, grab our Gold Bar Cart for storage or a beverage service. When it comes to choosing glassware, you'll want to offer an array of choices. Start with Gatsby Champagne Coupes for toasting. And Upton Glassware for bourbon or mocktails! If you'd like to wow guests with a champagne tower, our White 6-Tier Serving Tower is a must-have!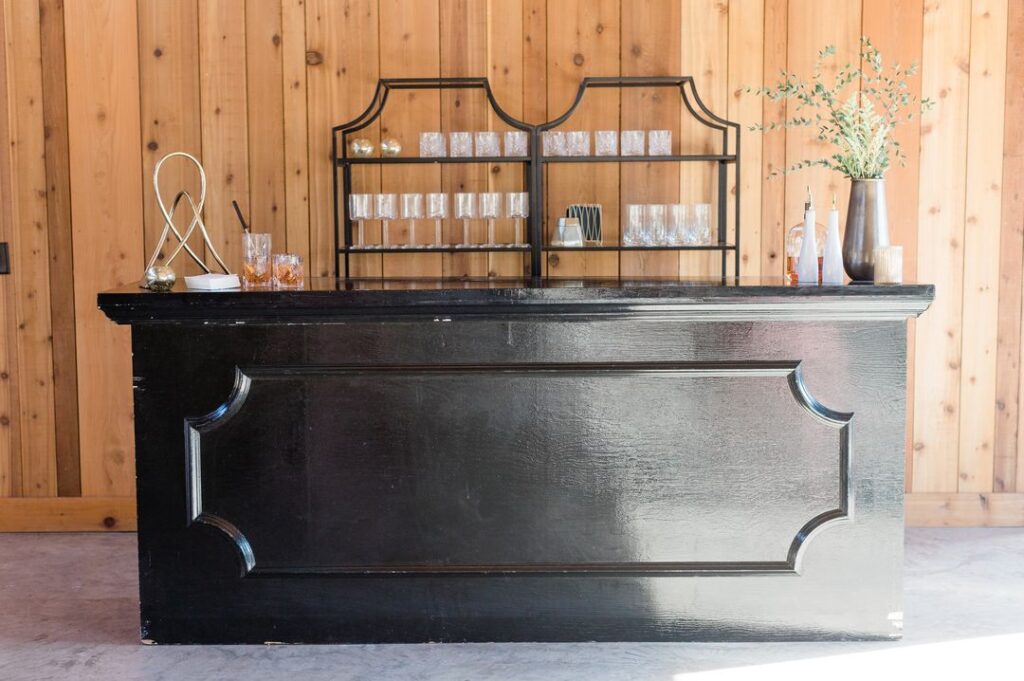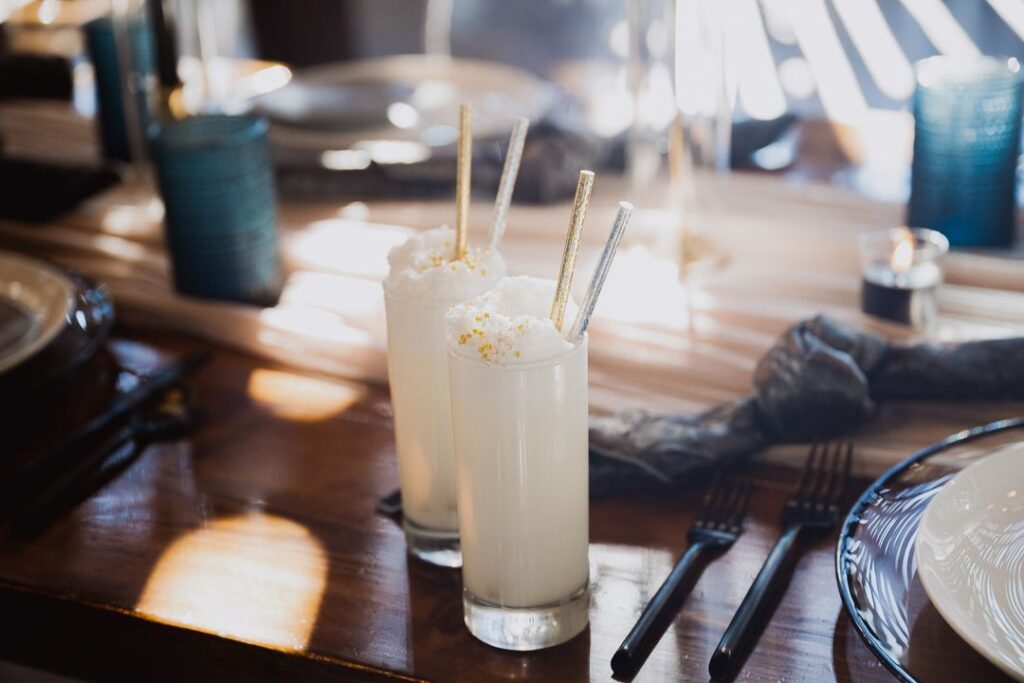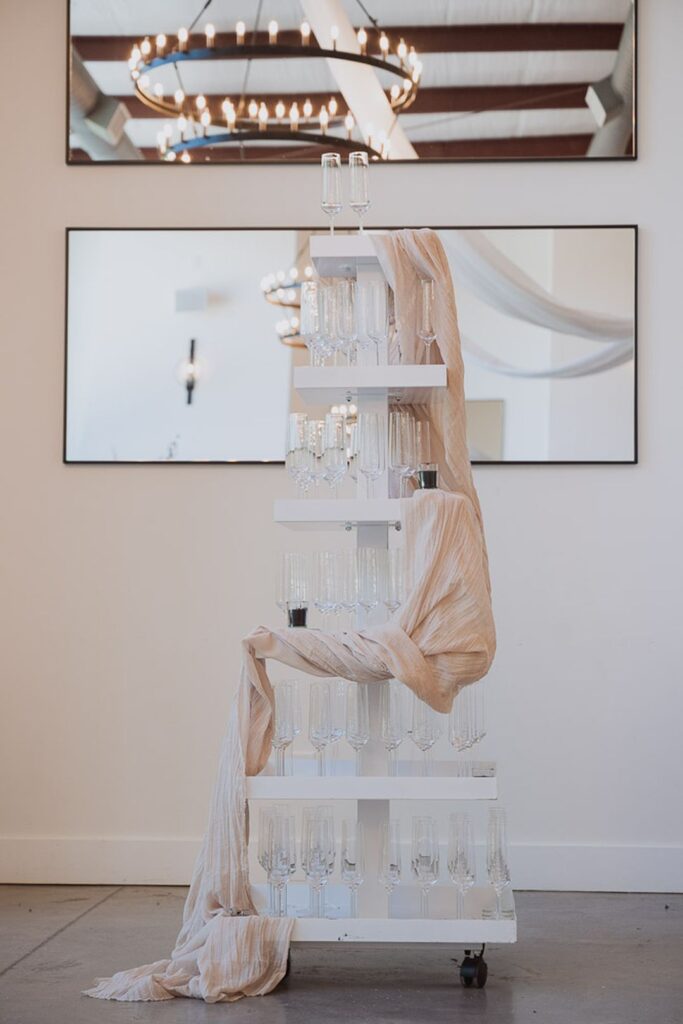 Soft & Moody Event Lighting
Candlelight sets the perfect mood for midnight festivities. Create intimate centerpieces using our Davis Glass Cylinders filled with candles and surrounded by a soft runner or greenery. Or feature votives in our Acrylic Rectangle Container. To warm up lounge areas, strategically scatter Oversized Lanterns. We have a variety of styles to choose from to complement different themes! Another fun option is to cozy up around our Hammered Rectangle Fire Pit! Just be sure to supply some plush pillows and afghans or blankets.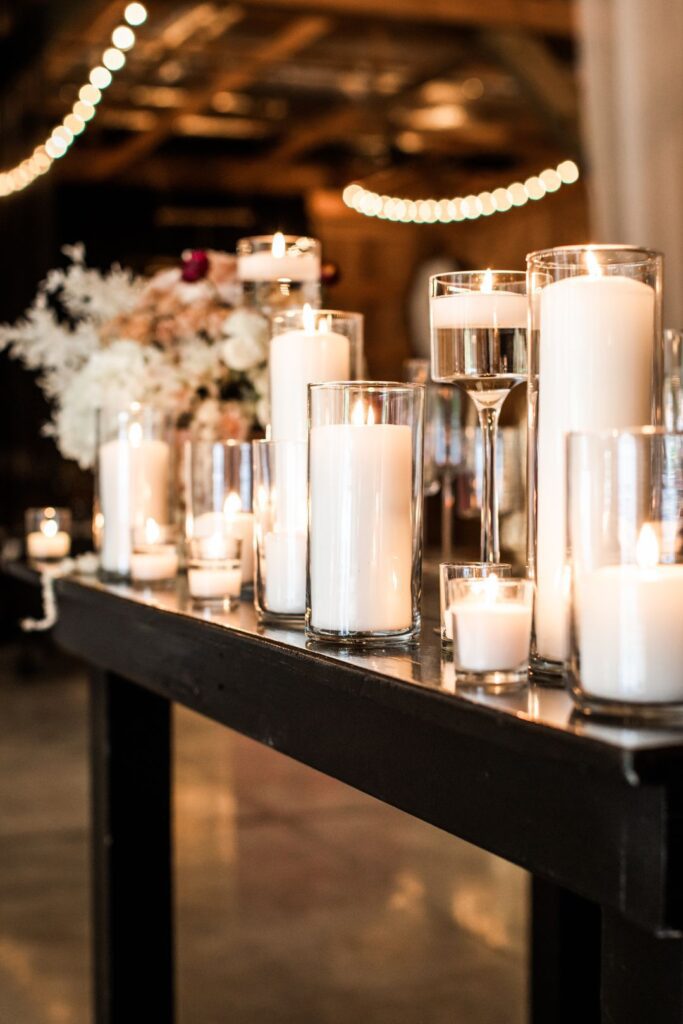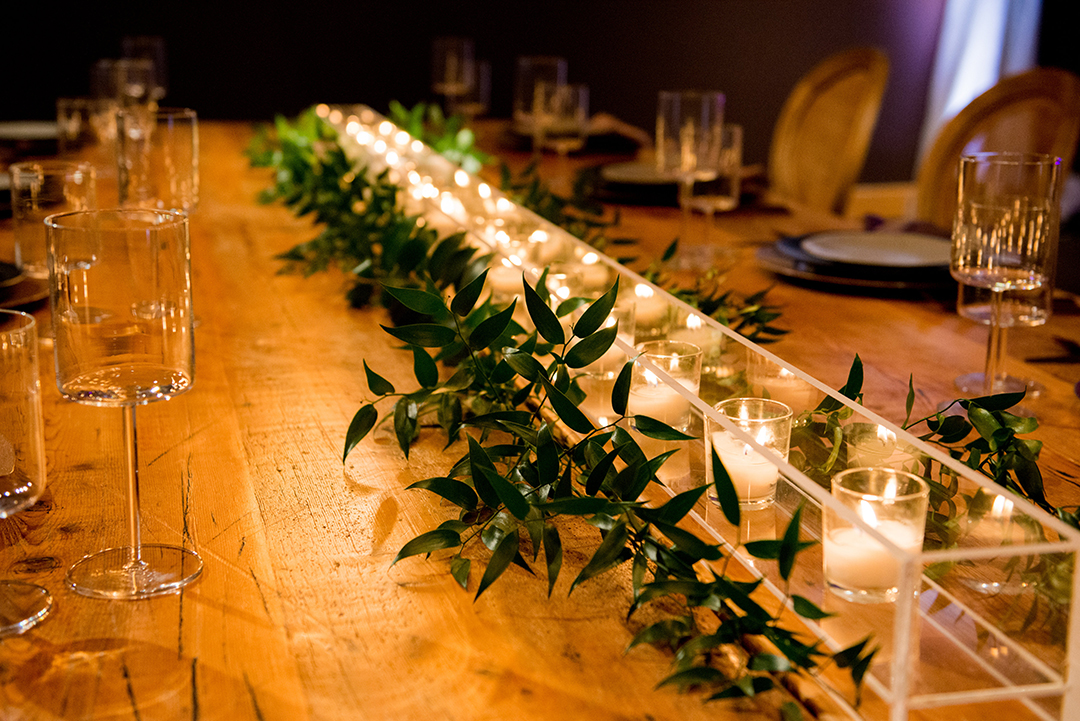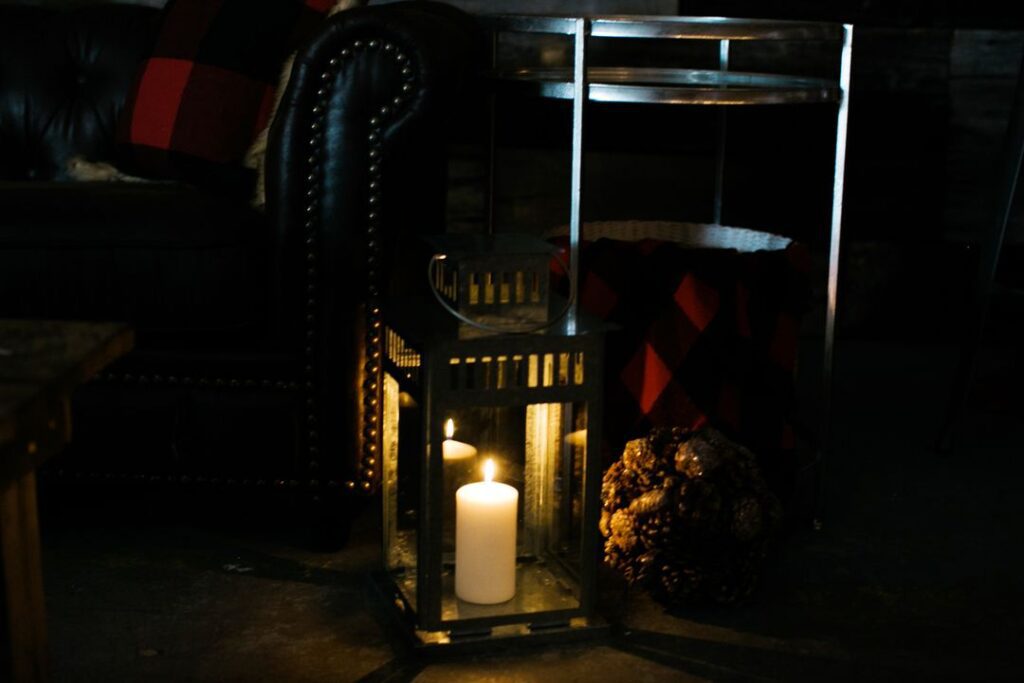 Feeling inspired? We would love to help you plan a Moody Modern New Year's Eve party in Nashville – whether you're hosting a small at-home gathering or a large corporate event! Send us a message at  info@southerneventsonline.com, or take a look at our catalog of rentals on the website.
TAGS | Holiday Party Decor, Holiday Party Ideas, Modern Lounge Furniture, Nashville party rentals, New Year's Eve party, On Trend, Southern Events Party Rental Company, Winter Event Decor, company event, holiday events, holiday party, holiday party rentals, modern event decor, modern tablescape, monochromatic event design, monochromatic event rentals, winter party
FEATURED RENTALS | Black Nova, Gold Furrow, Gold Rim Glass Charger, Silver Rim Glass Chaarger, Black Rim Glass Charger, Earthen China, Brushed Copper Flatware, Brooklyn Flatware, Gold Austin Flatware, Cybil Classware, Meridian Tumbles, Acrylic Ghost Arm Chairs, Regent Black Velvet Sofa, Pearce Lounge, rugs, Black Franklin bar, Avenue Bar Back Shelving, Gold Bar Cart, Gatsby Champagne Couples, White 6 Tier Serving Tower, Upton Glassware, Davis Glass Cylinders, Oversized Lanterns, Acrylic Rectangle Container, Hammered Rectangel Fire Pit,
---
3

Feb

On Trend, Trends and Inspiration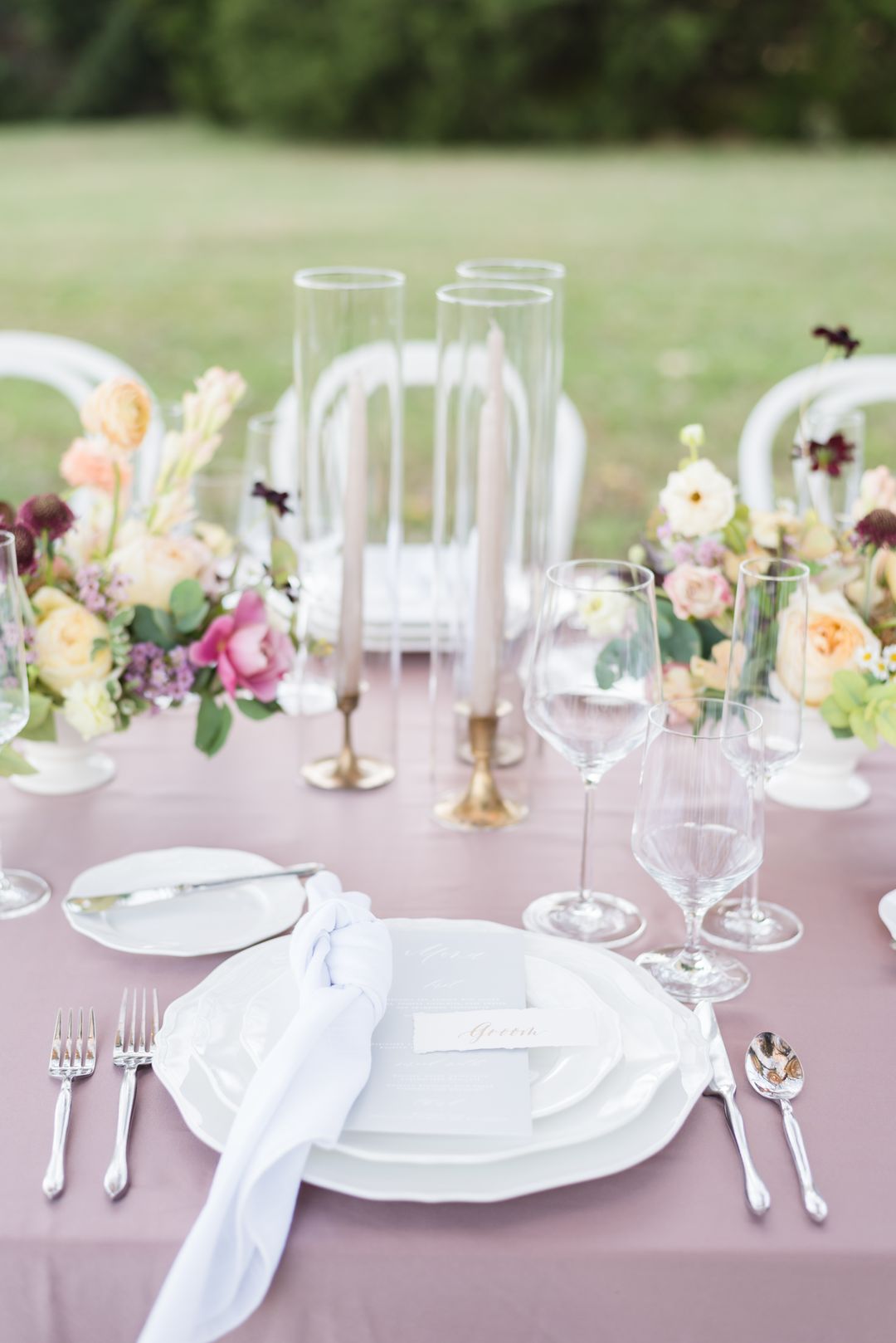 It should be no surprise that with the popularity of the show Bridgerton we're seeing an uptick in Cottagecore event design. Romantic and regent, this style is a throwback to simpler times and elevated design. Meaning luxe textiles, rich colors, and dainty details that would impress members of high society. To help you host a party that feels like a timeless period drama, take a look at our Cottagecore inspired event rentals.
Vintage-Inspired Lounges
If you want to impress guests with your Bridgerton inspired event design then a luxe lounge is a must-have. During this period cocktail hours were the WAY to stay up-to-date on the latest gossip! Easily create a comfortable and memorable area for socializing with our vintage-inspired furniture. A velvet sofa, such as Fern, is always a winner, featuring a rich color and texture. Or opt for the more period appropriate Everly, with a shapely back. For a complete look, don't forget extra seating, like our Bamboo Arm Chairs or fun Turkish Rug Ottoman. Topped off with any of our classic Vintage Rugs!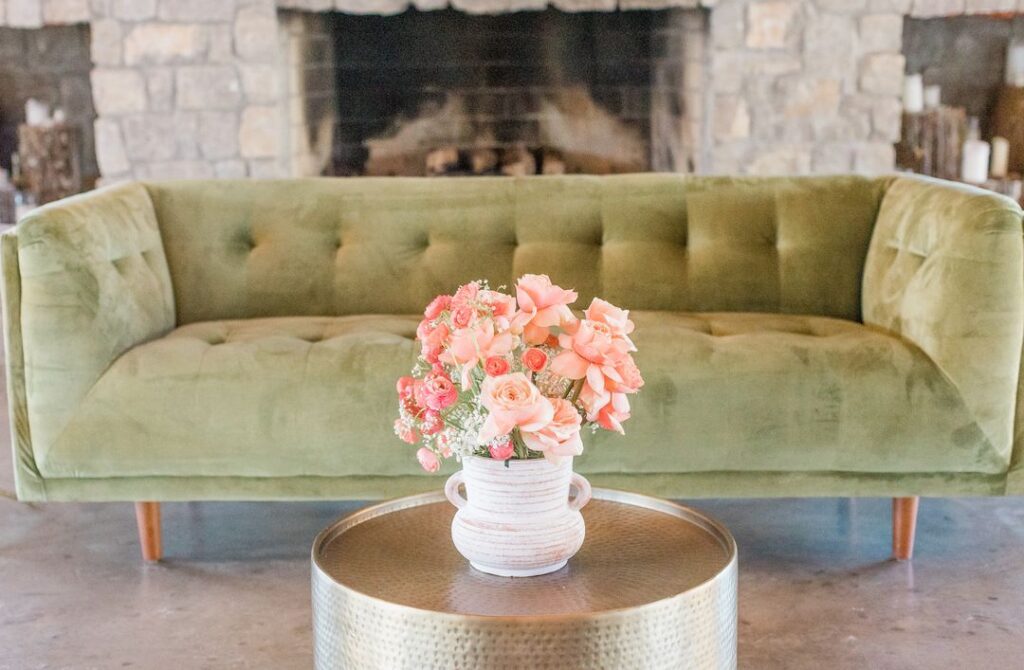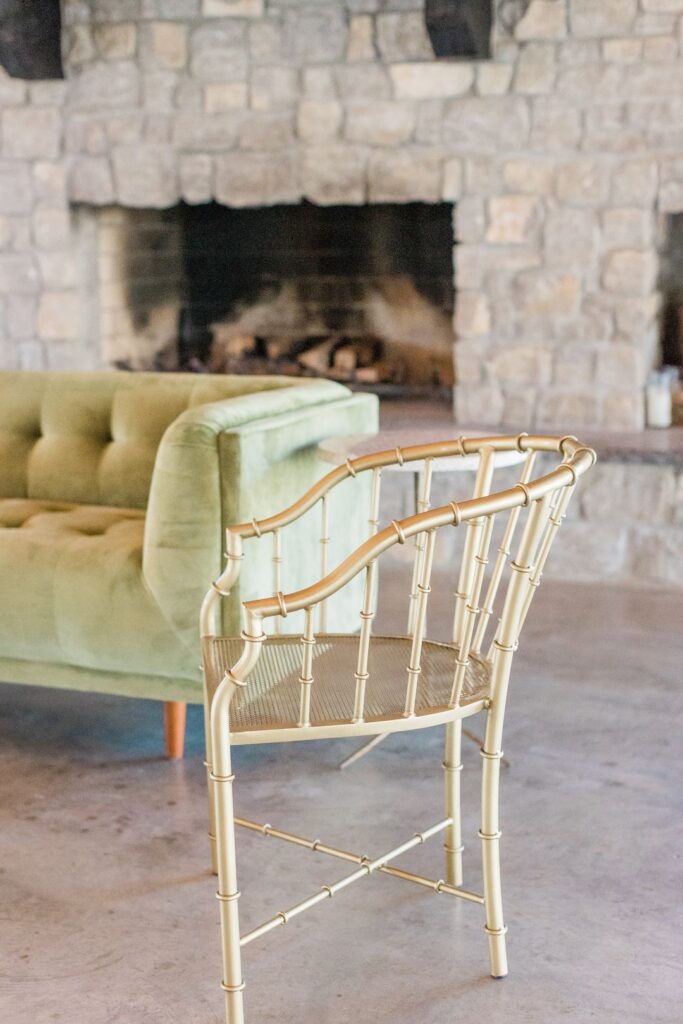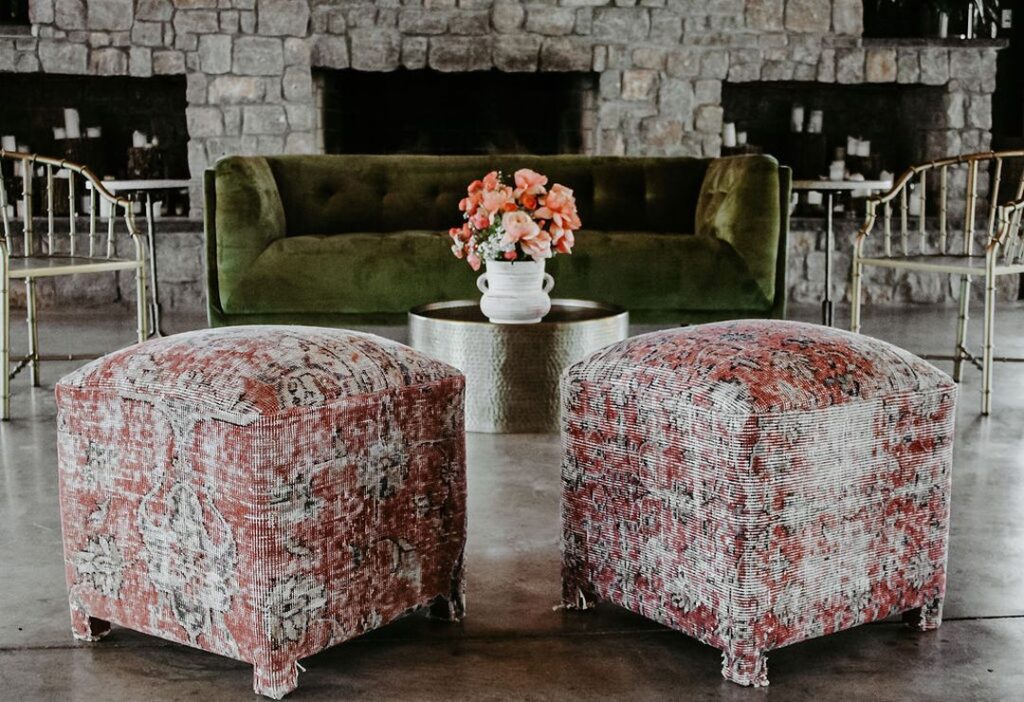 Elegant Barware
A cocktail hour requires drinks, served up in regal glassware. It's always fun to receive a refreshing cocktail served up in an elegant vintage-inspired glass. If you're wanting to incorporate a touch of color into your tablescape, we recommend our colored goblets, available in Amber and Green. Or for a more timeless Cottagecore inspired event design, try our stunning Audrey Gold Rim Glassware. Then there is a newer addition to our lineup, Monaco Glassware, of which the champagne and water goblets are our favorite. For an especially impressive display, don't forget to grab a Bar Cart or Bookcase.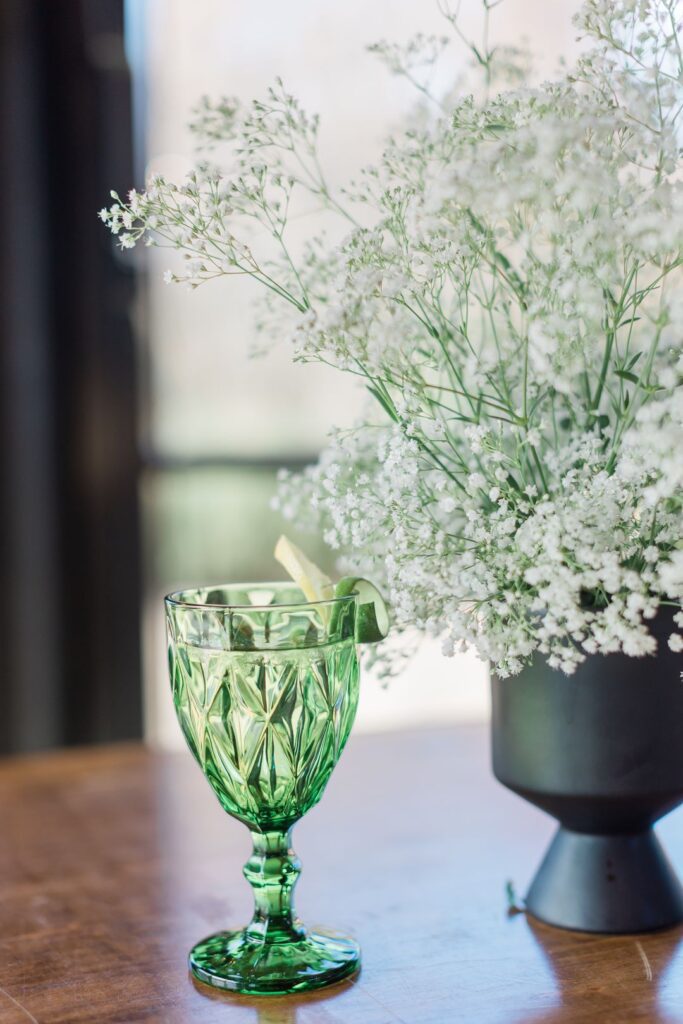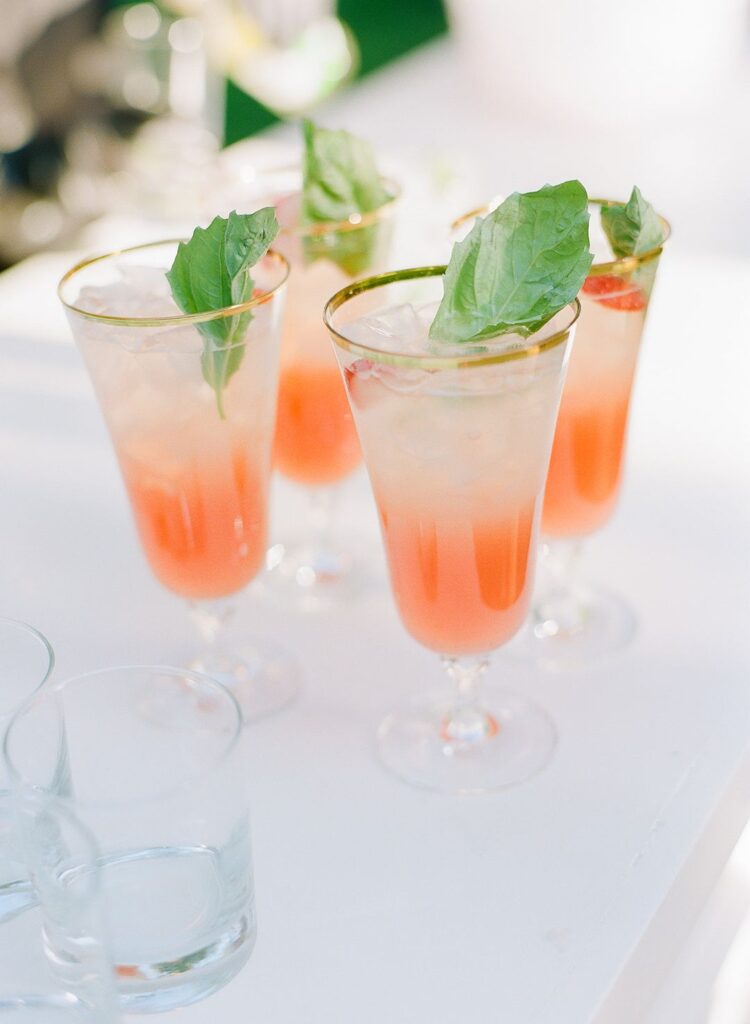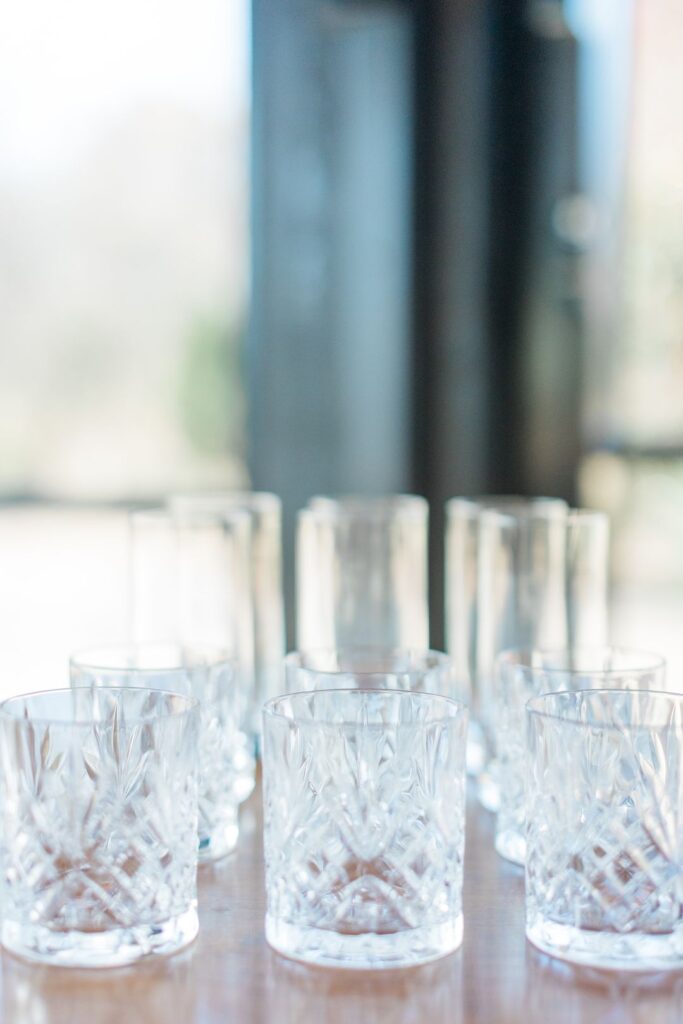 Fine Servingware
Of course for dinner you'll need equally impressive serving ware! We offer a wide selection of aristocracy approved china and flatware. A popular choice is our mismatched Heirloom China, which looks stunning when stacked. Or, go for a more high end vibe when you feature our gold embellished china, such as Hamlet or Ophelia. Our personal favorite however is Darcy, which has a dainty shape fitting for a more whimsical event. And to keep it simple, all of these pieces looks beautiful with both our Austin Gold and Fresno Matte Gold Flatware.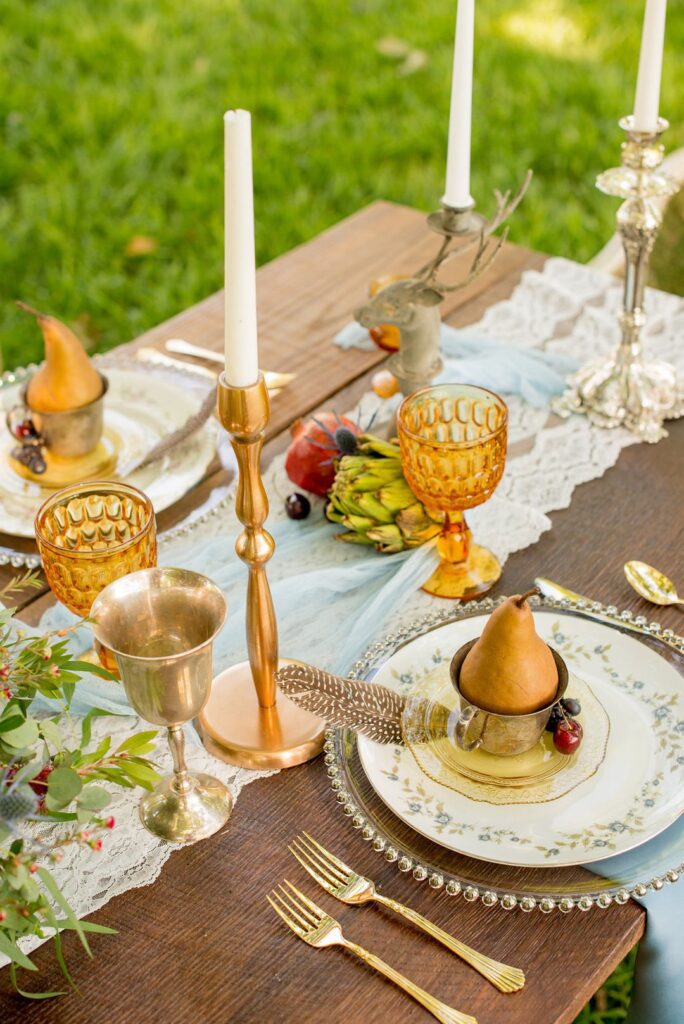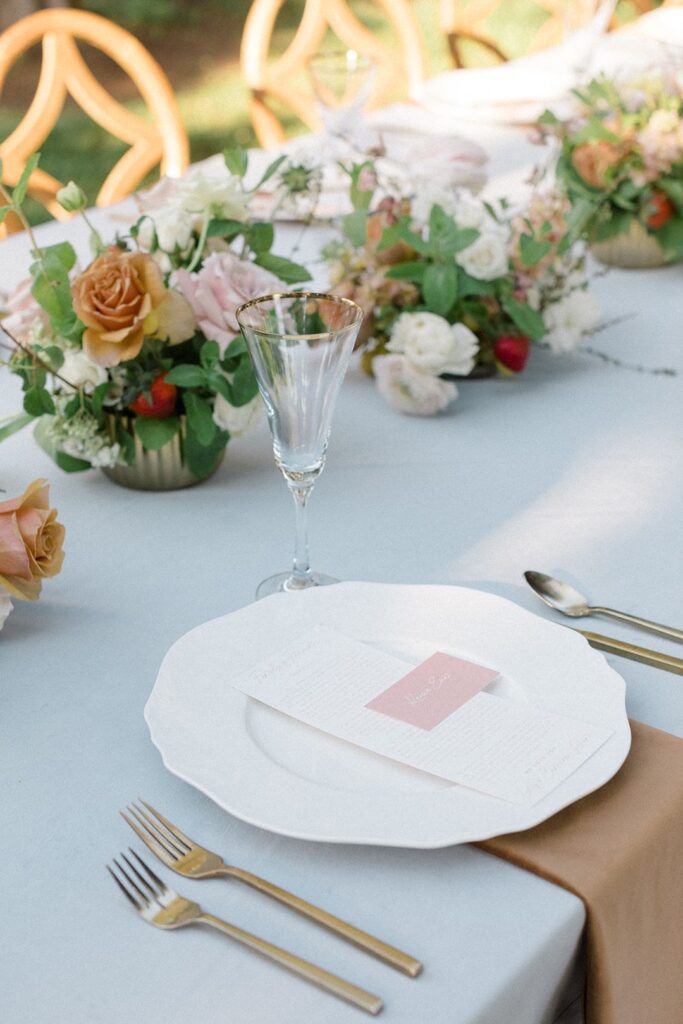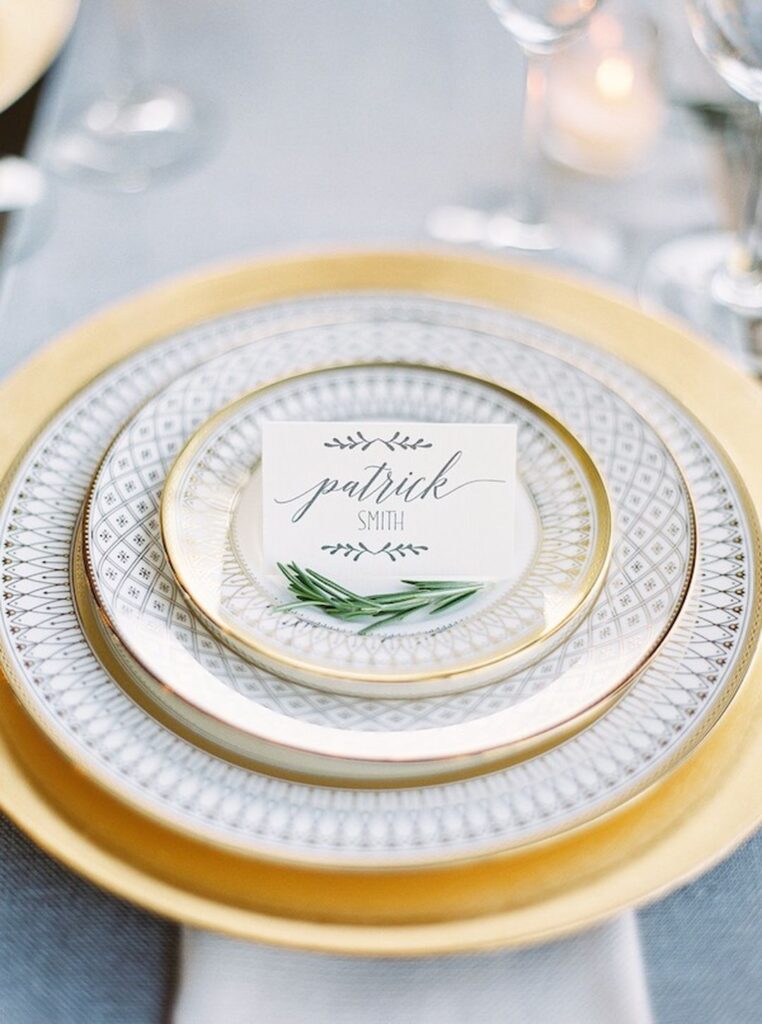 Want to secure one or several pieces of our cottagecore inspired event rentals? Contact our team today, at info@southerneventsonline.com! Or, if you're leaning towards a more natural luxe event design, take a look at our previous blog.
TAGS | Cocktail Party Rentals, Glassware, Lounge Furniture, On Trend, bar event rentals, bridgerton, cottagecore, cottagecore event design, luxe event design, servingware
FEATURED RENTALS | Everly Sofa, Fern Sofa, Bamboo Arm Chairs, Turkish Rug Ottoman, Vintage Rugs, Heirloom China, Hamlet CHina, Ophelia China, Darcy China, Austin Flatware, Fresno Matte Gold Flatware, colored goblets, Audrey Gold Rim Glassware, Monaco Glassware, Bar Cart, Gold Bookcase
---
27

Jan

On Trend, Southern Events Products, Trends and Inspiration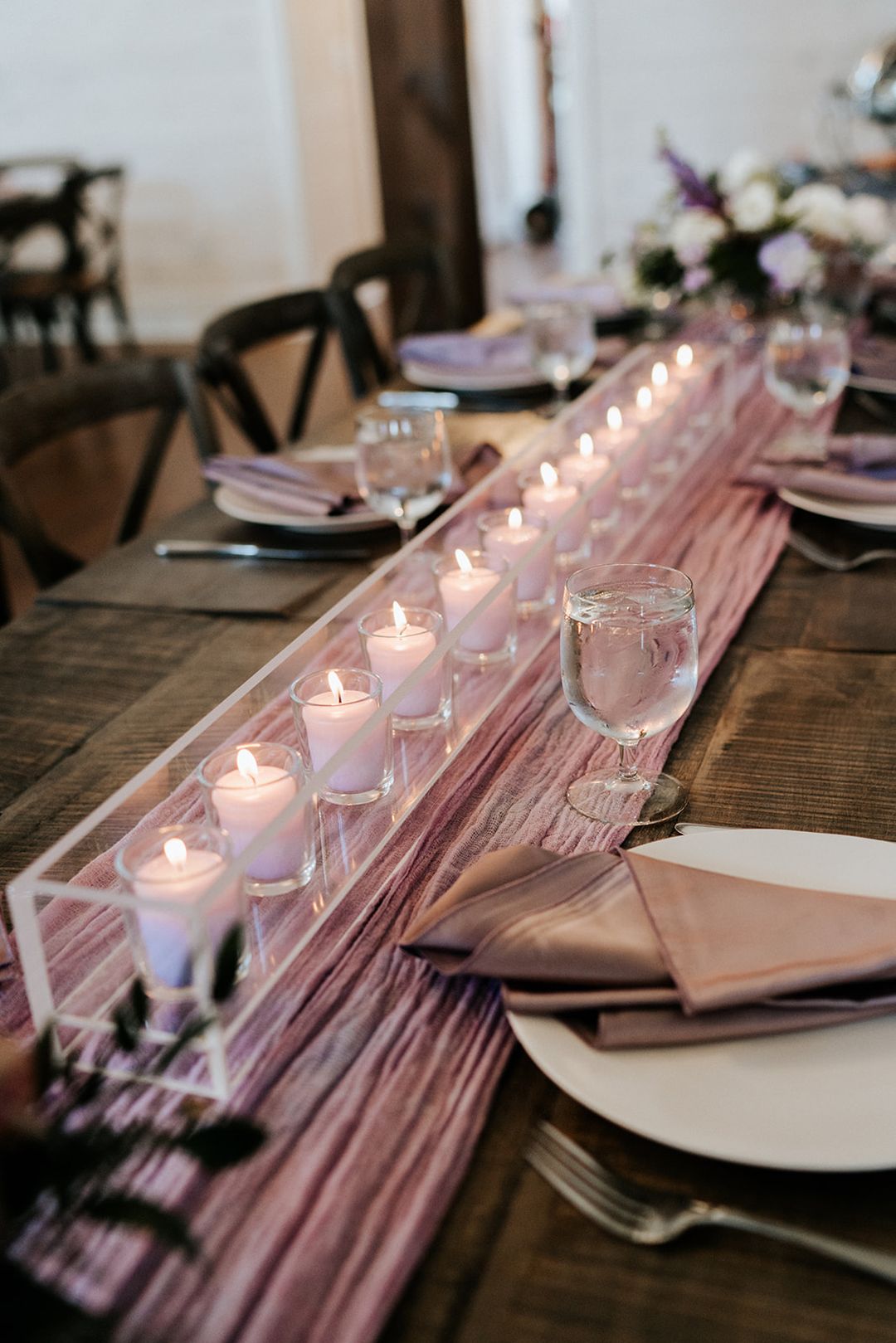 If you love event design that is creative and confident, then you'll fall head over heels for the 2022 Pantone Color of the Year, Very Peri! A soft blue with violet-red undertones, PANTONE 17-3938 Very Peri is described to have a "spritely, joyous attitude and dynamic presence". And for a year where event trends include vintage-inspiration and luxe details, what color could be better? To help you plan an a memorable and photo-worthy event, get inspired by event design incorporating Pantone's color of the year.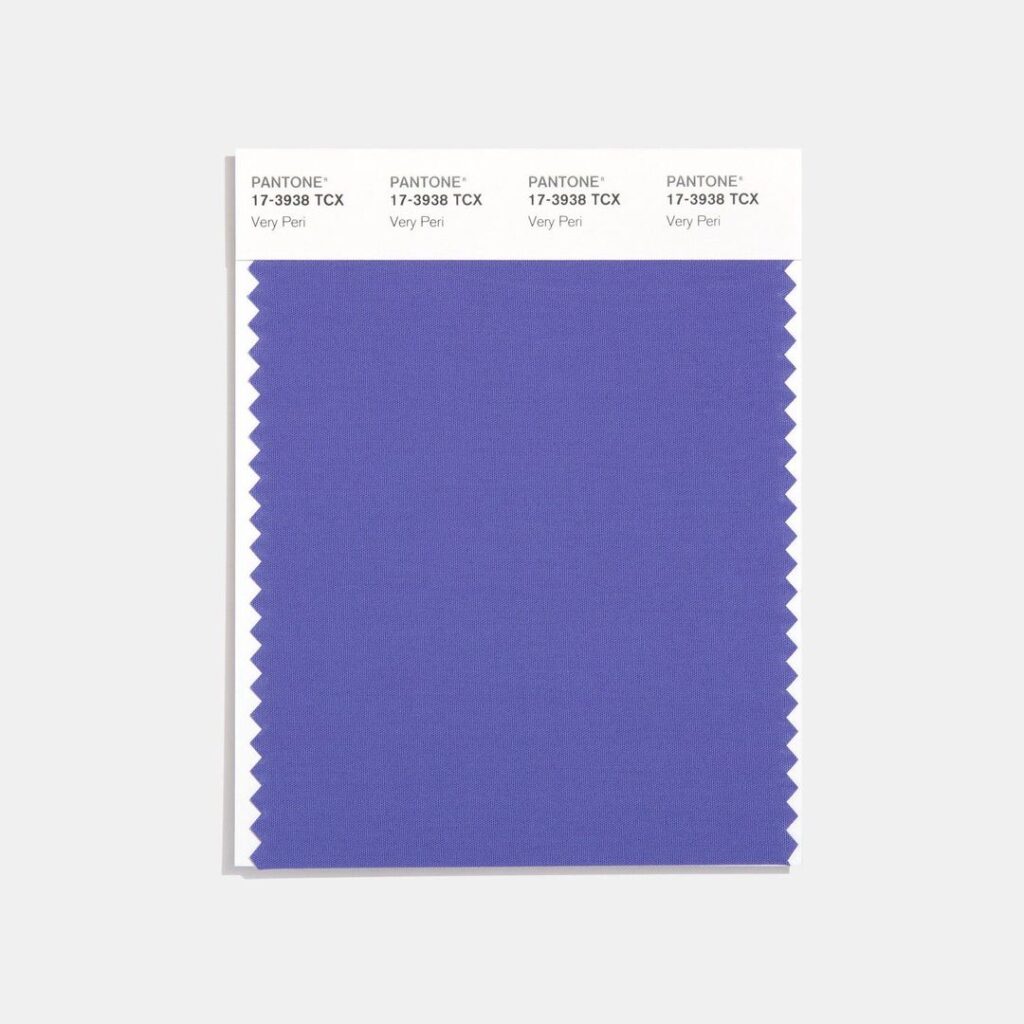 Whimsical Event Design
By far our favorite aspect of this color of the year is the whimsy that it lends to an event! A unique mix of blue and purple, Very Peri oozes youthful luxury. Therefore, when featuring this color at your event, we recommend opting for rentals that are equally lighthearted. For example, complement any dining table with our classic Antique White Bentwood Chairs. Or create a contemporary twist with any of our on-trend acrylic chairs, such as the Carrigan Side Chair.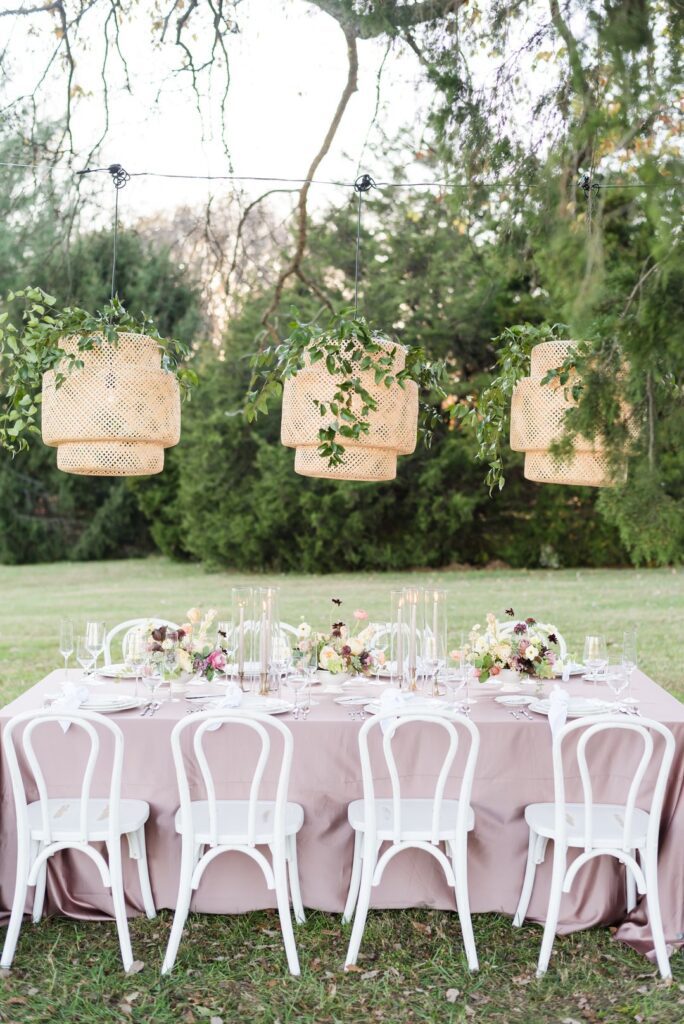 Perfect Very Peri Linens
If you're looking for an easy way to feature this fun color, without overwhelming, our top is to run with a set of colorful linens! Easy to build on top of, even for an amateur host, it can be used to create a variety of different table settings. A few of our current favorites include Wisteria Satin and Lilac Poly. For an extra luxurious pop of purple, you might also consider our Lavender Velvet – even just for napkins.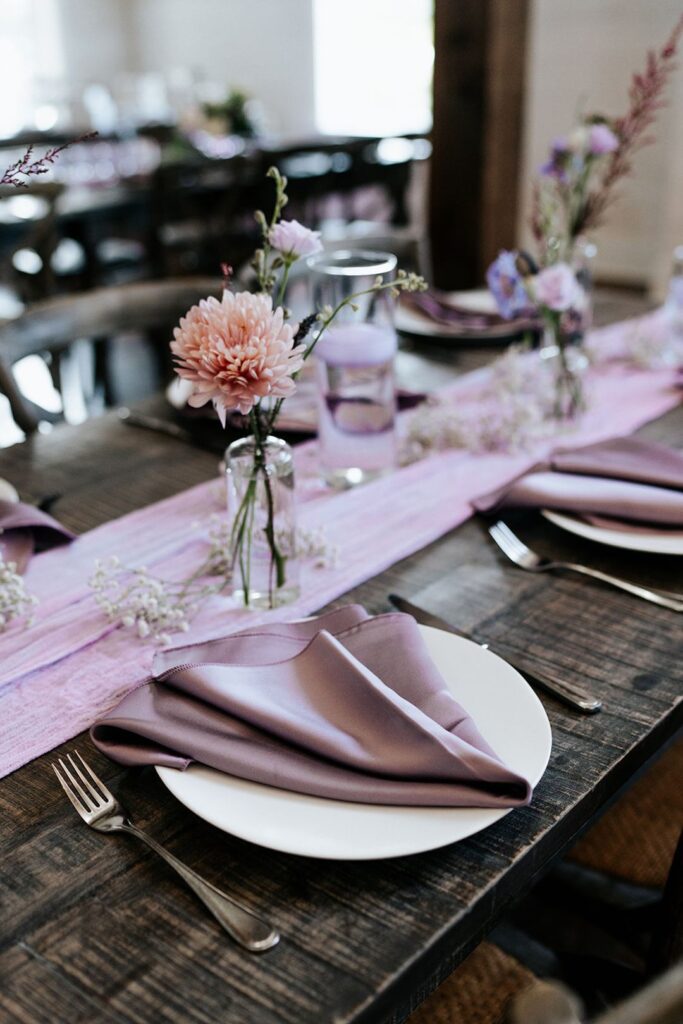 Colors That Lend Contrast
Although beautiful, Very Peri is a color that in large quantities can be overwhelming. To break it up be sure to feature a mix of contrasting colors. To keep your overall event palette light and airy, go with a classic and crisp white, as shown with our delicate Darcy China. If you prefer a theme that is bolder, then go big with our stunning Onyx Earthen China. Of course, don't be afraid to add more color! Our Amber Goblets feature a vintage design and unique color, perfect for a unique bohemian look.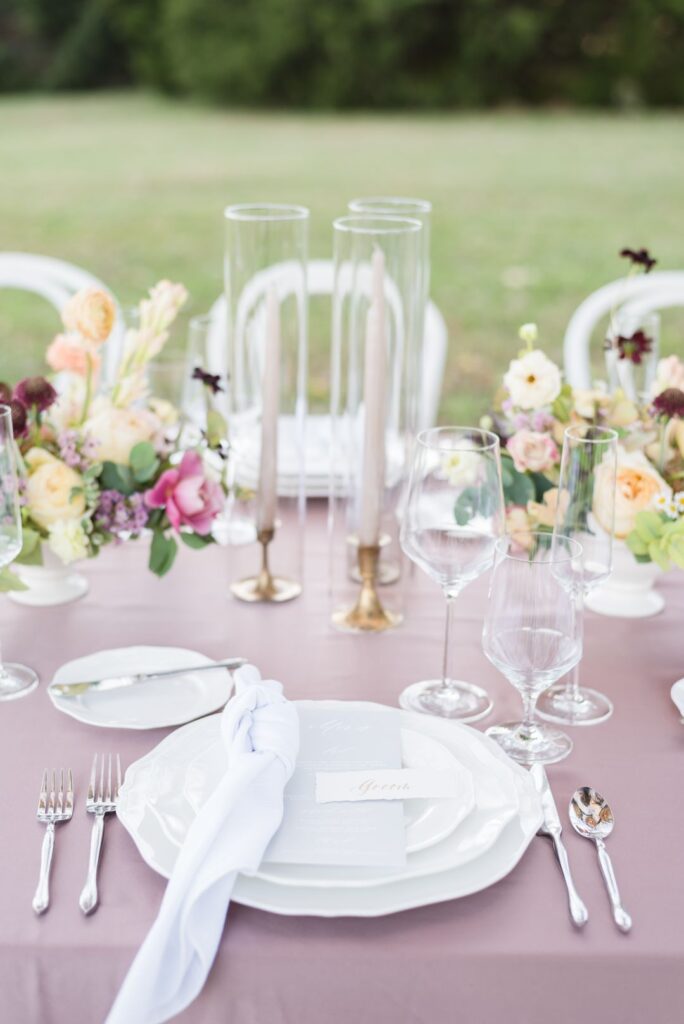 Feeling inspired by event design incorporating Pantone's color of the year? Contact our team today, at info@southerneventsonline.com, and we'll help you create a one-of-a-kind look featuring this stunning color.
TAGS | Bright & Colorful Rentals, Colorful Wedding Decor, Event Rentals, Event design, Nashville Event Rentals, On Trend, Pantone Color of the Year, style trends
FEATURED RENTALS | Antique White Bentwood Chair, Carrigan Side Chair, Wisteria Satin, Amber Goblets, Onyx Earthen China, Darcy China, Lavender Velvet, Lilac Poly,
---
6

Jan

On Trend, Southern Events Products, Trends and Inspiration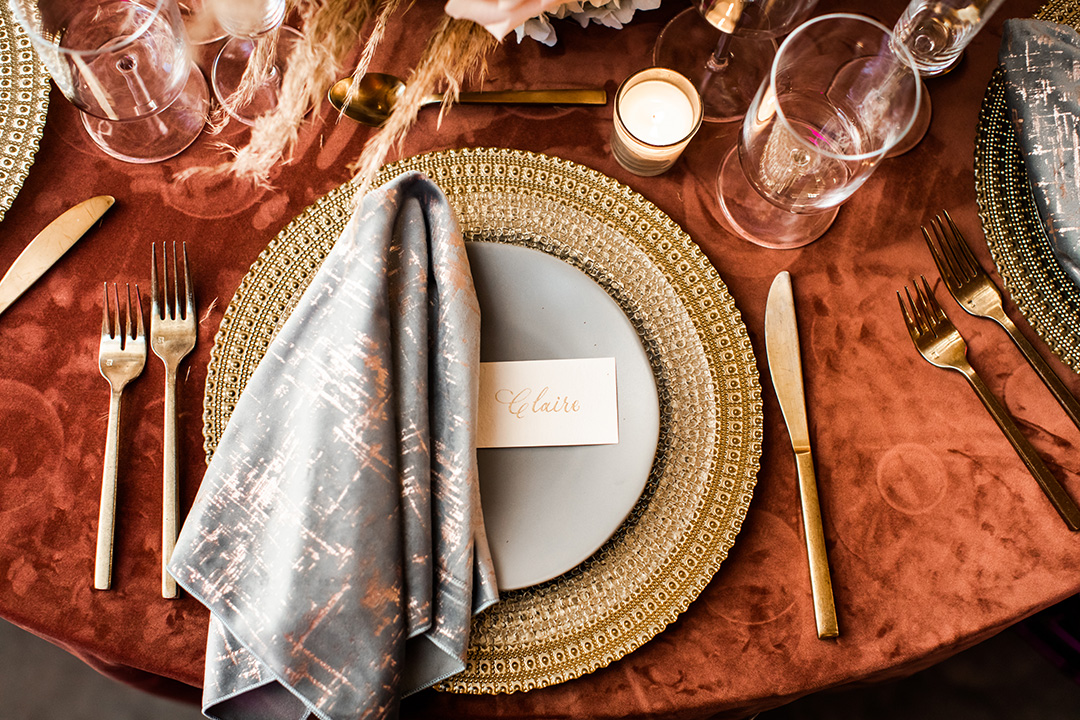 If there is one trend that we hope will stick around for years to come, it's the love for all things velvet! Warm and sophisticated, this luxurious fabric has made its way into event design. Not only is velvet incredibly elegant, but it's also versatile. Combine velvet with more rustic elements, such as farm tables and Cross-back Chairs for a warm and approachable vibe. Or, combine it with elements a bit more on the fancy side, think elegant flatware and gold-rimmed glassware, for a breathtaking tablescape. Get inspired when you check out our trendy velvet party rentals, ranging from couches to chairs and linens.
All Out Velvet
If you're obsessed with velvet and want to go all-in for your next party, then you'll want to check out our selection of velvet lounge furniture. Starting with our sofas! The the Saylor Velvet Sofa and Henley Gray Tufted Sofa are elegant pieces perfect for a more luxe event design. They look gorgeous when complemented with a modern side table or ottoman. Such as the Cheval Gold Mirror Side Table or Midas Gold Bench. And of course, one of our stunning vintage rugs!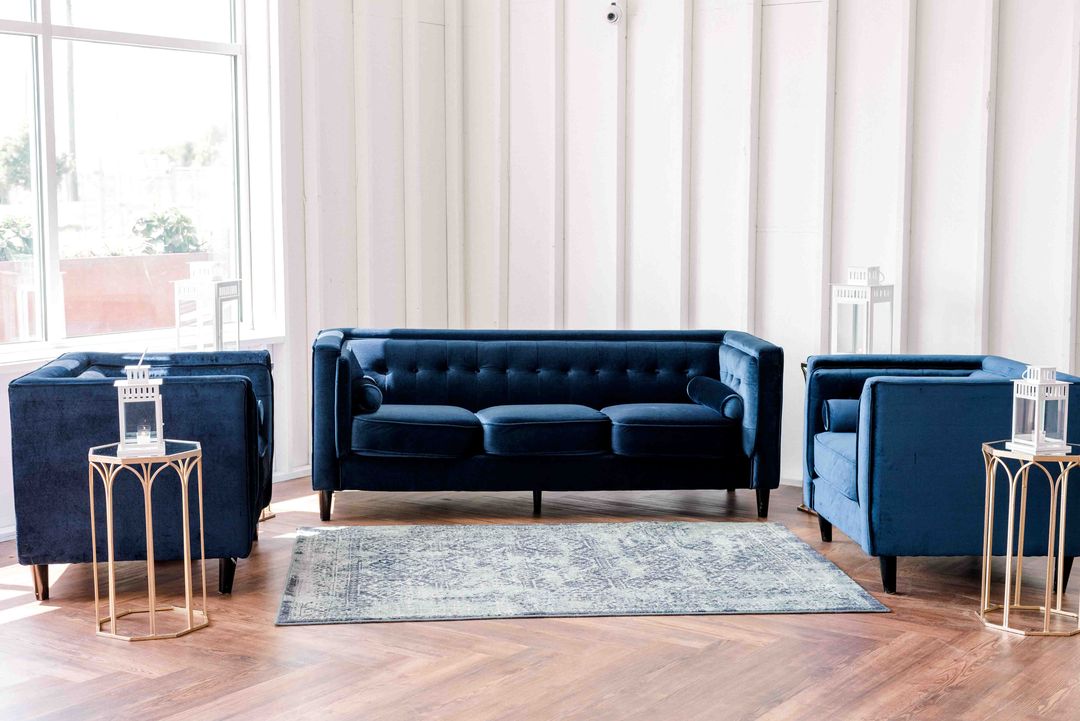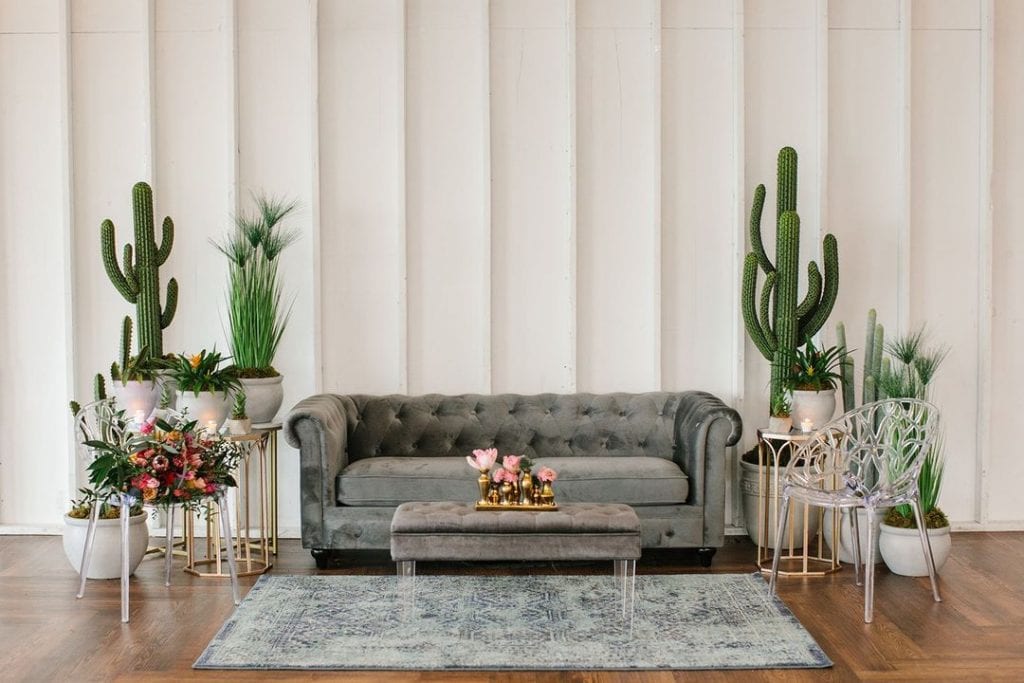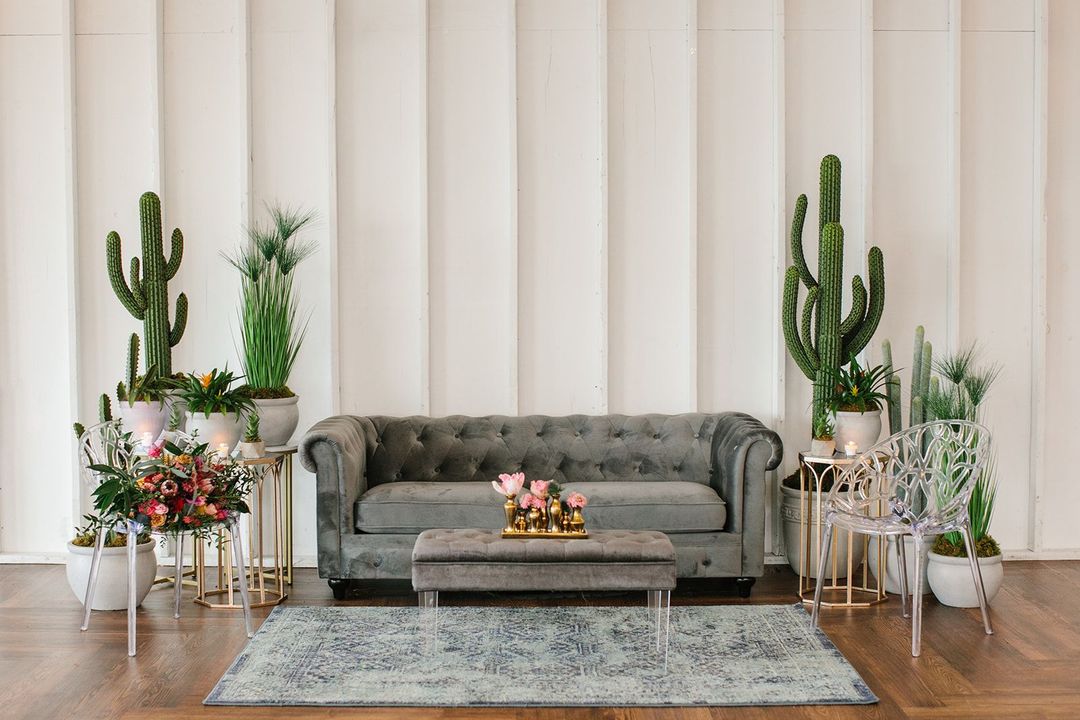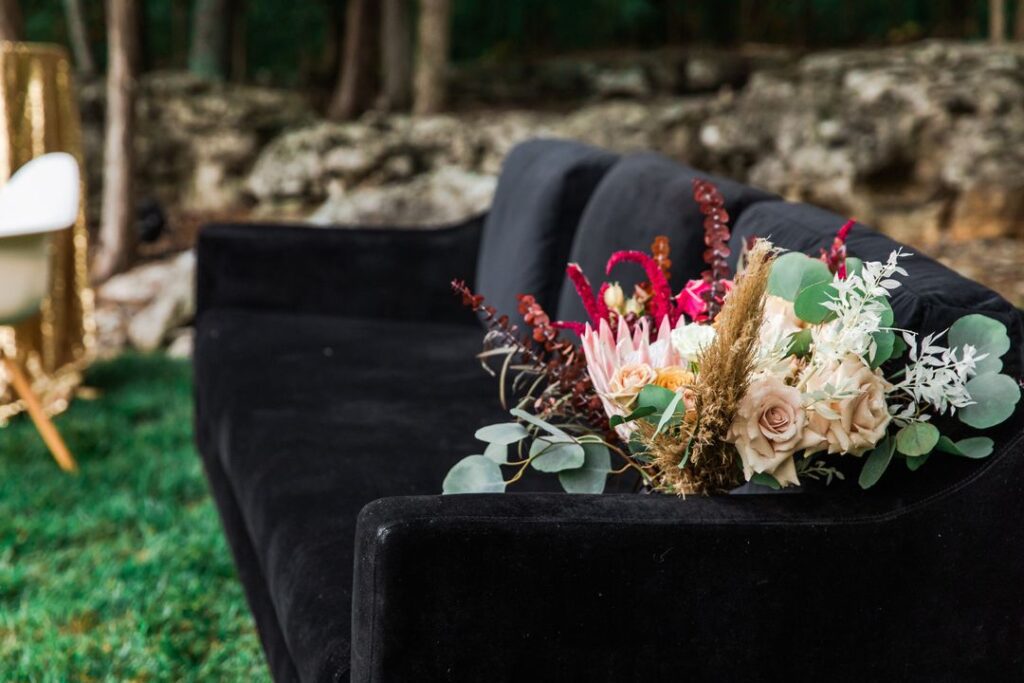 If you need additional seating, then add in a mix of chairs and ottomans. Both our Gloria Velvet Armchairs and Saylor Navy Velvet Chairs are both rich in color and style. Whereas for more minimal seating, you might feature our Grey Tufted OttomanI. If you prefer a unique seating option, check out our chic Farah Teal Velvet and Rory Navy Velvet, perfect for special occasions.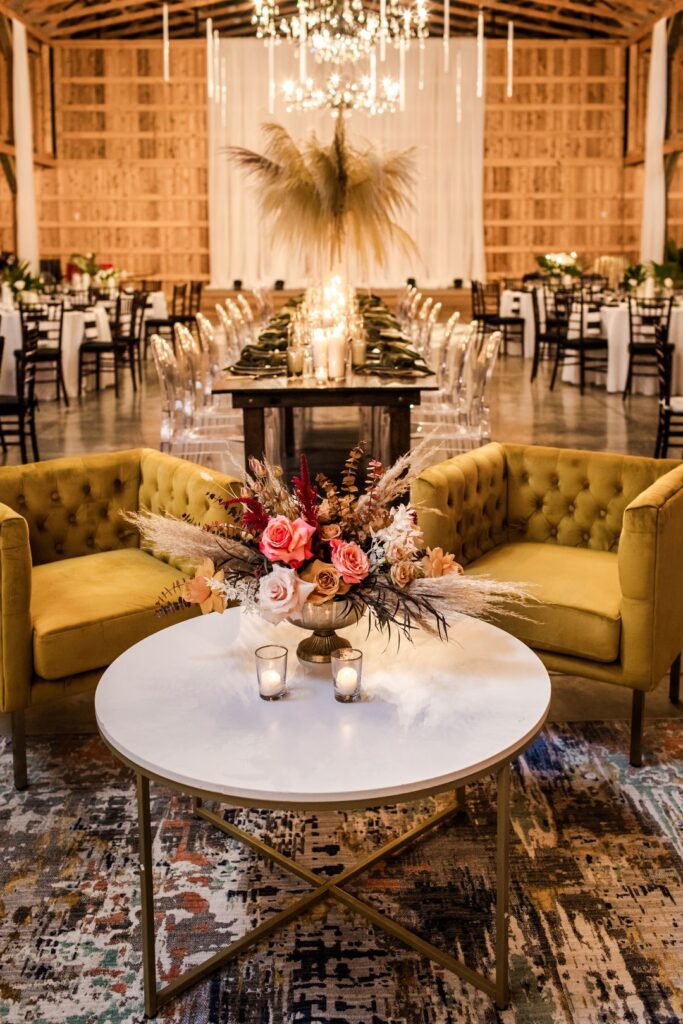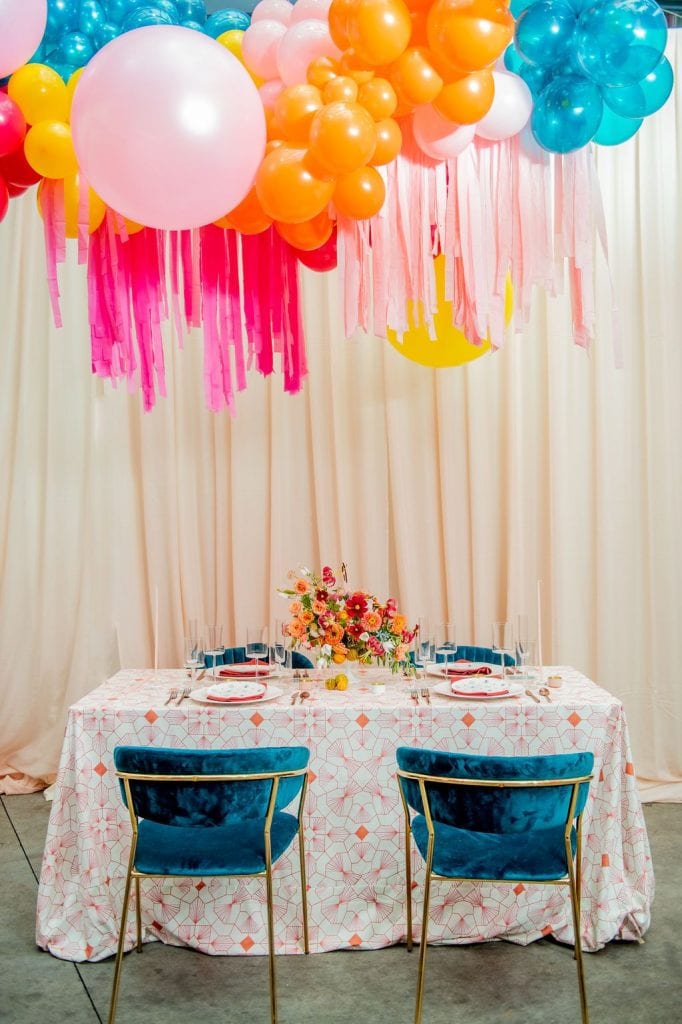 Velvet in Moderation
Are you a fan of "velvet in moderation"? There are SO many velvet linens to choose from that will take your tablescape to the next level. Pick one color and go modern with a monochromatic look, or pick several colors and go for a boho layered look! Neutrals are always a classic, such as Driftwood and Fern. Or go bold with Ocean Blue or Spice.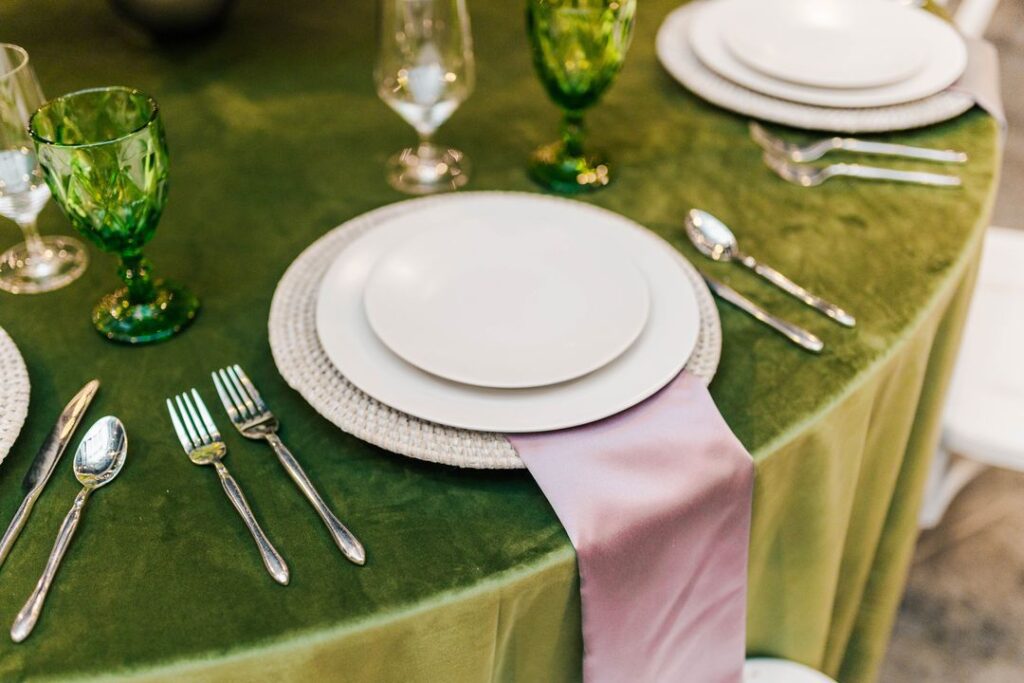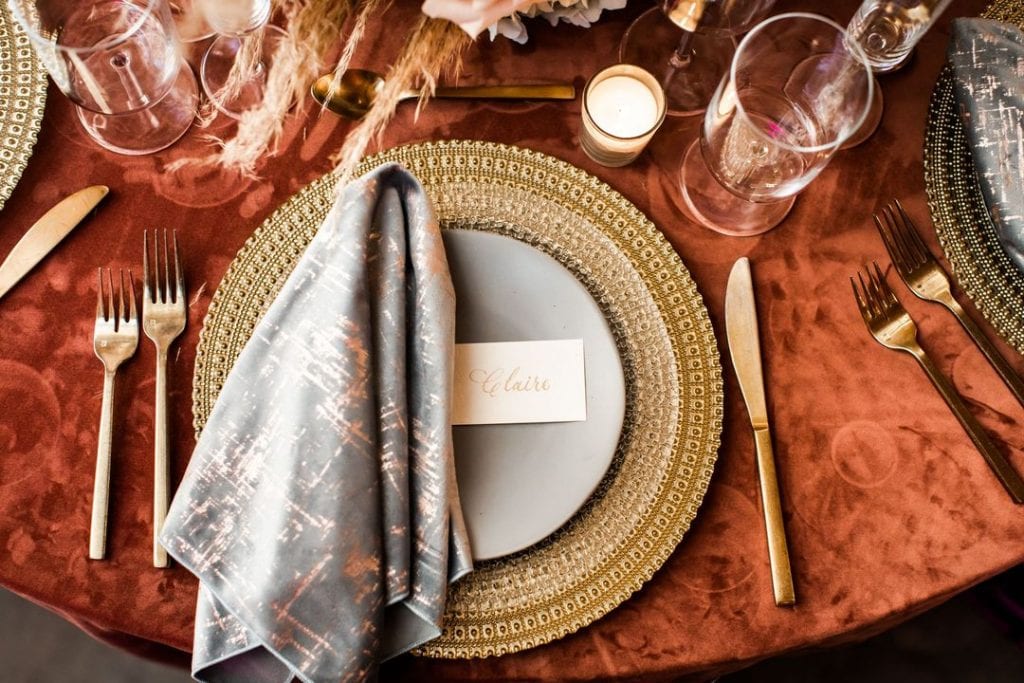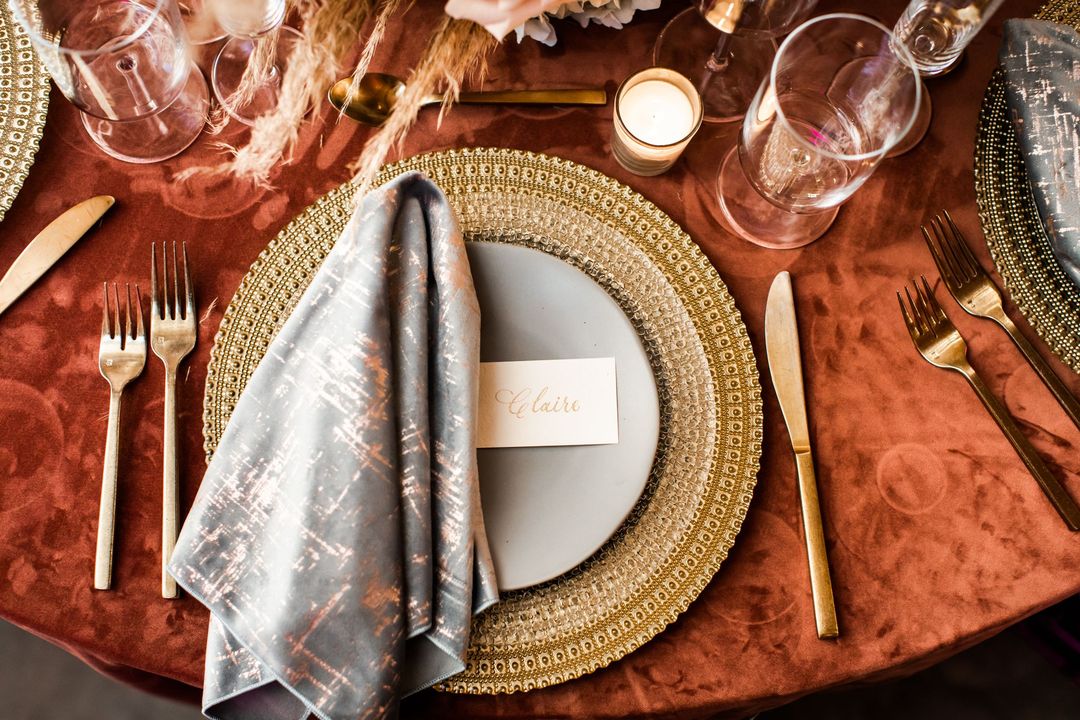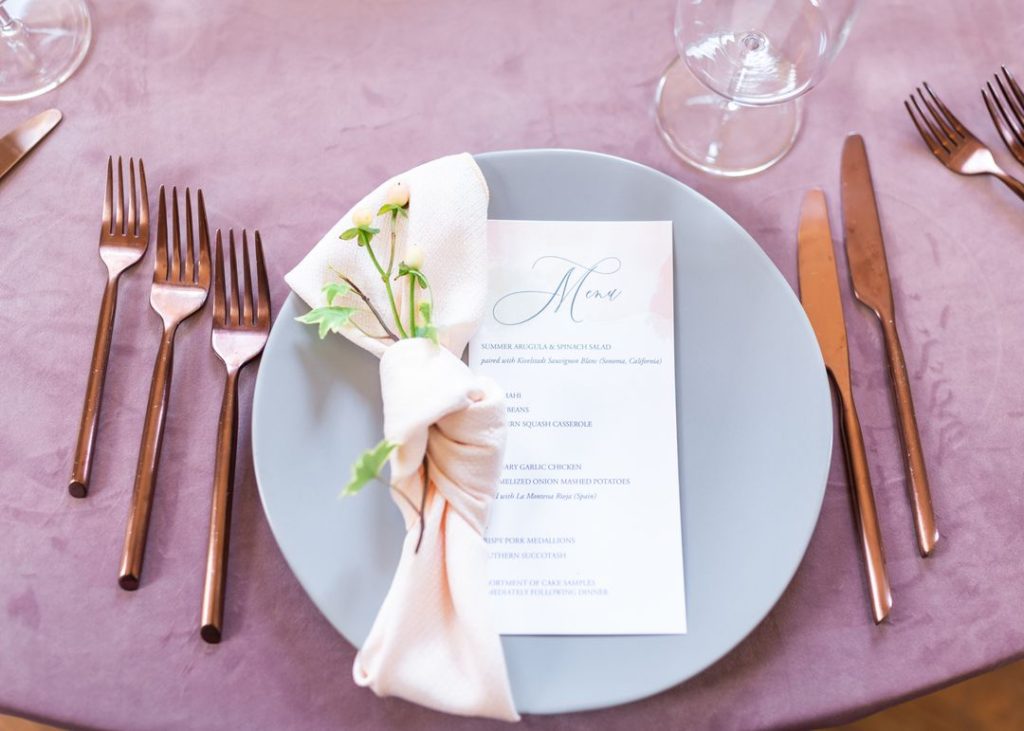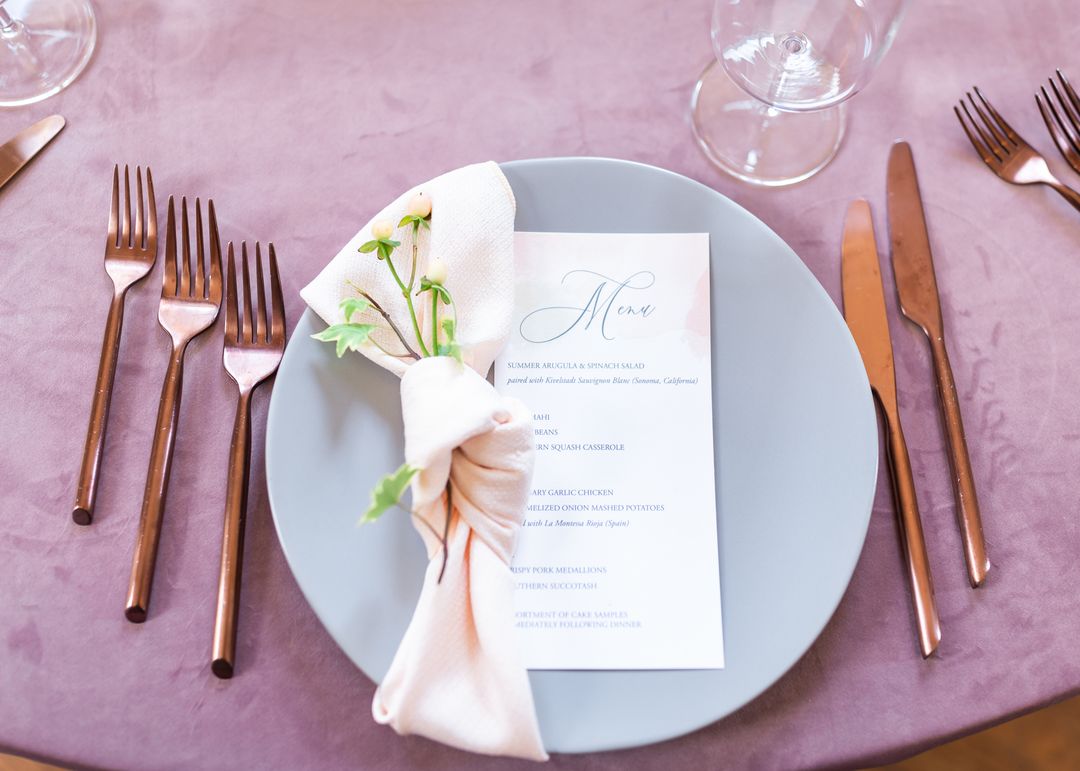 Drooling over our velvet party rentals? Send our team a message at info@southerneventsonline.com for help finding the perfect piece to wow your guests.
TAGS | On Trend, Southern Events Party Rental Company, Velvet Linens, southern weddings, velvet furniture, velvet napkins, velvet party rentals
FEATURED RENTALS | Saylor Sofa, Henley Tufted Sofa, Grey Tufted Ottoman, Fern Velvet Sofa, Jacqueline Velvet Sofa, Gloria Velvet, Armchairs, Black Velvet Sofa, Velvet Linens, Driftwood Velvet Linens, Ferm Velvet Linens, ,
---
9

Dec

On Trend, Trends and Inspiration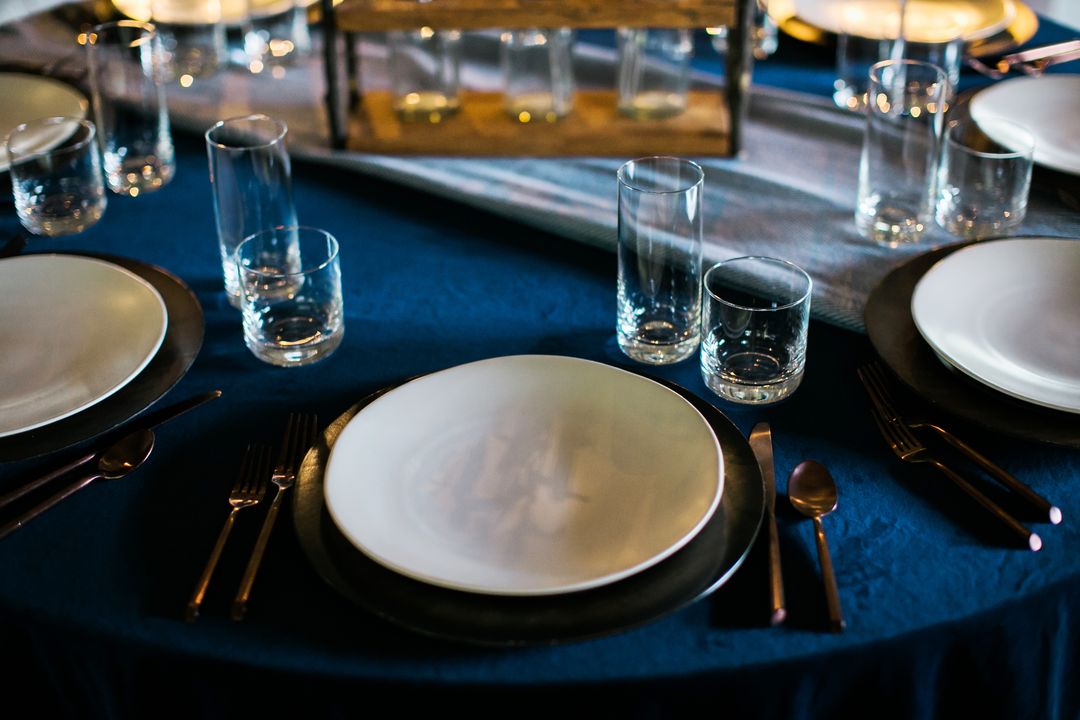 The wintertime is a festive season, but when it comes to hosting some people prefer a more minimal and timeless look. A setup that oozes warmth and charm but is totally on trend! Get inspired when you take a look at some of our favorite minimal winter event rentals, from serving ware to lounge furniture and more.
Stone China
Planning to host dinner at your winter event? Check out our beautiful Earthen China! These simple neutral-colored serving plates are so gorgeous your guests will want to take them home. They come in three colors: Alabaster, Onyx, and Stone. For a luxe metallic touch, pair any of these dishes with our Austin or Brushed Copper Flatware.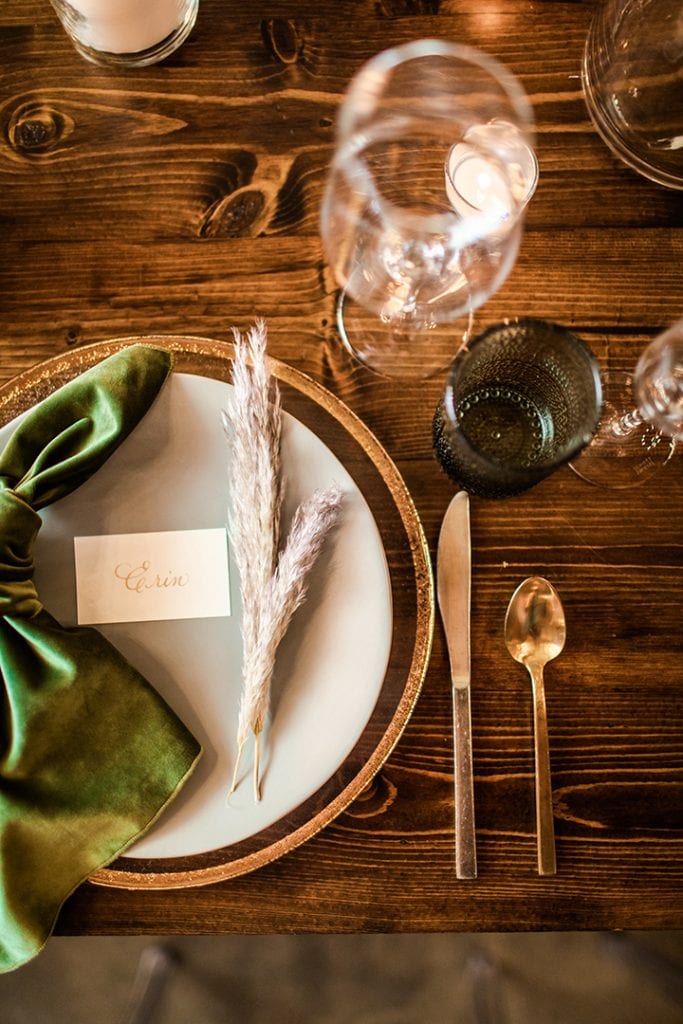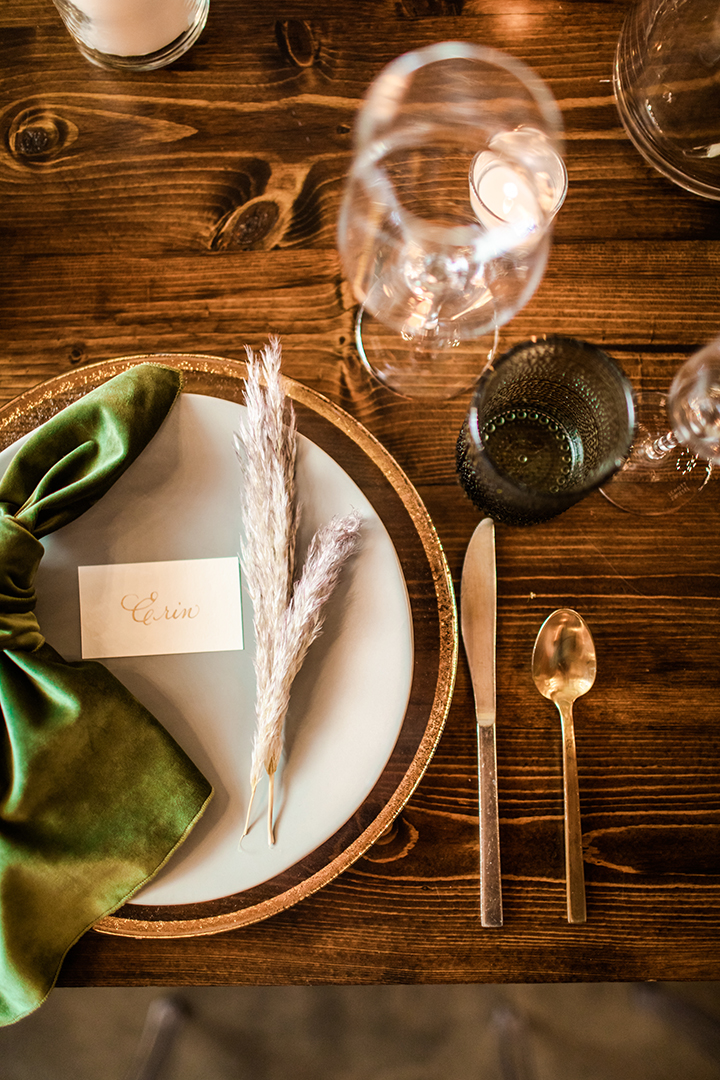 White Eiffel Arm Chairs
When featuring a minimal dinner table, like our Farm Tables, you can have some fun with your chairs. Our White Eiffel Arm Chairs are a unique contemporary option that are insanely comfy! Alternatively, use our Rustic Benches to lend a more cozy touch. You might also decorate these seats with soft throws or pillows for a fun pop of color.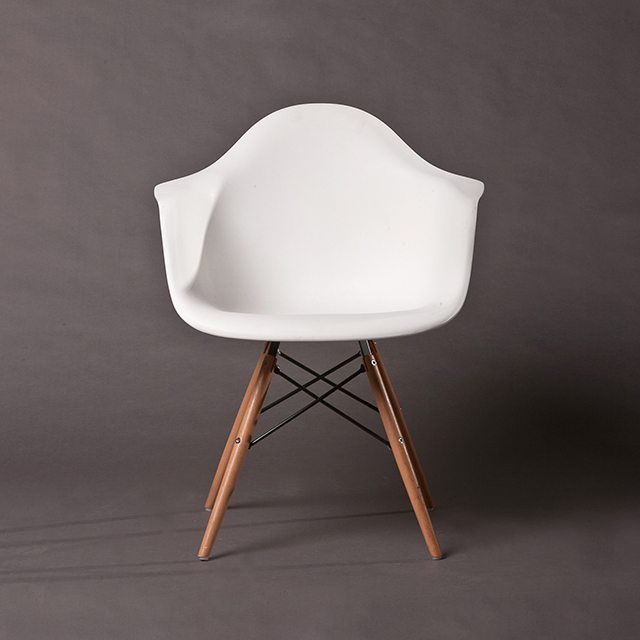 Saylor Navy Velvet Sofa
For a large social event or even an intimate cocktail hour you'll want a cozy lounge area. Our Saylor Navy Velvet Sofa and Saylor Navy Velvet Chairs are ultra-soft, simple, and beautiful. A rich blue hue, they are especially gorgeous if you are hosting an ice-inspired event or featuring a cool-toned palette.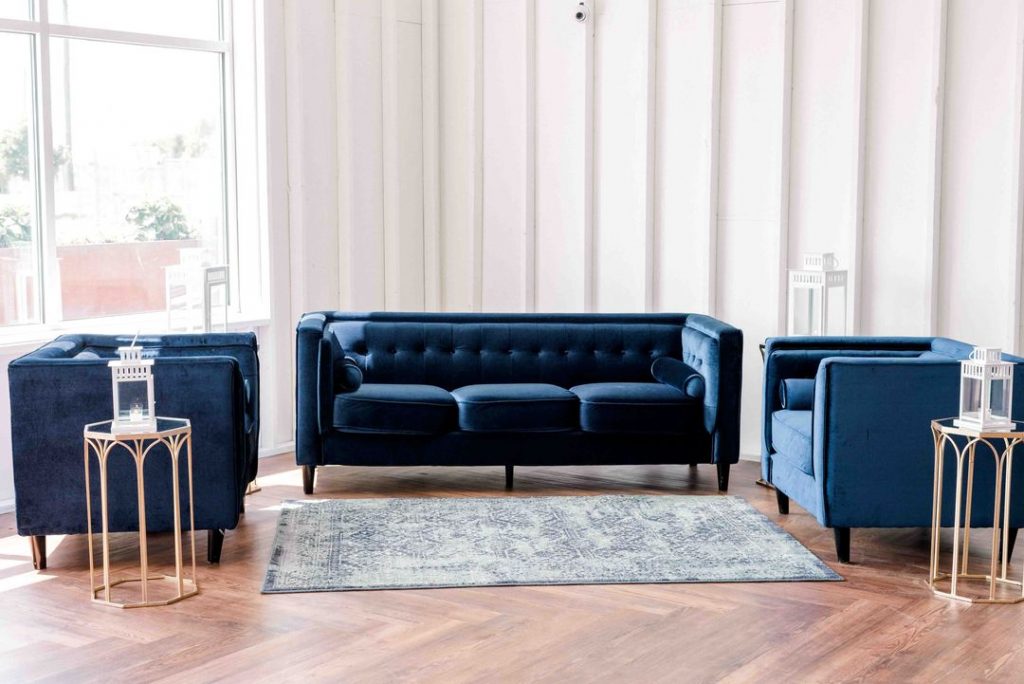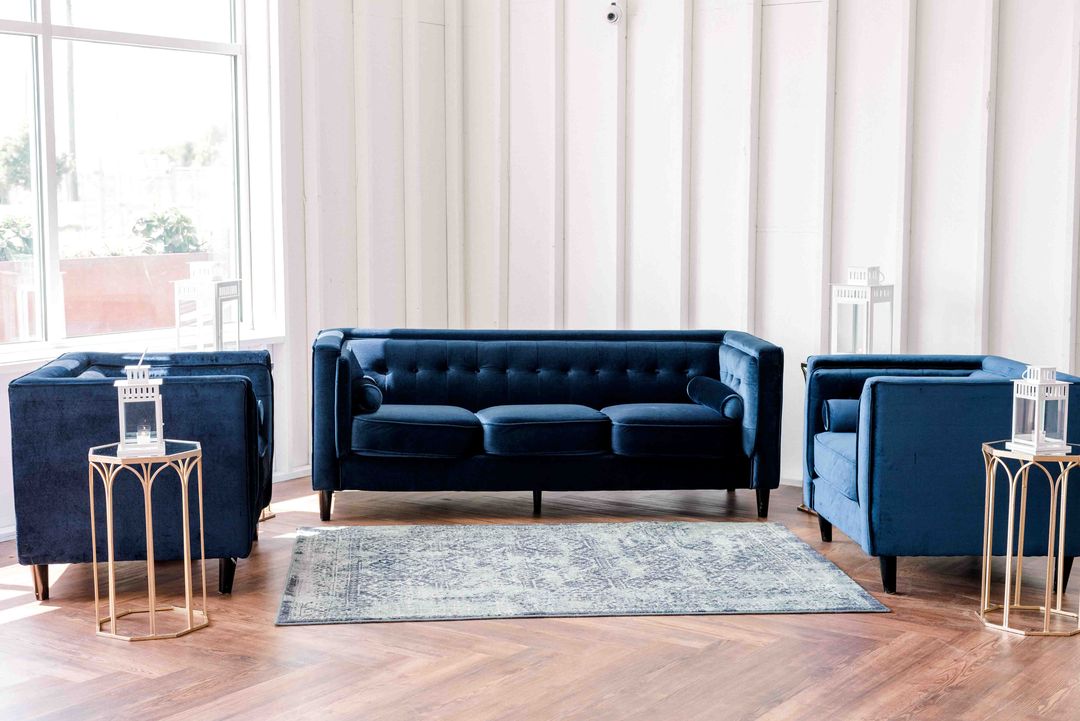 Gold Hammered Coffee Table
To create a fully functioning lounge area, don't forget some accent tables! Our Gold Hammered Coffee Table features an organic shape and a muted color that will complement most any furniture. If you prefer a more toned-down color palette, opt for Pewter instead.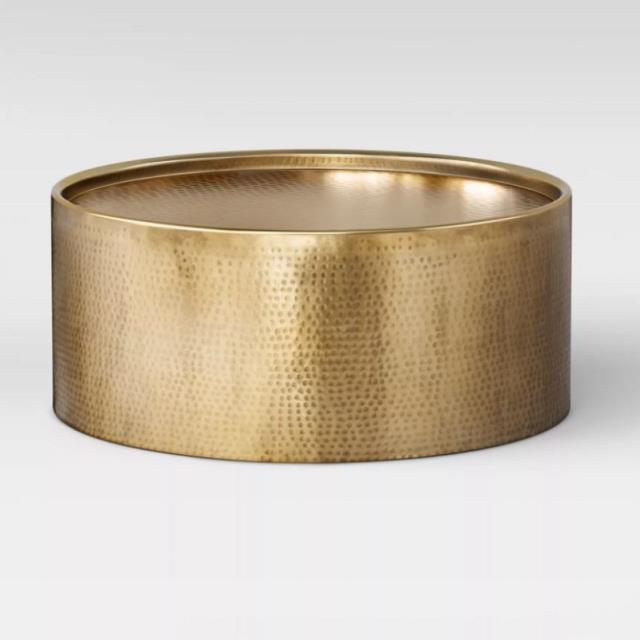 Gold Bar Cart
Last but far from least, we recommend our Gold Bar Cart! This elegant piece is oh so versatile, whether you want to offer a table-side drink service or a small self-serve drink station. It's a beautiful piece for both large and intimate events alike. Just don't forget to stock up on glasses – like our Reese Glassware.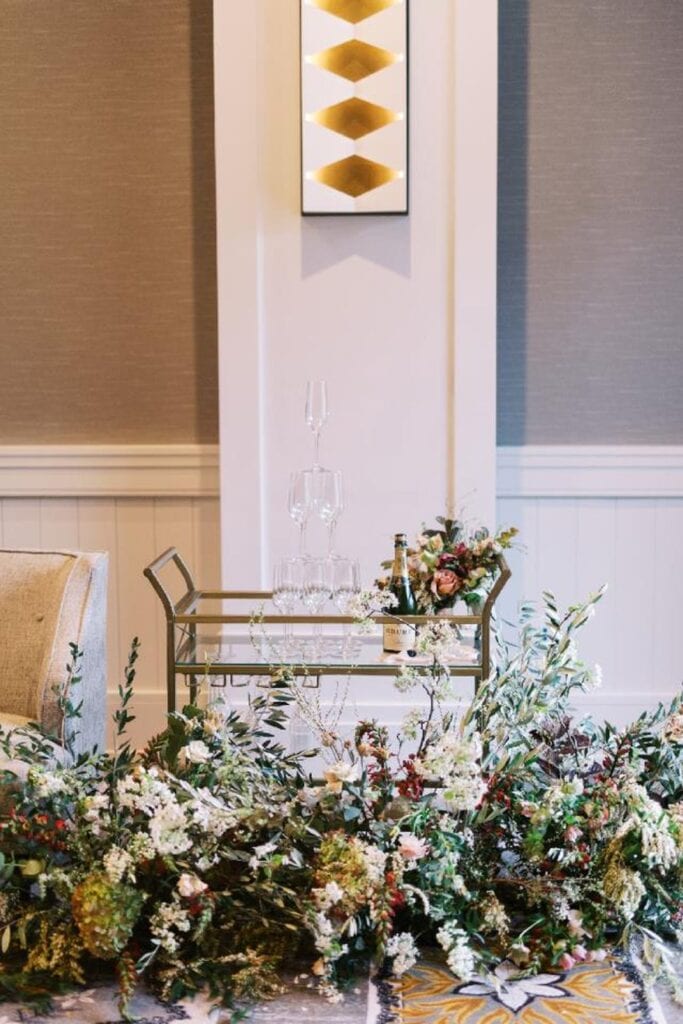 Do you love these minimal winter event rentals? Email us at info@southerneventsonline.com to reserve these rentals for your next event! Just need serving ware? Take a look at our previous blog featuring our curated collection, Styled by Southern.
TAGS | On Trend, Southern Events Party Rental, Winter Event Decor, minimal design event decor, modern minimalist tablescape, wedding style trends, winter event rentals, winter wedding
FEATURED RENTALS | Earthen China, Austin Flatware, Brushed Copper Flatware, Eiffel Arm Chair, Rustic Benches, Gold Hammered Coffee Table, Saylor Navy Velvet Sofa, Gold Bar Cart, Farm Table,
---
21

Oct

On Trend, Southern Events Products, Vintage Prop Shoppe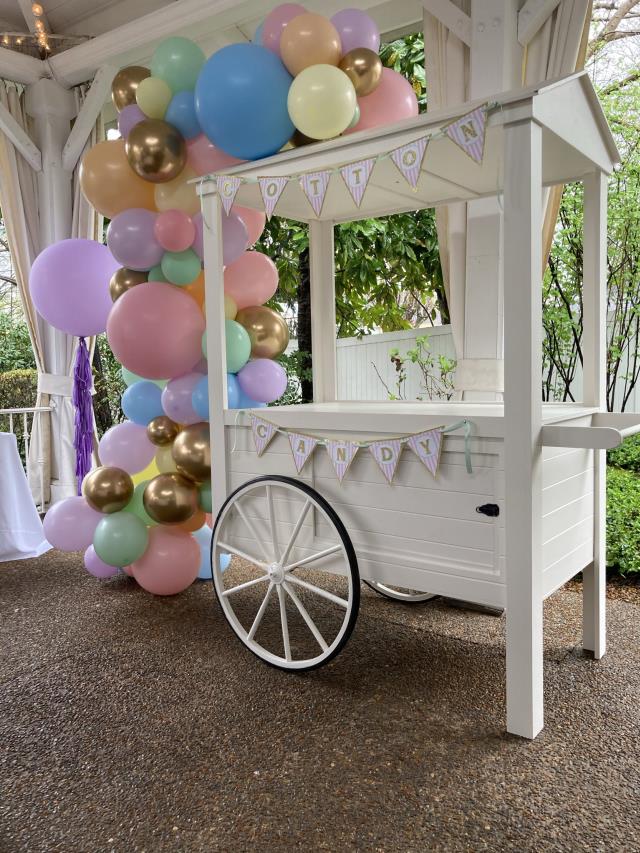 A fan-favorite for people of ages, vintage concession equipment is a fun addition that your guests will love. With an upscale feel, they are suitable for everything from a wedding reception or shower to a children's birthday party or themed corporate event. Keep reading to learn about our now in-stock vintage concession equipment rentals!
Popcorn Machine
Popcorn is a sweet treat that is also nostalgic! It reminds people of going to the movies and outdoor festivals. Not to mention you can serve up all kinds of flavors, from classic kernal corn to sour apple and more. Our vintage popcorn machine comes in a sleek black and silver and vintage lettering with large wheels that make it easy to transport.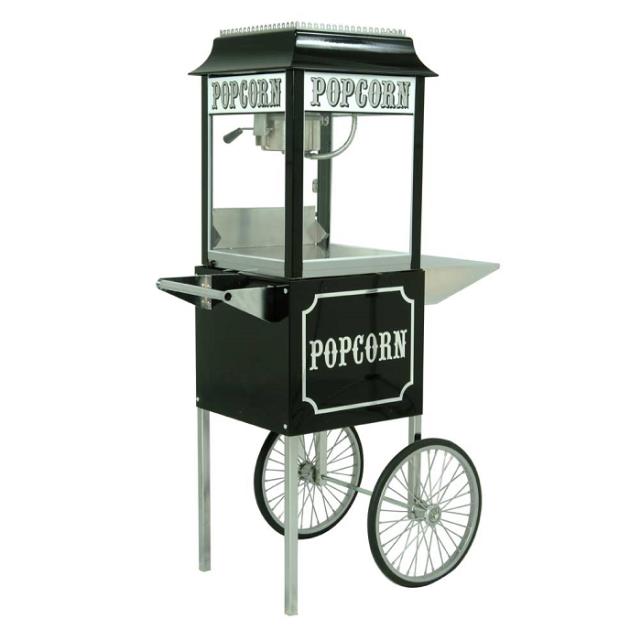 Cotton Candy Machine (Coming Soon!)
If you want to serve up a snack that is super sweet yet incredibly light, go with cotton candy. Like our vintage popcorn machine, it features an elegant vintage design and will be in stock for 2022 events. Easy to whip up on-site, our vintage cotton candsy machine doubling as entertainment for guests. You can also offer a variety of flavors, from bubblegum to watermelon. To make it adult friendly, you can even serve it on top of freshly made cocktails, in one of our elegant pieces of glassware.
Other Display Props
Prehaps your goal is an overall chic or nostalgic event theme? In that case, you'll want to check out our other display props available to rent. These elegant pieces are a fun additinon to a themed event.
Market Cart
First up is our market cart, a simple and slightly rustic white washed cart. This piece is a fan-favorite, especially for displaying food and drinks. It can easily hold treats, like your popcorn or cotton candy, as well as beverage dispensers. Making it ideal for a self-serve reception. It is also easy to decorate, whether you would like to hang banners or spruce it up with balloons or florals.

Ticket Booth
Our simple and sleek ticket booth is an incredibly versatile piece, so get creative! It can be used as it is named, to welcome geusts into your ticketed event. But it can also be used simply for show. Perhaps to hold signage or as a unique photo op at the entryway. You might also pair it with a red carpet and stanchions, for a Hollywood worthy entrance.
Ready to rent our fun vintage concession equipment or props? Our team would love to help you create an event that is sylish and memorable. Send us a message at info@southerneventsonline.com, and let's get started! Or view our product catalog and use the cart feature to request a quote.
TAGS | Modern Vintage Events, On Trend, Vintage Accessories, Vintage Prop Shoppe, event displays, vintage concession equipment
FEATURED RENTALS | popcorn machine, cotton candy machine, ticket booth, market cart,
---
2

Sep

On Trend, Southern Events Products, Trends and Inspiration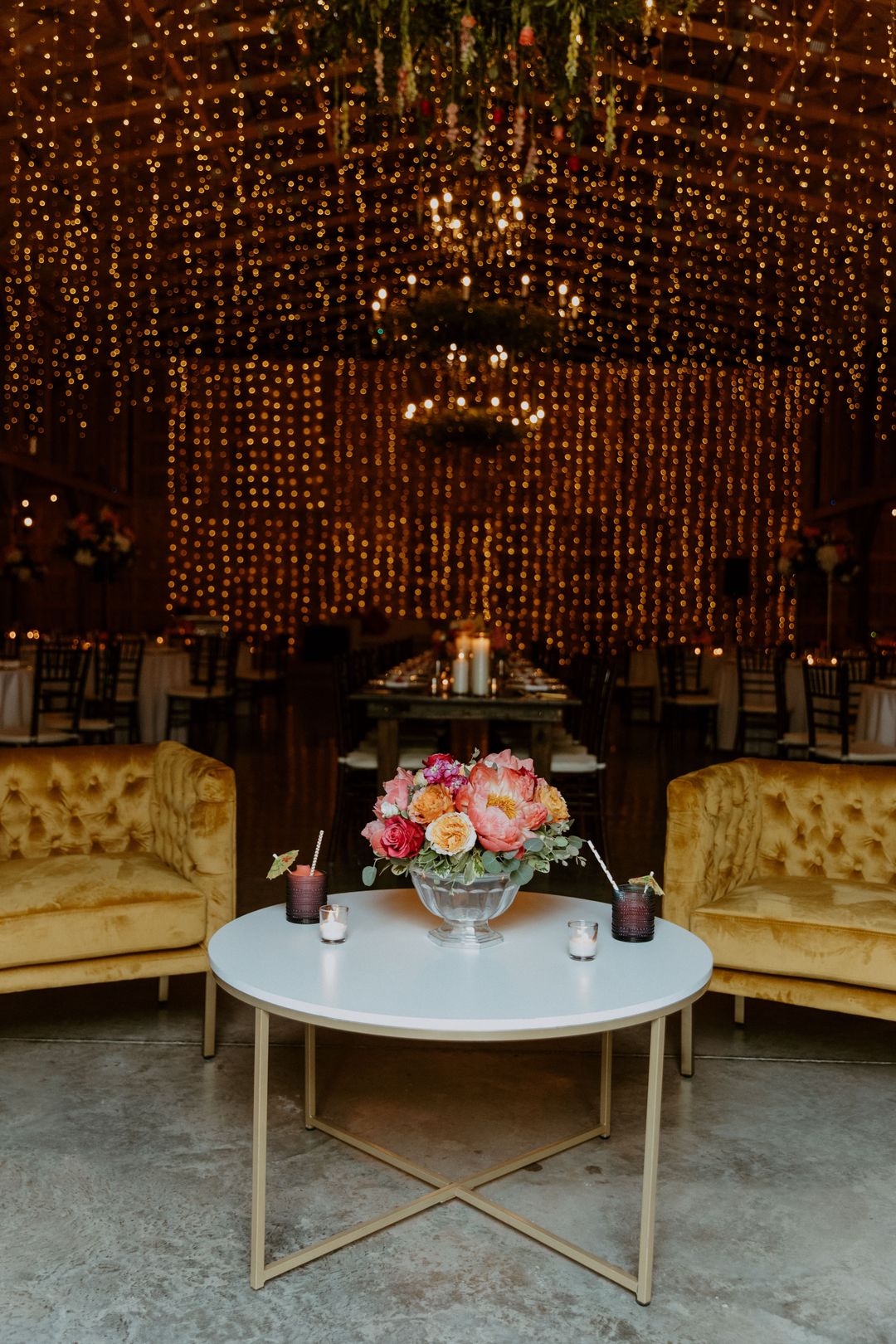 Looking for a fun and colorful yet stylish theme for your next event? Go with modern retro or late-century! Our modern retro rentals take inspiration from the late 1970s through the 90s, featuring rich colors and aesthetic but functional designs. Perfect for a totally trendy throwback! Get inspired when you check out our party furniture rentals that can be used to host a modern retro event!
Fun Retro Lounge Furniture
There is nothing that screams retro like a colorful lounge area for an intimate cocktail hour or afternoon social! Check out these fun retro rentals and furniture that make for a stylish late-century setup.
Fern Sofa
A sleek and luxurious piece our fern sofa makes for a beautiful focal point in a lounge area. The low mid-century design features clean lines and elegant tufting, all in a muted olive color. We recommend pairing this stunning sofa with our Rivet Accent Table.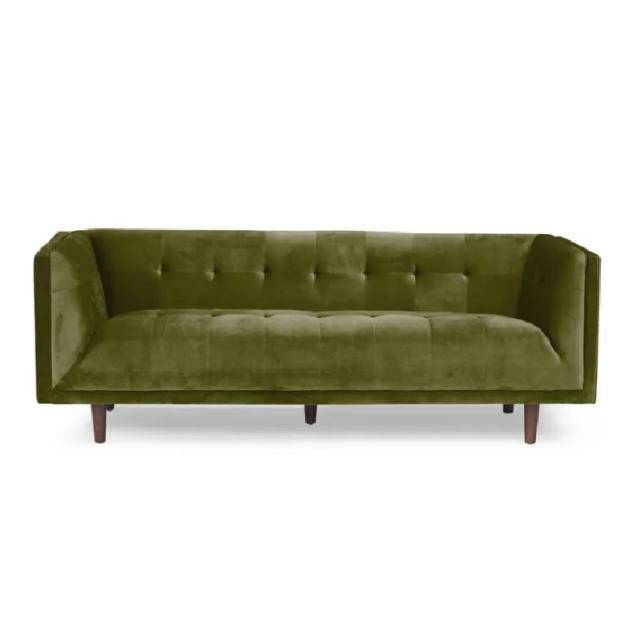 Jacqueline Sofa
A classic addition to any lounge area, the Jacqueline sofa is oh so chic! It features a sleek boxy design with minimalistic feet and a tufted back, in a trendy retro orange color. To complement the gold hardware, pair it with our Blanche Coffee Table.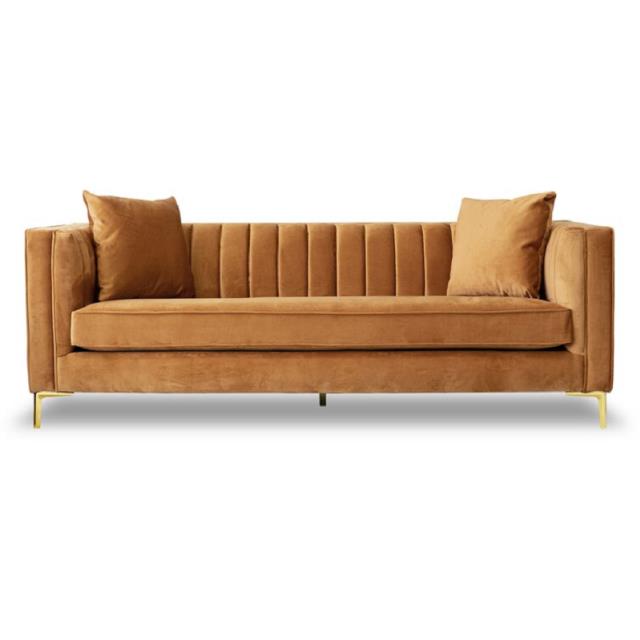 Gloria Arm Chair & Ottoman
In a buttery gold, our Gloria Arm Chairs are a stylish choice for a small lounge area – perfect for an intimate cocktail hour. They feature a sleek design and elegant tufting for a modern luxe look. Consider complementing them with our Rhodes Coffee Table!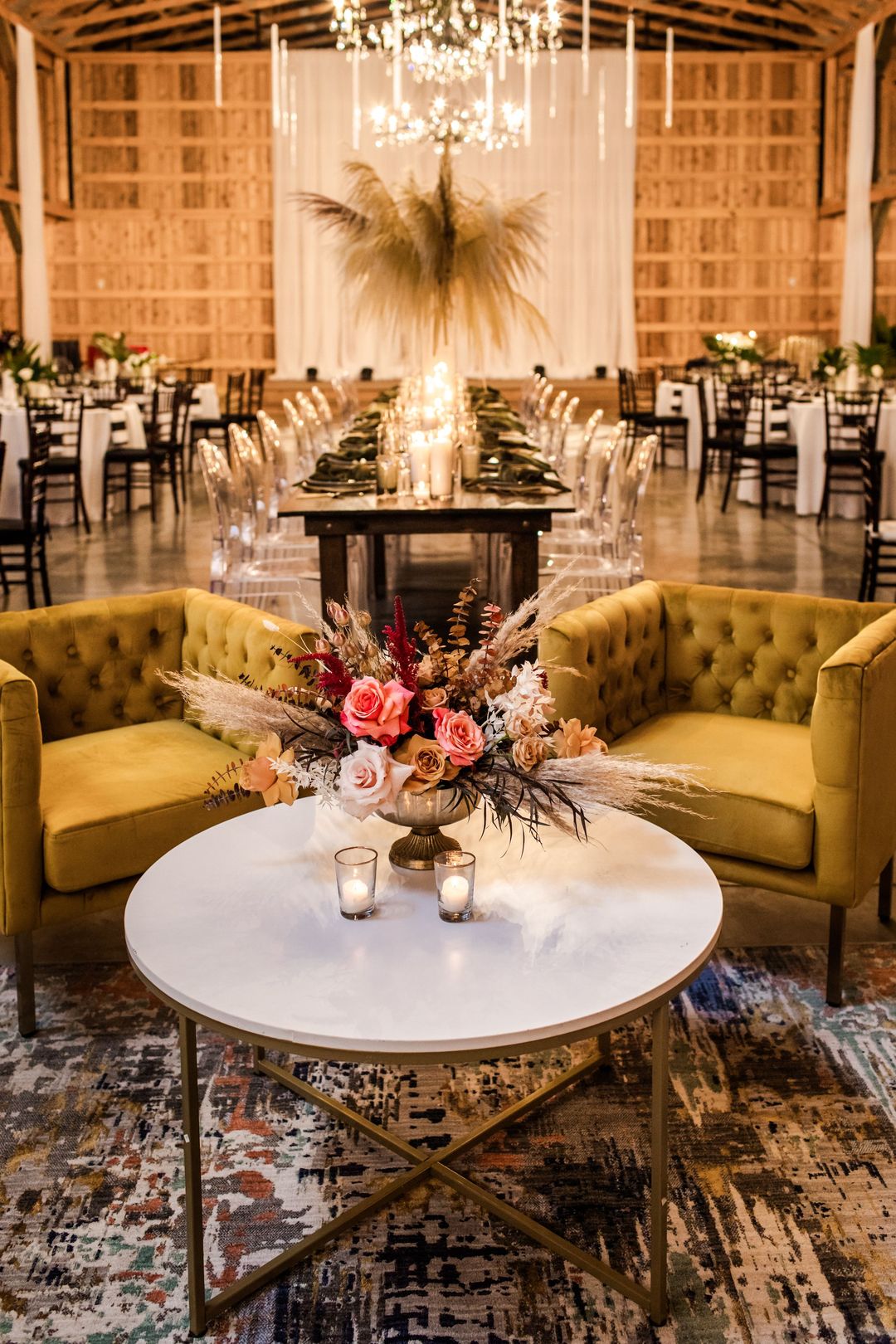 Acrylic Fantasma Chair
A unique addition to any lounge area, our Acrylic Fantasma Side Chair will take your setup to the next level. Its sleek yet fantastical design will be a memorable detail. Pair it with any of our brightly colored velvet sofas for a modern retro look.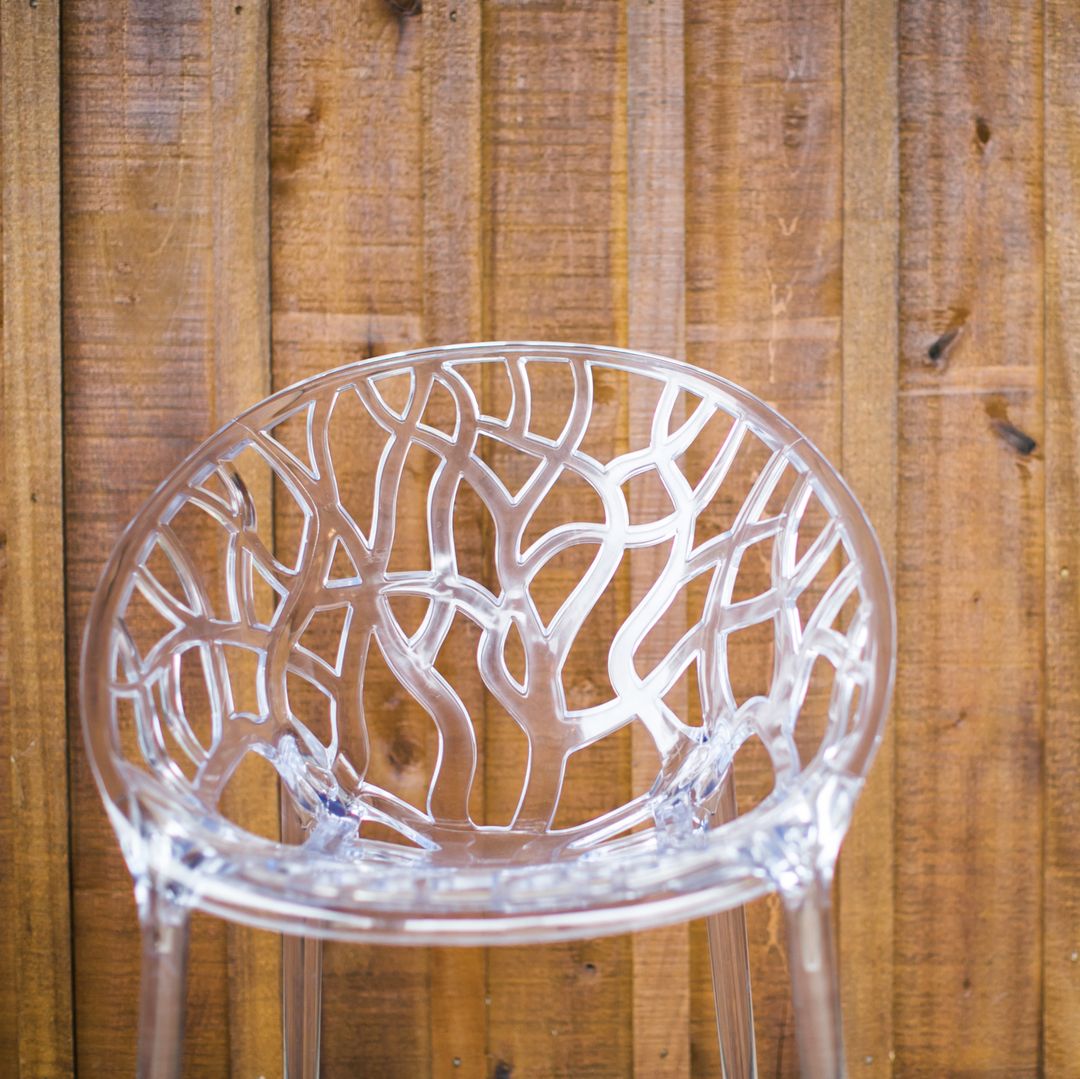 Lounge Area Accessories
Accessories, from rugs to accent tables, are an effective way to elevate your retro-modern lounge. Consider these party furniture rentals, to level up your next gathering.
Hammered Pewter Coffee & Side Table
A more sophisticated alternative to galvanized metal, our hammered pewter coffee, and side tables, are a simple yet functional piece. It's the perfect centerpiece for any lounge area.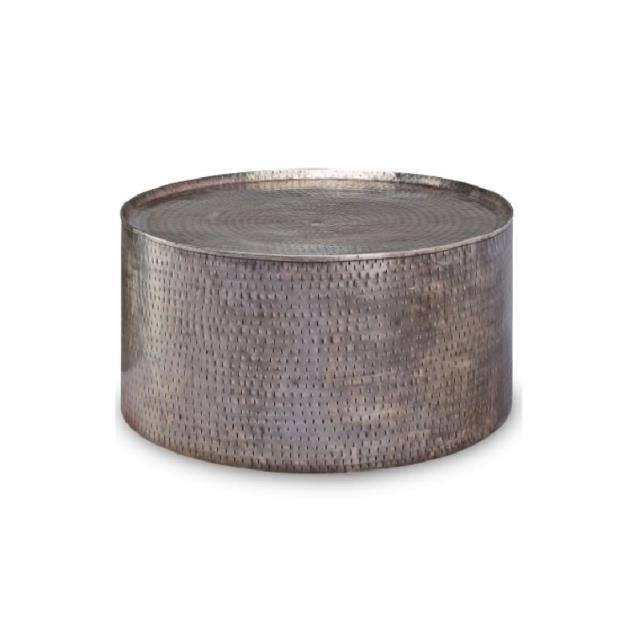 Wood Distressed Coffee & Side Table
Made with mango wood planks fitted in a mild steel frame, our wood distressed coffee and side tables will bring a bright focal point to your lounge. It has a beautiful dark-brown finish with textural wood grain patterns showing through.
Chocolate Poufs
Looking for small but on-trend seating? Check out these cute and cozy chocolate poufs! A rich brown color, this soft seating will complement most of our muted retro furniture, from sofas to armchairs.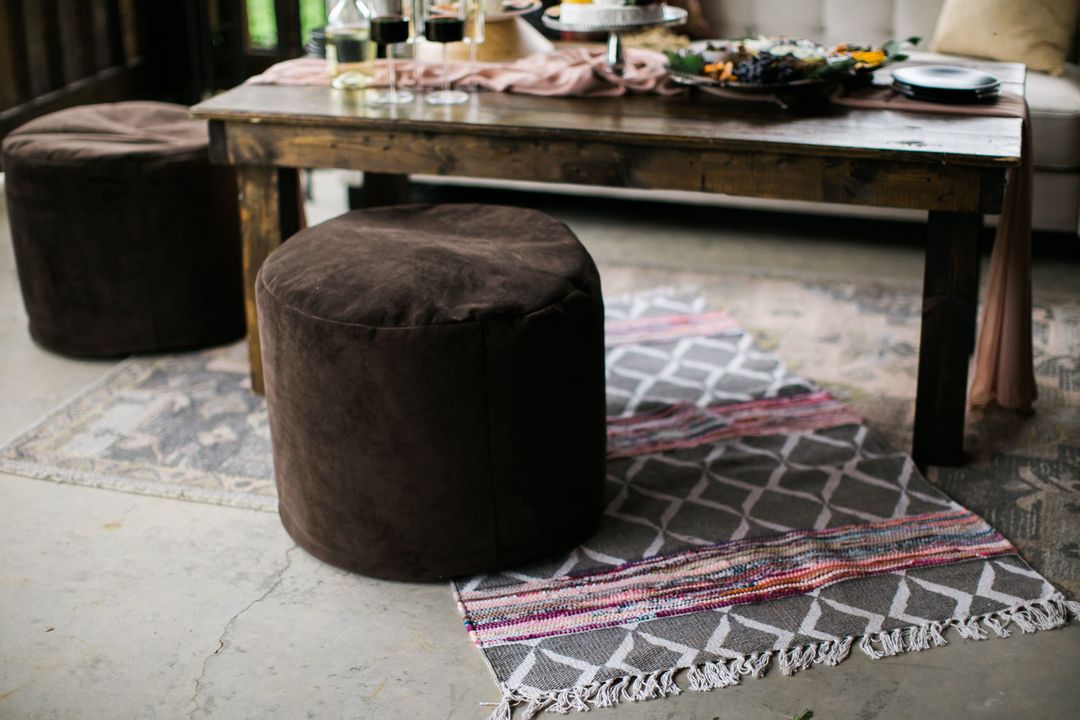 Cowhide Rugs
When featuring smaller rentals, like our chocolate poufs, rugs can help tie them into the space. For a late-century lounge, we recommend a neutral-colored cowhide rug! Available in a variety of colors, these classic textured pieces will help frame your lounge.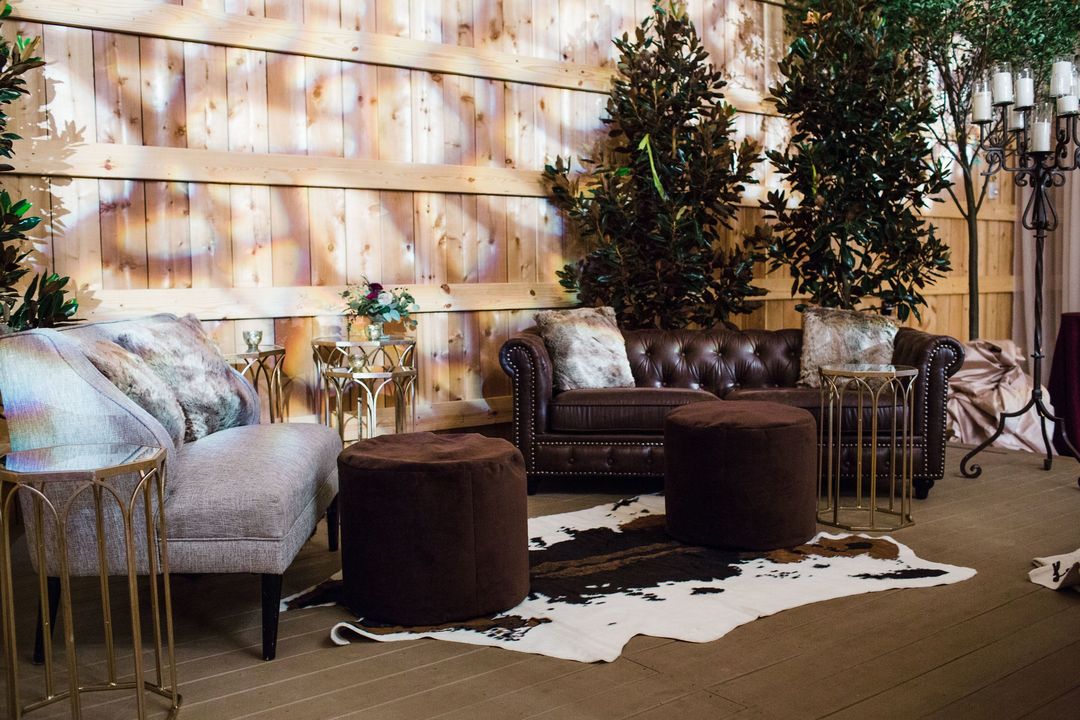 Modern Retro Servingware
Last, but not least, bring a touch of modern retro designs to your dinner tables or bar. Our Green and Amber water goblets are fun muted colors with a vintage design that exudes luxury. Or lean into the modern feel, when you opt for our sleek Upton Glassware. After all, you want the glassware sitting on your lounge tables to complement the overall vibe!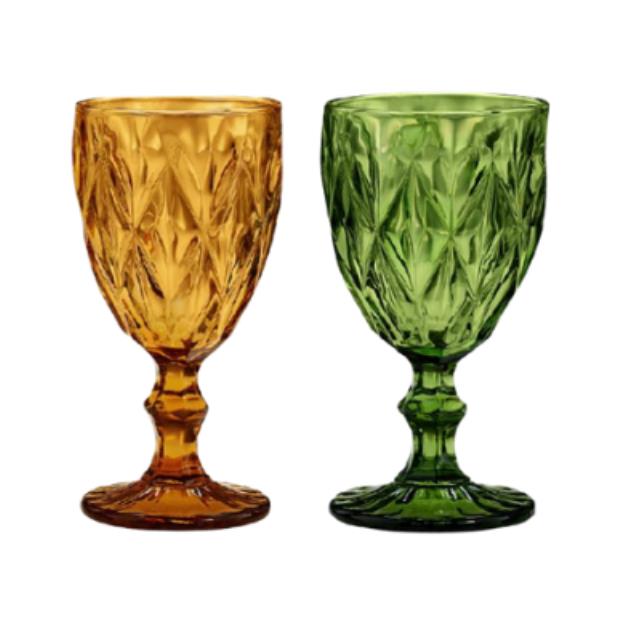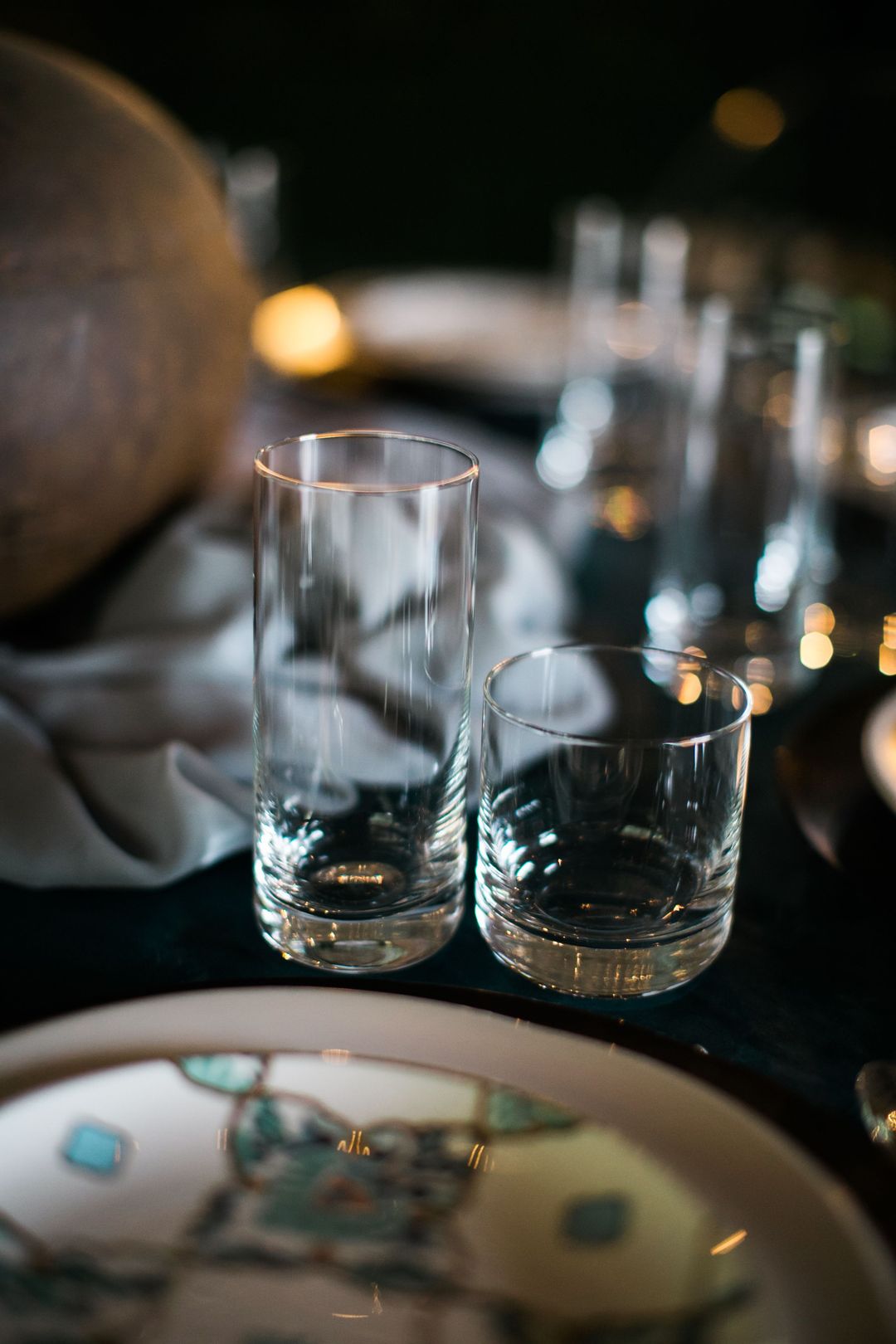 Want to feature one or several of these modern retro-inspired party furniture rentals at your Nashville event? Contact our team at info@southerneventsonline.com & let's start planning! Or for more event inspiration, check out our natural-neutral or earth-toned party rentals.
TAGS | On Trend, colorful decor, event inspiration, event style trends, modern retro, retro rentals, style trends
FEATURED RENTALS | fern lounge, Jaqueline sofa, acrylic fantastma chair, gloria armchair, colored water goblets, upton glassware, hammered pewter coffee table, hammered petwer side table, chocolate poufs, cowhide rugs, wood distressed coffee table, wood distressed side tables,
---
12

Aug

On Trend, Real Nashville Weddings, Southern Events Products, Trends and Inspiration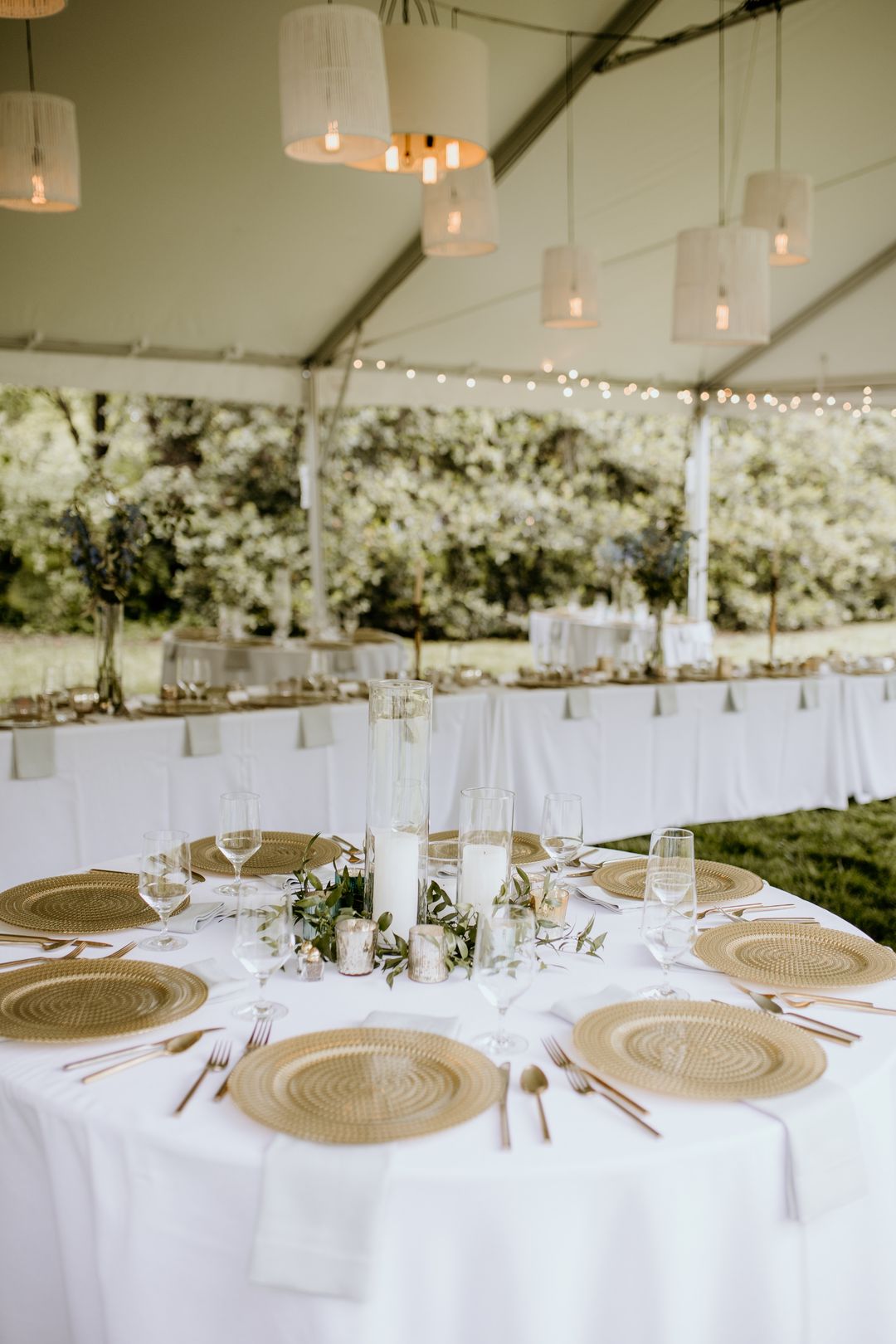 Have you been dreaming of a wedding that is small yet elegant? We have all the must-have rentals to pull off a luxe neutral white and gold wedding that you'll look back on with joy for years to come! Get inspired for your own intimate backyard wedding in Nashville, when you check out the details from this timeless event.
The pair hosted their small ceremony behind the home on a stone patio. For a backdrop, they featured a simple wooden arbor decorated with fresh flowers. Seating consisted of our elegant wood Harlin Dining Chairs with white cushions.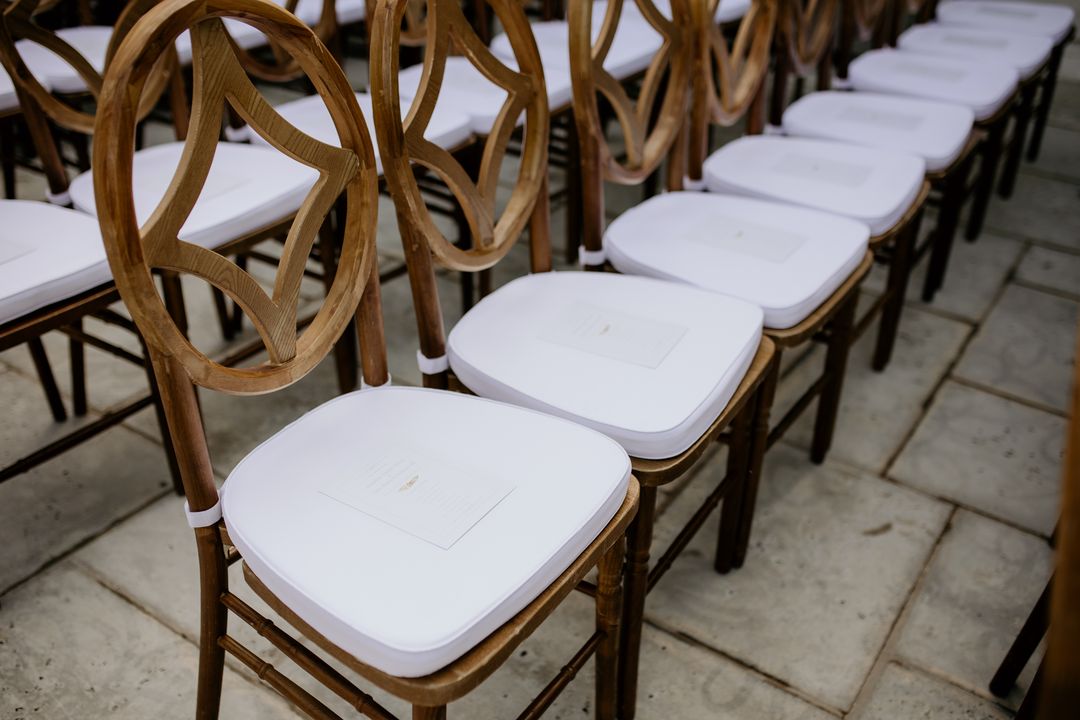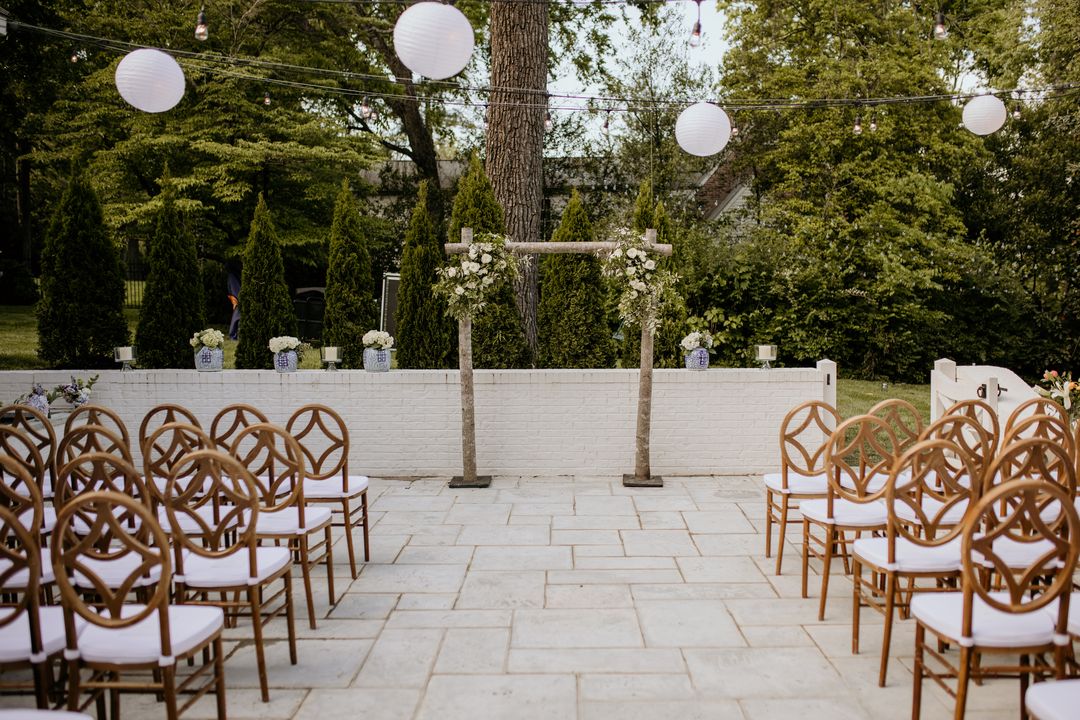 After they exchanged vows, they retired to a tent situated in the front yard. It was the perfect setup for the warm weather! Their layout consisted of both round and banquet dinner tables, outfitted in classic white linens. The centerpieces consisted of our Davis Glass Cylinders, paired with candles and greenery. As well as a sprinkling of votive candles.
To complement their gold and white wedding palette, we created place settings starring our Gold Medallion Glass Chargers. Along with our Austin Gold Flatware, Pure Glassware, and Kennedy White Linens. On their designated dessert table, a beautiful wedding cake stood out on our Gold Windsor Cake Stand. For more outdoor tablescape inspiration, check out our blog on Backyard Alfresco Dining.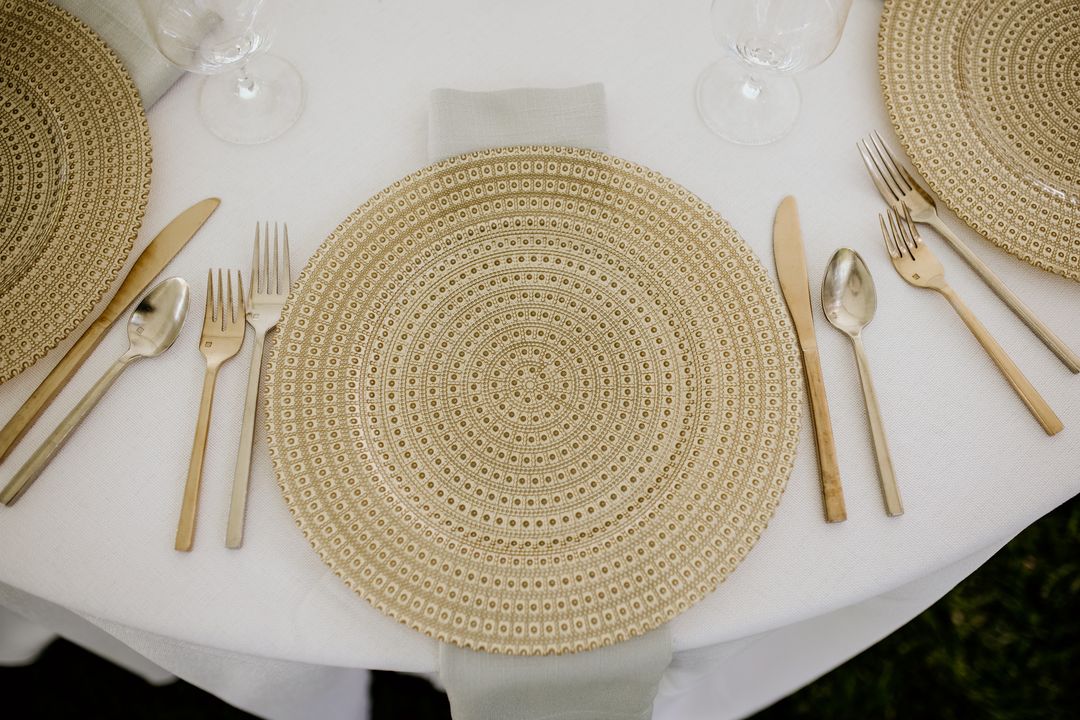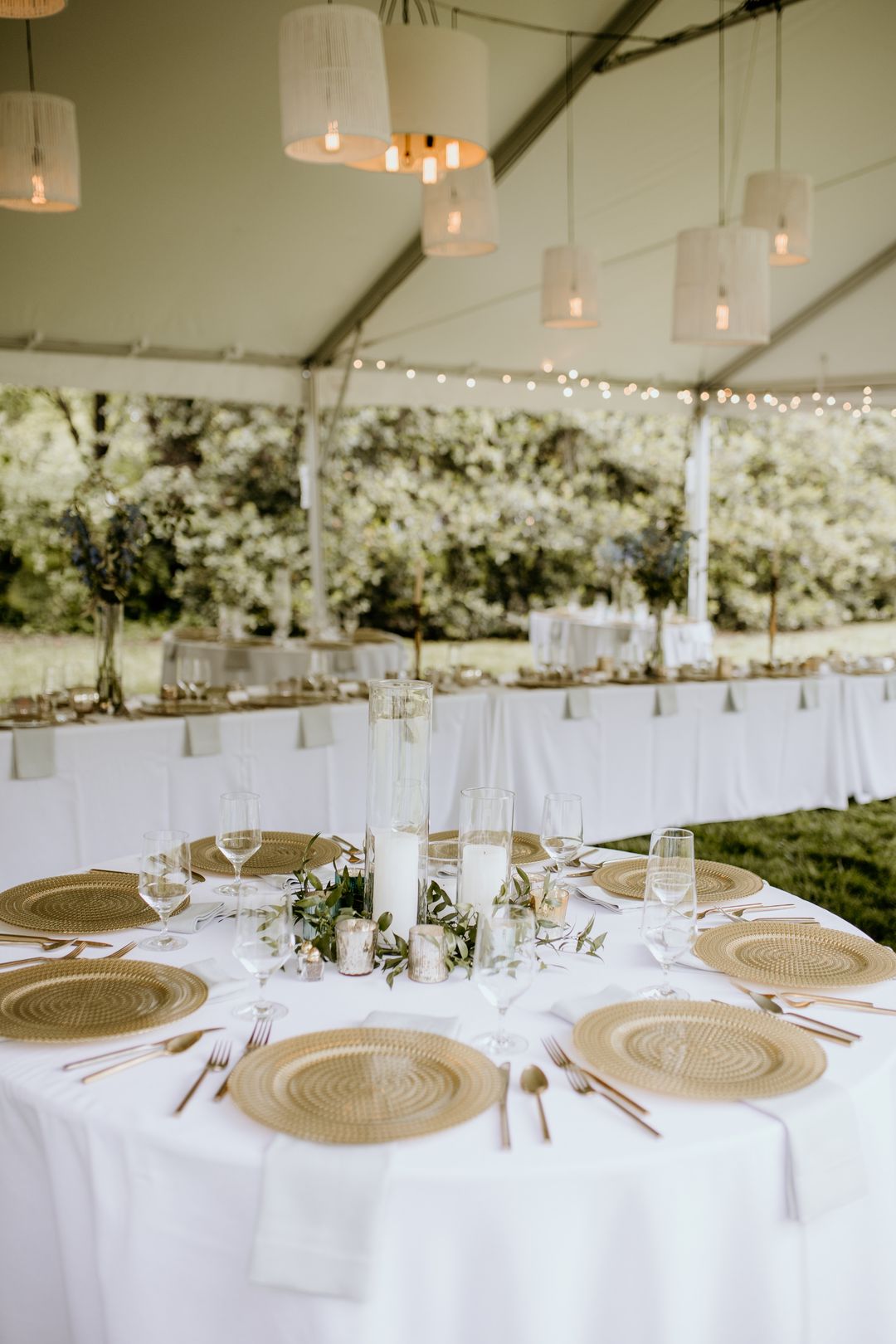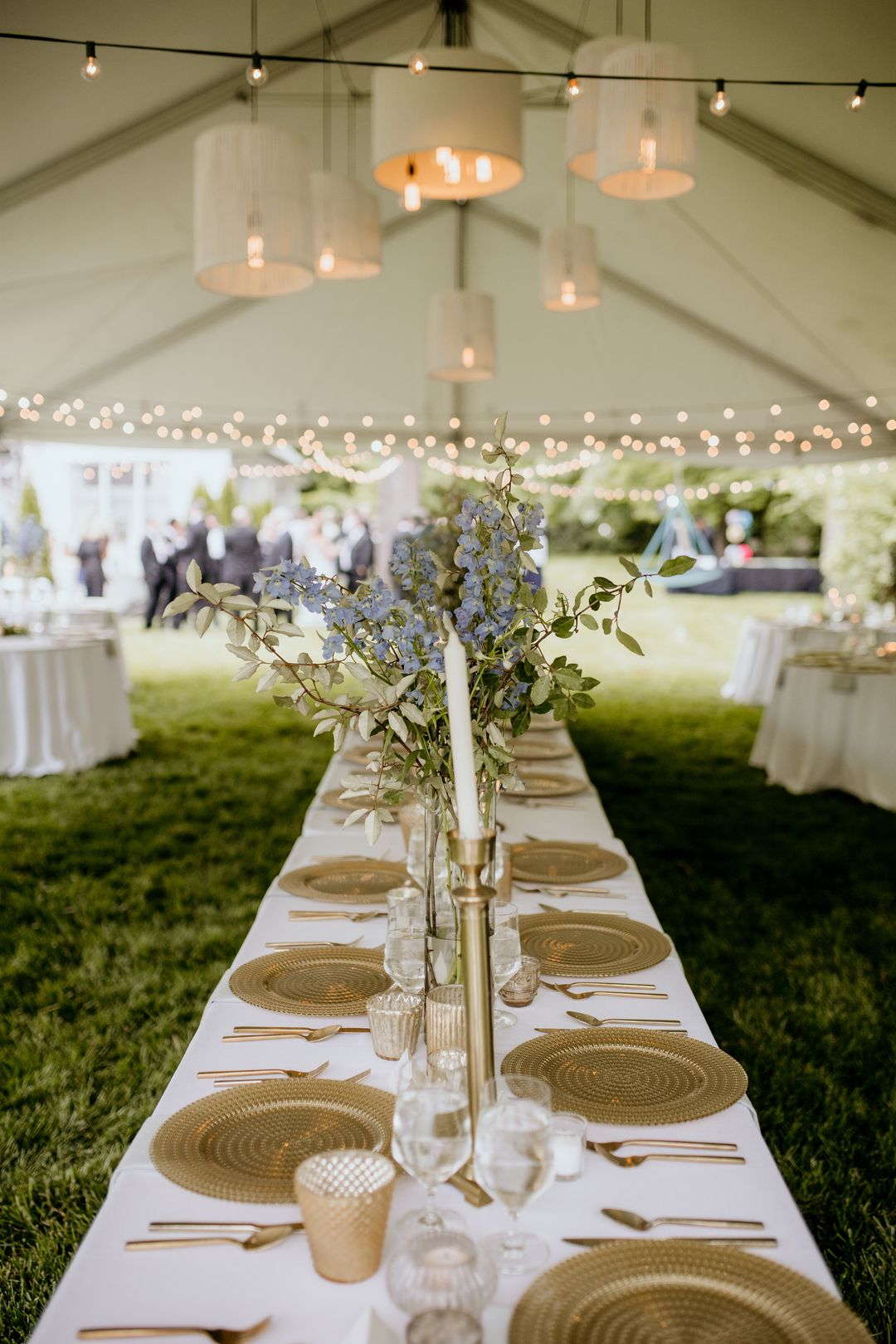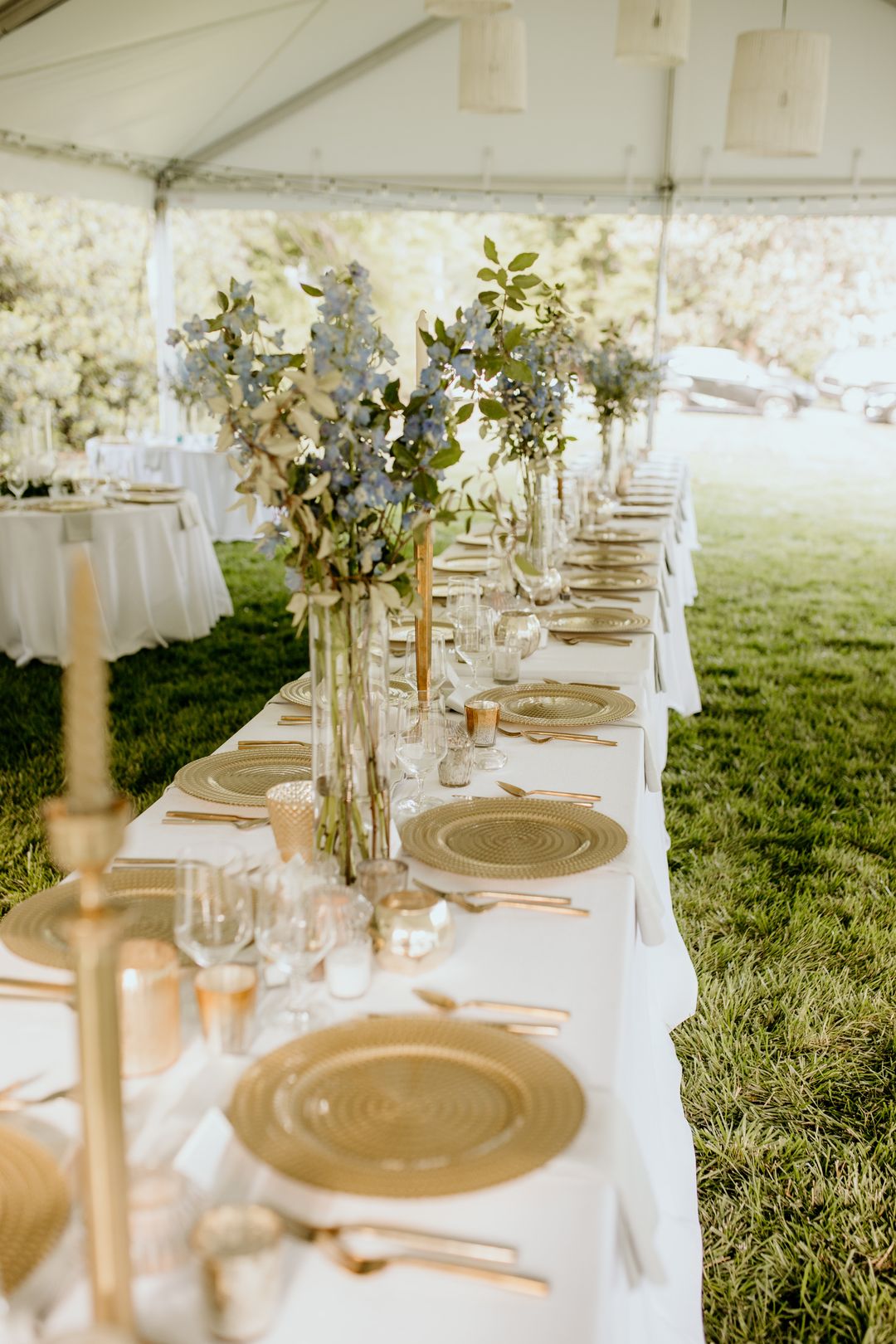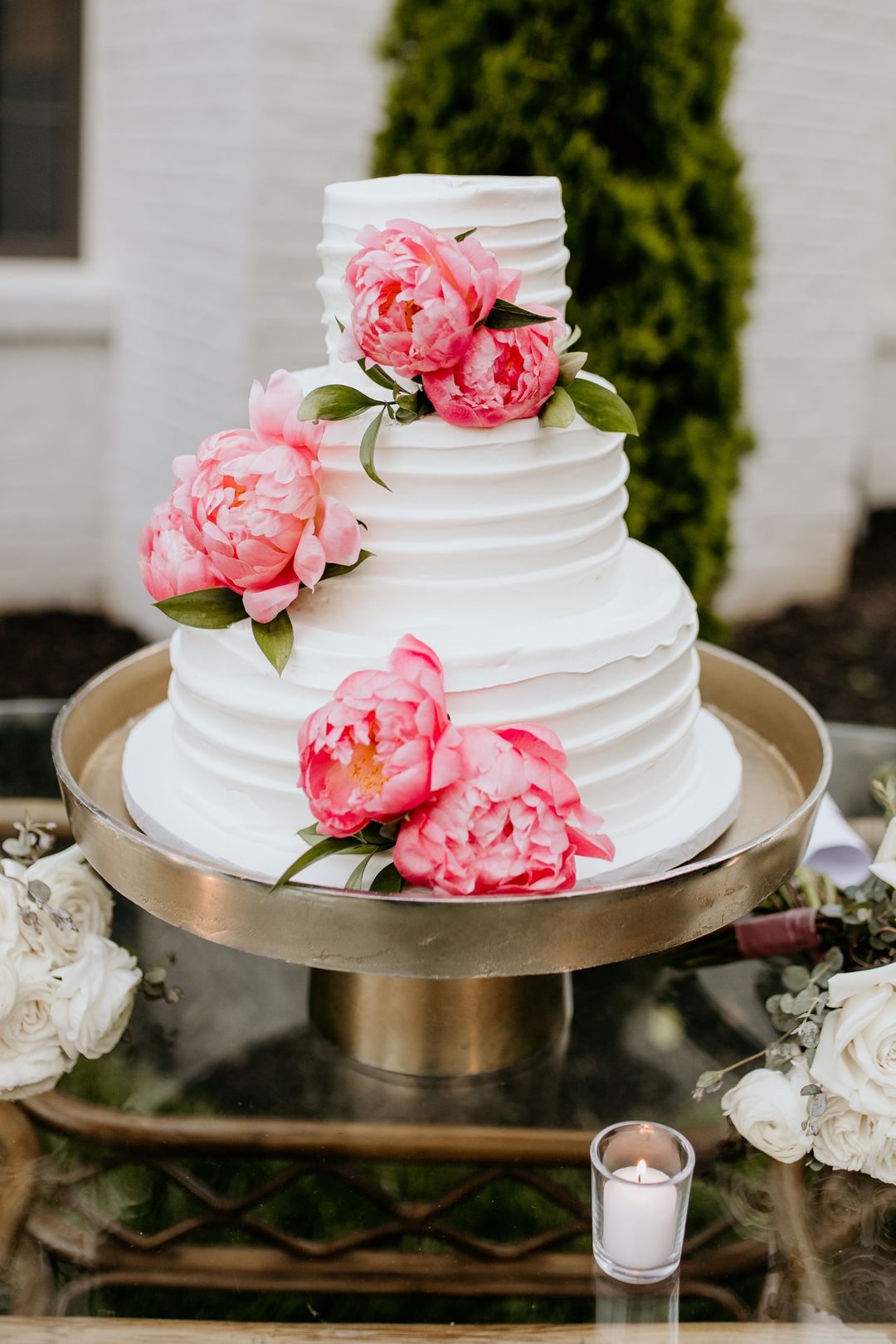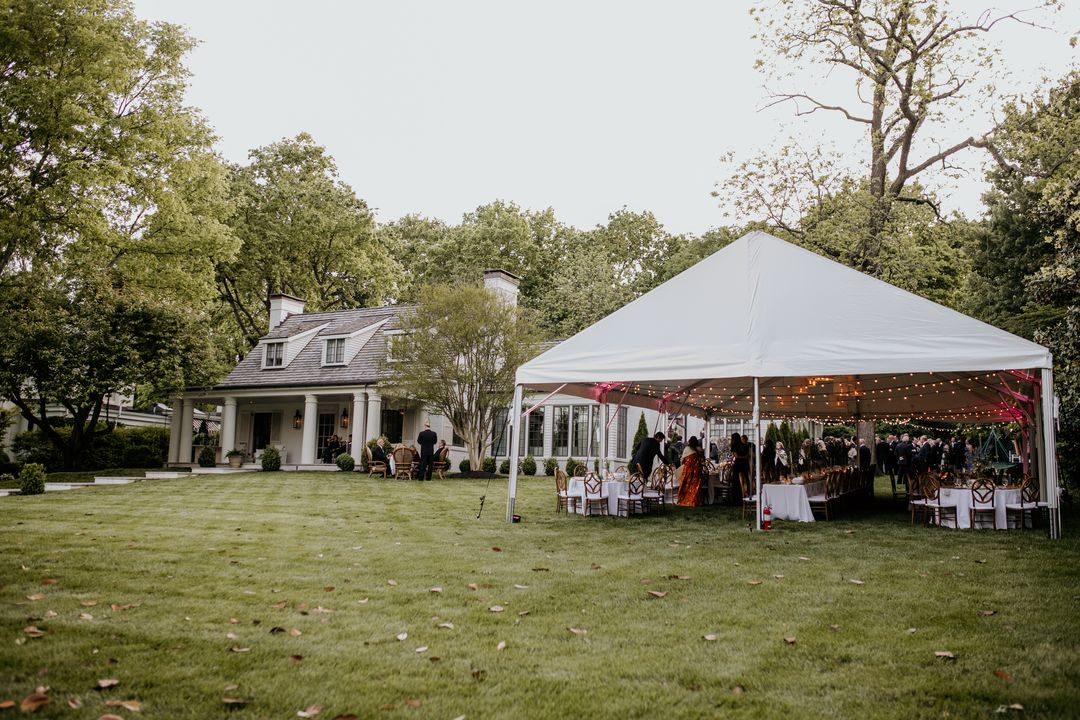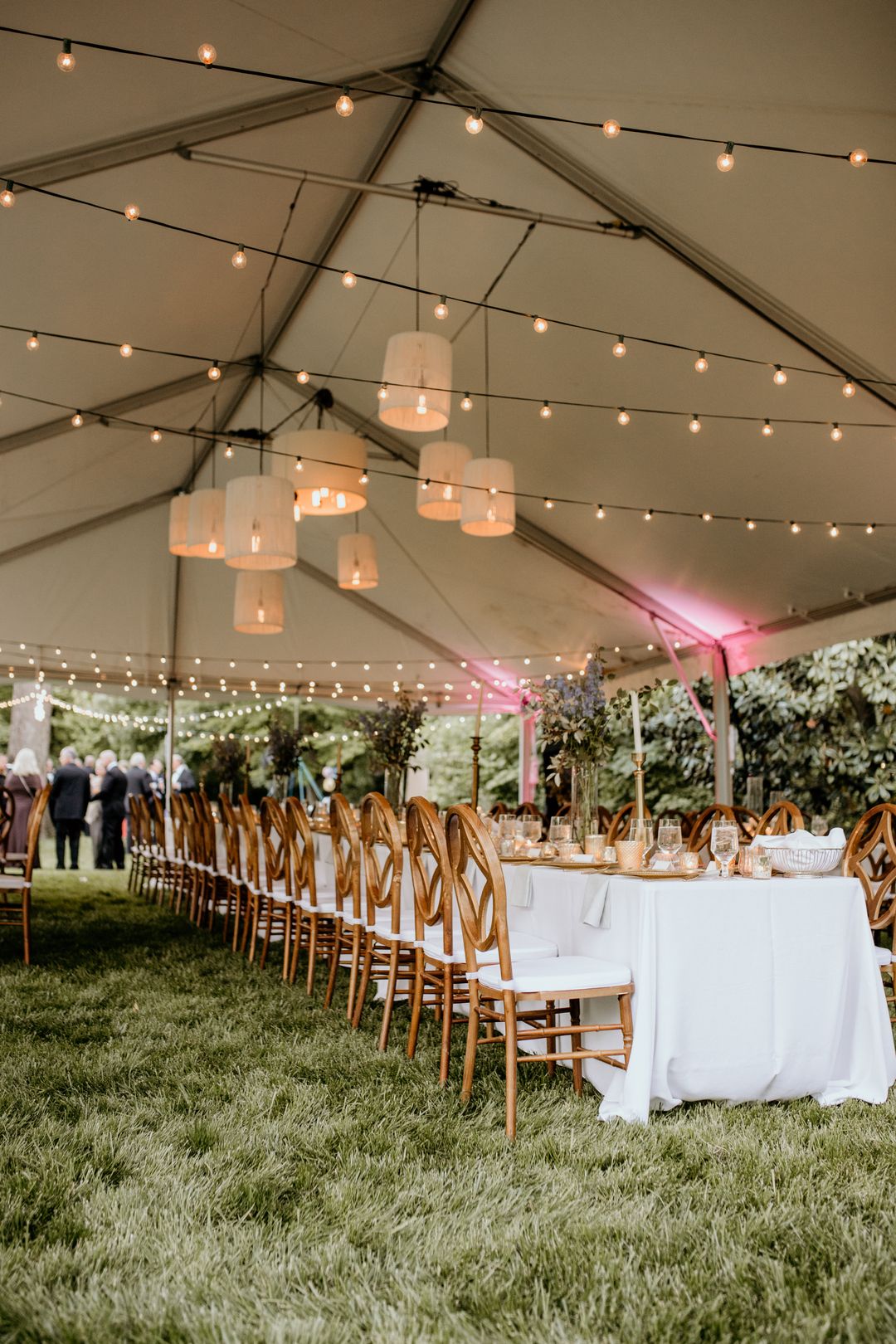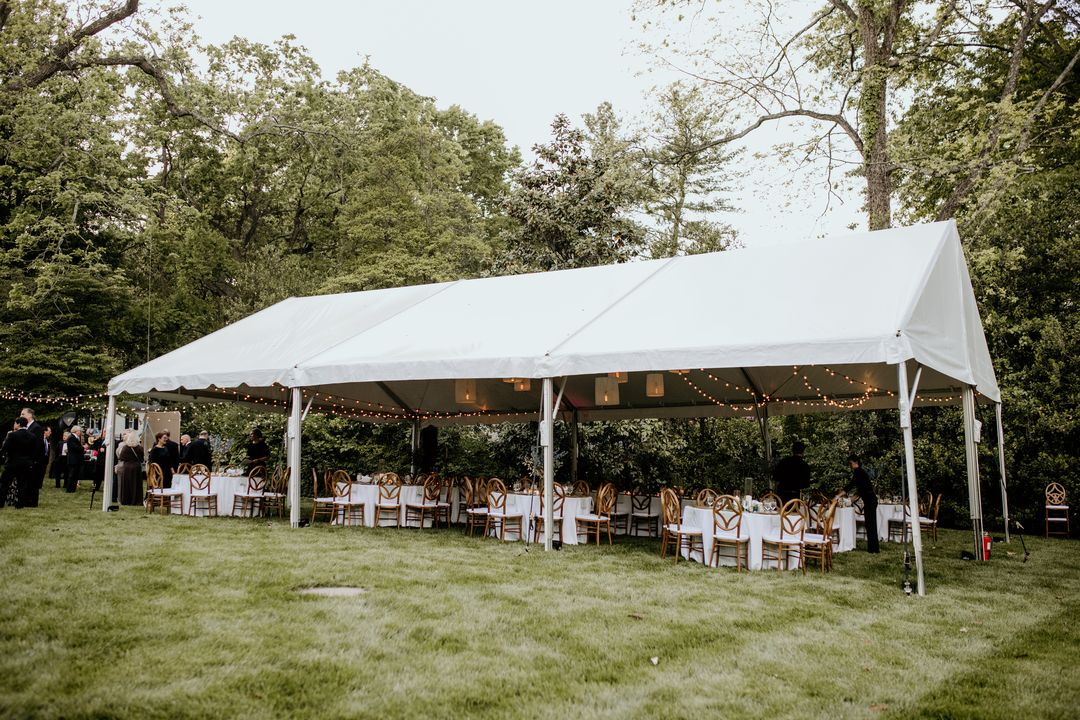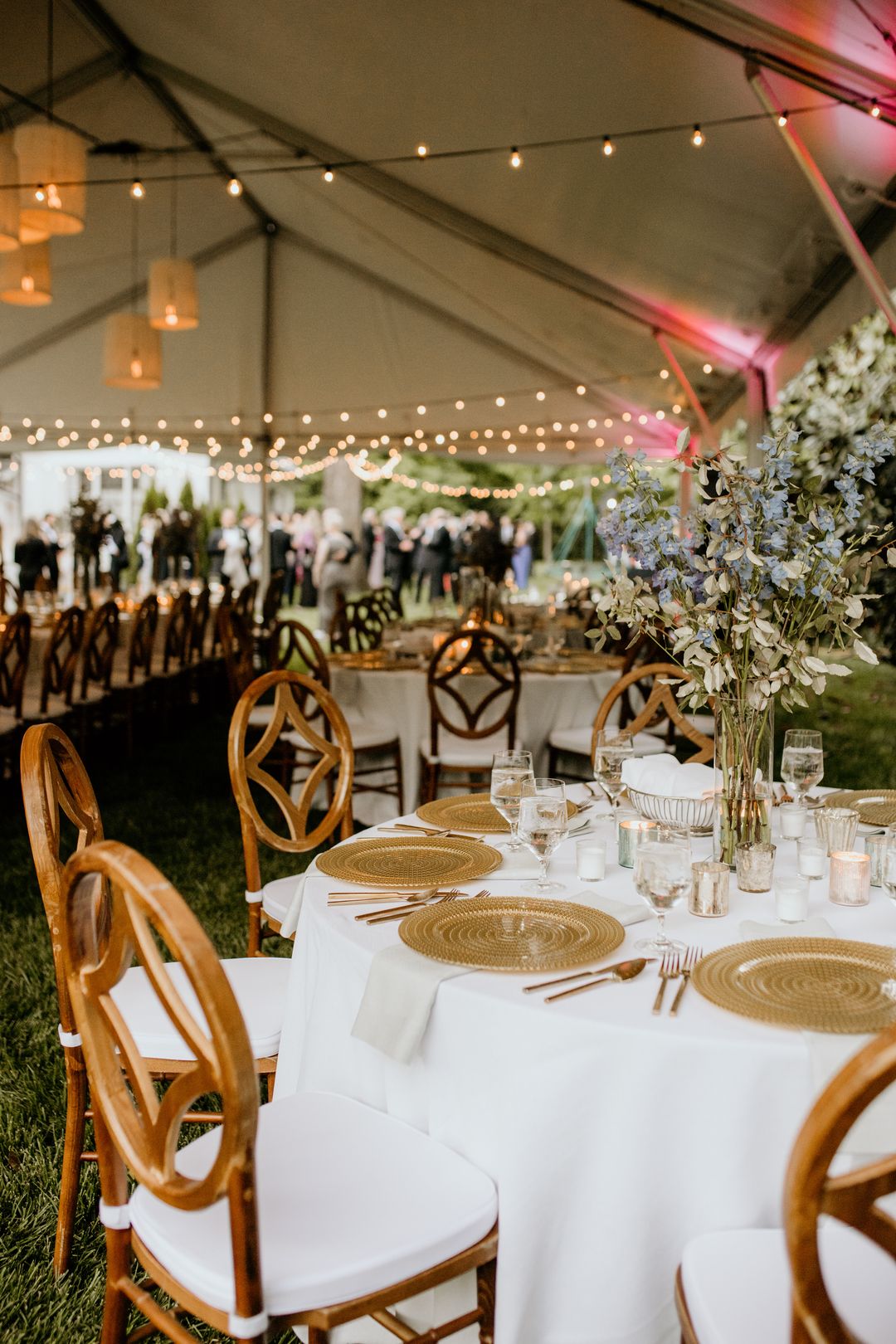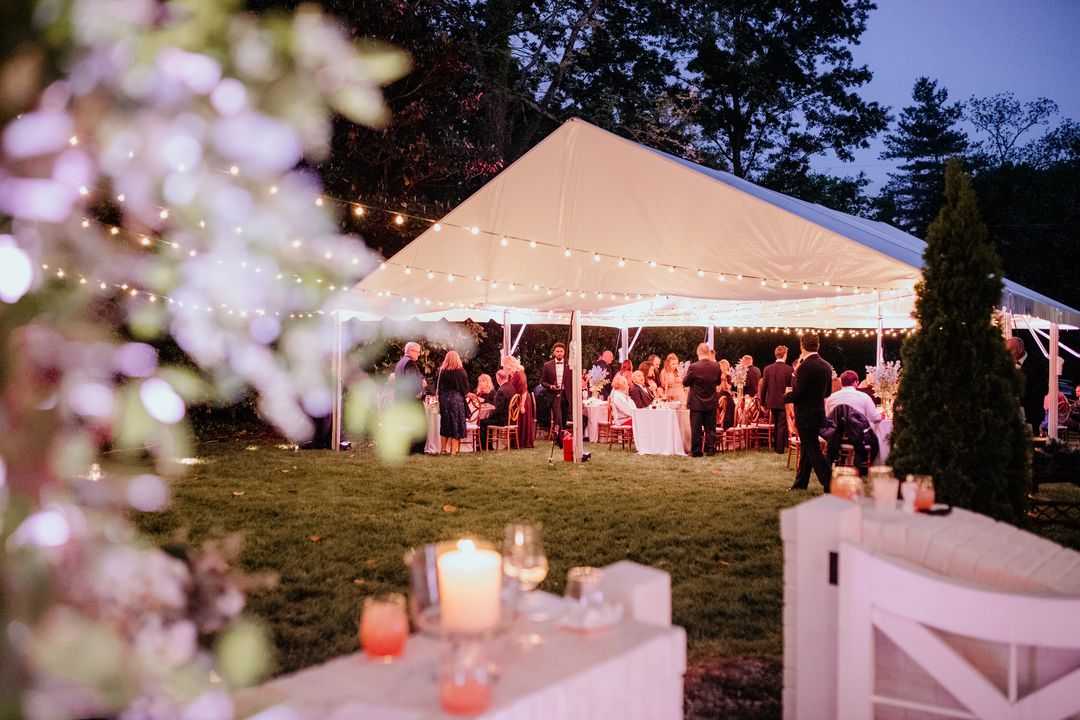 Photo by Kelsey Leigh Photo
Ready to plan your intimate backyard wedding? For help planning and creating the layout for your event in Nashville or Franklin, TN, email us at info@southerneventsonline.com.
TAGS | Gold, Nashville Real Wedding, On Trend, backyard wedding, event inspiration, gold event, intimate event, intimate wedding, real wedding
FEATURED RENTALS | Austin Gold Flatware, Pure Glassware, Kennedy White Linens, Gold Windsor Cake Stand, Gold Medallion Glass Chargers, Davis Glass Cylinders, Harlin Dining Chairs
---