11

Mar

Southern Style: Inspiring Easter Tablescapes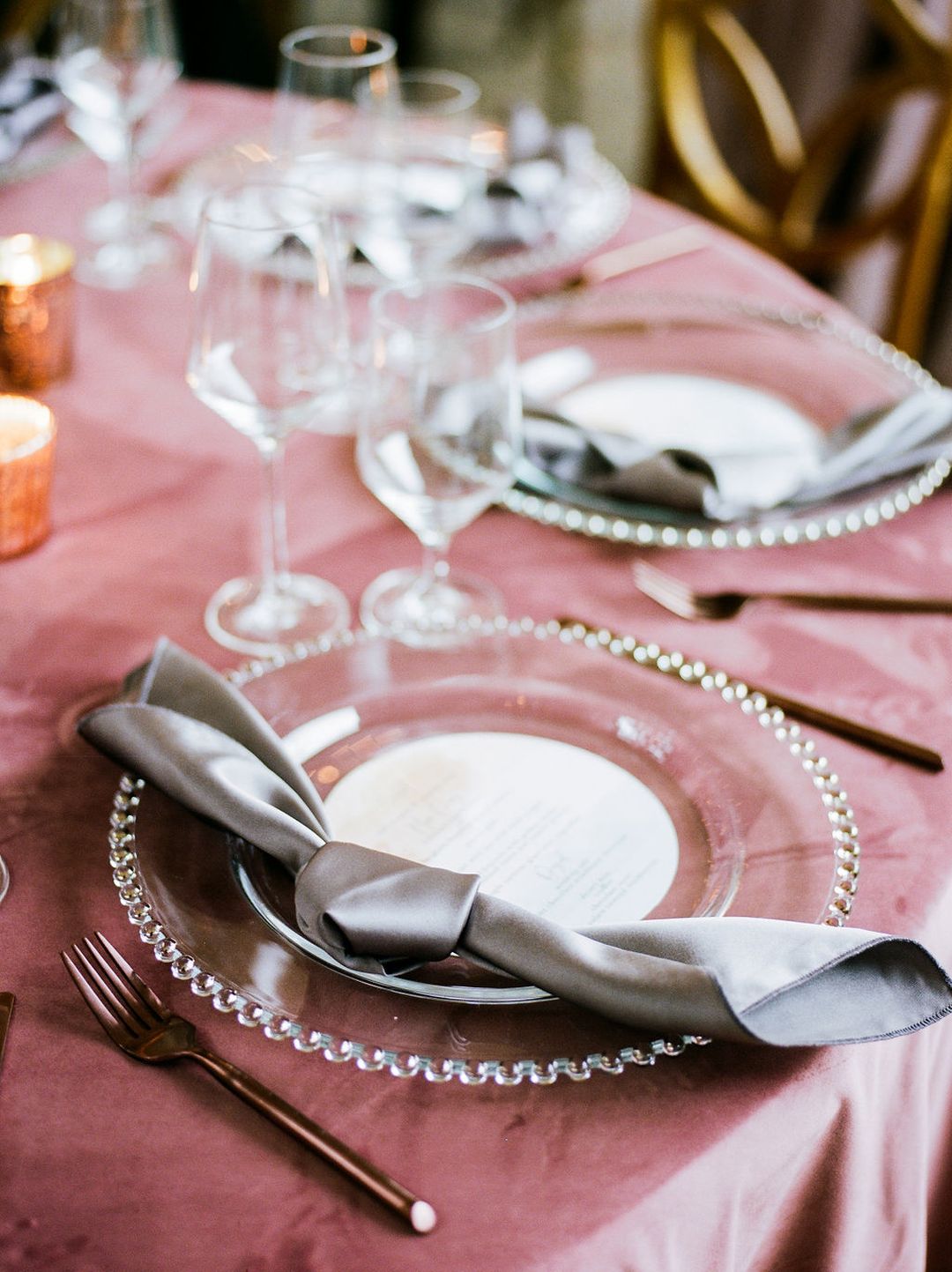 With winter behind us, Tennesse comes to life with wildflower fields, lush green spaces, and springtime celebrations! To help you celebrate this time of year, Southern offers a stylish selection of rentals to create bright Easter tablescapes. So that you can easily create a modern table that will 'wow' your guests, we've put together a collection of our easy Easter-inspired collections starring stylish place settings.
Bunny Blues
Our Bunny Blues collection is classically charming, with a mix of beautiful blues and neutral yellow hues. This design is bright yet down to earth, for a look that is elegant and perfect for Easter. It includes our Darcy China, Abby Flatware, Madison Glassware, Blue Kensington Linens, and Champagne Dupioni Napkins. For an added pop of color, we recommend featuring bright and fresh floral centerpieces!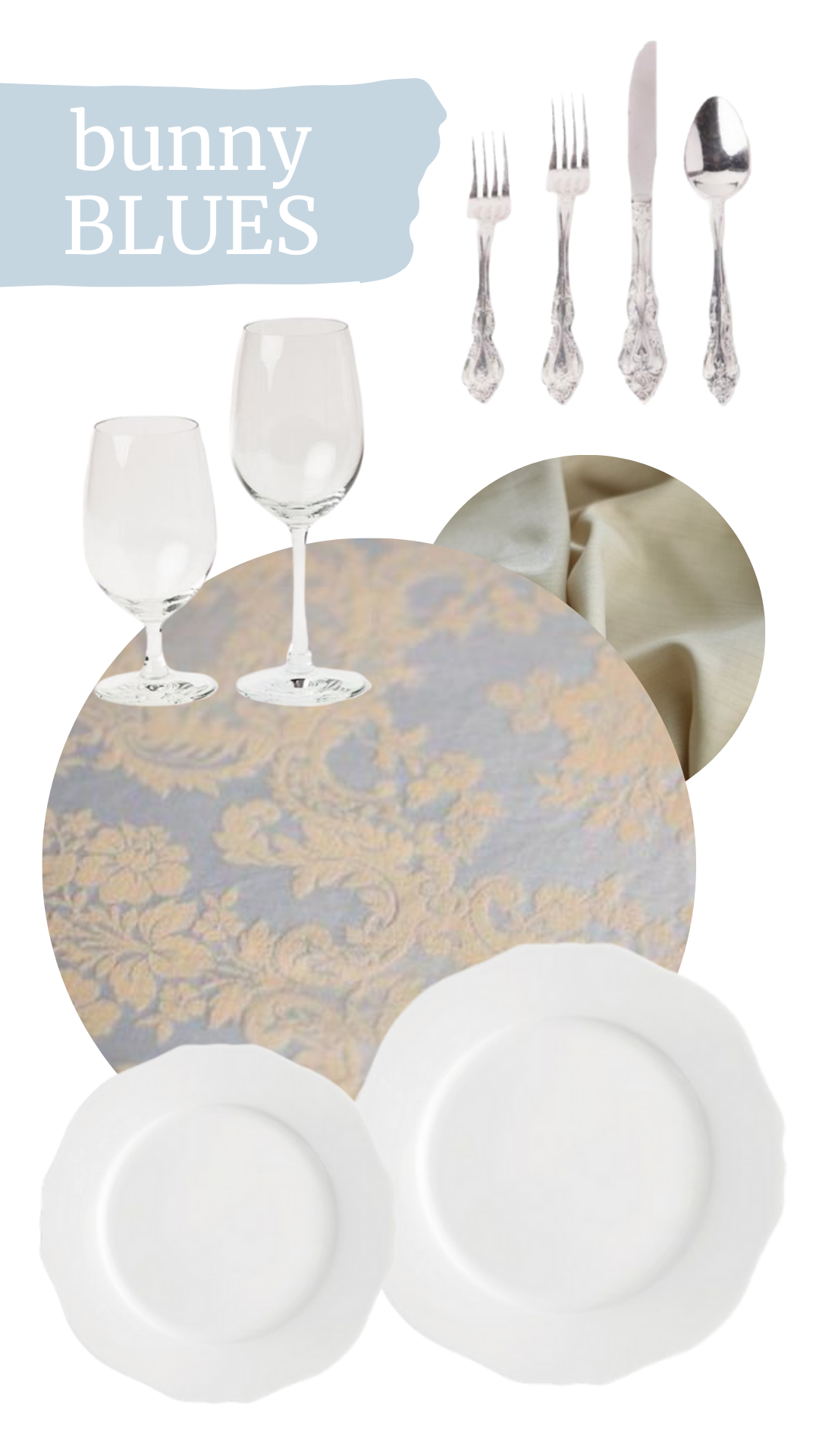 Hippity Hoppity
Featuring a mix of yellow and orange with gold accents, our Hippity Hoppity collection is bright and fun. It includes our Darcy China, Gold Accent China, Sophia Flatware, Carly Glassware, Champagne Glassware, Mango Sheer Grapefruit Linens, and Cornsilk Pindot Napkins. By mixing textures and patterns, you'll have a tablescape that is oh so chic and memorable!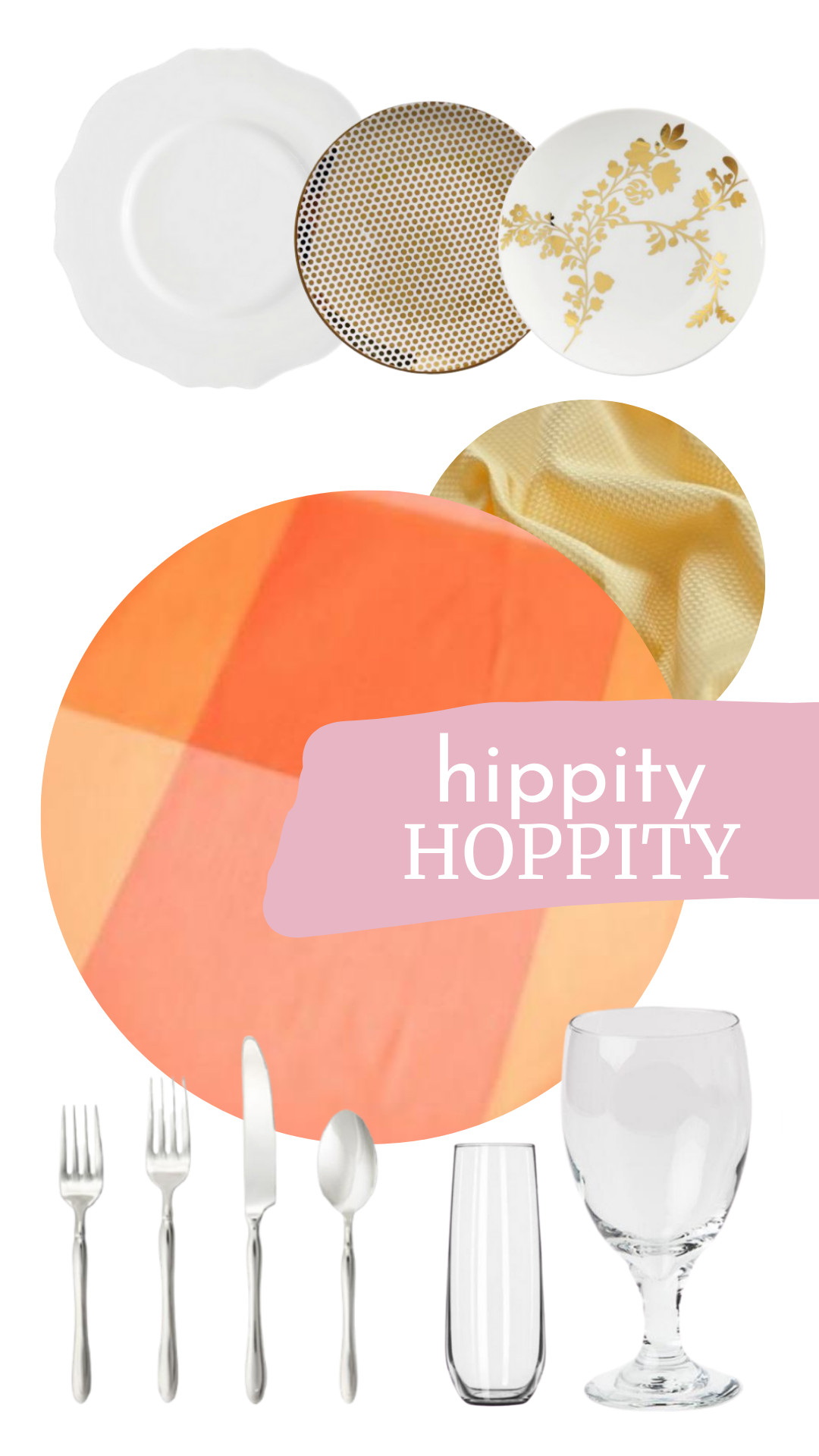 In Bloom
Our In Bloom collection is a beautiful balance of old and new, with bright colors and vintage-inspired serving ware. The combination of pastel tones and crisp white makes for a slightly whimsical look that your guests will love. It includes our Heirloom China, Austin Flatware, Hob Nob Glassware, Cornsilk Poly Linens, Havana Parchment Linens, and Coral Poly Linens.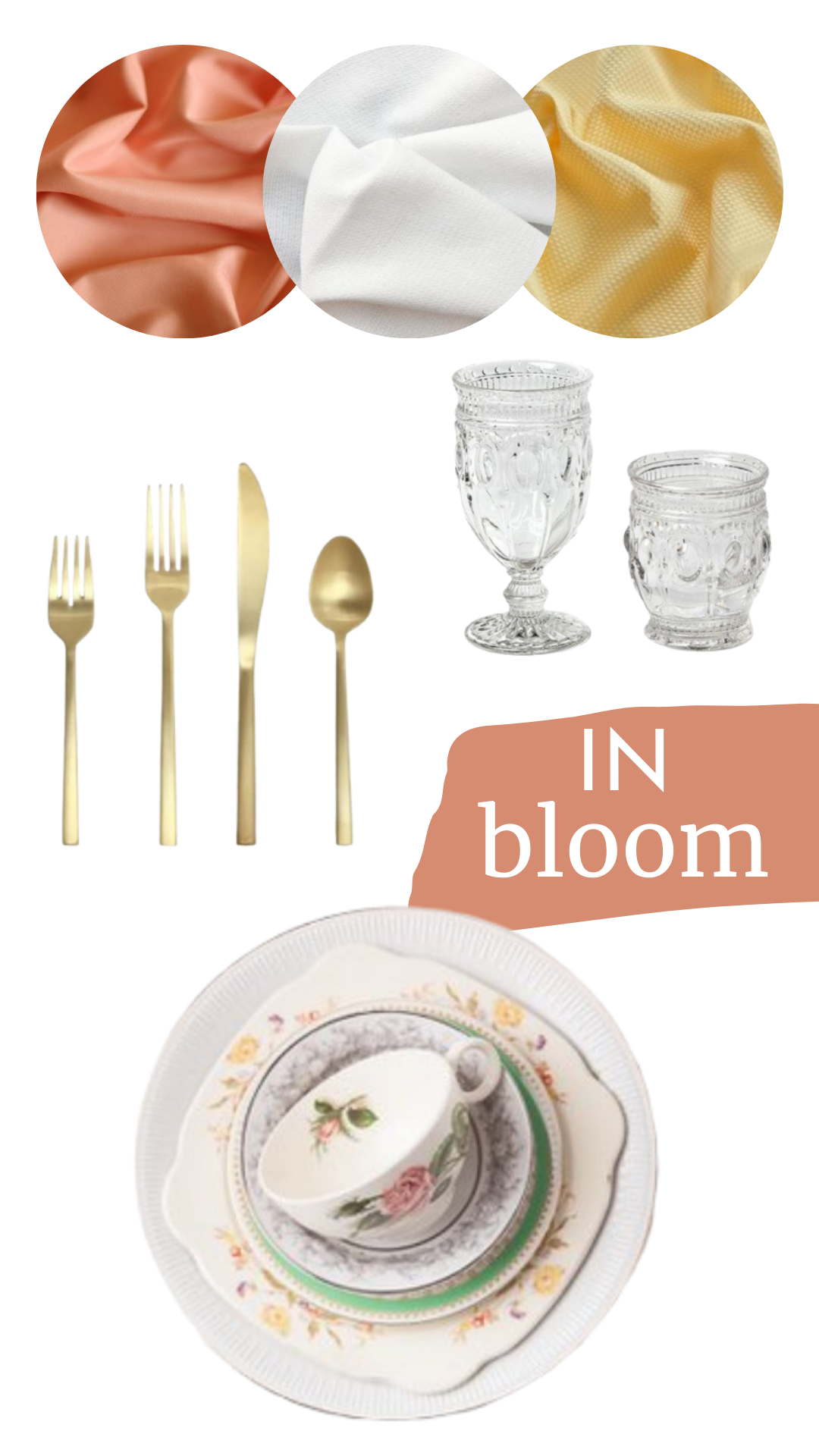 Lilac Love
If you prefer a tablescape that is beautiful but a little more down-to-earth, look no further than our Lilac Love collection. It features our White Round China, Bradley Flatware, Carly Glassware, Mint Julep Cups, Oatmeal Linens, and Lilac Poly Linens, for a look that is sleek and neutral. Meanwhile, a small pop of pastel purple maintains that classic Easter palette.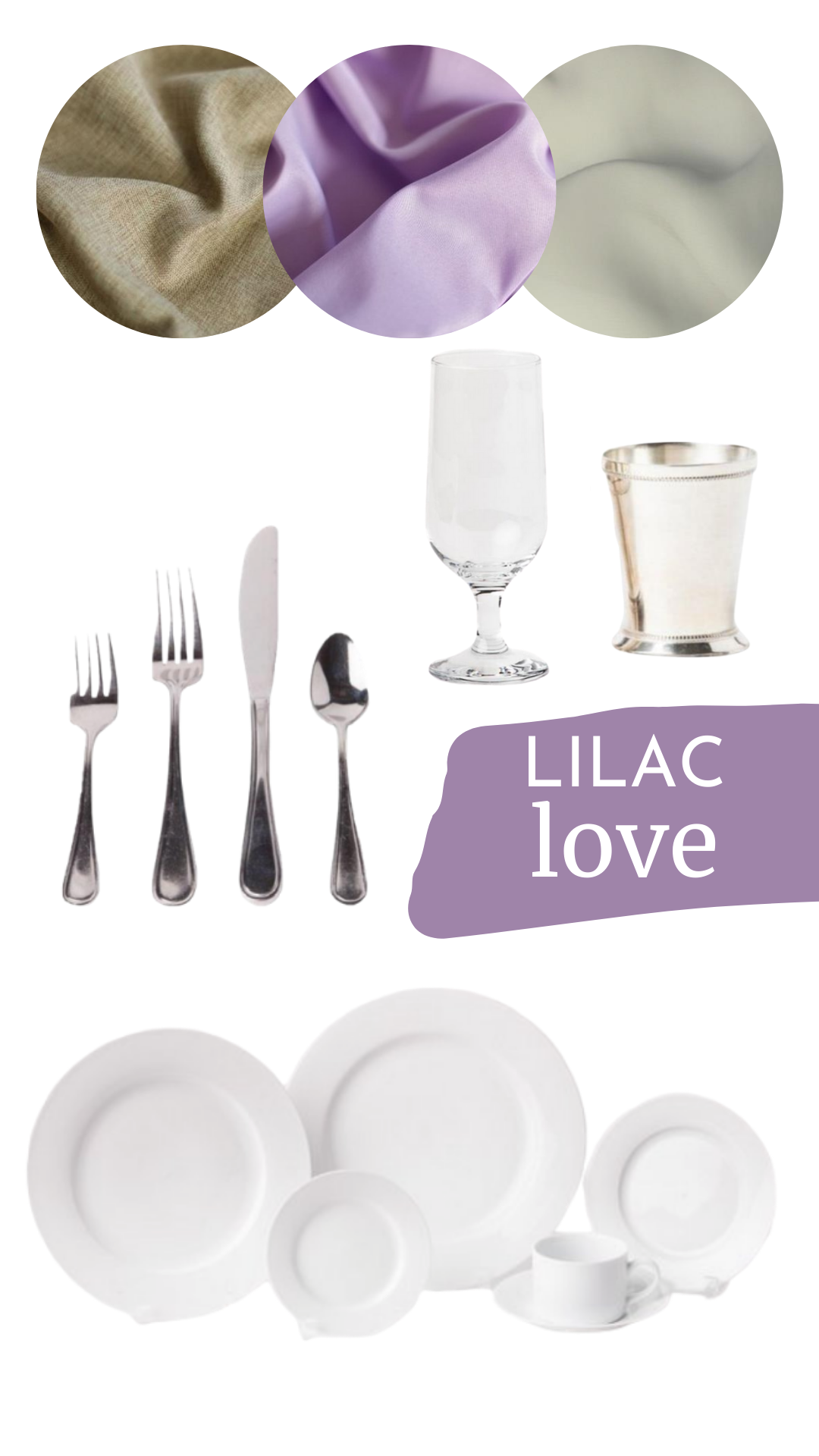 Spring Has Sprung
When you want to host an Easter dinner outside, we recommend our Spring Has Sprung collection. Featuring crisp white, metallic silver, and bright green, it perfectly complements a lush outdoor setting. It includes our Alabaster China, Glass Charger with Silver Rim, Abby Flatware, Pure Glassware, Lime Pindot Linens, and Silver Poly Linens. For an extra dose of color, consider fresh greenery and bright blooms for your Easter tablescapes.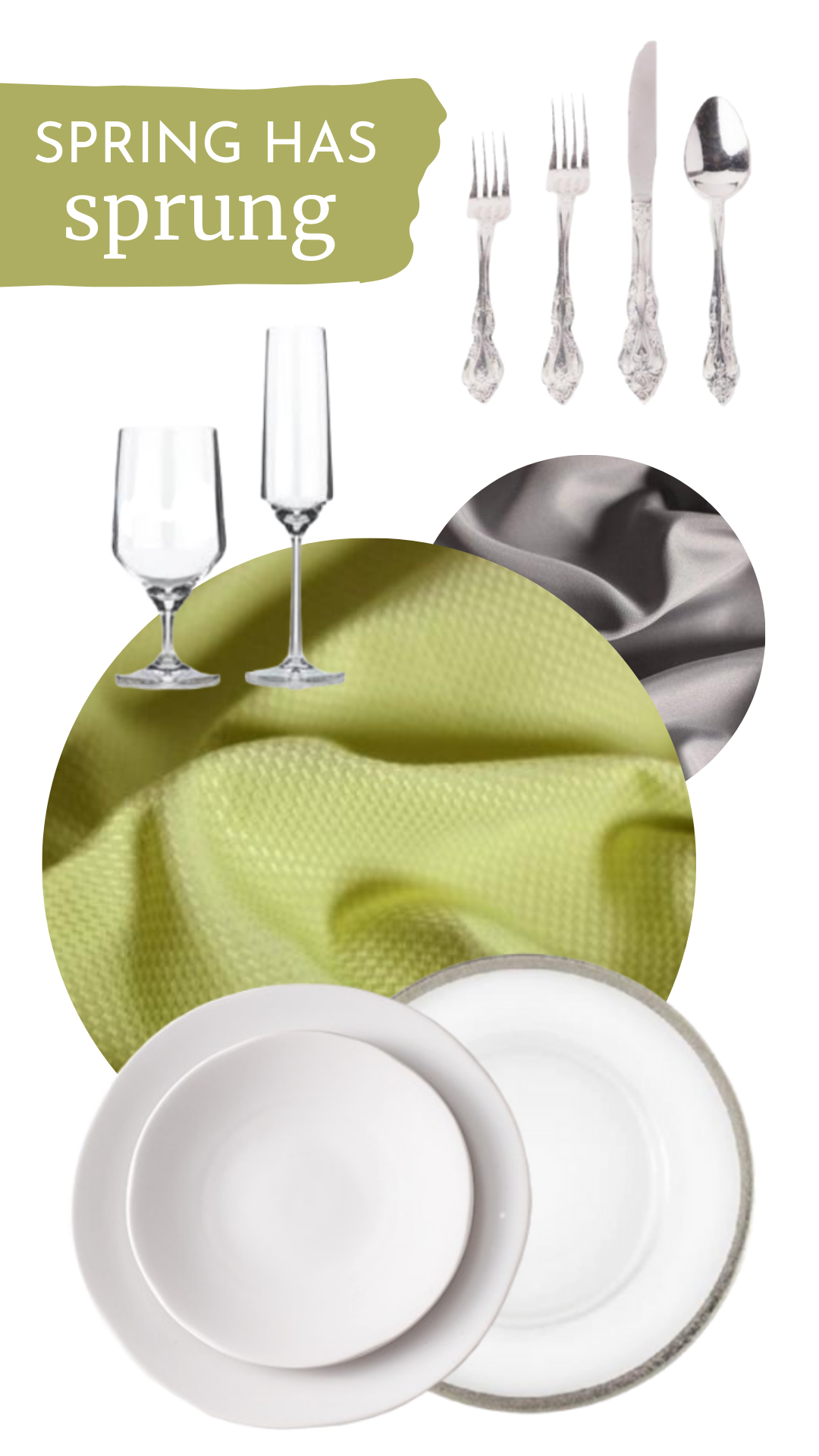 Customize It!
If our curated rental collections, Styled by Southern, aren't to your liking, we offer a custom option! Design a look to fit your Easter table by selecting from our wide inventory of china, glassware, flatware, linens, and more.
Want to secure one of these easter tablescapes for your party? Contact our team to reserve a collection at info@southerneventsonline.com!
FEATURED RENTALS | Darcy China, Abby Flatware, Madison Glassware, Blue Kensington Linens, Champagne Dupioni Napkins, Gold Accent China, Sophia Flatware, Carly Glassware, Champagne Glassware, Mango Sheer Grapefruit Linens, Cornsilk Pindot Napkins, Heirloom China, Austin Flatware, Hob Nob Glassware, Havana Parchment Linens,Coral Poly Linens, White Round China, Bradley Flatware, Carly Glassware, Mint Julep Cups, Oatmeal Linens, Lilac Poly Linens, Alabaster China, Glass Charger with Silver Rim, Abby Flatware, Pure Glassware, Lime Pindot Linens, Silver Poly Linens
SEE MORE LIKE THIS