17

Mar

Southern Events Products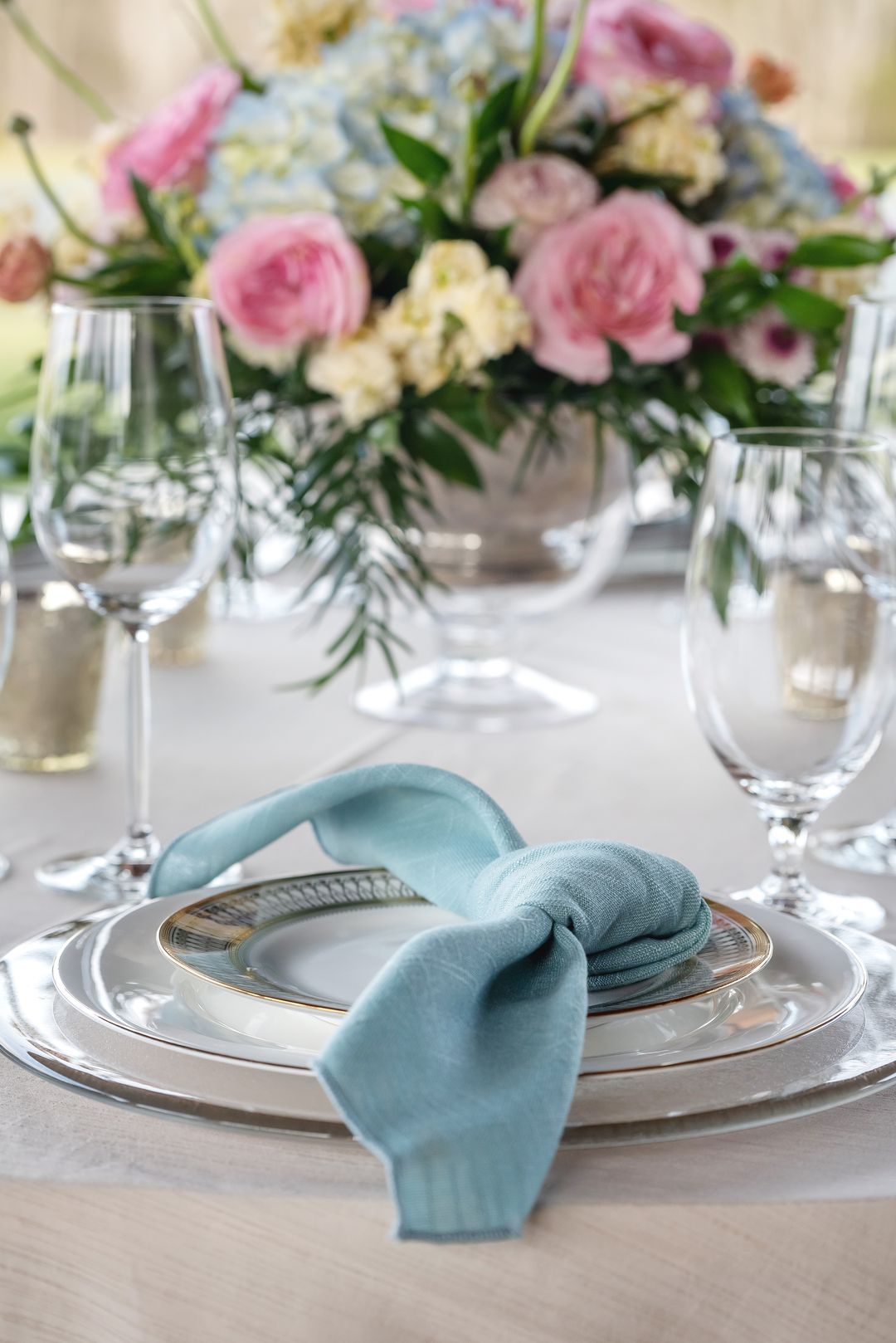 As the weather warms up and nature springs to life, we prepare to set the table for an Easter feast. And what better way to gather with friends and family than at a festive table fitting for laid-back brunch or late lunch? A setup that is elegant yet fun and nods to the energetic season ahead. Get inspired by these colorful easter table ideas for your Nashville gathering, featuring luxurious linens and sophisticated serving ware!
Luxurious Linens
Dress your table in any of our luxurious linens to create a vibrant base for place settings. We stock a range of colors and textures that will lend an elegant look to your easter table. Starting with velvet, in rich seasonal colors like Fern, Lavender, or Sea Glass. For a more light and casual yet still colorful easter table, opt for our poly linens in Sage, Aqua, or Lilac. Just don't forget to add on napkins!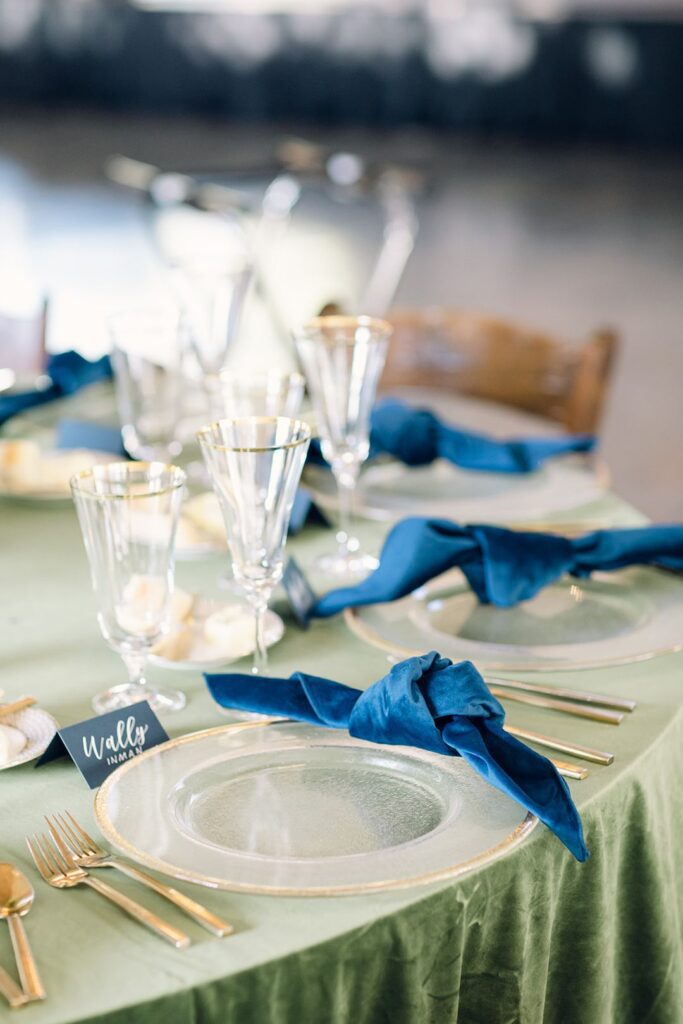 Timeless China
With a colorful base, you'll want china that stands out yet lends a timeless look. Our White Round China is always a classic choice, but for a more elegant look consider our dainty Darcy China. Our personal favorite however is our Earthen Alabaster China, which will offer a more natural look to your table. If you want to feature even more color, check out our bright Coronado China.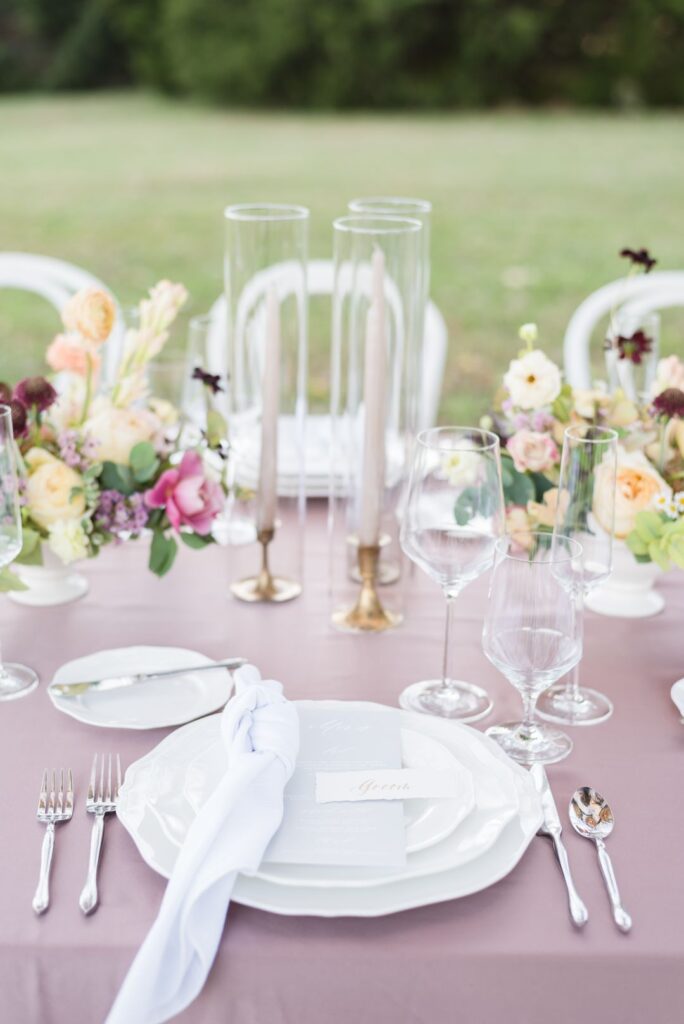 Fancy Flatware
Our flatware is a simple yet effective way to feature some metallic accents at your colorful Easter table! If you prefer a more elegant or vintage-inspired look, check out our Abby or Sophia Flatware in silver. For a more bold contemporary vibe, consider our Fresno Matte Gold Flatware or Silver Hammered Flatware. Our Brushed Copper Flatware is also a unique option.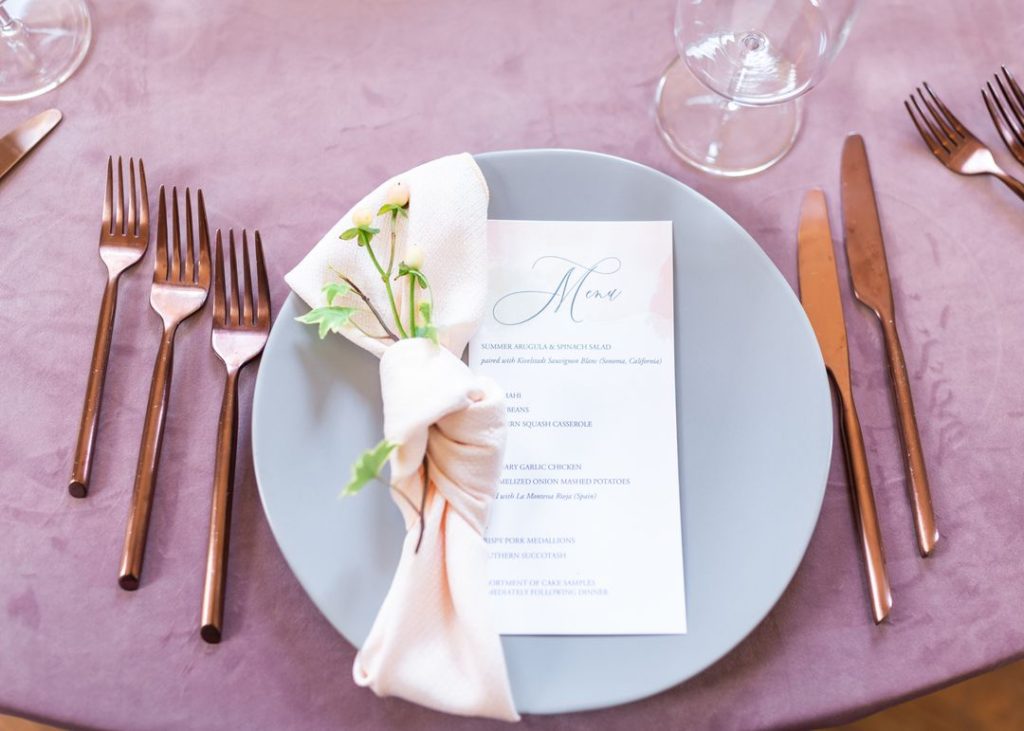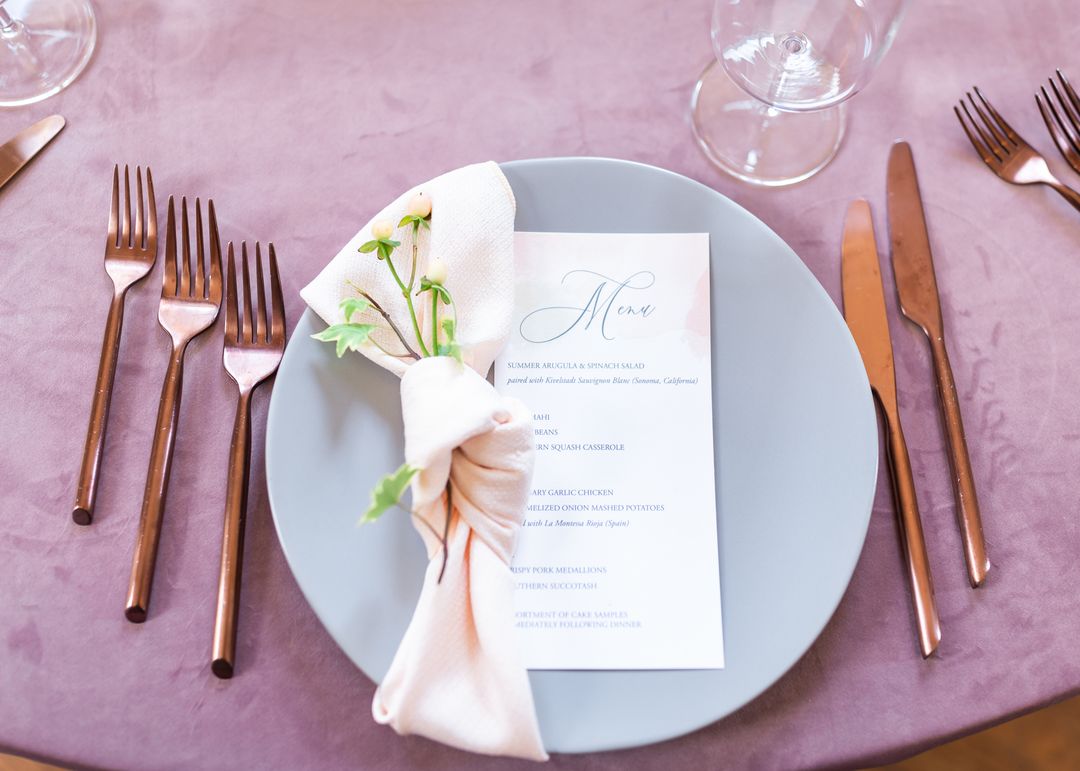 Unique Glassware
One of our favorite way to infuse some color and style into a tablescape is with glassware! We stock a variety of unique options for a range of styles, both clear and colored. Every table needs water glasses, for which our Green Goblets or Hob Nob Glassware – both of which feature vintage-inspired details. If you'll serve wine, our Cybil Glassware or Pure Glassware is an elegant choice.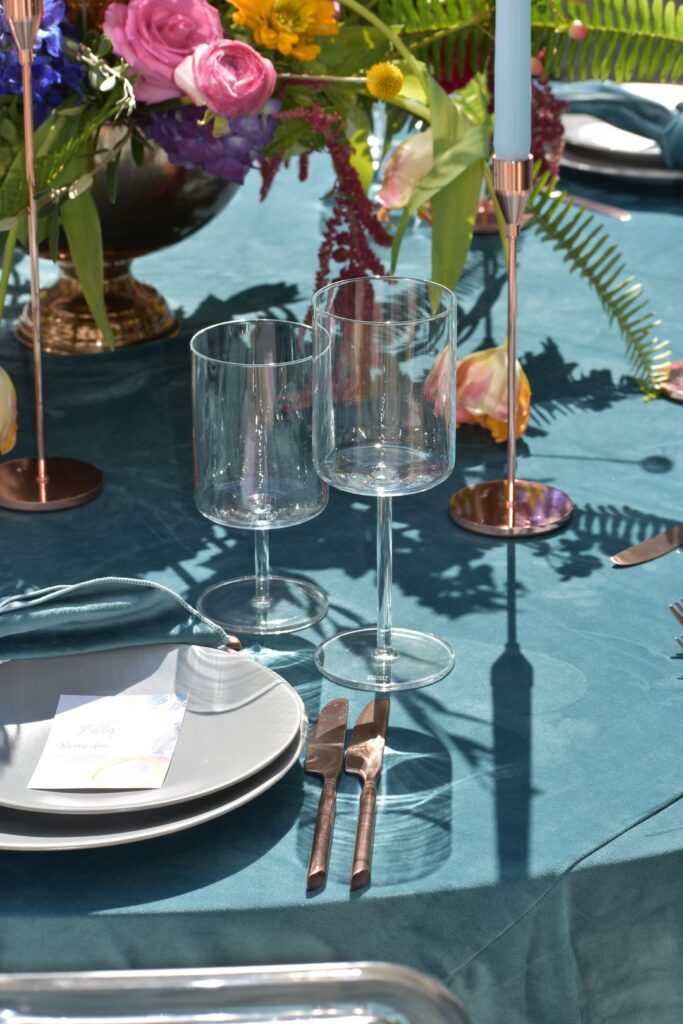 Need more colorful Easter table ideas? Contact us today, at info@southerneventsonline.com, and work with a member of our team to help design a memorable tablescape for your upcoming gathering! Want to plan your gathering without all the fuss? Be sure to take a look at our pre-designed holiday boxes!
TAGS | Tableware, colorful decor, easter table, easter tablescape, tablescape inspiration
FEATURED RENTALS | Green Goblets, Hob Nob Glassware, Cybil Glassware, Pure Glassware, Abby Flatware, Sophia Flatware, Brushed Copper Flatware, Fresno Matte Gold Flatware, Silver Hammered Flatware, White Round China, Earthen Alabaster China, Coronado China, Darcy China, Fern Velvet Linens, Sage Poly Linens, Sea Glass Velvet Linens, Lavender Velvet Linens, Aqua Poly Linens, Lilac Poly Linens,
---
11

Mar

On Trend, Southern Events Products, Trends and Inspiration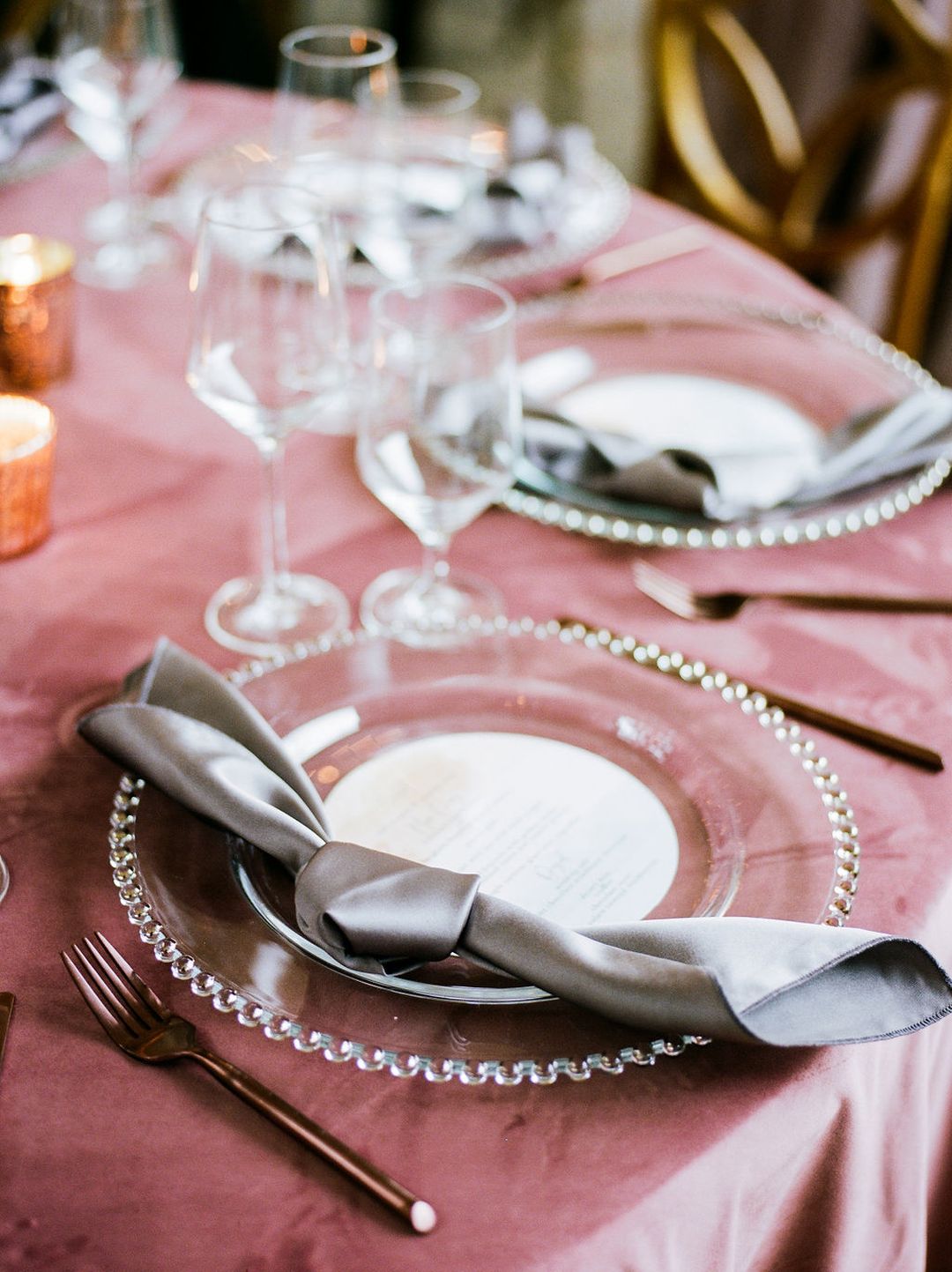 With winter behind us, Tennesse comes to life with wildflower fields, lush green spaces, and springtime celebrations! To help you celebrate this time of year, Southern offers a stylish selection of rentals to create bright Easter tablescapes. So that you can easily create a modern table that will 'wow' your guests, we've put together a collection of our easy Easter-inspired holiday boxes featuring stylish place settings.
Bunny Blues
Our Bunny Blues box is classically charming, with a mix of beautiful blues and neutral yellow hues. This design is bright yet down to earth, for a look that is elegant and perfect for Easter. It includes our Darcy China, Abby Flatware, Madison Glassware, Blue Kensington Linens, and Champagne Dupioni Napkins. For an added pop of color, we recommend featuring bright and fresh floral centerpieces!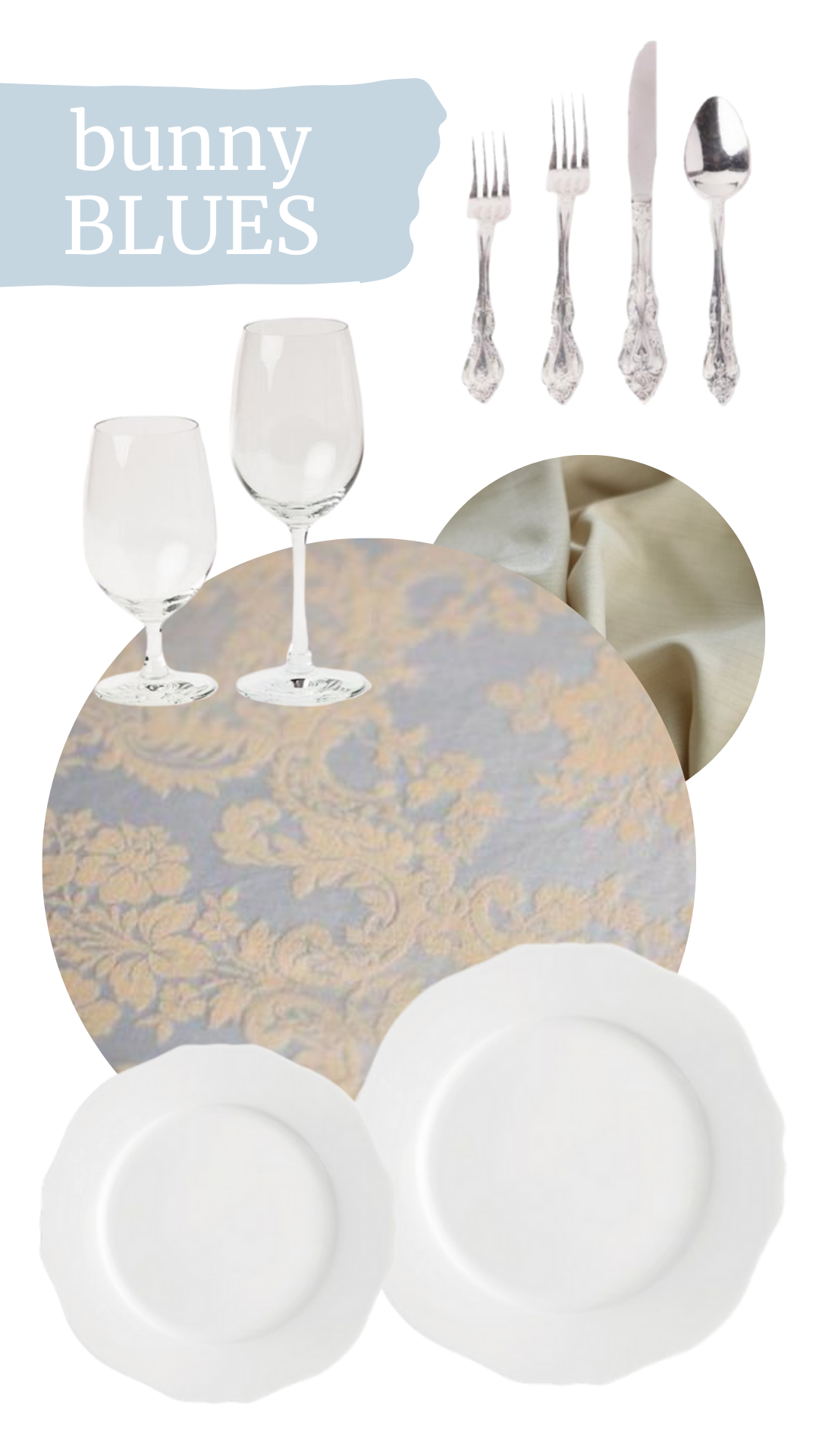 Hippity Hoppity
Featuring a mix of yellow and orange with gold accents, our Hippity Hoppity box is bright and fun. It includes our Darcy China, Gold Accent China, Sophia Flatware, Carly Glassware, Champagne Glassware, Mango Sheer Grapefruit Linens, and Cornsilk Pindot Napkins. By mixing textures and patterns, you'll have a tablescape that is oh so chic and memorable!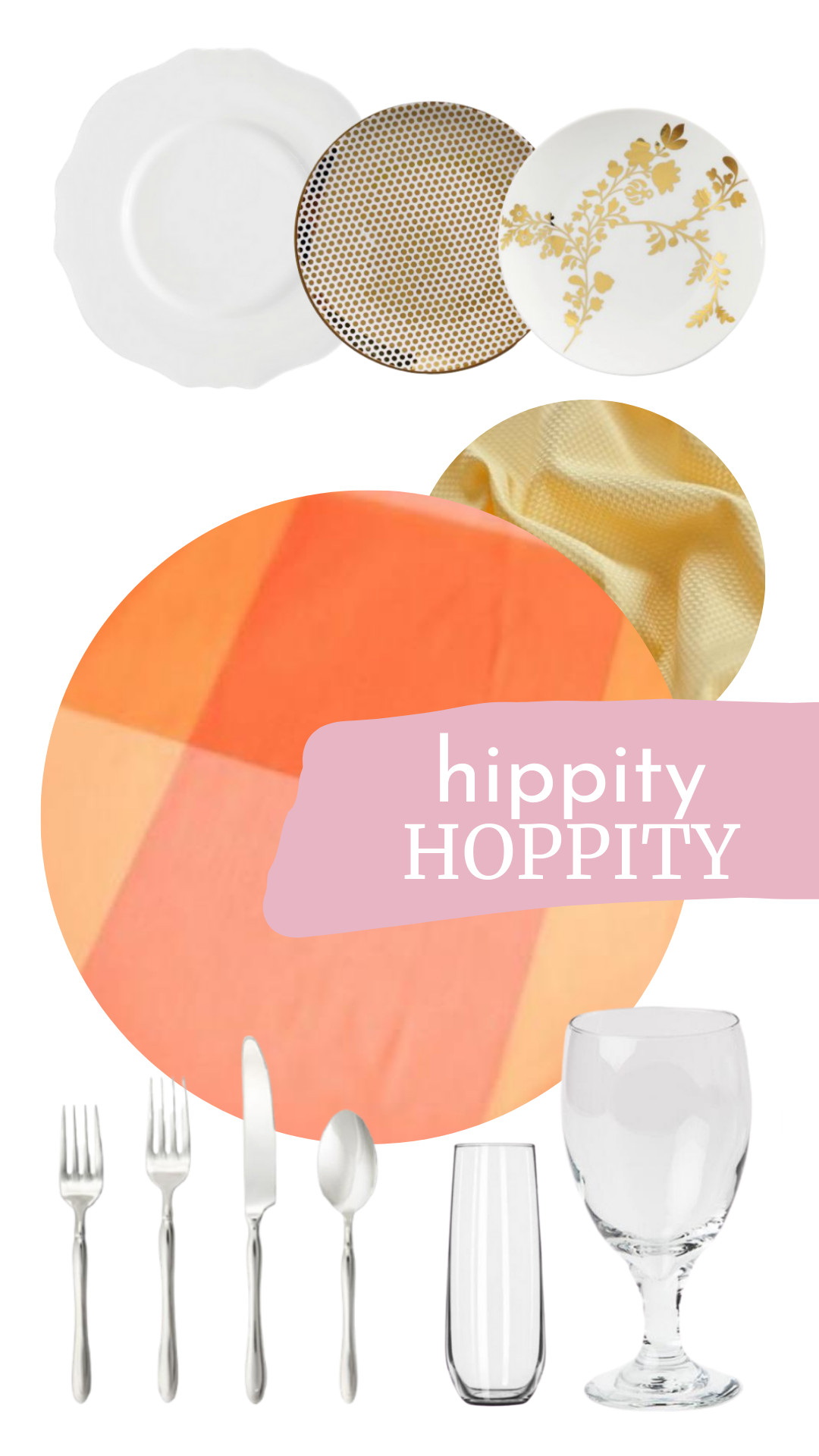 In Bloom
Our In Bloom box is a beautiful balance of old and new, with bright colors and vintage-inspired serving ware. The combination of pastel tones and crisp white makes for a slightly whimsical look that your guests will love. It includes our Heirloom China, Austin Flatware, Hob Nob Glassware, Cornsilk Poly Linens, Havana Parchment Linens, and Coral Poly Linens.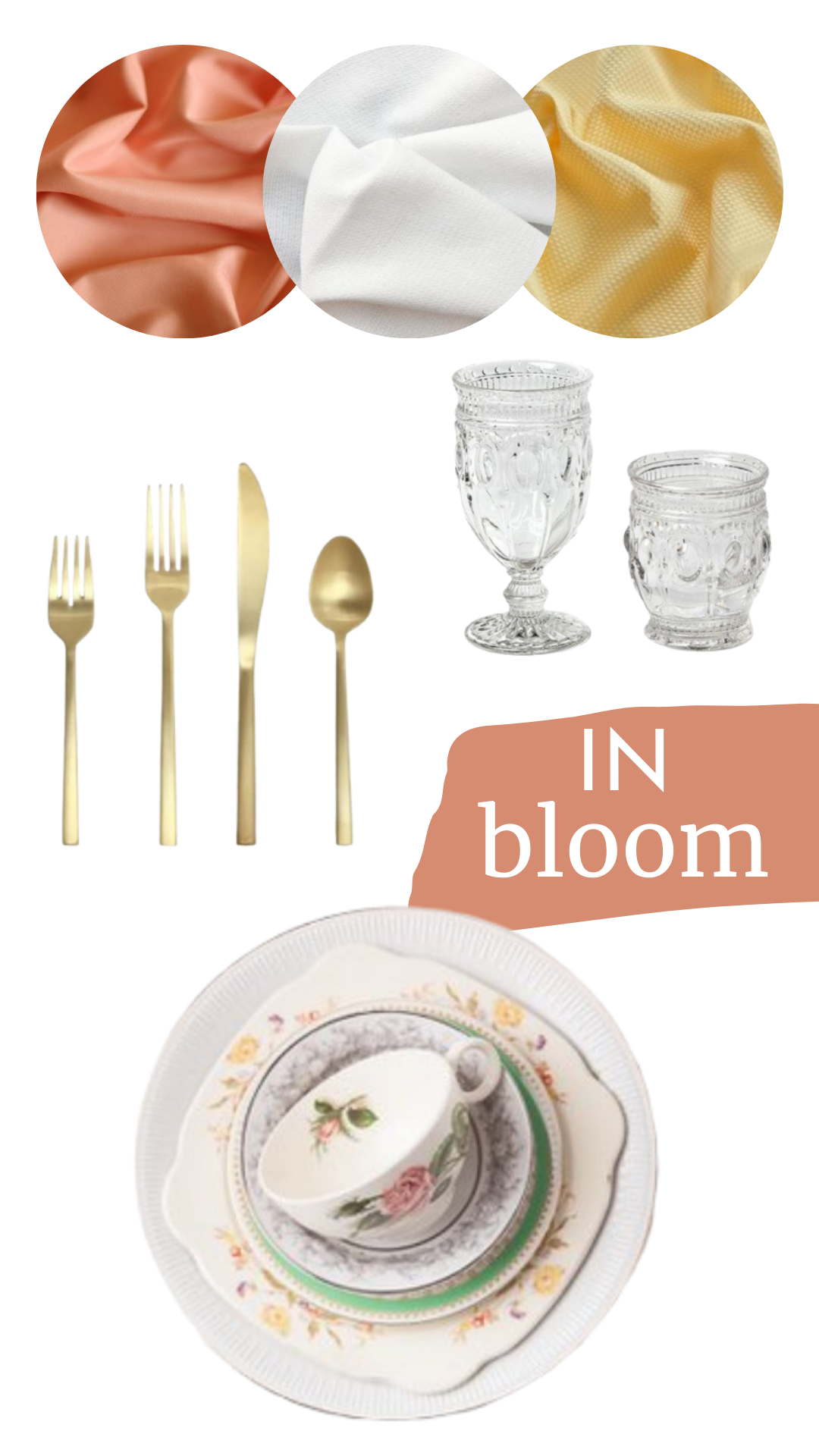 Lilac Love
If you prefer a tablescape that is beautiful but a little more down-to-earth, look no further than our Lilac Love box. It features our White Round China, Bradley Flatware, Carly Glassware, Mint Julep Cups, Oatmeal Linens, and Lilac Poly Linens, for a look that is sleek and neutral. Meanwhile, a small pop of pastel purple maintains that classic Easter palette.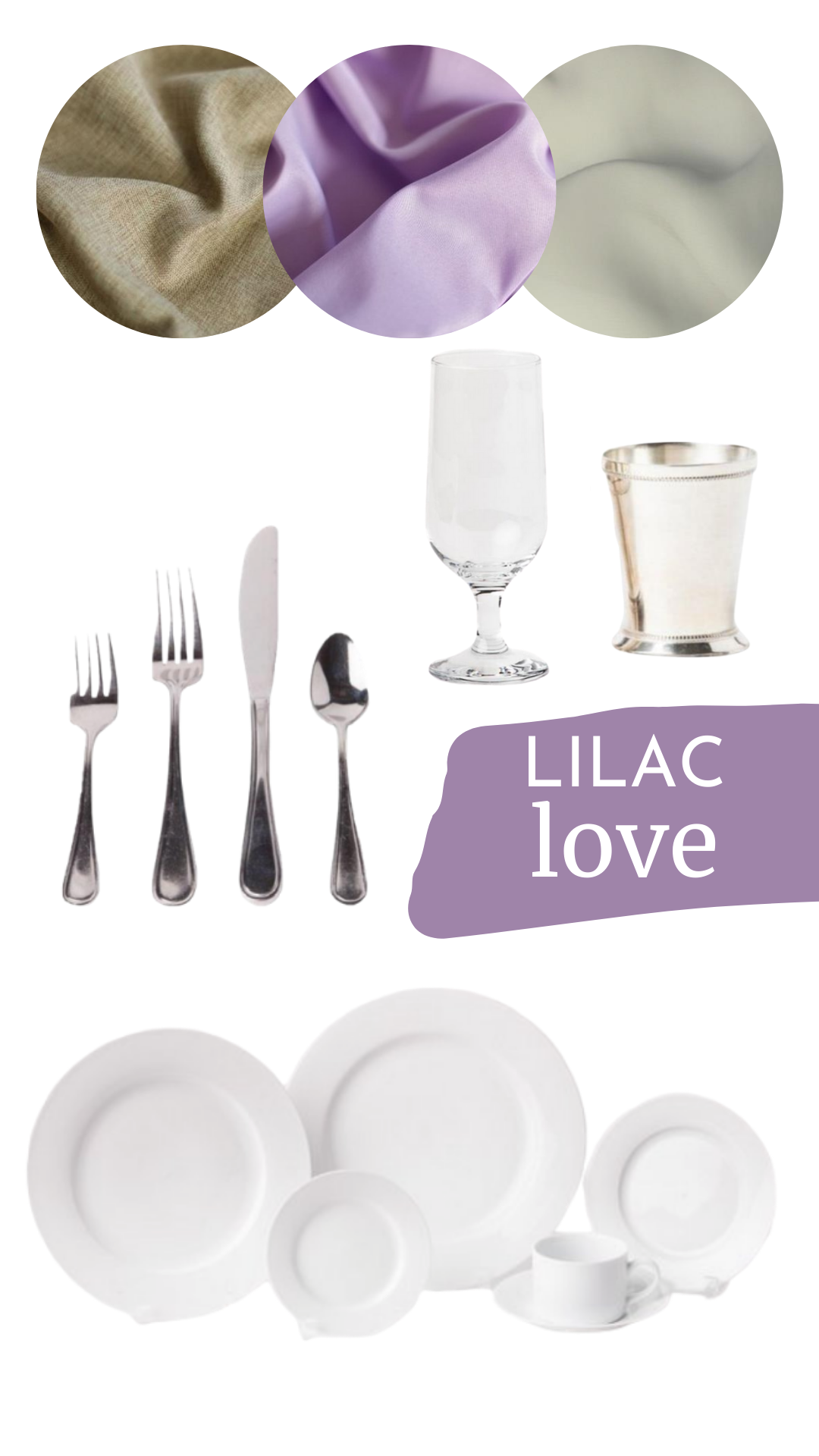 Spring Has Sprung
When you want to host an Easter dinner outside, we recommend our Spring Has Sprung box. Featuring crisp white, metallic silver, and bright green, it perfectly complements a lush outdoor setting. It includes our Alabaster China, Glass Charger with Silver Rim, Abby Flatware, Pure Glassware, Lime Pindot Linens, and Silver Poly Linens. For an extra dose of color, consider fresh greenery and bright blooms for your Easter tablescapes.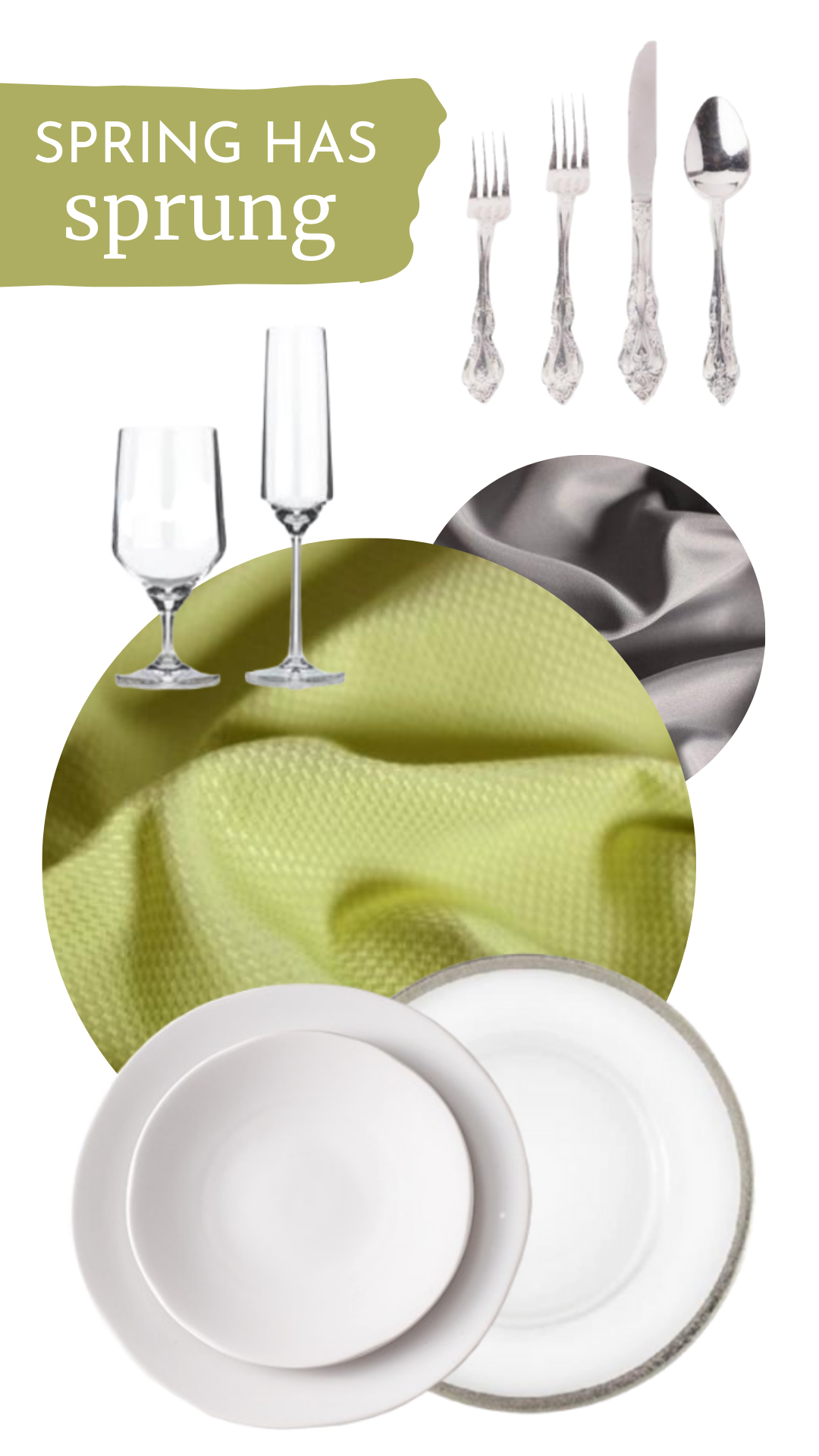 Customize It!
If our pre-made holiday boxes aren't to your liking, we offer a custom option! Design a box to fit your Easter table by selecting from our wide inventory of china, glassware, flatware, linens, and more.
Want to secure one of these easter tablescapes for your party? Contact our team to reserve your holiday box at info@southerneventsonline.com!
TAGS | easter table, easter tablescape, holiday party rentals, modern tablescape, tablescape inspiration
FEATURED RENTALS | Darcy China, Abby Flatware, Madison Glassware, Blue Kensington Linens, Champagne Dupioni Napkins, Gold Accent China, Sophia Flatware, Carly Glassware, Champagne Glassware, Mango Sheer Grapefruit Linens, Cornsilk Pindot Napkins, Heirloom China, Austin Flatware, Hob Nob Glassware, Havana Parchment Linens,Coral Poly Linens, White Round China, Bradley Flatware, Carly Glassware, Mint Julep Cups, Oatmeal Linens, Lilac Poly Linens, Alabaster China, Glass Charger with Silver Rim, Abby Flatware, Pure Glassware, Lime Pindot Linens, Silver Poly Linens
---