28

Jan

Southern Love: Saddle Woods Farm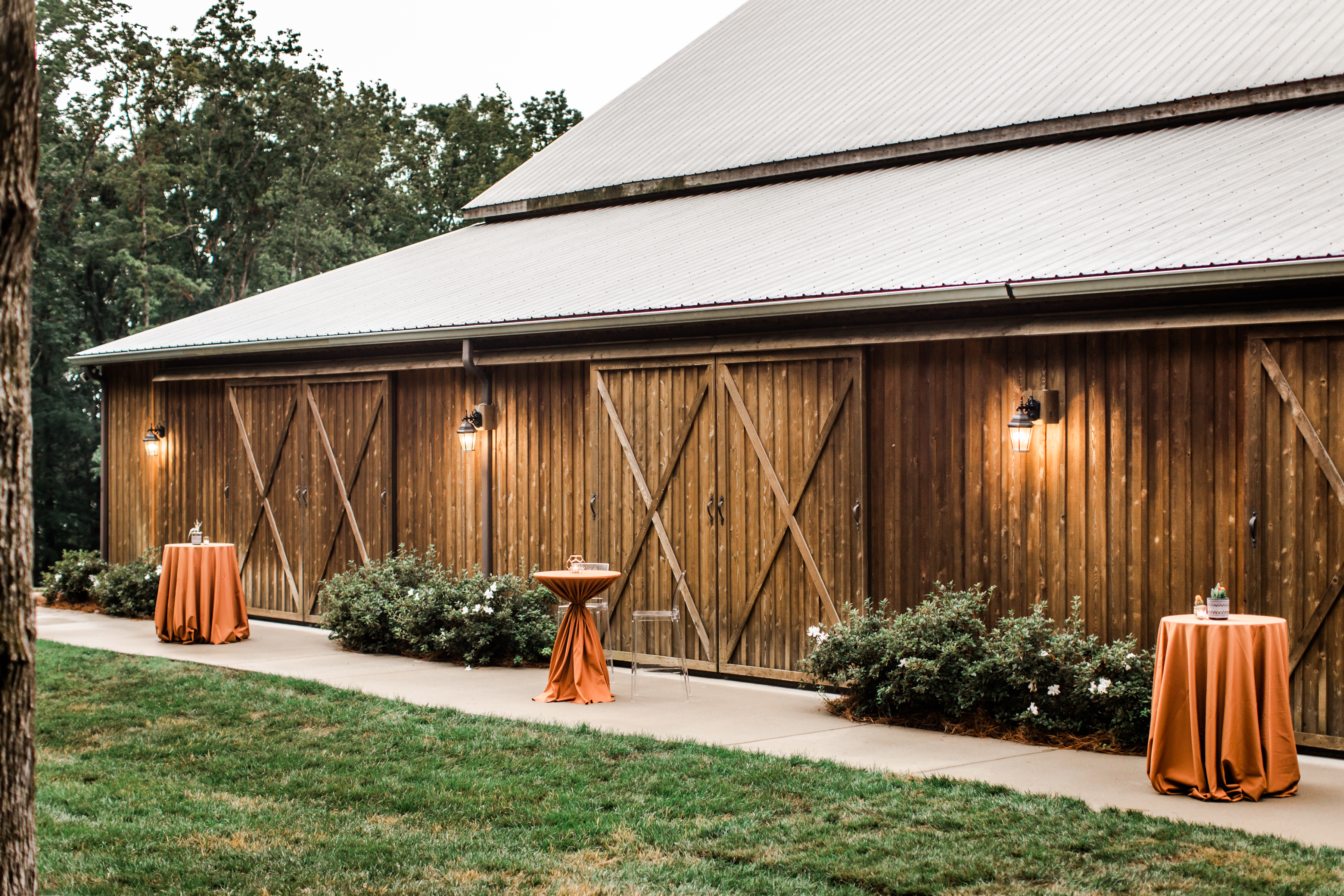 In search of a secluded country atmosphere for your future wedding? Located in Murfreesboro, Tennessee, Saddle Woods Farm is a Southern old-style cedar wood barn situated on 25 beautiful acres. To help inspire you for your event, check out a variety of ways that you can dress up this stunning Tennessee wedding venue, featuring our modern & stylish rentals.
Modern & Minimalistic Neutrals
One of our favorite wedding trends is neutral wedding palettes, which lend a timeless look to any event! This style is easy to pull off at The Barn, full of warm woods and southern charm. For this tablescapes, we featured our Glass Charger with a Gold Rim, Alabaster China, Austin Gold Flatware, Colored Glassware & Pure Glassware. The simple but luxe centerpieces were made using voluminous arrangements of pampas grass and our sleek Davis Glass Cylinders. With their large vaulted ceiling, we can't resist going big with decor!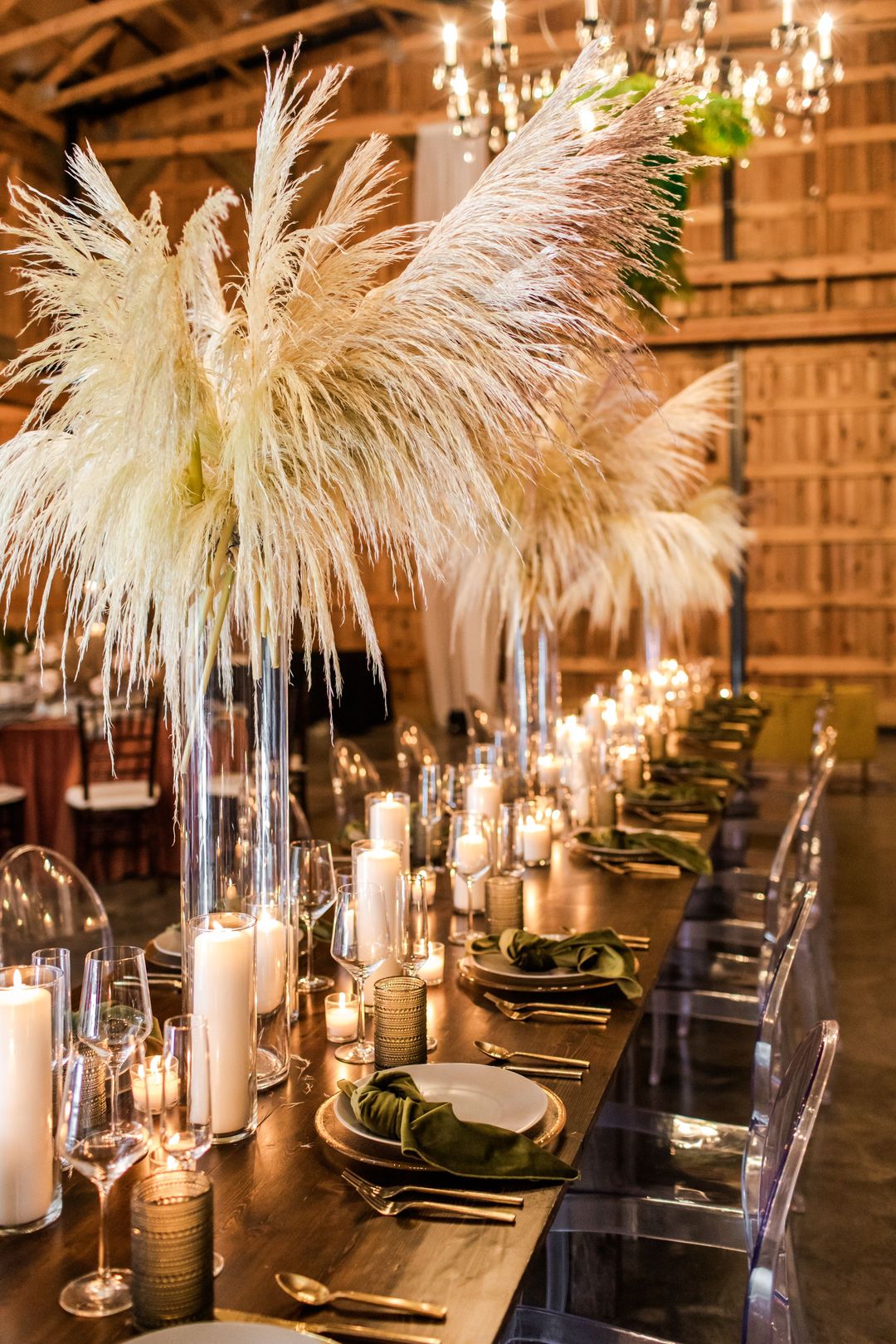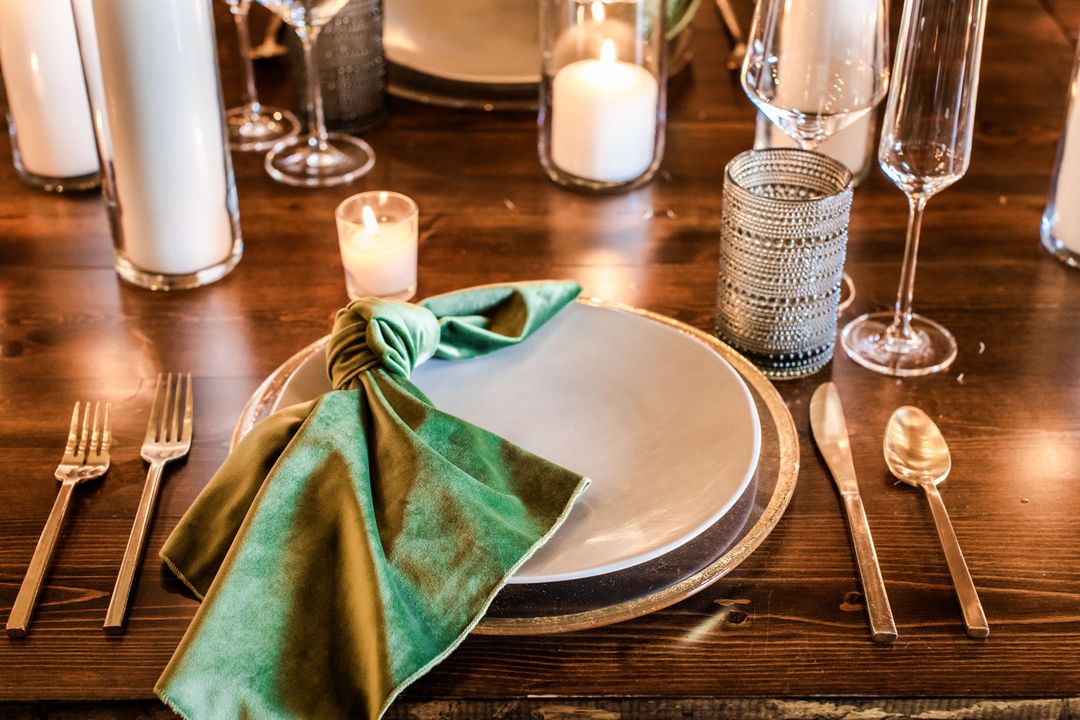 Bright & Bold
If you're a couple who wants a less traditional look, we say rock some bright and bold colors! The warm tones at Saddle Wood, provided by cedarwood and iron details, contrast beautifully with bright shades. The following boho-inspired table packs a fun punch of color via our Burnt Orange Poly Table Linen and gold metallic accents. For a chic statement lounge area, check out our Saylor Navy Velvet Chairs, paired with a set of elegant Rhodes Side Tables and trendy Gloria Velvet Ottoman. It's the perfect mix of both bold and classic colors.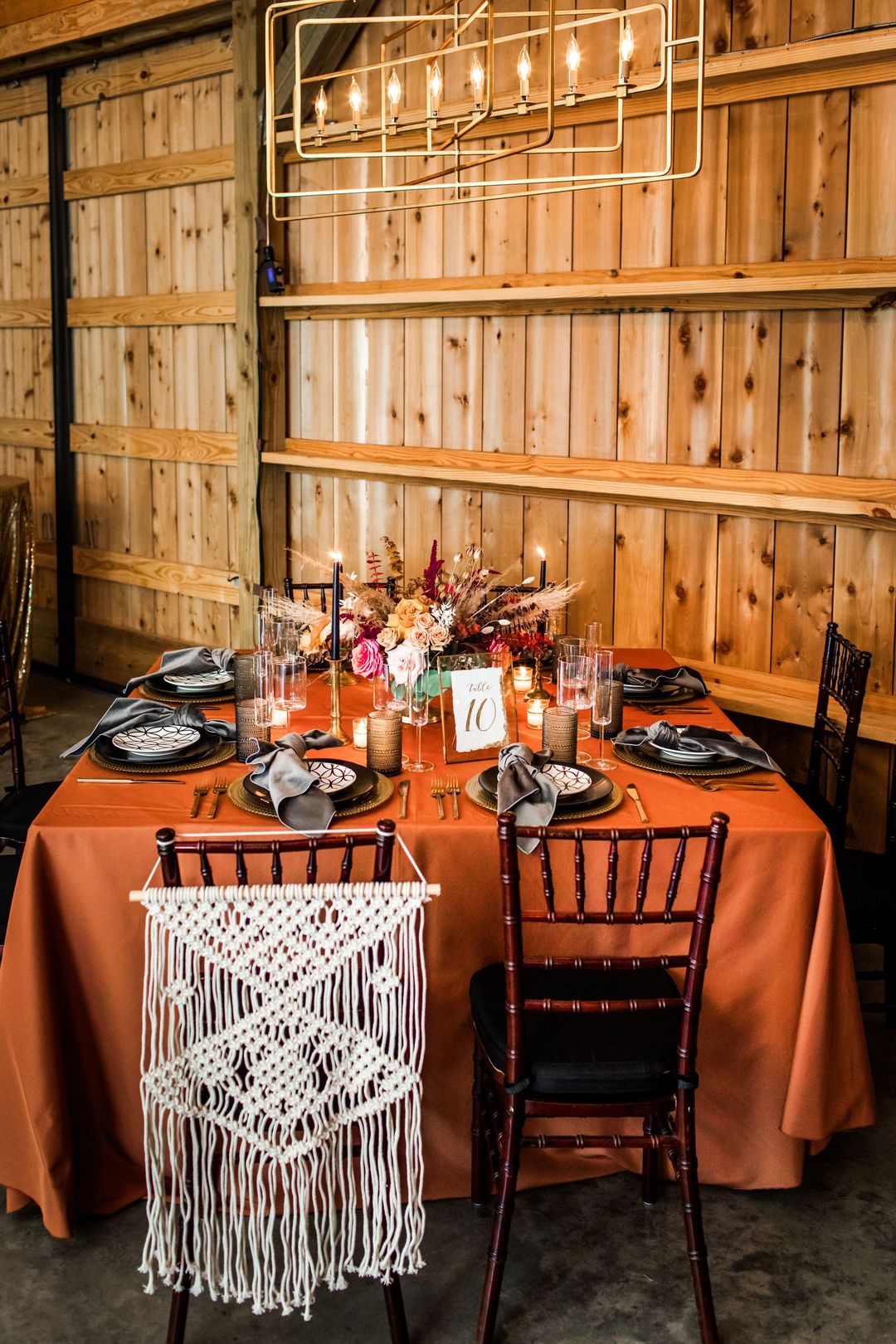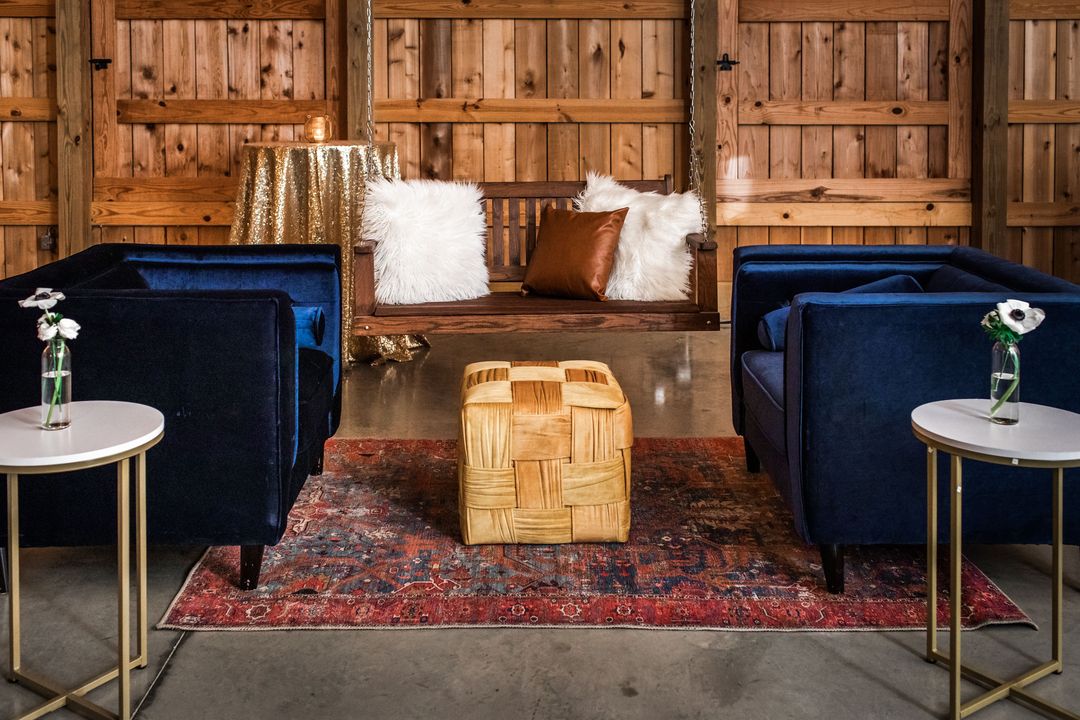 Dark, Moody & Chic
While Saddle Woods has more rustic elements, tt looks equally gorgeous when outfitted with our luxe black rentals. Although non-traditional, this color is sure to lend a moody yet chic vibe to your event and the space. Below is a luxe sweetheart table paired with our contemporary Acrylic Ghost Armchairs. Behind it, you'll notice a small lounge made with our stylish Regent Black Velvet Sofa and Echo Silver Mirror Side Tables. For the dinner table check out our Glass Charger with a Silver Rim, Onyx & Stone China, Hammered Flatware. The Black Nova Linens and a dab of pink in the centerpiece add a small touch of whimsy.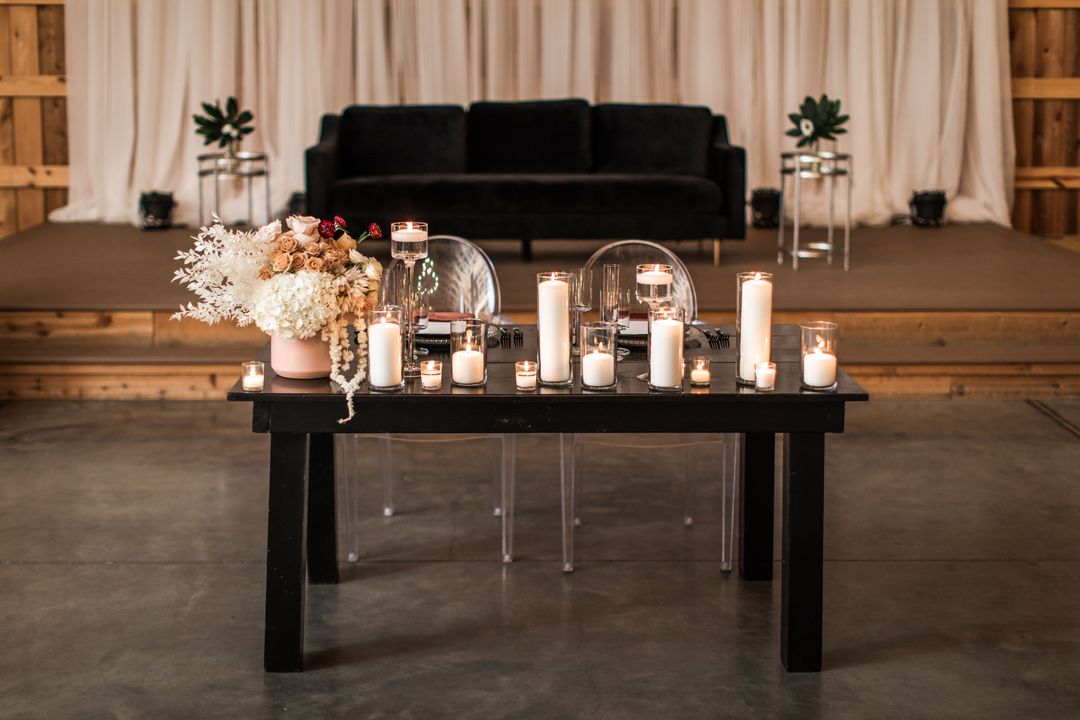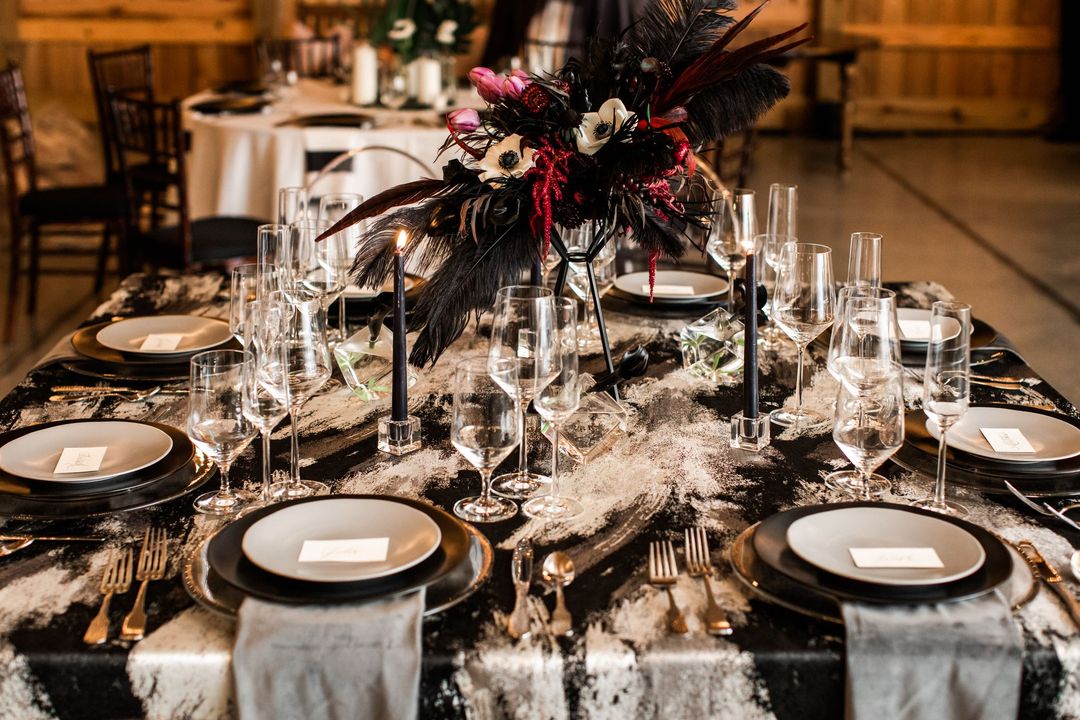 Classic Romance
Should you prefer a traditional wedding look, then you'll love this romantic set up. With the cedar rafters decorated with string lights, greenery and blush drapery, the Barn looks absolutely magical. To complement it, we dressed the reception tables in a mix of both burgundy and blush linens surrounded by cozy social areas. These areas feature our cowhide rugs and Conga Gold Drum Side Table as well as Bennett Leather Sofa, Grey London Loveseat and  Cheval Gold Side Tables.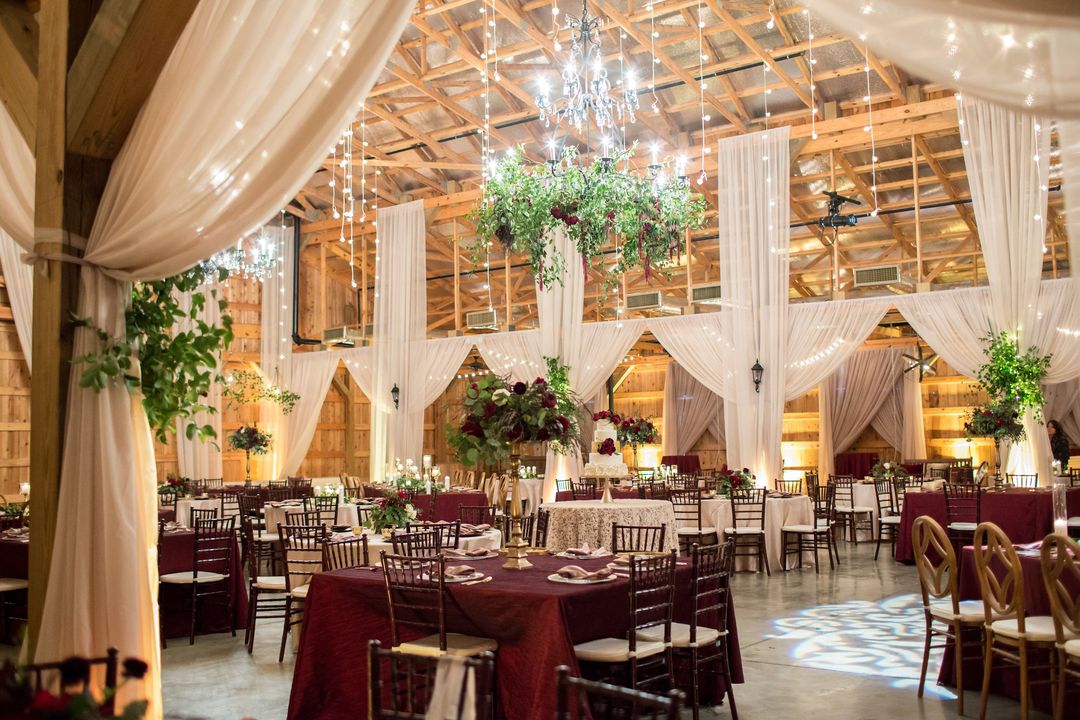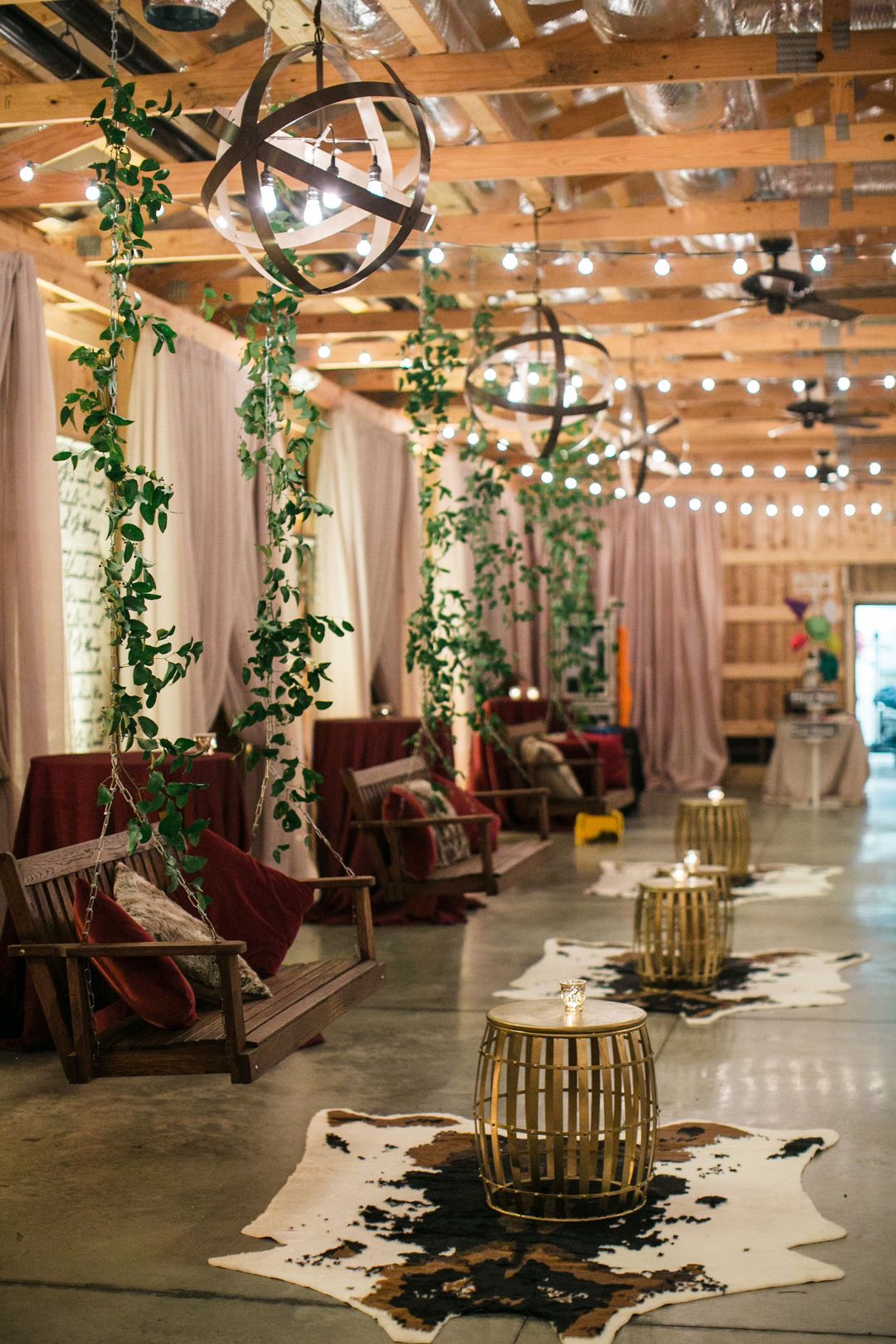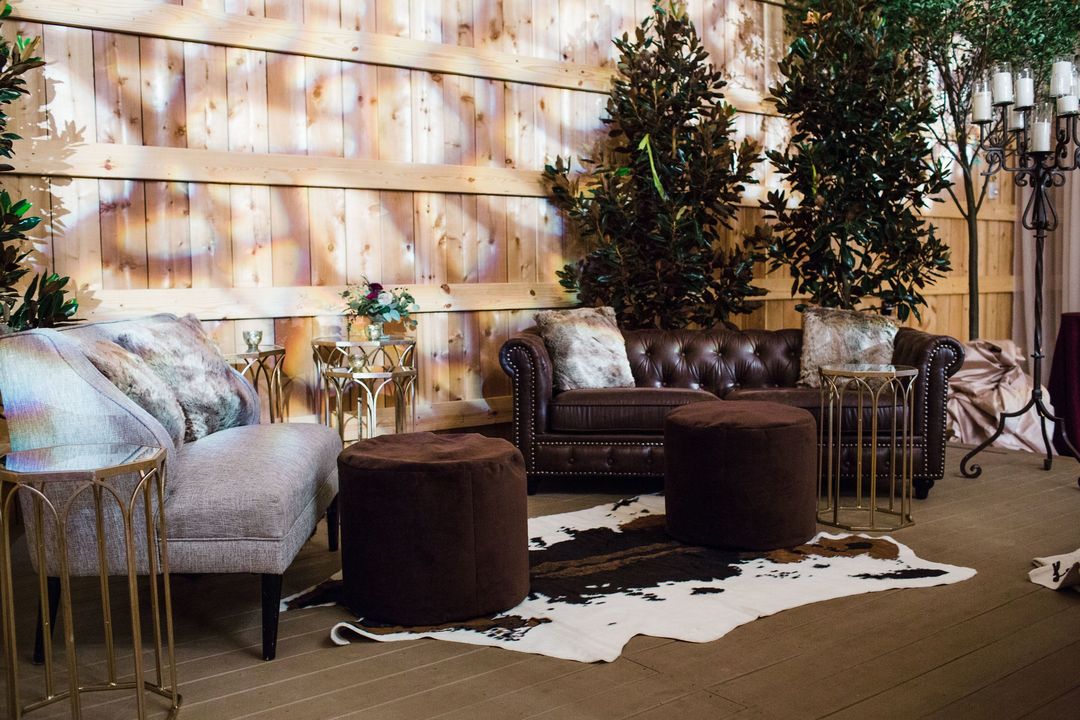 Photo by SheHeWe Photography
Luxe Outdoor Lounges
Of course, you have to take advantage of the lush landscape, which is perfect for an outdoor lounge area. Depending on the season in which you host your event, why not host a cocktail hour outside? You can easily create a variety of stylish wedding lounges, whether you want a look that is more moody, modern or chic. The following layouts include a set of our Acrylic Ghost Armchairs, Nickel Grey Bench and Regent Black Velvet Sofas.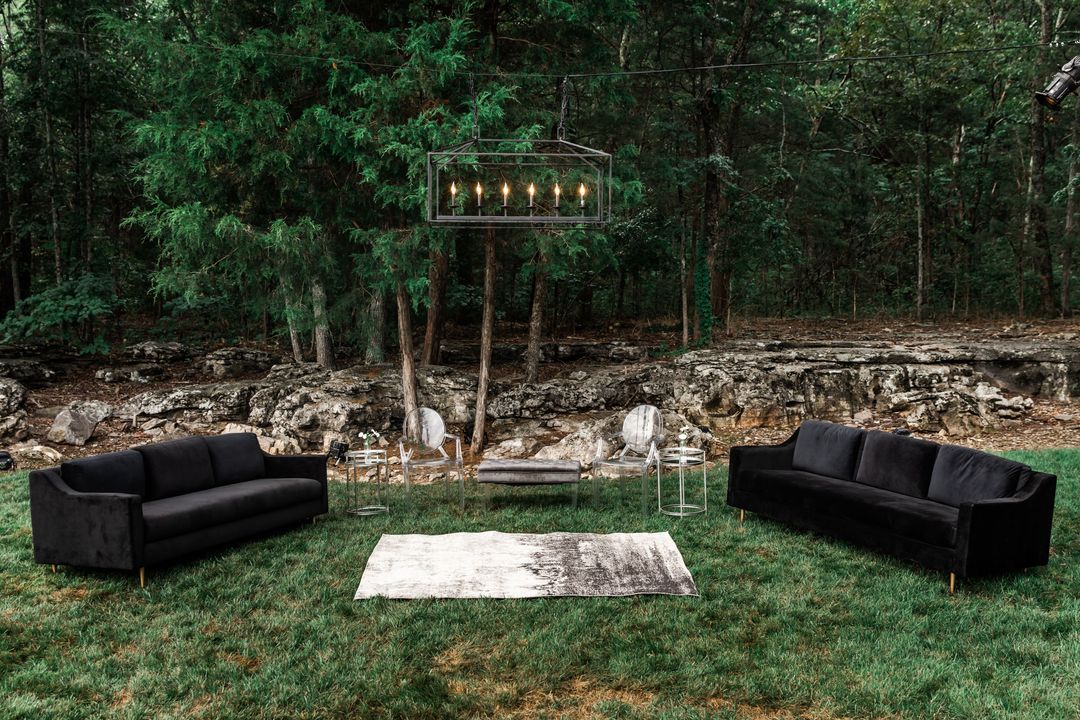 For these smaller areas, starring bistro and accent tables, seating is more minimal. See below our favorite White Eiffel Arm Chairs and Acrylic Casper Square Barstools! For additional texture, consider using our sequin table linens or etched velvet linens.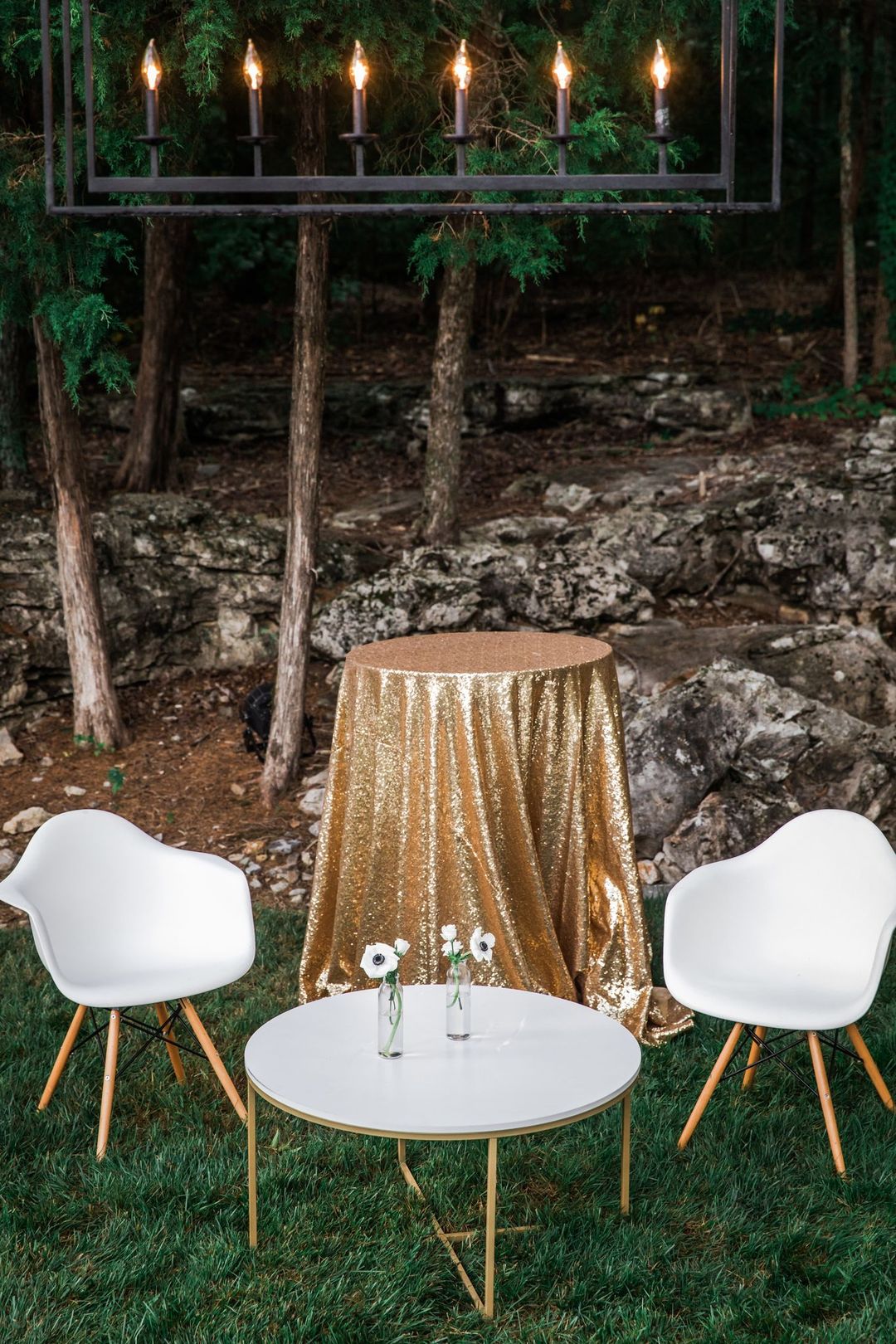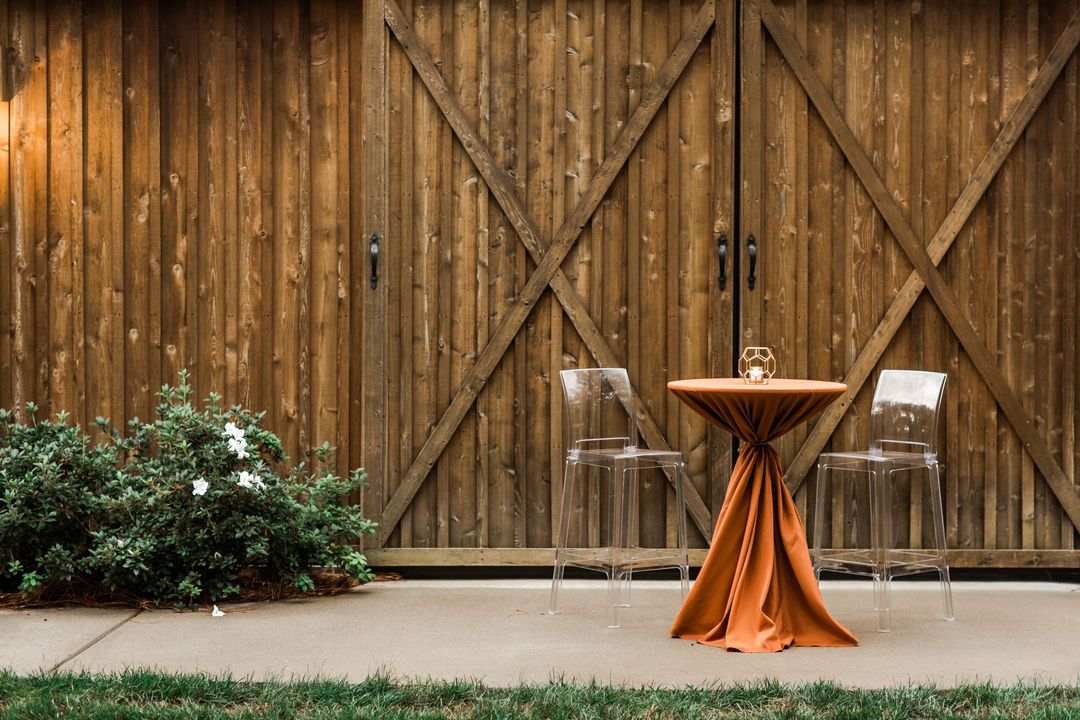 Planners: Southern Honey Events & Erin Lynn Events
Photographer: Nyk & Cali
Florals: Amy & I Designs & Larson Floral Co.
Lighting: Nashville Event Lighting
Signs: White Ink Calligraphy
Ready to plan your wedding at Saddle Woods Farm? Contact our team at info@southerneventsonline.com for help recreating one of these luxe looks, or for guidance in creating your very own!
FEATURED RENTALS | Acrylic Ghost Armchairs, White Eiffel Arm Chair, Etched Velvet Linens, Sequin Linens, Glass Charger with a Gold Rim, Alabaster China, Austin Gold Flatware, Colored Glassware, Pure Glassware, Davis Glass Cylinders, Nickel Grey Bench, Burnt Orange Poly Linens, Glass Charger with a Silver Rim, Onyx & Stone China, Hammered Flatware, Black Nova Linens, Regent Black Velvet Sofas, Belmont Charger, Onyx China, Cybil Glassware, Cameron Flatware.
SEE MORE LIKE THIS