25

Feb

Nashville Venues, Nashville Wedding Vendors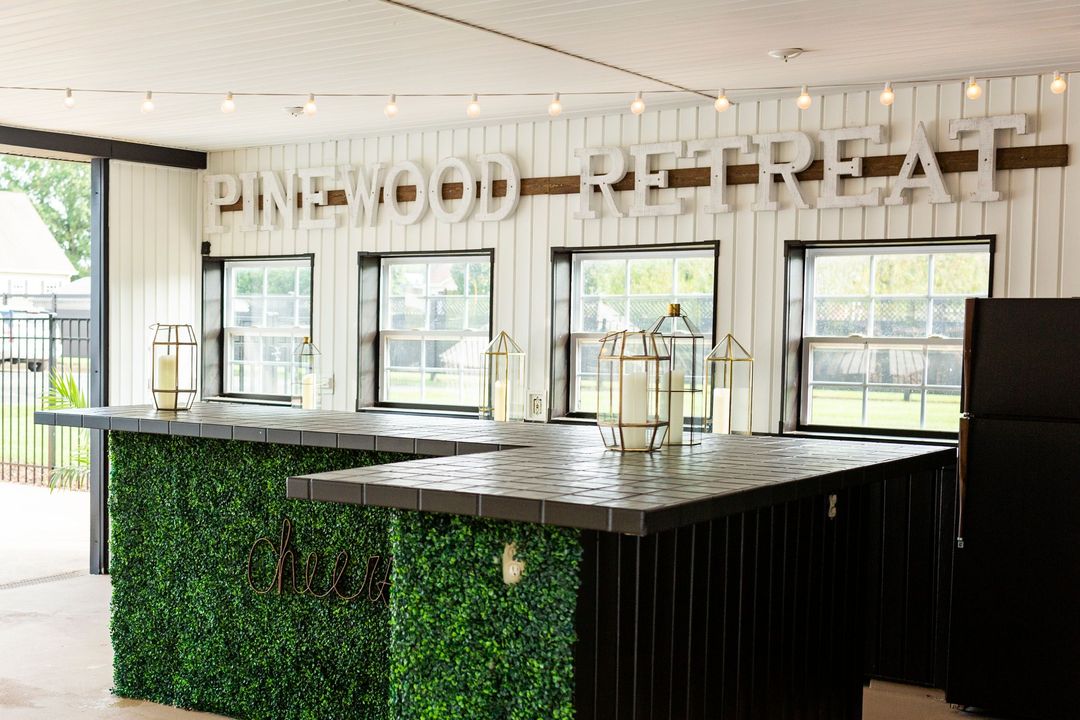 If you're on the hunt for an all-inclusive farm wedding venue, look no further than Pinewood Retreat! Located in College Grove, Tennessee (adjacent to Franklin, TN), it is surrounded by lush agricultural surroundings. The contemporary venue, however, is suitable for a range of events, whether you want to host a chic open-air event or a modern indoor celebration. To help spark some creativity, here are just a few ideas for hosting a wedding at Pinewood Retreat.
Lush Outdoor Ceremony
For couples who want to eliminate travel between multiple venues, Pinewood Retreat functions as a dual ceremony and reception site. Host your nuptials in a private magnolia tree garden, where you will enjoy a backdrop of organic greenery and mature trees. Our popular Cross-back chairs are a gorgeous choice for this wedding venue, as shown below. Or opt for our Classic Fruitwood Folding Chairs.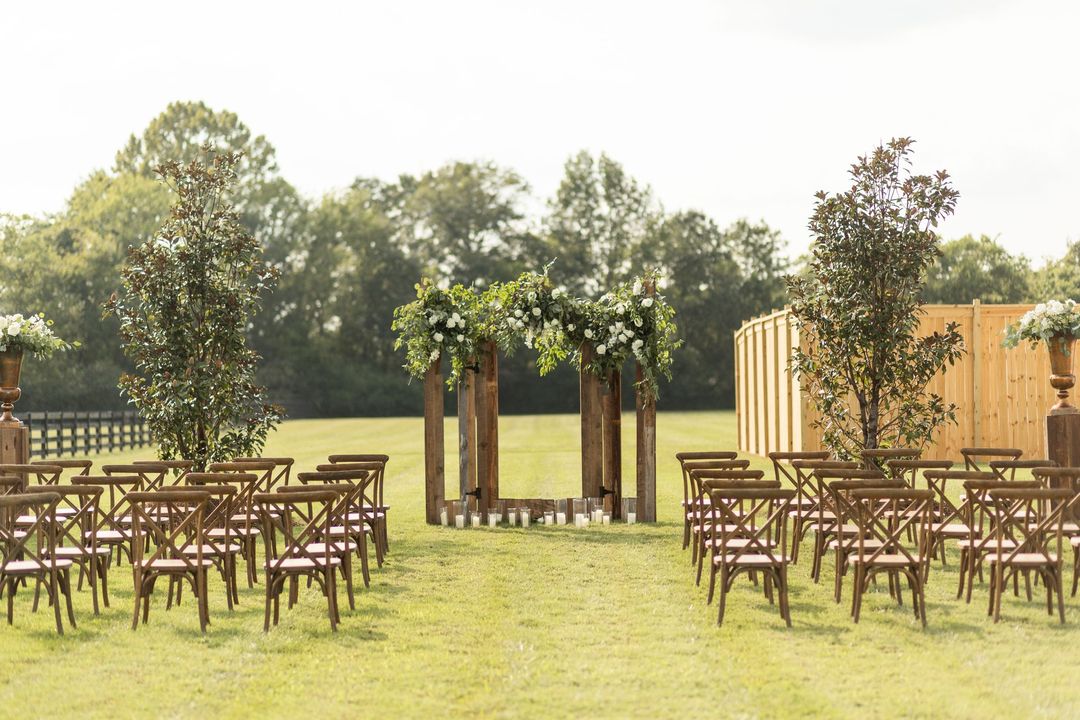 Poolside Cocktail Hour
Following your ceremony, treat your guests to a cocktail hour in the nearby pavilion. It opens out onto a pristine blue pool, making it a fun location for warm-weather celebrations. A stylish bar designed to match the hedge wall and works well with nature-inspired celebrations! This spacious area can be set up with a number of bistro tables or lounge area, where guests can enjoy a drink and mingle. To complement the modern space and bright pool, consider a set of our beautiful blue linens.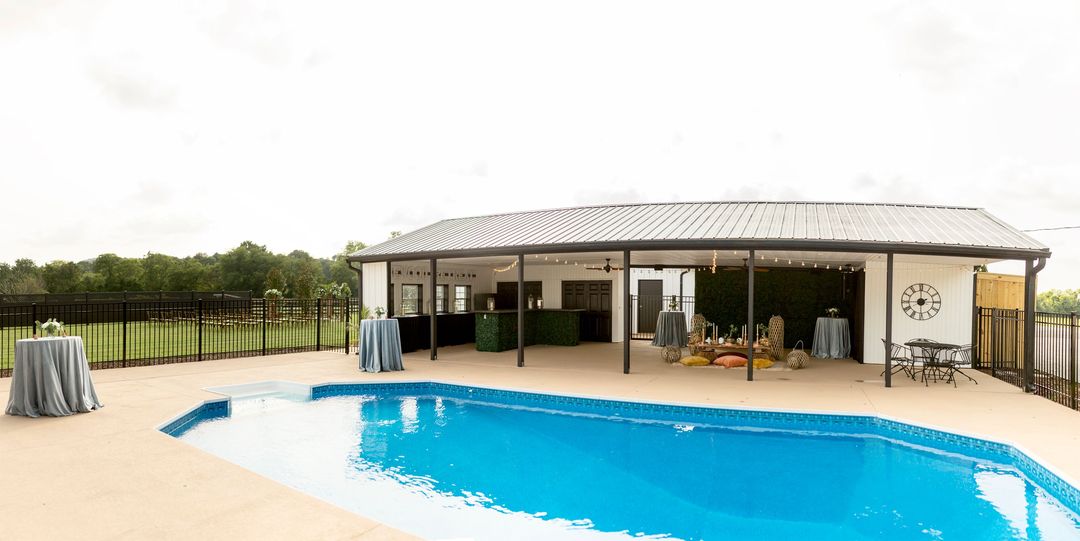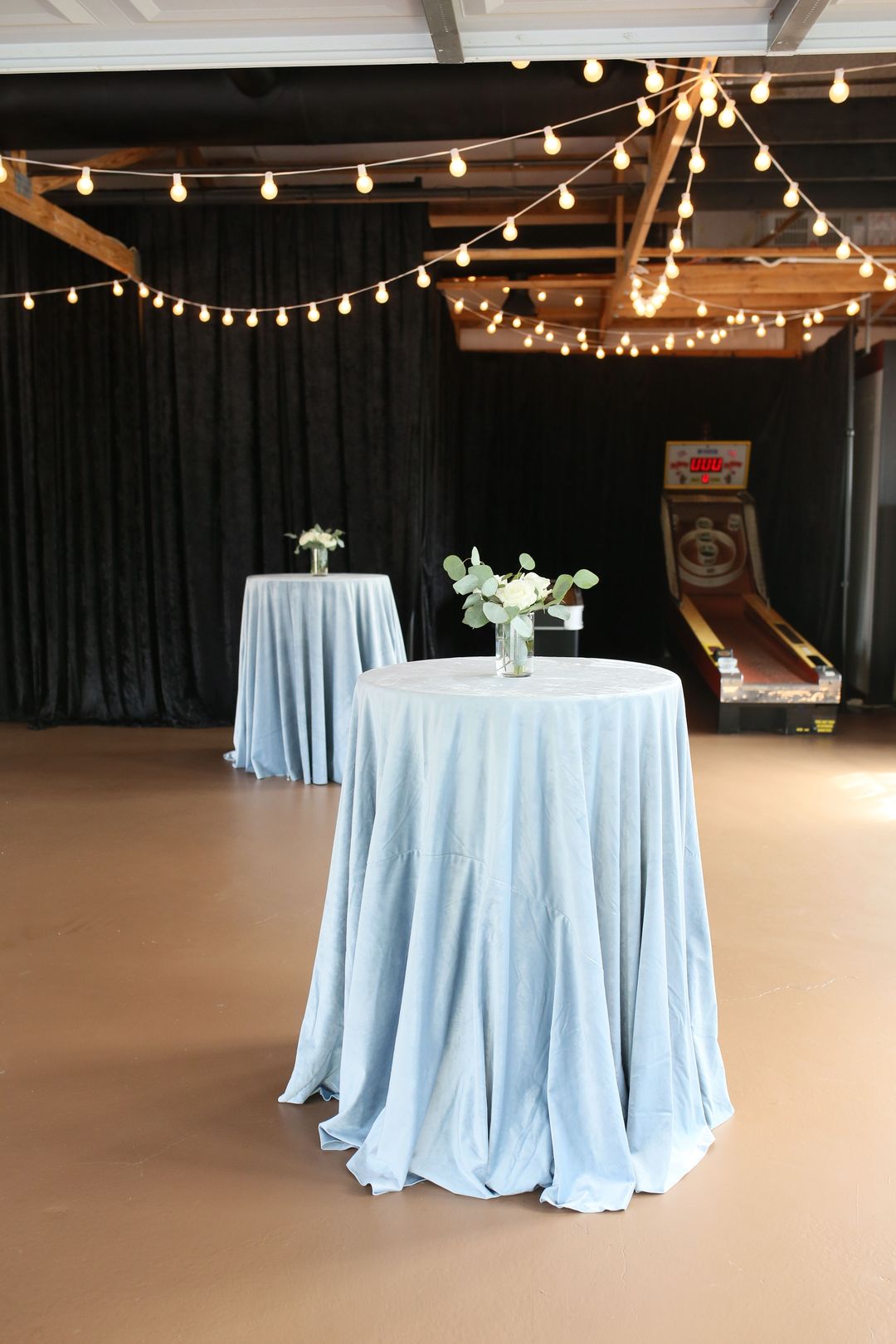 Chic Tented Reception
Capable of hosting up to 300 of your friends and family, the manicured lawn is perfect for a tented reception. Here our Hexagon Frame Tent looks stunning! Beneath it, there is plenty of room for round dining tables, as well as a Plank Wood dance floor for a long night of dancing. The tablescape shown below features our Alabaster China, Hammered Flatware, Pure Glassware, and white linens. A chic design such as this is a beautiful way to contrast the lush lawn!
The open space at Pinewood Retreat is especially ideal for those who want to incorporate lounge areas. Placed outside of the tent, it is a great way to encourage guests to roam and mingle. You can take advantage of our existing lounge packages, or create one of your own!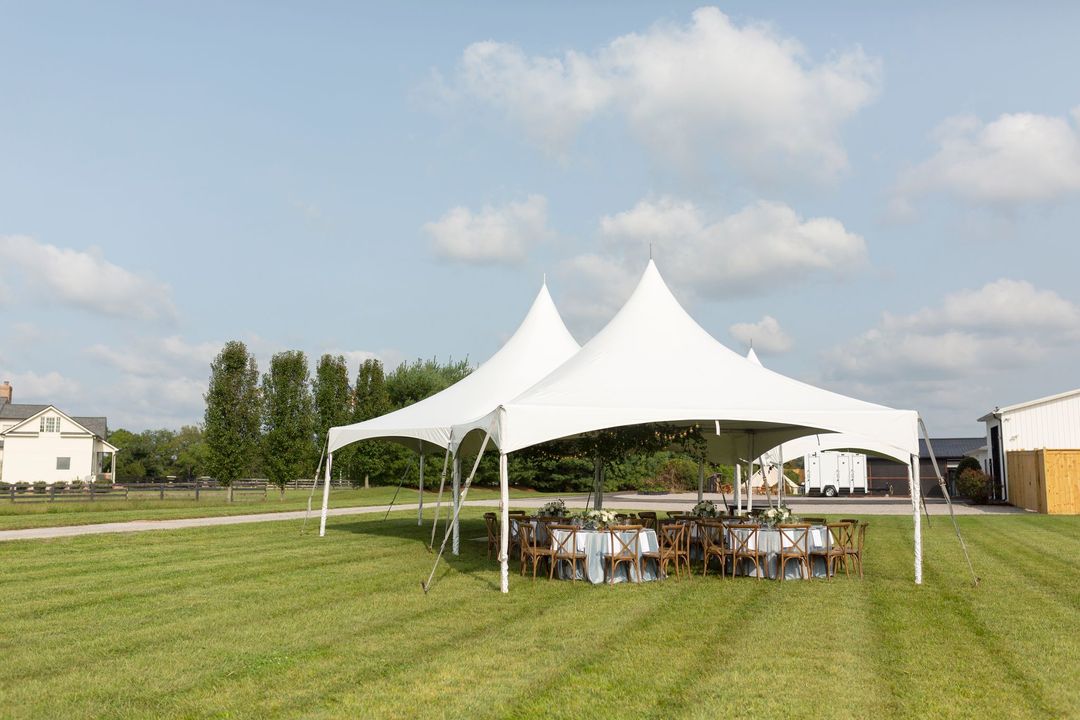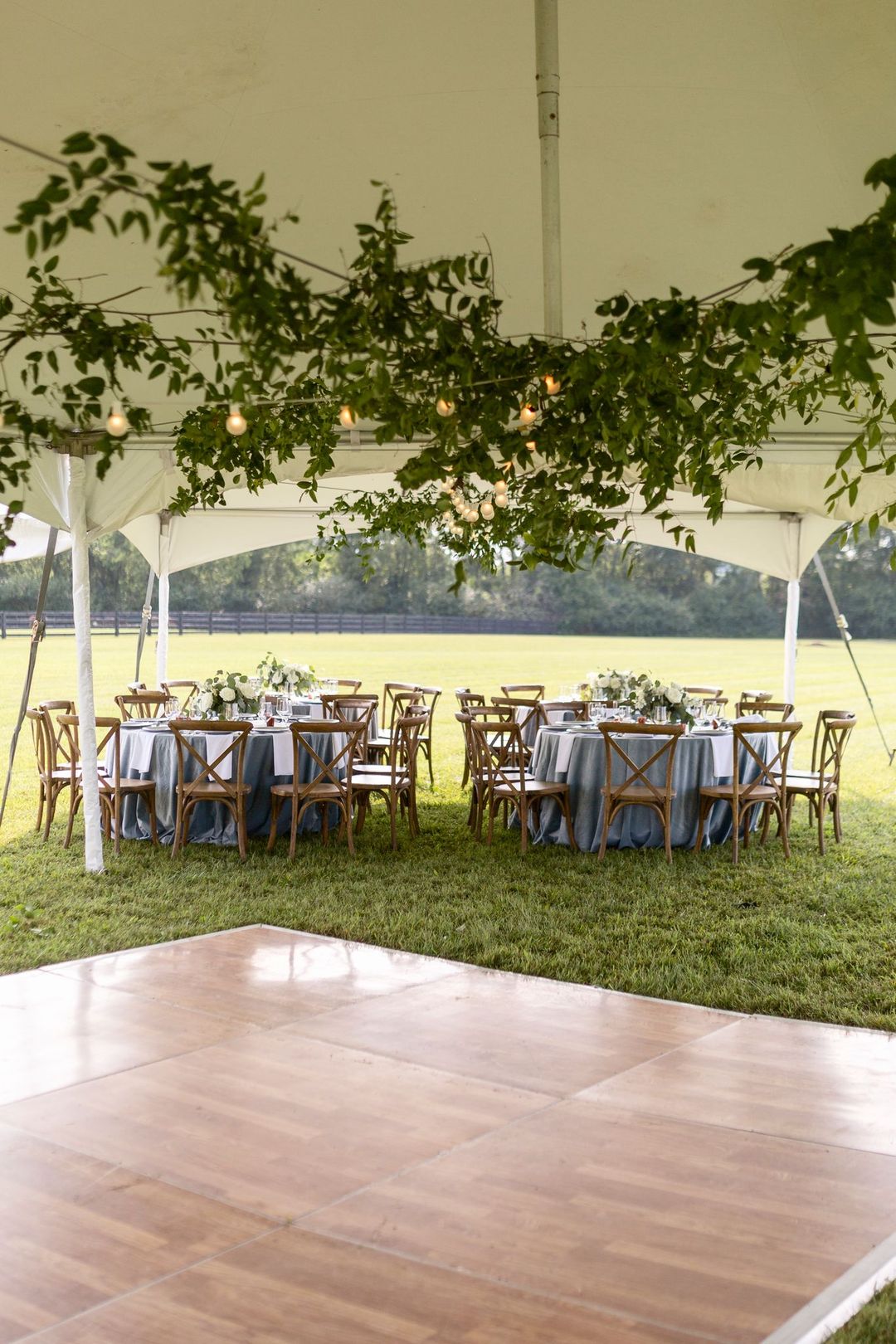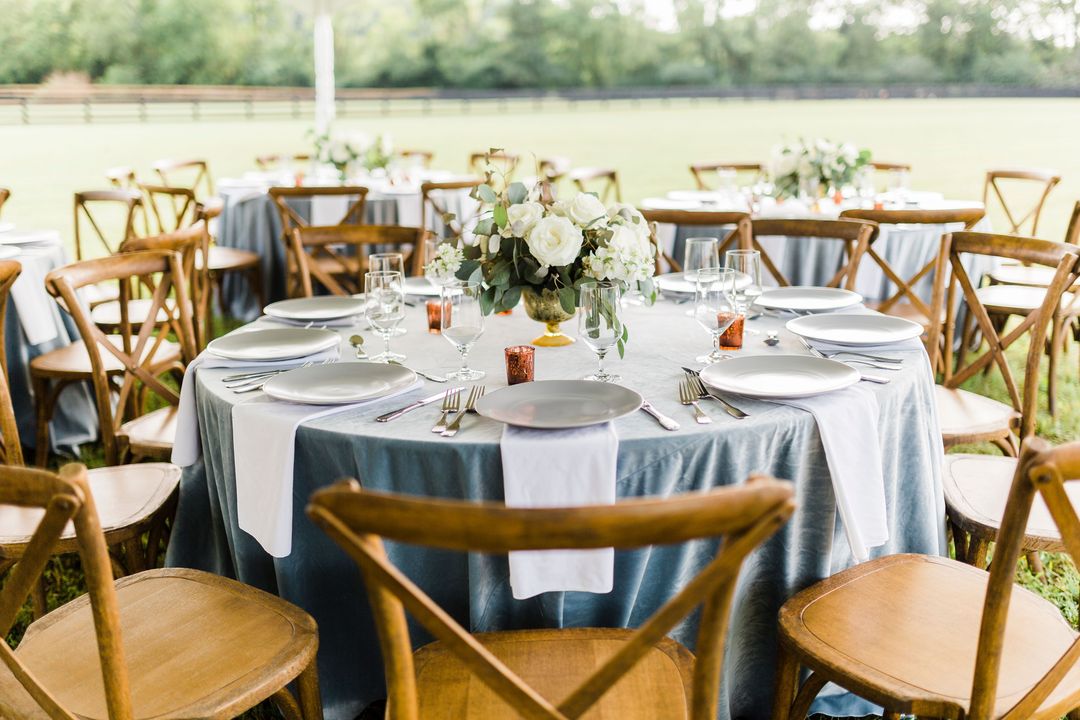 Designated Children's Area
To accommodate younger guests, consider a stylish children's seating area. Create a fun designated dining and play area on the expansive lawn beneath our Hexagon Tent. Featuring children's furniture, such as our Fruitwood Farm Table and Cross-back chairs, it is cozy yet stylish. Our team would love to help you come up with a unique children's area that aligns with your unique wedding style or theme!
Ready to plan your wedding at Pinewood Retreat? Contact our team at info@southerneventsonline.com for help recreating this luxe set up, or for help creating a wedding look of your very own!
TAGS | Tennessee Weddings, classic southern wedding, pinewood retreat, pinewood retreat wedding
FEATURED RENTALS | cross back chairs, fruitwood folding chairs, bistro tables, hexagon frame tent, alabaster china, hammered flatware, pure glassware, lounge packages, children's fruitwood farm table, children's cross back chairs,
---
28

Jan

Events and Style Shoots, Nashville Venues, Real Nashville Weddings, Southern Events Products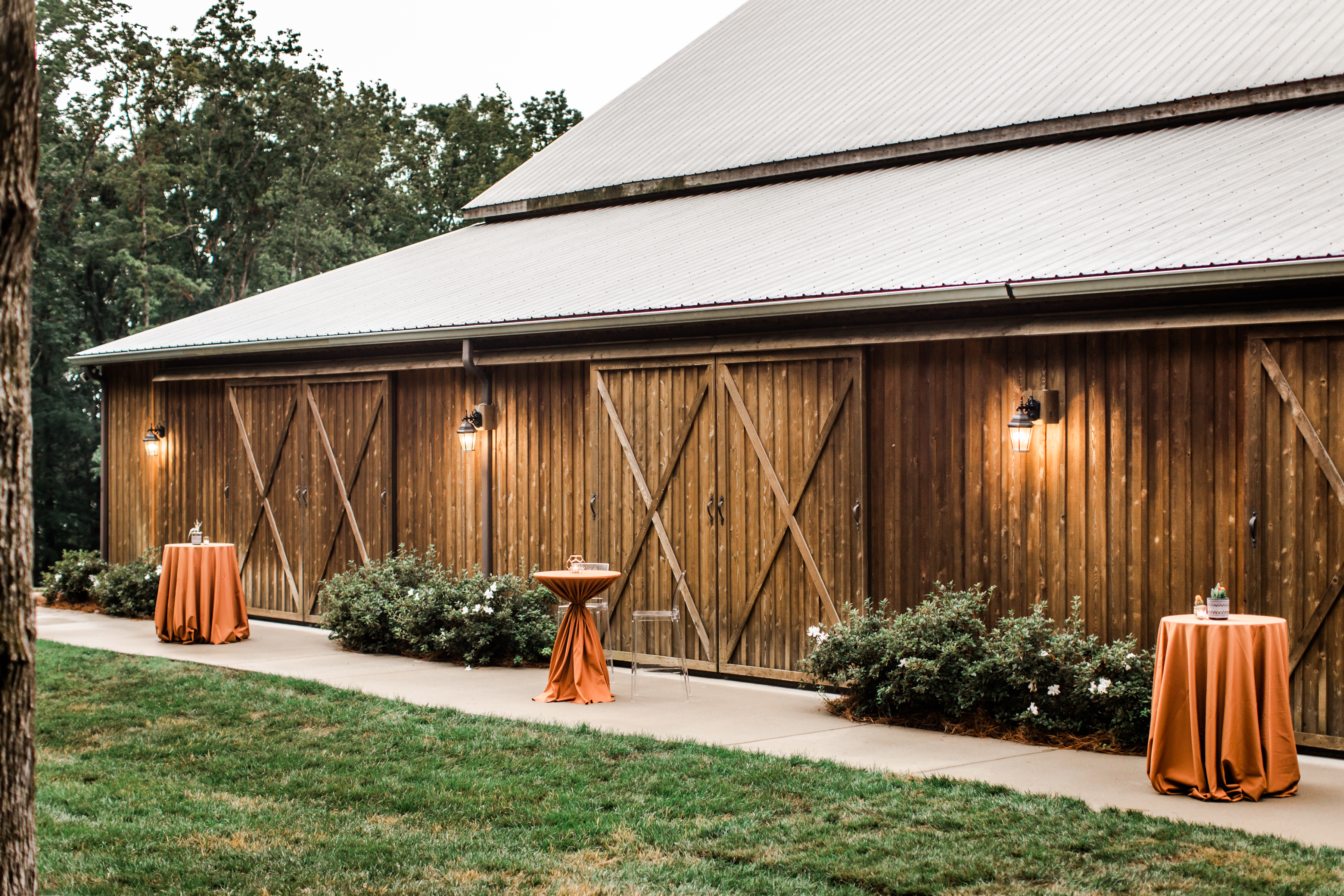 In search of a secluded country atmosphere for your future wedding? Located in Murfreesboro, Tennessee, Saddle Woods Farm is a Southern old-style cedar wood barn situated on 25 beautiful acres. To help inspire you for your event, check out a variety of ways that you can dress up this stunning Tennessee wedding venue, featuring our modern & stylish rentals.
Modern & Minimalistic Neutrals
One of our favorite wedding trends is neutral wedding palettes, which lend a timeless look to any event! This style is easy to pull off at The Barn, full of warm woods and southern charm. For this tablescapes, we featured our Glass Charger with a Gold Rim, Alabaster China, Austin Gold Flatware, Colored Glassware & Pure Glassware. The simple but luxe centerpieces were made using voluminous arrangements of pampas grass and our sleek Davis Glass Cylinders. With their large vaulted ceiling, we can't resist going big with decor!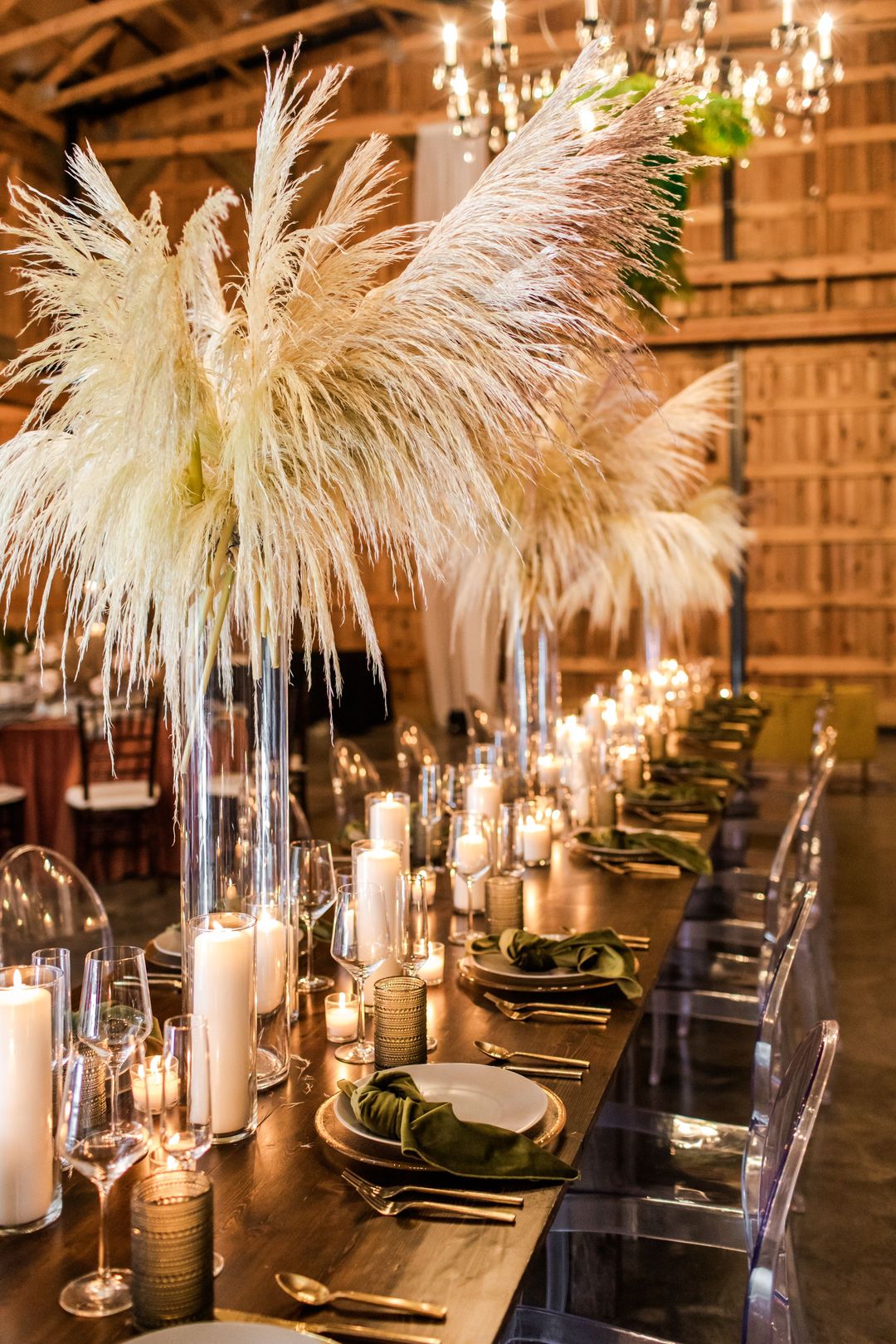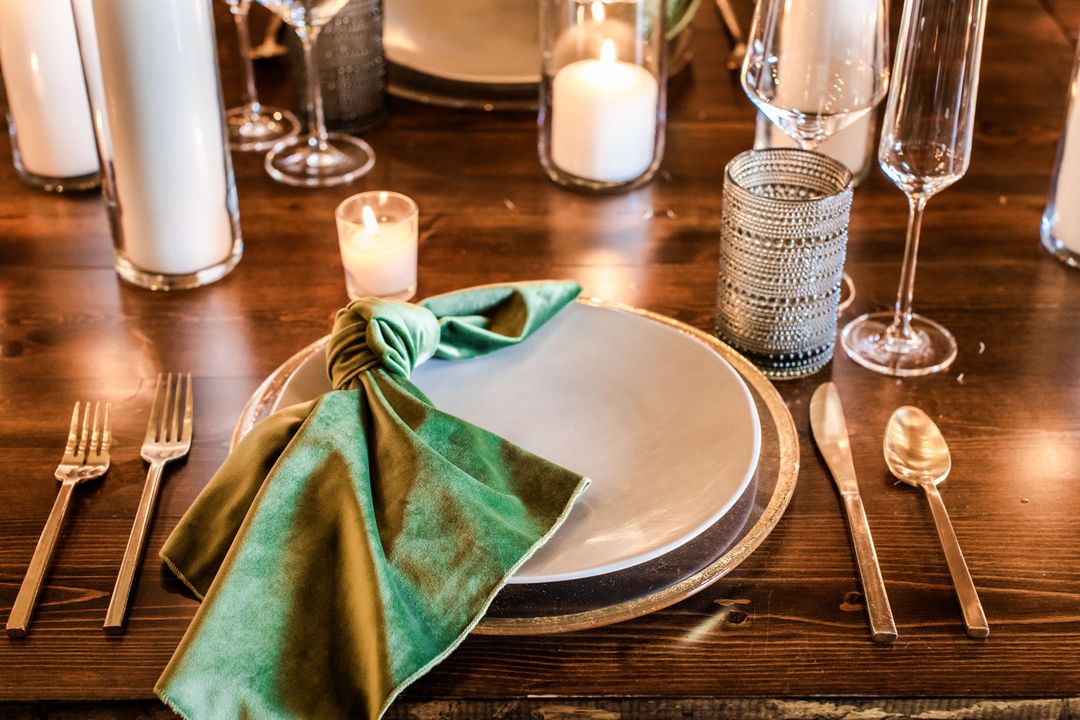 Bright & Bold
If you're a couple who wants a less traditional look, we say rock some bright and bold colors! The warm tones at Saddle Wood, provided by cedarwood and iron details, contrast beautifully with bright shades. The following boho-inspired table packs a fun punch of color via our Burnt Orange Poly Table Linen and gold metallic accents. For a chic statement lounge area, check out our Saylor Navy Velvet Chairs, paired with a set of elegant Rhodes Side Tables and trendy Gloria Velvet Ottoman. It's the perfect mix of both bold and classic colors.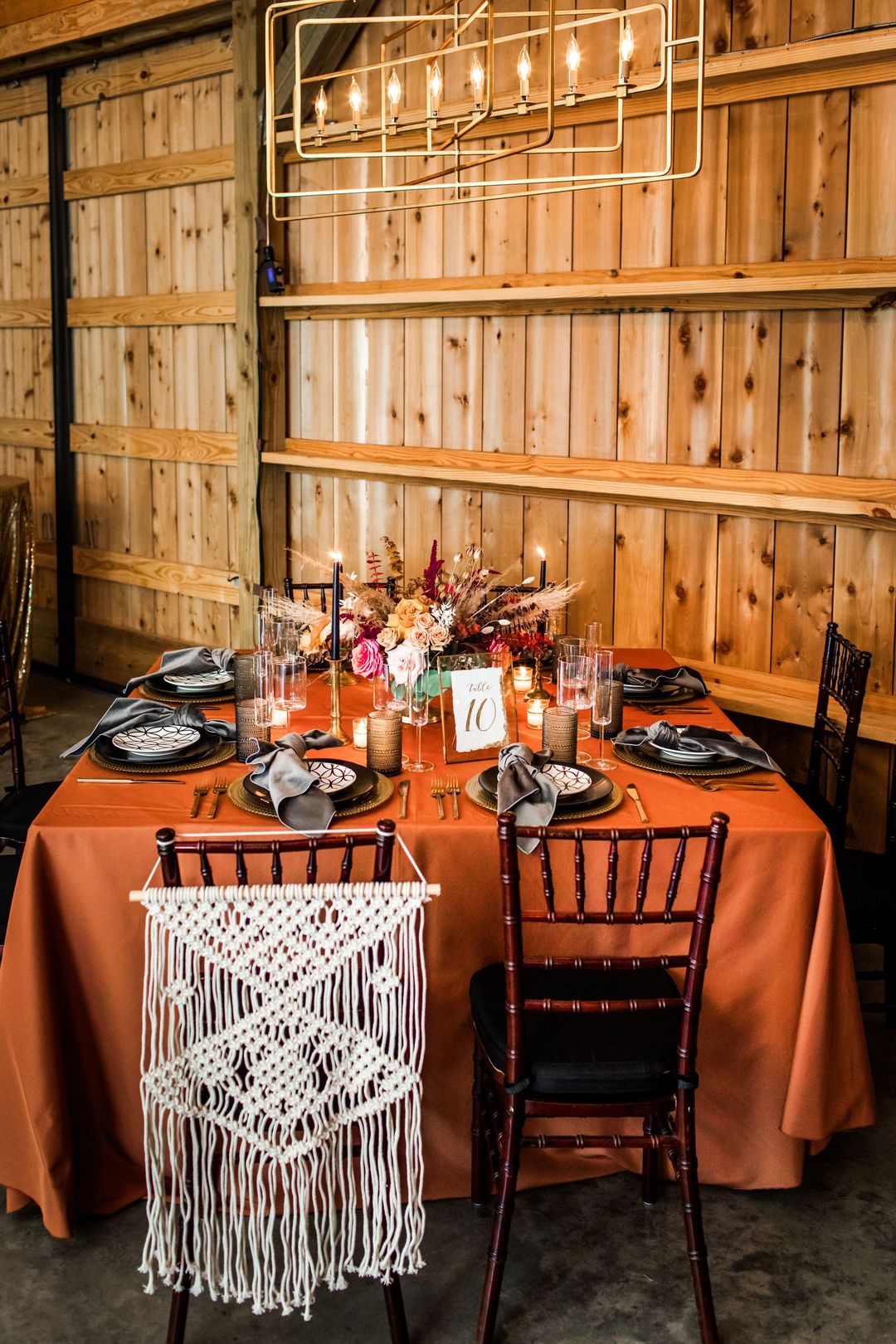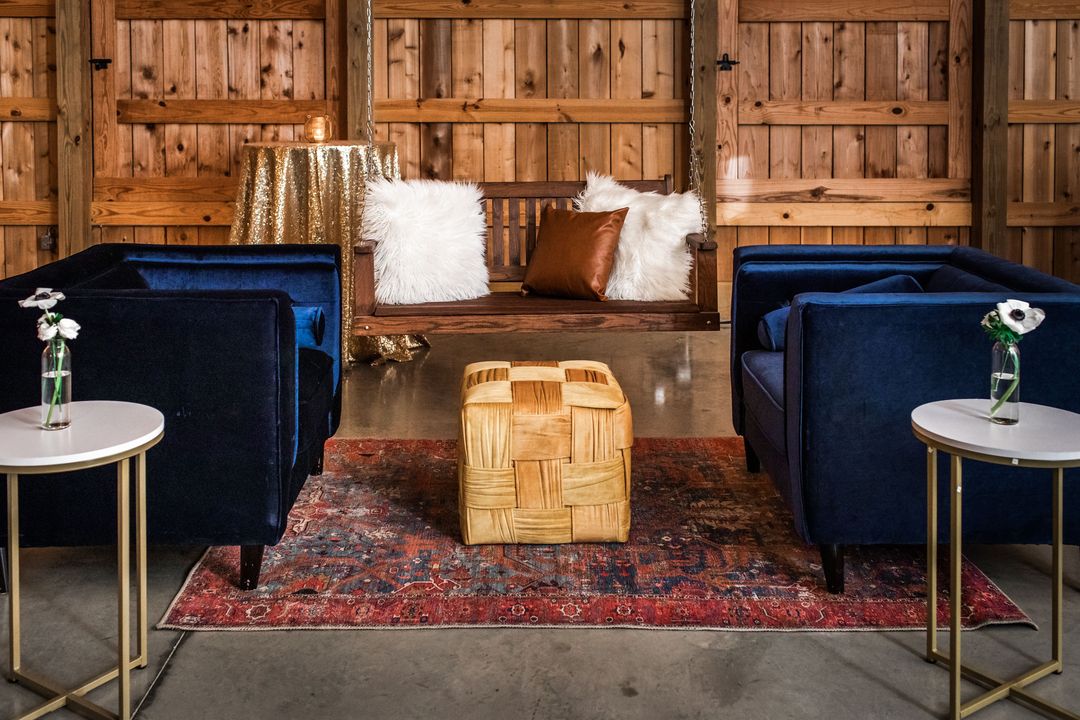 Dark, Moody & Chic
While Saddle Woods has more rustic elements, tt looks equally gorgeous when outfitted with our luxe black rentals. Although non-traditional, this color is sure to lend a moody yet chic vibe to your event and the space. Below is a luxe sweetheart table paired with our contemporary Acrylic Ghost Armchairs. Behind it, you'll notice a small lounge made with our stylish Regent Black Velvet Sofa and Echo Silver Mirror Side Tables. For the dinner table check out our Glass Charger with a Silver Rim, Onyx & Stone China, Hammered Flatware. The Black Nova Linens and a dab of pink in the centerpiece add a small touch of whimsy.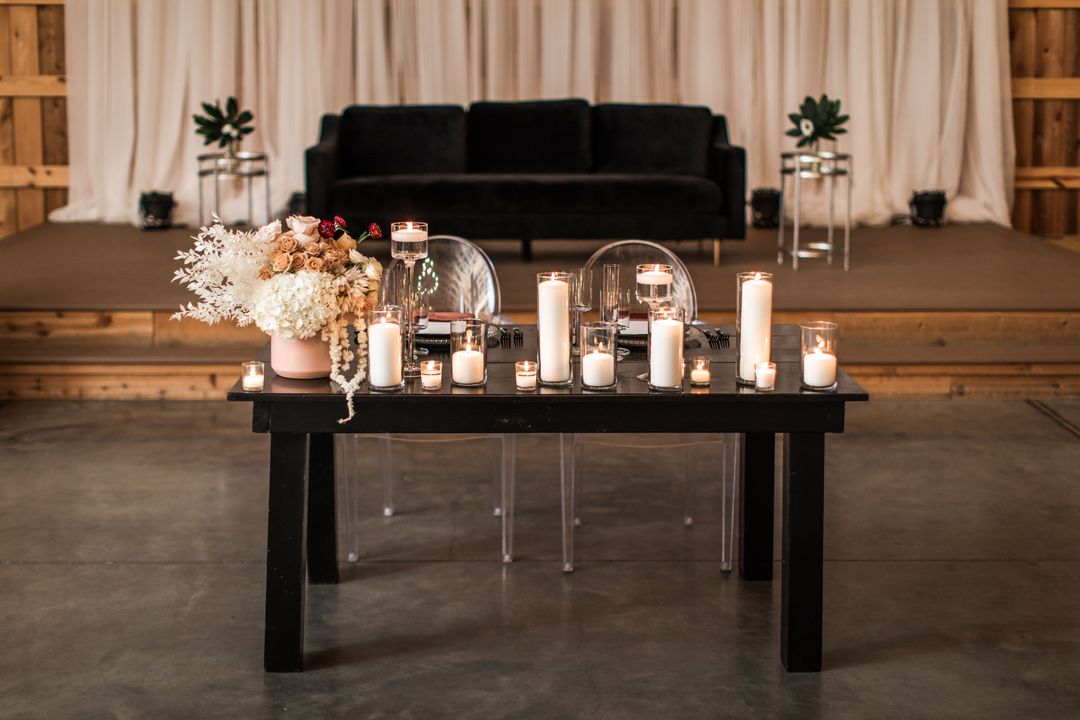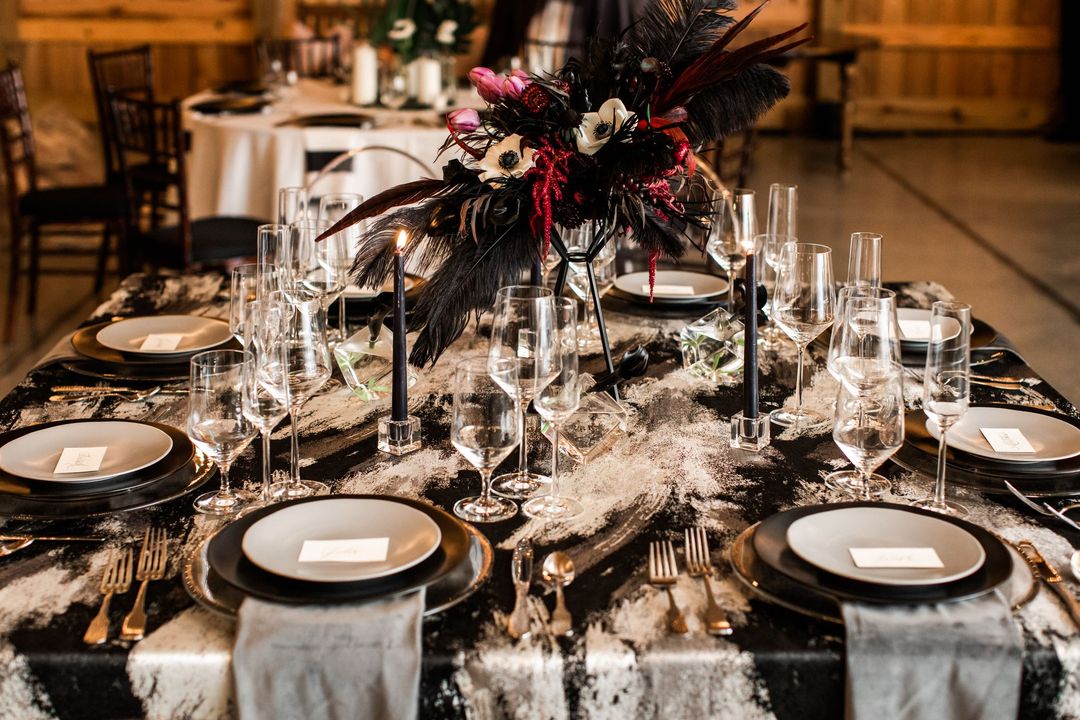 Classic Romance
Should you prefer a traditional wedding look, then you'll love this romantic set up. With the cedar rafters decorated with string lights, greenery and blush drapery, the Barn looks absolutely magical. To complement it, we dressed the reception tables in a mix of both burgundy and blush linens surrounded by cozy social areas. These areas feature our cowhide rugs and Conga Gold Drum Side Table as well as Bennett Leather Sofa, Grey London Loveseat and  Cheval Gold Side Tables.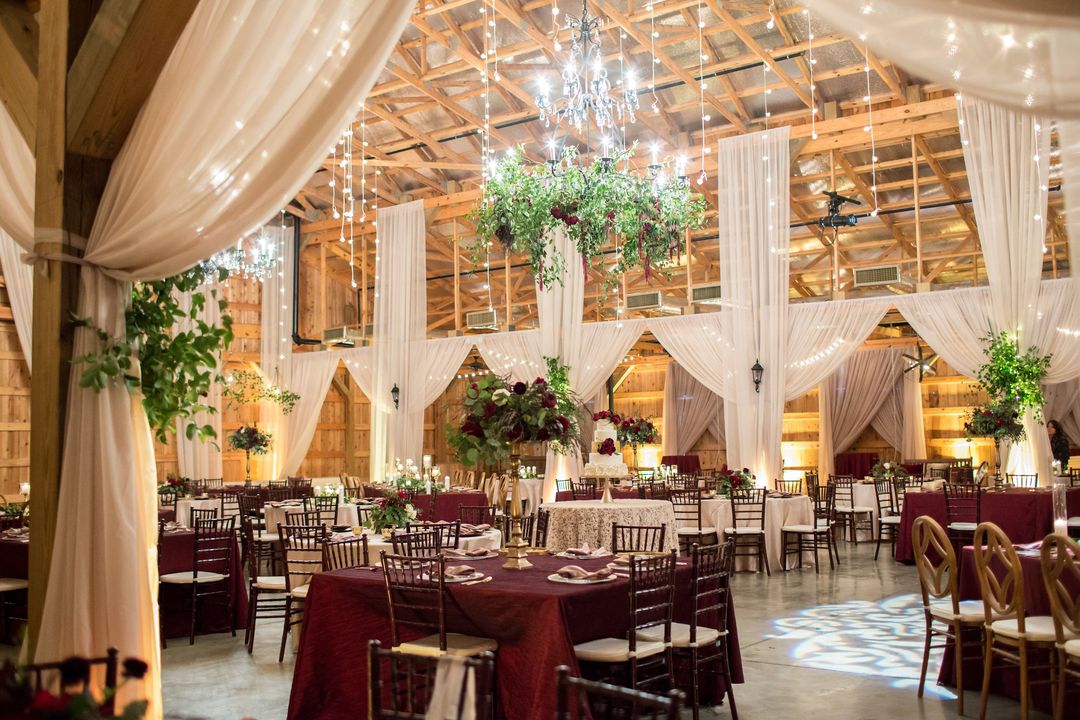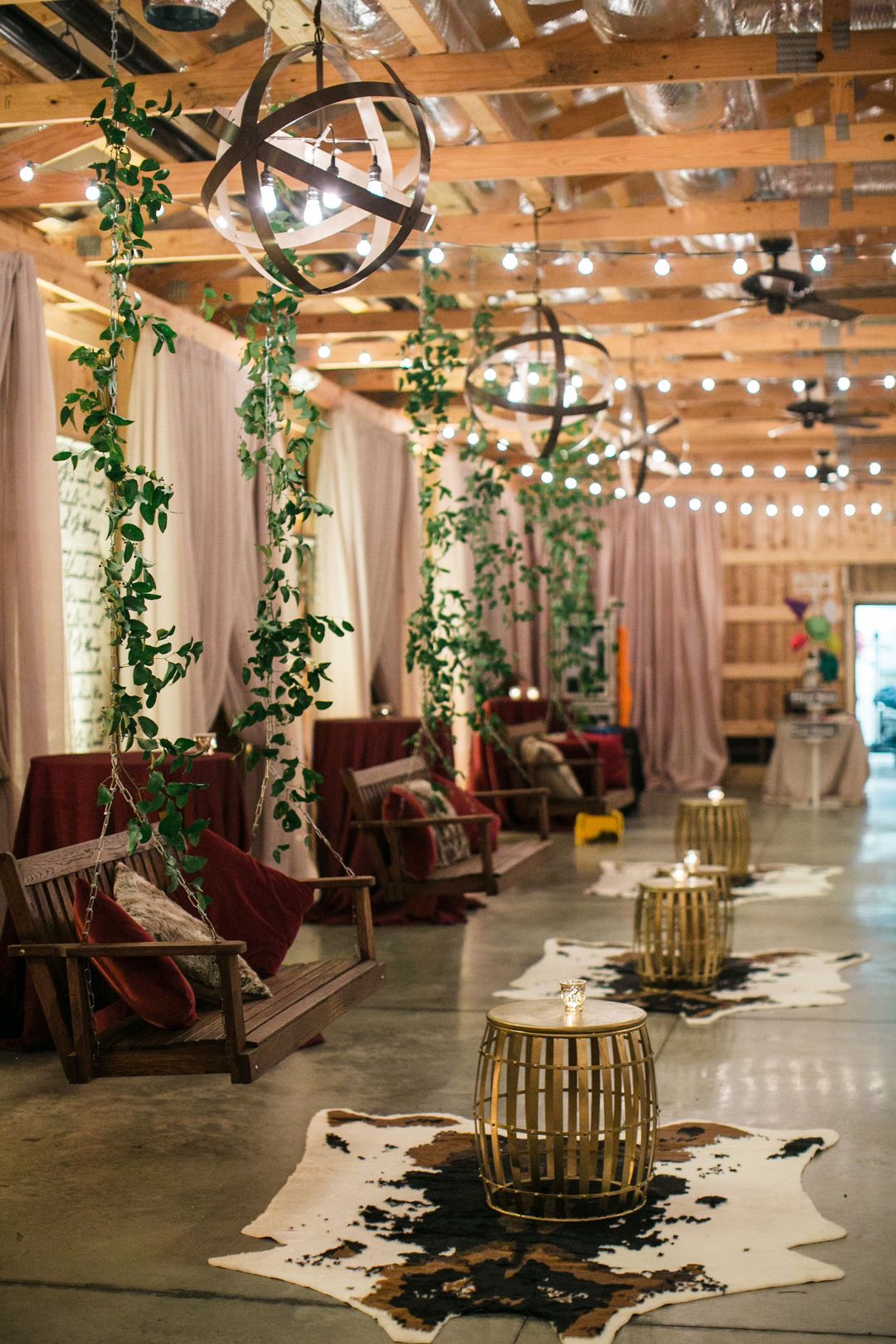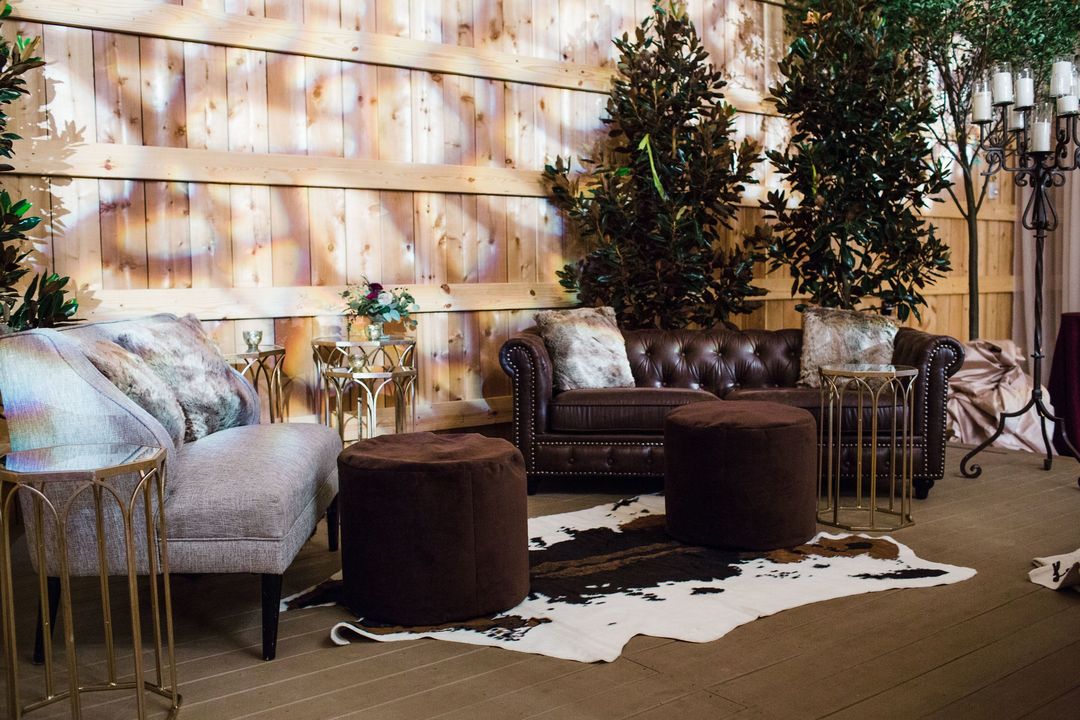 Photo by SheHeWe Photography
Luxe Outdoor Lounges
Of course, you have to take advantage of the lush landscape, which is perfect for an outdoor lounge area. Depending on the season in which you host your event, why not host a cocktail hour outside? You can easily create a variety of stylish wedding lounges, whether you want a look that is more moody, modern or chic. The following layouts include a set of our Acrylic Ghost Armchairs, Nickel Grey Bench and Regent Black Velvet Sofas.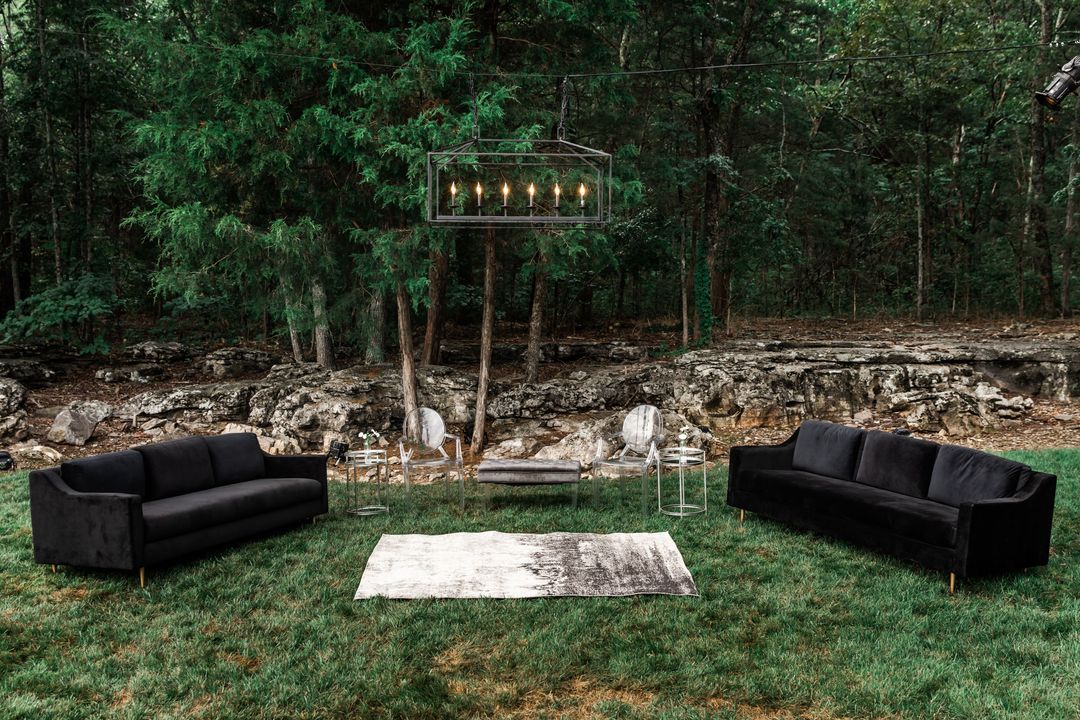 For these smaller areas, starring bistro and accent tables, seating is more minimal. See below our favorite White Eiffel Arm Chairs and Acrylic Casper Square Barstools! For additional texture, consider using our sequin table linens or etched velvet linens.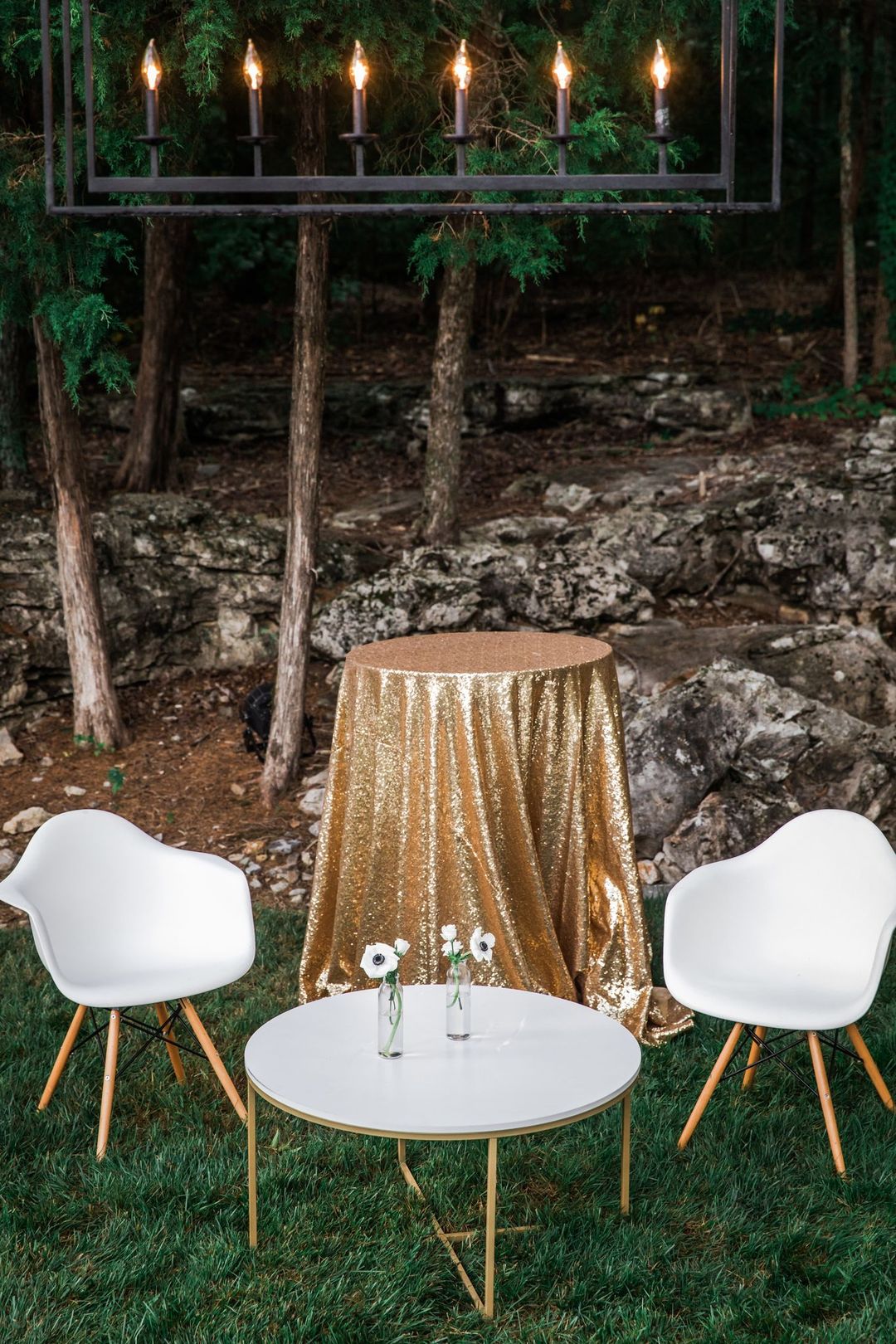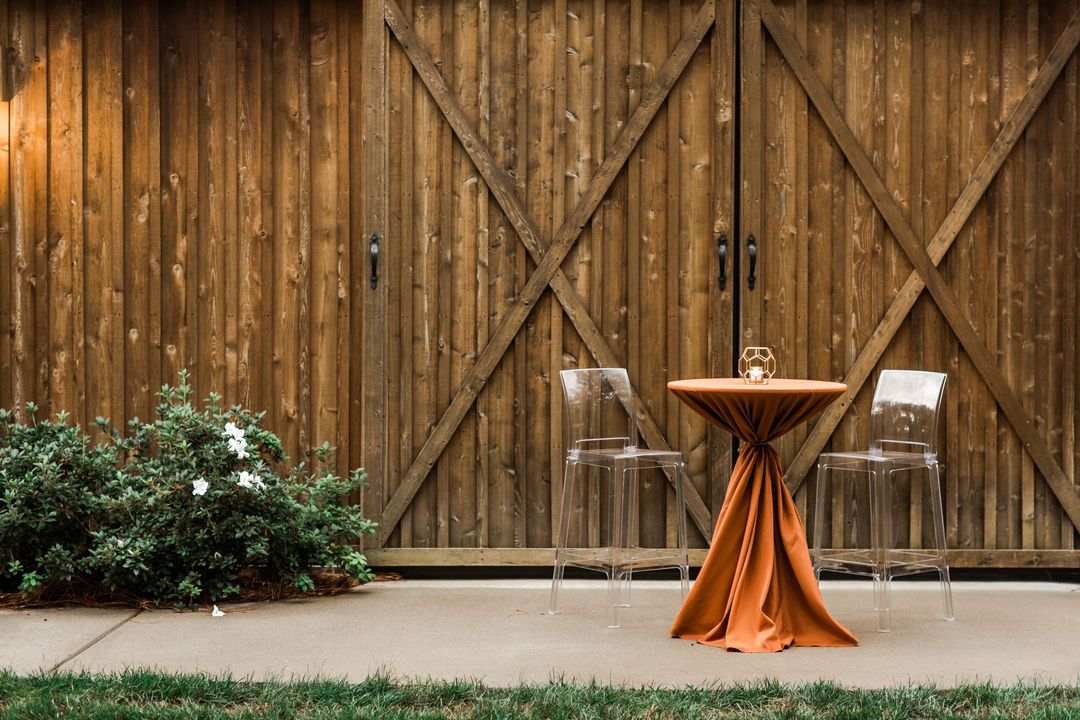 Planners: Southern Honey Events & Erin Lynn Events
Photographer: Nyk & Cali
Florals: Amy & I Designs & Larson Floral Co.
Lighting: Nashville Event Lighting
Signs: White Ink Calligraphy
Ready to plan your wedding at Saddle Woods Farm? Contact our team at info@southerneventsonline.com for help recreating one of these luxe looks, or for guidance in creating your very own!
TAGS | Nashville Real Wedding, Saddlewood Farms, Style Shoot, classic southern wedding, nashville venue
FEATURED RENTALS | Acrylic Ghost Armchairs, White Eiffel Arm Chair, Etched Velvet Linens, Sequin Linens, Glass Charger with a Gold Rim, Alabaster China, Austin Gold Flatware, Colored Glassware, Pure Glassware, Davis Glass Cylinders, Nickel Grey Bench, Burnt Orange Poly Linens, Glass Charger with a Silver Rim, Onyx & Stone China, Hammered Flatware, Black Nova Linens, Regent Black Velvet Sofas, Belmont Charger, Onyx China, Cybil Glassware, Cameron Flatware.
---
16

Apr

Southern Events Products, Trends and Inspiration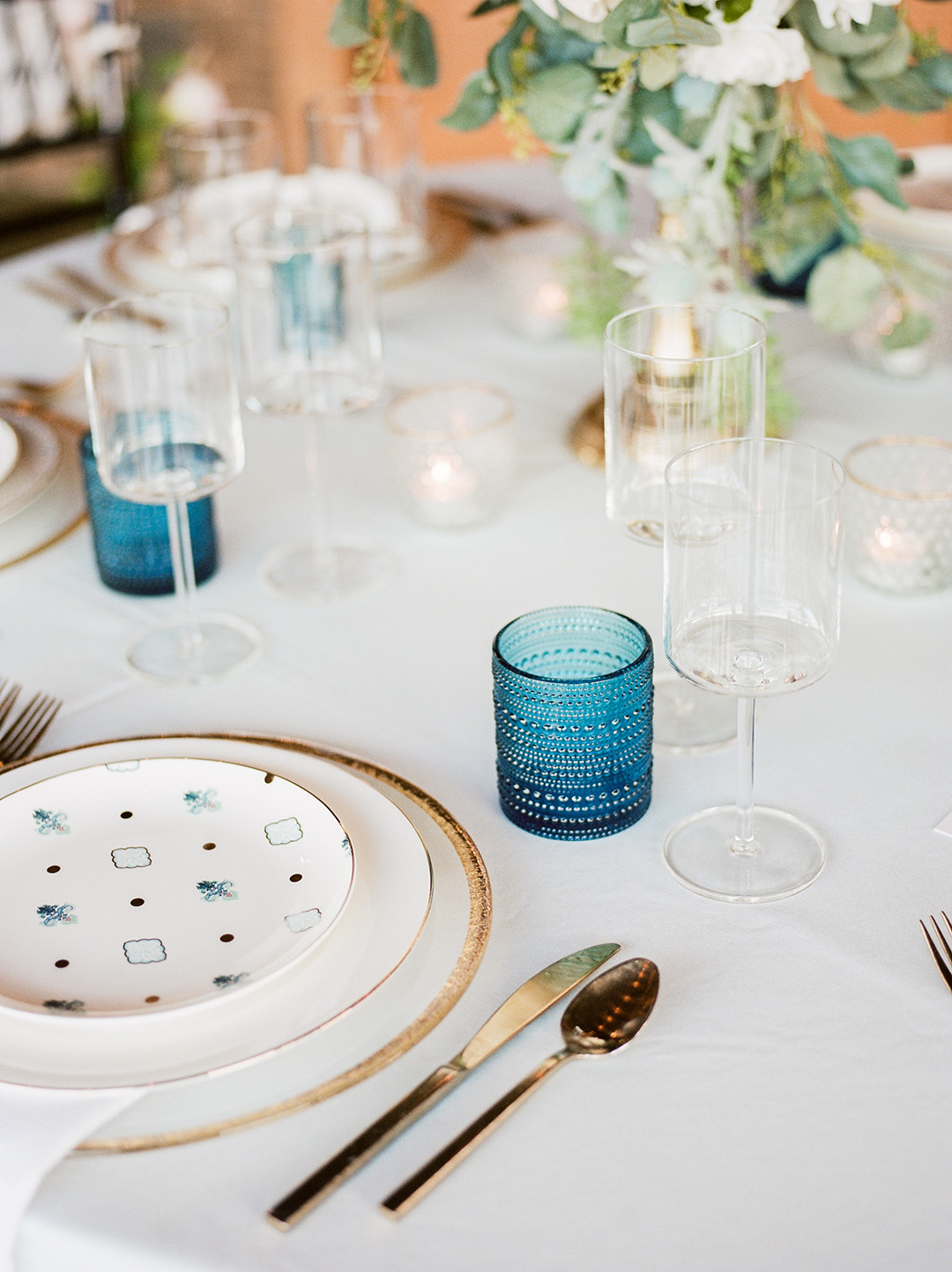 Though we hope every event goes off without a hitch, postponing or rescheduling weddings and events happens. But you don't have to sacrifice your event style for a shift in seasons with these classic, season-less event design tips & rentals from Southern Events.
Natural Notes
Take a note from nature to plan your event color scheme. Blues, teals, and greens are classic colors that can easily transition your event rentals from one season to the next. We love our Saylor Velvet Sofa and Chairs, Ocean Blue Velvet Linens, Coronado Salad Plates, and Fern Velvet Linens for the perfect pop of season-less event design color.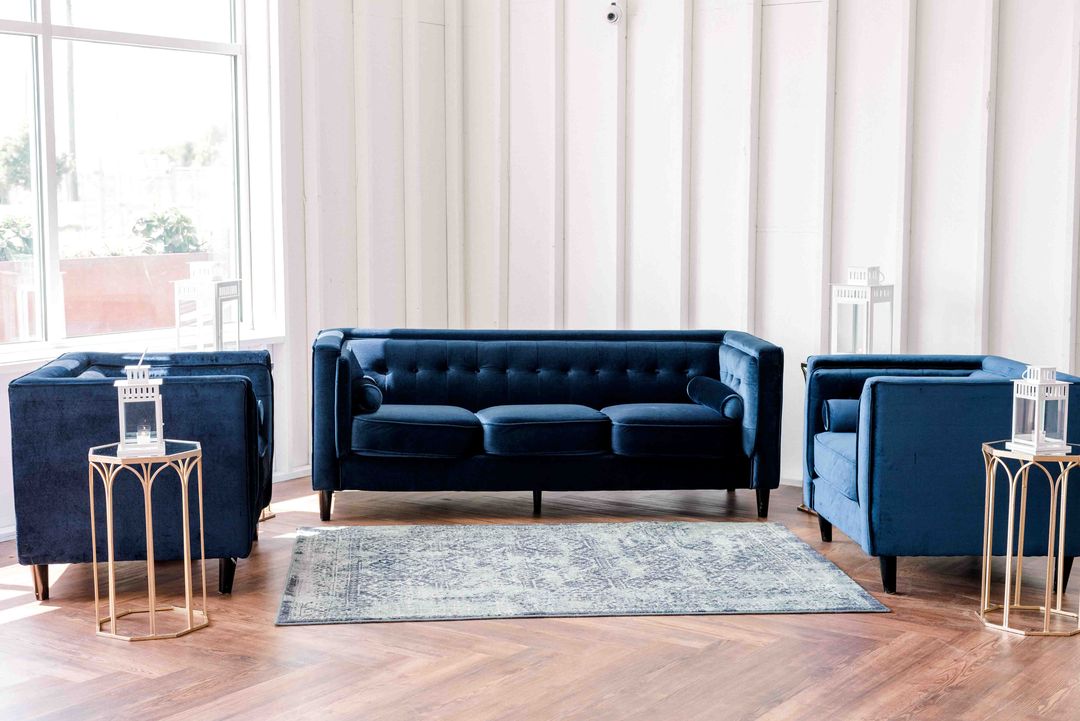 Photo | CeeCee Photography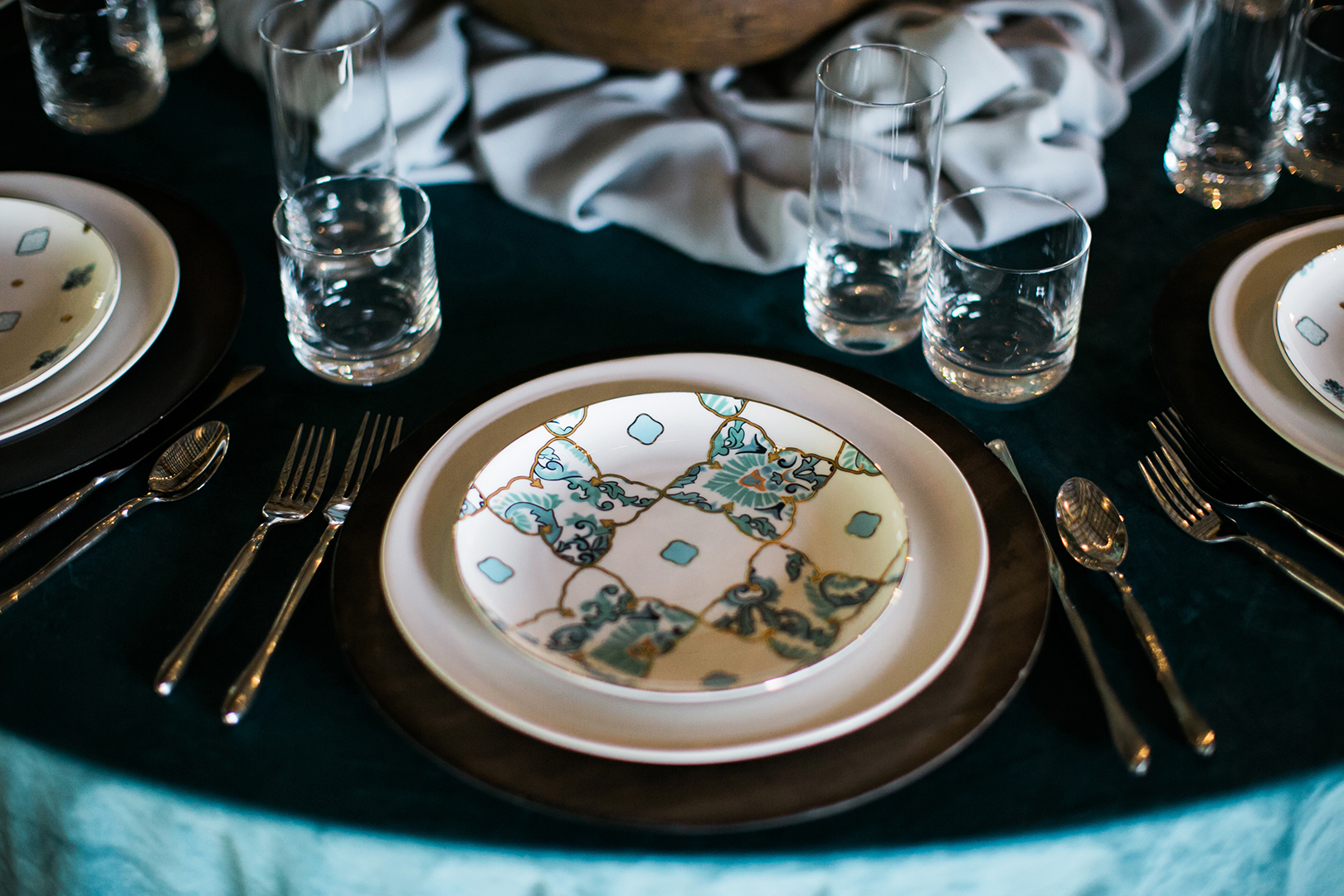 Photo | Jen & Chris Creed Photographers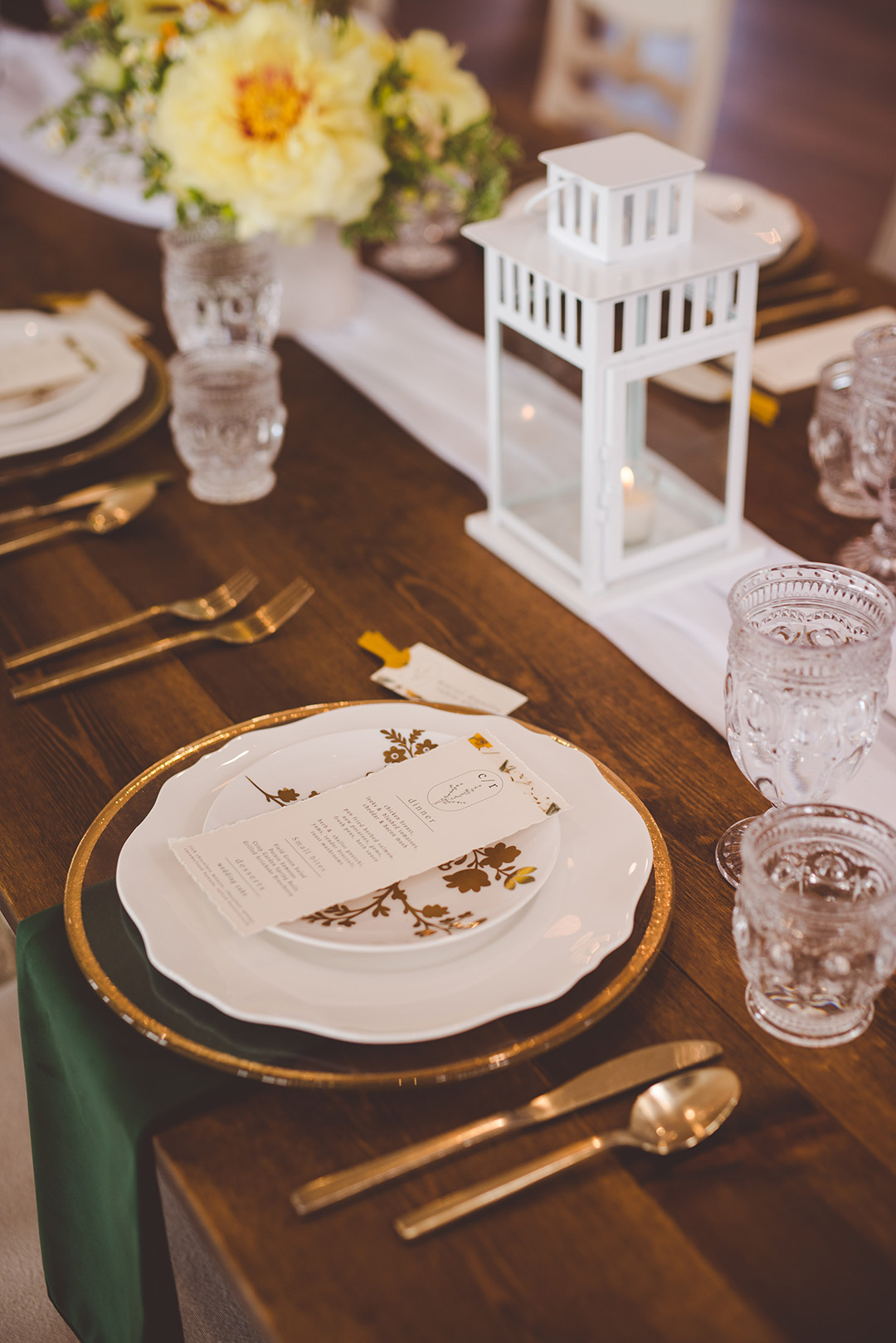 Photo | Rachel & Garren Photography
Farm-to-Table
Always appropriate, especially in the rolling countryside of middle Tennessee, a farm-to-table style is perfect for any type of event – no matter the season. Go for timeless rustic rentals with our classic Farm Tables, Cross-back or Bentwood Chairs, Kennedy Textured Linens (a polished update to burlap), and Artisan China.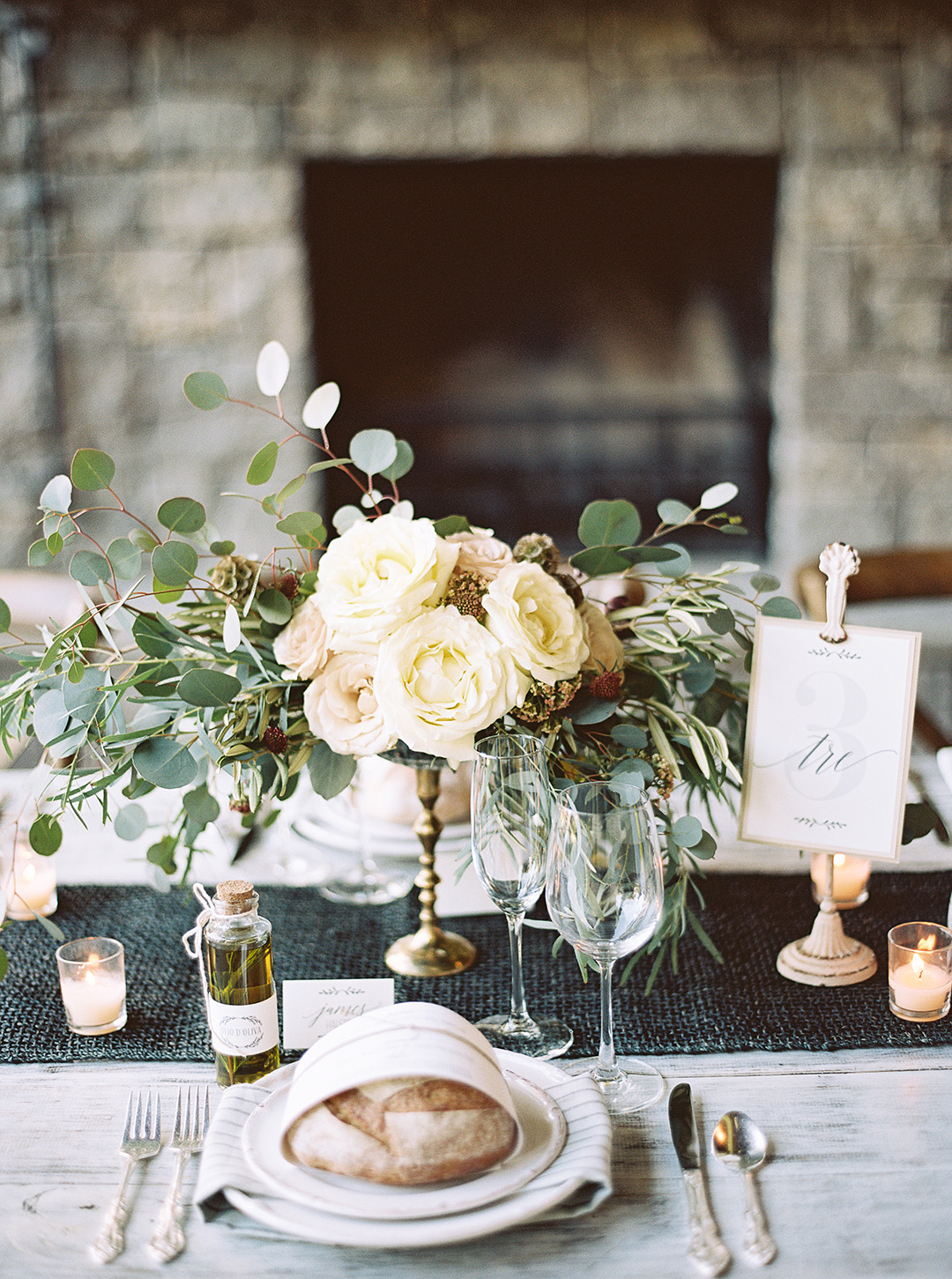 Photo | Julie Paisley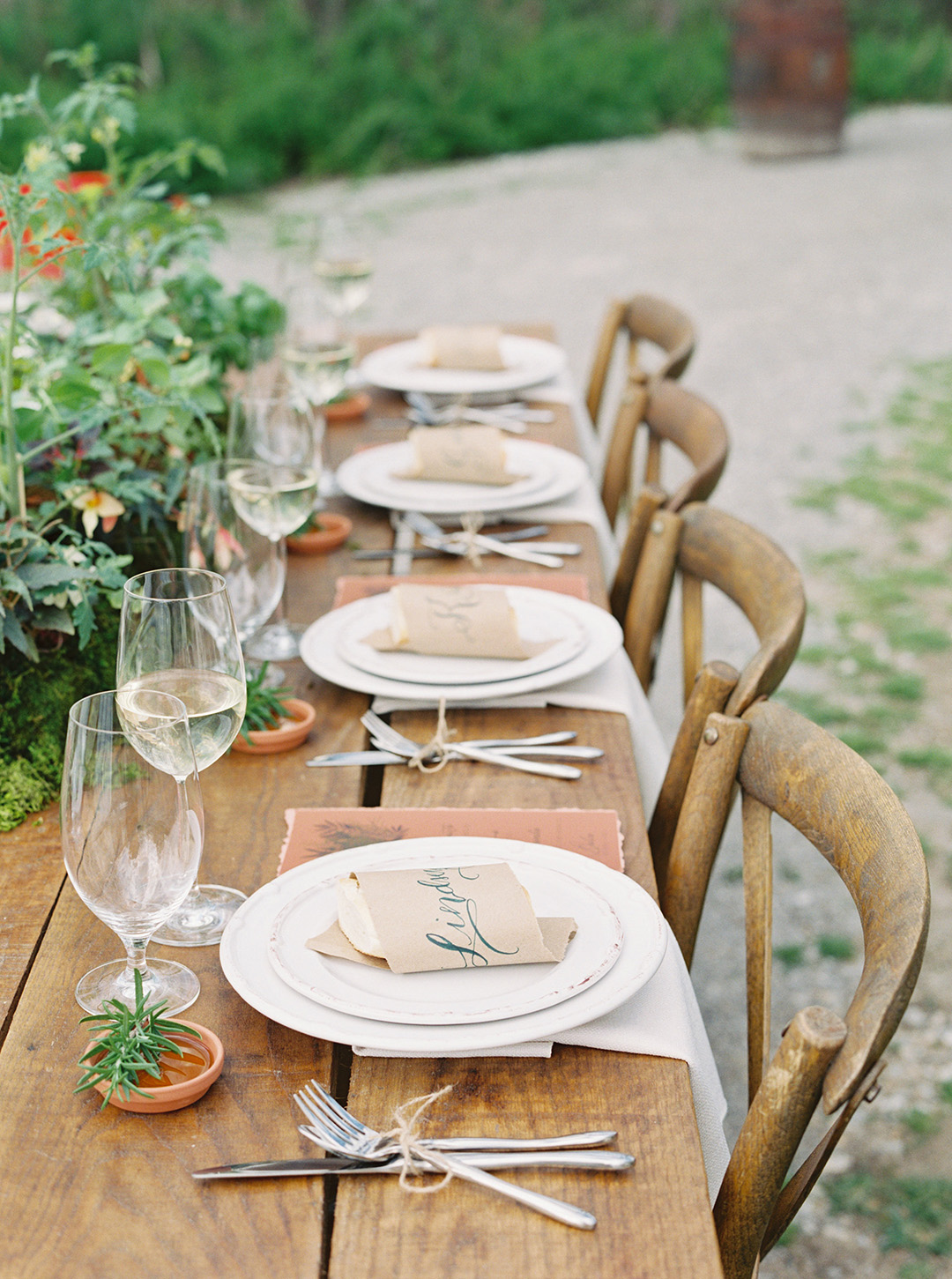 Photo | Cassidy Carson Photography
Classic Tastes
These rentals are classics for a reason! Timeless and season-less, mix and match our Athena, Hamlet and Ophelia Gold China with modern Austin Flatware and classic white or soft gray linens to set the tone any time of year.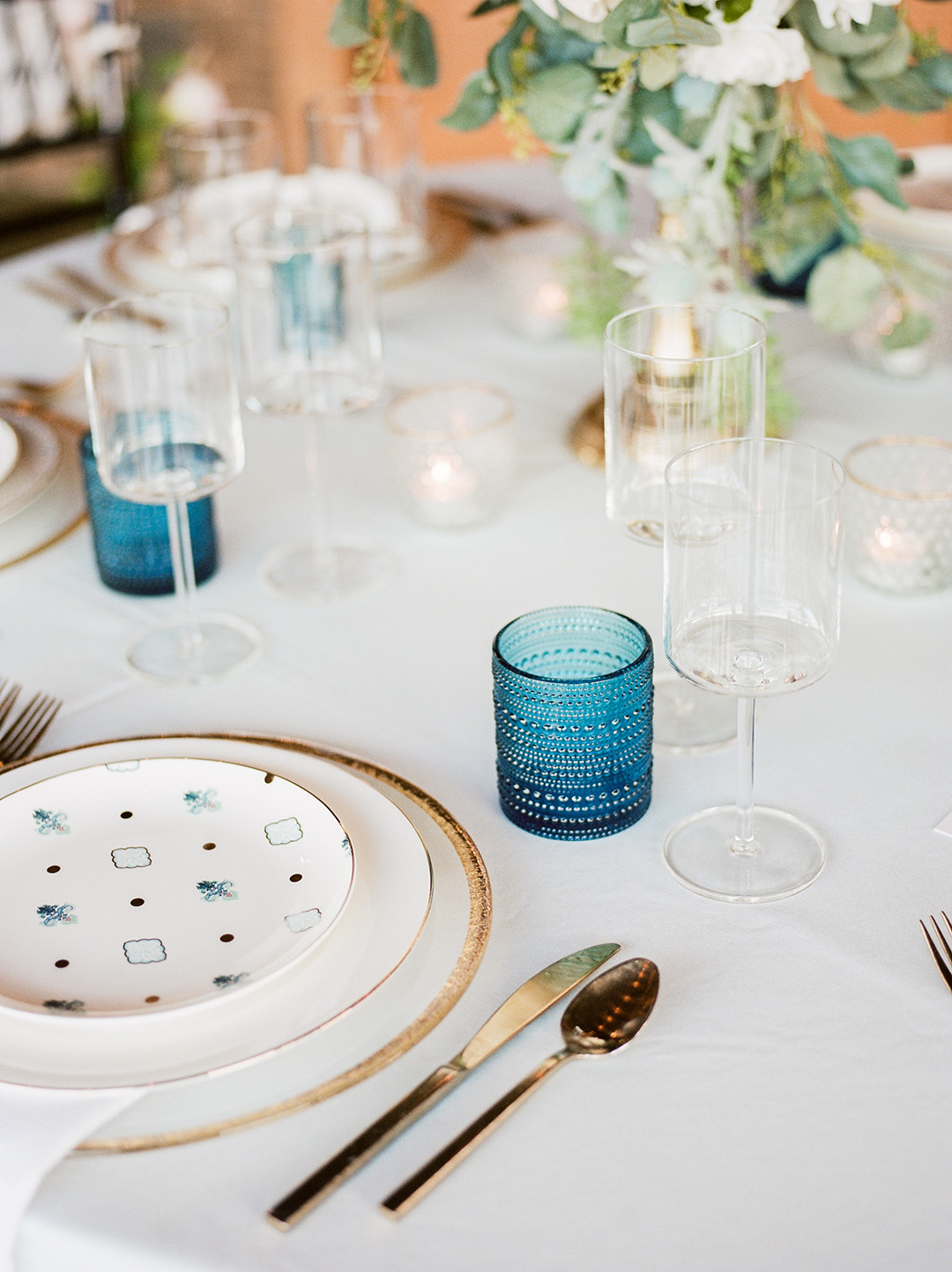 Photo | Jenna Henderson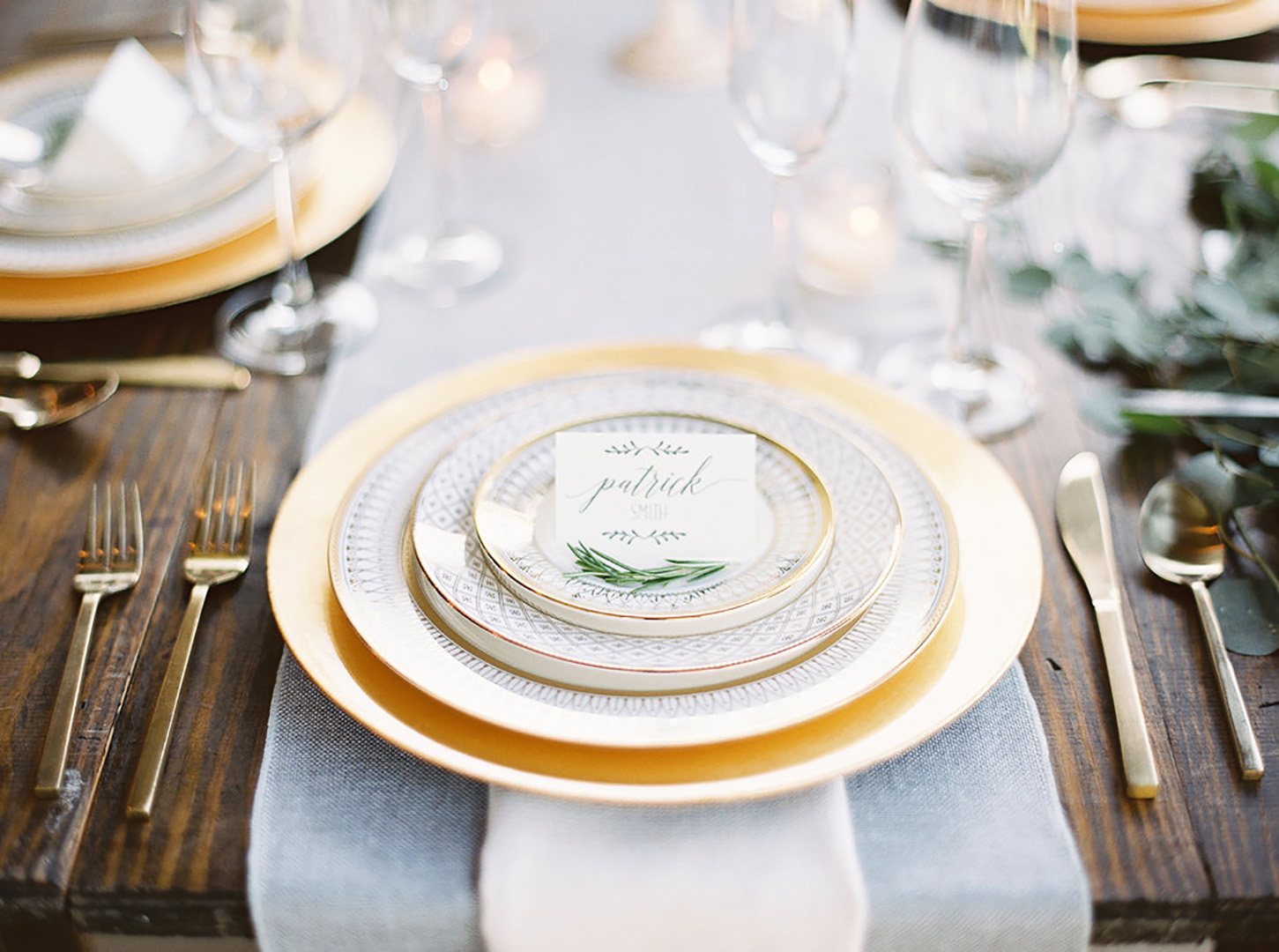 Photo | Julie Paisley
Shift to Neutral
Keeping your event color palette neutral can avoid a seasonal shift – but it doesn't have to be boring! Try layering our Grey Goose Linens with Earthen China and glittering Pure Glassware for a modern event table design, or staging your event lounge with our Henley Grey Velvet Sofa, warm wood Adeline Chairs, and Echo Silver Mirror Side Tables for a luxe lounge area.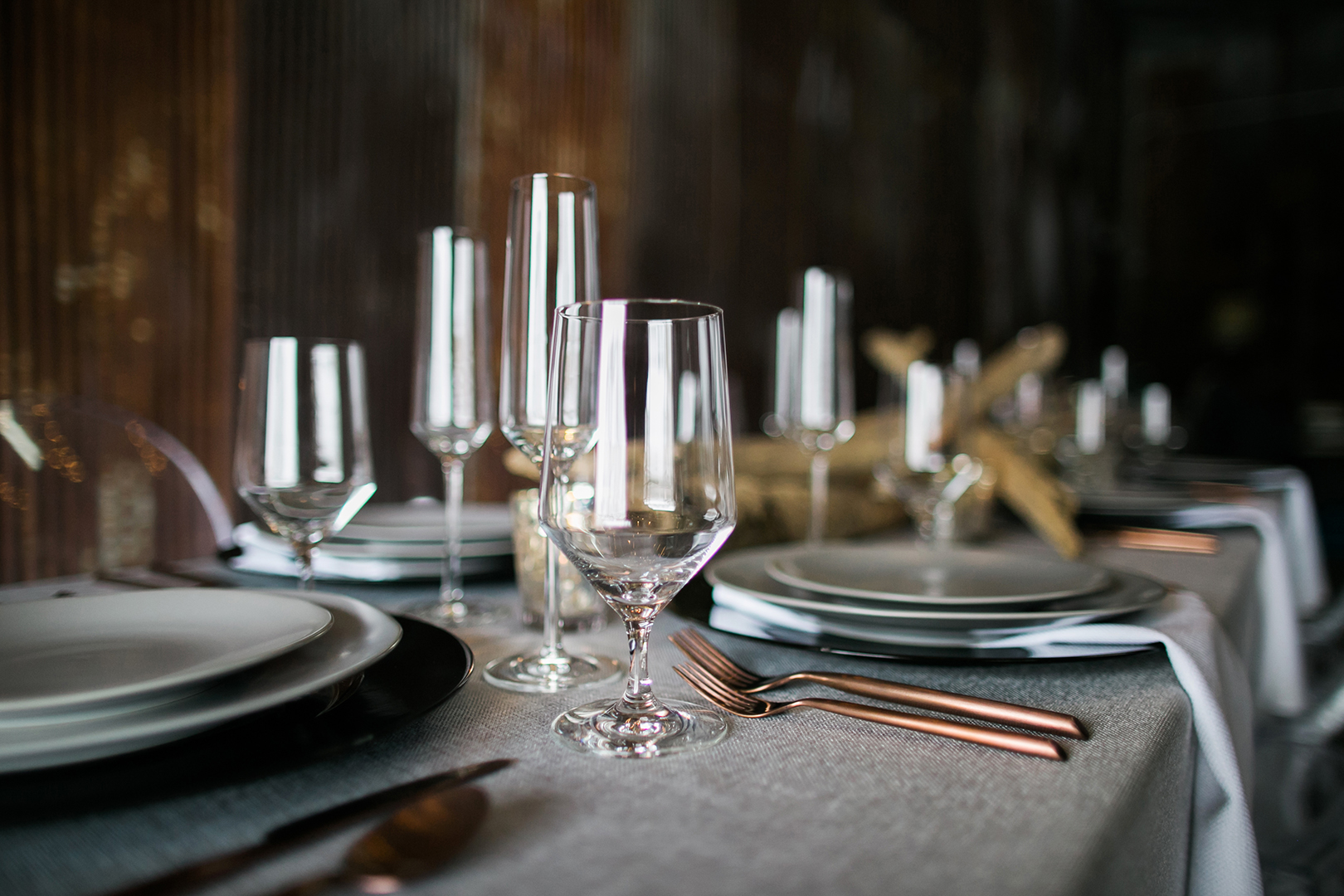 Photo | Jen & Chris Creed Photographers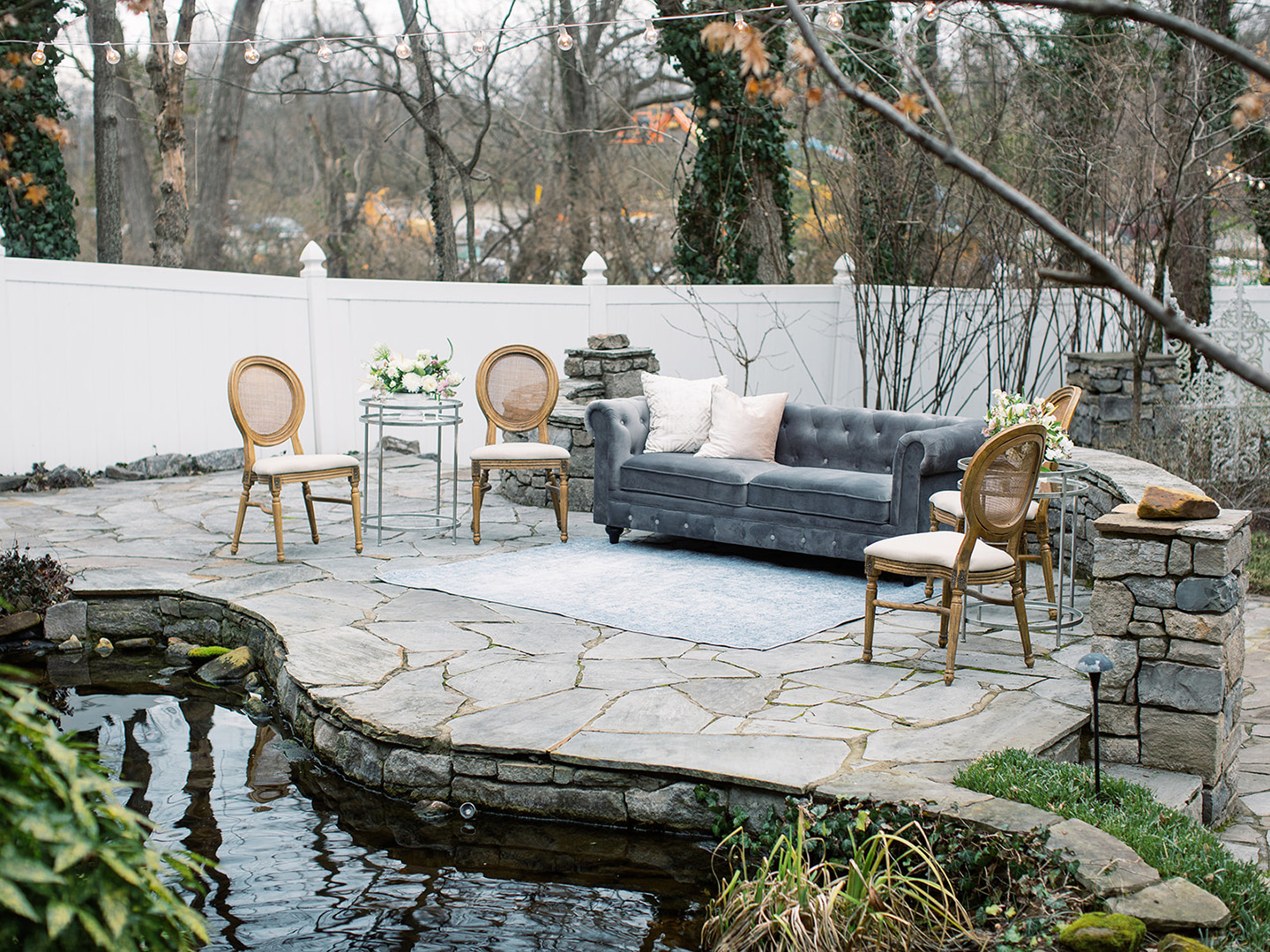 Photo | Abigail Lewis Photography
Warm + Cool
Use both warm and cool colors in varying shades in your season-less event design. This way you avoid seasonally inspired palettes – like spring pastels or rich fall colors. These colors can be mix in your florals, linens, furniture, and even flatware – like mixing our Brushed Copper Flatware and Sea Glass Velvet Linens.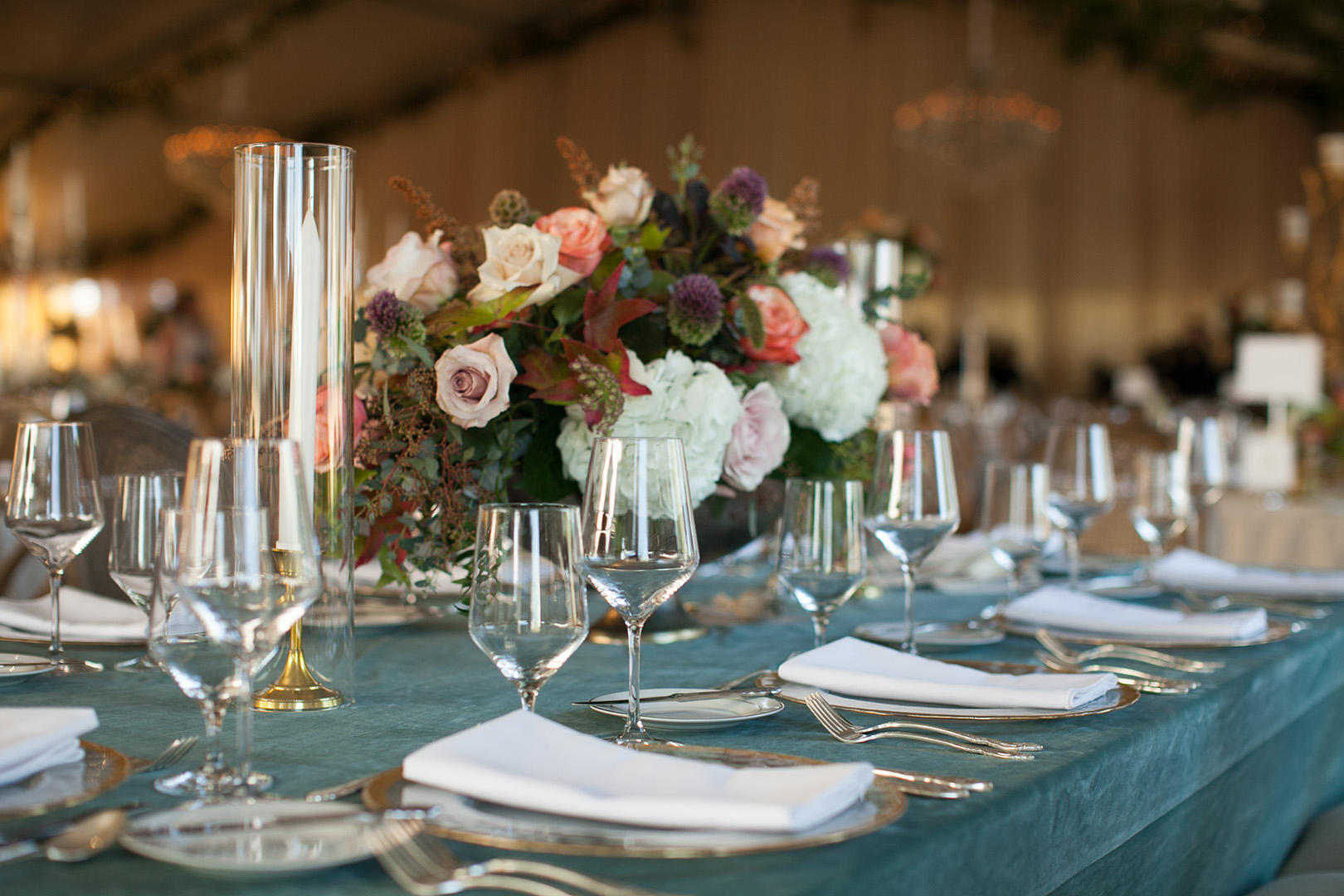 Photo | Phindy Studios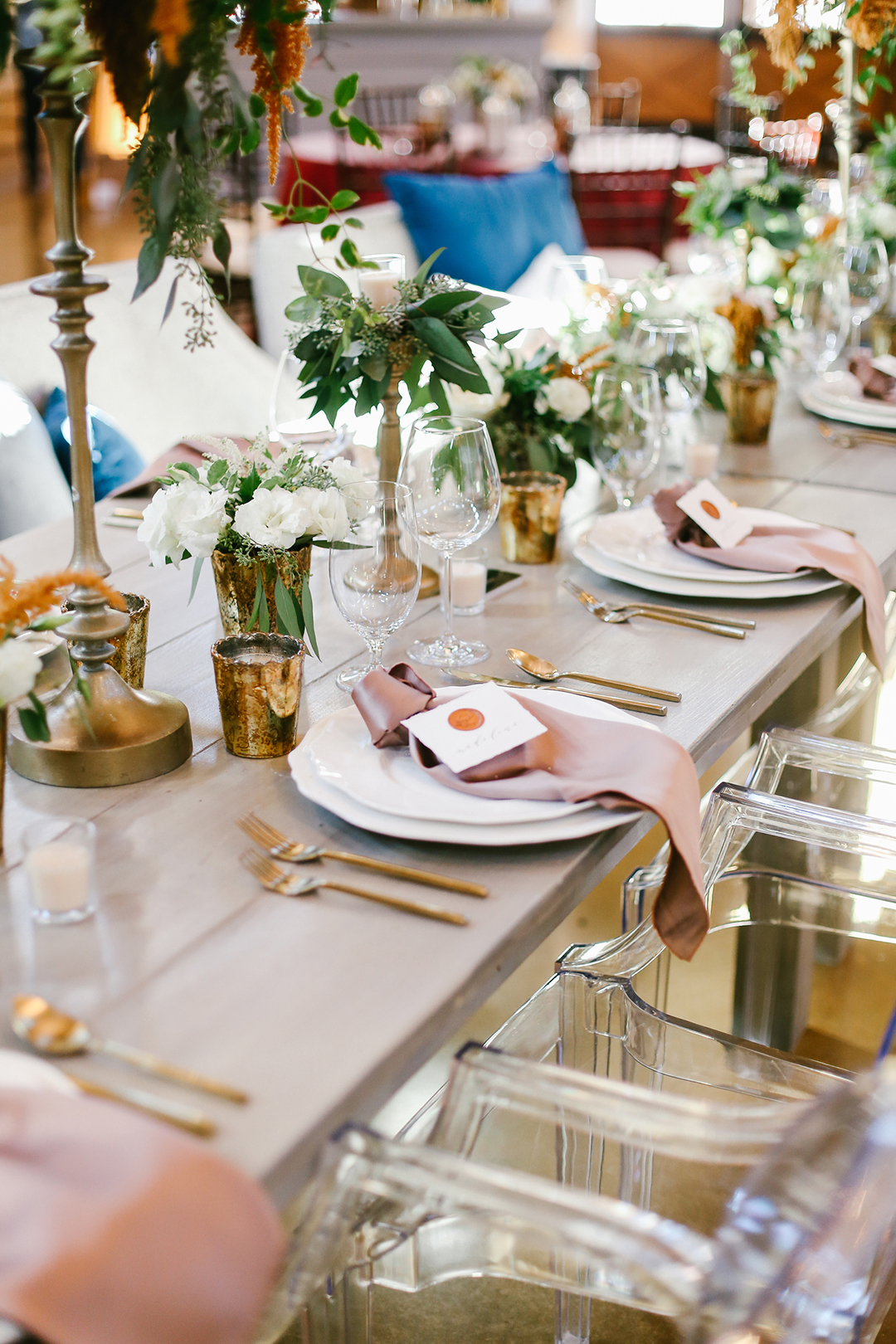 Photo | Jenna Henderson
Loving these season-less event design ideas? Contact our team for more timeless inspiration and rentals for your wedding or event!
TAGS | Southern Events Party Rental, Southern Events Party Rental Company, Southern Events Rental, classic event rentals, classic event style, classic southern wedding, farm, farm table rentals, farm to table, farm wedding, neutral event rentals, southern event rentals, timeless event rentals, timeless event style, timeless southern wedding, timeless southern wedding style
FEATURED RENTALS | Saylor Velvet Sofa, Saylor Velvet Chairs, Ocean Blue Velvet Linens, Coronado Salad Plates, Fern Velvet Linens, Farm Tables, Cross-back Chairs, Bentwood Chairs, Kennedy Textured Linens, Artisan China, Athena Gold Rim China, Hamlet China, Ophelia China, Austin Flatware, White Linens, Grey Linens, Grey Goose Linen, Earthen China, Brushed Copper Flatware, Pure Glassware, Henley Grey Velvet Sofa, Adeline Chairs, Echo Silver Mirror Side Table, Sea Glass Velvet Linen
---
2

Mar

Real Nashville Weddings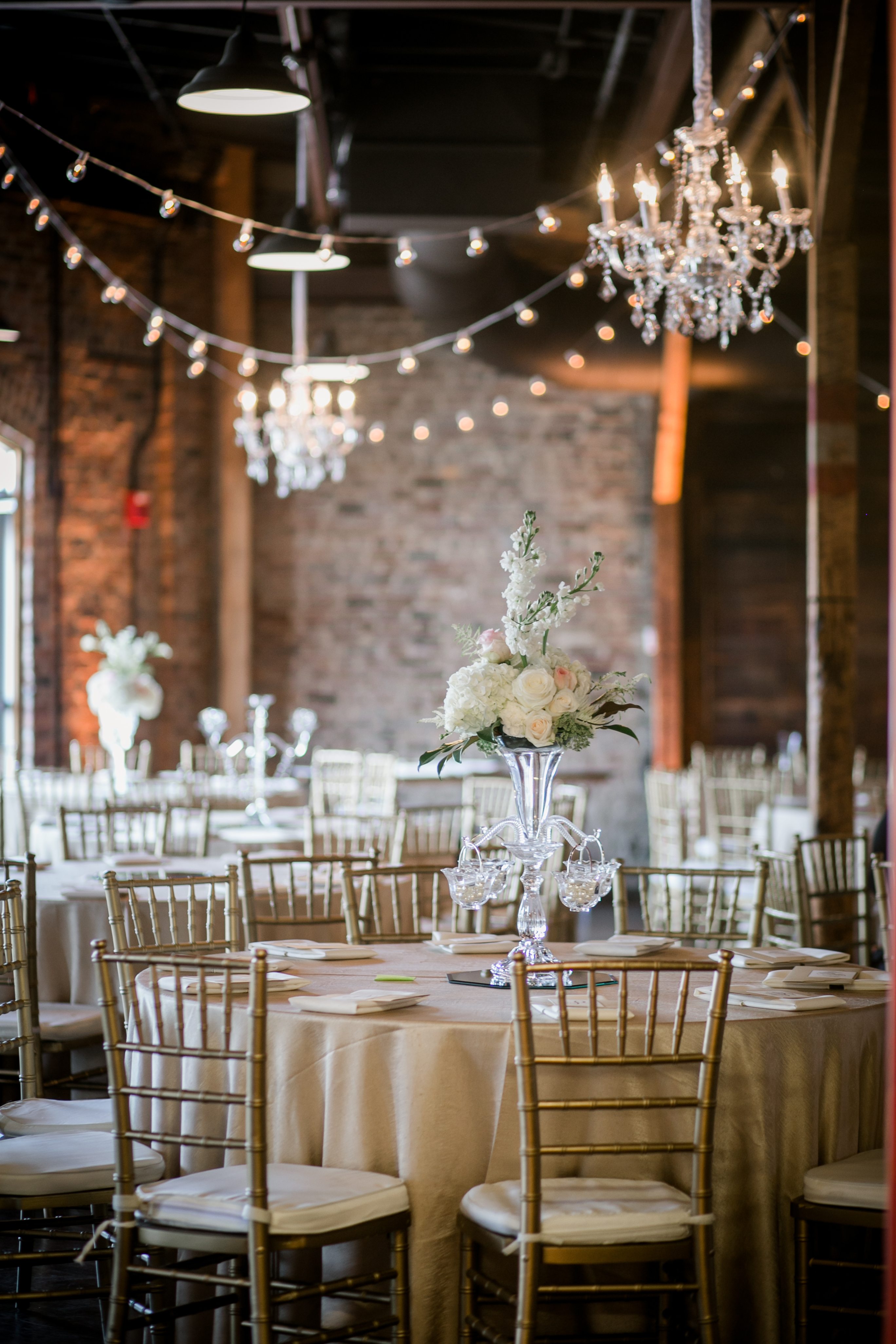 Ashley and PL's wedding reception in Nashville, TN was a classic Southern stunner! With accented gold and crystal details, the industrial event space in Nashville took on an elegant, yet relaxed feel. Tables were adorned with soft gold linens, vintage Abbey Flatware and unstated floral arrangements in a crystal pedestals while guests sat at Gold Chiavari Chairs with ivory cushions. All in all, a perfectly classic wedding for a sweetly classic love!
Thank you so much to Amanda May Photography for sharing the beautiful photos with us!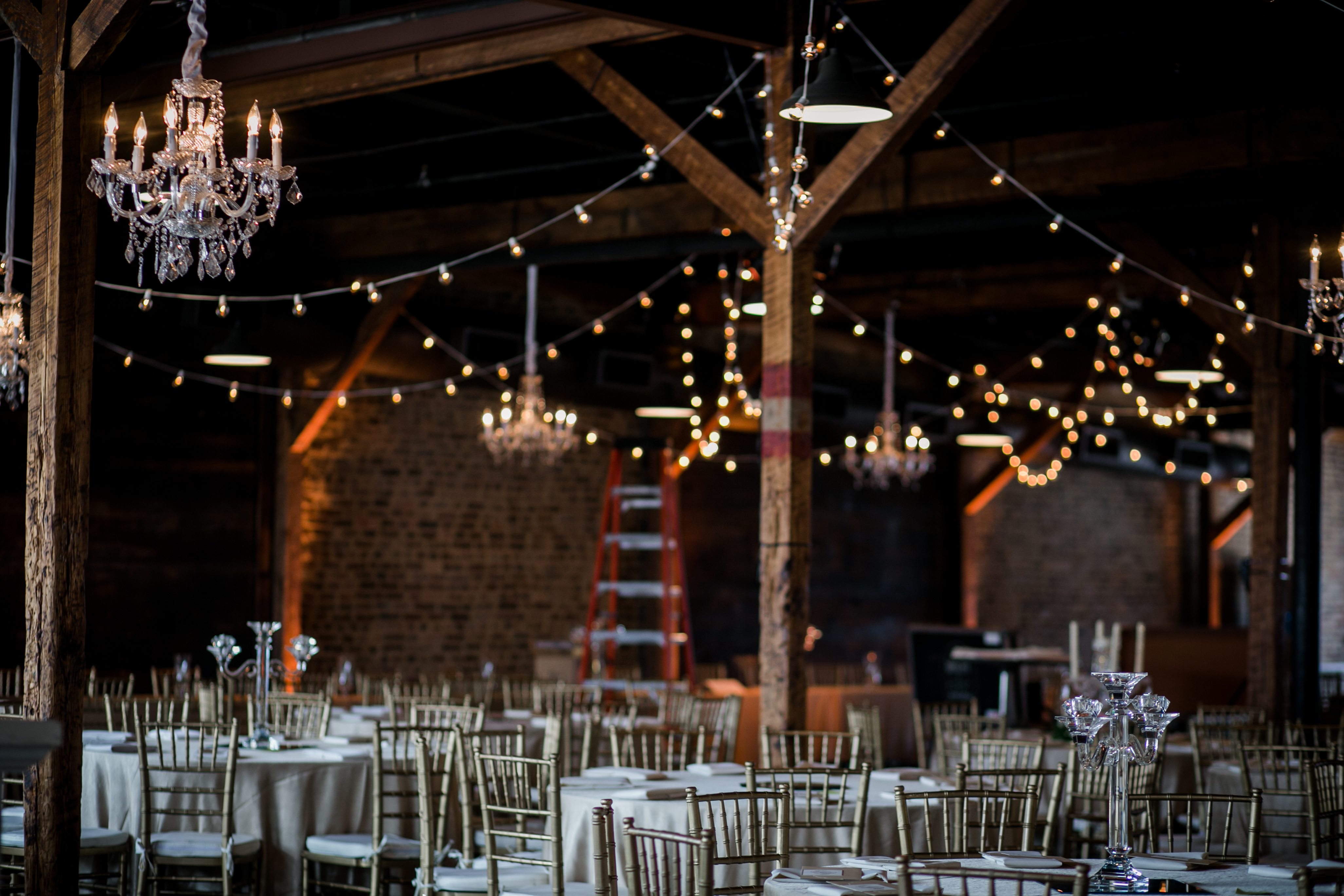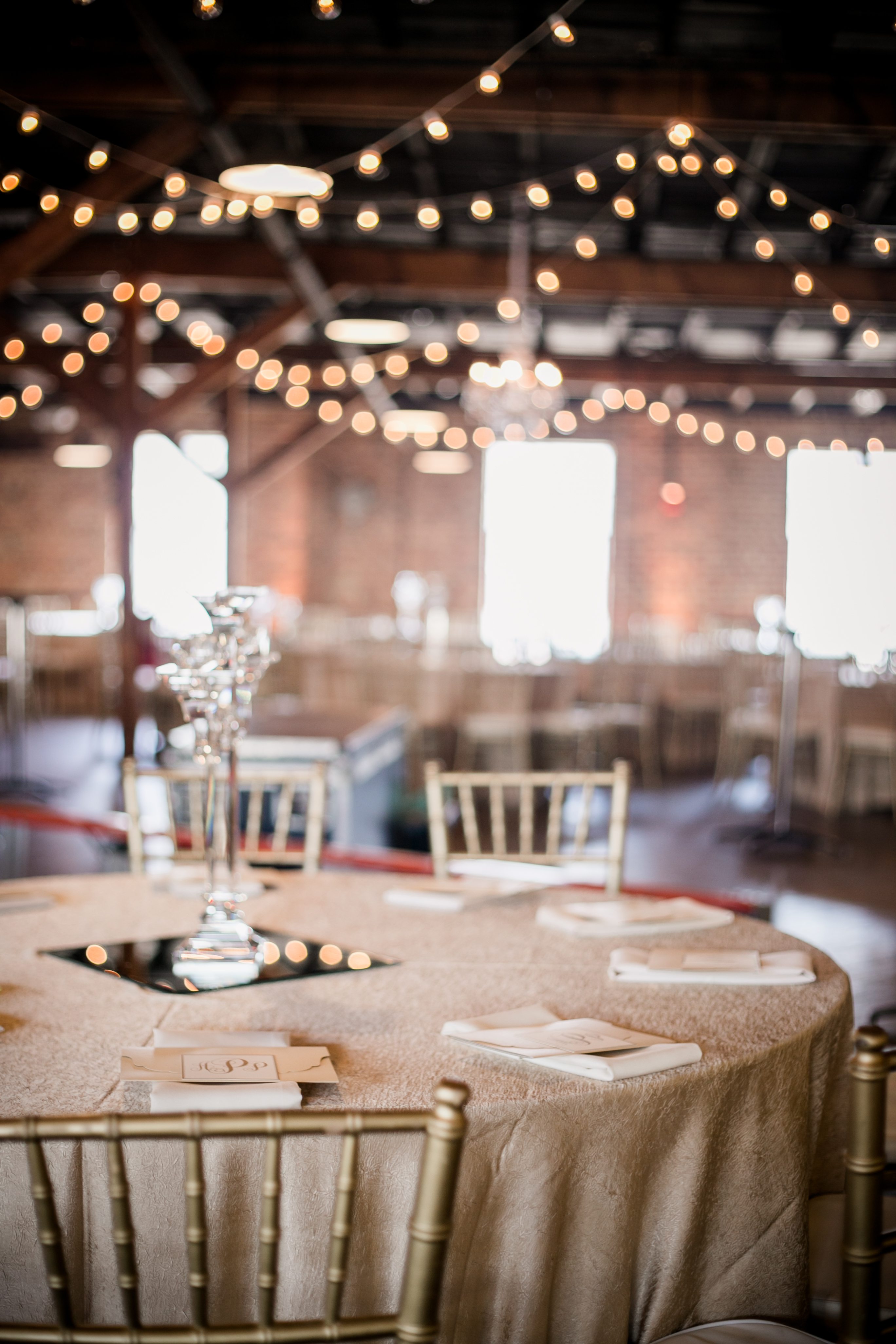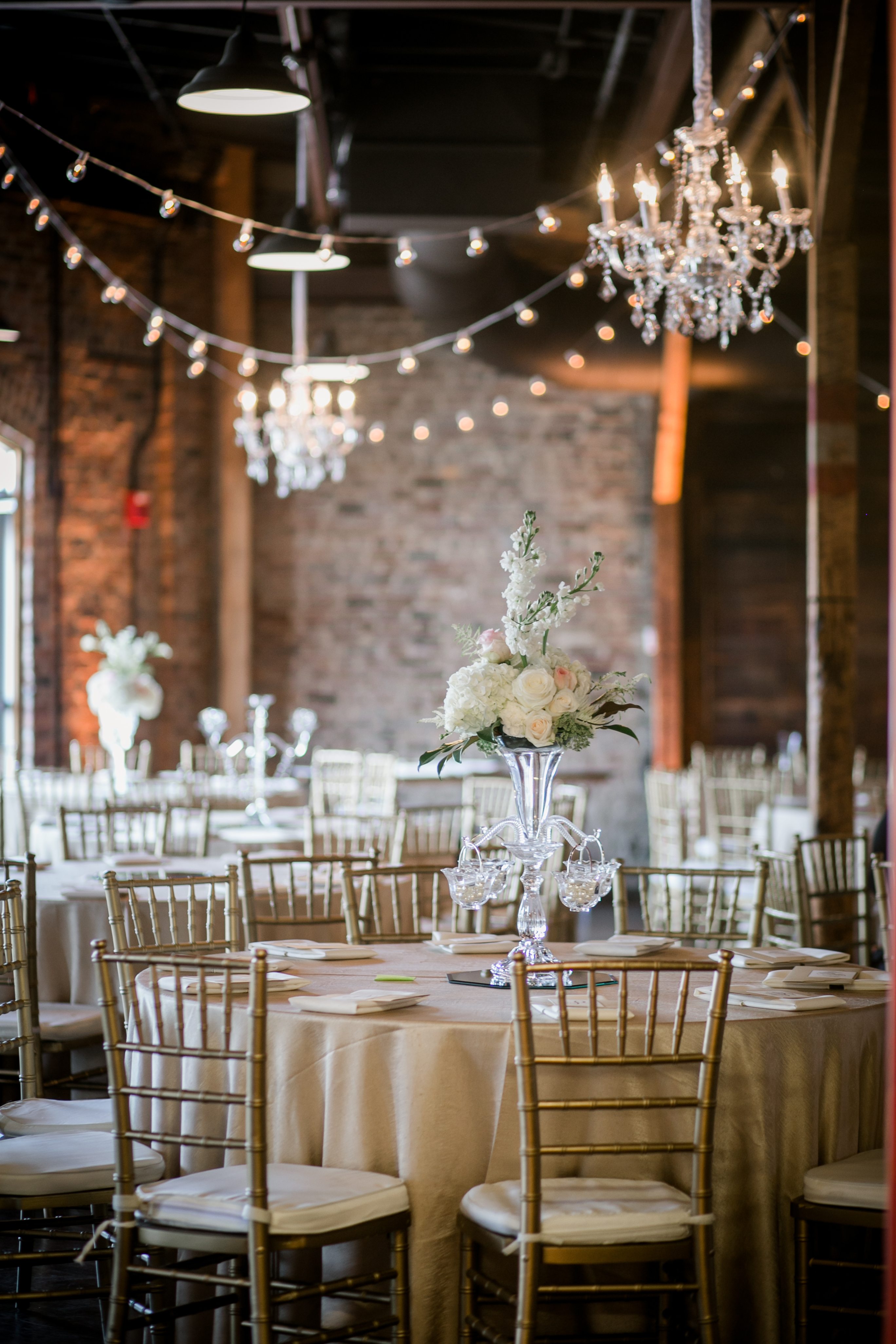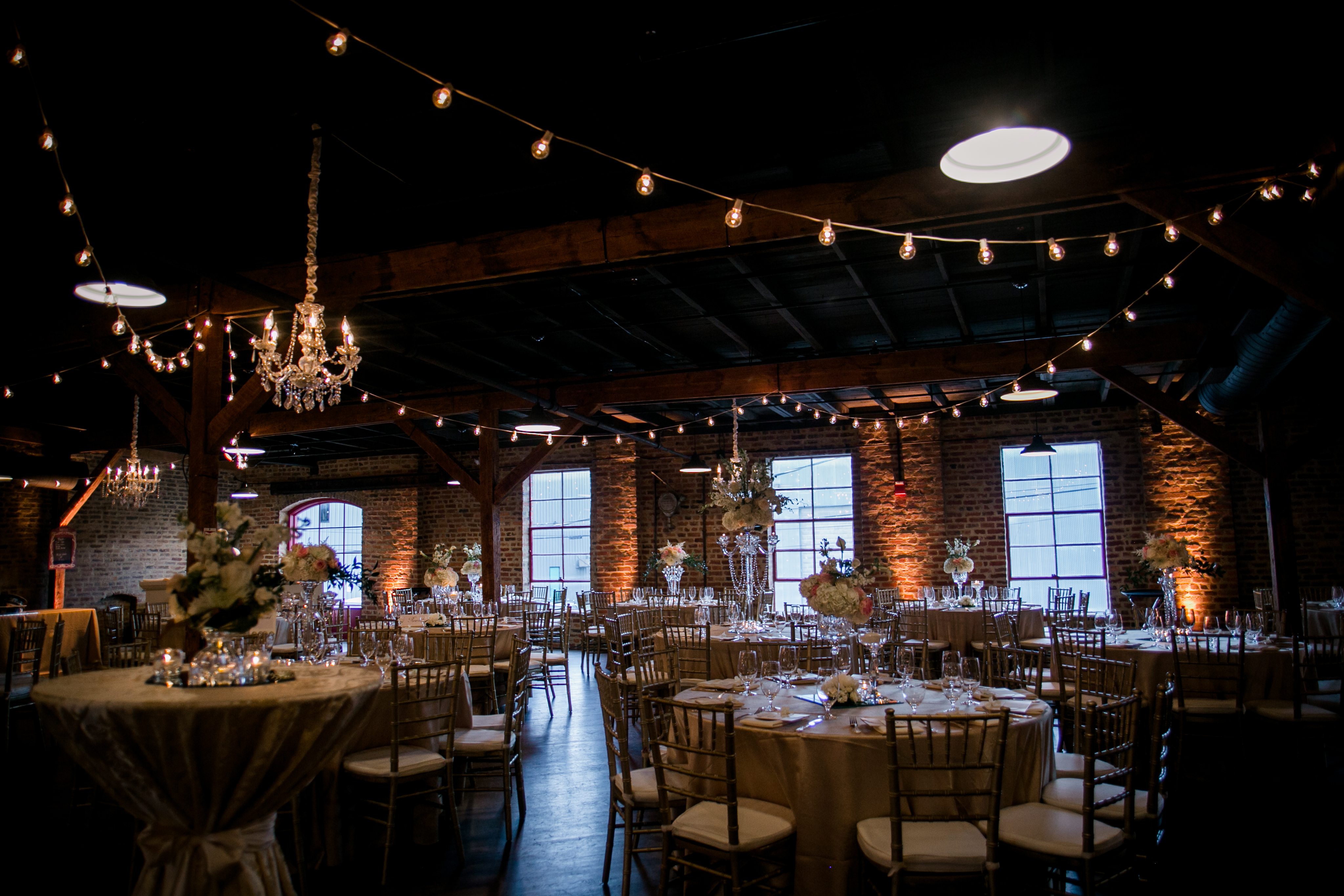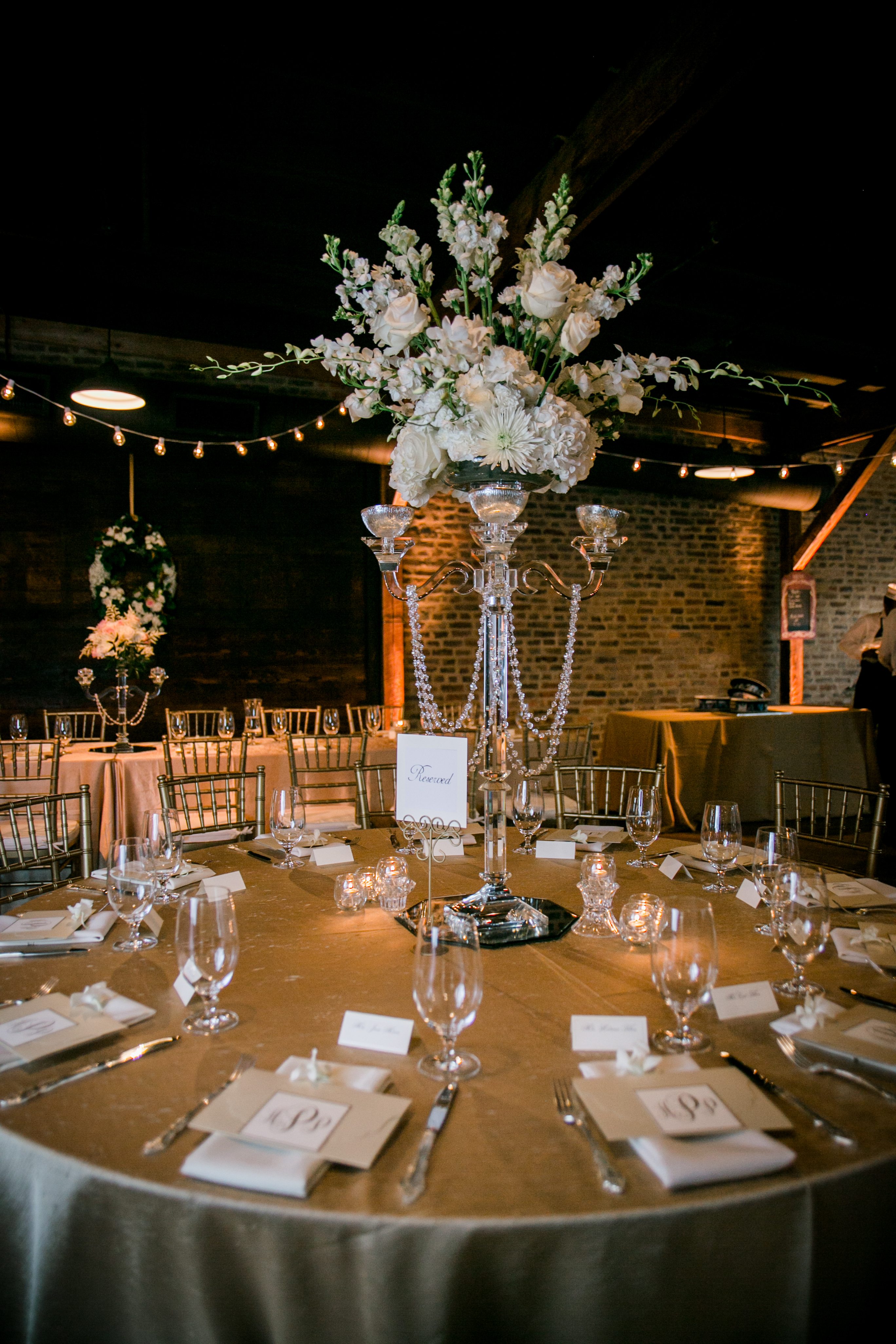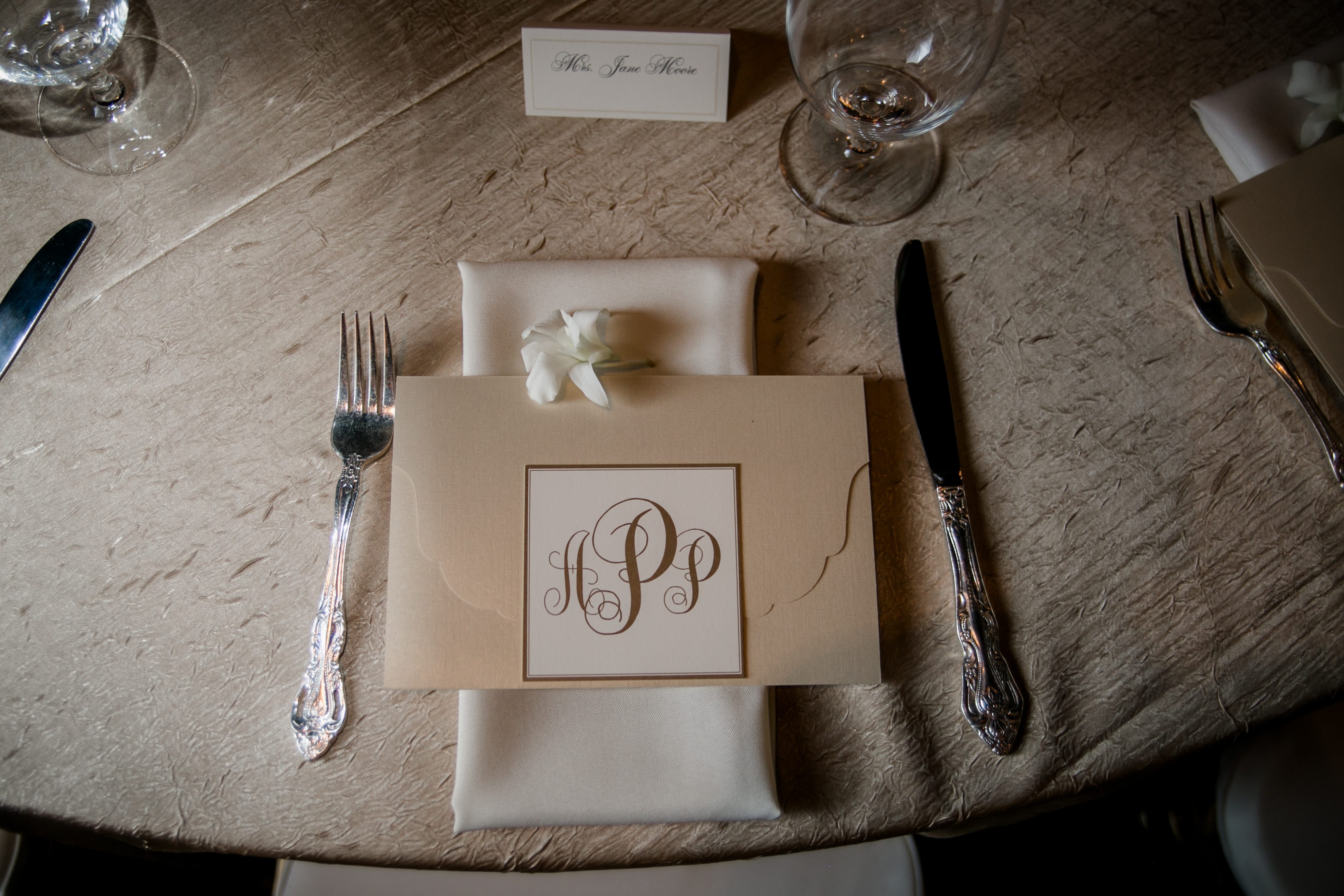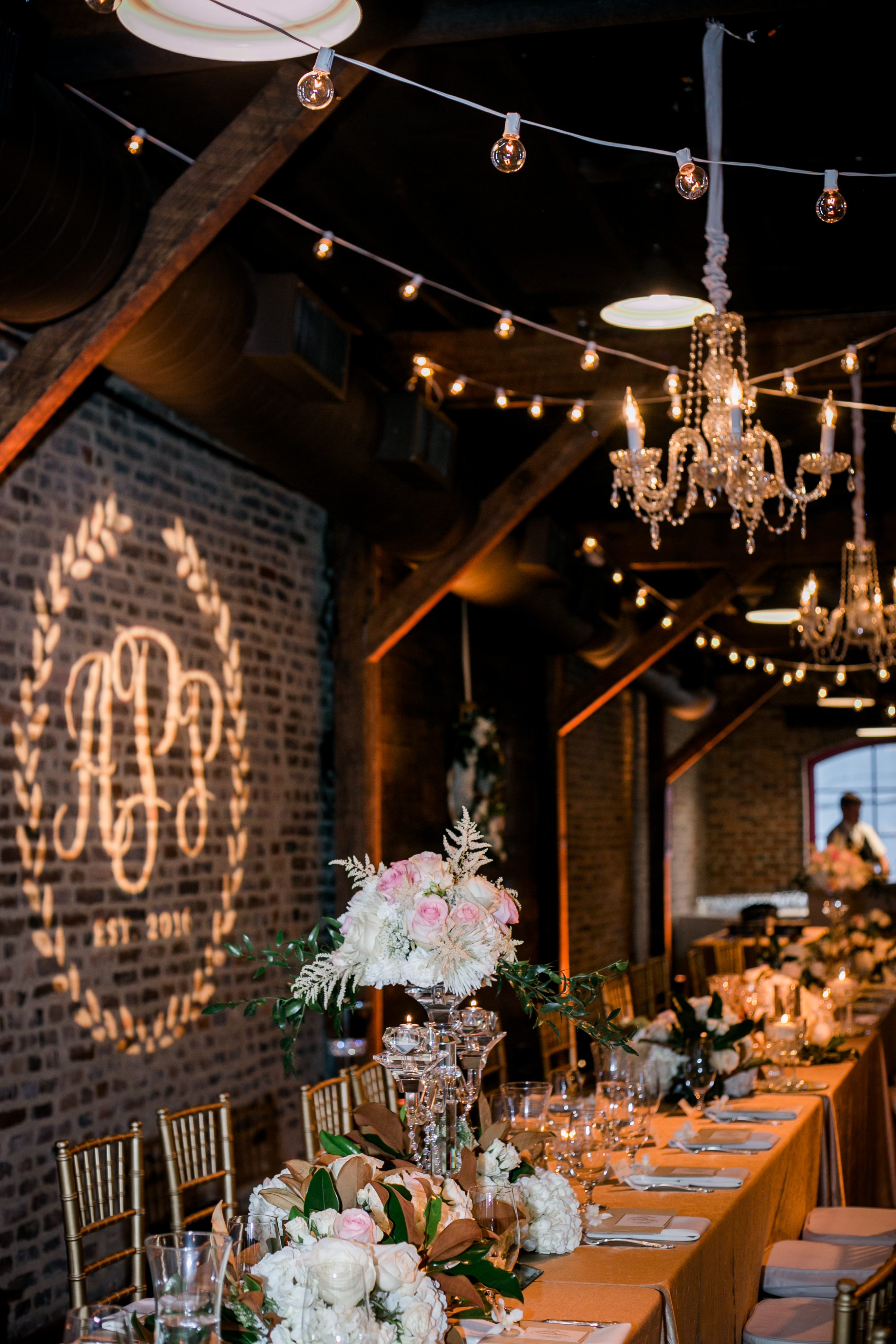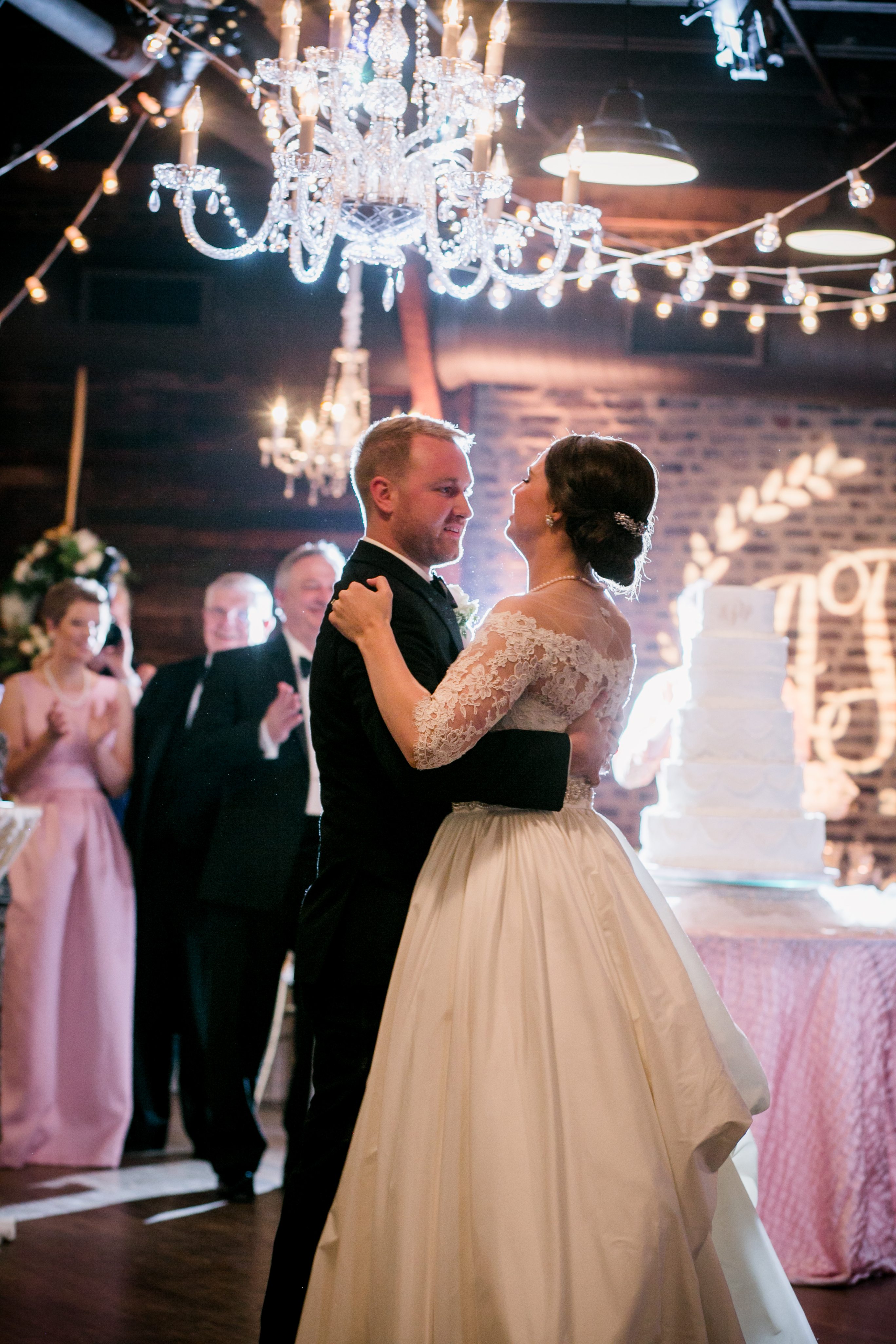 TAGS | Gold Wedding, Houston Station Nashville, Industrial wedding venue, Nashville Wedding Rentals, Southern Events Party Rental, Unique Wedding Rentals, classic southern wedding
FEATURED RENTALS | Gold linens, Abbey Flatware, Gold Chiavari Chairs. Ivory cushions,
---