25

Feb

Southern Love: Pinewood Retreat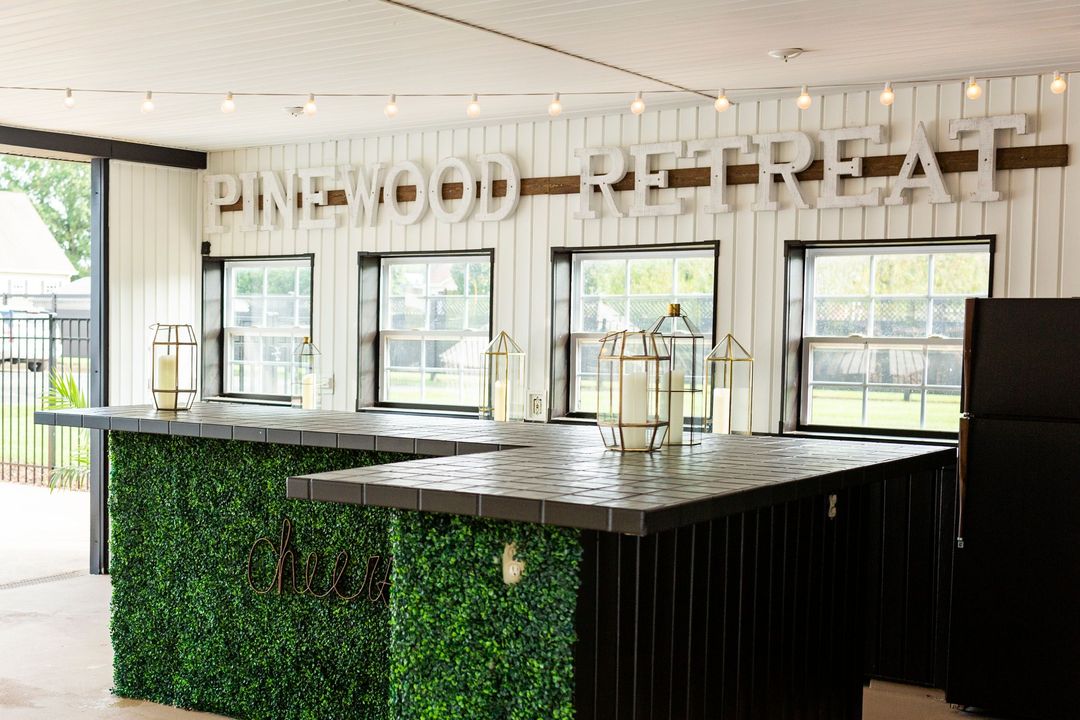 If you're on the hunt for an all-inclusive farm wedding venue, look no further than Pinewood Retreat! Located in College Grove, Tennessee (adjacent to Franklin, TN), it is surrounded by lush agricultural surroundings. The contemporary venue, however, is suitable for a range of events, whether you want to host a chic open-air event or a modern indoor celebration. To help spark some creativity, here are just a few ideas for hosting a wedding at Pinewood Retreat.
Lush Outdoor Ceremony
For couples who want to eliminate travel between multiple venues, Pinewood Retreat functions as a dual ceremony and reception site. Host your nuptials in a private magnolia tree garden, where you will enjoy a backdrop of organic greenery and mature trees. Our popular Cross-back chairs are a gorgeous choice for this wedding venue, as shown below. Or opt for our Classic Fruitwood Folding Chairs.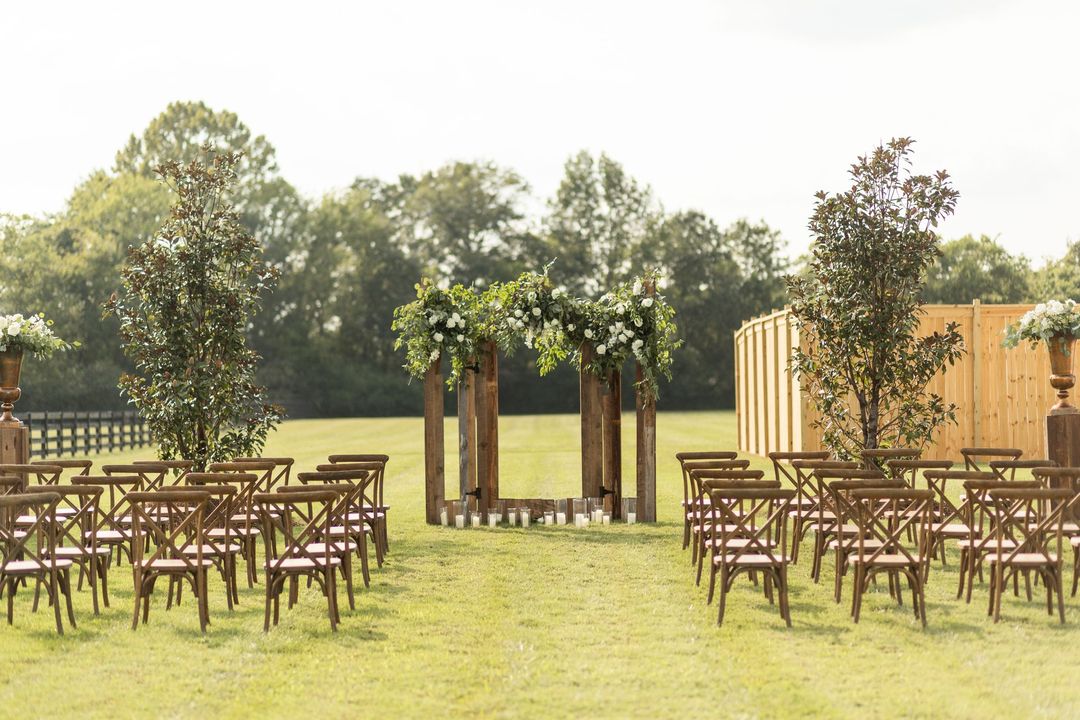 Poolside Cocktail Hour
Following your ceremony, treat your guests to a cocktail hour in the nearby pavilion. It opens out onto a pristine blue pool, making it a fun location for warm-weather celebrations. A stylish bar designed to match the hedge wall and works well with nature-inspired celebrations! This spacious area can be set up with a number of bistro tables or lounge area, where guests can enjoy a drink and mingle. To complement the modern space and bright pool, consider a set of our beautiful blue linens.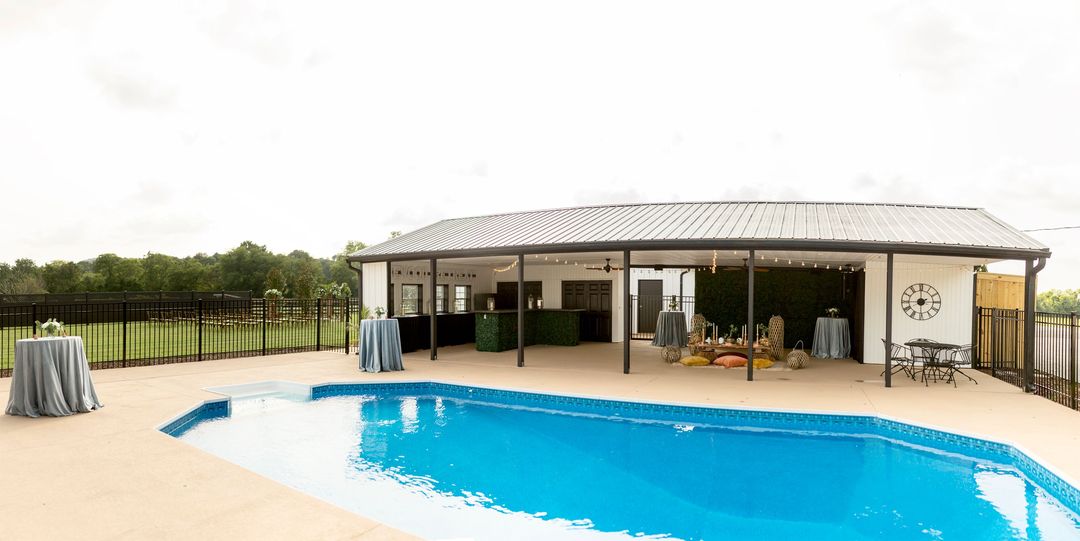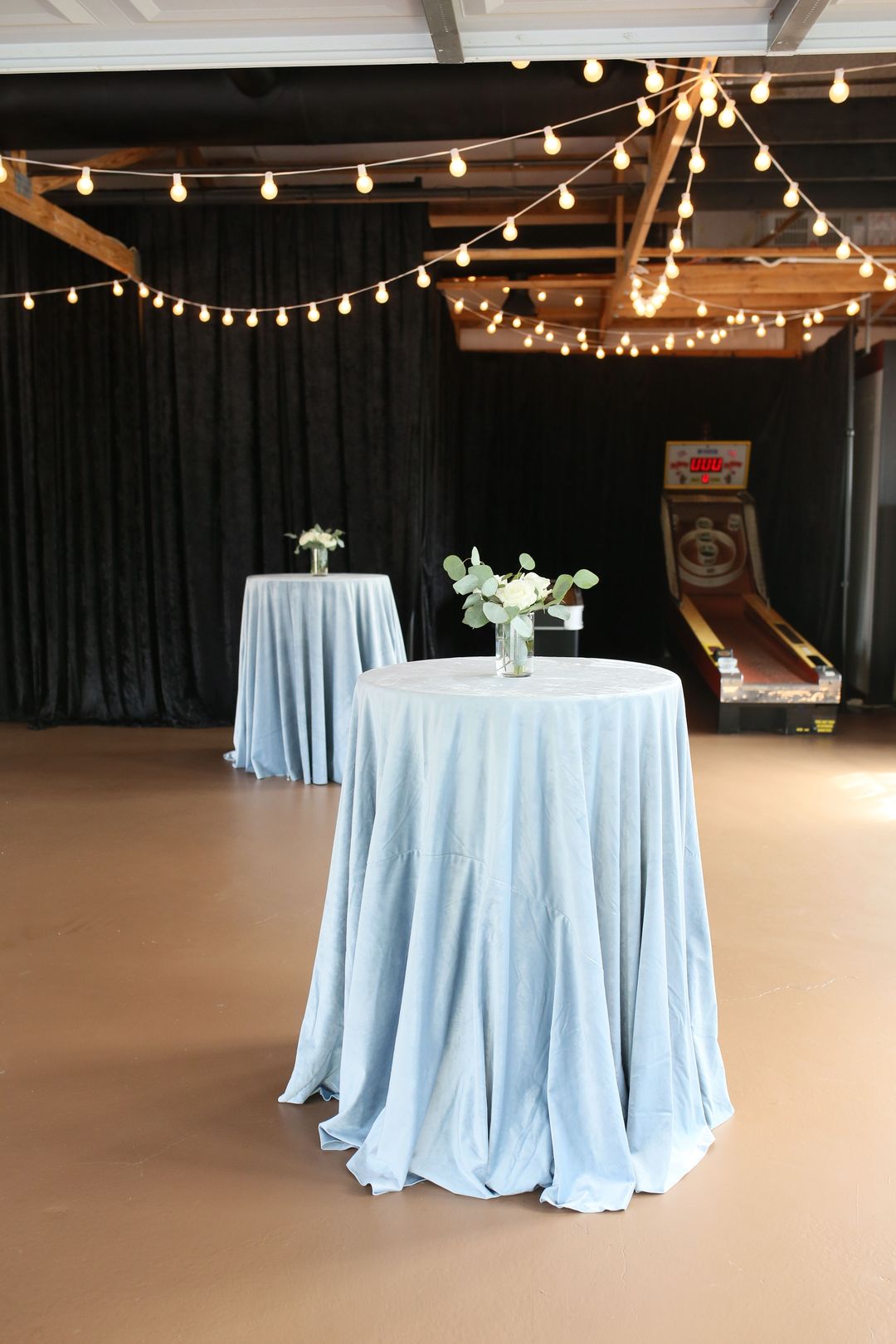 Chic Tented Reception
Capable of hosting up to 300 of your friends and family, the manicured lawn is perfect for a tented reception. Here our Hexagon Frame Tent looks stunning! Beneath it, there is plenty of room for round dining tables, as well as a Plank Wood dance floor for a long night of dancing. The tablescape shown below features our Alabaster China, Hammered Flatware, Pure Glassware, and white linens. A chic design such as this is a beautiful way to contrast the lush lawn!
The open space at Pinewood Retreat is especially ideal for those who want to incorporate lounge areas. Placed outside of the tent, it is a great way to encourage guests to roam and mingle. You can take advantage of our existing lounge packages, or create one of your own!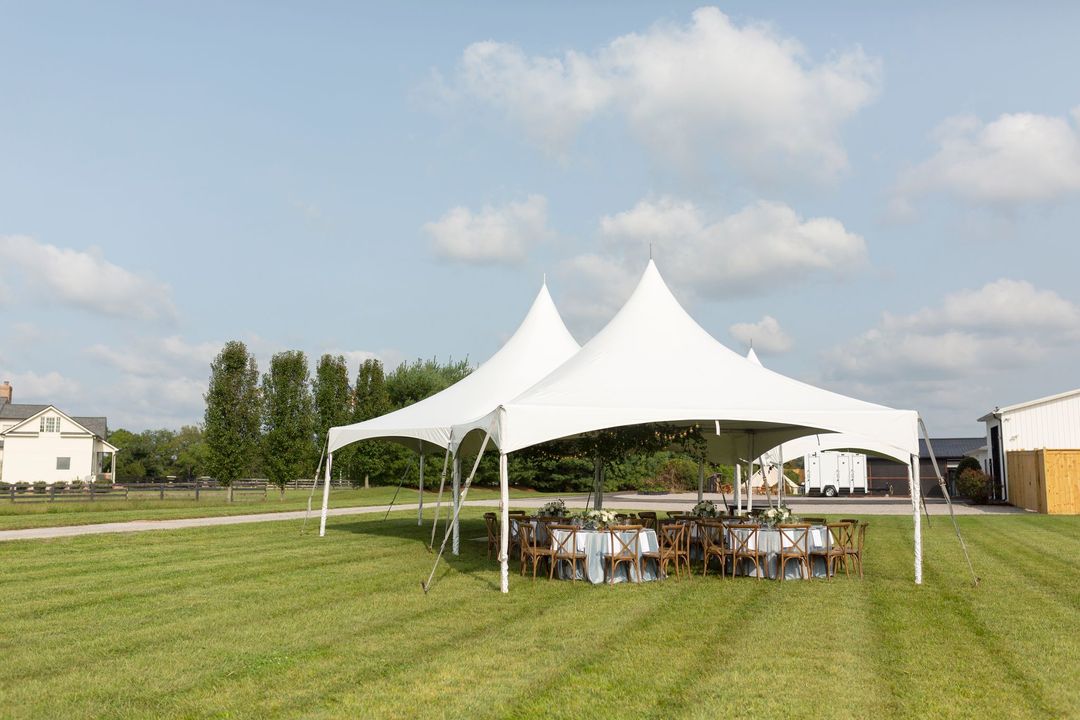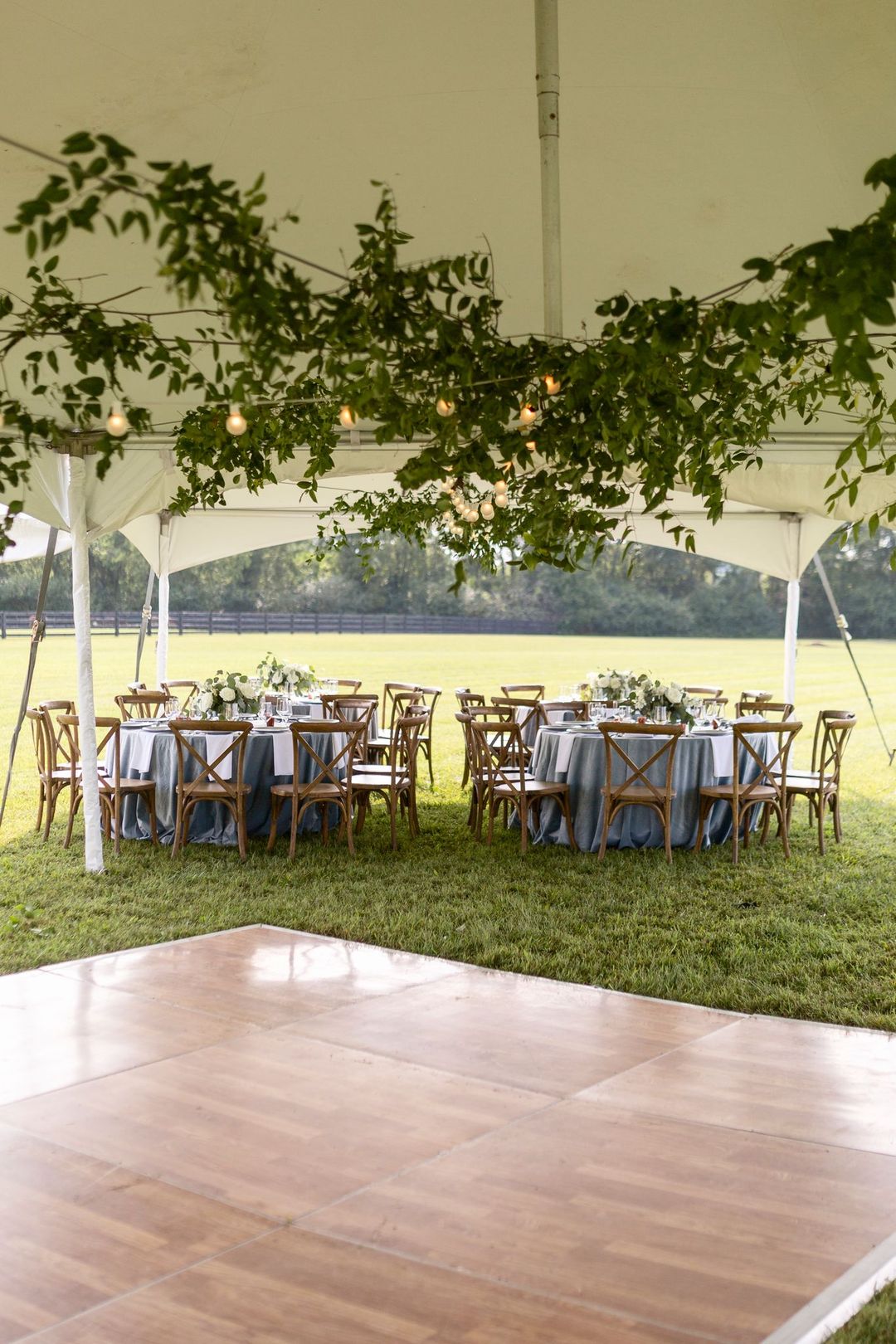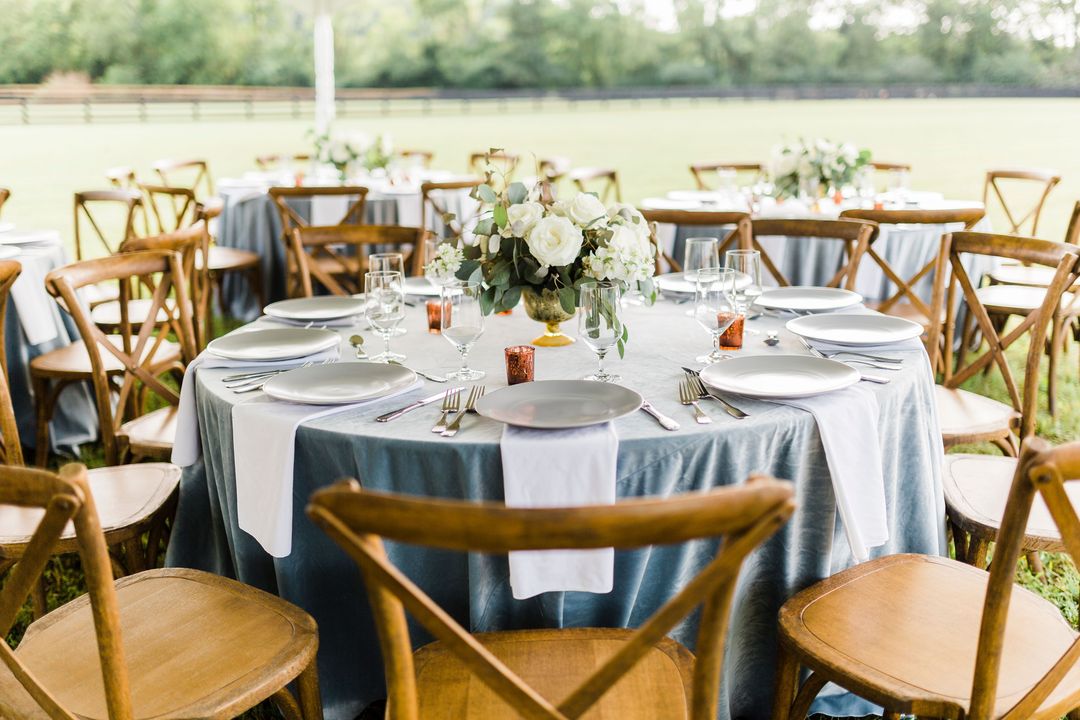 Designated Children's Area
To accommodate younger guests, consider a stylish children's seating area. Create a fun designated dining and play area on the expansive lawn beneath our Hexagon Tent. Featuring children's furniture, such as our Fruitwood Farm Table and Cross-back chairs, it is cozy yet stylish. Our team would love to help you come up with a unique children's area that aligns with your unique wedding style or theme!
Ready to plan your wedding at Pinewood Retreat? Contact our team at info@southerneventsonline.com for help recreating this luxe set up, or for help creating a wedding look of your very own!
FEATURED RENTALS | cross back chairs, fruitwood folding chairs, bistro tables, hexagon frame tent, alabaster china, hammered flatware, pure glassware, lounge packages, children's fruitwood farm table, children's cross back chairs,
SEE MORE LIKE THIS