30

Sep

Nashville Venues, On Trend, Southern Events Products, Trends and Inspiration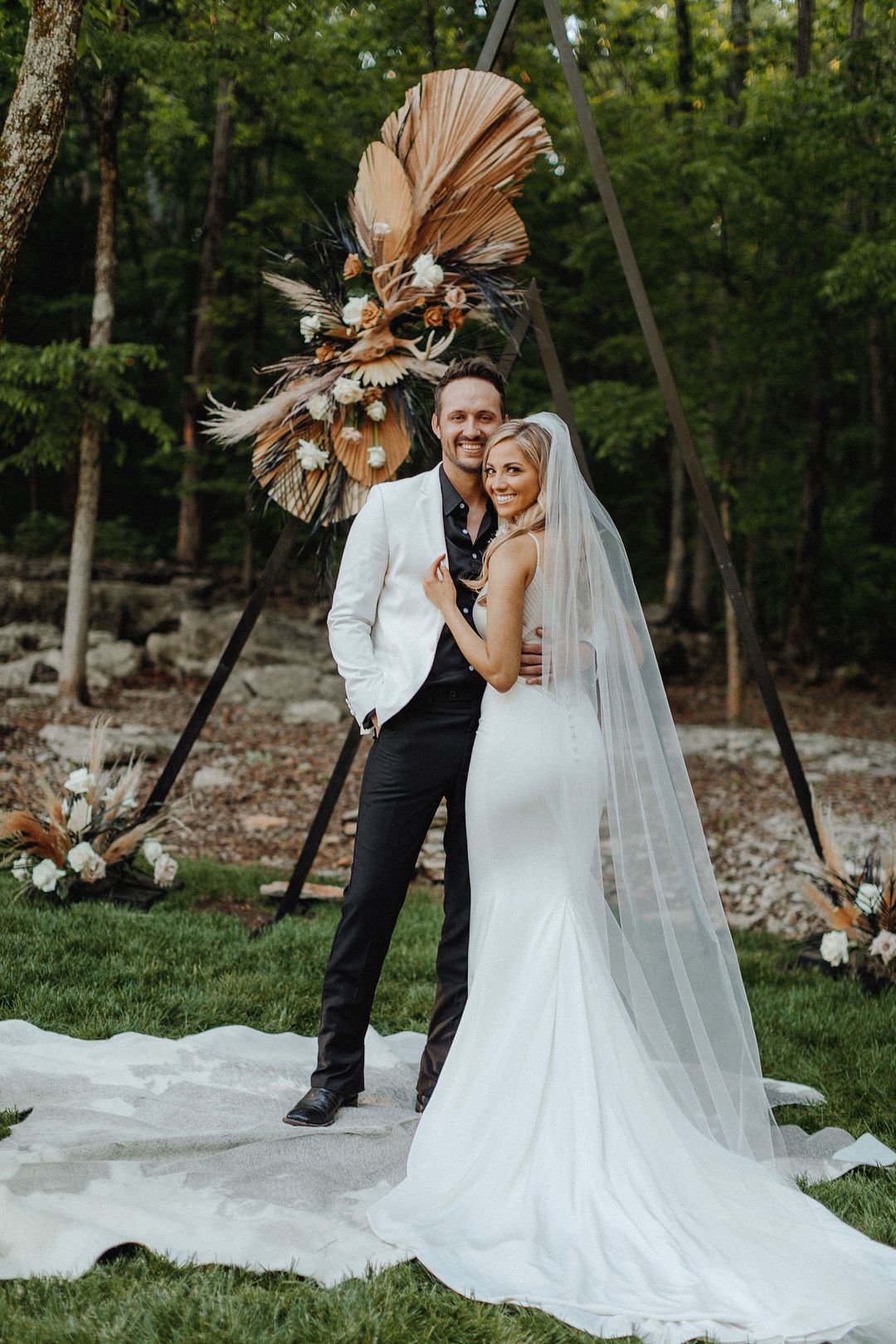 If you've been dreaming of an event that is equal parts moody and elegant, then you won't want to overlook the boho luxe style. Featuring beautifully contrasting colors and geometric details. Keep reading for some boho luxe inspiration from a recent wedding we participated in at Saddlewood Farms in Tennessee.
Hosted on the grass lawn, the wedding ceremony was a classic bohemian affair with luxe decor. Guests were seated in our simple White Folding Chairs. While the aisle was lined with Cowhide Rugs and arrangements featuring dried palms and fresh roses. For a backdrop, the two opted for a solid black Triangle Wedding Arbor. It was the perfect choice to ensure that the two stood out against the lush forest.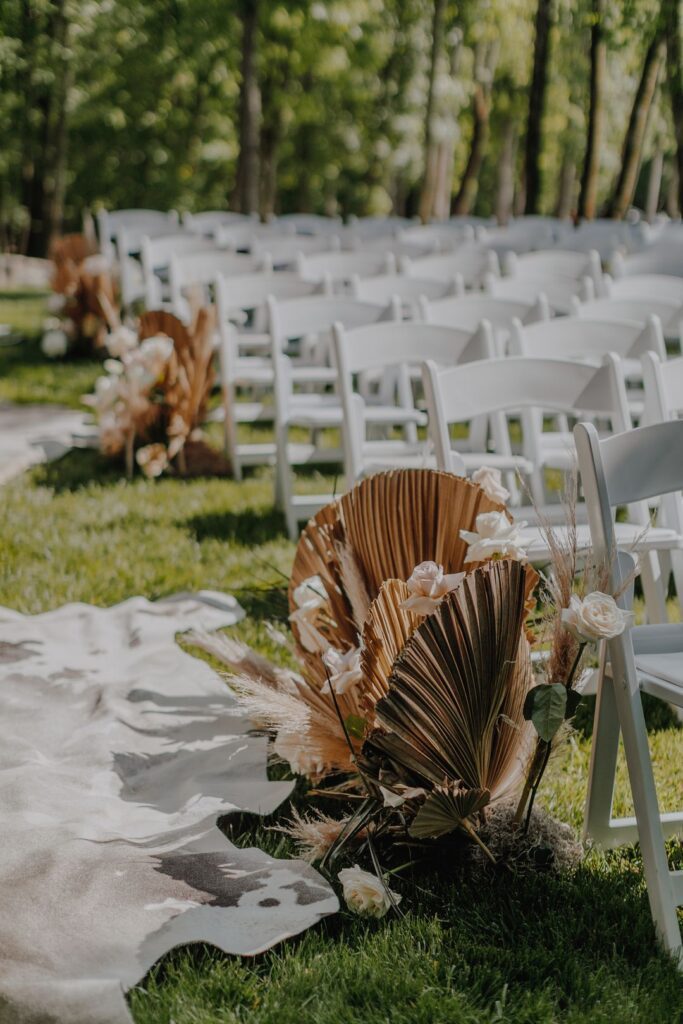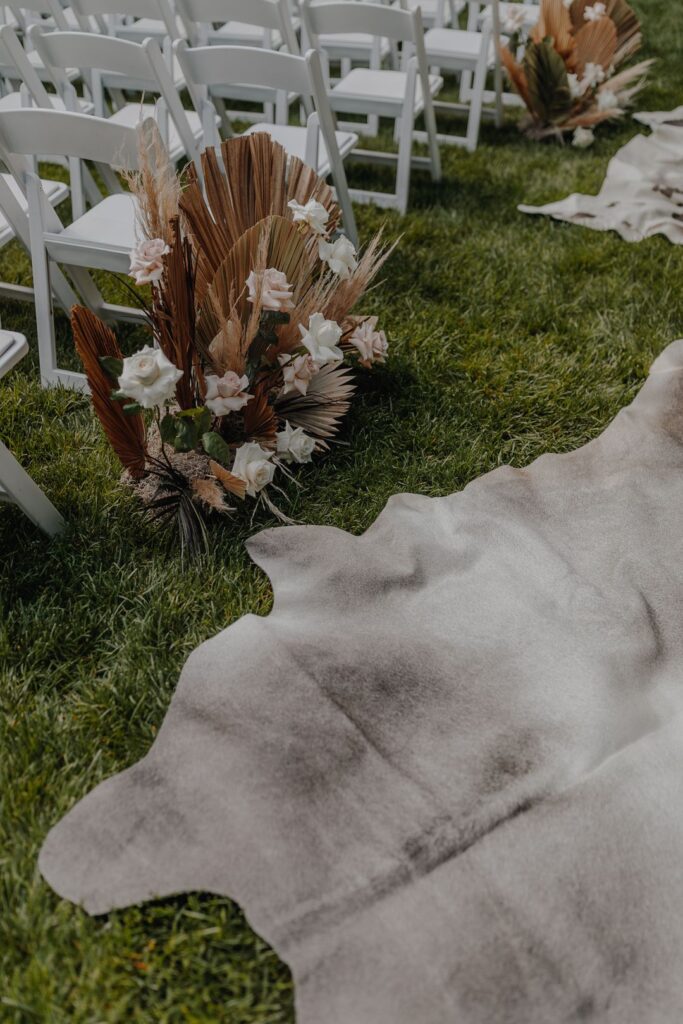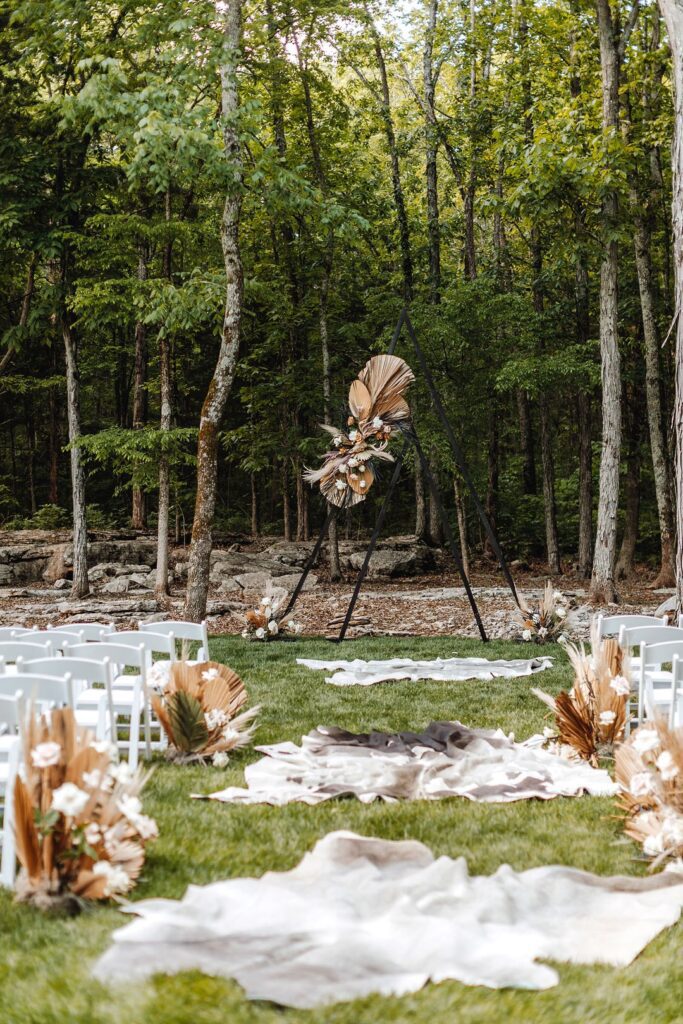 Afterward, they retired to the large reception bar, where string lights dripped from the ceiling and walls. The space was practically glowing, with the most beautiful soft light. Guests were immediately greeted by our white Harpeth Curved Bar, making it approachable from any side. For a one-of-a-kind look, don't forget to opt for a custom bar sign!
The dinner tables were outfitted in slick black linens with short floral centerpieces that lent a fun touch of texture. They were set with our Classic White Square China, Hammered Flatware, and Davis glassware. For linens, they opted for our stunning Azalea Poly, a moody yet feminine color. The couple's sweetheart table was equally luxe, featuring our Fruitwood Farm Table with Ghost Acrylic Armless Chairs. Davis Glass Cylinders sat on the floor with pillar candles, making it especially romantic.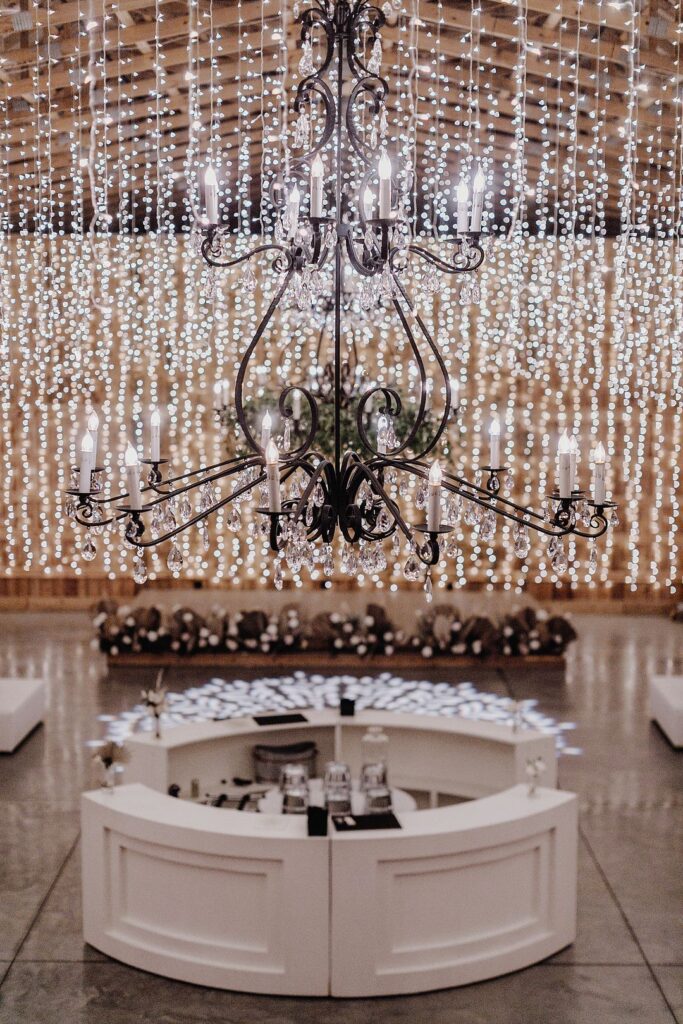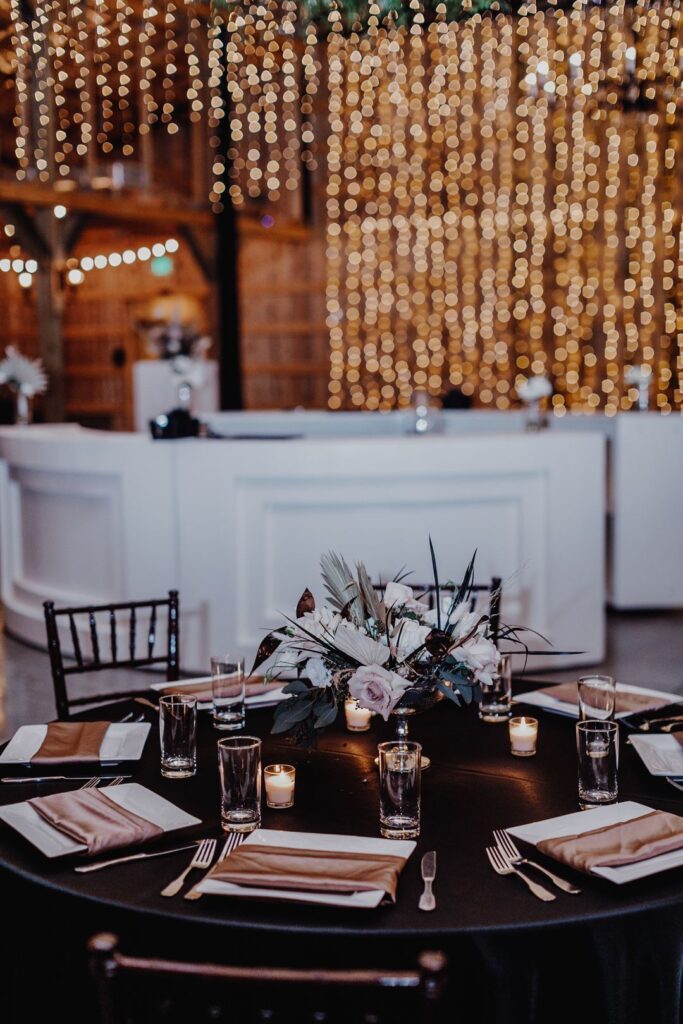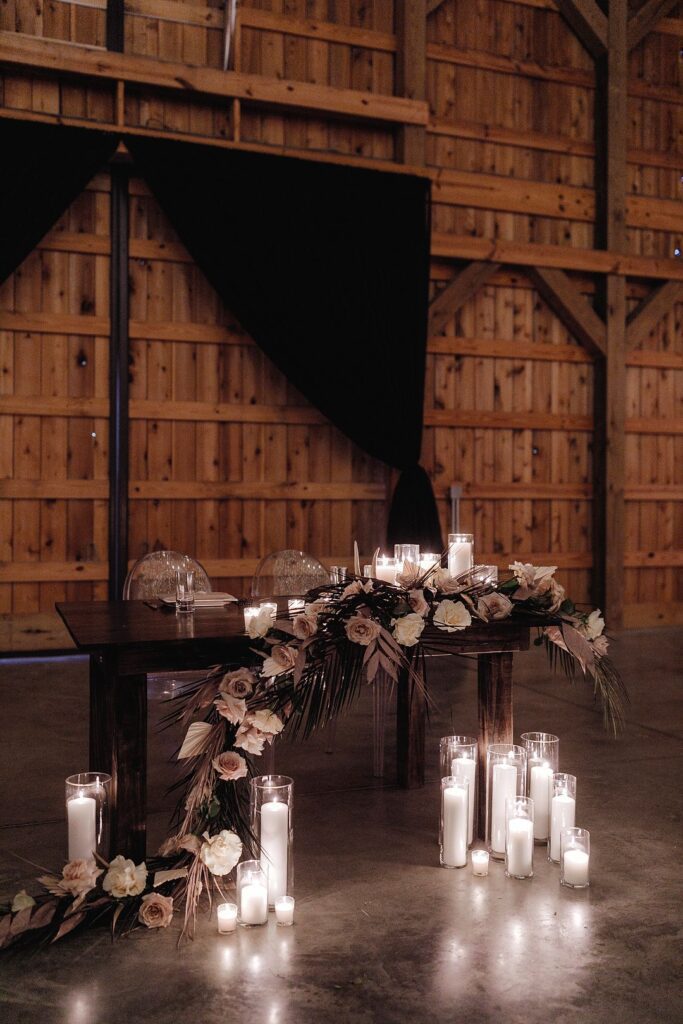 Of course, what is a wedding without designated areas for mingling? Flanking the bar was our sleek white Mercer Lounge. It was topped with matching florals and soft pillows – to make it extra cozy! To ensure guests could make full use of the lush event space, other small lounges sat just outside the barn. Including small accent tables, where people could set their food and drinks. They were decorated with pure black linens that manicured lawn.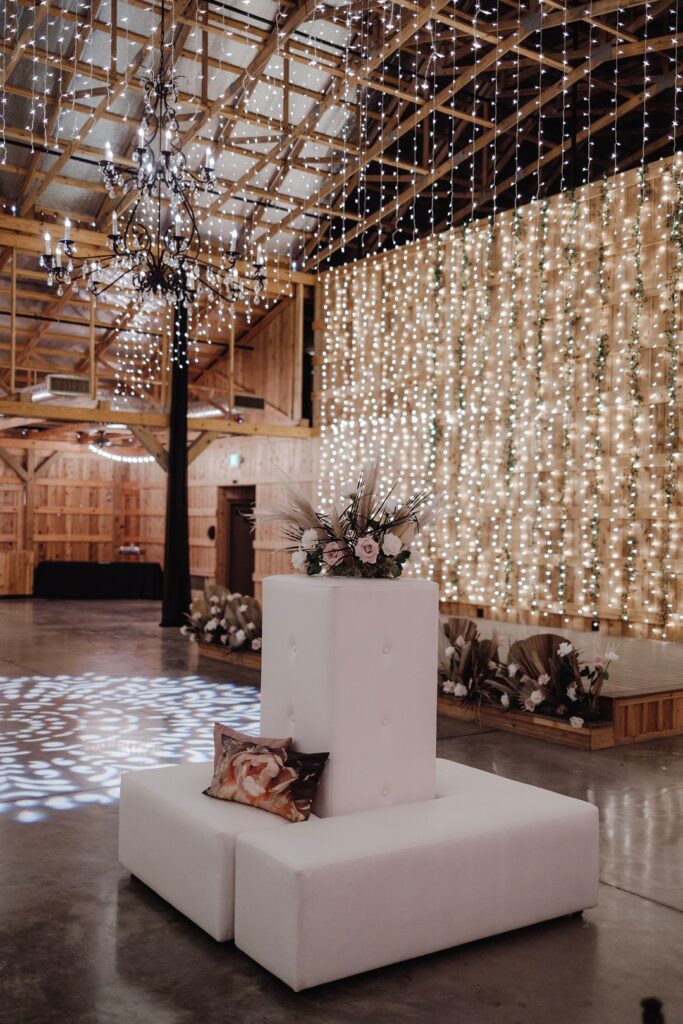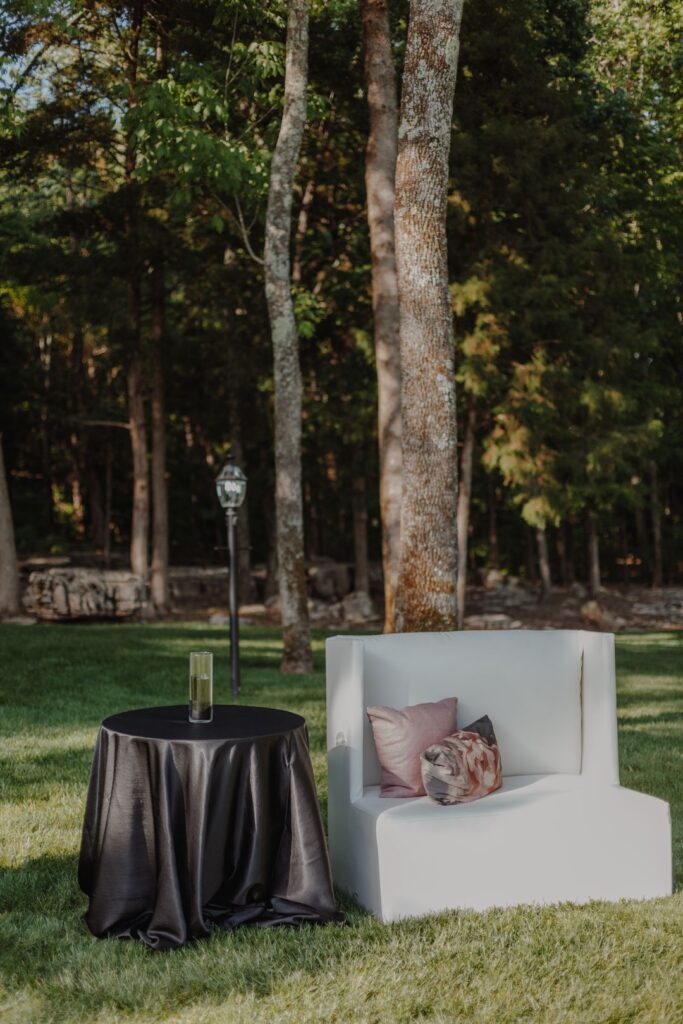 Special shoutout to Brasspenny Photography for sharing the images from this pair's day with us!
Love this boho-luxe inspiration? Contact our team at info@southerneventsonline.com & let's start planning your own event! Or for more event inspo, take a look at our blog on bold boho diva or modern retro rentals.
TAGS | Boho Luxe Event Decor, Boho Wedding Nashville, Saddlewood Farms, boho wedding style, luxe event rentals, luxe outdoor wedding, southern boho style
FEATURED RENTALS | White Folding Chair, Cowhide Rug, Triangle Wedding Arbor, Harpeth Bar, Square White China, Black Farm Table, Mercer Lounge, Acrylic Ghost Chairs, Davis Glass Cylinders, Davis Glassware, Bradley Flatware,
---
28

Jan

Events and Style Shoots, Nashville Venues, Real Nashville Weddings, Southern Events Products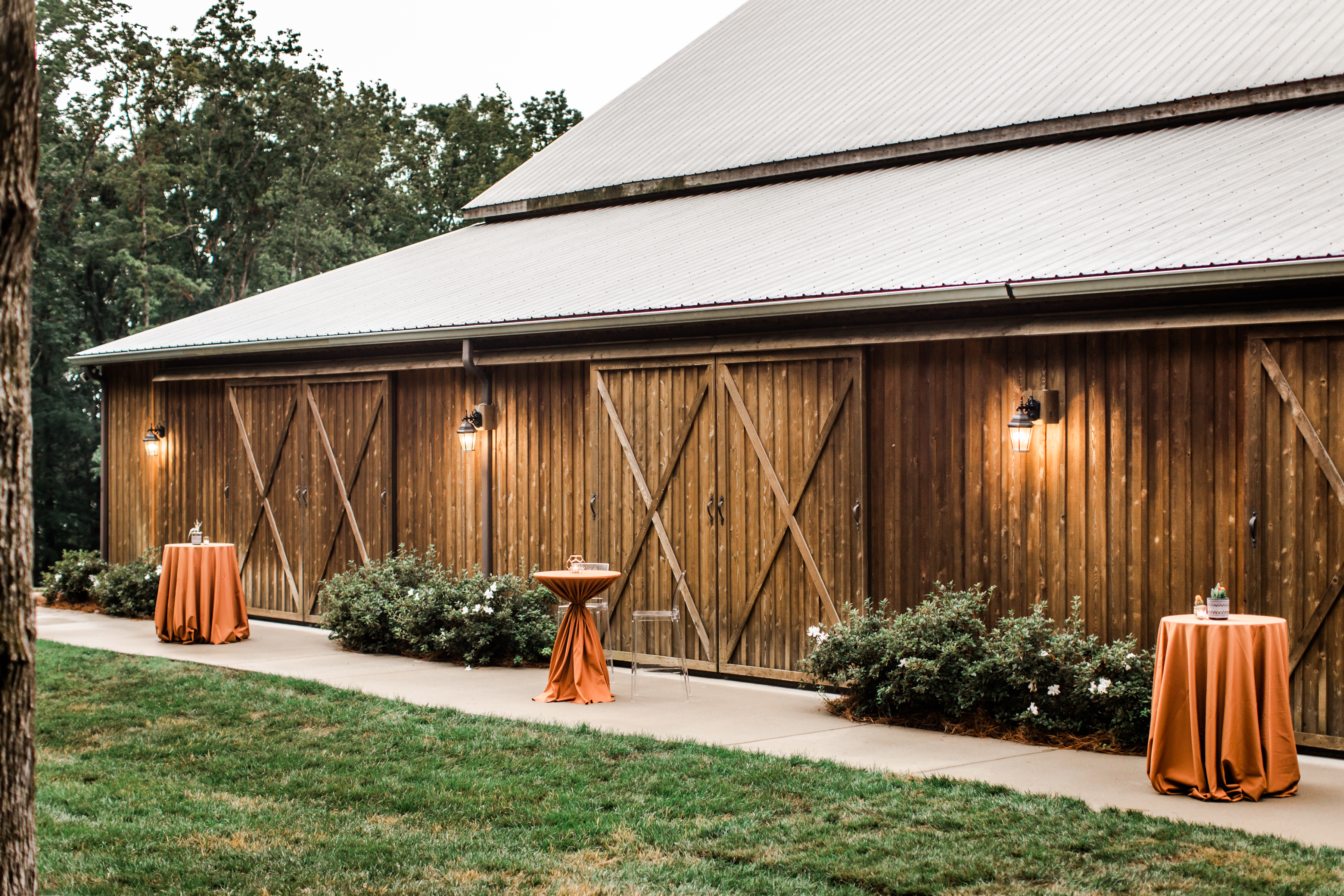 In search of a secluded country atmosphere for your future wedding? Located in Murfreesboro, Tennessee, Saddle Woods Farm is a Southern old-style cedar wood barn situated on 25 beautiful acres. To help inspire you for your event, check out a variety of ways that you can dress up this stunning Tennessee wedding venue, featuring our modern & stylish rentals.
Modern & Minimalistic Neutrals
One of our favorite wedding trends is neutral wedding palettes, which lend a timeless look to any event! This style is easy to pull off at The Barn, full of warm woods and southern charm. For this tablescapes, we featured our Glass Charger with a Gold Rim, Alabaster China, Austin Gold Flatware, Colored Glassware & Pure Glassware. The simple but luxe centerpieces were made using voluminous arrangements of pampas grass and our sleek Davis Glass Cylinders. With their large vaulted ceiling, we can't resist going big with decor!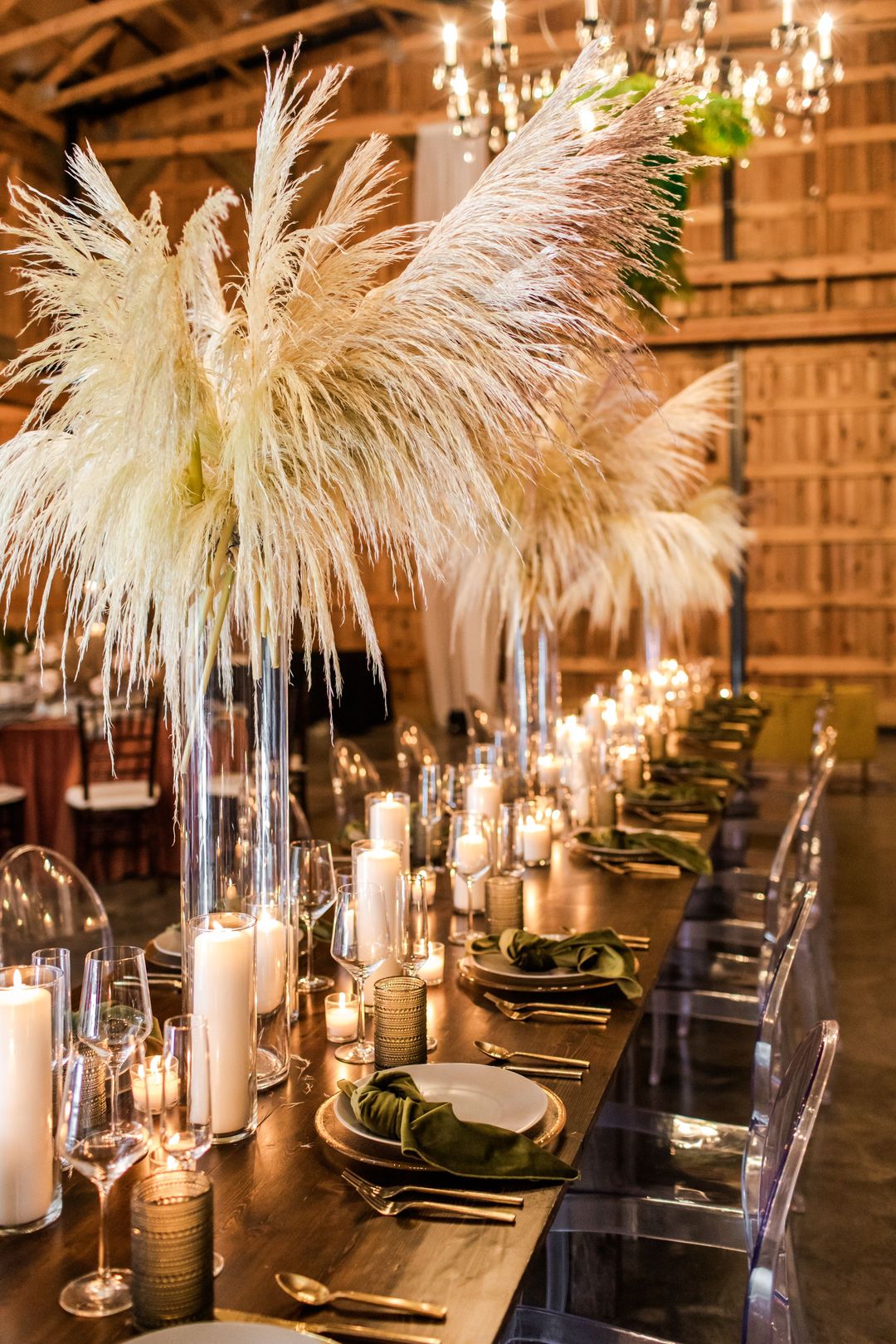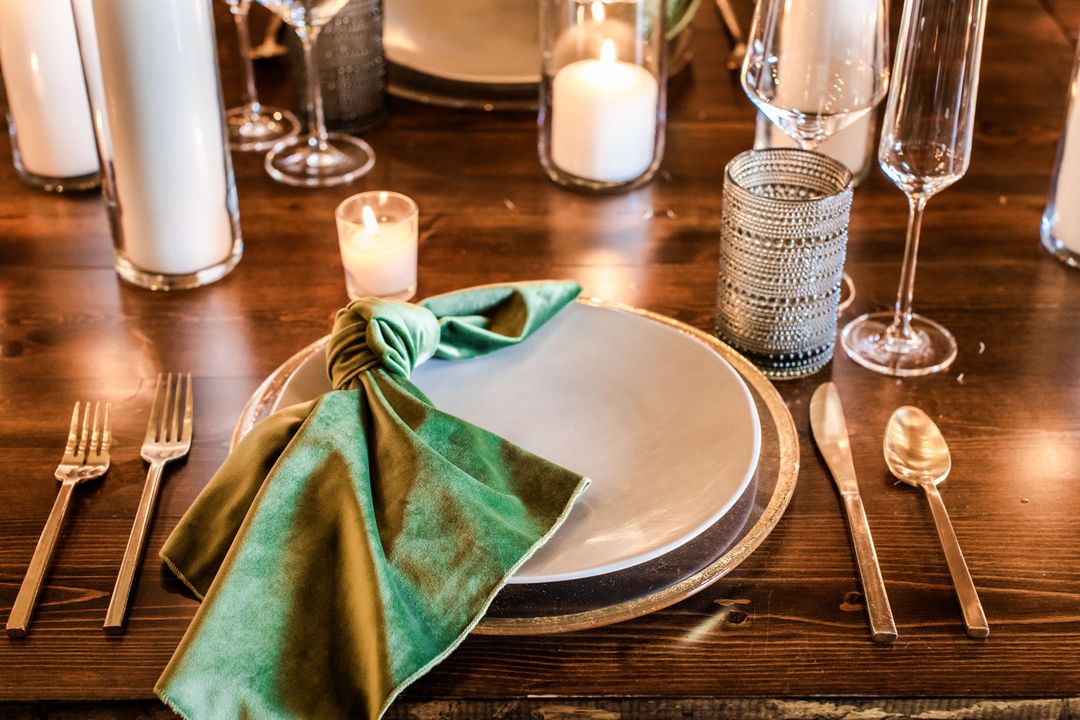 Bright & Bold
If you're a couple who wants a less traditional look, we say rock some bright and bold colors! The warm tones at Saddle Wood, provided by cedarwood and iron details, contrast beautifully with bright shades. The following boho-inspired table packs a fun punch of color via our Burnt Orange Poly Table Linen and gold metallic accents. For a chic statement lounge area, check out our Saylor Navy Velvet Chairs, paired with a set of elegant Rhodes Side Tables and trendy Gloria Velvet Ottoman. It's the perfect mix of both bold and classic colors.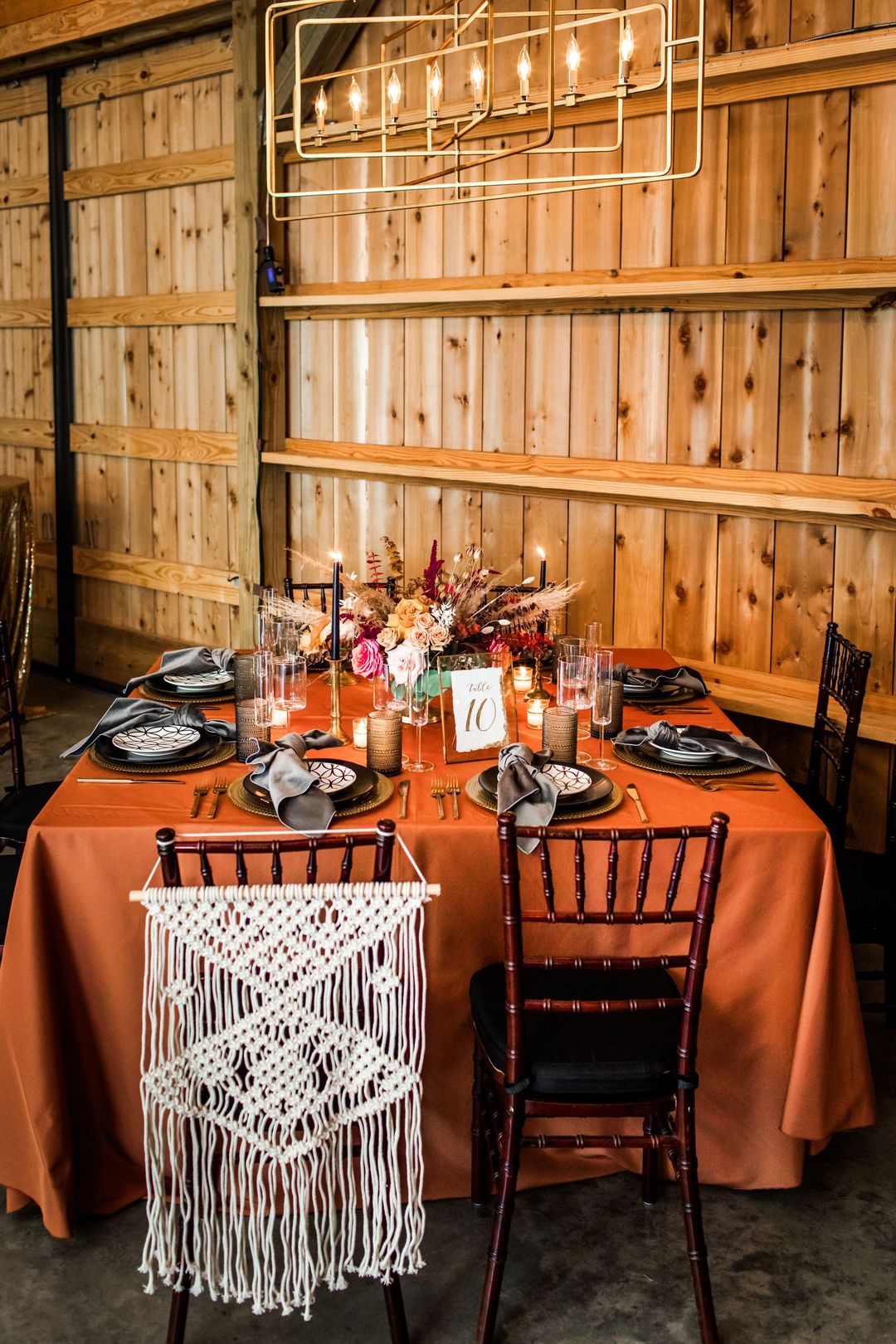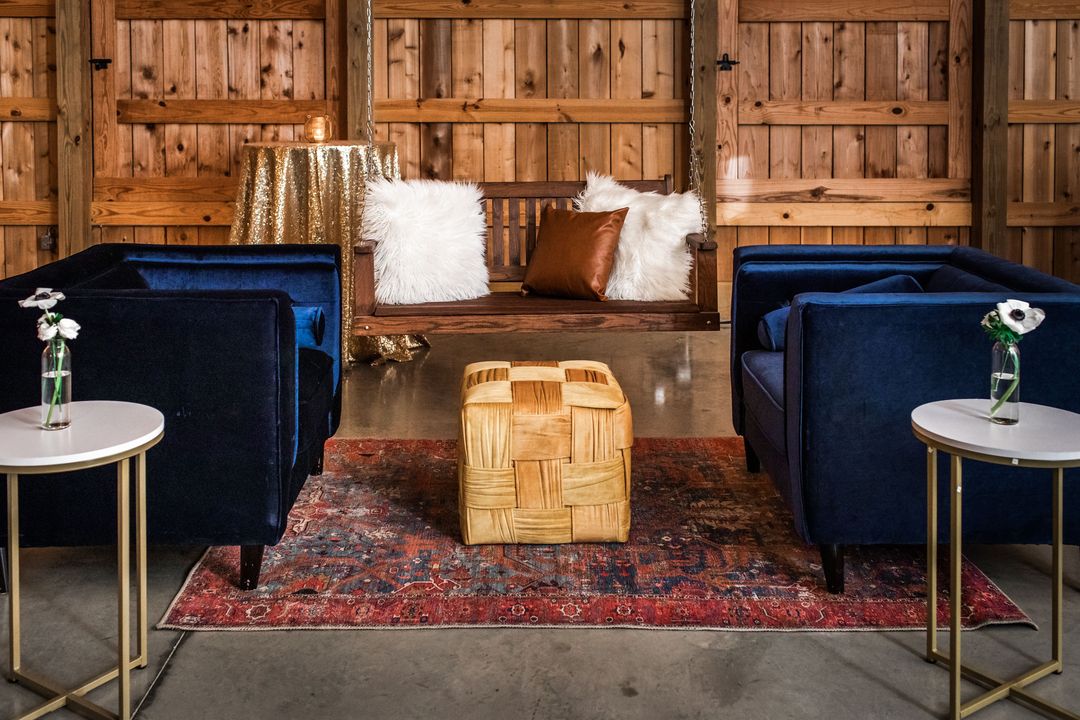 Dark, Moody & Chic
While Saddle Woods has more rustic elements, tt looks equally gorgeous when outfitted with our luxe black rentals. Although non-traditional, this color is sure to lend a moody yet chic vibe to your event and the space. Below is a luxe sweetheart table paired with our contemporary Acrylic Ghost Armchairs. Behind it, you'll notice a small lounge made with our stylish Regent Black Velvet Sofa and Echo Silver Mirror Side Tables. For the dinner table check out our Glass Charger with a Silver Rim, Onyx & Stone China, Hammered Flatware. The Black Nova Linens and a dab of pink in the centerpiece add a small touch of whimsy.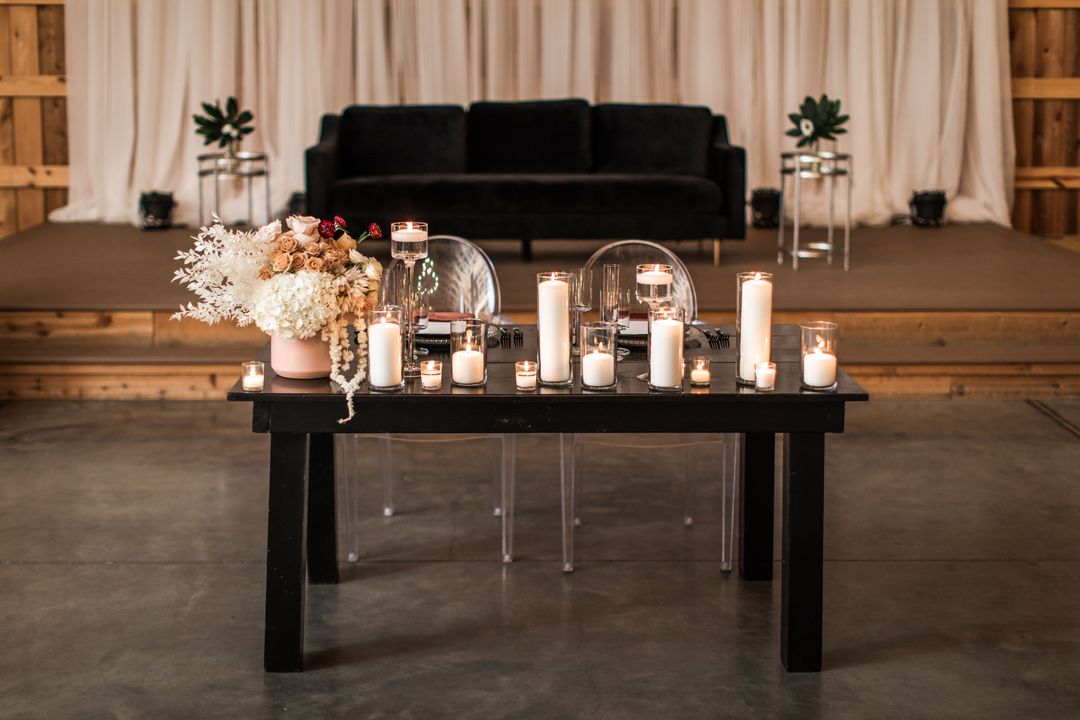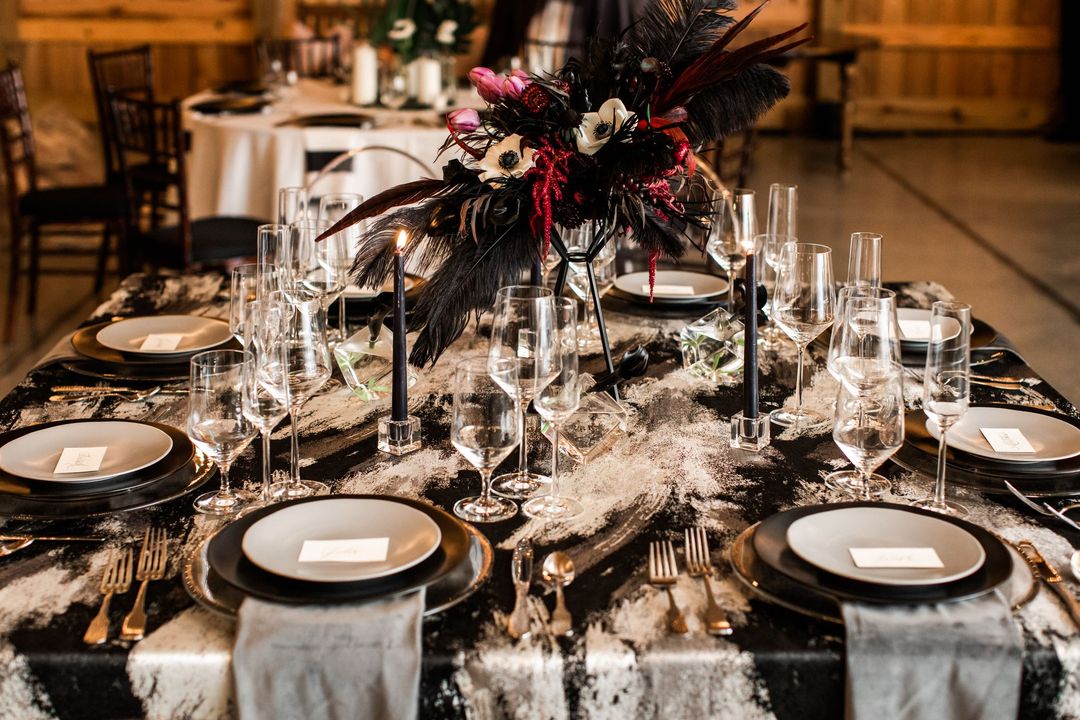 Classic Romance
Should you prefer a traditional wedding look, then you'll love this romantic set up. With the cedar rafters decorated with string lights, greenery and blush drapery, the Barn looks absolutely magical. To complement it, we dressed the reception tables in a mix of both burgundy and blush linens surrounded by cozy social areas. These areas feature our cowhide rugs and Conga Gold Drum Side Table as well as Bennett Leather Sofa, Grey London Loveseat and  Cheval Gold Side Tables.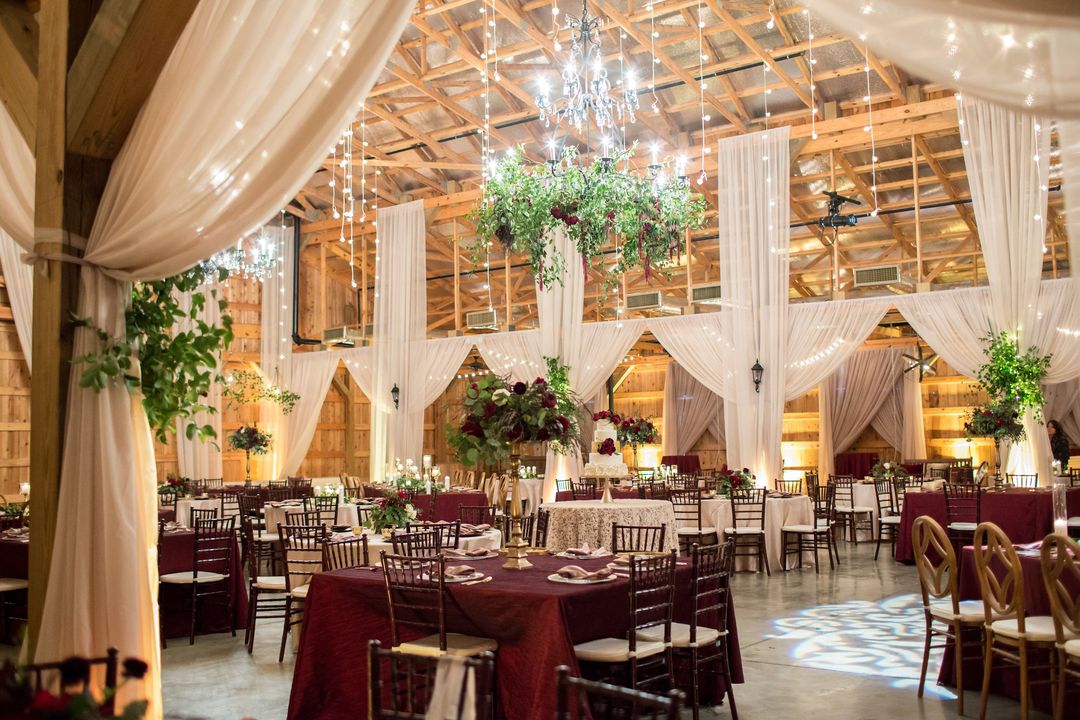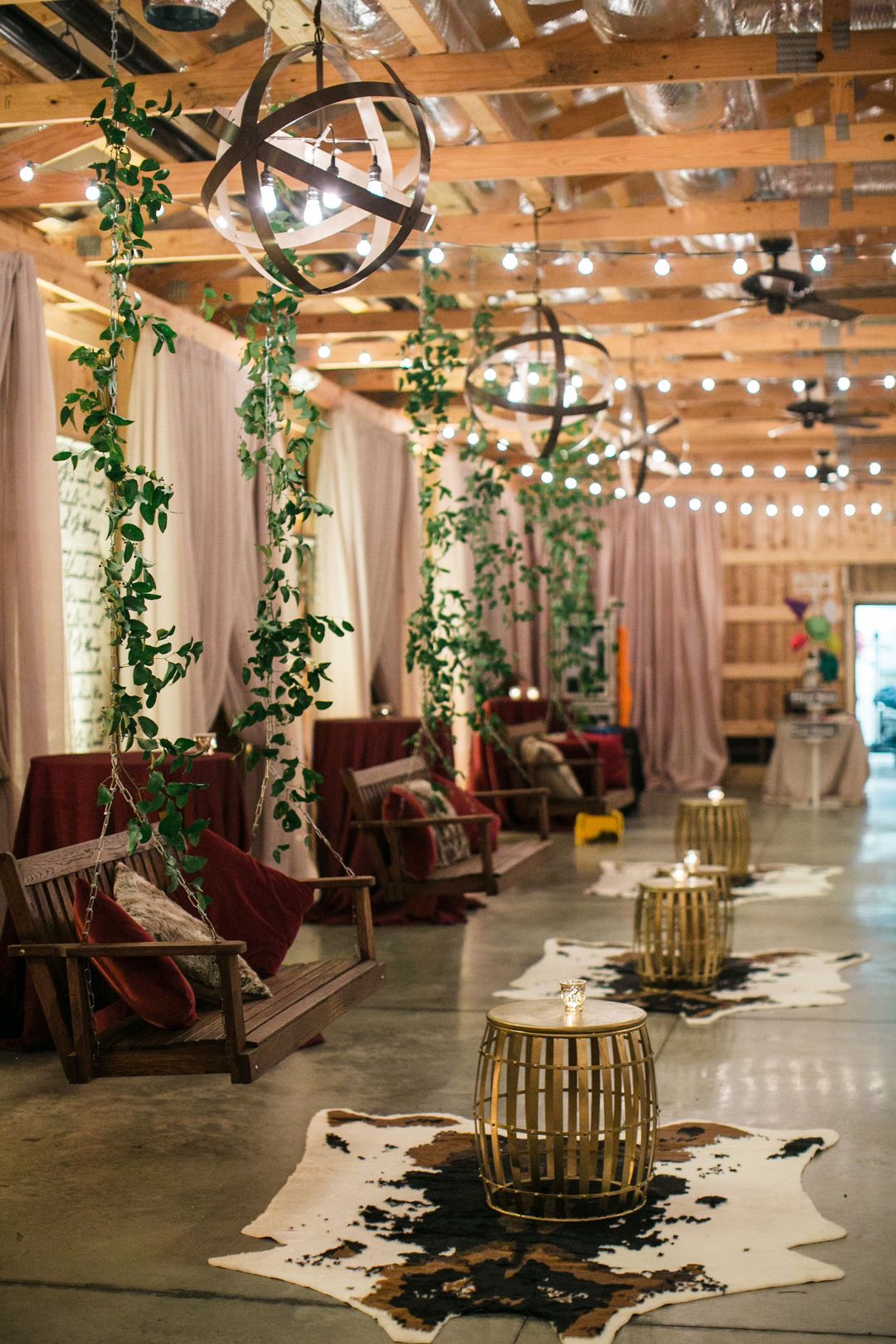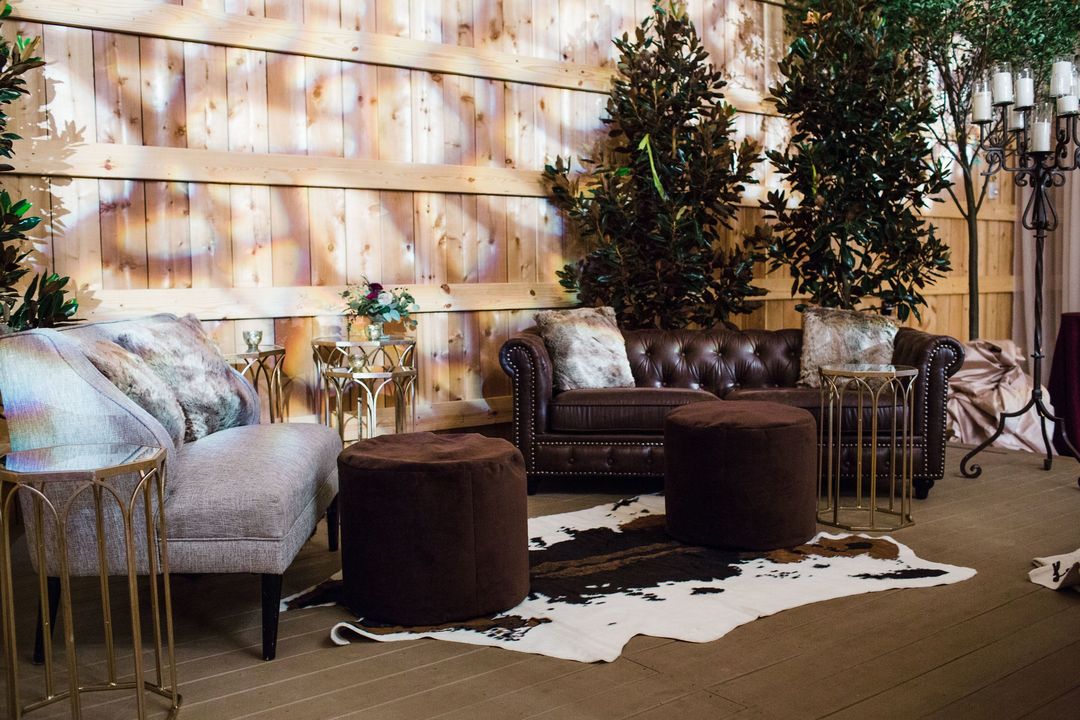 Photo by SheHeWe Photography
Luxe Outdoor Lounges
Of course, you have to take advantage of the lush landscape, which is perfect for an outdoor lounge area. Depending on the season in which you host your event, why not host a cocktail hour outside? You can easily create a variety of stylish wedding lounges, whether you want a look that is more moody, modern or chic. The following layouts include a set of our Acrylic Ghost Armchairs, Nickel Grey Bench and Regent Black Velvet Sofas.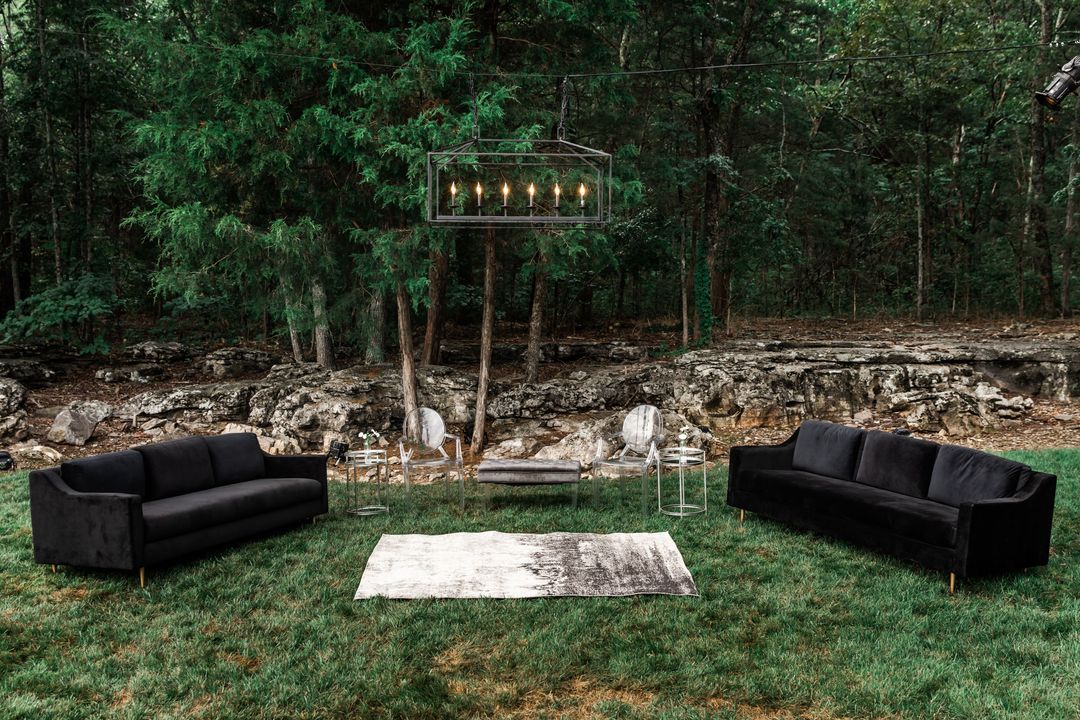 For these smaller areas, starring bistro and accent tables, seating is more minimal. See below our favorite White Eiffel Arm Chairs and Acrylic Casper Square Barstools! For additional texture, consider using our sequin table linens or etched velvet linens.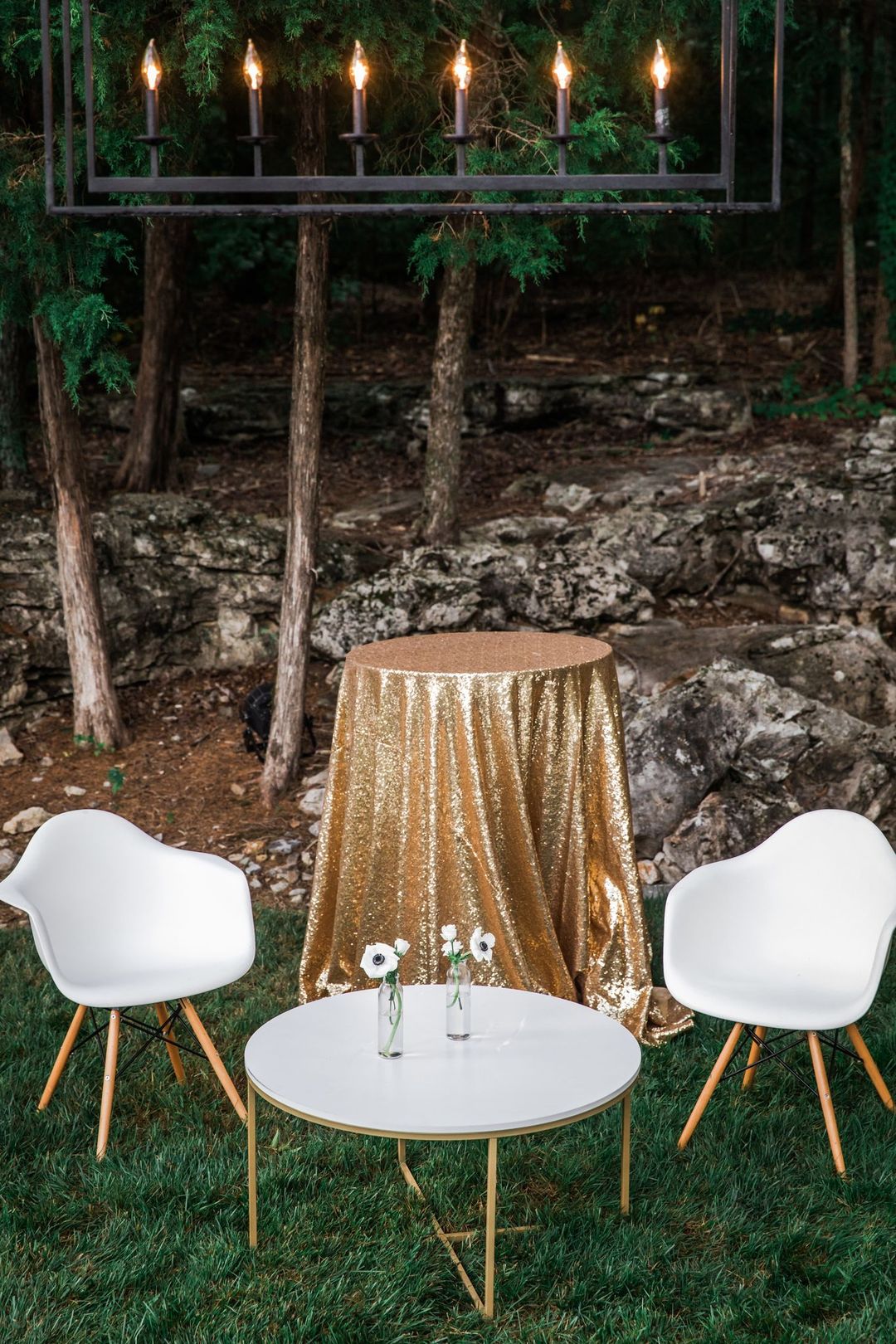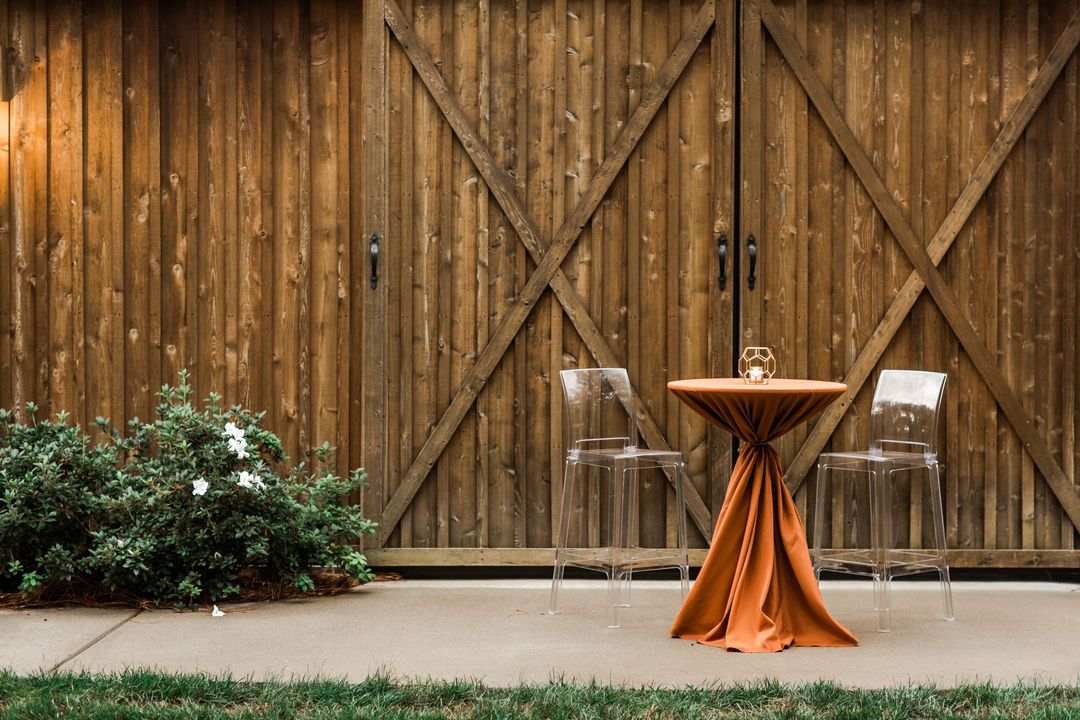 Planners: Southern Honey Events & Erin Lynn Events
Photographer: Nyk & Cali
Florals: Amy & I Designs & Larson Floral Co.
Lighting: Nashville Event Lighting
Signs: White Ink Calligraphy
Ready to plan your wedding at Saddle Woods Farm? Contact our team at info@southerneventsonline.com for help recreating one of these luxe looks, or for guidance in creating your very own!
TAGS | Nashville Real Wedding, Saddlewood Farms, Style Shoot, classic southern wedding, nashville venue
FEATURED RENTALS | Acrylic Ghost Armchairs, White Eiffel Arm Chair, Etched Velvet Linens, Sequin Linens, Glass Charger with a Gold Rim, Alabaster China, Austin Gold Flatware, Colored Glassware, Pure Glassware, Davis Glass Cylinders, Nickel Grey Bench, Burnt Orange Poly Linens, Glass Charger with a Silver Rim, Onyx & Stone China, Hammered Flatware, Black Nova Linens, Regent Black Velvet Sofas, Belmont Charger, Onyx China, Cybil Glassware, Cameron Flatware.
---
22

Sep

Events and Style Shoots, Southern Events Products, Trends and Inspiration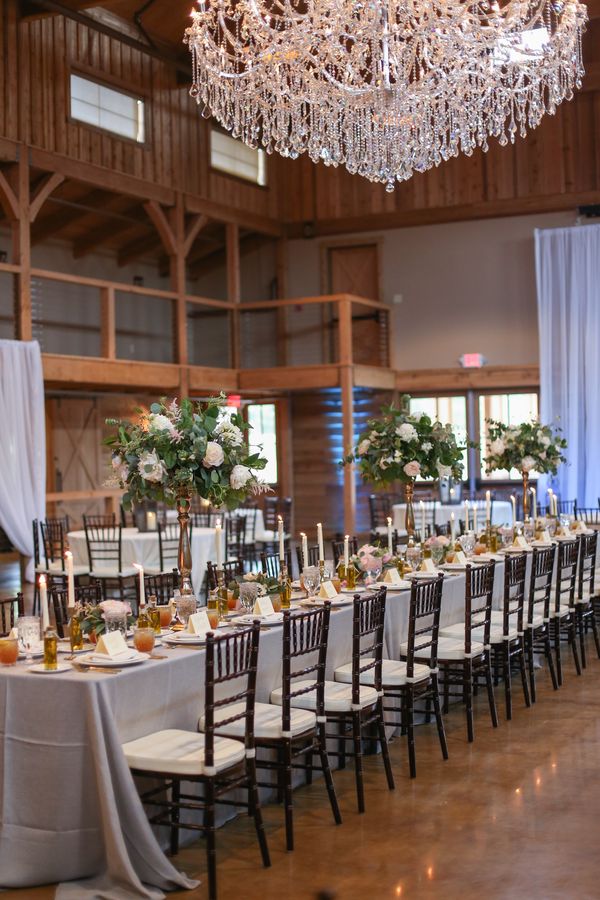 When Nashville's top wedding planners gather, one would expect a stylish setting.  The recent meeting of the Nashville Wedding Planners Group at the new Sycamore Farms gave them a stylish setting and an equal stylish table to dine.  Our Grey Goose Linens were set with our Darcy China, Hob Nob Glassware and Gold Austin Flatware creating a feminine tablescape that felt relaxed and on trend.  Tall arrangements of greenery and white & blush blooms from Owsley Designs made for easy conversation. We love this look for a ladies luncheon, daytime wedding, shower or dinner party.
Sycamore Farms is located in Arrington, TN on 28 Acres.  It features the gorgeous hall show below (check out that chandelier!) and lots of outdoor spaces to set up bars, lounges or take unique pictures. Thanks to Kristin Sweeting for the beautiful photos!
TAGS | Kristin Sweeting, Nashville Event Rentals, Nashville Wedding Planners Group, Nashville Wedding Rentals, Nashville party rentals, Saddlewood Farms, Southern Events Party Rental, Southern Events Party Rental Company, Unique Wedding Rentals
FEATURED RENTALS | Grey Goose Linens, Darcy China, Hob Nob Glassware , Gold Austin Flatware
---