12

May

On-Trend: Boho Glam Style Shoot at Pinehalls, Part 1
When Jen and Chris Creed Photographers approached us for a spring style shoot at Pine Halls, we knew the enchanted woodland setting was the perfect place to play with a gorgeous new trend: boho-glam. It's rustic with touches of sparkle, woodsy yet luxe. We teamed up with the Creeds, Bright Event Productions, and Enchanted Florist to create a fairy-tale wedding in the woods and it turned out beautifully!
This look feels opulent and unique, yet it's easily attainable for your events. Everything you see is available for rent through Southern, or through our partner vendors (like those stunning pendant lights from Bright!) With dozens of options in our inventory, we can make this look unique and versatile for your personal taste.
This luxe lounge scene, featuring our Prissy Loveseat and Armchairs and Pearly Side Chair, makes a romantic vignette for the Bride and Groom to enjoy a private moment together.
The ceremony scene is a mix of glam features: from the Gold Chiavari Chairs, to the Roundabout Wrought Iron Candelabras, and Sequined Accent Pillows; to boho touches: the textured florals to the Lace Chair Ties (in Ivory, Blush, and Taupe). We paired our White Washed Whiskey Barrel, Windsor Gold Cake Plateau, and Bessie Lace Table Runners in a stunning and versatile altar scene that can easily be repurposed for a cake display in a reception setting!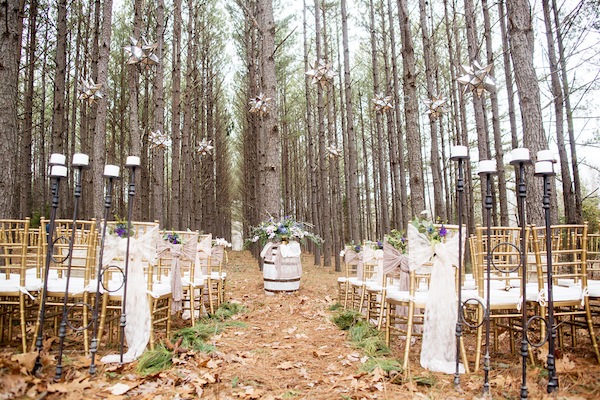 FEATURED RENTALS |
SEE MORE LIKE THIS