5

Nov

Events and Style Shoots, Southern Events Products, Trends and Inspiration
This year's A Very Marry Occasion wedding showcase at CJ's Off the Square was a gorgeous success! We're still swooning over all the opulent details, from our gorgeous white furniture to the lush floral magic from Enchanted Florist. We set the scene for an upscale outdoor garden reception with our White-Washed farm tables, Vienna Couch (covered in our ivory slipcovers),  assorted pillows, Lilac Fairmont Runners, Belmont Chargers and Abby Fine Silver Flatware. Guests for the open house mingled at our Jackson Silver Pedestal Bistro Tables. Our Willow Cake Plateau made a sweet dessert display in the cake room. All in all, it was a fantastic showcase thanks to the careful planning and creative vision of CJ Dickson. The event has been featured on Wedding Chicks and Ruffled!
Special thanks to Austin Gros for his wonderful photography work!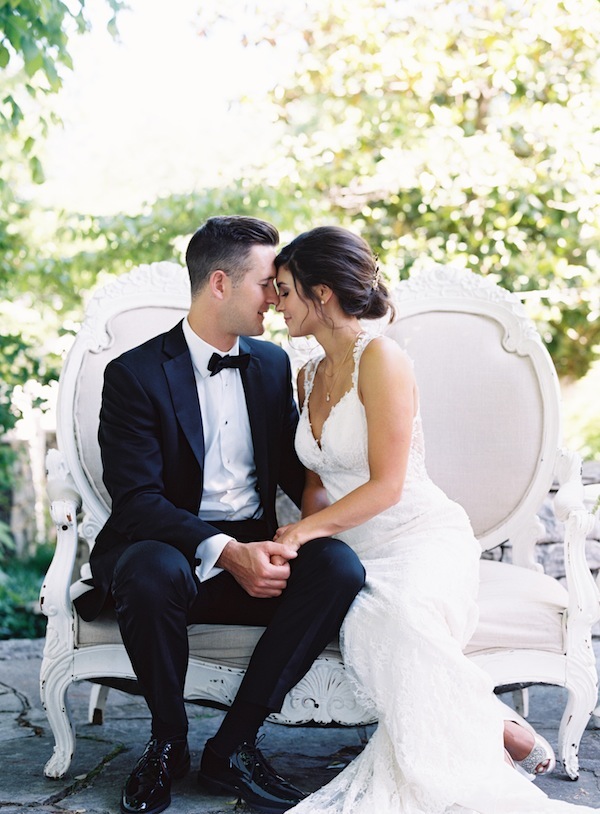 (Note: our Prissy Loveseat, featured in the photo above, has been retired, but our Delilah Loveseat would make a beautiful alternative.)
TAGS | AVMO, CJ's Off the Square, Garden Wedding, lilac wedding decor, upscale outdoor garden wedding, upscale outdoor wedding, upscale wedding decor, vintage wedding rentals, white wedding decor
FEATURED RENTALS |
---
11

Aug

On Trend, Southern Events Products, Trends and Inspiration
We're seeing a lot of upscale lounges and tablescapes set outdoors for weddings and events this year, and we swoon every time! We achieve this look with ornate details, luxe linens, and metallic accents. The juxtaposition of opulent and rustic pieces (like pairing our Prissy Loveseat with our Whitewashed Farm Tables) in the outdoor setting creates a lavish atmosphere that will make your guests say, ooh-la-la. Grab a fancy cocktail and relax!
Product Details: Pearlie Side Chair, Prissy Loveseat, Artisan China, Jackson Silver Bistro Table, Whitewash Farm Tables, Lilac Dupioni Napkins, Willow Cake Plateau, Abby Fine Silver Flatware.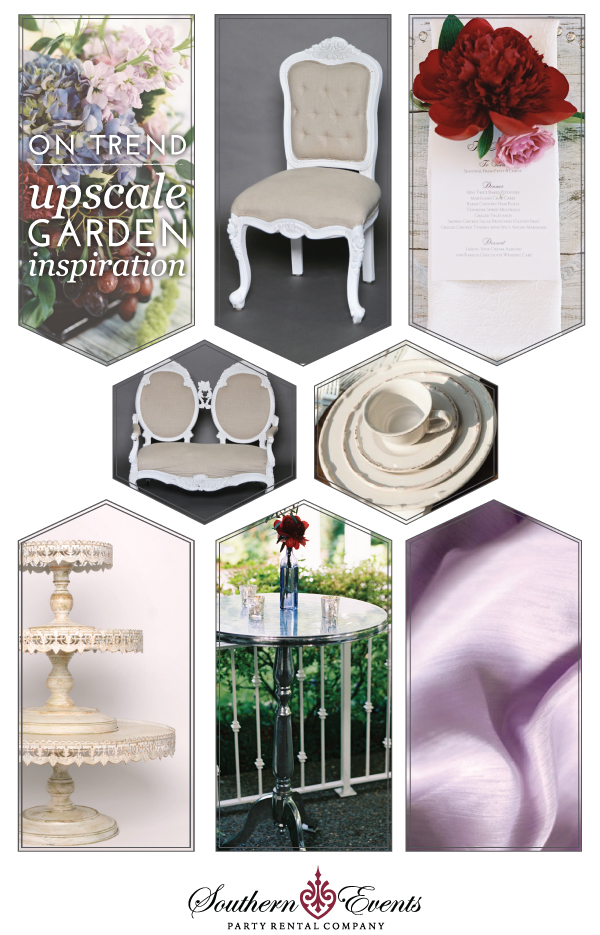 TAGS | On Trend, lavender wedding decor, lilac wedding decor, opulent outdoor wedding, purple wedding decor, southern wedding style, upscale outdoor wedding, upscale southern event, upscale southern wedding, wedding lounge, white wedding decor
FEATURED RENTALS |
---
12

May

On Trend, Southern Events Products, Trends and Inspiration
When Jen and Chris Creed Photographers approached us for a spring style shoot at Pine Halls, we knew the enchanted woodland setting was the perfect place to play with a gorgeous new trend: boho-glam. It's rustic with touches of sparkle, woodsy yet luxe. We teamed up with the Creeds, Bright Event Productions, and Enchanted Florist to create a fairy-tale wedding in the woods and it turned out beautifully!
This look feels opulent and unique, yet it's easily attainable for your events. Everything you see is available for rent through Southern, or through our partner vendors (like those stunning pendant lights from Bright!) With dozens of options in our inventory, we can make this look unique and versatile for your personal taste.
This luxe lounge scene, featuring our Prissy Loveseat and Armchairs and Pearly Side Chair, makes a romantic vignette for the Bride and Groom to enjoy a private moment together.
The ceremony scene is a mix of glam features: from the Gold Chiavari Chairs, to the Roundabout Wrought Iron Candelabras, and Sequined Accent Pillows; to boho touches: the textured florals to the Lace Chair Ties (in Ivory, Blush, and Taupe). We paired our White Washed Whiskey Barrel, Windsor Gold Cake Plateau, and Bessie Lace Table Runners in a stunning and versatile altar scene that can easily be repurposed for a cake display in a reception setting!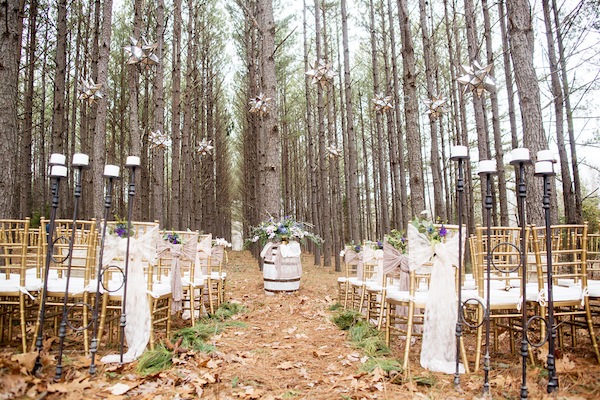 TAGS | Bright Event Productions, Enchanted Florist, Jen and Chris Creed Photography, On Trend, Pinehalls style shoot, Pinehalls venue, Southern Events Party Rental Company, boho glam, boho glam wedding decor, lavender wedding decor, lilac wedding decor, luxe lounge scene for weddings, purple wedding decor, woodland wedding
FEATURED RENTALS |
---