11

Aug

On Trend, Southern Events Products, Trends and Inspiration
We're seeing a lot of upscale lounges and tablescapes set outdoors for weddings and events this year, and we swoon every time! We achieve this look with ornate details, luxe linens, and metallic accents. The juxtaposition of opulent and rustic pieces (like pairing our Prissy Loveseat with our Whitewashed Farm Tables) in the outdoor setting creates a lavish atmosphere that will make your guests say, ooh-la-la. Grab a fancy cocktail and relax!
Product Details: Pearlie Side Chair, Prissy Loveseat, Artisan China, Jackson Silver Bistro Table, Whitewash Farm Tables, Lilac Dupioni Napkins, Willow Cake Plateau, Abby Fine Silver Flatware.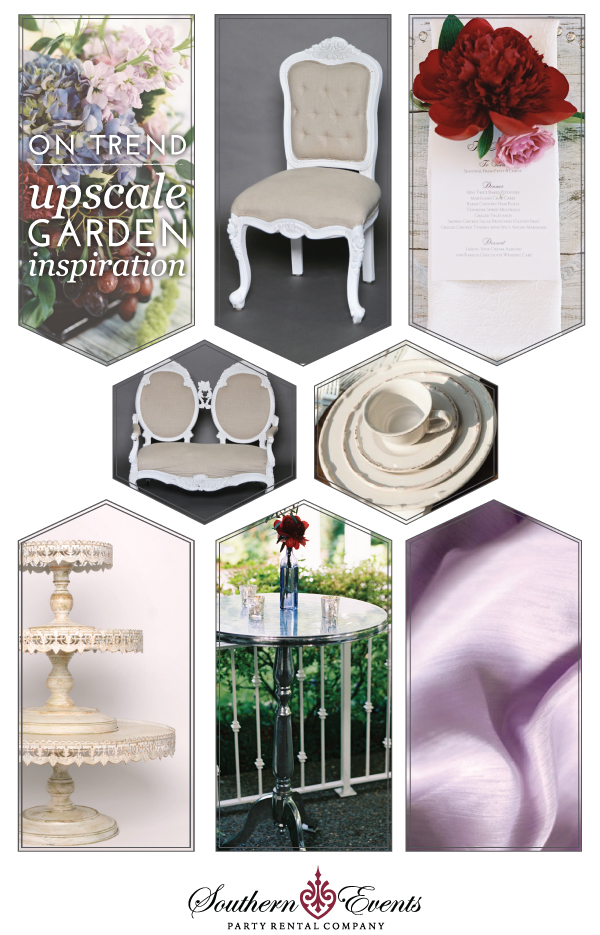 TAGS | On Trend, lavender wedding decor, lilac wedding decor, opulent outdoor wedding, purple wedding decor, southern wedding style, upscale outdoor wedding, upscale southern event, upscale southern wedding, wedding lounge, white wedding decor
FEATURED RENTALS |
---
14

May

Events and Style Shoots, Nashville Wedding Vendors, On Trend, Southern Events Products, Trends and Inspiration
We're back with more gorgeous images from our boho-glam style shoot at Pine Halls, with two sweet tablescapes! (If you missed our first post featuring the luxe outdoor lounge and ceremony scenes, you can find it here.)
We used the reception scene to play with another hot trend: purple! We're getting a lot of requests for it this season, and we can see why! Deep, romantic shades of plum, amethyst, eggplant, lavender, and lilac evoke elegance. Both looks feature our Fruitwood Farm Table, with our Bessie Blush and Ivory Lace Runners. Thanks again to our vendor partners Enchanted Florist, Bright Event Productions, Designs in Paper, Street Tuxedo, The Bride Room, Amy Lynn Larwig and Jen + Chris Creed Photography for making this style shoot truly spectacular! Be sure to see the feature on Ruffled for more great detail shots!
Look #1: Rustic Luxury
Product Details: Belmont Chargers, Artisan China, Austin Gold Flatware, Madison Glassware, Eggplant Poly Linens, Gold Chiavari Chairs, Sequined Accent Pillows.
Look #2: Woodsy Opulence
Product Details: Gold Round Lacquer Chargers, Mosaic China, Recycled Wine Bottle Glassware, Austin Gold Flatware, Eggplant and Lilac Poly Napkins, Provence Cathedral Chairs, Crossback Chairs.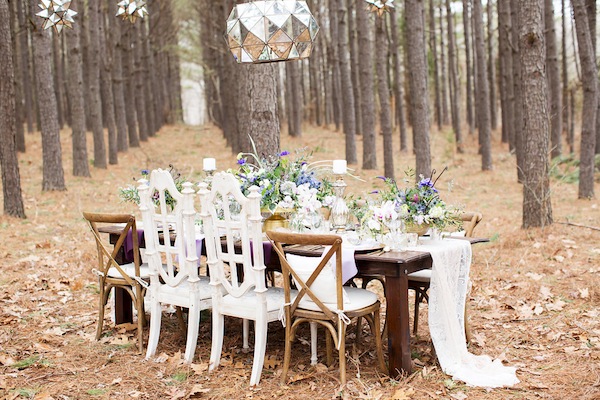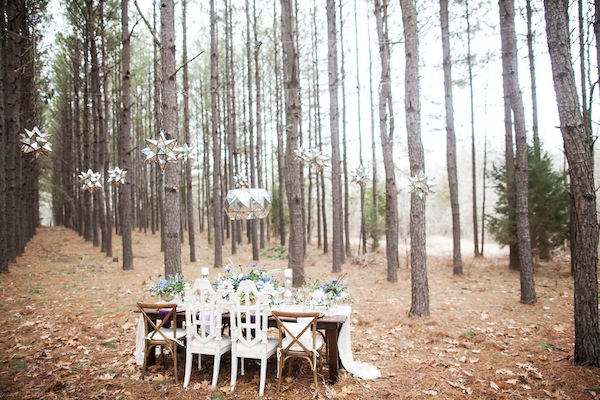 TAGS | Boho Luxe Event Decor, Bright Event Productions, Enchanted Florist, Jen, On Trend, Pinehalls style shoot, Pinehalls venue, Ruffled Blog, Southern Events Party Rental Company, boho glam, boho glam wedding decor, lavender wedding decor, purple wedding decor
FEATURED RENTALS |
---
12

May

On Trend, Southern Events Products, Trends and Inspiration
When Jen and Chris Creed Photographers approached us for a spring style shoot at Pine Halls, we knew the enchanted woodland setting was the perfect place to play with a gorgeous new trend: boho-glam. It's rustic with touches of sparkle, woodsy yet luxe. We teamed up with the Creeds, Bright Event Productions, and Enchanted Florist to create a fairy-tale wedding in the woods and it turned out beautifully!
This look feels opulent and unique, yet it's easily attainable for your events. Everything you see is available for rent through Southern, or through our partner vendors (like those stunning pendant lights from Bright!) With dozens of options in our inventory, we can make this look unique and versatile for your personal taste.
This luxe lounge scene, featuring our Prissy Loveseat and Armchairs and Pearly Side Chair, makes a romantic vignette for the Bride and Groom to enjoy a private moment together.
The ceremony scene is a mix of glam features: from the Gold Chiavari Chairs, to the Roundabout Wrought Iron Candelabras, and Sequined Accent Pillows; to boho touches: the textured florals to the Lace Chair Ties (in Ivory, Blush, and Taupe). We paired our White Washed Whiskey Barrel, Windsor Gold Cake Plateau, and Bessie Lace Table Runners in a stunning and versatile altar scene that can easily be repurposed for a cake display in a reception setting!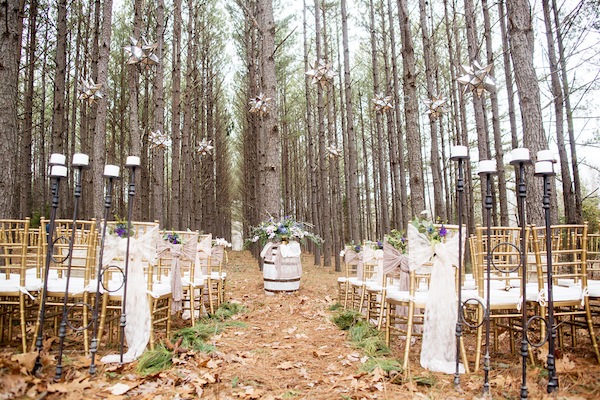 TAGS | Bright Event Productions, Enchanted Florist, Jen and Chris Creed Photography, On Trend, Pinehalls style shoot, Pinehalls venue, Southern Events Party Rental Company, boho glam, boho glam wedding decor, lavender wedding decor, lilac wedding decor, luxe lounge scene for weddings, purple wedding decor, woodland wedding
FEATURED RENTALS |
---