21

Jul

On Trend, Southern Events Products, Trends and Inspiration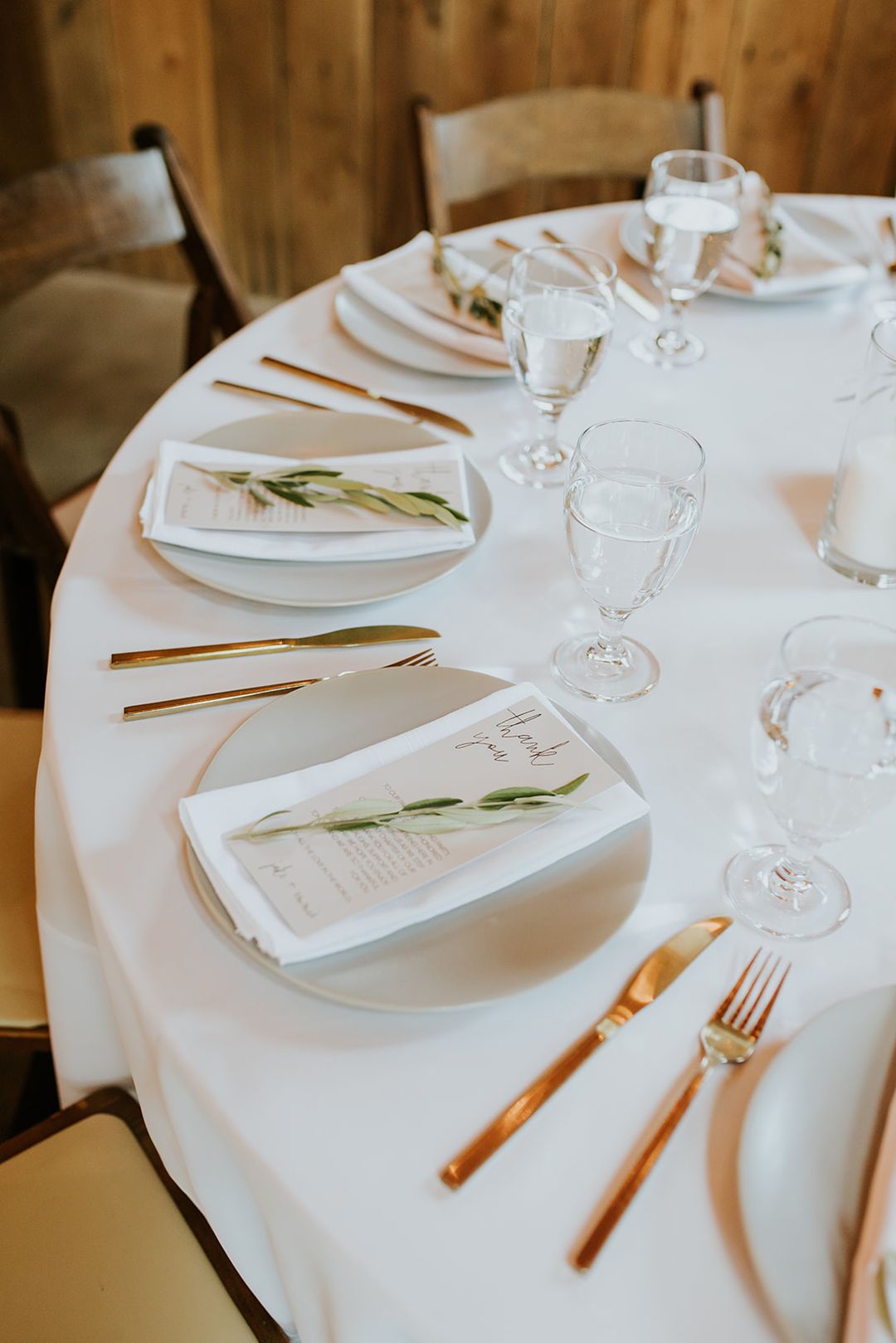 Sometimes less is more, and modern minimalist events prove just that! There is beauty to be found in simplicity, not to mention it often comes with a smaller decor budget. Less cluttered, modern minimalism can make it feel easier to breathe within your event space, without compromising style. Learn how to host a modern minimalist event when you take a look at our in-stock rentals that will lend a clean and timeless look.
Clean Tablescapes
To achieve a modern minimalist table, you'll want to keep any decor simple and maintain as much open space as possible – perhaps stick to greenery! As for serving ware, opt for pieces that are sleek. Such as our Earthen China, available in 3 neutral colors, or Plain Glass China. Easily feature an elegant pop of metallics with our simple Austin Gold or Noir Matte Black Flatware. For a romantic minimalist table, feature a touch of color in your otherwise neutral palette with a set of our poly napkins. Perhaps in Ice Pink, Slate, or Lilac! Or, grab a velvet set for subtle texture.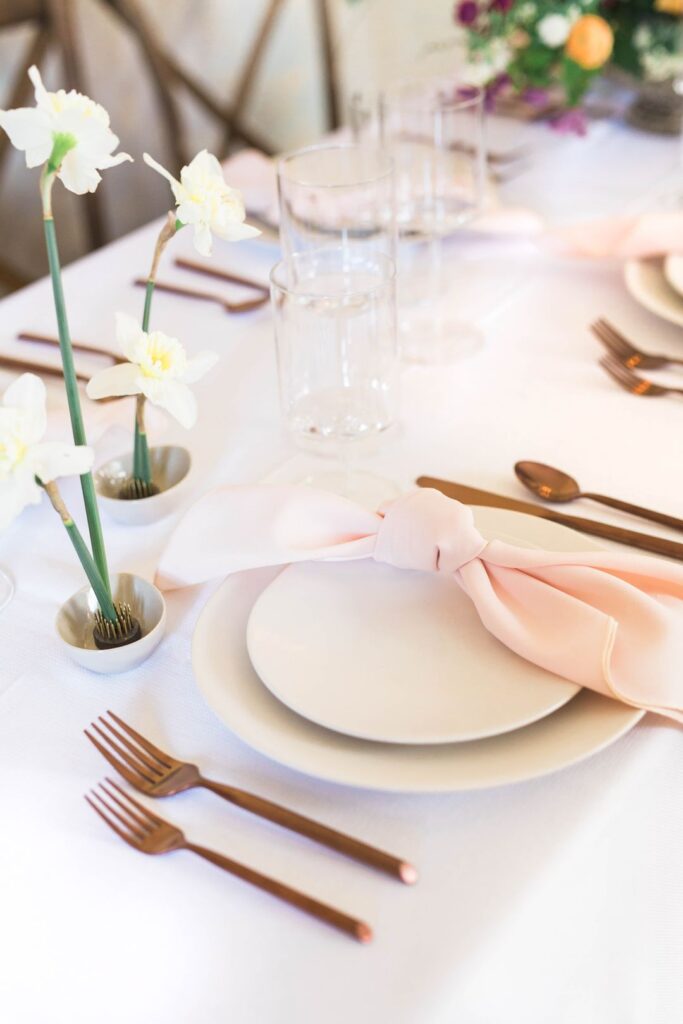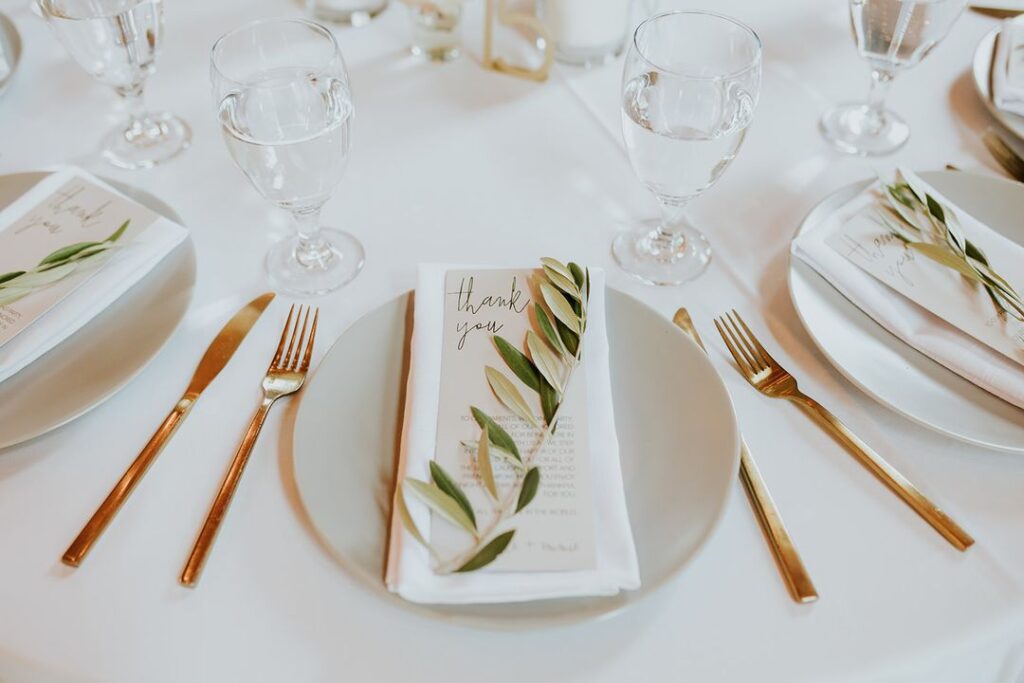 Stylish Guest Seating
Of course, your dinner tables will need chairs, of which we have many to choose from. For a modern event design, we recommend sticking to pieces that feature neutral colors and simple details. Any of our acrylic chairs are a great option, which will lend a unique contemporary look to your event. Both our Acrylic Ghost Arm Chairs and Acrylic Ghost Armless Chairs are a popular choice! For a slightly more romantic vibe, or to complement a warm-toned palette, you might opt for our Harlin Dining Chairs.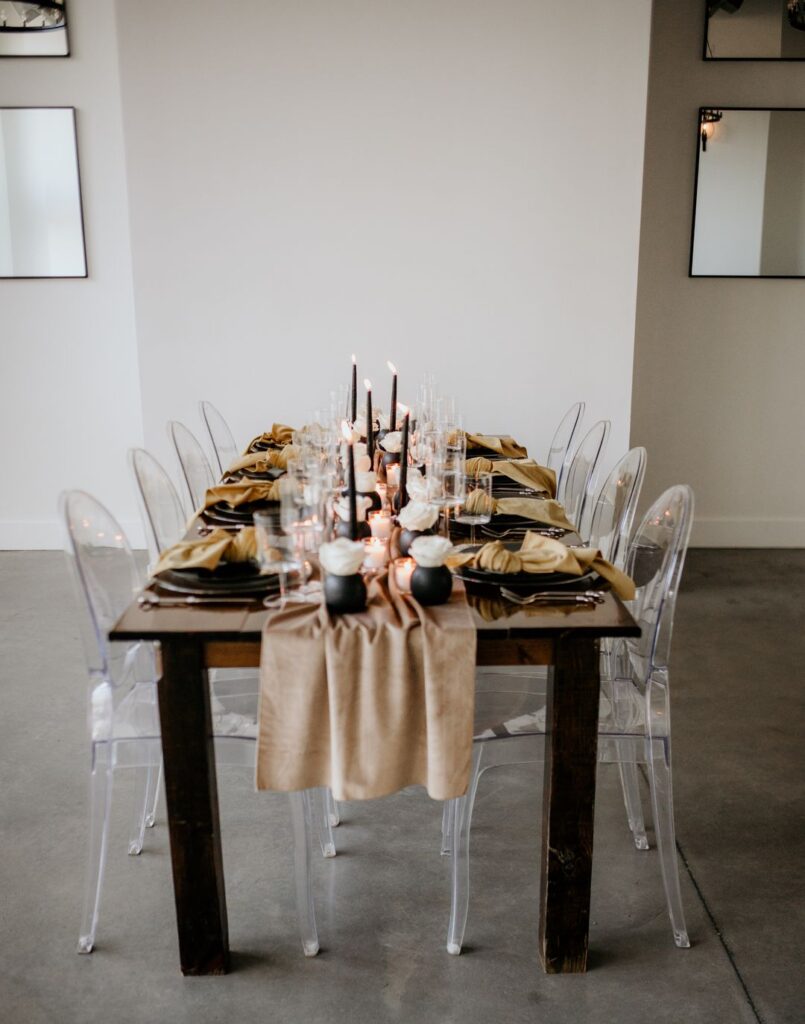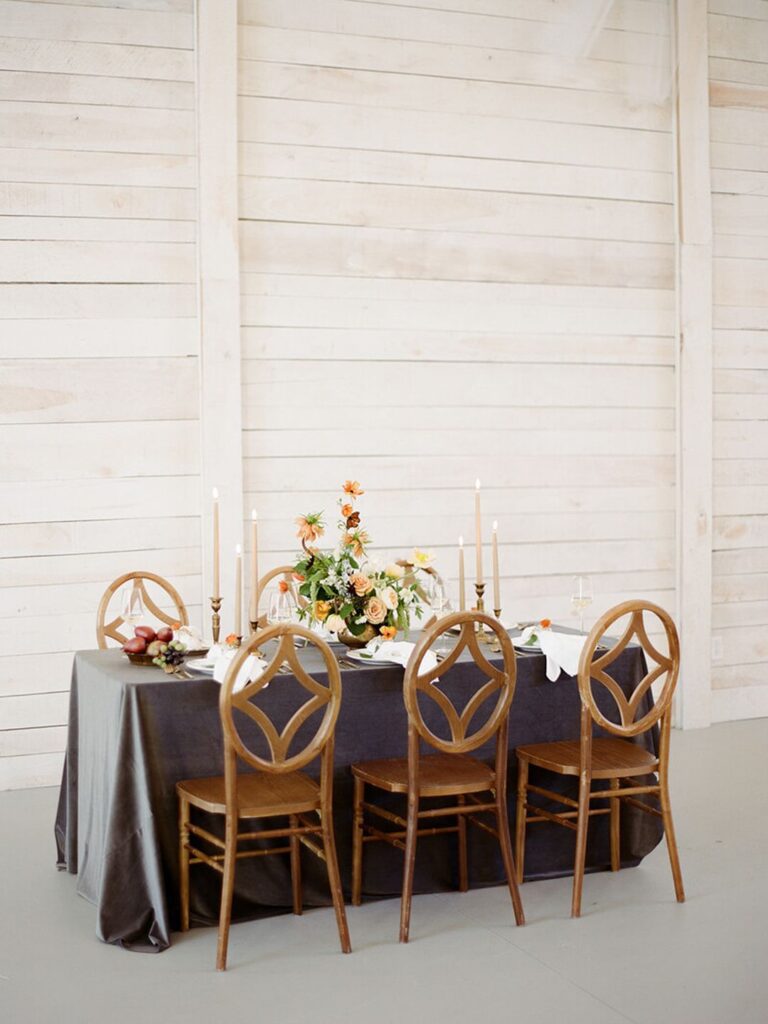 Sleek Lounge Areas
As always, every event needs a lounge to socialize. And one of our personal favorites are modern minimalist event lounges, starring clean & elegant furniture. We have a wide selection of timeless pieces that you can mix and match to create a one-of-a-kind social area. To start, choose a plush sofa, like our Regent Black Velvet Sofa – perfect for a moody minimalist lounge! Then, add-on chairs, such as one of our acrylic pieces or our unique White Eiffel Arm Chairs. And don't forget to include areas for guests to set their drinks! We're currently favoring our Rhodes, Rivet and Granger accent tables, with their sleek legs.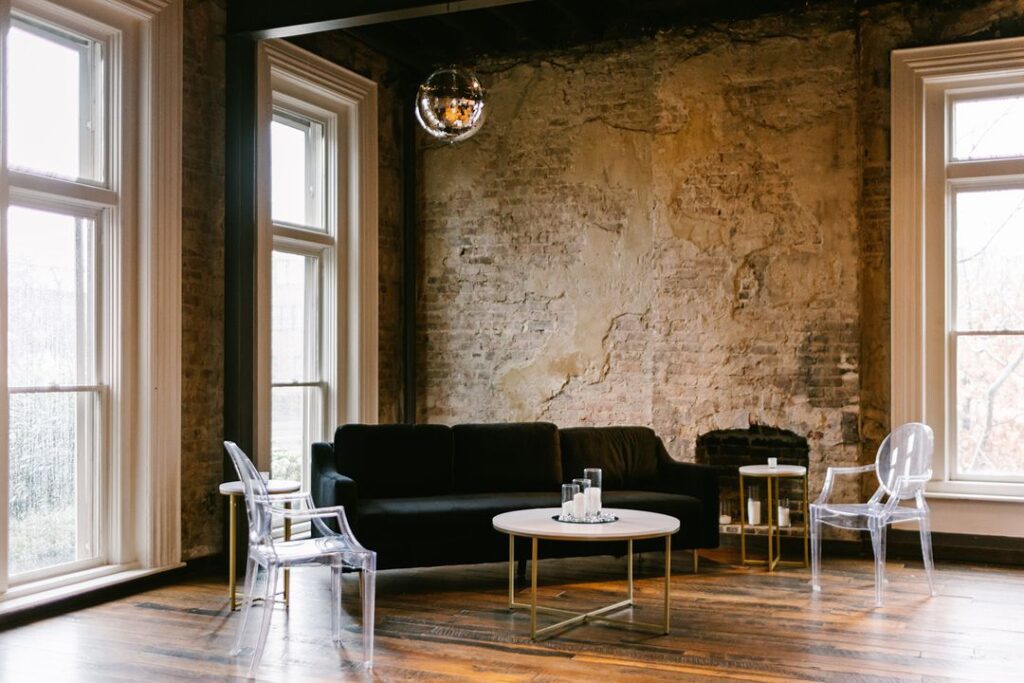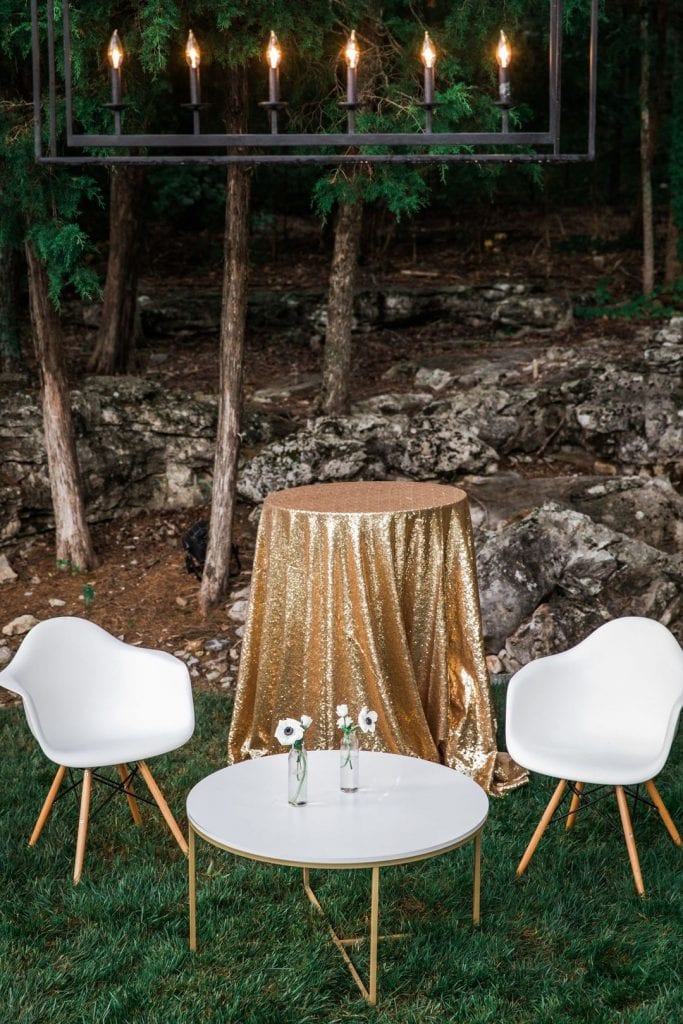 Ready to plan an on-trend modern minimalist event? Send our team a message at info@southerneventsonline.com for help selecting on-theme rentals!
TAGS | Event design, Southern Events Party Rental, luxe event design, minimalist event design, modern event decor, modern event design
FEATURED RENTALS | Earthen China, Plain Glass China, Austin Gold Flatware, Noire Matte Black flatware, poly napkins, Acrylic Ghost Arm Chairs, Acrylic Ghost Armless Chairs, Harlin Dining Chairs, Regent Black Velvet Sofa, White Eiffel Arm Chairs, Rhodes Accent Table, River Accent Table, Granger Accent Table,
---
14

Jul

On Trend, Southern Events Products, Trends and Inspiration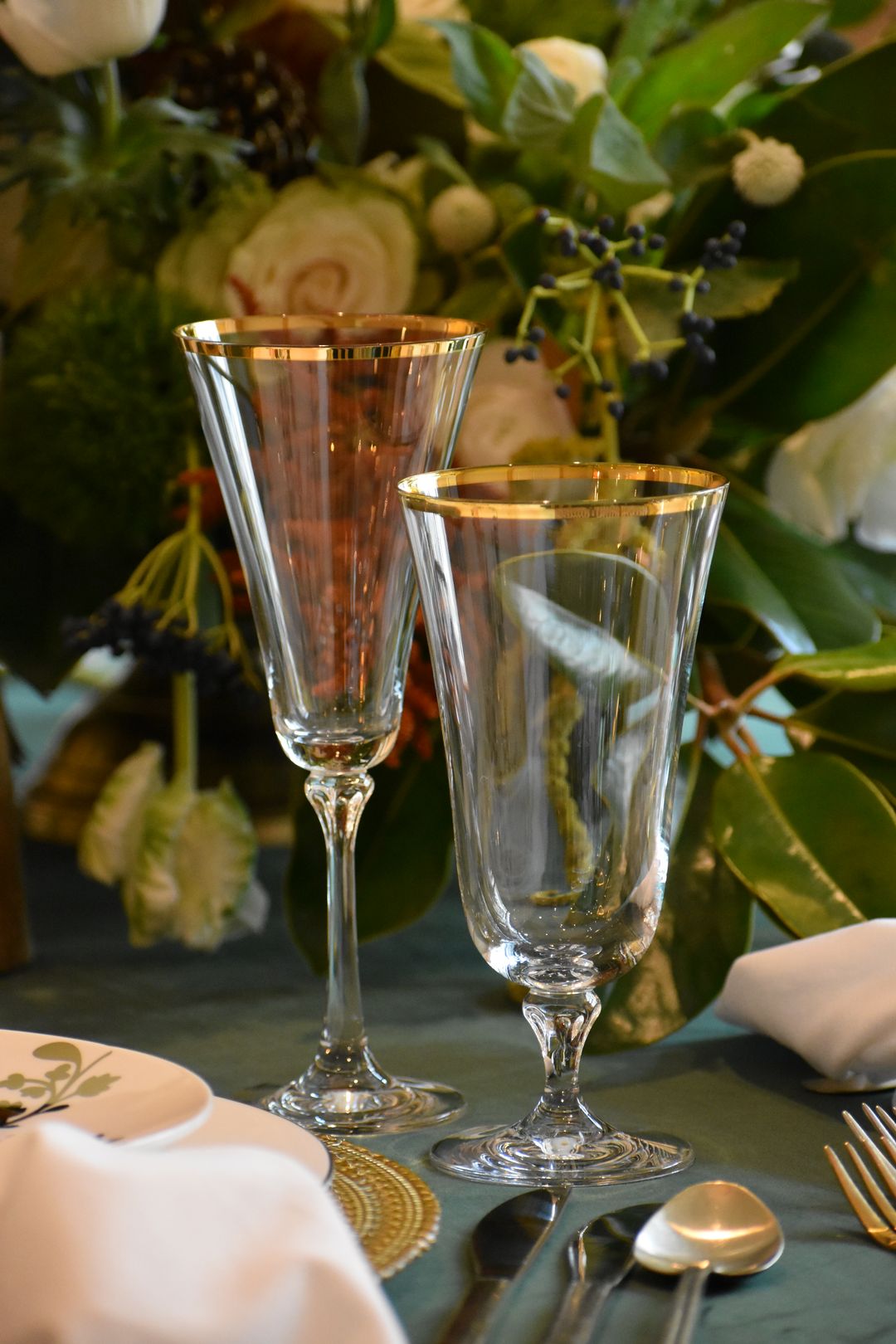 With regal and royal trending in event design, we're all about appreciating the finer things in life – including black-tie dinner parties! This theme is perfect for adding an upscale feel to any celebration, whether it be a birthday, anniversary, reunion, corporate achievement, and so on. Plus, planning a formal event is easier than ever, thanks to our elegant in-stock event rentals. Check out our serving ware, furniture, and decor that can be used to elevate your tablescape and impress your dinner guests!
Elegant Serving Ware
Black tie event design is all about luxury! For the table, we offer a range of stylish serving ware that suits any palette and style. White China is always a good start, whether you prefer Round plates or a more charming design, like Darcy. For a more moody table, opt for Earthen Onyx or Stone China. And should you prefer a more glam look, check out pieces that feature metallics. Such as our Glass Charger with a Gold Rim or Medallion Gold Glass Charger. If you want a touch of color, take a look at our gold accented Laguna or Coronado China.
Just don't forget to grab matching flatware! Our Gold Austin and Abby Flatware are always popular. Meanwhile, the Noir Matte Black and Como Flatware are edgy yet stylish.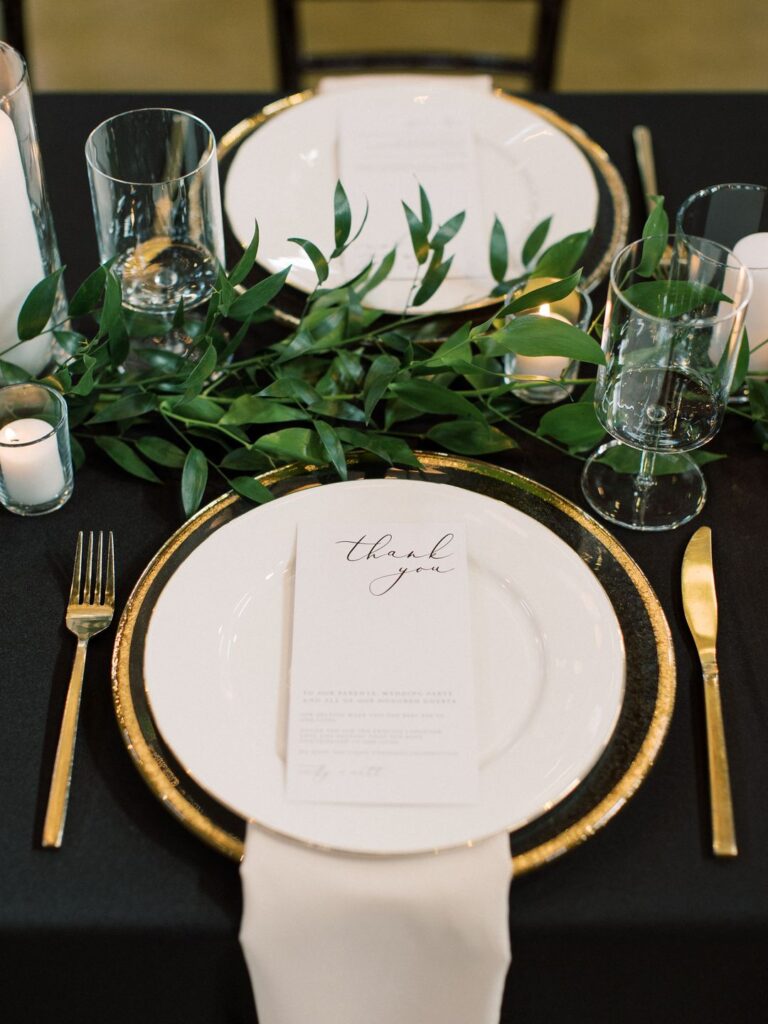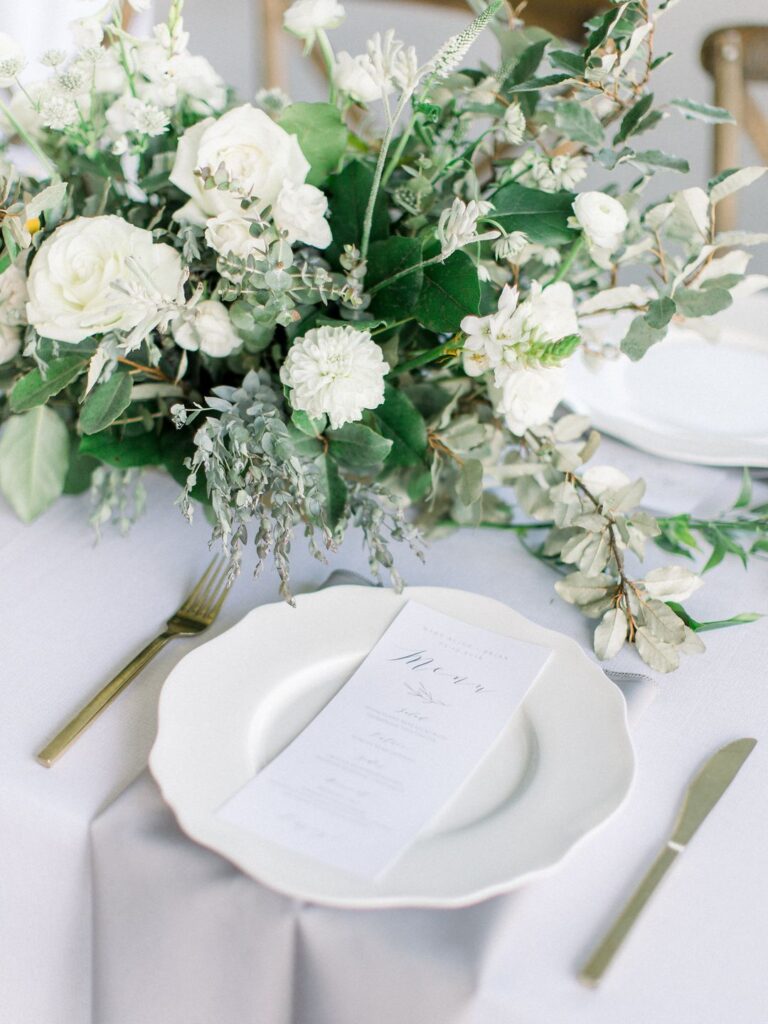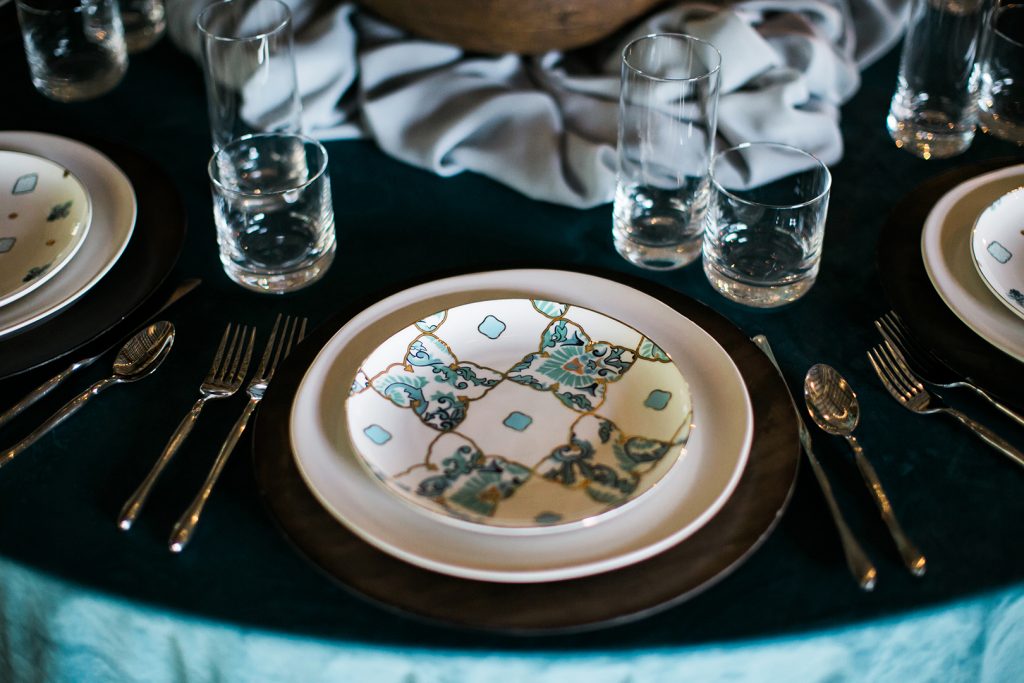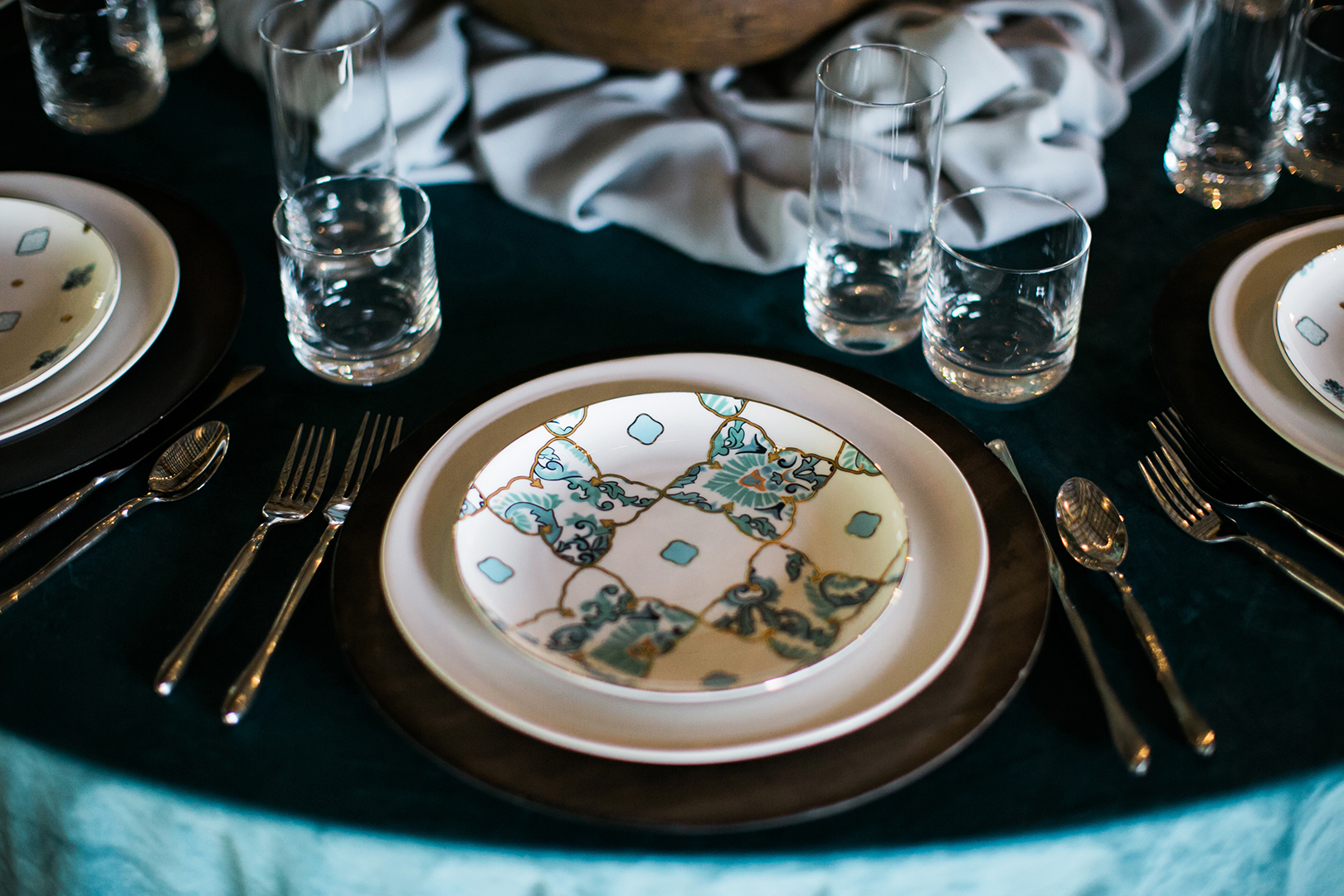 Luxe Seating
Although your own dining chairs will do just fine, swapping your seating for a special evening can make a big impact. It also makes for more cohesive black-tie dinner parties! We offer a variety of stylish seating options, from more traditional designs to unique contemporary pieces. Our Harlin Dining Chairs are ideal for luxe Southern-inspired gatherings, as our the Adeline Chairs. Whereas the Acrylic Carrigan Side Chairs offer a more modern but equally formal look! Then there is the always popular Chiavari Chairs, available in four beautiful colors, which look stunning in any setting.
Hosting a black-tie wedding or black-tie corporate event? Don't fret! We have plenty of seating in stock for small parties as well as large gatherings.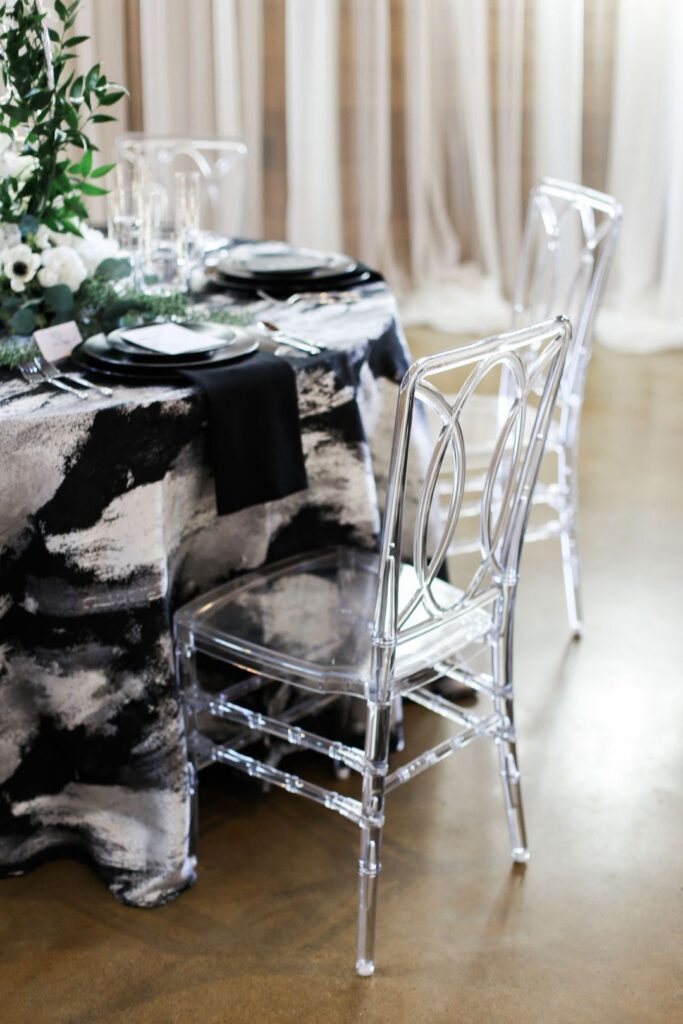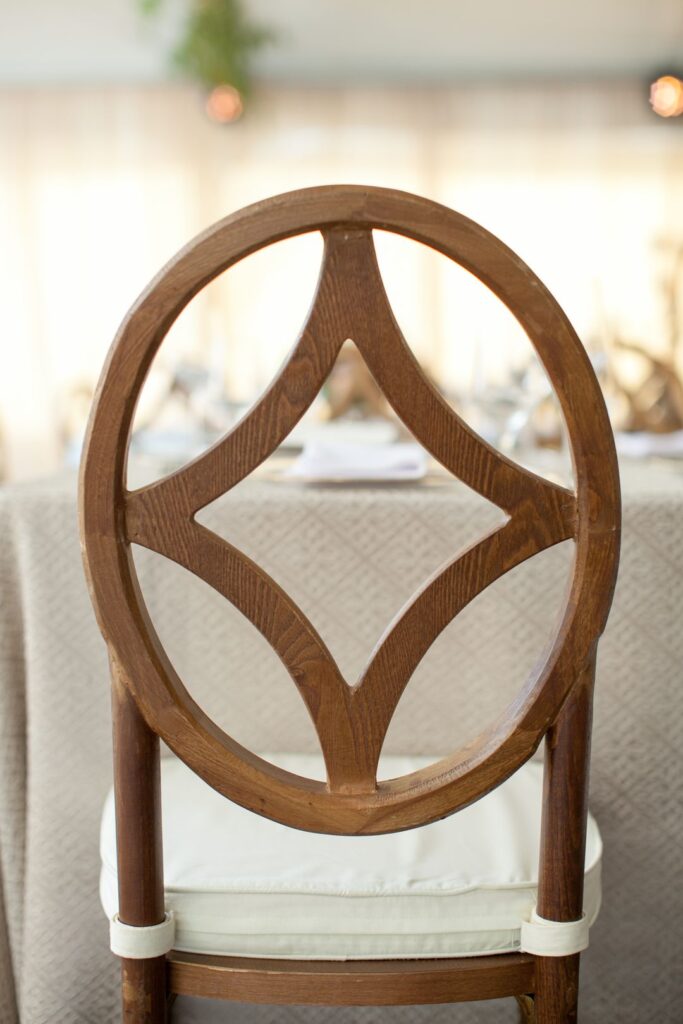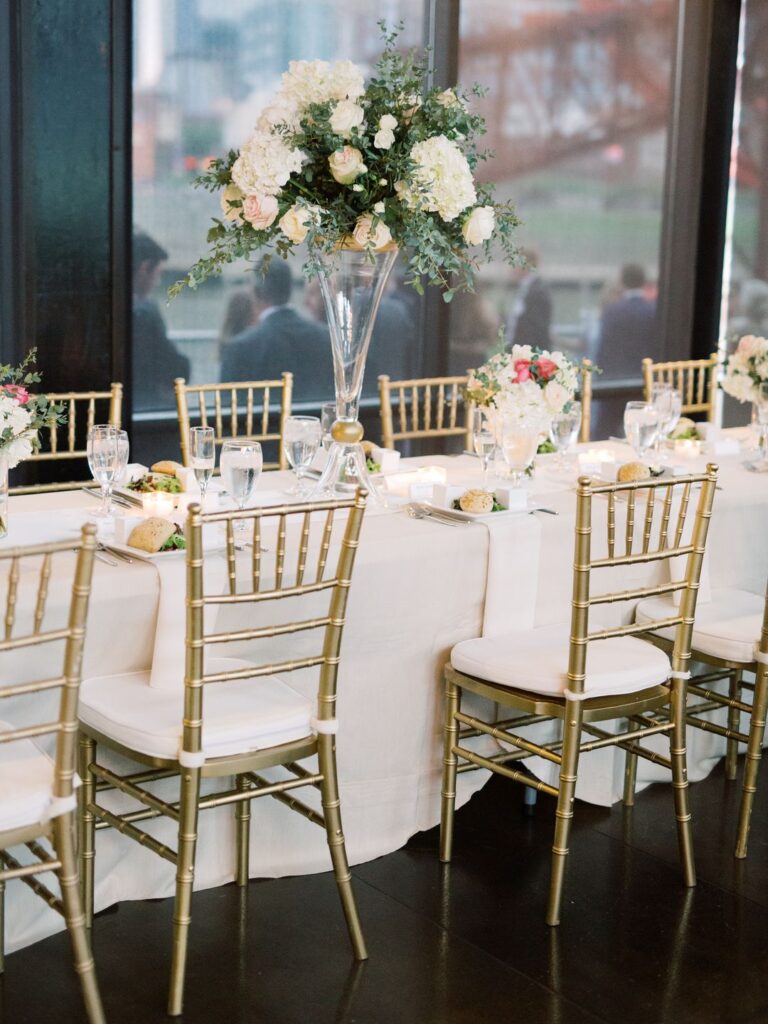 The 'Wow' Factor
While most black-tie event themes entail neutral palettes and elegant serving ware, we love a 'wow' factor. In fact, we encourage it! Little details that will have guests talking, snapping pics, and admiring the thought that went into the design. It can be as simple as quirky glassware, like our always popular Cybil Wine Glasses or Champagne Flutes. Or luxurious velvet linens, in a deep Magnolia or eye-catching Merlot – they won't be able to keep their hands off it! Another luxe addition are stylish centerpieces like our Davis Glass Cylinders, paired with greenery and candles. Or our contemporary Acrylic Rectangle Container.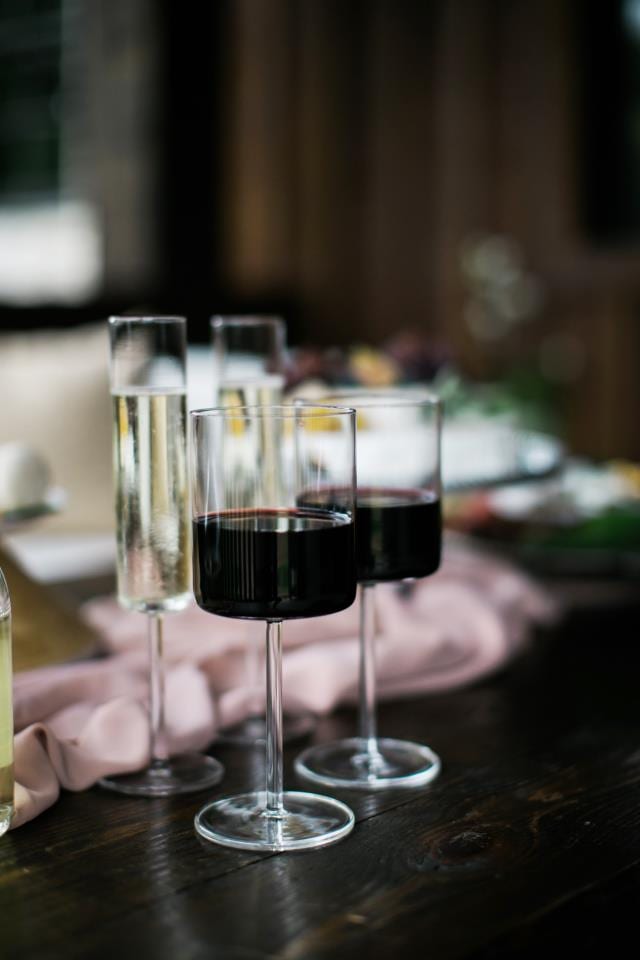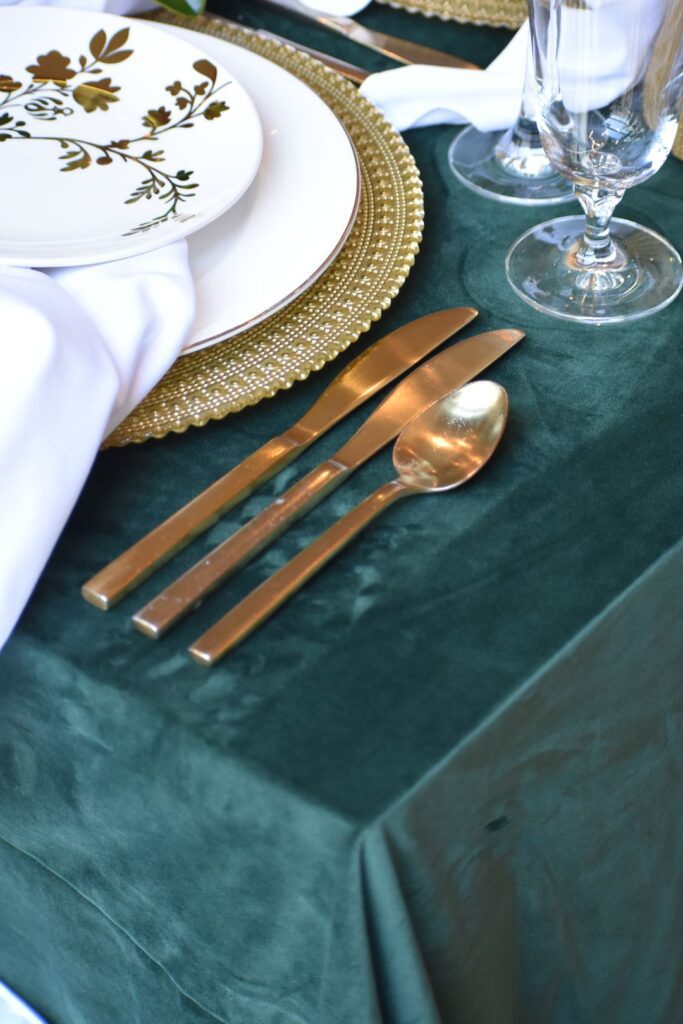 Love the idea of black-tie dinner parties? Send our team a message at info@southerneventsonline.com for help planning a one-of-a-kind event. Or for more event design inspiration, take a look at our blog on Regal Inspired Rentals for Elegant Tablescapes.
TAGS | Black and White, black tie dinner parties, event tables, event tablescapes, formal event design, luxe event design, luxe event rentals, servingware, tablescape design
FEATURED RENTALS | Magnolia Velvet Linens, Merlot Velvet Linens, Davis Glass Cylinders, Acrylic Rectangle Container, Round China, Onyx China, Stone China, Darcy China, Harlin Chairs, Adeline Chairs, Acrylic Carrigan Side Chairs, Chiavari Chairs,Glass Charger with Gold Rim, Medallion Gold Glass Charger, Laguna china, Coronado China, Gold Austin, Abby Flatware, Como Flatware, Noir Matte Black Flatware,
---
26

May

On Trend, Southern Events Products, Trends and Inspiration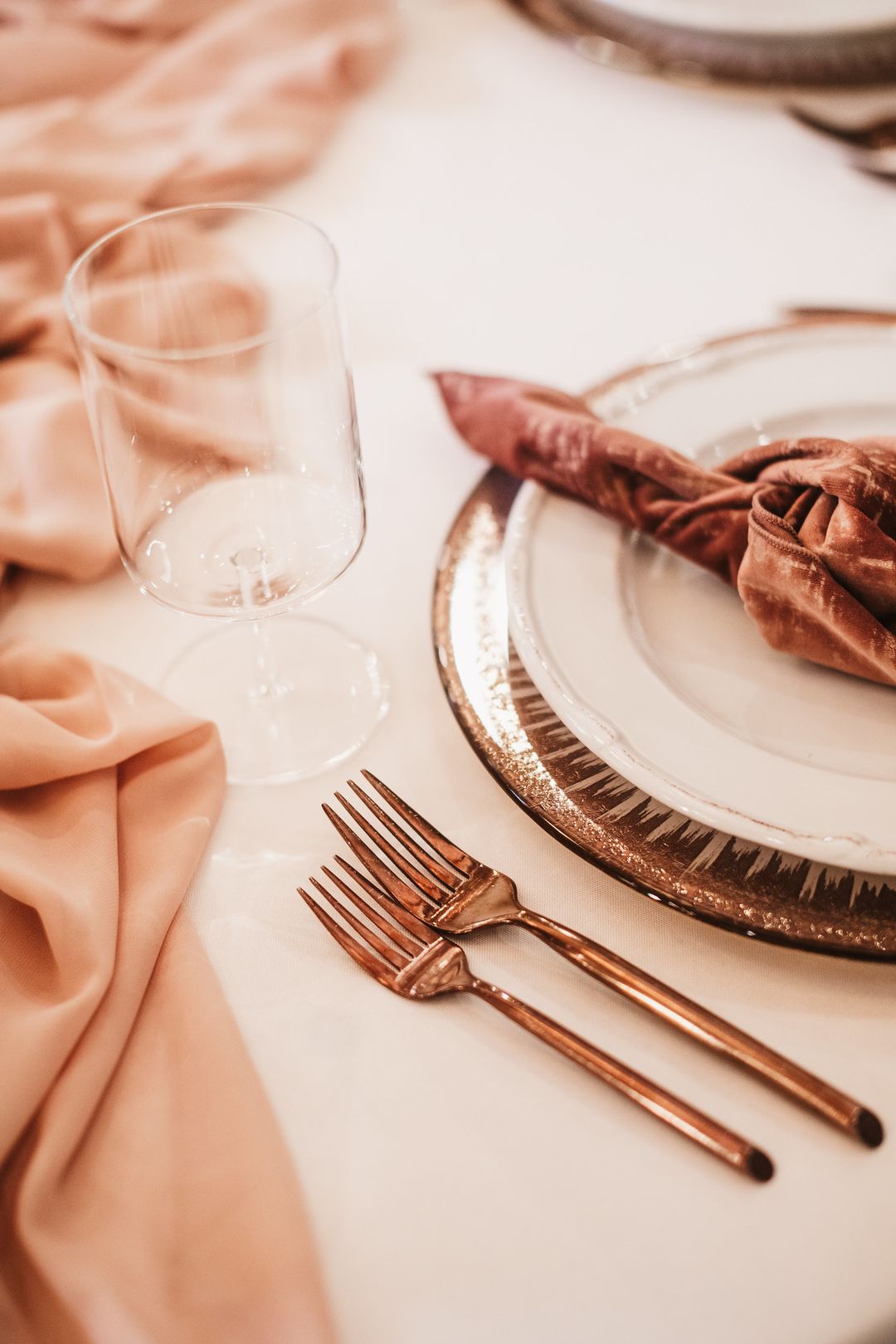 When it comes to event decor, table linens are a stylish way to dress up your event. Although simple, they are effective thanks to the wide variety of colors and materials, which contribute to the overall event design. Currently, we've been loving textured linens, from chic runners to velvet napkins. Get ideas on how to elevate your event tables when you feature a set of our on-trend textured linens!
Texture Table Runners
If you are featuring tables with an attractive top, then you won't want to cover it up! Gauze runners are a stylish way to feature some contrasting texture, while still showing off the existing tabletop. Perfect for our Farm Tables! Our Sahara Runners pair beautifully with the wood finish, and are available in three stunning colors. Ivory and Natural are ideal for a modern minimal tablescape. Meanwhile, Rose will lend a fun pop of color! Our Chiffon Runners, available in Rose, Dove Grey or White lend to a more romantic feel. Want a more glam accent? Take a look at our Sequin Table Runners!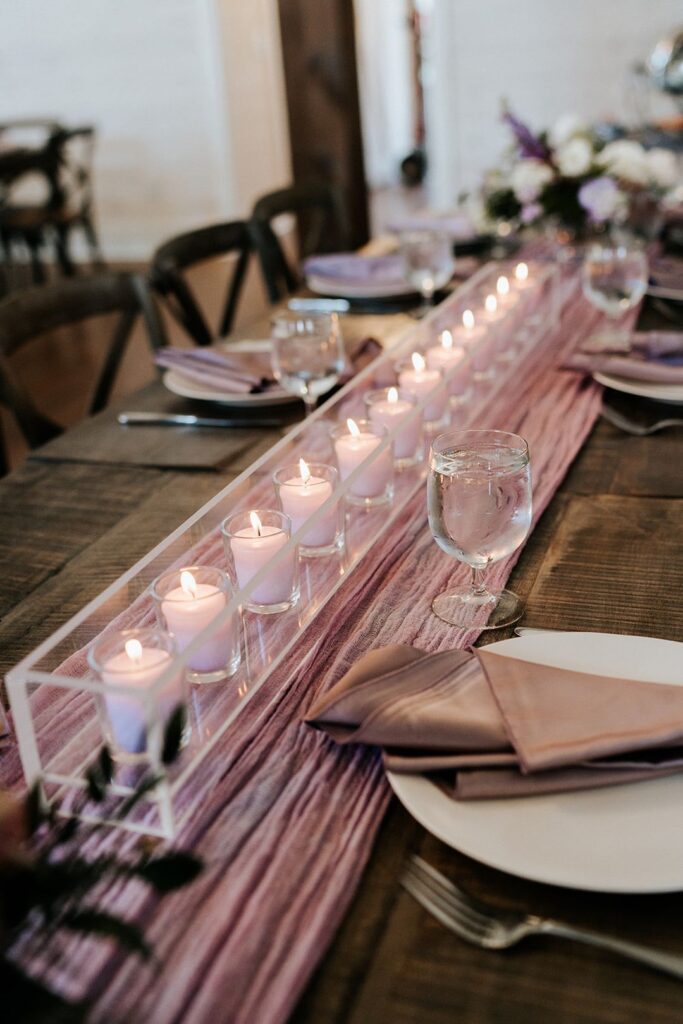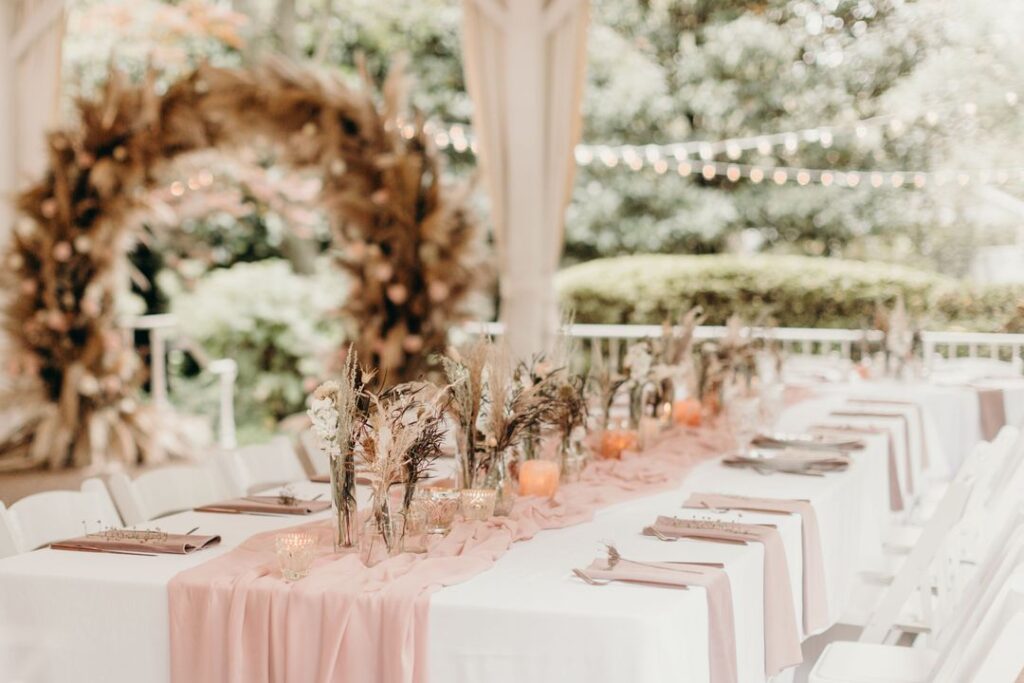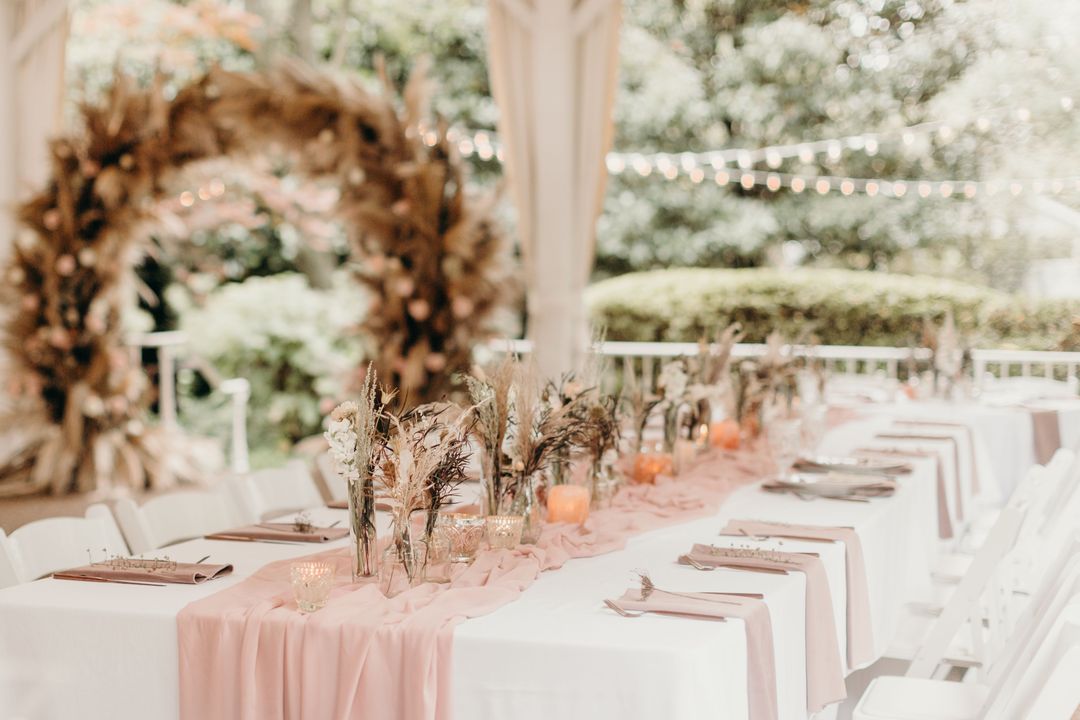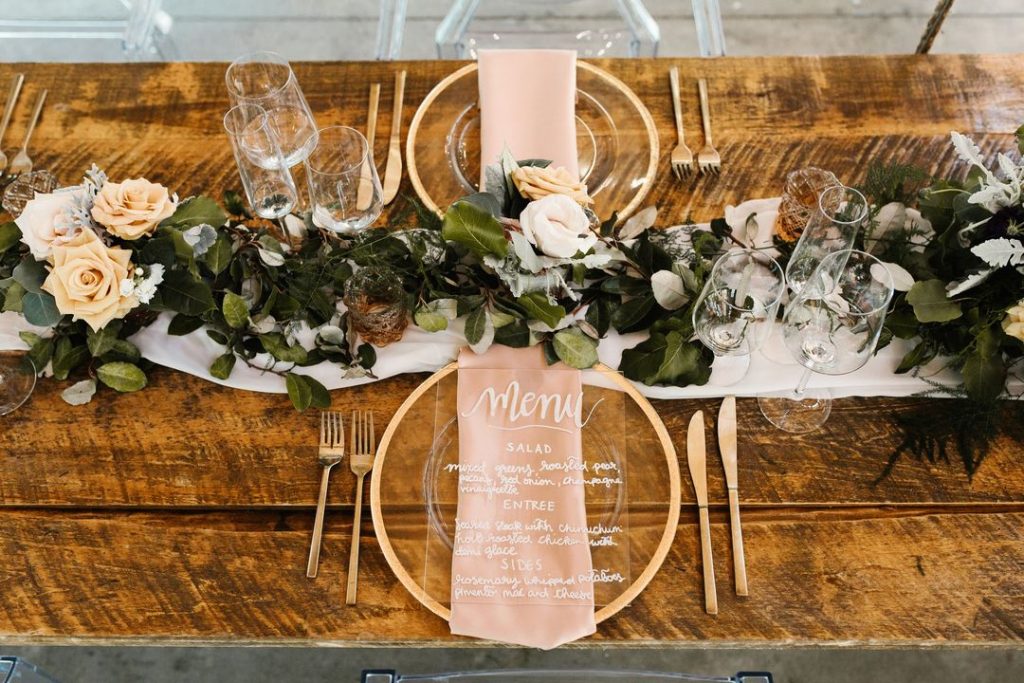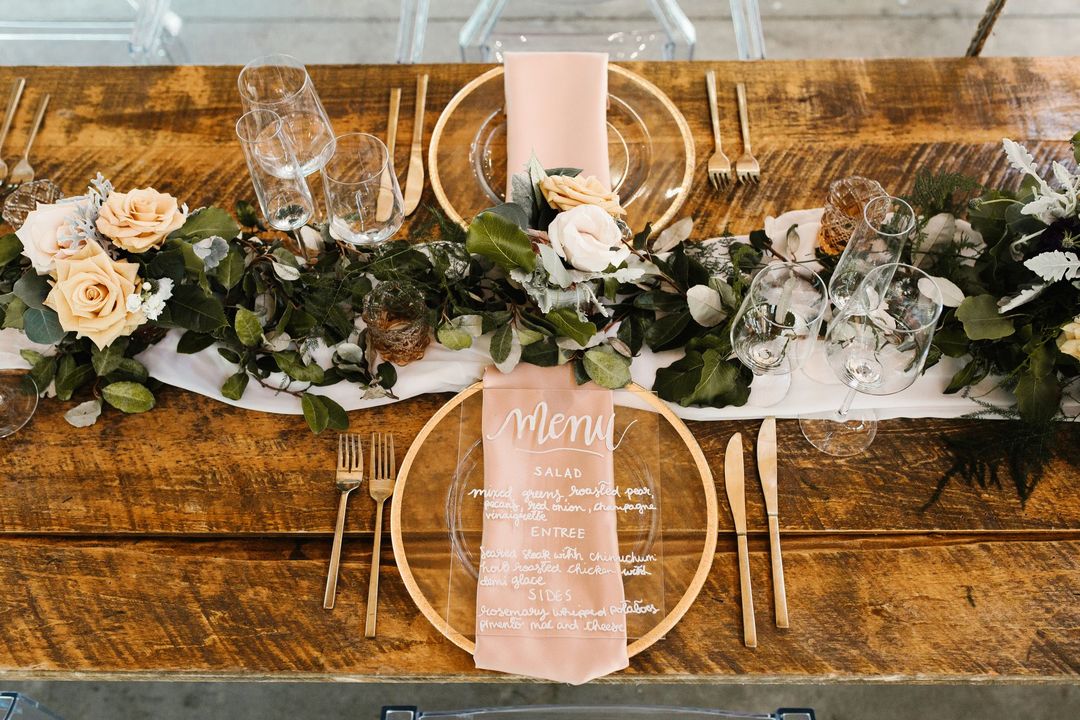 Sophisticated Linens
Dreaming of natural but sophisticated event tables? You can't beat our Kennedy Linens! These linen-style tablecloths and napkins are lightweight, soft, with an organic texture. They are perfect for warmer months of the year as they are slightly sheer, lending a laid-back look. Not to mention they are available in a range of neutral and dusty colors, fitting for a modern event table! Some of our current favorites include Cactus, Fawn and Topaz.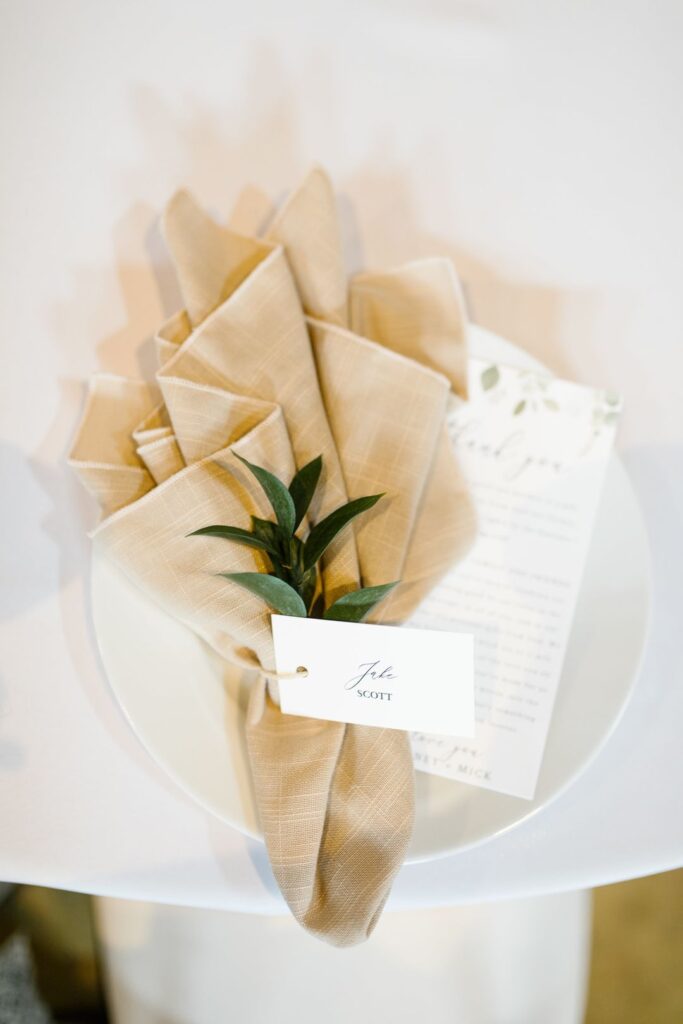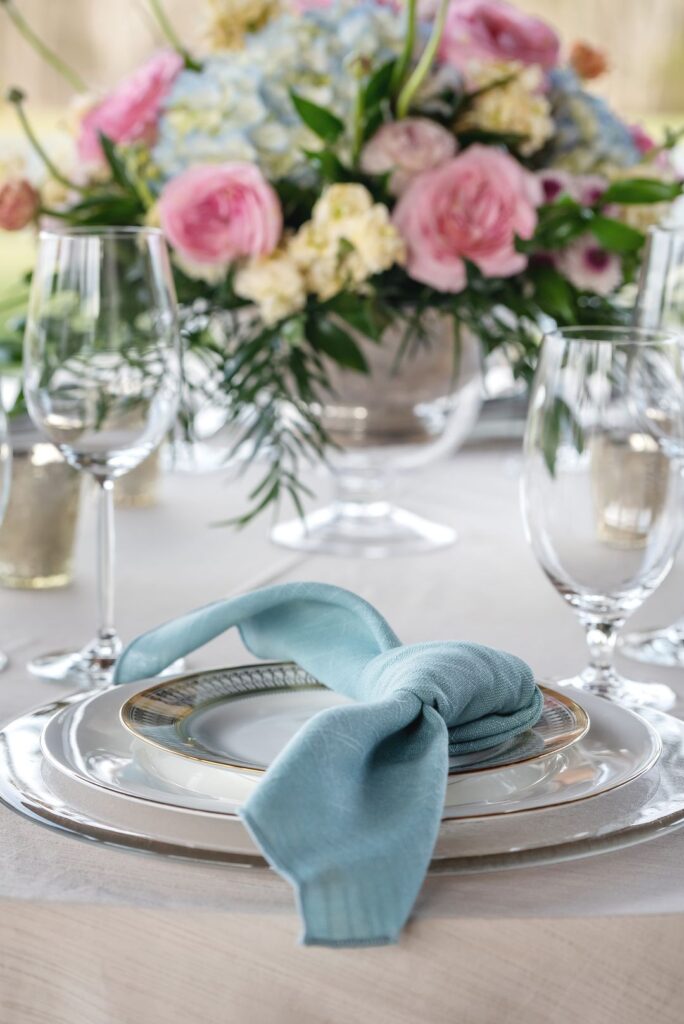 Luxe Linens
The latest and greatest fad in event linen rentals is velvet! Velvet linens create a rich, yet seasonless texture for your tables. And they are available in a huge array of gorgeous colors, making them fitting for a variety of event styles. A few of our current favorites include Fern, London Fog, and Rose. For an especially sophisticated look, check out our etched velvet linens featuring metallic accents – a fun option for cocktail tables. Or your cake table! If you want to switch things up a little, consider topping velvet table linens with satin napkins! A buttery texture with a soft sheen, they will make for an extra romantic tablescape.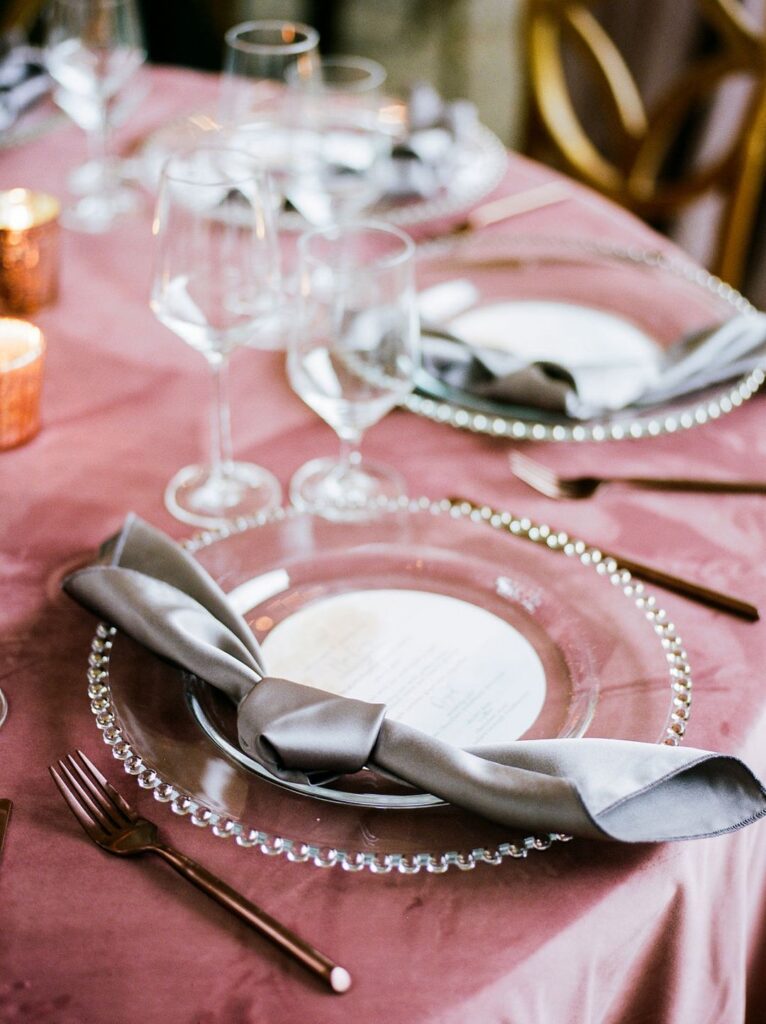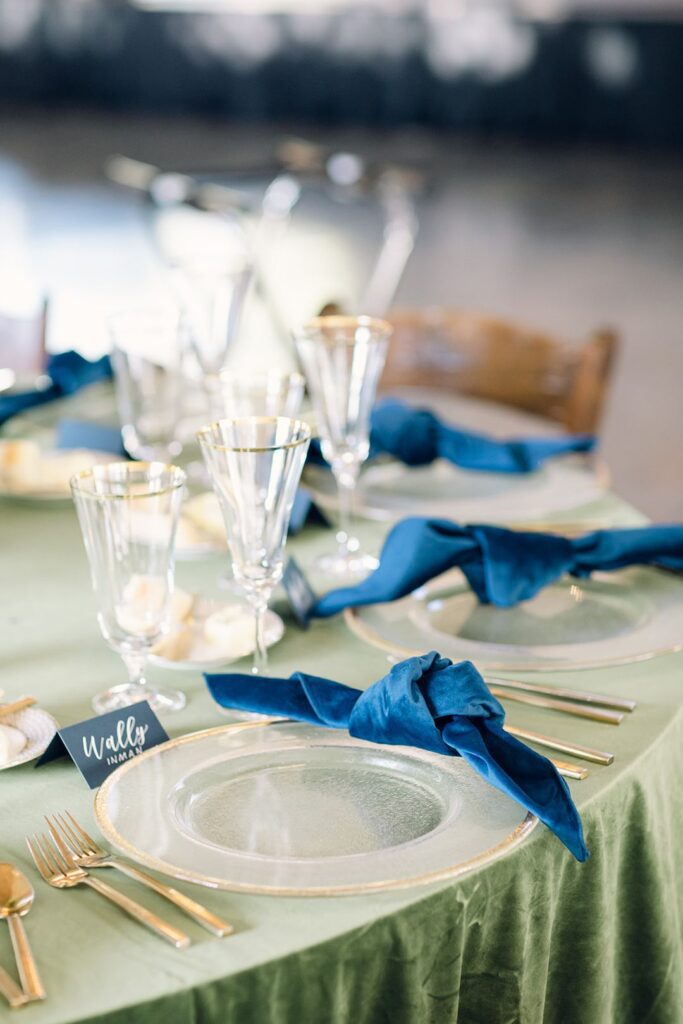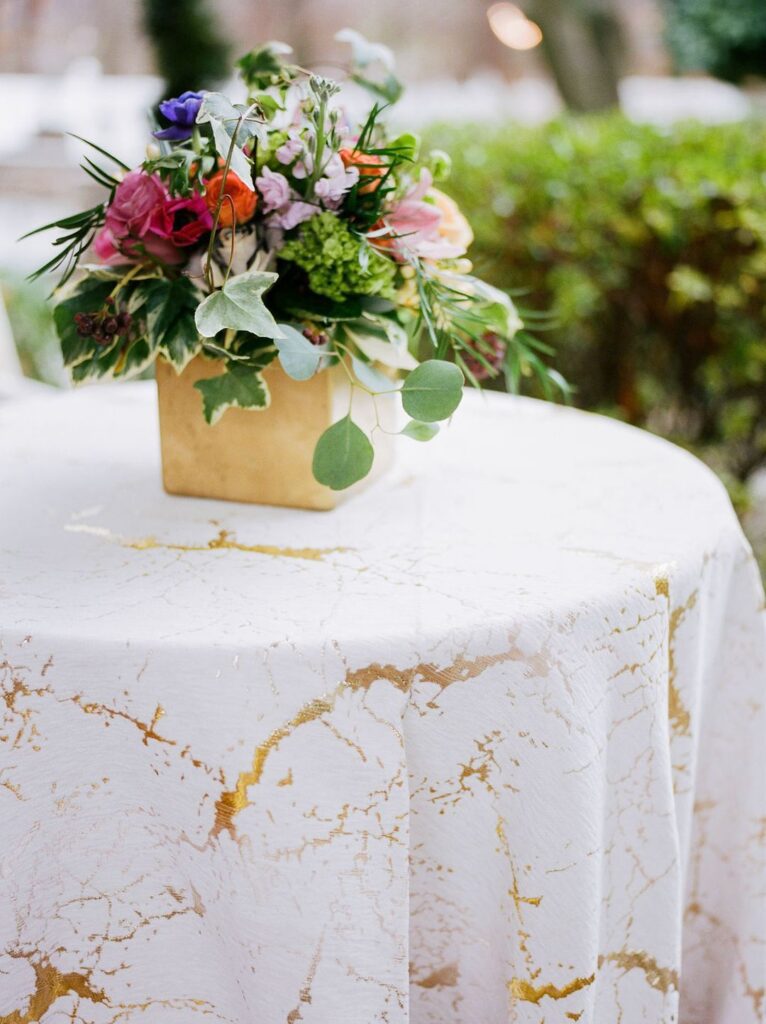 Want to feature some of these elegantly textured linens at your upcoming celebration? Contact our team today for assistance, or for help choosing products that align with your event design! For more event table ideas, be sure to check out out our blog on Luxe Event Linens!
TAGS | Event design, Southern Events linens, Velvet Linens, event linens, linen rentals nashville, luxe event design, luxe event rentals, modern event decor, tablescape inspiration, tablescape rentals
FEATURED RENTALS | Sequin Table Runners, Kennedy Linens, Etched Velvet Linens, Velvet Linens, Satin Linens, Textured Linens, Chiffon Runners
---
3

Feb

On Trend, Trends and Inspiration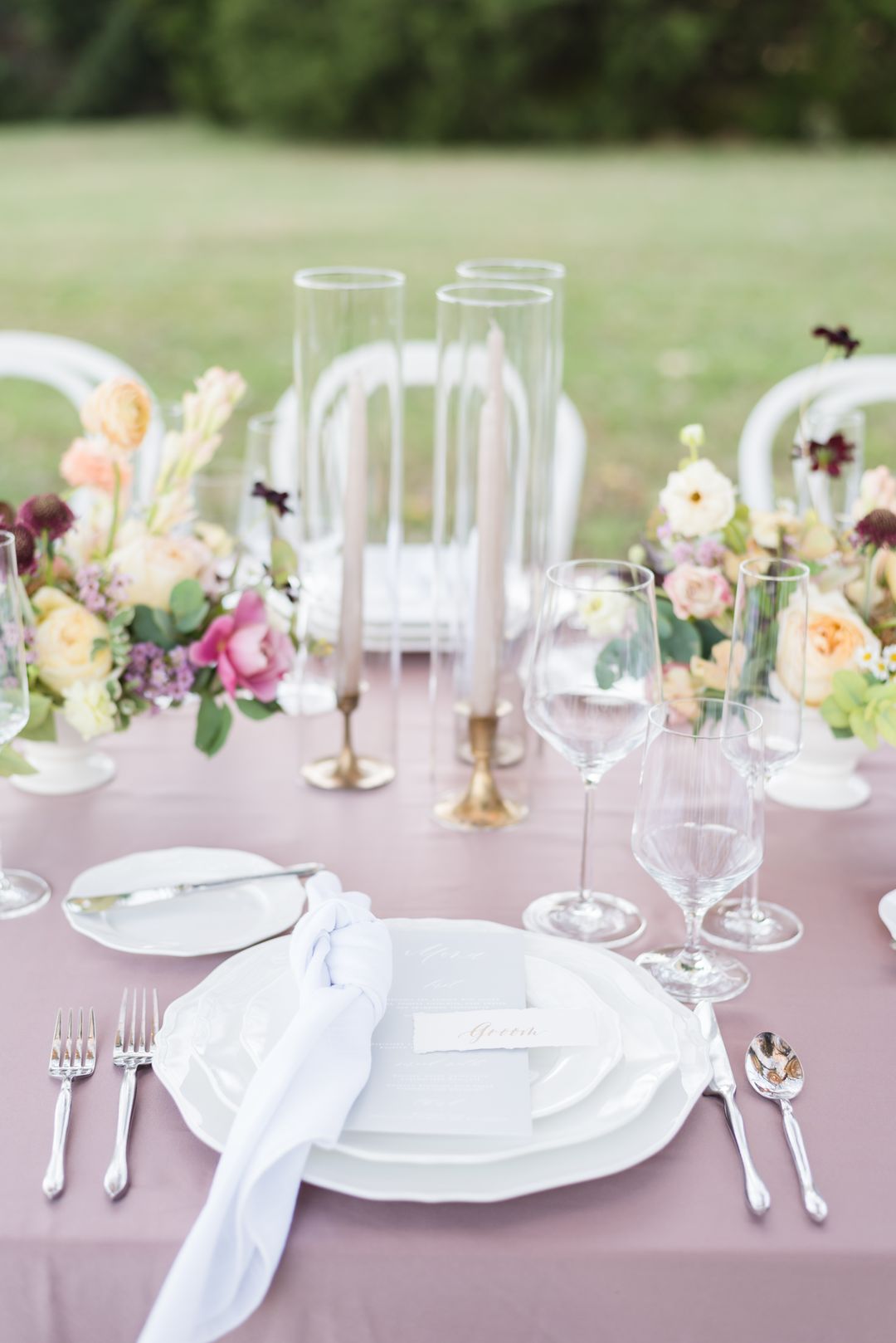 It should be no surprise that with the popularity of the show Bridgerton we're seeing an uptick in Cottagecore event design. Romantic and regent, this style is a throwback to simpler times and elevated design. Meaning luxe textiles, rich colors, and dainty details that would impress members of high society. To help you host a party that feels like a timeless period drama, take a look at our Cottagecore inspired event rentals.
Vintage-Inspired Lounges
If you want to impress guests with your Bridgerton inspired event design then a luxe lounge is a must-have. During this period cocktail hours were the WAY to stay up-to-date on the latest gossip! Easily create a comfortable and memorable area for socializing with our vintage-inspired furniture. A velvet sofa, such as Fern, is always a winner, featuring a rich color and texture. Or opt for the more period appropriate Everly, with a shapely back. For a complete look, don't forget extra seating, like our Bamboo Arm Chairs or fun Turkish Rug Ottoman. Topped off with any of our classic Vintage Rugs!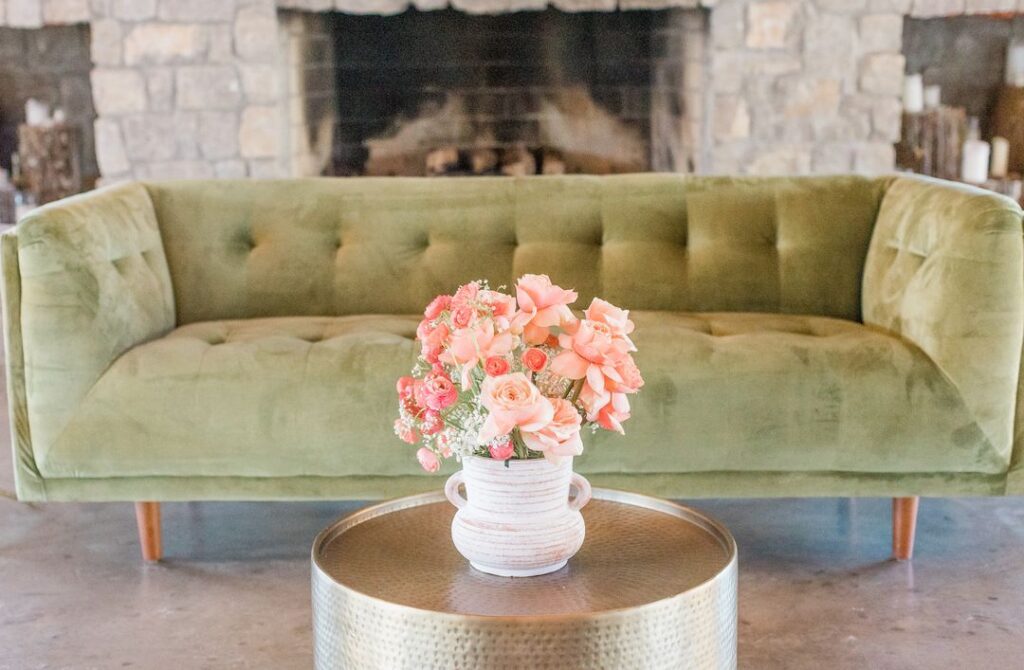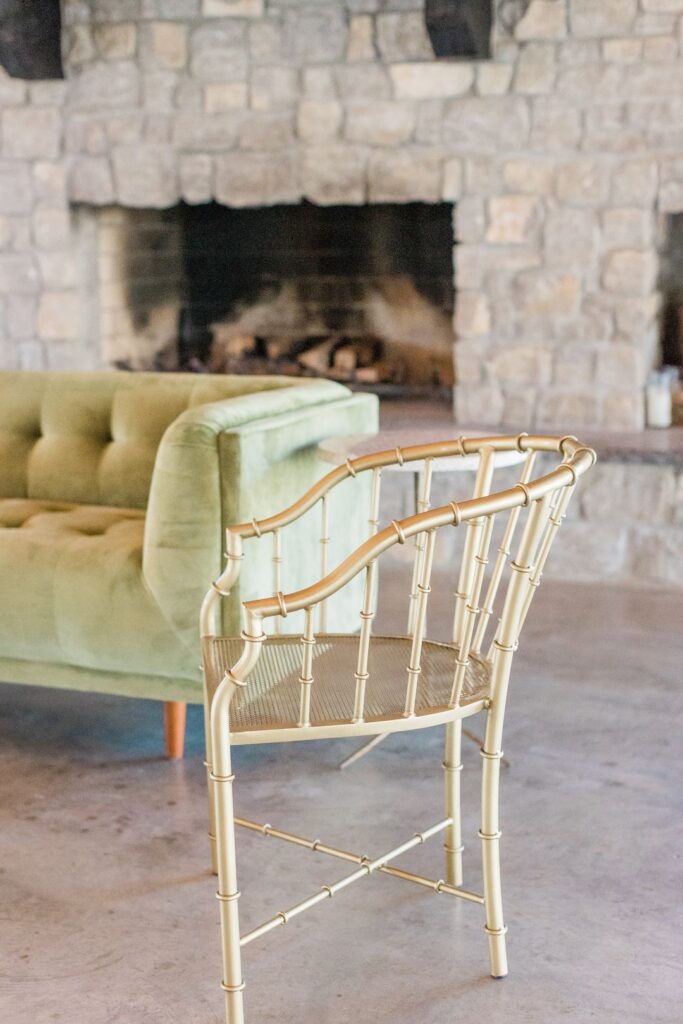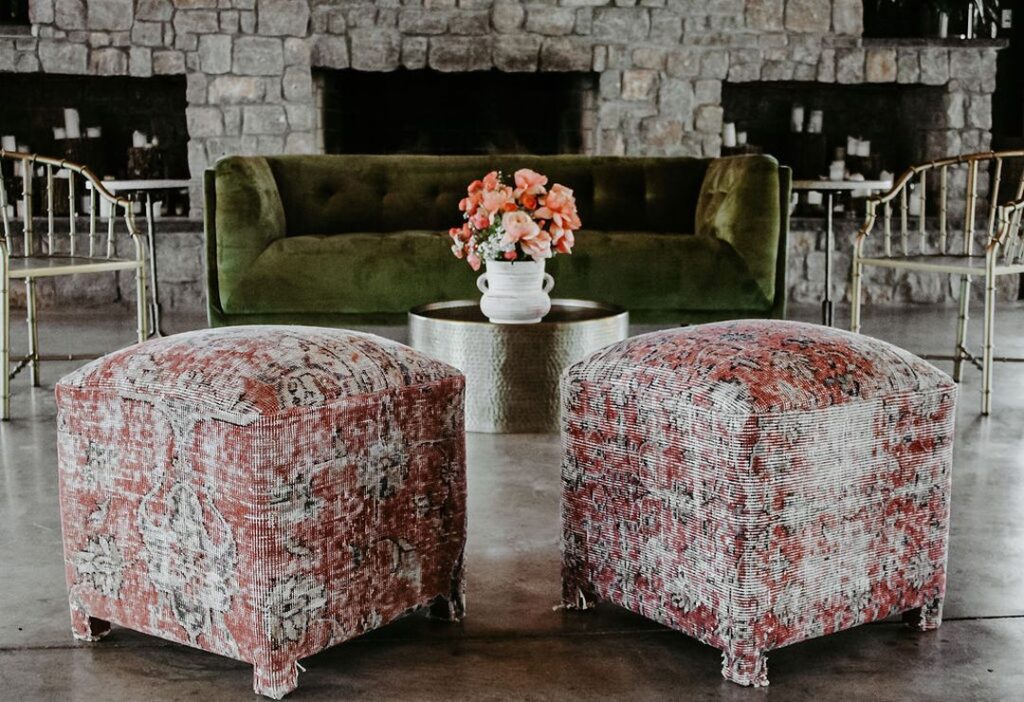 Elegant Barware
A cocktail hour requires drinks, served up in regal glassware. It's always fun to receive a refreshing cocktail served up in an elegant vintage-inspired glass. If you're wanting to incorporate a touch of color into your tablescape, we recommend our colored goblets, available in Amber and Green. Or for a more timeless Cottagecore inspired event design, try our stunning Audrey Gold Rim Glassware. Then there is a newer addition to our lineup, Monaco Glassware, of which the champagne and water goblets are our favorite. For an especially impressive display, don't forget to grab a Bar Cart or Bookcase.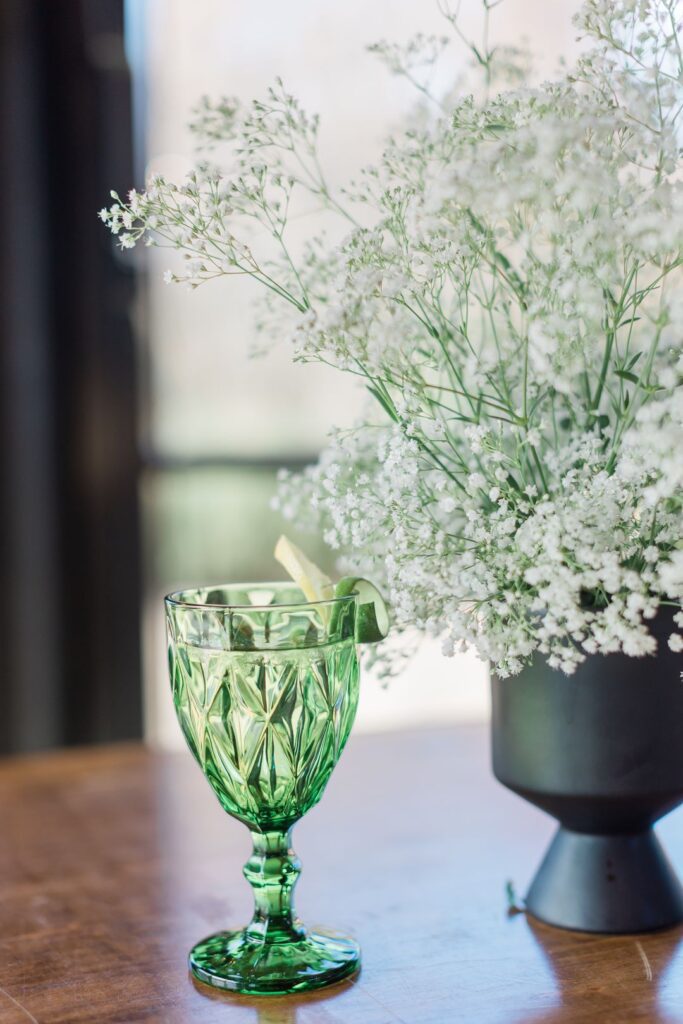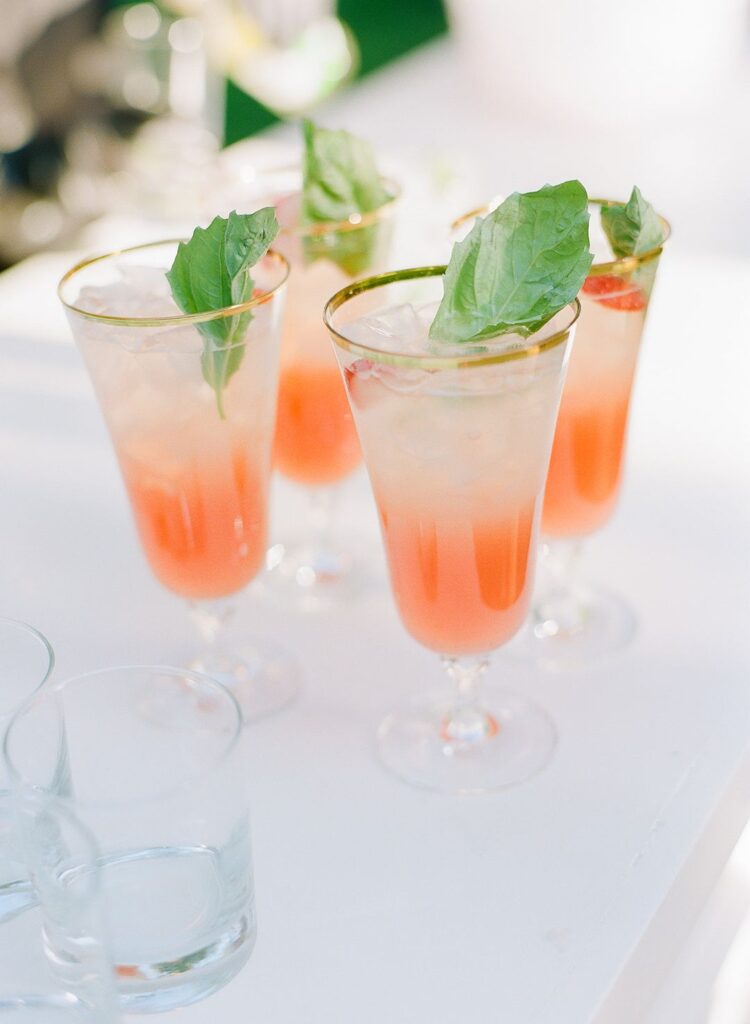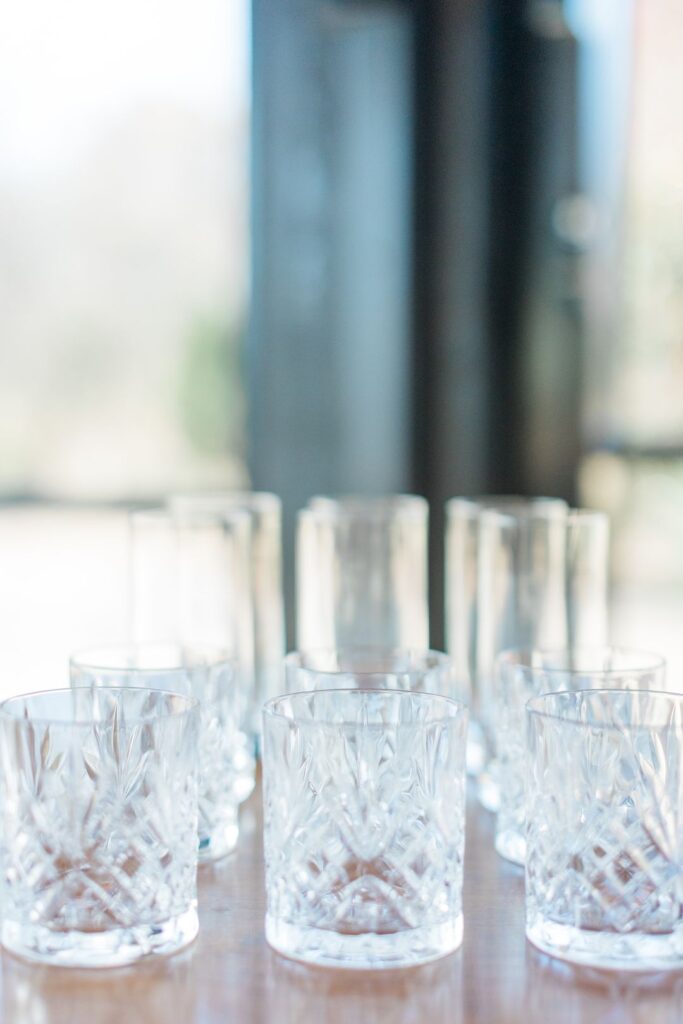 Fine Servingware
Of course for dinner you'll need equally impressive serving ware! We offer a wide selection of aristocracy approved china and flatware. A popular choice is our mismatched Heirloom China, which looks stunning when stacked. Or, go for a more high end vibe when you feature our gold embellished china, such as Hamlet or Ophelia. Our personal favorite however is Darcy, which has a dainty shape fitting for a more whimsical event. And to keep it simple, all of these pieces looks beautiful with both our Austin Gold and Fresno Matte Gold Flatware.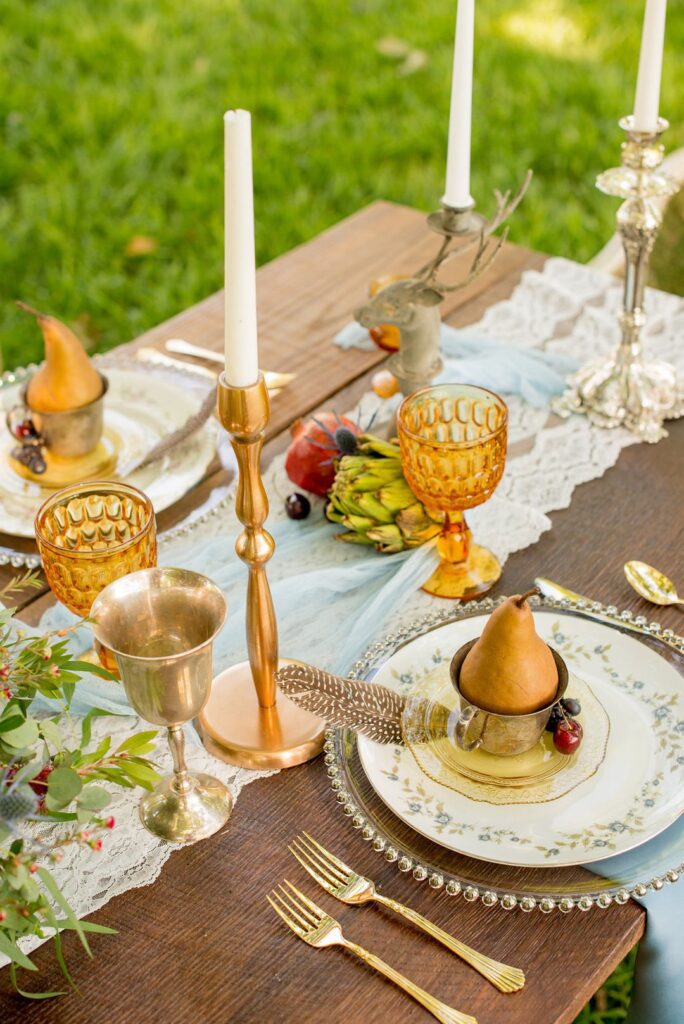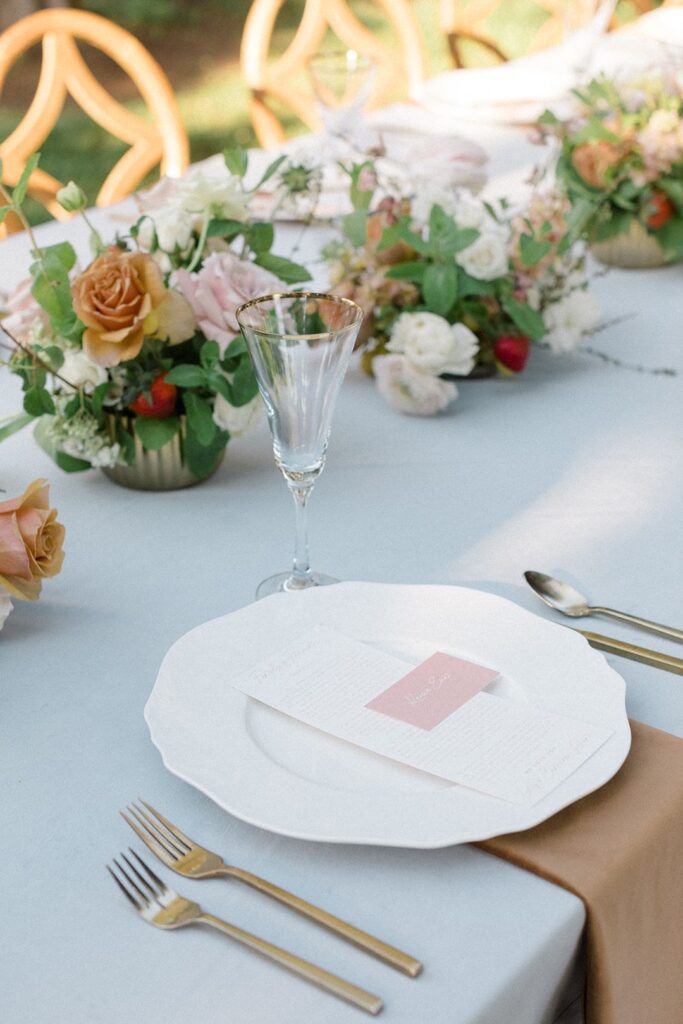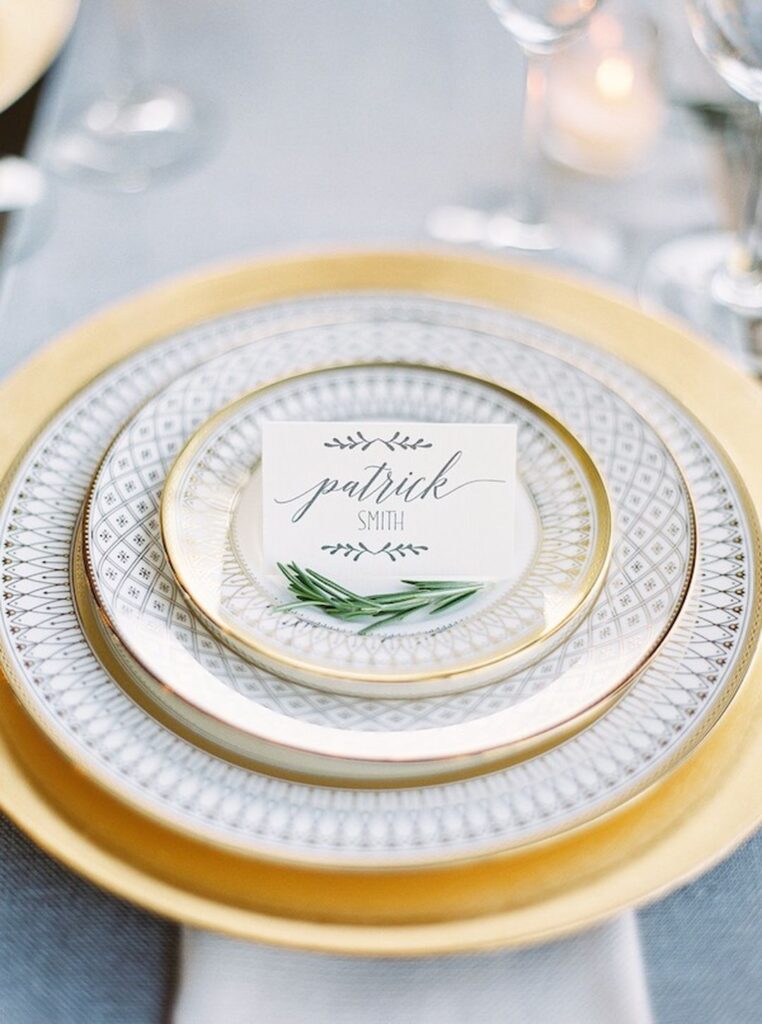 Want to secure one or several pieces of our cottagecore inspired event rentals? Contact our team today, at info@southerneventsonline.com! Or, if you're leaning towards a more natural luxe event design, take a look at our previous blog.
TAGS | Cocktail Party Rentals, Glassware, Lounge Furniture, On Trend, bar event rentals, bridgerton, cottagecore, cottagecore event design, luxe event design, servingware
FEATURED RENTALS | Everly Sofa, Fern Sofa, Bamboo Arm Chairs, Turkish Rug Ottoman, Vintage Rugs, Heirloom China, Hamlet CHina, Ophelia China, Darcy China, Austin Flatware, Fresno Matte Gold Flatware, colored goblets, Audrey Gold Rim Glassware, Monaco Glassware, Bar Cart, Gold Bookcase
---
10

Dec

Events and Style Shoots, Nashville Venues, On Trend, Southern Events Products, Trends and Inspiration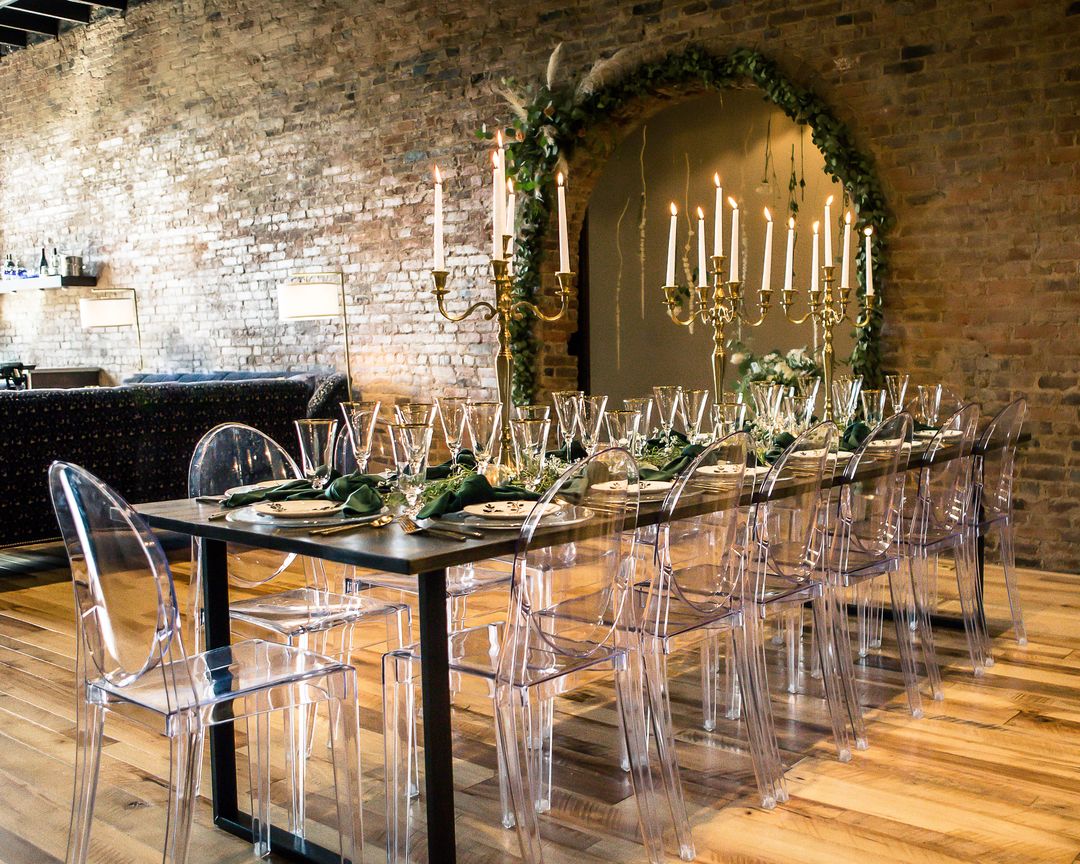 We love a good diner party and this emerald and gold styled shoot has us dreaming of luxe tablescapes for dinner parties and intimate weddings. Soiree on the Square in downtown Columbia, Tennessee was our host for the shoot and the perfect backdrop of cozy charm. Check out the details below, to get inspired for your own micro wedding reception or intimate dinner celebration!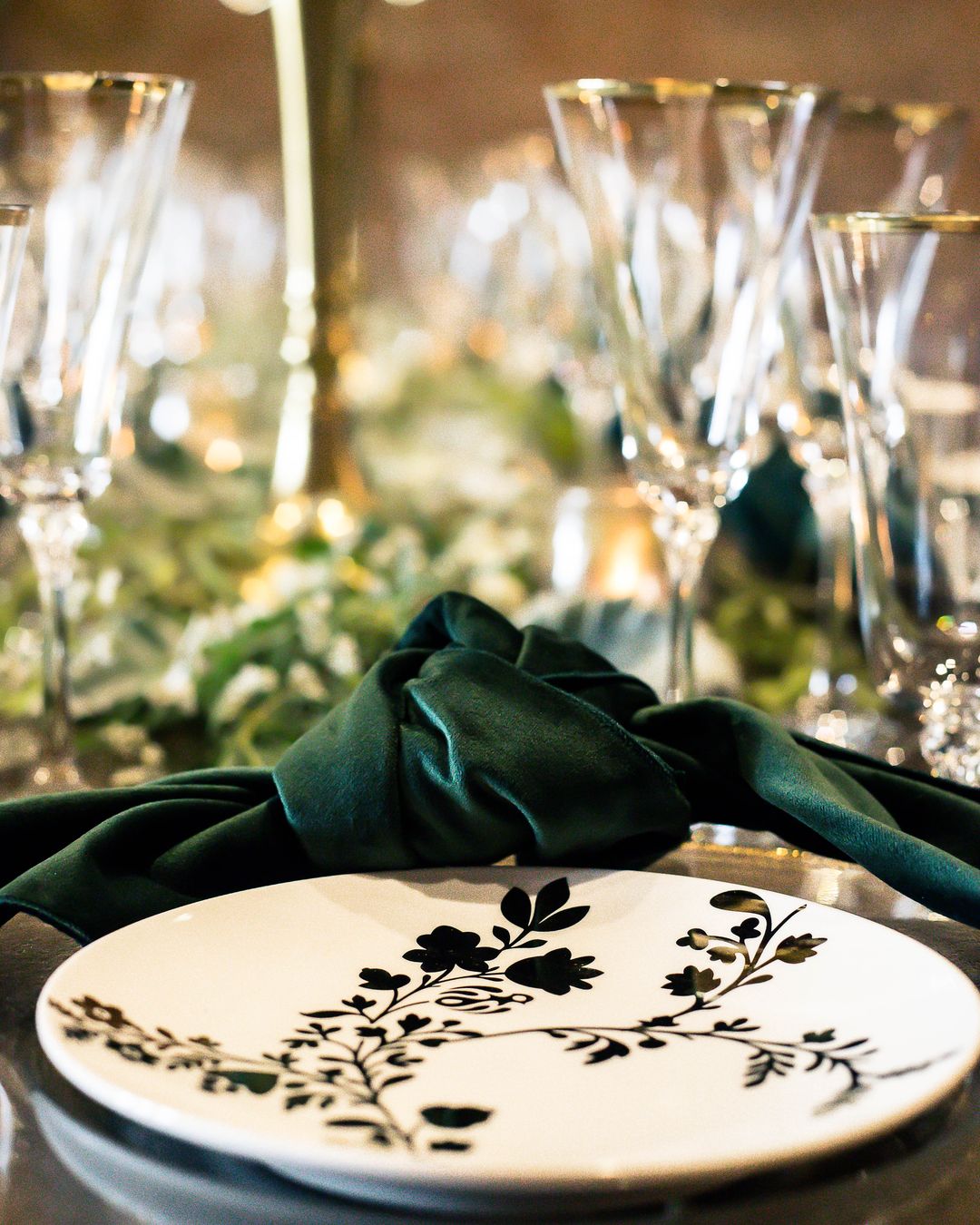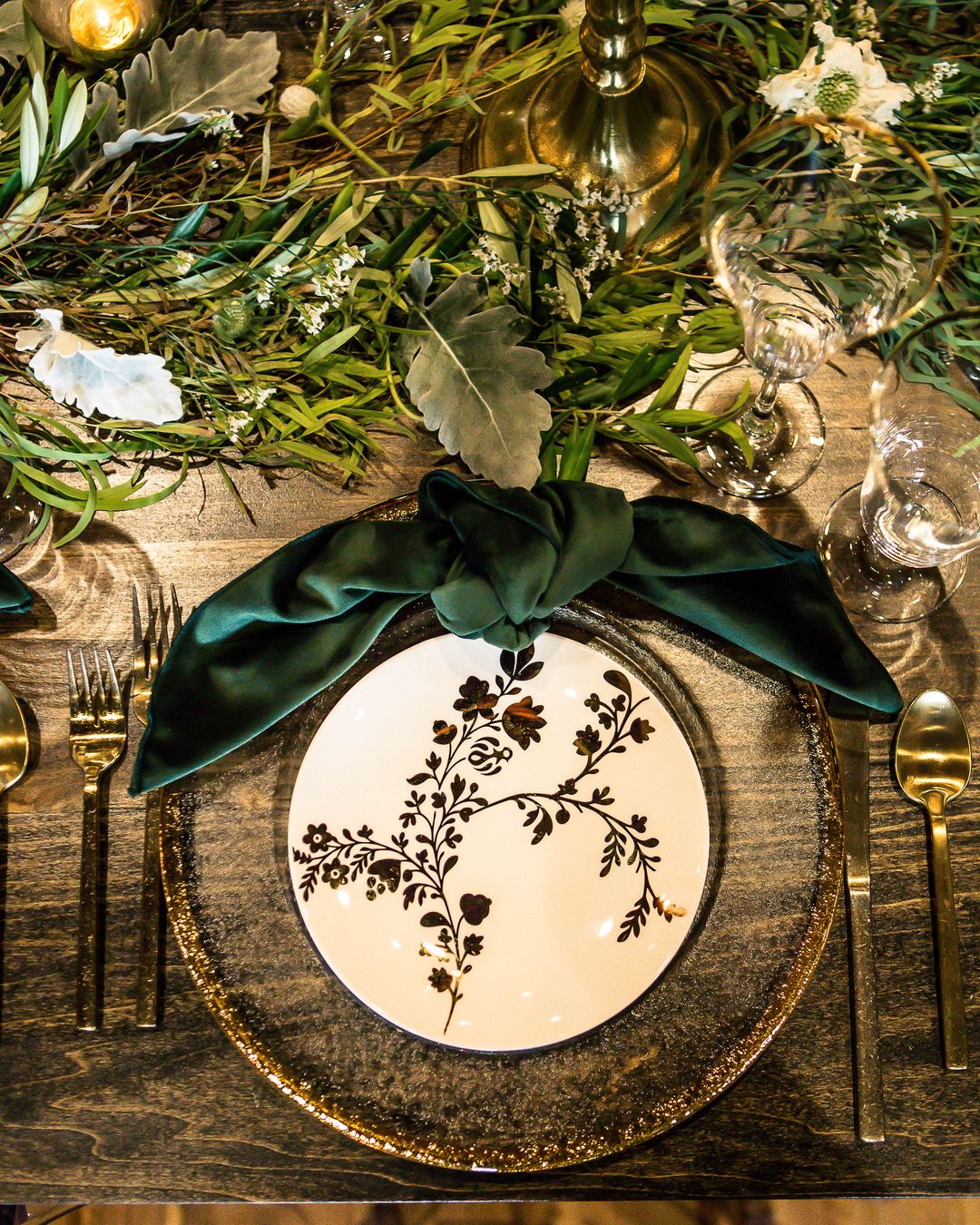 The Soiree on the Square is a gorgeous event space that mixes industrial architecture with contemporary furnishings. We contrasted the warm brick walls,  hardwood floors and industrial furniture with our modern
Acrylic Ghost Chairs
.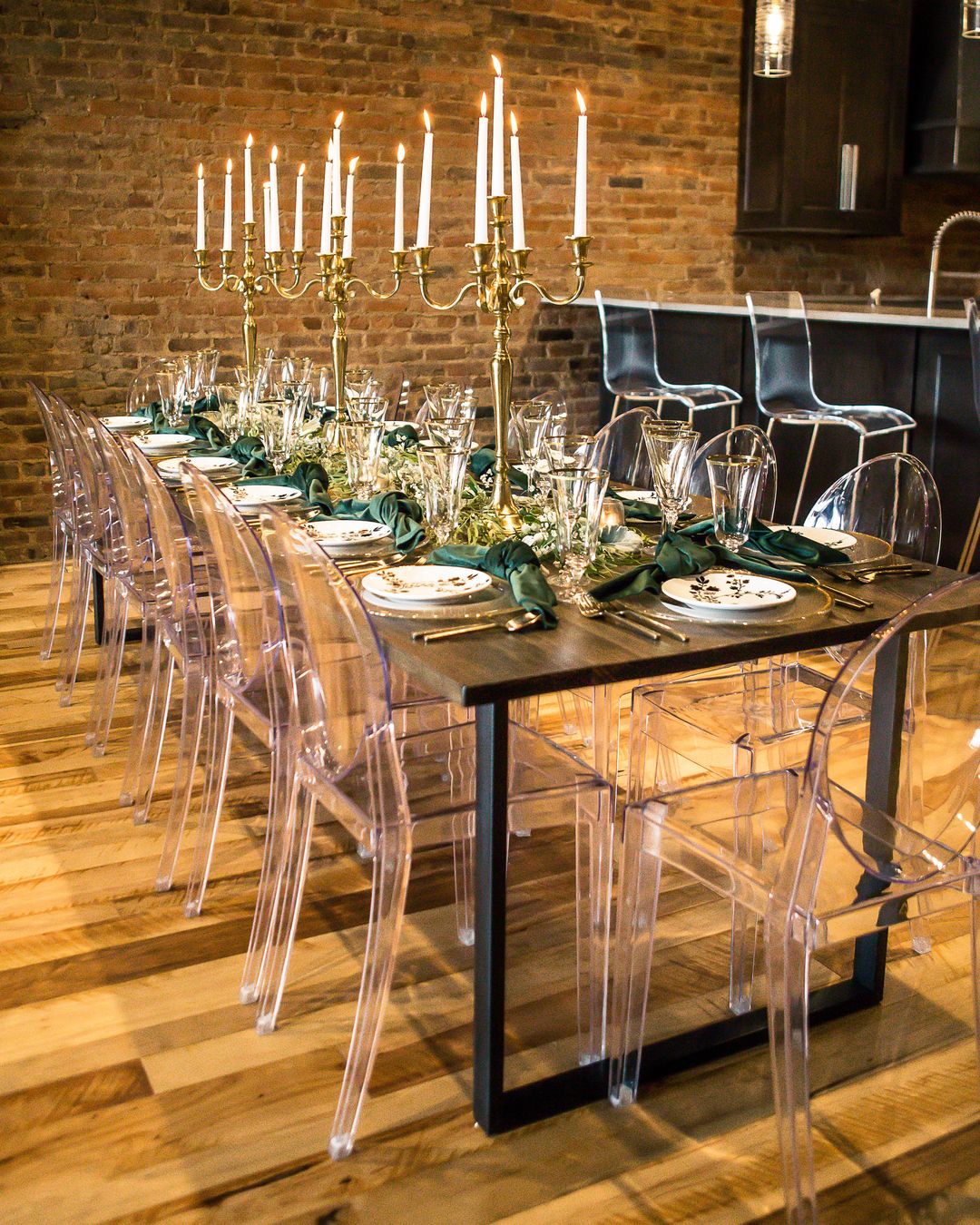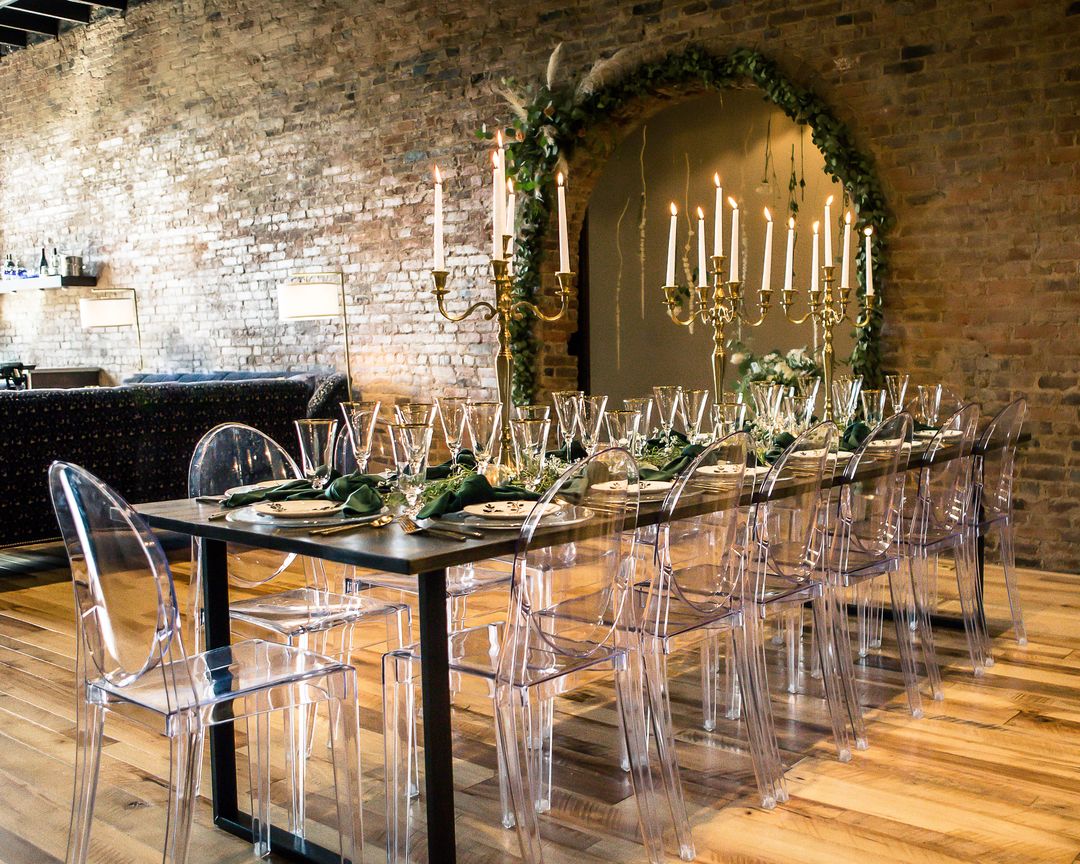 The centerpieces were simple but elegant, featuring greenery and tall gold candelabras – ideal for conversing across a table. Tall candles and votives were used throughout the space to create a romantic and intimate ambiance.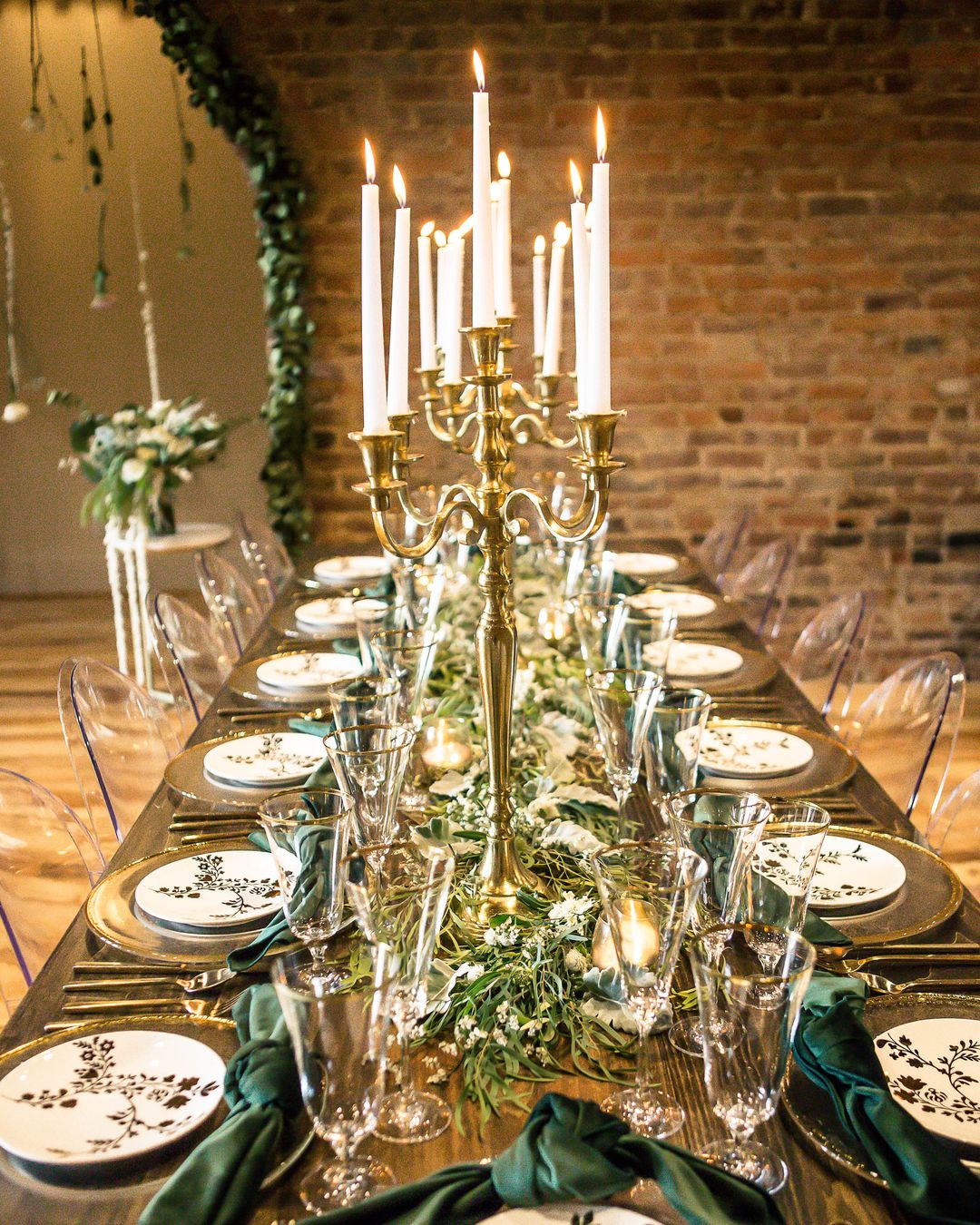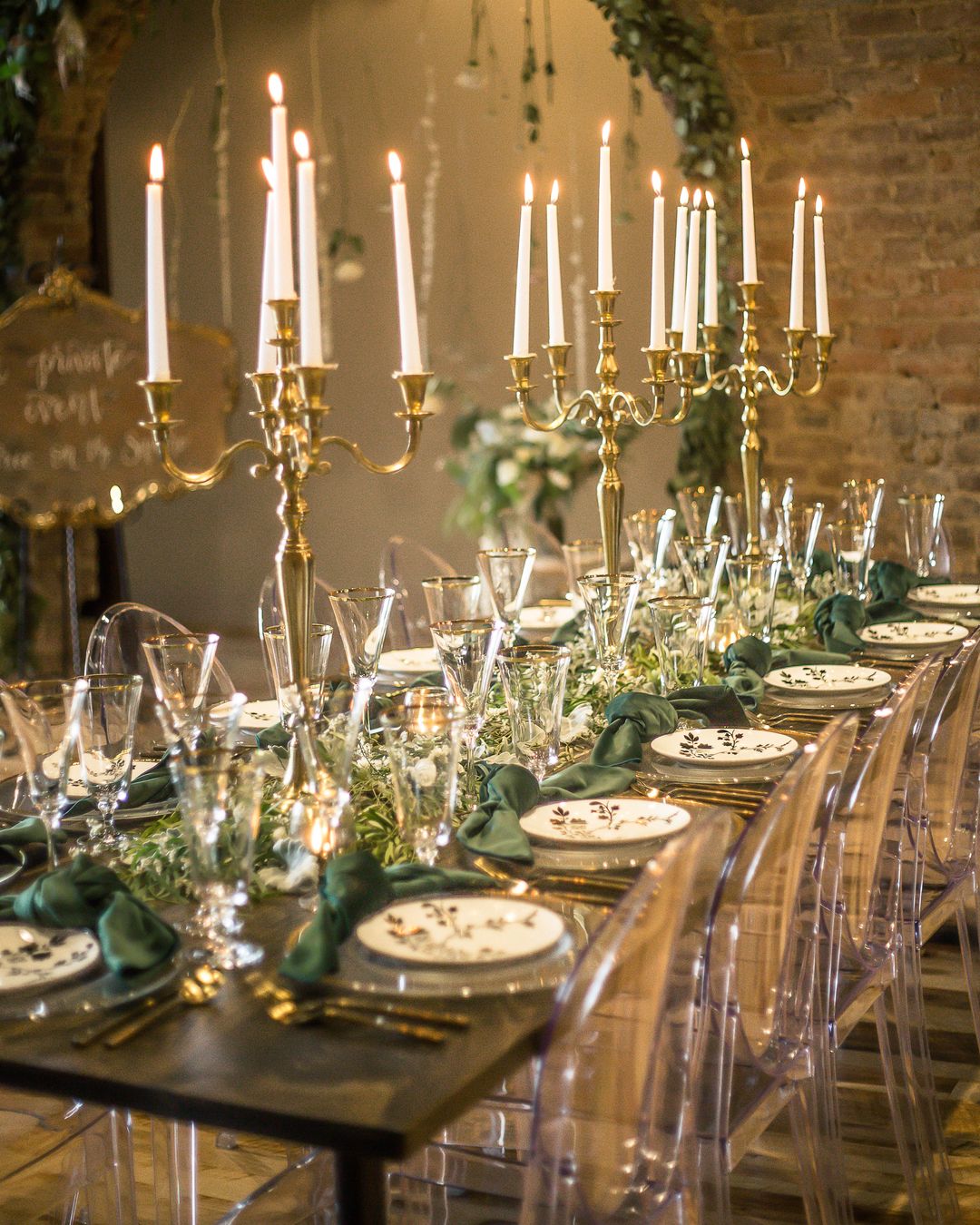 Other decorative elements include a lush garland to frame the entryway to the reception space. Eucalyptus, pampas grass and roses add volume here. A gold-framed mirror featuring a handwritten message was placed on a wrought iron stand as a stylish way to welcome guests.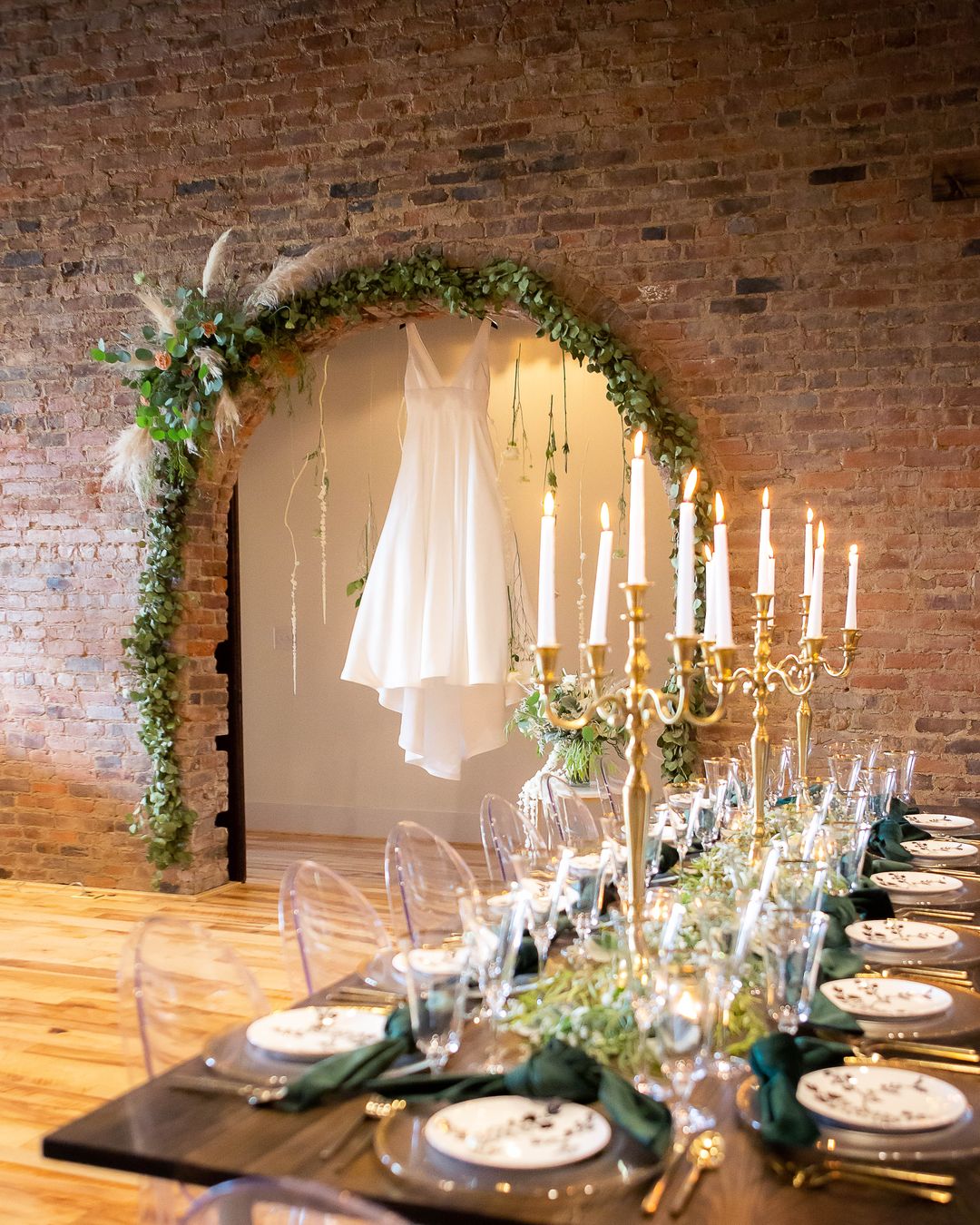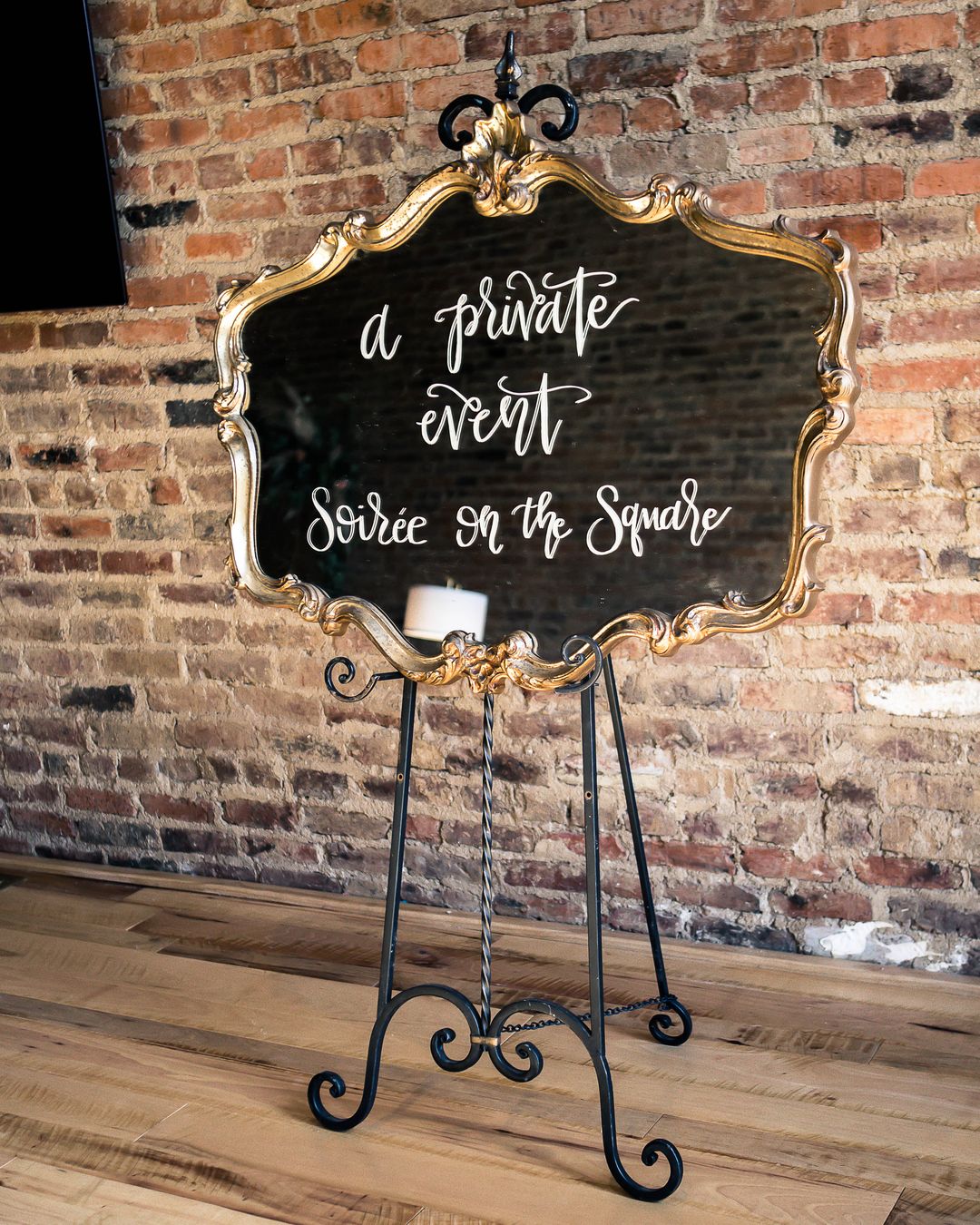 A special thank you to all of the amazing vendors who collaborated to make this stunning shoot possible!
TAGS | Nashville Event Venue, On Trend, Style Shoot, event inspiration, gold and emerald, gold event rentals, luxe event design, luxe event rentals, modern events, nashville event vendors, nashville venue
FEATURED RENTALS | Velvet Magnolia Green Linens, Glass Charger with Gold Rim, Vera Floral Desset Plate, Austin Gold Flatware, Audrey Gold Rim Goblet, Audrey Gold Rim Wine Glass
---
29

Oct

On Trend, Southern Events Products, Trends and Inspiration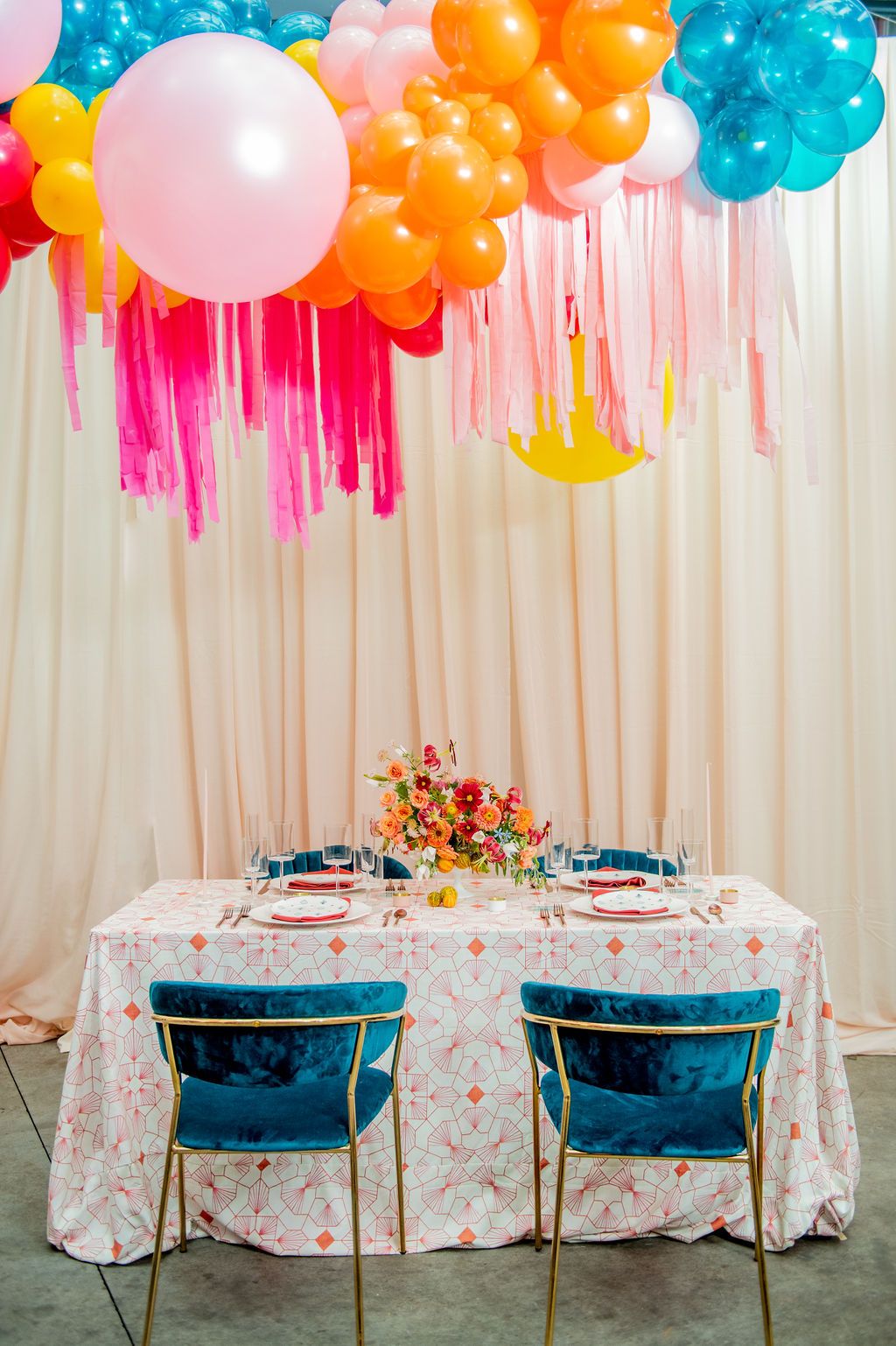 A coming-of-age celebration, Quinceañeras are a loud and vibrant way to mark a girl's 15th birthday! Typically bright & colorful, these parties are a mix of both modern and classic elements and traditions. Today we're sharing just a few ways to host a fun Quinceañera celebration, featuring our luxe and colorful event rentals.
Fuchsia Etched Velvet Linen
Our Fuchsia Etched Velvet Linens are an easy way to wow your guests. Vibrant with a luxe touch of gold, these stunning linens bring a bold and modern air to any tablescape. This beautiful color is available in both tablecloths and napkins.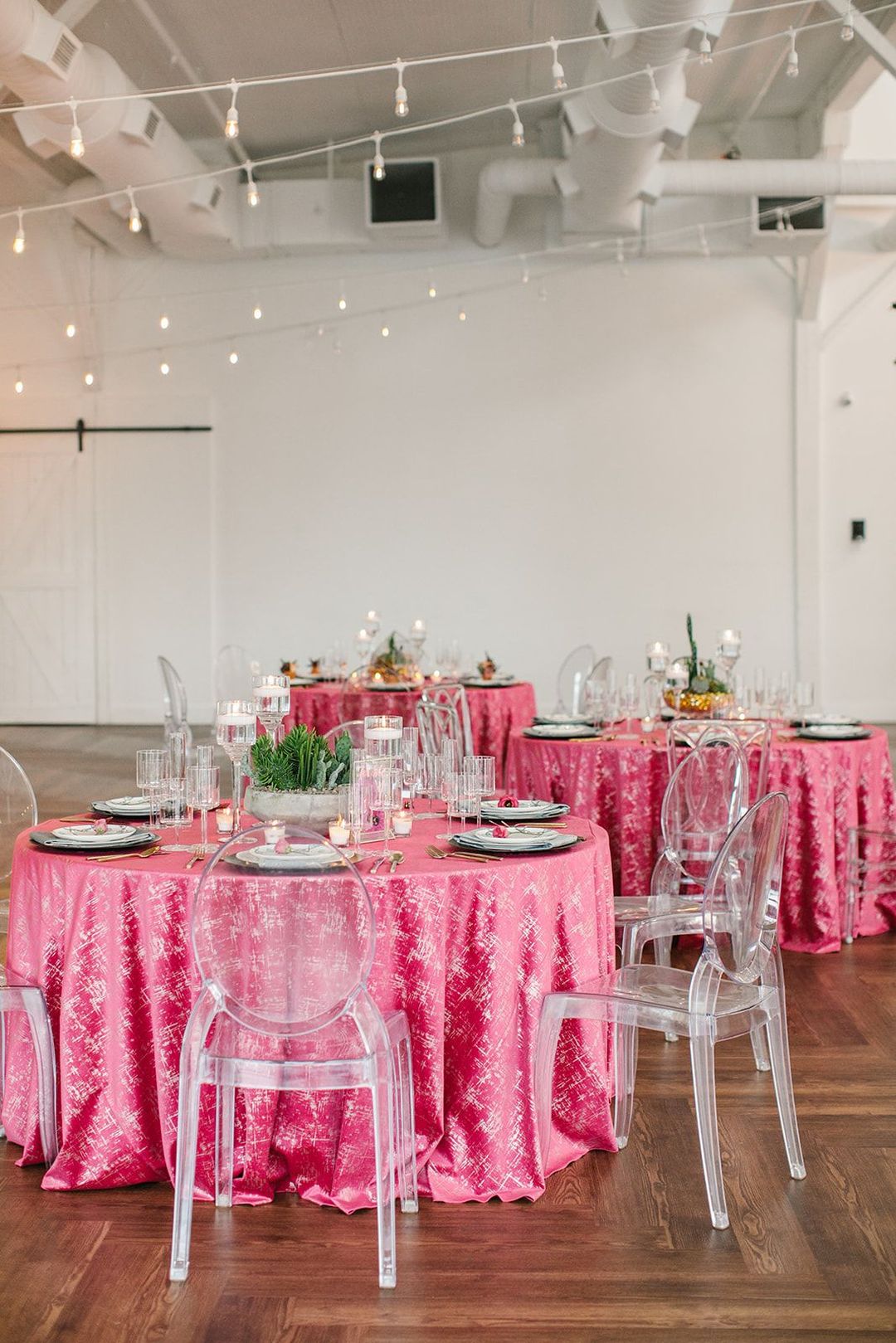 Velvet Furniture
For a luxe feminine touch, you have to feature some of our velvet furniture! These stylish pieces can be used for a reception, or to create a cozy lounge area. Take for example our Henley Grey Velvet Tufted Sofa and Farrah Teal Velvet Chairs. We offer a variety of velvet furniture rentals, with options for both a bold or toned down color palette.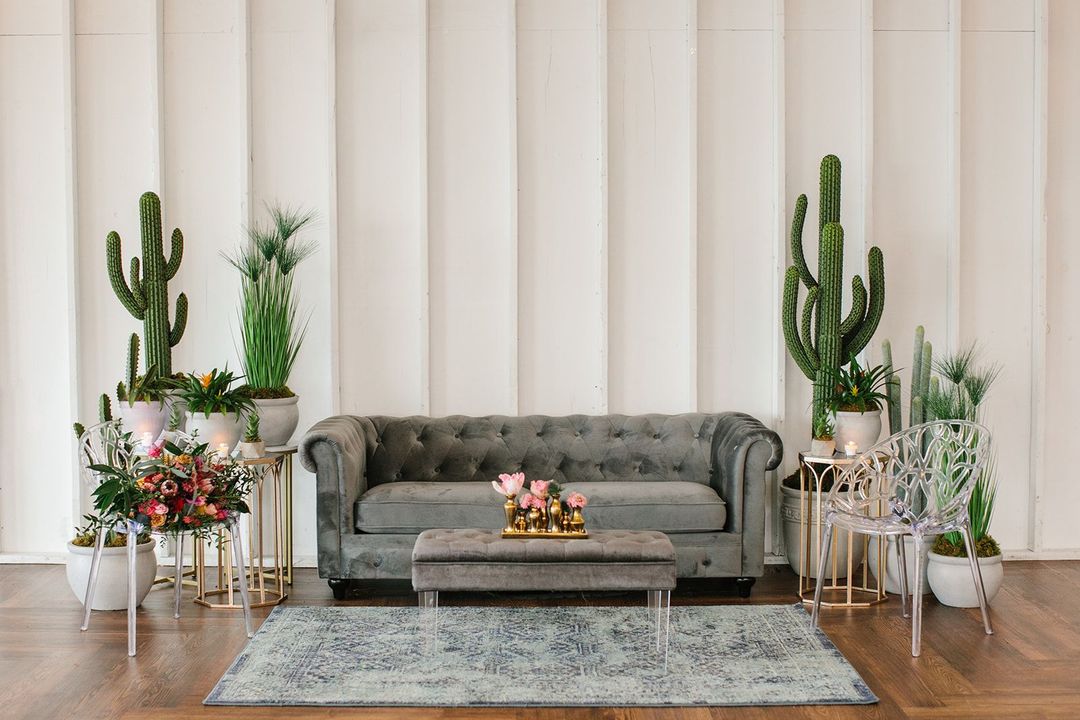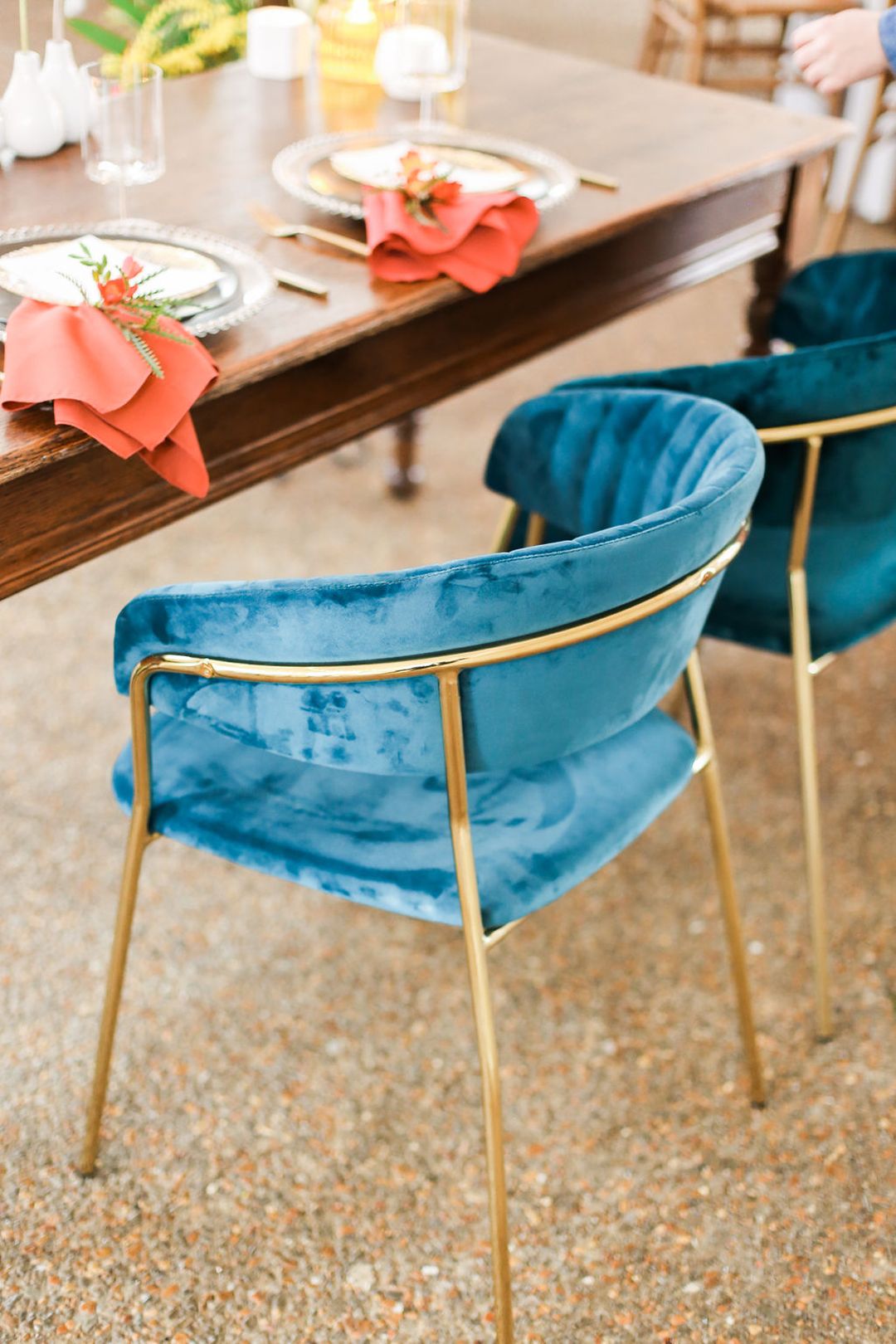 Boxwood Wall for Photo Backdrop
One of our most versatile rentals are our beautiful boxwood walls. First and foremost, they make for a stunning photo backdrop. They can easily be customized with decor, whether it be bright balloons or signage. In either scenario, your guests will love the photo op. If you prefer a more interactive element, consider serving up some cold drinks via a beverage shelf. It is a unique and fun way to serve up some age-appropriate mocktails. For another interactive element, take a look at our new Donut Wall.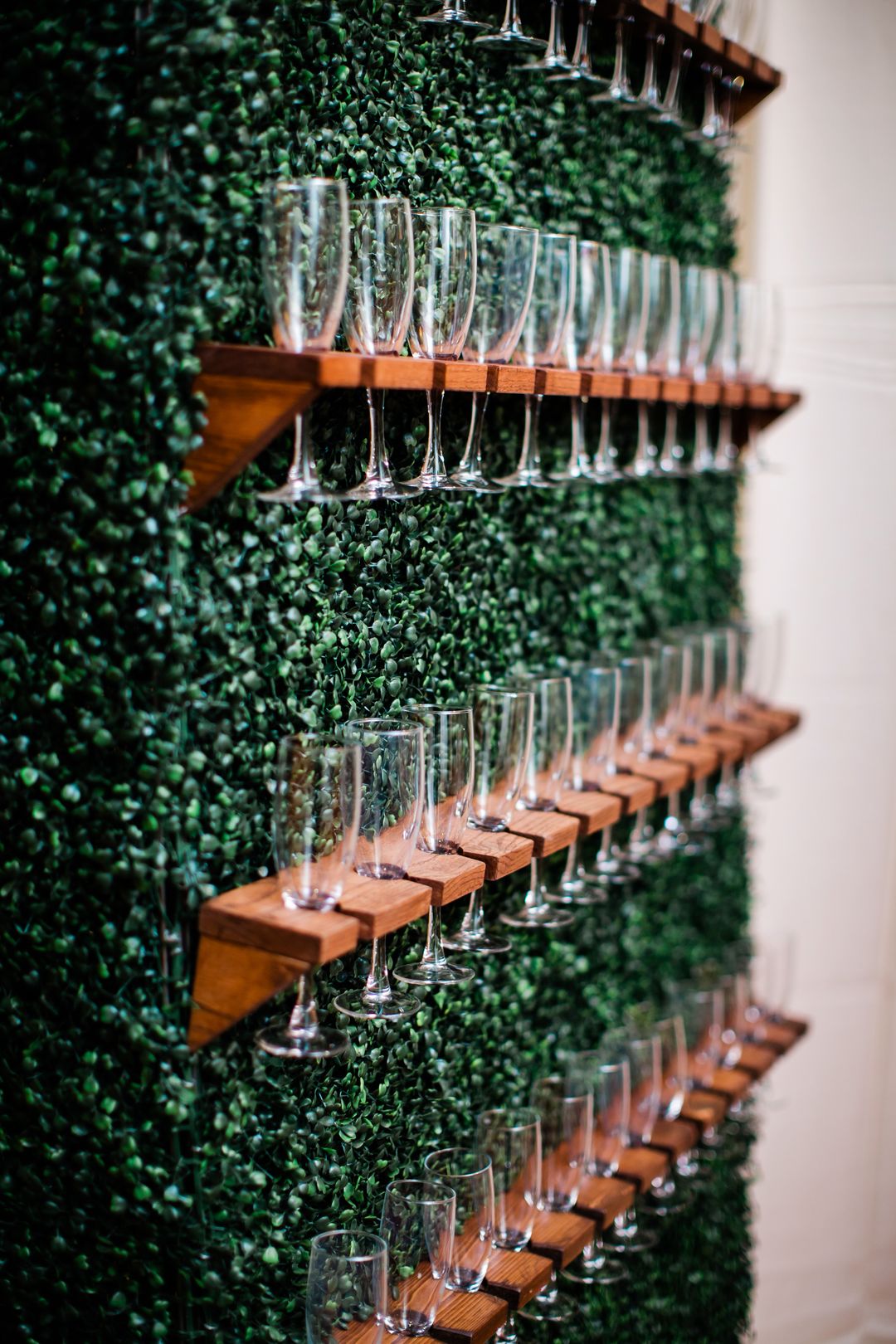 Red Carpet Entrance
What is a Quinceañera without a grand entrance? At Southern, we love to roll out the red carpet. In fact, we love it so much that we supply carpets in a variety of colors. Make a memorable entrance when you rent one of our carpets, whether you go with a classic white or black, or a modern pink.
Staging & Dance Floor
If your Quince will include music, then you'll definitely need staging. It is the perfect way to make a live band, or another form of entertainment, front and center. In the event that you do have music, be sure to check out our classic black and white dance floor. This photogenic flooring is as stylish as it is perfect for busting some moves on.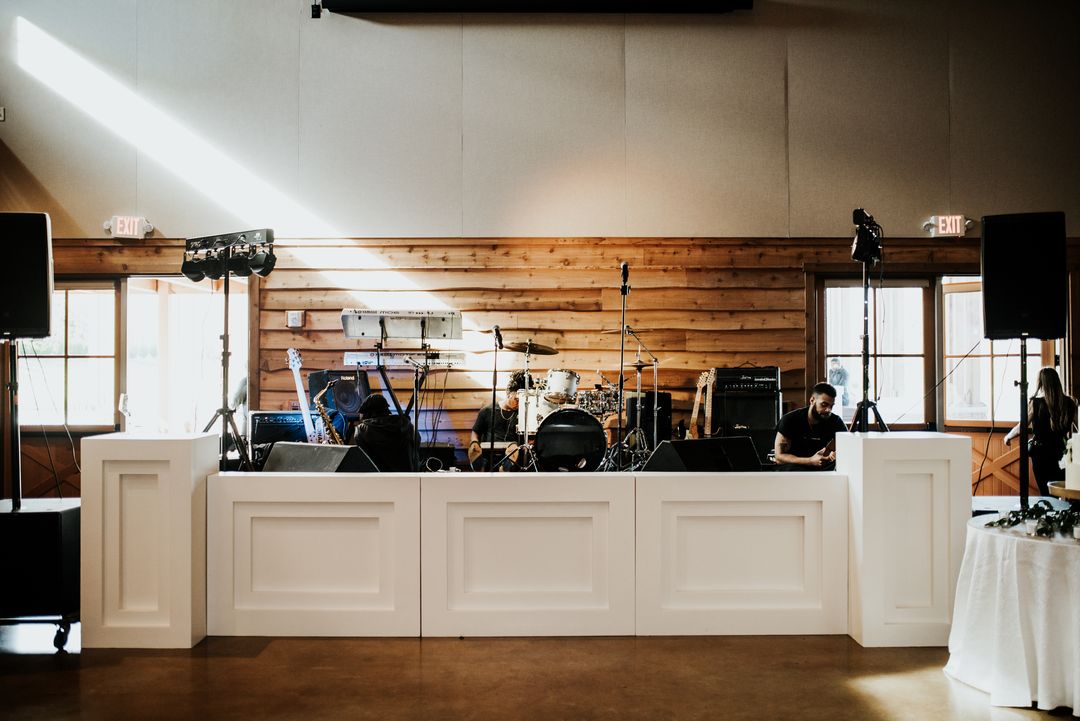 Cake Stands
Last, but far from least, we can't forget the importance of an impressive dessert bar. Specifically, a cake stand for your cake. Our Windsor Gold Cake Stand exudes modern luxury, and is beautiful in a way that won't take away from the cake. If you really want to take your event to the next level, be sure to consider our modern glass candy jars. They're perfect for creating a one-of-kind (not to mention delicious) dessert table!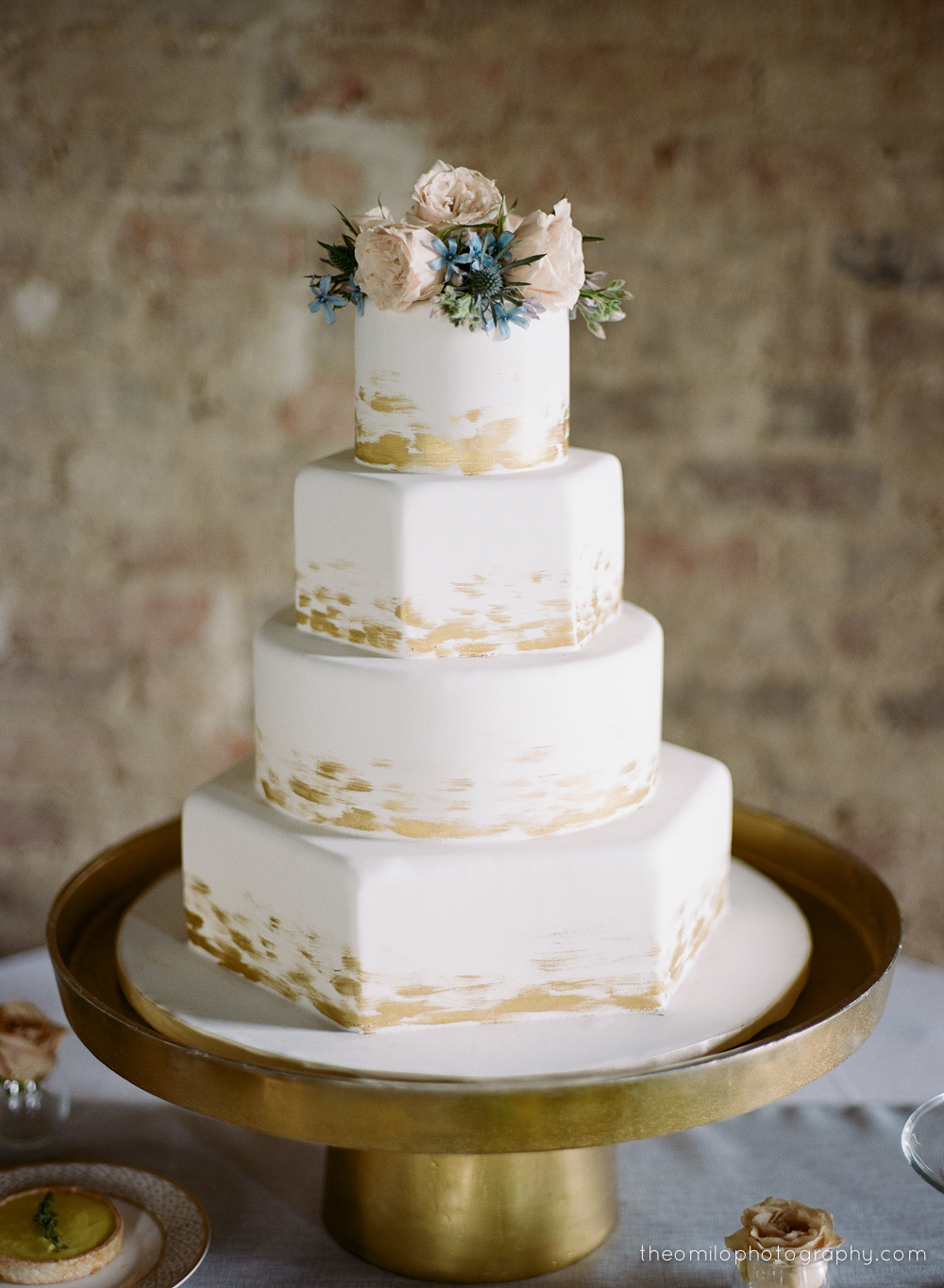 Are you ready to plan a modern and fun Quinceanera? Contact our team today to secure your stylish party rentals, or for more design inspo and ideas!
TAGS | Birthday party rentals, Modern Furniture, Nashville Event Party Rentals, Quinceañera, luxe event design, sweet 16
FEATURED RENTALS | fuchsia etched velvet linens, Farrah teal velvet chair, boxwood hedge walls, red carpet, staging, black and white dance floor, Windsor gold cake stand, henley grey velvet tufted sofa,
---