29

Jul

On Trend, Southern Events Products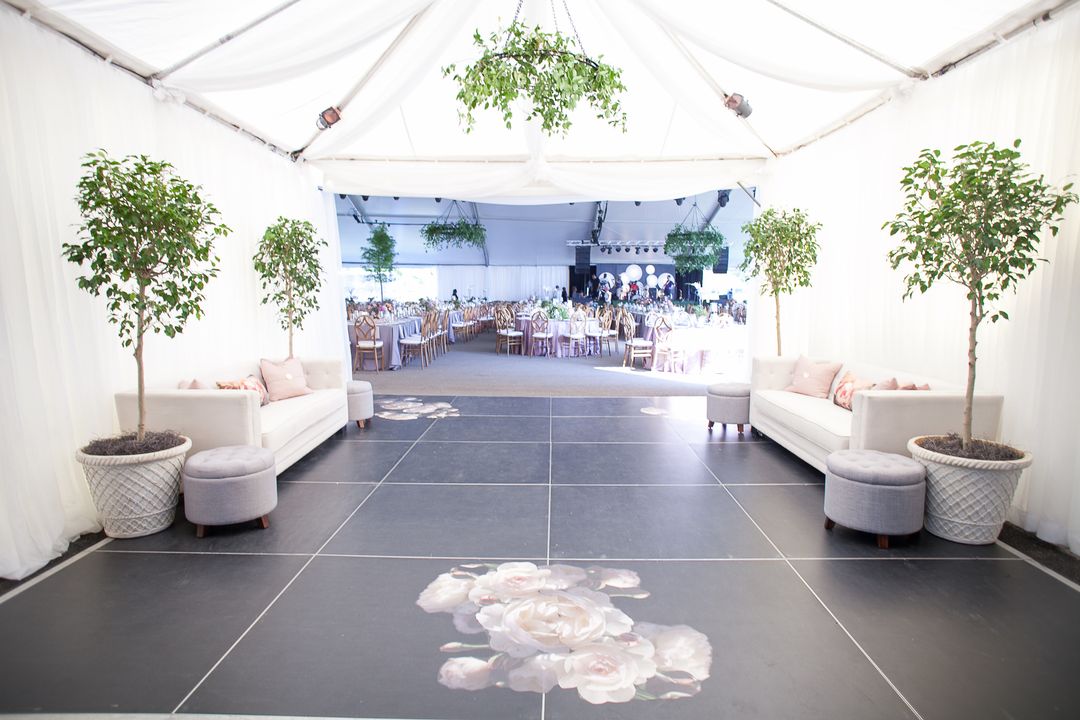 The entrance to an event is a guest's first impression of what's to come! It will set the tone for the remainder of the event, and so it's important to start things off on the right foot. Today, we're sharing some of our in-stock rentals that can be used to create a grand event entrance.
Carpeted Entrance
Want to wow your guests? A carpeted entrance to your event is a sure way to do that. A red carpet is an easy way to lend a hint of old Hollywood glamour – regardless of the formality of the event! It will lend to the overall look and experience, making guests feel as though they are special and creating excitement for what lies in store. Of course, your carpet doesn't have to be red! Feel free to feature your event or company colors like the grand event entrance done in blue and white below.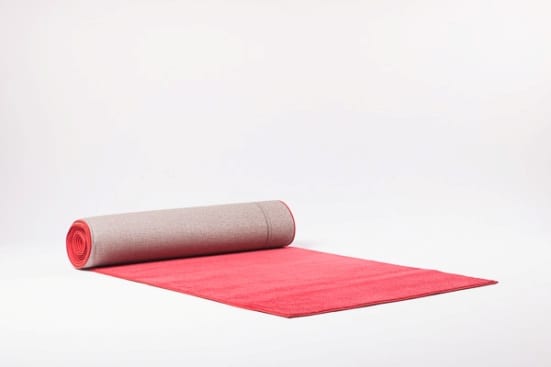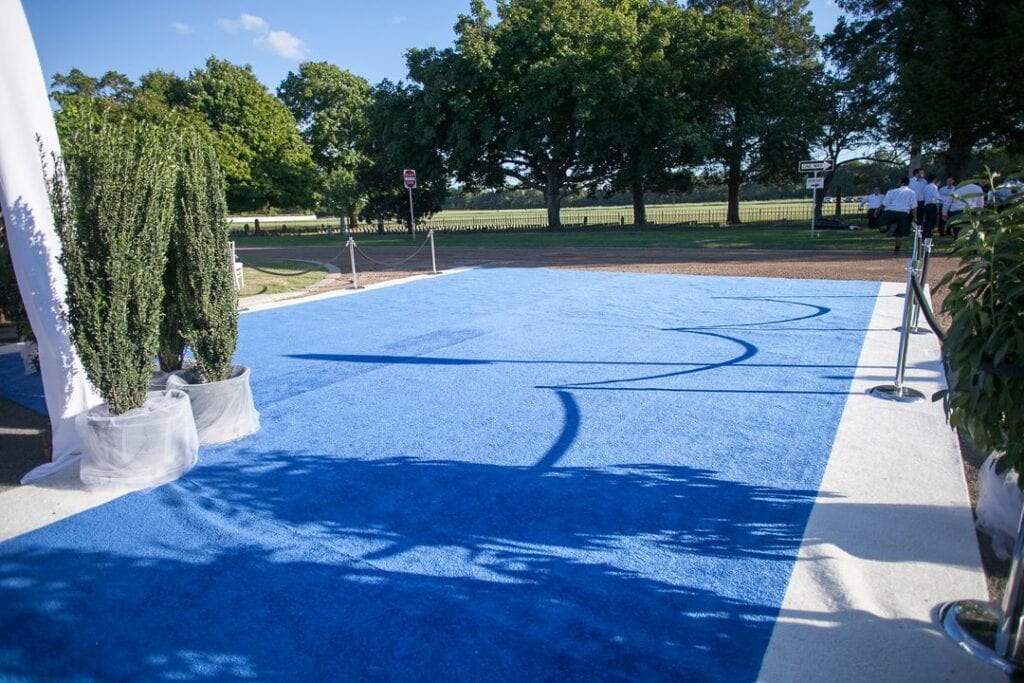 Photo by Phindy Studios
Stanchion & Rope
Along with a grand carpet entrance, you'll want to rent stanchion and rope. Our Chrome Stanchions are a timeless addition that will help you maintain an orderly entrance. It is especially great for events that will require attendees to queue up or that are ticketed.  You will also be able to choose between our Black Velour Rope and Red Velour Rope, depending on the theme or color palette featured at your event.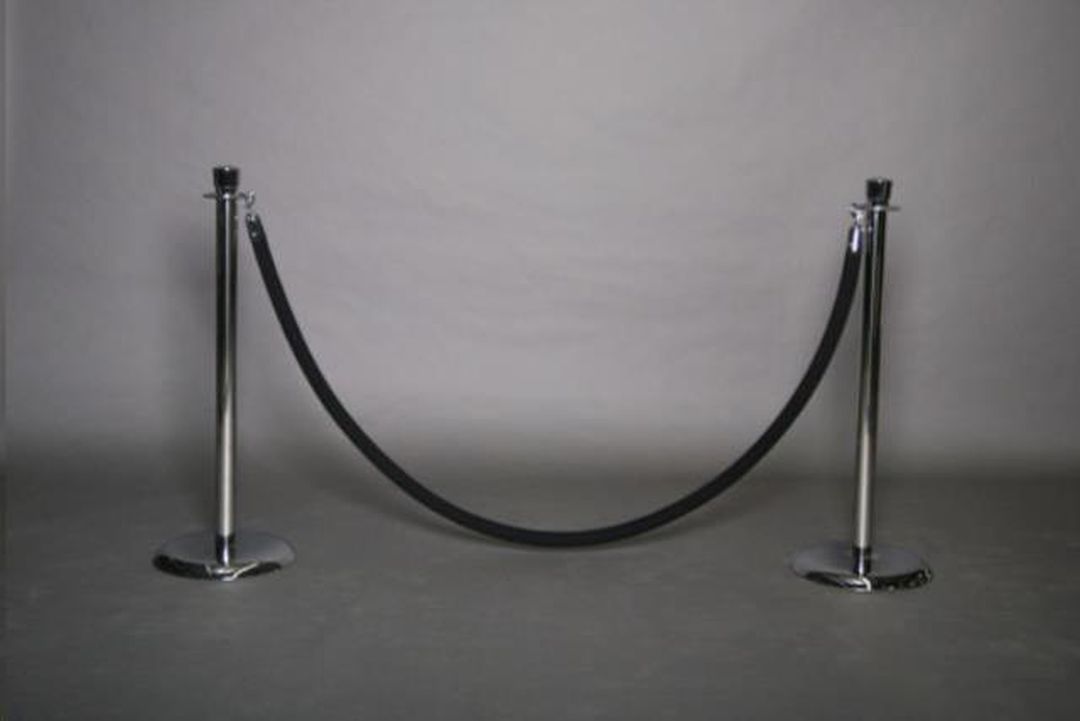 Vinyl Appliques
When you have a thoughtful theme or event design, vinyl appliques on your event flooring can be a unique way to welcome guests.  Custom appliques can be added to our Black, White or Natural dance floors – doubling as entrance flooring- as part of your grand event entrance. Here we replicated the florals from the event invitation and linen pattern onto floor appliques. Also, consider showing off your new monogram to welcome wedding guests or brand at a product launch.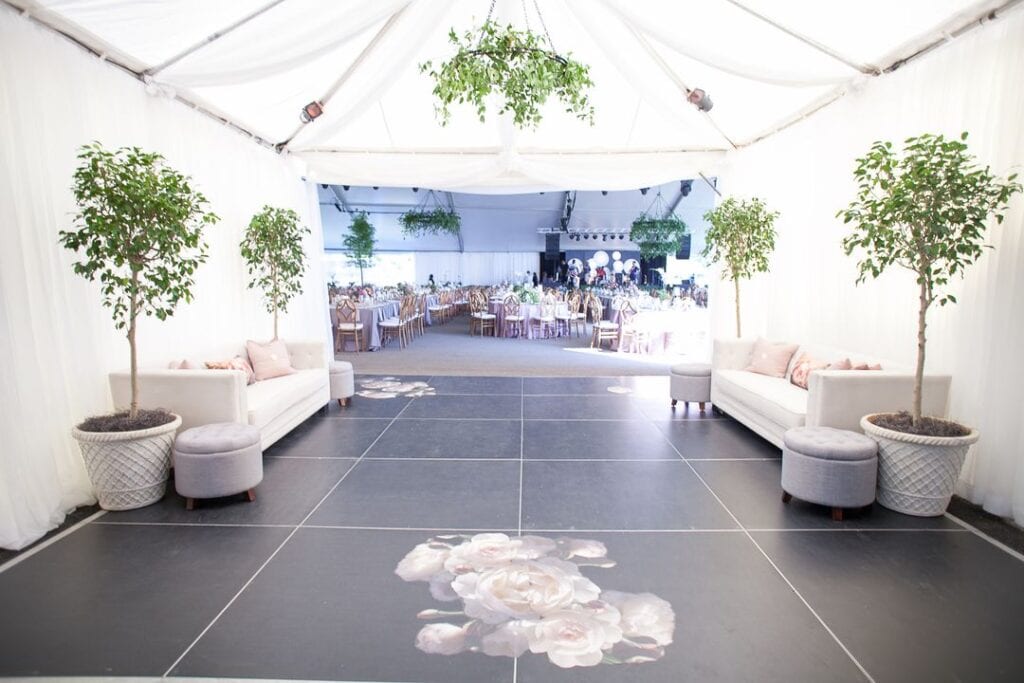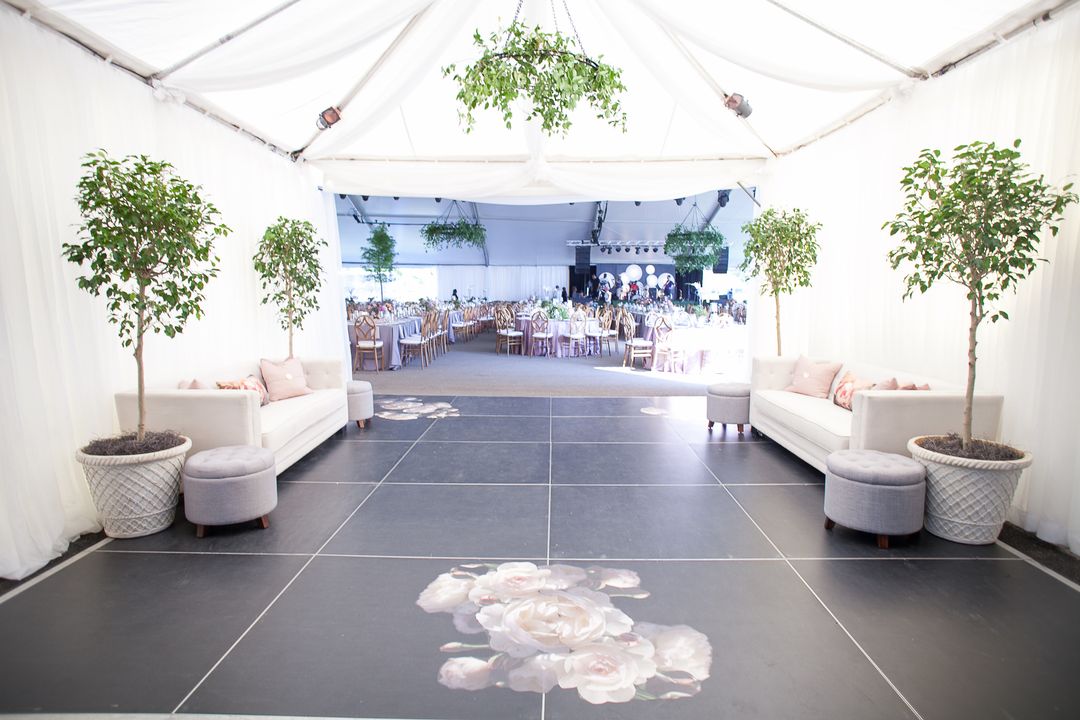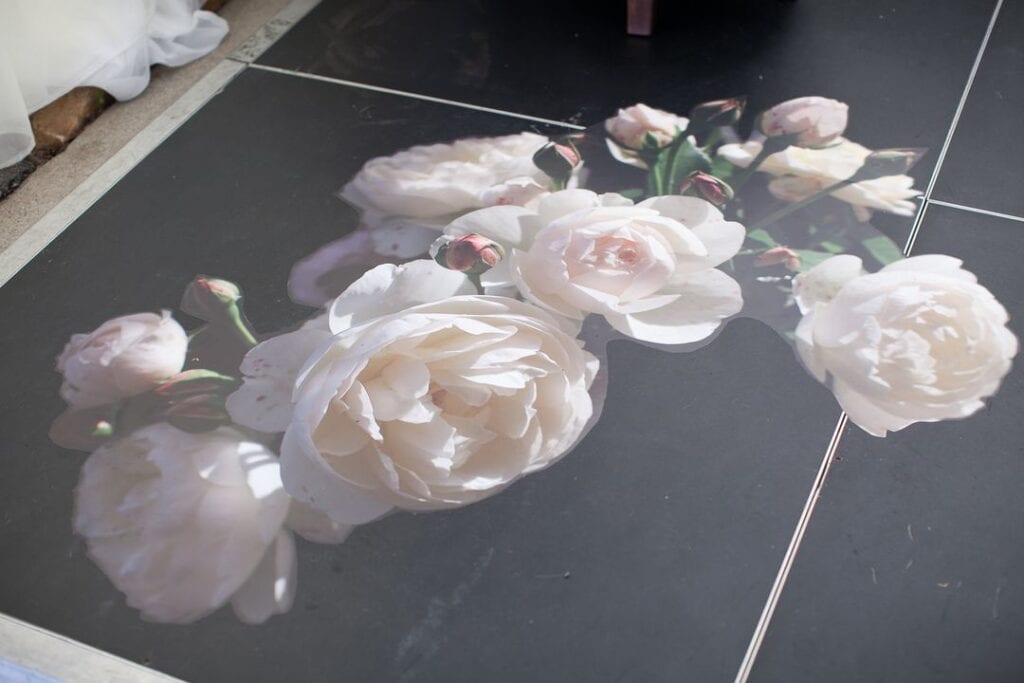 Photo by Phindy Studios
Boxwood Walls
A popular way to decorate an entryway is with our lush Boxwood Walls. These customizable pieces can be decorated with details of sponsors, used as a photo op with a step and repeat, or simply act as decor. Alternatively, add an interactive twist by greeting guests with a cold refreshment! Our champagne/beverage shelves are an elegant and memorable way to welcome guests at the entrance of your event, whether it be a cocktail hour or seated dinner. They are available in two trendy colors, modern Fruitwood and classic white.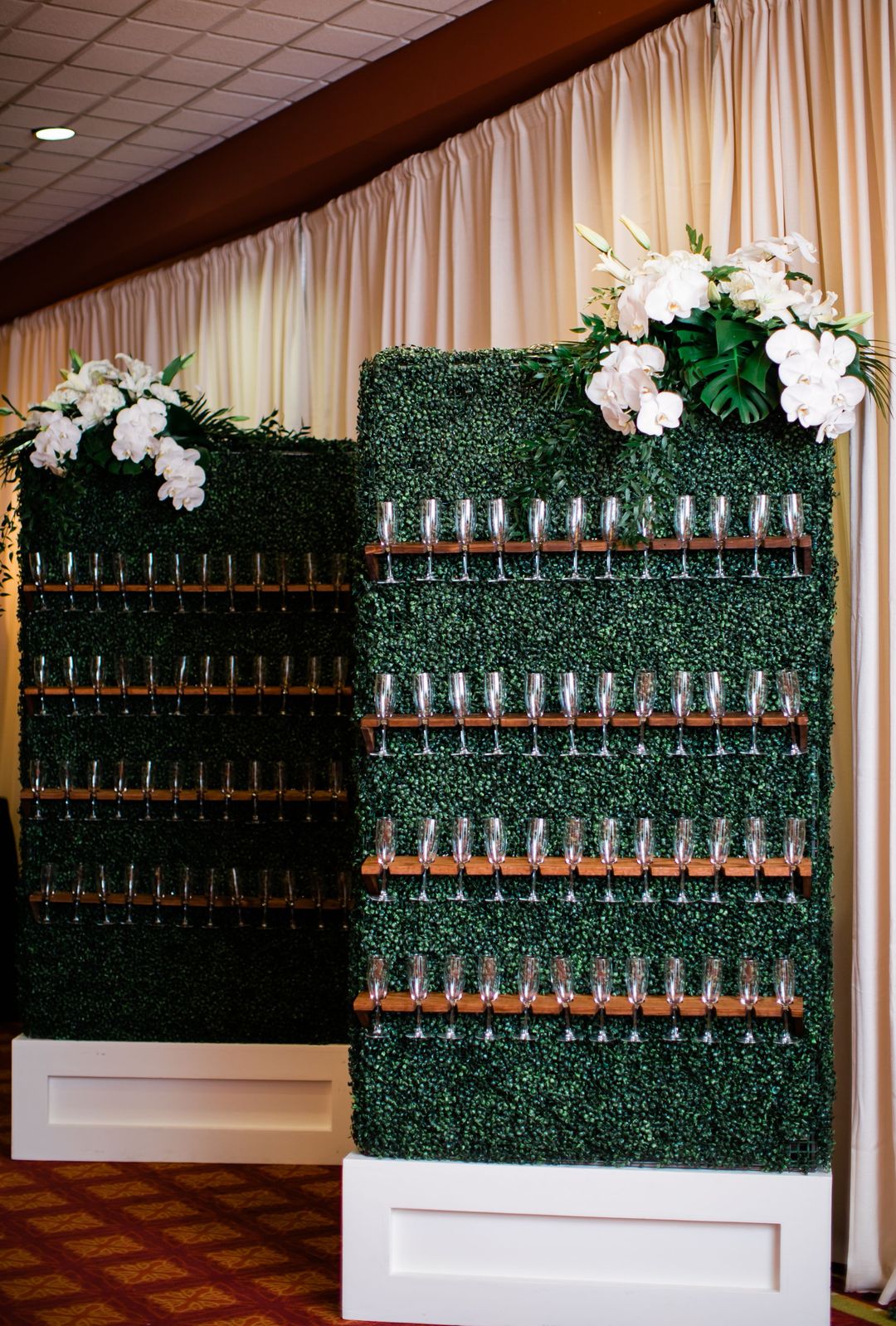 Photo by Jen & Chris Creed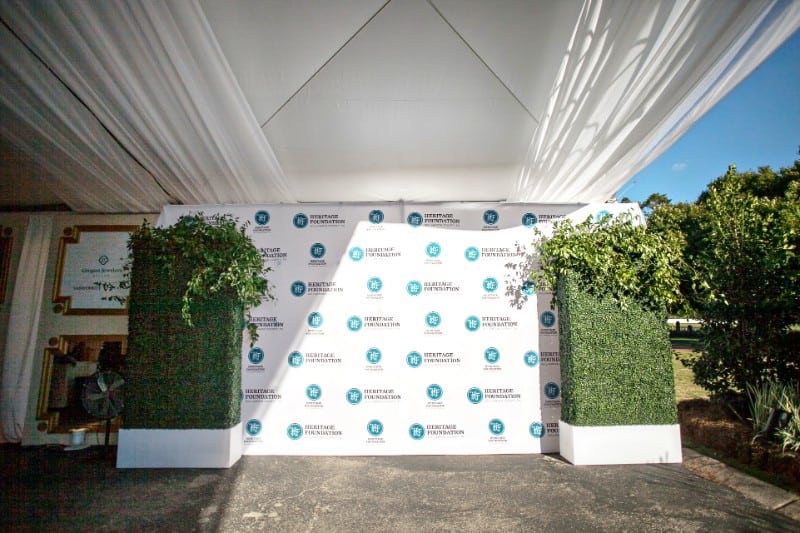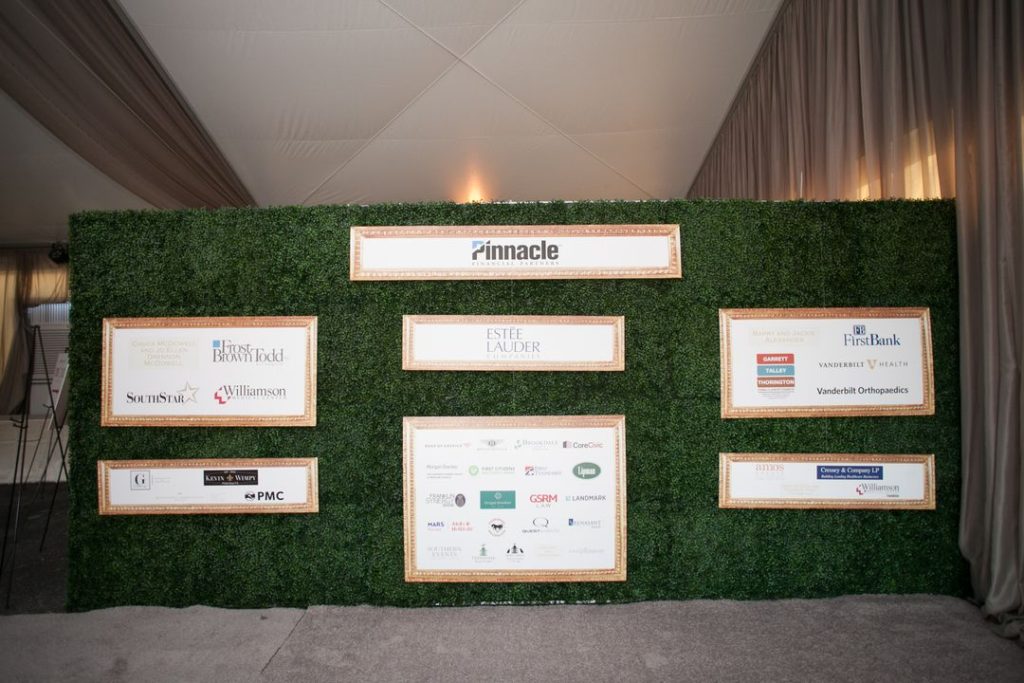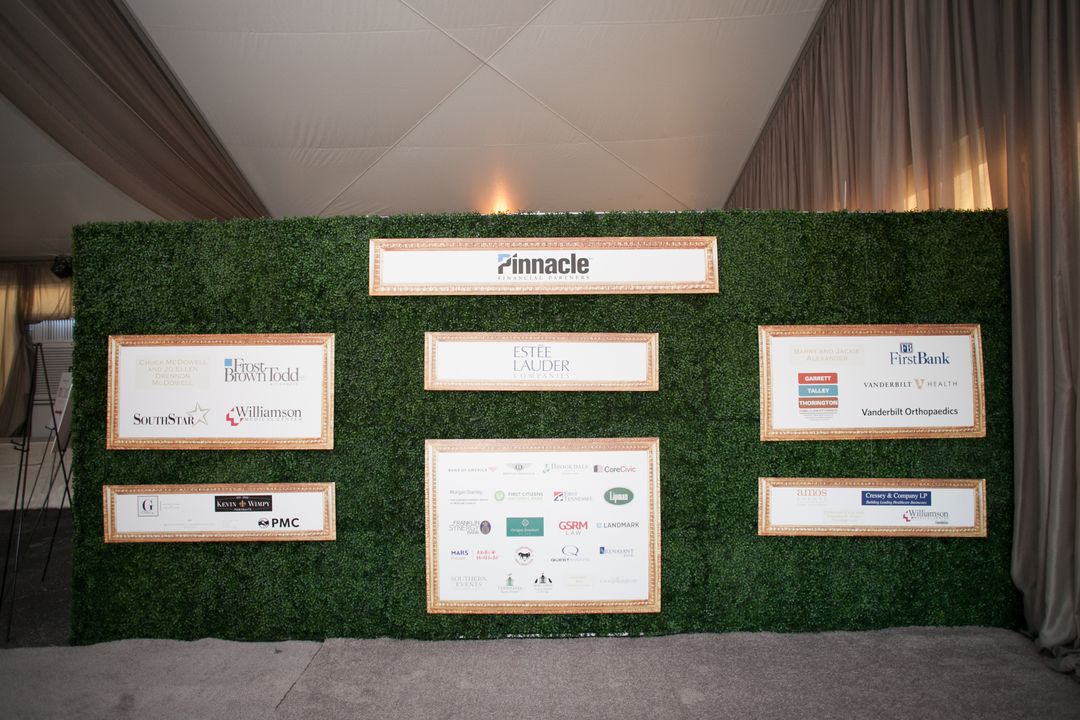 Photo by Phindy Studios
Want to use one or several of these rentals to create a grand event entrance? We would love to make it happen! Contact our team at info@southerneventsonline.com & let's start planning a one-of-a-kind event.
TAGS | Boxwood Wall, Champagne Wall, On Trend, corporate event, event entrance, grand entrance, grand opening
FEATURED RENTALS | black velour rope, red velour rope, chrome stanchion, boxwood wall, Champagne/ beverage shelf, red carpet,
---
14

Sep

Southern Events Products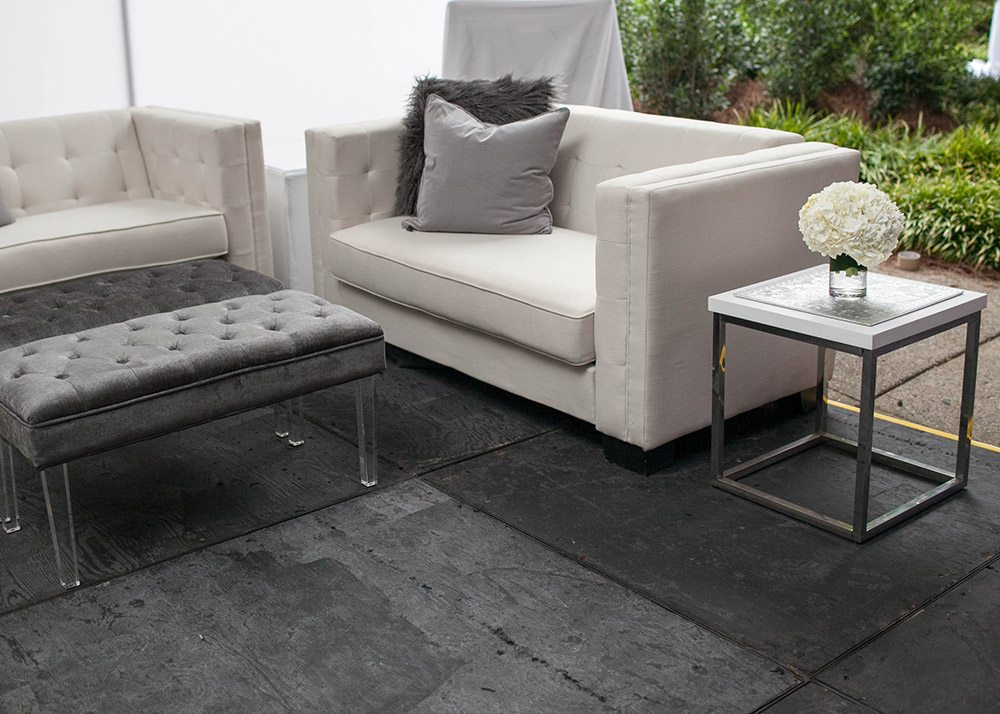 Company Retreats and Corporate Summits are an important and exciting part of any company's culture. Whether you're having a creative brainstorming summit with a small team, or a large conference with hundreds of attendees, Southern has great rentals and a huge quantity of everything you need!
Staging
Whoever is speaking at your company's next event, you'll want them to have a stage to share from. And if you're looking at a creative location, sometimes it's not obvious where exactly to have someone deliver their presentation. We provide staging for all kinds of venues, whether indoor or outdoor, to make it easy for all attendees to be able to hear and see.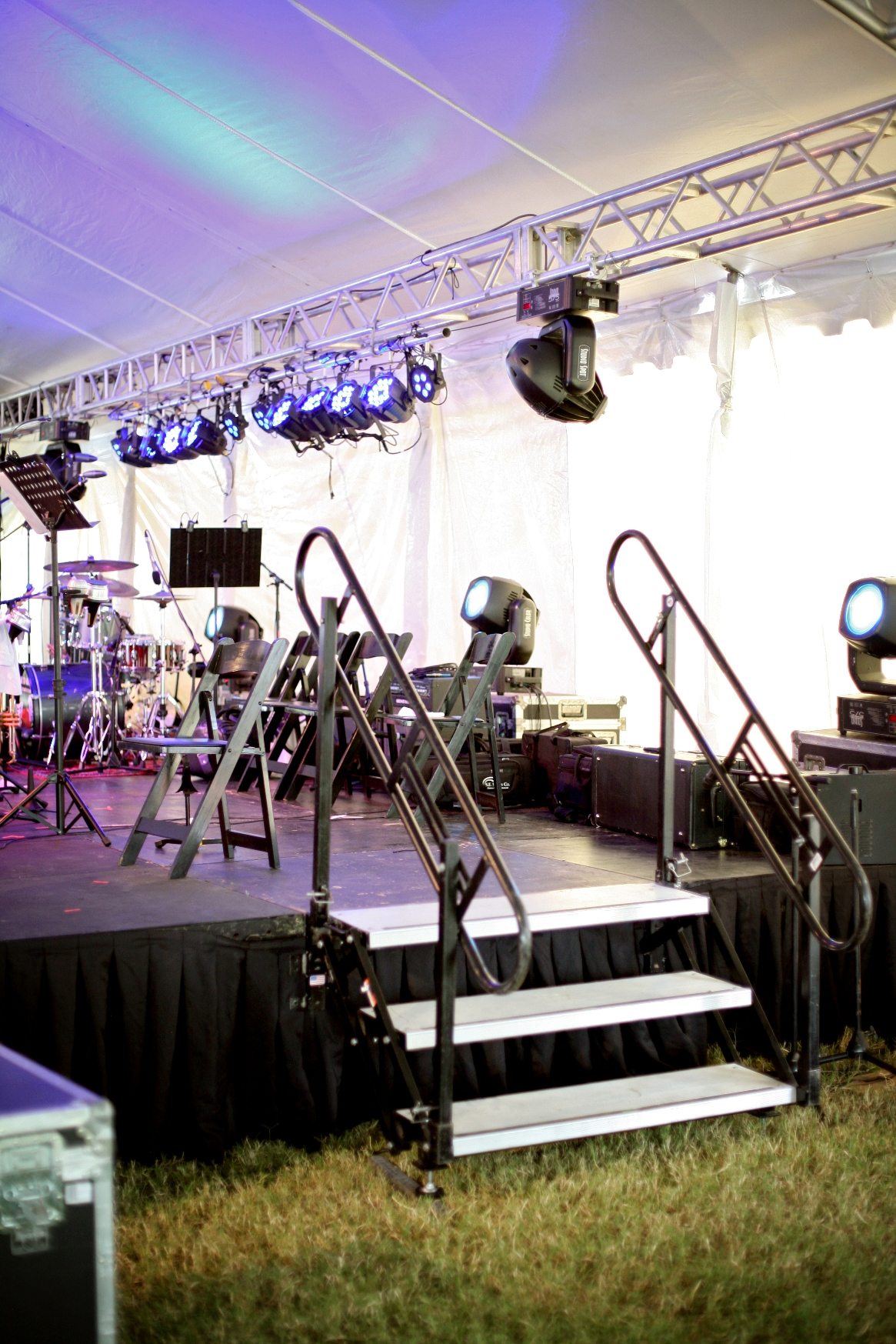 Pipe and Draping
Add elegance and grandeur to your event with pipe and draping – a bonus when you add it in your company colors! We love how pipe and draping instantly elevates the design of any event, and when you've planned a large conference in a neutral space, it easily adds personality and reflects your company culture.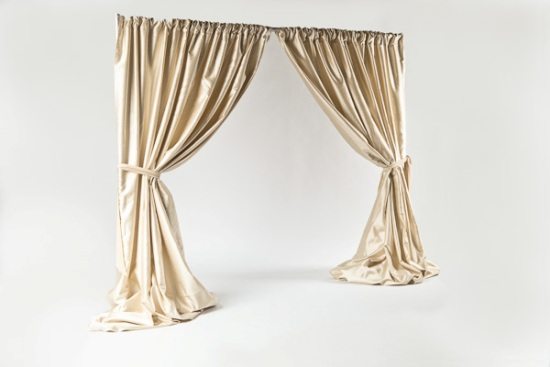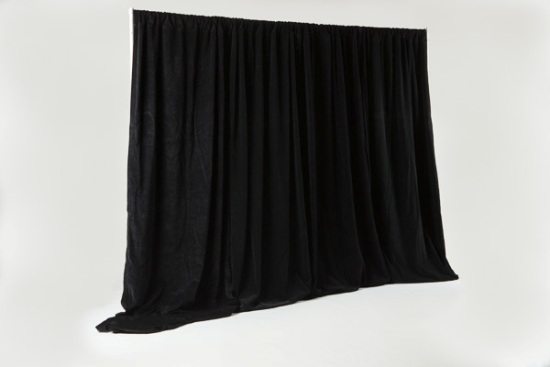 Lounge Furniture Packages
Lounges are the perfect way to break up an oversized space or provide your colleagues with a comfier place to mix and mingle. Create a professional looking lounge area with one of our many Lounge Packages – all of which can be added on seamlessly to any event's design.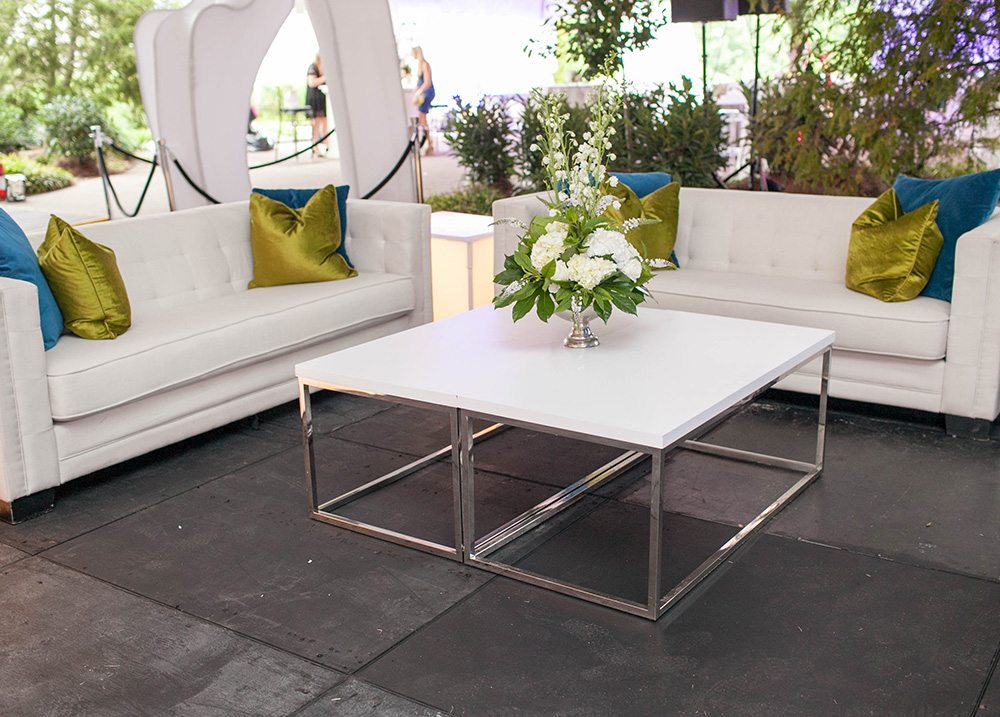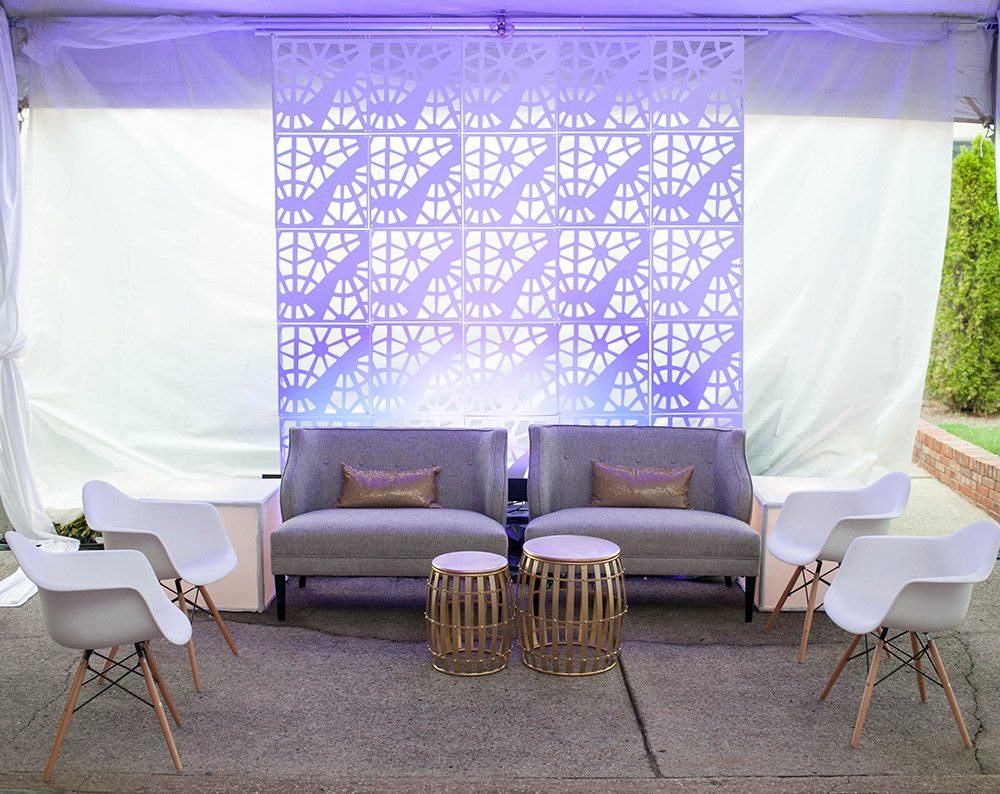 Photos by Phindy Studios
Red Carpets
Rolling out the Red Carpet is a fun way to express gratitude to your team to show them how much you appreciate their work. We love how much fun guests have when they walk down – such a fun added touch!
Folding Screens and Stanchions
Folding Screens and Stanchions are another great way to break up a massive room design and control foot traffic. Think about different stations being set up (check in station, information station, etc) and how you'll want to create good foot traffic flow and obvious signage. Prevent long lines from overwhelming with stanchions placed strategically, and have folding screens act as the backdrop to various stations creating a "room within a room" look without setting up a wall.
Unique Stage Seating
Looking for a way bring beautiful design to your company event? We love how our Bennett Sofa, Eiffel Chairs, Adeline Chairs, or other Vintage Chairs look on stage, or placed throughout key points.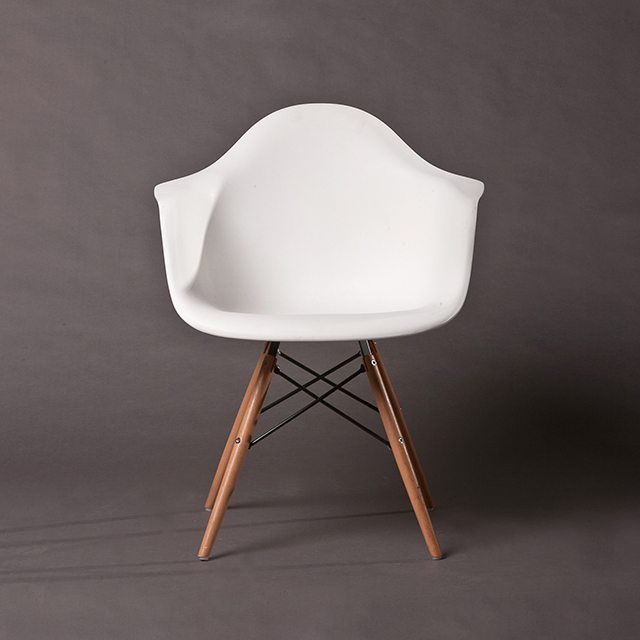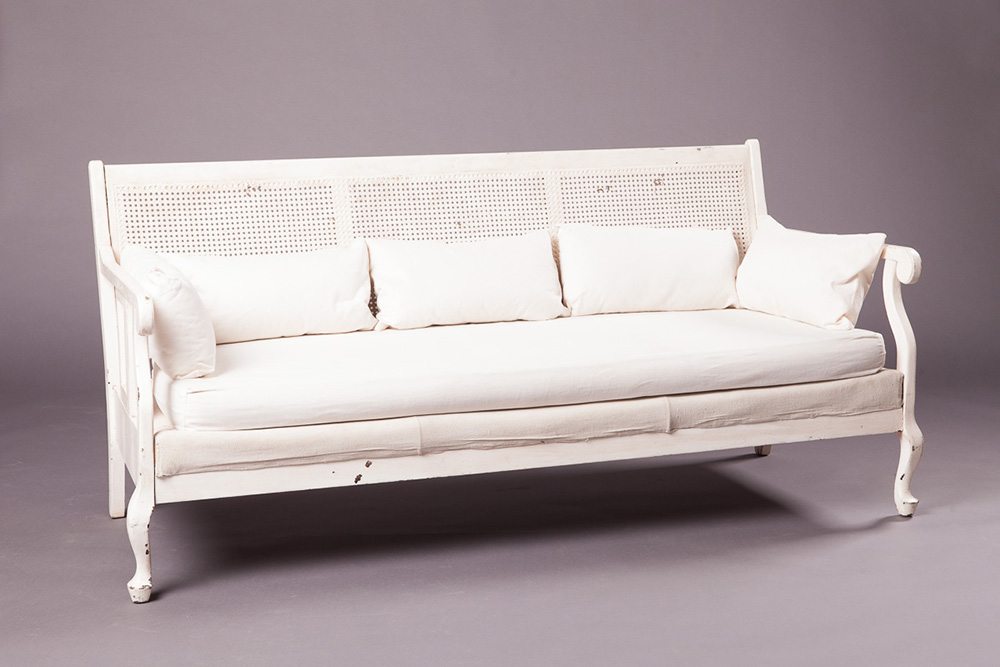 Whatever corporate event your company is throwing next, Southern can help! Send us a shout at info@southerneventsonline.com and we'll show you all the ways we can upgrade your next Nashville, Franklin, or Middle TN event.
TAGS | Adeline Chairs, Bennett Sofa, Company Party Rentals, Corporate Summit Rentals, Eiffel Chairs, Folding Screens, Lounge Furniture Packages, Pipe and Draping, Red Carpets, Staging, Stanchions, company event, corporate, corporate event, meeting
FEATURED RENTALS | Staging, Pipe and Draping, Lounge Furniture Packages, Red Carpets, Folding Screens, Stanchions, Bennett Sofa, Eiffel Chairs, Adeline Chairs
---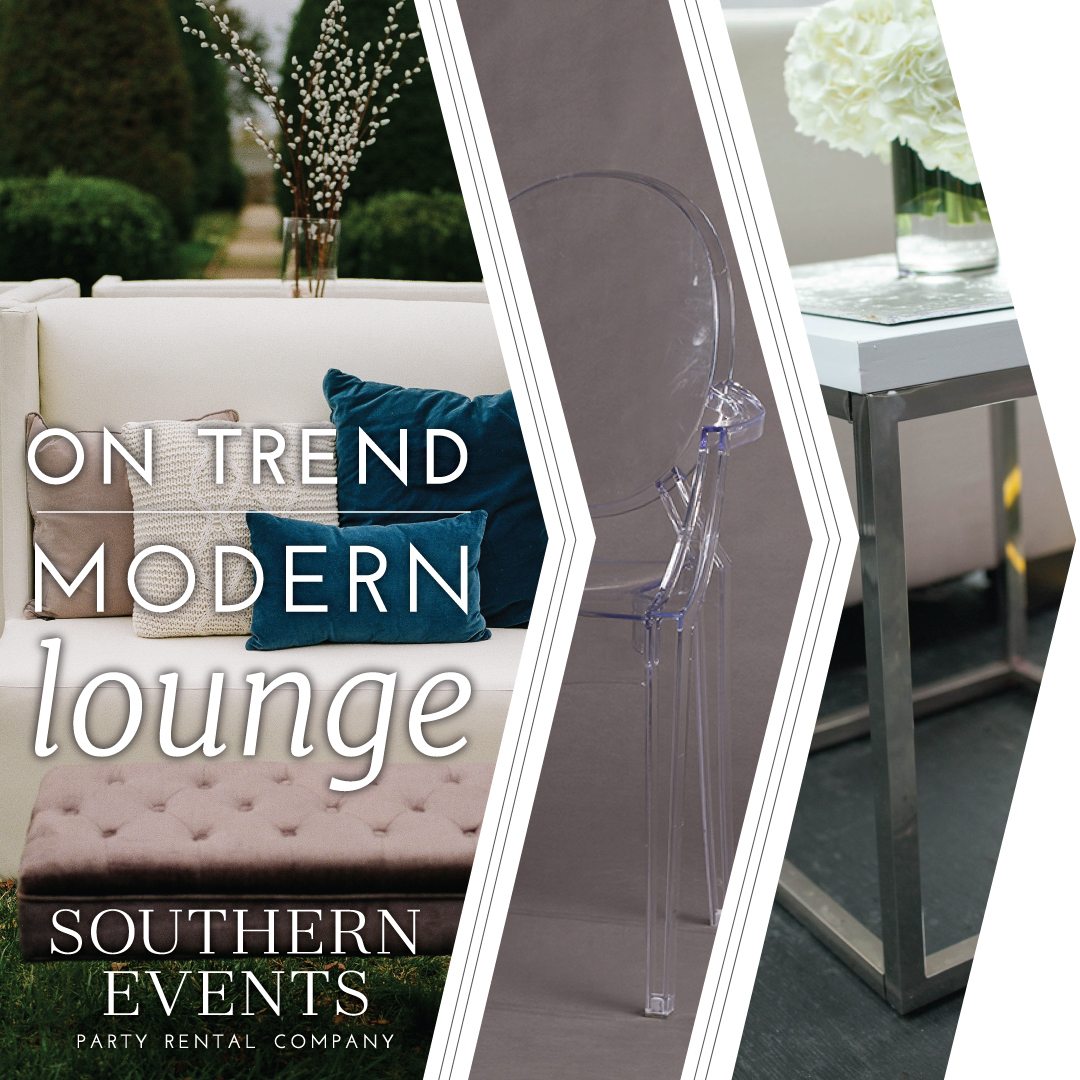 Lounges are now as essential to events as tables & chairs. The trend towards a sleek and sophisticated space at corporate events, social galas, or glam weddings is making Modern Lounges popular in event design. Chrome accents and clean lines accompanied with bright white seating give any lounge area a modern ambiance while still maintaining a professional look. We love how lounges create intimate spaces at events for guests to relax, for couples to snuggle and for attendees to socialized.
Product Details: Mercer White Leather Couch, Mercer White L-Shaped Bench, Mercer White Tower, Santorini Off-White Love Seat, Cece Silver Side Table, Ghost Arm Chair, Mykonos White/Silver Coffee Table, Mykonos White/Silver Side Table
Want your next meeting to inspire with these modern designs? Contact our team about rentals for a Modern Lounge event at info@southerneventsonline.com.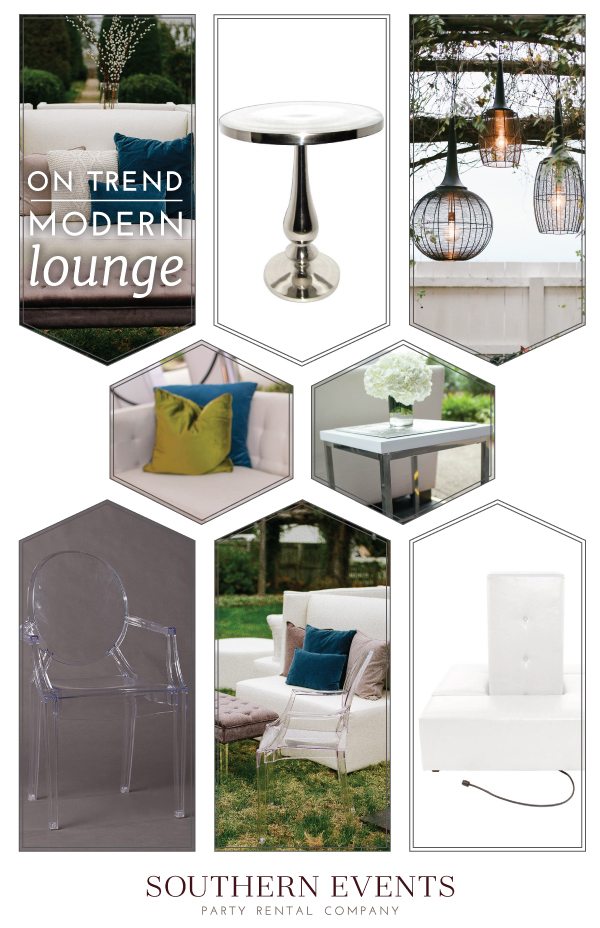 TAGS | Cece Silver Side Table, Ghost Arm Chair, Mercer White L-Shaped Bench, Mercer White Leather Couch, Mercer White Tower, Mykonos White/Silver Coffee Table, Mykonos White/Silver Side Table, On Trend, Santorini Off-White Love Seat, Southern Events Party Rental, Southern Events Party Rental Company, Unique Nashville Event Rentals, corporate, corporate event, corporate event rentals, corporate event style, professional function
FEATURED RENTALS | Mercer White Leather Couch, Mercer White L-Shaped Bench, Mercer White Tower, Santorini Off-White Love Seat, Cece Silver Side Table, Ghost Arm Chair, Mykonos White/Silver Coffee Table, Mykonos White/Silver Side Table,
---