15

Jun

Southern Events Products, Trends and Inspiration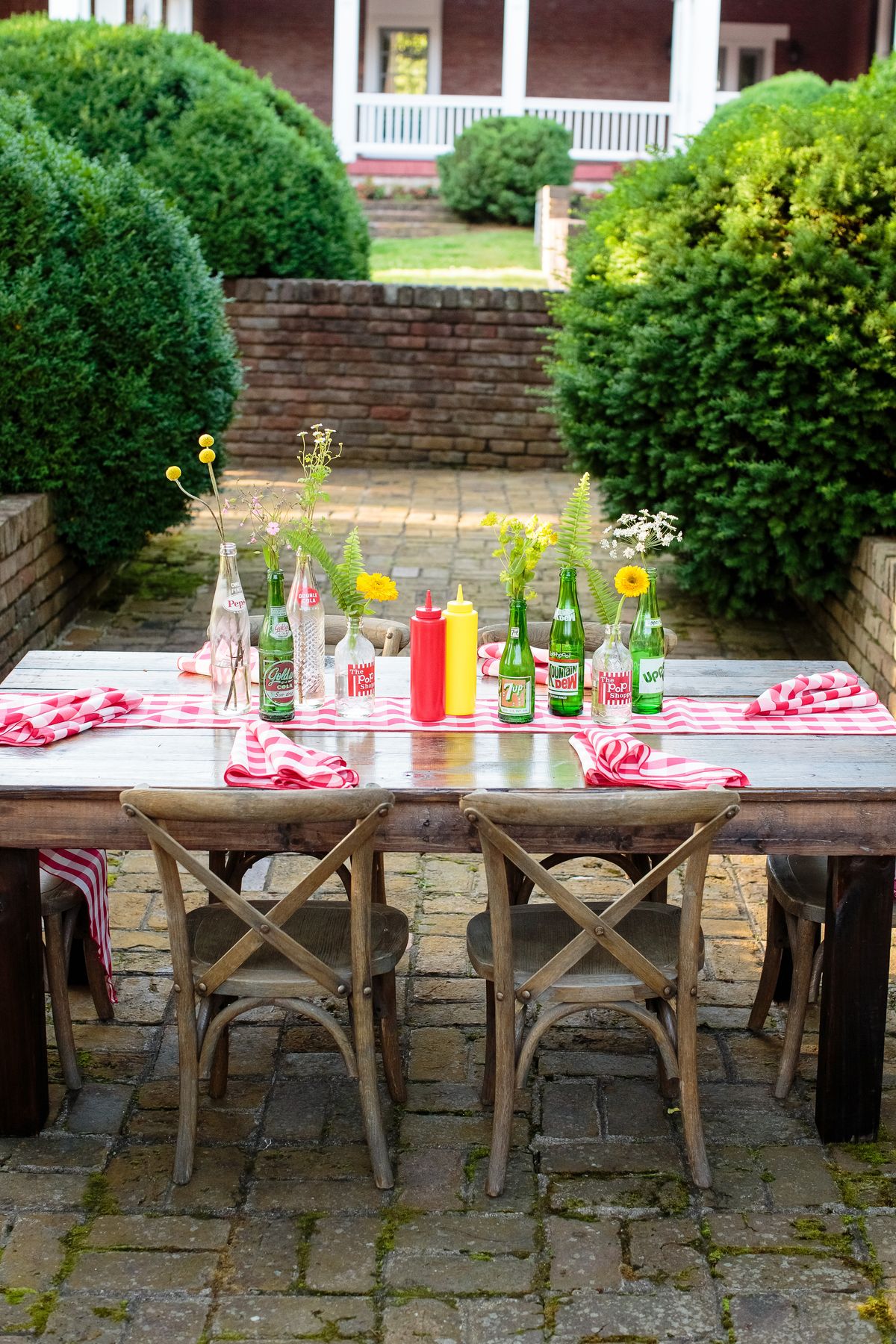 Summer is in full swing, and with it comes the most exhilarating day of the year—Independence Day! And to help you host an unforgettable 4th of July backyard gathering that reflects the hospitality of the South, we're sharing ideas for everything from serving up classic Southern dishes to creating cozy outdoor lounges. Keep reading to get inspired by our stylish event rentals that will honor the red, white, and blue.
Buffet Display
The best 4th of July backyard gathering will feature a delicious spread of summertime fares! Impress your guests with a simple Americana-inspired buffet table. Our Whiskey Barrel Bars offer a classic look, whether you go for a plain or whitewashed wood. We also stock a wide range of serving ware that will make it easy to display food! Including chafing dishes to keep fresh off the grill BBQ hot, and beverage dispensers to keep drinks cool. Classic Family Style Serving Pieces are beautiful options for sides such as slaw and potato salad. Or, showcase charcuterie as a centerpiece on Silver Tray.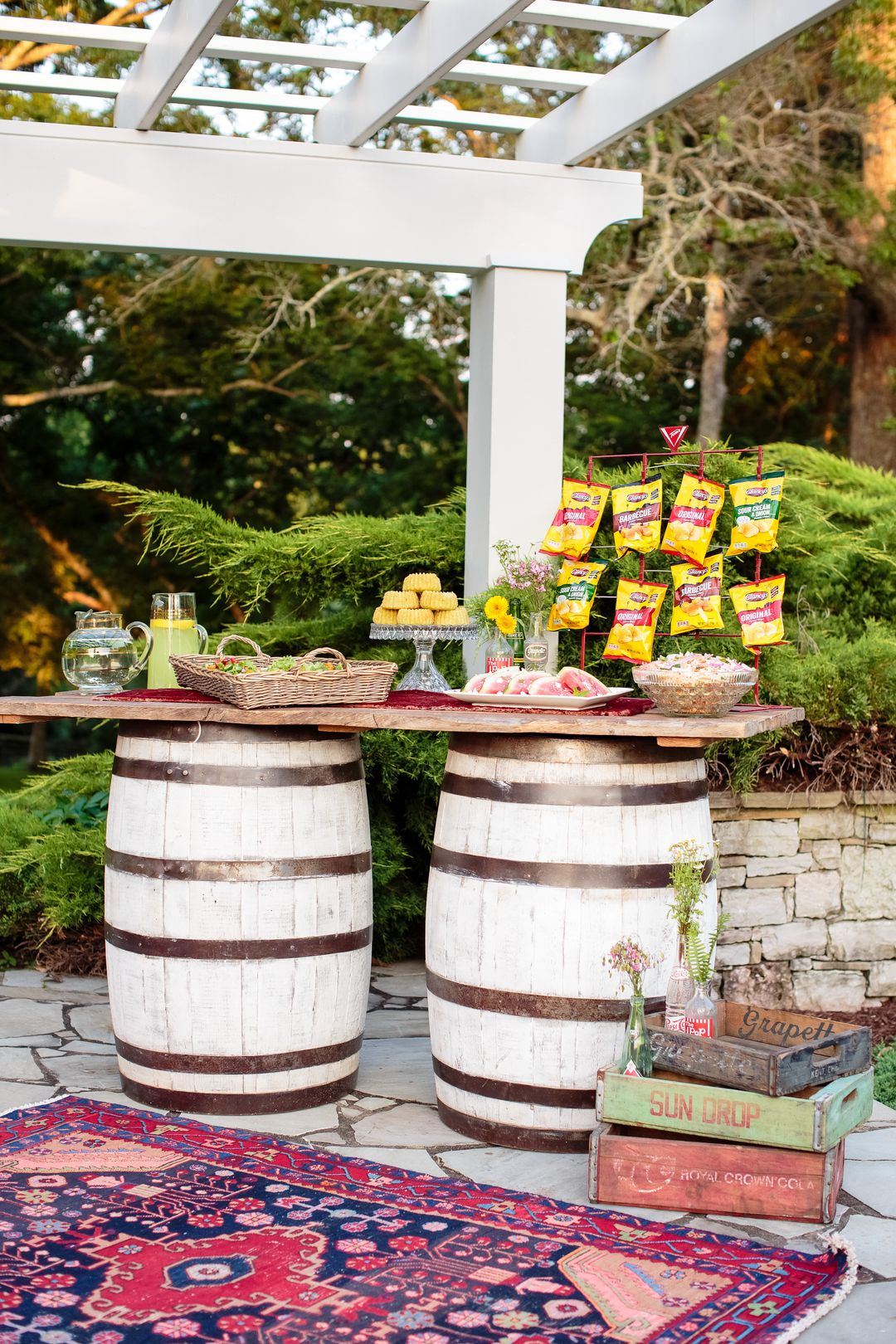 Photo by Erin Lee Allender
Child-Friendly Furniture
For the pint-size guests that will be in attendance, child-size furniture will go a long way to make them feel included. Our charming Children's Fruitwood Farm Table and Cross-back Chairs are one option – made of the same high-quality materials as our regular-size furniture. They are perfect for setting up game or coloring stations, as well as making meal times easier! We even stock high chairs, if you want to give the parents a little break to enjoy their meal.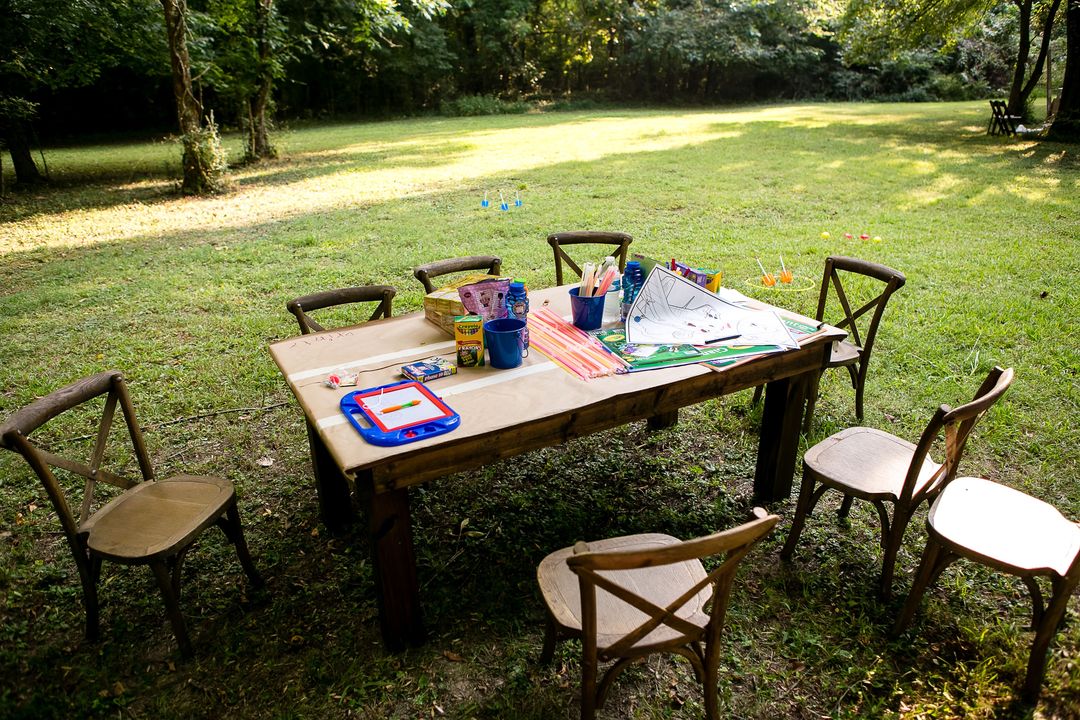 Simple Place Settings
You don't have to go all out to make a big statement! Skip the paper plates and go with solid-colored china instead. In addition to a White Round and Square China, we have beautiful Earthen China A bold black or Onyx will lend a chic modern look atop a red checked pattern, while bright Alabaster atop solid blue tablecloths is a classic. For a fun pop of color, add a vibrant napkin to the stack. Finally, choose from our wide selection of glassware, including a whimsical Meridian Blue Beverage Tumbler!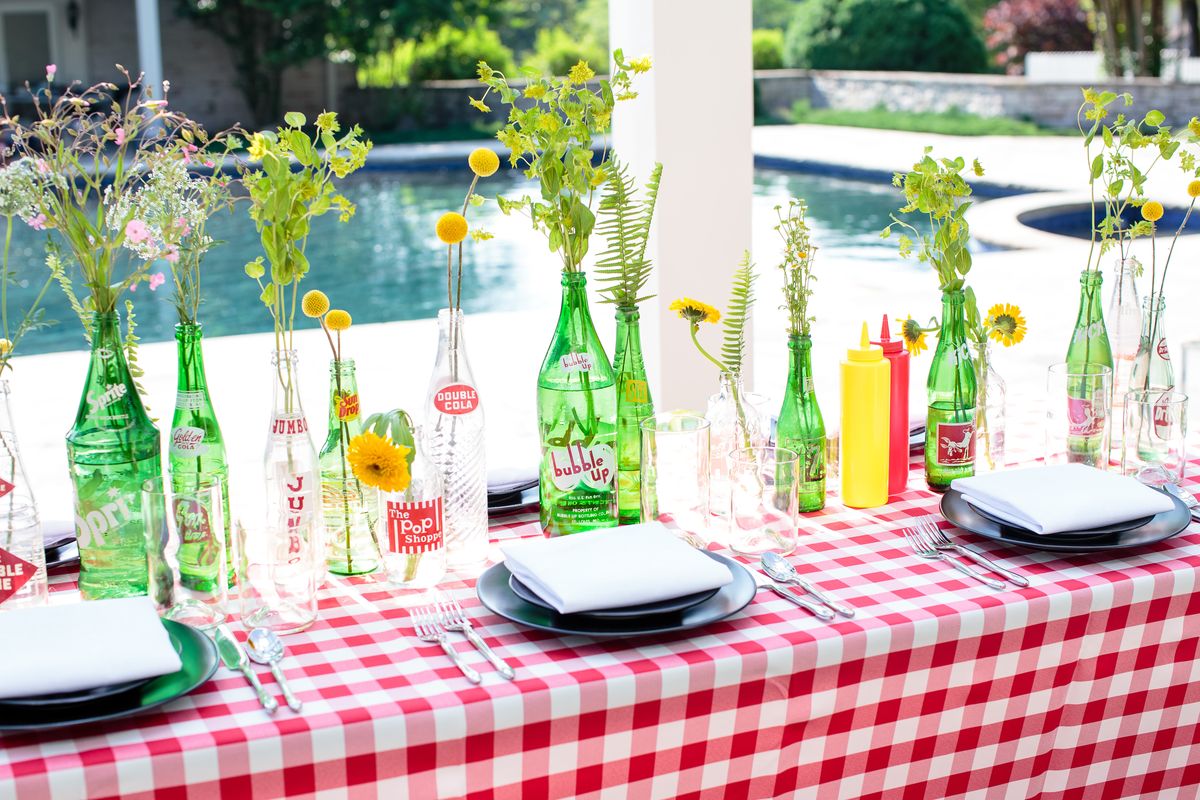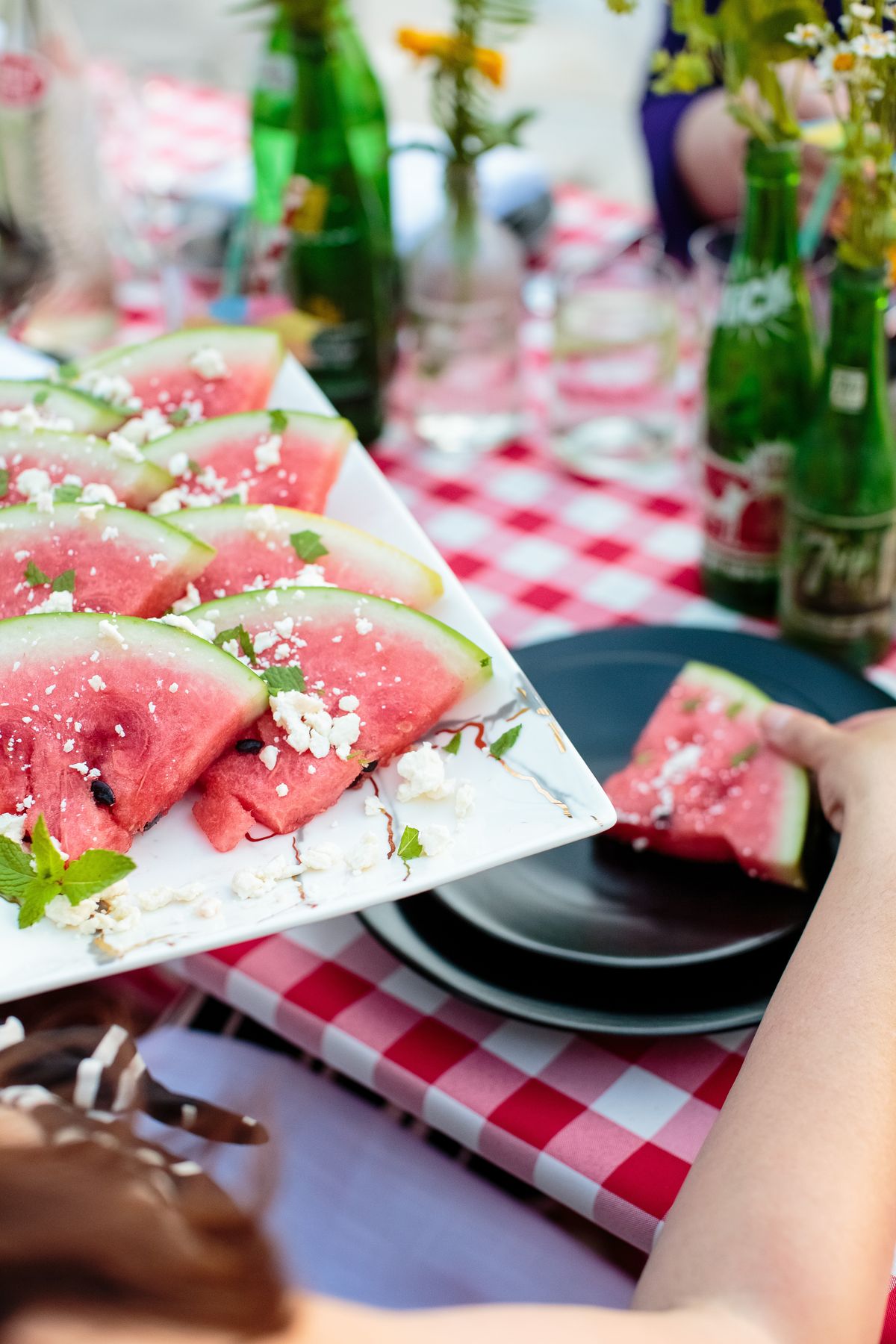 Cozy Outdoor Seating
Whether your plans include toasting marshmallows around a fire, setting off fireworks, or cuddling up for an outdoor movie, cozy seating is a must. Our inventory includes rustic benches, perfect for a casual event, as well as our plush Sutton Loveseat, Chairs and Ottomans. If you prefer a more upscale look, feature the Bennett Leather Sofa with Saylor Navy Velvet Armchairs and a Blue-Red Rug. For a subtle Americana-inspired accent, feature wood accent tables, such as Wood Distressed Coffee and Side Tables.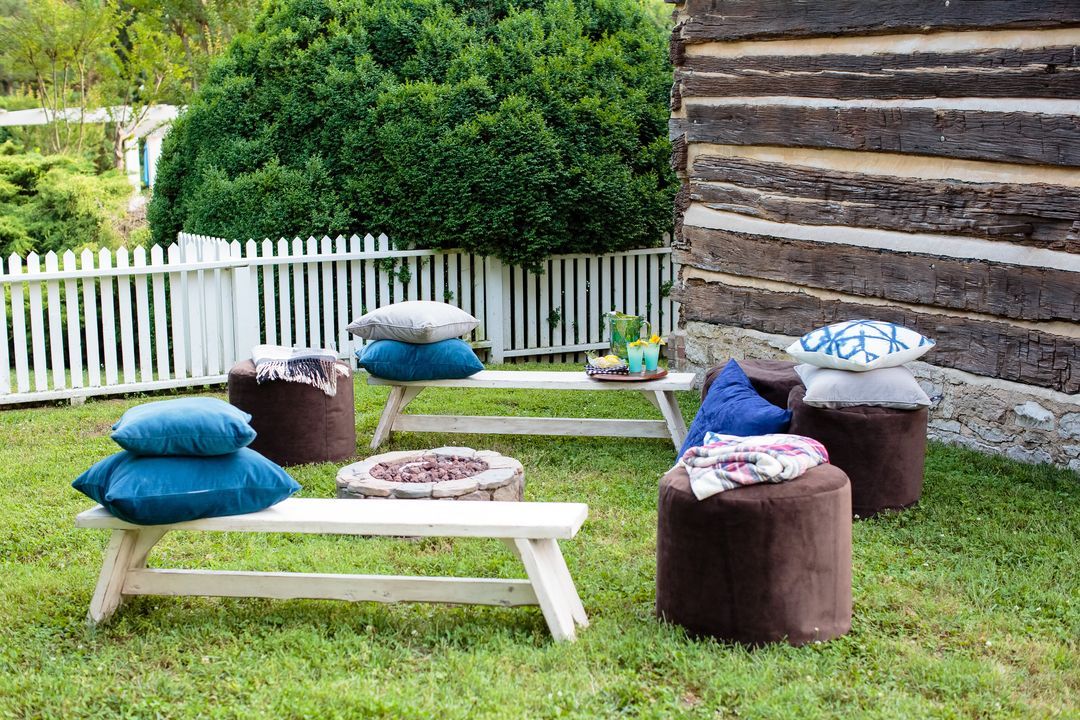 Create Some Shade
Beat the summer heat with a classic white tent! Our curated Tent Packages include everything you need to stay cool, dry, and comfortable during a backyard gathering. No matter how many guests your party includes, we have a tent, with tables, and chairs, that will meet your needs. Check out our easy-to-set-up Pop-Up Tents, or Ready to Party Packages – for parties with 30 to 70 guests.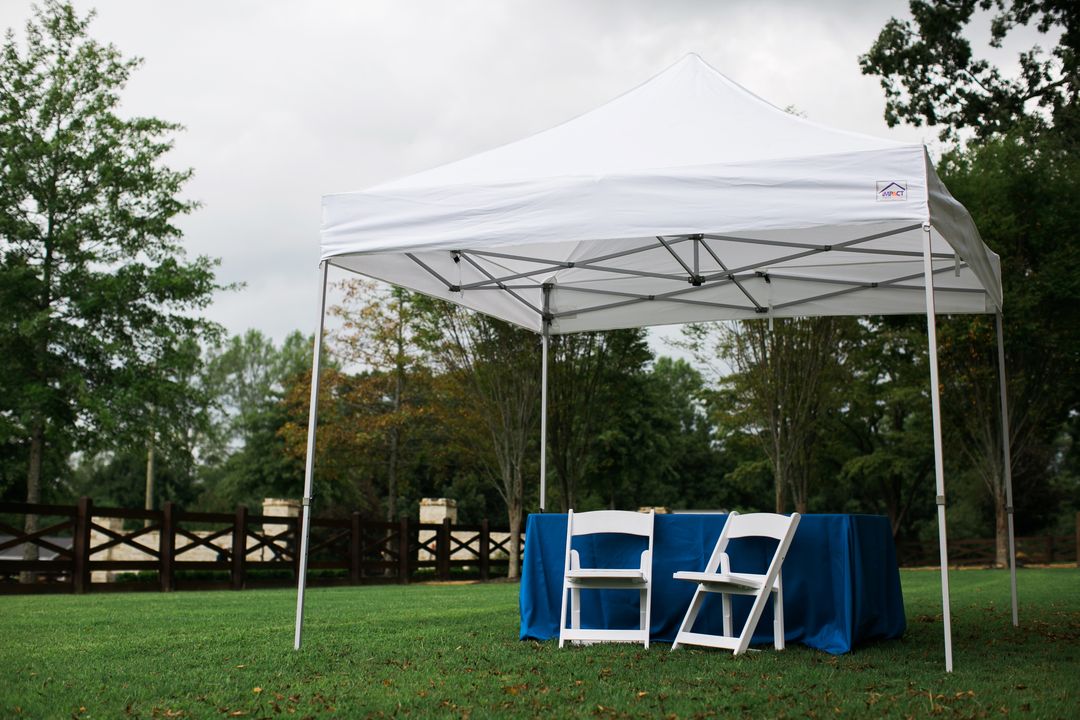 Ready to secure rentals for your 4th of July backyard gathering? Contact our team at info@southerneventsonline.com today to schedule your contactless pickup or delivery.
TAGS | 4th of July, Nashville Event Rentals, Tent Rentals, backyard parties, franklin party rental
FEATURED RENTALS | Whiskey barrel Bars, beverage dispensers, chafing dishes, silver tray, high chairs, cross-back chairs, children's fruitwood farm table, Onyx Earthen China, Alabaster Earthen China, Meridian Blue Beverage Tumbler, Bennett Leather Sofa, Sutton Loveseat, Saylor Navy Velvet Armchairs, Blue-Red Rug, Wood Distressed Coffee Table,
---
11

May

On Trend, Southern Events Products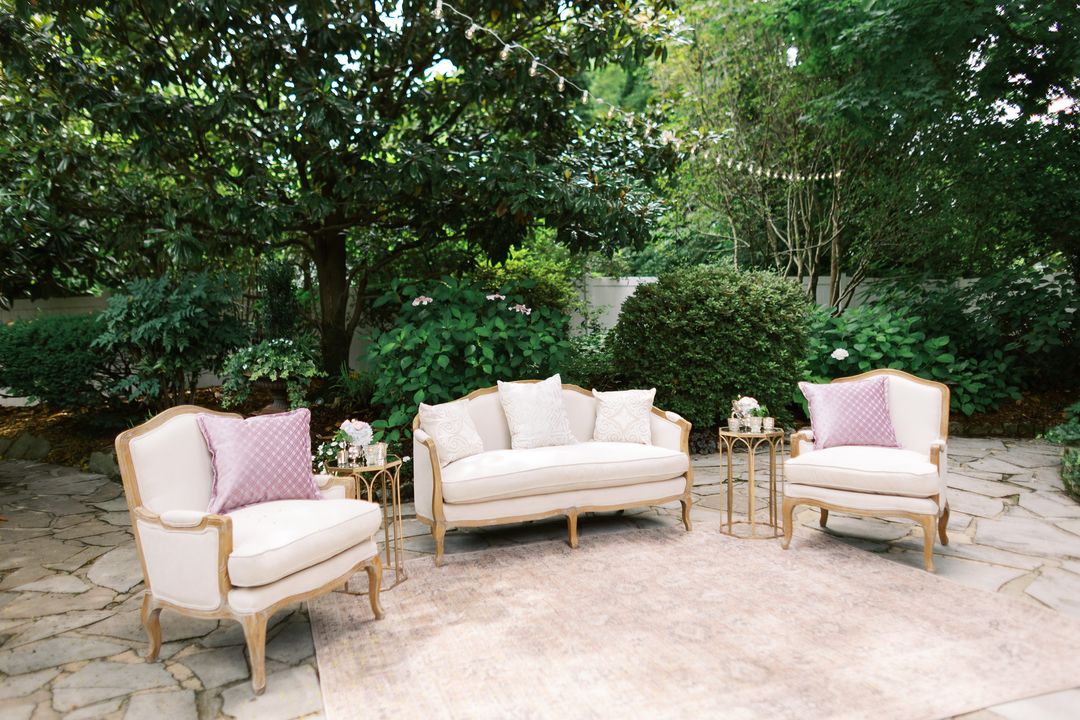 Summer is the season of backyard parties! Whether it's a birthday celebration, a family reunion, or a simple get-together with friends. Hosting an outdoor party is the perfect way to enjoy the beautiful weather while creating unforgettable memories. And to elevate your backyard gathering, Southern Events Online stocks stylish summer party rentals! Take a look at our inventory that will impress your guests. From coastal chic-inspired furniture to a modern rustic tablescape.
Neutral Coastal Chic
One of our favorite summer vibes is coastal chic! Starring a neutral color palette and natural materials, it is a stunning option for a casual yet elegant backyard gathering. Start by creating a bright and airy tablescape with an off-white, Havana Ecru Tablecloth. For an extra soft and breezy look, add a Sahara Ivory Runner and Ivory Poly Napkins. Meanwhile, Rattan White Wash Chargers will lend some much-needed texture! To warm up the table, feature our elegant Cross-Back Chairs with plush cushions.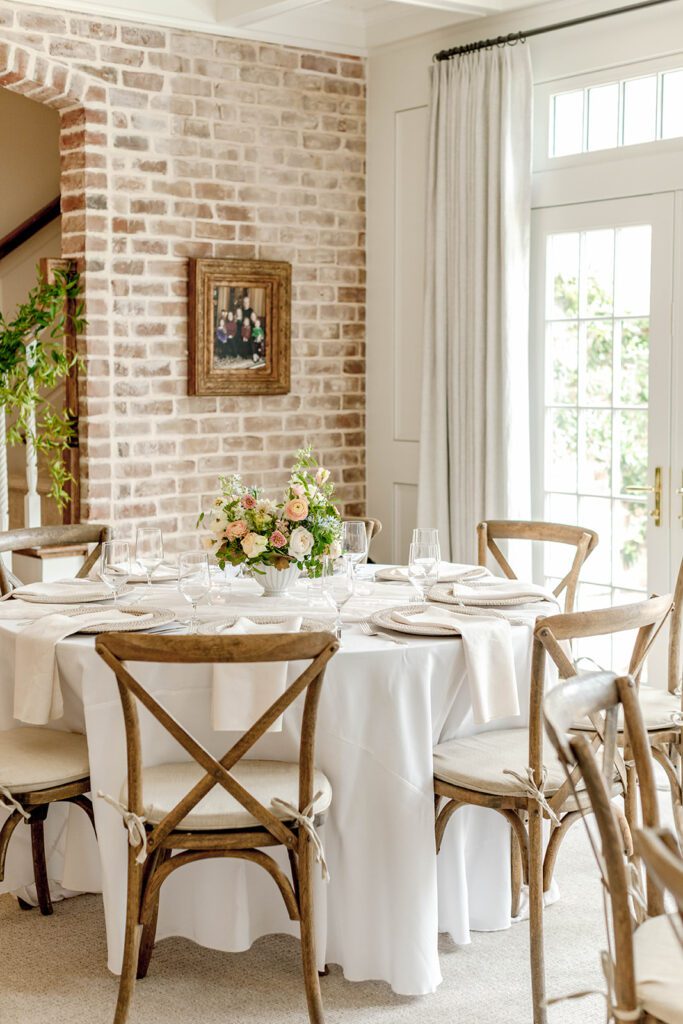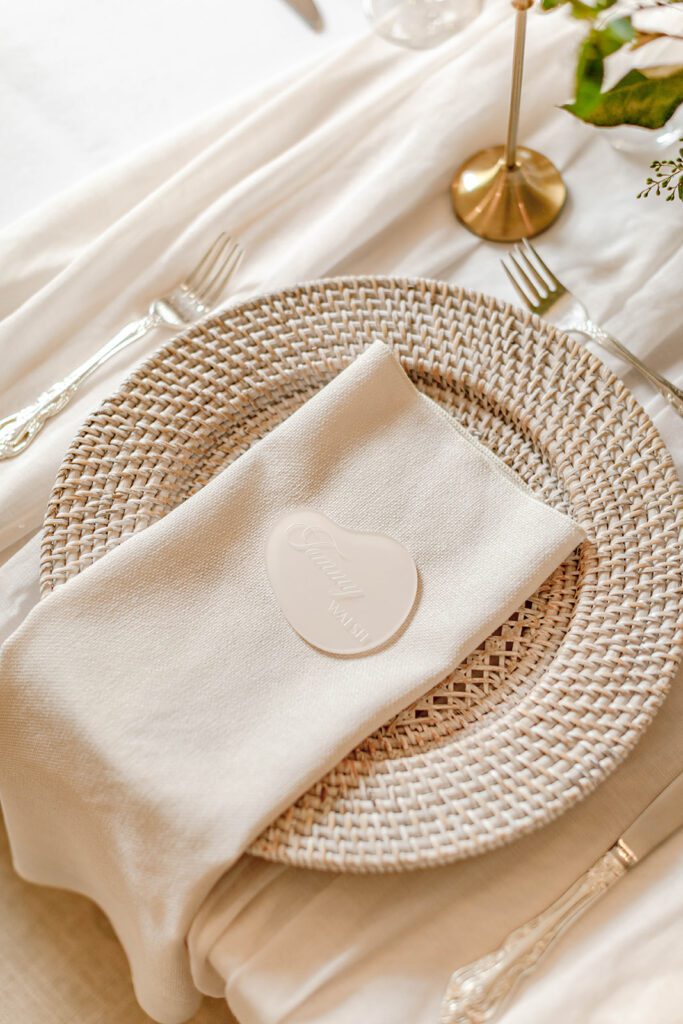 Coastal-Inspired Furnishings
Carrying over the theme, you won't want to miss out on our Sloan Sofa and Armchairs. They are made of classic bentwood with curved caning and a charcoal finish for a modern look. However, to complete the look, add a Linden Marble Table and a Blush Rug. Perhaps a Gold Bar Cart, for a luxe metallic accent. And to keep bubbly or beverages within arms reach!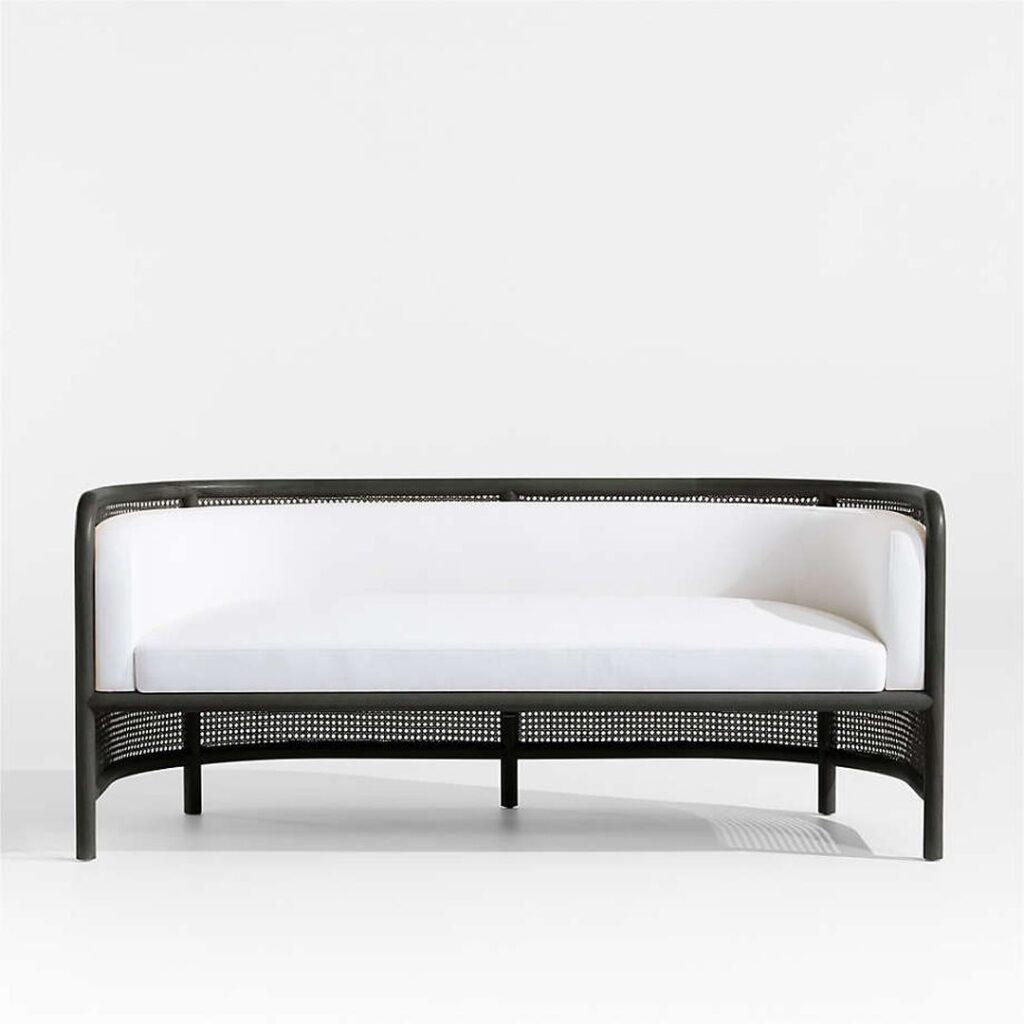 Sunny Citrus
If you want a more traditional summer look, go with bright and bold colors! For instance, we're loving this colorful citrus-inspired tablescape starring a rich Navy Blue Velvet Tablecloth. Our Burnt Orange Poly Napkins will beautifully contrast the blue table and tie in a fresh citrus, or fruit-laden charcuterie, centerpiece. Additionally, to maintain a clean and modern look, add on Brushed Copper Flatware and sleek White Coupe China. Depending on how bright you want the table, grab our Fruitwood Folding Chairs or Antique White Bentwood Chairs.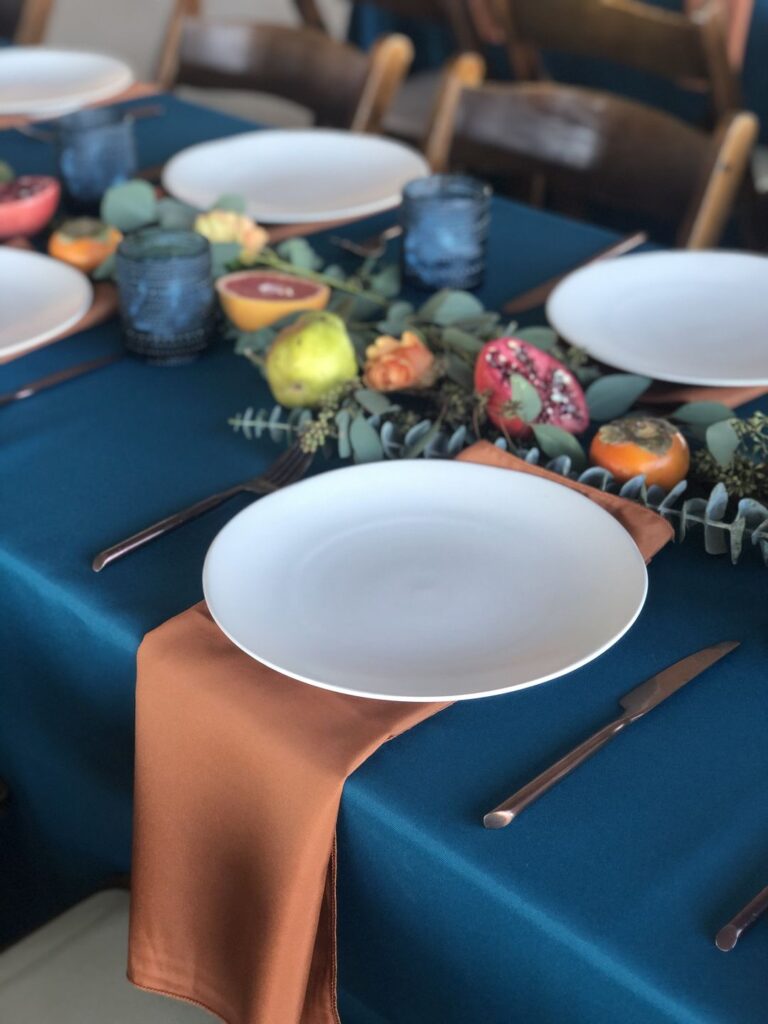 Mini Bar Must-Haves
If you plan to serve alcohol, our Franklin 4ft Antique White Bar is the perfect size for a small backyard celebration. It will be a treat if you plan on having a mixologist on site. Or, if you want to create a small self-serve station featuring our sleek Hampton Beverage Dispensers. Regardless, be sure to stock up on Meridian Blue Tumblers, one of our most underrated summer party rentals – a stunner for poolside cocktails!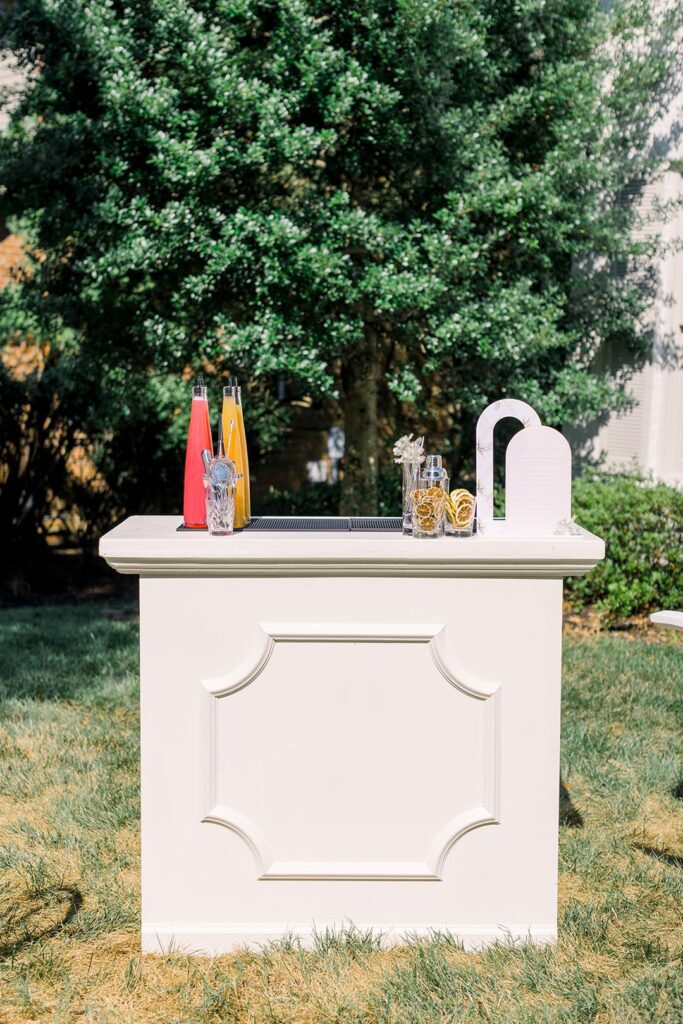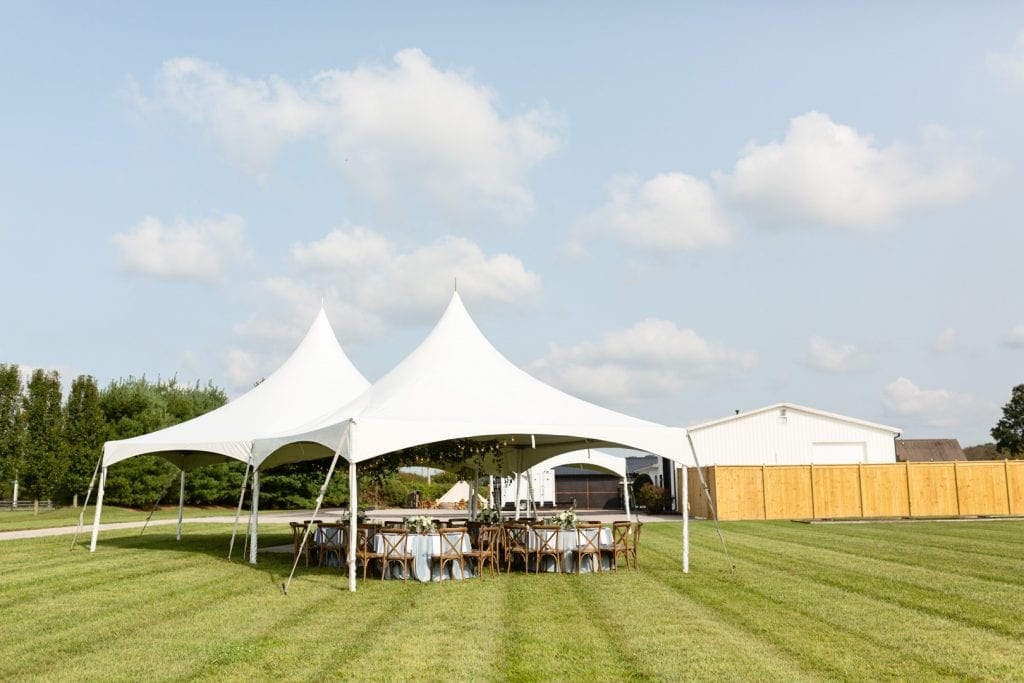 Modern Rustic Garden Party
We will never tire of an elegant garden celebration! And that is exactly what inspired this modern rustic backyard party. For instance, think of it like an elevated BBQ where warm woods and muted colors shine. Start with Aged Oak Dining Tables, placed side by side to create a long table fit for socializing. After that, keep it classic when you pair them with rustic benches. Or, elevate the look with elegant Harlin Dining Chairs. In addition, dress up the table with fresh flowers, complemented by clean serving ware and a splash of color. Try muted pieces, like our Amber Goblets or Moss Green Crush Velvet Napkins.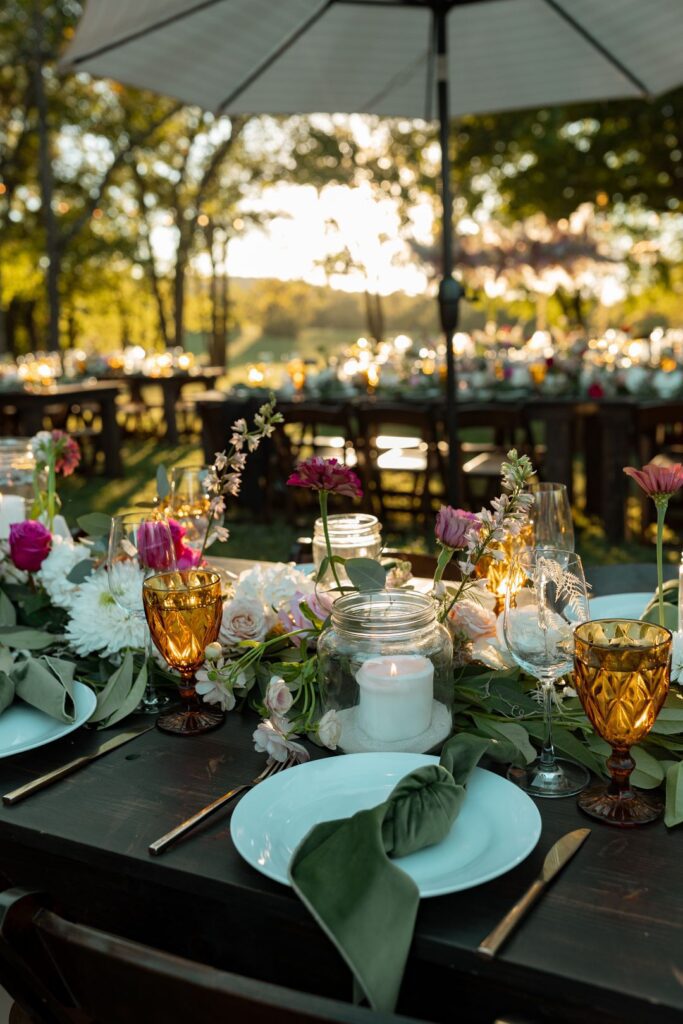 Muted Elegance
For a cocktail hour, consider featuring a down-to-earth lounge with warm woodsy browns. From our Bennett Leather Sofa and Adeline Dining Chairs. With a luxe metallic accent, from a set of Cheval Gold Mirror Side Tables. To soften up the space, add on Chocolate Poufs and a Bellamy Beige Linen Bench. After that, a bold Navy Rug to help frame the area. If you want to wow your guest upon their arrival, welcome them with a White 6-Tier Serving Tower. We recommend colorful cocktails in our Gatsby Champagne Coup glasses!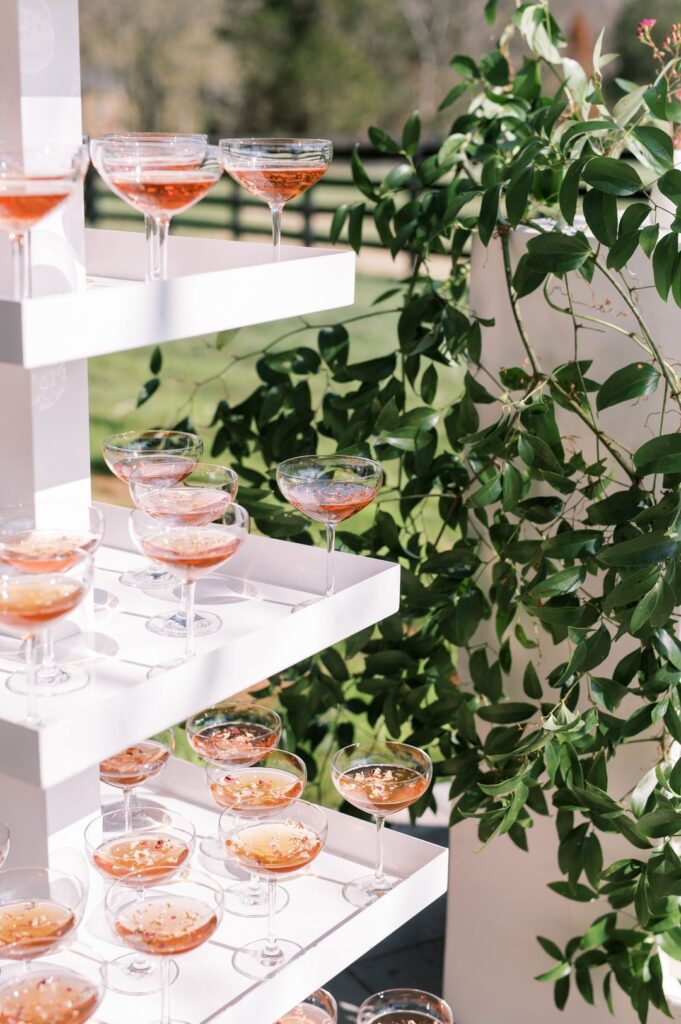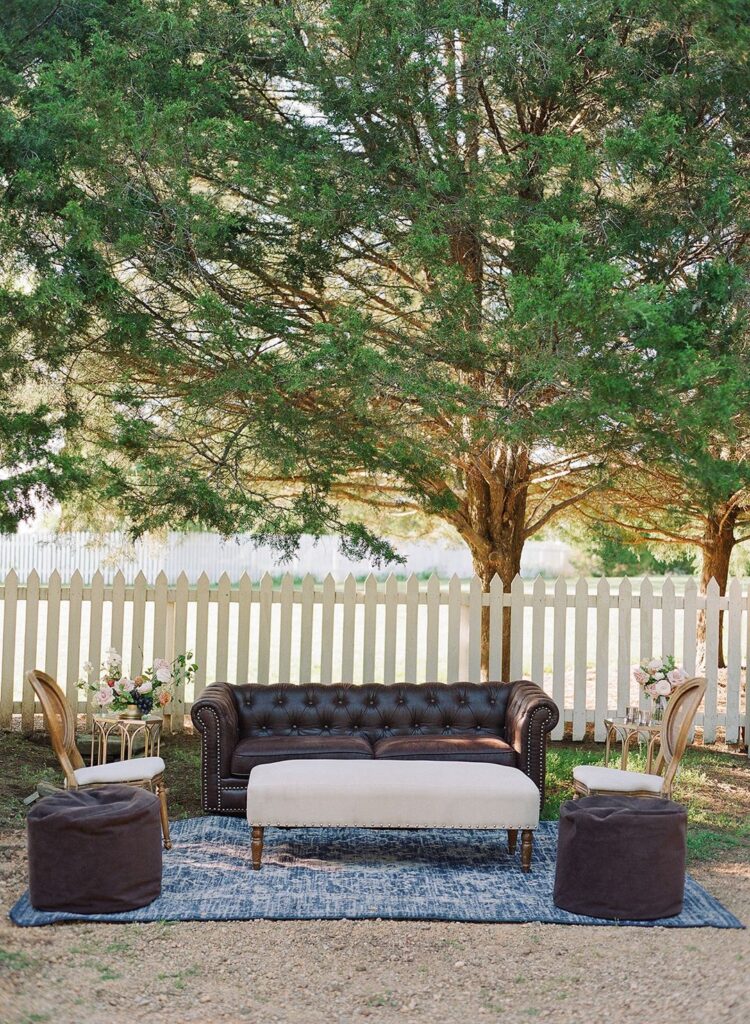 Want to feature our summer party rentals at your backyard gathering? Send us a message at info@southerneventsonline.com! A member of our team would be happy to help you choose the perfect furnishings and decor. If you need to create some shade to keep guests comfortable, take a look at our Pop Up Tent Packages.
TAGS | Event Rentals, Southern Events Party Rental, backyard parties, small gatherings, southern summer party planning, summer event style, summer party ideas
FEATURED RENTALS | Sloan Sofa, Sloan Armchairs, Gold Bar Cart, Blush Rug, Navy Blue Velvet Tablecloth, Burnt Orange Poly Napkins, Brushed Copper Flatware, White Coupe China, Antique White Bentwood Chairs, Fruitwood Folding CHairs, Hampton Beverage Dispenser, Meridian Blue Tumblers, Aged Oak Dining Tables, Rustic Benches, Harlin Dining CHairs, Amber Goblets, Gatsby Champagne COups, Chocolate Pouf, Adeline Dining CHairs, Cheval Gold Mirror Side Tables, Navy Rug, White 6 Tier Serving Tower, Bellamy Beige Linen Bench, Bennett Leather Sofa,
---
4

May

Southern Events Products, Trends and Inspiration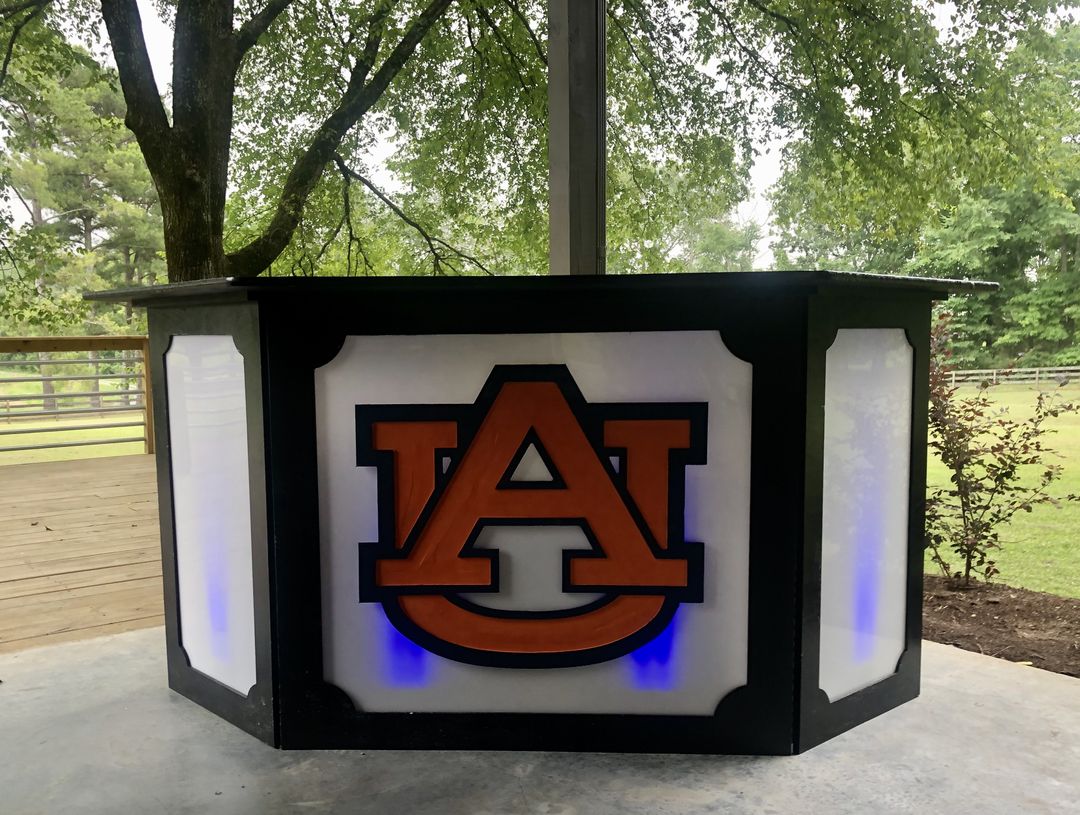 Graduation season is fast approaching and, if you want to host a memorable celebration, it's time to start planning. After years of hard work, the student in your life deserves recognition for their achievement! Whether they are graduating from high school or college, or if they made the big decision to go back to school. To help you mark the occasion, take a look at our must-have rentals for a summer graduation party.
School Colored Linens
Represent the school you are graduating from or the school you will be attending with bold event linens. We stock tablecloths and napkins in a wide variety of colors and materials. Whether you're looking for a true University of Tennessee Orange or a shimmering Gold for Vanderbilt University. Keep things casual with our solid poly linens, or achieve a chic look with our luxurious velvet linens. For a more glam vibe, don't overlook sequin linens!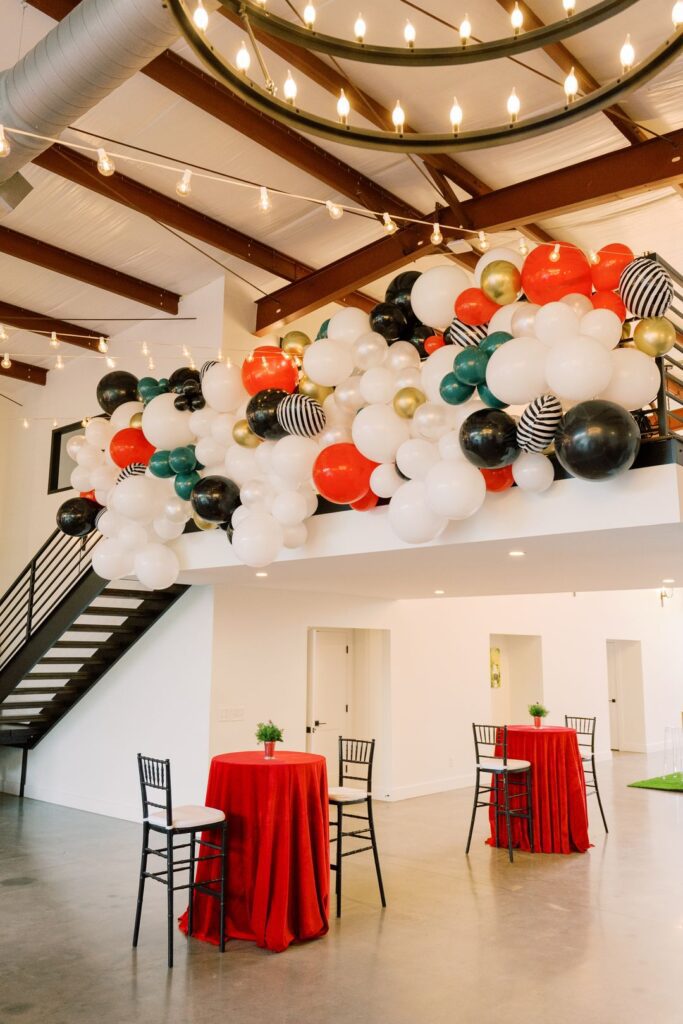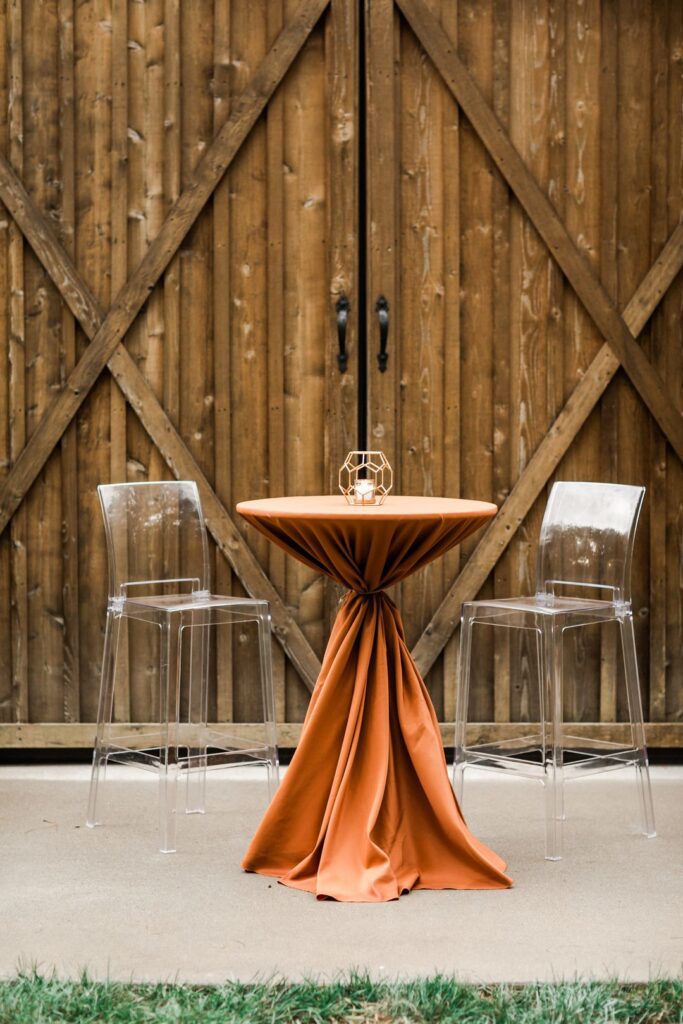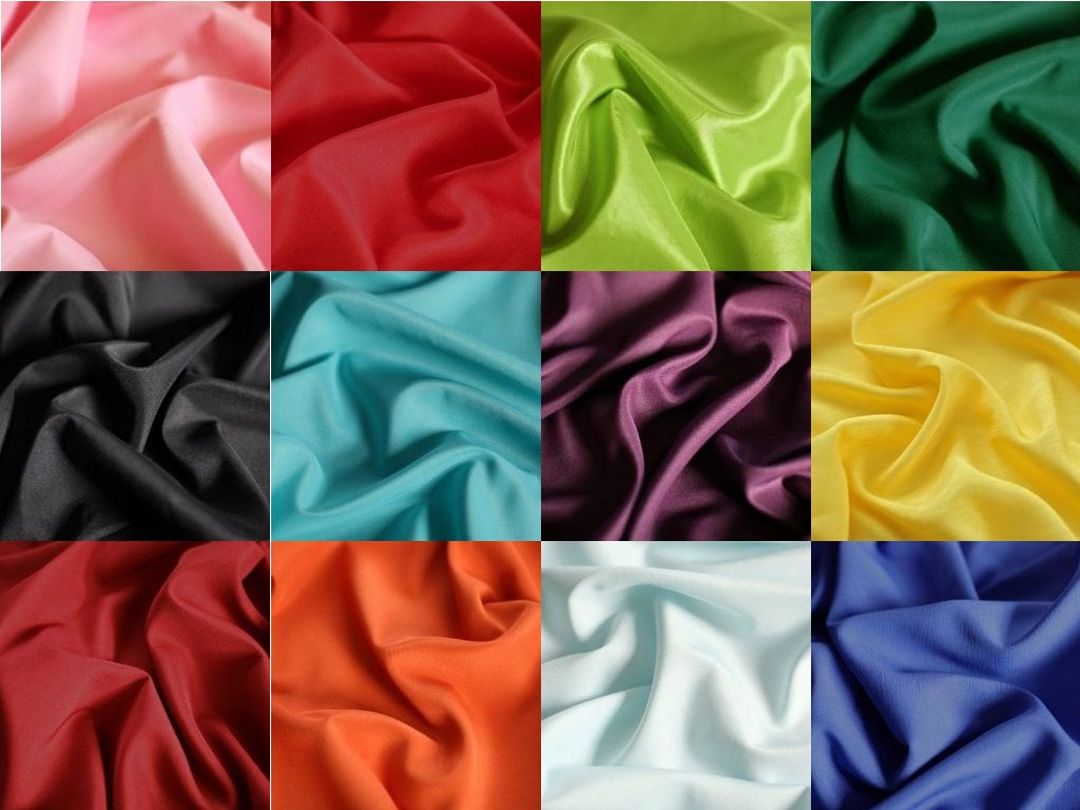 Tent Packages for Every Party Size
Enjoy the summer sunshine in comfort when you rent one of our Tent Packages. Available in a variety of sizes, our tents can be used to create some shade or keep your company dry in the event of rain. Our Ready to Party Packages come with everything you need to accommodate 30 to 100 guests, including furniture and linens. For small backyard gatherings, one of our Pop Up Tent Packages is perfect for displaying a self-serve food or drink station. As well as party favors or a guest book!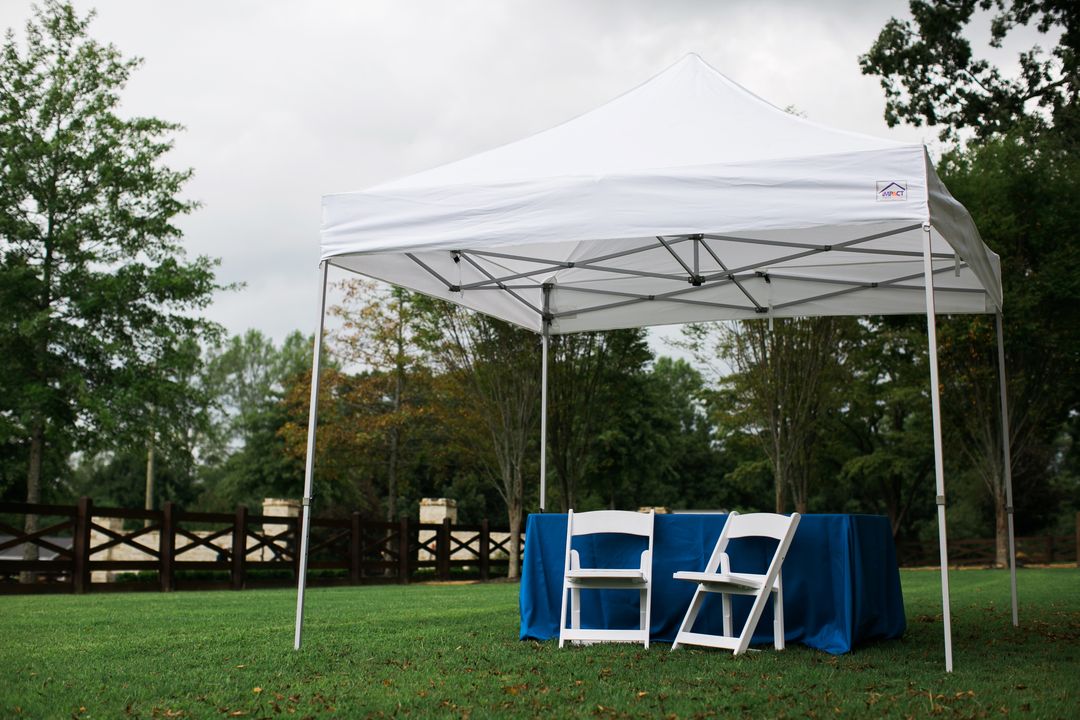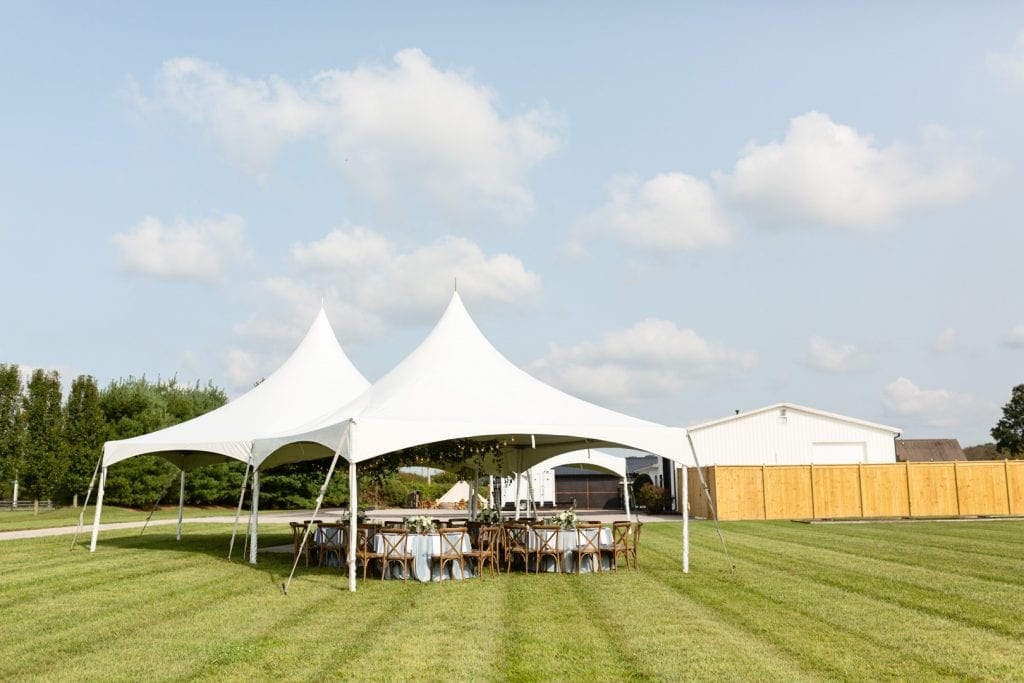 Photo-Worthy Party Backdrops
Freeze this moment in time by capturing photographs or hiring someone to take them. You will want to document this achievement and the celebration. Our modern Boxwood Walls are ideal for creating a beautiful photography backdrop. it can be customized to your liking with drapery, attachments, and props.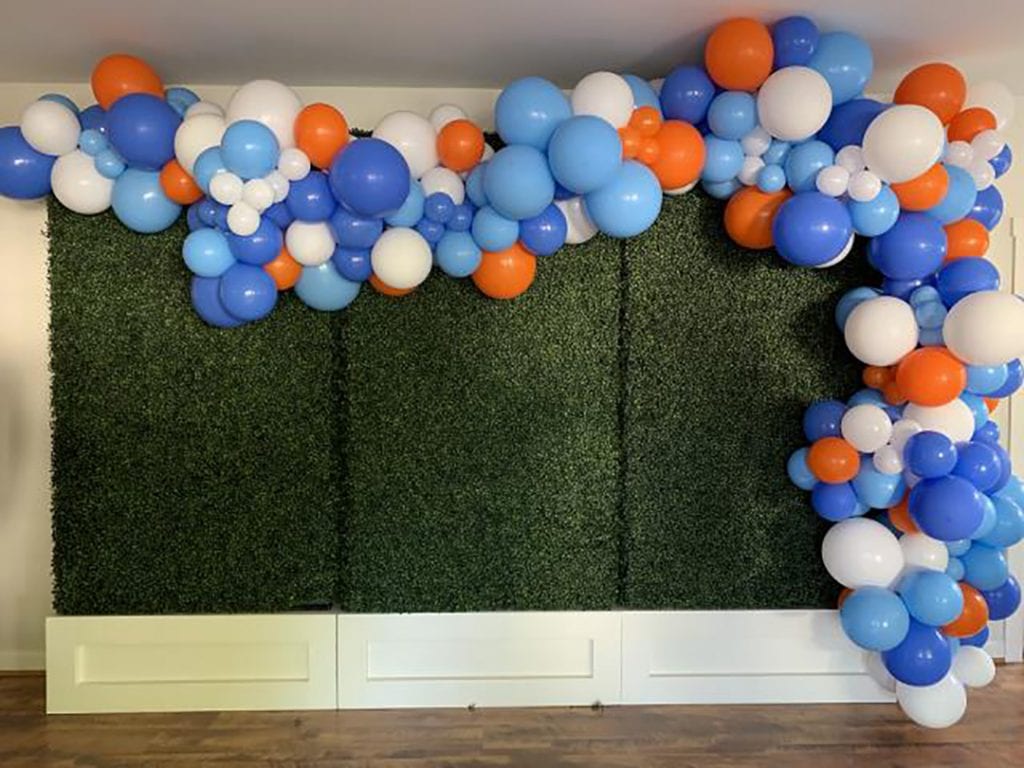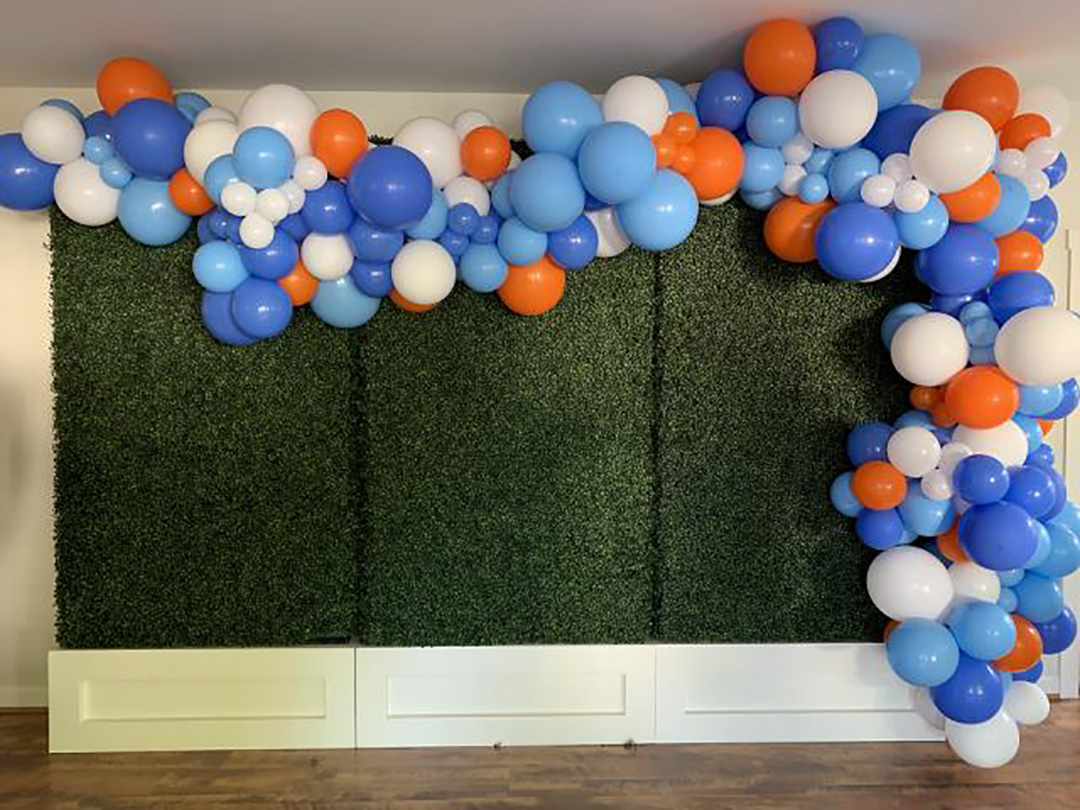 Special Seating for the Grad
Keep the grad front and center of the celebration with a unique chair at the head of the table. It is a small touch that will make them feel extra special for the day! But it will also help direct guests to grad, perfect if you're hoping to snag some photographs. We have a number of modern specialty chairs to choose from, like our Ghost Acrylic Arm Chair and Farrah Teal Velvet Chair. Or take a look at our retro-chic Gold Bamboo Arm Cha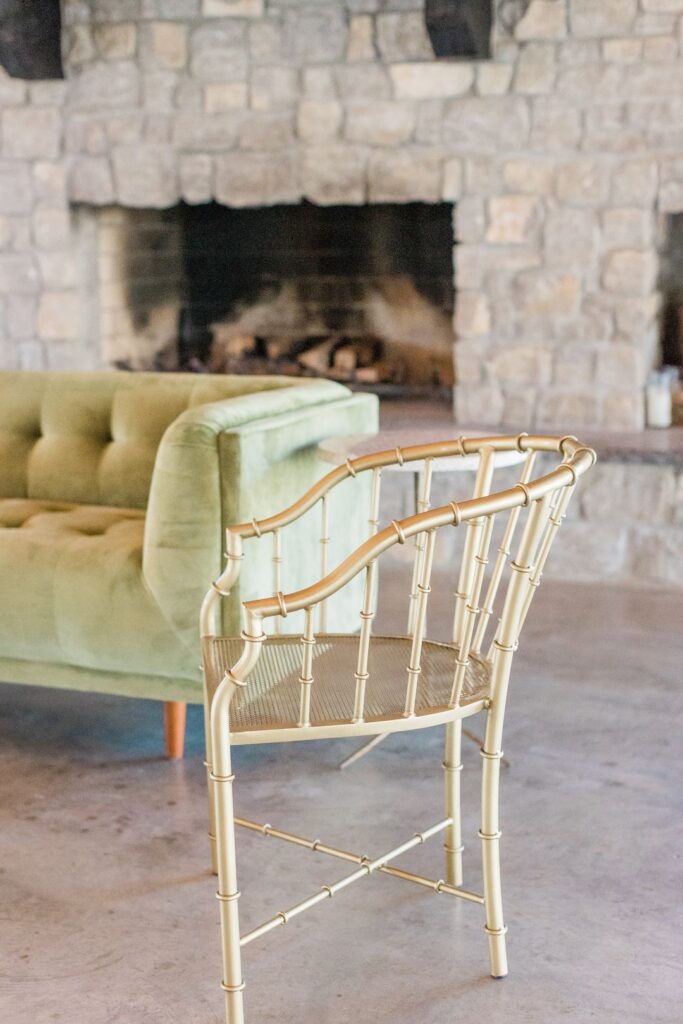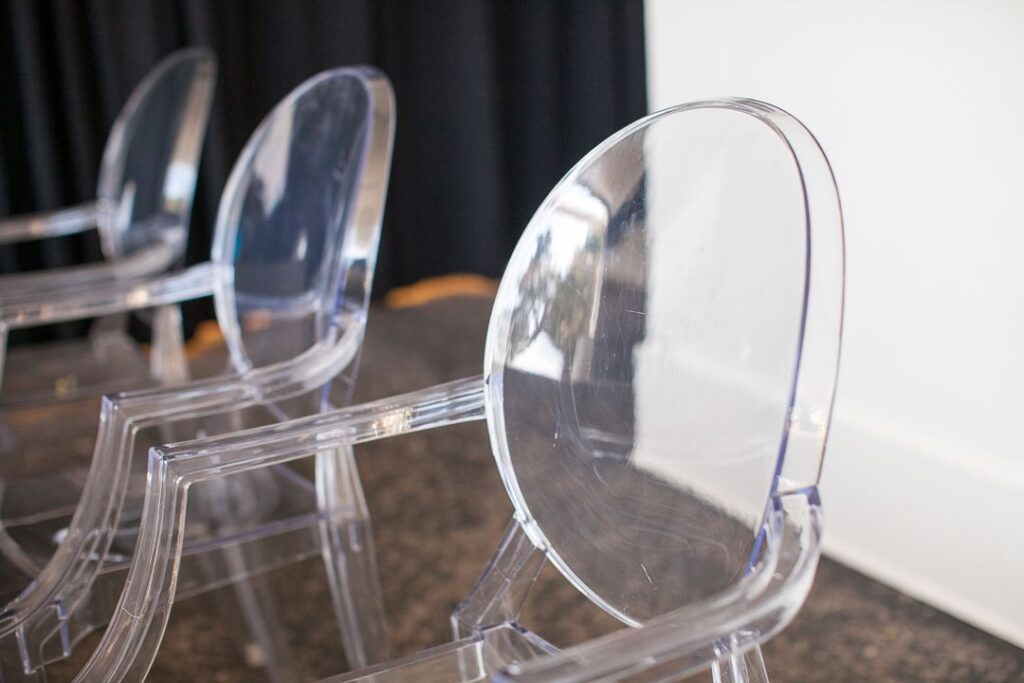 Catering Rentals & Family Style Serving Pieces
Food and drinks are a must-have for a party. But you can easily minimize clean-up with our convenient catering rentals. We have everything you need, from beverage dispensers to chafing dishes and serving pieces for a stylish self-serve buffet. As well as Charcuterie Boards and Silver Trays, perfect for creating colorful fruit and cheese-laden grazing boards. Finally, grab a variety of cake or cupcake stands to set up a multi-level display of sweet celebratory treats.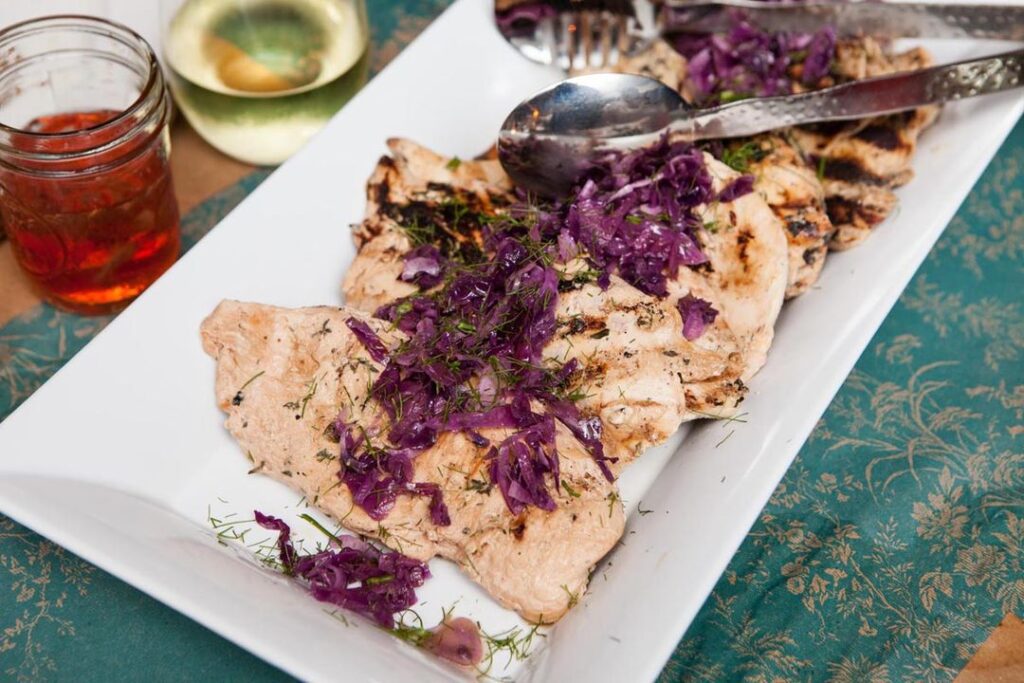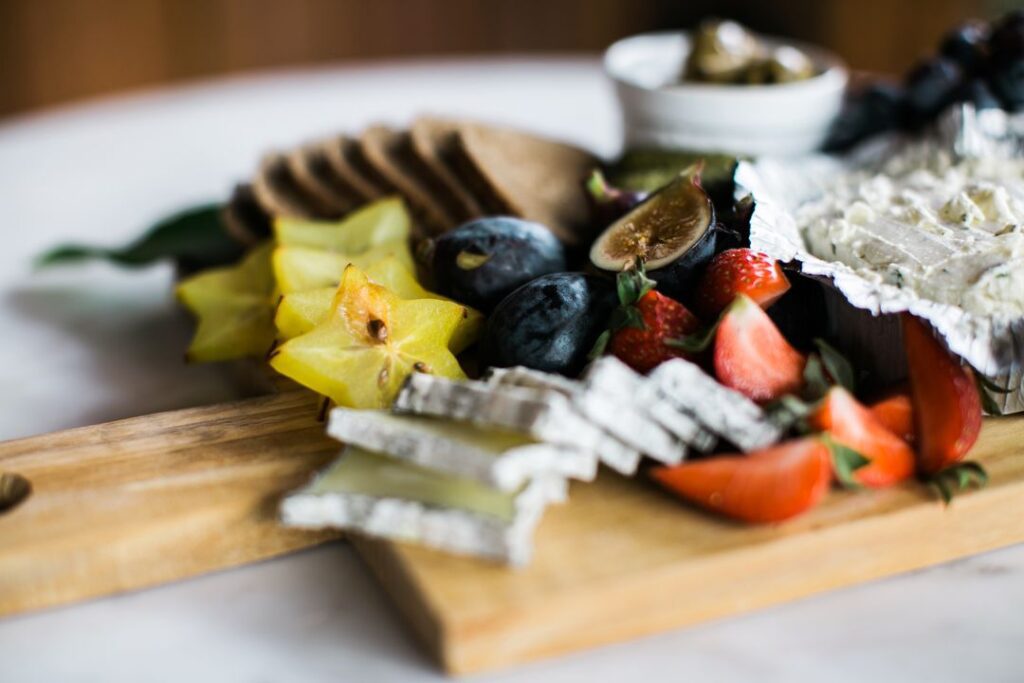 Are there any graduation parties on your summer to-do list? Let Team Southern help you plan a memorable backyard get-together! If any of our party rentals have caught your eye, contact our team at info@southerneventsonline.com. Considering a more unique event theme for your grad? Check out this trendy southern brunch party!
TAGS | Beverage Service, Event Catering Rentals, Linens for Rent, Tent Rentals, backyard parties, franklin party rental, graduation party, nashville party, pop up tent packages
FEATURED RENTALS | solid poly linens, velvet linens, sequin linens, Tent Packages, Pop Up Tent Packages, Ready to Party Packages, beverage dispensers, chafing dishes, serving pieces, cake stands, cupcake stands,
---
27

Apr

Southern Events Products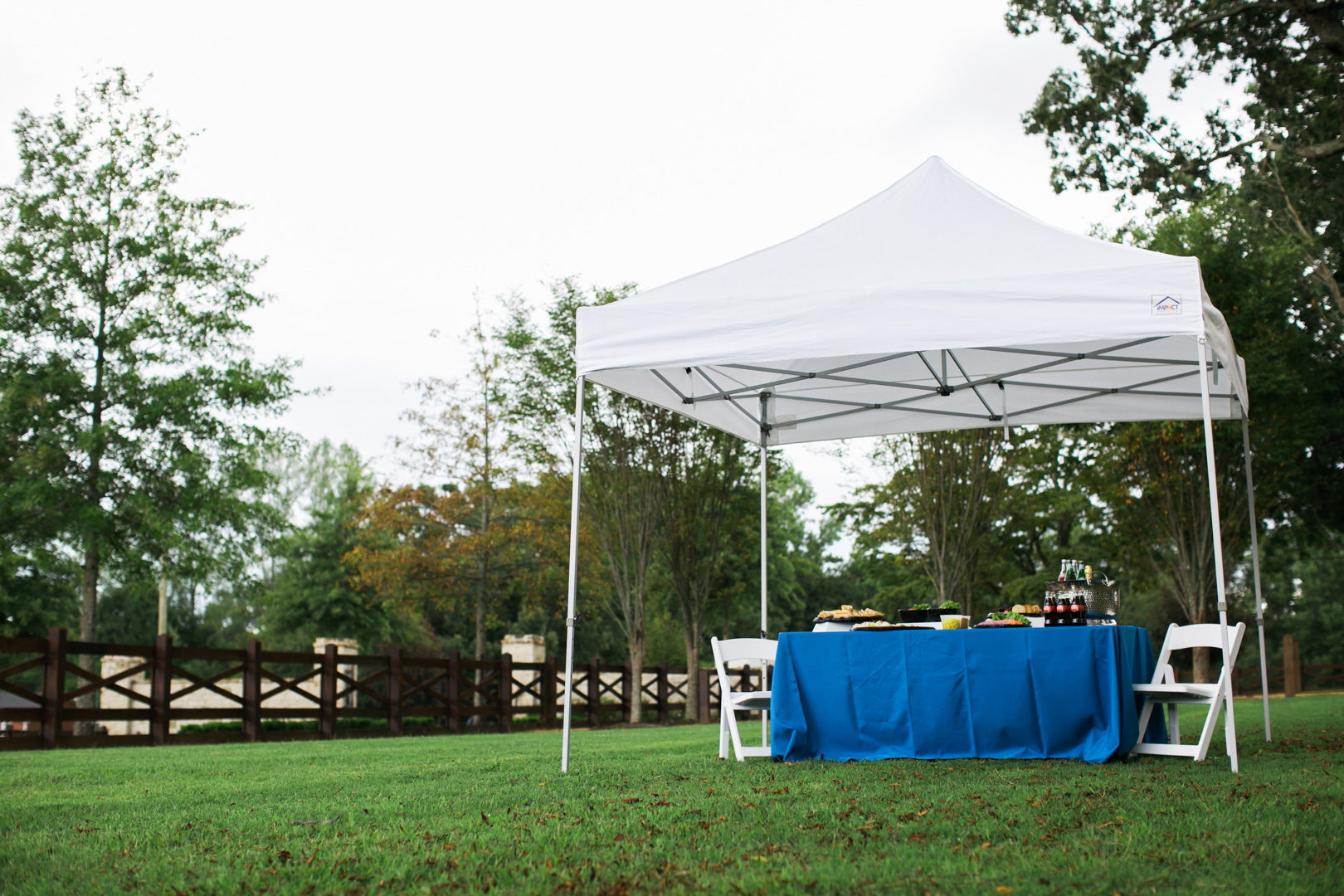 Warm weather brings with it the chance to get outdoors, namely thanks to local events! Some of the most popular are local festivals or fairs and sporting events. They're the perfect opportunity to get out, whether it's to enjoy craft beer, buy handcrafted art, or watch your favorite athletes in action. And to keep you comfortable, our pop up tent packages are an easy and affordable solution. Perfect should you want a bit of shelter, for a long day under the sun or if scattered showers are in the forecast. Check out our pop up tent packages, curated to cover all the essentials!
A Tent Package for Every Event
Our tent packages come with a variety of rentals, so it's important to choose one that fits your needs. Take a look at our curated pop up tent packages to find the perfect option for your small gathering, or to feature wares at an upcoming fair!
Basic Pop Up – A simple but versatile package, this setup includes all the basics. Whether you are serving up food at a local fair or want to advertise your business at a trade show. Including a 10x10 white frame tent, a 6-foot rectangle table, a poly tablecloth in the table of your choice, and a set of two folding chairs.
Summer Tailgate – Cheer on your team in comfort and style with our pop up tent for tailgates! It comes with all the essentials, whether you're hosting at home or pre-gaming outside a stadium. Start with a 10×10 white frame tent and eight folding chairs – good to have on hand, whether or not you can stand to sit down! A trash can makes it easy to dispose of game-day food, displayed on a 6-foot rectangle table. And a poly tablecloth in the color of your choice will let you proudly represent your team!
Vendor Booth – This pop up vendor tent package is perfectly crafted for local businesses to showcase their services and artisans to display their wares. It includes a 10×10 white frame tent, along with a 6-foot rectangle table. An extra bistro table is ideal for conversing with visitors, while a set of folding chairs will provide you a chance to get off your feet. There is also an aluminum black easel for signage, and two poly linen tablecloths in the color of your choice.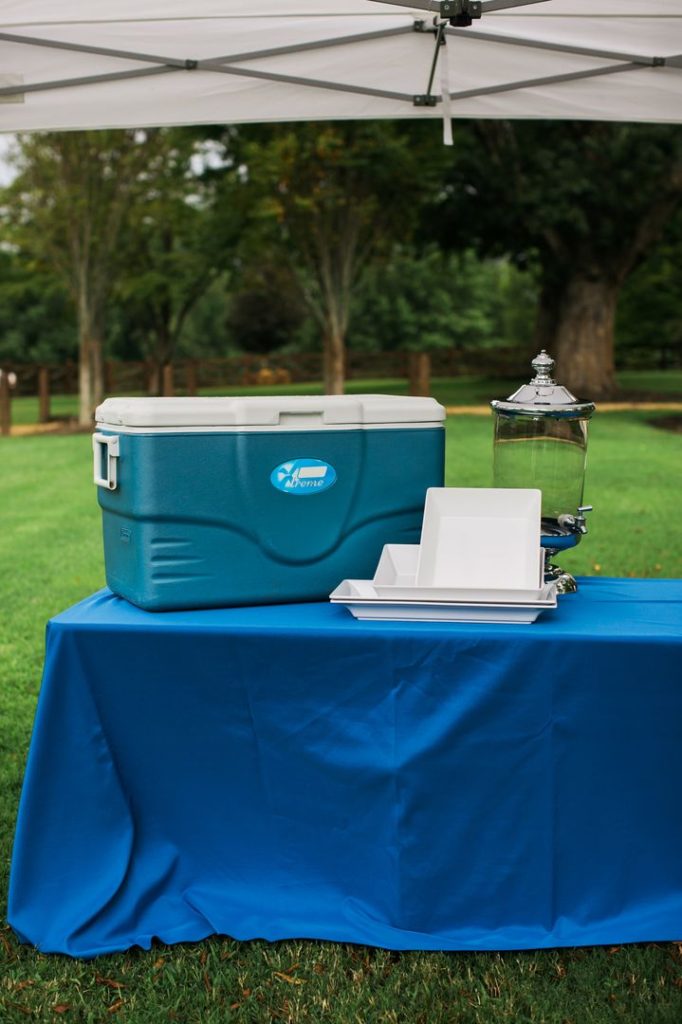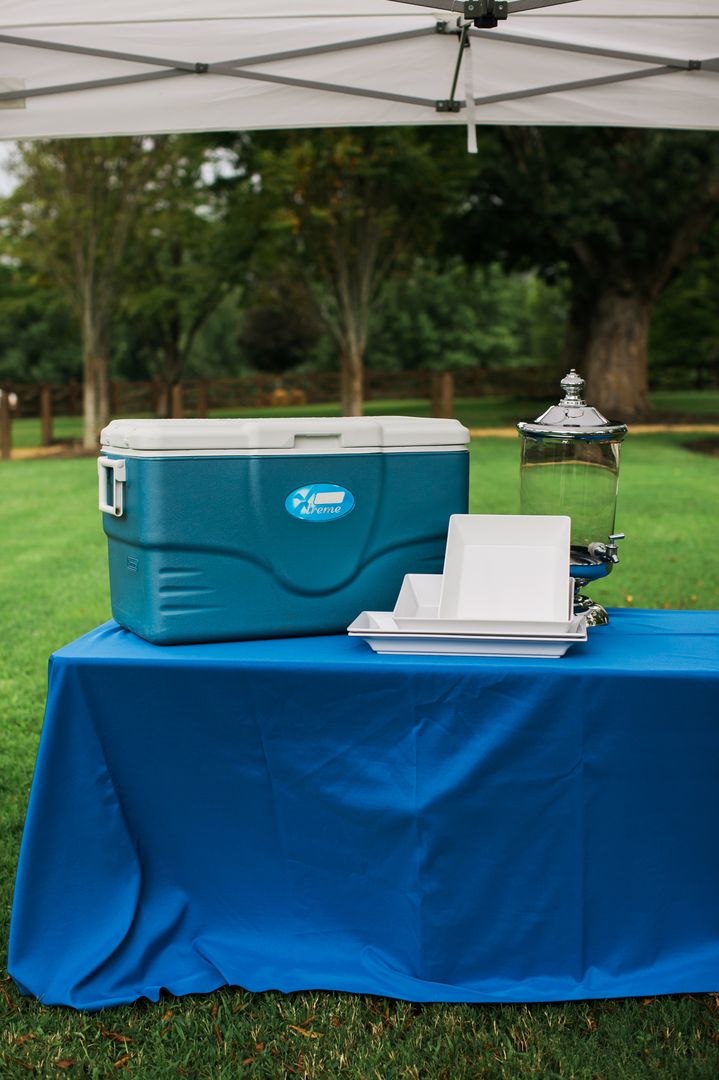 Add-Ons that Elevate
Regardless of the occasion or event, you can always elevate your event with our stylish rentals! Let's start with businesses or artisans looking to make a good impression at a fair or tradeshow. Display your products on a tall and elegant stand that will put them directly in the buyer's line of sight. Our White Bookcase and Gold Bookcase are both beautiful options, whether you are displaying samples, products, or favors. For those who create pre-made foods, our White 6-Tier Serving Tower is a stunner.
Another option is to provide additional furniture. Our whiskey barrels are a classic piece, perfect if you will be having quick interactions with customers. Or if you are looking to provide an extra area at your event for people to set their drinks and socialize. If you will be having longer interactions, similar to a consultation, consider a set of armchairs and a coffee table. Such as the Gloria Velvet Armchair and Farrah Teal Velvet Chair, with the Blanche or Gold Hammered Coffee Table.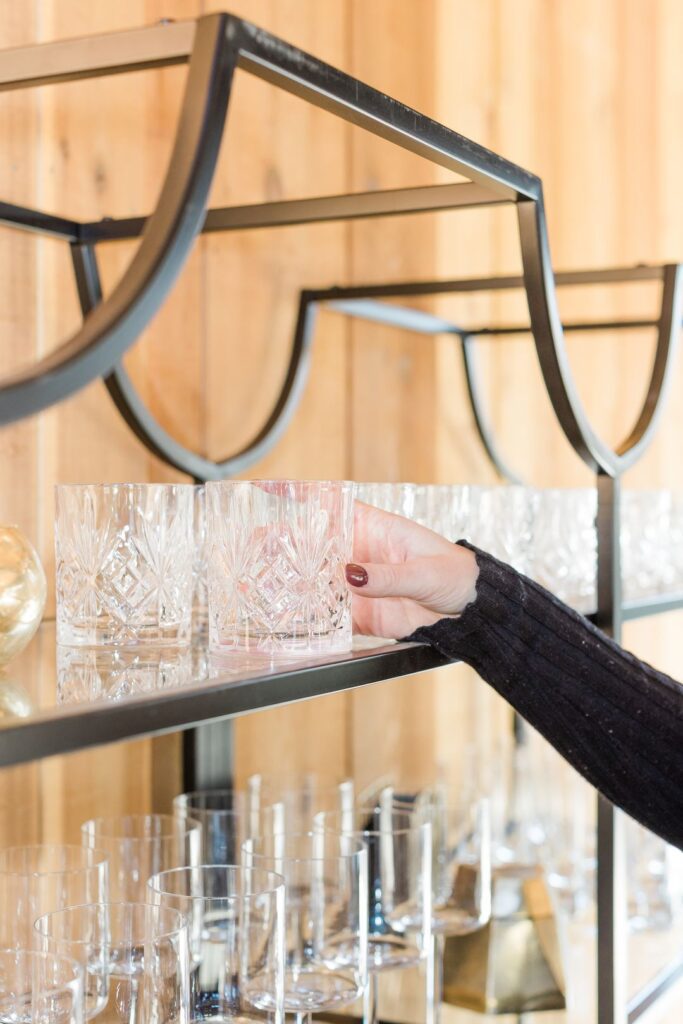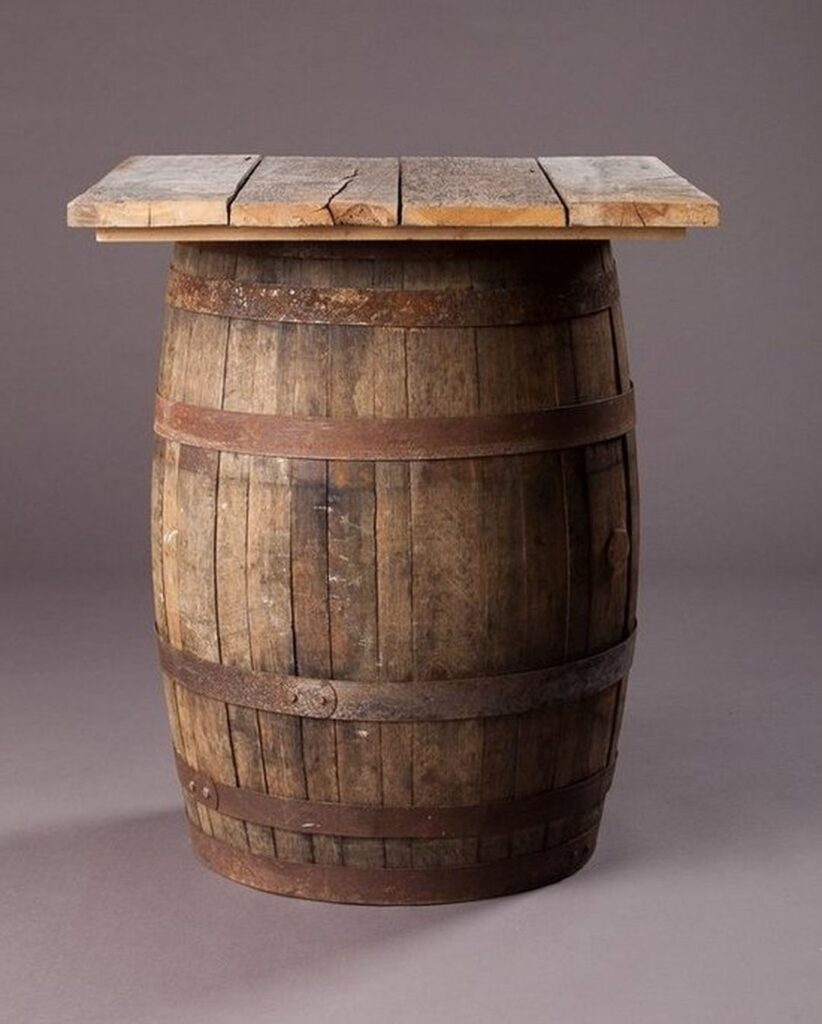 Want to grab one of our tent packages for your backyard party or an upcoming event? We've got you covered – literally! Contact our team at info@southerneventsonline.com and let's start planning! For more ideas, check out our must-have rentals for small gatherings.
TAGS | backyard parties, outdoor event rentals, pop up tent packages, pop up tents, small gatherings, summer party ideas
FEATURED RENTALS | Basic Pop Up Tent Package, Summer Tailgate Tent Package, Vendor Booth Tent Package, White Bookcase, White 6 Tier Serving Tower, whiskey barrels, blanche coffee table, gold hammered coffee table, gloria velvet armchair, farrah teal velvet chair,
---
9

Jun

Southern Events Products, Trends and Inspiration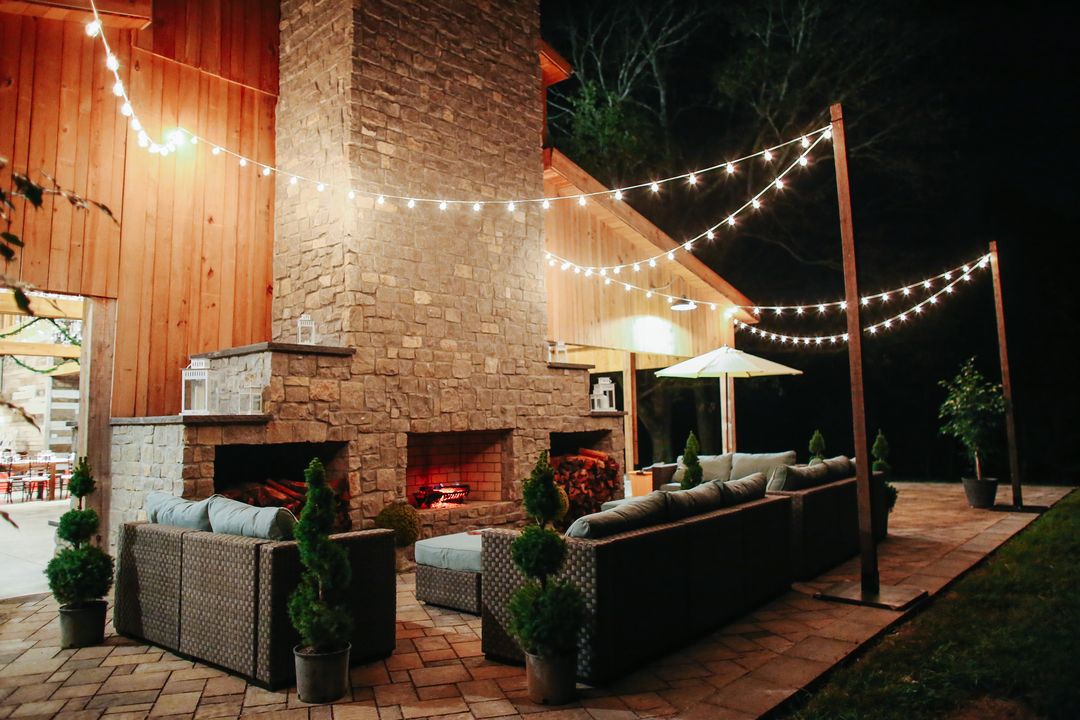 Many of us spend our days inside, hunched over a computer. Throwing outdoor parties makes for a welcome change of pace, especially when the weather is warm! Imagine an event spent under the night sky, with music in the air and a refreshing cocktail in hand. Yep, that sounds like a Nashville-themed outdoor party to us! If this has you feeling inspired, keep reading for a curated list of outdoor party rentals for your Music City gathering!
Indoor to Outdoor Spaces
Hosting a comfortable backyard party is all about knowing how to make the most of a space! Utilizing both indoor and outdoor areas will allow more room for guests to mingle. Consider setting up different social areas where guests can move to and from to interact with others. Outdoors, create a cozy space with our Sutton Lounge Collection and Navy Rug. On a patio or covered terrace, set up a handful of stylish bistro tables outfitted with any of our luxe linens linens – Kennedy looks great no matter the weather!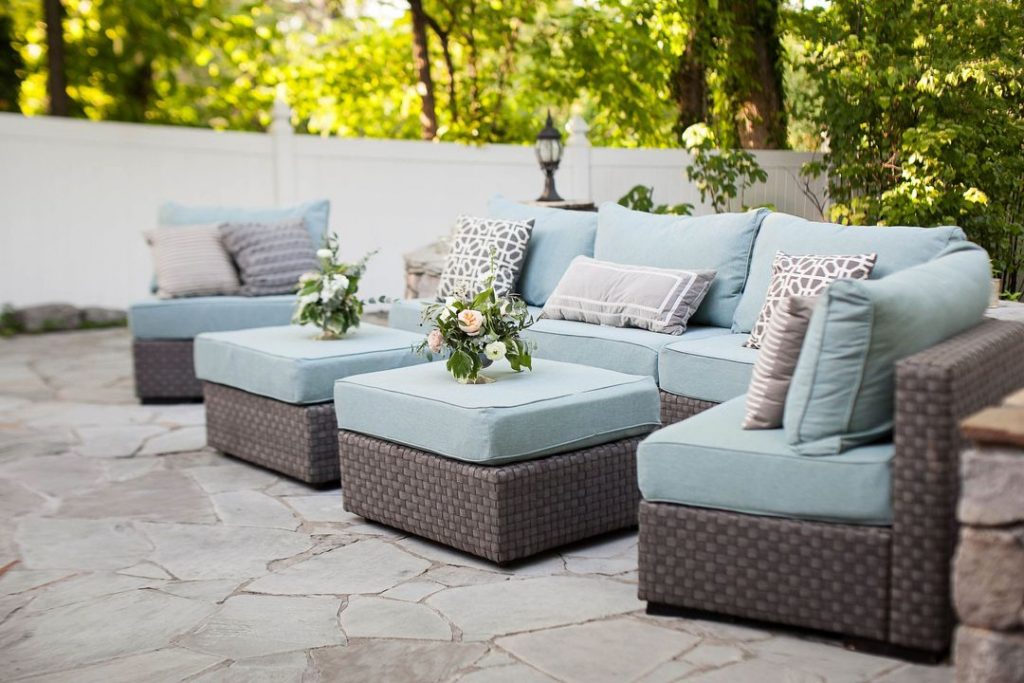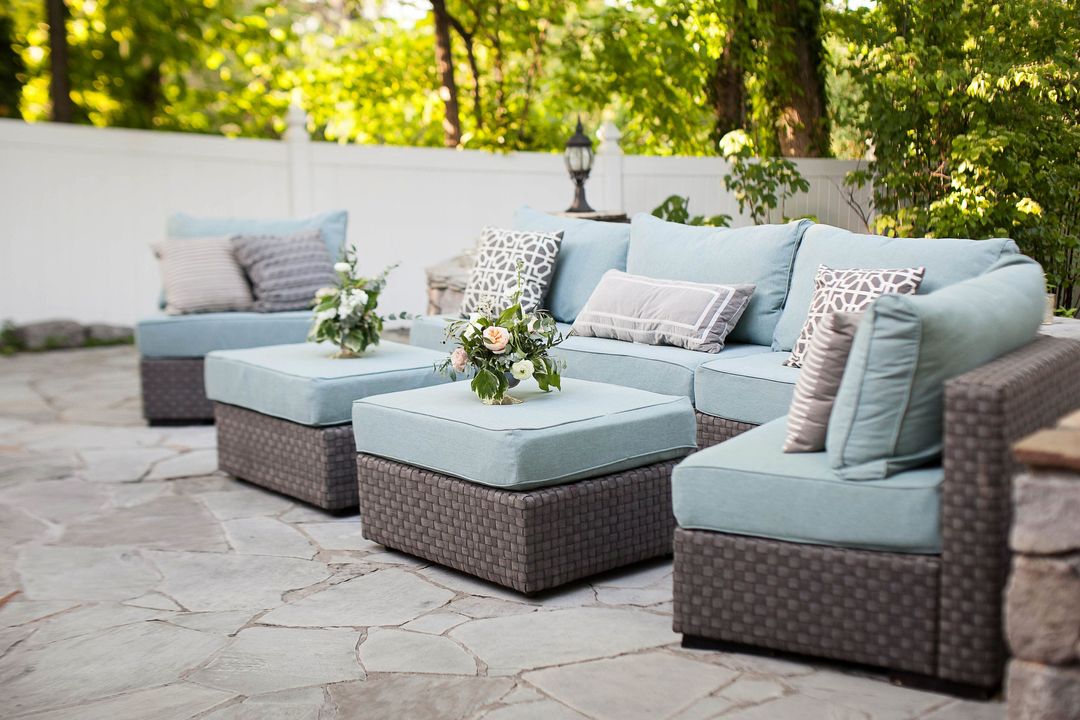 Delightful Drinks
A well-planned Nashville Themed outdoor party is likely to include refreshing cocktails. And in Nashville, you'll most definitely find bourbon! Having the right outdoor bar set up that is both functional and stylish is vital for a successful outdoor party. For a more intimate gathering or Gold Bar Cart is an elegant piece. But for a sizeable crowd, feature any of our rustic-inspired bars. Such as our Antique White Franklin Bar or Whiskey Barrel Barnwood Bar! Of course, don't forget to keep it stocked with elegant glassware, like our classic Monaco Rock Glasses.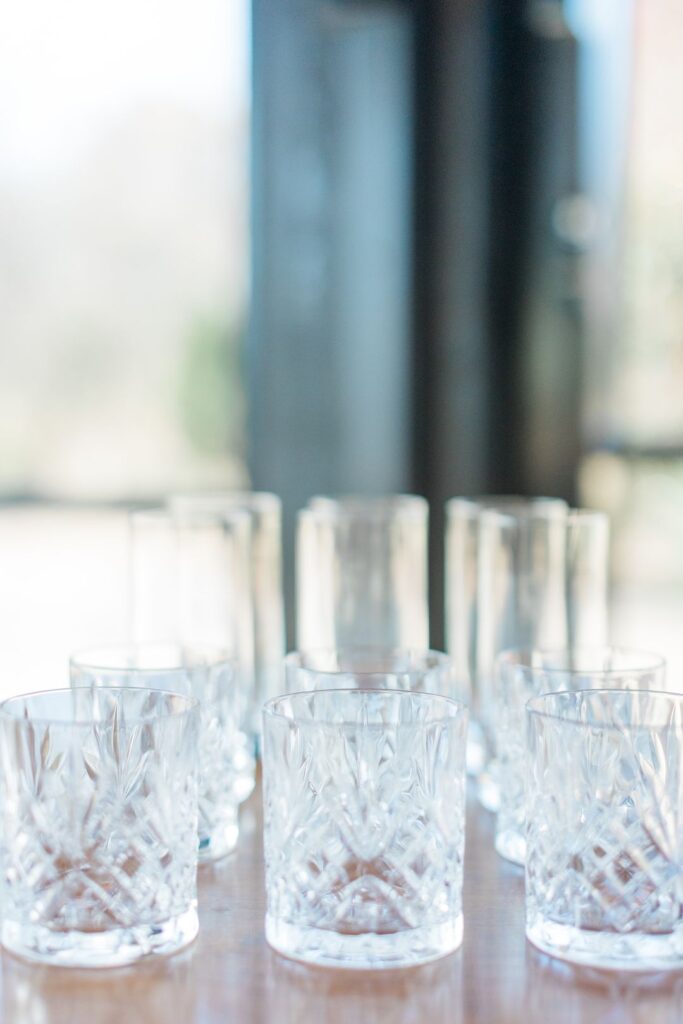 Interactive Areas
Fire pits just burn with ambiance! Guests love to gather around our Stone Round Fire Pit to perch on Rustic Benches or Chocolate Poufs. Oh, and speaking of ambiance, our Assorted Oversized Lanterns look darling placed near lounging areas and tables. All the while providing extra lights to keep guests safe. To dress up your seating, and keep guests cozy, we recommend that you feature throw pillows and blankets. Just don't forget to pack the s'mores!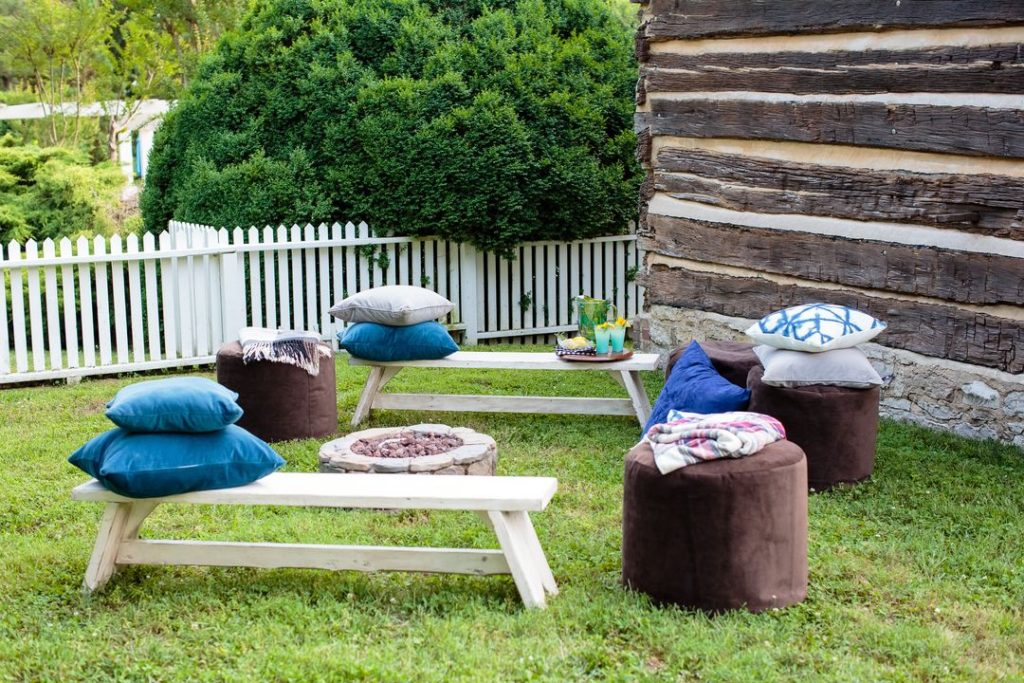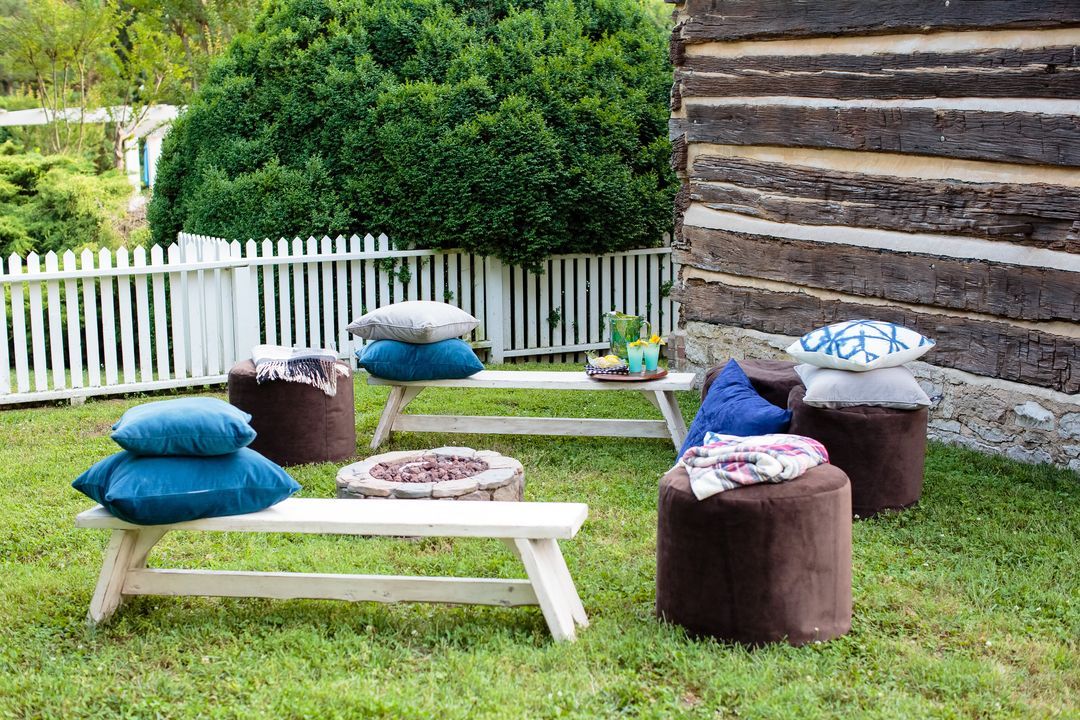 Ready to plan a Nashville-themed party under the stars? Send us a message at info@southerneventsonline.com and work with our team to host a one-of-a-kind event. Planning to enjoy dinner outdoors as well? Be sure to check out our blog on Al Fresco Dining!
TAGS | Cocktail Party Rentals, Lounge Furniture, Nashville party rentals, Southern Events Party Rentals, Unique Nashville Event Rentals, backyard parties, bar event rentals, lounge furniture rentals, outdoor event rentals
FEATURED RENTALS | Sutton Lounge Collection, Navy Rug, Stone Round Fire Pit, Chocolate Poufs, Rustic Bench, Assorted Oversized Lanterns, Antique White Franklin Bar, Whiskey Barrel Barnwood Bar, Gold Bar Cart,, Monaco Glassware,,
---
4

Mar

On Trend, Southern Events Products, Trends and Inspiration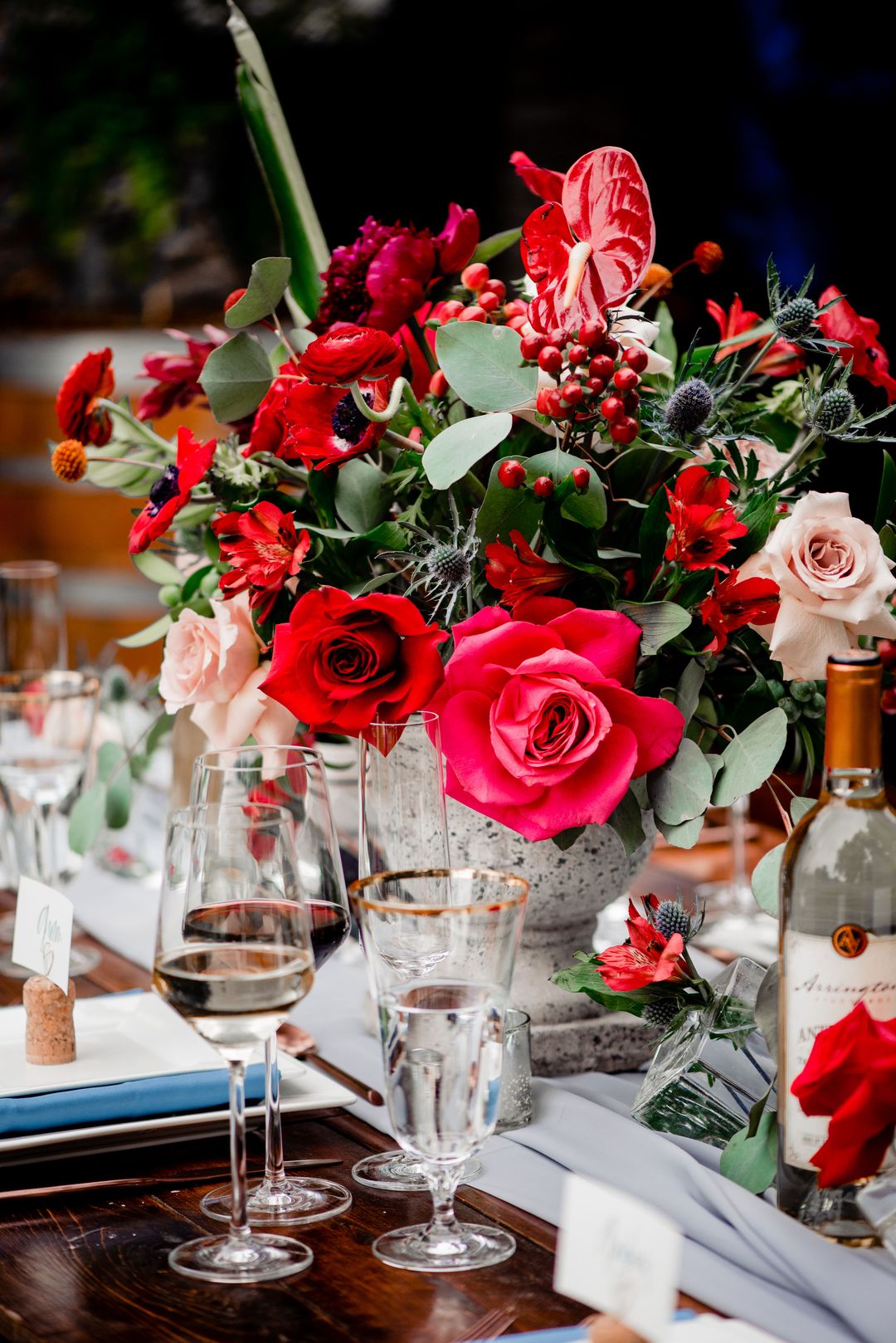 When the weather is nice, why not enjoy dinner with your family and friends outside? Come spring and summer in Tennessee, there is nothing better than dining in the fresh air, with a cold cocktail in hand. Get inspired for backyard alfresco dining with our stylish in-stock serving ware.
Vibrant Cherry Red & Teal
To complement the colors of the season, we love a vibrant tablescape. This design features cherry red and teal, for a look that is classically southern. Our warm fruitwood farm table acts as a base for White Square China, Navy Blue Velvet napkins, and Pure Glassware. A cool-toned, Dove Grey runner lends another hint of blue to the table. Meanwhile, our Brushed Copper Flatware and Audrey Gold Rim Glassware bring a touch of glam via metallics.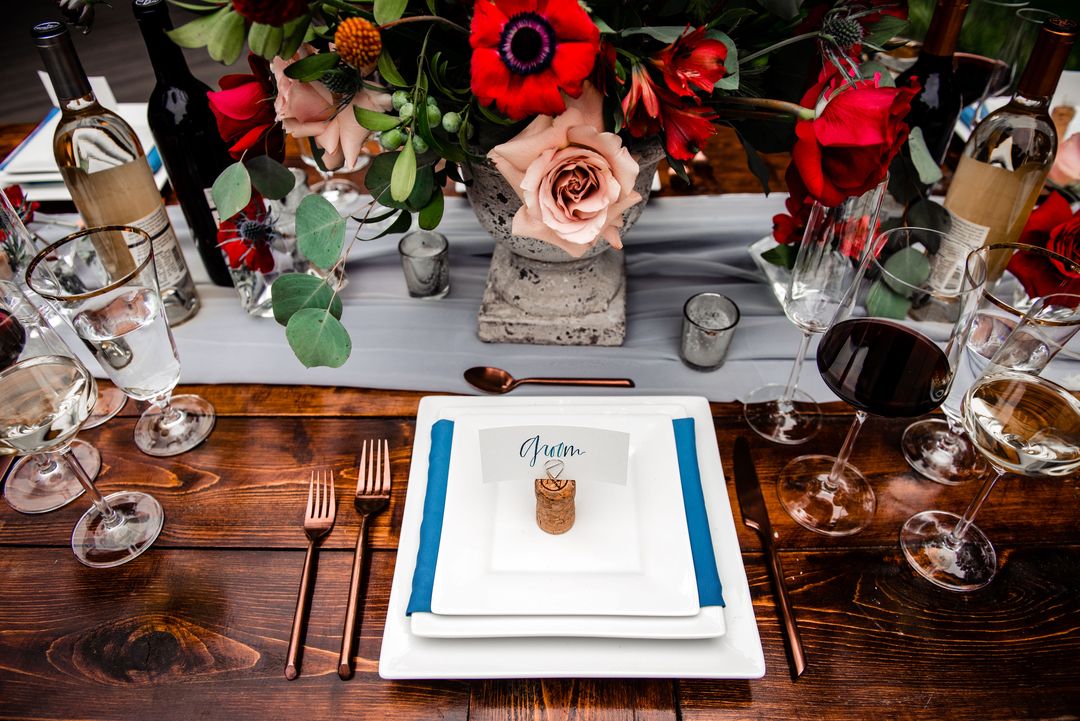 Natural Lime & Lemon
Sometimes less is more! For this natural table design, fresh citrus and fruit was the star of the show. Atop Heritage Ivory Linens, we placed our simple Artisan China and Wood Round Charger, complemented by Brushed Copper Flatware. The centerpieces consisted of fresh greenery and citrus, which were perfect for the lush lawn setting. To tie some greenery into the tablescape, we opted for our favorite fern velvet napkins. This design is ideal for a bright mid-morning brunch or afternoon cocktail hour!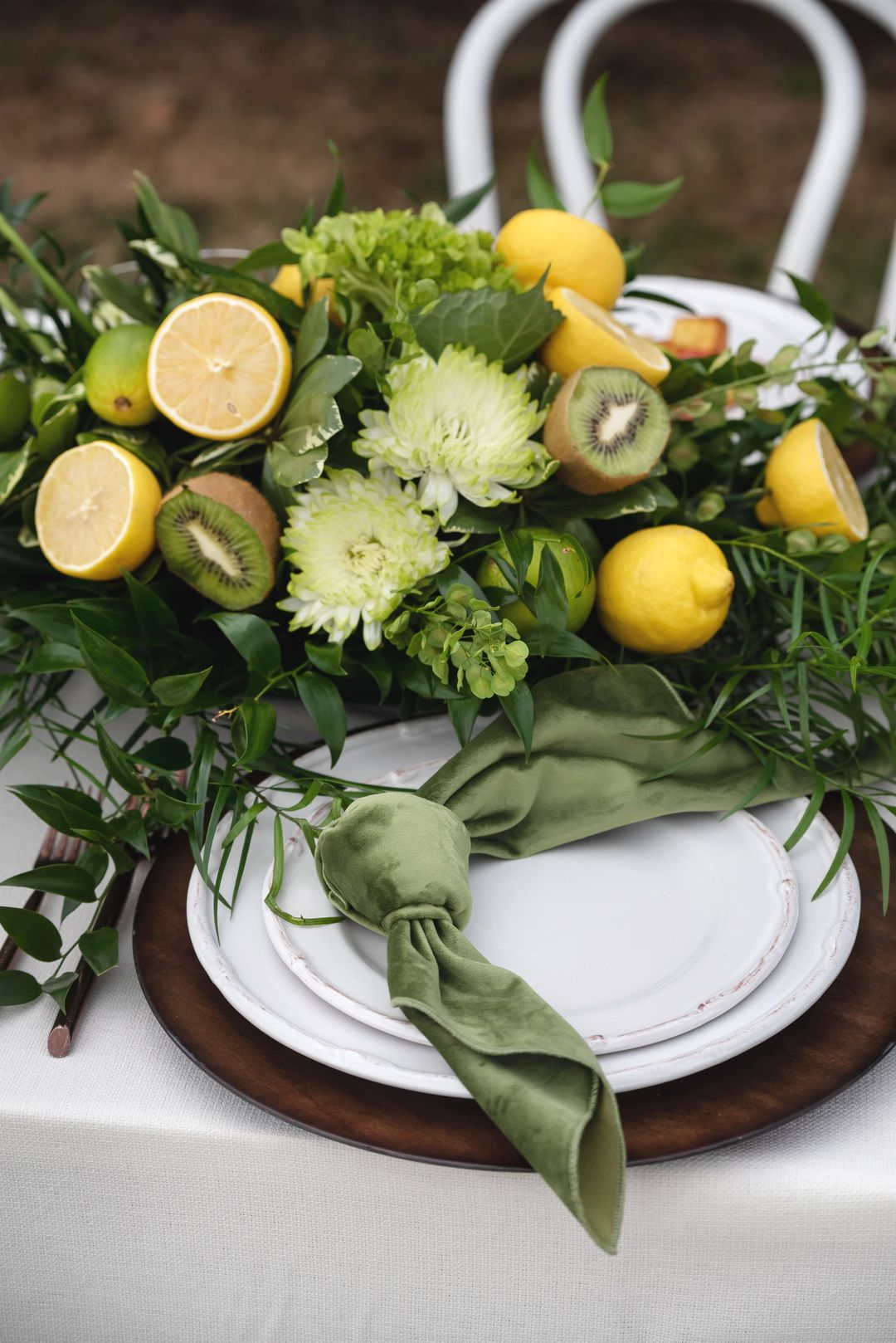 Rustic Farm-to-Table
When you want a casual yet put-together look, opt for a farm-to-table design. This simple tablescape features our Artisan China, Sophia Flatware, and Madison Glassware. Despite the minimal serving ware and linens, what truly makes this layout is the table and chairs. Take our Cross-back chairs, which are plain yet oh so elegant. For a pop of color, you might consider brightly-colored napkins or a table runner. Perhaps in our Cornsilk Poly or Peaches n' Cream Poly.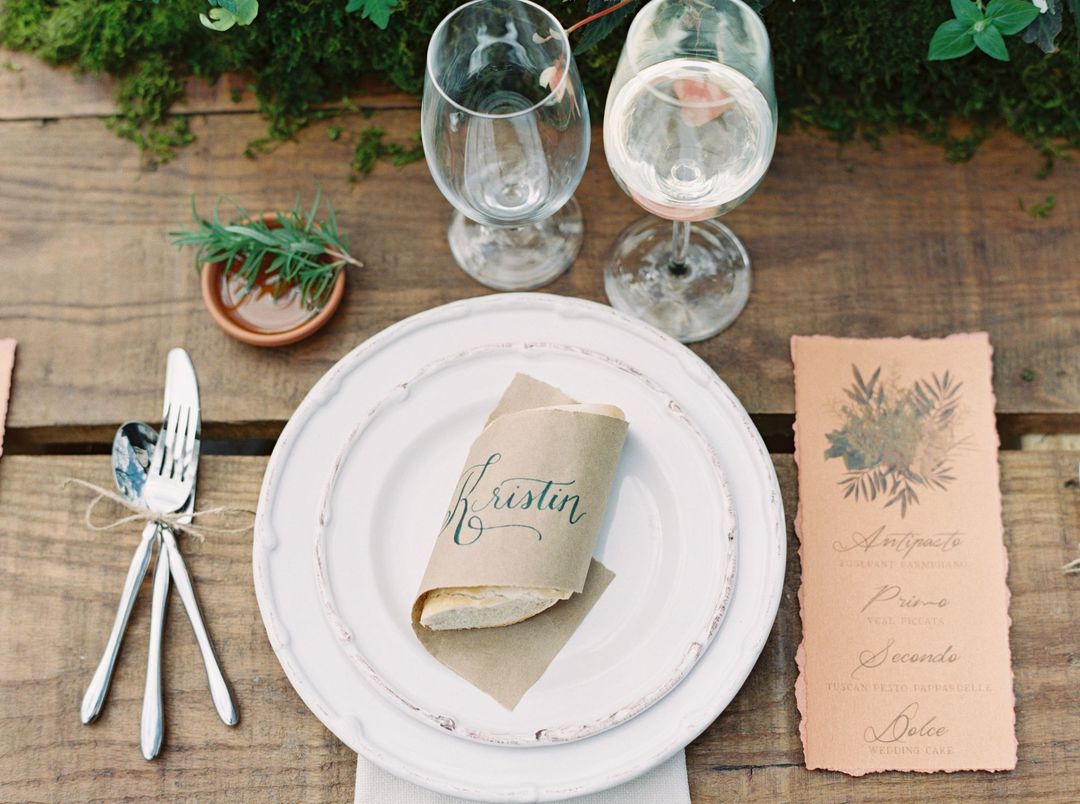 Bold Black & Gold
Black and gold are a classic pairing and surefire way to make a statement. This luxe and bold backyard alfresco dining table showcase a mix of moody hues, including black, gold, and a variety of red shades. For the serving ware, we opted for our Austin Flatware, Medallion Gold Glass Charger, and Madison Glassware. What amplifies this tablescape is the balance from glam elements, such as the gold and acrylic details. Take for example our always popular Acrylic Ghost Chairs! If you prefer an equally colorful but bright style, take a look at this colorful backyard party.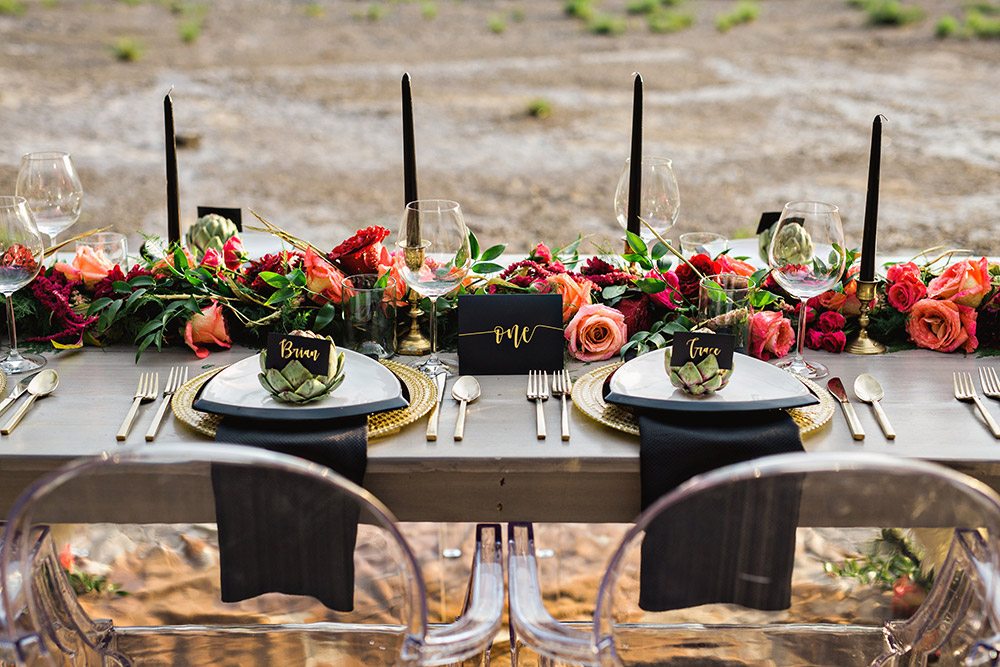 Classic Cookout
There is something so charming about gingham, and this backyard cookout-inspired table just does it for us. It was created using our Onyx China and silver Sophia Flatware. The true black plates are an easy way to bring the fun gingham tablecloth back down to earth. Yet super cute coke bottle centerpieces and our contemporary Davis Glassware keep the overall vibe light. For a look that is slightly more toned down, switch out this tablecloth for a solid or neutral color.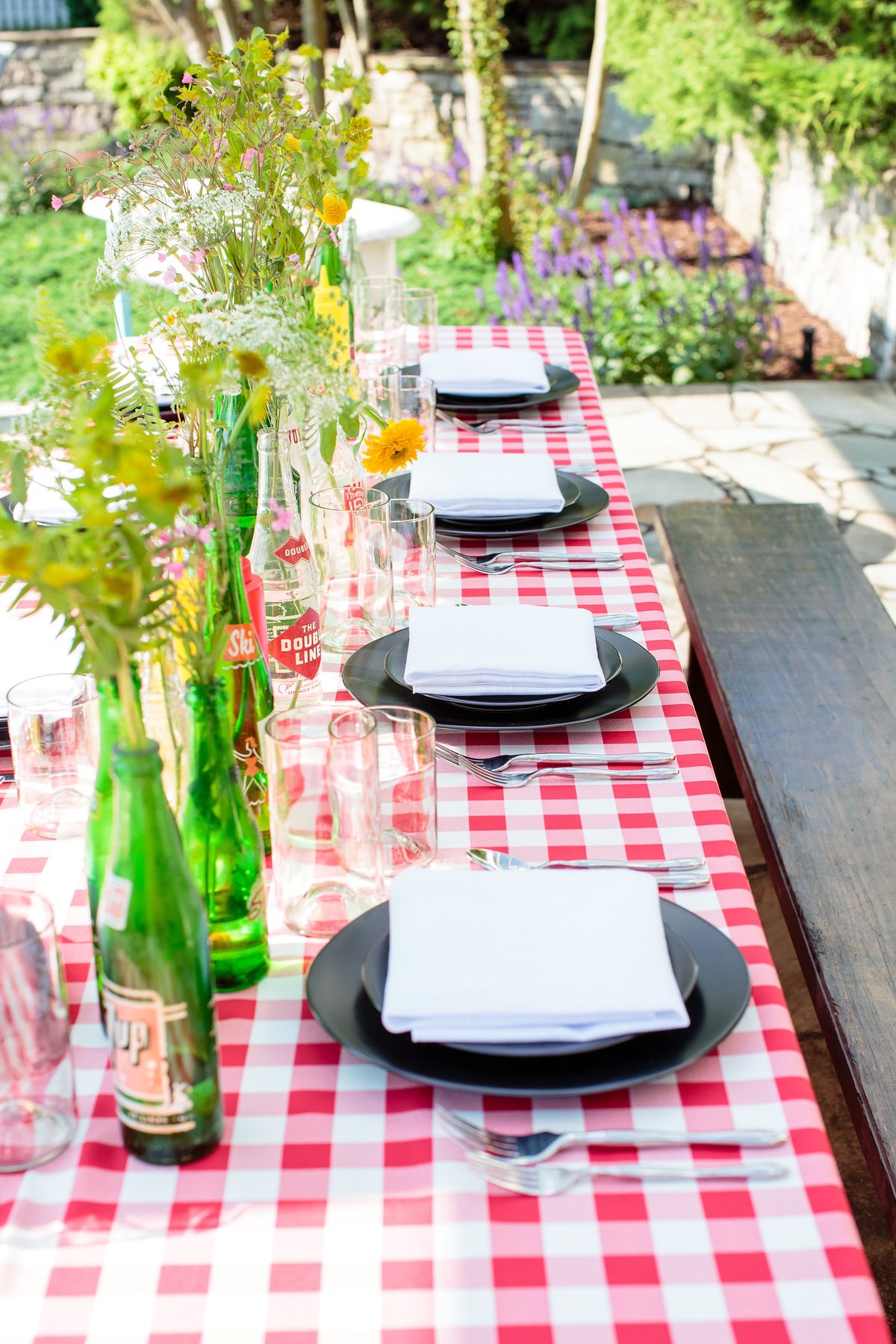 Want to feature some of the gorgeous rentals on your backyard alfresco dining table? Contact our team today for assistance! Or for more ideas, be sure to check out our curated rental collections, Styled by Southern.
TAGS | alfresco dining, backyard parties, outdoor event, outdoor event rentals, servingware, tablescape inspiration, tablescape rentals
FEATURED RENTALS | white square china, navy blue velvet, brushed copper flatware, pure glassware, audrey gold rim glassware, gingham tablecloth, onyx china, acrylic ghost chairs, medallion gold glass charger, artisan china, wood round charger, fern velvet napkins, sophia flatware, madison glassware, cornsilk poly
---
6

Aug

Events and Style Shoots, On Trend, Southern Events Products, Trends and Inspiration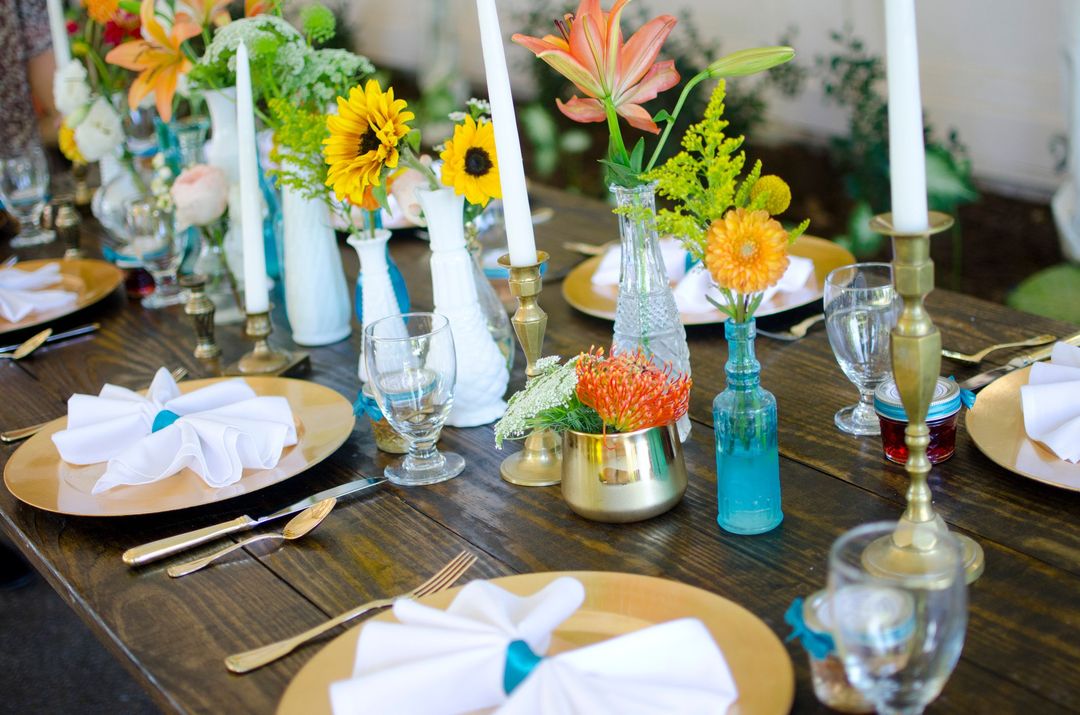 Vibrant and whimsical, these colorful backyard party ideas that are sure to bring some wonder & whimsy to your next Nashville, Tennessee event. Perfect for a kid's birthday party, fun gender reveal party or daytime wedding, check out how we use our party rentals to create a bold & colorful look that is timeless, stylish and fun!
Mix & Match Furniture
Keep your event casual yet maintain a consistent aesthetic with a mix of furniture that complements one another. By using Barnwood Furniture of a variety of shapes, you can make the most of the space and also feature some statement pieces. Take for example our beautiful Fruitwood Farm Tables. In regards to chairs, we used a mix of rustic benches and our elegant Cross-back chairs. Although simple, it creates a foundation from which to add color!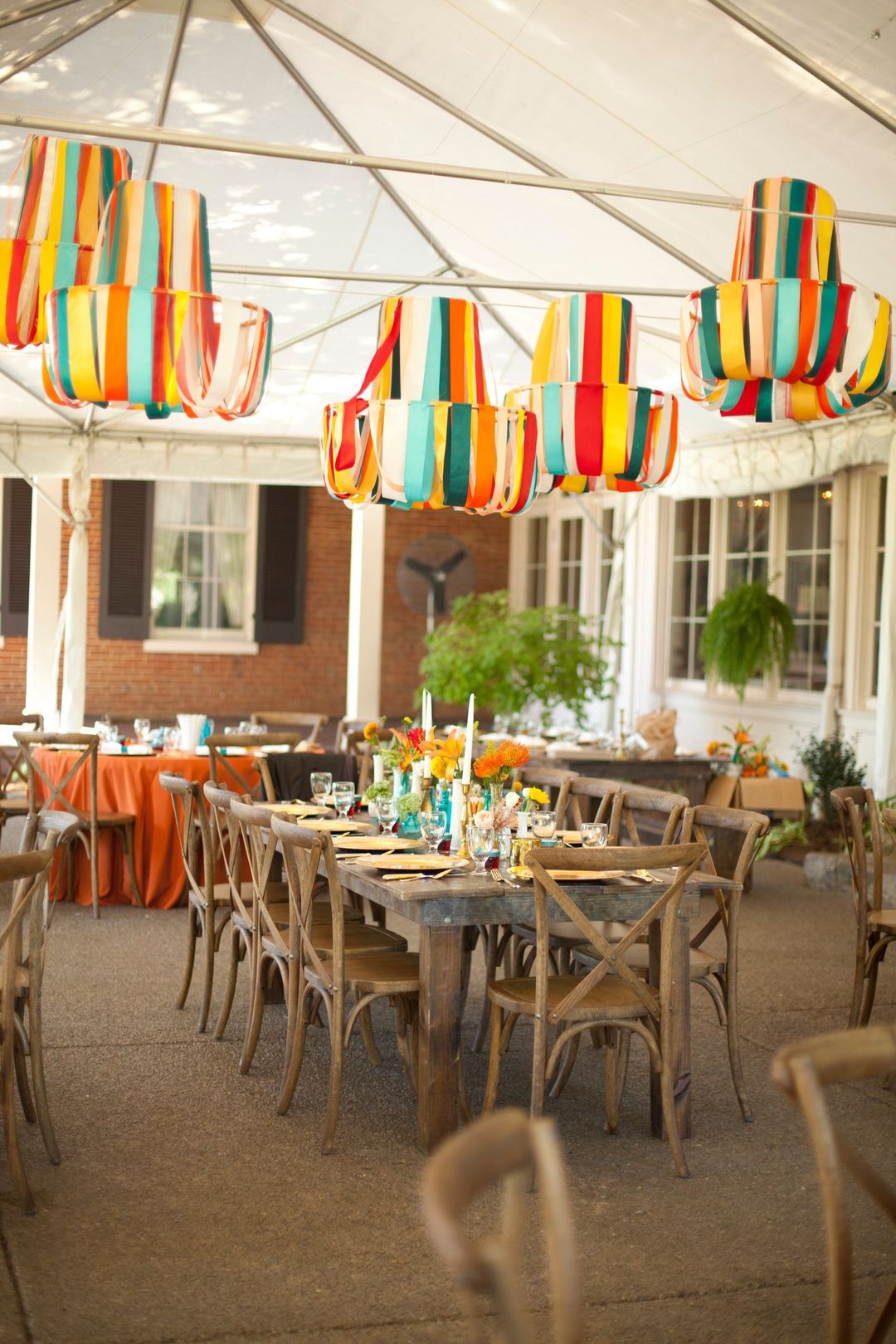 Photos by Krista Lee Photography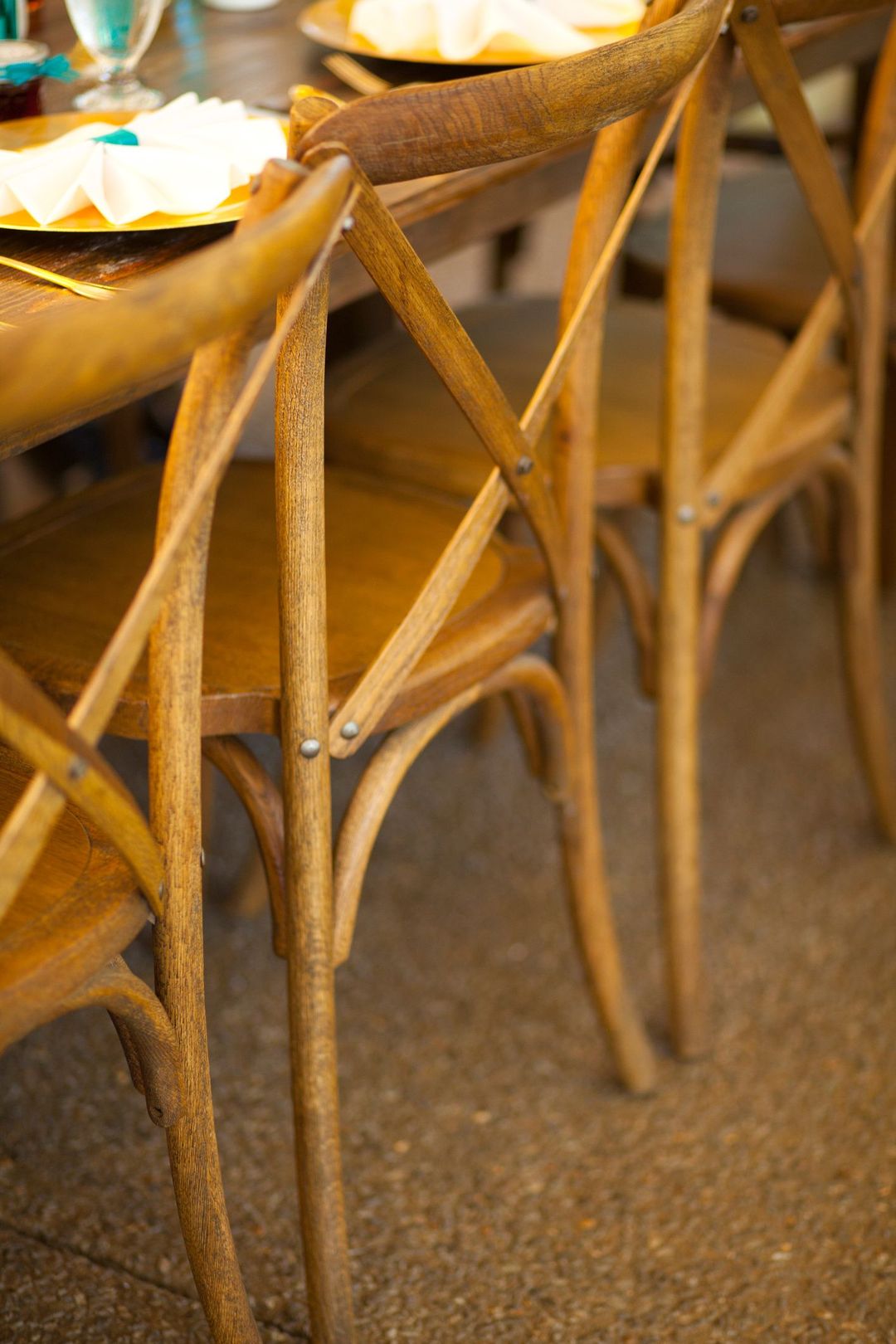 Metallic Place Settings
An easy way to add warmth to a colorful backyard event is with gold or silver accents. Featuring our Gold Round Lacquer Charger and Austin Flatware, adds a touch of metallics that contrasts beautifully against turquoise centerpieces. It also complements the golden yellows and sunset-inspired oranges throughout the event design. Don't forget to pull these accents into other parts of your events with gold-rimmed glasses on your bar or gold side tables in your lounge. This creates a more cohesive look.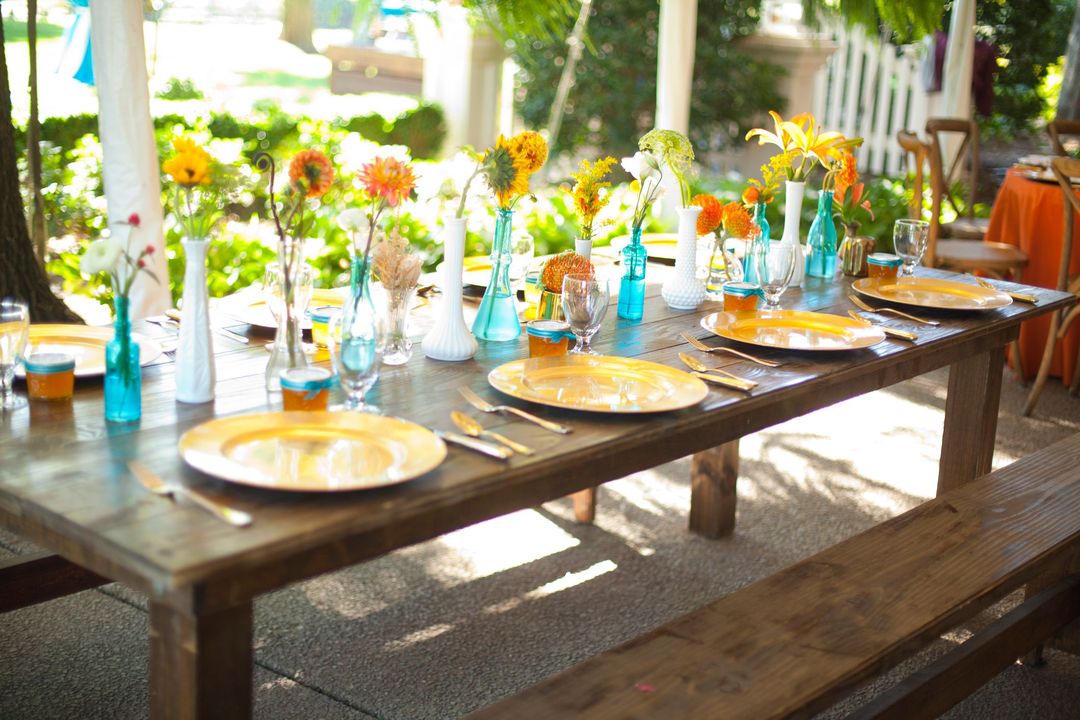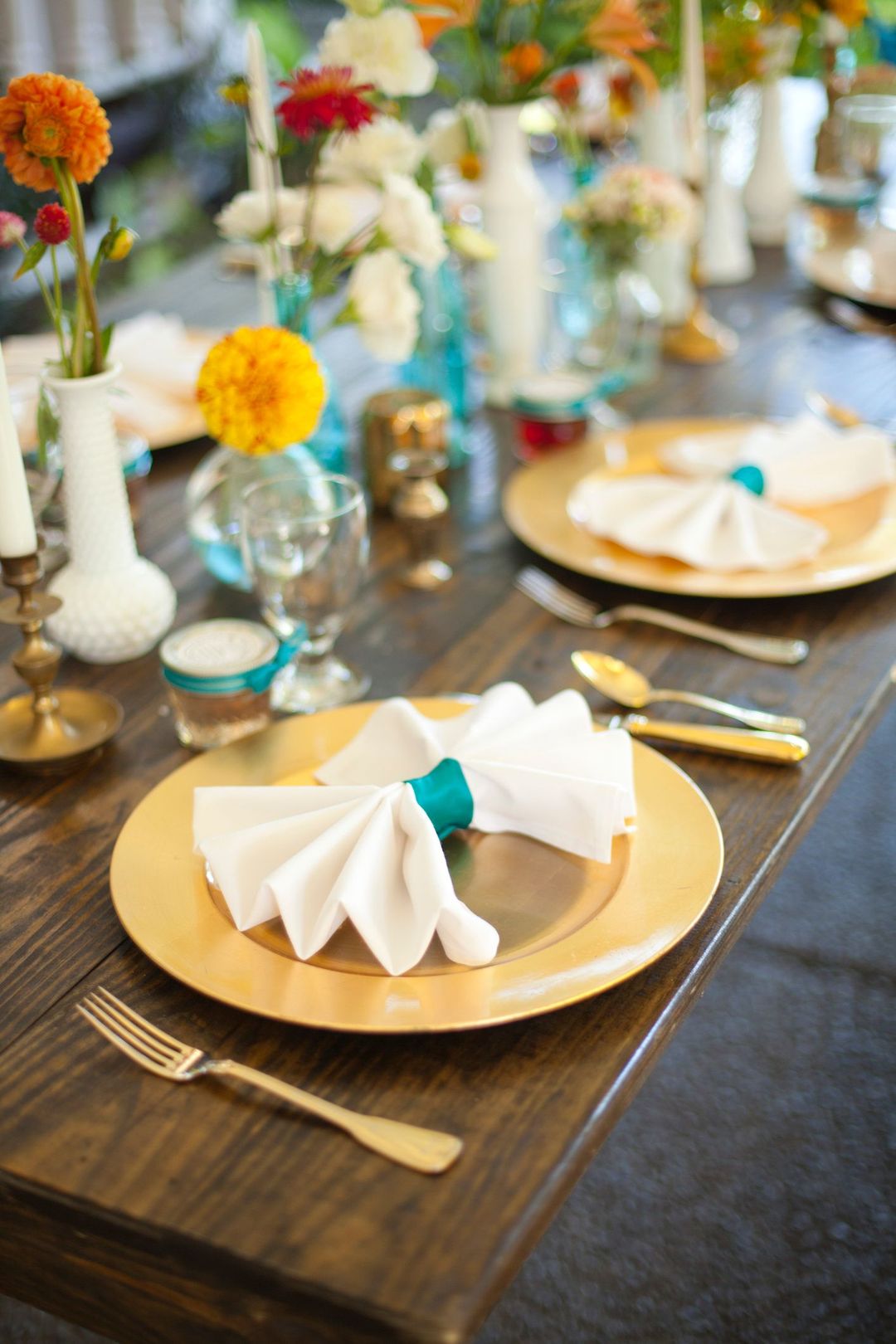 Bold Centerpieces
When it comes to table centerpieces people often feel the need to use matching pieces. A colorful backyard party is a perfect time to experiment with creative shapes and colors. This tablescape features a mix of vases, in teal, white, gold and clear glass – easy for a DIY backyard party. For candles, we suggest varying heights to add some dimension (though you can also create this with taller arrangements). As far as flowers go, consider keeping it simple but bright with a variety of wildflowers. Orange & yellow tones perfectly contrasted and popped against the teal and white glassware!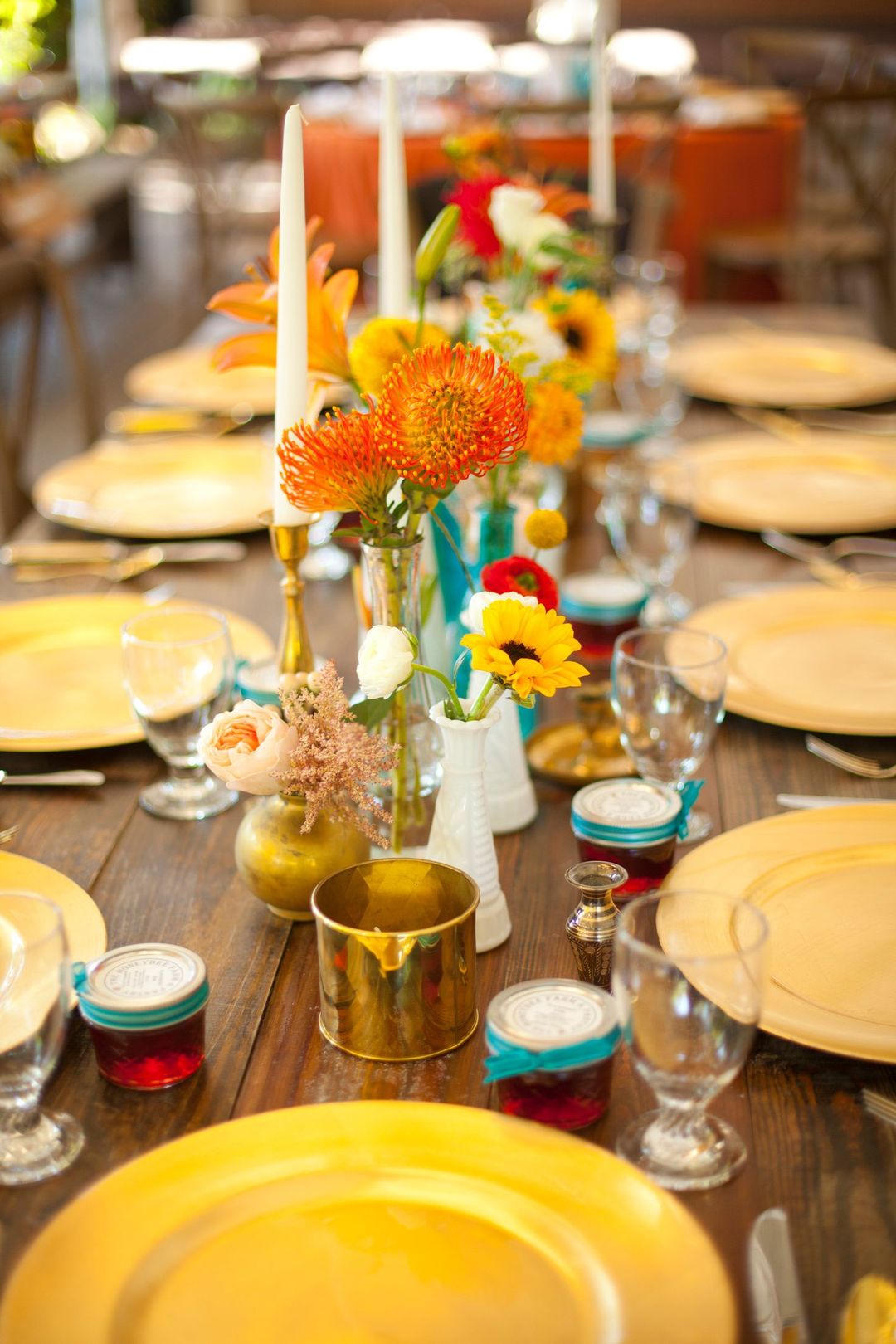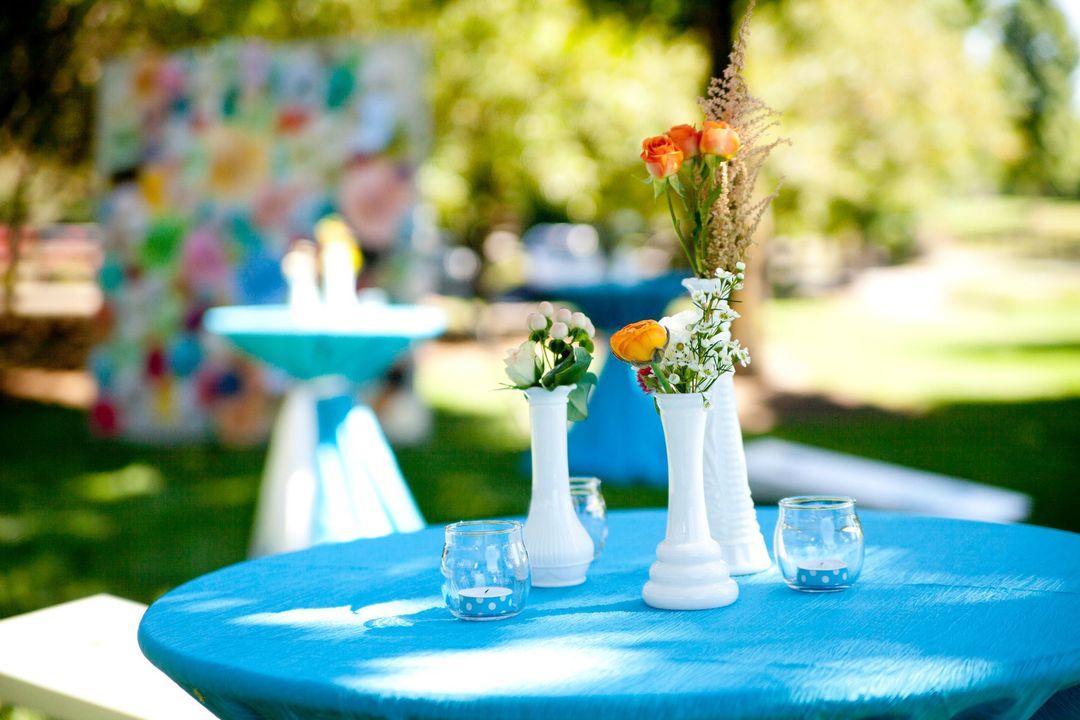 Vibrant Linens
Vibrant linens are so much fun! The use of bright colors will lend a sense of liveliness to your event, plus make your event photos pop. Don't be afraid to use different linens for each table either! Note how we were careful to switch up the color of our table centerpieces depending on the linen color. As a general rule: place lighter colored centerpieces on dark tablecloths and vice versa. Our Fuschia Etched Velvet Linens with their gold veining would be a another way to bring in a subtle metallic accent and a bold pop of color.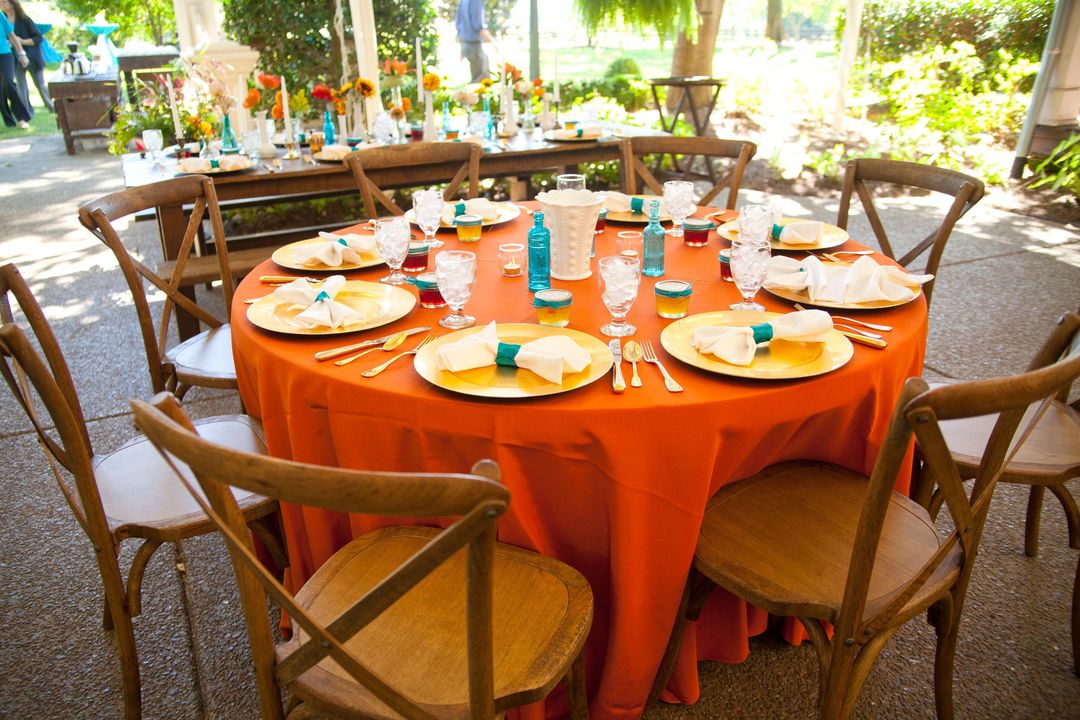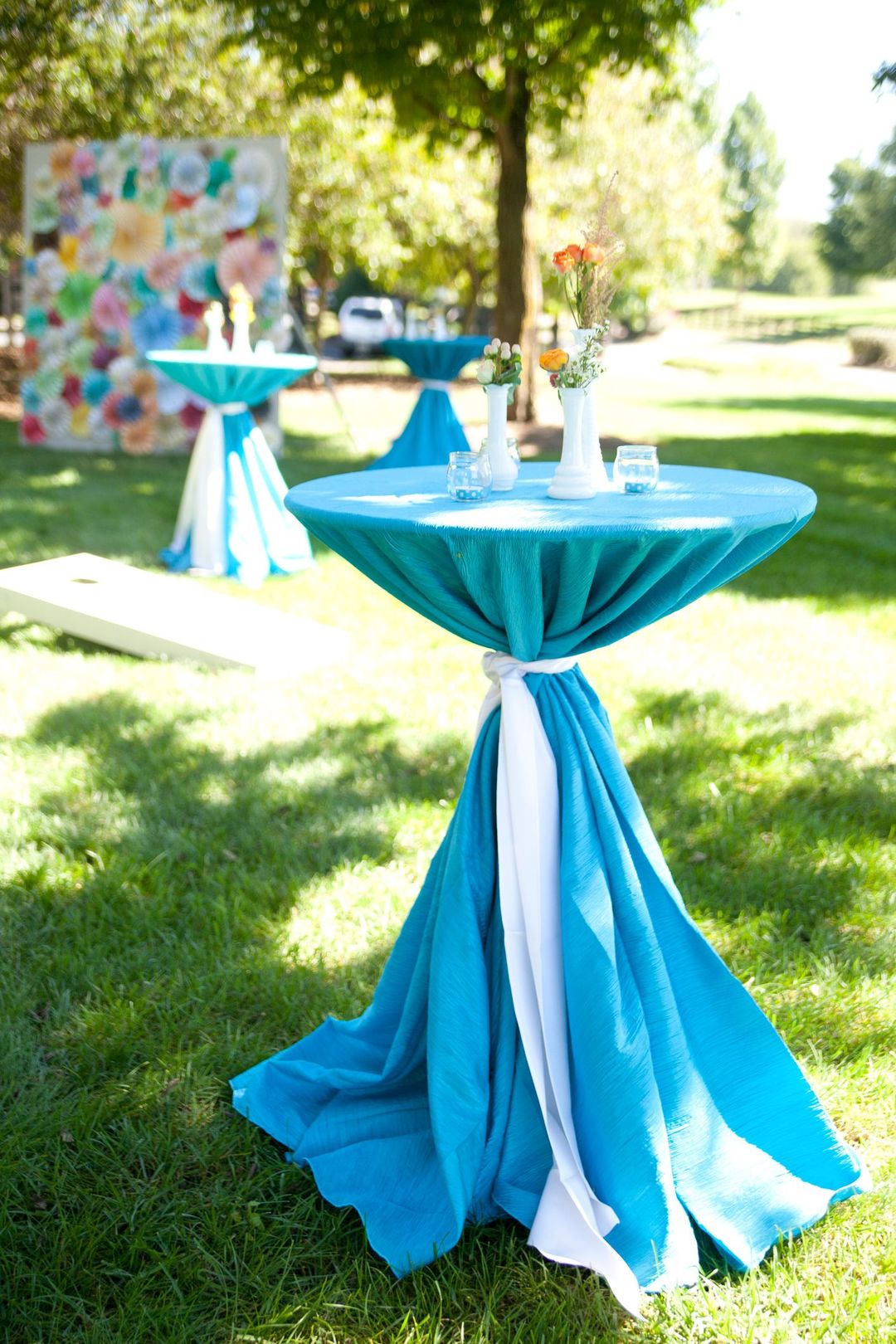 Loving these colorful backyard party design ideas? Contact our team for more inspiration and rentals for your event! Plus check out our previous blog for Season-less Event design.
TAGS | Bright & Colorful Rentals, Colorful and Fun Outdoor Wedding, Kids Parties, On Trend, backyard parties, classic event rentals, colorful decor, event inspiration, event style trends, style trends
FEATURED RENTALS | rustic bench, fruitwood farm table, cross back chairs, round gold lacquer charger, Austin flatware, colored glassware, table linens, velvet linens
---
9

Jun

Southern Events Products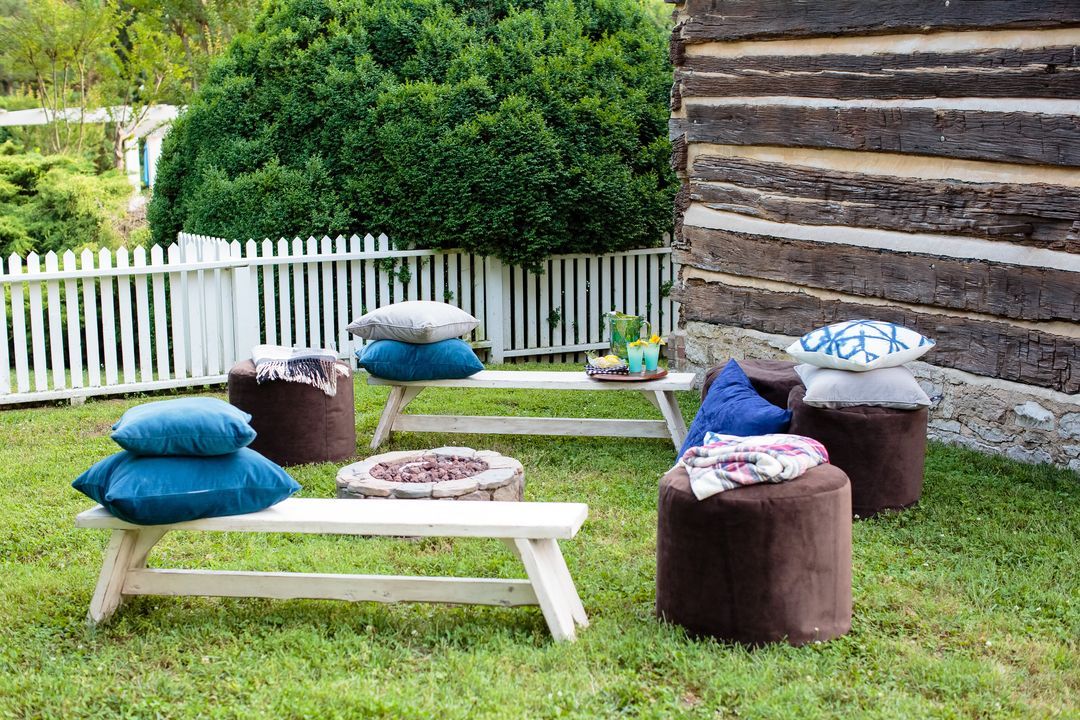 With the summer approaching, we can't wait for the backyard parties and outdoor celebrations! The gorgeous weather makes it the perfect time of year to host a small get-together with family and friends. Get inspired by some of our favorite summer backyard party ideas, whether you are celebrating a birthday, family milestone, the 4th of July or simply need an excuse to gather with loved ones.
Backyard Movie Night
Take a break from the news with a backyard movie night. It is a great way to entertain both kids and adults, with plenty of new movies currently being offered on demand. Create a casual and cozy environment, with our Ellison Collection! You can also create interactive areas like a snack bar for refreshments and treats, using our White Wash Barrel Barnwood Bar.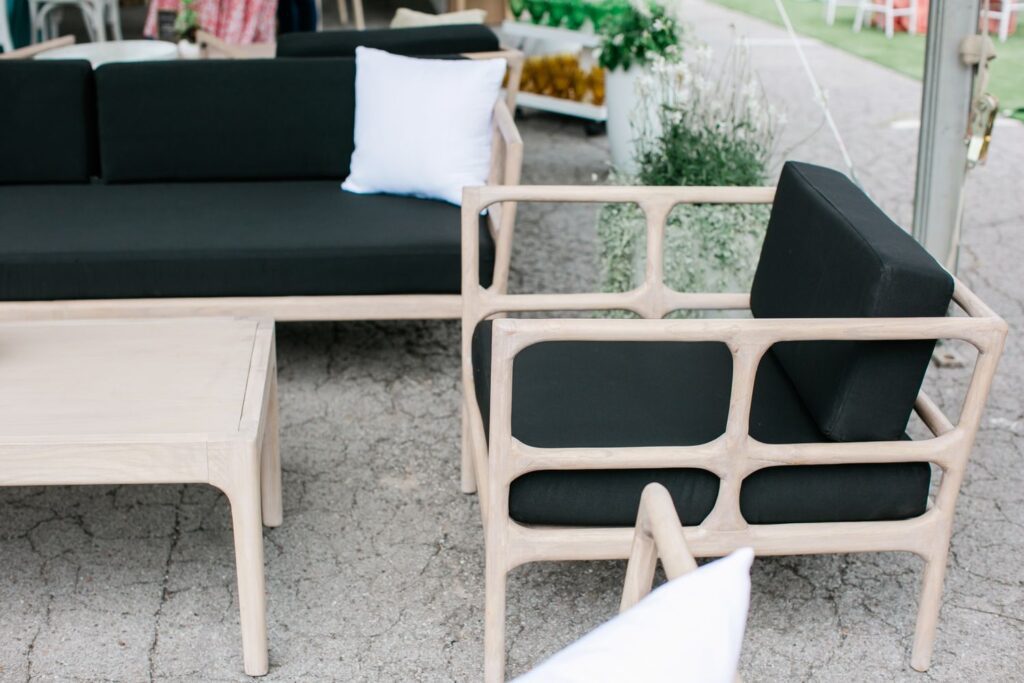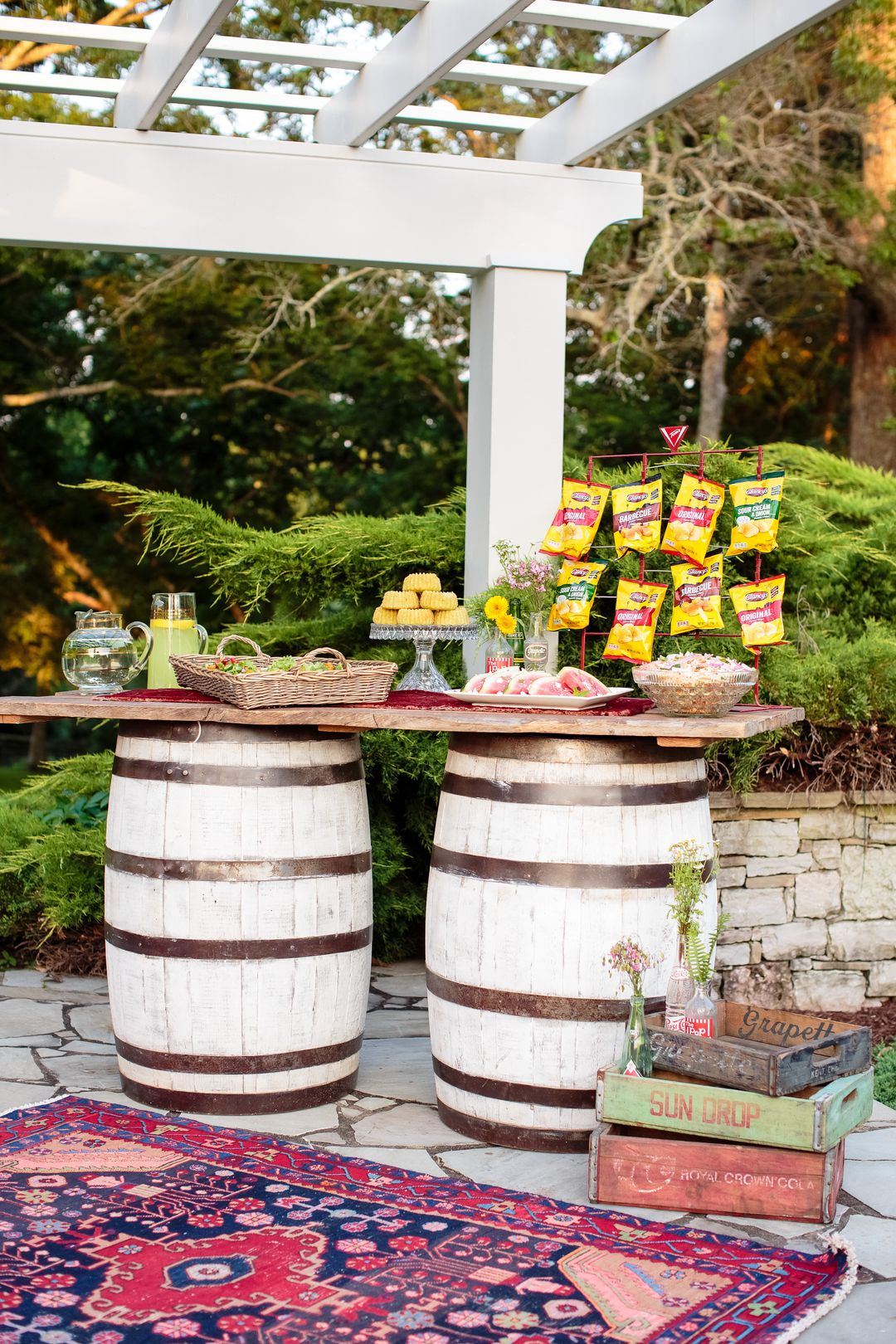 Photo by Erin Allender Photo
Kids Birthday Parties
The summertime is a great opportunity to host a kid's birthday party, including those that were previously postponed. Keep it family-focused with fun, colorful rentals and by creating areas for activities. You can also incorporate child-size rentals, like our gorgeous Children's Fruitwood Farm Table and Cross-back Children's Chairs.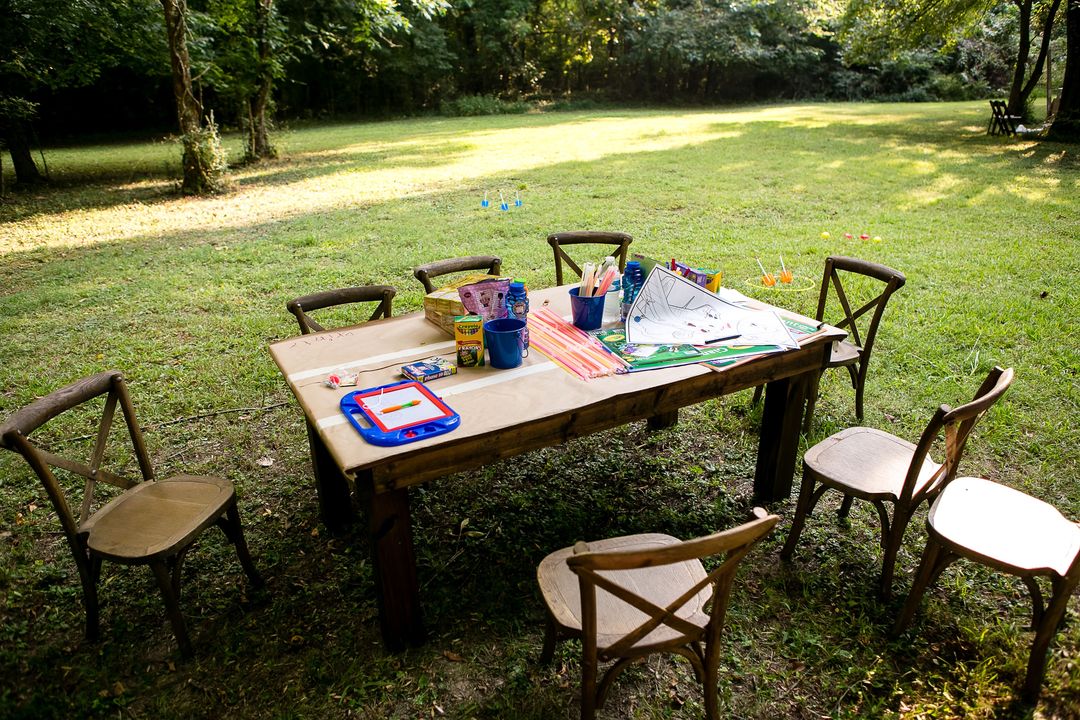 Backyard Tailgates
While we can't attend sporting events in person, we can still root for our favorite teams with a lively at-home tailgate party. Celebrate the big game with a classic backyard tailgate. Our pop-up tent packages are perfect for beating the heat. Easy to set up, they will create some much-needed shade while you watch or listen to the game. Of course, what's a game without food & drinks? Create an impressive food and seating area with our stylish tables, chairs, and serving ware.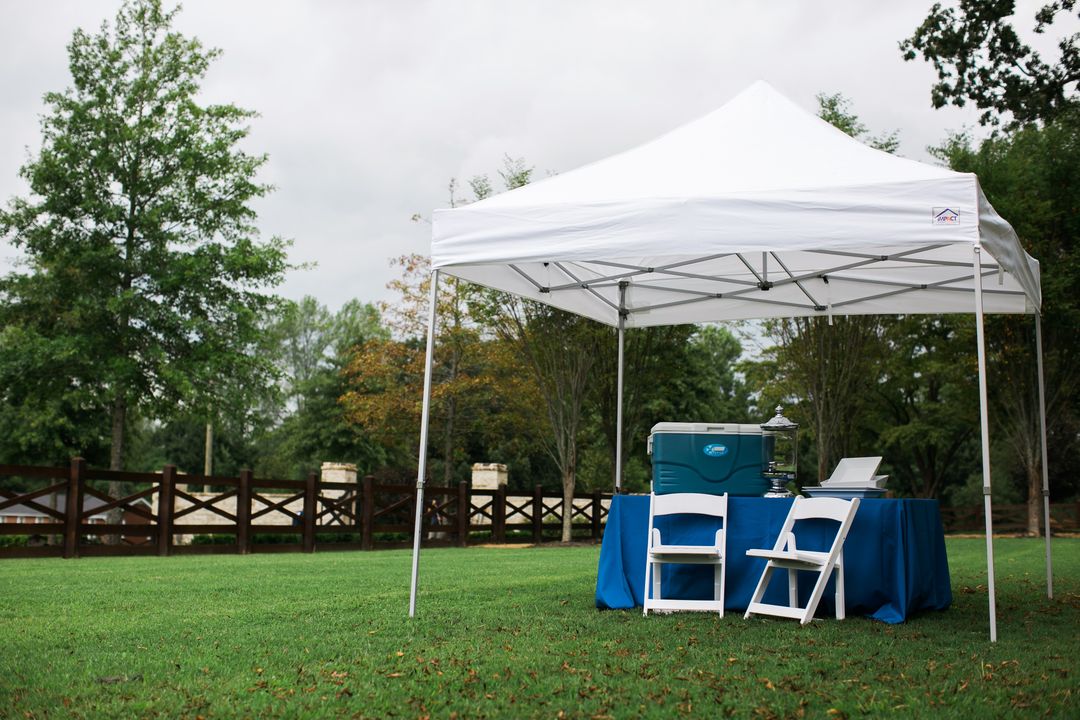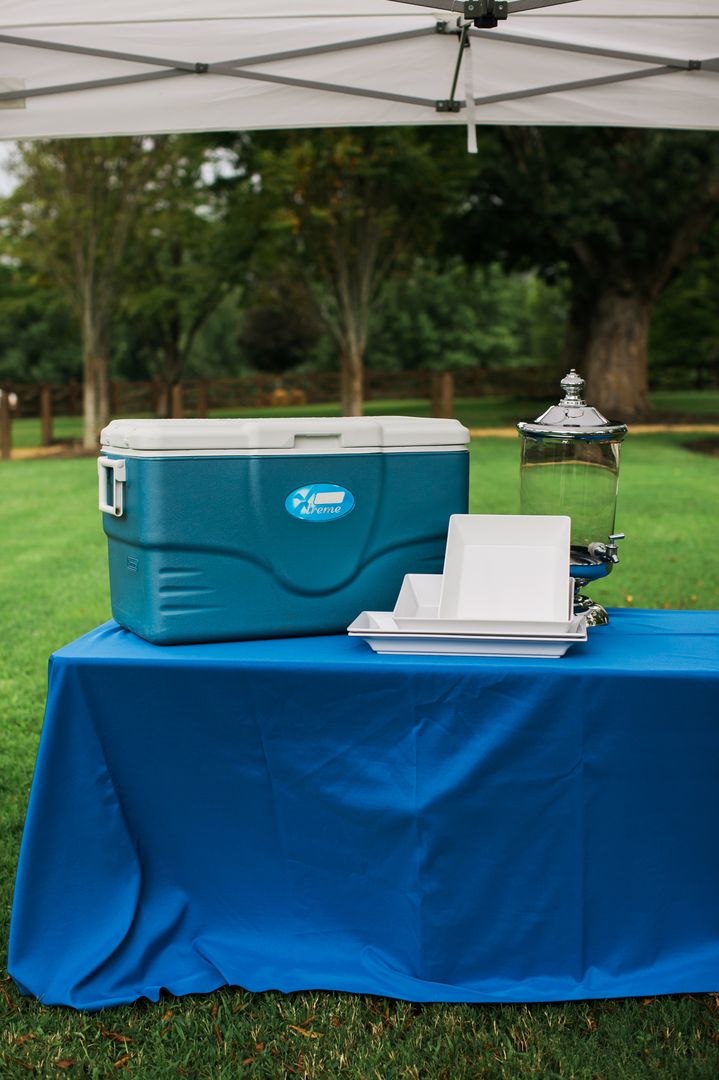 4th of July
Before you light up the night in style, enjoy the summer weather with the company of your friends and family. Our Ready to Party Packages are perfect for your annual 4th of July Party, whether your guest count ranges from 30 to 100. Each includes a white tent and enough stylish furnishings to accommodate your party size. Just don't forget to add on your essentials, like a banquet table for food, festive linens, and serving ware for summer food favs.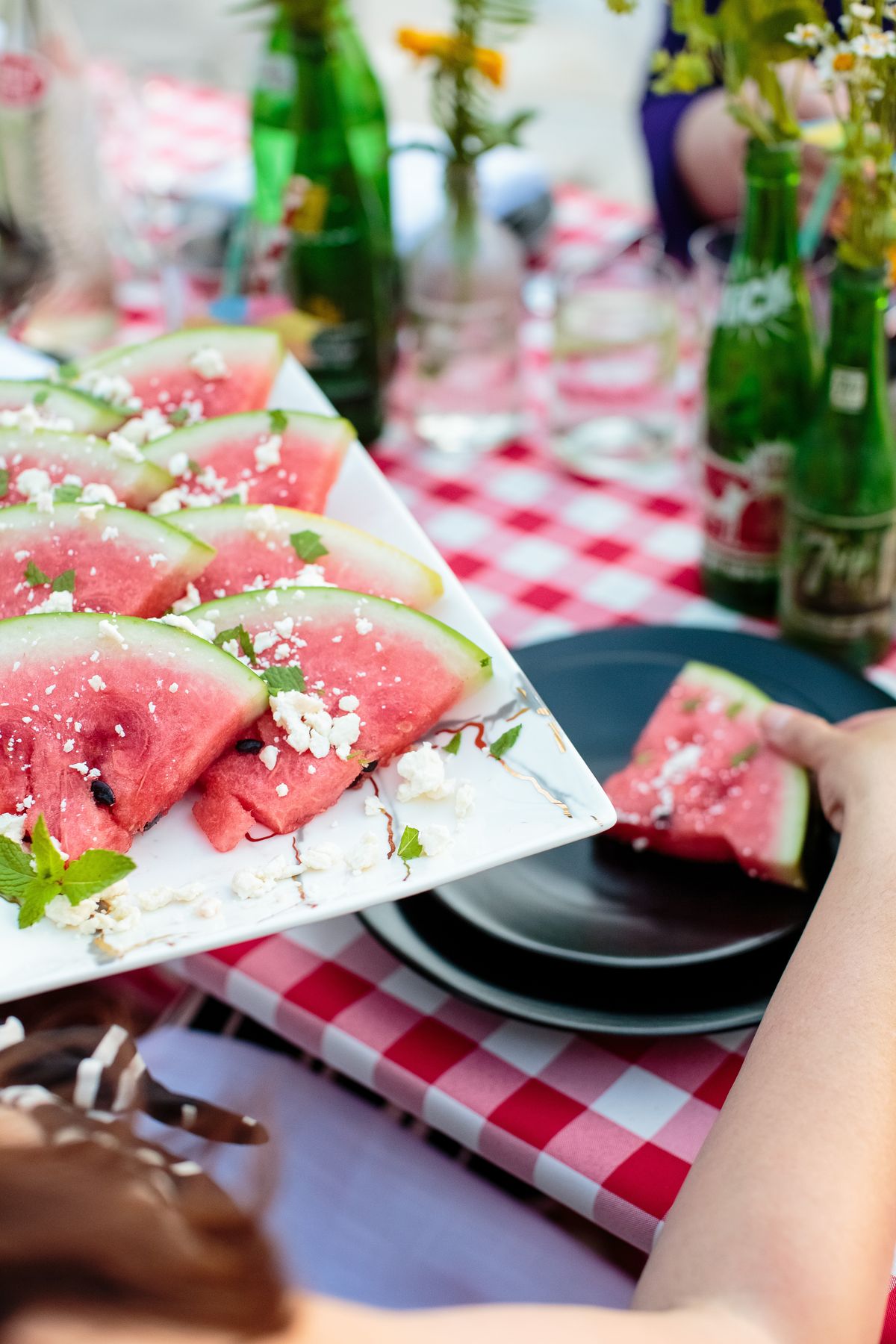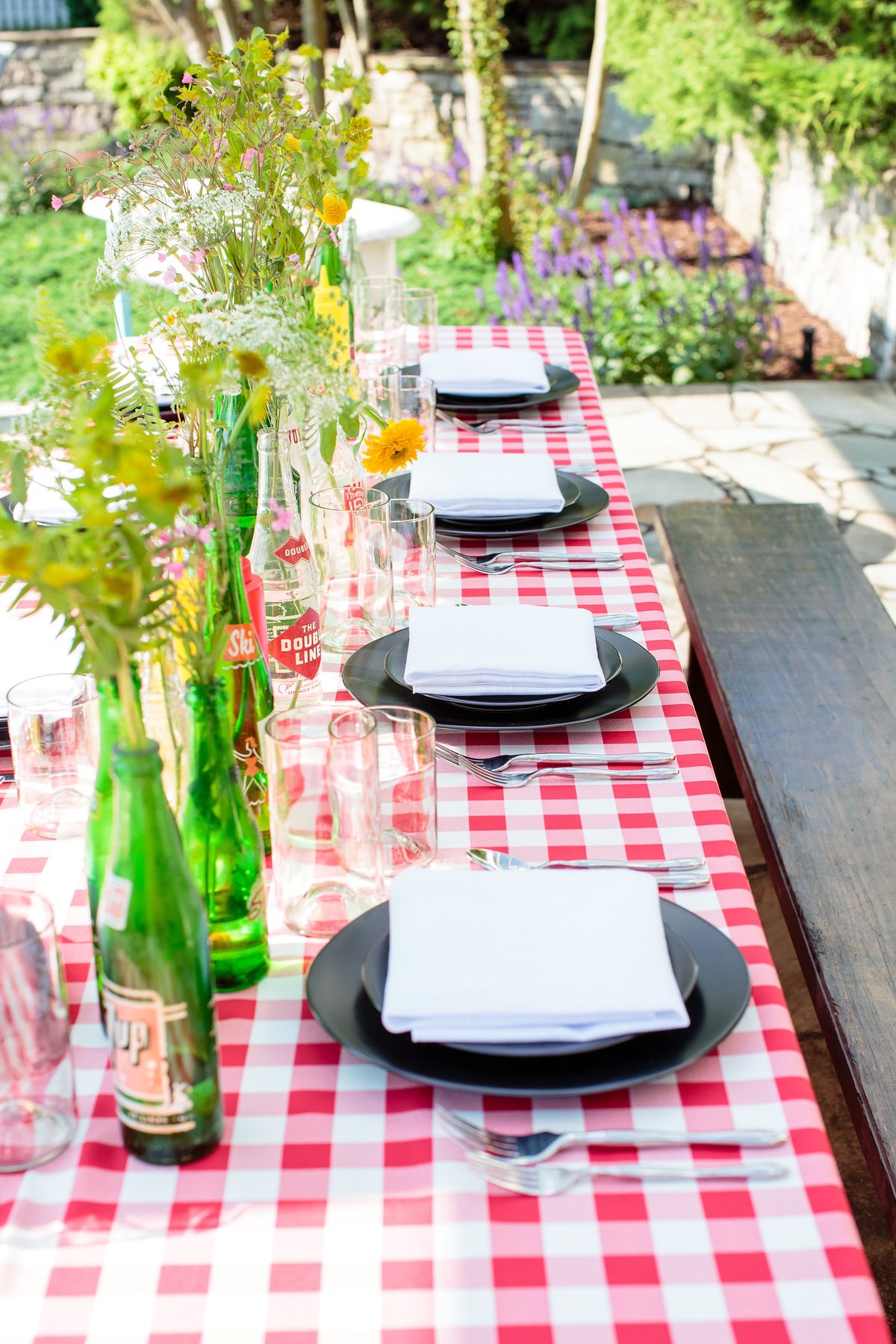 Micro Weddings
Host the small and intimate wedding of your dreams in your very own backyard. Our Micro Wedding Packages were created with simplicity in mind and have all of the essentials you need, including furniture and serving ware, like our elegant White China. View our packages to see which one most suits your needs and add on any other decor or furnishings you can't do without.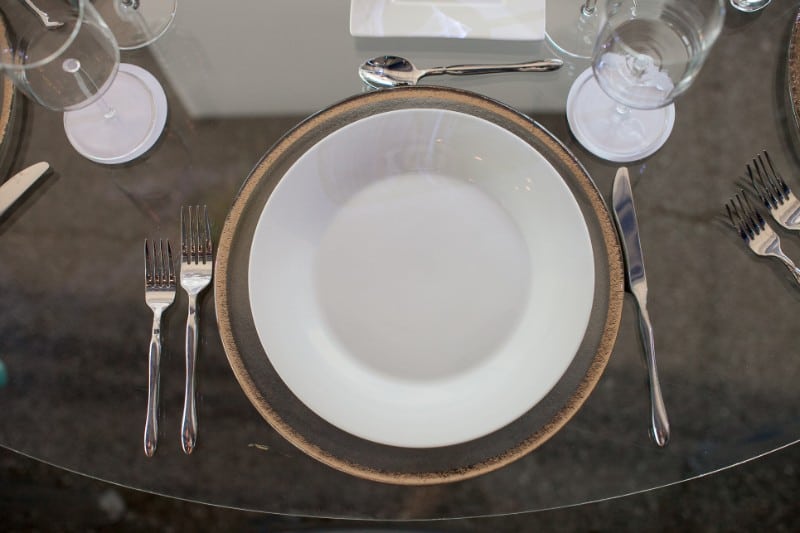 Photo by Phindy Studios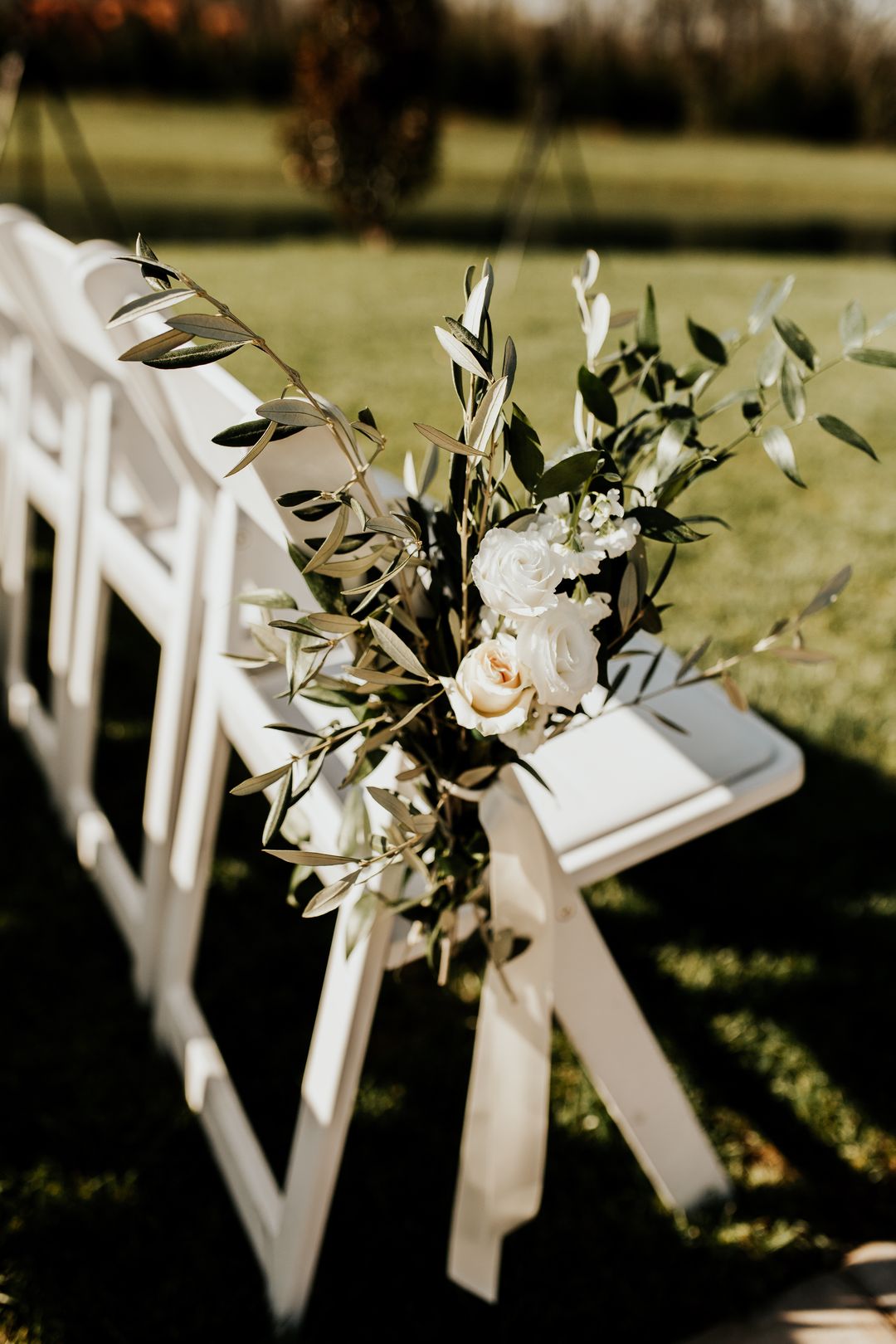 Photo by Cannon Weddings
Are you ready to host a backyard party of your own? Contact our team today to secure your rentals or to get more design inspiration!
TAGS | Kids Parties, Small Tent, Small Tents, backyard parties, kid friendly event, kid friendly party, micro wedding, outdoor summer weddings, southern summer party planning, summer event style
FEATURED RENTALS | Resin Folding Chairs, White Wash Barrel Barnwood Bar, Children's Fruitwood Farm Table, Children's Cross-Back Chairs, White China, Microwedding Packages,
---