5

Nov

Southern Style | Holiday Tablescapes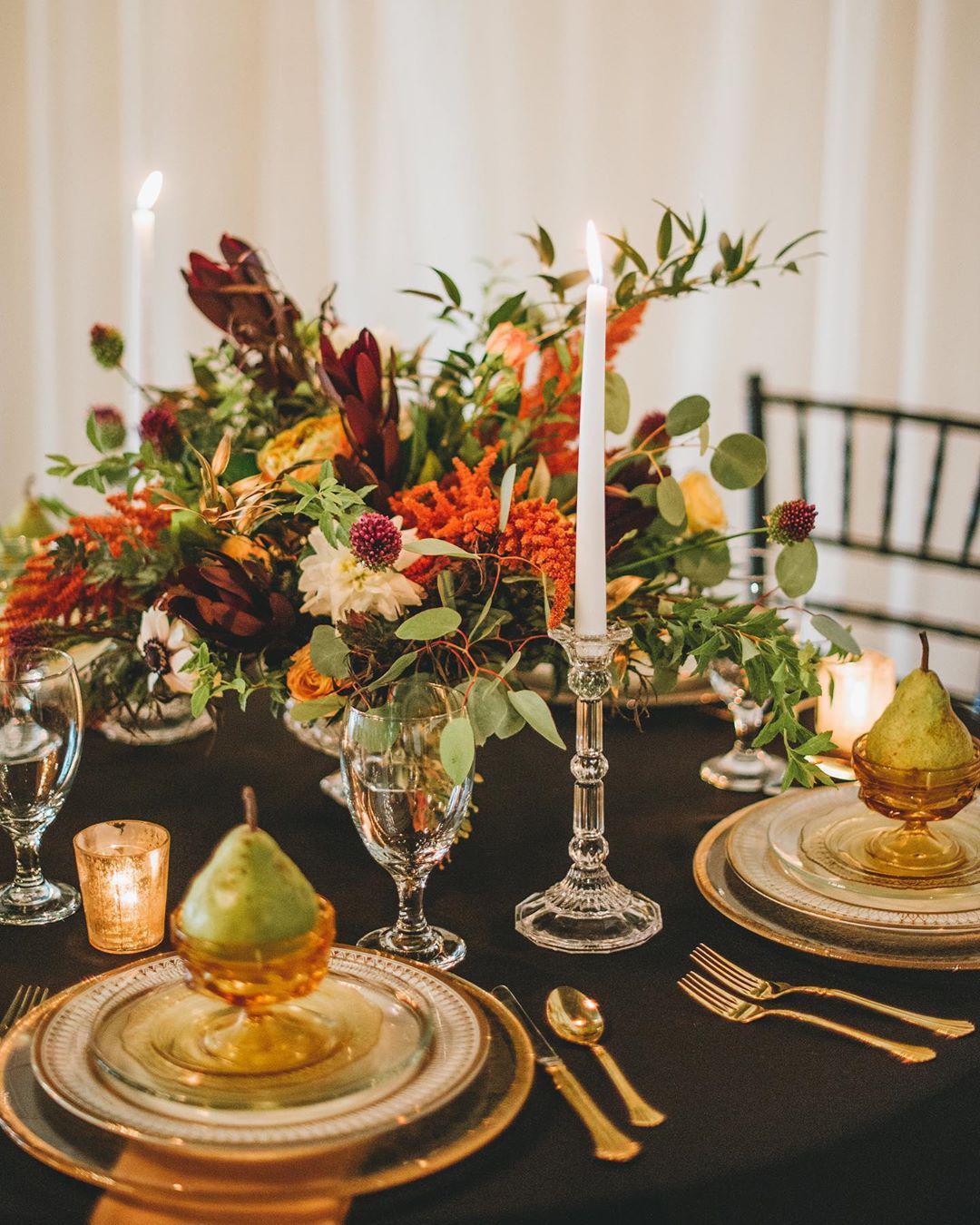 Create a stylish table for your guests with holiday rentals from Southern Events! We've curated some of our favorite tips for making your holiday tablescapes sophisticated yet unique. Whether you're hosting Thanksgiving for family and friends or having a festive holiday gathering in December or January. Count on Southern Events to help you make your Middle Tennessee holidays special!
Holiday Theme: Warm + Cozy
We love the idea of coming home for the holidays – especially this year – so make your holiday rentals extra hygge. Greet guests with warm wood farm tables, soft velvet linens, & glowing candles in glass vases for a cozy ambiance they'll love.
Featured Rentals | Farm Tables, Earthen China, Gold Rim Glass Charger, Austin Gold Flatware, Pure Glassware, Colored Glassware, Davis Glass Cylinders, Fern Velvet Linens
Holiday Theme: Go Bold
Rules have long been thrown out this year so have a little fun with your holiday table this year. Try a bold, untraditional color for your holiday linen rentals like a spiced pumpkin orange or deep Mediterranean blue, and combine with our luxurious new linen textures such as our etched velvets, rustic Havana, and polished Kennedy linens.
Featured Rentals | Medallion Gold Glass Charger, Cybil Glassware, Spice Velvet Linens, Silver Etched Velvet Linens, Brushed Copper Flatware, Coronado Gold Accent China, Navy Dupioni Linens, Storm Kennedy Linens, Lagoon Linens, Colored Glassware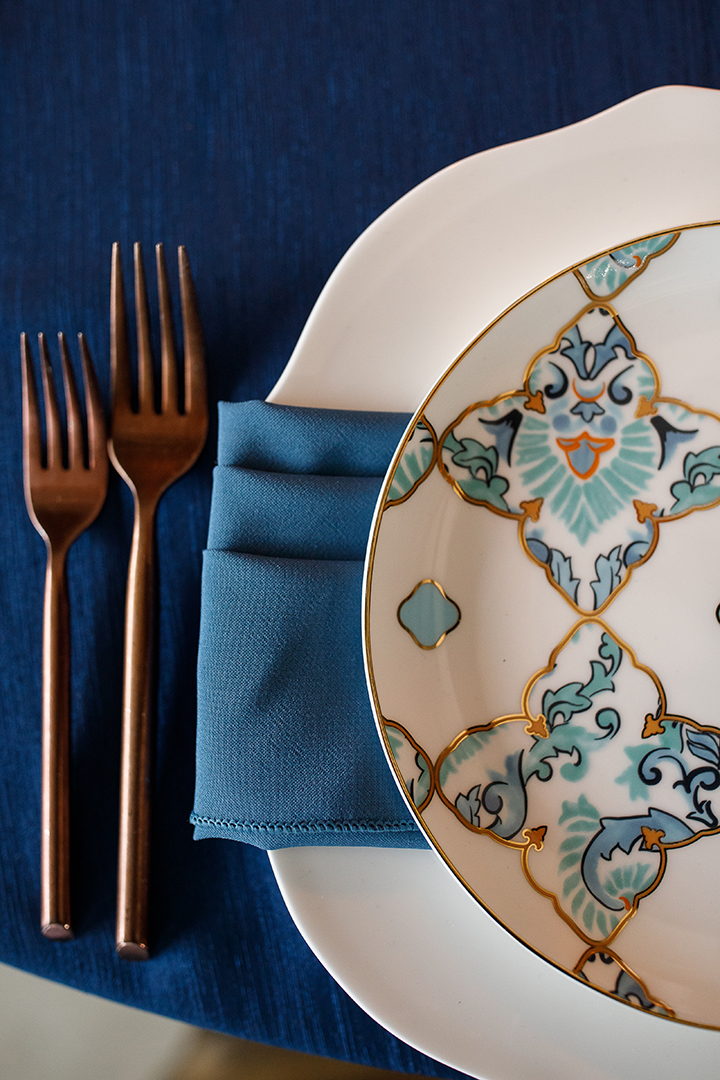 Photo | Courtney Davidson Photography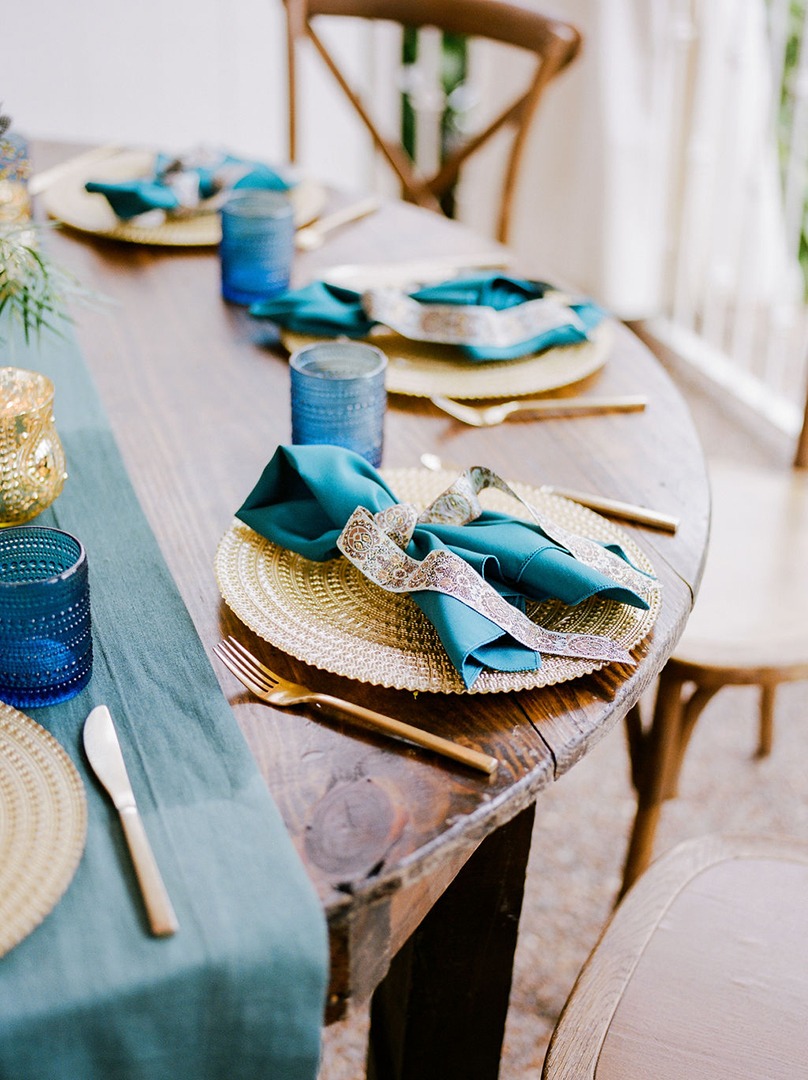 Photo | Jenna Henderson
Holiday Theme: Natural Beauty
Enhance your traditional holiday tablescape by adding fruit to your Thanksgiving pumpkins or winter greenery. Pomegranates pop off our satin and velvet linen rentals for a luxe winter look. Let wheat, apples, and artichokes on a greenery garland and celebrate the harvest season with farm tables and cross-back chairs. Pears adorn a whimsical and elegant floral holiday tablescape with our Carrera Mable plates, gold flatware, Harlin chairs, and velvet linen rentals.
Featured Rentals | Sterling Velvet Linens, Russet Satin Linens, Stemless Glassware, Farm Tables, Crossback Chairs, Carrera Marble Dinner Plates, Harlin Chairs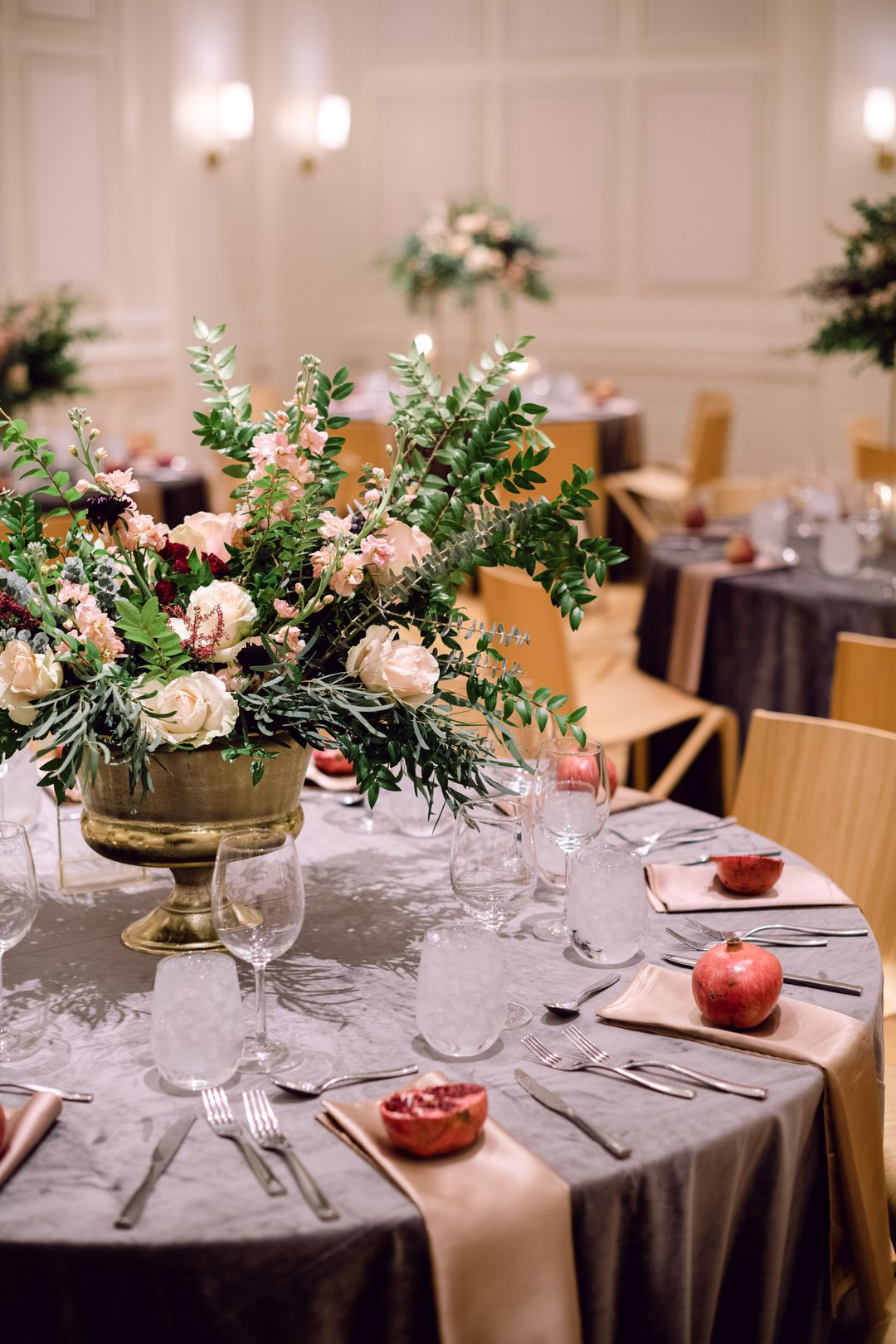 Photo | Haint Blue Collective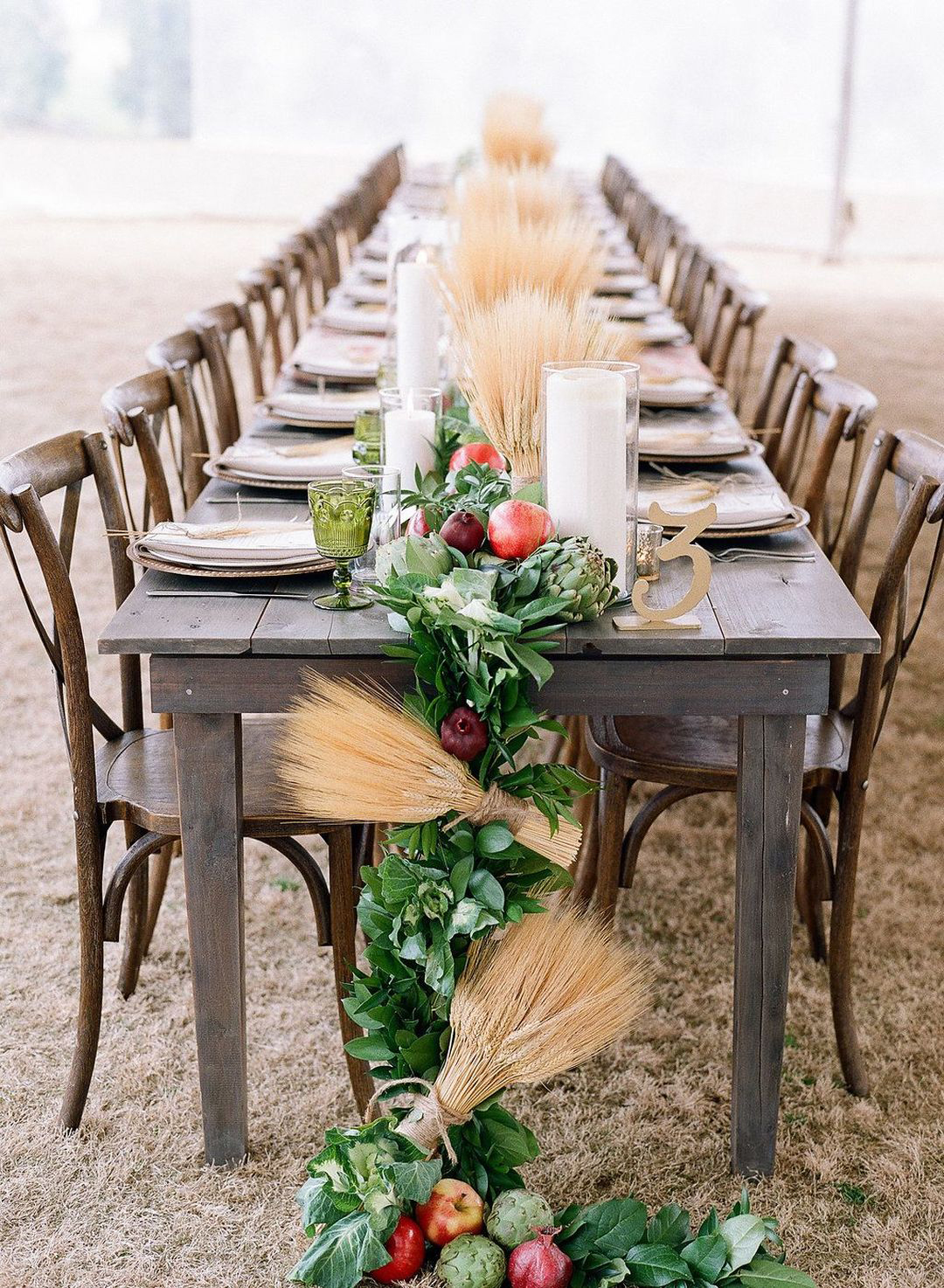 Photo | Cassidy Carson Photography
Photo | Alex Thornton Photography
Don't Forget the Food! Holiday Buffets
Don't forget the food service when planning your holiday meal. Your holiday buffet and service rentals can be just as beautiful as your tablescape. Our catering service rentals offer the best of both worlds. Serve hot beverages from our gorgeous hammered coffee urns while you keep food warm in our coordinating hammered chafing dishes. Host your best cocktail hour with our wide range of glassware rentals. And dish up your holiday dessert buffet with our pedestals that are perfect for pie!
Featured Rentals | Hammered Copper Coffee Urn, Hammered Silver Coffee Urn, Davis Glassware, Earthen China Mugs, Gold Metal Intersect Cube, Wyatt Pedestals, White Wash Farm Table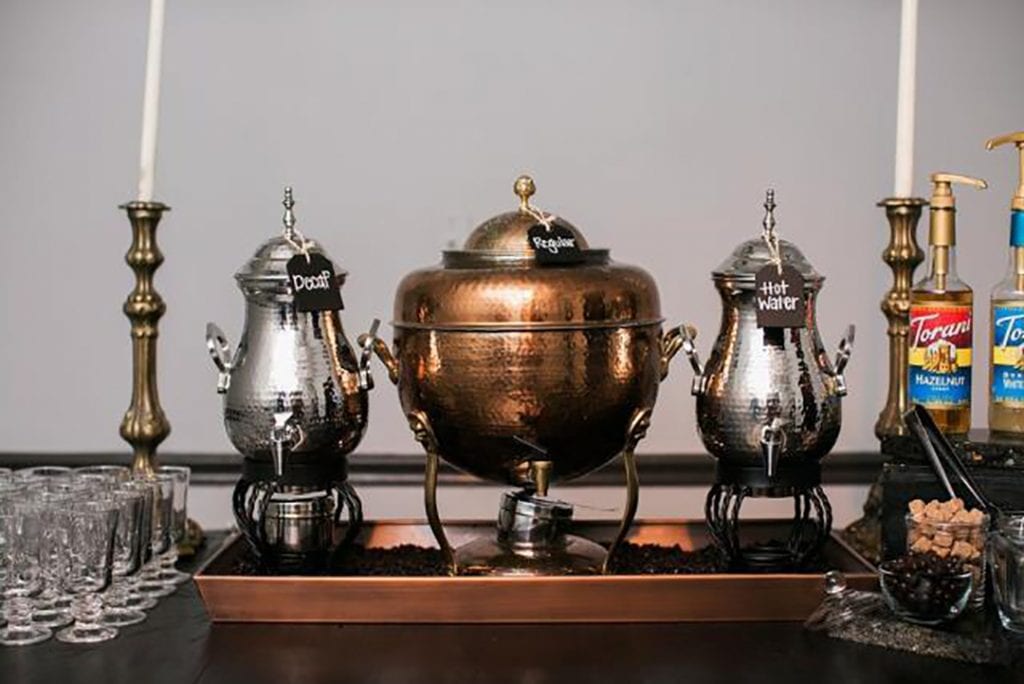 Photo | Jen & Chris Creed Photographers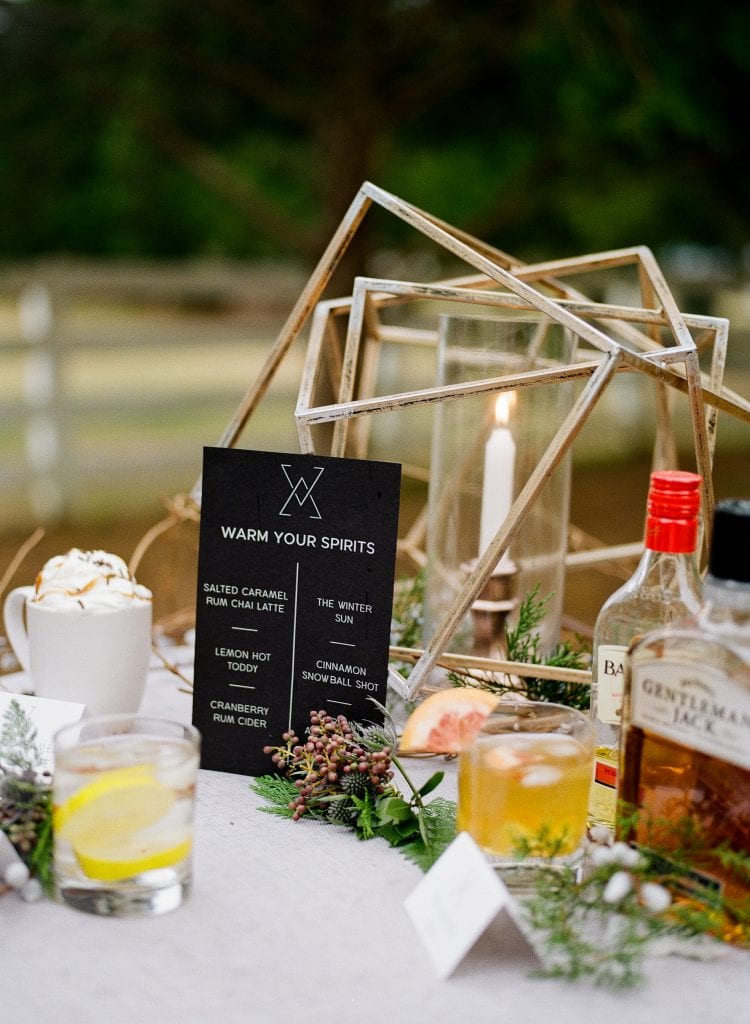 Photo | Jenna Henderson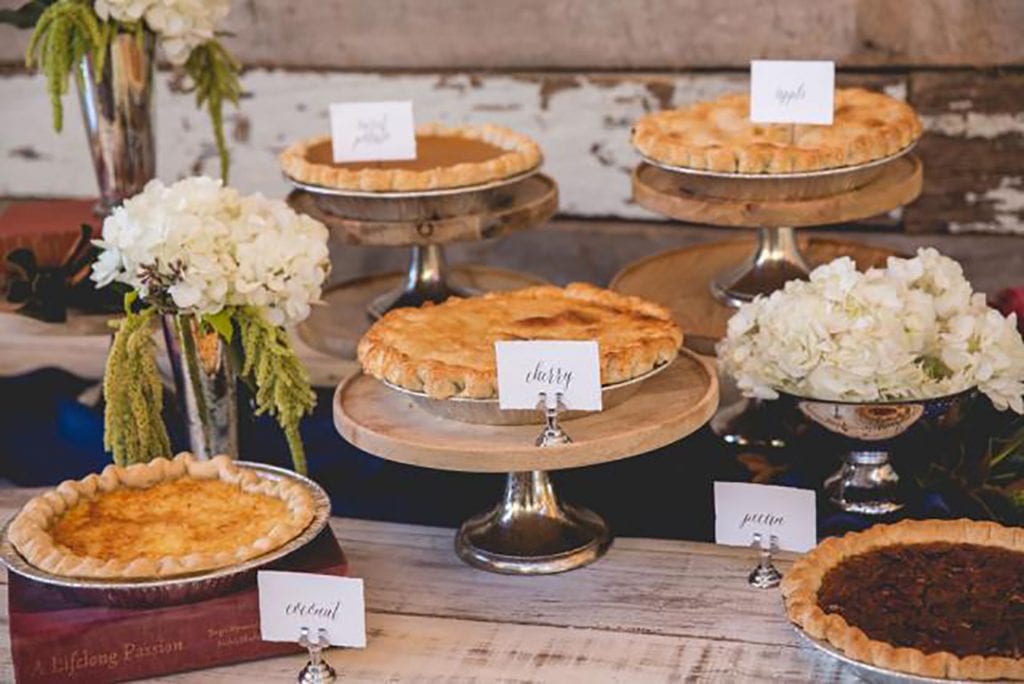 Photo | SheHeWe Photography
Want more creative holiday rental ideas?
Look no further! Download our Holiday Style Guide then contact the Southern team to reserve your rentals today!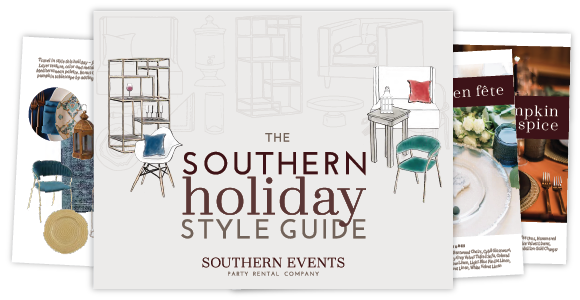 FEATURED RENTALS | Farm Tables, Crossback Chairs, Harlin Chairs, Earthen China, Gold Rim Glass Charger, Gold Accent China, Austin Gold Flatware, Hammered Coffee Urns, Wyatt Pedestals, Fern Velvet Linens, Spice Velvet Linens, Sterling Velvet Linens, Silver Etched Velvet Linens, Storm Kennedy Linens, Brushed Copper Flatware, Coronado Gold Accent China, Navy Dupioni Silk Linens, Carrera Marble Dinner Plates, David Glassware, Gold Intersecting Metal Cube, Gold Medallion Charger, Cybil Glassware, Colored Glassware
SEE MORE LIKE THIS