20

Oct

On Trend, Southern Events Products, Trends and Inspiration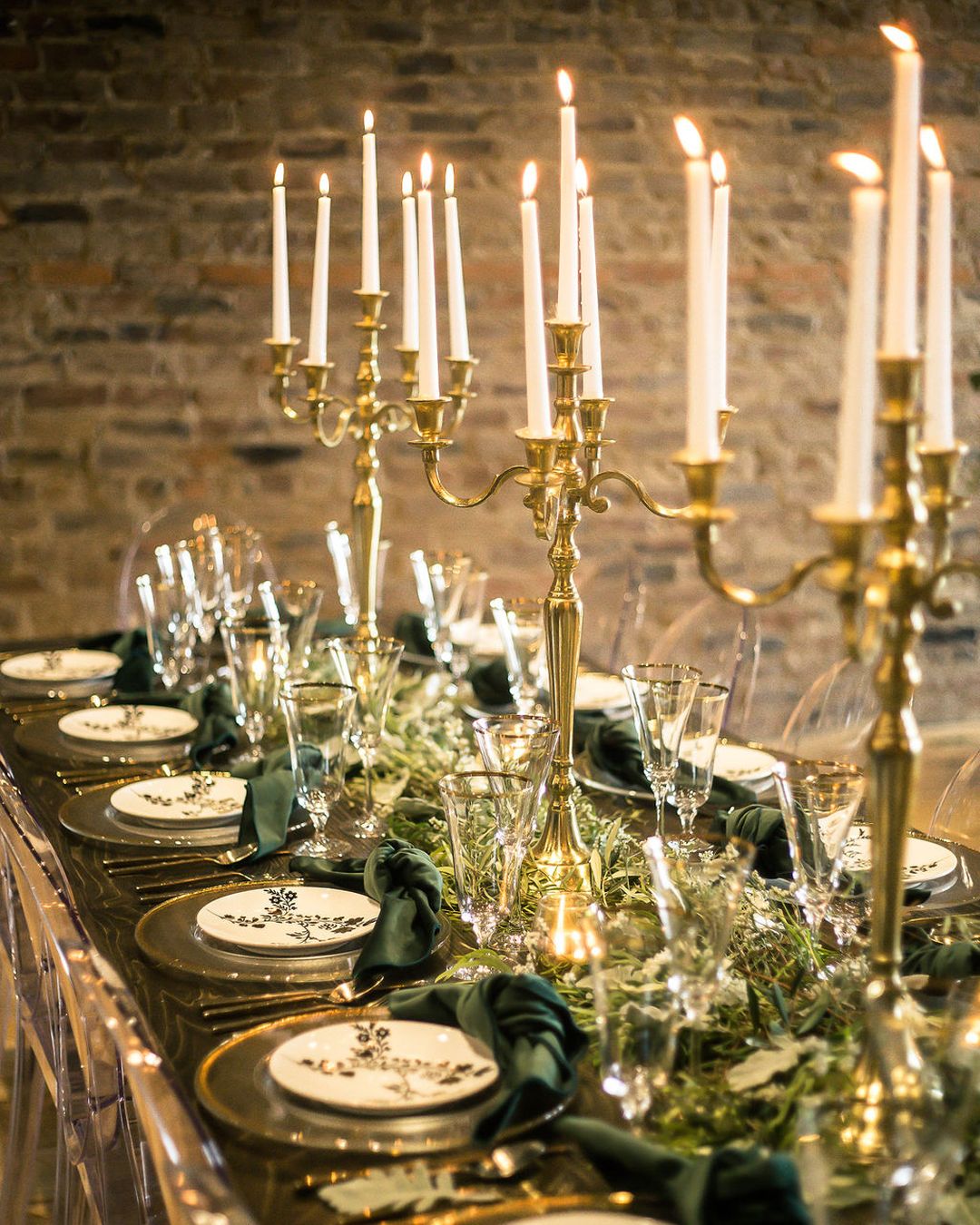 The holidays always come with a heavy dose of nostalgia, so why not carry this feeling over in your event design? Featuring a mix of the old and new, a modern vintage event is a beautiful balance. The perfect theme when you consider that we are celebrating both the end and beginning of yet another year. Check out our modern vintage rentals below and how they can be used to host a charming holiday party. For more help, take a look at our Holiday Party Planning Tips!
Luxe Linens in Every Shade
Linens are undoubtedly our favorite way to feature color at a holiday event. And for the holidays the options are endless! If you're looking for linens to complement your modern vintage rentals, consider those that feature a subtle pattern. Our Ivory Pearl Shalimar and Victoria Gold Luxe Linens ooze luxury and would complement any neutral-colored place setting. Meanwhile, a solid shade will look gorgeous with more intricate serving ware. Such as our Scarlet Red Velvet or Magnolia Green Velvet Linens. As always, don't forget napkins! Contrast a bold or patterned tablecloth with classic white or ivory napkins.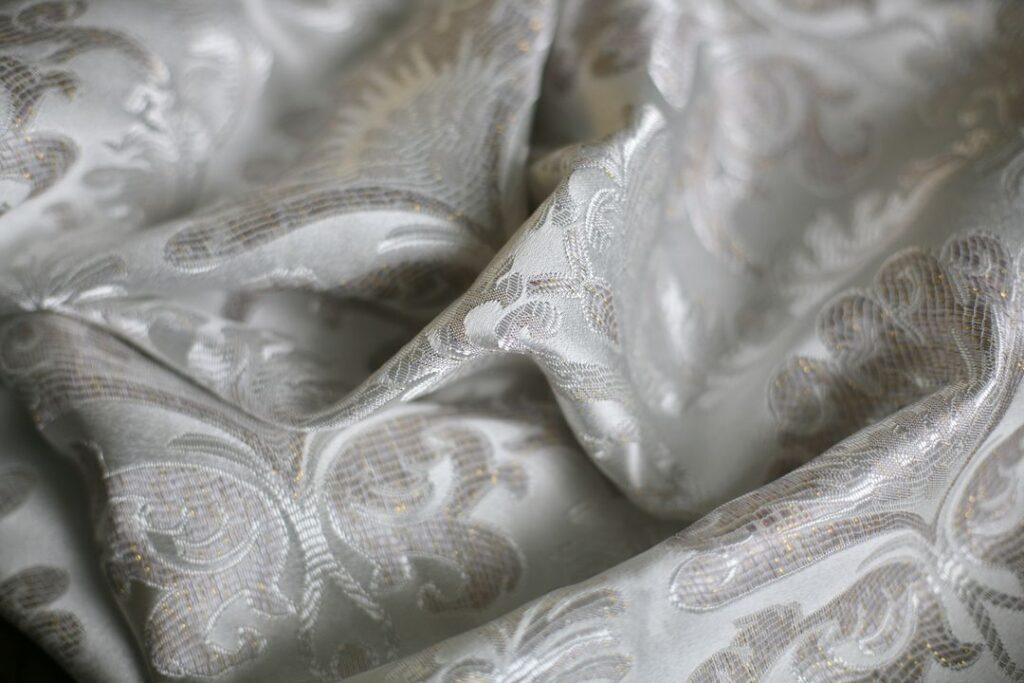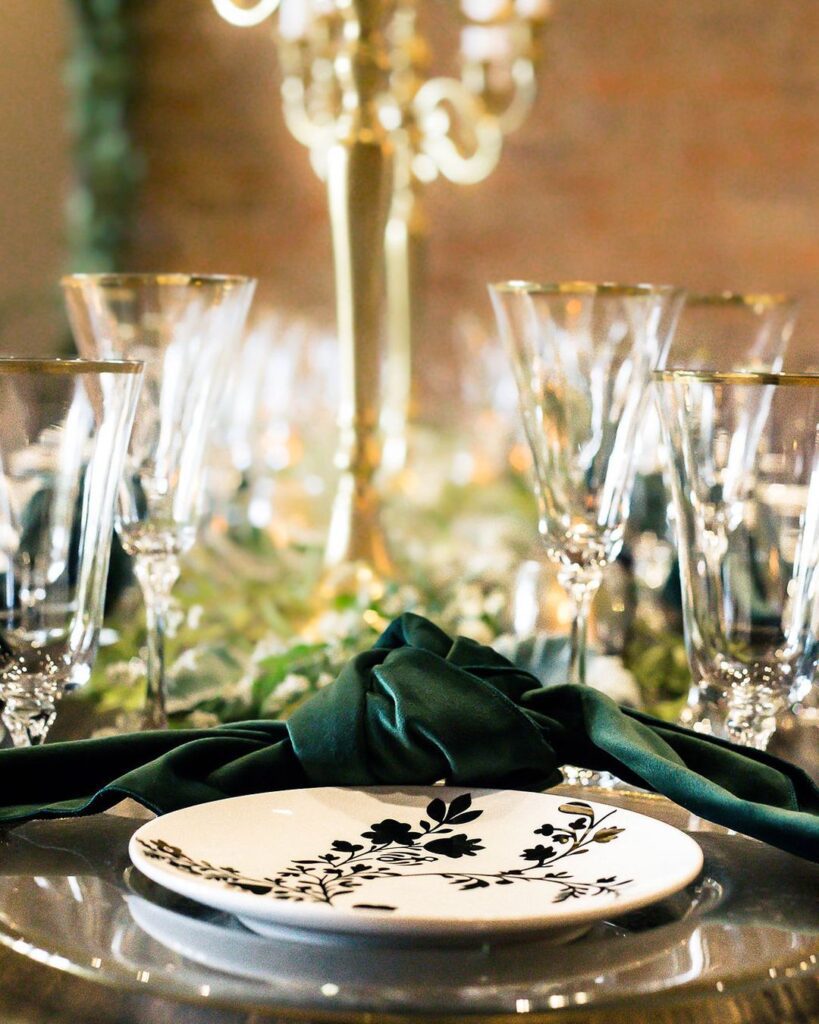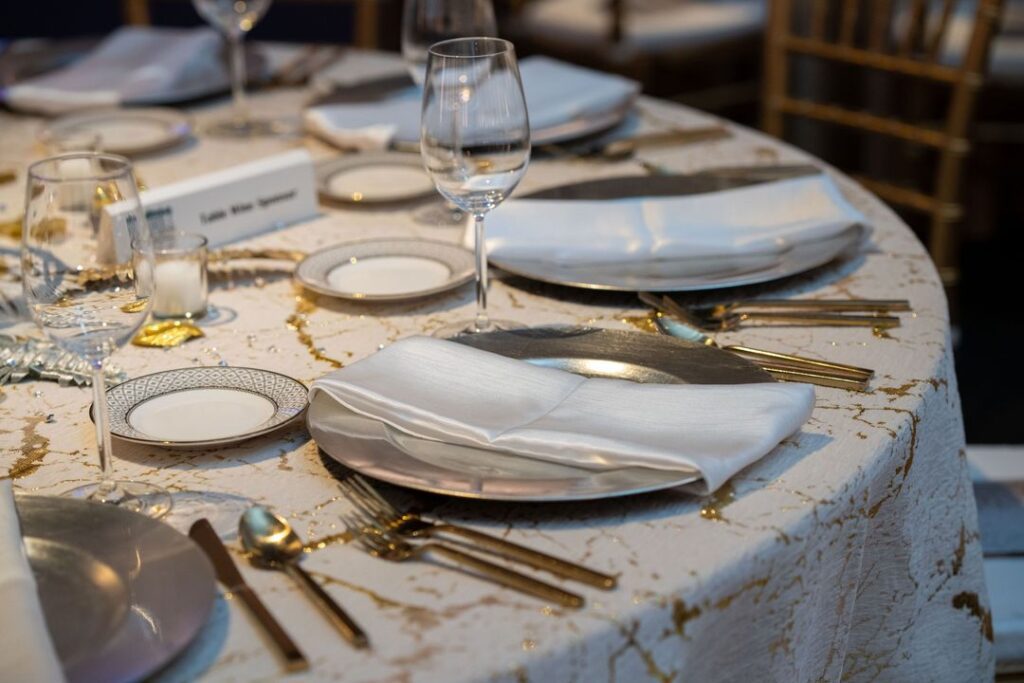 Vintage-Inspired Servingware
There is a charm to vintage-inspired serving ware that is perfect for the holidays! It lends a subtle sense of nostalgia that also happens to perfectly suit a modern vintage theme. Our inventory of servingware includes a range of pieces that can be used to create a stylish holiday tablescape. Either for a casual at-home soiree or for a formal corporate gathering.
To achieve this look you want to find a balance between simple pieces and those with ornate details. For example, pair plain White Round China with a Gold Rim Glass Charger and Abby Flatware. Or, feature a White Round Porcelain Charger with our ornate Ophelia China and modern Gold Austin Flatware. Choosing glassware is especially fun, with options like our Audrey Gold Rim, Monaco, and Pure Glassware.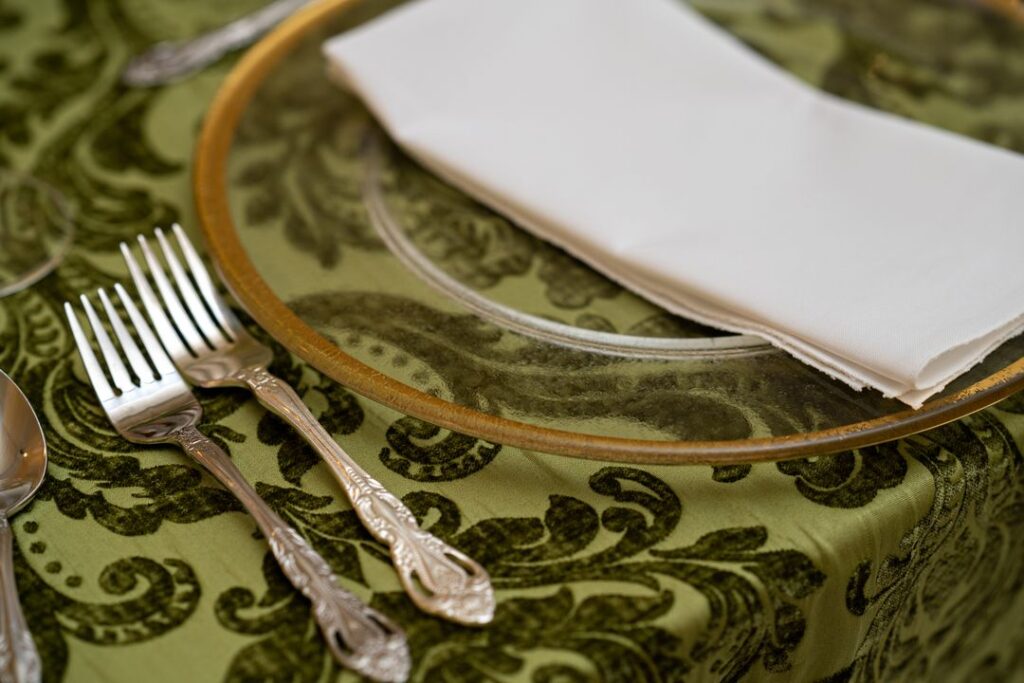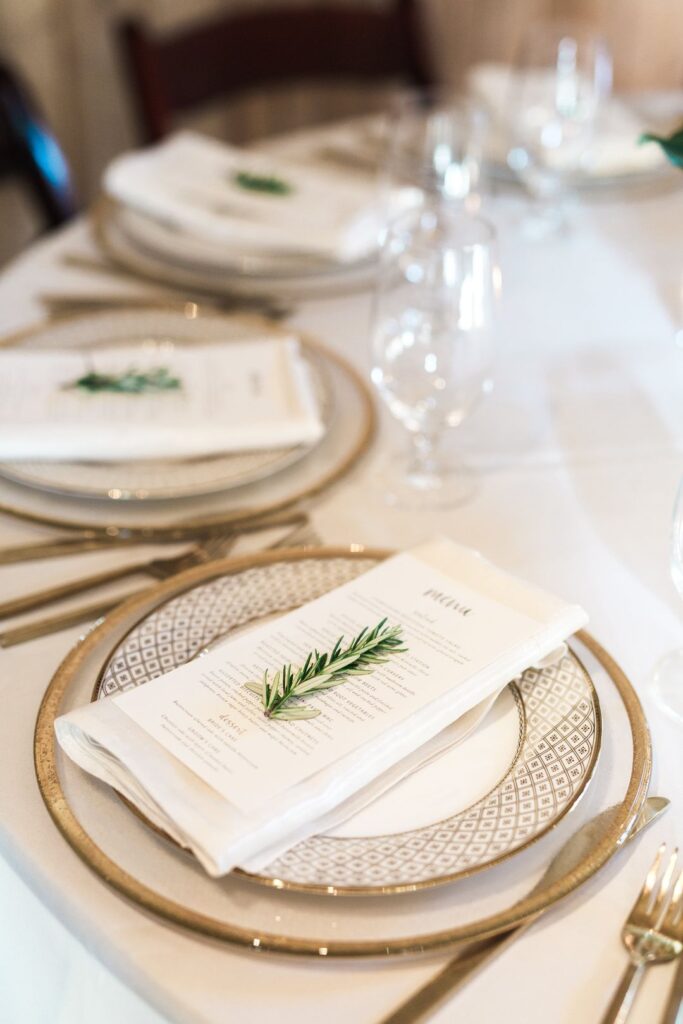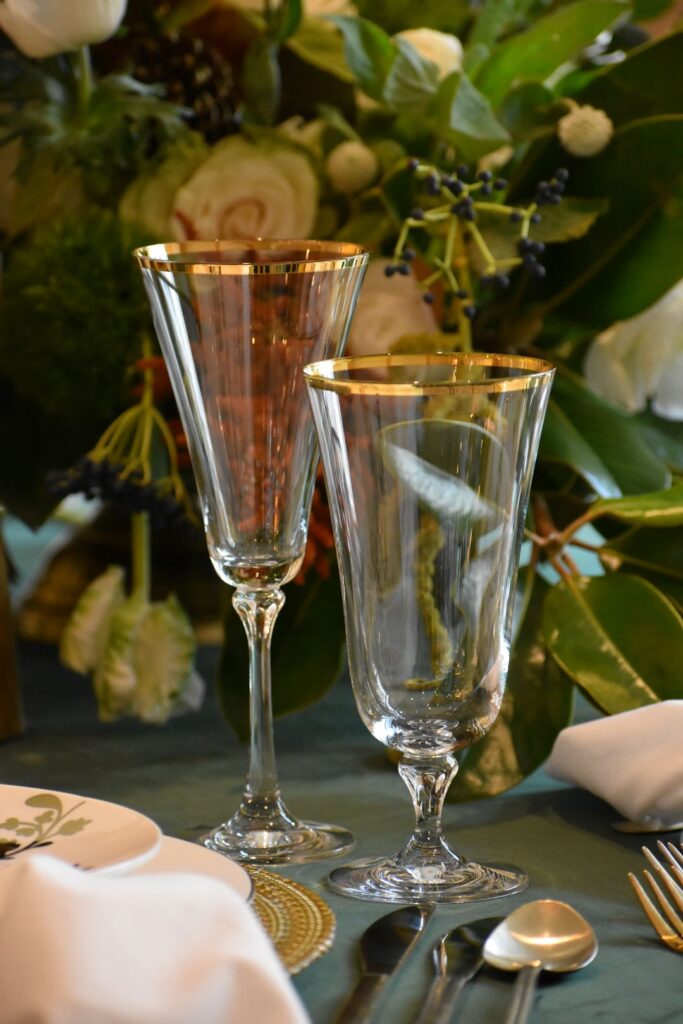 Cozy Holiday Lounge Areas
Lounging is what you do at holiday parties. Whether you're in a post-feast coma or simply need somewhere to sit and sip on a tasty seasonal cocktail. We have the perfect modern vintage rentals to create a stunning seating setup, whether you prefer a set of sofas or an armchair or two. Start with a rug featuring a vintage design to frame the space, adding a touch of warmth. Then choose your seating, such as our Fern Velvet and Bennett Leather Sofa. Either of these are stunning with our Bamboo Arm Chairs or White Eiffel Arm Chairs. Finish the look with a set of Gold Hammered Coffee Tables, where guests can set their drinks and appetizers.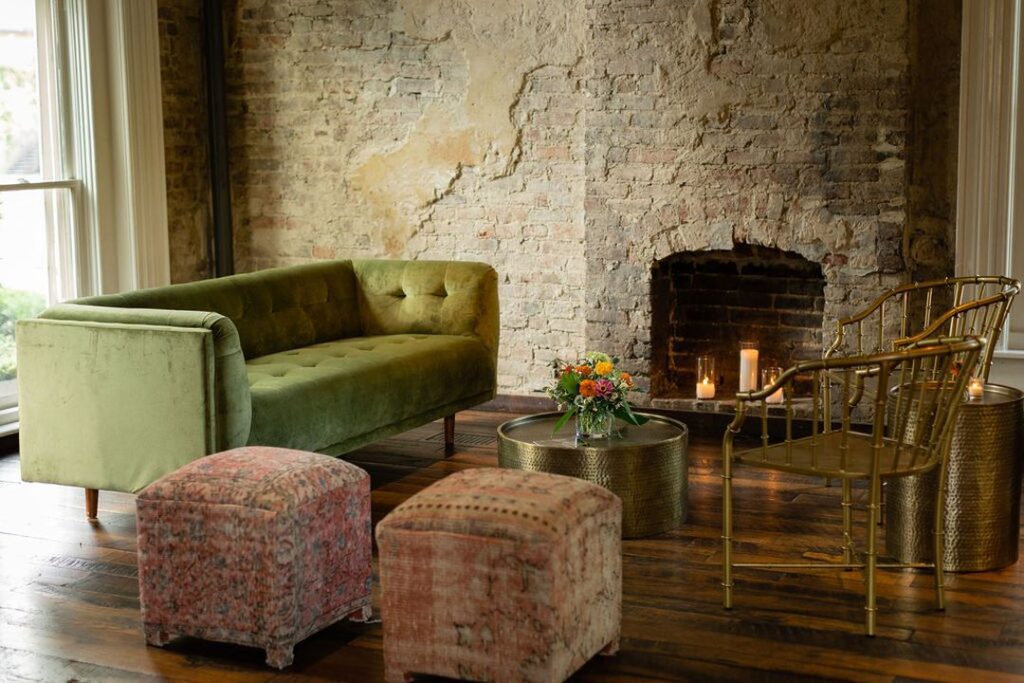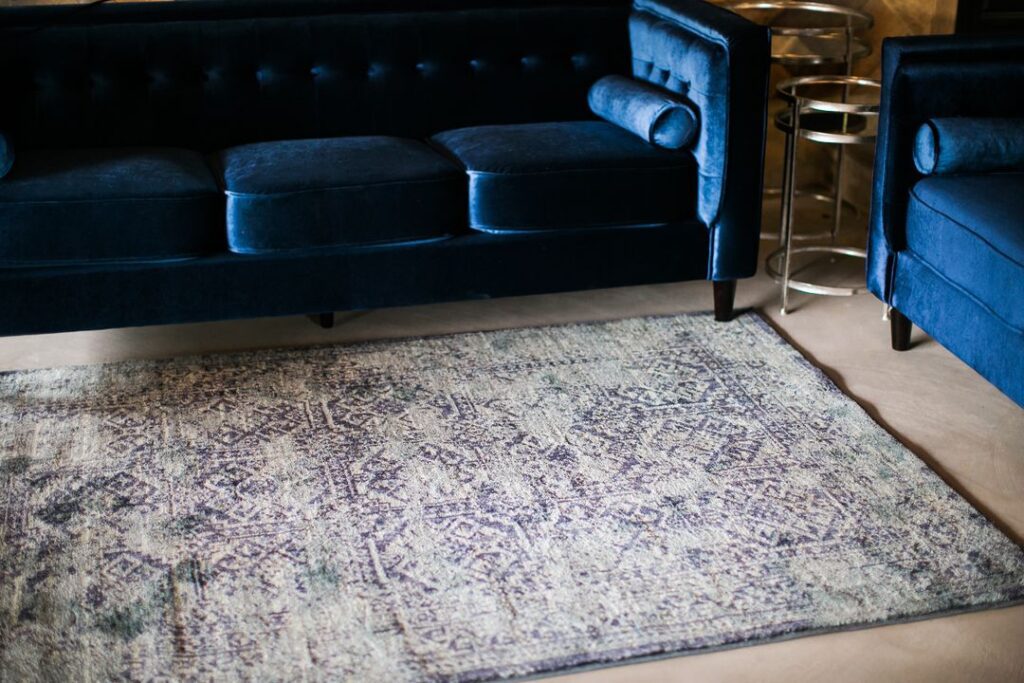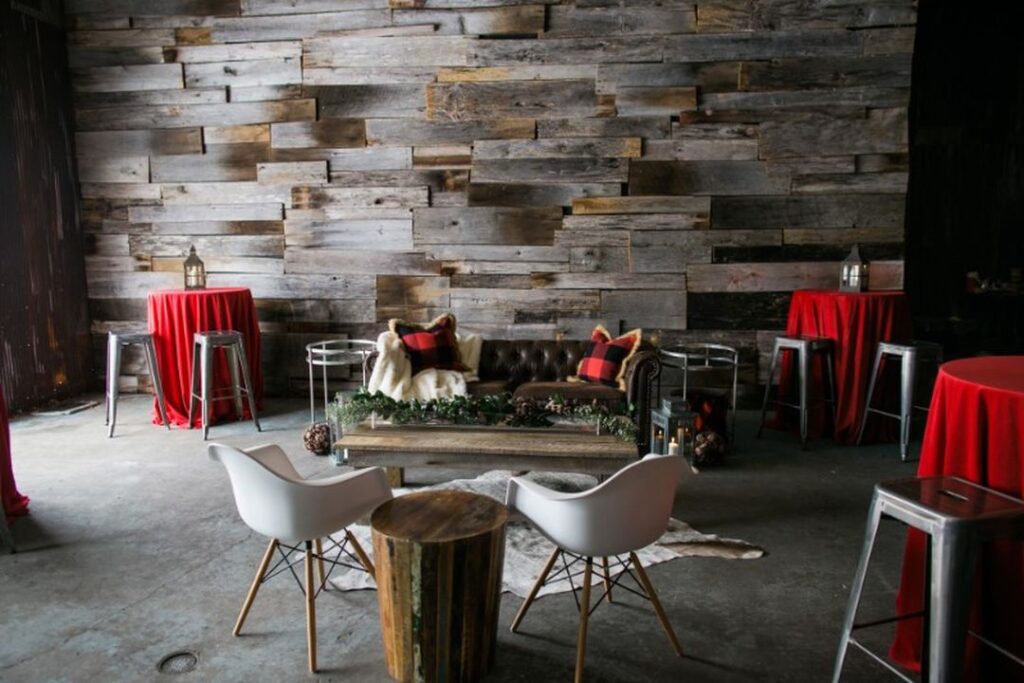 Want to feature these modern vintage rentals at your holiday party in Nashville? Send our team a message at info@southerneventsonline.com for help selecting the perfect pieces for your gathering, big or small!
TAGS | Holiday Parties, Holiday Party Ideas, Nashville Holiday Parties, Southern Events Party Rental, holiday tablescape, modern vintage rentals
FEATURED RENTALS | White Round CHina, Gold Rim Glass Charger, Abby Flatware, White Round Porcelain Charger, Ophelia China, Gold Austin Flatware, Ivory Pearl Shalimar, Victoria Gold Luxe Linens, Scarlet Red Velvet, Magnolia Gren Velvet Linens, napkins, audrey gold rim glassware, vintage rug, bamboo arm chair, white eiffel arm chair, gold hammered coffee table, monaco glassware, pure glassware,
---
5

Nov

On Trend, Southern Events Products, Trends and Inspiration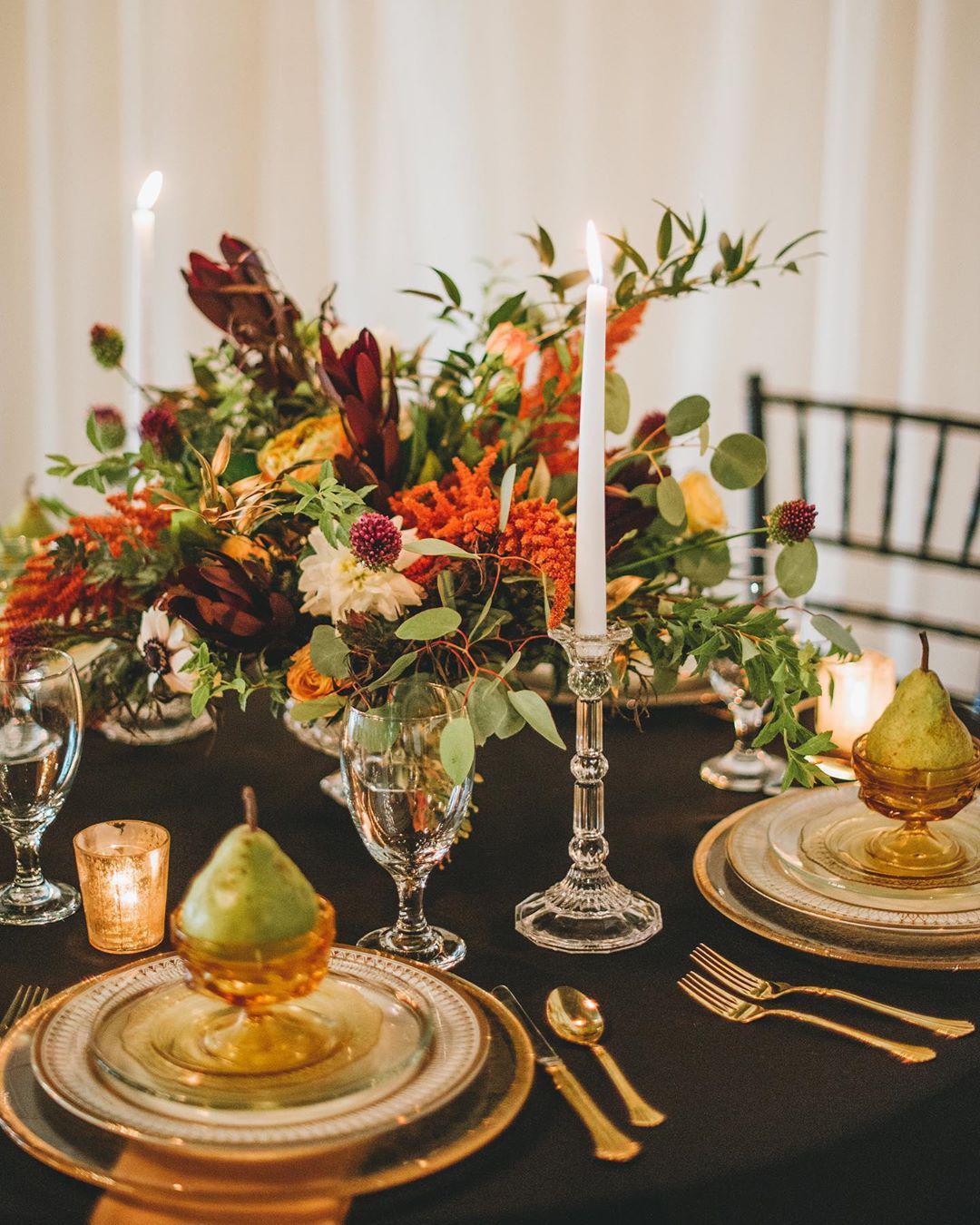 Create a stylish table for your guests with holiday rentals from Southern Events! We've curated some of our favorite tips for making your holiday tablescapes sophisticated yet unique. Whether you're hosting Thanksgiving for family and friends or having a festive holiday gathering in December or January. Count on Southern Events to help you make your Middle Tennessee holidays special!
Holiday Theme: Warm + Cozy
We love the idea of coming home for the holidays – especially this year – so make your holiday rentals extra hygge. Greet guests with warm wood farm tables, soft velvet linens, & glowing candles in glass vases for a cozy ambiance they'll love.
Featured Rentals | Farm Tables, Earthen China, Gold Rim Glass Charger, Austin Gold Flatware, Pure Glassware, Colored Glassware, Davis Glass Cylinders, Fern Velvet Linens
Holiday Theme: Go Bold
Rules have long been thrown out this year so have a little fun with your holiday table this year. Try a bold, untraditional color for your holiday linen rentals like a spiced pumpkin orange or deep Mediterranean blue, and combine with our luxurious new linen textures such as our etched velvets, rustic Havana, and polished Kennedy linens.
Featured Rentals | Medallion Gold Glass Charger, Cybil Glassware, Spice Velvet Linens, Silver Etched Velvet Linens, Brushed Copper Flatware, Coronado Gold Accent China, Navy Dupioni Linens, Storm Kennedy Linens, Lagoon Linens, Colored Glassware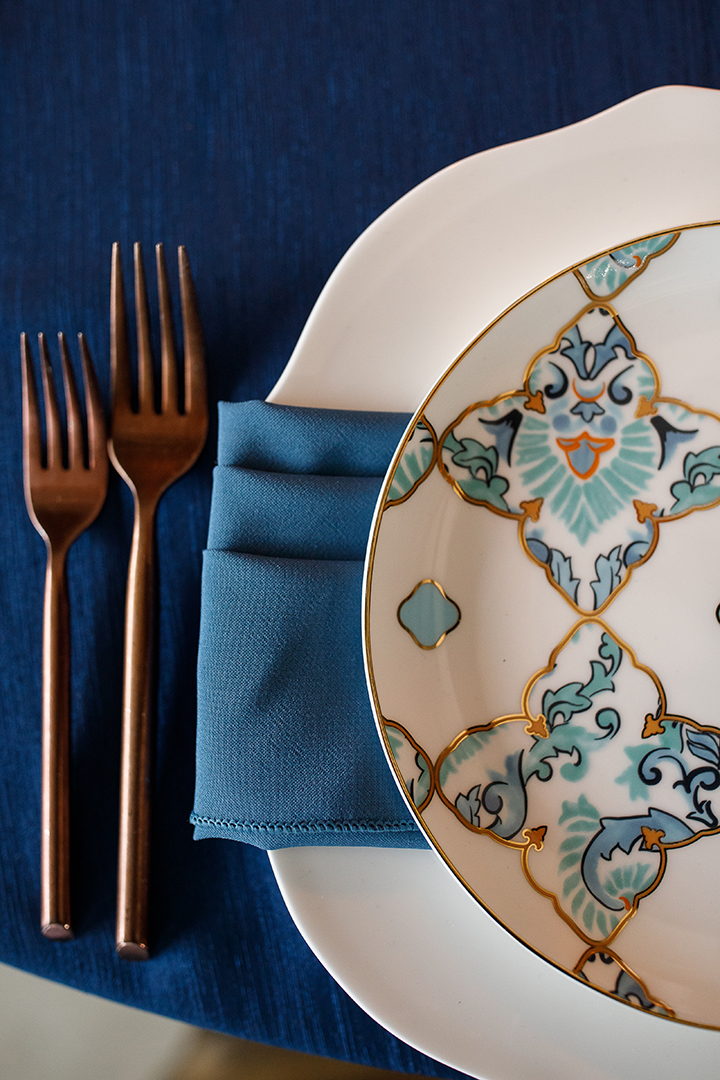 Photo | Courtney Davidson Photography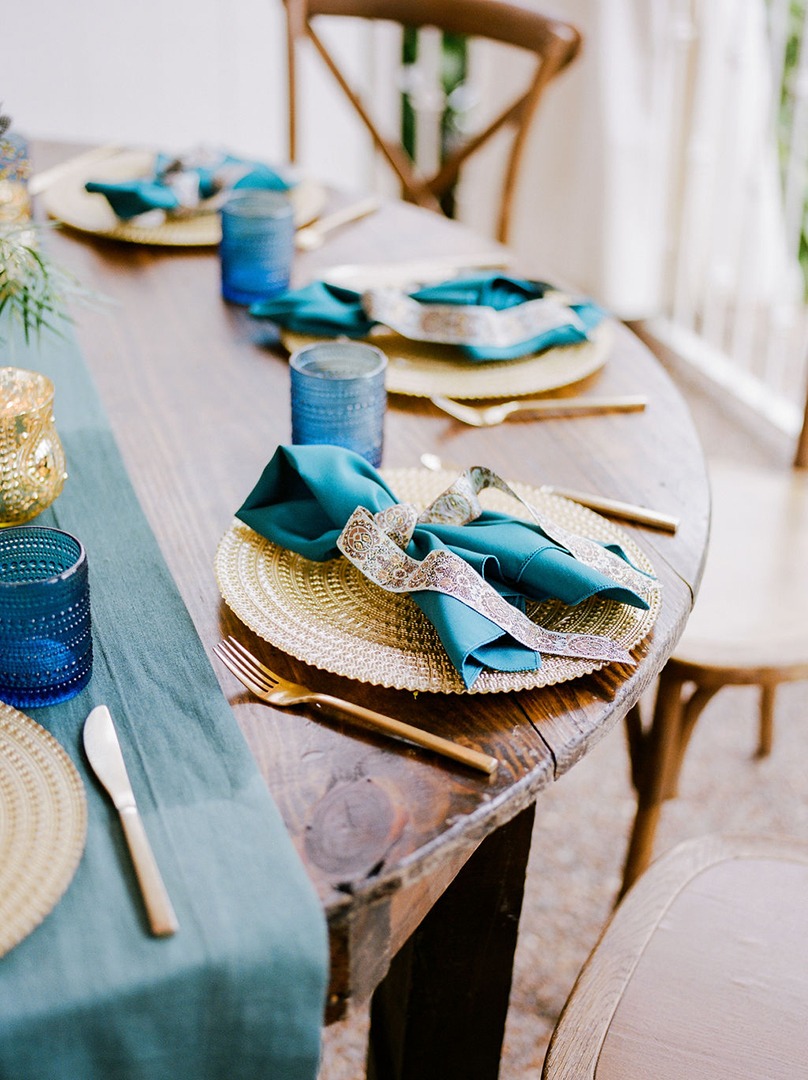 Photo | Jenna Henderson
Holiday Theme: Natural Beauty
Enhance your traditional holiday tablescape by adding fruit to your Thanksgiving pumpkins or winter greenery. Pomegranates pop off our satin and velvet linen rentals for a luxe winter look. Let wheat, apples, and artichokes on a greenery garland and celebrate the harvest season with farm tables and cross-back chairs. Pears adorn a whimsical and elegant floral holiday tablescape with our Carrera Mable plates, gold flatware, Harlin chairs, and velvet linen rentals.
Featured Rentals | Sterling Velvet Linens, Russet Satin Linens, Stemless Glassware, Farm Tables, Crossback Chairs, Carrera Marble Dinner Plates, Harlin Chairs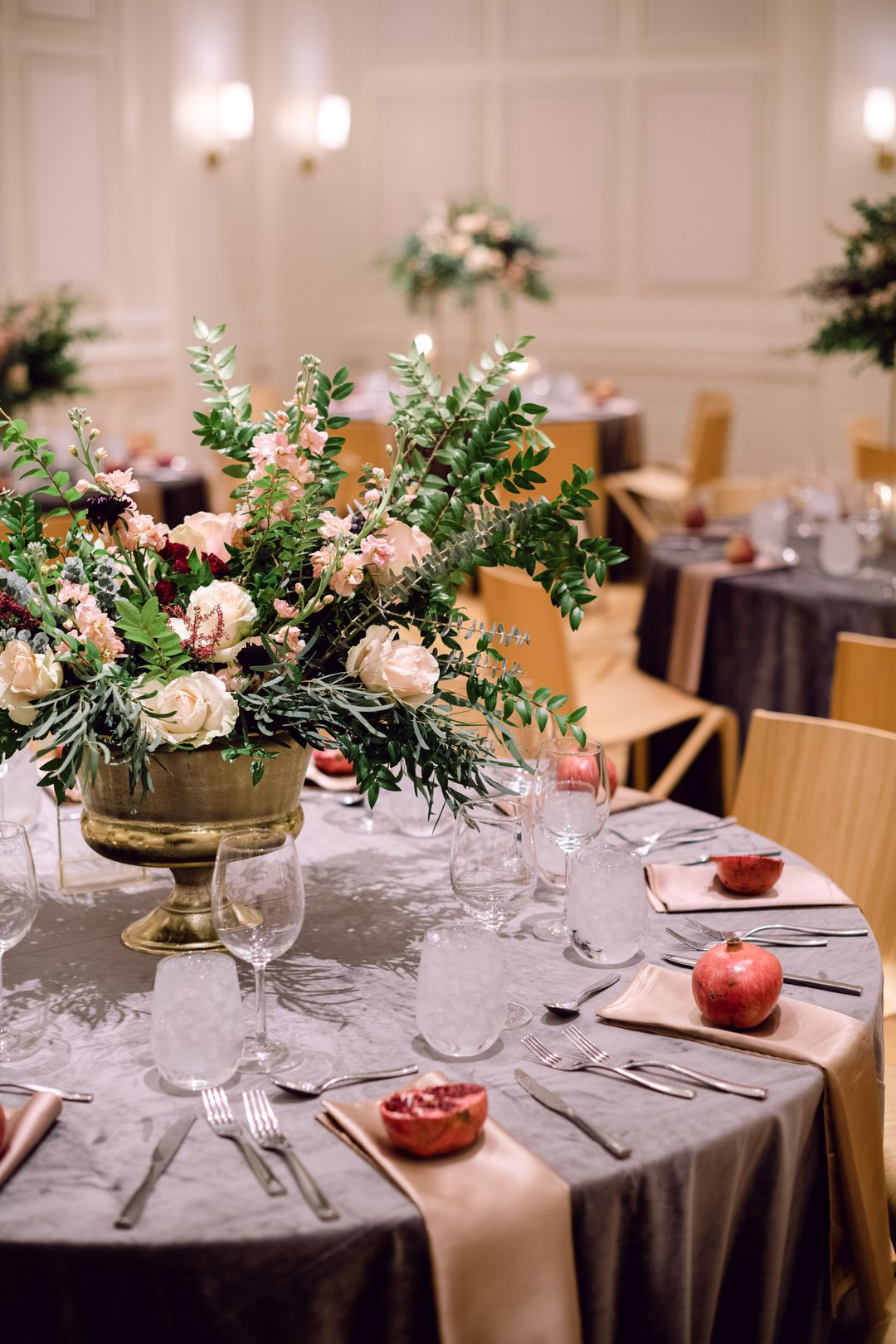 Photo | Haint Blue Collective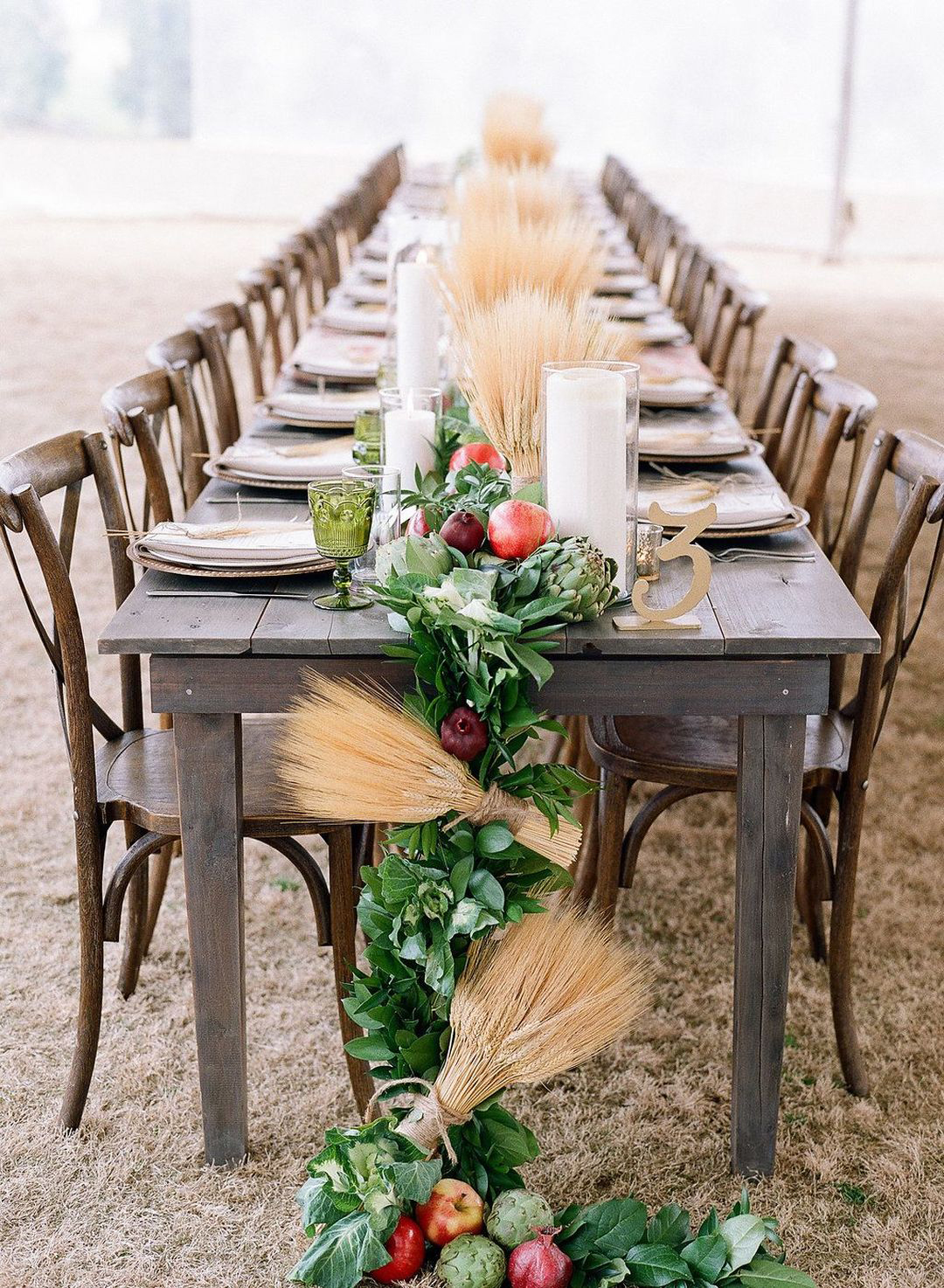 Photo | Cassidy Carson Photography
Photo | Alex Thornton Photography
Don't Forget the Food! Holiday Buffets
Don't forget the food service when planning your holiday meal. Your holiday buffet and service rentals can be just as beautiful as your tablescape. Our catering service rentals offer the best of both worlds. Serve hot beverages from our gorgeous hammered coffee urns while you keep food warm in our coordinating hammered chafing dishes. Host your best cocktail hour with our wide range of glassware rentals. And dish up your holiday dessert buffet with our pedestals that are perfect for pie!
Featured Rentals | Hammered Copper Coffee Urn, Hammered Silver Coffee Urn, Davis Glassware, Earthen China Mugs, Gold Metal Intersect Cube, Wyatt Pedestals, White Wash Farm Table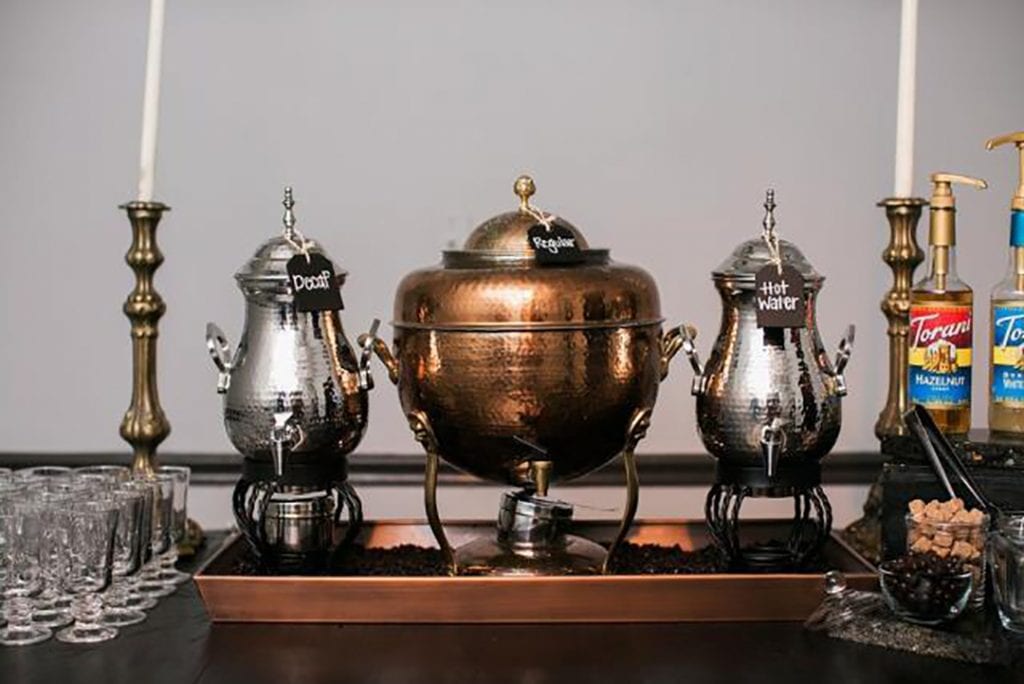 Photo | Jen & Chris Creed Photographers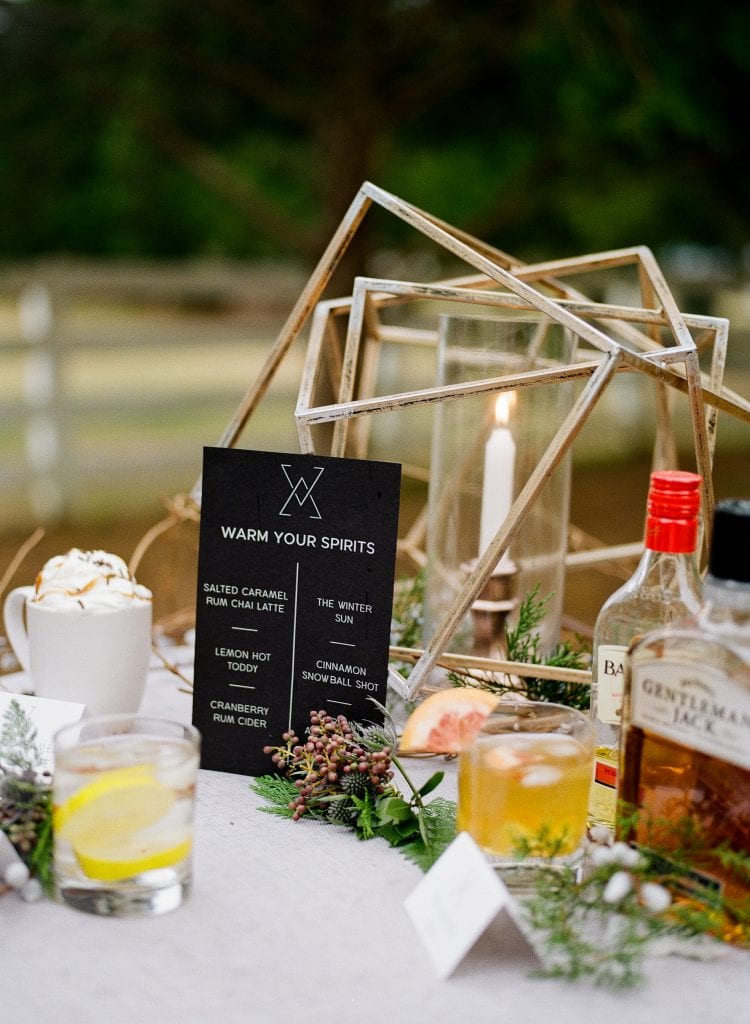 Photo | Jenna Henderson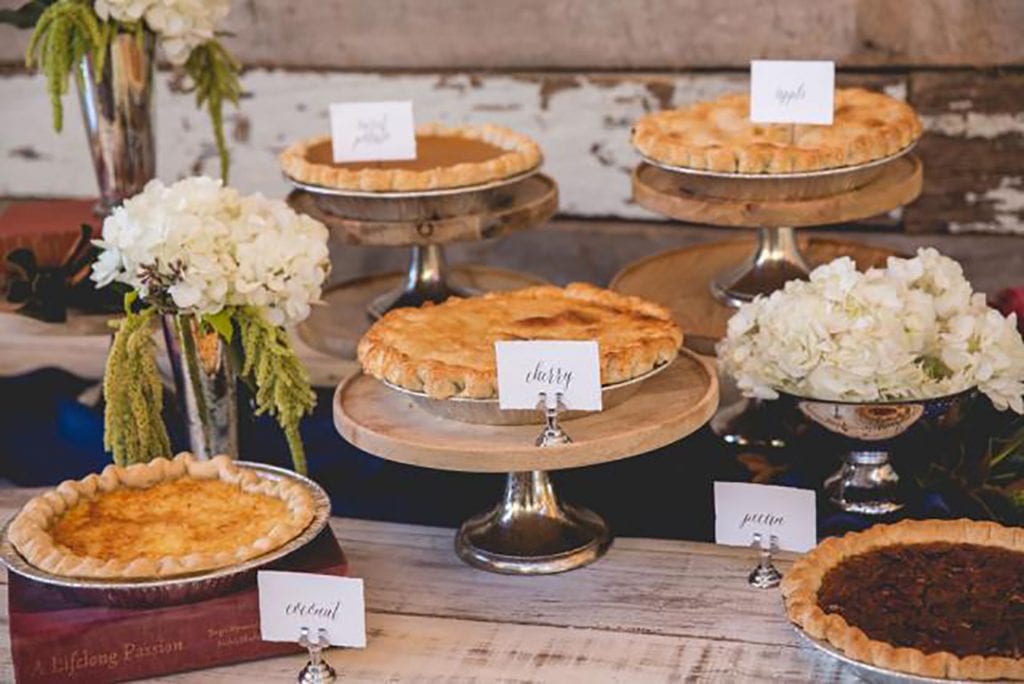 Photo | SheHeWe Photography
Want more creative holiday rental ideas?
Look no further! Download our Holiday Style Guide then contact the Southern team to reserve your rentals today!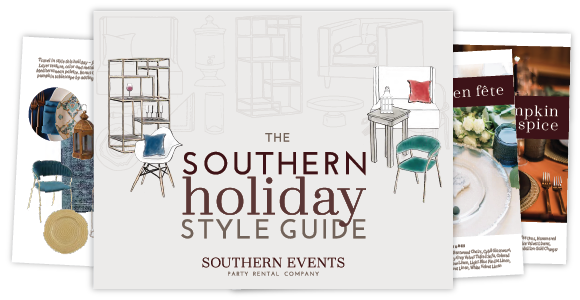 TAGS | Holiday Parties, Holiday Party Decor, Holiday Party Ideas, Thanksgiving, Thanksgiving Decor, holiday decor, holiday party, holiday party rentals, holiday rentals, holiday tablescape, tablescape inspiration, tablescape rentals, thanksgiving tablescape
FEATURED RENTALS | Farm Tables, Crossback Chairs, Harlin Chairs, Earthen China, Gold Rim Glass Charger, Gold Accent China, Austin Gold Flatware, Hammered Coffee Urns, Wyatt Pedestals, Fern Velvet Linens, Spice Velvet Linens, Sterling Velvet Linens, Silver Etched Velvet Linens, Storm Kennedy Linens, Brushed Copper Flatware, Coronado Gold Accent China, Navy Dupioni Silk Linens, Carrera Marble Dinner Plates, David Glassware, Gold Intersecting Metal Cube, Gold Medallion Charger, Cybil Glassware, Colored Glassware
---
7

Nov

Southern Events Products, Trends and Inspiration
 Let Southern Events do the dishes & decor!

We can't believe it, but the holidays are right around the corner! What better way to enjoy spending time with those you love than to start planning ahead to make sure your holiday events are perfectly executed? This Thanksgiving season, we're grateful for another successful year and want to help you have a successful Thanksgiving feast for family and friends. Take some of the work out of the holiday rush by letting Southern Events create a beautiful tablescape with linens, china and glassware from our inventory.  Plus, we wash all the dishes, leaving you more time to enjoy your family and friends.
Need an extra table?  go for wow-factor with our rustic Farm Table – the perfect size for a feast of 8 to 10 guests.  Also available in Mini (4 to 6 guests) and White Wash finish, our Farm Tables are perfect for Thanksgiving and mix well with a variety of decors.
Yes – we rent chairs, too! Our Chiavari Chairs,  available in four colors – fruitwood, gold, black and white – will add functional elegance to your Thanksgiving celebration. For a more rustic look, our Cross-Back Chairs are a favorite option (as well as being super comfortable).
Thanksgiving tablescapes done easy.  Chargers, china, napkins and more – Southern Events has signature pieces to work with all types of decor.  Our Faux Wood or Belmont Chargers will make a statement out of your place setting.  Heirloom china from our Vintage Prop Shoppe is the perfect dish to serve your family's heirloom recipes.  Choose a vibrant fall napkin to finish your table (available in over 45 colors as well as specialty linen options) – just make sure to rent a few extra for your bread baskets or food displays to tie the whole look together.
Don't have enough glassware? Rent anything from water goblets, wine glasses, coffee mugs or barware from our wide selection of glassware (plus we handle all the clean-up!)
Don't forget the centerpiece! At Southern Events, we've got you covered with an abundance of lanterns and votives candle holders.
When planning the dinner party of the year, renting the dishes, decor, tables and chairs  to make the day go off without a hitch is a Southern secret we have let out of our bag so please remember to book early!  For more creative ideas from the Southern staff for your Thanksgiving celebration, please call to schedule an appointment with us, 615.595.8508.  The countdown is on…  Thanksgiving is only 21 days away!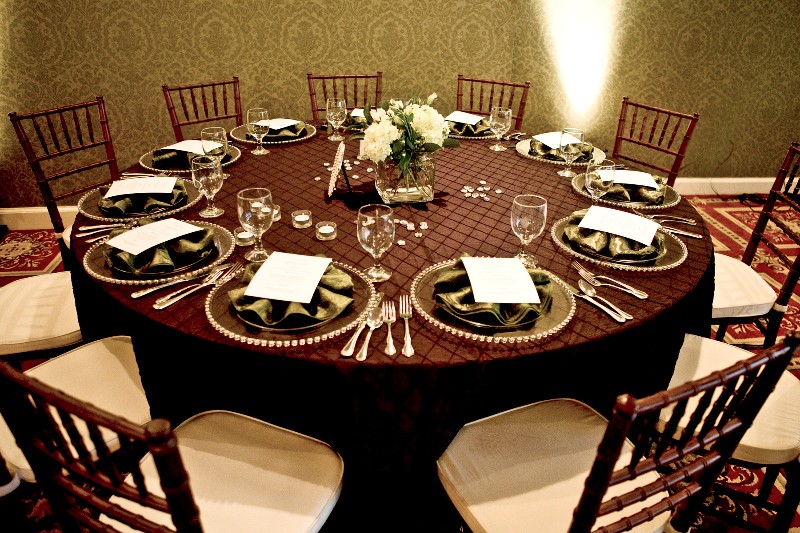 TAGS | Dinner Parties Rentals, Holiday Parties, Southern Events Party Rental, Thanksgiving Decor
FEATURED RENTALS |
---