9

Feb

Southern Style | Unique Themes for Kid's Parties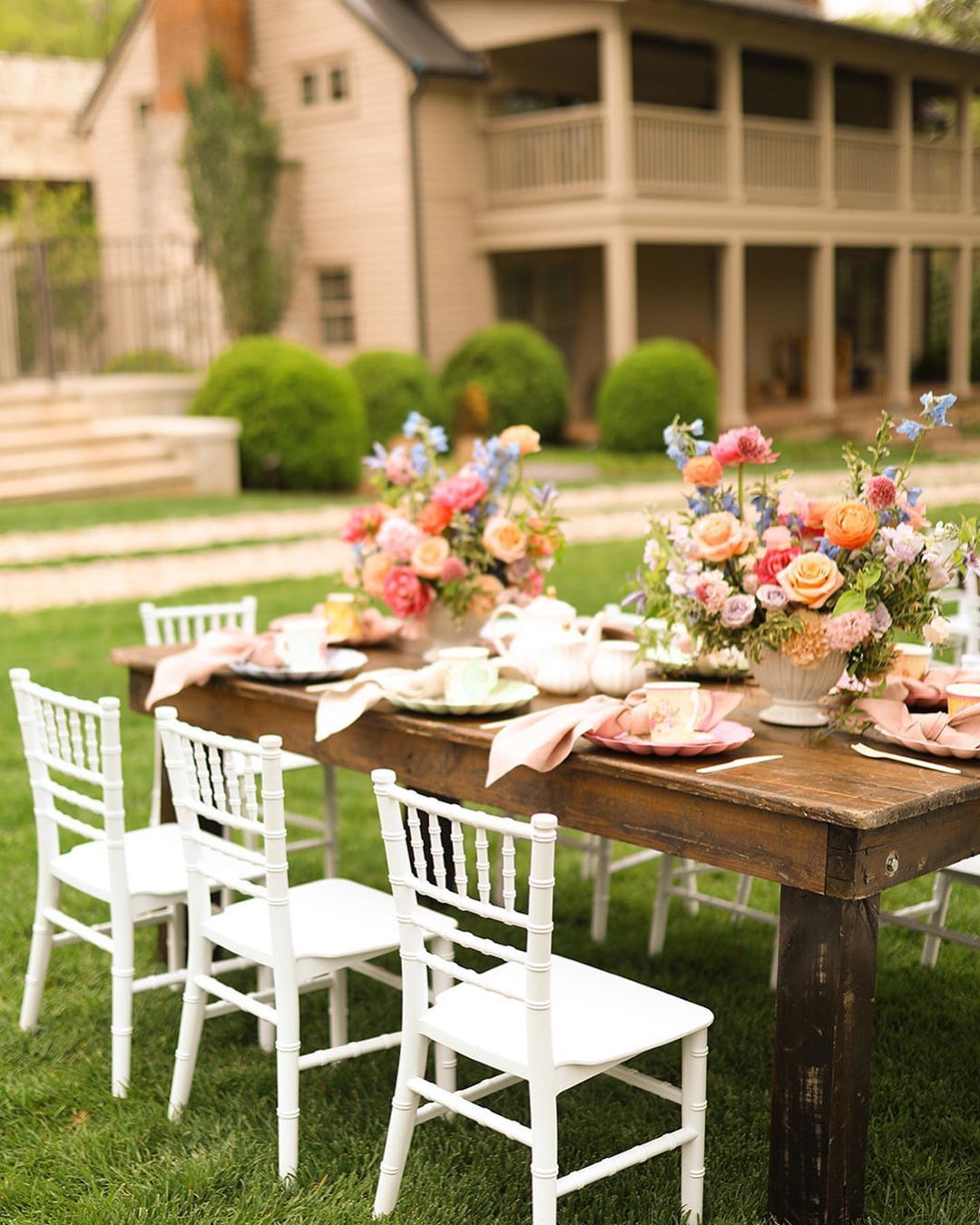 Whether you're hosting a simple family-focused get-together or going all out on your child's special day, we've curated a few on-trend kid's party themes with stylish rentals. We have everything you could want or need, from colorful linens to photo backdrops and children's furniture. Children's parties are hard, so let the style experts from Team Southern help find a fun and memorable theme that your child and their friends are sure to love.
Under the Sea
Make a splash with this unique birthday party theme! Featuring trendy acrylic furniture, silver metallics, and cool-toned linens, it's a fun option whether your child is into sea creatures or the magic of mermaids. Various shades of blue are perfect for a classic underwater adventure or add in shades of mint and purple to create a mermaid lagoon! Create a colorful sea-themed treat station atop our Franklin Columns with an Acrylic Top using a mix of cake stands and Family Style Serving Pieces. Display favors on the Silver Bookcase, whether it be toys or doggy bags. Easily create a matching tablescape for activities or cake with Acrylic Children's Chiavari Chairs and metallic place settings, in silver or gold.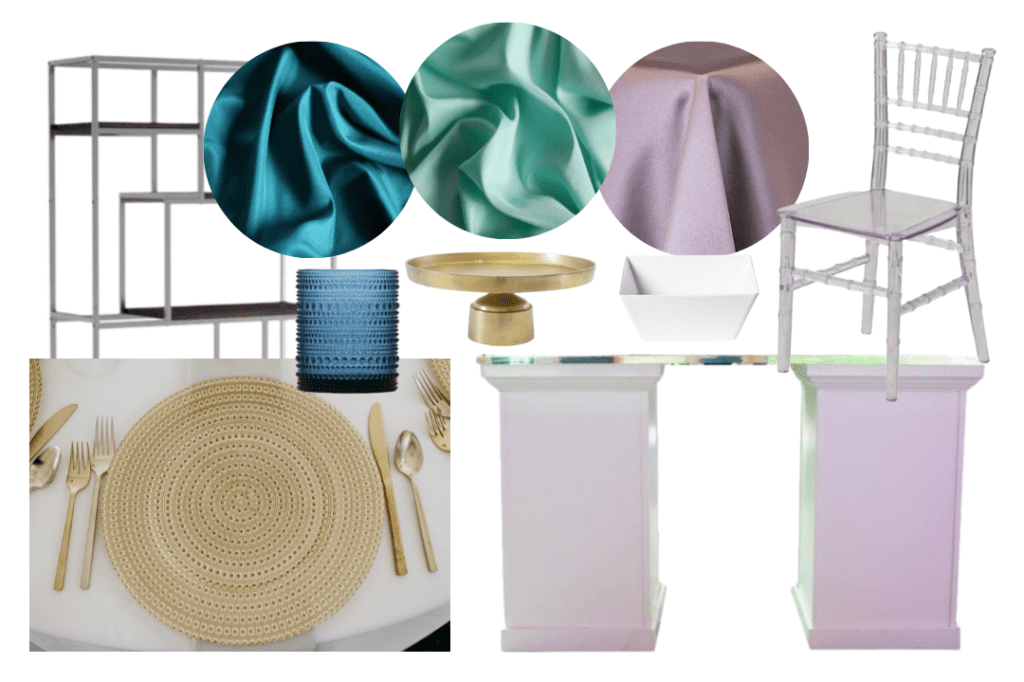 Featured Linens: Wisteria Satin, Aqua Poly, Lagoon Poly
Cloud Nine Spa Party
One of our favorite kid's birthday party packages, this dreamy pastel spa party is a fun way to treat kids to a trip to the salon. Start with a photo opportunity using our Boxwood Wall customized with signage or balloons. Next, allow kids to pick a polish from our Gold Bookshelf, along with other fun spa-themed products. While their nails are painted, they can sit comfortably in Pink Children's Chiavari Chairs. Afterward, they can enjoy cake or fresh popcorn from our vintage machine. Allow them to partake in a colorful self-serve drink station, or use our Champagne Flutes for fizzy party drinks.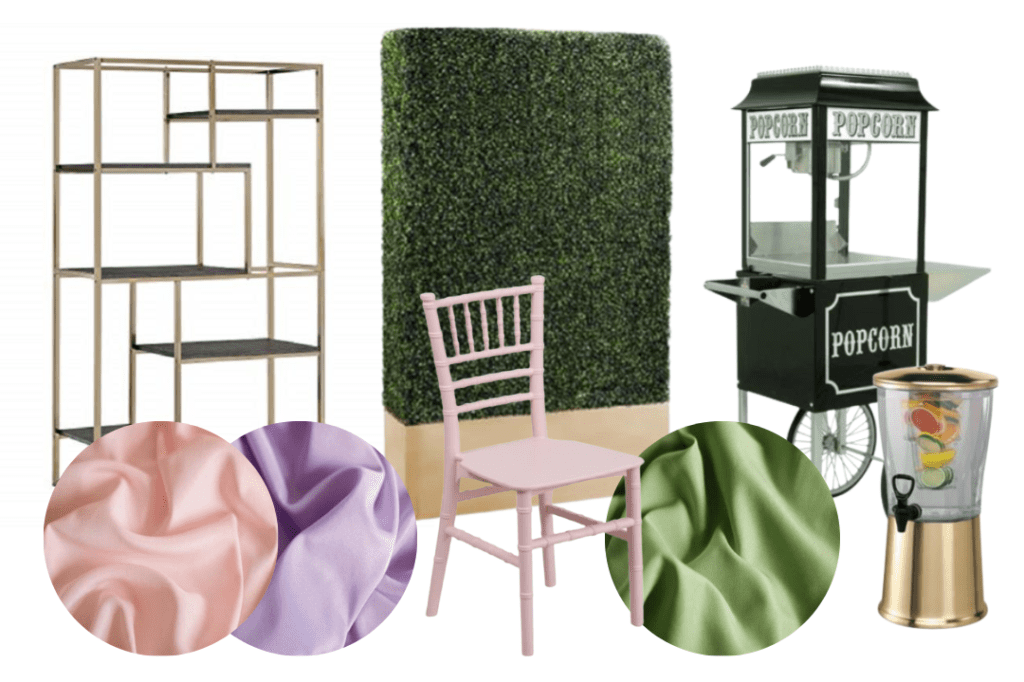 Featured Linens: Lilac Poly, Ice Pink Poly, Sage Poly
Sweet Street
What kid doesn't love sugary treats? This Sweet Street theme is a versatile theme that you can customize depending on your child's favorite snacks, whether it be ice cream, cookies, candy, or even popcorn. Welcome guests to your event with a red, purple, or hot pink carpet. Inside or beneath your event tent, create colorful displays for guests to partake in throughout the day. Such as cupcakes placed on our White 6-Tier Serving Tower or a candy station on the White Market Cart – create dimension with different height cake stands. If you plan to have ice cream or similar treats catered, we have a range of beautiful glass dishes. Kids can then enjoy their food at our Children's Fruitwood Farm Table outfitted with bright linens and children's chairs.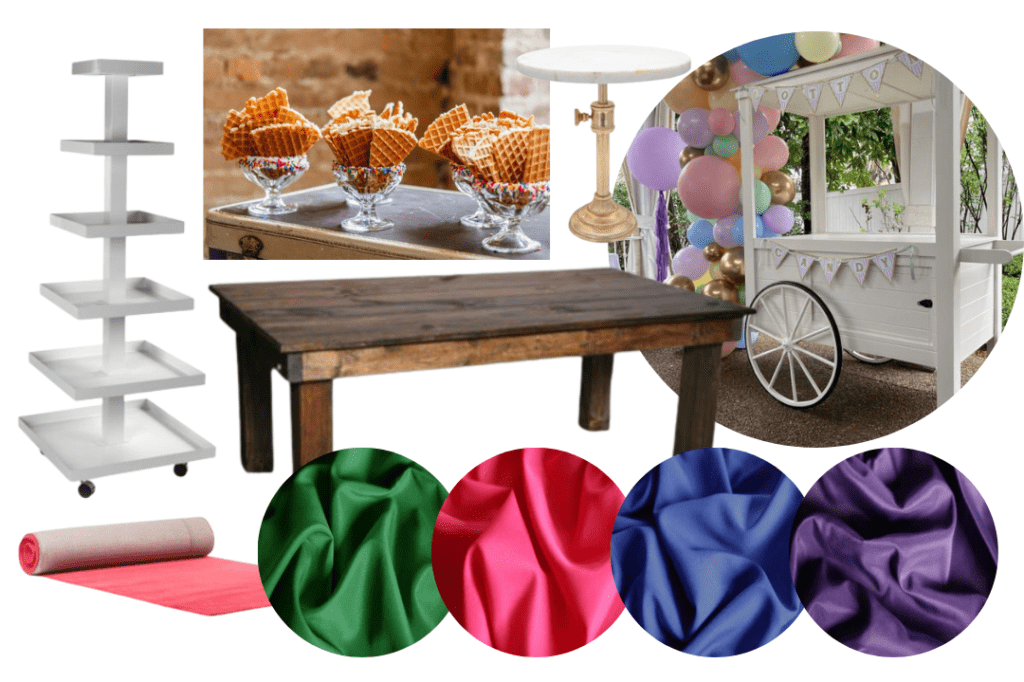 Featured Linens: Moss Poly, Hot Pink Poly, Royal Poly, Purple Poly
High Tea
A tea party is a classic way to spend a birthday and is a great option for both morning and afternoon celebrations. Create a rustic chic look using Children's Fruitwood Farm Tables and White Children's Chiavari Chairs. Outfit them with whimsical linens in shades of peachy pink and dusty blue hues. Vintage rugs are a fun and cozy touch, especially when paired with a mix of poufs. Say our Chocolate or Turkish Rug Ottomans. Serve light bites, like finger sandwiches and hand-held desserts, on Willow Pedestal Cake Stands or Silver Trays. Lend to the cutesy vintage vibe when you feature place settings made of Heirloom China and Tea Cups. Complete the fantasy with a Silver Tea Server and sugar bowls!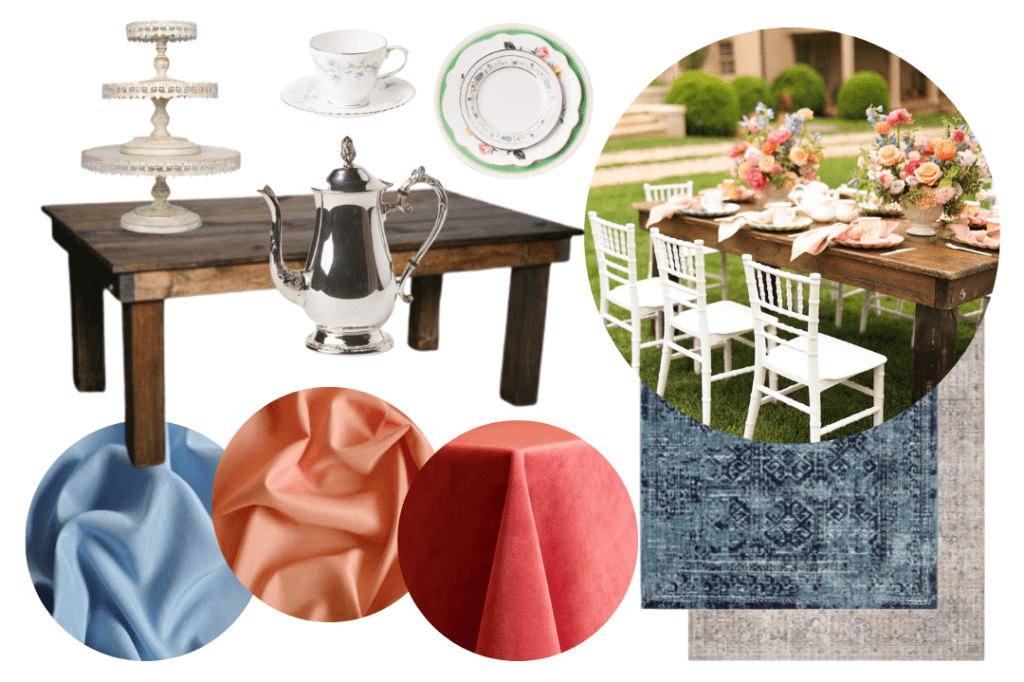 Featured Linens: Light Blue Poly, Coral Poly, Coral Velvet. Want more ideas? Sign up to receive our Kid's Birthday party Style Guide & Checklist for great party tips and 2 more themes!
Not even sure where to start? Our team is available to help! Think of us as your Southern Event Secret Stylists – because we do all the work and you get all the points with the kids. We would love to talk through the details of your event, so please contact our team.
FEATURED RENTALS | Franklin Columns with acrylic top, family style serving pieces, silver bookcase, acrylic children's chiavari chairs, wisteria satin, aqua poly, lagoon poly, boxwood wall, gold bookshelf, pink children's chiavari chairs, vintage machine, champagne flutes, lilac poly, sage poly, ice pink poly, white market cart, red carpet, purple carpet, hot pink carpet, white 6 tier serving tower, glass dishes, fruitwood farm table, moss poly, hot pink poly, royal poly, purple poly, white children's chiavari chairs, vintage rugs, chocolate pouf, Turkish rug ottoman, willow pedestal cake stand, silver tray, heirloom china, silver tea server, coral poly, coral velvet, light blue poly,
SEE MORE LIKE THIS