26

Sep

Escape to Narnia | Style Shoot from Southern Events
Our gorgeous Narnia inspired photo shoot from earlier this year has us longing for cooler weather!  We team up with Southern Soriee to create a wintry setting for a couple with a flair for the dramatic. For just the right amount of glimmer, our Mercury Glass really pops on top of our Farm Tables.  The rustic setting creates the perfect atmosphere for creativity- and we LOVE the feel the photographer captured in this set. Cool, crisp, rustic, elegant- Narnia is the best word to describe the otherworldly feel of this shoot. When you chose your placecards, we recommend a scripted cursive to bring out the delicate side of mercury glass. Our Belmont Chargers with silver beaded edges compliment the assorted mercury glass votives keeping an elegant feel integrated in this vintage look.
As with most settings, the more lighting, the better! We have a wide variety of tabletop lighting available to rent to suit all of your unique event needs. If you're looking for the perfect vintage addition to the farm tables, we recommend our Cross-back Chairs or our Constance Chairs, which are pictured below. Our Abby Fine Silverware finalizes the look with swirling delicate silver patterns that perfectly adorn the tabletop.
Thanks to Jessie Holloway for her awesome pictures you see below of this unique and fun shoot – Enjoy!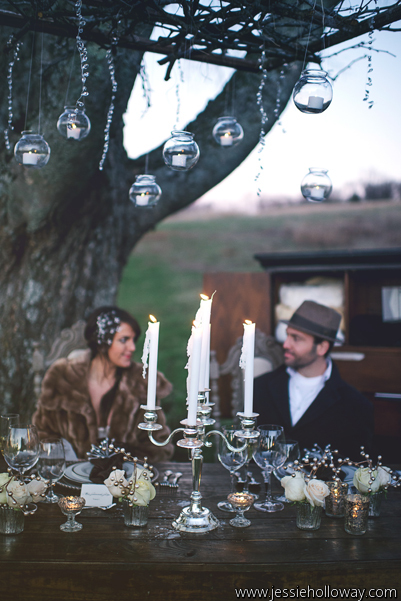 FEATURED RENTALS |
SEE MORE LIKE THIS