22

Apr

Nashville Venues, Nashville Wedding Vendors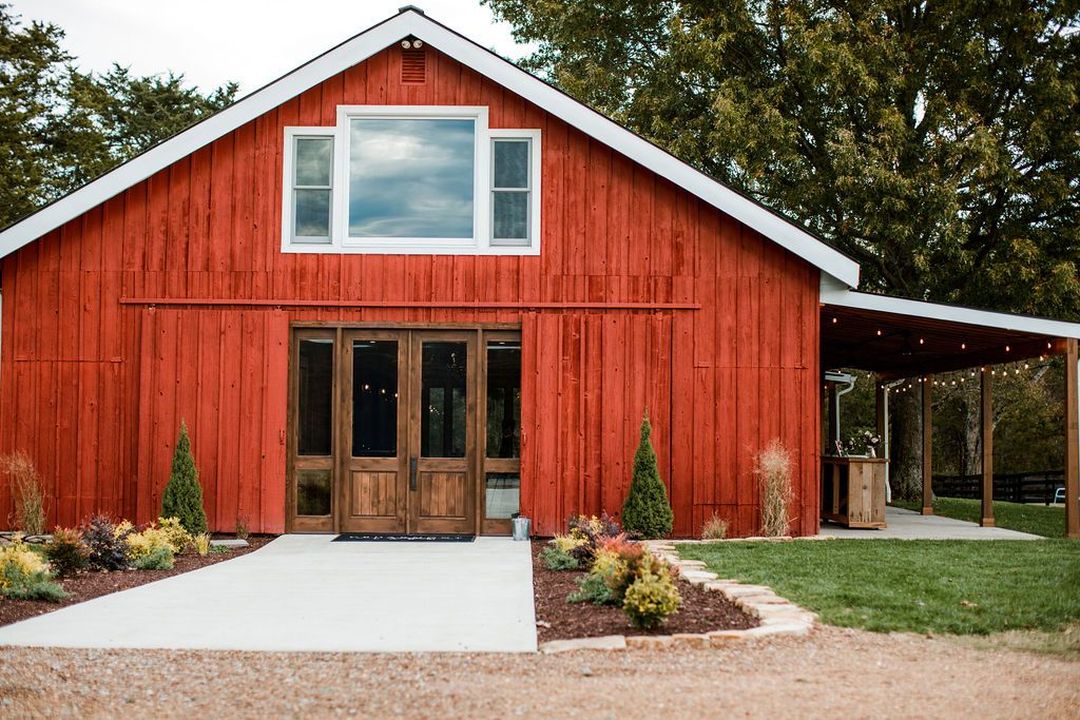 The following is a guest post from one of our vendor partners, Cedarmont Farm. Their venue manager, Colleen Kelly shares her wedding tips and questions to ask your wedding venue. We encourage you to get in touch with their team about hosting an event and we hope you find the content helpful! 
---
Congratulations, You're engaged! Now what?? For many couples, the first part of wedding planning is choosing a wedding venue. Visiting venues is an exciting and fun part of wedding planning. With many different styles of wedding venues, it can help to narrow down what kind of venue you're looking for: rustic, modern, rooftop, or historic.  The options are endless! After choosing a wedding venue style fitting the look you envision, it's important that it fits your budget and offers the features you want.
We have helped lots of engaged couples at Cedarmont Farm create the wedding of their dreams. We do this by making sure couples asking the right questions so we ensure we're a good fit. These are just a few of the questions to ask your wedding venue that will help you decide if your wedding venue is a match!
1. In the case of weather, what is the rain plan?
We love an outdoor ceremony but in Tennessee, you never really know what the weather will be like. When planning an outdoor ceremony, ask your venue what options there are for rain and when you need to confirm your rain plan. Do you use the reception space, with chairs set up for a ceremony or California style with guests sitting at their tables? If you are flipping the wedding reception space, confirm where guests will go, how long it takes, and who's responsible for the flip?
For example, at Cedarmont Farm, our rain plan is in front of our large windows in the event barn. Chairs are set up for the ceremony and then our staff flips the space for the reception. Meanwhile, guests enjoy cocktail hour on the covered patio. Our patio also has vinyl sides to enclose it, in the case of wind or heavy rain. We require a 24-hour notice for our rain plan in order to set up.
Photo by John Myers Photography
2. What is your vendor policy? Can I bring in my own vendors?
Different wedding venues have different policies on vendors, so asking what their policies are is key. Some venues require that vendors are chosen from a preferred vendor list. Other venues require pre-approval for any vendors that you hire. Some venues offer "all-inclusive" packages where all your vendors are contracted by the venue. If the venue is all-inclusive or has a mandatory preferred list, be sure to ask if there is a fee to bring in other vendors of your choosing.
At Cedarmont Farm, we recommend choosing vendors from our preferred list. All are great at what they do, meet our pre-approval conditions, and have worked at the venue before. However, we do allow clients to bring in pre-approved outside vendors. Here we get copies of their insurance and for certain vendors having them sign our policy form as well as visit our venue. All of this is to make sure that your wedding day goes as smoothly as possible.
3. Do you require event insurance?
Most venues in our area require the couple to purchase wedding insurance, including Cedarmont Farms. Even if your venue does not, we HIGHLY recommend it. A big party of 100+ people with an open bar… what could go wrong? Unfortunately, a lot. And if your venue has you buying and bringing the alcohol on-site for a bar service to serve, make sure 'host liquor liability' is included in your insurance policy. This gives you some liability coverage for providing the alcohol. The venue and your vendors should all have their own liability insurance as well. Get special event insurance from a company like The Event Helper, Eventsured, and Wedsafe. At the time of this post, it was about $150 for a wedding with 125 guests.
4. How long is the venue rental?
When can vendors set up? When can the bridal party arrive? Can items be left overnight or dropped off the day before? What time is the ceremony? Clean-up time is often built into the rental time so make sure you get clarity on that. If you are planning on having a wedding party get ready at the venue, confirming there's enough time before the ceremony on-site to get ready as well as photos. For example, at Cedarmont Farm, our rental period starts at 10 am. The wedding party and vendors may come in at this time. The event must end (per noise ordinance) by 10 pm and clean-up must be done by 11 pm. Ceremonies normally start at 4 or 5 depending on the time of year and sunset.
5. Can I have sparklers for an exit? What about fire pits or floral chandeliers?
Why is this one of the important questions to ask your wedding venue? We all have that one décor item on our wedding Pinterest board that we definitely want at our wedding. But not everything is allowed at every venue. When installing decor at the venue, there may be certain restrictions on what can be set up or who can set it up. Even though your Aunt made you a custom fabric backdrop, the venue may have restrictions preventing her from nailing it into the venue's wall (better to rent a ceremony backdrop from Southern Events to hang this on!). If sparklers are a must make sure you ask them as many venues don't allow them for safety reasons.
At Cedarmont Farm, we do still allow sparklers for the exit (subject to change – we gotta keep you and your guests safe!). We don't allow confetti or glitter though.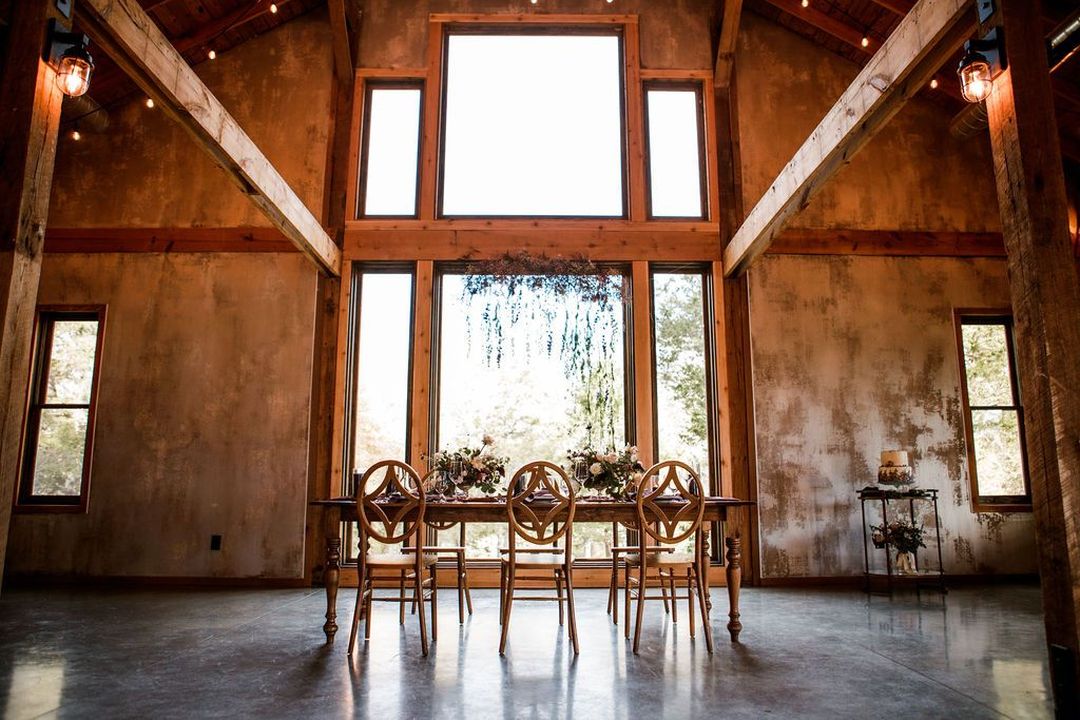 6. What can I expect my overall wedding cost to be at your wedding venue? What fees do I need to plan for?
This question can help you avoid a lot of stress later in your planning. Similar to buying a house that maxes out your budget – leaving you "House Poor", you can also be "Venue Poor". Spending all of your money renting the venue of your dreams leaves you feeding your guests saltines and water. Not a recipe for a memorable wedding. Be sure to ask prospective venues what the average total wedding budget is for their clients? Most venues should be able to answer this question to some extent, and if they can't, it's likely a red flag.
There are many line items in a wedding budget. One larger expense is catering – we recommend doing some research here before committing to their venue. Also, ask a venue what other fees you need to expect as well. Sales tax, operating fee, gratuity, venue insurance, and security fees are some of the most common. At Cedarmont Farm, we want your entire wedding to be what you envision and we're happy to delve into your budget to let you know what to expect.
7. What parking is available at the venue?
When you are looking at rural locations, parking is an often overlooked question to ask your wedding venue! So don't forget! Cars can get stuck in the mud when parking on grass and it has rained. Additionally, if parking isn't lit, your guests will have a tough time getting to their cars in the dark (especially when wearing heels). If you have any guests who need ADA parking you will want to ask about that as well. And for any guests who indulge a little too much, can cars be left overnight? At Cedarmont Farm, we have ADA parking as well as a gravel lot that is lit for guests. We do allow cars to be left overnight but they must be picked up between 8 and 10 am the following day.
8. Do you have lodging on-site? Are there hotels close to the venue?
Overnight accommodations are always a bonus at a wedding venue but many do not have them. However, your venue should be able to tell you how close they are to hotels and lodging options. If you're having lots of guests coming from out of town, having lodging close by is really important. As is the availability of transportation for any guests who need a ride back to their hotel. We love when our clients hire a shuttle to get their guests back to their hotel. If you're concerned about your budget, skip the favors and the koozies, and give them a safe ride instead.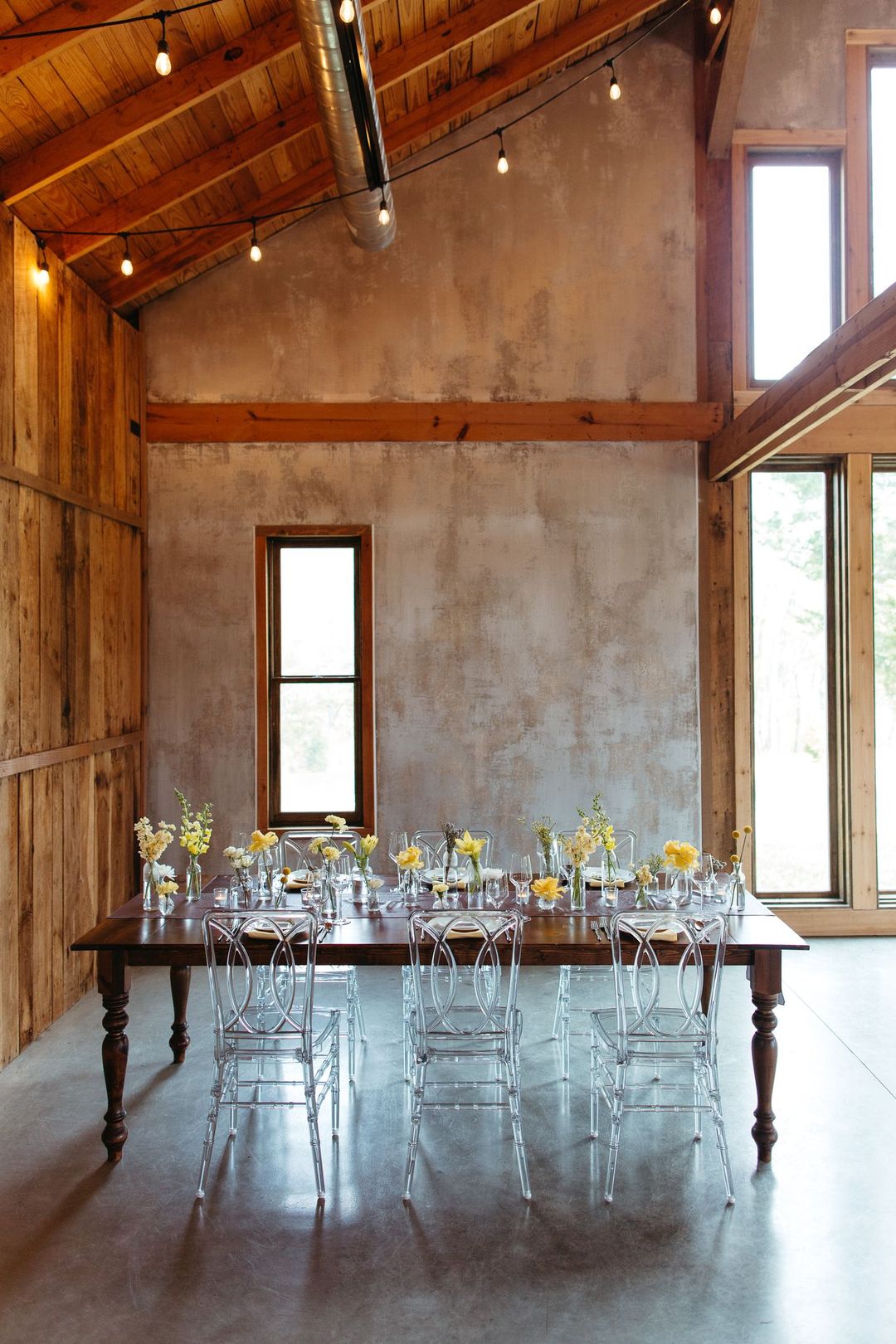 9. What are the rules for alcohol?
There are lots of questions to ask your venue regarding alcohol. Does your venue allow liquor or beer and wine only? Do they have a limit to the type of bar you're allowed (cash bar) or how long it's open? Does alcohol have to be purchased through the venue or do you bring it in? If you supply it, do you need to hire a bar service to serve it? If you are serving alcohol are you required to pay for security to be at the event? Some venues require shuttles if there is an open bar.
10. What is the setup and cleanup process? Will the staff handle it? What are we responsible for at your wedding venue?
Here is where details can fall through the cracks, leaving you to managing things at your wedding. Key questions to ask to avoid this: Does your venue include a day of coordinator? If not, do they require you to hire one? Will the venue staff help with the setup of décor items or do they just set up tables and chairs? For cleanup do you just need to clear your items out at the end of the night or are you expected to mop and sweep the floors? Where does trash go? Is that your responsibility? All of these things are good to know on the front end so you can fill in the gaps where you may need additional help.
Be sure to also ask about wedding planning add-ons or all-inclusive packages that take all the planning stress away, both before and the day of your event. This is something we offer at Cedarmont Farm beyond basic support. We're happy to tell you all about them – just ask us!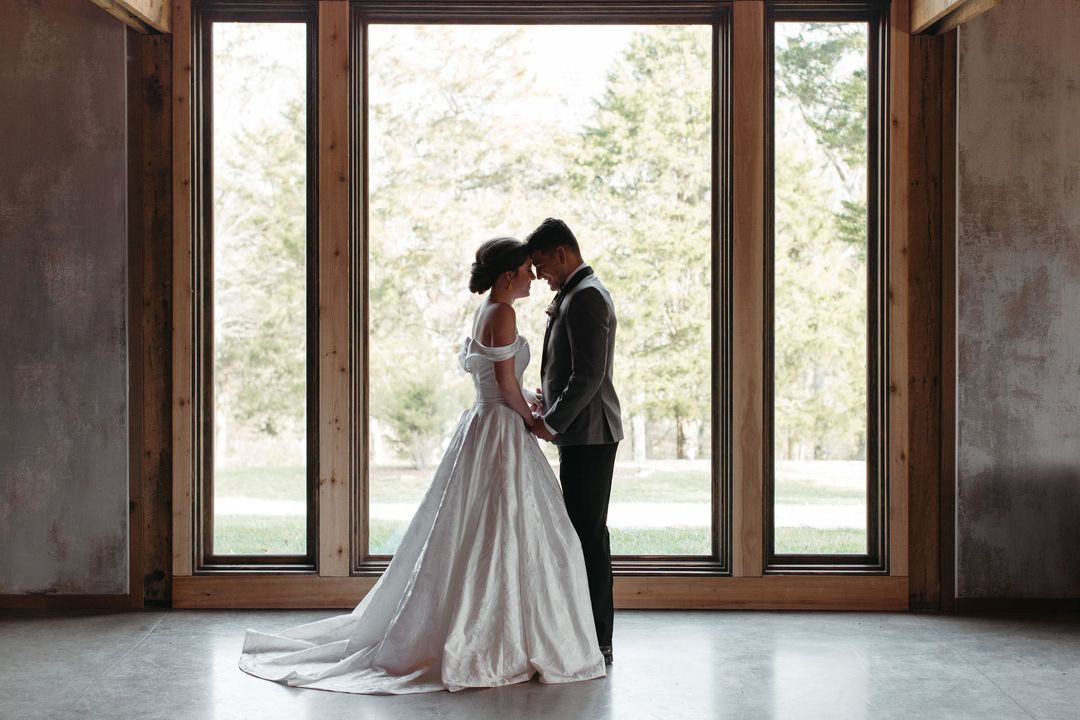 Photo by Gipe Photography
If you have additional questions for the team at Cedarmont Farm, do not hesitate to contact them directly at info@cedarmontfarm.com. Should you be in need of rentals for your special day, Southern Events is ready to help! Having worked with a long list of couples at Cedarmont Farm, we know the layout of the venue and can assist you in creating a rental package tailored to your unique style and needs. Reach out and let's get planning!
TAGS | Nashville Event Venue, Nashville Wedding Venue, Outdoor Nashville Wedding Venues, Wedding Planning Advice, nashville venue
FEATURED RENTALS |
---
10

Dec

Events and Style Shoots, Nashville Venues, On Trend, Southern Events Products, Trends and Inspiration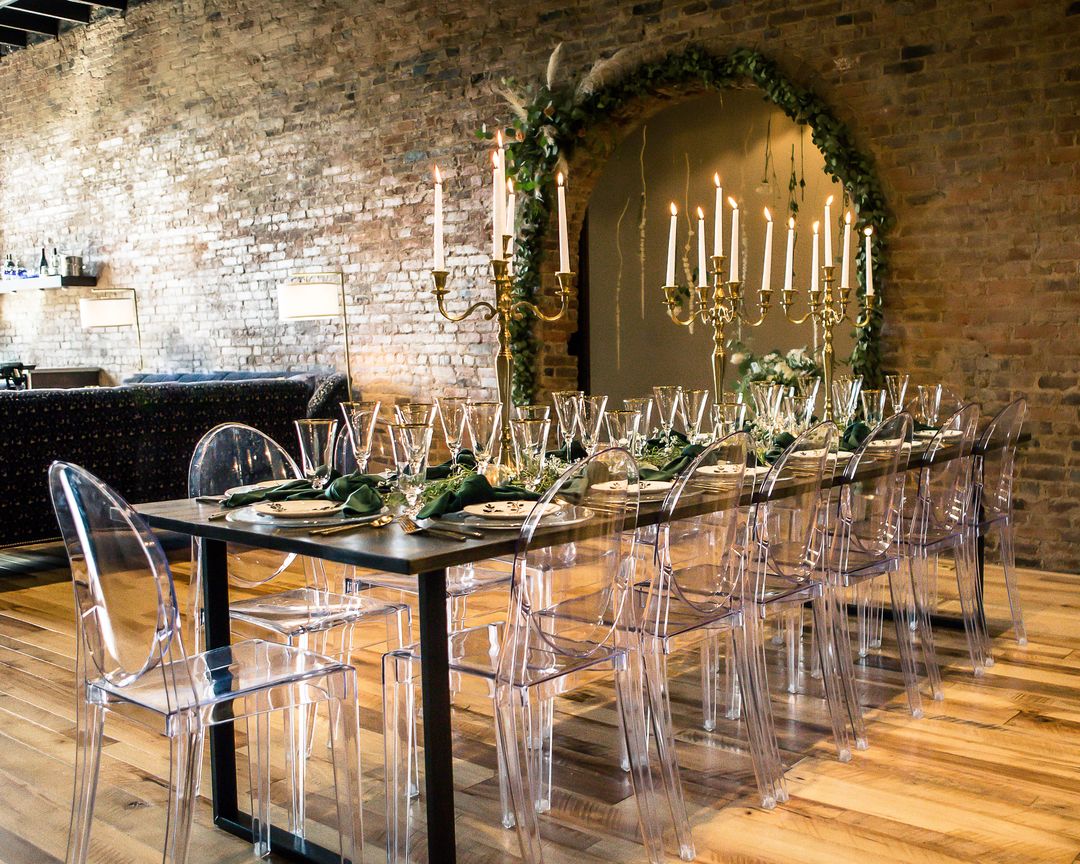 We love a good diner party and this emerald and gold styled shoot has us dreaming of luxe tablescapes for dinner parties and intimate weddings. Soiree on the Square in downtown Columbia, Tennessee was our host for the shoot and the perfect backdrop of cozy charm. Check out the details below, to get inspired for your own micro wedding reception or intimate dinner celebration!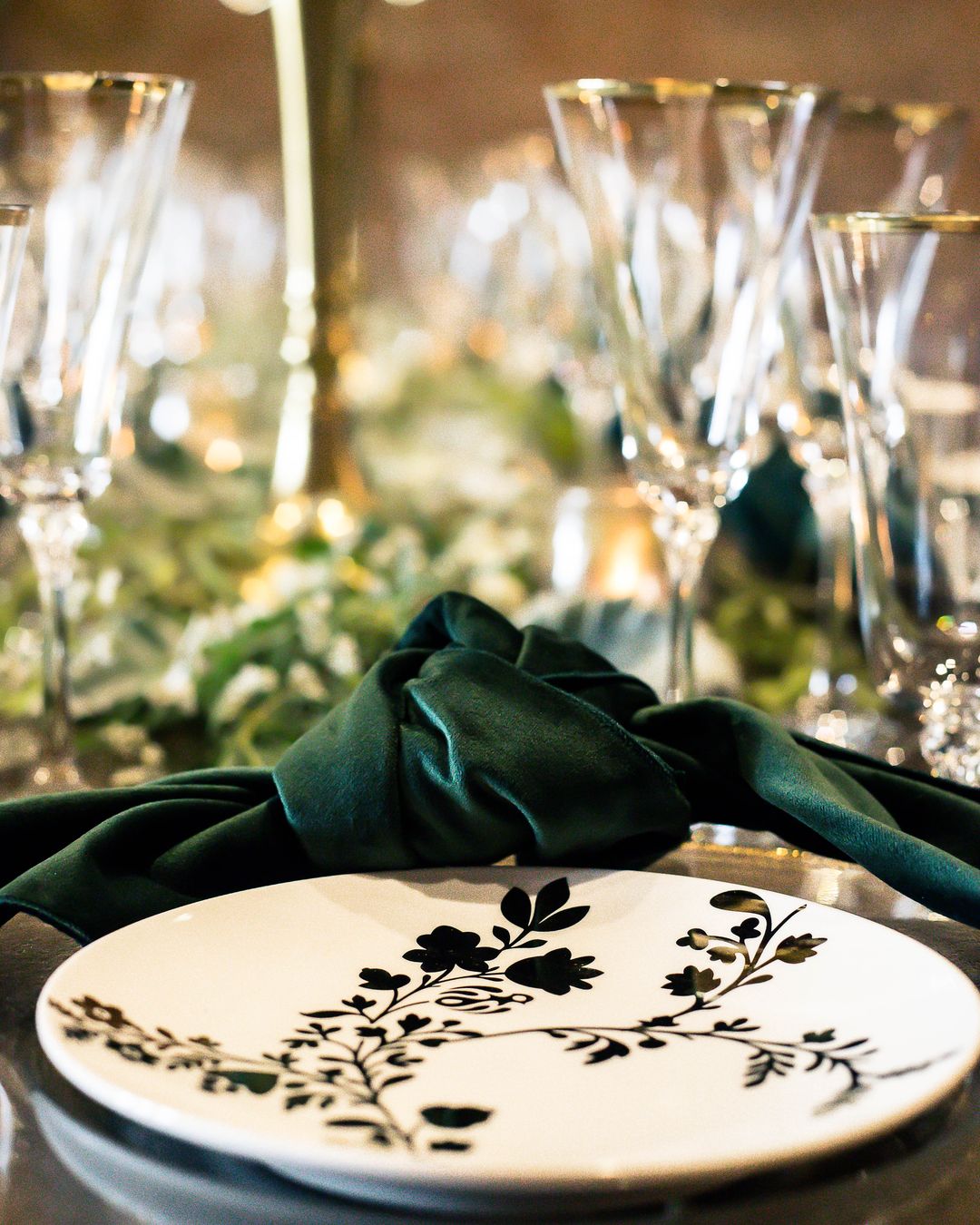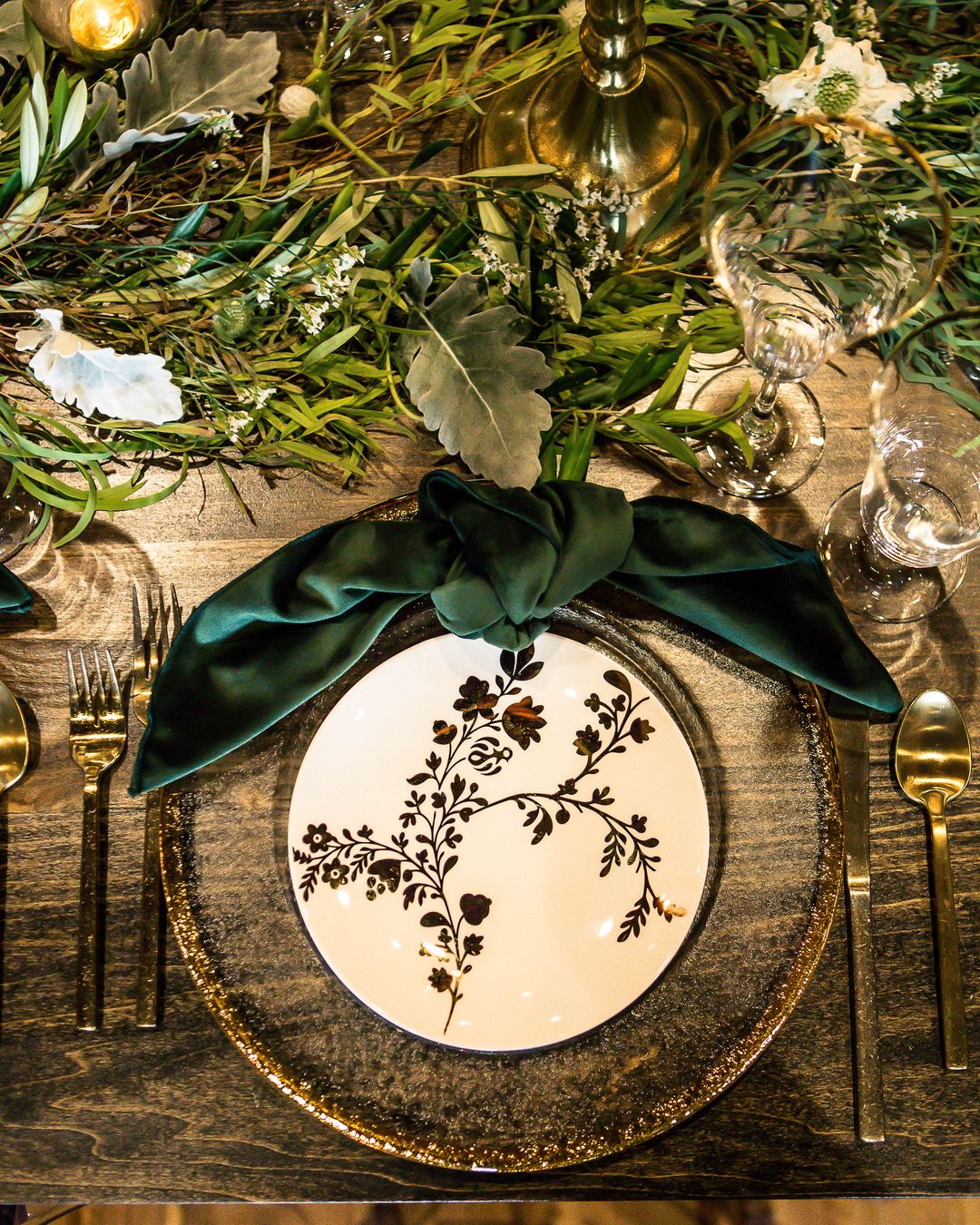 The Soiree on the Square is a gorgeous event space that mixes industrial architecture with contemporary furnishings. We contrasted the warm brick walls,  hardwood floors and industrial furniture with our modern
Acrylic Ghost Chairs
.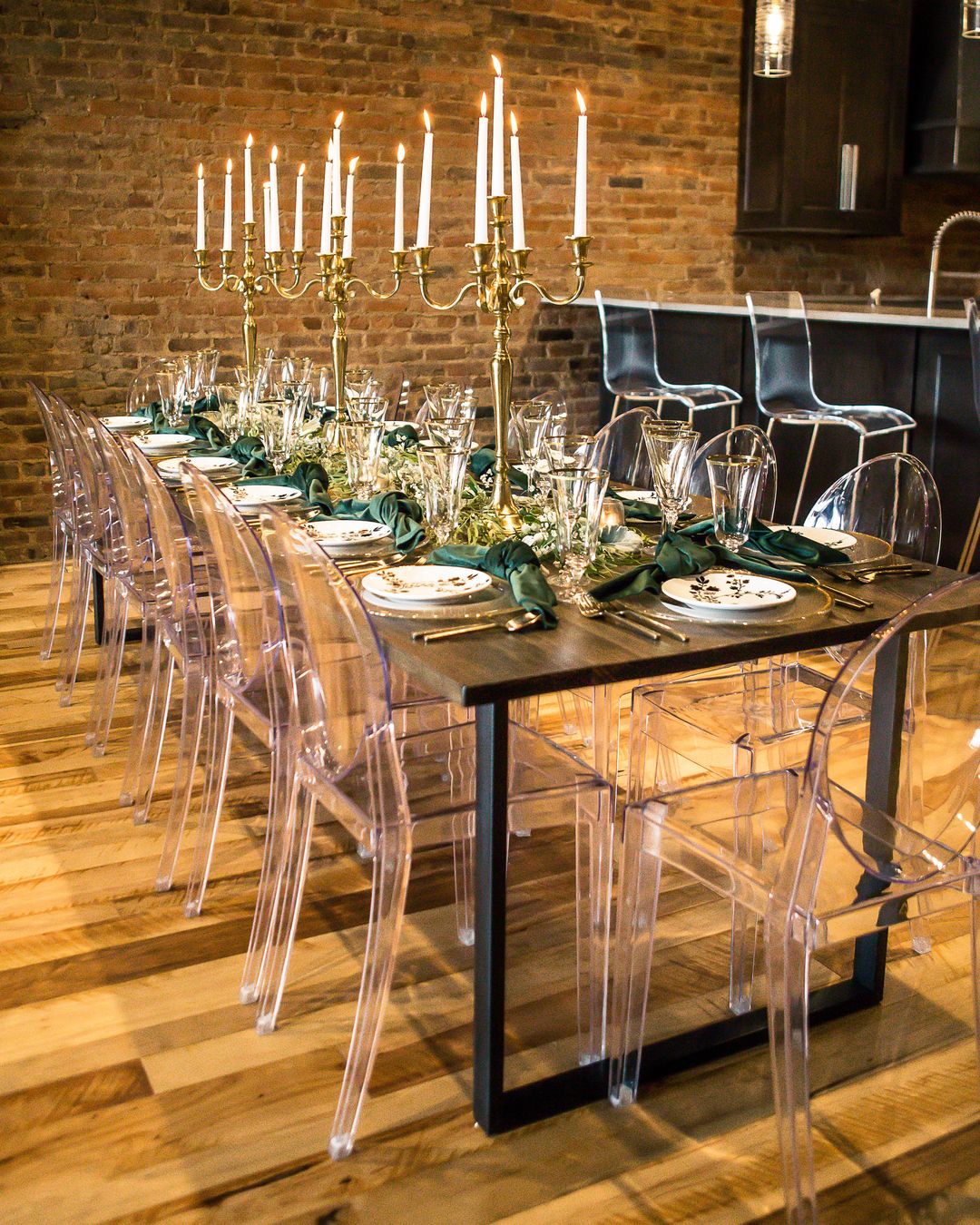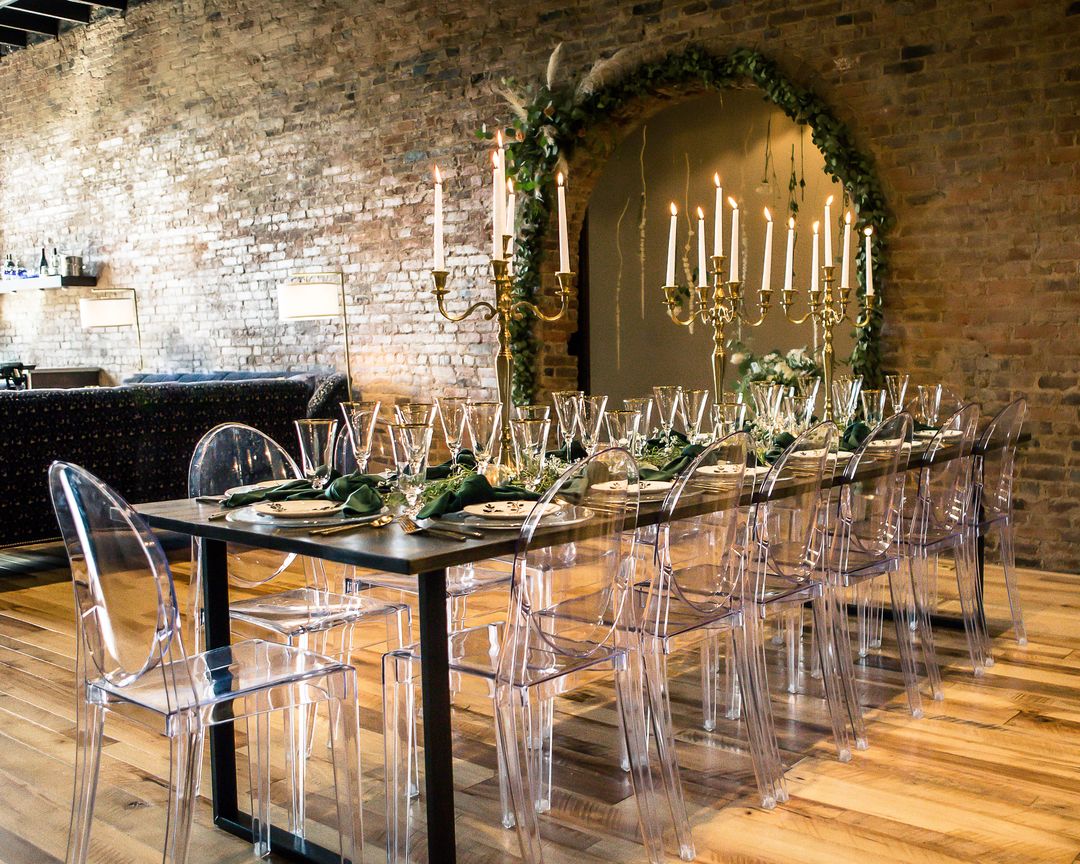 The centerpieces were simple but elegant, featuring greenery and tall gold candelabras – ideal for conversing across a table. Tall candles and votives were used throughout the space to create a romantic and intimate ambiance.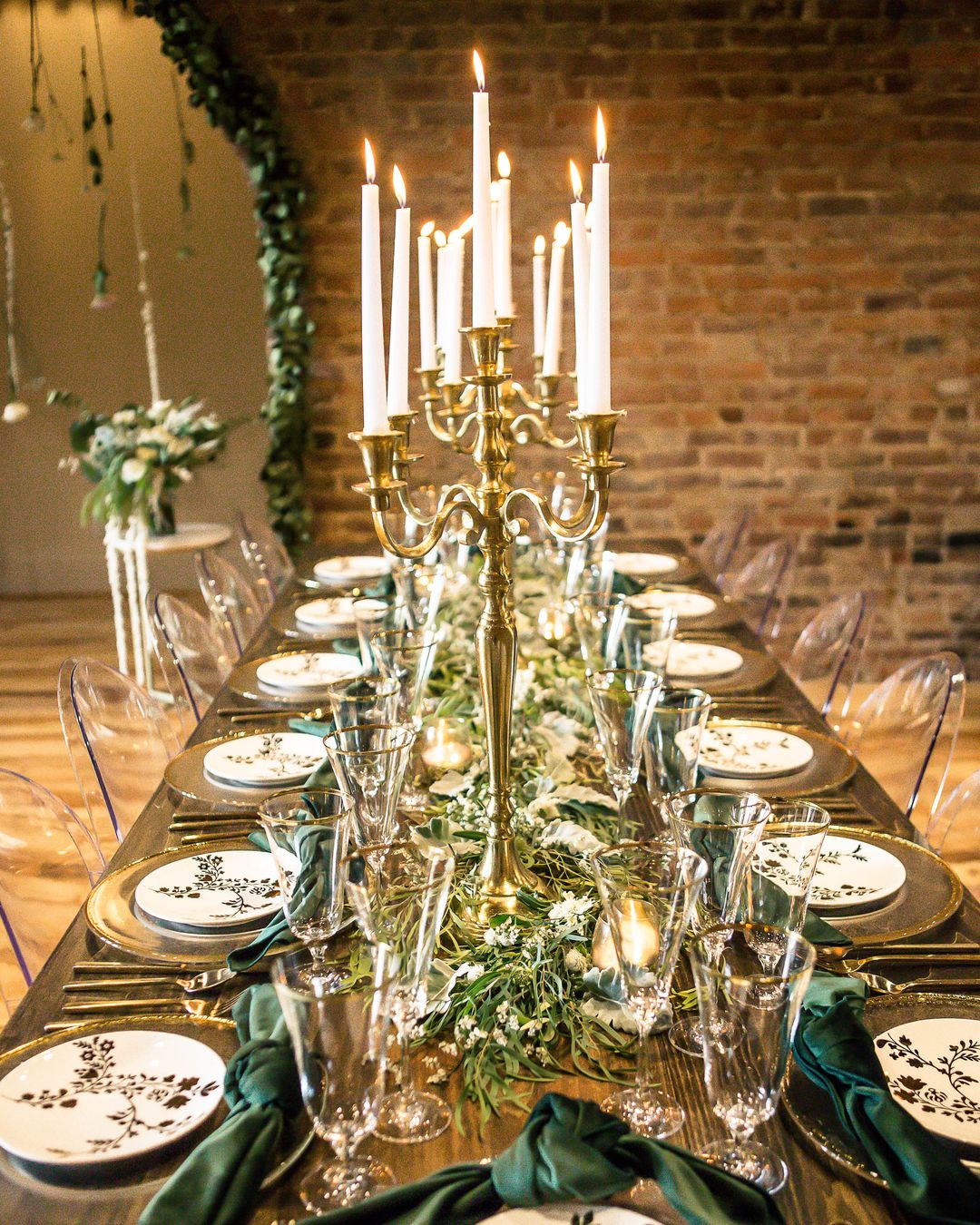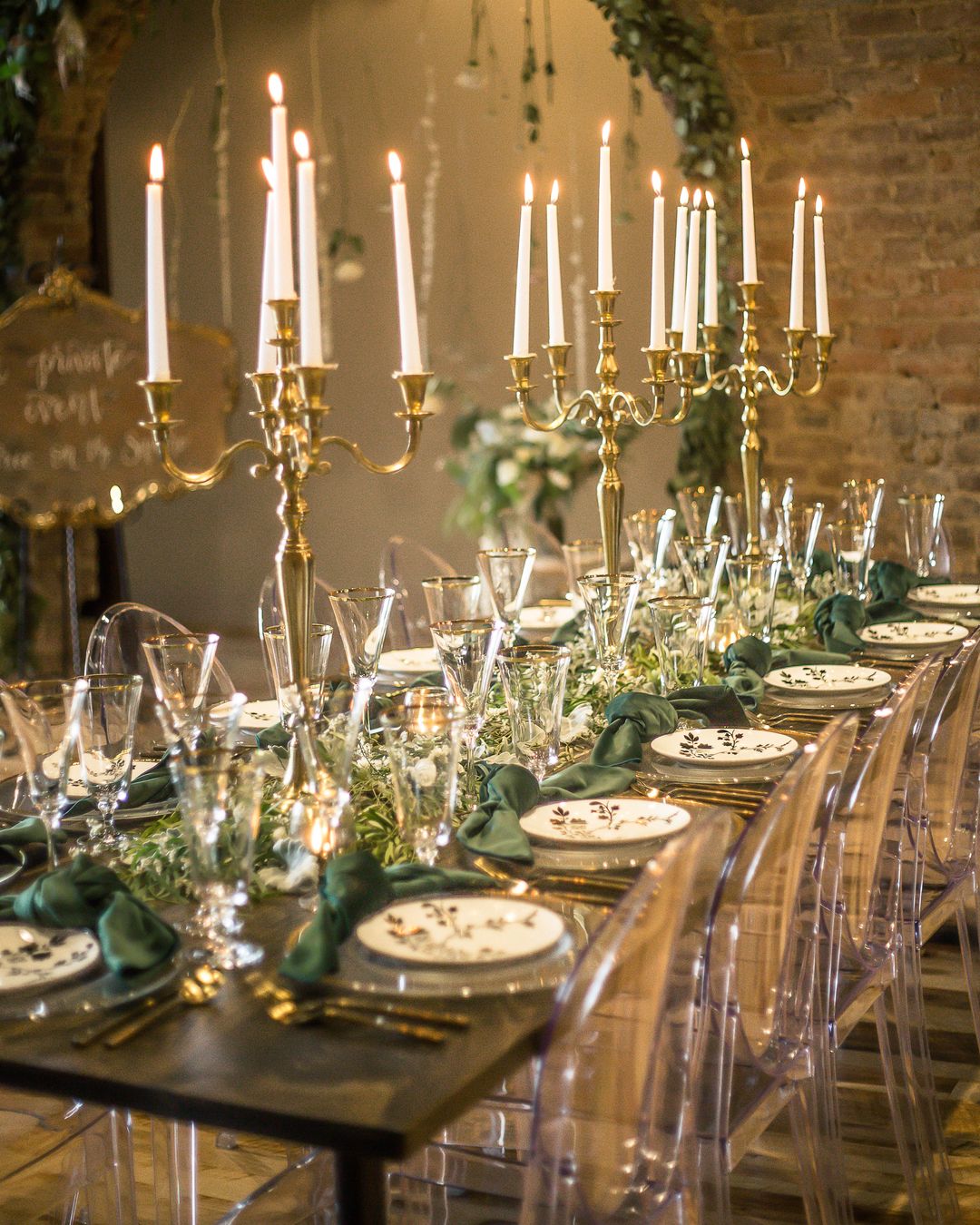 Other decorative elements include a lush garland to frame the entryway to the reception space. Eucalyptus, pampas grass and roses add volume here. A gold-framed mirror featuring a handwritten message was placed on a wrought iron stand as a stylish way to welcome guests.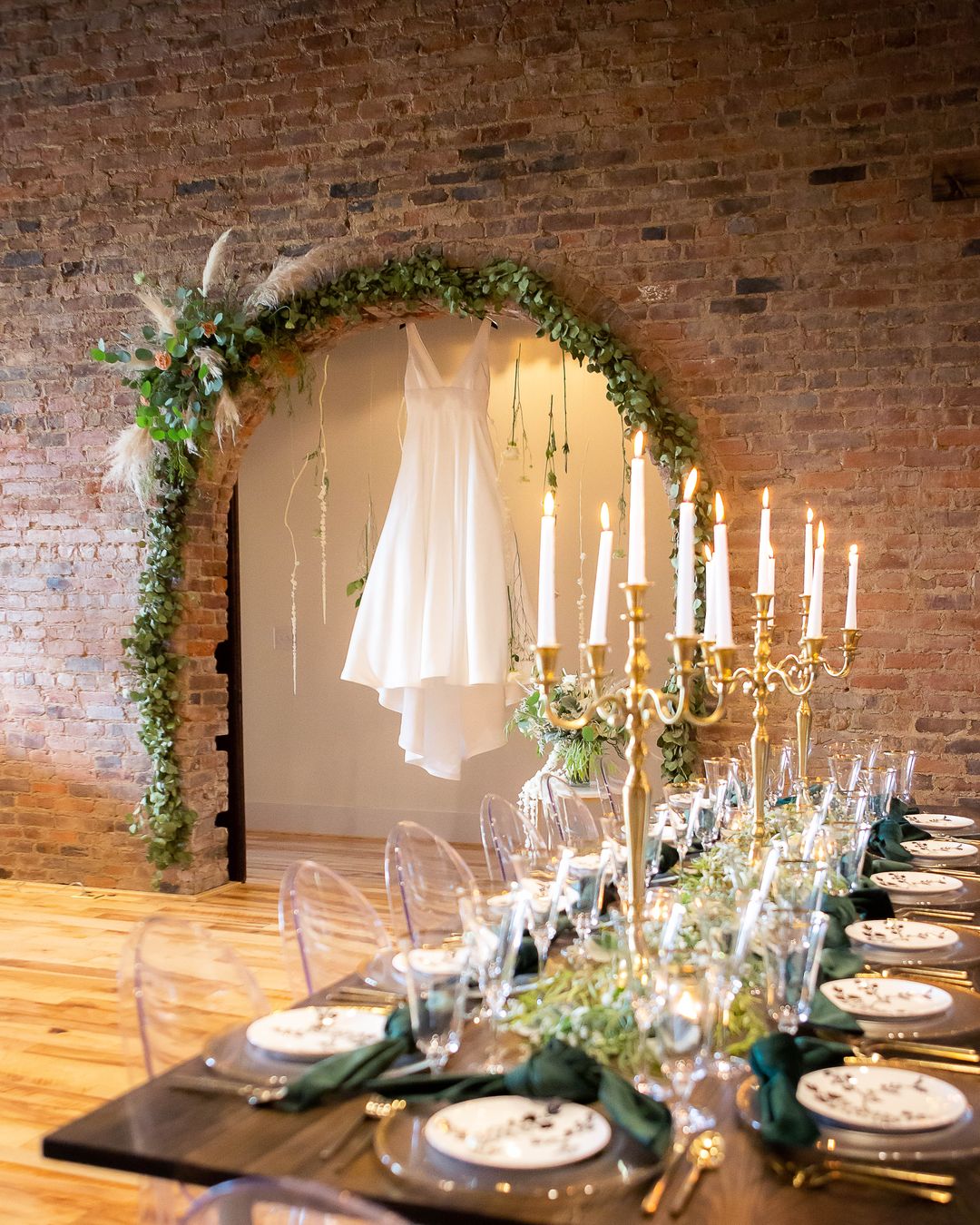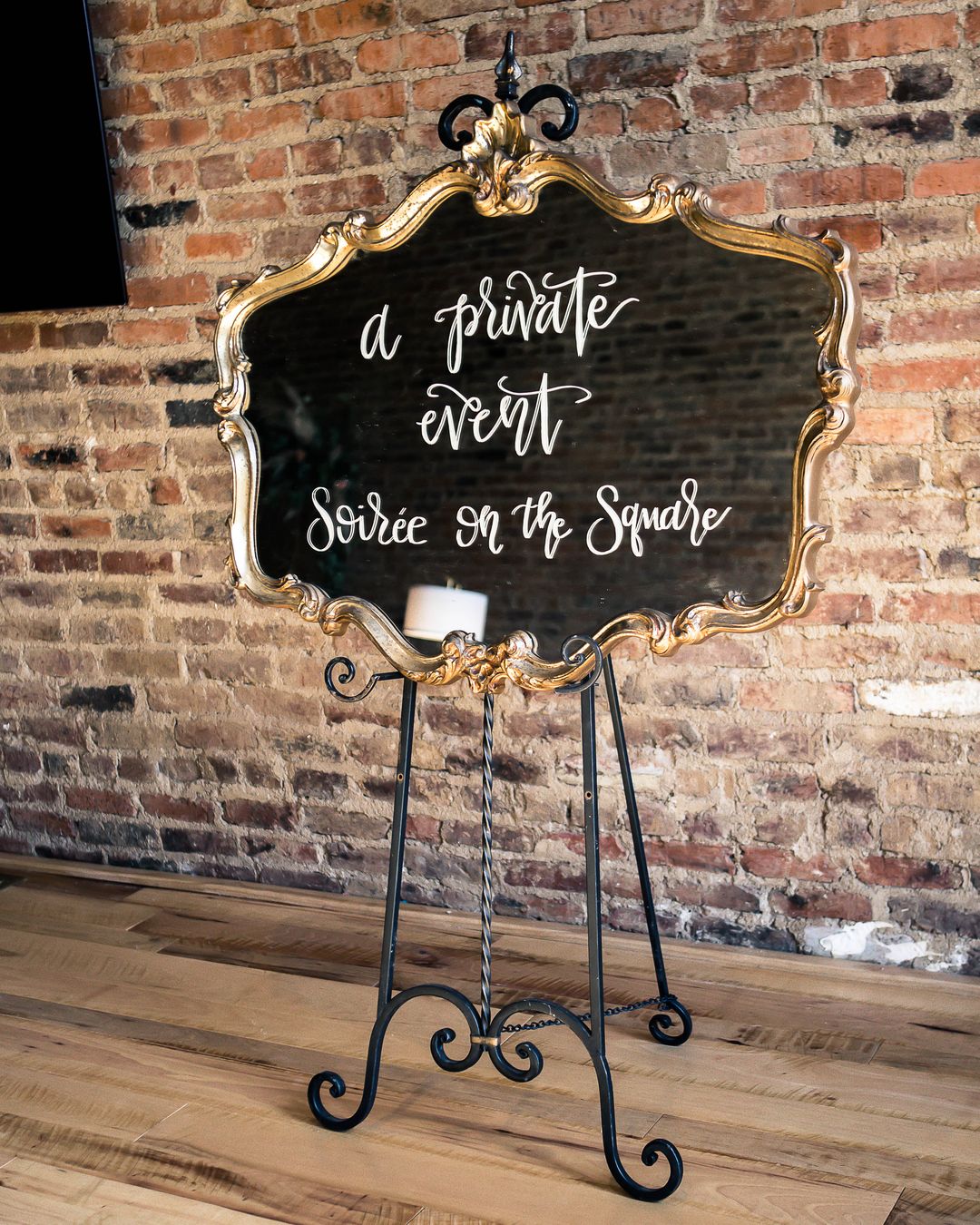 A special thank you to all of the amazing vendors who collaborated to make this stunning shoot possible!
TAGS | Nashville Event Venue, On Trend, Style Shoot, event inspiration, gold and emerald, gold event rentals, luxe event design, luxe event rentals, modern events, nashville event vendors, nashville venue
FEATURED RENTALS | Velvet Magnolia Green Linens, Glass Charger with Gold Rim, Vera Floral Desset Plate, Austin Gold Flatware, Audrey Gold Rim Goblet, Audrey Gold Rim Wine Glass
---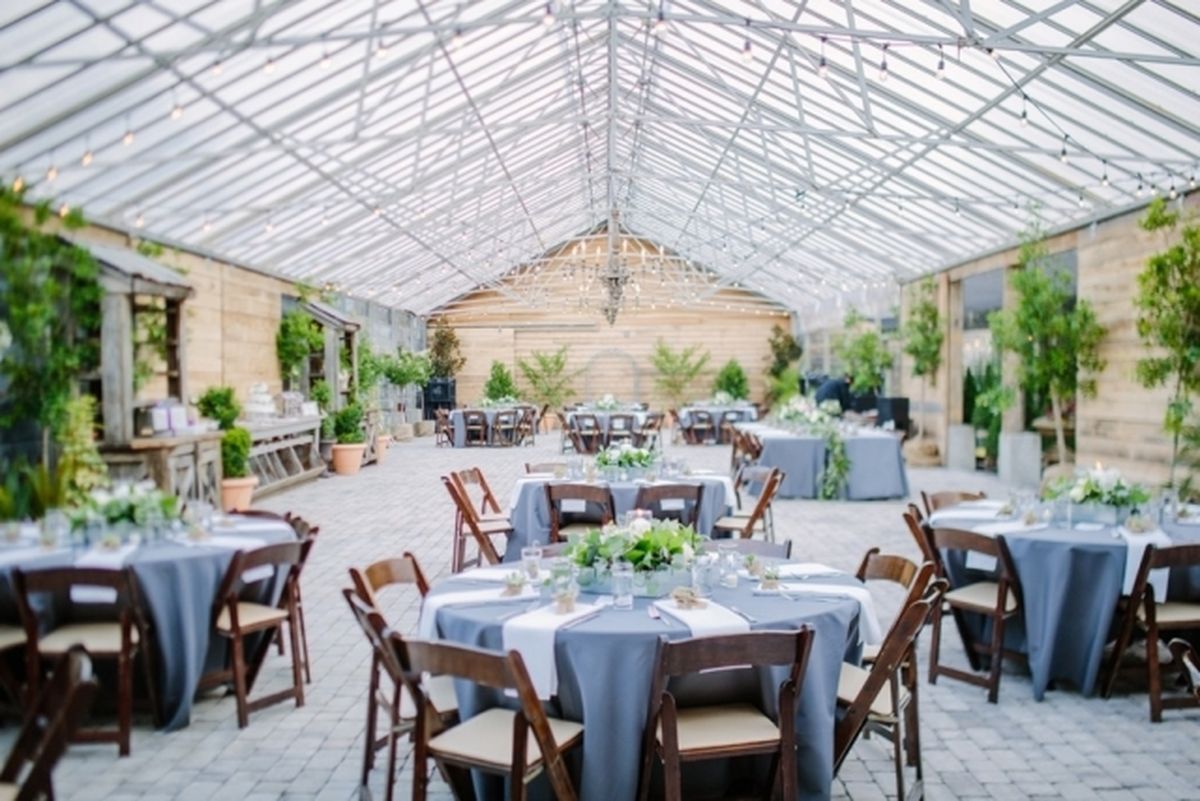 We adore dressing fabulous Nashville area venues in Southern Events rentals, and Long Hollow Gardens is one of our absolute favorites. Long Hollow Gardens is a super unique event venue. It is actually a greenhouse! Couples can achieve that "outdoor wedding" feel with all of the comfort of remaining indoors (think gorgeous summer wedding without all the heat!). Oh, and don't forget about the exquisite natural light pouring into the venue. On this 35 acre property, you'll find a vineyard, their Farmhouse Bridal Cottage, and Hearthroom Barn. With enough space for 200 guests, it's a great venue for weddings and events of all sizes.
Our neutral, natural rentals really shine at Long Hollow Gardens. The Cross-Back Chairs look tailor-made for this venue and are incredibly inviting paired with ivory linens. When outfitting the Greenhouse, we typically stick to neutral color palettes in order to let nature shine. From the Bennett Leather Sofa to the Fruitwood Farm Table, many of our rentals look as if they belong at this one-of-a-kind venue. However, we are not opposed to dreaming up a colorful look with our Saylor Velvet Furniture rentals. We are in love with how this location serves as a backdrop for pretty much any dreamy look a couple could conjure up.
Be sure to visit their website to learn more about hosting your Southern event at this greenhouse venue. Photos by Julie Paisley.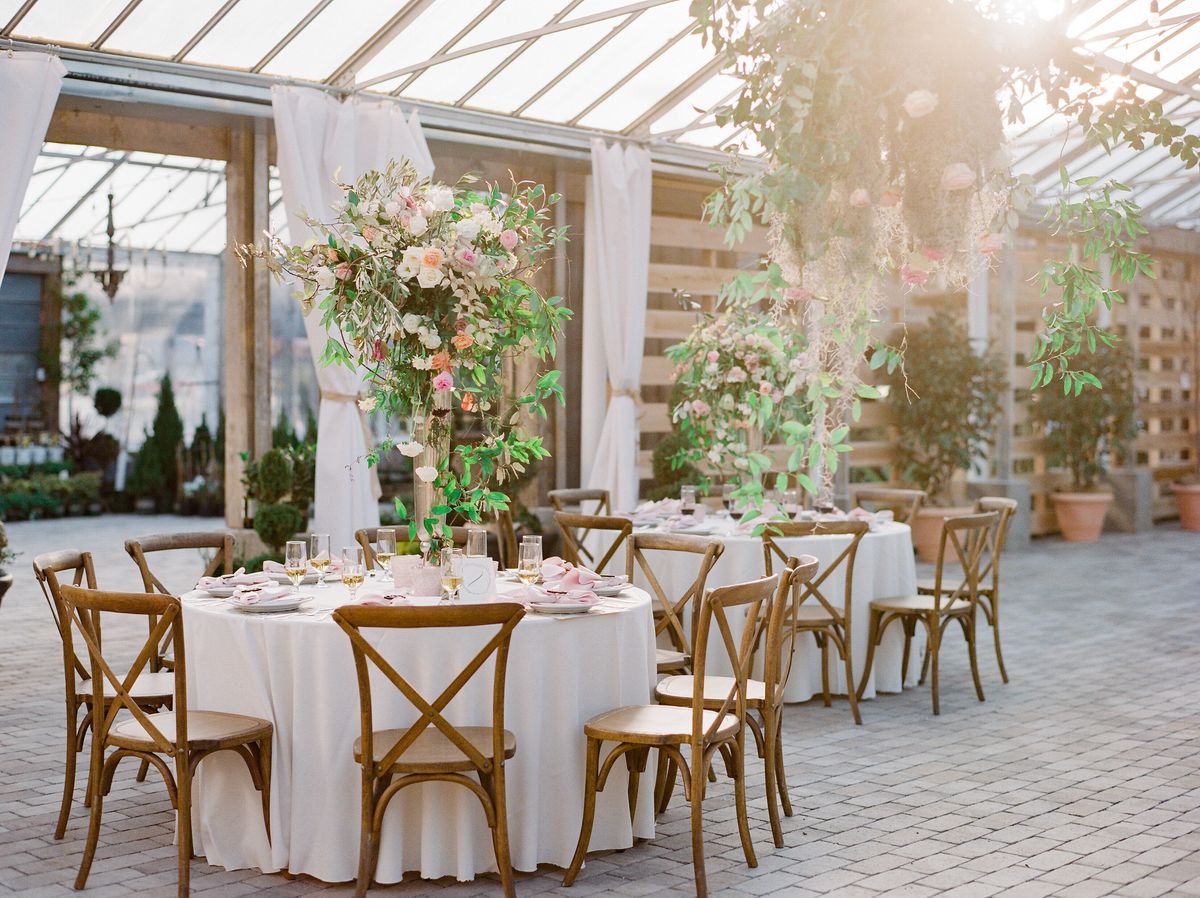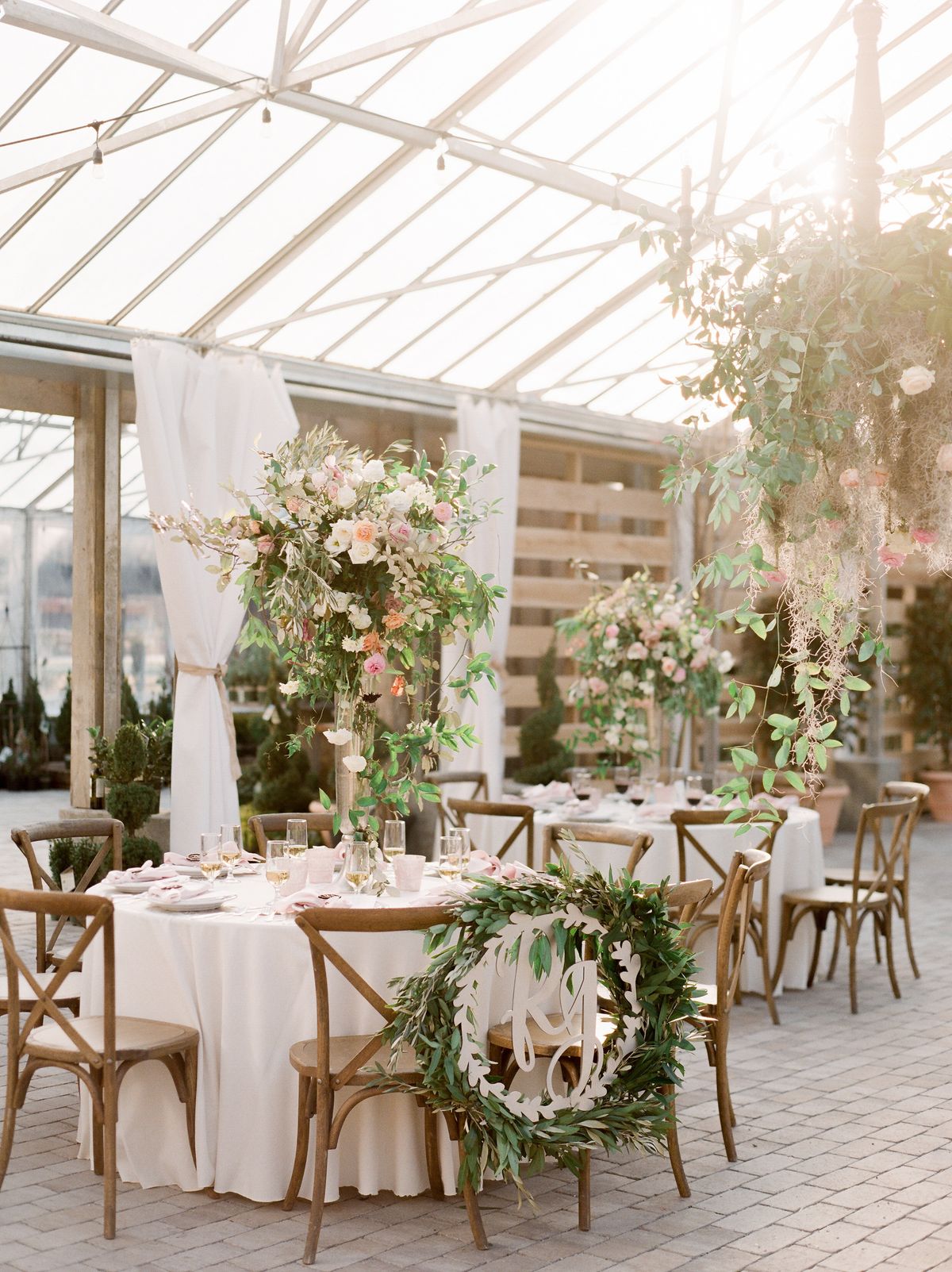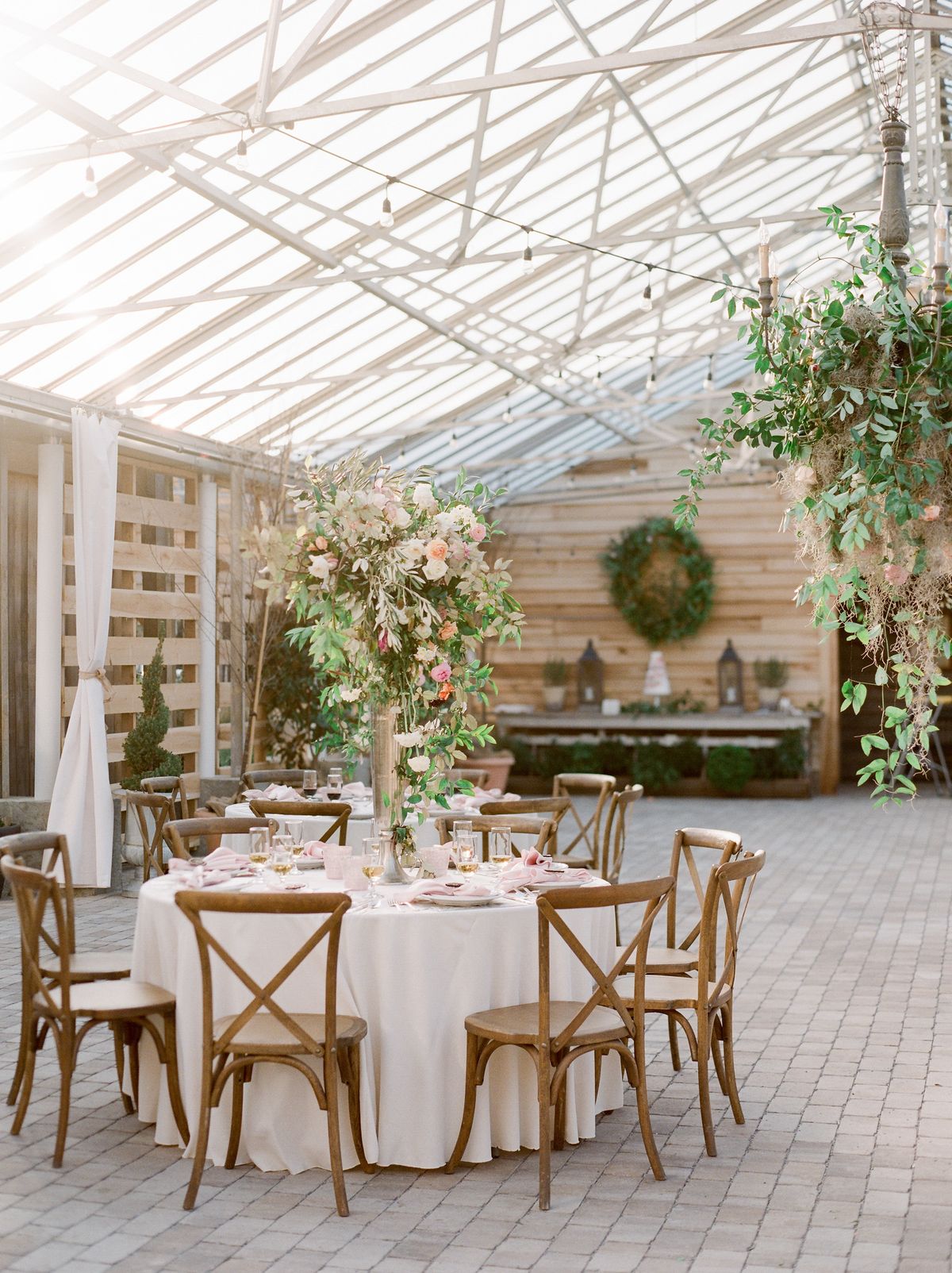 If you are hosting an event in one of Nashville's finest venues, we'd love to take the rentals off your plate. Send our team a message at info@southerneventsonline.com.
TAGS | Farm Tables, Nashville Event Rentals, Nashville Event Venue, Nashville Wedding Venue, Southern Events Party Rental, Unique Nashville Event Rentals, Unique Wedding Rentals, long hollow gardens, nashville tn, nashville venues
FEATURED RENTALS | Cross-Back Chairs, Ivory Linens, Bennett Sofa, Saylor Furniture,
---
16

May

Events and Style Shoots, Nashville Wedding Vendors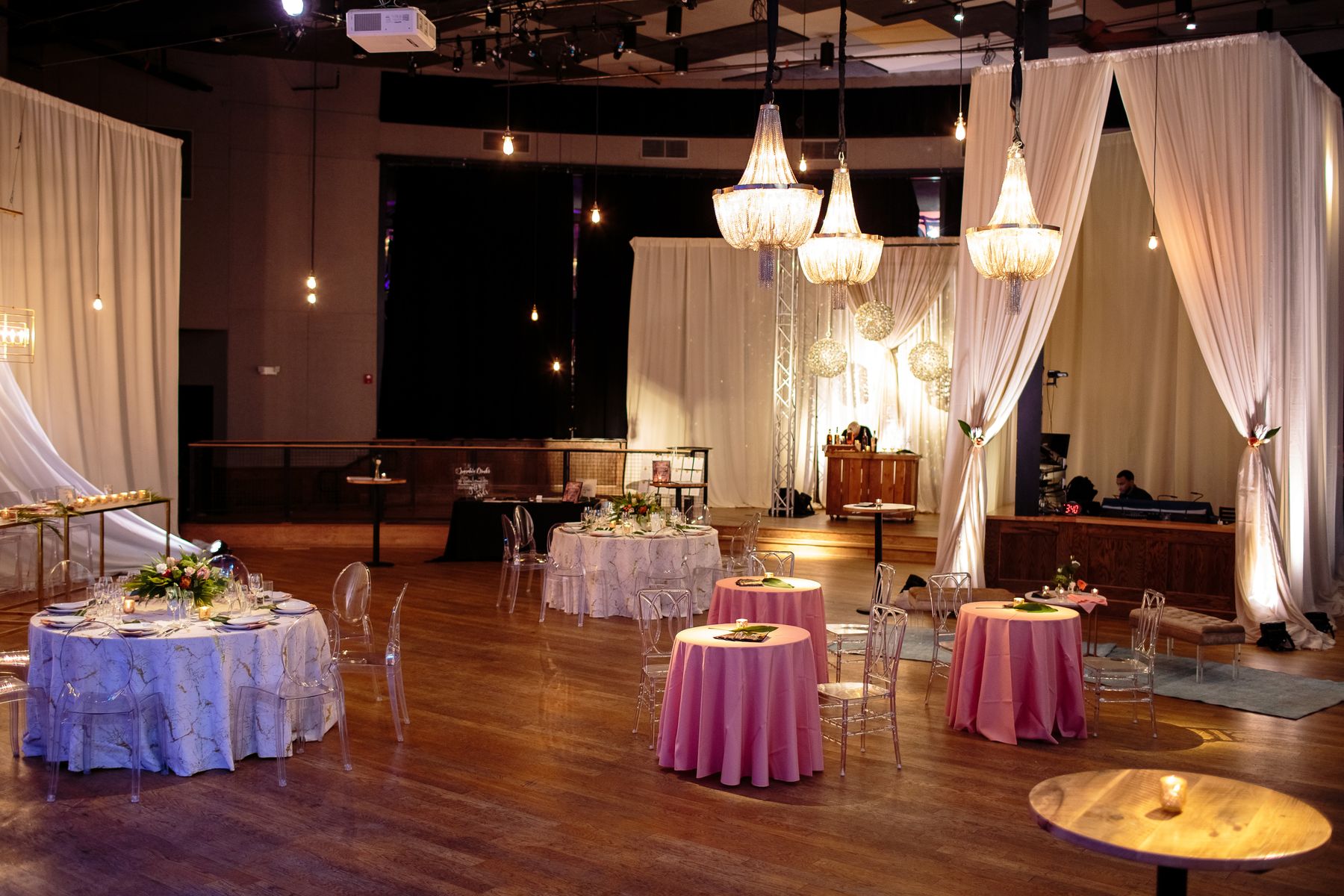 City Winery in Nashville, TN is a wedding & event venue offering downtown vibes, urban feels, and a completely blank canvas to create exactly the theme you're wanting for your next event. The venue's passion to pair culinary and cultural experiences in a unique way makes it a wonderful place to hold private events. Southern Events has loved being part of several of them. The venue has the capacity to host events for intimate private dinners as well as full production concerts. With several distinct spaces, you could host up to 1,200 guests at City Winery.
City Winery is fully finished sapce–and at the same time is ready for you to add your personal touches. We've been a part of a myriad of events at this venue, ranging from luxe to glam to modern (and pretty much everything in between). If you're wanting an event space that lets you bring your ideas to life (whatever those ideas may be), this venue is perfect.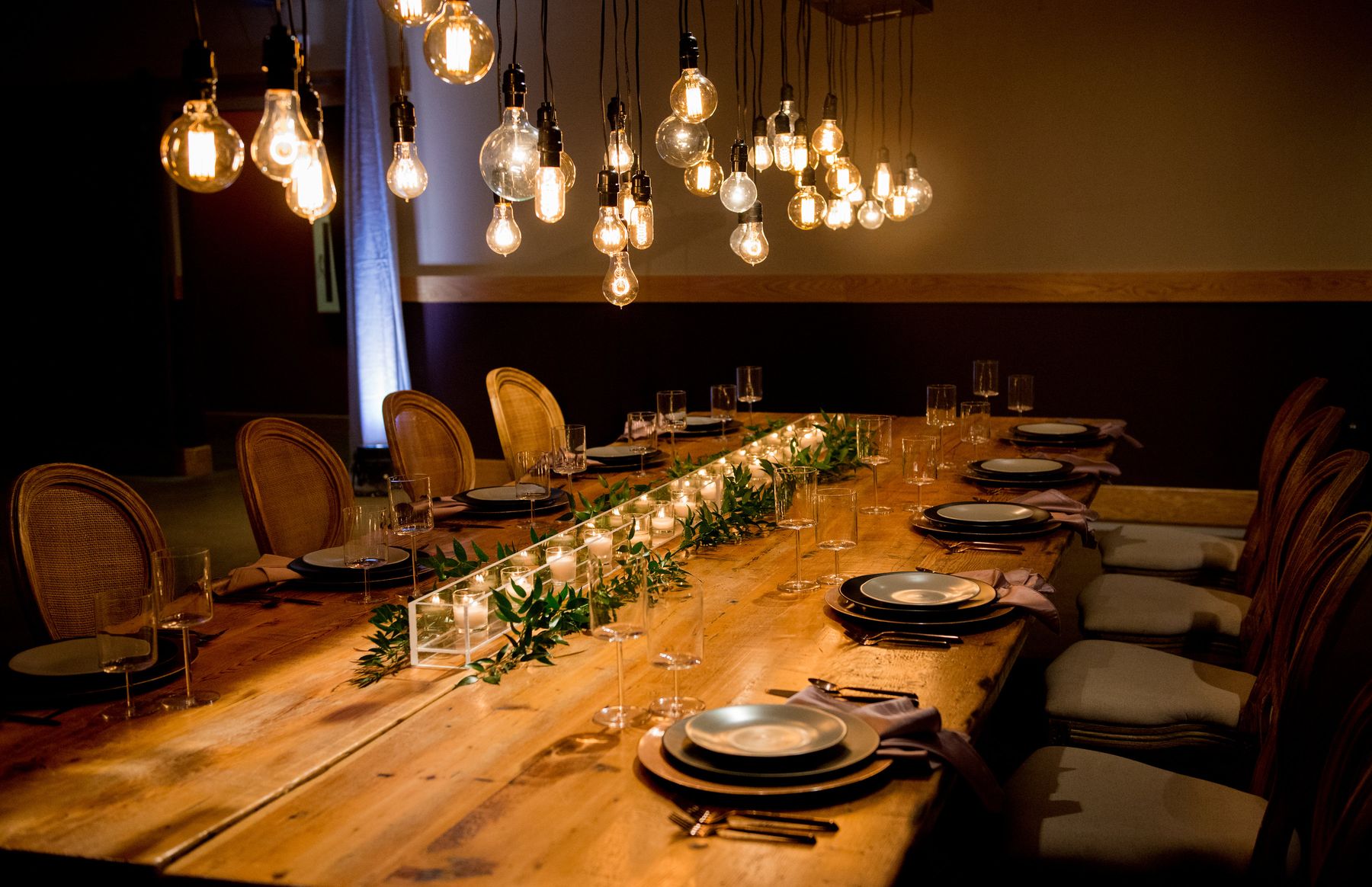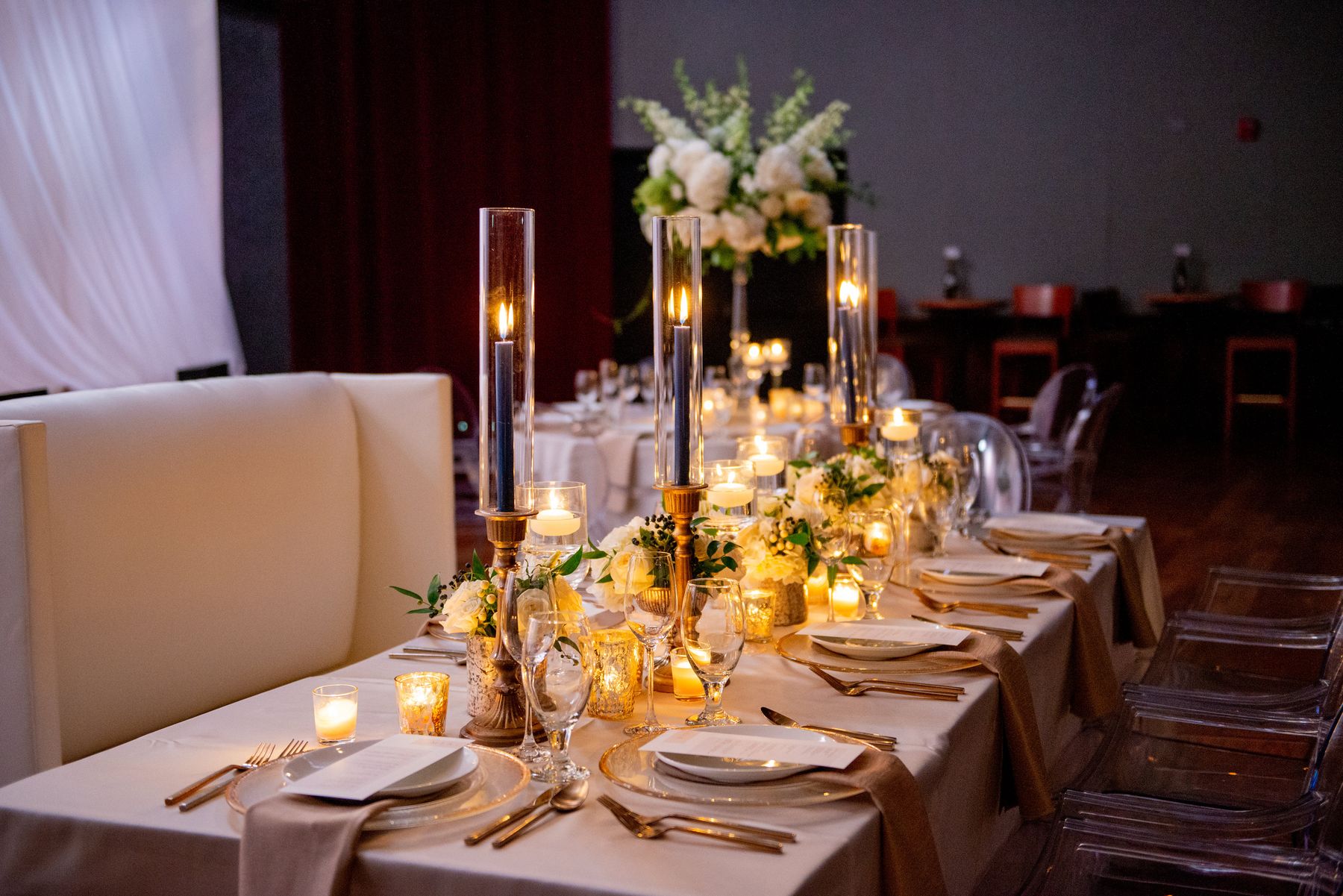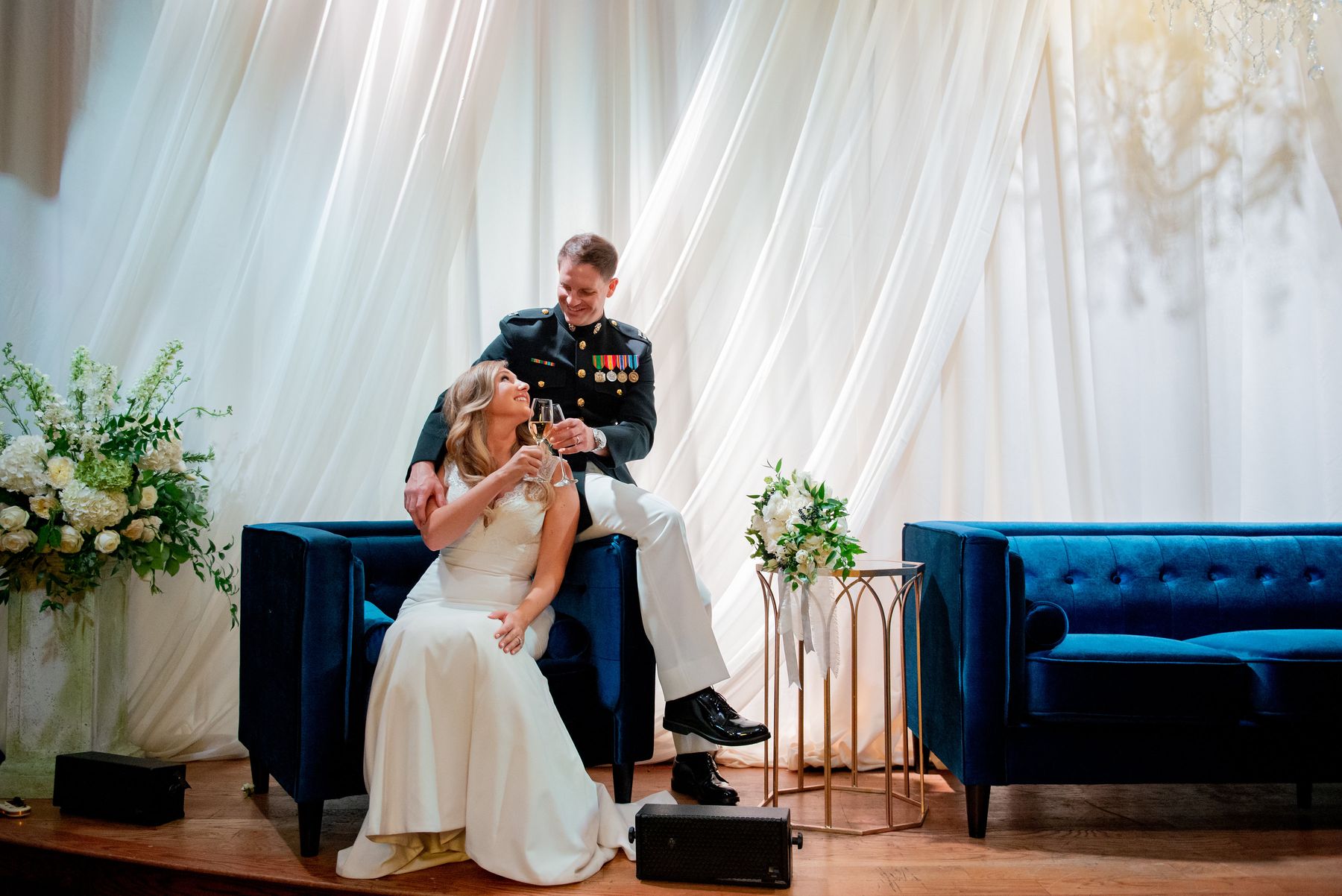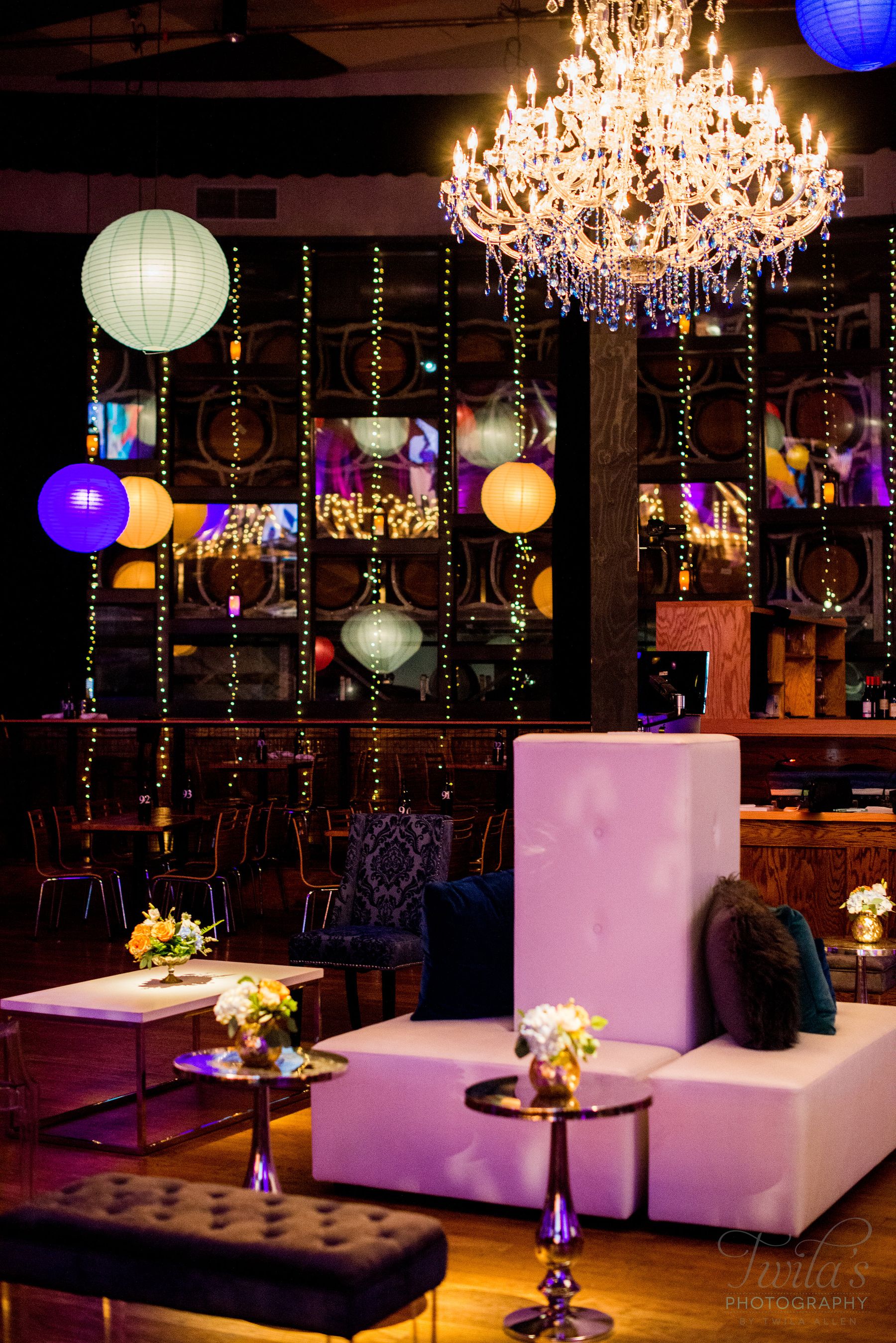 Images by Twila's Photography.
Southern Events recently took part in an Open House at City Winery, and we love how our gorgeous rentals shine at this venue. We used a combination of gold, neutral, and blush to create a luxe feel. Add to that beautiful color combination modern materials like our Acrylic Chairs, Midas Gold Bench, and Gold Furrow Linen, and it was definitely swoon-worthy.
We absolutely adore all the possibilities available at City Winery. Whether you're going full-on "honky-tonk" or wanting a feminine and modern look, you can make it all happen here.
Beautiful images were taken by Erin Allender.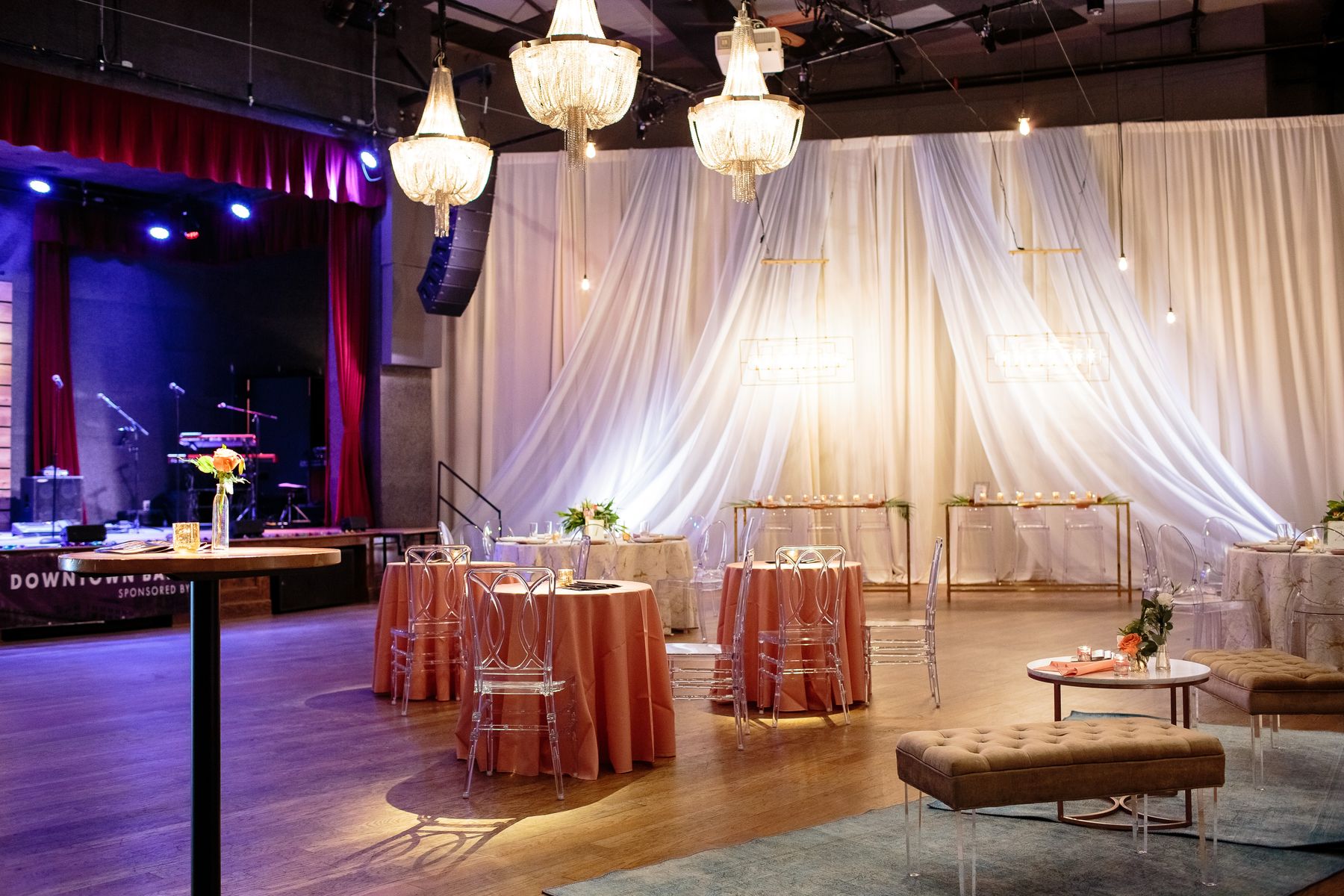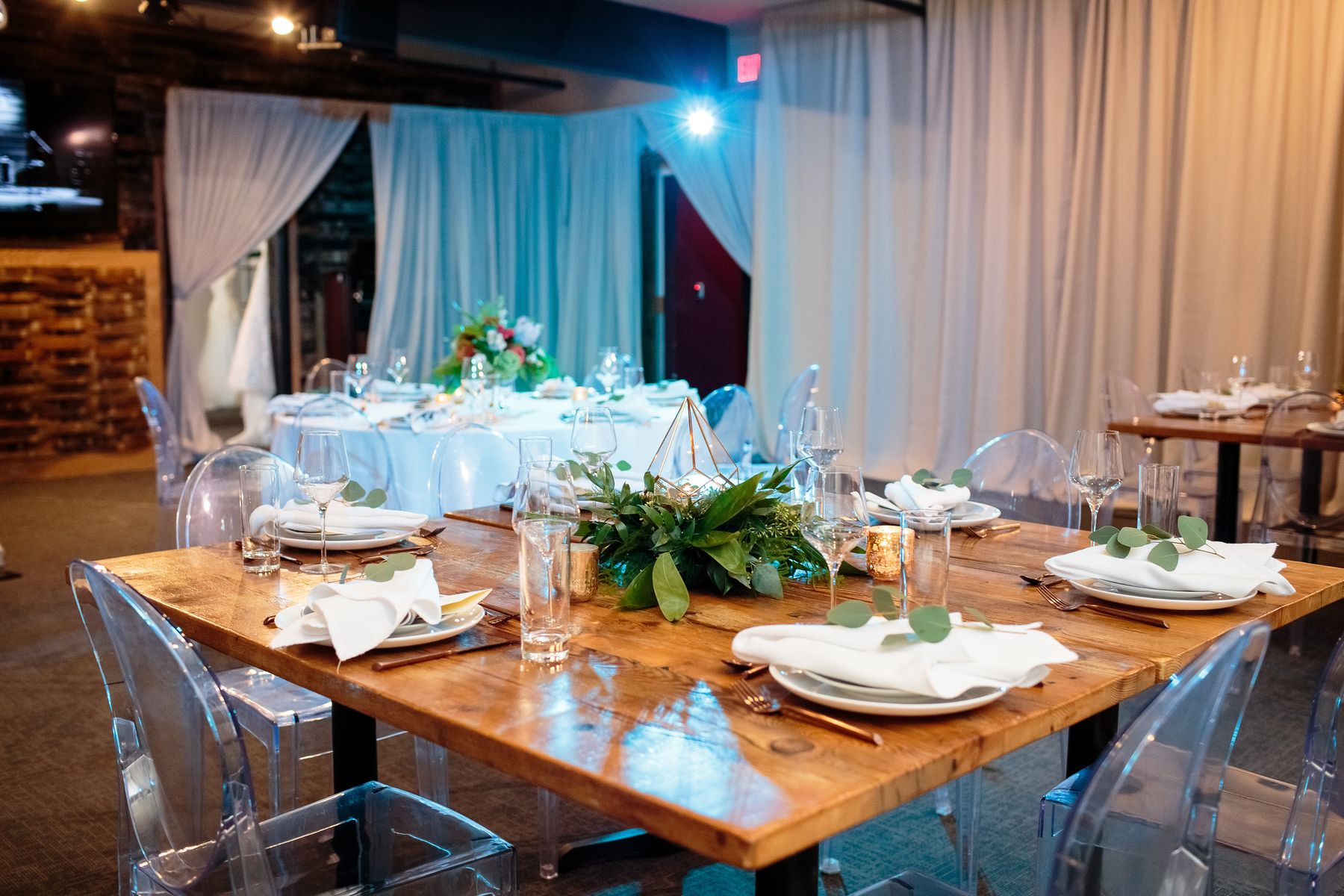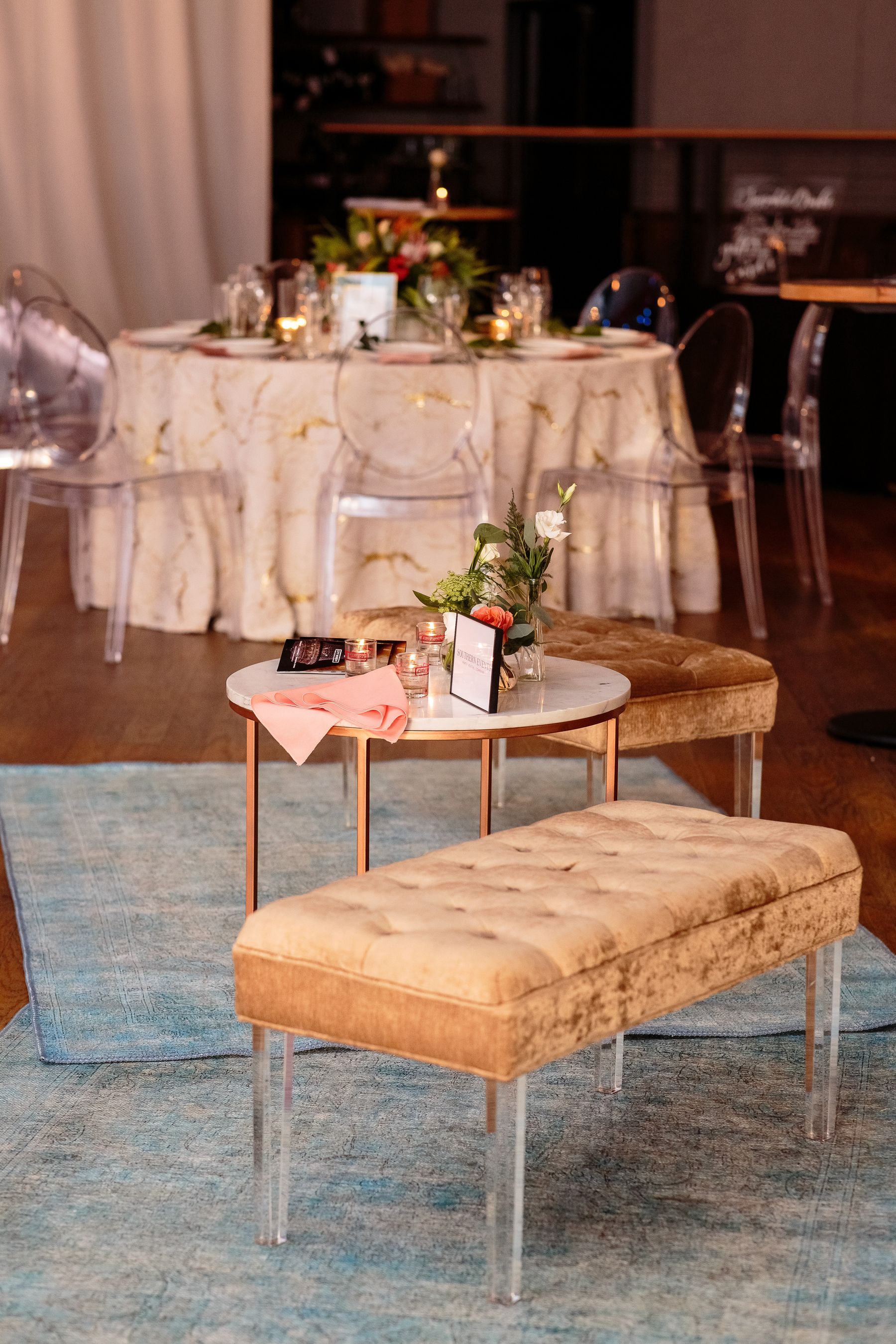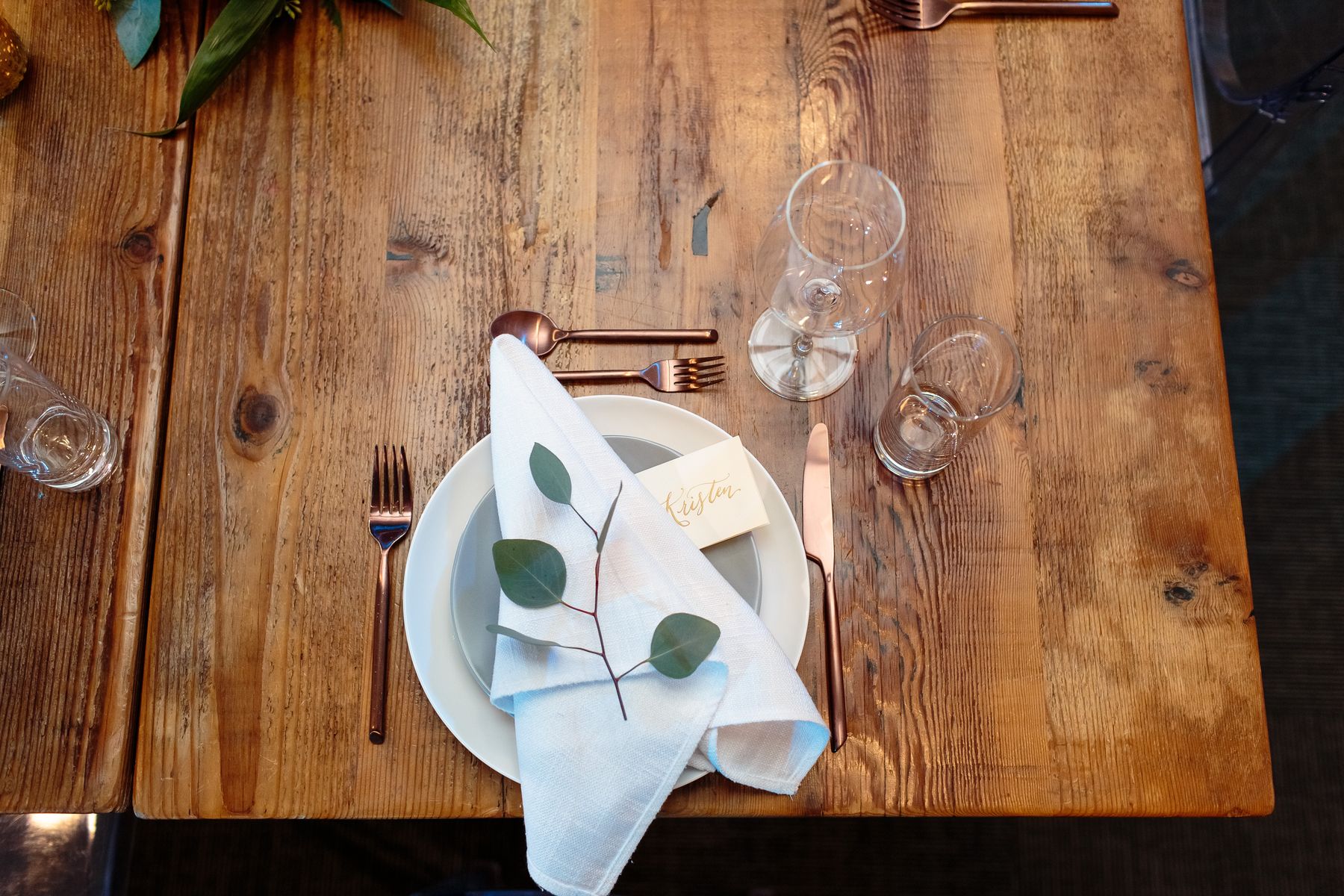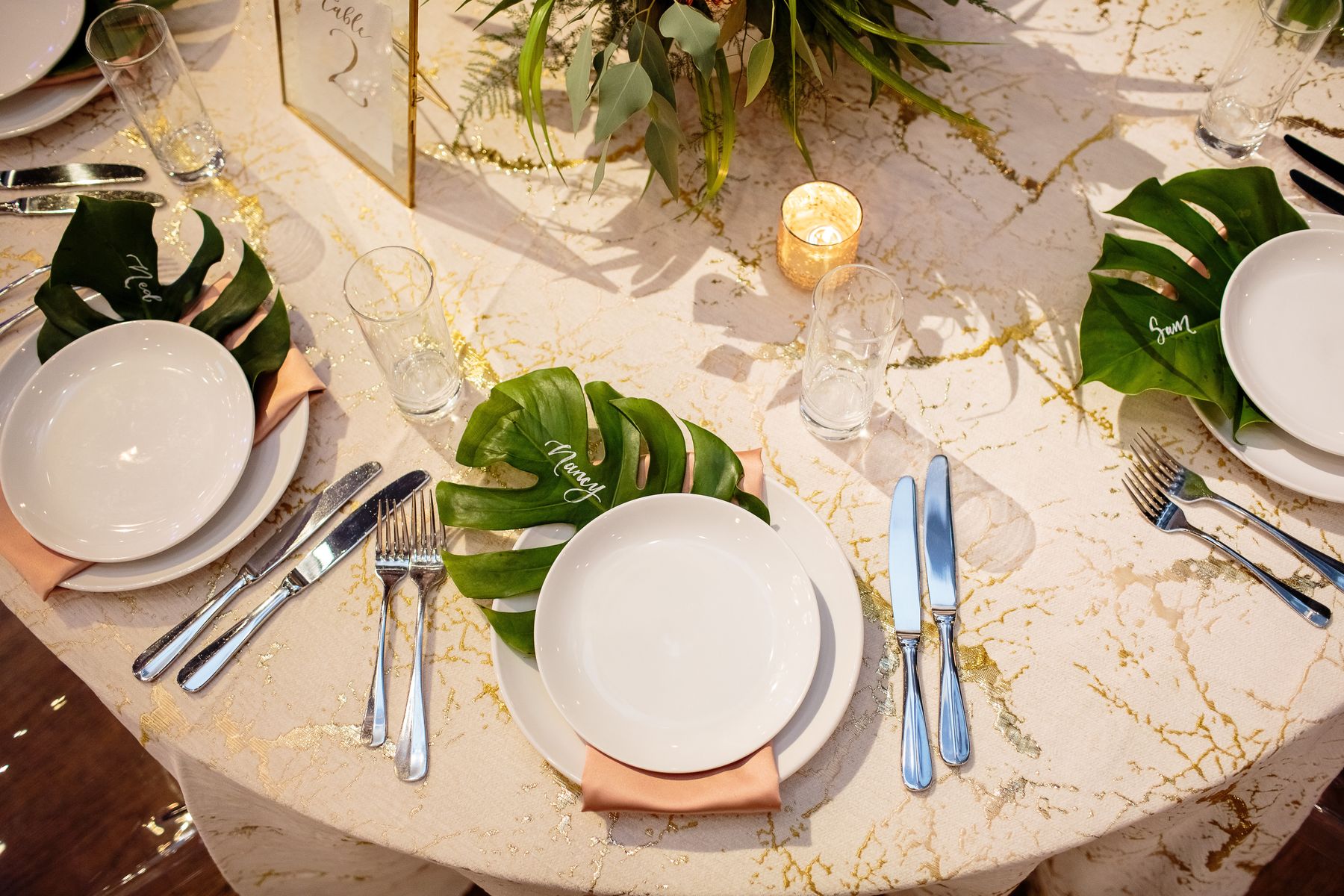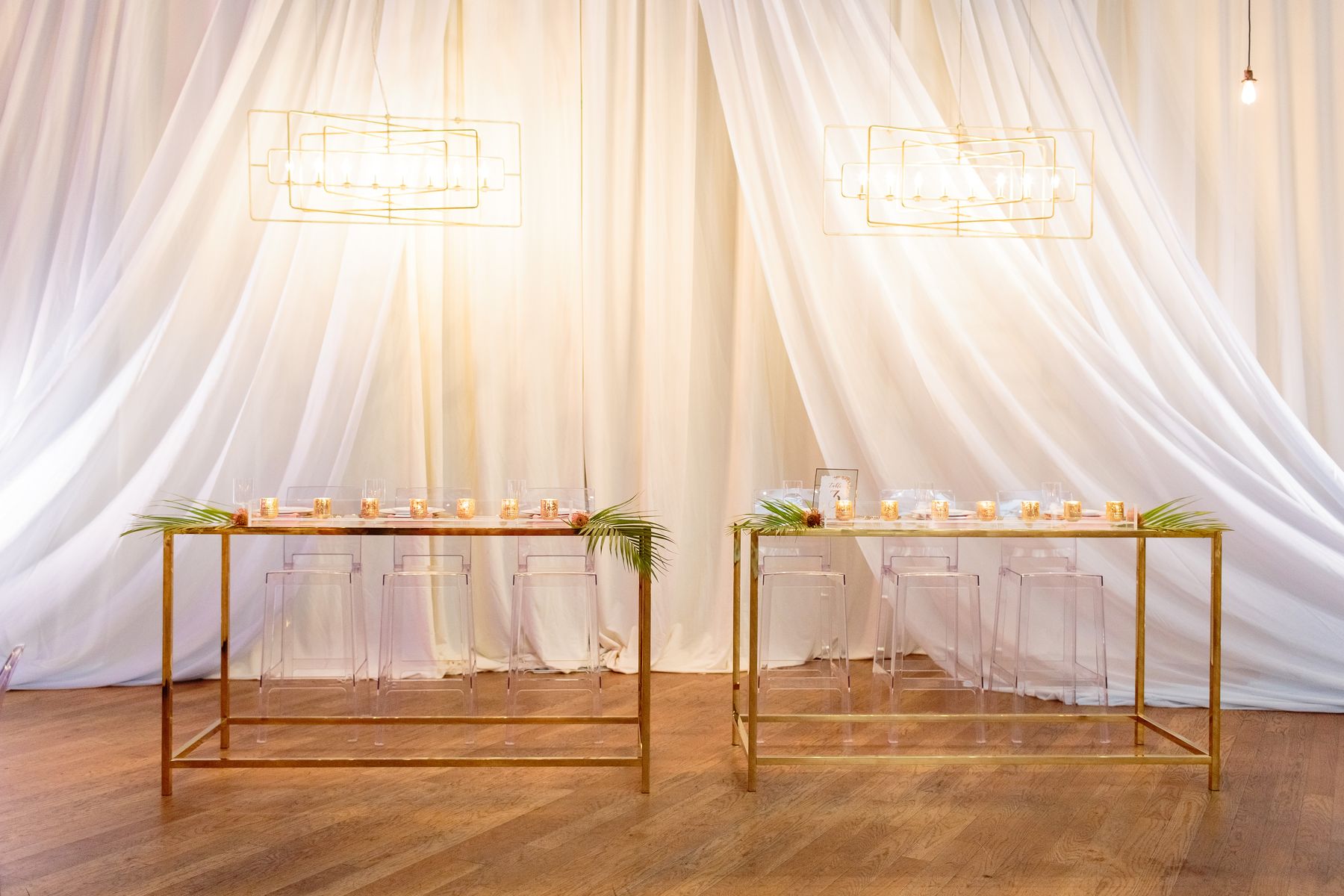 Wanting to host an event in a unique Nashville venue? We'd love to help you create a beautiful space. Send us an email at info@southerneventsonline.com
TAGS | Nashville Event Rentals, Nashville Event Venue, Nashville Wedding Rentals, Southern Events, Southern Events Party Rental, Southern Events Party Rental Company, Unique Nashville Event Rentals, Unique Nashville Wedding Rentals, city winery
FEATURED RENTALS | Loren Gold Bistro Table, Acrylic Chairs, Cameo Blush Velvet Linens, Gold Furrow Linens, Brushed Copper Flatware,
---