14

Jul

On Trend, Southern Events Products, Trends and Inspiration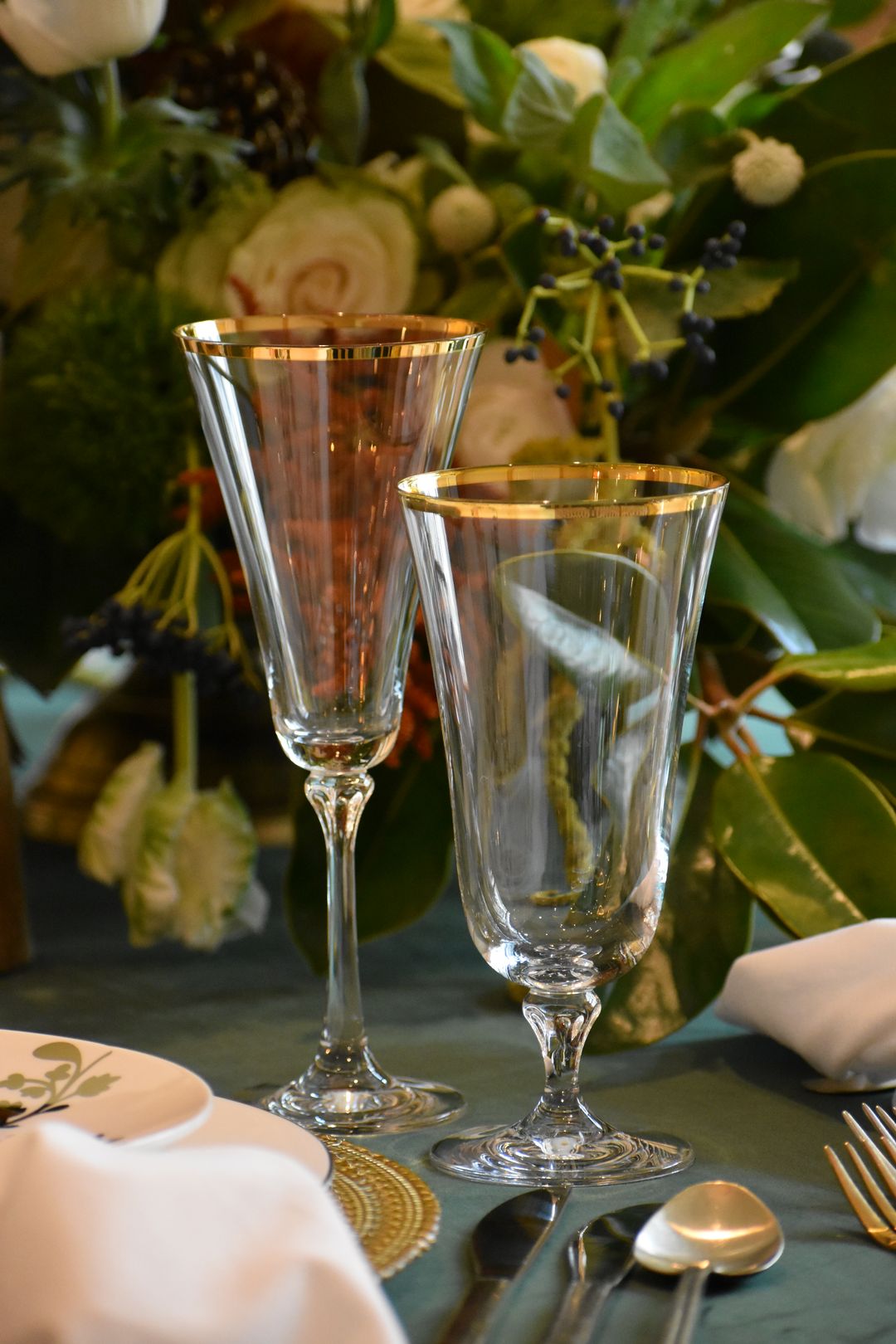 With regal and royal trending in event design, we're all about appreciating the finer things in life – including black-tie dinner parties! This theme is perfect for adding an upscale feel to any celebration, whether it be a birthday, anniversary, reunion, corporate achievement, and so on. Plus, planning a formal event is easier than ever, thanks to our elegant in-stock event rentals. Check out our serving ware, furniture, and decor that can be used to elevate your tablescape and impress your dinner guests!
Elegant Serving Ware
Black tie event design is all about luxury! For the table, we offer a range of stylish serving ware that suits any palette and style. White China is always a good start, whether you prefer Round plates or a more charming design, like Darcy. For a more moody table, opt for Earthen Onyx or Stone China. And should you prefer a more glam look, check out pieces that feature metallics. Such as our Glass Charger with a Gold Rim or Medallion Gold Glass Charger. If you want a touch of color, take a look at our gold accented Laguna or Coronado China.
Just don't forget to grab matching flatware! Our Gold Austin and Abby Flatware are always popular. Meanwhile, the Noir Matte Black and Como Flatware are edgy yet stylish.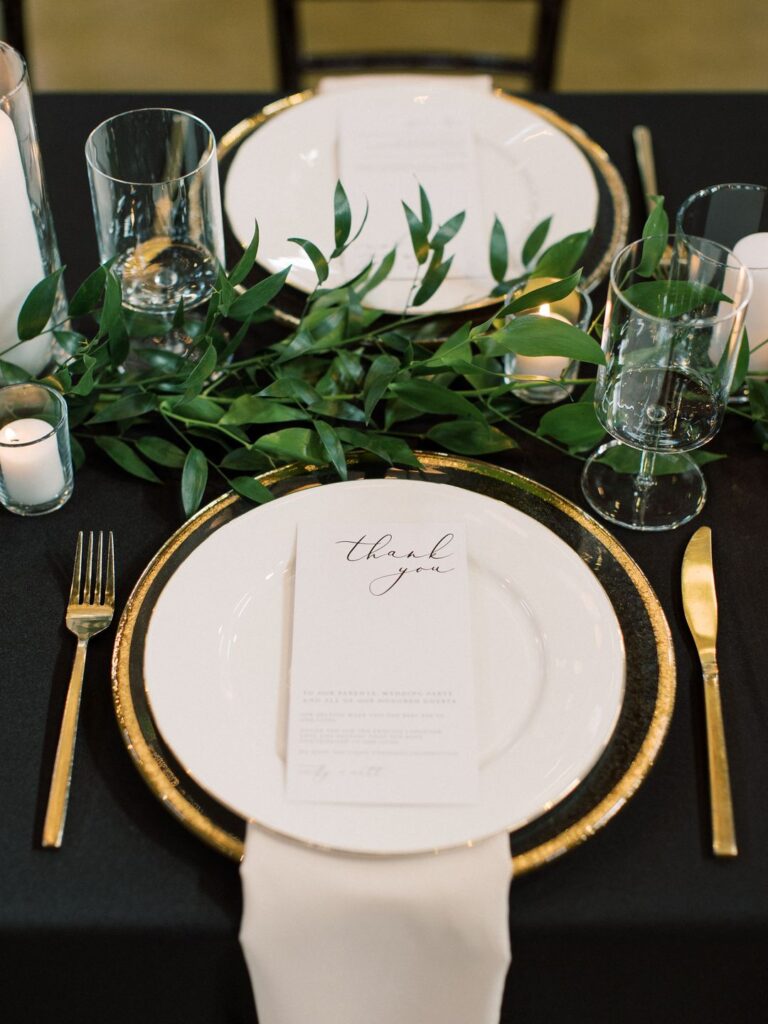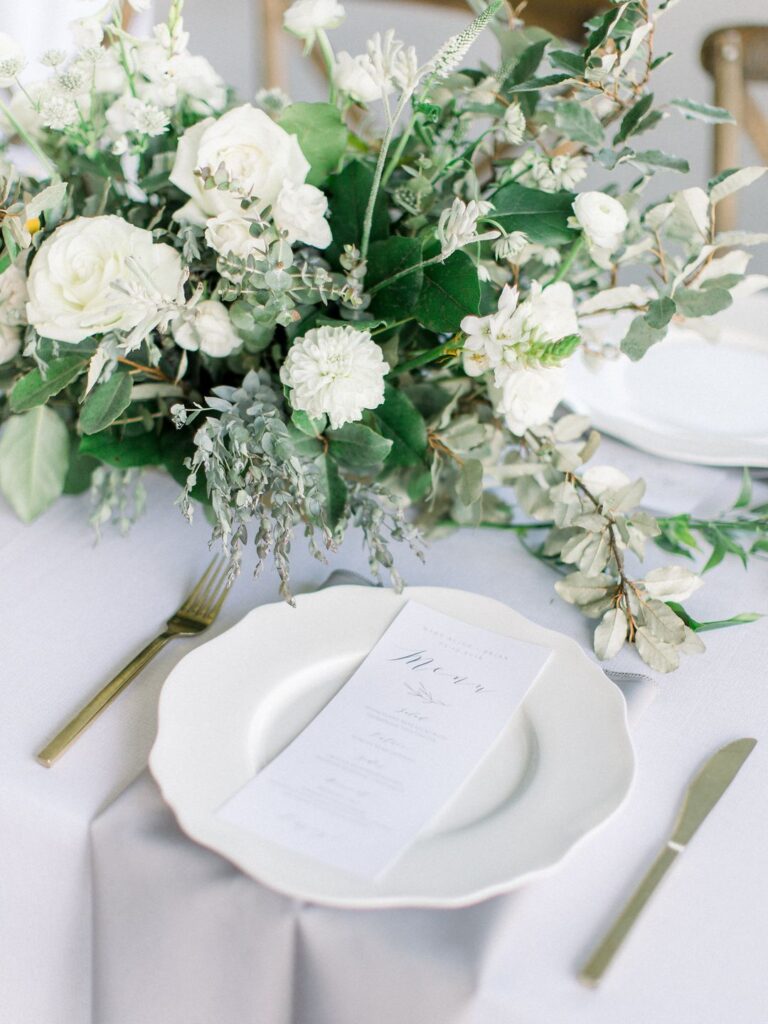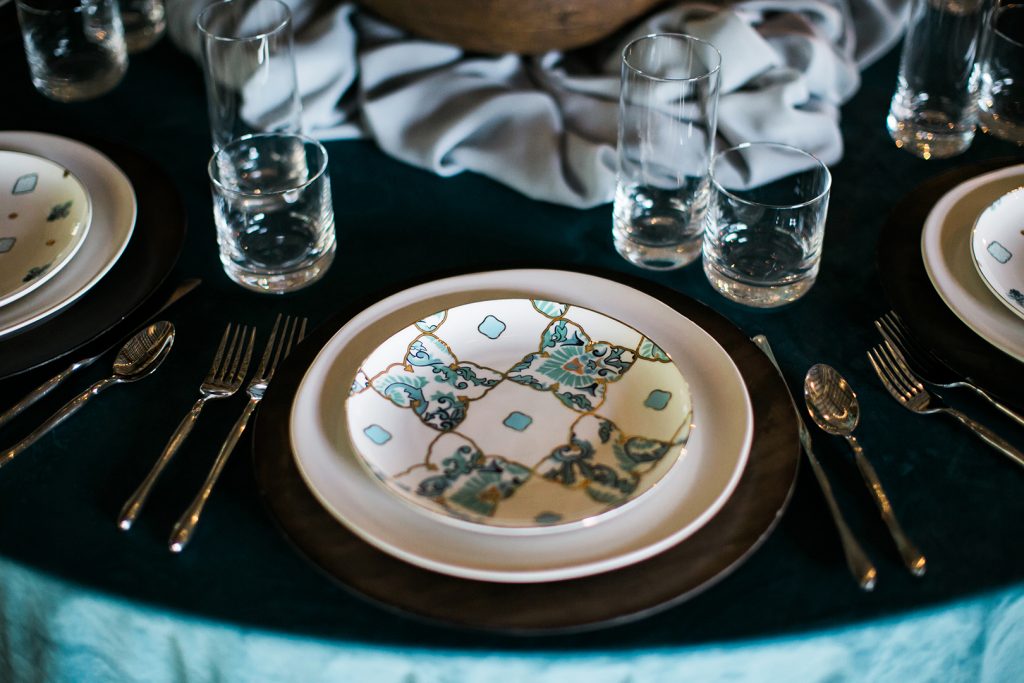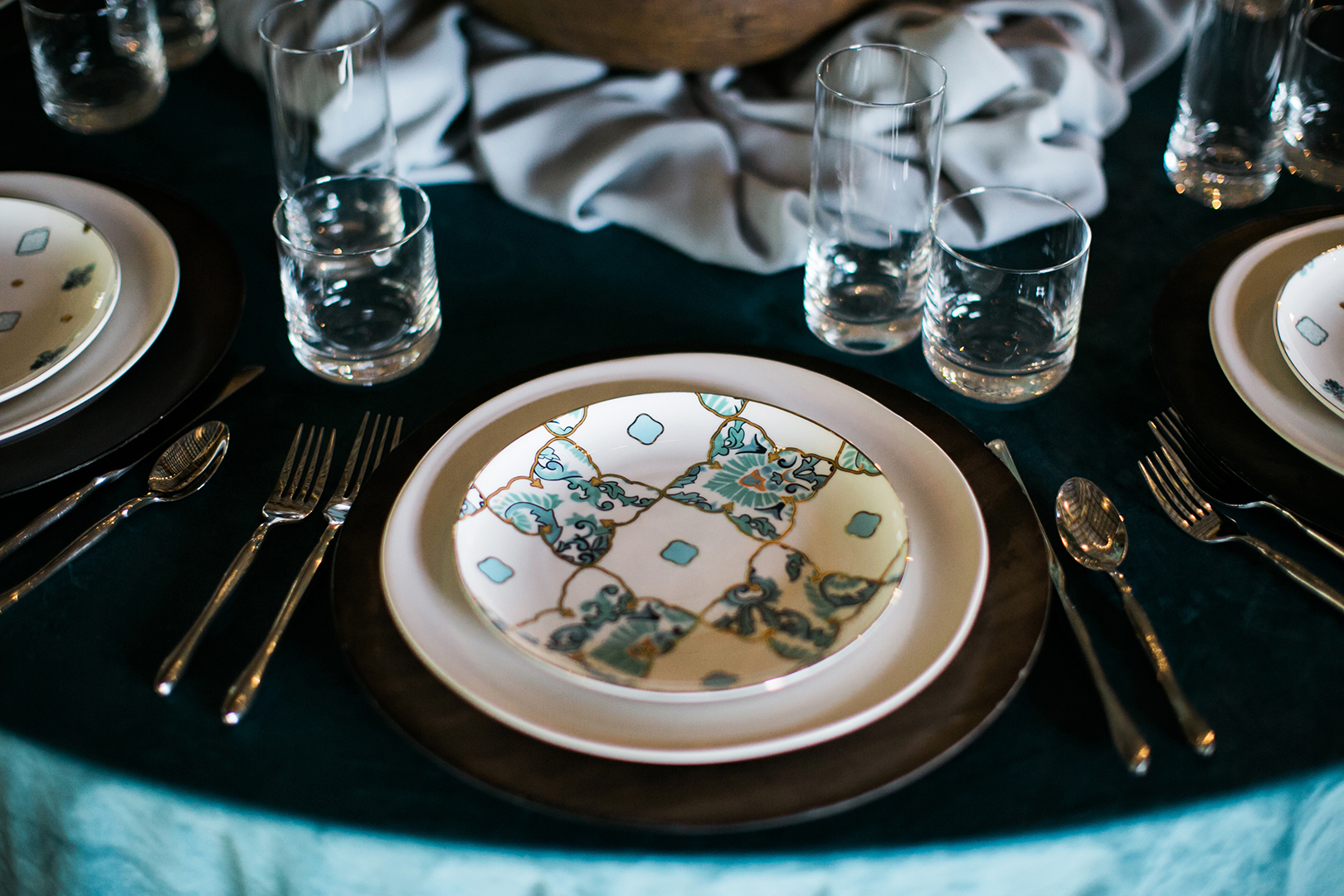 Luxe Seating
Although your own dining chairs will do just fine, swapping your seating for a special evening can make a big impact. It also makes for more cohesive black-tie dinner parties! We offer a variety of stylish seating options, from more traditional designs to unique contemporary pieces. Our Harlin Dining Chairs are ideal for luxe Southern-inspired gatherings, as our the Adeline Chairs. Whereas the Acrylic Carrigan Side Chairs offer a more modern but equally formal look! Then there is the always popular Chiavari Chairs, available in four beautiful colors, which look stunning in any setting.
Hosting a black-tie wedding or black-tie corporate event? Don't fret! We have plenty of seating in stock for small parties as well as large gatherings.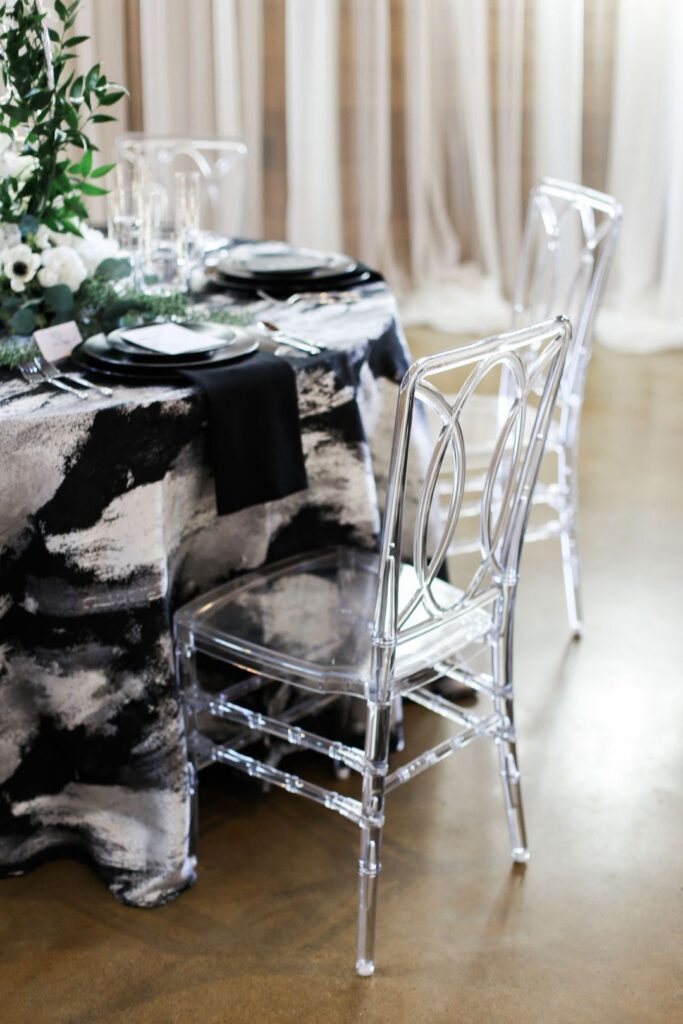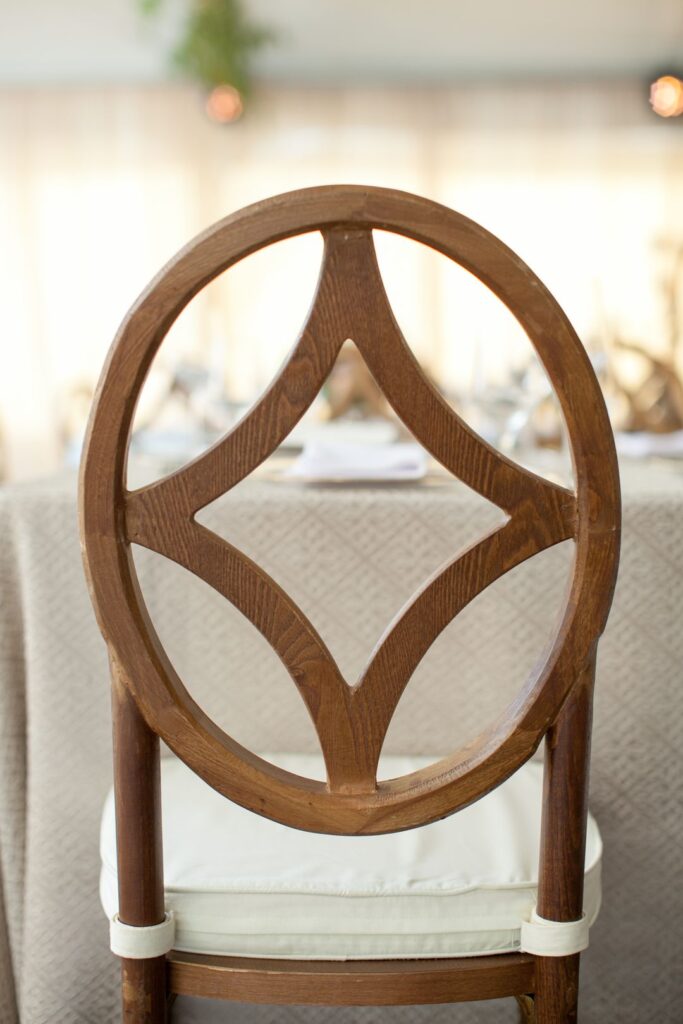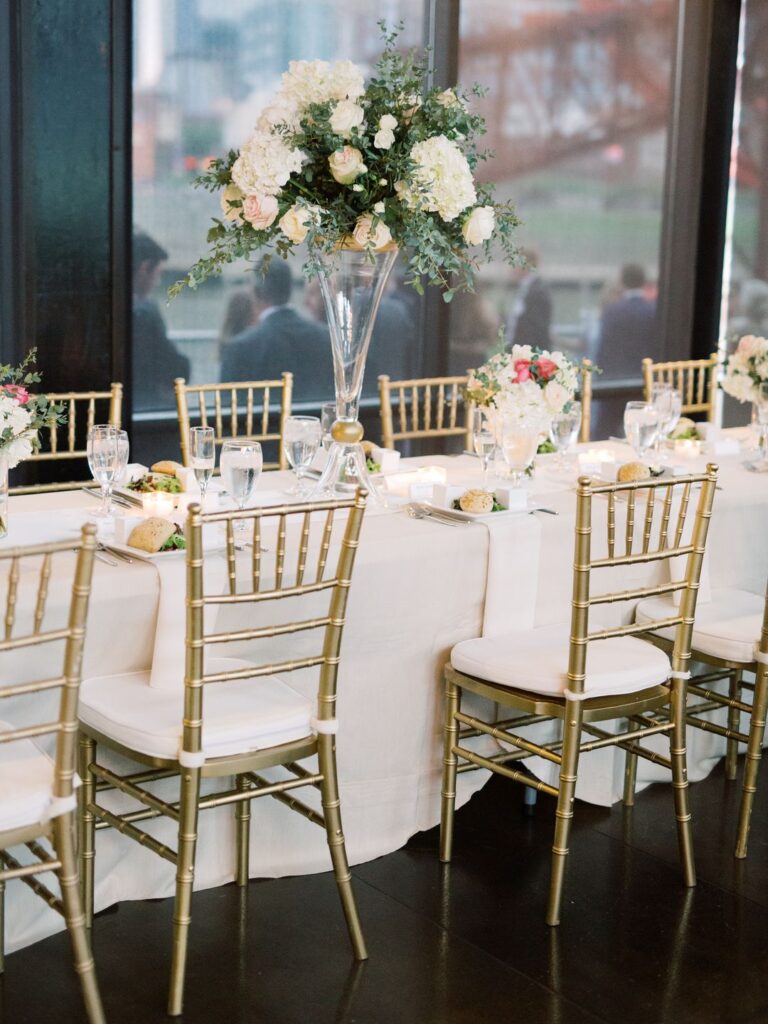 The 'Wow' Factor
While most black-tie event themes entail neutral palettes and elegant serving ware, we love a 'wow' factor. In fact, we encourage it! Little details that will have guests talking, snapping pics, and admiring the thought that went into the design. It can be as simple as quirky glassware, like our always popular Cybil Wine Glasses or Champagne Flutes. Or luxurious velvet linens, in a deep Magnolia or eye-catching Merlot – they won't be able to keep their hands off it! Another luxe addition are stylish centerpieces like our Davis Glass Cylinders, paired with greenery and candles. Or our contemporary Acrylic Rectangle Container.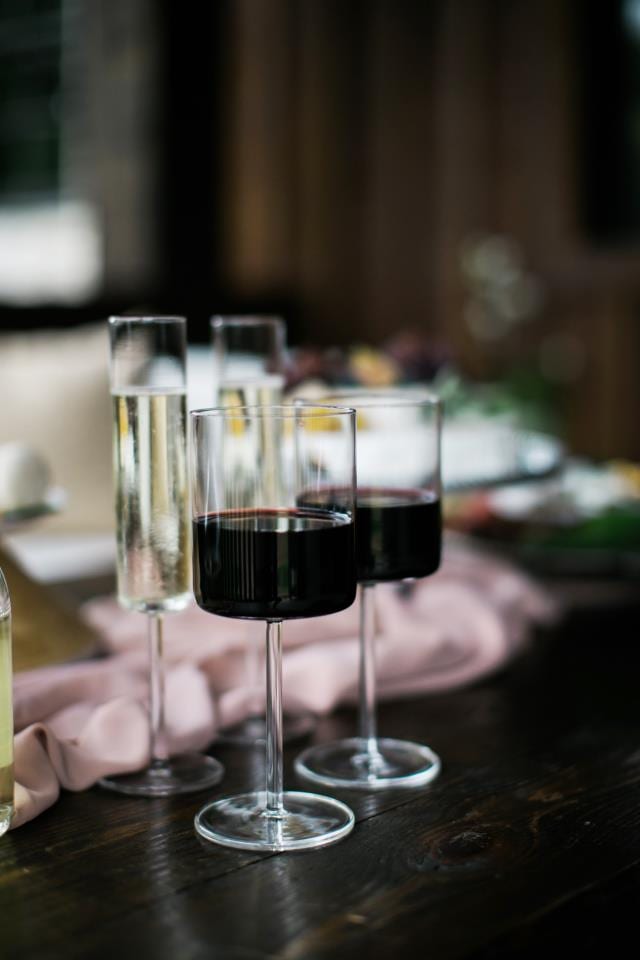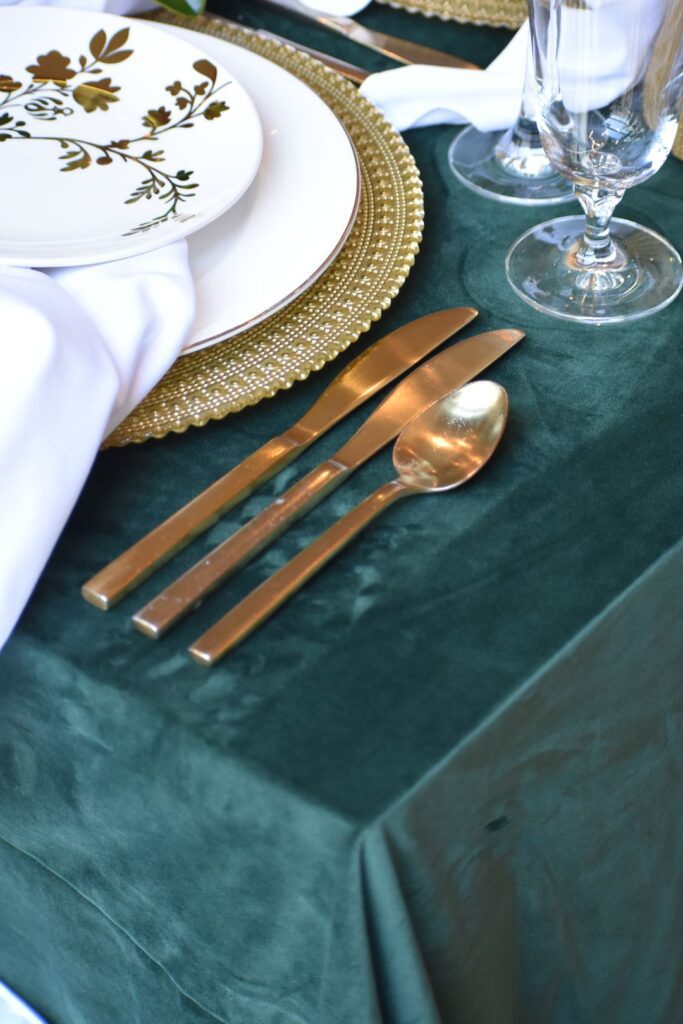 Love the idea of black-tie dinner parties? Send our team a message at info@southerneventsonline.com for help planning a one-of-a-kind event. Or for more event design inspiration, take a look at our blog on Regal Inspired Rentals for Elegant Tablescapes.
TAGS | Black and White, black tie dinner parties, event tables, event tablescapes, formal event design, luxe event design, luxe event rentals, servingware, tablescape design
FEATURED RENTALS | Magnolia Velvet Linens, Merlot Velvet Linens, Davis Glass Cylinders, Acrylic Rectangle Container, Round China, Onyx China, Stone China, Darcy China, Harlin Chairs, Adeline Chairs, Acrylic Carrigan Side Chairs, Chiavari Chairs,Glass Charger with Gold Rim, Medallion Gold Glass Charger, Laguna china, Coronado China, Gold Austin, Abby Flatware, Como Flatware, Noir Matte Black Flatware,
---
26

May

On Trend, Southern Events Products, Trends and Inspiration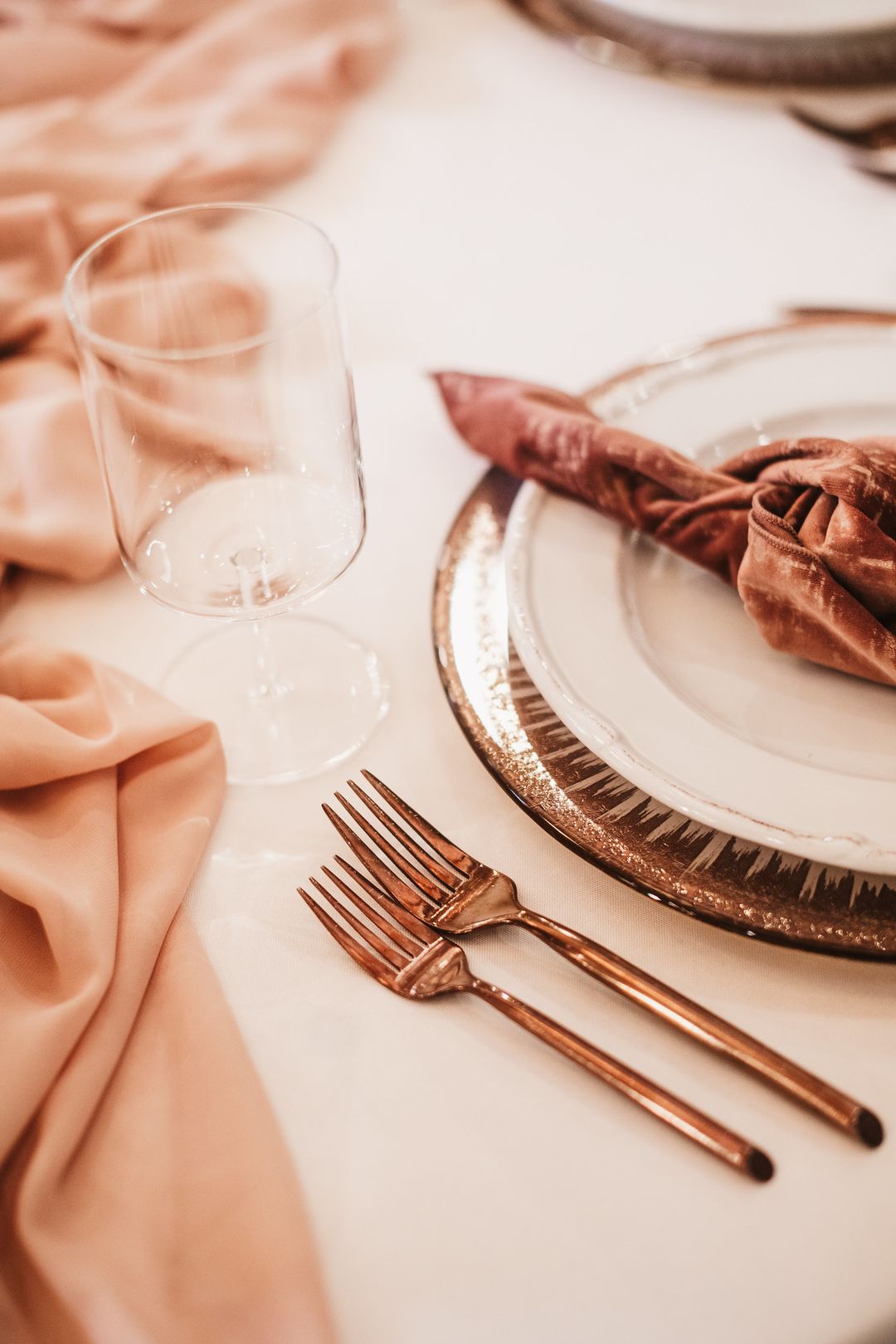 When it comes to event decor, table linens are a stylish way to dress up your event. Although simple, they are effective thanks to the wide variety of colors and materials, which contribute to the overall event design. Currently, we've been loving textured linens, from chic runners to velvet napkins. Get ideas on how to elevate your event tables when you feature a set of our on-trend textured linens!
Texture Table Runners
If you are featuring tables with an attractive top, then you won't want to cover it up! Gauze runners are a stylish way to feature some contrasting texture, while still showing off the existing tabletop. Perfect for our Farm Tables! Our Sahara Runners pair beautifully with the wood finish, and are available in three stunning colors. Ivory and Natural are ideal for a modern minimal tablescape. Meanwhile, Rose will lend a fun pop of color! Our Chiffon Runners, available in Rose, Dove Grey or White lend to a more romantic feel. Want a more glam accent? Take a look at our Sequin Table Runners!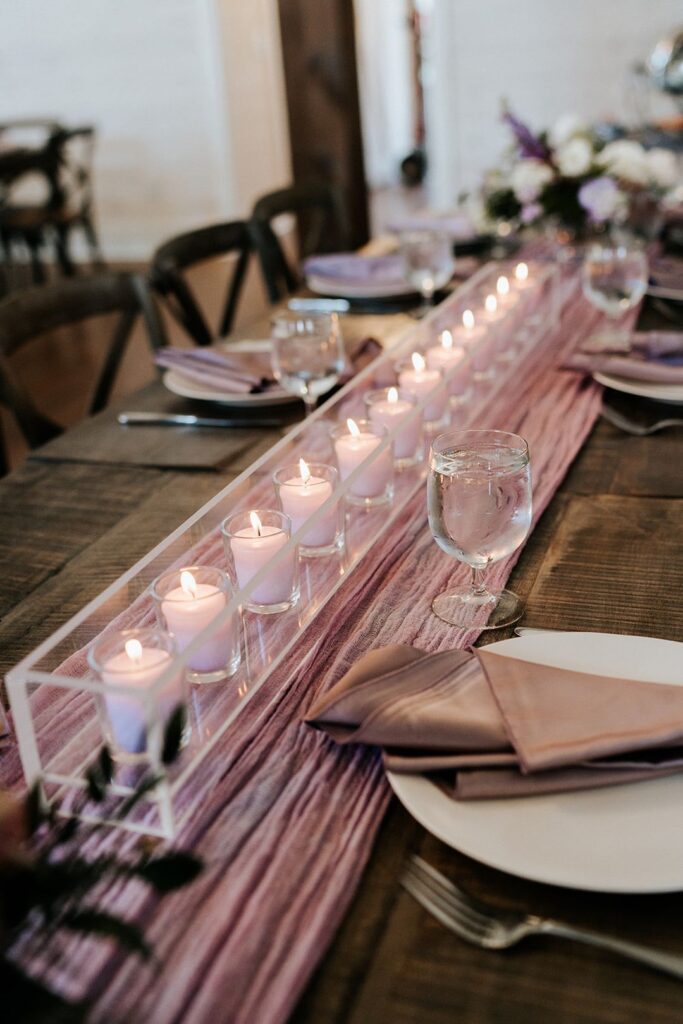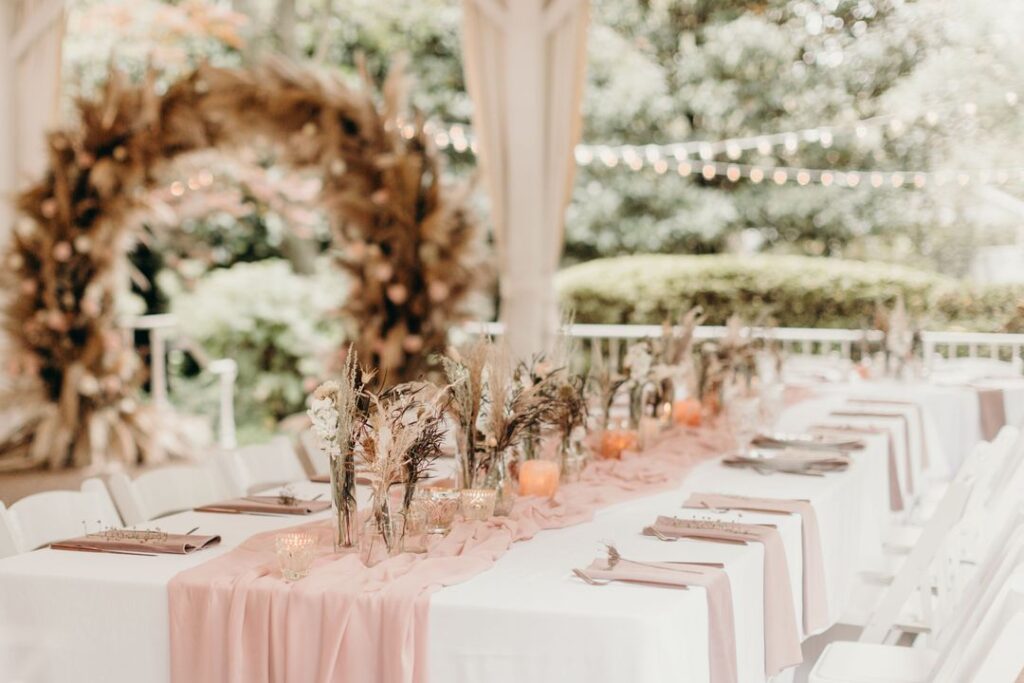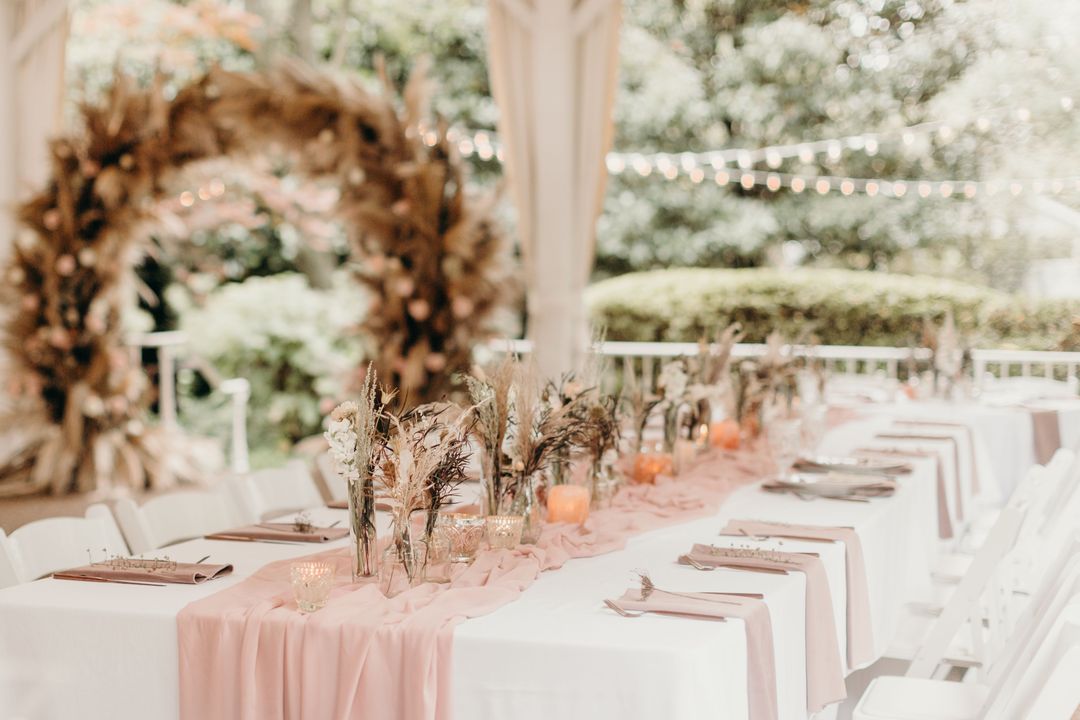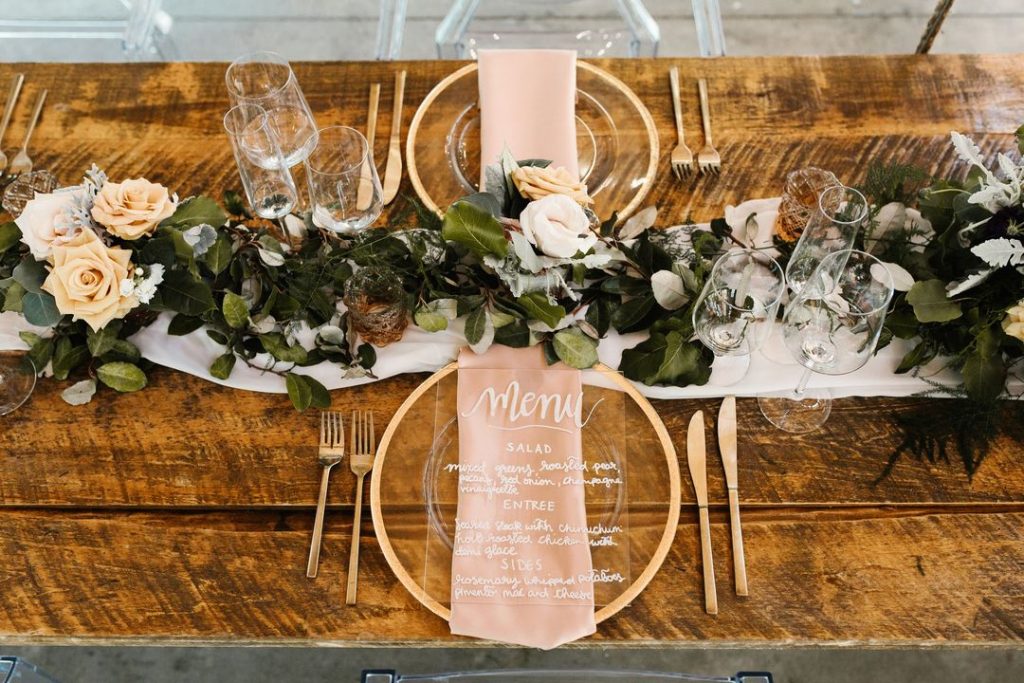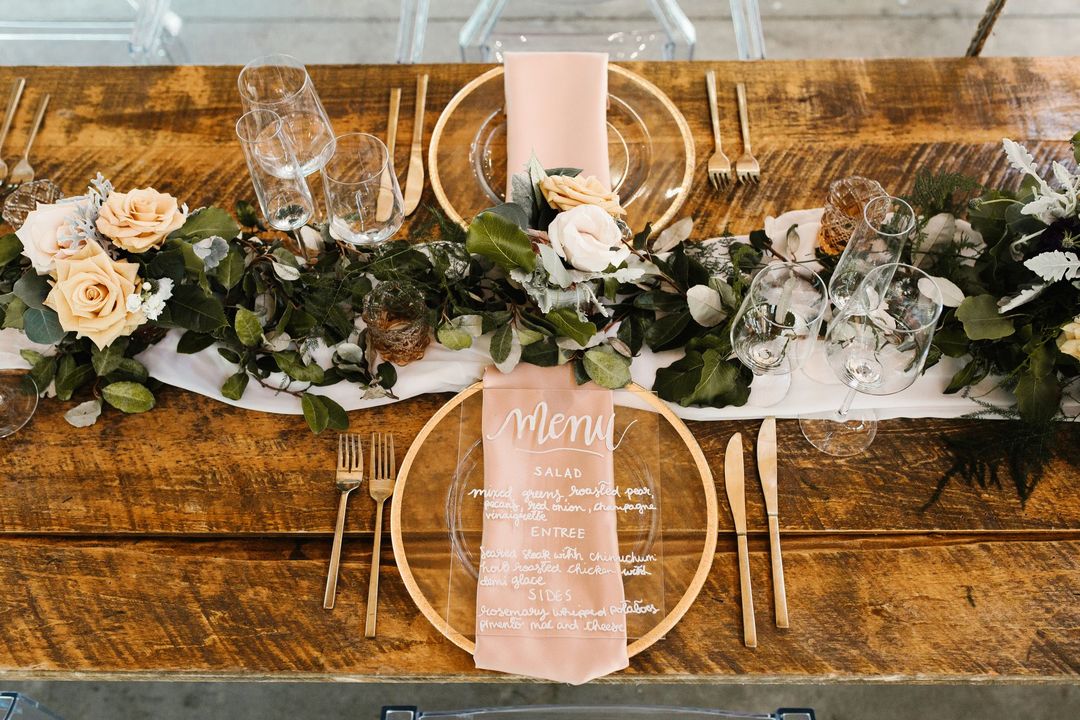 Sophisticated Linens
Dreaming of natural but sophisticated event tables? You can't beat our Kennedy Linens! These linen-style tablecloths and napkins are lightweight, soft, with an organic texture. They are perfect for warmer months of the year as they are slightly sheer, lending a laid-back look. Not to mention they are available in a range of neutral and dusty colors, fitting for a modern event table! Some of our current favorites include Cactus, Fawn and Topaz.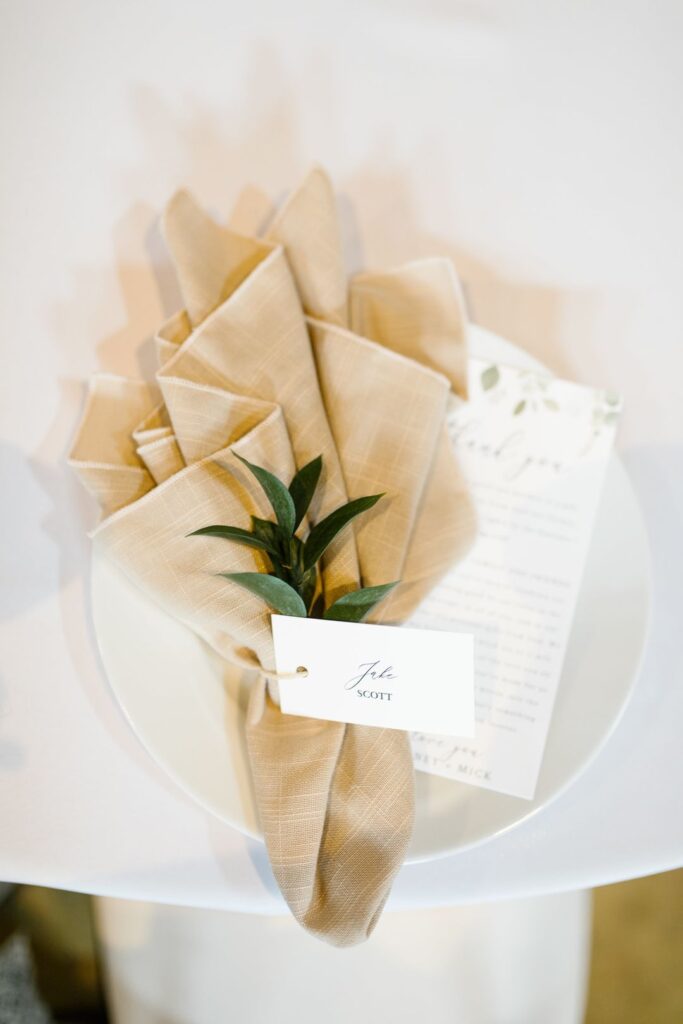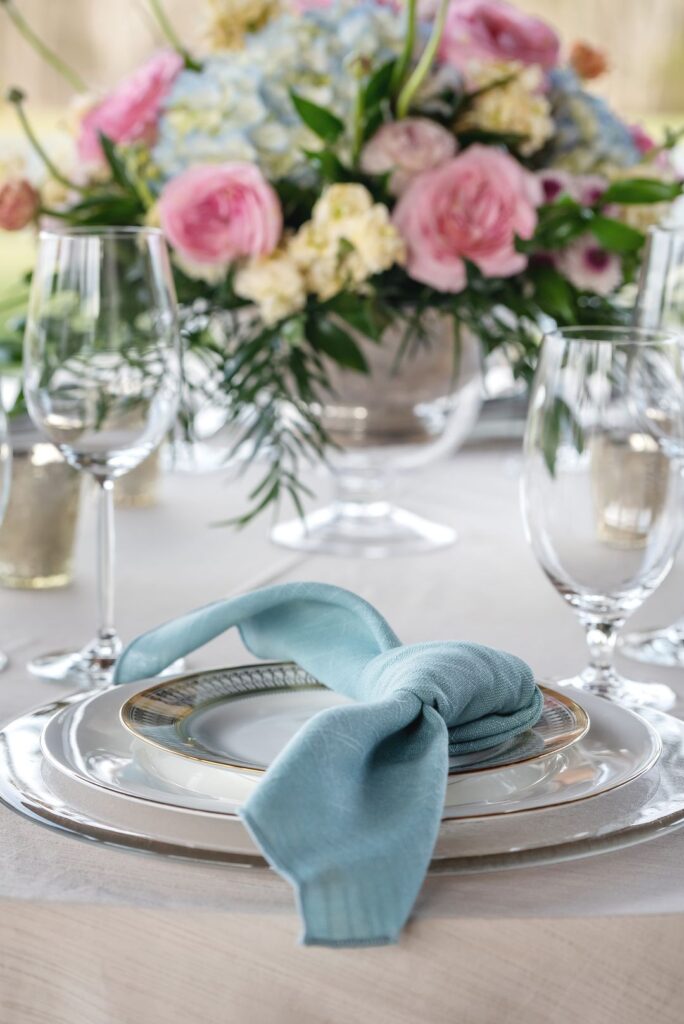 Luxe Linens
The latest and greatest fad in event linen rentals is velvet! Velvet linens create a rich, yet seasonless texture for your tables. And they are available in a huge array of gorgeous colors, making them fitting for a variety of event styles. A few of our current favorites include Fern, London Fog, and Rose. For an especially sophisticated look, check out our etched velvet linens featuring metallic accents – a fun option for cocktail tables. Or your cake table! If you want to switch things up a little, consider topping velvet table linens with satin napkins! A buttery texture with a soft sheen, they will make for an extra romantic tablescape.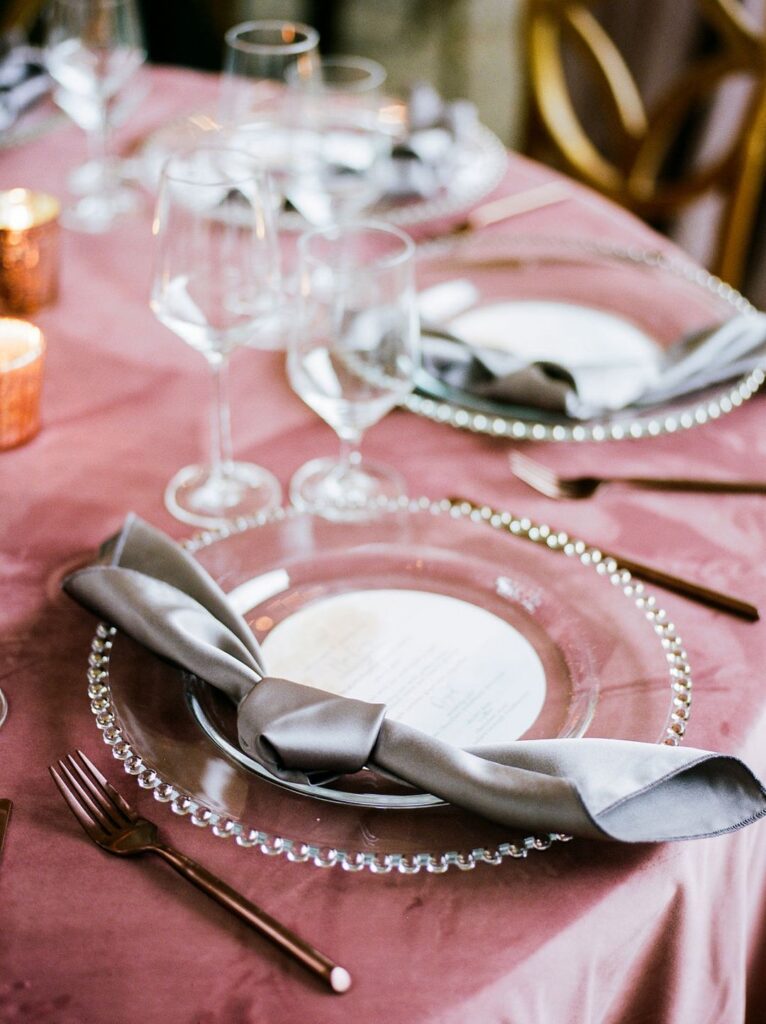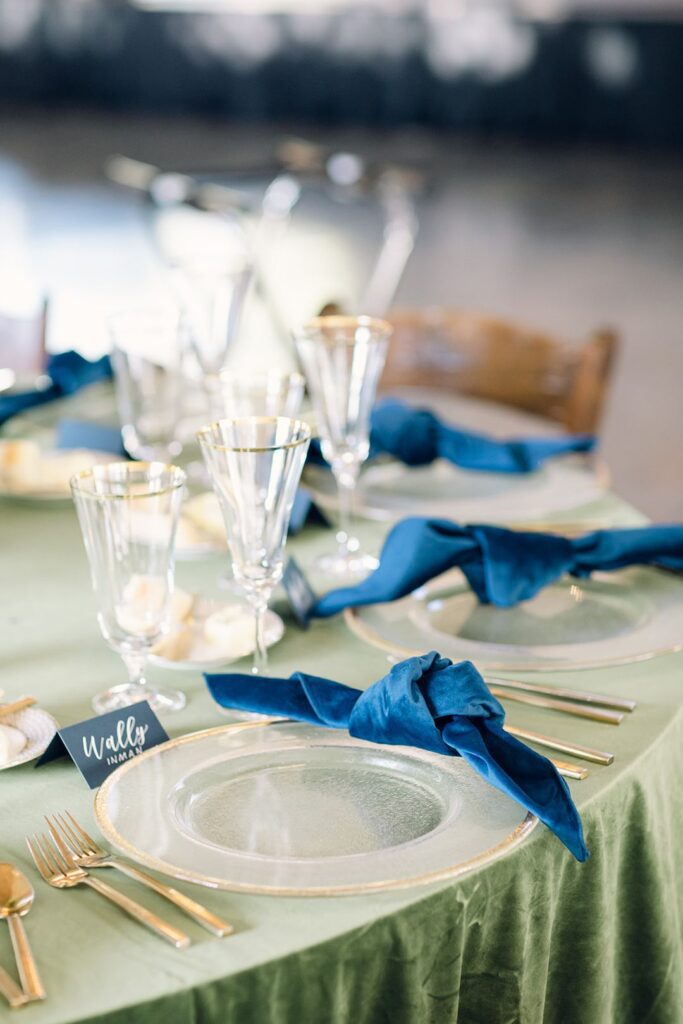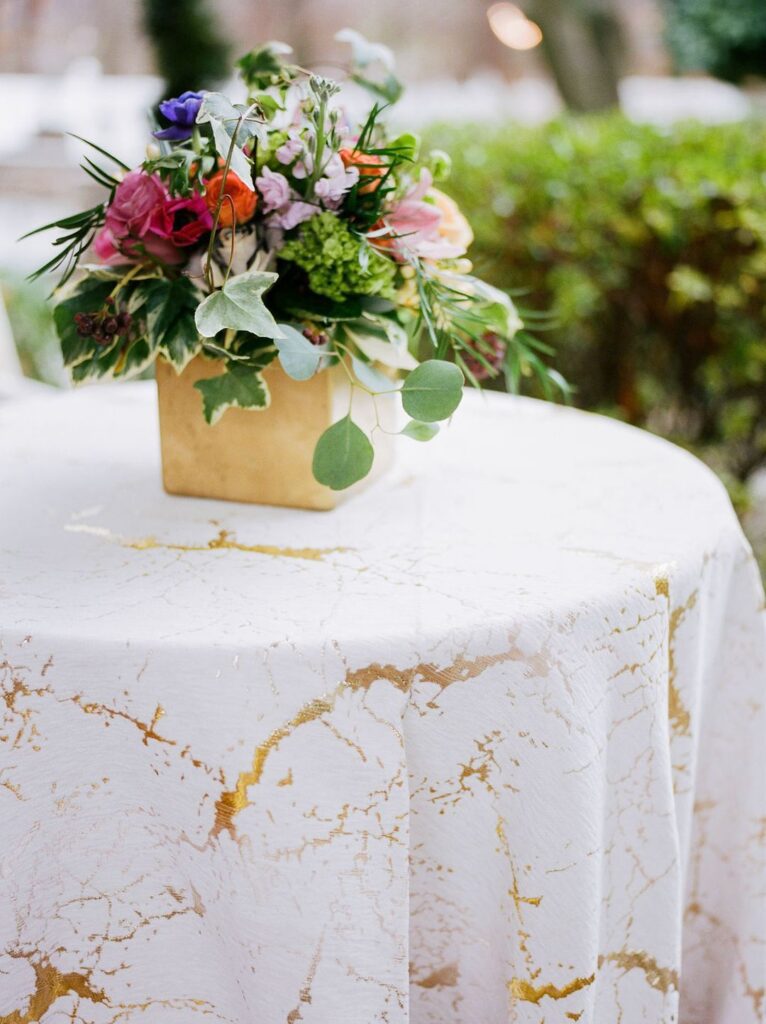 Want to feature some of these elegantly textured linens at your upcoming celebration? Contact our team today for assistance, or for help choosing products that align with your event design! For more event table ideas, be sure to check out out our blog on Luxe Event Linens!
TAGS | Event design, Southern Events linens, Velvet Linens, event linens, linen rentals nashville, luxe event design, luxe event rentals, modern event decor, tablescape inspiration, tablescape rentals
FEATURED RENTALS | Sequin Table Runners, Kennedy Linens, Etched Velvet Linens, Velvet Linens, Satin Linens, Textured Linens, Chiffon Runners
---
3

Mar

On Trend, Southern Events Products, Trends and Inspiration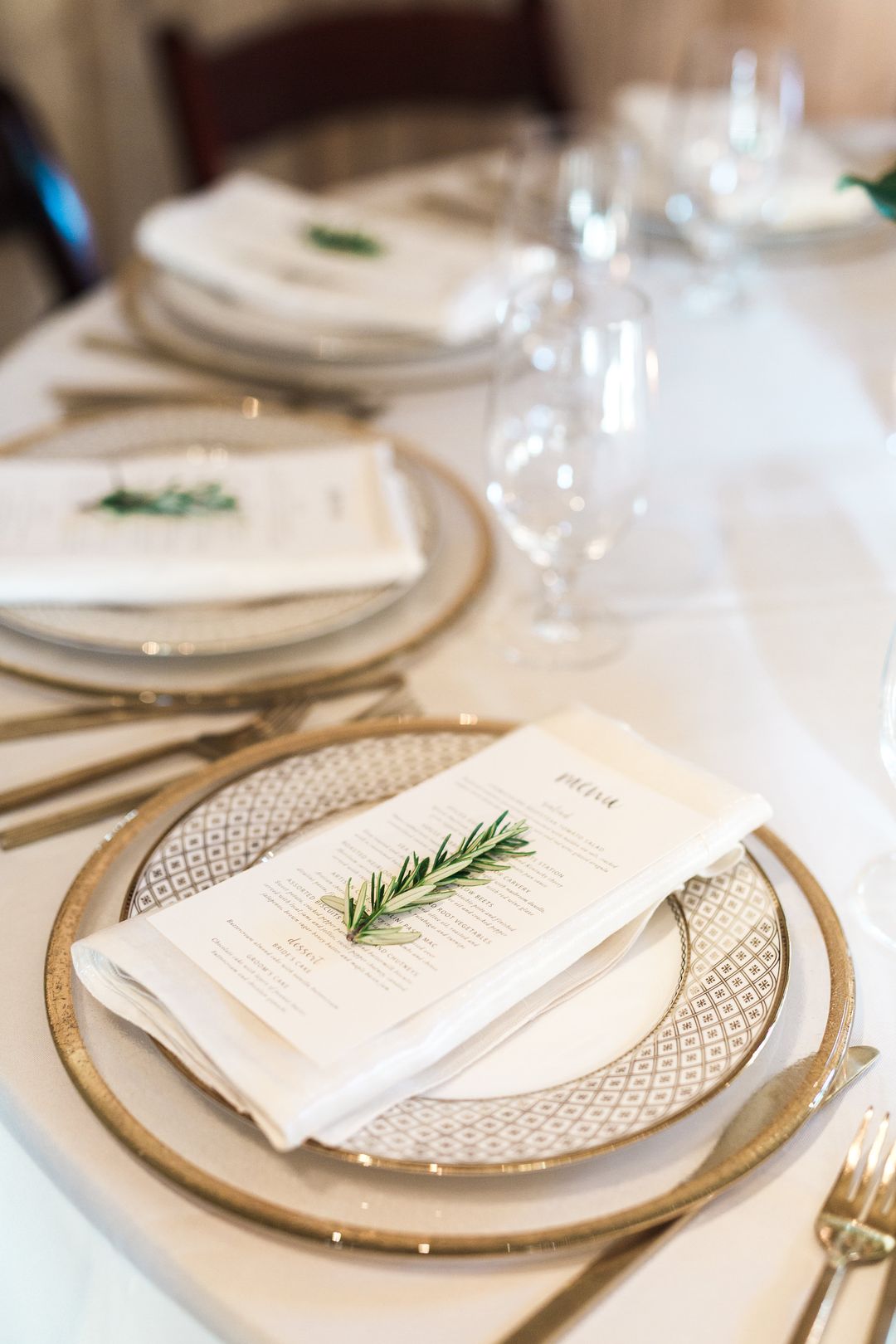 If there is one type of event design that will never go out of style, it's regal inspired celebrations. Starring luxurious metals, intricate patterns, and opulent colors, this style is a surefire way to achieve a memorable yet timeless event. It's a gorgeous option for a wide variety of gatherings, including corporate events, such as galas and fundraisers, as well as weddings and personal parties. Get inspired by our regal inspired rentals, perfect for hosting a cocktail hour or seated reception.
Regal Event Linens
Let's start by putting together a place setting fitting for a queen! Depending on the table featured at your event, you may want linens. The exception being tables with natural wood tabletops, like or Fruitwood Farm Table, which you'll want to show off.
As of late any of our velvet linens have been a hit, as the plush materials is effective at lending a regal look to any tablescape. You can't go wrong with neutral colors, such as black, white or taupe. Although, rich colors will contrast beautifully with metallic accents. Our current favorites include Magnolia Green and Navy Blue! However, if you want a tablescape that looks like it came straight from the Regency Era, consider our Gold & Ivory Fresco, Blue Kensington, or Ivory Pearl Shalimar Linens.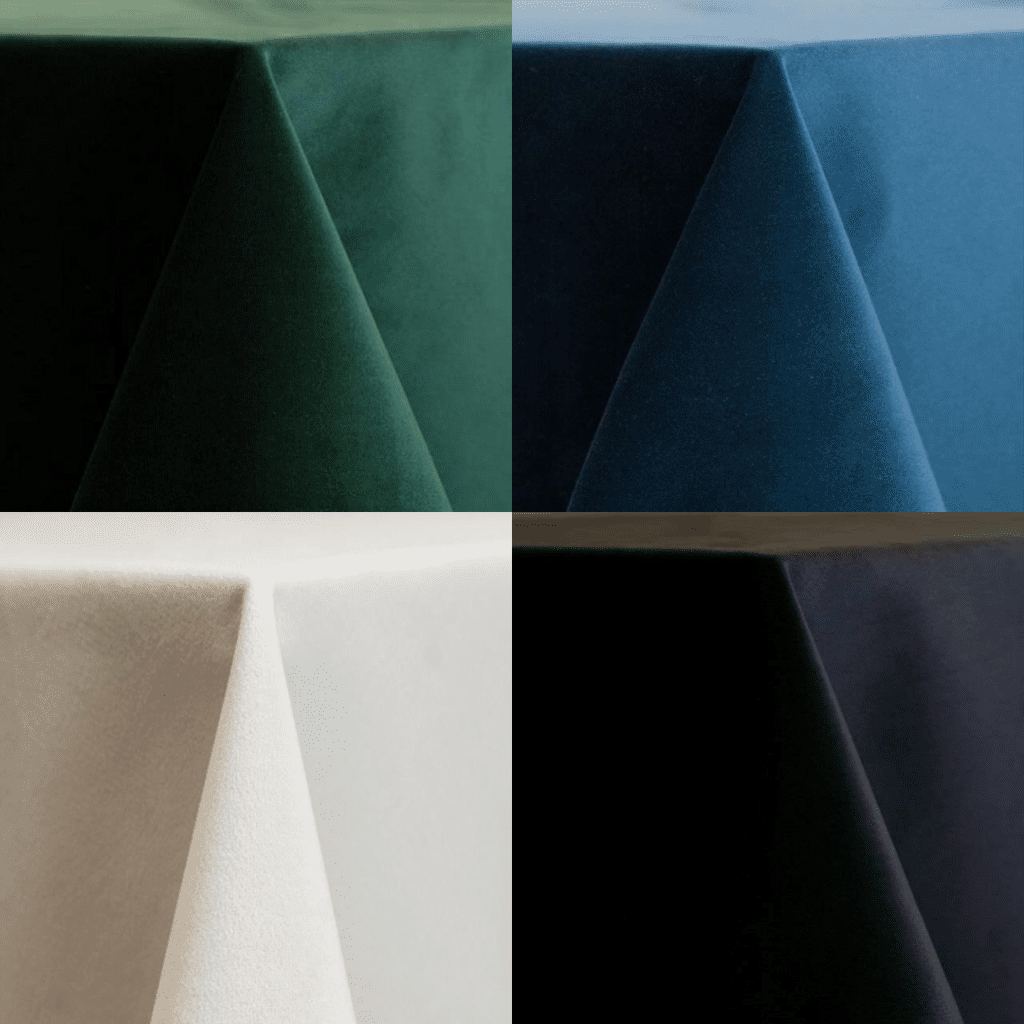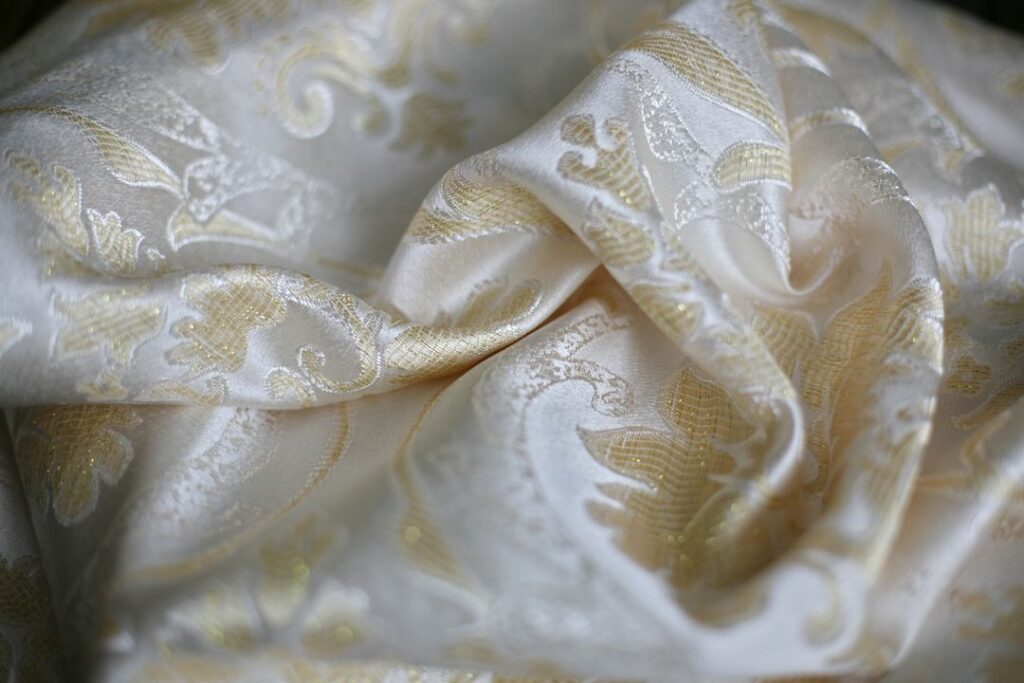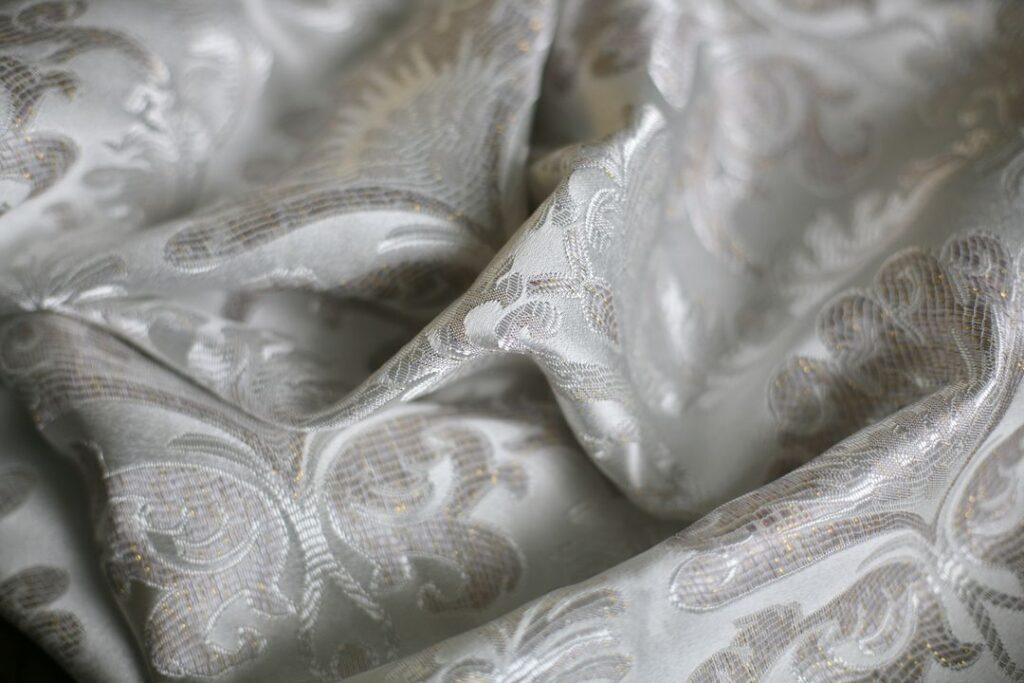 Opulent China
By far our most popular china for a luxe event is our Athena China, with its sleek gold border. For an especially regal look, consider or Ophelia or Hamlet China, with their more intricate designs. All of these pieces pair well with any of our glass chargers – elegant pieces that don't take away from the fabulous gold accented china. We have a variety of options depending on your color scheme or style, including glass chargers with black, gold, silver, and even a beaded rim.
For flatware, we recommend either our beautiful Fresno or Abby Flatware. The Gold Matte color and bulky shape of Fresno will lend a big statement. Meanwhile, the dainty Abby Flatware is luxe yet understated. A better option if your china and charger is bold!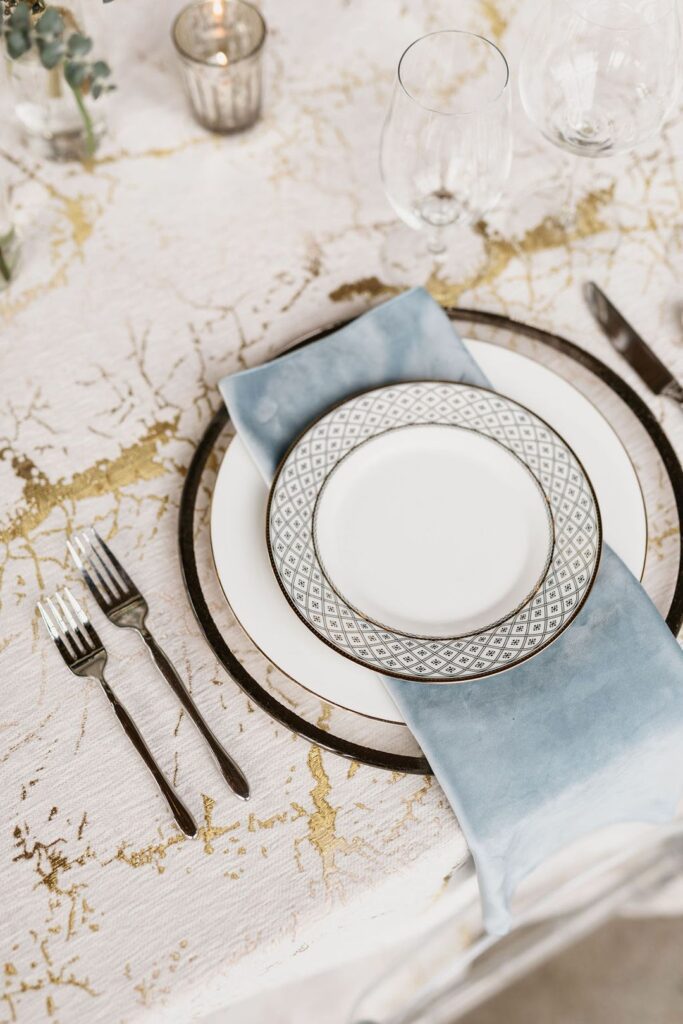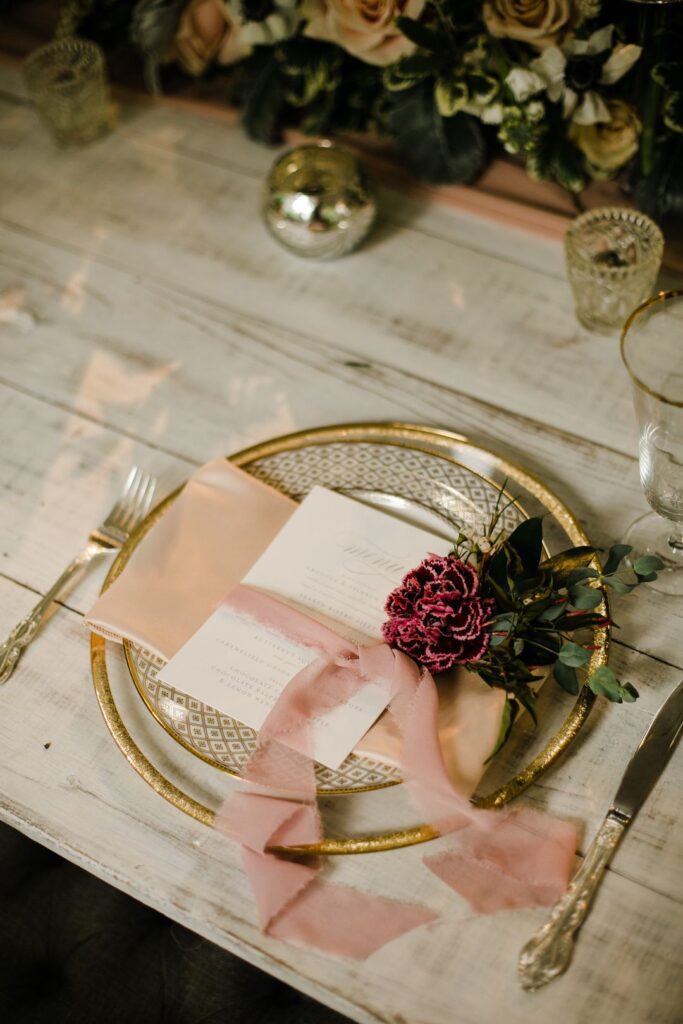 Luxe Barware
Every social event requires a bar and fresh beverages! Make sure you serve your drinks in glassware that suits your regal theme. Our Audrey Glassware is a dainty but timeless option, featuring a sleek design and luxe gold rim. Meanwhile, our Monaco Glassware has an intricate design that is sure to 'wow' your guests. Or, consider the simple Champagne Gatsby Coupe glasses, fitting pieces for a more casual event.
If you're hosting an intimate party and want to add an extra luxe entertainment factor to your cocktail hour or reception, consider renting our Rolling Gold Bar Cart. It's the perfect way to serve up fresh drinks table-side!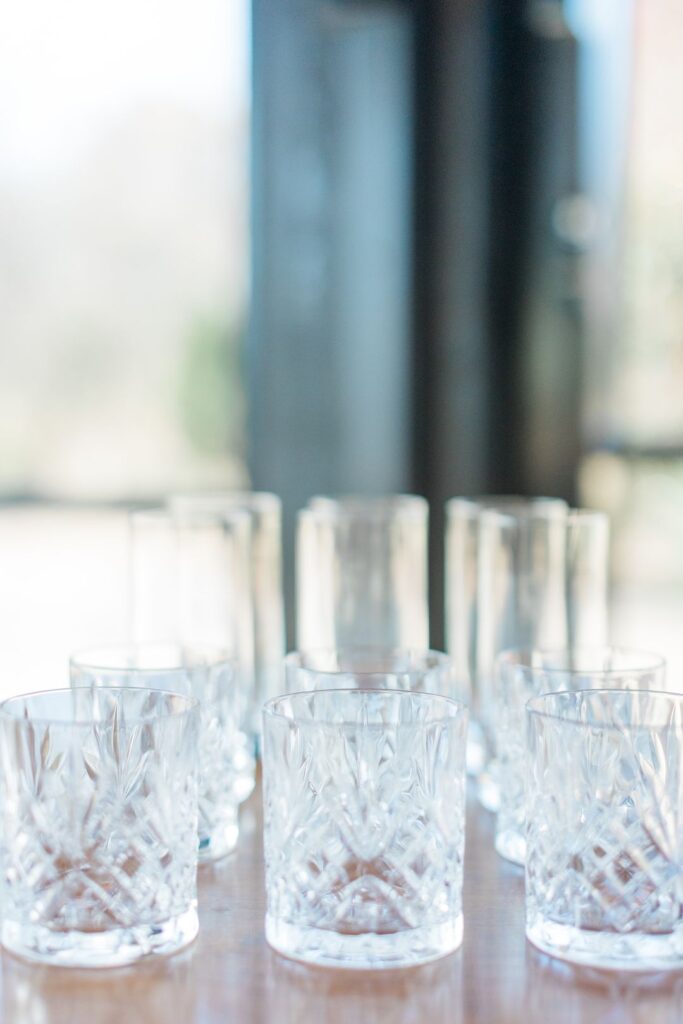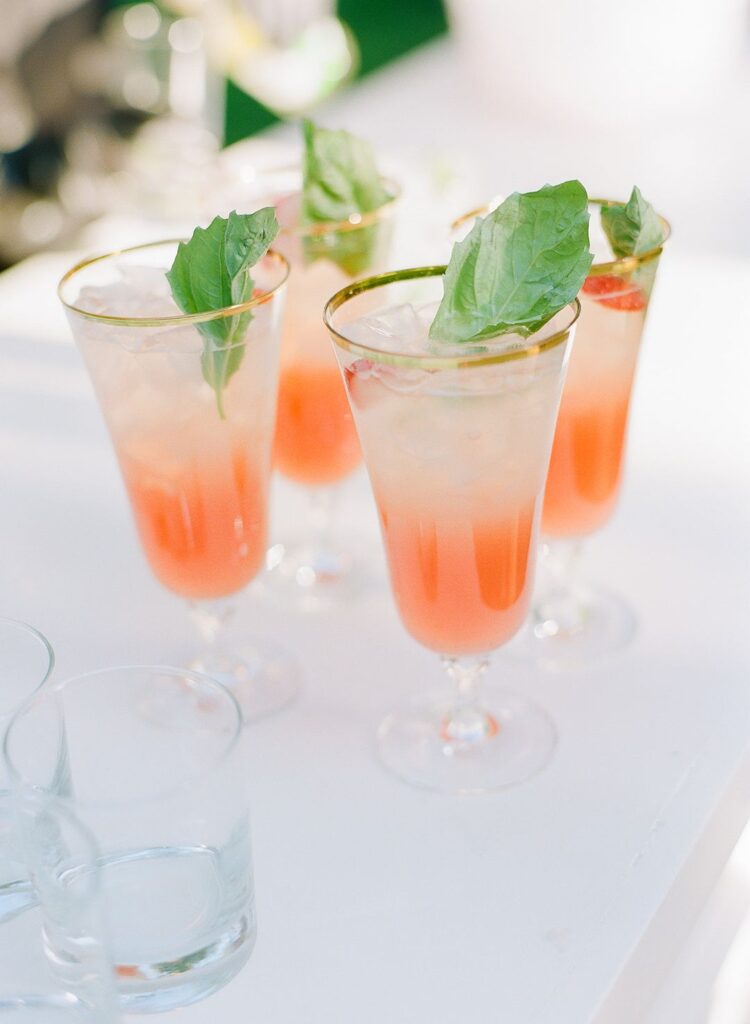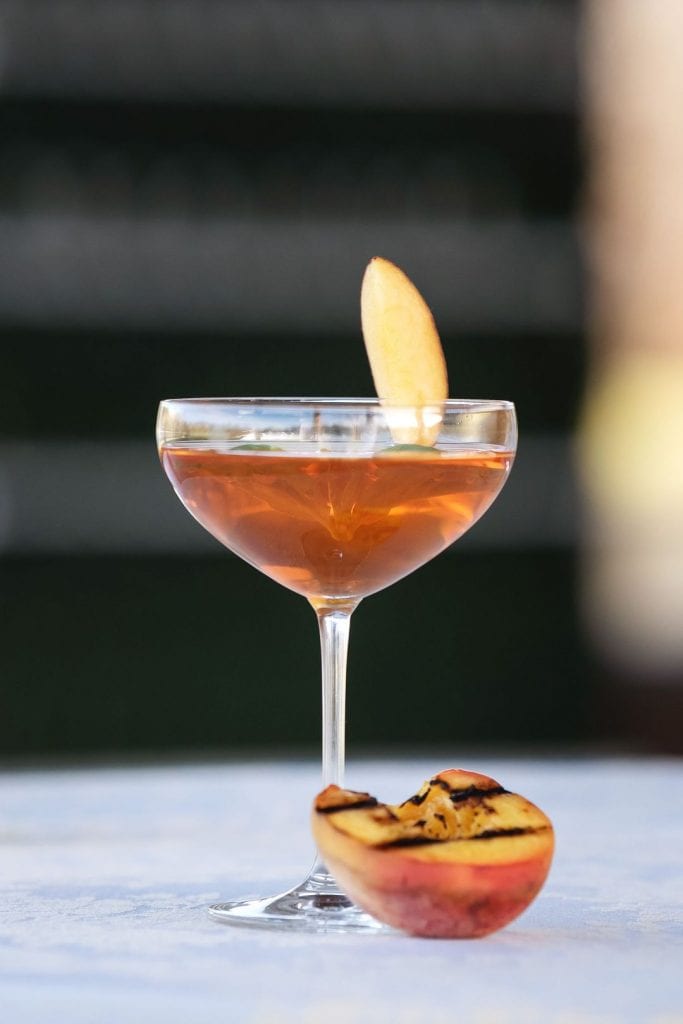 Drooling over these regal inspired rentals? Send our team a message at info@southerneventsonline.com for help selecting the best pieces for your elegant event! If you need a matching lounge, be sure to check out our blog on Natural Luxe Lounge Furniture.
TAGS | Glassware, Velvet Linens, glassware rentals Nashville, gold place setting, linen rentals nashville, luxe event rentals, luxe linens, regal event rentals, servingware
FEATURED RENTALS | Champagne Gatsby Coupe, Audrey Glassware, Monaco Glassware, Rolling Bar Cart, Velvet Linens, Kensington Linens, Ophelia China, Hamlet China, Athena China, Gold Rim Glass Charger, Silver Rim Glass Charger, Black Rim Glass Charger, Fresno Flatware, Abby Flatware,
---
30

Sep

Nashville Venues, On Trend, Southern Events Products, Trends and Inspiration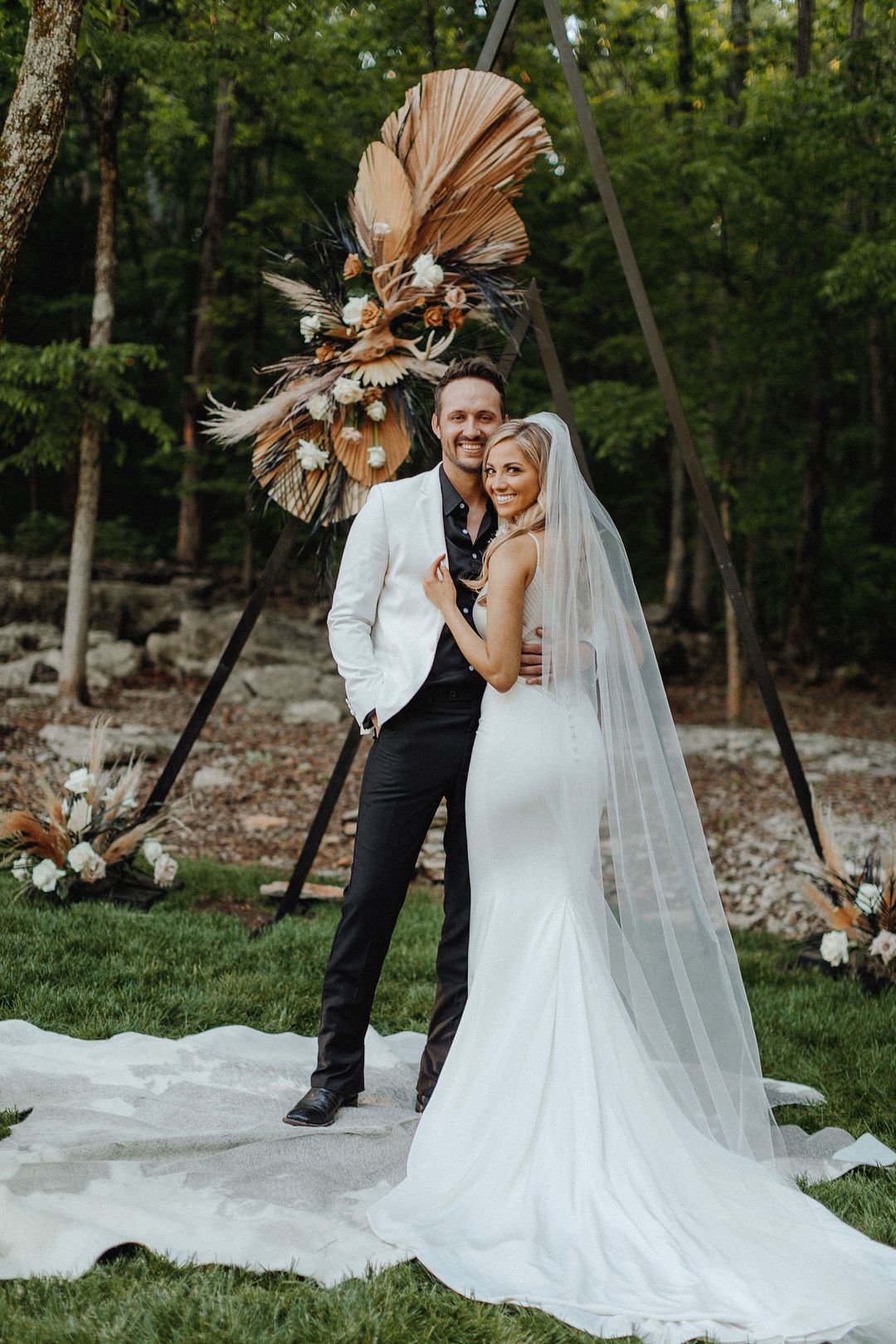 If you've been dreaming of an event that is equal parts moody and elegant, then you won't want to overlook the boho luxe style. Featuring beautifully contrasting colors and geometric details. Keep reading for some boho luxe inspiration from a recent wedding we participated in at Saddlewood Farms in Tennessee.
Hosted on the grass lawn, the wedding ceremony was a classic bohemian affair with luxe decor. Guests were seated in our simple White Folding Chairs. While the aisle was lined with Cowhide Rugs and arrangements featuring dried palms and fresh roses. For a backdrop, the two opted for a solid black Triangle Wedding Arbor. It was the perfect choice to ensure that the two stood out against the lush forest.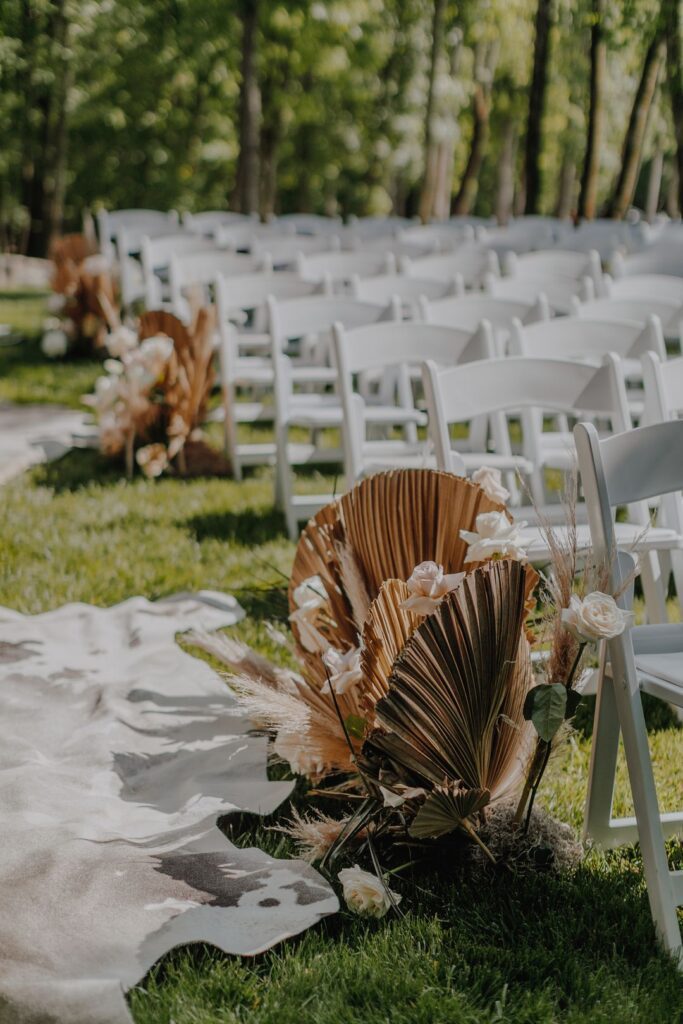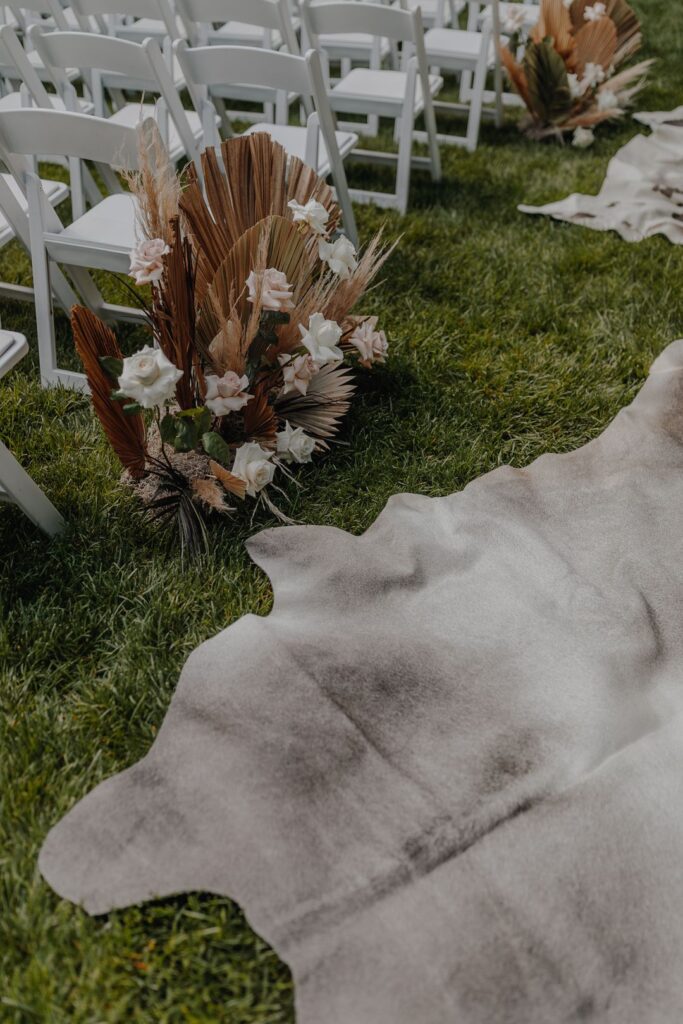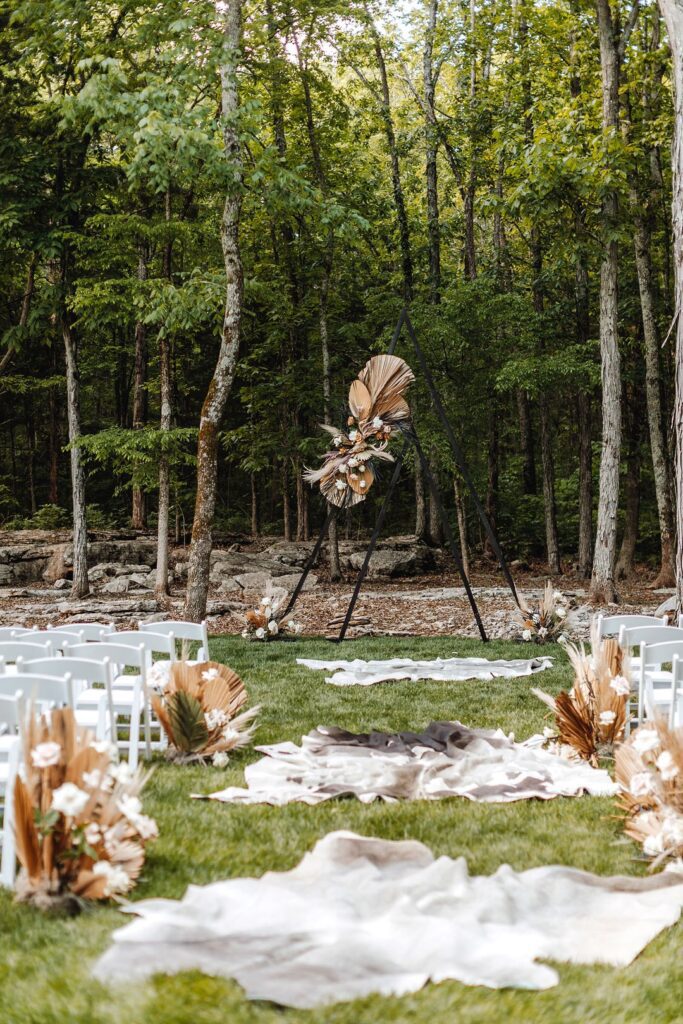 Afterward, they retired to the large reception bar, where string lights dripped from the ceiling and walls. The space was practically glowing, with the most beautiful soft light. Guests were immediately greeted by our white Harpeth Curved Bar, making it approachable from any side. For a one-of-a-kind look, don't forget to opt for a custom bar sign!
The dinner tables were outfitted in slick black linens with short floral centerpieces that lent a fun touch of texture. They were set with our Classic White Square China, Hammered Flatware, and Davis glassware. For linens, they opted for our stunning Azalea Poly, a moody yet feminine color. The couple's sweetheart table was equally luxe, featuring our Fruitwood Farm Table with Ghost Acrylic Armless Chairs. Davis Glass Cylinders sat on the floor with pillar candles, making it especially romantic.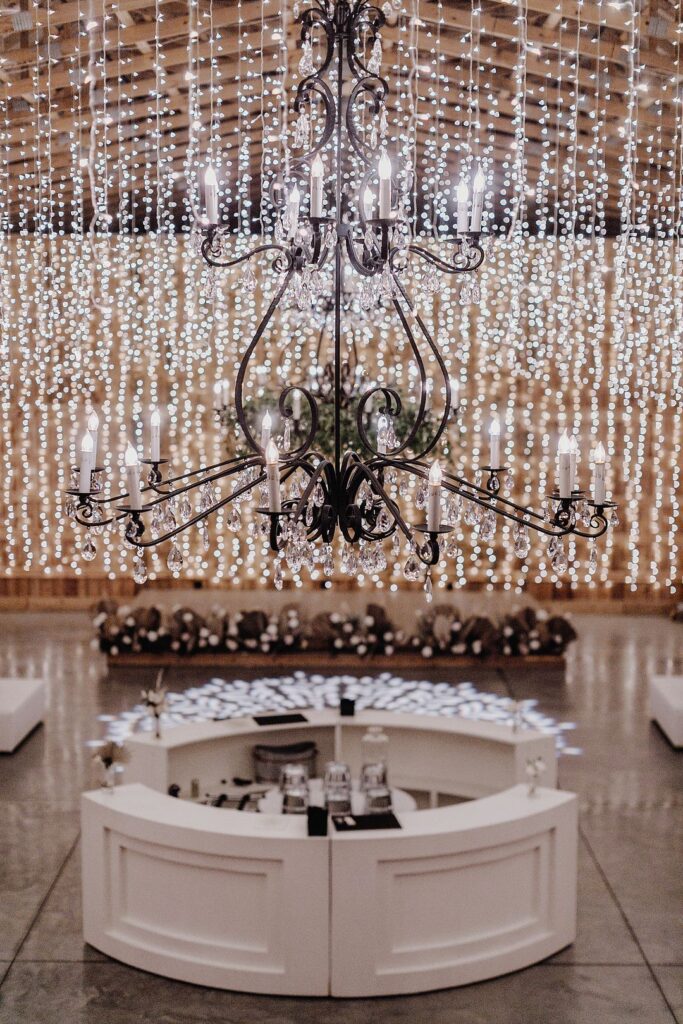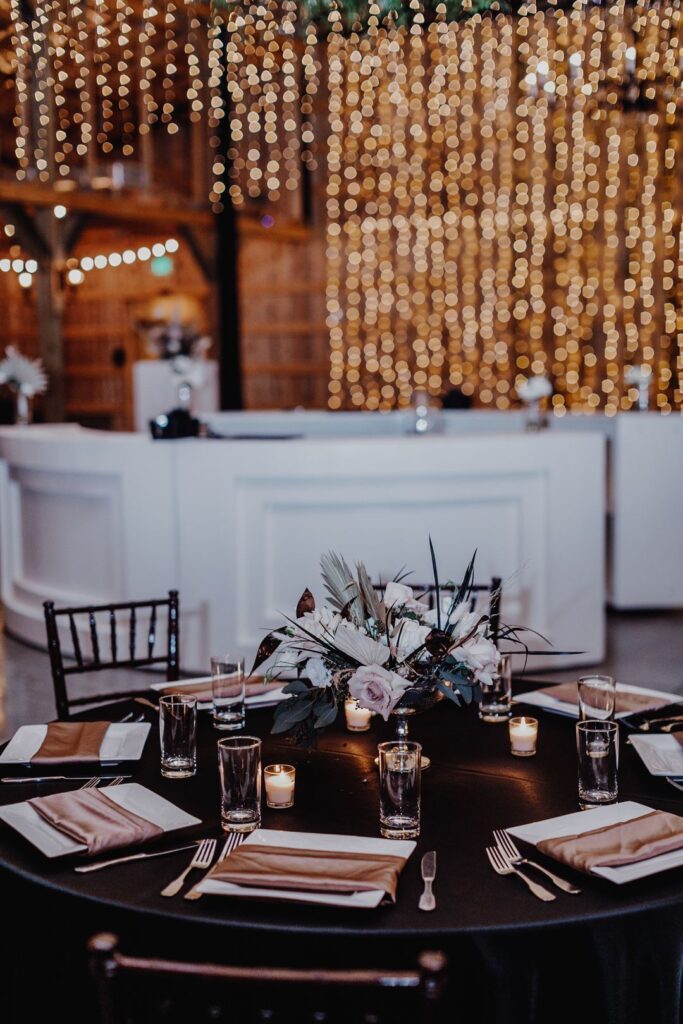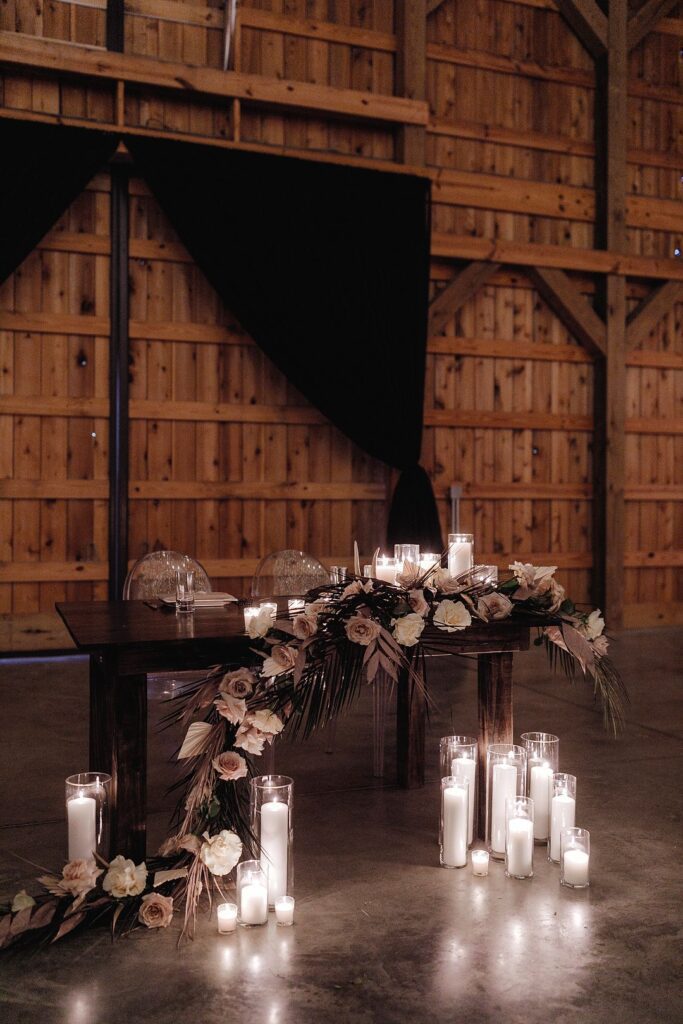 Of course, what is a wedding without designated areas for mingling? Flanking the bar was our sleek white Mercer Lounge. It was topped with matching florals and soft pillows – to make it extra cozy! To ensure guests could make full use of the lush event space, other small lounges sat just outside the barn. Including small accent tables, where people could set their food and drinks. They were decorated with pure black linens that manicured lawn.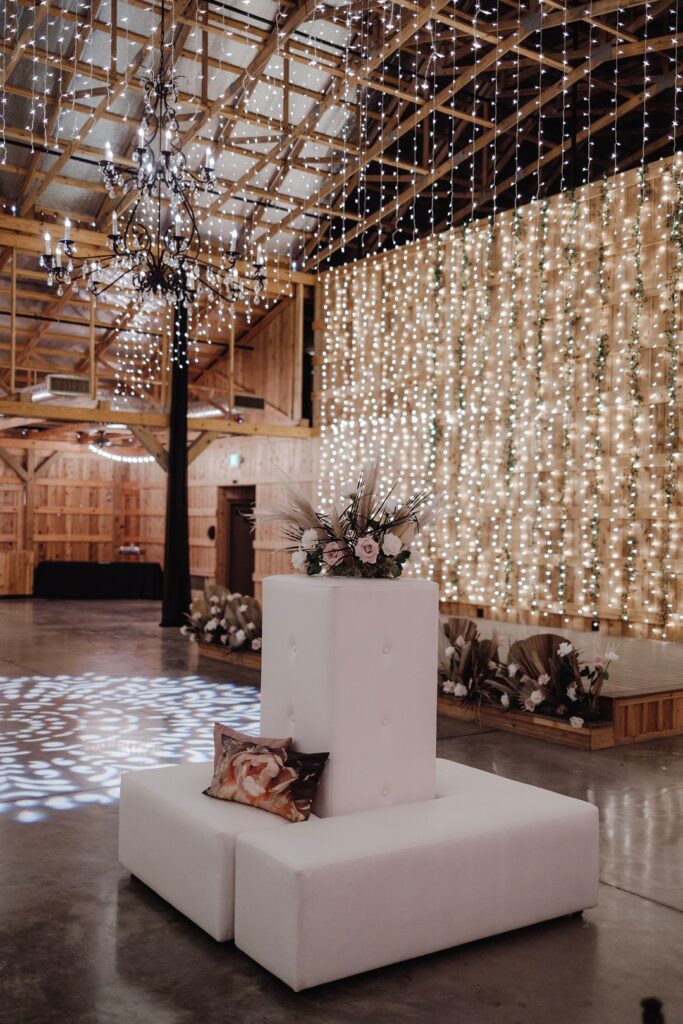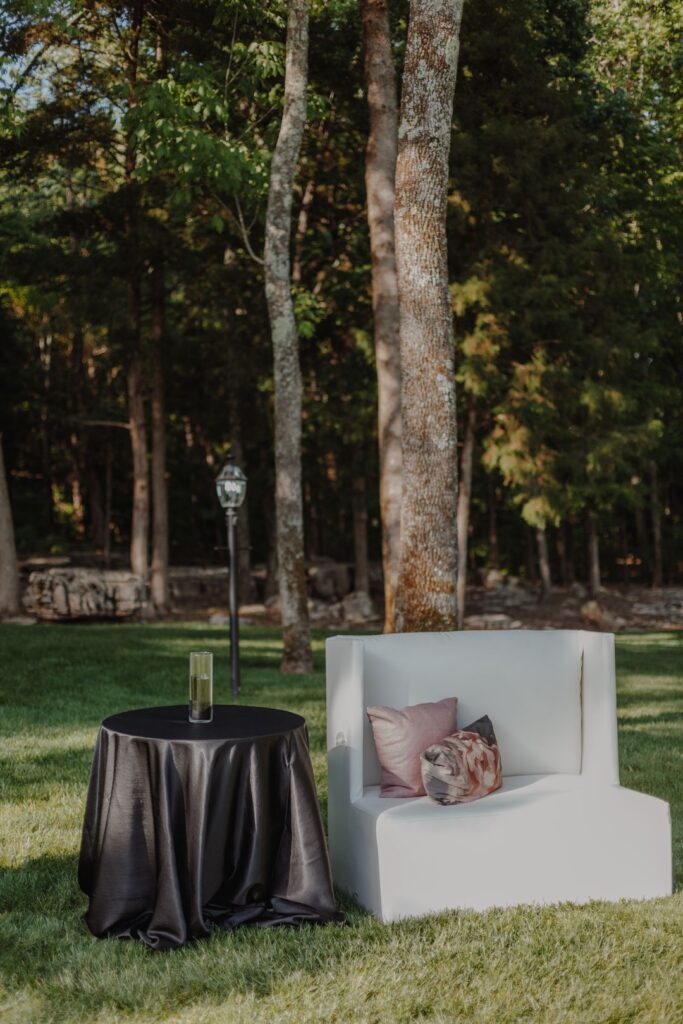 Special shoutout to Brasspenny Photography for sharing the images from this pair's day with us!
Love this boho-luxe inspiration? Contact our team at info@southerneventsonline.com & let's start planning your own event! Or for more event inspo, take a look at our blog on bold boho diva or modern retro rentals.
TAGS | Boho Luxe Event Decor, Boho Wedding Nashville, Saddlewood Farms, boho wedding style, luxe event rentals, luxe outdoor wedding, southern boho style
FEATURED RENTALS | White Folding Chair, Cowhide Rug, Triangle Wedding Arbor, Harpeth Bar, Square White China, Black Farm Table, Mercer Lounge, Acrylic Ghost Chairs, Davis Glass Cylinders, Davis Glassware, Bradley Flatware,
---
10

Dec

Events and Style Shoots, Nashville Venues, On Trend, Southern Events Products, Trends and Inspiration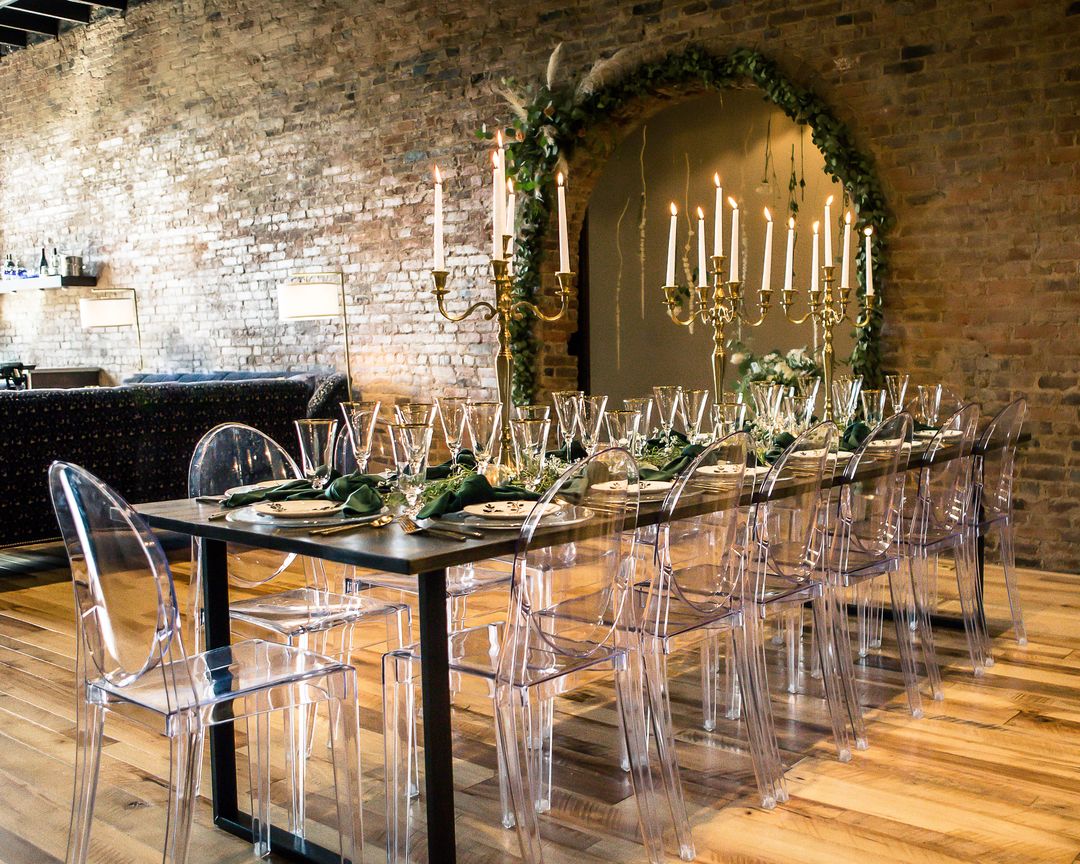 We love a good diner party and this emerald and gold styled shoot has us dreaming of luxe tablescapes for dinner parties and intimate weddings. Soiree on the Square in downtown Columbia, Tennessee was our host for the shoot and the perfect backdrop of cozy charm. Check out the details below, to get inspired for your own micro wedding reception or intimate dinner celebration!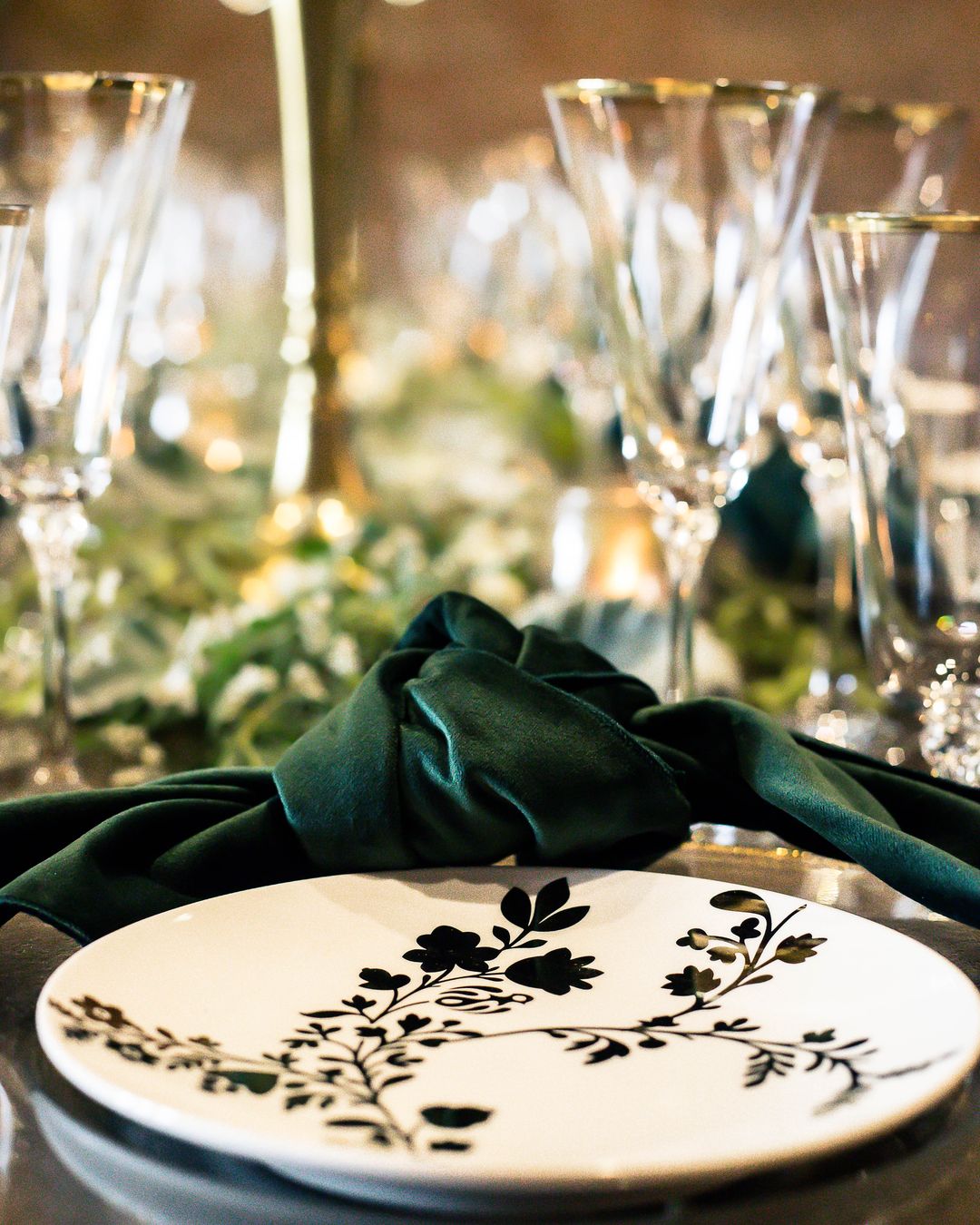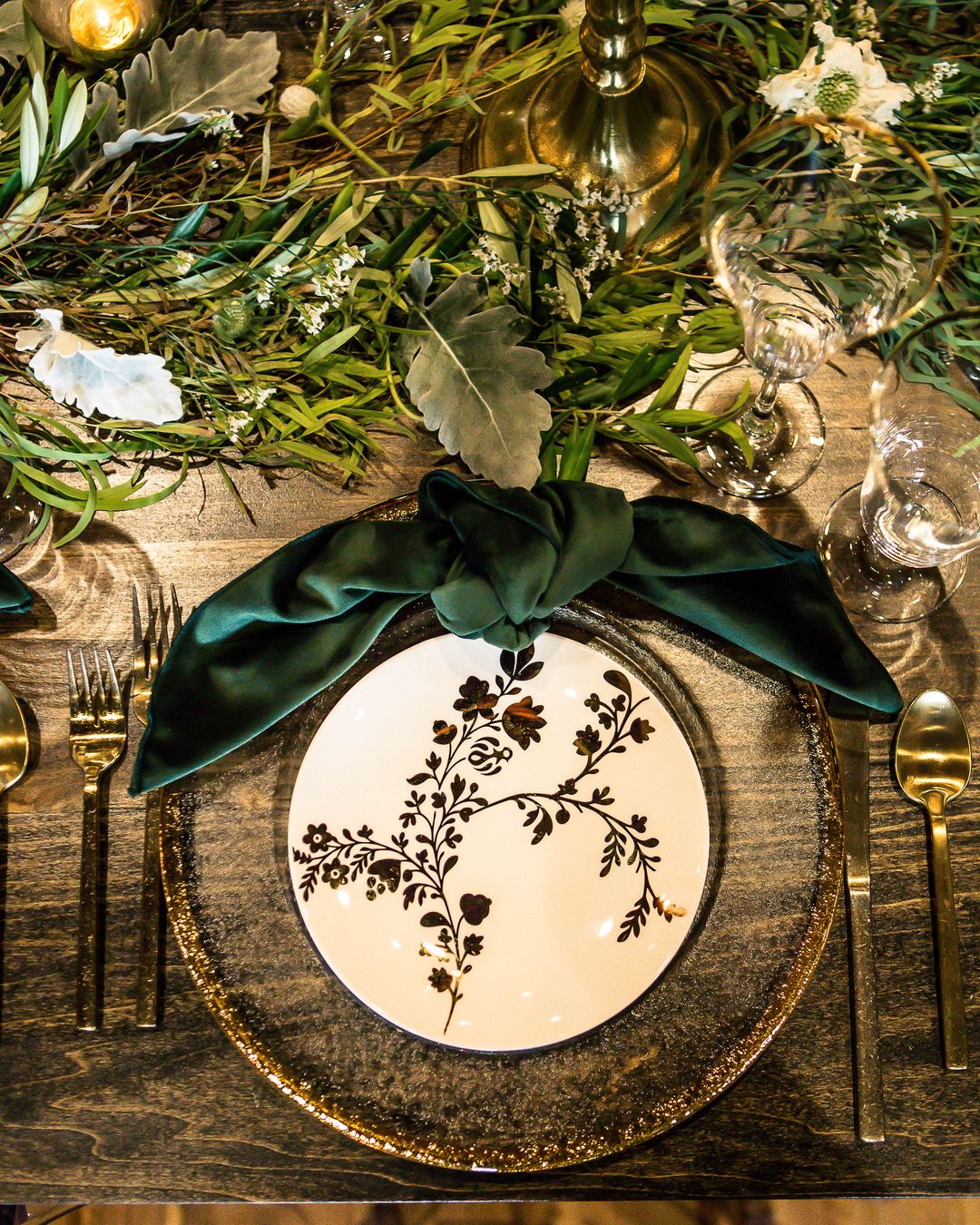 The Soiree on the Square is a gorgeous event space that mixes industrial architecture with contemporary furnishings. We contrasted the warm brick walls,  hardwood floors and industrial furniture with our modern
Acrylic Ghost Chairs
.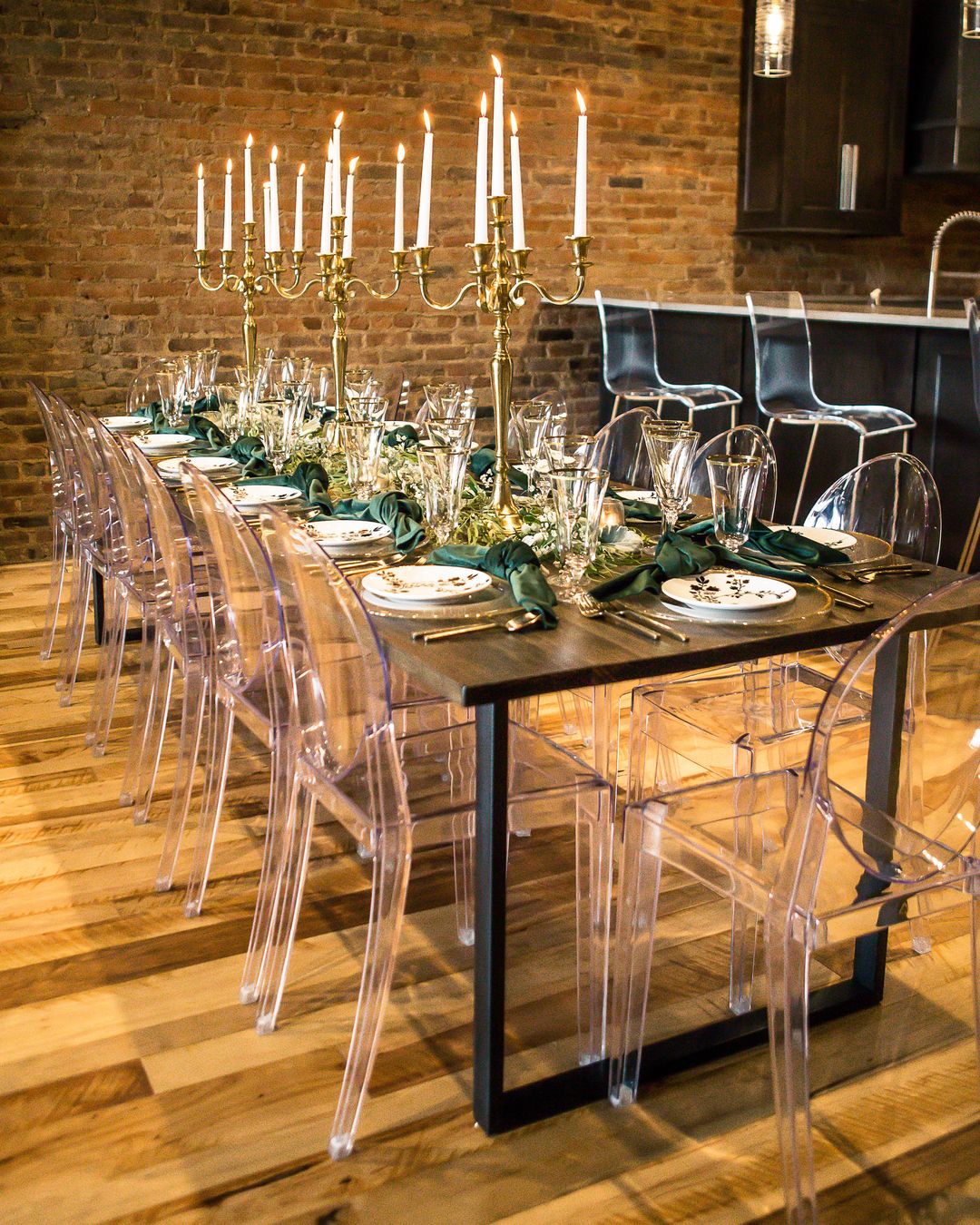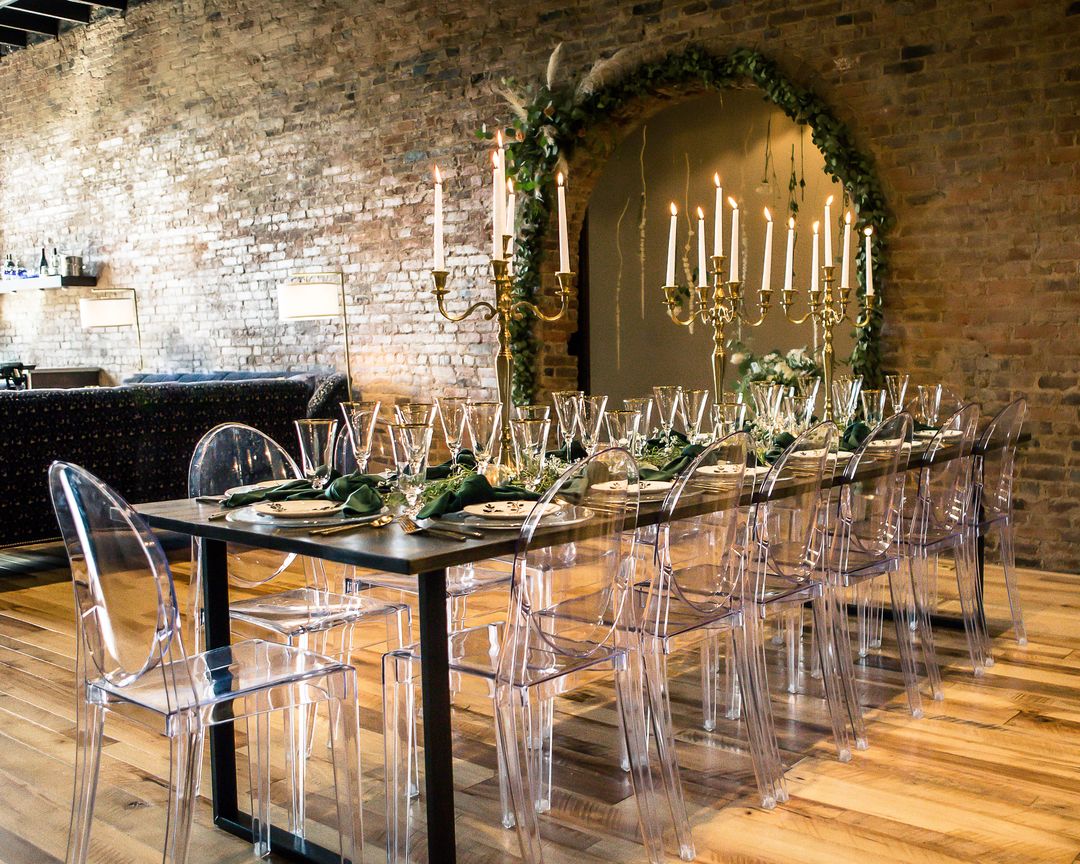 The centerpieces were simple but elegant, featuring greenery and tall gold candelabras – ideal for conversing across a table. Tall candles and votives were used throughout the space to create a romantic and intimate ambiance.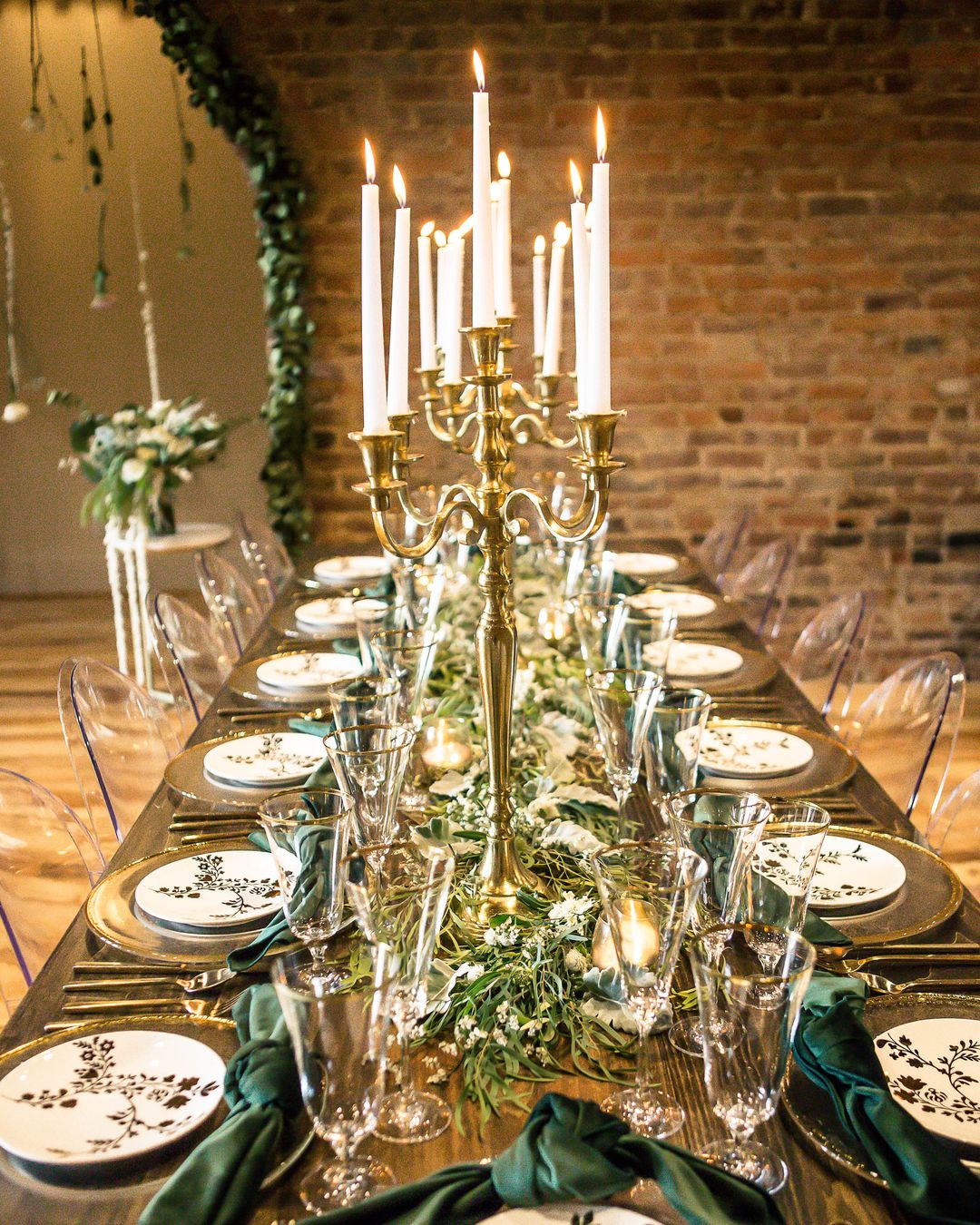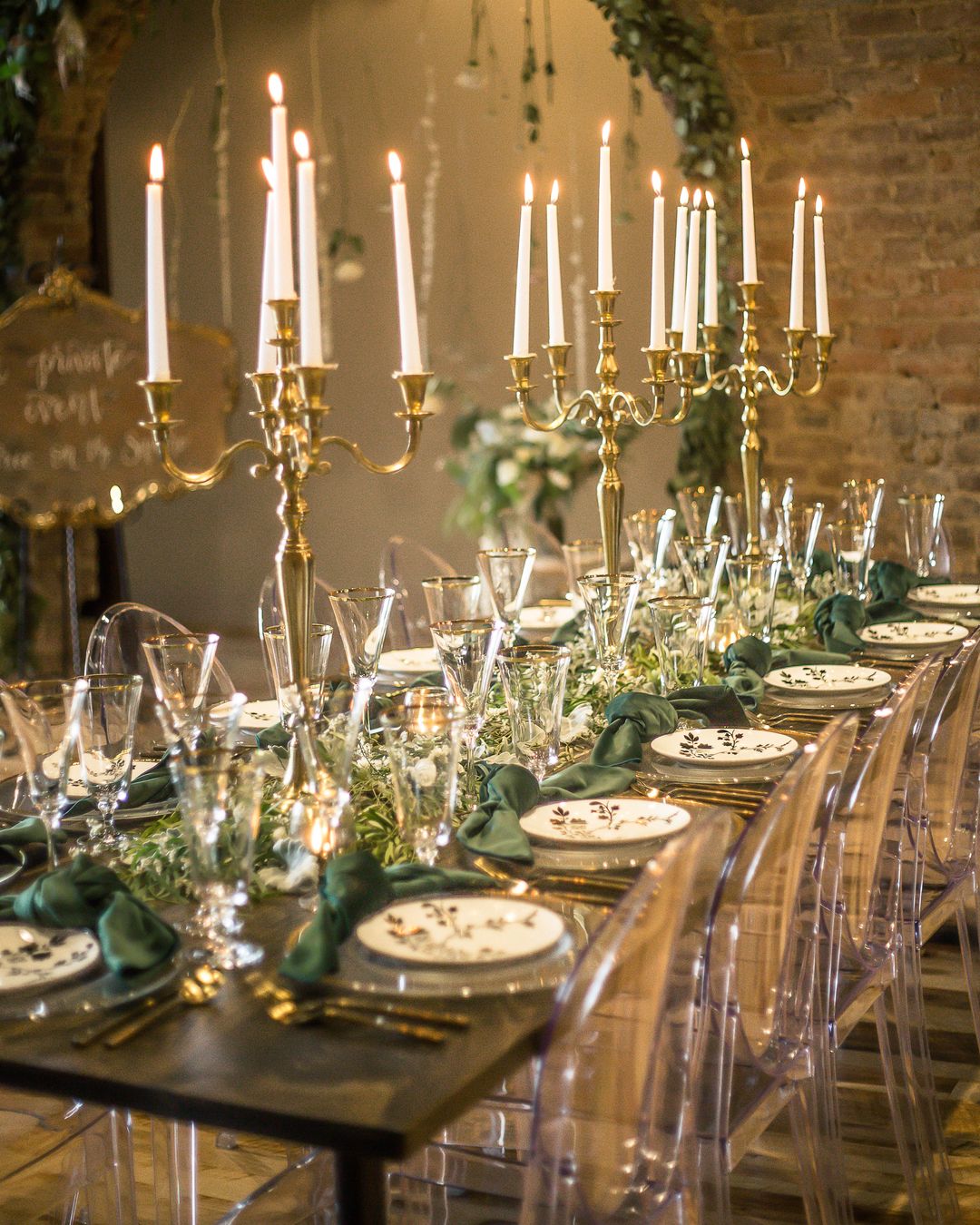 Other decorative elements include a lush garland to frame the entryway to the reception space. Eucalyptus, pampas grass and roses add volume here. A gold-framed mirror featuring a handwritten message was placed on a wrought iron stand as a stylish way to welcome guests.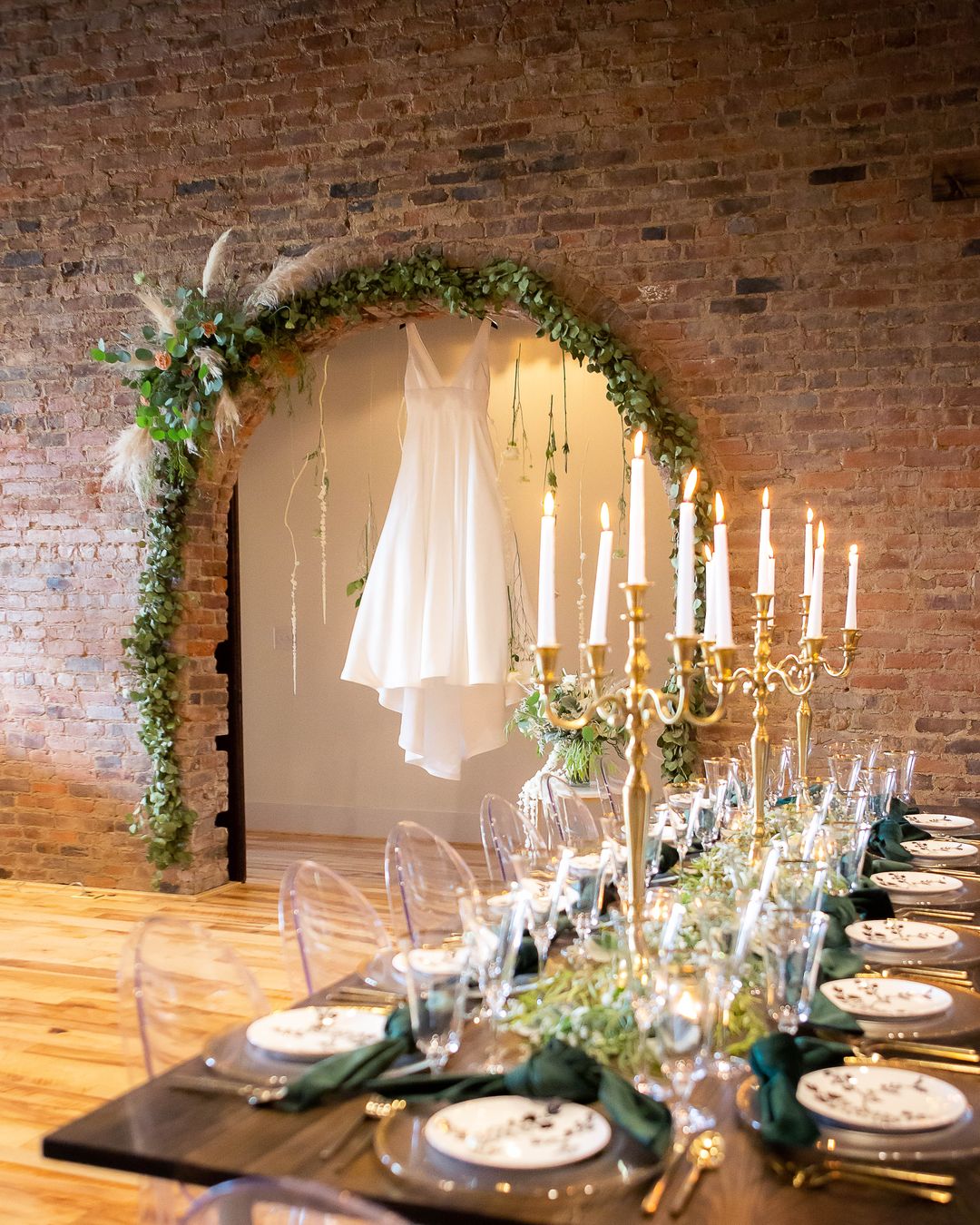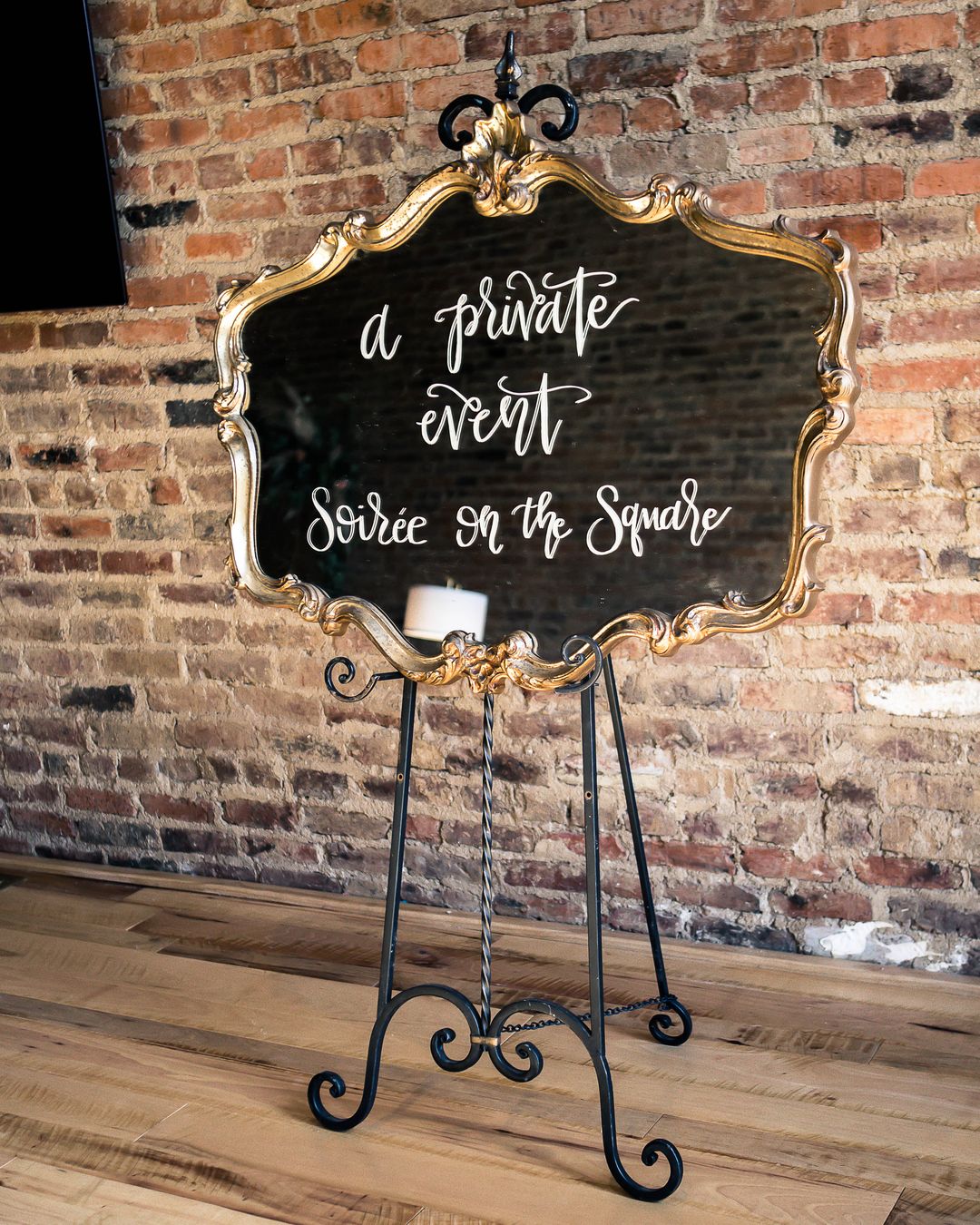 A special thank you to all of the amazing vendors who collaborated to make this stunning shoot possible!
TAGS | Nashville Event Venue, On Trend, Style Shoot, event inspiration, gold and emerald, gold event rentals, luxe event design, luxe event rentals, modern events, nashville event vendors, nashville venue
FEATURED RENTALS | Velvet Magnolia Green Linens, Glass Charger with Gold Rim, Vera Floral Desset Plate, Austin Gold Flatware, Audrey Gold Rim Goblet, Audrey Gold Rim Wine Glass
---
19

Oct

Southern Events Products, Trends and Inspiration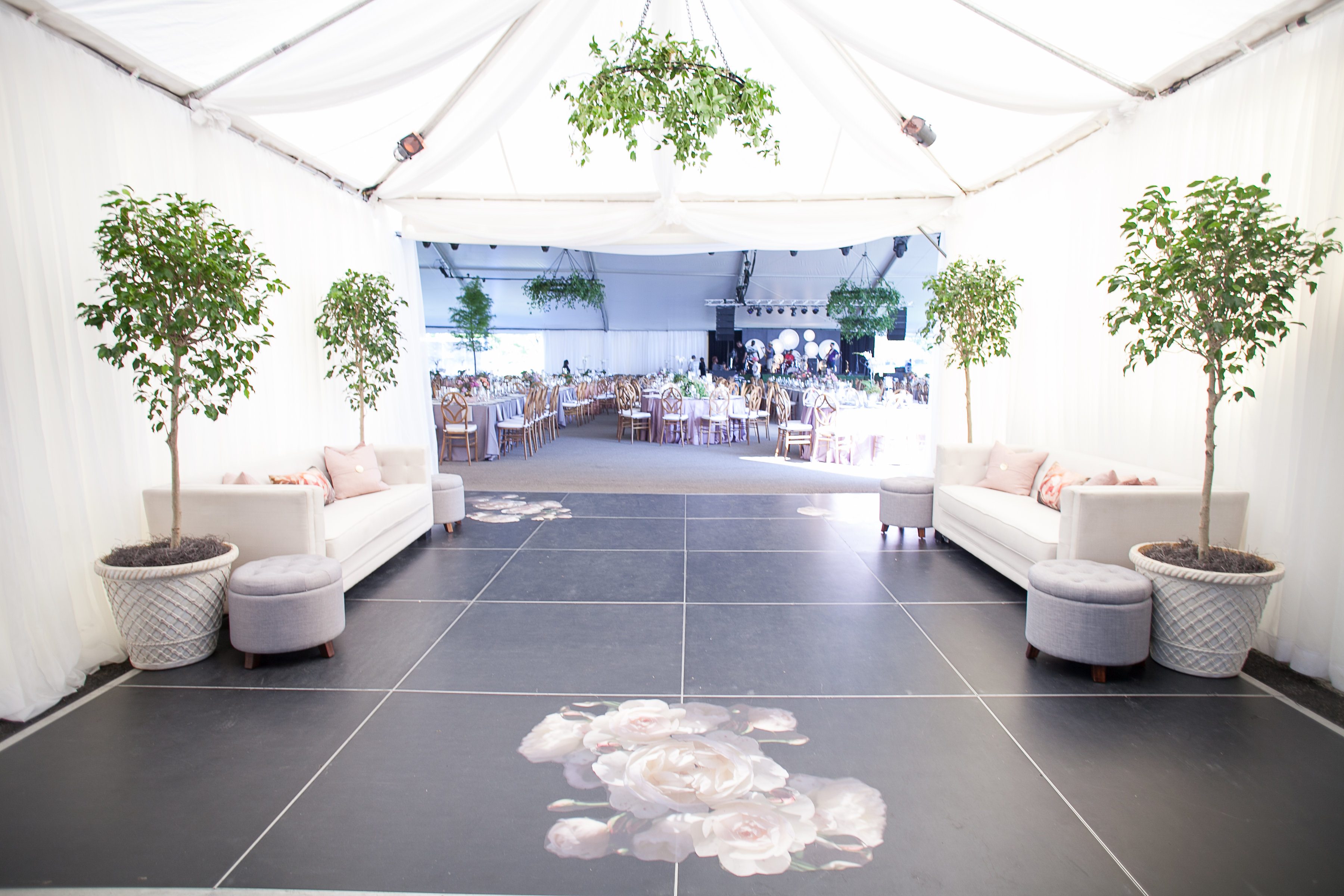 Southern Events was honored to be invited back to the Heritage Ball at the Eastern Flank Battlefield Park in Franklin this September. The Heritage Ball plays a proud part in the preservation of historic Downtown Franklin, and is the longest-running annual event in local history! This year's lavish ball featured several of our rentals, styled to add an ornate old-world elegance to this Southern tradition.
Most popular rentals, like the Cross-Back Chairs and our London Loveseats, were combined with brand new pieces like our Cecilia Floral Matte Satin Linens and Winstead Gray Tufted Bench for a romantic black-tie affair. Our large selection of furniture created several lounge areas designed to enhance conversation by producing pockets of comfortable seating throughout the venue.
Guests were teased of the romantic vision to come with a lounge featuring our Santorini Couch, Rose Pillows, black flooring with floral details and potted trees in the entry.  Looking up, chandeliers with lush garland enhanced the old-world romantic affair. A variety of lounge areas were situated throughout the perimeters of the space, mixing comfortable couches, vintage chairs, and stylish loveseats with sleek and modern side tables for an ornate design. Guests were welcome to grab a drink at one of the many 8 ft Franklin Bars – each accented by a matching mini 4 ft bar topped with a lush centerpiece.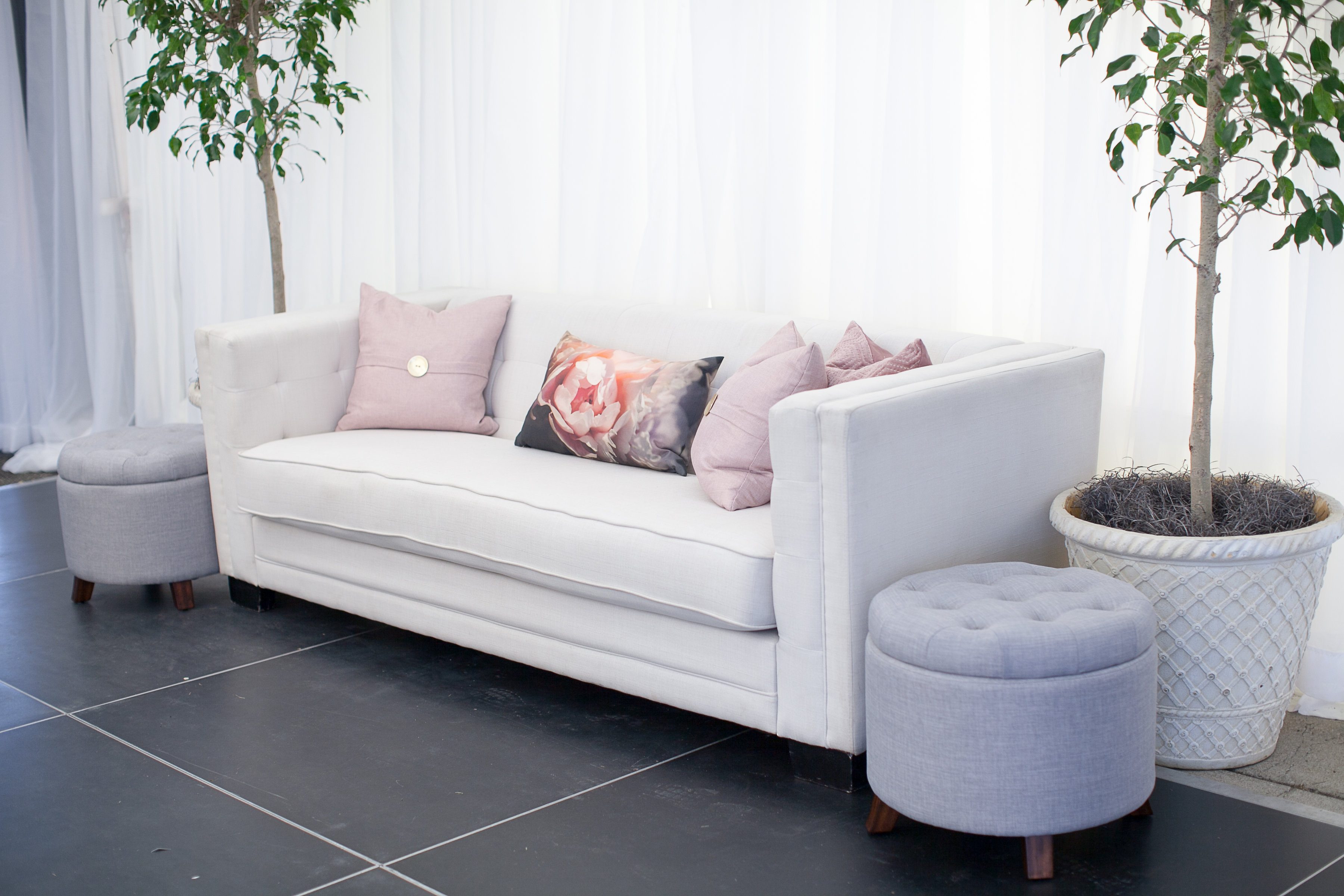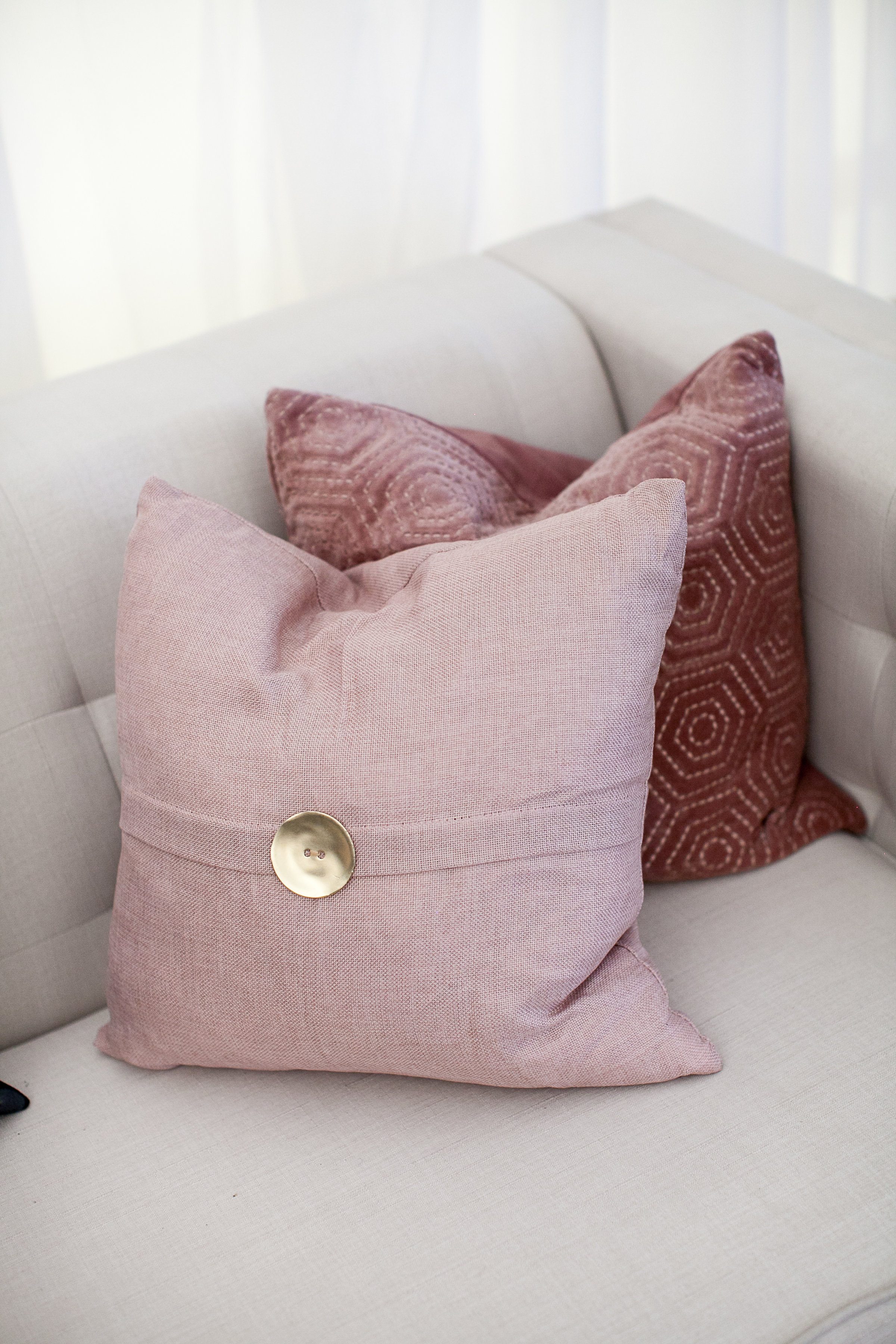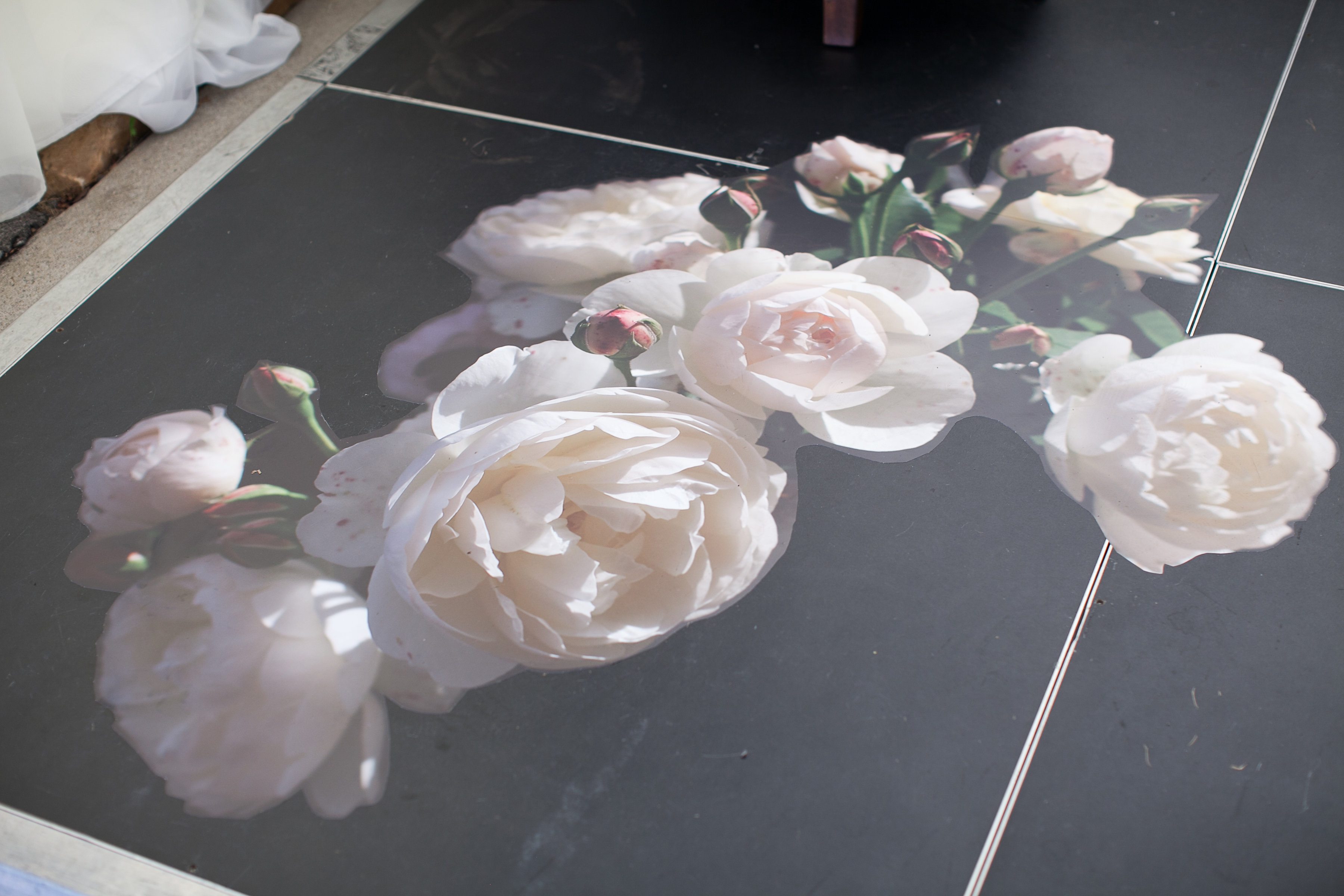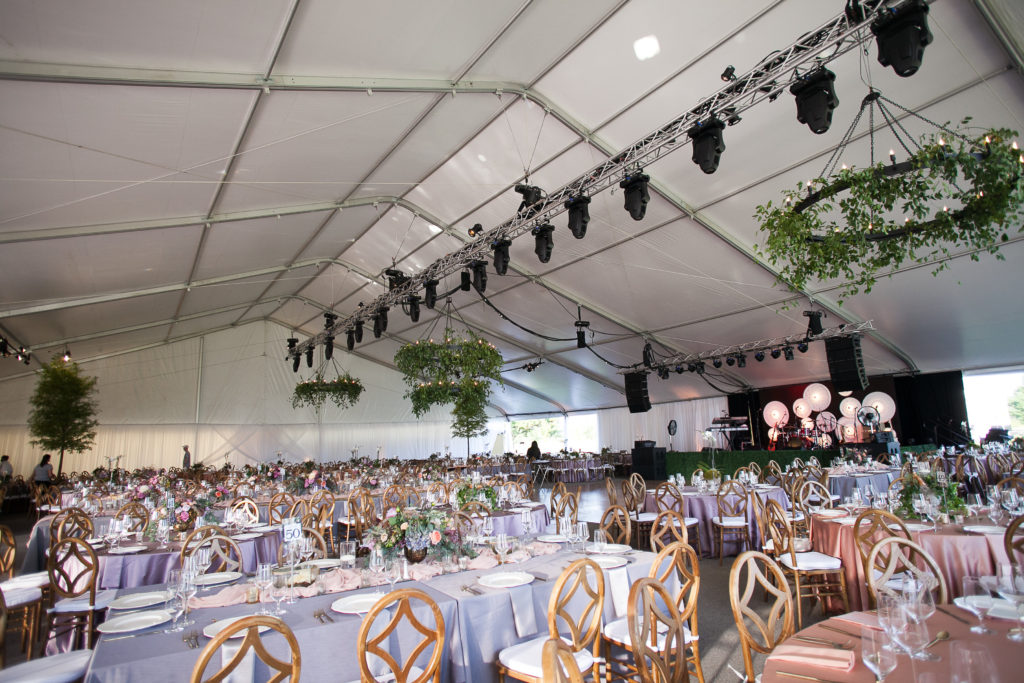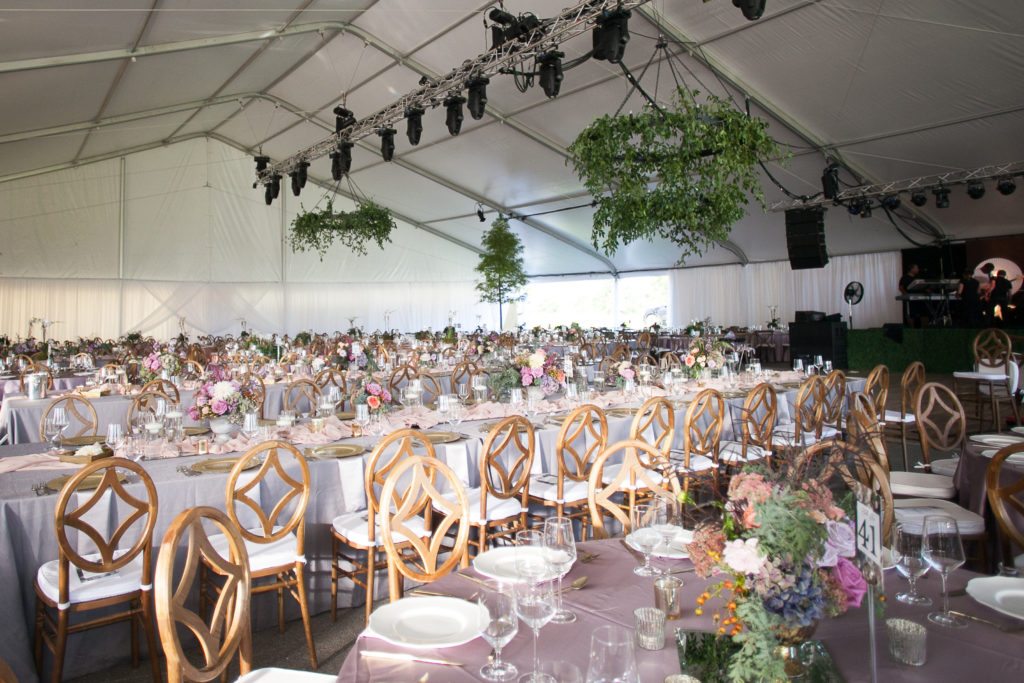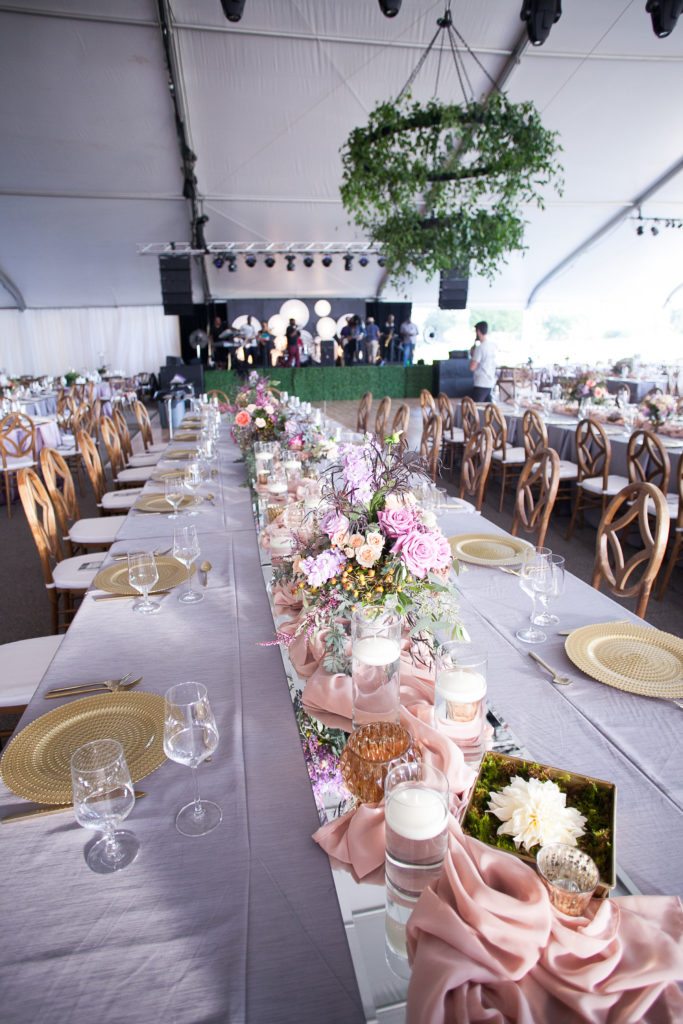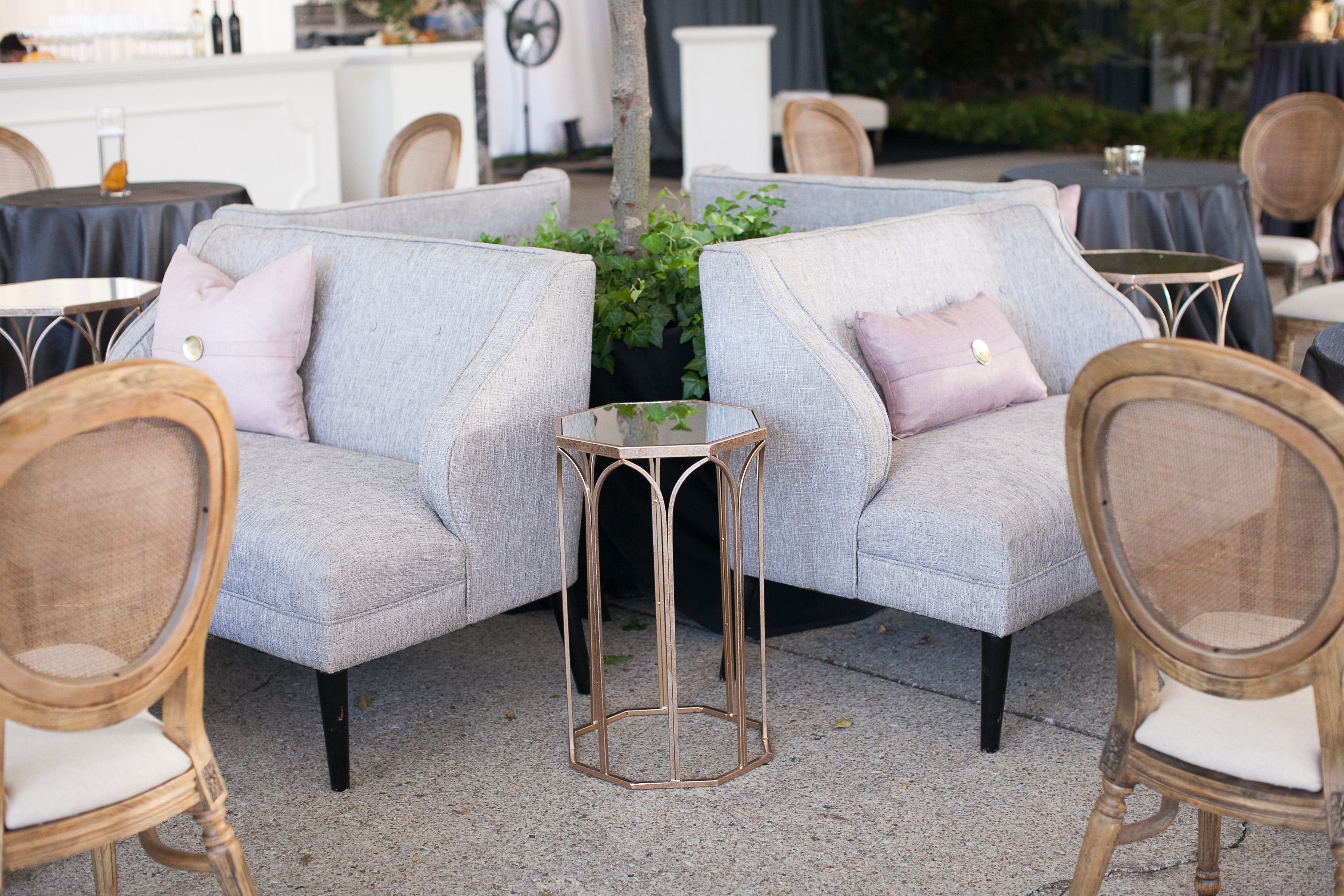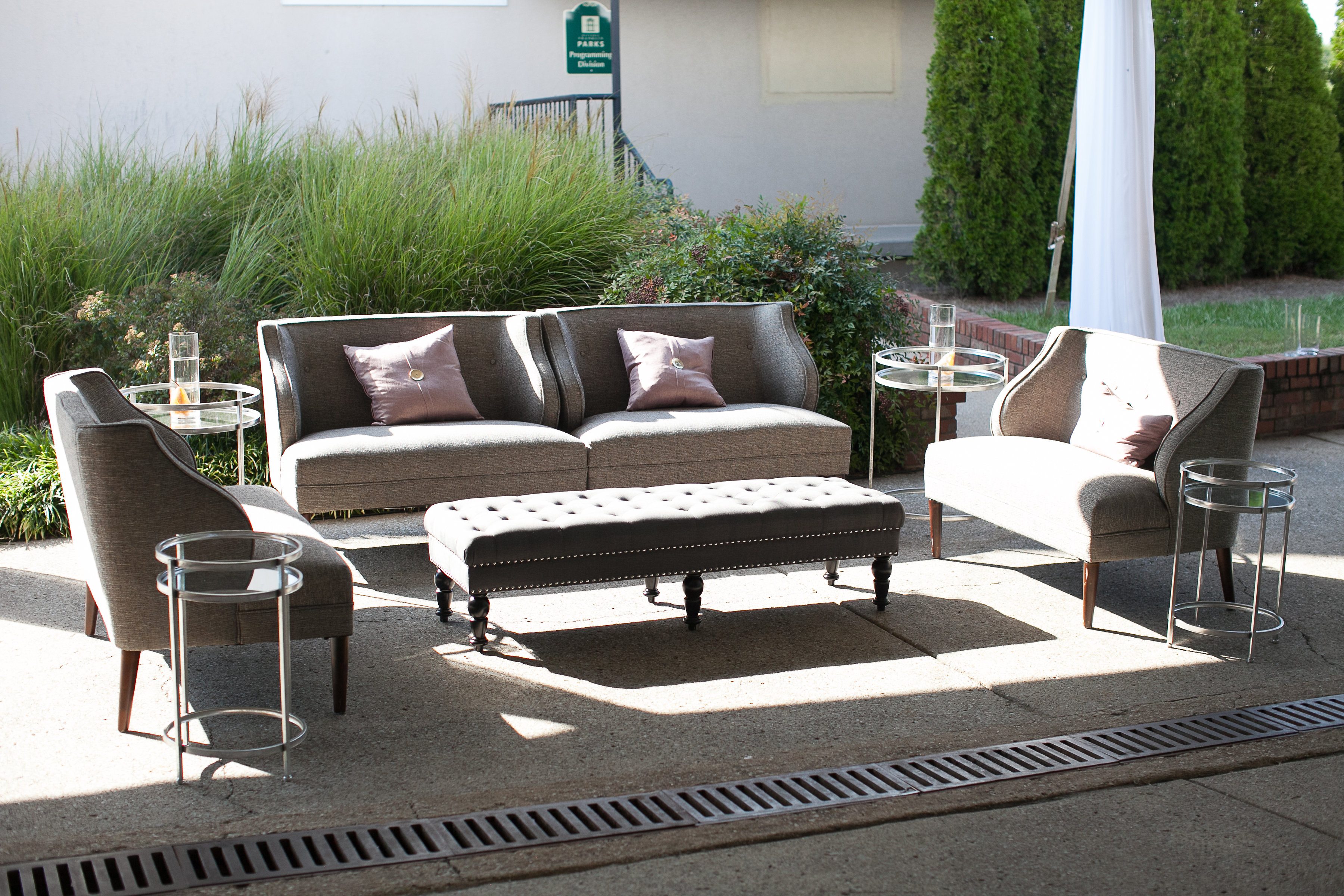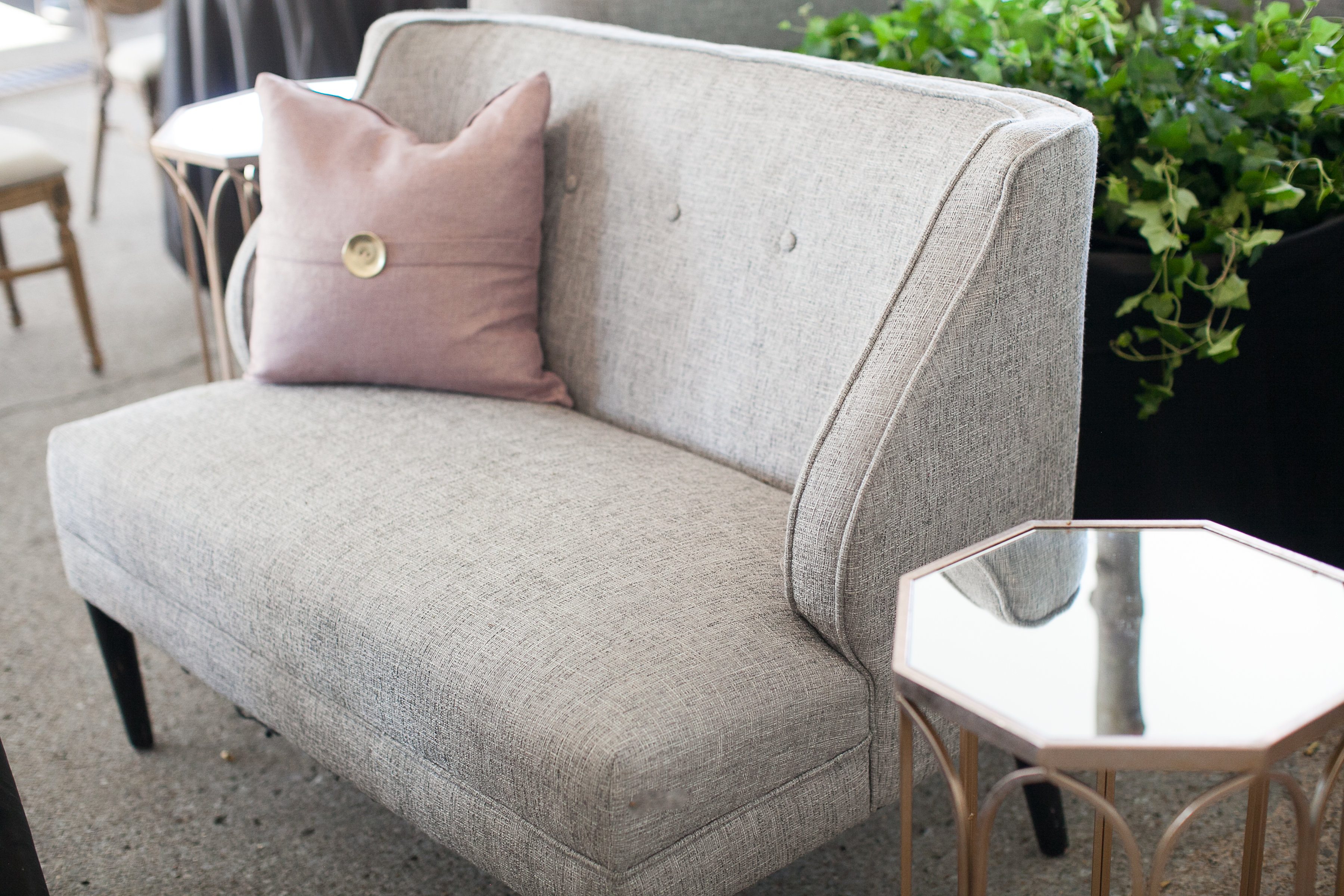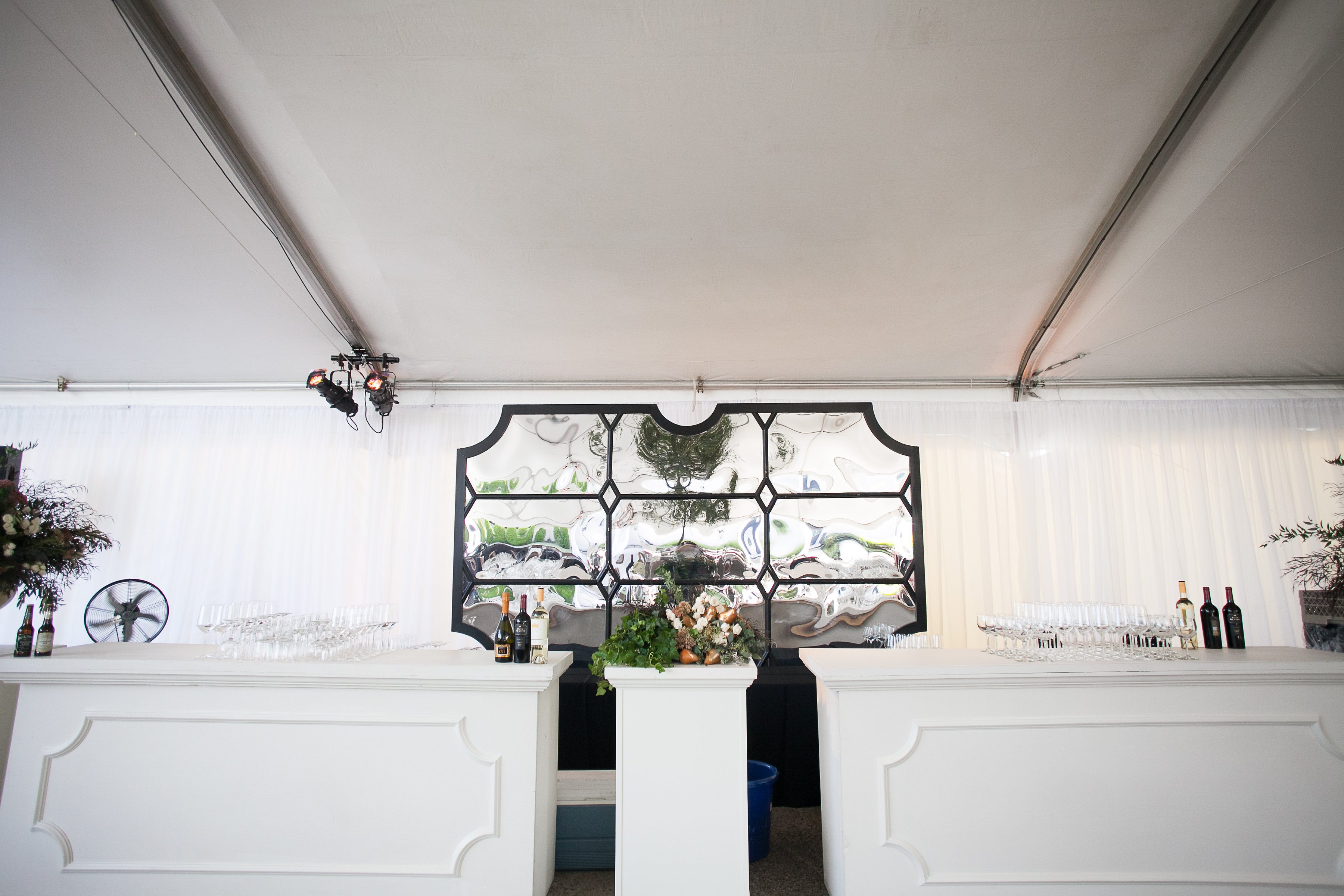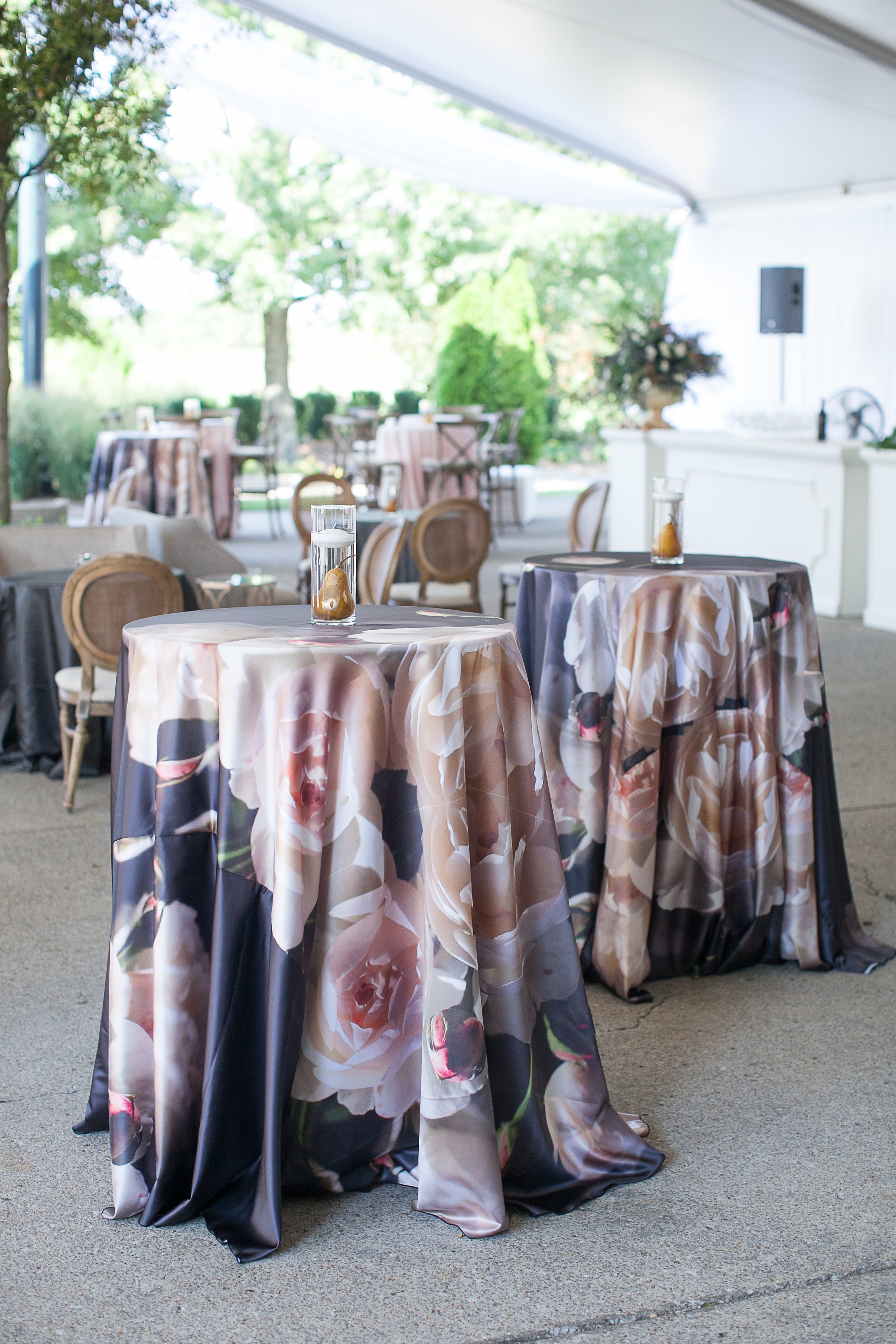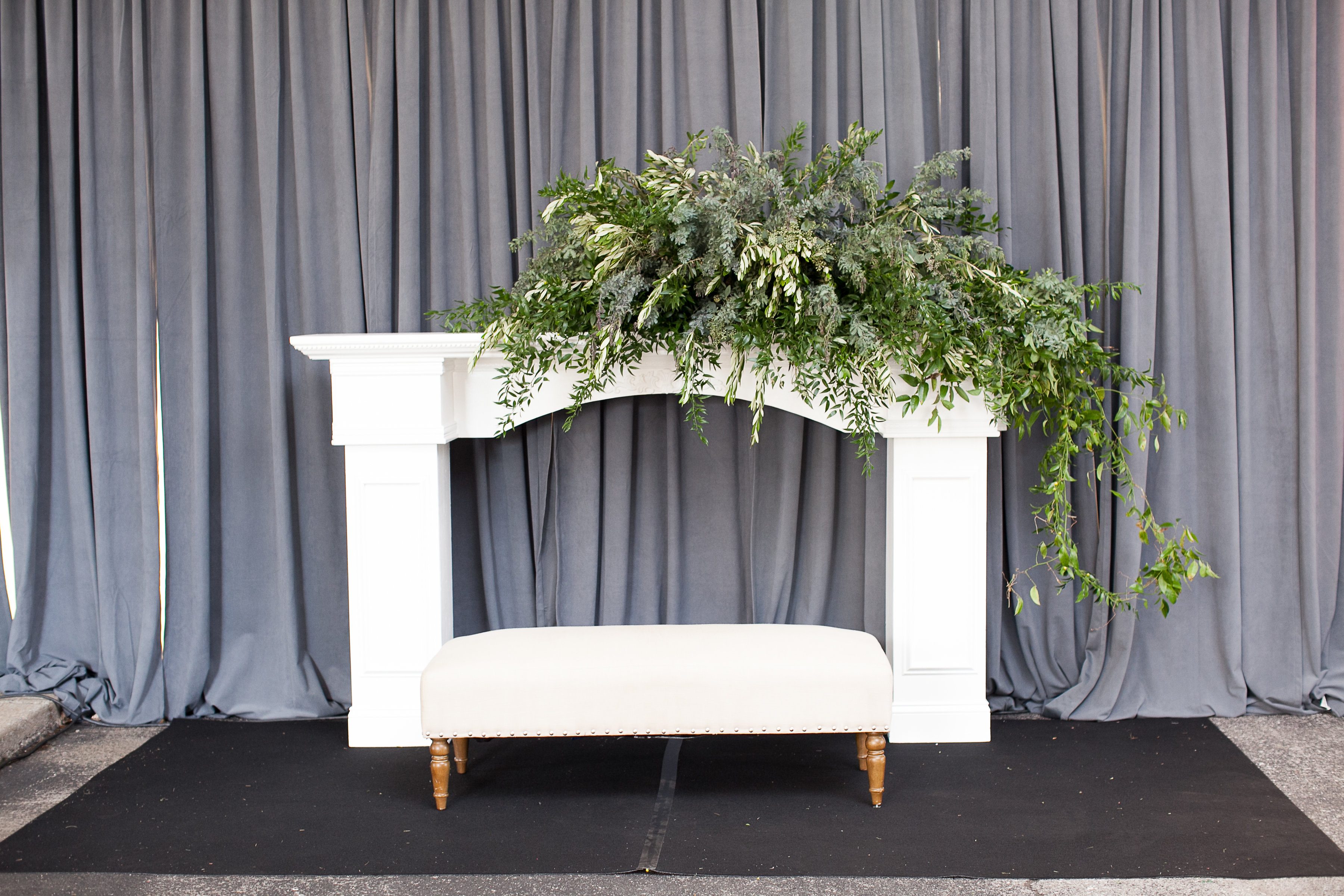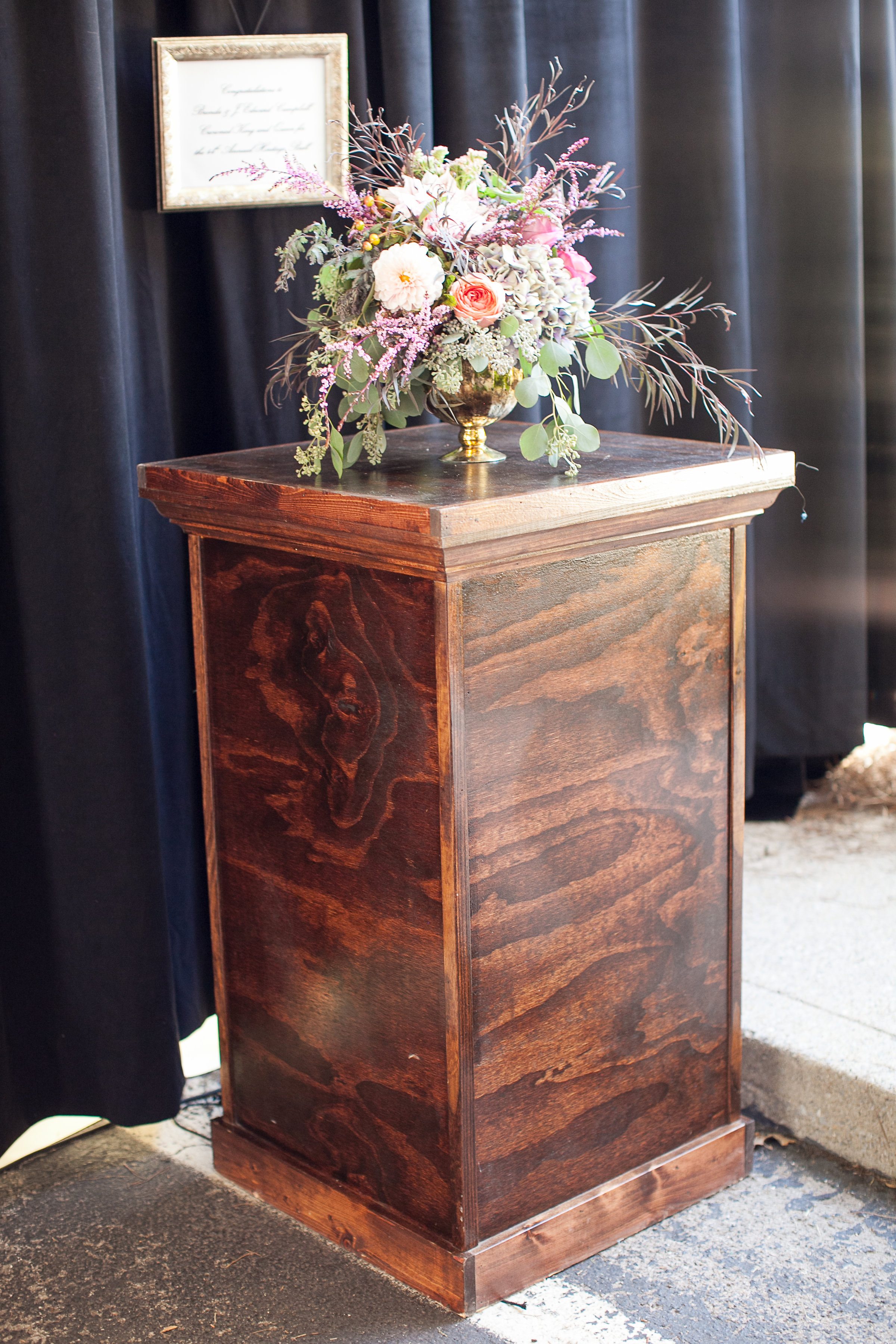 Guests dined in comfort in our artisan Harlin Dining Chairs, which we paired with our architecturally striking Cross-Back Chairs for added texture. Our new Cecilia Floral Matte Satin Linen and Blush Satin Linen draped gracefully amongst cocktail rounds, while Charcoal Dupioni Satin, Wisteria Matte Satin and Russet Satin Linens were used on dining tables for a uniquely elegant color palette. Attendees were treated to a stunning tablescape with modern elegance and lavish heirloom details thanks to our Austin Flatware, Darcy China, and Medallion Gold Glass Chargers, paired with our striking Pure Glassware. After dinner, guests danced the night away on our Plank Wood Dance Floor.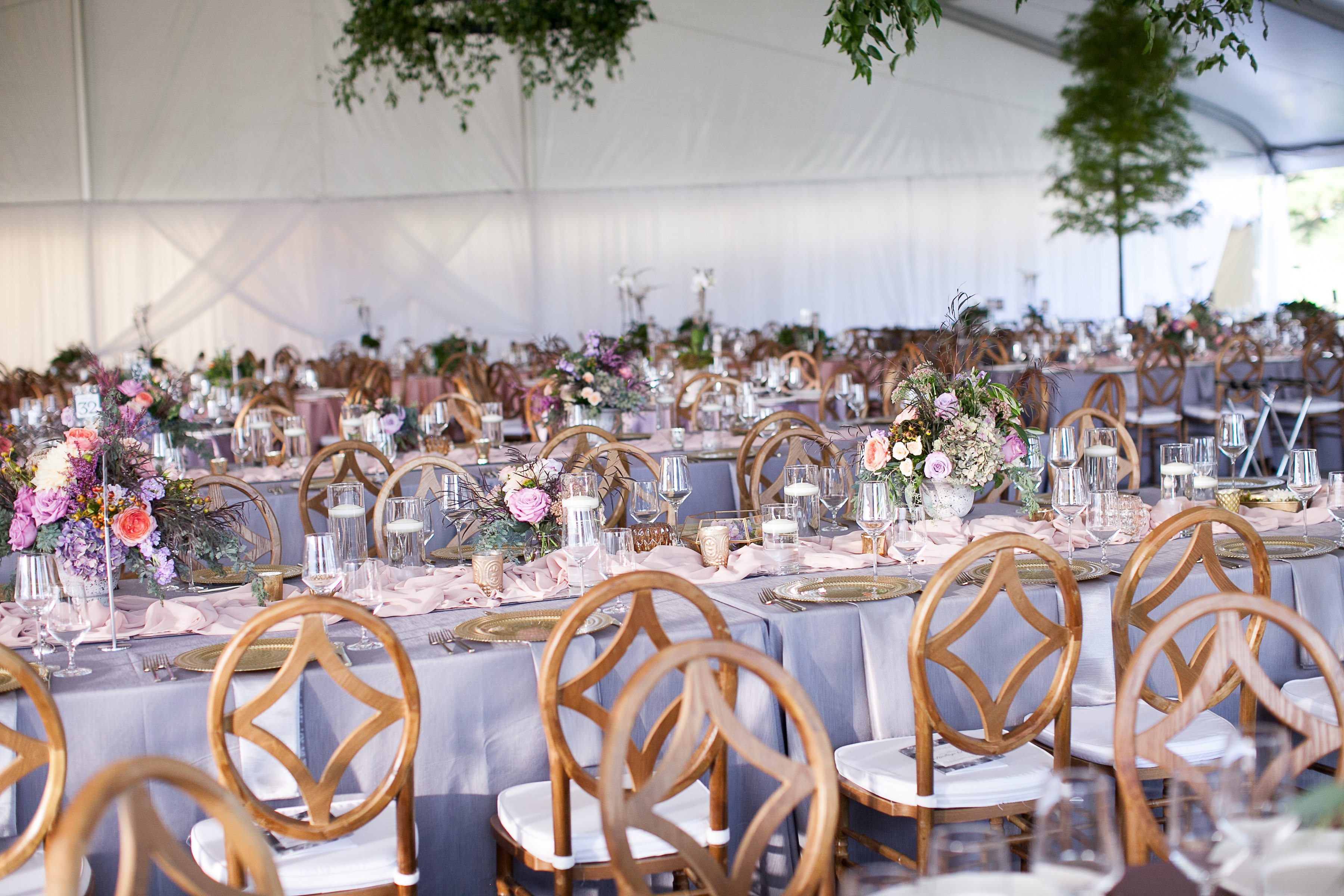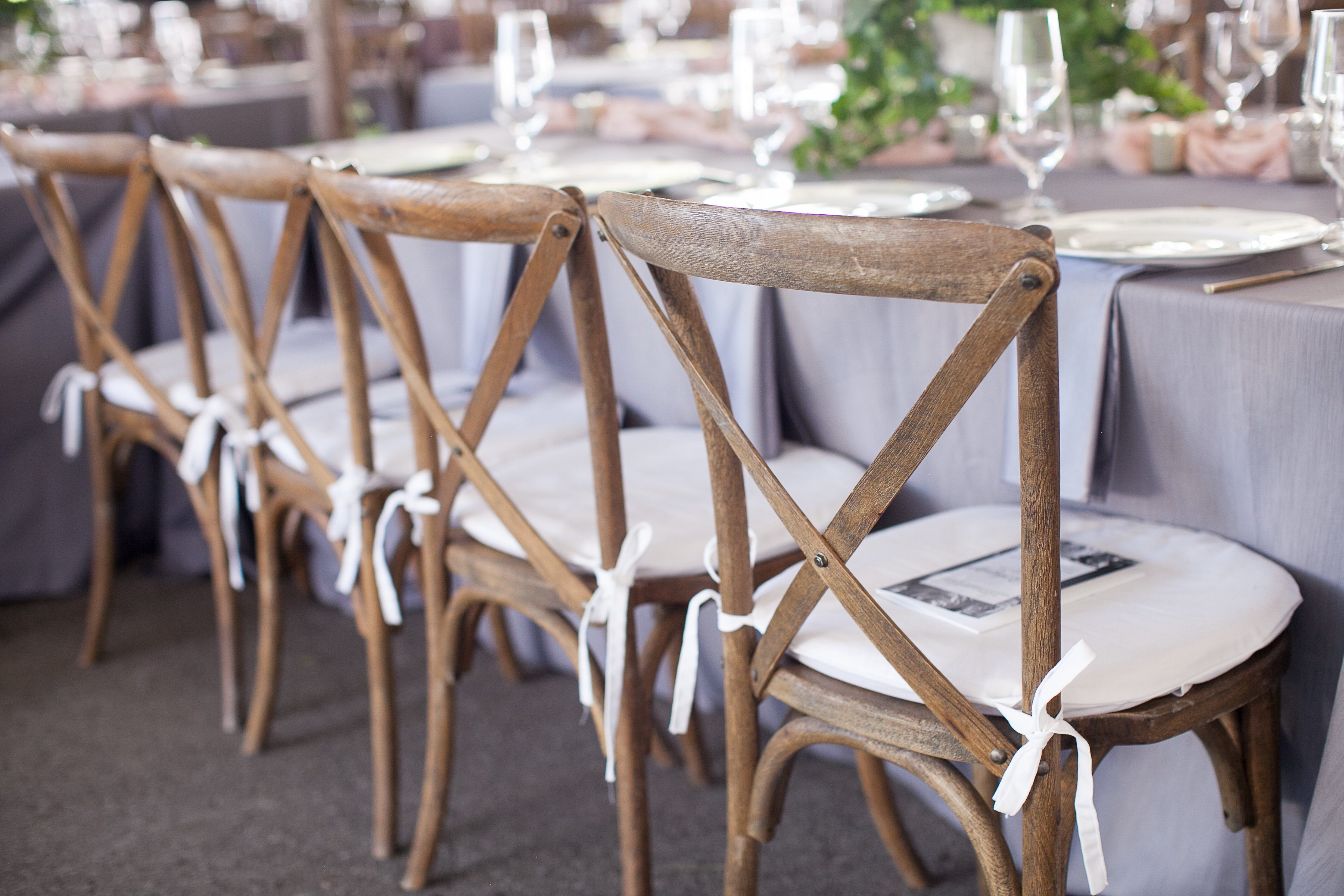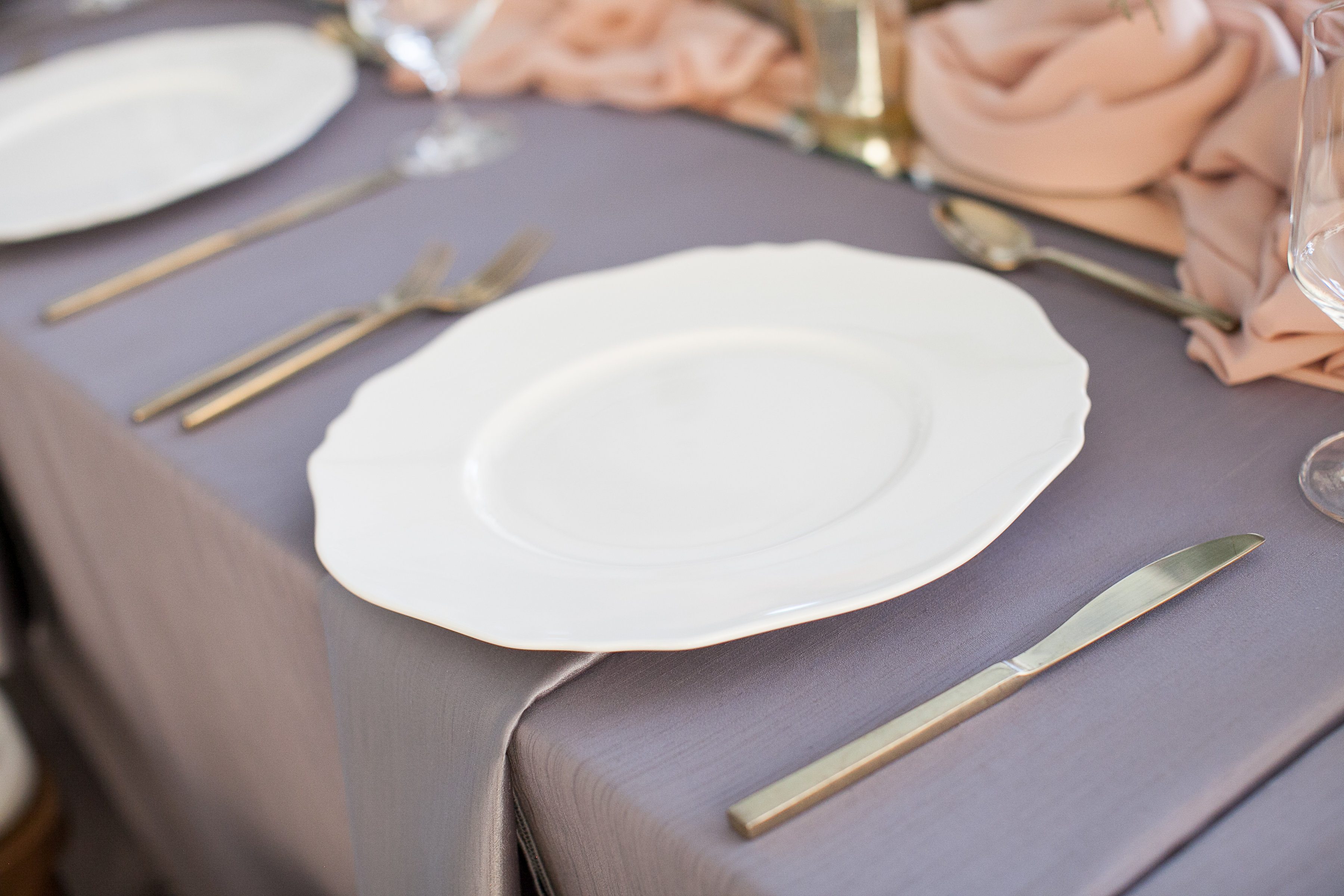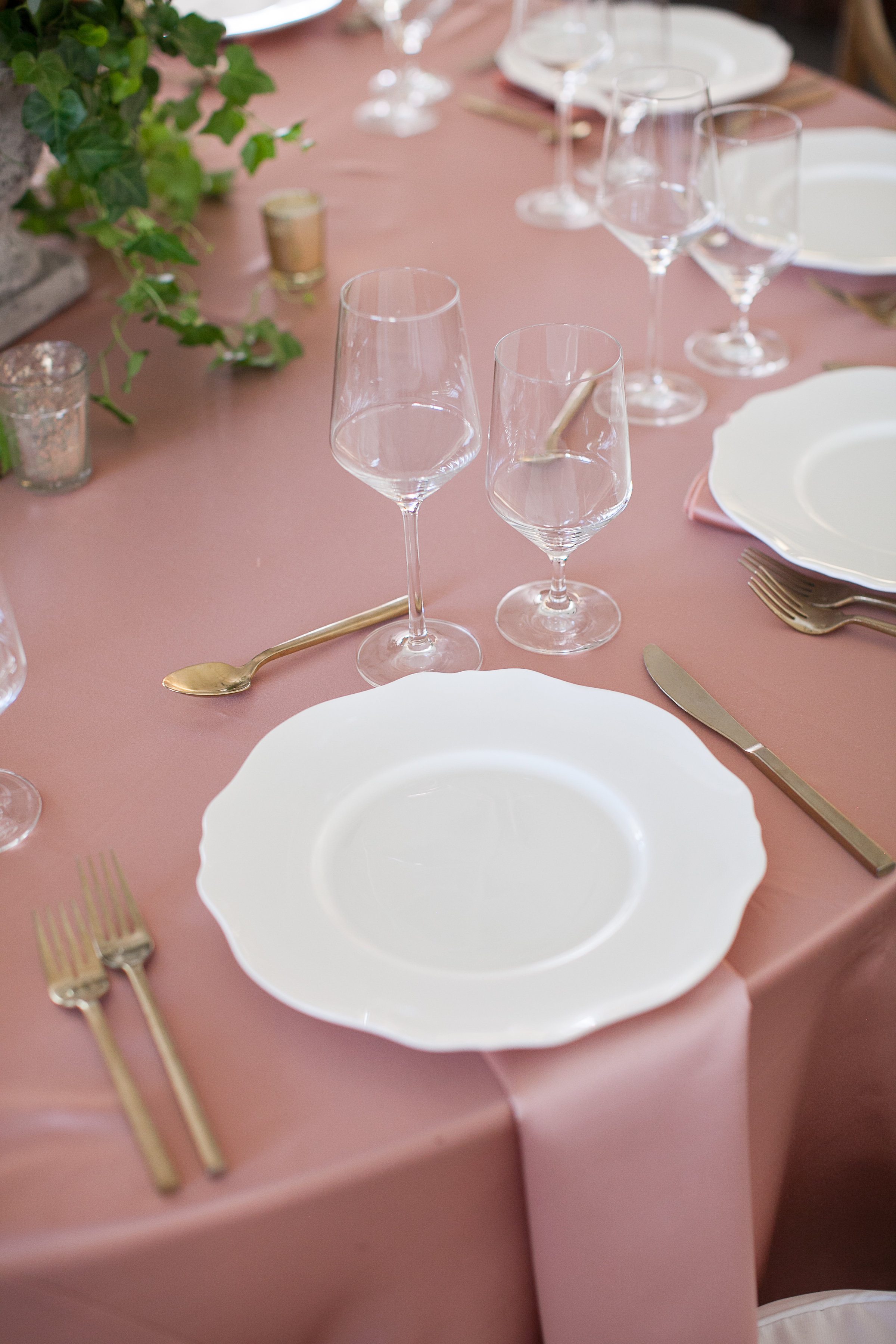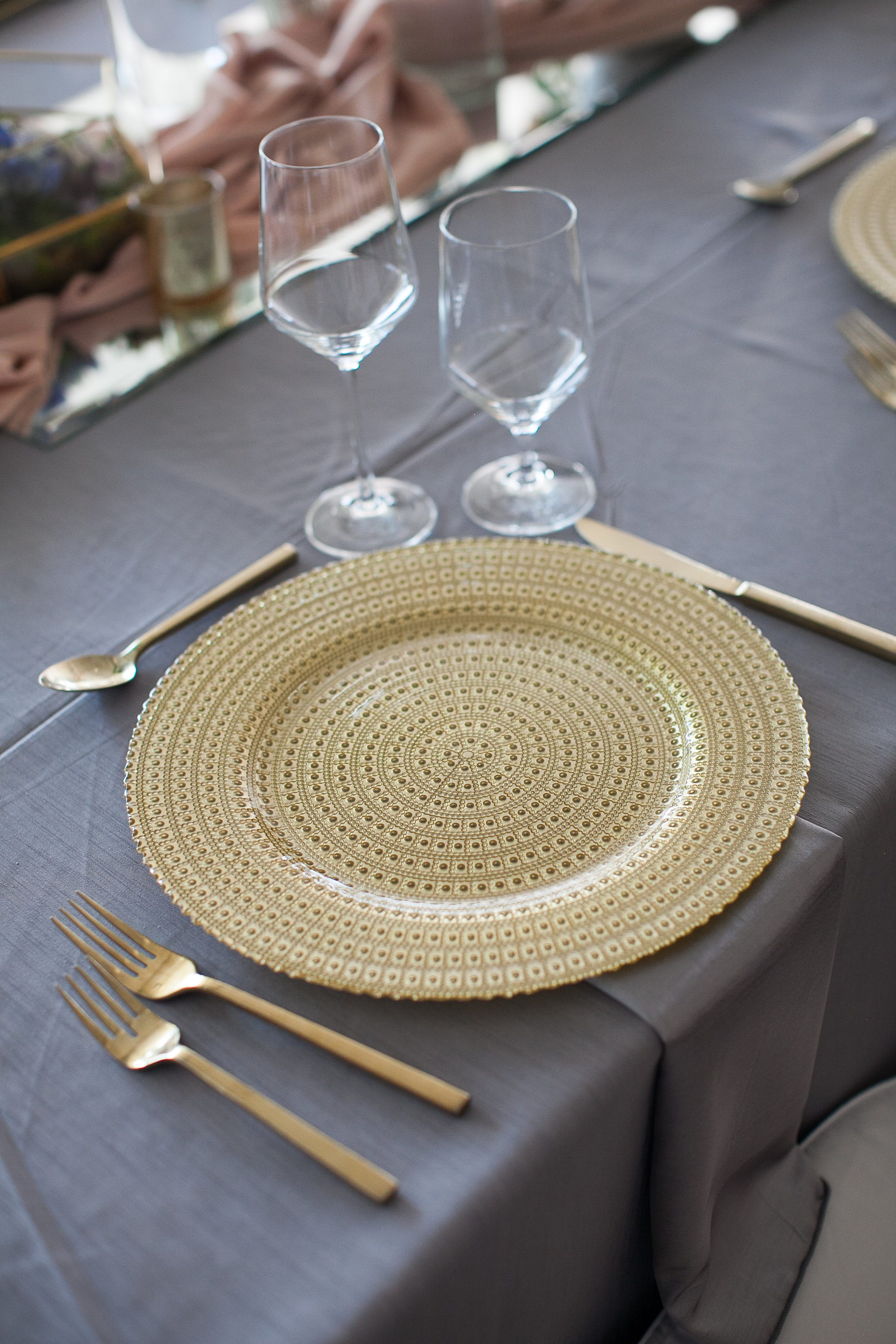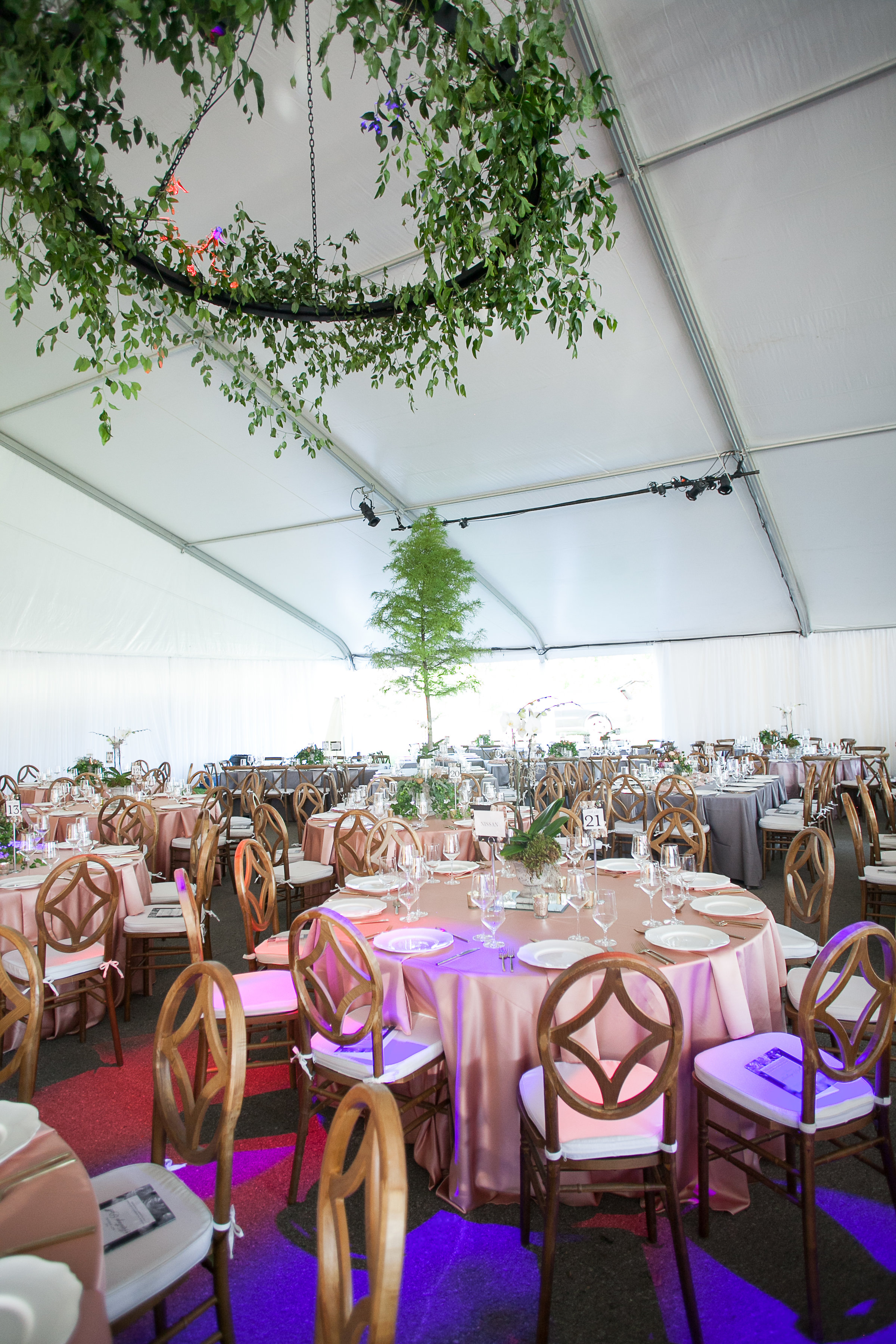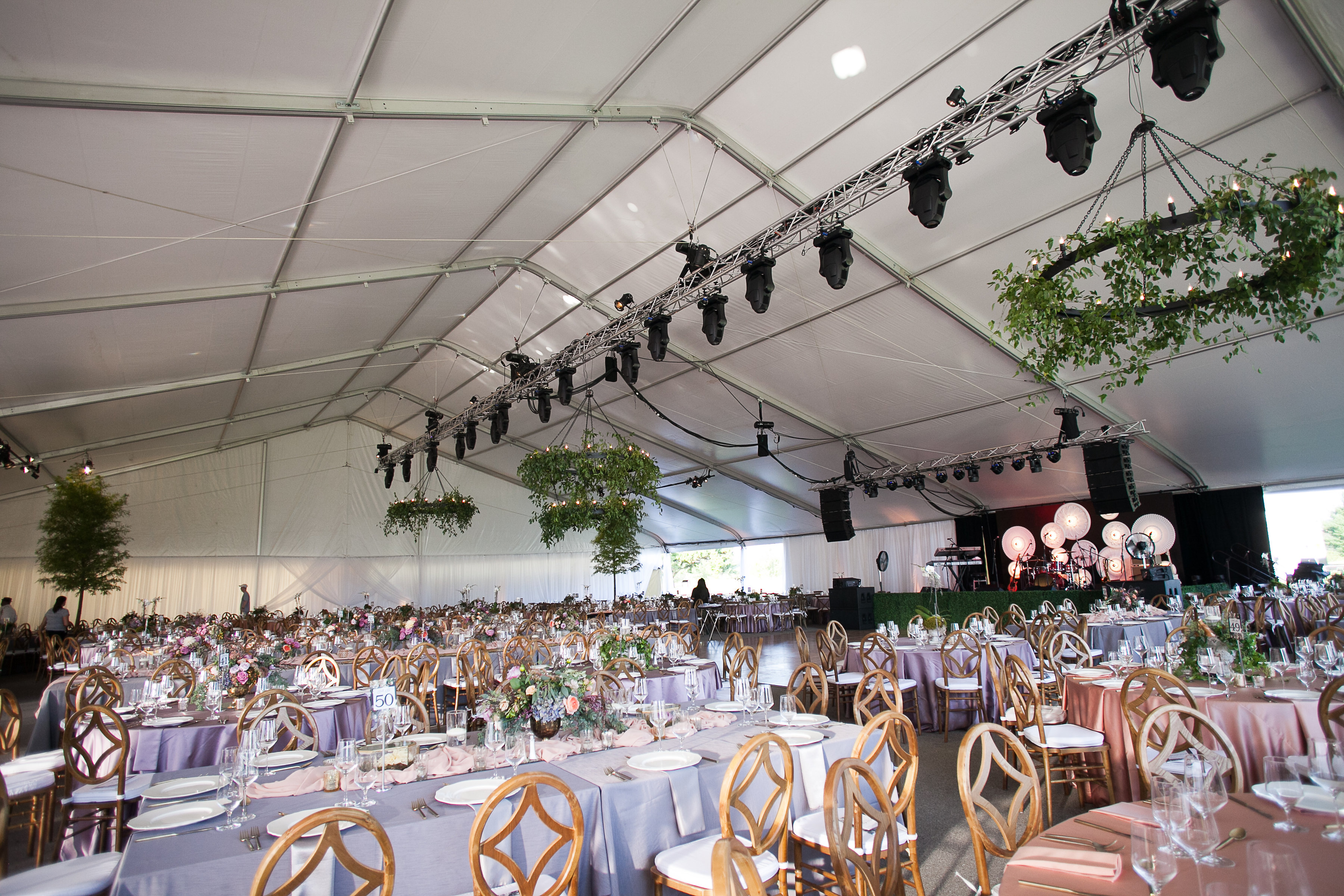 This stunning event was a dream to bring together, and the reality was more beautiful than we could have imagined. Many, many thanks to the Heritage Society, gala chair, event staff and all of those who came together to celebrate Franklin's history and future! Special thanks to Phindy Studios for capturing this event so beautifully. We hope to see you all again next year!
TAGS | Bennett Leather Sofas, East Flank Battlefield Franklin TN, Heritage Ball 2017, Heritage Ball Franklin TN, Heritage Foundation Franklin TN, Lounge Furniture, Nashville Event Rentals, Nashville Galas, Phindy Studios, Southern Events Party Rental, event furniture, gala event rentals, luxe event rentals, upscale event rentals
FEATURED RENTALS | Bennett Leather Sofa, Santorini Couch, London Loveseat, Tessa Tufted Loveseat, Cecilia Floral Matte Satin, Wisteria Matte Satin, Russet Satin, Harlin Chairs, Cross-back Chairs, Darcy China, Gold Medallion Charger, Austin Gold Flatware, Pure Glassware, Franklin Bars,
---