21

Sep

Southern Events Products, Trends and Inspiration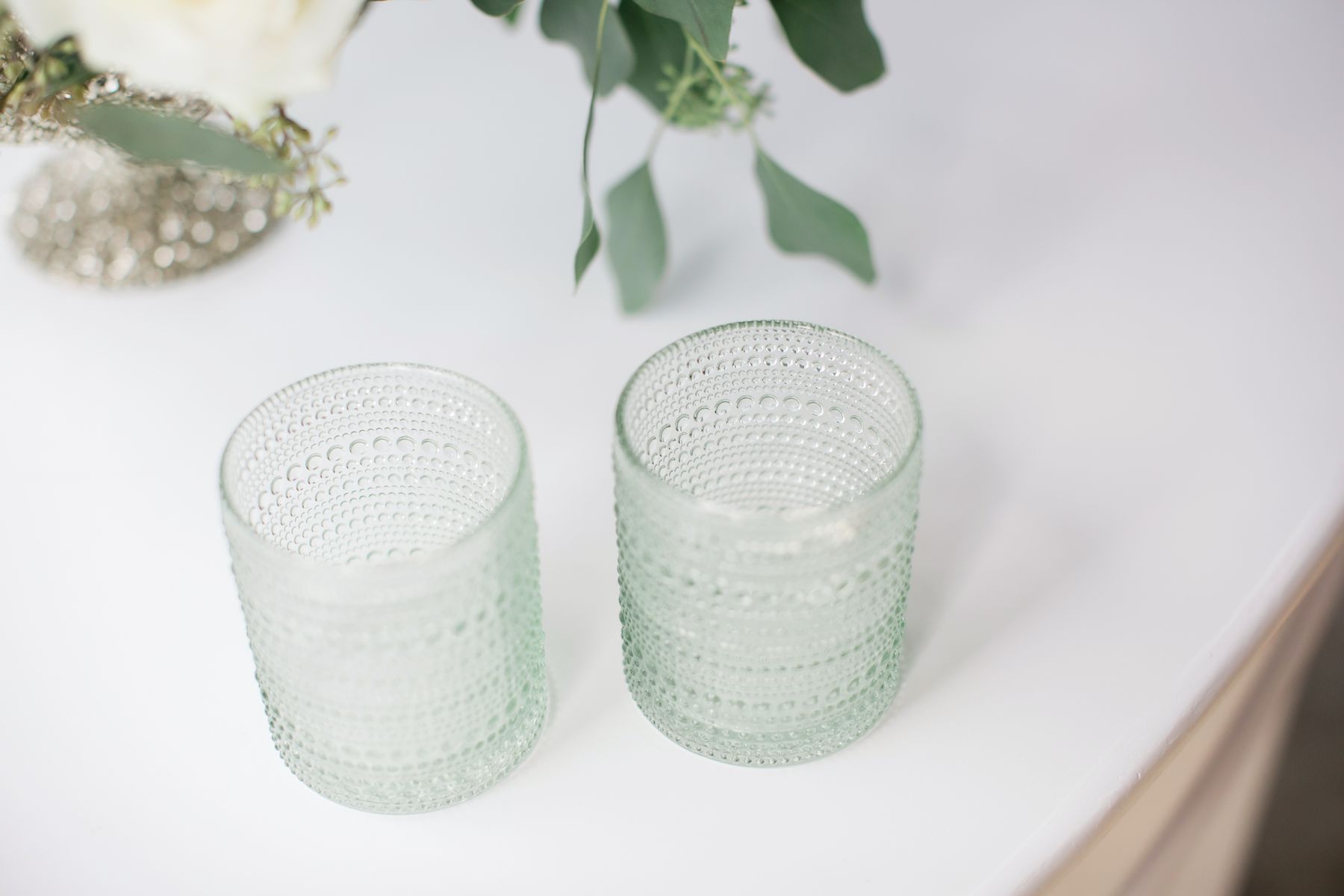 When it comes to creating a memorable wedding reception table every detail counts! One often overlooked element that can make a large impact on your wedding tables is glassware. Colored glassware has become increasingly popular in the wedding world, and for good reason. That is to say, it's a simple way to a touch of elegance and individuality to your event! Keep reading to explore our colorful glassware for weddings. Featuring our new collections with a range of brilliant shades and styles that cater to every type of celebration.
Chic Art Deco Glassware
Capturing the glamour and sophistication of the Art Deco era, our Deco Glassware is a versatile choice. Perfect for couples seeking a touch of vintage opulence. These tumblers radiate a warm, inviting glow that complements a variety of wedding themes. For example, the Amber hue adds a sense of richness to your tables. Pairing beautifully with our Navy Blue Velvet or Ivory Satin Linens. Or, opt for a delicate Peony Pink. These tumblers effortlessly blend into your design. Infusing a soft and romantic ambiance. A fun way to contrast bold linens such as Ocean Blue Velvet or Wheat Satin. Regardless of whether you're aiming for a Gatsby-inspired soiree or a modern wedding with a nod to the past.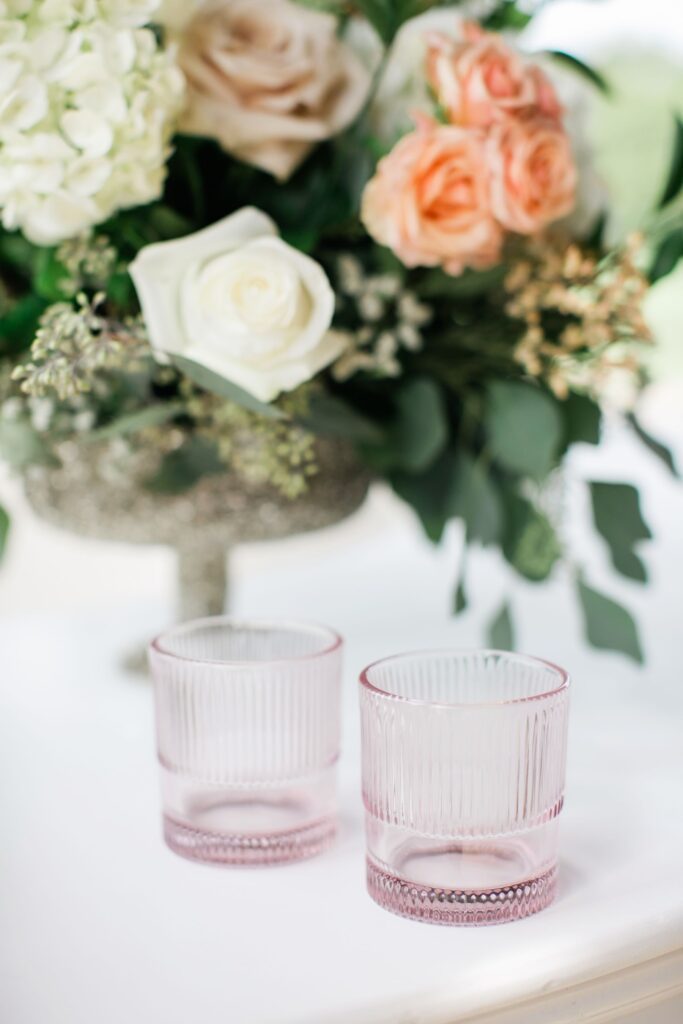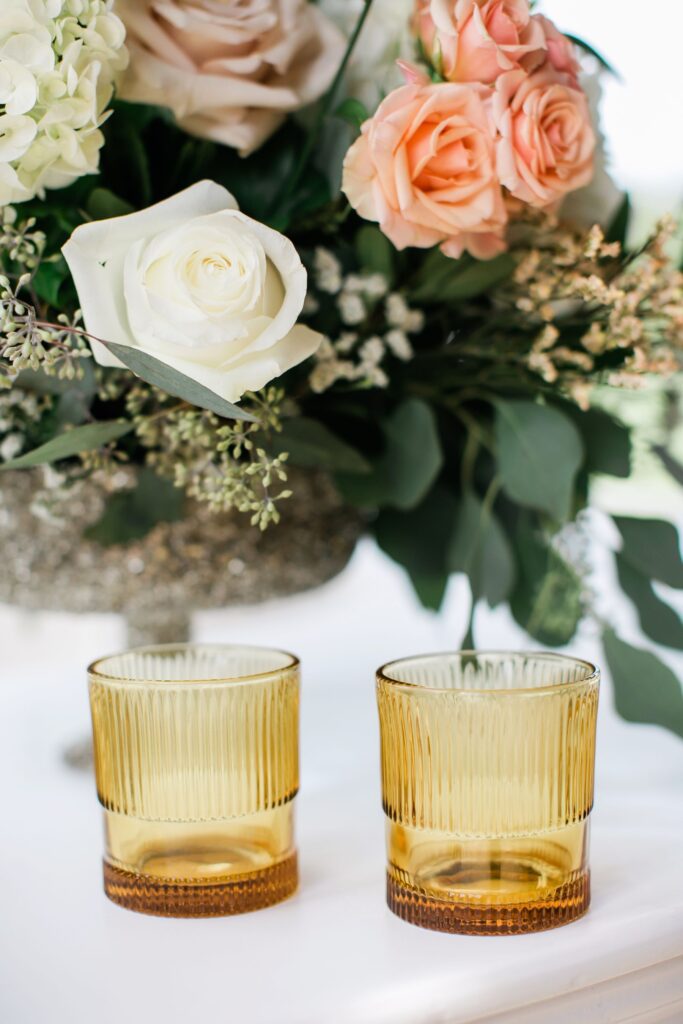 Blue-Hued Beaded Tumblers
If you're dreaming of a coastal or beach-themed wedding, our Beaded Glassware is the perfect choice to bring the tranquility of the sea to your tables. These tumblers are available in three captivating shades – Meridian Blue, Sea Salt, and Smoke. For example, a range of blue hues that mimic the depths of the ocean and the play of sunlight on water. The beaded texture of the glassware adds a tactile element to your table settings. Creating a visual delight for your guests. Regardless of whether they are used as water glasses or for signature cocktails. Complement any of these glasses with solid white linens and blue napkins – Ice Blue, Slate, Navy. Or, add a splash of metallics with our elegant Gold Furrow Linens.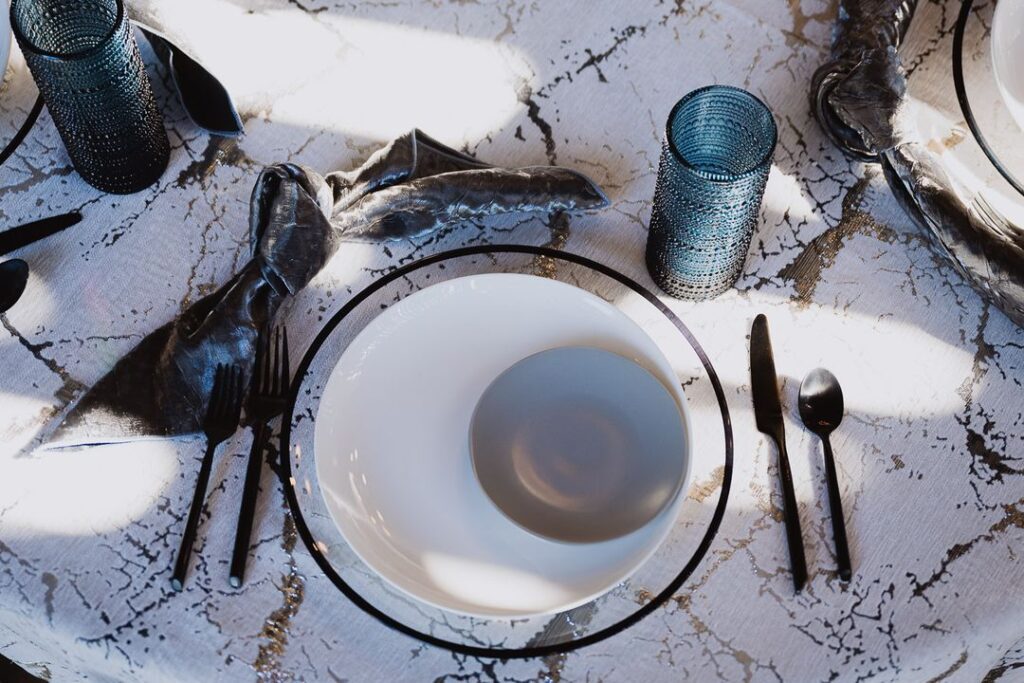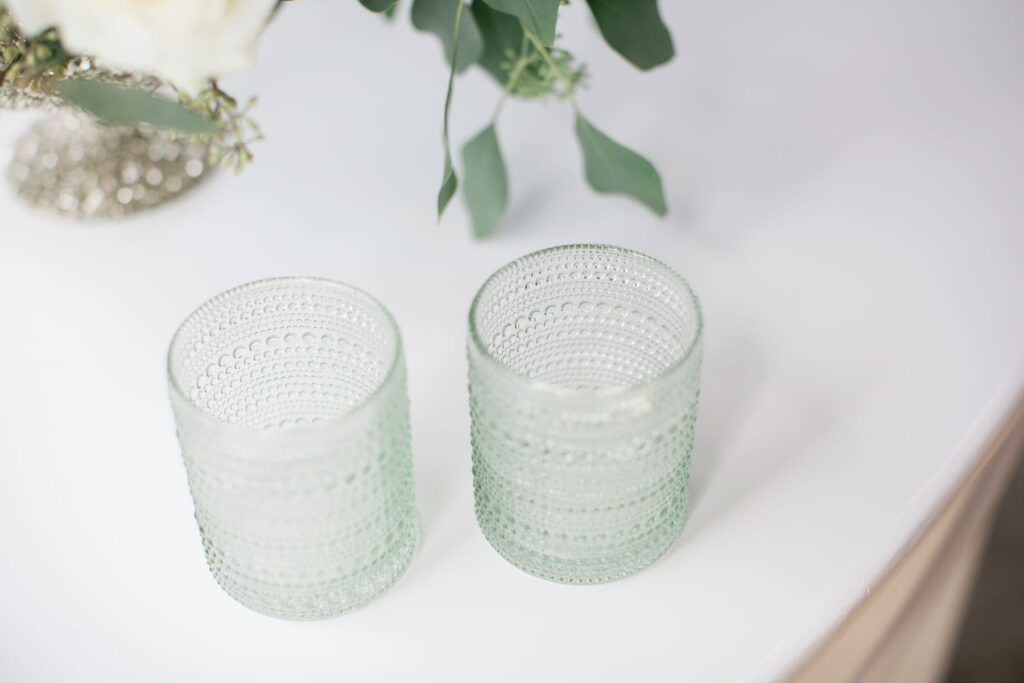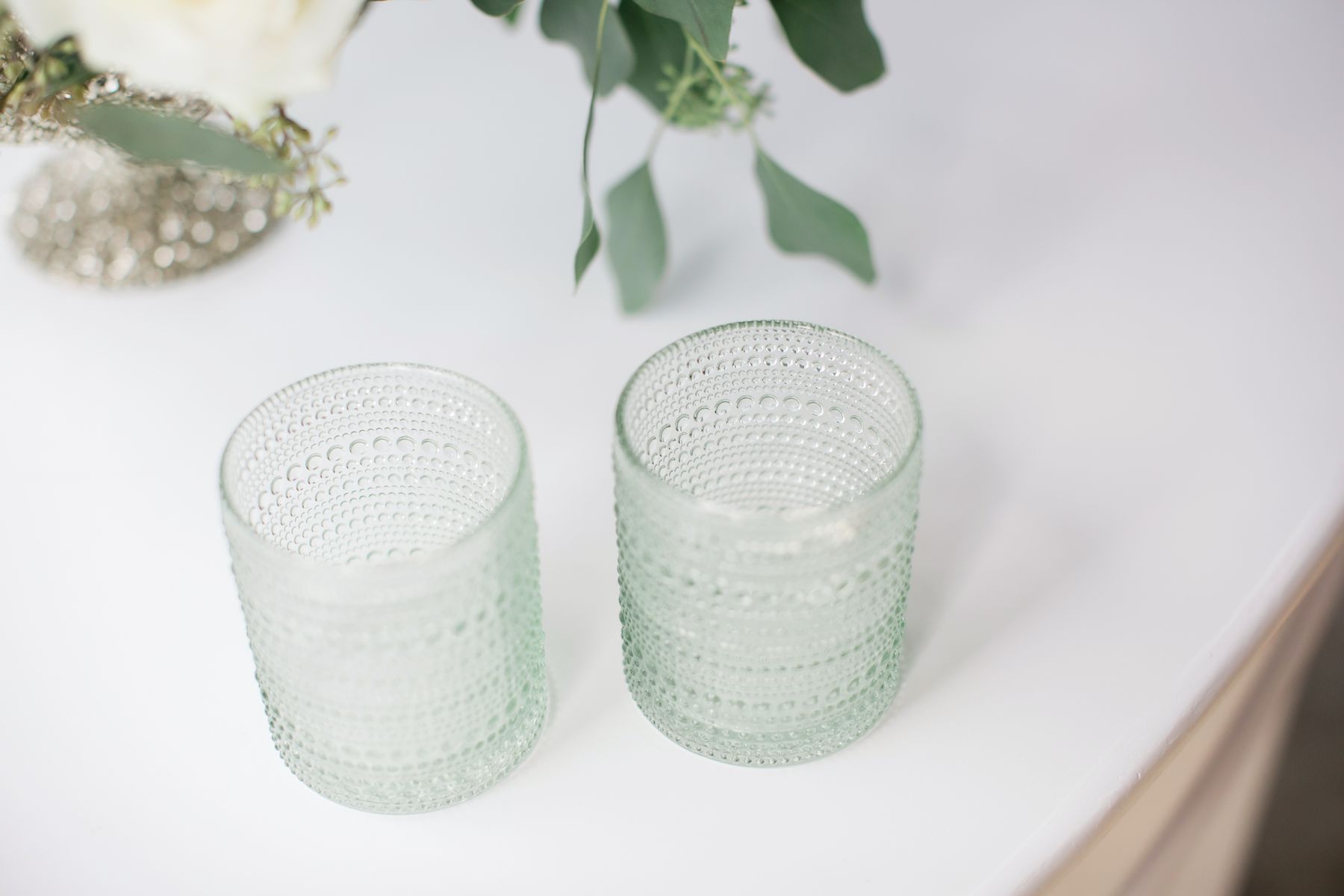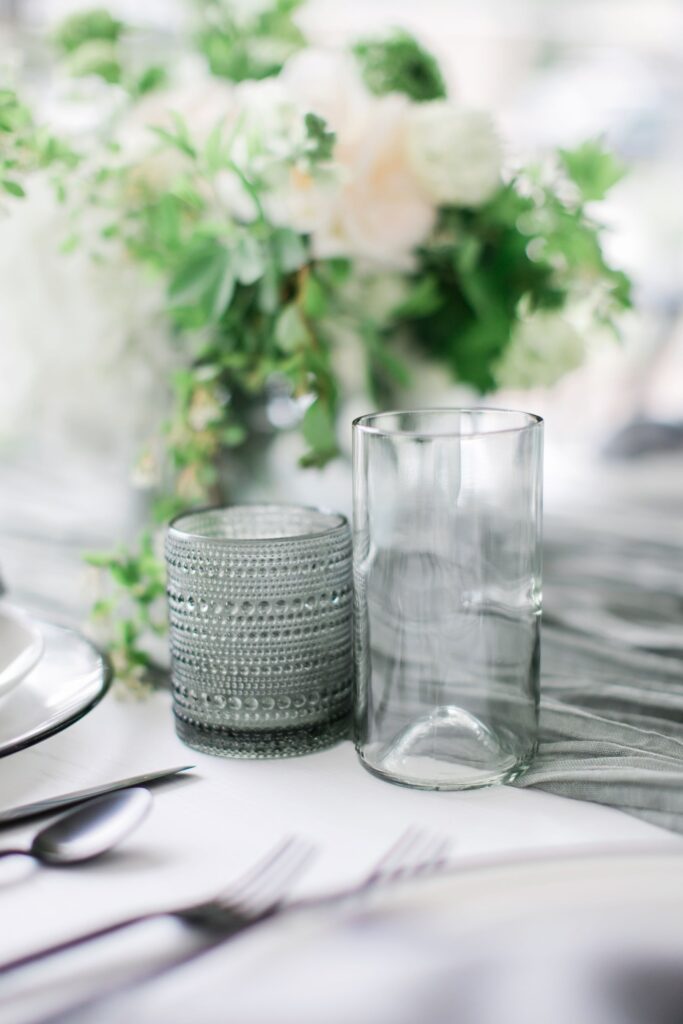 Antique-Inspired Goblets
For those who appreciate the charm of bygone eras, our antique-inspired goblets are a timeless choice. Available in brilliant shades, our Savoy Glassware goblets evoke a sense of nostalgia and elegance. Likewise, Deep Amber looks stunning atop modern rustic tables, contrasted by stark white china and bold velvet napkins. For a more airy look, pair the Sage green glassware with White Washed Rattan Chargers and our Liana China. Alternatively, the muted tones of the Amalia Glassware complement a variety of color palettes. For instance, place the Light Pink glass alongside Heirloom China and Abby Flatware. This will lend to a table that is romantic and whimsical; fitting for a modern garden party. Or, for a more modern tablescape, feature the subtle Sage shade next to our Vera Floral China atop Scalloped Wood Chargers.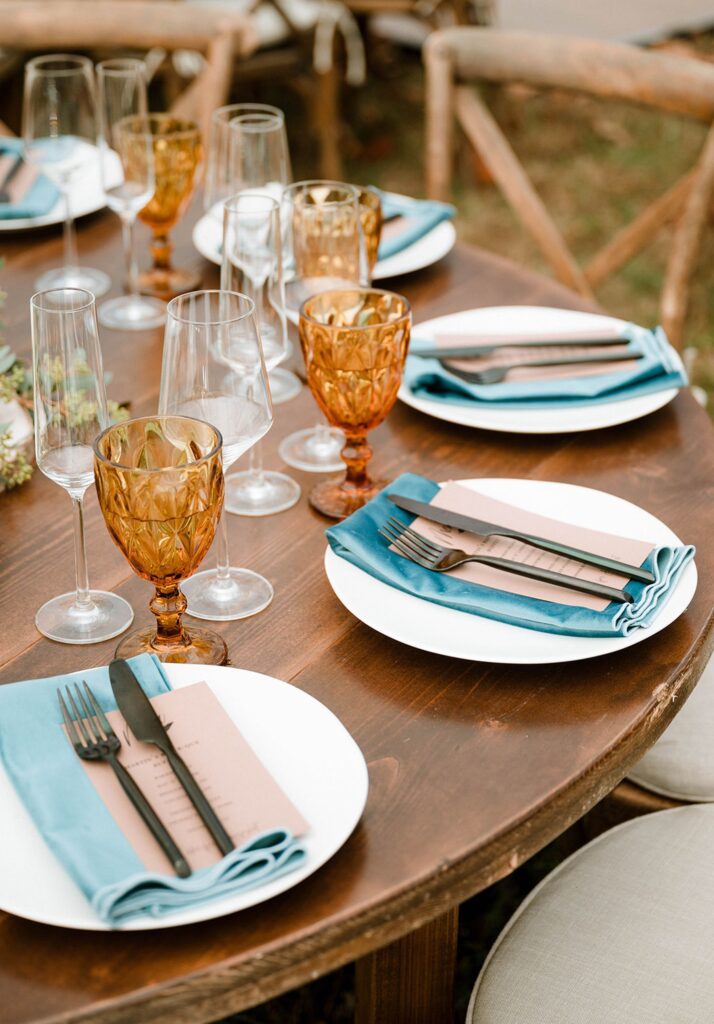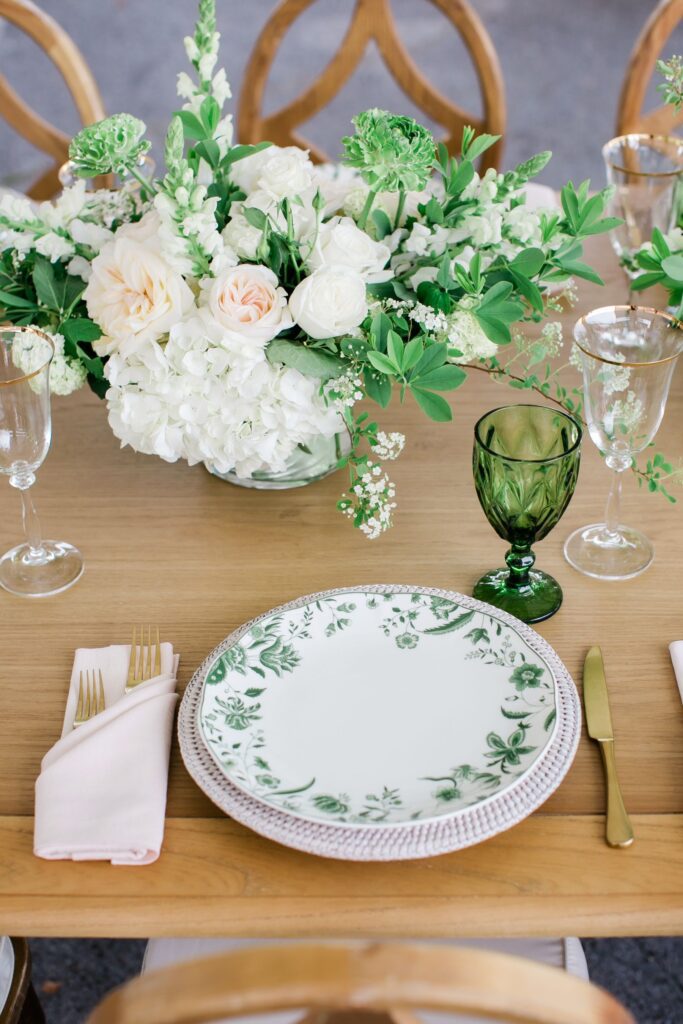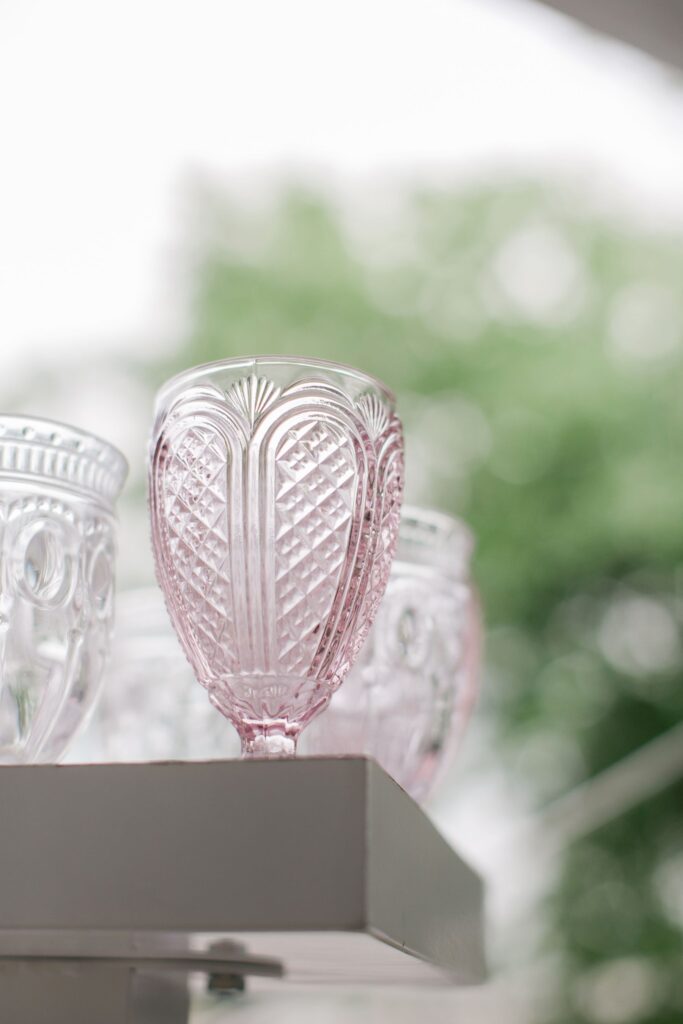 Do you love the idea of colorful glassware for weddings? Our new selection of glassware is a simple way to elevate your reception tables. With an array of stunning styles and colors up for grabs. Contact our team today for help choosing the perfect glassware. Or to book an appointment at our showroom to design a tablescape unique to you.
TAGS | Colorful Wedding Decor, Glassware, Glassware Collections, Tableware, colorful decor, colorful event rentals, colorful glassware, tablescape inspiration, tablescape rentals
FEATURED RENTALS | Deco Glassware, Navy Blue Velvet Linens, Ivory Satin Linens, Ocean Blue Velvet, Wheat Satin Linens, Savoy Glassware, White Washed Rattan Chargers, Liana China, Amalia Glassware, Heirloom China, Abby Flatware, Vera Floral China, Scalloped Wood Charger, Beaded Glassware, Gold Furrow Linens,
---
13

Apr

Events and Style Shoots, On Trend, Southern Events Products, Trends and Inspiration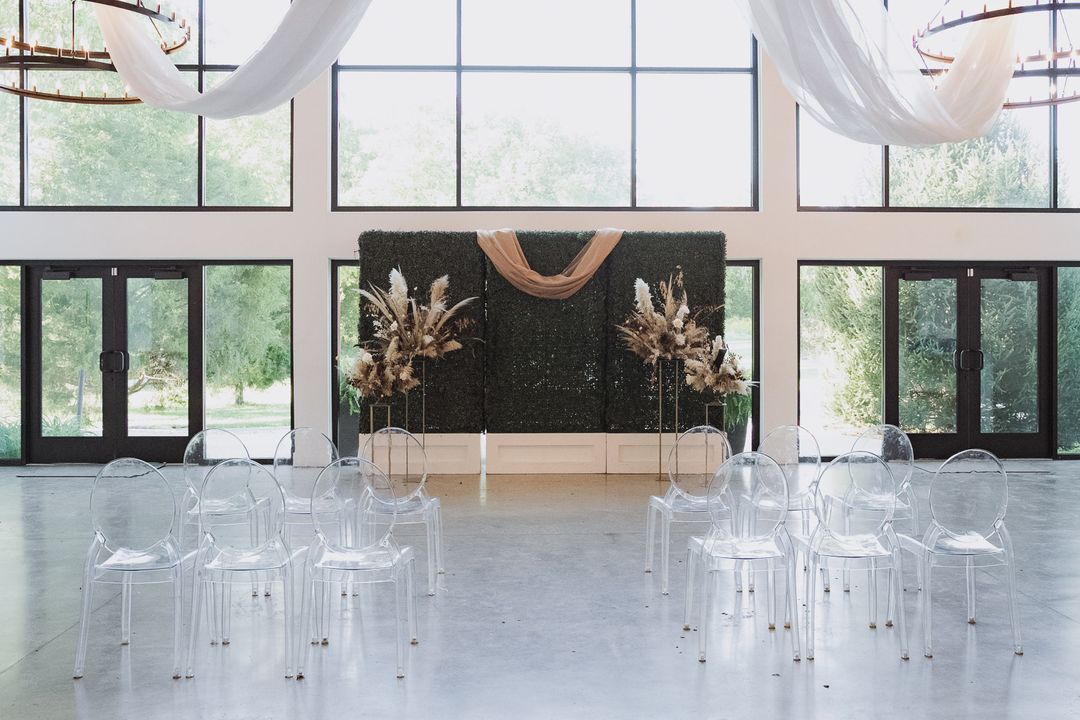 Are you dreaming of a wedding that is out of this world? Check out this modern celestial wedding! A theme that is all about creating a bright and modern atmosphere, with an ethereal touch. It is perfect for couples who want to have a unique wedding that is contemporary yet tasteful! Featuring our stylish rentals and a cool-toned color scheme, check out the details of a styled shoot hosted at Southall Meadows, inspired by the magic of the cosmos.
A Chic Indoor Ceremony
The Hall at Southall Meadows was the perfect setting for a ceremony, with a towering ceiling and blank white walls. It lent an airy atmosphere, softened by romantic white drapery. For the backdrop, a row of lush Boxwood Walls sat in front of a wall almost entirely made of glass. It beautifully illuminated the space, and cast a glow on the wedding party! White bases maintained a crisp look, complemented by our Acrylic Ghost Armless Chairs.
If you have a larger guest count or are feeling inspired by the universe, place them in a half circle for an elegant ceremony in the round. Want to make a memorable first impression? Greet guests at the ceremony space with a colorful mocktail displayed on a White 6-Tier Serving Tower.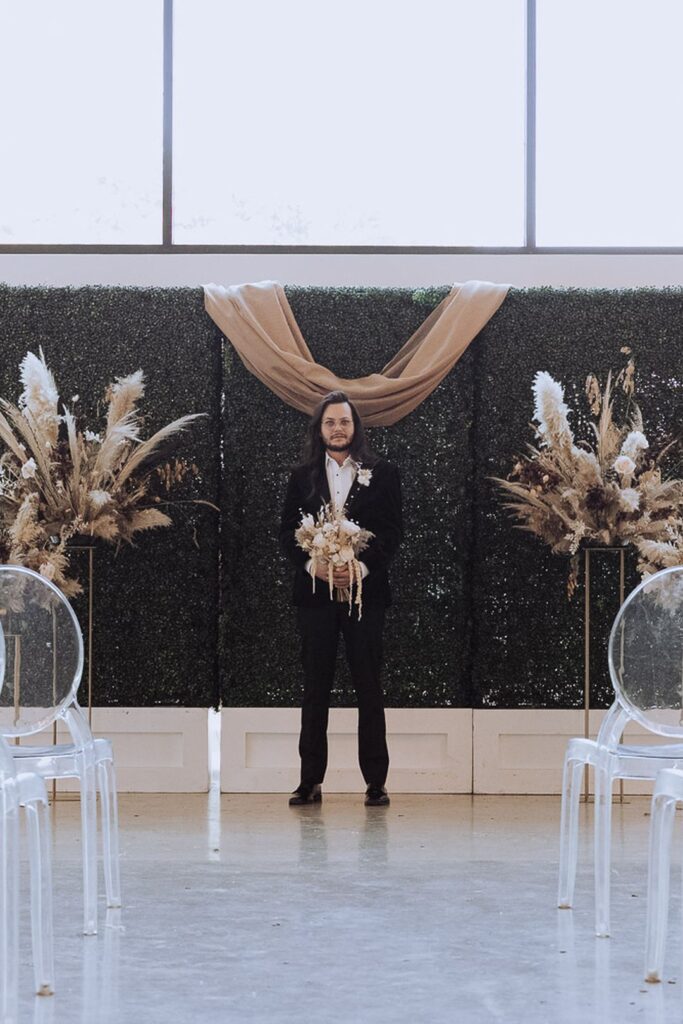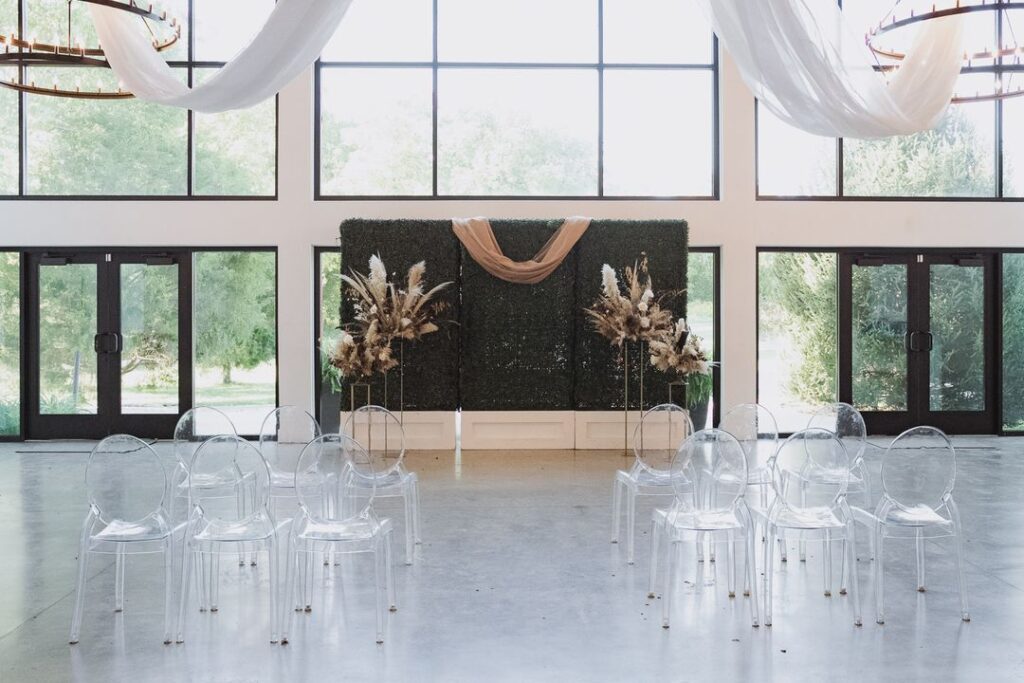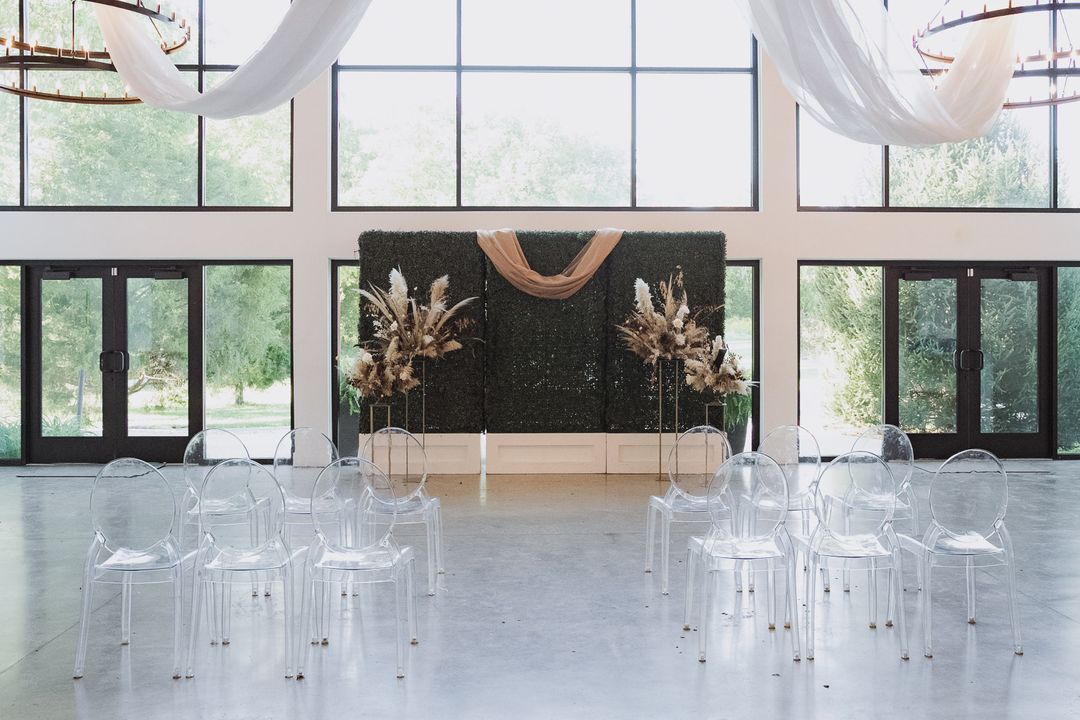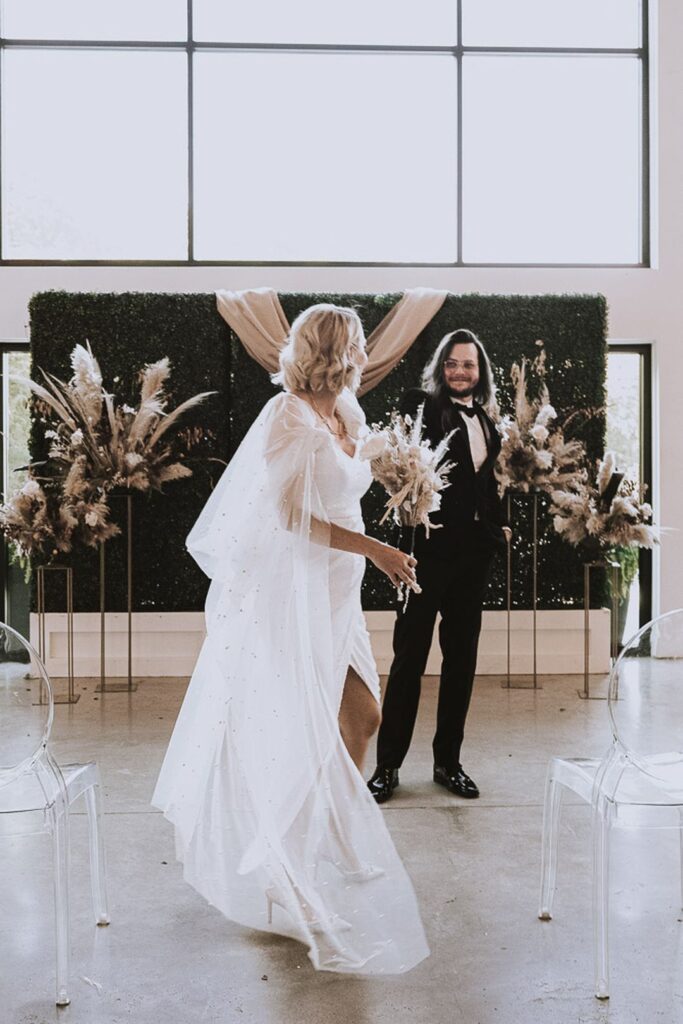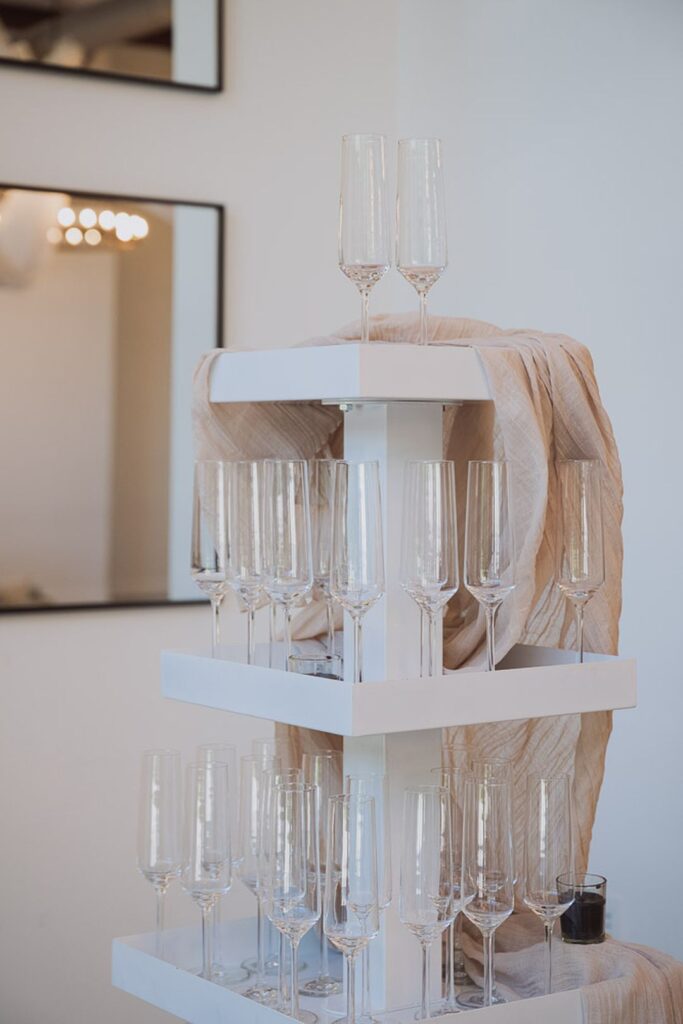 Bright Modern Cocktail Party
A bright celestial-themed cocktail hour is a fun and unique way to celebrate your big day. In line with the ceremony, we created a modern setup where guests could grab a drink, get comfortable and mingle prior to dinner. Starting with an elegant bar, starring the same boxwood walls. It was a gorgeous backdrop for our curved Harpeth Bar. A classic piece that can be customized with your new last name or a custom monogram!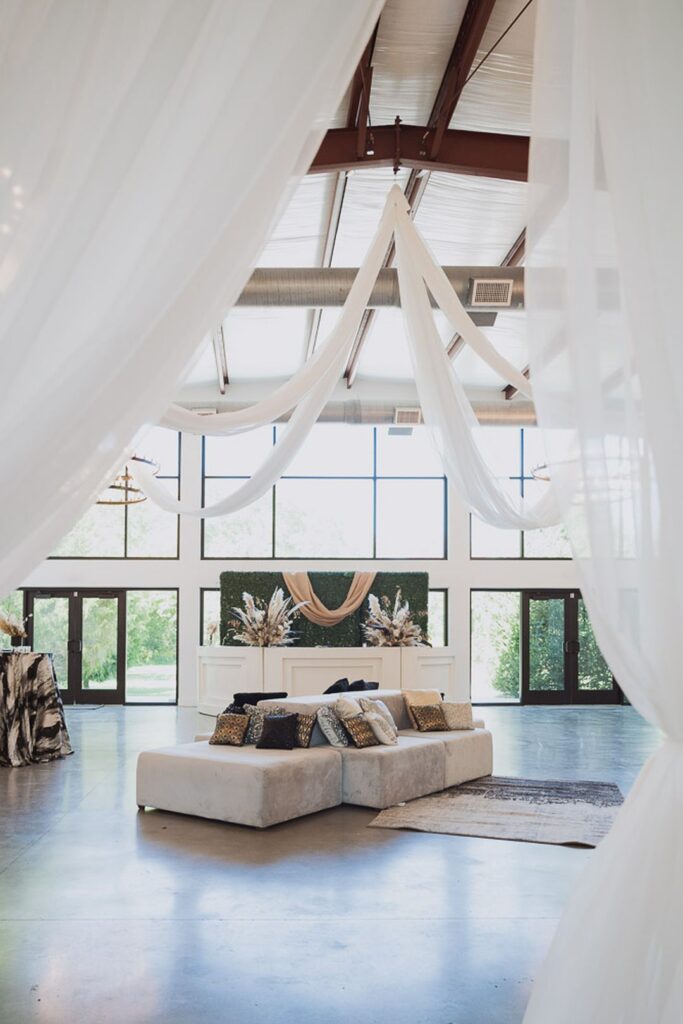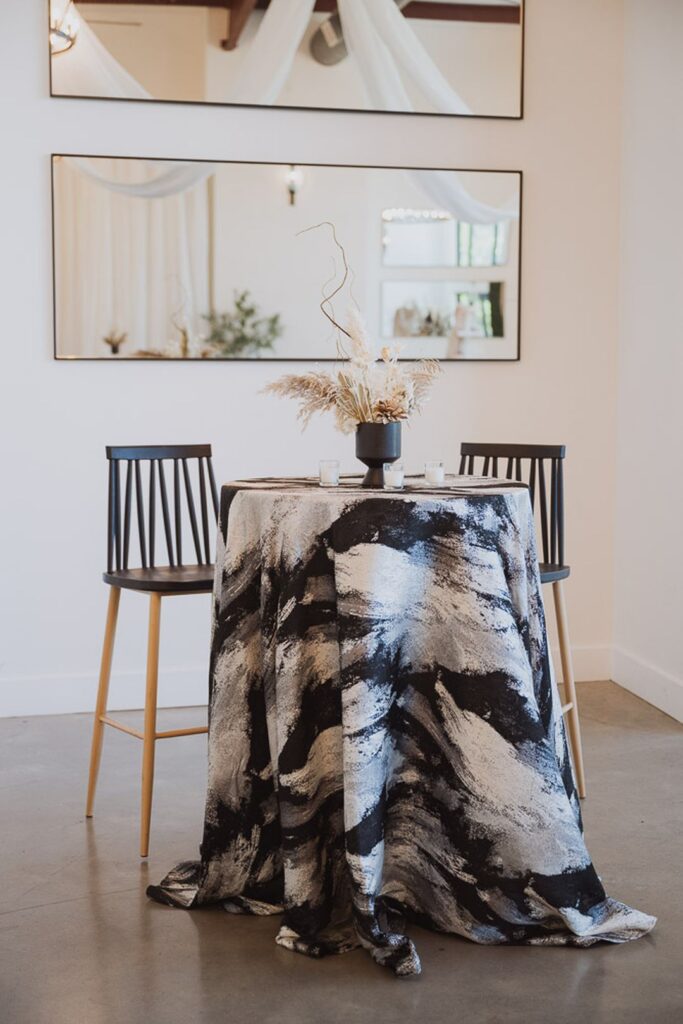 Celestial-Inspired Cocktails
The bar was stocked with a variety of contemporary glassware, including Gatsby Champagne Coupe and Temptations Glasses. The unique shapes are perfect for serving up quirky signature drinks that embody the theme. Such as a blue-colored drink with glitter for a "galaxy" effect! For additional seating, we opted to feature our modular Pearce Lounge with a Black-Silver Rug. We also have cocktail tables outfitted in Black Nova Linens with Mid-Century Barstools, in black or white.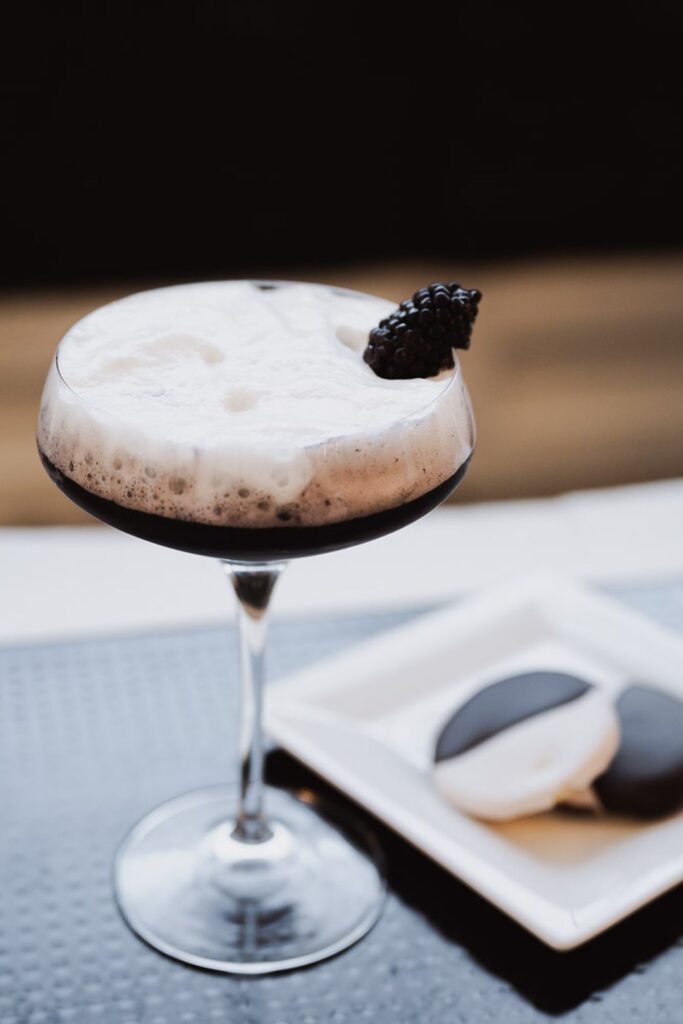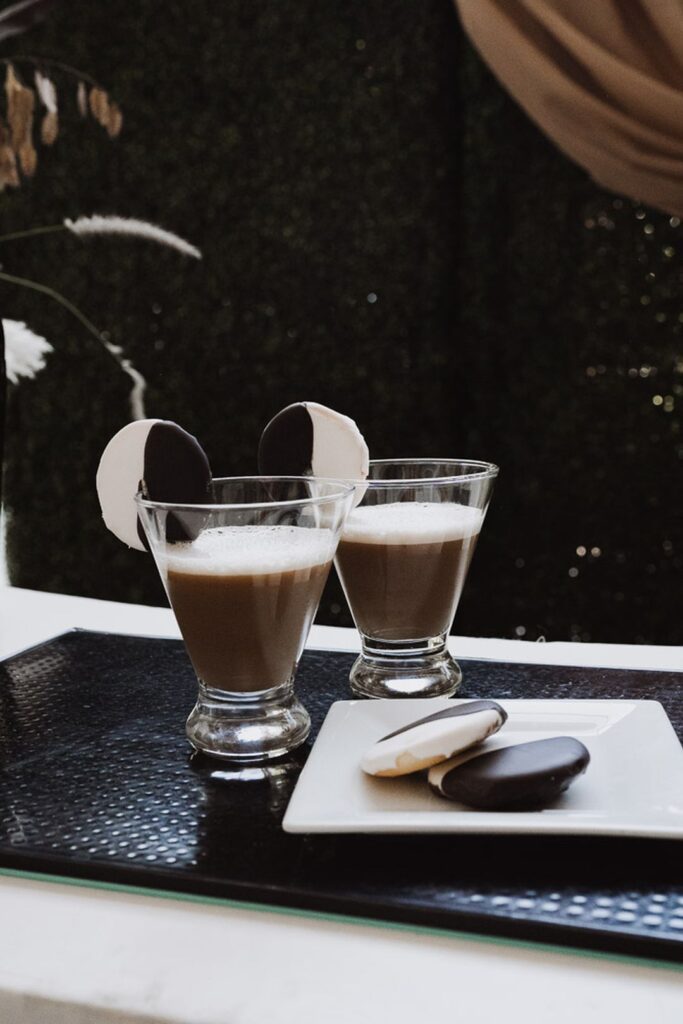 Modern Celestial Wedding Reception
Come dinner time, we wanted to create a slightly more intimate atmosphere. This is why we set up in the historic barn, which lent a more down-to-earth vibe. It also ensured that the tablescapes, starring a splash of celestial-inspired colors, stood out! Wood banquet tables featured a Sahara Runner in Ivory and round were covered with White Etched Velvet Tablecloths. They were contrasted by sleek serving ware: Glass Chargers with a Black Rim, stacked with Earthen Alabaster and Stone China, and Noir Matte Black Flatware. Meridian Blue Tumblers and Dusty Blue Etched Velvet Napkins lent a unique pop of blue! While Acrylic chairs were a modern and elegant touch.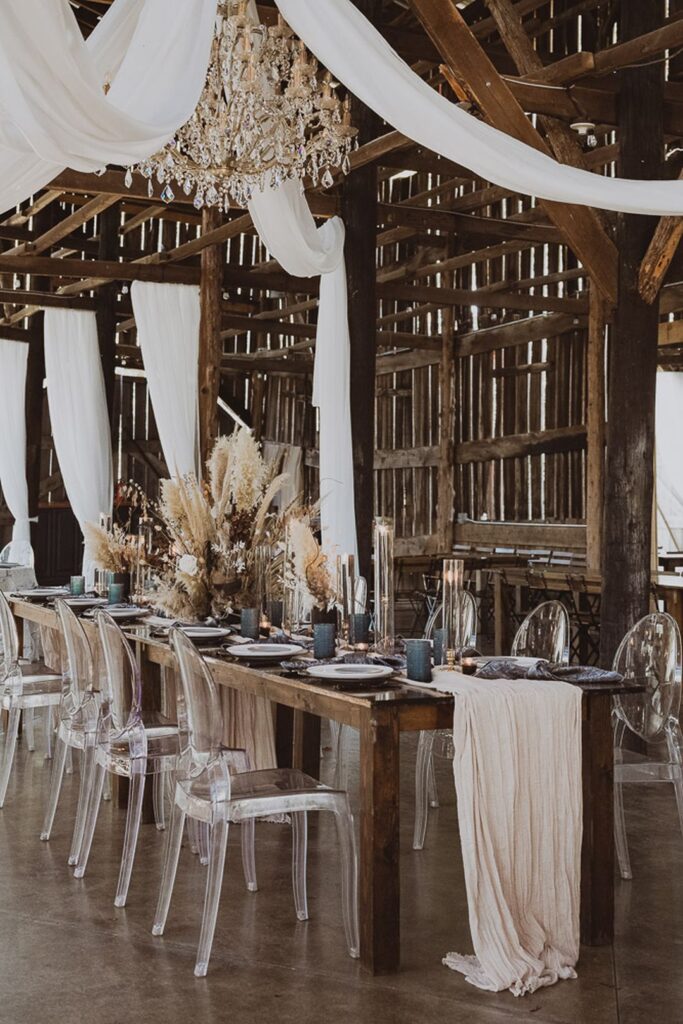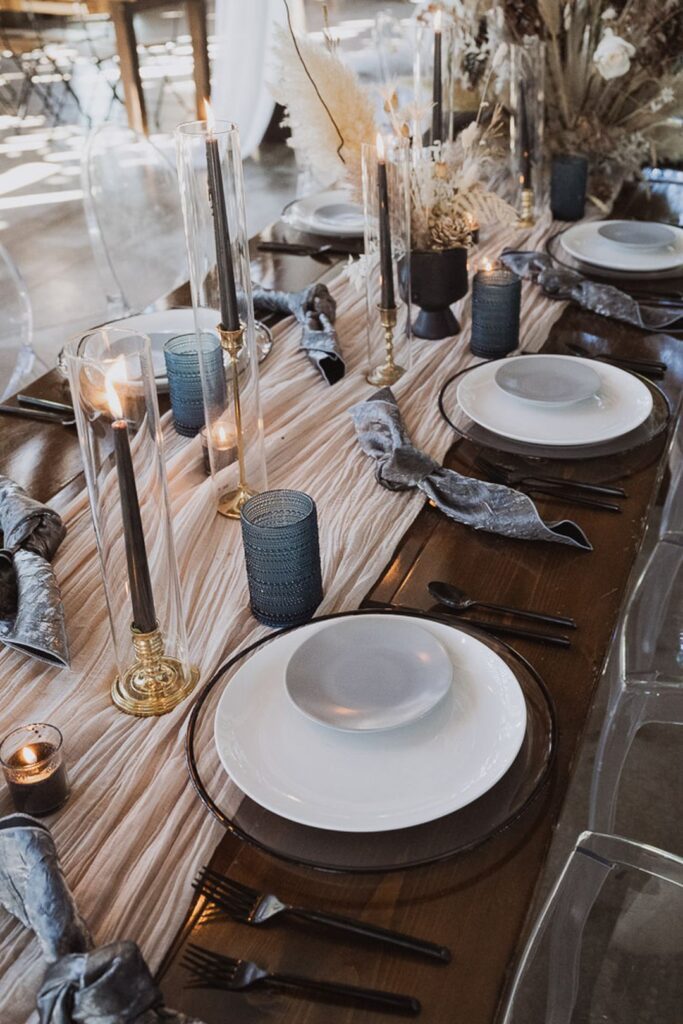 Non-Floral Table Centerpieces
At each table, centerpieces starred voluminous plumes of dried ferns and pampas, for a subtle bohemian vibe. Although if you want to tone down the florals, consider a non-floral centerpiece starring our Gold Metal Intersect Cube. The bright geometric design is ethereal and the shimmering gold will make your serving ware pop. Place candles around each cube or at the center, depending on how much lighting you would like to feature.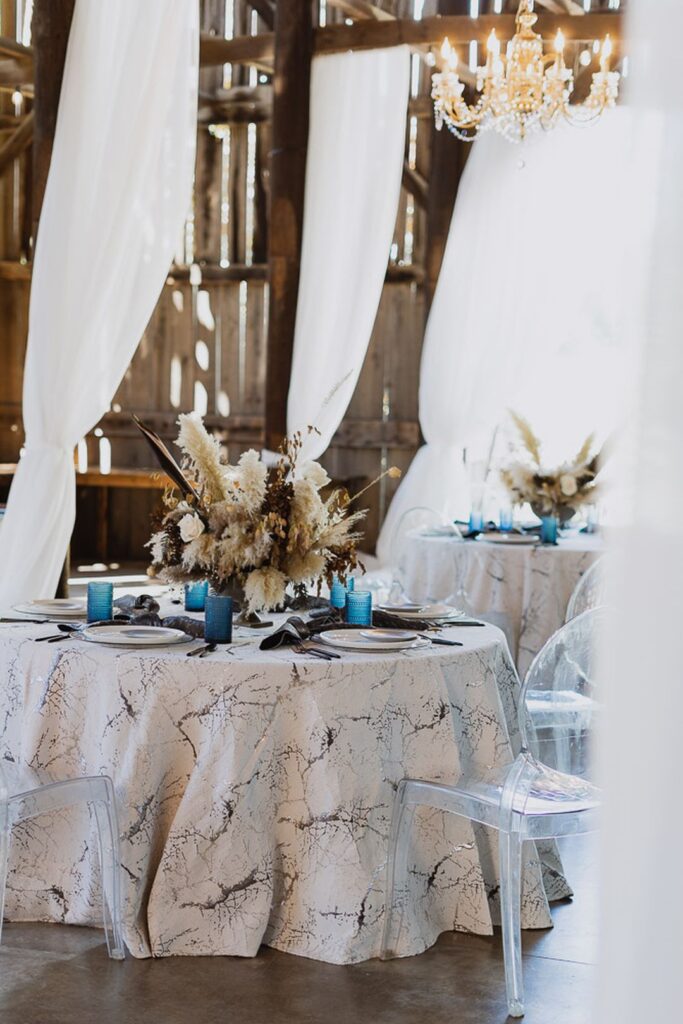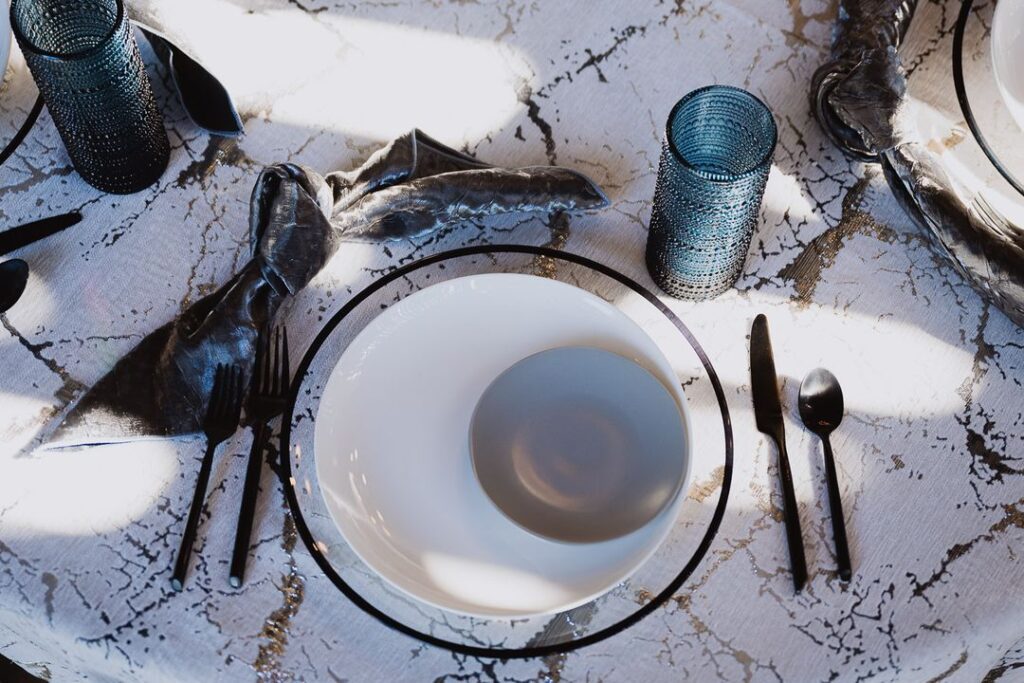 Vendors
Venue + planning | @southall_meadows⁠
Photography | @stokesdunavanphoto⁠
Catering | @beyond_details⁠
Florals | @samanthajayevents⁠
Bar | @jjacksonmobilemixologist⁠⁠
Drapery | @blueherondesigns.tn⁠
HMUA | @theagencyofbeauty⁠
Tuxedo | @jmstreetmenswear
Do you want to plan a modern celestial wedding that will be the envy of every bride? Send us a message at info@southerneventsonline.com, or view our full range of rentals in the catalog. Are you dreaming of a more colorful retro-inspired celebration? Then take a look at these ideas for a Modern Disco Wedding!
TAGS | Barn Weddings, Glassware, Modern Event Lounge, blue event decor, blue event design, celestial wedding, cocktail hour, modern tablescape, modern wedding, southall meadows, tablescape inspiration, wedding theme
FEATURED RENTALS | Sahara Runner in Ivory, Glass Chargers with a Black Rim, White Etched Velvet Tablecloths, Earthen Stone China, Earthen Alabaster china, Noir Matte black Flatware, Meridian Blue Tumblers, Dusty Blue Etched Velvet Napkins, Gold Metal Intersect Cube, Round Harpeth Bar, Boxwood Walls, White 6-Tier Serving Tower, Acrylic Ghost Armless Chairs, Gatsby Champagne Coupe, Temptations Glass, Black Nova Linens, Pearce Lounge, Black-Silver Rug, Mid-Century Barstools,
---
11

Aug

Events and Style Shoots, On Trend, Southern Events Products, Trends and Inspiration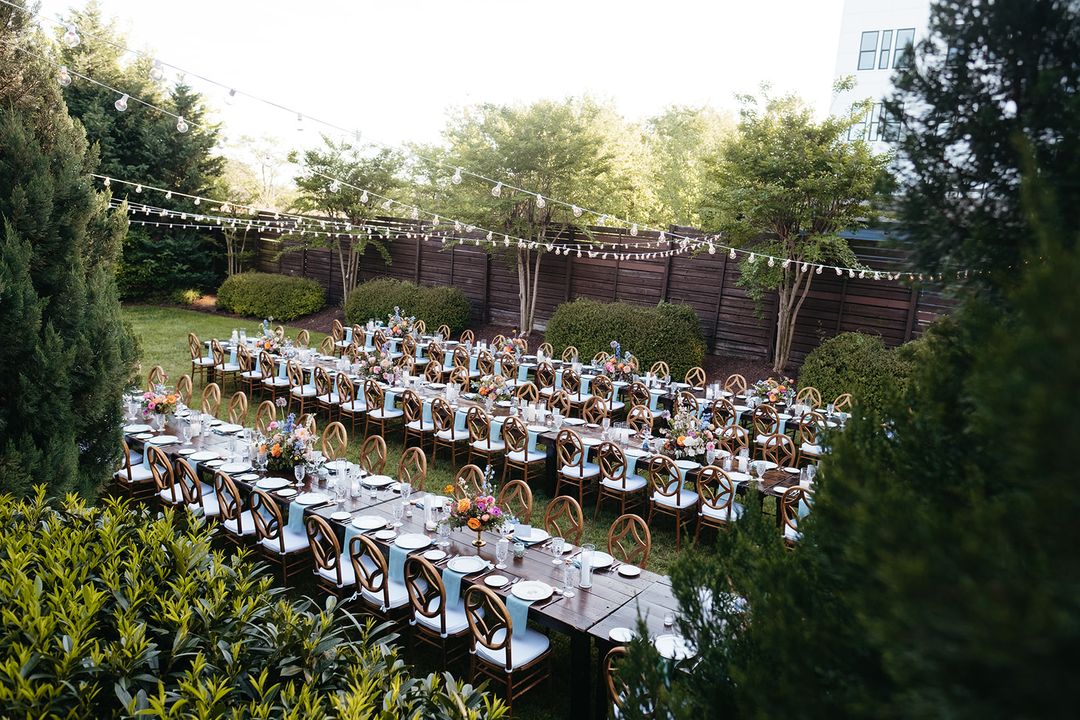 Team Southern recently had the opportunity to collaborate with local vendors on a whimsical styled shoot at The Cordelle. An event venue & garden situated in Downtown Nashville, it was a stunning backdrop for the colorful outdoor wedding. With a mix of historic and modern spaces, featuring grandeur and charm, there was no shortage of room to create a functional and on-trend wedding layout. Check out the details from this dreamy garden-inspired wedding, featuring our stylish event rentals.
Seating for a Whimsical Indoor Ceremony
The ceremony took place in The Victorian, featuring brick walls, hardwood floors, and beautiful floor-to-ceiling windows. Contrasting the urban event space, we opted for our elegant Harlin Dining Chairs. Featuring light wood and detailed backs, they were the perfect choice for the dreamy indoor ceremony. An equally gorgeous alternative would have been our Adeline Dining Chairs! While we decided to keep the aisle bare, featuring a mix of our vintage rugs would have also been a beautiful choice, lending a cozy vibe.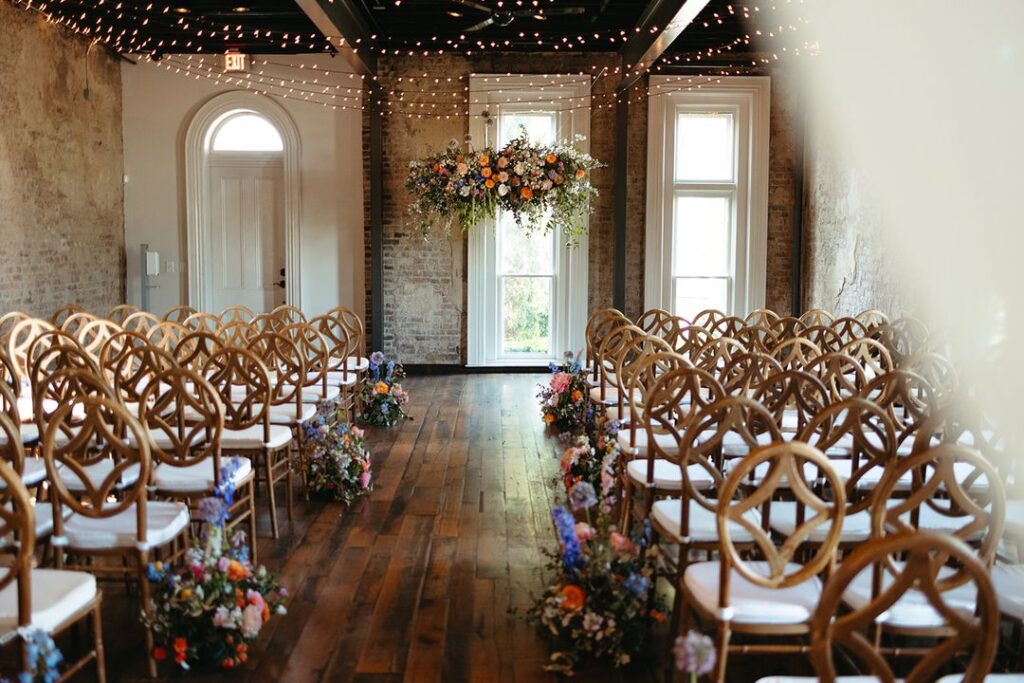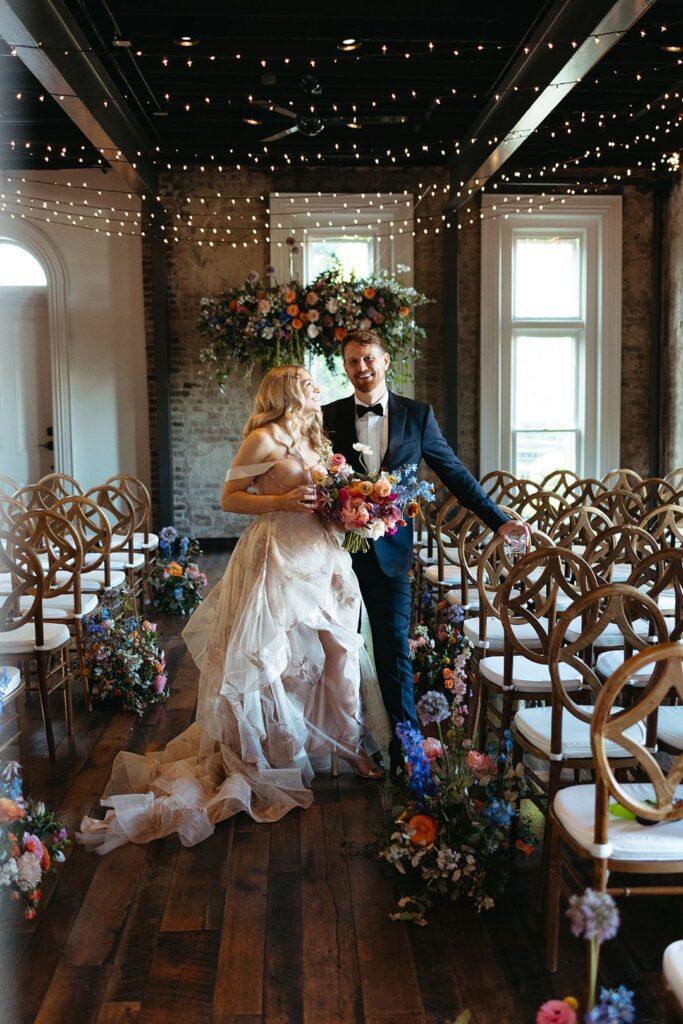 A Dreamy Outdoor Reception Set Up
Meanwhile, the 5,000-square-foot Garden Lawn created an ethereal garden reception. The manicured lawn and bistro lights overhead made for a charming outdoor setup – especially come nightfall. Our Fruitwood Farm Tables and Harlin Dining Chairs were the base for the guest tables. This banquet style is perfect if you want a more intimate feel! Set with Heirloom China, Hob Nob Glassware, and Sophia Flatware, the look was elegant and vintage-inspired. Fun fresh florals and Turqouise Poly Napkins provided a punch of color, fitting for the season! Our Davis Glass Cylinders filled in the table centerpieces.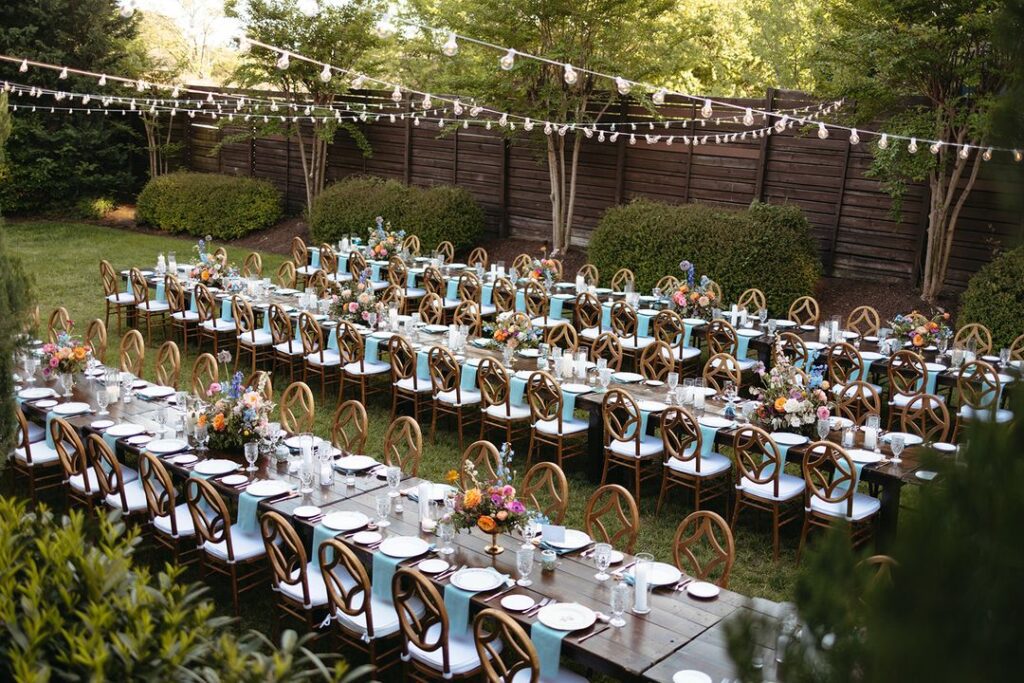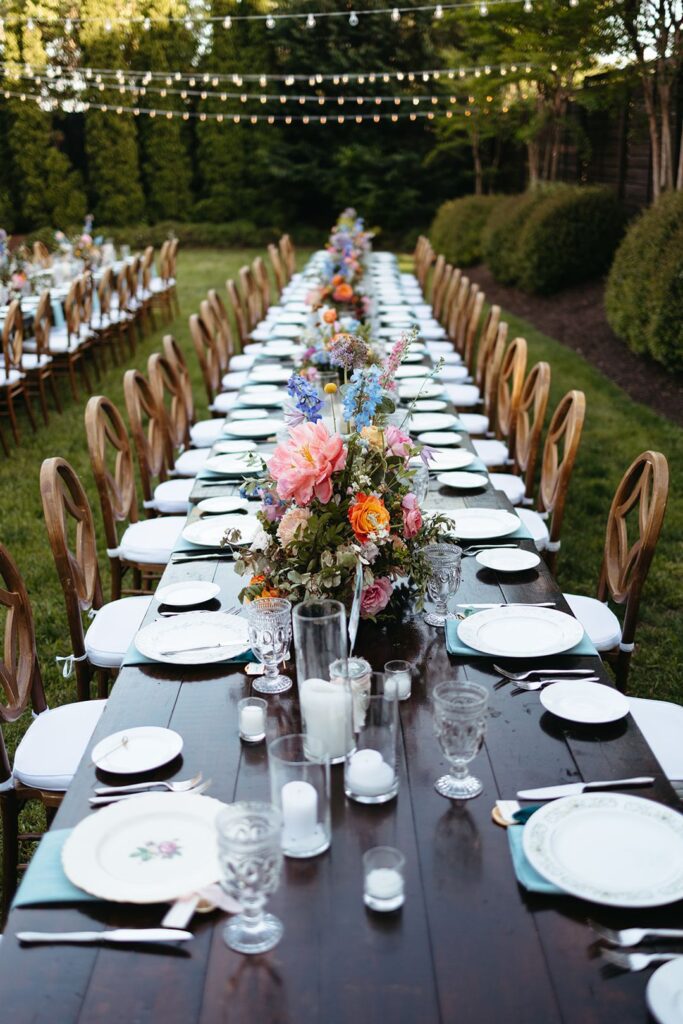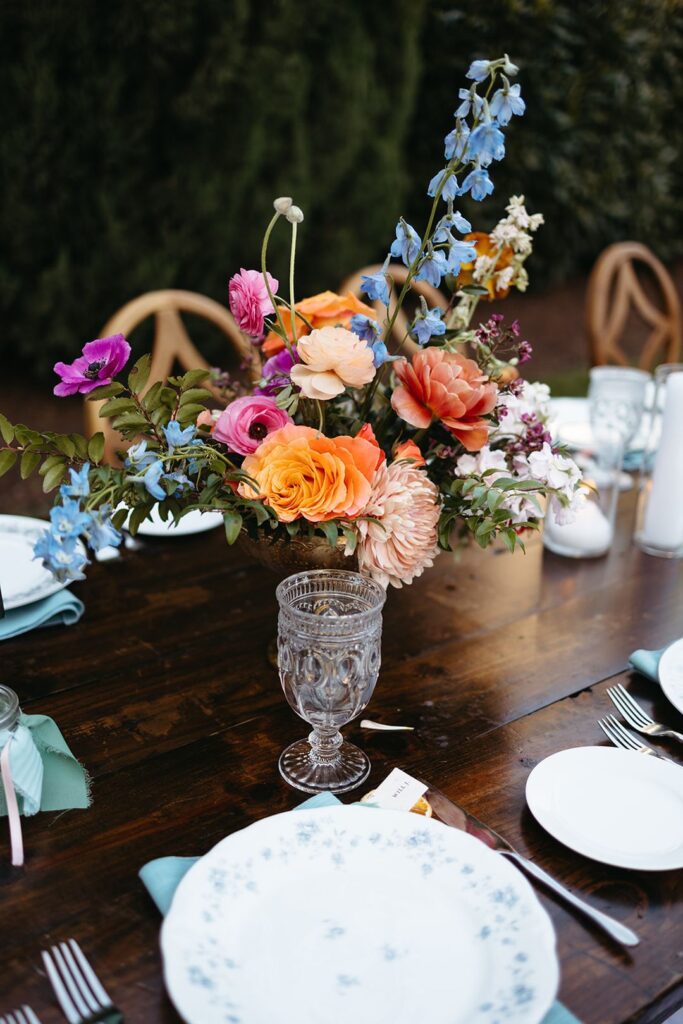 Blue-Hued Wedding Lounge
Eventually, The Victorian was flipped into a cozy cocktail area. Contrasting the warm-toned space, we chose our always popular Saylor Navy Velvet Sofa and Chair. It paired beautifully with a bright Aqua Rug and modern Rhodes Coffee Table. To optimize the space were a handful of cocktail tables – dressed up with deep black linen. Combining with the whimsical florals, it was a perfect cocktail hour set up for the colorful garden wedding.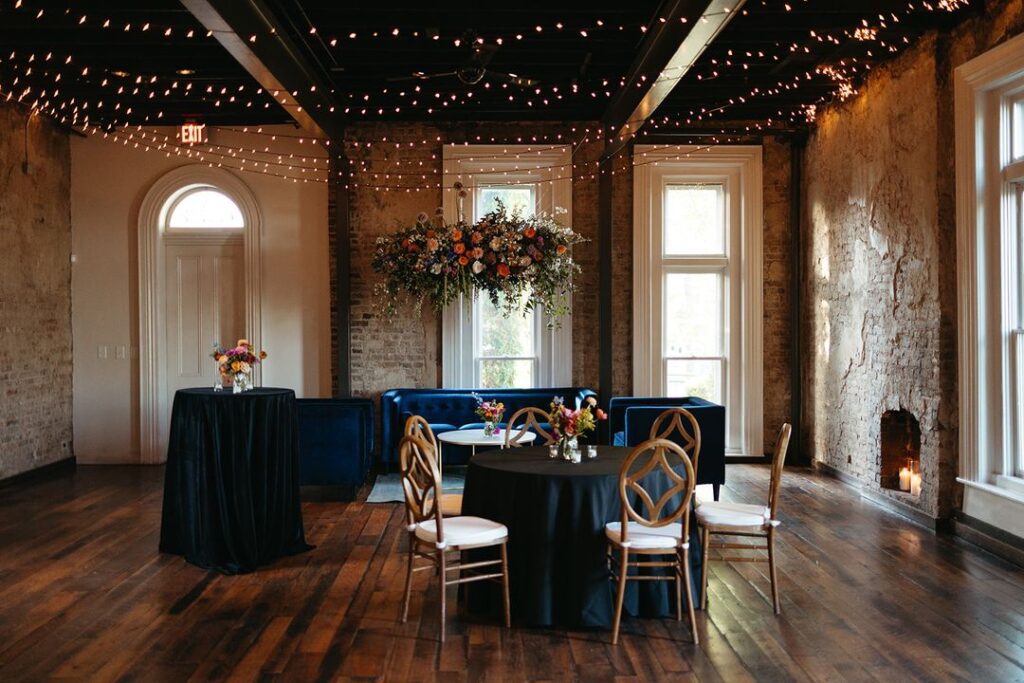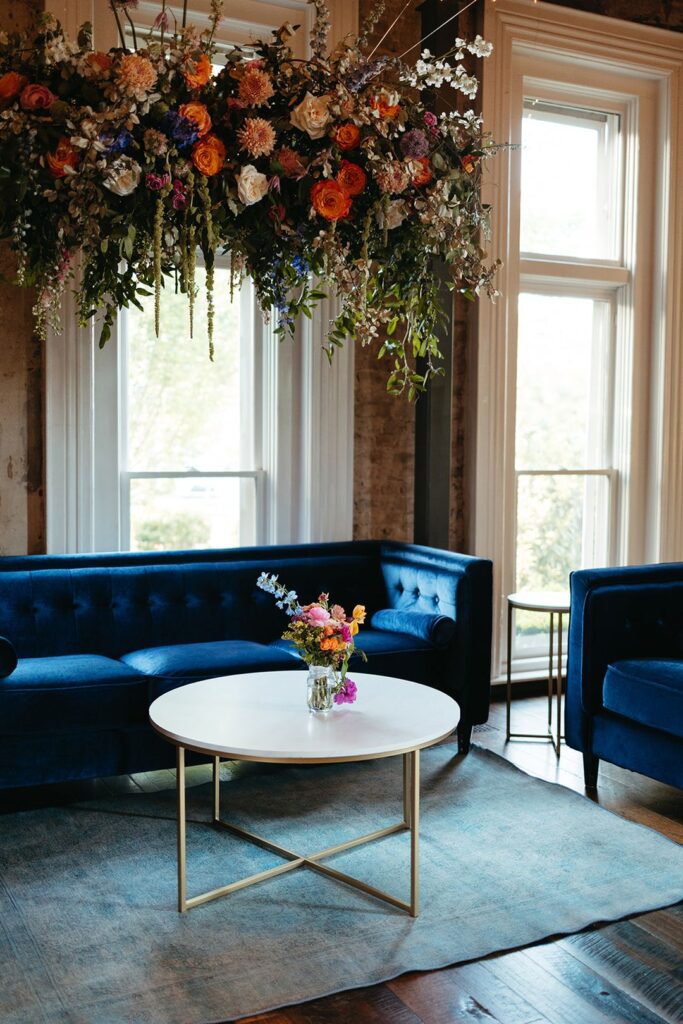 On-Theme Wedding Cocktails
To match the colorful event design, equally bold wedding cocktails were required! J Jackson Mobile Mixologist served up a variety of delicious colorful cocktails in our Davis and Coupe Glasses. We chose these pieces for their clean shape, contrasting the vintage-inspired Hob Nob Glassware used at each table. We also loved the fun colors of the beverages as well as edible florals!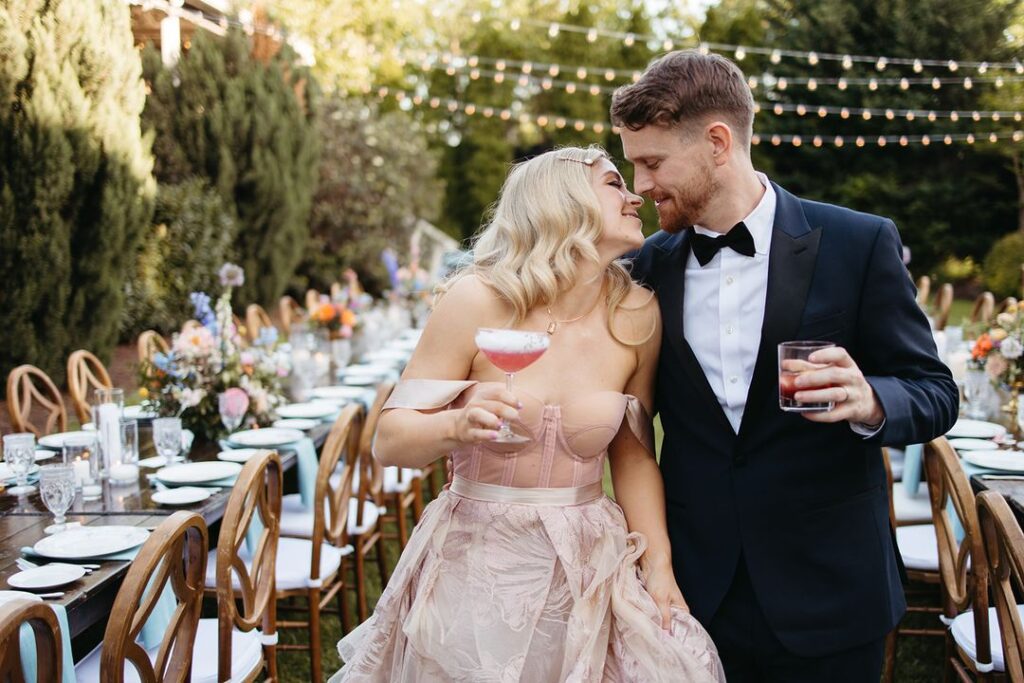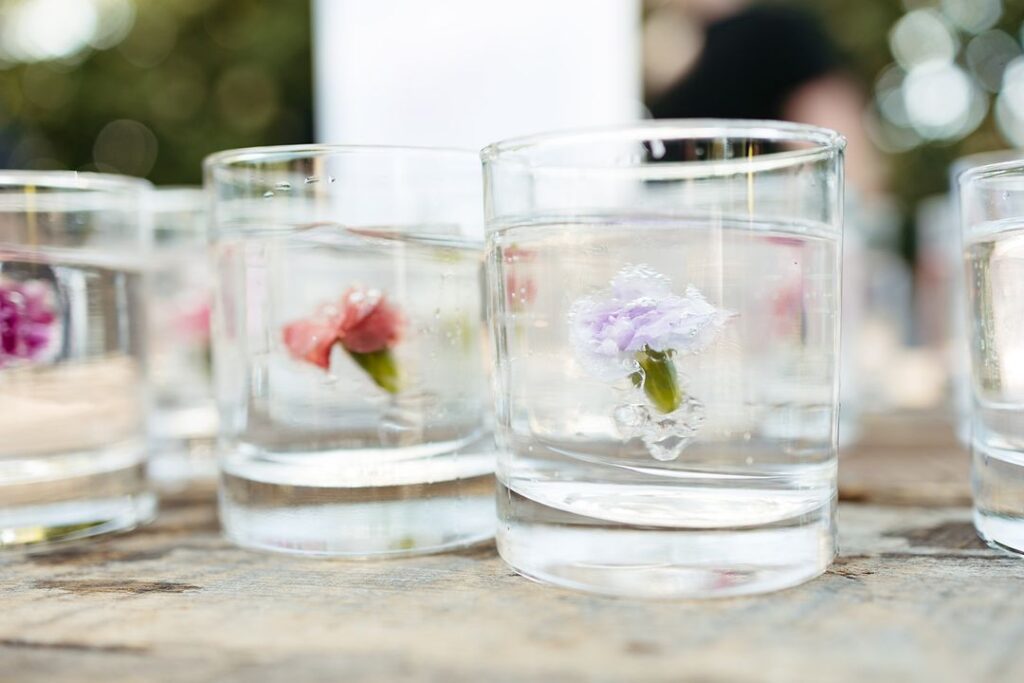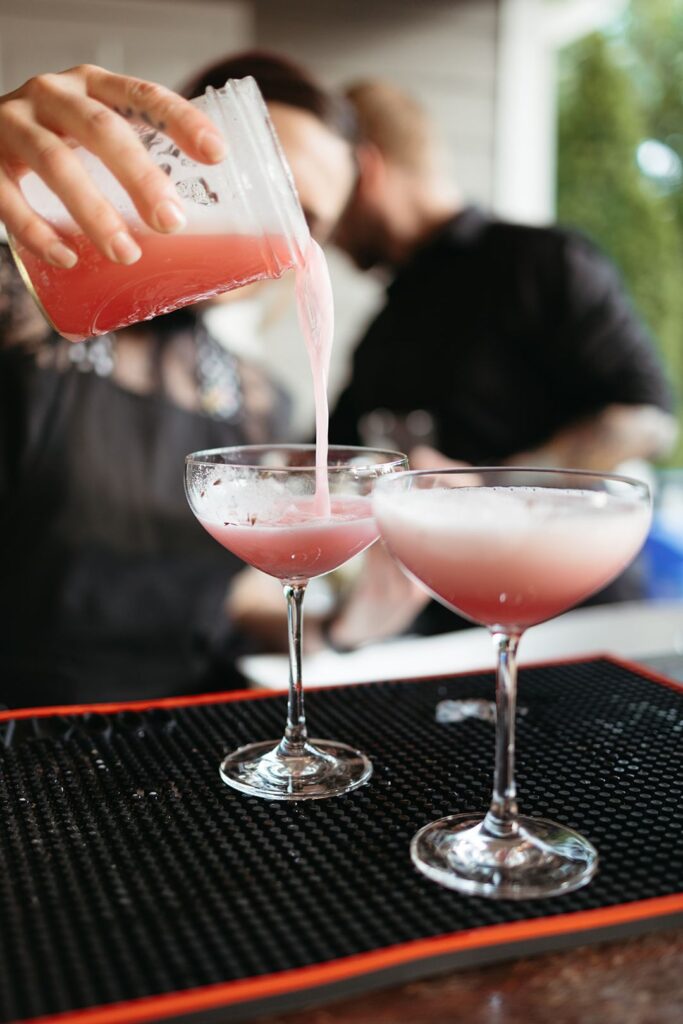 Vendors
Planning: Posh Occasions
Venue: The Cordelle
Florals: LL Floral
Photography: KT Sura Photography
Live Painter: Heather Wolfe Art
Bar: J Jackson Mobile Mixologist
Catering: South Fork Catering Co.
DJ & Sparkle Fountains: Request Premier
Lighting: Bright Event Productions
HMUA: Local Honey
Groom Attire: The Black TuxTransportation: Signature Nashville
Looking to recreate the style of this colorful garden wedding for your upcoming nuptials or an outdoor celebration? Send our team a message at info@southerneventsonline.com for help! For more colorful event design inspiration, take a look at our blog covering Colorful Summer Party Ideas.
TAGS | Colorful and Fun Outdoor Wedding, Event Seating, Glassware, Nashville Wedding Reception, bar event rentals, colorful decor, colorful event lounge, colorful event rentals, heirloom china, lounge areas, outdoor event rentals, outdoor southern weddings, wedding lounge, wedding reception ideas
FEATURED RENTALS | Harlin Dining Chairs, Fruitwood Farm Tables, Hob Nob Glassware, Abby Flatware, Heirloom China, Davis Glass Cylinders, Saylor Navy Velvet Sofa, Rhodes Coffee Table, Aqua Rug, Davis Glassware, Coupe Glass,
---
28

Jul

On Trend, Southern Events Products, Trends and Inspiration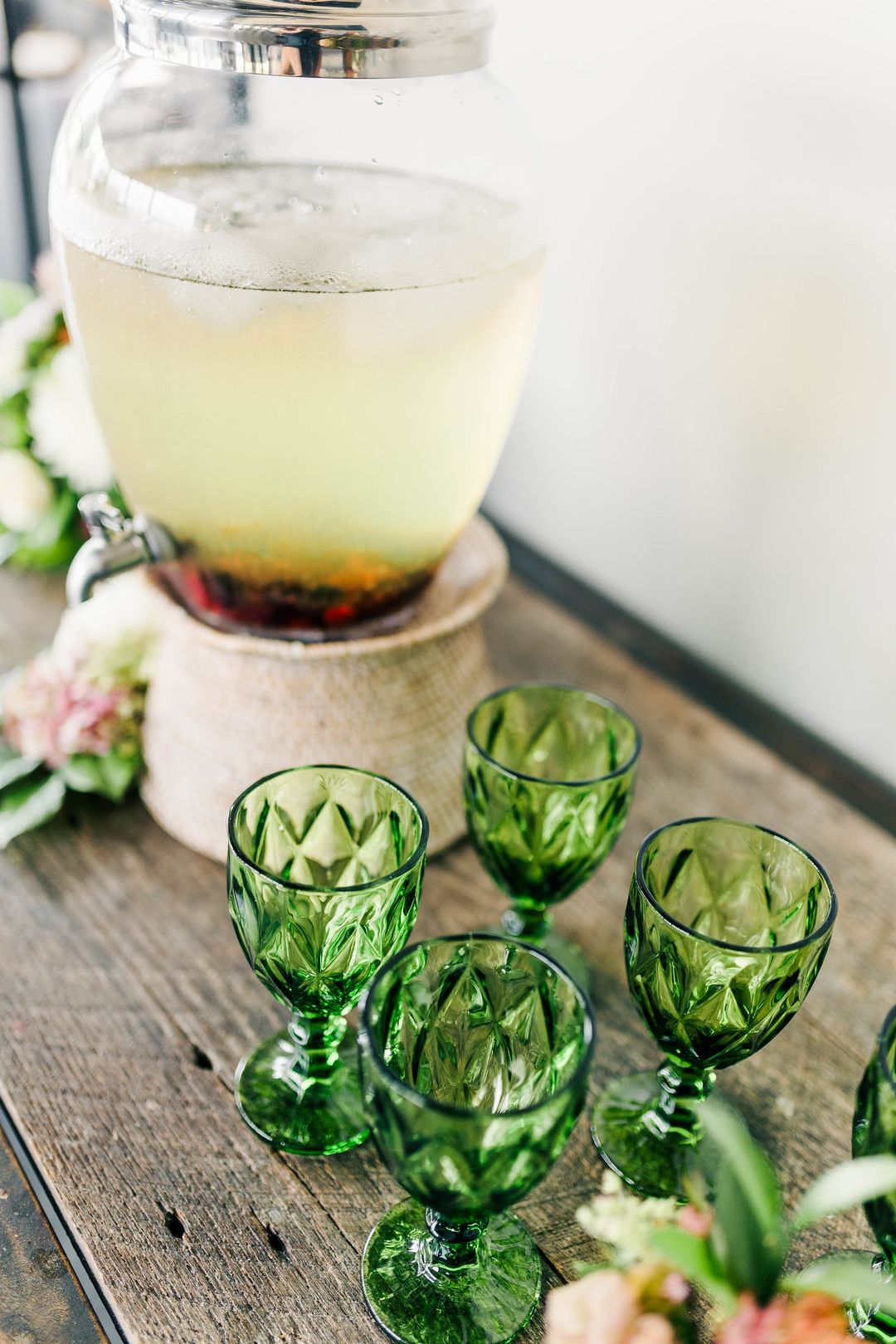 Hosting a laid-back cocktail hour? Level up your event when you serve big batch cocktails(or mocktails) in style! By featuring beautiful dispensers and fitting glassware for each type of drink, your guests are sure to be impressed. Learn about our beverage service rentals that will make it a breeze to serve up large batch cocktails at your next social event! Plus, we're sharing some easy party drinks for every type of gathering!
Easy Pour Beverage Jars
If you want easy yet elegant, our easy-pour beverage jars are a good choice! Featuring a simple pour spout and a sophisticated shape, these pieces make it easy to create big batch cocktails that guests can serve themselves. With a little rearranging of your fridge, you can even store them indoors until guests arrive.
Our Classic Glass Beverage Jar is especially impressive if you plan to serve up a colorful or fruit-infused cocktail or mocktail! Perhaps a tasty blackberry collins, basil strawberry lemonade, or a rum punch. Pair it with our Rattan Beverage Jar Stand, or a glass cake stand. Meanwhile, our Gold Beverage Jar is an equally gorgeous option for a more upscale event! To create an on-trend display, consider placing them on our Market Cart or any of our beautiful bars for rent.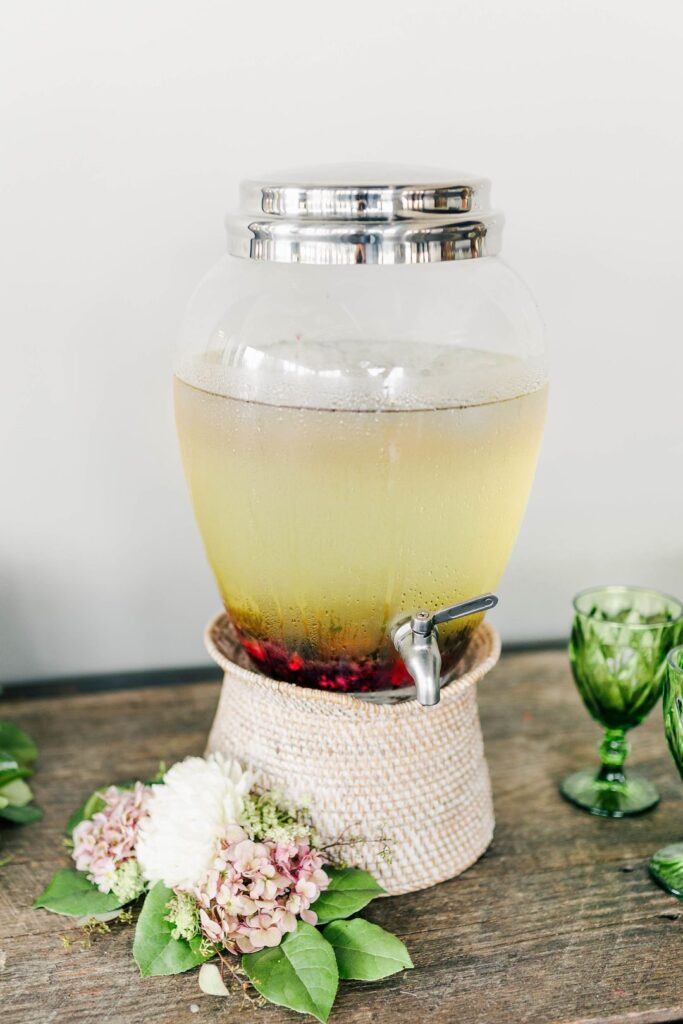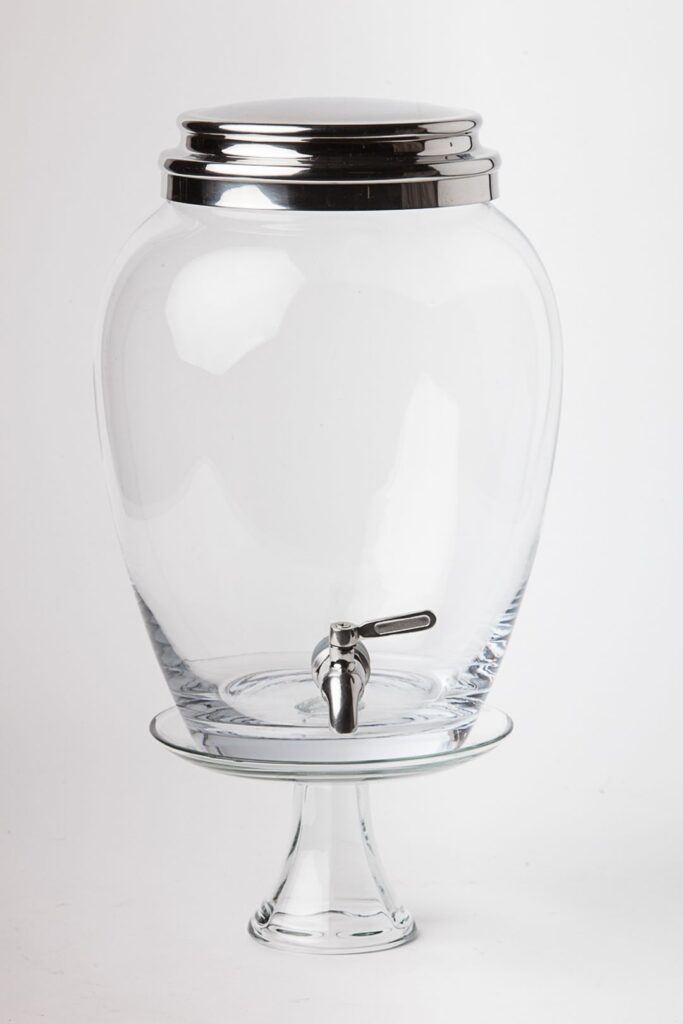 Silver Beverage Containers
If you're hosting a Southern-inspired gathering, our silver beverage containers are essential! We have a wide selection of styles available! From a beautiful Silver Beverage Pitcher – perfect for an assortment of Sangrias, fresh Margaritas, and infused waters. To options for hot drinks, like a Silver Coffee Urn – a fail-proof way to serve a delicious Mulled Wine, Coffee bars, or Hot Buttered Rum. Featuring pour-spouts, there will be no need to worry about burnt fingers!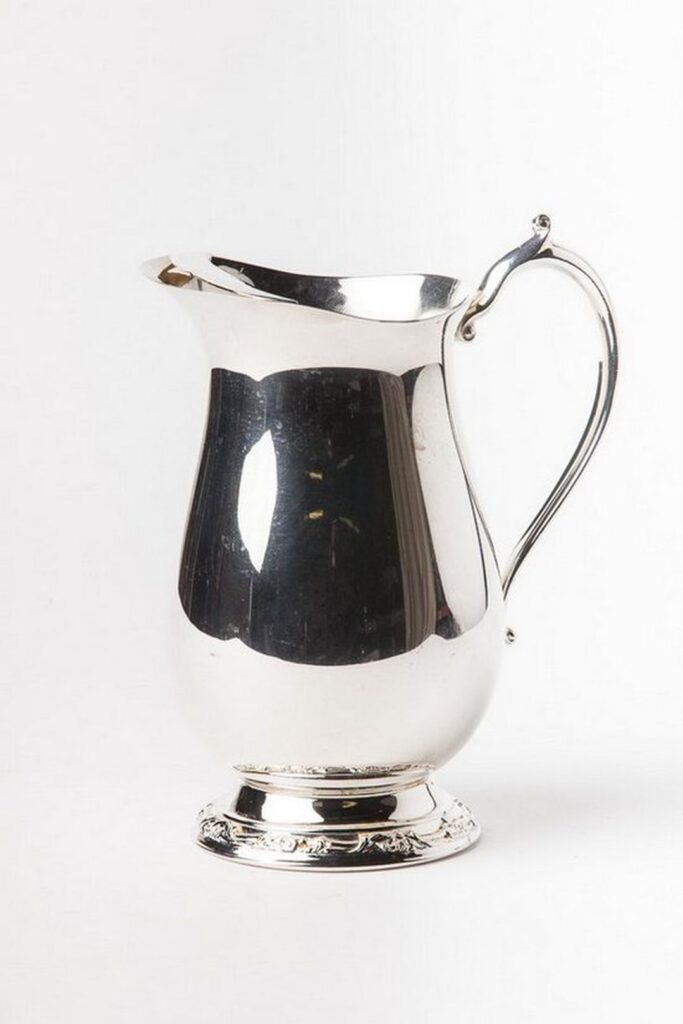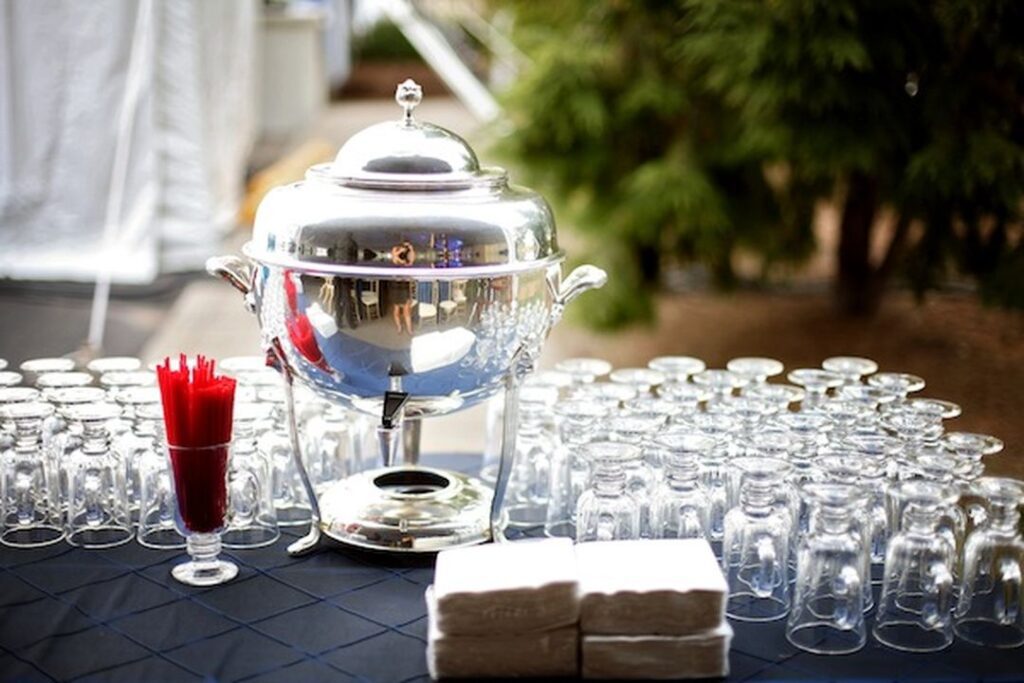 Correct Cocktail Glassware
An easy way to impress your guests is by showcasing the knowledge of the correct cocktail glassware. Southern stocks a variety of glassware, in every shape and style, so that you can display each drink as intended. Come to us with your intended menu, and we're glad to point you in the right direction – whether you plan to whip up a classic beverage or a more upscale drink. We have wine glasses for every type of Sangria. High-ball glasses for mixed drinks. Martini glasses for iceless cocktails. Or colored glassware to make mocktails feel special and much more! To store your glassware, don't forget to rent one or several of our Bar Back Shelves, available in a range of styles and colors.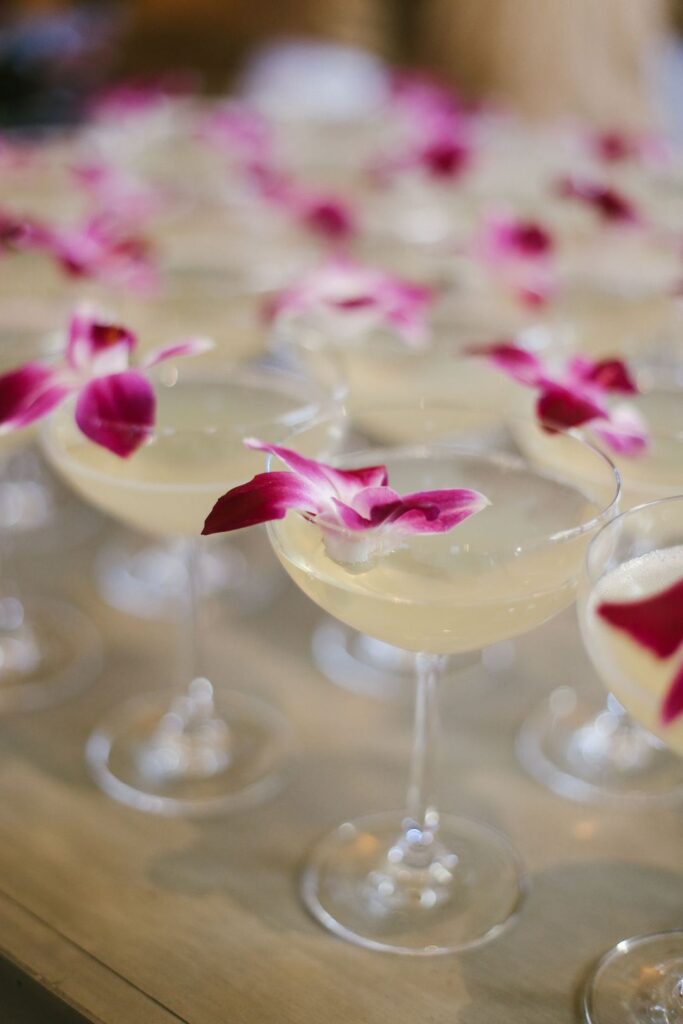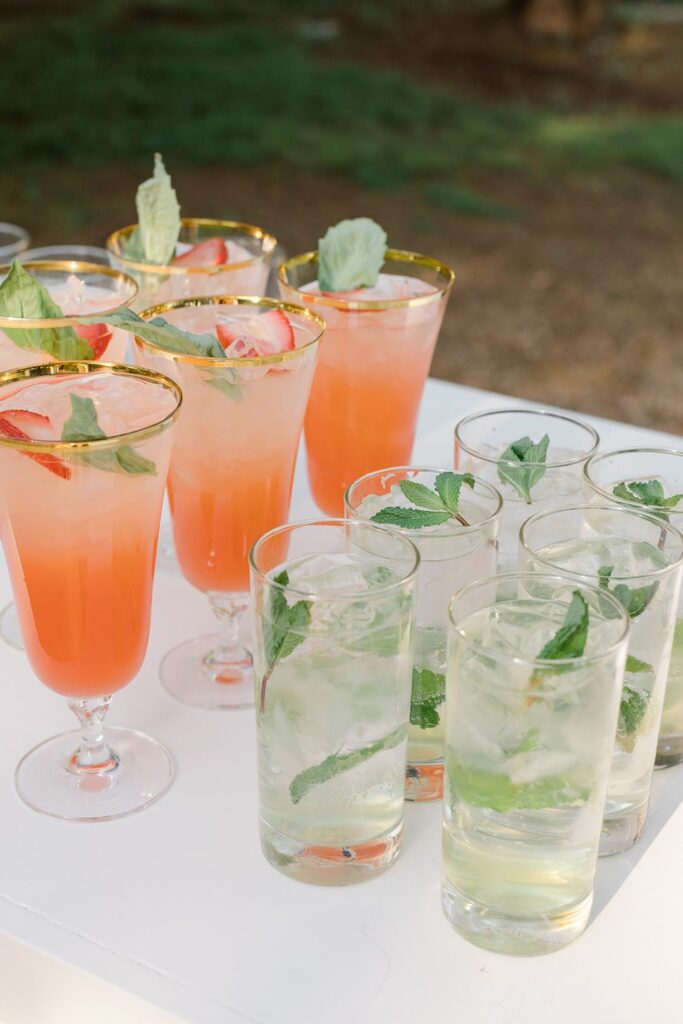 Planning to serve big batch cocktails at your upcoming celebration or party? Contact our team today for assistance choosing the best beverage service rentals for your event! Or view our catalog to see our full inventory of products, including drink dispensers, glassware, and more. Need more cocktail or mocktail hour inspiration? Check out our in-stock bars and accessories for rent.
TAGS | Beverage Service, Cocktail Party Rentals, Glassware, cocktail hour, cocktail party ideas, glassware rentals Nashville
FEATURED RENTALS | Gold Beverage Jar, Classic Glass Beverage Jar, Rattan Beverage Jar Stand, Market Cart, silver beverage pitcher, silver coffee urn, bar back shelves,
---
3

Mar

On Trend, Southern Events Products, Trends and Inspiration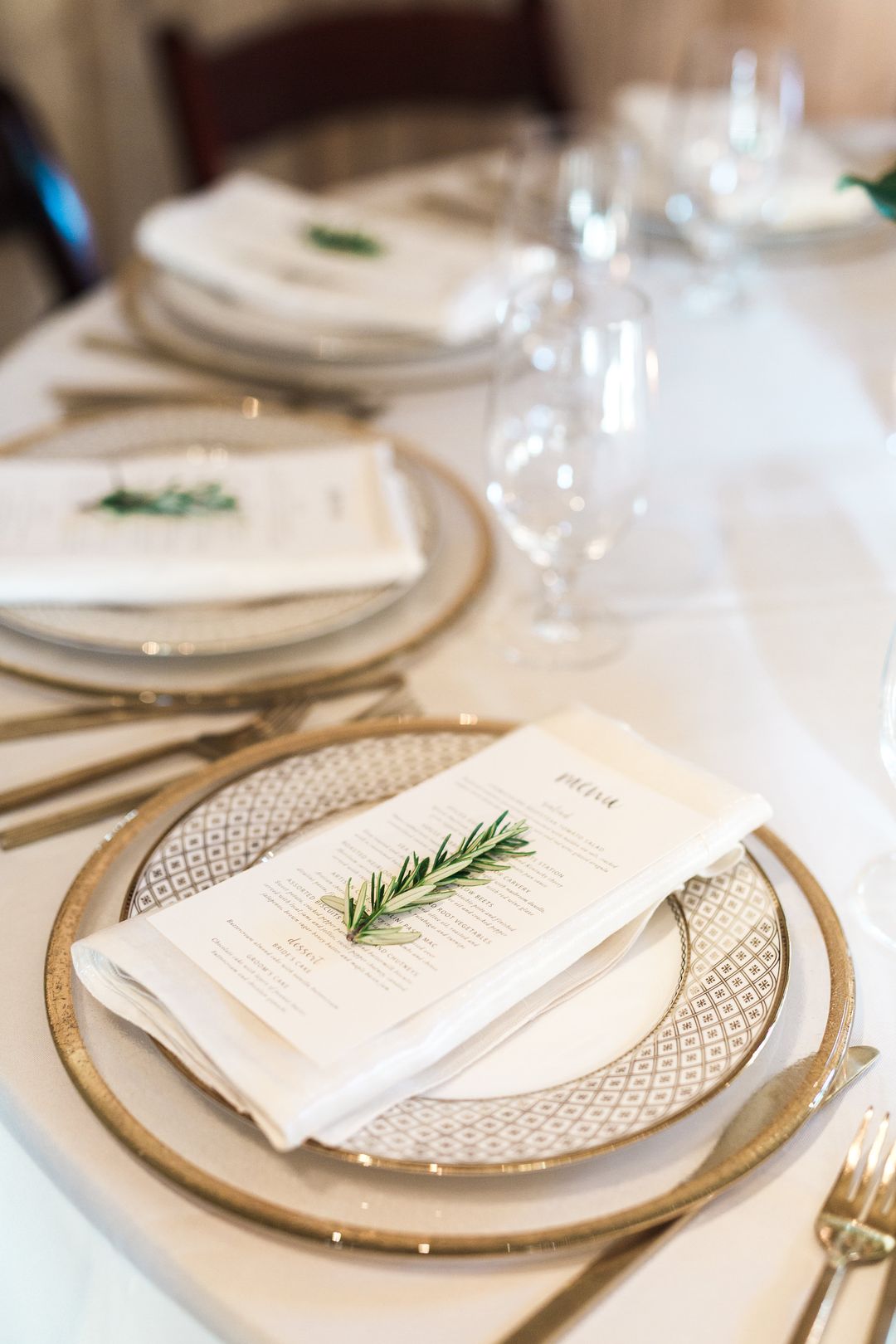 If there is one type of event design that will never go out of style, it's regal inspired celebrations. Starring luxurious metals, intricate patterns, and opulent colors, this style is a surefire way to achieve a memorable yet timeless event. It's a gorgeous option for a wide variety of gatherings, including corporate events, such as galas and fundraisers, as well as weddings and personal parties. Get inspired by our regal inspired rentals, perfect for hosting a cocktail hour or seated reception.
Regal Event Linens
Let's start by putting together a place setting fitting for a queen! Depending on the table featured at your event, you may want linens. The exception being tables with natural wood tabletops, like or Fruitwood Farm Table, which you'll want to show off.
As of late any of our velvet linens have been a hit, as the plush materials is effective at lending a regal look to any tablescape. You can't go wrong with neutral colors, such as black, white or taupe. Although, rich colors will contrast beautifully with metallic accents. Our current favorites include Magnolia Green and Navy Blue! However, if you want a tablescape that looks like it came straight from the Regency Era, consider our Gold & Ivory Fresco, Blue Kensington, or Ivory Pearl Shalimar Linens.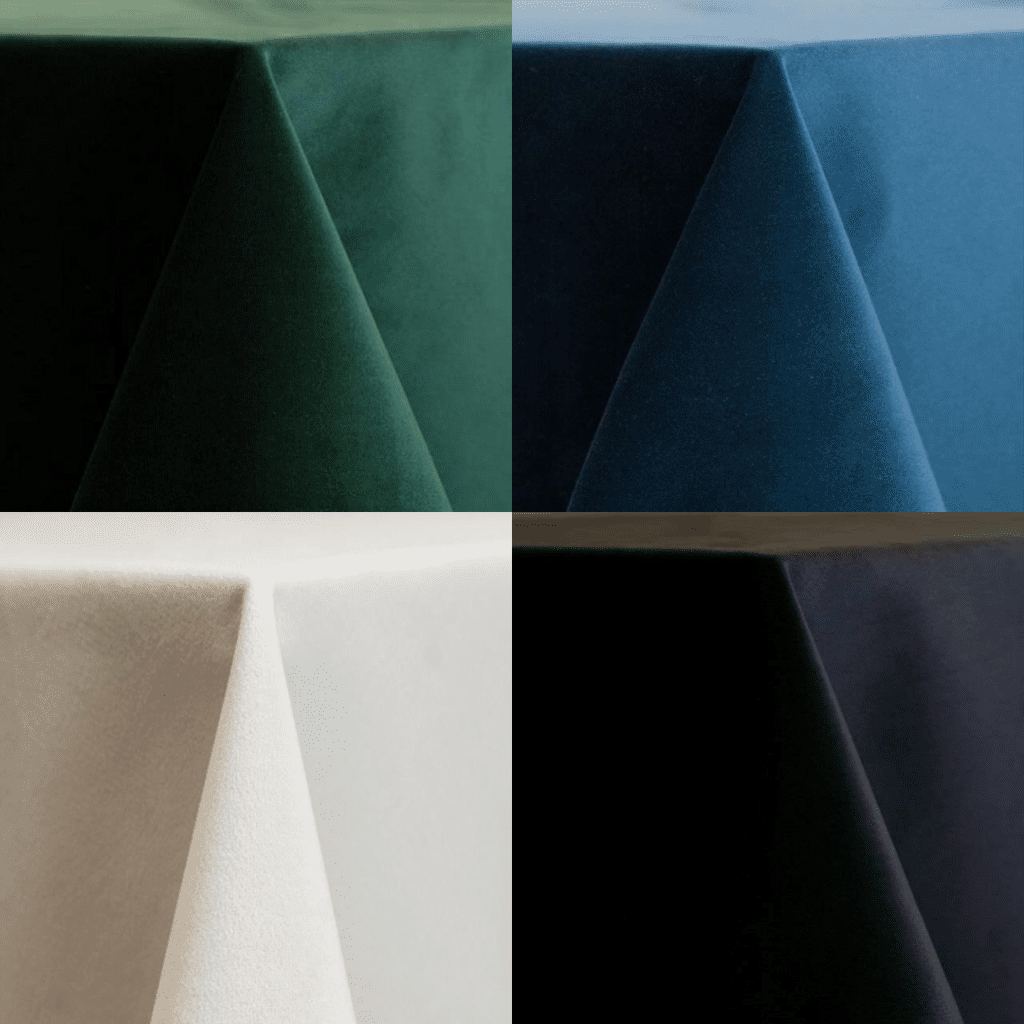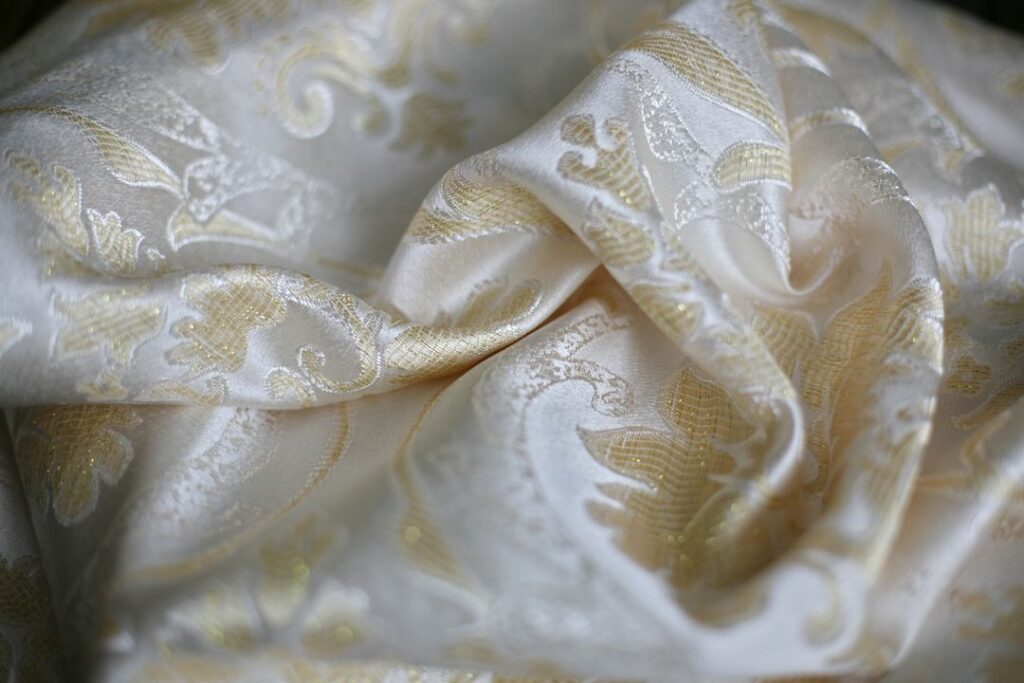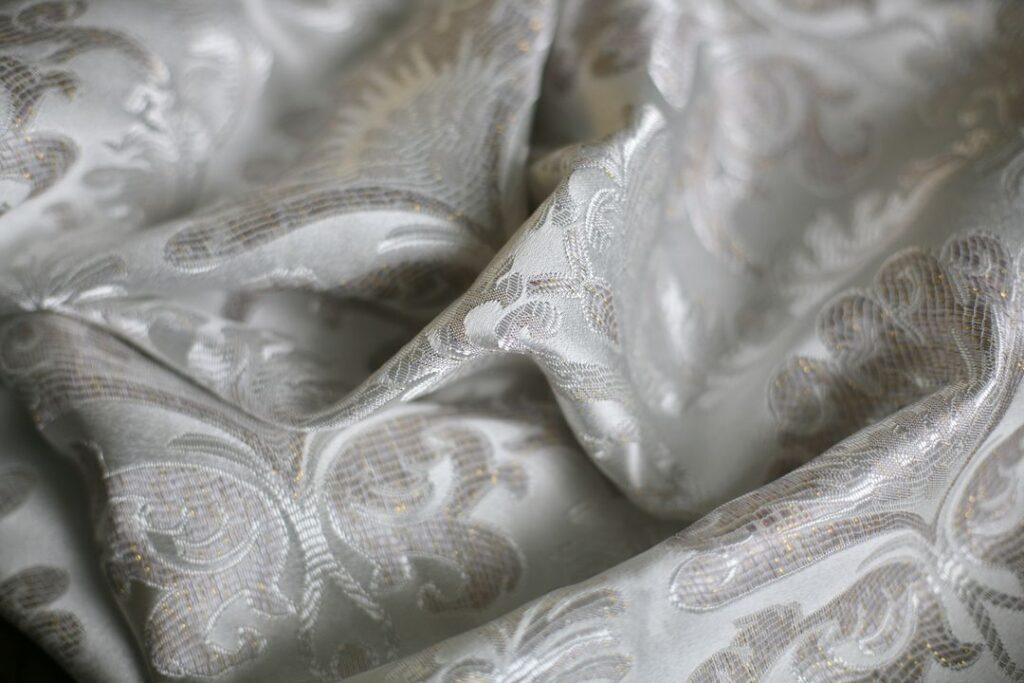 Opulent China
By far our most popular china for a luxe event is our Athena China, with its sleek gold border. For an especially regal look, consider or Ophelia or Hamlet China, with their more intricate designs. All of these pieces pair well with any of our glass chargers – elegant pieces that don't take away from the fabulous gold accented china. We have a variety of options depending on your color scheme or style, including glass chargers with black, gold, silver, and even a beaded rim.
For flatware, we recommend either our beautiful Fresno or Abby Flatware. The Gold Matte color and bulky shape of Fresno will lend a big statement. Meanwhile, the dainty Abby Flatware is luxe yet understated. A better option if your china and charger is bold!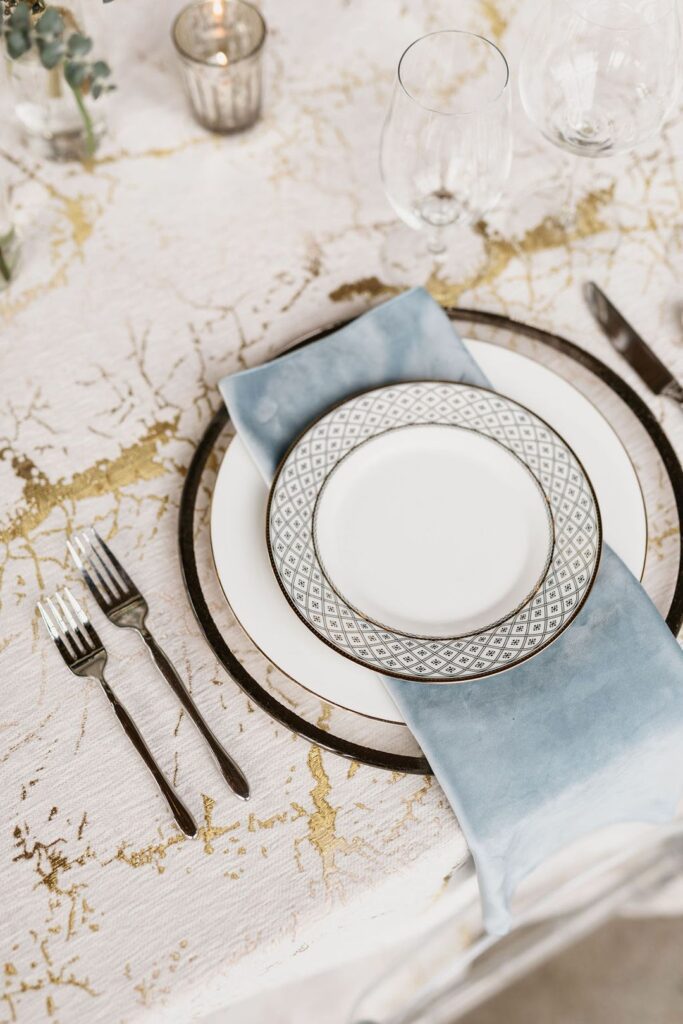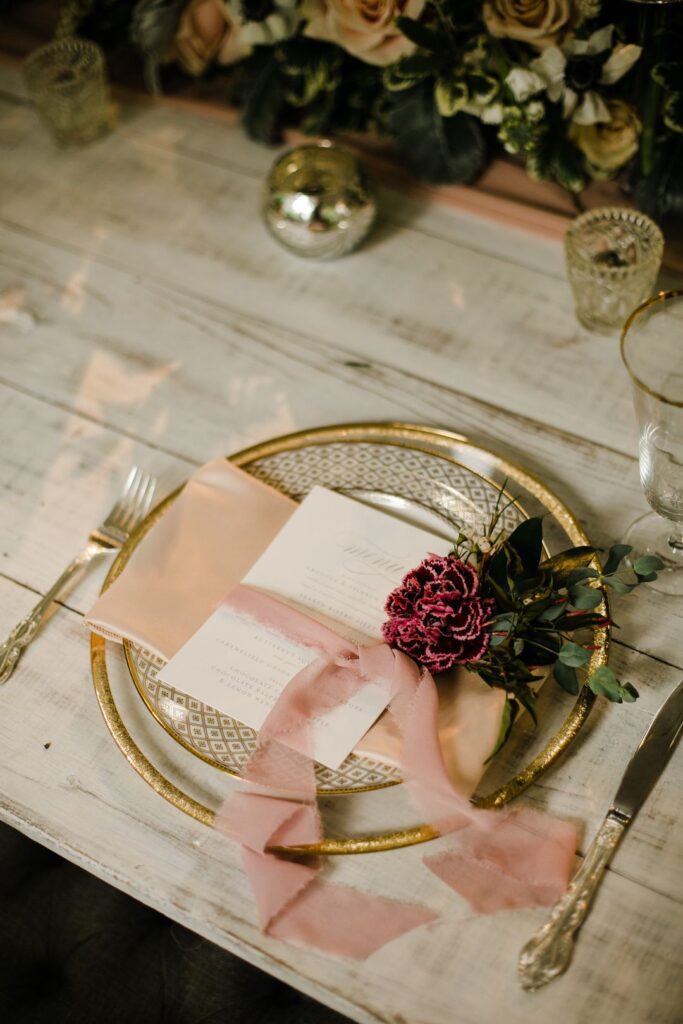 Luxe Barware
Every social event requires a bar and fresh beverages! Make sure you serve your drinks in glassware that suits your regal theme. Our Audrey Glassware is a dainty but timeless option, featuring a sleek design and luxe gold rim. Meanwhile, our Monaco Glassware has an intricate design that is sure to 'wow' your guests. Or, consider the simple Champagne Gatsby Coupe glasses, fitting pieces for a more casual event.
If you're hosting an intimate party and want to add an extra luxe entertainment factor to your cocktail hour or reception, consider renting our Rolling Gold Bar Cart. It's the perfect way to serve up fresh drinks table-side!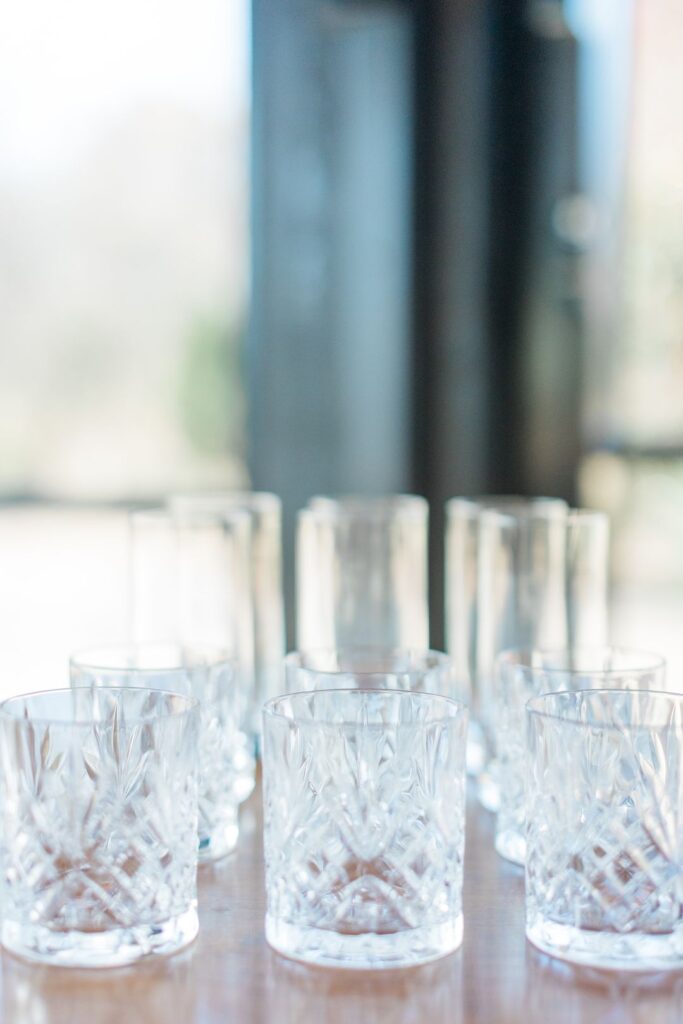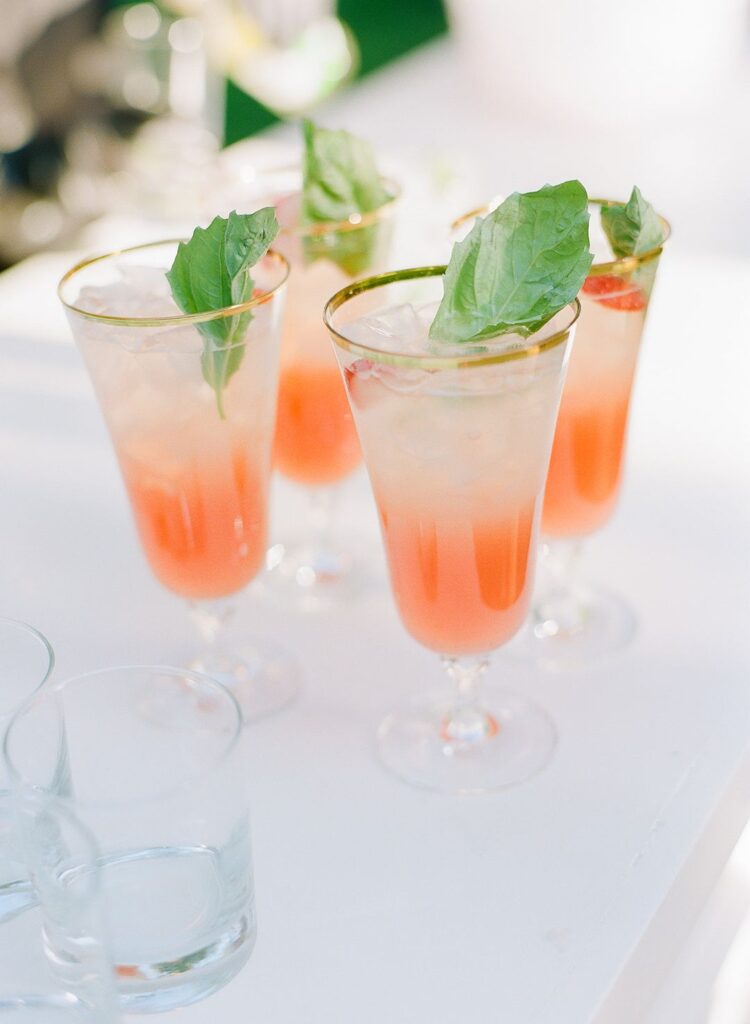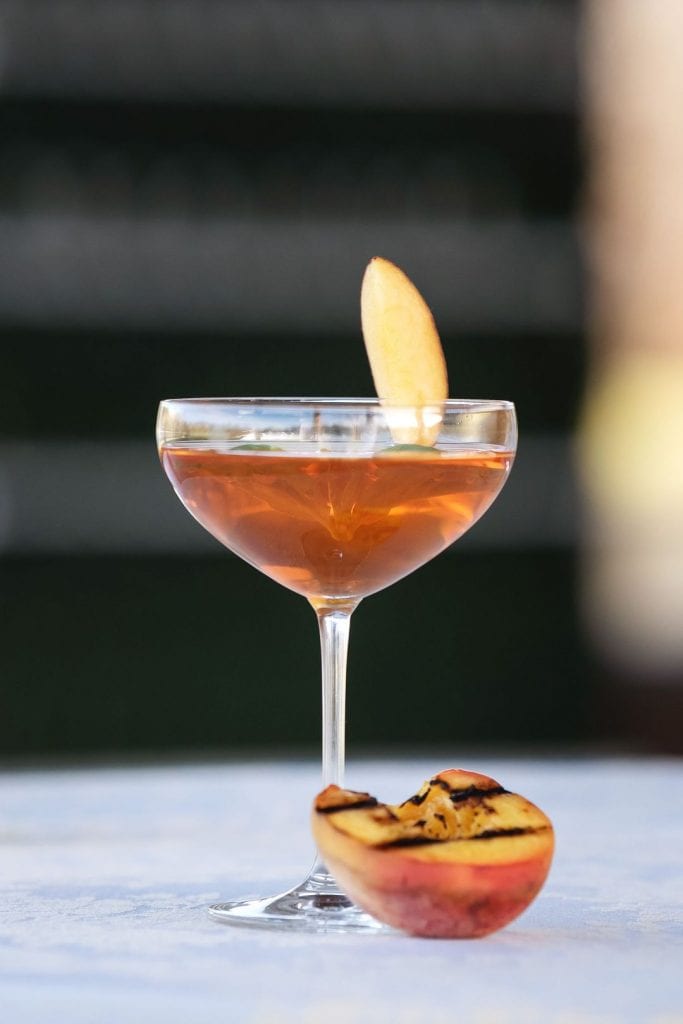 Drooling over these regal inspired rentals? Send our team a message at info@southerneventsonline.com for help selecting the best pieces for your elegant event! If you need a matching lounge, be sure to check out our blog on Natural Luxe Lounge Furniture.
TAGS | Glassware, Velvet Linens, glassware rentals Nashville, gold place setting, linen rentals nashville, luxe event rentals, luxe linens, regal event rentals, servingware
FEATURED RENTALS | Champagne Gatsby Coupe, Audrey Glassware, Monaco Glassware, Rolling Bar Cart, Velvet Linens, Kensington Linens, Ophelia China, Hamlet China, Athena China, Gold Rim Glass Charger, Silver Rim Glass Charger, Black Rim Glass Charger, Fresno Flatware, Abby Flatware,
---
3

Feb

On Trend, Trends and Inspiration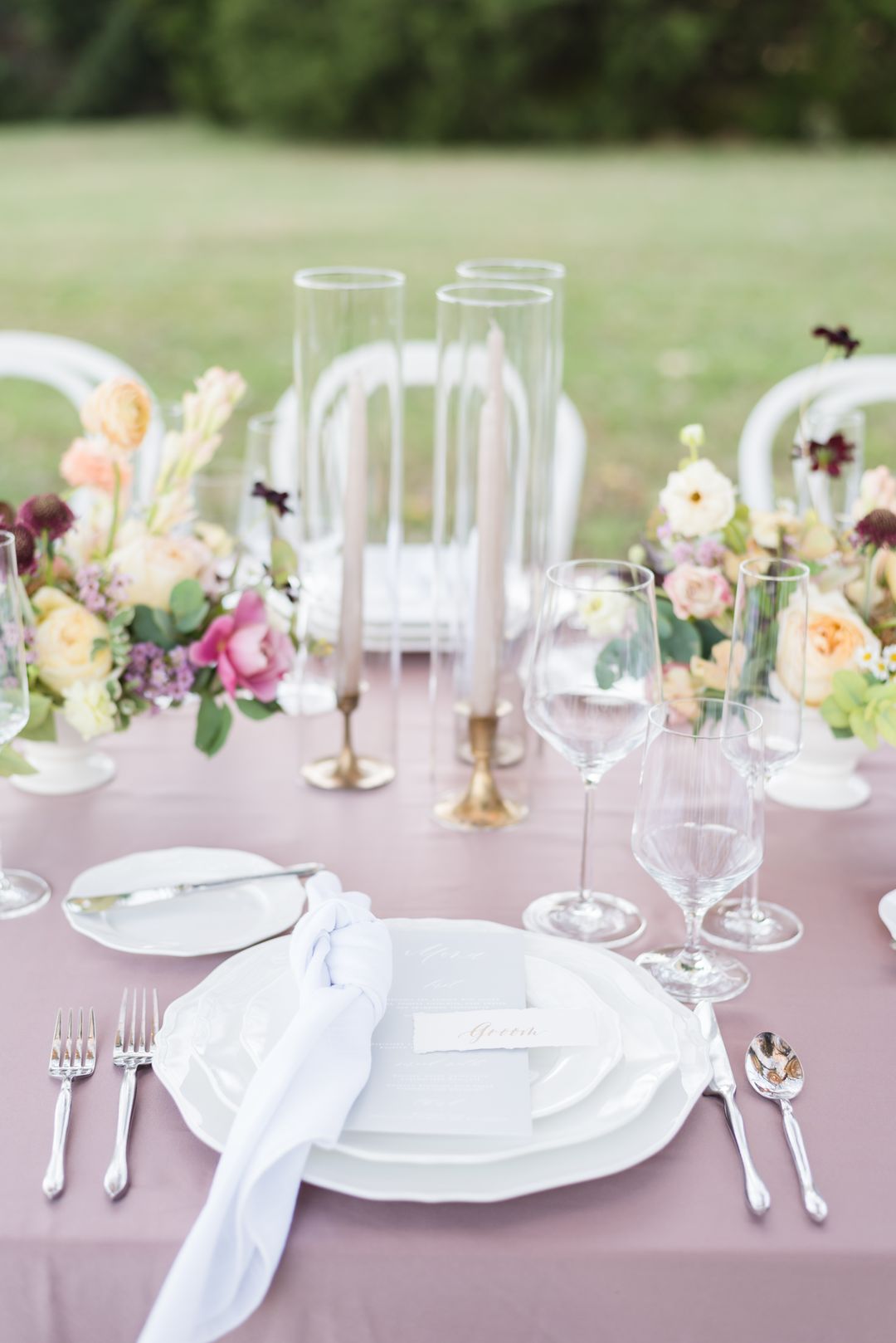 It should be no surprise that with the popularity of the show Bridgerton we're seeing an uptick in Cottagecore event design. Romantic and regent, this style is a throwback to simpler times and elevated design. Meaning luxe textiles, rich colors, and dainty details that would impress members of high society. To help you host a party that feels like a timeless period drama, take a look at our Cottagecore inspired event rentals.
Vintage-Inspired Lounges
If you want to impress guests with your Bridgerton inspired event design then a luxe lounge is a must-have. During this period cocktail hours were the WAY to stay up-to-date on the latest gossip! Easily create a comfortable and memorable area for socializing with our vintage-inspired furniture. A velvet sofa, such as Fern, is always a winner, featuring a rich color and texture. Or opt for the more period appropriate Everly, with a shapely back. For a complete look, don't forget extra seating, like our Bamboo Arm Chairs or fun Turkish Rug Ottoman. Topped off with any of our classic Vintage Rugs!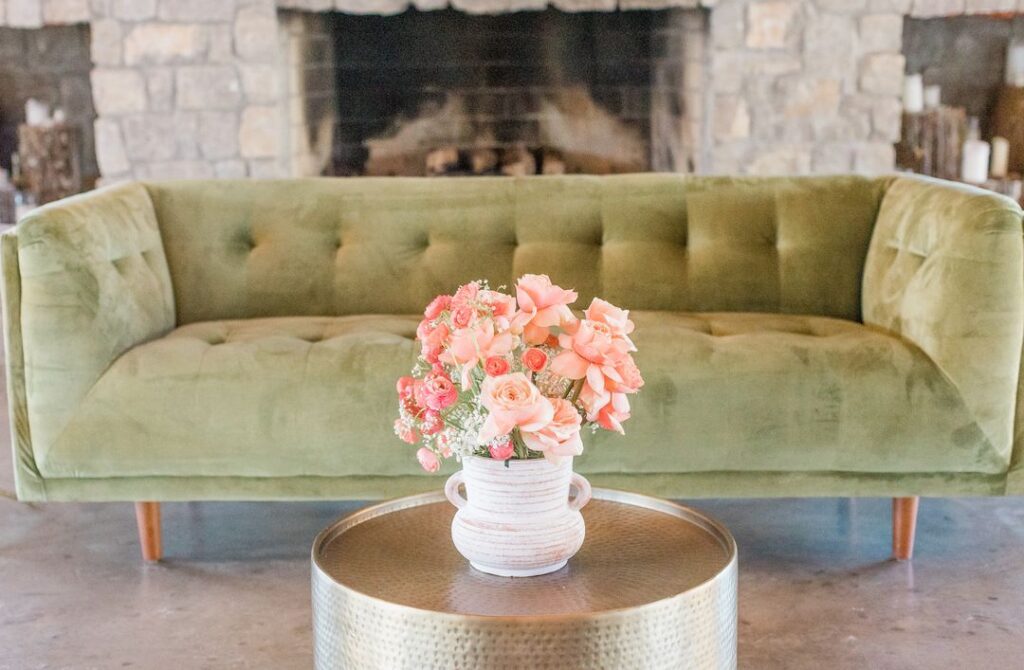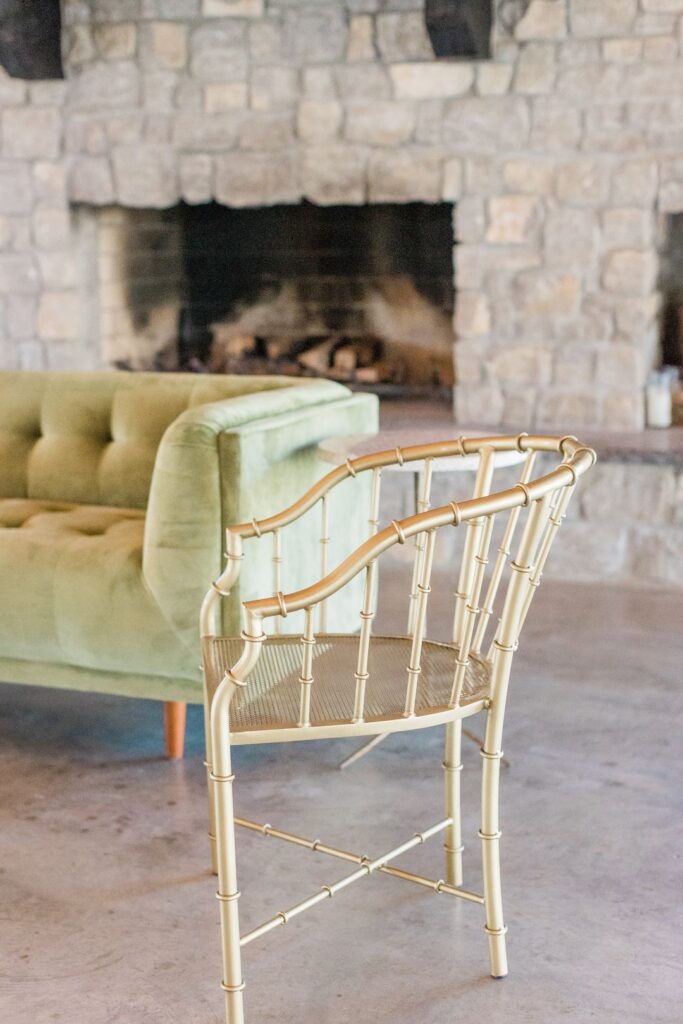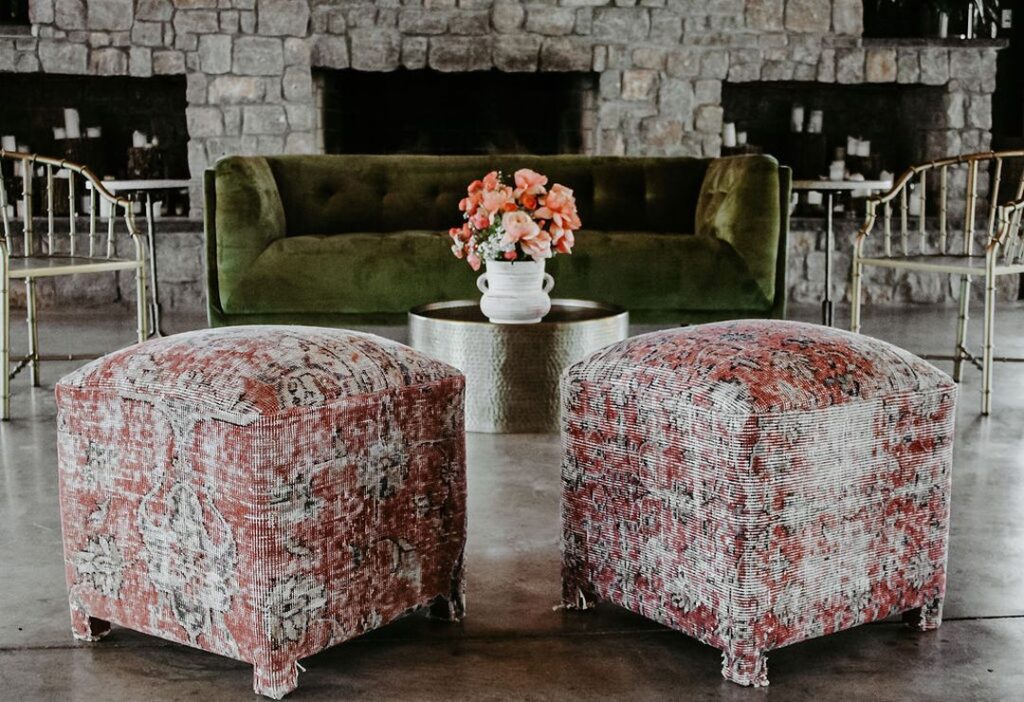 Elegant Barware
A cocktail hour requires drinks, served up in regal glassware. It's always fun to receive a refreshing cocktail served up in an elegant vintage-inspired glass. If you're wanting to incorporate a touch of color into your tablescape, we recommend our colored goblets, available in Amber and Green. Or for a more timeless Cottagecore inspired event design, try our stunning Audrey Gold Rim Glassware. Then there is a newer addition to our lineup, Monaco Glassware, of which the champagne and water goblets are our favorite. For an especially impressive display, don't forget to grab a Bar Cart or Bookcase.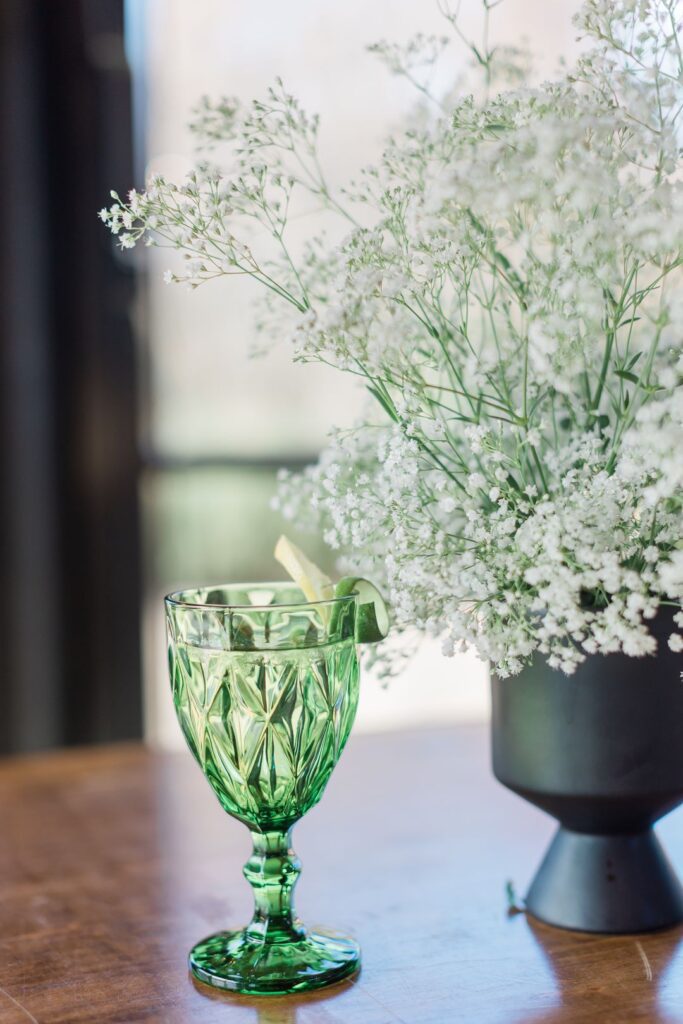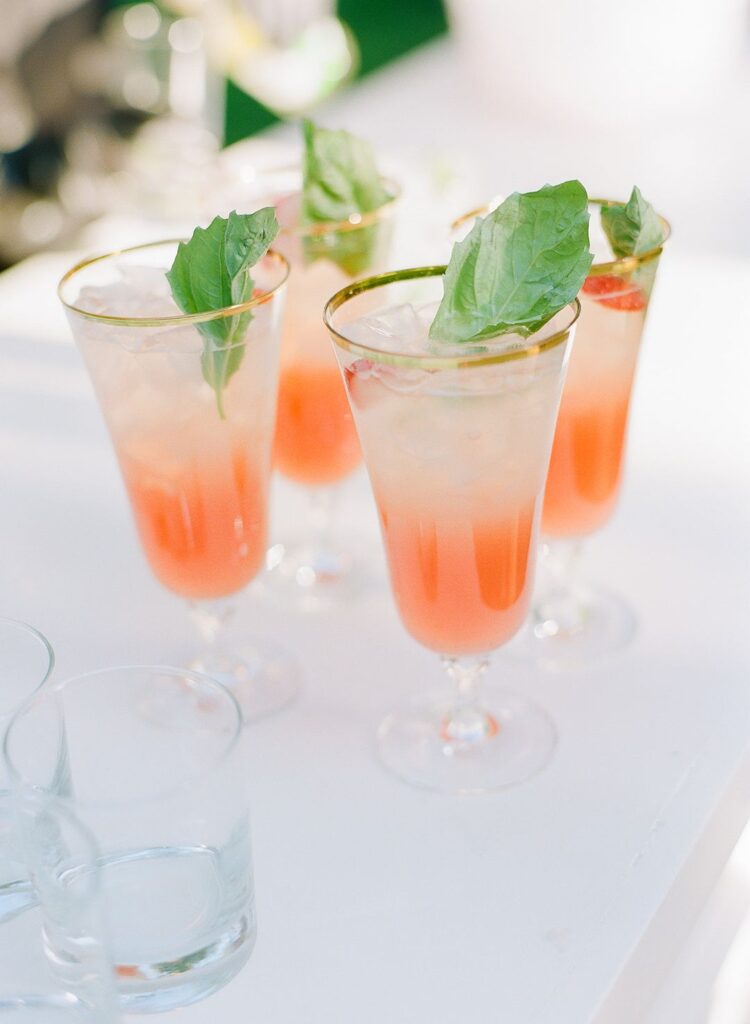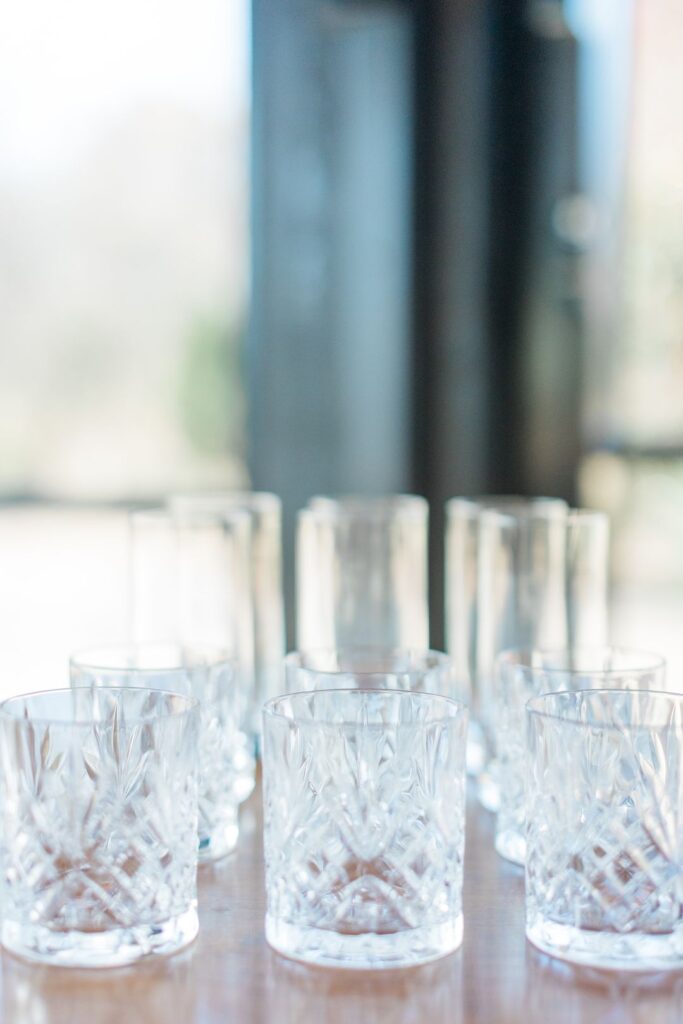 Fine Servingware
Of course for dinner you'll need equally impressive serving ware! We offer a wide selection of aristocracy approved china and flatware. A popular choice is our mismatched Heirloom China, which looks stunning when stacked. Or, go for a more high end vibe when you feature our gold embellished china, such as Hamlet or Ophelia. Our personal favorite however is Darcy, which has a dainty shape fitting for a more whimsical event. And to keep it simple, all of these pieces looks beautiful with both our Austin Gold and Fresno Matte Gold Flatware.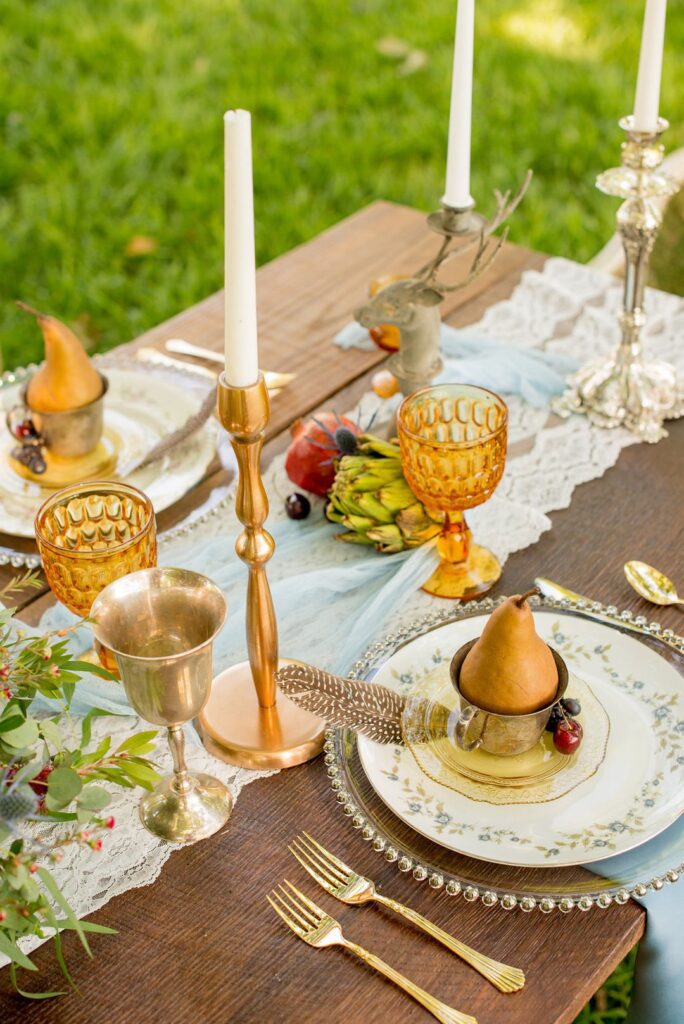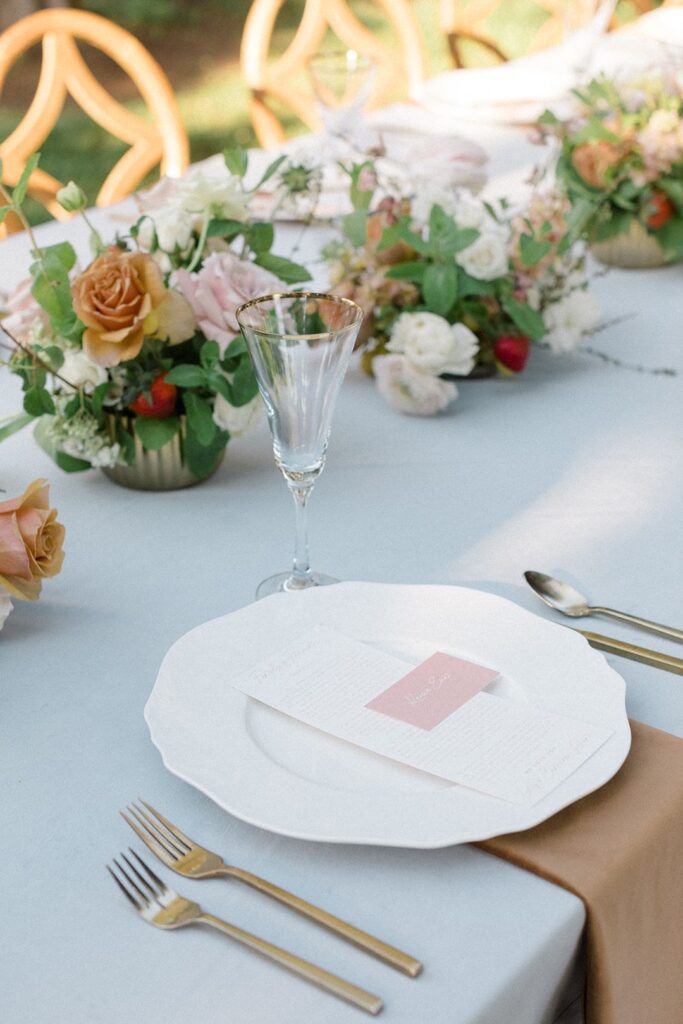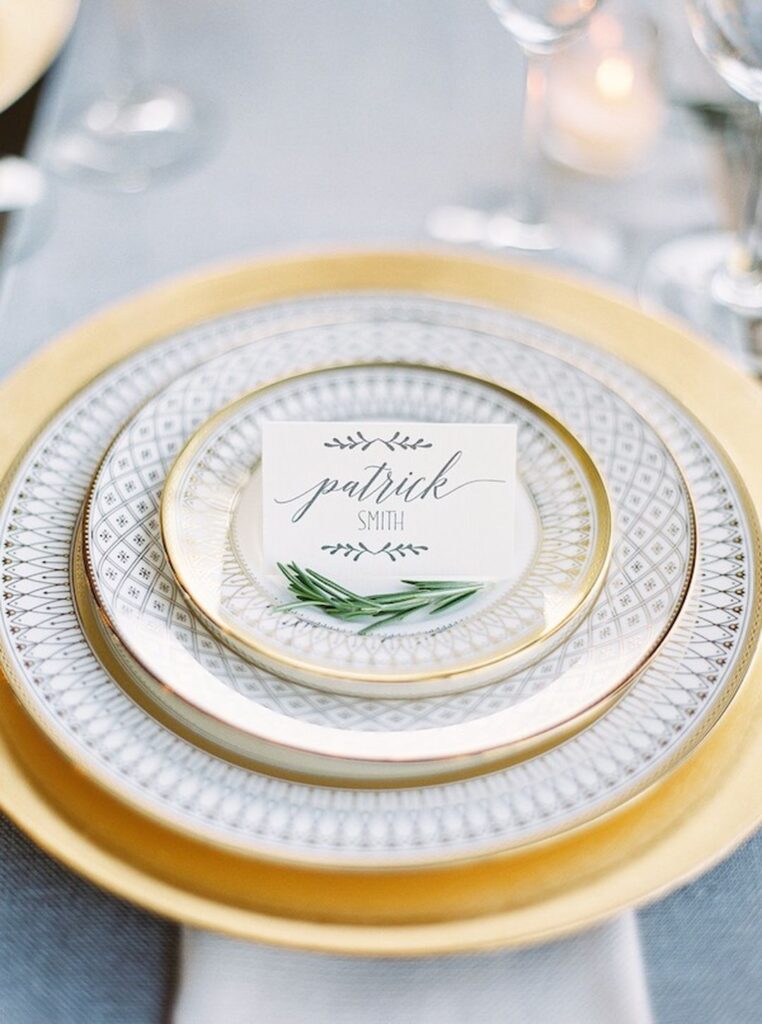 Want to secure one or several pieces of our cottagecore inspired event rentals? Contact our team today, at info@southerneventsonline.com! Or, if you're leaning towards a more natural luxe event design, take a look at our previous blog.
TAGS | Cocktail Party Rentals, Glassware, Lounge Furniture, On Trend, bar event rentals, bridgerton, cottagecore, cottagecore event design, luxe event design, servingware
FEATURED RENTALS | Everly Sofa, Fern Sofa, Bamboo Arm Chairs, Turkish Rug Ottoman, Vintage Rugs, Heirloom China, Hamlet CHina, Ophelia China, Darcy China, Austin Flatware, Fresno Matte Gold Flatware, colored goblets, Audrey Gold Rim Glassware, Monaco Glassware, Bar Cart, Gold Bookcase
---
30

Dec

On Trend, Southern Events Products, Trends and Inspiration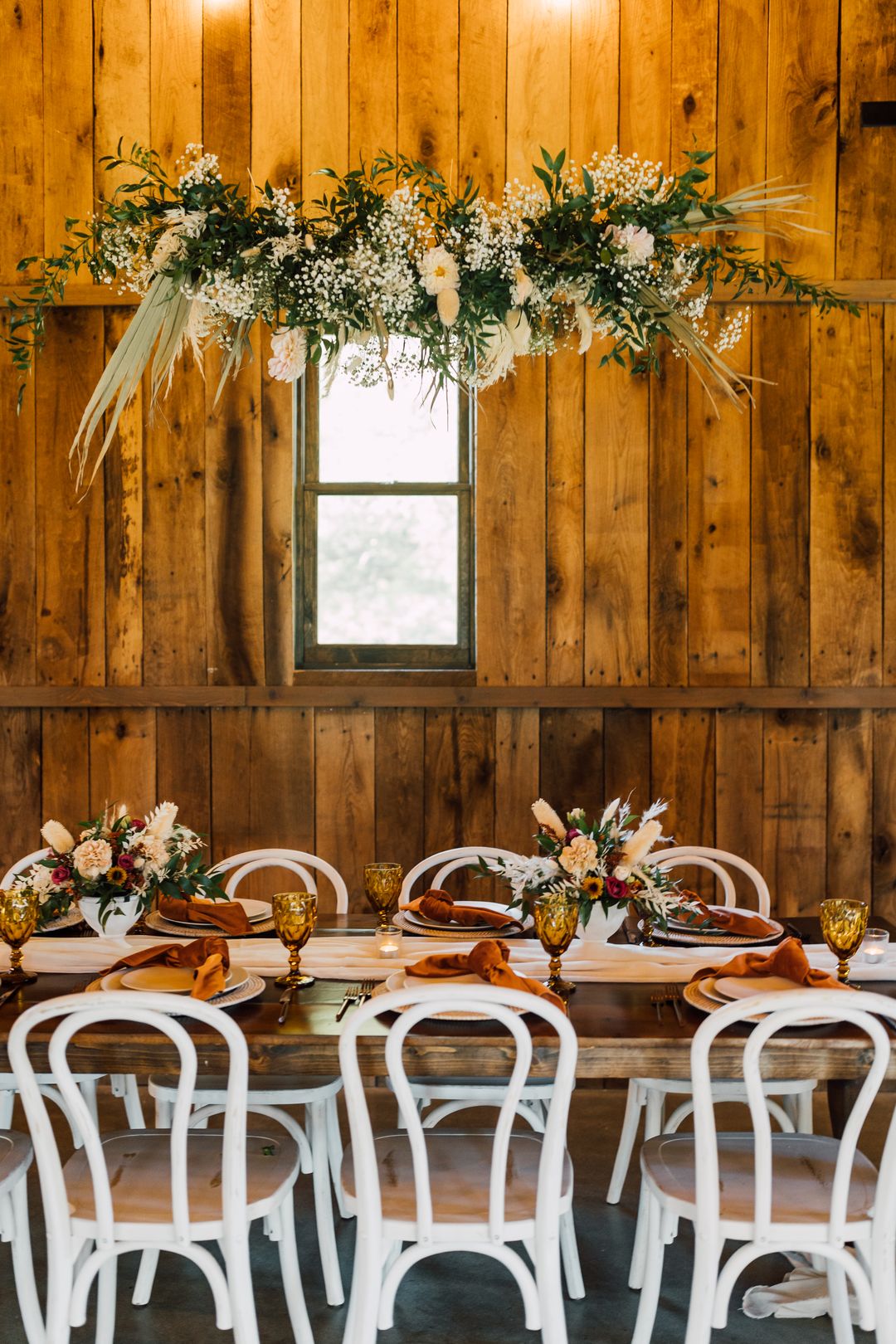 In 2022 we brought a lot of trends to fruition, from micro-weddings and backyard gatherings, to boho and retro-inspired rentals, as well as neutral and earth-toned color palettes. But now it's time to look to the future! Today we're going to take a look at some of the anticipated 2022 event trends, so that you can start planning your best gathering yet.
Bridgerton-Inspired Design
We saw a snippet of this trend in 2021, with opulent garden parties. But in 2022, we're taking it to the next level with set ups inspired by the hit series Bridgerton, also known as Cottagecore. For this event style, we're expecting pastel-rich color palettes, luxe textures, and vintage-inspired furniture.
Start with memorable tablescapes, featuring unique colors and fun rentals. For example, our Fern or Sea Glass velvet linens, or more decade appropriate Blue Kensington print. Top them off with our mismatched Heirloom China, or break up all the prints with our dainty Darcy China. The best choice for flatware is our versatile Abby or Sophia flatware. Finally, incorporate a splash of texture with our Green or Amber Goblets.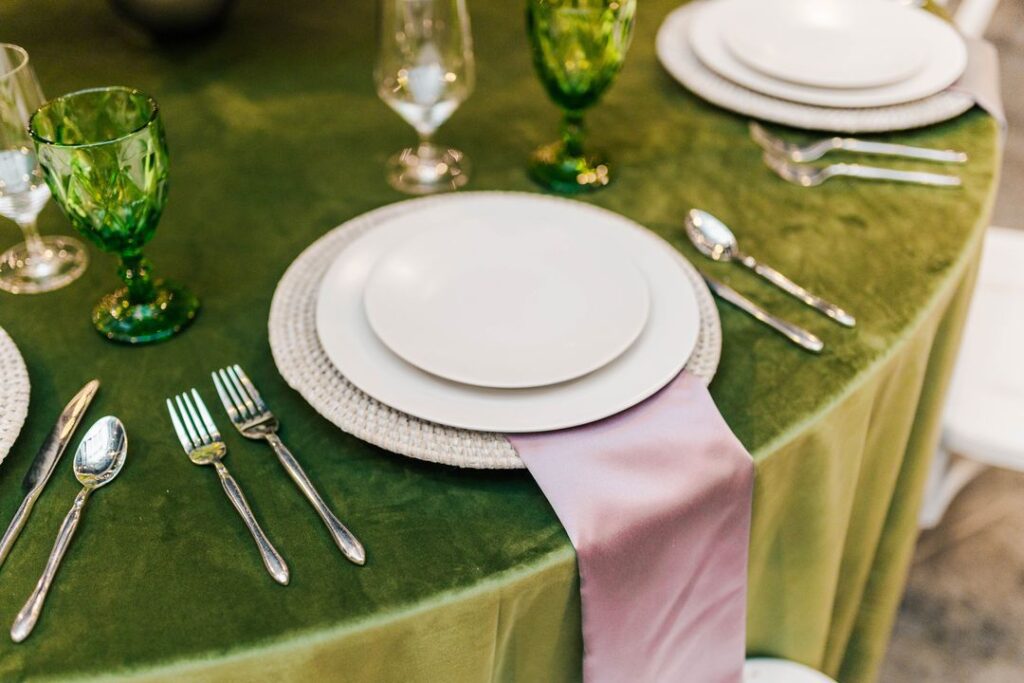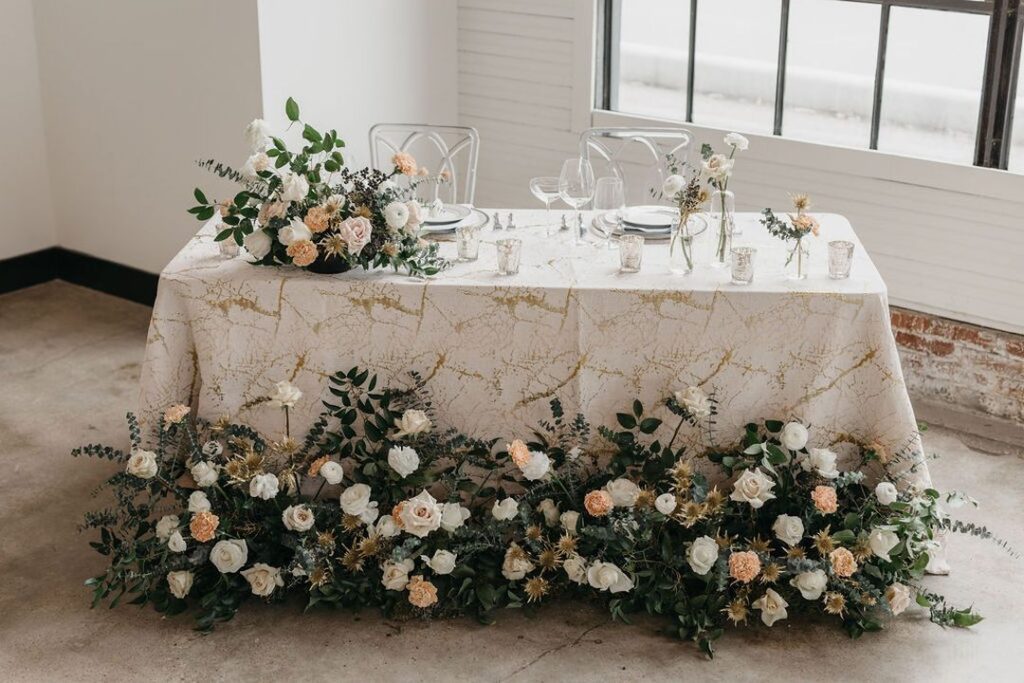 If you're hosting an accurate event, then you'll also need an equally impressive cocktail hour setup – high-society gatherings were all about mingling! Rent our Franklin Antique White Bar and a lounge to match. Such as our Fern Velvet Sofa, a set of Everly Chairs, and our Rhodes Coffee and side tables. Cocktail tables are also available for those who prefer to remain standing room!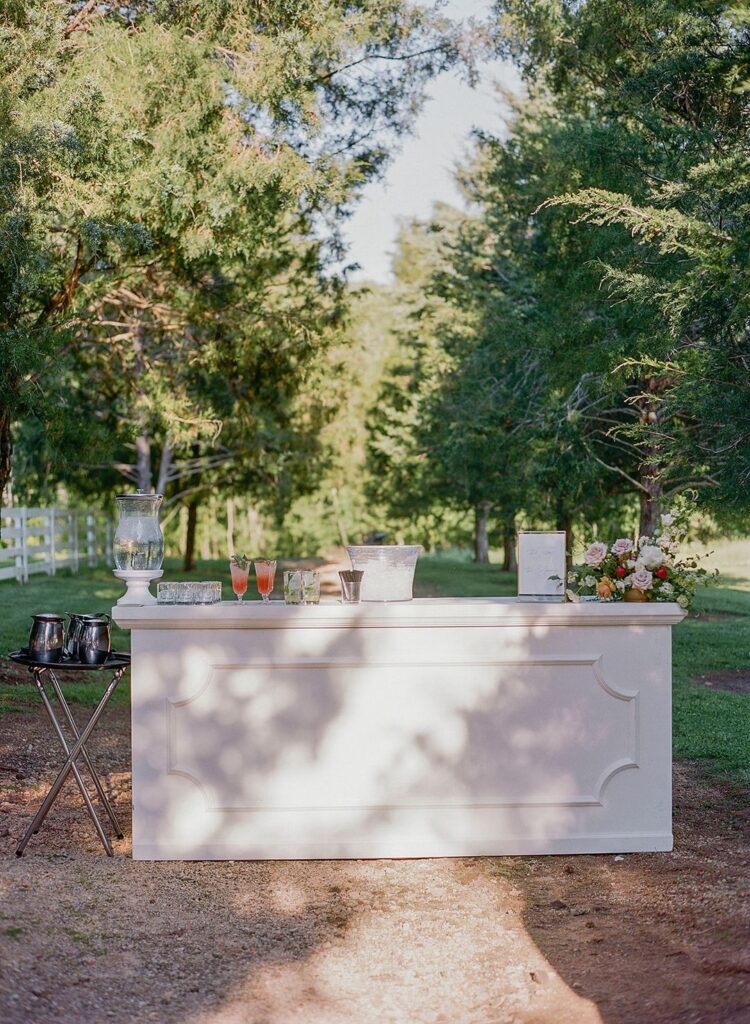 Sequel Weddings!
Due to a large number of couples postponing their nuptials in 2021, sequel weddings will be a hit in 2022. That is, a big party following an intimate ceremony. Which can also be used following a vow renewal, or any type of post-pandemic celebration. These events will be focused on living in the moment, so they don't have to be luxe – but they can be!
At these events, we'll want to help create a small and cozy feel, which can be achieved with soft textures and warm colors. Think earthy, natural tones, like Terra Cotta or Rust. For a ceremony, start with our classic White or Fruitwood Folding Chairs and line the aisle with mismatched cowhide rugs.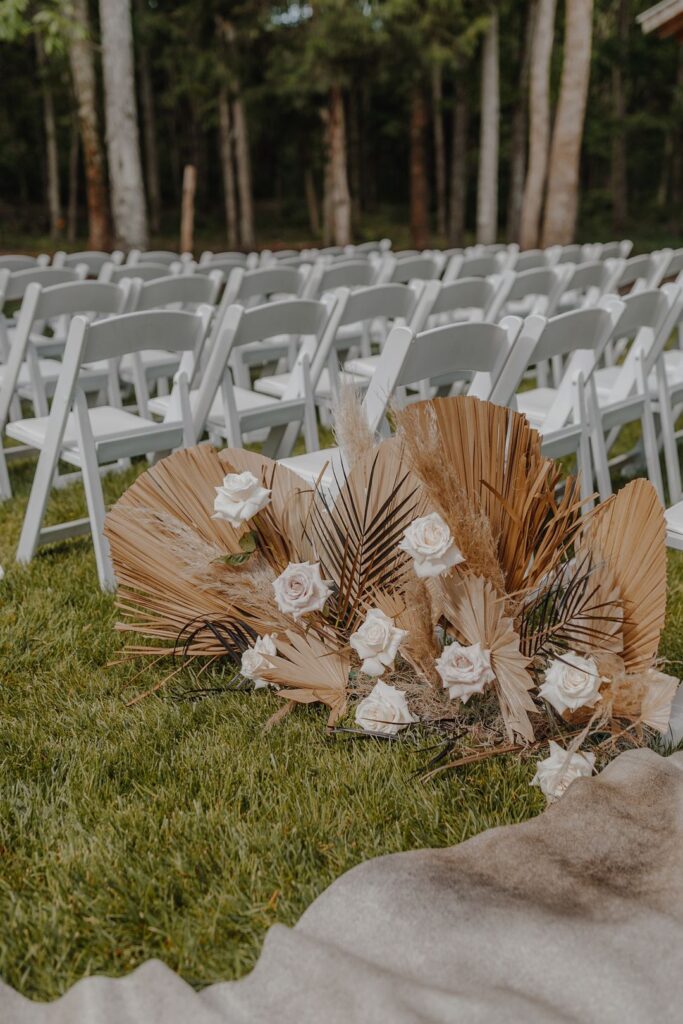 For your reception, as well as any other small dinners, you'll want to create cozy tablescapes and lounge areas where people can gather. Start with one of our beautiful Farm Tables paired with a neutral-colored runner, in Ivory or Natural Sahara. Next, feature simple serving ware, such as our Artisan or Earthen Alabaster China. For some fun pops of color, consider our Amber Goblets and elegant velvet napkins in Spice or Cameo Blush. Easily create a complementary lounge with our Santorini Off-White Sofa and Adeline Dining Chairs.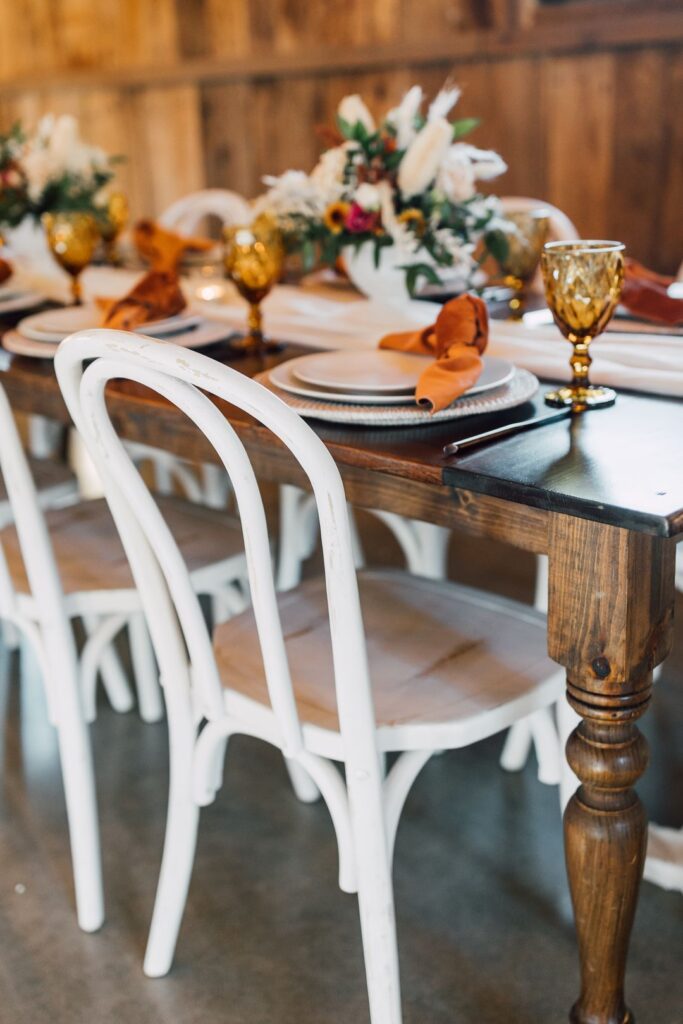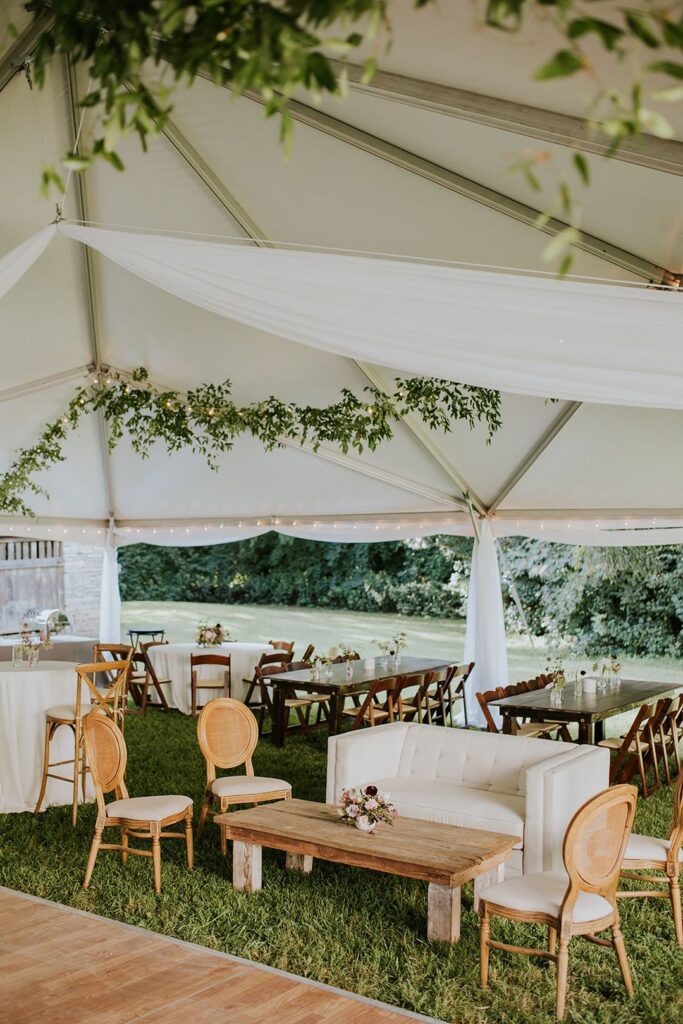 Mocktails & Sober Cocktails
Wellness is a priority for a large amount of the population at the start of a new year. And to help you and your guests achieve that goal throughout the year, we recommend upping your mocktail game! Which is easy to achieve with our wide selection of gorgeous glassware rentals. For this 2022 event trend, grab some of our favorites, like our Audrey Gold Rim Glassware and Whimsical Cybil Glassware. If you want a more colorful look, go with our Colored Glassware in a Meridian Blue and Smoke.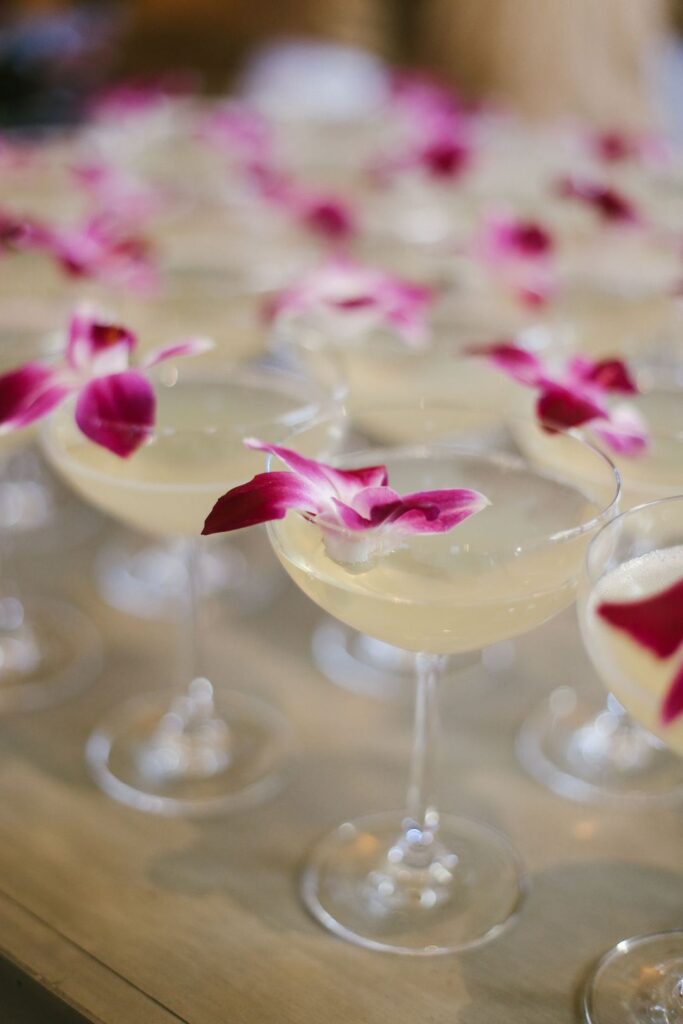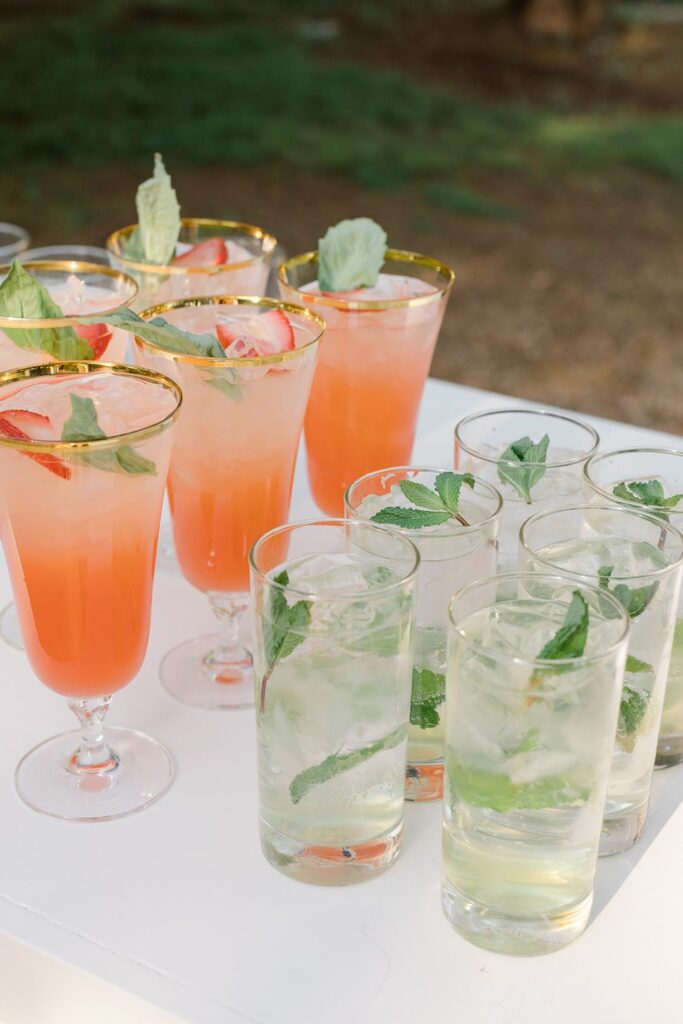 At Southern Events, we're excited to help you continue to celebrate with these 2022 event trends! A reminder, however, that as we see an increase in gatherings our rentals will book up faster than ever. Be sure to secure your rentals as soon as possible to ensure that the pieces you love the most will be available at the time of your event. Reach out today, at info@southerneventsonline.com!
TAGS | 2022 event trends, Garden Wedding Inspiration, Glassware, cottagecore, event inspiration, event style trends, lounge furniture rentals, mocktails, sequal weddings, wedding style trends
FEATURED RENTALS | colored glassware, audrey gold rim glassware, Santorini Off-White Sofa, Adeline Dining Chairs, Velvet Linens, Farm Tables, Artisan China, Earthen Alabaster China, Franklin Antique White Bar, Cowhide Rugs, Fruitwood Folding Chair, Everly Chairs, Fern Velvet Sofa, Rhodes Coffee Table, Darcy China, Heirloom China, Amber Goblets, Green Goblets,
---
26

Aug

Southern Events Products, Trends and Inspiration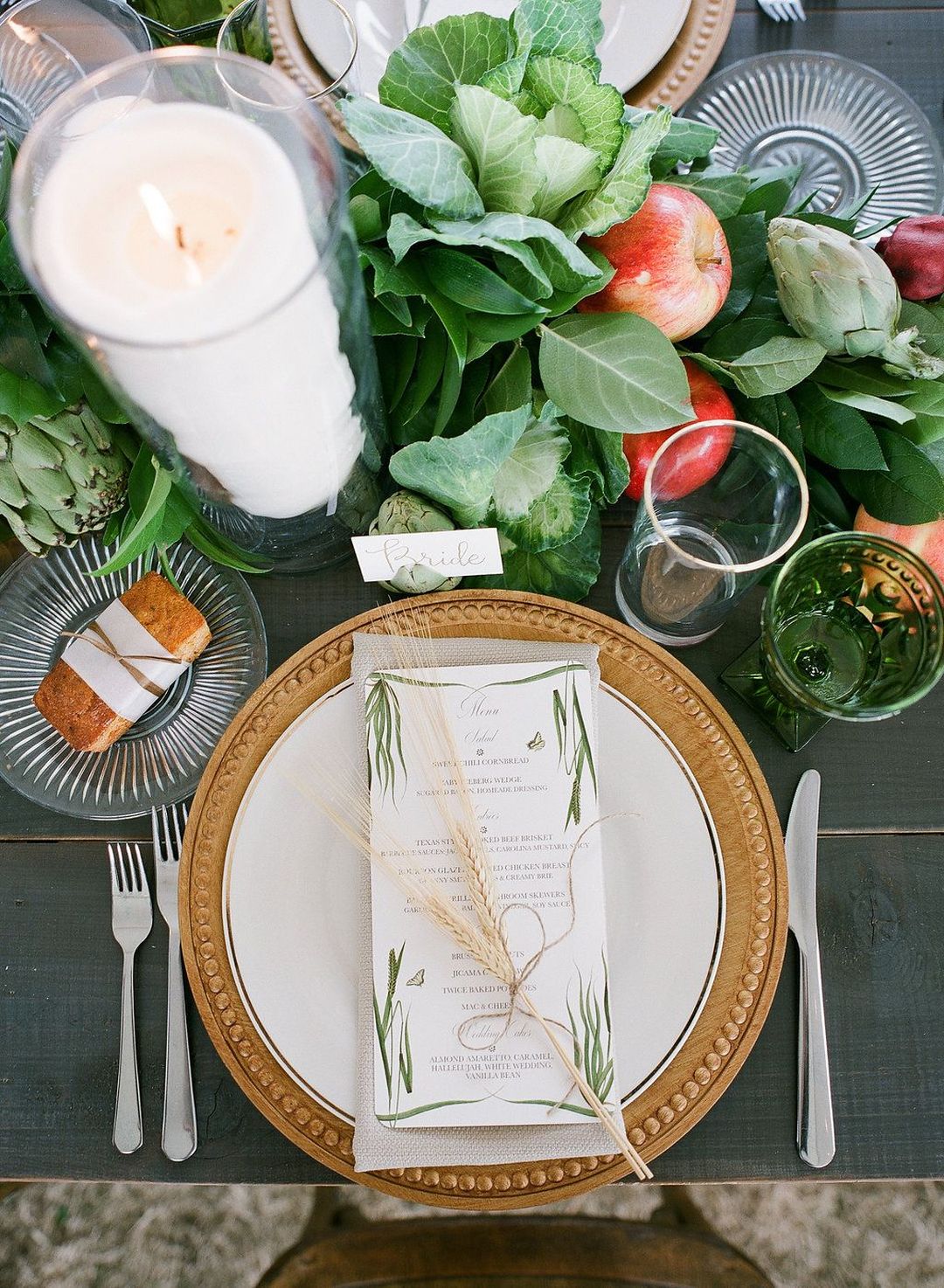 The Jewish New Year festival Rosh Hashanah literally means "head of the year". Taking place in early Autumn, one of the main features is festive meals both night and day. To help spark your creativity, we're sharing tablescapes to inspire you for Rosh Hashanah, featuring our modern serving ware, colorful linens & more!
Symbolic Colors
White is the most popular color associated with Rosh Hashanah. It is clean and bright and represents purity and the fresh start of the new year. As it takes place in the fall, browns, and reds are also common. Greens, especially in florals, can be a bright accent color that hints at energy and possibility!
Consider our
Fruitwood Farm Table
, topped with white china, a
Merlot Velvet Napkin
, and greenery as the base for your Rosh Hashanah tablescape. Or classic white table linens paired with muted gold napkins. We have a wide selection of white china for you to choose from, including our
White Round china
 – or square for a more contemporary look. For serving ware we offer both metallic silver and gold options, as well as copper.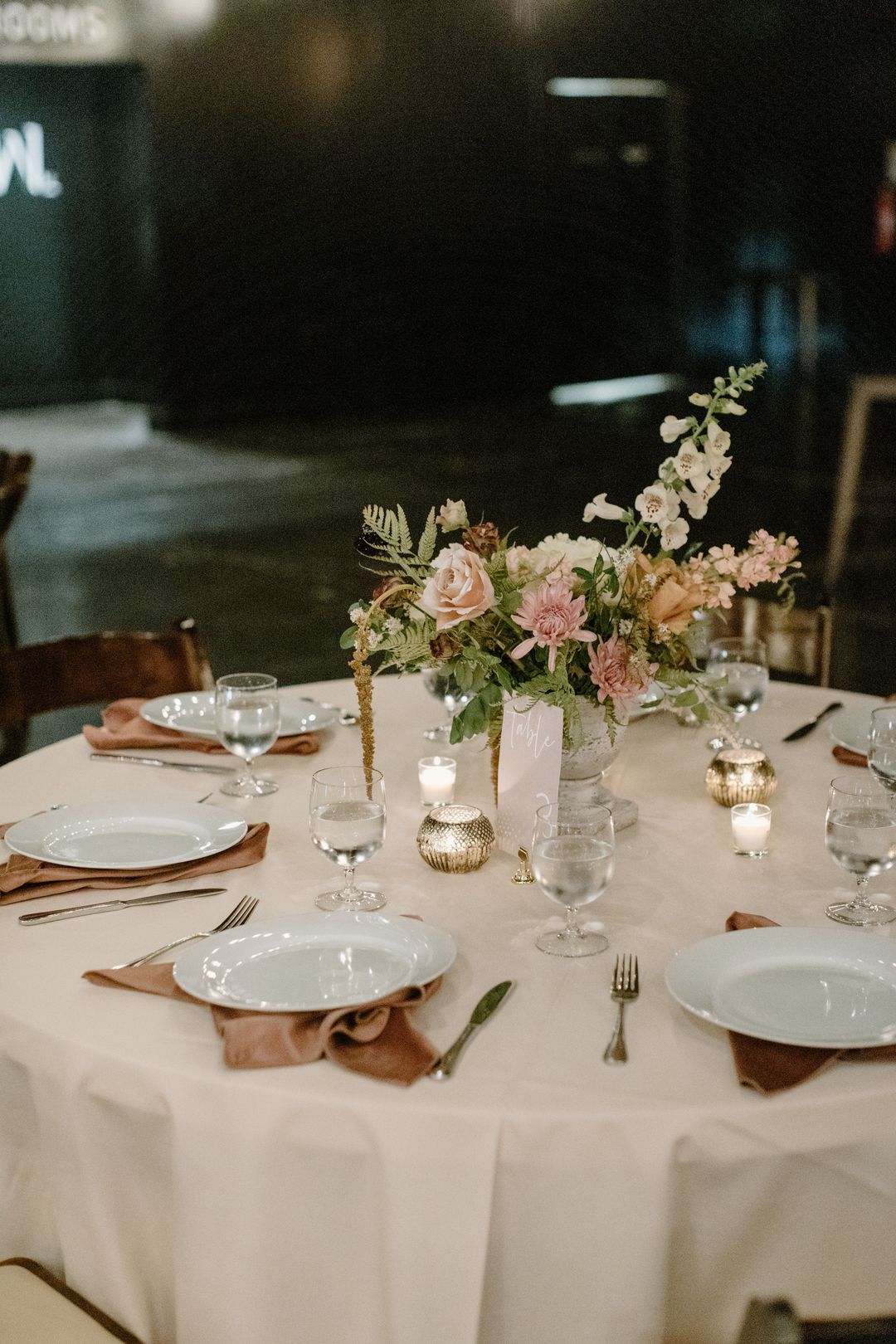 Photo by Wine and Gold Photography
Apples
It is traditional to begin the meal on the first night with slices of apple dipped in honey. Before eating the apple, we make the ha'eitz blessing and then say, "May it be Your will to renew for us a good and sweet year." This tablescape features a runner of lush greenery, wheat, artichokes, and apples to create an abundant centerpiece. If you want to host your dinner celebration outside, be sure to check out our rustic furniture, like the Grayson Farm Table and elegant Cross-back Chairs.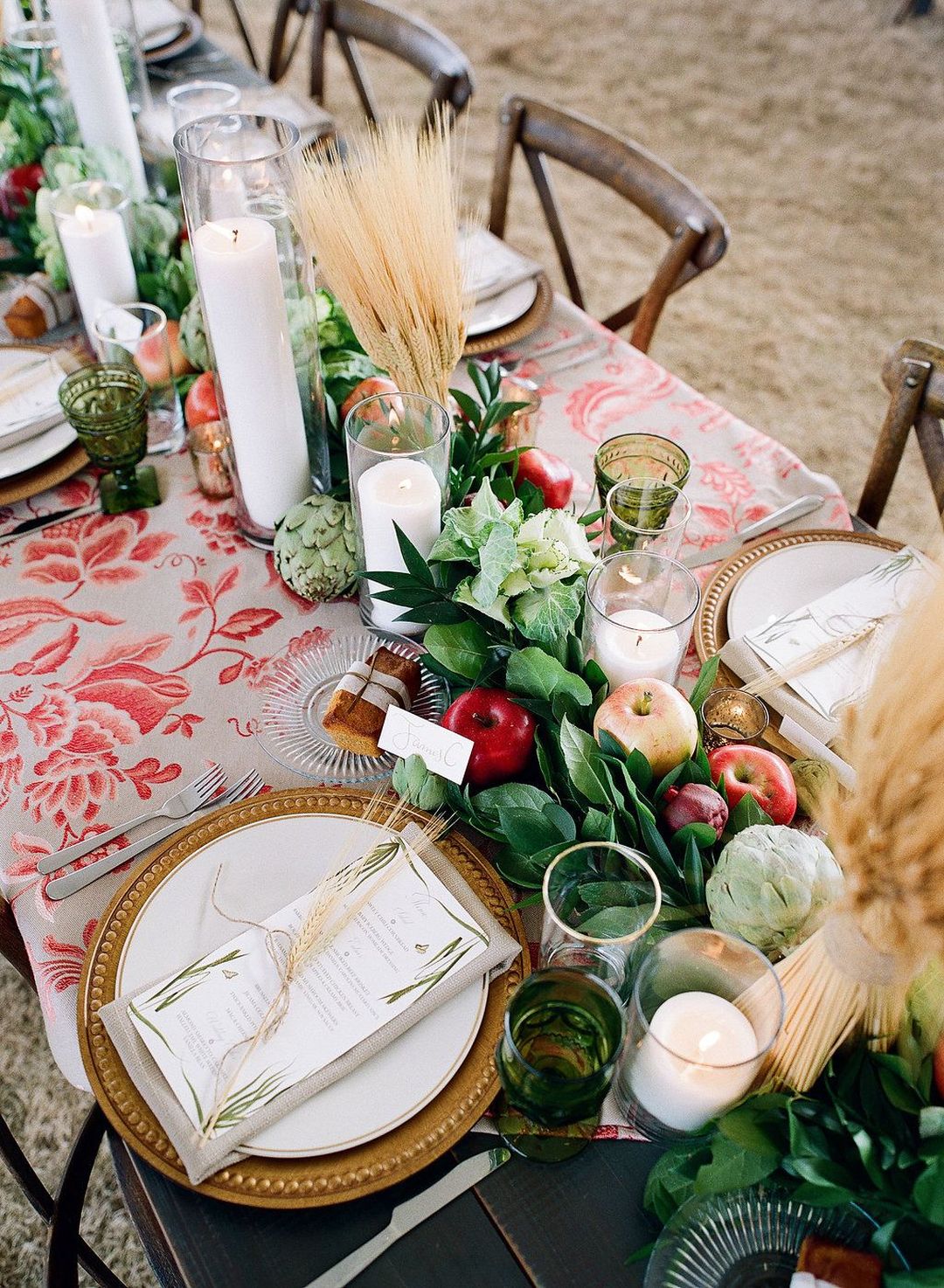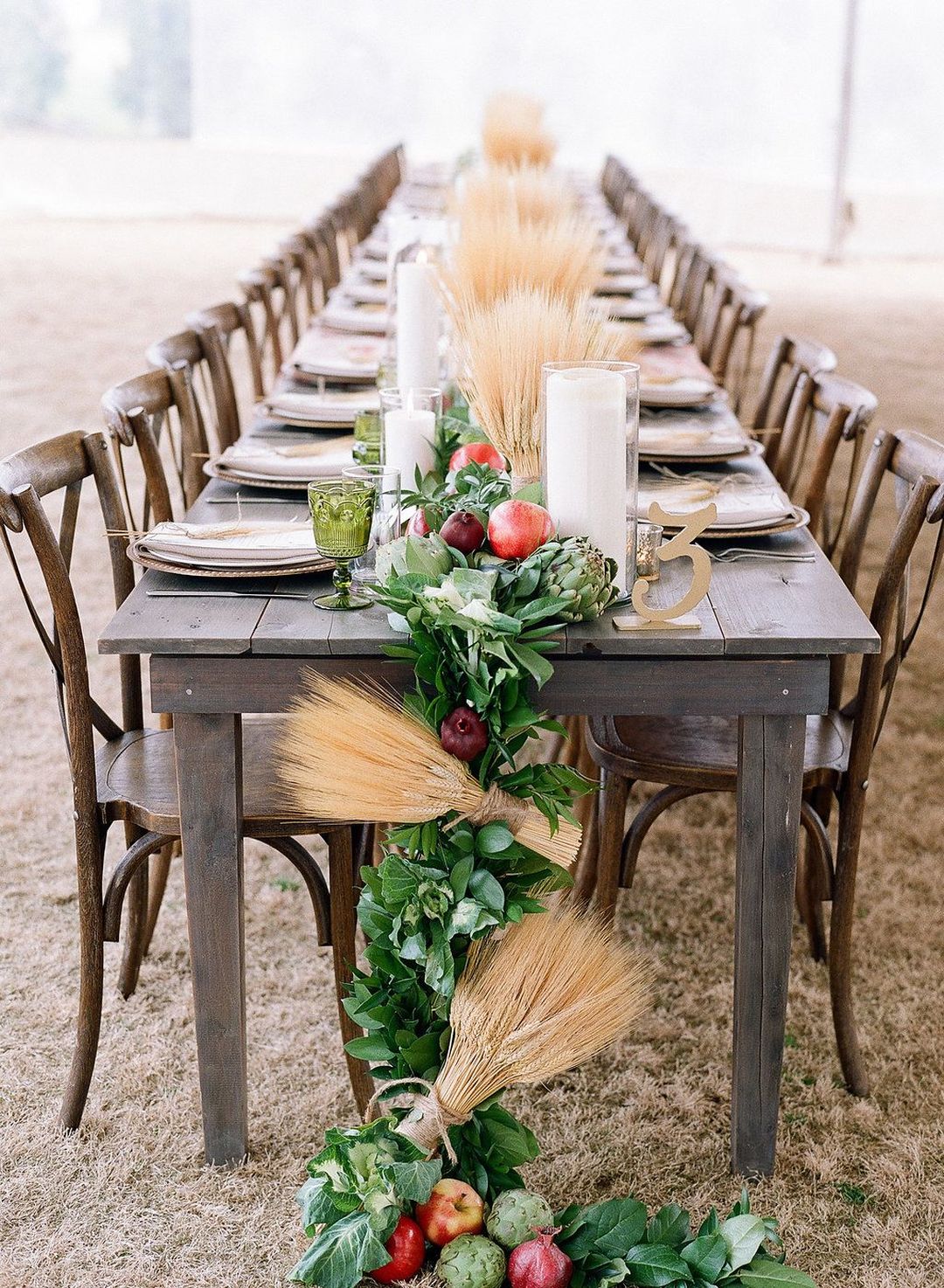 Photos by Cassidy Carson Photography / Planning and Design by Fete Nashville
Pears & Pomegranates
Aside from apples, pears are commonly used in sweet desserts. But, for another Rosh Hashanah table idea, they can also be used to decorate. As with pomegranates! Many eat pomegranates, giving voice to a wish that "our merits be many like the seeds of the pomegranate." These fruits are not eaten on the second night of the holiday. So instead, opt for a "new fruit" or a fruit that has not been eaten since it was last in-season.
The tablescape below features our Cameron Flatware, Stemless and Madison Glassware, Russet Satin Napkins and London Fog Velvet Linens – for a neutral but elegant look!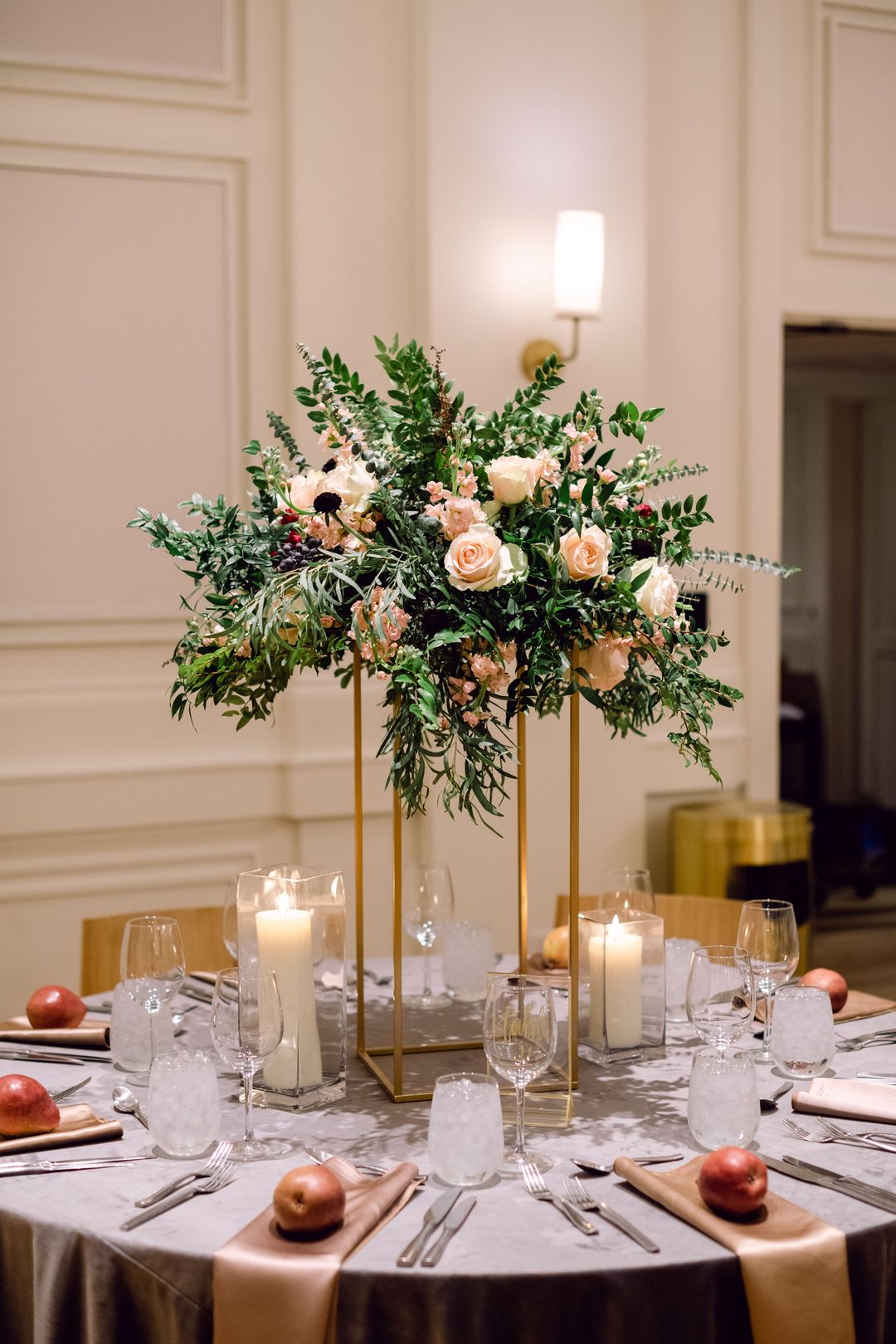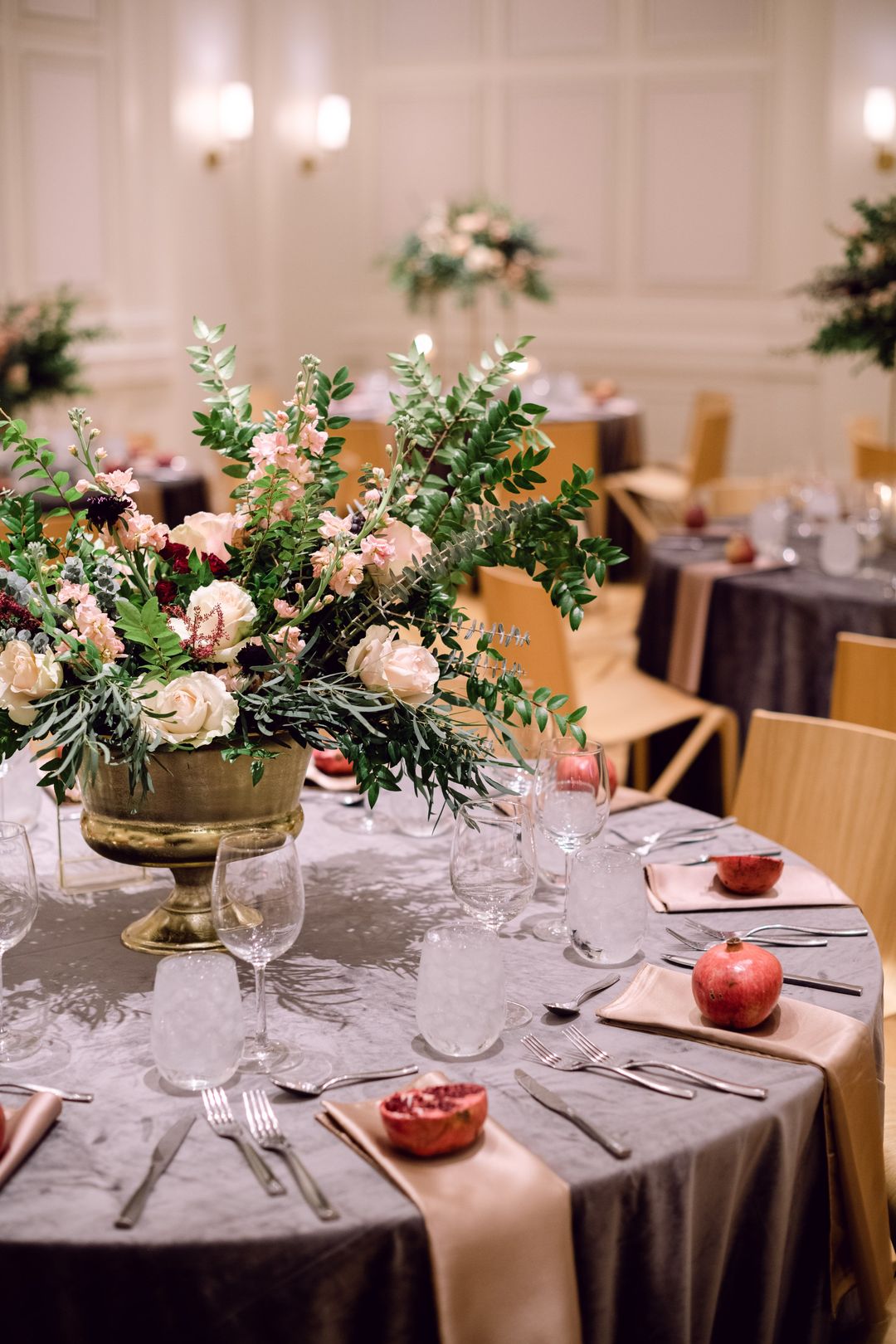 Photos by Haint Blue Collective
This warm and elegant table has some vintage-inspiration features our beautiful Heirloom China and Belmont Charger!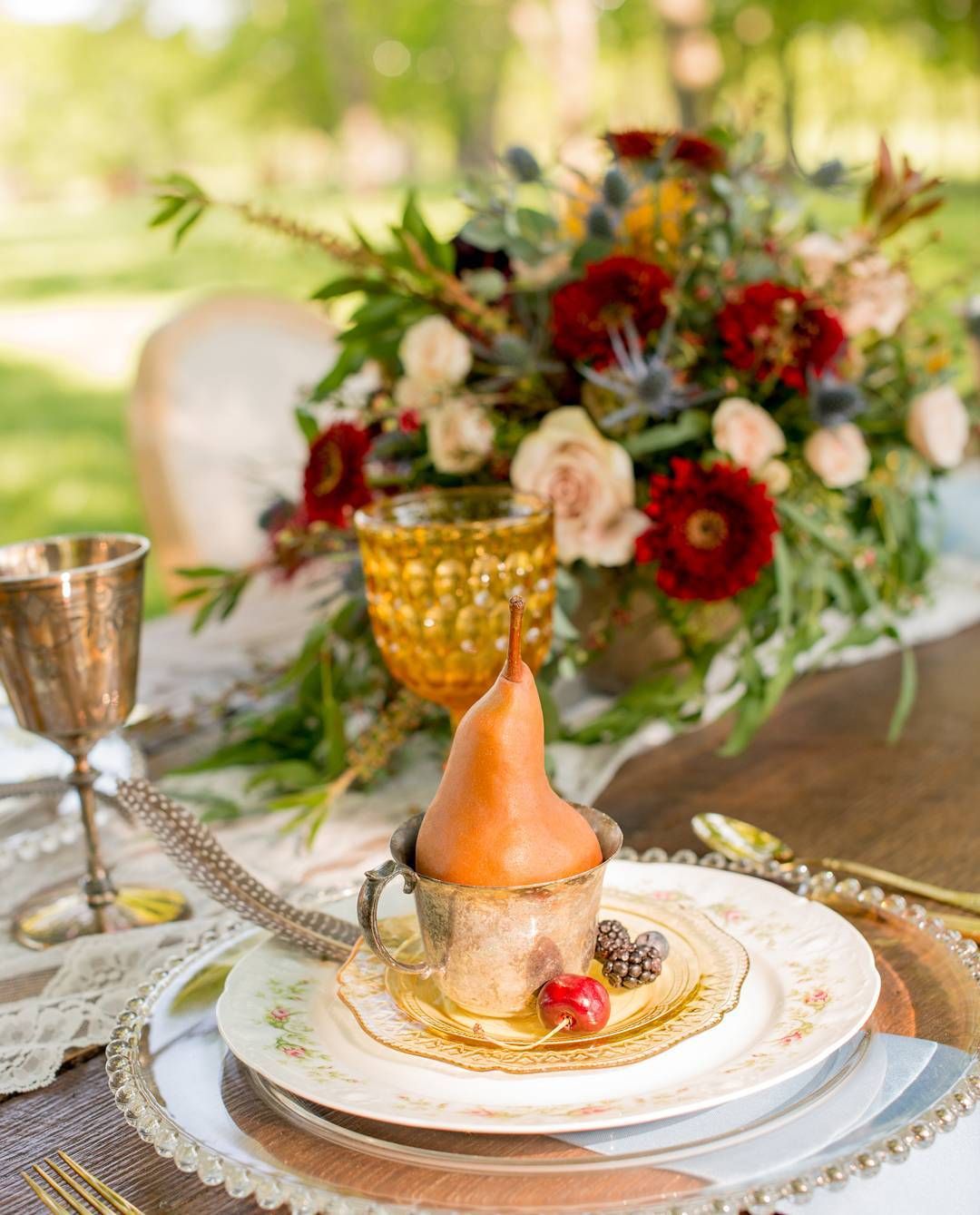 Or for a unique dark autumnal tablescape, consider our Gold China and Glass Charger with a Gold Rim.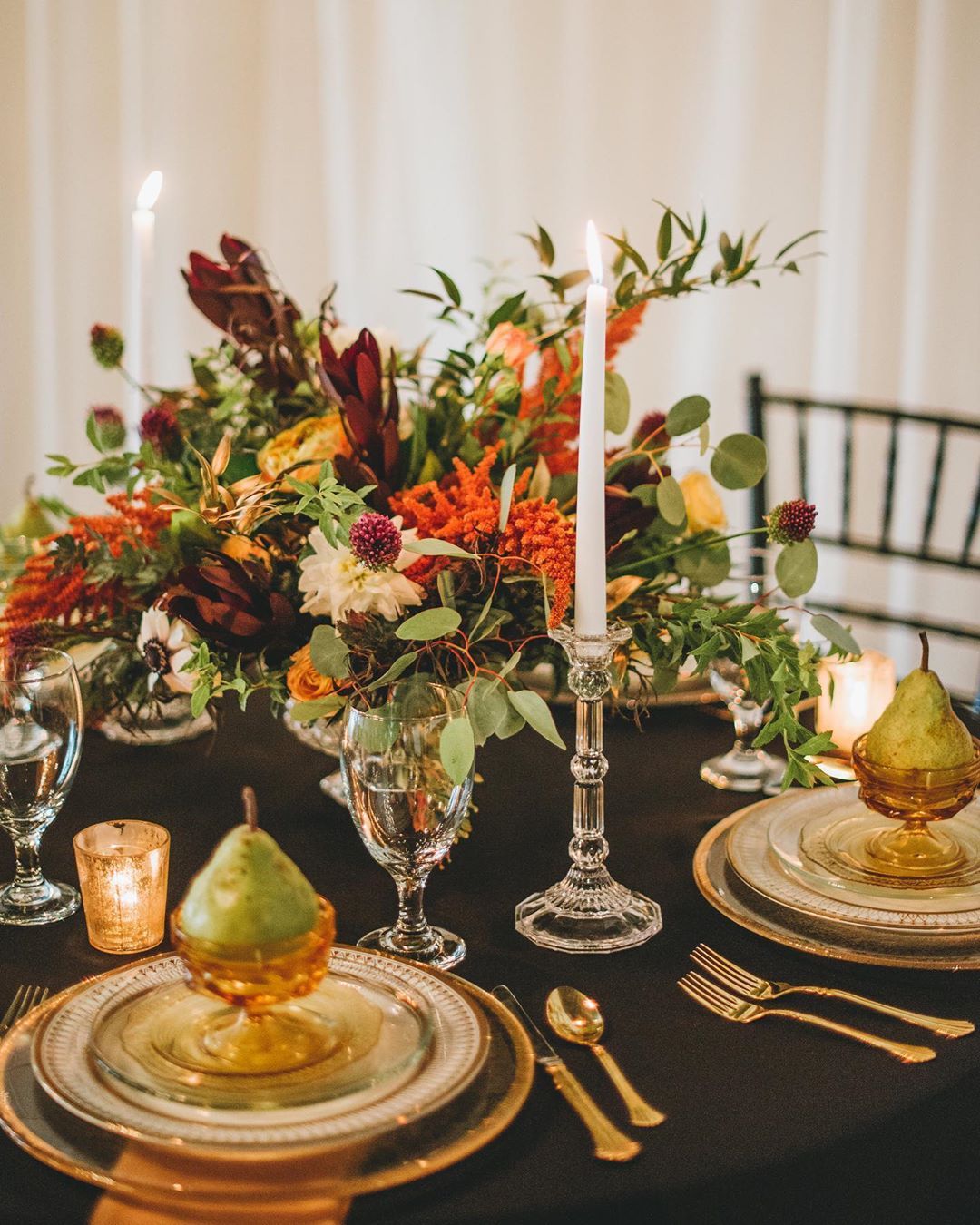 Photos by Twila's Photography / Designs by Clemmie Grace Designs
Love these tablescapes to inspire you for Rosh Hashanah? You can incorporate any of these gorgeous rentals at your dinner party when you visit our catalog. Or for more help, contact our team today! We would love to assist you in creating a one-of-a-kind setup.
TAGS | Dinnerware, Glassware, Rosh Hashanah, Rosh Hashanah tablescape, Serving Utensils, Tablescape, table inspo, tablescape inspiration
FEATURED RENTALS | Gold china, glass charger with a gold rim, heirloom china, Belmont charger, Grayson farm table, cross back chairs, Cameron Flatware, Stemless Glassware, Madison Glassware, Russet Satin Napkins, London Fog Velvet Linens,
---