21

Sep

In Stock: Colorful Glassware for Weddings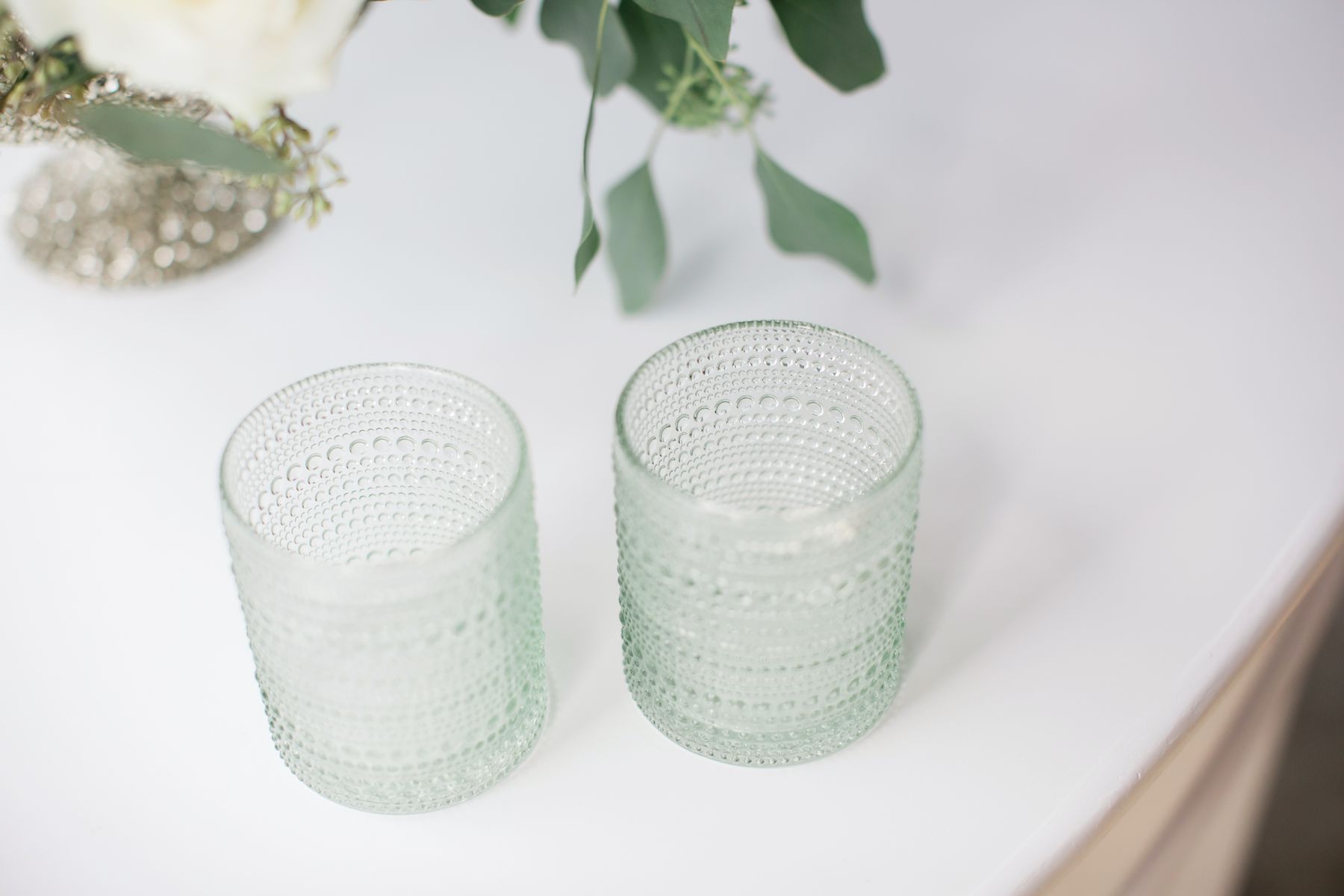 When it comes to creating a memorable wedding reception table every detail counts! One often overlooked element that can make a large impact on your wedding tables is glassware. Colored glassware has become increasingly popular in the wedding world, and for good reason. That is to say, it's a simple way to a touch of elegance and individuality to your event! Keep reading to explore our colorful glassware for weddings. Featuring our new collections with a range of brilliant shades and styles that cater to every type of celebration.
Chic Art Deco Glassware
Capturing the glamour and sophistication of the Art Deco era, our Deco Glassware is a versatile choice. Perfect for couples seeking a touch of vintage opulence. These tumblers radiate a warm, inviting glow that complements a variety of wedding themes. For example, the Amber hue adds a sense of richness to your tables. Pairing beautifully with our Navy Blue Velvet or Ivory Satin Linens. Or, opt for a delicate Peony Pink. These tumblers effortlessly blend into your design. Infusing a soft and romantic ambiance. A fun way to contrast bold linens such as Ocean Blue Velvet or Wheat Satin. Regardless of whether you're aiming for a Gatsby-inspired soiree or a modern wedding with a nod to the past.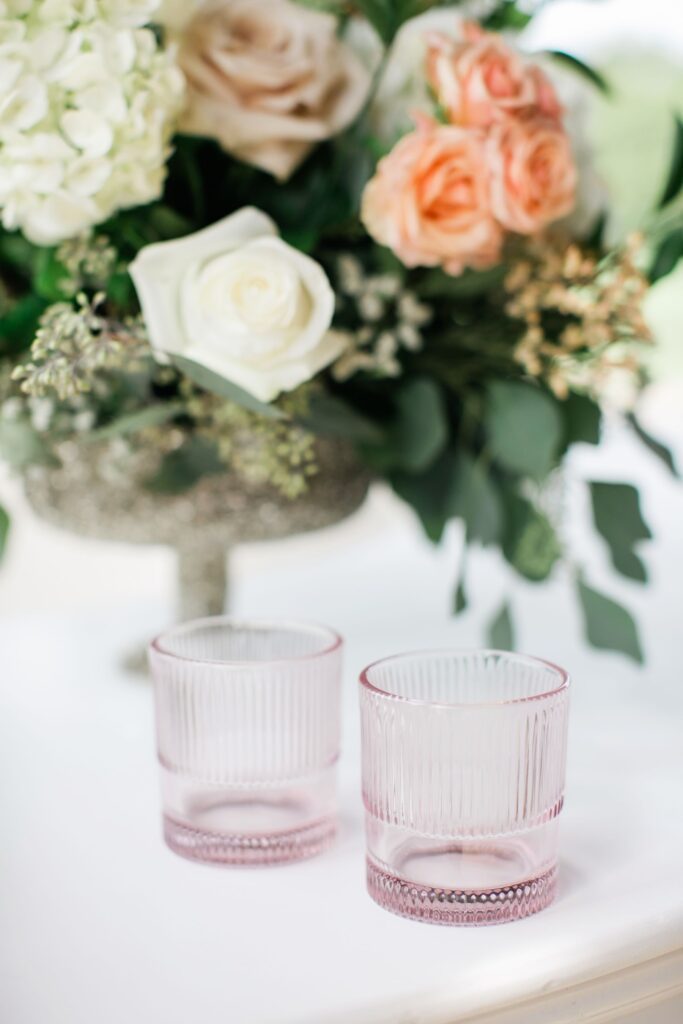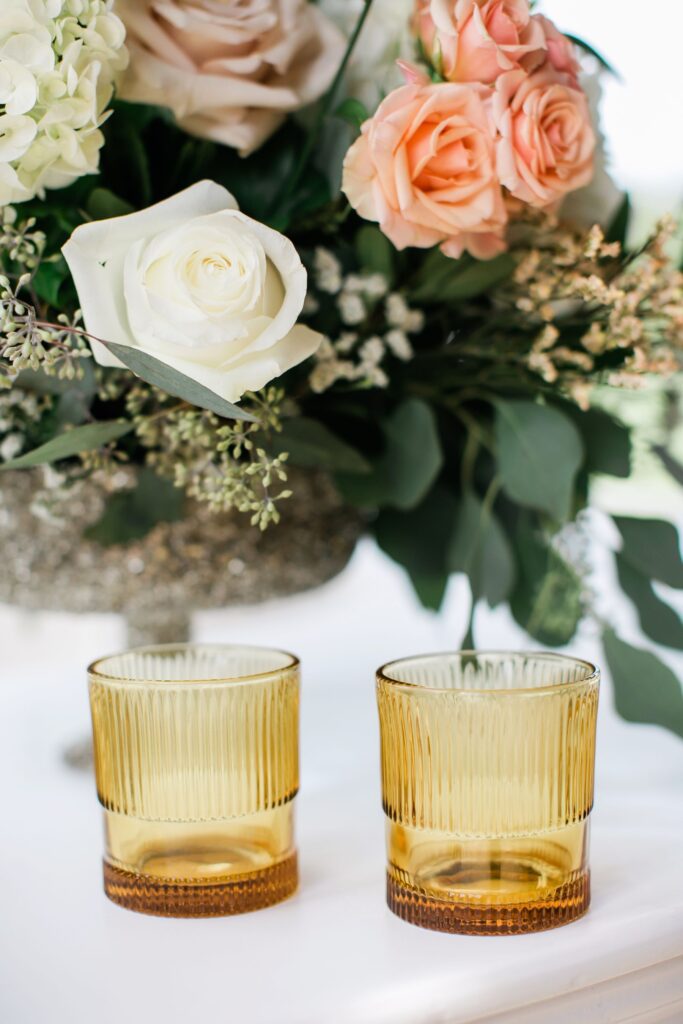 Blue-Hued Beaded Tumblers
If you're dreaming of a coastal or beach-themed wedding, our Beaded Glassware is the perfect choice to bring the tranquility of the sea to your tables. These tumblers are available in three captivating shades – Meridian Blue, Sea Salt, and Smoke. For example, a range of blue hues that mimic the depths of the ocean and the play of sunlight on water. The beaded texture of the glassware adds a tactile element to your table settings. Creating a visual delight for your guests. Regardless of whether they are used as water glasses or for signature cocktails. Complement any of these glasses with solid white linens and blue napkins – Ice Blue, Slate, Navy. Or, add a splash of metallics with our elegant Gold Furrow Linens.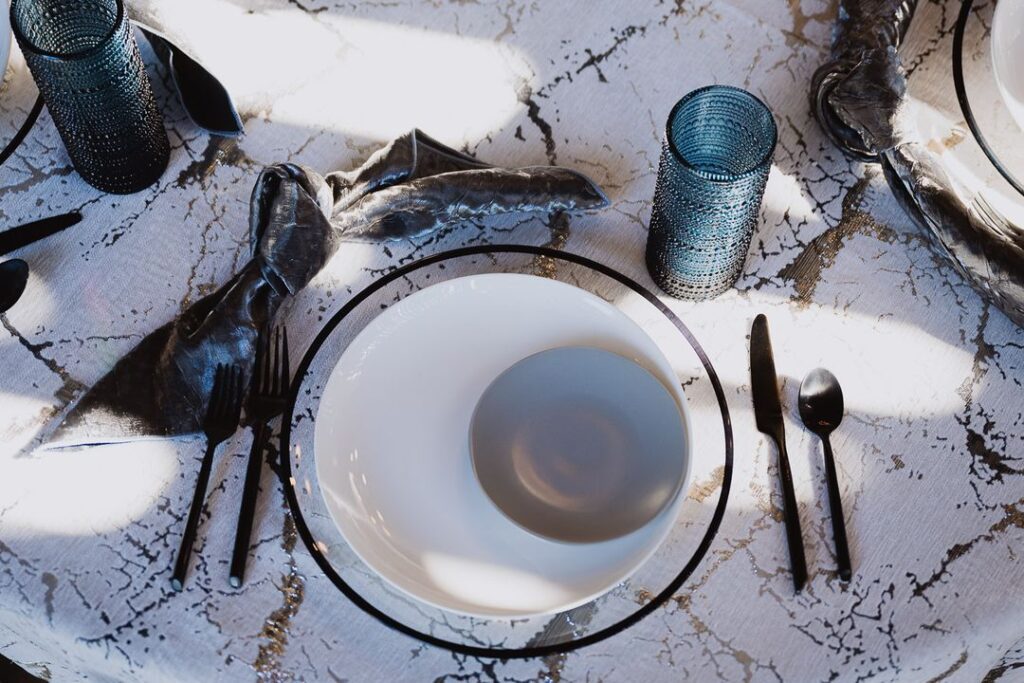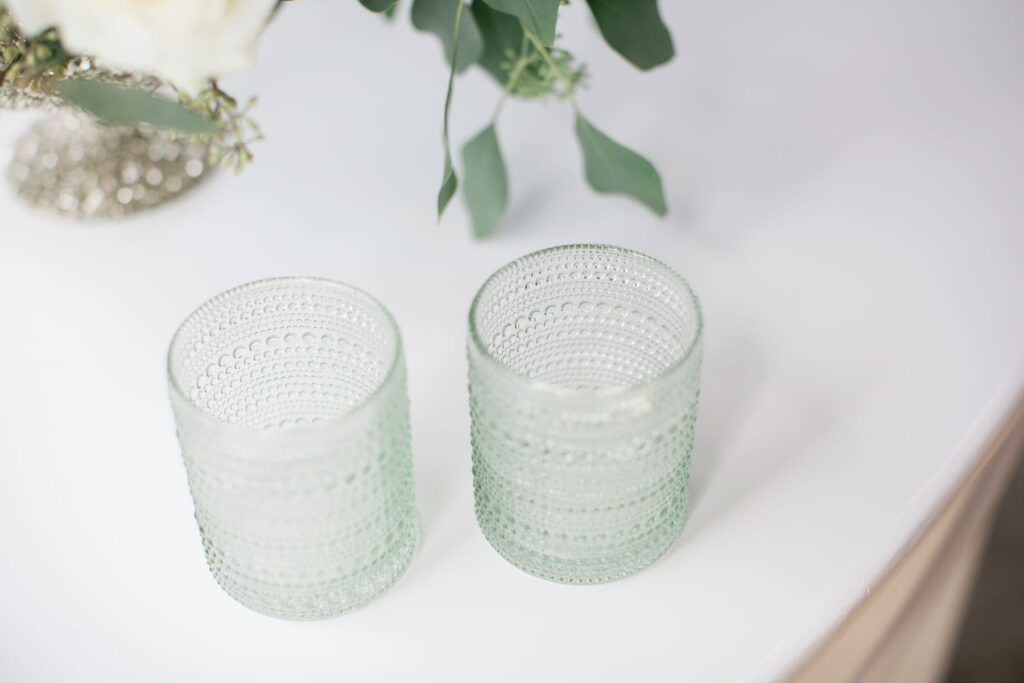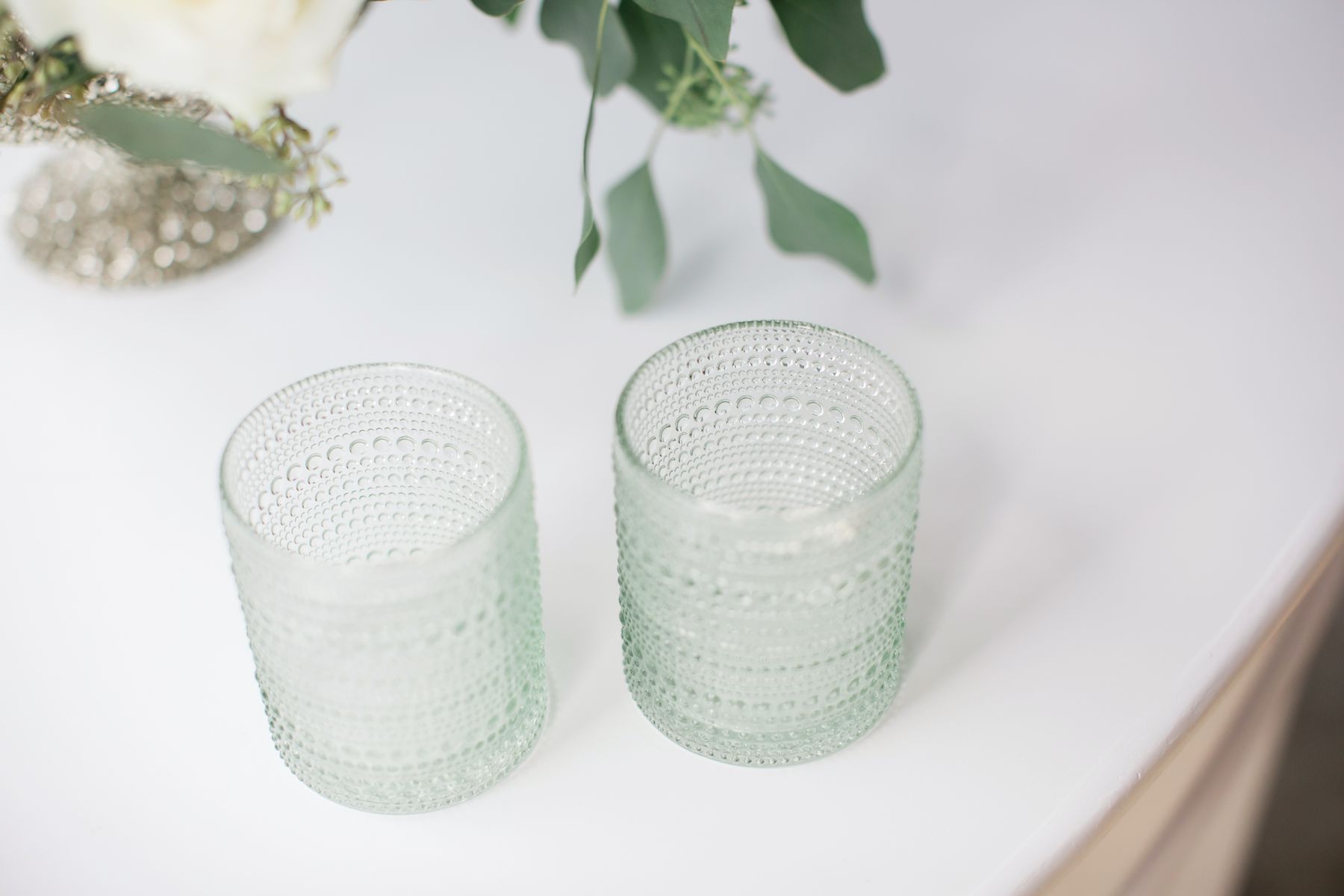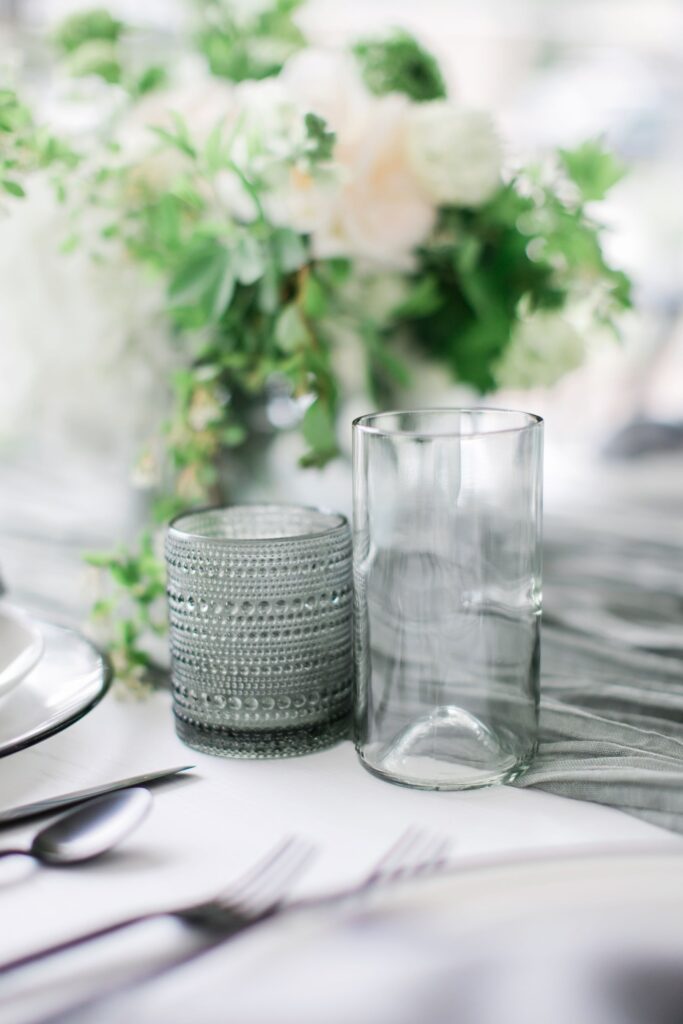 Antique-Inspired Goblets
For those who appreciate the charm of bygone eras, our antique-inspired goblets are a timeless choice. Available in brilliant shades, our Savoy Glassware goblets evoke a sense of nostalgia and elegance. Likewise, Deep Amber looks stunning atop modern rustic tables, contrasted by stark white china and bold velvet napkins. For a more airy look, pair the Sage green glassware with White Washed Rattan Chargers and our Liana China. Alternatively, the muted tones of the Amalia Glassware complement a variety of color palettes. For instance, place the Light Pink glass alongside Heirloom China and Abby Flatware. This will lend to a table that is romantic and whimsical; fitting for a modern garden party. Or, for a more modern tablescape, feature the subtle Sage shade next to our Vera Floral China atop Scalloped Wood Chargers.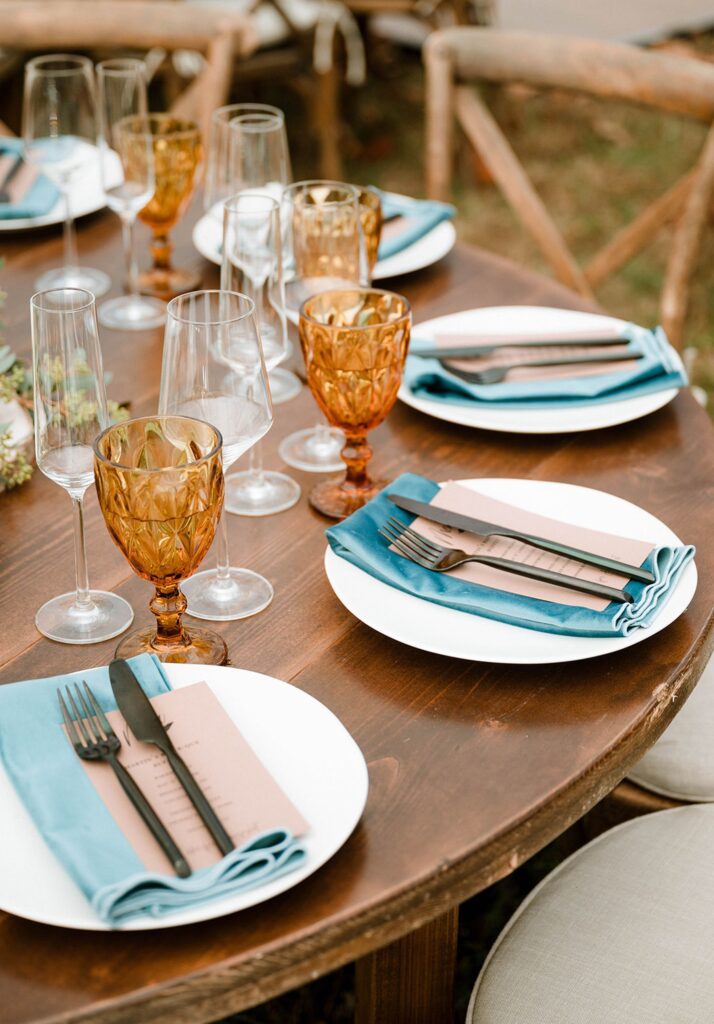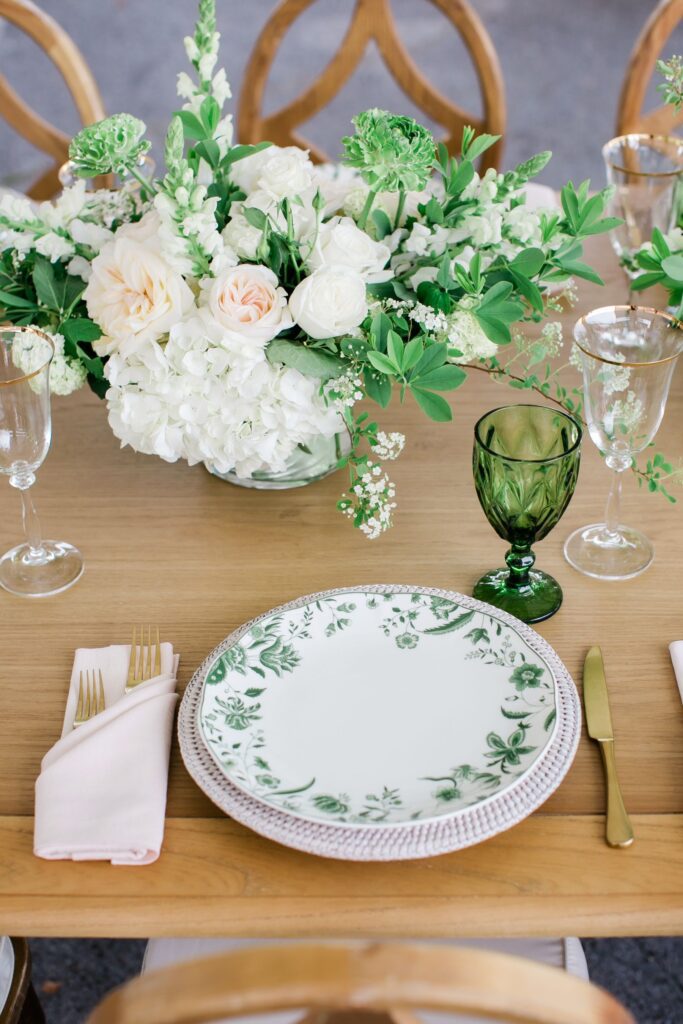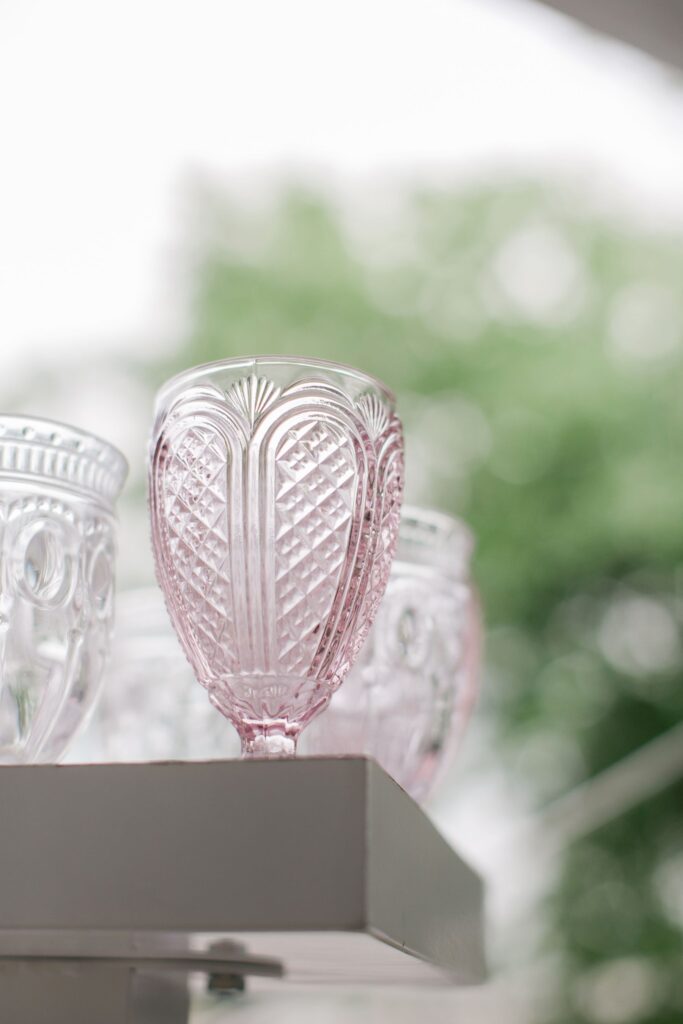 Do you love the idea of colorful glassware for weddings? Our new selection of glassware is a simple way to elevate your reception tables. With an array of stunning styles and colors up for grabs. Contact our team today for help choosing the perfect glassware. Or to book an appointment at our showroom to design a tablescape unique to you.
FEATURED RENTALS | Deco Glassware, Navy Blue Velvet Linens, Ivory Satin Linens, Ocean Blue Velvet, Wheat Satin Linens, Savoy Glassware, White Washed Rattan Chargers, Liana China, Amalia Glassware, Heirloom China, Abby Flatware, Vera Floral China, Scalloped Wood Charger, Beaded Glassware, Gold Furrow Linens,
SEE MORE LIKE THIS