25

Aug

Events and Style Shoots, Southern Events Products, Trends and Inspiration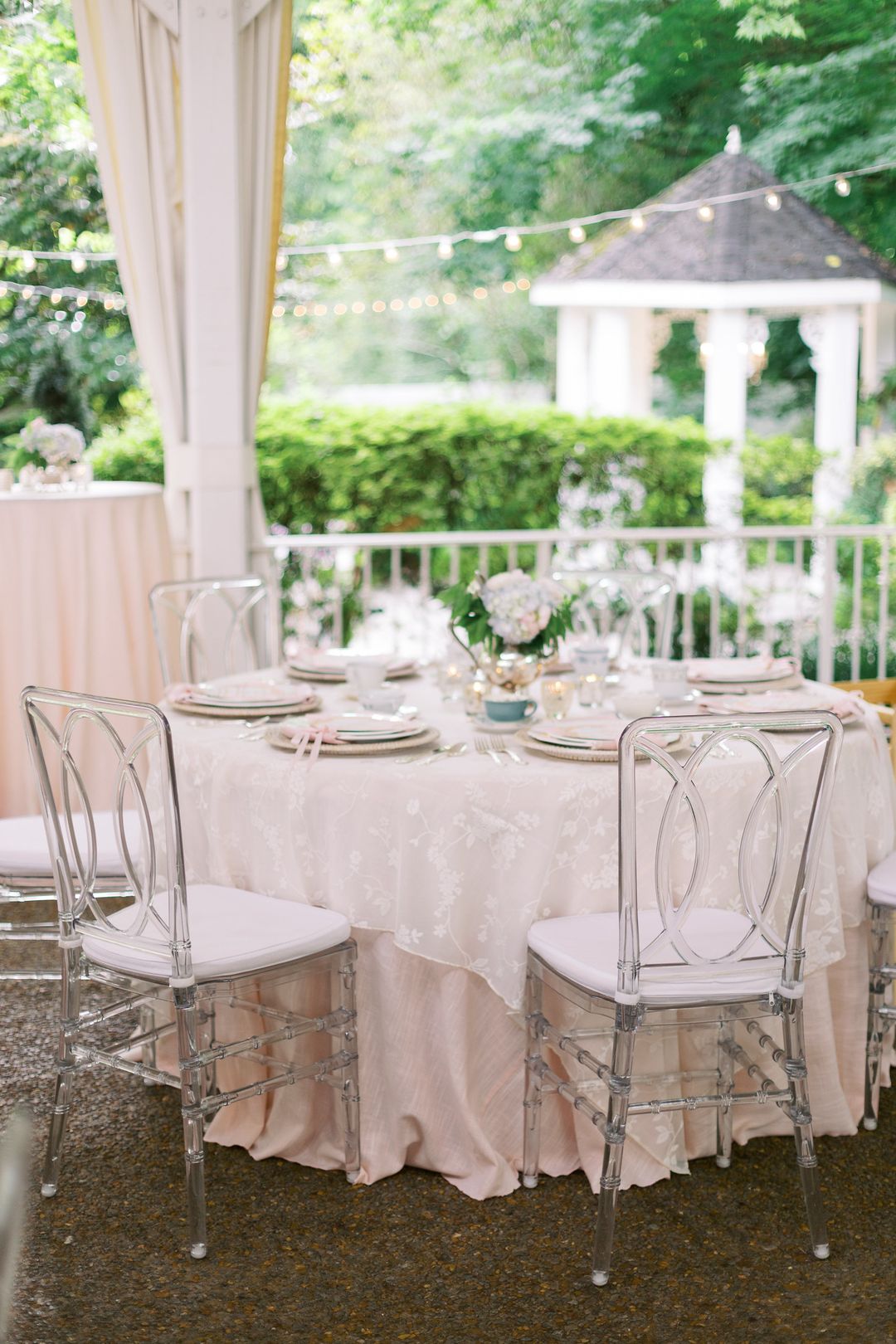 Who doesn't love a fabulous brunch?! Maybe that is why more than ever, people are centering their celebrations around this popular mealtime. From baby showers to bridal showers and weddings, brunch is a memorable way to mark a milestone. As well as a good excuse to break out the bubbles! The garden at CJ's Off the Square has all the inspiration needed for hosting a sweet southern brunch party, featuring vintage-inspired rentals and classic serving ware pieces.
Set the Scene
If you've ever enjoyed brunch then you know that the goal is to create a setting that is sophisticated yet casual. A space where people feel special, enjoying a decadent meal. With this in mind, your tablescape is key. We love starting off with tables dressed in bright linens, such as Blush Shimmer. For a fun extra layer, top it off with a textured runner or overlay. For seating, our Acrylic Carrigan Side Chair will bring a modern contemporary touch – as will any of our acrylic seating options.
For a look that is equally airy but a touch more rustic, you could also feature our Grayson Farm Table or White Wash Round Farm Table. Either of these pieces will look stunning standalone or can be decorated with a soft runner, like Bloom Chiffon or Champagne Lace. As with any brunch, fresh floral centerpieces are required! Place bright or neutral-colored blooms in our elegant Square Glass Vases. If you're hosting a large party, it doesn't hurt to throw a few bistro tables into the mix!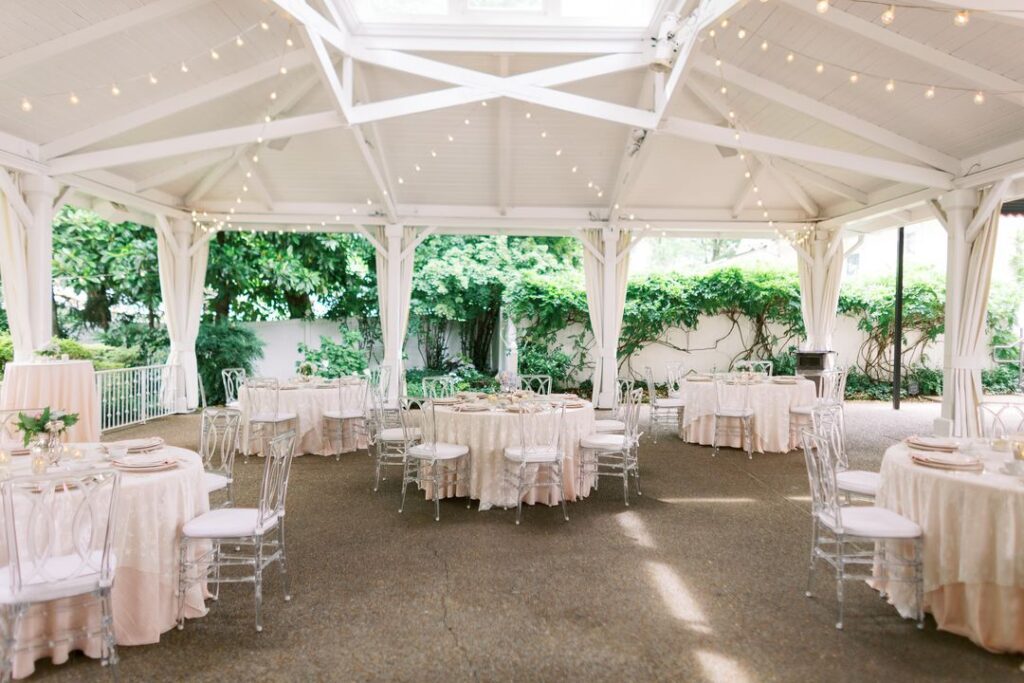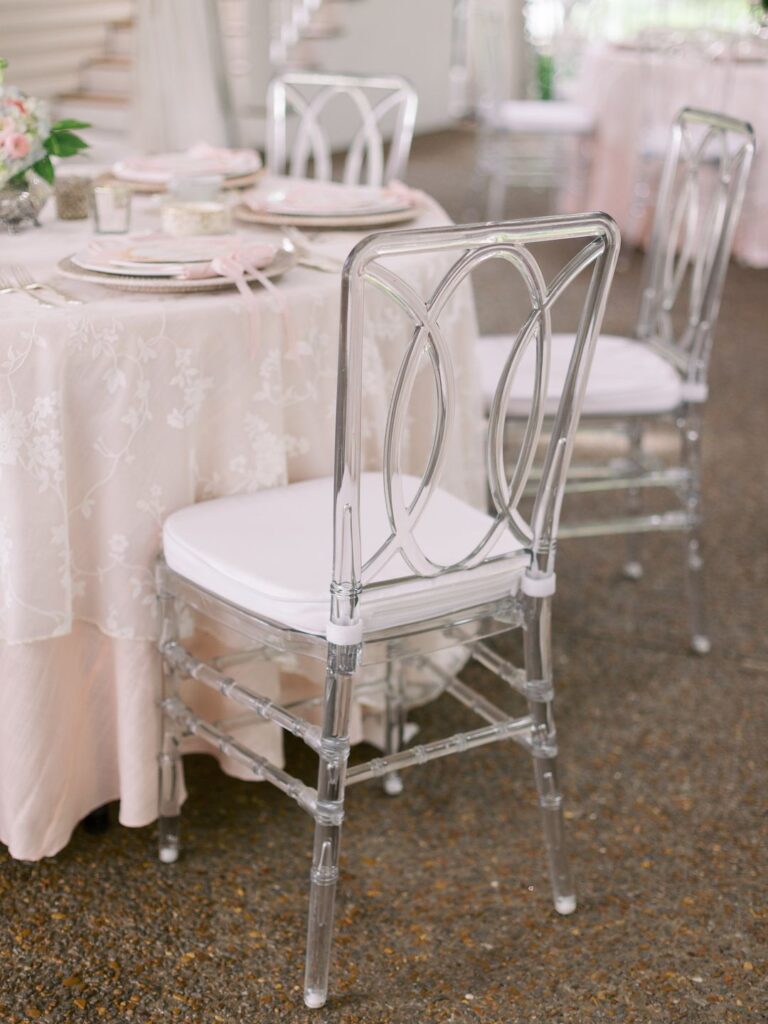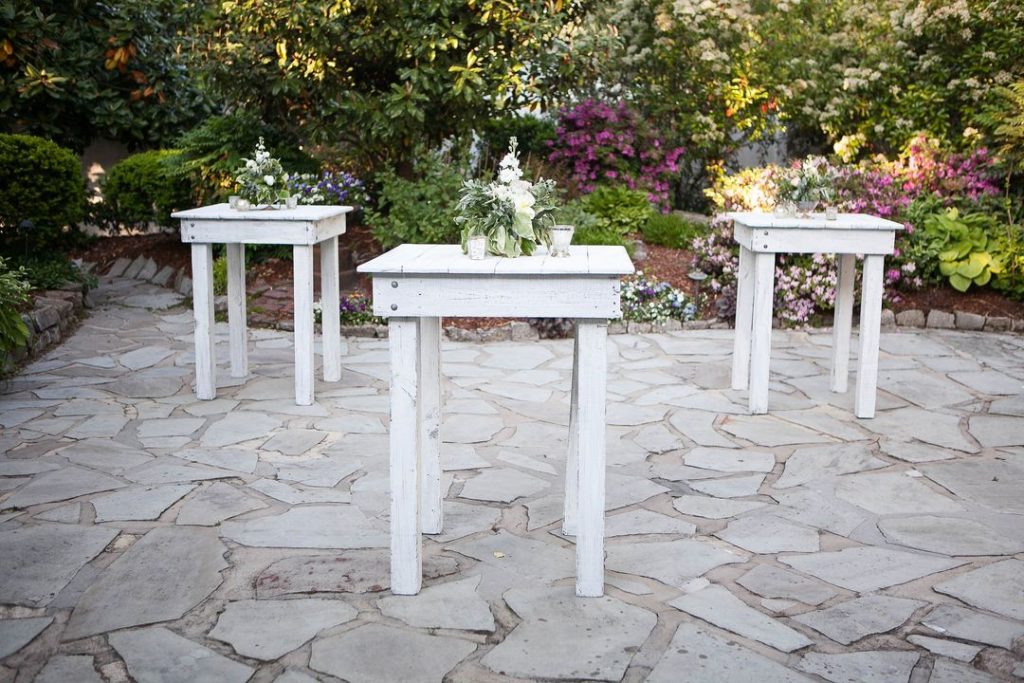 Then Set the Table!
Of course, the real star of a southern brunch party is the food! For which you'll need to create an impressive tablescape. One of our favorite ways to create a memorable table is by featuring serving ware with textures. Start with our White Wash Rattan Charger, stacked with our dainty Darcy China and Darcy Bone China Charger. These pieces are the perfect combination of old and new! Pair it with our Abby Flatware, or Austin Flateware if you prefer gold.
To complete the place setting you'll also need glassware, for a variety of popular brunch-themed beverages. A water goblet is always essential, and our Hob Nob Goblet is a stunner. It also pairs beautifully with our Heirloom Tea Cups and Saucers, for a quaint vintage touch for serving hot coffee or tea. For an especially well-thought-out table, you might also feature a Silver Coffee/Tea Server. Along with a matching Carson Silver Cream and Sugar Set, it will be a fun classically southern detail.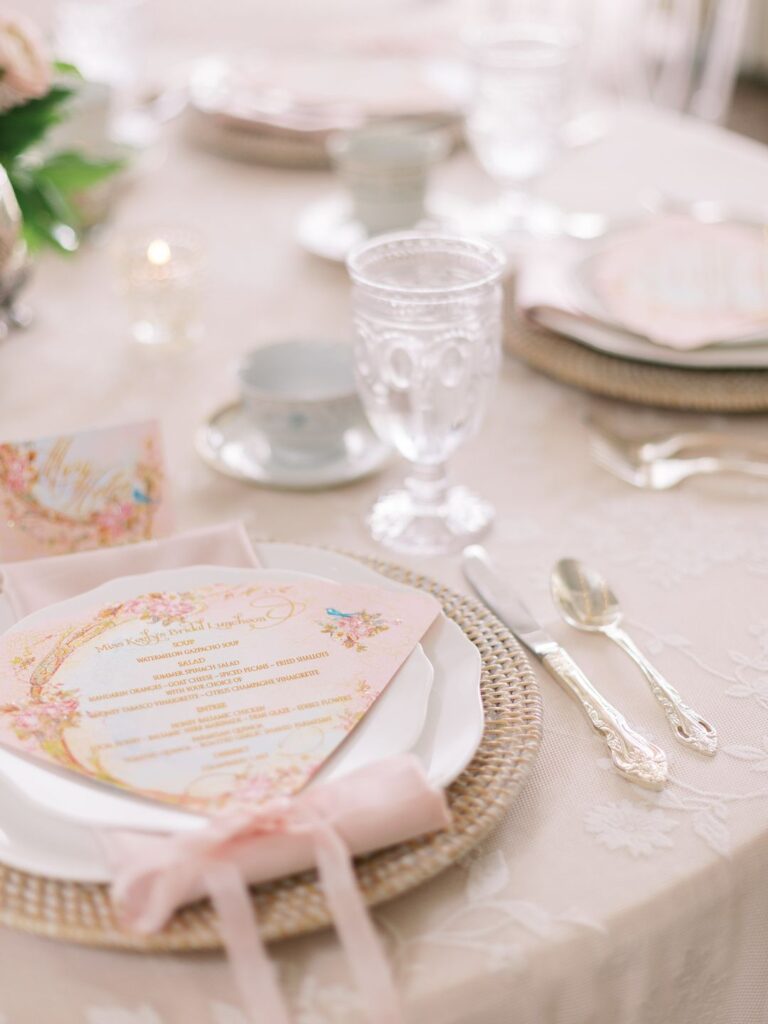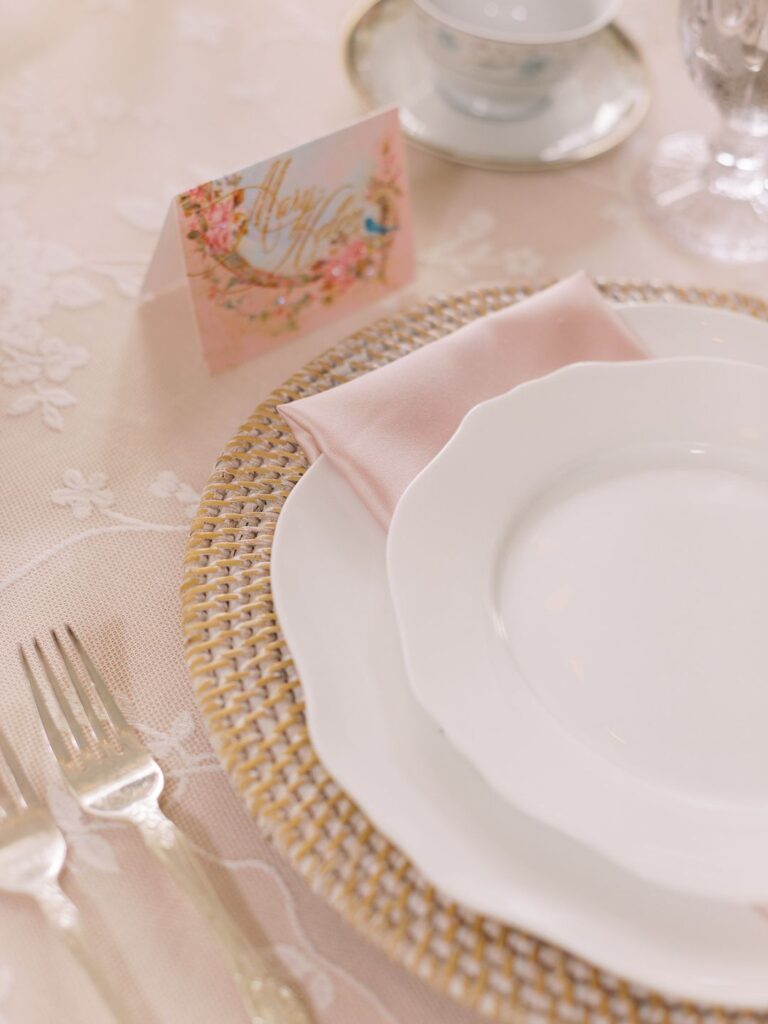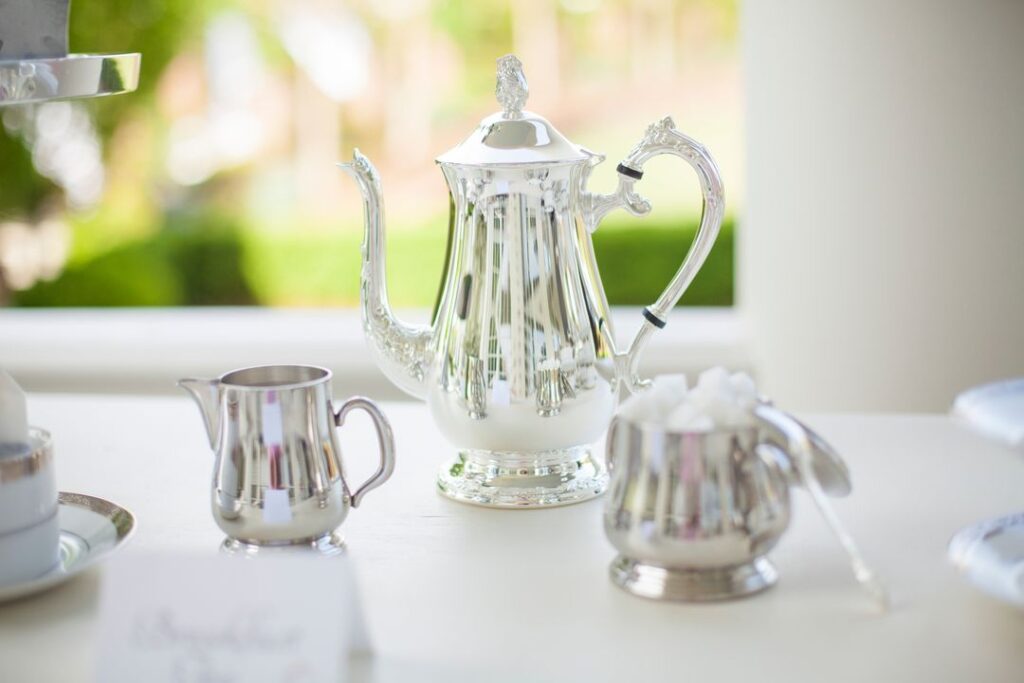 Create a Chic Lounge
It's not brunch without mimosas! Creating cozy spaces to sit and sip will ensure that they feel comfortable enough to linger and mingle. A lounge will also be a comfortable and photo-ready spot for opening gifts. Our Everly Sofa and Chair are a beautiful pair – not to mention incredibly comfy! If you need extra seating, add in our Winstead Grey Tufted Bench. You'll also want a place where people can set their drinks, like our Cheval Gold Mirror Side Table. Or our larger Blanche Coffee Table.
Speaking of drinks, another round of glassware is a must. Serve up mimosas in our Pure Champagne Flutes – placing glasses on our Boxwood Wall in Champagne Shelves, or displayed on the White Barback Shelf for stunning presentation. Provide a variety of fresh fruit juices in carafes, along with seasonal fruits and cheese on silver serving platters. Sparkling water is also a great option to have on hand for a mom-to-be, or kiddos in tow!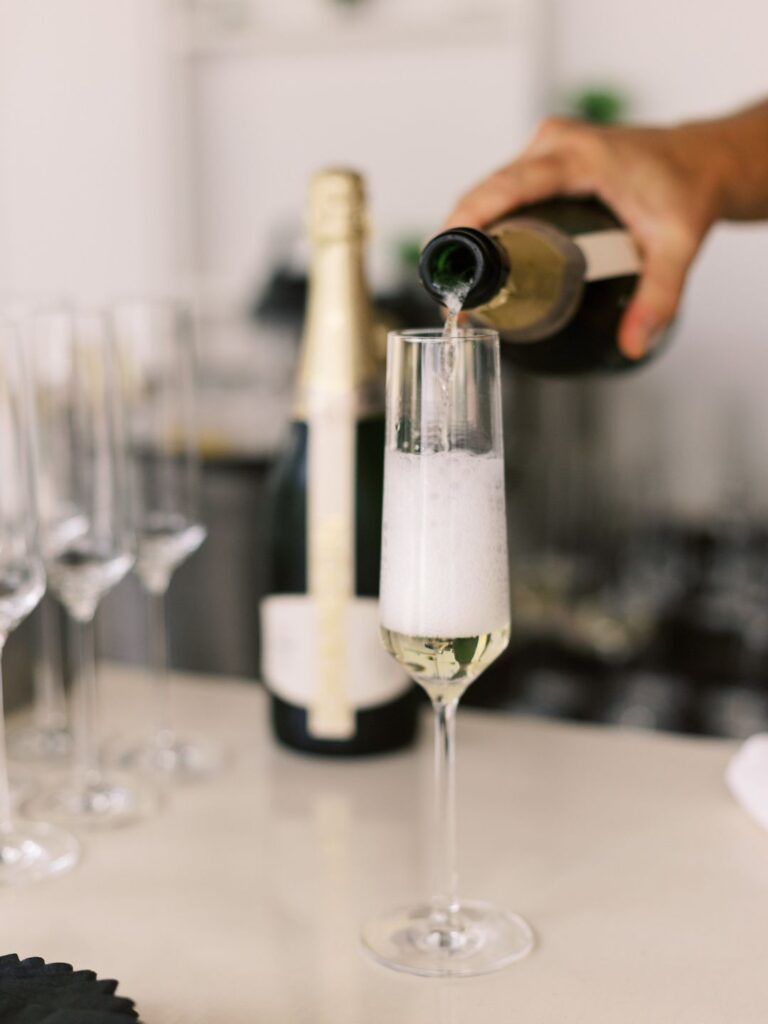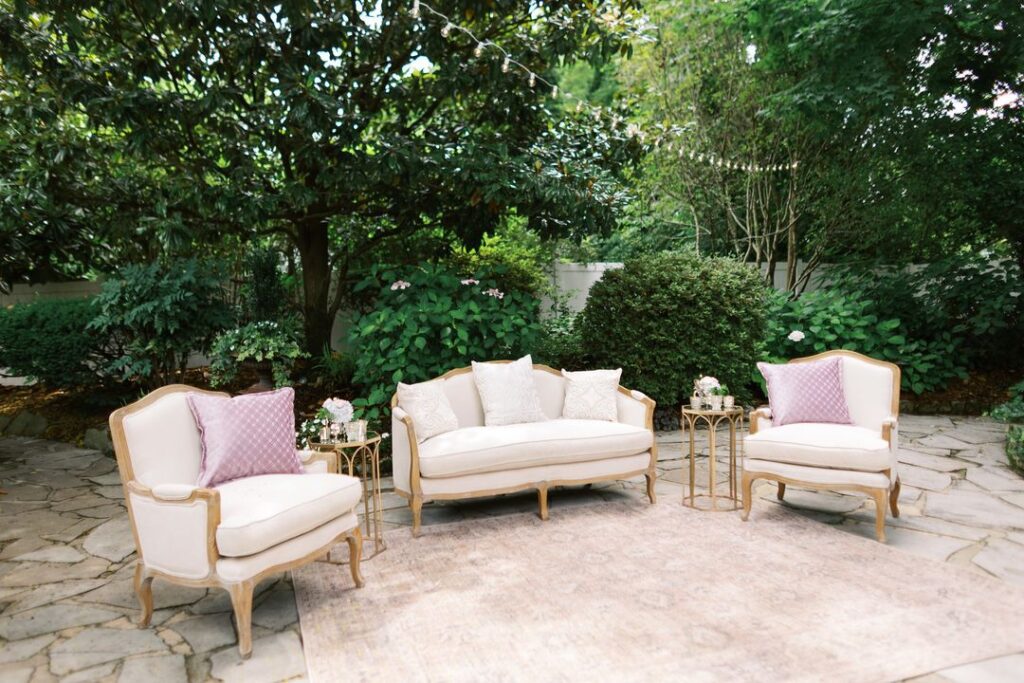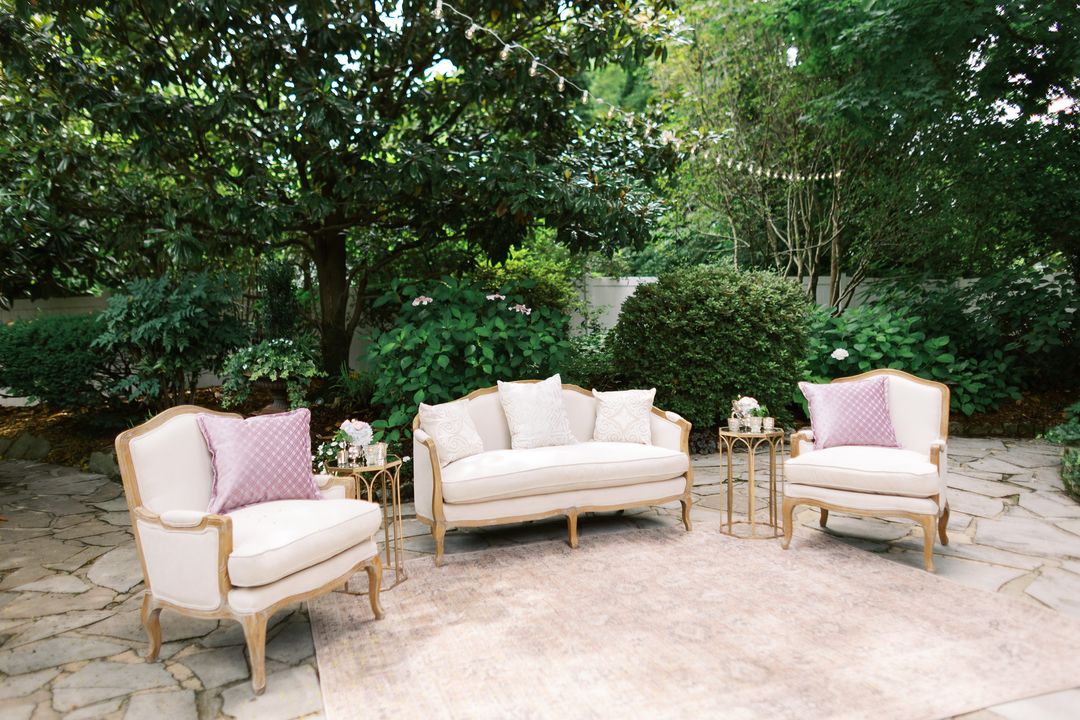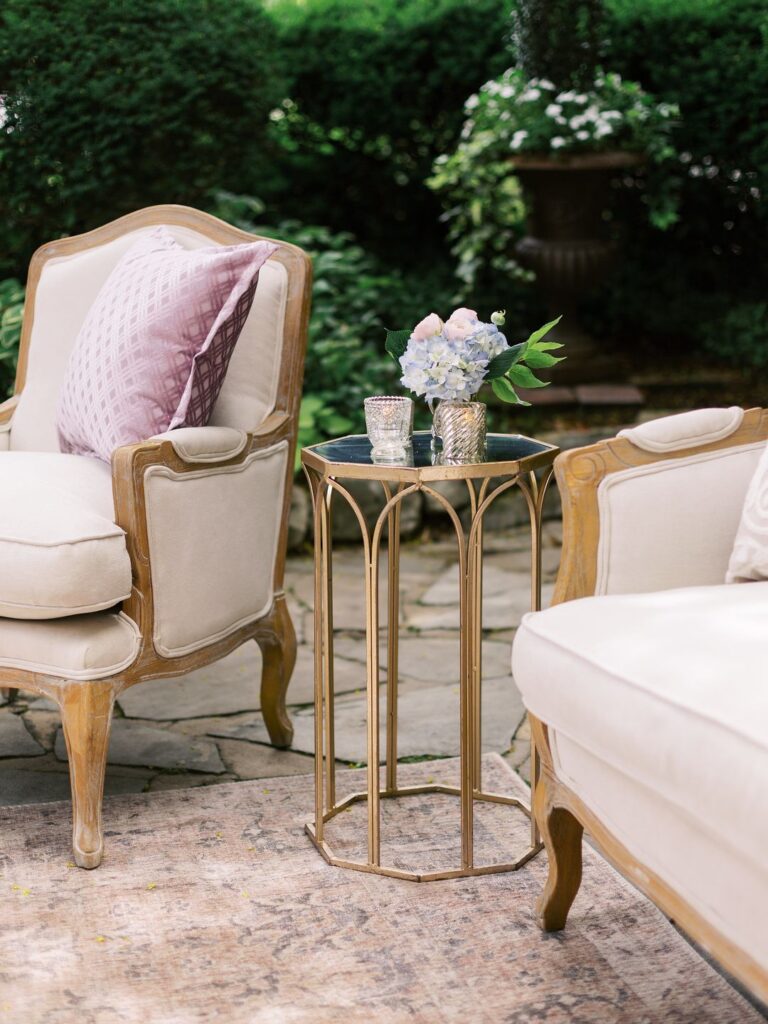 A special thank you to Jenna Henderson for sharing these event images with us!
Love the idea of hosting a southern brunch party? Send our team a message at info@southerneventsonline.com for help planning a one-of-a-kind get-together. Or for more event design inspiration, take a look at our blog to get some ideas for a black tie dinner party, perfect for hosting a formal event.
TAGS | Acrylic Chairs, CJ's Off the Square, Lounge Furniture, Nashville party rentals, Southern Events Party Rental, Tablescape, Tableware, southern brunch party
FEATURED RENTALS | Pure Champagne Flute, Everly Sofa, Everly Chair, Blush Rug, carafes, silver serving platter, carson sugar and tea set, Cheval Gold Mirror Side Table, White Wash Round Farm Table, Bloom Chiffon Runner, Champagne Lace Runner,White Barback Shelf, White Wash Rattan Charger, Darcy China, Darcy Charger, Abby Flatware, Acrylic Carrigan Side Chair,
---
18

Aug

On Trend, Southern Events Products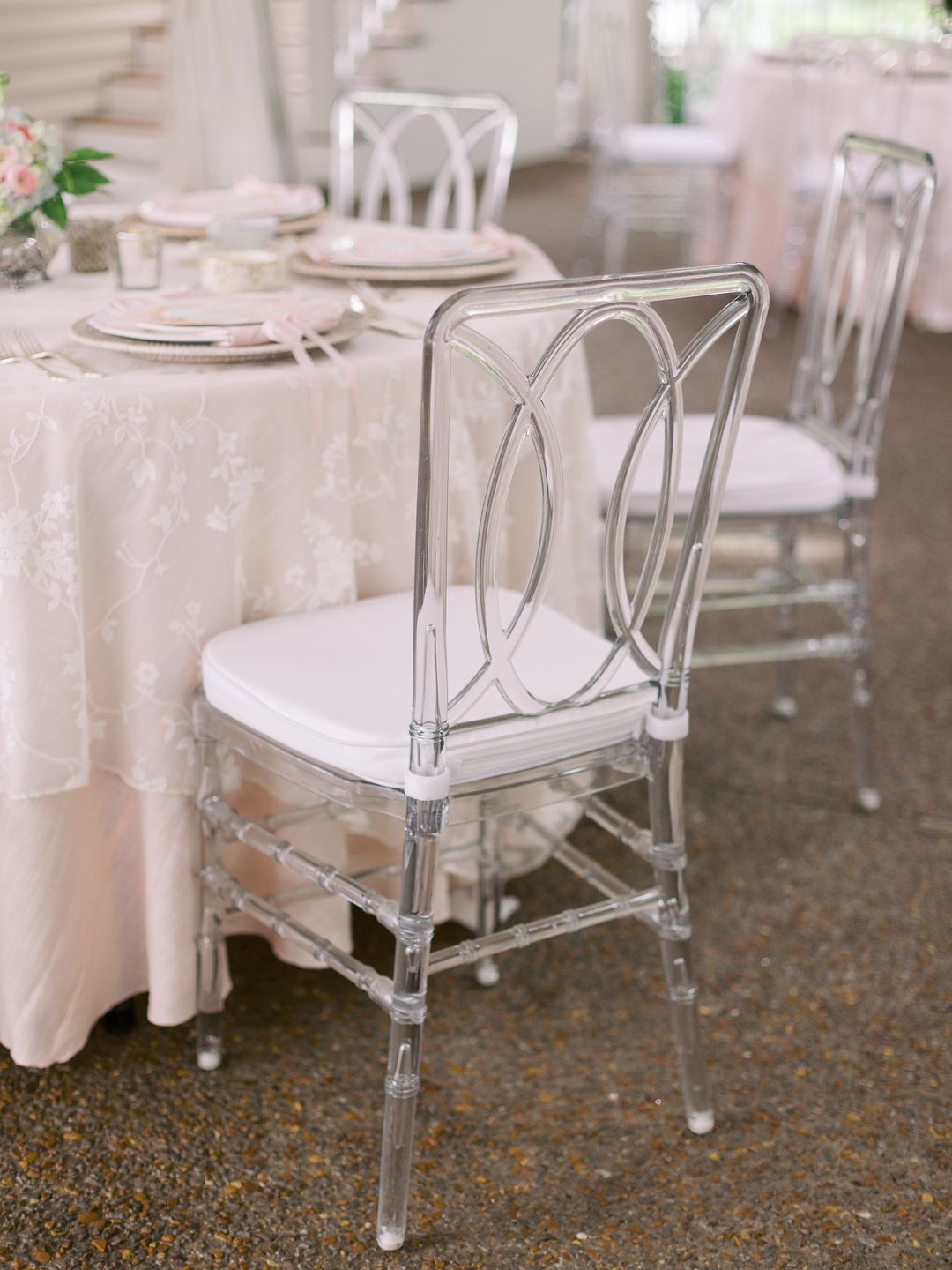 Associated with contemporary art, acrylic is making its way into modern event design. Now used in an array of furniture designs, it is a unique addition to any event. The most popular use, however, is in chairs! Typically referred to as 'ghost chairs', this style is a fun modern twist that can be pulled off year-round. Keep reading to check out our in-stock acrylic chairs. Plus, learn how to feature these pieces at your upcoming event.
On-Trend Ceremony Seating
If you want to wow guests from the moment they enter your wedding event space, then go with acrylic chairs! Acrylic seating is a simple way to elevate your event, regardless of your style or theme. Our most popular chairs for wedding ceremonies are our Acrylic Ghost Arm Chair and Acrylic Ghost Armless Chair. The oval shape of the back of these chairs will lend a sophisticated look that will complement any venue, modern, urban or outdoor. This style is also easy to decorate with ribbon or vinyl applique across the back.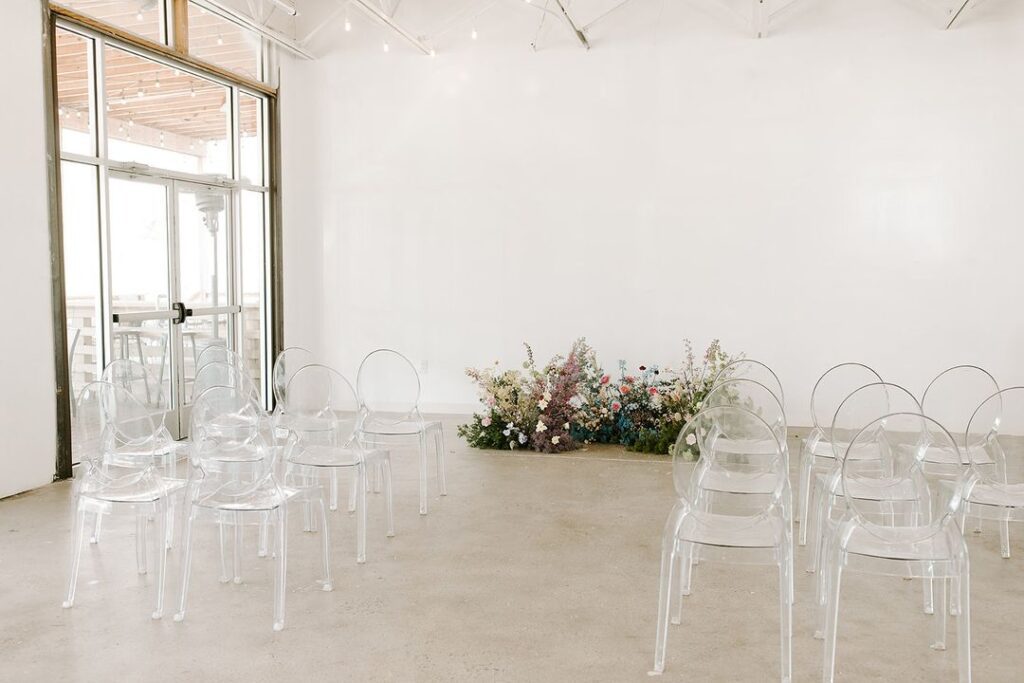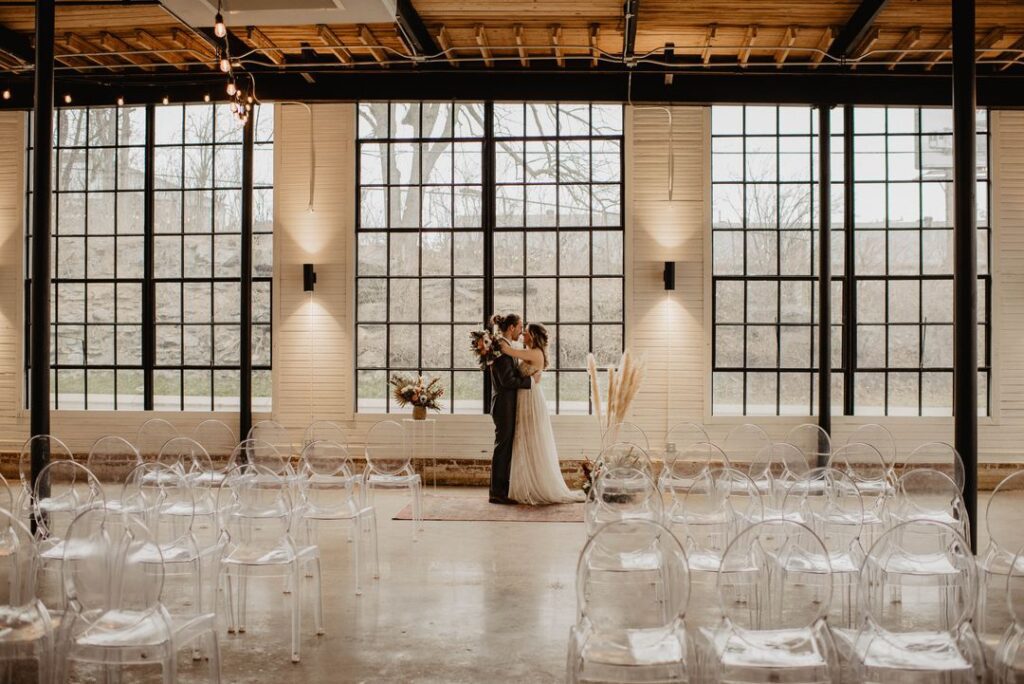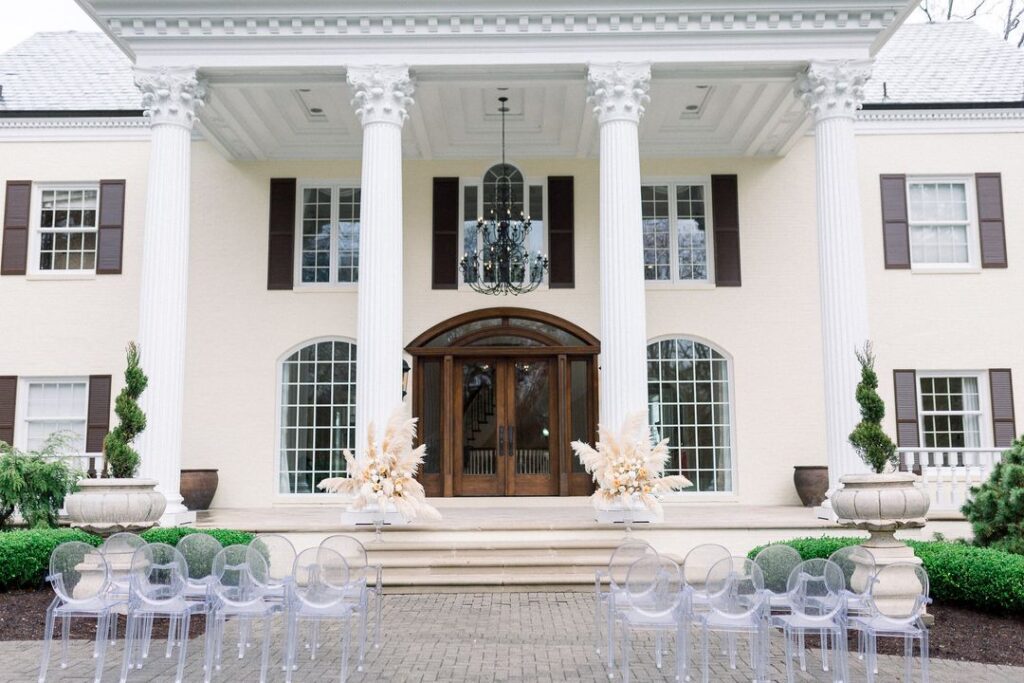 Timeless Reception Tables
Our favorite way to feature acrylic chairs is at receptions, whether it be a wedding, corporate event, or personal gathering. This style of chair will complement any table, such as our Fruitwood Farm Tables, or linens. When choosing the style of seating, we recommend considering your event theme. If you are hosting a minimalist or modern event, either of our Ghost Chairs will do the job. For a more romantic or whimsical theme, we prefer the Acrylic Carrigan Side Chair, due to the intricate back. If you want something otherworldly or ethereal, the Acrylic Fantasma Side Chair is an easy choice.
Pro Tip: Planning to have designated tables for children? Be sure to grab a handful of our Acrylic Chiavari Children's Chairs.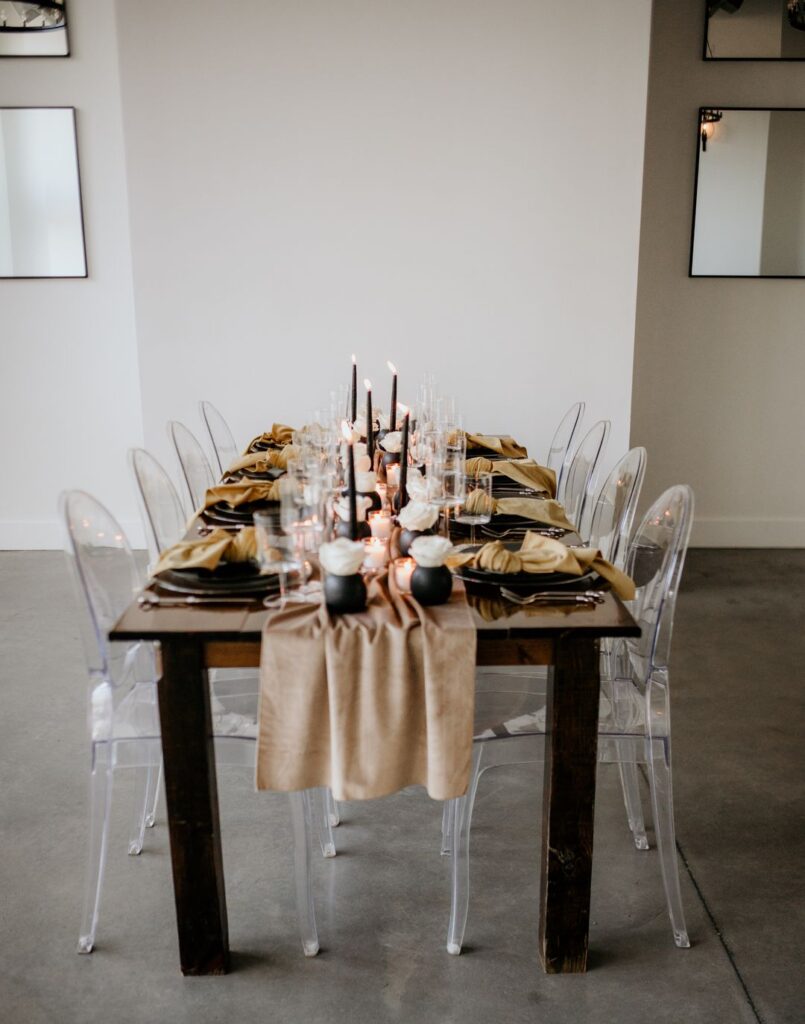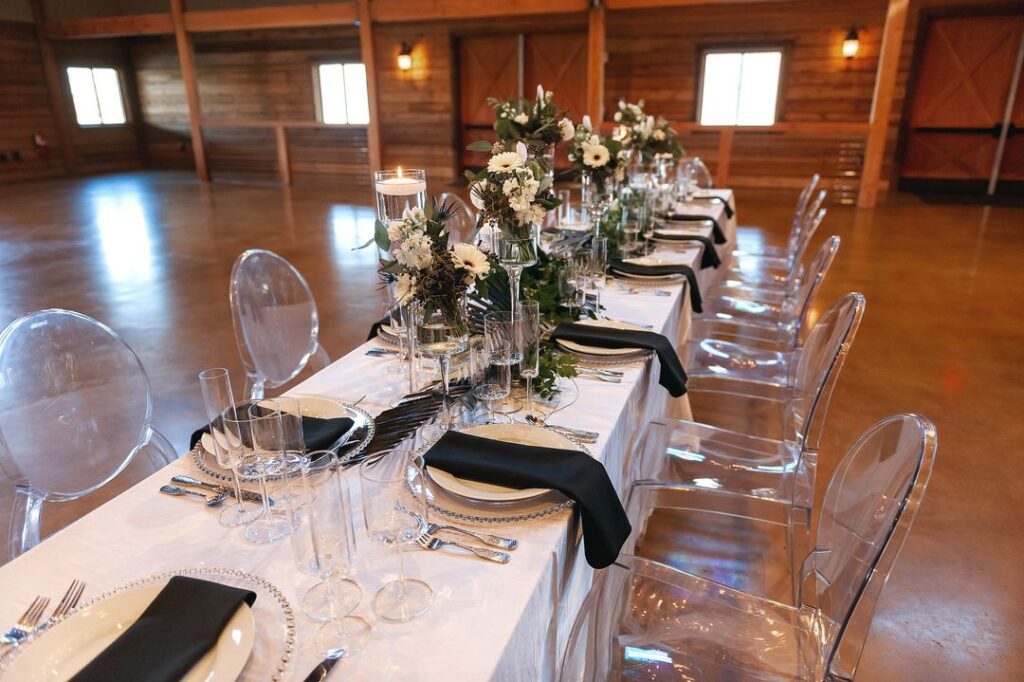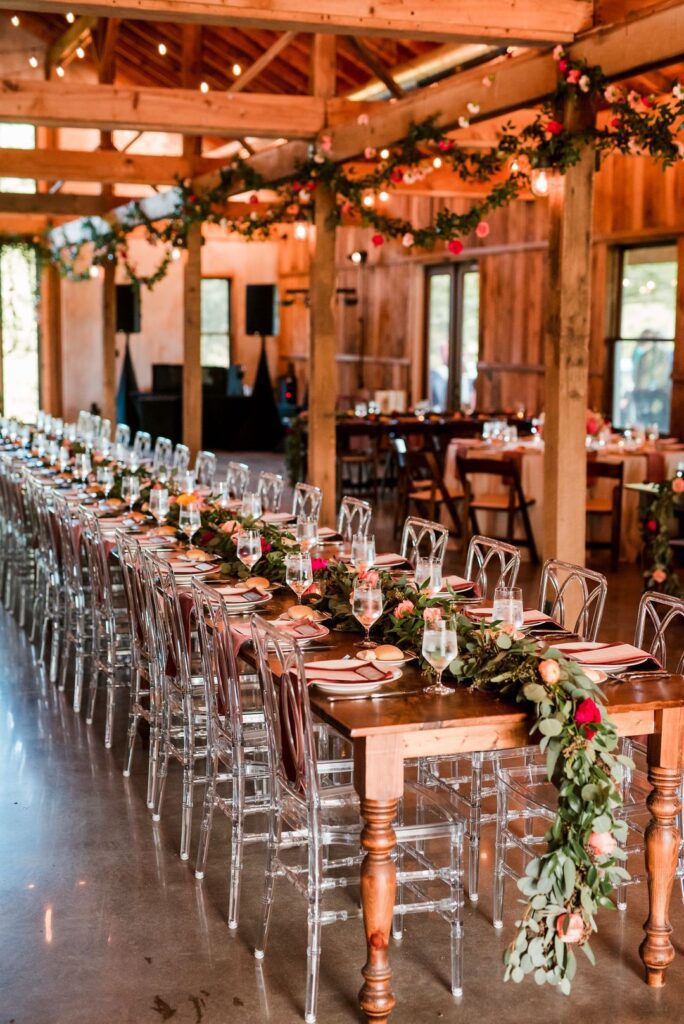 Modern Cocktail Hours
We can't forget the cocktail hour setup! Big or small, a memorable cocktail hour calls for stylish and comfortable seating, with ample space for guests to sit and mingle. If you are planning to feature a lounge, any of our acrylic chairs make for beautiful add-ons. And these chairs are extremely comfortable, too! For a lounge, we recommend seating with arms. Whereas at cocktail tables or bar tables, arms aren't necessary. These areas will work well with our armless, or backless, styles. Such as the Acrylic Ghost Barstool, Acrylic Casper Oval Back Barstool, or Acrylic Casper Square Back Barstool.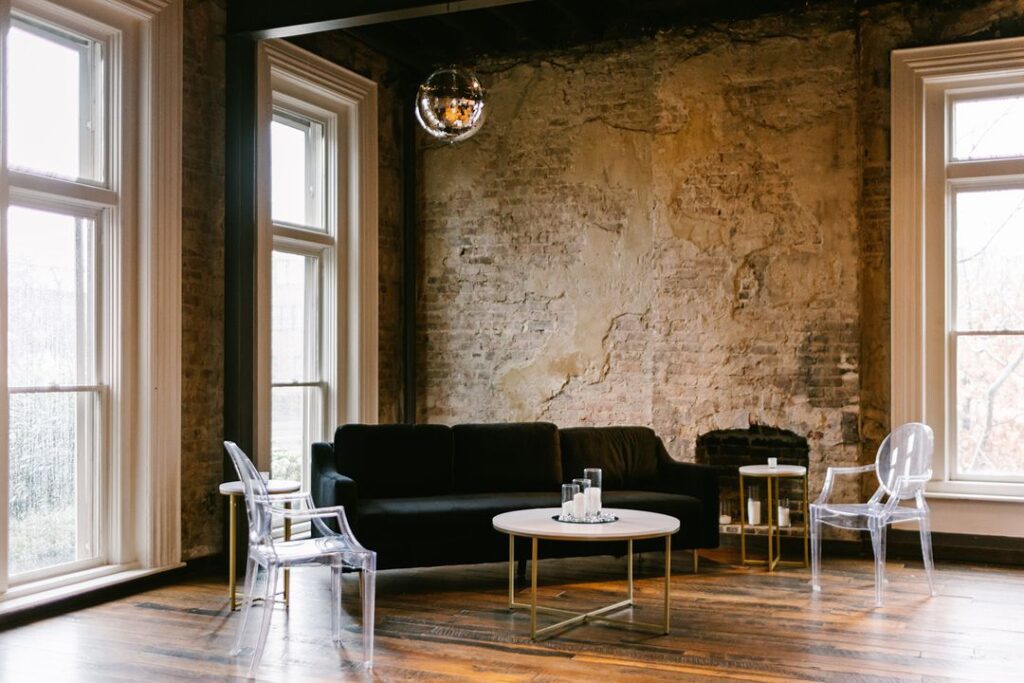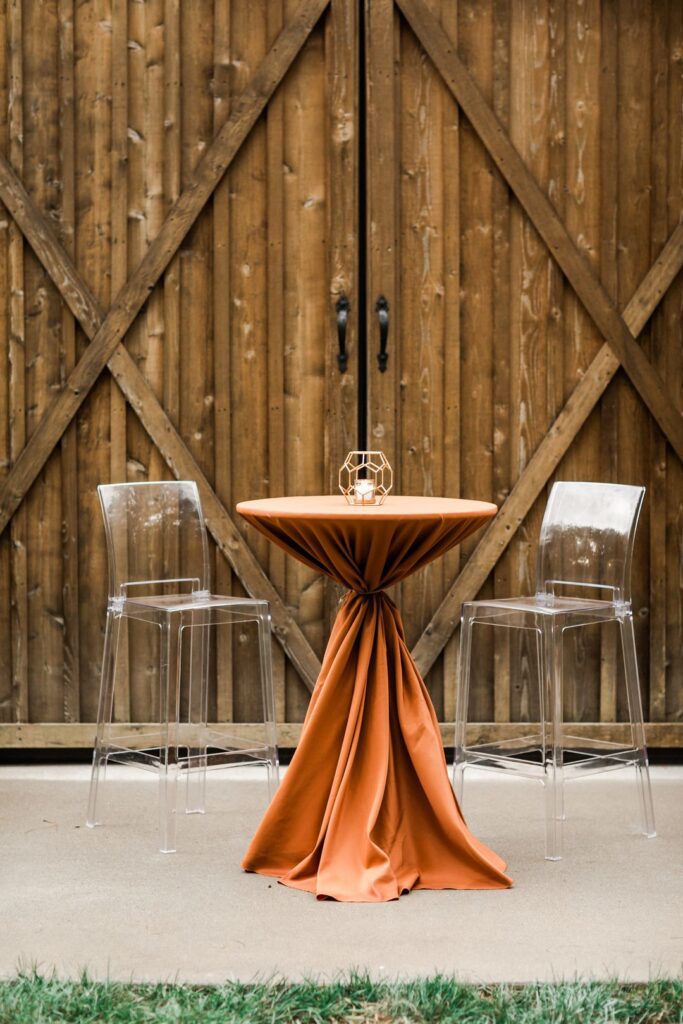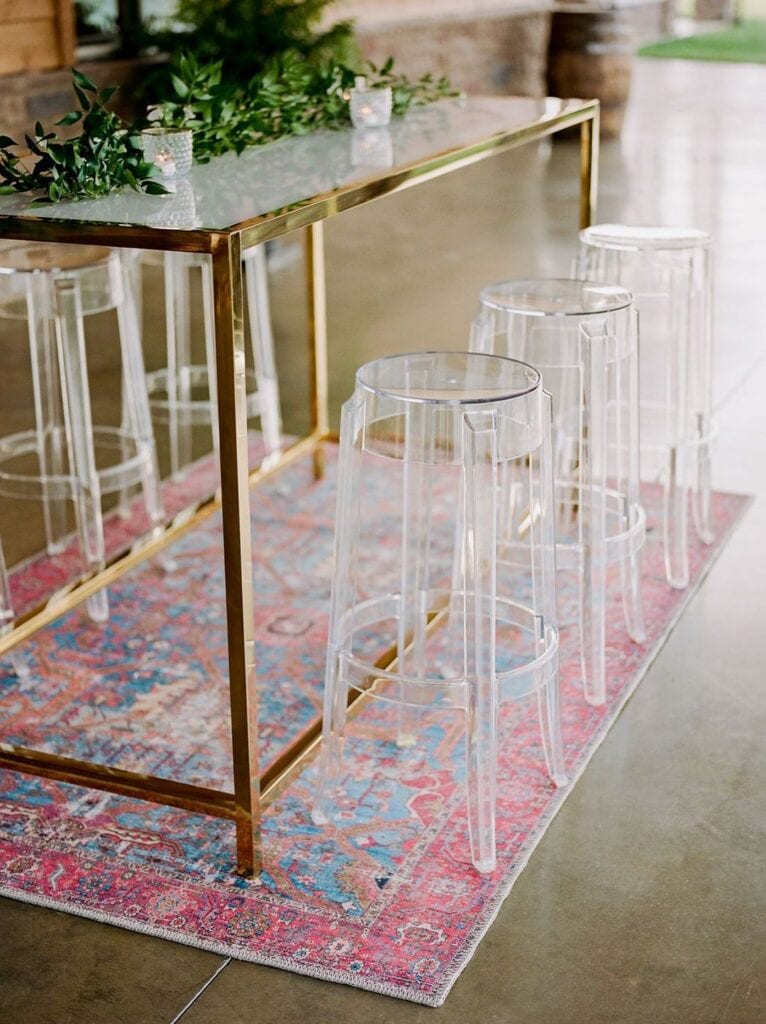 Our acrylic chairs book up fast! To feature any of these pieces at an upcoming event, send our team a message at info@southerneventsonline.com. For more modern event design inspiration, check out our blog on Modern Minimalist Event Design.
TAGS | Acrylic Chairs, Acrylic Ghost Chairs
FEATURED RENTALS | Acrylic Ghost Arm Chair, Acrylic Ghost Armless Chair, Acrylic Chiavari Childrens Chairs, Fruitwood Farm Tables, Acrylic Carrigan Side Chair, Acrylic Ghost Barstool, Acrylic Casper Oval Back Barstool, Acrylic Casper Square Back Barstool, Acrylic Fantasma Side Chair,
---
20

Sep

Southern Events Products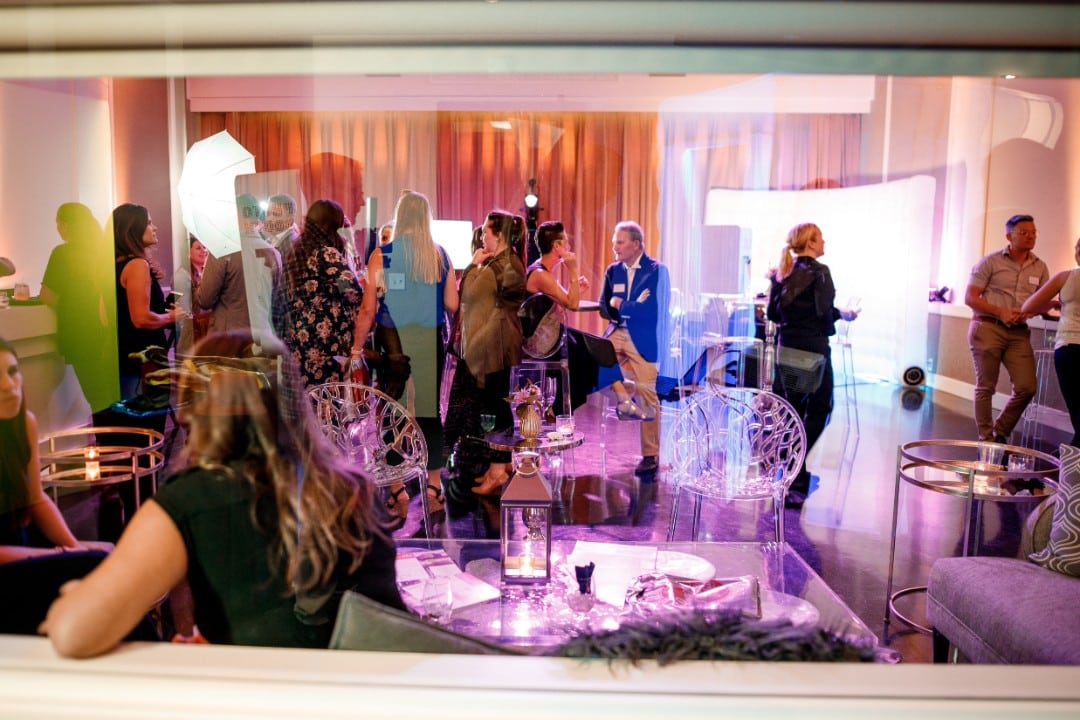 Our team at Southern Events Party Rental Company loved lending our distinct event rentals to help Nashville's own Premier | The Entertainment Company showcase their available and upcoming services. Hosted at Eugenia Hall, this intimate, invitation-only event for local event and wedding planners was an all-out Nashville good time!
We created an ultra-modern aesthetic that emulated Premier's cutting-edge entertainment services. This reception style event was the perfect place to show of some of our new modern lounge pieces and acrylic chairs. These sleek but comfortable pieces are the perfect way to instantly transform any venue into a modern and chic space!
In the lounge, we paired our delightfully whimsical Acrylic Fantasma Side Chairs with our Echo Silver Mirror Side Tables for a luxe modern look. Our cozy London Loveseats, decked out with textured throw pillows, added more comfortable seating for guests as they explored Premier's sound and entertainment offerings. We created a complementary but separate bar space nearby with our Acrylic Casper Oval Back Barstool and Jackson Silver Bistro Tables – perfect for creating a visually arresting and inviting seating area. Industry professionals sipped craft cocktails prepared by local mixologist J.Jackson and enjoyed gourmet hors d'oeuvres prepared by Dream Events & Catering.
We loved rocking out with our fellow Nashville event professionals! Huge thanks to Courtney Davidson for the photos!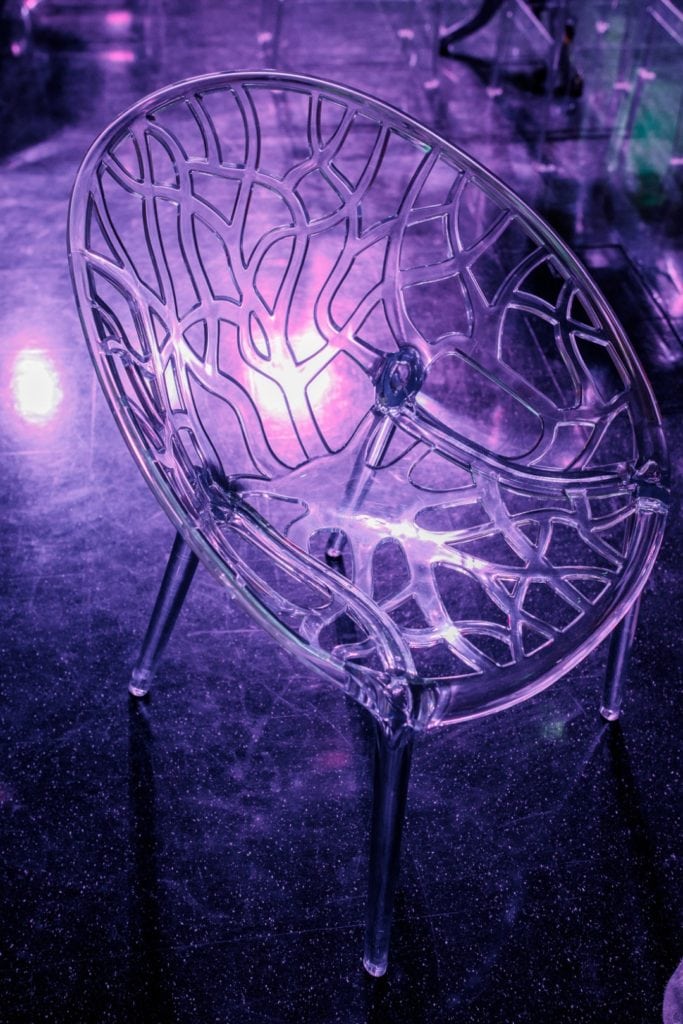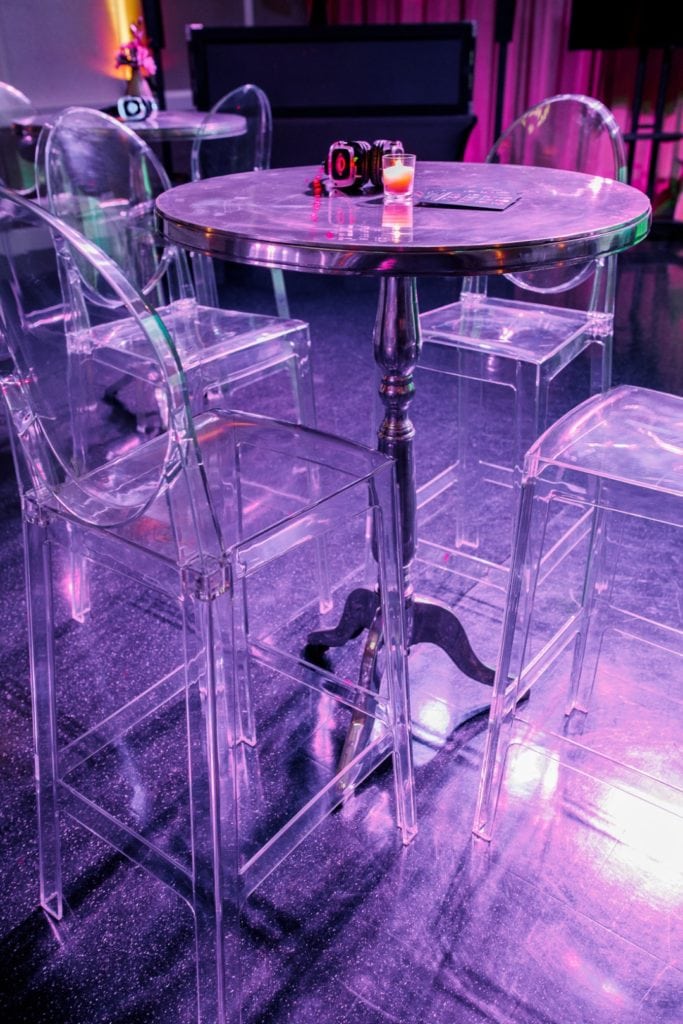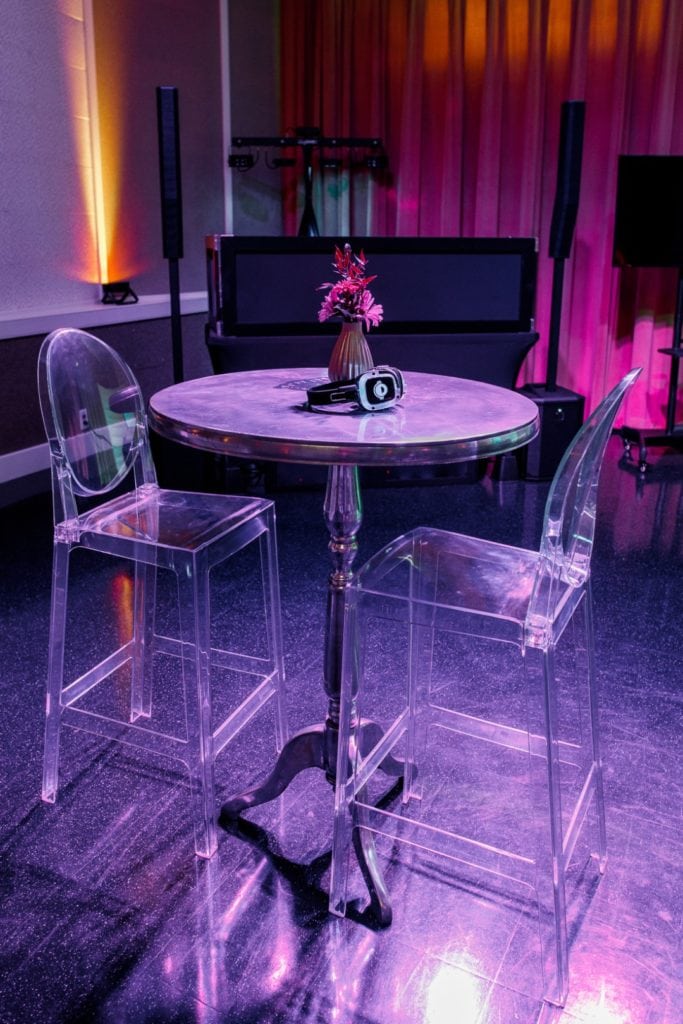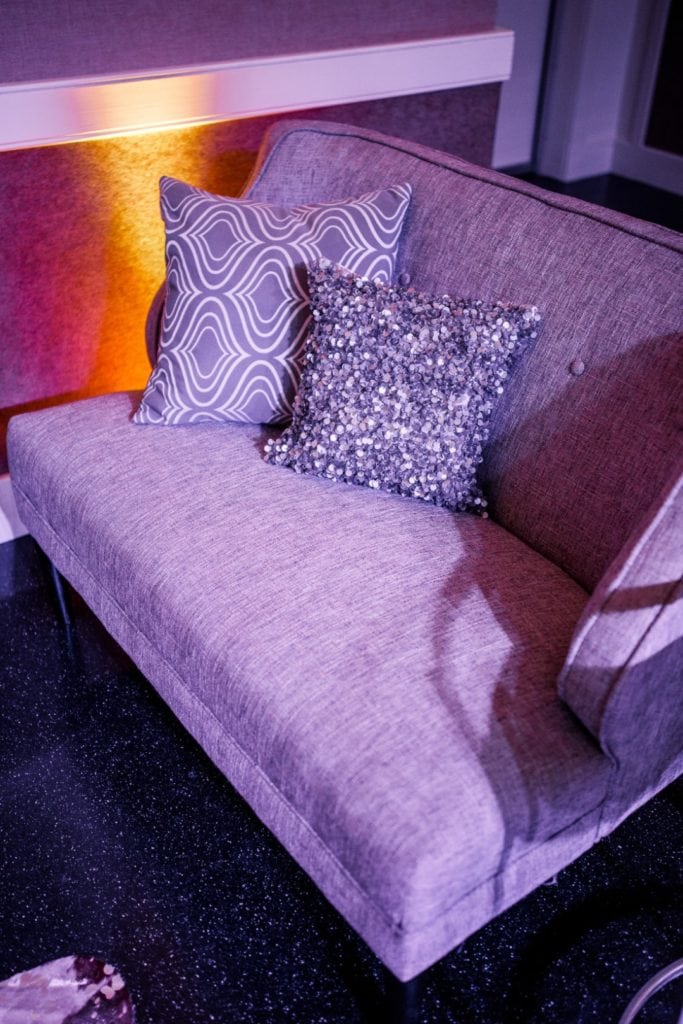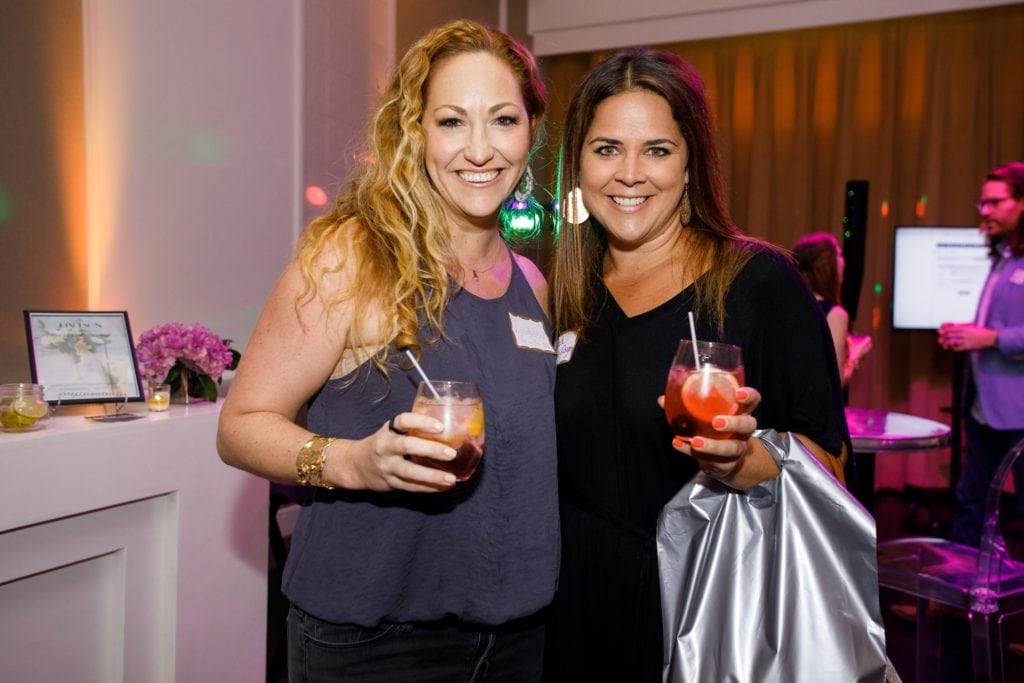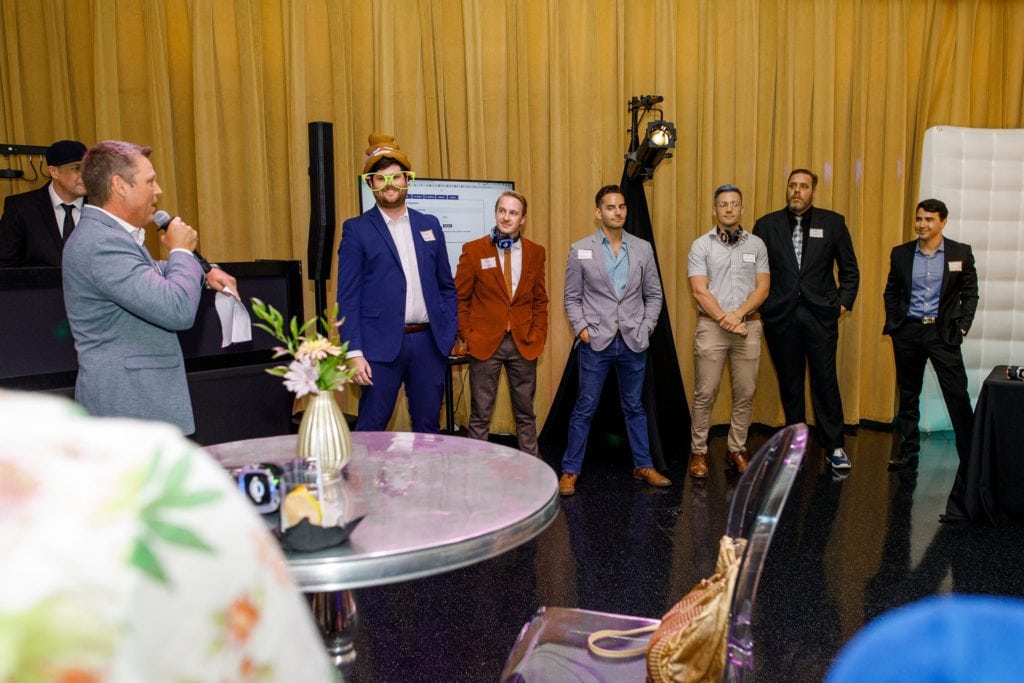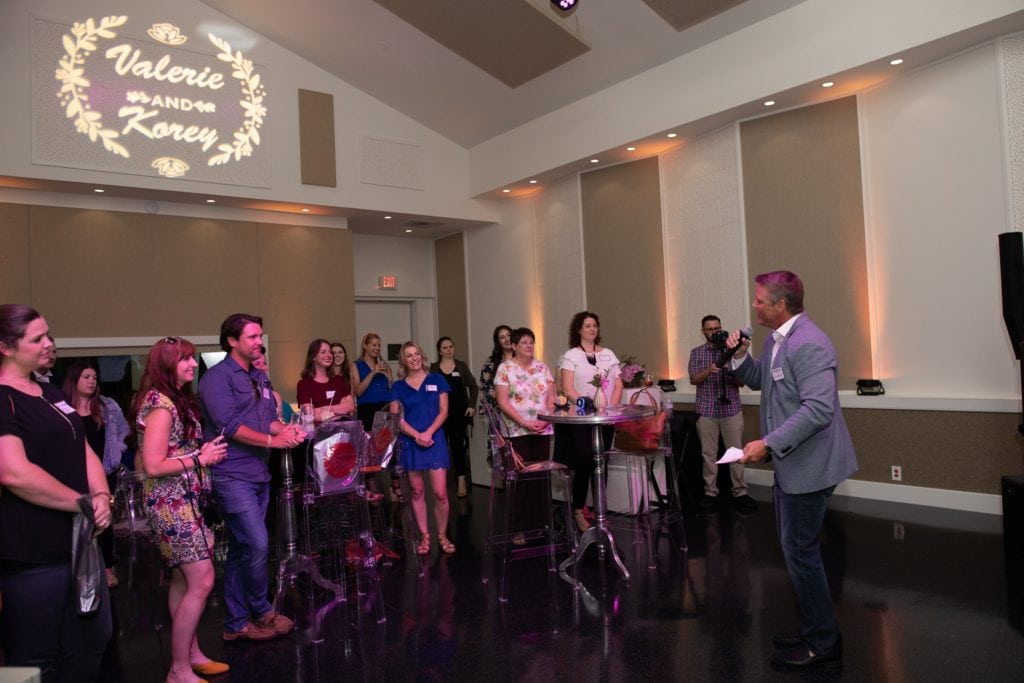 TAGS | Acrylic Casper Oval Back Barstool, Acrylic Chairs, Echo Silver Mirror Side Tables, Jackson Silver Bistro Tables, London Lovseats, Nashville Event Rentals, Nashville party rentals, Southern Events Party Rental, Southern Events Party Rentals, event rentals in nashville, nashville party, tennessee event rentals
FEATURED RENTALS | Acrylic Fantasma Side Chair, Echo Silver Mirror Side Table, London Lovseats, Acrylic Casper Oval Back Barstool, Jackson Silver Bistro Tables
---
7

Jun

Southern Events Products, Trends and Inspiration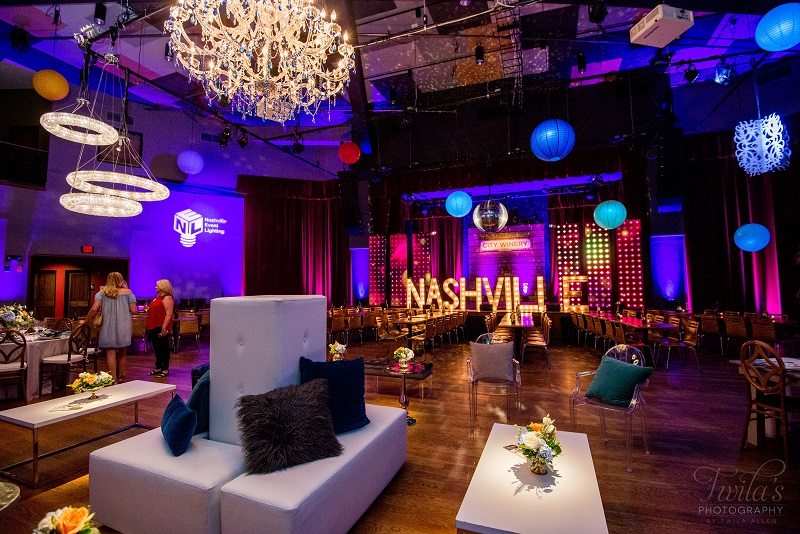 These days modern and chic event rentals are all about clean lines, futuristic feels and reinvented classics. Southern Events has the modern event rentals in stock to give your next Nashville or Franklin, TN party a fresh and forward-looking feel.
Acrylic Chairs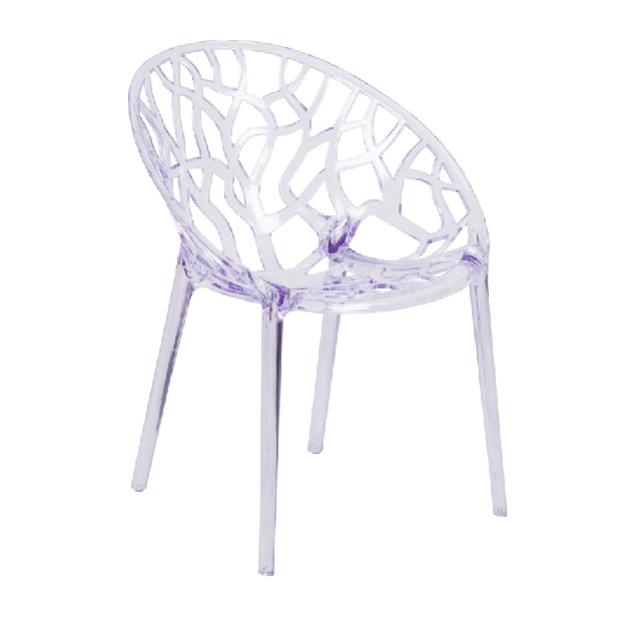 Our sleek acrylic chairs instantly modernize any event design. From the clean, clear lines of our Ghost Arm Chair to the eye-catching architecture of the Fantasma Side Chair, these unique chairs are form and function in one.
Marble Plates
Marble is a classic look but shown in a new way, make it modern and chic. Our Carrera Marble Dinner Plates  make a sophisticated addition to any wedding or event tablescape and can be played up with dark jewel tones for a high drama look.
Capriano Marble Table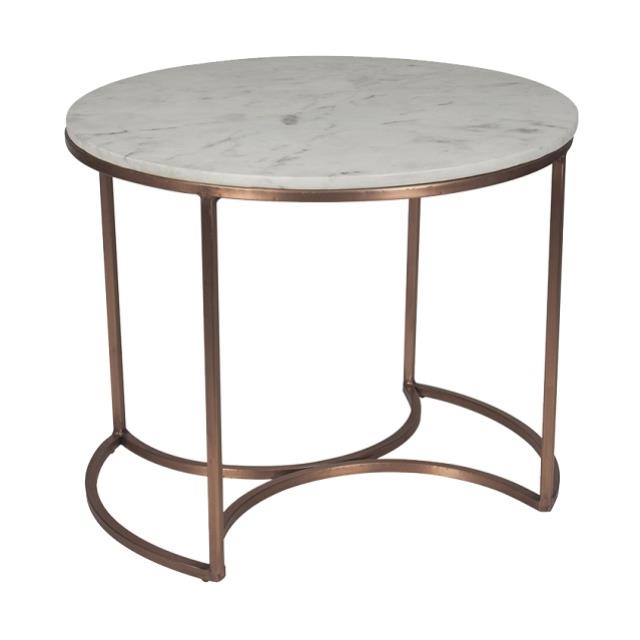 Art-deco inspired with a unique shape and a classic marble top, the gorgeous Capriano Marble and Copper Accent Table is a must-have for any modern lounge. Modern event rentals are sleek yet functional – we love the metalwork detail of this sculptural piece! We're certain your guests will swoon over it too!
Echo Side Tables
Simplicity is a core design element of our chic modern event rentals. We have sleek ansd silver tables for rent that are easy to mix and match for the perfect modern event design. Our Echo Silver Mirror Side Tables are a perfect example: eye-catching without being overdone.
Mercer Furniture
When it comes to modern lounge seating, you want white furniture and clean lines. Plus, you want function and style to match your overall event decor. Our Mercer Furniture Collection is the perfect modern event rentals – from the White Leather Couch and Ottoman to the cleverly-constructed L Shaped Bench and White Tower with built in power for corporate events.
Cybil Glassware
Our striking Cybil Glassware is a must for a modern & chic table setting. The unexpected lines of this elegant glassware exude chic, forward-thinking design.
Black & White Triangle Plates
We love a dramatic black and white color scheme for a chic modern event, so it's no surprise that our Black & White Tribeca Triangle Plate is one of the hottest items in our inventory. These designer plates add a cool geometric element to any place setting. We especially love them with gold accents, or on display at a buffet.
Copper Flatware
The key to keeping modern design fresh is simply adding a few warm touches to complement the sharp angles and cool color palette. Our Brushed Copper Flatware is a fantastic touch to finish off a modern table setting, particularly when allowed to pop against a clean white background!
Love this look? Discover how to create the perfect modern design and add modern event rentals to your Nashville and Franklin, TN events, info@southerneventsonline.com.
TAGS | Acrylic Chairs, B&W Triangle Plates, Black and White, Capriano Marble Table, Chic Event Decor, Chic Modern Design, Copper Flatware, Cybil Glassware, Echo Side Table, Marble Plates, Mercer Furniture, Modern Furniture, Modern Prop Shoppe, Nashville Event Rentals, Nashville party rentals, Southern Events Party Rental, Southern Events Party Rental Company, upscale event decor, upscale wedding decor
FEATURED RENTALS | Acrylic Chairs, Marble Plates, Capriano Marble Table, Echo Side Table, Mercer Furniture, Cybil Glassware, B&W Triangle Plates, Copper Flatware,
---