7

Apr

Southern Events Products, Trends and Inspiration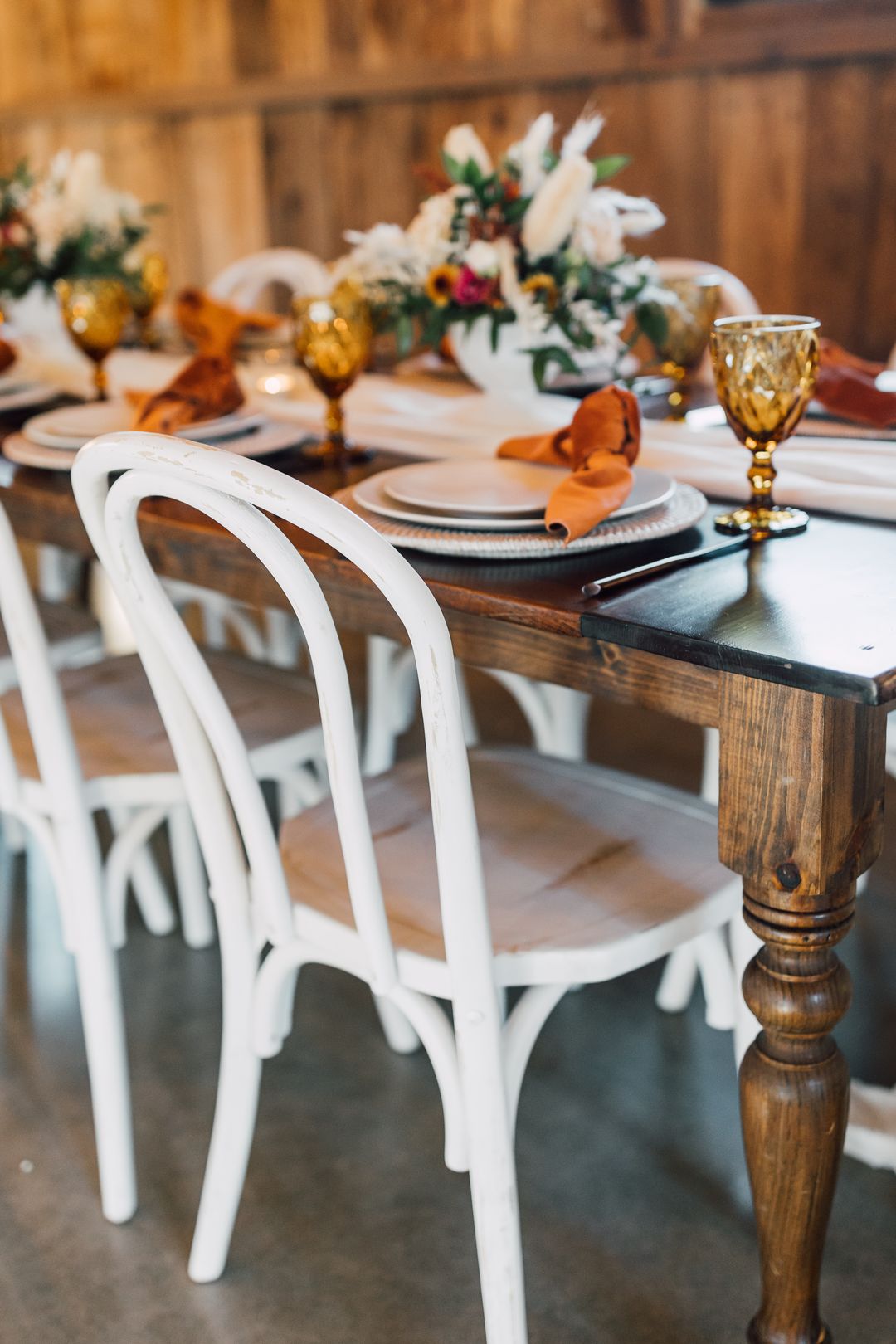 Don't underestimate the impact stylish seating can have on your event! An essential piece of furniture for your wedding ceremony and reception, the chairs you feature are an easy way to take your celebration to the next level. Today we're sharing our in stock wedding chair rentals, with unique styles for every type of event! Including classic folding and wood chairs, plus on-theme options!
Wood Chairs
Let's start with the most popular option, wood chairs for rent! These beautiful pieces tend to be desirable as they lend an elegant and timeless look to an event, thanks to the natural wood stains. They look especially beautiful in an outdoor setting, such as a backyard ceremony or tented reception. The go-to is are our Cross-Back Chairs with their sleek design. However, our Adeline and Harlin Dining Chairs are stunning statement pieces that offer a more high-end look. Just don't forget to add a cushion for extra comfort!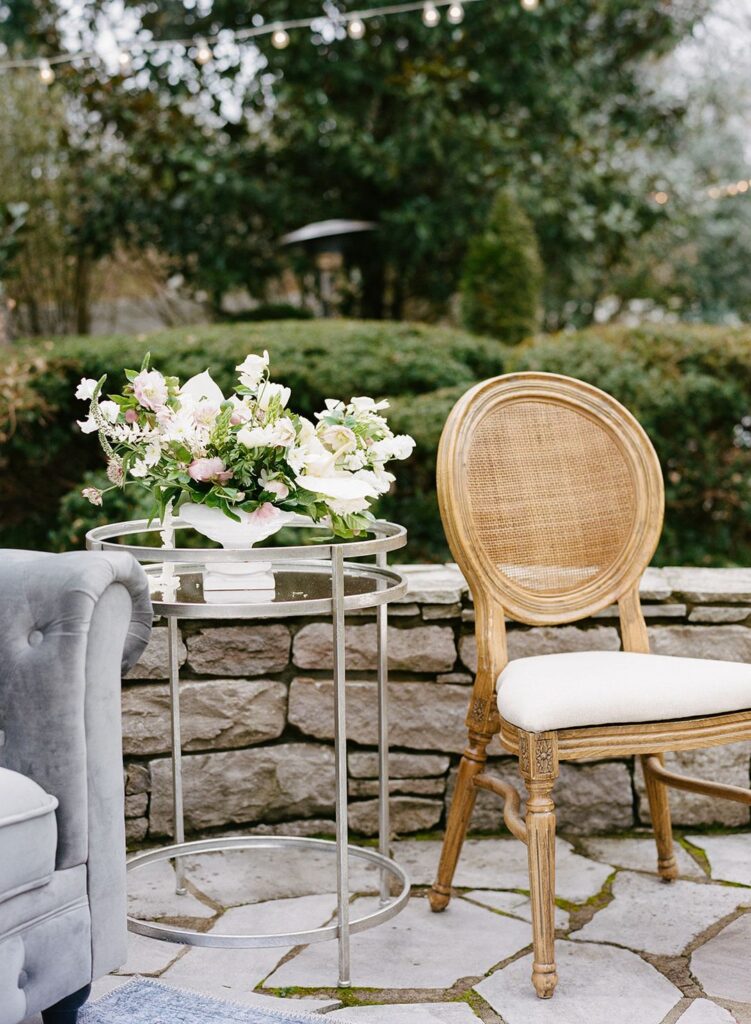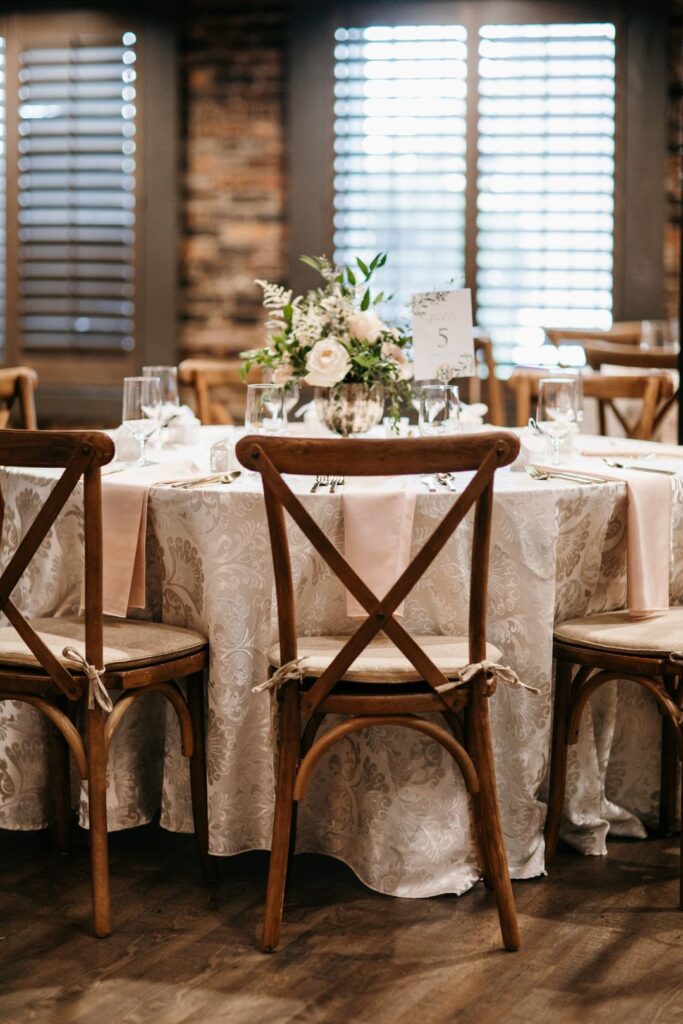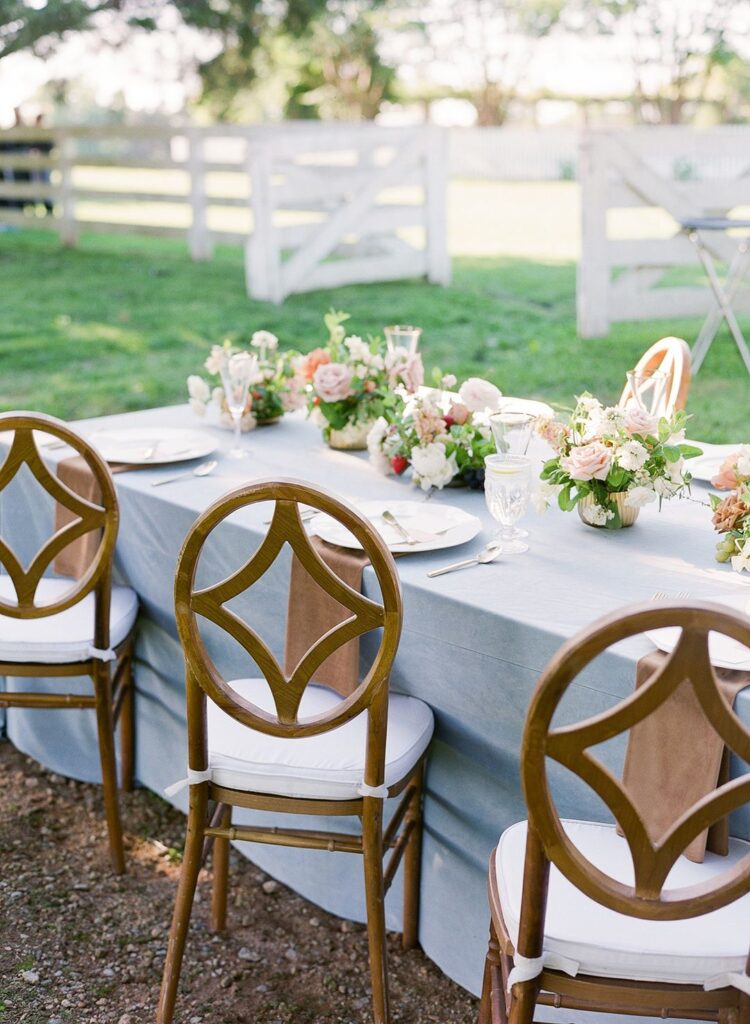 Classic Event Chairs
Sometimes keeping it classic is best, especially for those who prefer are hosting a casual event or have a more understated style. We offer a variety of folding chairs for rent, with our Fruitwood Folding Chairs being the most popular color. They are also available in a classic white and black. Or, for a more glam event style, opt for our Chiavari Chairs with their details backs – available in black, fruitwood, gold, and white!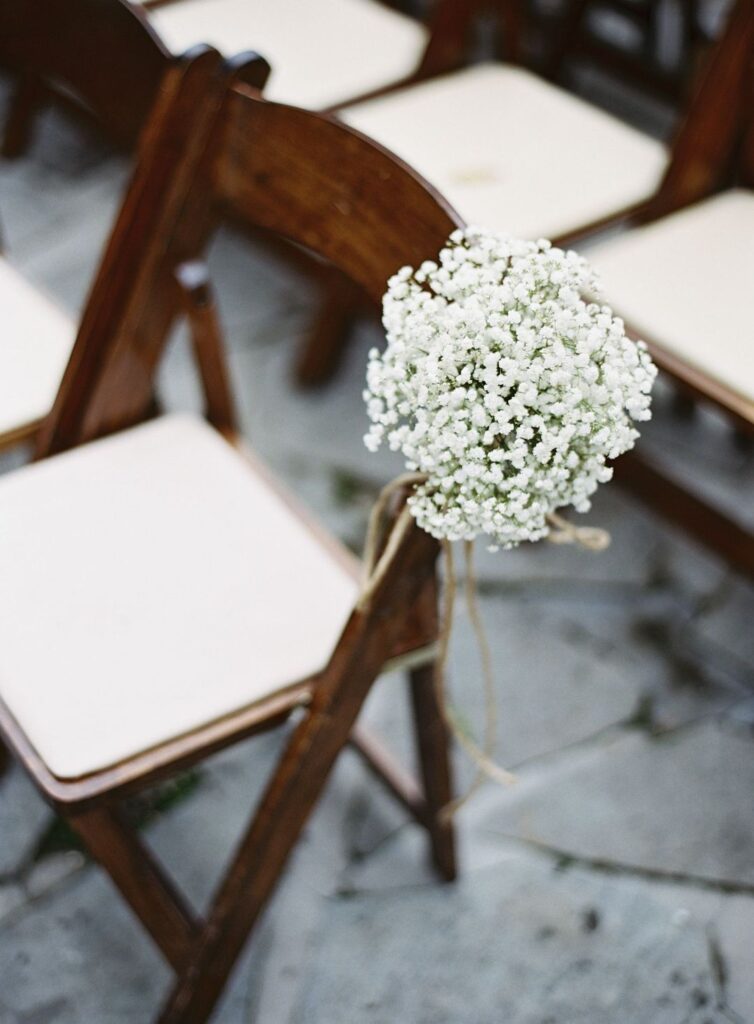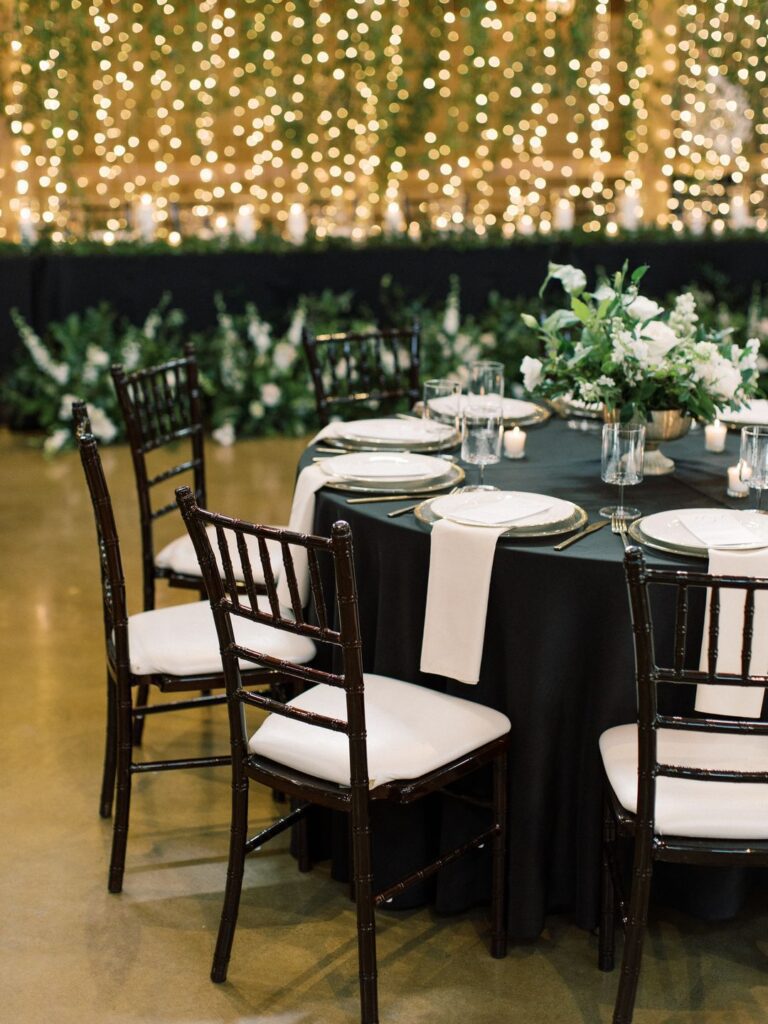 Contemporary Event Chairs
A more recent addition, and our current favorite, are our selection of acrylic event chairs. Made of polyacrylate, these clear chairs lend a fun contemporary vibe to an event. They're a beautiful choice for both ceremonies and receptions, and we carry a variety of unique designs. For a more subtle look, opt for our Acrylic Ghost Armless Chair – also available with arms. If you like a bit more detail, feature our elegant Acrylic Carrigan Side Chairs.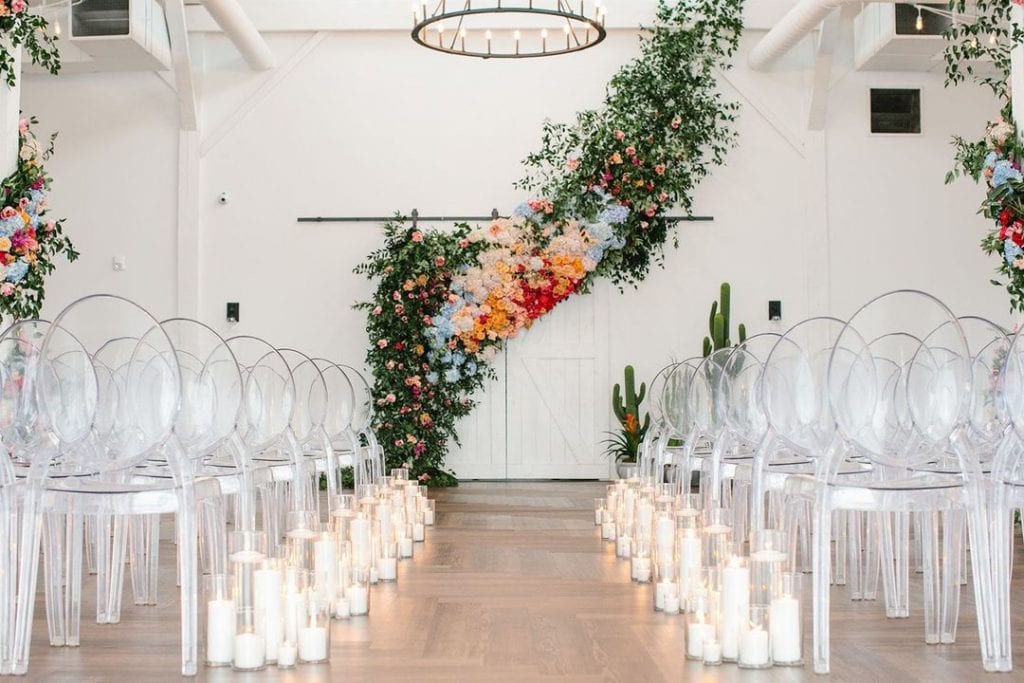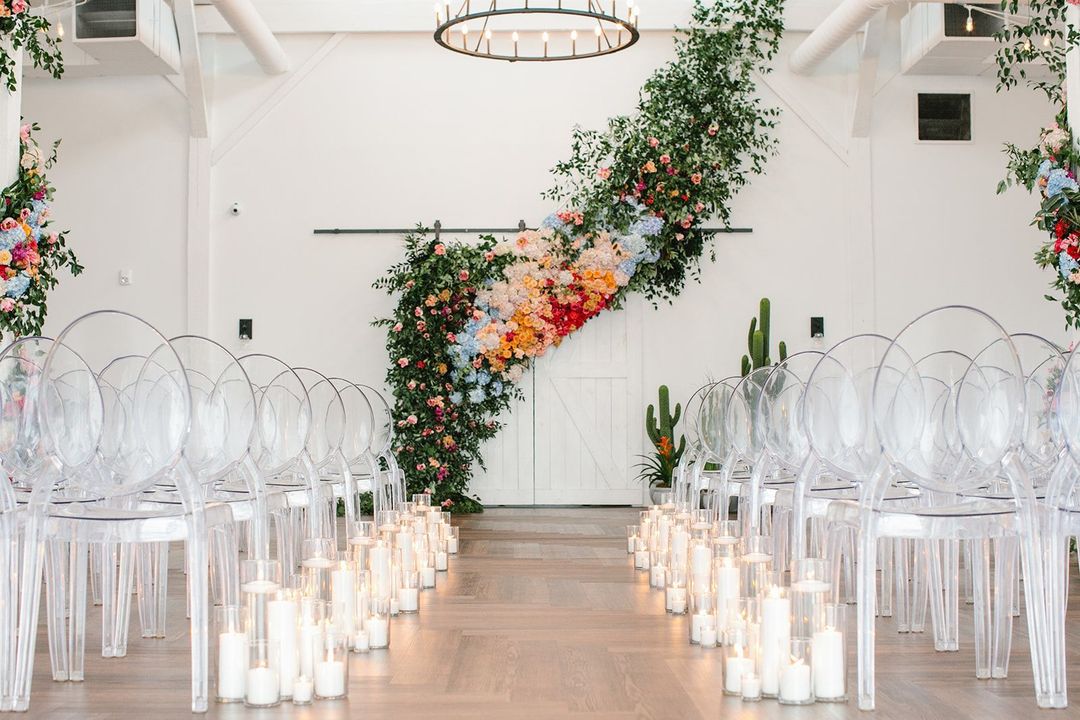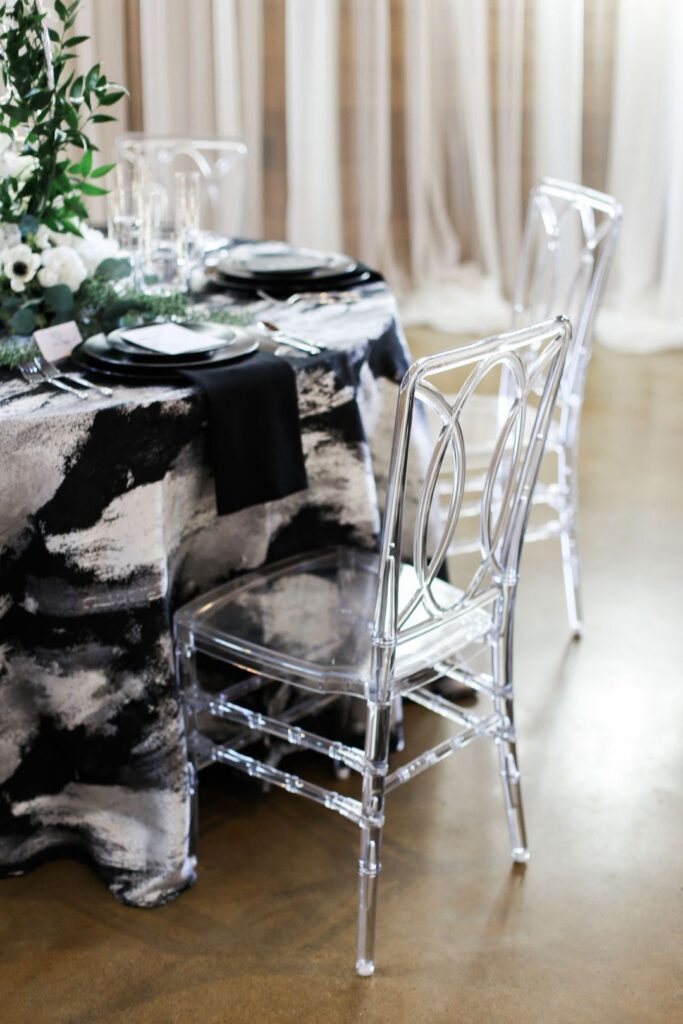 Vintage Event Chairs
In recent years there has been an uptick in an appreciation for vintage event chairs with their dainty details and classic designs. They are a gorgeous choice for rustic events, as well as modern events with a vintage twist. A prime example being our Antique White Bentwood Chairs! However, we also offer throne chairs for couples who want a more regal-inspired look. Both our Constance and Provence Cathedral Chairs are perfect for those who want to create a memorable sweetheart table.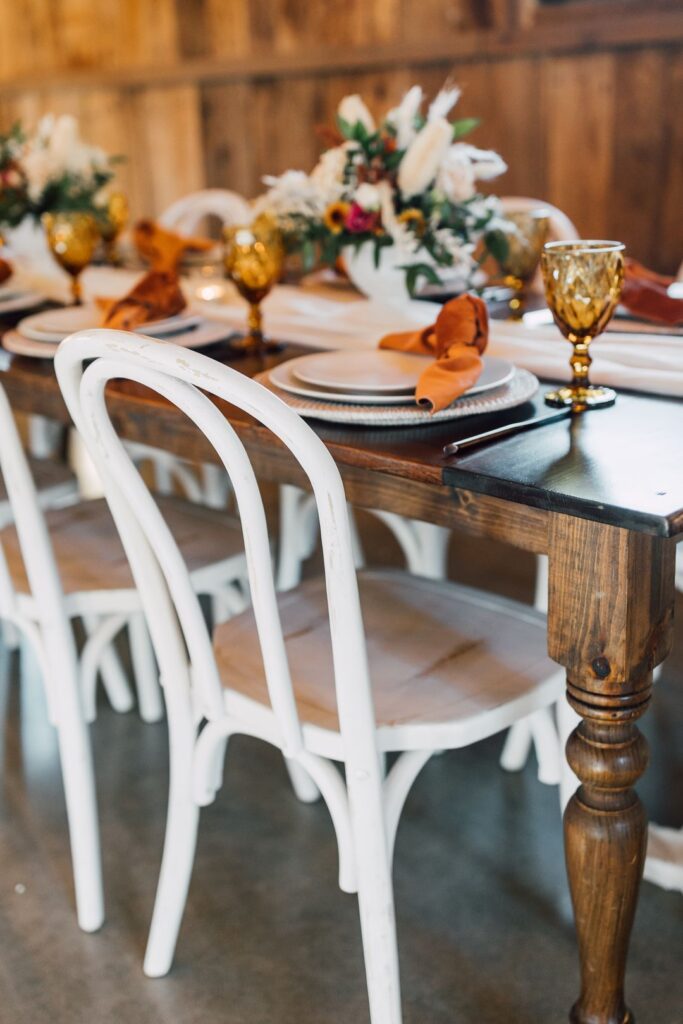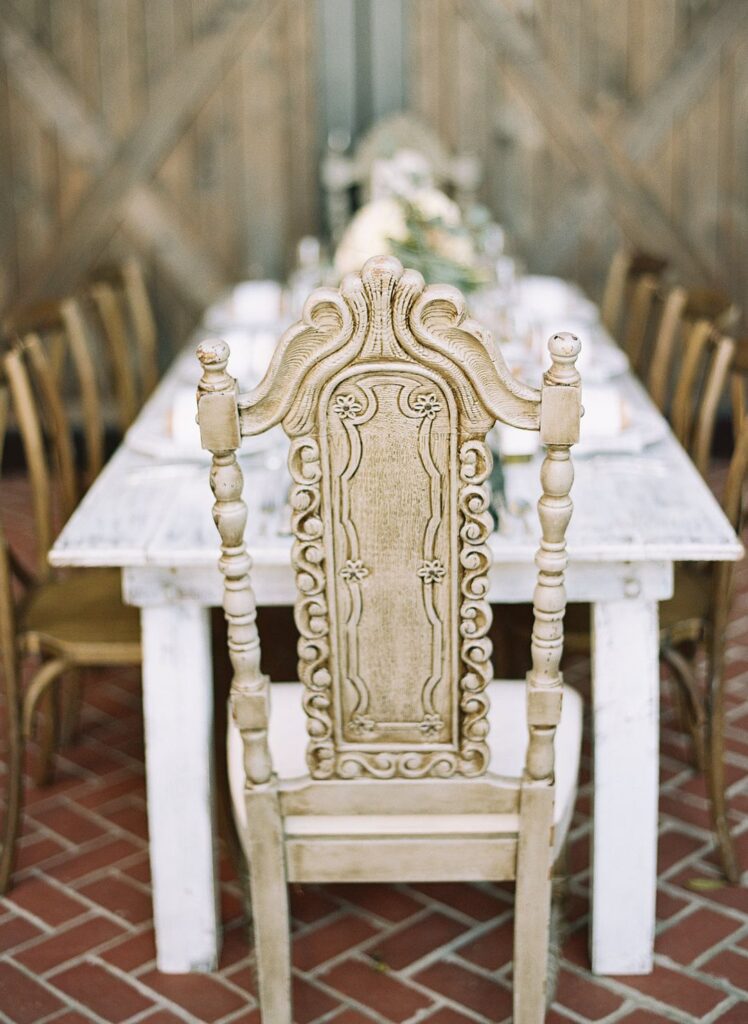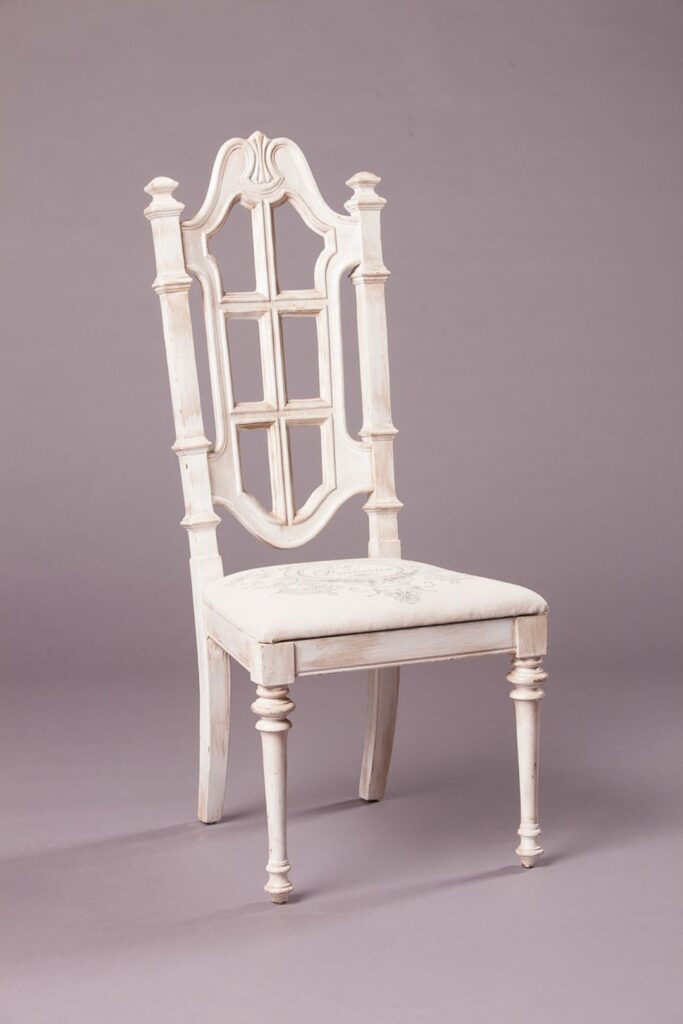 Love these elegant wedding chair rentals? Send our team a message at info@southerneventsonline.com to secure these rentals for your big day. Or for more event seating inspiration, take a look at our Natural Luxe Lounge Furniture.
TAGS | Cross-Back Chairs, Event Seating, Ghost Chairs, Nashville Wedding Rentals, Vintage Chairs, unique seating, wedding chairs, wedding style trends
FEATURED RENTALS | Constance Chair Provence, Cathedral Chair, Adeline Dining Chair, Cross Back Chair, Harlin Dining Chair, Chiavari Chair, Folding Chair, Acrylic Carrigan Side Chair, Acrylic Ghost Armless Chair, Antique White Bentwood Chair,
---
16

Sep

Southern Events Products, Trends and Inspiration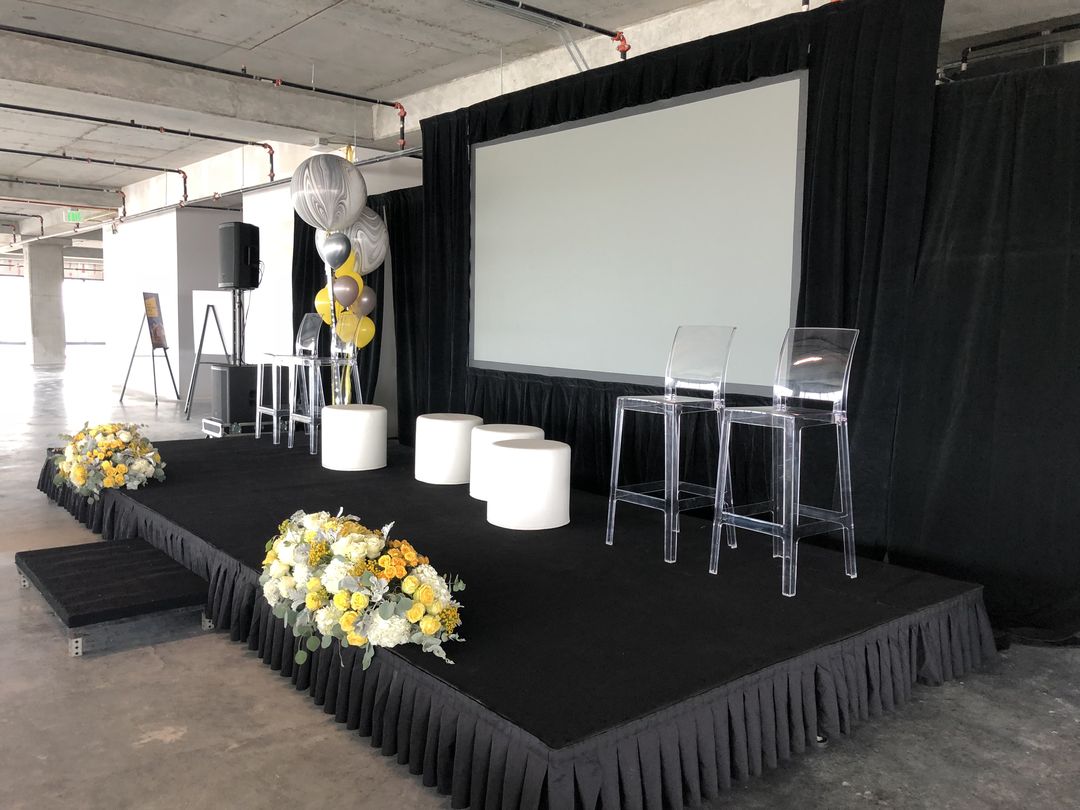 With virtual options becoming more normalized for corporate meetings & summits – but attendees still wanting in-person experiences, we expect to see more and more hybrid meeting options.  Hybrid corporate summits bring together attendees both in person as well as virtual, making for unique opportunities and challenges when setting the stage and choosing your rentals. After all, they're still meant to inform and inspire – and impress! To help you host a memorable corporate event for our new normal, check out our essential event rentals that are as functional as they are stylish. Plus! Be sure to grab a copy of our Event Essentials Guide with tips and tricks.
Camera-Ready Stage Set-Ups
It's important to create the right focal point for your event! A stage that is comfortable, stylish, and on-brand as well as virtually interesting is key.  From unique stage seating to out-of-the-box chairs, Southern Events Party Rental Company offers quite the selection to choose from. Our Bennett and Henley Sofas, Eiffel Chairs, Adeline Chairs, Rory Chairs, and Farrah Chairs offer stylish, unique, and comfortable seating for the speakers as they sit on the stage. Accent tables make for a cozy and complete look (as well as a perch for speaker notes or water). Be sure to also consider your stage backdrops – they help frame the space and create a uniform look for virtual users. We love our Boxwood Walls and Pipe & Drape for stage backdrops.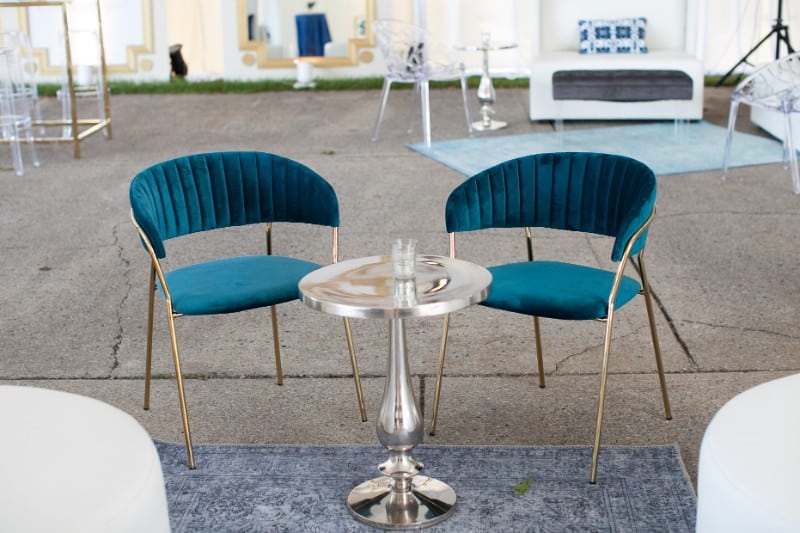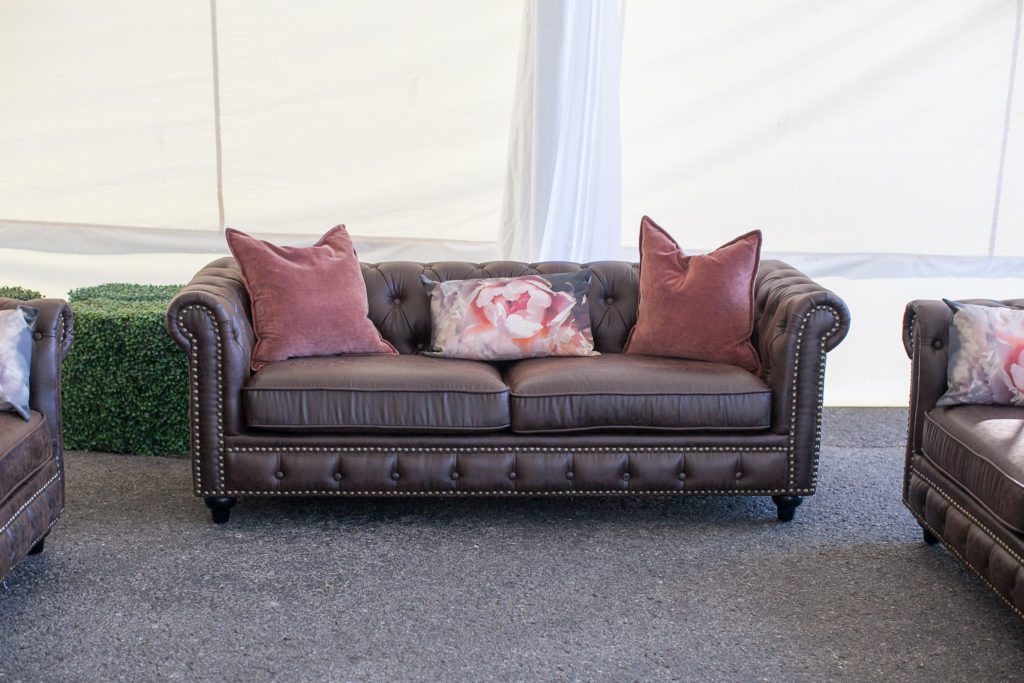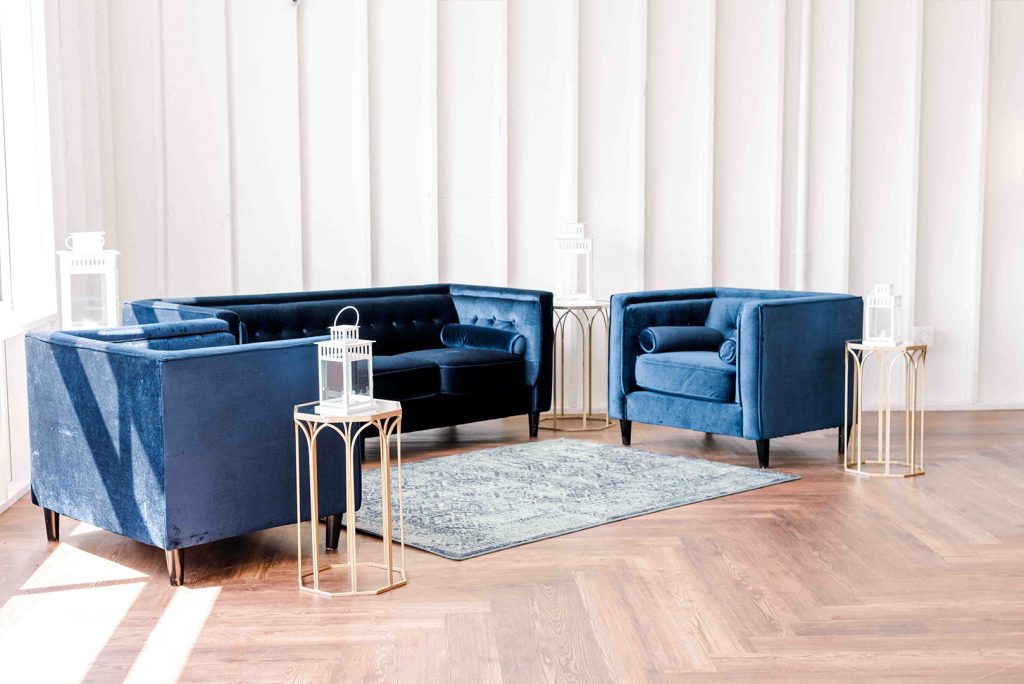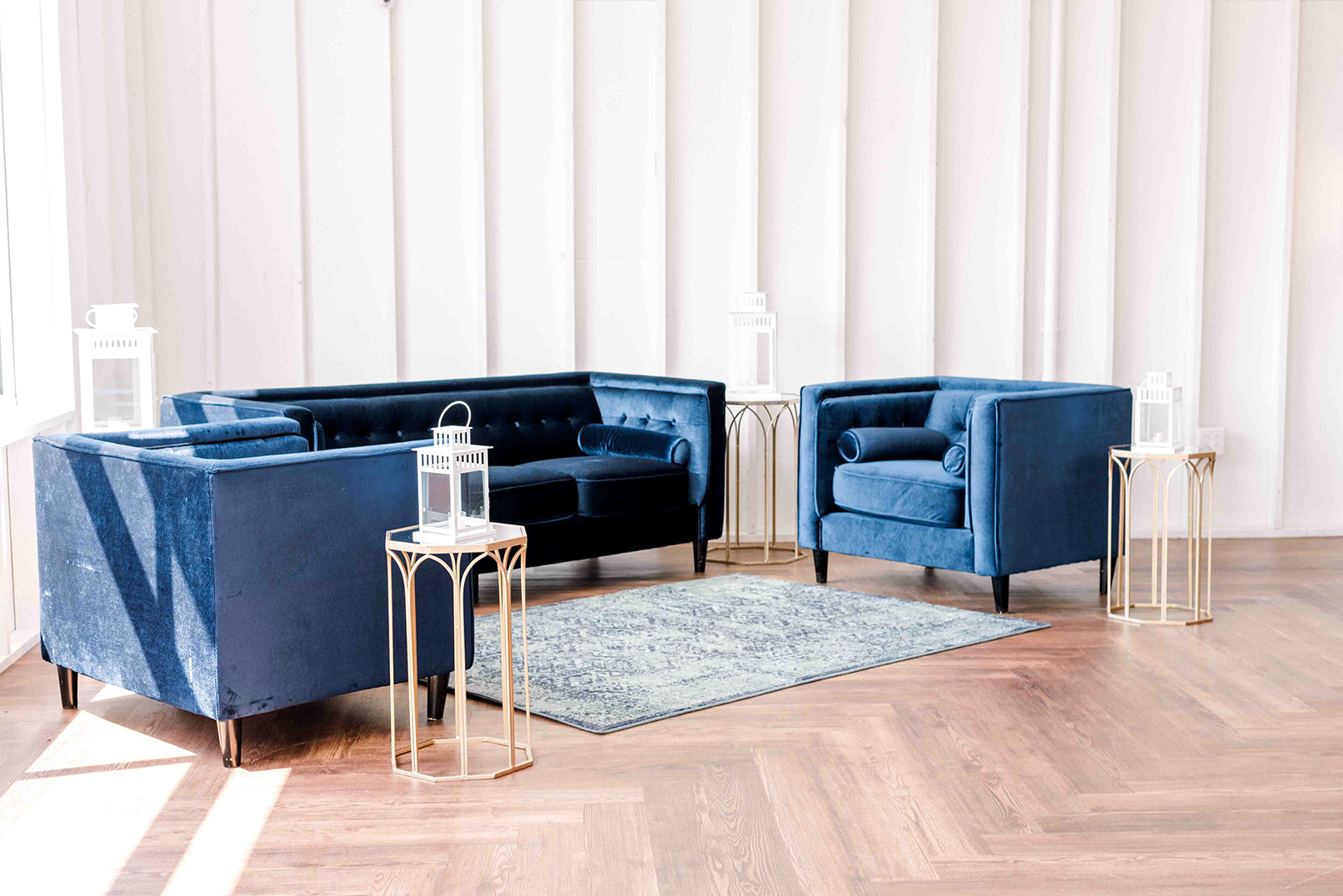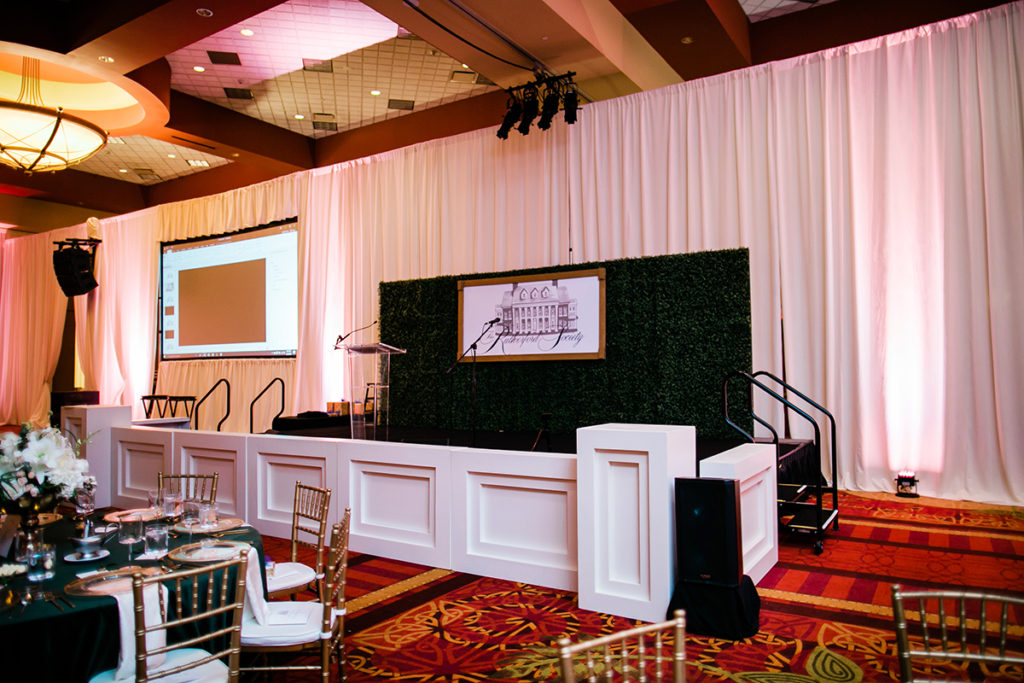 Stylish Lecterns
If you are hosting a more formal speaker or handing out awards, then you will need a lectern. Helpful for keeping your guests front and center, as well as amplifying their voice, they are a staple whether or not you have staging. It will also create a more overall organized event layout! In addition to providing a focal point for in-person guests, it will make live streaming easier for the camera crew as there is an obvious mark for people to speak from on stage. Our Acrylic Lectern is a unique contemporary (and customizable with a cling) choice, while Black Metal is a classic.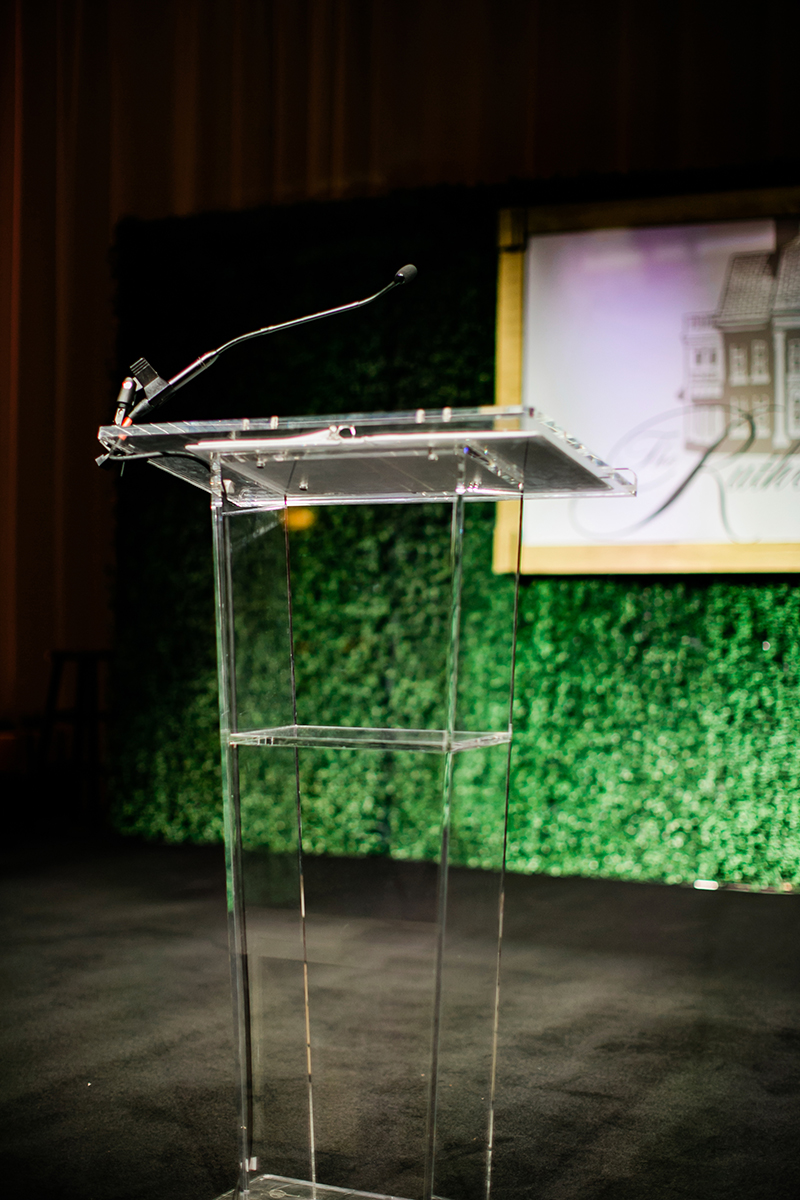 Upgrade Your Seating for In-Person Socializing
Want to uplevel your event seating? Make the space extra special for in-person attendees and opt for fun contemporary pieces, like our Acrylic Chairs. Available in a variety of styles, they make for a unique addition to any table. You'll also want cozy lounge and bistro areas. Whether they are used for breakoff sessions or breaks between speakers where people can spread out. Check out our Mercer Collection (with built-in charging ports) or Pearce Furniture. Or opt for one or two of our curated lounge packages, complete with sofas, chairs, rugs, and accent tables.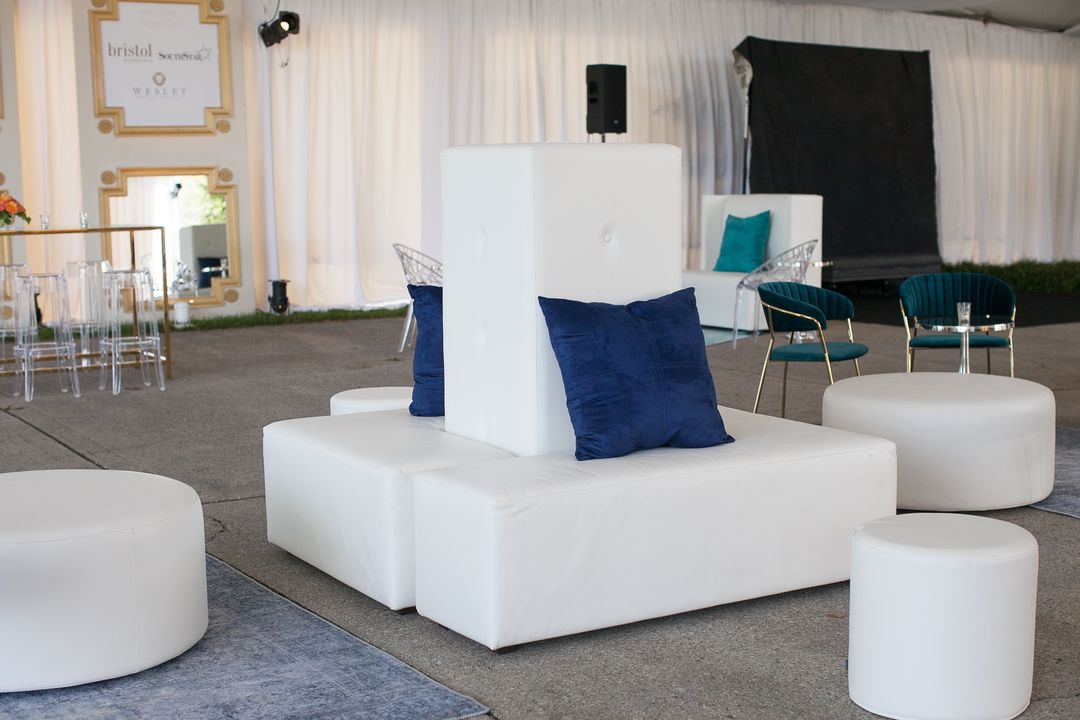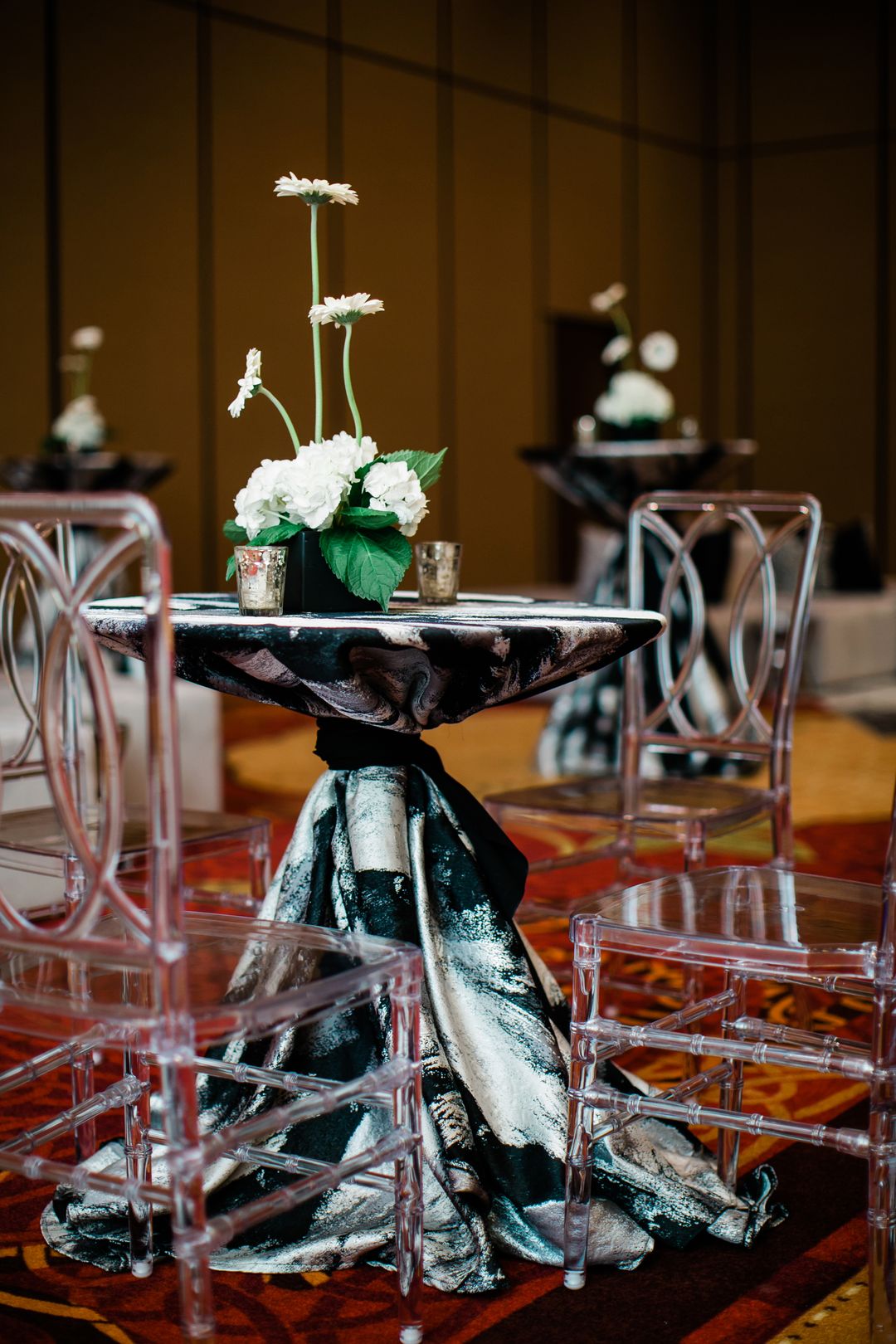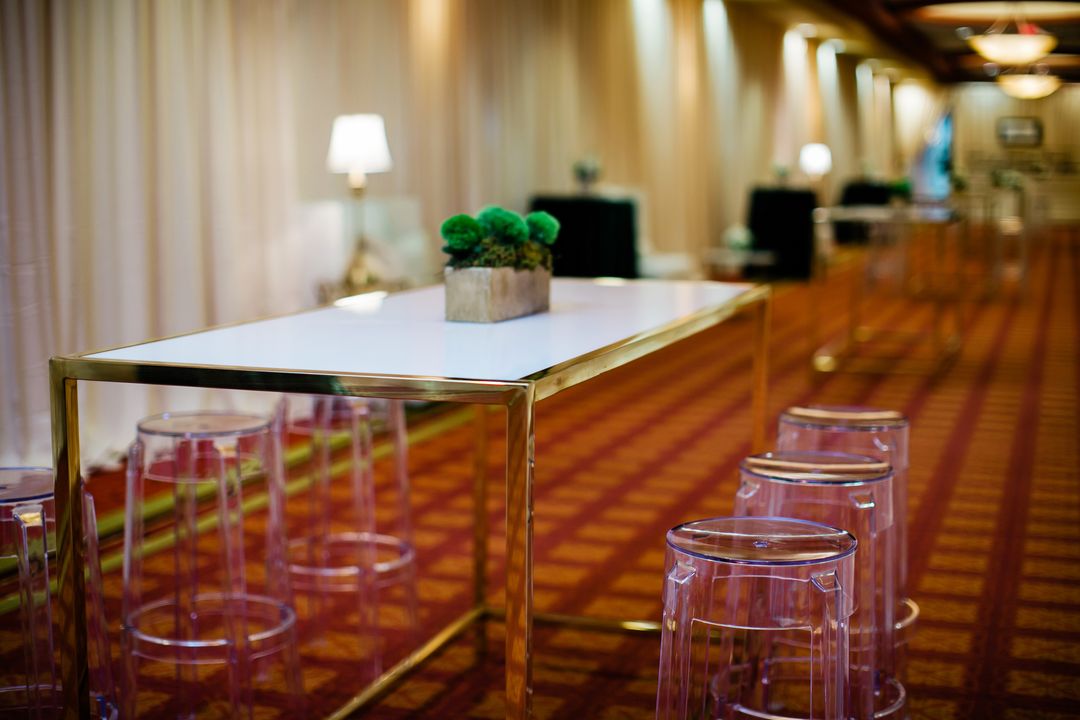 Show Off Your Brand
Because corporate summits exist to instill pride and cast vision, weaving on-brand materials and signage throughout the event is typically a strong move in the right direction. You can do this through our customizable Harpeth Bar. As well as custom pillows or colorful clings placed on the back of seating. Or opt for a memorable, photo-worthy entryway, made using our elegant Boxwood Walls.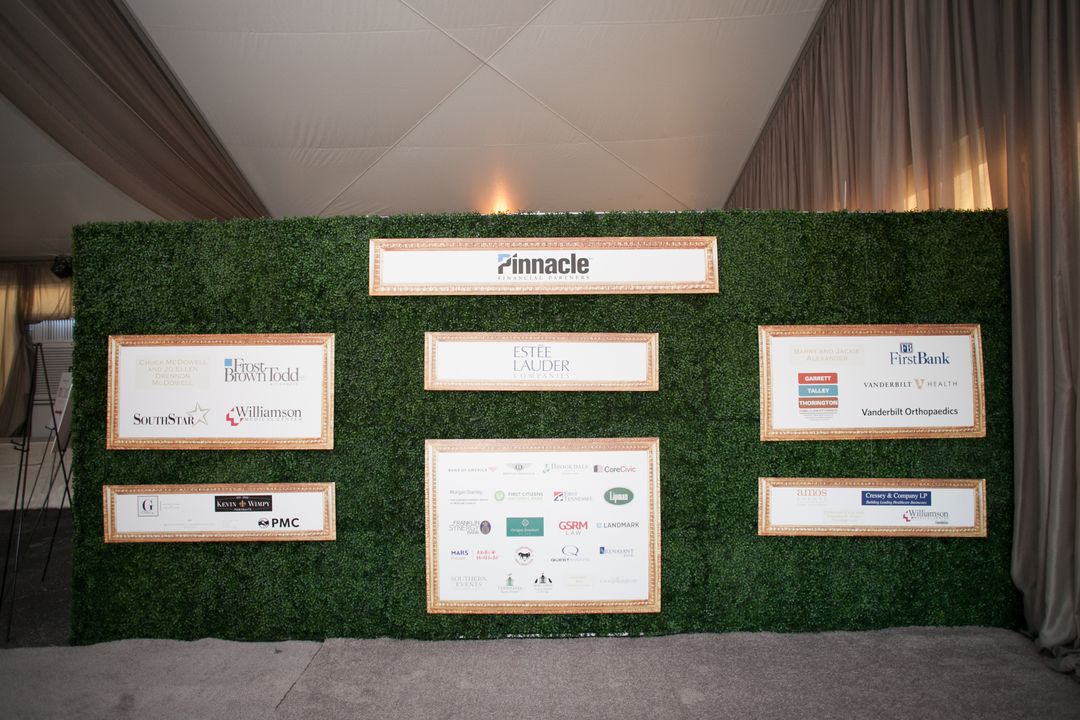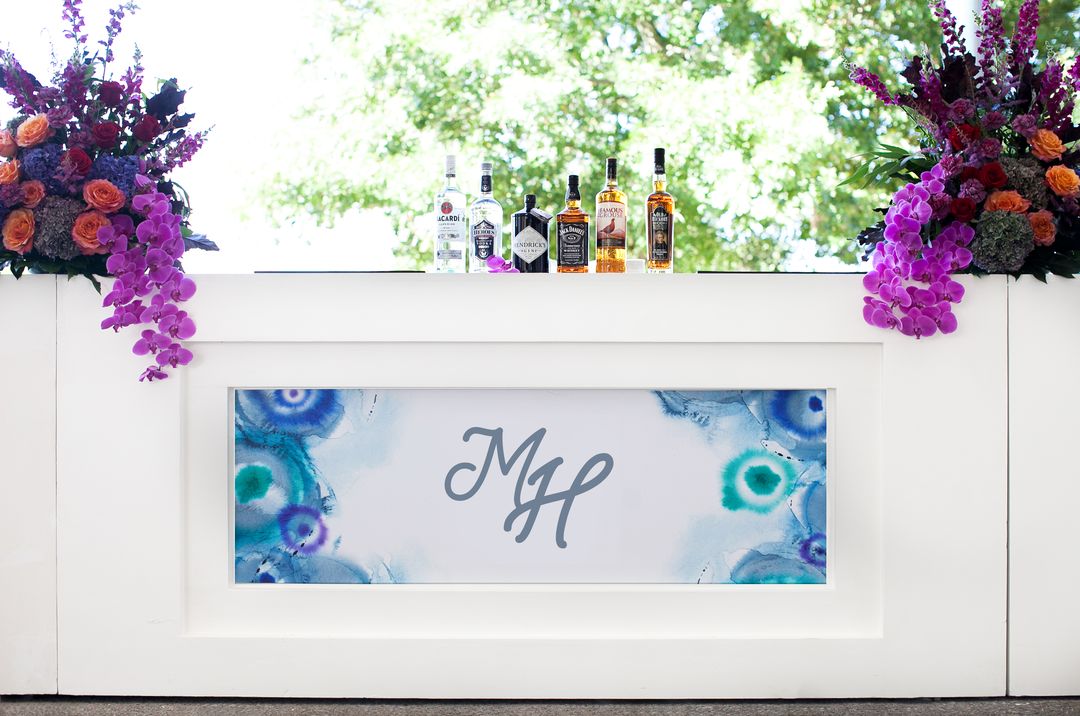 Need help planning your one-off or annual hybrid corporate summits? Our team would love to help you create an event that is stylish and functional. Send us a message at info@southerneventsonline.com, and let's get started!
TAGS | Corporate Summits, Event Seating, Event Staging, Nashville Event Rentals, Southern Events Party Rentals, Unique Nashville Event Rentals, corporate event rentals, lounge seating, unique seating
FEATURED RENTALS | Henley Sofa, Bennett Sofa, Farrah Chair, Boxwood walls, acrylic lecterns, harpeth bar, acrylic chairs, mercer collection, pearce furniture,
---
29

Nov

Southern Events Products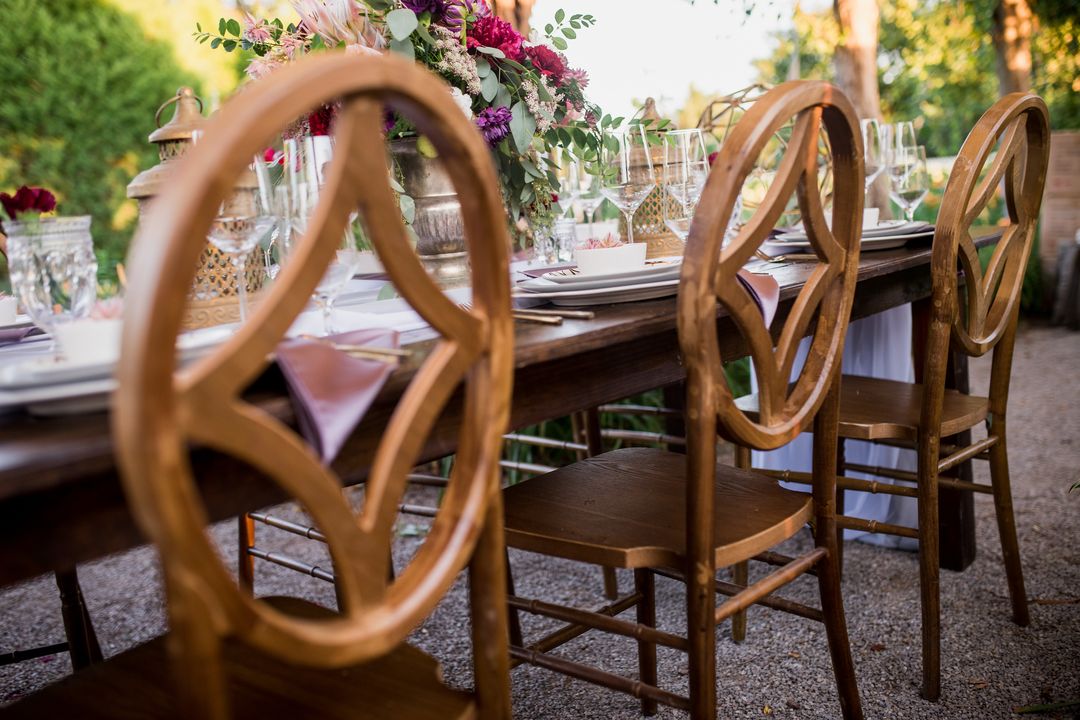 Long gone are the days of basic chairs for your wedding or event. With a variety of stylish seats now available for rent, your wedding chairs or event lounge seating can be a key part of your decor. At Southern Events, our enormous event rental inventory includes plenty of options for unique chairs for events and weddings, including these current favorites.
Looking for just the right unique chairs and other furniture pieces to rent for your Nashville or Franklin TN event? Reach out to info@southerneventsonline.com to start working with a design expert!
Eiffel Armchair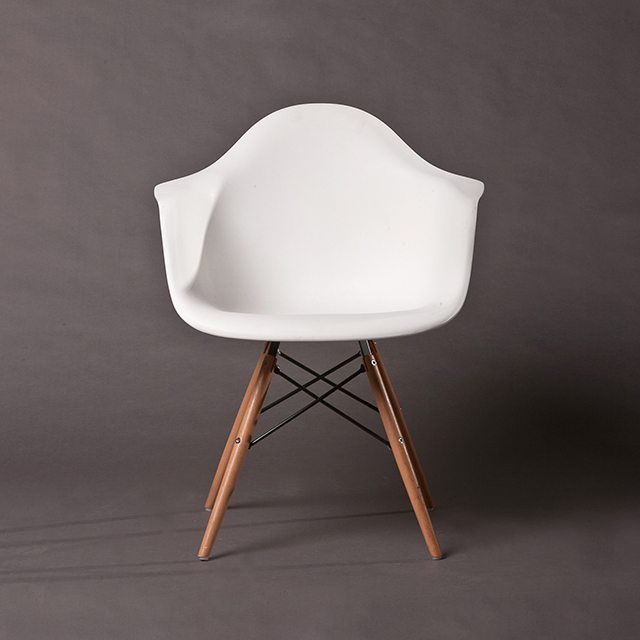 Our fabulous White Eiffel Armchairs are a sleek modern seating option perfect for every event from a corporate meeting to an intimate family party. With soft white lines, natural wood and a nod to the architectural elegance of mid-century modern design, this chair is a great seating option for upscale events, corporate summits or modern weddings.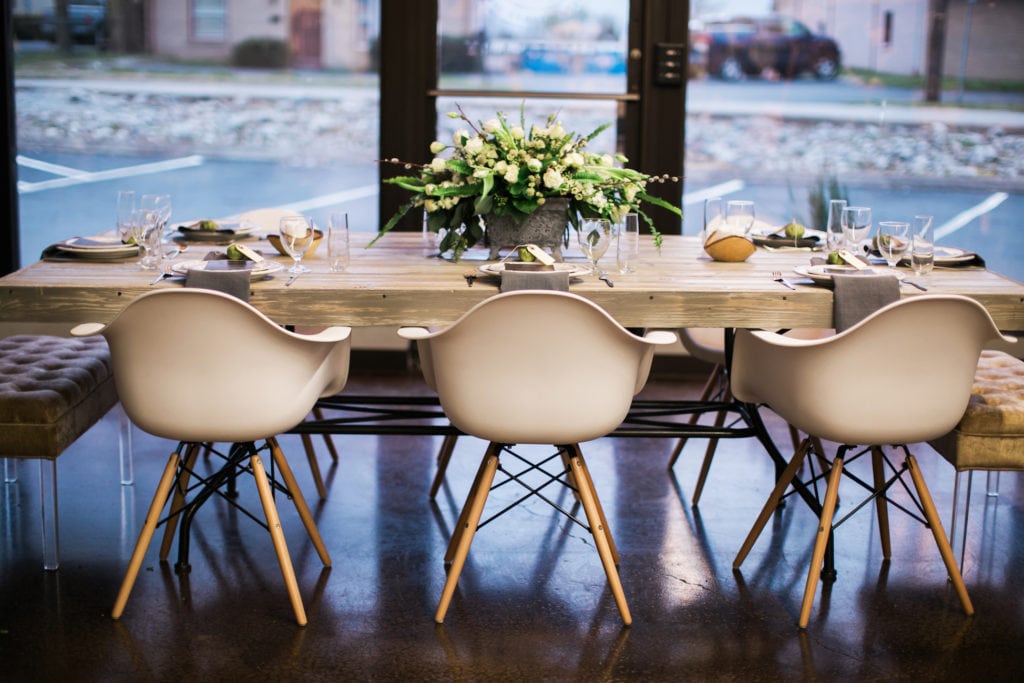 Jen and Chris Creed Photography
Saylor Velvet Chair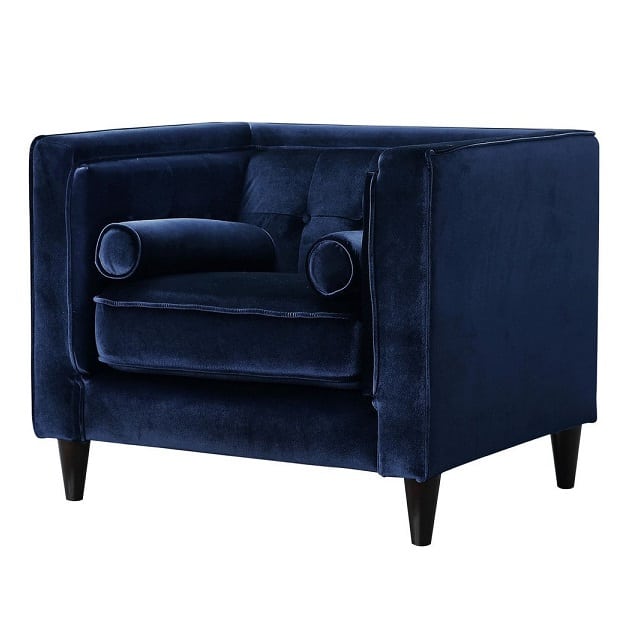 When a luxury is the goal, the Saylor Navy Velvet Chair is the obvious solution. This sumptuous blue chair makes a gorgeous addition to unique lounge furniture or stage seating for events. This statement piece is easy to mix and match for a variety of event looks. Add the matching Saylor Navy Velvet Sofa and accent table for a complete lounge set that your guests won't be able to resist.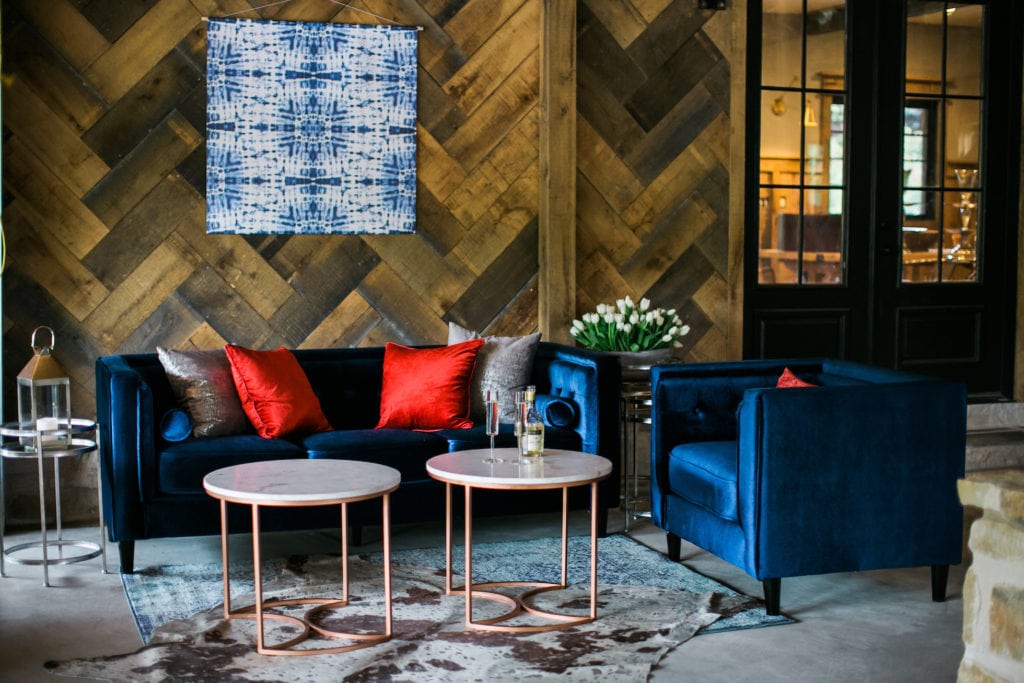 Jen and Chris Creed Photography
Harlin Dining Chair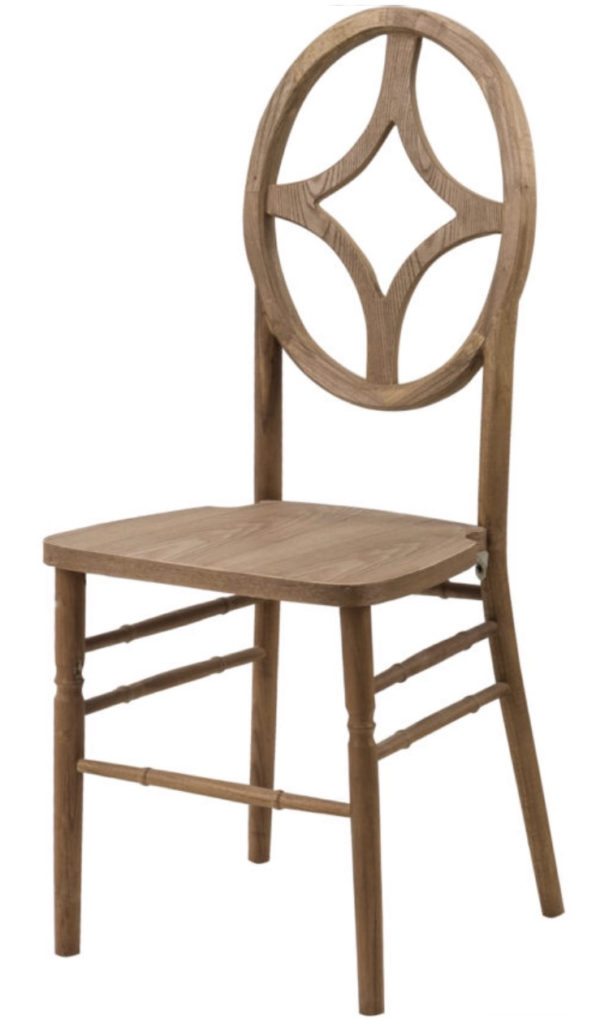 Our most popular dining chair for events, the Harlin Dining Chair is an elegant natural wood chair that instantly elevates a table. A gentle twist on the traditional wooden chair, our Harlin Dining Chairs feature a sculptural "art-deco" inspired back that can flexibly fit into many decor schemes. This gorgeous chair is a great option for both indoor and outdoor event seating.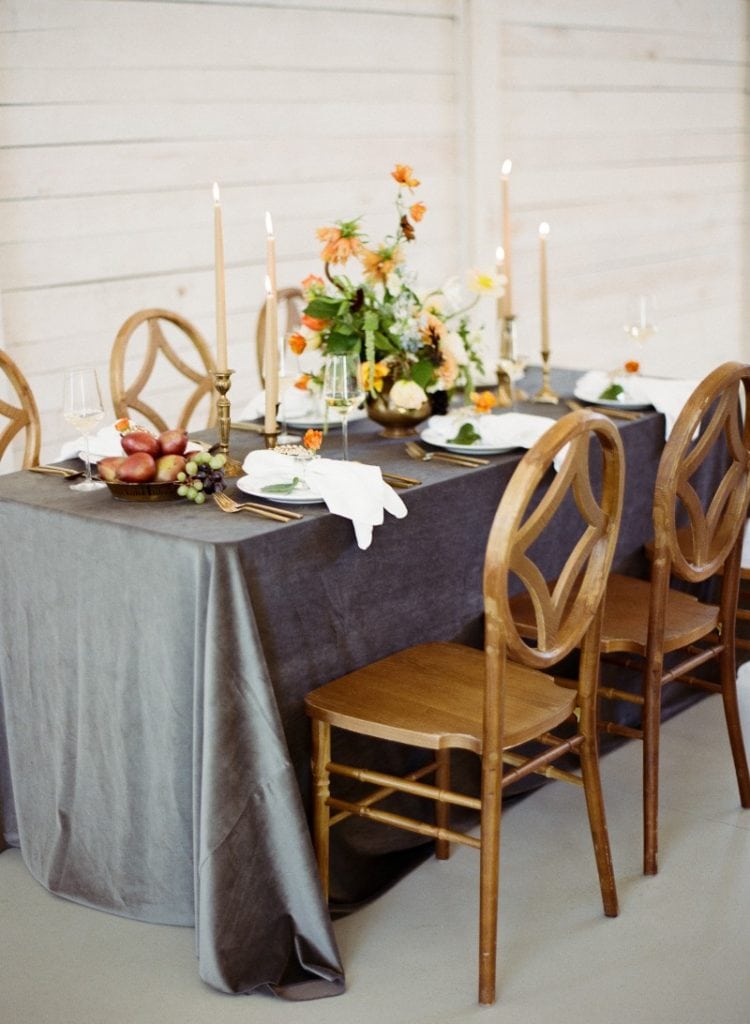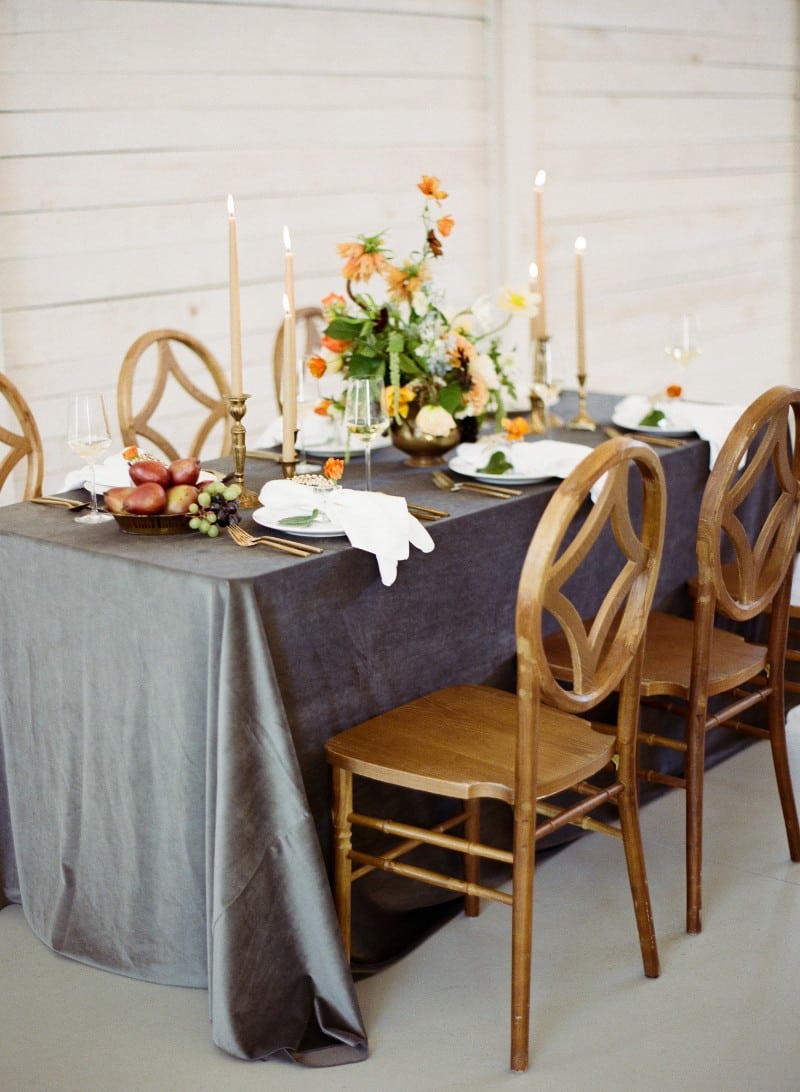 Alex Thornton Photography
Acrylic Chairs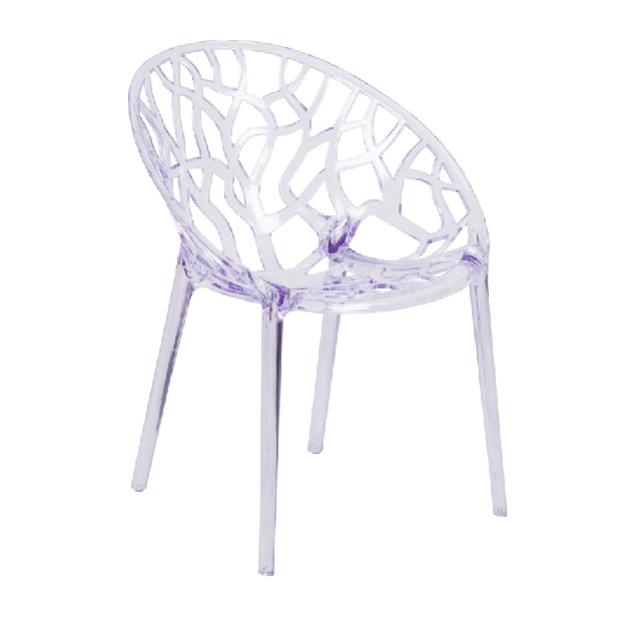 Looking for some truly unique chairs for events? Look no further than our ultra-modern Acrylic Chair Collection. We love using these unique event chairs to add an unexpected design element. From our striking Acrylic Fantasma Side Chair (above) to the popular Acrylic Ghost Arm Chair (pictured below with arms, armless version is also available), these stylish event chairs stand out from the crowd.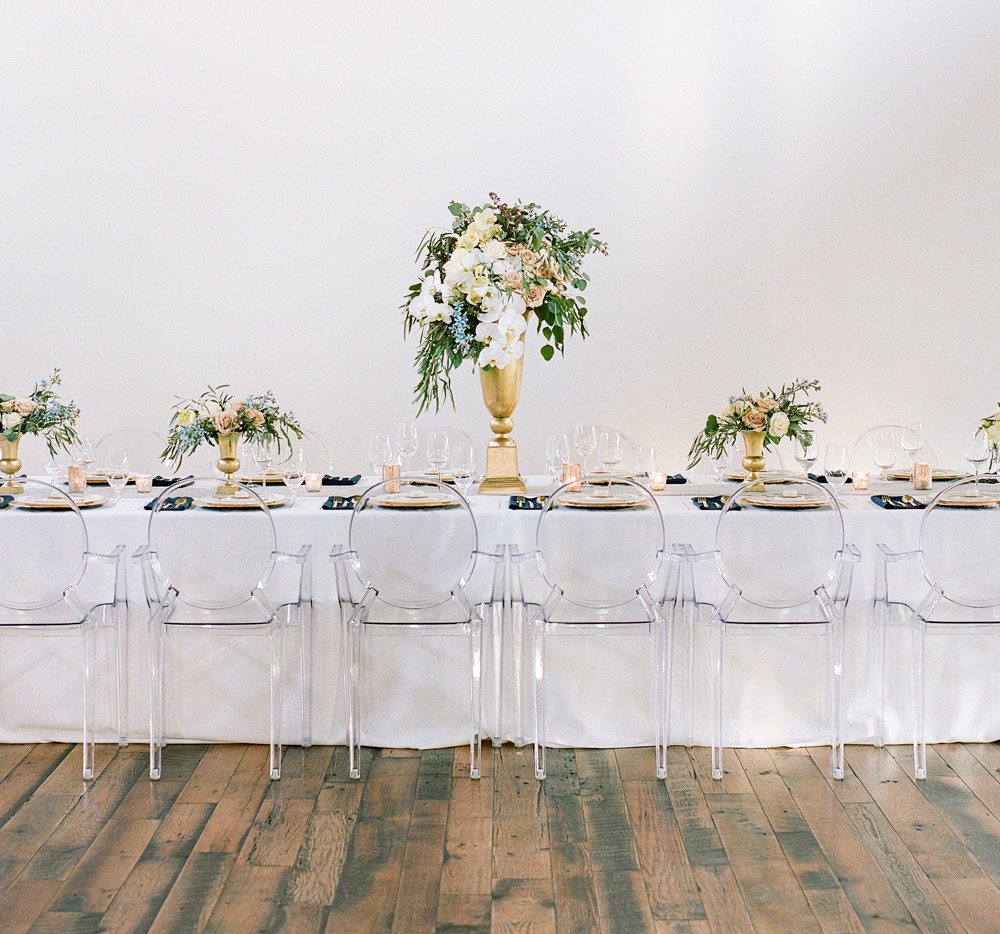 Theo Milo Photography
Adeline Dining Chair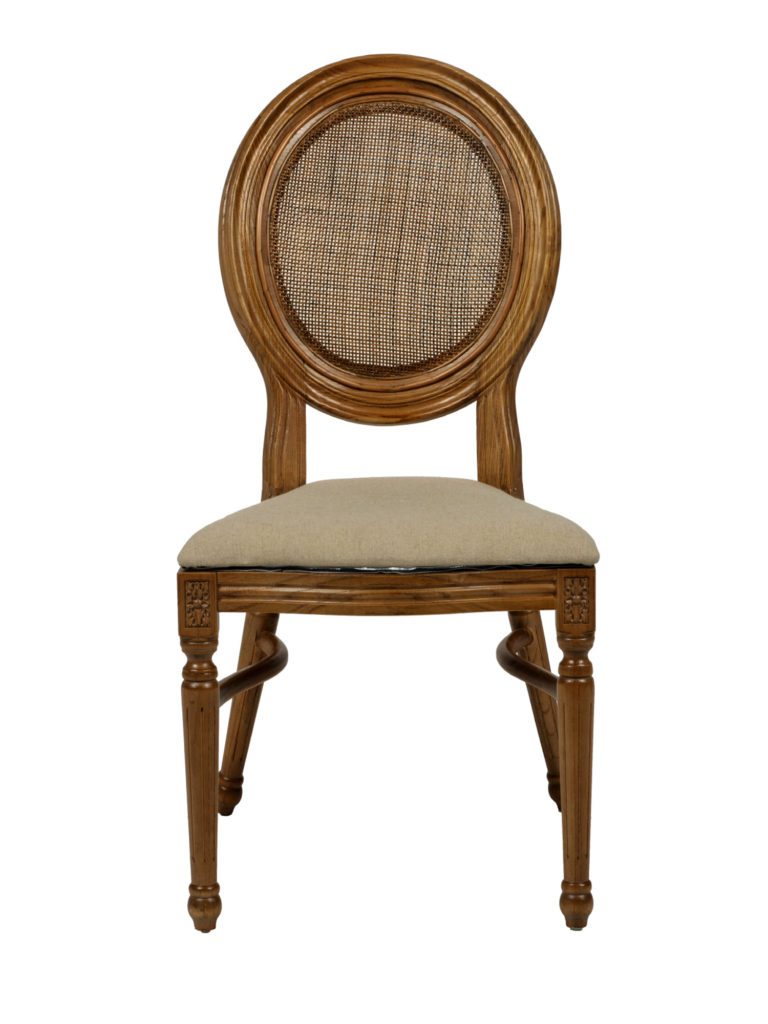 Our beloved Adeline Dining Chairs are stylish, comfortable event chairs that look gorgeous at garden weddings and vintage inspired events. The natural wood details and soft, neutral colors make this a perfect seating option for upscale events. Pair this beauty with lush flowers and soft linens for a sophisticated garden party or add luxurious gold or brushed copper flatware for a black tie event.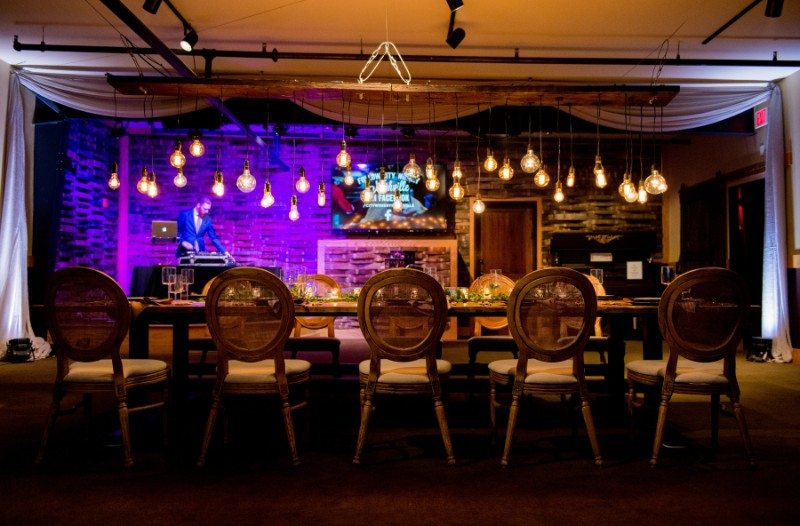 Twila's Photography
Vintage Chairs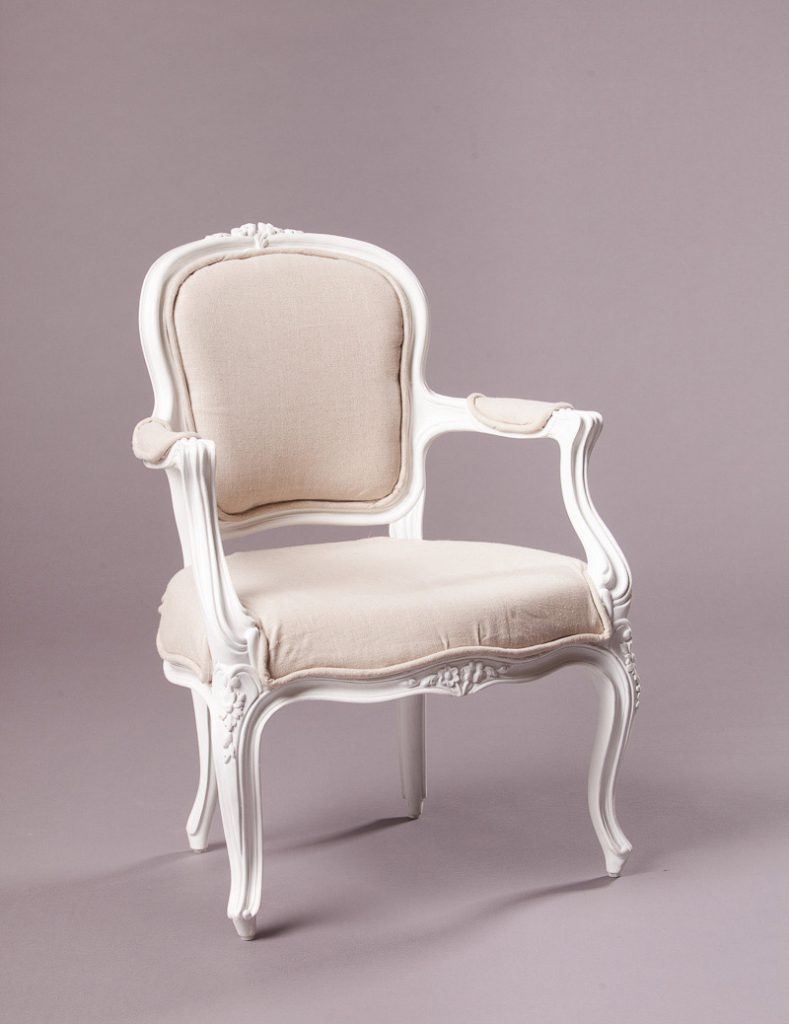 Sometimes finding the right unique chairs for events means scouring antiques for inspiration. That's exactly what we've done with our Vintage Chairs Collection! These stunning, completely unique furniture rentals are so much fun to mix and match. Below, you can see several of our colorful vintage chairs mixed with our Adeline Dining Chairs and our classic Crossback Chairs. You can use these unique vintage chairs for events as dining seating, lounge chairs or as creative elements of your decor.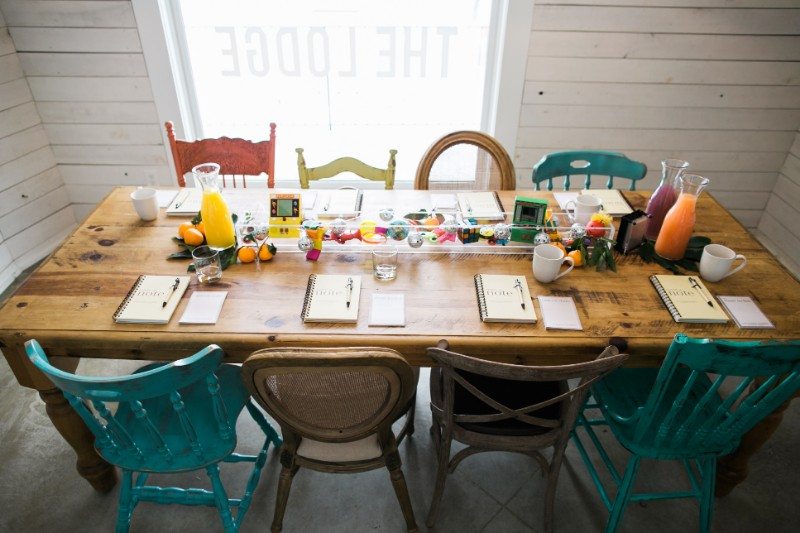 Jen and Chris Creed Photography
Folding Chairs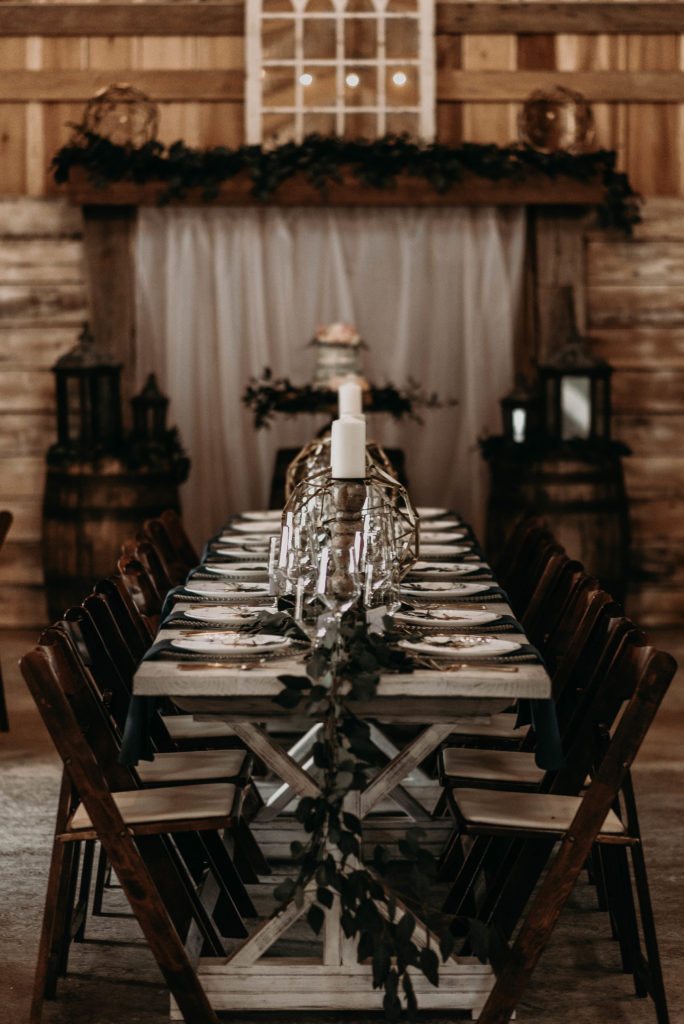 Our Folding Chairs are one of our most popular options for wedding receptions, corporate events and fundraisers. Made with quality wood or white resin, these folding chairs make a great chair for formal and casual events. Available in Black Wood, Fruitwood or White Resin, these folding chairs are a stylish budget option.
Chocolate Pouf
No post about unique chairs for events would be complete without a mention of one of our favorite inventory items: these comfortable Chocolate Poufs! These unique event chairs make great lounge seating or side tables and are extremely versatile.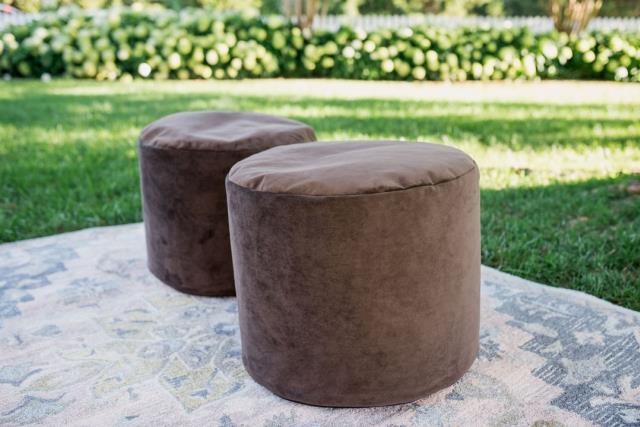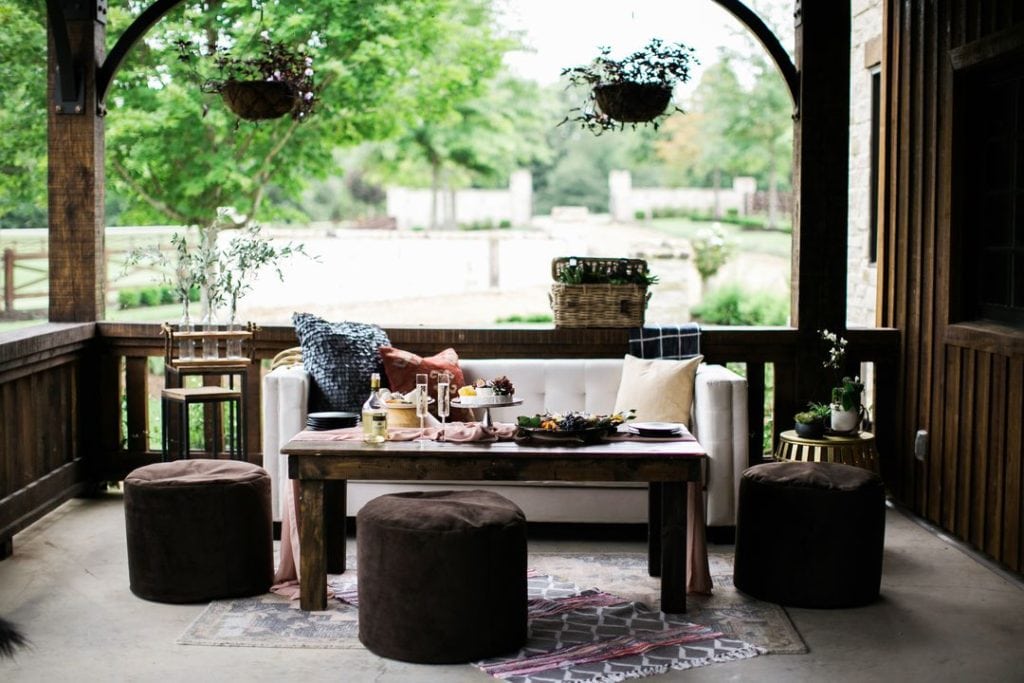 ---
Looking to surprise and delight with the seating at your next Nashville or Franklin TN event? Reach out to info@southerneventsonline.com to start working with a design expert!
TAGS | Acrylic Carrigan Side Chair, Acrylic Chair, Acrylic Fantasma Side Chair, Acrylic Ghost Arm Chair, Acrylic Ghost Armless Chair, Adeline Dining Chair, Chocolate Pouf, Chocolate Poufs, Dining Chairs, Eiffel Armchair, Event Seating, Folding Chairs, Harlin Chair, Saylor Chair, Saylor Velvet Chair, Southern Events Party Rental, Southern Events Party Rental Company, Southern Events Party Rentals, Unique Dining Chairs, Unique Nashville Event Rentals, Unique Nashville Wedding Rentals, Unique Vintage Chairs, Unique Wedding Rentals, Upscale Dining Chairs, Urban Dining Chairs, Vintage Chairs, corporate event rentals, harlin dining chair, unique seating
FEATURED RENTALS | White Eiffel Armchair, Saylor Navy Velvet Chair, Harlin Dining Chair, Acrylic Chairs, Acrylic Fantsama Side Chair, Acrylic Ghost Arm Chair, Acrylic Ghost Armless Chair, Adeline Dining Chair, Vintage Chairs, Crossback Chair, Vintage Alex Chair, Vintage Amanda Chair, Vintage Annabelle Arm Chair, Vintage Annabelle Chair, Vintage Caroline Chair, Vintage Charlotte Chair, Vintage Christopher Chair, Vintage Constance Chair, Vintage Lydia Arm Chair, Vintage Pearlie Side Chair, Vintage Prissy Arm Chair, Vintage Provence Cathedral Chair, Vintage Ramona Chair, Vintage Roper Arm Chair, Vintage Rosie Chair, Vintage Sadie Chair, Black Wood Folding Chair, Fruitwood Folding Chair, White Resin Folding Chair, Chocolate Pouf
---