24

Aug

Southern Events Products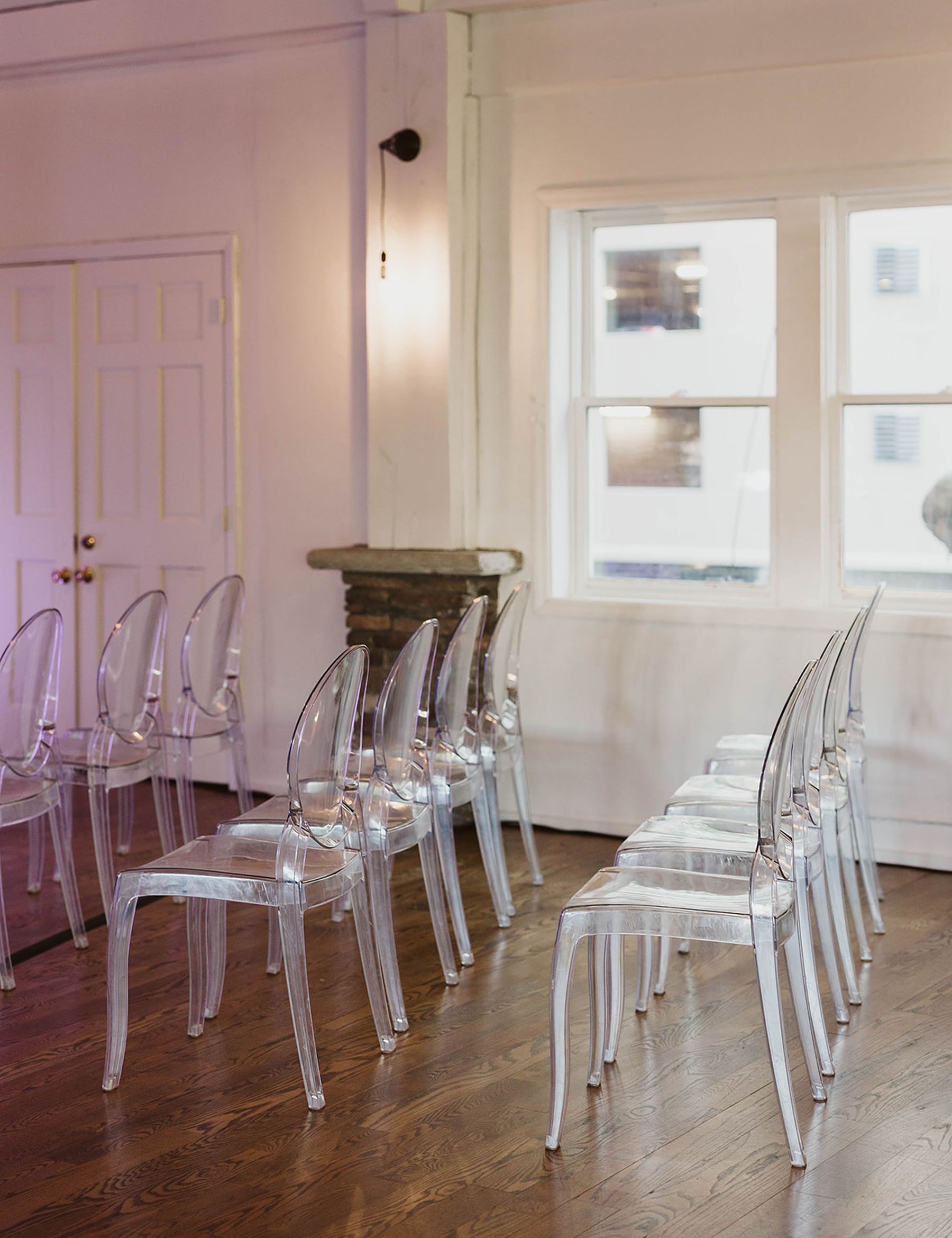 Are you planning a conference or convention and want to make sure your event stands out as both professional and stylish? Look no further than Southern Events for on-trend event furniture! Whether it's comfortable seating, stylish staging, lounge areas for networking, or cocktail hour essentials, we have everything you need to create a memorable and successful event. Let's dive into the must-have event furniture for conferences and conventions that will make a lasting impression on your guests and boost attendance in the years to come.
Comfortable Seating
Comfort is a crucial aspect of any conference or convention. Attendees can spend hours seated, listening to speakers or presentations. Ensure they have a pleasant experience with our extensive range of comfortable seating options. From ergonomic Acrylic Ghost Arm Chairs to simple Folding Chairs with padding, we have a variety of seating solutions to suit your event's needs and theme. If your conference includes workshops or requires attendees to take notes, don't forget about the importance of providing sturdy and spacious tables. Our inventory boasts a diverse selection of event tables, including classic rectangular ones and contemporary round tables, perfect for taking notes and supporting laptops or other materials. Hosting a sizeable convention? Not to worry! We stock plenty of furniture rentals for large events.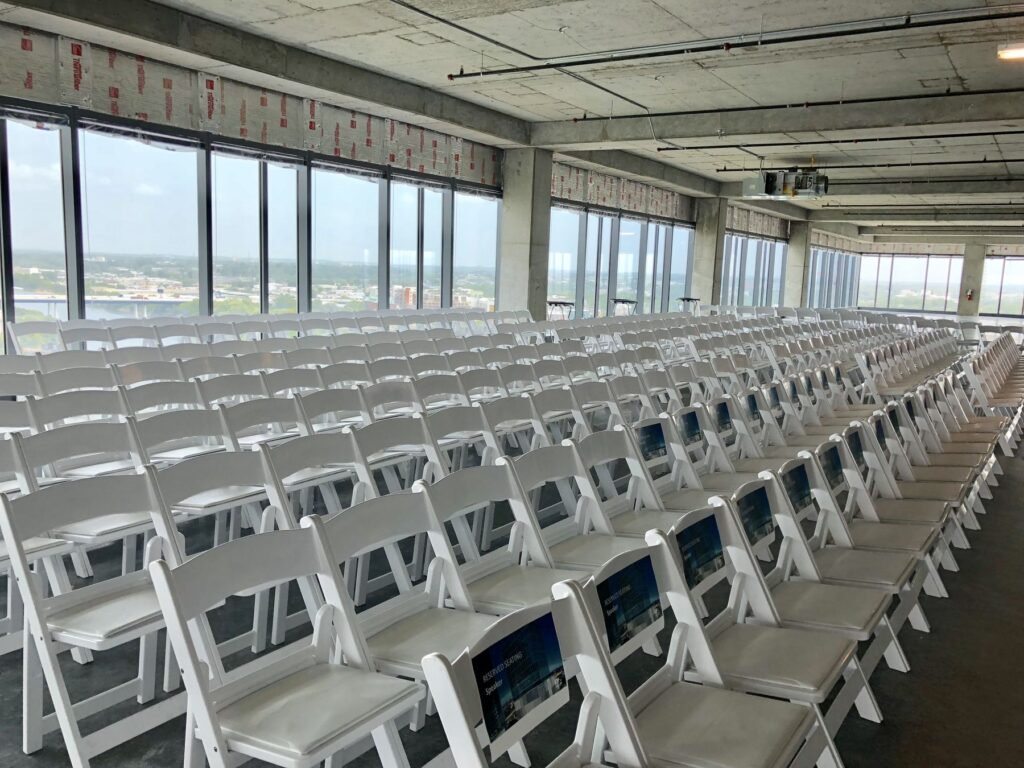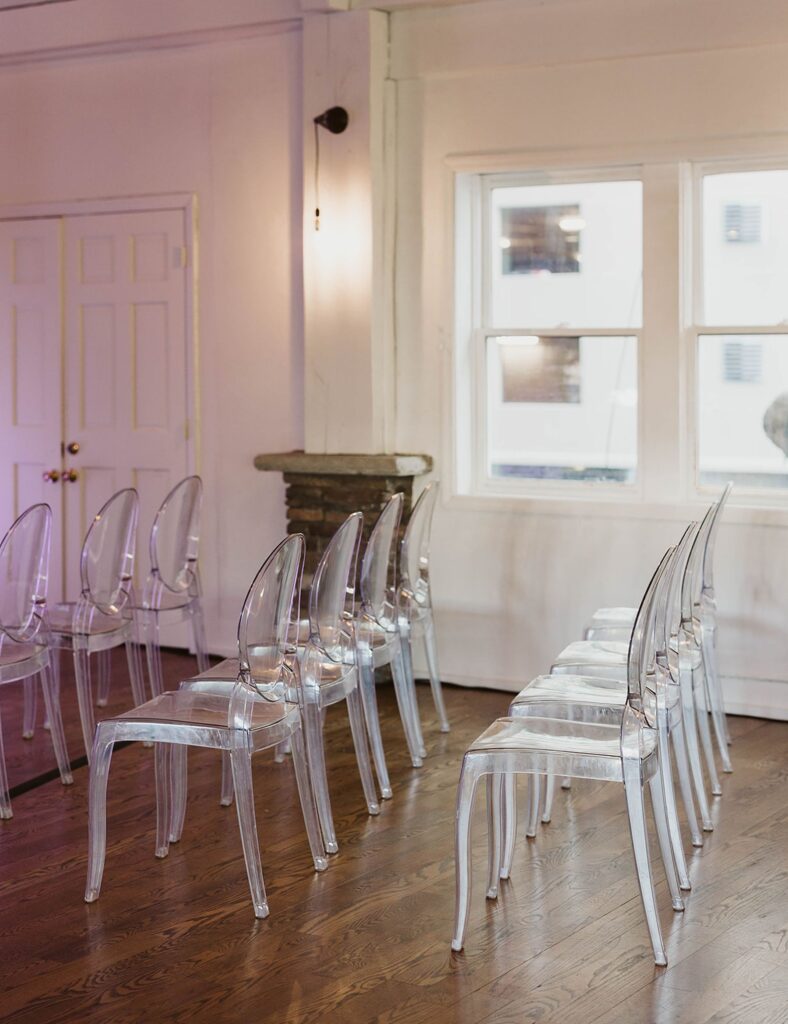 Stylish Staging & Podiums
Impress your attendees and elevate the overall look of your event with our stylish staging and podium options. A well-designed stage not only provides a focal point for speakers and presentations but also adds a touch of professionalism. Especially our Acrylic Podium! We can also provide skirts, for a more cohesive look. And to make the stage even more captivating, consider using our Boxwood Walls as backdrops. These versatile walls will add a touch of greenery and elegance – to avoid the mundane corporate vibe. However, they can also be customized to feature event sponsors or display important branding elements. As well as serve as a photo opportunity!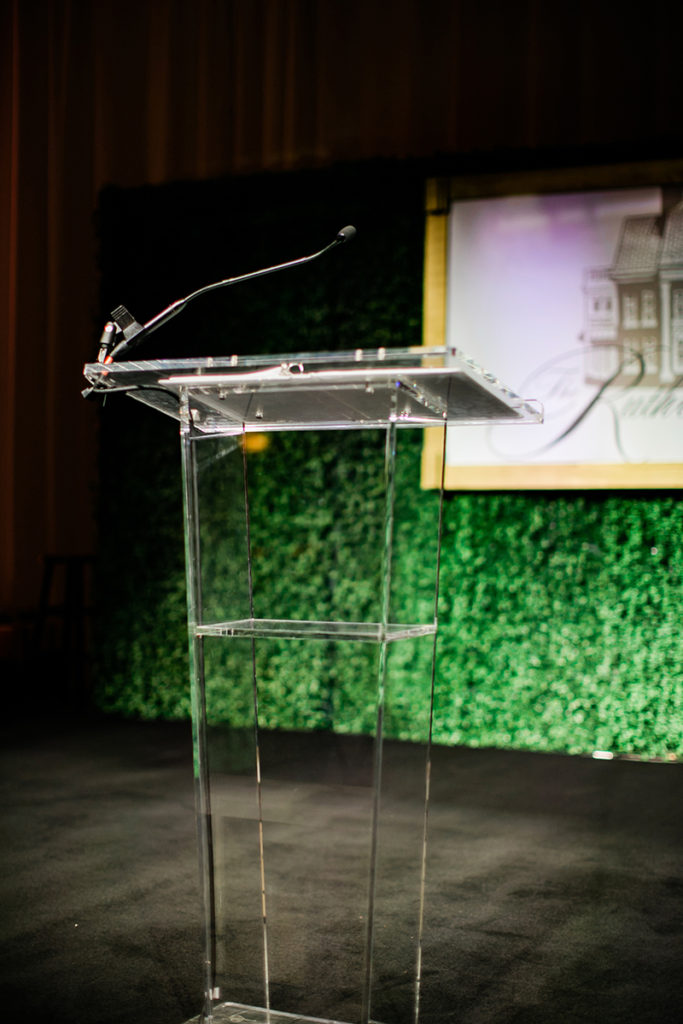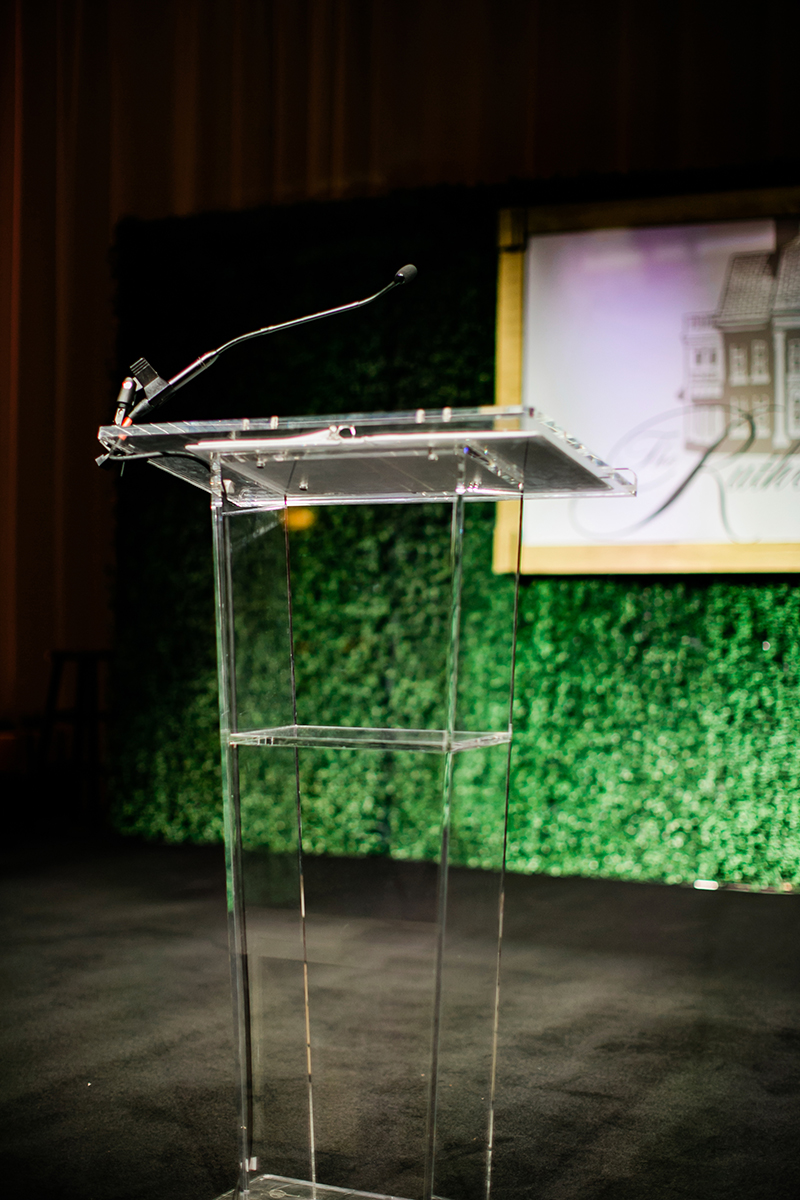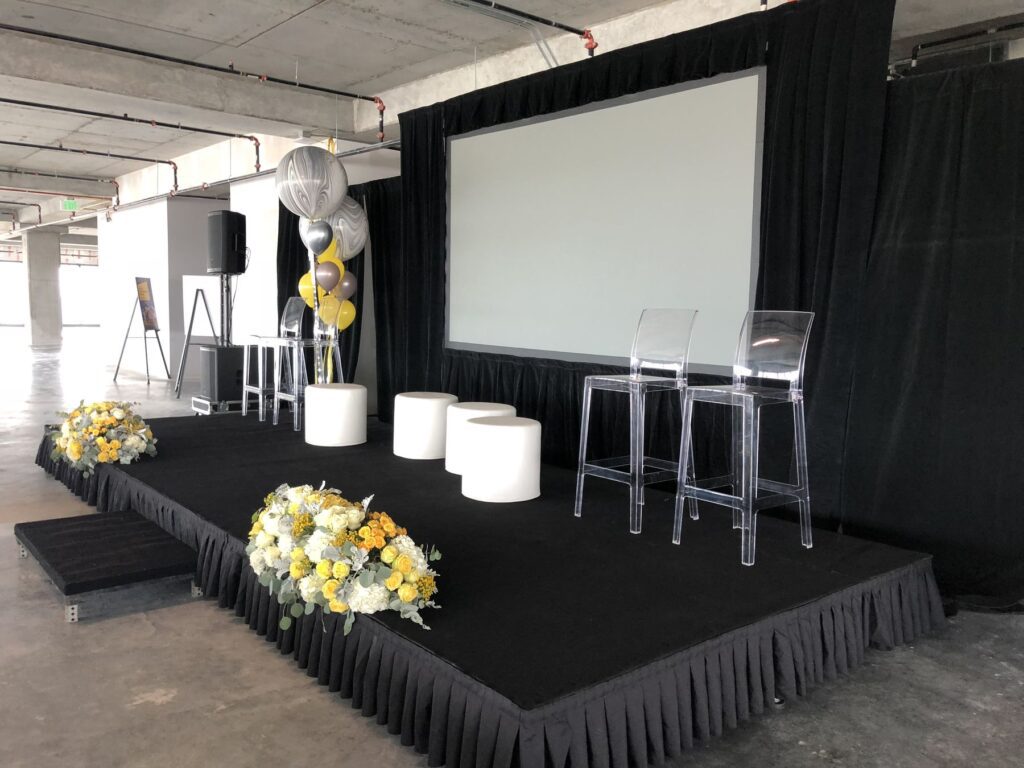 Lounge Areas for Networking
Networking is one of the primary benefits of attending a professional conference or convention. To give your attendees ample opportunity to foster connections, encourage mingling in lounge areas. Our event furniture includes plush sofas, cozy armchairs, and elegant accent tables. Perfect for attendees to unwind or mingle and network between sessions or during multi-day events. These pieces will allow them to take a break and recharge before diving back into the conference. Take a look at our curated Lounge Packages, or mix and match pieces to create a one-of-a-kind lounge. Just don't forget to complete the look with a rug!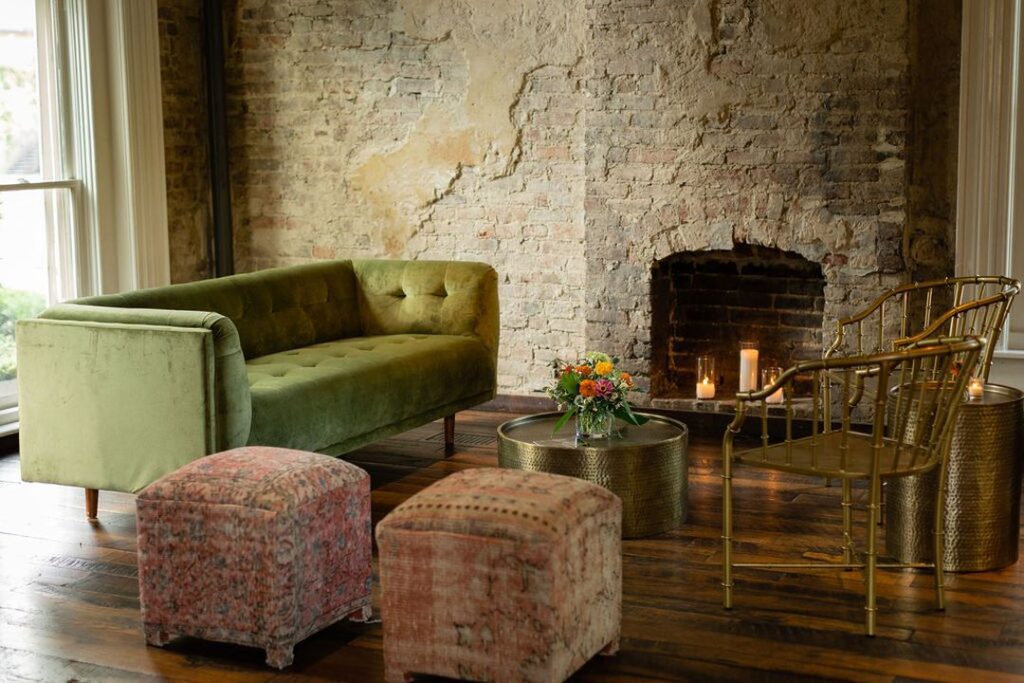 Cocktail Hour Essentials
End your conference on a high note with a stylish cocktail hour! Our event furniture for conferences includes bars and storage that are functional and will add a touch of sophistication to your gathering. Consider our contemporary Sorrento White Bar or the elegant Collins Black Wood Bar. Either of which paired beautifully with the Black Barback Shelf or Gold Bookcase. To complement the event bar, ensure you have on-trend glassware that suits your menu. From modern wine glasses to bold beaded tumblers, we have a wide selection to choose from. If needed, add on a set of cocktail tables where guests can comfortably enjoy their drinks.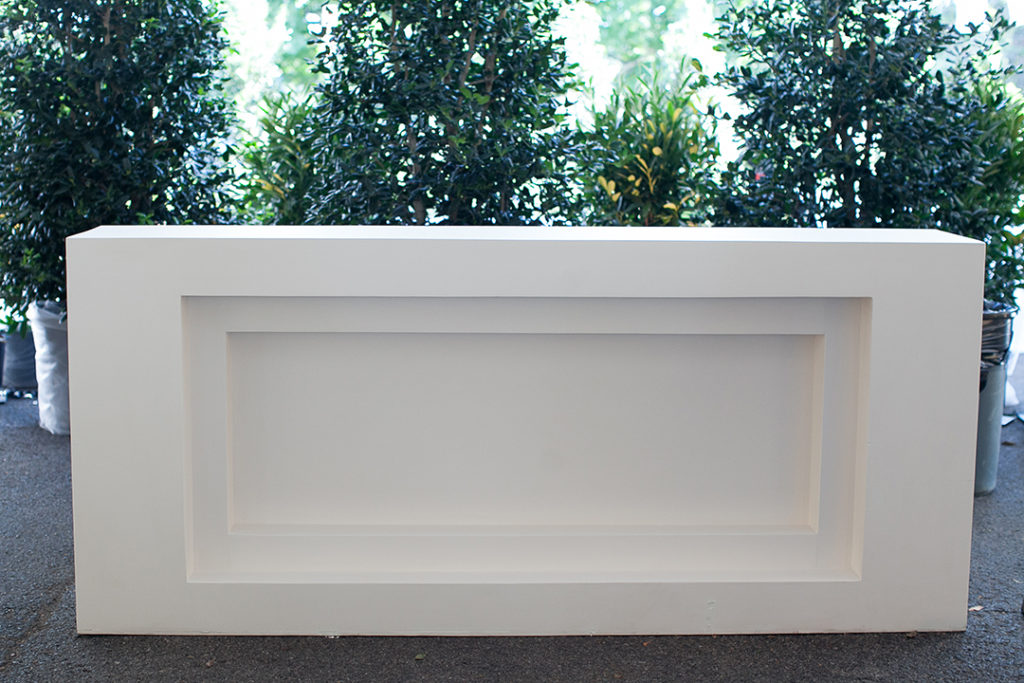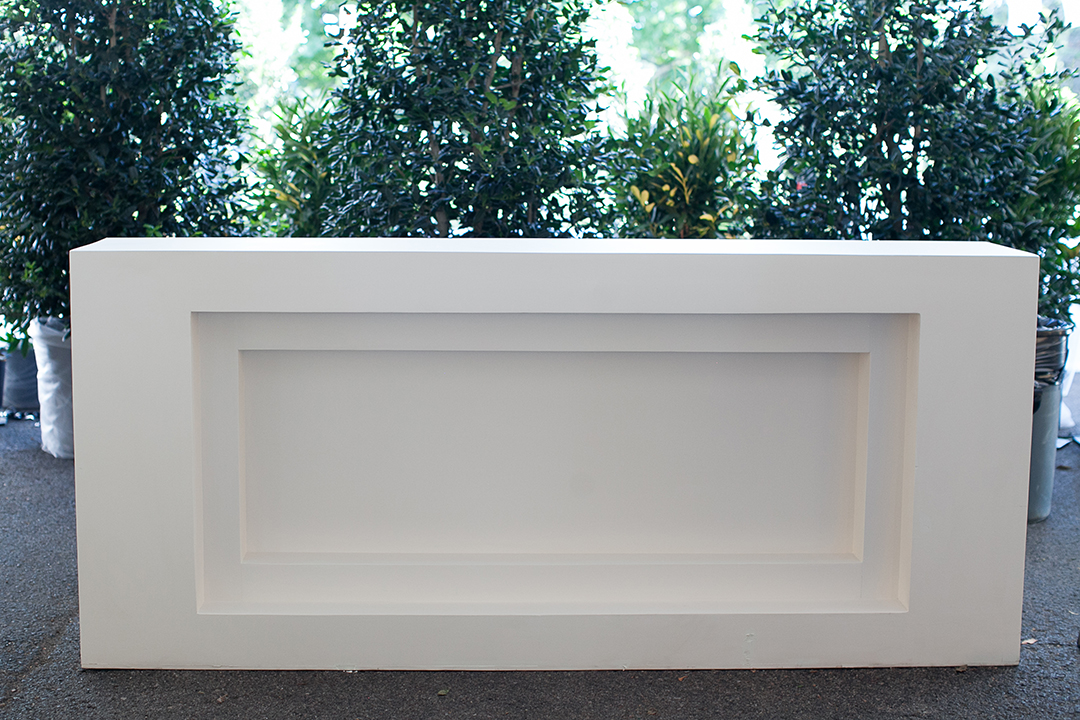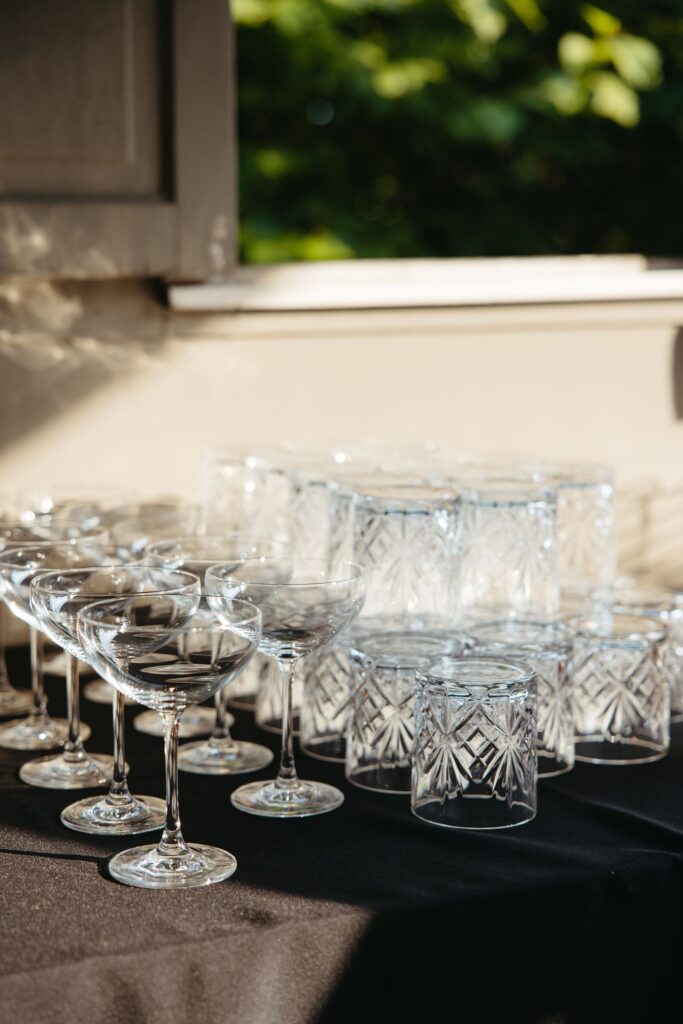 Planning a successful convention requires attention to detail, and event furniture for conferences can make all the difference! From seating to staging and cocktail hour essentials, Southern Events has everything you need. Contact our team to start planning or for additional event ideas and inspiration.
TAGS | Event Seating, Lounge Furniture, Staging, conference rentals, corporate event, corporate event design, corporate event rentals
FEATURED RENTALS | Acrylic ghost arm chairs, folding chairs, event tables, staging, acrylic podium, boxwood walls, sofa, armchairs, lounge packages, accent tables, rugs, collins Blackwood bar, black barrack shelf, gold bookcase, Sorrento white bar, cocktail tables,
---
17

Aug

On Trend, Southern Events Products, Trends and Inspiration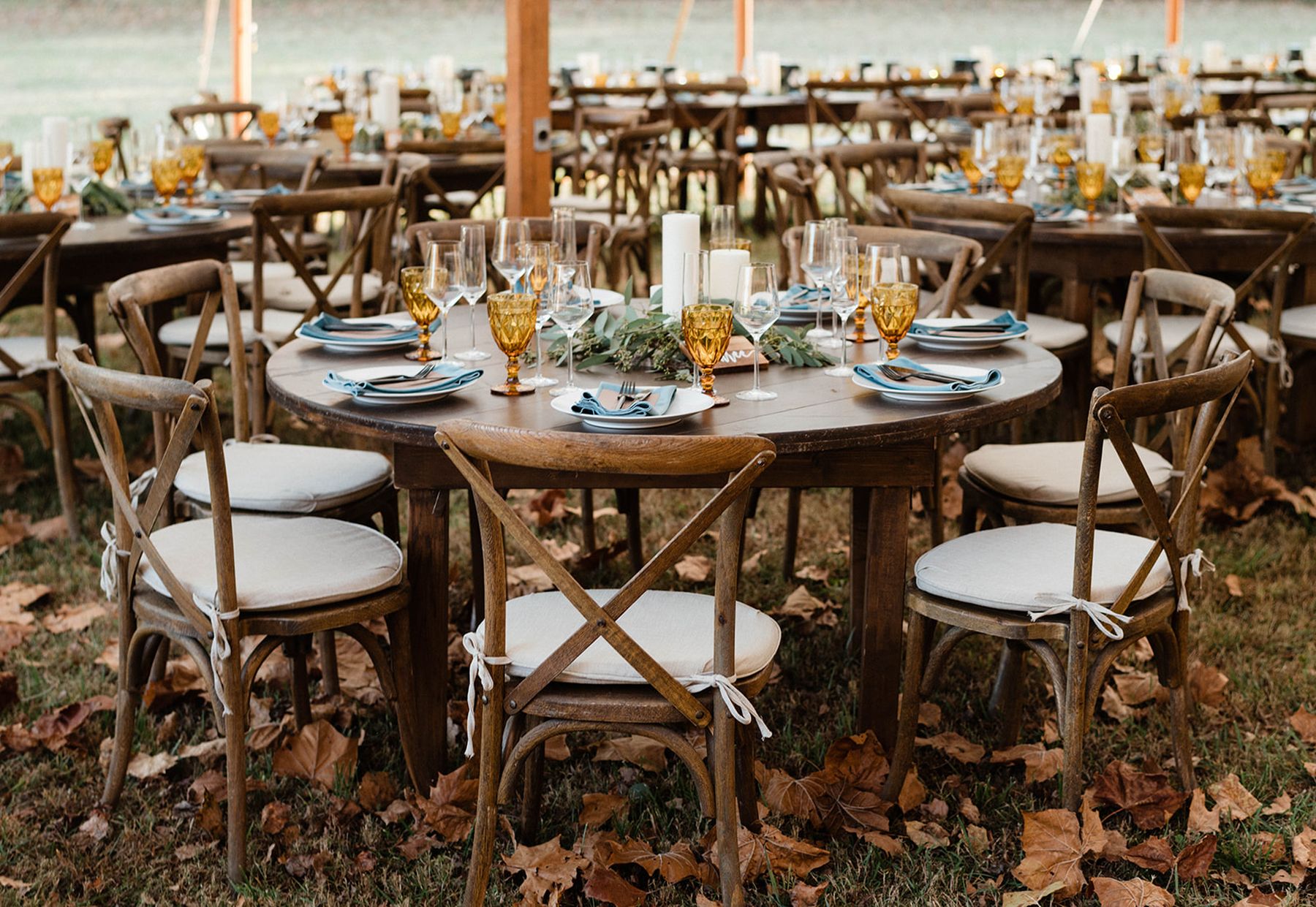 As the rich colors of autumn grace the countryside and the air turns crisp, Tennessee becomes a charming setting for a fall wedding. Regardless of whether you choose to host indoors or out! To create a magical feel, Southern Events offers a selection of rentals that capture the essence of the season. Explore our must-have party rentals for Tennessee fall weddings, from bold linens and artisan serving ware to modern rustic furniture. All of which will elevate your celebration.
Whiskey Barrels & Wood Bars
Set the stage for your wedding with the rustic charm of whiskey barrels and wood bars. These rentals blend seamlessly into nature and offer warmth and elegance. The whiskey barrels can be used as cocktail tables. While the wood bars serve as a focal point. Perfect for a stylish beverage station or cocktail hour. Whether you're hosting your wedding in a vineyard or a rustic barn, these rentals will add a touch of Southern charm to your celebration.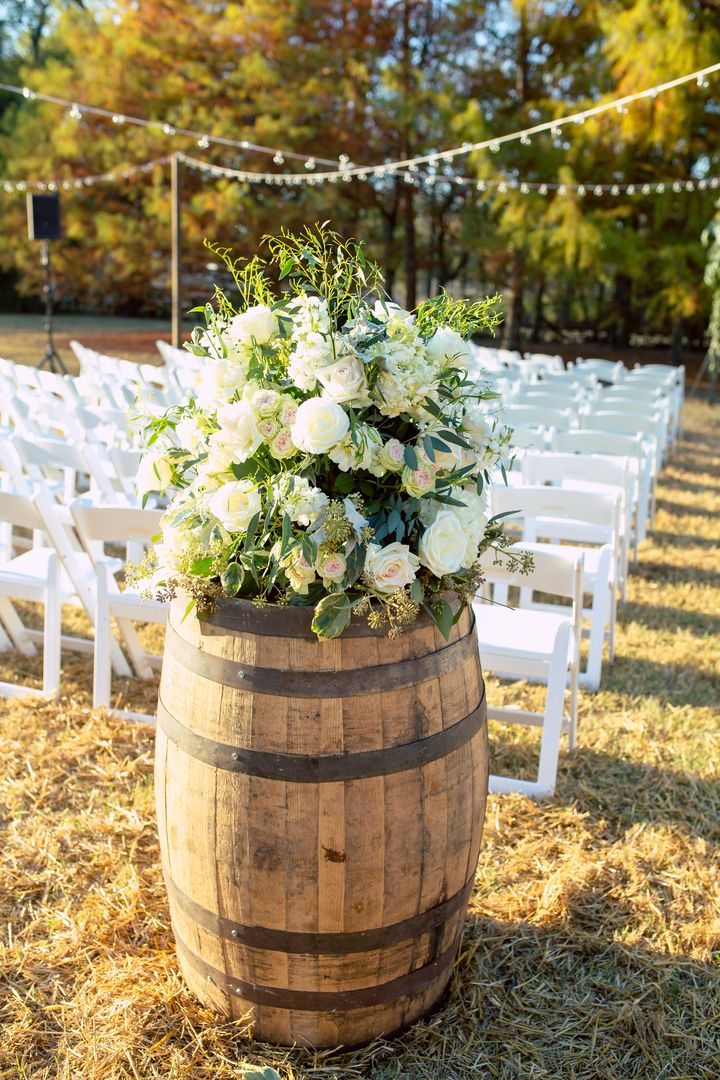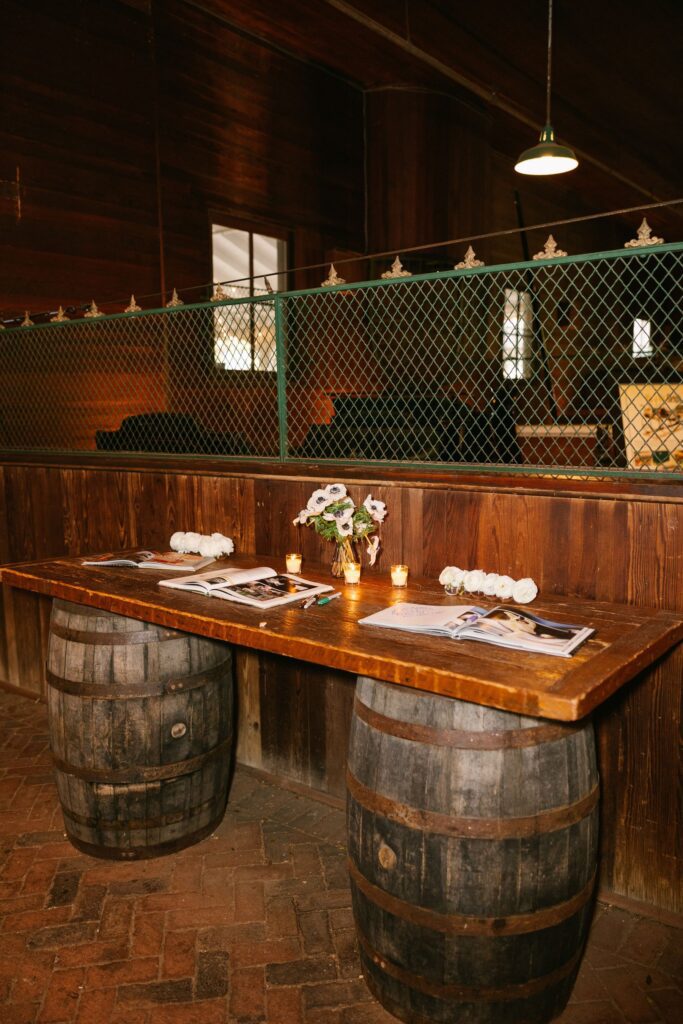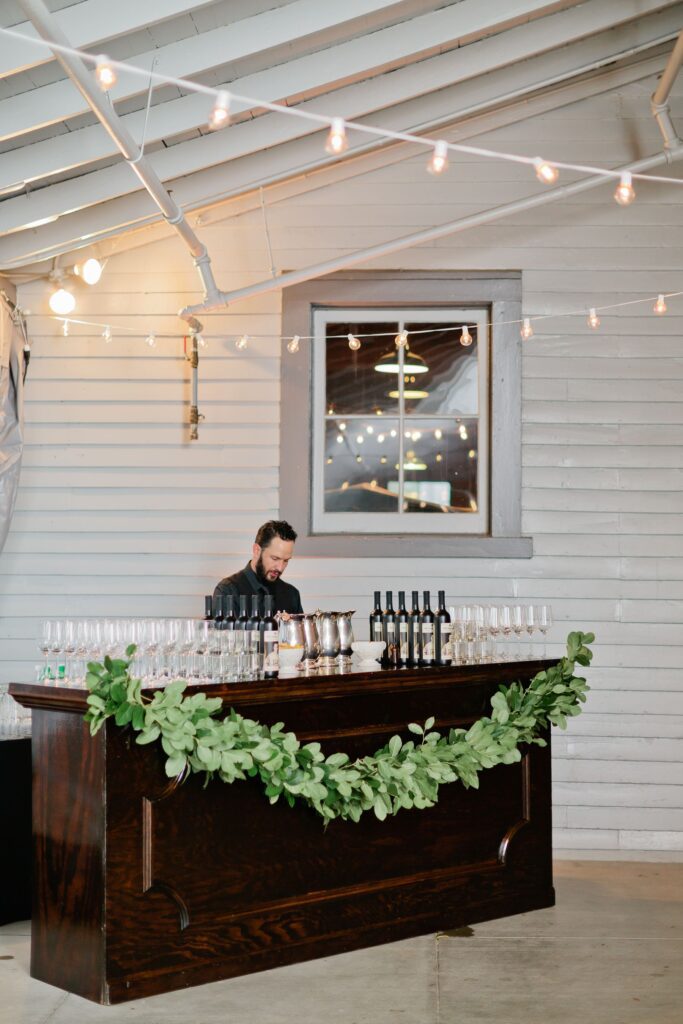 Modern Rustic Tables & Chairs
Create an inviting and stylish event with modern rustic tables and chairs. These rentals combine the raw beauty of wood with modern details. The natural textures and earthy tones complement the fall season. Offering your guests a comfortable and stunning place to gather and celebrate your union. From round tables with Cross Back Chairs for an intimate gathering. To long banquet-style tables paired with rustic benches for a grand feast. Or, spruce up your outdoor ceremony when you feature our elegant Harlin Dining Chairs.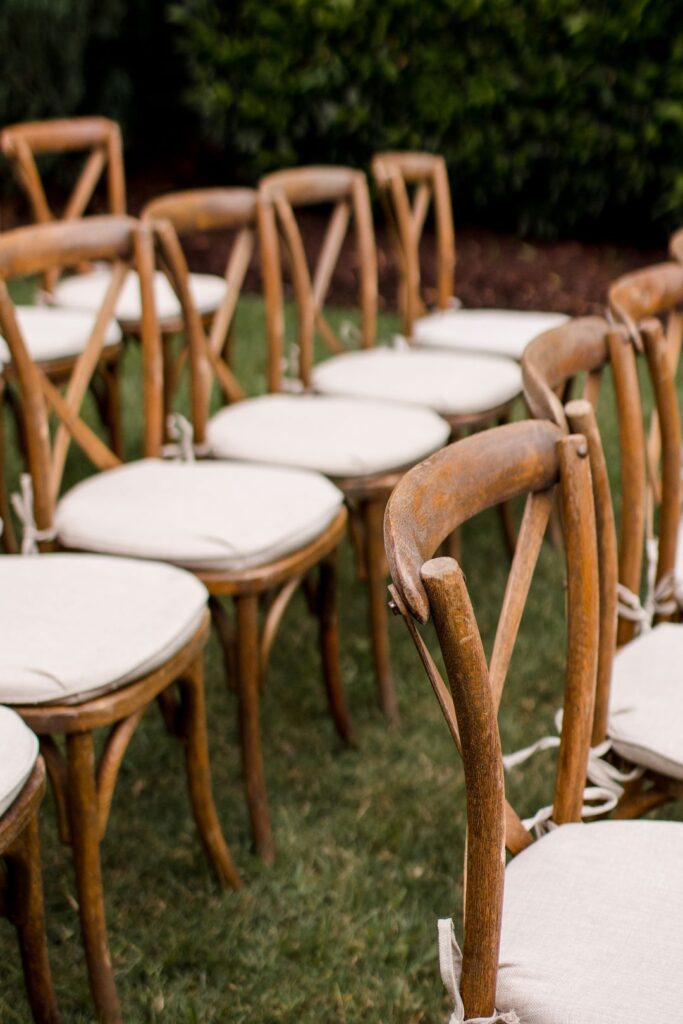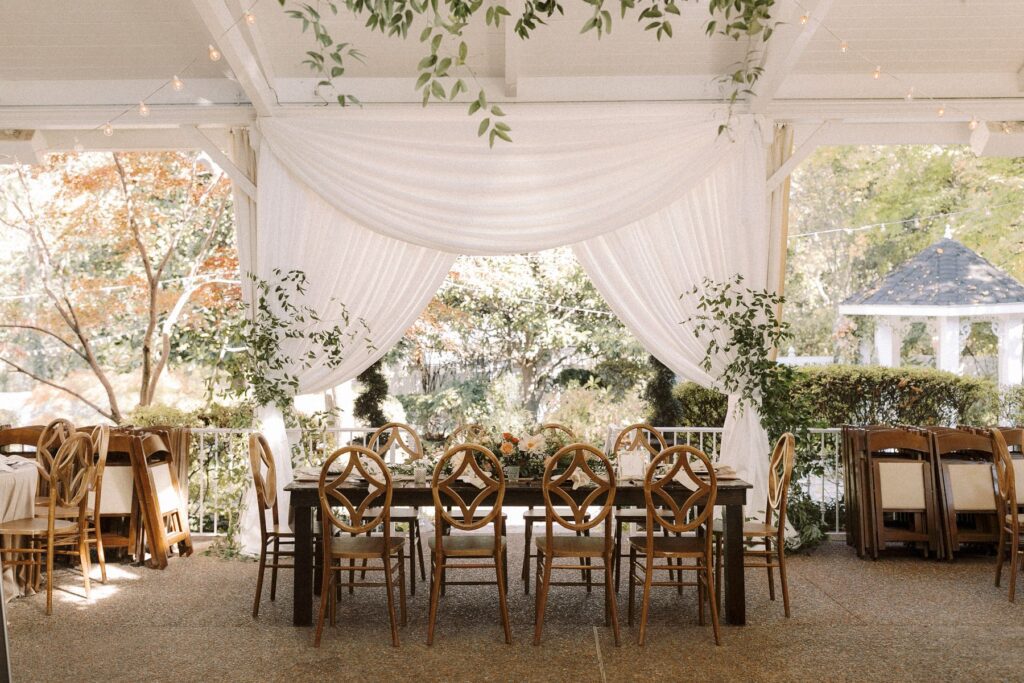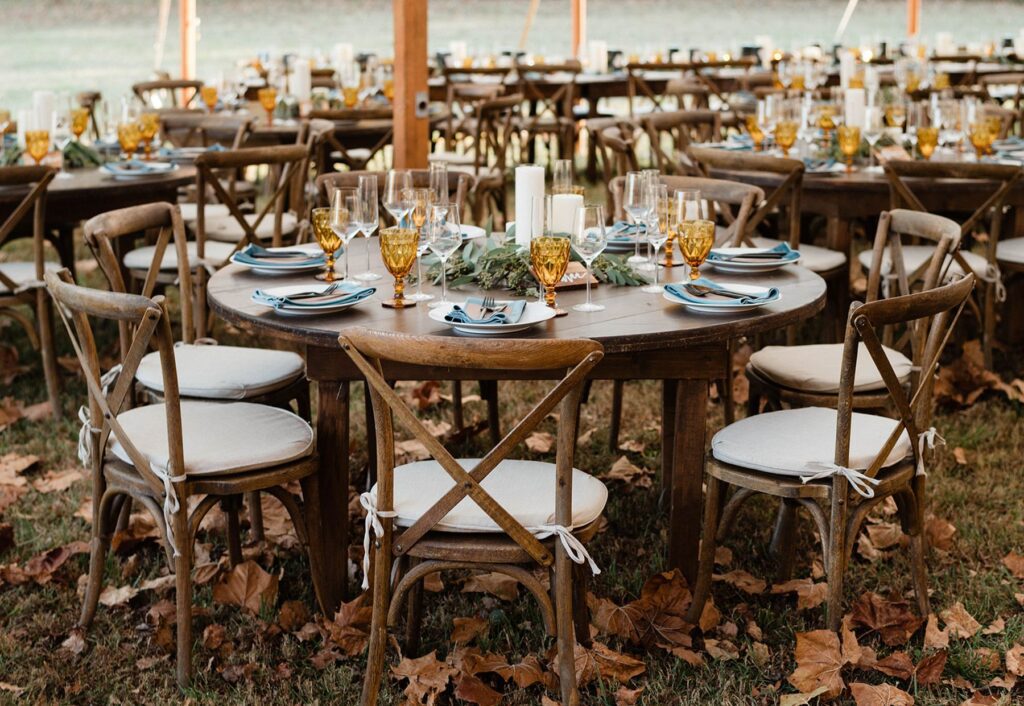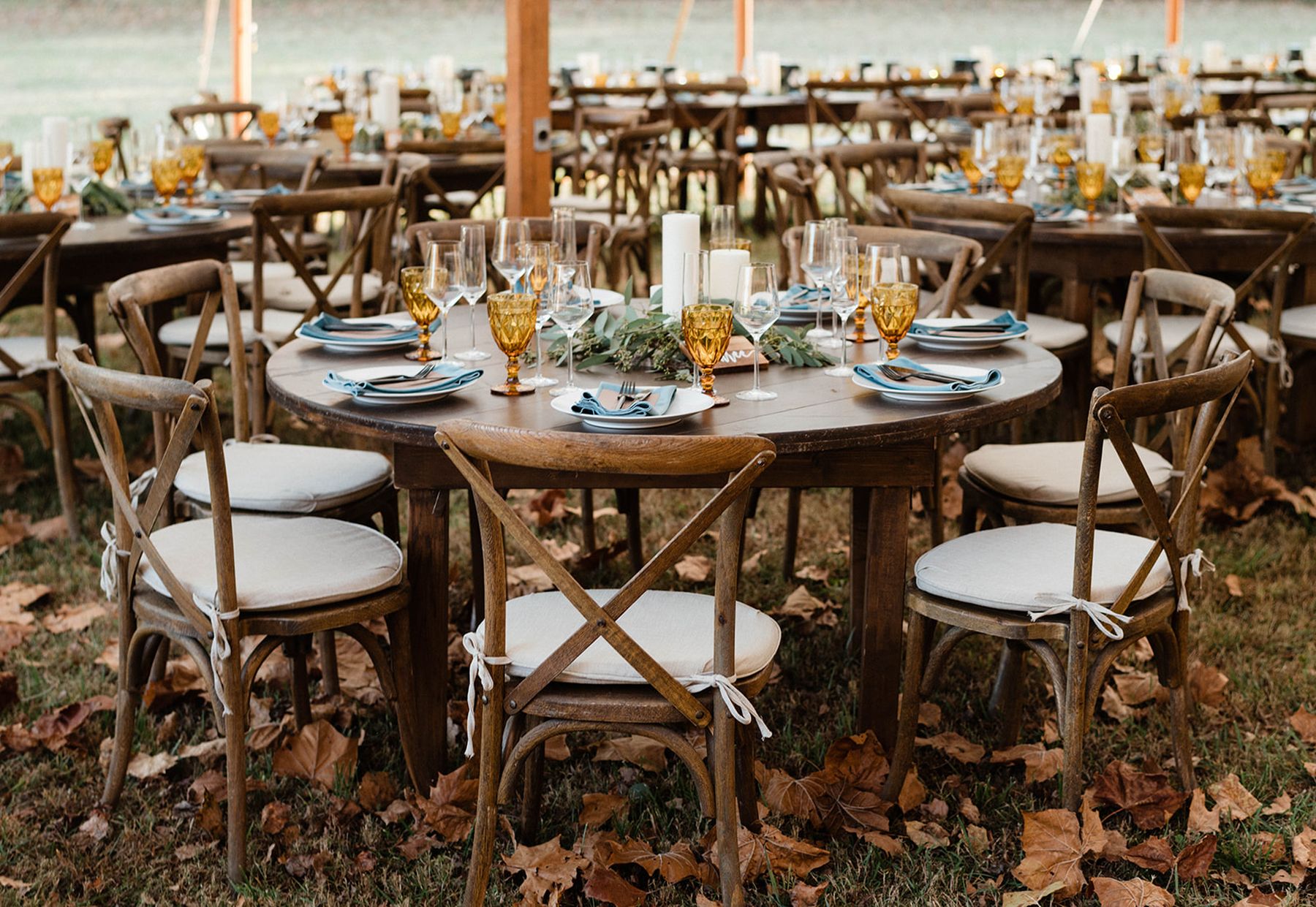 Artisan & Recycled Serving Ware
Elevate your Tennessee fall weddings with artisan and recycled serving ware. The simple and charming designs will add a unique and personal touch to your wedding reception. From handmade Earthen China to timeless Glass Mosaic Dinner Plates. Southern Events offers a range of serving ware for an autumnal theme. Create a modern minimalist place setting using Rattan White Washed Chargers, Alabaster Earthen China, and Gold Austin Flatware. Or, opt for a moody seasonal palette with a Copper Glass Charger, Onyx Earthen China, and Brushed Copper Flatware. Complete the look with Recycled Glassware or Amber Goblets!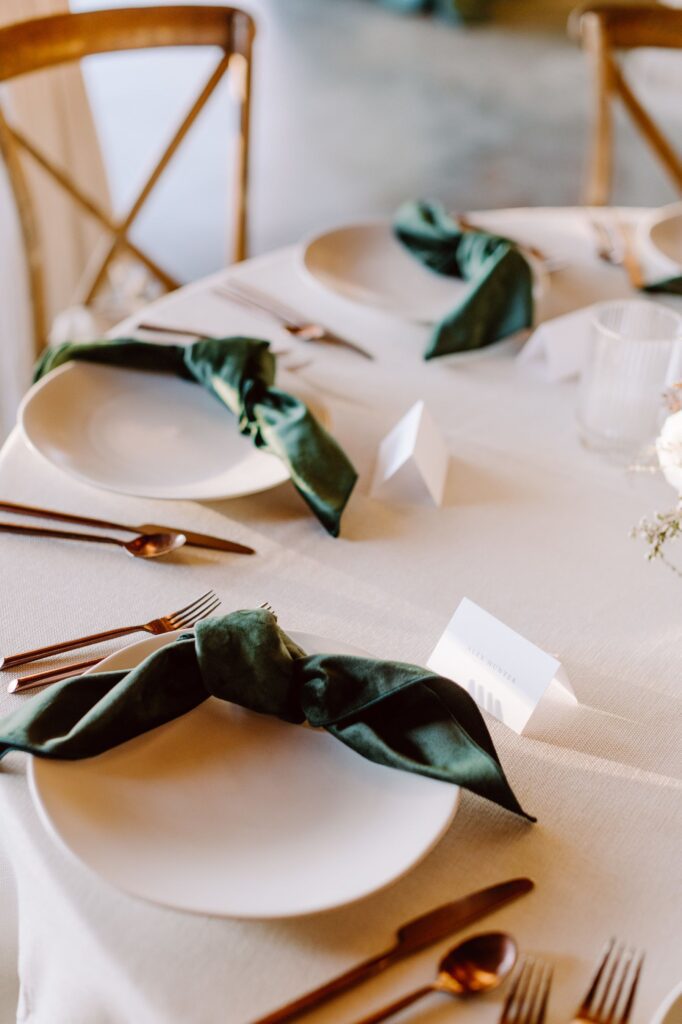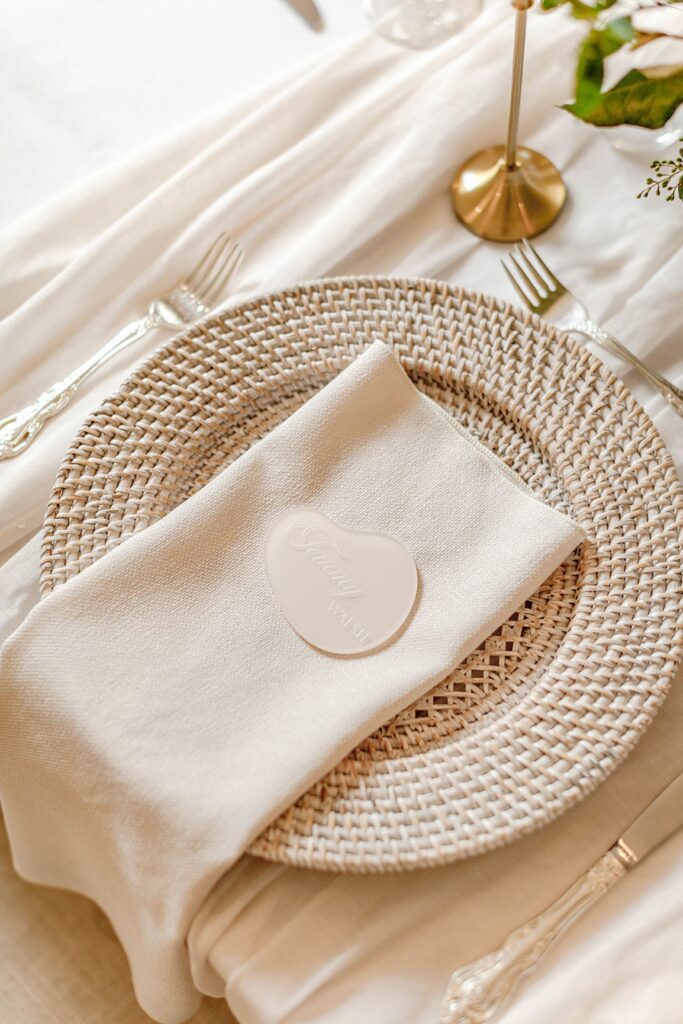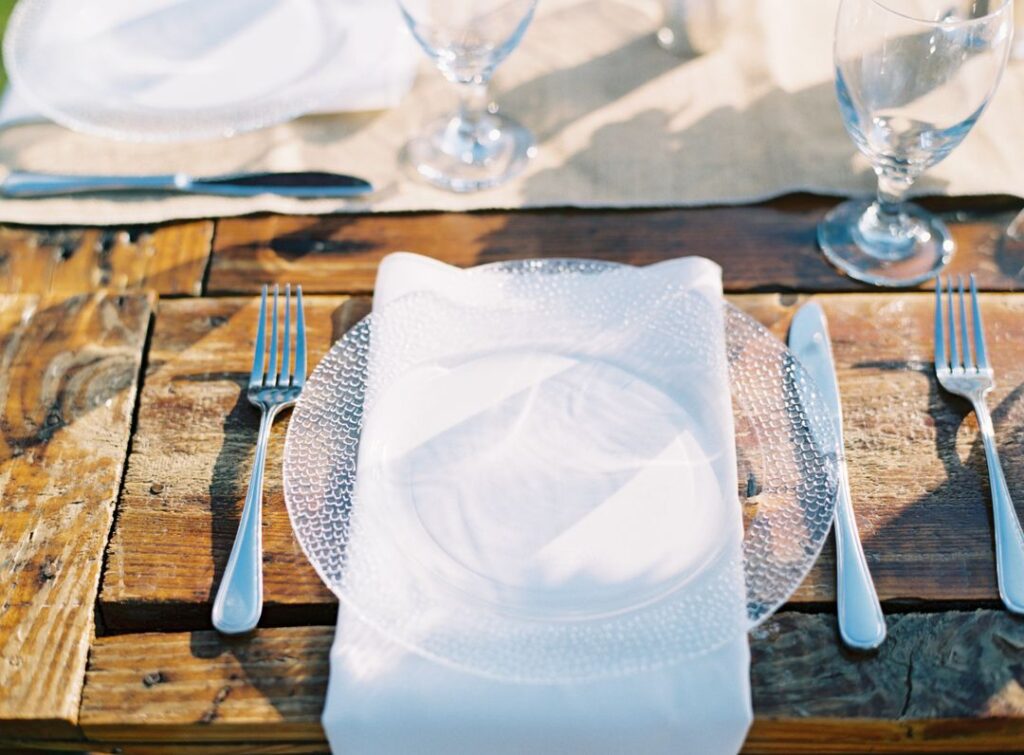 Romantic Runners & Linens
Bring a touch of romance and sophistication to your tables with soft runners and linens. Embrace the rich hues of fall with deep burgundies, warm oranges, and earthy browns. For an extra hint of warmth, perfect when chilly temperatures are in the forecast, opt for velvet napkins or tablecloths. Our current favorites include Golden Velvet and Moss Green Crush! Or, feature soft runners that allow the wood to shine while keeping a romantic vibe. Such as our Natural Sahara or Rust Runner.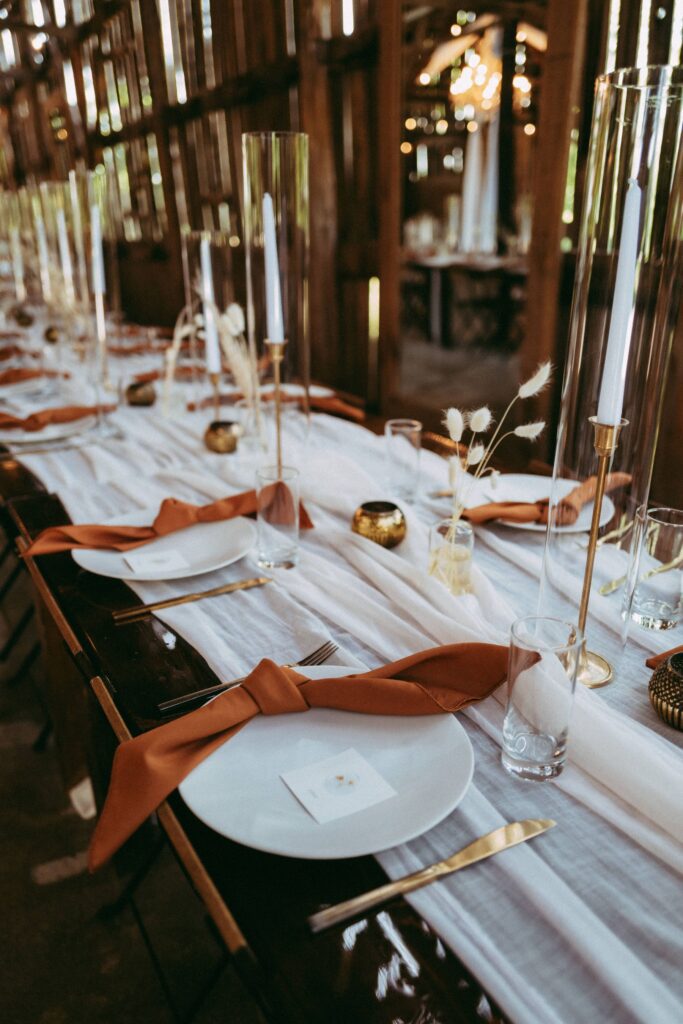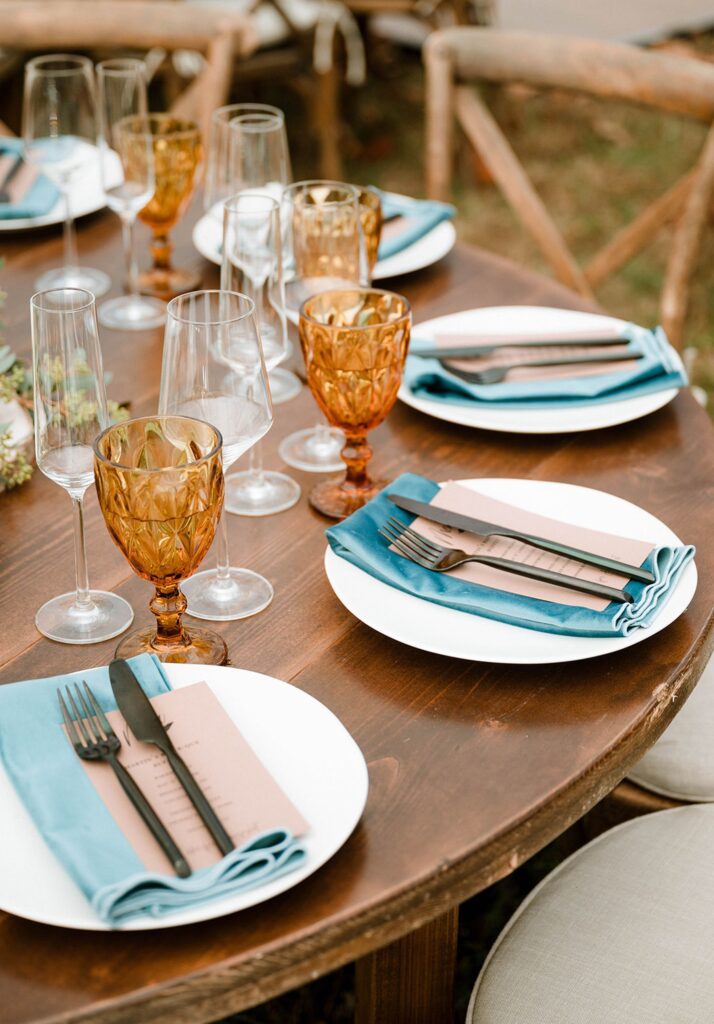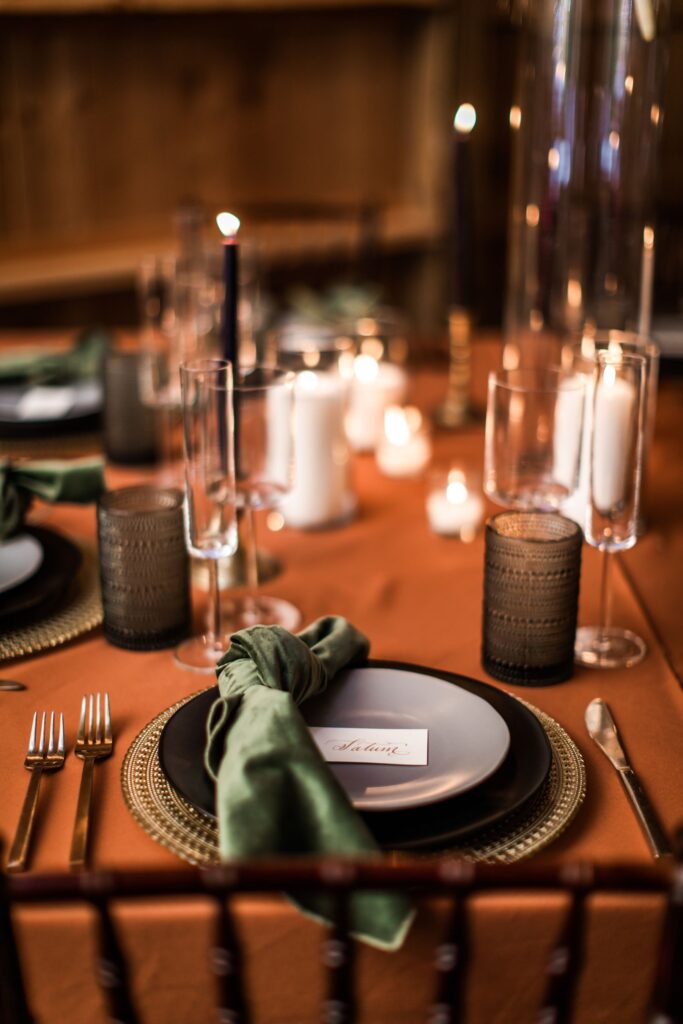 Cozy Lounge Areas
Enhance the guest experience with cozy lounge areas. As the evening breeze sets in, these areas provide a space where guests can relax and mingle. From plush sofas adorned with seasonal throw pillows to vintage-inspired armchairs. Southern Events' lounge rentals are both comfortable and pleasing to the eye. Grab our Jacqueline or Fern Velvet Sofa, or feature our classic Bennett Leather Sofa. Paired with a set of accent chairs. For an extra cozy setup, our Estelle Quarter Round Sofa is a stunner. Lastly, spruce up the space with a mix of vintage rugs and accent tables. Such as the Gold Hammered or Distressed Wood collections.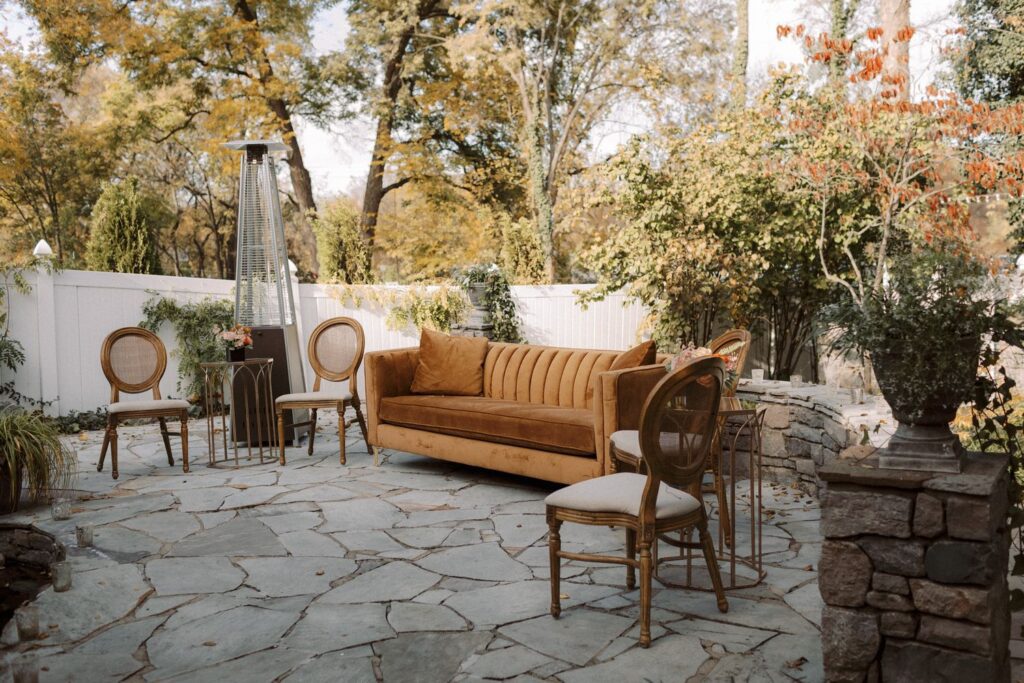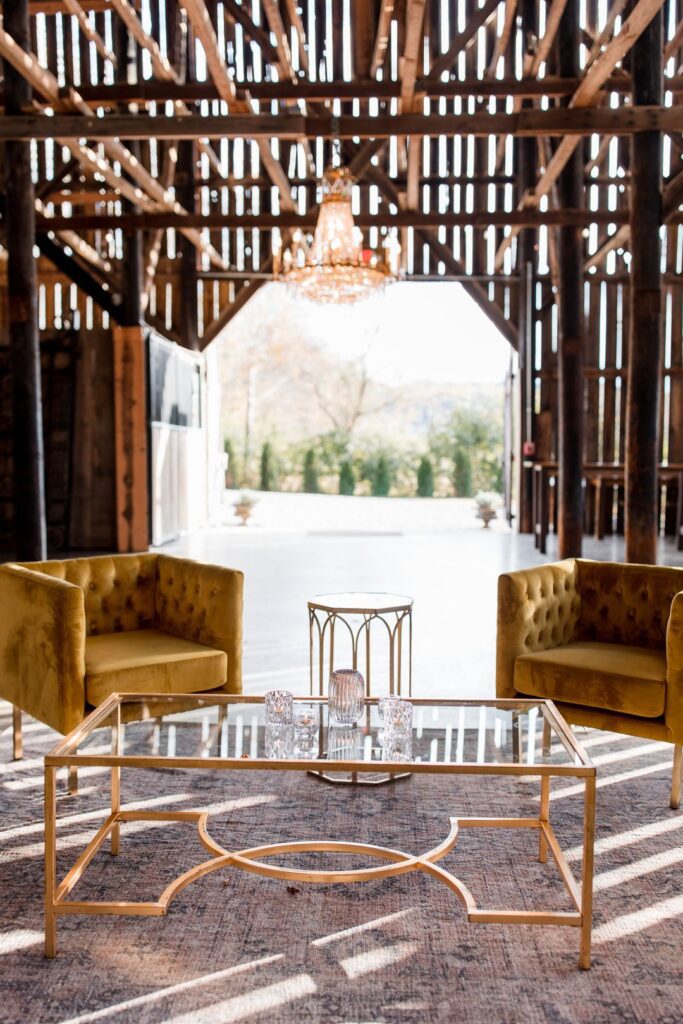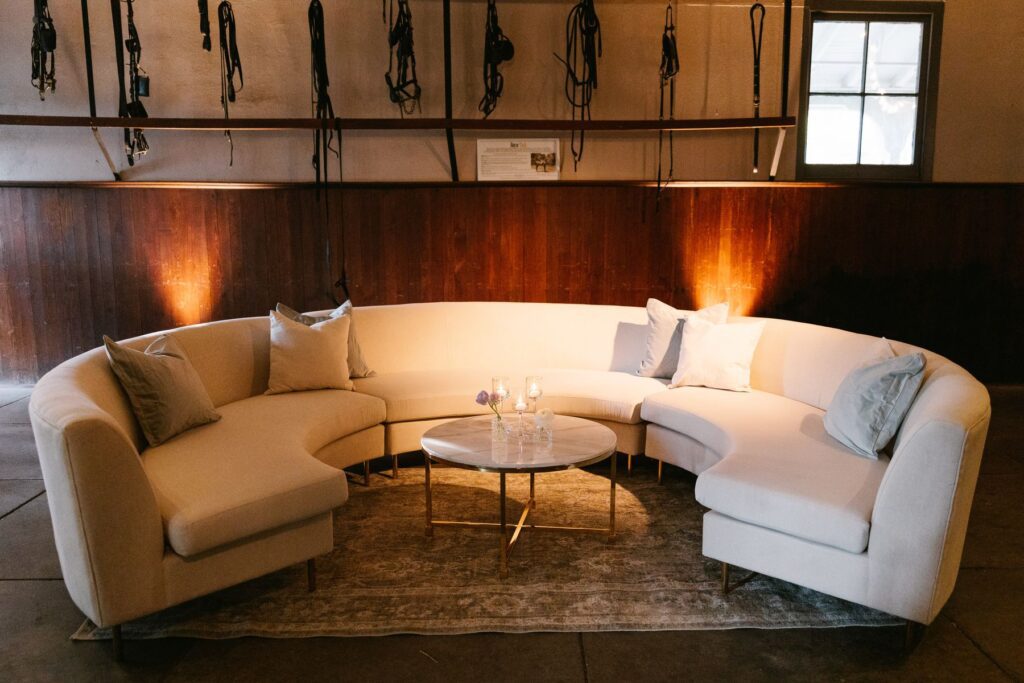 We can't wait to plan more Tennessee fall weddings! Send us a message at info@southerneventsonline.com to start planning your big day. Or for help choosing event rentals that fit your vision. Prefer a modern wedding look? Check out this Black and White Wedding at Diamond Creek.
TAGS | Fall Wedding Decor, Fall Wedding Rentals, Lounge Furniture, Rustic Weddings, Rustic event rentals, Tennessee fall wedding, fall weddings, outdoor fall wedding, rustic wedding decor, tablescape inspiration
FEATURED RENTALS | whiskey barrels, Cross Back chairs, fruitwood farm table, cross back chairs, harlin dining chairs, Copper Flatware. Complete the look with Recycled Glassware or Amber Goblets! Glass Mosaic Dinner, Rattan White Washed Charger, Alabaster Earthen China, Gold Austin Flatware, Copper Flatware, Amber Goblets Recycled Glassware, Onyx Earthen China, Copper Glass Charger, Golden Velvet, Moss Green Crust, Natural Sahara Runner, Rust Runner, Jacqueline Velvet Sofa, Fern velvet Sofa, Bennett Leather Sfoa, Estelle Quarter Round Sofa, vintage rugs, Gold Hammered Coffee Table, Distressed Wood Coffee Table,
---
20

Jul

Southern Events Products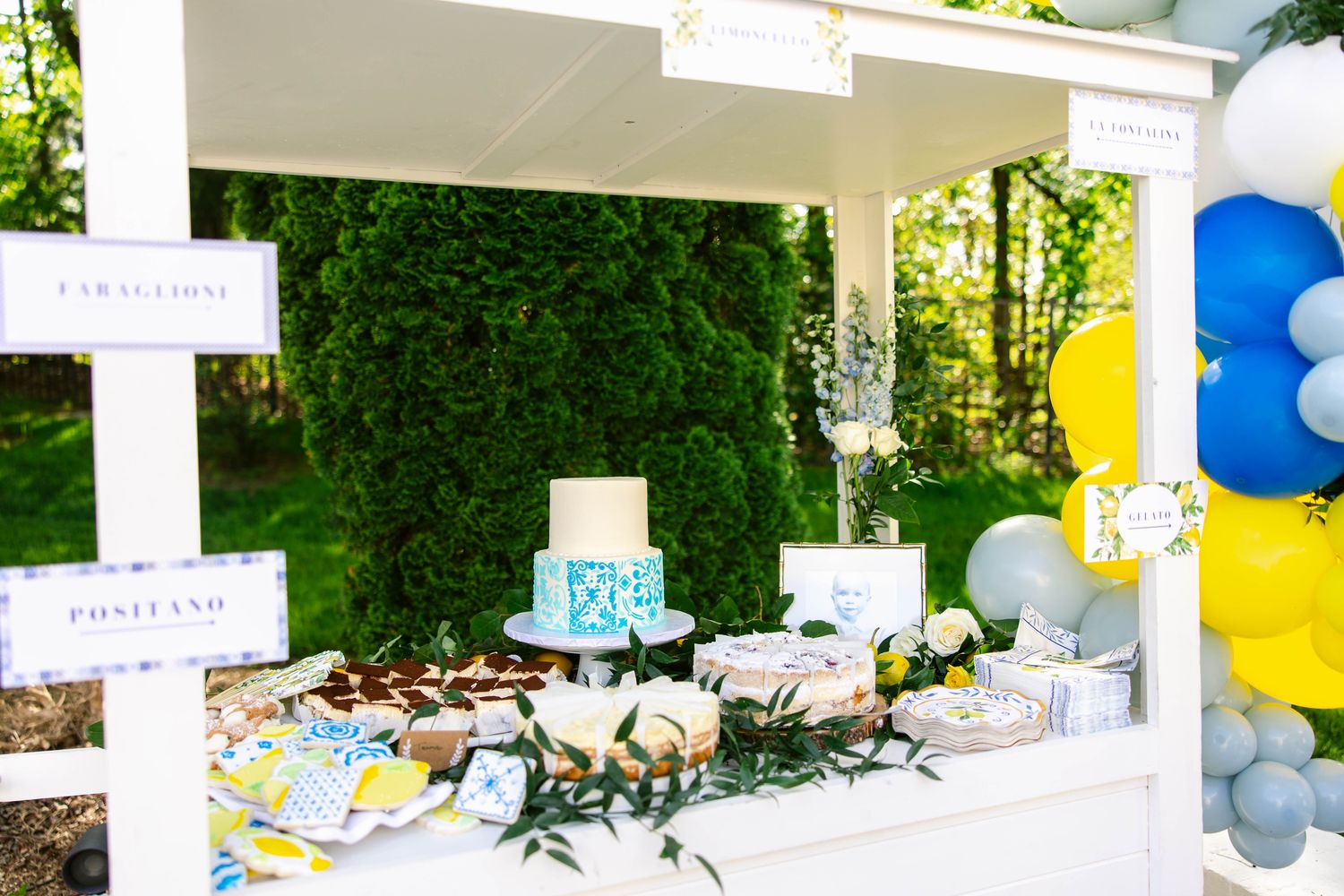 When it comes to hosting a memorable event, creating the perfect ambiance is essential. From corporate gatherings to weddings, the right furniture can elevate any occasion. And to help you, Southern Events offers a stunning collection of stylish specialty furniture rentals that are sure to impress your guests. From sophisticated lounge furniture to eye-catching props and more! Explore our in-stock rentals to discover how you can elevate your next celebration.
Luxe Lounge Furniture
Creating cozy and stylish lounge areas at your event has never been easier. From plush sofas and elegant armchairs to trendy ottomans and sleek coffee tables, our collection has it all. Whether you're hosting a corporate cocktail party or an intimate wedding reception, these pieces will ensure your guests feel comfortable. We recommend starting with a large loveseat or sofa set to match your theme. Choose from a collection, like the coastal-inspired Charlotte Collection or the contemporary Estelle Quarter Round Sofa. Alternatively, mix and match our single sofas and armchairs to match your event theme or style. Such as the Jacqueline Sofa and Bamboo Arm Chairs, a fitting combination for a modern retro vibe.
Don't forget to add on a set of accent tables and rug (or two), to create a cohesive look! The Gold Hammered Coffee Table and Capri Metal Table are both classic choices. As are our vintage rugs, available in an array of bright and beautiful colors.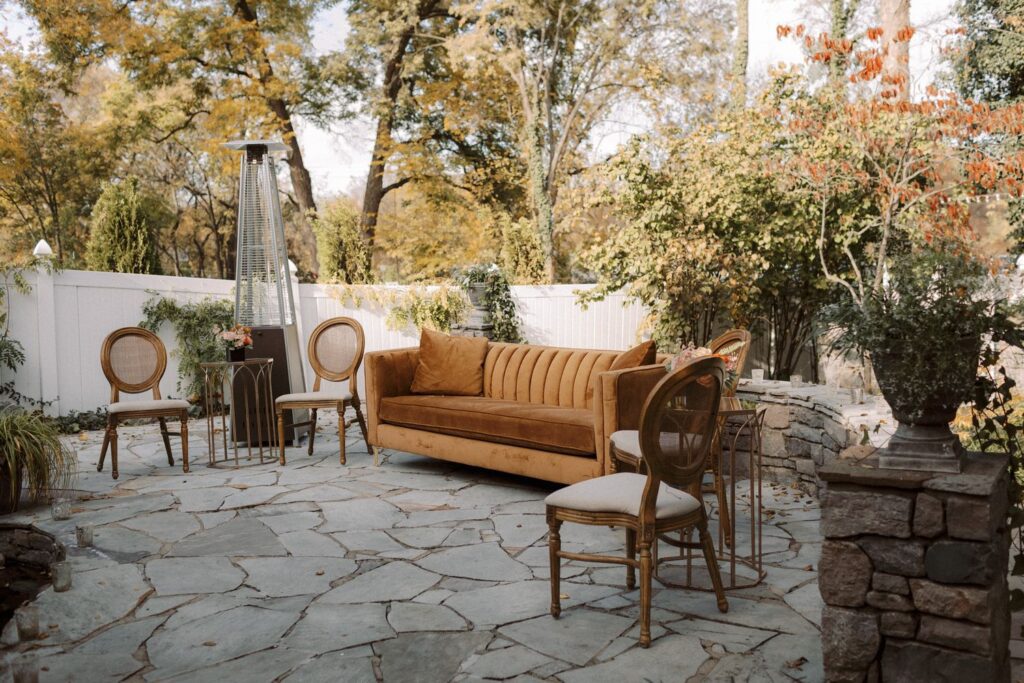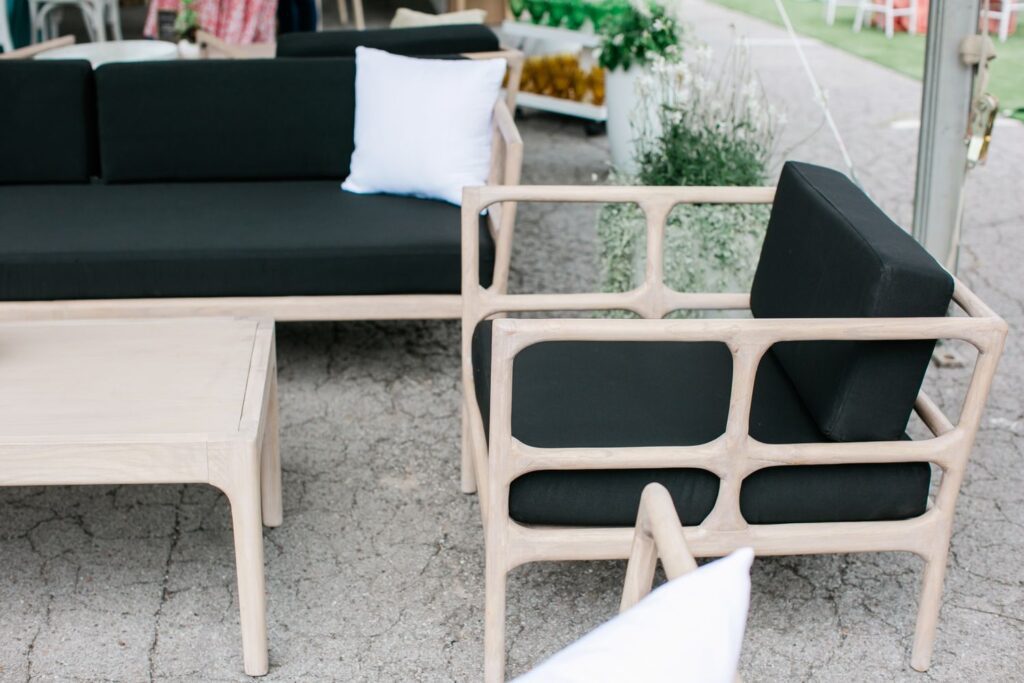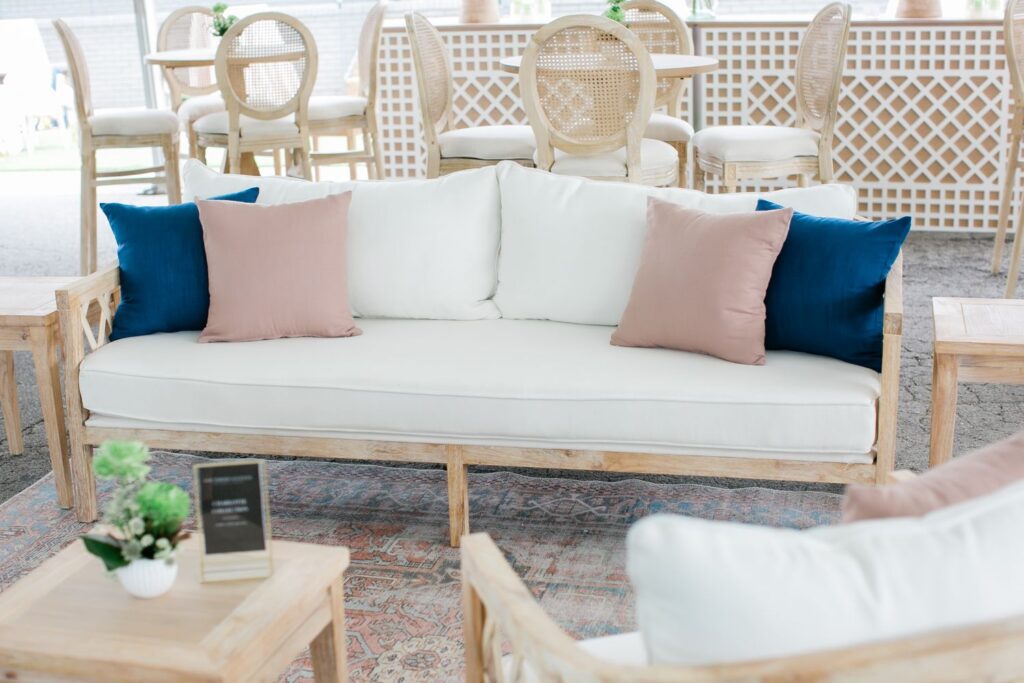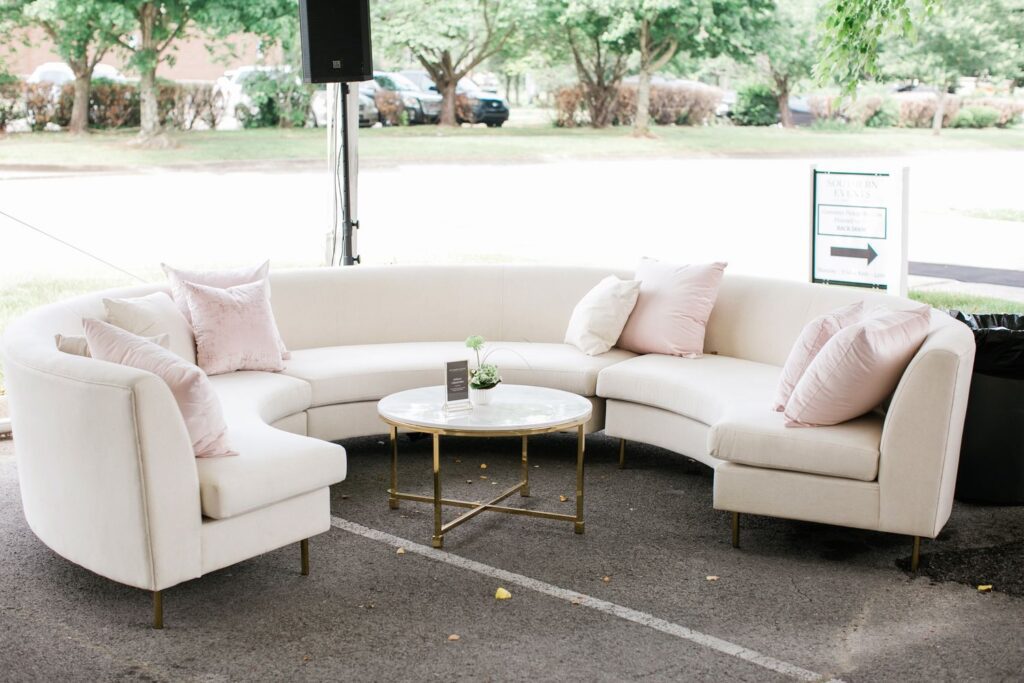 Dining Tables & Chairs
The dining experience starts with an impressive tablescape, the foundation of which are tables and chairs. For this reason, we stock a beautiful range of specialty furniture rentals, both functional and stylish. From modern rustic farm tables to chic chairs in various designs, our collection caters to diverse event themes and aesthetics. The newest addition, our Aged Oak Dining Table is a classic choice for any event and will lend a down-to-earth vibe. Should you prefer a brighter look, contrasted by bold servingware, opt for the White Antique Dining Table. Each of these looks stunning with Harlin Dining Chairs.
In the event that you will have an event bar, encourage guests to socialize with carefully placed cocktail tables. Such as the Palmer Bistro Table, complemented by matching barstools. If you need more seating, the Loren Gold Bistro Table is a beautiful alternative, that perfectly suits our Acrylic Ghost Barstools.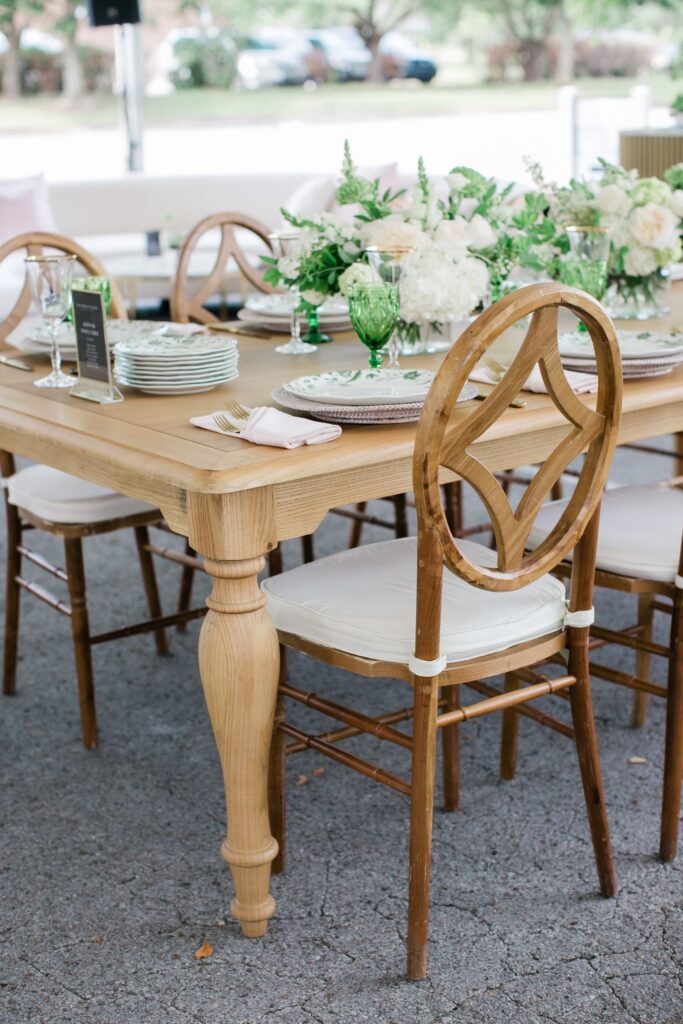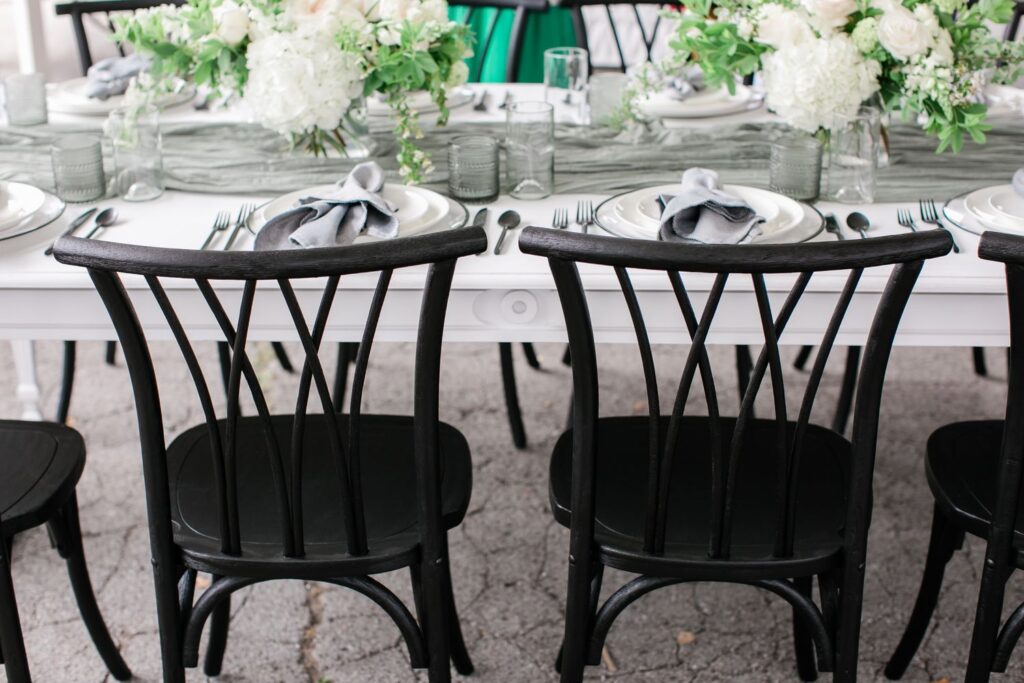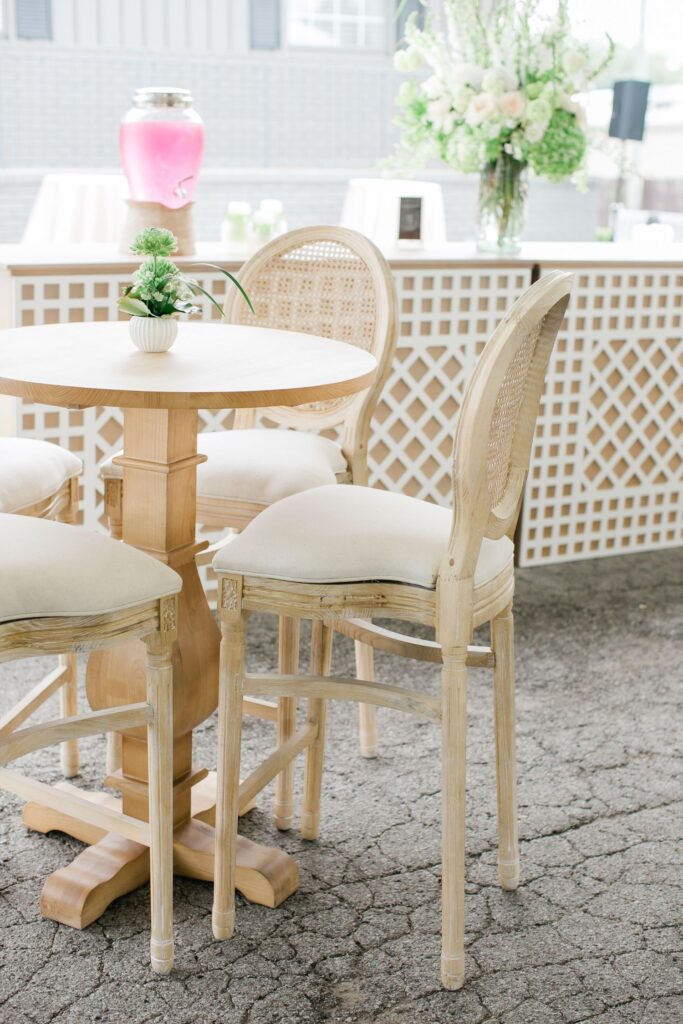 Eye-Catching Props
To truly transform your event space into a captivating environment you will want to feature eye-catching props! These unique decorative pieces add personality and flair to any setting, enhancing the visual appeal of your event. To create a luxurious display of desserts, consider our Market Cart, elevated with colorful balloons or flowers. For outdoor soirees, our White 6-Tier Serving Tower or Gold Bar Cart is perfect for serving up freshly made cocktails (or mocktails). Or, for the younger guests, party favors such as grab-and-go snacks or gift bags. Do you have plans to feature fun or quirky signage? Our Boxwood Walls look stunning affixed with a neon sign or seating chart. Whether it is used to welcome guests or serves as a ceremony backdrop.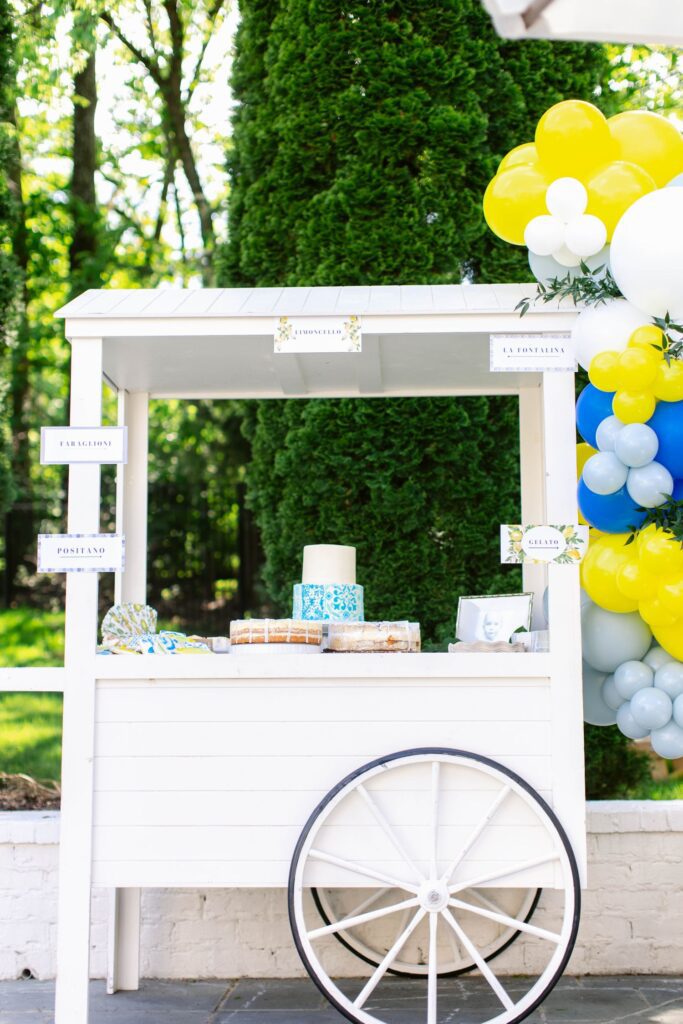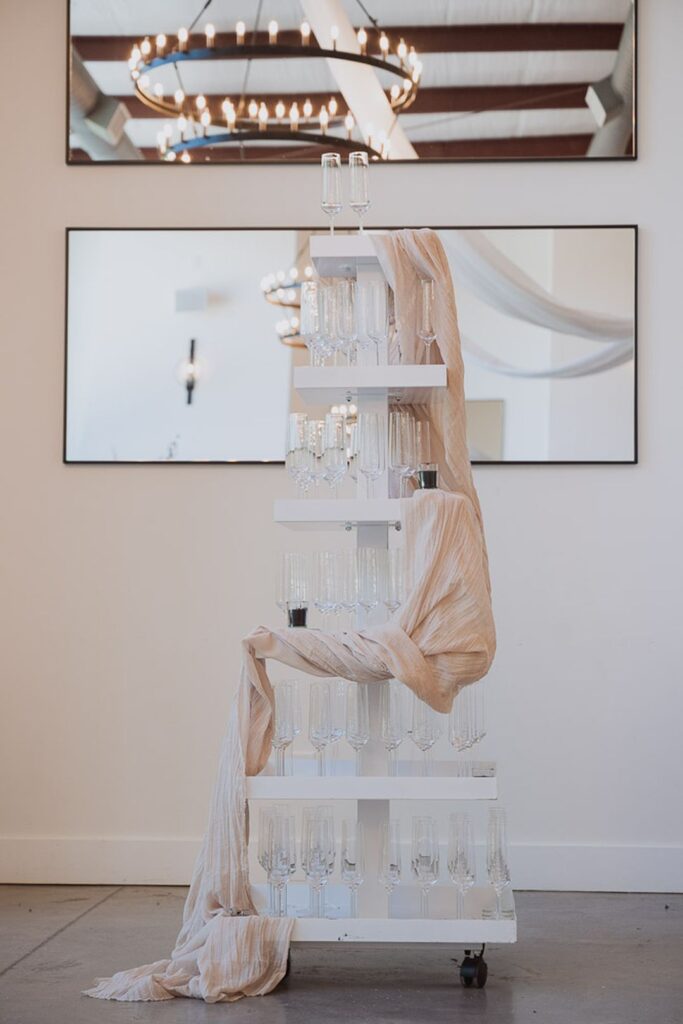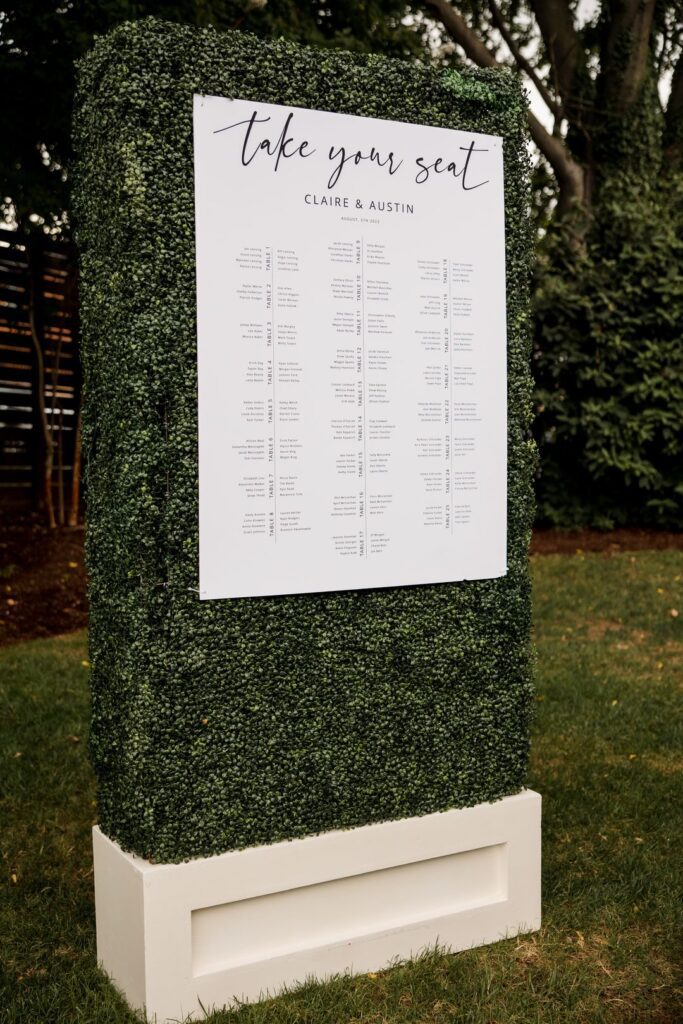 Bars and Shelving
A highly anticipated element at many events is the bar — hopefully well-stocked! We offer a beautiful collection of stylish bars and shelving options that not only serve as functional beverage stations but also make a statement. Whether you prefer a rustic wooden bar or a modern acrylic design, these specialty furniture rentals are a focal point that guests will flock to. The Collins Black Wood Bar is an elegant piece that, although its dark color, will lend a sophisticated look. Meanwhile, the Chelsea Marble Top Bar is ideal for a modern retro affair. Or, feature the Sorrento White Bar for a luxe contemporary event.
For storage, complement any of our bars with shelving, useful for showcasing glassware or bottles. Whether it be a White Bookcase or Gold Avenue Barback Shelf. If you choose to feature a large bar, such as the Thompson Full Oval Oak Bar, we recommend renting a Boxwood Wall. It is perfect for creating a luxe look, in addition to displaying a menu.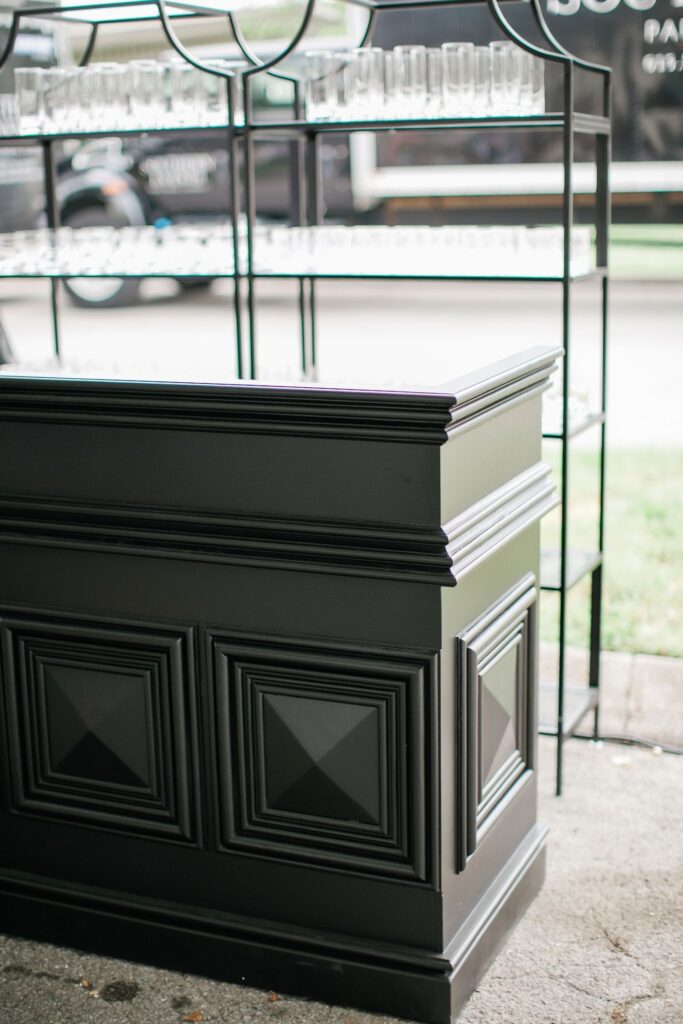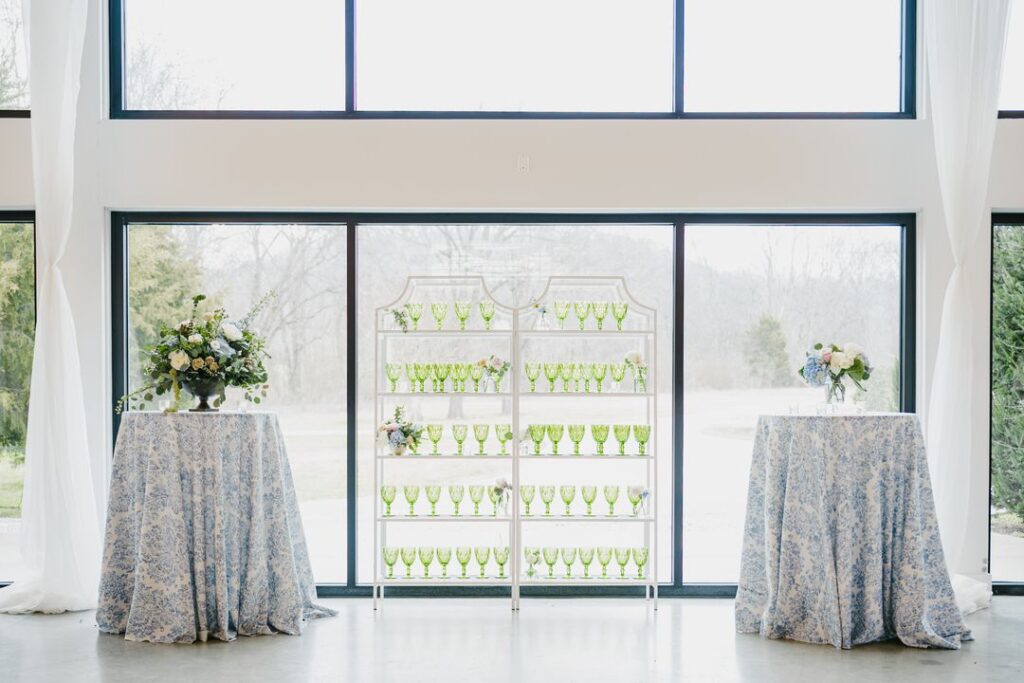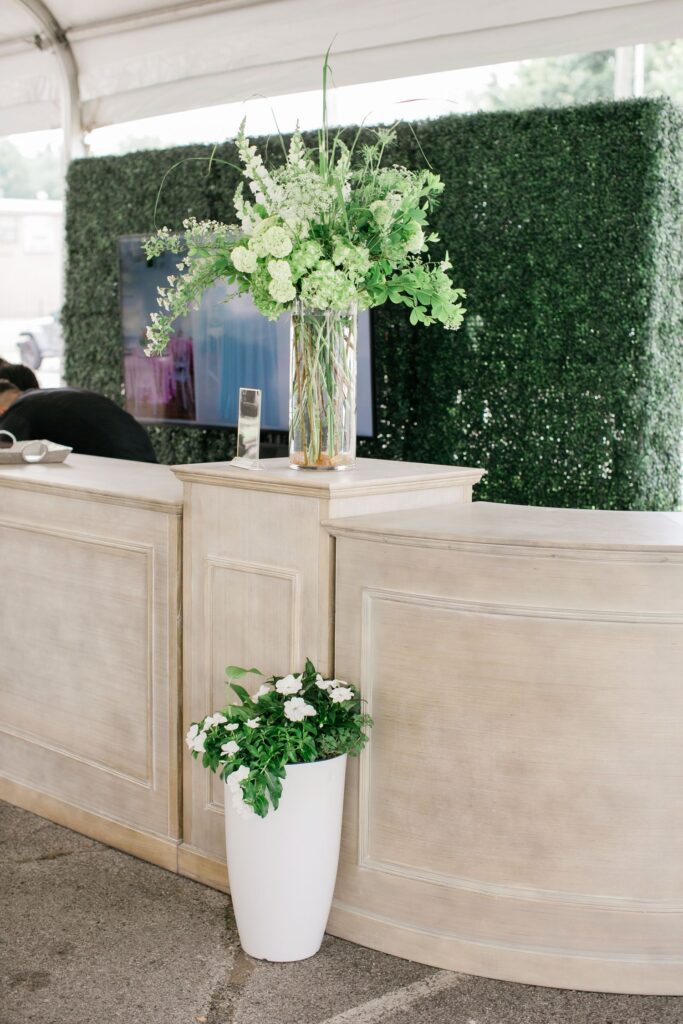 Why settle for ordinary when you can have extraordinary? Visit our website today to take a look at our full inventory of specialty furniture rentals. For additional help, send us a message at info@southerneventsonline.com! A member of our team would be happy to help you choose the perfect furnishings.
TAGS | Lounge Furniture, Modern Furniture, Outdoor Event Furniture, event furniture, event props, outdoor event rentals, specialty furniture rentals
FEATURED RENTALS | Collins Black Wood Bar, Chelsea Marble Top Bar, Sorrento White Bar, Gold Avenue Barback Shelf, Thompson Full Oval Oak Bar, Charlotte Collection, Market Cart, White 6 Tier Serving Tower, Gold Bar Cart, Boxwood Walls, Estelle Quarter Round Sofa, Jacqueline Sofa, Bamboo Arm Chairs, Aged Oak Dining Table, White Antique Dining Table, Harlin Dining Chairs, Palmer Bistro Table, Acrylic Ghost Barstools
---
25

May

Events and Style Shoots, On Trend, Trends and Inspiration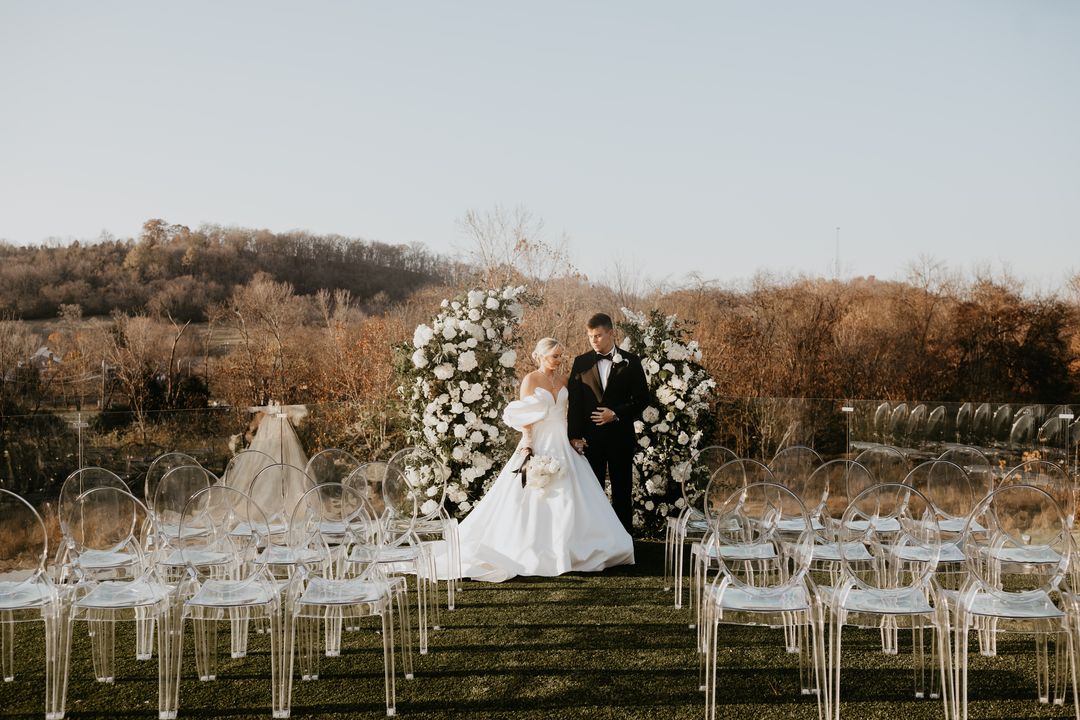 Nothing beats the classic elegance of black-and-white wedding design! This timeless color combination is perfect for any season and creates a sleek and sophisticated ambiance for your big day. Get inspired by a styled shoot hosted at Diamond Creek Farm, featuring stylish event rentals from Southern Events Online. From chic acrylic seating to bold linens, we have everything you need to host an elevated black-and-white wedding.
Simple Chic Ceremony
For this styled shoot, we aimed to showcase the beauty of a modern black-and-white wedding. Starting with an elegant outdoor ceremony! Hosting outdoors is all about letting nature shine. At Diamond Creek, this entails the sprawling Tennessee farmlands. Just past the veranda, a manicured lawn overlooking the countryside is a fitting setting for a vow exchange. Ceremony seating consisted of our Acrylic Ghost Armless Chairs. The clear material is chic and it doesn't take away from the view. The outdoor space is elevated with a floral backdrop made of white flowers and dark greenery. An equally stunning alternative, consider our Fiona Mantle with the same flower arrangement. Off to the side, a bistro table is dressed up with Black Nova Linens for a live painter.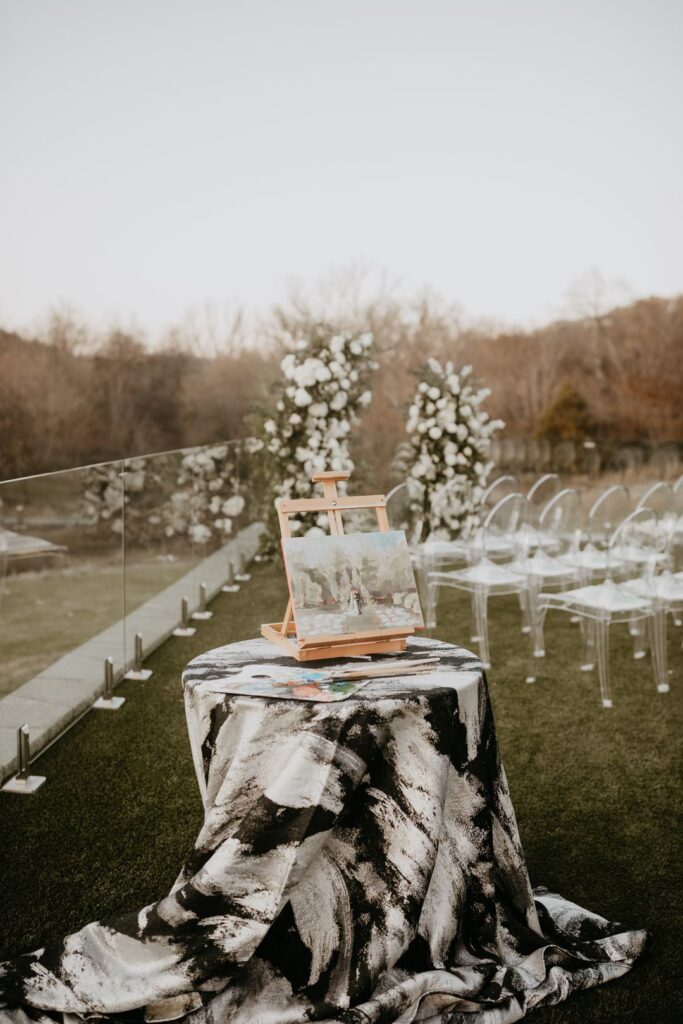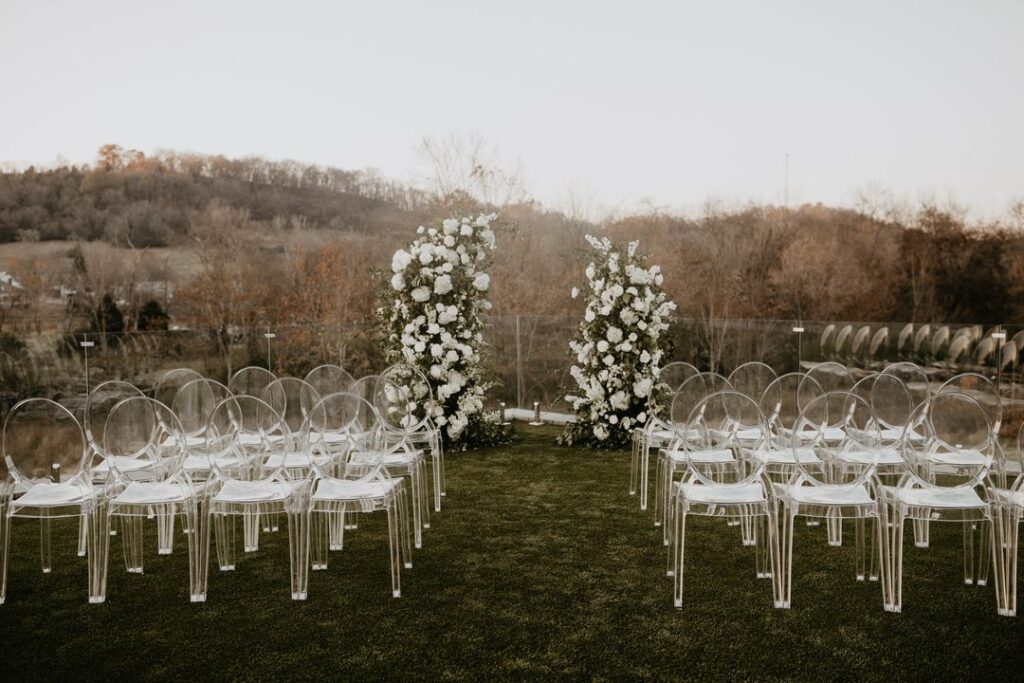 Luxe Black and White Lounge
An elegant black and white lounge area with some grey accents is the perfect addition to any wedding. An essential for a cocktail hour! This type of setup creates a chic and sophisticated space for guests to relax and socialize in. Start with our luxurious Henley Grey Velvet Tufted Sofa and the matching Armchairs. To frame the space we always recommend a rug, and in this case, our Black-Silver Rug is perfect. It pairs beautifully with a set of Echo Mirror Silver Side Tables. If you like a little contrast, place a Gold Hammered Coffee Table in the center. Or you can keep to the color scheme and opt for pewter.
The perfect addition to black-and-white wedding decor is a touch of greenery! If you aren't hosting outdoors, our Boxwood Walls are an elegant and natural addition. Use it as a backdrop for the cake-cutting ceremony, or to place behind the sweetheart table. It is easy to customize, whether you prefer fresh flowers or a neon sign.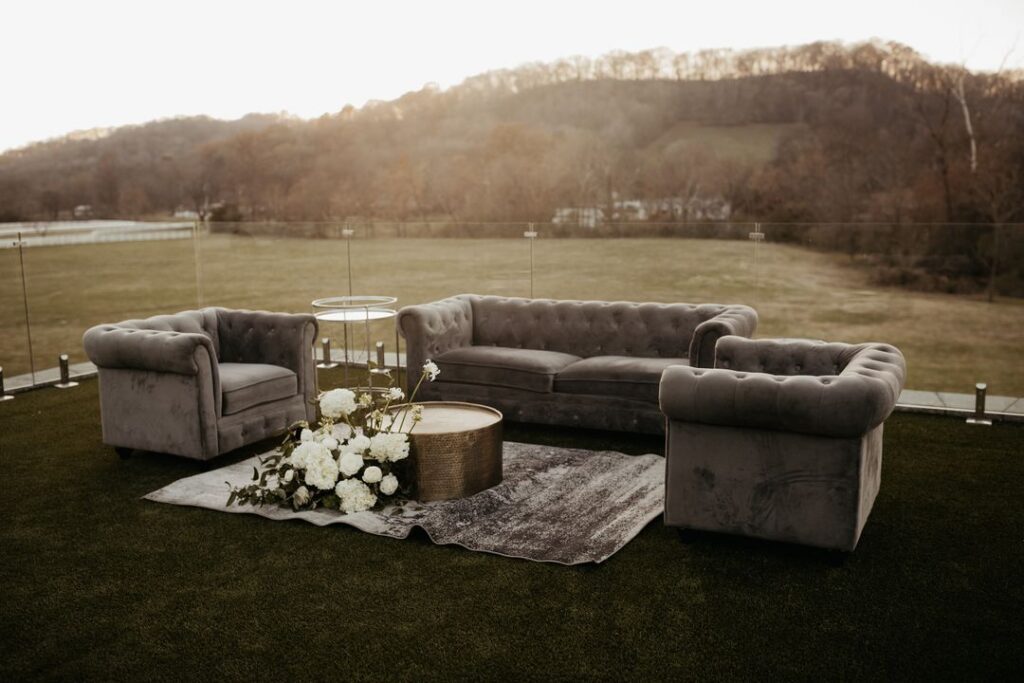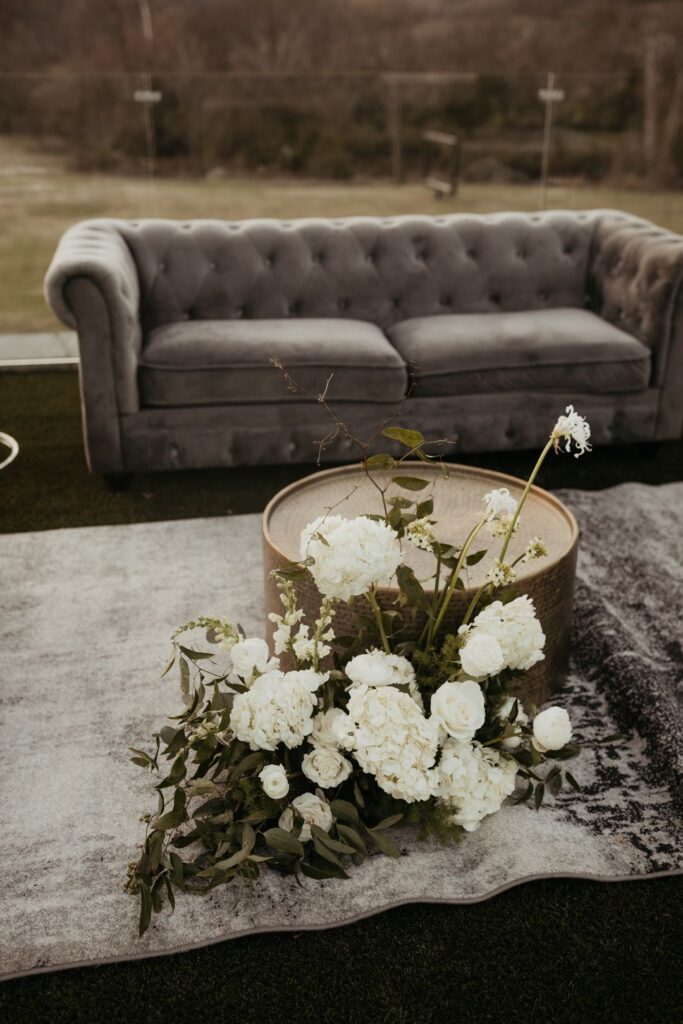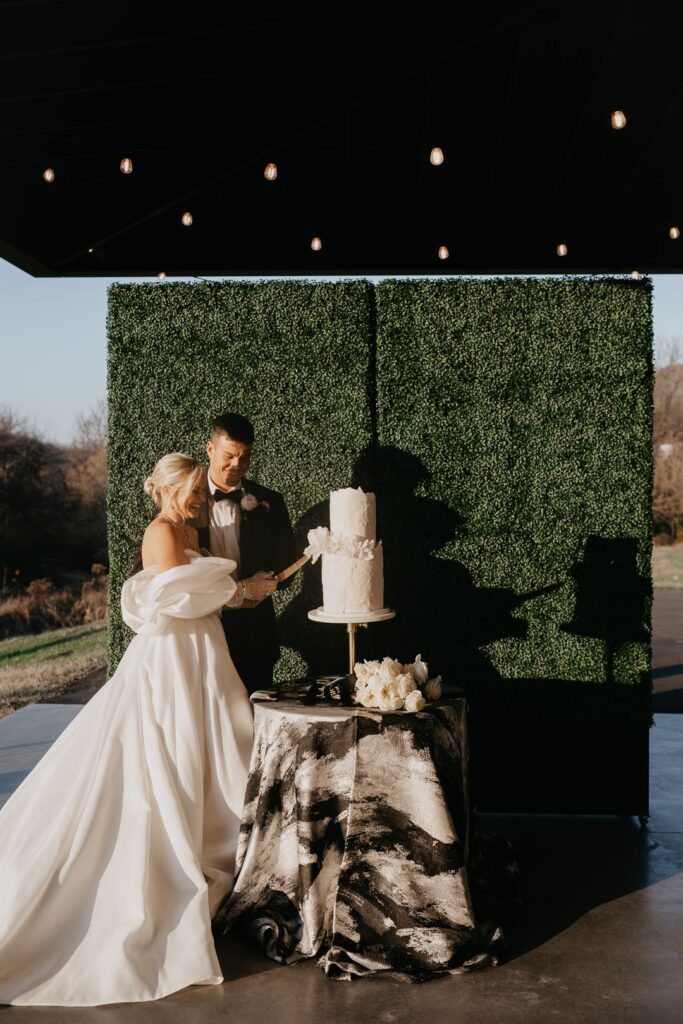 Contemporary Tablescape
The table was set with a stunning combination of black-and-white elements. We used a Grey Goose tablecloth as the base, complemented by a romantic Dove Grey Table Runner. The use of soft grey linens allowed the pure white flower centerpieces to shine! On top, we placed Glass Chargers with a Black Rim and Earthen Onyx China to create contrast. Matched by Noir Matte Black Flatware and solid Black Poly Napkins. Cybil Wine Glasses and Champagne flutes were a fun and funky addition that lent a contemporary flair. Complete with the same acrylic seating from the ceremony, this tablescape exudes modern luxury. Thanks to the natural palette it is also versatile! It would look just as beautiful for a minimalist celebration in a modern event barn as it would for a black-tie wedding in a grand ballroom.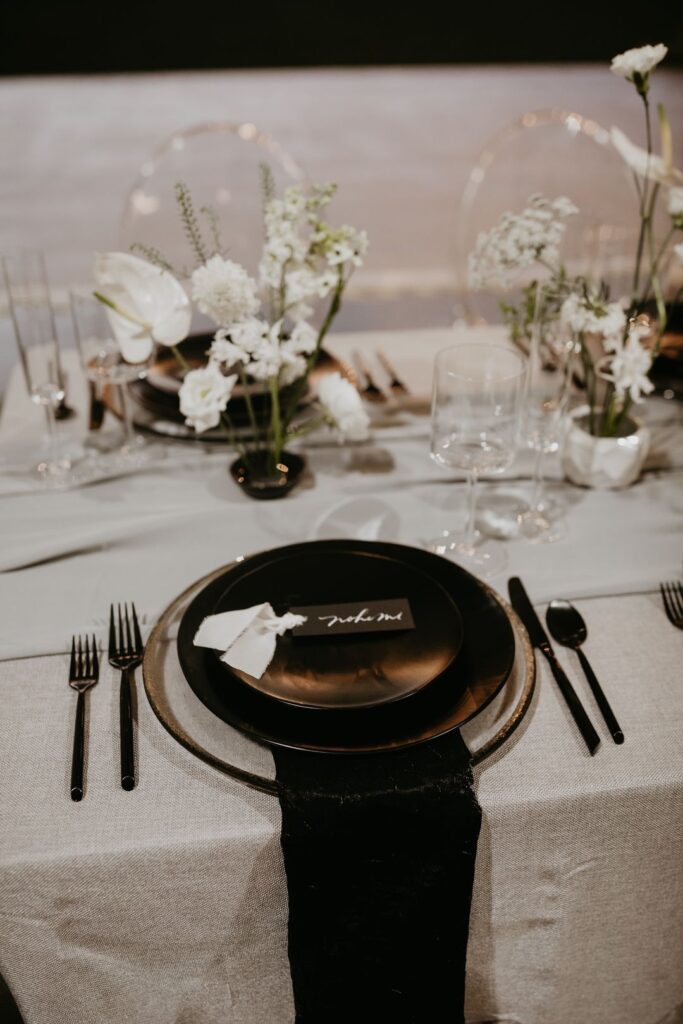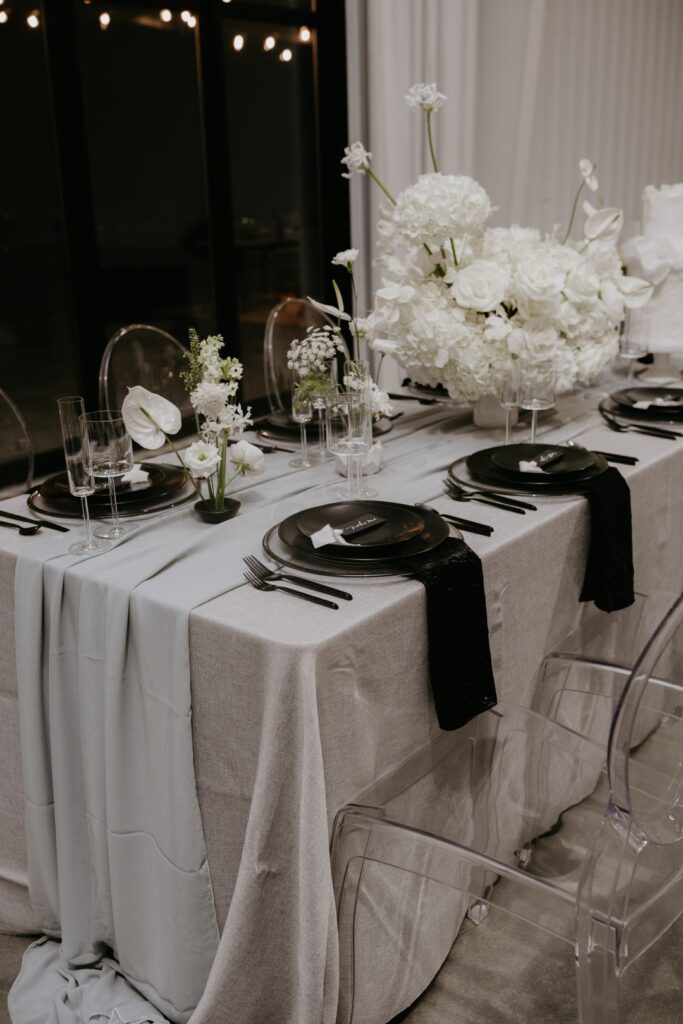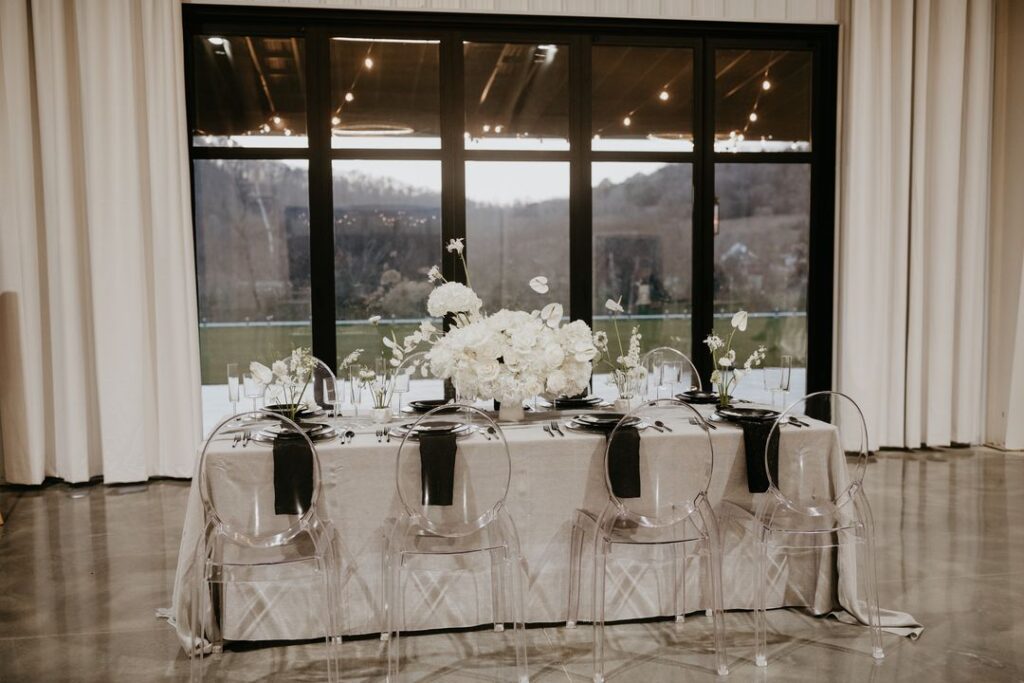 Vendors
Photo: Gabrielle Von Heyking
Venue: Diamond Creek Farm​​​​​​​​
Planning: Amber Marie Events​​​​​​​​
Florals: Fiorella Nashville
Let our team help you plan a modern wedding that will stand the test of time! Send us a message at info@southerneventsonline.com, or view our full range of rentals in the catalog. For more wedding inspiration, take a look at this Modern Celestial Wedding.
TAGS | Black and White, Black and White Wedding Decor, Boxwood Walls, Cake Stand, Lounge Furniture, modern wedding, wedding style trends, white wedding decor
FEATURED RENTALS |
---
20

Apr

Southern Events Products, Trends and Inspiration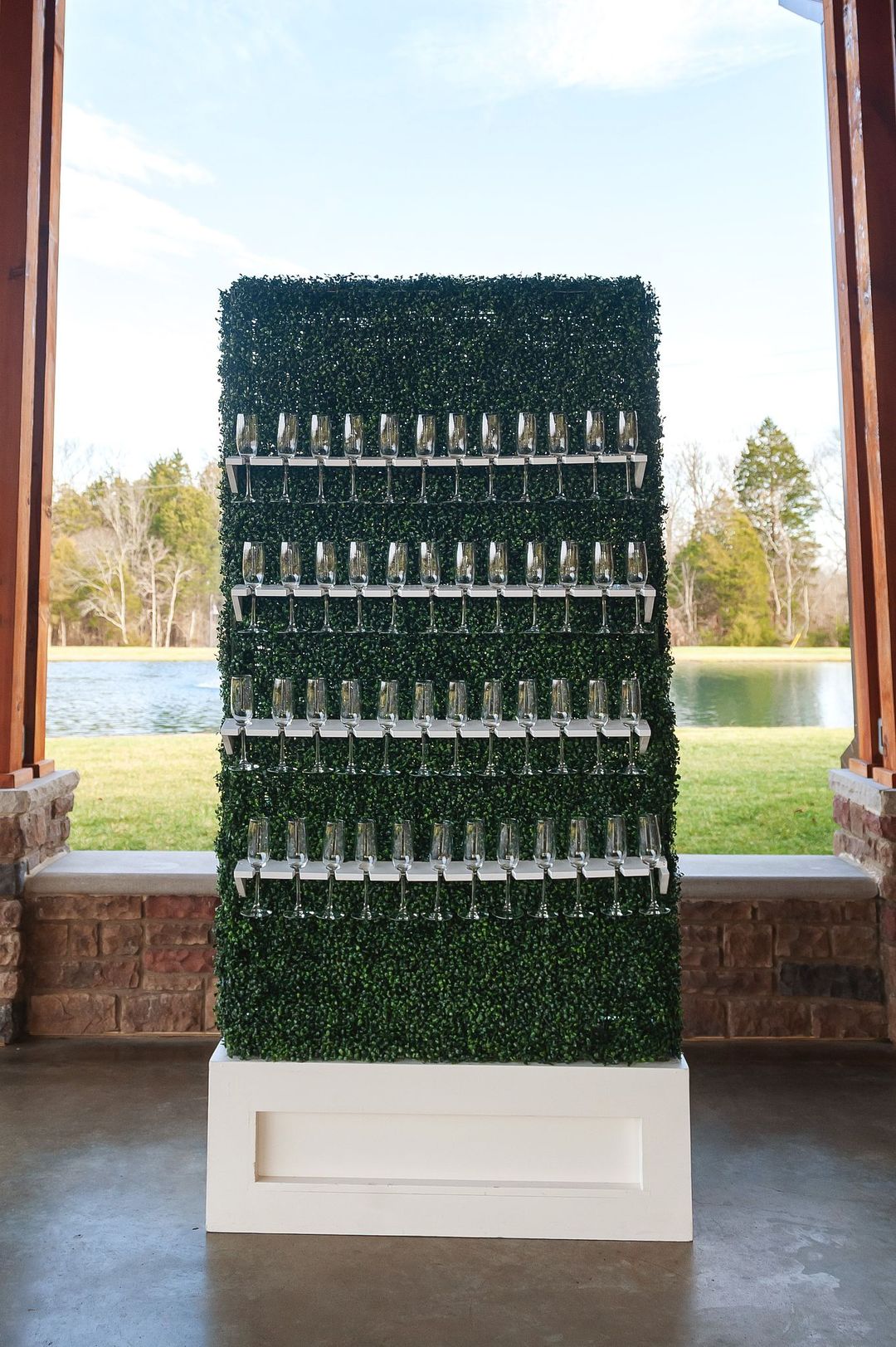 Outdoor parties are the perfect way to celebrate any occasion, from birthdays and weddings to corporate events and backyard gatherings. To make your event truly special, consider renting unique outdoor party decor and props that will create a memorable experience for your guests. Take a look at some of our unique inventory items, perfect for creating fun focal points, stylish backdrops, food and drink displays, or social areas, that are sure to impress.
Photo-Worthy Outdoor Party Decor & Backdrops
Every event needs a photo backdrop! A place where guests can snap a photo as a keepsake or to share on social media. Our Boxwood Wall is a beautiful and versatile piece of decor. It can be used to create a backdrop for luxurious photographs, dressed up with drapery, balloons, or fresh flowers. Or you can create an interactive focal point, such as a champagne wall! These same walls can also be used to create a stylish seating chart or welcome sign.
Alternatively, check out our beautiful Fiona Ivory Mantle. Whether it is placed against a wall or standalone, it can also be used as a backdrop or fun focal point. Adorn the mantle with flowers and the base with lanterns, and it is perfect as a backdrop for opening presents at a birthday or baby shower. An equally stunning option is our Wrought Iron Arch. It would look stunning for a garden party, whether you choose to feature it as an entryway to hang a banner. For a more elegant look, weave our Chiffon Runner or fresh flowers through the metal lattice!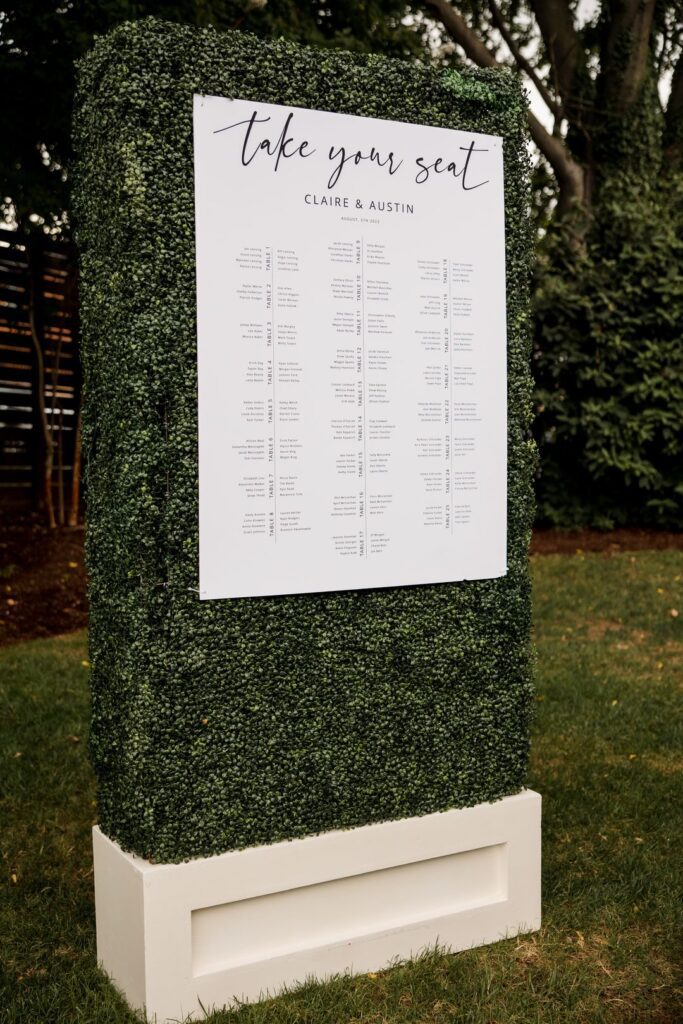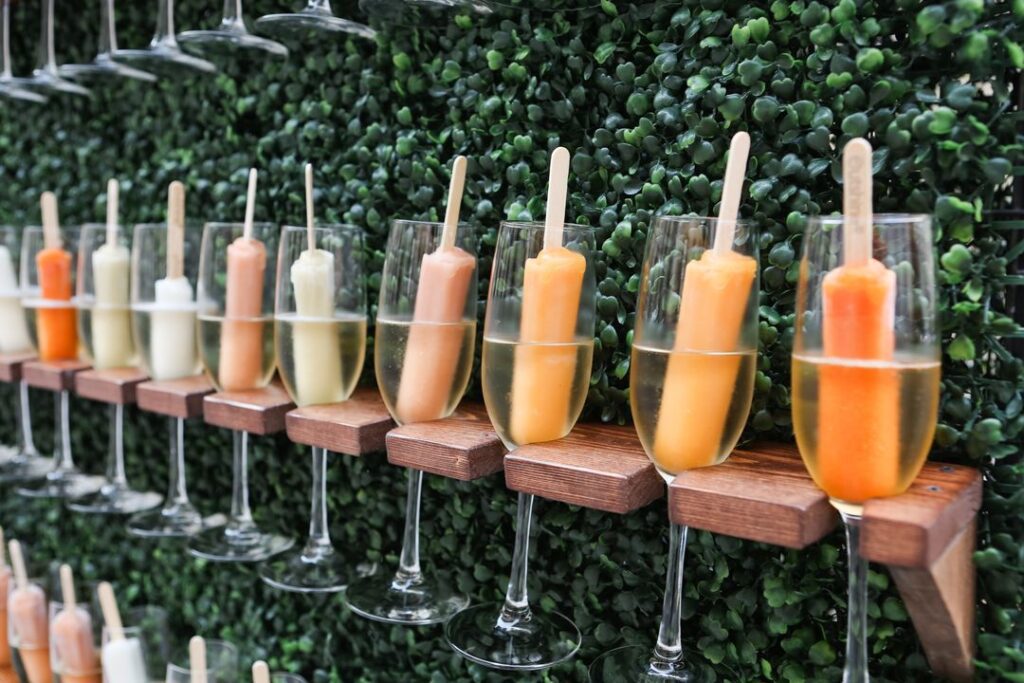 Outdoor Drink & Food Displays
One of our favorite ways to make a statement at any event is with a stylish drink or food display. It's a simple but effective way to elevate a buffet area or to serve up favors to guests! The most popular piece in our inventory of outdoor party decor is our whiskey barrels, with an acrylic or barn wood top. It's the perfect makeshift bar or grazing table! But you can also use it in tandem with a variety of our cake stands to create a multi-level display of appetizers or desserts. Or create a stylish buffet when you mix and match our beverage dispensers and chafing dishes.
A close second to any of our whiskey barrel bars is our Market Cart. Simple and bright white, it is a chic piece ideal for baby and bridal showers! Use this piece as a welcome area for a ticketed event, as a designated space for presents, or to place favors for guests to grab as they are exiting. If you would prefer a prop with space for custom signage, for a birthday party or themed event, opt for a Ticket Booth.
If you're hosting a wedding, anniversary, or corporate event, champagne is a must! Toast to another year, or a year of big achievements, with a trendy champagne tower. You can create a beautiful tablescape with any of our linens and a tower created using our Gatsby Champagne Coupes. Or, if you aren't a fan of a glass tower, feature our White 6-Tier Serving Tower. Sleek and modern, it will make hosting a toast a breeze!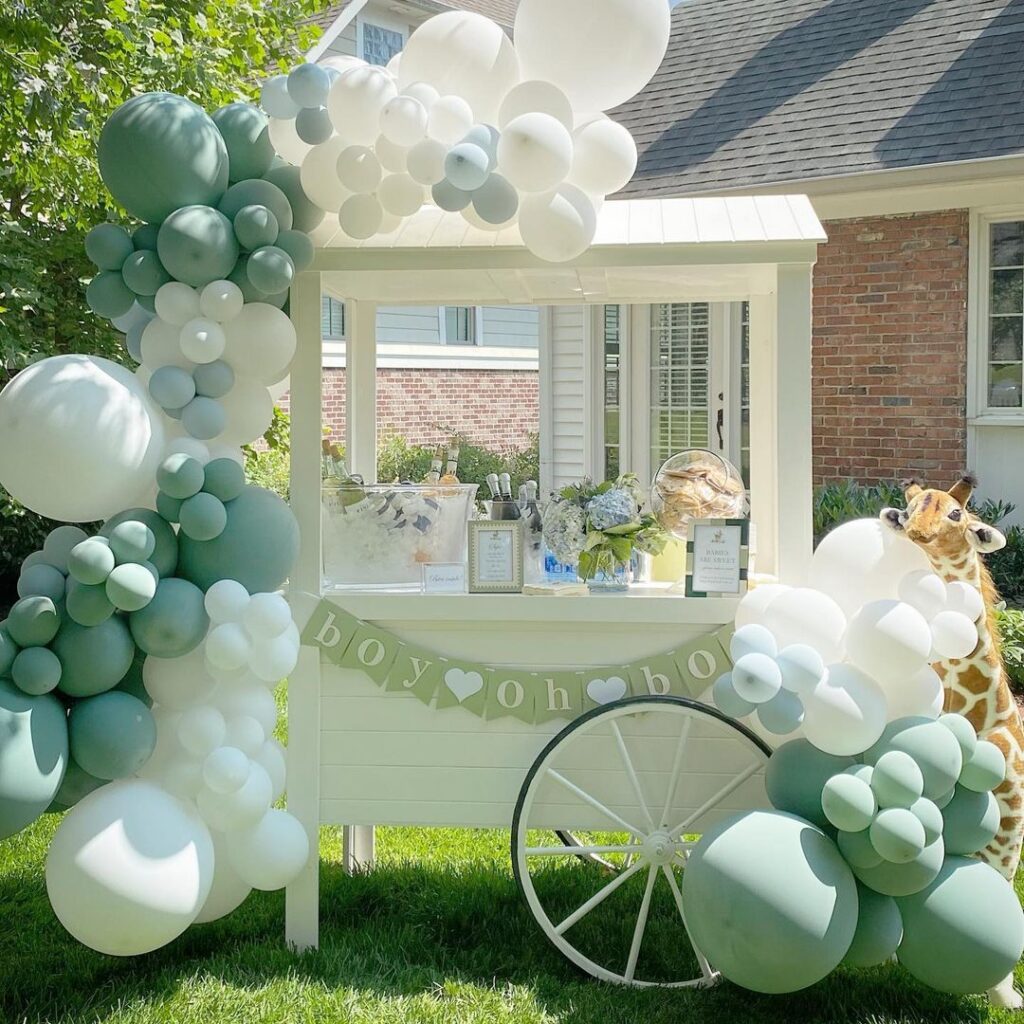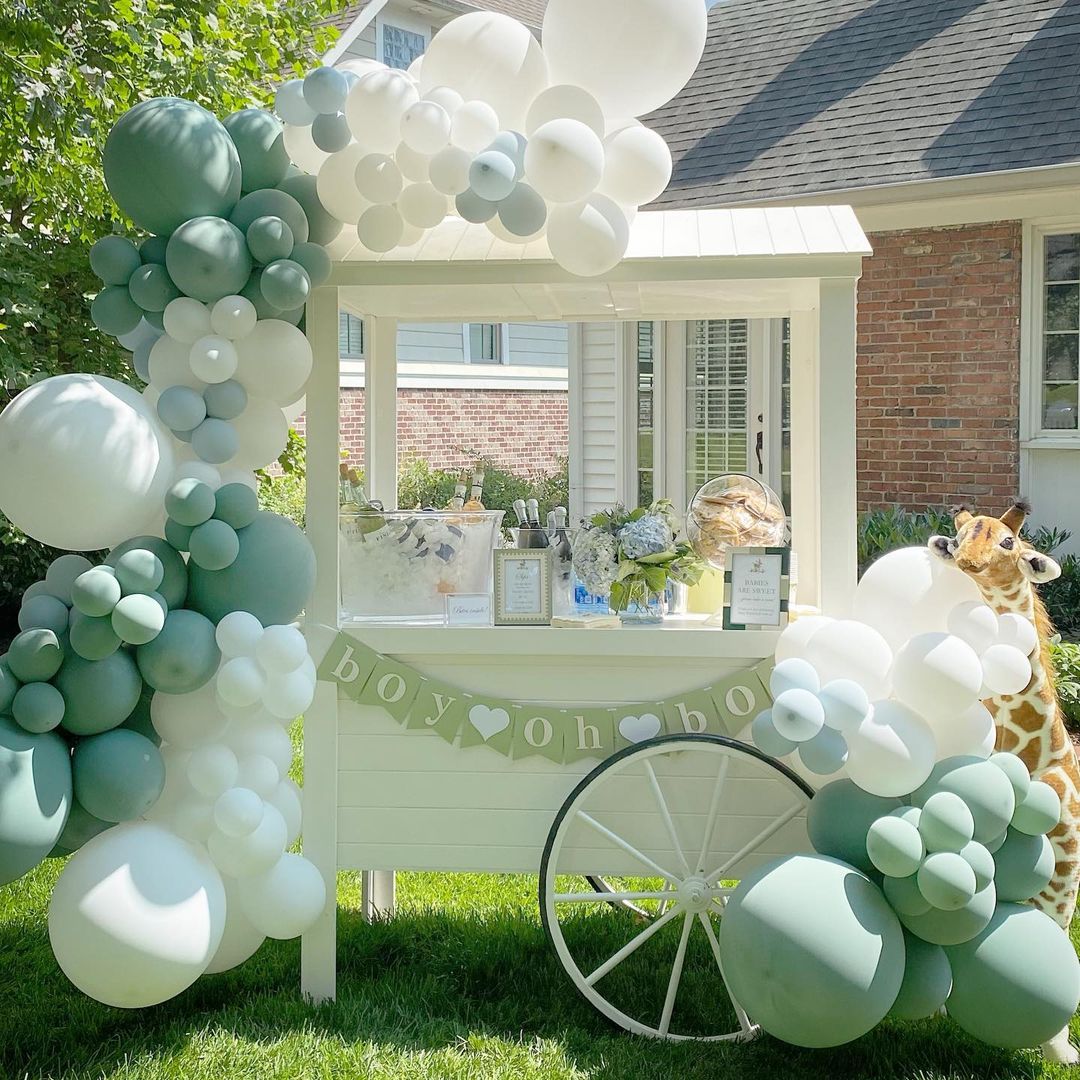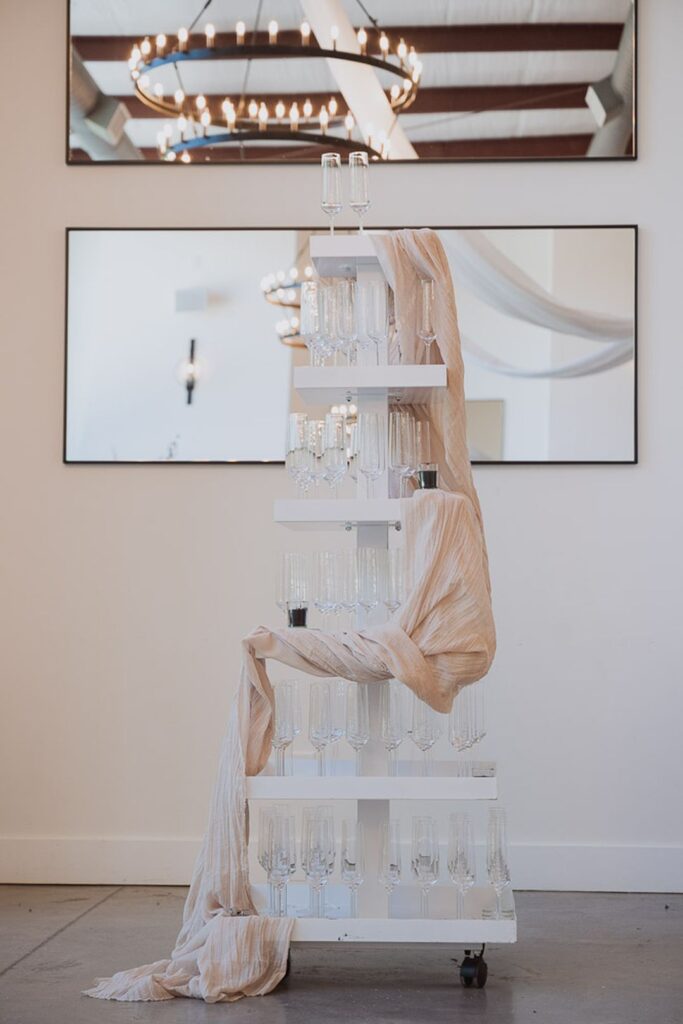 Trendy Outdoor Lounge Areas
Want a focal point for your event that is not just aesthetic? You need a lounge area – maybe two! We stock a large variety of trendy sofas, armchairs, accent tables, and rugs to create a lounge area that is as beautiful as it is comfortable. Start with any of our sofas, like our classic Bennett Leather or the retro-inspired Fern Velvet. Armchairs will increase the amount of seating available, as will any of our poufs or ottomans. If your lounge is being used during a cocktail hour with drinks or light bites, be sure to grab a set of accent tables. And, finally, don't overlook a rug; whether you prefer cowhide or vintage. It will beautifully frame the space, whereas without one it can leave your lounge feeling incomplete.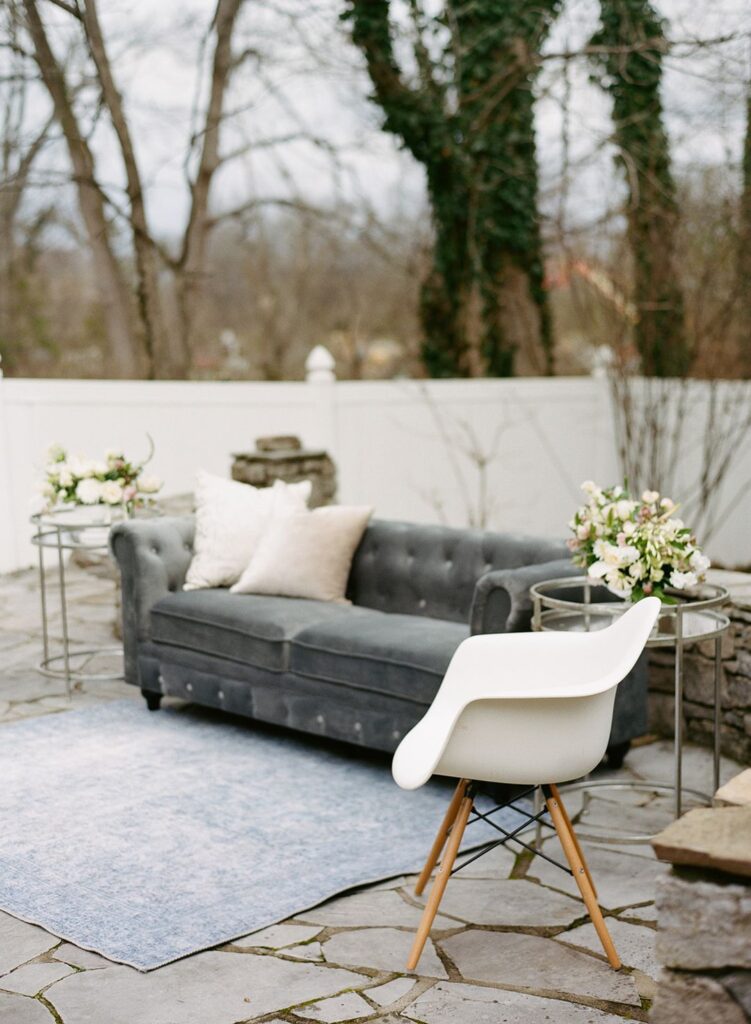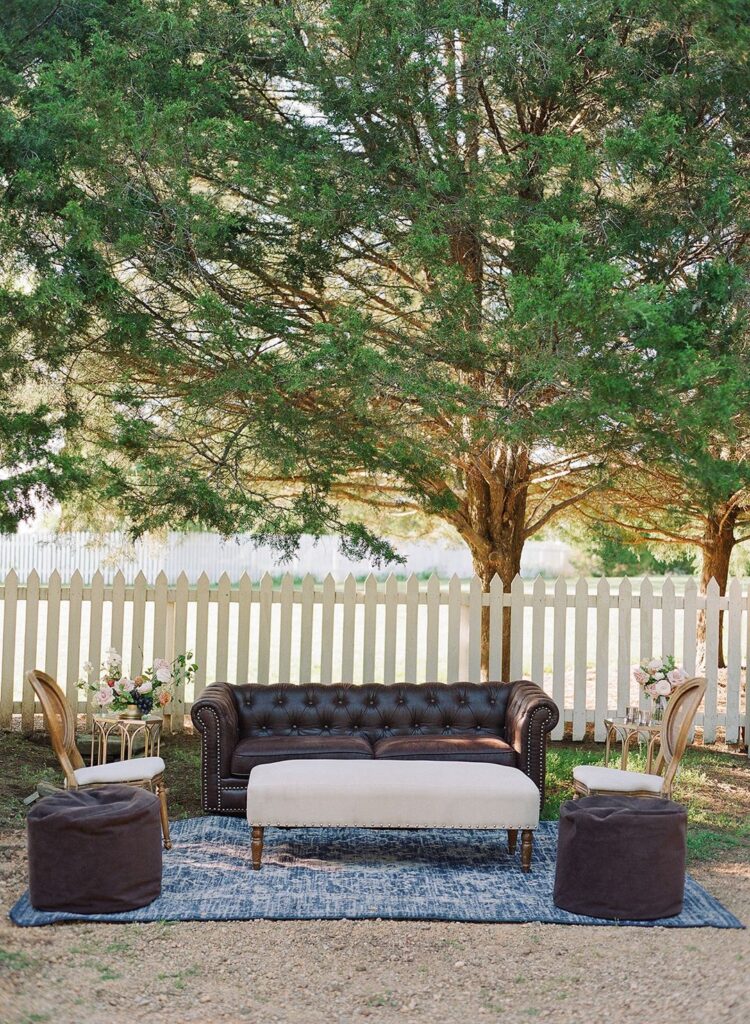 Want to feature one or several of our outdoor party decor or props at your upcoming event? Contact our team for help, or if you need additional ideas. Plus, be sure to check out our new tent packages, curated to include everything you need for a stylish outdoor celebration; because planning an outdoor party doesn't have to be a hassle! Looking for an outdoor event theme that is fresh and fun? Get inspired by this classic cookout party!
TAGS | Backdrop, Boxwood Walls, Interactive Drink Station, Lounge Furniture, backdrop ideas, event photo backdrop, food display, lounge areas
FEATURED RENTALS | Boxwood wall, fiona ivory mantle, wrought iron arch, whiskey barrel bar, cake stands, beverage dispenser, chafing dishes, market cart, ticket booth, Bennett Leather, Fern Velvet, accent tables, rugs, armchairs, gatsby champagne coupes, white 6 tier serving tower,
---
16

Mar

On Trend, Southern Events Products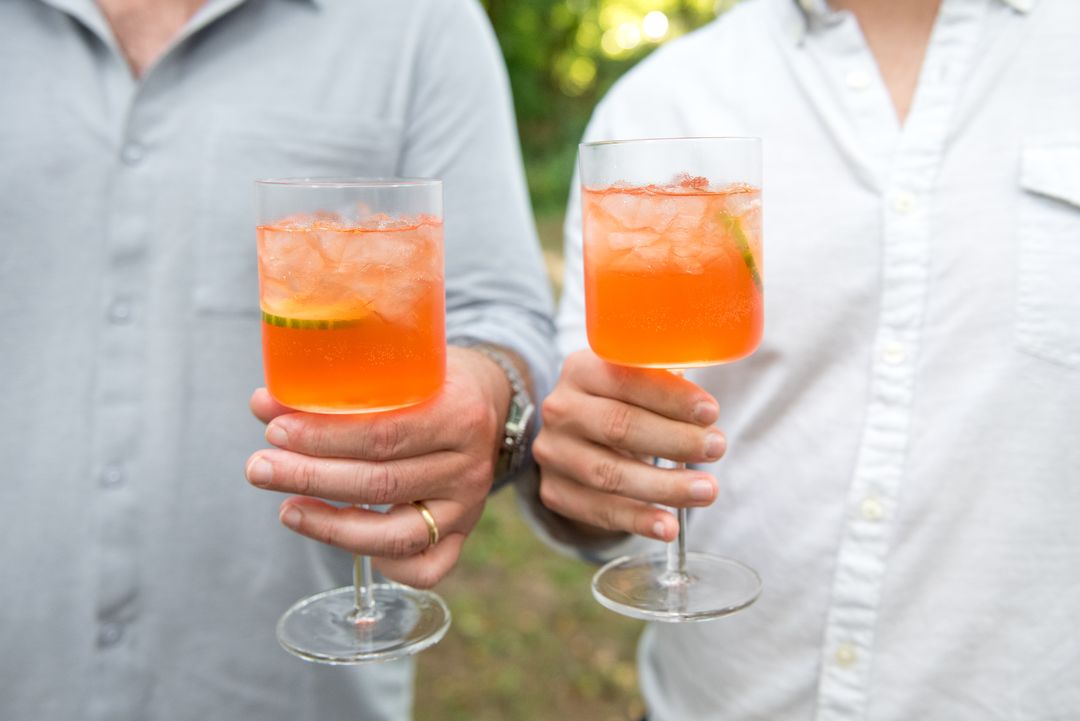 As the weather warms up there is no better time to host a corporate event. Blue skies and sunshine open up a world of possibilities in terms of creative entertainment and event design. At Southern Events Party Rentals Online, we have a little something for every occasion and celebration! From stylish cocktail hour essentials to cozy event lounges. Perfect for toasting an anniversary, thanking partners and clients, or treating your employees. Get inspired by these unique corporate event themes, perfect for the spring and summer seasons!
Spring Has Sprung
The season of new beginnings, spring is a fitting time to treat your employees to a party that will leave them feeling reenergized. This is one of the more simple corporate event themes, yet it is sure to be a memorable event. We recommend hosting outdoors, to make the most of the seasonal foliage – think of it as natural decor! Scatter a mix of bistro and round tables on the lawn, dressed up with Peaches N' Cream Poly and our elegant Harlin Dining Chairs. For additional seating, feature a chic neutral lounge area made up of our Bennett Leather Sofa, Adeline Dining Chairs, Chocolate Poufs, and a Navy Rug. To encourage guests to stay awhile, provide them with a stocked Franklin Antique White Bar and grazing boards served up on Wood Melamine Trays.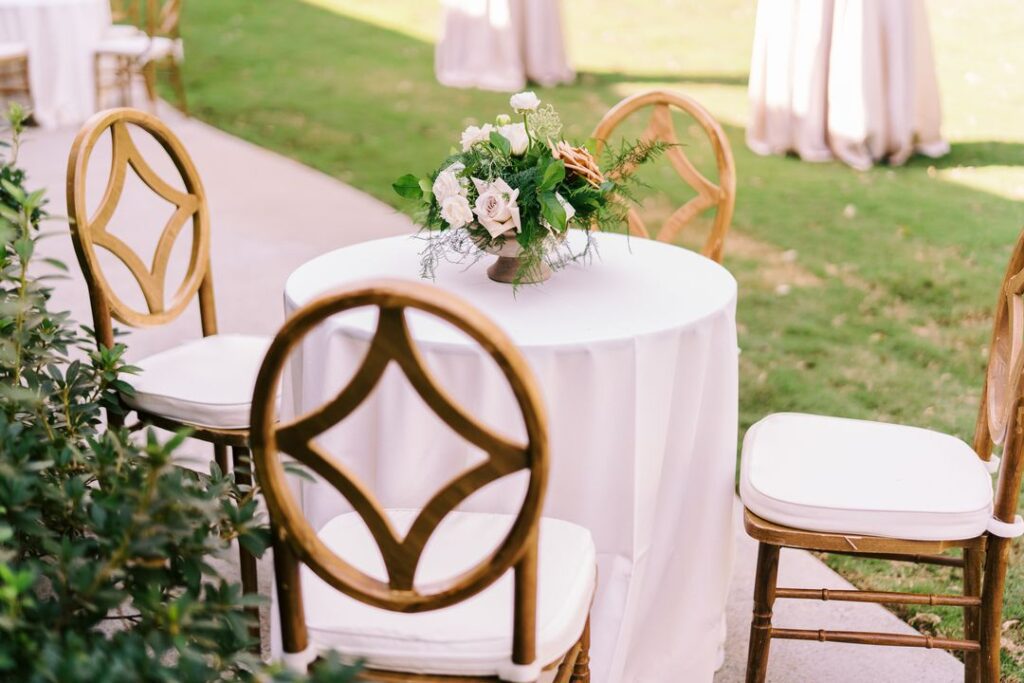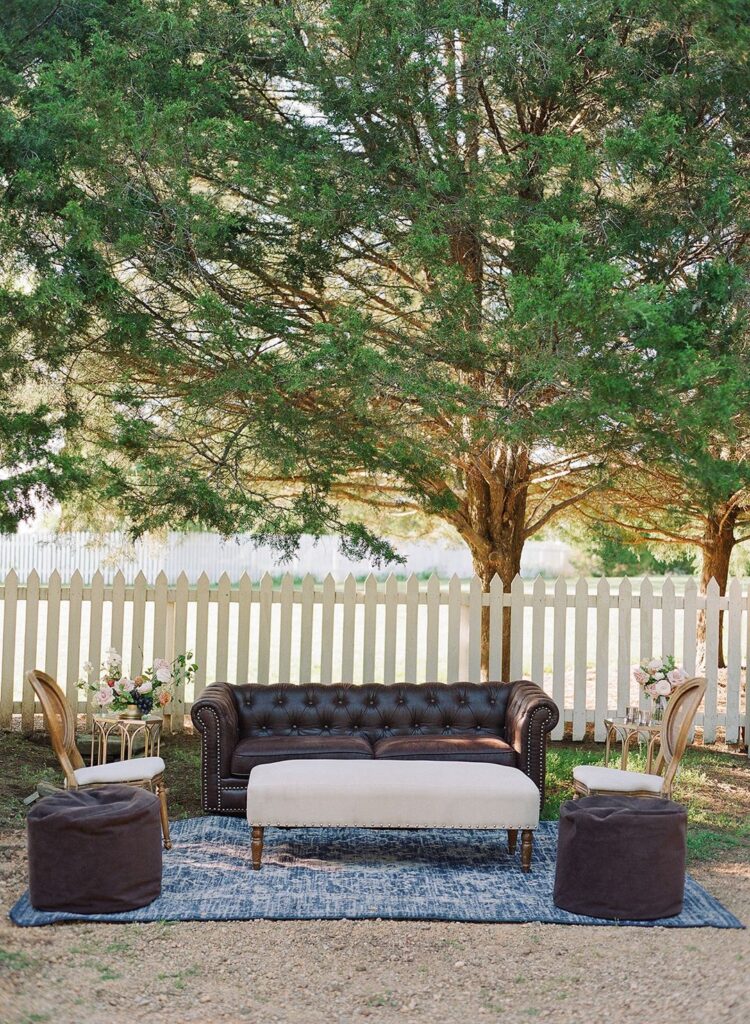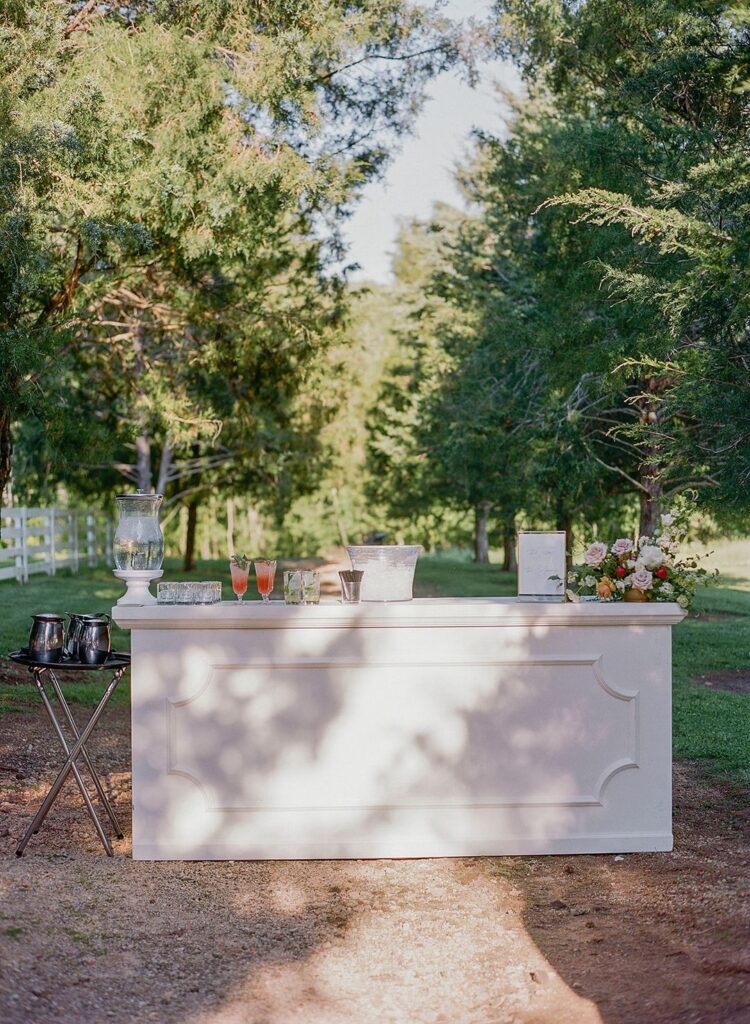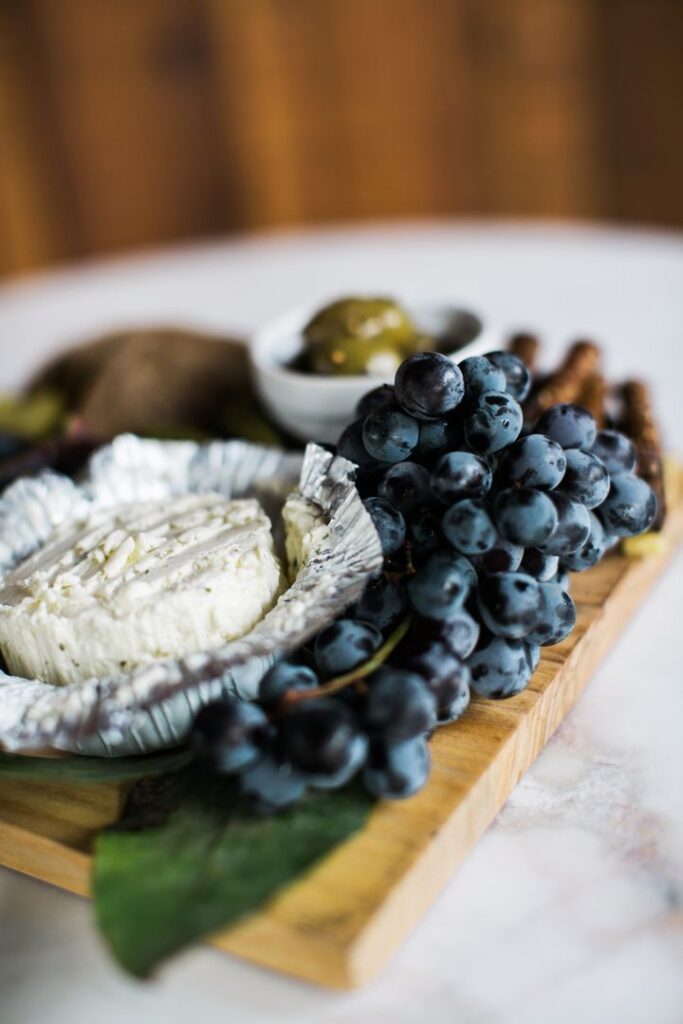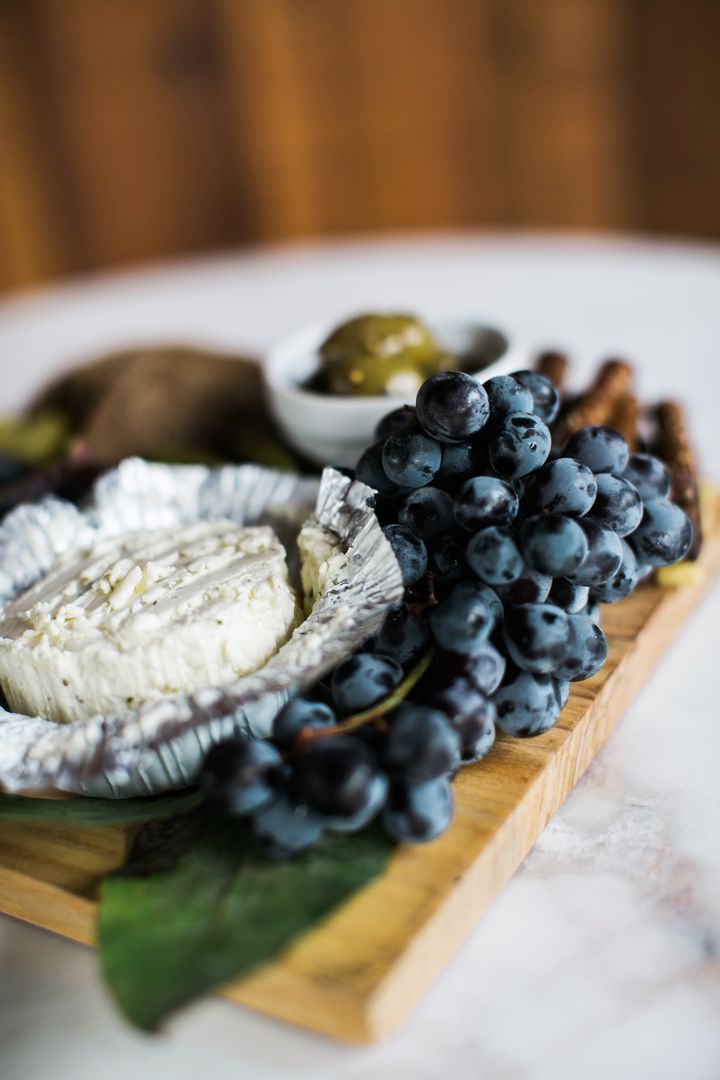 Off to the Races
The Kentucky Derby may only last two minutes, but it is a highly anticipated and celebrated sporting event. In terms of themed corporate events, there is no better time to host a party. Running with existing events or holidays makes it easier than ever to piece together a theme, and a high-class Derby Party is one of our personal favorites. Start with stylish bistro tables, like a classic bistro table dressed up with Cherry Red Poly Linens. Or the Loren Gold Bistro Table with a Black and White Striped Runner and Acrylic Ghost Barstools. Place an artificial grass rug beneath them for a fun spring touch! A fully stocked bar is essential – try Harpeth customized with your business logo – set against a pair of Boxwood Walls. Classic glassware, like Mint Julep Cups and Davis Rocks Glass, is perfect for serving up bourbon-based cocktails.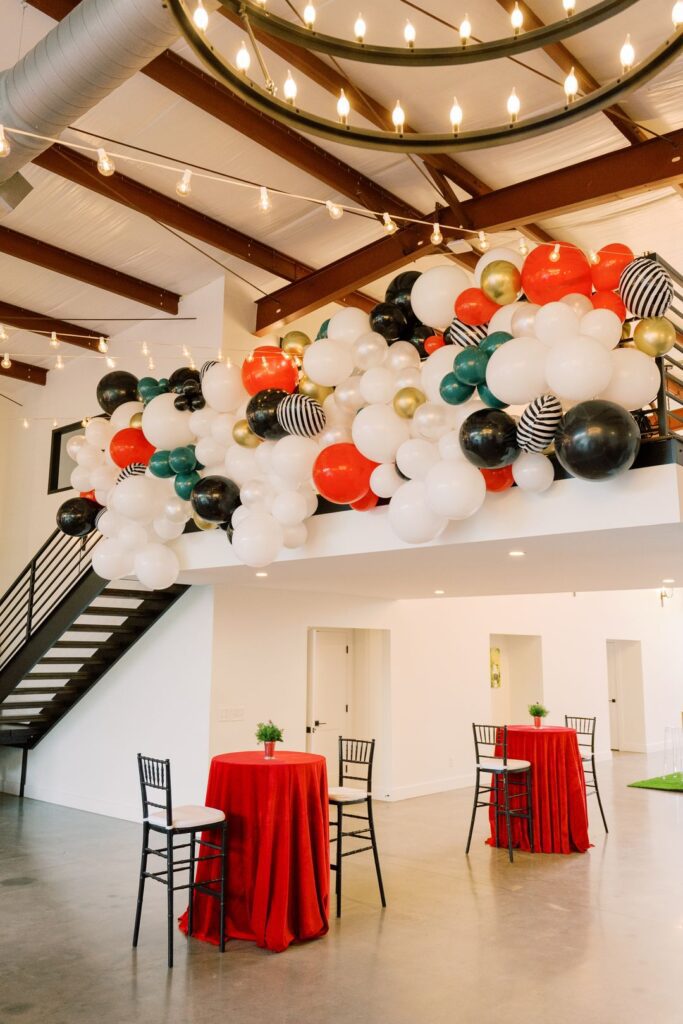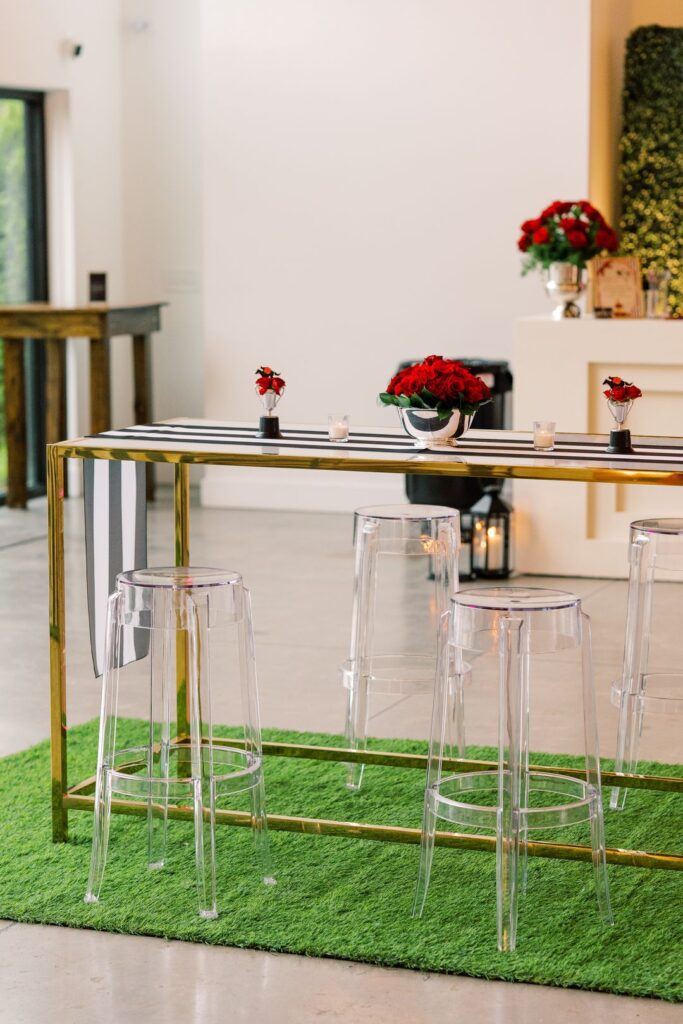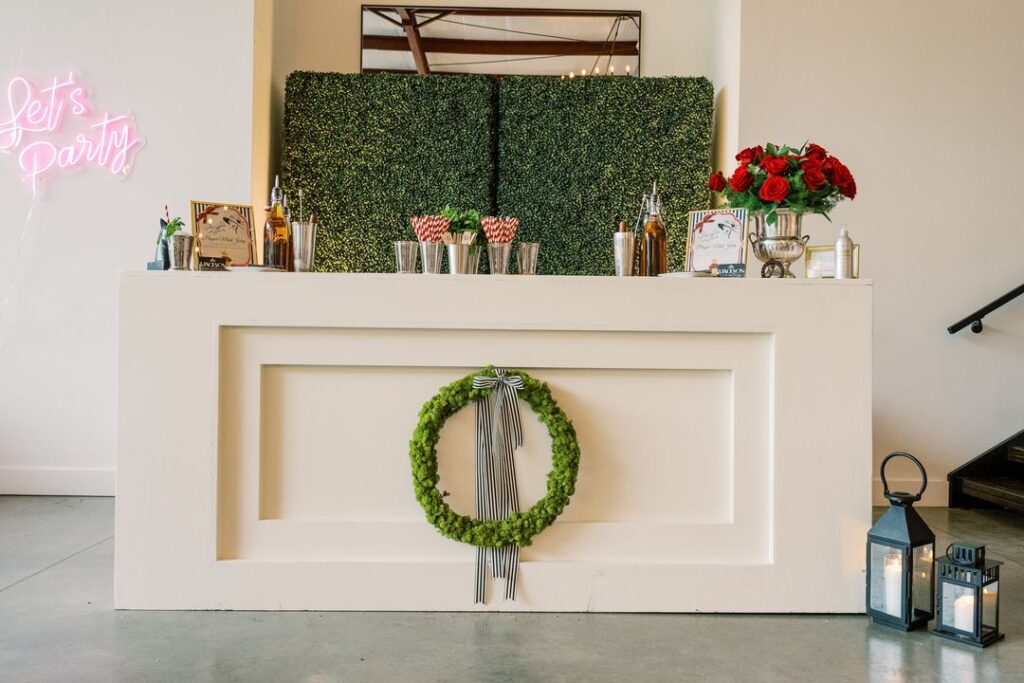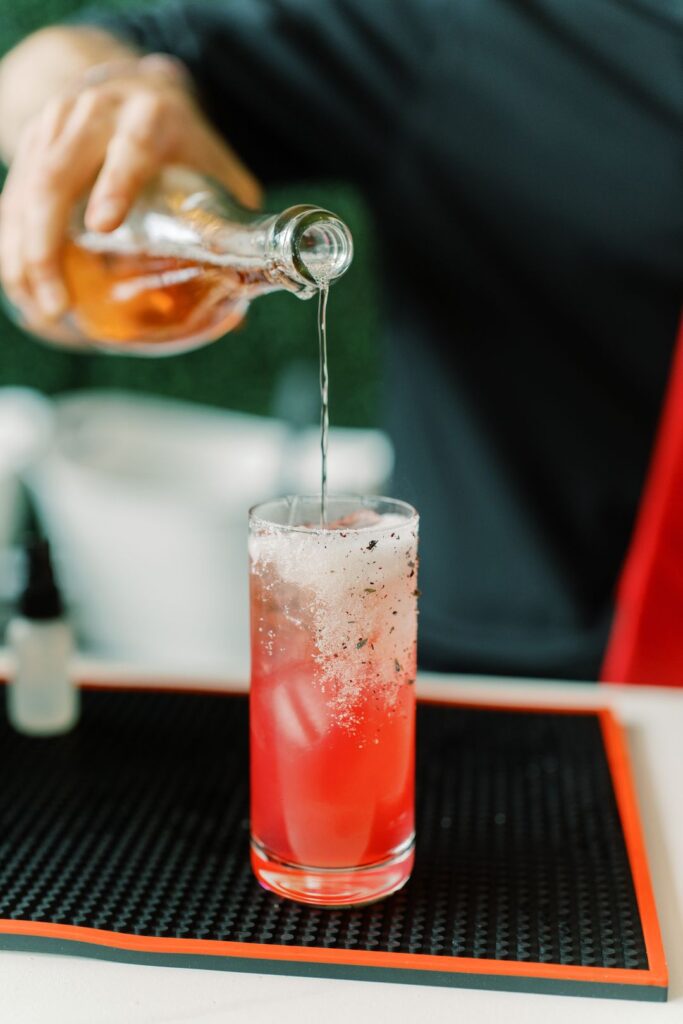 Upscale Summer BBQ
A simple but always exciting event theme idea is a classic summer BBQ. A backyard BBQ is fitting for a casual celebration, say an employee appreciation day or even 'just because'. You don't need a reason to get together and grill out! Set up picnic tables with Red & White Check Linens. If kids are attending, check out our children's furniture. For some contrast, feature our Earthen Onyx China and crisp White Napkins. Should you need serving trays, check out our family-style serving pieces. Whether you want a self-serve bar or food display, opt for our Whiskey Barrel Barnwood Bar. For added colors, a mix of vintage rugs will create an extra cozy vibe! Moreso should you feature a fire pit surrounded by poufs and rustic benches.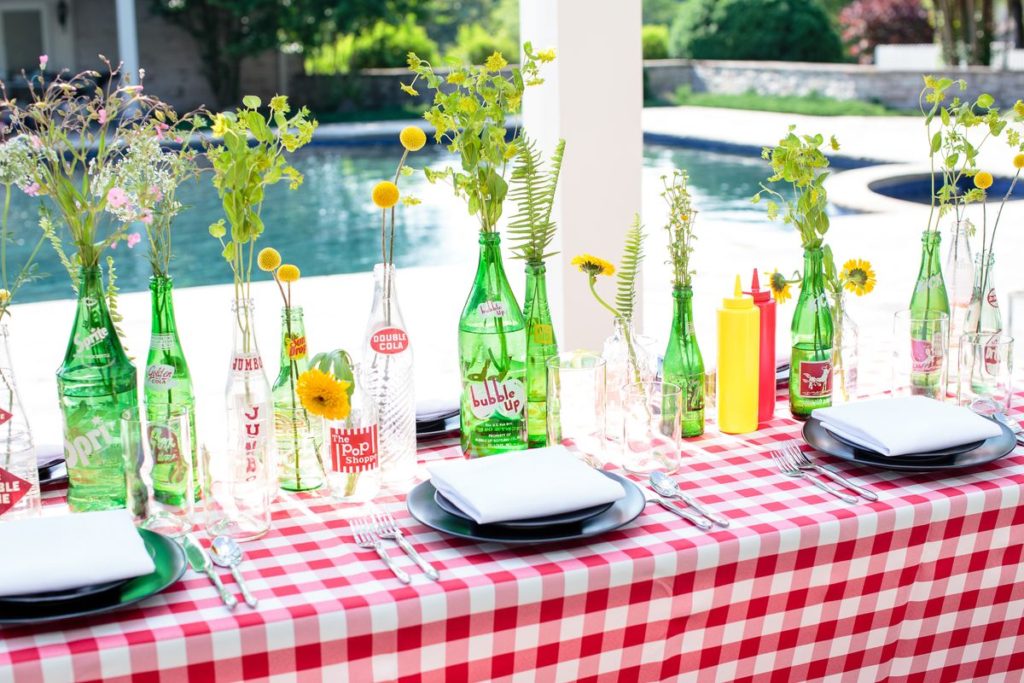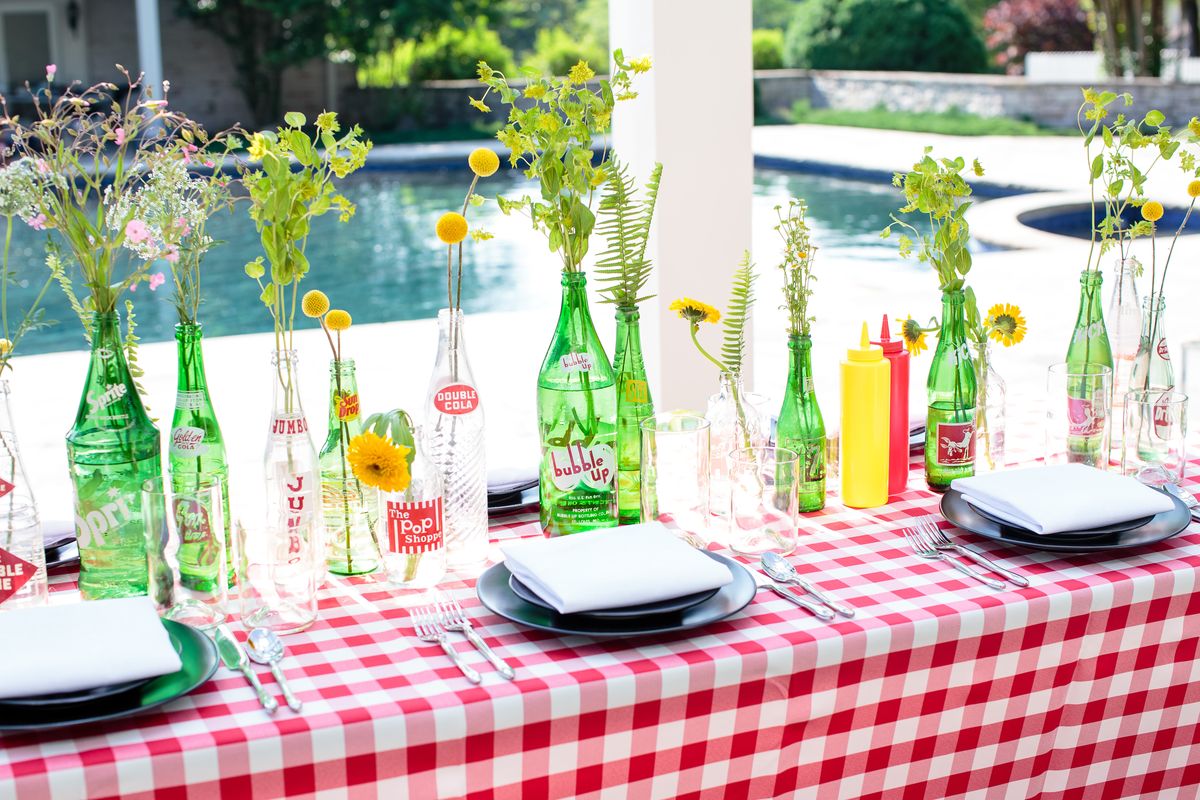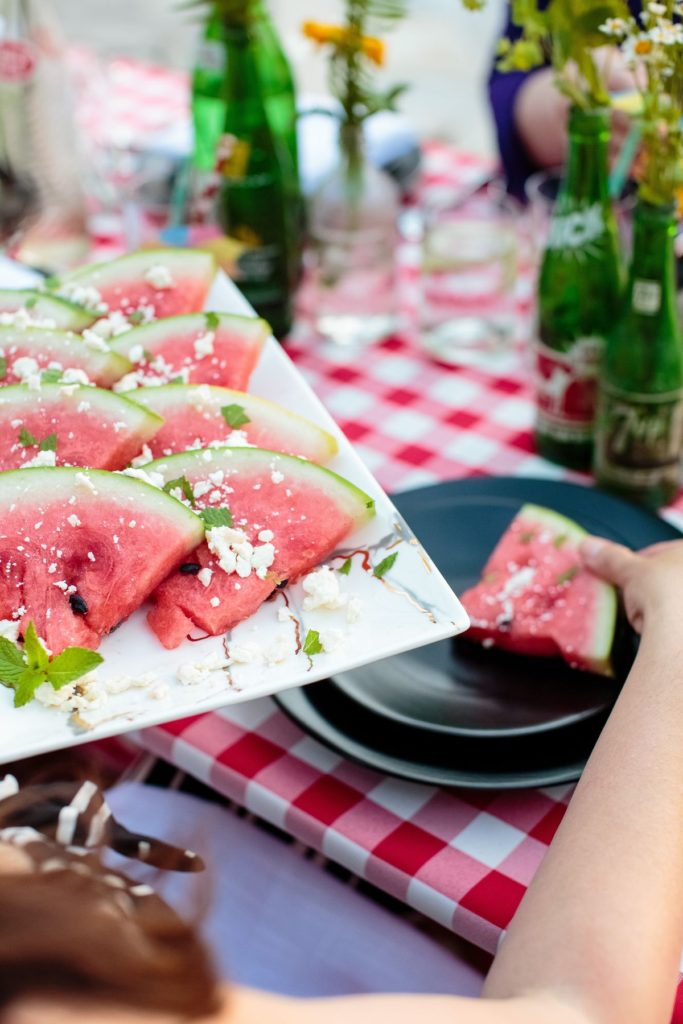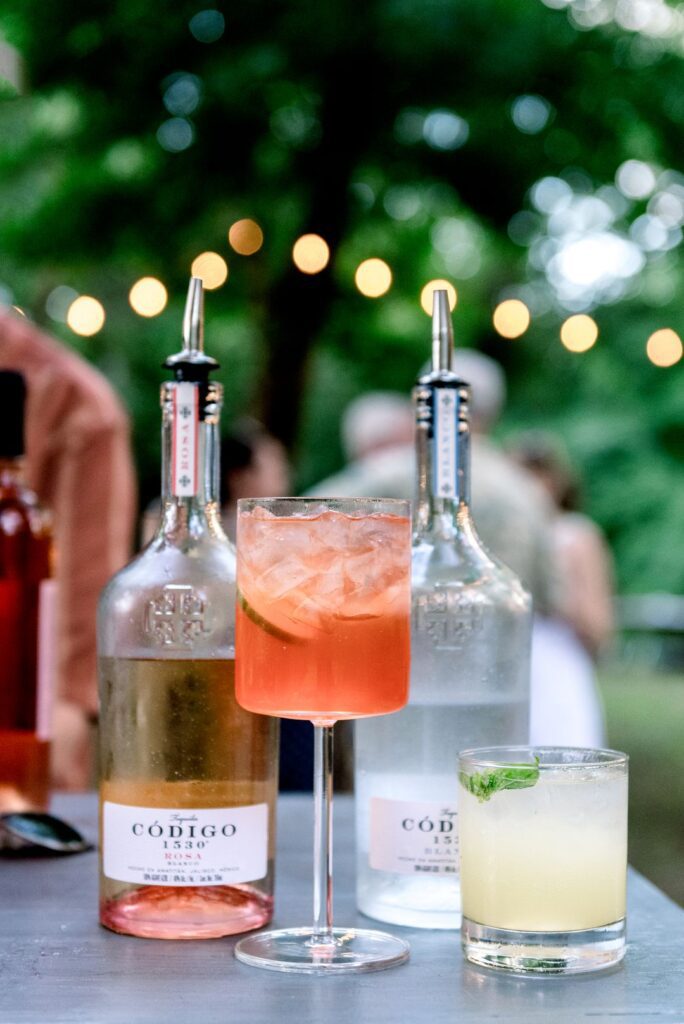 Black and White Party
If you are hosting an elegant corporate party, you can't go wrong with a black and white event theme. A grayscale color palette will also make it incredibly easy to put together a cohesive look. Start with classic bistro tables outfitted in our beautiful Black Nova Linens, paired with Mid Century Black Barstools. If you'll be toasting to the occasion, you'll need a stylish bar and glassware to match. Our Black Franklin Antique Bar is a bold choice, as is a White 6-Tier Serving Tower. Should you need additional storage space, be sure to grab a set of barback shelves in black or white. For glassware, take a look at our Cybil Champagne Glasses or trendy coupe glasses.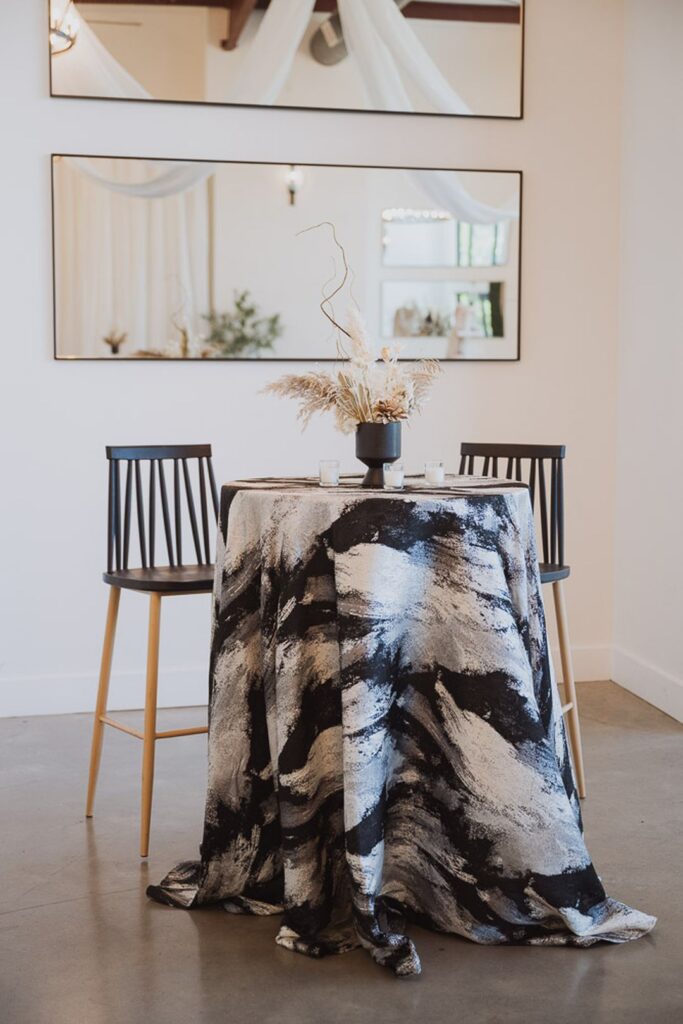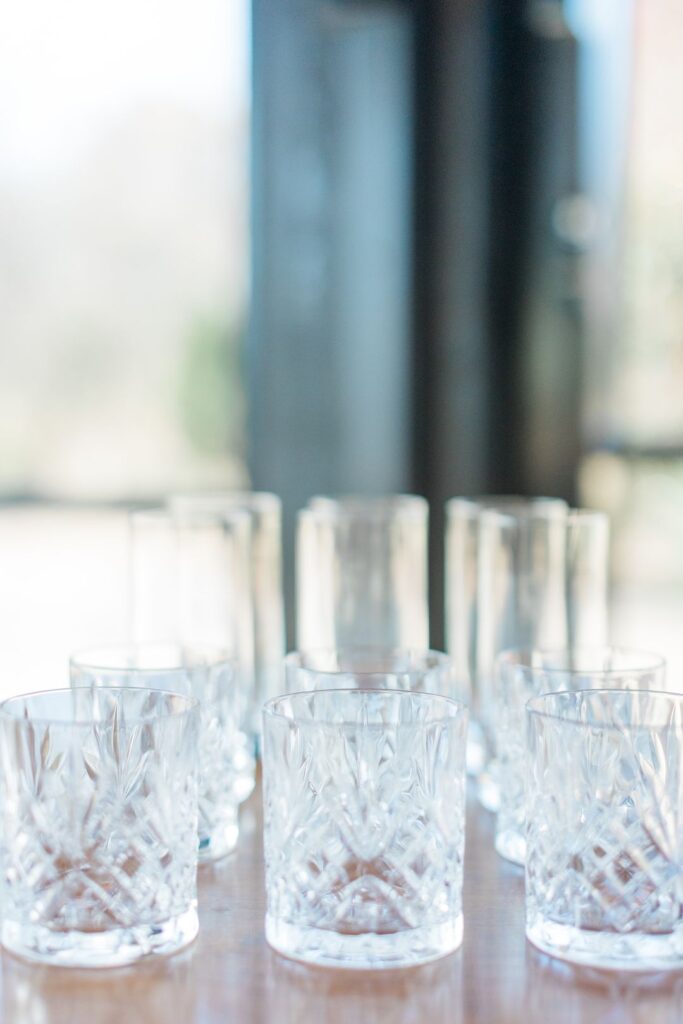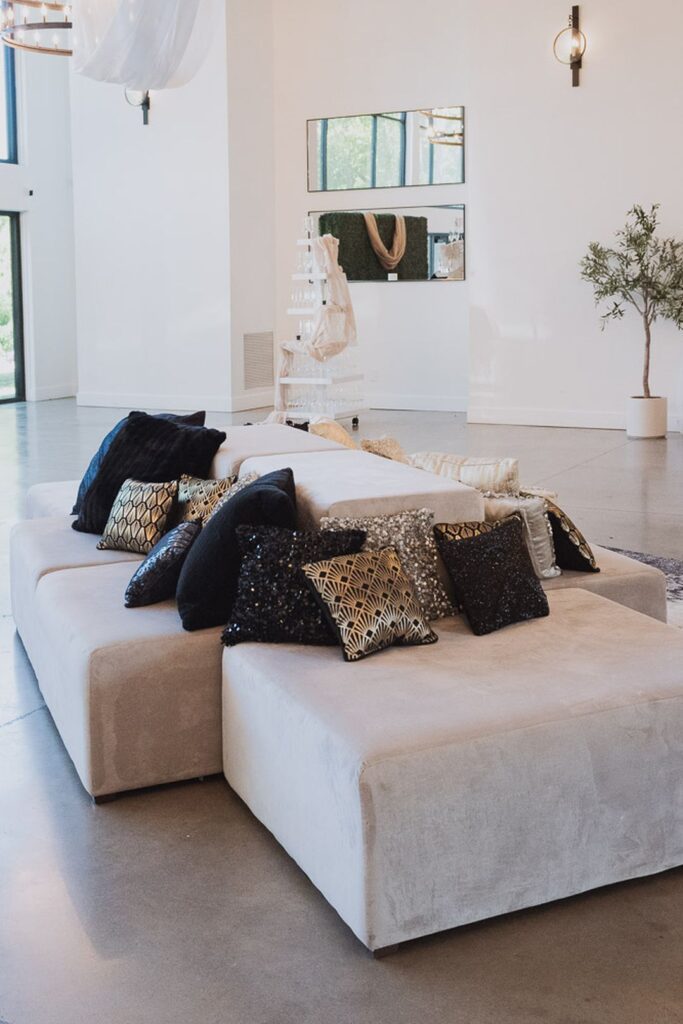 Book Your Unique Corporate Event Rentals Today!
Love one of these corporate event themes? Send us a message at info@southerneventsonline.com and a member of our team would be happy to help you recreate it for your upcoming event. Or let's work together and come up with unique corporate event themes that are one of a kind! And in case you missed it, don't forget to check out the newest additions to our catalog.
TAGS | Cocktail Party Rentals, Lounge Furniture, cocktail hour, corporate event design, corporate event rentals, corporate event style, corporate parties
FEATURED RENTALS | Picnic tables, red and white check linens, earthen onyx china, family-style serving pieces, whiskey barrel barnwood bar, rustic benches, sutton collection, Wood Melamine Trays. Peaches N Cream Poly, Harlin Dining Chairs, Bennett Leather Sofa, Adeline Dining Chairs, Chocolate Poufs, Cherry Red Poly Linens, Loren Gold Bistro Table, Black and White Striped Runner, Acrylic Ghost Barstools, artificial grass rug, Harpeth Bar, Boxwood Walls, Mint Julet Cups, Davis Rocks Glass, Navy Rug, Wood Melamine Trays, Franklin Antique White Bar,
---
25

Aug

Events and Style Shoots, Southern Events Products, Trends and Inspiration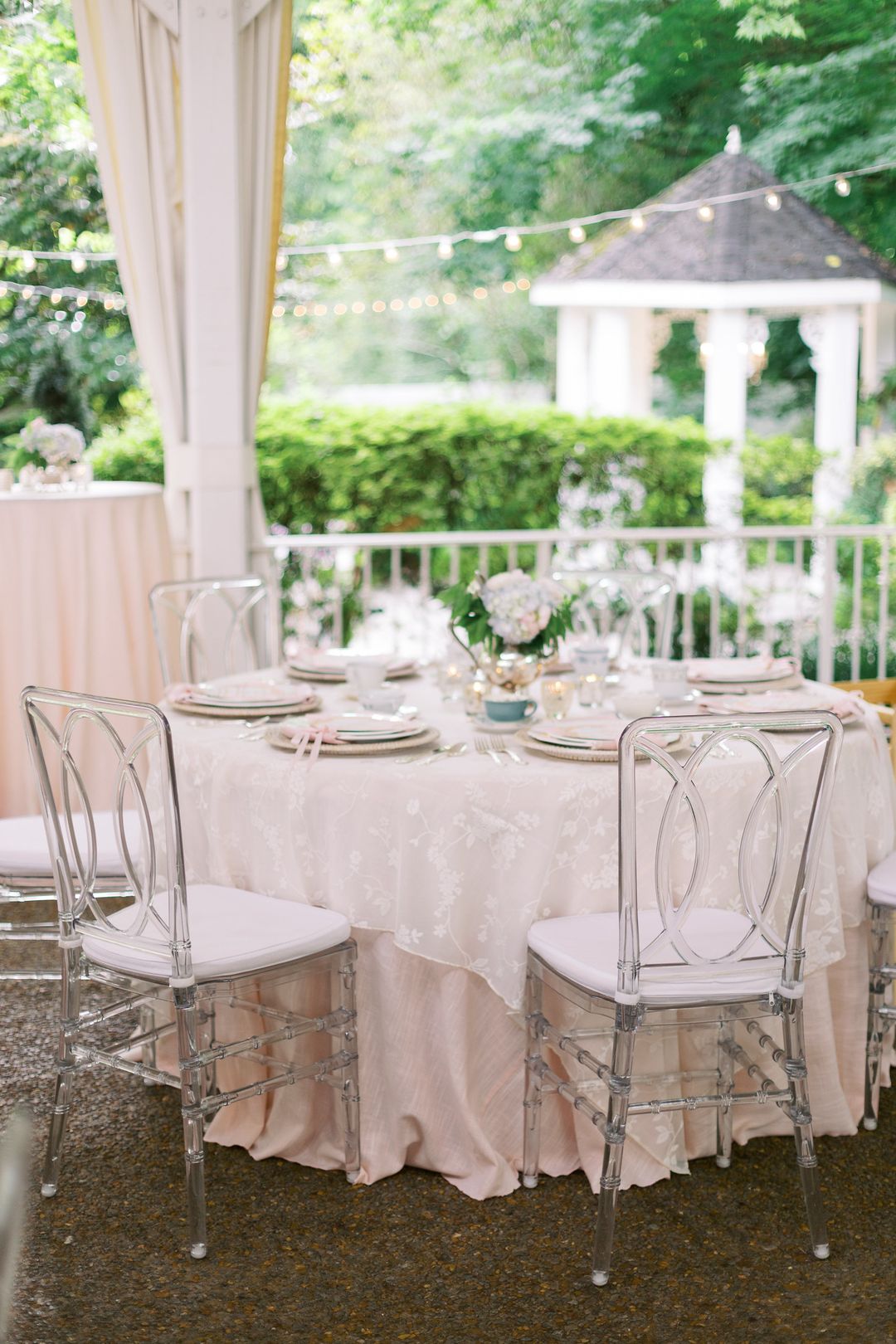 Who doesn't love a fabulous brunch?! Maybe that is why more than ever, people are centering their celebrations around this popular mealtime. From baby showers to bridal showers and weddings, brunch is a memorable way to mark a milestone. As well as a good excuse to break out the bubbles! The garden at CJ's Off the Square has all the inspiration needed for hosting a sweet southern brunch party, featuring vintage-inspired rentals and classic serving ware pieces.
Set the Scene
If you've ever enjoyed brunch then you know that the goal is to create a setting that is sophisticated yet casual. A space where people feel special, enjoying a decadent meal. With this in mind, your tablescape is key. We love starting off with tables dressed in bright linens, such as Blush Shimmer. For a fun extra layer, top it off with a textured runner or overlay. For seating, our Acrylic Carrigan Side Chair will bring a modern contemporary touch – as will any of our acrylic seating options.
For a look that is equally airy but a touch more rustic, you could also feature our Grayson Farm Table or White Wash Round Farm Table. Either of these pieces will look stunning standalone or can be decorated with a soft runner, like Bloom Chiffon or Champagne Lace. As with any brunch, fresh floral centerpieces are required! Place bright or neutral-colored blooms in our elegant Square Glass Vases. If you're hosting a large party, it doesn't hurt to throw a few bistro tables into the mix!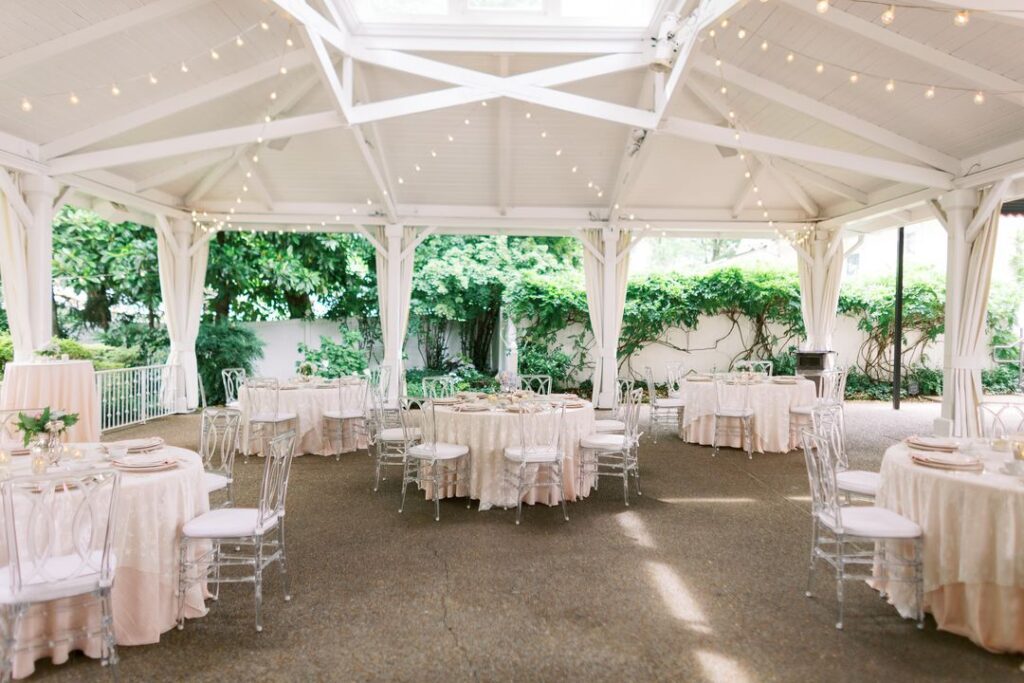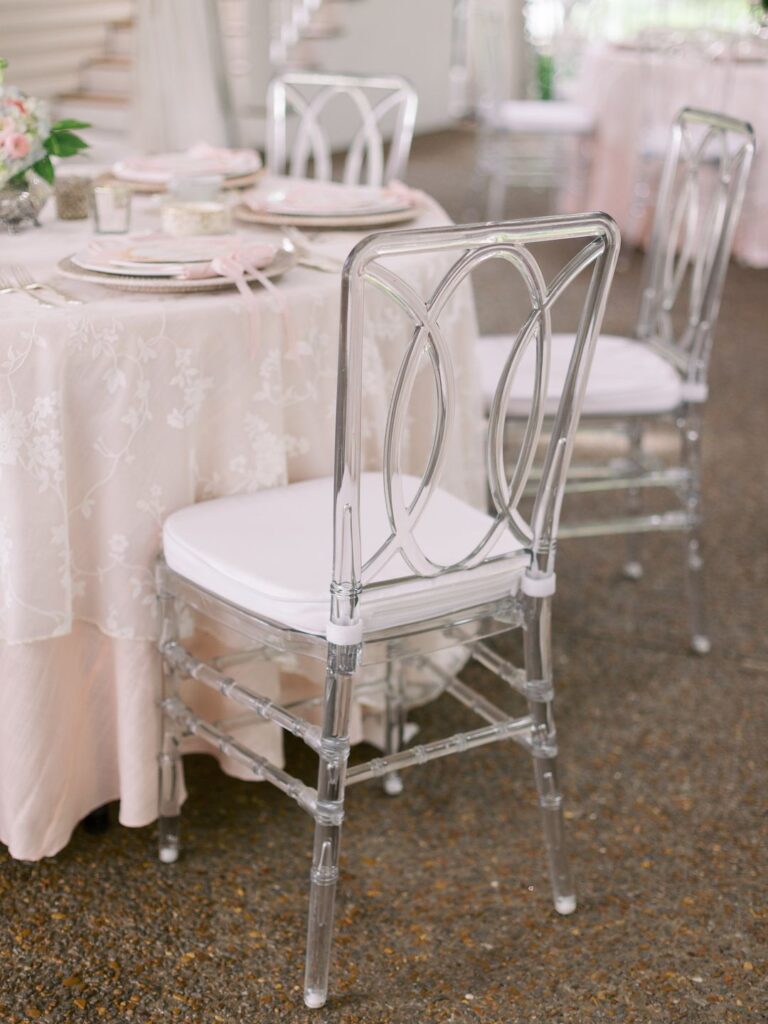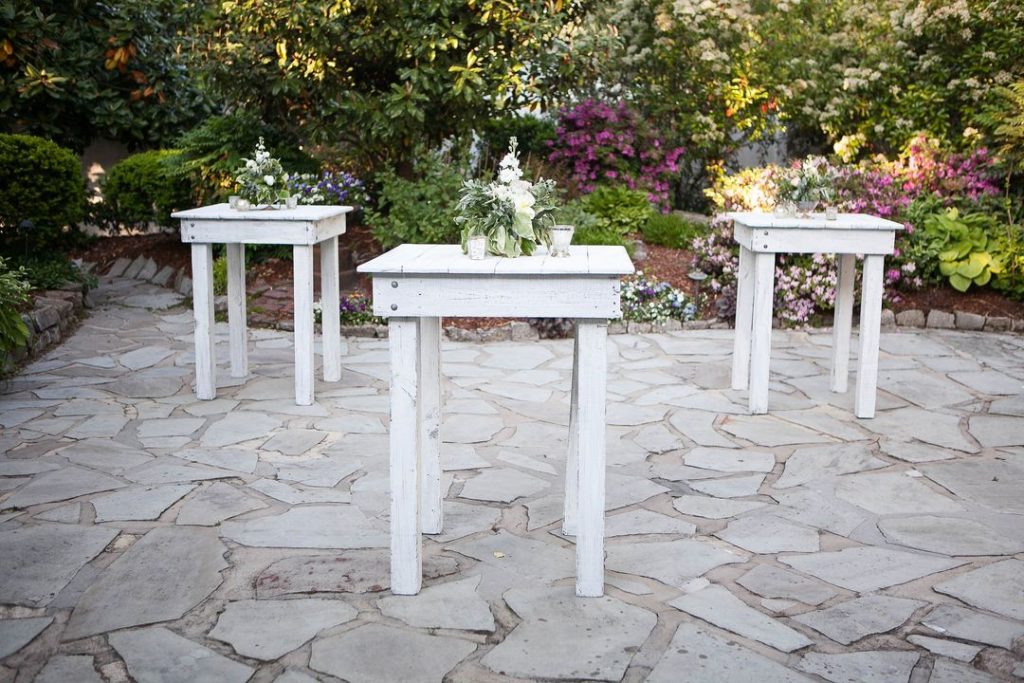 Then Set the Table!
Of course, the real star of a southern brunch party is the food! For which you'll need to create an impressive tablescape. One of our favorite ways to create a memorable table is by featuring serving ware with textures. Start with our White Wash Rattan Charger, stacked with our dainty Darcy China and Darcy Bone China Charger. These pieces are the perfect combination of old and new! Pair it with our Abby Flatware, or Austin Flateware if you prefer gold.
To complete the place setting you'll also need glassware, for a variety of popular brunch-themed beverages. A water goblet is always essential, and our Hob Nob Goblet is a stunner. It also pairs beautifully with our Heirloom Tea Cups and Saucers, for a quaint vintage touch for serving hot coffee or tea. For an especially well-thought-out table, you might also feature a Silver Coffee/Tea Server. Along with a matching Carson Silver Cream and Sugar Set, it will be a fun classically southern detail.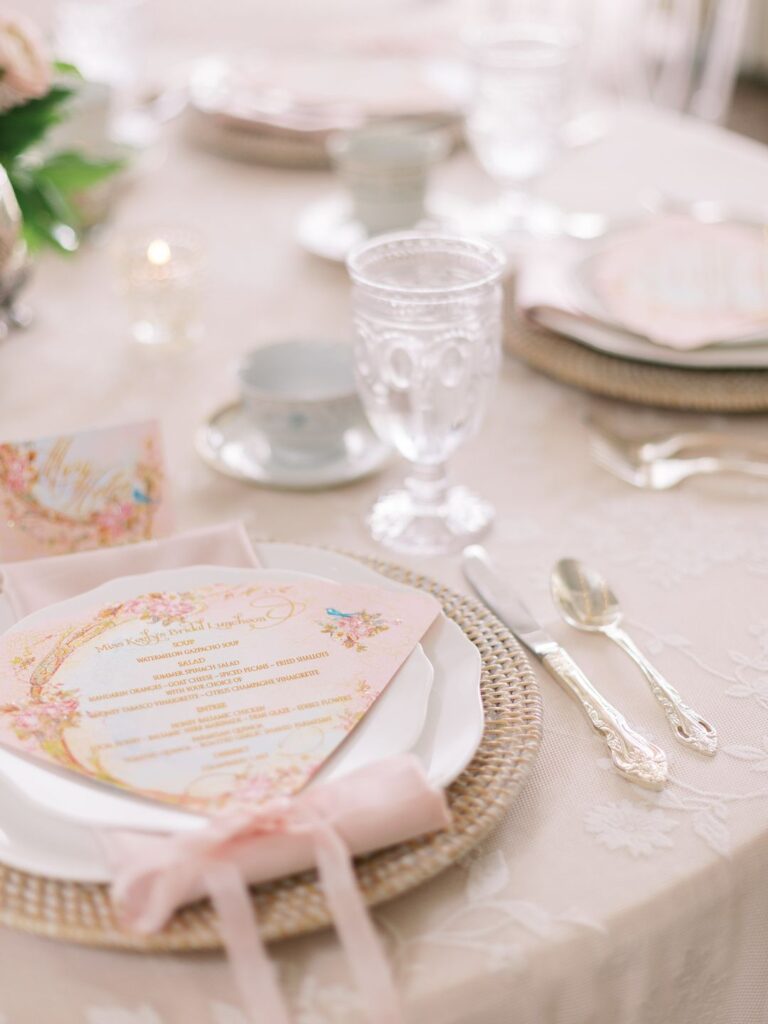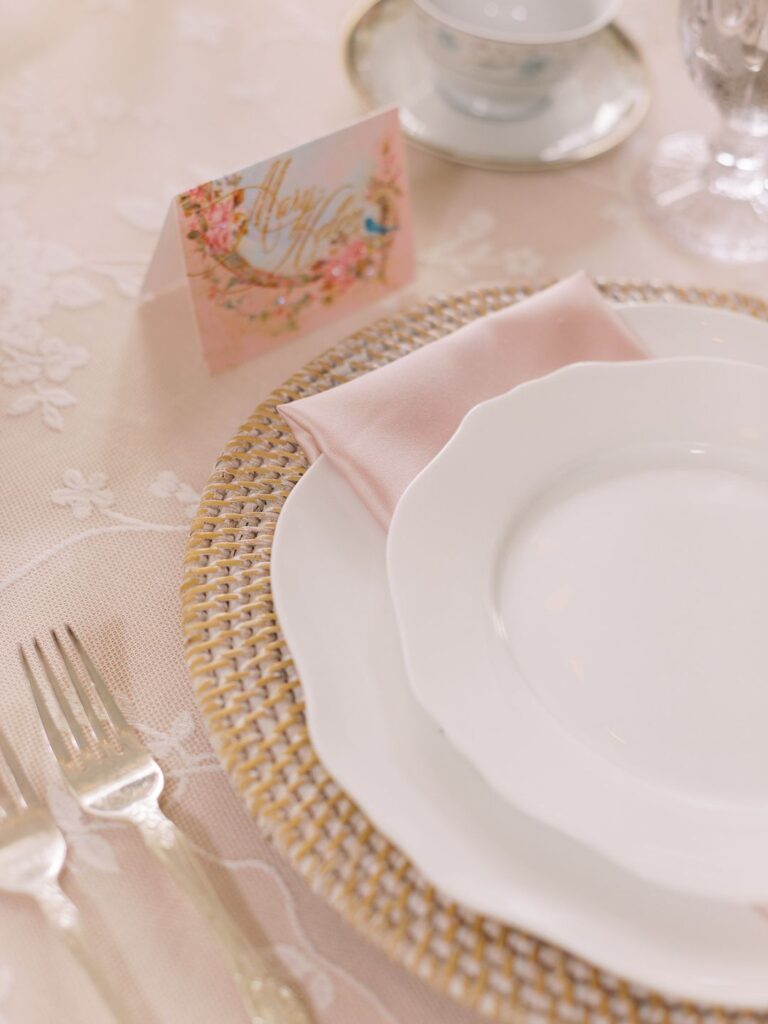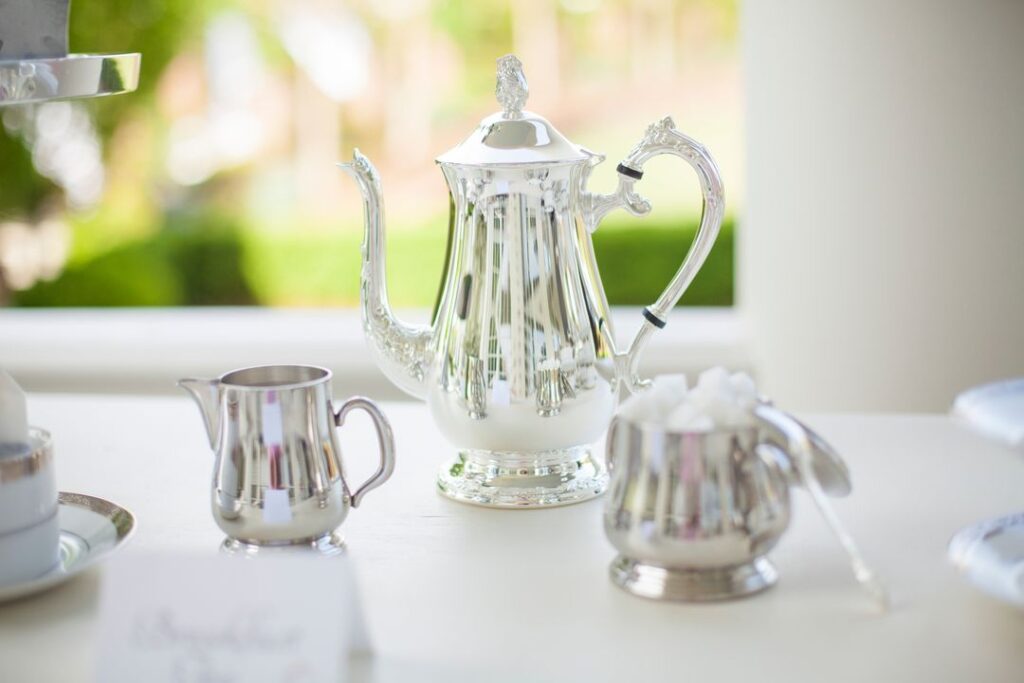 Create a Chic Lounge
It's not brunch without mimosas! Creating cozy spaces to sit and sip will ensure that they feel comfortable enough to linger and mingle. A lounge will also be a comfortable and photo-ready spot for opening gifts. Our Everly Sofa and Chair are a beautiful pair – not to mention incredibly comfy! If you need extra seating, add in our Winstead Grey Tufted Bench. You'll also want a place where people can set their drinks, like our Cheval Gold Mirror Side Table. Or our larger Blanche Coffee Table.
Speaking of drinks, another round of glassware is a must. Serve up mimosas in our Pure Champagne Flutes – placing glasses on our Boxwood Wall in Champagne Shelves, or displayed on the White Barback Shelf for stunning presentation. Provide a variety of fresh fruit juices in carafes, along with seasonal fruits and cheese on silver serving platters. Sparkling water is also a great option to have on hand for a mom-to-be, or kiddos in tow!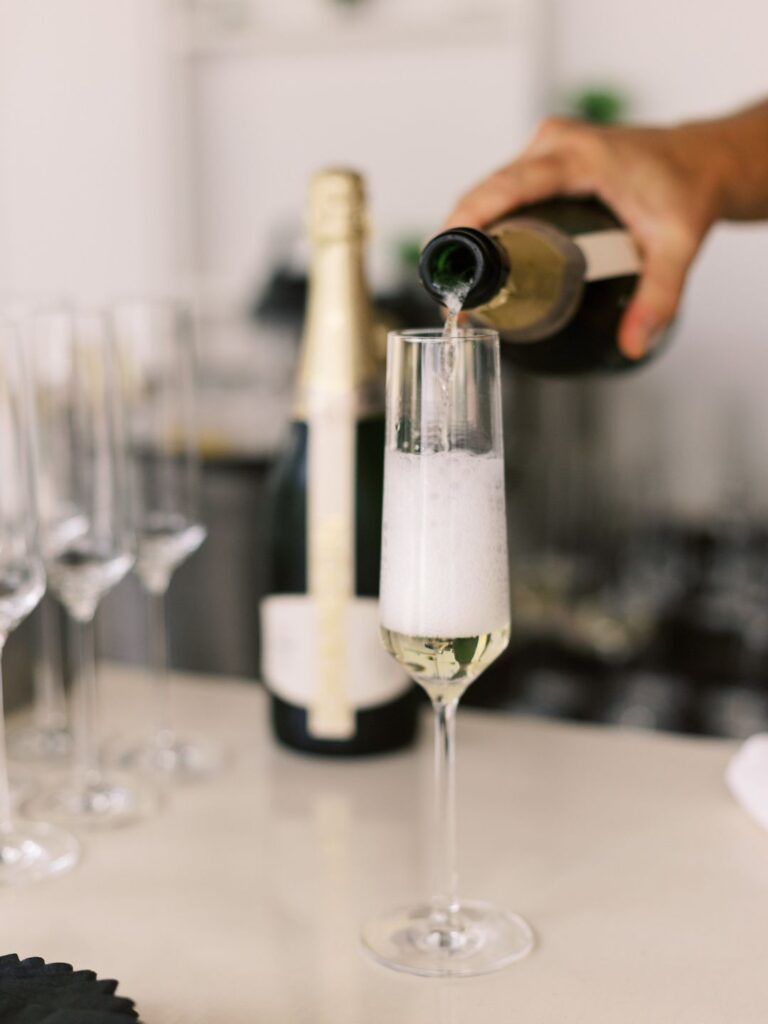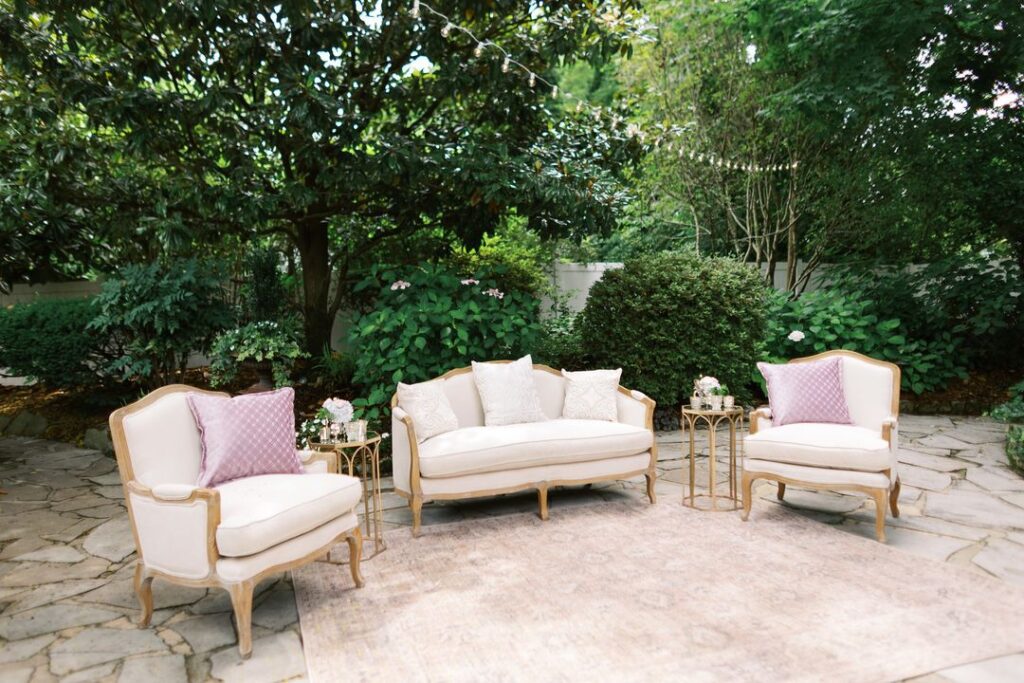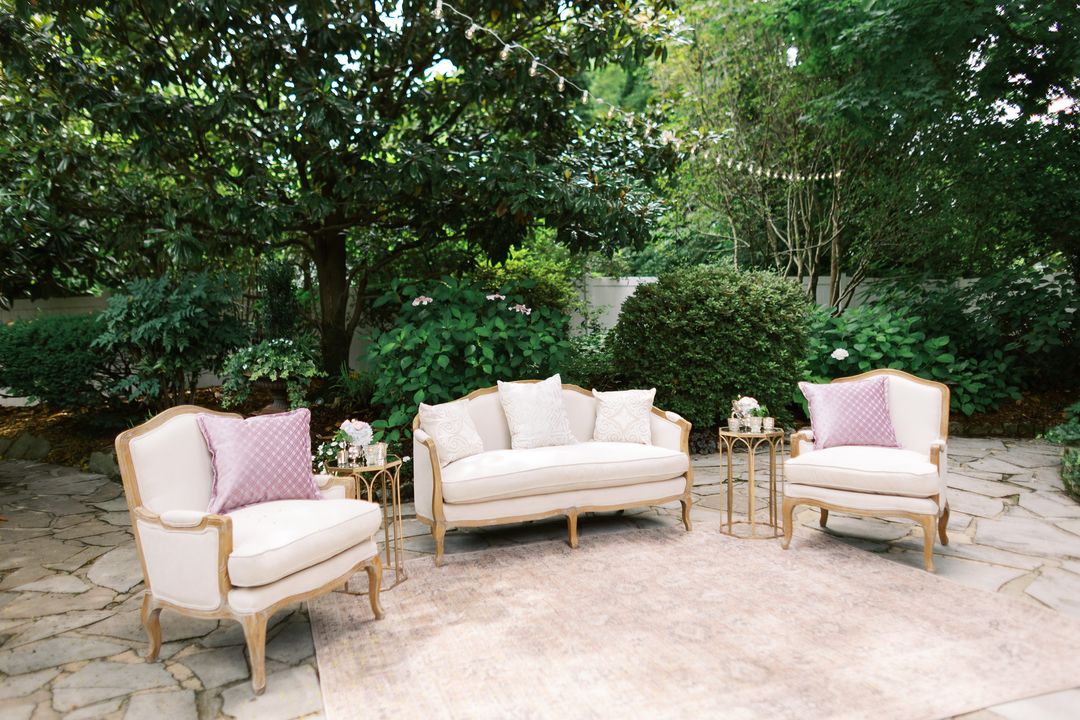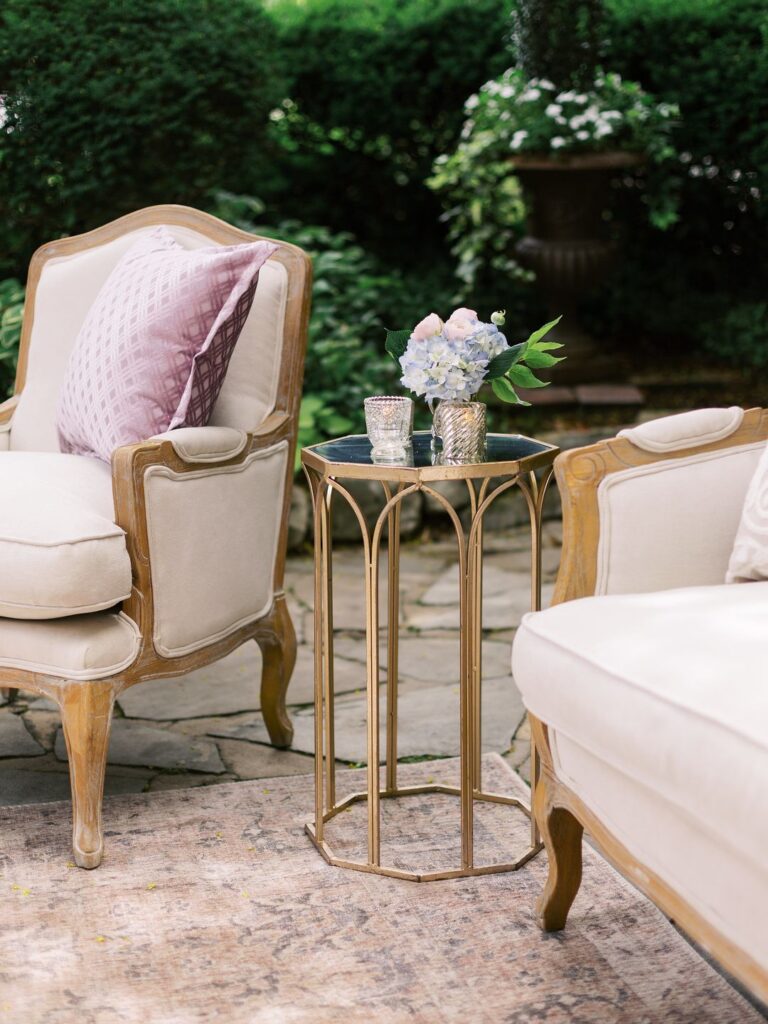 A special thank you to Jenna Henderson for sharing these event images with us!
Love the idea of hosting a southern brunch party? Send our team a message at info@southerneventsonline.com for help planning a one-of-a-kind get-together. Or for more event design inspiration, take a look at our blog to get some ideas for a black tie dinner party, perfect for hosting a formal event.
TAGS | Acrylic Chairs, CJ's Off the Square, Lounge Furniture, Nashville party rentals, Southern Events Party Rental, Tablescape, Tableware, southern brunch party
FEATURED RENTALS | Pure Champagne Flute, Everly Sofa, Everly Chair, Blush Rug, carafes, silver serving platter, carson sugar and tea set, Cheval Gold Mirror Side Table, White Wash Round Farm Table, Bloom Chiffon Runner, Champagne Lace Runner,White Barback Shelf, White Wash Rattan Charger, Darcy China, Darcy Charger, Abby Flatware, Acrylic Carrigan Side Chair,
---
9

Jun

Southern Events Products, Trends and Inspiration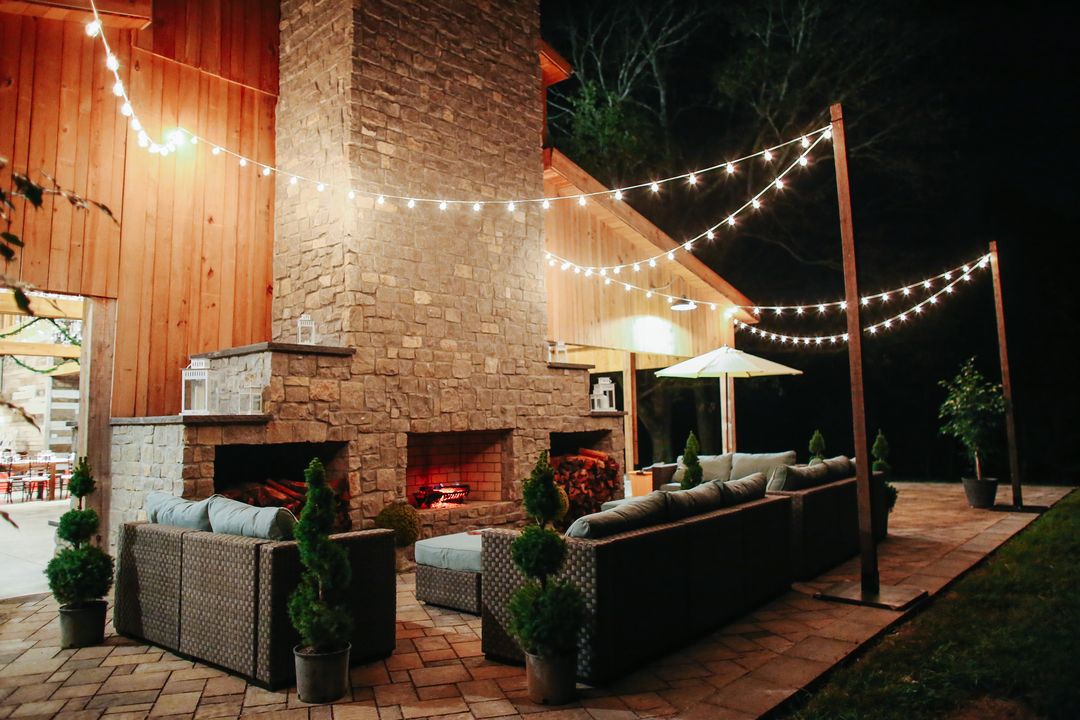 Many of us spend our days inside, hunched over a computer. Throwing outdoor parties makes for a welcome change of pace, especially when the weather is warm! Imagine an event spent under the night sky, with music in the air and a refreshing cocktail in hand. Yep, that sounds like a Nashville-themed outdoor party to us! If this has you feeling inspired, keep reading for a curated list of outdoor party rentals for your Music City gathering!
Indoor to Outdoor Spaces
Hosting a comfortable backyard party is all about knowing how to make the most of a space! Utilizing both indoor and outdoor areas will allow more room for guests to mingle. Consider setting up different social areas where guests can move to and from to interact with others. Outdoors, create a cozy space with our Sutton Lounge Collection and Navy Rug. On a patio or covered terrace, set up a handful of stylish bistro tables outfitted with any of our luxe linens linens – Kennedy looks great no matter the weather!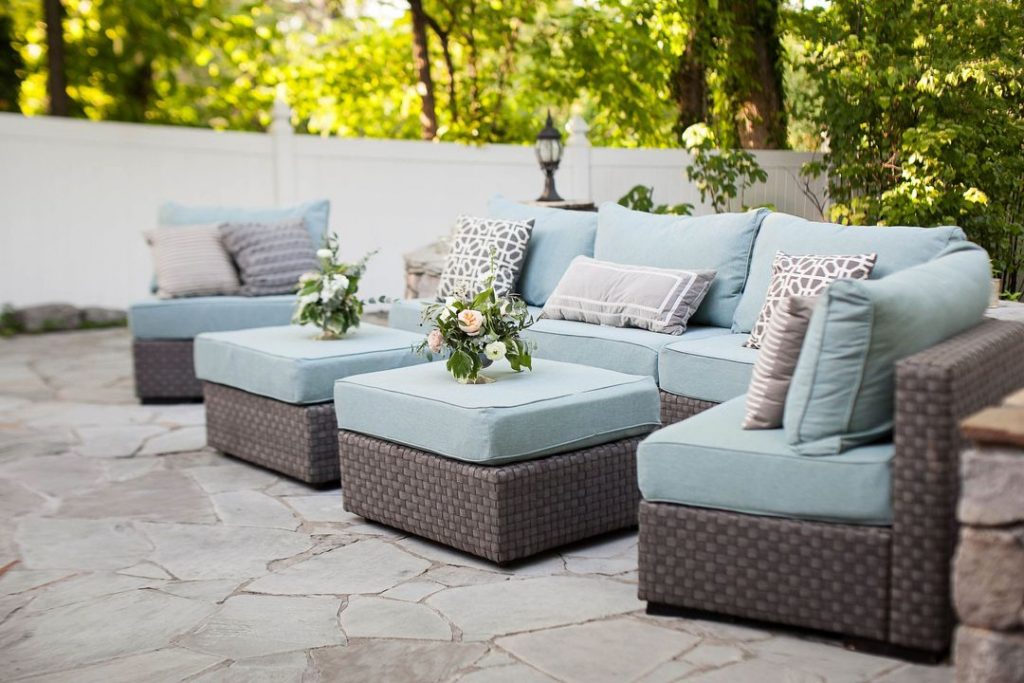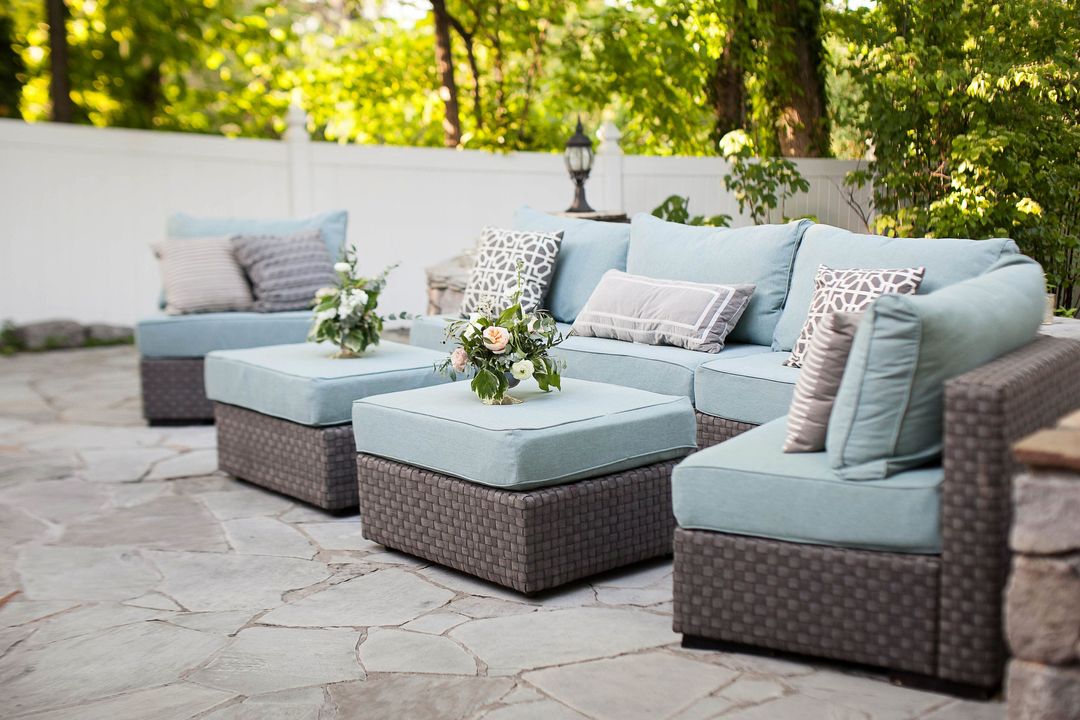 Delightful Drinks
A well-planned Nashville Themed outdoor party is likely to include refreshing cocktails. And in Nashville, you'll most definitely find bourbon! Having the right outdoor bar set up that is both functional and stylish is vital for a successful outdoor party. For a more intimate gathering or Gold Bar Cart is an elegant piece. But for a sizeable crowd, feature any of our rustic-inspired bars. Such as our Antique White Franklin Bar or Whiskey Barrel Barnwood Bar! Of course, don't forget to keep it stocked with elegant glassware, like our classic Monaco Rock Glasses.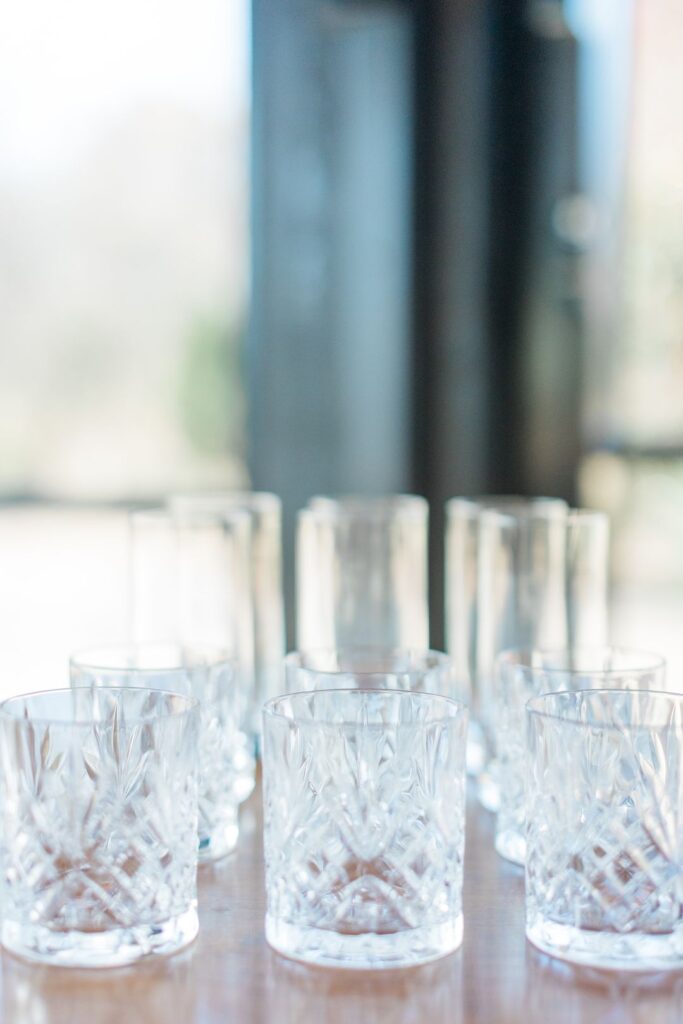 Interactive Areas
Fire pits just burn with ambiance! Guests love to gather around our Stone Round Fire Pit to perch on Rustic Benches or Chocolate Poufs. Oh, and speaking of ambiance, our Assorted Oversized Lanterns look darling placed near lounging areas and tables. All the while providing extra lights to keep guests safe. To dress up your seating, and keep guests cozy, we recommend that you feature throw pillows and blankets. Just don't forget to pack the s'mores!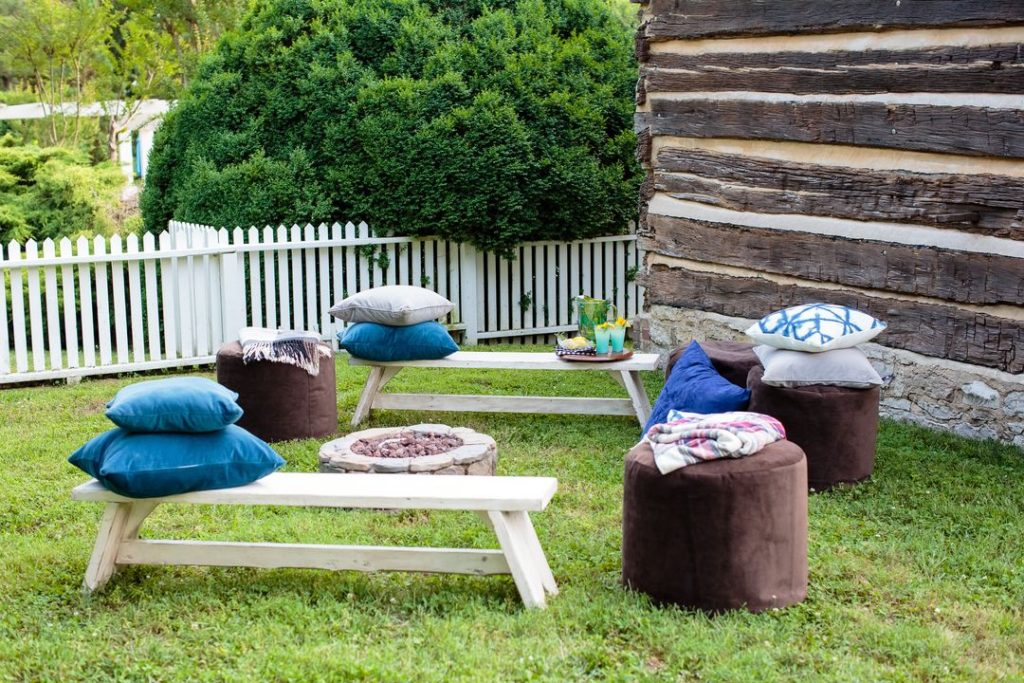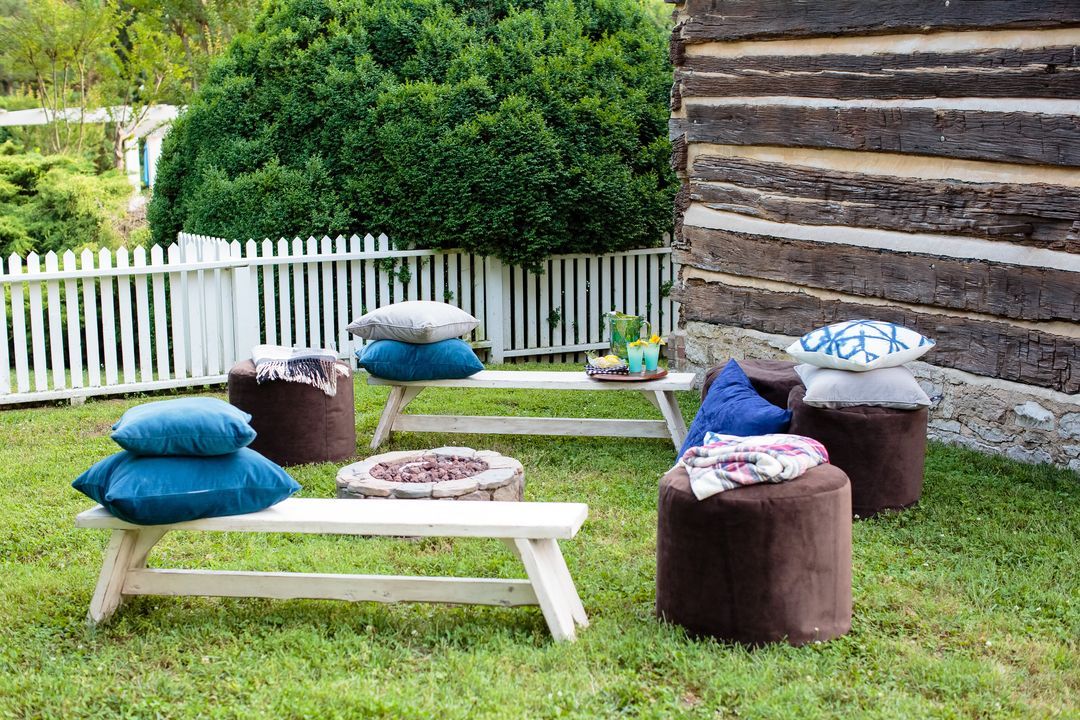 Ready to plan a Nashville-themed party under the stars? Send us a message at info@southerneventsonline.com and work with our team to host a one-of-a-kind event. Planning to enjoy dinner outdoors as well? Be sure to check out our blog on Al Fresco Dining!
TAGS | Cocktail Party Rentals, Lounge Furniture, Nashville party rentals, Southern Events Party Rentals, Unique Nashville Event Rentals, backyard parties, bar event rentals, lounge furniture rentals, outdoor event rentals
FEATURED RENTALS | Sutton Lounge Collection, Navy Rug, Stone Round Fire Pit, Chocolate Poufs, Rustic Bench, Assorted Oversized Lanterns, Antique White Franklin Bar, Whiskey Barrel Barnwood Bar, Gold Bar Cart,, Monaco Glassware,,
---
10

Mar

Southern Events Products, Trends and Inspiration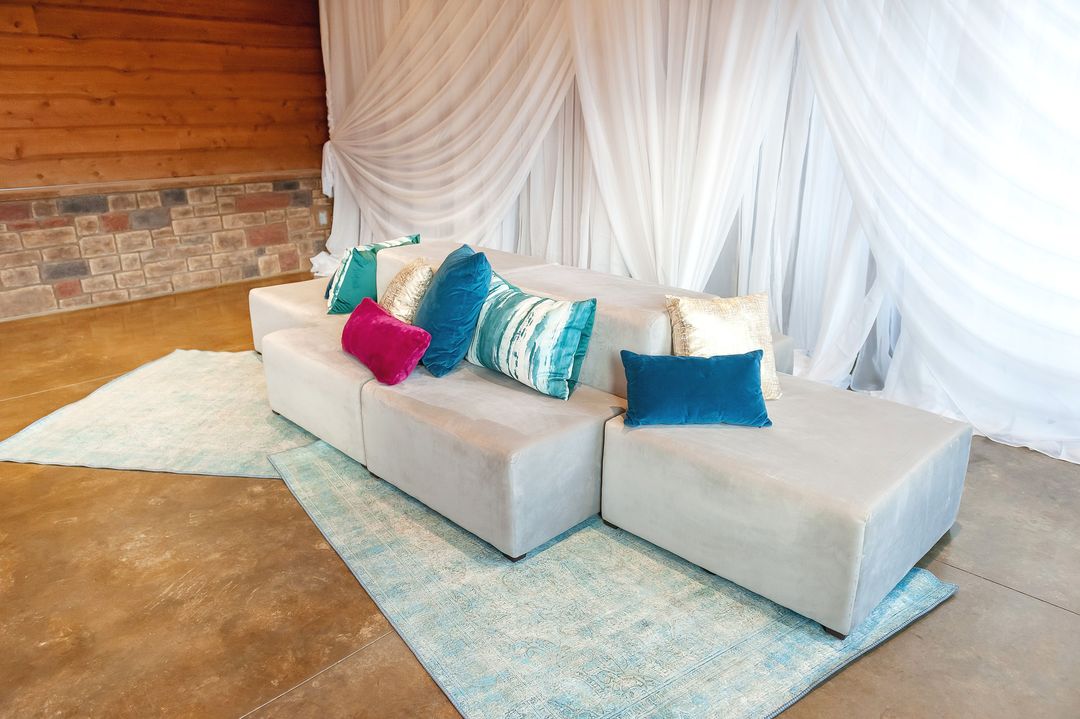 In a post-pandemic world, the health and happiness of employees is a priority for many companies and business owners. A focus that your team and attendees will appreciate, especially during a conference, convention or corporate summit. Today we'll share how you can create corporate wellness rooms to help maintain positive and motivated participants!
Create an Ambient Setting
The first step you'll want to take when creating corporate wellness rooms is selecting a designated area or areas within your event space. We recommend selecting an area that is a ways away from the primary room in use so that your guests can fully escape the hustle and bustle – whether you are hosting a training session or an annual meeting. Once established, pipe and drape can be used to enclose a space. This will help create a more private and ambient setting, in which guests can sit back, relax, and recharge. Choose from a range of beautiful and calming colors, such as black, ivory and white. If you like, you can even designate this area as a quiet or non-tech space!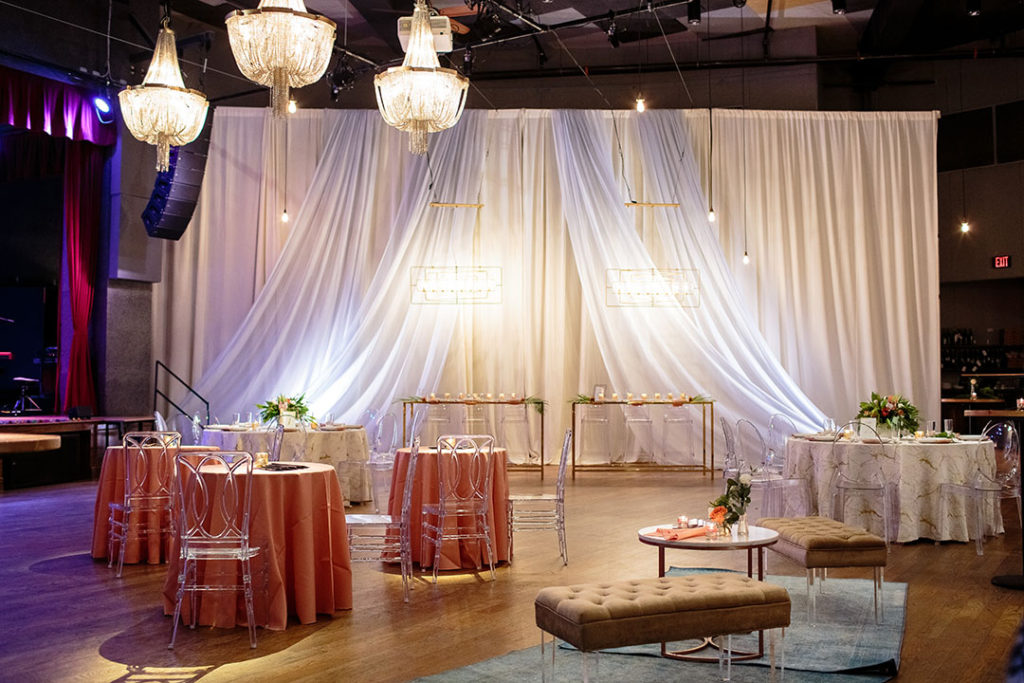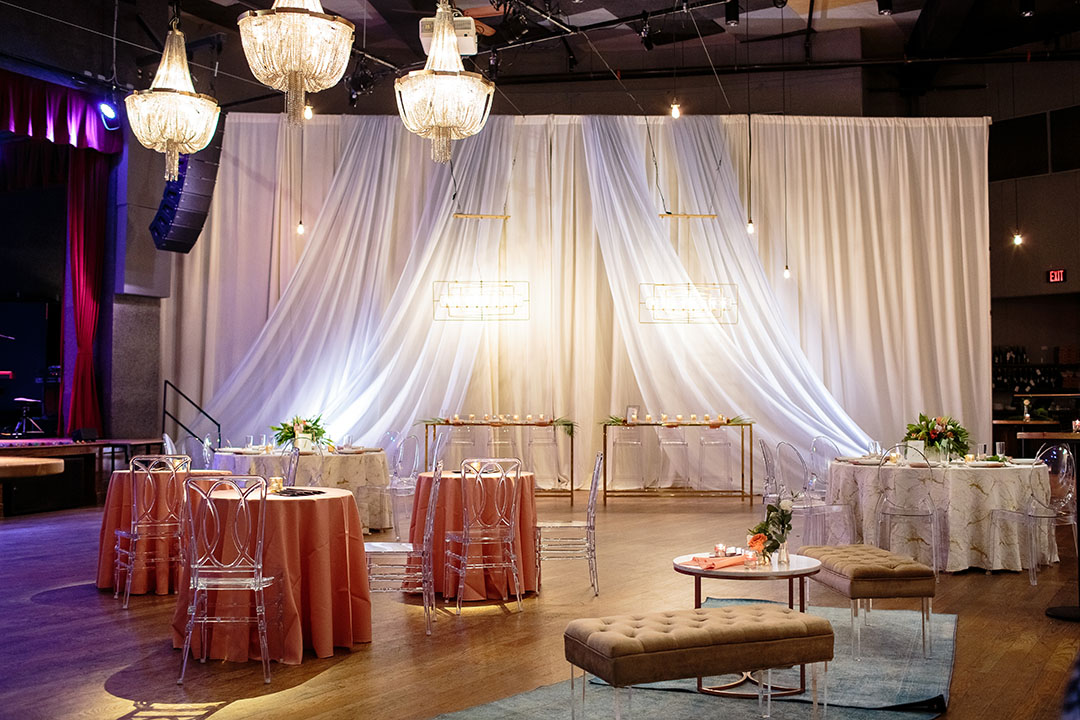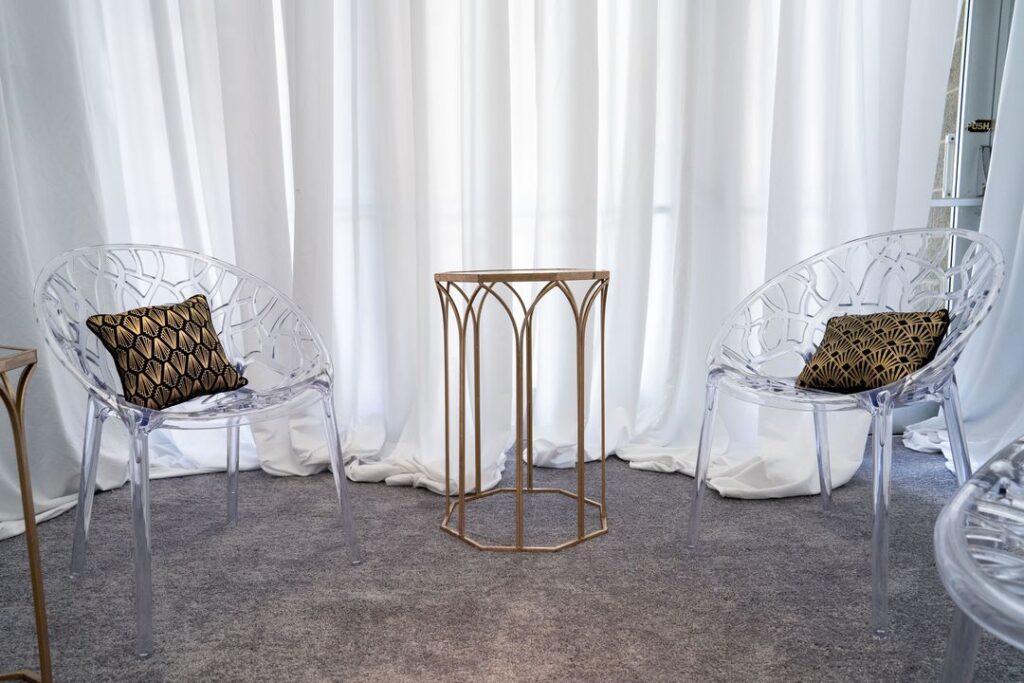 Lounge Areas
Within your wellness room, you'll want some comforts that encourage guests to sit and stay for a while. Specifically, lounge areas where people can casually converse or even meditate for a time. Start with cozy neutral or warm colored furniture, like our Bennett Leather Sofa or Henley Grey Velvet Tufted Sofa. Pair it with a set of accent chairs, like our beautiful Gloria Velvet Arm Chairs. Then, finish it off with a plush area rug and a set of matching coffee and side tables. Avoid any pieces that are too contemporary and might give off a cold feeling! Of course, you can also choose from our selection of beautiful lounge packages (we recommend #03 or #26). If you prefer, you can also create smaller areas using our bistro tables and bistro chairs.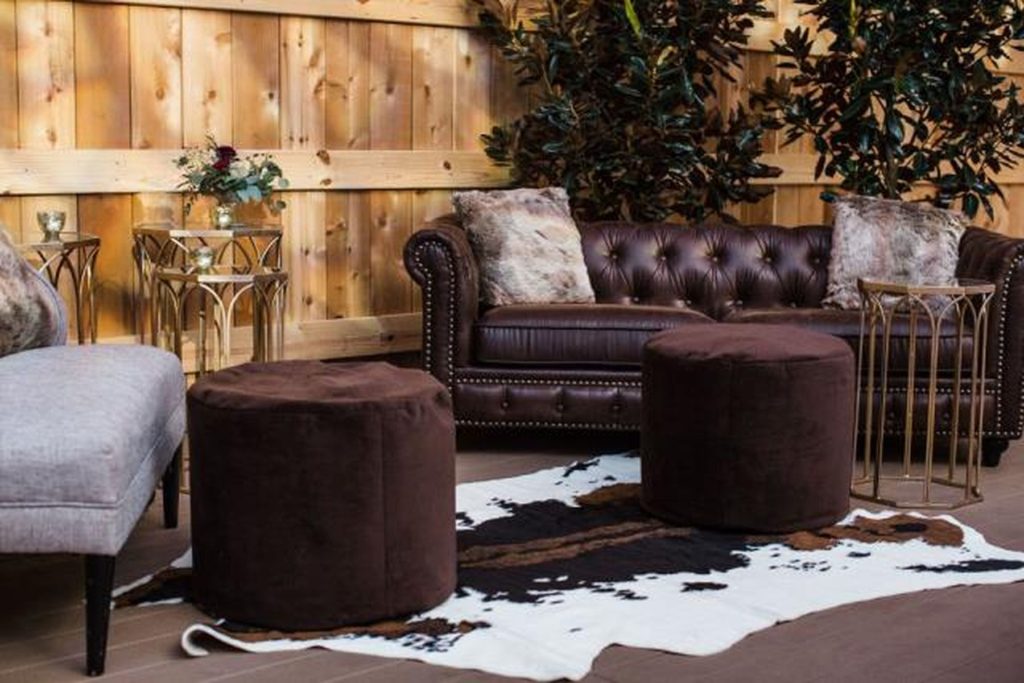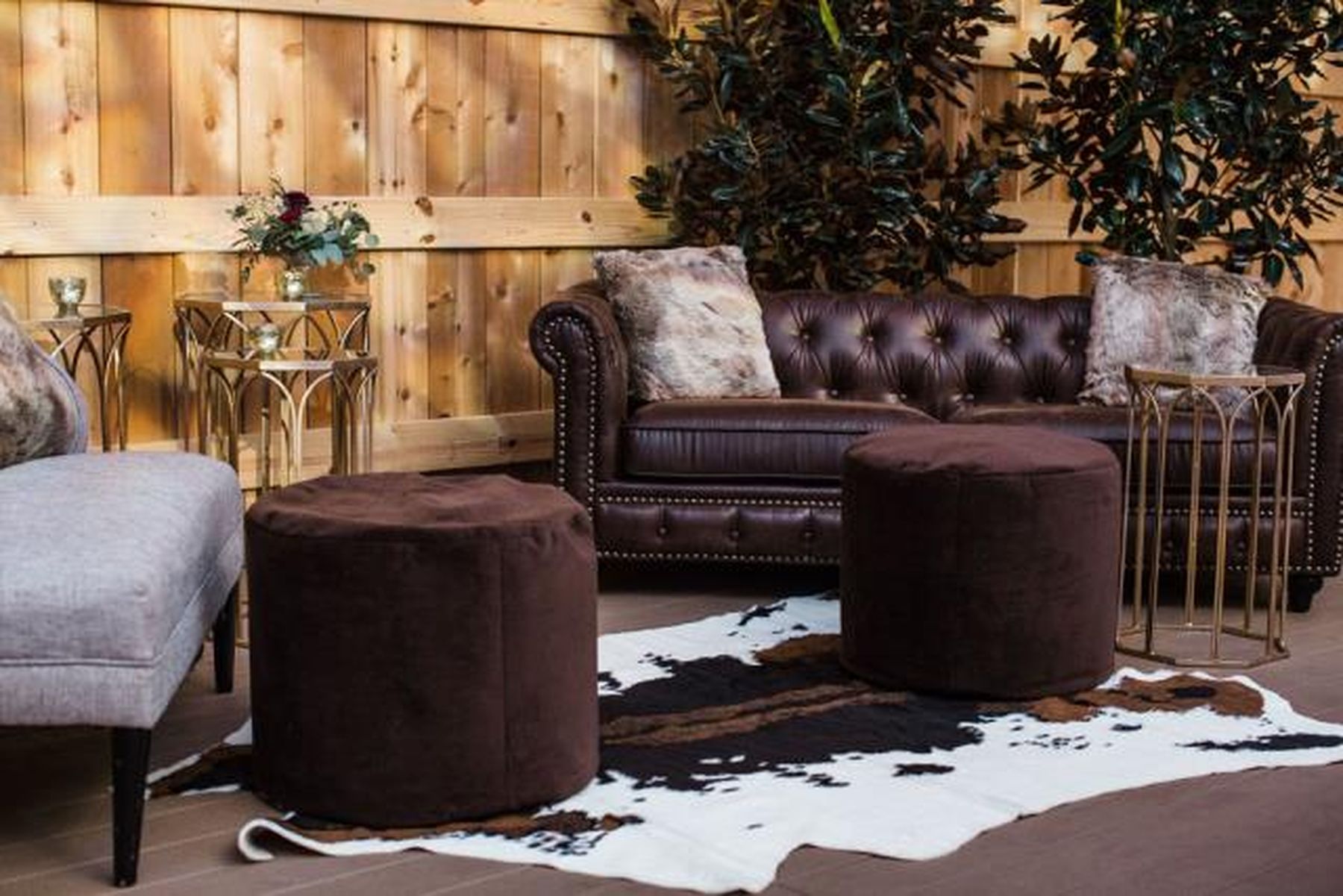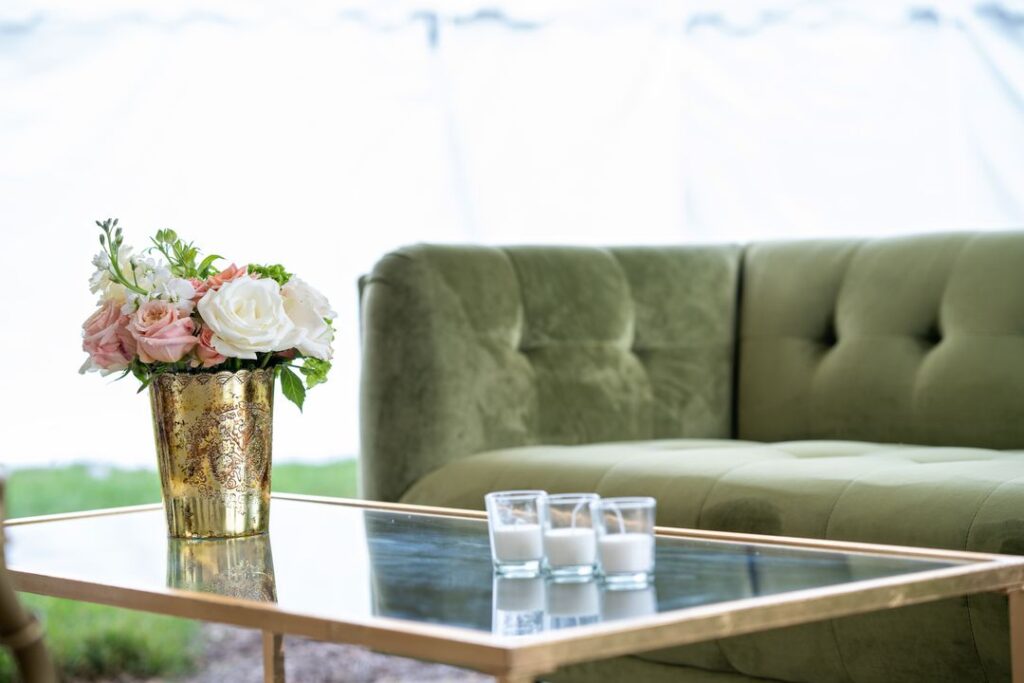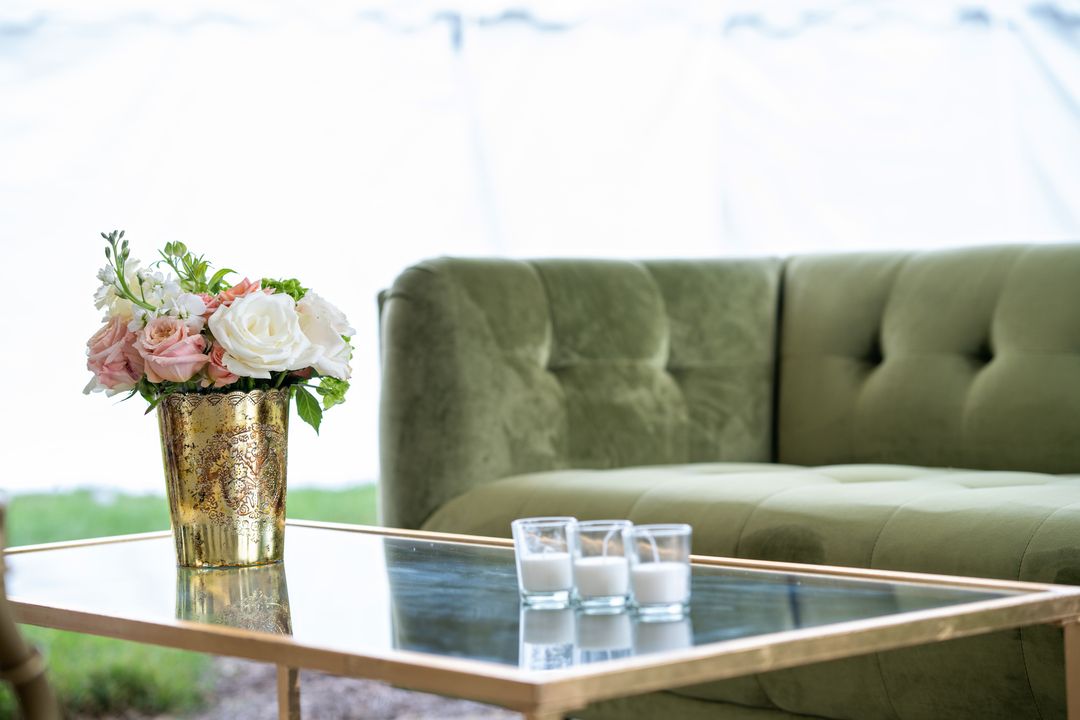 Food & Beverage Stations
In addition to helping your guests relax you also want to help them recharge. A scrumptious food and beverage station will help keep them satiated and in tune for a long day of meetings or workshops. Start with an elegant display shelf, like our Black Bar Back Shelf – to store a selection of simple water goblets or other glassware. Nearby, keep refreshing cucumber water or similar beverages in a Glass Beverage Jar. Display snack foods, like fresh fruit or vegetables, in our white family-style service pieces for light on-the-go bites. Accompanied by simple white china! If you've been approved for alcoholic beverages, a stylish and well-stocked bar never hurt either.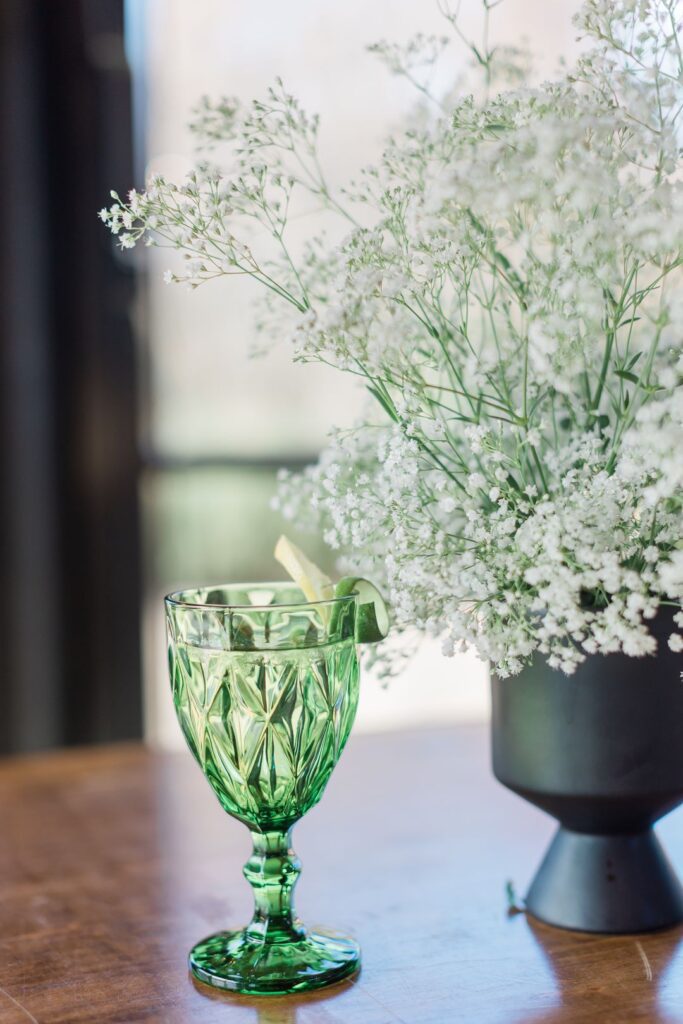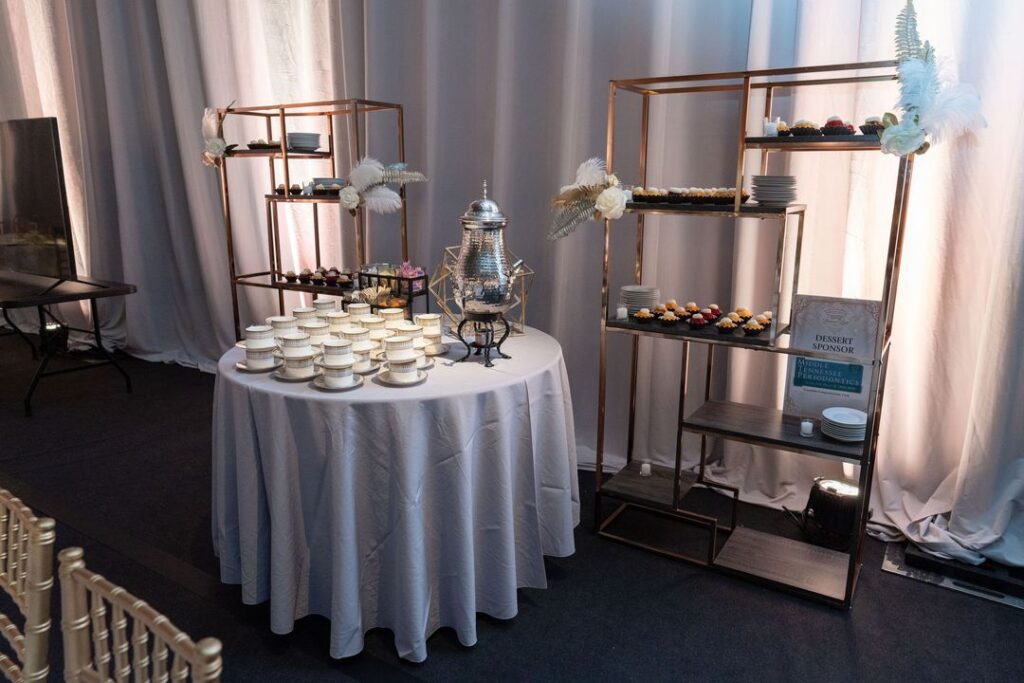 Want help designing corporate wellness rooms at your upcoming corporate event in Nashville? Contact our team at info@southerneventsonline.com & let's start planning!
TAGS | Lounge Furniture, corporate, corporate event, corporate event rentals, corporate event style, lounge areas, lounge seating
FEATURED RENTALS | lounge packages, pipe and drape, bennett leather sofa, henley tufted grey velvet sofa, gloria velvet arm chairs, area rugs, bar back shelves, bar, glass beverage jar, white china, family style serving dishes,
---
3

Feb

On Trend, Trends and Inspiration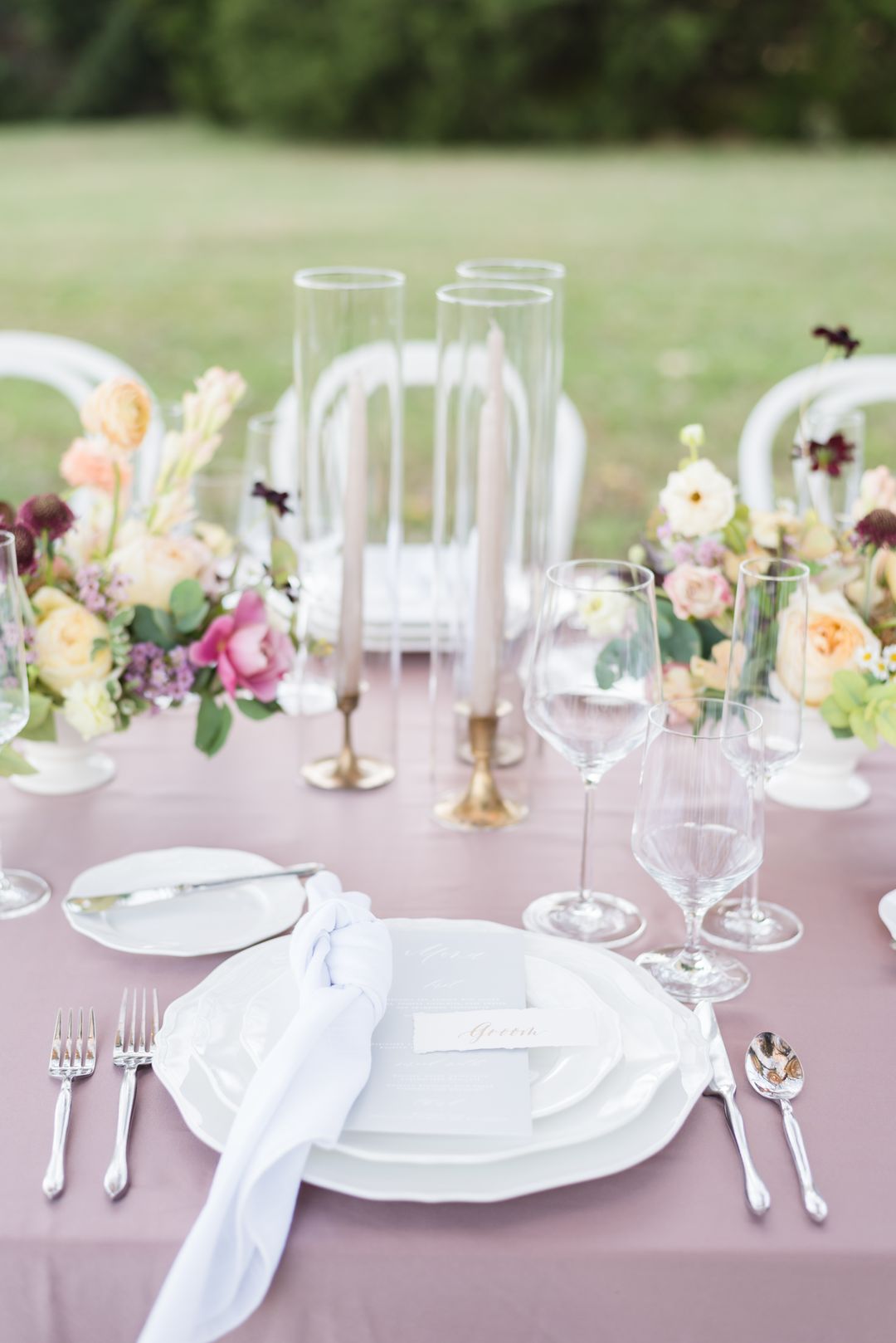 It should be no surprise that with the popularity of the show Bridgerton we're seeing an uptick in Cottagecore event design. Romantic and regent, this style is a throwback to simpler times and elevated design. Meaning luxe textiles, rich colors, and dainty details that would impress members of high society. To help you host a party that feels like a timeless period drama, take a look at our Cottagecore inspired event rentals.
Vintage-Inspired Lounges
If you want to impress guests with your Bridgerton inspired event design then a luxe lounge is a must-have. During this period cocktail hours were the WAY to stay up-to-date on the latest gossip! Easily create a comfortable and memorable area for socializing with our vintage-inspired furniture. A velvet sofa, such as Fern, is always a winner, featuring a rich color and texture. Or opt for the more period appropriate Everly, with a shapely back. For a complete look, don't forget extra seating, like our Bamboo Arm Chairs or fun Turkish Rug Ottoman. Topped off with any of our classic Vintage Rugs!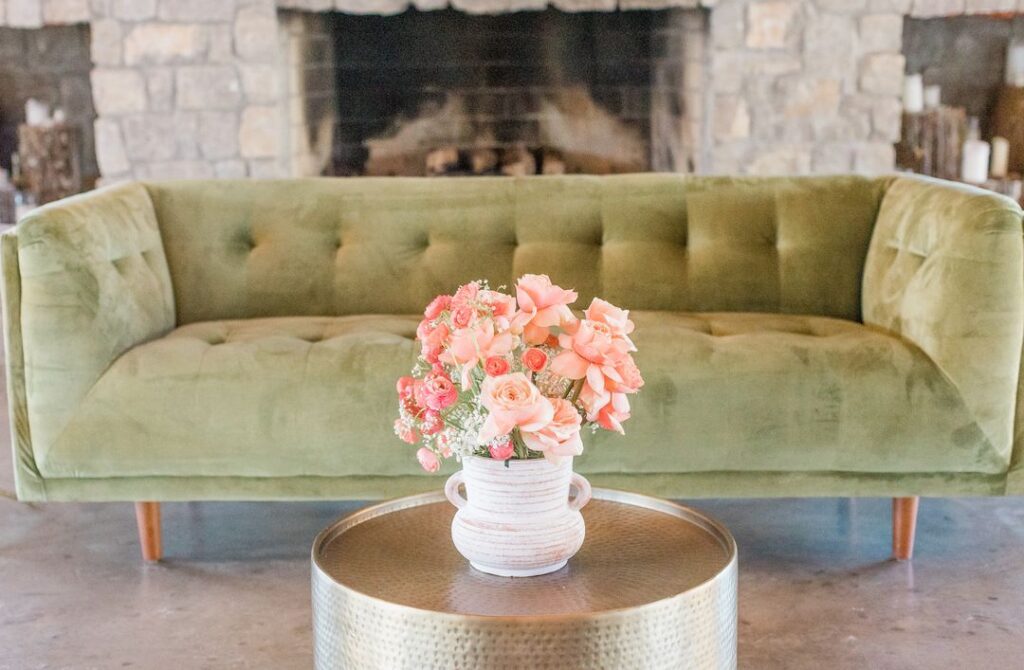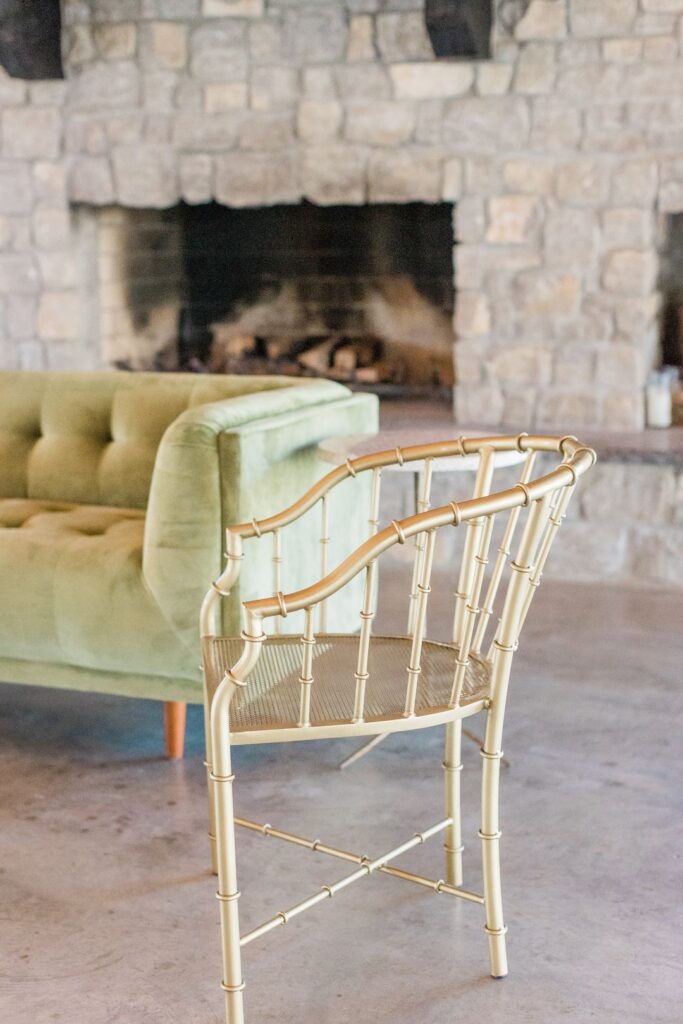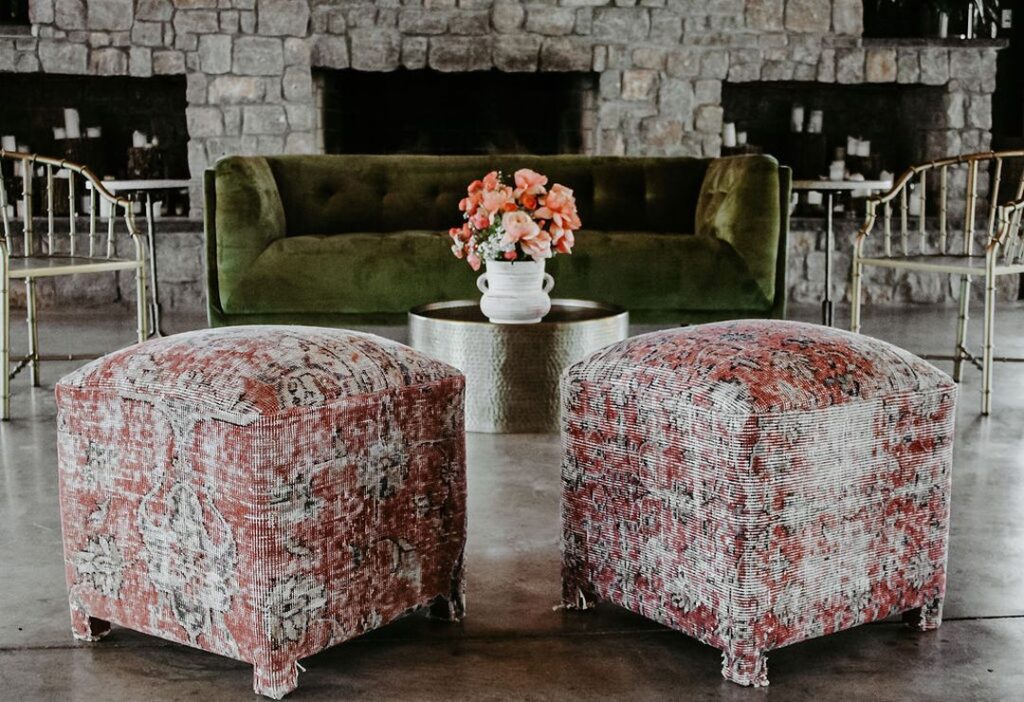 Elegant Barware
A cocktail hour requires drinks, served up in regal glassware. It's always fun to receive a refreshing cocktail served up in an elegant vintage-inspired glass. If you're wanting to incorporate a touch of color into your tablescape, we recommend our colored goblets, available in Amber and Green. Or for a more timeless Cottagecore inspired event design, try our stunning Audrey Gold Rim Glassware. Then there is a newer addition to our lineup, Monaco Glassware, of which the champagne and water goblets are our favorite. For an especially impressive display, don't forget to grab a Bar Cart or Bookcase.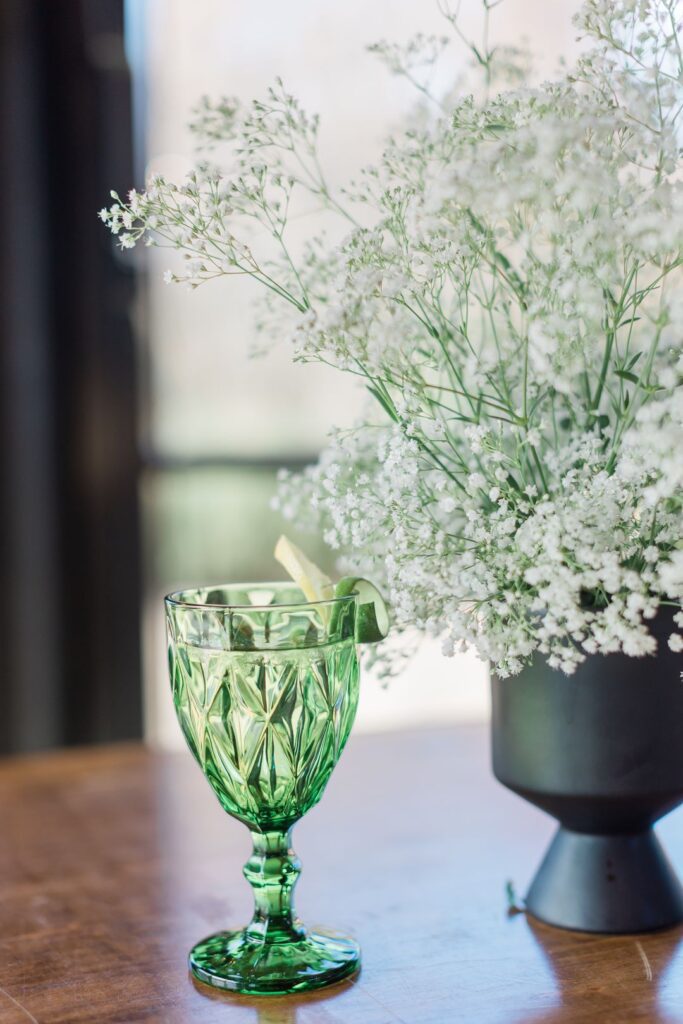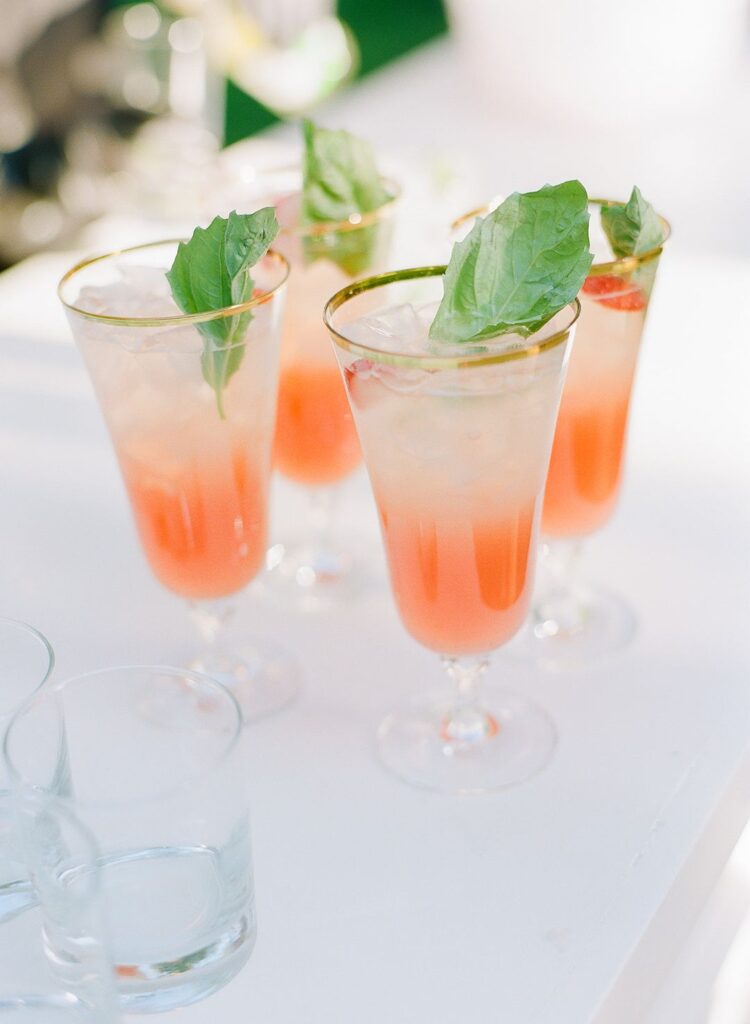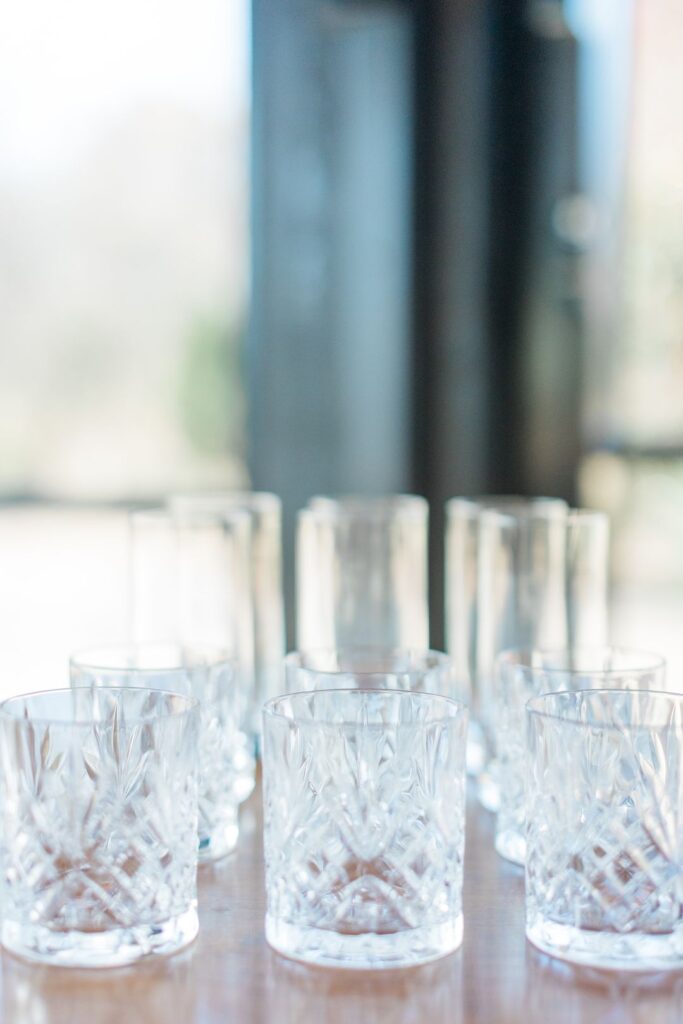 Fine Servingware
Of course for dinner you'll need equally impressive serving ware! We offer a wide selection of aristocracy approved china and flatware. A popular choice is our mismatched Heirloom China, which looks stunning when stacked. Or, go for a more high end vibe when you feature our gold embellished china, such as Hamlet or Ophelia. Our personal favorite however is Darcy, which has a dainty shape fitting for a more whimsical event. And to keep it simple, all of these pieces looks beautiful with both our Austin Gold and Fresno Matte Gold Flatware.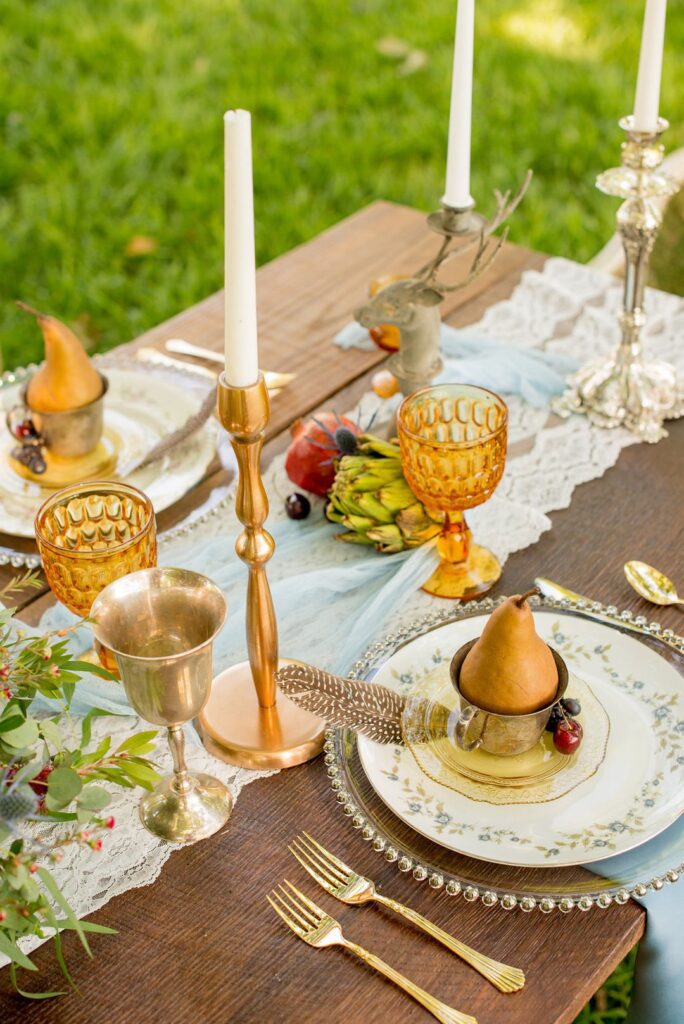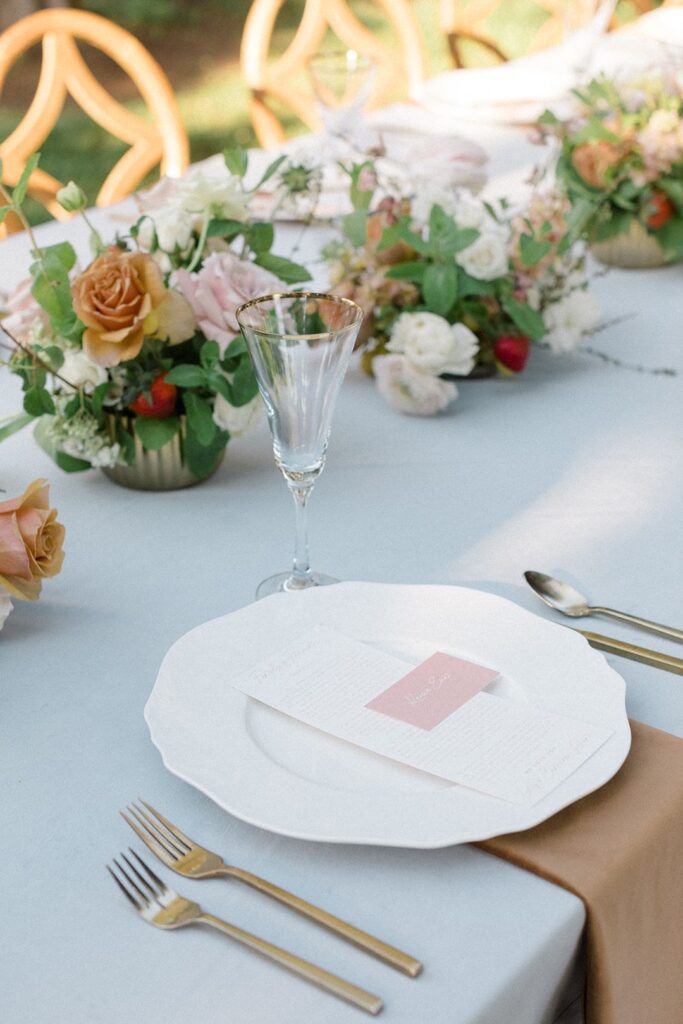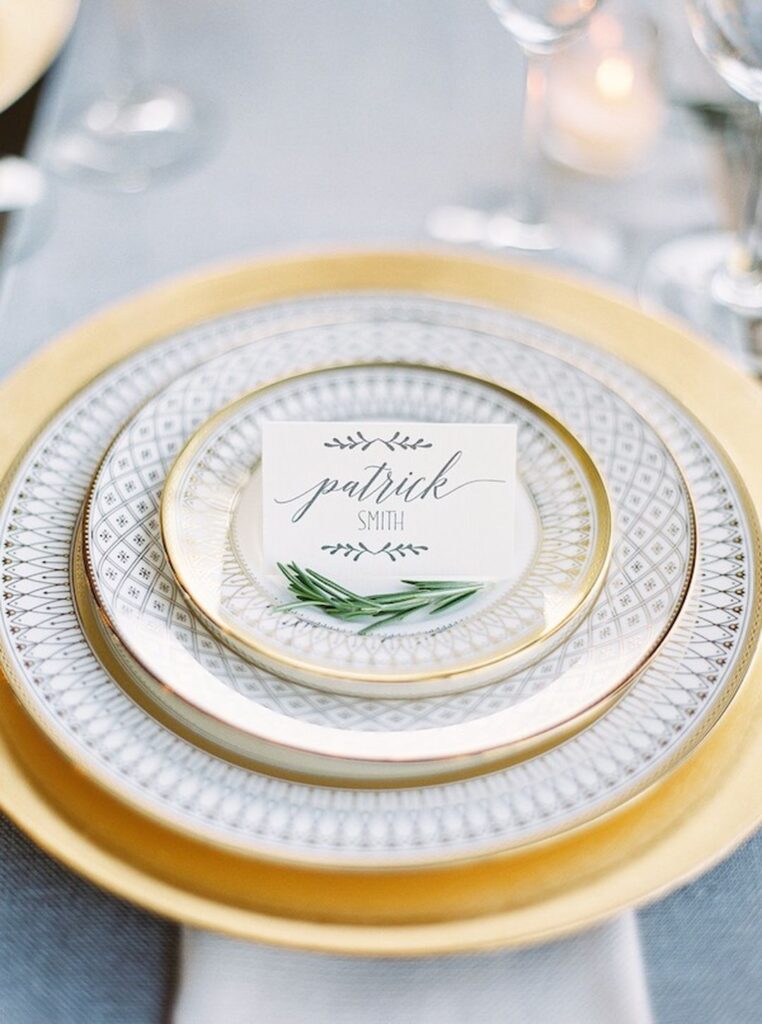 Want to secure one or several pieces of our cottagecore inspired event rentals? Contact our team today, at info@southerneventsonline.com! Or, if you're leaning towards a more natural luxe event design, take a look at our previous blog.
TAGS | Cocktail Party Rentals, Glassware, Lounge Furniture, On Trend, bar event rentals, bridgerton, cottagecore, cottagecore event design, luxe event design, servingware
FEATURED RENTALS | Everly Sofa, Fern Sofa, Bamboo Arm Chairs, Turkish Rug Ottoman, Vintage Rugs, Heirloom China, Hamlet CHina, Ophelia China, Darcy China, Austin Flatware, Fresno Matte Gold Flatware, colored goblets, Audrey Gold Rim Glassware, Monaco Glassware, Bar Cart, Gold Bookcase
---