12

Oct

Southern Events Products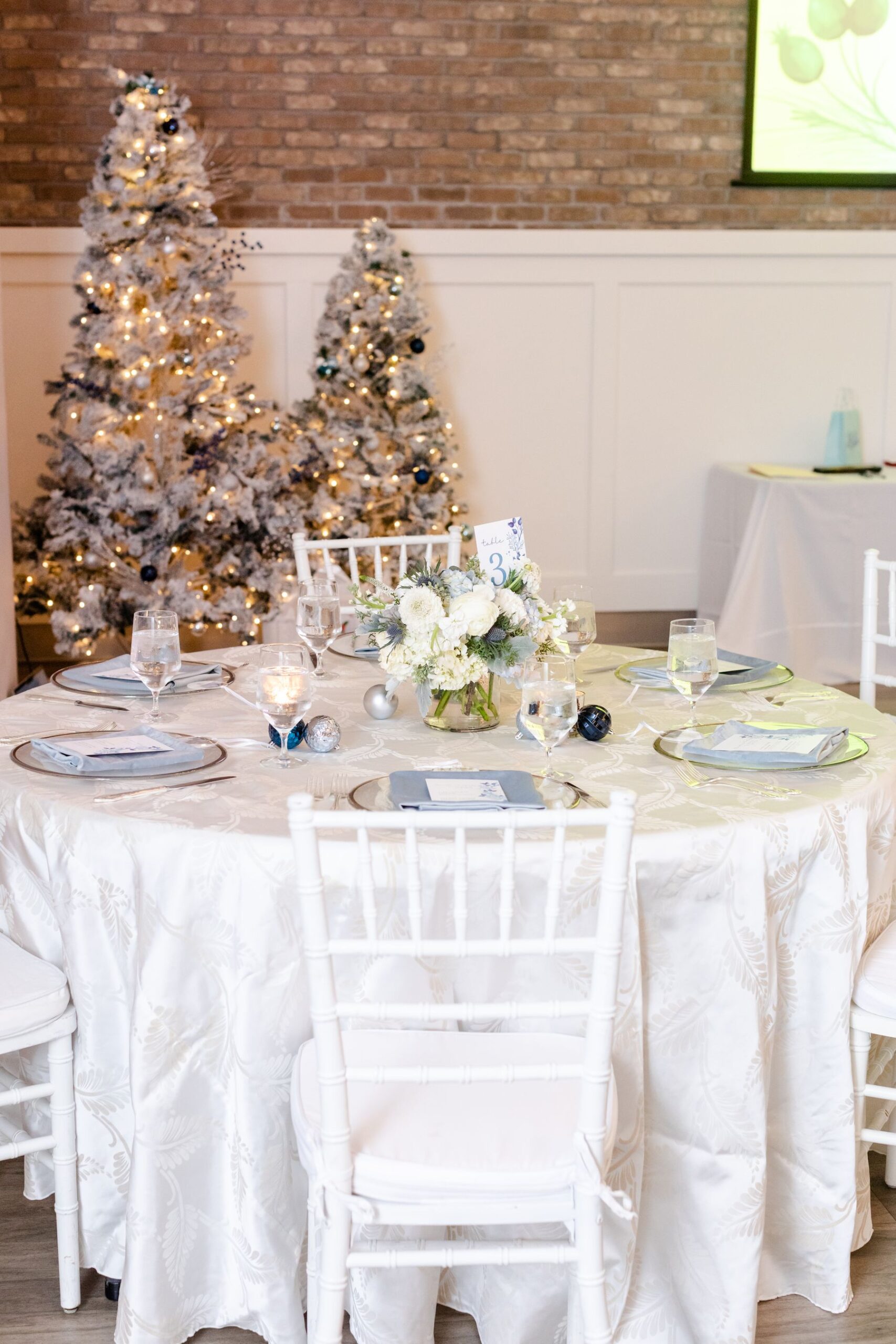 The holiday season is a time of joy, togetherness, and celebration. Whether you're hosting an intimate family dinner or a grand holiday soiree, creating an inviting atmosphere is key to making your gathering memorable. One way to achieve this is by incorporating rentals that transform your space into a winter wonderland. Keep reading to explore some holiday event rentals from Southern Events that will make for a festive get-together and impress your guests.
Festive Event Linens
When it comes to setting the stage for the holidays, the choice of table linens can make all the difference. To create an atmosphere of elegance and charm, consider using bright linens that set a sophisticated tone. Our Silver White Leaf linens exude timeless beauty, making them a perfect choice for those who appreciate classic elegance. Another option are the Heritage Light Blue linens. A soft seasonal color that will bring a touch of calm and festivity to your table. Moreover, our velvet linens offer the ultimate luxury and are available in an array of festive shades. Like Magnolia Green and Scarlet Red! As well as icy neutral shades like London Fog.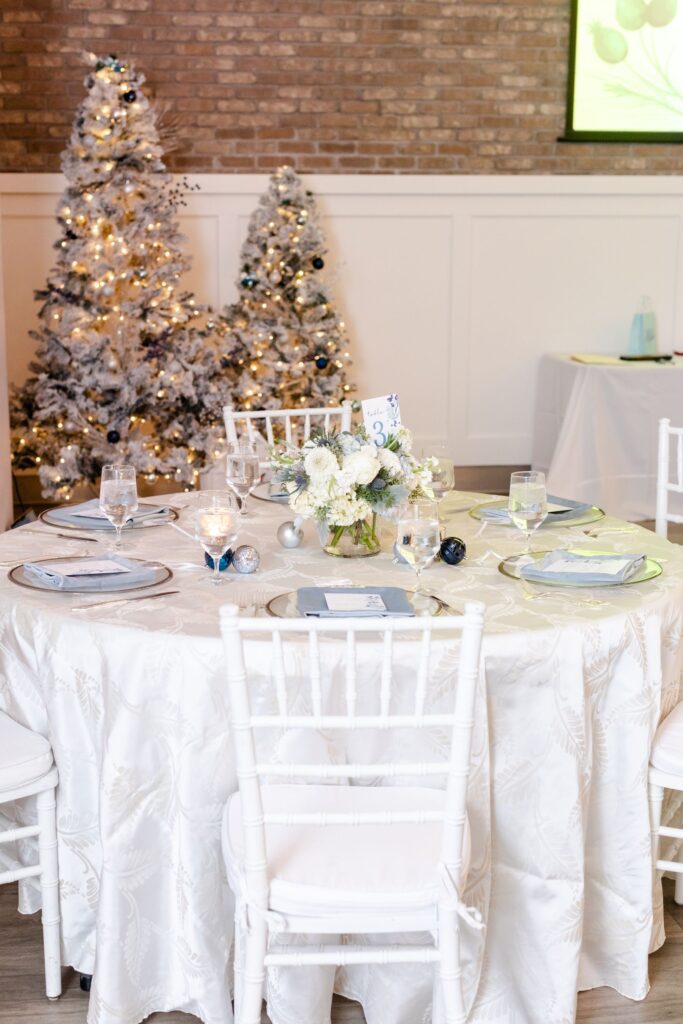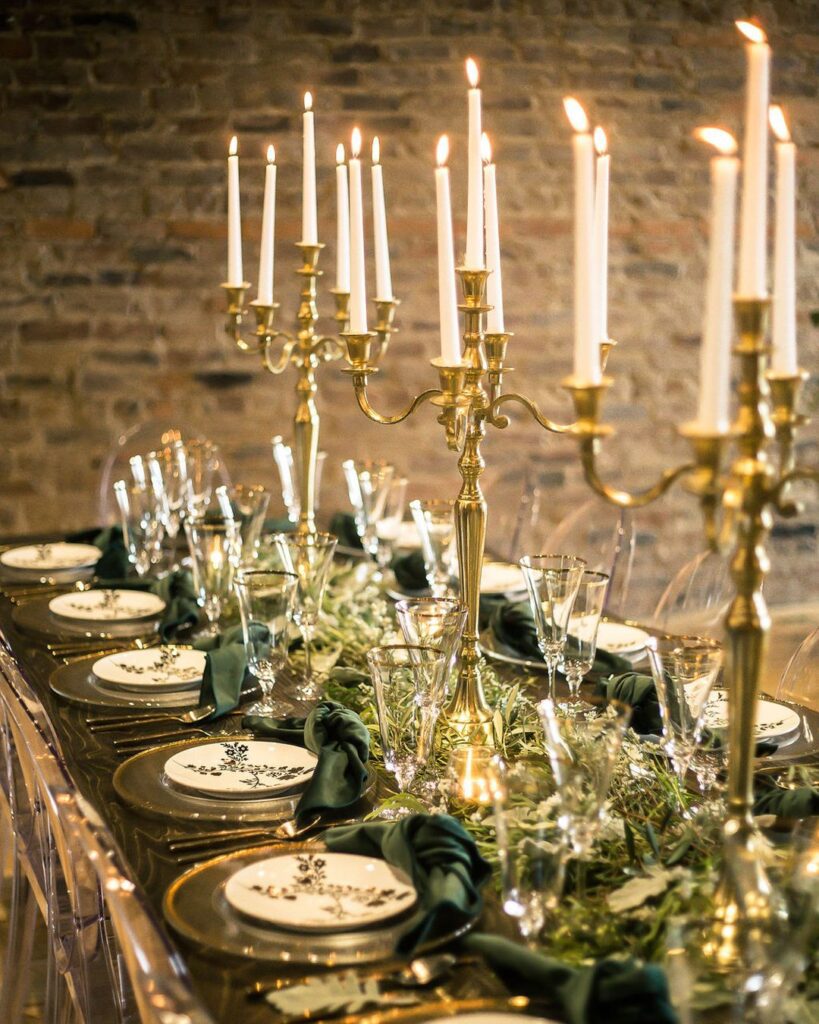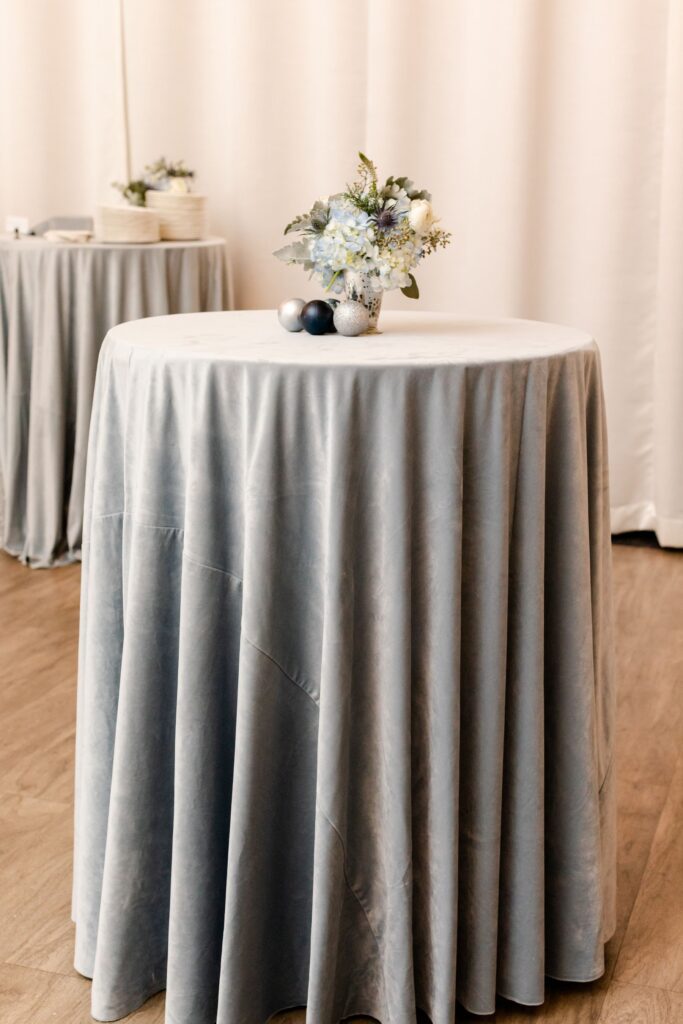 Elegant Holiday Place Settings
Crafting an inviting and modern ambiance for your holiday gathering involves more than just decor. It's also about the finer details, like your place settings. Consider incorporating metallic-accented serving ware to add a touch of glamour to your table. Our Glass Charger with Silver Rim and Carrera Marble Dinner Plates offer a timeless look. Additionally, try the Gold Round Laquer Charger with Athena China and Austin Flatware. Or, for a modern flair, pair the Copper Glass Charger with Earthen Alabaster China and Brushed Copper Flatware. On the other hand, take a look at our all-black holiday event rentals. A moody yet modern look is a unique color scheme for a corporate or formal affair! From chargers that gleam to flatware that shimmers under the warm holiday lights, these elements can elevate the aesthetics of your tables and leave a lasting impression on your guests.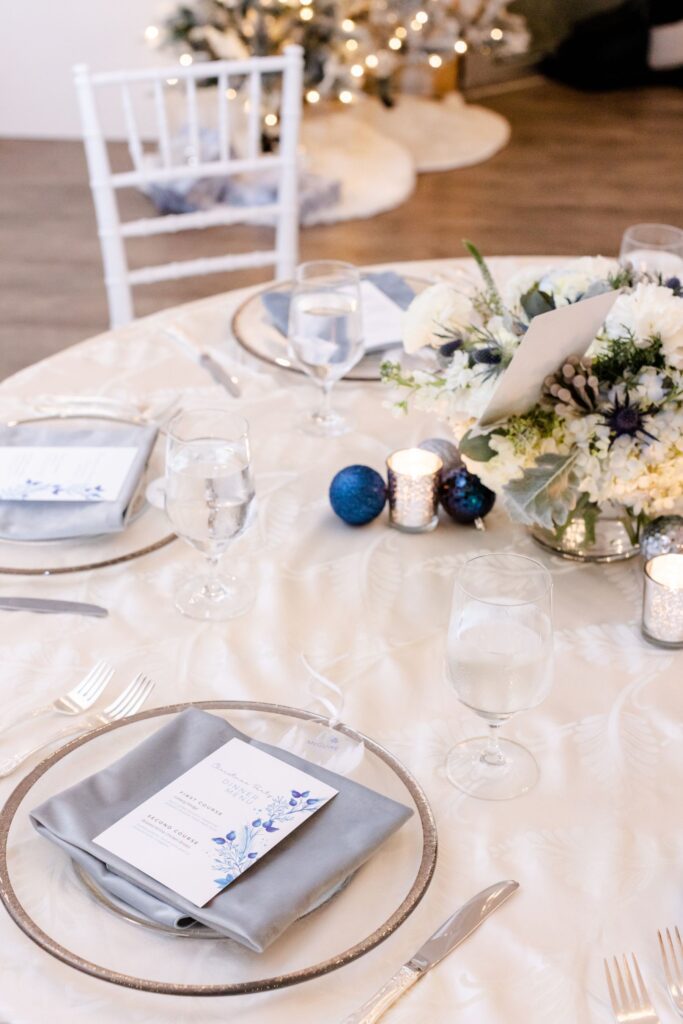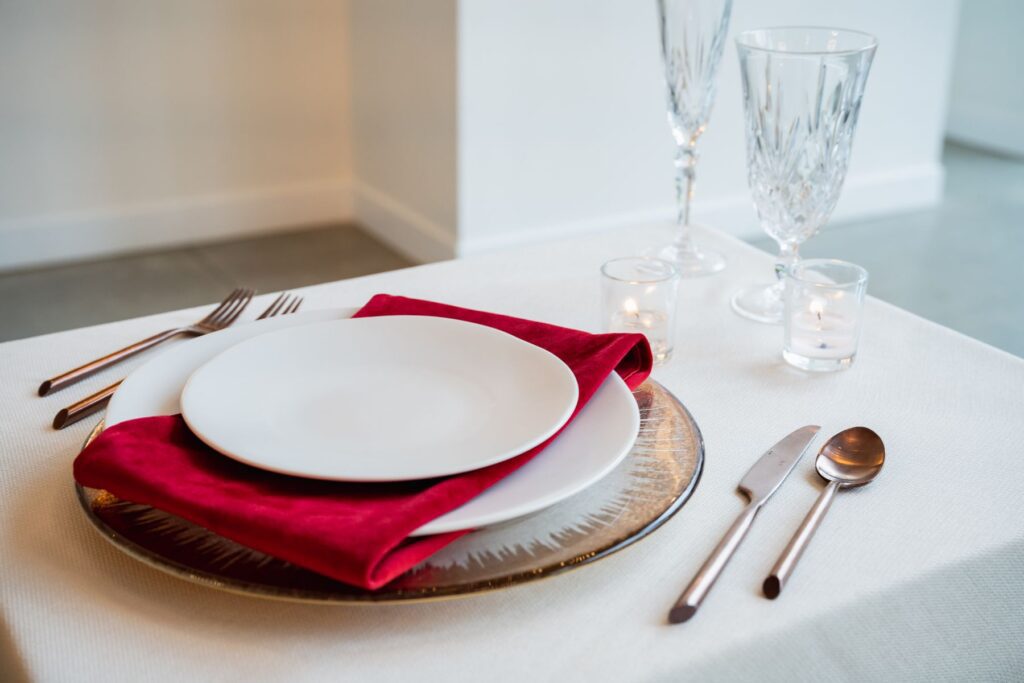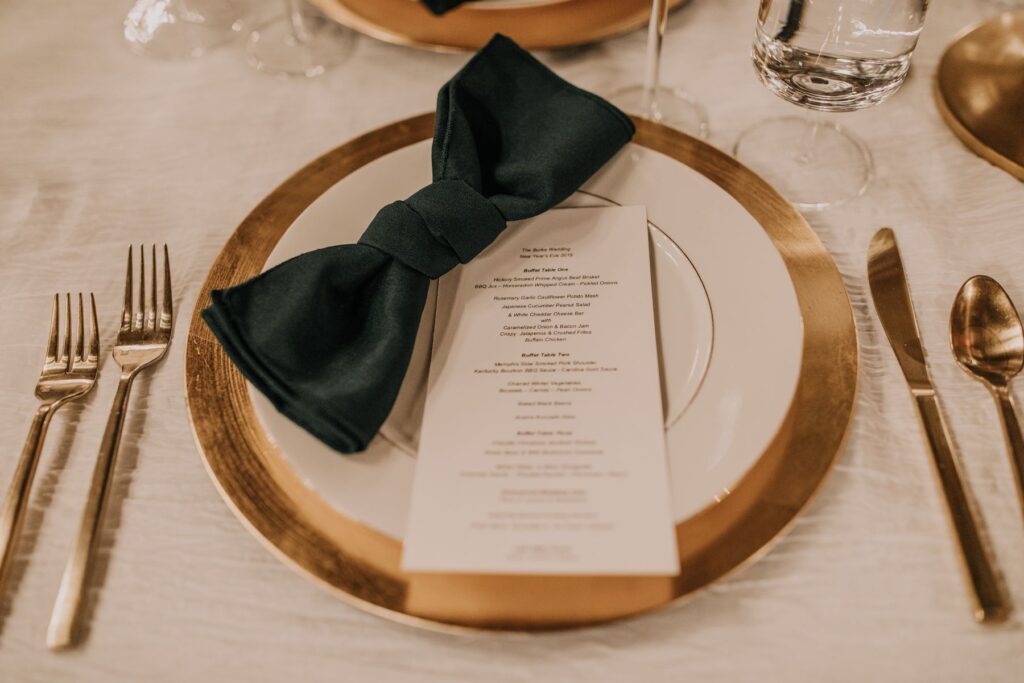 Eye Catching Barware
A well-stocked and beautifully presented bar is the centerpiece of any memorable holiday gathering. To ensure your cocktail hour stands out, it's essential to pay attention to your barware. We recommend that you opt for unique glassware. Specifically to serve up your signature seasonal cocktails. Our contemporary Cyblil Glassware and elegant Gatsby Coupe Glasses are excellent choices. Whereas the Meridian Blue Tumblers or Celia Gold Rim Glassware will make a statement. However, you can make an even bigger impression when you put your bar menu on display. Feature our Boxwood Walls affixed with Champagne Shelves. Or, add a touch of glamour to your holiday gathering with the Gold Bookcase or White Barback Shelf.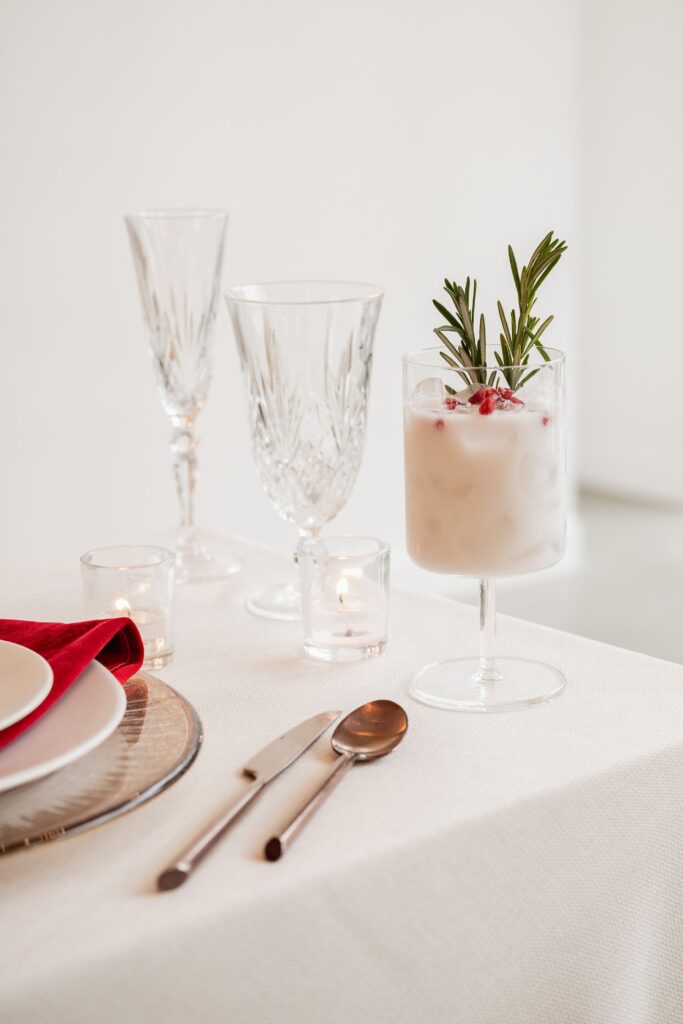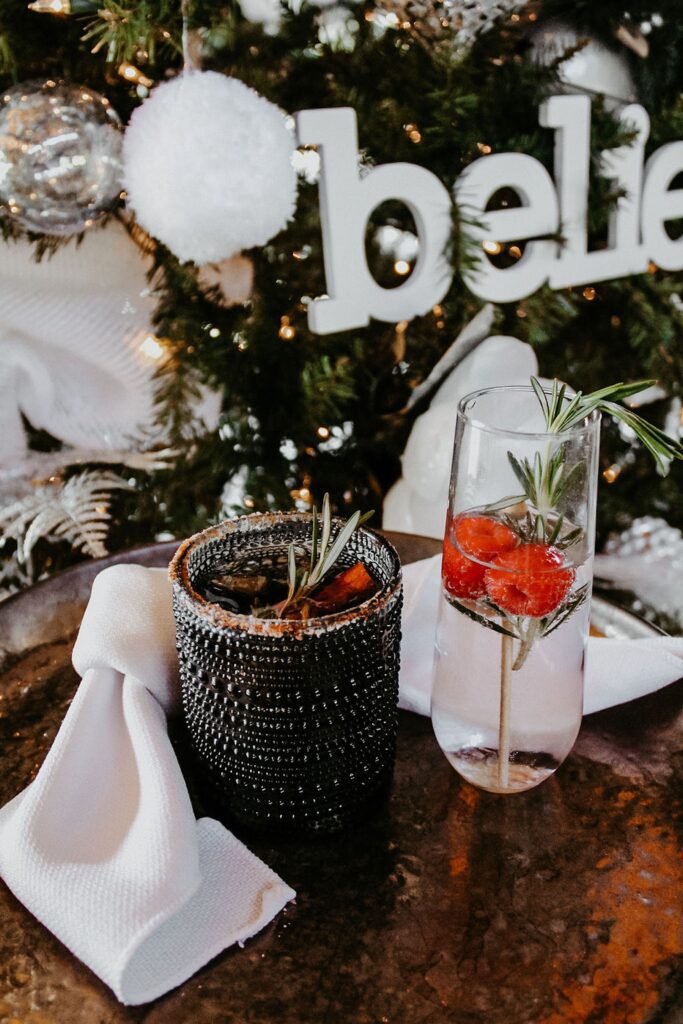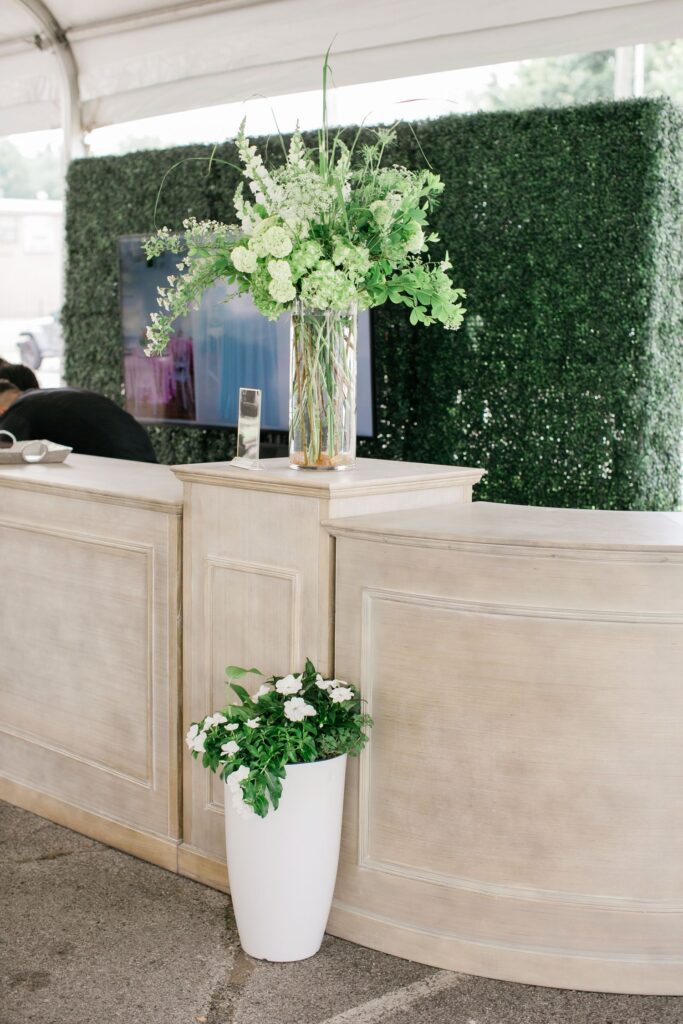 Cozy Holiday Party Lounges
Creating cozy lounge areas within your event space can make your guests feel at home and encourage relaxation and conversation. That is to say, these spaces are perfect for intimate gatherings! Achieve a welcoming ambiance when you pair our Fern Velvet Sofa with Gold Bamboo Arm Chairs. Comparatively, feature the Saylor Navy Velvet Sofa and Arm Chairs. A beautiful choice to complement a winter theme. In addition, elevate your lounge areas with tables, where guests can set light bites and drinks. Such as with the Echo Silver Metal Accent Tables, which will lend to a bold icy aesthetic! For larger gatherings, the versatile Pearce Modular Lounge allows you to customize the lounge area to fit your space and guest list.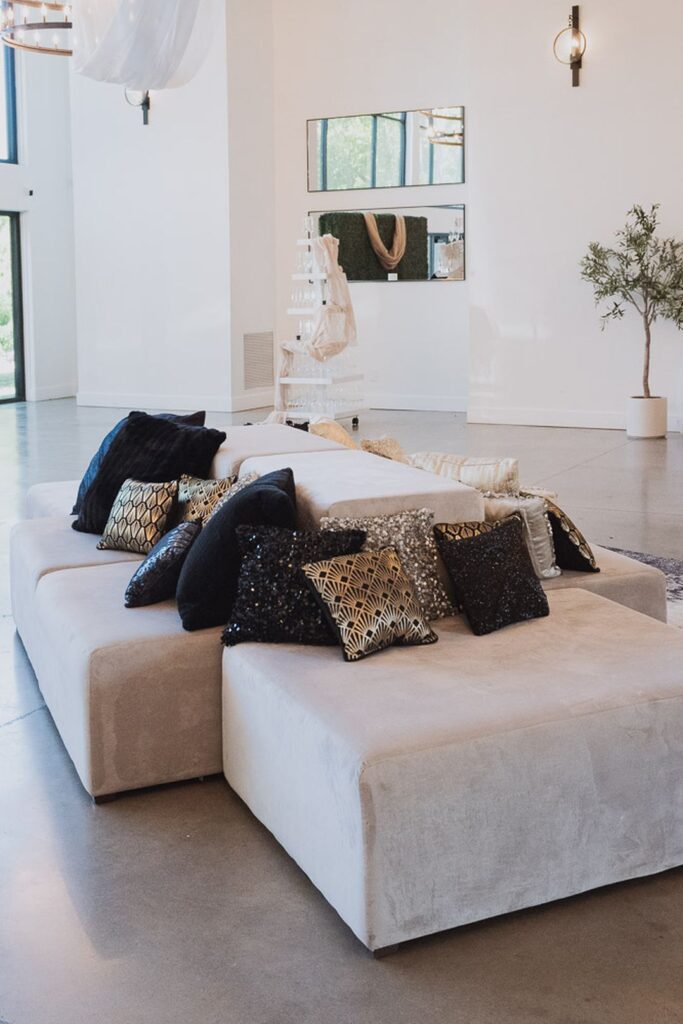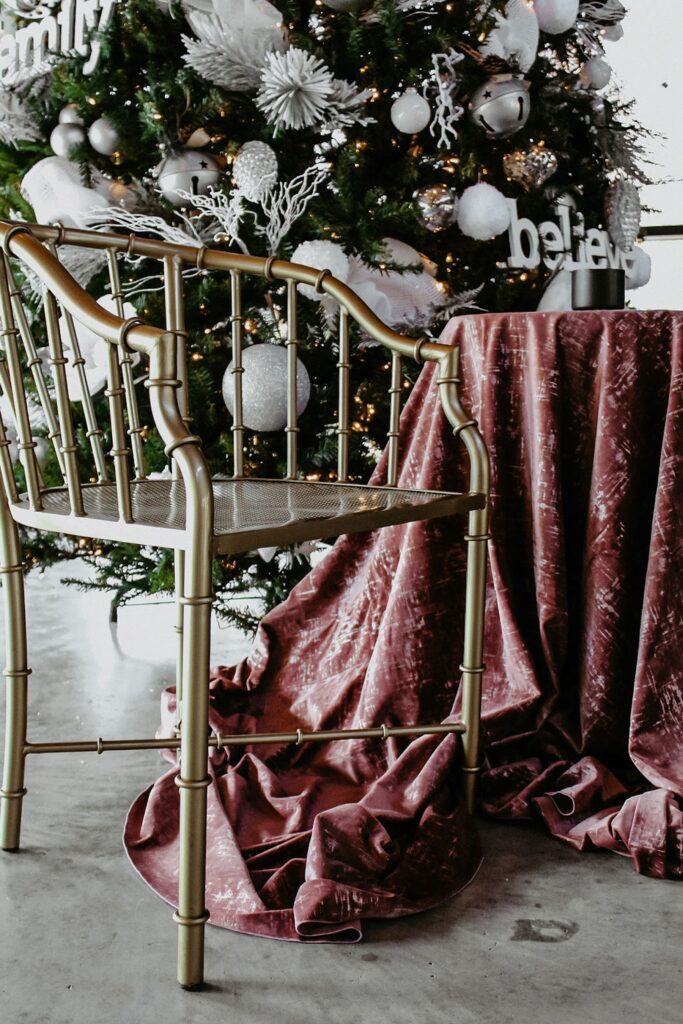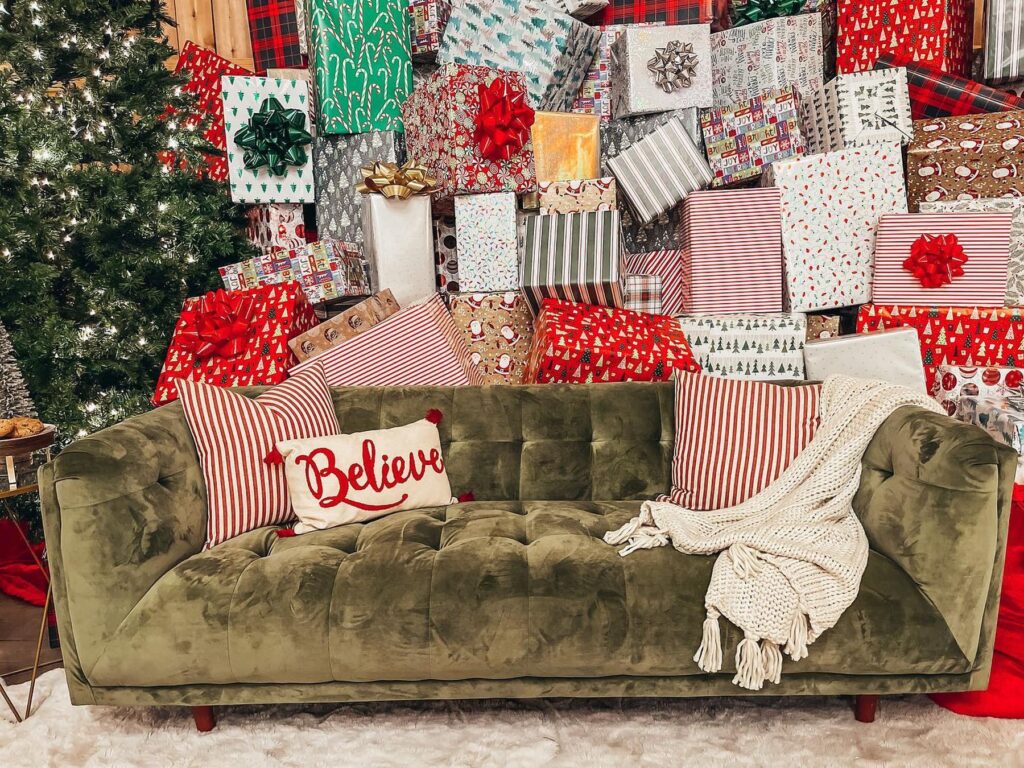 Reach out today to secure holiday event rentals for an upcoming celebration! From your choice of table linens to elegant place settings, eye-catching barware, and cozy lounge spaces. Contact our team at info@southerneventsonline.com and let's start planning your best party event yet.
TAGS | Cocktail Party Rentals, Holiday Party Ideas, Linens for Rent, Lounge Furniture, Tableware, Velvet Linens, cocktail hour, holiday party rentals, holiday tablescape, tablescape inspiration
FEATURED RENTALS | Fern Velvet Sofa, Gold Bamboo Arm Chairs, Saylor Navy Velvet Sofa, Echo Silver Metal Accent Tables, Pearce Modular Lounge, Cybil Glassware, Gatsby Coupe Glasses, Meridian Blue Tumblers, Celia Gold Rim Glassware, Boxwood Walls, Gold Bookcase, White Barback Shelf, Silver White Leaf, Heritage Light Blue, Magnolia Green, Scarlet Red, London Fog, Glass Charger with Silver Rim, Carrera Marble Dinner Plates, Gold Round Laquer Charger, Athena China, Austin Flatware, Copper Glass Charger, Earthen Alabaster China, Brushed Copper Flatware,
---
4

May

Southern Events Products, Trends and Inspiration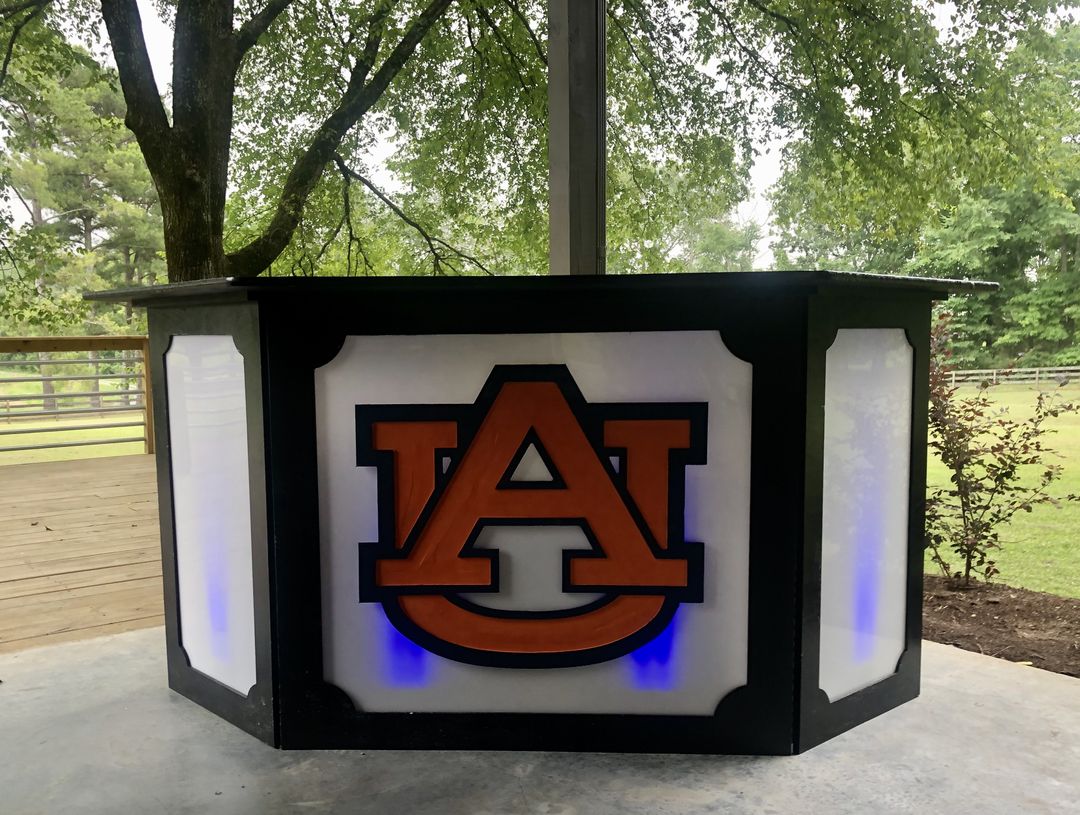 Graduation season is fast approaching and, if you want to host a memorable celebration, it's time to start planning. After years of hard work, the student in your life deserves recognition for their achievement! Whether they are graduating from high school or college, or if they made the big decision to go back to school. To help you mark the occasion, take a look at our must-have rentals for a summer graduation party.
School Colored Linens
Represent the school you are graduating from or the school you will be attending with bold event linens. We stock tablecloths and napkins in a wide variety of colors and materials. Whether you're looking for a true University of Tennessee Orange or a shimmering Gold for Vanderbilt University. Keep things casual with our solid poly linens, or achieve a chic look with our luxurious velvet linens. For a more glam vibe, don't overlook sequin linens!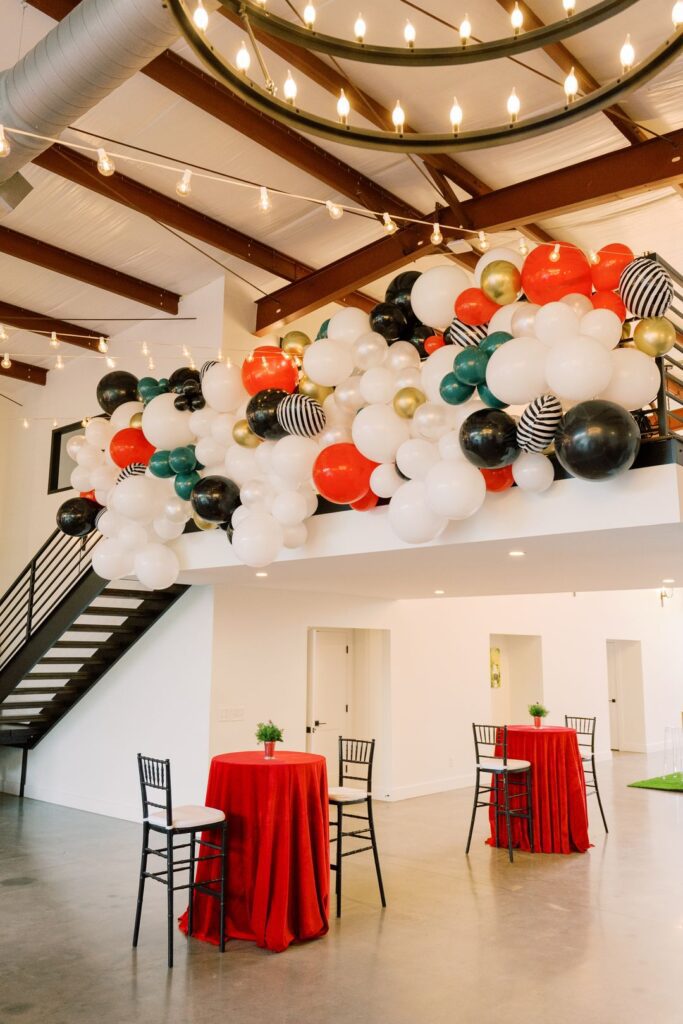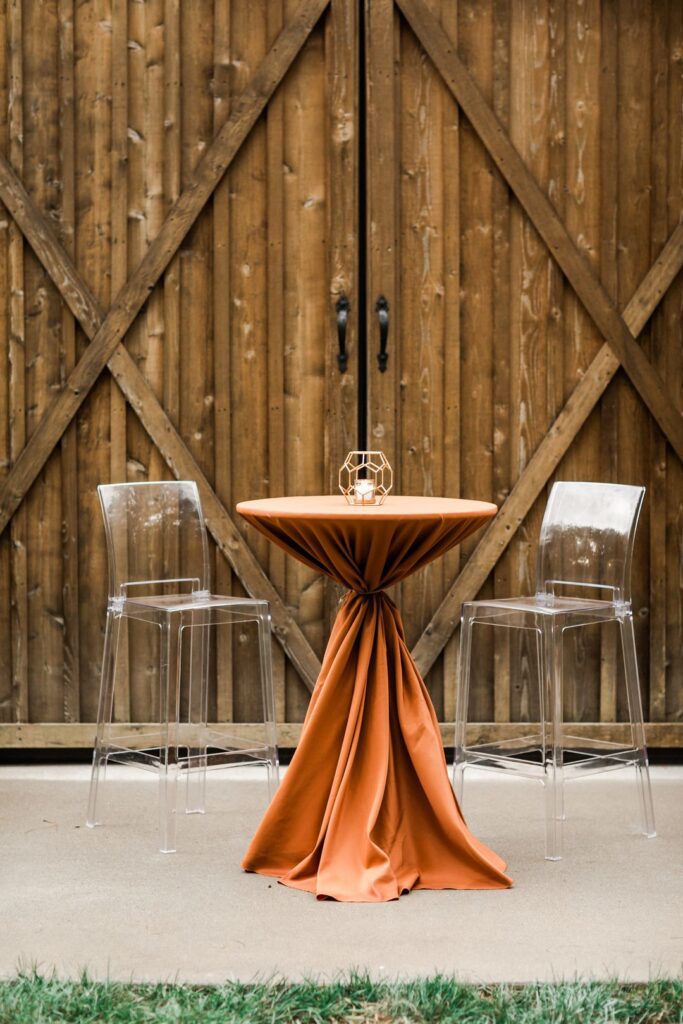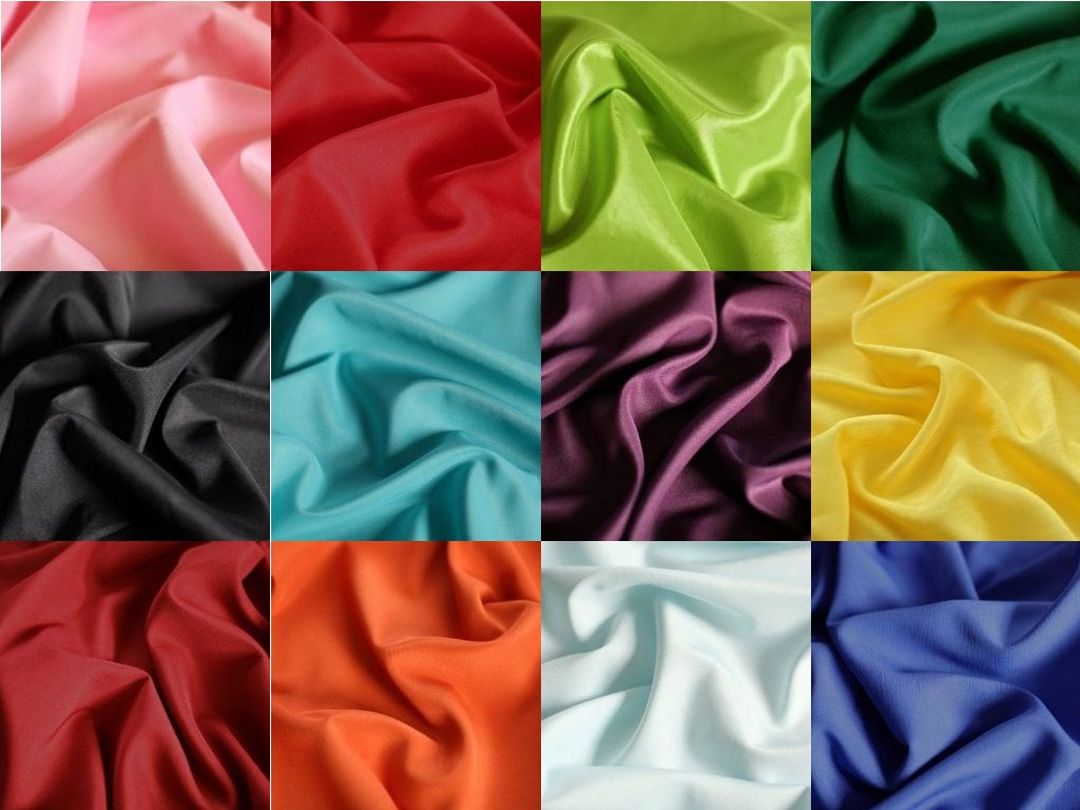 Tent Packages for Every Party Size
Enjoy the summer sunshine in comfort when you rent one of our Tent Packages. Available in a variety of sizes, our tents can be used to create some shade or keep your company dry in the event of rain. Our Ready to Party Packages come with everything you need to accommodate 30 to 100 guests, including furniture and linens. For small backyard gatherings, one of our Pop Up Tent Packages is perfect for displaying a self-serve food or drink station. As well as party favors or a guest book!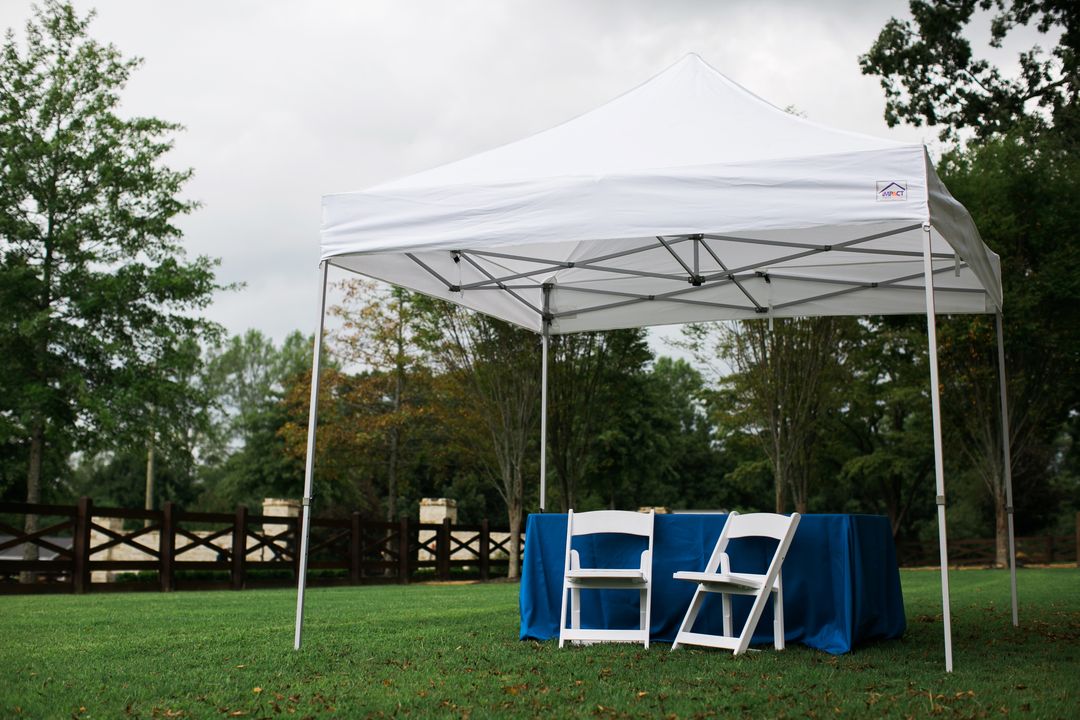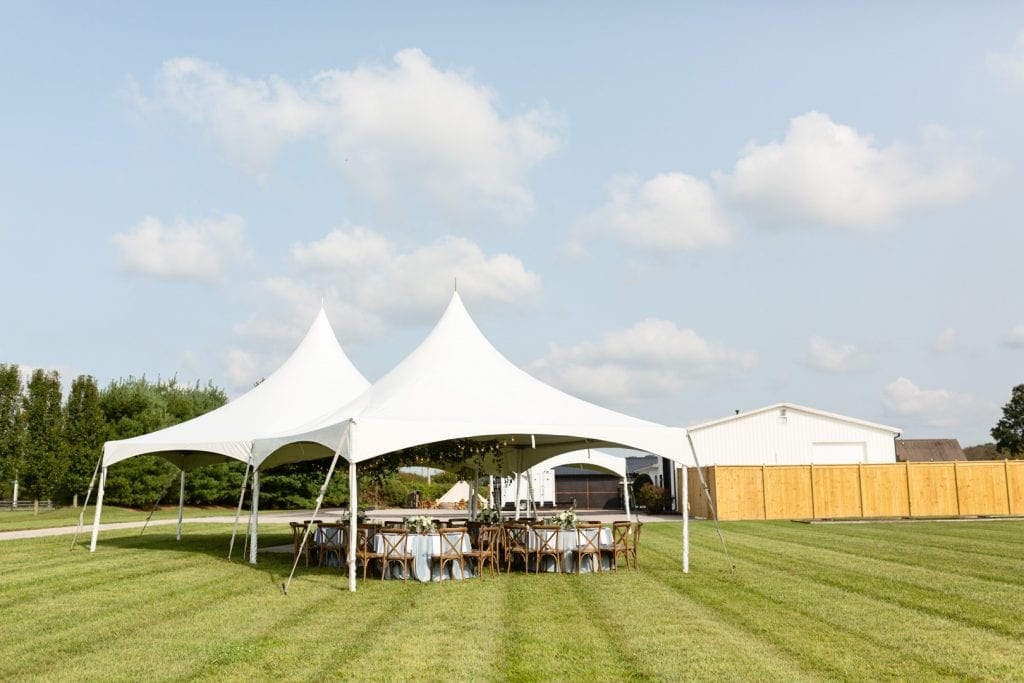 Photo-Worthy Party Backdrops
Freeze this moment in time by capturing photographs or hiring someone to take them. You will want to document this achievement and the celebration. Our modern Boxwood Walls are ideal for creating a beautiful photography backdrop. it can be customized to your liking with drapery, attachments, and props.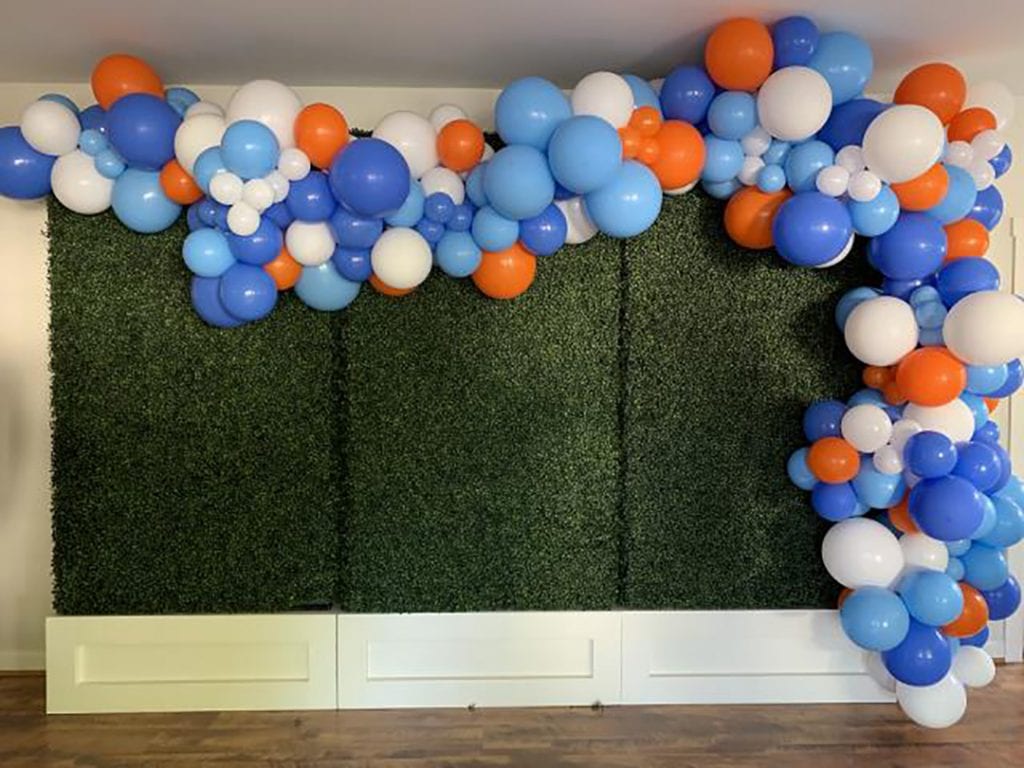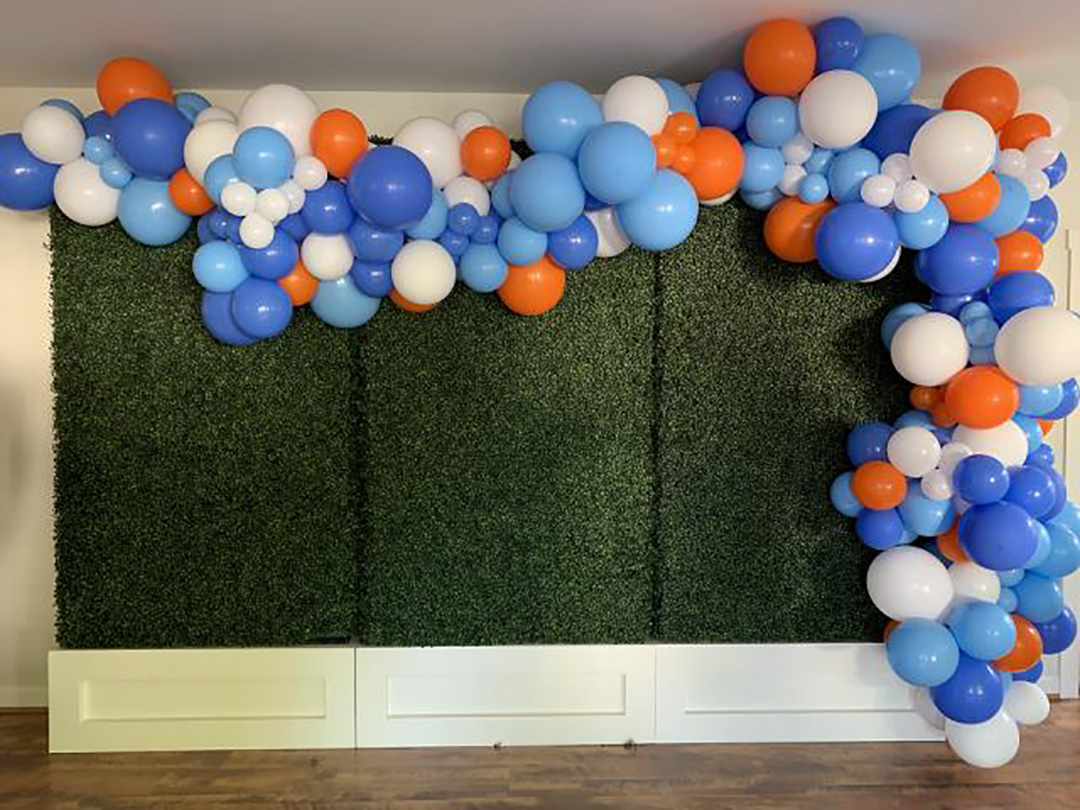 Special Seating for the Grad
Keep the grad front and center of the celebration with a unique chair at the head of the table. It is a small touch that will make them feel extra special for the day! But it will also help direct guests to grad, perfect if you're hoping to snag some photographs. We have a number of modern specialty chairs to choose from, like our Ghost Acrylic Arm Chair and Farrah Teal Velvet Chair. Or take a look at our retro-chic Gold Bamboo Arm Cha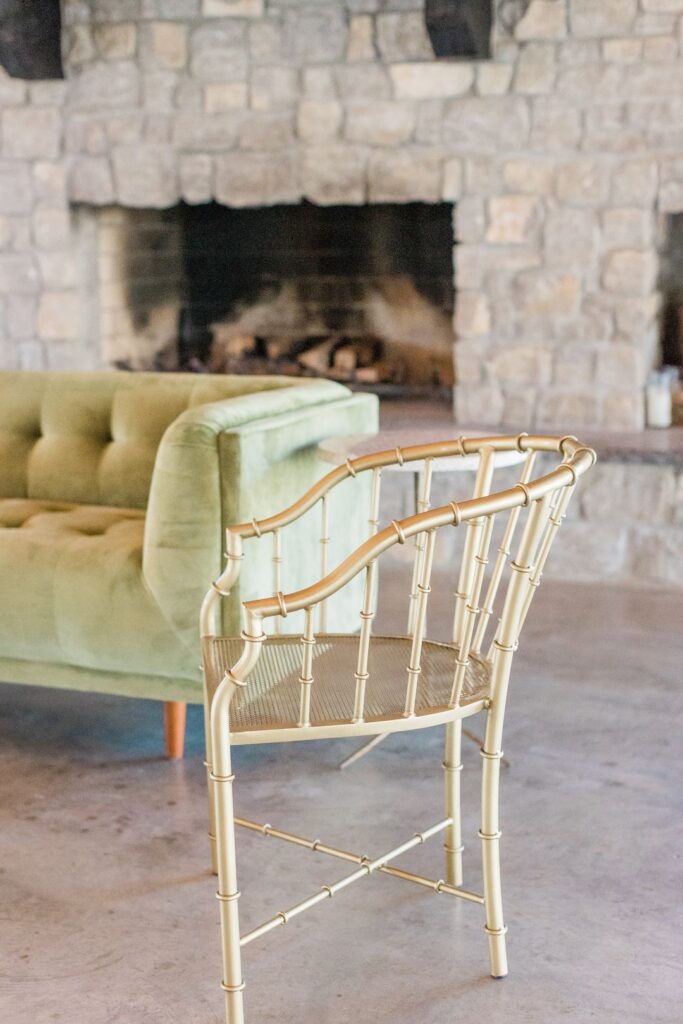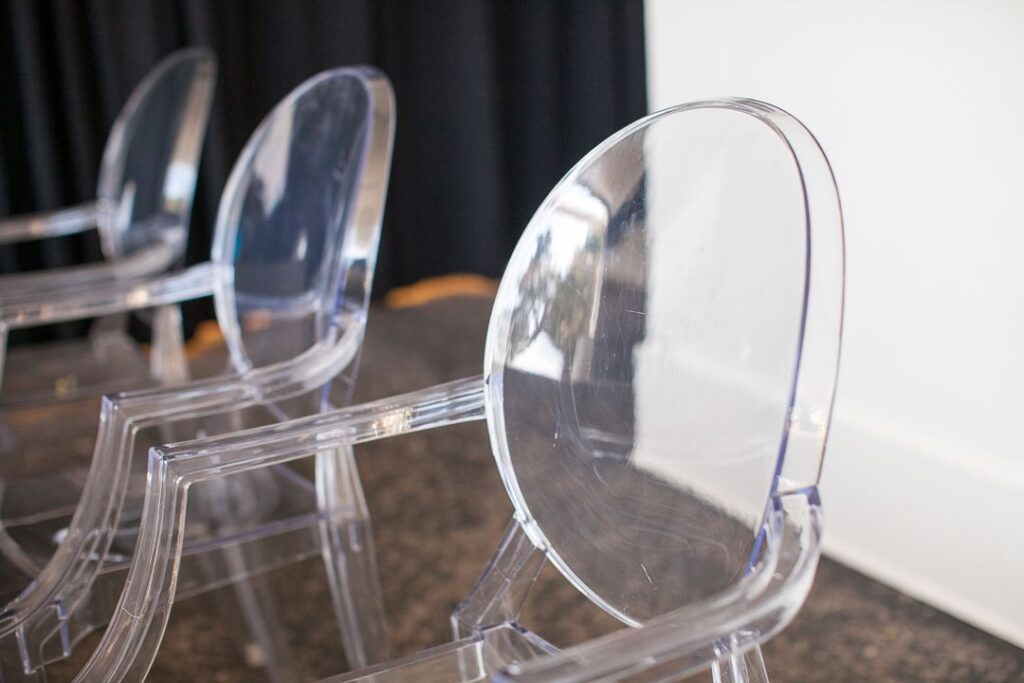 Catering Rentals & Family Style Serving Pieces
Food and drinks are a must-have for a party. But you can easily minimize clean-up with our convenient catering rentals. We have everything you need, from beverage dispensers to chafing dishes and serving pieces for a stylish self-serve buffet. As well as Charcuterie Boards and Silver Trays, perfect for creating colorful fruit and cheese-laden grazing boards. Finally, grab a variety of cake or cupcake stands to set up a multi-level display of sweet celebratory treats.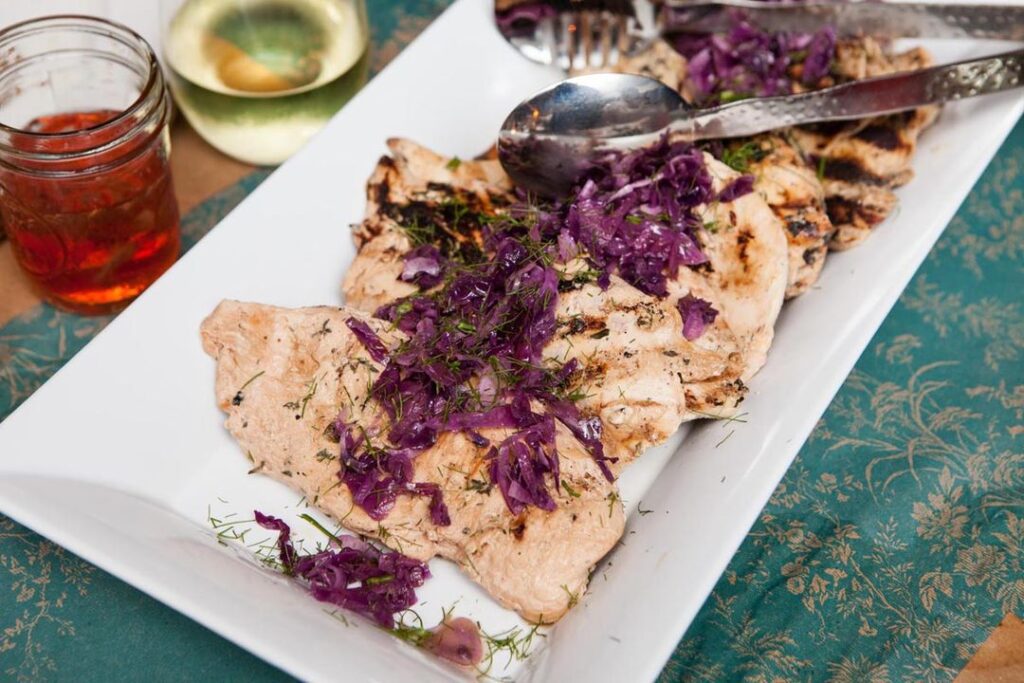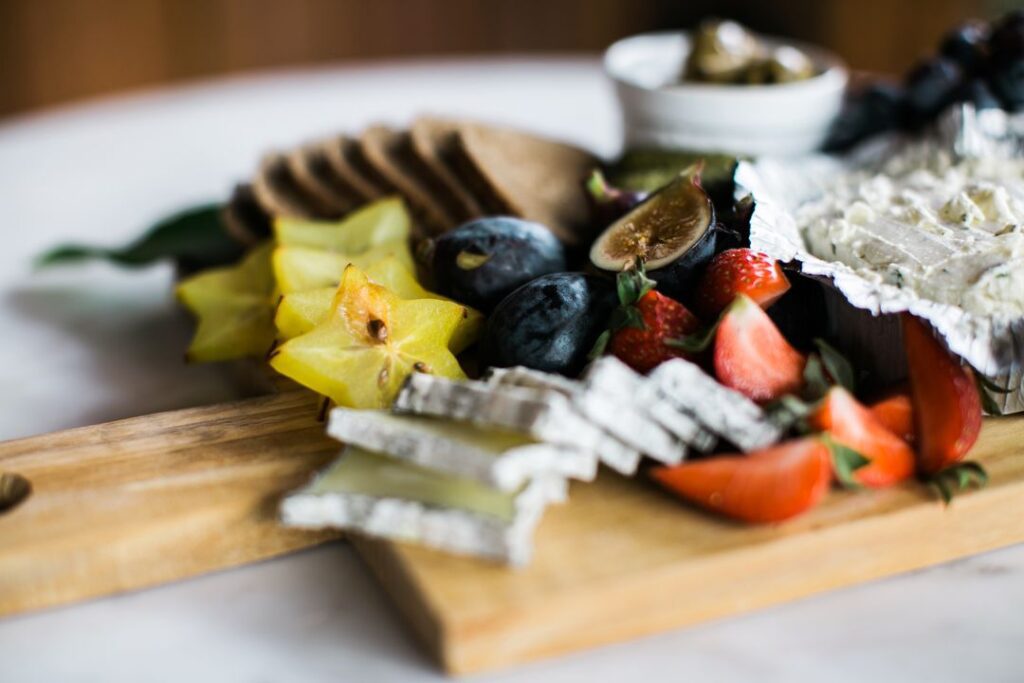 Are there any graduation parties on your summer to-do list? Let Team Southern help you plan a memorable backyard get-together! If any of our party rentals have caught your eye, contact our team at info@southerneventsonline.com. Considering a more unique event theme for your grad? Check out this trendy southern brunch party!
TAGS | Beverage Service, Event Catering Rentals, Linens for Rent, Tent Rentals, backyard parties, franklin party rental, graduation party, nashville party, pop up tent packages
FEATURED RENTALS | solid poly linens, velvet linens, sequin linens, Tent Packages, Pop Up Tent Packages, Ready to Party Packages, beverage dispensers, chafing dishes, serving pieces, cake stands, cupcake stands,
---
8

Feb

Southern Events Products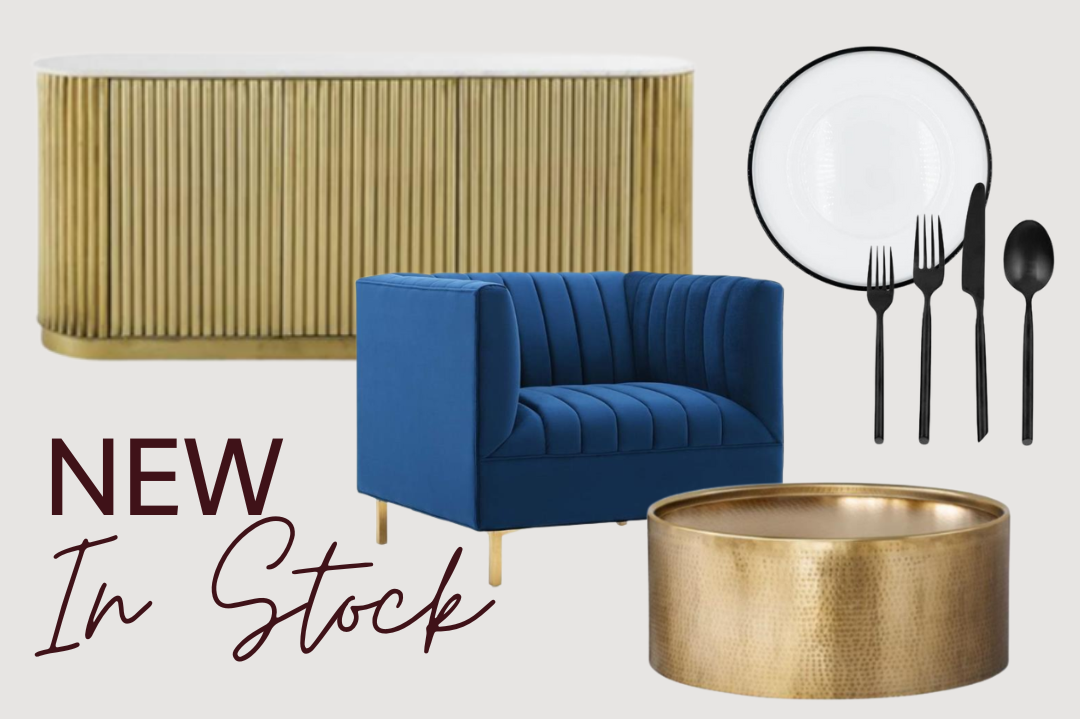 A new year and new design trends call for new event rentals! In 2023 we expect to see an increase in elevated events that showcase an attention to detail, big and small. Whether you're planning a bold modern wedding, an intimate birthday bash, or a casual backyard soiree. To help you host a well-thought-out event that will leave a lasting impression on your guests, take a look at our new in-stock event rentals, from luxe linens to sleek serving ware and trendy event furniture.
Stylish Serving Ware + Linens
Modern event tables are bigger and brighter than ever. But rather than featuring intricate serving ware, centerpieces serve as the focal point. Such as large floral arrangements and bold textured linens. Meanwhile, chargers, china, and flatware are sleek and simple. Together, these details lend a perfect balance between minimalism and maximalism! This aesthetic is easy to achieve with our new serving ware & linens. Create a moody neutral table starring our Sahara Runner in White, topped with a Glass Charger with Black Rim and Noir Matte Black Flatware. For a more chic design, try our Sierra Runner in Rose with Georgia China and Fresno Matte Gold Flatware.
Pro Tip: Add a fun splash of color with our velvet napkins in timeless colors like Driftwood or Magnolia.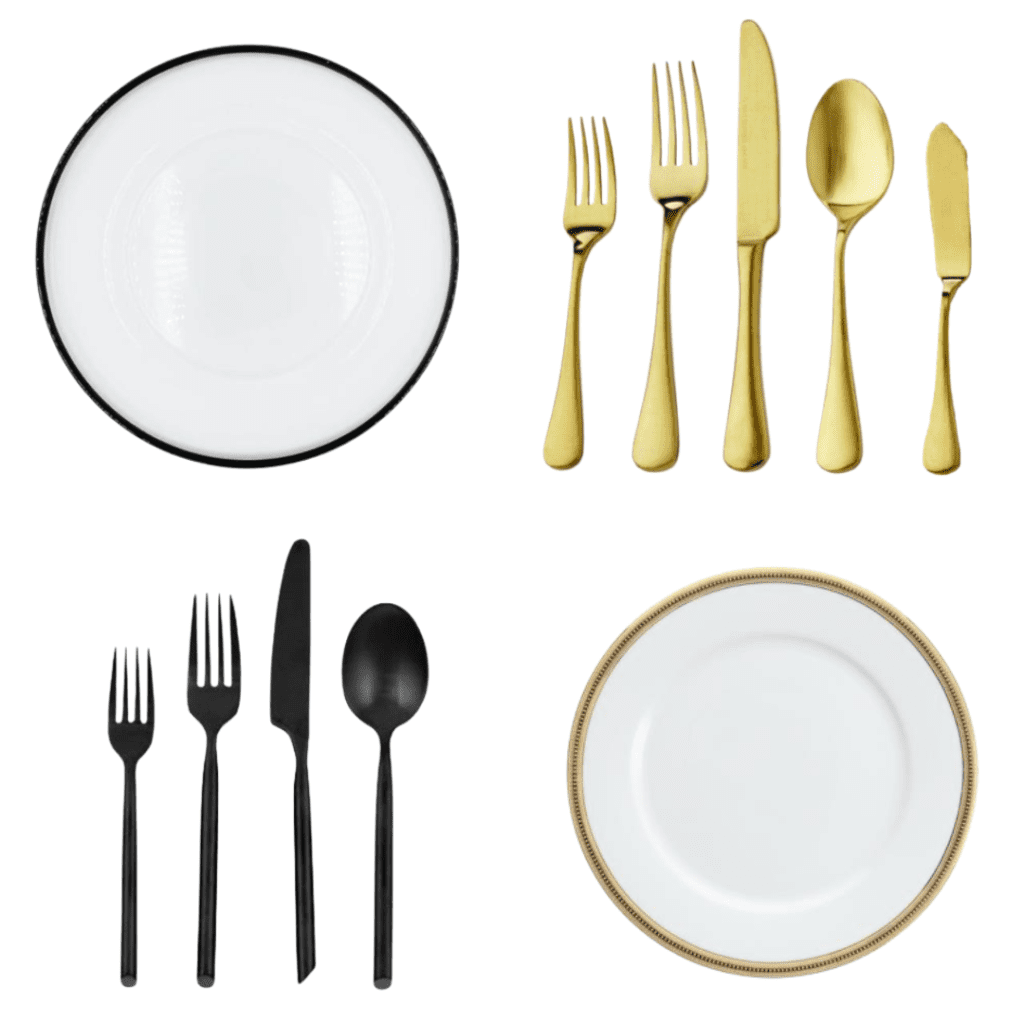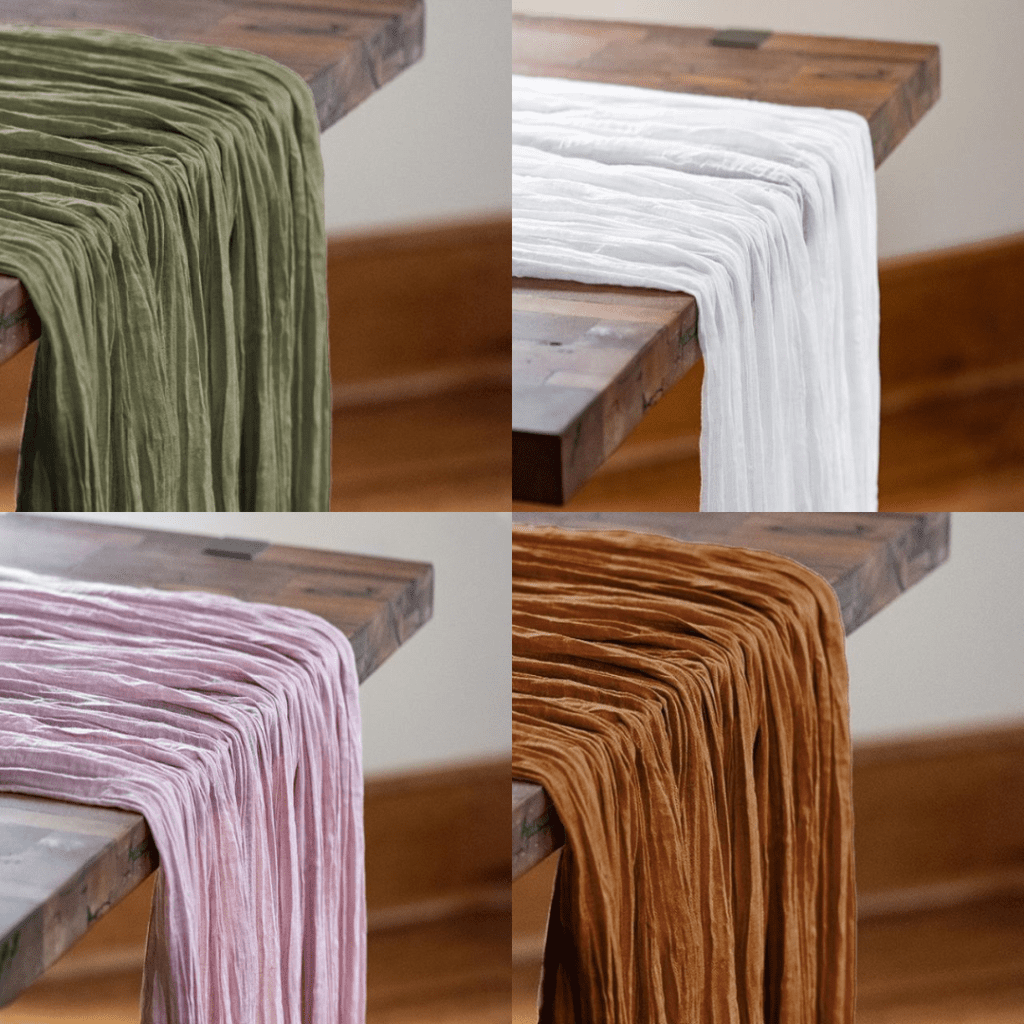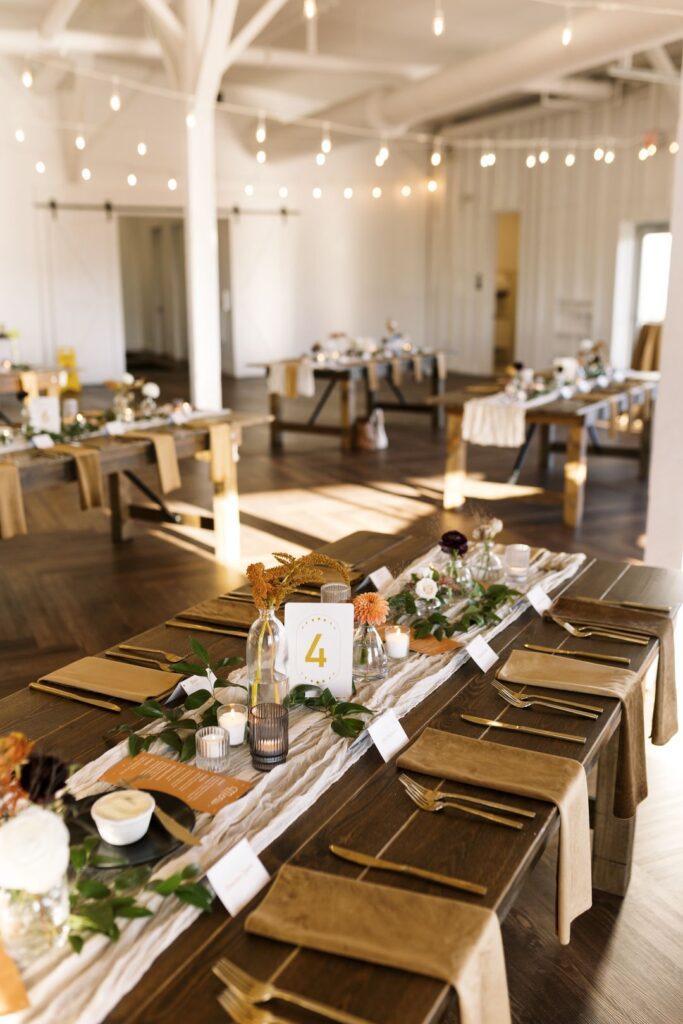 Trendy Lounge Furniture
If you've read any of our blogs then you know we love a stylish event lounge! They are a simple but effective way to elevate any event, from corporate cocktail hours to weddings or backyard parties. To help our clients create one-of-a-kind areas that encourage guests to sit, sip and mingle, we're adding new furniture to our inventory. Including accent tables, plush sofas, and armchairs. Some of our favorite additions are the Marine Navy Velvet Chair and Grey Tufted Ottoman. Both of which look stunning paired with a Hammered Coffee Table, in Pewter or Gold. To stay on top of the trends we have also updated our lounge packages – be sure to take a look to see if any of these curated collections align with your upcoming event.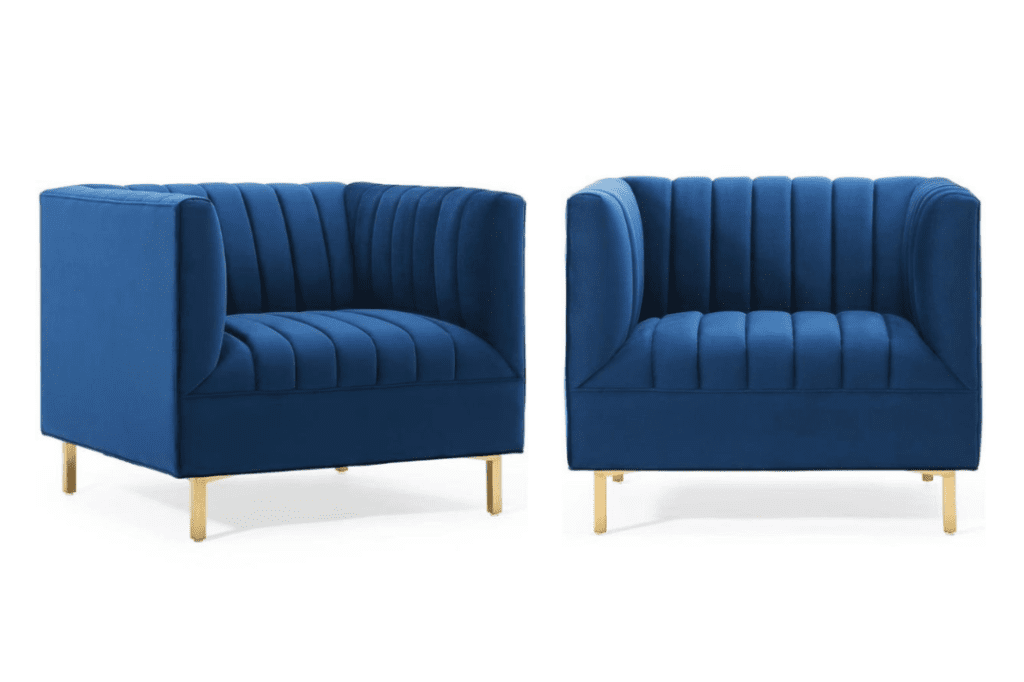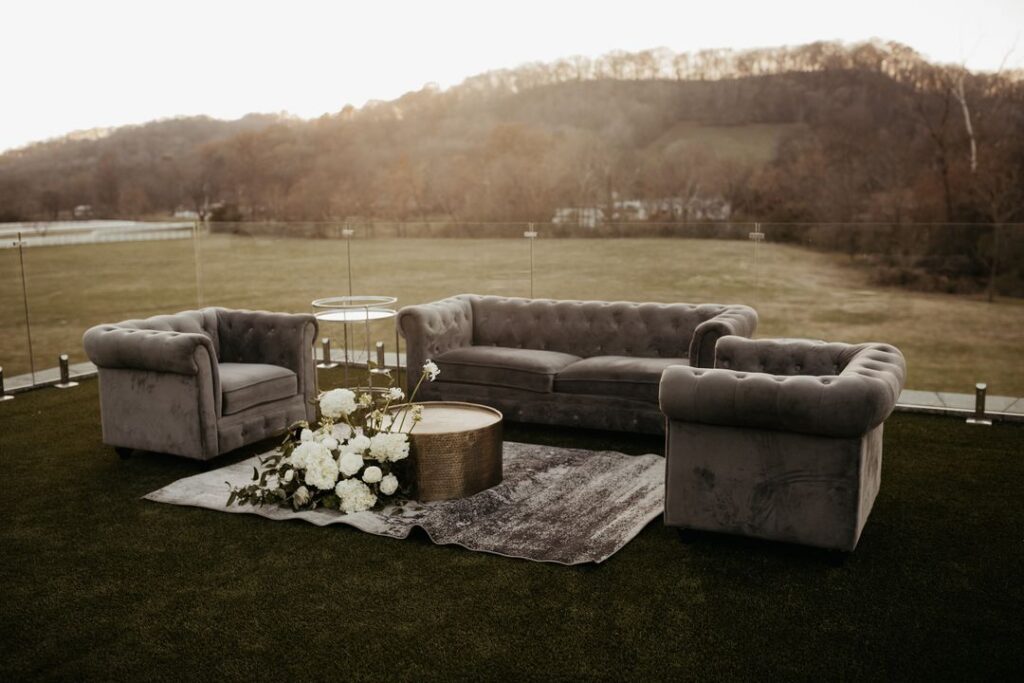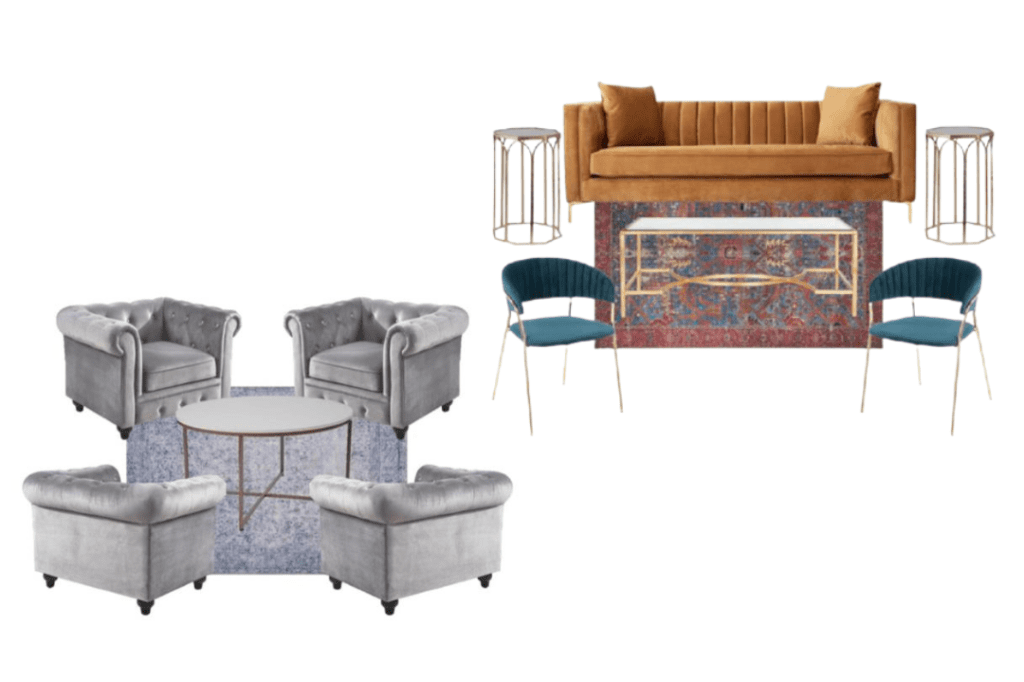 On-Theme Event Bars
If there is one item that every event needs, it's a bar! These versatile pieces aren't just for serving drinks, but can also be used for displaying food, decor, and more. That's why this year we are adding a new variety of bars to our inventory that will align with current design trends and event themes. Take our Chelsea Marble Top Bar, a luxe piece fitting for modern retro events or chic cocktail parties. Meanwhile, staple pieces like the Harpeth 8ft Bar can be customized with signage, for weddings or corporate galas! Or create an elegant dessert or champagne tower using White 6-Tier Serving Tower.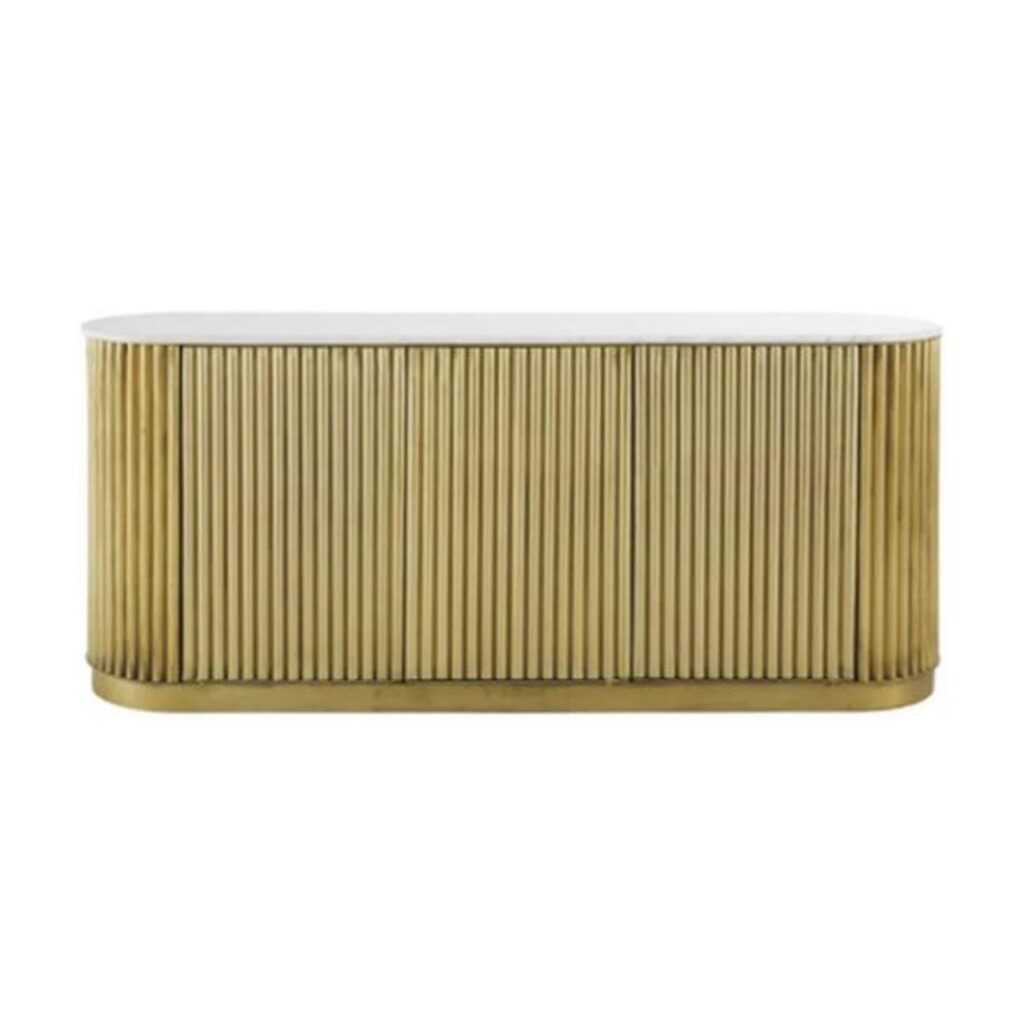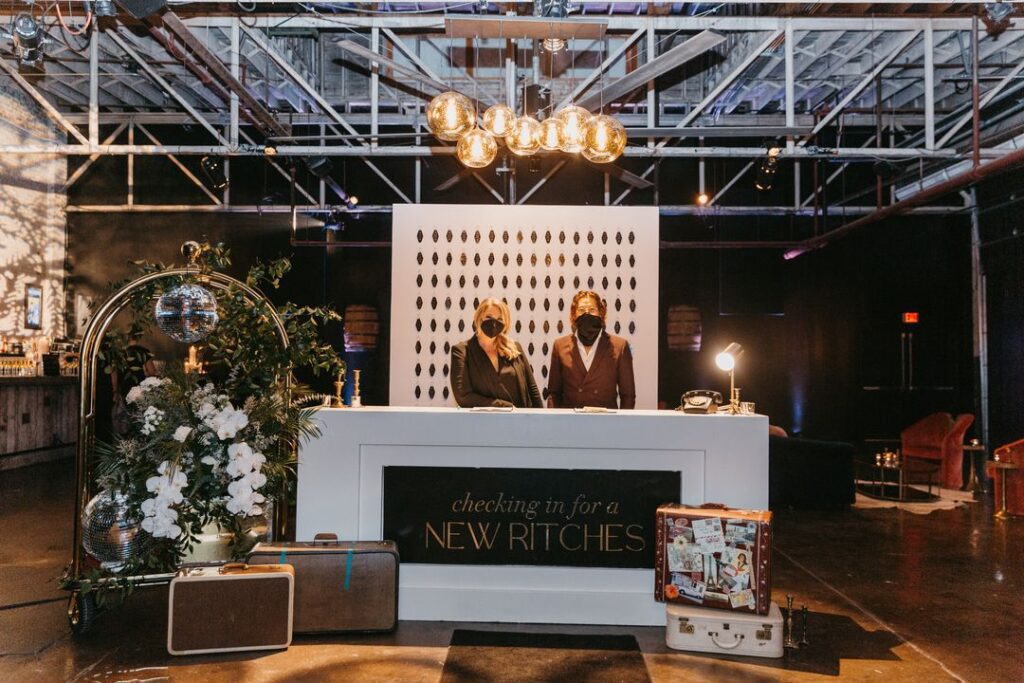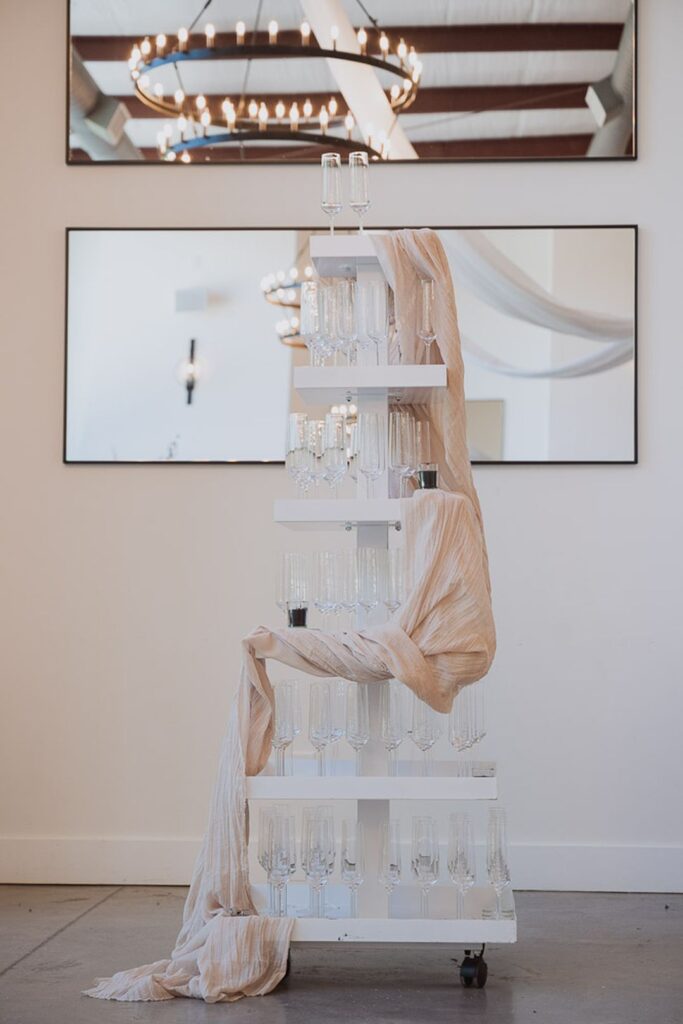 Want to feature these new event rentals at an upcoming holiday party in Nashville? Send our team a message at info@southerneventsonline.com for help selecting the perfect pieces for your gathering, big or small! And be sure to keep an eye out for new additions to our catalog – more is coming soon.
TAGS | Event Rentals, In Stock, Linens for Rent, Lounge Furniture Packages, bar event rentals, event rentals in franklin tn, event rentals in nashville, new in stock, servingware
FEATURED RENTALS | Sahara Runner in White, Glass Charger with Black Rim, Noir Matte Black Flatware, Sierra Runner in Rose, Georgia China, Fresno Matte Gold Flatware, Driftwood Velvet, Chelsea Marble Top Bar, Harpeth 8ft Bar, White 6-Tier Serving Tower,Magnolia Velvet, lounge packages, hammer pewter coffee table, hammer gold coffee table, grey tufted ottoman, marine navy velvet chair,
---